Property Seizures:
This is an original compilation, Copyright © 2013 by Andrew K. Dart
Florida Court Allows Taking Of Private Land To Build A Major League Soccer Stadium. Last Friday [1/31/2014], the Orlando Sentinel and News 13 Orlando both reported that a Florida Circuit Court upheld the City of Orlando's decision to take private property located on West Church Street to build a soccer stadium for Orlando City SC, which is Major League Soccer's newest expansion team.
More about taxpayer-funded sports facilities.
Small businesses claim U.S. government stealing their ideas. "They stole all my stuff and used taxpayer money to do it," John Hnatio, a Maryland small business owner, says of the U.S. government. Hnatio claims the government has put his company, FoodquestTQ, nearly out of business by stealing his firm's software that was designed to be licensed to the Food and Drug Administration to monitor food safety. The FDA "took our ideas, plagiarized my doctoral dissertation on which a patent was based, and then they infringed on our patent. The result was that it decimated our business," he adds.
Obama's Plan to Snatch Your Savings. In his first term, Obama managed to get his paws on health care, banking, energy, student loans, the auto business, and more. Now he has his sights set on your 401(k). The left has had its eye on retirement savings for years, but so far takeover attempts have been rebuffed.
And here's how he will do it:
There's Something About MyRA. By now, you may have heard about MyRA. The acronym, which President Barack Obama stumbled over in his State of the Union speech Tuesday night, stands for My Retirement Account. Obama introduced the new plan like this: "MyRA guarantees a decent return with no risk of losing what you put in." On Wednesday, the administration said it will launch a pilot program of the "new, simple, safe and affordable 'starter' retirement savings account" by the end of the year.
myConstitution. President Obama has just announced the creation of a new program, which he calls myRA, as part of an overarching agenda he's implementing, which could well be called myConstitution. [...] Creating a new type of retirement account certainly doesn't sound like a president carrying out his constitutional duty to take care that the laws be faithfully executed. And even if this isn't technically the creation of a new kind of IRA but merely a rebranding of existing Roth IRAs (it's a bit hard to tell), the administration's choice of language strongly suggests that Obama is engaging in an alternative form of lawmaking — and is proud of it.
Beck Slames Obama "MyRA" Plan: Biggest Heist in History. Glenn Beck slammed President Obama's "myRA" proposal on his radio program Thursday as a "bigger lie than 'if you like your doctor you can keep your doctor.'" The initiative was unveiled by the president during his State of the Union address on Tuesday as a way to help more people save for retirement.
Expert: Obama's 'myRA' violates multiple investment laws. President Obama's new and low-budget proposal to help Americans build a tiny nest egg appears to violate federal laws barring retirement plan sponsors from steering investments to self-serving accounts, in this case the Treasury's own bonds, according to a new analysis. The "myRA" plan Obama unveiled in his State of the Union address would also be outlawed in the private finance world because it offers no investment diversification and amounts to a conflict of interest, violations that call for fines up to $100,000 and up to a year in prison.
NYC alarms with notice: 'Immediately surrender your rifle'. New York City authorities have been sending out notices to residents who own guns that now violate new ammunition capability laws, demanding they relinquish their weapons — and even though the notifications may just be standard police procedure, the text is a shocker. At issue: Weapons that hold more than five rounds of ammo, The Blaze reported.
ACLU Wins Victory Against Border-Agent Laptop Seizures. A Massachusetts federal judge denied a motion by the government to dismiss a complaint filed on behalf of the organization created to raise legal funds for a soldier accused of leaking information to WikiLeaks. At issue is whether government agents possess broad powers to search electronic devices at the border without justification.
Cleveland settles federal lawsuit over confiscated gun. The city of Cleveland will return Derrick Washington's .38-caliber Taurus as part a settlement in a federal court battle over the city's seizure of the weapon, Washington's lawyer says. The gun was confiscated and never returned even after a city prosecutor refused to press charges, citing a lack of evidence.
Growing Use of Civil Forfeiture Creates Nightmares for Small Business Owners. Imagine that you run a grocery store with your daughter, a store you have owned for thirty years. Imagine that just last year the IRS found no violations in an audit of your store. Now imagine that, despite continuing your sound business practices, you awake one day to find the IRS has seized your entire bank account. The IRS has used a technique called civil forfeiture against you and you find your Constitutional guarantee of innocence until proven guilty has been completely reversed. That is the nightmare that Terry Dehko and his daughter Sandy Thomas found themselves in on January 22, 2013.
Give Us Cash or Lose Your Kids and Face Felony Charges. Imagine getting pulled over while on a family vacation and having small-town cops accuse you and your family of being drug couriers. Then imagine hearing that you have two options: Fork over your cash and continue on your vacation or face felony charges for money laundering and child endangerment, in which case you go to jail and your kids get handed over to foster care. That's what happened to Ron Henderson and Jennifer Boatright while traveling through Tenaha, Texas, a town that regards piracy as just another way to raise revenue.
Greens cheer EPA wetlands proposal. Business groups and Republicans in Congress have opposed the EPA's move, which they call an unprecedented "power grab" that could give it power to interfere with private lands. They say that the agency's scientific research has not been thorough enough to warrant a new regulation. On Wednesday, Reps. Lamar Smith (R-Texas) and Chris Stewart (R-Utah) sent a letter to the White House's budget office alleging that the EPA was "rushing forward" with its effort to issue the new regulation. "Such unrestrained federal intrusion poses a serious threat to private property rights, state sovereignty and economic growth," they wrote.
Gangster government in a Seattle parking lot. Government has increasingly taken on the role of predator, extorting from citizens what it wants on pain of incarceration through its monopoly on the legitimate use of force, and lavishing on its own members higher pay and benefits than enjoyed by ordinary people. The members of the City Council of Seattle who voted to use eminent domain ought to be hounded out of office in the next municipal elections. They are tyrants.
Seattle seizes elderly woman's parking lot to turn it into — a parking lot. The city of Seattle is forcing a 103-year-old woman to give up her private waterfront parking lot to make way for a city-owned parking lot. The City Council voted Monday to use its power of eminent domain to acquire the lot owned by Spokane resident Myrtle Woldson, who has repeatedly turned down offers to purchase the property, Q13FOX.com reported.
Eminent Domain Abuse is Making a Comeback. The use of eminent domain to seize mortgages from investors has been in the news recently. But, because of efforts to rescind protections enacted by state courts and legislatures, we're likely to hear more about traditional eminent domain abuses: the seizure of modest, well-maintained homes and businesses to benefit wealthy, politically connected developers.
Bullied by the IRS. I've always paid my taxes and have never been arrested or charged with any crime in my life. I am a successful small-business man. But in January of this year, I woke up to find that my business' entire bank account — more than $35,000 — had been wrongly seized. [...] Adding insult to injury, federal civil forfeiture law does not even grant me a hearing before or soon after they snatched my account. They've had my money for 10 months. I've been forced to spend thousands of dollars on lawyers just to get a hearing before a judge. Even more bizarre, under civil forfeiture, the government's case is not against me, but against my property. This is why the official case has the ridiculous name, United States of America v. $35,651.11 in U.S. Currency. This is not just absurd; it's unconstitutional.
California raisin grower battles federal order taking almost half his crop. As raisin grapes produce only a single crop per season, [Marvin] Horne could lose a hefty slice of his harvest. But, like all raisin growers in the United States, he is used to having part of his crop taken from him. Since 1949, the government has been taking its share of their harvests under a Department of Agriculture protectionist order — Marketing Order 989 — originally designed to keep prices high and growers in business.
Left With Nothing. On the day Bennie Coleman lost his house, the day armed U.S. marshals came to his door and ordered him off the property, he slumped in a folding chair across the street and watched the vestiges of his 76 years hauled to the curb. [...] The duplex in Northeast Washington that Coleman bought with cash two decades earlier was emptied and shuttered. By sundown, he had nowhere to go. All because he didn't pay a $134 property tax bill.
Eminent domain and the Sacramento Kings. Apparently we have arrived in the brave new world where the government can seize the property of private businesses such as Macy's or of individual homeowners and declare that it's in the public interest to put a privately owned soccer stadium in its place. And this assertion is made in the face of historical evidence, as [Ilya] Somin points out, that sports stadiums almost always turn out to be economic losers for the communities where they are constructed.
Widow Who Lost $280k Home Over $6 Gets Hearing. A western Pennsylvania woman whose $280,000 home was sold at auction over $6.30 in unpaid interest won a court decision Monday [8/19/2013] allowing her a fresh opportunity to argue she should not lose her home.
Pennsylvania Court Strikes Blow Against Asset Forfeiture Regime. A Commonwealth Court ruling is being hailed as a victory for property rights and a small blow against civil asset forfeiture laws, which allow the state to seize private property that may be connected to a crime. In a decision filed last month, Commonwealth Court Judge Dan Pellegrini called the state's civil asset forfeiture law "state-sanctioned theft" and ordered a lower court to re-examine a recent forfeiture case in Centre County.
Taken. The basic principle behind asset forfeiture is appealing. It enables authorities to confiscate cash or property obtained through illicit means, and, in many states, funnel the proceeds directly into the fight against crime. In Tulsa, Oklahoma, cops drive a Cadillac Escalade stencilled with the words "This Used To Be a Drug Dealer's Car, Now It's Ours!" In Monroe, North Carolina, police recently proposed using forty-four thousand dollars in confiscated drug money to buy a surveillance drone, which might be deployed to catch fleeing suspects, conduct rescue missions, and, perhaps, seize more drug money.
Eric Holder steals George Zimmerman's gun. Attorney General Eric Holder has confiscated George Zimmerman's gun. Even though Mr. Zimmerman was acquitted by a jury in the death of Trayvon Martin, the Justice Department on Thursday [7/18/2013] ordered the Sanford police to put a hold on the evidence from the trial, which includes the Kel Tek 9mm handgun. It is not clear what federal law or legal procedure allows Mr. Holder to stop a police chief in Florida from returning a firearm to an innocent man.
Avenging the raisins. Like many New Deal programs, raisin rationing was instituted under the foolish belief that manipulating the market to raise the price of raisins would make more money for the growers and improve the valley's economic health. Hence, the Raisin Administrative Committee, a cartel that dictates how much of the crop will be taken each year to reduce supply. In 2003, the government board dictated that 47 percent of the raisins grown that year would be confiscated with nothing for the growers. That was too much to swallow for Marvin and Laura Horne, farmers and processors in Fresno.
The Supreme Court vs. Freedom of Information. Let's say a resident of New York drives to Virginia in order to visit relatives and a member of her family uses her car to visit a prostitute one night and ends up getting arrested. The owner has zero knowledge of this illegal activity and is of course never charged with any crime, let alone convicted of one, yet the police still seize the car as part of an asset forfeiture proceeding. That's the controversial tool allowing law enforcement to take private property suspected of being used to facilitate a crime without first obtaining a criminal conviction against the owner of that property. Shouldn't the New York-based car owner be permitted to file a Virginia Freedom of Information Act request as part of her efforts to get her property back? Not in the eyes of the U.S. Supreme Court.
Congress working to strip presidential land grab power. If you think national monuments are statues of George Washington and Abraham Lincoln, welcome to the crazy catalog of federal land grabbing tools. These "monuments" are actually large areas that are supposed to be small, and can be created out of thin air by the president with the stroke of a pen. This extraordinary power has been abused by presidents of both political parties time and again to bypass Congress in creating national park-size units — a congressional power — at his own whim to satisfy his Big Green constituents.
Fight for the right to grow raisins. Since the 1930s, the Agriculture Department has turned California raisin growers into pawns of its Raisin Administrative Committee, which can commandeer up to half of the farmer's crop and then pay them little or nothing for the product. Marvin Horne, a 67-year-old raisin farmer in Fresno, Calif., was fined almost $700,000 for refusing to surrender control of much of his harvest to the government committee in 2002. Horne, who has been growing raisins for more than 40 years, has battled the raisin committee for more than a decade and describes its regime as "involuntary servitude."
Obama Wants Americans' Hard-Earned Retirement Savings. Last year Washington raked in $1.16 trillion in individual income tax revenue and expects to squeeze $1.36 trillion out of taxpayers in 2013. But President Obama wants more — and he's coming after your retirement.
Here Comes Obama's Raid on Your Retirement. This sounds like it will only attack the "rich" today, but don't bet on it. Note that "other retirement accounts" is likely to mean aggregation of all retirement assets, including the actuarial value of pensions and similar.
Obama Budget to Cap Retirement Accounts at $3 Million. The budget President Barack Obama will submit on April 10 will contain a proposal that would prohibit individuals from accumulating more than $3 million in Individual Retirement Accounts (IRAs) and tax-preferred retirement accounts.
The Editor says...
Remember, the income tax originally affected only the wealthy, and affected them only a little. Tyranny starts small and grows incrementally.
Obama eyes taking millions of acres to save habitat from global warming. A large purchase in Florida's Everglades, for example, is aimed in part at preserving grasses that can help prevent rising water from flooding the area and destroying animal habitat. The new strategy, produced by several federal and state agencies and tribal groups, would expand that program to protect habitat under global warming pressure and used by everything from butterflies and robins to foxes and even coral. For example, more habitat for grizzly bears would be set aside so they can move north as their habitat warms.
Obama admin looking to set aside millions of acres for habitat preservation. The federal government already manages nearly one third of the surface area of the United States, but inefficient federal bureaucrats, dependent on DC for their funding and often motivated by political externalities, do not make the best environmental stewards — far from it.
Federal plan aims to help wildlife adapt to climate change. Developed along with state and tribal authorities, the strategy seeks to preserve species as global warming alters their historical habitats and, in many cases, forces them to migrate across state and tribal borders. Over the next five years, the plan establishes priorities for what will probably be a decades-long effort. One key proposal is to create wildlife "corridors" that would let animals and plants move to new habitats. U.S. Fish and Wildlife Service Director Daniel M. Ashe said such routes could be made through easements and could total "much more than 1 million acres." The plan does not provide an estimate of the cost.
The Editor says...
"The plan does not provide an estimate of the cost" because the cost is inestimable. Once again, if you questioned these people, I believe you would find them all to be firm believers in Darwin's "survival of the fittest." Yet they seem to think wild animals need "corridors" to get to their new homes — assuming the animals can detect any climate change and assuming they elect to move. These "corridors" will naturally fall right across the land with the greatest petroleum reserves, preventing Big Oil from making money. This is nothing more or less than another big government land grab. The people who come up with these ideas don't care about killing jobs and seizing private land.
First, They Came For The Cypriots... Markets tumbled after Cyprus and the EU said they might tax private bank accounts to pay for a bailout. Arbitrary property grabs are a new low and a bad precedent in this crisis. Worse still, it can happen here.
DHS steals TechCrunch founder's boat over paperwork error. Michael Arrington is a prominent tech blogger, who sold his site Tech Crunch to AOL in 2010. As such, this particular story of government overreach, starring a gleeful bureaucrat taking the property of a citizen operating in good faith, may get a wider audience than the usual conservatives and libertarians who catch wind of such things. Good. For every story that gets attention, there are countless abuses that don't.
The Feds Want Your Retirement Accounts. Quietly, behind the scenes, the groundwork is being laid for federal government confiscation of tax-deferred retirement accounts such as IRAs. Slowly, the cat is being let out of the bag.
Utah Resident Forced to Forfeit Gun Used to Stop Home Invasion. In late January, 64-year old Clare Niederhauser was arrested for shooting at burglars fleeing from his property. At a plea deal hearing, he apologized for firing the shots, agreed to pay a $700 fine, take a weapons class, and forfeit the weapon he used. Fellow residents of Layton, UT are coming to the aid of the elderly man, who was arrested after firing a shot at a burglar's vehicle and a fleeing accomplice after they attempted to break in to his property with a crowbar.
What John Adams Foretold Has Come True. [Scroll down] What's next? Confiscation! "The Obama administration is reportedly moving on plans to nationalize private 401k and IRA retirement accounts, and replace them with government sponsored annuities (aka Treasury bonds that the Treasury currently can't sell to anyone but the Fed)." Obama has begun a plan to nationalize (aka confiscate) private pensions and to eliminate private retirement accounts, including IRAs and 401k plans. Think it can't happen here? Think again!
Is your 401K about to be nationalized? The $19.4 trillion sitting in personal retirement accounts like the 401K may be too tempting an apple for a government that is quite broke, both monetarily and morally. The U.S. Consumer Financial Protection Bureau director Richard Cordray recently mentioned these accounts in a recent interview, stating "That's one of the things we've been exploring and are interested in, in terms of whether and what authority we have."
Nature Conservancy embroiled in another land grab scandal. One of Big Green's biggest outfits, the Nature Conservancy (2011 revenue $997 million; assets $6 billion), is once again under fire. The new accusation is that it used improper influence over an elderly landowner to get her to donate her family property. This time it's the 16,500-acre Roberts Ranch in Larimer County, Colo., owned by a 92-year-old woman.
Legislator eyes unused gift card value. Rep. Fred Kessler (D-Milwaukee) said today [12/26/2006] that the value of unused gift cards should go to the state treasury — not to the merchant — and that change will be part of a bill he'll introduce in the legislative session starting in January. Kessler said millions of dollars a year go unused by gift card recipients, and retailers are allowed to book the unused values after the cards expire.
Europe starts confiscating private pension funds. Obviously, this is a cautionary tale for America. If fiscal austerity becomes a real issue in the U.S. the way that it's been reaching critical mass in Europe — don't think that U.S. lawmakers regard your either your personal wealth or money they might owe you as sacrosanct. Government has a habit of looking out for itself.
European nations begin seizing private pensions. People's retirement savings are a convenient source of revenue for governments that don't want to reduce spending or make privatizations. As most pension schemes in Europe are organised by the state, European ministers of finance have a facilitated access to the savings accumulated there, and it is only logical that they try to get a hold of this money for their own ends.

Obama Expands ATF's Right to Seize Guns Without Due Process. Obama has expanded civil-forfeiture rules making it permissible for the Bureau of Alcohol, Tobacco, Firearms, and Explosives (ATF) to seize weapons from citizens without the hassle of due process. This effectively gives Attorney General Eric Holder, of Fast and Furious fame, extended power over guns and gun-related property. The rules were broadened under the guise of giving the ATF authority "to seize and administatively forfeit property involved in controlled substance abuses." And if that doesn't strike you as extreme on first glance, consider the fact that this expansion of civil-forfeiture allows the ATF to forego almost all "due process" in making their seizures — in effect, placing the burden of proof on the citizen instead of federal agents.

Judge Says 10 Rare Gold Coins Worth $80 Million Belong to Uncle Sam. A judge ruled that 10 rare gold coins worth $80 million belonged to the U.S. government, not a family that had sued the U.S. Treasury, saying it had illegally seized them. [...] In 2003, [Israel] Switt's family, his daughter, Joan Langbord, and two grandsons, drilled opened a safety deposit box that had belonged to him and found the 10 coins. When the Langbords gave the coins to the Philadelphia Mint for authentication, the government seized them without compensating the family. The Langbords sued, saying the coins belonged to them.

The Editor says...
The moral of the story is simply this: Don't ever tell the government what you own, if it's made of gold.

Governments mull radical solution to underwater mortgages: seize them. With millions of homeowners still underwater, some local governments are considering a novel solution: condemning their mortgages through the power of eminent domain.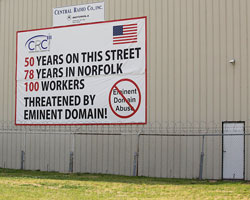 Norfolk, Virginia Attempts To Silence Free Speech. Something terrible is underway in Norfolk, Virginia, that should disturb all Americans who value property rights and free speech. Central Radio Company, which first opened 78 years ago and has been at its current location of 1083 West 39th Street for 50 years, is currently under siege. First officials at the Norfolk Redevelopment and Housing Authority attempted to seize their property in order to transfer it to Old Dominion University, which currently has no specific site development plan for Central Radio's property. The owners of the company, Bob Wilson and Kelly Dickinson, rightfully objected to the eminent domain proceedings. They then commissioned a 375-square-foot banner (left) and hung it on their building to protest the taking.

Pushed out and shut up: 78-year-old business fights back against eminent domain, censorship. One business's eminent domain nightmare has also turned into a case about protection under the First Amendment. Central Radio Company, a small business in Norfolk, Va., may soon become a victim of eminent domain, but in the meantime it has also been ordered to remove a giant banner protesting the impending seizure.



Sign code as a weapon. A drearily familiar dialectic is on display here: Government is behaving badly in order to silence protests of other bad behavior. It is violating the Constitution's First Amendment, stifling speech about its violation of the Fifth Amendment, as it was properly construed until 2005.

When the looter is the government. In the lawsuit titled United States of America v. 434 Main Street, Tewksbury, Massachusetts, the government is suing an inanimate object, the motel [Russ] Caswell's father built in 1955. The U.S. Department of Justice intends to seize it, sell it for perhaps $1.5 million and give up to 80 percent of that to the Tewksbury Police Department, whose budget is just $5.5 million. The Caswells have not been charged with, let alone convicted of, a crime. They are being persecuted by two governments eager to profit from what is antiseptically called the "equitable sharing" of the fruits of civil forfeiture, a process of government enrichment that often is indistinguishable from robbery.

County Sheriff Enjoys Fruits of Forfeitures. The sheriff's office in Douglas County, Neb., just finished a new $4.2 million crime lab and police-dog center thanks to money seized from people driving by on Interstate 80. That money is a small part of a large and controversial asset-forfeiture program known as "equitable sharing."

Marcy woman forced to sell property in eminent domain battle with MV Edge. A Marcy woman has spent her golden years fighting her own government for land that's been in her family for more than 100 years and on Thursday [7/28/2011], she lost that battle.

Does your laptop have rights? For many airline passengers, carrying a laptop or smartphone through security is as familiar a part of the travel ritual as removing their shoes. But for travelers arriving in the United States from other countries, the process is not always so simple; thousands have had their electronic devices not just screened but confiscated, and sometimes not returned for months.

Stopping the government land grab. The Virginia General Assembly last week gave its first approval to a constitutional amendment restoring the sanctity of private property in the commonwealth. The measure was made necessary by the reckless 2005 Supreme Court decision Kelo v. New London, which gave towns and cities free rein to grab land for the use and benefit of well-connected developers.

Whatever happened to Kelo's land?
Years Later, Land Seized in Kelo Decision Used for Debris Dump. In 2005, Kelo v. City of New London made eminent domain infamous. The widely reviled Supreme Court ruling gave the go ahead for the city of New London to use eminent domain for taking private property in order that it be given to a private company for "economic development."

Justice apologizes to Kelo. The New London v. Kelo decision allowed the city of New London to force the Kelos and their neighbors to sell their houses to the city of New London, Connecticut, on the premise that a developer would build something that would generate more taxes. The state Supreme Court voted 4-3 to go along with this idiocy, as did the U.S. Supreme Court later, 5-4. The project went belly up and the result is New London lost residents and revenue.



'Kelo' Revisited. New London, population 27,000, a rundown onetime whaling port on the Atlantic coast that never recovered after the whaling industry died at the end of the 19th century, is a desolate-looking city. [Michael] Cristofaro, a 52-year-old New London-born computer network engineer, and I were in its most desolate neighborhood — actually, ex-neighborhood, for there was not a residential property left standing on the entire tract.

The Government's License to Steal. In the late 1990s, after a public backlash against the use of civil asset forfeiture to take money and property from innocent people, seven states passed laws assigning all proceeds from such forfeitures to public schools or the general fund instead of police departments and prosecutors' offices. The idea was to reduce the incentive to seize assets from innocent owners and to target people based on the value of their property instead of the seriousness of their crimes. In Indiana, the state's original constitution called for criminal forfeitures to be earmarked for a school fund, and recent attorneys general have applied that provision to civil forfeiture as well. But thanks to various evasive maneuvers, very little forfeiture money actually ends up in the fund.

Eminent domain, by any other name ... still stinks. Imagine you come home from work one day to a notice on your front door that you have 45 days to demolish your house, or the city will do it for you. Oh, and you're paying for it. This is happening right now in Montgomery, Ala., and here is how it works: The city decides it doesn't like your property for one reason or another, so it declares it a "public nuisance."

How Liberals Want to Control Your Life. [Scroll down] One of the more frightening aspects of the new administration's liberal impulses is the ability to take one's personal property. [Terence P.] Jeffrey recalls the case of neighbors in Fort Trumbull, Conn., who had their homes condemned because they didn't bring in enough tax revenue. That move was a vivid contrast to what the Founders envisioned. "They believed redistributing property was beyond the legitimate scope of any government," Jeffrey writes.

Confiscating your property: Zaher El-Ali has repaired and sold cars in Houston for 30 years. One day, he sold a truck to a man on credit. Ali was holding the title to the car until he was paid, but before he got his money the buyer was arrested for drunken driving. The cops then seized Ali's truck and kept it, planning to sell it. Ali can't believe it. "I own that truck. That truck done nothing."

Good Riddance! Justice Stevens voted to sustain racial quotas, created "rights" out of thin air for terrorists, and took away American citizens' rights to their own homes in the infamous "Kelo" decision of 2005. ... Justice John Paul Stevens wrote the Supreme Court opinion that expanded the Constitution's authorization of seizing private property for "public use" to seizing private property for a "public purpose."

Justice Stevens was no champion of the little guy. President Obama said his nominee to replace John Paul Stevens on the Supreme Court would "be someone who, like Justice Stevens, knows that in a democracy, powerful interests must not be allowed to drown out the voices of ordinary citizens." Tell that to the "ordinary citizens" of New London, Conn., whose homes were stolen by the government for use by real estate developers at the request of the largest drug company in America — with the approval of Justice Stevens.

Hotel Conference Center May Trump Private Property in Eminent Domain Case. In Auburn, New York, the city is threatening to invoke eminent domain to seize private property for a private hotel conference center, saying the public good outweighs the private property rights of some citizens.

Big Blighters. After Kelo v. City of New London, the 2005 decision in which the U.S. Supreme Court approved the forcible transfer of property from one private owner to another in the name of "economic development," 43 states passed reforms that were supposed to curb eminent domain abuses. But most states still allow condemnation of property deemed to be "blighted," and many of them define that condition so broadly that it has become a synonym for coveted, as illustrated by two recent New York cases.

Court Rules Private Land Can Be Seized for NBA Arena. New York's highest court ruled Tuesday [11/24/2009] that it's lawful for a state economic development agency to seize private land to build an arena for a professional basketball team. The 6-1 ruling by the New York State Court of Appeals allows the contentious $4.9 billion, 22-acre Atlantic Yards project in Brooklyn, N.Y., to proceed. The proposed development includes office towers, apartments and a new arena for the NBA's New Jersey Nets.

Property Owners Get Dunked On. New York judges served up what basketball fans call a facial on Tuesday [11/24/2009], when an appellate court ruled that the state may seize homes and small businesses in Brooklyn for the benefit of a private developer and the New Jersey Nets. The decision represents a backward step for the effort to protect property rights at the state level since the Supreme Court's 2005 decision in Kelo v. New London.

More about taxpayer-funded stadiums and arenas.

Federal prosecutors scoop up millions for victims as greedy bad guys go to jail. The Manhattan U.S. attorney's office collected more than $450 million from criminal forfeitures between Oct. 1, 2008, and Sept. 30, 2009. When civil proceeds are added, the total jumps to $570 million — more than 11 times the office's annual budget. What doesn't get turned over to victims goes to Justice Department coffers.

Legalized larceny posing as forfeiture. The Supreme Court seems to think that anything is permissible in the name of fighting crime. On June 24, 1996, United States vs. Ursery, the court ruled that civil punishments in addition to criminal punishments do not constitute double jeopardy. Asset forfeitures came to prominence in the war against drugs. They have not dented drug use but they have made thieves out of law enforcement officers.

Hold On to Your Assets. This fall, the U.S. Supreme Court will hear oral arguments in Alvarez v. Smith, a challenge to the state of Illinois' Drug Asset Forfeiture Procedure Act (DAFPA). The six petitioners in Alvarez each had property seized by police who suspected the property had been involved in a drug crime. Three had their cars seized, three had cash taken. None of the six were served with a warrant, none of the six were charged with the crime. All perfectly legal, at least until now.

The Forfeiture Racket: Over the past three decades, it has become routine in the United States for state, local, and federal governments to seize the property of people who were never even charged with, much less convicted of, a crime. Nearly every year, according to Justice Department statistics, the federal government sets new records for asset forfeiture.

Municipal land-grabbing powers should be curtailed. The Frontier Centre for Public Policy today released a study from policy analyst Joseph Quesnel which looks at the practice of municipal expropriation for economic development. In his study, Quesnel argues that this practice must be curbed as it prone to serious abuse.

U.S. gives Flight 93 site landowners one week to sell. The federal government issued an ultimatum yesterday [6/5/2009] to people who own land designated for the Flight 93 memorial in Western Pennsylvania: They have one week to reach an agreement on the sale of their land or the government will initiate proceedings to seize it.

Racing Past the Constitution: In 2006, supposedly to "address the negative impact that riverboat gaming has had" on Illinois horse racing, the Legislature — racing interests made huge contributions to Gov. Rod Blagojevich — mandated a transfer of 3 percent of the gross receipts of the four most profitable casinos, those in the Chicago area, to the state's horse-racing tracks. This levy, subsequently extended to run until 2011, will confiscate substantially more than $100 million. What is to prevent legislators from taking revenues from Wal-Mart and giving them to local retailers? Or from chain drugstores to local pharmacies? Not the tattered remnant of the Constitution's takings clause.

Mayor Daley Seizes Land for Unfunded Project. Chicago Mayor Richard Daley has kicked hundreds of families out of their homes and relocated a cemetery full of buried bodies to build a whopping $15 billion airport expansion Chicago residents oppose, airlines don't want and he doesn't have the money to build. The kicker is that Daley stands a solid chance of getting a good chunk of the boondoggle funded in Washington's forthcoming stimulus bill under Barack Obama's pledge to dramatically increase infrastructure spending.

Eminent Domain and the Eighth Commandment: Our parents taught us from childhood that it is wrong to take from others what doesn't belong to us. Yet, when we grow up we learn we can get away with it as long as we have the right excuses and rationalizations. The first step in rationalizing this kind of action is to give it an innocuous label. It is best to use the Latin expression eminent domain, instead of by the vulgar term "stealing."

Tiny bit of land triggers big fight over city powers. When finished, the .09-acre patch of land near the Galleria will be the city's smallest park. Too small even for a basketball court, Post Oak Lane Park might be big enough for a game of horseshoes, a few benches and greenery. Using its power of eminent domain, the city of Houston seized the land for the park from brothers James and Jock Collins last year.

Dems Target Private Retirement Accounts. Democrats in the U.S. House have been conducting hearings on proposals to confiscate workers' personal retirement accounts — including 401(k)s and IRAs — and convert them to accounts managed by the Social Security Administration. Triggered by the financial crisis the past two months, the hearings reportedly were meant to stem losses incurred by many workers and retirees whose 401(k) and IRA balances have been shrinking rapidly.

Irish Government Raids Private Pensions To Pay For Spending. The Irish government plans to institute a tax on private pensions to drive jobs growth, according to its jobs program strategy, delivered today. Without the ability sell debt due to soaring interest rates, and with severe spending rules in place due to its EU-IMF bailout, Ireland has few ways of spending to stimulate the economy. Today's jobs program includes specific tax increases, including the tax on pensions, aimed at keeping government jobs spending from adding to the national debt.

Private Pensions For Public Spending. Ireland says it will seize parts of its citizens' private pensions so politicians can spend more -- a truly awful idea that may be coming to a government near you. Ireland? Surely, it can't happen here, you say. But it can. Indeed, governments at both the state and federal level have moved more than once to seize all or part of the money you've saved for retirement.

Is Your IRA Going To Be Raided? The notion of government raiding personal retirement accounts for funds may seem extreme. Perhaps it shouldn't. Other governments have done it. Argentina did in 2008. Ireland has indicated it might. The worsening financial crisis may eventually move other countries in that direction. Surely the US would never do so. Actually, there is little basis for assuming they would not and factual evidence they would. Here are three good reasons to believe they would...

Move Over New London. The Texas Legislature did pass a law in 2005 that banned the use of eminent domain for "economic development" takings. But the law contained an exception for takings designed to eliminate "slum or blighted areas." The city has done its homework and determined — to no one's surprise — that the entire area is blighted. Yet the city's own study clearly shows there is vibrant economic activity taking place within this "blighted" area.

Is There A War Brewing on the War on Drugs? House Resolution 1658, due to be voted on this week, would require the government to meet more stringent reporting requirements concerning assets seized in drug busts. Presently, assets may be seized by the police without a defendant being convicted, upon suspicion of such property being used to manufacture or distribute illegal narcotics. Between 1985 and 1995, the Departments of Justice and Treasury seized nearly $4 billion in assets from US citizens, according to government reports.

Raid targets Mongols motorcycle gang. In an unusual maneuver, the feds are also seeking to seize control of the Mongols' trademarked name, which is typically accompanied by its cherished insignia — a ponytailed Genghis Khan-like figure riding a chopper. U.S. Attorney Thomas P. O'Brien said if his plan is successful, the government would take over ownership of the trademark, and anyone caught wearing a Mongols patch could have it seized by law enforcement on the spot.

That's Not Blight — It's New Jersey. The usual M.O. for city fathers eyeing some juicy piece of property is to declare the homes of people living there "blighted." That's just what happened to Lori [Ann Vendetti] and her neighbors. She says that when Long Branch first started to talk about a redevelopment plan in the mid-1990s, no one even suspected their homes were being targeted for teardown. Then they found that their neighborhood was officially declared blighted.

Fear of eminent domain grips PG neighborhood. Residents of a working-class neighborhood near the New Carrollton Metro station say Prince George's County is trying to bring the area into a sweeping redevelopment project that could replace their homes with high-end condos, shopping and restaurants.

This Is Not Your Land Anymore. The legal phrase "eminent domain" has become all too familiar to nonlawyers in recent years as the U.S. Supreme Court has gradually expanded the power of municipalities to condemn private property and seize it for "public" use — even if they just end up handing property over to another private party.

Farmers upset over Perry veto of eminent domain bill. One Central Texas farmer said Monday he was "dumbfounded" by Gov. Rick Perry's veto of an eminent domain bill designed to protect landowners when the state wants to take their property. Robert Fleming is not alone in an area worried about the massive Trans Texas Corridor proposal. The planned route cuts through Fleming's Bell County farms.

More information about the Trans Texas Corridor.

Eminent Domain Threatens Property of Poor and Minorities. It has been two years since the U.S. Supreme Court issued its landmark property rights decision in Kelo v. City of New London. It remains one of the most controversial and unpopular decisions in the history of the Court because it basically stripped away the Fifth Amendment's protection of private property from government abuse of its power of eminent domain.

Conservatives on the march for private property. It is remarkable how the 2005 Supreme Court's 5-4 decision in Kelo v. City of New London, Conn., has riled normally apathetic Americans and motivated them into asserting people power over the twin powers of government and money. Thirty state legislatures have passed laws or constitutional amendments to limit the effect of the Kelo ruling and provide protection against abusive seizures of private property for other private purposes.

Socialism for the rich: The rich have learned to adapt socialist policies to their own benefit. For example, the city of Riviera Beach, Florida, is planning to demolish a working class neighborhood under its power of eminent domain, in order to prepare the way for a marina for yachts, luxury condominiums and an upscale shopping district.

A Man's Home is Uncle Sam's Castle. Possession may be nine-tenths of the law, but not when the law wants your possessions. … This is why principle matters, folks. Not too many complained when the EEOC sued business after business for alleged discrimination, or when the nanny state foisted mandate after mandate upon them. But one thing leads to another. Compromise the principle of private property rights and you've created a slippery slope, one of whose steeper drop-offs is called eminent domain, and at whose terminus can be found the netherworld of tyranny.

Eminent Domain Victim of the Month: Imagine you sign a two-year lease with your landlord. After the first year, you decide you're tired of paying rent and would like to buy the property instead. You make him an offer, which he rejects as too low. In response, you go to the board of aldermen and ask them to declare the apartment blighted, condemn it, and turn it over to you for redevelopment. It might sound absurd, but something very similar is happening right now in Saint Louis.

New South Dakota Measure Favors Railroads Over Private Property Rights. Railroads operating in South Dakota will have an easier time seizing private property under state Senate Bill 174, which became law July 1. Proponents say the law will improve the state's bulk commodity transportation system, but opponents say it threatens property rights.

How Californians are being escheated. Escheat is a feudal concept that arose from the despotism of the Dark Ages. It stemmed from the principle that property rights depend upon the sufferance of the sovereign, and when a person dies or disappears without heirs, his property reverts to the feudal lord. California revived this medieval doctrine in 1959 and began seizing personal assets on the smarmy pretext that after a few years of account or safe-deposit box inactivity, property is obviously "lost," and the state needs to "protect" it by selling it off and depositing the proceeds into the general fund. Today in California, no one's property is safe.

Landowner Asks Supreme Court to Hear Eminent Domain 'Extortion' Case. Claiming he is the victim of legalized extortion carried out under eminent domain powers, a landowner in New York is asking the Supreme Court to hear his case. Landowner Bart Didden claims in a petition that a developer convinced the village of Port Chester, N.Y., to seize his land through eminent domain after Didden had refused to pay the developer $800,000.

Susette Kelo Lost Her Rights, But She Will Keep Her Home. Susette Kelo's little pink cottage — the home that was the subject of a landmark U.S. Supreme Court case and a national symbol of the fight against eminent domain abuse — will be spared from the wrecking ball.

The Last Two Kelo Holdouts Fold. Susette Kelo and Pasquale Cristofaro, plaintiffs in the infamously historic U.S. Supreme Court decision of last year have reached an agreement with the Stalinists in New London, Connecticut who chose to sieze their property to give it to another private party that will generate more tax revenue for them.

Property Rights on State Ballots. The [Supreme] Court's narrow majority gave a green light for politicians to take property through eminent domain for pretty much whatever reason they liked. … If anything positive came from this atrocious, activist decision, it was to spark a national backlash in favor of property rights.

Kelo's Backlash: Imminent Success? The Kelo backlash isn't just alive — it's thriving and producing results that can only be described as historic. … As of July 3rd, the number of states that have passed reforms has grown to 25 — out of 45 states that had legislative sessions this year. And, it is possible that, in the next month, that number could grow to as high as 29. … In all the states that have passed reforms, the situation has improved — often dramatically.

Executive Order: Protecting the Property Rights of the American People. It is the policy of the United States to protect the rights of Americans to their private property, including by limiting the taking of private property by the Federal Government to situations in which the taking is for public use, with just compensation, and for the purpose of benefiting the general public and not merely for the purpose of advancing the economic interest of private parties to be given ownership or use of the property taken.

The pirates of eminent domain: If state and local governments can force a property owner to surrender his land so it can be given to a new owner who will put it to more lucrative use, no home or shop in America will ever be safe again.

New American Tea Party: Kelo backlash could lead to restoration of property rights lost to smart growth and eminent domain abuses.

The Right to Private Property is a Civil Right. Property owners are reeling from recent decisions of the U.S. Supreme Court in which the Court relegated the right to own property to second-class status. However, the Court's actions are inconsistent with our Constitution and denigrate the role private ownership of property plays in our system of government.

The Tyranny of Eminent Domain: You do not own your property. That is the meaning of the Supreme Court's June 23 [2006] ruling in Kelo v. City of New London, which held that local governments may use the power of eminent domain to transfer private property from one private owner to another in pursuit of "the public interest."

A year after Kelo. While eminent domain makes sense when it is used to clear the way for such things as railroads or utilities, it's hard to see how the "public use" requirement embodied in the Fifth Amendment is satisfied when, as former Justice Sandra Day O'Connor noted in her dissent, the government is simply replacing a Motel 6 with a Ritz-Carlton.

Kelo Outrage Fuels a Surging Property Rights Movement. The Kelo decision was actually one of the best things that ever happened to the national property rights movement, as it clearly imprinted the precarious nature of private property rights in the public consciousness and has inspired significant reforms nationwide.

Facing Down The Bulldozers. It is true, notes Steven Eagle, a law professor at George Mason University, that the Fifth Amendment gives little guidance on how to distinguish legitimate from illegitimate uses of eminent domain. But that's because whatever other abuses King George had perpetrated, he did not go around throwing people out of their homes to build mansions for the wealthy. Deployment of eminent domain powers for economic redevelopment projects — as New London is doing — was simply not something that the founders anticipated.

Master of Your Domain: The Impact of the Kelo Decision. Several states — including Alabama, Delaware, Ohio, and Texas — have succeeded in passing eminent domain reforms, but most of these do not have any real teeth. According to Timothy Sandefur of the Pacific Legal Foundation, laws like those in Alabama and Texas leave open the door to eminent domain abuse by still allowing governments to take land they deem "blighted."

Eminent Domain, Private Property, and Redevelopment: Eminent domain is the power governments have to confiscate, or take, private property as long as it is for a legitimate "public use" and property owners receive "just compensation." Whereas eminent domain was initially intended to ensure that public services, such as roads and highways, were available to the public, local and state governments often use eminent domain for any project that is considered economically beneficial. Public use, as a practical matter, has morphed into a more ambiguous "public benefit." An estimated 10,000 cases between 1998 and 2002 involved projects where private parties benefit substantially from government seizures of property under the banner of economic development or urban redevelopment. [PDF]

Court rules local governments can seize homes. In a blow to U.S. farmers, a divided Supreme Court ruled today [6/23/2005] that local governments may seize people's homes and businesses for private economic development projects. The court ruled 5-4 that boosting economic growth outweighed a homeowner's property rights. The case involved a homeowner who refused to sell her property to the city of New London, Conn. The city wanted the property so a private developer could build a hotel, shopping and housing complex.

Property Rights Protection Get Bogged Down. Despite the widespread concern that swept the country following the Kelo decision, state and federal elected officials have done little to strengthen the protection of property rights. With the exceptions of the House bill and new laws in Alabama and Texas, property rights initiatives in other states and in the U.S. Senate have been bogged down in legislative committees, in large part due to opposition from mayors, developers, and economic development officials who stand to see their power diminished.

Supreme Court Rules Government can seize your home. The American Conservative Union sharply condemned [the recent] highly controversial 5-4 Supreme Court ruling that local governments may use eminent domain to take people's homes and businesses and turn them over to private developers. … "It is outrageous to think that the government can take away your home any time it wants to build a shopping mall," said ACU Chairman David Keene.

Supreme Court Rules Cities May Seize Homes for Private Use. The Supreme Court today [6/23/2005] effectively expanded the right of local governments to seize private property under eminent domain, ruling that people's homes and businesses — even those not considered blighted — can be taken against their will for private development if the seizure serves a broadly defined "public use."

Kelo in mass quantities:
Florida City Plans to Drive 6,000 Citizens from Their Homes. "It can't happen here" was the prevailing initial response of Florida's public officials after the U.S. Supreme Court ruling in June 2005 in Kelo v. City of New London. The state's attorney general even issued a statement evidently intended to calm Floridians' fears that their local governments suddenly had carte blanche authority to seize private property.

States may raze Court's domain ruling. Policy makers from Texas to New Jersey have similar responses to [the recent] Supreme Court ruling that makes it easier for the government to seize private property through eminent domain: no thanks. The decision was seen initially as a loss for private property owners, but it may lead to a backlash. A groundswell of support for homeowners and property rights has galvanized state legislatures to rein in eminent domain authority.

Excellent!
Confiscating property: The Court's decision helps explain the vicious attacks on any judicial nominees who might use framer-intent to interpret the U.S. Constitution. America's socialists want more control over our lives, property and our pocketbooks. They cannot always get their way in the legislature, and the courts represent their only chance.

This land is your land. No. Your land is their land. There was one problem with John Revelli's property: It was on such a prime location, the government virtually stole it.

They Can't Take That Away From Me… Unless They Can. Put simply, cities cannot take someone's house just because they think they can make better use of it. Otherwise, argues Scott Bullock, Mrs Kelo's lawyer, you end up destroying private property rights altogether. For if the sole yardstick is economic benefit, any house can be replaced at any time by a business or shop (because they usually produce more tax revenues). Moreover, if city governments can seize private property by claiming a public benefit which they themselves determine, where do they stop?

City to seize church by eminent domain. The city of Long Beach, Calif., is using the power of eminent domain bolstered by last summer's U.S. Supreme Court ruling to condemn a Baptist congregation's church building.

Another government taking: Conaway Ranch is a 17,300-acre spread north of Davis, Calif. … Yolo County wants the land. In 2004, county supervisors voted to seize the ranch by eminent domain. "We want to keep it from being developed," explained Supervisor Mike McGowan.

New chance to curtail eminent domain abuse. Carl and Joy Gamble, retirees who lived in the same house in Norwood, a Cincinnati suburb, for more than three decades, did not realize their neighborhood was "deteriorating." Neither did the Norwood City Council, until it heard about developer Jeffrey Anderson's plan to build offices, condominiums, chain stores and a parking garage there.

Kelo's Implications are Horrendous. Kelo does not mean the end of private property per se, but it does mean the end of anyone's secure possession, be the owner an individual or a corporation. To the extent that Americans still possess constitutional rights, Kelo could mean their end as well.

Black Activists Call for Eminent Domain Restrictions in Virginia. The push to restrict the use of eminent domain for private development in Virginia is getting an extra shove from black activists worried the homes and businesses of minorities could be the main targets of real estate developers and local governments hungry for more tax revenue.

Your Home is Your Cottage. Property rights are in trouble just about everywhere. The latest trend hits an economic right Americans have traditionally taken for granted: the right to build or buy the biggest home you can afford.

A New (London) Low. The U.S. Supreme Court recently found that the city's original seizure of private property was constitutional under the principal of eminent domain, and now New London is claiming that the affected homeowners were living on city land for the duration of the lawsuit and owe back rent. It's a new definition of chutzpah: Confiscate land and charge back rent for the years the owners fought confiscation.

Hands off our homes. A grass-roots movement has arisen to keep other people's hands off private homes. Libertarian groups such as the Institute for Justice, which were campaigning against eminent-domain abuse before Kelo, report an upsurge in support, both moral and monetary.

The left is eyeing your home. When the Supreme Court decided seven weeks ago in Kelo vs. New London to loosen constitutional restraints on local governments taking your house and selling it to Wal-Mart, it triggered a wave of public revulsion from New England to South Los Angeles. … Rep. Maxine Waters (D-Los Angeles) cosponsored a successful amendment to stop federal Community Development Block Grants from going to any locale that doesn't prohibit eminent domain seizures for private development. … House Minority Leader Nancy Pelosi (D-San Francisco) opposed Waters' amendment, arguing that the Supreme Court decision "is almost as if God has spoken."

Editorial Comment: Actually there's more truth than poetry in that statement, because if the government is Congresswoman Pelosi's god, then her god has spoken.

It takes a village … of property owners. Governments historically use eminent domain to acquire private property for "public use," defined as a road, bridge or a school. Here, the city bluntly acknowledges its goal — a higher tax base.

Private Property in Peril. Property owners beware. If an owner does not make maximum productive use of his property, government is now empowered to transfer the property to another person.

School district sells 24.7 acres to Home Depot for $30 million. Three years after using eminent domain to take possession of a 24.7-acre parcel in Kearny Mesa, the San Diego Unified School District is selling the vacant land to Home Depot for $11.2 million more than it paid. The school board was scheduled today [11/09/2004] to authorize the district to begin escrow on the $30 million sale. District officials said the site is unsuitable for a school and there is no other school district use for it.

Arkansas wrongly seized, sold man's home, justices rule. The Supreme Court declared Wednesday [4/26/2006] that a state must take steps to ensure that a property owner is sufficiently notified of a tax delinquency before it seizes and sells a home. The decision revealed an irritation among the majority for how Arkansas officials used the "extraordinary power" to seize a home.

Land Seized for Animal Shelter May Be Sold to Developer-Donor. A year after Los Angeles seized three acres from a private company to construct a public building, a city councilman wants to sell the land to another private firm for a commercial development.

PBS Analysts Ridicule Eminent Domain Concerns of Conservatives. During PBS's coverage Wednesday [9/14/2005] of the Senate hearing with Supreme Court nominee John Roberts, analysts ridiculed the concern of some conservative Senators over the Supreme Court's recent eminent domain ruling and mocked the role of naive talk radio hosts.

Private Property at the Mercy of Government. When, if ever, does government have the power to take the property of A and turn it over to B? According to a June 23 ruling by the U.S. Supreme Court (Kelo vs City of New London), government can do that whenever it thinks that B will pay more in taxes.

New book
Opening the Floodgates: Eminent Domain Abuse In the Post-Kelo World.

Supreme Court OKs Expansion of Takings Power. The U.S. Supreme Court gave a major victory to urban planners, large property owners, and government in the Kelo v. New London decision announced June 23. The major losers are those who treasure private property rights and the respect for those rights set forth in the U.S. Constitution and those with the least political power to protect themselves.

Take That, David. An application has been made to condemn the family home of Supreme Court Justice David Souter, to make way for hotel development.

Kelo Ruling Puts American Dream at Risk: Justice David Souter is probably breathing a sigh of relief. Last month, New Hampshire voters rebuffed attempts to seize the Supreme Court justice's home and transform it into a private inn. This effort was an orchestrated protest of the Supreme Court's 5-4 decision in Kelo v. New London, in which Souter joined the majority. While theatrical, the proposed seizure of Souter's home is not surprising: There are few recent Supreme Court cases that elicit as visceral a reaction as Kelo. As well it should.

Missouri Bank Refuses to Finance Eminent Domain Development Projects. A Missouri-based bank has announced it "will not lend money for projects in which local governments use eminent domain to take private property for use by private developers," making it the second lending institution in the nation to do so.

Supreme Court Ruling Opens the Door to Abuse. Economic theory tells us that secure private property rights are one of the essential foundations of a free society and an important engine of growth. By raising the odds that eminent domain powers will be exercised expansively, the Kelo decision has seriously undermined those rights.

Sentence First, Verdict Later. In Kelo v. New London the Court moved us further away from the "red state" view of property rights by giving virtually carte blanche to local governments to seize, and demolish any person's home. … The Court declared that the involuntary transfer of property from you to any corporation, shopping mall or other business interest can be a lawful exercise of government power.

Reaction to the Supreme Court Decision in Kelo Eminent Domain Case. The U.S. Supreme Court has given a major victory to urban planners, large property owners, and government in the Kelo decision announced June 23. The major losers are those who treasure private property rights and the respect for those rights set forth in the U.S. Constitution and those with the least political power to protect themselves.

Human rights v. property rights: Property rights are human rights to use economic goods and services. Private property rights contain your right to use, transfer, trade and exclude others from use of property deemed yours. The supposition that there's a conflict or difference between human rights to use property and civil rights is bogus and misguided.

With just a few additional ingredients, the Kelo decision could result in a Zimbabwe situation.

Lessons from the Kelo Decision: One week after the Kelo decision by the Supreme Court, Americans are still reeling from the shock of having our nation's highest tribunal endorse using government power to condemn private homes to benefit a property developer. Even as we celebrate our independence from England this July 4th, we find ourselves increasingly enslaved by petty bureaucrats at every level of government. The anger engendered by the Kelo case certainly resonates on this holiday based on rebellion against government.

Florida Eminent Domain Plan Could Be the Largest. The project, potentially one of the country's largest eminent domain seizures, has placed Riviera Beach at the center of a nationwide battle over whether government should be allowed to seize property for private development.

Why we need conservative judges: Citizens don't need their lives defined by others. They need protection. And the vulnerable particularly need protection. Protection means having a legal code that has integrity and having judges that see their job as relating to that law to protect people from the unjust encroachment by others. I would say a society of tyranny is one in which it is never clear what the law is and how I am protected. Ironically, this also characterizes a liberal society. This couldn't have been driven home more clearly than by the Supreme Court's recent eminent-domain decision in the Kelso v. City of New London case.

Never Mind the Kelo, Here's Scott Bullock. It was rather shocking that a majority of the Supreme Court would permit this type of abuse. We're in an America where, as Justice Sandra Day O'Connor points out, church property can be taken for a Costco, a farm can be turned into a factory, and a neighborhood can be leveled for a shopping mall. Most people cannot believe that this can happen in this country and the Supreme Court gave sanction to that with their decision.

The Supreme Court's reverse Robin Hoods: No one disputes that this power of "eminent domain" makes sense in limited circumstances; the Constitution's Fifth Amendment explicitly provides for it. But the plain reading of that Amendment's "takings clause" also appears to require that eminent domain be invoked only when land is required for genuine "public use" such as roads. It further requires that the government pay owners "just compensation" in such cases. The founding fathers added this clause to the Fifth Amendment … because they understood that there could be no meaningful liberty in a country where the fruits of one's labor are subject to arbitrary government seizure.

When Justices become dictators: This week, the Supreme Court of the United States once again proved that it is a feckless, dictatorial and altogether ridiculous body. Its latest spate of decisions reveals legislative usurpation, disingenuous deference and silly inconsistency. But, of course, what else should we expect from the court that tells us our Constitution protects pornography but not political advertising, sodomy but not the Ten Commandments, and mentally disabled murderers but not private property?

Theft by government: As the nation was waiting to see where the Supreme Court would tolerate displaying the Ten Commandments, the court violated one.

Your house could be a parking lot. Think your house is your castle? Our country's Founders thought so. They put three provisions into the Bill of Rights to protect it. But last week, the Supreme Court said the government can take away your house just because it thinks someone else could make better use of your home or business than you can.

Your castle no more. The U.S. Supreme Court is allowing a local government to kick out of the house in which she was born 87-year-old Wilhelmina Dery and her husband who has lived there with her for 60 years. Why? The government wants to seize their property, bulldoze their house and many others and sell the land to businesses and developers for private uses.

High Court to homeowners: Stick 'em up! It's like a bad dream, or a summer disaster movie. But this is real. We live under a regime that can and often does grab our homes and small businesses to create what politicians call "economic development." The process is simple: the government takes our property, pays us what it thinks the property's worth, and then hands our property — in finely crafted "sweetheart deals" — to developers and big corporations that will produce greater tax revenue.

Eminent injustice in New London. Would your town's tax base grow if your home were bulldozed and replaced with a parking garage? If so, it may not be your home for long.

Damaging 'Deference': The question answered Thursday was: Can government profit by seizing the property of people of modest means and giving it to wealthy people who can pay more taxes than can be extracted from the original owners? The court answered yes.

Supreme Court Ruling on Seizure of Private Property Highly Disturbing. Justice Sandra Day O'Connor wrote the dissenting opinion for the court, arguing against the unconstrained authority of government to displace families and small businesses in order to accommodate developers. "The specter of condemnation hangs over all property," stated the Justice in her opinion.

Eminent domain ruling 'disastrous'. A ruling handed down today by the Supreme Court paves the way for local governments to seize private property and hand it over to developers and other private businesses. … While eminent domain may be necessary to build public projects such as roads and bridges, this decision will allow private homes to be taken to build shopping malls, hotels and theaters.

Supreme Court: Public Use is Whatever Governments Say. "This is a dark day for property owners throughout the country and particularly for citizens living anywhere near covetous local governments," said William Perry Pendley of Mountain States Legal Foundation.

Hail seizers! The New York Times cheers on the land grabbers. According to the Court, the Fifth Amendment, which allows the government to take property "for public use" provided it pays "just compensation," is a license to transfer any parcel of land from its current owner to someone the government thinks will make better use of it.

This Land is My Land: Reforming Eminent Domain after Kelo v.City of New London. On June 23, 2005, the U.S. Supreme Court upheld the city of New London's use of eminent domain to condemn several properties the city claimed stood in the way of additional tax revenues and new jobs. However, Justice Stevens, author of the majority opinion in Kelo, explained that nothing precludes states from restricting their takings power. Doing so is a first step toward assuring homeowners that they can keep what they own.

EFF raises the Gadsden flag in protest of Supreme Court property rights decision. The Gadsden flag was the fighting standard chosen by American patriots during the Revolutionary War. The English government was infringing upon the fundamental rights of life, liberty and property, and, as a result, the American colonists revolted. The Gadsden flag, with the famous words "Don't tread on me," best portrayed their sentiment.

Property Damage: With yesterday's U.S. Supreme Court decision in Kelo v. New London, the nation's highest court has essentially given federal, state and local governments an unlimited ability to take a private citizen's property as long as proper payment is made. The Fifth Amendment to the U.S. Constitution prohibits private property from being taken through eminent domain without "just compensation," but it further stipulates that the property must be taken for a "public use." In Kelo, the Supreme Court watered down the public use requirement so as to make it almost meaningless.

Kelo, GM, and the Stimulus: Three Examples of Government-Induced Failure. On November 9, pharmaceutical giant Pfizer announced that it would abandon its eight-year-old research and development facility in New London, Connecticut. That decision effectively ended the chances of any additional development taking place in the city's Fort Trumbull area, the subject of June 2005's infamous Kelo v. New London Supreme Court decision. Citing what Justice John Paul Stevens called a "carefully formulated ... development plan," the Court's decision allowed the city to condemn and bulldoze dozens of houses. Today, the area, except for the politically connected Italian Dramatic Club, is a vacant wasteland.

House takes aim at Supreme Court's controversial ruling on property rights. The House this week is expected to approve legislation that would overturn a 2005 Supreme Court decision holding that state and local governments can take private property under the principle of eminent domain in order to further their economic development plans. The 2005 decision, Kelo v. City of New London, was seen by Republicans in particular as a case of government overreach. The Fifth Amendment to the Constitution limits the authority of government to seize property, by requiring compensation and mandating that the land taken be put to public use.

House votes to overturn Supreme Court decision on eminent domain. The House on Tuesday afternoon [2/28/2012] approved legislation that overturns a 2005 Supreme Court decision that affirmed the ability of states to take control of private property under the doctrine of eminent domain and hand it to another private developer.

Taking back property rights. Congress is taking steps to reverse a Supreme Court decision that turned a thriving middle-class community into a waterfront wasteland. It's about time Kelo was knocked off-kilter.

Justices Back Forced Sale of Property. The Supreme Court gave cities broad power Thursday [6/23/2005] to bulldoze homes and small stores to make way for business development, a ruling the dissenters said put shopkeepers and homeowners at the mercy of revenue-hungry governments. The 5-4 ruling against a small group of residents in New London, Conn., goes further than ever before in allowing government to invoke its power of "eminent domain" to seize private property from unwilling sellers.

Supreme Court Rules Cities May Seize Homes. Cities may bulldoze people's homes to make way for shopping malls or other private development, a divided Supreme Court ruled Thursday, giving local governments broad power to seize private property to generate tax revenue. In a scathing dissent, Justice Sandra Day O'Connor said the decision bowed to the rich and powerful at the expense of middle-class Americans.

New Jersey to Expand Seizures in Gun Cases. A New Jersey state assemblyman has introduced a bill that would allow the government to seize the home or car of anyone whose property contains an illegal firearm. In New Jersey, nearly every gun is considered "illegal."

The abusers of eminent domain. What the Supreme Court in the 18th century found unthinkable, the Supreme Court of the 20th century made lawful. In Berman v. Parker, a 1954 case, a unanimous court permitted eminent domain to be deployed for purposes of what was then called "urban renewal." Berman's narrow exception soon became an open floodgate of eminent-domain abuse.

Supreme Court taking on sticky issue of eminent domain. The American Dream is to start a small business and develop it through years of hard work and investment. Location is the key to most businesses, and entrepreneurs typically build their reputation at a particular spot. But lately, many have been greeted by a surprise message from city hall: Their town is taking their property for the benefit of someone else. A lifetime of effort is suddenly snuffed by the arbitrary decision of a few councilmen or unelected city planners.

Confiscating homes. What would you call it if someone forced you to sell your home, even though you didn't want to sell and didn't agree to the price? You would call it theft and phone 911. But the realm of government is cloaked in terminology designed to hide unpleasant realities. When the government does this, it's called "eminent domain," and it's legal.

The Asset Forfeiture Manual: Judges, lawyers, and other government officials enjoy various levels of personal immunity provided by both law and "professional courtesy." How do you sue a lawyer for malpractice? You hire another lawyer - if you can find one who'll take the case. How do you sue an IRS agent for violating your Constitutional rights? Only with great difficulty. How you sue a judge for railroading you in court? You don't.

Ashcroft Orders Destruction of DOJ Documents. The Department of Justice requested the Government Printing Office to order depository libraries to remove and destroy five publications regarding asset forfeiture no longer to be available to the general public.

Socialism is evil. What is socialism? We miss the boat if we say it's the agenda of left-wingers and Democrats. According to Marxist doctrine, socialism is a stage of society between capitalism and communism where private ownership and control over property are eliminated. The essence of socialism is the attenuation and ultimate abolition of private property rights. Attacks on private property include, but are not limited to, confiscating the rightful property of one person and giving it to another to whom it doesn't belong.

Bandits with Badges: Society has no problem with law enforcement fighting crime or even confiscating property used in a criminal enterprise but, as with any law, the good intent for which the law was created, has been immensely abused to the point that innocent citizens are losing everything they ever worked for without even being charged or convicted of a crime. Clearly, states need to pass laws to safeguard the rights of the innocent from zealot law enforcement agencies run amuck from the smell of greed.

The War on Crime: Today, more than 200 different kinds of forfeiture laws exist in America, and items are often seized on mere suspicion. Some 80% of people who have their property seized are never formally charged with a crime. Attempts to recover seized property is a legal nightmare for private citizens.

Government seizures begin to spur backlash. While the U.S. Constitution allows governments to use eminent domain, that power generally had been restricted to acquiring land to build roads, schools and other infrastructure government needed to carry out its role of providing for the public welfare. But scholars say that began to change in the 1950s when local governments began using eminent domain as a means to clean slums.

Highway "forfeiture traps" are apparently still alive and flourishing. A few years ago these forfeiture traps on interstate highways were getting a lot of media attention. Television news shows such as 20/20 and 60 Minutes aired exposes on forfeiture traps in Volusia County, Florida, and Sulphur, Louisiana. Local police in these small towns made millions of dollars in profits by trolling the interstate highways and stopping travelers with out of state tags. The police typically claimed some traffic infraction, asked permission to search the car and got it, found no drugs but some cash, then brought in a drug sniffing dog, and after getting it to "alert," seized all the travelers' money.

DEA's crazy train: "Amtrak is providing federal drug police in Albuquerque with ticketing information about passengers," writes Jeff Jones in the April 11 [2001] Albuquerque Journal, "and Amtrak police get 10 percent of any cash seized from suspected drug couriers at the Downtown station."

Government Property Seizures out of Control: Across America, the Drug Enforcement Administration is seizing the luggage, cash and cars of hapless travelers. And the government is keeping the property of people who have committed no crime.

Railway Bandits: Amtrak manages to lose money on 39 of its 41 routes, but that doesn't stop it from making a killing off some of its customers. In Albuquerque, New Mexico, Amtrak officials cut a deal with the Drug Enforcement Administration: In exchange for giving the drug police access to its booking system, Amtrak gets 10 percent of any money the cops take from hapless passengers.

Legislator eyes unused gift card value. Rep. Fred Kessler (D-Milwaukee) said today [12/26/2006] that the value of unused gift cards should go to the state treasury — not to the merchant — and that change will be part of a bill he'll introduce in the legislative session starting in January. Kessler said millions of dollars a year go unused by gift card recipients, and retailers are allowed to book the unused values after the cards expire.

Europe starts confiscating private pension funds. Obviously, this is a cautionary tale for America. If fiscal austerity becomes a real issue in the U.S. the way that it's been reaching critical mass in Europe — don't think that U.S. lawmakers regard your either your personal wealth or money they might owe you as sacrosanct. Government has a habit of looking out for itself.

European nations begin seizing private pensions. People's retirement savings are a convenient source of revenue for governments that don't want to reduce spending or make privatizations. As most pension schemes in Europe are organised by the state, European ministers of finance have a facilitated access to the savings accumulated there, and it is only logical that they try to get a hold of this money for their own ends.

Related stories:

To Protect and Collect

Why the Civil Asset Forfeiture Reform Act Will Not Significantly Reform the Practice of Forfeiture

Supreme Court Says Police May "Impound" House: The Supreme Court ruled 8-1 Tuesday (02/20/2001) that Illinois police acted constitutionally when they kept a man from entering his trailer home while they spent two hours getting a search warrant.

Plunder Patrol: The alarming saga of IRS abuse: The Internal Revenue Service (IRS) is our nation's largest law enforcement agency. Armed with virtually unlimited power, it collects not only taxes, but intimate details about the personal lives of virtually every American.

Not So Eminent Domain. On June 23, 2005, the U.S. Supreme Court said that New London, Connecticut, could force the sale of Susette Kelo's house. The question before the court had been whether the city's plan for her neighborhood — private condos, a privately owned hotel, and laboratories for a private-sector corporation, Pfizer Inc. — was a "public use" under the 5th Amendment of the Constitution. The city said it was, because it would generate taxes and jobs. Five of the nine members of the court swallowed that argument. By one vote, Susette Kelo lost.

Back to Abuse of Power
Back to the Home page