It is a challenge for most people to pay the bills, buy a house, put the kids through college, or generally make ends meet. People expect to see a certain amount of money deducted from their paychecks for a pension plan, health insurance, or 401(k). (You will probably never see that Social Security money again.) But it really hurts to see huge sums of money taken out of a check to pay federal income tax, especially when you know that a lot of that money will be wasted on some of the nonsense shown below.

Additionally, some of your money will be given to people who are too lazy to work. In 2002, the federal government spent $522 billion on low-income assistance programs.* That's half a trillion dollars per year. But the issues of poverty and perpetual dependency in America are discussed on another page.

Related subjects discussed on separate pages:

Ethanol
Wind and solar power
Farm subsidies
High-speed rail
Amtrak
Head Start
The Welfare State
Electric cars
Sports stadiums and arenas
Fluorescent light bulbs
The National Endowment for the Arts
Planned Parenthood
Unionized government workers
The United Nations
National Public Radio and PBS
Pork products in the stimulus bill
President Obama spends our money on himself
Cash for Clunkers
Green jobs
Wasteful Wartime Spending
The Big Dig in Boston
Wasteful Spending in Public Education
Pork Barrel Projects, one of the biggest of which is NASA.
The Endless and Ineffective War on Poverty


---



Pentagon buries evidence of $125 billion in bureaucratic waste. The Pentagon has buried an internal study that exposed $125 billion in administrative waste in its business operations amid fears Congress would use the findings as an excuse to slash the defense budget, according to interviews and confidential memos obtained by The Washington Post. Pentagon leaders had requested the study to help make their enormous back-office bureaucracy more efficient and reinvest any savings in combat power. But after the project documented far more wasteful spending than expected, senior defense officials moved swiftly to kill it by discrediting and suppressing the results.

U.S. Spends Millions to Give Africa "Clean" Energy. As part of a broad mission to end extreme poverty worldwide the Obama administration is giving unproven startups millions of dollars to create solar power in Africa. [...] It appears to be the international version of the president's disastrous — and costly — plan to create innovative clean technologies domestically by filling the coffers of fly-by-night companies that never delivered. Instead, they went bankrupt after getting billions of dollars from American taxpayers under a Department of Energy (DOE) initiative that doled out $16.1 billion for more than two dozen projects. Among the recipients was a now-defunct northern California solar panel firm named Solyndra that abruptly folded after getting $535 million from the DOE to promote green energy.

Gov't Spends $750,000 On A Wooden Sculpture And It Made Everyone Sick. Several employees at the FBI became seriously ill after the agency spent $750,000 on a 15,000 pound, two-story tall wooden statue that was placed in the lobby of its Miami, Fl. office. A dozen people were ultimately hospitalized because of the dust the sculpture created, according to Politico. The statue, which is made of red cedar imported from Vancouver, Canada and supposed to resemble a tornado, was purchased by the General Services Administration (GSA), an independent government agency. It was installed early last year, but has already been removed due to its almost toxic-like qualities.

15,000 lb cedar sculpture at the FBI makes more than a dozen employees seriously ill including the office nurse. An enormous sculpture in the FBI's Miami field office is being blamed for sickening a number of the bureau's workers including the office nurse who had an extreme allergic reaction. The 17-feet tall red cedar wood sculpture known as 'Cedrus' was installed early last year in the lobby, but soon after the unveiling employees began to feel ill. Politico reports at least a dozen workers had to go to hospital with most suffering allergic reactions to the cedar dust from the sculpture.

Report: Federal Government Blows $247 Billion on 'Wasteful and Inefficient Spending'. The federal government has wasted at least $247 billion in domestic and overseas spending, says a new report. In his second annual "Federal Fumbles" report, Sen. James Lankford (R-OK) highlighted 100 examples of "wasteful and inefficient spending" and the threat of an almost $20 trillion national debt. The federal government, which announced a deficit of over $500 billion in the 2016 fiscal year, spent $223 billion on interest payments alone in 2015. Even if the nation had a $50 billion budget surplus, "it would still take 460 years to pay off our national debt," according to Lankford's report. In tracking down examples of federal wastefulness, "we are really dealing with four different main areas," the senator explained in the press conference releasing the report. The areas are "grants that need oversight, regulations and regulators that need oversight, agency bureaucracy and inefficiency, and then a lack of coordination between agencies."

Federal Fumbles: 100 Ways the Government Dropped the Ball. The State Department spent one million dollars to bring movie producers and others from Jordan, Turkey and other nations to study American filmmakers and then use their new skills to benefit other countries. More than $500,000 went to digging up graves and religious sites to study the transition of churches in the late seventh through 12th centuries. In Iceland. In Afghanistan, a $48.7 million contract from the U.S. Air Force was meant to build a new headquarters for the Afghan Ministry of Defense. Due for completion in 2010, the project ran five years late and $106 million over-budget.

Snuggies, Shakespeare top annual government wasteful-spending list. If Shakespeare is performed without the bard's immortal words, is it really Shakespeare? The National Endowment for the Arts has committed $10,000 of taxpayers' money to test that question — one of dozens of projects to make the wasteful spending list of Sen. James Lankford, an Oklahoma Republican who's continuing the tradition of former Sen. Tom Coburn's annual Wastebook. The National Science Foundation again comes in for an outsized share of criticism for its research spending, including a $1.8 million grant to a university that spent some of the money on embroidered Snuggies, the robe-style blankets that are a staple of As-Seen-On-TV trinket advertising.

The Navy's New Stealth Destroyer Broke Down in the Panama Canal. The US Navy's newest destroyer broke down while transiting the Panama Canal, colliding with the Canal lock walls and forcing the $4 billion dollar ship to resort to a tow from a tugboat. The USS Zumwalt was towed to a former U.S. naval station in Panama where it will undergo emergency repairs. This is just months after a similar incident in September.

Government Doesn't Know How To Stop Wasting $137 Billion On Improper Payments. The Do Not Pay (DNP) system, created by the Office of Management and Budget and the U.S. Department of the Treasury, combines several federal databases that agencies can use as a tool to check whether the recipient of a contract, grant, loan or other government payment was truly eligible to receive the money. Without the DNP system working properly, the government is trapped in an expensive "pay and chase" process, where agencies have to catch overpayments or wrongful payments and recover the funds later. Ideally, agencies would reduce improper payments by checking contract and grant recipients in the database, but for a variety of reasons, agencies rarely, if ever, use the system.

Federal Pell Grant Waste Quadrupled Last Year. The amount of improper Pell Grant payments by the federal government more than quadrupled in the past year, wasting more than $2 billion taxpayer dollars, a new report reveals. The 2016 fiscal year report by the Department of Education breaks down the department's spending in a variety of areas, including the distribution of Pell Grants, the primary form of federal financial aid to low-income college students. The report touted that the government had substantially expanded overall Pell awards compared to when President Barack Obama took office. But buried near the end of the report was a notable admission: The number of improper payments exploded between the 2015 and 2016 fiscal years.

It's Time to Stop Spending Taxpayer Dollars on Elon Musk and Cronyism. The Senate Finance Committee and the House Ways and Means Committee have launched a probe into tax incentives paid to solar companies, according to The Wall Street Journal. The committee probes, led by their respective Republican chairmen, Rep. Kevin Brady of Texas and Sen. Orrin Hatch of Utah, have found an appropriate and disturbing target to begin this work. SolarCity, a solar installation company set to be purchased by Tesla Motors Inc., is one of the seven companies named in the initial investigation. Already grossly subsidized, Musk's SolarCity has become an albatross of waste, fraud, and abuse of tax payer dollars.

President Obama's UniParty Slush Fund. [Scroll down] The shovel ready jobs program was a ruse, as Obama later admitted there were no "shovel ready" jobs created. Instead the reality was the $1 trillion ["Stimulus"] entered the various cabinet offices at the discretion of the President. Initially Obama gave a big chuck to the Dept of Education to use as a subsidy for economic drops in state education funds. In essence Obama subsidized the teachers payrolls, and kept the teachers union happy. Other notable large expenditures went into crony capitalistic endeavors with the Dept of Energy and EPA (Solyndra etc.), along with the State Dept. The key point is the $1 trillion 2009 "stimulus" funds, became a tool for President Obama to use in whatever cabinet office need he saw.

Spending a $100 Million a Year to Pay Teachers to Do Nothing. The New York Post ran a story Sunday [11/6/2016] about a man who was suing New York City. He wasn't after money (he's making $94,000 a year). He was suing to be allowed to earn his money. David Suker, 48, is one of hundreds of teachers in the Absent Teacher Reserve. He gets paid to show up. "I come to work every day, sit down and do nothing," Suker told the Post. I'd heard of such instances before, but I was unaware just how large the program is. The Post says there are currently 1,304 people in the ATR.

The USS Zumwalt Can't Fire Its Guns Because the Ammo Is Too Expensive. Just three weeks after commissioning the USS Zumwalt, the U.S. Navy has admitted it is canceling ammunition specially developed for the ship's high-tech gun systems because the rounds are too expensive. The guns, tailor made for the destroyer, will be unable to fire until the Navy chooses a cheaper replacement round. The Zumwalt-class destroyers were conceived in the late 1990s as the first of a new generation of stealthy warships. The radar signature of the 610 foot long warship is that of a 50-foot fishing boat, making the Zumwalts great for getting in close to an enemy coastline and then using the 155-millimeter Advanced Gun Systems mounted on the front of the hull. The guns were designed to fire the advanced Long Range Land Attack Projectile, a GPS guided shell with a range of 60 miles.

U.S. Illegally Dispensed $60 Mil to Combat African Ebola Crisis, Money Keeps Flowing. In its crusade to tackle the Ebola crisis in Africa the Obama administration violated its own laws by frantically doling out tens of millions of dollars to leftist groups that claimed they could help control the virus from spreading in the continent's western region. Congress dedicated a breathtaking $2.5 billion to deal with Africa's Ebola crisis but the funds came with rules to keep the allocation process in check and they were repeatedly violated, according to a federal audit made public this month. At least $60 million was fraudulently dispersed to nongovernmental organizations and other efforts without the proper steps to assure the American taxpayer funds were going to valid groups and causes.

NASA in talks with Russian space agency over joint mission to Venus - report. The US and Russia may join efforts in exploring the second planet from the Sun, as NASA and Russian space agency Roscosmos are discussing a joint mission to Venus, Russian media reports. NASA has already drawn up a number of scenarios for the joint mission with their Russian counterparts to Venus, director of the Space Research Institute of the Russian Academy of Sciences Lev Zeleny told the Izvestiya daily.

The Editor says...
Like everything NASA now undertakes, this mission to Venus is pointless. How will this benefit anyone without connections to NASA?

Another government hospital runs over budget, repeating a wasteful pattern. Construction of the new Army medical center at Fort Bliss in El Paso is almost two years behind schedule and could be more than $100 million over budget before it's completed. Two years is an awfully long time for our nation's heroes to wait for new hospital beds. And Donald Trump's tax returns notwithstanding, $100 million is still an awful lot of taxpayer cabbage. One might argue that at least the William Beaumont Army Medical Center is no Aurora, Colorado, Veterans Affairs hospital, still unfinished, with the meter running on more than $1 billion in cost overruns and years past its estimated original completion date. Still, the troubles at Fort Bliss should come as no surprise. A check on the past two military hospital projects — in Killeen and San Antonio — shows the same budget bloat and dilatory scheduling.

Clinton's State Department spent $5.4 million on 'crystal stemware'. Hillary Clinton's State Department spent millions of taxpayer dollars on lavish goods and frivolous initiatives, such as a $5.4 million "no-bid contract for crystal stemware" and $630,000 to "increase Facebook likes on four State Department pages." [...] While wasteful spending is a familiar find at most federal agencies, Clinton presided over particularly expensive unsuccessful reconstruction efforts in Iraq and Afghanistan. Her agency spent more than $600 million on failed projects in those two countries alone, according to the RNC memo.

Clinton's Lavish State Department Spending. Now, in another new report, we are learning that Hillary Clinton's State Department wasted hundreds of millions of your hard-earned taxpayer dollars on a wild spending binge. [...] These are all State Department expenditures during her tenure:
• $5.4 million on a no-bid contract for Crystal Stemware
• $167.5 million on cost overruns at the Embassy in Kabul, Afghanistan
• Over $200 million on mostly unused police training facilities in Iraq
• $79,000 to buy copies of President Obama's books
• $53,000 to polish marble at the Brazilian Embassy
• $630,000 to try to make State Department Facebook pages more popular
• $216,000 to hire an event planner for a 4th of July party in Madrid
• $88,000 to send three comedians to India
• More than $250,000 to purchase art in Mexico
• $410,000 to purchase art in China

Exclusive: American Tax Dollars Going To Sports Programs For Refugees. U.S. Department of Health and Human Services' Office of Refugee Resettlement (OOR) informed governors' offices of its intent to provide sports programs, mental health counseling and job placement services for refugees during a conference call Thursday [10/27/2016]. On the quarterly call on refugee issues, participants were told the sports programs are necessary to help them acclimate to American culture. The cost of the sports programs has not yet been disclosed.

The $6 Billion Clinton's State Dept LOST Was Not 'Debunked'. Democratic nominee Hillary Clinton's claim that the $6 billion the Department of State lost was "debunked" contradicts multiple investigations and audits by the agency's watchdog. "When you ran the State Department, $6 billion was missing," Republican nominee Trump said during Wednesday's [10/19/2016] final presidential debate. "How do you miss $6 billion? Six billion dollars was either stolen, they don't know. It's gone." Clinton replied: "Well, first of all, what he just said about the State Department is not only untrue, it's been debunked numerous times." But it was the State Department's Inspector General (IG) who found in three investigations and two audits that an estimated $6 billion was lost to contract mismanagement, fraud and incompetence during Clinton's tenure as secretary of state.

N.J. took $1.4B from your phone bill for new 911 system but never delivered. [F]or more than a decade, every person in New Jersey with a phone has paid a tax on their monthly bill to make it happen, handing over a whopping $1.37 billion to Trenton. Then came the classic Jersey bait-and-switch. Rather than using the money for 911, lawmakers and governors have instead raided it time and again to balance the budget, leaving critical upgrades to the state's most important public safety system on hold. An NJ Advance Media analysis found that of the $1.37 billion the state has collected in 911 fees since 2004, only 15 percent, about $211 million, has been used to help pay for the 911 system. Investment in the upgrade, known as NextGen 911, has trickled to a halt.

Barack Obama Spent BILLIONS Of Taxpayer Dollars Trying To Convince You He's Smart. It has been eight years of the most ego-driven presidency in the history of the Republic. And if the devil is to be found in the details, those details have now revealed the extent of Barack Obama's yearning to convince others of his own magnificence — an endeavor he spent a half-BILLION dollars per year of taxpayer dollars on. And beyond that direct $500 million per year federal employee public relations army, is another ONE BILLION dollars the administration is utilizing for outside the administration PR firms to spin his policies in a favorable light. That is a one billion dollar advertising campaign to combat reports on administration-related scandals, the still-tepid economy, unemployment, the rise of ISIS, etc. In short, it is the pay-to-play scheme that Team Obama has utilized to control the Mainstream Media.

Obama's army of public relations staffers cost U.S. taxpayers $500M per year. President Obama has swelled the ranks of government PR, adding hundreds of new public relations specialists to the federal payroll during his time in office, costing taxpayers a half-billion dollars a year, the government's chief watchdog said Wednesday [10/5/2016]. That doesn't include the more than $100 million the administration spends annually for help from private sector spinmeisters, nor does it account for the $800 million spent on contracts for advertising in 2015, according to the Government Accountability Office. "Spending $1.5 billion on government PR activities is a huge waste of money. That sort of spending should be drastically scaled back," said Chris Edwards, a federal budget scholar at the Cato Institute.

WH defends $1.5 billion in PR expenses. The White House on Thursday defended its decision to significantly expand the ranks of public relations specialists on the executive payroll during President Obama's time in office, and cast it as a transparency exercise that's needed to ensure officials are communicating "effectively" to the public. The Obama administration has spent more than $1.5 billion on government public relations staffers a year, as well as additional private-sector communications specialists, since the president took office, according to a Government Accountability Office report released Wednesday [10/65/2016]. The White House's chief spokesman, Josh Earnest, defended the move and called it money well spent.

The Unstoppable PR Machine Fed By Your Taxes. A new report commissioned by Sen. Mike Enzi, R-Wyo. (F, 58%), who chairs the Senate Budget Committee, found that government agencies spend about $1.5 billion every year on advertising and public relations. It may take a minute for the absurdity of that to sink in.

US taxpayers made millionaires out of Afghan gangsters, warlords and connected class. American taxpayers have spent more than $100 billion rebuilding Afghanistan, creating schools, hospitals and roads while making millionaires out of a rogue's gallery of warlords, gangsters and corrupt officials. A total of $114 billion, which does not include even more spent on the military effort to oust the Taliban and stabilize the impoverished country, has been appropriated since 2002. While it has likely improved conditions in the country, corrupt builders, security providers, mercenaries and even local bankers have all taken their cuts — and gotten rich in the process.

EpiPens and Government Cheese. At the end of August, the U.S. Department of Agriculture bought 11 million pounds of cheese — that's a cheese cube for every man, woman, and child in America — in order to bail out the nation's feckless cheesemongers. Secretary of Agriculture Tom Vilsack touted the aid package, worth $20 million, as a win-win: "This commodity purchase is part of a robust, comprehensive safety net that will help reduce a cheese surplus that is at a 30-year high while, at the same time, moving a high-protein food to the tables of those most in need." (Most of the federal government's new stockpile will go to food banks.)

Taxpayers pay rent for Somalis who feel the need to visit Somalia (for months!) You cannot make this up! Virtually all Somalis who live in the US came here (we are told) as poor refugees (there are going on 200,000 of them). So how persecuted and fearful of returning home are they if many travel back and forth to Africa and the taxpayers of Minneapolis cover most of their rent while they are gone! By the way, Somalis are not the only (fake) persecuted and impoverished 'refugees' who go 'home' for visits from time to time.

Obama Spends $770M Dollars In Tax Payer Money To Renovate Mosques Over Seas. CBS exposing Obama paying for the renovation of mosques is actually a story from 2015. But it got little media attention then and he's still doing it. He's diverting hundreds of millions of US dollars to overseas mosques to renovate them. Tell me again how he is not a Muslim. This just screams it. And people wonder why he grovels before the Mullahs of Iran[,] why he gives ISIS a pass[,] why he is terraforming the US into a Muslim nation.

BART tax could quadruple original claim. It turns out that the average property tax bill required to support BART's proposed $3.5 billion bond measure on the November ballot could be as much as four times what the transit agency claimed. Two months ago, I reported that the taxes needed to pay off that bond borrowing would be about double BART's public estimate. Well, it could be even twice that. That's because legal language in Measure RR allows BART to issue bonds at up to the state limit of 12 percent interest, far higher than assumed for the previous estimates.

U.S. State Department to allocate $2.65 million for North Korea human rights. The U.S. State Department is allocating $2.65 million to improving human rights in North Korea. The funds will go to human rights organizations and research institutions to support work on North Korea-related issues, Voice of America reported Thursday.

Feds to Spend $4.6 Million to Give 'Emotional Wellness' to Refugees. The Obama administration plans to spend $4.6 million next year on health promotion and "emotional wellness" for refugees as President Obama plans a 30 percent increase in the number of refugees admitted into the country. The Department of Health and Human Services issued a grant forecast last month detailing its plans to issue health care grants for refugees on top of government programs that are already available, such as Medicaid. "The Office of Refugee Resettlement (ORR) within the Administration for Children and Families (ACF) invites States to submit applications for Refugee Health Promotion (RHP) discretionary grant funds," the grant forecast says. "The purpose of the RHP grant is to support health and emotional wellness among refugees. The program is designed to coordinate and promote local health and mental health services and education."

$2.3 Million Taxpayer Dollars Goes to Help Students Cope With Freddie Gray Trauma. The U.S. Department of Education awarded the city of Baltimore more than $2.3 million in grant money to help students deal with "significant trauma related to episodes of civil unrest." The announcement said that the money is part of a new Promoting Student Resilience (PSR) program geared "to promote student resilience." The federal government gave Baltimore $2,374,000, which will go towards counseling and behavioral programs to improve the mental health of students who may have been traumatized by civil unrest. After Freddie Gray's death as a result of injuries suffered while in police custody, protests and rioting broke out in the city. Tension increased again after the officers involved were either acquitted at trial or had their charges dropped by prosecutors.

DOD Is Leasing Land To Green Energy Companies For Free. The Department of Defense (DOD) allowed private companies to build green energy projects on federal lands for little or no compensation, according to an audit of the Pentagon's green energy efforts. Government Accountability Office (GAO) auditors reviewed 17 green energy projects on DOD land and found 14 of those projects were, "not always clear about the value of the land used and the compensation DOD received for granting such use." "Specifically, for 8 projects, DOD received little or no financial compensation for the use of its land, but the documentation did not clearly compare the value for granting use of DOD land to the value of what DOD received for it," GAO found. "As a result, DOD contributed potentially valuable land — in some cases, over 100 acres — for the development of a project without including this as a cost in project documentation."

Feds Spend Millions Fighting FOIA Lawsuits, GAO Finds. Federal agencies spend millions of tax dollars opposing Americans' successful lawsuits seeking public records under the Freedom of Information Act (FOIA), but can't say exactly how much, according to a new Government Accountability Office (GAO) report. Department of Justice (DOJ) officials responsible for tracking agencies' FOIA compliance don't know how much agencies spent fighting 112 cases from 2009 to 2014 in which the plaintiff "substantially" prevailed, according to GAO. Of the 57 lawsuits agencies could track, agencies spent $1.8 million. But that's just a drop in the bucket compared to the $144 million agencies estimated they spent fighting 3,350 FOIA lawsuits from 2009 to 2014, according to GAO.

More Than 28,000 Mexican Citizens [are] Housed in U.S. Federal Prisons. There are 28,683 Mexican citizens being housed in U.S. federal prisons as of the most recent statistics, PJM has learned. The figure represents the total number of inmates with Mexican citizenship in the custody of the U.S. Federal Bureau of Prisons as of July 30, 2016, out of the total 193,391 inmates. Mexican inmates are currently the second largest group of inmates based on citizenship of the total federal prison population at 14.8 percent, behind U.S. citizens at 77.8 percent. In May, the number of Mexican citizens housed in federal prisons was higher at 29,371 out of 194,991 total inmates. The bureau could not provide the specific number of inmates in their custody who are illegal immigrants.

DoD Officials Did Not Take Appropriate Action When Notified of Potential Travel Card Misuse at Casinos and Adult Entertainment Establishments. DoD had less money available for legitimate travel expenses because of the travel overpayments[.] DoD experienced potential national security vulnerabilities due to the untimely reporting or non-reporting of derogatory information regarding misuse of Government travel cards to the DoD Consolidated Adjudications Facility, resulting in the delay or lack of adjudication (decision on security clearance eligibility) for cleared DoD cardholders with financial concerns or personal conduct issues[.]

DOD Lets Workers Use Govt. Plastic at Strip Clubs, Casinos — "Potential National Security Vulnerabilities". More than a year after a federal audit revealed that Department of Defense (DOD) employees made millions of dollars in personal charges — including at casinos and strip clubs — on their government-issued credit cards, no action has been taken to stop the criminal behavior. Pentagon officials have done nothing to crack down on the abuse, instead allowing cardholders to keep sticking it to taxpayers by continuing to use the government credit cards at gambling and adult entertainment establishments.

Tens Of Millions In 'Consumer Relief' Funds Going To Liberal Activists. The Obama administration has quietly funneled millions (and potentially billions) of dollars to leftist organizations and politicians that promote liberal policies and win political elections at the entry-level of government, according to the Wall Street Journal.

Pentagon Officials Permitted Government Spending at Strip Clubs and Casinos: Report. Department of Defense workers spent nearly $100,000 at strip clubs and "adult entertainment establishments," and almost $1 million at casinos, according to the report, which cited a May 2015 audit. At the request of the Senate Committee on Armed Services, the inspector general further investigated the matter. According to the report, out of a sample of 30 government cardholders, 22 sought and received reimbursements on 131 vouchers totaling $8,544. Furthermore, officials did not consider the "security implications of improper personal use of the travel card," the report found.

Feds spend $911,056 studying the drinking habits of lesbian couples. The National Institutes of Health is spending nearly $1 million on a study of lesbian couples to see if stress makes them drink too much. The grant awarded to Old Dominion University will involve lesbians filling out daily diaries about their romantic relationships to determine what causes them to drink.

Leftist Latino Group Crowns USDA "Federal Agency of the Year" for Cultural Transformation. Under Obama the U.S. Department of Agriculture (USDA) has shattered records for spending mammoth amounts to give an unprecedented number of people — including illegal aliens — food stamps, make fresh fruits and vegetables available in inner-city "food deserts" and expand farm loans for underserved communities. The agency has also conducted a minority cash giveaway for "discriminated" farmers that initially targeted blacks but then expanded dramatically to benefit Hispanics. The idea behind that was to make amends to those who suffered discrimination when seeking farm loans from the USDA. Black farmers got a $1.25 billion settlement and women and Hispanics received $195 million "to ensure inclusivity for all who seek justice." All Hispanics who felt they were victims of USDA discrimination got up to $50,000 for their suffering after filling out a form.

Fed Housing Dept Has $43 Billion Worth Of Indecipherable Records. Department of Housing and Urban Development (HUD) officials have ignored 63 financial management recommendations from Congress' investigative arm since 2012 and only half-heartedly followed many more, resulting in the $43 billion agency's books to be all but useless. Things have gotten so bad at HUD so rapidly, that auditors who found only one "material weakness" in the department's accounting in 2012 found nine in 2015, according to a Government Accountability Office (GAO) report published Monday [8/22/2016].

Clinton's State Department Blew $6 Billion In Contracts, And We're About To Learn Why. Democratic presidential nominee Hillary Clinton may soon have to answer questions about an estimated $6 billion in contract mismanagement, fraud and incompetence that happened under her watch at the Department of State. Non-profit government watchdog Cause of Action Institute (CofA) filed a Freedom of Information Act request Friday [8/19/2016] for records related to a March 2014 management alert issued by the department's Inspector General.

More than 100,000 defective combat helmets made by federal inmates put soldiers' lives at risk — and cost the government $19 Million. Defective combat helmets made by federal inmates in Texas put soldiers' lives at risk. The poorly-manufactured helmets were produced for the US military using prison labor and later failed ballistics tests, the Justice Department's Inspector General said Wednesday [8/17/2016] in a report. Nearly 150,000 of the helmets were manufactured between 2006 and 2009, when the White House ordered 'surges' in combat troop levels in Iraq and Afghanistan. Poorly supervised inmates also used dangerous, improvised tools such as makeshift hatchets, which could easily have become weapons.

USDA teams up with Iowa law school and Cyndi Lauper to celebrate lesbian farmers. It's tough being gay and living in rural areas — or so says the U.S. Department of Agriculture (USDA). That's why the agency known for grading your beef is teaming up with LGBT groups and Drake University's law school to host an "LGBT Rural Summit" on Thursday [8/18/2016]. [...] It is unclear how much the program is costing U.S. taxpayers, although USDA's Office of Civil Rights, which is coordinating the summits, requested $24.4 million in funding in its fiscal-year 2016 budget request.

1,300 Fugitives Were Living In Federally-Funded Housing, Now Grassley Demands To Know Why. Senate Judiciary Committee Chairman Charles Grassley thinks it's time for a federal watchdog to cough up some answers about a disturbing report it withheld from Congress and taxpayers on an estimated 1,300 wanted criminal fugitives living in subsidized public housing. The Iowa Republican also wants to know why the Department of Housing and Urban Development apparently isn't enforcing the law against criminals living in federally subsidized housing.

VA Hospital Bought $300,000 Worth Of TVs, Then Stored Them. Detroit's Department of Veterans Affairs (VA) hospital spent $311,000 on TVs that were never used and remain in storage. The federal agency's facility ordered the 300 TVs "because they had funds available," which "may have violated the bona fide needs rule," according to a new report from the department's inspector general (IG). Now, the TVs have sat "in storage for about 2½ years. Further, warranties for the TVs expired."

VA Drops Millions on Delayed Solar Power Projects. The Department of Veterans Affairs has spent more than $408 million to install solar panels on its medical facilities in recent years, despite many of the projects experiencing significant delays and some of the systems not becoming operational at all. The VA has failed to effectively plan and manage these solar panel projects, resulting in significant delays and additional costs, according to a report released by the agency's inspector general last week. The watchdog conducted an audit of 11 of the 15 solar projects awarded between fiscal years 2010 and 2013 that were still in progress as of May last year. The investigation, which was completed in March, found that only two of the 11 solar panel projects were fully completed.

Here's $49,577,386 That Could Have Gone to Zika Relief. The National Institutes of Health has spent more on exercise programs for refugees, anti-tobacco video games, weight-loss programs for truckers, and studies on gay hook up apps than it has to fight the Zika virus. The Department of Health and Human Services is warning that its funding to fight the Zika virus in the United States will be exhausted by September, sending a letter to Congress this week saying "additional funding is needed." HHS has so far received $374 million for domestic Zika relief, including $47 million specifically for the NIH. However, the Washington Free Beacon has uncovered $49,577,386 worth of questionable NIH studies since the Zika epidemic began in the beginning of 2015.

Watchdog calls for work by veteran artists after report shows VA spent $20M on high-end art. A taxpayer watchdog group is calling on the Veterans Affairs Administration to showcase work by veteran artists, after it was revealed the VA spent some $20 million on lavish art at facilities around the country. [...] The $19.7 million tab included a $700,000 sculpture to adorn a California facility for blind veterans. The VA also spent $21,000 for a 27-foot fake Christmas tree; $32,000 for 62 "local image" pictures for the San Francisco VA; and $115,600 for "art consultants" for the Palo Alto facility.

IG: Obama sends hundreds of millions to 'sanctuary cities'. President Obama's Justice Department has coughed up hundreds of millions of dollars to so-called "sanctuary cities" that refuse federal demands for criminal illegal immigrants sought for deportation, according to a new inspector general memo. In just 10 of 155 jurisdictions reviewed, taxpayers handed over $342.1 million in Justice grants to the law-breaking cities and states that have policies barring jails and police from cooperating with the U.S. Immigration and Customs Enforcement agency. The IG said that is 63 percent of the funds available to all American cities.

Government Agency Spent Millions on Public Relations Campaign to Improve Image. Top officials at the Government National Mortgage Association spent $3.9 million on a public relations campaign designed to create positive images for themselves, including a magazine piece on how one of them avoided obesity. Spending tax dollars to polish an individual employee's image isn't allowed under Federal Acquisition Regulations, the Department of Housing and Urban Development inspector general said in a report released Tuesday [7/26/2016]. The association — which is popularly known as "Ginnie Mae" — is part of HUD. "The majority of the charges related to Ginnie Mae's president, Theodore W. Tozer, and its former executive vice president, Mary K. Kinney," the inspector general said. "This activity did not clearly meet the [rules] for allowable public relations and advertising costs."

VA Spent $20 Million on Art Amidst Scandal. The taxpayer watchdog group Open the Books teamed up with COX Media Washington, D.C., for an oversight report on spending at the VA, finding numerous frivolous expenditures on artwork, including six-figure dollar sculptures at facilities for the blind. "In the now-infamous VA scandal of 2012-2015, the nation was appalled to learn that 1,000 veterans died while waiting to see a doctor," wrote Adam Andrzejewski, the founder and CEO of Open the Books, in an editorial for Forbes. "Tragically, many calls to the suicide assistance hotline were answered by voicemail. The health claim appeals process was known as 'the hamster wheel' and the appointment books were cooked in seven of every ten clinics." "Yet, in the midst of these horrific failings the VA managed to spend $20 million on high-end art over the last ten years — with $16 million spent during the Obama years," Andrzejewski said.

$3.1 billion — at least — lost in bogus tax refunds to ID thieves in 2014. The IRS has a Taxpayer Protection Program (TPP) that sounds like it should provide security. It does, but not enough to prevent IRS from paying $30 million to identity theft fraudsters in 2014, based on the 1.6 million screened by the program. That's just one of the ways Uncle Sam fights identity theft fraud. About 7,200 of them were bogus. In total, IRS processed more than 150 million individual tax returns in 2015. Overall, the GAO report indicates the IRS does a decent job of detecting and stopping ID fraud, which is a big business. Crooks attempted to get $25.6 billion from bogus refunds in 2014. The IRS beat them most of the time, stopping or recovering the theft of $22.5 billion, 88 percent of the attempted pillage. But in the remaining cases, crooks got the $3.1 billion.

US Navy's newest $12.9bn supercarrier doesn't work. The most expensive warship ever built has been delayed from hitting the front line because it is reportedly not ready for battle. The $12.9 billion USS Gerald R. Ford Navy supercarrier — the first of three in its class with a total cost of $43 billion — could potentially struggle with planes landing and taking off, moving military weapons and being able to successfully defend itself, a memo obtained by Bloomberg News reads. The memo allegedly states 'poor or unknown reliability issues' were identified in a letter dated June 28.

'Bribery and Kickback Schemes' Plague Syrian Relief Program Funded With Tax Dollars. U.S. tax dollars are going to relief agencies in Syria that are engaging in "bid-rigging and multiple bribery and kickback schemes" and the federal government has taken inadequate steps to prevent it, according to a recent audit.

Trump Gets It Right On Reforming the VA. [Donald] Trump is absolutely right in his diagnosis of what ails the program: "Politicians in Washington have tried to fix the VA by holding hearings and blindly throwing money at the problem. None of it has worked." It is a classic example of a single-payer health care system — wasteful, inefficient and impervious to change. A case in point is the $10 billion "reform" passed two years ago that was supposed to relieve chronic, and at times deadly, delays that veterans had to endure to get treatment. An Associated Press investigation found that wait times had not improved at all last year.

Navy's $12.9 Billion Carrier Falls Further Behind Schedule. The USS Gerald R. Ford — the Navy's newest aircraft carrier and the costliest U.S. warship at $12.9 billion — won't be delivered until at least November, more than two years late.

IRS "Security" Program Unable to Stop $3.1 Billion Fraud. While it's absorbed persecuting law-abiding conservative groups the Internal Revenue Service (IRS) can't seem to stop crooks from scamming it to the tune of several billion dollars in one year alone via bogus tax refunds. It's the latest of many transgressions at the agency that's doubled as an Obama administration tool to crack down on political adversaries. A special IRS security feature called Taxpayer Protection Program (TPP) couldn't prevent criminals from scamming the agency out of an eye-popping $3.1 billion in one year, according to a federal audit. TPP was implemented to curb an epidemic of identity theft that allows criminals to fraudulently get tax refunds. Supposedly, identity theft fraud is reduced through a verification process but the federal probe, conducted by the investigative arm of Congress, the Government Accountability Office (GAO), found serious loopholes.

ObamaCare Is Destroying The Co-Ops It Spent Billions Creating. After providing $2.4 billion in loans to get them started, ObamaCare is now driving several nonprofit insurance co-ops out of business. That, in turn, will leave tens of thousands of people scrambling to find other insurance, while making it unlikely that those taxpayer-subsidized loans will ever be repaid.

Obama Gives $500 Mil. to U.N. Climate Fund. In a March 8 Senate Foreign Relations Committee (SFRC) hearing, the U.S. State Department announced it had delivered $500 million to the United Nations' Green Climate Fund (GCF), a program intended to help developing countries adapt to and mitigate climate changes. Heather Higginbottom, deputy secretary of state for management and resources, announced the Obama administration had given money to GCF, which drew much criticism from SFRC members because Congress had not approved funding for GCF. While being questioned by Sen. John Barrasso (R-WY), Higginbottom told the committee the funds were diverted from the department's Economic Support Fund, which provides economic funding to foreign countries. "Did Congress authorize the Green Climate Fund? No ... We've reviewed the authority and the process under which we can do it, and our lawyers and we have determined that we have the ability to do it," Higginbottom testified.

Seattle City Council Votes to Destroy $30,000 of Police Guns Each Year. Sometimes, reality approximates buffoonery. The Seattle City Council has unanimously decided to waste $30,000 a year. It is not exactly clear why. The easiest way to describe it might be a sacrifice to the gods of political correctness.

State Department Paid College Students $12,000 To Make Hashtags. Students are fighting terrorism with hashtags, and many are receiving cash awards from the Department of State for their work. The Rochester Institute of Technology (RIT) took home $5,000 prize for their social media campaign "It's Time: #ExOut Violent Extremism." Two other schools won a $3,000 reward, and one school received a $1,000 prize as part of State's program to counter Islamic State propaganda online, according to FedScoop. A total of 47 schools participated in the program this spring, each receiving a $2,000 grant and $400 in Facebook ad credits to implement their plan.

Michelle Obama to announce nearly $100 million for education in Morocco. First lady Michelle Obama is relying heavily on social media to tout an overseas trip tied to the Let Girls Learn campaign, which is aiming to get an estimated 62 million uneducated girls into school. Obama started a Snapchat account with help from celebrities including James Corden of "The Late Late Show," with whom she recently taped a "Carpool Karaoke" that will run at a future date.

Feds Spend $1.25 Million on Superhero Cartoon in Pakistan. The State Department is spending over $1 million to create a cartoon superhero who teaches the importance of "living a healthy, drug-free lifestyle" and "women's empowerment" for kids in Pakistan. The agency's International Narcotics and Law Enforcement Affairs, or INL, division issued a grant solicitation for two seasons of an animated series to "promote security and stability" in Pakistan. "INL would like to develop a superhero animated cartoon series aimed at an older target audience (ages 14-25)," according to the grant announcement. "This series would inform, educate, and positively influence Pakistani youth in an entertaining and engaging manner."

Angry Man Who Resents Your Choices of Deodorant and Sneakers Doesn't Mind $38,000 a Day in Security. While Hillary Clinton has effectively clinched the nomination, Bernie Sanders remains the race. There are no more primaries or caucuses scheduled between now and the Democratic convention in Philadelphia in August. Even if super delegates from those states Bernie Sanders won switched their allegiance to him from Hillary Clinton he would not have enough delegates to win. Barring an event that incapacitates Clinton or disqualifies her from the nomination, Sanders doesn't have a chance. Someone waiting in the wings in case of worst case scenario isn't really a candidate anymore. But he's still wasting taxpayer money. The Washington Post reports that while Sanders is no longer actively campaigning, his campaign remains active because he has not "suspended" it, and thus Sanders continues to receive up to $38,000 a day in secret service protection.

Milwaukee schools: Almost half a million bucks for Black Lives Matter curriculum. The Milwaukee Public Schools have set aside $471,073 in next year's budget "to create a 'cultural studies curriculum'" and to enhance overall school performance via "facilitation of meaningful dialogue and support on issues surrounding race and trauma faced in communities and schools." This amount almost equals that allocated for College Access Centers, Universal Driver Education, and Advanced Studies of World Languages combined.

Milwaukee Public Schools Will Spend Almost $500,000 Pushing Black Lives Matter. Public schools in Milwaukee, Wisconsin are planning to spend nearly $500,000 of taxpayer money implementing a program that furthers the goals of Black Lives Matter. The $471,073 outlay in the proposed 2016-17 budget for Milwaukee Public Schools (MPS) is included as one of many partnerships the district is pursuing with outside organizations. The partnership with Black Lives Matter is described as an effort to create a "cultural studies curriculum" and improve school performance through the "facilitation of meaningful dialogue and support on issues surrounding race and trauma faced in communities and schools."

Flying High on the Taxpayer Dime: These Three Senators Bust the Budget on Air Travel. Sen. Charles Schumer spent $292,000 in public money flying private airplanes last year. His protégé Sen. Kristen Gillibrand spent more than $150,000 on charter travel. The two New York Democrats were the top spenders on private air travel between October 2014 and September 2015, an analysis of Senate office-account records shows. Third place is held by a lawmaker from the other side of the political aisle and the other side of the country: Republican Sen. John Barrasso of Wyoming spent more than $75,000 in the last fiscal year flying charters.

U.S. Doesn't Track if Millions in Biz "Loans" to Refugees on Public Assistance Are Repaid. The U.S. government gives refugees on public assistance special "loans" of up to $15,000 to start a business but fails to keep track of defaults that could translate into huge losses for American taxpayers, records obtained by Judicial Watch reveal. The cash is distributed through a program called Microenterprise Development run by the Department of Health and Human Services (HHS) Office of Refugee Resettlement. Since 2010 the program has granted thousands of loans to refugees that lack the financial resources, credit history or personal assets to qualify for business loans from commercial banks. Most if not all the recipients already get assistance or subsidies from the government, according to the qualification guidelines set by the Microenterprise Development Program. It's a risky operation that blindly gives public funds to poor foreign nationals with no roots in the U.S. and there's no follow up to assure the cash is paid back. The idea behind it is to "equip refugees with the skills they need to become successful entrepreneurs" by helping them expand or maintain their own business and become financially independent.

Feds Spend Eight Years And $300M To Develop Useless Software. But Feds have no money to improve waiting time for vets' medical care?

Commissioner says fraud from Obamaphone program approaching $500 million. The federal subsidy known as the "Obamaphone" or "Obamanet" program could be losing nearly $500 million to fraud annually, according to a top Republican on the Federal Communications Commission. Commissioner Ajit Pai made the accusation Wednesday in letter to the Universal Service Administrative Company, referring to the FCC's Universal Service Fund, which provides a monthly $9.95 subsidy for telecom service to low-income consumers. The subsidy is limited to one per "independent economic household," or IEH, but telecom companies have the ability to override that restriction if applicants check a box stating they represent a separate household, even if they have the same address.

Keyword: Cloward-Piven strategy.
Feds spend nearly $20,000 to settle every refugee. Federal taxpayers are on the hook for nearly $20,000 just to settle each refugee and asylum seeker, who are then immediately eligible for cash welfare, food stamps, housing and medical aid, according to a new report on the "refugee industry." The report provided federal budget figures showing that the government spends $19,884 on each refugee the U.S. takes in. And that number is set to jump if President Obama gets his way and brings in an additional 10,000 Syrian refugees in this year.

It's the liberal way of life: Take a bad situation and make it worse.
NYC spends $265G to urge people to use restroom of their choice. New York City has spent $265,000 in taxpayer funds to make sure everyone knows they can use the bathroom of their choice, with a massive ad campaign urging residents, commuters and tourists to "Look past pink and blue." The ads, which urge readers to "Use the restroom consistent with who you are," feature transgender models and are set to be featured in subway cars, bus shelters, phone booths, local newspapers, digital ads and social media promotions. Most will be printed in either English or Spanish, though some community newspaper ads will be written in Korean, Chinese, Russian and Bengali.

U.S. government spent $1 million to determine if cheerleaders are more attractive in a squad. The U.S. government spent more than $1 million in taxpayer dollars to study the question of whether cheerleaders appear more attractive when they are grouped together in a squad. That's just one of "Twenty Questions Government Studies That Will Leave You Scratching Your Head," according to a recent report from the office of Sen. Jeff Flake, Arizona Republican. Another head-scratching study, Mr. Flake's office noted, was one by the Department of Defense which asked, "Why does walking with coffee cause it to spill?" The price tag was $172,000, just a couple thousand shy of the base salary for a U.S. senator.

Twenty Questions Government Studies That Will Leave You Scratching Your Head. [For example, the National Institutes of Health spent a million dollars to find out what kind of music is preferred by monkeys and chimpanzees.] The National Institutes of Health (NIH) has conducted numerous studies over the past decade to determine the musical preferences of non-human primates, even going so far as to have music composed specifically to suit the taste of tamarins. The studies found that most primates do not like popular Western music, with one exception — the heavy metal sounds of the rock band Metallica. When given the option to listen to different types of music or opt for silence, chimpanzees chose Indian and African music — and even silence — over Western or Japanese music, but the monkeys went ape for the sounds composed specifically for their ears.

Technology That Hasn't Been Used. The aerospike engine was to be used first on the x33 Venture Star, an attempt to gather information leading to a true reusable Single Stage To Orbit(SSTO) vehicle. Unfortunately the X33 died because of mission creep and cost overruns. Essentially the mission planner forgot what the X projects were for and tried for a fully flight ready vehicle when what was needed was an engine test bed. They truly forgot the KISS principle in design and development.

ICE spends millions flying illegal immigrant children across US. The Obama administration has spent at least $18.5 million to fly "unaccompanied children" caught crossing into the country illegally to locations inside the United States, according to newly obtained figures. The numbers, shared with FoxNews.com by the Senate subcommittee on immigration, were provided by Immigration and Customs Enforcement in response to questions from Sen. Ted Cruz, R-Texas. The numbers shed light on the extent of a program that has drawn scrutiny not just from lawmakers but the federal courts, amid concerns the U.S. government is effectively aiding smugglers.

EPA Conducts Two Secret Meetings A Year To Decide How To Dole Out Billions In Slush Fund Money. Congress appropriates about $1 billion annually for EPA's Superfund program, and the agency has accumulated nearly $6.8 billion in more than 1,300 slush fund-like accounts since 1990. Two committees consisting entirely of EPA officials meet behind closed doors twice annually to decide how the agency spends those funds on highly polluted — and often dangerous — Superfund sites. All reports to and from the groups, as well as the minutes of their meetings and all other details, are kept behind closed doors.

The High Price of Security Theater. Since 2001, the U.S. government has laid out mind-boggling sums to keep the homeland safe from violent extremists. There was the $30 billion raise for the FBI that didn't see 9/11 coming and $70 billion for the bureaucrats who have consistently failed to keep our airports safe. Add in more than $200 billion for a new Cabinet-level department to coordinate all of this activity and half a trillion for mass surveillance, plus the incredible costs of a decade and a half of military action abroad, and the total comes to a whopping $4 trillion. Where did all that money go?

IRS improperly paid $15.6 billion through Earned Income Tax Credit program. The IRS erroneously paid out an estimated $15.6 billion in Earned Income Tax Credit payments in fiscal year 2015, according to a Treasury Inspector General for Tax Administration report. A low-income worker can receive refundable tax credits from the Earned Income Tax Credit program when they meet certain requirements for income and age. The $15.6 billion in improper payments identified by the inspector general represented 23.8 percent of total earned income credits paid out in that fiscal year. According to the Office of Management and Budget, an improper payment is a transfer that should not have been made, was made in the incorrect amount, or was made to an ineligible recipient.

NYC's putting bums and junkies up at this swanky boutique hotel. Dozens of homeless men are bunking in a new, boutique hotel in Brooklyn — despite Mayor de Blasio's pledge to end the practice following a triple slaying in a Staten Island hotel that was doubling as a shelter. The BKLYN House in Bushwick — which offers "loft-style" lodging and "street-art-inspired" decorations — is renting out 44 of its 113 rooms to the Department of Homeless Services, officials said Friday [5/20/2016]. Taxpayers have been shelling out $168 a night per room to "temporarily" house 80 employed or job-hunting single men since late November, DHS said.

Shocker: Government Throws Billions at Problem — Doesn't Solve it. The latest example of government making worse the problem they created is the V.A. healthcare system. Feel free to also call it a vision of the future of Obamacare. And why is it that America's heroes are always the ones getting the shaft? We never seem to hear about the sorry state of the welfare system, or any of the other hundreds of government giveaway programs. They seem to get their checks and benefits on time. It's always our veterans, the men and women who put it all on the line for our country, who get the government short-shrift. Reports have been consistently bad on the state of the V.A. system for years — decades even, yet it can't seem to get fixed.

Obama-Backed Solar Plant Literally Incinerates Itself. The world's largest solar energy plant known for incinerating birds just got a taste of its own medicine. A fire at the plant Thursday morning [5/19/2016], which may have been caused by "misaligned" mirrors used to reflect sunlight at boiler towers, broke out in the facility's interior — literally scorching parts of the plant. NRG Energy, the company operating the Ivanpah solar plant in southern California, was forced to shut down one of its generating towers and is investigating if mirrors, or heliostats, failed and torched a boiling tower. Now, the plant, which got $1.6 billion from the Obama administration, will only be able to generate electricity from one of its three towers.

Federal Government Waste Exploded Under Obama, Data Show. A federal website called Payment Accuracy tracks in great detail what it calls "improper payments" made by the federal government through Medicare, Medicaid, farm programs, school lunch programs and others to contractors, doctors, students, and so on. Last year, the government made $126 billion in overpayments, nearly double the amount of made in President Bush's last year. Improper payments in Medicare, for example, went from $10 billion in 2008 to $43 billion last year; and for Medicaid, the figured jumped from $19 billion to $29 billion.

U.S. has 'overpaid' $1.2 billion for U.N. peacekeeping troops. Despite a Clinton-era law capping U.S. subsidies to the United Nations peacekeeping force, President Obama and a willing Congress have spent over $1.2 billion more than allowed, handing Republican Donald Trump a new issue to hit Hillary Rodham Clinton with. A spending analysis from the Heritage Foundation's U.N. specialist showed that from 2010-15, the difference between the cap and the money sent to U.N. peacekeepers is approximately $1.26 billion.

Another $37.3 Mil to Combat Housing Discrimination. Throughout his two terms Obama has allocated colossal sums of taxpayer dollars to combat what he believes is an epidemic of discrimination against minorities in everything from the criminal justice system to education, housing and the workforce. This has been a government wide effort in which a number of federal agencies have doled out hundreds of millions of dollars to fund a multitude of controversial initiatives. Among the biggest spenders has been the U.S. Department of Housing and Urban Development (HUD). Judicial Watch has reported on this waste over the years, including the results of a probe that revealed HUD violated a ban on federal funding for the Association of Community Organizations for Reform Now (ACORN) by giving the famously corrupt group tens of thousands of dollars in grants to "combat housing and lending discrimination."

Waste, Violations in $25 Mil Program to Fight Climate Change in Guatemala. A $25 million project to help Guatemala combat the ills of climate change is rife with problems that include data errors and discrepancies, no sustainability plan as required by the government and security and funding violations. Though it constitutes an egregious waste of taxpayer dollars, this is par for the course with virtually all of the Obama administration's "green" ventures, which have largely failed after getting hundreds of millions in federal funds. Among them is a fly-by-night solar panel company (Solyndra) that went under after getting $535 million from the feds and an electric car company (Fisker) that also folded after the government gave it $200 million.

The Editor says...
To what extent has the climate changed exclusively and specifically in Guatemala, and how much of a remedy can be bought for $25 million?

Waste, Violations in $25 Mil Program to Fight Climate Change in Guatemala. This one is officially known as Climate Nature and Communities in Guatemala (CNCG) and it's a tiny slice of the president's broad and costly initiative to conquer global warming in developing nations. The goal is to conserve Guatemala's wealth of natural resources and support the country's efforts to mitigate the impacts of climate change. Since the U.S. launched CNCG in 2013, nearly half of the money allocated has been disbursed to a New York-based nonprofit called Rainforest Alliance that oversees a consortium of environmental, academic and business institutions. This group gets a lot of money from Uncle Sam for its various biodiversity conservation causes and, not surprisingly, there's lots of waste and mismanagement.

ICE Just Blew $100K On Office Redo, Bathroom Renovations For Director. U.S. Immigration and Customs Enforcement spent $100,000 renovating the suite not only of director Sarah Saldaña, but also her assistant's office, according to an internal document obtained by The Daily Caller News Foundation. In response to a query submitted by a Senate Committee on Appropriations staffer regarding the cost of office renovation, ICE confirmed that it had modified the director's suite "to improve the workflow and usable desk space." The original question from the staffer included a humorous quip about the state of the director's suite, which implied redoing the space would constitute waste.

Tale of Two Tribes: 'Climate Refugees' vs. EPA Victims. The New York Times splashed a viral story on its pages this week spotlighting the U.S. Department of Housing and Urban Development's $48 million grant to Native-Americans who live in the flood-ravaged coastal community of Isle de Jean Charles. About 60 residents, the majority of whom belong to the Biloxi-Chitimacha-Choctaw tribe, will be resettled to drier land. That's a whopping $800,000 per "climate refugee!" Never mind that the Times' propagandists themselves admit that erosion on the island began in 1955 as a result of land-use and land-management factors that had nothing to do with climate change. [...] Never mind that enviro-alarmists have conveniently changed their tune from blaming global warming for causing sea level rises to blaming global warming for causing sea level drops.

These Expensive DOJ Offices, Rented With Your Money, Are Empty! PJ Media has obtained video taken inside Justice Department offices which show empty, unused office space within leased commercial space. The offices are intended for at least twenty federal employees according to DOJ sources — but only two are using them. The Justice Department Community Relations Service offices in Dallas are on the 20th floor of the Harwood Center, a luxury downtown high rise. Justice Department sources provided PJ Media with a video taken inside the Dallas DOJ offices which documents the brazen waste of taxpayer dollars.

FAIL: Busted Wind Turbines Give College Whopping Negative 99.14% Return On Investment. Lake Land College recently announced plans to tear down broken wind turbines on campus, after the school got $987,697.20 in taxpayer support for wind power. The turbines were funded by a $2.5 million grant from the U.S. Department of Labor, but the turbines lasted for less than four years and were incredibly costly to maintain. "Since the installation in 2012, the college has spent $240,000 in parts and labor to maintain the turbines," Kelly Allee, Director of Public Relations at Lake Land College, told The Daily Caller News Foundation. The college estimates it would take another $100,000 in repairs to make the turbines function again after one of them was struck by lightning and likely suffered electrical damage last summer.

Barack Obama is really good at solving problems that don't exist, by spending other people's money.
Obama administration warns of 'climate refugees' due to rapid Arctic warming. The Obama administration has warned the US will need to deal with a wave of "climate refugees" as the Arctic continues to warm, joining with the Canadian government to express alarm over how climate change is affecting indigenous communities. Sally Jewell, US secretary of the interior, painted a stark picture of communities relocating and lives disrupted in her first official visit to Canada. [...] "We will have climate refugees," Jewell said. "We have to figure out how to deal with potentially relocating villages. There's real tangible support we need to do from a government basis, working alongside indigenous communities as they make very difficult choices about what is right for them. "We can't turn this around. We can stem the increase in temperature, we can stem some of the effect, perhaps, if we act on climate. But the changes are under way and they are very rapid."

Most expensive weapon ever built limps toward finish line. With a $110-million price-tag, the F-35 fighter jet is the most expensive weapon ever built for America's arsenal — but nine years into development, it's also a weapon still "not acceptable for combat," and plagued by huge cost overruns that one lawmaker is calling a "scandal." Those were the troubling messages exchanged Tuesday [4/26/2016] during a Senate Armed Services Committee hearing into the $379-billion weapons program — along with an acknowledgement that the U.S. can't afford to see the program fail.

Exposing Waste and Mismanagement at the Department of Homeland Security. Since its inception, DHS has faced significant obstacles, including consolidating 22 pre-existing agencies and reporting to approximately 100 congressional oversight committees, all while trying to strike a balance between national security and protecting privacy. However, with this country more than $19 trillion in debt, our taxpayers can't afford to support failing management. Through hearings, site visits, legislation, and watchdog reports, the Subcommittee on Oversight and Management Efficiency, which I chair, has identified areas of cost-savings, provided transparency to the American people, and highlighted numerous deficiencies within the department that are ripe for improvement.

Gov't Employee Steals From Feds, Uses Taxpayer-Funded Lawyers To Fight Eviction After Getting Caught. Markquonda Mathis rented one of the two subsidized units she obtained to her sister, Markquasha, who used it as a second home and to park her Lexus. Mathis faced no criminal or civil penalties even though she lied to federal investigators about the units, one of which was in the District of Columbia and the other in Alexandria, Virginia. A 2014 HUD Inspector General report made public by The Daily Caller News Foundation earlier this month said housing authorities were moving to evict Mathis. That's when Mathis turned to attorneys from the Neighborhood Legal Services Program, which is supported by the federally funded Legal Services Corporation. In other words, Mathis was using one government agency to fight another government agency to preserve her right to defraud a third, all while drawing a paycheck from HUD.

It's all your money: US aiding business start-ups — for illegal aliens. Read the fine print on the Small Business Administration's website, and you'll find that the agency does not provide the funds to "start or grow" a small business — the engine of the American economy, providing roughly three-quarters of all new jobs. Rather, the SBA provides offers loan guarantees to the banks and lenders that do provide seed money. So it might come as a surprise to American entrepreneurs that there is at least one group to whom the federal government is providing direct assistance for business start-ups: illegal aliens. In fact, these recipients of your taxpayer funds fall into an even more restricted category: illegal aliens who have been deported back to their native land.

Climate Change: The Greatest Conspiracy Against the Taxpayer, Ever! Climate change is the biggest scam in the history of the world — a $1.5 trillion-a-year conspiracy against the taxpayer, every cent, penny and centime of which ends in the pockets of the wrong kind of people, none of which goes towards a cause remotely worth funding, all of it a complete and utter waste.

Gov't Spends Nearly $3M Encouraging Gen Y to Eat Fruit. The federal government has spent nearly $3 million on a web-based intervention study that aims to have young adults increase their intake of fruits and vegetables. The 5-year "MENU (Making Effective Nutritional Choices) Gen Y Study" has received $2,834,393 in taxpayer money since 2012. The goal of the effort "is to increase daily intake of fruits and vegetables for young adults born in or after 1980, known as "Generation Y," according to the project description on the National Institute of Health (NIH) website.

The Editor says...
The NIH, like every other government agency, works daily to find new ways to justify its continued existence.

Illegal immigrants are being deported on private jets — $300,000 every day to fly aliens back home. American taxpayers are forking out more than $300,000 every day to deport illegal immigrants on commercial flights and even on private jets, Daily Mail Online can exclusively reveal. Immigration and Customs Enforcement (ICE) spent $116m in 2015 to transport 235,413 people in the United States illegally back to their home countries. More than 40 percent of those who had violated visa restrictions were convicted criminals while more than 1,000 were identified as gang members.

Corruption, Incompetence Scandal at DOJ's Ferguson Unit Widens. On April 12, PJ Media Legal Editor J. Christian Adams reported that DOJ sources had revealed how two top employees in the Justice Department's Community Relations Service (CRS) used taxpayer money for personal travel. The DOJ sources also revealed how these two top employees were responsible for a culture of incompetence, political decision-making, and gross mismanagement. Here, we reveal that those same sources told Adams and me about corruption by other CRS managers, and about a hostile work environment that includes bullying and discrimination — particularly against anyone who complains about the waste, fraud, and abuse.

DOJ Employees in Ferguson and Trayvon Unit Used Taxpayer Cash for Airfare, Dentist Visits, and Dinners at Emeril's. Justice Department employees in the DOJ Community Relations Service have reported gross mismanagement and corruption to Attorney General Loretta Lynch — but she has taken no action to investigate the problems. The Community Relations Service has been at the center of high-profile, racially charged controversies involving the Justice Department, including the riots in Ferguson and Baltimore and the Trayvon Martin shooting in Sanford, Florida. Multiple DOJ sources report to PJ Media a culture of incompetence and political decision-making by managers in the Justice Department component. The complaints also allege the use of federal money for personal travel, including one Atlanta manager flying to see a dentist in his hometown of Miami, and a Dallas manager flying to New Orleans on tax dollars to dine at Emeril Lagasse's restaurant in New Orleans.

The U.S. paid for NATO: $30 trillion and counting. As the firestorm ignited by Donald Trump regarding the structure and utility of NATO burns on, the freeloaders in the alliance continue to whine and ask for even greater levels of subsidization. Take Lithuania, whose defense minister recently claimed that "the harassment of an American warship [by Russian fighter jets] shows why the US should help build the region's missile defenses. A correct translation of "help build" is "have the Americans pay for. While Lithuania is apparently now on-target to reach the preferred NATO defense-spending target of just 2% of GDP within a few years, the Lithuanians have done nothing for the common defense since the small country on the alliance's volatile periphery joined in 2004. In fact, between 2004 and 2013, its military spending dropped from a puny 1.2% of GDP down to an irrelevant 0.8% of GDP.

'Mr. Social Security' Indicted in $600 Million Disability Fraud Scheme. Eric C. Conn, a flashy Kentucky lawyer who called himself "Mr. Social Security," was arrested for his alleged role in a $600 million federal disability fraud scheme, according to an indictment that was unsealed Tuesday [4/5/2016]. Conn, David Daugherty, and Alfred Adkins, a clinical psychologist who performed medical evaluations for Conn seven years, were charged in an 18-count indictment on Friday in the U.S. District Court for the Eastern District of Kentucky. Conn was arrested on Tuesday, and the indictment was unsealed. Conn's law firm was the centerpiece of a two-year investigation that concluded in 2013 led by former Sen. Tom Coburn (R., Okla.), who found the lawyer was working with discredited doctors who provided phony medical evidence for thousands of disability claims, which were then signed off on by Administrative Law Judge David B. Daugherty.

White House: $589 million to go to fight Zika virus. Most of the $589 million would be devoted to the Centers for Disease Control and Prevention for research on the virus and Zika-related birth defects, as well as the creation of response teams to limit its spread.

The Editor says...
It would be far less expensive and more effective to remove the ban on DDT and/or temporarily prohibit two-way travel to Central and South America.

U.S. Govt. Banking Program Facilitates Remittances to Mexico. The program is called "Directo a Mexico" and the Federal Reserve, the government agency that serves as the nation's central bank, launched it nearly a decade ago. Judicial Watch investigated the outrageous taxpayer-subsidized initiative and obtained government records back in 2006. It was created by President George W. Bush following the 2001 U.S.-Mexico Partnership for Prosperity, undermines our nation's immigration laws and is a potential national security nightmare. The goal was to provide low-cost banking services to illegal immigrants and facilitate the process for those sending money home. Remittances are transferred through the Federal Reserve's own automated clearinghouse linked directly to Mexico's central bank (Banco de Mexico). At the time Federal Reserve officials acknowledged that most of the Mexicans who send money home are illegal immigrants so a Mexican-issued identification is the only requirement to use the government banking service.

State Dept. hiring interior designers, salaries up to $141,000. The State Department has put out an advertisement that says it wants to hire three interior designers, jobs that pay anywhere from $92,000 to $141,000 per year. Applicants for the interior designer positions must be able to obtain and maintain a "Top Secret" security clearance, and if they get the job, they'll work on designing U.S. diplomatic missions abroad. State is looking for designers to hire at the GS-13 and 14 levels — the GS-14 position will be paid the most. All the jobs are full-time.

Administration's efforts to reduce red tape results in $16-billion increase in costs. The American Action Forum has released a scathing report taking the Obama administration to task for its paperwork reduction efforts. While the president directed the agencies to repeal, modify, or remove rules that contributed unnecessarily to the red tape burden of businesses, government bureaucrats responded by expanding some regs while failing to remove or modify other burdensome rules. [...] The paperwork burden on business is an astronomical $1.9 trillion. Under Obama, we've seen six straight years of escalating red tape.

"Deeply Troubled" DHS System Blows Millions, Feds Want Extra $1 Bil. Years after the U.S. launched an automated Homeland Security system essential to keeping the nation safe, it's a malfunctioning flop that's so far swallowed a mind-boggling $1.7 billion and needs an additional billion and several more years to perhaps get it to work. That's not even the best part. A number of federal audits have documented the serious problems with this costly failure in the last few years and officials at the Department of Homeland Security (DHS) have simply ignored the government investigators' findings and recommendations.

US agencies have spent $86m on grounded surveillance plane, audit says. An $86m Drug Enforcement Administration plane purchased seven years ago to fly surveillance and counter-narcotics missions in Afghanistan remains grounded in the US and will probably never fly in Asia, according to a scathing audit released on Wednesday by the Justice Department's inspector general.

Congress Should Flip the Switch and End Unauthorized Federal Spending. The federal government is scheduled to spend $310 billion of your tax dollars this year on federal programs that are not authorized by law according to the Congressional Budget Office. That's about a quarter of all so-called discretionary spending, so one of every four taxpayer dollars Congress spends is going to a program that is legally expired. It is a total breakdown of accountability and oversight and, unfortunately, it is business as usual in Washington. The good news is an innovative legislative solution has been proposed by Republican Conference Chair Cathy McMorris Rodgers: automatic reductions in spending via sequestration for programs that remain unauthorized, and ultimately phasing them out completely unless Congress acts to reauthorize them.

Houston Community College loses $40k on rodeo parking. Houston Community College managed to lose $39,475 selling parking spots at the Houston Livestock Show and Rodeo this year. This was no meager accomplishment, given that the Houston Rodeo draws more than 1.3 million in paid attendance and generates roughly a half-billion dollars in sales when it takes over South Houston for three weeks every March.

Taxpayers Are Footing Bill for Solar Project That Doesn't Work. As every ten-year-old who ever got a sweater for a birthday present has been told, "It's the thought that counts." That seems to be the guiding principle at the Department of Energy and the California Public Utilities Commission when it comes to solar power. The latest example is the $2.2 billion Ivanpah solar thermal plant in California. [...] Brightsource, which is privately held, is owned by a virtual who's who of those that don't need subsidies from taxpayers and ratepayers.

Kerry: Let's Fight ISIS With A Soap Opera. They're not an existential threat to us." That was President Obama, defending his seeming indifference to the latest ISIS terrorist attack in Europe. "Groups like (ISIS) can't destroy us, they can't defeat us. They don't produce anything," he said. So what should the U.S. do to fight this non-existential threat that doesn't produce anything? Let's put on a show! It's almost too ridiculous to believe, but the day after the attacks in Brussels, the State Department posted a $1.5 million grant proposal to develop "a television drama series that addresses the issue of countering violent extremism among young people in contemporary Afghan society."

Marines to spend $50 million moving 1,100 turtles. The U.S. Marine Corps plans to spend $50 million moving some 1,100 turtles from its training base at Twentynine Palms, Calif., or about $45,454 each. The program includes a 30-year assessment of their efforts to monitor the desert tortoises that are listed as threatened under federal law. According to Marine Corps Times, the tortoises live on a section of the base that is to be used for training.

'Slush Fund': Senator Slams State Dept. for $500M Payment to Green Climate Fund. Sen. John Barrasso (R-Wyo.) on Tuesday [3/8/2016] slammed the administration's handover of $500 million to the U.N. Green Climate Fund, asking a State Department official how the "handout to foreign bureaucrats" could be justified at a time when there were "real problems" that need to be addressed at home. Barrasso told Deputy Secretary for Management and Resources Heather Higginbottom he viewed the payment to the "new international climate change slush fund" — the first installment of a $3 billion pledge — as both a misuse of taxpayer dollars and a violation of legislation that prohibits federal agencies from spending federal funds in advance or in excess of an appropriation. "It appears to be latest example of the administration going around Congress because the American people don't really support what the president is doing with this initiative," he said.

No longer speaker, but two Boehner aides being paid over $10,000 a month. Two aides to former House Speaker John Boehner are earning over $10,000 a month in his taxpayer-funded "Office of the Former Speaker," according to congressional records. Both longtime aides, Amy Lozupone received $26,414 for work done in November and December as Boehner's administrative assistant, and Michael Sommers was paid $22,185 during the same period.

House Probe Reveals Audit Detailing Climate Change Researcher's 'Double Dipping' With Taxpayer Funds. Congressional investigators have obtained an internal audit from George Mason University that suggests one of its professors — a major proponent of man-made climate change — mismanaged millions of dollars in taxpayer money by "double dipping" in violation of university policy. The professor, Jagadish Shukla, received $511,410 in combined compensation from George Mason University and his own taxpayer-funded climate change research center in 2014 alone, without receiving required permission from university officials, the audit found.

$2 Billion In ObamaCare Subsidies Might Have Been In Error, Audit Finds. A stinging audit of ObamaCare released on Wednesday [2/24/2016] finds that the agency in charge of the health care program could have paid out more than $2 billion in subsidies in 2014 that it shouldn't have. The Government Accountability Office report found that hundreds of thousands of applications contained unresolved "inconsistencies" — meaning the information provided by applicants about their income, Social Security numbers, citizenship status, or whether they were in jail or not, didn't match existing government records.

Treasury Dept. Spends Another $2B On Housing Recovery. The U.S. Department of Treasury announced Friday [2/19/2016] that it will spend an additional $2 billion on neighborhoods and homeowners to help them "recover from the finacial crisis." "Today's announcement is the next step in the Administration's effort to help struggling homeowners recover from the financial crisis, and strengthen the housing recovery," Treasury Secretary Jacob J. Lew said. According to MLive, the announcement comes less than two months after five Michigan cities finished about $133 million in work to demolish vacant homes.

These 8 federal agencies are the worst. Here's how to fix them. From the historic breach of 22 million personnel records to the systemic failure to take care of veterans to outrageous shenanigans among Secret Service agents, federal agencies are acquitting themselves poorly these days. What follows is a rundown of the eight worst agencies. But this list is by no means comprehensive. Others could join, but this is a magazine, not a phonebook. The list also includes the number of employees deemed essential during the 2013 shutdown.

Six Fed-Funded Non-Profits Are 'Scandals Waiting To Happen'. Six obscure nonprofits funded almost entirely by federal taxpayers in an Environmental Protection Agency (EPA) program that recruits technically skilled seniors for cheap labor are "scandals waiting to happen," according to an expert on advocacy groups. "The idea of government funding charitable works ought to be something conservatives and libertarians are concerned about," Capital Research Center's (CRC) Senior Vice President Matthew Vadum told The Daily Caller News Foundation. "The government's been doing this a long time, but it rarely gets discussed."

Carrier Received $5.1 Million in Obama-Stimulus Cash Before Move To Mexico. Heating and air-conditioning company Carrier, which has announced it will move 1,400 Americans' jobs to Mexico, received $5.1 million from the Obama administration. Local media reported the "Department of Energy awarded Carrier $5.1 million in clean energy tax credits in December 2013" for its Indianapolis facility. They planned to use the money to "expand production at its Indianapolis facility to meet increasing demand for its eco-friendly condensing gas furnace product line."

Illegals leave Texas detention with free Samsung Galaxy 4 phone — for safety!. The government is giving immigrant families released from Texas detention facilities free cell phones. The criteria used to determine who will be offered the phones are those who are considered low flight risks and unlikely to pose a danger to the community, according to Fox News. So far, 25 families have been offered the phones, which aren't your run-of-the-mill phones — they're Samsung Galaxy 4 smartphones — and the program is understandably coming under fire.

Millionaires Are Qualifying for Medicaid Under Obamacare. In states that expanded Medicaid, people with high net worths and low monthly incomes qualify for Medicaid because of loosened eligibility requirements implemented under Obamacare. And in rural states like Iowa, Americans whom many would consider wealthy are taking advantage of this "loophole" and enrolling in coverage paid for by taxpayers. Jesse Patton, an insurance broker living in Iowa, has had clients with net worths ranging from $2 million to $5 million, which often stem from farmland or assets from divorce settlements. And those clients, he said, are enrolled in Medicaid in expansion states like Iowa.

U.S. Blows $5.7 Bil on Cyber Defense System That Doesn't Work. Reckless government spending is at full throttle with the example du jour a $5.7 billion cyber defense system created to protect computers at federal agencies against hackers. Despite its mind-boggling price tag the system is seriously flawed and uses features already available in much cheaper commercial-grade products, according to a federal probe made public recently. The problem, besides sticking it to taxpayers for the exorbitant cost, is that the multibillion-dollar system simply doesn't work. Nevertheless, the bloated agency handling this particular boondoggle, the Department of Homeland Security (DHS), insists the program, National Cybersecurity Protection System (NCPS), is effective despite its documented failures. This is par for the course at the monstrous agency created after the 9/11 terrorist attacks to keep the nation safe.

Welfare moms unhappy with free lodging, prepared meals, WiFi, maid service. D.C. welfare moms are having to put up with lodging in hotels that give them prepared meals, cable TV, internet WiFi access, and maid service that don't meet their standards: [...] Isn't this shocking, how taxpayers are paying to prepare such low-class meals for welfare moms? What kind of country is this that doesn't cook better meals for people on welfare? By the way, if you're wondering why Tiera has four children and no daddies, here is that part of the story: [...]

Senate report: Illegal immigrants benefited from up to $750M in ObamaCare subsidies. Illegal immigrants and individuals with unclear legal status wrongly benefited from up to $750 million in ObamaCare subsidies and the government is struggling to recoup the money, according to a new Senate report obtained by Fox News. The report, produced by Republicans on the Senate Homeland Security and Governmental Affairs Committee, examined Affordable Care Act tax credits meant to defray the cost of insurance premiums. It found that as of June 2015, "the Administration awarded approximately $750 million in tax credits on behalf of individuals who were later determined to be ineligible because they failed to verify their citizenship, status as a national, or legal presence."

Labor Dep't Spending $20M on Summer Jobs, 'Career Pathways' for Urban Youth. The Labor Department on Thursday [2/4/2016] announced it will spend $20 million on an effort to create summer jobs and "career pathways" for young people. Up to $2 million will go to each of 10 local workforce development boards to expand existing summer jobs programs into year-round employment, career pathways and work experience programs for young people, 16 to 24, who have limited or no work experience. "Too many young people are sitting on the sidelines," the news release noted. On Friday [2/5/2016], the Bureau of Labor Statistics said the unemployment rate for both sexes, ages 16-19, was 16 percent.

The Editor says...
When the government announces a program to create jobs for "young people," that almost always means "young minority people" exclusively. The term "urban youth" is the government's way of saying, "black kids." This type of spending does not promote the general welfare, unless the kids in your family are generally black.

Failed Dept. of Education Cyber-Security Chief Ran Car Detailing, Home Theater Businesses On the Side. Hundreds of millions of Americans are at risk of identity theft because the Department of Education's cyber chief spent his time detailing cars and allowing his office's morale to crumble. The Department of Education's inspector general has repeatedly reported the agency is "vulnerable to security threats." The watchdog simultaneously investigated Chief Information Officer (CIO) Danny Harris — who received more than $200,000 in federal bonuses — for side businesses that involved his subordinates, according to House Committee on Oversight and Government Reform Chairman Jason Chaffetz.

Also posted under Welfare state waste.

Public Housing Units Getting Free Internet at Speeds Higher Than Most Homes. Google Fiber and the Department of Housing and Urban Development (HUD) have partnered to bring "ultra-high speed" 1 gigabit Internet to public housing units in many cities — a connection speed much faster than the average household in the United States. West Bluff Townhomes in Kansas City, Mo., has become the first public housing development with a 1 gigabit or 1,000 mbps Internet connection through the ConnectHome Initiative. Google Fiber said the speed has been provided free of charge and at no cost to HUD. According to the most recent State of the Internet report, the average U.S. Internet connection speed was 11.9 mbps.

Propaganda isn't cheap.
Feds Spend $156,340 to Talk About 'Food Deserts'. The National Endowment for the Humanities is spending more than $300,000 to talk about "food deserts" in Pennsylvania and sea level rise in Miami. The projects are part of the federal agency's "Humanities in the Public Square" initiative, which awarded $3.6 million worth of grants in December.

Billions in Taxpayer Money Blown on Fraudulent "Research". National Science Foundation officials award $7 billion in grants annually based on funding proposals the agency's watchdog estimates have hundreds of examples of plagiarism and "falsified or fabricated data." The federal science research agency awards 11,000 grants to 2,000 research institutions annually, but Allison Lerner, the agency's inspector general, only oversees about 1 percent of those recipients. Researcher misconduct has drastically increased over the past decade, meaning millions of tax dollars go to fraudsters, according to Lerner. The watchdog estimated that around 1,200 proposals for funding could contain plagiarism and another 800 proposals or results include "falsified or fabricated data," according the IG's semiannual report.

US pledges $97M to combat Ethiopia's drought. The head of the U.S. Agency for International Development has announced $97 million dollars in emergency assistance to Ethiopia to combat the devastating effects of a drought brought on by the El Nino climate phenomenon.

The Editor says...
Why is Ethiopia's weather our problem? How is fighting the weather (in any part of the world) anything other than futility? El Nino is not a permanent weather condition, nor is it anything new. And above all, what part of the Constitution authorizes this expenditure?

U.S. Commits $9.5 Mil to Migrant Education. The money will flow through the Office of Migrant Education which operates under the bloated U.S. Department of Education, Jimmy Carter's brilliant creation. The funds will be divided between the College Assistance Migrant Program (CAMP), which will receive $5,407,472 and the High School Equivalency Program (HEP) for migrants, which will get $4,082,415, according to an announcement in the federal register. CAMP helps migrant and seasonal farmworkers and members of their immediate family pay for college. HEP assists them in obtaining a general education diploma that meets guidelines for high school equivalency. The government will then help those folks gain employment or be placed in an institution of higher education, compliments of Uncle Sam.

L.A.'s Mass Transit Fiasco Shows Limits of Government 'Investments'. Los Angeles has spent $9 billion over the past three decades to build light rail and subway lines designed to entice people off of the car-choked highways and onto buses and trains. The system boasts six lines, 80 stations and more than 90 miles of track. So how is this investment paying off? There are fewer people using public transit than in the mid-1980s, when the only public transit option was the bus. That's according to a terrific bit of reporting by the Los Angeles Times, which found that ridership is down 10% over the past decade and that the decline "appears to be accelerating."

Gov't Builds $75 Million Facility Federal Cops Can't Use. General Services Administration (GSA) officials designed a $75 million federal law enforcement facility so unsuited to what the intended occupants needed that they couldn't use the building when it was completed, according to the Government Accountability Office.

US navy launches first biofuel-powered aircraft carriers. The US navy on Wednesday launched its first carrier strike group powered partly by biofuel a mix made from beef fat, calling it a milestone toward easing the military's reliance on foreign oil.

The Editor says...
The Navy wouldn't have to rely on foreign oil if the government would step out of the way and remove the restrictions on fracking and ANWR.

Congress spending $310 billion on non-authorized programs. A majority of the federal government's non-defense discretionary spending in fiscal 2016, a total of $310 billion, will go to programs whose authorization has expired and hasn't been renewed by Congress, the Congressional Budget Office reported Friday [1/15/2016]. Congress appropriated the funds even though the authorization for the programs, originally granted through 256 separate laws, has expired. Sen. Mike Enzi, chairman of the Senate Budget Committee, drew attention to the report as an example of the budget process breaking apart.

Obama pledges nearly $4 billion for self-driving cars. President Obama is calling for lawmakers to spend $4 billion on the development of self-driving cars. The Obama administration said Thursday [1/14/2016] the money would be used "to accelerate the development and adoption of safe vehicle automation through real-world pilot projects." Transportation Secretary Anthony Foxx said in a speech at the North American International Auto Show in Detroit that getting automated cars on U.S. roads more quickly would pay dividends in safety improvements.

New Navy Ships Have Trouble Surviving the High Seas. The U.S. Navy is spending millions of dollars to repair new high-speed transport ships built by Austal Ltd. because their weak bows can't stand buffeting from high seas, according to the Pentagon's chief weapons tester. "The entire ship class requires reinforcing structure" to bridge the twin hulls of the all-aluminum catamarans because of a design change that the Navy adopted at Austal's recommendation for the $2.1 billion fleet of Expeditionary Fast Transports, Michael Gilmore, the Defense Department's director of operational test and evaluation, said in a report to Congress.

How do you buy $7 billion of stuff you don't need? [Robert] McNamara's creation, known as the Defense Logistics Agency, has grown into a global, $44 billion operation that, were it a private enterprise, would rank in the Fortune 50. Its 25,000 employees process roughly 100,000 orders a day for everything from poultry to pharmaceuticals, precious metals to aircraft parts. In terms of Pentagon contracts, it is nearly as large as Boeing and Lockheed Martin, the Pentagon's largest contractors, combined. Led by military officials with little or no private-sector experience, DLA lacks the redeeming features of the lean and efficient business McNamara envisioned. A trail of inspector general reports shows how DLA is systemically overcharged for parts. It buys things the military doesn't need — like 80 years worth of aircraft frames for a plane that will likely be out of use long before then. The Government Accountability Office in 2010 estimated that about half of the agency's inventory — said to be worth nearly $14 billion at the time — was just taking up space.

IRS sent out $46 million in tax refunds flagged as potentially fraudulent, watchdog says. The Internal Revenue Service erroneously released more than $46 million in tax refunds in 2013 that had been flagged as potentially fraudulent, the result of poor monitoring and a computer programming error, the agency's watchdog found. The returns had been identified as questionable by two internal teams and should have been set aside for further review. But the IRS software system did the opposite, accidentally setting things in motion so that refunds were released to taxpayers, an audit by the Treasury Inspector General for Tax Administration disclosed this week.

IRS loses $27 million to computer glitch. A pattern of "ineffective monitoring," identified by the IRS' watchdog, caused the IRS to hand out an additional $19 million before the agency verified that the recipients had provided accurate income information. "We forecast that over five years the IRS could issue $135 million in potentially erroneous refunds due to this programming error," wrote the Treasury Inspector General for Tax Administration, which oversees the IRS, in a report made public Monday [12/21/2015].

IRS Issued $46 Million in Erroneous Tax Refunds. The Internal Revenue Service issued more than $46 million in erroneous tax refunds due to a computer glitch and ineffective monitoring, issues that left uncorrected could cost taxpayers up to $230 million over the next five years. The Treasury Inspector General for Tax Administration (TIGTA) released an audit Monday [12/21/2015] faulting the IRS for approving thousands of potentially fraudulent tax refunds in 2013. "TIGTA identified that because of a programming error, over $27 million of refunds were erroneously issued for 13,043 Tax Year 2013 tax returns," the audit said. "The programming error is overriding the IRS's two-week processing delay on some refund tax returns that are identified by the IRS as potentially fraudulent."

Obama's liberal agenda gets federally funded ride through the arts. Taxpayers are forking over $27 million next year for federally funded arts projects that include a performance by a San Francisco drag queen, art installations with climate change themes and theater plays that showcase food stamps, President Obama's immigration amnesty, lesbianism and gun rights opposition. The National Endowment for the Arts, the federal agency that provides government assistance for artistic endeavors across the country, announced its latest round of grants for fiscal year 2016 last week, leaving some spending critics in disbelief.

Report: Govt. Wastes Billions as National Debt Approaches $19 Trillion. It's been well documented that government wastes enormous amounts of money on all sorts of outrageous things and now some of the enraging details are available in a lengthy report that reveals how the cash is being spent, like studying bugs' reactions to artificial light, a weight-loss program for truck drivers and a federal agency's multi-million-dollar social media account. Dozens of examples are included in the 145-page document, which was made public this month by a U.S. Senator that reminds us in the introduction that "our national debt is careening toward $19 trillion (yes, that is a 19 followed by 12 zeros)." Yet Uncle Sam keeps blowing hundreds of millions of dollars on ridiculous things that lawmakers can't possibly justify. Here's one of the many examples included in the report; the government actually spent $300,000 to study how previously married seniors handle dating later in life. The weight-loss program for truck drivers cost an astounding $2.7 million and $406,419 was dedicated to determine whether the media polarizes people politically.

Federal Fumbles 2015. It takes countless months, days, and hours to go through agency budgets, GAO reports, and Inspectors General reviews to identify, research, and fact-check government waste. It should not be this difficult to find out how exactly our government spends money. Federal spending information should not be limited to Members of Congress and their staffs. So here is one solution: the Taxpayer's Right to Know Act.

Feds shelling out billions to public relations firms. The federal government has spent more than $4 billion on public relations services since 2007, according to a watchdog group, with more than half of the money going to the world's largest firms. A review conducted by Open the Books found that there are now 3,092 public affairs professionals working in the government, an increase of 15 percent — or about 400 people — over the past seven years.

Taxpayers Billed $27 Million for Hoveround Wheelchairs That Weren't Medically Necessary. Taxpayers were billed $27 million for thousands of power wheelchairs that were not medically necessary for their users. Hoveround was the subject of an audit released last week by the Department of Health and Human Services inspector general, which faulted the company for failing to meet Medicare requirements before it charged the government for its electric wheelchairs. In 2010, Hoveround provided 13,025 power wheelchairs to Medicare beneficiaries. Eighty-five percent of those who received the wheelchairs did not meet the necessary medical requirements, according to the audit. The findings were based on a sample of 200 individuals who received a power wheelchair from Hoveround.

Pentagon spent millions for luxurious private villas. The same Defense Department office that spent $43 million on a gas station in Afghanistan also spent 20 percent of the rest of its budget to house workers and visitors at luxurious private villas, rather than have them stay on military bases for free to save "tens of millions of dollars," investigators have concluded. The Task Force for Business and Stability Operations defended the villas as a way to entice investors into the fragile country, and said they were needed to prove that foreigners could live and operate in Afghanistan without being dependent on the U.S. military.

Justice's Liberal Slush Fund. Republicans talk often about using the "power of the purse" to rein in a lawless Obama administration. If they mean it, they ought to use their year-end spending bill to stop a textbook case of outrageous executive overreach. This scandal comes courtesy of the Justice Department, which for 16 months has engaged in a scheme to undermine Congress's spending authority by independently transferring dollars to President Obama's political allies. The department is in the process of funneling more than half-a-billion dollars to liberal activist groups, at least some of which will actively support Democrats in the coming election.

EPA Gives $9,000 Bonus For Less Than Three Months Work. A new hire at the Environmental Protection Agency hit the jackpot when the employee's new bosses awarded her $9,000 in performance bonuses for less than three months of work. The EPA's inspector general said the newly hired director of the environmental agency's RTP Finance Center in Raleigh was paid two separate performance bonuses of $4,500 shortly after beginning work.

The Department of Agriculture Is a Welfare Scam. I may have to change my mind. When asked a few years ago to pick which department in Washington most deserved to be eliminated, I chose the Department of Housing and Urban Development. And HUD unquestionably is a cesspool of waste, so it certainly should be shuttered. But the more I read about the bizarre handouts and subsidies showered on big agribusiness producers by the Department of Agriculture, the more I think there's a very compelling argument that it should be at top of my list.

Last Call for Ethanol. A federal program, once launched, is impossible to kill. It doesn't matter if the scheme wastes money. It doesn't matter if the program doesn't work. It doesn't even matter if the program does the very opposite of what it is supposed to do. Every government program enters the world with an army of fairy godmothers prepared to fend off any effort to cut the cord. Hence, the staying power of ethanol.

Obama's EPA Spending Millions Overseas. President Barack Obama's Environmental Protection Agency has doled out nearly $25 million to foreign nations and entities — including many countries with terrible environmental track records through 135 separate grants. Officials at the EPA defend the awards to international organizations and foreign governments since 2009.

Conservative Group 'Empower Texans' Faces Political Persecution. According to a lawsuit filed in Travis County, Texas, Empower Texans is a 501(c)(4) nonprofit that was organized in 2006 to build support for strong fiscal stewardship by the state government, and to inform Texas voters and taxpayers about how their government officials are acting in relation to that objective. In 2007, for example, Empower Texans mounted a direct mail campaign asking voters to call on their state legislators to return a $13 billion tax surplus instead of spending it on more government programs. This kind of activity, along with its legislative scorecard, apparently angered not just state legislators, but lobbyists who make their living convincing the state government to spend money on their clients' pet projects.

State Department spent $36.5 million polling foreigners' opinions. Would you spend money to find out what people in Spain think about their medical insurance or what people in Austria think about their government? That's exactly what the federal government has been doing, using millions of Americans' tax dollars. Since 2007 the U.S. State Department has spent over $36.5 million to survey citizens in foreign countries on a wide range of topics, including general public opinion polling on how their own governments — many of them U.S. allies — are performing. And the biggest spike in that spending occurred on Hillary Rodham Clinton's watch as secretary of state.

Should the State Department Be Disbanded? In recent years, Republican presidential candidates — notably Rick Perry and Ted Cruz — have called for numerous government departments — Education, Energy, Commerce, HUD and, of course, the IRS — to be disbanded. Almost all candidates have urged that the bureaucracies be significantly curtailed. But in this orgy of cost and regulation cutting, one monumental, all-important agency (with a budget approaching $50 billion) curiously has been ignored — the State Department. [...] The last few years have shown us that prying information out of the State Department (Benghazi, Clinton emails, etc.) is [impossible]. Their lineup of spokespeople are about as forthcoming as dead bats. The primary purpose of the organization seems to be self-preservation, but self-preservation for what?

Report: Social Security paying millions to dead people. The [Social Security Administration] managed to recover $3.4 billion in overpayments, but spent $0.07 chasing every dollar it got back and ended the year with $18.5 billion in uncollected payments. That included $46.8 million that was paid to Social Security recipients who had already died.

How to Get a No-Show Job. What's the best place to get a no-show job? The federal government. Uncle Sam pays corrupt or incompetent employees not to come to work, because it's easier than firing them, never mind the cost to taxpayers. Congress is trying to get to the bottom of this outrageous waste. So far, the Obama administration is stonewalling. [...] Right now, Senate Judiciary Committee Chairman Chuck Grassley, R.-Iowa, is pressing for answers about the $3.1 billion spent on no-show jobs in the last three years.

Why is the FBI Spending $80 Million on a New Gun? When conservatives complain about profligate federal spending, part of the problem is the sheer magnitude of the federal budget, where mere tens of millions seem hardly worth talking about in a flood of dollars, both taxed and borrowed, that is in the trillions. That of course, allows all sorts of waste in which a few million here and there hardly seems worth fighting over. Take for example, the FBI's recent decision to reequip their agents with an entirely new and entirely unnecessary handgun, which will cost American taxpayers something like $80,000,000.

A decade into a project to digitize U.S. immigration forms, just 1 is online. Heaving under mountains of paperwork, the government has spent more than $1 billion trying to replace its antiquated approach to managing immigration with a system of digitized records, online applications and a full suite of nearly 100 electronic forms. A decade in, all that officials have to show for the effort is a single form that's now available for online applications and a single type of fee that immigrants pay electronically. The 94 other forms can be filed only with paper.

DHS Spent $1 Billion For An Immigration Upgrade That Never Arrived. According to the Washington Post, the Department of Homeland Security had planned to have a digitized system in place in 2013, at a cost of $500 million. But here it is, the end of 2015, and after pouring more than $1 billion, DHS now says it needs another four years and $2.1 billion to get it finished. At stake is more than just wasted taxpayer money. The existing immigration system is ancient and deeply flawed, causing agonizing delays for those who should be granted legal status, while making it harder for DHS to screen out security threats.

EPA Gave Paid Leave to Drug and Child Sex Offenders. Drug and child sex offenders received paid administrative leave from the Environmental Protection Agency, according to a new audit. The agency's inspector general found the EPA rehired a child sex offender after they were put on leave for violating probation, in one example of misuse of administrative leave that cost taxpayers over $1 million.

After Closing One Welcome Center — R.I. Gets $9M From Feds to Open Another. The U.S. Department of Transportation has approved a $9 million federal grant of taxpayer dollars to build a new welcome center in Rhode Island. Sen. Jack Reed (D-R.I.) has announced the federal approval of the state's application for a competitive Transportation Investment Generating Economic Recovery (TIGER) grant if state officials decide to move forward with the welcome center project.

The Editor says...
What part of the Constitution authorizes this expenditure? Does that no longer matter?

Dozens of feds on paid leave for over a year, senator wants end to costly practice. The alleged abuse of administrative leave policy has been most egregious at the Department of Veterans Affairs where two of the officials whose actions touched off the VA scandal last year have been on paid leave for the last 18 months. They're not alone — of the nearly 6,000 VA employees put on administrative leave between 2011 and 2013, 46 individuals have been paid not to work for more than a year. Senate Judiciary Committee Chairman Chuck Grassley, R-Iowa, is pressing for answers.

Pentagon offers no answers on $43 million price tag for Afghan gas station. The Defense Department spent $43 million on a compressed natural gas fueling station in Afghanistan, while a similar project in Pakistan cost just $300,000 — and now the Pentagon can't even account for who made the decisions behind the waste, according to an inspector general's report being released Monday [11/1/2015]. John F. Sopko, the inspector general who oversees U.S. spending on Afghanistan reconstruction, called the cost for the green energy project exorbitant and deemed the project ill-conceived.

Poverty Pentagon: Nobody Watching As Feds Fund $429M Of 'Noble Intentions'. More than $429 million worth of noble intentions has been funded with the Section 4 program since its approval as part of the HUD Demonstration Act of 1993. President Bill Clinton and a Democratically-controlled Congress intended for Section 4 to help local groups combat poverty through a bureaucratically pliable process of "capacity building."

Non-Profit Got Federal Anti-Poverty Millions, But Paid Execs Lavish Salaries. A Maryland-based nonprofit got more than $305 million in five years that it was supposed to channel to urban anti-poverty groups, but instead pocketed most of the money, including large sums to pay its top executives lavish salaries and benefits. Enterprise Community Partners — which once spent millions of tax dollars in a failed effort to revitalize Freddie Gray's Baltimore neighborhood — is one of only three groups made eligible by Congress for the Department of Housing and Urban Development's little-known Section 4 grants "to develop the capacity and ability of community development corporations" to combat poverty.

Enabling fraud by the billions. Ever heard of the Government Accountability Office? The Obama administration wishes you never hear from the folks there after the truly astounding figures they just released. The GAO is a key watchdog group and their numbers show the government is on track to waste an absolutely massive amount of money this year. So what does the Obama's administration do? Actively take steps to enable more fraud. I wish I was kidding, but I'm not. Here are the facts — the cold, hard numbers, because math is nonpartisan. Numbers and cents don't lie and it doesn't take a Common Core math education to know that $125 billion wasted on fraud and improper payments is horrendous. [...] One billion is 1,000 million. We lost 125 of those, most of which came from Medicare, Medicaid and the Earned Income Tax Credit.

Feds may pay for soundproofing homes around 2 N.J. airports. New noise level maps around Newark Liberty International and Teterboro airports are being developed to determine whether surrounding homes and businesses qualify for federal soundproofing aid. Houses, apartments, office buildings and other workplaces within areas with a noise level of at least 65 decibels attributable to airport operations would be eligible for soundproof aid, said Norm Dotti, a member of the New Jersey Noise Control Council, which is participating in the noise mapping process.

The Editor says...
Since when is this the federal government's problem? If you don't like the noise, you should move — especially if the airport is older than your house.

Now Federal Employees Make 78 Percent More Than Private Sector Workers. A new report show once again that government workers — all of them — are leeches, most of whom we should fire. Now we find the outrageous statistics showing that federal workers earned on average 78 percent more in total compensation than private sector workers in 2014. 78 percent! This is intolerable. The stats were found in a new report from Government Magazine that assembled the numbers for us.

An Incoherent Syria War Strategy. The Obama administration's $500 million initiative to train and arm so-called moderate rebels to take on the Islamic State never seemed promising when it was rolled out last year. Having acknowledged that this plan has failed — largely because Syrian opposition groups are more interested in taking on President Bashar al-Assad — the White House on Friday [10/9/2015] unveiled a plan that is even more incoherent and fraught with risk.

Obama Administration Ends Pentagon Program to Train Syrian Rebels. After struggling for years to identify groups in Syria that it can confidently support, the Obama administration on Friday abandoned its effort to build a rebel force inside Syria to combat the Islamic State. It acknowledged the failure of its $500 million campaign to train thousands of fighters and said whatever money remained would be used to provide lethal aid for groups already engaged in the battle. Senior officials at the White House and the Pentagon said the strategy to pull fighters out of Syria, teach them advanced skills and return them to face the Islamic State had failed, in part because many of the rebel groups were more focused on fighting the Syrian president, Bashar al-Assad.

GAO: Safety net programs account for billions in improper payments. Three health and safety net programs for the poor and elderly accounted for most of the federal government's $124.7 billion in improper payments in fiscal 2014, the Government Accountability Office reported Thursday [10/1/2015]. The figure, which represents improper payments across 124 federal programs, is up roughly 20 percent from $105.8 billion in fiscal 2013, according to a new GAO report. Most of the $19 billion increase resulted from erroneous payments under the Medicare, Medicaid and Earned Income Tax Credit programs. They account for more than 75 percent of the GAO's government-wide improper payment estimate.

GAO: Feds made nearly $1 trillion in overpayments since fiscal 2003. Government waste took a significant turn for the worse in fiscal 2014, rising dramatically to $124.7 billion from $105.8 billion in fiscal 2013. That's a striking increase of nearly 20 percent in improper federal payments. As the White House and Congress continues to blow out the federal deficit to $18 trillion in their Miracle-Gro, "Supersize Me" approach to government, little is being done to stop federal overpayments. Since fiscal 2003, "cumulative improper payment estimates have totaled almost $1 trillion," the Government Accountability Office (GAO) said in a new report.

Mystery ambulance rides cost Medicare $30M: auditors. Medicare paid $30 million for ambulance rides for which no record exists that patients got medical care at their destination, the place where they were picked up or other critical information.

EPA's fondness for high-end furniture costs taxpayers $92 million. The federal agency that has the job of protecting the environment doesn't seem to have too much concern for trees, at least the ones cut down to make furniture. The Environmental Protection Agency over the past decade has spent a whopping $92.4 million to purchase, rent, install and store office furniture ranging from fancy hickory chairs and a hexagonal wooden table, worth thousands of dollars each, to a simple drawer to store pencils that cost $813.57.

How a $2.7 billion air-defense system became a 'zombie' program. Unknown to most Americans, the Pentagon has spent $2.7 billion developing a system of giant radar-equipped blimps to provide an early warning if the country were ever attacked with cruise missiles, drones or other low-flying weapons. [...] Seventeen years after its birth, JLENS is a stark example of what defense specialists call a "zombie" program: costly, ineffectual and seemingly impossible to kill.

Speaking of JLENS...
Report: Army's runaway blimp flew for hours due to missing batteries. An Army blimp that broke loose in Maryland in October stayed airborne for hours because someone failed to put batteries in its automatic-deflation device, The Los Angeles Times reported Sunday [2/14/2016]. The blimp escaped from Aberdeen Proving Ground and its dangling tether caused power outages in Pennsylvania. The mishap led to widespread ridicule of the Pentagon's blimp surveillance program, known as JLENS for Joint Land Attack Cruise Missile Defense Elevated Netted Sensor System, which has cost taxpayers $2.7 billion since 1998.

Missing batteries among issues that caused Army's runaway blimp. The blimp that broke loose from an Army facility in Maryland last fall, wreaking havoc with its milelong tether, flew uncontrolled for hours because someone neglected to put batteries in its automatic-deflation device, Pentagon investigators have found. The pilotless, radar-carrying blimp was part of the troubled JLENS missile-defense system, which has failed to perform as promised while costing taxpayers more than $2.7 billion since 1998.

White House targets crime and climate change in one fell swoop. The White House started a new initiative Monday [9/14/2015] to help cities tackle everything from crime to climate change. The new $160 million Smart Cities Initiative seeks to leverage 25 new federal technology programs to help cities do everything from improving congested roads and reducing crime to "fostering economic growth, managing the effects of a changing climate, and improving the delivery of city services."

The Editor says...
Write to me in September, 2025, and see if you can report one good thing that resulted from this $160 million expenditure.

Obama's revamped college evaluation site ripped as 'misleading,' unnecessary. President Obama has launched a scaled-back college evaluation website that does not include what some in the higher-ed world had feared — a government rating system of America's roughly 7,000 colleges and universities. But the site still has Washington asking questions about why the Department of Education is doing it in the first place. Among the concerns is why spend taxpayer dollars when such for-profit operations as Barron's, The Princeton Review and U.S. News & World Report have for years been providing similar information and rankings.

U.S. Federal Government Program: Pay Minnesota Muslims Not To Kill People. If you thought Secretary Kerry's 2013 "Jobs for Jihadists" program was goofy, wait until you read about this one. The U.S. federal government is announcing a new program called CVE (Counter Violent Extremism) in Minneapolis Minnesota. Under the U.S. program, authorized by President Obama, Somali Muslims living in Minnesota will be paid not to go on terror rampages, or blow themselves up.

Obama Admin to Spend Hundreds of Thousands to Bribe Minnesota Somali Immigrants Not To Become Terrorists. Now the Obama administration is attempting to throw tax dollars at would-be Somali terrorists in Minnesota to bribe them into staying away from terrorism. Think that'll work?

Freddie Gray's family settles with city for $6.4M. The parents of Freddie Gray reached a tentative $6.4 million settlement [9/7/2015] with the city of Baltimore, nearly five months after their 25-year-old son was critically injured in police custody, sparking days of protests and rioting.

Update: Details of Pay Out. Keep in mind: [#1] no wrongdoing has ever been found; [#2] Marilyn Mosby's private attorney is the same attorney as Freddie Gray's family; [#3] The Gray family never filed a lawsuit, so this is not a "settlement" per se'; [#4] The possibility of any police wrongful conduct being found during trial is quite probably nil; [#5] The maximum payout under Maryland state law, if lawsuit filed — and if police misconduct could be identified, would have been $400k.

Social Security spent $300M on 'IT boondoggle'. "The program has invested $288 million over six years, delivered limited functionality, and faced schedule delays as well as increasing stakeholder concerns," the report said.

Green energy company fights for life after getting billions from feds. Abengoa, a renewable energy multinational company headquartered in Spain, has been a favorite of the Obama administration in getting federal tax money for clean energy projects. Since 2009, Abengoa and its subsidiaries, according to estimates, have received $2.9 billion in grants and loan guarantees through the Department of Energy to undertake solar projects in California and Arizona — as well as the construction of a cellulosic ethanol plant in Kansas. But in the space of less than a year, Abengoa's financial health has become critical, leading investors to worry whether the company can survive.

Obama to offer aid to Alaskans affected by climate change. During the first trip north of the Arctic Circle by a sitting president [9/2/2015], Obama is expected to observe first-hand the effects of warming temperatures and their effect on shorelines and community infrastructures. The White House said he will announce federal grants to deal with coastal erosion in areas such as northwestern Alaska, which could include relocation in extreme cases.

The Editor says...
Every dollar spent on compensation for the effects of global warming is a dollar down the drain, simply because there is no global warming.

Social Security spent $300M on 'IT boondoggle'. "The program has invested $288 million over six years, delivered limited functionality, and faced schedule delays as well as increasing stakeholder concerns," the report said.

DHS Spent $20 Million on Conferences Last Fiscal Year. The Department of Homeland Security ran up more than $20 million in conference-related expenses in 2014, according to a recently released government audit. The Office of Inspector General report, which looked at conferences either hosted or attended by the department or its employees from October 1, 2013, to December 31, 2014, found that the the department — which handles issues related to terrorism, border security, and cybersecurity — was involved with a total of 1,883 conferences in fiscal year 2014 that amounted to $20.3 million in expenses. According to the General Services Administration, training, meetings, or events that include employee travel are considered conferences. In total last year, the department hosted 490 conferences that cost $13.14 million and attended an additional 1,393 conferences at an expense of $7.16 million.

Obama: $12 billion new federal loan guarantees for renewables. The Obama administration has just announced $12 billion in new Federal loan guarantees for renewables businesses. [...] Federal renewable loan guarantee schemes have attracted significant criticism in the past, for example when Solyndra went spectacularly bust in 2012, a bankruptcy which cost US taxpayers $535 million in lost federal loan guarantees.

Amid Security Failures DHS Spends $20.3 Mil on Conferences. While it let Islamic terrorists enter the country, wasted huge sums on faulty equipment and failed miserably to remove criminal illegal aliens, the Department of Homeland Security (DHS) was busy blowing $20.3 million to host 1,883 conferences last year. [...] A $110,993 "outreach" summit in Washington D.C. brought Customs and Border Patrol senior managers, transportation executives and foreign government partners together to discuss "securing and managing our borders" and a $108,617 Ft. Worth Texas conference provided a "platform for conveying information regarding relevant issues in immigration enforcement." DHS also doled out $131,868 on the Afghanistan Pakistan Illicit Procurement Network Symposium in Tampa, Florida where discussions focused on preventing hostile nations and illicit procurement networks from illegally obtaining U.S. military products or sensitive technology that could be used against the U.S.

TSA Spent $160 Mil For Scanners With A 96% Failure Rate. When Congress decided to let the federal government take over airport security in the wake of 9/11, critics said it would only make matters worse. Fourteen years later, it looks like the critics had it exactly right. On Monday [8/17/2015], Politico broke the news that the federally run TSA has spent $160 million — or more than $150,000 per unit — on body scanners meant to prevent fliers from bringing contraband onto planes. And what did taxpayers get for their money? A recent security audit found that TSA scanners failed to stop explosives and weapons 96% of the time.

A family in public housing makes $498,000 a year. And HUD wants tenants like this to stay. A family of four in New York City makes $497,911 a year but pays $1,574 a month to live in public housing in a three-bedroom apartment subsidized by taxpayers. In Los Angeles, a family of five that's lived in public housing since 1974 made $204,784 last year but paid $1,091 for a four-bedroom apartment. And a tenant with assets worth $1.6 million — including stocks, real estate and retirement accounts — last year paid $300 for a one-bedroom apartment in public housing in Oxford, Neb. In a new report, the watchdog for the Department of Housing and Urban Development describes these and more than 25,000 other "over income" families earning more than the maximum income for government-subsidized housing as an "egregious" abuse of the system.

$22 million in taxpayer funds flushed away on Detroit cruise ship lure. Before squandering $22 million in taxpayer dollar, perhaps the bureaucrats should have asked cruise ship operators if they really wanted to dock in Detroit.

American Kids Pay Heavy Price For Obama's Border Failure. Remember, heroin is not produced in the United States and is an illegal substance. Therefore every gram of heroin in the United States provides graphic evidence of a failure of border security. As noted on the official DHS website, the budget for the DHS for Fiscal Year 2015 included 23,871 Customs and Border Protection (CBP) officers and the overall budget for CBP was for 12.8 billion dollars. This raises the very reasonable question: "What are we getting for all of the money?"

USDA putting solar panels on chicken coops. The U.S. Department of Agriculture (USDA) is spending millions on green energy projects for farms, including putting solar panels on the tops of chicken coops. The federal agency announced Friday [8/7/2015] that its Rural Energy for America Program (REAP) will spend $63 million on solar panels and wind turbines for the farming industry.

Taxpayer money being used to teach 'transgendered' men to talk like girls. The University of Connecticut, which received state and federal funding, has a program to teach men who want to be pretend to be women how to talk like girls (and vice versa, of course — no discrimination there!). You would think this would be something easily accomplished without classes, but I guess, like thespians, they want to learn from professionals.

Solyndra II: ObamaCare's $3 Billion Co-Op Program Is Failing. When government-supported solar cell manufacturer Solyndra failed in 2011, it was headline news for weeks — a prime example of the dangers of crony capitalism. But Solyndra's demise cost taxpayers just $500 million. The ObamaCare co-ops could wind up costing close to $3 billion. ObamaCare created these nonprofit, "consumer directed" co-ops to provide stiff price competition in the ObamaCare exchanges. And to get them off the ground, the Obama administration handed out $2.6 billion in low-interest loans and startup funding. Administration officials claimed that the resulting 23 co-ops were carefully selected because they showed a "high probability of financial viability" and an ability to repay those loans. Did they mean that as a joke?

No words can describe the folly in these federally funded projects. Recent reports about two federally funded projects may leave you speechless. Literally. The first: a $125,000 study funded by the National Science Foundation to determine if various adjectives are sexist or racist. Example? The word "good." We're not kidding. "In a masculine work domain ... 'good' for a woman may mean something objectively less good than 'good' for a man," says the tax-funded foundation. Got that? (If so, you may be the only one.) Even if there is something to this gibberish, it's not clear why hardworking US taxpayers should have to pay to have it "studied."

The F-35: Throwing Good Money after Bad. The F-35 program could cripple U.S. defense for decades to come. "You could argue it [the F-35] was already one of the biggest white elephants in history a long time ago," stated former U.K. defense chief Nick Harvey in a May interview. Harvey then doubled down, saying there is "not a cat in hell's chance" the Joint Strike Fighter (JSF) would be combat-ready by 2018. While it is noteworthy that a person of Harvey's stature would level such harsh criticisms, his statement merely reflects the conclusions of reports by the U.S. Defense Department's Director of Operational Test & Evaluation (DOT&E), the Government Accountability Office (GAO), the Congressional Research Service, and various independent air-power analysts: The F-35 program is a mess; it is unaffordable and will not be able to fulfill its mission.

DHS Spends $360 Million On Border Drones With No Positive Results. Drones used by the Department of Homeland Security (DHS) to "guard" the U.S. border for nearly a decade are ineffective even though the agency has blown hundreds of millions of dollars on the failed program and wants Congress to keep funding it. It's yet another example of what government does best; waste money. In this case the frontline DHS agency — U.S. Customs and Border Patrol (CBP) — that operates the Unmanned Aerial Vehicles (UAC) is actually requesting more money from Congress to keep the futile drone experiment going. Imagine a private business that for years blew huge sums on a failed enterprise asking investors to pour more cash into the same useless project.

Bayonne losing $25K a month with windmill generator on the fritz, officials say. The wind turbine used to power the city's Oak Street and Fifth Street pumping stations has gone motionless, costing the city roughly $25,000 a month in energy costs, officials confirmed. And there's more possible bad news — Bayonne may be on the hook for roughly $350,000 to replace the broken generator. The 260-foot structure, off East Fifth Street, went into operation in June 2012, with city officials touting energy savings of up to $300,000 a year. But the wind turbine stopped working in June.

More about wind energy.

Corporate welfare flop: Mitsubishi expected to close Illinois car plant. Despite $29 million in tax breaks handed out by failed Illinois Governor Pat Quinn just four years ago — Mitsubushi appears to ready to say sayonora [sic] to the Prairie State. When the giveaway was announced by the Chicago Democrat — he claimed it would save 1,200 jobs.

The Federal Government's 100 Billion Dollar Mistake. As the bureaucracy dithers, our ship of state keeps leaking money. The Government Accountability Office in a March, 2015 report found that the problem of improper payments is massive. As the Washington Post reported, "the U.S. government forked over an estimated $124.7 billion to ineligible recipients in 2014, representing the first jump in four years. The highest amount for the Obama administration occurred in 2010, with an estimated $125.6 million in losses. Medicare reported the highest number of improper payments last year, with the program accounting for nearly $60 billion in incorrect disbursements. Rounding out the top three were the Earned Income Tax Credit with $17.7 billion in lost revenue and Medicaid at $17.5 billion." This is real money that is being wasted on an epic scale by federal bureaucrats as our nation sinks deeper into a debt that is over $18 trillion.

How housing an illegal immigrant for a night in the United States' biggest detention center costs more than a stay at the nearest four-star Hilton Hotel. The government shells out $231 every 24 hours to house just one of the 2,105 foreign detainees at The South Texas Family Residential Center in Dilley, a small town 200 miles from the Mexican border. That is more than a double room at the four-star Hilton Palacio del Rio 70 miles away in San Antonio, which costs $169.

Taxpayers Have Now Spent $3.5 Million to Find Out Why Lesbians Are Obese. The National Institutes of Health (NIH) has now spent over $3.5 million to determine why the majority of lesbians are obese. The project, now entering its fifth year, received another grant worth $658,485 this summer. The total funding for the research is now $3,531,925. Funding has more than doubled since the study was first revealed in 2013. Since, the study that is examining why three-quarters of lesbians are obese, but gay men are not, has survived sequester cuts, and continues to produce results such as the discovery that gay men have a "greater desire for toned muscles" than straight men.

Feds spent $2 million to have wives nag men about chewing tobacco. Since 2012 the government has spent nearly $2 million on a campaign to get women to nag the men in their lives to quit using smokeless tobacco. The National Institutes of Health has sponsored a continuing grant for the Oregon Research Institute to "evaluate an innovative approach that encourages male smokeless tobacco users to quit by enlisting the support of their wives/partners, both to lead smokeless tobacco users to engage in treatment and to help them sustain abstinence."

You Will Never Guess What The EPA Might Regulate Next. It's obvious the Environmental Protection Agency (EPA) has way too much money to play with. Following yesterday's [3/17/2015] news that the EPA was funding research to reduce air pollution emissions from cooking on propane fired barbecue grills, the latest research grant is aimed at hotel showers. Researchers at the University of Tulsa were awarded $15,000 to develop a wireless device that will allow water use from showers to be measured and reported to both the hotel guest via a smartphone and to hotel management. According to the grant, hotel guests waste millions of gallons of water each year and it's hoped that guests will reduce their water use when they realize the amount of water they are using. The research on propane gas grills involves modifying the barbecue grill design to reduce particulate matter that's emitted during cooking especially when the fire hits the grease from the food.

Watchdog: Agency spends more than it makes to collect wrongful payments. The Social Security Administration (SSA) spends more money than it collects when trying to recover payments to individuals who received benefits for which they were not eligible. According to the Office of Inspector General (OIG), the SSA issued $128.3 million in "low-dollar" overpayments between 2008 and 2013, and then spent $323 million to collect them. The agency ultimately recovered only $109.4 million. "This resulted in SSA spending over $213.6 million more than it collected," the OIG said, in an audit released Wednesday [7/1/2015].

Obama Is Spending $500 Million On Training Fewer Than 100 Syrian Rebels To fight ISIS. We don't have the money to do this first off. And training rebels has never worked. This is not going to work and they know it. It strikes me that someone is getting rich once again over a faux military program. Someone might want to check where the bulk of that $500 million is actually going. Probably to terrorists. The military has trained less than 100 and 0 have graduated from the program. Their goal is 3,000 by the year's end. That's laughable.

'Cash Strapped' VA Forgot It Had $43.1 Million Stashed Away. When not pleading poverty, the Department of Veterans Affairs can be awfully careless with its money. The latest example: In 2011, the VA set $43.1 million aside to produce brochures informing veterans about their benefits, then forgot about it. The money went unspent for three years and now might be lost for good. An internal audit released earlier this month said, "A breakdown of VA fiscal controls and a lack of oversight led to the parking of funds ... and the failure to detect and properly use and manage these funds." That breakdown in fiscal controls seems to be endemic at the VA.

GAO hits Obama administration on renewable energy projects: audit. Lawmakers on Wednesday [6/24/2015] demanded accountability from the Bureau of Land Management following an investigation that found the government routinely fails to secure proper bonding from wind and solar project developers, potentially leaving taxpayers on the hook for millions of dollars. The Government Accountability Office report — which gives more fuel to critics who say President Obama will push "green" power at all costs — also said that the administration has kept shoddy records, may have shredded bond documents and blatantly treats renewable power differently than it treats fossil fuel projects.

SSA Paid the Dead $46.8 Million. The Social Security Administration (SSA) paid individuals acting as representatives for disabled beneficiaries nearly $50 million even though they were dead. An audit from the Office of Inspector General (OIG) is just the latest example of the SSA's inability to figure out who on their rolls is still alive. The audit focused on "representative payees," or a person who manages another's finances due to mental or physical limitations. The OIG found that many payees acting on behalf of disability beneficiaries had died.

Navy pays millions to keep using Windows XP. The Navy will pay more than $9 million to keep using Windows XP under a contract signed this month, Computerworld reported Tuesday [6/23/2015]. The Space and Naval Warfare Systems Command (SPAWAR) will pay Microsoft $9,149,000 through the contract, which was approved earlier this month. It could eventually grow to be as large as $30,842,980 by 2017.

Pay $1.22 million to save $500,000. Morons run the country. In New Hampshire, they are paying $1.22 million to save $500,000.

ObamaCare Can't Account for Almost $3 Billion In Subsidy Payments. Now we learn that the Obama administration doesn't know whether billions in subsidies it paid out to insurers were appropriate. Yeah, this law is working just great.

Obama Admin Making Billions In Obamacare Subsidy Payments Without Verifying Amounts. The Obama administration is making billions in payments to health insurers under Obamacare without calculating the exact amount companies are owed, according to a federal audit released Tuesday [6/16/2015]. Obamacare's premium subsidies are paid each month directly to insurance companies, to ease the burden of health coverage to eligible customers in the health law's government exchanges. The payments add up: the federal government doled out almost $2.8 billion to insurers in just the first four months of 2014, when Obamacare launched.

If you ran a business this way, you'd probably go to prison.
Feds Can't Verify $2.8 Billion in Obamacare Subsidies. The federal government cannot verify nearly $3 billion in subsidies distributed through Obamacare, putting significant taxpayer funding "at risk," according to a new audit report. The Department of Health and Human Services (HHS) Office of Inspector General (OIG) released an audit Tuesday [6/16/2015] finding that the agency did not have an internal system to ensure that subsidies went to the right enrollees, or in the correct amounts.

On The Brink Of Bankruptcy, Federal Disability Program Wastes Billions. A government audit finds that the Social Security Disability Insurance program paid out $16.8 billion in disability benefits over the past decade to about four million people who either were working, made too much money, were in prison, were dead, weren't eligible or were no longer physically or mentally disabled. [...] Between 2003 and 2014, SSDI rolls climbed 44% — even though the Census Bureau reports that the number of actual working-age disabled has been climbing at a far lower rate.

Social Security overpaid nearly half on disability, watchdog says. In all, Social Security overpaid beneficiaries by nearly $17 billion, according to a 10-year study by the agency's inspector general.

Stop paying federal workers to sit home, personnel chief tells agencies. The government is taking action to curb the long-maligned practice of putting federal employees on paid leave for months — and even years — while they wait to be punished for misbehavior or cleared and allowed to return to the office. In a memo last week, Office of Personnel Management director Katherine Archuleta told agency heads that the extensive use of administrative leave throughout government should be just the opposite: a "temporary solution," only for problem employees who pose a danger to themselves or their colleagues. In other words, if someone poses a threat to his own safety or the safety of others, send him home. If the situation could take a long time to resolve, like most misconduct cases, keep them on the job.

How the government wasted tobacco's $200B windfall. Back in 1998, the tobacco industry reached an agreement with 48 states. Cigarette makers were to pay a guaranteed minimum of $206 billion over 25 years to cover the cost of health care for people who got sick smoking — along with other anti-smoking, public health-related programs. As happens when politicians are involved, most of the money really didn't go to health programs. It mostly went to special interest projects throughout the states. That's bad enough, but the real disaster occurred when states like New York decided to take the money up front and run.

Feds pour $32 million more into beleaguered solar industry. This latest funding is dedicated to training a workforce of solar technicians, developing new technology and implementing a database to share performance data, the DOE announced in a press release last week. The training goal is 75,000 workers by 2020 and an undisclosed amount of "other professionals" in other fields such as real estate, finance, insurance and fire and safety. What the release didn't say was that the Obama Administration has spent $150 billion on green initiatives between 2009 and 2014, yet the industry cannot survive without government giveaways, a Brookings Institution study found.

Probe: PA Paid $2.2 Billion in Fraudulent Unemployment Insurance. Conservatives have been trying for years to investigate fraud in welfare programs at the national and state levels. Repeatedly, we are told by the Left that such attempts are unnecessary and endanger the ability of those programs to help those in need. However, time and again, we see that there are examples of fraud in welfare programs across the country. The recent probe into fraudulent unemployment insurance claims proves this yet again. As the Washington Examiner reports, unemployment programs as a whole handed out $5.6 billion in improper benefits between the years of 2009 and 2013. Astoundingly, $2.2 billion of that came from Pennsylvania.

Elon Musk's growing empire is fueled by $4.9 billion in government subsidies. Los Angeles entrepreneur Elon Musk has built a multibillion-dollar fortune running companies that make electric cars, sell solar panels and launch rockets into space. And he's built those companies with the help of billions in government subsidies. Tesla Motors Inc., SolarCity Corp. and Space Exploration Technologies Corp., known as SpaceX, together have benefited from an estimated $4.9 billion in government support, according to data compiled by The [Los Angeles] Times. The figure underscores a common theme running through his emerging empire: a public-private financing model underpinning long-shot start-ups.

IRS Admits Refunding Billions On Fake Tax Returns. Just hours after being force to admit that they were hacked (by Russians apparently), an inspector general's report shows that The IRS has rather remarkably continued to pay refunds on hundreds of thousands of fraudulent tax returns in recent years, and sent dozens of checks to the same addresses, including in Eastern Europe and elsewhere. While some progress has been made, $2.3 billion of real US taxpayer's money was wrongfully refunded to fake US taxpayers... but with this new cyber-attack, we suspect that number will soar.

DOD rings up more than $3M in credit card charges at casinos, strip clubs in one year. There was a time when a story such as this would have resulted in shock and outrage around the nation. These days, sadly, it barely causes a ripple on the national media pond. Judicial Watch has concluded yet another investigation into government spending, this time at the Department of Defense, and found that government credit cards are being used in all sorts of interesting places.

Watchdog: IRS issued $5.6B in potentially bogus education credits. The IRS issued $5.6 billion in potentially bogus education tax credits in a single year — more than a quarter of all education credits claimed by taxpayers, a government watchdog said Tuesday [5/12/2015].

Latest Scott Walker 'John Doe' probe cost Wisconsin taxpayers $1 million. An effort to investigate Republican Wisconsin Gov. Scott Walker's political fundraising during his 2012 recall election cost Badger State voters $1.1 million, recently released court documents show. The investigation was halted last year after a judge determined that the activities alleged in the probe were not in fact illegal.

The Government Did WHAT With $300 Million? In the last fiscal year, the federal government spent $3.5 trillion. That's the sum total of the total lifetime incomes of 3.5 million working Americans, give or take. How much of that was that was misspent? Ten percent? Fifteen? Twenty? More? Do we really want to know? Most elected Republicans pay lip service to the waste of government but ultimately do not care to do anything about it. Democrats want to spend even more money and don't want to be bothered with arguments about how that might not be the greatest idea. A country that can readily wave off such waste is courting not renaissance but ruin.

Report: Defense Dept. paid NFL millions of taxpayer dollars to salute troops. The United States Department of Defense paid the National Football League more than $5 million in taxpayer money between 2011 to 2014 to honor U.S. soldiers and veterans at games, an investigation revealed this week. [...] But instead of purely heartfelt salutes to soldiers from hometown football teams, the halftime segments were reportedly part of paid promotions under federal advertising contracts for the military.

John McCain: Gov't wasting $294 billion on expired programs. The federal government is set to spend at least $294 billion of taxpayer money on hundreds of expired programs this year alone, according to a report released Thursday [5/7/2015]. The 19-page "America's Most Wasted" report from Sen. John McCain, R-Ariz., is the first in a series of oversight studies meant to shed a light on wasteful and duplicative government spending.

Pentagon credit cards used for gambling, escorts. A Defense Department audit has found that a number of Pentagon employees used their government credit cards to gamble and pay for "adult entertainment" — findings that are expected to lead department officials to issue stern new warnings. The audit of "Government Travel Charge Transactions" by the Department of Defense Office of Inspector General, which is to be made public in coming weeks, found that both civilian and military employees used the credit cards at casinos and for escort services and other adult activities — in Las Vegas and Atlantic City.

The Editor says...
Warnings are cheap. Firing somebody (like all air traffic controllers, en masse) shows you're serious about curtailing behavioral problems. Unfortunately, it appears that the termination of a federal employee is nearly impossible.

IRS Doled Out $5.6 Billion in Erroneous Stimulus Education Credits. A report released Tuesday from the Treasury Inspector General for Tax Administration (TIGTA) reveals that the IRS doled out more than $5.6 billion in education credits in 2012 for more than 3.8 million students. The tax credits in question, the American Opportunity Tax Credit (AOTC), were instituted with the 2009 Stimulus, known as the American Recovery and Reinvestment Act. They are intended to help offset the cost of higher education.

IRS wasted $5.6B on bogus Obama stimulus tax credits: Audit. The IRS doled out more than $5 billion in potentially bogus college aid payments under an Obama stimulus tax credit in 2012, according to a new report Tuesday [5/5/2015] from the agency's inspector general that said the administration still doesn't have a good handle on how to root out erroneous claims. More than 3.8 million students received more than $5.6 billion in questionable tax credits, the audit found — more than half of those never filed their tuition statement, while others were paid tax credits even though the schools they attended weren't acceptable institutions. Still other students claimed the credit for more than four years.

Not enough money? Baltimore got $1.8 billion from Obama Stimulus. Last Tuesday [4/28/2015], President Obama blamed the GOP-controlled Congress for its failure to fund the "massive investment in urban communities" that could "make a difference." Well, how does $1.8 billion for the 622,000 people of Baltimore sound? Pretty massive — actually, just about $2900 for every man, woman, child, and baby of the entire City of Baltimore. But that's the total amount of Obama Stimulus money sent to Charm City, according to an analysis by The [Washington] Free Beacon.

Baltimore Received $1.8 Billion from Obama's Stimulus Law. The city of Baltimore received over $1.8 billion from President Barack Obama's stimulus law, including $467.1 million to invest in education and $26.5 million for crime prevention. President Obama claimed last Tuesday [4/28/2015] that if the Republican-controlled Congress would implement his policies to make "massive investments in urban communities," they could "make a difference right now" in the city, currently in upheaval following the death of Freddie Gray. However, a Washington Free Beacon analysis found that the Obama administration and Democratically-controlled Congress did make a "massive" investment into Baltimore, appropriating $1,831,768,487 though the American Recovery and Reinvestment Act (ARRA), commonly known as the stimulus.

War on Poverty? How about war against insanity! Just in case I was wrong, I checked and found out that the federal government has "invested" $22 trillion fighting the War on Poverty in the 50 years since it was declared by President Lyndon Johnson (Source: Heritage Foundation). According to my calculation, that's $440 billion per year on average. Considering that spending on welfare and food stamps has steadily increased in recent years, not to mention the costs of Obamacare, I am confident we are spending well over half a trillion per year to rescue our impoverished members of society. [...] That's right, our $22 trillion investment went right down the rabbit hole, or more accurately the black hole, and we are left with inner cities in decay like Detroit, turmoil like Baltimore, and abject poverty like Watts.

Community Investment? Oh, Please. These communities are not an "investment"; they're an expense! The biggest money hole in the history of the human race. Since Lyndon Johnson's War on Poverty program was enacted, we have spent over fifteen trillion — with a t — on welfare (AFDC and other programs), Food Stamps, WIC stamps, free pre-school, free primary and secondary education, free medical care, free cell phones, Section 8 housing assistance, food pantries, free transportation to the Social Services Office and your medical appointments, free legal services, and I don't know what else because I haven't the stomach to look any further. And what has the nation gotten back? Zip, nada, zero. Indeed, less than zero, because while in the 1960s the propaganda was that there were only "obstacles to overcome," now there is "hopelessness" — a word bandied about not just by white liberals, but also by right-of-center personalities who attribute the terrible schools in these communities, the lack of fathers in the home, the unemployment, poverty, and crime to I don't know — residual racism, more money not being spent on education, something, anything but the actual behavior of the people concerned.

Tsarnaev Family Flown to U.S., Housed in Boston at Taxpayer Expense. The family of convicted Boston Marathon bomber Dzhokhar Tsarnaev have been flown to the U.S. from their home in Chechnya, are being housed at a Hampton Inn outside of Boston, and are being guarded 24 hours a day by at least three federal agencies. The taxpayer-funded junket to the U.S. for the family of a Muslim terrorist is costing well over $100,000, according to a former U.S. attorney.

ICE could have saved millions on detainee flights, watchdog says. An internal watchdog report says millions of dollars may have been saved through better management and by filling empty seats on U.S. Immigration and Customs Enforcement charter flights carrying detained immigrants to their home countries. The Department of Homeland Security's Inspector General said flights — which returned detainees mainly to Central America, South America and the Caribbean — flew partially empty more than a third of the time. Filling seats could have saved $41.1 million, the report says.

Congresswoman questions $730K repairs to Arizona border fence. U.S. Rep. Martha McSally (R-Arizona) [...] wrote a letter to U.S. Customs and Border Protection Commissioner Gil Kerlikowske on Thursday after an Associated Press report found the repairs to about 60 feet of fencing cost $730,000.

Unwanted tanks and other government waste detailed in reports. If the Republican majority in Congress really wants to cut back on government waste, it can find some inspiration from a pair of reports recently released, detailing examples of egregious spending and programs that could arguably go on the chopping block.

Waste Watch. [For example,] An Afghan Contractor Builds Walls that Melt in the Rain [$456,669]: In 2012, U.S. military authorities paid an Afghan construction firm nearly half a million dollars to build a "dry fire range" (DFR) for the Afghan Special Police to use in training exercises. "The DFR replicates a typical Afghan village and is used to conduct simulated police search and clearance exercises," according to the Special Inspector General for Afghanistan Reconstruction (SIGAR). The range is "dry fire," meaning it is not designed for use with live ammunition. Only four months after completion, however, the walls of the DFR began to disintegrate.

Russell follows Coburn's footsteps, identifies $117M in first 'Waste Watch'. Rep. Steve Russell featured more than $117 million worth of failed government efforts in the first of a "Waste Watch" series dedicated to exposing the squandering of taxpayer money. The freshman Republican from Oklahoma took up the mantle of another Oklahoman, retired Sen. Tom Coburn, whose annual "Wastebook" publication also chronicled flagrant examples of frivolous, illegal and wasteful government spending.

Los Federales To Fly In Children From Central America For Illegals. Is it any wonder that "57% of Likely U.S. Voters think the policies and practices of the federal government encourage people to enter the United States illegally"? [...] I'm not surprised in the least by this action. I wouldn't even have been surprised had this occurred under President Bush, much less under Mr. Obama. The kids would be considered "refugees", hence, eligible for all sorts of government benefits, including food stamps and living expenses.

Gov't program would fly in Central American children to join parents in US. Images of unaccompanied children flooding across the U.S.-Mexico border defined the immigration crisis last summer. Now, the federal government is intervening so these children won't have to make that trek — they'll get to fly into the U.S. instead. For free. A new State Department and Department of Homeland Security program seeks to stop the surge of immigrant children from Honduras, Guatemala, and El Salvador at the southern border by giving their U.S.-based parents the option to apply to have their kids picked up and put on a plane, without paying a penny.

The Editor says...
Exactly the opposite should be done: The parents should be flown out of the country to rejoin the children. This is the "anchor baby" problem in reverse: It's the Obama way of generating DREAMer kids who can then say (20 years from now) that they had no choice in the matter, they were brought here as children and now deserve to be given citizenship. Furthermore, why is this nameless program limited to children in Mexico and Central America? Why is it limited to children with relatives living in this country?

The Pentagon's $10-billion bet gone bad. It was the most powerful radar of its kind in the world, they told Congress. So powerful it could detect a baseball over San Francisco from the other side of the country. If North Korea launched a sneak attack, the Sea-Based X-Band Radar — SBX for short — would spot the incoming missiles, track them through space and guide U.S. rocket-interceptors to destroy them. Crucially, the system would be able to distinguish between actual missiles and decoys. [...] In reality, the giant floating radar has been a $2.2-billion flop, a Los Angeles Times investigation found.

USDA Employees Used Government Credit Cards at Bowling Alleys, Barbershops. The OIG found $192.2 million in potentially "questionable transactions" by employees using agency purchase cards and convenience checks. The audit, released Tuesday [3/24/2015], blamed the improper purchases on poor training. From a pool of 169,054 questionable transactions, the OIG selected 230 for closer review. The audit found that 174 were questionable, totaling $163,160, because transactions were "prohibited by [the Office of Procurement and Property Management] OPPM's policy, were not properly approved, or lacked supporting documentation." "Some of the questionable transactions involved retailers identified as beauty and barber shops, bowling alleys, and amusement parks," the OIG audit said.

The Other Army Green. When you think about those hundreds of trillions of dollars in unfunded entitlement liabilities, you might be tempted to roll your eyes at relatively picayune examples of government waste, but consider that the perks that go along with being an admiral or general — the private jets, the chefs, the entourages — cost taxpayers around $1 million a year per flag officer, which is no small thing when you have about a thousand of them. We have an army of generals and more admirals than battleships. Does the Pentagon spend its money wisely? Nobody knows — especially not the Pentagon.

Secret Service chief asks for $8 million to build scale replica of the White House for training. The new head of the Secret Service has admitted he has agents with a drinking problem after two were accused of crashing their car while drunk at the White House. Joseph Clancy, newly-installed director of the agency, made the admission in a stormy session in front of Congress as he tried to get their approval to build a replica White House for agents to practice protecting the president.

The Editor says...
They may also need a full-size replica of Camp David and a full-size mockup of Hawaii, but that can wait til next year.

Secret Service Wants a Fake White House to Help Protect the Real One. Stung by accusations that it cannot adequately protect the White House, the Secret Service wants to spend $8 million to build another White House in Beltsville, Md. In prepared testimony before the House Appropriations Committee, Joseph P. Clancy, the director of the Secret Service, on Tuesday [3/17/2015] will urge lawmakers to give him money to build a detailed replica of the White House to aid in training officers and agents to protect the real thing. Beltsville, about 20 miles from the real White House at 1600 Pennsylvania Avenue, is the site of a 500-acre Secret Service training site in the verdant terrain of Southern Maryland.

Feds shelled out $125B in bogus payments last year. The government paid out $124.7 billion in potentially bogus payments last year, the government's chief watchdog said Monday [3/16/2015], blaming a controversial tax credit for the poor as well as increased bad payments in Medicare and Medicaid. One major problem is tracking when Americans die — the Social Security Administration admitted last week that its rolls are filled with names of more than 6 million folks who are listed as 112 years of age or older.

Clinton has received $16 million in post-presidency benefits. Former President Bill Clinton has received nearly $16 million in taxpayer funds since leaving the White House, covering everything from his pension to personnel to benefits — and renewing questions over how much taxpayers really should spend on ex-presidents who make millions after leaving office. A new Politico report and analysis examined the payments since he left office in 2001, and claimed it amounts to more than any other ex-president has received. Meanwhile, Politico points out, Clinton has a personal annual income that beats all the other living former presidents.

Taxpayer tab for Clinton Inc.: $16 million. By Election Day 2016, taxpayers will have paid out more than $16 million to fund Bill Clinton's pension, travel, office expenses and even the salaries and benefits of staff at his family's foundation, federal records show. Since he left the White House in 2001, Clinton and his office have received more money through the Former Presidents Act than any other ex-president, according to a POLITICO analysis of budget documents.

Feds spend $42,676 studying sexting by college girls. A nearly $50,000 federal study is examining the sext messages of college girls to determine whether sending racy pictures makes them more likely to engage in risky sexual behavior. "This project will address how sexting (the exchange of sexually suggestive texts or pictures via mobile phone) and problematic alcohol use together increase the risk for risky sexual behavior and sexual assault among college women," read a grant issued last year.

State Department Spends $2.15 Million on Drapes for Diplomats in Moscow. The State Department is spending over $2 million on drapes for the U.S. Embassy and U.S. diplomatic residences in Moscow, according to a government contract awarded Tuesday [3/10/2015]. The award brings an end to a four-month search for a suitable contractor to replace the draperies, which will come in either "silk or faux silk."

It would be far better to spend a billion dollars on a massive border wall.
VP Joe Biden Renews Calls For $1 Billion For Central America, Following Illegal Immigration Surge. Vice President Joe Biden is reiterating his call for Congress to agree to the administration's requested $1 billion for Central America, as a response to the surge in illegal immigration from El Salvador, Guatemala and Honduras that reached a fever pitch last summer.

CFPB Director Swats Down Congressional Question About $215 Million Spent On New HQ: 'Why Does That Matter to You?'. Consumer Financial Protection Bureau (CFPB) Director Richard Cordray told Representative Ann Wagner (R-MO) that it was none of her business how much the agency spent to renovate its lavish new headquarters. During a Congressional hearing on Tuesday, an angry Wagner asked him to explain who authorized a $215 million expenditure on the "untouchable" agency's new headquarters, Cordray sounded eerily like former Secretary of State Hillary Clinton, who offered a similar response to questions posed in Congressional hearings last year about the 2012 murders of four Americans at the American consulate in Benghazi, Libya.

What does soil moisture have to do with aeronautics and space?
NASA launches $916 million soil moisture satellite. A United Launch Alliance Delta 2 rocket boosted an innovative NASA satellite into orbit Saturday [1/31/2015], kicking off a three-year, $916 million mission to measure the moisture, frozen and liquid, in the top few inches of Earth's soil to improve forecasting, to better understand the causes and impact of droughts, floods and other natural disasters and to improve long-range climate change projections.

Feds Spent $432,000 Studying Gay Hookup Apps. The National Institutes of Health (NIH) has spent nearly a half a million dollars studying gay hookup apps such as Grindr. The government awarded $432,000 to Columbia University to interview gay men who use GPS dating apps and determine whether it increases their likelihood of engaging in risky sexual behavior.

Obamaites Behaving Badly. An inspector general's report last fall, which somehow escaped publicity, found that political appointees at the Department of Labor violated contracting rules on one project and spent what many would consider an absurd amount of money on another. An earlier IG letter indicated the same officials were involved in misusing department resources on yet a third project. [...] Elliot P. Lewis, the assistant inspector general for audit, wrote to T. Michael Kerr, assistant secretary for administration and management, about the allegation in my article that "the Department of Labor (DOL) awarded a $100,000 no-bid contract to an outside public relations firm ... to promote a book club." (Yes, a book club.) As it turned out, there were two contracts involved, to the tune of $208,970.

17,000 Federal Employees Earned More Than $200K Last Year. More than 16,900 federal employees took home in excess of $200,000 in base salary in 2014, according to a partial database of federal salary data. The information, compiled by FedSmith.com using data from the Office of Personnel Management and other agencies, shows the annual compensation for every civilian federal worker, save those at the Defense Department. The number of workers earning more than $200,000 represented about 1.6 percent of employees on the list and is up from about 15,000 who cleared that salary in 2013. It also makes up a slightly higher percentage of the employees on this list.

Obama's DHS Spent Nearly $150M on Office Furniture and Makeovers. Funding for the Department of Homeland Security (DHS) — which is due to expire at the end of this week unless an agreement in Washington is reached — has continued to rise under President Barack Obama. His administration claims the agency's increased funding is necessary to protect the homeland, but records show that the DHS has continued to increase its spending on furniture and office makeovers as its budget has been increased. A review of records on the official government spending website by the Washington Free Beacon shows the agency has spent nearly $150 million on office furniture and makeovers since Obama took office.

HUD Paid $37 Million in Rent for Deadbeats. The U.S. Department of Housing and Urban Development (HUD) subsidized over 100,000 apartments for tenants who do not meet work or community service requirements, costing taxpayers at least $37 million. According to an audit released by the Office of Inspector General (OIG) on Wednesday, the federal government is at risk of losing an additional $448 million worth of subsidies this year on "noncompliant tenants."

U.S. sends China millions in foreign aid despite $1.3 trillion debt. China has become one of the world's largest two economies, and is wealthy enough to buy up at least $1.3 trillion of the U.S. debt. But that hasn't stopped Uncle Sam from continuing to send foreign aid to Beijing. In 2014 the U.S. State Department and its USAID program provided nearly all of the $12.3 million in taxpayer-funded aid set aside for China. And another $6.8 million is on tap for Beijing this year, according to ForeignAssistance.gov.

Pentagon spent $504,000 on Viagra last year alone. The Department of Defense has spent about $1.2 million on impotence medications since they first went on its insurance plan's formulary, including more than a half-million dollars last year alone.

Less than half [of] $2.9 [billion in] Ebola money reached affected countries — UN study. Almost $2.9 [billion] (£1.92 [billion]) was pledged by the end of 2014 in donations to fight west Africa's Ebola epidemic, yet only about 40% had actually reached affected countries, researchers have said. A study by the UN Office for the Coordination of Humanitarian Affairs that tracked international donations showed barely $1.09 [billion] had reached the worst affected countries by the end of last year, they said.

Robin in Deadwood Forest. Chris Edwards at the Cato Institute believes there should be a National Museum of Government Failure. He argues that the displays at the Smithsonian would pale into insignificance if set beside the awe-inspiring sight of such things as the "$349 million on a rocket test facility that is completely unused", the Superconducting Collider whose ruins include nearly 15 miles of tunnel and the ex-future Yucca Mountain nuclear waste site. Yet these artifacts, whose scale would surpass many a Lost City, are far from the worst failures. The biggest fiascos by dollar value are the various government programs designed to win the war on drugs or poverty which after having spent trillions of dollars fruitlessly, lie somewhere in an unmarked bureaucratic grave.

Anti-terror cops are still chauffeuring around bureaucrats. Anti-terror cops are still chauffeuring around New York City bureaucrats, even on the heels of terror attacks in France. The offices of Public Advocate Letitia James and City Council Speaker Melissa Mark-Viverito could not come up with a defense for the ongoing practice, first exposed by The [New York] Post two months ago, and passed the buck to the NYPD. Comptroller Scott Stringer's office said he was doing what the NYPD recommended.

The reasons why Guantanamo is so expensive. Even though the Gitmo detainee population has shrunk from 779 to 122 detainees over a decade, the size of the military units and contractors guarding them, providing health care, cooking and cleaning for them, staffing a library and recreational activities haven't downsized accordingly.

How is it that no one is ever held accountable for the failures of government? Homeland Security spent $50 billion over the past 11 years on counterterrorism programs, but the Department cannot demonstrate if the nation is more secure as a result.

HHS execs doing good and living large, flying first class around the world. Helping America's poor, aged and sick is the U.S. Department of Health and Human Services' reason for being, but hundreds of its top officials are traveling in style and luxury at taxpayer expense. Records obtained by the Washington Examiner under the Freedom of Information Act show that HHS executives spent $31 million taking 7,000 first class and business class flights between 2009 and 2013, including 253 trips for which a one-way ticket cost more than $15,000.

U.S. Official: America Paying Salaries of Afghan Cops That Don't Exist. The United States continues to pay more than $300 million annually to the Afghan National Police (ANP), and some of that money is going to officers who do not actually exist, according to government officials who warn that fraud and a lack of oversight are causing U.S. taxpayer dollars to be wasted on the force. The United States continues to pay the salaries of ANP officers despite a lack of supervision over the funds and the fact that fraud is rampant among the force, according to a new report by the Special Investigator General for Afghanistan Reconstruction (SIGAR).

Feds find border drones don't actually make border more secure. The Department of Homeland Security's (DHS) own watchdog says that drones deployed at the United States-Mexico border do not achieve their objective of protecting the country. In a 37-page report issued on December 24, 2014 but published for the first time on Tuesday, DHS' Office of the Inspector General (OIG) concluded that "after 8 years, [Customs and Border Protection, or CBP] cannot prove that the program is effective because it has not developed performance measures." In a statement, the agency had a damning conclusion for the CBP drone program, which anticipates spending an additional $443 million to acquire and operate 14 more drones.

Audit: DHS Drone Program Ineffective at Border Security. Custom and Border Protection's (CBP) drone program is ineffective and surveys less than 200 miles of the southwest border, according to an audit by the Department of Homeland Security's (DHS) Office of Inspector General. The program operates 10 Predator B drones at a cost of more than $12,000 for every hour a drone spends in the air, funding which could be put to better use elsewhere, according to the OIG. The program costs $10,000 more per flight hour than what DHS claims, according to the OIG. "We estimate that, in fiscal year 2013, it cost at least $62.5 million to operate the program, or about $12,255 per [flight] hour," the audit said. "The Office of Air and Marine's calculation of $2,468 per flight hour does not include operating costs, such as the costs of pilots, equipment, and overhead."

Social Security spent $300M on 'IT boondoggle. "The program has invested $288 million over six years, delivered limited functionality, and faced schedule delays as well as increasing stakeholder concerns," the report said.

Oversight report finds major problems with DHS. U.S. Senator Tom Coburn released his final oversight report on the Department of Homeland Security, which has found major problems in the branch. The report finds that Homeland Security is not successfully executing any of its five main missions. "Ten years of oversight of the Department of Homeland Security finds that the Department still has a lot of work to do to strengthen our nation's security," Coburn explained. "Congress needs to review the Department's mission and programs and refocus DHS on national priorities where DHS has a lead responsibility."

The CDC At A Glance. The Ebola crisis shined the spotlight on the Centers of Disease Control and Prevention (CDC). The agency is being criticized for mishandling the Ebola crisis but the CDC has been plagued with problems for years and its incompetence has been tied to its expanding mission. [...] For example, the CDC has programs addressing, chronic diseases such as obesity, environmental health, occupational health and of course infectious disease. The CDC is also involved in behavioral issues including domestic violence, teen dating and bulling. The agency also conducted studies on gun violence and alcohol.

DOD workers ring up $5 million in improper charge card purchases. More than $5 million in unauthorized "micro-purchases" were made with government charge cards by employees of the U.S. Southern Command from April 2012 to March 2013. Government purchase cards are intended to be used only for purchases of approved merchandise under $3,000. Southern Command employees used the cards improperly nearly 6,000 times at a cost of $5.1 million, according to a Department of Defense inspector general report. Another $160,000 was spent on an estimated 3,500 unnecessary gifts in the years since 2010, often just days before the government's fiscal years ended. The items remained in storage at least three years.

NIH Had No $$$ for Ebola Vaccine, Spent $100 Mil on Meditation. [T]he ACLU was nowhere in sight when [Rep. Tim] Ryan decided to propagandize his creed to pre-schoolers, but if a conventionally religious politician tried to promote Christian or Jewish practices in school using a government grant, all hell would break loose.

NIH Has Spent $100.2 Million on Mindfulness Meditation. "The advantage of this is that it actually doesn't cost anything," said Karen May, a vice president at Google, explaining how her company offers "mindfulness" classes to its employees. Mindfulness is a New Age kind of meditation that focuses on the present moment "non-judgmentally," tracing its origins to Buddhism.

NIH Blows $1.3 Billion On Failed Children's Health Study. Congress mandated the National Children's Study as part of the Children's Health Act of 2000. The idea was to follow 100,000 newborns across the nation — in places ranging from urban California to the Florida swamps — until they turned 21, and measure how environmental and other factors affected their health. Yet for the past 14 years, all the NIH managed to do was spend $1.3 billion figuring out how to conduct the massive effort and running some pilot experiments. The actual study wasn't scheduled to start officially until some time next year.

Obama Unveils $1B Boost for Preschools, Including $55 Million From Disney. It's a year-end present for tens of thousands of kids and early childhood education programs. President Obama today [12/10/2014] is set to unveil a $1 billion package of new public and private funding for U.S. preschool programs during a White House summit to promote one of his favored domestic initiatives.

The Editor says...
Pre-school "education" or nanny-state daycare has been proven to be ineffective, therefore any money spent on programs like this are completely wasted.

51 Examples of Government Waste. [#11] The Department of Defense spent nearly $500 million to purchase military transport planes for the Afghan Air Force, which have since been scrapped. The planes did not meet operational requirements, and the maintenance of the planes was too expensive for the Afghan Air Force. [#12] The Defense Department overpaid by $3.3 million for radios for the Afghan Army because the Defense Department did not follow contracting procedures, which would have prevented overpayment.

Watchdog Report: IRS Paid Out More Than $20 Billion in Erroneous Low-Income Tax Credits. The Internal Revenue Service paid out $14.5 billion in erroneous Earned Income Tax Credit payments and between $5.9 billion and $7.1 billion in improper Additional Child Tax Credit payments in Fiscal Year 2013, according to a new government watchdog report. The EITC and ACTC are refundable tax credits intended for lower-income Americans. In Tax Year 2012, the IRS paid out $63 billion in EITCs and $26.6 billion in ACTC payments.

6 Years Later, Stimulus Funds Still Being Spent on Manure. Almost six years after the passage of the stimulus package, taxpayer dollars have finally found their way into a shovel ready project: $60,000 to haul horse manure. Sold as an opportunity to bring America into the "21st century," the Recovery and Reinvestment Act, commonly known as the stimulus, is now being used to remove wild horse manure off of public lands. According to a contract awarded last week, the Bureau of Land Management (BLM) will pay $58,650 to load, haul, and dispose manure from a corral in Burns, Oregon.

$466,642 Federal Study: Why Do Fat Girls Date Less and Risk More? The National Institutes of Health has awarded $466,642 in taxpayer dollars to Magee-Women's Research Institute and Foundation in Pittsburgh, Pa., to study and compare the intimate relationships of obese and non-obese girls. "Mounting evidence demonstrates that weight influences intimate (i.e., dating and sexual) relationship formation and sexual negotiations among adolescent girls. Obese girls consistently report having fewer dating and sexual experiences, but more sexual risk behaviors (i.e., condom nonuse) once they are sexually active," the grant abstract said. "No studies have actually examined whether the interpersonal skills and intimate relationships of obese and non-obese girls differ," it said.

Global climate aid up to $650 billion. As much as $650 billion is being spent globally to aid countries in adjusting to climate change, according to a new United Nations report. The report, released Wednesday at a climate change conference in Lima, Peru, said the low end of the amount being spent was $350 billion. The report covered aid during 2011 and 2012 and noted that, due to the complexity of determining where climate funding comes from, the actual amount spent could be higher. Climate finance is one of the major components of a deal nations hope to strike next year in Paris that would govern emissions beyond 2020. The Lima conference is meant to set up those negotiations a year from now.

The Editor says...
The item immediately above is categorized (by me) as wasted taxpayer revenue because [#1] all the money in the world cannot change the weather, and [#2] global warming stopped, all by itself, in 1998.

Documents Reveal Obama HHS Paid Baptist Children and Family Services $182,129,786 for Four Months Housing of Illegal Alien Children. According to the documents obtained by Judicial Watch, the cost to the American taxpayer was $86,846.34 per illegal alien child at Ft. Sill, for a total to $104,215,608 for 1,200 UACs from June 12 to October 18. The bill also included $2,648,800 in compensation for 30 members of the BCFS "Incident Management Team" (IMT), for a total to $88,293 per IMT member for the four-month period. The $77,914,178 to care for 1,200 children at Lackland AFB amounted to a cost to the taxpayer of $64,928 per illegal alien child from May 18 to September 18. The Lackland bill included $20,000 for a "cable television screen/projector set up" and 20 shower stalls at $1,000 each.

Somehow the separation of church and state people are all silent about this.

Audit: Taxpayer dollars paid for eco group's $25G Christmas party, and more. $25,000 for a Christmas party. $11,000 for premium coffee services. Millions more for questionable construction costs. All this was billed to taxpayers by an obscure federally funded science group, according to a scathing new inspector general report. The audit, conducted by the National Science Foundation inspector general and the Defense Contract Audit Agency, detailed spending by the Colorado-based National Ecological Observatory Network (NEON). The nonprofit, designed to operate a network of ecological observatories across the continent, is solely funded by the National Science Foundation.

Fiscal responsibility is 'anti-science' now. The media framing for stories about fiscal responsibility now involves portraying Republicans as "anti-science" when they object to handing out fat research grants for stupid projects. For example, Politico's big article on the subject is entitled, "Next Battle In the War on Science." Got that? Shutting down wasteful, and sometimes downright harmful, monkey-gambling studies and robot-squirrel construction projects is now a "war on science." You don't want to spend a million bucks studying how ideas spread across Twitter, producing a study that might prove useful for anti-free-speech activists? Why do you hate science, wingnut?

Obama plan to 'Power Africa' gets off to a dim start. Barack Obama last year told a cheering crowd in Cape Town that a $7 billion plan to "Power Africa" would double electricity output on the world's poorest continent and bring "light where currently there is darkness". [...] But the five-year plan has not yet delivered the power. Power Africa has not measured its progress by counting actual megawatts added to the grid but promises of additional power made in deals it says it helped negotiate, according to sources inside the project and documents seen by Reuters.

Feds have sunk $65M into stalled Eisenhower memorial never built. [Scroll down] Fifteen years later the project has already cost American taxpayers more than $65 million. And quarrels between the Dwight D. Eisenhower Memorial Commission on the one hand and Congress and the Eisenhower family on the other hand mean that there's a real possibility that no memorial will ever be built and the money will have gone for naught. The commission, the body in charge of the memorial's "nature, design, construction and location," previously devoured $41 million of the funds and is on pace to spend the rest of the $65 million allotment from Congress without ever building a monument.

White House, Congress Raided Hundreds of Millions from Anti-Bioterrorism Fund. Congress and the Obama White House looked for billions of dollars a few years ago to offset the costs of a legal settlement with black farmers and American Indians, to increase education aid to the states and to develop a vaccine for swine flu. To get those billions, they looked to the same coffer: Project BioShield, a $5.6 billion fund created specifically to prepare America for a bioterrorist attack and develop treatments for deadly viruses such as Ebola. Sen. Richard Burr, R-N.C., warned that the BioShield fund was not supposed to be raided as a source of "Monopoly money for politicians."

Prisoners file $1 billion in bogus tax returns. Inmates and their accomplices filed $1 billion in fraudulent tax returns in 2012, a six-fold increase from 2007, according to a report released Tuesday [11/25/2014] by the Internal Revenue Service's auditor. The audit by the Treasury Inspector General for Tax Administration discovered the IRS has yet to comply with previous recommendations to shore up fraudulent activities so costly to taxpayers.

Labor union work by federal employees on 'official time' costs taxpayers millions. Unionized federal employees spent 2.48 million hours working for their labor unions while getting paid by taxpayers during 2013, and more than 360 workers who are on the federal payroll spent 100 percent of their time working for their union. Under federal rules, employees who are members of a labor union are entitled to so-called "official time," where they are dismissed from their duties as a government employee to engage in labor union organizing activities.

Jay Nixon To Spend $100k To Study How They Messed Up STL. Missouri Governor Jay Nixon, appointed members voted to give themselves $100k through the Governor's newly-created Ferguson Commission. Lt. Governor Peter Kinder, the only elected official on the board, was the only "no" vote. That's what happens when you're accountable to the public.

Ten Years Later, the Question Remains: How on Earth Do You 'Lose' $5.5 Billion? Despite a full decade of audits and investigations, Pentagon officials still cannot say what happened to $6.6 billion in cash that was intended for the Development Fund for Iraq. Apparently, it just "disappeared." Was it just misplaced in an accounting error, or was it "stolen"? Who knows? Apparently, the Pentagon has no idea.

$20 Mil to Boost Reading Skills in the Dominican Republic. While America's failing public schools remain on a perpetual downward spiral, the U.S. government is spending tens of millions of dollars to help struggling students and improve academics in the Dominican Republic. It may seem crazy, but unfortunately it's simply one of a myriad of real-life stories illustrating how government wastes our tax dollars. To be fair, state governments and the feds — mostly via the U.S. Department of Education — spend boatloads of cash on public schools in this country, though it's done little over the years to improve performance in the nation's inner cities.

Prosecutors Troubled by Extent of Military Fraud. Fabian Barrera found a way to make fast cash in the Texas National Guard, earning roughly $181,000 for claiming to have steered 119 potential recruits to join the military. But the bonuses were ill-gotten because the former captain never actually referred any of them.

Feds Spent $10 Million on a Video Game About Escaping a Fat Town. The federal government has invested over $10 million developing and promoting a video game about a young teen that must escape a town full of fat people, as a method to fight obesity. The National Institutes of Health (NIH) paid for the development of two video games that promote healthier eating, including "Escape from Diab," a "nightmare" fictional city where people are only allowed to eat junk food. "The story centers around five children who must get healthy enough to escape the evil King Etes," explains Archimage, Inc., a computer game company that received $9,091,409 to develop the games. King Etes is a fat ruler who forces his people to eat out of vending machines.

$40G per bird? California cormorants refuse to budge from bridge being demolished. Now that a crucial section of the San Francisco-Oakland Bay Bridge has been replaced by a new $6.4 billion span, nobody needs it anymore — nobody except about 800 birds who call the decrepit, 78-year-old segment home. [...] "They're spending $33 million to get rid of these 800 birds — that comes out to about $40,000 a bird — that's more money than most people in the United States make in a given year!" said Brian Sussman, a conservative radio talk show host in San Francisco.

World's largest solar plant applying for federal grant to pay off federal loan. After already receiving a controversial $1.6 billion construction loan from U.S. taxpayers, the wealthy investors of a California solar power plant now want a $539 million federal grant to pay off their federal loan. [...] The Ivanpah solar electric generating plant is owned by Google and renewable energy giant NRG, which are responsible for paying off their federal loan.

The Editor says...
I suspect Google has plenty of cash on hand. If this unwise investment results in a catastrophic loss (of $539 million), it will serve as an example to the next investor: Don't get too excited about investing in solar panels, and don't expect the government to bail you out when you default on a government loan.

Discrimination in other countries is not our problem!
U.S. Allots $1.4 Mil to Fight Work Discrimination in Mexico. As if it weren't bad enough that the U.S. spends exorbitant amounts of taxpayer funds to support illegal immigrants in this country, it's allocating north of a million dollars to help the Mexican government combat employment discrimination in Mexico. Is there no end to the madness? Each year Americans are forced to pay tens of billions of dollars to educate, feed, house, incarcerate and medically treat illegal aliens — most of them from Mexico — in the U.S. and now we're sending cash south of the border for a cause that's hardly ours to fund.

Illegal immigrant children treated to guitar lessons, miniature ponies, tilapia farm. One of the contractors housing some of the surge of illegal immigrant children from this summer offers them a petting zoo with miniature ponies, a tilapia fish farm operation and guitar lessons, according to documents released Thursday [10/30/2014] by a senator who questioned whether the plush accommodations were a good use of taxpayers' money. Sen. Charles E. Grassley, Iowa Republican, said it seemed excessive to pay the $329 that Southwest Key Programs, the contractor, charged per child per day at one of its California facilities in Lemon Grove, California. Another facility in El Cajon cost taxpayers $316 per child per day.

Medicare Bought Meds For Dead People. A report released Friday [10/31/2014] by the Health and Human Services Department's inspector general said the Medicare rule allows payment for prescriptions filled up to 32 days after a patient's death — at odds with the program's basic principles, not to mention common sense.

Tom Coburn highlights ridiculous government spending in final Wastebook. This year's Wastebook does not show the $5,210 that the State Department tried to spend on a blowup, human-size foosball field for an embassy in Belize. But the fact that the project isn't in Sen. Tom Coburn's annual report on ridiculous spending choices is probably one of the biggest victories of the report, because it means the State Department canceled the project after the senator's staffers asked about it.

Coburn's 2014 Wastebook: A $25 Billion Taxpayer Loss. Over the last five years, Sen. Tom Coburn, the retiring senior Republican Senator from Oklahoma and notorious deficit hawk, has released a massive annual report ripping into the federal government's spending habits. The much-anticipated "Wastebook" outlines what Coburn deems the top 100 "wasteful" federal projects that collectively cost taxpayers billions of dollars each year. The annual report is known for scrutinizing programs run by every major department. From the Pentagon and Veterans Affairs Department, to tiny obscure agencies like the National Technical Information Service — no one is immune to a feared mention in Coburn's "Wastebook."

$10G to watch grass grow: Coburn report details worst examples of gov't waste. As American taxpayers worried about the terror threat from the Islamic State, the crisis at the border and the economy, the U.S. government spent their money to give rabbits massages, to teach sea monkeys to synchronize swim and to literally watch grass grow. [...] The first example cited in the report is the millions spent on what one attorney called the government's "dirty little secret": paid administrative leave for troublesome employees.

Thousands of federal workers on extended paid leave. Tens of thousands of federal workers are being kept on paid leave for at least a month — and often for longer stretches that can reach a year or more — while they wait to be punished for misbehavior or cleared and allowed to return to work, government records show. During a three-year period that ended last fall, more than 57,000 employees were sent home for a month or longer. The tab for these workers exceeded $775 million in salary alone.

Milking the State Department's cash cow. The liberal media is ignoring the developing story detailing the fiduciary incompetence of the Department of State (DOS) during Hillary Clinton's tenure as Secretary of State. Meanwhile, the Inspector General (IG) of the DOS, Steve A. Linick, appears to be taking his job quite seriously.

Feds Spend $2.1 Million to Develop Weight-Tracking Insoles, Buttons. The federal government is spending more than $2 million to develop wearable insoles and buttons that can track a person's weight in order to fight obesity. The National Institutes of Health (NIH) has awarded grants for two projects that will monitor "lifestyle behavior" through technologies that will encourage people to exercise more. The first project, awarded to SmartMove, Inc., a company that provides physical activity "coaching solutions," is creating insoles that will track a person's weight.

CDC Spent 3 Times as Much on "Community Transformation" Than On Disease Control. While the nurses in Texas were dealing with an Ebola patient without protocols and proper equipment, the CDC continued to claim the protocols were in place and the hospitals in the U.S. were ready. You have to understand. Ebola takes them away from their real mission which is to build bike lanes, get rid of guns, tell you what to eat, and harass anyone who builds a playground.

Feds have 'gone wild' with taxpayer-funded credit cards. A congressional hearing on how federal agencies have "gone wild" with government credit cards found that personal use of taxpayer-funded cards is significant despite tighter controls passed in 2012. Auditors revealed more than half of the $153,000 in credit-card purchases sampled at the Environmental Protection Agency were prohibited under the guidelines. They included multi-course meals at an employee award ceremony, gift cards and family gym memberships.

U.S. Destroys $500M Planes, Sells for 6 Cent Scrap. Sixteen military transport planes bought by the United States government for the Afghan Air Force (AAF) at a cost of nearly $500 million were recently destroyed by the Afghan military and sold for scrap parts at around six cents per pound, prompting a government inquiry to determine why millions of taxpayer dollars were wasted on the ill-fated program. The Department of Defense purchased for the AAF a total of 20 Italian-made G222 military transport planes at a cost of $486 million. However, the fleet was grounded in March 2013 "after sustained, serious performance, maintenance, and spare parts problems" were discovered, according to the Special Inspector General for Afghanistan Reconstruction (SIGAR).

Who's tending State Department's cash cow? The U.S. State Department has been handing over billions of dollars in grants for foreign projects — ranging from cultural exchanges to "climate change" activities — without adequate oversight or adequate assessment of the risks involved, and sometimes without knowing whether the money was actually spent, according to the department's Inspector General. Moreover, these money-management problems have been going on for years, despite specific warnings, according to the watchdog IG's office.

Pentagon Wastes More Than $100M On Unnecessary Vehicles In Just One Year. Over just a one-year period, the Army and Marine Corps may have wasted more than $100 million returning vehicles from Afghanistan they do not need, according to a Government Accountability Office report released Tuesday [9/30/2014]. [...] The Pentagon also spent $620 million on late fees for shipping containers it did not return on time.

California Gives $3 Million to Groups Providing Free Legal Aid to Illegal Aliens. California Gov. Jerry Brown is channeling the "progressive spirit" of California in his latest act as governor. Turns out he just signed a bill that would give $3 million in grants to non-profits that would offer unaccompanied alien minors legal counsel- which is $1 million more than what the federal government planned to give in grants nationwide.

Stage Production for 18-Minute Obama Speech Cost $94,360. The stage, drapes, and sound system for an 18-minute speech by President Barack Obama cost taxpayers nearly $100,000. "Elite Productions," the go-to company for prominent Democratic politicians such as Bill and Hillary Clinton and Nancy Pelosi, put on the set for Obama's speech to troops at MacDill Air Force Base in Tampa, Fla., on Sept. 17. The company provided "stage, drapery, and audio/visual equipment," according to a contract document made public by the Air Force last week. The government paid the company $94,360 for a speech that lasted from 12:04 p.m. to 12:22 p.m., at a cost of approximately $5,242.22 per minute.

Zombie Spending. Aficionados of horror movies know that the monster is never really dead when you think it is. It may be down, but it will inevitably climb back from the dead at least one more time before the final credits. So it is with government programs. No matter how outdated, useless, wasteful, or redundant programs may be, they come as close to immortality as possible. [...] [T]he Rural Electrification Administration was created in 1935 to bring electricity to farm country. There aren't many farms without electricity anymore, but the REA, now called the Rural Utilities Service, is still with us, spending almost $800 million last year.

51 Cents of Every Dollar: How Much Americans Think the Government Wastes. The timing could not have been more appropriate. The poll was released just days before Congress and the president agreed on a stopgap spending measure to fund federal government programs and agencies indiscriminately at the annualized rate of $1.1 trillion. This year's figure is tied for the highest since Gallup began asking the question in 1979.

Taxpayer-Funded Climate Change Musical Closes Early. A Broadway-styled musical play has gone down to disastrous failure both critically and from audiences, despite having been funded by tax dollars to push global warming. "The Great Immensity," was just as advertised; immense. Not just an immense bomb, but according to one Congressman an immense waste of the $700,000 in tax dollars spent to float the production.

The Show Won't Go On. After a series of lackluster reviews, the traveling global warming musical that was financed by the U.S. taxpayers is ending its run early. The Great Immensity, a musical described as "painfully long" and "awkward," was made possible by a $697,177 grant from the National Science Foundation (NSF).

UN climate change: Obama gives cash to developing nations without any strings attached. American and European liberals see the climate change debate, as well as the U.N. Millennium Development Goals (MDGs) discussion, as an altruistic response to their global public policy concerns. United Nations officials and leaders from developing nations, however, see the climate change discussion and the fight over MDGs as their future revenue source.

Get ready! NASA's MAVEN mission is about to reach Mars. The spacecraft, the first mission to examine the planet's upper atmosphere, was 218 million kilometers away from Earth on Wednesday [9/17/2014] and a mere 1.2 million kilometers from Mars.

MAVEN takes off: what you need to know about NASA's new mission to Mars. Today [11/18/2013], NASA will launch a new mission — one that cost $671 million and has been in development for 10 years — to determine what happened to the water on Mars.

The Editor says...
How will your life improve if and when NASA reaches an indisputable conclusion about what happened to the water on Mars — assuming they can tell if there ever was any water? Such a discovery won't make any difference to anybody. The entire project is a complete waste of taxpayers' money.

Afghan Government Asks U.S. for $537 Million Bailout. Afghanistan's government recently asked the US for a $537 million bailout to pay its bills, and they'd like it within the next "five to six" days. "We hope they will pay for us, and we are asking at once," Alhaj M. Aqa, the director general of the treasury at the Ministry of Finance, told The Washington Post. "They are asking me when I need it, and I told them this week or we will have a problem."

Millions in taxpayer money used to study drunken monkeys. The federal government reportedly has spent more than $3 million to get monkeys drunk in order to study the effect the alcohol has on body tissue. The Washington Times reported Friday [9/12/2014] on a host of questionable grant programs administered by the National Institutes of Health, including a multi-year project to study if over-drinking causes gamblers to lose more money.

Patent office whistleblower: 'Managers have no idea when their employees are working'. With top Commerce Department officials headed to Capitol Hill Friday [9/12/2014] to answer allegations about fraudulent practices by patent examiners, the Washington Post this week obtained copies of the whistleblower complaints that set in motion a series of investigations of the patent office. Four whistleblowers, at least two of them managers, submitted lengthy, detailed accounts to an anonymous hotline set up by the Commerce inspector general's office in 2012. The accounts described widespread time and attendance fraud by examiners at the U.S. Patent and Trademark Office.

Emails: IRS worker got $138,000 to do 'nothing' — and union saved her job. Underperforming IRS workers are being protected from firing by the National Treasury Employees Union in the tax agency that let workers devote 500,000 hours — worth over $20 million in salary — on labor activities last year, according to internal emails revealed Wednesday [9/10/2014]. The House Ways and Means Committee said that emails from former IRS executive Lois Lerner, being probed for her involvement in the agency's targeting of conservatives, show she vented at being blocked from firing one worker who did "nothing," yet still received up to $138,136 a year.

Army can't track spending on $4.3b system to track spending, IG finds. More than $725 million was spent by the Army on a high-tech network for tracking supplies and expenses that failed to comply with federal financial reporting rules meant to allow auditors to track spending, according to an inspector general's report issued Wednesday [9/3/2014]. The Global Combat Support System-Army, a logistical support system meant to track supplies, spare parts and other equipment, was launched in 1997. In 2003, the program switched from custom software to a web-based commercial software system. About $95 million was spent before the switch was made, according to the report from the Department of Defense IG.

Feds Still Studying Why Lesbians Are Obese. The federal government is still seeking answers as to why the majority of lesbians are obese and U.S. taxpayers are footing the bill, which now totals $2.87 million. The National Institutes of Health (NIH) study is now in its fourth year, receiving an additional $670,567 for fiscal year 2014. The project seeks to determine why "nearly three-quarters of adult lesbians overweight or obese," and why gay males are not. In just two years the project's budget has nearly doubled, growing from $1.5 million to nearly $3 million today, despite fears that sequestration could jeopardize the project and other NIH funding.

Federal study on lesbian obesity costs $3 million. A federal study to determine why 75 percent of lesbian women are obese and gay men are not has totaled nearly $3 million. The National Institutes of Health study is now in its fourth year, receiving an additional $670,567 for fiscal year 2014, for a total cost of $2.87 million, the Washington Free Beacon reported.

How many tax dollars are being spent for the FBI to promote itself?
FBI Radio: Public Service or Self-Serving? Listen to the radio and you might run across a segment that sounds something like a news report. A newsy music introduction plays as woman's officious-sounding voice begins narrating a story. In a stilted delivery that appears to mimic that of a news anchor, the woman states, "In a move demonstrating the FBI's valuable role of protecting national security, Director James Comey creates a separate Intelligence Branch..." It turns out this isn't a news report at all. And the "news anchor" is actually a public affairs specialist. You might call the radio spot a faux news report brought to you by the FBI.

Labor Department spends $100K on a book club. House Oversight and Government Reform Committee Chairman Darrell Issa wants Secretary of Labor Thomas Perez to account for that expense and others that the California Republican views as frivolous. Documents released Tuesday [8/26/2014] [8/26/2014] by the committee described Labor Department spending between 2009 and the present that, besides the book club, included nearly $25,000 in entry fees for public relations contests.

Medicare Star Ratings Allow Nursing Homes to Game the System. The lobby of Rosewood Post-Acute Rehab, a nursing home in this Sacramento suburb, bears all the touches of a luxury hotel, including high ceilings, leather club chairs and paintings of bucolic landscapes. What really sets Rosewood apart, however, is its five-star rating from Medicare, which has been assigning hotel-style ratings to nearly every nursing home in the country for the last five years.

Social Security spent $300M on 'IT boondoggle'. Six years ago the Social Security Administration embarked on an aggressive plan to replace outdated computer systems overwhelmed by a growing flood of disability claims. Nearly $300 million later, the new system is nowhere near ready and agency officials are struggling to salvage a project racked by delays and mismanagement, according to an internal report commissioned by the agency.

Medicare fraud: $97 million for mentally ill patients to watch movies, play games. While taxpayers were picking up the tab for intensive, outpatient care for mentally ill patients, those patients were playing games and watching movies. It was part of a Medicare scam run by two Houston doctors who defrauded the system out of $97 million over five years.

Feds Buy Border Fence ... for Ukraine. As part of the U.S. Crisis Support Package for Ukraine announced by the White House in April, the State Department awarded a $435,000 contract to B.K. Engineering System in Kyiv for razor wire to help "defend the newly imposed borders between Ukraine's mainland and the Crimean peninsula." The contract was awarded on June 12, but was just posted online this week.

6 Years, $1.7 Bil Later DHS Visa System Deemed Failure. While stories abound of government wasting our tax dollars, here is one that never the less sticks out; an automated Homeland Security system that cost a mind-boggling $1.7 billion and took nearly six years to develop has turned out to be a malfunctioning boondoggle. Unfortunately, the government regularly fleeces American taxpayers in this manner. The failed system was supposed to speed up the way immigration forms are processed, but instead it takes twice as long with the multi-billion-dollar, state-of-the-art flop.

U.S. Gov't Loans $64.5M for Wind Farm — in Uruguay. The Export-Import Bank of the United States is giving a $64.5 million direct loan to a company in Uruguay for the purchase of wind turbines made by a Spanish company at one of its plants in Pennsylvania, according to the bank. The $64.5 million direct loan to Astidey S.A., in Montevideo, Uruguay" is for "the purchase of U.S.-manufactured wind-turbine generators being exported by Gamesa Technology Corporation Inc., headquartered in Feasterville-Trevose, Penn.," reads the July 10 press release from the Ex-Im Bank.

Patent office filters out worst telework abuses in report to its watchdog. Prompted by multiple whistleblower complaints, the U.S. Patent and Trademark Office began an internal investigation two years ago of an award-winning program that's been praised in and outside government: Employees are allowed to work from home. What the inquiry uncovered was alarming. Some of the 8,300 patent examiners, about half of whom work from home full time, repeatedly lied about the hours they were putting in, and many were receiving bonuses for work they didn't do.

While Border Agents' Morale Is At An 'All Time Low,' DHS Spends $450K For Luxurious DC Gym Memberships. In an interview with Fox News, border agent Chris Cabrera said that the lawlessness and influx of illegal immigrants has left border agents wiped out and demoralized. As National Review Online reports, Cabrera says he's never seen it this bad among the border force.

Homeland Security spends $450K on'state of the art' gym memberships. The Department of Homeland Security (DHS) is spending more than $450,000 on gym memberships for TSA agents and Immigration and Customs Enforcement (ICE) employees who work desk jobs at a procurement office in Washington, D.C. Last month, DHS bought gym memberships for ICE workers in its Office of Acquisition to boost their morale and "improve working conditions."

Federal agencies spend millions on union business. The Internal Revenue Service isn't the only federal agency where hundreds of employees do union business full-time on the public's dime. "Taxpayers spent around $156 million on federal employees who did no federal work at all," said Nathan Mehrens, president of Americans for Limited Government. Watchdog.org reported last week that union business — oxymoronically classified as "official time" — is subsidized by the IRS. Mehrens uncovered similar behavior at other agencies.

Feds Will Spend $450K to Help Native Americans Adapt to 'Climate Change'. The Bureau of Land Management (BLM) plans to spend up to $450,000 in taxpayer dollars to teach Native American tribes in the Great Basin region "climate adaptation plans" for their hunting, fishing and gathering activities. "Due to climate change, the natural landscapes are becoming impacted," and the "traditional practices for hunting, fishing, and gathering for ceremonial purposes" can potentially create further impacts," according to BLM's Cooperative Agreement announcement.

Obama announces $33B in commitments for Africa. President Barack Obama on Tuesday [8/5/2014] promised more than $33 billion in public and private investments in Africa, pledging that the United States wants to deliver business and development to the rapidly booming continent, where China already has a massive presence. Obama made the remarks as he addressed the U.S.-Africa Leaders Summit, the first of its kind and the largest event any American president has held with African heads of state and government. Countries including China have held similar events for years as they've sought access to African markets for oil and other natural resources.

Obama to announce $14 billion in U.S. corporate investments in Africa. President Barack Obama will announce on Tuesday [8/5/2014] that U.S. businesses have committed to investing $14 billion in construction, clean energy, banking, and information technology projects across Africa, a White House official said.

Assigned no work, federal employees entertain themselves with online pornography. At the Environmental Protection Agency, a senior official spent so much time watching pornography while on the federal clock that the Office of the Inspector General dispatched a special agent to look into it — and the official continued watching porn while the OIG agent was in his office. At the Federal Communications Commission — which, among other things, polices pornography — employees routinely spend the equivalent of a full workday each week watching porn. At the General Services Administration — which, like the FCC, has a lot of fingers in a lot of pies, being charged with minimizing federal operating costs — employees spend up to six hours a day watching porn on the taxpayers' dime. At Commerce, paralegals were paid upward of $4 million to do no work — any guesses how they filled their days?

Feds Fly Unaccompanied Minors to Alaska. As unaccompanied minors continue to illegally cross the Texas-Mexico border, President Obama's Health and Human Services (HHS) has been quietly releasing them onto U.S. soil. A total of 30,340 unaccompanied minors have already been released from federal custody and placed into foster homes, according to HHS' Office of Refugee and Resettlement (ORR). While many migrants have been released in border states like Texas and California, others have been set free in Alaska.

The Government Will Pay for Your Flight to Hawaii! The Catch: Only Illegal Immigrants May Apply. Our government is so desperate to help illegal aliens settle in America that it's footing the bill for a few to fly to beautiful Hawaii! No citizens allowed.

Union teams up with Interior for 'win-win' $3M plan to combat global warming. The U.S. Department of the Interior announced that it will join forces with the Union Sportsmen Alliance on projects to rebuild, renew and restore national parks across the country. The Department will grant $3 million to "Boots on the Ground" volunteer projects in several states including, Illinois, Ohio, Virginia, Minnesota, Maryland, Nevada, Texas and Wisconsin. Interior Secretary Sally Jewell called the merger a "win-win."

The Editor says...
This is money down the drain because global warming stopped almost 18 years ago.

Immigrants to be Housed in 'Suites' Near San Antonio. Immigration and Customs Enforcement on Friday [8/1/2014] will open a remodeled detention center three hours north of the Rio Grande Valley. The Karnes City center will house women and children who entered the country illegally through the Valley. The 532-bed facility underwent a massive renovation to house women and children. The center housed only adult immigrants in the past. Immigrants will be at the facility for an average of 23 days.

It's the suite life for our little friends from South of the Border. Come to America for the safety, but stay for the amenities. That's the message being sent to the children of Central America by the new detention center resident center just unveiled in Karnes City, Texas by ICE, which seems to be bursting with pride over the amenities being offered our guests.

Federal paralegals had no work, so they surfed the Internet. Dozens of federal employees at an obscure agency that handles appeals of patent applications went years with so little work to do that they collected salaries — and even bonuses — while they surfed the Internet, did laundry, exercised and watched television, an investigation has found. The employees, paralegals making $60,000 to $80,000 a year, were idle with full knowledge of their immediate bosses and multiple layers of managers and judges who "sat on their hands" waiting for work to give them, a year-long probe by the Commerce Department inspector general's office uncovered.

Government Paying $140,368 to Take 10 Students on a 'Climate Change Journey'. The National Park Service (NPS) is spending $140,368 to fly 10 students to Sydney, Australia so they can experience a "climate change journey." The government announced last week they are paying for the group to attend the International Union for Conservation of Nature's World Parks Congress (WPC), a global conference on conservation this Fall.

Social Security's 300M IT Project Doesn't Work. After spending nearly $300 million on a new computer system to handle disability claims, the Social Security Administration still can't get it to work. And officials can't say when it will.

Why the U.S. Is Building a Fantastical Aquarium in Brazil. Soon enough, Brazil will be able to boast the largest aquarium in South America. When it is completed in 2015, Acquario Ceará, a new public aquarium planned for the northeastern Brazilian city of Fortaleza, will easily be the world's most recognizable aquarium — an architectural statement piece if there ever was one. It may also be the most truly American project in the Western Hemisphere. While the backers of Acquario Ceará are aiming to create a new design symbol for South America, it will be almost entirely a product of North America.

Feds Spending $10 Million to Build Robot Companions for Children. The National Science Foundation has committed $10 million to build robots that will act as "personal trainers" for children, in an effort to influence their behavior and eating habits. The government has spent $2.15 million so far for the five-year project, which is being led by Yale University. The project, "Robots Helping Kids," will ultimately "deploy" robots into homes and schools to teach English as a second language, and encourage kids to exercise.

Biden's 6-Figure Hotel Bill for One Wild Brazilian Night Brings 'Cost-Cutting Mission' to Abrupt End. Last month it was reported that every weekend he gets a lift from D.C. to his home in Wilmington, Delaware, via Air Force Two — the V.P.'s airplane — and Marine Two — the V.P.'s helicopter. And he often gets a mid-weekend lift back to the Andrews Air Force Base for a round of golf with the President. Based upon the $22,000 an hour cost for the airtime, that works out to about $1 million per year in shuttling costs. That doesn't count the cost of the 20 condominiums that the Secret Service rents in Wilmington nor the cost of Air Force Two sitting and waiting for him while he plays 18 holes of golf.

Unfathomable billions in government waste. Improper payments result when people collect money from government programs for which they are ineligible. For example, paying unemployment insurance to people who are secretly working is an improper payment, and needlessly adds to the already out-of-control deficit. The GAO thinks it's likely the amount of improper payments is even higher than the $105.8 billion reported. In its own words, "the federal government's inability to determine the full extent to which improper payments occur" represents a serious limitation on their estimates. Some programs, such as the Temporary Assistance for Needy Families welfare program, do not bother reporting estimates of improper payments at all.

Gutter politics: Bush already fixed bowling lanes Obama wants to renovate with 'green' materials. When Obama administration officials revealed plans this week to rebuild the White House's bowling lanes, they failed to mention that the George W. Bush administration paid for a renovation of the facility just before President Obama took office. A former official in the Bush White House, John Dorff, said the bowling lanes in the basement of the Eisenhower Executive Office Building were rebuilt in 2007-08 in a project that took several months to complete. The renovations were needed to repair water damage caused by an unrelated construction project in the building.

The wrong folks get billions in tax dollars. The federal government is continuing to dole out billions of dollars to people who shouldn't get them. A government watchdog agency said an estimated $106 billion in payments were made in error last year: meaning they were the wrong amount, went to the wrong person or lacked sufficient documentation. These payments include tax refunds, unemployment benefits, Social Security benefits, and Medicare and Medicaid coverage. The improper payments could be even higher since not all agencies reported to the Government Accountability Office.

Government Made 100B in Improper Payments. Federal agencies reported making $100 billion in payments last year to people who may not have been entitled to receive them.

What did $7 billion spent on opium eradication in Afghanistan buy? More opium. With the outcome of Afghanistan's controversial presidential election still in doubt, and uncertainty over Afghan forces' ability to stand against the Taliban after most US forces withdraw, it's hard to say with certainty what the US-led war there has accomplished, or failed to accomplish. But one thing is clear, as shown by latest quarterly report from the US Special Inspector General on Afghanistan Reconstruction: The $7 billion US program to eradicate poppy cultivation there over the past decade has been a flop.

Potential Presidential Candidate Elizabeth Warren at Center of CFPB Scandal. Possible presidential candidate Sen. Elizabeth Warren (D-MA), who came up with the idea and led the start-up of the "Consumer Financial Protection Bureau" as a federal watchdog to prevent financial institutions from abusing U.S. consumers, is now at the center of the a scandal regarding the vanished authorization to spend $215.8 million on a luxurious remodel that included a new penthouse floor and indoor waterfall for the bureau's rented Washington, D.C. office space. The Office of Inspector General of the United States Federal Reserve (OIG) was requested by the House Financial Services Oversight and Investigations Committee on January 29, 2014, to evaluate the Consumer Financial Protection Bureau's (CFPB) headquarters renovation costs that rose from $55 million to at least $215.8 million.

The U.S. State Department has its own air force. And it's surprisingly big. The U.S. State Department possesses just under 100 helicopters and more than 30 fixed-wing aircraft and deploys them all over the world, mostly as part of the America's international drug war. The Bureau for International Narcotics and Law Enforcement Affairs' Office of Aviation — a.k.a., the INL Air Wing — employs contractors and foreign government aviators to fly these aircraft in seven countries: Afghanistan, Bolivia, Colombia, Guatemala, Iraq, Pakistan, and Peru. The main mission of the Air Wing is to assist friendly states in their own fights against illegal drugs and narco-terrorism. However, with its large fleet — larger than the air forces of some NATO members — the Air Wing also trains allied governments and provides general aviation support, including transportation for diplomatic missions.

Billions In Taxpayer Dollars Spent On 'Lyrical, Poetic' Embassy Architecture Overseas. Under the Obama administration, embassy construction costs have exploded even while security — a major issue in the Benghazi scandal — has grown worse. Now we know why. A video released by the State Department in 2012 shows exhibits the philosophy behind a campaign begun under former Secretary of State Hillary Clinton to build fancy buildings overseas to enhance the nation's reputation.

State of Colorado's $58 million computer upgrade 'a train wreck'. "A disaster in the making." That's just one way Secretary of State Scott Gessler describes Colorado's new $58 million computerized accounting system. The computer endeavor is called CORE (Colorado Operations and Resource Engine). State agencies have been told to start using it Tuesday, July 1. However, internal documents obtained by FOX31 Denver show the system isn't even close to ready and won't work as planned.

Federal Headquarters Costing More To Renovate Than Trump Tower Cost To Build. A federal consumer protection agency is spending more money per square foot to renovate its Washington D.C. headquarters than it cost to build the Trump World Tower or Las Vegas's Bellagio Hotel — and the project's budget continues to grow. That's the House Financial Services Committee interpretation of a Federal Reserve's Office of the Inspector General report that found that the cost to renovate the headquarters for the Consumer Financial Protection Bureau (CFPB) is now estimated to be $215.8 million.

Nothing but the best for Consumer Financial Protection Bureau HQ. It's another case of bureaucrats gone wild, DC mandarins lavishing money on their own offices, and spending more per square foot on renovations to existing, perfectly usable office space than it cost to build lavish buildings like Trump World Tower and the Bellagio Hotel and Casino from scratch. But hey, four story glass staircases and two story waterfalls and sunken gardens aren't cheap.

18,709 VA Employees Make $180,000 or More. The Department of Veterans Affairs (VA) has 59,297 employees — 17.3 percent out of 342,089 workers total — that make $100,000 or more in yearly salary, according to data from the Office of Personnel Management (OPM). Among those employees, 18,709 of them earn a salary of $180,000 or more.

More about VA hospitals.

EPA spends $1.6 million on hotel for 'Environmental Justice' conference. The Environmental Protection Agency will spend more than $1 million on hotel accommodations for an "Environmental Justice" conference this fall. The agency posted its intention to contract with the Renaissance Arlington Local Capital View Hotel for its upcoming public meeting, for which it will need to book 195 rooms for 24 days.

House Leaders Question $461 Million Training Center. The Foreign Affairs Security Training Center, years in the making, would consolidate similar training operations in one place. To be built on 1,500 acres of public land that was home to the Fort Pickett Army National Guard in Blackstone, Va., the security training center will look and feel like a real U.S. embassy surrounded by urban-style streets, buildings, and facades, State Department officials announced in April. Some 10,000 students per year will practice shooting on firing ranges, driving at high speeds on race tracks, and detecting improvised explosive devices.

The Editor says...
I suspect they're training for house-to-house urban combat against us!

Vets: VA's Care of Veterans Impeded by Filming of TV Series, Conference. Dr. Roy Marokus, who currently serves in private practice, told the Free Beacon that veterans were denied care because of a mandatory conference he attended last March. Marokus said veterans' appointments were cancelled so VA medical providers could attend the two-day conference. Medical providers at the VA Medical Center in Oklahoma City, where Marokus briefly worked, and providers at all other VA medical centers in the Veterans Integrated Services Network, attended the conference. A review of the paperwork handed out during the conference showed topics included advice on how to plan a party and asked the medical staff to explore, "What Color is Your Personality?"

'Scrap this broken agency': Audit finds Broadcasting Board of Governors wasted $5M. A new State Department Office of the Inspector General audit finds that the Broadcasting Board of Governors (BBG), the agency that oversees U.S. international broadcasting, has wasted almost $5 million in taxpayer dollars on questionable and unapproved purchases. The State Department's watchdog coined the BBGs mishap as a "systematic failure" of acquisitions. Rep. Ed Royce (R-Calif.), Chairman of the House Foreign Affairs Committee said that the BBG's "wasteful spending, non-competitive contracting practices, and violations of current law point to an organization without accountable leadership."

Rick Perry: Feds gobble up available rooms for illegal children — nothing left for Texans. Texas Gov. Rick Perry said that the federal government has taken up every bit of spare available space in his state to house the tens of thousands of illegal children flooding over the U.S. border, leaving him with no rooms for Texans who might be left homeless in a natural disaster like a hurricane. "Were we to have a major event, I literally would not have places to house our citizens because of this influx from Mexico," he warned at a media luncheon hosted by the Christian Science Monitor. "I am greatly concerned about the huge catastrophe that could occur with those two events happening simultaneously," he said of the potential for a hurricane hitting as the federal government continues to embrace illegal youths instead of sending them home.

Military Blows $3 Million on Boats for Afghanistan, then Secretly Cancels Shipment. The U.S. military spent more than $3 million on patrol boats for Afghanistan in 2010 and then quietly canceled the shipment several months later with no explanation, leaving costly patrol boats unused in a Virginia warehouse for the past several years, according to new information released by a government watchdog group. It has come to light that the military and Defense Department cannot explain why the money was wasted due to "lapses in record keeping" that have resulted in files detailing the purchase being lost, according to an investigation by the Special Investigator for Afghanistan Reconstruction (SIGAR). "The military has been unable to provide records that would answer the most basic questions surrounding this $3 million purchase," SIGAR revealed Thursday [6/12/2014].

NIH Spent $480,500 to Text Message Drunks. The National Institutes of Health (NIH) has spent nearly half a million dollars text messaging alcoholics to encourage them to stop drinking. Dr. Frederick Muench, an assistant professor in Columbia University's psychiatry department, is leading the $480,500 study aimed to reduce "problem drinking."

The U.S. spent $3 million on boats for landlocked Afghanistan. The United States spent more than $3 million on eight patrol boats for the Afghan police, according to an internal audit released Thursday [6/12/2014]. That sentence is surprising for a few reasons: [#1] Afghanistan is landlocked. [#2] Not a single boat has arrived in Afghanistan, even though the purchase was made in 2010. [#3] That works out to be more than $375,000 per boat. Similar boats in the United States are typically sold for about $50,000.

VA Spent Tens of Millions on Ad Campaigns, Audits, Green Energy. An analysis of more than $1 billion dollars in spending by the Department of Veterans Affairs on "professional services" finds several instances of questionable spending, including millions for a national ad campaign and energy programs to make VA facilities more sustainable. The spending comes in light of the ongoing allegations of misconduct and an audit that revealed potentially fraudulent practices at 90 VA centers.

Military Back Pay & Special Compensation for Bergdahl May Lead to Big Sum. Alleged deserter Bowe Bergdahl may receive compensation by the U.S. military for being held in captivity by the Taliban for five years, depending on how his status is classified. If Bergdahl is deemed to have been a "POW" and receives military backpay for his time of service, he could claim more than $300,000 from U.S. taxpayers.

European Reassurance Initiative: Obama announces $1bn fund. President Barack Obama has announced plans for a $1bn (£600m) fund to increase US military deployments to Europe, during a visit to Poland. Mr Obama, who will meet Nato leaders amid concerns over the Ukraine crisis, said the security of America's European allies was "sacrosanct". In April, 150 US soldiers were sent to Poland for military exercises amid growing tensions with Russia. Mr Obama will also visit Belgium and France during his tour.

The Editor says...
This is just another slush fund: Money created by Barack Obama just by announcing it. Where did he get a billion dollars?

The State Department's Wasteful, Dangerous Plan for More Beautiful, More Energy-Efficient Embassies. A new State Department initiative to build unique, energy-efficient embassies across the globe is drawing criticism for both its excessive costs and the security concerns posed by the time it's taking to build new embassies. As part of the initiative, called "Design Excellence," a new U.S. embassy in London is scheduled to open in 2017. Six months into construction, according to a new report from CBS News, the $1 billion project is already $100 million over budget.

Sgt. Bowe Bergdahl May Be Getting A Huge Amount Of Money After His Release. Sgt. Bowe Bergdahl could be entitled to about $300,000 in back pay and special compensation following his release as a Taliban prisoner, experts say. Service members designated by the Defense Department as "captive, missing or missing in action" are entitled to receive back pay and allowances, officials said. Any additional pay and allowances earned such as promotions or special entitlements are not issued until they are officially recovered or classified as deceased.

USDA Creating $1.9 Million Research Center Devoted to Changing American's Food Choices. The U.S. Department of Agriculture (USDA) is creating a $2 million research center to study how the government can "nudge" Americans toward making healthier eating habits. The agency is currently accepting grant applications to establish a "Center for Behavioral Economics and Healthy Food Choice Research," which will facilitate studies such as how breaking up combo meals at fast food restaurants would influence customers.

Audit: State paid $12 million in health costs — for dead people. Cook County has long been ridiculed for allowing dead people cast votes, but the state may have just garnered a new distinction. It paid $12 million in health care for people who were already dead — including in one case, for a person who had died in 1989. A new financial audit released by Auditor General Bill Holland's office on Thursday found that the Illinois Department of Health and Family Services had 8,232 people still on Medicaid rolls qualifying for benefits, even though they were dead.

Report shows $6.7 billion in improper Medicare payments. Medicare paid out $6.7 billion in 2010 for health care visits that were improperly coded or lacked documentation, a report released Thursday [5/29/2014] found. That's 21% of Medicare's total budget for diagnostic and assessment visits, according to the Department of Health and Human Services inspector general. They found that 42% of diagnostic and assessment claims were improperly coded and 19% were improperly documented. This comes after a 2010 report found that 1,669 physicians consistently billed for the two highest-paying codes. In the new report, 56% of claims for those high-coding physicians physicians were incorrect, with 99% being up-coded in the provider's favor, and with 1% of the "errors" being down-coded. Those providers cost $26 million in 2010 in incorrect coding.

Feds Paid $4.9 Million to Create Hypothetical Utopian Climate Change Future. The National Science Foundation (NSF) gave nearly $5 million to the University of Wisconsin-Madison to create scenarios based on America's actions on climate change, including a utopian future where everyone rides a bike and courts forcibly take property from the wealthy. The government has awarded $4,911,961 for the project, which is slated to run until March 2016 and for which the school has created a website suggesting different possibilities of what Yahara, a Wisconsin watershed, will be like in 2070. In the scenario where Americans "shift our values," people live in hippie-like communes after "youth culture" convinces the world to give up their cars and eat vegetarian.

Government Agency Scraps Employee Ratings To Avoid 'Discrimination'. One government agency has decided that the results of employee ratings are too discriminatory, and eliminated the process entirely. The Consumer Financial Protection Bureau announced on Monday [5/26/2014] that it will now award all employees the highest rating regardless of performance reviews. The CFPB, which oversees transactions in the financial sector for the federal government, decided to no longer conduct employee reviews because there were just too many apparent "significant disparities" between the races, ages, and locations of its employees. According to American Banker, this new policy is set to cost over $5 million dollars, as it will now pay employees as if they received the highest evaluation score.

The Editor says...
In other words, this is five million dollars that will be spent to appease the perpetually offended ("I didn't get a raise because I'm black!") and lower everyone's standards to rock bottom.

Consumer Financial Protection Bureau already sinking into scandal. It's great to have Uncle Sam looking out for the little guy, isn't it? That's why it was such a super-duper, nifty idea for Washington to summon into being the Consumer Financial Protection Bureau. [...] So now that they are on the job, keeping citizens safe from big banking fat cats and ensuring financial responsibility and ethics, how are they doing? Well... pretty much on par with what you'd expect out of any massive Washington bureaucracy.

Long after announced 'resignation,' ex-Cover Oregon director Bruce Goldberg draws $14,425 monthly salary. He was the highest profile casualty of Oregon's health insurance exchange disaster. Bruce Goldberg, the respected, long-time director of the Oregon Health Authority, offered to resign on March 18. Two days later, with the Cover Oregon tech mess going from bad to worse, Gov. John Kitzhaber announced that he'd shown Goldberg the door. The resignation was "effective immediately," said officials in the governor's office. Or so we thought. It turns out, Goldberg never really left and is now drawing a full-time salary from the state.

Taxpayers Paid $5.6 Million for Climate Change Games. Taxpayers paid more than $5 million to create climate change games, including voicemails from the future warning that "neo-luddites" will kill global warming enthusiasts by 2035. Columbia University's Climate Center has received $5.7 million from the National Science Foundation for the university's "PoLAR Climate Change Education Partnership," to "engage adult learners and inform public understanding and response to climate change." Based on the theory that games "motivate exploration and learning of complex material," the school created "Future Coast," a website that features hundreds of made up voicemails painting a dire picture of the future as a result of climate change.

IRS workers spent 521,725 hours on union activities; cost taxpayers $23.5m. The Treasury Department has revealed to the House Ways and Means Committee that Internal Revenue Service employees spent over 500,000 hours on union activities last year. They estimated the cost to taxpayers at $23.5 million in salary and benefits. Officials told [the Washington Examiner] that the exact hours IRS members of the National Treasury Employees Union dedicated to labor activities was 521,725 in fiscal 2013, which ran from October 2012 to September 2013. That was slightly less than the 573,319 hours in fiscal 2012, according to the IRS, but the spending was significantly above that year's total of $16 million.

Planned Homeland Security headquarters, long delayed and over budget, now in doubt. In the aftermath of the Sept. 11, 2001, attacks, the George W. Bush administration called for a new, centralized headquarters to strengthen the department's ability to coordinate the fight against terrorism and respond to natural disasters. More than 50 historic buildings would be renovated and new ones erected on the grounds of St. Elizabeths, a onetime insane asylum with a panoramic view of the District. The entire complex was to be finished as early as this year, at a cost of less than $3 billion, according to the initial plan. [...] The budget has ballooned to $4.5 billion, with completion pushed back to 2026.

Fire watch officers at Paterson high school cost $445,000. The cost of assigning special fire watch officers to International High School continues to climb even though state officials say they completed work on a requisite smoke control system seven months ago.

Feds used donations intended for poor for massages, luxuries for themselves. Federal employees and a contractor diverted more than $1 million of charitable contributions to spending on themselves for in-office massages, meals at every meeting and other luxuries and unnecessary expenses, a government audit found. They called themselves "volunteers" and said they needed "motivation" to help the less fortunate, even though some 41 federal workers were being paid full-time salaries to administer just one local chapter of the government's annual workplace charity drive, the Combined Federal Campaign. They arrived a day early and stayed a day late for annual training conferences in New Orleans and Las Vegas, and paid for room service and pay-per-view movies with donated funds. Then, they adamantly defended their right to do so when questioned by auditors.

EPA Awarded Nearly $500,000 In Improper Bonuses. Retention bonuses are payments or rewards outside of an employee's salary that are used as an incentive to keep the employee in their current position. According to Investopedia, the bonuses have been used during mergers and acquisitions, or to decrease corporate poaching.

Do We Need This Government Agency? 'Let Me Google That'. The National Technical Information Service was told to catalog, warehouse and make available all manner of scientific and academic papers. That was 64 years ago, decades before the Internet was even invented. So what's an easy way to find those papers now? At a computer in his Senate office, Sen. Tom Coburn is looking for one of those reports — the one about the hazardous waste. NTIS sells it on their website: $25 for an electronic file, $73 for a paper copy. "There it is," Coburn says. "There's everything you want on it. There's the appendices, and here's the characteristics of the study. I can print it out now. I don't want it, but I could print it out right now on my computer and have it in 2 minutes." How much does that same study cost at the EPA website? That would be nothing. Zero.

Federal subsidy for Brazilian granite hurts U.S. rivals. Granite manufacturers are one of many U.S. industries struggling to compete with foreign competition — which makes it odd that the federal government is subsidizing a Brazilian granite project. The Overseas Private Investment Corporation (OPIC) is a federal agency that subsidizes U.S. businesses that set up operations in foreign countries. In 2012, OPIC approved a $6 million taxpayer-backed loan to support a U.S. company expanding its Brazilian operation that extracts granite and cuts it into slabs for countertops to ship to the U.S. and other countries. The OPIC subsidy obviously helps the recipient — Wisenbaker Building Supply — but it hurts American companies that excavate granite or shape granite blocks into countertops in the U.S.

The Editor says...
If you receive a government subsidy, don't take it for granite.

Pentagon Spending Tax Money Preparing for "Climate Change". The phrase "fighting climate change" has taken on new meaning, with the Department of Defense factoring consensus-based forecasts of a warmer planet into its military preparedness models. [...] The problem, many critics would say, is that the DoD's "mission reality" is based on the outcome of a "political debate" — not on sound science. Climate models that had predicted rising temperatures for the past couple of decades have proved faulty, as there has been no warming now for almost 18 years.

VA Spends Close to $500 Million on Conference Room, Office Makeovers Under Obama. President Barack Obama has increased the Department of Veterans Affairs' budget each year since he took office, claiming the funds would give veterans the health care they deserve. However, an analysis of records show the agency has spent close to $500 million on office furniture under the Obama administration. This upcoming fiscal year Obama requested a 3 percent increase for the Veterans Affairs budget. Obama's FY 2015 budget request points out he has increased the VA discretionary budget by 35.2 percent since 2009 so veterans continue to access necessary services.

More about VA hospitals: a clear picture of what Obamacare will bring to all of us.

Obamacare Contractor Pays Employees To Do... Absolutely Nothing. Under a Republican administration, this would be a huge scandal. Above-the-fold coverage in The New York Times for weeks on end. The lead story on the network news. You know the drill. Given this administration, however, suffice it to say that you'll only see this immense waste of taxpayer dough on a few select outlets willing to speak truth to power. Please note that this investigation was the product of an intrepid, local news team at St. Louis KMOV. And anyone with a modicum of sense knows that this is but the tip of the iceberg.

Employees charged with reviewing paper applications for Obamacare contractor do nothing all day, whistle blower alleges. Employees working for Obamacare contractor Serco do nothing for days or weeks at a time, a whistle blower within the company told a local news station this week. The employees want to work but there's not enough work to go around, the employee, who spoke on the condition of anonymity, told St. Louis, Missouri's News 4 KMOV. The employee alleged that Serco is keeping its workforce unnecessarily high to get more money out of the federal government.

Cash for Obamacare Shirkers. When Obamacare operatives aren't busy trashing the private health insurance market and squandering billions on useless technology, they're busy ... being idle. [...] According to at least one Obamacare paper-pusher, employees at an application-processing center in Wentzville, Mo., are getting paid to sit around and do nothing. Investigative reporter Chris Nagus of the St. Louis television station KMOV News 4 spoke to the whistleblower.

Obamacare Contractor Pays Employees to Spend Their Days Doing Nothing. The contractor is called Serco and local reporter discovered that, despite there not being any work to be done, the government contractor is still hiring. "The company is still hiring," says a local reporter. "A current employee wonders why ... After providing proof of employment, this Serco employee agreed to speak through the phone with their voice altered. The employee says hundreds of employees spend much of the day staring at computer screens, with little or no work to do."

Cost of CFPB July Training Session Estimated at $400,000. The Consumer Financial Protection Bureau (CFPB) is planning an "all hands" meeting for its more than 1,300 employees at a hotel in Washington, D.C., this summer, with cost estimates nearing $400,000. The agency will book up to 475 hotel rooms each night for a five-day conference in July. The CFPB issued a solicitation on Friday, which included an attachment with the agency's request for hotel accommodations. The event is billed as a "training meeting," which will be run by its Supervision Enforcement and Fair Lending division.

Report: Pentagon Paid $150 Per Gallon for Green Jet Fuel. The Department of Defense (DOD) paid $150 per gallon for alternative jet fuel made from algae, more than 64 times the current market price for standard carbon-based fuels, according to a report released on Wednesday [5/7/2014]. The Government Accountability Office (GAO) noted in its report that a Pentagon official reported paying "about $150 per gallon for 1,500 gallons of alternative jet fuel derived from algal oil."

USAID Awards $341 Mil in April, Including $24.5 Mil for Circumcisions in Swaziland. As April comes to an end Judicial Watch offers a sampling of some of the outrageous foreign causes that one agency alone dedicated hundreds of millions to, including $24.5 million for male circumcision in Swaziland and $71 million to improve child learning outcomes in Ghana. Remember, this huge chunk of American taxpayer dollars was allocated in just one month by a single government agency, the famously corrupt U.S. Agency of International Development (USAID). With a massive budget and little oversight, USAID is charged with providing global economic, development and humanitarian assistance. That means big bucks go to all sorts of preposterous initiatives in countries that are unlikely to be a priority for Americans as they suffer through economic hardships and high unemployment at home.

Convict Jackson Jr. Gets $8.7K A Month Disability For 'Mood Disorder'. Whenever you hear our dear politicians in Washington DC say there's nothing more to cut or that they're just like us, let me give you a friendly reminder. As Breitbart reported after his jail sentencing, convicted ex-congressman Jesse Jackson Jr. (D-IL) receives $8,700 per month in government disability pay, as well as a partial federal pension of $45,000. [...] And I wouldn't be surprised if Jackson Jr. eventually gets a pardon from his Chicago buddy, Barack Hussein Obama.

Unrequired reading. Every year, as required by law, the U.S. government prepares an official report to Congress on Dog and Cat Fur Protection. The task requires at least 15 employees in at least six different federal offices. First, workers have to gather data about the enforcement of a law banning imports of fur coats, furry toys or other items made from the pelts of pets. How many shipments were checked? How many illegal furs were found? The data are written into a report, passed up the chain of command and sent to Capitol Hill. And then nothing happens.

Afghan opium production explodes despite billions spent, says US report. Opium cultivation is estimated to be at an all-time high in Afghanistan, despite the US spending $7.5bn to combat it. A report released Wednesday by Washington's Afghanistan war watchdog has found that the billions spent by the State and Defense departments on counter-narcotics since 2002 has been for nought. Opium-poppy cultivation takes up 209,000 hectares (516,230 acres) of land in Afghanistan, a 36% increase since 2012.

USDA Made $6.2 Billion in Improper Payments Last Year. The U.S. Department of Agriculture (USDA) made $6.2 billion in improper payments in 2013, according to the Office of Inspector General (OIG). The OIG released an audit earlier this month that found that at least $416 million in waste could have been avoided if the agency had met its reduction targets mandated by the Improper Payment Information Act (IPIA). In fact, the USDA has failed to comply with the law for a third consecutive year.

In NYC, A $185M Tunnel That Leads Nowhere, For Now. The 800-foot-long, 35-foot-deep concrete trench could someday lead to two new commuter rail tunnels under the Hudson River to New Jersey, if the billions needed to build them ever materialize.

Feds Spent $26.2 Million On Medicare Advantage For Illegal Immigrants. The Centers for Medicare and Medicaid Services has improperly paid millions of dollars to Medicare Advantage organizations on behalf of illegal immigrants. In a new report released Friday [4/25/2014], the Department of Health and Human Services' Office of Inspector General (OIG) revealed that for calendar years 2010 through 2012, CMS provided $26.2 million in improper payments to Medicare Advantage organizations for 1,600 "unlawfully present beneficiaries" — or nearly $16,375 per illegal immigrant.

Unsolicited proposal earns architect $500,000 from Port Authority. The Port Authority quietly paid the world-famous architect Santiago Calatrava $500,000 for bridge designs that the agency didn't request and can't use, records show. The 2012 payment came after two Port Authority commissioners with ties to Calatrava privately pressed agency staff to incorporate the unsolicited designs into construction of two bridges between New Jersey and New York and helped provide the architect with insider access to pitch his plans, according to internal agency documents.

Despite Rollout Failures, Federal Obamacare Employees Awarded Big Raises. Last year employees at the federal office in charge of implementing Obamacare were given raises despite the massive failures of the rollout of the president's takeover of our healthcare system. A recent Freedom of Information Act request made by the Washington Examiner discovered that employees of the Centers for Medicare and Medicaid Services (CMS) were paid substantially more in 2013 compared to their 2012 salaries. The CMS is Obama's "ground zero in launching and managing Obamacare."

Math mistakes lead government to pay contractors up to 3 times market rate under Davis-Bacon. Construction workers at companies doing work for the federal government are paid as much as three times what their peers outside of government get for the same work, a Washington Examiner review of federal statistics found. Pipefitters in Laredo, Texas, for example, can usually expect to make around $11.47 hourly, but if working on a federal contract, they must be paid at least $36.49, plus benefits. Window installers in New York City make $18.87 an hour in the market — that's the median salary, including industry veterans — yet the government requires those doing that work for it in the New York area to be paid at least $42, even if they're inexperienced.

U.S. Releases Another $1 Billion to Iran. The United States has released $1 billion in cash assets to Iran in April alone under the interim nuclear deal aimed at ratcheting back Iran's nuclear program, according to the White House. The Obama administration unfroze Iranian assets totaling $550 million on April 10 and another $450 million on April 15. The United States has now released $2.55 billion to Iran since February, when the scheduled cash infusions first began.

Medicaid paid $12 million for deceased people in Illinois, documents show. The Illinois Medicaid program paid an estimated $12 million for medical services for people listed as deceased in other state records, according to an internal state government memo.

Obama administration gives Detroit $100 million for 'blight removal'. The cash infusion by the federal government is actually going to help the city pay pensions, even though they're playing a kind of shell game with the money. As for "blight removal," perhaps they could start with city hall.

Biden: Taking Grandkids on Trips 'One of the Great Advantages of Being Vice President'. The Obama daughters aren't the only ones with travel privileges. Vice President Joe Biden told a gathering on Monday that he likes to bring his grandchildren with him when he travels. "I literally — at Christmastime, Mr. Ambassador, I always sit with the kids the last five or — and say, well, where do you want to go this year? Because one of the great advantages of being vice president, I'm able to take, if I'm not going into a war zone, one of my grandchildren with me. And I do take them all. They're good kids. They don't get in the way. And it's a great experience."

Feds spending $750,000 to study how kid cartoons contribute to obesity. The federal government is worried Dora the Explorer is contributing to childhood obesity. The National Science Foundation (NSF) awarded two grants totaling $750,000 to find out if cartoon characters are making children overweight and whether researchers can hone the marketing power of characters to sway kids' eating habits. Both studies were awarded last June, and the project is scheduled to run until 2016. The first grant, totaling $300,000, was awarded to Ellen Wartella, a psychology professor at Northwestern University. Sandra Calvert, the director of the Children's Digital Media Center at Georgetown University, received $450,000.

Many Government Programs Have 10 Agencies Doing Same Job. A new Government Accountability Office report reveals that government programs are often "fragmented, duplicative, overlapping, or just inefficient," USA Today reports. [...] For example, there are 10 different Health and Human Services offices that run programs related to AIDS in minority communities. Eleven different agencies are dedicated to researching autism, and the Defense Department has eight agencies searching for prisoners of war and those missing in action.

Look At What America Is Giving To Terrorists. Look at what America is giving these terrorists in Syria. This is a BGM-71, one of the most widely used anti-tank guided missiles. The weapon is used in anti-armor, anti-bunker, anti-fortification and anti-amphibious landing roles. The TOW is in service with over 45 militaries and is integrated on over 15,000 ground, vehicle and helicopter platforms worldwide. In other words, its serious weaponry, and its in the hands of these savages all thanks to politicians like Obama and McCain.

Rocket Science: House Conservative Targets NASA's $3 million Spent to Find Intelligent Life ... in Congress? An Arizona conservative congressman is shining light on how President Barack Obama is using $3 million of taxpayer money to teach National Aeronautics and Space Administration (NASA) officials how to lobby Congress. In the first of a series of efforts targeting wasteful government spending, Rep. Paul Gosar (R-AZ) wrote to House Appropriations Committee chairman Rep. Hal Rogers (R-KY) last week to pressure him to include language banning the Obama administration from spending money on the program.

The Editor says...
NASA has run out of things to do, quite simply, and if you'd like details, go here.

IRS Wasted $11.6 Million of Computer Software. The Internal Revenue Service (IRS) bought $11.6 million worth of computer software the agency never used, according to the Treasury Inspector General for Tax Administration (TIGTA). TIGTA attributed the error to poor management and a lack of inventory of more than $200 million in software purchased by the IRS, according to an audit released Thursday [4/3/2014].

Hackers Steal $1.5 Million in Printer Ink from FBI, EPA, GSA. Hackers were able to steal $1.5 million worth of printer cartridges from the FBI, Environmental Protection Agency (EPA), and the General Services Administration (GSA) by placing fraudulent contract orders.

Government Wastes More Money than You Think. [You might] wonder why Washington doesn't have a single agency to monitor and expose government waste and mismanagement of our tax dollars. In fact, we have several. There are 73 inspectors general at different federal agencies. The White House contains an Office of Management and Budget that looks for ways to cut costs. The Government Accountability Office also checks expenditures. And so do legions of congressional staffers who are eager to help their bosses score political points.

Obama administration spending $400,000 on camel sculpture in Pakistan. The Obama administration wants to spend $400,000 on a camel sculpture for a new embassy building in Pakistan, according to a report Monday. BuzzFeed broke the news that the State Department has plans to commission the camel sculpture from John Baldessari, an American artist. The art is called, "Camel Contemplating Needle."

Postal service employees use travel cards to gamble, pay bills and go bowling. Postal employees have spent thousands of taxpayer dollars on gambling, bills and other personal expenses, according to a series of reports by the U.S. Postal Service inspector general. Federal employees may use government credit cards for official travel expenses, but some used theirs to withdraw cash before hitting casinos. Nearly a dozen reports on closed travel card theft investigations were obtained by the Washington Examiner in response to a Freedom of Information Act request.

Feds Spend $50K on Two Mitsubishis for the Albanian Border Police. The State Department purchased two Mitsubishi pick-ups for $50,000 to be used by the border police in Albania. The U.S. government has already bought six L200 Double Cab Mitsubishis for the Albanian Border Police (ABP), and said the two additional vehicles will "fulfill the ABP's needs."

Taxpayers paid $697,177 for a musical theater production about global warming. The National Science Foundation awarded a grant of nearly $700,000 in 2010 to a New York City theater company so it could write and produce a play about climate change. 'The play uses real places and stories drawn from interviews conducted by the artists to create an experience that is part investigative journalism and part inventive theater,' according to the grant's online description. 'Attendance at the performances is projected to be about 75,000.'

Federal workers make up to twice as much as others doing same job. Across the country, employees of companies with federal contracts make up to twice what others doing the same work in the region make, dramatically increasing the costs to taxpayers, a Washington Examiner analysis found. Under the Service Contract Act of 1965, contractors are paid a minimum wage determined to be "prevailing" in the area by the Labor Department. But those "prevailing wages" are often far off the mark, according to the analysis, which compared every SCA "district" with far more authoritative figures compiled by the Bureau of Labor Statistics.

U.S. Gives Russia Free Military Equipment Used By Army, Marines. Behind closed doors the U.S. government is giving Russia free military equipment — also used to train American troops — even after President Obama announced punitive sanctions against Moscow and, more importantly, a suspension in military engagement over the invasion and occupation of Ukraine. The secret operation was exposed this week by members of Congress that discovered it in the process of reviewing the Fiscal Year 2014 budget and the proposed Fiscal Year 2015 budget request. It turns out that the National Nuclear Security Administration (NNSA) has been providing the Russian Federation with the Multiple Integrated Laser Engagement System (MILES), the federal legislators say.

Early Results Indicate $4.6 Billion in School Turnarounds was a Waste. A $4.6 billion federal school improvement program aimed at the bottom 5 percent of U.S. schools has at best done nothing for them, and at worst spent money as some schools worsened, federal data show, and analysts and educators are questioning the program. The U.S. Department of Education released a report Nov. 21 comparing average proficiency rates of School Improvement Grant (S(G) schools in 2011-2012 to the year prior. Although some schools' academic performance improved, many worsened. "SIG is almost certainly going to go down as one of the U.S. Department of Education's biggest and most expensive mistakes — possibly the biggest," said Andy Smarick, a partner at Bellwether Education Partners. "Schools are getting millions, and we're just not seeing anything close to the gains that were promised and are needed."

Why Does Michelle Obama's Mother Live at the White House? Here's a question I'll bet nobody ever asked Jay Carney at a White House press briefing: Why does Michelle Obama's mother live at the White House at taxpayer expense? [...] Now that Michelle Obama's mother has caused a disruption on the latest exotic vacation for the first lady, perhaps it is time for some answers about why Marian Robinson is even on the trip to China. Worse, why is she appearing in official photographs with Chinese officials?

Feds flying in style: Uncle Sam's executive jets used for personal travel. Federal officials have no qualms flying the friendly skies in style, regularly using executive jets and other planes in the government's fleet of 1,700 aircraft for everyday travel. But they often don't track how much such trips cost or the reasons why they skipped cheaper commercial flights in favor of firing up one of Uncle Sam's aircraft. And lawmakers in Congress — usually charged with overseeing or reining in such expenditures — have their own addiction to luxury travel with a growing tendency to fly first class. Those findings by two separate watchdogs in Congress are the latest examples of a culture of entitlement that pervades federal spending, even in an era of supposed cutbacks and bulging budget deficits, critics warn.

$2.3M Wind Turbine at Veterans Affairs Medical Center 'Inoperable' for Last 1½ Years. A wind turbine at the Veterans Affairs Medical Center in St. Cloud, Minnesota paid for with $2.3 million in federal stimulus funds has been "inoperable" for one and half years. According to Fox News, the "600-kilowatt wind turbine — some 245 foot [sic] tall — stands... frozen" and no one is even trying to fix it.

Veterans Affairs wind turbine, built for $2.3 million, stands dormant. A $2.3 million federal stimulus project at the Veterans Affairs Medical Center in St. Cloud is giving green energy initiatives a bad name. A 600-kilowatt wind turbine — some 245 foot [sic] tall — stands on the wintry VA grounds, frozen in time and temperature, essentially inoperable for the past 1½ years. No one is working to fix it, though many attempts were made to repair the turbine, once billed as a model green energy project.

The Pentagon Spent $2.7 Billion on an Intelligence System That Doesn't Work. Here's another item for the (long) list of spectacular waste in the Pentagon's budget: a $2.7-billion intelligence program that's supposed to help Army troops on the ground collect and use intelligence on enemy fighters. It sounds like a good idea, but the thing is, the Army's Distributed Common Ground System doesn't actually do that, according to report from Foreign Policy. The article cites an internal assessment of the DCGS's effectiveness, long requested by Congress but kept under wraps by the Pentagon for eight months. Probably because they didn't feel like talking about such a spectacular failure.

Gov't Spending $4.8M to Tell Students to 'Get Fruved'. If a college student dressed up as a giant bunch of grapes jumped out of the shadows and told you to "get fruved," what could you possibly say? The University of Tennessee-Knoxville is getting more than $4.8 million taxpayer dollars to develop a healthy-eating campaign that has students — dressed up as fruits and vegetables — cavorting in the hallways of higher education.

Feds spend millions dressing creepy students up as fruits, vegetables. The federal government gave nearly $5 million to the University of Tennessee in support of its creepy healthy-eating campaign, which dresses students up as fruits and vegetables and films them terrorizing the residence halls. [...] Most of the campaign is designed and run by students. The grant for the project was made through the U.S. Department of Agriculture.

Border Patrol Shifted $7M From Border Fence to Salaries. As sequestration bore down in February 2013, the threat of furloughs for thousands of government workers was a common refrain from those warning of the dire effects of the across the board budget cuts. [...] As it turned out, DHS did not furlough any personnel, but rather relied on cuts to other areas and shifting funds from other budgets to cover salaries. For instance, Customs and Border Protection (CBP) shifted $7 million from its border security fencing account to salaries and expenses.

Bipartisan Bill Would Eliminate Useless Government Reports. Congress is moving forward with legislation that would eliminate hundreds of useless government reports, including the annual review on "Dog and Cat Fur" by the Department of Homeland Security. [...] The legislation would eliminate 118 reports and consolidate 200 others, which range from the irrelevant to the bizarre. A Department of Agriculture report provides a "Listing of Areas Rural in Character," and the Corporation for National and Community Service has a "Report on Reports Provided by Other Federal Agencies."

Government's Empty Buildings Are Costing Taxpayers Billions. Government estimates suggest there may be 77,000 empty or underutilized buildings across the country. Taxpayers own them, and even vacant, they're expensive. The Office of Management and Budget says these buildings could be costing taxpayers $1.7 billion a year. That's because someone has to mow the lawns, keep the pipes from freezing, maintain security fences, pay for some basic power — even when the buildings are just sitting empty.

Two weeks later, CBS runs the same story:
Empty government buildings cost taxpayers more than $1 billion. No one has been coming to work in the USDA Cotton Annex building for some time. Just blocks from the White House, it's been vacant for six years. It's one of 77,000 empty buildings the government continues to own and maintain, costing taxpayers $1.5 billion a year in electric bills, roof repairs, and other monthly costs. What's more, a recent audit found that part of the reason the costs are so high is that the government can't keep track of what buildings it owns and what shape they're in.

Feds Spend $30,410 for "Beauty Salon' in Minnesota Federal Prison. The government is spending over $30,000 for "beauty salon" equipment for a women's federal prison, an order that includes "porcelain shampoo bowls," eight nail stations, and four massage tables. Minnesota's Federal Correction Institution Waseca, which houses 1,030 inmates, put in an order on Thursday [3/13/2014] for multiple salon items.

Audit finds EPA workers used gov't-issued cards for dubious expenses. A government audit found employees from the Environment Protection Agency used federally-issued charge cards to buy gym memberships, gift cards and other items that were either forbidden or not even documented. The report by the office of the Inspector General faulted the agency for not keeping track of scores of transactions made by employees authorized to use so-called "SmartPay" cards. It found more than half of $150,000 in expenditures singled out for scrutiny was not in compliance with federal regulations.

Inhofe: Obama Wasted $120 Billion on Global Warming Which Could Buy 1400 F-35s. Sen. James Inhofe (R-Okla.), ranking member of the Senate Armed Services Committee, said Wednesday [3/5/2014] at a hearing on the Defense Department's Fiscal Year 2015 budget that President Barack Obama has wasted $120 billion on global warming over the past five years — money that would be better spent on the military. "I've been working on this for quite some time ... In the last five years, between 2009 and 2014, the president has spent $120 billion on the environmental agenda, mostly global warming, climate and that type of thing," said Inhofe. "And in that respect, if you'll just take the amount that was not authorized by Congress — and I'm talking about the environmental agenda, you could actually buy 1,400 F-35s."

The Editor says...
Even politicians on the right make the mistake of speculating about what we "could have bought" with the money wasted on some frivolous program, without considering the best alternative: Don't spend the money at all, especially if it increases the national debt.

As Global Debt Soars, Where's The Big Recovery? A new study says governments around the world boosted their debts by more than 40% to over $100 trillion in response to the global financial crisis. Where's the promised recovery from all that spending? [...] Get ready for the big tax hikes that are surely coming. We keep hearing this is an age of austerity. It isn't. Governments are still ringing up record amounts of debt so they can spend more, but have nothing to show for it.

Obama proposes billions more for job training despite spotty track record. Despite spotty evidence that the billions of dollars spent on dozens of federal job training programs are delivering results, President Obama is proposing to spend billions more as part of his $4 trillion budget plan. On the federal level, the government already spends about $18 billion a year to provide multiple services to unemployed workers on everything from career counseling to job training and searching. About half that money goes to Labor Department programs.

Iran to Receive Another $550 Million Cash Infusion. Iran is scheduled to receive another $550 million in unfrozen assets from the Obama administration on Friday [3/7/2014], just days after Tehran unveiled a slew of new weapons and advanced ballistic missiles. Iranian banking authorities on Wednesday confirmed that another $550 million is now on its way to Tehran under the interim nuclear accord inked last year with the United States and other Western nations.

Taxpayers Paid $2.4 Million to Develop 'Origami' Condoms. Taxpayers have paid more than $2.4 million to develop "origami condoms," including male and female versions, and the "first of its kind anal condom." Out to "reinvent the condom," Los Angeles businessman Danny Resnic has completed the first rounds of testing for three variations based on Japanese folding paper, courtesy of the National Institutes of Health.

[The] State [Department] spent more than $94 million a year on condoms, contraceptives. The State Department's international aid branch is bidding to prevent 54 million births and help 6 million people with HIV/AIDS in 80 countries annually via a smorgasbord of tools from medicines, the pill, IUDs, and condoms scented to smell like banana, vanilla and strawberry. In documents broadly outlining what USAID plans to buy and distribute overseas to help with birth control, HIV/AIDS, malaria and other issues, the taxpayer-funded agency revealed its population control and HIV/AIDS prevention agenda.

The Editor says...
Taxpayers in the U.S. should not pay to prevent childbirth or diseases in other countries.

CFPB must explain spiraling renovation costs. It's about time. That somebody called out the Consumer Financial Protection Bureau, that is. As the Washington Examiner's Richard Pollock reported Friday, the Federal Reserve's inspector general has opened an investigation into why what started out as a $55 million renovation of the new bureau's central headquarters has ballooned to $145 million in less than two years.

Obama marks 5th birthday of his shovel-ready spending hoax. Like most Americans, you probably remember exactly where you were that February day when the brand-new president flew out to Denver because he could. And there, he signed the nearly trillion-dollar spending bill, one of the largest in history. It's one that helped take the national debt to new heights of Democratic achievement, ensuring that generations of unborn taxpayers will long remember this 44th president. Despite minority Republican warnings that only the private sector creates real jobs, the colossal spending measure was hastily rammed through the Democratic Congress because of the economic urgency and because Obama wanted to show action in his first month. He'd already promised to close Guantanamo by the end of 2009.

The 10 Most Outrageous Stimulus Projects. Today marks the five-year anniversary of the American Recovery and Reinvestment Act. Commonly known as the stimulus, the nearly $1 trillion law was hailed as an opportunity to bring America into the "21st century." Just two years after the bill was signed into law, President Barack Obama admitted, "shovel-ready was not as shovel-ready as we expected." While the law failed to create jobs as promised, it has provided plenty of examples of waste, fraud, and abuse. Five years and at least $816.3 billion later, here are 10 ways the government wasted taxpayer money.

Obama pledges $1B in loan guarantees to Jordan. President Obama pledged $1 billion in loan guarantees for Jordan, a Middle East ally that is dealing with a flood of Syrian refugees who have crossed the border. The president made the loan guarantee commitment during a meeting Friday evening [2/14/2014] with Jordan's King Abdullah II at Sunnylands, the Annenberg estate in Rancho Mirage, Calif. Obama also extended an aid package for the country for five years.

Debbie Does USAF. [Scroll down] The F-35 "Lightning II" is the most expensive defense procurement program ever. It's going to cost more than $400 billion to buy and, according to the Office of the Secretary of Defense, about $1 trillion for the Air Force to own and maintain over its life. For that kind of money, you'd assume that the [...] thing would work. But it doesn't, even in its thirteenth year of "development," as I've written before.

Bad News for Obama's Antiobesity Effort. With the obesity epidemic in full swing and millions of American living in neighborhoods where fruits and vegetables are hard to come by, the Obama administration thought it saw a solution: fund stores that will stock fresh, affordable produce in these deprived areas. But now, three years and $500 million into the federal Healthy Food Financing Initiative, there's a problem: A study suggests it's not working.

IRS employees to receive bonuses. I generally don't think much of bonuses for government workers anyway. Why give someone extra for just doing his job? If we're going to hand out bonuses, then we should also cut the salaries of people who screw up. Like IRS employees.

U.S. Taxpayers Fund $52K Study of 16 Schizophrenic LGBT Canadians. American taxpayers are paying over $52,000 to study 16 LGBT individuals who have schizophrenia in Toronto, Canada. The research project, "Defining Community for LGBT People with Schizophrenia," will follow the lives of a handful of lesbian, gay, and transgender individuals for one year to study the societal "barriers" of this group.

U.S. Spends $2.7M to Study Impact of TV on Area of Vietnam That Lacks Electricity. The Department of Health and Human Services is spending $2,797,979 on a study that brings television to more than a dozen remote villages in Vietnam to study its impact on their culture and reproductive behavior. "In cooperation with the Vietnam government, we have selected 14 villages in a remote, mountainous area of Vietnam that currently lacks electricity," according to the grant description for 'Television and International Family Change: A Randomized Experiment.' "Treatment villages will receive televisions and generators with gasoline to operate the televisions. Control villages will not receive generators or televisions."

Millions in farm subsidies flow freely to DC residents who don't actually farm. Washington, D.C., doesn't have many farms, or farmers. Yet thousands of residents in and around the nation's capital receive millions of dollars every year in federal farm subsidies, including working-class residents in Southeast, wealthy lobbyists on K Street and well-connected lawmakers on Capitol Hill. In neighboring Chevy Chase, Md., one of the nation's wealthiest communities, lawyers, lobbyists and at least one psychologist collected nearly $342,000 in taxpayer farm subsidies between 2008 and 2011, according to the watchdog group Open the Books.

EPA to Invalidate 30 Million Fuel Credits After Fraud. The U.S. Environmental Protection Agency said it has invalidated 33.5 million renewable-fuel credits sold by an Indiana company for biofuel it didn't produce, the fourth time the agency has alleged fraud in the program. The filing today [12/18/2013] follows fraud charges filed against the former owners of the Indiana-based E-Biofuels LLC in September.

Federal government continues to lose billions to waste, fraud and abuse. Despite progress in reducing improper payments, federal agencies continue to lose billions annually to waste, fraud and abuse. The federal government lost $261 billion, or 7 percent of total spending, to fraud and waste in 2012, said Rep. Darrell Issa (R-Calif.) during a February [2013] House committee hearing.

Two men just defrauded the Renewable Fuel Standard credit system for $37 million. From agriculture and energy subsidies to food stamps to Medicare and Medicaid, the feds lose hundreds of billions of taxpayer dollars every year via the nefarious deeds of people who scam the system. It couldn't be that Big Government is both a vehicle for costly, bureaucratic inefficiency as well as an enabler of opportunities for said waste, fraud, and abuse, could it?

Omnibus Spending Bill Continues Funding Food Stamp Ads in Mexico. The omnibus spending bill before Congress continues to fund U.S. Department of Agriculture (USDA) advertising programs for food stamps in foreign countries like Mexico, Breitbart News has learned. [...] The funding will continue despite claims in a document the House Appropriations Committee published that the bill contains a "prohibition" on such programs.

Omnibus Funds 'Permanent Extended Coffee Break' for Dozens of DOJ Employees. Hans von Spakovsky has the inside scoop of the new omnibus spending bill. Most notably, the new bill funds the government jobs of dozens Department of Justice employees who no longer have any work to do after the Supreme Court struck down Section 4 of the Voting Rights Act.

Report Finds More Flaws in Digitizing Patient Files. Although the federal government is spending more than $22 billion to encourage hospitals and doctors to adopt electronic health records, it has failed to put safeguards in place to prevent the technology from being used for inflating costs and overbilling, according to a new report by a federal oversight agency.

The Editor says...
The government is spending $22 billion on encouragement? That must be a euphemism for coercion.

Justice Department will spend $544,000 on a new LinkedIn profile. The U.S. Department of Justice's Criminal Division is paying $544,000 for a shiny new LinkedIn profile, in the wake of a partial government shutdown that followed a top Democrat's assurance that 'the cupboard is bare, there's no more cuts to make.' While Congress was wrangling in December over how many billions to trim from future budgets, Washington bureaucrats were spending like teenagers with their first credit cards.

OPM: Nearly $85 Million Paid to Dead Federal Retirees in 2013. The U.S. Office of Personnel Management (OPM) erroneously paid $274 million in benefits to deceased federal retirees over the past three years, including $84.7 million in 2013 alone, according to the agency's annual financial report. OPM's FY 2013 financial report released in mid-December revealed that improper "overpayments" to deceased federal annuitants under its retirement program reached $102.9 million in FY 2011, $86.1 million in FY 2012, and $84.7 million in FY 2013 for a total of nearly $274 million during that three year span.

Don't Let Death Stop your Social Security. Uncle Sam, always generous to a fault with taxpayers' money, doled out about $108 billion in Social Security benefits to the dead in 2012.

Dead or alive? Social Security can't always say. Federal auditors said Friday the Social Security Administration still struggles with a basic problem — figuring out who is dead and who is not. The question is a crucial one, since federal agencies rely on the administration to cross-match data on deceased persons and avoid paying out federally funded benefits to people who aren't alive, or to establish accurate benefits for survivors. The administration also maintains a "Death Master File" that is available to the public.

Department of Labor Gives $5 Million Dollar Grant to Morocco. From the Department of Labor press release: ["]The project aims to reduce child labor in the Marrakesh-Tensift-Al-Haouz region of Morocco by promoting children's participation in educational programs and delivering vocational training focused on sectors, such as farming and ecotourism.["]

White House Damage Control: Obamacare Repeal Will 'Cost too Much'. [I]t is a bit hard to understand how repealing the Affordable Care Act could cost more than the millions that is being inefficiently spent to enroll single applicants. Early in November, for instance, it was discovered that the five Obamacare enrollees for the District of Columbia cost the taxpayers a hefty $26.7 million each. Other states have seen similar waste, one source estimating that the cost for all enrollees nationwide had been $14,000 each.

National Lampoon's ObamaCare Vacation. Enrollment and technical dysfunctions and security breaches akin to the 36 federal exchanges continue to beset Minnesota's operation, called MNsure. On Tuesday [12/17/2013], April Todd-Malmlov, the exchange's executive director since 2011, resigned under political duress. [...] Out in Hawaii, Coral Andrews stepped down from her position running that state's exchange on the same day as Ms. Pearce. Fewer than 500 people have enrolled thus far in the Aloha State's exchange, despite having received $205,342,270 in federal exchange planning and establishment grants.

N.J. public servant wants job No. 6. There are double dippers and then there is Patrick DeBlasio, a man with five public jobs in New Jersey. He now wants one more. DeBlasio wants to increase his workload by adding at least 10 hours a week as Highlands' new chief financial officer. His annual compensation totaled $244,606 in 2012, according to state pension and payroll records. If hired in the new position, DeBlasio would be paid up to $65,000, a portion of which could be shared with an assistant, borough officials said.

The EPA's Million-Dollar Con Man. As a senior policy adviser in the Environmental Protection Agency's Office of Air and Radiation, [John C.] Beale dealt with his workplace malaise by convincing his bosses that he was a CIA operative whose top-secret work required him to be out of the office for long periods of time — including one stretch that lasted 18 months. Sometimes Beale claimed to be in Pakistan. Other times he claimed to be at CIA HQ in Langley. In reality, the agency's top climate-change expert spent most of his time puttering around his Northern Virginia home or at his vacation house on the Cape, collecting his salary (plus bonuses!) while doing zero work.

Sen. Tom Coburn's annual Wastebook catalogs government waste in lean times. The federal government this year made significant cuts to important services and programs while at the same time wasting $30 billion on frivolous expenditures like the "pillownauts" study NASA conducted to learn the effects of lying in bed all day, a new watchdog report shows. Sen. Tom Coburn, R-Okla., on Tuesday [12/17/2013] released his fourth annual "Wastebook," a catalog of questionable government spending that is, at best, pretty wacky (funding for "Popular Romance Project" — $1 million) and, at its worst, infuriating (continuing pay for Army Major Nidal Hasan, the Fort Hood shooter — $52,000).

Wasted: Feds pay to collect human urine. Facebook, the hot technology company that is earning more than $1 billion in revenue, won't pay any taxes on its income this year and instead probably will get a major refund from federal taxpayers, according to Sen. Tom Coburn's annual roundup of wasteful spending. Among the nearly $30 billion of unnecessary spending that the Oklahoma Republican identified in this year's "Wastebook" were taxpayer dollars going to buy human urine, to purchase crystal goblets at the State Department, and to pay $18,000 apiece to "pillownauts" — people whom NASA recruited to lie on a bed for two straight months.

Sen. Coburn's Wastebook: extravagant government spending amid claims cupboard is bare. Despite a warning last July 31 from Secretary of Defense Chuck Hagel that under sequestration, "We risk fielding a force that is unprepared due to a lack of training, maintenance, and the latest equipment," Coburn found DoD is leaving 2,000 MRAP's — Mine-Resistant Ambush Protected vehicles — behind in Afghanistan to be destroyed rather than delivered to other bases. MRAP's were rushed through the procurement process in 2007, as I.E.D attacks took an increasing toll on NATO forces in Iraq and Afghanistan. Each MRAP cost $500,000 to build, Coburn's report says.

Nothing Left to Cut: Budget Deal Spares $30 Billion in Waste. Now that the Senate is on board with a budget deal that busts the sequester spending caps, lawmakers can finally stop all that dreadful cost-cutting — before they hit vital projects like NASA's 3D Pizza Printer. The bipartisan budget deal, which will add $63 billion in spending, came just in time. After all, "the cupboard is bare," as House Minority Leader Nancy Pelosi, D-Calif., put it awhile back. "There's no more cuts to make." [...] In addition to its $125,000 3D Pizza Printer effort, for example, NASA is spending $3 million on a space-aged study into how Congress works, and another $390,000 on a YouTube cartoon about global warming.

'Complete waste': Army Corps flushed $5.4M on 'unusable' trash incinerators, probe finds. The U.S. Army Corps of Engineers paid $5.4 million for shoddy trash incinerators that were delivered years behind schedule and never used, leaving soldiers at an Afghanistan base with no other option than to keep burning waste in open-air pits, according to an internal probe.

HHS Spending $55.5 Million to 'Bolster' Healthcare Workforce as Obamacare Causes Doctor Shortages. The Department of Health and Human Services (HHS) is spending an additional $55 million to "bolster" the healthcare workforce, as Obamacare contributes to shortages in the industry. HHS Secretary Kathleen Sebelius announced last week that her agency will provide over 270 grants "from diversity to dentistry" to address worker shortages in the healthcare industry. The funding includes $45.4 million to support the nursing workforce, $5.2 million of which will go towards "improving nursing diversity."

The Editor says...
The government is really good about pretending to solve problems that don't exist, when in reality they are pandering to specific constituents: How many people have complained about a lack of "nursing diversity?" And how much does diversity cost, anyway?

State Department defends $1 million sculpture for London embassy. The State Department on Friday [12/6/2013] defended its decision to commission a $1 million sculpture for the American embassy in London just days before the partial government shutdown in October.

State Dept. bought $180,000 in liquor before shutdown. While the rest of the government prepared to shut down this fall, the State Department was busy stocking up on embassy liquor supplies. In September, the final month of the fiscal year, the State Department spent about $180,000 — and racked up a total of more than $400,000 for the whole year, three times the entire liquor tab for all of 2008.

Dozens of Russian diplomats have been ripping off Medicare for years. Almost 50 Russian diplomats and members of their families have been charged in a massive health care fraud scheme, officials announced Thursday [12/5/2013]. Federal officials allege that 58 of the 63 births to Russian officials living in New York between 2004 and 2013 were fraudulently paid for by Medicare at a cost of roughly $1.5 million to US taxpayers. The Russians were applying for these benefits while emptying their pockets at famed stores such as Bloomingdale's, Jimmy Choo's, Prada and Tiffany & Co, officials said.

Obama reveals $100 million HIV research initiative. Obama says his administration is redirecting $100 million into the project to find a new generation of therapies.

The Editor says...
(1) The money is being redirected from where? (2) An ounce of prevention is worth a pound of therapy, and AIDS is one of the most easily preventable diseases in the world.

Nebraska's Tax Dollars at Work: Promoting a New Outlet Mall. The grand opening festivities for Nebraska Crossing Outlets began one day before the official opening with a fashion show featuring former University of Nebraska football coach Tom Osborne and continued Friday [11/15/2013] with live remotes, deejays and giveaways including Husker football tickets and a Land Rover Evoque. It's not clear which of these grand opening festivities might constitute your tax dollars at work, however, since Gretna city officials refused to divulge much information about how the $16.7 million in subsidies for "marketing and communication" is being spent.

NSF Spends $82,525 to Study Self-Defense by Millipedes. The National Science Foundation spent $82,525 on a one-year grant to study on the self-defense of bioluminescent millipedes. "Animals use myriad strategies to avoid predation — camouflage, spines, and toxins are among a few. Animals that are toxic, inedible, or otherwise noxious often advertise this by a warning signal, for example the yellow and black stripes of a yellowjacket or the rattle of a snake," the award abstract said.

No remorse, no hesitation, no stigma at all.
During chilly November, feds jet off to Caribbean resort at taxpayer expense. Down go the temperatures, and away go the bureaucrats to the Caribbean, nonetheless. A group of federal officials skipped chilly Washington this month for a taxpayer-funded trip to the Virgin Islands in the name of protecting the world's coral reef.

USAID programs hit by fraud, corruption and bid-rigging allegations. USAID, the government agency in charge of distributing tax dollars to foreign aid projects, once again is being hit with allegations and audits exposing how fraud and corruption are undermining its programs. Though the government says it's taking "steps" to address the problems, the multiple reports reflect a decades-long problem with how USAID money is administered and, critics say, how little has been done to fix it.

MAVEN takes off. Today [11/18/2013], NASA will launch a new mission — one that cost $671 million and has been in development for 10 years — to determine what happened to the water on Mars.

NASA Aims for Mars, With Robotic Maven Set to Soar. The Maven mission will cost $671 million over its entire lifetime.

NASA launches new spacecraft to orbit Mars. You may have heard it before: Billions of years ago, Mars probably looked more like Earth does now, with clouds and oceans and a much thicker atmosphere. [...] So what happened? Where did the air and water go? [...] NASA says the mission will cost $671 million.

The Editor says...
NASA — or at least CNN — presumes to know what Mars looked like "billions of years ago."

IRS Sent Hundreds of Checks to One Address in China. The IRS, which is adept at targeting conservatives and which is the enforcement arm for Obamacare, sent 655 tax refunds to one address in Lithuania! They sent 343 tax refunds to one address in China! It apparently never occurred to them that this could be identity fraud. There is no one minding the store.

Our Cash For Obama's Clunkers. The last five years of American economic policy has been a sad and expensive replay of what governments should never do. Amidst the uproar over the pathetic ObamaCare website rollout, many Americans missed the stinging report about Obama's Cash for Clunkers program. Not surprisingly, it was a failed program that cost us $1.4 million for each job allegedly created — a perfect representation of the failure of government-led economies.

Agencies can't always tell who's dead and who's not, so benefit checks keep coming. The U.S. government has a problem with dead people. For one thing, it pays them way too much money. In the past few years, Social Security paid $133 million to beneficiaries who were deceased. The federal employee retirement system paid more than $400 million to retirees who had passed away. And an aid program spent $3.9 million in federal money to pay heating and air-conditioning bills for more than 11,000 of the dead.

Bankrupting America: Or, Gorbachev's revenge. Starting in the 1930s with Social Security and unemployment insurance and continuing right through the introduction of the subsidized health-care insurance program known as Obamacare on Oct. 1, the U.S. Congress has provided a helping hand to any and every cause that can put together a street demonstration, a petition or (these days) a website. And the enemies of America know this. They are not stupid. So they are using our compassion as a weapon against us, just as we used the Russians' urge for world dominance as a weapon against them. Call it Gorbachev's revenge. Our enemies know that we truly care about people as individuals and want to assist everyone in achieving a better life, so we have been challenged to do more than we possibly can.

Watchdogs: Government Paid Millions in Medicare to Deceased, Illegal Immigrants. The Department of Health and Human Services' Centers for Medicare and Medicaid Services paid out $23 million to beneficiaries after their deaths in 2011, according to one report from HHS' inspector general. Another report tallied more than $28 million in payments from 2009 to 2011 to individuals who were in the country illegally. In all, CMS paid Medicare benefits to 4,139 illegal immigrants and 17,403 deceased people, according to the two reports.

Medicare paid millions to dead patients, illegal immigrants, probe finds. Medicare paid $23 million for dead patients in 2011 and $29 million for drug benefits for illegal immigrants from 2009 to 2011, according to a report Thursday [10/31/2013] from the Health and Human Services inspector general. The investigators said Medicare has safeguards to try to stop payments to dead patients, but it still ended up sending out the $23 million anyway. The Centers for Medicare and Medicaid Services (CMS) — the same agency that is struggling to fix the broken Obamacare website — acknowledged the problems and said it will try to take steps to fix them.

Stick a Fork in Obama. America put men on the moon. Now, with 3½ years and a half a billion dollars, we can't even build a website. This is how much Barry and his ilk have degraded the brand. We used to be the shining light on the hill. Now, we are darkness at the end of the tunnel. Barack Obama has been the worst thing that has ever happened to the Oval Office, and in the end, ObamaCare will seal his fate as a failed president. Three and on half years ago, who would have thought that the most emblematic part of the Affordable Care Act, would be the website? Yet, they already have more than a half a billion dollars in for something that doesn't work at all. Just imagine how much they will spend to fix it.

Former Dept. of Veterans Affairs chief pleads the Fifth. A former assistant secretary of the Department of Veterans Affairs pleaded the Fifth on Wednesday [10/30/2013], refusing to testify about a pair of taxpayer-funded human resources conferences in 2011 that cost a scandalous $6.1 million or more. John Sepulveda oversaw the conferences, which included the screening of a parody video based on 'Patton,' whose production cost the Treasury more than $52,000. But in front of the House Oversight Committee, he chose to remain silent, [...]

Coburn attacks National Park Service for wasteful spending while parks themselves fall into disrepair. Taxpayers shell out $52,000 a year to maintain the home of Black History Month founder Carter Woodson. Yet the tiny, dilapidated row house in northwest Washington D.C., with a "No Trespassing" sign and iron bars blocking the front door and windows hasn't seen a visitor in the seven years since the National Park Service bought it for $2.1 million and designated it a National Historic Site. Senator Tom Coburn, R-Okla., points to the house as one tiny symbol in a sea of dysfunction in the National Park Service. The Service, with its comparatively small budget, is, he says, a microcosm for wasteful spending in the federal government.

Global warming gets nearly twice as much taxpayer money as border security. The White House reported to House Republicans that there are 18 federal agencies engaged in global warming activities in 2013, funding a wide range of programs, including scientific research, international climate assistance, incentivizing renewable energy technology and subsidies to renewable energy producers. Global warming spending is estimated to cost $22.2 billion this year, and $21.4 billion next year. At the same time, the federal government will spend nearly $12 billion on customs and border enforcement this year.

Government 'Mining' Social Media for Information on Health Behavior. The National Library of Medicine (NLM) is "mining" Facebook and Twitter to improve its social media footprint and to assess how Tweets can be used as "change-agents" for health behaviors. The NLM, a division of the Department of Health and Human Services (HHS), will have software installed on government computers that will store data from social media as part of a $30,000 project announced last week.

Federal Employees Receive Full Pay for Shutdown Period — Even If They Didn't Work. Much ink was spilled earlier this month about the plight of federal workers who were furloughed due to the budget impasse. One federal employee union even bafflingly likened its members to "indentured servants." But now, quietly, federal workers are receiving full pay for the shutdown period, whether they worked or not. In fact, some furloughed employees will receive special overtime and holiday premiums on top of their regular paychecks, just as long as they were scheduled to work overtime or on Columbus Day.

BLS: Gov't Workers 'Absent' 50% More Than Private-Sector Workers. A government worker is 38 percent more likely to be absent from work for personal reasons or illnesses than a private-sector worker, and government workers miss 50 percent more of their usual work hours as a result of such absences than do private sector workers, according to data from the Bureau of Labor Statistics.

Arrival of Obamacare puts focus on IRS tax-credit scandal. The program is the Earned Income Tax Credit, through which the federal government gives out between $60 billion and $70 billion to low-income working Americans each year. It's known as a "refundable" tax credit, but it is basically a transfer payment, in which the IRS sends a check — perhaps even $5,000 every year — to workers who have little or no tax liability. The problem is, the IRS does little to determine whether recipients actually qualify for the money.

What to Cut? Gov't finds wasteful spending hard to shake. In the realm of government excesses, it's hard to top a series of grants recently awarded by the National Endowment for the Humanities that have drawn the scrutiny of Sen. Jeff Sessions, R-Ala. Sessions wrote acting NEH Director Carol Watson this week asking why it awarded $25,000 for a study entitled, "What is the Good Life and How Do I Live It?"; $23,390 for a study entitled, "Why are Bad People Bad?"; and $24,990 for yet another study called, "What is a Monster?"

After troops leave, U.S. to lose access to Afghan reconstruction projects worth billions. As coalition forces withdraw from Afghanistan, U.S.-funded reconstruction projects worth billions of dollars in far-flung regions of the country will soon be impossible for American officials to safely visit and directly inspect.

Your tax dollars: $24,953 to research 'meaning of life'. What is the meaning of life? The answer is worth $24,953, at least according to the National Endowment for the Humanities, a taxpayer-funded federal agency that is providing an educational grant to study the question.

It's Ted Cruz's Fault! Texas Senator Ted Cruz is why ObamaCare is having 'glitches' a month after its $600 million rollout — software any contractor could have designed for one million. The president explained that Apple also had glitches when OS7 was rolled out. He is correct and Apple fixed theirs in 24 hours. That's the difference between private and government enterprise.

ObamaCare spending to top contractors tops $1 billion. The price tag usually associated the Affordable Care Act rollout is $394 million, based on a Government Accountability Office report. [Peter] Gosselin argued that study was too narrowly focused, so he expanded his search of a federal contractor databases to include all awards where the acronym "ACA" or other related words and phrases appeared. "In looking at the full range of ACA-related contracts for just 10 firms, the BGOV analysis found more than $1 billion worth of contract awards," he wrote.

Another IRS Triumph. The earned-income tax credit, or EITC, is a major welfare program intended to supplement the incomes of the working poor. It is "refundable," which means you get the credit even if you pay no income tax. In 2011, more than 27 million families received EITC payments of nearly $62 billion. But here's the catch: The IG report says that in 2011 at least 21% of those payments and as much as 26% were "improper." The percentages in 2012 were 21% and 25%. In other words, at least one of every five dollars, and maybe one in four, of EITC payouts were in some way undeserved.

Investigator: IRS paid more than $110 billion in improper tax credits over past decade. The Internal Revenue Service paid out more than $110 billion in tax credits over the past decade to people who didn't qualify for them, according to a Treasury report released Tuesday [10/22/2013]. The Earned Income Tax Credits were intended for poor working families. In his report, IRS inspector general J. Russell George said more than one-fifth of all credits paid under the program went to people who didn't qualify.

With U.S. withdrawal from Afghanistan, American military gear sold as scrap. The armored trucks, televisions, ice cream scoops and nearly everything else shipped here for America's war against the Taliban are now part of the world's biggest garage sale. Every week, as the U.S. troop drawdown accelerates, the United States is selling 12 million to 14 million pounds of its equipment on the Afghan market.

Reality Check for HealthCare.gov. [A] lot of people would like to know how the federal government showered $634 million on a host of IT contractors to build HealthCare.gov, a website that has had the worst debut of any product since New Coke.

The Army's $5 billion New Uniform Already Being Replaced. Eight years after spending $5 billion on a heavily-criticized universal camouflage pattern, the Army is back at the drawing board looking for a new design that's estimated to cost another $4 billion.

US quietly releasing $1.6B in Pakistan assistance. The U.S. has quietly decided to release more than $1.6 billion in military and economic aid to Pakistan that was suspended when relations between the two countries disintegrated over the covert raid that killed Osama bin Laden and deadly U.S. airstrikes against Pakistani soldiers.

Another ObamaCare 'Glitch': $30B blown on non-operational medical record system. The rollout of ObamaCare has been plagued by problems these past two weeks, as thousands complained they couldn't sign up for coverage due to a deeply defective website. But this process could have been easier if a nine-year, government-backed effort to set up a system of electronic medical records had gotten off the ground. Instead of setting up their medical ID for the first time, would-be customers would have their records already on file. Unfortunately for patients — and taxpayers — the long-running project has produced tangibly few results despite costing the government, so far, at least $30 billion.

Insight: As Obamacare tech woes mounted, contractor payments soared. A Reuters review of government documents shows that the contract to build the federal Healthcare.gov online insurance website — key to President Barack Obama's signature healthcare reform — tripled in potential total value to nearly $292 million as new money was assigned to the work beginning in April this year.

Just how much does HealthCare.gov cost? Government officials deny the price tag on the troubled ObamaCare website is as big as $634 million, as widely reported on Thursday. Nonetheless, a close look at the cost of HealthCare.gov and the overall architecture of this giant federal program reveals no real bargain for the American taxpayer. "What a train wreck. How can we tax people for not buying a product from a website that doesn't work?" Speaker of the House John Boehner demanded on Wednesday [10/9/2013], as report after report indicated that the software problems experienced by the online portal were nowhere near being resolved.

Postal Service Destroys 'Just Move' Stamps Over Safety Concerns. The stamps, which were aimed at getting children to be more active, featured kids cannonballing into a pool, skateboarding without kneepads, and performing a headstand without a helmet.

We paid over $500 million for the Obamacare sites and all we got was this lousy 404. The site itself, which apparently underwent major code renovations over the weekend, still rejects user logins, fails to load drop-down menus and other crucial components for users that successfully gain entrance, and otherwise prevents uninsured Americans in the 36 states it serves from purchasing healthcare at competitive rates — Healthcare.gov's primary purpose. The site is so busted that, as of a couple days ago, the number of people that successfully purchased healthcare through it was in the "single digits," according to the Washington Post.

How the government spent $634 million on the Obamacare website and it still doesn't work. The federal government has spent $634 million on the Obamacare website — more than it cost to build Facebook or Twitter, it was revealed today. [...] The price tag for the broken healthcare site is more than six and a half times higher than what the government initially meant to pay.

Obama Spent $634 Million to Build Broken Healthcare.gov Website. I could have built him a broken website for only $633 million. But I have trouble even taking in or believing that number is real. [...] Google managed to build an index of 60 million pages while basically being run by two guys with $100k in seed money. Sure they had Stanford's computers, but this was supposed to be backed by the US government. Data centers are expensive. That's why you used to see Twitter's Fail Whale so much. But Facebook spends $50 million a year on data centers. And it rarely goes down.

Government spends $47k on mechanical bull as a National Guard recruitment tool seven days into shutdown. Seven days into the government shutdown it has been revealed that the National Guard has bought a $47,000 mechanical bull. The National Guard contract was awarded to a Pennsylvania company tasked with supplying the device as a way to attract new recruits.

Obama Continues to Violate His Own 'Stimulus' Law by Not Releasing Quarterly Reports. Have you heard much about President Obama's $787,000,000,000 economic "stimulus" (now estimated to cost $831,000,000,000) lately? In its last report, published in 2011, the president's own Council of Economic Advisors released an estimate showing that, for every $317,000 in "stimulus" spending that had by then gone out the door, only one job had been created or saved.

Committee Reveals Widespread Disability Scheme. A Kentucky lawyer made millions off Social Security disability programs, devising a scheme with a judge to approve fraudulent claims at an "assembly-line" rate. A two-year investigation led by Sen. Tom Coburn (R., Okla.), ranking member on the Senate Homeland Security and Governmental Affairs Committee, revealed a case of coordinated fraud responsible for the approval of billions in claims.

New Air Force cargo planes fly straight into mothballs. The Pentagon is sending $50 million cargo planes straight from the assembly line to mothballs because it has no use for them, yet it still hasn't stopped ordering the aircraft, according to a report. A dozen nearly new Italian-built C-27J Spartans have been shipped to an Air Force facility in Arizona dubbed "the boneyard," and five more currently under construction are likely headed for the same fate, according to an investigation by the Dayton Daily News. The Air Force has spent $567 million on 21 of the planes since 2007, according to purchasing officials at Dayton's Wright-Patterson Air Force Base.

State Dept. Awards $5M Contract for Crystal Stem and Barware For Embassies. Just a week before the government shutdown kicked in on October 1, the State Department awarded a five-year, maximum $5 million contract for custom handcrafted crystal stem and barware, according to a report in the Valley News, an online news site in Vermont.

Tribes Mishandle Funds, Go Unpunished. American Indian tribes have been caught misappropriating tens of millions of taxpayer dollars, according to internal tribal audits and other documents.

New York's pampered pooches get a $5 million park and dog run thanks to Uncle Sam. TriBeCa, one of Manhattan's most affluent neighborhoods put a federal windfall worth millions into play this past summer. Local brass decided to spend the $5 million earmarked in 2005 not on subways or bridges but to bankroll a dog run and install an immaculate landscaping along a waterfront park, MailOnline has learned.

Serving Our Government Masters. [George] Washington once said that government is "a troublesome servant and a fearful master." Government has long ceased being a troublesome servant and has become our fearful master. Today the servants of the people have more servants of their own than many kings and queens. The government shutdown has forced Obama to make do with only a quarter of his 1,701 person staff. That would leave 436 "vital" employees. The 90 people who look after his living quarters would be slashed to 15 to "provide minimum maintenance and support".

Shutdown Preparations Prove Most Government Is Waste. When the government shuts down, the president will do without three-fourths of his White House staff — 1,265 taxpayer-salaried federal workers. That's a fraction of the government's total waste. House Democratic leader Nancy Pelosi, who didn't show up to vote on the budget last week, recently claimed, "the cupboard is bare. There's no more cuts to make" in a government that spends almost $4 trillion each year. But it's funny how when the massive state apparatus is starved of its cash flow, lots of things magically appear in that bare cupboard.

Bankrupt ideas lead to bankrupt governments. Medicare fraud and abuse alone now costs more than $115 billion per year, and even though the problem is well known, it persists decade after decade, as Mrs. Pelosi and her colleagues do nothing to stop it. But then, again, it is not their money that is wasted. According to the Congressional Research Service, the U.S. government has 77,000 unused or underused buildings that cost taxpayers $1.67 billion annually to operate and maintain. The list goes on and on.

Fiscal Monkey Business. As the budget histrionics continue, both parties are slyly doing what Congress does best — spend more money. We reported last week that the GOP House has already agreed with Senate Democrats to raise spending in 2014 by $19 billion over the Budget Control Act caps — to $986 billion from $967 billion. But now Senate budget experts have identified in the spending bill some $18 billion more of mostly phantom savings from "changes in mandatory spending programs," also known appropriately enough as Chimps.

Oklahoma senator calls out Congress for blowing money on 'fruity' grants. One Washington lawmaker says the fiscal fight in DC needs to be refocused on millions of dollars being blown on new government grants that include everything from spending on social media for apples, Christmas tree initiatives and a YouTube video promoting the proper handling of watermelons. And that's just this week alone.

Detroit to Receive "Not-Bailout" from Federal Government. Detroit is going to receive an infusion of cash, courtesy of the federal government. The municipality declared bankruptcy this summer and is trying to avoid having to pay the $18 billion in liabilities it has accrued, with court battles and protests raging all the while. Final details will be worked out in Detroit by an Obama administration delegation led by Gene Sperling, head of the White House National Economic Council, which sounds like something out of an Ayn Rand novel. [...] The ostensible purpose of the meeting is not to talk about bailouts (which aren't happening, everyone insists) but rather to discuss plans to "lift up" Detroit, "to expand opportunity and renew this world-class city."

Obama administration plans $320 million to aid Detroit recovery. Top Obama administration officials will head to Detroit on Friday [9/27/2013] to announce nearly $320 million in federal and private aid as the city grapples with the largest municipal bankruptcy in American history.

Meet the slush funds Obama used to bail out Detroit. According to the Detroit Free Press, [Gene] Sperling "wasn't immediately able to break down" exactly how much of the money awarded represents "new funding" for Detroit, but he did say "much of it represented an effort by administration officials to scour their departments for funding that Detroit could access." In other words, this is all the cash Obama could scrape together after looking for spare change in between the couch cushions of the federal government.

U.S. sells $50 million green-tech loan at sharp discount. The U.S. Department of Energy recovered only about one-sixth of its $50 million green-technology loan to Vehicle Production Group LLC, a maker of wheelchair-accessible vans now under new ownership.

Not Even Fisker's Fire Sale Can Dampen DOE Enthusiasm for 'Investments'. After the Department of Energy announced this week it had given up on not-bankrupt-but-should-be Fisker Automotive, and will auction off its loan for a pittance, you'd think (and hope) Congress would have had enough of this kind of thing. Senator John Thune certainly has. "The Obama administration has gotten into the business of picking winners and losers at a significant cost to taxpayers," said the South Dakota Republican yesterday [9/18/2013].

How will anyone benefit from this?
FDA Spending $182,814 to 'Better Understand' Social Media. The Food and Drug Administration (FDA) is paying six figures to a group that worked for the "Obama for America" campaign to monitor its social media platforms so it can be more effective on Facebook and Twitter. The agency awarded $182,814 to IB5k, a company billing itself as "the People Who Brought You Obama '08," to provide "comprehensive coverage" of the FDA's social media websites.

Kerry to Spend $10 Million to Fight 'Gender-Based Violence'. "Secretary of State John Kerry announced Monday the provision of $10 million in funding for a new U.S. initiative, Safe from the Start, to prevent and respond to gender-based violence in humanitarian emergencies worldwide. Secretary Kerry emphasized that in the face of conflict and disaster, we should strive to protect women and girls from sexual assault and other violence," reads the State Department press release.

The Editor says...
If Mr. Kerry wants to waste $10 million of his own money, that's one thing. But spending taxpayer dollars (by the million) to chase down feminist problems in other countries is not the proper role of government, to put it politely.

House CR Forks Over $174,000 for Late Senator's Wife. There are many things House Republicans liked about the government continuing resolution. It defunds Obamacare, locks in the sequester spending cuts and keeps the government running. But there's one provision tucked into the CR that may anger constituents back home: Among the various sections of the House-passed CR are 28 words that would pay $174,000 to the widow of the late Sen. Frank R. Lautenberg, D-N.J. [...] Before Lautenberg's death, he was No. 8 on Roll Call's 50 Richest Members of Congress with a net worth of at least $56.8 million.

Update:
House eliminates payout to wealthy senator's widow. After an outcry, the House has dropped a $174,000 payment to the widow of the late Sen. Frank Lautenberg from its stopgap spending bill.

U.S. Makes $1.2 Bil in Disability "Overpayments". In a recent example of egregious government waste, the U.S. has doled out more than a billion dollars in disability benefits to tens of thousands of people who were not supposed to get it. One recipient got $90,000 — nearly twice the median annual income in the U.S. — without being detected by the Social Security Administration (SSA), the agency that hands out the cash. Others raked in $74,000 and $57,000 without raising any alarms. In all, 36,000 people who didn't qualify for SSA disability money received an astounding $1.29 billion without getting caught, according to a federal audit.

Budget Cuts, Political Sensitivity Preventing Military Spending Reform. While it is important for the U.S. military to be prepared for whatever unexpected conflicts arise, [Senator Tom] Coburn said [9/18/2013] there are ample opportunities for the Department of Defense (DOD) to operate more efficiently. He noted the consolidation of the Air Force's operations at its three strategic depots, which he said would save $1.6 billion, and Army requests for as much as $2.5 billion for equipment needs like cargo planes that can be met for $100 million as examples.

Undocumented LA County Parents On Pace To Receive $650M In Welfare Benefits. A projected $650 million in welfare benefits will be distributed to illegal alien parents in 2013, county officials said Monday. Supervisor Michael D. Antonovich announced the latest figures from the Department of Public Social Services, which showed more than $376 million in CalWORKs benefits and food stamps combined have been distributed through July to illegal alien parents for their native-born children.

Also posted under welfare programs attract illegal immigrants.

Flying carrot, winged guitar, not health care, featured in new $3.2m Obamacare ad. New Obamacare ads targeting Oregon residents never mention health care reform or the system's new health care exchanges opening Oct. 1, and instead feature psychedelic Images of people flying through the air singing, "Long live Oregonians, we're free to be healthy." The so-called "Free" ads cost $3.2 million. What's odd about the ads for Cover Oregon is the lack of information about Obamacare [...]

State Dept. to Spend $450K for Green Jobs — in Morocco. The State Department through its Bureau of Oceans and International Environmental and Scientific Affairs plans to spend $450,000 to create green jobs in Morocco. "Morocco has set the goal to become one of the world's largest sustainable economies by 2020, with an emphasis on creating green jobs in: renewable energy, sustainable agriculture, environmental and natural resource management, and improvement in environmental technologies," the grant announcement said.

Google's Brin, Page lose Pentagon fuel subsidy on private jets. Google co-founders Sergey Brin and Larry Page have lost a jet fuel perk, according to a new report. Google and the Pentagon inked a deal, which started in 2007, that let Google purchase fuel for its entire fleet — seven jets and two helicopters — at a discounted price from the US government, according to the Wall Street Journal.

Google Jet Fleet Loses a Pentagon Fuel Perk. The agreement between the Google founders and the government, which started in 2007, ended Aug. 31 after officials at the National Aeronautics and Space Administration — which sponsored the arrangement — opted not to renew it, according to a Pentagon spokeswoman.

DOE to Lose Tens of Millions on Green Car Company. The Department of Energy (DOE) will likely lose tens of millions of dollars on a loan extended to a green vehicle company with ties to a top fundraiser for President Barack Obama. The news comes days after DOE announced that it would restart the loan program responsible for lending taxpayer funds to the struggling company. The department loaned $50 million to the Vehicle Production Group in March 2011. It announced this week that, after recouping a small amount of that loan, it will sell the remaining $45 million debt to AM General for $3 million.

Sequestration nation: DoD doles out $7 billion in wind-energy contracts. Why the Obama administration insists upon using the military as a sponsor of what they, rather than the free market, have arbitrarily and falsely deemed to be practical and cost-effective sources of energy, it pains me to think on — but the point is that the U.S. military is currently choosing to spend big money on energy sources that do not offer them the biggest bang for their buck. Even better, the Pentagon dished out a similarly sized set of contracts for solar energy companies last month; and this is all on top the Navy's push to outfit a number of cruisers, destroyers, and fighter jets with biofuel-blended gas.

The art of saving: Bill would cut funds for official portraits. The capital is full of portraits of government officials, sometimes more than one of the same person. [...] But in budget-conscious Congress, an effort is underway to put an end to the practice of taxpayers footing the bill for the commissioned paintings. The measure is dubbed the Eliminating Government-funded Oil-painting, or EGO, Act.

Energy Department loses a casual $42 million on failed loan to green van company, no big deal. [T]he Department of Energy just got some sweet news about yet another project in government venture socialism. Yet another of the beneficiaries of their ghastly loan guarantee program has made it to the end of the line, and not in a good way.

Palestinian Authority takes $148M from US, doles out 'grants' to convicted terrorists. The Palestinian Authority is doling out millions of dollars in cash grants to convicted terrorists recently released from Israeli prisons in a program announced the same day as the P.A. accepted $148 million in the latest round of U.S. aid.

U.S. Failed to Reduce 'Food Insecurity' Despite Spending Billions More. Despite a $6 billion increase in food assistance spending, there was no reduction in the number of American households that are "food insecure," according to the U.S. Department of Agriculture (USDA). The USDA says its food programs "increase food security." However, the agency's spending through the Food and Nutrition Service (FNS) increased by $6.4 billion from 2011 to 2012 with no statistically significant change in the level of food insecurity.

Feds Spending $2.2 Million to Study Lesbian Obesity. The National Institutes of Health awarded an additional $682,873 to Brigham and Women's Hospital for the study on July 17. The project had received previous grants of $778,622 in 2011, and $741,378 in 2012. Total funding has reached $2,202,873. The project has survived budget cuts due to sequestration, which the NIH warned would "delay progress in medical breakthroughs."

Former senior EPA adviser Beale expected to plead guilty in $900,000 pay fraud. Over the past 12 years, John C. Beale was often away from his job as a high-level staffer at the Environmental Protection Agency. He cultivated an air of mystery and explained his lengthy absences by telling his bosses that he was doing top-secret work, including for the CIA. For years, apparently, no one checked.

Grounded TV Marti plane [is] a monument to the limits of American austerity. At an airfield in rural Georgia, the U.S. government pays a contractor $6,600 a month for a plane that doesn't fly. The plane is a 1960s turboprop with an odd array of antennas on its back end and the name of a Cuban national hero painted on its tail. It can fly, but it doesn't. Government orders.

Electric Losers, Round Two. A leading candidate for the biggest government failure in recent years is the $25 billion Advanced Technology Vehicle Manufacturing Loan Program (ATVM), which stopped doling out loans in 2011 after funding such debacles as Fisker Automotive. But this is the Obama Administration, where nothing in government fails, so naturally new Energy Secretary Ernest Moniz wants to revive it.

State Department Begins Work on New $178M Embassy Complex in Benin. This week, the State Department announced that [...] construction has begun on a new $178 million embassy complex in the small West African nation, a neighbor of Togo and Nigeria. As is often the case in the construction of new U.S. diplomatic facilities, the plans include a number of "sustainable" features including solar panels, rainwater harvesting, wastewater reuse, and LED lighting.

The Editor says...
Why must the United States have an embassy in every country?

DHS spends $600,000 to buy $100,000 homes. The Homeland Security Department spent $600,000 apiece to build houses in Arizona that would have gone for less than $100,000, according to a report in the Arizona Republic that's raising questions in Congress. "This type of spending is irresponsible as our nation faces significant budget deficits and the men and women in the Border Patrol face cuts in overtime that are essential to their mission," Rep. Ron Barber, Arizona Democrat, said in a statement Friday [8/16/2013].

Pentagon Car Rentals: We Don't Try Harder. The old saying is that no one washes a rental car. It's a little bit different at the Pentagon. Over there, they rent a lot of cars for travel by staff in and around the capital. They don't need to wash many of them, either — because they drive them so rarely. That's the bottom line in a Pentagon inspector general's report released Thursday showing that 511 of the 774 vehicles leased by four Pentagon offices in 2011 — two out of every three — weren't driven enough miles annually to warrant their rental.

The United States Constitution vs. Barack Obama. SUNY Buffalo received $390,000 to study young adults who drink malt liquor and smoke marijuana.
Montana received $2.2 million to install skylights in their state-run liquor warehouse.
[...]
$30 million for a spring training baseball complex for the Arizona Diamondbacks and Colorado Rockies.
The Coast Guard gets $572 million to create 1,235 new jobs. This comes to $460,000 per job.
$11 million for Microsoft to build a bridge connecting its two headquarter campuses in Redmond, Wash., which are separated by a highway.
$1.15 million to install a guardrail for a persistently dry lake bed in Guymon, Oklahoma.

Left-Wing Labor Protesters Funded by Taxpayer Dollars. Using a combination of federal grants and grants from left-leaning organizations, the Restaurant Opportunity Center, or ROC, is technically a charitable nonprofit and not a union. But their pro-worker messages, anti-employer protests and self-proclaimed goal of organizing service sector employees for the purposes of negotiating higher wages make ROC look and sound much like a labor union. [...] While the Restaurant Opportunity Center is working to increase wages for some workers, they are getting paid, in part, with federal tax dollars.

Golden hammer: Medicaid innovation programs ran up $32 billion tab, watchdog says. When the government approved letting states experiment with new ways to deliver Medicaid services, it promised the innovations wouldn't cost taxpayers any extra money. Somebody in the bureaucracy, however, failed to keep track. A new report by the chief watchdog for Congress finds that the so-called demonstration projects have cost taxpayers as much as $32 billion more than if the program has just been left alone over the last five years.

Great Green Waste: Are Military Contracts the New Obama Stimulus? The Department of Defense (DoD) is the largest energy consumer in the United States. To meet its energy needs, the Defense Logistics Agency (DLA) executes contracts to purchase fuel and electricity on behalf of the service branches. These contracts present opportunities for the federal government to provide de facto subsidies, should they choose to purchase more expensive sources of energy than is necessary. For the purposes of this report, subsidies are defined as disbursements by the federal government that have an identifiable federal budget impact and are specifically targeted at energy production. If the government pays more than the fair market value for a good or service, particularly in a closed-bidding process, this amounts to a subsidy.

Wetlands Protection. Remember how the sequester was going to force the federal government to slash vital services? Not only didn't it happen, but the Labor Department's Women's Bureau is still in operation. As its acting director, Latifa Lyles, explains in a blog post, the bureau was established in the year of Helen Thomas's birth to "promote the welfare of wage-earning women, improve their working conditions, increase their efficiency and advance their opportunities for profitable employment." If you thought that mission was accomplished sometime around 1973, think again.

Cory Booker Spent $100 Million in Education Money on Political Consultants. Newark Mayor and U.S. Senate Candidate Cory Booker claims he cares about education, but a new ad produced by the American Commitment Fund shows Booker squandered $100 million in education funds donated by Facebook CEO Mark Zuckerberg on political consultants, focus groups, mailing and polling.

Time to Sequester Insipid Federal Research. These studies include: how to ride a bike; when dogs became man's best friend; whether political views are genetically predetermined; and why the same teams always seem to dominate the NCAA basketball tournament. More recent studies funded by the NSF include "how power affects empathy" and an assessment of "the role of optimism and pessimism in shaping the political beliefs and behavior of Americans." Most of these ill-advised projects are funded by the [National] science foundation's Social, Behavioral and Economics Directorate.

The National Science Foundation: Under the Microscope. Very few of the proposals submitted for NSF financial support represented transformative scientific research according to most grant reviewers surveyed. Taxpayers may also question the value of many of the projects NSF actually chose to fund, such as: How to ride a bike; When did dogs became man's best friend; If political views are genetically pre-determined; How to improve the quality of wine; Do boys like to play with trucks and girls like to play with dolls; How rumors get started; If parents choose trendy baby names; How much housework does a husband create for a wife; and When is the best time to buy a ticket to a sold out sporting event.

Money for nothing. Writing in the The Atlantic magazine, Orszag and Bridgeland estimate that less than $1 out of every $100 in federal spending "is backed by even the most basic evidence that the money is being spent wisely." Instead, they write, "spending decisions are largely based on good intentions, inertia, hunches, partisan politics, and personal relationships." Orszag and Bridgeland offer infuriating examples, drawn from experience, of programs that were either useless or at best questionable and yet continued to get billions because somebody knew somebody and every item sounded like a good idea.

Questions raised about IRS executive travel. A new report by the inspector general of the IRS found that a small group of top executives at the IRS ran up "extremely high travel expenses" in recent years, with some basically commuting each week to work in Washington, D.C. by plane from around the nation. [...] An IRS source told me the most frequent travelers were four different officials inside the tax agency who "work" in Washington, at IRS headquarters, but actually live in Dallas, Minneapolis and Atlanta.

Fraud fighter in $$ shock. The acting inspector general of the Department of Homeland Security flouted nepotism rules by employing his wife, and took multiple jaunts, at taxpayers' expense, to Florida, according to documents obtained by The [New York] Post.

$10.33 billion in energy loans pressured by the White House and POTUS approved, now at risk. [Scroll down] The U.S. Department of Agriculture's Biorefinery Assistance Program, funded through the energy title of the farm bill, which was first introduced in 2002, also provides government-backed loan guarantees to support renewable energy, as they did with Range Fuels and others, since 2009 for about $1.02 billion. In the Range Fuels case, which received a $76 million federal loan from the Bush administration in 2007, and over $80 million from the Obama administration in 2009 ($46 million DOE grant and a $40 million USDA loan guarantee), eventually went bust in 2011.

IRS Overpaid Earned Income Credit By Nearly $111 Billion, Treasury Report Says. The Internal Revenue Service has overpaid the Earned Income Tax Credit by at least $110.8 billion since 2000, according to a recent Treasury Department inspector general report. That is more than double the $53 billion of sequester cuts expected in 2013, totaling less than 2 percent of outlays, and puts the lie to those who suggest there is nothing to cut in the federal budget.

Audit: Workers at costly Veterans Affairs job center took average of 2 calls a day. The Veterans Affairs Department is spending millions on employment call centers where workers have handled as few as one or two calls a day ever since the facilities opened in October 2011, according to a recent inspector general report. The two centers are operated and staffed by a private contractor and were opened to increase the number of veterans working for the department.

364 Billion Ways the Government Wastes Your Money. In 2012, the GAO produced a 428-page study that outlines inconceivable duplication, overlap, and fragmentation which can be cut back to save over $360 billion every single year! The GAO report should be required reading for taxpayers and presidents because it includes Mitt Romney's claim of 47 different federal programs for job training, 20 programs devoted to homelessness, 17 grant programs for disaster assistance, 17 programs for technical assistance to entrepreneurs with 5 of these entrepreneur programs being run by USDA.

Millions Missing, Misspent at Texas Housing Authority: Auditor. The Harris County (Texas) Housing Authority is a generous landlord, one that gave its tenants $8,500 in gift cards to Walmart for Christmas in 2011. But that sort of unrestrained spending — on tenants, on memorabilia, on failed real estate deals, on its own salaries and especially on contracts with two firms connected to two former board members — has dissipated the agency's fund balances from $37.9 million to $1.6 million between 2009 and 2012, according to an audit recently published by the inspector general of the Texas Department of Housing and Urban Development.

More about waste and fraud in the welfare state.

Defense Dept. Memo Decries Having Too Much Money, Urges Spending All Of It. An internal email from a Department of Defense agency calls its budget "too large" while at the same time urging colleagues about the importance of spending "100% of our available resources." The June 27 memo, obtained by the Washington Post and sent by the Defense Information Systems Agency, said, "Our available funding balances remain large in all appropriations — too large to spend" on just unfunded requests.

Military spending millions to protect gophers, while workers go on furlough. A total of 650,000 civilian employees are now being furloughed at U.S. military bases in response to sequester cuts — but the Department of Defense is still spending millions to protect fuzzy critters. Joint Base Lewis-McChord (JBLM) in Washington state just received a $3.5 million department grant to purchase land around the base in an effort to protect the Mazama pocket gopher, a species that has not even been listed as endangered or threatened.

Feds Unwilling or Unable To Stop Illegal Checks. A Long Island, N.Y., woman has spent nearly two years trying to convince the Internal Revenue Service and the U.S. Postal Service that persons with Hispanic-sounding surnames using her address to obtain tax refunds from the IRS are part of a fraud scheme. She has not found a government agency that will stop the phony tax refunds from arriving in her mailbox. Instead, federal and state authorities pass the buck. The checks, including some offering payment for Hurricane Sandy "relief" to people who may not exist, keep coming.

Military dumps $34M into Afghanistan HQ that US forces won't use. The U.S. military blew through $34 million on a hulking headquarters in southwestern Afghanistan that probably will never be used by U.S. forces, in an example of government waste that has military commanders fuming.

Another Fine Mess Obama's Gotten Us Into In Mideast. Is it too late, Mr. President, to get a refund on the billions in aid you gave the Islamist thugs in Egypt? How about the F-16s and Abrams tanks you sent? It's now painfully obvious you invested in the wrong regime.

Why Call it Intelligence? The American Intelligence Community (IC) is starting to resemble a large cast of delinquents, a Faustian opera where bad behavior seeks constant rationalization and confirmation. And like most bad behavior, the real remedy might not be that complicated. [...] Ironically, the 9/11 attack in New York, the worst warning failure since Pearl Harbor, produced a knee-jerk windfall for American Intelligence. Like public school systems, failure became a kind of fiscal stimulus. Subsequently, government agencies that could embed "terrorism" in their mission statements were showered with tax dollars.

54 Months: Record Stretch of 7.5%+ Unemployment Continues. [Scroll down] In a February 2013 report on the impact of Obama's stimulus law — the American Recovery and Reinvestment Act (ARRA) — the Congressional Budget Office said that it estimated the law would have the net effect of increasing federal budget deficits by $830 billion between 2009 and 2019. CBO also estimated that the stimulus had the impact in the last quarter of 2012 of lowering "the unemployment rate by between 0.1 percentage points and 0.4 percentage points."

Videos Obtained by Judicial Watch Reveal Costumed Parodies, Playacting at GSA. Judicial Watch announced today that it has obtained more than a half-dozen, newly uncovered videos from U.S. General Services Administration (GSA) which show senior GSA officials and staff participating in costumed playacting and parodies. These videos are evidence of GSA's extravagance, which, along with the scandalous 2010 Las Vegas regional conference, were revealed in a scathing April 2012 inspector general (IG) report. These videos had been available on GSA's website prior to the release of the IG Report but were removed shortly thereafter.

IG report: State Department spent $630,000 to increase Facebook 'likes'. The State Department spent over $630,000 to increase Facebook "likes" for four of its pages on the social-networking site, according to an inspector general's report. The efforts, which involved advertising initiatives between 2011 and March 2013, increased the fan numbers for each page from about 100,000 to more than 2 million, the report said. But employees complained that the agency was "buying fans," according to the inspector general.

The high price of Astroturf:
Hillary Clinton's State Department Spent $630,000 on Facebook. Only two percent of the people who "liked" the Facebook pages shared or commented on the items. The program faced problems when Facebook changed its approach to news feeds, making the campaign less viable. Instead, the bureau now pays for sponsored ads to keep content visible.

State Department bureau spent $630,000 on Facebook 'likes'. State Department officials spent $630,000 to get more Facebook "likes," prompting employees to complain to a government watchdog that the bureau was "buying fans" in social media, the agency's inspector general says. The department's Bureau of International Information Programs spent the money to increase its "likes" count between 2011 and March 2013. "Many in the bureau criticize the advertising campaigns as 'buying fans' who may have once clicked on an ad or 'liked' a photo but have no real interest in the topic and have never engaged further," the inspector general reported.

DOT to Spend $1.8 Million to Encourage Kids to Walk, Bike to School. The Transportation Department's Federal Highway Administration is planning to spend $1.8 million to encourage students to bike and walk to school through the establishment and operation of a National Safe Routes to School Clearinghouse.

The Editor says...
The Department of Transportation is spending serious money to tell kids to walk to school. What kind of transportation is that?

Obama unveils $7 billion power initiative for Africa. U.S. President Barack Obama pledged $7 billion Sunday [6/30/2013] to help combat frequent power blackouts in sub-Saharan Africa. Funds from the initiative, dubbed Power Africa, will be distributed over the next five years.

'Waist' of money at Guantanamo Bay as detainees get prison's 'infidel' gym replaced. Americans are supposed to have sympathy for the accused terrorist detainees now on hunger strike to protest supposedly cruel conditions at the US military prison in Guantanamo Bay, Cuba. [...] But just a few years ago, detainees got so plump from overeating hummus and other dishes from the camp's Islamically correct menu that commanders specially ordered treadmills to help them lose weight.

Washington's $279 Billion Fraud. If you think the federal student-loan program looks like a bad deal for taxpayers, imagine how it would look with honest accounting. And now you don't need to imagine thanks to a new report that's receiving far too little attention. Turns out that the official "savings" for taxpayers of $184 billion over the next decade really add up to $95 billion in losses.

US to Spend $771M on Planes Afghans Can't Use. The U.S. government is about to spend more than $771 million on military aircraft that the Afghan people "lack the capacity to operate," according to the Special Inspector General for Afghanistan Reconstruction (SIGAR).

IRS credit cards used for wine, pornography, IG report says. Another government watchdog report has flagged inappropriate behavior at the IRS, this time claiming government credit cards were used to make questionable purchases on items ranging from wine to online pornography. The report from the Treasury Inspector General for Tax Administration found that between fiscal 2010 and 2011, the more than 5,000 IRS card accounts racked up $103 million in purchases.

IRS Sent $46,378,040 in Refunds to 23,994 'Unauthorized' Aliens at 1 Atlanta Address. The Internal Revenue Service sent 23,994 tax refunds worth a combined $46,378,040 to "unauthorized" alien workers who all used the same address in Atlanta, Ga., in 2011, according to the Treasury Inspector General for Tax Administration (TIGTA). That was not the only Atlanta address theoretically occupied by thousands of "unauthorized" alien workers receiving millions in federal tax refunds in 2011. In fact, according to a TIGTA audit report published last year, four of the top ten addresses to which the IRS sent thousands of tax refunds to "unauthorized" aliens were in Atlanta.

Tax dollars spent on public broadcasting are being squandered on facilities like this:
NPR flaunts its wealth as MSM struggles. An understandable wave of envy is sweeping through the Beltway mainstream media, in the wake of NPR (formerly known as National Public Radio) showing off a spectacular new headquarters building in Washington, DC. NPR is spending big on creating a pleasant work environment while most other news media companies are cutting back and laying off. The controversy started last Tuesday, when NPR offered a media tour of its new facility.

NPR Shows Off New Facility. NPR recently moved from Chinatown into its new 400,000 square-foot home on North Capitol, and they're excited about it. Eager to show off the new facility, the organization offered a tour to members of the media Tuesday morning [6/18/2013], starting with breakfast from their in-house chefs, along with some talking points from CEO Gary Knell, who outlined some impressive features of the space.

Big Pill to Swallow: Taxpayers to Pay for Illegal Immigrants' Med School. "The university's Stritch School of Medicine not only intends to waive legal residency as an admissions requirement for applicants but aims to offer a financing plan through a state agency." Yes, that's right, not only is Loyola admitting illegal aliens to its medical school, it is also handing you, the Illinois taxpayer, the bill for their education.

$45K for bloody mary mix, $213K for strawberries among federal subsidies that must end, Coburn says. Even as it's cutting food programs for poor women and children, the Agriculture Department is still spending money on housing for wealthy residents on Martha's Vineyard and paying companies to run marketing campaigns for alcohol, pickles and jelly, according to a top senator who wants to see those priorities changed.

Stuff like this used to be called Army Surplus.
Scrapping equipment key to Afghan drawdown. Facing a tight withdrawal deadline and tough terrain, the U.S. military has destroyed more than 170 million pounds worth of vehicles and other military equipment as it rushes to wind down its role in the Afghanistan war by the end of 2014. [...] Military planners have determined that they will not ship back more than $7 billion worth of equipment — about 20 percent of what the U.S. military has in Afghanistan — because it is no longer needed or would be too costly to ship back home.

Uncle Sam's Yard Sale: Gov't looks to unload Afghanistan war hardware. After 12 years of war in Afghanistan, officials are now pondering what to do with $50 billion in equipment half a world away — including combat vehicles, dining rooms, gyms, clothing and more. "A lot of this stuff, you're not really concerned about bringing it back," said Jim Hasik, a senior fellow at the Atlantic Council. "I mean if a Coke machine falls into the hands of the Taliban, this is just not a big disaster." But eventually, much of the gear will trickle down to the public. With the click of a mouse the spoils of war can be yours on govliquidation.com. Each day, new items appear on the site — as bases around the country release unneeded items — from rafts and trucks, to fire engines and pretzel stands.

The Editor says...
I wouldn't mind having a fire truck, but I don't want to go to Afghanistan to pick it up.

IRS Hiring 'Diversity and Inclusion Specialist,' Starting at $123,758/Year. The IRS is looking to hire a "diversity and inclusion" specialist, with a minimum salary of $123,758 a year. The opening for a full-time "Supervisory Diversity and Inclusion Specialist" at the agency's national headquarters in Washington, D.C. was announced on June 11 and is open until June 24. The Diversity Specialist will "serve as a change agent to provide strategies, solutions, training, tools, resources and thought leadership on diversity and foster inclusion" across the workplace and "build internal awareness" for diversity and inclusion throughout the agency.

HHS spent $36 million on meetings for bureaucrats. Coming on the heels of revelations that the IRS spent $50 million on more than 200 employee conferences, it may be inconsequential to find out about $20,000 for a dental conference, $30,000 for a meeting in New Jersey and $1 million for a Head Start gathering. Except perhaps to millions of American taxpayers who grow either more angry or weary every time they hear — as they so frequently do these days — of yet another federal employee conference of dubious value and excessive expense. The outlays for the dental, New Jersey and Head Start conferences were part of the $36 million spent on such events by the U.S. Department of Health and Human Services since 2009, according to the House Education and the Workforce Committee chaired by Rep. John Kline, R-Minn.

Taxpayers spend $41.3 million in a year to advertise food stamps, a 6-fold increase over last decade. Spending on advertising and outreach for food stamps has increased six-fold since 2000 — reaching $41.3 million in 2011, according to a new GOP report. According to calculations released by Alabama Republican Sen. Jeff Sessions Budget Committee staff, using data from the Agriculture Department's Economic Research Service, in the year 2000 spending on advertising for the Supplemental Nutrition Assistance Program (SNAP) — or food stamps — was approximately $6.5 million.

DOD Makes $1.1 Bil in "Erroneous Payments" in One Year. Though it may seem inconceivable to the taxpayers that fund this atrocity, a major government agency with a monstrous annual budget loses such large sums of money to waste and fraud each year that it has no idea how much and nothing has been done to stop the hemorrhaging. What we do know, thanks to a federal audit released this month, is that the amount of public funds lost to waste and fraud amounted to at least $1.1 billion in one recent year alone though it's likely much higher. The actual figure will never be pinned down because financial management shortcomings at the agency, the Department of Defense (DOD), are too severe.

State Employee Gambles Nearly $1 Million in Taxpayer Money at Casino. The former fiscal director of Louisiana's Department of Health and Hospitals stole more than $1 million in taxpayer money over a six-year period and spent more than $600,000 of it at a local casino, CBS WAFB reports. She has been charged with theft by fraud, money laundering and malfeasance in office and faces a prison sentence of up to 115 years.

Kerry quietly approved $1.3 billion in arms to Egypt. US Secretary of State John Kerry quietly approved sending $1.3 billion in arms to Egypt in May, waiving the requirements of a US law meant to promote democratic development in the post-revolutionary country.

U.S. quietly allows military aid to Egypt despite rights concerns. Secretary of State John Kerry quietly acted last month to give Egypt $1.3 billion in U.S. military aid, deciding that this was in the national interest despite Egypt's failure to meet democracy standards.

Secret Man Caves Found in EPA Warehouse. A warehouse maintained by contractors for the Environmental Protection Agency contained secret rooms full of exercise equipment, televisions and couches, according to an internal audit. EPA's inspector general found contractors used partitions, screens and piled up boxes to hide the rooms from security cameras in the 70,000 square-foot building located in Landover, Md. The warehouse — used for inventory storage — is owned by the General Services Administration and leased to the EPA for about $750,000 per year.

'Deplorable' Conditions Cited at EPA Warehouse in Maryland. The report found that the 70,000-square-foot warehouse — one of EPA's largest — was storing large amounts of expensive, unused equipment, ranging from computers to pianos. It also found numerous security and safety issues. "Personally identifiable information and agency sensitive files — such as passports and legal files — were located in unsecured open boxes throughout the warehouse," the report states. "There was a locked office inside the facility for which we could not determine a purpose."

GITMO Offers 'Resume Writing' Class for Terrorists. The 166 terrorist detainees at Guantanamo Bay are offered a course in "interviewing and resume writing" as part of their indefinite stay at the prison camp. Joint Task Force Guantanamo (JTF-GTMO) lists the variety of classes and activities it offers to the terrorist trainers, financiers, bomb makers, recruiters and facilitators who are housed at Gitmo. Among them: "Interviewing and Resume Writing "and "Writing Success."

House panel: Report finds $50M for IRS conferences. Already under siege, the Internal Revenue Service was cited by a government watchdog for a $4.1 million training conference featuring luxury rooms and free drinks, even as conservative figures told Congress Tuesday [6/4/2013] they had been abused for years while seeking tax-exempt status.

More information -- none of it favorable -- about the IRS.

IRS Spent $1.1 Million on BlackBerries and Aircards It Didn't Use. According to an audit report released in January 2013 by the Treasury Inspector General for Tax Administration (TIGTA), the Internal Revenue Service spent $1 million in taxpayer dollars to purchase BlackBerry™ smartphones and wireless internet "aircards" — that subsequently went unused. According to the report, "The IRS paid approximately $1.1 million during Fiscal Year 2011 for 13,878 aircards and 754 BlackBerry™ smartphones that were not used for periods of three months to one year. [Moreover,] TIGTA identified 45 aircards and 68 BlackBerry™ smartphones that were not used at all for the entire 12 months of the fiscal year."

IRS Worker Used Federal Plastic For Amazon Buys. Entrusted with a government credit card, an Internal Revenue Service worker allegedly used the plastic for a years-long Amazon.com shopping spree that netted her hundreds of items, including a chocolate fondue fountain; Bollywood movies; Pampers; Harlequin romance novels; Omaha Steaks; Apple Bottoms skinny jeans; mango body wash; and a Ginsu knife set. Yetunde Oseni, 37, was named this month in a U.S. District Court felony complaint charging her with embezzling government funds. Oseni has worked since 2000 as a secretary in an IRS office in Lanham, Maryland. According to a court filing, Oseni was given a Citibank MasterCard for the "purchase of office supplies for her business unit."

$19.5 Mil to Study Effect of Climate Change on Cows. Just when you thought the U.S. government's global warming frenzy couldn't possibly get any worse, the Obama administration announces that it's dedicating a whopping $19.5 million to study the effect of climate change on cows. This crazy story comes via the U.S. Department of Agriculture (USDA), which is giving several academic institutions the cash to support research, education and other activities associated with climate solutions in agriculture. The goal is to uncover the impacts of climate variability and change on dairy and beef cattle, according to an agency announcement released this week.

The Editor says...
Cows have been around longer than people, and so far the cows and the people have adapted every time their surrounding climates changed. Also notice that "global warming" is now called "climate change", because there is no global warming at the moment.

Stimulus: $152K to Get Lesbians Ready for 'Adoptive Parenthood'. While the White House claims its stimulus package "supported as many as 3.5 million jobs," none were yielded from a $152,000 project to ready lesbians for "adoptive parenthood." The $833 billion American Recovery and Reinvestment Act (ARRA), commonly known as the stimulus, awarded the tustees of Clark University, in Worcester, Mass., $152,000 to interview roughly 50 lesbian couples about their adoption experiences.

Feds Spend $402,721 on Underwear That Senses Cigarette Smoke. The National Institutes of Health (NIH) has awarded more than $400,000 to a research project involving underwear that can detect when a person smokes cigarettes. The University of Alabama has received two grants totaling $402,721 for the project, which so far has produced a "very early prototype" of the monitoring system, which — in its current state — fits like a vest.

The Editor says...
I doubt if the vest can tell the difference between first- and second-hand smoke. But more importantly, who needs a device like this, and for what purpose?

$12 million to help Bengal tigers survive global warming — in Bangladesh. Stymied in its war on global warming in the United States, the administration is taking its fight overseas and into Bangladeshi jungles to help the Bengal tiger survive the effects of climate change. While the most numerous of all tigers, there are only about 2,500 left in the wild and 440 in Bangladesh, where the U.S. Agency for International Development is shopping around a four-year, $10.8 million to $12 million grant to help establish the "Bengal Tiger Conservation Activity."

Wasn't enrollment in Obamacare supposed to be quick and easy?
HHS budgets $150m to teach people how to enroll in Obamacare. Health and Human Services Secretary Kathleen Sebelius announced Thursday that HHS will spend $150 million to teach people how to enroll in the Obamacare exchanges, after a Democratic senator scolded her for running a poor "public information campaign."

Obama's $2.5M Hotel and 'Vehicle Rental' Tab on Last Mexico Trip. According to recently discovered documents relating to the costs of that trip, taxpayers paid nearly $2.5 million for hotel and "vehicle rental."

Obama admin paid at least $2.5 million for hotel rooms and rental cars during one meeting in Mexico. The Obama administration spent between $2.52 million and $2.77 million for hotel rooms and rental cars during the president's 2012 trip to Mexico for a G-20 summit, MailOnline has learned. Government travel documents available online show that the State Department contracted with a travel agency to spend between $1,889,383 and $2,078,327 on hotel rooms alone, for the President, the Secret Service, and the rest of the State Department and White House staff and VIPs. And rental cars for the trip cost between $630,760 and $693,836, according to a separate contract document.

New Video Slams Unbuilt Ike Memorial for $142 Million Cost to Taxpayers. So far, the Eisenhower Memorial Committee has spent more than $30 million on the yet-to-be built monument, and the total estimated cost of the project is $142 million — three times the usual cost of presidential memorials in today's dollars, and twice what was originally proposed.

Congresswoman's Round-the-World Trip Cost Taxpayers $23K. The House Judiciary Committee reported Rep. Sheila Jackson Lee, D-Texas, traveled around the world on an official trip in February that cost $23,646. The Feb. 16-22 trip on commercial flights was to Korea, Vietnam and Cambodia.

Senate Republicans quiz Labor Department on purported payments for labor unions worldwide. Senate Republicans say the Labor Department appears to be spending millions in taxpayer dollars to establish labor unions and promote collective bargaining in foreign countries and are asking top Obama administration officials for a full audit.

Karzai's Office Gets Bags Full of C.I.A. Cash. For more than a decade, wads of American dollars packed into suitcases, backpacks and, on occasion, plastic shopping bags have been dropped off every month or so at the offices of Afghanistan's president — courtesy of the Central Intelligence Agency. All told, tens of millions of dollars have flowed from the C.I.A. to the office of President Hamid Karzai, according to current and former advisers to the Afghan leader.

Shrink the Federal Bureaucracy. The federal government simply spends too much. It also wastes far too much. Needless duplication and wasteful inefficiency permeate the federal bureaucracy. For instance, the Government Accountability Office issued a report in March 2011 detailing "34 areas for consideration related to duplication, overlap, or fragmentation" and 47 additional areas "describing other opportunities for agencies or Congress to consider taking action." A year later, only five percent of the GAO's recommendations had been fully addressed.

Feds spend at least $890,000 on fees for empty accounts. It is one of the oddest spending habits in Washington: This year, the government will spend at least $890,000 on service fees for bank accounts that are empty. At last count, Uncle Sam has 13,712 such accounts with a balance of zero. They are supposed to be closed. But nobody has done the paperwork yet.

Another IRS Scandal; Employees Lie to Get Welfare, Food Stamps. On the heels of "Tax Day," 24 Internal Revenue Service (IRS) employees have been charged with stealing hundreds of thousands of dollars in government benefits, including food stamps, welfare and housing vouchers. The story comes out of Tennessee, where federal prosecutors announced this month that the scheme fleeced U.S. taxpayers out of at least a quarter of a million dollars in government benefits. The corrupt IRS employees did it by making false statements to fraudulently obtain the benefits, which also included unemployment insurance.

Another day, another pointless and expensive experiment.
Why NASA Is Firing Cell Phones Into Space. The space agency this week took a handful of cheap but powerful smartphones, slapped them to a gigantic rocket and blasted them into low-earth orbit to see how they'd fare. The project, called PhoneSat, is one of those wacky experiments that seems at first to have nothing to do with science.

More about NASA -- an organization that ran out of meaningful tasks about 20 years ago.

DOJ Spent $100 Million On Conferences In One Year. Before the sequester took effect Attorney General Eric Holder went out and warned the American people that our safety would be at risk if the budget for the Department of Justice was cut. What he didn't tell us is how much money the department wastes every year. Despite having four empty federal prisons, they bought another prison in Illinois for $165 million that's now sitting empty and costing $6 million a year to maintain. They also spend $1.5 million a year to work with Hollywood. And in 2010 alone, they spent $100 million on conferences, according to Rep. Bob Goodlatte.

Safe from Sequester: $704,198 for Gardening at NATO Ambassador's Home. Just over a week after sequestration took effect, the State Department allotted more than $700,000 for gardening at a U.S. Ambassador's residence in Brussels, Belgium. On March 11, State awarded a contract to provide gardening services at an "official residence" of the U.S. Mission in Belgium.

DHS Orders Bagpipes? So Much for Sequester Cuts. Apparently the head of the Department of Homeland Security is not even trying to save the government any money. Yesterday [4/10/2013] DHS ordered a new supply of musical instruments including bagpipes and drums. There is music writing software included in the order as well as the many small parts that go into caring for bagpipes.

Paterson cardiologist admits to $19M in health care fraud. A prominent cardiologist who ran medical services companies in New Jersey and New York pleaded guilty on Wednesday to orchestrating a massive fraud that subjected thousands of patients to unnecessary tests and procedures and resulted in $19 million in losses. Dr. Jose Katz, 68, of Closter, confessed his crimes to U.S. District Judge Jose L. Linares during a hearing in federal court in Newark.

Feds waste $95 billion on duplicative programs. How many federal agencies does it take to do catfish safety inspections? At least three, according to the Government Accountability Office, which on Tuesday [4/9/2013] released its 2013 report on fragmentation and duplication of federal programs. This year's report — there were two previous editions of the report first requested by Sen. Tom Coburn, R-Okla. — documents an estimated $95 billion in duplicative programs that waste precious tax dollars. That brings the three-year total of potential savings documented by GAO to $295 billion.

IRS Sits By As Inmates Collect Fraudulent Tax Refunds. Nearly a year after Congress passed a law to stop incarcerated criminals from fraudulently receiving millions of dollars in tax returns, the Internal Revenue Service (IRS) hasn't bothered creating a system to catch the offenders.

Shouldn't those employees be working?
Obama Admin Spends $21,000 on Basketball Equipment. At least the Oval Office just plays pick-up. The Departments of Interior and Transportation have caught the basketball fever so bad, they've dropped more than $20K on rebounding machines.

Arlington, Va.'s million-dollar bus stop looks cool, but why so expensive? At the corner of Columbia Pike and Walter Reed Dr. in Arlington, Va., sits a stainless steel bus stop with a million dollar price tag. Yes, that's right. The futuristic-looking bus stop cost $1 million to build. The so-called "super stop" boasts a heated concrete floor and a digital display board that shows when the next bus will arrive, but it doesn't do much to keep commuters warm or dry (except for their feet).

364 Billion Ways the Government Wastes Your Money. As the White House politicized the sequester cuts amounting to $85 billion in lower federal spending, a recent GAO (Government Accountability Office) study identified "more than 1,362 duplicative programs accounting for at least $364.5 billion in federal spending every single year..." claims Sen. Tom Coburn (R-OK) in a letter to the White House on February 26. Yet little publicity has been generated in the media by the GAO report to Congress [...]

Here is the GAO report:
Opportunities to Reduce Duplication, Overlap and Fragmentation, Achieve Savings, and Enhance Revenue. We have found that agencies can often realize a range of benefits, such as improved customer service, decreased administrative burdens, and cost savings from addressing the issues we raise in this report. Cost savings related to reducing or eliminating duplication, overlap, and fragmentation can be difficult to estimate in some cases because the portion of agency budgets devoted to certain programs or activities is often not clear.

$423,500 Stimulus on 'Correct Condom Use' Yields Zero Jobs. The details of a stimulus grant awarded to Indiana University to study condom use have now been released on a government website. The study, titled "Barriers to Correct Condom Use," is now completed, according to the website, and the university received $423,500 of stimulus funds to perform the study.

HUD report: Nearly $700 million Katrina rebuilding funding missing. A report from the Department of Housing and Urban Development's Office of the Inspector General reveals that $698.5 million dollars in disaster recovery funds given to Louisiana homeowners in the wake of Hurricanes Katrina and Rita were not used to fulfill the purpose of the funding — to elevate damaged homes. According to the report, dated March 29, a total of 24,042 Louisiana homeowners who received up to $30,000 each were "noncompliant, including those that had not elevated their homes; were nonresponsive; or did not provide sufficient supporting documentation" to show that they had used the taxpayer funding to reconstruct their homes as of Aug. 31, 2012.

$700 Mil in Hurricane Recovery Funds Gone With the Wind. In yet another example of how the Obama administration blows the nation's tax dollars, hundreds of millions earmarked for a failed housing program have vanished and the feds aren't terribly worried about recovering the lost cash. The missing loot is part of a highly questionable Housing and Urban Development (HUD) program that liberally doled out cash to Louisiana homeowners so they could elevate and protect their houses from storms. The feds came up with this brilliant idea after Hurricane Katrina slammed the region in 2005 because the area, especially New Orleans, got flooded.

Obama's great high-speed train robbery. The state of California, already $28 billion in debt, is supposed to begin construction of a $68 billion high-speed rail project in July. The state's High-Speed Rail Authority voted last week to issue $8.6 billion in taxpayer-approved bonds to build the first 130 miles of track between Fresno and Bakersfield. But a slew of lawsuits threatens to delay the project, and state authorities still have not purchased a single acre of land on which to build the rail line.

More information (none of it favorable) about high speed rail projects.

Obama to announce $100 million for brain research. President Barack Obama on Tuesday [4/2/2013] unveiled a $100 million initiative to unlock the "enormous mystery" of the human brain in hopes of boosting the understanding and treatment of brain disorders.

The Editor says...
Scientists are already studying the human brain, and have been for at least a century. Basic scientific research is not the proper role of government. Spending $100 million on such a thing, at a time when the national debt is already increasing rapidly, is irresponsible. President Obama is spending money on problems nobody has asked him to address, simply because spending other people's money is the only thing he knows how to do.

Bread and Circuses: The Last Days of the American Empire. The 2012 Census report of Foreign Economic and Military Aid totaled some $45 B, handed to 70 such major (and numerous minor) recipients as Pakistan, Egypt, Russia, (Russia?) Zimbabwe and the Gaza Strip. If the U.S. is not an empire, it certainly seems to act like one. And as Rome's empire finally exceeded its finances, so now with America. One cannot finance an empire with deficits.

Feds Spending $880,000 to Study Benefits of Snail Sex. The National Science Foundation awarded a grant for $876,752 to the University of Iowa to study whether there is any benefit to sex among New Zealand mud snails and whether that explains why any organism has sex. The study, first funded in 2011 and continuing until 2015, will study the New Zealand snails to see if it is better that they reproduce sexually or asexually — the snail can do both — hoping to gain insight on why so many organisms practice sexual reproduction.

HHS Gives Planned Parenthood Orlando $2.4 Million to Fund Sex Ed for Teens. Health and Human Services' Office of Adolescence Health is giving Planned Parenthood of Greater Orlando $2,388,950 in grant funding for its "Teens Rise!" project.

Insane Government Waste and Use of Taxpayer Money:
• $1.5 million on designing a video game controller
• $100,000 on taxpayer funded comedy group tour in India
• $547,430 on a dancing robot that connects to an iPhone
• $25,000 funding a course about "How to be happy"
• $145,000 on a sculpture garden
• $25,000 on an Alabama Watermelon Queen tour
• $697,177 on a climate change musical

IRS knowingly sends Billions in Fraudulent Refunds to Illegal Immigrants. A WTHR-TV Indianapolis investigative report exposes a fraudulent scheme wherein the IRS is sending $4.2 billion per year to illegal immigrants as an "additional child tax credit" for children who don't even live in the U.S. Further, the IRS and Congress have been ignoring the scheme for years.

Pentagon handed out $419 million in improper travel reimbursements last year. While making improvements in some spending areas, the Defense Department was singled out this week for failing to trim unnecessary travel reimbursements. In fact, the Pentagon's internal watchdog concluded that wasteful travel spending actually grew last year to a total of $419.3 million, accounting for roughly five percent of the Pentagon's mammoth $8.4 billion travel budget.

The Economic Truth About Lying. The U.S. Attorney in Manhattan revealed in October 2011 an investigation into Long Island Railroad workers' fraudulent disability claims adding up to millions of dollars. As of January, 32 people had been indicted, with 16 guilty pleas involving perjury, health-care fraud and obstruction of justice. An FBI report on financial crimes for the 2010-11 fiscal year calculated that fraudulent billing to health-care payers, Medicare, Medicaid and private health insurers is between 2% and 10% of total health-care expenditures.

No Money for Air Traffic Control, But $500 million for Hamas. Dear Leader says there's no money for airport control towers. But that didn't stop him from writing a $500 million dollar check to the terrorists of Hamas.

Joe Biden runs up bill of $585,000 for just one night in five-star Paris hotel. Paris may be known as the City of Light, but that title certainly doesn't mean that visitors are light on spending as Vice President Joe Biden's one day trip cost taxpayers more than half a million dollars. When Mr Biden and his hefty entourage stayed in Paris for an evening in early February and it cost $585,000.50 for that single night.

Biden's $459,388.65 Hotel Bill. Vice President Biden and his entourage spent a little time in London in early February during his first foreign trip of the second term of the Obama administration. A document released today [3/22/2013] revealed that the cost of lodging in London alone was close to half a million dollars.

Sequester Joe Biden. Vice President Biden's hotel bill in Paris — the Drudge Report headlines it at $585,000.50 for a night at the Intercontinental, not including the ride in from the airport — is prompting the futureofcapitalism.com to wonder why Amtrak's most famous passenger failed to stay at the sprawling palace that serves as the residence of the American ambassador in the Rue du Faubourg Saint-Honoré. A good question, to which we'd add our own: What was Mr. Biden, whose only constitutional duty is to serve in the Senate as its president, doing in Paris in the first place?

Amtrak isn't good enough for him.
As VP, Biden Has Been Flying To Delaware on the Weekends. Vice President Biden has been flying home to Wilmington, Delaware most weekends at enormous expense to taxpayers, even though he has an exclusive government-provided residence in Washington. [...] The cost of flying Air Force Two, a military version of the Boeing 757-200, amounts to about $8,800 per hour, according to the most recent federal data. The distance between Washington and Wilmington is only about a hundred miles [...]

Unplug the electric subsidies. Taxpayers already offset $7,500 of the cost of every hybrid through a federal tax credit at a total cost of $2 billion. In addition, many states offer similar incentives of their own. The 2009 stimulus bill poured $2 billion into the development and manufacture of electric-car batteries and other components, and the Energy Department's "advanced-technology vehicle manufacturing program" offers up to $25 billion in direct federal loans to electric car makers. Moreover, $400,000 has been wasted on "education projects" to promote electric cars.

$2.7M Federal Study: Why Do Lesbians Have Higher 'Risk for Hazardous Drinking'? The National Institutes of Health (NIH) has awarded $2.7 million to study why lesbians are at a higher "risk for hazardous drinking." The University of Illinois has received grants since 2009 for its project, "Cumulative Stress and Hazardous Drinking in a Community of Adult Lesbians," which aims to develop "culturally sensitive" strategies to prevent lesbians from being drunks.

Obama keeps rolling the dice on green energy. Like a desperate gambler who doubles down on a losing bet, President Obama is calling for spending $2 billion more on green energy projects. Apparently these billions will succeed where previous billions have failed.

U.S. Spending $227,437 to Study How National Geographic Depicted Animals. The federal government is spending $227,437 to investigate how animals have been depicted in National Geographic magazine over a span of 120 years, which federal officials say is an "innovative study" that will examine "images of animals to see how people have changed their view of the natural world." The grant was issued March 4 from the National Science Foundation (NSF) to Michigan State University to look at how animals were depicted in the science magazine from 1888 to 2008.

Obama seeks $2 billion in research on cleaner vehicles, fuels. President Barack Obama tried to turn the page on bitterly partisan fights over energy policy on Friday [3/15/2013], focusing the first energy speech of his second term on a modest proposal to fund research into cars that run on anything but gasoline.

This is what's known as a slush fund.
Obama to call for $2 billion green energy fund. President Obama in Illinois Friday will call for the creation of a $2 billion Energy Security Trust, which would take government royalties from offshore oil and gas leasing and use the money for research in green-energy technologies. [...] The initiative comes as Republicans pressure Obama to approve construction of the Keystone XL Pipeline, a project that would carry oil from Canada to refineries in Texas. The president has delayed construction of the pipeline because of environmental concerns.

Obama doubles down on alternative energy. President Barack Obama is doubling down on the administration's plan to reinvest federal oil-and-gas drilling revenues into next-generation alternative energy technology, unveiled during his State of the Union address last February.

$1.8M Federal Grant Helped D.C. Make Fruits and Vegetables Available at Work. The municipal government of Washington, D.C. received a $1.8 million federal Community Transformation Grant in 2012 to promote healthy lifestyles in the city. Among the things the city would do with the money, as listed on its application, was increasing the "availability of fruit and vegetables to employees in their workplaces."

Government Waste Hits You Right in the Pocketbook. Federal watchdogs have ideas for saving $67 billion a year, according to a report by a House committee. That's without counting the sequester. So who are these "watchdogs"? They are the government's Inspectors General who police the departments of the government for waste, fraud and abuse. They are the government's auditors. They suggest ways to make government operation more efficient and to plug money leaks.

Patriots Must Be Prepared to Answer Obama's Lies and Deceptions. Obama stubbornly refused to cut Washington spending $2.6 million training Chinese prostitutes to drink more responsibly on the job. The Government Accountability Office revealed that more than half of federal employee upgrades to business-class flights are not properly authorized, costing taxpayers $146 million a year. In 2008 and 2009 alone, Obama's Department of Justice spent $121 million on conferences for government employees. A Senate audit exposed $18 billion in egregious government spending.

Feds let Medicare provider give away $20 grocery cards to lure patients. The Department of Health and Human Services has given qualified approval for a Medicare provider to give away $20 grocery gift cards to induce seniors to get more taxpayer-funded health screenings, despite concerns the promotion could run afoul of federal anti-kickback laws.

Feds Spend $1.5 Million to Study Why Lesbians Are Fat. The National Institutes of Health (NIH) has awarded $1.5 million to study biological and social factors for why "three-quarters" of lesbians are obese and why gay males are not, calling it an issue of "high public-health significance." Brigham and Women's Hospital in Boston, Mass., has received two grants administered by NIH's Eunice Kennedy Shriver National Institute of Child Health and Human Development (NICHD) to study the relationship between sexual orientation and obesity.

Not so fast, Mr. President. Since President Obama took office in 2009, money-saving ideas have continued to sit on a shelf, collecting dust. Four years ago, there were 10,894 recommended reductions, compared with 16,900 reductions, worth an additional $30 billion, awaiting action today. Since those "figures reflect the most conservative possible accounting" of the number of recommendations, their value is likely to be "significantly higher," the committee explains. That's quite a contrast to the endless parade of sky-is-falling scenarios broadcast by the Cabinet during the sequestration fight over a mere $85 billion reduction in the rate of spending growth.

HHS Awards $6 Million Contract for Parking Spaces. The contract was awarded on February 19th before the sequester took effect, but the timing could still prove embarrassing for the Obama administration. The Department of Health and Human Services (HHS) announced the five-year lease for 1,076 parking spaces in Bethesda, Maryland, for National Institutes of Health (NIH) employees at a cost of almost $6 million. This breaks down to $1,115 per space per year.

NSF Under the Microscope. The report identifies more than $1.2 billion the National Science Foundation (NSF) has lost due to waste, fraud, duplication and mismanagement and an additional $1.7 billion in unspent funds. [...] Examples of the more than $3 billion in waste and duplication outlined in the report include:
• $80,000 study on why the same teams always dominate March Madness;
• $315,000 study suggesting playing FarmVille on Facebook helps adults develop and maintain relationships;
• $1 million for an analysis of how quickly parents respond to trendy baby names;
• $2 million to figure out that people who often post pictures on the internet from the same location at the same time are usually friends; and
• $581,000 on whether online dating site users are racist.

Investing in Bad Science. [Scroll down] The master of waste, fraud, and abuse among the research-funding agencies, though, is the Environmental Protection Agency, the logo of which should be a Golden Fleece flanked by dollar signs. EPA, with a research budget in excess of $800 million, has long been more concerned with public relations than public health. A scheme was exposed several years that would have diverted EPA "research" funds to pay outside public relations consultants up to $5 million over five years to improve the website of the Office of Research and Development, conduct focus groups on how to polish the office's image, and produce ghostwritten articles praising the agency "for publication in scholarly journals and magazines."

Sen. Coburn targets Defense Department waste. Senator Tom Coburn [is] blasting the Defense Department over wasteful spending. He insists there are plenty of expenses to cut from the defense budget without hurting the military. For instance, $1 million to send a spaceship to another galaxy, $1.5 million to cook up a new type of beef jerky, and why spend any amount of money on a 46-minute video production called "Grill It Safe" featuring grill sergeants showing off their own recipes.

Obscene Government Waste. The government spends $1.7 billion for maintenance on empty buildings it owns, although some sources put the figure at closer to $25 billion. The Office of Management and Budget estimates that 55,000 properties are underutilized or entirely vacant. The federal government owns approximately one-third of all U.S. land. It does not need more land and it could be argued that it should not own 80% of Nevada and Alaska, and more than half of Idaho.

How more than $8 billion in US taxpayers' money went to waste in Iraq. During the course of the nine-year US presence in Iraq, at least $8 billion — or 13.3 percent of US reconstruction spending — was wasted, according to the final report released today by the Special Investigator General for Iraq Reconstruction.

Paper Which Just Laid Off A Bunch Of Employees Hysterical Over "Austerity". First of all, if the people who run the federal agencies cannot deal with tiny reductions in future increases of budget allocation and maximize the money they have, perhaps they should be replaced with people who understand How To Make A Budget. Start with refusing to pay for cost overruns (this could save hundreds of billions each year). Stop funding masters degrees for people in Indonesia (16-20 million). $500 million on a study to get 5 year olds to sit still. Reduce overlapping programs. Oh, and here's $25 billion a year to maintain unused federal buildings.

White House Visitors Office director received $30,000 raise in 4 years. The annual salary for the director of the White House Visitors Office, Ellie S. Schafer, went from $70,000 in 2009 to $100,000 in 2012. According to annual reports to Congress on White House staff salaries, Schafer was paid $70,000 in 2009, $71,400 in 2010, $80,000 in 2011 and $100,000 in 2012. Schafer is listed by the White House on each report as the director of the Visitors Office for each year, but was also named a special assistant to the president in 2012.

Chief White House calligrapher gets paid $96,725 a year. In all, the White House appears to employ three calligraphers for a yearly total of $277,050.

U.S. Pays $1.5 Mil to Preserve Politically Correct Graffiti. Because it's considered defacement and vandalism, graffiti is a crime yet the U.S. government has spent $1.5 million to actually preserve some left during the hostile Indian occupation of California's Alcatraz Island more than four decades go. Why is Indian graffiti worth preserving when local governments across the nation spend tens of millions of dollars to remove it annually? Because, evidently, this is politically correct graffiti that has a "social significance," according to a National Park Service official quoted in a San Francisco newspaper.

Senate Audit Exposes $18 Billion in Egregious Govt. Spending. As the nation suffers through a mind-boggling $16 trillion (and growing) debt crisis, a federal audit exposes some of the egregious ways the U.S. government has blown your tax dollars, including millions on Moroccan pottery classes and hundreds of thousands on a musical about climate change. It would almost be unbelievable if it weren't documented in a lengthy report (appropriately titled "Waste Book 2012") released this week by a U.S. Senator who sits on the Finance, Judiciary and Homeland Security committees. While the Obama Administration racks up record debt, many government agencies have embarked on wild spending sprees as Congress sits idly by.

High-flying Holder: Report shows AG, FBI director used luxury jets for personal travel. Two high-tech luxury jets that the FBI convinced Congress were needed for the fight against global terrorism have instead been used to ferry around Attorney General Eric Holder and his predecessors, as well as FBI Director Robert Mueller, according to a government report released Thursday [2/28/2013]. Those officials — which included Holder and Mueller, as well as former Attorneys General Michael Mukasey and Alberto Gonzales — racked up nearly 700 "nonmission" trips between 2007 and 2011, at a cost of $11.4 million, according to the Government Accountability Office.

Sequestration doesn't cut nearly enough. A study to learn whether or not a fish called the golden shiner can teach us about "collective action": $5 million. A project to design beef jerky that rolls up: $1.5 million. A seminar in which a topic was, "Did Jesus die for Klingons, too?" (This is a question, I can assure you, that will not be answered by any sane person): $100,000. These examples of absurd government spending become even more absurd when you realize these items were all part of the budget for the Department of Defense.

The FAA's unfriendly skies. [I]n the last seven years the FAA has sent more than 18,000 of its employees to conferences across the country, including destinations such as Las Vegas. In fiscal 2010 alone, the agency spent more than $8 million on conferences for its employees. Three of those conferences, all held in the same city during the same three-week span, cost more than $4.5 million.

The Logic of Liberalism. Green energy solutions have become a centerpiece of the current administration. Hundreds of millions have been poured into green energy programs, many without a single measurable result. Yet, the administration is convinced of the importance of green energy and is committed to further investment in this venue.

'Tens of Billions of Dollars' Wasted on Duplicate Federal Programs: Report. A federal government watchdog said Tuesday tens of billions of dollars are being wasted because of duplicate programs run by several agencies, and more effort is needed to address a problem first identified last year. A report from the U.S. Government Accountability Office, a non-partisan agency, said there are 51 areas where programs can be streamlined and made more efficient. The GAO's 428-page report identifies programs that share goals and services, and that are spread across multiple agencies.

$50,000 for Michelle's Let's Move! trip . First lady Michelle Obama's three-day, four-city hop scotch to promote the third anniversary of her "Let's Move!" initiative that cheers healthy eating and exercise will likely cost an estimated $50,000 or more, enough to fund a few programs for kids that the White House fears the sequester will kill.

Pulling the plug on federal agencies' TVs. I realize that each federal agency needs some cable televisions — for the agency head, the congressional affairs office, the press office and the top-tier staff (e.g., chief agency attorney), to monitor congressional hearings, etc. But the parking lot clerk? No way! Ditto for front-office clerical staff. I think they will be much more productive when there's no television blaring away in the reception area.

The Diversity Racket. Millions of dollars in federal and local taxpayer money have been spent on a controversial "diversity" speaker who has made government workers say the "pilgrims were illegal aliens" and excused illegal immigration because the U.S. "took over what used to be Mexico." Judicial Watch recently revealed that two federal government agencies, the U.S. Department of Agriculture (USDA) and the Department of Defense, had hired Dr. Samuel Betances. Both agencies spent more than $3 million on Betances' training program. Judicial Watch obtained a videotape of Betances' speech to USDA employees through a Freedom of Information Act (FOIA) request.

Samuel Betances: Race Hustler on the Dole. The Obama administration would have you believe trimming federal fat will cause a calamity. Here's a suggestion — stop giving federal money to Samuel Betances. Betances is the top-shelf race hustler who receives your hard-earned tax dollars to go inside federal agencies in Washington, D.C., and teach government workers that America is a racist country. Judicial Watch obtained records of one of his looney talks at the U.S. Department of Agriculture. It contained a creepy call and response that would have made the Symbionese Liberation Army proud.

Health Dept.: Homeless Can't Eat Deer Meat. Hunters across Louisiana are outraged after state health officials ordered a rescue mission to destroy $8,000 worth of deer meat because venison is not allowed to be served in homeless shelters. The Dept. of Health and Hospitals ordered the staff at the Shreveport-Bossier Rescue Mission to throw 1,600 pounds of donated venison in garbage bins — and then ordered then to douse the meat with Clorox — so other animals would not eat the meat. "Deer meat is not permitted to be served in a shelter, restaurant or any other public eating establishment in Louisiana," said a Health Dept. official in an email to Fox News.

The Editor says...
Beggars can't be choosers. Let them eat venison, or horse meat, or road kill. The homeless shelter is not a hotel. We do not owe vagrants a balanced and nutritious diet.

DoD Spends $5.2 Million on "Goldfish Studies". In an era of trillion dollar-plus annual deficits, $5 million might not seem like a lot of money. But it's a start. And because [Kentucky Senator Rand] Paul recognizes that there are so many other government programs that are wasteful and serve no meaningful purpose, he wants to give the president more leeway to cut them.

Insurer with NY's 'worst' record of complaints gets $340M Obamacare loan. The New York-based Freelancers Insurance Company has been rated the "worst" insurer for two straight years by state regulators, and data compiled by a national insurance association show an extremely high rate of consumer complaints. The firm was founded in 2008 by Sara Horowitz, who worked with Obama while he was in the Illinois state senate to launch Demos, a left-wing, New York think tank funded in part by George Soros.

DOE confirms LG Chem battery plant workers were paid not to make Chevy Volt batteries. After a big announcement in 2010 that the plant would open and hire over 400 people, the first batteries were supposed to start being made in 2012. Unfortunately, the plant has been sitting idle even though the company received $142 million in federal funds and was granted $175 million in tax breaks. Only half of the 400 job have been filled, and those workers were paid about $842,000 to do other things in late 2012, including watching movies and playing board, card and video games.

FBI raids headquarters of The Scooter Store as part of $100 million Medicare fraud investigation. More than 150 FBI agents and local cops have raided the Texas headquarters of The Scooter Store, the nation's largest supplier of mobility vehicles, after the company allegedly defrauded Medicare by $100 million. The company is accused of harassing doctors with constant phone calls and surgery visits in order to wear them down to prescribe their vehicles to patients who do not need them.

USDA staff taught that the pilgrims were 'illegal aliens' in compulsory 'Cultural Sensitivity Training' video. The USDA is under fire for spending $200,000 of taxpayers money on a mandatory 'Cultural Sensitivity Training' program in which employees were told to refer to the Pilgrims as 'illegal aliens' and minorities as 'emerging majorities'.

Senators raise alarm over another possible sale of taxpayer-backed firm to Chinese. Republican senators complained Wednesday that U.S. taxpayer dollars could end up boosting the Chinese economy, following reports that a Chinese firm is leading the pack of companies bidding for a majority stake in government-backed Fisker Automotive. The troubled California-based electric car maker, which was backed by U.S. taxpayers to the tune of nearly $530 million, for months has been looking for a financial partner.

Taxpayer dollars used to fund study tying Tea Party to tobacco lobby. Taxpayer dollars were used to fund a study that painted the Tea Party movement as the spawn of the tobacco lobby — a premise that Tea Party leaders say is absurd.

NJ Transit workers take trip to Super Bowl on taxpayers' dime. NJ Transit sent four employees to the Super Bowl in New Orleans — including a key rail official who was in charge of the Hoboken terminal when dozens of rail cars and locomotives, left to sit in low-lying yards, were damaged during superstorm Sandy — at a taxpayer cost of $14,505, expense reports show.

Federally Funded Chevy Volt Battery Plant Paid Workers to Play, Not Make Batteries. It was supposed to be the center of a resurgent domestic lithium ion battery industry. A shiny new factory in Holland, Michigan, that by the end of 2013 would produce enough energy cells to power 60,000 electric or hybrid electric cars — and the Chevy Volt would be its highest-profile customer. Instead, after spending $142 million of a $151 million federal Recovery Act grant to set up the factory, LG Chem Michigan has yet to produce a single battery cell that can be used in an electric car sold to the public. It gets worse. Two of five planned production lines remain unfinished. And rather than the 440 jobs the plant was supposed to create, less than half exist today.

Retiring Parsippany police chief to get $132K a year, state says. The township police chief will soon retire with an annual benefit of $131,951.76, according to state Department of Treasury spokesman William Quinn. Anthony DeZenzo filed a retirement application with the New Jersey Police and Firemen's Retirement System on Feb. 8, according to Quinn.

Report: $2 billion spent annually for Medicaid emergencies, largely for illegal immigrant baby deliveries. Even though federal law largely bars illegal immigrants from obtaining Medicaid coverage, the program annually pays out more than $2 billion in free emergency coverage that mostly goes to illegal immigrants, according to Kaiser Health News. The vast majority of the total emergency care reimbursements cover delivering babies, Kaiser reports.

Obama Commits Assault With Battery. The problem here is so obvious that it shouldn't be necessary to say it: If projects such as this made any economic sense at all, banks would be financing them. But these schemes are far too irrational for even the most profligate of banks or the junk bonds or any other legitimate means of finance. So the politicians rush in, falling over each other to squander the nation's diminishing treasure on yet another billion-dollar photo op.

Confidential, expensive USDA sensitivity training: 'The Pilgrims were illegal aliens'. Footage of the United States Department of Agriculture's compulsory "Cultural Sensitivity Training" program reveals USDA employees being instructed to refer to the Pilgrims as "illegal aliens" and minorities as "emerging majorities" — at "a huge expense" to taxpayers. The video clips were made public Thursday evening by the conservative government accountability group Judicial Watch, which obtained them through a Freedom of Information Act (FOIA) request made on May 18, 2012.

No Batteries, Just Playtime: Another $150M Strike for Green-Tech Stimulus. In February 2010, LG Chem Michigan Inc., a subsidiary of the Korean corporation, was awarded more than $150 million in Recovery Act funding to help construct a $304 million manufacturing plant in Holland, Mich., for lithium-ion polymer batteries to be used in electric cars. The goal was to manufacture enough electric-car batteries to equip 60,000 vehicles annually by the end of this year. [...] While employees were goofing off, the plant hadn't even reached the capability to manufacture batteries beyond test cells that couldn't be sold to the public. [...] Additionally, a project that was supposed to create more than 440 jobs didn't even reach half that goal.

Report: Michigan battery firm misused $150M U.S. grant. A Michigan-based company slated to produce lithium-ion polymer batteries for electric vehicles has instead kept production overseas, has failed to meet job targets outlined in a $150 million grant from the federal government, and has been reimbursed by the government for $842,000 in wasted work time, according to a U.S. Department of Energy Special Report released Wednesday [2/13/2013]. [...] The agency said employees "spent time volunteering at local non-profit organizations, playing games and watching movies during regular working hours."

Jet-setting Panetta most expensive defense secretary, with $32,000 tab per weekend trip. As Leon E. Panetta ends a decades-long Washington career capped by his service as defense secretary, he has said repeatedly he is ready to get back to his family's bucolic walnut ranch off the central coast of California. But over the last four years, while serving a CIA director and defense secretary, he already has been spending a lot of time there, continuing a cross-country commute back to Monterey, Calif. nearly every weekend on the taxpayer's dime.

Colorado Energy Office Misspends Millions in Stimulus Funds. The Colorado Energy Office (CEO) misspent millions in stimulus funds and could not account for a variety of other financial statements, according to a new audit from the Colorado state auditor. The CEO, charged with administering energy funds from the American Recovery and Reinvestment Act and a host of other energy initiatives, "was unable to demonstrate that $252 million spent over the past six years was spent cost-effectively," the report concluded. More than half of that amount, roughly $144 million, came from Recovery stimulus monies distributed between the 2009-2012 fiscal years.

Government spends millions on resort for retired research chimps. The National Institutes of Health, the government's medical research arm, is spending about $12 million annually to care for the chimps currently and formerly used for research, some of it for a retirement sanctuary in Louisiana where the animals are housed. And the agency is soon in danger of reaching a $30 million cumulative spending cap that Congress set for the retirement home, dubbed Chimp Haven.

Swept Away. A United States minesweeper ship that crashed into a coral reef due to inaccurate Navy maps will have to be cut into small pieces and removed in order to prevent harming the ocean's ecosystem, according to the Navy and other reports. The $277 million USS Guardian, a Naval warship that clears waterways of mines, crashed into a coral reef near the Philippines earlier this month.

Car buyers reject electric cars, but Obama won't quit spending on them. The market has spoken. People don't want unreliable short range transportation. Electric cars are a fine place to cut the budget.

Medicare improperly paid $120M to ineligibles. Illegal immigrants and prison inmates received more than $120 million in Medicare services from 2009-2011 despite federal law that makes them ineligible for the program, according to two new reports from the HHS inspector general. The issue, according to the reports, is timing. When Medicare is alerted that someone is incarcerated or undocumented, its contractors help prevent payments from going out the door. But often, Medicare's databases aren't up to date, and improper payments go out.

Auditors: $230 million in Labor Dept. grants had no criteria for success. You'd expect a program to help train workers in new skills would have grades to measure how well the students learned. And you'd expect the program itself to be graded on whether it actually helped those students find employment after they graduated. But that's precisely what a Labor Department jobs program failed to measure for grants it made in 2010 and 2011, auditors say.

Benghazi/Fast and Furious: The Real Scandals Underlying Both. Though conservatives are often loath to admit it, small and limited government is not remotely consistent with U.S. troops stationed around the world. Taking nothing away from the correct belief in peace through strength, it would be nice to hear a defender of the military status quo explain how we're made safer through our implicit defense of some of the richest nations on earth. After that, if a strong economy is necessary for maintaining peace through strength, how is our economy strengthened by all the money spent, not to mention human capital expended, on protecting South Korea and Japan?

Audit: Taxpayer money used to pay for $222K renovation to official's bathroom. [WSB-TV] has obtained photos of a costly renovation of a government official's bathroom. Channel 2's Scott MacFarlane secured images inside the office at the Washington headquarters of the U.S. Interior Department. The renovation was done on the interior secretary's private office bathroom. The bathroom is approximately 100 square feet and cost about $222,000 to renovate, making it more expensive that [sic] many homes. MacFarlane obtained photos of the renovated bathroom through the Freedom of Information Act.

Investing in Foreign Countries. The House Energy and Commerce Committee released a report Thursday [1/17/2013] that shows much of the money in a Department of Energy renewable-energy grant program has gone to foreign companies and has failed to produce many jobs. "American Taxpayer Investment, Foreign Corporation Benefit" examined the grants the Department of Energy has awarded through its "Section 1603" green-energy grant program. "Nearly one-quarter of this federal grant funding went to the U.S. operations of a handful of large European and Asian renewable energy corporations," the report said.

Terror haven Somalia likely to get taxpayer cash. It was only two years ago that then-CIA Director David Petraeus testified before Congress on the dangers posed by Somali terrorists [...] Today the U.S. is preparing to formally recognize the Somali government, paving the way to send taxpayer dollars to the place that will forever be associated with "Black Hawk Down," where a U.S. Army Ranger was dragged through the streets in 1993.

The 'Sandy Relief' Bill Passes. It's a $50.7 billion bill with $17 billion in actual Sandy relief. Two thirds of the money in that bill has [nothing] to do with Hurricane Sandy.

New York Fires Auditor Who Found Abuse of Federal Hurricane Sandy Funds. No good deed goes unpunished in New York as the state has abruptly cut off a contract with the independent auditor who found that the city and state had been wasting federal money meant to be spent on Hurricane Sandy recovery efforts. Thomas Sadowski, the fired consultant, told the Times Union that he was escorted out of the building when he visited the New York Office of Emergency Management shortly after he filed his report on November 17.

Taxpayers Unwittingly Hand Over $137 Million to Unions. U.S. taxpayers are footing the $137 million bill for federal employees to perform union work while on the clock at their government jobs, according to Professor Mallory Factor in the Wall Street Journal. The practice, known as "official time" is enshrined in the Civil Service Reform Act (CSRA), according to the Workforce Freedom Initiative (WFI), and lets government officials do work for unions while being paid by the taxpayer.

Taxpayers pay for Bill Clinton's Cinemax, Jimmy Carter's Dish Network. Bill Clinton is a multimillionaire, but you're paying for the Cinemax in his office. That's just one eyebrow-raising expense a former occupant of the White House has been allowed to put on the taxpayer tab every year, even though every living ex-president is quite wealthy.

Feds fund $100,000 video game featuring female climate change 'superhero'. A new video game featuring a black alien female superhero delivered to Earth to fight global warming is about to hit the market thanks to a $100,000 grant from the Obama administration.

Ex-Im Bank Funds Green Jobs Overseas. The U.S. Export-Import Bank recently steered hundreds of millions of dollars in federal loans to Spanish green energy conglomerate Abengoa, which happens to share an advisory board member with the bank. The Ex-Im Bank approved a $78.6 million direct loan to Spain-based Abengoa in December. It also approved a $73.6 million direct loan to a wind farm in Uruguay, which is owned by Abengoa.

2012: The Year of Taxpayer 'Green' Waste. The past year was a dismal one for the passé idea that government would use taxpayer dollars responsibly, and that was nowhere more evident than with President Obama's initiatives to promote "clean" energy technology companies and projects with so-called "stimulus" funds and other public money.

Obscure federal office doles out millions to trade groups like Christmas tree growers. The Prune Bargaining Association scored $99,429 this year to "provide crop insurance education and to educate specialty crop producers on effectively negotiating marketing contracts" and "managing market risk." [And] The San Joaquin Valley Winegrowers Association won $36,000 to help grape growers for California's wine industry learn how to apply for federal crop insurance and deal with "production management, crop marketing and financial risk."

Billion-Dollar Flop: Air Force Stumbles on Software Plan. For the United States Air Force, installing a new software system has certainly proved to be a wicked problem. Last month, it canceled a six-year-old modernization effort that had eaten up more than $1 billion. When the Air Force realized that it would cost another $1 billion just to achieve one-quarter of the capabilities originally planned — and that even then the system would not be fully ready before 2020 — it decided to decamp.

The Next Taxpayer Bailout: The Federal Housing Administration. The Federal Housing Administration (FHA), hit hard by the collapse of the housing bubble, is still making risky loans on the taxpayers' dime, and may need a bailout in 2013.

Obama Claus Gives You 90 More Days To Collect Your $50,000 Reparations Check. No, you don't need a potted plant and you don't even to be black or even Hispanic; as long as you are a woman (or related to one) and you fill out the forms correctly, you can collect the money because nobody will verify your information. [...] Legally, nobody CAN verify any information; the law was written to make it impossible for the people looking at the claim forms to verify that their information is correct.

Why Are Taxpayers Paying Union Officials' So Much? Taxpayers are forking out $4.8 million for 35 union officials at the Department of Transportation. But the beneficiary here isn't the taxpayer, it's President Obama, who is raking campaign cash from these unions. [...] That means taxpayers are actually paying for union efforts to shake down taxpayers for ever higher salaries and benefits for government workers.

Five-Point Action Plan for President Obama to Reduce Violence by the Mentally Ill. [Point #5] Eliminate the Substance Abuse and Mental Health Services Agency (SAMHSA). SAMHSA is the epicenter of what is wrong with the American mental-health system. SAMHSA actively encourages states to engage in mission creep and send the most seriously ill to the end of the line. They provide massive funding to organizations that want to prevent mentally ill individuals from receiving treatment. They have nothing positive to show for their efforts in spite of a massive bureaucracy that meets and meets and meets and never accomplishes anything.

Green Graveyard: 19 Taxpayer-Funded Failures. While there's speculation over which federally supported green energy company may be the next to declare bankruptcy, plenty have already gone belly up. In one of the most extensive compilations to date, Heritage has identified 19 bankrupt green energy companies — unable to make it even with the $2.6 billion in financial assistance and incentives the government promised.

Solar firms probed for possible 'misrepresentations' in getting public money. Three of the country's most prolific installers of residential solar panels are under federal investigation to determine if they inflated the cost of their work to increase the payments they would receive from the government, according to government and industry officials familiar with the probe. SolarCity, SunRun and Sungevity have received subpoenas from the Treasury Department's office of inspector general for financial records to justify more than $500 million in federal grants and tax credits the firms tapped for performing work.

Ramping Up Government Control of the Energy Sector. If insanity consists of "doing the same thing over and over and expecting it to come out different," President Obama is surely mad. He has spent four years funding green energy start-ups that have failed, one after another. Now he wants to spend the next four years funding green energy firms that are again likely to fail.

New documents reveal lavish spending at government-subsidized travel-promotion agency. Promoting travel to America can be expensive — especially if Uncle Sam is footing most of the bill. Documents exclusively obtained by The Daily Caller show extensive waste and mismanagement at the public-private partnership Brand USA, a government-backed travel-promotion agency established in May 2011 under Travel Promotion Act of 2009 to encourage foreign travelers to visit the United States.

Brand USA Scandal Deepens. KTS Business Consulting's recent audit of Brand USA — the government-subsidized corporation created by Congress to promote United States tourism that has been dogged by allegations of cronyism and waste — obtained by the Free Beacon shows a company without vision, motivation, or oversight. The audit found "a majority of the staff did not have any idea what the mission" of Brand USA was and that "all staff was in limbo as to what type of organization the Brand USA is."

Barack H. Obama is giving away F-16 jets to a middle east dictator.
Lawmakers question gift of 20 F-16s to Morsi's Egypt. Key lawmakers expressing concerns about the Obama administration's plan to send 20 F-16 fighter jets to Egypt, where new President Mohamed Morsi's allegiances are as uncertain as his grip on power. Under a foreign aid deal signed in 2010, when Morsi's U.S.-friendly predecessor Hosni Mubarak was in charge, the U.S. is giving the planes to Egypt's air force, which already has more than 200 of the aircraft.

Does Egypt Need Advance Aircraft? The announcement that 20 F-16s are being given to Egypt, courtesy of the U.S. taxpayer, should be of interest to senators already uneasy about the president's widely reported choice of Susan Rice for Secretary of State, replacing the retiring Mrs. Hillary Clinton.

DOD Green Energy Project to Pay Off in 447 Years. In a mind-boggling example of government waste, it will take the U.S. Navy an astounding 447 years to benefit from a costly green-energy project that's supposed to save money by lowering utility bills. Like many other failed renewable energy experiments, the Navy project was funded with money from President Obama's $787 billion stimulus, the fraud-infested disaster that was supposed to jump start the economy and put Americans back to work. Instead, big chunks of money have gone to wasteful projects [...]

Department of Everything. The threat of our national debt can be defeated by reviewing every department, every program, and expenditure within the federal budget, including at the Department of Defense (DOD). [...] This report examines five areas of the Pentagon budget that have little to do with national security where taxpayer dollars could be saved and deficits reduced without impacting our national security.

Wind Turbine Projects at Long-Range Radar Sites in Alaska Were Not Adequately Planned. Completing a wind study would have provided 611th CES personnel the information necessary to determine the most advantageous location at which to build the turbine. Because 611th CES personnel did not complete a wind study at Tin City before construction, the turbine is located in an area with turbulent winds, and therefore, according to 611th CES personnel, produces sporadic, unusable power.

More about windmill power.



Bankrupt Obama-stimulus recipient goes to the highest bidder, the highest bidder being China. The problem here is that in the case of A123 Systems, a manufacturer of lithium-ion batteries for electric cards, the Obama administration spoon-fed hundreds of millions of dollars of taxpayer money into what they assured us was a guaranteed-successful endeavor at ushering in the glorious green-energy revolution and leading us down the path of ostensibly necessary energy independence.

Feds spend half billion dollars designing facility they haven't built yet. Imagine spending your life savings to design your dream home, only to discover your blueprint was too small to fit all your furniture and family. That's essentially what the Energy Department's National Nuclear Security Administration did, leaving taxpayers with a jaw-dropping bill and nothing to show for it yet.

Feds handing NYC kids $30 million for free lunches as Sandy aid — whether they need it or not. Whoever said there's no such thing as a free lunch has never dined with Uncle Sam. Even as the nation teeters on the edge of the fiscal cliff, the feds have found $30 million in extra lunch money to shower on city schoolchildren in the name of hurricane relief.

U.S. Government Lends $105M to Brazil — to Build an Aquarium. The U.S. Export-Import Bank, an agency of the federal government, is lending $105 million to the Brazilian state of Ceara to help build an aquarium in its capital city of Fortaleza. "An anticipated tourist attraction, the aquarium will boast four floors housing 25 large tanks containing approximately 15 million liters of water and showcasing 500 marine species and 35,000 individual specimens," the Export-Import Bank said in a press release.

China bids today on yet another failed Obama energy loan recipient. You won't hear much about it elsewhere today. But from some downtown Chicago law offices will come the distinct sound of one more nail being driven into the coffin of Barack Obama's green energy giveaway loans. A123 Systems will be auctioned off. It's a Michigan lithium ion battery maker which declared bankruptcy back in October, the same day it cashed another $1 million check from the crack Obama investment team.

Battery maker that received stimulus money could be sold to Chinese company. A bankrupt battery manufacturer that was a cornerstone of President Obama's effort to make the United States a global leader in clean-energy technology could end up in the hands of a Chinese company when it goes on the auction block Thursday [12/6/2012].

Electric Cars: The Environmentally Friendly Way of Losing Money Since 2009. A Congressional Budget Office report released in the fall tells Obama what the rest of us have known for some time: Your bet on electric cars wasn't an investment, but a gamble; a dumb gamble. And now you've just come up snake eyes.

Questions surround $55 million program to cut violence in Chicago. On a chilly afternoon this fall, teenagers across Chicago's South Side were busy at work, earning $8.75 an hour to hand out fliers with a message of non-violence.

State Department Spent 4.5 Million for Embassy Art, Had No Money for Benghazi Security. Remember Benghazi only happened because the State Department had no money for security. And the military had no money for planes. [...] Things that the State Department did have money for? Mosque renovations, promoting environmental awareness in Baghdad, and 4.5 million for Art in Embassies.

Drone crashes mount at civilian airports. The U.S. Air Force drone, on a classified spy mission over the Indian Ocean, was destined for disaster from the start. An inexperienced military contractor in shorts and a T-shirt, flying by remote control from a trailer at Seychelles International Airport, committed blunder after blunder in six minutes on April 4. [...] The drone crashed at a civilian airport that serves a half-million passengers a year, most of them sun-seeking tourists. No one was hurt, but it was the second Reaper accident in five months — under eerily similar circumstances.

Washington Proposes $1 Trillion Bailout for Delinquent Student Loans. America's now-nationalized student loan industry just reached a value of $1 trillion, according to Citigroup, growing at a 20 percent-per-year pace. Since President Obama nationalized the industry (a tacked-on provision of the Obamacare bill), tuition has gone up 25 percent and the three-year default rate is at a record 13.4 percent.

DHS Flushes Away Almost Half a Billion on Unused Radios. In short, bureaucrats flushed another $430 million down the drain. That's almost as much as the $535 million Obama stole from taxpayers to pay off his fundraisers at Solyndra. Yet no one is screaming for the conspicuously incompetent Janet Napolitano to be fired; hardly anyone even seems to care. The DHS, like most everything federal, is primarily a gigantic boondoggle, the purpose of which is to spread our money around [...]

The Debate About Tax Rates: The federal government consumed less than four percent of GDP in 1930, 9.8 percent in 1940, and 16.2 percent in 1948. By 1965, the number had climbed to 25 percent of GDP, and it hit 30 percent in 2000.

Pentagon spends $1.5 million to develop its own jerky. The goal, officials say, was to make a beef jerky that was more like a Fruit Roll-Up — tastier and cheaper — than than the traditional grocery store fare. The project, however, cost taxpayers $1.5 million and is unlikely to improve battlefield performance.

Obama spent $29M building port that can't be accessed because it was 'shovel ready'. President Obama sought to fund "shovel ready" projects with the 2009 stimulus, so the federal government spent $29 million in taxpayer money to dig a port in Alaska that has no roads connecting it to other towns. [...] Construction of a road to connect the "port" to the nearest town two miles away won't begin for years, but the federal government is now committed either to losing the money spent already or having to lay out even more cash to build that road.

White House Announces $6 Billion to Promote Clean Energy — in Asia. The White House announced the federal government will spend $6 billion over four years for a "sustainable energy future" plan with Asian countries that involves loaning tax dollars to other countries to increase their purchasing power for U.S. technology, services and equipment.

At SEC: Porn Surfing Down, Waste Up, Stunning Disregard For Basic Computer Security. An internal investigative report of the SEC's Trading and Markets division has been recently been reviewed by Reuters. [...] The sheer irresponsibility on display here springs from the sort of irredeemable carelessness that comes with spending other people's money (taxes) and operating without any credible oversight or accountability (a large percentage of government entities).

Battery company got $1M from Energy Department the day it filed Chapter 11. The Energy Department has supported A123 Systems, Inc., which produced batteries for electric vehicles, through thick and thin. The company received a $946,830 payment, part of a larger grant, on the day it filed for Chapter 11 bankruptcy protection in mid-October. The company revealed the Oct. 16 payment in a letter this week to Sens. Chuck Grassley (R-Iowa) and John Thune (R-S.D.), who have questioned federal financing for the company.

Govt Funded Climate Models Continue Abysmal Performance. Government bureaucrat-scientists and their expert "global warming" climate models, based on levels of atmospheric CO2, continue to prove an astounding incompetence — billions of taxpayer monies wasted on failed computer simulations that can't predict global temperatures.

Demand Congress Audit Every Federal Agency. The misappropriation of taxpayer funds at the Las Vegas GSA training conference stinks worse the deeper we dig. The now-infamous expenditures include:
$147,000 on airfare and posh lodging for conference organizers
$3,200 for a mind-reader
$6,300 for commemorative coin sets
$75,000 for a training exercise on how to build a bicycle
[...] This is just one scandal and it took 2 years to finally be exposed.

Green War. [Scroll down] For example, the report notes a $14 million Air Force construction project to convert three Alaskan radar stations from diesel to wind energy. The project was begun without any assurances it was properly planned or would result in any cost savings. The Navy is also spending $170 million to convert parts of its fleet to algae-based biofuel, which currently costs $15 a gallon or four times the cost of conventional fuel. The Defense Department spends more than $15 billion on energy annually and is the largest consumer of energy in the federal government. Alternative fuel could potentially save taxpayers significant amounts of money.

Housing Agency: 'We Have Fun' — With Public Money. It's a state agency that's supposed to help meet the housing needs of the Tennessee's neediest families. But a [WTVF-TV] investigation discovered the Tennessee Housing Development Agency also spends lots of money having fun. They call it "employee development."

President Obama's Taxpayer-Backed Green Energy Failures. The government's picking winners and losers in the energy market has cost taxpayers billions of dollars, and the rate of failure, cronyism, and corruption at the companies receiving the subsidies is substantial. The fact that some companies are not under financial duress does not make the policy a success. It simply means that our taxpayer dollars subsidized companies that would've found the financial support in the private market.

As many as 50 Obama-backed green energy companies bankrupt or troubled. The October bankruptcy of solar company Satcon Technology Corp. puts the number of bankrupt or troubled green energy companies as high as 50, according to one estimate.

$19 Billion in Pure Government Waste this Year and Growing. Senator Tom Coburn (R-OK) issued his annual report on government waste this week. [...] Nothing is too wasteful to exclude for this Congress. There is another bridge to nowhere, a sidewalk to nowhere, indirect subsidies to professional sports, and awarding of contracts to the highest bidders instead of the lowest bidders.

Over $60,000 in Welfare Spent Per Household in Poverty. The calculations are based on data from the Census, the Office of Management and Budget, and the Congressional Research Services. "According to the Census's American Community Survey, the number of households with incomes below the poverty line in 2011 was 16,807,795," the Senate Budget Committee notes. "If you divide total federal and state spending by the number of households with incomes below the poverty line, the average spending per household in poverty was $61,194 in 2011."

U.S. can't produce $1 billion of fuel receipts in Iraq. The U.S. Army Corps of Engineers cannot produce about $1 billion of receipts for fuel and other supplies it bought in Iraq using Iraqi money, a government investigation has found. The total amount of funds unaccounted for has now reached a staggering $7 billion, officials say — and they warn that the Iraqi government is likely to demand at least some of that money back.

GM to invest 450m in Argentina to manufacture a global Chevy vehicle. General Motors (GM) will invest 450 [million] dollars to manufacture a new global Chevy vehicle at its Rosario Automotive Complex in Argentina. The investment will be made between 2013 and 2015 at the Rosario facility, which produced more than 136,000 vehicles in 2011.

Report: Taxpayer loss due to Solyndra may be as high as $849 million. The cost to taxpayers for the failure of solar panel company Solyndra may be much higher than the $535 million dollar federal loan guarantee the company received. After the company went bankrupt in last August, 2011, the Energy Department, which had given the original loan, okayed an unprecedented deal to attract more private investment to Solyndra. One result of this deal is that it has allowed more than $350 million in tax write-offs to pass to those private creditors, one of which is owned by a major donor to President Obama.

ReVolt Technology, backed by Oregon, Portland tax money, heads for bankruptcy. Another publicly subsidized green company is going under, this one — called ReVolt Technology — backed in Portland by city and state taxpayers. Losses on ReVolt are tiny compared to those at Solyndra Inc., the notorious California solar company that tanked after receiving a $535 million federal loan guarantee. Portland and the state of Oregon had committed $6.8 million to ReVolt, which also landed a $5 million federal grant.

U.S. Taxpayers Fork Over Millions for Cultural Preservation in Foreign Countries. The U.S. government spent $5.6 million in 2011 to preserve historical sites, artifacts, and traditional arts — in foreign countries. The money was distributed under the auspices of the U.S. Ambassadors Fund for Cultural Preservation. [...] In the last 11 years the fund has disbursed nearly $33 million of American taxpayers' hard-earned money to over 700 projects in more than 100 foreign countries.

Feds Give Welfare to the Dead, Deny Medicare to the Living. The federal government has been paying welfare benefits to the dead and withholding Medicare benefits from the living, according to a new report from the Inspector General (IG) of the Social Security Administration (SSA). The report, released October 12, set out to determine whether some individuals were improperly receiving Supplemental Security Income (SSI) payments after having their Medicare benefits terminated because they were considered deceased.

U.S. Directly Deposited Welfare Payments to Person Using ATM — In Vietnam. The federal government in 2011 directly deposited $5,262 in improper welfare payments into the bank account of a foreign-born U.S. citizen who was living in Hanoi, Vietnam — and who withdrew the funds via an ATM. The improper Supplemental Security Income (SSI) benefits were discovered when the inspector general of the Social Security Administration (SSA) audited a sample of 250 SSI recipients who were foreign born citizens.

Plant that Received $150m Stimulus Cash Hasn't Produced a Single Battery. A local Michigan television station reports that workers at LG Chem, a lithium-ion battery plant that received over $150 million stimulus dollars, have so little to do that they spend their days playing cards and board games, reading magazines and watching movies. And they have yet to make a single battery.

Nanny State Update: Obama's Food Cops Strike. The cost of the Nanny State is growing, in terms of our liberty and money; American Action Forum has released a report finding that new regulations under Obama have cost us $488 billion dollars. Some of the most costly agencies are: DHHS at $16.7 billion, the EPA at $12.1 billion and DOE at $10.6 billion in 2012 alone.

Coburn report details $18 billion of wasteful gov't initiatives. Oklahoma Republican Senator Tom Coburn released his "Wastebook 2012" on Tuesday [10/16/2012], which highlights over $18 billion in taxpayer money that the outspoken spending hawk says has been wasted by the government. In his report, the senator singles out the current Congress as the "biggest waste of taxpayer money" for its potentially historic lack of productivity. Some committees rarely hold hearings, and Congress has passed just 61 bills to date. Twenty senators, Coburn notes, have yet to even introduce an amendment — all while allowing wasteful spending to continue unabated.

"Wastebook 2012": [PDF]

The Oceans Are Neither Rising, Nor Turning to Acid. When you consider how deeply in debt the nation is, you might think that scientists from the United States Geological Survey (USGS) would want to avoid wasting taxpayer dollars studying "ocean acidification in the Arctic and what this means for the future survival of marine and terrestrial organisms." You would be wrong. [...] We have arrived at the sad and dangerous point in our history when our government's agencies are just as likely to be used to advance the global warming/climate change hoax as to be engaged in the original and actual functions for which they were established.

$1.3 billion for 288 jobs: The failure of government-subsidized renewable energy. Despite the lofty promises, these "green jobs" are few and far between, even after massive federal subsidies. Since 2009, the federal government has funneled more than $1.3 billion into geothermal, solar and wind projects in Nevada. However, these projects have led — or are projected to lead — to just 288 permanent, full-time jobs. That's an initial cost of over $4.6 million per job.

More about green jobs.

Illinois paid over $2 million in unemployment to jail inmates. According to the Associated Press, the Illinois Department of Employment Security said one inmate in the Cook County jail in Chicago was able to collect nearly $43,000 in unemployment benefits, however most of the inmates were paid less than that.

Troubling Auto-Rescue Plunder (TARP). Remember that "trillion-dollar bank bailout" that President Bush pushed four years ago? The Congressional Budget Office now says that (1) it cost just $24 billion, nowhere near a trillion; (2) taxpayers made money from the banks; and (3) the vast majority of the money went to auto companies. Don't call it a trillion-dollar bank bailout. Call it the $20-billion UAW payoff.

Sesame Street received $1 mil stimulus bill grant — created "1.47" jobs. Sesame Workshop, the independent nonprofit corporation that produces the popular childrens' program Sesame Street, received a $1,067,532 stimulus bill grant in August 2010, via the Department of Health and Human Services. The funding was to promote healthy eating according to the federal Recovery.gov website.

Plant that got $150M in taxpayer money to make Volt batteries furloughs workers. President Obama touted it in 2010 as evidence "manufacturing jobs are coming back to the United States," but two years later, a Michigan hybrid battery plant built with $150 million in taxpayer funds is putting workers on furlough before a single battery has been produced.

Ark. congressman wants to disconnect $1 billion free cell phone program. [Rep. Tim] Griffin said his constituents have told him about people abusing the government benefit. "I had someone call me this morning telling me they had somebody who would only work a certain number of hours a week because if they worked too many hours a week then they couldn't get their government assistance. And that person has multiple cell phones, and gets them new every month with new minutes," he said, sounding outraged. The cell phone companies add to the problem, he said. "Every one they give out, they get money for from the federal government. So they have an incentive to give as many away as possible," Griffin explained. "And that's exactly what they're doing, and they're making a killing."

More about free cell phones.

Embassies Facing Security Cuts Waste Money on Chevy Volts. The U.S. military's newspaper, Stars & Stripes, recently reported that the Pentagon is buying Chevy Volts in a 1,500 electric-vehicle purchase, as part of the Defense Department's "green initiatives," which seek to reduce the country's dependence on foreign energy sources. A recent Congressional Budget Office study challenged the assumption that electric vehicles have any impact on such dependence, prompting the question of why the government is spending money this way.

VA's HR chief resigns amid conference scandal. Two multimillion-dollar conferences for Veterans Affairs Department human resources officials have resulted in the resignation of the agency's top personnel official, as an internal investigation found excessive spending and evidence that some of those planning the events had improperly accepted gifts from potential vendors.

Obama Increased Foreign Aid 80%; Spent 76% More on Foreign Aid Than Border Security. From fiscal 2008 to fiscal 2011, according to the U.S. Treasury, the federal government increased spending on foreign aid by 80 percent and, in fiscal 2011, spent 76 percent more on foreign aid than it did securing the borders of the United States.

Official resigns after report finds VA spent $6.1M on lavish conferences. The head of Human Resources for the Veterans Affairs Department resigned after an inspector general's (IG) report found that the agency spent $6.1 million on two week[-]long conferences. The 142-page IG report investigated about $762,000 in "unauthorized, unnecessary, and/or wasteful expenses" during two conferences held in Orlando, Fla., that included $49,516 to produce a parody video of the late-Gen. George S. Patton.

Slime Blooms in Reflecting Pool After Feds Spend $34M. Massive quantities of algae are now blooming in the Lincoln Memorial Reflecting Pool, where the federal government has just spent $34 million in stimulus money to make the pool "sustainable" and "improve the quality and appearance of the water."

Obama's Electric Car Future Gets Zapped. First, the Congressional Budget Office released a detailed report on Obama's massive electric car program. Its conclusion: The money "will have little or no impact on the total gasoline use and greenhouse gas emissions of the nation's vehicle fleet over the next several years." It also found that, even with the $7,500 tax credits, electric cars are a bad buy, costing owners far more over the life of the car than traditional gas-powered vehicles. Translation: Obama's electric car subsidies are a complete and total waste of money.

More about electric cars.

Open hatch sank Port Authority's $500G boat. A $500,000 Port Authority patrol boat sank this month after a veteran police sergeant took the advice of a clueless civilian safety instructor — and opened a hatch while it was under water, The [New York] Post has learned. "It was like opening a window during a carwash," one PA insider lamented of the screw-up off Breezy Point, Queens, that left 11 people scrambling for their lives.

Obama's America: Student Reading SAT Scores Hit Record Lows. No doubt the Obama administration will combat this problem by complaining about racial discrepancies in education and suggesting pouring billions more down the rathole that is the public education system — all the while avoiding scrutiny for teachers unions. That's the all-purpose liberal solution: cash, cash, and more cash.

Rep. Nita Lowey collects an extra $10G pension on top of her salary. Rep. Nita Lowey is the wealthiest member of New York's congressional delegation and one of the richest members of Congress. She's also a double dipper. The Westchester Democrat, who is worth at least $14.3 million, collects a $10,302 annual state pension on top of her $174,000 congressional salary.

Arizona taxpayers pay for 53% of births. Arizona taxpayers foot the bill for the delivery of more than half of all babies born here, a growing trend with a $200 million-plus annual price tag that has caught state leaders off guard — even though the numbers have been rising for more than a decade.

If PB&J is racist, then we're toast. Quite a few eyebrows were raised by a Portland, Oregon, report that found traces of racism in the classic peanut butter and jelly sandwich. The study is aimed at uprooting the subtle ways schools foist majority viewpoints on minority students. Its authors decided that telling children a PB&J sandwich is the quintessential American kids lunch sends a message of inferiority to students whose families hail from places where peanut butter and jelly comes on a pita or corn husk. Extreme multicultural hoo-haw. Yet Portland spent $526,000 to get that feedback.

Obama Administration 'Strengthening the American Workforce' with $500 Million 'Investment' in Schools. Labor Secretary Hilda Solis announced on Wednesday [9/19/2012] that her department and the Department of Education are giving out $500 million in grants to community colleges and universities around the country as part of a $2 billion, four-year plan to expand training programs.

Lambasted Chinese solar panels placed on government building. Government officials blame unfair competition from China for the collapse of solar panel manufacturer Solyndra, but such concerns didn't stop the federal government from breaking stimulus program rules to use Chinese solar panels atop a federal building housing the offices of a senator, congressman and several agencies. Even the contractor questioned whether Chinese-made panels could be used under the American Recovery and Reinvestment Act, the stimulus program that mandated use of U.S.-made products.

The Defense Dept. Will Buy Volts, Instead of Military Equipment, to Make Obama Look Good. GM's Volt electric car is much in the news because GM is losing up to $49,000 on every Volt it builds. They have sold only 13,500 Volts this year, 33.75% of it's [sic] 40,000 goal. Even at that, hardly anyone wants to buy one. Such a dilemma. The "Optics" are very bad for Democrats who have just proclaimed GM being "alive" as one of the Obama administration's great triumphs.

Pentagon to Buy 1,500 Chevy Volts. General Motors, the financially strained U.S. automaker that absorbed billions of taxpayer dollars through the auto bailout, has secured a new deep-pocketed customer for its purportedly failed electric Chevy Volt: the Pentagon. The Department of Defense is seeking to make the federal government's military operation more "environmentally-friendly" by reducing its use of fossil fuels with a conversion to electric vehicles. The DOD plans to purchase 1,500 models of the Volt, which has been burdened with lethargic sales and mounting losses since the automaker launched it in 2010.

Our Ambassador Is Dead, but Obama's Political Guru Is Safe. Our U.S. ambassador to Libya and three other Americans who served us there are dead because of insufficient security while the assistant to the president for public engagement and intergovernmental affairs, a woman named Valerie Jarrett, has been given an entourage of well-armed, highly trained protectors as she goes to and from work in Washington, goes shopping or out to dinner, and travels to political events and vacations on Martha's Vineyard. Why is Valerie Jarrett such a high priority when it comes to security, and why are our diplomats in Libya so much less of a priority?

Obama Senior Aide Valerie Jarrett's Million Dollar Security Detail. Valerie Jarrett, long known in some circles as the "other half of Barack's brain," and in other circles as a Chicago slumlord, has her own security detail. Jarrett's official title is "Senior Advisor to the President."

The Audacity of Cronyism. [Valerie] Jarrett gets a security detail from the US Secret Service (USSS). That means 24/7 protection, at a cost of millions of dollars a year. Of course, it also means an air of importance for Jarrett — her own taxpayer-funded entourage. The idea that someone such as Jarrett — who officially plays no role in national security or counter-terrorism — would receive USSS protection would be laughable if it weren't, in fact, real. It's like a tale out of the Versailles Court of the Sun King — the sort of anecdote that provokes the peasants, eventually, to revolution.

689 Reasons to Defeat Barack Obama. [For example,]
457. "Cap and trade."
458. "Electricity rates would necessarily skyrocket."
459. The war on coal.
...
470. Ener1 received a $118.5 million grant from the Department of Energy. It went bankrupt in January.
471. BrightSource received $1.6 billion in guarantees and turned it into a $177 million loss.
472. Beacon Power received $43 million in loan guarantees. It's now bankrupt.
473. ECOtality received $126.2 million of taxpayers' money. It posted $45 million in losses and will never be profitable.
474. Abound Solar received $400 million in loan guarantees to build photovoltaic-panel factories. The company has filed for bankruptcy and laid off all 305 of its employees.

50 Examples of Government Waste. A GAO audit classified nearly half of all purchases on government credit cards as improper, fraudulent, or embezzled. Examples of taxpayerfunded purchases include gambling, mortgage payments, liquor, lingerie, iPods, Xboxes, jewelry, Internet dating services, and Hawaiian vacations. In one extraordinary example, the Postal Service spent $13,500 on one dinner at a Ruth's Chris Steakhouse, including "over 200 appetizers and over $3,000 of alcohol, including more than 40 bottles of wine costing more than $50 each and brand-name liquor such as Courvoisier, Belvedere and Johnny Walker Gold." The 81 guests consumed an average of $167 worth of food and drink apiece.

Fired Municipal Bureaucrat Demands $837,000 in Vacation and Sick Pay. The greed and arrogance of the parasites who rule us know no bounds.

Obama's $107 billion transportation plan: Trains and roads to nowhere. If Obama was actually spending all this money on roads and bridges designed to get you to work and home quicker, then maybe this transportation spending explosion would be worth it. But he's not. In 2009, the highway trust fund spent $52.7 billion, but only 62 percent of that went to general purpose roads and safety programs. The rest was diverted into pet liberal causes like trolleys, bicycles, buses, scenic byways, historic covered bridges and "community preservation." And those are the dollars that are supposed to be going to highways. The rest of Obama's transportation spending is even more wasteful.

40 Reasons Not To Re-Elect Barack Obama. [#2] Barack Obama's stimulus plan cost more than the Marshall Plan, the Louisiana Purchase, and putting a man on the moon — combined[,] and it was a complete and utter failure — more than 800 billion dollars that accomplished nothing of significance.

GM goes from bad to worse despite Obama bailout. GM has been selling cars in the U.S. at deep discount and, while it's making money in China — and is outsourcing operations there and elsewhere — it's bleeding losses in Europe. It's spending billions to ditch its Opel brand there in favor of Chevrolet, including $559 million to put the Chevy logo on Manchester United soccer team uniforms — and just fired the marketing exec who cut that deal.

Rural Utilities Create Zero Jobs With $47 Million in Stimulus Funding. A stimulus program designed to create jobs by funding rural utility projects has created only about 12% of the jobs projected at the outset of the program in a sample of towns recently examined by the Agriculture Department's Inspector General. The IG examined 22 local utilities and government agencies to receive stimulus money. The Rural Utilities Service (RUS), a division of the USDA, projected that the sample of companies would create 3,384 jobs. To date, however, those companies have used their stimulus awards to create a mere 415 jobs. Some of the recipients have not used their stimulus awards to create a single job.

Chaffetz seeks data on use of stimulus cash for job ads. Rep. Jason Chaffetz, Utah Republican and a member of the House Oversight and Government Reform Committee, plans to push Obama administration officials for more information on why the Labor Department spent a half-million dollars in federal stimulus money for more than 100 commercials that ran on MSNBC. The ads ran on the "Rachel Maddow Show" and "Countdown With Keith Olbermann" in 2009, but government reports showed the contract created no jobs. The money was paid out through a public relations firm to raise awareness about "green training" efforts through the Job Corps program.

Labor Department spends stimulus funds for ads during Olbermann, Maddow shows. The Labor Department paid out hundreds of thousands of dollars in federal stimulus funds to a public relations firm to run more than 100 commercials touting the Obama administration's "green training" job efforts on two MSNBC cable shows, records show. The commercials ran on MSNBC on shows hosted by Rachel Maddow and Keith Olbermann in 2009, but the contract didn't report any jobs created, according to records reviewed recently by The Washington Times.

Did someone mention green jobs again?

LaHood: 'I'm very proud' of DOT stimulus spending at $738,000 per job. Secretary of Transportation Ray LaHood told The Daily Caller that he is "very proud" of the Economic Recovery Act of 2009 that put 65,000 people to work with $48 billion in federal funds for the Department of Transportation, amounting to $738,461 per job. The Recovery Act of 2009, which in total cost taxpayers $825 billion, has been criticized because it did not prevent the unemployment rate from rising above 8 percent, contrary to what the Obama administration predicted.

Four-star general being investigated for lavish trip spending. A four-star Army general is under investigation for allegedly misusing hundreds of thousands of government dollars on travel, hotels and other unauthorized expense, Defense Department officials said Wednesday [8/15/2012]. The general has been identified as William "Kip" Ward, the first leader of the U.S. Africa Command.

High School Dropout? Gov't Will Pay You 36% More Than Private Sector. People who drop out of high school and get a job with the federal government earn, on average, 36 percent more in wages and benefits than their dropout counterparts in the private sector, according to a report by the Congressional Research Service (CRS). In fact, the CRS report confirmed, federal government workers generally earn more than their peers in the private sector.

Obama's $25 Billion Government Motors Lemon. On Tuesday [8/14/2012], GM fell $0.26, or 1.3%, to $20.21. At that price, the government would lose another $995 million on its GM bailout. The report notes the government still has 500 million shares of GM and needs to sell those shares at $53 each for the government to break even on the bailout. Worse yet, the entire financial loss suffered by taxpayers is the result of a massive and planned redistribution of wealth from them to the auto unions that form a key part of Obama's base and re-election drive. In its analysis, the Heritage Foundation says all the taxpayer losses occurred because the administration manipulated bankruptcy law to shelter the United Auto Workers' compensation.

Agency Fighting 'Climate Change' Operates 9,516 Vehicles for 11,605 Employees. The Natural Resources Conservation Service, a part of the U.S. Department of Agriculture, operates 9,516 vehicles even though it only has 11,605 employees. That works out to one vehicle for every 1.2 employees. The service promotes itself, in part, as a component of the federal government's effort to deal with climate change.

Palm Beach County to Hire Global Warming Czar. Palm Beach County has allocated $200,000 of taxpayer money to hire a staffer to address global warming. County officials created the position despite a $15 million county budget deficit. The new global warming czar will direct the county's efforts to reduce global temperature increases and adapt to any warming that may occur. County officials said they are particularly concerned about rapid sea level rise.

New York Gov. Cuomo to Sell Failed High-Speed Trains. In 1998, then-governor George Pataki (R) announced a "historic" high-speed rail partnership with Amtrak. The state poured $70 million into a plan calling for retrofitting seven sets of Amtrak gas turbine trains and making track improvements to facilitate high-speed travel from Albany to New York City. Now, 14 years later, the state will sell what's left of the unused trains, probably for scrap.

Obama Requests $542 Million In Housing Aid for Drug Addicts. President Barack Obama has requested over half-a-billion dollars for Department of Housing and Urban Development (HUD) programs that provide housing assistance to homeless or HIV-positive people in drug treatment. For the Fiscal Year 2013 National Drug Control budget, Obama has requested $25.6 billion, including $542.4 million to fund HUD programs that provide housing to individuals in drug treatment, according to the White House Office of National Drug Control Policy (ONDCP), which is charged with developing that budget. According to the ONDCP, the requested FY 2013 budget will "reduce drug use and its consequences in the United States."

IRS discourages employees from detecting fraud. Child tax credit payments to illegal immigrants have quadrupled in the past five years as a result of President Obama's stimulus package and the Internal Revenue Service's refusal to pursue instances of fraud, a new study shows. The IRS is also failing to inform citizens that illegal immigrants have stolen their Social Security Numbers. The IRS paid out $7.4 billion in tax refunds to illegal immigrants in 2012, quadruple the $1.7 billion paid out in 2007, according to a new report by Senate Republicans.

USDA spends $2 million on internship program for one full-time intern. The United States Department of Agriculture spent $2 million on an internship program that only hired one full-time intern, a recent audit of the USDA's Office of the Chief Information Officer reveals. A USDA Inspector General's report detailing the mismanagement of the agency's multi-million dollar attempt to beef up the USDA's information technology security found that after an infusion of millions, "[b]ecause these projects were not effectively managed, the Department's information systems are still at risk, even after expending $63.4 million of funding increases received in FY 2010 and 2011."

Hermosa Beach meter maids making nearly $100K? When contemplating the many reasons cities in California and elsewhere are venturing closer to bankruptcy, look no further than the relatively lucrative and often-unjustifiable salaries bestowed on municipal employees — and the lofty pension benefits attached to the high pay. One of the latest examples comes from the California coastal city of Hermosa Beach, where some community service staffers who collect money from parking meters and manage their operations — positions once widely known as "meter maids" — are making nearly $100,000 a year in total compensation, according to city documents.

General Spending Administration. Rep. John Mica (R., Fla.), Chairman of the House Transportation and Infrastructure Committee, revealed last week that the General Services Administration (GSA), the government agency at the center of a luxury spending scandal, had awarded $44 million in taxpayer-funded bonuses last year, far more than previously reported. Though GSA staff constitute just one percent of the federal workforce, agency bonuses made up 10 percent of government bonuses paid out in 2011. Mica's analysis of GSA compensation data found a number of bonuses worth as much as $50,000 or more. One employee received an $80,000 bonus, in addition to $180,000 in salary and other compensation.

GSA Breaking the Law, Spending Millions on Travel, Conferences, Bad Deals. GSA is hiding money and using it for profligate conferences and bonuses. GSA is supposed to cut waste in other branches of government and oversee property owned by the government, selling it when appropriate — they can't even oversee themselves. There are 14,000 properties they are responsible for and they're languishing — the value of the properties and their upkeep is in the billions.

Documents show dozens of questionable GSA conferences, millions in bonuses. The documents, obtained through a Freedom of Information Act request, show the extent to which GSA dumped money into questionable conferences, sometimes with little or no record of spending. They also show that while the GSA was hosting lavish affairs, they were also doling out bonuses to their party guest employees. One of the more troubling conferences was held in 2010 in Crystal City, Va., where GSA employees within the Federal Acquisition Service spent hours drumming in what administrators billed as a "team-building" exercise.

Oakland police radios fail during Obama visit. The year-old system has been plagued by breakdowns and dead zones that have left officers' digital radios prone to blackouts across the city and in most commercial buildings, including the basement of police headquarters. A city-hired consultant said last week that the system was not up to urban standards. [...] Oakland paid $18 million for the radio system when it became operational last year, largely using grant money.

Jobs Program Spent $76,000 PerPerson To Help Youth Find Minimum Wage Jobs. A new jobs training oversight report by Sen. Tom Coburn (R-OK) found that a federally-funded Oklahoma Job Corps program spent around $76,000 per person to help youth secure minimum wage jobs. The report, released Tuesday [7/24/2012], comes 18 months after a Government Accountability Office (GAO) report that found that billions of taxpayer dollars are being poured into job training programs that benefit those who run them, not the unemployed workers they are supposed to assist. [...] In one program, just 14 cents of every dollar went to actual job training.

The Green Graveyard of Taxpayer-Funded Failures. Solar-cell manufacturer Solyndra became a household name when it collapsed, taking $627 million in American taxpayer dollars with it. It's the poster company for the government picking winners and losers — or really, just losers — in the energy market. But there are 12 more "green energy" losers that have declared bankruptcy despite attempts to prop them up with taxpayer money — and the list is growing. There's a reason why these companies could not rely solely on private financing and needed help from the government. They couldn't make it on their own; they couldn't even make it with extra taxpayer help.

GSA Spent $270,000 on One-day Awards Ceremony. The unveiling of another lavish employee event has added to the General Services Administration's (GSA) already scandal-ridden status as a corrupt government agency notorious for taxpayer waste. Only three months after GSA officials were exposed for having spent more than $800,000 on a Las Vegas "training conference," the department's inspector general is launching an investigation into a Washington event that cost a sizable $270,000.

'Beleaguered' Homeland Security agency wastes $57 million on failed computer contract. A scandal involving $57 million in government contract dollars is set to rock the Federal Protective Service, a small agency within the U.S. Department of Homeland Security. Congressional Democrats and Republicans have criticized the service in recent years, and both law enforcement reform organizations and labor unions have excoriated its managers for their handling of a 2008 project plagued by scheduling delays, cost overruns and conflicts of interest.

Energy Department loses $500k worth of "stimulus" equipment. CNS News reports the not-particularly-surprising news that "An audit conducted by the Energy Department's Office of Inspector General was 'unable to locate' $500,000 worth of equipment purchased with stimulus money by a recipient of funds distributed through the department's Advanced Batteries and Hybrid Components Program." Ah, that wonderful Obama "stimulus." Will the magic never end? It didn't produce many jobs, but it certainly created plenty of opportunities for audits and investigations.

It's a shovel ready project!
Union Bosses Okay Digging Up — Then Filling Back In — Ditches on Taxpayers' Dime. [Scroll down] And when some of the Earth Supply and Renewal "employees" explain that they literally dig a ditch, then fill it up again, Hutchings says, "It sounds like, it almost is exactly the same as where we were with Green Jobs, Green New York." Green Jobs, Green New York was a $112 million state plan that was designed to create environmentally-friendly jobs. And it was sponsored, in large part, by unions.

The Editor says...
Labor leaders don't care if their union members are actually accomplishing anything — only that they are employed and paid union-scale wages.

Transportation Dept. Hands Out $500 Million More Stimulus Funds. In a fourth round of funding grants paid for by the $831 billion American Recovery and Reinvestment Act, Chicago is receiving $100 million of $500 million for CREATE, a regional rail task force.

The Editor says...
After some digging, I was able to discover that CREATE stands for the Chicago Region Environmental and Transportation Efficiency Program. Apparently it has been around for years, but I had never heard of it until today.

More Taxpayer Dollars Lost In Green Energy Venture. It turns out that the Department of Energy (DOE) has lost at least $500,000 worth of equipment for a special alternative energy program that got nearly $2 billion from the president's disastrous stimulus. Remember, the $787 billion plan that was supposed to jump start the economy and put Americans back to work but instead lost billions to fraud and abuse? In any case, it turns out that the DOE has blown more than half the money — around $1.2 billion — earmarked for the special "advanced batteries and hybrid components program" that is supposed to "support the construction of U.S. based battery and electric drive component manufacturing plants." In all, 30 manufacturers (undoubtedly, politically connected) got cash from the Obama DOE to complete the task.

Sierra Club Sues to Stop Offshore Drilling, and Guess Who Is Funding the Defense. [Scroll down] A little known US law called the Equal Access to Justice Act, signed by President Jimmy Carter in 1980, allows the groups to use lawsuits against government as revenue sources. When they sue, the government has to incur the costs of defending itself against the lawsuits, and also picks up the expenses for the groups suing the government. No one even keeps track of how much money the government has ended up spending on such lawsuits.

Energy Dept. 'Unable to Locate' $500,000 in Equipment Bought With Stimulus Money. An audit conducted by the Energy Department's Office of Inspector General was "unable to locate" $500,000 worth of equipment purchased with stimulus money by a recipient of funds distributed through the deparment's "Advanced Batteries and Hybrid Components Program," according to an audit report published by the OIG. The DOE said it would not be "appropriate" to release the name of stimulus-money recipient where the $500,000 worth of equipment could not be located.

The Air Force is spending 16 times as much as it needs to.
U.S. Air Force tests biofuel at $59 per gallon. The U.S. Navy angered Republicans by spending $26 a gallon for biofuels for this week's Great Green Fleet demonstration, but the Air Force received little attention when it paid twice as much per gallon to test synthetic jet fuel last month. The Air Force bought 11,000 gallons of alcohol-to-jet fuel from Gevo Inc, a Colorado biofuels company, at $59 a gallon in a program aimed at proving that new alternative fuels can be used reliably in military aircraft — once, that is, their pricing is competitive with petroleum, which now costs $3.60 a gallon.

The Navy offers a rebuttal:
Navy: We'll Never, Ever Overpay for Biofuels. Last week, [Wired magazine's] Danger Room published a critical look at the Navy's efforts to launch a renewable-powered "Great Green Fleet" — and kickstart the market for biofuels in the process. Not surprisingly, the Navy's leadership had all sorts of objections to the piece. But they took particular exception to the section about the price of the biofuel. A Pentagon-sponsored study says that the Navy could spend as much as $1.76 billion annually for all the biofuel they've promised to use by 2020. In this exclusive op-ed, Deputy Assistant Secretary of the Navy for Energy Tom Hicks says the Navy will never pay that kind of premium.

Congresswoman demands investigation into millions of taxpayer dollars used for Disney World conference. Florida Republican Rep. Sandy Adams is digging into a federal agency she said has misused millions in taxpayer dollars for, among other things, a trip to Disney World. Adams said in a statement that a whistleblower gave her documents from the National Institute of Standards and Technology's Manufacturing Extension Partnership that show the agency used millions for a conference at a lavish resort near Disney World in Florida.

Obama's Stimulus Tax Dollars Used to Create Jobs Overseas. A few weeks ago, the Washington Post and the Obama campaign worked together to attack Governor Mitt Romney with proven lies about outsourcing. Though this attack has been exposed as a lie, that didn't stop Barack Obama from continuing the attack nor has it stopped his Media Palace Guards from attempting to drag Romney into the trap of responding to these lies.

Obama Administration to Spend $20 Million on Green Energy Plan — For Africa. The U.S. government is spending $20 million to "help clean energy projects in Africa get started." Those projects include wind farms and solar panels, Secretary of State Hillary Clinton announced at the recent Rio+20 Conference in Brazil. But the government watchdog Judicial Watch criticized the spending as wasteful, given the administration's track record in trying to pick green energy winners.

Pres. Obama Approves $126 Million Loan to Communist Vietnam for Satellite. On Monday [6/25/2012] President Barack Obama issued a memorandum instructing the Secretary of State that he authorized the Export Import Bank to loan Vietnam nearly $126 million. In the memo, President Obama insists that making the loan was "in the national interest of the United States." Specifically, the money is earmarked for use by the Vietnam Post and Telecommunications Group (VNPT), a company completely owned and controlled by the Communist government, to cover the cost of parts and labor for a high-tech television and telecommunications satellite manufactured by Maryland-based aerospace and defense contractor Lockheed Martin.

How much did THIS cost?
Mermaids do not exist, says NOAA. In sad news for land-starved sailors all across the seven seas, the National Oceanic and Atmospheric Administration has issued a report stating that there are no such things as mermaids.

Lights go dim on another energy project. A geothermal energy company with a $98.5 million loan guarantee from the Obama administration for an alternative energy project in Nevada — which received hearty endorsements from Energy Secretary Steven Chu and Senate Majority Leader Harry Reid — faces financial problems, and the company's auditors have questioned whether it can stay in business. Much like Solyndra LLC, a California solar-panel manufacturer with a $535 million federal loan guarantee that went bankrupt, Nevada Geothermal Power (NGP) has incurred $98 million in net losses over the past several years, has substantial debts and does not generate enough cash from its current operations after debt-service costs, an internal audit said.

Obama prepares to roll snake eyes on green energy again. [Scroll down] House Oversight Committee Darrell Issa expressed some concerns about plowing so much taxpayer money into "a company with well-established financial problems," but the Obama Administration wasn't about to let any fiscally responsible killjoys pry the dice from their hands before they took a few more million-dollar throws.

After Posting $70 Million Loss, French Company Lands $25 Million from DOE. The Department of Energy recently awarded $25 million to a French company that posted net losses of about $70 million last year, and whose solar division is particularly troubled financially.

Obama Diverts River of US Taxpayer Money Into Kenyan Pockets. Obama's ancestral homeland Kenya — which he clearly indentifies with more strongly than the USA — is being inundated with money expropriated from American taxpayers.

Trillions Have Been Wasted On Poverty Programs That Don't Work. Although nearly 15% of Americans are already on food stamps, Washington still feels a need to pump the numbers. CNN is reporting that "the federal government wants even more people to sign up for the safety-net program." According to CNN, the Agriculture Department "has been running radio ads for the past four months encouraging those eligible to enroll" and "is spending between $2.5 million and $3 million on paid spots."

Green company creates three jobs in three years, gets another $80 million from DOE. Department of Energy officials gave a New Hampshire-based biofuel company access to $80 million for a Michigan project that has already fallen short of job creation expectations, despite receiving another $40 million in state and DOE subsidies. "In September 2008, Mascoma [Corp.] pledged 70 jobs at the plant by the end of 2012. On Feb. 29 of this year, Mascoma reported to the MEDC that only three jobs had been created by the grant," the Capitol Confidential (Mich.) reports today. "The company has been given the full $20 million from the state."

$5B Camo Snafu. Over the next year, America's largest fighting force is swapping its camouflage pattern. The move is a quiet admission that the last uniform — a pixelated design that debuted in 2004 at a cost of $5 billion — was a colossal mistake. Soldiers have roundly criticized the gray-green uniform for standing out almost everywhere it's been worn. Industry insiders have called the financial mess surrounding the pattern a "fiasco."

$9 Billion in 'Stimulus' for Solar, Wind Projects Made 910 Final Jobs — $9.8 Million Per Job. The Obama administration distributed $9 billion in economic "stimulus" funds to solar and wind projects in 2009-11 that created, as the end result, 910 "direct" jobs — annual operation and maintenance positions — meaning that it cost about $9.8 million to establish each of those long-term jobs.

Feds use tax dollars to fund pet shampoo ad, reality show in India. Every year, the federal government spends hundreds of millions of dollars to market agricultural products abroad — sending taxpayers' money to subsidize the advertising campaigns of some of the country's largest brand names, according to a report by the Senate's chief waste-watcher. Sen. Tom Coburn said taxpayer money has gone to subsidize projects such as a promotion of pet shampoo and a reality television show in India sponsored by an American cotton promotor. The Oklahoma Republican said it's time to trim the flow.

The Editor says...
Trim the flow? No, it's time to find out if your Congressman is responsible for any of this, and if so, vote for somebody else next time.

USDA loans $25M for diet cola sweetener. President Obama's Agriculture Department, which forms an integral part of First Lady Michelle Obama's war on childhood obesity, announced it will provide a $25 million loan guarantee to support the manufacture of a sweetener used in soda pop beverages.

Illegals Ripping Off U.S. Taxpayers. The Internal Revenue Code provides for an "additional child tax credit" of up to $1,000 to help working families who have children living at home. It requires that each child live at home for at least six months out of the year. But several years ago illegal immigrants discovered a loophole that allows them to claim as many children as they want — including nieces and nephews — even if they have never stepped foot on American soil. Illegals must pay taxes but they can't obtain a Social Security number. And so to remedy the situation, President Bill Clinton signed into law a solution: Illegals can receive a nine-digit individual taxpayer number — an ITIN — which allows their employers to withhold payroll taxes.

Steven Chu is no Don Draper. A good product can sell itself. There's no reason for Uncle Sam to step in and serve as the chief marketing officer for any private corporation. So the House took a welcome step last week when it adopted a measure by Rep. Jeff Landry, Louisiana Republican, that pulls the plug on the Energy Department's authority to spend $20 million on a "national media campaign" against affordable energy.

Constitution 101. The Republican Study Committee (RSC) analyzes the constitutional statements for every bill and joint resolution introduced and sends out a weekly email highlighting the "most questionable." Last week, it selected Rep. Andre Carson, Indiana Democrat, for justifying his bill to authorize the president to award a gold medal on behalf of Congress to boxer Muhammad Ali by citing irrelevant constitutional clauses, including the one giving Congress the right to set its governing rules and expel members.

Tom Coburn Finds More Than $70 Billion in Unspent Federal Dollars. Looking to highlight government waste, Sen. Tom Coburn (R-Okla.) today released a report that identified more than $70 billion in unspent funds that have languished in federal accounts years after being provided. The funds remain unspent "as a result of poorly drafted laws, bureaucratic obstacles and mismanagement, and a lack of interest or demand from the community," Coburn said in the report.

Gitmo detainees treated to pricey improvements. Prisoners at Guantanemo Bay prison are being treated to cable television, a new sports center, painting 'life enrichment' classes, and extensive library with a wide selection of DVDs, newspapers, and best-selling books like Harry Potter in a number of languages. Rather than closing the controversial detention center for terrorist, as he said he would on his first day in office, President Obama approved millions of dollars in improvements to the facility.

Federal gov't sitting on $70 billion in unspent cash. The federal government has at least $70 billion that has languished for years in unspent accounts, never reaching the states, localities, businesses and taxpayers the money was designed to help, according to a new report by Sen. Tom Coburn. Mr. Coburn, the Senate's chief waste-watcher, said in many cases politicians and bureaucrats ignored money already in the pipeline and went out to try to corral more funding instead.

Report: GSA handed out $1 million to workers under investigation. The federal General Services Administration has handed out more than $1 million in taxpayer-funded bonuses since 2008 to dozens of employees who were under investigation for misconduct. Already under fire for its lax oversight of spending, the GSA gave bonuses to at least 84 of its employees while they were being investigated, according to a Senate analysis. Some were as low as several hundred dollars, while one employee received nearly $76,000 over five years.

Krugman: 'We're Talking As if a Billion Dollars Was a Lot of Money'. Liberal economist and Obama apologist Paul Krugman appeared on ABC's "This Week" [6/3/2012].

Congress probes more questionable spending by GSA employees. Nearly 100 high-ranking General Services Administration employees assigned to work from home reportedly still spent $750,000 on travel over nine months, according to records submitted to Capitol Hill committees, prompting the agency to respond Saturday to a request for more information.

End Handouts for Illegals. The federal government is handing out $4.2 billion a year to illegal aliens. This isn't some service benefit that illegal aliens are receiving, like taxpayer-subsidized health care or education. And it's not a tax deduction or a non-refundable tax credit, which would require recipients to actually pay taxes in order to receive the benefit. It's a refundable tax credit, a taxpayer-funded check from the federal government. And the government requires no proof that the recipient is actually eligible under the law, which illegals are not. Abuse of this tax benefit is one of the most ridiculous examples of fraud adding to our federal deficit today. Equally harmful, it is acting as a powerful incentive for more illegal aliens to come to America.

Government Pays for Children to Walk Home from School. Walking your child home from school should be a simple process, left completely up to the individual parent. So why has the federal government spent nearly $1 billion since 2005 to help students walk home from school? In 2005, federal funds were allocated for the creation of "Safe Routes To School" programs in all fifty states. According to the"Safe Streets Toolkit," community partners must be identified, task forces created, and goals set, and adult volunteers are needed to lead what are called "walking school buses."

CBO: Obama stimulus may have cost as much as $4.1 million a job. The Congressional Budget Office in a new report: ["]When [the American Recovery and Reinvestment Act] was being considered, the Congressional Budget Office (CBO) and the staff of the Joint Committee on Taxation estimated that it would increase budget deficits by $787 billion between fiscal years 2009 and 2019. CBO now estimates that the total impact over the 2009-2019 period will amount to about $831 billion.["]

Obama Is Spending $5.5 Million Per Green Energy Job. Barack Obama spent $90 billion on Green Energy Jobs creating only 16,100 jobs. That comes out to $5.5 million per job.

More about so-called green jobs.

Breitbart News Exposé of Plush Ninth Circuit Trip Forces Court Response. According to Riehl's story, "Judges from the Ninth Circuit Court of Appeals, federal district and bankruptcy courts in nine Western states and two Pacific island territories, along with lawyers practicing in those courts, and court staff, will gather at the luxurious Hyatt Regency Maui Resort and Spa from August 13-16, 2012 in what looks like a less than valiant attempt to ensure American justice is being served... at a cost to taxpayers of approximately one million dollars."

IRS Gives Billions in Tax Refunds to Illegals. Here's how it works. Illegal immigrants cannot qualify for legitimate Social Security numbers, which would entitle them to work legally in the U.S. and file income tax returns, but the Internal Revenue Service allows them to apply for nine-digit individual taxpayer identification numbers, or ITINs, which also are used to file federal income tax returns. In addition, a provision in the tax code permits illegals to claim "additional child tax credits," which grant families $1,000 per "dependent" child. Roughly three-quarters of tax returns filed by illegals include these ACTCs. With the ITIN, illegals are able to get tax credits and refunds for nephews, nieces and other family members who never have touched U.S. soil.

HHS signs $20M PR contract to promote healthcare law. The Health and Human Services Department has signed a $20 million contract with a public-relations firm to highlight part of the Affordable Care Act. The new, multimedia ad campaign is designed to educate the public about how to stay healthy and prevent illnesses, an HHS official said.

Spinning Obamacare. The Obama administration just inked a $20 million deal with PR firm Porter Novelli to help promote ObamaCare. Why do they need to promote a law that was supposed to get more popular once it passed?

Taxpayer-funded home improvement program ruins homes, wastes money. A Missouri county spent $450,000 in taxpayer-funded home repairs like new furnaces and windows for residents, KMOX in St. Louis reports. Administered by the U.S. Department of Housing and Urban Development, the program oversaw work like a roof that ultimately collapsed and what one taxpayer said was $8,000 worth of work for $15,000.

Federal workers raking in millions in bonuses, new database shows. A new in-depth database of federal worker salaries shows the government paid out a whopping $105 billion in salaries last year for most of its civilian workforce — to boot, the workers got $439 million in bonuses. The information, which was obtained and number-crunched by The Asbury Park Press through a Freedom of Information Act request, challenges the old notion that government workers trade high salaries for job security and benefits.

House Republicans: HHS Has Become "Too Big to Control". The Department of Health and Human Services (HHS) has adopted a "too-big-to-control" model that is wasting billions of taxpayer dollars, House Republicans indicated Wednesday [5/9/2012] during a hearing on the agency's lavish spending habits. Republican members of the Energy and Commerce Committee's oversight subcommittee railed against the HHS' exorbitant spending, specifically on issues such as international travel, its skyrocketing payroll costs, and the agency's refusal to terminate wasteful and ineffective programs.

Government Issues Study of a Study About Studies. The Pentagon was inundated with so many studies in 2010 that it commissioned a study to determine how much it cost to produce all those studies. Now the Government Accountability Office has reviewed the Pentagon's study and concluded in a report this week that it's a flop.

TSA wasting money on screening machines. The Transportation Security Administration (TSA) is wasting hundreds of millions of taxpayer dollars by allowing screening machines to languish in warehouses rather than deploying them at U.S. airports, congressional investigators said Wednesday [5/9/2012]. When the new screening units finally were installed, they were not properly tested and were used only for very short periods of time in many locations, the investigators said. [...] About 5,700 pieces of security equipment, with a total value of $184 million, are stored in a TSA warehouse, the report states.

More TSA lies. Earlier this year, the House Oversight & Government Reform and Transportation & Infrastructure committees got wind that the TSA has 5,700 pieces of security equipment worth $184 million gathering dust in a Dallas, Texas, warehouse. For example, a total of 492 explosive trace detectors that cost $30,000 each have been sitting in storage for more than a year. When congressional investigators were dispatched to learn more about what was going on, TSA did everything it could to stall them. The congressional auditors finally arrived on Feb. 15 to find a warehouse crew had been busy working from 5 a.m. that morning to shove as much of the embarrassing horde as it could out the back door.

Environmental groups collecting millions from federal agencies they sue, studies show. Deep-pocketed environmental groups are collecting millions of dollars from the federal agencies they regularly sue under a little-known federal law, and the government is not even keeping track of the payouts, according to two new studies. Under the Equal Access to Justice Act, or EAJA — which was signed into law by President Carter in 1980 to help the little guy stand up to federal agencies — litigants with modest means who successfully show government agencies wronged them can get their legal fees back from the taxpayer.

Environmental Groups Cash In. Environmental groups are exploiting for profit a little known federal law meant to help average Joes take the government to court. Millions of dollars in taxpayer money has gone to already wealthy environmental groups as a result of the law, according to Fox News, which reported that the government does not even track the payouts.

Illegal Immigrant Additional Child Tax Credit Fraud. Illegal Immigrants otherwise known as Undocumented Workers are using an IRS Tax Loophole to take advantage of the Additional Child Tax Credit to obtain tax refunds. This tax fraud is currently costing U.S. Taxpayers about 4 Billion dollars a year.

Arkansas congressman wants to disconnect $1 billion free cell phone program. No one likes paying cell phone bills. What if you could get a free phone with a calling plan whose cost was paid by the federal government? What if you could have eight free cell phones? You can, and people do, Rep. Tim Griffin told The Daily Caller. The annual bill runs over $1 billion, and he's trying to stop it.

NOAA sought magician, now wants plans to disappear. A federal agency needs illusionist David Copperfield to help escape from criticism over now-canceled plans to hire a speaker to train agency leaders using "magic tools."

HUD Gives Taxpayer Funds to Rich Indian Tribes. Last week the U.S. Department of Housing and Urban Development (HUD) announced its giveaway of taxpayer monies — calling them "competitive grants" — in the amount of $56 million to "tribal communities" around the country, saying that the funds will be used to "develop viable communities including rehabilitating housing or building new homes or to purchase land to support new housing construction."

Call 911: Your country is being mugged. Here's a headline that got me riled up last week: "Montana to receive $15,598,051 in grants from the new health care law for community health centers." That comes from a press release by the U.S. Department of Health and Human Services that was ironically (or intentionally?) issued on May 1, the international socialist holiday known as May Day. Of course, we all know that Obamacare is socialism, but we aren't supposed to say so. Close your eyes and pretend it never happened. That's the ticket for getting along these days. But wait a minute! $15.6 million is a lot of money to be spending in little old Montana, and what does that have to do with health insurance anyway?

Illegal Aliens Getting Bigger Tax Refund Checks. Not only are illegal aliens getting bigger tax refunds this year ... They're claiming the tax credit for kids who live in Mexico — lots of kids in Mexico.

The Government's College Money Pit. If insanity is doing the same thing again and again but expecting a different outcome, then the federal government's strategy for keeping higher education affordable is crazier than Norman Bates.

Scrap heap may be last stop for secret slice of Navy history. Slipping through the sea like a black mirage on catamaran legs, the 164-foot Sea Shadow looks like something Darth Vader might fly. It is the world's only ship built to be invisible, assembled secretly in Redwood City in 1985 by the U.S. Navy and contractor Lockheed Martin at an estimated cost of $50 million. [...] Sea Shadow's rise and fall is a rare peek into the vast and complicated workings of the American military industrial machine. It is just one of many marvels hatched by the Pentagon to give the nation an edge in warcraft, then cast aside when the battlefield changed, the money ran out, or the admirals simply wanted to try out something else.

A $90,000 federal grant — that's a lot of spinach.
First algae, now spinach to be green energy source. President Obama recently touted algae as a potential source of energy, and now the Environmental Protection Agency has invested in converting spinach into an energy source. The EPA awarded a $90,000 grant over the weekend to Vanderbilt University students "who designed a biohybrid solar panel that substitutes a protein from spinach for expensive silicon wafers that are energy intensive to produce, and is capable of producing electricity."

GSA waste, abuse more common than indicated. Congressional lawmakers grilled General Services Administration officials for a third straight day Wednesday [4/18/2012] about a rogue employee's penchant for lavish, taxpayer-funded junkets, unearthing evidence that the waste, fraud and abuse is more common and has been going on much longer than first indicated.

Where Are the Rolling Heads from NOAA? NOAA law enforcement collected close to $100,000,000 in fines and seized goods from fishermen over the past several years. The Department of Commerce IG investigated and found that only about $60M could be accounted for, while some $40M is just plain gone. This is not taxpayer money, but money taken in huge chunks from fishermen for infractions, some very minor. Claims by the fishermen of coercion and extortion were validated by the IG.

A Government of Waste. These GSA and Secret Service scandals were not caused by one political party. They were caused by the Big Government attitude that those in government can do as they please with the public trust and the public purse so long as they can get away with it. The same Congress that professes outrage over the GSA and the Secret Service escapades does whatever it can get away with every day. It writes whatever laws it wants; it regulates whatever behavior it chooses; it taxes whatever events it thinks will keep it in power. And it does so with utter disregard to whether its work is permitted by the Constitution.

Obama wants 469 million to fight overseas global warming. The science remains divided, but the Obama administration has gone all-in with endorsing man-made global warming, even funding efforts to help quell the potential for climate changing catastrophes — including terrorism — in Africa and South America. The White House is seeking $469 million in tax dollars to dump into green programs on those continents, initiatives ranging from helping farmers preserve pastureland to helping women who can't afford to move from hot and dry areas made worse by global warming.

A Government of Waste. [Scroll down] These GSA and Secret Service scandals were not caused by one political party. They were caused by the Big Government attitude that those in government can do as they please with the public trust and the public purse so long as they can get away with it.

Big Losses for Taxpayers as Another Green Company Turns Rotten. In July of [2009], Beacon received $43 million in guarantees to help fund construction of a 20 megawatt flywheel energy storage plant in Stephentown, New York. It took just 28 months for Beacon to burn through its government-guaranteed loans and declare bankruptcy.

So Far, Media Mum on Obama's Defense Secretary: A Million Dollars for Commuting Costs? The big three networks have, thus far, shown little interest in investigating the nearly one million dollars in commuting costs spent by Barack Obama's Defense Secretary. According to the Washington Times, Leon Panetta's weekend flights home cost $32,000 and have totaled $860,000 as of early April.

White House denies 'deal' on Panetta's commute. Contradicting an account by a Pentagon official, the White House is denying that President Obama struck a "deal" with Defense Secretary Leon E. Panetta to allow him to commute home to California most weekends on a military aircraft at a cost of $32,000 per round-trip flight and a total of $860,000 as of early April.

Shovel Ready in San Fran: $205,075 to 'Translocate' One Shrub from Path of Stimulus Project. The government spent at least $205,075 in 2010 to "translocate" a single bush in San Francisco that stood in the path of a $1.045-billion highway-renovation project that was partially funded by the economic stimulus legislation President Barack Obama signed in 2009.

Government Work: $205,000 to Move a Shrub. In 2010 $205,075 was spent to "translocate (that's govspeak for "move") a single bush that was apparently in the way a highway renovation project that was partially funded by stimulus money. No, I'm not kidding. $205,075 to move a bush. [...] The plant in question is called a Franciscan manzanita and is extinct. Except where it is found growing in people's yards in California. And nurseries where they retail for about 16 bucks.

Nothing Left to Cut! California Spends $205,000 to Move $15 Shrub. Reeling from devastating budget cuts driven by austerity extremists, California in 2010 still managed to spend $205,075 to move a plant.

Why Your Highway Has Potholes. The Senate has passed a two-year $109 billion bill sponsored by Barbara Boxer of California that bails out the highway trust fund with general revenues, including some $12 billion for such nonessentials as the National Endowment for the Oceans and the Land and Water Conservation Fund. The bill requires little or no reform. The prevailing Senate view is the more concrete that gets poured, the more jobs back home. So more "shovel-ready" nonstimulus.

GSA employees spent 5 days in Hawaii for 1-hour groundbreaking event. The House Transportation and Infrastructure Committee said Wednesday that five employees associated with the recently scandal-plagued Government Services Administration went to Hawaii for up to a week in 2011 to attend an hour-long groundbreaking on space leased by the federal government for the FBI. Details of the incident surfaced in a transcript of an interview between the GSA Inspector General's Office and a GSA employee.

Latest Doc Dump Shows GSA's Johnson Planned to Meet with Solyndra but Changed Mind. The House Energy and Commerce committee released documents late Wednesday [4/11/2012] that show former General Services Administration administrator Martha Johnson had planned to meet with Solyndra in California at the same time GSA employees attended a lavish Las Vegas conference, but she changed her mind just days before her trip. An investigation into that conference and other wasteful spending at GSA led to Johnson's resignation earlier this month.

GSA official to take the Fifth. The General Services Administration official tasked with organizing a now-infamous $822,000 Las Vegas conference plans to invoke his Fifth Amendment rights ahead of a scheduled Monday [4/16/2012] grilling on the Hill.

Criminal probe sought in GSA case. The inspector general for the General Services Administration this week asked the Justice Department to conduct a criminal investigation into the activities of the senior official at the center of the Las Vegas spending scandal, officials said. Jeffrey E. Neely, a career senior executive who hosted a four-day training conference for 300 managers and staff members that cost $823,000, took various electronic items for his personal use from a GSA storeroom, congressional and other officials familiar with the referral said.

GSA official Neely pleads the Fifth. The General Services Administration official at the center of a scandal over lavish government spending declined to answer questions at a congressional hearing on Monday [4/16/2012], invoking the Fifth Amendment.

We're From the Government and We're Here to ... Boogie. The role of the GSA, like thousands (okay, maybe hundreds) of obscure little Washington fiefdoms, is to spend the people's money and look, ceaselessly, for ways to increase congressional appropriations for the next fiscal year. One can almost sympathize with the GSA bureaucrats who now find themselves obliged to take the Fifth. Almost. After all, they work in a recession-proof industry and live in a recession-proof town.

Second panel blasts GSA for parties, trips, bonuses. General Services Administration witnesses came under sharp criticism from Congress for a second day on Tuesday [4/17/2012], as lawmakers expressed outrage over junkets, bonuses and parties paid for by taxpayers.

A Fish Rots from the Head Down. Subordinate organizations and agencies don't just suddenly take it upon themselves to behave badly. Each of them takes their guidance from the management levels above them. Perceived laxness and permissiveness in the next higher level of management encourages similar behavior in the extant level and this relaxation of standards and ethics then flows downward to permeate the whole.

GSA waste goes much deeper than the Las Vegas junket. GSA employees and contractors — including at least one employee with responsibility for the White House — line their pockets to the tune of millions of dollars a year, according to reports by the agency's inspector general. With the GSA thrust into the congressional spotlight over the 2010 Vegas conference and travel spending, lawmakers have demanded to know how deep the agency's problems run. Is there, they asked repeatedly in hearings last week, a culture of corruption?

End the government's partying. If there were ever any doubt that the federal government is out of control, the recent revelations of taxpayer-fueled parties at the General Services Administration (GSA) should put it to rest. Both House and Senate committees this week began digging deeper into the $822,751 shindig the agency hosted at a Las Vegas luxury hotel.

Taxpayers To Foot Bill for Rep. Cleaver's Car Wash. Rep. Emanuel Cleaver (D-MO), chairman of the Congressional Black Caucus, owes up to $1.5 million to Bank of America, thanks to a loan he took out to buy a car wash. So what, you ask? You're paying for it.

More than 1,200 former N.J. public employees collect pensions of at least $100,000 annually. The number of retired public employees who collected pensions of $100,000 or more in 2011 has climbed to 1,244, according to a report on New Jersey Watchdog. The list is topped by former Essex County College president A. Zachary Yamba, whose pension is $195,000 a year. Former Rutgers athletic director and New Jersey Sports and Exposition Authority head Bob Mulcahy has a pension worth $162,399 annually. He also got a severance package worth about $600,000 when he was fired by Rutgers in 2008.

Energy Department prepares to approve more green loans. The Energy Department said Thursday [4/5/2012] it expects to begin tentatively approving new taxpayer-backed loans for renewable energy projects in the coming months. The announcement comes about seven months after Solyndra, the California solar firm that received a $535 million loan guarantee from the administration in 2009, went bankrupt, setting off a firestorm in Washington.

Feds call bankrupt energy firm an 'empty shell'. Not yet two years after the Department of Energy awarded $43 million in loan guarantees for Beacon Power's energy storage plant, government attorneys are calling the bankrupt solar company and its affiliates little more than "empty shells" benefiting lawyers and other bankruptcy professionals.

Energy Dept. offers prize to create mobile apps that already exist. The Department of Energy announced Thursday a $100,000 prize for software developers to come up with mobile applications to tell consumers how much energy they are using. But there's already an app for that. A quick scan of the iTunes and Android markets shows nearly two dozen existing applications that accomplish the same purpose — helping users keep track of their energy consumption at home.

World's Largest Solar Plant Files For Bankruptcy. Solyndra was just the appetizer. Earlier today [4/2/2012], in what will come as a surprise only to members of the administration, the company which proudly held the rights to the world's largest solar power project, the hilariously named Solar Trust of America ("STA"), filed for bankruptcy. And while one could say that the company's epic collapse is more a function of alternative energy politics in Germany, where its 70% parent Solar Millennium AG filed for bankruptcy last December, what is relevant is that last April STA was the proud recipient of a $2.1 billion conditional loan from the Department of Energy, incidentally the second largest loan ever handed out by the DOE's Stephen Chu.

The Supreme Court Lands in Oz. [Scroll down] It's in one of the grandest moments in "The Wizard of Oz," when the Wizard, fumbling at the controls inside his throne room, shouts to Dorothy and the others: "Pay no attention to that man behind the curtain." Barack Obama, a wizard of another kind, has been trying with fulminations and denunciations to keep anyone from attempting what a law professor might call discovery of what the president actually has done in the past three years. We already know, for instance, that the stimulus's $825 billion went up the chimney. What else?

GSA Rocks Vegas! According to the April 2 report by the GSA's Inspector General, the "conference" cost $822,751. So, for a mere $2,742 per person in taxpayers' money, the GSA event featured essential government functions such as a $75,000 team-building session in which attendees were challenged to build a bicycle, a session with an entertainer-mind reader ($3,200), almost $150,000 in food expenses as well as paying for clothing and tuxedo rentals for GSA employees[.]

Obama in Casablanca. President Obama is shocked, shocked to learn there is a September Spending Spree in the federal government, leading agencies like the General Service Administration do things like blow $823,000 on a BS "training conference" in Las Vegas.

New video from GSA conference emerges as lawmakers scrutinize spending. Another video of federal employees laughing it up on the taxpayers' dime surfaced Monday — this one showing an official for the General Services Administration joking at their 2010 conference about making a mock music video at work.

Another top GSA official placed on administrative leave. A top official at the General Services Administration was placed on administrative leave Monday [4/9/2012], four days after a video that features him joking about the lavish spending at a Las Vegas conference became public.

Eighth GSA employee placed on leave in scandal. The General Services Administration on Monday [4/9/2012] placed an eighth employee on administrative leave following an investigation into $823,000 in spending for an October 2010 training conference at a Las Vegas resort.



Update:
Jeffrey Neely, the GSA "hot tub" exec to spend three months in prison. This seems to be the week for old government corruption to be cleaned up. First we heard about Leland Yee packing his bags for the crowbar motel and now we see that Jeffrey Neely will be doing three months (?) in prison. This is a name that you're probably familiar with if you've been following government waste, fraud and abuse stories for the past few years.

Justice Department Probing Widespread Stimulus Fraud. In what is shaping up as another troubled chapter in the saga of the Obama Administration's economic stimulus program, the Justice Department is investigating whether billions of dollars worth of federal highway and transportation programs are rife with fraud and abuse.

GSA chief resigns, employees fired for costly conference. The head of the General Services Administration (GSA) resigned Monday [4/2/2012] and two deputies were fired after an internal report revealed excessive spending at a conference. GSA Administrator Martha Johnson stepped down after more than two years on the job. Public Buildings Service chief Robert Peck and Stephen Leeds, an adviser to Johnson, were fired Monday [4/2/2012]. Four other employees involved in organizing an October GSA conference to Las Vegas — an event that cost $822,851 and included a clown and mind reader — were put on administrative leave.

L.A. can't explain $7 million in fuel bills. Controller's audit finds that millions of gallons of taxpayer-funded city fuel was pumped in recent years with no record of where it went.

Obama Requests $770 Million to Fight Global Warming Overseas. The Obama administration has requested $770 million in federal funds to combat the effects of global warming in developing countries, a new congressional report details, continuing its policy of using foreign aid to combat the effects of global warming in the developing world.

The Editor says...
(1) "The effects of global warming" are zero at the moment, since global warming stopped in 1998. (2) The United States is not the babysitter of "the developing world." It is not up to us to make the rest of the world comfortable.

Is Congress truly serious about eliminating wasteful federal spending? A few weeks ago, GAO submitted its 2012 report, which identified "tens of billions" worth of duplicative programs and recommended changes that would save more hundreds of billions of tax dollars.
• There are 209 federal Science, Technology, Engineering and Mathematics (STEM) education programs, administered by 13 different federal agencies, costing taxpayers more than $3 billion annually.
• Congress has spent $30 billion on more than 200 duplicative Department of Justice (DOJ) grants and programs meant to help crime prevention and assist victims of crime.
• In 2010, the government spent roughly $170 billion on 160 housing programs aimed at helping homebuyers, homeowners and rental property owners.

Energy Department-Backed Company Under SEC Investigation. In its push to get electric vehicles on the road, the Obama administration has partnered with a company in dire financial straits that is also under investigation by the Securities and Exchange Commission for insider trading. San Francisco-based green technology company ECOtality received roughly $115 million in two separate Energy Department grants to build 14,000 electric vehicle charging stations in 18 cities.

Firm sells solar panels — to itself, taxpayers pay. A heavily subsidized solar company received a U.S. taxpayer loan guarantee to sell solar panels to itself. First Solar is the company. The subsidy came from the Export-Import Bank, which President Obama and Harry Reid are currently fighting to extend and expand. The underlying issue is how Obama's insistence on green-energy subsidies and export subsidies manifests itself as rank corporate welfare.

Government Spends $11 Million to Clothe Two People. The Department of Human Services granted $11 million dollars to Detroit to provide business attire to job seekers. Two people were helped.

$2 Mil To Track What Minority Kids Eat For Lunch. The government agency that's wasting tens of millions of taxpayer dollars to study how global warming effects crops, recruit more food-stamp recipients and bring healthy cuisine to the inner city has dropped a couple million on a device that tracks what minority public school children eat for lunch. It marks the latest outrageous expenditure of public funds at the U.S. Department of Agriculture (USDA), which is supposed to provide leadership on food, agriculture and natural resources based on "sound public policy" and science. Instead, under the Obama Administration, the bloated agency is spending huge sums to control matters unrelated to its mission.

Federal Regs Eat up $231 Billion, 133 Million Hours. Federal regulations in 2011 added more than $231 billion in regulatory costs to private businesses and state and local governments and required 133 million hours of paperwork, according to a report by the Washington, DC-based American Action Forum. The organization pored over the Federal Register and determined 66,730 employees would be needed just to file federal paperwork, based on a 2,000-hour work year. The financial costs and paperwork totals were derived by adding up the government's own estimates for the regulations, which totaled 78,464 pages in 2011.

Big government expectations. The government has grown so large that nobody really knows where its $3.8 trillion in annual spending goes. Each year, the Government Accountability Office (GAO) tries — and fails — to make sense of federal-agency ledgers. On Thursday [3/1/2012], GAO refused once again to certify the official balance sheets because they are so shoddily kept. The green eyeshades complained that Defense Department books are so bad they can't be audited. Throughout the rest of the government, there are "hundreds of billions" in unreconciled funds.

Air Force Shelves $3B Worth of Brand New Drones. Far from spying on terrorists, more than a dozen high-tech surveillance drones, which together cost the U.S. government more than $3 billion, could soon be sitting in a storage facility gathering dust after top Air Force officials admitted this week the birds still are not as good as the half-century-old spy planes they were designed to replace.

Air Force Set to Shoot Down Its Own Giant Spy Blimp. After spending more than $140 million, the Air Force is poised to pull the plug on its ambitious project to send a king-sized, all-seeing spy blimp to Afghanistan. Which is a bit of a strange move: Not only is the scheduled first flight of the 370-foot-long "Blue Devil Block 2" airship less than six weeks away, but just yesterday [3/1/2012], a top Air Force official bragged to Congress about the blimp's predecessor, the "Blue Devil Block 1" program. In other words, the Air Force is set to ground its mega-blimp spy ship before it even gets off the ground — literally.

America's missing $800 billion. The missing wage and salary income, $800 billion, is about the same as the cost of the Obama stimulus.

Texas Doctor Charged With $375-Million Healthcare Fraud. A Texas doctor was arrested Tuesday for allegedly "selling his signature" to process nearly $375 million in fraudulent Medicare and Medicaid claims in a scheme that was carried on for half a decade; $350 million was improperly billed for Medicare and $24 million for Medicaid. In what is being characterized as one of the largest healthcare scams organized by a single doctor, critics are suggesting that the development only solidifies the fact that the government's Medicare and Medicaid fraud detection system is gravely flawed.

Undercover Grandma Catches Medicare Fraud on Tape. A hidden camera recorded the undercover grandmother's visit to a doctor in McAllen, Texas, where she told the doctor and nurses she exercised regularly and, other than some hypertension and arthritis, was in excellent health. ... Yet the official certification sent to Medicare for home health care services indicate she was homebound and suffered from two internal infections, incontinence and needs "assistance in all activities, unable to safely leave home, severe sob," an abbreviation for shortness of breath.

Welfare Debit Cards Used At Casinos, Strip Clubs, Disneyland, Universal Studios.... Consider this, our Federal Government is heralding its record number of food stamp distribution. Meanwhile their Park Service department pleads "Do NOT feed the animals" because the animals will grow dependent on handouts and not take care of themselves.

$69 Million Of California Welfare Funds Spent Around The World. In this case we examine $69 million in 'missing' California welfare money. $11.8 million of it blown in Las Vegas casinos or withdrawn from Sin City's ATMs. Additional related California welfare transactions were recorded in Hawaii, Guam, Miami, etc., prompting some folks to ask questions. Officials responded, stating recent 'budget cuts hinder investigations.' How convenient.

Cost of $10 Billion Stimulus Easier to Tally Than New Jobs. Alfredo Garcia was among the residents of Webb County, Texas, banking on a windfall from federal stimulus money. Mr. Garcia expanded his Mexican restaurant from 80 to 120 seats, anticipating a rush of new patrons springing from the nearby Cedro Hill wind farm, a project built with the help of $108 million from U.S. taxpayers. When construction ended, Cedro Hill had just three employees and Mr. Garcia's restaurant, Aimee's, filed for bankruptcy protection.

Federal Programs Waste Tens of Billions of Dollars Every Year. As duplicative and wasteful federal programs go unreformed, a report published Tuesday [2/28/2012] by the Government Accountability Office (GAO) affirms that the government is wasting "tens of billions of dollars" every year. According to the GAO, a nonpartisan investigative arm of Congress, nearly every agency of the Executive Branch could use improvement. The report shows 51 areas and proposes 130 actions for reform, following a 2011 report that identified 81 areas and 176 actions to be taken to "reduce or eliminate unnecessary duplication, overlap, or fragmentation or achieve other potential financial benefits."

7 accused of $375M Medicare, Medicaid fraud. Years after Jacques Roy started filing paperwork that would have made his practice the busiest Medicare provider in the U.S., authorities say they've found most of his work was a lie.

Report: Government wasting 'tens of billions' of dollars annually on duplication, overlap. As lawmakers across the Capitol hear appeals Tuesday from Obama administration secretaries pleading for their budgets, duplication and overlap in dozens of areas of government is wasting "tens of billions of dollars annually," a new government report shows. According to the Government Accountability Agency's 2012 annual report, nearly every department of the Executive Branch has room for improvement.

Guantanamo detainees get new $750G soccer field. At a time of record deficits, a new soccer field for detainees at Camp 6 in Guantanamo Bay is just getting the finishing touches — at a cost of $750,000 to taxpayers. The project was the highlight of a tour Tuesday of the detention camp for reporters at the facility covering the arraignment in a military court of Majid Khan, a former Baltimore resident and the the only legal U.S. resident on trial at Guantanamo.

Gitmo camp set to open $750,000 soccer field for detainees. The soccer field was mentioned in an earlier report from Guantanamo by Catherine Herridge, on the trial of Majid Khan, a high-value detainee expected to testify against two 9/11 suspects.

Green company gets $390M subsidies, lays off 125. A123 Systems, an electric car battery company once touted as a stimulus "success story" by former Gov. Jennifer Granhom, D-Mich., has laid off 125 employees since receiving $390 million in government subsidies — but is still handing out big pay raises to company executives. "[T]he company has laid off 125 employees and had a net loss of $172 million through the first three quarters of 2011," the Mackinac Center for Public Policy notes, observing that the company's primary customer, Fisker Automotive, is also struggling financially.

Study Finds $1.2B in Duplicate Spending at Defense, Energy. A new report from Government Accountability Office found more than $1.2 billion in duplicate investments in information technology between two federal agencies. The report, released this week, reviewed a sample of more than 800 IT investments by the Departments of Defense and Energy made between fiscal years 2007 to 2012. GAO found 37 examples of "potentially duplicative" or "misclassified" investments — 31 at DOD and six at DOE.

Obama Vows to 'Double Down' on Green Investments Despite Solyndra and Volt Flop. Despite some green energy failures, such as the bankrupt Solyndra solar panel company and weak-selling Chevy Volt, President Barack Obama said that he wanted to "double down" on green energy spending, and would do what he could even without Congress to subsidize these companies.

$20 Mil To Help States Spend Federal Money. In a development that should make the average taxpayer's head spin, the U.S government is doling out tens of millions dollars to support programs that help states spend their federal money more efficiently.

The California wind boondoggle. Writing at Forbes, Larry Bell paddles through the next wave of Solyndra disasters coming our way from the Obama Administration: a 65-percent taxpayer-subsidized windmill project in Indiana that will create 35 jobs at a cost of $16.3 million apiece, the Administration's decision to waste increasingly scarce defense dollars by forcing the Navy to buy ridiculously expensive biofuel, and of course the growing flood of taxpayer dollars being poured into that 21st-century Edsel, the Chevy Volt.

Taxpayers Clipped to Keep Senate Barbershop Afloat. A shave and a haircut will cost you more than two bits just about anywhere, but it'll run you over two Hamiltons at the U.S. Senate barbershop — more than double what barbers in some parts of the country charge. Yet despite these high prices, the shop, which is supposed to be self-sustaining, ended up $300,000 in the hole last year and got its own taxpayer bailout, proving once again that government is incapable of performing even the smallest tasks cheaply and competently.

Obama Requests $1 Billion — To Get the Right Names on Social Security Checks. According to President Obama's budget proposal today, his budget would continue "investment in program integrity by providing $1 billion to ensure benefits are paid to the right person and in the right amount." Yes, you read that correctly: we are supposed to spend one thousand million dollars in order to achieve what American Express does correctly every single day.

Riverside Hospital employee charged in $100 million Medicare case. An executive of Riverside General Hospital was arrested and charged Wednesday [2/8/2012] in a $116 million Medicare scheme involving kickbacks to patient recruiters and the owners of homes for the elderly and disabled in exchange for steering residents to Riverside's mental health clinics.

Congressman Questions Port Of LA About VIP Yacht. Congressman Darrell Issa from Washington questions why the port of Los Angeles owns a 73-foot yacht called the Angelena, and why they're using taxpayer money to refurbish it. "I do sometimes question why they need a VIP yacht at all," says Issa.

Super Bowl Chevy Volt Ad -- Who Paid? An example of the good management at GM, seeking to boost embarrassing sales of only 603 Chevy Volts in January 2012, is the Super Bowl ad .... The Atlantic reports the going price for this year's commercial is $3.5 Million for each 30-second spot. Then there's the cost of making the ad.

Eastwood and Down. My problem here is that we were milked by this company, and that we're paying for the ads to glorify the guy who milked us.

$490,000 Green Stimulus Grant Produced 1.72 Jobs. A "green stimulus" grant of nearly half-a-million dollars to grow trees in Nevada produced only 1.72 permanent jobs, according to the federal government's Recovery.gov Web site. Although the green stimulus was advertised as a key component of "shovel-ready" jobs designed to boost employment rates immediately, the recipient of the funds now admits the grant had nothing to do with creating jobs.

The Economic Development Administration: This agency provides subsidies to state and local governments for activities that are not proper federal responsibilities. The agency will spend about $352 million in fiscal year 2009. Of that total, about $319 million will be spent on grants and loans, and about $33 million will be spent on salaries of EDA employees and other administrative costs. The agency has six regional offices across the country.

Members Of Congress And Federal Employees Are Living The High Life At Our Expense.
#1 When you total up all compensation (including health care and benefits), the average income for a federal worker in the Washington D.C. area last year was $126,369.
#2 In 2005, 7420 federal workers were making $150,000 or more per year. In 2010, a whopping 82,034 federal workers were making $150,000 or more per year. That is more than a tenfold increase in just five years.
#3 In 2005, the U.S. Department of Defense had just nine civilians earning $170,000 or more. When Barack Obama took office, the U.S. Department of Defense had 214 civilians earning $170,000 or more. In June 2010, the U.S. Department of Defense had 994 civilians earning $170,000 or more.

More Solyndra-style failure: Obama-tied Amonix Inc lays off most of company. Some of President Barack Obama's top donors and fundraising bundlers are partners in Amonix Inc., the latest Solyndra-like corporate crash. The company has announced a layoff of 200 workers — two-thirds of its workforce — despite a federal green-technology tax credit of $5.9 million in 2010.

The National Science Foundation: Under the Microscope. The National Science Foundation wastes millions of dollars on wasteful projects. Among the grant-funding highlighted in this report:
• A study suggesting playing FarmVille on Facebook helps adults develop and maintain relationships;
• An analysis of how quickly parents respond to trendy baby names;
• A grant to produce songs about science including a rap called "Money 4 Drugz," and a misleading song titled "Biogas is a Gas, Gas, Gas";
• A study on why the same teams always seem to be dominating March Madness;
• Millions of dollars to figure out that people who often post pictures on the internet from the same location at the same time are usually friends; and
• A study on whether online dating site users are racist in their dating habits.

Top 10 perils of Pelosi. [#9] Taxpayer extravagance: Wealthy Pelosi knows how to live the good-life. Witness her recent vacation in Hawaii where she and her husband stayed in a $10,000-per-night hotel. While we don't begrudge the rich spending their own money, it irks us when they are extravagant at taxpayers' expense. Pelosi's congressional travel expenses for a two-year period exceeded $2 million, including over $100,000 spent on in-flight alcohol and food. Only the best liquor was served — Grey Goose vodka, Courvoisier cognac and Bombay Sapphire gin.

The TSA's Voodoo Security: A century ago, most people would have dismissed [Paul] Ekman as a crank. He's spent much of his life pursuing what believers dignify as "parapsychology." His pastime would have remained a harmless hobby if the U.S. Government hadn't robbed us to bankroll him. Thanks to that financing, the nationalized, so-called educational system takes him seriously enough that the University of California at San Francisco "appointed" him a professor in 1972. That provides cover for the corporate media to take him seriously, too.

After Billions in Federal Bailouts, Now GM Lobbying States for More? How much bailing out does one company need? After receiving some $50 billion in tax dollars from us courtesy of Obama's "cash stash," GM is claiming success with a "big profit" with last year's third quarter report, and in his recent State of the Union Speech, President Obama claimed that GM was "back on top as the world's number one automaker." But true or not, if all is coming up roses for GM, why is the company now lobbying the individual states for mini bailouts? That is exactly what is happening.

USDA loan program 'creates' jobs for $2.5M each. Agriculture Secretary Tom Vilsack today [1/26/2012] announced his second bio-fuels loan guarantee in a week, revealing that the Agriculture Department (USDA) is slated to loan an Oregon biorefinery $232.5 million for a project expected to create 65 jobs and support 38 others.

Democrats' Three Years Of No Budget Is All About Deception. The last time the Democratic-controlled U.S. Senate passed a budget was April 29, 2009 — 1,000 days ago. It's no mystery why: They don't want taxpayers to know about the trillions they're wasting.

15 Questions The Mainstream Media Would Ask Barack Obama If He Were A Republican: [#14] Your stimulus bill cost more in real dollars than the moon landing and the interstate highway system combined. What do we have to show for all of that money spent? [#15] Members of your administration promised that the trillion dollar stimulus would keep unemployment under 8 percent. Instead, we've had 35+ months of 8% and above unemployment. Doesn't that mean we wasted a trillion dollars on nothing?

When Will We Awake From Obama's Bad Green Dream? The Obama administration promised a future with a clean, green economy. Instead, it's left us with failed government "investments" in projects driven by politics rather than prudence.

Worse than Madoff? USDA biofuels investment goes bust. Upon reports Tuesday [1/3/2012] that a USDA-backed biofuels plant in Soperton, Georgia has lost taxpayers nearly $60 million, IER President Tom Pyle issued the following statement: "Apparently U.S. taxpayers have yet to discover life after Solyndra. Today's announcement that a USDA-backed biofuels plant has been sold for pennies on the dollar — at a loss of nearly $60 million to U.S. taxpayers — further underscores the point that the federal government should not be in the venture capital business.["]

Feds find failures in Cook Co. homeland security project. Project Shield was supposed to make citizens safer. But in the end, the $45-million Homeland Security program more resembled a disaster, wasting taxpayers' dollars and failing to make a single citizen more secure. The failed Cook County initiative was replete with equipment that failed to work, missing records and untrained first responders according to a report by the inspector general of the U.S. Department of Homeland Security. ... Under Project Shield, two police squad cars in all 128 Cook County suburbs were to be fitted with cameras capable of feeding live video to a central command.

The Militarization of Local Police. [Scroll down] One popular piece of equipment, the BearCat, a "16,000-pound bulletproof truck equipped with battering rams, gun ports, tear-gas dispensers and radiation detectors" which costs $237,000, has been sold to over 500 local [police] agencies. Police in Hanceville, Ala., (population 3,000) have acquired $250,000 worth of equipment. While these so-called "free" surplus military weapons may seem like a windfall for cash-strapped communities, the maintenance costs for such extraneous equipment can quickly skyrocket. For example, police in Tupelo, Miss., spent about $274,000 over five years servicing a helicopter that flew an average of ten missions per year.

Shrimp on a Treadmill. How well can a shrimp perform on a treadmill? It's a question that has puzzled mankind for ages. Fortunately, some researchers at the College of Charleston, South Carolina, are in the process of answering it — at a cost to U.S. taxpayers of a mere $682,570 (and counting).

The Democratic Party's War on the Poor. The city of Medellín, long known as the home of one of the world's most notorious drug cartels, built the people of Comuna 13 six sets of escalators. One column up, one down, both outdoors, both designed to carry the poorest of Medellín's poor back up to their miserable hovels... at a cost to the taxpayer of some USD 6.7 million. Yes, you read it right: two sets of escalators, uncovered, up and down the side of a hill, to and from a ghetto.

ObamaCar Sticker Shock: Taxpayers Taken For A Ride. At a time when Democrats are blaming the GOP for blocking a payroll tax cut deal that will add $40 in the average paycheck, they have no problem taking that worker's tax dollars to make and subsidize what we once called an electric Edsel bought by a precious few with an average income of $170,000. "Each Chevy Volt sold thus far may have as much as $250,000 in state and federal dollars in incentives behind it — a total of $3 billion altogether, according to an analysis by James Hohman, assistant director of fiscal policy at the Mackinac Center for Public Policy.

10 Insanely Overpaid Public Employees: [E]ven during these hard times, there are thousands of government employees who still earn great, big salaries — many of them hundreds of thousands more than the $400,000 Obama pulls down each year. In 2009, 347 Texas state employees earned more than the president; 53 of them made more than $600,000.

Coburn Releases 'Wastebook' Detailing More Than $6.5 Billion in 'Unnecessary' Spending. Oklahoma Sen. Tom Coburn on Tuesday [12/20/2011] released his annual "Wastebook" highlighting what he's labeled some of the government's most wasteful spending items, including $113,000 for a video game preservation center and $765,000 to subsidize "pancakes for yuppies" in Washington.

Wastebook 2011. [T]he IRS approved roughly $1 billion in tax credits intended for energy efficiency home improvements to individuals who did not even own a house. These recipients included prisoners and children, some probably not even old enough to own a doll house. While Congress bickered over whether or not the salaries of federal employees should be frozen, the federal government paid $120 million to federal employees who were deceased.

The explosive growth of federal subsidies. As best as can be determined, there are 18 different federally funded food and nutrition programs, 47 federally funded employment and training programs, over 20 federally funded housing assistance programs, and 80 federally funded programs for the "transportation disadvantaged." The House Republican Study Committee counted 77 different federal means-tested welfare programs, but the actual number of programs is unknown, even to the General Accountability Office. According to the RSC, since the beginning of the "war on poverty" in the mid 1960s "Americans have spent around $16 trillion" on federal programs for the poor yet "poverty is higher today than it was in the 1970s."

Duplication in Government Programs Costs Taxpayers at Least $100 Billion. House Republicans could fulfill their Pledge to America promise of cutting $100 billion simply by eliminating duplicative government programs. That's the startling news from a new Government Accountability Office report today that exposes widespread waste in the federal government. GAO's 345-page report was initiated more than a year ago when Sen. Tom Coburn (R-OK) forced a 94-0 Senate vote on the issue.

Gear galore left in Iraq as last troops pull out. Troops are leaving a bounty of leftovers as they exit the country this month, abandoning dining-hall tables and chairs, tents, air conditioners and old vehicles. Unlike a traditional American yard sale, the military bric-a-brac is free. The stuff likely would be dumped back home.

Jet Fuel-Gate Is Obama's New Solyndra. SolyndraGate was no isolated case of corrupt government misspending. The U.S. Navy was just forced to buy 450,000 gallons of biofuels from an Obama-connected firm at an outrageous $16 per gallon.

Navy blue goes green. Even as the scientific validation of global-warming theory crumbles, adherents in Washington have dragooned the U.S. military into leading the charge toward renewable energy. The Navy made headlines last week with the revelation that it has been ordered to purchase 450,000 gallons of biofuel to power its jet fighters. Conventional jet fuel costs about $4 a gallon, but the biofuel made from fermented algae will set back the service about $16 a gallon.

Navy Biofuel Deal is 'Cost Prohibitive,' 'Another Solyndra,' Critics Say. The Obama administration's deal to buy 450,000 gallons of biofuel for Navy jets comes at a cost of up to nine times higher than regular fuel, a spokesman for Sen. James Inhofe (R-Okla.) said, coming at a time when the U.S. military is already facing deep budget cuts.

New billing system for Medicaid in trouble. Managers of one of the state's largest service contracts came in for a barrage of criticism Tuesday after legislators were provided a copy of an audit detailing why the project is hundreds of millions of dollars over budget and nearly two years behind schedule.

Take this bullet train. Please. So, the California High-Speed Rail Authority was wrong. The bullet trains from Anaheim and Los Angeles to San Francisco will not cost $34 billion as originally estimated, or $43 billion as the authority insisted just two years ago, but closer to $100 billion. Critics say the agency's new $98.5-billion estimate is low, and the authority admits it might go as high as $117.6 billion, but for sake of argument call the cost $100 billion. The authority is offering us less for more. The original system included Sacramento and San Diego. They are not part of this estimate.

More about high-speed rail projects.

NY-NJ bridge policeman earns $221,000. Payroll figures and names released for the first time Friday [12/9/2011] by the Port Authority of New York and New Jersey show 66 police officers have made more than $200,000 so far in 2011, thanks to overtime that in many cases has doubled their salaries.

This Texas Town Is Building A $40M Bus Barn, To Go With Its $60M Football Stadium. The same board that approved a $60 million high school football stadium in Allen, Texas a few years back now intends to throw tax dollars at a $40 million industrial bus depot one block from a local elementary school, according to a group of local residents embittered over the school district's new plans.

The opposition has its own web site:
Stop the Barn. Allen ISD wants to build a massive 130,000 sq. ft. industrial bus depot, warehouse, and distribution center on a 42 acre lot, right next to residential neighborhoods. ... There's no question this will be an industrial facility. As we discuss in our Residents' Report, the zoning for Watters land prohibits nearly all the above. But unfortunately, AISD is not subject to the city's zoning.

Save the World on Your Own Dime. The taxpayers are being beaten to death by liberalism. Meanwhile academic liberals are complaining that they are taking a beating with recent budget cuts, which they claim are unjust. For the first time in a long time, I agree with the liberals. The budget cuts are unjust. In my view, they aren't deep enough.

$5.3B goes to students who government says don't need it. Universities and colleges are giving $5.3 billion in aid this year to students who the federal government says don't need financial help, according to figures from the College Board.

Not Your Grandfather's Republican Party. Conservatives are right to raise issues about what they see as a tendency to throw money at domestic programs, yet refuse to apply the same logic to spending on the military. In a world with no existential threat such as we faced during the Cold War and in which 85% of global defense spending is by the US and its allies, the US defense budget is higher now on a constant dollar basis than it averaged during the Cold War. There is probably no part of the Federal government that is more poorly and wastefully managed than the US weapons acquisition programs where massive cost overruns are common.

Road to Nowhere. There is no such thing as temporary government spending, which stimulus spending needs to be in order to work. Infrastructure spending in particular is likely to cost the American people money for a very long time. The stimulus was layered on top of the $265 billion average annual expenditure on infrastructure and capital investments and the $2.9 trillion nominal increase in infrastructure spending during the last 10 years. What are we getting for all that money? Waste, for one thing. Infrastructure spending tends to suffer from massive cost overruns, fraud, and abuse.

Salaries soar at Harris County Housing Authority. Harris County Housing Authority leaders have received steep salary increases and staggering bonuses in recent years, nearly tripling some executives' pay since 2004. As CEO, Guy Rankin's salary has gone from $99,507 when he took over in July 2004 to $263,965 three years ago. That included a $60,000 bonus, dubbed "equalization pay" in authority records. This year, while not scheduled to receive a bonus, he stands to make $242,008.

Cash-strapped U.S. Postal Service still owes retired postmaster. In a year when the U.S. Postal Service lost more than $5 billion, former Postmaster General John E. Potter still received more than a quarter-million dollars thanks to a hefty deferred-compensation package, a "lifetime achievement award" and a severance deal, records show. What's more, the cash-strapped Postal Service still owes more than $800,000 to Mr. Potter — the result of years of incentive awards that were deferred to avoid running afoul of federal compensation caps.

$32,000 Per Illegal Alien? It should come to a shock to the public that Customs and Border Protection paid $240 million for unmanned systems which have only been "credited with apprehending more than 7,500 people since they were deployed six years ago." Is the cost of apprehending a single illegal alien with a Predator really $32,000?

How The Government Showers The Rich With Free Money. Sen. Tom Coburn (R-OK), one of Congress' biggest deficit hawks, released a report on Monday [11/14/2011] showing that the federal government has paid over $9.5 billion in benefits to millionaires since 2003. The memo is titled "Subsidies of the Rich and Famous" and addressed to taxpayers, and states that millionaires (those with an adjusted gross income greater than $1 million per year) receive benefits worth more than $30 billion from the government each year including tax giveaways and federal grant programs. And almost 1,500 millionaires paid no income tax to the federal government in 2009.

Federal Programs and Tax Breaks That Help Millionaires. The total amount of Social Security retirement benefits paid to millionaires from 2004 through 2009 was more than $9 billion. This high number of high-earners receiving benefits from the Social Security Trust Fund was never contemplated when the program was created because the program was intended as a safety net for low-income earners.

Before Solyndra, a long history of failed government energy projects. Solyndra, the solar-panel maker that received more than half a billion dollars in federal loans from the Obama administration only to go bankrupt this fall, isn't the first dud for U.S. government officials trying to play venture capitalist in the energy industry. The Clinch River Breeder Reactor. The Synthetic Fuels Corporation. The hydrogen car. Clean coal. These are but a few examples spanning several decades — a graveyard of costly and failed projects.

More federal workers' pay tops $150,000. The number of federal workers earning $150,000 or more a year has soared tenfold in the past five years and doubled since President Obama took office, a USA TODAY analysis finds. ... Top-paid staff have increased in every department and agency. The Defense Department had nine civilians earning $170,000 or more in 2005, 214 when Obama took office and 994 in June. ... Medical doctors at veterans hospitals, prisons and elsewhere earn an average of $179,500, up from $111,000 in 2005. Federal workers earning $150,000 or more make up 3.9% of the workforce, up from 0.4% in 2005.

San Francisco's Half-Million-Dollar Wheelchair Ramp. The city of San Francisco has completed work on a $515,000 wheelchair ramp that measures 10 feet. It's true. It all began last year when Board of Supervisors member Michela Alioto-Pier, who uses a wheelchair, complained that the dais serving the board's meeting room in City Hall was not wheelchair-accessible. When she threatened to sue, the city went into overdrive to build a small ramp.

State Department buys $70,000 worth of Obama books. The U.S. Department of State has bought more than $70,000 worth of books authored by President Obama, sending out copies as Christmas gratuities and stocking "key libraries" around the world with "Dreams from My Father" more than a decade after its release. ... Leslie Paige, spokeswoman for Citizens Against Government Waste, a watchdog group, said if the federal government is looking to cut costs, eliminating purchases of Mr. Obama's books is a good place to start.

House Democratic Caucus Charged Taxpayers to Clean Its Dirty Laundry. The House Democratic Caucus charged the taxpayers $1,822.26 for "laundry service" in calendar year 2010, the most charged by any entity or member claiming reimbursements from the U.S. House of Representatives last year, according to the official Statement of Disbursements of the House.

The Real Socialist Puppets: The "In The Heart Of The Beast" puppet and mask theatre in Minnesota, not only uses puppets and masks to promote a socialist message but they received tax payer money as well. According to recovery.gov, the website that tracks spending under the Recovery Act, The "In The Heart Of The Beast" theatre received a $25,000 grant in 2009. The group, whose name comes from a quote popularized by Argentine Marxist revolutionary Che Guevara, puts on a variety of shows which include a Mayday Parade piece entitled "The New Bridge" in 2008.

Justice Official's Romantic Junkets Cost Taxpayers Thousands. Added to the expanding catalog of federal embarrassments, such as gunrunning scandals and bankrupt green energy companies, are taxpayer-funded trips taken by a Justice Department official to "facilitate a physical relationship with a woman in Florida."

Kings County shrink claimed to work 141 hours in one week. Records obtained by The [New York] Post under the Freedom of Information Law show that Dr. Quazi Rahman clocked 3,820 hours of overtime in 2009, or 73 hours a week, on top of his regular 40-hour schedule. With a base salary of $173,503, the child-behavior specialist hit the jackpot — his total taxpayer-funded compensation came to an astounding $689,203.

Army Corps Officials Charged in $20 Million Fraud Conspiracy. Two U.S. Army Corps of Engineers contracting officials were charged with taking $20 million of bribes and kickbacks and plotting to steer $780 million of government business to a favored company.

Solyndra Loan Program on Pace to Commit Equivalent of $6M Per Permanent Job. As the Energy Department moves to finalize the last remaining loan guarantees from a controversial clean-energy fund, the federal government is on pace to put up more than $6 million for every permanent job saved or created by the program. As of late Friday afternoon [9/30/2011], the program that doled out money to now-bankrupt solar firm Solyndra has backed up $16 billion in clean-energy loans.

More about Solyndra.

White House Defends Green Loans to Bankrupt Companies. What's more foolish than using taxpayers' money to build a bridge to nowhere? That's easy, handing out a major federal government loan to a company that is bankrupt. But that's what President Barack Obama is doing with his green initiative stimulus program.

East Tennessee truck stop got stimulus money despite bankruptcy. In July, Tennessee's transportation commissioner applauded the opening of the state's first truck-stop electrification terminal at TR Auto Truck Plaza in Dandridge, a project taxpayers paid for with a $424,000 federal stimulus fund grant. Thursday [9/29/2011], the shiny new equipment languished uselessly as U.S. Bank took possession of the bankrupt business after an auction at the Jefferson County Courthouse failed to solicit a single bid.

The Editor says...
I think they meant to say "elicit" rather than "solicit", but I'm not their editor.

DOE OKs $4.7 Bil In Loan Guarantees For (Maybe) 92 Permanent Green Energy Jobs. With a deadline of today to finish several major green-energy loan guarantees, the Energy Department announced the completion of four of those loans for solar power projects this afternoon, together totaling more than $4.7 billion. The number of permanent, full-time jobs these projects will create? About 92. That's nearly $52 million per job.

Did someone mention green jobs again?



A $64 million runway for no one in Alaska? Remember Alaska's "Bridge to Nowhere," a $400 million span that was supposed to connect Ketchikan to its airport on sparsely inhabited Gravina Island? ... The price this time is $77 million and the place is Akutan, a remote island village in the Aleutian chain, according to a report from the Alaska Dispatch. By next winter Akutan is scheduled to have a 4,500-foot-long runway, built at a cost of $64 million, the Dispatch reports.

Exactly the opposite is true.
Acting Commerce Secretary: 'U.S. Can't Afford' Not to Subsidize Green Tech. Acting Commerce Secretary Rebecca Blank said that in a global race for green technology, the United States "can't afford" not to spend taxpayer money on such projects, and that the price of that spending is an occasional failure. One of those failures was a $535-million federal loan guarantee to the Solyndra company that makes solar panels but which recently filed for bankruptcy.

Paying the Dead. According to a report by the Office of Personnel Management and reported in Ed O'Keefe's "The Federal Eye" column in the Washington Post, our government has been sending checks to dead people. "In the last five years," O'Keefe writes, "the Office of Personnel Management has made more than $601 million in payments to dead federal retirees, according to the agency's inspector general. Total annual payouts range between $100 million and $150 million."

545 Politicians & Judges Control Everything. What we have in Washington is a political three-ring circus performing its various functions on the hugest pile of money ever assembled in one place in all of human history. Indeed, there is so much money that there is no way that anyone can keep track of how it is spent, or who gets what, or who steals what. Solyndra is just one small example of legal theft of a mere half billion dollars.

A "Humanitarian" Expenditure Americans Can't Afford. Our "compassionate" government steals from American taxpayers to pay for cancer screenings and treatments halfway around the world.

Top 10 Green Job Fiascos. [#10] Almost two jobs created in Vegas: Clark County, Nev., which happens to be the home of the gambling mecca of Las Vegas, received $490,000 in stimulus money from the U.S. Forest Service to plant trees in urban neighborhoods (more palm trees on The Strip?). The stimulus that resulted from the grant to Senate Majority Leader Harry Reid's home state created 1.7 jobs (one full-time employee and one part time) and 11 temporary jobs. You get a better return for your money at the slot machines.

Fires Are the New Cash Cow. Forest managers have known for decades that some fires should be allowed to burn for the good of forest ecosystems. But from the beginning, Congress has given a virtual blank check to the Forest Service for fire suppression activities, and much of the spending has been of dubious value. The agency has made poor management decisions regarding prescribed burnings over many decades.

16 Dollar Muffins and Taxpayers Pick up the Tab. The Justice Department on Tuesday [9/20/2011] came under criticism for "extravagant and potentially wasteful" spending on conferences at the end of the Bush administration and early in the Obama administration, including paying $16 per muffin and $8 per eight-ounce cup of coffee at certain events.

DOJ Spends $16 Per Muffin for Conference. Apparently when taxpayers foot the bill, the cost of muffins, or anything else for that matter, is irrelevant.

$16 muffins, $8 coffee served in Justice audit. The review turned up the expensive muffins, which came from the Capital Hilton Hotel just blocks from the White House, as well as cookies and brownies that cost almost $10 each. The department spent $32 per person on snacks of Cracker Jack, popcorn, and candy bars and coffee that cost $8.24 per cup at another conference, the report said.

Taxpayers foot the bill for Justice Department's $16 muffins. The Justice Department and several of its agencies engaged in "extravagant and wasteful" spending on food, beverages and event planning for law enforcement conferences, including paying $16 each for muffins, $76 per person for lunch and more than $8 for a cup of coffee, according to an audit released Tuesday by the department's Office of Inspector General.

Energy Dept. weatherization programs rife with waste, fraud. In total, the stimulus program allocated about $5 billion to the cause of home weatherization, outfitting homes with the latest green technology in order to reduce energy prices. It's now three years later, and it appears the weatherization program has gone down a road of waste, fraud and abuse.

More about pork products in the stimulus bill.

Tuckerton man's resolve helps uncover multimillion-dollar health care fraud. It started when Richard West went for some dental work and was told his Medicaid benefits had somehow maxed out. ... After checking his own medical records, West, 63, discovered the company providing him with nursing care appeared to have overbilled Medicaid for hundreds of hours for people who were never there. He called various government hotlines but got no help, he said — so he found his own lawyer.

The Wages of Terror. We may not have a space program anymore, but NASA has partnered with Saudi Arabia on "lunar and asteroid science research". The good news is that the Saudis can afford to buy us a new shuttle, so long as we don't let any women drive it. And did you know that the National Park Service has an Office of International Affairs? Why does it need an office of international affairs? So it can fund mosques globally through UNESCO.

$19 Billion In Unemployment Benefits Paid In Error. Like all Obama Administration functionaries, Labor Secretary Hilda Solis spends a great deal of her time these days explaining why billions of dollars just up and disappeared. Here's how she addressed the missing $19 billion, which is thirty-five times the size of the taxpayer money abused in the Solyndra scandal.

What Job 'Training' Teaches? Bad Work Habits. [Scroll down] More recently, Mr. Obama's 2009 stimulus package expanded federally funded summer jobs. And so young men and women used puppets to greet aquarium visitors in Boston. Teens in Washington, D.C.'s Green Summer Jobs Corps maintained "school-yard butterfly habitats." And summer workers in Florida, the Orlando Sentinel reported, "practiced firm handshakes to ensure that employers quickly understand their serious intent to work." Did any of this "investing" work? There's no evidence it did.

Crossroads takes flight with "Air Claire". American Crossroads is going back to the controversy over Sen. Claire McCaskill's (D-Mo.) private plane Tuesday [9/13/2011], unveiling a radio spot and two aviation-themed billboard ads near local airports, POLITICO has learned. "Sky-high airfares got you down?" the billboards near the St. Louis and Springfield airports say. "Senator Claire McCaskill flies in her own jet — and you pay for it!"

This Week in Climate News. A question I frequently get from time to time is how much the U.S. government is spending on the whole climate change racket, and the answer is: nobody knows. ... There's a new report just out from the Government Accountability Office that puts the number at $8.8 billion in 2010, and a cumulative $103 billion since 2003.

New research on what actually happened to a trillion dollars. In one redolent example, a federal contractor said he was told to use smaller, nonstandard tiles that are harder and more expensive to install in order to increase the cost of the project. That way, the government could claim the money was moving out the door faster. ... In another case study, a budget shortfall forced a mid-size city to lay off 185 public workers — but the city received a $4 million stimulus grant to improve municipal energy efficiency. The manager of a construction company received funds for "the last thing on our list; and truthfully, the least useful thing." It happened to be a crane and a forklift.

Tampa street criminals steal millions filing fraudulent tax returns. Erstwhile street criminals [are] now using laptops and mailboxes to steal hundreds of millions of dollars by filing fraudulent tax returns with stolen Social Security numbers. Investigators believe Tampa is at the tip of a national trend that has created a hemorrhage of federal tax dollars.

Union leader draws lucrative pension perk based on false information. Every month, Thomas Villanova gets a $9,000 reminder of how lucrative it can be to serve as a union leader in Chicago. ... Villanova last worked for the city in 1989 as an electrical mechanic with the Department of Streets and Sanitation, making about $40,000 a year. Yet in 2008 he was allowed to retire at age 56 with a $108,000 city pension. That's because, under a little-known state law, his pension was based not on his city paycheck but on his much higher union salary.

A $4.2 Bil Subsidy For Illegals? If the federal government had actually wanted to encourage illegal immigration, wouldn't a big tax credit be the way to bring them in? Lucky us, that's what the IRS is doing — and with our money.

Illegal Workers Used Tax Credit to Pocket $4.2 Billion, Audit Shows. Undocumented workers collected $4.2 billion in a certain tax credit last year, up from less than $1 billion five years ago, according to a new audit. The report from the Treasury Inspector General for Tax Administration looked only at a tax benefit known as the Additional Child Tax Credit, a refundable credit meant for working families. The audit found that as a result of vague U.S. law — as well as an expansion of the tax credit in stimulus legislation and other measures — the number of illegal workers collecting the money has skyrocketed.

Stop using tax dollars to fund Big Green lawsuits. Republican Sens. Jim Inhofe of Oklahoma and David Vitter of Louisiana thought they were posing a simple question last year when they asked the Government Accountability Office to determine how many tax dollars are paid in court costs to Big Green environmental groups that file lawsuits against the government.

The government is really good at solving problems that have already been solved.
Big Sister in the Workplace. Today there are twice as many women in the American workforce as there were four decades ago, three times as many women getting college degrees. More working women than men now hold degrees. The growth rate of female-owned businesses stands at four times the growth rate of male-owned businesses. Labor Secretary Hilda Solis acknowledges all of these statistics. But it seems that an admission of reality by the head of the U.S. Labor Department is no guarantee that reality will influence Labor policy. After touting dramatic progress by women in corporations, universities, and small businesses, Solis still thinks that government must do more for women.

Solyndra and the stimulus. Solyndra was the first company to be awarded a federal loan guarantee under the stimulus, worth $535 million. Taxpayers are likely to end up on the hook for much if not all of that amount, a highly embarrassing development for President Obama because he was among the company's biggest cheerleaders.

The Department of Energy is not a business. Only someone investing other people's money, in this case the taxpayer's, could look at a half-a-billion dollar loss and call it a "success." Since the Energy Department is driven by ideology, not profit and loss signals, the American taxpayer is going to continue to lose money on failures like Solyndra. And as more stimulus "investments" in unsustainable companies dry up, more Americans will become unemployed.

Federal grant of $500,000 creates 1.72 jobs. A federal stimulus grant of nearly $500,000 to grow trees and stimulate the economy in Nevada yielded just 1.72 jobs, according to government statistics. In 2009, the U.S. Forest Service awarded $490,000 of stimulus money to Nevada's Clark County Urban Forestry Revitalization Project, aimed at revitalising urban neighbourhoods in the county with trees, plants, and green-industry training.

Gov't Paying Farmers, Ranchers $112M to Protect Bird Too Numerous to be Threatened. The U.S. Department of Agriculture is paying $112 million in tax money to farmers and ranchers in 11 Western states to restore the habitat of the Sage Grouse, a bird that has not been listed as either threatened or endangered under the federal Endangered Species law because the government says there are too many of them.

Obama Vacay: In Your Facemanship. If the Obamas insist on spending two weeks in an enclave noted for the rich and famous, especially while the nation's unemployment rate hovers at just over 9%, then the least they could do is exhibit a modicum of restraint, and try to be as modest and discreet as possible. Instead, Michelle Obama, renowned for her impatience when it comes to reaching her desired destination, put thousands of additional dollars on the taxpayers' tab, "so she could have just a bit of extra vacation" — all of four hours' worth.

Sun Sets On The President's Policies. It's bad enough we lavish and often waste huge subsidies on green companies like the now-bankrupt Evergreen Solar, based in Marlborough, Mass., trying to promote an energy source that would not be able to compete in the marketplace without them. We're even promoting such failures abroad. The U.S. Export-Import Bank, an independent agency of the federal government, has announced $500 million in loans for new solar energy projects in India. This is on top of about $75 million already approved for similar projects in fiscal 2011.

U.S. Government Loaning $500M for Solar Power Projects — In India. The U.S. Export-Import Bank, an independent agency of the federal government, says that it has $500 million in loans in the "pipeline" to fund new solar energy projects — in India. The $500 million in new loans will come on top of $75 million in financing that the Export-Import Bank has already provided this year for solar power projects in India.

How many ditch diggers carry smart phones?
Obama admin makes Smartphone app to tell outdoors workers when it's hot outside. President Barack Obama's Department of Labor launched a new Smartphone app last week that tells outdoor workers when it's hot and humid outside. The DOL's Occupational Safety and Health Administration's new "Heat Safety Tool," designed for outdoor workers who are already outside, tells workers the temperature and humidity level of where they're at. [sic] From that data, the app calculates the "heat index" and "risk level" for workers in the given location.

The Editor says...
The "humidity level of where they're at"? What atrocious grammar!

The Hot New Smartphone App From Your Labor Department. Following the President's cybernetic lead, the Department of Labor has entered The Matrix with a sweet new smartphone application, developed at taxpayer expense, that provides vital information to workers who are preparing to enter a hazardous work environment. More specifically, it's a "Heat Safety Tool" that displays the temperature and humidity level of your current location, calculates the heat index, and reminds you to drink plenty of water when it's hot outside.

Wasted Stimulus. During the 2008 campaign, candidate Barack Obama said he would create 5 million well-paying "green" jobs within 10 years. Politico has reported that "he's spent considerable time since entering the White House trying to make that happen." Indeed he has, though there has been no payoff. Yet he refuses give up on his quixotic quest. Last week Obama toured to much fanfare a Johnson Controls plant in Michigan where $300 million in conservation grants produced 150 jobs — at a cost of $2 million per position.

More about so-called green jobs.

State Department Funds Anti-American Propaganda. While other U.S. departments and agencies waste tax payer money, no other department does it with quite the counter-productive flair of our friends in Foggy Bottom. First, there was the issue of U.S. money going to pay salaries to jailed Palestinian terrorists, including those who murdered Americans. Now, it turns out that the State Department is paying money to the United Nations Development Program...

Government pays for empty flights to rural airports. On some days, the pilots with Great Lakes Airlines fire up a twin-engine Beechcraft 1900 at the Ely, Nev., airport and depart for Las Vegas without a single passenger on board. And the federal government pays them to do it.

HHS Awards $8.5 Million in ObamaCare Money to 25 Migrant Health Centers. The Department of Health and Human Services (HHS) announced on Tuesday that it has awarded $28.8 million to 67 community health centers with funds from the Obamacare health reform law. Of that $28.8 million, "approximately $8.5 million will be used by 25 New Access Point awardees to target services to migrant and seasonal farm workers," Health Resources and Services Administration (HRSA) Spokeswoman Judy Andrews told CNSNews.com. HRSA is a part of HHS.

The Boondoggle Express. The largest construction boondoggle in recorded human history continues to unfold in the Central Valley of California. The initial segment of Obama's pet project, a high-speed rail line from Merced to Bakersfield, just had its first announced cost overrun. With costs jumping from $7.1 billion to a staggering $13.9 billion, the project now has doubled in price even before a single shovelful of earth is turned. Now that is the seat-of-the-pants, lets just make up a number, government contracting that the Democrats and the unions so dearly love.

White House announces $105 million in Africa aid. President Barack Obama has approved $105 million for humanitarian efforts in the Horn of Africa to combat worsening drought and famine.

Oklahoma Congressman Fired Up Over Federal Program. "This is just typical Washington. Washington spending is tone deaf to the American people," said Congressman James Lankford, (R) Oklahoma. Lankford had hoped the State Department would cut the program, itself. This year's awards include $450,000 for conservation of a temple in Cambodia, $700,000 for conservation of the ruins of a 9th century city in Tanzania and $100,000 to document endangered musical traditions in Mali.

Paying Telephone Customers Forced to Buy Cellphones for Others. Undoubtedly it was just an oversight on Thomas Jefferson's part when he wrote that man's unalienable rights include "life, liberty, and the pursuit of happiness" — but not free cellphones.

Free cell phones are now a civil right. Pennsylvanians on public assistance now have a new 'civil right' — free cell phones. Meanwhile, the rest of us get to pay higher cell bills as a result. Recently, a federal government program called the Universal Service Fund came to the Keystone State and some residents are thrilled because it means they can enjoy 250 minutes a month and a handset for free, just because they don't have the money to pay for it.

The Editor says...
This is the exact inverse of capitalism. The customer gets a cell phone because he or she does not have the money to pay for it.

NIH Spends $90 Million On National Health — Of China. Recently, we learned that the EPA spent at least $27 million on various environmental projects around the world. If you're a typical patriotic American, your response to this news was frustration that our beyond-bankrupt government only wasted a piddling $27 million on such boondoggles. Our great nation was founded on the principle of seizing the property of citizens, running up staggering amounts of debt, and spending public money as fast as possible. Isn't there some red-blooded agency that could shovel taxpayer loot out to foreign governments faster? My fellow Americans, the answer is yes. Meet the National Institutes of Health.

Why is the government mailing you $2? The National Institutes of Health (NIH) is conducting a national survey about HIV vaccines. To encourage people to go online and spend 20 to 30 minutes completing the survey, the NIH is mailing each recipient $2 in cash. According to the letter, this taxpayer money is a "token of appreciation," and "you can keep the money even if you decide not to take part in the survey." ... According to OMB's website, the project will cost taxpayers $336,666 annually and expires in 2013.

The solar plant to nowhere. Evergreen Solar stock is plunging this week into a black hole of probable bankruptcy. The losers — aside from shareholders and employees — are the taxpayers from Massachusetts. Their government, just in the last few years, received $58 million in taxpayer subsidies. This slug of money was given to Evergreen to get them to open a factory on a former military base in the town of Devens. Within two years of the opening, Evergreen closed that factory and shifted operations to China. Now it looks like even that move is coming up a cropper as Evergreen seems headed to bankruptcy court.

California Prison Psychiatrist Ranks Atop State Payroll. A physician working for California's overcrowded prison system was paid more than any other state employee in 2010, according to payroll figures released today [7/6/2011]. The doctor, whose salary last year was $235,740, collected a total of $777,423, data released by Controller John Chiang show. The total includes a settlement of back pay owed to the doctor, said Nancy Kincaid, a spokeswoman for the court-appointed office that oversees California's prison medical system.

Report Reveals Extent of Obscene Public-Sector Pay. Earlier this week, California State Controller John Chiang made headlines by opening up the books on the state's payroll. ... The figures released by Chiang's office show that more than 1,400 state employees took home over $200,000 apiece last year. Some of the more outrageous examples: a surgeon in the state's beleaguered prison system collected over $775,000 on the year; the chief investment offer at CalPERS pocketed a cool $548,142; and the president of the state's publicly-funded stem cell research institute pulled down nearly half a million dollars.

No recession for Obama's 454 White House aides. The challenging Obama era and 9.1% national unemployment rate do not include the 454 people now helping President Obama do presidential things. This crowd is being paid a total of $37,121,463 this year. That's up seven staff members and nearly $4 million from 2008, the last year of George W. Bush's presidency. Fully 141 Obama aides — or nearly one-in-three — earn more than $100,000 a year.

Livin' Large At 1600. What with a $14 trillion federal debt, it may not mean much that White House staffers who make six-figure salaries are also getting hefty raises. But it says a lot about what's wrong with the Obama administration.

Entitlement Abuse — Here, There, and Everywhere. Increasingly, we hear jaw dropping stories of abuse and fraud that should force our leaders in Washington to put the issue of fraud and abuse within the entitlement system formally on the table. Just last week we learned of the case of the "Adult Baby", the 30-year old guy, that lives in a diaper, is fed by bottle and thus somehow entitled to taxpayer-supplied, social security disability for his condition. Strangely, this is the very entitlement system that Obama and Democrats not only insist that we preserve, but are anxious to expand.

The stimulus is now causing the economy to shed jobs.
Obama's Economists: 'Stimulus' Has Cost $278,000 per Job. [Scroll down] The government could simply have cut a $100,000 check to everyone whose employment was allegedly made possible by the "stimulus," and taxpayers would have come out $427 billion ahead. ... Over the past six months, the economy would have added or saved more jobs without the "stimulus" than it has with it.

Did someone mention the so-called stimulus?

Will They Toss Out the Babies Too? The Feds have changed baby crib standards. The older ones haven't been shown to be unsafe. But that hasn't stopped the Consumer Product Safety Commission from from forcing retailers to start tossing around 100,000 perfectly good cribs, since retrofitting them is not feasible economically.

Obama Administration Halts Globe-Trotting Trips for Bureaucrats. A $1.2 million federal highway program that sent employees on a 17-day globe-trotting journey to photograph different billboards was suspended Tuesday [6/21/2011] — an announcement that came after ABC News alerted the U.S. Department of Transportation that it planned to air a report on the program.

U.N. Charter Was Flown From Nat'l Archives, With Its Own Parachute. [Scroll down] The U.S. National Archives, however, did not answer questions sent by e-mail to its press office to confirm Ban's statements. Specifically, CNSNews.com asked if the loan of the document was a request by the U.N. or a gesture on the part of the United States. Questions about who paid for the transporting of the document to New York and back to Washington, D.C., and the cost of that transportation also went unanswered.

They want you to use 1.6 gallons per flush, but then...
Man urinates in water, city flushes 8M gallons. Because a 21-year-old man was caught on a security camera urinating into a city reservoir, Oregon's biggest city is sending 8 million gallons of treated drinking water down the drain.

Fed Up With Freeloaders. Americans are fed up with freeloaders, domestic and foreign. They are fed up with politicians whose constituents pay no federal taxes howling for higher taxes on those who carry the load. Fed up with foreign aid to nations who never get off the dole and regularly vote against us in the U.N. Fed up with allies who spend less than we do on their own defense.

Taxpayer Funded Beer Bash, Ball Games and Scavenger Hunts at Holder DOJ. With the real unemployment rate above 16 percent, it is a perfect time to throw a lavish party for high paid federal employees at Eric Holder's Department of Justice. At least Eric Holder thinks so.

Dope-Smoking, Menstruating Monkey Study Got $3.6 Million in Tax Dollars. The National Institute on Drug Abuse (NIDA), a division of the federal government's National Institutes of Health (NIH), has spent $3,634,807 over the past decade funding research that involves getting monkeys to smoke and drink drugs such as PCP, methamphetamine (METH), heroin, and cocaine and then studying their behavior, including during different phases of the female monkeys' menstrual cycles.

Missing Iraq money may have been stolen, auditors say. After the U.S.-led invasion of Iraq in March 2003, the George W. Bush administration flooded the conquered country with so much cash to pay for reconstruction and other projects in the first year that a new unit of measurement was born. Pentagon officials determined that one giant C-130 Hercules cargo plane could carry $2.4 billion in shrink-wrapped bricks of $100 bills. They sent an initial full planeload of cash, followed by 20 other flights to Iraq by May 2004 in a $12-billion haul that U.S. officials believe to be the biggest international cash airlift of all time.

NEA to buy votes with video-game grants. The rarefied world of government arts funding apparently has run out of artists specializing in elephant-dung and human-urine media. Now comes the National Endowment for the Arts' (NEA) announcement it will make grants for digital media — specifically video-game design. I didn't know there was a video-game shortage requiring government intervention.

L.A. public school system wastes $500 million on pointless training, report says. The Los Angeles Unified School District squanders more than $500 million a year on an academic-improvement strategy that has consistently proven to be ineffective, researchers concluded in a report released Tuesday [6/7/2011]. The nation's second-largest school system spends 25% of its teacher payroll ($519 million a year) to compensate teachers for completing graduate coursework. These courses are a primary means by which teachers earn credits that translate to raises.

Federal pension payments follow some retirees into the grave. Federal retirees often enjoy generous pensions, but some manage to keep getting paid even after they're dead and buried. Each year, investigators uncover dozens of cases of federal retirees or their spouses continuing to collect retirement checks after death, records obtained through the Freedom of Information Act show. Usually, relatives, friends or caretakers take the checks and cash them, hoping the government won't notice.

Interior Department wants a new logo. Gas prices remain around $4 a gallon, thousands of people have lost their jobs in the energy industry and the U.S. border with Mexico remains as porous as Swiss cheese. So what are some folks at the U.S. Department of Interior doing today? Well, they're looking for a department logo that is "both elegant (simple) and meaningful."

U.S. Environmental Protection Agency Gave $1.29 Million to China. The Environmental Protection Agency has given at least $1,285,535 in grants to China to promote environmental research in the country.

77,000 federal workers paid more than governors. More than 77,000 federal government employees throughout the country -- including computer operators, more than 5,000 air traffic controllers, 22 librarians and one interior designer -- earned more than the governors of the states in which they work. The findings, from a Congressional Research Service report requested by Sen. Tom Coburn, Oklahoma Republican, were released at a time when public workers' salaries and benefits are under scrutiny across the country as governments try to streamline.

EPA 'Prohibited' From Considering Costs When Issuing Air-Quality Regulations. The Environmental Protection Agency informed Rep. Vicky Hartzler (R-Mo.) in a recent letter that it considers itself "prohibited" by law from considering costs when setting National Ambient Air Quality Standards (NAAQS).

GM Sponsors Chi-Com Propaganda Film. The American taxpayers own 33 percent of General Motors, but that hasn't stopped the company from cozying up to the Chinese Communist Party. According to the Washington Times's Kerry Picket, GM is sponsoring a propaganda film produced by the Chinese government.

Bipartisan Outrage Erupts Over $24 Billion in Stimulus for Tax Cheats. Lawmakers from both parties are calling for a fix to prevent tax cheating companies from getting federal contracts in light of a government investigation that found $24 billion in stimulus act funds went to companies owing $757 million in unpaid taxes.

$500 Million Program Will Help Kids 'Sit Still' in Kindergarten. Health and Human Services Secretary Kathleen Sebelius told CNSNews.com on Wednesday that the administration's new $500 million early learning initiative is designed to deal with children from birth onward to prevent such problems as 5-year olds who "can't sit still" in a kindergarten classroom.

The Editor says...
The Mennonites accomplish this at no cost. How? Strict discipline and no television!

Report Shows Taxpayer Money Spent to Study Shrimp on Treadmills. You've probably heard of shrimp on the barbie, but what about shrimp on a treadmill? The National Science Foundation has, and it spent $500,000 of taxpayer money researching it. It's not entirely clear what this research hoped to establish. But it's one of a number of projects cited in a scathing new report from Sen. Tom Coburn...

Why Is The Federal Government Investigating Lance Armstrong Anyway? Because from 1999 to 2004, his team (owned by Tailwind, Inc.) received $40 million in sponsorship money from the U.S. Postal Service, which is a government agency. If the team used that money to run an illegal doping operation, they would liable for charges of "conspiracy, wire fraud, money laundering, racketeering, drug trafficking and defrauding the U.S. government."

Newport Beach, California, Pays Lifeguards More Than $200,000 a Year! Which may explain why their municipal budget needs CPR.

Lifeguarding in OC is totally lucrative; some make over $200k. High pay and benefits for lifeguards in Newport Beach is the latest example of frustrating levels of compensation for public employees. More than half the city's full-time lifeguards are paid a salary of over $100,000 and all but one of them collect more than $100,000 in total compensation including benefits.

'Social justice' in contracts costs S.F. millions. San Francisco's much-heralded "social justice" requirements for city contracts are costing local taxpayers millions of dollars a year in overcharges, according to workers in departments ranging from the Municipal Transportation Agency to the Department of Emergency Management. In one case, a Muni worker said the city paid $3,000 for a vehicle battery tray. Such parts can be found online for $12 to $300, depending on the type of vehicle. City officials said they couldn't verify that purchase, saying the trays are usually bought in bulk with the battery.

Flood of lawsuits by LAPD officers costs the city millions. Robert Hill did not join the Los Angeles Police Department to become a millionaire. And yet, that's what happened in September when city officials cut the veteran cop and his lawyer a check for nearly $4 million. The money was compensation for the snide comments and other abuse Hill suffered at the hands of other LAPD officers after he reported that a supervisor used racial slurs and embezzled department funds.

USDA Spends $5 Mil To Recruit Food-Stamp Recipients. The number of food-stamp recipients has skyrocketed in the last few years yet the Obama Administration keeps wasting millions of taxpayer dollars to recruit more participants in the name of eradicating "food insecure households." The latest publicly-financed campaign to boost the food-stamp rolls -- officially known as Supplemental Nutrition Assistance Program or SNAP -- was announced this month by the U.S. Department of Agriculture, the agency that administers it. The USDA is dedicating $5 million this year to "improve access to and increase participation in the Supplemental Nutrition Assistance Program."

Job Agency Spends $73K On Superhero Campaign. In a flagrant example of how the government wastes taxpayer dollars, a federally-funded job center in Florida has financed a costly public relations campaign that is distributing thousands of superhero capes to the unemployed. The story would almost be funny if it didn't involve such an idiotic act with increasingly scarce public funds.

Government Doles Out $125 Billion In "Improper Payments". With the national debt and federal spending at an all-time high several U.S. government agencies joined forces to make an outlandish $125 billion in "improper payments" last year, an increase of more than $16 billion from the previous year. This sort of government waste and corruption is hardly an earth-shattering development. Congressional investigators have for years documented the growing crisis of federal agencies making fraudulent payments to those who don't qualify yet little has been done to correct the situation.

Feds Made $125 Billion in 'Improper Payments' in 2010. Federal agencies reported improper payments estimated at $125.4 billion in fiscal year 2010, an increase of $16.2 billion from the $109.2 billion estimate in fiscal 2009, the Government Accountability Office said. Ninety-four percent of those payments came from social spending programs, including Medicare and Medicaid, GAO said in its April 15 report.

Adventures in the Climate Trade. Global warming, now called climate change, is a big industry with academic and commercial branches. One way or another the government provides the money to keep it in business. The academic side supports thousands of scientific workers churning out some good science larded with lots of junk science. The commercial side is busy turning out tank cars filled with corn ethanol and covering the landscape with windmills. Nobody would be doing any of this without government subsidies and mandates.

City to spend $590,000 for eight artsy streetcar stops. The modern streetcar will one day flow from University Medical Center to the west side. But there's a little different flow going on right now -- money to a select group of artists who have been hired to dress up eight of 17 planned streetcar stops. What will the projects look like? We don't know. That's because the city and the RTA chose to pay $590,000 for art at eight shelters along the route, even though the artists never submitted designs for what they might create.

Army Scraps $600,000 Toad Art Project. The Army, under public and congressional attack for a $600,000 plan to dress up a bus depot at a new military facility near Washington with three pieces of art, such as a 10 foot-tall fairy riding a gurgling toad, has scrapped the project. Instead, it will go with a simple plan to "enhance the aesthetics" of a concrete wall at the new Mark Center in Alexandria, Va.

Fraudulent tax returns surge 181%. The IRS identified 335,341 tax returns claiming $1.9 billion in fraudulent refunds as of March 4, 2011, according to the findings of an audit conducted by the Treasury Inspector General for Tax Administration. ... The Earned Income Tax Credit, aimed at helping lower-income taxpayers, has been a large source of fraud, with people falsely lowering their income to qualify or claiming children they don't have. The IRS estimates that 23% to 28% of EITC credits are wrongfully paid to Americans every year, totaling $11 to $13 billion.

U.S. Gov't Agency Plans $2.84 Billion Loan for Oil Refinery — In Colombia. The U.S. Export-Import Bank, an independent agency of the federal government, is now planning a $2.84 billion loan for a massive project to expand and upgrade an oil refinery — in Cartagena, Colombia. The money would go to Reficar, a wholly owned subsidiary of Ecopetrol, the Colombian national oil company.

IRS paid $513M in undeserved homebuyer tax credits. The Internal Revenue Service has paid out more than a half-billion dollars in homebuyer tax credits to people who probably didn't qualify, a government investigator said Friday [4/15/2011].

Boondoggle in tax code: Subsidies for green energy. President Obama said last week he wants to trim "spending in the tax code," but he has firmly defended the provision that best fits that odd phrase: a renewable energy "tax credit" doled out in the form of grants from the U.S. Treasury. The grant program — created by the stimulus bill and extended through 2011 by last year's tax-extender bill — is a corporate welfare boondoggle whose biggest beneficiaries include huge foreign companies.

New HHS Plan for Health Redistribution. Can government make all people equally healthy? The U.S. Health and Human Services Department has announced a new plan aimed at doing precisely that. The HHS "action plan" will allegedly "reduce health disparities among racial and ethnic minorities." A "health disparity" is defined as "a particular type of health difference that is closely linked with social, economic, and/or environmental disadvantage."

The Editor says...
The government's attempt to make everyone equally comfortable and healthy is obviously futile and infinitely costly.

Top 10 Spending Cuts Thwarted by Democrats: [#8] Interior Department: Republicans want to cut $1.4 billion from the Interior Department to prevent it from implementing the Obama administration's wilderness policy, which allows the agency to impose conservation restrictions on public lands without congressional approval. Democrats have long been conducting a "War on the West" by scaling back mining and forestry rights and wreaking havoc on local economies.

Congressional budget now available — in Spanish! Breaking yet another barrier, the Congressional Progressive Caucus released a copy of its proposed 2012 budget in Spanish. The CPC, the liberal faction of Democrats in the House of Representatives, is offering one of five alternate budgets to House Republicans' main proposal. All of those budgets are scheduled to receive a vote later Friday. But the CPC's effort this year, which they titled the "People's Budget," is the only one that's available in a second language.

The Editor says...
Whatever the cost of this political stunt, it is a waste of taxpayers' money. How ironic that the money is being wasted while writing a budget!

What is Obama trying to hide? Small businesses are responsible for over 90 percent of net new jobs, half of GDP, over 90 percent of U.S. exports, and over 90 percent of all innovations. It's irrefutable. Small businesses are America's economic backbone, and its chief job creators. Despite these facts, the Obama administration has given virtually none of the stimulus funds to small businesses and continues to give an estimated $100 million an hour in small business funds to some of the biggest companies in the world. Since President Obama moved into the White House, some of the firms that have received small business contracts include Boeing, Lockheed Martin, Northrop Grumman, Raytheon, Dell Computer, Xerox, SAIC, General Dynamics, Bechtel and John Deere.

Just 737 Of 1.2 Million Federal Workers Denied Raise For Poor Performance. Just 737 federal employees were denied a pay increase in 2009 due to poor job performance, according to information obtained by the Federal Times, a D.C. newspaper for government employees. That's about one out of every 1,698 workers, or a denial rate of 0.06%. Believe it or not, that is actually up from recent years, according to data from the Office of Personnel Management.

The Editor is quick to point out...
Those are just workers who didn't get a raise. How many federal workers were fired in 2009 due to incompetence or misconduct? I suspect the answer is a single-digit number.

EPA owns the American Lung Association. At today's House Energy and Commerce Committee mark-up of the Upton-Inhofe bill to strip EPA of its authority to regulate greenhouse gases, Rep. Lois Capps (D-Calif.) tried to defend the EPA by offering a recent American Lung Association poll that purports to show public opinion favoring the EPA. What Congress needs to know, however, is that the American Lung Association is bought-and-paid-for by the EPA. In the last 10 years, the EPA has given the ALA $20,405,655, according to EPA records.

Time to Expel the Flunking Education Department. The Wall Street Journal recently uncovered "billions in bloat," confirming what we all suspected: There are hundreds of overlapping, duplicative, and wasteful federal programs. We could probably eliminate half of them and no one would notice. But President Obama nonetheless is piling on the pile, adding more waste. His 38.5% proposed increase in education spending is just one example of how Obama is proving he is no Ronald Reagan. His bloated budget for the federal Education Department was $49.1 billion in 2011. He wants to hike that to $68 billion in 2012.

Obama's Pricey Electric Toys. It's fun to play with other people's money. With Washington groaning under record federal deficits, President Obama Wednesday [3/31/2011] unveiled another pricey plan to spend taxpayer dollars — potentially doubling the cost of the government's vehicle fleet by mandating that all 600,000 cars be hybrids and electrics (so-called "advanced technology vehicles") by 2015. But ... under a clever loophole in the mandate, the Guzzler-in-Chief will still get to ride around in his big SUVs.

Medicare and Medicaid Made $70 Billion in 'Improper Payments' Last Year. The Center for Medicare and Medicaid Services — the federal health-care agency that is a key bureaucracy in implementing Obamacare — made at least $70.5 billion in "improper payments" last year. These improper federal health-care payments amounted to more than the combined total of $68.3 billion spent by the entire Homeland Security and the State departments last year, which spent $44.5 billion and $23.8 billion respectively according to the White House Office of Management and Budget.

Inspector General: City wastes $18 million a year on truck drivers. Chicago taxpayers are wasting $18 million a year on 200 motor truck drivers who shuttle city crews to work sites, then get "paid to do nothing more than sit in a vehicle" waiting for crews to finish the job, the city's inspector general has concluded.

USDA Spending $60 Million to Study Effects of 'Climate Change' on Crops. The federal government is investing $60 million in three major studies on the effects of climate change on crops and forests to help ensure farmers and foresters can continue producing food and timber while trying to limit the impact of a changing environment.

The Editor says...
The environment isn't changing. Global warming has been shown to be a hoax and a fraud. It's not a problem.

Pentagon overpaid billionaire oilman by up to $200 million. The Defense Department overpaid a billionaire oilman by as much as $200 million on several military contracts valued at nearly $2.7 billion, an internal audit has found.

The dough must go on. Two Liberian immigrants who got their start selling soap on the streets of Harlem are living large, with a booming beauty-products business, homes in a pricey Long Island suburb and luxury vehicles in their driveways. But along the way, pals Richelieu Dennis and Nyema Tubman defaulted on more than $1 million in taxpayer-funded loans, failed to pay more than $450,000 in state and federal taxes, and decimated the finances of a Harlem cultural institution. The nonprofit National Black Theater, which partnered with the two men, claims the entrepreneurs spent money from a $6.5 million loan meant for renovations to the theater building on their own business ventures.

Congress needs a chainsaw. [Scroll down] The largest chunk of savings would come from the elimination of $2.6 billion in previously approved earmarks. Another $1.74 billion rescission would come from 2010 census funding — hardly a daring move considering the census is already complete. The bill also trims $19.4 million in funding for tourism promotions in the national parks. It cuts $25.5 million in "global warming" programs so worthless that even the White House budget zeroed them out. Most of the other reductions come from the Senate Democrats' list of obsolete programs that no longer need money. On Friday, Mr. Obama drew a line in the sand to ensure the House majority doesn't try to extend the cuts to any of the Democratic sacred cows.

US Government Funding La Raza with Your Tax Dollars. According to the 2008 tax returns seventeen people listed as officers, directors, trustees, key employees and highest compensated employees of the National Council of La Raza have an income ranging from $119,675 to $378,446, the latter of which goes to Janet Murguia, president and CEO. To put that income figure in perspective a rank and file United States Senator makes $174,000.

Teacher Training Provides an Education on Government Waste. In fiscal year 2009, the federal government spent $4 billion on professional development for teachers. But a report from the nonpartisan Government Accountability Office says the money was divided among 82 different programs spread through 10 different government agencies. Within the Department of Education itself, eight different offices administer 60 programs for teacher retraining.

What We're Talking About When We Talk About Big Government. Behold: the structure of redundancy, stupidity, and unconstitutional power the 100-year fog of leftism has created.

1,000 state workers earn more than Gov. Cuomo, Empire Center finds. Being governor may be the top gig in state government, but it certainly doesn't pay that way. Nearly 1,000 state employees made more than the governor's $179,000 salary last year, the Empire Center for New York State Policy found.

Grand dream loses sheen in glare of daylight. L.A. community colleges' green energy plan proves wildly impractical. The blunders cost taxpayers $10 million.

Department of Redundancy Department. With administrative overhead accounting for up to $1 out of every $4 spent, it makes financial sense to reduce the bureaucratic layers by consolidating the efforts. Twenty agencies run 56 programs promoting financial literacy. As Mr. Coburn notes, it's not clear what business an entity $14.2 trillion in debt has lecturing others on financial literacy. Four agencies run 80 economic development programs at a cost of $6.5 billion. Government could save $5.7 billion annually just by eliminating "potentially duplicative policies designed to boost domestic ethanol production." In 47 job training initiatives across nine federal agencies, 44 overlap with at least one other project.

GAO Cites Billions of Dollars in Duplication, From Military to Highways. [Scroll down] In programs to aid the poor, Coburn's office estimated that $2.9 billion was spent in fiscal year 2009 on duplicated efforts among 20 programs to aid to the nation's homeless population. It also cited $62.5 billion in food assistance programs, spread across 18 programs in three federal departments.

This is the GAO report:
Opportunities to Reduce Potential Duplication in Government Programs. The fragmented federal oversight of food safety has caused inconsistent oversight, ineffective coordination, and inefficient use of resources. Fifteen federal agencies collectively administer at least 30 food related laws. Budget obligations for the two primary food safety agencies — the Food and Drug Administration (FDA) and the U.S. Department of Agriculture's (USDA) Food Safety and Inspection Service (FSIS) — totaled over $1.6 billion in fiscal year 2009. USDA is responsible for the safety of meat, poultry, processed egg products, and catfish and FDA is responsible for virtually all other food, including seafood.

$100,000,000,000 of waste is immoral. A stunning Government Accountability Office (GAO) report requested by Sen. Tom Coburn (R-Okla.) reveals $100 billion in potential annual savings just in cutting the waste and redundancy in federal spending. $100 billion is a staggering amount of money — OUR money. While Washington may yawn, being so accustomed to wasting and spending so much of our tax dollars, Americans living outside the Washington cocoon — otherwise known as the Beltway — should be shocked and enraged and demand that their elected officials address this immoral indecency immediately.

GAO: Almost A Tenth of Medicare Spending was Improper. An estimated $48 billion went to improper Medicare payments last year, out of the $509 billion spent on health care for elderly and disabled patients, an audit shows. Medicare's susceptibility to fraud, coupled with its size and complexity, has helped keep it on the GAO's high-risk list since 1990. The GAO has repeatedly requested that Medicare make a number of changes, and while some progress has been made, the agency has significant challenges to overcome. "Medicare remains on a path that is fiscally unsustainable," warned Kathleen King, health care director at GAO.

Now Can We Drill In Alaska? The Energy Department produces no energy and seems tirelessly dedicated through the efforts of its secretary, Steven Chu, to lock up our energy resources. With more than 100,000 federal and contract employees and a budget of $23 billion, it would be a good place to look for spending cuts.

Government pensions, an obesity epidemic. In New York City, the No. 2 guy in the fire department retired on a pension worth $242,000 a year. In New York State, a single official holding two jobs and one pension took in $641,000. A lieutenant with the Port Authority police retired with an annual pension of $196,767, and 738 of the city's teachers, principals and such have pensions worth more than $100,000 a year.

Runaway Trains of Bureaucracy. Government programs succeed through failure. A program that actually "solved" whatever problem prompted its creation would be wiped out. A bureaucrat who runs a tight ship, and brings his operation in under budget, will be "rewarded" with a smaller budget. Every single organ of our federal government is working tirelessly to solve a problem that is much worse than originally anticipated, and therefore requires increased funding. When was the last time you heard of a big federal program that was shut down ahead of schedule and under budget, because it completed its mission?

Billions in Bloat Uncovered in Beltway. The U.S. government has 15 different agencies overseeing food-safety laws, more than 20 separate programs to help the homeless and 80 programs for economic development. These are a few of the findings in a massive study of overlapping and duplicative programs that cost taxpayers billions of dollars each year, according to the Government Accountability Office. ... The agency found 82 federal programs to improve teacher quality; 80 to help disadvantaged people with transportation; 47 for job training and employment; and 56 to help people understand finances, according to a draft of the report reviewed by The Wall Street Journal.

They're playing games, literally, in the Justice Department. The Civil Rights Division under the Obama administration has become a prime example of government waste. You are aware of the division's extreme politicization under [Attorney General Eric] Holder, including the outrageous dismissal of the New Black Panther lawsuit after the case had already been won and the money wasted in stonewalling information and witness requests from Congress and the U.S. Civil Rights Commission. ... This is also the same Justice Department division where, during a Voting Section staff meeting called to address chronic tardiness, numerous attorneys demanded permission to arrive at work up to 30 minutes late without penalty. Others wanted to work from home.

House members probe $535-million loan guarantee for Solyndra solar plant. Here's a sad and revealing chronology about a U.S. president named Obama, a California company named Solyndra and, now, a congressional investigation into the administration's loan guarantee of $535 million in a failed green energy project that was supposed to create jobs. But it didn't.

Dark days for solar power. Ever heard of the Solyndra solar-cell plant in Fremont, California? Most people haven't. That's a shame, considering how much taxpayer money has been poured into it. Solyndra is in serious financial trouble. Despite getting a $535 million bailout — part of the taxpayer-funded "stimulus" — the company subsequently announced it would lay off more than 17 percent of its work force. It also had to close one of its manufacturing plants about a year after it got the money.

Doctors, Nurses, Therapists Arrested For Medicare Fraud. Federal agents raided health care facilities in nine states this morning [2/17/2011], arresting dozens of suspects believed to be defrauding Medicare of tens of millions of dollars, ABC News has learned. Federal authorities say this is one of the largest — if not the largest — take down of Medicare fraud suspects ever conducted.

The Not-So-Little Engine That Wouldn't Go Away. While the infamous $436 hammers and $600 toilet seats are distant memories, the current crop of federal spending excesses are... well, downright excessive. Some of the best examples from 2010 include: $112 million doled out by the IRS to prisoners filing fraudulent tax returns; over $15 million to help operate an elaborate shooting range outside of Las Vegas that's losing money; and $2.5 million spent on an advertisement during last year's Super Bowl to promote the 2010 Census. That doesn't exactly sound like a government that's all too concerned about a federal deficit north of $14 trillion and growing.

The Welfare State of the Union. The annual cost to the taxpayer of the Earned Income Credit program, which provides a maximum of $5,666 per family, is $59 billion. This is a high cost to pay, especially since as many as 30% of those claiming the credit are not entitled to it.

Federal fraud: Healthy workers took disability. It's always good to see federal employees hard at work. That is, unless they're collecting a check for being totally disabled at the same time. That's fraud.

Pentagon Doesn't Know How Many Contractors It Has. How many private contractors does the Pentagon need to cut to meet Defense Secretary Robert Gates' target of a 10 percent reduction annually over three years? The Pentagon might not even know — it doesn't have a comprehensive count for the contractors it employs.

"Green Crime" costing taxpayers millions uncovered in probe. The same government agency that mailed millions in fraudulent tax refunds to prison inmates has been cheated out of $33 million by thousands of people who claimed tax credits for alternative and plug-in electric vehicles, according to a public-interest group that investigates government corruption and fraud. In automatically granting the bogus tax credits the Internal Revenue Service was simply following an aggressive Obama Administration plan to reward consumers that purchase the costly "advanced-technology" vehicles. The president is on a mission to get 1 million of the environmentally friendly cars on the road by 2015, according to Judicial Watch officials.

As you may recall, the roof was closed that day.
Navy spent $450,000 of taxpayer money on Super Bowl flyover. The U.S. Navy has been criticised for spending almost half a million dollars of taxpayers' money on a flyover at the Super Bowl — while the stadium roof was closed. The estimated $450,000 expense was for four fighter jets that flew from Virginia to Texas and over the retractable roof of Cowboys Stadium in Dallas. As it was broadcast on screens at the Super Bowl XLV on Sunday, spectators inside the stadium got the same view as people watching the five-second shot at home.

The Super Bowl flyover may have cost $450,000. The fans inside Cowboys Stadium for Super Bowl XLV had as good a view of the flyover by four F-18 fighter jets as those watching at home. With the roof closed on Jerry Jones' $1.2 billion stadium, people in attendance were forced to watch the flyover on the massive high-def screens inside.

The Editor says...
Really, whose idea was it to fly four jets from Virginia for this five-second appearance over the Super Bowl? There are plenty of loud jets in Texas. I think they still have B-1 bombers in Abilene -- less than 200 miles away -- and they're plenty loud.

Report: Postal workers expensed private travel and 'adult entertainment'. If the cash-strapped U.S. Postal Service wants to save money it should ensure that its workers aren't booking pricey hotel rooms and airplane tickets or buying pornography, according to a new watchdog report. Over a two-year period, some postal workers used credit cards meant for travel and lodging expenses to buy family members flights to Spain and Italy, purchase Apple computers and make more than 50 purchases at "adult entertainment" stores.

Green-energy plant sucks up subsidies, then goes bust. To turn wood chips into ethanol fuel, George W. Bush's Department of Energy in February 2007 announced a $76 million grant to Range Fuels for a cutting-edge refinery. A few months later, the refinery opened in the piney woods of Treutlen County, Ga., as the taxpayers of Georgia piled on another $6 million. In 2008, the ethanol plant was the first beneficiary of the Biorefinery Assistance Program, pocketing a loan for $80 million guaranteed by the U.S. taxpayers. Last month, the refinery closed down, having failed to squeeze even a drop of ethanol out of its pine chips.

Did someone mention ethanol?

Bloomberg spends $245,000 of taxpayers' dough employing Three chefs. When Mayor Bloomberg came into office there was just one executive cook at Gracie Mansion to make the VIP feasts. Today there are three — costing taxpayers a whopping $245,000 this year. And despite the big spending cuts the mayor has ordered across every city agency, too many cooks won't be spoiling the broth at the city-owned mansion.

Health care fraud no longer a faceless crime. Medicare and Medicaid scams cost taxpayers more than $60 billion a year, but the average bank holdup is likely to get more attention.

The government payroll is longer than you might think. How many Americans work in government? ... Professor [Paul] Light was able to come up with some useful estimates by using the federal government's procurement database. When he added up all the numbers, he found that the true size of the federal government was about 11 million: 1.8 million civil servants, 870,000 postal workers, 1.4 million military personnel, 4.4 million contractors, and 2.5 million grantees.

Some toll takers raking in $100G. The dismantling of the Mass Pike authority didn't detour some toll takers from collecting $100,000 or more last year, state payroll records show. The toll booth workers were among a select group of about 6,400 state employees who earned six-figure payouts in 2010, a Herald payroll analysis shows.

A High-Speed Rail Mirage. [Scroll down] Most of Obama's plan should really be called "moderate-speed rail," as it would upgrade existing freight lines to run passenger trains at top speeds of 110 mph. At around $5 million per mile, the total cost would come close to $50 billion. Not satisfied with moderate-speed trains, California says it wants half of all federal funds so it can build brand-new 220-mph rail lines. But it's unlikely other states will settle for the slower trains if California gets the faster ones. Building fast trains nationwide would cost at least $500 billion.

My State of the Union Address. [Scroll down] So what should we get rid of? We start by closing the Department of Education, which saves $100 billion a year. Education ought to be in the free market. It's insane to take money from states only to launder it through Washington and then return it to states. Next, we should close the Department of Housing and Urban Development: $41 billion. We had plenty of housing in America before a department was created. Let's get government out of that business. Then we eliminate the Commerce Department: $9 billion.

I Can Balance the Budget. Let's privatize air traffic control. Canada did it, and it works better. Then privatize Amtrak. Get rid of all subsidies for rail. That'll save $12 billion. End subsidies for public broadcasting, like NPR. Cancel the Small Business Administration. Repeal the Davis-Bacon rules under which the government pays union-set wages to workers on federal construction projects. Cut foreign aid by half. So far, that's $20 billion. Oops. That doesn't dent the deficit. We have to do much more. So eliminate the U.S. Education Department. We'd save $94 billion. Federal involvement doesn't improve education. It gets in the way. Agriculture subsidies cost us $30 billion a year. Let's get rid of them. They distort the economy. We should also eliminate Housing and Urban Development. That's $53 billion more.

Where Did the Stimulus Go? During the recent recession, the U.S. Congress passed two large economic stimulus programs. President Bush's February 2008 program totaled $152 billion. President Obama's bill, enacted a year later, was considerably larger at $862 billion. Neither worked. After more than three years since the crisis flared up, unemployment is still very high and economic growth is weak. Why have such large sums of money failed to stimulate the economy? To answer this question, we must look at where the billions of stimulus dollars went and how they were used.

All That Gold. As Republican politicians look frantically for ways to solve the country's financial problems, they should not overlook the mountain of gold towering before them. That mountain is the accumulation of federal regulations that now occupies more than 82,000 pages in the Federal Register. No one knows for sure what the cost of all those regulations is, but it is probably at least $1.75 trillion, or 14 percent of U.S. national income. By comparison, the income-tax burden is about $2.3 trillion.

Why Does The U.S. Still Give China Aid? While Chinese President Hu flaunted his country's power during his Western tour, his No. 2 economy raked in billions in Western aid. That's right. We're still subsidizing China. Why?

Federal Workers Used Gov't Charge Cards to Buy New Orleans Saints Season Tickets. In an anti-fraud and investigative training program last August, the Government Accountability Office (GAO) listed multiple abuses in the federal purchase card program used by federal employees. These abuses included a $13,000 taxpayer-funded steak house dinner, use of Internet dating services, purchase of erotica products, Girls Gone Wild Videos, and five season tickets to the New Orleans Saints. The information was included in a Power Point presentation by Cindy Barnes, with the Forensic Audits and Special Investigations team.

Housing Agency Spent Thousands of Dollars on Belly Dancers, Luxury Bags. The nation's fourth-largest housing authority spent lavishly on gifts for managers and a party with belly dancers, and its executive secretly spent more than $500,000 in housing authority funds to settle sexual harassment claims, but it allegedly ignored complaints of unsanitary conditions that nearly killed a 12-year-old resident.

Federal Government Teaching Farmers to Participate in 'Carbon Markets' that Don't Exist Yet. The U.S. Department of Agriculture (USDA) is teaching farmers how to participate in "carbon markets" despite the fact that such markets do not exist and Congress — in rejecting cap and trade legislation last year — has refused to create them.

Obama's Solar Nightmare: [Scroll down] How else have the Democrats been trying to change our power industry? By the old-fashioned way: changing the rules of the game and then using our tax dollars to enrich green schemers. The grand champion of spending boosts by Barack Obama and the Democratic Congress has been a 1014% boost in spending for the "Energy Efficiency and Renewable Energy Program." Then there is something called the Green Jobs Labor Fund — which did not even exist prior to 2009 and has received hundreds of millions of dollars. But wait... there is more. Much of the stimulus money also went toward funding green schemes, and one of the major beneficiaries have been solar power promoters. These are, in the words of Washington Post columnist Robert Samuelson, "pipe dreams." Many of the promoters and hucksters behind these "ventures" have chummy relationships with Democrats...

A Federal Gravy Train May End. It's been called a federal retirement plan that's better than the official federal retirement plan, a taxpayer-funded program for government workers that may be ripe for abuse. But it's a gravy train that could be brought to an abrupt halt very soon.

TSA: Living on Borrowed Time? The Transportation Security Administration (TSA) spends hundreds of millions of dollars a year. At TSA headquarters alone, there are 3,526 staff whose average salary tops $106,000. And while the TSA has gotten very good at groping airline passengers and undressing them with full body scans, the organization has yet to prevent a single terrorist attack. A Government Accountability Office (GAO) investigation released last spring revealed that at least 17 known terrorists have been able to pass through TSA security totally unhindered.

How Much of Your Money Wasted on 'Climate Change'? Try $10.6 Million a Day. The numbers are staggering. In 2011, your government will spend $10.6 million a day to study, combat, and educate about climate change. The big winner in the climate change money train is the National Science Foundation — they are requesting $1.616 billion. They want $766 million for the Science, Engineering and Education for Sustainability program, a 15.9% increase from their last budget. They also need another $370 million for the U.S. Global Change Research Program (USGCRP), an increase of 16%. They say they also need another $480 million for Atmospheric Sciences, an increase of 8.1%, and Earth Sciences, up 8.7%. Oh, and $955 million for the Geosciences Directorate, an increase of 7.4%.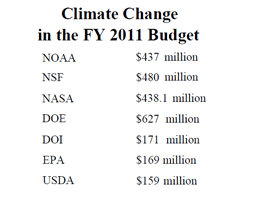 How can climate scientists spend so much money? $480 million here, $765.5 million there, throw in another $10 million for climate education and you've got $1.25 billion dollars spent on climate change research just at the NSF [National Science Foundation], just in one year!

The Editor says...
You might wonder why I consider this wasted money. First of all, the climate is constantly changing, and always has, so it is utterly futile to attempt to keep it from changing. Second, the global warming scare has turned out to be a hoax. Third, global warming stopped, all by itself, in 1998, without any treaties being signed and without curtailing the use of coal or petroleum. Global warming hysteria is one of the biggest wastes of tax dollars in the history of our country.

New York City's No-Show SEIU Snow Jobs. Big Labor and politicians across the United States have transferred union costs to taxpayers. For example, SEIU Local 444 (The Sanitation Officers Association) has six full-time union officials who are paid full-time city benefits and salary, yet work 0.00% of the time for New York City. These Sanitation Officers are working on everything but New York City business — including political activities and golf outings — all on the taxpayers' dime.

Audit Finds CDC Misplaced $8M in Equipment. The U.S. Centers for Disease Control and Prevention lost or misplaced more than $8 million in property in 2007, losing track of items including computer and video equipment, government auditors say.

Obama Is Sending DHS to Help Secure Afghan-Pakistan Border. The U.S. Department of Homeland Security, which by its own admission has thus far failed to control even half of America's nearly 2,000-mile-long border with Mexico, is now sending personnel to Afghanistan to help that country secure its border with Pakistan.

HHS is Paying Google with Taxpayer Money to Alter 'Obamacare' Search Results. The brazenness of the Obama administration never ceases to amaze. Try typing "Obamacare" into Google, and you'll find that the first entry is now the Obama administration's www.healthcare.gov. If you don't particularly like that result, you'll probably hate the fact that you're paying for it. ... Using taxpayers' money to alter the results of search engines and to control the flow of information is disturbing on multiple levels. It's particularly disturbing when it's done to promote a massive expansion of government power, like Obamacare. And one wonders how — or if — it's even legal.

Top county officials living high on the hog. Want to live in comfort and even luxury? Get a top job with the local county government. During the past decade, local government employees' pay and benefits have escalated to the point that these "public servants" are doing better financially than most elected officials, including many at the highest levels of federal authority, and the taxpayers who support them.

Hundreds Of NYC Sanitation Workers Earn Over $100,000. New York City sanitation bosses think they've got it so bad that they intentionally delayed snow-removal, according to the NY Post. So how bad have they got it? City workers enjoyed steady employment through the recession, killer benefits and a generous pension package. Then there's the pay. 315 sanitation workers earned over $100,000 in 2009, according to SeeThroughNY. The top guy, John Doherty, earned $205,180.

90-Year-Old Post Office Workers Still Getting Workers Comp? Years after most Americans retire, in fact years after the federal retirement age of 68, more than 100 U.S. Postal Workers in their 90s are still getting 75 percent of their salaries (tax free, yet) of federal workers compensation payments instead of having been graduated to the cheaper retirement payments at 60 percent of their salaries.

Hot off the press: Obsolete bill costs $78,000 to print. Last week's aborted $1.1 trillion "omnibus" spending bill ran to 1,926 pages and ended up costing taxpayers more than $78,000 just for the Government Printing Office to print out 650 copies.

Metro pays driver during 13-year leave. One day last summer, a man wearing a bus driver's uniform showed himself into the offices of the general counsel for the Washington Metropolitan Area Transit Authority, where he served court papers on a receptionist. It was an unusual event because process servers usually call up from the lobby. They tend not to be bus drivers, either. So WMATA officials launched an internal inquiry to find out whether the employee was serving court papers on official time. What they learned was that even though the bus operator had been on extended leave for 13 years, he still had an active identification card and continued receiving holiday pay and uniform-cleaning allowances.

Uncle Sam Will Help Buy You an Alpaca. I often bash government. I say it can't do anything better than people in a free market. But the government is unequalled in producing one thing: negative unintended consequences. Show me a government activity, and I will show you bad results that even the program's advocates probably don't like. Here's one example.

A hidden world, growing beyond control. The top-secret world the government created in response to the terrorist attacks of Sept. 11, 2001, has become so large, so unwieldy and so secretive that no one knows how much money it costs, how many people it employs, how many programs exist within it or exactly how many agencies do the same work.

Most Wasteful Government Programs of 2010. The Department of Agriculture awarded the University of New Hampshire $700,000 this year investigating methane gas emissions from dairy cows. The conclusion? "Cows emit most of their methane through belching, only a small fraction from flatulence," said project investigator Ruth Varner. And The National Science Foundation spent $216,000 to study the use of "ambiguous" statements by politicians. Specifically, the grant description says, the study exams whether candidates, "gain or lose support by taking ambiguous positions."

A death panel for government: [Scroll down] The federal leviathan has grown so far out of control that it has expensive federal programs whose goals are to undo the damage done by other expensive government programs. Transportation Secretary Ray LaHood, for example, has been traveling the country since January — at taxpayer expense — to promote a federally funded campaign against distracted driving. The heart of the program is an effort to badger state legislatures into making it a crime to use a cell phone behind the wheel. At the same time, Mr. LaHood's department has been pouring public cash into 48 states that have or are developing systems that let drivers call the number 511 from their cell phone to obtain the latest traffic information.

The Other Welfare. The Supplemental Security Income (SSI) program for children was created mainly for those with severe physical disabilities. But the $10 billion in federal benefit checks now goes primarily to indigent children with behavioral, learning and mental conditions. Qualifying is not always easy -- many applicants believe it is essential that a child needs to be on psychotropic drugs to qualify. But once enrolled, there is little incentive to get off. And officials rarely check to see if the children are getting better.

A death panel for government: Ronald Reagan observed that a federal program is the nearest thing to eternal life on this Earth. With President Obama's budget forecasting nearly doubled expenditures by the year 2020, governmental red ink appears equally immortal. Next year, Congress should pilfer an idea from the Texas state legislature that would give wasteful departments the dignified burial they have long deserved.

Government Screw-Up Of The Day. A significant production problem with new high-tech $100 bills has caused government printers to shut down production of the new notes and to quarantine more than one billion of the bills in huge vaults in Fort Worth, Texas and Washington, CNBC has learned. The total face value of the unusable bills, $100 billion, represents more than ten percent of the entire supply of U.S. currency on the planet.

$450 Million in U.S. Stimulus Money Going To Chinese "Green" Company? It seems that some of that Obama-Reid-Pelosi stimulus money, which was supposed to be used to help create jobs here at home, may be helping to stimulate the Chinese economy instead. This would be on top of the help that the Chinese would get competitively if Obama's cap-and-trade proposals are ever enacted. As reported by MSNBC, top Democratic fundraisers, union supporters and lobbyists with links to the Obama White House are behind a proposed wind farm in Texas that stands to get $450 million in stimulus money.

Black Farmers Will Get Payments from $1.25 Billion USDA Settlement. The number of African-American farmers who will eventually receive a portion of a $1.25-billion government settlement for discrimination by the U.S. Department of Agriculture (USDA) is almost impossible to determine at this point, said attorneys representing the second batch of complainants in the Pigford case.

Obama to sign bill awarding payments to black farmers: justice or 'fraud'? President Obama signs a law Wednesday [12/8/2010] aimed at rectifying USDA actions that undercut black farmers. Some conservatives call it 'modern-day reparations' that reward political friends.

Black Farmer, USDA Employees Prepared to Testify About Fraud in USDA Settlement. A black farmer who was an original litigant in the racial discrimination case against the U.S. Department of Agriculture is prepared to testify before a congressional committee about the way some attorneys rounded up plaintiffs — including homeless people and others who never farmed. The potential witness told a Republican congressman the attorneys went through neighborhoods, looking for people to be among the nearly 16,000 plaintiffs who received $1 billion in compensation for alleged farm-loan discrimination.

IGs need subpoena power. Rep. Darrell Issa has a long and applauded nonpartisan record of support for inspectors general (IGs) and their important role in uncovering fraud, waste and abuse in government. It is therefore surprising to find him under attack for proposing to give IGs the tool of subpoena power to obtain deposition testimony from witnesses. As one who served as an inspector general, only to be fired by the succeeding president for doing my job of uncovering fraud, waste and abuse, I think I have the experience to comment on Mr. Issa's proposal.

Store owner accused of massive food-stamp fraud. After reporting low income and virtually no assets, the government says, Ahmed Sheikh Mohamed got help for food, housing, heating, medical treatment and college costs for his family. He didn't disclose that his small Grand Rapids grocery store deposited $800,000 from 2006 to 2009. Or, that he made $60,000 annually in food-stamp fraud. Or, that he routinely moved cash in a business account to an account for personal spending, which included a $15,000 family vacation in Mecca, the government said.

What I was able to buy with my food stamps: What can you buy with food stamps? Pretty much anything sold in a grocery store, other than tobacco, booze and hot food. To find out what that really means, I took my November stipend to Whole Foods, a pricey organic food emporium that is as much a yuppie metaphor as it is a supermarket.

Food Stamps are easier to get than you think. I'm on food stamps. Last month, despite the fact that I'm middle class and have a job, the District of Columbia enrolled me in the federal Supplemental Nutrition Assistance Program. For the next year, I'll be getting $105 a month in assistance, no strings attached. You wouldn't think I'd qualify. As a master's student at American University and a part-time reporter for The Daily Caller, I don't meet the traditional definition of a poor person, and in fact I'm not poor. But that didn't matter to the District's Department of Human Services. They approved me anyway.

Chicago Cops/Firemen Retire as Millionaires. There really is no excuse for any public servant to retire with a pension worth $1.3 million dollars of the people's tax money. None. But that is precisely what happens in the City of Chicago according to Chicago's Civic Committee.

Ratchet Effect: How the Old Maximum Becomes the New Minimum. Buried in the "Stimulus," was a shovel-ready project that involved shoveling money toward government employees who commute on Metro. Back in the days of want and privation, during a Republican administration, federal employees were given $120/month as a gift from taxpayers to finance their travel. Taxpayers, who were hoping the Escort's bald tires on would hold out another month, were comforted by the knowledge government workers got $1,440/year to pay for their subway ride. The "Stimulus" increased the monthly handout to $230.

The Easiest $5-Million Job in the World. Which industry pays loan officers up to $5 million a year? Here's a hint: these bonuses are paid through companies that have lost several hundred billion dollars, necessitating a taxpayer bailout. That's right: your tax dollars are paying for both the bailouts and these multi-million-dollar bonuses. At the risk of popularizing this racket, I will explain how and why this happens, in the hope that it inspires real reforms.

Taxpayers have become the servants in Montgomery County. A sobering report released by the county's Office of Legislative Oversight revealed that personnel costs increased 64 percent during the past 10 years. Compensation for Montgomery County employees now consumes 82 percent of all tax-supported spending in the county's $4.2 billion budget. And for every tax dollar the county spends on bloated salaries, it spends another 52 cents on benefits for those same employees. This is even more than the 51 cents the federal government spends on benefits for its employees — and twice as much as is typically spent in the private sector.

Feds Admit $125 Billion in Bogus Payments, Call It 'Progress'. President Obama has claimed that one way he'll pay for his new health-care program is by eliminating waste, fraud and abuse in existing programs. Unfortunately for Hope and Change, tucked away in the sixth paragraph of a press release from the Office of Management and Budget is the admission that "improper payments" — federal money paid to the wrong people, whether through fraud or error — actually increased last year.

Even drunken sailors don't just LOSE their money.
The Case of the Disappearing Billions. The federal government spent about three and a half trillion dollars last year. It is the official position of the Democrat Party that not a single dime of that spending can be cut. When pressured to make spending cuts, the Left invariably sighs and trots out policemen and teachers as the first to be sacrificed, claiming there is no fat to be found anywhere else. I think Darrell Issa (R-CA) just found $125 billion we can cut right away. Or, more to the point, he can't find it, and neither can anyone else.

Obama panel probes stimulus waste — at Ritz Carlton. Members of a key panel created by the American Recovery and Reinvestment Act, better known as the stimulus bill, have scheduled a meeting on November 22 to consider ways to prevent "fraud, waste, and abuse of Recovery Act funds." The meeting will be held at the super-luxe Ritz Carlton Hotel in Phoenix, Arizona.

$200,000 for Capitol Hill Bottled Water? Since Democrat Nancy Pelosi took over the position of Speaker of the House in January 2007, funding for her office soared 62 percent, from $2.9 million to $4.7 million. For a single office?! And taxpayers paid an enormous printing bill of $93.76 million, up 212 percent. (How many copies of the 1,000-plus-page Obamacare bill do you think that bought the feds? In a computer age of paperless transactions, don't you think they could save a few dollars here by learning what PDF files are?)

I See Dead People and They Have Stimulus Checks. Senator Tom Coburn (R-OK) put out a report this morning [10/29/2010] titled "Federal Programs to Die for: American Tax Dollars Send Six Feet Under" showing rampant waste, fraud and abuse in government programs. This report has put together programs totalling $1 billion in federal monies given to the dead. For those to say that cutting waste, fraud and abuse is an empty slogan, this report shows that stopping checks to the dead is a means to save one billion of your tax dollars.

Taxed Enough Already! Who isn't already completely fed up with the feds' utter waste of our tax monies? Just a week ago, war analysts and government auditors reported that only 10 percent of U.S. taxpayers' money being poured into Afghanistan is actually being used to stabilize the country, with as much as $1 billion in aid ending up in the hands of the Taliban and other insurgency groups!

New Jersey toll-road managers to slash employee perks. New Jersey toll-road managers said they would eliminate perks, bonuses, payouts, and free employee E-ZPass trips after an audit released Tuesday [10/19/2010] found the New Jersey Turnpike Authority had wasted about $50 million since 2007.

EPA Looking to Hire 'Environmental Justice' Coordinator. The Environmental Protection Agency is looking to hire an environmental protection specialist who will help the agency accomplish its "environmental justice goals." The job, in New York City, pays up to $84,146 a year, and according to the job listing on the government Web site, "You do not need a degree to qualify for this position."

Obama's Job-Killing Regulations. Just last week, the Environmental Protection Agency (EPA) issued partial guidance to increase ethanol content in gasoline to 15%, even though ethanol's supposed benefits have been solidly debunked. Studies by the EPA have shown that ethanol increases carbon emissions, drives up costs of corn and food products, hinders engine efficiency, and does little to make our nation more energy independent. In short, the EPA's ethanol policy is a ploy, designed to prop up a failed industry, with yet another multi-billion dollar bailout from taxpayers.

More about ethanol.

Stimulus projects under fire. A University of Michigan scientist is getting $500,000 for a study on people's impact on the environment — in Nepal. In the Upper Peninsula, a professor will get $145,000 to take students to Africa. Both research projects, as well as scores of others across the country, are under fire by conservatives for being funded by federal stimulus money, funds intended to boost the U.S. economy and create jobs.

Dozens charged with largest Medicare scam ever. A vast network of Armenian gangsters and their associates used phantom health care clinics and other means to try to cheat Medicare out of $163 million, the largest fraud by one criminal enterprise in the program's history, U.S. authorities said Wednesday [10/13/2010].

72,000 stimulus payments went to dead people. A government investigator says 89,000 stimulus payments of $250 each went to people who were either dead or in prison.

Dead People Received $18 Million In Stimulus Checks. More than 89,000 stimulus payments totaling millions of dollars went to people who were either dead or in prison, a government investigator says in a new report. Half the payments, which were of $250 each, were returned. In all, nearly 72,000 dead people received $18 million and more than 17,000 prison inmates got $4.3 million, according to the report by the Social Security Administration's inspector general.

89,000 stimulus checks were sent to dead people. Anyone can make an honest mistake. After all, sometimes it's hard to tell if some people are dead or alive. If they're buried in Chicago cemeteries, it is especially difficult.

Audit: Ex-Postal Service workers return as private contractors, make more money. Who says you can't go back? Apparently you can at the U.S. Postal Service. Dozens of former top executives and hundreds of former employees have returned to the agency in recent years as private contractors, sometimes making double the salaries they made as full-time workers, according to one of three watchdog audits released late last week.

More news and commentary about the US Postal Service.

More Proof We Can't Stop Poverty By Making It More Comfortable. The federal government now has 122 separate anti-poverty programs (defined as either means-tested programs or programs whose legislative language specifically refers to their purpose as combating poverty). These range from Medicaid, the largest and most expensive anti-poverty program, to the tiny Even Start Program for Indian Tribes and Tribal Organizations. Combined, these 122 programs spent more than $591 billion in 2009, and are projected to cost even more this year. That amounts to $14,849 for every poor man, woman and child in America. Given that the poverty line is $10,830, it would have been cheaper just to mail every poor person a check for $11,000.

Where your taxes all go. If you think the federal taxes you pay go to the run the fed eral government, think again. This year, every dime (and more) that the feds collect is going out in payments to other people. That is, Washington is redistributing even more wealth than it takes in.

Florida prison inmates go green. Florida's prison system has received a $740,000 federal grant to train inmates in solar energy panel installation.

Good Riddance to the Pelosi Era. [Scroll down] And so we wound up with, among so many other projects, $15 billion for Pell grant scholarships (which make college more expensive), $1 billion for "community development block grants" (pork for cities), $145 billion for "making work pay" tax credits and $83 billion for the earned income tax credit (income transfers), $89 billion for Medicaid (more income transfers), $36 billion for unemployment benefits (ditto), $20 billion for food stamps (ditto), $30 billion for COBRA insurance extension (ditto), $79 billion for the State Fiscal Stabilization Fund (rewarding states that overspent at the expense of more frugal ones), $4.2 billion for "neighborhood stabilization activities" (we can only guess), and assorted special interest goodies like $400 million for global warming research, $150 million for "producers of livestock, honeybees, and farm-raised fish," $335 million for the prevention of sexually transmitted diseases, and $55 million for the Historic Preservation Fund.

$69 million in California welfare money drawn out of state. More than $69 million in California welfare money, meant to help the needy pay their rent and clothe their children, has been spent or withdrawn outside the state in recent years, including millions in Las Vegas, hundreds of thousands in Hawaii and thousands on cruise ships sailing from Miami.

Bureaucrats Order NY City to Change Every Single Street Sign. The city will change the lettering on every single street sign — at an estimated cost of about $27.5 million — because the feds don't like the font. Street names will change from all capital letters to a combination of upper and lower case on roads across the country thanks to the pricey federal regulation, officials said Wednesday [9/29/2010].

$27 million to change NYC signs from all-caps. Federal copy editors are demanding the city change its 250,900 street signs ... from the all-caps style used for more than a century to ones that capitalize only the first letters. Changing BROADWAY to Broadway will save lives, the Federal Highway Administration contends in its updated Manual on Uniform Traffic Control Devices, citing improved readability. At $110 per sign, it will also cost the state $27.6 million, city officials said.

The Editor says...
The government's claim is that the new signs will save lives. Name three people who have died because the street signs were in ALL CAPS. Think about it: If something is expected to stand out, it is usually printed in ALL CAPS.

Update: Regulations are suddenly relaxed as the President's approval rating hits a new low.
Feds will scrap costly deadline to switch signs. The Obama administration is scrapping a rule that required hundreds of thousands of street signs to be replaced by 2018 — and instead will allow communities to upgrade them as they wear out. The Federal Highway Administration is proposing Tuesday to eliminate 46 deadlines for bigger or better road signs.

U.S. Govt Funding Study About Homosexual Experiences. The National Institute for Allergy and Infectious Disease (NIAID), a division of the National Institutes of Health (NIH), has awarded $126,000 over the past two years to a University of Washington study that established "web-based sex diaries" for gay males as young as 16.

St. Cloud Has $5 Million Airport Terminal But No Place to Go. St. Cloud Regional Airport (STC) touts lots of amenities on its website — a café, ATM, free wi-fi, free parking and a $5 million completely renovated terminal whose capacity went up dramatically from 30 to 200 travelers. There's also a new $750,000 passenger boarding bridge secured with federal stimulus funds to keep travelers out of the elements while catching a flight. One asset, however, the newly renovated airport notably lacks — commercial flights and passengers.

The Federal Takeover of Education. Federal control over education has been growing since the 1960s despite the fact that the word education does not appear in the Constitution of the United States. ... Look how federal funding for No Child Left Behind led to mandatory testing and proficiency requirements for the states. Did that federal intervention actually lead to higher academic standards or improved student outcomes? No, it led to the dumbing down of many state standards and zero improvement in student outcomes. In fact, ever since President Lyndon Johnson implemented the Elementary and Secondary Education Act in 1965, federal involvement in education has led to zero improvement in student outcomes.

More about wasteful spending related to education.

$1.7 million upgrade for Biden's house. Vice President Biden's home is slated for a $1.7 million security upgrade in the form of a 1,600-ft. "ornamental" fence and multiple other protective measures, according to the Washington Examiner. In addition to the fence Biden's residence, on the grounds of the Naval Observatory in Washington D.C., is also scheduled to receive two additional guard houses, "four new gates, five new wedge vehicle barriers, and one relocated guard house," according to the newspaper, which sites Navy planning documents.

It's other people's money, after all. [The Census Bureau] spent $340 million for a multimedia ad campaign, including $2.5 million for one Super Bowl spot. It also spent $23,000 on a totem pole in Alaska in an effort to increase participation, which still dropped 2 percent in the state from the last census. A letter sent to tell Americans to expect the census forms, along with a postcard reminding people to mail them, cost $85 million.

Clinton to unveil funds for clean cookstove push. Secretary of State Hillary Clinton will announce on Tuesday a U.S. contribution of more than $50 million toward providing clean cooking stoves in developing countries to reduce deaths from smoke inhalation and fight climate change.

The Editor says...
(1) Every dollar that goes toward the fight against "climate change" is a wasted dollar, since the climate has always been in a continuous state of flux. (2) The United States has no business spending tax dollars on other countries' problems. (3) What fuel will be used in these "clean cooking stoves" that will add any less to "climate change"? Petroleum? Natural gas? Coal? Aren't these the very same energy sources the Democrats so vigorously oppose? (4) If people are dying from smoke inhalation, using the fires they now have, they must be cooking indoors, so why won't the new stoves be just as hazardous?

The Stupidest Spending Program of All. There has been such a cascade of stupid federal spending programs over the years it might seem nearly impossible to say which was stupidest of all. But let me try. In the late 1980s, the National Endowment for the Arts seemed to contend honorably for the title. ... But the NEA, which spent only $155 million in 2009, is a minnow in the federal ocean. The National Institutes for Health, which is slated to spend $37.8 billion in President Obama's fiscal 2011 budget, not only far outspends the NEA, it spends more stupidly.

Obama's Delusions of Competence. We've seen President Obama's delusions of expertise on display before. Without any trial period, demonstration project, or peer-reviewed study, the federal government dictated that medical records be digitalized and extracted $19 billion from taxpayers to fund the transition. The new systems, the president insisted, would prevent errors, reduce costs, and improve patient care. But as the Wall Street Journal reported, "a 2009 study in the American Journal of Medicine found that hospitals with more-advanced electronic systems fared no better than other hospitals on measures of administrative costs. ... Meanwhile, many doctors and nurses say they're frustrated with the technology. While some say electronic records have improved the way they practice medicine, many others say the systems are time-consuming distractions that take away from patient care."

Bienvenido to Obamacare. The Obama administration has unveiled its new Spanish-language website, Cuidadodesalud.gov, as a companion to HealthCare.gov, to fully inform Americans about the new goodies in the Obamacare legislation that the President signed into law in March.

HHS Launches Health Care Web Site for Spanish-Speakers. The Health and Human Services Department has unveiled a Spanish-language Web site intended to help non-English-speaking U.S. residents "take control of their health."

Glitch Sends Thousands of People Extra Social Security Checks. Thousands of area retirees may have gotten a big surprise in their mailbox Friday: two social security checks instead of one. But Social Security officials say they shouldn't be too quick to celebrate.

The government is parasitic. It has no money of its own.
How to Cut the Budget: [Scroll down] These numbers tell us that when you talk about cutting excessive government spending, you had better be talking about the big four: Pensions (including Social Security and government employee pensions), Health Care, Education, and Welfare. The government has utterly failed at these major programs. That's because of two inescapable facts of government: It always promises more than it can deliver, and it is always more interested in rewarding its supporters than in actually delivering a product.

L.A. County welfare to children of illegal immigrants grows. Welfare payments to children of illegal immigrants in Los Angeles County increased in July to $52 million, prompting renewed calls from one county supervisor to rein in public benefits to such families. The payments, made to illegal immigrants for their U.S. citizen children, included $30 million in food stamps and $22 million from the CalWorks welfare program, according to county figures released Friday by Supervisor Michael D. Antonovich.

US Taxpayers Funding Shovel-Ready Mosques Abroad. There's a lot that isn't moving in the United States right now and government money is flowing like water in this Recovery Summer. But who knew that under Barack Obama similar subsidies would be extended to mosque maintenance in foreign lands?

Democrats party while nation suffers. [Scroll down] At the top of the list have been the so-called green projects that accounted for about one-sixth of the first $814 billion stimulus package. These are the hopelessly unprofitable ventures that companies develop because they know they are just the ticket for a fat check from Uncle Sam, as long as they can be somehow construed as environmentally friendly.

The Ruling Class Takes Care of Its Own. Here's the rundown in round numbers:
• The average civilian federal worker earns — I'm sorry, "gets paid" — over $81,000 a year. After adding in almost $42,000 for benefits, he or she receives total compensation of over $123,000.
• For state and local government employees, the analogous figures are a shade over $53,000, almost $17,000, and nearly $70,000.
• Private sector workers average about $50,500 in pay, $10,500 in benefits, and just over $61,000 in total comp.

Hatching Bigger Government. In the private sector, entities that fall short of doing their jobs find themselves forced to shrink. In the public sector, the opposite is typically true. Failure is an option, and often a beneficial one.

Hatching Bigger Government. In the private sector, entities that fall short of doing their jobs find themselves forced to shrink. In the public sector, the opposite is typically true. Failure is an option, and often a beneficial one. The Federal Reserve Board and Treasury facilitated the 2008 financial crisis? Then obviously we have no choice but to give them even more responsibility. The Securities and Exchange Commission let Bernie Madoff rob investors? A bigger SEC will be a smarter SEC.

Bangor food stamp scam dumps water for deposit using taxpayer funds. Would you be willing to exchange $86.79 for $24? A pair of men at the Shaw's supermarket on Main Street did just that on a recent Tuesday morning as they engaged in a food stamp scam funded by U.S. taxpayers. After purchasing a reported twenty 24-packs of bottled water, on sale that week for $2.99 a case before taxes and redemption fees were added, the men went behind the store to the loading dock and poured the contents of each bottle on the ground.

Obama approves additional $12 million for Da Nang dioxin cleanup. US President Barack Obama has approved $12 million for an ongoing project aimed at cleaning up dioxin that has contaminated the soil and water in and around the Da Nang Airport. The announcement was made by congressman Eni Faleomavaega (D-American Samoa) on August 26, during a three-day visit to Vietnam.

White House Directive: Erect Signs at All Stimulus Projects. Federal contractors receiving money for projects funded by the American Recovery and Reinvestment Act (ARRA) — the $862 billion economic stimulus law President Barack Obama signed in February 2009 — have been encouraged and, in some cases, required by the administration to post signs that say their work is funded by that specific act.

Federal workers earning double their private counterparts. At a time when workers' pay and benefits have stagnated, federal employees' average compensation has grown to more than double what private sector workers earn, a USA TODAY analysis finds.

Your stimulus dollars, not really at work in New Hampshire. At least the Alaska "Bridge to Nowhere" would have crossed a body of water. Not so with this stimulus project.

You are now subsidizing luxury apartments in Manhattan. Obama is all about restoring a government for the people, he says. And folks in million-dollar condos in Gramercy Park are people, too.

Grade-A dunces dumping desks. Here's one way to flunk economics. Officials at a downtown public school wastefully threw out hoards of pricey desks, chairs, cabinets and other classroom furniture yesterday [8/11/2010] despite steep budget cuts to city schools. Residents who live near the Greenwich Village Middle School on Hudson Street said they watched in horror as sanitation workers crushed more than 50 pieces of perfectly good furniture — and perhaps twice that — in the back of a garbage truck.

He came, he saw, he insulted. [Scroll down] But the green economy looks like a lot of green for the well-connected. The president handed $150 million in stimulus money over to Korean CEO Peter Bahnsuk Kim of LG Chem. LG Chem is an $11 billion Korean conglomerate that hardly seems a candidate for the American Recovery Act. No wonder the program is so unpopular. ... Obama said his benevolence would create 300 jobs in Holland — but that's $500,000 per job.

Feds wasted millions in utilities program for poor. A federal program designed to help impoverished families heat and cool their homes wasted more than $100 million paying the electric bills of thousands of applicants who were dead, in prison or living in million-dollar mansions, according to a government investigation.

More about Poverty and Dependency in America.

The Rogues' Gallery Of Government. Social Security is deep in the red, the post office is losing billions, and Fannie Mae's back for another handout. These and other examples speak volumes about government fecklessness and negligence.

Arlington Cemetery Probe: Where Did $5 Million for Records System Go? Officials don't know what happened to more than $5 million that was supposed to buy a new technology system to automate burial records at Arlington National Cemetery. The money is spent, but the nation's cemetery for military killed in combat, veterans and their families continues to keep burial records for fallen soldiers on paper.

Who Will Bail Out America? Social Security, Medicare and the retirement of the baby boom generation wasn't enough of a burden for the American taxpayer. We will now be paying as well for the generous pensions of Greek bureaucrats retiring in the warm Mediterranean sun at age 55, thanks to the foresighted leadership of our very own international statesman, Barack Obama.

Documents reveal potential widespread fraud at Department of Labor. "Independence Investigates" has obtained internal emails from the Colorado Department of Labor and Employment (CDLE) showing that a software control intended to prevent the payment of unemployment insurance to unqualified citizens as well as to illegal aliens was shut off in early 2009.

Brothers accused of stealing federal food assistance benefits. At the same time Mohamed and Omar Sufi were stealing $381,467 in federal food assistance benefits, the mother of the men, Mana Ayat, accepted $18,000 in rental housing subsidies for a home she didn't live in, federal prosecutors say.

$33-an-hour — For Sleeping On the Job. Last week the NY Post ran a story about two late-shift, unionized public employees sleeping on the job. According to the Post, "(S)leeping workers are a familiar nighttime sight along the streets of NoHo and SoHo around the Angelika theater, which is next to the transit crew entrance." And what do these arrogant deadbeats get paid for shirking their responsibilities? $33-an-hour.

Justice Dept. parties with tax dollars. Well over $100 million tax dollars over five years has been spent on "to fight crime" according to Sen. Tom Coburn, R-Okla., who also notes that at least $200,000 was spent for officials to visit Florida and Palm Springs golf resorts to attend conferences. Coburn's office highlighted a GAO report that reveals that the Justice Department cannot account for how it spends money on recreational activities it sponsors.

U.S. Rebuilds Power Plant, Taliban Reap a Windfall. The U.S. has poured more than $100 million into upgrading the Kajaki hydropower plant, the biggest source of electricity in south Afghanistan. And it plans on spending much more, in an effort to woo local sympathies away from the Taliban insurgency. Yet, one of the biggest beneficiaries of this American-taxpayer-financed project are the Taliban themselves.

Less money for dead people. President Barack Obama on Thursday [7/22/2010] signed legislation intended to slash by $50 billion the taxpayer money improperly paid to dead people, fugitives and those in jail who shouldn't be getting benefits.

U.S Government Spent $181,406 to Study How Cocaine Enhances Sex Drive of Japanese Quail. The National Institutes of Health (NIH) has awarded $181,406 this year to a researcher at the University of Kentucky to study how cocaine enhances the sex drive of Japanese quail. "Controlled preclinical studies that utilize animal models have demonstrated that prior repeated exposure to cocaine enhances sexual motivation and behavior," says the grant description posted by the NIH.

U.S. Spent $410,624 on Project to Teach Chinese Meditation to Cocaine Addicts. The U.S. government has spent $410,625 to study the effects of teaching Chinese meditation to cocaine addicts. "Our clinical experience and pilot studies suggest that Integrative Meditation (IM) from Chinese medicine may help clients engage in treatment, reduce cravings/withdrawal symptoms, and increase treatment retention, which appear missed by a typical behavior therapy," says the official description of the project published by the National Institutes of Health.

U.S. Will Pay $2.6 Million to Train Chinese Prostitutes to Drink Responsibly. The National Institute of Alcohol Abuse and Alcoholism (NIAA), a part of the National Institutes of Health (NIH), will pay $2.6 million in U.S. tax dollars to train Chinese prostitutes to drink responsibly on the job. Dr. Xiaoming Li, the researcher conducting the program, is director of the Prevention Research Center at Wayne State University School of Medicine in Detroit.

U.S. Spent $550,496 To Learn About the Sex Lives of Truck Drivers. The federal government has spent $550,496 on a project that involved conducting "focus groups and in-depth interviews" with American long-haul truck drivers to learn about their sex lives in order to assess their risk of contracting HIV or other sexually transmitted infections. The project has failed to find any instances of HIV among the truck drivers studied.

Yale Researcher gets $3.9-Million to Develop 'Avatar' Sex-Ed Video Game. The National Institute of Child Health and Human Development (NICHD), a division of the National Institutes of Health, is giving Dr. Lynn Fiellin, an assistant professor at the Yale School of Medicine, $3.9 million over five years to develop a video game to teach "sex, drug and alcohol negotiation and refusal skills" to children 9-14 years of age.

Most Fireworks Used at National Mall on July 4 Were Made in Communist China. Most of the fireworks used in this year's Independence Day festivities on the National Mall in Washington, D.C., were made in the People's Republic of China, according to the company that produced the fireworks show. China is governed by a Communist regime. The Fourth of July celebrates the birthday of the United States of America as a free and independent republic. Only 20 percent of the fireworks in this year's show were made in the United States, according to Lansden Hill, president of PyroShows, the company that ran this year's production.

U.S. Promoting Condom Use Among IV Drug Users in Kazakhstan. The National Institutes of Health has spent over $2 million on a study that, among other things, seeks to incease condom use among intravenous drug users in Kazakhstan. Dr. Nabila El-Bassel, a Columbia University professor in the School of Social Work, proposed the study to "rigorously test the efficacy of an innovative, couples-based HIV/STI risk reduction intervention (CHSR) to decrease new cases of HIV and Hepatitis C (HCV) and incidence of sexually transmitted infections (STIs), as well as to reduce unsafe injection practices and increase condom use among injecting drug users (IDUs) and their heterosexual, intimate partners in Shu, Kazakhstan."

50% Rate Obama's Economic Performance As Poor. Obama administration officials continue to insist that the economy is showing signs of improvement, but most voters aren't buying it. The Discover (R) Consumer Spending Monitor shows that just 28% of Americans think the economy is getting better, while 48% say it's getting worse. A new Rasmussen Reports national telephone survey finds that 50% of voters now view President Obama's handling of the economy as poor. This is the president's highest negative rating in this area since he took office in January 2009.

Federal Government Helped Pay Home Air-Conditioning Bills for Prisoners. According to the Government Accountability Office (GAO), the federal government helped pay the home air conditioning bills for more than 11,000 dead people, 1,100 federal employees, and 725 convicts in fiscal year 2009. The payments were made by a $5 billion program known as the Low-Income Home Energy Assistance Program (LIHEAP).

Energizing the Dead. Recently it was revealed that the federally financed, $5 billion a year, Low Income Home Energy Assistance Program (LIHEAP) granted tax-payer funds from the Department of Health and Human Services (HHS) to dead people, prisoners, and postal workers. LIHEAP is another benevolent program operating under HHS, which also oversees programs like Medicare and Medicaid.

Gov. Says Illinois is Broke, but His Staffers/State Workers Get Big Raises. The Associated Press found that [Governor Pat] Quinn has "given 43 salary increases averaging 11.4 percent to 35 staffers in the past 15 months." For months Quinn has been hectoring the state legislature to "hold the line" in spending, yet sees no hypocrisy in handing out juicy raises to his staffers when his own citizens are losing base pay and hours across the state.

Top NY state bureaucrats earn nearly $128,000/year. Almost 5,000 bureaucrats who work for New York public authorities earned an average of $127,915 in 2009, according to the first report by an agency created to safeguard the public interest. ... The Metropolitan Transportation Authority, often criticized for an over-abundance of administrators, had the highest number of workers — 3,026 — who earned at least $100,000 a year, said the Independent Authorities Budget Office's report.

First Lady to Waste Millions 'Visiting' The Gulf Oil Spill. When times were flush, I guess it didn't seem so outrageous for the First Lady of the White House to fly about the country "visiting" places as if she were an important part of our national government. ... And now? Why, now Michelle-My-Bell is making plans to "visit the Gulf Coast oil spill region" as if she is some sort of potentate touring her outlying tracts of land. Yes, the angriest First Lady of them all is going to pack her royal bags, wing off to the coast, and wave to the masses from the royal coach as she inspects her subjects woes due to her husband's continuing impotency there.

It wouldn't be real financial reform if it didn't create 20 new federal diversity agencies. The Dodd-Frank financial reform bill creates "Offices of Minority and Women Inclusion" in 20 different government and quasi-government institutions, Diana Furchgott-Roth notes. The section of the bill in question requires that ["][N]ot later than 6 months after the date of enactment of this Act, each agency shall establish an Office of Minority and Women Inclusion that shall be responsible for all matters of the agency relating to diversity in management, employment, and business activities.["]

S.C. State board calls for audit of transportation center spending. S.C. State University's board voted unanimously Tuesday to conduct an external audit on the James E. Clyburn University Transportation Center to find out how millions of state and federal dollars have been spent. ... The audit will be the first comprehensive review of the center, through which more than $50 million has flowed since it was launched in 1998. S.C. State leaders have about half that money on hand for the building's first phase. But they've been unable to explain where the rest of the money went.

Thousands in welfare cash tapped at California strip clubs. California welfare recipients have been able to get taxpayer cash — meant to feed and clothe needy families — from ATM machines at strip clubs across the state, including some well-known gentlemen's cabarets in Los Angeles. More than $12,000 from the Temporary Assistance for Needy Families program was dispensed from the start of 2007 to the end of 2009...

FEMA Workers Ran Up $247,100 in 'Improper Purchases' on Government Credit Cards. One employee used a Federal Emergency Management Agency (FEMA) credit card to buy $4,318 in "Happy Birthday" gift cards. Two other FEMA officials charged the cost of 360 golf umbrellas — $9,000 — to the taxpayers. Other FEMA officials used funds allocated for disaster relief in Oklahoma to buy 19 portable ceramic heaters for the office at a cost of $1,098.

How Much Are Taxpayers Being Charged for Stimulus Propaganda Signs? Is the government illegally requiring states to spend up to $10,000 for each road sign advertising stimulus projects? Why do private firms claim a sign should cost significantly less?

Enjoy paying the bill for the president's PR. This week we learned that the Imperial Federal Government has squandered around $20 million dollars on signs. That $20 million? Well, that was stimulus money. ... The signs actually say something about "The American Reinvestment and Recovery Act" and contain that wonderful phrase "Putting America Back to Work." Yeah, putting America back to work painting signs that say we're putting America back to work. That probably works for the average Democrat voter. But not for me.

A fool and his our money are soon parted.
California welfare cards can be used in many casino ATMs. California welfare recipients are able to use state-issued debit cards to withdraw cash on gaming floors in more than half of the casinos in the state, a Los Angeles Times review of records found.

Welfare recipients withdrew $1.8 million from casino ATMs. California welfare recipients withdrew more than $1.8 million in taxpayer cash on casino floors between October 2009 and May 2010, state officials said Thursday [6/24/2010]. Gov. Arnold Schwarzenegger also issued an executive order Thursday requiring welfare recipients to sign a pledge that they will use their cash benefits only to "meet the basic subsistence needs" of their families.

Welfare Recipients Using State-Issued Debit Cards at California Casinos. The Los Angeles Times on Thursday [6/25/2010] published a blockbuster report concerning California welfare recipients using state-issued debit cards at casino ATMs to be able to instantly gamble with taxpayer dollars. "The cards, provided by the Department of Social Services to help recipients feed and clothe their families, work in automated teller machines at 32 of 58 tribal casinos and 47 of 90 state-licensed poker rooms, the review found." Despite this shocking revelation, America's media largely ignored the findings.

Workers Used County Credit Cards for Personal Purchases, report. Los Angeles County employees are coming under fire for allegedly using county-issued credit cards to buy big-ticket items like DVD players, LCD televisions and barbecue grills for personal use.

Prisoners cashed in on homebuyer tax credit. More than 1,200 prison inmates, including 241 serving life sentences, defrauded the government of $9.1 million in tax credits reserved for first-time homebuyers, according to a Treasury Department report released Wednesday [6/23/2010].

LAPD's new $74-million jail sits empty. The department is still using its dilapidated, overcrowded downtown jail that the new one is meant to replace because it doesn't have the money to hire enough jailers for the labor-intensive facility.

Credit card caper is L.A. County's next bombshell. Some Probation Department employees apparently have been ripping off taxpayers, buying personal items such as TVs, video games and barbecue grills on county-issued credit cards.

Nancy Pelosi's taxpayer-funded, exorbitantly expensive, eco-friendly office space. Speaker of the House Nancy Pelosi, D-Calif., recently moved into a new district office, located in the San Francisco Federal Building. All sorts of reasons were cited for the move — she'd been in the old office for twenty years; the new office's location is more accessible for her constituents; she needed more space; the new office is in a "green" building. These explanations seem reasonable, until you find out how much she's paying for them. ... Speaker Pelosi is paying $18,736 a month for her lovely new workspace.

Pelosi's New District Office Costs $18,736 a Month. San Francisco is a high-rent city. Just ask Nancy Pelosi. The House Speaker's district office in the new federal building in San Francisco costs a whopping $18,736 a month — the highest rental paid by any member of the House — or, more precisely, the highest rental paid by taxpayers on behalf of a member of the House.

More about Nancy Pelosi and her gas-guzzling jet.

Arizona Spends $1.25M to Save 250 Squirrels. Arizona is spending $1.25 million to build bridges for endangered squirrels over a mountain road so they don't become roadkill and then monitor their health. The money is being spent, officials said, because cars kill about five of these squirrels each year.

The next day...
Arizona Cancels $1.25M Bridge for 250 Squirrels. Arizona abruptly canceled plans today [6/18/2010] to spend $1.25 million to build bridges for a colony of 250 squirrels so they would not have to cross a rural road and could avoid becoming road kill. John Halikowski, director of Arizona's Department of Transportation, halted the bridge project that was being paid for with federal highway funds. "ADOT will not spend funds simply because they are available," he said in a statement.

More about the Endangered Species Act.

Obama's 58 minutes in Ohio. President Barack Obama turned his attention from the BP oil spill Friday to talk about another concern: economic recovery. But not for long — 58 minutes to be exact. In fact, he spent less time on the ground in Columbus, Ohio, than it took to fly there and back. The president revved up Air Force One, flew to Ohio, motorcaded to a road construction site, gave a speech on the Recovery Act and flew back to Washington all in the span of three hours. ... This was Obama's eighth trip to Ohio since taking office.

10 minutes of talk with each golden word costing you $502. Obviously, as part of his administration's plan to reduce spending to address the ginormous deficit, President Obama flew on Air Force One the other day from Washington all the way out to Columbus, Ohio, and back. About a four-hour round-trip flight. He was on the ground in the Buckeye State for a total of 70 minutes. By another count, he was on Ohio soil barely 58 minutes, touting more what he sees as an economic recovery. (Obama had tickets to an evening White Sox baseball game back in Washington.)

The Editor says...
It costs about $68,000 per hour to fly Air Force One.* One year ago, a round trip to Chicago cost an estimated $236,000.* Yearly operating expenses are somewhere between $240 million and $280 million.* And of course the President flies aboard Marine One, back and forth to Andrews AFB, before getting on Air Force One, and there are numerous other aircraft and ground vehicles on duty when the President flies, and we may never know how many there are or how much they cost to operate.

Obama administration spends $1.2 billion on cycling and walking initiatives. The Obama administration more than doubled spending on cycling and walking initiatives to $1.2 billion (£810 million) last year as it seeks to coax Americans out of their cars.

Unwanted sludge-treatment plant may cost taxpayers $217 million. Local officials acknowledge that a giant sewage-cooking machine in west suburban Stickney is a waste of money, but they have decided to move ahead anyway with a project that could cost Chicago and Cook County taxpayers $217 million. Once billed as an innovative way to turn the region's sewage sludge into fertilizer, the project is a decade behind schedule.

Tax dollars perpetuate global-warming fiction. With public faith in the global-warming myth on the wane, leftist zealots are desperate to spin a new tale — and they're spending your tax money to do it. Three years ago, Congress appropriated $5,856,600 for the National Academy of Sciences to complete a climate-change study. This bureaucratic attempt to cook the books, which was completed last week, may be too late to save this dying religion.

The Editor asks...
Why is this a waste of money? Because the "climate change" panic is a hoax!

Club Fed for Illegal Aliens. [Scroll down] Among the p.c. makeover measures under consideration or about to be made by Obama's ICE agency in the next 30 days:
— "Softening" the physical appearance of privately contracted detention facilities with "hanging plants."
— Giving illegal alien detainees e-mail access and free Internet-based phone service.
— Abandoning lockdowns, lights-out, visitor screening and detention uniform requirements.
— Serving fresh veggies and continental breakfast and providing Bingo sessions, arts and crafts classes, and, yes, movie nights.

Obama Orders Dance Classes, Movie Nights, and Bingo for Illegal Detainees. The Houston Chronicle reports that the Obama administration has ordered the Immigration and Customs Enforcement (ICE) department to implement multiple modifications to their facilities to make life easier, more comfortable, and pleasant for the hundreds of thousands of illegal immigrants (approximately 400,000) it detains annually.

The Editor says...
The quickest way to stop illegal immigration from Mexico is to make the trespassers' experience here unpleasant, unrewarding and unsatisfactory in every way. Mr. Obama is taking exactly the opposite approach.

Fun Times for Illegal Alien Detainees. Cooking classes, dance instruction, movie nights and bingo games — it sounds like amenities on a cruise ship or a resort summer camp, but these recreational offerings are some of the coming attractions for illegal aliens held at select federal detention centers. The preliminary agreement between Immigration and Customs Enforcement (ICE) and its contractor for numerous detention centers, Corrections Corporation of America (CCA), also calls for detainees to receive laptop computer training, access to legal materials, e-mail and phones, and to participate in arts and crafts programs as well as exercise and walking classes.

Deficit reduction commission bailed out by White House. Less than two weeks ago, a blue-ribbon commission charged with solving the nation's staggering national debt seemed, like the country itself, to be running out of money. ... But now the commission's executive director, Bruce Reed, says its budget issues have been resolved, thanks to help from the White House.

Is Global Warming Really Cause for Alarm? During a March 2009 closed-door meeting, Department of Energy senior advisor Matthew Rogers outlined his "dilemma" over how to comply with his new mandate to quickly spend $36.7 billion in grants and loan guarantees from the 2009 American Recovery and Reinvestment Act (aka, the Stimulus Act) on renewable energy and climate change. ... Nearly $2.4 million dollars of that Stimulus loot may be funding the latest research by Penn State University Professor Michael Mann, father of Mann-made global warming, the debunked hockey stick temperature graph and many infamous Climategate e-mails.

Did someone mention ClimateGate?

A $3 Billion Government Boondoggle? President Obama says Congress has sunk billions into a military jet engine that the Defense Department says it doesn't want or need, and now the two branches are headed for a showdown over a push by Congressional leaders to spend $3 billion more on the project over the next six years.

Most broadband initiatives by municipalities have been costly financial failures. [Scroll down to page 21] There has been debate for years over government's role in building and operating broadband systems and whether current subsidies for traditional phone service should be expanded to cover advanced services such as broadband. Given the economic benefits of broadband, should governments use taxpayers' money to subsidize its more rapid or widespread deployment? Municipalities around the country have experimented with building and operating their own broadband systems. Despite high hopes and often significant investments of taxpayer dollars, most of these systems have been financial failures.

Don't Try This Again. Since the Obama administration took over, Washington has passed two recovery bills costing more than $800 billion. At that price, shouldn't we be experiencing an employment boom? Taxpayers are being fleeced.

No penalty for misuse of federal credit cards. An investigation that found thousands of dollars in unauthorized purchases of clothing, gold coins, flat-screen televisions, gym memberships and college tuition payments by employees of the Federal Protective Services using government purchase cards has resulted in no disciplinary action.

Gov workers steal your money to buy flat-screens, face no consequences. This time it is actual clear-cut stealing, not just cushy benefits — the General Services Administration inspector general reports that employees of the Federal Protective services used government purchase cards to buy gold coins, flat-screen televisions, and even gym memberships.

Government-Funded Jihad. Rep. Darrel Issa (R-C.A.) and Sen. Susan Collins (R-M.E.) are demanding answers following the Investigative Project on Terrorism's discovery that taxpayer money is going to the radical Dar al-Hijrah mosque of Falls Church, Virginia. The revelation is an unsettling reminder of how jihadists are using America's freedoms and ineptitude of the government to their advantage.

Homeland Insanity: Census Bureau Funds Radical Virginia Mosque. The U. S. Census Bureau leases 6,654 square feet of space from Dar al-Hijrah, which has been labeled "America's most radical mosque." The cost of the space to taxpayers is $23,000 a month. The lease agreement with Dar al Hijrah shows that the government has been paying rent for the use of this space on Edsall Road in Alexandria, Virginia since November 2008. A spokeswoman for the General Services Administration which oversees the Census Bureau refused to comment on the lease.

Feds run off track with Pentagon transit perk. Federal officials failed to keep track of how they doled out millions of dollars in transit benefits paid for Washington-area Pentagon employees to get to and from work, resulting in overpayments, double dipping and questionable public transit fares, a recent Pentagon review has found.

EPA Offers Cash for Propaganda. The Environmental Protection Agency is offering thousands of taxpayer dollars and free publicity to whoever produces the most compelling pro-government-regulation propaganda, it announced on its website and in a YouTube video. "Almost every aspect of our lives is touched by federal regulations," the contest announcement correctly points out.

Want to get rich? Work for feds. Government workers, especially at the federal level, make salaries that are scandalously higher than those paid to private sector workers. And let's not forget private sector workers not only have to be sufficiently productive to earn their paychecks, they also must pay the taxes that support the more generous jobs in the public sector.

Government Greed. We have seen the future and it works — for certain people. Take San Francisco municipal workers. The San Francisco Chronicle recently detailed just how overpaid the city's employees are. Their average yearly salary is $93,000 before benefits. A third of them made more than $100,000 in 2009. A newly retired deputy police chief (not even the city's top cop) made $516,118.

Federal personnel chief says he needs new lab to test iPAD, figure out 'how to be cool'. With survey after survey showing public trust in government at unprecedented low levels, the federal civil service chief has a couple of strategies for fixing things — spend a bunch of tax dollars on an advertising campaign to improve the image of the bureaucracy and create an "innovation lab" so "we can be cool."

Teddy's Temple: A Taxpayer-Funded Shrine to Leftism. At a time when the American taxpayer is on the hook for trillions in current and future federal spending — when the Congressional Budget Office warns that the current rate of federal spending is "unsustainable" — liberal Democrats in Congress have earmarked over $68 million of taxpayer dollars for a Boston shrine to the late Senator Edward Kennedy.

The Temple of Ted. The federal taxpayer is on the hook for more than $38.3 million for the Edward M. Kennedy Institute for the U.S. Senate. The planned center will be a neighbor to the John F. Kennedy Presidential Library and, as its name suggests, will promote the career of the late Senator Edward M. Kennedy. Senator John Kerry and Congressman Ed Markey of Massachusetts slipped the earmarks into the federal budgets for defense and education, among other departments.

SEC Scandal Shows Danger of Big Government. It has been revealed 33 employees over the last several years, making between $90,000 and $222,000 a year, paid for with your hard earned money, were spending up to eight hours daily downloading pornography during working hours. The names of these offenders have not been revealed, but the biggest offender was a SEC lawyer making in excess of $222,000 a year who spent so much time downloading porn he filled up his government hard drive.

Houston man convicted in $1 million adult diaper scam. The former co-owner of a Houston a durable medical equipment company has been convicted of bilking Medicaid of nearly $1 million in a scheme involving adult diapers, federal authorities said.

Too much green? Millions spent on recycling. Governments across the Washington region spend millions of dollars on recycling each year, but national recycling experts say a lot of that taxpayer cash is going to waste. Maryland, Virginia and the District [of Columbia] require residents and businesses to recycle, and localities pay millions of dollars to enforce those laws and hit recycling targets.

'Rip-off' dentists clean up. A single dental clinic that illegally pays low-income patients $15 or $20 cash as an enticement to undergo routine checkups could rake in more than $2 million a year in Medicaid reimbursements from the state, a [New York] Post analysis has found. Such a Medicaid mill's earnings could skyrocket if it retains patients' ID numbers and later uses them to fraudulently bill the state for dental "services not provided," a law-enforcement source said yesterday [3/30/2010].

It's easy to buy lemons with somebody else's money.
Obama administration to buy first 100 Chevy Volts. The White House said today that the government will "purchase the first 100 plug-in electric vehicles to roll off American assembly lines" before the end of the year. The Volt, which GM describes as an extended range electric vehicle, is the only model that fits that description. GM began building Its first production Volts at the Detroit-Hamtramck plant today.

What Do Detroit, the Postal Service, and Health Care Reform Have in Common? Fewer and more expensive services, corruption, and inefficiency are the marks of liberal government-run cities, businesses, and programs.

Stimulus Dollars Are Taking You for A Ride — On Greyhound Buses. The State of Missouri will use $945,210 of federal taxpayer monies to reimburse Greyhound Bus Lines for the addition of two new buses to the company's fleet. In other words, Greyhound is getting a federal subsidy and the Show-Me State is acting as a laundromat of sorts.

The Editor says...
That's $472,605 for each bus. They must be really nice buses.

Thousands spent on unused census swag. The U.S. Census Bureau spent hundreds of thousands of dollars on promotional items used to convince more people to mail back their census forms, but a [Denver TV station's] investigation found thousands of the items were dropped off, unused, at a local high school.

I got a letter from the census today. There in my mail was an envelope clearly marked to show it came from the US Bureau of the Census and that said Bureau had duly paid a first-class postal rate to send it to me. ... Presumably, tens or hundreds of millions copies of this useless missive is being sent out at taxpayer expense — which must be enormous — for printing, translation, typesetting in foreign languages and non-Latin scripts, postage, addressing, presorting, and mailing.

Anger arises over mailing cost of census. Last week, "Dear Resident" letters arrived in post boxes and through mail slots nationwide. "About one week from now, you will receive a 2010 Census form in the mail," the letters read. "Please fill it out and mail it in promptly."

Census 2010 Plagued By Technical Difficulties. The idea for 2010 was that half a million census workers, for the first time, would use handheld computers to verify addresses, follow up with people who didn't return their questionnaires and perform other tasks. ... But certain "delete" operations malfunctioned, causing some major glitches. And after the successful completion of the address verification phase, the devices were phased out for any further use. The total cost, meanwhile, grew from an original $600 million computer contract to up to $3 billion.

Update:
U.S. Census Sending Millions of Americans A Second Form. About 40 million "replacement" Census questionnaires are being sent nationwide to households in areas with low mail return rates, even if those households already have returned the first form they received, Census officials announced on Thursday [4/1/2010].

Panamanian murderer caught in D.C., lived off federal subsidies. A Panamanian murderer who escaped a prison in the Central American country has been captured in the District, where authorities say he used a fake Social Security card to obtain federally subsidized housing and cruised around town in three luxury cars.

L.A. County supervisors spend millions on pet projects. As Los Angeles County supervisors prepare to carve deeply into everything from public safety to social services, they also are spending millions in taxpayer dollars to burnish their public images, pay for chauffeurs, hold parties for friends and lobbyists and support pet projects. Each supervisor receives $3.4 million a year to spend as he or she sees fit, without any public vote or scrutiny.

Pocket money for politicians: [Scroll down] It's hardly surprising that irresponsible government stewardship of public resources trickles down from Washington to the local level. Lawand Johnson, director of Louisiana's St. John the Baptist Housing Authority — which is funded through the U.S. Department of Housing and Urban Development — racked up more than $2,000 in personal expenses on a government credit card. "I thought it was my card," Ms. Johnson explained, according to the New Orleans Times-Picayune.

Tiny Tims: Timothy Geithner isn't the only government worker with a tax problem. According to data from the IRS and the Office of Personnel Management, nearly 100,000 current federal employees are behind on their taxes. Not all of them are big offenders, but they are delinquent to the tune of nearly $1 billion — an average of about $10,000 each. If retirees collecting federal pensions and military personnel are included, the number is about 267,000, and they owe a total of about $3 billion.

Waste, fraud and abuse: President Barack Obama has suddenly decided his unpopular, extraordinarily expensive, colossal healthcare reform bill is all about waste, fraud and abuse in Medicare and Medicaid. Interestingly, this is only important to him as a final Hail Mary pass on his signature policy item, rather than a legitimate priority on its own.

US diplomats add a moat to their expenses at $1bn London embassy. The United States has unveiled plans for its new $1 billion high-security embassy in London — the most expensive it has ever built. The proposals were met with relief from both the present embassy's Mayfair neighbours and the residents and developers of the Battersea wasteland where the vast crystalline cube, surrounded by a moat, will be built.

Activist 'Green' Lawyers Billing U.S. Millions in Fraudulent Attorney Fees. Without any oversight, accounting, or transparency, environmental activist groups have surreptitiously received at least $37 million from the federal government for questionable "attorney fees." The lawsuits they received compensation for had nothing to do with environmental protection or improvement. The activist groups have generated huge revenue streams via the obscure Equal Access to Justice Act.

USA Today: Average federal employee makes $38,000+ more than private sector worker. [Scroll down] Throw in benefits, and the average federal worker makes $38,000+ more than the average private sector worker — the very same one who's ultimately paying his salary.

For feds, more get 6-figure salaries. The number of federal workers earning six-figure salaries has exploded during the recession, according to a USA TODAY analysis of federal salary data. Federal employees making salaries of $100,000 or more jumped from 14% to 19% of civil servants during the recession's first 18 months — and that's before overtime pay and bonuses are counted.

Govt. workers feel no economic pain. The recession and the ongoing jobless recovery devastated much of the private-sector work force last year, sending unemployment soaring, but government workers emerged essentially unscathed, according to data released Wednesday by the Labor Department.

No Taxation with Misrepresentation? [Scroll down] Adding to this feeling that taxpayers are so many chumps comes the recent story that salaries and wages of federal employees are higher than those for the same positions in the private sector in eight out of ten occupations. Even more galling is the information that federal employee fringe benefits are more than four times more generous. In fact, of the twenty-five highest median income counties in the United States in 2009, eight of them are in the Greater Washington, D.C. metropolitan area.

2,000 House staffers make six figures. Nearly 2,000 House of Representative staffers pulled down six-figure salaries in 2009, including 43 staffers who earned the maximum $172,500 — or more than three times the median U.S. household income.

Liquidating the Empire. Author Lawrence Vance has inventoried America's warfare state. We spend more on defense than the next 10 nations combined. Our Navy exceeds in firepower the next 13 navies combined. We have 100,000 troops in Iraq, 100,000 in Afghanistan or headed there, 28,000 in Korea, over 35,000 in Japan and 50,000 in Germany. By the Department of Defense's "Base Structure Report," there are 716 U.S. bases in 38 countries. ... Estimated combined budgets for the Pentagon, two wars, foreign aid to allies, 16 intelligence agencies, scores of thousands of contractors in Iraq and Afghanistan, and our new castle-embassies: $1 trillion a year.

The Editor says...
I'm a big supporter of reasonable defense spending. National defense is one of the few things authorized by the Constitution, whereas spending money on welfare, education and pensions is not. Just the same, I recognize that there are dozens of unnecessary military bases around the world, wasteful pet projects like the V22 Osprey, and hardly any reason to keep soldiers in Korea and Japan and Germany, when they would serve a better purpose in places like Laredo and San Diego.

Food-stamp fraud: Detroit-area stores swipe millions from aid program. Fraud in the government program that helps the poor has added up to nearly $100 million since 2007, according to the U.S. Agriculture Department. It's a fraction of the more than $40 billion spent to feed people each year, but the crime has become a brazen way for some small stores to literally swipe cash from the U.S. Treasury, especially in the Detroit area.

New pay, personnel system dumped as a 'disaster'. After spending $1 billion and 12 years of effort, Defense officials have pulled the plug on a hapless plan to bring the four military branches under a single, modern payroll and personnel records system. "This program has been a disaster," Adm. Mike Mullen, chairman of the Joint Chiefs, told the Senate Armed Services Committee earlier this month. He said he applauded the decision to kill what proponents said would be the largest, fully-integrated human resource system in the world.

Are US Taxpayers Bailing Out Greece? Last week we were reminded that ours is not the only country suffering from severe economic turmoil. The Greek government is the latest to come close to default on their massive public debt. Greece has insufficient funds in their treasury to make even the minimum payments that are now coming due.

Obama's federal government can weatherize your home for only $57,362 each. Who could forget the $5 billion in Obama administration stimulus money that was going to rapidly create nearly 90,000 green jobs across the country in these tough economic times...? Well, a new report due out this morning will show the $5-billion program is so riddled with drafts that so far it's weatherized only about 9,000 homes.

The Weatherization Boondoggle: Leave it to the left to turn something as sensible as insulating your house into a big-government organized-labor boondoggle. ... President Obama's proposed $6 billion program known as HOMESTAR, a.k.a. Cash for Caulkers, is only one of many energy efficiency initiatives taking place on federal, state and municipal levels.

Homeland Security Reports Losing Guns. The nation's Homeland Security officers lost nearly 200 guns in bowling alleys, public restrooms, unlocked cars and other unsecure areas, with some ending up in the hands of felons. The problem, outlined in a new federal report, has prompted disciplinary actions and extra training.

Millions in Stimulus Spending Being Doled Out for Questionable Jobs. Federal agencies are spending stimulus money at the rate of $196 million an hour. And they will do so every hour for the next eight months until a September 30, 2010, deadline. ... [For such things as] $233,000 to the University of California at San Diego to study why Africans vote. Jobs created: 12, but seven of those are Africans in Africa. [And] In Nevada, $2 million in stimulus money built a new fire station, but because of budget cuts, the county can't afford to hire firefighters to work there.

A Homework Assignment for Juan Williams: the DOE was DOA. Juan Williams is the titular liberal on Fox News and he tries very hard to maintain the impression that the news panels are fair and balanced. To do that he routinely parrots the Democrat mantra du jour on all issues and [on] a recent Fox News Special Report he defended President Obama's call for new energy policies and cited the need for the government to explore alternative means to reduce our dependency on foreign oil. I'm a decade older than Williams so maybe he doesn't recall the Carter administration as well as I do but the Department of Energy was established for that very same purpose and it has produced absolutely nothing towards that aim in over 32 years.

Editor's note:
To accomplish virtually nothing, the Department of Energy spent $29 billion in 2009, or about $248 for every U.S. household. [Source]

Our King of Big Government Suggests We Need Another New Agency. What is the matter with that man in our White House? Will he ever stop trying to spend every nickel and dime that Americans have, including our savings that we worked hard for to ease our retirement years? He acts like a poor kid that suddenly comes into some money and it is burning a hole in his pocket to get spent.

NOAA's Ministry Of Propaganda. Despite failures at Copenhagen, the fraud of the IPCC and the farce of Climate-gate, the administration wants an agency to monitor climate change. Why must we fund one-stop shopping for climate charlatans?

New federal office for global warming. Amid the growing fight over the accuracy of climate data, President Obama is seeking to have the federal government put its imprimatur on the science by calling for the creation of a new federal office to study and report on global warming.

Much more about the global warming hoax is presented on an extensive series of pages.

Climategate: Obama's National Climate Disservice. There's good news for those who like to watch paint dry and grass grow. Now you can log on to www.climate.gov and watch the climate change.

Does not compute. The Indian Health Service has been given $85 million in stimulus funds for new information technology equipment. ... Since 2004, the IHS has lost $19 million worth of computers and IT equipment, much of it probably stolen. The problem remains unaddressed.

Indian Lands and Indian Subsidies: The Bureau of Indian Affairs has a long and troubled history with American Indians, and it has been one of the most scandal-prone federal agencies. The path to prosperity for Indians on reservations is through greater independence and improved governance, and not through federal subsidies and top-down regulations.

Why Government Agencies Take on a Life of Their Own: As soon as a proposed budget cut looms, as if on cue governments start threatening to shut down the police force, fire department, and schools. Since almost nobody wants to do without cops, firemen, or teachers, this is a highly effective tactic most of the time — although oddly enough, governments always seem to find a way to hold on to the Special Executive Assistants For Airport Graft, to say nothing of the odd Georgia Road and Tollway Authority.

The Runaway Subsidy Train. There is no need to subsidize intercity travel. Flyers pay for virtually all of the costs of running the airline system, including airports and air traffic control. Gasoline taxes and highway tolls built and maintain intercity roadways, and they also support mass transit with $10 billion in subsidies annually. Intercity buses require no taxpayer funds. Only rail requires heavy subsidies.

More about the shortcomings of mass transit.

The Super-Sized Census Boondoggle. [Pepsi] has been in the Super Bowl ad business for more than two decades. But this year, Pepsi determined it was economically unwise to pay $3 million for a 30-second spot. So, who's foolish enough to pay for Super Bowl gold-plated airtime? You and me and Washington, D.C. The U.S. Census Bureau will squander $2.5 million on a half-minute Super Bowl ad starring D-list celebrity Ed Begley Jr., plus two pre-game blurbs and 12-second "vignettes" featuring Super Bowl anchor James Brown.

Update:
Census Super Bowl ad flops. The U.S. Census Bureau's "Snapshot of America" Super Bowl 44 ad has met with harsh criticism from television writers, media pundits and the Kellogg School of Management, which gave the Census ad an "F" grade — the lowest of any commercial that ran during Sunday's game. Television critics charge that the Census ad, which cost $2.5 million and was directed by independent filmmaker Christopher Guest, was dry, uninformative, and culturally obscure.

The Lies about Green Jobs. The Department of Energy was established in 1977 to lessen dependence on the import of foreign oil. With 16,000 employees and an annual budget of $24 billion, the United States has imported more oil with every passing year while denying U.S. oil companies access to vast national reserves in ANWR and off our continental shelf. It is an abysmal failure.

Heroin for dummies. The city [of New York] spent $32,000 on 70,000 fliers that tell you how to shoot heroin, complete with detailed tips on prepping the dope and injecting it into your arm. The Health Department handout has outraged New York's top drug prosecutors and abuse experts.

No Explanation For This Insanity. [Scroll down] Our federal government may be too far gone, but the insanity is also present in our nanny-run city, which has just spent $32,000 on thousands of fliers instructing us how to shoot heroin properly, with detailed tips on prepping the dope. This is our glorious Health Department, which clamps down on poor homeowners for insipid violations of archaic laws. I was under the impression that shooting dope was illegal. What's next? Tips on the proper way to hold up a bank or mug an old lady?

A Trail of Broken Promises to Nowhere. North Carolina's North Shore Road, a controversial 26 mile road through the most remote part of Great Smoky Mountain National Park, was finally killed a couple of years ago. But like so many things involving federal spending, the story didn't end there. The federal government is now set to pay $52 million dollars to Swain County, North Carolina because that road is never going to be finished.

Taxpayers' bucks spent on trysts, golf, skiing. At the State Department, for instance, nearly 80 percent of the more than $300,000 in airfare reviewed at one little-known office in fiscal 2007 and 2008 went to pay for business-class airline tickets, and many of those purchases violated federal travel policy. One senior manager at the National Science Foundation took or extended taxpayer-funded trips totaling more than $10,000 to facilitate liaisons with women in Paris, Tokyo and Vancouver.

U.S. Ignored U.N. Aid Agency's Fraud and Mismanagement. Between 2004 and 2008, the U.S. Agency for International Development (USAID) showered more than $330 million on an obscure United Nations agency known as UNOPS — United Nations Office for Project Services — to carry out development aid projects in Afghanistan. What happened next wasn't pretty.

Party Time at the FAA; Critics Question $5 Million Gathering. The Federal Aviation Administration (FAA) spent five million dollars this month to bring 3,600 managers to a conference in Atlanta that FAA whistleblowers and critics say was little more than an excuse to throw a three-week-long Christmas party.

FAA throws $5 million taxpayer-funded drunken bash. The video of the bacchanalia on the taxpayer dime must be seen to be believed — federal employees drunkenly dancing in stairwells and joking to the camera crew about almost getting arrested at federally-funded parties and paying for hookers.

FAA union lawyers questioning journalists who report on drunken FAA party. Federal employees are caught on camera wasting millions of tax dollars in just about the most superfluous and embarassing way possible, and all of a sudden a law firm that represents one of the relevant federal employee unions starts making testy calls to journalists who dare to publicly report about what's going on.

Spare Us Another "Stimulus". Consider: the federal government funds at least 340 programs that are supposed to create jobs. There are also 130 programs supposedly serving the disabled, and 130 programs supposedly serving at-risk youth. Why? Because it's always easier to add new programs than to end ineffective existing ones. That's a harsh — and expensive — reality, one that seems to escape President Obama, who promises, in effect, to save money by spending money.

Taxpayers' money goes to people who didn't even ask for it.
The Case of the Mysteriously Appearing(!) Stimulus Money. According to Recovery.gov, the official federal clearinghouse for all the Hope and Change databases you can choke down, the Ohio Legal Rights Service was given a $300,000 grant using Stimulus money. The national Social Security Administration says that the OLRS did not receive any money from the Stimulus. The Ohio Legal Rights Service has absolutely no idea what the heck the feds are talking about, and have no idea where the money came from.

No Substitute For Fossil Fuels. Earlier this year, Congress approved a scheme to pour $80 billion — on top of the tens of billions already spent — into renewables. A government report released last week indicates the money will be wasted. Renewable energy is the shiny gem that everyone wants but no one can have.

Report finds 'imprudent spending' at Postal Service. The U.S. Postal Service spent more than $792,000 "without justification" on meals and events in one five-month period even as it reported losing $3.8 billion this year, the agency's inspector general says in a report. Employees spent $792,022 on meals and external events "without justification for food purchases, purchased alcohol without officer approval and exceeded the dollar limit for meals," the report says.

Big Brother, can you spare a dime? [Scroll down slowly] The year when President Kennedy was elected, the total spending of the federal government was about $97 billion. By the time he was assassinated three years later, that was up to $111 billion. By the time his successor and vice president, Lyndon Johnson, left office in 1969, federal spending had increased to $184 billion. But that was chicken feed. Federal spending today is at an amazing $4,000 billion, a forty-fold increase in just 50 years.

Federal Employees at the Trough. Last week, USA Today reported that nearly one in five federal government employees now earn over $100,000. The paper also reported the average federal salary rose to $71,260, almost $31,000 more than the comparative average private-sector wage. Within the Department of Defense, over 10,000 employees (as of June 2009) now earn at least $150,000 per year, a 5½-fold increase in the number of employees eclipsing this salary threshold from just eighteen months ago.

What Suckers We Are. Do you work for a private company instead of the government? Sucker! The real money is made working for Uncle Sam. The average pay for federal government workers is now $71,206, compared with $40,331 for those in the private sector. In fact, nearly one out of five federal workers pulls down more than $100,000. That's up over 33% during what the administration says is the worst economic downturn since the Great Depression.

Rolling in dough. The percentage of federal civil servants making more than $100,000 a year jumped from 14 percent to 19 percent during the first year and a half of the recession, according to USA Today. At the beginning of the downturn, the Transportation Department had one person making $170,000 or more a year; now it has 1,690 making more than that.

Our $2 Trillion Bridge to Nowhere. If you want to know why Americans are so fearful of a government takeover of the health-care system, take a look at the results of a new Gallup poll on government waste released Sept. 15. One question posed was: "Of every tax dollar that goes to Washington, D.C., how many cents of each dollar would you say is wasted?" Gallup found that the mean response was 50 cents. With Uncle Sam spending just shy of $4 trillion this year, that means the public believes that $2 trillion is wasted.

The Plan to Silence Dissent. More than 150 bureaucrats at the Federal Communications Commission are in the final stages of planning how to deliver broadband Internet to the estimated 3-6 million people who do not have access. ... The FCC is contemplating the notion that some or all of the electromagnetic spectrum occupied by radio and TV broadcasters is the perfect real estate to launch a national wireless broadband service. The price tag is $350 billion. That is as much as nearly $120,000 per person to be connected.

Change We Can Believe In. [Let's] Outlaw the naming of federal projects after any living politicians. Don't laugh. Without their names on highway stretches, bridges, and "centers", most of these projects would not be built. ... What is the logic behind the notion that we immortalize a senator or congresswoman who uses someone else's money to build a bridge, or lobbies for an earmark for his district, or, at best, simply does his job?

The Rant of Glenn. The U.S. Post Service was established in 1775. You have had 234 years to get it right and it is broke. Social Security was established in 1935. You have had 74 years to get it right and it is broke. Fannie Mae was established in 1938. You have had 71 years to get it right and it is broke. War on Poverty started in 1964. You have had 45 years to get it right; $1 trillion of our money is confiscated each year and transferred to "the poor" and they only want more.

Contrite Obama allocates $3 billion to Indian tribes. The president, seeking to pay off on promises made on the campaign trail, had gathered leaders of 387 federally recognized American Indian tribes, and among them was Hartford "Sonny" Black Eagle Jr. The 75-year-old Crow tribe leader and his wife of 57 years adopted Mr. Obama in May 2008, when the Democratic presidential candidate was busy locking down the Western states that would soon help him win the nomination.

The Editor says...
This is nothing more or less than the President using taxpayer money to pay back political debts.

The Indians are already getting handouts.
List of 562 Indian tribes recognized and eligible for funding and services from the Bureau of Indian Affairs.

Republican Deficit Hypocrisy. The human capacity for self-delusion never ceases to amaze me, so it shouldn't surprise me that so many Republicans seem to genuinely believe that they are the party of fiscal responsibility. Perhaps at one time they were, but those days are long gone. This fact became blindingly obvious to me six years ago this month when a Republican president and a Republican Congress enacted the Medicare drug benefit, which former U.S. Comptroller General David Walker has called "the most fiscally irresponsible piece of legislation since the 1960s."

Energy-savings project leaves Army in the cold. Under a federal program to transform government facilities into models of energy efficiency, Honeywell International Inc. came calling on Army commanders here [at Ft. Richardson] with a deal to replace the base's decades-old steam power plant. ... Army officials say they are stuck with a system that consumes more energy than before. Over the 25-year life of the project, the Army could lose more than $100 million, according to internal Army documents. "There were no savings at all," said Army auditor Nayer Mahmoud, former chief of internal review at Ft. Richardson.

Annual Medicare Fraud: $60 Billion; Annual Profits of Top Ten Insurance Companies: $8 billion. As 60 Minutes reported last week, Medicare fraud is rampant and has now replaced the cocaine (ahem) business as the major criminal activity in South Florida. Both 60 Minutes and the Washington Post report that Medicare fraud now costs American taxpayers roughly $60 billion a year.

Michelle: $373 million in stimulus money for better vending machine food. First Lady Michelle Obama visited the headquarters of the Department of Health and Human Services in Washington Tuesday [10/13/2009]. She devoted much of her talk to "the growing threat of obesity, particularly childhood obesity" in the United States, and she touted HHS's recently-announced plan to spend $373 million from the American Recovery and Reinvestment Act on plans to, among other things, improve the healthfulness of foods in vending machines.

Exclusive Book Excerpt: "Speech-Less: Tales of a White House Survivor". [Scroll down] I don't think the press room folks wanted to undermine us. They were just unmotivated and had grown comfortable with doing nothing. A larger than expected number of them had advanced to a civil service level that allowed them to earn more than $100,000 a year for work that in most offices would be done by interns. They would outlast the Bush Administration. They couldn't be fired.

Four-year-olds got homeowner tax credit, U.S. says. Children as young as 4 years old received first-time homebuyer tax credits as the U.S. failed to adequately screen filings, a Treasury inspector general told lawmakers today [10/22/2009]. "Some key controls were missing to prevent an individual from erroneously or fraudulently claiming the credit and receiving an erroneous refund of up to $8,000," Treasury's J. Russell George told the House Ways and Means Committee's oversight panel.

FEMA says it can't show return on $29 billion in spending. Federal Emergency Management Agency deputy administrator Timothy Manning told a congressional panel today [10/27/2009] that his organization had spent $5 million during the last 18 months reviewing how it spent $29 billion since 2002, but still doesn't know what it got for the money.

Piracy on Treasure Island. Politicians with ties to land developers are trying to force the Navy to hand over one of the most valuable pieces of property in the country for free. The House version of the 2010 Defense authorization bill scheduled for conference today contains language that would speed the transfer of Naval Station Treasure Island to the city of San Francisco at no cost. ... A Pelosi spokesman stressed that she did not author the provision, but her involvement is unmistakable.

Gore-Backed Car Firm Gets Large U.S. Loan. A tiny car company backed by former Vice President Al Gore has just gotten a $529 million U.S. government loan to help build a hybrid sports car in Finland that will sell for about $89,000.

The Editor asks...
Why loan the taxpayers' money to a company that will build cars (or anything else) in Finland?

Update:
Spreading the Taxpayers' Green. The Wall Street Journal's subsequent story adds some notable detail — in particular, this justification from Fisker as to why taxpayers should be subsidizing $88,000 battery-powered sports sedans: "Mr. Fisker says all new technology starts out being expensive. He pointed to flat-screen televisions that once started at $25,000 but are now affordable to the mass market." Yes, but flat-screen makers didn't get federal loans from a $25 billion taxpayer slush fund. They actually had to prove their products had a consumer market.

Crooked cop still gets his pension — from prison. He's one of the most crooked cops in Chicago history. William Hanhardt helped run a ring of mobbed-up jewel thieves — while he was chief of detectives of the Chicago Police Department. ... Chicago taxpayers are still on the hook for his now-$68,088 annual pension.

Tax Dollars Being Washed Out to Sea. Since 1997 Congress has averaged around $100 million a year on beach replenishment projects, but the tons of sand that are dumped in front of luxury hotels and multi-million dollar real estate literally get washed away. ... From New England to Florida, North Carolina to California, coastal communities lobby Congress for money to buff up their beaches, even though many of these coastal states have set aside state funds for these projects.

Getting away with murder is the norm in Detroit. [Detroit Police Chief Warren] Evans said that during his brief tenure as police chief, he has discovered:
• An evidence property room in chaos.
• A crime lab shut down due to incompetence.
• Computers in squad cars that don't work.
• A new $2.5 million camera system in patrol cars that does not function.
The department cannot recoup the loss on the cameras because it never purchased a warranty, police have said. The system known as Compstat, a crime data and computer mapping system used by most major cities to identify crime hot spots, was discarded.

Inmates collected nearly $30,000 in unemployment checks while in the slammer. A new state audit found nearly a dozen prisoners got more than just three hots and a cot — they also got state unemployment checks. The 11 prisoners amazingly collected $29,399 in unemployment insurance benefits, state Controller Thomas DiNapoli said in an audit released Tuesday [8/11/2009].

House provides $200 million for gov't VIP jets. The House is ordering up three Gulfstream jets to fly Pentagon and other top government officials — including members of Congress — around the globe in conditions far cushier than coach class.

House Orders Up Three Elite Jets. Last year, lawmakers excoriated the CEOs of the Big Three automakers for traveling to Washington, D.C., by private jet to attend a hearing about a possible bailout of their companies. But apparently Congress is not philosophically averse to private air travel: At the end of July, the House approved nearly $200 million for the Air Force to buy three elite Gulfstream jets for ferrying top government officials and Members of Congress.

Opposition Emerges to House's Jet Spree. Bipartisan opposition is emerging in the Senate to a plan by House lawmakers to spend $550 million for additional passenger jets for senior government officials. The resistance to buying eight Gulfstream and Boeing planes comes as members of both chambers of Congress embark on the busiest month of the year for official overseas travel.

The Next Fannie Mae: Much to their dismay, Americans learned last year that they "owned" Fannie Mae and Freddie Mac. Well, meet their cousin, Ginnie Mae or the Government National Mortgage Association, which will soon join them as a trillion-dollar packager of subprime mortgages. Taxpayers own Ginnie too.

Abolish the DHS. Many of the contracts that DHS considers a success have funded a growing federal assault on privacy. The fishing village of Dillingham, AK (pop. 2,400), is too small for a streetlight, but thanks to a homeland security grant, it now has 80 surveillance cameras. The town of Ridgely, MD (pop. 1,400), got a grant for cameras as well. "It was difficult to be able to find something to use the money for," said Ridgely's police chief, but "if you don't ask, you aren't going to get a thing."

Charity and the good ol' Constitution. "Where do you find in the Constitution any authority to give away the public money in charity?" It might be a question out of today's headlines, but it isn't. ... That question was asked not of President Obama nor of Sen. Max Baucus or Rep. Nancy Pelosi, but of the less well-known Tennessee congressman, David Crockett.

Dozens arrested in Medicare fraud busts across US. Federal authorities arrested 32 people, including doctors, in a major Medicare fraud bust Wednesday [7/29/2009] in New York, Louisiana, Boston and Houston, targeting scams such as "arthritis kits" — expensive braces that many patients never used.

Pinching Pennies in a Spending Spree. Bureaucrats have no incentive to save money. Indeed, since bureaucratic prestige is measured in the size of one's budget, they have every incentive not to save money. That probably accounts for why the Forest Service was buying white vehicles and painting them green, instead of ... buying green vehicles to start with.

2.8 Million porkulus dollars down the toilet. At least 2.8 million dollars of porkulus money will be flushed down the drain — literally. In remote areas of one of the nation's least populous states, New Mexico, the Obama administration has decided to spend almost three million of your tax dollars "repairing and replacing aging toilets in three of the state's national forests," some toilets "as old as 20 years." ... Doing the math, that would equate to something like $125,000-$150,000 per restroom.

The $750,000 Government-Employee Pampering Scandal. How quickly can 700 government employees spend three-quarters of a million taxpayer dollars at a resort hotel? Last week the Social Security Administration flew approximately 700 of its managers from across the U.S. and Guam to Phoenix, Arizona's posh Arizona Biltmore Hotel and Resort, for "organizational training." The event, which included musical entertainment and dancing, skits, catered food, cocktails, and a "casino night" featuring "door prizes," cost us lowly taxpayers approximately $750,000.

Social Security spends $700,000 on Phoenix conference. A Social Security Administration motivational management conference held at a high-end Valley resort last week cost $700,000, the SSA told the ABC15 Investigators. Costs for the conference at the Arizona Biltmore Resort & Spa included airfare, hotel entertainment, dancers, motivational speakers, and food, an administration official said. A spokesperson outside the SSA's Phoenix office declined to comment.

Gov junketeers keep luxury hotel busy. It may be hard times for the private sector, and President Obama may have told businesses to cut back on those trips to Vegas, but for federal bureaucrats, let the good times roll, baby! ... Maybe some day the American public will realize that they have been had, and a new ruling oligarchy has seized power and is feathering its nest.

Nigerian indicted in $42 million health care fraud. A Nigeria native who lives in Houston was indicted Friday [7/24/2009] on charges he sought $42 million in false Medicare and Medicaid claims by paying folks $100 each to sign blank health care forms he would later submit for reimbursement. Umawa Oke Imo, 54, a permanent resident alien in the United States and native of the Federal Republic of Nigeria, was indicted this week but first charged and detained in June.

And Now For Something Completely Crazy. The news is coming so thick and fast these days that it's hard to keep up. The Supreme Court, socialized medicine, cap and trade, record deficits, foreign policy fecklessness — it's easy to lose track of smaller issues with all that is going on. Still, H.R. 1018 shouldn't be allowed to pass unnoticed. H.R. 1018 is the "Restore Our American Mustangs Act." It can fairly be described as a welfare program for horses.

Where Big Government ROAMs. Like all acronymically cute legislation, its name bears little relation to what it actually does: It's not about "restoring" mustangs. The federal Bureau of Land Management aims for a manageable population of 27,000 wild mustangs. Currently, there are 36,000, and the population doubles every four or five years. To prevent things from getting even more out of hand, the BLM keeps another 30,000 mustangs in holding pens — or, if you prefer, managed care facilities. That is to say, under federal management, one in two "wild" horses lives in government housing.

Stimu-loss for words. The feds have spent millions in stimulus cash on "silly" projects, including left-leaning puppet shows, a martini bar, and a study of Viking civic life, according to a devastating new report.

Obama Stimulus Spending Includes Rental Cars, Outhouses, and 'Sediment Removal'. Among the many things that have been built with stimulus money so far are:
- $971,711.42 to "replace pond liners" at the Garrison Dam National Fish Hatchery in Cole Harbor, N.D.
- $193,077 for a "double-vault toilet building" at the Hoyer Campground in Spokane, Wash.
- $487,944 for "toilet buildings and vaults" in the Pike and San Isabel National Forests
- $254,000 for "pre-fabricated restroom facilities" in Atlanta, Ga.
- $17,110 in hotel bills at a Marriott Hotel in Arlington, Va., for the Employment Standards Administration's annual "Prevailing Wage Conference."

Typewrite or Wrong. The city [of New York] is plunking down nearly $1 million on typewriters for its keystroke cops. That's right — typewriters. Despite the adoption of high-tech equipment that can read license plates from the air and detect radiological events before they happen, manual and electric typewriters continue to be used throughout the NYPD — and they won't be phased out anytime soon, officials told The [New York] Post.

First Lady Requires More Than Twenty Attendants. No, Michele Obama does not get paid to serve as the First Lady and she doesn't perform any official duties. But this hasn't deterred her from hiring an unprecedented number of staffers to cater to her every whim and to satisfy her every request in the midst of the Great Recession.

What Michelle Obama's Staffers Earn: Congress ordered the annual disclosure, and since 1995 the White House has been required to report to Congress details of most of the West Wing payroll. The president makes $400,000, and there is a big gap between that and the highest paid staffer — $172,200. The salaries for staffers in the Office of First Lady are also on the newest list.

Your Tax Dollars at Work: Supporting Michelle Obama in the Manner. The figures are in. As required by Congress since 1995, salaries paid to staffers employed in the West Wing of the White House must be publicly reported. Most of you won't be pleased to learn that your tax dollars are paying $1,448,500 annually to provide the First Lady, Michelle Obama, with the staff she feels she needs to execute her duties as FLOTUS.

The Editor states the obvious...
The First Lady doesn't have any official duties. She could sit around and do nothing for four years if she were so inclined.

L.A. County rings up $1.5 million for unused phones. Los Angeles County government has more than 8,000 phones that never ring. The annual cost to taxpayers? At least $1.5 million and climbing. Officials worry that some lines may have never served a county purpose. ... Auditors, who are only halfway through their search, say the number of abandoned phone lines may top 16,000, totaling $3 million a year in phone bills.

Dr. Coburn Releases Stimulus Oversight Report. Ten examples of wasteful stimulus projects in the report include:
[#7] $1.15 million for installation of a new guard rail for the non-existent Optima Lake in Oklahoma.
[#8] Nearly $10 million to renovate an abandoned train station that hasn't been used in 30 years.
[#9] 10,000 dead people get stimulus checks, but the Social Security Administration blames a tough deadline.

Selective Sacrifice. The average salary of a federal worker in 2007 was $77,143. This was more than 60 percent higher than the average in the private sector, which stood at $48,035. When the benefits are added, the total compensation of an average federal worker comes to an eye-popping $116,450. This is more than twice the private sector average.

Tax dollars wasted on construction of stimulus signs. Gov. Jennifer Granholm and her staff see little, if any, harm in spending tax dollars to construct and display metal road signs informing motorists that federal stimulus funds are being spent on road improvements throughout Michigan. Two Macomb County state House representatives, however, are leading a Republican charge against the signs.

700 NYC teachers are paid to do nothing. Hundreds of New York City public school teachers accused of offenses ranging from insubordination to sexual misconduct are being paid their full salaries to sit around all day playing Scrabble, surfing the Internet or just staring at the wall, if that's what they want to do. Because their union contract makes it extremely difficult to fire them, the teachers have been banished by the school system to its "rubber rooms" — off-campus office space where they wait months, even years, for their disciplinary hearings.

NYC to close 'rubber rooms' for teachers. The city's bizarre disciplinary system that pays teachers accused of misconduct for months and years on end for doing nothing is being expelled. Mayor Bloomberg announced a "breakthrough" agreement with the United Federation of Teachers today that's designed to clear a backlog of more than 600 cases by year's end and shutter the eight teacher reassignment centers known as "rubber rooms" on the last day of school in June.

SI teacher puts himself on camera languishing in the rubber room. This Staten Island teacher wants the world to know he is paid $75,000 a year to do nothing all day long. More than two years after the city shut down the so-called rubber rooms that served as detention centers for teachers, Francesco Portelos sat in front of a live cam Thursday [10/4/2012], killing time. "I want people to see where their tax dollars are going," said Portelos, 34, who taught technology at Intermediate School 49 until last spring, when he got yanked from the classroom, he said. "I'm getting paid $75,000 to sit around."

76% Say Government Likely To Waste Stimulus Money. Seventy-six percent (76%) of Americans say it is at least somewhat likely that a large amount of money in the $787-billion economic stimulus plan will be wasted due to inadequate government oversight. Nearly half (46%) say it is very likely, according to a new Rasmussen Reports national telephone survey. Only 18% say it is not likely that taxpayer money will be wasted.

State Department Says China to Get U.S. Aid under New Climate Deal. U.S. Special Envoy for Climate Change Todd Stern said that there was "no question" that China would receive both financial and technological assistance from the United States as part of upcoming climate change talks to be conducted in Copenhagen, Denmark.

Stimulus program fraught with waste, report says. A report due to be released today by a Republican senator contends the Obama administration's stimulus program is fraught with waste and incompetence — evidenced by a turtle crossing in northern Florida that will cost more than $3 million and a snafu in which thousands of Social Security checks went out to people who had died.

Son of Stimulus. A second stimulus? As risible as it sounds, Pres. Barack Obama entertains the idea. When asked at a press conference Tuesday [6/23/2009] if another stimulus bill might be necessary, Obama replied, "Not yet." How about not ever? People seem to forget that the $787 billion stimulus package enacted last February was the second stimulus — the Bush administration enacted a $168 billion stimulus bill in February of 2008. ... Above all, it is important to remember that Obama's stimulus was not designed to maximize job creation. The administration's primary goal was to give frustrated Democrats an all-purpose vehicle for pent-up spending desires that the Bush administration had repressed. Obama removed the lid and out came $87 billion in additional funds for Medicaid, $15 billion for Pell Grant scholarships, $3 billion for public-housing improvements, and $2 billion for renewable-energy research.

Giving Failure a Pass. The Los Angeles Unified School District, the largest in California, spends $10 million a year to "house," with full pay and benefits, about 160 teachers deemed unsuitable for the classroom, according to "Failure Gets a Pass," a recent series in the Los Angeles Times. "If I had my way, I would fire [all of them], and they would not get another d----- penny," LAUSD superintendent Ramon C. Cortines told the Times. "They're milking the system."

Taxpayer Cash for Environmental Clunkers. The "clunkers" program would direct dealers to scrap or shred traded-in vehicles with fuel economy of 18 miles per gallon or less. The buyer, in turn, would get an incentive towards the price of a new vehicle with fuel economy of 22 miles per gallon or better. Environmental groups, the auto industry and unions support the plan, which also has its critics. "Taxpayers should not see their hard-earned money used to buy their neighbor a new car," explained Representative Tom Price, a Georgia Republican. Yet, the clunker concept is just one of many programs for which taxpayers will foot the bill.

Critics say 'cash for clunkers' bill is a lemon. Congress is about to approve a new federal program to pay car owners up to $4,500 for trading in gas-guzzling automobiles for more fuel-efficient cars, to the applause of the struggling auto industry. ... Critics contend that the "cash for clunkers" bill, which has auto industry backing, was designed more to boost auto sales than to reduce global warming.

Congress OKs 'cash for clunkers'. Last-minute intervention from the White House on Thursday [6/18/2009] swayed a crucial Democratic senator to rescue a $1 billion "cash for clunkers" plan to boost battered auto sales. Sixty senators — the bare minimum needed — voted to reject an attempt to strip the program from a wartime spending bill.

E-Verify works, so, of course, let's not use it. With billions of your federal tax dollars gushing forth from Washington — as part of President Barack Obama's stimulus bill to put Americans back to work — wouldn't it be nice if someone invented a special magic faucet? A magic faucet to compel those federal contractors doing all the hiring with all that federal money to make certain the jobs go to people who are legally entitled to work in the United States. Is that kind of magic too much for a beleaguered taxpayer to expect? Actually, the faucet has already been invented. It's called E-Verify. And it works.

Who Pays For Your Vacation? We've written several times about Minnesota Congressman Keith Ellison's hajj to Mecca... A spokesman for Ellison, the first Muslim Congressman, first claimed that he paid for the pilgrimage himself. Later it was reported that the Muslim American Society paid for the trip, which MAS spokesman Mahdi Bray heatedly denied, describing the report as a "myth" and "urban legend" that couldn't possibly be true because "that would be a breach of congressional ethics." Bray's denial, however, quietly became inoperative.

US govt hydrogen highway runs out of road. The original hydrogen plan was announced by then President Bush in 2003 and, to date, the US government has spent around $500m (£328m/€367m) on the project. There's not much to show for it other than some Honda FCX Claritys and Chevrolet Equinoxes running around California, and 70-odd hydrogen filling stations nationwide. Not so much a case of hydrogen tech being put on the back burner but rather being wrapped in cling film and shoved to the rear of the freezer.

DOE to slash fuel cell vehicle research. The Department of Energy's proposed budget boosts research on energy efficiency and renewable energy sources but makes cuts in hydrogen fuel cell vehicles because the technology is many years from being practical. The DOE published details of its $26.4 billion fiscal 2010 budget request on Thursday [5/7/2009], and Energy Secretary Steven Chu held a news briefing to cover the highlights.

The Editor says...
The Department of Energy is a complete waste of money. The most obviously practical and affordable sources of energy for U.S. consumers are petroleum, natural gas, coal, and nuclear energy. The Obama administration is opposed to all of them. Therefore the only apparent purpose of the Department of Energy is to come up with expensive, unreliable alternatives.

NYC Turns Luxury Units Into Shelters For Homeless. There's controversy swirling around how much New York City is paying to rent luxury condos for homeless families. ... By all accounts it's the nicest homeless shelter in the city and some non-homeless neighbors are feeling pretty inhospitable. "The apartments are beautiful. They're living better than a lot of people around here and they don't have to pay for it," neighbor Maria Brown said. When the building went up the idea was to sell the units, some of them for more than $300,000. But now, even though apartments sit empty, you can't even rent them.

Renovating Parking Garages Will Cost Taxpayers $156,322 Per Congressman. As it is considering legislation that would cap carbon emissions and significanyly increase energy prices of U.S. consumers in the name of controlling global warming, the U.S. House of Representatives is also considering spending $68 million to renovate two parking garages that are used exclusively by members of Congress and their staff. Given that there are only 435 members of the House, the renovation of these exclusive garages would cost $156,322 per congressman.

Presidential Fundraising Trips Leave Taxpayers With Hefty Tab. President Obama has the star power to raise millions of dollars for the candidates and organizations he graces with his stump speech. But when the president hit the road Tuesday for a two-day fundraising tour to pack the party coffers, he also was racking up a $265,000 partisan bill for just one leg of the trip, according to a watchdog group — part of which taxpayers, regardless of party affiliation, will have to pay.

Lawmakers Bill Taxpayers For TVs, Cameras, Lexus. Florida Rep. Alcee Hastings spent $24,730 in taxpayer money last year to lease a 2008 luxury Lexus hybrid sedan. Ohio Rep. Michael Turner expensed a $1,435 digital camera. Eni Faleomavaega, the House delegate from American Samoa, bought two 46-inch Sony TVs. The expenditures were legal, properly accounted for and drawn from allowances the U.S. government grants to lawmakers.

Tunnel's cost may fool us all. [Scroll down] A professor at Oxford University in England has done a compelling series of studies trying to get at why big public-works projects such as bridges, tunnels and light-rail systems almost always turn out to be far more costly than estimated. "It cannot be explained by error," sums up one of his papers, matter-of-factly. "It is best explained by strategic misrepresentation — that is, lying."

Surprise! Some TARP recipients are cooking the books. First, isn't it an odd attitude for a an overseer to "hope" that he doesn't find a single bank who's been cheating? One would hope that someone in charge of looking over the shoulder of the banks would pray for the opportunity to catch one of them trying to steal tax payer monies. Beyond that, isn't it swell that our tax dollars may be used by banks to back fraudulent mortgages?

I'd Like My Money Back. Please refund the taxes collected fraudulently for services never provided.

Taxpayers are tired of fraud. Thousands of people gathered in cities and towns across the nation this past week to hold "tea parties" and protest high taxes. But millions more Americas are not as upset about the amount of taxes they pay as the way their money is spent. Another prime example came recently with a report from the Government Accountability Office showing that millions of public dollars are going to fraudulent companies under the guise of helping "small businesses" to serve "needy communities."

Dead Woman Gets Federal Stimulus Check. Millions of Americans on Social Security are receiving $250 checks as part of the president's stimulus plan — including an Anne Arundel woman who died more than 40 years ago. The woman's son, 83-year-old James Hagner, said he got the surprise when he checked his mailbox late last week.

Dead People Get Stimulus Checks. This week, thousands of people are getting stimulus checks in the mail. The problem is that a lot of them are dead. A Long Island woman was shocked when she checked the mail and received a letter from the U.S. Treasury — but it wasn't for her. Antoniette Santopadre of Valley Stream was expecting a $250 stimulus check. But when her son finally opened it, they saw that the check was made out to her father, Romolo Romonini, who died in Italy 34 years ago.

Stimulus Checks On Their Way — to Dead People. Millions of people are getting a Social Security check in the mail this week. But there's a slight problem: Thousands of them are dead. Part of the $787 billion stimulus package Congress passed included a $250 payment to Social Security recipients who aren't working.

Miami-Dade doctor pleads guilty — again — to Medicare fraud. A Miami-Dade physician pleaded guilty Thursday to participating in a Medicare racket with four other doctors accused of prescribing $19.5 million in obsolete infusion drugs for HIV patients who generally didn't need or receive the therapy.

Murtha's Earmarks Keep Airport Aloft. The John Murtha airport sits on a windy mountain two hours east of Pittsburgh, a 650-acre expanse of smooth tarmac, spacious buildings, a helicopter hangar and a National Guard training center. Inside the terminal on a recent weekday, four passengers lined up to board a flight, outnumbered by seven security staff members and supervisors, all suited up in gloves and uniforms to screen six pieces of luggage.

Murtha Airport Got Military Upgrades. At the behest of Rep. John P. Murtha (D), chairman of the House defense appropriations subcommittee, the Pentagon has spent about $30 million equipping the little-used airport named for him so it can handle behemoth military aircraft and store combat equipment for rapid deployment to foreign battlefields. Most of the improvements, funded through appropriations approved by Murtha's panel, have not been used for their intended purpose. The projects delighted National Guard and reserve units based in Murtha's Pennsylvania district that have seen budget cuts, but critics charge that the expenditures have been a waste of taxpayer dollars.

John Murtha's Airport for No One. You might wonder how the region ever had the air traffic demand to justify such a facility. It didn't. But it is located in the district of one of Congress's most unapologetic earmarkers: Democrat John Murtha. In 20 years, Mr. Murtha has successfully doled out more than $150 million of federal payments to what is now being called the airport for no one.

More about Congressman Murtha.

State Paid for Dental Cleanings for Toothless People. Auditors say the state Medicaid program may have overpaid $2.9 million for services like teeth cleaning for toothless patients. Comptroller Thomas DiNapoli says auditors found the state health department's Medicaid claims processing system lacks necessary controls.

Why secretly funded DEA surveillance planes aren't flying. The first sign of trouble with the Drug Enforcement Administration's new surveillance planes surfaced almost immediately. On the way from the manufacturer to the agency's aviation headquarters, one of them veered off a runway during a fuel stop. The malfunction last spring was only the beginning. ... The story behind why the DEA sought out the three planes, only to become the second federal agency to give them up, illustrates the pitfalls of "black," or classified, budgeting in which Congress approves tens of billions of dollars for intelligence agencies outside the public's view.

Where Stimulus Is Not Necessary: President Bill Clinton announced in 1996 that the era of Big Government was over. Yet 13 years later, more Americans are at work in the public sector than in manufacturing and construction combined.

Obama offers extra $1.4B for lunar missions. Efforts to return to the moon are supported by the Obama White House, and NASA will receive $1.4 billion extra next fiscal year for a variety of lunar missions, a preview of the new administration's first federal budget showed Thursday. The White House released a bare outline for the $3.55 trillion federal spending plan that includes a recommendation of $18.7 billion for NASA.

Coburn Highlights Billions of Wasteful Spending. President Obama campaigned on the fact that we ought to live within our means; that every program ought to be reviewed; that those that are not effective, those that have waste, those that have high fraud rates, those that are low priority ought to be eliminated. There is not one penny of effort placed in this bill that will get rid of less important Federal programs today. We know there is at least $300 billion a year that is inefficiently, erroneously, and fraudulently spent by the Federal Government. We ask our children and our grandchildren to choke down $1.1 trillion more of debt when we have not done anything — not one thing — to lessen the waste, fraud, and abuse, the inefficiency, and to make choices on what is more important.

Las Vegas City Hall — A Terrible Waste of Money. Oscar Goodman's Taj Mahal city hall proposal is idiotic. Our present city hall was expanded less than ten years ago, and the LV Metro Police plan to vacate tens of thousands of square feet of space in the existing building in the near future.

California School Spends $10G a Year to Teach AP Spanish to Kids Who Speak Spanish. A middle school in Southern California is spending $10,000 a year to teach Advanced Placement Spanish to 35 of its 650 students — and all but one of them are already fluent in Spanish. Thirty-four of the kids in the AP class are from Mexico or are the children of Mexican immigrants. They all grew up speaking Spanish at home.

Unseen Enemy. Besides sending more troops to Afghanistan, President Obama plans to send billions more in aid to Pakistan, despite evidence that our money is used to kill troops in Afghanistan.

Handout sure to stimulate a lot of scams. This so-called economic stimulus act is going to spur more crime than anything Congress has passed since the Volstead Act. ... Take the weatherization plan. ... Low-income homeowners will soon be getting grants of up to $5,000 to weatherize their homes and thus reduce our dependence on foreign oil, wink wink, nudge, nudge. Soon "contractors" will be setting up shop in the inner cities, recruiting marks, doing the paperwork that allows them to apply for a grant. The first $500 will go to the program supervisor, to get him to sign off on a patently fraudulent project. Then the homeowner will get $1,000 cash, to keep his mouth shut when nothing is actually done. And finally, another $500 cash will be duked to the inspector who signs off on the, ahem, work. Profit per job: $3,000. You don't think this will happen? It already does — every time there's a disaster.

State employee: I get $93,803 for no work. As he tells it, Randall Hinton is paid $93,803 a year to do nothing. He spends much of his workday at the State Insurance Fund donning headphones, listening to rock 'n' roll, blues or classical tunes and his superiors are cool with that. His work agenda involves placing his feet up on his desk, staring out his office window and counting cars on the New York State Thruway.

Oklahoma, Utah lead in cell-only households. Step aside high-tech California and uber-hip New York. If you're looking for the states that lead the nation in ditching landline telephones for wireless, you're looking for Oklahoma and Utah. At least 26 percent of households are now cell-only in Oklahoma and Utah, the federal Centers for Disease Control and Prevention estimated in a report released Wednesday [3/11/2009].

The Editor says...
That's all very interesting, but what does that have to do with disease control and prevention?

Obama speaks the truth. Our President has a habit of saying what he means when he doesn't mean to say what he means. ... This week, while telling us about his plan to limit earmarks in Congressional bills, he once again did it by telling us his true feeling about public-versus-private entities. ... Mr. Obama's Stimulus Bill hands the Detroit school system $355 million with no strings attached even though recent audits have shown millions of dollars missing. No, Mr. Obama was defining his basic philosophy from his inner core — business is bad; government is good.

The cost of supporting a president: Taxpayers are supporting our former presidents to the tune of more than $2.9 million. Their yearly salary pension is $191,000. Aside from that, each gets a staff; that staff costs you, the taxpayer, $96,000 per president. Among the amenities we pay for is rent for their office space — President Clinton's rent in Harlem is $516,000 a year, while the first President Bush spends $69,000 a year on "equipment" and President Jimmy Carter spends $83,000 a year on "other services". The spending doesn't stop there.

Dollars for Hate. Dollar bills don't put out a fire, not even the $4.5 billion that nations pledged for the West Bank and Gaza in 2009. If financial aid could cure what is ailing those two spots, the Palestinians would replace the Norwegians in the Global Peace Index as the most peaceful people in the world. In fact, the Palestinians are the top per-capita aid recipients in the history of the planet.

Is Bernard Madoff Running the Federal Government? [Bernard] Madoff is only accused of a $50 billion heist. That's peanuts compared to what the politicians have done to us. On Monday, December 15, in a story that went unnoticed, the Government Accountability Office (GAO) reported that the federal government has failed another financial audit. It was the 12th year in a row that the federal government has been unable to accurately report on its fiscal condition. Frankly, nobody knows precisely where the money is going.

America's dystopian future? Federal spending (in inflation-adjusted 2007 dollars) has gone from $600 billion in 1965 to $3 trillion today. The Heritage Foundation put it in a convenient graph: It's pretty much a straight line across four decades, up, up, up. Doesn't make any difference who controls Congress, who's in the White House. The government just grows and grows, remorselessly.

Obama-Pelosi Stimulus May Fail to Reignite Economy. President-elect Barack Obama and House Speaker Nancy Pelosi may throw as much as half a trillion dollars worth of stimulus at the economy — and have little or no growth to show for it. The forces arrayed against recovery, including the credit contraction and cutbacks by consumers, are so powerful that they may overwhelm the record sums of spending and tax cuts being discussed in Washington. The only consolation, economists say, is that without the stimulus, things would be even worse.

How Your Government Wastes Your Money: Investigators randomly sampled 300 Department of Agriculture (USDA) employee credit cards. They found that, over six months, 15 percent of them charged a total $5.8 million in personal expenses that included Ozzy Osbourne concert tickets, tattoos, lingerie, bartender school tuition, car payments and cash advances.

TVA employees charge $75M on expense cards. Televisions, X-Boxes, alcohol, Internet software and tuition. Inspector General auditors say those are just some of the questionable purchases made by Tennessee Valley Authority employees on their government charge cards.

Let's 'Restructure' Washington While We're at It. [Scroll down] The federal government employs about 2.5 million civilians (including the Post Office), about 10 times the number directly employed in the U.S. by Detroit. The bloat is legendary. In his study on "thickening government," NYU Prof. Paul Light found that some government agencies have 32 layers of management, compared to five layers in most well-run companies. Civil-service rules make hiring an ordeal and firing practically impossible.

Parties of Corruption. Which party is more corrupt? Maybe you've seen lists. The National Taxpayer's Union has a pretty good list. The NTU's gripe, though, is not which party is more corrupt, but that Congressmen who are convicted felons continue to collect their very generous congressional pensions.

Here is the NTU's report — somewhat lengthy but worth a scan, at least.
Congressional Perks: How the Trappings of Office Trap Taxpayers. Since the founding of the Republic, Americans have had a healthy skepticism of the concentration of power. The Framers of the Constitution established a system they hoped would prevent not only the disproportionate accumulation of influence in one branch of government, but also the disproportionate accumulation of privilege. Today, Members of the United States Congress enjoy a vast web of perquisites that benefit them personally as well as professionally.

You might ask, Which party has a "culture of corruption?"

7 hospitals in NY accused of $50M Medicaid fraud. Four hospitals in New York state paid kickbacks to get more patients into their drug treatment programs, which billed Medicaid for services that weren't standard or necessary and lacked state certification, lawsuits allege.

Sizing Up Civil Service: Washington, D.C., is considered "recession proof" because so many civil servants can't be fired except in extraordinary circumstances. But in the years ahead, our country is going to face just such circumstances. The looming entitlement crisis will have to be paid for, as will the hundreds of billions of dollars the government is currently borrowing to bail out everyone from investment banks to automakers. These days other businesses are slashing jobs. Why shouldn't the government be able to do so when it finds itself overstaffed and over budget?

Science Foundation's Funding Eyed Amid Porn Claims. The ranking GOP member of the Senate Finance Committee wants Congress to reconsider new funding to the National Science Foundation amid allegations that top staffers spent long stretches of their day surfing the Internet for pornography.

Terrorists' Restless Leg Syndrome. After being captured fighting with Taliban forces against Americans in 2001, Abdullah Massoud was sent to Guantanamo, where the one-legged terrorist was fitted with a special prosthetic leg, at a cost of $50,000-$75,000 to the U.S. taxpayer. Under the Americans With Disabilities Act, Massoud would now be able to park his car bomb in a handicapped parking space! ... Upon his release in March 2004, Massoud hippity-hopped back to Afghanistan and quickly resumed his war against the U.S.

The Loophole Factory: [Scroll down] Oh, and while they were at it, the Senators voted 88-8 to add $6 billion in tax deductions for renewable energy producers. (If you wonder what this has to do with the mortgage "crisis," you just arrived off the turnip truck.) This industry is already teed up to get nearly $10 billion in tax breaks in the energy bill, including subsidies for wind and solar power producers, hybrid vehicles and biodiesel. Much of this social engineering comes from the same people on Capitol Hill who insist that taxes don't change industry or personal behavior.

New Jersey, Oregon Residents Pay Dearly for Solar Street Signs and Lights. Citizens in New Jersey and Oregon are paying a steep price for solar-powered street signs and street lights as city and state officials divert scarce taxpayer dollars to the expensive "green" luxuries. Paterson, New Jersey has announced plans to install solar-powered street signs at 25 intersections. The signs will cost as much as $30,000 per intersection.

'Center-right' America lurches further left. [Scroll down] Even in America, federal spending (in inflation-adjusted 2007 dollars) has gone from $600 billion in 1965 to $3 trillion today. The Heritage Foundation put it in a convenient graph: It's pretty much a straight line across four decades, up, up, up. Doesn't make any difference who controls Congress, who's in the White House. The government just grows and grows, remorselessly.

Report: IRS Issued $1B in Fraudulent Refunds in 2007. The government sent out more than $1 billion in fraudulent refunds last year and offered this explanation Thursday [10/30/2008] for the bad checks in the mail: The Internal Revenue Service has too few resources to pursue every tax fraud case.

D.C. Housing Authority Paid More Than $300K for Vacant Units. The District of Columbia Housing Authority (DCHA) paid $322,389 in housing assistance payments for units where no one was living, according to a July 30, 2008 audit by the Philadelphia Regional Office of the U.S. Department of Housing and Urban Development (HUD). According to the audit, the DCHA did not "adequately implement controls" to prevent its Moving to Work (MTW) program "from making assistance payments on vacant units."

Treasury Office Faults IRS Computer Security. Two new IRS computer systems that will eventually cost taxpayers almost $2 billion are being put into service despite known security and privacy vulnerabilities, a Treasury watchdog said in a report coming out Thursday [10/16/2008]. The office of the Treasury Inspector General for Tax Administration said Internal Revenue Service officials failed to ensure that identified weaknesses had been addressed before putting the new systems into use.

Federal Transit Benefits Program. After investigating just 3 days of sales, GAO confirmed that at least 20 federal employees were fraudulently selling their Metrocheks on eBay. Most of the employees GAO interviewed admitted to falsifying their transit benefit applications and fraudulently selling their benefits. One GS-14 Department of the Treasury employee drove to work, parked for free in agency-provided parking, and was still able to collect $105 per month in Metrocheks — most of which he sold on eBay.

An Obamanomics Preview. If we may borrow a phrase, this is the triumph of hope over experience. The one thing Washington hasn't failed to do in recent years is spend, yet the economy doesn't seem to have improved on the event. Brian Riedl, a budget expert at the Heritage Foundation, has calculated that in 2008 Congress enacted $332 billion of "emergency" supplemental spending bills, only half of which was for the Iraq war. Do you feel stimulated?

States throw out costly electronic voting machines. The demise of touch-screen voting has produced a graveyard of expensive corpses: Warehouses stacked with thousands of carefully wrapped voting machines that have been shelved because of doubts about vanishing votes and vulnerability to hackers. What to do with this high-tech junkyard is a multimillion-dollar question. One manufacturer offered $1 apiece to take back its ATM-like machines.

More information about touch-screen voting can be found on this page.

FBI Says the Military Had Bogus Computer Gear. Over the two-year operation, 36 search warrants have been executed, resulting in the discovery of 3,500 counterfeit Cisco network components with an estimated retail value of more than $3.5 million, the F.B.I. said in a statement. The F.B.I. is still not certain whether the ring's actions were for profit or part of a state-sponsored intelligence effort.

FBI, ATF Battle for Control Of Cases. In the five years since the FBI and ATF were merged under the Justice Department to coordinate the fight against terrorism, the rival law enforcement agencies have fought each other for control, wasting time and money and causing duplication of effort, according to law enforcement sources and internal documents. Their new boss, the attorney general, ordered them to merge their national bomb databases, but the FBI has refused. The Bureau of Alcohol, Tobacco, Firearms and Explosives has long trained bomb-sniffing dogs; the FBI started a competing program.

Stealth Destroyer Largely Defenseless, Admiral Says. Two weeks ago, the Navy canceled plans to build the rest of its hulking stealth destroyers. At first, it looked like the DDG-1000s' $5-billion-a-copy price tag was to blame. Now, it appears the real reason has slipped out: The Navy's most advanced warship is all but defenseless against one of its best-known threats.

Taxpayers Oppose the "Billion-Dollar Fish Fry" Project. Special interests are pushing S. 27 as a way to "settle" their two-decade-old lawsuit against the federal government (specifically, the U.S. Bureau of Reclamation) to restore the salmon population to the historical outlines of San Joaquin River. Even though the targeted segment of riverbed has been dry for 75 years (thanks in part to a dam California voters approved in 1933), these same activists are prepared to spend considerable taxpayer resources in an attempt to bring back a minimum of 500 salmon to the area.

Cutting the Bureau of Reclamation: The bureau operates dams and other water infrastructure in the western states. Its large subsidies for irrigation water combined with restrictions on water transfers are contributing to a growing water crisis in many areas.

Alabama County Is On the Brink of Bankruptcy. Alabama's largest county appears headed for the biggest municipal bankruptcy in U.S. history, a $3.2 billion mess created by the nation's credit crunch and a colossal, corruption-riddled sewer project.

The $4 Billion Senator. The federal takeover of IndyMac Bank over the weekend could cost the Federal Deposit Insurance Corp. between $4 billion and $8 billion. But Senator Chuck Schumer, who helped to precipitate the collapse by publicizing a letter to the bank's regulator last month, has no remorse. He was, he says, just doing his job in telling regulators that the bank "could face a collapse," a prophecy that quickly proved to be self-fulfilling.

VA employees rack up $2.6 billion in credit card charges. Veterans Affairs employees last year racked up hundreds of thousands of dollars in government credit-card bills at casino and luxury hotels, movie theaters and high-end retailers such as Sharper Image and Franklin Covey — and government auditors are investigating, citing past spending abuses. … On at least six occasions, employees based at VA headquarters made credit card charges at Las Vegas casino hotels totaling $26,198.

Yet Another Federal Project Out of Fiscal Control. The total cost for [The Capitol Visitors Center] originally was to be about $265 million. It already is up to $554 million and counting. The new grand opening was supposed to be September 2008 but now the Government Accountability Office is reporting it may be done in November with a final cost of $621 million. … There also is the largely overlooked question of whether the CVC should have been built in the first place.

Congress Unveils Stunning New Capitol Visitor Center -- Late and Over Budget. Congress now has a $621 million welcome mat in the form of a new, grand visitor center that makes its public debut December 2. The visitor center, the largest addition ever to the 215-year-old U.S. Capitol, is meant to inform, involve, and inspire, officials said Monday at a media preview. It didn't take long for a reporter to fire back: "How inspired will taxpayers be when you inform them of the cost?"

GPO profits go to bonuses and trips. When the government's main printing agency booked $100 million in unexpected profit it went on a spending spree: large bonuses to top managers, trips to Paris and Las Vegas, and an official photo of the boss that cost $10,000. The bonuses, some nearly as high as $13,000, and travel are raising questions among congressional investigators and Government Printing Office officials about whether the agency is misusing its newfound wealth and whether it received the proper authority for some of the larger compensation payments from the Office of Budget and Management.

Census to scrap handheld computers for 2010 count. The Census Bureau will tell a House panel today that it will drop plans to use handheld computers to help count Americans for the 2010 census, contributing to the increase in cost for the decennial census by as much as $3 billion, according to testimony the Commerce Department secretary plans to give this afternoon [4/3/2008].

Billion-dollar IT failure at Census Bureau: The US Census Bureau faces cost overruns up to $2 billion on an IT initiative replacing paper-based data collection methods with specialized handheld devices for the upcoming 2010 census. The Bureau has not implemented longstanding Government Accountability Office (GAO) recommendations and may therefore be forced to scrap the program.

Census Returns to Paper Count. Technology problems will force the government to count all of the nation's 300 million residents the old-fashioned way in the 2010 census — with paper and pencil. … Commerce Secretary Carlos Gutierrez told a House subcommittee Thursday [4/3/2008] that the government will scrap plans to use handheld computers to collect information from the millions of Americans who don't return census forms mailed out by the government. The decision is part of a package of changes that will add as much as $3 billion to the cost of the constitutionally mandated count, pushing the overall cost to more than $14 billion. [That's $46.67 per capita.]

Remarks about the Census scrapping handheld computers for 2010 count: What would be the likelihood that the handheld computers could be re-used for the 2020 Census? Would the vendor still support the more than 10-year-old hardware at that time? How many [of us] are still using 10+ year old computers? [The Census is] spending gigantic wads of money on something that will be obsolete before it can be used even a second time.

The Editor says...
Excuse me for pointing out the obvious, but shouldn't a whole bunch of people lose their pencil-pushing government jobs over this fiasco?

1.5 billion dollars down the drain.
The Device NASA Is Leaving Behind: The instrument, which would detect and measure cosmic rays in a new way, took 500 physicists from around the world 12 years to build. But with room on the 10 remaining shuttle missions to the space station in short supply, many fear that it will remain forever warehoused on Earth, becoming the most sophisticated and costly white elephant of the space era.

Cities pay huge salaries despite fiscal crises. A city nurse earned $350,000. A fire department battalion chief pulled in more than twice as much as the mayor. And a municipal park ranger took home $188,000 in overtime on top of his $71,000 salary. Such generous payouts were criticized for hastening the fiscal downfall of the city of Vallejo, which narrowly averted bankruptcy this month.

Seattle to Remove Automated Toilets. After spending $5 million on its five automated public toilets, Seattle is calling it quits. In the end, the restrooms, installed in early 2004, had become so filthy, so overrun with drug abusers and prostitutes, that although use was free of charge, even some of the city's most destitute people refused to step inside them.

Seattle ditches hi-tech toilets. City officials have finally gotten rid of five hi-tech, self-cleaning toilets that cost Seattle $5 m[illion] — but sold online for just $12,549. The city installed the modernistic stand-alone toilets four years ago, hoping they would provide tourists and the homeless a place to do their business while downtown. But they became better known for drug use and prostitution than for relief.

Taxpayers fund Bill Clinton spending. The Clintons have made a $100-million fortune since leaving the White House, but a Politico analysis found that hasn't kept Bill Clinton from taking full advantage of the publicly funded perks offered to ex-presidents. In fact, his presidential retirement benefits cost taxpayers almost as much as those of the other two living ex-presidents combined.

Homeland Security Scrapping, Replacing Sub-Par Virtual Fence Along Arizona-Mexico Border. The government will replace its highly touted "virtual fence" on the Arizona-Mexico border with new towers, radars, cameras and computer software, scrapping the brand-new $20 million system because it doesn't work sufficiently, officials said.

Bailout Bullies: Entitlement Culture Gone Mad. Last week, a mob of screeching protesters invaded the Bear Stearns headquarters in Manhattan demanding more aid for homeowners. As you know, I oppose federal bailouts of every make and model — and that includes both the Bear Stearns deal and the bipartisan stimulus-palooza in Washington.

Bear with Me: The mother of all government bailouts. In order to avert or postpone the possible economic consequences of Bear's demise, the Federal Reserve Bank is conducting an unusual bailout -- so unusual that a new Congressional report, quietly released last Thursday, says it is unlike anything the government has done in the last 70 years. Yet few members of Congress have even questioned the decision since the Fed's opaque processes produced it last month.

Bacon Saving: The Government Shouldn't Be In The Bailout Business. The government shouldn't have save the airlines after 9/11. The government shouldn't save the S-n-L's back in the day. The governme