Affirmative Action is an open-ended solution to a problem that has already been fixed. The blatant discrimination that existed fifty or a hundred years ago is all but completely gone, but this "solution" is here to stay. Now the tables are turned, and a system of racial quotas and (constantly expanding) reverse discrimination appears to be in place permanently.

When you look at a list of federal government agencies, departments, bureaus, divisions and directorates, one thing you'll notice right away is the number of offices and agencies dedicated to career advancement for certain people based on their gender or ethnicity. Every facet of the government seems to include an office for the promotion of workplace diversity, equal employment opportunity, minority resources, or disadvantaged business utilization. These are all code words for discrimination against able-bodied white males. In some cases a single office is in charge of equal employment opportunity and workplace diversity. But it is logically impossible to implement diversity without discrimination.

Workplace diversity adds nothing to productivity. The Japanese economy is thriving, yet Japan has the least diverse work force in the world. God originated workplace diversity at the Tower of Babel — as punishment! — and stopped the entire project overnight.

If I were the only person who disagreed with the racial discrimination now known as "affirmative action", this page would be pointless. And if every one of the articles listed on this page had been written by a caucasian, you could easily dismiss it as a the ranting of bigots. But in fact many of these authors are themselves black and/or female, or represent some other minority. Some have PhD's, and they all write very convincingly.



Related pages:
Elizabeth Warren plays the Affirmative Action system
Reverse discrimination


---
Overview:
Forced Diversity Is Actively Harming America. The meaning of the term "affirmative action" has changed dramatically over the last six decades. Although it first showed up in the Wagner Act in 1935, it was John F. Kennedy who started it on its modern trajectory in 1961 when he issued an executive order holding that the federal government had an affirmative duty to treat its employees "without regard to their race, creed, color or national origin." With the Civil Rights Act of 1964, these protected characteristics were extended to cover sex, religion and, thanks to the Supreme Court, gender identity. Once in place, these protections were expanded to state governments and the private sector. They gradually evolved from ensuring that people in the protected categories were not discriminated against on the job to becoming a vehicle for engineered diversity through hiring and promotion preferences towards individuals exhibiting the protected characteristics, which led to so-called "reverse discrimination" against those who did not exhibit them.
Why Diversity? Demographically, America is still mostly White with Blacks a 13% minority and Hispanics now the largest minority at 18%. Considering these statistics, it should be quite remarkable that nearly every television and film now features Black actors in various roles. Commercials and magazine ads also invariably showcase persons of color. In spite of this proof of success, we are being labeled by the Left as a racist nation. Hollywood and in particular Disney has found it necessary to remake former hit feature films but with more 'diverse' casts. Since these vehicles have not been successful, one has to wonder why they are continuing this failing effort. Simply remaking a former classic vehicle and substituting persons of color as leading characters is a disservice to the performer, who will always be compared unfairly to the former star. It is also clear evidence that originality is a scarce resource in coke-addled Tinseltown.
Clarence Thomas Gets It. Ever since the end of June, Americans in the media have been chattering about the implications of the Supreme Court ruling in Students for Fair Admissions v. Harvard. [...] First off, consider the fact that the proponents of race-based admissions feel the need to use euphemisms like "affirmative action." Generally speaking, political factions that rally around a euphemism are doing so because they don't actually feel good about the thing they're defending. Just think of how Southerners before the Civil War often talked about the sanctity of their "domestic institutions" without naming the "institution" they were defending, or the way that pro-abortion people today talk about "a woman's right to choose" without saying what it is that the woman should be able to choose to do. But of all these content-free labels, "affirmative action" takes the cake. What is being "affirmed"? What "action" is being taken? If you didn't already know the answer, a hundred guesses would not suffice.
California Democrats Play Affirmative Action Games Over Feinstein Senate Seat. Race-based preferences are taking over the competition for Dianne Feinstein's California Senate seat. On Thursday, The New York Times revealed Feinstein surrendered power of attorney to her daughter in a report on the 90-year-old senator's failing health. The longtime legacy lawmaker is unable to make legal decisions of her own while making major legal decisions for the country. [...] If she resigns, Gov. Gavin Newsom has already pledged to appoint a black woman to the seat. Newsom made the commitment in 2021 after upsetting Democrats by appointing then-Secretary of State Alex Padilla, California's first Latino senator, to replace Kamala Harris after her election to vice president. It's no coincidence, then, the most vocal supporters of Feinstein's resignation, such as California Rep. Ro Khanna, have endorsed Rep. Barbara Lee in the crowded Senate primary. In fact, Khanna, who co-chairs Lee's campaign, was the first member of Congress to request Feinstein step down, according to The Hill.
The Biden Administration's Plot to Kneecap Merit in Federal Hiring. In yet another example of the Biden administration's aggressively woke diversity, equity, and inclusion agenda, the U.S. Office of Personnel Management is now proposing to kneecap the government's ability to hire the most qualified candidates for federal job openings. Its specious reasoning? To close the supposed federal "wage gap" between male and female or white and minority employees. The proposed rule would bar federal agencies from considering a new hire's past salary when setting his or her pay. This would be done on the assumption that "setting pay based on an individual's salary history may maintain or exacerbate pay inequity" from the private sector, according to the proposal. To justify its proposal, OPM cites the fact that — not controlling for things like occupation, education, or experience — there exists, on average, a difference in pay between certain demographics of federal employees: 15% between whites and blacks and 6% between males and females.
Left's favorite 'woke' initiative under serious threat after Court's controversial ruling. The Supreme Court decision last month that ruled against affirmative action in higher education could dismantle diversity, equity and inclusion (DEI) programs in corporate America, experts say. On Thursday, the Supreme Court said in a 6-3 decision that colleges and universities could not include race considerations in their admissions process, effectively outlawing what's known as affirmative action and upending previous legal precedent that allowed it. The decision has sparked debate on if and how it could influence other sectors of public life, including the hiring and promotion practices of companies and corporations.
Imagine a hospital where everybody is incompetent — but at least they're all black.
Here's the story of the Martin Luther King Jr/Drew Medical Center in Los Angeles. ... which operated from 1972 to 2007. Or as patients called, it "Killer King." The hospital was founded in 1972, in response to black riots of the late 1960s. Elites in LA, like elsewhere in the country, determined that racism was the cause of pathologies in the black community. Therefore they decided to open up a hospital to serve locals. [...] Officially, as a public institution, it couldn't be a "black hospital." But most employees and administrators were black, and it was said to belong to the community. California schools practiced massive affirmative action at the time, and graduates would go work at King/Drew. [...] Problems appeared right away. In 1975, the LA Times reported on "horror stories implying neglect and incompetence." Employees were said to be drunk on the job or on drugs stolen from the hospital pharmacy. A letter from a nurse in 1977 gave it the moniker of Killer King. [...] Nothing was done for decades. It took an LA Times report in 2004 to reveal how things had gotten. According to one accreditor, the hospital had "problems of orders of magnitude that are substantially greater than almost all other hospitals in this country." [...] King/Drew spent $20.1 million on malpractice payouts from 1999-2004. Adjusting for the number of patients it saw, this was the worst figure of any hospital in the entire state of California. The hospital was founded in 1972, in response to black riots of the late 1960s. Elites in LA, like elsewhere in the country, determined that racism was the cause of pathologies in the black community.
Biden EEOC Pick Will Force Gender Ideology on Employers, Critics Warn. The Senate will vote Wednesday on Kalpana Kotagal, whom President Joe Biden appointed to serve on the Equal Employment Opportunity Commission in a move critics claim will force transgender ideology on employers across America. "I'm incredibly concerned about Kalpana Kotagal's record of support for radical transgender ideology," Sen. Ted Cruz, R-Texas, told The Daily Signal in a statement Wednesday. "The Equal Employment Opportunity Commission was created to combat racism and sexism in the workplace, but the woke Left is trying to use the EEOC to push its agenda on employers, and based on Kotagal's record I think she will use her position to attack religious liberty and force her politics on Texas companies." "Under no circumstance should the Senate confirm Kalpana Kotagal to be a member of the EEOC," Kevin Roberts, the president of The Heritage Foundation, said on Twitter. "Her appointment would turn the EEOC into an even more radical Commission with devastating effects on our businesses and communities."
California Bill Would Let Judges 'Rectify Racial Bias' in Sentencing, for 'Reparations'. The California state legislature is considering a bill that would allow judges to use sentencing in criminal cases to "rectify racial bias" in the criminal justice system as a whole. The bill, AB 852, passed the State Assembly in May and is currently going through the committee process in the State Senate. It notes that existing law already allows defendants to challenge their sentences as racially biased, but it would add that judges can consider race in sentencing.
'60s Denialism: Affirmative Action's Last Ditch Defense. [Scroll down] Ketanji Brown Jackson had no more use for Obama's truth-telling than Jesse did. "Gulf-sized race-based gaps exist with respect to the health, wealth, and well-being of American citizens," writes Jackson. "They were created in the distant past, but have indisputably been passed down to the present day through the generations." The 53-year-old Jackson and the 69-year old Sotomayor seem to have both sleep-walked through their charmed, affirmative action-greased lives. The income and educational gaps were not "created in the distant past." They were created on their watch and largely by their own political party. Neither Jackson nor Sotomayor acknowledges that those gaps were narrowing up and through the 1950s. Neither says a word about fatherlessness or family breakdown and the accompanying reversal in economic momentum. Sotomayor, for instance, mentions President Andrew Johnson three times but never once mentions President Lyndon Johnson. No one mentions Moynihan.
Biden's Joint Chiefs chairman nominee accused of 'race-based' hiring in military by conservative group. A conservative watchdog group is accusing Air Force Gen. Charles Q. Brown Jr. of embracing race-based hiring and promotions in the military for the sake of "diversity." The American Accountability Foundation (AAF), an opposition research group that has claimed credit for dismantling several Biden nominations, is now targeting Brown, who is the president's nominee to serve as the next chairman of the Joint Chiefs of Staff. At issue for the group are various public statements Brown has made in which he offered full-throated support for the military's diversity, equity and inclusion, or DEI, programs. Brown, the first Black man to lead any branch of the U.S. military, has been outspoken in his belief that the military should be proactive in elevating diverse candidates to key positions. His previous public statements that articulated his views provide ample ammunition for critics like AAF and Republican opponents of DEI policies to attack his nomination.
Affirmative Action — A Thoroughly Useless Idea. The U.S. Supreme Court in a June 29 ruling struck down affirmative action in college admissions. Colleges can no longer consider race when determining which applicants to admit, the court ruled in lawsuits involving Harvard University and the University of North Carolina. This decision supports the conclusion of my new book, The War on Whites, that affirmative action is a bad idea. The hiring obstacles to minorities that existed 50 years ago have been swept away. Competent Blacks and Hispanics have no difficulty getting jobs or being admitted to college. In today's job market, says Heather Mac Donald in [her book,] if people of color are not hired in greater numbers it is not because of racism, but because they don't meet the job qualifications. Employers are jumping up and down for a chance to hire minority applicants.
You won't fix racism with more racism. Let's be honest: the Diversity Hire does no one any good...least of all the Diversity Hire. Last week's SCOTUS decision to do away with race-based Affirmative Action policies in higher education finally took a step towards fixing a grievous wrong. [...] The Big Deal is that maybe that person who has been artificially helped through the system is flying your 747, performing your medical procedure, running your company, or being appointed to the Supreme Court of the United States. People who are actually qualified will have opportunities taken away from them in favor of people who are not, and those unqualified people will not only do damage to the world around them, but also do damage to themselves. The end result of affirmative action is generations of people who can never know if they accomplished anything on their own merits or were simply handed things based on their race or superficial characteristics. Never.
The Real Status of Black Students. In the late 1960s, affirmative action was advanced because women and minorities, with similar skills to those of White men, were being discriminated against in landing jobs. The object of affirmative action was to level the playing field for people with similar skill levels. Over the years studies have shown that women actually have benefited most from affirmative action, not African Americans. But over the years affirmative action has evolved into a matter strictly of race: Black people get preferential treatment, period. Why has it evolved so?
It's been quite a week in the news, and I have questions. SCOTUS ruled against affirmative action in Students for Fair Admissions v. Harvard[.] Justice Thomas concurred with a clarity that should carry us far into the future. Among many memorable things, he said, "the Constitution continues to embody a simple truth: Two discriminatory wrongs cannot make a right." Ha! Take that, Ibram X. Kendi! But does this abolish racial (black-owned), sexual (woman-owned), geographic (Asian-owned), tribal (Native American-owned), and linguistic (Hispanic-owned) preferences in U.S. Government contracting? To the 118th Congress, maybe there ought to be a law?
The Drudgery and Danger of a Meritless Society. [Scroll down] To hand out participation trophies is a sham; however, the same sham that's taking place in many aspects of our culture. The Leftists among us are seeking to quash merit-based testing everywhere. Out with Scholastic Aptitude Tests (SATs), they're racist. They're sexist. They're transphobic. Out with the Graduate Record Exam (GRE). Out with writing an essay to get into college. Out with letter grades. So it goes into too many aspects of society. Ah, but you and I don't want to live in a meritless basic society. I guarantee that you don't want to be operated on by a brain surgeon who went to a medical school where grades were not important. You don't want to fly in a plane with pilots who have not proven both in testing and in flight simulation that they are fully capable. You don't want to drive over a bridge constructed by an engineer who went to a school where testing was deemed to be worthless or racist, or biased.
Federal court delivers major blow to Biden's radical equity agenda. In a lawsuit challenging the Minority Business Development Agency (MBDA) — a new federal agency dedicated to helping only certain preferred racial groups — a federal judge ruled that the Biden administration cannot discriminate based on race. Judge Mark Pittman, a Trump-appointee based in Fort Worth, Texas, delivered a remedial lesson in civics to the administration: "The Constitution demands equal treatment under law." While such a statement should be obvious to any American, this was quite a painful blow to the administration. On his first day in office, President Biden declared a "whole of government" approach to racial equity, requiring all his agencies to "affirmatively advance[e] equity." In practice, the equity agenda resulted in a bevy of programs open to some races, but not others. Farmers, restaurant owners, homeowners, small business owners and federal contractors all got billions in federal tax dollars, so long as they belonged to certain racial groups. The MBDA is the cornerstone of this equity agenda.
Female Cop Shows What A Diversity Hire She Was. This female cop nearly ran herself over when she forgot to put her cruiser in park and it almost rolled over her while she had her weapon unholstered. [Video clip]
Pew: US adults disapprove of affirmative action 50-33. As we await the Supreme Court decision that could bring an end to affirmative action, Pew Research has published the results of a poll showing that fully half of US adults disapprove of it. [...] The split among partisans is not surprising. Nearly 75% of Republicans oppose it and 54% of Democrats approve of it. Still, that leaves 29% of Democrats who disapprove. The racial divides are also probably what you would predict. [...] The most interesting result here is that the partisan political divide on this issue is bigger than the racial divide. Only 47% of Black Americans overall support this but white Democrats are at 59 percent: [...]
Is America's collapse inevitable? [Harold] Robertson gives it heft and dimension by discussing how America began to shift from a meritocracy to a diversity system in the 1960s, with the passage of the Civil Rights Act. He then explains how it became embedded in American employment culture. Of course, moving away from a system that discriminated against people based on race is a good thing. The problem is that, thanks to how "diversity" has been interpreted, we've embraced a whole new style of discrimination. Now, the most important characteristic a person can bring to a job is skin color, sex, and sexual orientation or "identity." This metric, when applied across American culture, especially within the government, but with increased aggression in education and the workplace, practically ensures that the people responsible for America's public and private systems won't be the "best"; they'll just be the most "diverse."
Complex Systems Won't Survive the Competence Crisis. At a casual glance, the recent cascades of American disasters might seem unrelated. In a span of fewer than six months in 2017, three U.S. Naval warships experienced three separate collisions resulting in 17 deaths. A year later, powerlines owned by PG&E started a wildfire that killed 85 people. The pipeline carrying almost half of the East Coast's gasoline shut down due to a ransomware attack. Almost half a million intermodal containers sat on cargo ships unable to dock at Los Angeles ports. A train carrying thousands of tons of hazardous and flammable chemicals derailed near East Palestine, Ohio. Air Traffic Control cleared a FedEx plane to land on a runway occupied by a Southwest plane preparing to take off. Eye drops contaminated with antibiotic-resistant bacteria killed four and blinded fourteen. While disasters like these are often front-page news, the broader connection between the disasters barely elicits any mention.
For Decades, Democrats Have Been Ignoring Evidence And Facts. About 20 years ago, I read a piece about the North Miami police department eliminating the swimming requirement for the police. With a working knowledge of geography and having visited Miami many times, I thought this was a bit odd and kind of a bad idea. After all, North Miami has hundreds of miles of canals, lakes, and beaches. Predictably, the reason the requirement was being dropped was that "blacks are less likely than whites to know how to swim because of economic disparities between the groups..." In other words, the change was because not enough blacks were qualified to become police. That was long before the cancer of wokeness had taken hold of much of America. I was dumbfounded. Nobody with a functioning brain would have looked at that situation and said we must eliminate a key element of the job requirements to let more members of "X group" join. But that's what the people in charge decided.
US Air Force Ran A Social Experiment To Graduate More Minority Pilots. It Didn't Go As Planned. The U.S. Air Force abandoned an experiment aimed at boosting pilot training graduation rates for women and minority pilots after the 2021 initiative failed to achieve the intended results and officers privately warned it could violate anti-discrimination policies, according to documents obtained by the Daily Caller News Foundation. As part of the larger military-wide effort to promote diversity in the service's pilot ranks, the 19th Air Force command near San Antonio, Texas, "clustered" racial minorities and female trainees into one class, dubbed "America's Class," to find out if doing so would improve the pilots' graduation rates. However, not only did the effort fail to boost minority and women candidates' success rates, but officers involved say they were ordered to engage in potentially unlawful discrimination by excluding white males from the class, documents show. Unlawful or not, the Air Force's actions raised red flags for an active-duty pilot instructor who spoke to the DCNF.
Who Will be the next Chief of Naval Operations? Last September, the Navy promoted and installed a new Vice Chief of Naval Operations. Then Vice Admiral Lisa Franchetti got her 4th star and was appointed to the second-highest position in the Navy. [...] Would an identity-based selection for the Navy's top leader be in the best interest of the Navy and the Nation? No, the nation needs and deserves the very best warrior to lead the Navy into our threatened future. Admiral Franchetti is a journalism graduate of Northwestern University NROTC, a non-STEM degree which itself is unusual, as the Navy strongly favors STEM degrees for officers. She has a Master's Degree in organizational management from the University of Phoenix, an online university. Her biography does not mention any war college credential. In contrast, her predecessor Admiral William Lescher had multiple commands in combat zones, was a test pilot, had multiple advanced degrees in naval technical fields and his commands won multiple combat zone merit awards. To naval professionals, for someone to have been promoted to the Navy's highest rank and second highest position based on a NROTC commissioning source with a liberal arts degree, an online masters, no war college or combat zone credentials, would be considered inconceivable.
Fat, Stupid, and Diverse. [Alvin] Bragg — who badly wants to carve up Donald J. Trump, but won't — was boosted into office in November 2021 in yet another spasm of virtue signaling by the Rotted Apple's smart set, and whose campaign was lubed by dollars from George Soros to the aptly named "Color of Change PAC." Bragg is another swell diversity hire. They abound in America's deteriorating cities. And not incidentally — in fact, importantly — he's a Soros and establishment sock puppet. In going after Trump — and as of this writing, flailing conspicuously in his gambit — he's paying his dues to the Man. Diversity hire's only requirement is doing the Man's bidding. Alvin is trying. Bragg is a Happy Meal for the "diversity, inclusion, and equity" crowd. Nothing brings bigger smiles to their faces than foisting unintelligent, untalented, poorly skilled "of color" or gender box checks on mostly "of color" Democrat-ruined urban communities around the country.
Delaware dumbs down bar exam to increase diversity. The Delaware Supreme Court is reducing the minimum score, length, and practice areas covered by Delaware's bar exam, citing a desire to make the legal profession more racially diverse. This is occurring in tandem with lower-quality applicants: fewer applicants have been passing the Delaware Bar exam have also fallen. A larger percentage of applicants are black or Hispanic than used to be the case. The minimum passing score for the multiple choice portion of the exam has been reduced. The number of essays included in the exam will fall from eight to four, and the practice areas covered by the exam will be reduced from 14 to 10. And instead of the exam taking two and a half days, it will take only two, reports Reuters.
Biden Unites the Feds with DEI. How are we to understand the Biden administration's executive order to go full DEI for the whole federal government? I mean, if we need to purge the federal government from stem to stern of systemic racism and enforce diversity, equity, and inclusion, the federal government must be a veritable hornet's nest of racism, sexism, homophobia, and hate. Otherwise we wouldn't need a whole-of-government effort to stamp it out. And, of course, we are talking about Democrats. No Republican has had a shot at a Fed job for a generation. But how can this be? Our liberal friends have been running the federal government, man and boy — and now gender non-binary — for not less than 90 years, at least since FDR was inaugurated and cranked up the federal government to ramming speed with a ton of new liberal programs. Our liberal friends have run a race program — fighting systemic racism! — for the last 55 years, from quotas to Affirmative Action to Diversity to Reparations. And that's not enough?
LA Mayor Bass calls to root out 'right-wing extremist' police, signals lowering the bar for new recruits. Los Angeles Mayor Karen Bass called to remove "obstacles" for new police recruits and pledged to root out officers with ties to "right-wing domestic extremist organizations." Bass is looking to remove "obstacles" for police recruits who fail to initially qualify for training as a means of further diversifying the LAPD, according to a summary of her public safety goals obtained by Fox News Digital — but police union leaders are questioning the move. Bass' summary of goals for police reform includes a list of provisions as well as dates by which the department must report back regarding progress. One provision says a deputy mayor will work in conjunction with a "third party" to "evaluate the personnel process and identify obstacles to entry for recruits who fail to qualify for training."
The collapse of civilization on the altar of equity and diversity. The Biden administration has gone stark raving mad. While they surely know better, they are moving ahead with the false notion that "diversity is our strength," that forced "equity" will make the country a better place. It began under the Obama administration, the purposeful ginning up of the most vile racism since slavery; but this time Black against White. Before Obama took office, there was actually near racial harmony in America. The American left has become so radical now, "diversity hires" are now a thing. We are following in the footsteps of South Africa and mandating racial quotas. What has that meant for South Africa? Their economy is in near collapse. Their electric grid is failing because no one knows how to fix it. The country is wracked by violence. Mandated equity, the primacy of race over merit, means civilizational failure. Why have there been so many near misses in air traffic? Why so many railway derailments? Why horrific events like the murder of Tyre Nichols in Memphis? Those cops were clearly not qualified to be Memphis police. When standards are done away with, this is a predictable consequence.
Really? Does this include reverse discrimination and "affirmative action?" Of course not.
Biden Signs Executive Order to Root Out Systemic Racism from Federal Government. President Joe Biden signed an executive order Thursday aimed at rooting out systemic racism from the federal government and doing more to achieve racial equity. The order, made in the middle of Black History month, extends an order Biden made on his first day in office requiring federal agencies to investigate inequities within their departments and to proactively address shortcomings. That is now an annual requirement. The aim is to deliver "equitable outcomes" for all Americans, including underserved communities, through government policies, programs, and services. The order also requires federal agencies to establish "equity teams," with a designated senior leader charged with implementing the administration's equity goals and "delivering equitable outcomes, to the extent consistent with applicable law." And it requires the establishment of a new White House steering committee on equity to "coordinate Government-wide efforts to advance equity."
Competence is dead and diversity killed it. For no good reasons whatsoever, competence was allowed to die on the vine in order to give the less competent a leg up. Not equality but superiority rules the hiring, firing, and education of Americans. Worse, many of those who were affirmatively hired do not do as good a job as those whose excellence was obvious. You can see it in customer service, which for many businesses is abysmally incompetent. There is a resentful casualness in those who are hired to serve others that would not have been acceptable even two decades ago. The competence level one deals with on a daily basis is on life support. While there are pockets of the competent in places like Florida and some Southern states, much of America is being run by children with no sense of responsibility or pride in accomplishment.
Affirmative-action Answer? Black Cops [are] More Likely Than White Cops to Shoot Blacks. Black and Hispanic officers are actually more likely to shoot black suspects than white cops are, according to studies. What's more, this phenomenon could be attributable to — and certainly is exacerbated by — affirmative action policies, which subordinate merit to racial quotas in the name of increasing police departments' non-white representation. The January 10 death of 29-year-old Tyre Nichols at the hands of five Memphis police officers might've been at least partially a result of this quota mentality, too. For at least two of those officers were hired under dumbed-down, leftism-inspired standards, according to a report. Of course, if having the melanated as masters of a metropolis could deliver what the Left longs for, we wouldn't now be discussing Memphis. After all, the city's police chief is black, its city council is majority black, its population is 64 percent black, and its cops are 58 percent black (and three percent Hispanic).
African Reporter Goes All Emperor's-New-Clothes on Karine Jean-Pierre: 'You Don't Seem a Good Fit for This Job'. The whole world knows that Karine Jean-Pierre is unfit to be White House press secretary; any doubters can consult the evidence of every day's press briefing for fresh evidence. KJP has become notorious for giving answers that have nothing to do with the questions she is supposed to be answering, relying over-heavily upon the canned answers provided in her briefing book, and ignoring reporters who are liable to ask inconvenient questions. But for the same reasons that she got the job in the first place, the establishment media has been reluctant to call her out and state the obvious: that a random person off the street would likely do a better job than she does. On Tuesday, however, Karine Jean-Pierre finally had her Emperor's-New-Clothes moment: Cameroonian reporter Simon Ateba told her during a White House press briefing, "You don't seem a good fit for this job."
Exiting Arkansas Governor Sued Over Enforcing Race-Based Quota in State Appointments. An Arkansas man has filed a federal civil rights lawsuit against the state because state law prevents him from serving on a state board because of the color of his skin. The legal complaint in the case, Haile v. Hutchinson, which was filed on Jan. 4 in the U.S. District Court for the Eastern District of Arkansas, claims that a state law establishing race-based quotas on the Arkansas Social Work Licensing Board violates the equal protection clause of the Fourteenth Amendment to the U.S. Constitution. Gov. Asa Hutchinson, a Republican who leaves office on Jan. 10, is being sued in his official capacity as governor. He's being succeeded by Gov.-elect Sarah Huckabee Sanders, also a Republican.
White House Press Secretary Karine Jean-Pierre: Incompetent but Failing Upward. One of the bestselling books of the 1970s was "The Peter Principle," a business management book by Laurence J. Peter and Raymond Hull. The book's premise, in a nutshell, was that people get promotions based on their performance in their previous jobs until they are ultimately elevated to a position in which they're incompetent, since skills and success in one position don't necessarily ensure success in the next. "In a hierarchy," Peter said, "every employee tends to rise to his level of incompetence." Put another way, as the disclaimers say in investment brokers' ads: "Past performance is no guarantee of future results." Both Peter and Hull are long since deceased. Still, if publisher William Morrow & Co. were to commission someone to update a new edition of the book, White House press secretary Karine Jean-Pierre could be cited as Exhibit C of the "Peter Principle" at the highest levels of government. (President Joe Biden and Vice President Kamala Harris would be Exhibits A and B, but that's another story for another day.)
Massachusetts hospital network to deny healthcare to those who say things it doesn't like. They're coming for you next: The Mass General Brigham (MGB) hospital network in Massachusetts has now established a policy that will deny healthcare to anyone who says something it doesn't like. ["]The code covers not only 'physical or verbal threats and assaults' and 'sexual or vulgar words or actions,' but also 'offensive comments about others' race, accent, religion, gender, sexual orientation, or other personal traits' or refusal to see staff based on those traits. It frowns on 'unwelcome words or actions' as well. While patients can give their side when accused of violating the code, MGB warns that it may ask them to 'make other plans for their care' in response to some violations. They might also be banned from 'future non-emergency care ... though we expect this to be rare.'["] The code of conduct can be read [elsew]here. Moreover, a scan of MGB's website shows it to be totally invested in the agendas of critical race theory as well as diversity, equity, and inclusion. The top of its About page includes a link to a description of its "Commitment to Diversity, Equity and Inclusion," which describes in careful terms the quota policies the hospital now follows, designed to choose minorities in hiring rather than those with better medical qualifications.
Woke Sports — Why Do We Still Watch? [Scroll down] The NHL named Kim Davis (black) their new Executive Vice President of Social Impact — love the Orwellian title — and she came out of the gate strong: "The NHL's first internal demographic study found its workforce to be overwhelmingly white." Obviously, this is terrible. "We know we have a lot of work to do," she added. For comparison, let's check NBA numbers. What's that you say? Nearly 80% black? Whoa! With such astonishing overrepresentation, there must be frequent calls for diversity, right? Uh, no. On the contrary, any team that accidentally gets too white (like the Mavs) is accused of racism. Blacks' dominance in the NFL is similarly cheered. The only possible conclusion is that diversity in sport means fewer whites. But, but, but... basketball's a black game. Blacks are better at basketball than whites. Okay, can that argument be used in hockey? Or any other facet of life? Of course not. And what of the few white NBA players? Does anyone doubt they're mocked and bullied?
Supreme Court leans toward ending affirmative action in college admissions. Conservative Supreme Court justices indicated Monday that they are willing to end the explicit consideration of race in college admissions as they weighed cases challenging affirmative action policies at the University of North Carolina and Harvard University. Members of the court's conservative majority questioned the legal rationale for allowing the practice and probed to what extent colleges and universities could enact new "race neutral" admissions policies aimed at improving racial diversity. Some justices, however, indicated they would be willing to allow applicants to discuss their racial identities in some form as part of essays touching upon their experiences, such as examples of overcoming discrimination.
Alito Channels Elizabeth Warren During Oral Arguments: 'I Identify As American Indian'. During oral arguments in two cases involving Harvard University and the University of North Carolina, Justice Samuel Alito joined other conservatives on the bench to cast doubt on allowing the consideration of race in college and university admissions decisions. In one exchange, Alito wondered what metrics were used for determining heritage. "We rely on self-reporting," said North Carolina Solicitor General Ryan Park, who is defending affirmative action policies at UNC. "One great-grandparent," Alito said. "Are you going to make me continue to go on?" "Right, I think that as we go on, I agree that it would seem less plausible that that person would feel that this is actually capturing my true racial identity," Park responded. Alito then appeared to refer to Sen. Elizabeth Warren's claim of a Native American heritage.
Justice Thomas Unloads on Lawyer Defending Affirmative Action: 'Diversity Seems to Mean Everything for Everyone'. Justice Clarence Thomas pressed North Carolina's solicitor general to explain how the University of North Carolina defines diversity during oral arguments on Monday in a Supreme Court case centered around the use of race as a factor in college admissions. "I've heard the word diversity quite a few times and I don't have a clue what it means," said Thomas. "It seems to mean everything for everyone." Students for Fair Admissions (SFFA) has challenged the race-based admissions policies of both Harvard and the University of North Carolina at Chapel Hill (UNC), accusing both schools of discriminating against Asian-American applicants. The cases were initially merged, but are now being heard separately after Justice Ketanji Brown Jackson recused herself from the Harvard case because she had previously served on the university's board of overseers.
Next up on the Supreme Court's agenda: Affirmative action. Progressives who are still reeling from the end of Roe v Wade are already expecting the worst from the Supreme Court's next term which starts next week. One of the big issues the court will be considering in the next term is affirmative action in college admissions. [...] In 2003, Justice Sandra Day O'Connor predicted that the need for affirmative action for university admissions "will no longer be necessary." It has been 19 years since she said it.
Explicit, unapologetic racism in the California courts? The State Bar of California is the "regulatory arm of the California Supreme Court responsible for licensing and disciplining attorneys." The State Bar's mission is "to protect the public and includes the primary functions of licensing, regulation and discipline of attorneys; the advancement of the ethical and competent practice of law; and support of efforts for greater access to, and inclusion in, the legal system." In accomplishing its mission, the State Bar should follow the law. Therefore, the State Bar should explain why its encouragement of employers to match the racial composition of their attorney workforce with the racial composition of California is not encouraging employers to violate the 1964 Federal Civil Rights Act. On September 9, 2022, the State Bar issued "a special update for all California licensees on diversity, equity, and inclusion (DEI) initiatives at the State Bar."
America Delira. [Scroll down] Every agency available — government, popular culture, science, history, literature, the arts, the university, the media, big tech, the corporate boardroom, and Wall Street — must be subordinated and recalibrated to spot supposed inequality so that they can fix it through reparatory discrimination. All being equal and poorer is preferable to all being richer, but with some richer than others. Sometimes the effort manifests in reparatory commercials where 40 to 50 percent of the actors are black. Is that corporate America's way of helping stop the carnage in Chicago — from a safe distance? Sometimes the effort is media-based and designed to ignore self-confessed racial motives in violent crime when the black perpetrators deliberately target white or Asian victims. And sometimes, there is a general exclusionary rule that media grandees can openly generalize and stereotype all whites as toxic — in language that would earn their firings if applied to any other groups. Is the theory that a white assembly-line worker without a college degree born in 1990 properly owes society for the purported sins of the long dead?
Google Goof? Raced-Based Scholarships From Tech Giant Are Likely Unconstitutional. For our friends on the left, attitudes toward race have apparently come full circle. It wasn't that long ago, less than a decade perhaps, that the mere suggestion of a major corporation openly discriminating against prospective candidates for scholarships and fellowships based on their race would have been denounced from every angle of the political spectrum. If those being excluded from consideration were to have been limited to only white folks, there would have certainly been sympathizers with the idea from various leftists, but they wouldn't have been brazen enough to put forth the notion publicly. And if it wasn't only white folks whose candidacies were being barred, if non-white scholars were also being eliminated from the pool of candidates, then we would have expected to hear screams of objection from all sides. But times have changed, and it now appears to be perfectly acceptable for not only corporations but for academic institutions as well, to exclude any race they feel like, provided such exclusions align with their hierarchy of victimhood and electoral strategies. Now Google and many of the top colleges and universities in the country may have a serious problem on their hands as a result.
Skin color supersedes all else! Isn't that illegal?
Report: NYC Mayor Eric Adams Requests Photos of City Job Applicants to Ensure Diversity. New York City's Democrat Mayor Eric Adams is reportedly requesting photos of city job applicants, as he wants to ensure that new members of the workforce are diverse — a move that seems to show the value of race and ethnicity over qualifications. According to a report from Politico, most of the individuals — past and current city officials — the outlet spoke to are unsettled by the mayor's request, although it seems the mayor's office is presenting the request as a way Adams can simply "begin to recognize folks [sic] faces."
The Fightback Against Racial Quotas. E pluribus unum, the traditional motto of the United States, means 'Out of many, one.' It asserts that our strength is in assimilation of shared values, goals, and vision. It unifies our diverse races, religions, and other groups by appealing to the ideals of a constitutional republic — freedom, equality, the pursuit of wealth, happiness and excellence through free market competition. But the hackneyed shibboleth of the Left — Diversity is our strength — stands in direct contradiction to our original national motto. It serves their destructive aim of Balkanizing us by race, gender, sexual orientation, and other sub-groups du jour. Denigrating and rewriting our history, the Left aims to radically transform our culture: discounting merit, hard work, knowledge and experience, it wants to make identity the ubiquitous sine qua non of representation in American society. This strategy is reified in the so-called 'social justice' components of environmental, social, and governance (ESG) criteria; diversity, equity, and inclusion (DEI) guidelines; and critical race theory (CRT) based programs. Such programs try to cure historical discrimination with more discrimination — in the form of quotas based on race, sex, and other increasingly complicated factors — a disastrous strategy that only intensifies social discord instead of ameliorating it.
What's Biden's Problem With Black Staffers? Joe Biden took office promising the most diverse presidential administration in history. Not cohesive, not experienced, and certainly not competent, but definitely diverse. We're all familiar with Biden's biggest hits in the diversity game, starting with his vice president, Kamala Harris. The former California senator couldn't get her own presidential campaign off the ground in 2019, even after she attacked her future boss for being a segregationist at heart. But Biden was determined to make a woman of color the next vice president of the United States, and lucky Kamala was in the right place at the right time. There's also Ketanji Brown Jackson, the newest member of the Supreme Court. She's soft on crime and apparently doesn't know what a woman is, but she's black and she's female, so what's not to like? And then there's Karine Jean-Pierre, whose primary qualification for replacing Jen Psaki as White House press secretary seems to be that she's an openly homosexual black woman. Further down the line, though, Biden's diversity pledge has faced some challenges.
Seaside towns offer free beach passes to Native Americans. Seaside communities in New England are providing free beach access to Native Americans as the summer season kicks off this Memorial Day weekend. Officials in Narragansett, Rhode Island, earlier this month approved free seasonal beach passes for anyone with a valid identification card from the Narragansett Indian tribe.
When it comes to energy production, the midterm elections matter. Two amazing moments emerged from the Senate Energy Committee hearing, one on the watch of Sen. Joe Manchin (D-W.Va.) and the other during questioning by Sen. Dan Sullivan (R-Alaska). Sen. Manchin's moment came when he questioned Interior secretary Deb Haaland, a woman with absolutely no business holding the position. Haaland has no background in land management. Instead, her sole qualification is that her mother is Native American, which is how Haaland (whose father is a Norwegian Minnesotan) identifies herself.
Whites need not apply.
Hennepin Healthcare program aims to get more girls of color into medical careers. More than 100 students attended a career summit Sunday [5/15/2022] designed to encourage women of color to enter the medical field. The inaugural Black Women With Stethoscopes event hosted by Hennepin Healthcare offered young women ages 12-18 hands-on classes on work like dentistry and surgery. Some learned how to draw IVs or put in a breathing tube. Dr. Nneka Sederstrom, chief health equity officer at Hennepin Healthcare, said her goal is to address the lack of diversity in hospital staff.
Ottawa Police make special appeal to recruit 'female or racialized candidates' to serve as officers. The Ottawa Police Service announced as part of an employment hiring campaign that it is seeking "female or racialized candidates to help us better reflect the communities we serve." On Tuesday, Ottawa Police launched its campaign in search of new officers. "There has never been a better time to apply to the Ottawa Police Service," the department tweeted. "We're looking for female or racialized candidates to help us better reflect the communities we serve," the tweet continued, but did not explain the meaning of "racialized candidates."
NFL sets meetings between owners and diversity coach, GM talent (white guys not invited). Pete Carroll said NFL owners should "stop living in their own universe" and get more comfortable with minority coaches that don't look like them during a session at the league's annual meeting in Palm Beach last month and that's exactly what the NFL has mandated will happen. The league last week sent out a memo to all clubs announcing that 32 "diverse, prospective club-nominated head coach and general manager prospects will have networking opportunities with club and league office executives" at the NFL's spring meeting on May 23 and 24.
Regional Racism: What It Is, and Why It's Getting Worse. The idea that whites must endure classes in racial sensitivity and that they must pay reparations to blacks — such as the enormous racially targeted sums included in BBB — is predicated on the false view that whites, especially Southern whites, are responsible for income disparity among the races. In fact, under 50 years of affirmative action, blacks have enjoyed enormous advantages over whites and Asians. Yet, according to the latest numbers, high school graduation rates for blacks (79.6%) were far below those for whites (89.4%) and Asians (92.6%). College graduation rates showed the same pattern, with 74% of Asians, 64% of whites, and 40% of blacks graduating, despite preferential treatment for blacks. These low black graduation rates are not the fault of whites. If anything, whites and Asians should be granted reparations to compensate for the effects of affirmative action.
Understanding the Progressive Mind. The money progressives rob from the nation's bank will be redistributed according to the dictates of "social justice" — a measure based on their social whims. In the name of social justice, for example, the Biden regime has allocated $7.5 billion to put a black female astronaut on the moon because she is black and female. This is a preposterous virtue signal that violates the very spirit of America's color- and gender-blind Constitution. But a government that has no respect for the Constitution or the nation's laws needn't be bothered by that.
NFL's hiring mandate for minority, female coaches prompts legal double-takes. It's illegal to discriminate based on race, even in the name of increasing diversity, which is why the NFL's newly announced mandate on women and minority coaches is already raising red flags. The league announced last week at the annual owners meeting that all 32 teams must employ a woman or person of color as an offensive assistant coach, an effort to put diverse candidates in the pipeline for future head coaching positions. Whether the hiring initiative can pass legal muster is another question, given that it looks at first glance like a "pretty clear racial and gender quota," said Josh Blackman, South Texas College of Law Houston professor.
California corporate diversity law ruled unconstitutional. A Los Angeles judge ruled Friday that California's landmark law mandating that corporations diversify their boards with members from certain racial, ethnic or LGBT groups is unconstitutional. The brief ruling granted summary judgment to Judicial Watch, a conservative legal group that sought a permanent injunction against the measure that was signed into law last year. The ruling didn't explain the judge's reasoning. The measure requires corporate boards of publicly traded companies with a main executive office in California to have a member from an "underrepresented community," including LGBT, Black, Latino, Asian, Native American or Pacific Islander. The lawsuit argued that violated the state's constitutional equal protection clause.
Cory Booker Embarrasses Himself by Gushing Over Ketanji Brown Jackson's Race and Gender. Many criticized Joe Biden for promising during his presidential campaign that, if given the chance, he'd nominate a black woman to the Supreme Court, effectively making his eventual nominee an affirmative action pick. This pick would forever have to live with the perception that she was chosen primarily for reasons of identity, not her qualifications. And Biden came through on his promise, but Democrats don't seem to care about fixing that perception. Senator Cory Booker, for example, can't even discuss the nominee's qualifications without mentioning her race and gender.
'This Seat is Reserved': Quotas and the Supreme Court. Just over a week ago, President Joe Biden nominated Ketanji Brown Jackson to fill the Supreme Court seat being vacated by retiring Justice Stephen Breyer. Jackson is a black woman, as were the other two leading contenders — J. Michelle Childs and Leondra Kruger. Nobody except black women were seriously considered, which was intentional. Two years ago, during the South Carolina presidential primary in 2020, Biden had pledged to nominate a "black woman" to the Court. Though such a justice had never served before — making it, on paper, an unprecedented nomination — Biden's pledge was a clear attempt to shore up black votes in South Carolina at a time when his campaign was flailing. However, Biden was hardly the first candidate to consider Supreme Court nominees based on their gender or race. Later that year, then-president Donald Trump nominated Amy Coney Barrett to the Supreme Court, to fill the seat vacated by Ruth Bader Ginsburg upon her death. Though Ginsburg was a woman, she was neither the first woman nor the only woman serving on the Court at the time. Two others, Sonia Sotomayor and Elena Kagan, were already on the bench, and Trump had made no prior pledge to keep the seat female. Yet, when Ginsburg died at the height of the 2020 election, Trump vowed that only a woman would take her place. Similarly, all the leading contenders — Barbara Lagoa, Joan Larsen, and Barrett herself — were women, and no judges except women were seriously considered at all. Both nominations demonstrate that America's long-running politicization of its Supreme Court has finally met identity politics — the result being quotas on the Court. In 'filling the shoes' of the previous occupant, nominees are now expected to match not only their qualifications but also their race and gender.
Florida police chief Larry Scirotto fired for favoring non-white officers. A Florida police chief has been given the boot after an investigation found he engaged in discriminatory promotion practices, and remarked "that wall is too white" when looking at pictures of the department's command staff. Larry Scirotto — who took over the Fort Lauderdale Police Department in August — was fired by the city manager on Thursday, according to a press release. The report followed several discrimination complaints that alleged Scirotto, 48, made hiring and promotion decisions with an illegal race-based approach. Scirotto, a former assistant chief in Pittsburgh, became the first openly gay chief hired in Fort Lauderdale last year. He is of mixed race. A 12-page investigation into the bias complaints concluded that Scirotto created a "divisive atmosphere" in the department, and that he once pointed to a conference room wall of photos of the department's command staff and declared, "that wall is too white," and "I'm gonna change that," according to CNN.
UK's top-paid public sector diversity chief is a Network Rail director on £164,000 taxpayer-funded salary. The UK's top-paid public sector diversity chief is a Network Rail employee who earns up to £164,999 a year and previously shared an article accusing Boris Johnson of 'white privilege'. Loraine Martins, the railway company's director of diversity and inclusion, is responsible for ensuring the network is more 'open, diverse and inclusive'. Data released by the government shows Ms Martins is paid a minimum of £160,000 which can rise to a maximum of £164,999, meaning she could earn more than the Prime Minister whose yearly earning is capped at almost £162,000.
Supreme Court Vacancy: No White nor Male Folk Need Apply. Our current president has promised (or was strongarmed by James Clyburn into promising, you might correctly say) that he would nominate a black woman as Supreme Court Justice before the formal selection process ever began. As the Babylon Bee points out, Biden's desire for black representation in the Court should come as quite a shock to the esteemed Justice Clarence Thomas, against whom Biden attempted to carry out a "high-tech lynching" in order to prevent his selection just thirty years ago. But, in general and in principle, there is so much wrong with this promise having been made that it's hard to imagine it ever occurred in the same country I was raised in. Race doesn't matter in the slightest when it comes to the value one is able to provide in a free market of labor and ideas, after all. If there was one central premise around the idea of race during most of my lifetime, that was it.
Woke Hiring by Airlines is A Scary Business. The "woke" culture has infected large areas of our lives over the last few years. Much of it has just been annoying, but a new example could actually be dangerous. That is the push to hire and staff our airline cockpits with pilots chosen primarily for their gender or race, which I believe to be a very dangerous concept. [...] I think it is safe to say that most HR managers are not qualified pilots. Not a one is trained to the level required of pilots needed to safely operate a modern airliner. So how will HR intervention affect the hiring process as time goes on, and where does woke culture come into play? To examine that situation, let's go back to United's new "Aviate Academy," located in a suburb of Phoenix, Arizona. United has proudly announced that its first class at the flight school is comprised of eighty percent females or "people of color." That, folks is about as woke as you can get, and indeed as wrongheaded as well.
You Can Call White People Evil, But Don't Criticize Affirmative Action. [Scroll down] Georgetown's law school took a very different position after law professor Ilya Shapiro tweeted criticism of Biden's decision, one opposed by 76% of Americans, including a majority of Democrats and non-whites, to only consider black women for the Supreme Court. Shapiro correctly pointed out that choosing a Supreme Court Justice based on race would lead to a lesser choice. As the vast majority of Americans, Democrats and minorities, agree. But Georgetown, which did not suspend a professor calling for the murder and castration of white men, decided that the constitutional professor's speech had to be condemned and prohibited. Shapiro, who was to lead the law school's Constitutional Law Center, got a lesson in how Georgetown views free speech and academic freedom, when it placed him on administrative leave. Dean William Treanor described Shapiro's tweets as "appalling" and insisted that they, "are at odds with everything we stand for at Georgetown Law and are damaging to the culture of equity and inclusion that Georgetown Law is building every day."
It's Time to End Race-Based Affirmative Action. Affirmative action — broadly speaking, policies that seek, affirmatively, to achieve racial and gender balance in areas such as hiring, contracting and university admissions — has been controversial since it was instituted in the 1960s. It's frequently thought to have originated, in a formal sense, with President John F. Kennedy's Executive Order 10925 and has proliferated throughout American institutions over time. It was controversial at the time of that 2009 debate and it still is, such that in its upcoming term, the Supreme Court will be considering challenges to affirmative action programs at Harvard and the University of North Carolina.
McWhorter: It's time to end affirmative action. Earlier this week the Supreme Court took up affirmative action by agreeing to hear challenges to the admissions process at two US universities. Today [1/28/2022], NY Times' columnist John McWhorter has a piece arguing that it's time to end affirmative action, though he still favors programs that give preference to students based on income. [...] McWhorter makes the column personal by talking about his own daughters. The oldest is still not in high school so they are years away from applying to college, but he says that when they do, he doesn't want the admissions panel judging them based on their skin color.
Biden to Announce Black Female SCOTUS Nominee During Black History Month. President Joe Biden announced on Thursday that Supreme Court Justice Stephen Breyer is retiring after four decades, and his successor will be a black woman, which he will nominate by the end of February. "Choosing someone to sit on the Supreme Court I believe is one of them most serious constitutional responsibility a president has. Our process is going to be rigorous. I will select a nominee worthy of Justice Breyer's legacy of excellence and decency. While I've been studying candidates' backgrounds, I've made no decision except one," the president said. "The person I will nominate will be someone with extraordinary qualifications, character, experience and integrity, and that person will be the first black woman ever nominated to the United States Supreme Court. It's long overdue, in my view. I made that commitment during the campaign for president, and I will keep that commitment," he said.
Wokeness Hits the Upper Echelons of the Air Force. In 2018, a female Special Tactics Officer entered Special Tactics training, where she quit in the first week of dive training. She was then not selected for continued training. In 2019, she returned and retook the course and did not pass again, but higher leadership dictated her selection for Special Tactics officer training. She then went through more training while continuing to quit. She quit in dive training, but the leadership had her retake a more relaxed version of the course. She then quit in the solo land navigation portion of her tactical training. She encountered the physical differences between highly athletic men and women being tested to their limits. In one event, "she just physically couldn't flip the tire," the instructor said. "The team handed her a kettlebell and she just kind of walked behind the team for the rest of the iteration." The officer herself reportedly wrote, "I believe the change in standards invalidated me with a majority of my team ... the cadre [instructors] 'rioted' when they found out the PT test was changing back to lesser standards." Despite her repeated desire to quit — Air Force Special Operations leadership would not allow her to find a different career path. Instead, she began working directly for the commander of Air Force Special Operations Command — where she wrote a report and an Equal Opportunity Complaint resulting in an investigation of everyone who interacted with her. Now, according to the memo, she will return again to retake the Special Operations Course, with instructions from above, that she will graduate, whether or not she meets standards.
Eric Adams picks Keechant Sewell as the first female police commissioner of the NYPD. Mayor-elect Eric Adams has tapped Nassau County Chief of Detectives Keechant Sewell as the first female police commissioner of the NYPD — a stunning, close-to-home pick from a field of seasoned top women cops across the country, The [New York] Post has learned. "I'm here to meet the moment," Sewell told The Post in an exclusive interview Tuesday, just a couple of weeks before she becomes the city's 45th top cop.
The Editor says...
Appointing black females to positions of leadership doesn't guarantee any improvement. For example, the mayors of Chicago, Baltimore, Boston, St. Louis, San Francisco, Atlanta, and Washington DC. What do all those cities have in common? Crime is out of control, the police are either being defunded or leaving voluntarily, election integrity is highly suspect, and taxes are constantly increasing. Somehow there's a widespread perception that in any city where black violent crime is out of control, the only possible solution is to have a black police chief. It just doesn't help.
California Sued Over Law Forcing Appointment of Minorities and LGBT to Corporate Boards. A conservative think tank filed a federal civil rights lawsuit against California to halt a law that will force quotas on publicly held corporations headquartered in the state, requiring them to appoint board members based solely on their race and sexual orientation. The legislation at issue is the fruit of last year's race riots that caused more than $2 billion in property damage and were organized nationwide by Black Lives Matter and Antifa. The lawsuit, National Center for Public Policy Research (NCPPR) v. Weber, was filed on Nov. 22 in U.S. District Court for the Eastern District of California. Defendant Shirley Weber, a radical left-wing academic before entering politics, is being sued in her official capacity as California secretary of state. Until January of this year, the San Diego-area Democrat was a member of the California State Assembly, where she championed AB 3121, a law creating a task force to develop proposals to pay reparations to blacks to compensate them for having ancestors a century and a half ago who were enslaved.
Diversity Is Our Strength. On Monday, [the] Ont Sec School Teachers' Fed, District 20 announced that their rules would be changed so that each non-white union member would have his/her vote weighted more than white members. Here are the slides they used to justify the decision to rank & file.
The Race Swapping in Popular Media Is Getting Ridiculous and the Reasons for It Are Insulting. [Scroll down] Let's run with these two examples and point something out that should be obvious; this isn't about telling a good story, it's about pandering and point-scoring and both are equal parts insulting and racist, and not even towards white people. Firstly, these writers and creators believe they're racking up favor with minority groups when they do this. Why? Because the ideologically social justice-heavy groups they belong to say they are and they're backed up by online social justice mobs who defend them. These are the same social justice mobs who claim to fight the capitalist white patriarchy from their iPhones. They've convinced themselves that decreasing whiteness in popular media and handing it over to minority groups is a morally good thing to do and nothing says you're one of the good guys like thrusting a black actor or character where it makes no sense for them to be so. It earns them praise from their social justice-laden peers.
Meet America's Race Czars: A Shadowy Bureaucracy Deciding Who's "Black Enough" to Get Government Perks. For more than two hundred years, America's vast resources and industrious population amassed the largest pile of wealth in history. Now, the forces that generated that wealth are disappearing, but it is still there for the taking. Everybody is maneuvering to get a piece. What's one of the best ways to carve out a profit for oneself? Easy. Take advantage of America's quiet love of affirmative action. Most Americans do not realize the full extent to which a racially based spoils system is fundamentally embedded in American economic life. They know about affirmative action in school admissions (though many mistakenly believe affirmative action is a "tiebreaker" as opposed to an enormous boost for the recipient). But the racial spoils system in America reaches much further and deeper into the very marrow of our Regime. Countless employers adhere to a racial caste system in order to avoid running afoul of federal civil rights investigators. And especially since last year's "racial reckoning," hundreds of major companies are pledging to hire contractors and make purchases based on skin color instead of simple merit.
Teachers of color win financial support from Minnesota lawmakers. Shad Williams, a second-grade teacher at the School of Engineering and Arts in Golden Valley, looked for a student to call on as they worked through a lesson in February. The state's newly enacted education funding bill includes a "historic investment" in efforts to boost the number of teachers of color in Minnesota, but there were missed opportunities, too, a chief advocate for the cause said Friday. "We're in a deep hole, and it's going to take decades to get out of this hole," said Paul Spies, legislative action team lead for the Coalition to Increase Teachers of Color and American Indian Teachers in Minnesota. A Star Tribune analysis has found that although about one-third of the state's kindergarten through 12th-grade students are nonwhite, teachers of color make up about 5% of full- and part-time teachers.
Why are Mayor Lightfoot's Racial Quotas for Interviews Any Worse than Affirmative Action? Chicago's Mayor Lightfoot announced that she was taking a brief break from running the city into ground to limit interviews to "black and brown reporters". The media has rightfully condemned the move, but I have to ask, "Why?" Lightfoot's move is a cynical culture war distraction. Obviously. But she's doing something racist that has become routine in American life.
[#1] College admissions, employment, and government contracts have long been conditioned on race and skin color.
[#2] There's been a growing push to oust white authors in literature in favor of minority authors. That includes boycott events urging people not to read white authors for a month or a year.
[#3] Vaccine distribution specifically prioritized particular groups for racial reasons in a case of apartheid medicine.
What Mayor Lightfoot is doing is really no different.
Fixing Racism by Being Racist? United Airlines, joining the trio of woke airlines, is not protesting Georgia election law, but their own hiring practices. Aside from wanting to fly the friendly skies, United passengers want competent pilots, those who can safely land a plane when one of two engines explodes as occurred recently on a flight out of Denver. Or Captain Sully's emergency landing on the Hudson River. United's new woke goal states, "Our flight deck should reflect the diverse group of people on board our planes every day." Contrast this to Princeton University, which doesn't want their student body to reflect the American population. Why not simply reflect the best suited for the cockpit or classroom? United has its own plan to fix racism, structural, institutional, or whatever, "That's why we plan for 50% of the 5,000 pilots we train in the next decade to be women or people of color." United passengers will be comforted knowing that the pilots they are entrusting their lives to were selected based on gender or skin color, rather than competence. As Tucker Carlson observed, "Safety is no longer that airline's top concern — identity politics is."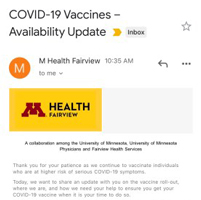 Is Race Discrimination Legal, Or Not? We live in a world in which race discrimination is ubiquitous. Universities, government agencies and all major employers systematically discriminate in favor of some races, and against others, under the banner of "affirmative action." This has been going on for 50 years. And yet, the 14th Amendment's guarantee of equal protection has been applied to ban race discrimination by public entities in a number of contexts. Similarly, the Civil Rights Act purports to bar race discrimination in employment and public accommodations. Such discrimination in employment is nevertheless pretty much universal; see, e.g., United Airlines' recent declaration of its intent to discriminate for just one of many thousands of instances. I have no idea what the operative legal principles are. Here is an example from contemporary America: race discrimination in the dissemination of covid vaccines. This email was sent out by the University of Minnesota Health Services in collaboration with the Fairview health care system. For legal purposes, I take it this is a public enterprise to which the 14th Amendment applies.




United Airlines goes there: vows affirmative action for pilots. Airline pilot is one of those jobs, along with brain surgeon, that used to be used as an example of the type of position for which affirmative action was obviously unsuited. Who wants to board an aircraft or go under the knife with someone in charge chosen for factors other than ability? Lives are at stake, after all. Anything less than the absolute best should be unacceptable. Yet, in this age of identity politics madness, United Airlines proudly proclaimed its intention to choose half of its pilot training recruits based on skin color and X-chromosomes: [Tweet] Uh, no. I won't fly on an airline that prioritizes anything over pure ability when it comes to pilots.

Pilot ability no longer matters to United Airlines, but skin color does. For three months, we've been trying to guess: What is this "equity" that is now our country's main reason for existing? We know it's not the same as "equality," or even closely related. In the name of equity, for example, the Biden administration supports open discrimination against Asian college applicants. They're Asian, therefore they can't get in to school. It's that simple. We used to call that kind of behavior "racism" and had laws against it. Now we call it "equity" and we have laws demanding it. It turns out that racism and equity are pretty much the same thing. Who knew? Here's the latest illustration of the principle, and it comes not from the Biden Administration, but from United Airlines. United used to be a conventional commercial air carrier. It flew airplanes from place to place, most of the time uneventfully. That was the old United Airlines. The new United is very different. It's a combination of a hyper-aggressive corporate HR department, and a left-wing political action committee. The new United is big on moral pronouncements and mandatory social engineering. United has embraced equity.

White males need not apply.
United Airlines roasted on social media for plan to choose pilots by race instead of ability. United Airlines joined other corporations and the US government in making identity characteristics a qualifier for employment. On Tuesday [4/6/2021], the company announced that: "Our flight deck should reflect the diverse group of people on board our planes every day. That's why we plan for 50% of the 5,000 pilots we train in the next decade to be women or people of color." And they invited those who are women or specifically not white to apply to train for work with United Airlines.

United Airlines seeks to train 5,000 pilots by 2030, and wants half of them to be women and people of color. After halting hiring during the coronavirus pandemic, United Airlines is planning to bring on hundreds of pilots and launching a flight school to prepare the next generation for the cockpit. Chicago-based United isn't alone: Frontier Airlines expects to hire 100 pilots this year, and several regional carriers have posted openings. Help wanted ads are an unusual sight after a year that saw airlines, faced with travel restrictions and empty airports, urge employees to take early retirement deals and voluntary leaves of absence. Thousands of workers faced furloughs until the federal government delivered additional aid to airlines keep them on the payroll. But as vaccination rates increase and travelers return to the skies, a pre-pandemic problem is coming back too: a potential shortage of pilots.

The Editor says...
When you travel by air, do you want the best available pilot to fly the plane, or the blackest available pilot?

What you really need to be afraid of when you get in an airplane. Affirmative action has eroded the efficacy of the air traffic control system to an alarming degree. The air traffic controllers' strike in the summer of 1981 was a crisis that the social engineers did not let go to waste. They replaced the PATCO workforce with many of the liberal left's favorites. Let's just say their favorites do not include straight, white, competent, experienced males. However, some level of competence still must be added to the mix; the nature of air traffic control demands it. [...] Now, you shouldn't be blamed for thinking that incompetence would easily be outed and vanquished in an age of black boxes, videotapes, and other gotcha devices. Unfortunately, the responsible are not always fingered, and mostly they are coddled and protected by the same bureaucrats who appointed them to the positions they can't handle. An illustration follows: [...]

Biden's list of judicial nominees leans heavily toward checking one identity box in particular. Identity politics looms large in the list of judicial nominees released by the Biden White House today. Can you guess which identity box is focused on like a laser beam on this list? It's black women. It is as though a call was sent out that only black women will be considered for judicial nominations, with a particular focus on one who may be Biden's Supreme Court nominee, should the opportunity arise. Anytime a Democrat begins talking about diversity and the historic nature of decisions, you know what is coming. The Biden administration doesn't even bother to finesse its blatant sop to a demographic that is responsible for Sleepy Joe's election. Joe Biden won the presidential election thanks to black Democrat women voters. It began in South Carolina with Biden scoring the endorsement of Rep. James Clyburn, a Democrat powerhouse in that state, and went from there. Black women organized support for Biden and got out the vote for him across the country. Now it's payback time.

Coca-Cola to Only Hire Law Firms That Meet Quota for Black Lawyers. Coca-Cola has revealed its new diversity policy that includes only hiring law firms that meet their quota for black attorneys. This year, the company is implementing the diversity quota for the outside counsel it retains. The soft drink giant says it will now only hire law firms that commit to providing 15% of billed time from black attorneys, higher than the percentage of African Americans in the United States population.

Will BLM cancel MLK? The left argues that people who value these traits do better in the game of life — and they do — and that those people tend not to be the left's favored flavors of skin colors. Therefore, these traits are bad and must be de-legitimized. The de-legitimizing process begins with branding. Traits for success are branded "white privilege." Forget that it is not just whites who value these traits. The phrase "white privilege" has a nice ring to it. Then they attack the traits themselves. A key trait under attack is the notion of merit. In colleges, the left bans objective measures of academic achievement. In college admissions, for example, the SAT gets canceled because too few of the right kind of minorities do well on it. Colleges that continue to use the SAT have different cutoffs for different races. At Harvard, the average SAT scores of accepted blacks is 300 points lower than average scores of accepted whites and 450 points lower than accepted Asians. Even high schools are phasing out testing, or specifically discriminating against whites and Asians. Most thought this foolishness would be limited to academia, because it doesn't work in the real world. A business that refuses to reward employees for merit tends to see less merit. A business that sees less merit in its employees sees less profits. But now the madness has metastasized. Everywhere, "merit" is increasingly seen as a codeword for "white." But if merit is canceled, what replaces it in deciding how to allocate society's rewards? Race, that's what.

White Cincinnati police sergeant sues city, accuses department of hiring 'discrimination'. A Cincinnati police sergeant is suing the city, alleging discrimination against a white officer seeking a promotion. In response, the federal government may reopen a consent decree that has informed the department's hiring policy for roughly 40 years. But Cincinnati Mayor John Cranley is fighting the potential change to that hiring policy, saying that, without the decree, Cincinnati Police Chief Eliot Isaac may have never been hired in the first place.

A Tsunami of Hate. [Scroll down] To be fair, there are two main areas of systemic racism in America today, but both are supported and enforced by the Democrat Party, which is why they exist. The first is the systemic racism that traps inner city children — mainly ethnic minorities — in inferior schools that for fifty years and more have failed to provide 80 percent of them with the skills that are necessary to succeed. [...] The other nationwide systemic racism is affirmative action programs which discriminate against all ethnic groups but those designated "oppressed" — a convenient leftist fiction used to justify all manner of injustice. If you're black or Pacific Islander or Hispanic, go to the head of the line for a job, a promotion, a place at Harvard, a coveted training position to become a surgeon or other medical specialist. If you're white or an ethnic minority whose community supports educational values and scores well on exams, like Asians, forget that place at Harvard, you're screwed.

The Griggs Decision and Affirmative Action. Griggs v. Duke Power Co. does not have the name recognition of Roe v. Wade or Brown v. Board of Education, but it is nonetheless one of the most consequential decisions ever rendered by the U.S. Supreme Court. As we approach the 50th anniversary of the case, which was handed down on March 8, 1971, it is worth reflecting on its impact — first, in moving American racial policy from civil rights to affirmative action and second, in its unintended effect of increasing the demand for college degrees and thus raising the cost of and dependence on university education. At issue in the Griggs case was the legality of employment tests that Duke Power Company administered to its job applicants. Employees hired into service jobs at the power company were required to possess a high-school diploma and achieve a minimum score on an intelligence test. The tests were professionally developed and the company had no intention of discriminating against any applicant. Nevertheless, the Supreme Court ruled against Duke Power, holding that even a facially neutral employment test could be illegal if it had a "disparate impact" (that is, if significantly more minority than white applicants failed).

CEOs are driving an initiative to hire [and] train 1M Black workers over next 10 years. On this year's anniversary of Martin Luther King Day, corporate America is stepping up its commitment to promoting and advancing diversity. Just last week, Apple unveiled a series of new racial equity and justice projects as part of a $100 million investment announced in June 2019 to help combat racial inequality. [...] The program is specifically geared towards skilled individuals who do not yet have a four-year degree who are seeking careers with advancement opportunities and greater economic mobility.

The Editor says...
Let the hiring begin. But you must be black! And after you get your new job, you can take pride in the fact that you were only hired because of your skin, and not because you are a "skilled individual."

Biden Pushes Idea of Discriminating Based on Race, Sex in Stimulus Plan. In detailing his plan for a multitrillion-dollar relief package to address the COVID-19 pandemic and keep the economy afloat, President-elect Joe Biden said he would prioritize everyone except for white, male-owned businesses. "Our focus will be on the small businesses on Main Street that aren't wealthy and well-connected and that are facing real economic hardships through no fault of their own," he said during a news conference in Wilmington, Delaware. "Our priority will be on Black, Latino, Asian, and Native American-owned small businesses, and women-owned businesses, finally having equal access to the resources needed to reopen and rebuild," he continued. "We will make a concerted effort to help small businesses in low-income communities, in big cities, small towns, and rural communities that have faced systemic barriers to relief.

San Francisco Proves It's In Full Societal Regression by Embracing Pre-Civil Rights Era Methods. San Francisco apparently forgot that we in America judge people by the content of their character, not by the color of their skin, but the radical left that has taken over the city has long abandoned the idea that virtues we've learned over the past decades mean anything. According to a press release by San Francisco Mayor London Breed, money is to be distributed to struggling businesses across the city. The catch? Priority will be given to businesses according to race and sex.

Who Is to Blame for Black Poverty? The evident theme for Joe Biden's [cabinet] picks has nothing to do with whether his picks are actually qualified for their postings. Rather, that must check off the appropriate victim identity group box: female, Black, Hispanic, gay, trans, or (Jackpot!) a combination of two or more, where being a black Hispanic lesbian is the pinnacle of the victim hierarchy.

'Vote Reparations': Law School Prof Says Black Ballots Should Count Twice. In case you haven't figured it out yet, so-called "social justice" efforts aren't aimed at righting ongoing wrongs of "systemic" inequality and racism because they don't exist. Rather, those efforts are designed to enact official policies aimed at achieving vengeance against white people in America for things literally none of them have done to persons of color, ever. Accepting that will help you understand such blatantly racist 'recommendations' that are supposedly designed to bring about 'equality,' when really they're just designed to cancel out the white majority (many of whom already vote with the left as it is). Writing in the leftist bible The Nation, Brandon Hasbrouck, an assistant professor at Washington and Lee University School of Law, actually proposed allowing black votes to count twice as a means of enacting "vote reparations." Not even kidding.

He isn't kidding. This isn't satire.
The Votes of Black Americans Should Count Twice. Black votes in this country are worth less than white votes. Joe Biden won the Electoral College because Black voters in Atlanta, Detroit, Milwaukee, and Philadelphia turned out in significant numbers. But even with overwhelming Black support — 94 percent of Detroit voted for Biden! — the outcomes in Georgia, Michigan, Wisconsin, and Pennsylvania were worryingly close. One core problem is the Electoral College. Wyoming, which has just 580,000 residents and is 93 percent white, gets three electors because of its two senators and one representative in the House. By comparison, Georgia's Fifth Congressional District — which includes Atlanta, has 710,000 residents, and is 58 percent Black — has no dedicated electors or senators and can only occasionally overcome the mostly white and conservative votes from elsewhere in the state. This devaluation of Black votes allows our political system to ignore Black lives, and the consequences are devastating.

The Editor says...
Incremental changes made by the left can only go in one direction. If black voters are allowed to vote twice next year, they will never be restricted to a single vote ever again. And as soon as the rest of the country gets used to the idea, the black voters will be allowed to vote three times each. Then four. Then, why not ten? After that, why not allow only blacks to vote?

California Secedes from Black America. [Scroll down] Proposition 16, which would have allowed for favoritism of nonwhites in public employment, education, and contracting, lost by a wide margin. Yet the backers of Prop. 16 outspent the opposition $30 million to $2 million. And what a list of backers it was! The California Democrat Party and every Democrat officeholder in the state championed Prop. 16, as did every major newspaper. Every leftist "social justice" organization — the ACLU, NAACP, NOW, the ADL, BLM, even the Sierra Club and the PTA — backed Prop. 16. So did the Chamber of Commerce, Twitter, Facebook, Netflix, Microsoft, Uber, Dropbox, Reddit, Lyft, Yelp, AirBnB, Instacart, Gap, Levi's, United Airlines, Wells Fargo, the 49ers, the Giants, and the Oakland A's. Soros backed it. The Chan/Zuckerberg Initiative backed it. Ava DuVernay backed it. Kaiser, Blue Shield, and PG&E backed it. All those heavy hitters. All that money, and in a "blue state" no less. And yet... it wasn't even close. The big bucks, the big endorsements, the push from big business and big tech, came to nothing.

Nasdaq Requirements Erase Women, Requires Companies to Hire Director Who 'Self-Identifies as Female'. Nasdaq has moved to erase the reality of biological women in its quest to increase diversity in its thousands of listed companies, requiring them to include a director who only "self-identifies as female." In a Monday [12/1/2020] press release, Nasdaq announced that it had "filed a proposal with the U.S. Securities and Exchange Commission (SEC) to adopt new listing rules related to board diversity and disclosure."

Nasdaq Seeks Mandatory Board Diversity for Listed Companies. Nasdaq is pushing for the more than 3,000 companies listed on its U.S. stock exchange to make their boardrooms less overwhelmingly male and white by hiring directors that better reflect the country's diverse population. The company filed a proposal Tuesday with the Securities and Exchange Commission that, if approved, would require all companies on the exchange to disclose the breakdowns of their boards by race, gender and sexual orientation. Companies that do not comply could be delisted, or kicked off the exchange.

Democrats fight over who should serve as Biden's Agriculture Secretary as influential party members push for black Congresswoman to be picked. A fight is breaking out among Democrats over who Joe Biden should pick to be his Secretary of Agriculture. The president-elect has yet to appoint the person who will head up the Agriculture Department, which oversees various agencies including the United States Forest Service, the United States Food Safety and Inspection Service, and the Food Stamp Program. South Carolina Rep. James Clyburn -- who is widely seen as playing a crucial role in Biden's Democratic primary victory -- told The New York Times on Thursday that Biden should name Ohio Rep. Marcia Fudge to the powerful position.

The Editor says...
Pre-selecting the race and gender of an employee before reviewing the candidates' qualifications is racism and sexism. Some people call it "affirmative action," if it precludes white males, but it's still racism and sexism.

First all-Black NFL officiating crew to work Monday Night Football game. The NFL has assembled an all-Black officiating crew for the first time to work Monday night's game between the Los Angeles Rams and Tampa Bay Buccaneers, citing the opportunity to recognize the league's history and recent practices in diversifying its officiating department.

The Editor says...
If you really care what color the officials are at a football game, you might be a racist.

This used to be called a minority hiring quota.
CBS pledges Survivor, Big Brother casts will now be 50 percent people of color. CBS announced a new diversity pledge Monday that will have a visible impact on its staple of reality shows: All future casts will contain at least 50 percent Black, indigenous and people of color. That means hits like Survivor, Big Brother, and Love Island will be far more diverse starting with the 2021-2022 season. "The reality TV genre is an area that's especially underrepresented, and needs to be more inclusive across development, casting, production and all phases of storytelling," said George Cheeks, president and chief executive officer for the CBS Entertainment Group. "As we strive to improve all of these creative aspects, the commitments announced today are important first steps in sourcing new voices to create content and further expanding the diversity in our unscripted programming, as well as on our network."

The Editor says...
What a relief! Until now, there haven't been any minorities on television, except on every "entertainment" program, every newscast, every movie, and in every commercial break.

How California Is Turning Into a State Governed by Identity Politics. If you thought racial identity politics were just a fleeting flirtation of the radical left, California's new laws suggest otherwise. On Sept. 30, California Gov. Gavin Newsom signed into state law a bill setting up a nine-member board to study the amount of reparations that should be owed to black people for slavery and Jim Crow. [...] But that's hardly the only racially divisive law California has passed this year, since the Legislature convened in a coronavirus-racked session in June. The same day, Newsom signed a bill to establish diversity quotas on corporate boards for racial minorities. Corporations with between four and nine board members will now be required to have at least two racial minorities, while corporations with more than nine board members will be required to have at least three represented.

California imposes racial quotas on corporate boards. California's legislature is mandating racial quotas for corporate boards. "Experts say" that "runs afoul of constitutional principles," according to the Wall Street Journal. "New legislation passed over the weekend would mandate that publicly-traded companies headquartered in the state must have at least one director from a minority community by the close of 2021. There are more than 500 public companies based in California in the Russell 3000, which accounts for the vast majority of companies."

'Social Justice' Is Extortion. The Mafia is not as good at extortion as "social justice" activists. Feminists and race activists have successfully invoked moralism to demand preferences, special benefits, and power. The legal cover for this extortion comes in the form of "affirmative action" and "diversity." Feminists, under the guise of "equality," have striven to replace men and dominate in their place. In this, they have been largely successful. [...] While they claim the high ground of "social justice," they are quite ready to use their power against men. Accusations of "sexual harassment" or "rape" are sufficient, without evidence, to "cancel" a man. Do not dare to deny a female whatever she wants, for a scorned female will cancel you.

Illinois district includes students of color in groups with first chance at in-person learning: report. A suburban Chicago school district has said students of color will get the first chance to return for in-person learning when schools reopen, citing "a pandemic" of "inequity and racism, and classism" that preceded COVID-19. Because District 65, which includes students from Evanston and Skokie, won't force teachers to work on-site, school buildings may not be able to accomodate all students who would like to come back to their classrooms. In that event, Superintendent Devon Horton reportedly said, the district would give priority to "Black and Brown students," and others it considered to be "marginalized" or "oppressed."

There's a reason racial tension is rising in America - it's by design. In California, Democrats are moving to repeal Proposition 209. Proposition 209 explicitly bans racial discrimination in hiring and education. In other words, Democrats in California are now fighting for discrimination. This is not considered strange in 2020. No one even mentions it. A couple of weeks ago, Gov. Andy Beshear of Kentucky announced plans to bring universal health insurance to his state, but not for all citizens, just for people with the right skin color. Everyone else would pay, but only certain ethnic groups would benefit. Andy Beshear is still in office. No one has tried to impeach him for suggesting this because ideas like this are everywhere now. They're totally unchallenged. This is the most divisive possible way to run a country. If you wanted to make certain that your children would hate each other, you would hold them to different standards, and they certainly would. There is a reason that racial tension is rising in this country — it's by design.

Facts Matter, Too. First, the corrupt cabal of anti-American progressives and anarchists are trying to paint the narrative of "white privilege," and they are using a very impressionistic style. Maybe there are a few vestiges — we mostly made America, after all — but white Americans are about as benign a ruling majority as you'll get. [...] There really isn't that much white privilege in the workplace, either. Wherever I look, I see huge human resource efforts to hire and promote minorities. Racism may exist in isolated pockets, but it's hardly institutionalized; conversely, reverse discrimination masquerading as affirmative action is institutionalized. Indeed, minorities are sometimes hired because they are qualified for training, rather than simply qualified.

Systemic Racism and Bigotry Are the Lifeblood of the Left. Fifty years after "Affirmative Action," we now are in the third generation; that should be more than enough time to shift any imbalances. [...] Fifty years of government programming to offset imbalances is ample. With Affirmative Action, many Americans in newly burned-out neighborhoods now can look outside the window and see what it has wrought. Fifty years of correcting an imbalance. Fifty years of assuring that goals and timetables have been met. Fifty years of college and graduate school degrees. Fifty years of government programs, government loans, government food assistance, government housing programs. Fifty years, paid with taxes collected from the "Haves" on all sides of the spectrum. Fifty years of systemic largesse. If you live in Minneapolis, Chicago, St. Louis, or even down the block from Macy's at Herald Square — look outside the window. The only racism in America that is systemic — deeply ingrained into the system — is on the left. It is so disgusting that it is hard even to speak about it.

Affirmative Action: The Systemic Racism No One Wants to Talk About. Some Americans are discriminated against because of their race, but it is not who you think. The clearest definition of "racism" is treating people differently according to their race. Systemic or institutional racism is racism "expressed in the practice of social and political institutions." Many American policies and laws are designed to ensure that people of all races, creeds, ethnicities, genders, and sexualities are treated equally, such as the Sixth Amendment, guaranteeing the right to "a fair and speedy public trial by jury," the Thirteenth Amendment, abolishing slavery, the Fifteenth Amendment, prohibiting the denial of the right to vote based on race, the Nineteenth Amendment prohibiting the denial of the right to vote on the basis of gender. President Kennedy's Executive Order 10925, following up similar earlier orders by Presidents Roosevelt and Eisenhower, required government contractors to "take affirmative action to ensure that applicants are employed and that employees are treated during employment without regard to their race, creed, color, or national origin."

Race-based discrimination is okay again!
Uber Eats stops charging delivery fees to black-owned restaurants. Uber said it will make changes to its ride-hailing app and Uber Eats delivery service to support black-owned businesses. In an email to customers late Thursday [6/4/2020], CEO Dara Khosrowshahi said Uber Eats will promote black-owned restaurants on its app, and that the service will not charge delivery fees to those restaurants "for the remainder of the year." Uber will also offer discounted rides to black-owned small businesses "who have been hit hard by COVID-19," though it did not add how much of a discount would be given.

California Revives Affirmative Action. On May 5, just a day after the California Legislature reconvened, an assembly hearing was held for the controversial Assembly Constitutional Amendment NO. 5 (ACA-5) in the Committee of Public Employment and Retirement. With a long session of contested public comments over the phone, ACA-5 was passed with a 6-to-1 vote under the moralistic appeal of "hope for all." While purporting to increase diversity and representation, ACA-5 fails to meaningfully address structural issues behind achievement gaps and racial discrepancies for both political and philosophical reasons. Instead, the bill proposes a statewide reinstitution of government preferences in public employment, education, and contracting along rigid racial lines. The utopian and myopic scheme, wrapped around feel-good rhetoric with a steep price tag, will not only fall short of establishing long-lasting diversity, but can further compromise true equality and the merit-based principle, both of which are bedrocks of American democracy.

The Law That Ate the Constitution. The Civil Rights Act passed under President Lyndon Johnson was meant to address an emergency situation that most Americans, even most white Americans, recognized as a national disgrace. Over the following decades, those emergency measures would be revealed as a permanent apparatus combining "surveillance by volunteers, litigation by lawyers, and enforcement by bureaucrats." Civil rights offered "new grounds for overruling and overriding legislatures and voters on any question that could be cast as a matter of discrimination. That was coming to mean all questions." If you doubt the infinite adaptability of civil rights to any subject under the sun, consider the multifarious uses to which it has been put. [...] There are pavilion-sized homeless encampments on the streets of Los Angeles, employers can hire illegal immigrants with relative impunity, gay marriage is the law of the land — all because of civil rights law, directly or indirectly.

The Black Vote as Progressives Imagine It. Take Affirmative Action, for example. In theory, an overwhelming number of black voters support affirmative-action programs for minorities (though, according to Gallup, that number has declined while support has increased dramatically among whites). And when you drill down into the specifics, the policy becomes markedly less popular among African Americans. When Gallup surveyed the landscape, following a 2016 Supreme Court case that affirmed the constitutionality of using race and ethnicity to make college admissions decisions, non-Hispanic blacks were by far the most hostile toward the decision. Only 35 percent approved of the ruling. Fifty percent disapproved of colleges using admissions criteria that were not based on merit alone. Fifty-seven percent said race and ethnicity should not be admissions factors "at all." The Pew Research Center confirmed that this apprehension was not limited to college admissions. When asked if "companies and organizations" should take race and ethnicity into account when making "decisions about hiring and promotions," 54 percent of African-American respondents said no.

We dodged a bullet with Romney. Since before the 70's the majority of jobs in the US came via the private sector, Civil Service was a safe choice for a steady paycheck, but unlike the private sector, you could't count on bonuses or raises for doing a good job, no, you were essentially guaranteed a life time position as long as you just showed up. All that began to change in the 60's when JFK broached the subject of Affirmative Action (AA) and LBJ instituted it, by the early 70's AA was the new tool to further divide America. I personally remember trying to start a career as a fireman, but when I went for testing I was told their quota of white men was full, that if I wanted to change my last name to that of Mexican, (interviewers words not mine) I could register. I'm not kidding, this was the Sacramento Fire Dept, not even a Federal entity, the policy was being based solely on your name, because not all Hispanics looked like Mexicans, but it never was about helping people, it was all about oppressing the American way of life, where making your own way based on merit and hard work was being systematically destroyed.

The Real Tyranny in Government Affirmative Action Cases. On November 29, multinational tech company Oracle filed suit in the United States District Court against Secretary of Labor Eugene Scalia and Office of Federal Contract Compliance Programs (OFCCP) Director Craig Leen. The complaint alleges the OFCCP's enforcement and adjudication protocols violate the Constitution, the Civil Rights Act of 1964, and the Equal Employment Opportunity Act of 1972, among other things. Secretary Scalia should concede Oracle's claims. Scalia should overhaul OFCCP's procedures to align with due process. And President Trump should direct other executive agencies to ensure their enforcement practices comply with procedural due process. The time is long overdue to question the administrative tyranny that earmarks our regulatory state by combining legislative, executive, and judicial powers in a single authority.

Why Our Politicians Do Not 'Look like America'. To the perennially triggered political left, everything is just "too white" when it comes to men in positions of power — or anything that involves them having a high net worth or salary. Gripes and fashionable hashtags about Hollywood so white, sports team owners so white, and Fortune 500 CEOs so white are some of the most prominent examples. But most of all, leftists really despise that the clear majority of state and federal level politicians are white. Seeking some unattainable Utopian fantasy world, some of them believe the occupiers of such jobs should start to look "more like America" as a 2018 article from the Washington Post lamented.

Affirmative Action and NASA. In the 47 years since the last man set foot on the moon, the space program has changed a great deal. One of those changes has been incorporating mandated affirmative action policies. These policies have had an incredibly negative effect on both the progress in the space program and the engineers whose careers have been destroyed by them. The federal government mandates that a given percentage of work on a government contract go to minority-owned businesses. When building a large and complicated system like a space vehicle, it is almost impossible for a company like Boeing or Lockheed to meet this requirement by hiring out specific design work to small, minority-owned companies. Even if that were feasible, those companies do not exist. Enter subcontracting companies. A subcontracting company is owned by someone of the appropriate race or sex to fulfill the quotas established by the government funding requirements.

How Trump Can Use Racial Resentment to Get Reelected. Affirmative action is profoundly corrupting, the refreshingly honest host of The Glenn Show observed, because lowering the bar for blacks means they don't have to meet objective standards of competence that are necessary independent of one's race. In consequence, blacks not only need not develop or demonstrate sufficient merit; society as a whole suffers, people who aren't necessarily qualified, or anyway, less qualified than others, getting into schools and getting jobs simply because they are the right (underperforming) race. [...] A distinguished academic doctor told me recently that, while nobody in medicine, for obvious reasons, wants to be known for doubting the competence of minority doctors, some of whom get into medical school because of affirmative action, there are nevertheless many doctors who perceive the relative underperformance of minority doctors in medical school and in medicine generally. Similar stories are often heard these days among lawyers, although they too are anxious to protect themselves from accusations of "racism."

The Left's Madcap Social Engineering. Today's Democratic candidates for the 2020 Presidential election are pushing all types of social engineering: Medicare for all, basic income, affordable housing, reparations, and climate change. But control is the central motivation behind the Progressive Wizard's curtain. Two other powerful examples of social engineering are affirmative action and victimization. These two are the gateway to all other forms of social engineering. They are based on an assumption that minorities, particularly black Americans, are forever discriminated against, and are and will forever be victims of said discrimination.

Invade, Invite, Implode. This absurd policy of awarding racial preferences over whites to immigrants as soon as they step off the jetliner provides a financial incentive that unites immigrant politicians with blacks to continue to exploit whites. The obvious proof of this is how South Asians got themselves removed from the government's Caucasian category forty years ago so they could qualify for minority business development preferences, and how West Asians talked the Obama administration into removing them from the white category in early 2019. (Fortunately, Obama dawdled long enough on this that Trump could put it on hold.) If America didn't legally privilege nonwhites, there wouldn't be so much incentive for racial activists to demonize whites to guilt-trip them into continuing to submit to legal discrimination.

Marianne Williamson details plan to pay up to $500 billion in reparations for slavery. Democratic presidential hopeful Marianne Williamson on Wednesday [8/7/2019] laid out more details in her plan to pay out financial reparations for slavery in the U.S., saying a council made up of black leaders should oversee a payout of between $200 billion and $500 billion. "When it comes to paying reparations for slavery, on an emotional, psychological and spiritual level, we cannot afford not to," said Ms. Williamson, an author and self-help expert. [...] Ms. Williamson called for setting up a council made up of between 30 and 50 members who are descents of slaves who have a scholarly, cultural or political connection to the issue of reparations.

The Editor says...
In other words, Ms. Williamson, in an effort to buy votes with someone else's money, is setting up a slush fund that will distribute taxpayers' funds, based on the recommendations of a committee in which even Ms. Williamson would not qualify to participate. And the need for this half-trillion-dollar handout is based entirely on her psycho-babble assessment about how this issue "will continue to haunt our psyche" if it isn't addressed. It is all nonsense, to put it politely. If you can prove that you were a slave prior to the Emancipation Proclamation of January 1, 1863, then you, not your heirs and descendants, should be compensated. Otherwise, get over it and move on. Or, you could return to Africa and live with the descendants of the people who sold your ancestors into slavery. Be sure to tell us how that works out.

DCCC in 'complete chaos' as uproar over diversity intensifies. The Democratic Congressional Campaign Committee is in full-blown turmoil. Democratic Congressional Campaign Committee Chairwoman Cheri Bustos (D-Ill.) was set to make an unplanned trip to Washington from her district Monday amid an outcry from top black and Latino lawmakers over a lack of diversity in the campaign arm's senior management ranks. [...] Politico reported last week that black and Hispanic lawmakers are furious with Bustos' stewardship of the campaign arm. They say the upper echelon of the DCCC is bereft of diversity, and it is not doing enough to reach Latino voters and hire consultants of color.

Out of power, out of ideas, and with no goodies to dispense, Democrats turn on each other. Democrats are turning on each other. Out of money, out of ideas, zero accomplishments, and with no goodies to dispense, they are now moving into a full-blown hatefest against one other. Alexandria Ocasio-Cortez and her squad, it turns out, were just the least of House Speaker Nancy Pelosi's problems. [...] So it's not about winning, it seems, it's about winning with the right color of people on staff that's what's important. As if one person could perform the job as well as the next one, so get the chocolate box right. This is some amazing bean-counting, focused less on actual winningm which would mean more black and Latino seats in Congress, than it is on the meta-process, on how the winning is done. This is how far-left splinter groups, turning inward on themselves, behave. Far-left communist groups always spew their biggest rage on internal dissenters, which is one reason why they never get anywhere in politics, they are always focused very intensely upon themselves.

The American Left Is Racist, Not President Trump. It is not racist to explain that affirmative action was an indulgence we could afford when "protected status groups" only comprised 10 percent of the population, but now is something that will destroy our institutions when "protected status groups" comprise more than half the population. It is not racist to assert that the racist use of racial quotas in hiring, promotions, academic admissions, and contract bids, will exclude the more qualified in favor of the less qualified, sowing bitterness and cynicism into the hearts of everyone affected by it, at the same time as it undermines the capacities of every school, business, and government agency in America.

Knicks feel their black front office helps in free agency. Knicks president Steve Mills indicated having a pioneering predominately black front office will help the team in the upcoming free agency. "The African American front office, that doesn't get lost on guys," Mills said in an article published Tuesday on The Undefeated, which deals with race issues. After getting the job when Phil Jackson got canned, Mills hired GM Scott Perry, who is black, and player developmental director Craig Robinson, the brother of Michelle Obama. Also hired after Jackson's firing was director of player personnel Harold Ellis and college scouting director Gerald Madkins. Both are African American.

The Dems' 2020 Election Strategy. [Scroll down] We know that Indians, or whatever Elizabeth Warren wants to be called, got the shaft a few centuries ago, but we gave them casinos, so both sides smoked a peace pipe and called it even. And we know that Africans got the shaft half a millennium ago — shafted by their own people in Africa who sold them into slavery and bondage for rum, so now should be paying reparations from that rum money with 500 years of interest compounded quarterly, and then the Africans got shafted when they got here. We know that, somewheres around fifty years ago, the Great Society decided to make amends somehow by changing rules so that fairness would balance out by giving the shaft to everyone else. So we paid increased taxes to provide welfare like crazy, food stamps, paying even more money each time the mother had another kid, and even more money if the father abandoned the family — and we topped it off with racial quotas that we called "Affirmative Action".

Lowering their standards for the sake of racial preferences:


Hoping for more diverse candidates, Hennepin County no longer requires master's degree for its library director. State law for decades has placed the director of Hennepin County's massive library system on the top shelf. Lawmakers decided nearly 40 years ago that Hennepin should be the state's only county where applicants for the top library job needed a master's degree in library and information science. But recent efforts to recruit a new Hennepin library director found the law resulted in a limited pool of candidates with little diversity.

Multiculturalism Is a Nation Killer. The advocates of affirmative action hiring in the name of diversity almost never seek to hire whites where there is a preponderance of minority employees. Diversity is only good when it means hiring minorities in white-dominated situations, not the other way around.

Scholastic Meritocracy. Since 1965, Executive Order 11246 stipulated that the United States would, "hire without regard to race, religion and national origin." Affirmative Action, as this practice came to be known, stood to benefit minority groups following the Civil Rights Movement. Unfortunately, Affirmative Action, as we've come to know it, has been systemically perverted. Colleges and universities don't want to fill the slots of their prestigious halls with the most qualified African Americans. Instead, they seem to want to reserve their minority quota for the least qualified!

Money in the Toilet — The Billion Dollar Cost of Public Bathrooms. The fastest rising item in the country isn't gold or bitcoin, it's the cost of a public bathroom. In '08, a San Francisco Weekly article fumed that a park restroom in Golden Gate Park was costing taxpayers $531,219. Fast forward, a decade later the cost of a park restroom in the Golden Gate Boathouse had ballooned to $2 million or $4,700 per square foot. The modern bathroom had a third All-Gender option that the '08 bathroom didn't. But adding a non-gender shouldn't have quadrupled the price. Inflation would have kept the cost well below a million. Why did a 15-foot by 28-foot bathroom cost millions? Part of the answer may be that San Fran privileges minority businesses and requires that 15% of work hours be carried out by "disadvantaged" workers.

If There's a Hair in Your Soup, Thank New York's Commission on Human Rights. [Scroll down] New York City had long ago rolled through the usual spectrum of legal protections for everyone from ex-cons to transgender men. And the Commission has been desperately concocting new legal protections. Its latest initiative declares that employers, including in the health care and food service industries, may not prevent employees, regardless of race, from wearing dreadlocks because that's racial discrimination. The Commission's new guidelines insist that employees have "the right to keep hair in an uncut or untrimmed state." Schools, public and private, are also forbidden from banning dreadlocks.

Yes, I Am a White Male — Deal With It. Just as I happened to miss the entire NFL season again this year, I recently missed the Stacey Abrams Show that followed President Trump's marvelous State of the Union (SOTU) speech two weeks ago. [...] Interesting, isn't it, that the Democrat party, with free national television time on all the networks, selected the Ungovernor of Georgia. [...] Unguv Stace was chosen because (i) she is Black, not White; and (ii) she is female, not male. In other words, in the world of Democrat Intersectionality, she was born with two points, and all she needs is someday to convert to Islam, find Navajo, Iroquois, or Asian blood, and to express doubts about her gender identity, and she will be moved from the Pelosi Speakers' Bureau to head their list of future Supreme Court nominees.

Winning games may be important, but to some people it isn't as important as the color of the coach.
With 4 Black Head Coaches Likely Losing Their Jobs, NFL Could Have a Problem on Its Hands. The NFL could be on the brink of a battle with the Fritz Pollard Alliance, a diversity group that advocates for minority candidates to get NFL head coaching opportunities. On Monday, three black NFL coaches are expected to be fired — Steve Wilks (Arizona Cardinals), Todd Bowles (New York Jets) and Vance Joseph (Denver Broncos). And on top that, another black coach, Hue Jackson, was fired by the Cleveland Browns earlier this season.

Poll: 6-in-7 GOP Voters Say Minorities Favored over White Americans. Polling analysis from the Pew Research Center reveals that the overwhelming majority of Republican voters in the recent midterm elections, 85 percent, say the U.S. today favors minorities over white Americans. Only 11 percent of GOP voters said white Americans are favored over minority groups. On the opposite end of the political spectrum, 87 percent of Democrat voters in the midterm elections say white Americans are favored in the U.S. over minorities.

The Saddest Election Ever. The right has started to employ the left's language to push its agenda. For example, when rightists who have a national stage (in the U.S., and perhaps more so in Europe) oppose Muslim immigration, they do so by stressing how "homophobic" Muslims are, or how Islam is offensive to "feminist values." Mentioning race or demographics is forbidden. The right is allowing the left to dictate the parameters of permissible discourse, and many rightists only feel comfortable if they can state their case in a way that appeals to the delicate ears of leftists. "Affirmative action is bad because it's racist! It discriminates against Asians!" Can't we just say that it's bad because it corrupts basic notions of merit and takes away the freedom of employers to hire the best candidates? No, we still have to act as if no issue has value unless it alleviates the suffering of "people of color."

Now the Uptight Left Wants to Destroy Victoria's Secret. Victoria's Secret is under withering fire from the uptight left over its lack of "representation." This is not about race, creed, or color, mind you. This is about Victoria's Secret not putting transgenders and plus-size models in its lingerie catalog and fashion show.

Brenda Snipes, idiocy and how to destroy the electoral system. Firing Miriam [Oliphant] was not easy for Gov. [Jeb!] Bush despite the obvious need to do so, and the Democrats' reaction threatened to paralyze the state government. He actually stated his intention to keep her in January of 2003, and sacked her in November of that year, after accepting the condition imposed by the Democrats that whoever was appointed to replace her had to be a black Democrat woman. Seriously. No kidding. That became the litmus test to be appointed as Supervisor of elections in Broward. Not the best person. Not a qualified man woman or in-between. A black, Democrat, woman. And the one Black Democrat woman the Democrats shoved down Gov. Bush's throat to allow for the removal of the unbelievably incompetent Oliphant was... This school principal from Pompano Beach with no experience, no intelligence and no qualifications except her loyalty to the Party: Brenda Snipes.

Man claims to be a minority business owner after DNA test shows he's 4% African. An insurance agent claims he should qualify as a minority business owner, because a DNA test shows he's 4 percent African — enough, he believes, to make him "a certified black man." Ralph Taylor knows on the outside he looks like an average white guy, but he is trying using the results from his AncestryByDNA test to bolster his business in Lynnwood, Washington. "I've always known that I'm multiracial," the 55-year-old declared to the Washington Post. The 2010 test showed that he's 90 percent European, 6 percent indigenous American and 4 percent sub-Saharan African.

A Perfect Storm Threatens America's Survival. With identity politics cloaked in the guise of diversity, is there room for competence? Federal and state grants come laden with various demands for diversity. Businesses and government institutions find themselves saddled with vice presidents and directors of diversity. Universities have indoctrinated their students with diversity to the point where white males are now under direct assault throughout our society. The diversity purge is a threat to fundamental excellence in major businesses and institutions. [...] Whatever happened to the notion of the best and most qualified person for the job? How is identity politics helpful to our country? It's not. It's damaging. It's a Democrat thing. Any fool can see this.

America's Delusional Self-Destructiveness. American universities and corporations now spend millions of dollars on implicit-bias training, even though the concept is sheer superstition. From Harvard and Stanford to high-tech corporations such as Google and Apple, employers go out of their way to hire people because they are female, or black, or Hispanic, and so on. Such persons may or may not be competent, and it goes without saying that if identity politics is the sole or primary criterion for employment, then they will probably be incompetent. Nevertheless, as Heather Mac Donald has documented, the "equal representation" is rapidly increasing, and universities and corporations are becoming more precise in their implementations of the aim. Meanwhile, as we level ourselves down in the name of equality and diversity, China graduates four times as many STEM bachelor degrees as the United States and twice as many PhDs. A ruthless meritocracy, China does not lead students to believe things like affirmative action and implicit bias will compensate for their own inadequacies. Rather, the Chinese must accept fierce competition as a matter of course. Owing to affirmative action, American universities admit black students at about the same rate as white students. But the graduation rate for black men six years after matriculation is only 40 percent, compared to 70 percent for Asian men and 62 percent for white men. It is time to end affirmative action, hiring quotas, and all such forms of self-destructive generosity.

Keywords: Can't be fired, sacred cow, untouchable, token two-fer.
California DMV Employee Sleeps 3 Hours a Day on the Job, and There Are 1,480 Like Her. The worker, a data operator who should have averaged 560 documents a day while updating information on address changes and new vehicle ownership forms, only completed 200 a day, leaving others to do her work. Colleagues also revealed in the report that the employee's work was usually filled with mistakes. A Supervisor said prior supervisors didn't write her up properly. They finally did write her up after much urging in March 2018, but she was only given a warning. The audit recommended action be taken against the supervisors who didn't do their job. As a result, they were given some training. Training is always the cover for not taking appropriate action. What is really galling is that their training is something they should already know.

The Editor says...
My experience has been that employees hired because of their race and ethnicity believe that they cannot be fired because of their race and ethnicity, and their employers generally agree.

Affirmative Action on the Ropes? A case is currently under litigation that however it is decided, will likely reach the Supreme Court. There the diversity industry may face a challenge that brings the institutional racism of affirmative action and its baleful effects to an end. [...] Such portents are heartening, for race-based policies of the last forty years have rested on a preposterous justification on the basis of "diversity," the "compelling state interest" used to violate principle and law. Indeed, the word recurs like a mantra in Supreme Court decisions.

Diversity And Inclusion Harm II. [Scroll down] In 2013, President Obama-appointed FAA Administrator Michael Huerta deemed that these hiring standards had not produced a pleasing mix of air traffic controllers when it came to race and sex. He announced plans to "transform the (FAA) into a more diverse and inclusive workplace that reflects, understands, and relates to the diverse customers" it serves. The FAA discarded its longtime use of the difficult cognitive assessment test and implemented instead a new, unmonitored take-home personality test — a biographical questionnaire. [...] The questionnaire gives more points to an applicant who answers that he has not been employed in the previous three years than it does to an applicant who answers that he has been a pilot or is a veteran with an air traffic control-related military background.

Obama put diversity over safety at FAA. The Obama administration's hiring rules for the Federal Aviation Administration's (FAA) air traffic controllers placed diversity ahead of safety, says an attorney suing the federal agency for putting American passengers at risk. Former President Barack Obama changed the FAA's rules for hiring air traffic controllers so that applicants must pass a diversity test before being considered — an added step in the initial process that is argued to put millions of passengers and crew members as risk. "For decades, the selection process for the Federal Aviation Administration's air traffic controllers was rigorous," TheBlaze reported. "After all, one minor mistake could cost hundreds of people their lives."

Affirmative action in the control tower. I don't fly. When folks ask me why, the short answer is that I know too much: I'm a former FAA air traffic controller. It's been recently reported that the FAA is now actively recruiting new trainees to work in the towers and control rooms directing airplanes and that the criteria they now utilize to screen applicants is a curiously absurd "biographical questionnaire." [...] First, the FAA stopped reporting aviation incidents, including near mid-air collisions and runway incursions. When safety incidents are under-reported or deceitfully downgraded, the system starts to look like perfection, and the FAA will gladly report, as it frequently does, that it is "The Safest System In The World." These people want the flying public to skate out onto the ice, even as they are lying about how thin the ice is, and while we are at it, how warm it is today.

Obama-era FAA hiring rules place diversity ahead of airline safety, attorney tells Tucker Carlson. The safety of America's airline passengers is being compromised for the sake of diversity in hiring air traffic controllers, an attorney suing the Federal Aviation Administration (FAA) told "Tucker Carlson Tonight" host Tucker Carlson on Friday. During the Obama administration, the FAA replaced the previous hiring standards with rules designed to increase diversity among air traffic controllers, attorney Michael Pearson said. "A group within the FAA, including the human resources function within the FAA — the National Black Coalition of Federal Aviation Employees — determined that the workforce was too white," Pearson told Carlson. "They had a concerted effort through the Department of Transportation in the Obama administration to change that."

Professor Tried to Boost Female Students Grades Based Only on Their Gender. A STEM professor at the University of Akron in Ohio was trying to boost his female students' grades — just because those students are women. On Monday [5/21/2018], the professor, Liping Liu, sent an email to students letting them know that three groups of students may see their grades raised a "level or two," according to a screenshot of the email that was posted on Reddit. The screenshot has since been removed because it contained recipients' email addresses, however, a redacted copy of it was provided by a student to Campus Reform.

The Affirmative Action Honor System. In the U.S. in the half century since affirmative action was instituted in the late 1960s, people simply self-identify by checking a race box on a form. This often baffles foreigners, who ask, "Why don't you just lie?" In contrast to America, for example, Brazil has felt it necessary to institute expert commissions to assess whether applicants for affirmative action have skin tone that is dark enough and noses wide enough to qualify for privileges. And even this doesn't end the agitation. The Brazilian press features frequent brouhahas over who gets to be included in the 20 percent of government jobs reserved for nonwhites. Just as Brazilian soccer stars tend to lighten their skin tone, ambitious students are suspected of darkening theirs.

Deep-Freezing the Truth at Penn. By any common understanding of a "diversity mandate," the Penn law review most certainly has one. In the summer of 2003, it created a new pathway for membership to solve the perennial lack of racial diversity among its editors. According to a contemporaneous Chronicle of Higher Education article, until then, students were selected based either on their grades or on a writing competition that assessed analytic and editing skills. Now, however, a third criterion would be added — a "personal statement," in which an applicant might address the "challenges" he has faced, the "familial, cultural, or personal experiences that have contributed" to his worldview, and the "unique contribution" he would make to the review. The editorial guidelines explain that the personal statement allows the law review to find editors who bring "diverse perspectives" to legal scholarship. Anyone familiar with "holistic admissions" will recognize this language, even had the architects of the personal-statement requirement not already explained that its goal was to increase racial diversity. Somehow, "challenges" and "cultural experiences" always pertain exclusively to underrepresented minorities.

Black-a-Block. Five years ago, [Raj] Chetty began publishing his "Equality of Opportunity Project" results. He had somehow talked the IRS into giving him the numbers on tens of millions of (purportedly confidential) 1040 tax returns, from which he could look at the income of parents in the 1990s and their now-adult children in the 2010s. He had assembled a crack team of young data wizards to crunch some of the biggest social science data sets ever assembled. [...] While the "de-identified" tax-return data that the IRS had provided to Chetty was a trove of unique information, the 1040 form is unusual for an American government document in not demanding to know your race. So now Chetty has somehow gotten the IRS to team up with the Census Bureau, which is obsessed with race and ethnicity, to provide him with the races of 20 million children (plus their reported taxable incomes in 2014-15) and their parents (and their incomes in 1994-2000). According to the Census Bureau website: ["]By law, the Census Bureau cannot share respondents' answers with anyone — not the IRS, not the FBI, not the CIA, and not with any other government agency.["] But I presume that Chetty's team of very smart guys has figured out a legal work-around for all these inconvenient privacy laws. In my experience over the past five years, Chetty has repeatedly dredged up fascinating data.

Diversity Bridge Is Falling Down. "Diversity Bridge" (that's not the structure's official name, but I think it fits) was designed to connect Florida International University to the city of Sweetwater, where many FIU students and staff reside. The bridge, installed (though not yet opened to the public) a mere four days before its failure, spanned a busy Miami highway, and the collapse crushed cars and people underneath. Authorities report at least six deaths. Prior to pancaking, Diversity Bridge had been championed as "an engineering feat come to life." One of the geniuses who accomplished this "feat" is an engineer who was hailed by President Obama in 2015 as a "champion of change": Atorod Azizinamini, director of FIU's Accelerated Bridge Construction Center (now renamed the Accelerated Bridge Destruction Center). The firm that built the bridge, Munilla Construction Management (MCM), is run by the Munilla brothers — Raul, Juan, Jorge, Lou, Fernando, and Pedro (is that a construction firm or the latest incarnation of Menudo?). And then we have Leonor Flores, MCM's senior manager. [...] Needless to say, the day after the collapse, damage control needed to be done, and fast. The piece on the FIU website was updated (in bloodred letters, no less) to read: "To clarify, Leonor Flores did not work on the FIU-Sweetwater University City Bridge project in any capacity." Funny, because in that very same piece the bridge is referred to as "her work." On its Facebook page, MCM deleted tags with Flores' name.

How to destroy the United States: Ditch the rule of law. [Scroll down] With affirmative action, one group of citizens is treated differently from another. The standards the affirmative action group must meet for educational and occupational advancement are different, and generally much lower. The late Christopher Hitchens, certainly no conservative, may have given the best understanding of the disparate standards of affirmative action when he wrote about Michelle Obama's Princeton thesis: "[t]o describe it as hard to read would be a mistake; the thesis cannot be 'read' at all, in the strict sense of the verb. This is because it wasn't written in any known language." If different laws, rules, and standards are applied to different groups, then we have created tribalism within the framework of our country.

Chuck Schumer Votes No On Judicial Nominee Because He's White. There's nothing shocking about Senate Minority Leader Chuck Schumer trying to squash a judicial nominee of President Trump. In fact, it's not shocking at all for the 'party of no' to simply reject any of the President's nominees simply because they were nominated by a man they're still in a rage over for being in the White House. What may be surprising — maybe — is that Schumer would flat-out admit that he was voting no on a judicial nominee for the sole transgression of being white.

Schumer Will Vote 'No' On Judicial Nominee Because He Is White. Senate Minority Leader Chuck Schumer attacked one of President Donald Trump's judicial nominees on Wednesday because the nominee is not a racial minority. The Democrat from New York said on the Senate floor that he could not vote to approve Marvin Quattlebaum for a vacancy on the U.S. District Court for the District of South Carolina because he is a white man replacing two black Obama nominees. "The nomination of Marvin Quattlebaum speaks to the overall lack of diversity in President Trump's selections for the federal judiciary," Schumer complained. "Quattlebaum replaces not one, but two scuttled Obama nominees who were African American."

First Somali Police Officer In Maine Arrested At Concert. The first Somali person to become a police officer in Maine was arrested Saturday night [1/13/2018] for disrupting a concert and heads to court Wednesday to face multiple charges for her behavior. The 24-year-old police officer, Zahra Munye Abu, was arrested Saturday night at Palladium Nightclub in Worcester, Mass., for assault and battery and was charged with three other counts of misdemeanor, according to the Portland Press Herald. Abu was bailed out of jail at 1 a.m. Sunday, but the bail amount has not been disclosed. "She was (given) several opportunities to leave and refused. Eventually she was placed under arrest," Worcester police Sgt. Kerry F. Hazelhurst said.

Mathematics Is Not 'White'. Recently, the NYC Board of Regents decided to loosen the certification process for new teachers, since not enough of their P.C. diversity quota were passing these qualifying tests. Are we to believe that adults choosing the noble profession of teaching who cannot read, write, speak, or calculate to an established rigorous level (a level any parent expects) should be granted exemptions owing to some diversity goal? Can't jump over the bar? Let's lower it, then! Problem solved.

Not Affirmative Enough. Affirmative action privileges for blacks and (to a lesser extent) Hispanics have been a near-universal feature of college admissions for what is now approaching a half century. What have we learned since the late 1960s? Perhaps the strangest result is that the biggest winners from racial quotas have turned out to be blacks who aren't descended from victimized American slaves but are instead descended from the slave peddlers, or from whites, or, as in the case of Barack Obama, from both.

Former Agent: Secret Service Lowered Standards In Pursuit Of Diversity. As the U.S. Secret Service sought greater diversity in its ranks, the agency lowered its standards, former agent Dan Bongino says in a new book on the inner workings of the government agency assigned to protect the President of the United States. This accusation has led to a war of words between the former agent and the agency he used to work for. The lowering of standards has been ongoing since at least "the early 2000s," according to the book.

Justine Damond: Killed By "Islamophobia". Mohamed Noor is a Somali Muslim. He was the first Somali Muslim on the Minneapolis police force. In 2016, Minneapolis Mayor Betsy Hodges expressed her excitement about that fact: [...] Hodges wasn't excited because Mohamed Noor had the skills necessary to become a fine police officer. She was only excited because he represented a religious and ethnic that she was anxious to court. And it is increasingly clear, as we learn about Mohamed Noor's nervousness and jumpiness and lack of respect for women, and from his own account of events that he relayed to friends (that he was "startled" and reacted by opening fire), that Mohamed Noor was not cut out to be a policeman. He did not have the temperament for it, and if he hadn't killed Justine Damond, he would likely have done something similar at some point. So why was he on the force at all? Because he was the first Somali Muslim on the Minneapolis police force. He was a symbol of our glorious multicultural mosaic. He was a rebuke to "Islamophobes" and proof that what they say is false. Minneapolis authorities placed a great deal of faith in Mohamed Noor. He was for them the triumph of diversity, the victory of their worldview.

Why Obama's presidency didn't lead to black progress. The Voting Rights Act of 1965 was followed by large increases in black elected officials. In the Deep South, black officeholders grew from 100 in 1964 to 4,300 in 1978. By the early 1980s, major US cities with large black populations, such as Cleveland, Detroit, Chicago, Washington and Philadelphia, had elected black mayors. Between 1970 and 2010, the number of black elected officials nationwide increased from fewer than 1,500 to more than 10,000. Yet the socioeconomic progress that was supposed to follow in the wake of these political gains never materialized. During an era of growing black political influence, blacks as a group progressed at a slower rate than whites, and the black poor actually lost ground.

New York Public Schools Prefer Illiterate Teachers. As bad as New York public schools are presently, they are about to get a lot worse. The Poughkeepsie Journal reports that, "New York education officials are poised to scrap a test designed to measure the reading and writing skills of people trying to become teachers..." Now why would the New York Education Department do such a thing? Care to take a guess? If you guessed racism, you win the prize. Actually there is no prize other than the satisfaction that you have an understanding of the liberal mind — where if all is not right with their world, the fault must be due to racism. They claim that scrapping the "Academic Literacy Skills Test" is necessary "because an outsized percentage of black and Hispanic candidates were failing it." [...] By some miracle, the tests appeared to doing what they were designed to — separating the wheat from the chaff, so to speak. But the problem is that the chaff is overwhelmingly black and Hispanic.

Who Has More Privilege Than Barack Obama? Obama was not born into substantial wealth, but his family on both sides was well connected, providing a traditional advantage that allowed him entry into elite society. This old-style leg up then combined with modern leftist ethnic-racial privileges, overwhelmingly present in academia and the media, to advance Obama at every turn. This created a powerful cocktail of built-in benefits that gave Obama almost every conceivable benefit of the doubt while at the same time allowing him to claim victim status. More than anything else, it is this dynamic that explains his rise and his selfishness. It also clarifies Obama's heavy narcissism, bullying behavior, and utter lack of graciousness. Without these privileges, Obama gets nowhere.

Parting Regrets from the LOSer's Presidency. It is not certain that Barack Obama is the first president with African progenitors on adjacent branches of the ancestral tree. It is absolutely certain that he is the first president in American history who shot to the presidency on the rocket of race-based preferentialism. Mr. Obama became commander-in-chief without ever evidencing knowledge or even respect for the U.S. military because throughout his education and career, he enjoyed astronomical preferences above his peers, even above more qualified competitors, due not to his achievements, but to his bronzish mug. He in turn chose his wife and his attorneys general from his cohort beneficiaries of the peculiar institutions of affirmative action, the racialist hypersensitivity and preferencing that arose in the 1960s.

Is Affirmative Action the New Noblesse Oblige? The idea of a privileged class bestowing gifts and benefits to lower classes — their economic and social inferiors, by definition — rubs against our egalitarian principles. It's an implicitly condescending attitude, but that's not the worst part. Noblesse oblige was despised in Revolutionary France because it inhibited social progress. As the peasantry pushed for meaningful reforms that might transform the state of their condition, French patricians patted themselves on the back for bestowing kindness on the poor peasants, remaining oblivious to their actual grievances. There seems to be a bit of a parallel here to affirmative action policies in the United States.

Feds Order Law Enforcement Agencies to HIRE Criminals as Cops. The Obama administration has taken its liberal, forced-diversity campaign to law enforcement with the administration's latest request that law enforcement agencies dramatically lower their standards to get more people from "underrepresented communities" hired.

Trump's Answer to Black-on-Cop Murder. Racial resentment and hostility against white people have been an institution in this country for at least 40 years. Every affirmative action program — in Europe they call it positive discrimination — has two sides: Give black people special preferences for jobs, schools, contracts... you name it. But the other side, the darker side, is a story of how black people are relentless victims of relentless white racism — all the time, everywhere, that explains everything. This fairy tale of white racism has saturated every nook and cranny of our public and private lives and done enormous damage. And now it is coming home to roost in the form of black-on-white hostility that is mainstream and easy to find.

The Fraud Goes On. Supreme Court decisions in affirmative action cases are the longest running fraud since the 1896 decision upholding racial segregation laws in the Jim Crow South, on grounds that "separate but equal" facilities were consistent with the Constitution. Everybody knew that those facilities were separate but by no means equal. Nevertheless, this charade lasted until 1954. The Supreme Court's affirmative action cases have now lasted since 1974 when, in the case of "DeFunis v. Odegaard," the Court voted 5 to 4 that this particular case was moot, which spared the justices from having to vote on its merits. While the 1896 "separate but equal" decision lasted 58 years, the Supreme Court's affirmative action cases have now had 42 years of evasion, sophistry and fraud, with no end in sight.

The Speaker Crisis and the Rape of the 'Typical American'. Since the passage of the Civil Rights Acts in the 1960s typical Americans have been told to sit down and shut up. First was the need to provide Affirmative Action for the victims of slavery, although plenty of other Americans had suffered dreadful exploitation and oppression before coming to the Land of the Free. Then the typical American had to wait while high-status women were integrated into the workforce and had broken the notorious glass ceilings. Centuries of patriarchy and the Double Standard had marginalized well-born women from the chance to work in a cubicle and from experiencing their inner CEO.

When Did White Men Become The Bad Guys in America? White people (men included) are the only group in the country that is discriminated against via Affirmative Action by official government policy. In all fairness, Asians are also discriminated against by universities that often wave them off in favor of less qualified applicants from different racial groups, but there's no widespread cultural assault against Asian Americans. To the contrary, when it comes to white men, outright hatred based on our skin color is commonplace.

NY Times Bosses Warn Managers: Meet Diversity Goals or Get Fired. Washington Post media blogger Erik Wemple reports that The New York Times is getting very serious about diversity goals in recruiting, hiring, and promoting. Chief Executive Mark Thompson raised eyebrows at a gathering of managers on the business and news sides of the newspaper. According to three Wemple sources, "Supervisors who fail to meet upper management's requirements in recruiting and hiring minority candidates or who fail to seek out minority candidates for promotions face some stern consequences: They'll be either encouraged to leave or be fired."

Whether they're qualified or not...
Hillary: My Cabinet Will Be 50% Women. Democratic presidential candidate former Secretary of State Hillary Clinton promised that her Cabinet would be 50% women if she is elected president during a town hall on MSNBC on Monday [4/25/2016].

Christians, Conservatives, Men, and White People Are Not Responsible For Your Problems. White people are obsessively lectured about white privilege, usually by very privileged black professors and television personalities who apparently have no sense of irony. We hear endlessly about the supposed perils of white racism in a nation that just elected the first black president while it's the official policy of the government to discriminate against white Americans based on their skin color via affirmative action.

State Police boosted academy diversity by ignoring background checks, suit says. A veteran state trooper alleges in a whistleblower lawsuit she was retaliated against by her superiors after raising objections that police academy background checks were compromised because of pressure to increase racial diversity among State Police ranks. Acting Sgt. Jaclyn Jiras, who spent five months working as a background investigator at a time the division was being scrutinized for its lack of black cadets, claims she was reassigned and denied a promotion when she flagged applicants with troubled legal histories and criminal backgrounds.

DOD Diversity Chief Violates Rules, Gives Leftist Groups $300k to Promote Agenda. To meet the Obama administration's goal of "implementing a robust diversity strategy" at the Department of Defense (DOD), the agency's director of diversity violated government rules by distributing hundreds of thousands of dollars to controversial leftist groups. [...] Among the recipients is the notorious open borders group League of United Latin American Citizens (LULAC), Minority Access Inc., a Maryland-based nonprofit committed to decreasing disparities and reducing incidences of environmental injustices, and the renowned National Association for the Advancement of Colored People (NAACP). Others include the Society of American Indian Government Employees and the Asian American Government Executive Network. In all, the Pentagon's Office of Diversity Management and Equal Opportunity (ODME) gave these and other groups north of $300,000, according to a DOD Inspector General report released this month. These are considered "affinity" groups involved with networking or professional associations that are often race, ethnic background or gender based, according to the report.

Obama's 'diversity' diktat is a giant gift to lawyers. If you're a white male looking for a job, your search just got harder. Claiming women aren't getting paid enough, President Obama wants to make it easier to accuse employers of gender discrimination and hit them with class-action lawsuits. A new regulation proposed on Friday [1/29/2016] will require all employers with 100 or more workers to report how much their workforce is paid, broken down by race and gender. The rule, slated to go into effect in September 2017, will cause headaches for employers and anyone — man or woman — who works hard and expects to get ahead based on merit. The winners are federal bean counters, class-action lawyers and the Democratic Party, which is playing up the gender "wage gap" as usual during this election year. Never mind that the gap is largely fiction.

The quota-driven drive to make flying more perilous. Air-traffic controllers are far too important to Americans' safety to be subjected to unconstitutional race-based hiring in the name of "diversity." It's a shame the Federal Aviation Administration doesn't see it that way. [...] That the agency responsible for maintaining the safety of thousands of aircraft that transverse the United States each day, not to mention the millions of Americans on-board, would abandon a time-tested procedure for hiring the nation's best and brightest in the name of diversity is shocking, but not surprising, given the administration's obsession with race.

Woman who failed FDNY physical test 6 times given another chance. A woman who six times failed the physical test to become an FDNY firefighter is being given another chance — and this time, critics say, the fix is in. "She'll graduate, no question," said an FDNY member. "The department doesn't want another black eye." Wendy Tapia was allowed to conditionally graduate from the Fire Academy on May 17, 2013, even though she had failed the running test. After swearing her in, the FDNY gave Tapia five more chances to run the required 1.5 miles in 12 minutes or less, but she couldn't do it. She quit — never having worked a tour of duty.

The next affirmative action group will be Muslims. Barack Obama continues to fundamentally transform and tilt our nation to favor one of his favorite groups — Muslims — at the expense of everyone else. Early in his presidency, Barack Obama's plans to control the Census Bureau unleashed a firestorm of criticism. The White House in a radical move ordered the Census Bureau to work directly with Barack Obama aides. Since the 2010 census would play a key role in drawing House districts and electoral votes at least until 2020 there was criticism that Obama's moves, supported by other Democrats, would be used for partisan purposes to empower Democrats. But there may have been ulterior motives, as there so often are when it comes to Democrat machinations. The Wall Street Journal reports that moves are afoot to create a new way to empower Muslims who live in America: [...]

Affirmative Action: Race to the Bottom. On Dec. 9, the U.S. Supreme Court will hear a constitutional challenge to racial preferences in college admissions. These preferences obviously hurt whites and Asians turned down to make room for less qualified minorities. Ironically the preferences also harm many Hispanics and African-Americans — the very students that are supposed to be helped. No wonder campuses are roiled with racial tension. It's high time the court put a stop to racial preferences entirely.

The most obvious beneficiary of "affirmative action" yet:
Guest Writer Says Obama 'Should Be Forced to Resign'. [Scroll down] The fact is, Obama continues to serve for no other reason than the color of his skin. As a black man, he relies on the collective guilt of white liberals to engage in whatever "high crimes and misdemeanors" he feels are necessary to his political agenda. It is indisputable that, if he were a white man, he would have been removed from office long ago.

At last, the one day of the year when black federal employees can't be fired for any reason!
Black U.S. leaders call for Abolition Day holiday. A group of black U.S. lawmakers and other prominent figures on Tuesday [11/24/2015] called on the federal government to declare a national holiday to mark Abolition Day, the official end to the nation's use of slavery. Members of the Congressional Black Caucus as well as a federal appeals judge and the NAACP released a petition asking for the holiday to fall on Dec. 6, which this year marks the 150th anniversary of the ratification of the 13th Amendment.

Would you go to a doctor who benefited from affirmative action? Would you go to a doctor who you knew was admitted to medical school based on lower standards simply because of his ethnicity? It's an important question, because the left is clamoring for even more of it.

Tech Jobs and Female Privilege. Overall, women received 18 percent of Computer and Information Sciences undergraduate degrees in 2013, yet were 26% of the computing workforce in 2014. Women make up 30% of the workforce at tech giant Apple; at Intel, they represent about 24%; 22% of leaderships positions at Google are held by women. Compared to their rates of participation in STEM majors in college, women also receive disproportionately higher job offers in IT, engineering and physics. [...] Intel is upping the ante, adding additional incentives including referral bonuses that are double for women candidates than male. 25% of Intel's workforce is female; moreover, 35% of its recent new hires were women, both well above the rates at which they are awarded computer-related degrees. This affirmative action decays into reverse discrimination when they introduced a quota system to draw 40% of recruits in 2015 from underrepresented groups.

A Black Skin Privilege Tax? The term "affirmative action" was first introduced by President John F. Kennedy in 1961, and developed and enforced for the first time by President Lyndon Johnson. "This is the next and more profound stage of the battle for civil rights," Johnson insisted. "We seek... not just equality as a right and a theory, but equality as a fact and as a result." The idea behind affirmative action was a well-intentioned effort to level the so-called playing field, primarily in the arenas of jobs and education. Just as important, it was supposed to be a temporary remedy. More than five decades later that temporary remedy is still with us. Moreover that level playing field has tipped decidedly in favor of minorities, and its subsequent permutations have roiled the nation, beginning with the 1978 Supreme Court case Regents of the University of California v. Bakke. The Court ruled 5-4 that the inflexible quota systems that resulted in white medical school applicant Allan Bakke being rejected in favor of less qualified minority applicants were impermissible. Nonetheless the Court maintained the legality of affirmative action per se.

Use PsyWar Principles to Stop Clinton and Biden. We now have people who advocate the election of Hillary Clinton for the sole purpose of giving the country its first female president, much as Barack Obama's election underscored the fact that affirmative action means hiring, appointing, or electing people for the color of their skin rather than the content of their character.

Obama's Killing the Left: Let's Help Him. From the outset of this administration it has been clear that "diversity" (which to Obama means advancing the careers of every one of his cronies at the expense of non-Hispanic whites and males) over competence has been a major goal. And each week we see how much that harms national needs and shatters national unity. This week's big domestic fail, amusingly spun as "data exfiltration" of the over 21 million personnel files at the OPM, reveals the utter incompetence of Obama's select OPM (Office of Personnel Management) head, Katherine Achuleta, who finally was axed.

Archuleta OPM hack disaster crystallizes Obama administration incompetence. Katherine Archuleta resigned as head of the Office of Personnel Management yesterday [7/10/2015], but the effects of her spectacular incompetence will harm the United States for many years to come. Her rise and fall symbolically and substantively capture the essence of the Obama administration approach to its grave responsibilities, and its failure to meet them. Archuleta's appointment to the position she occupied — in essence, human resources director for the largest employer in America — was a classic three-fer, in the cynical parlance of contemporary affirmative action. She is a woman! She is Hispanic! She is (or was) politically connected and reliable! You see, her prior work experience was on the Obama campaign.

Woman to become NY firefighter despite failing crucial fitness test. The FDNY for the first time in its history will allow someone who failed its crucial physical fitness test to join the Bravest, The [New York] Post has learned. Rebecca Wax, 33, is set to graduate Tuesday [5/5/2015] from the Fire Academy without passing the Functional Skills Training test, a grueling obstacle course of job-related tasks performed in full gear with a limited air supply, an insider has revealed. "They're going to allow the first person to graduate without passing because this administration has lowered the standard," said the insider, who is familiar with the training.

The Editor says...
I doubt if she will last very long as a fire fighter, since she will probably get very little assistance from her fellow rookies, and none at all from the old timers. Then when she is fired, she will naturally file a discrimination lawsuit.

A first: Recruit fails fitness test but she's joining FDNY anyway, report says. A recruit will be allowed to join the New York Fire Department, despite failing a grueling physical fitness test, according to the New York Post. The Post reports that Rebecca Wax, 33, will graduate from the Fire Academy on Tuesday [5/5/2015], and will become the first firefighter to have failed the Functional Skills Training test. The test requires potential recruits to climb six flights of stairs, break down doors and drag dummies with little visibility, limited air and not a lot of time, among other tasks, according to the Post.

Update:
Struggling firefighter injured after just 10 days into new job. A firefighter who was allowed to graduate the Fire Academy despite failing physical tests has already gone out on medical leave — just 10 days into the job, The [New York] Post has learned. Probationary firefighter Choeurlyne Doirin-Holder injured herself Monday while conducting a routine check of equipment at Queens' Engine 308 in South Richmond Hill. Getting off the truck, Doirin-Holder missed a step and landed on her left foot, suffering a fracture, sources said. It was her second shift after a transfer from Engine 301. In training for a hazmat assignment, officers found her struggling to perform the required tasks.

Obama Administration Hires Top Attorney For Immigration Enforcement With Zero Immigration Law Experience. President Barack Obama's administration is bringing on a new "Principal Legal Advisor" for Immigration and Customs Enforcement. But she has no experience in immigration law.

The Loretta Lynch Race Game. Saturday's [4/18/2015] Washington Post front page carries on its recent tradition of fanning racialist flames without substantial regard to fact or context. The header reads: "Race creeps into debate over stalled nomination for attorney general" and the first graph notes that "African American and other civil rights leaders" are infuriated that Loretta Lynch's confirmation as attorney general has been held up because of — you guessed it — racism. Responding to the president's dog whistle, National Action network and multimillionaire tax scofflaw Al Sharpton says he's going on a three-day hunger strike to force consideration of her nomination. Be our guest, Al.

Nixing Loretta: Never mind her race, sex. An unanswerable question hangs over the nomination of Loretta Lynch for attorney general: Is Republican opposition to her more racist or sexist? As an African-American woman, Lynch represents a gloriously double-barreled opportunity to accuse Republicans of sub-rosa hatreds. The political benefit of what feminists call intersectionality — membership in two or more historically oppressed groups — is not having to choose which accusation of bias to make.

The Editor says...
Affirmative Action advances in only one direction, and has now reached the point where black females not only can't be fired, they can't be not hired.

FDNY Drops Physical Fitness Test Requirement to Boost Female Hire Rate. In a somewhat controversial move, the New York City Fire Department (FDNY) has dropped the physical test requirement for probationary firefighters. The move was done in part to increase the number of female members in FDNY.

The most destructive affirmative action case of all:
Obama's Black Skin Privilege. Everyone knows it is true, and no one has the courage to say it. The American people are letting Barack Obama destroy this country through illegal executive orders for one reason and one reason only.

The End of Affirmative Action. Sometimes doctrines just vanish, once they appear as naked as the proverbial emperor in his new clothes. Something like that seems now to be happening with affirmative action. Despite all the justifications for its continuance, polling shows the public still strongly disagrees with the idea of using racial criteria for admissions and hiring. Its dwindling supporters typically include those who directly benefit from it, or who are not adversely affected by it. Arguments for the continuance of affirmative action are half-hearted and may explain why some supporters descend into name-calling directed at those who dare question its premises.

Black Skin Privilege. Since the 1970s, most major corporations (and a host of smaller ones) have implemented wide-ranging race-specific strategies for recruiting minorities, sponsored scholarships for minority recipients, funded internship programs earmarked exclusively for nonwhite high school and college students, paid current and former employees a "reward" merely for identifying the names of potential "diversity candidates," and given financial bonuses to managers for successfully recruiting and/or promoting a significant number of black employees. [...] And of course, all of these measures also serve to separate their workers on the basis of race. Needless to say, since government is the real source of these segregated arrangements, racial privileges are ubiquitous in government hiring practices. Police and fire departments nationwide go to great lengths to recruit black applicants. Where those applicants have failed the qualifying examinations in disproportionately high numbers, departments have simply thrown out the results, lowered the standards, or created new definitions of what constitutes a passing grade.

Top five cliches that liberals use to avoid real arguments. Affirmative action used to be defended on the grounds that certain groups, particularly African Americans, are entitled to extra help because of the horrible legacy of slavery and institutionalized racism. Whatever objections opponents may raise to that claim, it's a legitimate moral argument. But that argument has been abandoned in recent years and replaced with a far less plausible and far more ideological claim: that enforced diversity is a permanent necessity.

High Court Humpty Dumptys. Many may think that all race and sex discrimination is barred. Not so! Long ago, the court announced a constitutional right to engage in good discrimination (against whites and males), prohibiting only bad discrimination (against designated minorities and females). Of course, linguistically gifted justices would never put it so crassly; instead, they elegantly distinguish "benign" from "malign" discrimination. Ginsburg and Stevens used these terms. Using Harvard lawyer skills, Justice Blackmun camouflaged the double-talk with a clever turn of phrase: to "get beyond racism, we must first take account of race. ... [I]n order to treat some persons equally, we must treat them differently."

Affirmative Action reaches the Presidential Level. [Scroll down] Today, affirmative action is firmly established. It is a common experience to learn that a less qualified candidate got the job or promotion that you interviewed for. Being turned down for a job or promotion is bad enough, but it is demoralizing when you realize that your rejection was based on politics rather than qualifications. Although these dubious government policies are still in effect, the public's support for them has largely faded.

What We Should Care About. Conservatives love to point out that affirmative action programs actually hurt minorities and that feminism has hampered women. Yes, that is probably true, but it misses the moral point to score electoral points. Affirmative action programs and feminism are evil because both create notional classes of oppressors and oppressed, and both treat groups of individuals like cattle in a herd. Statist bigotry toward white people or men is as vile as statist bigotry toward black people or women.

Barack Obama's America. Barack Obama's America is one where black applicants who easily pass an entrance exam for the fire academy in New York can be denied a job for years but where black applicants who missed 70 percent of the exam questions can be eligible not just for jobs but for back pay, benefits and retroactive promotions.

A Discussion On Race, Crime And The Inconvenient Facts. Let the record show that for the past 40 years or so, the only legally sanctioned racial discrimination in the U.S. has been in favor of blacks (and some other minorities), against whites. When codified as so-called affirmative action, this was the first time in world history that an ethnic majority group intentionally disadvantaged itself to benefit another, purely out of a sense of justice (sometimes derided as "liberal guilt"). Some gratitude, indeed, on the part of the beneficiaries.

Liberalism and Mass Shootings. Both large-scale military base slayings were carried out by protected minorities. We can say without much fear of contradiction that Nidal Hassan was covered by someone — probably many someones — in the military hierarchy due to a desire to have a Muslim officer to show off in public. Despite his lectures praising Jihadi terrorists, his refusal to serve in theatres involving combat against "fellow Muslims," and his Jihad r' Us business cards, Hasan was shielded right up to the day he opened fire at Fort Hood. Needless to say, nobody in today's debased officer corps suffered for this. The same process is not at all unlikely in the case of Aaron Alexis. A black Buddhist is a twofer, a catch that any affirmative action officer would boast about for the rest of his career. It's unlikely the vetting process went deeper than that. It's well known that when racial quotas are involved, other criteria are thrust aside. This practice has become life-threatening.

Would It Kill You to Hire More Black Cops? (Yes). In a massive, detailed 2000 study of the effect of court-ordered affirmative action plans on police departments, economist John Lott found that the more minorities on a police force, the higher the rates of murder, manslaughter, violent crime, robbery, and aggravated assault will be. Violent crime increased by a minimum of 3.3 percent every year after affirmative action policies went into effect — and the spike in crime was highest in black neighborhoods. The problem was not, Lott showed, with black cops, but rather with the lowering of standards across the board, resulting in less-qualified officers of every race.

Why Are Democrats So Afraid? [Scroll down] Maybe the African American and women voters are right to be afraid. Any African American that works in a bureaucracy in America has to worry: what would happen to me if Affirmative Action and diversity ended tomorrow? How far would I sink without an Obama and a Democratic Party that's "Got My Back?" Maybe women voters are right to be afraid too. Not about their contraception, but about their jobs. Women are "overrepresented" in jobs like teacher, nurse, social worker. Guess what would happen to jobs like that if Republicans ever got into power and started doing education reform, health care reform, and welfare reform? So history comes full circle. People that used to be on the outside looking in are now the insiders looking out at the angry faces pressed against the window.

Secret Service Requires Female Agents to Meet Lower Physical Strength Standards Than Male Agents. According to the Secret Service, a male recruit in his twenties needs to perform 11 chin-ups to receive an "excellent" rating; performing four chin-ups or fewer would disqualify him from serving as a Secret Service agent. But for a female recruit in her twenties, four chin-ups would earn her an "excellent" rating; just one chin-up is enough for her to avoid the disqualifying "very poor" rating.

Boston Police Civil Service Exams Don't Discriminate, Judge Says. US District Court Judge George A. O'Toole Jr. ruled on Friday [9/5/2014] that civil service promotional exams used by the Boston Police Department did not discriminate against minority officers, The Boston Globe reports. The decision means that the testing procedures of the exams, used by the BPD and several other departments in Massachusetts between 2005 and 2008, will not be required to change.

No More Affirmative Action Presidents. We all make mistakes, but the real question is whether we learn from them. With many people now acting as if it is time for "a woman" to become president, apparently they have learned absolutely nothing from the disastrous results of the irresponsible self-indulgence of choosing a president of the United States on the basis of demographic characteristics, instead of individual qualifications.

Holder's absurd push for equal-outcome policing. Women are thought to be not big enough and not strong enough to play [professional basketball] with men. In a game where the scoreboard can't be argued with, that's not discrimination, but a simple recognition of the differences in strength, size and stamina between men and women. Attorney General Eric Holder Jr. pretends there are no differences. The Justice Department has sued the Pennsylvania State Police, alleging sex discrimination in the hiring of troopers. The government lawyers argue that the physical-fitness tests the Pennsylvania State Police have used since 2003 "disproportionately disadvantage" women.

Obama Administration Suing State Police Over Physical Fitness Tests. Saying that the physical fitness tests that the Pennsylvania state police uses to identify entry-level candidates are not job-related, the Department of Justice is suing the agency for sex discrimination since more men pass the tests than women.

FDNY 'babying' cadet who can't pass fitness tests. She walked through her running tests and got winded climbing stairs, yet a physically unfit female FDNY probie was still allowed out in the field like a normal graduate — and given a year to pass, The [New York] Post has learned. "She's literally the most pathetic specimen of physical fitness I've ever seen," fumed an academy classmate of Choeurlyne Doirin, 39, who was given a uniform and a "light-duty" assignment even though she did not graduate on June 2 with the other 286 cadets.

Yes, the defendant made a mistake, but this is the fruit of minority contractor quotas:
Paving company executive pleads guilty in massive fraud case. A second Boggs Paving executive pleaded guilty Tuesday morning [7/22/2014] in connection with charges that the company received more than $87 million in road projects by misrepresenting the role a minority-owned contractor played in the work. Prosecutors say a third high-ranking company official will plead guilty Thursday.

If more teachers were black, test scores would necessarily skyrocket!
US teachers nowhere as diverse as their students. Almost half the students attending public schools are minorities, yet fewer than 1 in 5 of their teachers is nonwhite.

Minority New York firefighters settle racial bias suit for $98 million. Black and Latino applicants to the New York City fire department who alleged that they lost out on jobs because of racially discriminatory written exams settled a long-running lawsuit for $98 million in back pay, the U.S. Justice Department said Tuesday. The consent decree, which still requires court approval, calls for a court-appointed monitor to oversee the fire department's recruiting and hiring process. The department will face specific recruiting goals and must create the positions of diversity advocate in the uniformed force and chief diversity and inclusion officer in the executive ranks.

Rawlings-Blake wants new fire chief to make agency more diverse. Mayor Stephanie Rawlings-Blake and her pick to run the city Fire Department said Monday they hope to hire and promote more minorities and women — even as the department cuts positions. In introducing Niles Ford, 48, as her selection to lead the Baltimore City Fire Department, Rawlings-Blake called a lack of diversity in the agency a "persistent problem." She pointed to Ford's work as fire chief in Lincoln, Neb., where he created a plan to hire more minorities and women.

The Editor says...
If your house is on fire, and you call the fire department to put out the fire, would you turn the firemen away if they were the wrong color? Wouldn't you want the fire department to hire the best available candidates instead of picking candidates based on race?

Obama: The Affirmative Action President. Unfortunately, minorities often suffer so that whites can pat themselves on the back. Liberals routinely admit minorities to schools for which they are not qualified, yet take no responsibility for the inevitable poor performance and high drop-out rates which follow. Liberals don't care if these minority students fail; liberals aren't around to witness the emotional devastation and deflated self esteem resulting from the racist policy that is affirmative action. Yes, racist. Holding someone to a separate standard merely because of the color of his skin — that's affirmative action in a nutshell, and if that isn't racism, then nothing is. And that is what America did to Obama.

The Liberal War on Scientific American. Scientific American, like many older publications, wanted to get into the blogging game. Unfortunately Scientific America was not too picky about whom it let through the door. And it made the mistake of having Danielle Lee write a blog called The Urban Scientist. Urban is liberal code for Black. Obviously Scientific American was looking to push some minority friendly stories. But its focus was on science. It didn't realize that identity politics and science go together about as well as phrenology and science or as well as Scientology and science.

How the Left Treats Obama Like a Child. The Tea Party — stockholders in America — have a right to ask questions of the Chief Executive of America without being called racists. [...] If Obama were the CEO of a private-sector company, his actions would at the very least get him drug-tested. As a former management consultant to some of the world's largest corporations, I don't know a single former client who wouldn't have fired Obama in the second year of his tenure.

Does a well-off black student deserve affirmative action? I defy many black stereotypes. I grew up in a quiet suburb, where I have never faced a dangerous situation. My parents have been happily married for 18 years. I attend private school, and my standardized test scores rank in the 90th percentile. I never have had an encounter with the law. [...] So, should affirmative-action efforts apply to me?

NBC News/WSJ poll: Affirmative action support at historic low. As the Supreme Court prepares to once again weigh in on the issue of affirmative action, a record-low number of Americans support such programs, according to the latest NBC News/Wall Street Journal poll. Just 45 percent of respondents said they believe affirmative action programs are still needed to counteract the effects of discrimination against minorities, while an equal 45 percent feel the programs have gone too far and should be ended because they unfairly discriminate against whites.

The New Affirmative Action. In an increasingly multiracial society, it has grown hard to determine the racial ancestry of millions of Americans. Is someone who is ostensibly one-half Native American or African-American classified as a minority eligible for special consideration in hiring or college admissions, while someone one-quarter or one-eighth is not? How exactly does affirmative action adjudicate our precise ethnic identities these days? [...] Aside from the increasing difficulty of determining the ancestry of multiracial, multiethnic, and intermarried Americans, what exactly is the justification for affirmative action's ethnic preferences in hiring or admissions — historical grievance, current underrepresentation due to discrimination, or both?

Whites to be minority in children under age 5 by next year. For the first time, America's racial and ethnic minorities now make up about half of the under-5 age group and will be a majority by this year or next. That's according to new census numbers that show a faster shift than expected toward a minority-majority, one where whites will be in the minority by 2043. The new estimates also show that, for the fist [sic] time in more than a century, the death rate for white Americans outnumbers the birth rate.

The Editor adds...
But the minorities will still have preferences, even when they're in the majority.

IRS Hiring 'Diversity and Inclusion Specialist,' Starting at $123,758/Year. The IRS is looking to hire a "diversity and inclusion" specialist, with a minimum salary of $123,758 a year. The opening for a full-time "Supervisory Diversity and Inclusion Specialist" at the agency's national headquarters in Washington, D.C. was announced on June 11 and is open until June 24. The Diversity Specialist will "serve as a change agent to provide strategies, solutions, training, tools, resources and thought leadership on diversity and foster inclusion" across the workplace and "build internal awareness" for diversity and inclusion throughout the agency.

Companies Sued For Trying To Avoid Hiring Convicts. In 1963, the great civil rights leader Martin Luther King said it was his hope that black Americans would no longer be judged on their color of their skin, but on the content of their character. Fifty years later, the Obama administration's Equal Employment Opportunity Commission says King got it wrong. The EEOC launched two lawsuits against private companies this week over their use of criminal background checks, claiming that in rejecting applicants with proven criminal records, they somehow discriminated against minorities under a disparate impact clause in their guidelines.

More Justice Department Chicanery: Thomas Perez and 'Disparate Impact'. One of the administration's favorite legal theories, "disparate impact," may get taken up again by the Supreme Court. [...] Under this theory, a policy — such as requiring high credit scores for loans — can be completely neutral, but if it yields a disparate impact on a particular racial or gender group, an institution using that policy can be held liable for discrimination. In other words, an entity can be found to have discriminated even if it didn't actually intend to discriminate.

NYC Firefighters Fight Perez. President Barack Obama's nominee for labor secretary Tom Perez is taking heat from New York City firefighters for his support of racial and gender quotas. The Department of Justice filed a discrimination suit against the New York City Fire Department in 2007 because too few minorities passed the department's entry exams. The DOJ cited the legal theory of "disparate impact," which holds that even seemingly neutral criteria such as impartial exams taken by all applicants can be considered discriminatory if they disproportionately keep a protected racial class from receiving employment. A federal judge in Brooklyn awarded $128.7 million to minorities who failed to pass the 1999 and 2002 exams in 2009.

The Editor says...
That's not good news for those of us who are not in "a protected racial class."

Phoenix to Recruit Minority Lifeguards — Even If They Can't Swim. In a bizarre case of affirmative action run amok, Phoenix is recruiting minority lifeguards for its public pools — even if they can't swim.

City Recruits Minority Lifeguards Even if They Can't Swim. In a staggering case of affirmative action gone wild, officials in a major U.S. city are actually recruiting minorities to be lifeguards at public pools even if they're not good swimmers. It's all in the name of diversity. [...] Blacks, Latinos and Asians who may not necessarily qualify can still get hired, says the city official who adds that "we will work with you in your swimming abilities."
...but only if you're black.

Cummings: Postal Service cuts would hurt minority groups, single mothers. The U.S. Postal Service's decision to eliminate Saturday delivery could disproportionally hurt minority groups, according to Rep. Elijah Cummings (D-Md.), the ranking member on the House Oversight Committee. "You're talking about just this reduction ... from six days to five days will cut anywhere from 25,000 to 30,000 employees. And with regard to Asian, African-Americans, and Hispanics, they comprise about 40 percent of the Postal Service employees," Cummings told Melissa Harris-Perry on MSNBC Friday night.

The Editor says...
This is the inevitable consequence of affirmative action: When women and minorities have been hired for decades — to the complete exclusion of white males — the staff will consist of women and minorities only. When it's time to lay off some or all of the employees, guess who gets the boot.

Manufacturing Racism: Academic Hiring and the Diversity Mandate. It wasn't called affirmative action at the prairie university where I began my teaching career; it was called equity hiring, an odious misnomer. What it meant, I was told, was that if two equally qualified candidates applied for a position, the one whose hiring would enable the department to become more "diverse," and therefore ostensibly more representative of our society, would be chosen.

'Major Hasan Syndrome' at the Los Angeles Sheriff's Department? [Scroll down] So why did it take such a flagrant act of subverting her own department's objectives before action was taken against her? Everyone knows the answer to that: [Bernice] Abram was given a pass because she is a black female working in an organization that values "diversity" more than competence, and even, to at least some extent, more than adherence to the law. [...] She knew no one would dare touch her.

Obama To Unleash Racial-Preferences Juggernaut. If your organization has a policy or practice that doesn't benefit minorities equally, watch out: The Obama administration could sue you for racial discrimination under a dubious legal theory that many argue is unconstitutional. President Obama intends to close "persistent gaps" between whites and minorities in everything from credit scores and homeownership to test scores and graduation rates.

Enough with Affirmative Action Presidents. I taught at the University of Virginia for 25 years. During my time at UVA, I had three deans, and one of them was a black woman and an affirmative action hire. She turned out to be a disaster. [...] The dean's qualifications didn't matter, her experience didn't matter, and her interpersonal skills didn't matter. The president wanted a black woman to serve as dean; that's what he got, and our school lost five years doing battle with a dean who didn't know which way was up.

Enough with Affirmative Action Presidents. I'm not opposed to a black man being elected president, but I am opposed to electing a president simply because he's a black man. We've had enough of affirmative action hires for the highest office in the land. It's time to elect a real president. If we do, there is a chance that we might actually solve some of the problems that we face as a nation, but time is running out. We don't have four more years to waste on a man who has already proven beyond any shadow of a doubt that he is totally out of his league.

Affirmative Action In Bank Lending Policy Promises Economic Disaster. Welcome to the bizarre world of banking regulation. Despite the recent disaster wrought by affirmative action lending, Washington ratchets up still more politically correct requirements and shifts the measure of discrimination towards "disparate impact." Even unbiased behaviors are subject to penalty unless they benefit protected classes. It's no longer blind justice meted equally before the law. "Diversity" has become Washington's Holy Grail, discharging unequal justice in preference for specific outcomes. The burden on businesses expands beyond banning discrimination into virtually requiring reverse discrimination.

Federal Judge Imposes Racial Quota on FDNY, Responding to Minorities Who Failed Entrance Exams. A federal judge is ordering the New York City Fire Department to implement racial quotas to address grievances from minorities who failed entrance exams. On July 5 in Brooklyn, Nicholas G. Garaufis, a Clinton-appointed judge for the Eastern District of New York, issued a ruling that requires two of every five newly hired fireman to be black and one of every five, Hispanic — until the department has fulfilled the court-ordered quota of 186 black and 107 Hispanic hires.

Racial Arsonists' New Target: FICO Credit Scoring. It was bad enough the government pressured banks to rubberstamp home loans for folks with poor credit scores. Now there's a more dangerous push to attack the credit-scoring system itself.

Obama May Impose New Title IX Quota on Math and Science Students. President Obama recently signaled that he will take action to create 'equality' for women in the STEM fields (science, technology, engineering, and mathematics). The Obama administration's decision to push for more female representation in STEM coincides with the 40th anniversary of Title IX.

Fake but Accurate Identities? The trivial Elizabeth Warren "high cheekbones" fraud nonetheless offered a draw-back-the-curtain look into the gears and levers of our national race industry. The real story is not that the multimillionaire liberal (and one-percenter) Warren fabricated a Cherokee identity for over a decade (to the delight of her quota-thirsty universities), but rather the notion that if a pink blond at Harvard can get away with faking a career-enhancing minority identity, then anyone, anywhere, can — or rather often has.

Warren ancestry claim puts light on corrupt system. Washington Post editorial writer and liberal blogger Jonathan Capehart is puzzled. Why does the "non-issue" of Harvard law professor and Democratic Senate candidate Elizabeth Warren's Native American ancestry "require so much attention?" he asked last week. When Warren was teaching at Pennsylvania, Texas and Houston law schools, she identified herself as Indian, or, to be politically correct, Native American. Then she was hired at Harvard, and dropped the Native American from her biographical description. Harvard Law today says it has one faculty member of Native American heritage. But it won't say which one.

Harvard professor who sided with Warren on Native American heritage also a campaign donor. A Harvard Law School professor who defended Elizabeth Warren against charges she unfairly obtained her teaching position by falsely claiming a Native American minority heritage is a donor to her U.S. Senate campaign. Professor Charles Fried gave $250 to Warren's campaign in November 2011, according to a review by The Daily Caller of donor records published by the Center for Responsive Politics.

Learn from Elizabeth Warren. I think the attacks against Elizabeth Warren, who pretended to be an American Indian to advance her career, are wrong. To the contrary, she simply did what we all should be doing! She sabotaged America's racist affirmative action regime, or — the term I prefer to call it — America's affirmative apartheid.

UPenn also called Elizabeth Warren a minority in diversity report. Harvard University may not be the only school that thought Massachusetts Democratic Senate candidate Elizabeth Warren was a Native American. In 1994, one year before she joined the faculty at Harvard, Warren won the prestigious Lindback Award for Distinguished Teaching from the University of Pennsylvania, where she was teaching at the time. Eleven years later, the Minority Equity Committee of the University of Pennsylvania published a report that listed every winner of the award since 1991 and highlighted the names of minority recipients — including Elizabeth Warren's.

Warren found listed as a minority professor at second law school. Elizabeth Warren was listed as a minority professor by a second law school in a report detailing the school's progress in creating a diverse faculty. In addition to Harvard University, where Warren is on faculty, the University of Pennsylvania Law School also touted Warren as a minority, according to an April 2005 document obtained by The Hill.

The Editor says...
Trail of Tears. Revelations of Elizabeth Warren's 1/32nd Cherokee heritage raise new questions about her academic career.

Harvard EEOC Report Listed Warren as Native American in 1999. A newly revealed document taken from a 1999 Affirmative Action Plan Book published by Harvard University indicates that Elizabeth Warren was officially listed as a Native American by Harvard Law School. Though Warren is not mentioned by name, the report shows just one Native American member of the law school.

Warren's Cherokee Claim Based on Family Newsletter. The slender thread upon which Elizabeth Warren's claim that she is 1/32 Cherokee rests — a purported 1894 marriage license application — has been exposed as non-existent. Based on a review of the original marriage records found in the files of the Logan County, Oklahoma Court Clerk's office in Guthrie, Oklahoma, and the statements of ReJeania Zmek, the Court Clerk of Logan County, Oklahoma, it is likely that the ephemeral 1894 marriage license application never existed.

Tom Lipscomb: Mrs. Warren's profession, cont'd. First an indifferent law school student who has never contributed an article to it is elected President of the Harvard Law Review. And now, barring a recantation, it appears the venerable New England Historic Genealogical Society and Christopher Child have colluded in an election fraud upon the people of Massachusetts to publicly and repeatedly advantage a candidate from the Harvard Law School for political office at the expense of their own professional standards and the evidence now staring them in the face. It is time for the press to call them to account.

U.S. Puts Limits On Employee Background Checks To Protect Minorities. The Equal Employment Opportunity Commission's updated policy on criminal background checks is part of an effort to rein in practices that can limit job opportunities for minorities that have higher arrest and conviction rates than whites.

Rep. Bobby Rush: I'll stop Metra 'in its tracks'. Rep. Bobby Rush (D-Ill.) is threatening to stop Metra "in its tracks" unless more African-Americans firms get work from a massive railroad construction project in his congressional district called the "Englewood Flyover."

Race-Baiting in the Era of Obama. Alas, racial tension in this country is not new. What is new is having a president who, for political gain and selfish ideological reasons, is instigating a racial divide that has not been seen for decades. In order to ignite a passion in his base, Obama is intentionally taking this country back to the Civil Rights Era, when violence in the streets was commonplace. But a black person in America in 2012 has every civil right that a white person has — and then some. Affirmative action has led to black people actually having an easier time accessing certain schools, jobs, and positions of higher authority.

Affirmative Action on Life Support. Where do we go if the Supreme Court effectively bans the consideration of race in college and graduate school admissions? We pivot, as the left always does, from race to class. President Obama has long hinted at his preferred form of affirmative action, giving lower-income school applicants preference over students from upper-middle class and wealthy families.

Holder's Revenge. Attorney General Holder recently addressed the question of affirmative action, and for how long it would be required. He answered, stunningly, that reverse discrimination has only just begun: "Affirmative action has been an issue since segregation practices," Holder said. "The question is not when does it end, but when does it begin[.] ... When do people of color truly get the benefits to which they are entitled?" We see in these remarks the soil out of which rises the bitter fruit of racial resentment.

Metro derailed by culture of complacence, incompetence, lack of diversity. Ninety-seven percent of the bus and train operators at the Washington Metropolitan Area Transit Authority are black, with only six white women out of more than 3,000 drivers, according to Metro documents — a lack of diversity at one of the region's largest employers that has led to an acknowledgment of failure in affirmative-action documents and spawned a series of lawsuits. The homogeneity, interviews with dozens of current and former Metro workers indicated, is a proxy to a clubby culture of favoritism in which merit has little to do with promotions, and accountability, such as noting safety violations, is a career death knell.

Obama's Legal Mentor Shows Affirmative Action Limits. [Derrick] Bell was for years a civil rights lawyer, but not an academic legal scholar of the sort who gets appointed as a full professor at one of the leading law schools. Yet he became a visiting professor at the Stanford law school and was a full professor at the Harvard law school. It was transparently obvious in both cases that his appointment was because he was black, not because he had the qualifications that got other people appointed to these faculties. At Stanford, his students complained that his course on constitutional law was not up to the standards of the other courses they were taking. Stanford at that time had one of the leading scholars in constitutional law, Professor Gerald Gunther — and Derrick Bell was no Gerald Gunther.

So When Are We Allowed to Be Intolerant? [Scroll down] As a specific example, consider what happened in Dayton, Ohio, in February 2011. The Department of Justice (DOJ) ordered the Dayton, Ohio Police Department to lower its testing standards to increase the number of minority candidates who passed the two-part examination. The passing scores for the exam were reduced from 66% to 58%, and from 72% to 63%. The DOJ acted because, in its opinion, not enough minorities were passing the test, but the ultimate result was that the DOJ order guaranteed the continuance of mediocrity through lower civil servant standards. Those who studied, who prepared, who worked to pass the exam were not rewarded for their efforts — indeed, they were penalized.

Pepsi Beverages pays $3.1M in racial bias case. The Equal Employment Opportunity Commission says the company's policy of not hiring workers with arrest records disproportionately excluded more than 300 black applicants.

Diversity, Inc. [Scroll down] But to keep this obsession with racial pedigrees going, either we will have to become entirely cynical and allow that the affluent suburbanite with the Cherokee grandmother really is "Native American," or we will have to establish clear-cut blood laws and hire federal genealogists. And to apply economic litmus tests for affirmative action is taboo: for to admit that many minorities do well in America and do not need preferences is to suggest that race itself does not predetermine one's fate.

A.D. 2041 — End of White America? When affirmative action was first imposed, whites outnumbered blacks nine to one. The burden of reverse discrimination on the white community was thus relatively light. Today, however, not only blacks, but Hispanics and women — two-thirds of the entire population — qualify for affirmative action in hiring and school admissions. And the burden falls almost entirely on white males, who are one-third of the country but three-fourths of the dead and wounded coming back from Afghanistan.

Preferences slow minority advancement. For 33 years, the [Supreme] court has been entangled in a thicket of preferences that are not remedial and hence not temporary. Preferences as recompense for past discrimination must eventually become implausible, but the diversity rationale for preferences never expires. Liberals would never stoop to stereotyping, but they say minorities necessarily make distinctive — stereotypical? — contributions to viewpoint diversity, conferring benefits on campus culture forever. ... But what if many of the minorities used in this process are injured by it?

Obama Administration Reverses Bush Policy on Affirmative Action — Communists Approve. The Obama Administration has initiated a major "Affirmative Action" policy reversal, that could create major new social divisions in the run up to the 2012 election.

Justice Department: Diversity trumps 1964 anti-discrimination law. The Justice Department is telling university administrators they can grant valuable university slots to people in favored races and ethnic groups. The department's legal advice, announced late on Friday [12/2/2011], says "race can be outcome determinative for some participants in some circumstances," when administrators are weighing who gets acceptance letters from private and government-funded universities. But the letter also highlights advocates' growing worries about a pending Supreme Court decision that could ban the use of race in awarding university slots.

The unintended consequences of racial preferences. Preferences as recompense for past discrimination must eventually become implausible, but the diversity rationale for preferences never expires. Liberals would never stoop to stereotyping, but they say minorities necessarily make distinctive — stereotypical? — contributions to viewpoint diversity, conferring benefits on campus culture forever.

How Nixon Created Obama. Who started affirmative action? AA as compensatory racial favoritism was first announced by Lyndon Baines Johnson. But it was implemented by the Nixon Labor Department as the Revised Philadelpha Plan, with strict racial quotas and timetables. The Philadelphia Plan was supposed to make up for genuine discrimination against blacks in the Philadelphia buildings trades. But it quickly triggered an avalanche of racial compensation claims, legal decisions, and executive orders that flipped the burden of proof. Today, instead of having to prove a history of group discrimination, AA simply presumes a proven history of discrimination and compels employers to prove it ain't so.

The Expanding Vengeance of Affirmative Action. Since its beginnings in 1965 with President Johnson's Executive Order 11246 — an order continued by every president since — affirmative action is now woven into the fabric of American everyday life and not simply the federal work force. Indeed, virtually nobody prominent in government, business, labor, philanthropy, sports, entertainment or religion now thinks of challenging it. They know well that a misperceived stray remark, not to mention a "discriminatory" policy, can end their career or, failing that, threaten their social standing. Corporate officials now regularly celebrate their respective companies' commitment to racial, ethnic and gender "diversity," often contributing generous checks to nonprofit groups controlled by civil-rights hustlers like Al Sharpton and Jesse Jackson to avoid lawsuits or boycotts.

Illinois hasn't hired enough minorities for new Mississippi River bridge, suit says. A group that represents minority contractors and workers has sued the Illinois Department of Transportation, seeking $650 million in damages and an order halting the award of additional contracts for the new Mississippi River bridge.

It's The CRA, Stupid! Starting in the mid-1990s, in a major switch, regulators no longer enforced traditional lending rules. Prudent underwriting was deemed racist and banks were judged on how "flexible" they could be in qualifying "nontraditional" credit cases. The more they bent their old rules and the more lower-income minority borrowers they rubberstamped for loans, the better they did on their all-important CRA examinations. In the run-up to the crisis, boosting minority home ownership became the goal of the U.S. government. And incredibly, lowering mortgage-underwriting standards to achieve that goal became government policy.

More about the Community Reinvestment Act.

The End of Affirmative Action? Opponents of state ballot initiatives that outlaw race and gender based affirmative action programs have vowed to take their fight all the way to the U.S. Supreme Court.

American Blacks Cannot Be Blamed For Barack Obama. If anything, Obama is a product of white American culture, by means of affirmative action. Obama is to some extent the stereotype result of affirmative action, the black kid made good who is continually trotted out to justify these obnoxious programs. (Recall Patrick Chavis, the black doctor who took Allan Bakke's place in medical school, and was presented as a towering success and proof positive of the value of set-aside programs until it was discovered that women were dying in his liposuction clinic.)

Racial quotas, speech codes and the thought police. It's racially discriminatory to prohibit racial discrimination. That's the bottom line of a decision issued Friday, just before the Fourth of July weekend, by the United States Court of Appeals for the 6th Circuit. The case was brought by an organization called By Any Means Necessary to overturn a state constitutional amendment passed by a 58 percent majority of Michigan voters in November 2006.

College bake sale criticized for racial tones. On Upper Sproul Plaza, where free speech reigns supreme, the Berkeley College Republicans have scheduled a bake sale where the price of a cookie or a brownie depends on your gender and the color of your skin. The price of a baked good costs $2 for white people, $1.50 if you're Asian, $1 for Latinos, 75 cents for African-Americans and 25 cents for Native Americans. Women get a discount of 25 cents.

Berkeley GOP group in hot water for 'affirmative action' bake sale. Definitely not politically correct. And, as you'll see, the liberals are having a hissy fit. It's a bake sale being put on by UC Berkeley Young Republicans that is designed to be both humorous and thought provoking. What they didn't expect were death threats.

Uproar over 'satirical' bake sale where prices differ according to your race. An 'Increase Diversity' bake sale planned by a group of students is being branded racist because the prices are based on the buyer's gender and race. The fury over the sale in California, however, is exactly what the organizers, the Berkeley College Republicans, wanted.

Government-Sponsored Discrimination. The Congressional Research Service has issued a study entitled "Survey of Federal Laws Containing Goals, Set-Asides, Priorities, or Other Preferences Based on Race, Gender, or Ethnicity" that details 276 federal statutes that grant preferences in employment, contracting, or awarding federal benefits on the basis of membership in a preferred class (in 1995 there were 172 such statutes). The figure doesn't include the numerous agency regulations that also discriminate in favor of preferred classes.

Survey of Federal Laws Containing Goals, Set-Asides, Priorities,
or Other Preferences Based on Race, Gender, or Ethnicity. The purpose of this report is to provide a broad, but by no means exhaustive, survey of federal statutes that specifically refer to race, gender, or ethnicity as factors to be considered in the administration of any federal program. Such measures may include, but are not limited to, goals, timetables, set-asides, quotas, priorities, and preferences, as those terms are generally (however imperfectly) understood.

The End of an Idea — Why Affirmative Action Should Stop. Is there a color-coded graph somewhere that says the darker one is, the more consideration one is due? Apparently not — given that most East Asians and Arabs are not usually extended affirmative action status. OK, but do third-generation affluent Japanese-Americans qualify for preferences on the rationale that their parents as children were interned in camps in the American West; or fifth-generation Chinese because their great-great-grandparents were treated horribly while building the transcontinental railroad?

Chicago must hire 111 bypassed black firefighter candidates, court rules. The Chicago Fire Department must hire 111 bypassed black firefighter candidates — and distribute "tens of millions of dollars" in damages to 6,000 others who will never get that chance — a federal appeals court ruled Friday [5/13/2011], upholding a landmark ruling.

The Chord Donald Trump Strikes. One thing the political class seems to have forgotten is that there are few living white Americans who have not had some personal experience with an affirmative-action co-worker and/or collegiate peer. For decades now, we Mainstreet dwellers have borne the brunt of this liberal two-wrongs-really-can-make-a-right folderol, and now we stand, mouths agape at those who still pretend this isn't what happened in 2008. Awarding the pinnacle of world power to a guy on the basis of eternally-aggrieved skin color is quintessentially anti-American and the people know it. It was playing with fire and we're getting burned. The people know this. The people are saying it in private.

Affirmative Action Since Obama Shattered the Highest Glass Ceiling: A little over two years ago, a black man educated at Ivy League schools was democratically elected to the most powerful office in the world. Most people saw the election of Obama to the U.S. presidency as decisive evidence that affirmative action policies are no longer necessary, if they ever were.

City agrees to lower test scores for police exam. [Dayton Ohio's] Civil Service Board and the U.S. Department of Justice have agreed on a lower passing score for the police recruit exam after it was rejected because not enough blacks passed the exam.

The Editor says...
It would be nice to have smart cops, but above all else, they must be black.

Racism lives at Department of Injustice. Flunking is the new norm at racist Eric H. Holder Jr.'s Department of Injustice. In yet another ugly, blatant and defining racist move, Mr. Holder is forcing the city of Dayton, Ohio, to lower the passing threshhold on the test for those wanting to be police officers because not enough black recruits passed the exam. Instead of attracting the best and brightest to serve the public, racist Mr. Holder will now ensure that the good residents of Dayton will be protected by dunce cops who score the equivalent of a D or F on the entrance exam.

Slippery Standards. Two seemingly unrelated stories in the news last week reveal the bankruptcy of the progressive mindset. In Dayton, Ohio, under pressure from the U.S. Department of Justice, the city's Police Department is changing its passing grades — again — on tests for police recruits. Last Wednesday, in a report to Congress, Secretary of Education Arne Duncan revealed that up to 82 percent of public schools could be labeled "failing" because they don't meet the requirements established by the No Child Left Behind law (NCLB). Duncan claimed the law needed to be "fixed." In both cases, the "fix" is lowering standards.

Justice Dept. Orders Lower Standards for Police Exam. The DOJ ordered the Dayton Police Dept. to lower the passing score for an entrance exam when not many minorities passed. As a cop, I know what happens next and the consequences could be deadly.

Department of Injustice. One of the requirements to become a Dayton, Ohio police officer is to successfully pass the city's two-part written examination. Applicants must correctly answer 57 of 86 questions on the first part (66 percent) and 73 of 102 (72 percent) on the second part. Dayton's Civil Service Board reported that 490 candidates passed the November 2010 written test, 57 of whom were black. About 231 of the roughly 1,100 test takers were black. The U.S. Department of Justice, led by Attorney General Eric Holder, rejected the results of Dayton's Civil Service examination because not enough blacks passed.

Dayton throws out written police exam scores. The city of Dayton plans to discard the test scores of the 748 people who passed its police recruit exam in November and will instead hire officers based only on a subjective oral interview — a change meant to improve the city's ability to hire more minorities.

Racial Quota Scandal at Obama Justice Department. Judicial Watch uncovered hundreds of documents from the City of Dayton, Ohio, showing that Department of Justice (DOJ) officials pressured the Dayton Police and Fire Departments to lower testing standards because not enough African-American candidates passed the written exam. ... These new documents detail a scheme by DOJ officials to bully the City of Dayton, Ohio, into lowering testing standards for firefighter and police recruits because minority candidates did not perform well enough on the written exam. (One of the most shocking claims by the DOJ is that it's not all that important for firefighters to be able to read and write!)
This is an original compilation, Copyright © 2013 by Andrew K. Dart
End Racial Preferences Now. As new figures from the Census tell us, the United States is becoming an increasingly racially and ethnically diverse nation -- with a population that doesn't fit neatly into the racial boxes constructed for "diversity" purposes. So why is it that some universities and other institutions continue to use the old paradigm of granting preferences to members of groups that are deemed "underrepresented"?

Want to Save Real Money in D.C.? The Republican Study Committee recently announced a plan to prune $2.5 trillion from the long-standing federal spending spree. Yes, $2.5 trillion is a lot of pocket change, but the RSC plan doesn't go far enough in ridding the federal government of the feminist strongholds salted throughout the bureaucracy. Let's be clear: These feminist programs are not about promoting equal opportunity. ... These "female-empowerment" initiatives are all about sex-based quotas, preferences, and earmarks that in practice serve to disadvantage men in schools, in the workplace, and in the legal system.

Last Gasp of Affirmative Action? Whether it is called "positive discrimination" in Britain and in India or "standardization" in Sri Lanka or "sons of the soil" in Malaysia, Indonesia and some states in India, group preferences and quotas to achieve equity are not unique to America. Though societies committed to the equality of individuals have claimed that these programs would be temporary, i.e., in India it was to last from 1949-1959, it is a self-perpetuating situation. Such preferential policies have long exceeded their initial claims in all countries.

Obama's EPA devotes another $7 million to 'environmental justice' campaign. Judicial Watch reports that [the EPA] announced late last week that the $7 million will be awarded "to study how pollution, combined with stress and other social factors, affects people in 'poor and under-served communities.' The agency refers to it as cumulative human health risk assessment research and the goal is to rid under-served communities of extensive pollution-based problems." Environmental Justice is a left-wing activist concept in which poor communities are assumed to be more heavily affected by pollution because they are politically defenseless against polluters, and therefore it is up to the government to step in and provide assistance to redress the alleged imbalance.

Another $7 Mil For Environmental Justice. Here's how it works; the Environmental Protection Agency (EPA) gives money to leftwing groups — including some dedicated to helping illegal immigrants — that teach black, Latino and indigenous folks how to recycle, reduce carbon emissions through "weatherization" and participate in "green jobs" training. To carry out that phase of the environmental justice crusade, some 80 community organizations have received about $2 million.

Anti-affirmative action bill to return to Legislature. A controversial push to ban any form of preferential treatment in Utah based on race, gender or ethnicity will be back before the Legislature next year, where Republican gains in the body make it almost certain to pass.

Affirmative Action for the Navy SEALS? The Navy SEALS are embarking on a targeted campaign to recruit more minority candidates, reports the Navy Times. Apparently some are concerned because "minority representation" is below the national average. There is no evidence that they are changing the standards to be a Navy SEAL. ... [But] Why seek to hire more African-American or minority SEALS? Why not just recruit SEALS, pure and simple?

Most Americans Say Government Is Too Sensitive to Minority Concerns. Fifty-one percent (51%) of Americans believe the U.S. government is too sensitive to the concerns of racial, ethnic and social minorities in the country. A new Rasmussen Reports national telephone survey finds that 24% of Adults think the government is not sensitive enough. Sixteen percent (16%) say the level of sensitivity is about right.

Arizona Bans Affirmative Action. Voters in Arizona on Tuesday [11/2/2010] approved Proposition 107 banning the consideration of race, ethnicity or gender by units of state government, including public colleges and universities. With 2,075 of 2,239 precincts reporting as of early Wednesday morning, the measure had just under 60 percent support in unofficial state results.

Financial reform bill calls for diversity. The recently enacted financial reform legislation tries in numerous ways to change how Wall Street companies and their federal regulators act, but a little-noticed provision aims for something potentially more difficult and controversial — altering how they look. To promote diversity in the largely white male world, the law requires each of the 30 federal financial agencies and departments, including the Securities and Exchange Commission and all 12 Federal Reserve banks, to establish an Office of Minority and Women Inclusion.

Another protected minority that can't be fired?
State police sued over Muslim chaplain's dismissal. The Chicago office of the Council on American-Islamic Relations (CAIR) filed a discrimination lawsuit Monday [8/30/2010] against the Illinois State Police on behalf of Kifah Mustapha. State police hired Imam Kifah as its first and only Muslim chaplain.

California High Court Upholds Affirmative Action Ban. California's highest court has upheld the state's 14-year-old law barring preferential treatment of women and minorities in public school admissions, government hiring and contracting.

Race realist Jared Taylor declares the "civil rights struggle was won long ago". What is known as "affirmative action" is really discrimination against whites. If the kinds of preferences shown to blacks or Hispanics were shown to whites it would be a nation scandal, but because the victims are whites (and sometimes Asians) it is of no consequence. Whites must work to eliminate this while it is still possible to do so. When non-whites become majorities, they are likely to push for even more extensive racial preferences than the ones they enjoy today.

Racial, Gender Quotas in the Financial Bill? [Scroll down] I was searching the bill for a provision about derivatives. What did I find [was] Section 342, which declares that race and gender employment ratios, if not quotas, must be observed by private financial institutions that do business with the government. In a major power grab, the new law inserts race and gender quotas into America's financial industry.

Another Twenty-Five Years of Affirmative Action? The Obama administration has filed a brief with the fifth U.S. Circuit Court of Appeals in Fisher v. University of Texas, a case involving the use of racial preferences in the admission of undergraduate students at UT Austin. ... What is involved in the Fisher case, therefore, is nothing less than the most crucial question of individual rights as guaranteed by the Constitution. On one side are those who believe, as the Fourteenth Amendment makes abundantly clear, that all citizens are entitled to "equal protection of the laws" without regard to race, gender, religion, or national origin. On the other side are those who believe that those very factors are of such overriding importance that efforts to shape equality of outcome must transcend the equal protection clause itself.

Bias by the numbers. Is an employment test unfair if it doesn't produce a racially balanced result? A case before the U.S. Supreme Court deals with this question. The plaintiffs in Lewis v. Chicago claim that the city violated federal civil rights law because a disproportionate number of blacks failed a written exam for firefighting jobs.

Blacks Held to Lower Standards in Perpetuity. Racial minorities, especially blacks, should feel highly insulted by the entrenched assumption that they should not be expected to compete against whites on pencil-and-paper multiple choice civil service tests. Not only should they speak out against such condescending assumptions, they should refuse any and all special treatment, and demand to be treated as capable and responsible individuals.

The Lesson of an Affirmative Action President: Affirmative action was allowed by the Supreme Court as a temporary exception to the Equal Protection Clause of the Constitution until blacks had the same opportunities others did. It has now been about forty years, and the goal posts have just moved farther and farther Left. Today it's not just blacks — it's women, homosexuals, and illegal aliens. And it's no longer equality of opportunity, but equality of outcome, which was the goal of Communism for seventy years in the Soviet Union, until the whole Soviet Empire crumbled as a result. ... From a temporary policy to give black people a better chance in life, we have now arrived at a Marxist goal of universal equality for everyone — except for white, male, heterosexual, and excessively normal people.

Truths We Dare Not Speak: Affirmative Action. The concept was noble, but now antiquated and mostly absurd. It requires the logic of the Old Confederacy to determine racial purity among the intermarried citizenry. Jet-black Punjabis get no preferences. Light-skinned Mexican-Americans of the fourth-generation claim privilege. Poor whites from Tulare don't rank. The children of black dentists do. I see very little logic here.

What Does Affirmative Action Affirm? My objections to correcting the past fall into two categories: First, the people receiving compensation are not the victims. Second, the people paying compensation are not the perpetrators.

The Content of Obama's Character. It's telling that 47 years ago, when Reverend King made his great speech on the Washington Mall, he did not say that he had a dream that one day, an African-American would become president. King's vision on August 28, 1963 was less ambitious: "I have a dream that my four children will one day live in a nation where they will not be judged by the color of their skin but by the content of their character." Even so, Barack Obama was elected president based on the color of his skin.

Police May Scrap Entrance Exam: Report. The Chicago Police Department is seriously considering scrapping the police entrance exam, sources tell Fran Spielman. Dropping the exam would bolster minority hiring and avert legal battles, according to one source, while others confirm that the exam could be scrapped to open the process to as many people as possible.

Change We Can Believe In. [Scroll down slowly] Whether intended or not, affirmative action has become the pet project largely of elites, who feel their own capital and insider connections will ensure their own do not suffer from the unspoken quotas they impose on others -- as a sort of cheap psychological penance for their own guilt over their own privilege.

Have any American blacks benefited from affirmative action? Note that the uptick in employment numbers usually comes from government payrolls. Public officials can pad these any way they want to, and historically have. … Still, I thought that the educational establishment could run a McDonald's-style "billions served" claim on its part of AA law. After all, that which the government runs and funds it can cook and season.

Liberal Hate Speech. Have you ever wondered why Barrack Obama never brings up Martin Luther King's speech where Doctor King speaks of racial equality? The reason is that that speech calls for all races to treat each other with respect. Doctor King would have refused to pass any program such as Affirmative Action because he would have considered that program racist based on its discrimination for skin color. Dr. King had no interest in punishing the innocent for the crimes of the guilty and he would be outraged over the actions of hucksters such as Jesse Jacksone, Al Sharpton, Jeremiah Wright and Van Jones.

Affirmative action and gay marriage are frauds. Equality of rights does not mean equality of results. I can have all the equal treatment in the world on a golf course and I will not finish within shouting distance of Tiger Woods. When arbitrary numerical "goals" or "quotas" under affirmative action are not met, the burden of proof is put on the employer to prove that he did not discriminate against minorities or women. No burden of proof whatever is put on the advocates of "goals" or "quotas" to show that people would be equally represented in jobs, colleges or anywhere else in the absence of discrimination.

Political Power Hasn't Brought Black Progress. Blacks are probably the most politically loyal people in the nation, and it is almost taken as gospel, at least among civil rights organizations and black and white liberals, that the only way black people can make socioeconomic progress is through the politics of race and special government programs. However, such a vision can be subjected to empirical evidence. In 1940, when blacks were politically impotent, their poverty rate was 87%. By 1960, before blacks achieved much political power, it had fallen to 47%. During that interval, in various skilled trades, the incomes of blacks relative to whites more than doubled.

Suit says college singled out blacks. A former dean of the State University of New York at Cobleskill has filed a whistleblower lawsuit against the school, saying it discriminated against black students by keeping them in school for their tuition dollars when administrators knew they had no chance of earning a degree.

Chucky The Lip has struck again, but this time it's a good thing. [Scroll down] What most of those Americans who are wondering how Obama got to be president are wondering about is not how a black man got to be president, but how a guy with only two years experience as a U.S. senator, less than 10 years experience as a state senator and absolutely zero years of military experience got elected president of the United States, leader of the free world and commander in chief of our armed forces. Really, could a white guy with those same credentials have run for president of the United States and won? Or would a white guy with those same credentials have been laughed out of the presidential race before he was barely in it?

Obama the Trickster. This administration is just filled with racial anger. So why would Sotomayor be its first Supreme Court nominee? ... Sotomayor believes in the US Constitution like Obama does: not at all. But Sotomayor is not nearly as good as Obama at this double game, seeming rather dim-witted. She's given away her Hispanic Victimhood at least half a dozen times in public, not exactly what you expect from a Justice of the Supreme Court. She would be a living embarrassment to the US Constitution. ... Her job on the Supremes will be to keep the Affirmative Action Establishment in power.

A Tangled Web. The original Civil Rights Act of 1964 was very straightforward in forbidding discrimination. But, even before that Act was passed, there were already people demanding more than equality of treatment. Some wanted equality of end results, some wanted restitution for past wrongs, and some just wanted as much as they could get. Opponents of the Civil Rights Act said that it would lead to racial quotas and reverse discrimination. Advocates of the Act not only denied this, they wrote the language of the law in a way designed to explicitly prevent such things. But judges, over the years, have "interpreted" the Civil Rights Act to mean what its opponents said it would mean, rather than what its advocates put into the plain language of the legislation.

Has Affirmative Action run its course? The very idea of continuing a policy which drives home the message that blacks can't make it in this country without racial quotas and preferences makes a mockery of, not only Obama's political success, but of every black person's efforts to reach personal goals without the stigma of having done so only because the government gave them an unfair advantage. … If blacks are ever to be viewed as equals, the perception of them as needy must change.

When Affirmative Action Is A Quota System. The supporters of affirmative action often deny that the hiring or award of a position in a university was a quota, but if they were honest they would have to admit that a quota system was involved in many cases, when it was decided in advance that the job will only go to a minority, or a promotion, tenure, or resources will only go to a woman. These examples involve a quota system: the next person hired will be Black or there will be X number or percentage of women with tenure, etc. This is what a quota is all about.

The Meaning of Ricci: It's not enough for a city to say, as did New Haven, that it was afraid of being sued by black firefighters. The evidence was irrefutable that the tests were put together in a conscientious, race-neutral way. Not only were minority firefighters over-sampled in devising the questions. The designers established nine oral exam boards, each a three-person panel, each consisting of precisely one white, one black and one Hispanic. (Such is the extreme race consciousness that the Civil Rights Act, of all things, has brought upon us.)

Intelligence is Not an Affirmative Action Program. Earlier this year when Long Island's Newsday printed on its cover the names and headshots of the 59 of the national Intel science contest's 300 semifinalists who come from the region, it put journalism before politics by not concealing what would be a major problem for certain elements of the Left and Right: The contingent didn't "look like" America — at least as some conceive it. ... What would the contemporary promoters of "equality" consider a just and "natural" outcome, evincive of a total absence of any form of bias? For that to be true, the 59 must reflect perfectly the ethnic breakdown of the United States — or at least Long Island — or better yet, for the full 300 to be a microcosm of the country. How would that be possible?

An in-depth look at the "Rooney Rule":
The NFL's Affirmative Action Deception. Imagine an America in which employers faced steep fines for failing to interview a sufficient number of minority candidates for a vacant management slot prior to making a hiring decision. Even in this day and age, where diversity rules, that might seem a far-fetched scenario. Yet for the last half-dozen years, this has been the way the National Football League has operated. And its advocates are seeking ways to expand this regime to a variety of venues — and with a strong assist from government.

The cost of a diverse Naval Academy. The Chief of Naval Operations Adm. Gary Roughead announced in Annapolis recently that "diversity is the number one priority" at the Naval Academy. The Naval Academy superintendent, Vice Adm. Jeffrey Fowler, echoed him. Everyone understands that "diversity" here means nonwhite skins.

Behind the blindfold. The most distinctive characteristic of our president's legal thinking is the extent to which it reflects the leftist orthodoxy of the law schools in which he spent his formative years, including the assumption that the American legal tradition has been little more than a mechanism of oppression and white privilege. In reading his speeches and comments over time, it is clear that he views the law not as a neutral set of rules to be presided over in umpire-like fashion by impartial judges, but as a form of historical affirmative action designed to right the wrongs of the past. As such, his conception of jurisprudence begins and ends with the idea of the courts as agents of social change.

New Haven Firefighters. In this one case we see the multiple issues which will be at the center of Sotomayor's confirmation hearing. And what's more we have a story that the average American can understand and relate to. The disabled guy worked hard under adverse circumstances and did better than most of his non-disabled peers, only to be told, "Sorry, the 'numbers' didn't come out right." And this is justice? Most Americans, I suspect, will think not and will want to know why Sotomayor acted as she did.

Reverse Discrimination Case Could Transform Hiring Procedures Nationwide. Inside a burning building, fire doesn't discriminate between Matthew Marcarelli and Gary Tinney. Inside the New Haven Fire Department, however, skin color has put them on opposite sides of a lawsuit that could transform hiring procedures nationwide. This week, the Supreme Court will consider the reverse discrimination claim of Marcarelli and a group of white firefighters. They all passed a promotion exam, but the city threw out the test because no blacks would have been promoted, saying the exam had a "disparate impact" on minorities likely to violate the 1964 Civil Rights Act.

The New 'Separate but Equal'. On the surface, it seems like a blatant case of unlawful discrimination. The fire department in New Haven, Conn., administered an exam for firemen seeking promotions. "Many firefighters studied for months, at considerable personal and financial cost," as Justice Anthony Kennedy recounts on behalf of the Supreme Court's majority in Ricci v. DeStefano. When the results came out, the city decided to deny promotions to the men who had earned them — because they were of the wrong race.

You'll Love Diversity — Or Else. Racial and ethnic diversity is the key to happiness, success in the global marketplace and, not least, an interesting life. So we are told in a batch of new "fair housing" radio ads that are the sort of treacly propaganda that cause sober drivers to run off the road. Presented as a celebration of the 40th anniversary of the Fair Housing Act, the ads were produced by the National Fair Housing Alliance, a private, nonprofit group whose stated purpose is to make sure the act is properly implemented. The act bans housing discrimination and imposes stiff penalties for those who get caught.

So You Want To Boost The Economy? End Affirmative Action! The assumption that lower economic achievement by a minority must be the fault of the majority has created costs vaster than previously imagined. For example, VDARE.com economist Edwin S. Rubenstein's recent report Cost of Diversity [PDF] for the National Policy Institute estimates the price of affirmative action, immigration, and multiculturalism at eight percent of the GDP, or $1.1 trillion.

How Obama Stimulates Feminists. Since 1969, when Richard Nixon foolishly imploded America's prospects for equality by turning the concept of affirmative action into a reality, the country's race shysters and guilt peddlers have come a long way, baby! They polarized the nation and discern disproportionate treatment out of every difference between individuals. This is true for minority hustlers of every stripe. Foremost among the con artists to cash in on a once-proud nation's guilt are the radical feminists. Gender feminists are a virulent strain of far-leftist whose power has exponentially grown over the past four decades.

Improving Schools: A Job for Parents, Not Bureaucrats. With the arrival of a new Democratic administration, the country will no doubt experience another bout of self-reflection and debate on race-based preferences. Despite the fact we have elected an African-American president — a clear demonstration if ever there was one of the diminishing level of racism in America — the civil rights lobby sees no reason to diminish their fierce defense of a racial spoils system which has come to dominate education, contracting, and employment at all levels of government.

U.S. Supreme Court takes up 'reverse discrimination' case. The US Supreme Court has agreed to take up a potential major reverse discrimination case examining the use of race as a factor in government hiring. The announcement came Friday afternoon after the justices' private conference earlier in the day. The case will likely be argued in April.

Liberals, Liars, and Cheats. Recently, the Los Angeles Board of Education was so eager to fire School Superintendent David Brewer that they bought out the last year-and-a-half of his four-year contract. Because Mr. Brewer is a black man, certain parties are suggesting that the Board's decision was racially motivated. One can't help wondering how it's possible to accuse the same people who hired the incompetent to a $300,000-a-year job can now be accused of being racists for dumping him, even though they wrote him a check for about half a million dollars.

The Prez-Elect's Quota Challenge. Racial preferences are, after all, extremely unpopular with most Americans. Voters in blue states like California, Washington and Michigan have banned them in referenda over the last decade or so. Voters in red-state Nebraska just did the same thing, by a thumping 58-42 percent margin. (A similar measure in purplish Colorado may pass as well; the votes are still being tallied.)

Justices to Hear White Firefighters' Bias Claims. Frank Ricci has been a firefighter here for 11 years, and he would do just about anything to advance to lieutenant. The last time the city offered a promotional exam, he said in a sworn statement, he gave up a second job and studied up to 13 hours a day. ... Mr. Ricci did well, he said, coming in sixth among the 77 candidates who took the exam. But the city threw out the test, because none of the 19 African-American firefighters who took it qualified for promotion.

Congressman says Obama's Senate Replacement Must Be Black. The race to replace Barack Obama as Illinois' junior senator heated up Tuesday as Rep. Bobby Rush, D-Ill., called on Gov. Rod Blagojevich to name a black man or woman to the seat. By invoking race, Rush, who is black, drove a potential wedge between the prospective white and black contenders for the seat. Rush said it would be a "national disgrace" if Obama's seat were not filled by an African American.

The Editor says...
This is exactly the kind of racism that liberals pretend to oppose — when it benefits white people.

A plan to survive the Obama years. Well, Americans usually get the government they deserve, and I urge you all to get ready for this 21st century version of amateur hour. ... That's not to say that Obama's election doesn't come with a couple of interesting side effects. For example, henceforth no black man in America may be called unqualified for any job that he might seek, no matter his prior education or experience level. Want to be a nuclear scientist but lack a Ph.D. in physics? If the applicant is a black man, it's no problem. Just offer hope to the profession and promise change from all those stuffy theorems that have given the discipline its structure over the years, and you're in.

Thomas says Constitution forbids racial preference. Supreme Court Justice Clarence Thomas said Tuesday [9/9/2008] that African-Americans are better served by colorblind programs than affirmative action. Thomas, addressing leaders of historically black colleges, said affirmative action "has become this mantra and there almost has become this secular religiosity about it. I think it almost trumps thinking."

My Preferences. Over the past ten years, no American president, Congress, legislature, or governor has acted to eliminate preferences — in other words, to enforce the 1964 Civil Rights Act, which commands the government to treat us all "without regard to race, color, national origin or sex." In addition, the United States Supreme Court has handed down conflicting opinions about the matter. In response, I have led the national effort to enforce the act through ballot initiatives in states that allow them.

Affirmative action just moves different groups to the back of the bus. The conversation has intensified over this November's Michigan Civil Rights Initiative to ban affirmative action preferences in college admissions and government hiring in our state. But anyone seeking a logical reason to oppose this fair-minded proposal is encountering more difficulty in doing so.

Senator Obama, You're No King. In the fullness of time, the American people have done precisely what Dr. King urged us to do: We have worked diligently to create a nation in which skin color is not a barrier to opportunity. … And, yet, despite our progress, there is one issue that stands in the way of our completely fulfilling King's dream; and that is race-based affirmative-action preferences.

Cultural affirmative action: What do you think Bill Clinton was referring to when he said that he wanted his cabinet to "look like America," meritocracy or quota orthodoxy? Yet Clinton isn't alone; he merely gave voice to common practice. Would Condoleezza Rice have been appointed Secretary of State and Joycelyn Elders Surgeon General if they weren't black women? Would Ruth Bader Ginsberg and Sandra Day O'Connor have ascended to the Supreme Court and Janet Reno been Attorney General if they weren't female?

Preferences Forever? We've come a long way since 1964, when the late civil rights hero Hubert Humphrey stood on the Senate floor and told his colleagues that if the civil rights bill contained "any language which provides that an employer will have to hire on the basis of percentage or quota related to color, race, religion, or national origin, I will start eating the pages one after another, because it is not in there." Four decades later, supporters of racial preferences imposed by government agencies are blocking legal efforts to establish the color-blind society that Martin Luther King envisioned.

Affirmative action dishonesty. Bill is a contrarian by nature, and he has never been able to stomach the combination of moral sanctimoniousness and rampant dishonesty that often characterizes the most aggressive supporters of affirmative action, especially in the academy. He spoke with open contempt about several of his colleagues who had been hired for affirmative action purposes, and with even more contempt for his white colleagues who had made these hiring decisions.

Deconstructing Obama: Deconstructionists have attempted to remake society around a new set of power relations. In their philosophical re-do, they imperiously take the advantage away from white males and hand it over, lock, stock and barrel to all non-white males and females of all varieties. And presto-change-o the world is still unfair, but it is unfair in a different direction. A more "fair" form of unfairness, or so say the deconstructionists.

'Help' That Harms: The arguments about the unintended consequences of affirmative action aren't new. What is new is a growing body of empirical evidence to back up the claim that affirmative action in higher education harms not only whites and Asians but also blacks and Hispanics. But this body of evidence may never see light — which is why the report is so important.

The End of Affirmative Action. Affirmative action in theory bears no resemblance to affirmative action in reality. … Of course, it should come as no surprise that people engage in racial discrimination in hiring when they are specifically asked to do so by human resources. But what is surprising about affirmative action is the extent to which it encourages discrimination along the lines of other variables not classified as "allowable" under official policies.

Affirmative action may be on ballots. A campaign is underway to ban affirmative action in five states already embroiled in debates over illegal immigration. Efforts are proceeding in Arizona, Colorado, Missouri, Nebraska and Oklahoma to put initiatives on November ballots that would end programs to increase minority and female participation in government and education. The push is led by Ward Connerly, a California management consultant who successfully ran similar campaigns in California, Washington and Michigan.

Democratic Chickens Coming Home to Roost. Affirmative action is unconstitutional, in violating the 14th Amendment. It is illegal, in that it violates the 1964 U.S. Civil Rights Act. And it is a moral outrage. But for most blacks, as for their white patrons, support for affirmative action is a political and moral litmus test. Any white who fails that test is for them a "racist" and irredeemably evil.

The First Affirmative Action Candidate. There is little difference between the rhetoric of Obama and the white candidates. They all speak of hope and change. Why should Obama's words be more believable, legitimate or acceptable? The answer is white guilt. American institutions tainted with white guilt are ready to dispense with justice for what they perceive as the higher goal of attaining moral legitimacy. The charge of racism in contemporary America is probably the most intimidating, if not the most ruinous, to white people's careers.

McCain Backs Ban on Affirmative Action. Presidential challenger John McCain said Sunday [7/27/2008] that he supports a proposed ballot initiative in his home state that would prohibit affirmative action policies from state and local governments. A decade ago, he called a similar effort "divisive."

Arizona University is Forced to Treat White Professors Equally. A federal judge in Phoenix this month said that Northern Arizona University owes $1.4 million to a group of professors who have been pursuing justice through the courts since 1995. … The lawsuit and its outcome are yet another striking illustration of the perils of affirmative action, with its often contorted logic of redress and blame and its tendency to commit exactly the sort of discrimination that it was designed to prevent.

Group seeks affirmative action vote. A civil rights group in Michigan will ask voters through a ballot initiative this November to decide whether to abolish affirmative action for college admissions, government hiring and contracting. The Michigan Civil Rights Initiative (MCRI) has been trying for three years to pose the question to voters, all while fending off lawsuits and other civil rights groups, Gov. Jennifer M. Granholm, a Democrat, and some prominent state lawmakers who oppose it.

Affirmative Blackmail: According to its mission statement, a primary goal of the American Bar Association is to "promote respect for the law." In the interest of mandating racial preferences in admissions, however, the ABA has just ordered law schools to do the opposite — in fact, to violate the law — and is resorting to blackmail to achieve its end.

Students disrupt election vote. Hundreds storm meeting hurling insults at panel trying to certify affirmative action ban for 2006.

[If Affirmative Action is put to a vote it will fail. This incident shows that the beneficiaries of Affirmative Action will resort to violence to perpetuate it.]

Police investigate alleged threat to affirmative action foe. An official with the Michigan Civil Rights Initiative, which is pushing for an end to race-based affirmative action policies, has accused a member of an opposition group of threatening her with a knife.

Help wanted: Must not be white, male. Able-bodied white men seeking a career in Canada's Department of Public Works had best wait awhile before submitting their resumes — the deputy minister of the federal agency has instructed managers to temporarily hire only visible minorities, women, aboriginals and the disabled.

Racial profiling for dollar$: The Bush administration supports racial profiling — as long as it's lining the pockets of the right people. Bean-counting government bureaucrats are free to take race, ethnicity and gender into account when doling out public funds to non-white-male contractors.

The darker side of quotas: When racial preferences are lifted, whites don't gain much, but Asian admissions jump through the roof. At the University of Texas-Austin, when preferences were removed, Asian freshmen jumped to 18 percent in a state where Asians comprise only 3 percent of the population. … The diversity "racket" discriminates against some minorities for the benefit of other minorities.

Questions for Senator Schumer. During debate on the 1964 Civil Rights Act, Hubert Humphrey, the Minnesota Democrat who was one of the principal sponsors of the legislation, denounced the "wholesale distortions" and "nightmarish propaganda" that the law would permit preferential treatment of an individual or group because of race or a racial "imbalance" in employment.

Destroying effective policing: Police departments must use race and sex preferences in hiring as a result of federal court consent decrees and political pressures. To meet these demands, many police departments have lowered, and in some cases eliminated, established standards for personal character and intellectual and physical capacity.

How Racial P.C. Corrupted the LAPD: The LAPD was once known as "the world's greatest police department," due largely to its stringent character screening. Back in the era of Sergeant Joe Friday, LAPD candidates were checked out as thoroughly as homicide suspects. … All that is now history. In a bid to appease racial activists and meet federal decrees, strict screening and testing measures were dismantled. New black and Hispanic officer candidates were hustled into the ranks at any cost.

The road to bad laws is paved with good intentions. The more likely that an assault will be successful, the more likely criminals will be to make it. The major factor determining success is the relative strengths and sizes of the criminal and officer. In particular, when officer strength and size requirements are reduced because of affirmative action, each one-percent increase in the number of female officers increases the number of assaults on police by 15 to 19 percent. The Atlanta-courthouse shooting simply arose from such a case.

Affirmative Action Has Mixed Results for Cops. Because of large differences in strength and size between men and women, different standards are applied to ensure that there are more female officers. In the Nichols case, the difference was stark: the suspect was 33 years old and 6 feet tall; the female sheriff's deputy guarding him was 51 years old and 5-foot-2.

The Decline of Affirmative Action. By tying it to the then controversial women's movement, [Democrat Congressman Howard W.] Smith hoped to kill the Civil Rights Act. … Within decades, government had imposed de facto quotas and fair practice standards for women (and minorities) throughout the work place and academia. That had not been [President] Kennedy's intention.

Baking up a controversy: The enemies of campus bake sales are at it again, inflaming one another over the dire threat of cupcakes and cookies sold at different prices to whites, minorities, and women. The sales are political parody, of course, poking fun at affirmative action policies and trying to get a debate going. Campus orthodoxy holds that such policies are sacred and that any dissent, even in the form of satirical cookie prices, is illegitimate and deserving of suppression.

Preferences aren't necessary. For more than three decades, supporters of affirmative action have argued that racial preferences in higher education were absolutely vital if blacks and other minorities were to obtain college and professional degrees. A new study, however, debunks the myth that those preferences are necessary … providing stunning evidence that affirmative action may actually hurt the chances of blacks to obtain their law degrees.

Double Standards, Double Talk, and Multiple Troubles. Fairness in the public realm once meant equality before the law, but many today equate it with equality of outcome. Is it any wonder, then, that American political culture has become plagued by identity politics, victimization claims and affirmative discrimination?

Alan Keyes On Affirmative Action: In the 1960s, the civil rights movement sought to enforce the principle in the Declaration of Independence that all men are created equal. Today's civil rights groups, including the NAACP, have abandoned that principle. Today, civil rights groups defend affirmative action by arguing that it cures past discrimination. They do not see that no one can cure a past injustice with another injustice, and that it patronizes American blacks because it presumes that blacks cannot succeed on their own. Affirmative action does not advance civil rights in this country. It is merely another government program to secure money and jobs for a few people who benefit from it.

Real Reason to Oppose Affirmative Action: Debate over affirmative action is centered on a person's perceptions of fairness. Those favoring it argue it is unfair to have the same requirements for select minorities as for others. Those opposed believe it's unfair that the more qualified candidate loses an opportunity to a less qualified member of a preferred group.

Federal Overhiring of Minorities: 12,310 new federal jobs were created during FY 2001 but only 2,820 of this total were filled by white males and other "non-minorities". That means that fewer than 23 jobs out of every 100 new Federal jobs were filled by non-minorities. Apparently FY 2001 just wasn't a very good year for white guys to apply for a federal job!

Blacks in the Federal Work Force: The First Place prize in the federal quota competition goes to Court Services and Offender Services (CSOS) for employing 1,025.4% more blacks than their affirmative action "target".

Diversity Means Quotas. Times executive editor Howell Raines has basically admitted that affirmative action played a major role in giving disgraced former reporter Jayson Blair the opportunity to prosper at the paper. Blair came to the paper on a minority internship and was promoted to national reporter, covering the beltway sniper shootings, over the objections of a Times editor. The editor was told Blair had to be promoted to diversify the newsroom.

How Title IX [held] us back at the Athens Olympics: Should the gold medals be divided equally among the participating countries? Of course not, nor should money be allocated equally to everyone who shows up. Yet that is what Title IX regulations impose on our schools and colleges.

Title IX Tied Our Hands At the Beijing Olympics. U.S. athletes won in spite of Title IX regulations, which impose gender quotas on sports for institutions that receive any federal money. Title IX has crippled our national competitiveness. Title IX regulations have forced educational institutions to eliminate men's teams until the number of men and women on sports teams is the same ratio as the number of men and women enrolled in academic classes. In the numerous colleges that are now 60 percent female in academic enrollment, Title IX requires that men's teams be eliminated until only 40 percent of the athletes are men.

Speaking of Title IX...
Pay no attention to the man behind the curtain. In a mind-boggling move, NCAA president Miles Brand recently urged NCAA institutions not to blame Title IX for any athletics cuts that they might be forced to make in the current economic downturn. ... The truth is that Title IX is always a factor in athletic department program decisions.

Affirmative action? No, racial preference. The affirmative action described in President Johnson's Executive Order 11246, issued on Sept. 28, 1965, specifically said things were to be done without regard to race. The 1964 Civil Rights Act says the same thing.

The soft bigotry of low expectations comes from many directions. Paul Hornung, the Pro Football Hall of Famer, NFL Green Bay Packers' star and Notre Dame Heisman trophy winner, stood recently before the public relations' "racial insensitivity" pit that dragged down John Rocker, Jimmy "The Greek" Snyder, Al Campanis, Fuzzy Zoeller and Sen. Trent Lott.

Affirmative Action Is Not What It Used to Be. The term "affirmative action" has long since ceased meaning what it meant in its beginnings soon after the Civil Rights Act of 1964. In 1968 President Lyndon Johnson issued Executive Orders 11246 and 11375 which ordered government agencies to take "affirmative action" (urged by President Kennedy earlier) to encourage the full participation of minority-members in American life. Later gender was added to affirmative action.

College Bake Sales Spark Conflict. Campus bake sales by conservatives who oppose affirmative action are cooking up discord — and complaints about restrictions on free speech. Organizers charge white students $1 for a cookie, while blacks and other minorities pay 25 to 95 cents. Unfair? So is affirmative action, organizers contend.

Conservative Black Leaders React to Supremes' Affirmative Action Ruling: A strong opponent of racial preferences is praising Justice Clarence Thomas for his strong dissent in the Supreme Court's ruling on the University of Michigan Law School's affirmative action plan.

Destroying black youth: Let's examine some practical matters ignored in the pro-affirmative action celebration of the court's decision.

Saving quotas: There was some talk recently about upcoming vacancies on the Supreme Court because some retirements were expected. However, the High Court's decision on affirmative action suggests that there are already vacancies, even though no one has resigned.

The Supremes and affirmative action: The Supreme Court decision upholding affirmative action is incoherent, disingenuous, intellectually muddled and morally confused. Yet, it is welcome.

Bush supports racist affirmative action. President Bush commented on the Supreme Court ruling yesterday [6/23/2003] stating, "I applaud the Supreme Court for recognizing the value of diversity on our Nation's campuses. Diversity is one of America's greatest strengths."

"Diversity" Breeds Journalistic Corruption. The Jayson Blair/New York Times scandal represents the impact of the insidious push for "diversity" in the media. Blair, considered a "promising" and "talented" black reporter, was a living example of the importance that the major media attach to "diversity" in the newsroom over accuracy and objectivity in the journalistic product.

Jayson Blair: A study in compassionate racism. As newspaper editors convened emergency denial-control meetings and minority journalists circled their wagons, New York Times executive editor Howell Raines went ahead and admitted what was obvious to anyone without a blankie over his head: Of course it's about race.

Racial preferences at the New York Times: Jayson Blair, the black now-disgraced, former up-and-coming reporter of The New York Times, personifies everything wrong with racial preferences.

Crash landing for affirmative action? It is difficult to imagine how the morale so necessary for national security can be maintained in a military which does not use merit as its sole basis for performance evaluations.

Quota "logic". Old-timers may remember a radio program about a crime-fighting hero called The Shadow, who had "the power to cloud men's minds, so that they cannot see him." Affirmative action has that same power today. Some of the murkiest thinking of our times has come from those defending group preferences and quotas.

The grand fraud: part I. Many defenders of affirmative action are not even honest enough to admit that they are talking about quotas and preferences, even though everyone knows that is what affirmative action amounts to in practice.

The grand fraud: part II. In the feminist movement's version of history, women's changing economic position is explained by women's being repressed by men until they began to be rescued in the 1960s by the women's movement, anti-discrimination policies, and affirmative action. Hard facts tell a very different story.

The grand fraud: part III. The end of affirmative action in the state-supported universities of California and Texas was decried and denounced by those who said that it would mean the end of black students' "access" to college, the "resegregation of higher education" and other irresponsible rhetorical flourishes.

The grand fraud: part IV. Someone once said of Lillian Hellman that every word she uttered was a lie, including "and" and "the." Many defenders of affirmative action deserve a Lillian Hellman award. Not only is much of what they say contradicted by readily available facts, much of what they say publicly contradicts what they themselves say privately. Often their very reasons for favoring affirmative action are false.

Create affirmative action for the truly needy: Presently, the U.S. Supreme Court is hearing a challenge to the racist admissions policy at the University of Michigan. The university ranks applicants on a scale that awards points for SAT scores, high school grades and the color of one's skin. A perfect SAT score is worth 12 points. Being black earns you 20 points.

Quotas on trial: The dishonesty that is incidental to other policies is central to affirmative action. Most of what is said in support of this policy is either wholly unsubstantiated or demonstrably false.

Quotas on trial: part II. People who are for or against affirmative action are usually for or against the theory of it. What actually happens under this policy gets remarkably little attention.

Dirty Secrets About "Affirmative Action": "The dirty little secret about affirmative action is that it doesn't work." So concluded ABC network reporter Bob Zelnick in his excellent book on the subject, titled "Backfire." An even dirtier secret is that virtually no one really cares whether or not affirmative action works to advance minorities or women.

Affirmative Action: Facts and Myths. Why do so many prominent social critics possess so little understanding of the causes they champion with such passion? Nothing so limits the public's ability to form reasoned opinions about vital issues as does the endless barrage of irresponsible, baseless assertions made by such individuals.

Affirmative Action Hero: The Life and Death of Patrick Chavis. Seven years ago, Chavis became the toast of the media elite and the racial preference crowd when he was profiled lavishly by New York Times magazine writer Nicholas Lemann. Chavis, who made the cover of the magazine, was a black physician admitted to the University of California-Davis medical school under a special racial-preference quota.

Affirmative action, a disservice to us all: The University of Michigan employs an admissions process that openly and unapologetically benefits minorities. Opponents decry the policy as a violation of the spirit, if not the letter, of the Bill of Rights (drawing specific attention to the Equal protection clause of the 14th Amendment).

"Affirmative action" revisited: Secretary of State Colin Powell distinguished preferences from affirmative action in his autobiography. "Equal rights and equal opportunity… mean just that," said Powell. "They do not mean preferential treatment. Preferences, no matter how well intended, ultimately breed resentment among the nonpreferred. And preferential treatment demeans the achievements that minority Americans win by their own efforts.

Next: Get rid of racial boxes. President Bush has spoken. Giving 20 bonus points to public college and university applicants just for being black, Hispanic or Native American is "divisive, unfair, and impossible to square with the Constitution."

Racism in the newsroom: The diversity craze in the newsroom has not only hurt good, qualified white male reporters and editors in tangible ways, it has hurt the very people it was intended to help and it has hurt the credibility and viability of the news organizations infected with this disease.

Diversity is Not Merely Skin Deep: The Illinois Board of Higher Education recently sought public comment on its campaign to promote faculty "diversity," which it equates with skin color or national origin. Most of the current and proposed "steps to increase minority faculty," however, are unnecessary and unconstitutional.

Why Affirmative Action is Harmful: I'm not a very good "briefer," as they say in Washington, because I tend to throw complications at politicians who want simple answers, but on this issue I can keep it simple.

10 States Ask U.S. Supreme Court to Take Up Michigan Affirmative-Action: Ten states have asked the U.S. Supreme Court to take up a case involving the use of race-conscious admissions policies by the University of Michigan Law School.

Race is Still an Issue in College Admission, Activist Says: In 1996, California voters passed Proposition 209, which did away with racial preferences in admissions. The Center for Equal Opportunity says the University of California is ignoring the law in a unseemly manner and is back to using race as a factor in admitting first-year students.

One of the Issues Tearing Our Nation's Fabric: Affirmative Action. Hubert Humphrey, a self-described sixties liberal, defined discrimination as "any distinction in treatment given to different individuals because of their different race." Today's preference programs have gone far beyond that view and, as reformers have suggested, now threaten to turn Dr. King's dream into a nightmare and his vision of a color-blind society into a dangerously polarized illusion.

"Friends" of blacks: During the 1940s, black students in Harlem schools had test scores very similar to those of white working class students on the lower east side of New York. Sometimes the Harlem scores were a little higher or a little lower, but they were never miles behind, the way they are today in many ghetto schools. If blacks could do better back when their opportunities were worse, why can't today's ghetto students do better?

"Friends" of Blacks, Part 2: No group is more in need of forgetting old political ties and making some new ones than blacks. The black vote has been almost an automatic monopoly of the Democratic Party for years. Yet the dominant forces among the Democrats have agendas that are directly contrary to the interests of blacks.

New Words for the Same Old Hustle: Martin Luther King Jr. did not protest the double standards of Jim Crow so they could be replaced with the double standards of affirmative action. Americans today are a remarkably tolerant and unbigoted people — especially when compared with others around the world — and yet our government and laws are obsessed as never before with race and racial categories. That obsession in turn infects our workplaces, our schools, our media. Thirty-four years after Dr. King's death, we are more mired in race than ever.

American History vs. Affirmative Action Hogwash: No one wants to talk about this because it would undermine the myth that the government and black "leaders" are responsible for the advancement of the black population. One of the consequences of that myth is that, while most blacks lifted themselves out of poverty, the public image is that government programs were responsible. This has left many whites wondering why blacks can't advance themselves by their own efforts, like other minorities -- and left many blacks likewise convinced that without government programs they would be lost. Such myths help race hustlers but hurt the race that they claim to be leading.

Affirmative action's latest victim: a black judge. Unfortunately, Affirmative Action is now little more than a euphemism for the use of quotas, though they often go under the cover of "goals" or "diversity" or some other verbal disguise.

Affirmative Action Can't Be Mended. "Even if affirmative action was not a violation of justice and fair play, was not a zero-sum game, was not racially polarizing, it is a poor cover-up for the real work that needs to be done."

Imaginary History: Picture three white fire fighters raising the American flag at Ground Zero. Then picture a magical transformation: a statue of one white, one black and one Hispanic. The rulers of political correctness didn't like what really happened, so they plan to portray it the way they think it should have been.

Judge People by Their Character, Not Skin Color: Color blindness now has been replaced with color preference in the form of affirmative action. No amount of rationalizing can disguise the fact that affirmative action involves implicit or explicit racial quotas, i.e., racism.

Affirmative action for Osama: Under the affirmative action program now pending before the Supreme Court in Adarand Constructors v. Mineta, each of the 12,000 boys born in Pakistan last year who were named "Osama" would be granted preferential treatment over American-born whites. They just have to immigrate here. Our government discriminates against native-born Americans in favor of Pakistanis.


---

The Native Hawaiian Government Reorganization Act
Creating a state within a state.



Native Hawaiian group adopts constitution at convention. The proposed constitution, approved Friday [2/26/2016] by an 88 to 30 vote with one abstention, allows room for recognition by the U.S. government while holding out for the possibility of independence, said Na'I Aupuni, an organization that says on its website it's dedicated to "establish a path for Hawaiian self-determination."

Obama Administration Promoting Race-based Hawaiian Election. This all began in Hawaii in 2011 when Act 195 was passed. It called for an election to take place in Hawaii but specified that only indigenous Native Hawaiians could vote. The purpose of the election was to enable Native Hawaiians to exercise their right to self-determination and discuss Tribal Nation self-governance. The election would choose 40 delegates to an aha, or constitutional convention. To administer this restricted election a Native Hawaiian Roll Commission was established, funded by Hawaiian taxpayer dollars. This Roll Commission created a list of Native Hawaiians who would be eligible to vote.

Supreme Court Blocks Racially Discriminatory Hawaii Election. The Supreme Court has just issued an order blocking the racially discriminatory separatist election in Hawaii. The order enjoins (stops) the counting of ballots and certification of results pending further order of the Supreme Court. [...] Only one race is permitted to register to vote with Hawaiian government officials for the separatist election. Hawaii has given a private organization millions of dollars to run the election. They believe these actions are constitutional. Judicial Watch has sued Hawaii, and the Public Interest Legal Foundation has filed an emergency brief with the Supreme Court on behalf of the American Civil Rights Union asking the court to stop the election process.

Hawaii Is Holding an Election That Only Allows People of Certain Racial Background to Vote. It's bad enough having a state hold an election that is racially discriminatory. Now we have a judge willing to allow it to move forward. That would be federal district court Judge J. Michael Seabright (a George W. Bush appointee, surprisingly enough). He's refused to issue an injunction to stop an election in Hawaii to set up a separate government that excludes anyone who doesn't meet the state's definition of "Native Hawaiian." Seabright's deplorable decision in Akina v. State of Hawaii is on an emergency appeal to the Ninth Circuit Court of Appeals — which, unfortunately, doesn't always seem to believe in following Supreme Court precedent.

Obama Administration Seeks Race-Based Government In Hawaii. President Barack Obama's administration has quietly suggested it is willing to create a two-tier race-based legal system in Hawaii, where one set of taxes, spending and law enforcement will govern one race, and the second set of laws will govern every other race. The diversity proposal is portrayed as an effort to create a separate in-state government for people who are "native Hawaiians." If Obama succeeds, "what's to prevent creating similar [self-governing racial] groups out of say, Cajuns, or Orthodox Jews or Amish?" said Gail Heriot, a commissioner on the U.S. Commission on Civil Rights. "If you can do that with groups that are already part of the mainstream, you can balkanize the country," said Heriot, who is a law professor at the University of San Diego.

Obama Looks to Bypass Congress and Promote Racial Spoils in Hawaii. When we pledge allegiance to the flag, we also pledge allegiance to the Republic for which it stands — "one nation under God, indivisible, with liberty and justice for all." The modern American left has put each of these qualities up for grabs. For example, implementing "social justice" would make it logically impossible to provide justice for all of us as individuals. The left is also unfavorably disposed to the idea of one indivisible nation. The Akaka Bill was a good example. As Gail Heriot and Peter Kirsanow explained, this legislation, which the House passed in 2010, would have enabled the nation's approximately 400,000 ethnic Hawaiians to organize themselves into one vast Indian tribe. [...] Existing Indian tribes have a degree of sovereignty. But this was an attempt to establish and empower a tribe where none existed, and to do so along racial lines. Naturally, as Heriot and Kirsanow explained, the attempt was really about funneling billions of dollars to ethnic Hawaiians, a Democratic constituency.

Native Hawaiians seek rights to self-government. Hawaii politicians are scrambling to gather enough votes in Congress to pass a bill that would grant Native Hawaiians a degree of self-government and possibly a share of the land ruled by their ancestors.

An unconstitutional act. If Democratic Sen. Daniel Akaka of Hawaii gets his way, the Senate next week will pass S. 147, a bill that would for the first time create a race-based system of governing in the United States. Akaka's bill, the Native Hawaiian Government Reorganization Act, would erect a new governmental structure to have jurisdiction over American citizens who have "one drop" of Native Hawaiian blood.

Apartheid for Native Hawaiians: Now there's a new group that wants in on all the special rights, free benefits and racial preferences that accompany sovereign tribal status: Native Hawaiians.

Hawaii Moves Toward Second 'Ethnic' Government. In a move that critics call a direct threat to the U.S. Constitution, federal legislation is moving forward in Congress to create a second, separate government in Hawaii solely controlled by ethnic and indigenous Hawaiians.

Hawaii's Racial Separatism Threatens America's Fundamental Principles. Among the 50 states, Hawaii is the most diverse. All ethnic groups are minorities. Intermarriage is commonplace. All races live, work, play and pray side by side. But despite the Aloha Spirit, institutional racism has become entrenched in Hawaii, causing huge problems. Hawaii is rapidly building a bridge to the Nineteenth Century. Hawaii has "affirmative action" on steroids. The favorite racial group is the 20% who have at least one drop of Hawaiian native blood. Two state government agencies serve "Native Hawaiians" exclusively.

'Native Hawaiian' Act a Pending Disaster, Experts Warn. Representatives of 10 state and national organizations that advocate for property rights and low and fair taxation are warning members of Congress and others with influence over national policy of dire consequences if the Native Hawaiian Government Reorganization Act of 2007 becomes law.

Trouble in paradise? I've been talking to some buddies from high school, and we're thinking of getting together and forming an Indian tribe. … Why? The benefits are just too good. … Indian tribes are exempt from many federal laws, collect their own taxes and generally can ignore the Bill of Rights, discriminate in favor of their "tribe" members and operate their own justice system.

Bill Would Divide Hawaii by Race, Dole Out Entitlements. Legislation to divide Hawaii along racial lines and hand out race-based government benefits to as much as 20 percent of the state's population is moving through Congress, having attracted almost no attention outside the state, despite its implications.

The 'Native Hawaiian' bill. The U.S. Senate is scheduled to begin debate soon on S.147, the falsely named "Native Hawaiian Government Reorganization Act of 2005." The proponents of this bill, some motivated by seemingly benign purposes and others by simple greed, argue that the legislation redresses ancient wrongs done to early Hawaiians by the United States.

Black Activists Oppose Race-Based Hawaiian Government. Members of the black leadership network Project 21 are expressing concern that legislation now under consideration in the U.S. Senate conflicts with America's "melting pot" philosophy.

Pluribus Sine Unum. America's motto is "E pluribus unum," Latin for "Out of many, one." Some U.S. senators seem to be reading it backward. This week the Senate will consider legislation that would create an independent, race-based government for Native Hawaiians. If the bill becomes law, it would create a racial spoils system that would hand special privileges to up to one-fifth of the state's population — including many with only a trace of Hawaiian blood. It could inspire mainland groups such as Hispanic separatists to seek similar spoils, should they ever gain enough political leverage.

Did Anyone Ask the Hawaiians? If I told you there would be a bill coming to the floor of the United States Senate this week that would create a sovereign government based on race, would you believe me? You can be forgiven for being skeptical. It sounds ridiculous.

Time to stand for unity. A number of Republicans appear ready to jump on the Native Hawaiian bandwagon. The bill's chief sponsor is Sen. Daniel Akaka, who has tried to get the legislation through Congress for several years. In the past, he's been given a boost by Sen. Ted Stevens, R-Alaska, who has also pushed for legislation to make Puerto Rico a state, but most mainstream Republicans have steered clear. Not so of late.

Gonzales' time to shine? Within the week, the Senate is expected to hold a vote on Senator Akaka's Native Hawaiian Government Reorganization Act. Akaka's bill would institute an extra-constitutional race-based government for native Hawaiians. The new government would have jurisdiction over Hawaiian residents with "one drop" of native Hawaiian blood. Those governed by this new, race-based government would not be subject to the same federal and state tax laws as their non-native Hawaiian neighbors. The bill's opponents note that this is surely is a recipe for racial conflict on the Hawaiian Islands.

Conservatives facing uphill battle. The Native Hawaiian Government Reorganization Act, S. 147, sponsored by Hawaiian Democratic Senator Daniel Akaka, has drawn harsh criticism from conservatives who see it as a new form of extra-constitutional race-based governing. Akaka's bill would set up a separate governing entity to preside over residents with "one drop" of Native Hawaiian blood.

Hawaiian tribe: The first business for the Senate when it reconvenes Sept. 6 after the summer recess will be passing a bill giving native Hawaiians the same status as mainland Indian tribes, despite opposition by Republican leaders and the Bush administration.

House votes to let Native Hawaiians self-govern. Native Hawaiians should regain some of the self-governance powers lost when the islands' queen was overthrown more than a century ago, the House decided Wednesday [10/24/2007]. The White House threatened a veto, saying the legislation that passed by a 261-153 vote would divide Americans "along suspect lines of race and ethnicity."

The Editor says...
Isn't that exactly what the Congressional Black Caucus does? Or the NAACP? Or "Affirmative Action" quotas?

More information about the Native Hawaiian Government Reorganization Act.

Status of the Native Hawaiian Government Reorganization Act of 2005.

Politics Rules in Debate over Hawaiian Ethnicity Bill. A bill that would have created a "Native Hawaiian Government" with special powers for 400,000 persons of native Hawaiian ancestry died in the U.S. Senate on June 8, when the measure came four votes short of the 60 that were needed to keep it alive.

Black Activists Criticize Congressional Plan to Create a Race-Based Hawaiian Government. Members of the black leadership network Project 21 are expressing concern that the legislation directly conflicts with the spirit of inclusion and equality that civil rights activists fought so hard to create.

Senate committee approves Native Hawaiian bills. The Senate Indian Affairs Committee approved bills today to extend self-government and self-determination to Native Hawaiians and to reauthorize federal housing programs for them. Sen. Daniel K. Inouye, D-Hawaii, said he did not expect the Native Hawaiian government bill to reach the Senate floor until after May.

Bush Administration Strongly Opposes Passage of H.R. 505 — Known as 'The Akaka Bill'. As the U.S. Civil Rights Commission recently noted, this legislation "would discriminate on the basis of race or national origin and further subdivide the American people into discrete subgroups accorded varying degrees of privilege."

Akaka Bill is Bad for America. The proposed legislation would dedicate scarce financial resources to promote ethnic divisions within our great nation and, at the same time, expand the role of government in an attempt to fix a system that does not appear to be broken.

Race-baiting the Aloha state. The Native Hawaiian Government Reorganization Act that was passed Wednesday [10/24/2007] by the House is a stunning display of racial divisiveness. If enacted, it would further inflame tenuous race relations nationwide by allowing an estimated 400,000 people across the country who claim native Hawaiian ancestry to form their own body of government for negotiating with state and federal governments.

Hawaii and the Ethnic Grievance Industry: Under legislation that the House of Representatives has voted 261-153 to foist on Hawaii, [Hermann] Goering's role would be played by a panel empowered to decide who is a "Native Hawaiian" and entitled to special privileges and immunities. Because there are perhaps only 7,000 "pure" Native Hawaiians, "Hawaiian blood" will inevitably be the criterion and the "one-drop rule" likely will prevail. Goering would have approved of this racialist sorting-out.

Somewhat related:
Native Hawaiians Reclaiming Land. More than 200 acres of land that belonged to the Kingdom of Hawaii before the United States took control a century ago will be returned to Native Hawaiians, according to terms of a $200 million tentative settlement announced Friday [1/18/2008].

The Editor says...
I don't get it. If the land belonged to the Kingdom of Hawaii, which is now the State of Hawaii, why isn't it state property?

Native Hawaiians Occupy Palace. A Native Hawaiian group that advocates sovereignty locked the gates of a historic palace Wednesday [4/30/2008] in downtown Honolulu, saying it would carry out the business of what it considers the legitimate government of the islands.

Hawaiian group demands restoration of the monarchy. Surrounded by royal guards and the occasional tourist, Her Majesty Mahealani Kahau and her government ministers hold court every day under a tent outside the palace of Hawaii's last monarch, passing laws and discussing how to secure reparations for the Native Hawaiian people.

The Editor says...
I support Hawaii's right to secede, provided that Texas is allowed to secede as well.

Democratic platform adopts native Hawaiian recognition. Recognition of native Hawaiians is back in the Democratic Party's national platform. The wording is a bit different from the plank adopted in 2000, but the emphasis on some form of native Hawaiian recognition by the federal government runs on the same track.

So this is what the Native Hawaiian stuff is all about!
The Akaka Bill: A Cash Cow for Democrats. Obama's multi-billion dollar nationwide scheme to circumvent campaign spending laws comes neatly disguised as a Hawaii-only deal for "reconciliation" and "justice". "Campaign finance" isn't even in the bill's description. It is called the Akaka Bill. Reintroduced February 4 for the 2009 Congressional session as S381 and HR862, the Akaka Bill creates a process to establish a Native Hawaiian Tribal Government.

Regrets Only? Native Hawaiians Insist U.S. Apology Has a Price. Lawyers typically warn clients never to apologize for anything, since a plaintiff could seize upon the remorse as an admission of liability. But what happens when governments apologize?

Time for Hawaii to secede?
Who's Ready for the "Native Hawaiian Council"! The 50th state is on the verge of being governed quite differently, now that a pro-sovereignty Hawaiian is in the White House.

Shakedown at the luau. Imagine what would happen if Congress proposed setting up a special, sovereign government for any descendant, anywhere in the country, of the mix of Cajuns and American Indians who lived before the Louisiana Purchase of 1803 in what is now the state of Louisiana. ... Substitute "Native Hawaiian" for "Native Cajun," however, and this is exactly what the House and Senate leadership plans to ram through a slumbering Congress this month.

By hook or crook...
Race-Based Government Established at Expense of Troops? The House and Senate are wrapping up work on the last appropriations bill of the year and rumors are swirling that the controversial Native Hawaiian Government Reorganization Act, also known as the "Akaka Bill," will be included in the Defense Appropriations bill. The defense measure is proving to be controversial, because House and Senate appropriators are using it to carry non related matters like a $1.9 trillion debt limit increase, an extension of unemployment benefits and the Native Hawaiian measure.

Aloha, Segregation. President Obama speaks proudly of his childhood in Hawaii, so we wonder what the state's voters think of his support for a bill that would redistribute its wealth based on race. That's what would happen under the Native Hawaiian Government Reorganization Act, which Congress is trying to sneak through in its final days this year.

Nine weeks later, another article with the same title:
Aloha Segregation. A bill expected to pass the House today [2/23/2010] with overwhelming Democratic support would accomplish something peculiar for a liberal republic in the 21st century: It would partly disenfranchise a portion of one state's residents, create a parallel government for those meeting a legislated criterion of ethnic purity, and would portend the transfer of public assets, land, and political power from those who fail to satisfy the standard of ethnic purity to those who do. For these reasons and many more, the Native Hawaiian Government Reorganization Act richly deserves opposition.

Bill to Grant Native Hawaiians Sovereignty Passes House. A bill that would give native Hawaiians the same right as Native Americans is halfway through the congressional process but opponents say the legislation is divisive and would turn over valuable land and resources out of U.S. hands.

Congress Tries to Break Hawaii in Two. Last week, the House of Representatives, in a largely party-line vote, passed the Native Hawaiian Government Reorganization Act. Popularly known as "the Akaka bill," this piece of legislation might turn out to be this Congress's single most calamitous decision. The bill creates a complex federal framework under which most of the nation's approximately 400,000 ethnic Hawaiians can organize themselves into one vast Indian tribe.

Senator Akaka's Native Hawaiian Bill Going Nowhere. The House bid farewell to departing Rep. Neil Abercrombie last week by passing the Native Hawaiian Government Reorganization Act, a vote the Hawaii Democrat emotionally described as "the culmination of a legislative lifetime for me." It's probably just as well that Abercrombie is now back in Honolulu.

Congress to Divide Hawaii Along Ethnic Lines. The U.S. House last week passed legislation that would in effect divide Hawaii into two states, one for ethnic Hawaiians and the other for everyone else. In an opinion piece in Monday's Wall Street Journal, Gail Heriot and Peter Kirsanow — members of the U.S. Commission on Civil Rights — said the bill "might turn out to be this Congress' single most calamitous decision."

Native Hawaiian government may become reality. Their kingdom long ago overthrown, Native Hawaiians seeking redress are closer than they've ever been to reclaiming a piece of Hawaii.

Aloha Oy Vey! By law, Congress cannot discriminate in favor of one race over others. Congress cannot create Indian tribes, it can only recognize ones that exist, provided they can prove their history. Furthermore, a large percentage of tribal members live on reservations, whereas Native Hawaiians are scattered throughout the Hawaiian Islands and some live on the mainland. Approximately 20 percent of Hawaii's residents would become part of this "governing entity," and it would have jurisdiction over members residing in other states. The bill would give them racially exclusive rights, thus discriminating against their fellow citizens of other races.


---

Color Bind: Racial preferences carry a high price.

Bush Backs Racial Preferences: Contradicting a campaign pledge, the Bush administration backs constitutionally dubious racial set-asides of government contracts.

Bush administration supports racial preferences: Never-Ending Supreme Court Case Has Bush Fighting for Affirmative Action. Back when he was just a hopeful candidate with his eye on the White House, George W. Bush expressed concerns about affirmative action. "I don't like quotas," Bush said during the third presidential debate against former Vice President Al Gore in October. "Quotas tend to pit one group of people against another. Quotas are bad for America. It's not the way that America is all about." But the Bush administration's Justice Department is set to defend the policy of awarding some government contracts based on race when it argues the remnants of a long-running case returning to the Supreme Court this fall.

Racial Double Standards: A measure of accommodation is accorded children because they are not adults and thus not to be held to the same accountability standards. But should that same accommodation be accorded to a race of people?

Back to the top of this page
Back to the Home page