Subsections on this page:

Black mobs and race riots
Black violence
Black violence in schools
Black crime
Black crime in Chicago
Black crime in Detroit
Black crime in Philadelphia
Black violent crime
Black racism
Black hate crimes
The 2001 Cincinnati riots
Race-based black-only organizations
Black-only holidays and events
Kwanzaa
Juneteenth
Black History Month


---

Black mobs and race riots

The news coverage of these incidents is especially disturbing when it becomes apparent that the so-called "journalists" are intentionally omitting any mention of the perpetrators' race or their racial motives. If the newspapers refer to these criminals as "troubled inner-city youths" or "at-risk teens" or some such euphemism, it doesn't make the public better informed. There is no point in publishing a newspaper if you're afraid to state the obvious, and the obvious is this: The teens are not the ones who are most at risk.



Will Black Mob Violence Put an End to State and County Fairs? I remember the first time I was taken to the state fair in Arizona. I was in junior high school and enthralled with all the rides, food and games. It was a fun and safe family atmosphere. However, I can't help but wonder if those days will soon be over for county and state fairs and they become a thing of the past. As reported by WND, last year, the Drew Expo in Roanoke, Virginia was forced to close early due to black mob violence. The violence involved at least 500 people and was almost a repeat of what happened in past years. The Spring Carnival in Hampton, Virginia last May was forced to close a week early after black mob violence erupted and resulted in five people being shot, one of them fatally.

Fights disrupt Albany fireworks. Albany Police suspended the July 4th fireworks show Wednesday night because they say a series of fights put families, who were there to enjoy a night of fun, in danger. Chief John Proctor said a number of fights broke out in the Turtle Park area where many people gathered to watch the fireworks show. He said it became a safety and crowd control issue, and police officers made the decision to suspend the fireworks.

'Black Mob Violence' Archive. at Unamusement Park

Fox News's Bill O'Reilly spotlights 'mob violence' in Detroit. Fox News host Bill O'Reilly gives vigorous coverage to stories in which white people suffer crimes at the hands of black people. In May 2012, he turned a group assault by black youths on two white newspaper staffers in Norfolk into a federal case. Last September, following the not-guilty verdict in the Trayvon Martin case, O'Reilly said: "Is there a rise of hate crimes in the U.S.A. in the wake of the Trayvon Martin verdict? All over the country, police are arresting black men and some girls for assaulting white people." Four examples followed.

Florida State Fair in Tampa Forced to Close Early Due to Massive Black Mob Violence. [T]hough a massive concentration of youth (oddly, they happened to all be black) forced the early shutdown of the Florida State Fair in Tampa last week — covered up for a few days by police, Maj. Tom Feeney would describe this as the "worst thing he has seen in law enforcement" in 30 years — you still aren't supposed to notice or question any racial aspect of this incident.

Beat Whitey Night Goes Viral: the Milwaukee State Fair \. The Chamber of Commerce in Atlanta tried to cover-up the Black Atlanta Public Schools (APS) cheating scandal; Philadelphia tried to replicate Atlanta by performing a similar cheating scandal for academically-challenged Black students; and "Beat Whitey Night" just went viral in Milwaukee, a city that is already on the brink of something... big. Chicago has had Mahogany Mobs; Cleveland and Philadelphia too. Carter Strange rests in a hospital, nearly beaten to death by a Black mob in Columbia. The Mainstream Media (MSM) refuses to connect the dots that point to a national emergency that no curfew can contain. [...] Blacks are getting a free pass to attack whites nationwide, and the Beat Whitey night of Iowa's State Fair in 2010 has gone viral.

St. Patrick's Day violence exceeded initial reports, police dispatch tapes show. As an unseasonably warm St. Patrick's Day drew to a close in Baltimore, teens by the hundreds swarmed downtown, keeping one step ahead of police while battling from corner to corner, mostly with fists, sometimes with knives. As authorities watched from a helicopter and on video from surveillance cameras, youths marched seemingly at will through the Inner Harbor and streets north and west, frequently clashing that Saturday night. Dozens of officers called in from across the city scrambled to keep up with the attacks, shutting key intersections and trying to push the youths away from the center of tourism.

Downtown business owner says violent teen mobs not uncommon. Police said that Saturday night's rampant vandalism and violence was an isolated event. But those who have seen groups of teens terrorize the area just south of Waterfront Park before, say it's nothing new. Police responded to 17 separate incidents Saturday night between 7 and 9 p.m. They say the criminal acts occurred after police broke up a gathering of around 200 teenagers at Waterfront Park.

The universality of black mob violence. The Media in the U.S.A. generally refer to such attacks as "fights" to make it appear the the victims and their attackers were equally to blame. One such mob attack occurred in Georgia where Joshua Heath Chellew was assaulted by four black males at a Chevron gas station. Like the attack mentioned above, the mob appeared to select Chellew as a random victim merely because he was white. Chellew was severely beaten, then forced into oncoming traffic where he was killed. That attack occurred in June of this year. The Associated Press shamefully reported Chellew's murder as a fight that spilled into the street.

Why is the Media Whitewashing Black Flash-Mob Violence? In the latest occurrence of flash-mob violence, 10-15 young people attacked four men in Denver earlier this week. Multiple attacks similar to this one have taken place across the country this summer with one disturbing similarity: The media has generally refrained from reporting that the attackers have generally been black — while their victims have usually been white. Racially motivated? Not sure — but I am sure of this: If just one group of white youths attacked blacks or Hispanics in similar fashion, all hell would break loose. The liberal media would suffer a collective apoplectic seizure, while Al Sharpton would be on the next jet to wherever the attack had occurred [...]

Black Mob Violence Comes to Kentucky. [L]ess than 24 hours after a mob of 30 black people roamed through the city's downtown Saturday [3/22/2014], beating, laughing, destroying property, sending three seriously hurt people to the hospital and walking away laughing, outraged citizens in Louisville are asking two questions: Why is black mob violence such a problem? And when is local media going to start telling the truth about it?

Race Riots in America. In June, thousands of black people headed to the Brighton Beach for the annual Brooklyn-Queens Day. Five people were shot. Lots of mayhem and violence as well. ... Why does it freak so many people out to state the obvious: This was a race riot. In January, dozens of black people mobbed a Wendy's in Queen's Village, with beatings, property damage and threats. In May, the same thing happened at Dunkin' Donuts, a large group of black people were "terrorizing" employees and stealing from the store.

Possible Flash Mob Hits Maryland 7-Eleven, Police Say. A pack of 30 teens helped themselves to items in a Maryland 7-Eleven early Sunday morning [8/14/2011] in what authorities have labeled another instance of a possible flash mob. The store, which is located in Germantown, Md., was empty at 2 a.m. Sunday morning when a group of teenagers calmly walked in and picked out items as though they were shopping. Then, just as calmly as they entered the store, police say, they exited without paying for the items.

The news media intentionally suppress politically-incorrect facts.
Media Stifling Racial Violence Coverage. Race matters if we want to understand the current wave of racial mob violence. Flash mobs have a lot of people talking, no thanks to PC journalists who have refused all along to help us understand this emerging social problem. For those who care about language and the truth, Mary Schmich of the Chicago Tribune has done a great service. She openly admits that her newspaper refuses to report the race of violent criminals responsible for an outbreak of racial mob violence in Chicago, which mirrors similar violence around the country.

Video Shows Teens Violently Looting Redford Gas Station. Surveillance video shows a group of teenagers on Friday night [7/22/2011] tearing through a Redford Township gas station. The group of nearly 20 teens are shown running through the station and stealing several pieces of merchandise, owner Sam Matalka said. Matalka said he lost hundreds of dollars in merchandise and had to spend hours cleaning up the damages caused by the teens Friday night.

The Editor says...
"Black" would be part of a more accurate description of the suspects, since that's what they all have in common, but that word is completely absent from this story.

'Flash robs' invade Canada. Close to midnight on a hot summer's night in July, the Quickie convenience store in Ottawa's west end was virtually empty. The next minute, 40 or so youth descended en masse. As they marched in they grabbed everything in sight. The next minute, like a well-oiled many-tentacled machine, the mob turned around and left with $800 worth of goods.

The Editor says...
The writer's name is Debra Black; aside from that, there is no mention of "black" in the article, even though an illustration shows that all the perpetrators were black.

Once again, no mention of black.
Teen mayhem hits Philly's streets again. A mob of unruly teens last night once again wreaked havoc on Center City, assaulting and robbing random pedestrians. About 9:15 p.m., police began to receive 9-1-1 calls about a group of 20 to 40 teens assaulting people.

No mention of the forbidden word black here either.
Witnesses Describe Mob Attacks Outside Wisconsin State Fair. Police said the group of young people attacked fair goers who were leaving the fair grounds. Police said that some victims were attacked while walking. They said others were pulled out of cars and off of motorcycles before being beaten.

Witnesses describe mobs, some people claim racially-charged attacks. Witnesses tell [WTMJ] of a mob of young people attacking innocent fair-goers at the end of the opening night of State Fair, with some callers claiming a racially-charged scene. Milwaukee Police confirmed there were assaults outside the fair. Witnesses' accounts claim everything from dozens to hundreds of young black people beating white people as they left [the Wisconsin] State Fair Thursday night [8/4/2011].

Racial mob violence rocks the Wisconsin State Fair. This is far worse than the racially motivated attacks at last year's Iowa State Fair during "beat whitey night." The dramatic and unprecedented rise in black on white violence across America has yet to be addressed by Mr. Obama or any of the leadership in Washington who are far more concerned with attacking Tea Party members as racists and terrorists than they are in facing any of the real issues which are tearing our country apart.

This article mentions the one detail left out by other writers.
Mob Rampages Through Wisconsin State Fair. A concession worker told the newspaper that large groups of African-American youths began running through the midway around 7:00pm, knocking people over, disrupting rides and tearing up signs. He said police, including officers on horseback, were not able to bring the situation under control.

Union Thugs Disrupt Wisconsin State Fair. Wisconsin's public sector unions are ramping up hysteria in anticipation of the recall elections on Tuesday. A reported $15 million, most of it from out of state, has been spent on behalf of the left-wing candidates in the recall races. Yesterday, Scott Walker opened the Wisconsin State Fair, as is traditionally done by the governor. But the unions couldn't let their hyperpartisanship rest even for fifteen minutes, and they put on a disgraceful delay.

Lessons from a Milwaukee Mob. On August 4, 2011, the opening night of the Wisconsin State Fair, the worst race riot in Wisconsin history occurred. As darkness fell over the amusement park area known as the Midway before closing time, hundreds of young blacks swarmed out into the parking lot, seeking out white fairgoers to attack — pulling people off their bikes, out of their cars, to knock them to the ground and beat them: with fists and whatever blunt instruments they had handy.

American Tinderbox. For some time now, residents of some US cities have noted occasional incidents of seemingly random, racially motivated violence in which young Black males are involved. The hot weather and bad economy seem to be combining to generate a small but possibly significant uptick this year. The national media are doing their best to avoid looking too closely at this disturbing phenomenon, and perhaps for good reason. What the United States doesn't need is a media firestorm that triggers copycat violence. Nevertheless some attention should be paid.

It's time to take steps to stop young thugs. While out of town last week, I suddenly started receiving urgent long-distance messages about young black people in Milwaukee acting crazy. Again. Last time it happened, I was on vacation during the Fourth of July weekend when a bunch of misbehaving young black people ransacked a gas station convenience store and attacked residents in a park.

The Taboo on Mentioning Black Mob Violence. The wave of racist violence committed by black flash mobs is different from any other form of racism today. The neglected social problem of racial mob violence is unique in its organization, the high numbers of people involved, the intensity of the violence, and the stark racial impact of that violence. The violence is also unique in that it has been purposefully obscured by the mainstream media, with the editor of the Chicago Tribune, among others, saying that his paper will not report on the race of the attackers.

Boy, 11, among 4 charged in flash-mob attacks. An 11-year-old boy is among four people who have been arrested for allegedly participating in a mob that wrought chaos on Center City on Friday night.

Witnesses describe mobs, some people claim racially-charged attacks. Witnesses tell [WTMJ] of a mob of young people attacking innocent fair-goers at the end of the opening night of State Fair, with some callers claiming a racially-charged scene. Milwaukee Police confirmed there were assaults outside the fair. Witnesses' accounts claim everything from dozens to hundreds of young black people beating white people as they left State Fair Thursday night [8/4/2011].

Weapons of Mob Destruction. In Philadelphia, a group of 20-40 youths went on a rampage in Center City August 1st, resulting in 59 people being beaten and briefly hospitalized. Last Thursday, a mob ran through the Wisconsin State Fair at closing time, beating up people at random. In London, citizens have been besieged by three straight nights of hellish rioting, even as that rioting has spread to other parts of the nation. The common themes? A racial component, studiously ignored wherever possible; technology that makes mob organization far easier than ever before; and the undeniable relationship between welfare state policies and the expansion of underclass mores.

The Mob Tears at the Foundations of Civilization. The law has failed Marty Marshall and his Akron, Ohio, family. On the Fourth of July in 2009, he was watching fireworks in his front yard with his wife and children. A mob of 30 to 50 black teenagers went onto his property and beat up Marshall, his wife, his children and two adult male friends. "This is our world. This is a black world," they taunted the injured victims. Marshall spent five nights hospitalized in critical care.

West Allis Police release timeline detailing incidents at State Fair. The Milwaukee County Sheriff's Department released 911 audio from the opening night of State Fair. These tapes display the graphic details of the attacks, some of which were racially motivated. ... Most callers tell dispatchers they see a racially motivated melee.

White Mob Terrorizes Black Milwaukeeans. I'm sorry. I got that header wrong. It was a black mob that ransacked convenience stores and hammered a group of white people in Milwaukee this past July 4th weekend. ... The fact that it was a black on white assault would explain why we didn't hear about it via the national news.

All eight suspects in brutal Five Points beating in custody. All eight suspects are in custody after a brutal attack in Five Points early Monday morning [6/20/2011] which left the teenage victim in critical condition, according to Columbia police.

Solicitor: No evidence that Five Points beating was racially motivated. Except that the thugs were black and the victim was white. Maybe he didn't notice.

Blacks must not remain silent about America's new racists. Last year, four black Skidmore College students yelled racial slurs while they beat up a white man because he was dining with a black man. Skidmore College's first response was to offer counseling to one of the black students charged with the crime. In 2009, a black Columbia University professor assaulted a white woman during a heated argument about race relations. According to interviews and court records obtained and reported by Denver's ABC affiliate, black gangs roamed downtown Denver verbally venting their hatred for white victims before assaulting and robbing them during a four-month crime wave.

Planned Parenthood's 'Lucy Ricardo moment' arrives in a Texas rape case. Last November, an 11-year-old Latina was gang-raped in the town about 40 miles northeast of Houston. At least one of the idiots who took part in this atrocity recorded the incident on a cell phone camera. Videos of the assault surfaced at the girl's school. One of her classmates alerted the principal, who alerted police. So far, 18 suspects have been arrested and charged. According to some news stories, all of them are black; according to others, the "overwhelming majority" are.

Police: Race a factor in State Fair violence. All the victims were white or Hispanic and the offenders were described as African-American.

These riots were about race. Why ignore the fact? What colour is Mark Duggan? Mark Duggan is the man who was shot dead by the police on Thursday in Tottenham. The Tottenham riots last night were sparked when people protested his death. This morning, I first heard of the riots on the radio, then on the television. I read articles on the internet. But oddly, no one would say what colour Mark Duggan was. No one would say the unsayable, that the rioters were, I suspect on the whole, black.

Flash Mob Robberies Continue. In the latest incident, 10 women stormed the Shop Express convenience store along Benning Road in northeast Washington at about 3:15 a.m. Thursday. They loaded up on food, drinks and snacks at different parts of the store. Some of the women were carrying bags to hold some of the items. Then they all rushed out of the store at the same time without paying.

The Editor says...
Fortunately the accompanying video tells the rest of the story, since the "reporter" didn't: all the suspects were black.

Are the Black Flash Mob Attacks on Whites Obama's Fault? As America's first black president, fair or unfair, Obama's presidency comes with enormous responsibility in terms of its influence on black youths. This is why it is so unfortunate that American black youths' ultimate role model is a characterless, race-baiting political hack. While I am not saying president Obama is responsible for the epidemic of black youth flash-mob attacks on whites around our country, his race-baiting has to be a contributing factor.

'Flash mobs' pose challenge to police tactics. The suspects in these crimes often connected via cellphones and share information on social media sites such as Twitter and Facebook, police say. How best to combat the technology-connected crimes — and how far police agencies should reach into private online and mobile phone access — are at the core of a growing debate among police officials, city leaders and civil rights activists. Everyone agrees: It's uncharted territory for law enforcement.

Again, the most appropriate adjective was omitted.
17 charged in Germantown flash mob theft. Montgomery County police say 17 people have been charged in a flash mob theft of a Germantown convenience store. A group of 25 young people stormed the 7-Eleven at 13001 Wisteria Drive shortly before 2 a.m. on Aug. 13. In just about a minute, they stole snacks, drinks and other items from the store, then left.

The Racial Violence that Dare Not Speak Its Name. Recent flash mob violence has alerted Americans to a troubling wave of sadistic racial mayhem. A notable outbreak occurred in Denver in 2009, setting a pattern of delay, denial, and silence. Now that same scourge has returned to Denver, among many other places. In 2009, a four month wave of mayhem broke out in Denver. There were at least 26 violent robberies committed by two black gangs. The victims were — without exception — whites and Hispanics.

Motive Unclear In Attack By Group Of Teens On 16th Street Mall. Police are asking for the public's help tracking down a large group of violent teenagers. They say 10 to 15 young people — described as black or Hispanic and both male and female — attacked four white men on the 16th Street Mall at about 10:45 p.m. on Sunday [9/11/2011].

WCBS-TV seems very sympathetic with this gang of teenage armed robbers.
Brazen Teenage Gang Robbing Straphangers During Rush Hour. Police are searching for teenage thugs targeting subway riders. There have been at least three armed attacks recently. CBS 2's Dave Carlin has seen pictures of the suspects and knows what they're after. A team of baby-faced bandits, young enough to still be in high school, is making life quite stressful in Gotham's underworld.

Shoplifting: A sense of entitlement. Shoplifting is up? Oh there is a surprise. Who would have thought that in the Era of The Won, people would feel such a sense of entitlement — such a disdain for capitalism — that shoplifting would be socially acceptable again. Shame is gone. So is respect for the property of others. So are barriers on acceptable behavior in public.

White Middle-Schooler Beaten Unconscious by Group of Black Students. The story is shocking enough, even without bringing race into it: on the way to school in Ocala, FA, a thirteen-year-old girl was beaten unconscious and reportedly went into a seizure after being attacked on the school bus by a group of fellow students. The girl reportedly was riding the bus for the first time. ... Aside from the brutality, there was another troubling fact about this crime — a fact that predictably did not make it into the news: the attackers were black, and the victim was white.

Associated Press coverage of the same story, with no mention of the obvious adjective, "black":
7 teens charged with beating classmate unconscious. Seven central Florida teenagers were arrested after authorities said they punched and kicked a 13-year-old until she was unconscious while on a school bus.

Riot breaks out at Dekaney High School. A Dakaney High School student used a cell phone to capture a brawl that broke out in the cafeteria on Friday [1/27/2012]. Spring ISD officials said the fight started between four students and no one was seriously hurt. But students said — and the video will attest — that it was more like a riot, and there were a lot more than four students involved.

Massive brawl at notorious high school. Police were called to a troubled Texas high school after another major brawl erupted in the cafeteria — and parents say they have had enough. Cell phone video provided an inside look at Friday's melee, showing students at Andy Dekaney High School, throwing wild punches and crowding the cafeteria.

Brazen smash-and-grab jewelry store mall robberies continue. Gordon's Jewelers at First Colony Mall in Sugar Land suffered the most recent attack, as KTRK Ch. 13 first reported. A surveillance video from Feb. 22 shows four masked men storming the store, smashing display cases, stealing merchandise and running from the scene in less than a minute.

Media Conceal True Nature of "Flash Mob" Racial Violence. Relying on documents made available exclusively through a Freedom of Information Act request, we can add another face to the growing picture of racial "flash mob" violence in America. It is a face that the media have concealed from public view. This writer was forced to use the local Freedom of Information Act (FOIA) to ascertain the facts about the racial identity of one of the victims of these attacks. The media concealed the identity of the white victim apparently because of misguided racial sensitivity.

Flynn calls looting, beatings in Riverwest barbaric. Shaina Perry remembers the punch to her face, blood streaming from a cut over her eye, her backpack with her asthma inhaler, debit card and cellphone stolen, and then the laughter. "They just said 'Oh, white girl bleeds a lot,'" said Perry, 22, who was attacked at Kilbourn Reservoir Park over the Fourth of July weekend.

Of course there is no mention of black in this article.
Carter Strange Speaks About Five Points Assault. On June 20th, Strange was brutally attacked by a group of eight teenagers as he was walking home in Columbia's Five Points. ... Eight suspects were arrested in connection with his attack, and seven of the suspects were juveniles.

Police issue arrest warrant for seventh suspect in beating of Bayonne man. [Dawid] Strucinski was left in a coma after he was jumped by about nine people near the Quick Chek at Broadway and 12th Street in Bayonne at around 3 a.m. July 3. Today [7/12/2011], police arrested a sixth suspect — a 15-year-old boy — and charged him with the riot and endangering injured victim today after a parent brought him to headquarters, police said.

Police: Trayvon protesters ransack store. North Miami Beach police said surveillance video shows dozens of high school students demonstrating in the Trayvon Martin case Friday [3/23/2012] ransacking a Walgreens store. The incident occurred during a walkout from North Miami Beach Senior High School in support of Martin, 17, who was fatally shot in Sanford.

NMB Students Turn Trayvon March Into Criminal Mischief Investigation. Thousands of students in South Florida have taken part in school walkouts as a way to protest the lack of an arrest in the Trayvon Martin killing at the hands of a volunteer neighborhood watch campaign. All of them remained peaceful except for one and North Miami Beach police released surveillance video Tuesday [3/27/2012] of that incident which took place at a Walgreens located at 1501 NE 163rd Street.

6 charged in beating of NC man in Seneca. The report said that a woman told police that there were several black men attacking the 32-year-old white man, whose identity was redacted. "Upon exiting the restaurant he was jumped by a mob of individuals, and severely beaten about the head and torso," said John Covington, the Seneca police chief. "The report was that racial slurs were being used toward the victim."

Six Men Who Could Be Obama's Sons Arrested For Pummeling White Man. This beating occurred March 17 and we're just hearing about it now? Where's the national media to gin up the outrage?

The Media Downplay Murder When It's Black-on-White and Black-on-Black. If violent black-white crime generates headlines, where were the media after the sickening racially motivated assault that occurred in Long Beach, Calif., on Halloween night, 2006? Three young white women were brutally kicked, punched and beaten by a mostly black mob of 30 to 40 teens and adults. According to witnesses, during the rampage the mob yelled: "We hate white people. F--- whites!" Yet only two local papers reported the story, and one — the Los Angeles Times — published its article a full week after the attack!

Crowd Beats, Strips & Robs Tourist On St. Patrick's Day; Incident Caught On Camera. Caught on camera — a tourist being beaten in downtown Baltimore, and instead of helping him, a crowd laughs and steals his belongings.

Baltimore is unsafe for white tourists. Baltimore is not a safe city for white tourists. There, I've said it. Baltimore Mayor Stephanie Rawlings-Blake won't be happy with that assessment. Nor, probably, will Baltimore City Council President Bernard Young and other elected officials. But I'm not the one they have to sell on how safe Baltimore is for white tourists. That poor white guy in the now-notorious video that's gone viral is. His name isn't known. Police have only identified him as a tourist from Arlington.

A hate crime in Baltimore. Straight white guys don't make good crime victims. Especially if the crime is a so-called "hate crime." Last month, shortly after St. Patrick's Day, a white tourist from Arlington was knocked out cold, beaten some more, kicked, robbed of money, a cellphone, his car key and a watch, and then stripped nearly naked on a Baltimore street. [...] Fact one: There was only one white guy standing in front of the Clarence Mitchell Jr. Courthouse that night. Fact two: Everybody else was black. Fact three: The only person being beaten, robbed and stripped was the white guy.

'The level of poverty, the disillusionment hasn't changed'. Twenty years ago, at the intersection of Florence and Normandie in south Los Angeles, a mostly black mob, enraged at the acquittal of four Los Angeles policemen in the beating of black motorist Rodney King, dragged white truck driver Reginald Denny from his cab and beat him unconscious while news helicopters hovered overhead. The gory images helped incite six days of fires and looting throughout the city that led to 53 deaths and an estimated $1 billion in property damage.

Twitter Buzzes With Talk of Zimmerman Riots. Since Friday [4/20/2012], there has been an explosion of tweets surrounding the possibility of rioting if Zimmerman is acquitted — or even because he was released on bail.

L.A. Riots Picture Special. This Sunday marks the 20th anniversary of the night when chaos broke out in Los Angeles. Angered by the acquittal of three white and one Hispanic police officers who had been filmed beating black motorist Rodney King rioting erupted across the city. When the flames had died down six days later 55 people had died, 2,300 had been injured and more than 1,500 buildings were left damaged or destroyed.

Thin Veneer of Civilization. [Scroll down] I went back to the hotel on the evening of April 29 to the news of the near-beating death of trucker Reginald Denny in the aftermath the acquittal of the four Los Angeles Police Department officers charged with using excessive force during their arrest of Rodney King after a drunken King led them on a high speed chase and then resisted once the police pulled him over.

What We Should Have Learned. Could it happen again? That is the taboo question on the 20th anniversary of Los Angeles's murderous Rodney King riots, just as another racially charged prosecution — this time in Florida — captures headlines across the nation. Sadly, the answer is yes.

Norfolk, Virginia: Violent Black Flash Mob Assault White Journos — Their Newspaper Buries News For Weeks. The feral wilding mob was 100 strong, at least 30 participated in the attack.

'Justice for Trayvon':
15 Whites Beaten By Gangs of Black Thugs... So Far. At least 15 whites have been beaten not just with fists, but with potentially deadly weapons including hammers and lengths of chain. Many of the victims have been hospitalized, some may never fully recover, and one lingers on the verge of death. David Forster and Marjon Rostami are just the latest victims of brutal beatings tied to the Trayvon Martin shooting, and some Virginians are outraged that the newspaper did not report the attack for "politically correct reasons." The attack was revealed not as news, but in an opinion piece.

Attack on Pilot reporters was a crime — but not the only one. Pilot reporters Dave Forster and Marjon Rostami were pummeled by a pack of punks last month in Norfolk. It was two weeks before any mention of that vicious attack appeared in the paper. As a result, The Virginian-Pilot is now taking a beating. The reporters didn't deserve this act of aggression. But what about The Pilot?

A problem with the truth? As WND reported Tuesday [5/1/2012], dozens of black teenagers attacked two white reporters for the local Norfolk, Va., newspaper, the Virginia-Pilot. Dave Forster and Marjon Rostami were stopped at a traffic light two weeks ago as a crowd of at least 100 black youths congregated nearby. Someone threw a rock at the window of the car and Forster got out to confront the perpetrator. That's when the beating started. When Rostami tried to pull Forster back into the vehicle, the crowd of dozens began pulling her hair, punching her head and scratching her eyes. Both were out of work for a week due to their injuries. Amazingly, though the victims were staffers for the only newspaper in town, the story was not reported.

Arrest Made In Viral Video St. Pat's Day Mob Assault Of Tourist. The 20-year-old man charged in connection with the recent assault and robbery in downtown Baltimore of a visitor who was stripped of his clothes was ordered held on $1 million bond Saturday morning [4/28/2012], court records show. Aaron Jacob Parsons of Rosedale turned himself in Friday night after having been linked to the videotaped incident for more than a week, as viewers tracked social media activity that appeared to show his involvement.

Mob of between 30-100 black teens brutally beat white male and female in Virginia. The pink slime media and race hustlers have more blood on their hands as yet another racially motivated mob beating has occurred. As usual, with the exception of a few local reports, the pink slime media is silent on this story. Even in the following video from a local ABC station in Norfolk, the reporter mentions: "a mob of teens" forgoing the mention of the race of the attackers. Welcome to Obamaville.

White couple's terror as 30-strong mob of black youths armed with rocks attacks. A 16-year-old male has been arrested after a gang of black youths armed with rocks violently beat a white couple in an unprovoked attack. Reporters Marjon Rostami and Dave Forster were waiting at a red light at the intersection of Brambleton Avenue and Church Street in Norfolk, Virginia, on April 14 when they were set upon by the 30-strong mob. But the couple's ordeal was not reported by their employer, the Virginian-Pilot, for two weeks, sparking outrage among some readers who claim the newspaper buried the story for political reasons.

O'Reilly Producer Confronts Editor Of Virginia Paper About Covering Up 'Racially Motivated' Assault. On his show Monday [5/7/2012], Bill O'Reilly started off by following up on the assault case in Norfolk, Virginia — in which two Virginian-Pilot reporters, Dave Forster and Marjon Rostami, were attacked by a group of black men. The story went unreported in the paper for two weeks, and O'Reilly has been following the case since last week. In this update, we heard from the paper's editor himself.

Bill O'Reilly: 'Inconceivable That Had a White Mob Set Upon Two Black Americans Media Would Sit it Out'. "It is inconceivable that had a white mob set upon two black Americans the media would sit it out." So said Fox News's Bill O'Reilly Monday about the media's almost total silence about a white couple that was attacked by a crowd of young African-Americans three weeks ago in Norfolk, Virginia.

Group of 10 or 15 'thugs' rob and beat 5 people following Prudential Center concert, cops say. A roving band of teenagers assaulted five people as they left a sold-out concert at Newark's Prudential Center Saturday night [5/5/2012], leaving one man unconscious and another with a fractured eye socket during a two-minute crime spree, according to police officials and incident reports. The attacks happened as nearly 20,000 guests departed from a Red Hot Chili Peppers concert and marked only the second major reported crime at the arena since it opened in 2007, officials said.

Newark police: Violence may have been chief motivation in brutal Prudential Center assaults. The mob of teens who attacked and robbed five people who eaving a sold-out Prudential Center concert Saturday night were "laughing" during the brutal assaults, and may have set out to injure people rather than rob them, Newark police officials said this morning.

Mobile police chief: No more arrests expected in Matthew Owens beating. Barring new information, police do not expect to make any more arrests the widely publicized beating of a man in the city's Pleasant Valley community, Police Chief Micheal Williams said today [5/9/2012]. The beating, which left Matthew Owens in the hospital in critical condition, caused a sensation that reverberated across the nation because the victim is white and the large group of men, women and children who confronted him are black.

A Censored Race War? When two white newspaper reporters for the Virginian-Pilot were driving through Norfolk, and were set upon and beaten by a mob of young blacks — beaten so badly that they had to take a week off from work — that might seem to have been news that should have been reported, at least by their own newspaper. But it wasn't. "The O'Reilly Factor" on Fox News Channel was the first major television program to report this incident. Yet this story is not just a Norfolk story, either in what happened or in how the media and the authorities have tried to sweep it under the rug.

It's the toxic culture that's killing our kids. FoxNews' Bill O'Reilly has been publicizing the attack on two white reporters by a mob of about 30 black youths in Norfolk, Virginia that took place on April 14th. He did this because the reporters' own newspaper, the Virginia-Pilot, delayed the report on the assault until after the reporters filed a complaint against the Norfolk police. Since the killing of Trayvon Martin in Sanford, Florida, there have been a number of black on white assaults that have gone unpublicized and Mr. O'Reilly was attempting to tie this mob attack with others.

Evidence presented in Bryan Stow beating case. The video was the first piece of evidence Los Angeles County prosecutors put forth Wednesday [5/30/2012] during the opening day of the preliminary hearing for Norwood and Sanchez. The hearing will determine whether there is enough evidence for the two men to stand trial on charges of mayhem, assault and battery, and inflicting great bodily injury in the brutal beating of San Francisco Giants fan Bryan Stow at Dodger Stadium on opening day last year.

No Charges In 7-Eleven Melee Caught On Video. It was caught on video, but Baltimore City State's Attorney Gregg Bernstein has decided not to file charges against any of the 40 teenagers who were seen on video robbing a 7-Eleven and assaulting the store owner.

'Flash' Mob Violence, Poverty, and Reclaiming the Streets. As a physician at Northwestern Memorial Hospital learned the other night, you're really not safe in Streeterville. Accosted by a "flash" mob of black teenagers, the physician was repeatedly hit and beaten. He wasn't robbed. He says the motive wasn't racial, as he's Asian. But typically such mobs are black and their victims are whites, who are abused with racist insults while they're being injured. The physician observed that the teenagers had accosted others before they attacked him.

No mention of the word "black", as usual.
'Flash rob' targets Troutdale Albertsons. A group of teens targeted a Troutdale store last weekend in a 'flash rob' and investigators are trying to identify the suspects. Investigators said as many as 40 kids entered the Albertsons store at 25691 SE Stark Street at the same time late Saturday night [7/14/2012] and started stealing things.

Are Race Riots News? When I first saw a book with the title, "White Girl Bleed A Lot" by Colin Flaherty, I instantly knew what it was about, even though I had not seen the book reviewed anywhere, and knew nothing about the author. [...] That phrase was spoken by a member of a mob of young blacks who attacked whites at random at a Fourth of July celebration in Milwaukee last year. What I was appalled to learn, in the course of my research, was that such race riots have occurred in other cities across the United States in recent years -- and that the national mainstream media usually ignore these riots.

Again, no mention of the term "black".
Smash mob causes havoc at Walmart. The Walmart off Lem Turner Road in Jacksonville fell victim to a mob of 300 people who entered the store and destroyed the security system as well as some merchandise. According to a police report, the group destroyed an electronic anti-shop lifting security scanner that costs about $1,500. The police report also stated the massive crowd could have arrived at the store after a party that was broken up on Sampson Road.

An interview with Colin Flaherty:
White Girl Bleed a Lot. [Scroll down slowly] I documented hundreds of examples in more than 70 cities. And here is what happens. I hear about a riot or a mob and I check it out and learn that it was a large group of black people creating havoc. So I write the details. In the course of reporting it, or after the story comes out, I almost always hear: "That's been happening here a long time." But reporters are afraid to write about it. City officials are afraid to combat it, or call it by its name. So it goes on. And it is not just the places where you might expect it: Chicago, Philly, Boston, Baltimore. It's in smaller places in the Midwest as well. [...] Ames, Iowa. They had a "Beat Whitey Night" at the State Fair. Peoria, Illinois. They had almost a dozen episodes of racial violence and lawlessness by black mobs over the last year. Milwaukee. Minneapolis. Seattle. Portland. And on and on.

Black mobs now have soundtrack for violence. The epidemic of black-mob violence now has a soundtrack. In fact, lots of them: sophisticated, highly produced songs and videos that urge black people to create all kinds of mayhem. From murdering CEOs and delivery drivers to starting riots and engaging in random warfare and everything in between. Millions of people enjoy them every day; not just as music, but as a lifestyle. It is not known if any of the 1,000 black people who rioted in downtown Greensboro following the Fourth of July festivities this year were dancing to this kind of music. But there is no doubt they were part of the lifestyle.

Chicago clothing store loses $3,000 worth of jeans in flash robbery. A clothing store in a trendy Chicago neighborhood is one of the latest victims of a so-called flash mob robbery — when a large group storms into a shop to collectively rip off a retailer. About 20 people entered the Mildblend Supply Co. in Wicker Park on Saturday afternoon [7/28/2012], together grabbing more than $3,000 worth of high-priced denim jeans, according to police.

Drunken gang of girls in subway stab attack: cops. A wolf pack of drunken young women "acting stupid" on a downtown No. 6 train in Manhattan stabbed a 63-year-old man early today [7/30/2012] — for having had the nerve to ask them to pipe down, police said. The man was on his way to work at about 6:15 a.m. when he was attacked as the train entered the East 23rd Street station, a law-enforcement source told The [New York] Post.

'They were laughing as they slashed at me'. The 63-year-old war veteran who was attacked and stabbed by a group of young girls on a subway on Sunday morning said the gang were laughing at him as they stabbed him. Ralph Carnegary, of Queens, has spoken out about the unprovoked attack which left him in hospital.



The local police and the news media bend over backwards to avoid stating the obvious.
Six teens attacked man because 'they were just bored,' police say. Six teenagers "were just bored and were looking for something to do," a police report said, when they ambushed [Pat] Mahaney as he turned off Simpson Avenue onto Dallas Avenue. [...] Several residents called police, noting the suspects are black and inquiring whether Mahaney was specifically targeted because he is white.

The Editor says...
This is the most transparently false cover story I've heard since the crash of American 587. . How "bored" would you have to be to attack a stranger on the streetcorner and beat him up? Thugs don't ambush people out of boredom. They are inner-city predators looking for someone to punch out. Preferably someone who can't possibly fight back when outnumbered four-to-one. It's a sport. It's a hobby. It's a chest-thumping male dominance ritual.

Update:
Man beaten by 'bored' teens dies 1 year later. Authorities say the Cincinnati-area man who was badly beaten by six teens almost a year ago in a Cincinnati suburb has died. Pat Mahaney, 46, died yesterday in the University of Cincinnati Medical Center, said Julie Wilson, spokeswoman for the Hamilton County prosecutor's office. The six teens, all 13 or 14, injured Mahaney in August and told police they did it because they were bored and looking for something to do.

Eric Holder, 'Hate Crimes,' and 'His People'. A group of those whom Eric Holder described as "his people," at least six young men, repeatedly punched a 24-year-old white woman in the face, then proceeded to kick her face over and over when she was on the ground helpless. This occurred in Buffalo, New York last week, but the event has received no attention by the mainstream media because the victim was white and the attackers were black. This was no friendly urban jostling: the woman was left with a broken nose and cracked bones in her face. There must have been a little bit of hate in at least one of those kicks to the face, but you can bet it won't be charged as a hate crime.

Cops: Man hit by car, officer hurt as 100 people brawl in Dover. Multiple fights were happening at once in the crowd of more than 100 people by the time Sgt. Anthony Smith and officers Jonathan Cachola, Walter Michalski and Paul Wilkes arrived, police said. Michalski then went to Mercer Street where he found a man lying bloody on the sidewalk, police said. Friends of the man told Michalski the driver had purposely struck him with a car and left, police said. So Michalski began administering first-aid to the man, but he called for additional units to assist him when a large, raucous crowd encircled them, police said.

The Editor says...
It is sometimes necessary to read between the lines of a news story. The word "black" was not used in any of the news reports about this incident. However, given the news media's track record, it is safe to say that if a mob of a hundred white people had taken part in a street brawl/riot, the story would have been carried by dozens of media outlets, leaving no doubts about the rioters' general description.

Pa. Football player's death ruled homicide. [Timothy] McNerney was walking back to campus with Zach DeCicco from Main Street Brew House on South Main Street when they were approached near the rear of Lombardi's Auto Service by as many as six males wanting to steal a cellphone, [Police Lt. Dan] Stanek said.

The Editor says...
The victim was known to Google, and a search for pictures of "Timothy McNerney" shows he was a white man. The perpetrators were apparently black. What makes me think so? Because if they hadn't been black, they would have been described as white men in the press.

Looters brag on Twitter. [Scroll down] A mob of more than 50 thieves made the most of the opportunity on Coney's Island, starting down Mermaid Avenue on Tuesday morning [10/30/2012] as the water receded. 'People were running in and out of Rent-A-Center carrying these big flat-screens,' witness Aisha John, 20, told the Daily News. 'They were holding on tight. I couldn't understand how someone could steal a big TV in broad daylight, but no one cared.'

Queens residents arm themselves in the post-storm blackout from looters. When night falls in the Rockaways, the hoods come out. Ever since Sandy strafed the Queens peninsula and tore up the boardwalk, it's become an often lawless place where cops are even scarcer than electrical power and food. Locals say they are arming themselves with guns, baseball bats, booby traps — even a bow and arrow — to defend against looters.



Seven Black Teenagers Attack 1 White Teenager And Beat Him Senseless. The white kid was simply going to play football, but seven black kids beat him before he got there. It was only a few blocks from his house. Apparently, the kids at his school didn't like him because he was white.

Black Mobs Take Over Washington Metro. Members of this mob call themselves the 44th Street Crew in Southeast Washington. For those not familiar with the different sections of Washington, that is not the lobbyist/media/functionary dinner-party part of town. Reporters at the Fox affiliate in Washington seemed surprised at the mob violence. But to people who ride the Metro, it was just another day. Metro police have seen so much of it they are ready with instructions for riders who encounter it: Resistance is futile.

Shoe shoppers get sprayed with mace at Hulen Mall. A rush for limited-edition tennis shoes sparked a near riot Friday morning [12/21/2012] at Hulen Mall. [...] The crowd, estimated to be as large as 350 to 400 people, had apparently flocked to the mall to purchase retro Air Jordan sneakers, a re-release of the famous red and black Michael Jordan shoes. The popular shoes retail for between $150 and $200.

Paramus police arrest 2 teens after group of 10 harassed officers. Paramus Police Officer Anthony Liggio had stopped a motor vehicle on Route 4 east, backed up by Officer Joseph Cullen, just before 2:30 a.m. A group of about 10 males walking on the road approached the officers and began to yell and scream insults and obscenities at them, police said.

Flash mob at Mall of Louisiana goes horribly wrong when massive 200-person brawl breaks out instead. A flash mob at the Mall of Louisiana turned violent last night, causing the shopping center to be evacuated. As many as 200 young people were in the food court of the Baton Rouge mall for an apparent flash mob, but things turned ugly quickly.

Large-scale fight erupts at Mall of Louisiana, shutting it down. A large-scale fight involving as many as 200 juveniles erupted in and around Baton Rouge's Mall of Louisiana Saturday night [1/5/2013], prompting three different police agencies to respond and forcing the mall to close, the East Baton Rouge Sheriff's Office reported. No injuries or weapons were immediately reported, Casey Rayborn Hicks, a spokeswoman for the sheriff's department said.

Section 8 housing voucher distribution canceled after thousands waiting in line get out of control. A chaotic scene erupted at the Taylor Human Services Center when the crowd waiting for a Section 8 housing voucher distribution got out of control. [...] Police say thousands of people from all over the area were at the center. Many were homeless, single moms, or disabled. They were hoping to get help paying for their housing from the government.

Riot ensues at Section 8 voucher giveaway. Law enforcement tried to break up a riot in Detroit Saturday morning after 3,000 to 5,000 people showed up for only 1,000 Section 8 housing vouchers. People had lined up overnight waiting for the Wayne County Family Health Services Center to open, and when it came time for the vouchers to be distributed, police said there was a mad rush for the door.

Massachusetts man is savagely beaten outside pizza shop in Greenwich Village. A heinous beatdown in the heart of Greenwich Village has left a Massachusetts man fighting for his life. Kevin McCarron, 24, was bashed with a tire iron, baseball bat and blackjack and stomped repeatedly by a gang of toughs in the middle of MacDougal St. early Sunday, police and witnesses said. Cops on Monday [1/14/2013] busted 24-year-old Hatem Farsakh of Brooklyn, who was arraigned on charges of attempted murder and assault. Onlookers were horrified by the savage attack.

Westampton fight involving 'more than 100 people' leads to five arrests, police say. A fight involving more than 100 people broke out early Sunday morning [1/20/2013] at the Rancocas Community Center and resulted in $800 worth of damage and five arrests, police said. Police were sent to the center on Main Street on a report of shots fired and a large fight, police said. When they arrived about 12:25 a.m., police found more than 100 people acting disorderly and "jumping on top of vehicles," police said.

Brawl At Social Services Office Caught On Video. Sources said the fighting started even before the video started rolling at the Illinois Department of Human Services Office. The video shows at least 4 women involved in the brawl, with fists flying from one side of the lobby to the other.

Flash Mob Mayhem: Violent Groups Of Teens Leave NYC Businesses In Ruins. Violent, thieving mobs have been making headlines across the country for the past few years, and now they have hit New York City. And Maurice Dubois reported in this CBS 2 investigation, the teen mobs have left neighborhoods worried as businesses take matters into their own hands.

Ravens fans celebrate Super Bowl win by car tipping and looting a Baltimore 7-11. But AP told us there were no reports of "disturbances" after the Ravens' Super Bowl win. Once again, Twitter has the news first.

12-year-old among 12 accused in beating of pregnant woman. A pregnant woman is recovering from an attack after Seminole County Sheriff's deputies said she was beaten during a brawl in Sanford by 12 people, including four juveniles. The youngest suspect is 12 years old. Neighbors said the fight broke out on Sunday [2/10/2013] just after 10 p.m. in the Palm Point subdivision along Daffadil Terrace.

High school food fight turns into violent 'race riot'. What started out as a lunchtime food fight in a Minneapolis high school ended in a massive brawl involving hundreds of students and police officers wielding canisters of Mace. Minneapolis South High School was placed on lockdown shortly before 1 pm Thursday [2/14/2013] after violence broke out during third-period lunch inside the cafeteria between Muslim and black students.

Hundreds of students brawl at Minn. high school. A food fight quickly turned into a brawl involving hundreds of students at a Minneapolis high school on Thursday [2/14/2013], forcing police to use chemical spray to break up the melee.

A Blind Pendulum. While in the newspapers or on television you will not be informed about it in a form that makes sense, a growing cancer of racially-based violence is metastasizing in our cities. Moreover, unless you were to see these outrages first hand or in media outside the mainstream organs, you would know nothing of it — for it is being withheld from you. For reasons that we may want to speculate on, the news media have made an overt decision to avert your eyes away from the stone cold reality that a spectrum of young black men and women, motivated by race, rage, or entertainment, are increasingly committing crimes against life and property by the medium of flash mob violence.

Explaining the Inexplicable. Almost daily on internet news agencies is some lurid story of a shooting, flash-mobbing, or beating that unfortunately involves a racial motif. [...] Yet such information is usually implicit rather than overt. The paper or news agency that reports the crime either provides no overtly physical description of the suspects, or offers almost every detail of their appearances (sometimes even artists' renditions!) except for their race.

Michigan Avenue warning: Teens allegedly planning disturbance. Chicago police have warned businesses to be on alert for a potential problem on Michigan Avenue Saturday [3/2/2013]. Authorities have learned a large group of teenagers may gather tomorrow to participate in what's described as "disruptive behavior".

Obama's America — Mall Warnings. Now, does anyone else think it's pathetic, sad, and more than a little bit ridiculous that American citizens have to be warned to be on alert for roving bands of teens bent on destruction and mayhem? [...] And the fact that this Department is calling it "disruptive behavior" instead of organized looting, planned batteries and mindless property damage is truly stupid to the n-th degree.

Cleanup in aisle 1: Teen's 'mourners' trash Brooklyn shops. A vigil for a teenager fatally shot by cops turned into a riot in Brooklyn last night [3/11/2013], as a mob of outraged thugs ransacked stores, broke car windows and assaulted residents in East Flatbush. The chaos erupted after about 200 people gathered to mourn 16-year-old Kimani "Kiki" Gray, a reputed Bloods gang member who was shot after pulling a gun on police Saturday.

100 teenagers 'riot' on the streets following vigil of 16-year-old. An orderly protest over the death of an armed 16-year-old turned into a riot in Brooklyn tonight after young people started lashing out at NYPD officers. Between 60 and 100 rioters gathered around Church and Snyder Ave. in East Flatbush and threw bottles and other debris at police, witnesses said, following a vigil for Kimani Gray, 16, who was shot dead by two plainclothes officers over the weekend.

Enraged protesters battle cops in Brooklyn streets during third night of rioting. As fights between cops and angry teens erupted in East Flatbush, 46 were arrested Wednesday night [3/13/2013]. Police struggled to control a furious crowd that broke away from a planned peaceful vigil.

Brooklyn Neighborhood Is 'A Powder Keg' After Teen Killed By Police. [Scroll down] The witness said the teenagers suddenly took off, fanning through streets and side streets, followed by the sound of glass breaking and metal store-front gates being pulled down. Protesters began throwing bricks and bottles while cops began pepper-spraying and arresting. By the end an officer's face and the window of a police van had been hit with bricks, and 46 people had been arrested.

New York gangs use Easter Sunday as a 'day of initiation' to attack people and businesses'. New York police have stepped up patrols in the center of Manhattan today over fears of gang violence over the Easter weekend. Times Square and Midtown have seen a growing trend for crime on Easter Day with gangs seemingly using it as a day of 'initiation'.

Whites attacked by black mob for walking white. When a black mob attacked two reporters in Norfolk, Va., last year, the editor of the Virginian-Pilot newspaper said it was just a "street altercation" and he had no proof of racial motivation. But even the most diehard denier of the epidemic of black mob violence around the country will find this case difficult to explain away: Three white men in Georgia were allegedly robbed and assaulted and almost killed in April by a group of black people, all because of the color of their skin. At least that is what the victims told the local sheriff.

Black Mob Violence Rocks Virginia Beach. Reporters at all the local media in Virginia Beach had trouble describing what happened over the weekend when 40,000 black people descended on their town for a party. Their audiences, however, did not. Daniel Johnson was one of dozens of people who had no trouble describing the lawbreakers and the chaos, danger, thefts, violence and lawlessness they brought to Virginia Beach as part of College Beach Week 2013. A time when black students could "blow off some steam" before final exams. The readers and viewers offered eyewitness accounts that local media could not, or would not, present.

325 calls to VB 911 this weekend. Virginia Beach Police confirm they received 325 calls for service to the Oceanfront this past weekend; a weekend that included several violent crimes. City officials are speaking out about that violence during a college event.

A 100 proof case of racial violence in Georgia. Reporters say racial violence does not exist unless the perpetrators issue a press release or confess to a reporter or blab to the police. Which is what happened down in Georgia.

Euphemism alert! [Scroll down] I don't fault [Eric] Litz for never mentioning any particular racial group. He probably wants to keep his job, his friends, his social contacts, and avoid the deadly label of racist. So he writes in code. [...] There is not one mention of race in the piece, even though that clearly is the heart of the story. The code word "urban" is understood by at least 90% of the adult population to mean black in this context. Nobody is fooled by this obligatory dance with the truth. It is all really quite laughable, this walking on eggshells. It puts the lie to any claim that mainstream journalism is about telling the truth. The dishonesty about social pathologies only makes them worse.

Judge bars racially charged protests from private property. Jason Gosselin, a lawyer for One Liberty Place, sued the group Tuesday and asked [Judge Ellen] Ceisler to bar it from continuing its assemblies. The demonstrations featured about a half-dozen men with thick beards, dressed in robes and using bullhorns to shout at pedestrians. Among their rants, the suit said, were these: "The white man is the devil," and "A woman need to shut her ... mouth."

Black Mob Violence in New Orleans? Police are "baffled." Police in New Orleans say they have never heard anything like this: A black mob beating up someone for the pure thrill of it. All on video.

Happy holiday! Let the violence begin. While locals fled in anticipation of the annual celebration of violence and chaos during Black Beach Week over the Memorial Day holiday in Miami Beach, large-scale black mob violence erupted in Jacksonville, Rochester, West Bloomfield, and Baltimore. A lot of it on video.

A 'scuffle' with dozens of people with guns. Large groups of black people continue to create violence and mayhem at Indianapolis shopping malls. But many local people have no idea why. Or what to do about it. [...] The latest event of black mob violence was over the weekend at the Castleton Square Mall — the largest and some say nicest shopping district in the state. Local media accounts were eager to downplay the violence and ignore the racial component of the mob.

'Beach week' draws black crowd — and violence. Reporters with all the local media had trouble describing what happened over the weekend when 40,000 black people descended on Virginia Beach for a party. Their audiences, however, did not.

An Epidemic of Black Mob Violence. Racial violence is back. Along with racial lawlessness and even riots. You didn't hear about it? The Midwest state fair with a "Beat Whitey Night?" Or the Black Beach Week that turns a town into "living hell?" Or the school principal who blamed Asian students for being racist after suffering years of abuse? The eleven episodes of racial violence on the Fourth of July 2012? Some involving more than 1000 black people? These criminal episodes go by different names: Flash mobs, flash robs, black on white crime, or as one social worker put it: Kids just "blowing off steam." Anything except what they are: Racial violence.

150 People Arrested In NAACP Protest Against NC Republicans. Upwards of 150 people were arrested outside the doors to the [North Carolina] state Senate chambers, where demonstrators chanted, sang and delivered speeches decrying what they called a regressive agenda that neglects the poor.

Juneteenth festival ends with several arrests. Milwaukee police sources told [WISN] there were several arrests at Wednesday's Juneteenth celebrations at the Martin Luther King Center, but would not go into further detail about the incidents. The arrests were made as the festival was winding down, authorities said.

Are there any reporters left in Milwaukee? Every year, Juneteenth in Milwaukee is a mess: Lots of violence. Lots of people arrested at this annual festival of black liberation. [...] Something happened at Juneteenth in Milwaukee a few days ago but not one local reporter is talking about it.

Black mob violence claims life of pregnant woman. A Dayton woman who was nine months pregnant is dead today after she was shot during an episode of black mob violence. The incident began Wednesday afternoon [6/19/2013] when Dayton police were called to break up a large fight involving a crowd of black women. Wednesday night, the crowd formed once again. And once again fighting broke out, this time involving 50 to 100 people. Gunfire was exchanged.

400 black people riot in downtown Greensboro. A repeat from last summer: A series of black mob attacks "every single weekend" in July. And before. And after.

Witness claims youths yelled 'this is for Trayvon' in beating. Baltimore police say they are investigating a witness account that a group of black youths beat a Hispanic man near Patterson Park Sunday while saying, "This is for Trayvon." A witness posted the account on a community Facebook page, and police confirmed they are looking into whether the suspects' reaction to the verdict in the Florida trial of George Zimmerman played a part in the incident.

Man Claims Attack Was Trayvon Retaliation. The victim, who did not want to be identified, told News Channel 3 and investigators the men drove up to him and asked him to get into their car, implying they had a gun. The man, who is white, told police the men who attacked him are black. The man says the men drove him miles away in silence before pulling him from their car and attacking him, saying, "I'm fixin to beat your a** for Trayvon."

Protesters storm Wal-Mart in Crenshaw area. People protesting George Zimmerman's acquittal marched along Crenshaw Boulevard on Monday night, stomping on cars, chasing bystanders and storming a Wal-Mart. Several protesters made their way into the Wal-Mart as guards scrambled to close security gates. A short while later, Los Angeles Police Department officers wearing helmets and carrying batons swarmed the store as others marched through the parking lot.

Zimmerman verdict protesters attack TV reporter, storm Wal-Mart. A peaceful protest of the George Zimmerman verdict in Los Angeles turned violent Monday after youths broke away from the main demonstration in Leimert Park, stomped on cars, broke windows, set fires and attacked several people. KCBS-TV/KCAL-TV reporter Dave Bryan and his cameraman were among those who came under assault.

'Let's Go Mess Up Hollywood For Trayvon'. On Tuesday night [7/16/2013], a flash mob of some 40 to 50 teenagers invaded the busiest and most tourist-centric part of Hollywood, smashing windows, stealing cellphones, and assaulting passersby. The police described the incident as a "rolling crime wave." One police official said that the George Zimmerman acquittal provided the flash point excuse for the flash mob.

'Bash mobs' sweep through Southern California. Organized "bash mob" crime rampages of roving groups attacking innocent people and businesses have been striking cities around the United States. Law enforcement agencies in Southern California have reported few similar problems — until now. In the last several days, there have been several reports of such group crime waves in South L.A., Hollywood, San Bernardino and Victorville. Long Beach police are bracing for another one Friday [7/19/2013].

Arrests in San Bernardino; 'Bash Mob' in Long Beach. Police say a mob of young people smashed windows and threw rocks and bottles in San Bernardino, resulting in at least six arrests. Police are trying to determine whether Thursday night's [7/18/2013] civil unrest was arranged through social media contacts and whether it was sparked by the acquittal of George Zimmerman in the shooting death of Trayvon Martin.

Racial Unrest and the 'Duty to Retreat'. In response to the second degree murder acquittal of George Zimmerman, pro-Trayvon Martin supporters are expressing their displeasure with the verdict by storming shopping malls and pilfering drive-in markets. The point of the "tear up the city" rallies currently taking place across America is to loudly proclaim that an innocent teenager died because he had a run-in with a trigger-happy racist itching to kill a black boy. In honor of Trayvon, bands of whipped-up teens are "running in and out of traffic, knocking people over on the sidewalks and snatching their belongings."

Video: 'Flash mob' robbery at DC convenience store. "It was crazy. Beyond our control," says the manager of the King Convenience store in the 1500 block of U Street in Southeast D.C. He says a flash mob of teens stole candy, soda and other items from his store Saturday night.

Riot sparked by basketball bet heavily damages Polk juvenile center. The melee needed 150 law enforcement officers from several state and local agencies to quell. Seven juveniles were taken to a nearby hospital for treatment of minor injuries. Polk County sheriff's deputies said 18 of the 20 buildings at the Avon Park Youth Academy were destroyed and nearly half the juveniles had to be taken to a jail. Rioters confiscated a guard's radio and all of the staff golf carts and set fire to a building containing the teens' records and a trash bin, the Polk County Sheriff's Office said. The riot started about 8:30 p.m. after a fight on a basketball court.

The Editor says...
The article above includes no suspect descriptions or names of those arrested. If the rioters had been white guys named Billy and Steve and Seth and Larry, that aspect would have been made abundantly clear in the article's first sentence. So it's safe to assume that everyone involved was black.

Police officers sent to break up raucous party pelted with rocks, bricks and bottles. The pandemonium of between 150 and 300 people behaving in a riotous manner took every Trenton police officer and state trooper working in the city plus Transit police, a Ewing police unit and State Police reinforcements from Hamilton barracks 15 minutes to bring under control, said Lt. Mark Kieffer, a police spokesman.

Student beaten while waiting for school bus. The victim said the four adults — two males and two females — exited the car and demanded cellphones and money.

The Editor says...
This happened in Gary, Indiana, and the newspaper offered no description of the suspects, so it is safe to surmise that the suspects were all black. Prove me wrong.

Two Trenton cops injured in West Ward street brawl. According to the sources, [Officers] Rivera and Flowers were patrolling on North Hermitage Avenue near Boudinot Street around 8 p.m. when they observed two girls fighting out on the street. The females were taken into custody without incident, but after they were handcuffed the situation turned ugly, the police sources said. At least two men approached the officers, one striking Rivera in the face. More people allegedly rushed Rivera and Flowers, causing their injuries as the crowd of undetermined size continued to strike them.

3 more accused in southwestern Illinois attack on Red Lobster waitress over wrong fish order. The latest charges, filed Monday in Illinois' St. Clair County, came six days after one member of the fracas, Ania Wilkes of Ferguson, Mo., was convicted of felony assault and mob action.

Black Mob Violence in the Liberal City of Portland. Portland is in the middle of a nasty bout of black mob violence. This time directed at bicyclists. But Tim Oberlander does not want us to know. [...] Oberlander is a news editor at KGW TV in Portland. His city is under attack from black mob violence centered around Martin Luther King Boulevard. This mob has been attacking bike riders, housewives, students, seniors, you name it. These attacks are part of a long — but quiet — history of racial violence in a liberal enclave that prides itself on racial tolerance and harmony. But you would never know it from Oberlander.

The Editor says...
Every big city has a Martin Luther King Boulevard, and as far as I know, they are all in the most dangerous parts of those cities. Why do you suppose that is?

Urban streets named for MLK still struggle. A walk down the 6-mile city street named for the Rev. Martin Luther King Jr. yields plenty of images that would surely unsettle the civil rights leader: shuttered storefronts, open-air drug markets and a glut of pawn shops, quickie check-cashing providers and liquor stores.

How to Report on Racial Violence: Don't. [Scroll down] One hour after I read [Abe] Aamidor's piece, I came across a tweet about one of the more popular euphemisms for black mob violence: Large fights. This one in Indianapolis, involving 80 people with baseball bats and other weapons. Everyone was black. The next day, the Indy Star dutifully reported some of the details of the riot. Everything except the race. The paper also dutifully reported that this kind of large scale violence had happened twice before in the last year. And dutifully gave some details. Except the race.

Police make another arrest in biker beating of SUV driver. Police have said the bikers stopped the SUV on a highway, attacked the vehicle and pulled the driver from the car after he plowed over a motorcyclist from Massachusetts while trying to escape.

Motorcyclist charged with gang assault; Off-duty and undercover cops did nothing to stop biker beatdown of dad. Reggie Chance, 38, turned himself in and was being questioned at the 33rd Precinct in Washington Heights on Friday night [10/4/2013], officials said. He allegedly bashed in Lien's driver's-side window with his helmet and pulled him out of the vehicle to be beaten by the merciless mob in front of his frightened family following the confrontation on the Henry Hudson Parkway.

Undercover NYPD Cop Watched SUV Driver Get Beaten. The man who police say was seen on video using his helmet to smash the driver's side window of an SUV besieged by motorcyclists in New York City surrendered to police late Friday. Reginald Chance, 38 of Brooklyn, N.Y., allegedly was the man shown hitting the Range Rover with his helmet before the video cut off and the driver, Alexian Lien, allegedly was assaulted. Chance's possible role in the alleged assault beyond the window smashing was not immediately clear.

Man who intervened in NYC biker-SUV brawl says he 'felt intense danger' as he protected driver. Police have said the bikers stopped the SUV on a highway, attacked the vehicle and then pulled the driver from his car on after he plowed over a Massachusetts motorcyclist while trying to escape the initial confrontation.

Biker in NYC assault arraigned on gang assault charges, flips off reporters. A motorcyclist accused of catalyzing an attack that left a young New York father bloodied and beaten has been arraigned on gang assault charges, which his attorney said were overblown. Reginald Chance, 37, was ordered held on $75,000 cash bail following the court appearance on Sunday. [...] Prosecutors said Chance, a married father of six, played a key role in the beating of driver Alexian Lien, who ran over another biker in what relatives said was fear for his life.

21 Arrests! Biker in NYC Road Rage Assault Was Freed By Lenient Judge. The fallout continues from last weekend's road rage attack in New York City, as we now learn that one of the bikers has a mile-long rap sheet. Reginald [...] Chance appeared on the widely seen video smashing the driver's side window of an SUV driven by New York City father of two Alexian Lien before Lien was dragged out of his SUV and assaulted by several enraged bikers.

Are these the same bikers who beat the SUV driver?
Video emerges of motorbike gang intimidating and terrorising other drivers. The gang of bikers who were filmed beating up a SUV driver had allegedly intimidated and terrorized people on a previous rides. A new video has emerged of a dozens of motorcyclists attacking car drivers, riding through red lights and even speeding along the sidewalk. The latest footage was reportedly uploaded by the same motorcyclist who posted the shocking clip of driver Alexian Lien being beaten by an angry group of riders.

NYPD undercover officer arrested in SUV-motorcycle gang attack. An NYPD undercover detective has now been arrested in connection with an attack on a family in an SUV by a group of motorcyclists, reports CBS News' John Miller. The officer is expected to be charged with criminal mischief for allegedly banging on and breaking the rear window of the SUV. The detective waited four days before coming forward to the NYPD and he allegedly made false statements about his involvement, reports Miller.

NYPD cop arrested in motorcycle-SUV assault case. An undercover detective who investigators said was off duty when he was recorded on video pounding on an SUV as a biker rally spiraled into violence was arrested late Tuesday [10/8/2013].

Undercover NYPD Cop Seen on Video Smashing Window in SUV-Biker Brawl: Source. An NYPD officer who was on a deep undercover assignment when a violent fight erupted between a group of motorcyclists and a man driving a Range Rover in Manhattan has been arrested, police say. Detective Wojciech Braszczok, 32, turned himself in to police Tuesday evening and was charged with riot and criminal mischief, according to police.

Undercover NYPD officer arrested in motorcycle/SUV melee. The New York City Police Department confirms an undercover police officer has been arrested in connection with the Sept. 29 videotaped Manhattan melee between motorcyclists and a motorist and his family in an SUV. Wojciech Braszczok has been charged with riot and criminal mischief, Detective Brian Sessa of the NYPD's public information unit said Tuesday night.

Beating victim Ray Widstrand on the road to recovery after being viciously assaulted and robbed by gangs. The 27-year-old was walking home in his neighborhood on St Paul's East Side on August 4 when he was attacked by a group of 30 to 50 juveniles and young adults. He was hit in the head with a 'can in a sock', stomped on, had his pants ripped off him and was robbed. He was placed in a medically-induced coma when he was taken to hospital.

Group of black youths beat white couple in racially-motivated attack. A young couple in Brooklyn were beaten up Monday in what police are calling a racially-motivated attack. 30-year-old Ronald Russo and his wife Alanna, also 30, were stopped at the intersection of Avenue U and East 58 Street near Kings Plaza Shopping Center Monday [10/21/2013] when they had the green light. Mr Russo couldn't go though because a group of teenagers were blocking his way, so he honked his horn. The group of 10 black youths ranging in age from 12 to 18, including a 12-year-old girl, got agitated and started kicking his car.

Young man killed in big brawl at N.J. bowling alley. A young man was killed [10/19/2013] in a brawl involving about 250 people at a New Jersey bowling alley, police said.

Several Injured, Arrested Outside Howard U. Concert. A group tried to ram the gate of a Howard University homecoming concert in D.C. Friday afternoon, resulting in several injuries. D.C. Police responded to 6th Street and Howard Place NW just after 3 p.m. after several individuals tried to rush a gate into the YardFest concert, hosted by Howard University. Seven people were injured, including two officers and one other person was hospitalized.

Black Mob Violence and Denial. For those who have not picked up a ball for a while, a visit to your local alley in the daytime is like stepping back in time. Same lanes. Same beat up shoes. Same scruffed up balls. But weekend nights, many bowling alleys — and roller skating rinks too — shed their white, lower middle class trappings and are transformed into gleaming centers of hip-hop, with the latest and greatest in lights, sounds, fashion, booze and drugs. All topped off with frequent large-scale, black mob violence.

Rioting black youths stun Austin, Texas. It was a spasm of violence that stunned residents: some 200 black youths raising hell — what police called a full-blown riot — in Austin, Texas. Angry black youths inexplicably converged by the Highland Mall, near an iconic haunted house attraction, and walked atop parked cars, fought among themselves, and hurled rocks at some 30 arriving police officers. Several people, including one officer, suffered minor injuries. Later, police said so many squad cars were need that the department was unable to provide adequate 911 emergency coverage to the rest of Austin.

Fights break out at shoe stores across the country [over] Air Jordan 11 Gamma Blue sneakers. Each year, the highly anticipated release of a new version of limited edition Air Jordans is released and each year, a spate of robberies, assaults, riots and even deaths occur.

600 People Involved in Movie Theater Brawl, 5 Arrested. Five teenagers were arrested when a 600-person brawl broke out in a Florida movie theater's parking lot on Christmas night. Described by police as a "melee," the fight occurred around 8:30 p.m. on Wednesday outside the Hollywood River City 14 movie theater in Jacksonville when a group tried to storm the theater's doors without purchasing tickets, police said. Several had rushed an off-duty police officer working as a security guard.

Flash Mob Of Teens Causes Disturbance At Brooklyn's Kings Plaza Mall. A melee at Kings Plaza Shopping Center in Brooklyn the day after Christmas was captured on cellphone video. According to police, the flash mob involving as many as 300 teenagers, mostly 15 and 16 years old, began a short time before the Mill Basin mall closed at 9 p.m. on Thursday [12/26/2013].

The Editor says...
I surmise that all the perpetrators were black. Prove me wrong.

Hundreds of teens trash mall in wild flash mob. A wild flash mob stormed and trashed a Brooklyn mall, causing so much chaos that the shopping center was forced to close during post-Christmas sales, sources said Friday [12/27/2013]. More than 400 crazed teens — who mistakenly thought the rapper Fabolous would perform — erupted into brawls all over Kings Plaza Shopping Center in Mill Basin on Thursday at 5 p.m., sources said.

Mob of teens caught on tape ransacking convenience store in 20 minute spree. A mob of teenagers have been caught on tape robbing a convenience store in Bryan, Texas. Surveillance video shows the kids rushing through the store, grabbing everything they can get their hands on as girls are seen twerking and doing the splits outside. The frightening ransacking incident took place Saturday [1/4/2014] as store clerk Terry Polsgrove, 19, was shutting up for the night.

Tennessee Robbers Use Sledgehammers to Rob Jewelry Store in Busy Mall. The robbers used the sledgehammers to smash the cases containing Rolex watchers [sic] as shoppers screamed and hid in other stores. The robbers were quick and after stuffing jewelry into held pillow cases, they ran to the closest exit and departed.

'Wilding' youths overwhelmed deputies at state fair. An atmosphere of family fun at the Florida State Fair was trampled Friday night by a crowd of young people carrying out an annual practice known as wilding, sheriff's investigators said. By the end of the night, the fair closed early and one teenager among the 99 people ejected for disorderly conduct was killed — hit by a sport utility vehicle as he tried to cross Interstate 4. Twelve people were arrested on charges including trespassing and fighting.

The Editor says...
In news reports of this sort, the perpetrators are called youths, kids, teens, and every descriptor in the English language except black. And it is well known to be "an annual practice," so why didn't the police have fire hoses, rubber bullets and aggressive dogs ready for this riot? That may sound harsh, but the treatment has to match the disease.

Fair restricts free youth tickets after 'wilding'. The Florida State Fair, reeling from a rampage involving hundreds of youths on opening night, announced late Tuesday [2/11/2014] it is taking steps to curb such outbreaks by requiring that any minor presenting a free entry ticket after 7 p.m. be accompanied by an adult. [...] Most of the chaos was blamed on black youths, law enforcement officials and others said.

The Editor says...
"Black" first appears in the 17th paragraph. And even then, the newspaper lets a little pressure escape by saying most of the chaos was the fault of "black youths," leaving open the unlikely possibility that others were involved as well. But in the opening paragraph one major root of this problem was revealed: Free admission to the fair. What the kids don't pay for, they do not value. Let them pay the full price of admission like everyone else.

Chief Forte says police to crack down on Plaza teen disturbances. Following Saturday's disturbance on the Country Club Plaza, three teens were arrested and one juvenile was detained. While one mother is apologizing and asking for the public's forgiveness, another teen arrested over the weekend remains unapologetic for his actions and says police racially profiled him. Kansas City police were first called to Cinemark Palace, located at 500 Nichols Rd., about 8:15 p.m. Saturday on a large disturbance involving about 150 juveniles. Police said they dispersed the unruly group; however, they scattered through the Plaza.

Arrests pending in Orange Park Mall melee. Dozens of juveniles are accused of starting a violent melee that began at the Orange Park Mall and eventually ended after a shot was fired at the Wells Road Chick-fil-A location on Saturday [3/1/2014], Clay County deputies say. The Clay County Sheriff's Office reports dozens of juveniles first became unruly near the movie theaters at the Orange Park Mall before they crossed the street and created a melee outside of the Chick-fil-A.

Big Gym Fight Has Police Hoping LA Fitness Beefs Up Security. On Sunday, city police responded to a call involving 10-15 people fighting at the gym's Cleveland Avenue location. It started all on the basketball court over a call and escalated, moving into the main fitness area. "People were actually throwing two and a half, five, 10 pound weights within the building," said Police Lt. Lorne Rosand. This recent fight is just part of a bigger problem. Police say the gym has been plagued with crime in recent years.

LMPD: 2 suspects arrested in connection with teen mob violence. Metro Police say two suspects have been arrested in connection with last weekend's violence in downtown Louisville. Shaquazz Allen, 18, and 19-year-old Tyrone Booker are charged with seven counts of first degree unlawful imprisonment, and one count each of fourth degree assault and third degree criminal mischief.

Police: Man Beaten Unconscious By Crowd After Striking Child With His Car. Detroit police are looking for suspects in the beating of a driver who investigators say accidentally hit a young child on the city's east side. [...] Debra Hughes says she saw the attack and claims it was a group of mostly teenagers who beat the man unconscious. Hughes told WWJ's Stephanie Davis that the boy was hit after he ran into the street and that the driver stopped to check on the child, and when he did, he was beaten. [...] Police say the 54-year-old man, whose wallet was also stolen, wasn't at fault for the accident. He's currently hospitalized in critical condition.

LMPD: Teen arrested during mob disturbance at Shawnee restaurant. When officers arrived, police say 18-year-old David Leach was standing in the parking lot of Long John Silvers and refused officers' orders to leave the location, even though allegedly he was not a customer. Police say the group of 50 people alarmed nearby residents and prevented passing motorists from driving through the crowded roadway.

FBI, Louisville police address youth gang memo. A Louisville youth gang known as YNO, or "Young 'N Off That," did not gather at Waterfront Park March 22 to memorialize Me'Quale Offutt, the teen stabbed to death on a TARC bus on March 16, according to an FBI email that was not intended to be made public. Instead, according to the email the FBI sent to law enforcement agencies, YNO went to the park to fight another gang, "believed to be TYS — Trill Young Savages," whose members had been "talking smack" about Offutt. When the TYS members didn't show, according to the memo, "mob violence" ensued.

FBI: Middle school gang behind mob violence. The teens responsible for the mob violence in downtown Louisville last month were members of a gang of middle-school students, according to an FBI memo distributed to law enforcement agencies. The memo, which the FBI says was based on "unverified intelligence," says that the gang — "Young 'N Off That," or YNO, was organized last summer at Frost Middle School but spread to other schools, and that its members are "armed in a major way." The FBI memo also says there have been "rumblings" about the gang showing up in large numbers May 1 at the Kentucky Derby Festival Pegasus Parade.

See if you can guess the forbidden five-letter word that was omitted from this article.
Flash mob of women steal $20,000 worth of sunglasses from California store. A brazen flash mob has been caught on camera storming a California store and making off with $20,000 worth of sunglasses. Surveillance footage shows eight women piling into a Sunglass Hut and crowding around display cases.

Police caught off guard by huge park gathering where 2 women were shot. DeKalb County Police say they were caught off-guard Sunday by the unsanctioned party at a public park that ended with two women being shot. "This came really as a surprise to us," the county's public safety chief Cedric Alexander told reporters on Monday [4/21/2014].

Video: 'Flash mob' robbery strikes DC convenience store. On the video, about 20 people are seen entering a convenience store on the 4400 block of Benning Road — one right after another. The video shows several unidentified subjects dashing out the store with what appear to be goods in their hands. According to the police report, in a matter of about three minutes, the suspects took candy, snacks and soda before running out of the door. Police say the total value of the stolen merchandise was about $350.

Clearwater Beach shootings may not all be connected. Police filed criminal charges against four Tampa men after a series of shootings left Memorial Day revelers reeling in the heart of Clearwater Beach's tourist district. At least two people were shot in the chaos, which spanned three shooting scenes.

Police Arrest Dozens During Memorial Day Ruckus By The Beach. Fort Lauderdale police believe hundreds of young people made their way to the beach for one reason this Memorial Day, to cause trouble. Police described a volatile scene Monday night as they had to arrest dozens of people that were part of unruly crowds. Two separate incidents late Monday afternoon kept officers busy. One scene was near the area of 31st Avenue and West Broward Boulevard.

Police: Taste of Cincinnati was 'general mayhem' Officers report 'numerous incidents' of crime. It was a "kind of general mayhem." That's how Central Business District commander Capt. Paul Broxterman is describing several incidents near last weekend's Taste of Cincinnati event. Police say they were called to some outer areas of the three-day celebration of Cincinnati's eateries to deal with numerous assaults, at least two robberies and even teens throwing rocks at officers.

Widespread Memorial Day Black Violence Ignored by National Media. Black Beach Week used to get all the glory: Every Memorial Day weekend, 300,000 black people gathered in Miami Beach to get their freak on. And also create a tsunami of violence, robbery, shootings, carjackings, vandalism, mayhem, noise and trash. But this year, many party-goers complained that Black Beach Week — only reporters call it "Urban Beach Week" — just wasn't as much fun any more: Too many cops, tactical vehicles, helicopters, lights, towers, cameras, suspicion. Not enough chaos. Not to worry: The rest of the country picked up the slack. Black mob violence over the holiday weekend was reported in more than a dozen cities around the country. Some fatal. Some comical, almost.

Wilding Popping Up Again. If anyone listened to zone 4 last night they would have heard that [...] multiple car and store windows on North Michigan Ave were smashed by "urban youths". That there was a massive fight between "urban youths" on the Red Line platform at State and Lake that shut down the line. That there were multiple thefts of purses, laptops, phones, etc. by groups of "urban youths" celebrating the holiday.

13 Cedar Point workers from Michigan arrested after brawl. Sandusky police arrived at the rec center to find Cedar Point officers struggling with a man and several other men trying to get at the officers. Several other Cedar Point officers were struggling with three other men, who were swinging their arms at officers. Another man, who refused to leave the area, then began pushing an officer.

Massive brawl breaks out on Island Belle during summer cruise on Sunday. Police say an all-out brawl occurred on the Island Belle early Sunday [6/29/2014] while hosting the "Rock Da Boat" summer cruise.

July Fourth Weekend May Bring More Black Violence. Take Miami Beach. Its Memorial Day holiday "Urban Beach Week," aka "Hip-Hop Weekend" or Black Beach Weekend, has come to mean anarchy in the city, and this "tradition" has been going on for ten years. Up to 300,000 black "hip-hop" fans, many intent on wreaking havoc, descend upon a city with fewer than 90,000 residents, only four percent of whom are black. The fans assault and intimidate people, block traffic, blast music 24/7, steal food and drink, trash restaurants, urinate on police vans, and fondle every woman who tries to walk down the street.


Black violence



2 Adults Arrested After Fight Erupts Outside Randallstown HS Graduation. Randallstown High School students dressed in cap and gowns — fighting on graduation day. The video is going viral with thousands of views. Two people are now under arrest. It was graduation day for Randallstown High's Class of 2014. Cell phone video captured quick shots of adults and students throwing punches. It was an all-out brawl outside Towson University's SECU Arena just as the ceremony ended.

The Editor says...
Somehow the writer forgot to mention that everyone in the crowd and every one in the fight was black.

Racial Violence and the Conspicuous Silence of the Media. By now, almost everyone has seen one of the semi-amusing videos of black teen mobs rampaging through a store. Maybe we've even seen the non-amusing pictures of the victims, or heard their stories. Most Americans have heard of recent violent "flash mobs," which are the bands of black teens that attack mostly white victims and white businesses, as even the New York Times once noted. But the flash mobs, which are more accurately called "race riots" or "racial mob violence," are not the only interesting topic to cover in our national conversation about race. There is also the "knockout game," which is stunning in its brutal simplicity and stark racial significance.

Liberal Racism. The Berkeley/Oakland area was on high alert last week... but not because of a natural disaster, like an earthquake. A jury was deciding the fate of a white police officer charged with killing a black male at a BART station. ... This is not the first time that riots have occurred relative to this incident. Mobs have already broken windows, looted stores, beat people up, and destroyed cars. The attitude then, as well as now, is that "we" have a right to riot. Why? Why do certain groups have a right to riot? And why do others make excuses when livelihoods are ruined, millions of dollars are wasted, and innocents are hurt? My opinion? Liberal racism.

Excusing the Oakland Rioters. Looting is not an inevitable concomitant of the exercise of speech rights.

Burned, Baby, Burned: Watts and the Tragedy of Black America. The author argues that the riots in Watts launched a new — and misguided — tactic of menacing protest and rebellion for its own sake in the struggle for civil rights.

More Overlooked History: Black Violence. [The Black Panthers] Minister of Information Eldridge Cleaver wrote about his history of raping women, claiming that rape was "an insurrectionary act." Because his victims were white, he explained, rape was not only a way to get revenge but also to defile and trample upon "the white man's law and his values."

Chaos erupts in courtroom during sentencing of 20-year-old carjacker. Chaos engulfed a Jersey City courtroom this morning [5/4/2012] when a woman convicted of a brutal carjacking erupted in screams upon hearing the lengthy sentence imposed. The moment Superior Court Judge Patrick Arre said "15 years," Latoya Campbell, 20, became hysterical, as did her family members sitting in the courtroom.



Massive brawl breaks out at child's birthday party. A young Florida boy saw his mother arrested for his birthday after his party at Chuck E. Cheese turned into a massive 18-man brawl. Besides his mother Briana Walker, a Robert Thompson and Alfred Peoples were also arrested on drug charges as well as defrauding an innkeeper. The trio allegedly fled the restaurant without paying the almost $300 check.

Shocking video shows teacher stuck in the middle of a violent classroom fight. A shocking video shows a teacher helplessly stuck in the middle of a classroom fight — with no one coming to her aid. The footage, recorded by a teenage boy in the class at Gibbs High School in St Petersburg, Florida, shows two young girls exchanging a war of words with their classmates egging them on.

A Localized Culture of Violence. [T]he United States may have a culture of violence, but one that is isolated in easily identifiable communities. The results from Virginia, Minnesota, and Louisiana bring into question the veracity, pragmatism, or true objectives of activists who propose broad restrictions of Constitutional rights when high firearm homicide rates are almost exclusive to less than 1% of the land area and a small fraction of the population. A more logical and effective approach would be to address the root causes of the culture of violence in these communities, but this is more difficult and the required introspective self-analysis appears to be outside of the comfort zone of most community activists.

I presume that the locals call it PERP High School.
PRP High School student allegedly punched school official, cop. According to an arrest report, 18-year-old Shantarra Willis got mad at the assistant principal and began swearing and shouting. When a police officer tried to take her into custody, she allegedly punched him in the face. The assistant principal tried to assist the officer, but Willis punched him in the face 5-6 times, according to police. Willis also allegedly kneed him in the groin.


Black violence in schools



Black mob violence — in Kindergarden? And the cops even charged 8 black people with rioting. Started at a Kindergarten graduation, next thing you know a "very ugly brawl" starts, then spills outside.

Another reason to abandon government schools: They are not safe.
Black on white violence in the schools. The word bullying is often used to obfuscate. Not illuminate. In this case, it covered up significant and intense black mob violence in this school. And it is happening all over the country.

NYC's most dangerous schools. Students at the Brooklyn Academy of Global Finance in Bedford-Stuyvesant face routine bullying, gang activity and a generally unsafe campus, according to the city's 2011 School Survey. "The kids run wild, and the teachers are scared," said an administrator at the high school who asked to remain anonymous. "It's like there are no rules here at all," she added.

High School Basketball Player Attacks Ref. A video of what not to do when you don't like a ref's call has been circulating the Internet. In a game between Florida high school teams Arcadia DeSoto and Port Charlotte, DeSoto's Mason Holland shoved a Port Charlotte player, and then, after a technical foul was called on him, went ballistic and threw the referee to the floor.

Education Cutbacks and Urban Violence. Bloated public education budgets in our large cities may be immune from serious cuts for an unpalatable reason: the threat of urban violence. ... Difficult budgetary choices entail an element that dare not speak its name: cutbacks may risk 1960s style riots, and these costs may far exceed temporary savings. To be blunt, cities often solved riot problems via bloated education-related employment, and bereft of these jobs, cities may return to "long hot summers".

Black Education: According to the National Center for Education Statistics, nationally during 2007-2008, more than 145,000 teachers were physically attacked. Six percent of big-city schools report verbal abuse of teachers and 18 percent report non-verbal disrespect for teachers. An earlier NCES study found that 18 percent of the nation's schools accounted for 75 percent of the reported incidents of violence, and 6.6 percent accounted for 50 percent. So far as serious violence, murder and rapes, 1.9 percent of schools reported 50 percent of the incidents. The preponderance of school violence occurs in big-city schools attended by black students.

Metro Teachers Learn Gang Communication. With a growing gang problem in some Metro [Nashville] Schools, the district is trying be proactive by teaching teachers how gang members communicate, breaking down everything from signs, the colors and clothes, code words used in class and the rappers students idolize.

The Editor says...
Why stoop to the level of the gangs? Is anyone ever expelled anymore?

Overhauling D.C. School Overcome by Violence. D.C. Chancellor Michelle A. Rhee has dispatched a team of administrators and extra security to an Anacostia middle school where three teachers have been assaulted, a 14-year-old was charged with carrying a shotgun and students have run the hallways discharging fire extinguishers. ... "Kids sitting on desks, coming into classrooms and knocking over books, cussing, running through the halls," said Timothy Favors, who has visited Hart on multiple occasions because his son, a sixth-grader, is getting poor grades after doing well at Martin Luther King Jr. Elementary School. "This isn't a school I would recommend for anyone. You could have a perfectly normal child, and he would get flipped here like a pancake."

Teacher still out after beating by student. Vanesta Marshall, a home economics teacher at Worthing who is 5 feet 4 inches tall, said she remembers a ninth-grade male student punching her in the face two or three times before she blacked out Friday [5/11/2007]. ... She said school officials didn't inform her about the student's discipline history. "We're just regular-ed teachers," she said. "We don't know how to handle violent behavior."


Black crime

Note: On another nearby page you can find articles about the looting after Hurricane Katrina.



Time: "Young Black Men Murder 14 Times More than Young White Men". The article is a by an African-American professor and mostly it restates the obvious. It's just that the obvious isn't much talked about.

Federal Statistics of black on white violence, with links and mathematical extrapolation formulas. Blacks are seven times more likely than people of other races to commit murder, and eight times more likely to commit robbery. Blacks are three times more likely to use a hand gun, and twice more likely to use a knife. Hispanics commit three times more violent crimes than whites, but the statistics are nebulous because sometimes they are classified as white, so it could be far higher. The best indicator of violent crime levels in an area is the percent of the population that is black and Hispanic. Blacks are 39 times more likely to commit a violent crime against whites then vice versa, and 136 times more likely to commit a robbery.

The Color of Crime. New Century Foundation is a 501(c)(3) organization founded in 1994 to study immigration and race relations so as to better understand the consequences of America's increasing diversity. Perhaps the most important publication of New Century Foundation is The Color of Crime, New Century Foundation's report on differences in crime rates by race, bias in the justice system, and interracial crime. First published as a monograph in 1999, the 2005 edition of The Color of Crime is available online as a free PDF download.

The Color of Crime. [PDF]

Commissioner Kelly says almost 75% of violent crime committed by African-Americans. Police Commissioner Raymond Kelly credited the controversial stop-and-frisk tactic for helping to push New York's crime rate to record lows. [...] "The stark reality is that crime happens in communities of color," Kelly told "Nightline" co-anchor Bill Weir Wednesday. "About 70% to 75% of the people described as committing violent crimes — assault, robbery, shootings, grand larceny — are described as being African-American. "The percentage of people who are stopped is 53% African-American," he continued. "So really, African-Americans are being understopped in relation to the percentage of people being described as being the perpetrators of violent crime."

Study: blacks commit 90% of interracial crime. African-Americans commit 90% of the approximately 1,700,000 interracial crimes of violence that occur in the United States every year, and are more than 50 times more likely to commit violent crime against whites than vice versa. Blacks are so much more likely than Americans of other races to commit crimes that police may be justified in stopping and questioning them more frequently — just as they stop men more often than women and young people more often than old people.

When it comes to murder, black people should most fear black people. A United States Department of Justice report which surveyed homicide statistics between 1974 and 2004 stated that of the crimes surveyed, 52.2% of the offenders were Black, 45.8% were White, and 2% were Other Races. Of the victims in those same crimes, 50.9% were White, 46.9% were Black, and 2.1% were Other Races. The report further stated that "most murders are intraracial" with 86% of White murders committed by Whites, and 94% of Black murders committed by Blacks.

Will American Liberals Ever Wake Up? Attorney General Eric Holder, in 2009, said that Americans are cowards when it comes to discussing race. Well, Mr. Holder, I am not a coward, so here is my discussion. [...] From New Century Foundation's The Color of Crime, we learn:
• Police and the justice system are not biased against minorities.
• Blacks are seven times more likely than people of other races to commit murder.
• Blacks are eight times more likely than people of other races to commit robbery.
• When blacks commit crimes of violence, they are nearly three times more likely than non-blacks to use a gun, and more than twice as likely to use a knife.
• Blacks are an estimated 39 times more likely to commit a violent crime against a white than vice-versa, and 136 times more likely to commit robbery.
• Blacks are 2.25 times more likely to commit officially-designated hate crimes against whites than vice versa.

Gas Station Looting Caught On Surveillance Tape. Surveillance video taken Sunday night shows a crowd looting at a Milwaukee gas station. It was just one of the disturbing incidents in Milwaukee's Riverwest neighborhood that evening.

Is Disagreement with Obama Racism? When one says that race is no longer the problem it once was, it is not the same as saying that there are not major problems that confront a large segment of the black population. Grossly fraudulent education is a major problem but it has nothing to do with racial discrimination as evidenced by the fact that the worse education received is in the very cities where blacks dominate the political structure. Crime is a major problem but it has nothing to do with racial discrimination, particularly in light of the fact that blacks commit most of the violent crime in America and well over 90 percent of their victims are black.

Obama's Criminal Silence. Today, I spoke briefly with a liberal member of California's education establishment (forgive the obvious tautology), who told me that his Berkeley home had recently been broken into while he was in Washington, D.C. It's been a wake-up call, he said. We were too lax. We'll be putting in a security-alarm system. And then came the clincher: "This is a very diverse neighborhood." Now what would possibly be the relevance of that euphemism to the likelihood of getting burgled, I wonder?

Racism is not the biggest problem that black Americans face any more. Of course, racism does still exist and will always exist in one form or another. That being said, we've come a long way in this country from the time when black Americans couldn't use the same water fountain as white people, had to sit at the back of the bus, and weren't allowed to go to the same schools as whites. … On the other hand, the illegitimacy rate in the black community is roughly 70% and black on black crime is more dangerous to black Americans than the KKK ever was.

A Tale of Two Cities: The welfare state detaches rewards from behavior. … People are encouraged not to better themselves, but to think in terms of rights and entitlements. … The results are catastrophic. Robberies and street crime – not to mention the unheard of before shootings in broad daylight – have soared to an unprecedented level. Black gangsters are modeling themselves on Jamaican Yardies battling other gangs for control of the lucrative cocaine trade. No one has the guts to mention that the majority of violent criminals using guns and knives are black.

Homicide trends in the U.S.: Charts provided by the Bureau of Justice Statistics show that blacks were seven times more likely than whites to commit homicide in 2002.

Mapping the Unmentionable: Race And Crime. The government makes much detailed information on crime rates by race available. But almost nobody ever tries to learn anything from it.

Milwaukee's black leaders say the enemy is within. Black leaders in Milwaukee say their community is being torn apart from the inside. Civil rights leaders like 57-year-old Prentice McKinney, who fought to free Milwaukee's blacks from the ghetto, say gangs, drugs and violence have left those who still live in the nation's urban cores in fear of the next generation.

The Silence of the Liberals: The reason for the silence stares us in the face. The gangsters themselves are largely black, and Minneapolis's political culture is absorbed in a crusade against the reality that blacks are arrested and incarcerated in numbers that substantially exceed their proportion in the general population.

Why are so many blacks in prison? Between 1976 and 2005, blacks have been killing other people at a rate 6 to 9 times higher, every year, than the comparable homicide rates for whites. Furthermore, these statistics are skewed in favor of blacks, because the "white" category includes also Hispanics who identify themselves as whites but whose crime rates are far higher than those of non-Hispanic whites.

Three Former JFS Workers Accused Of Food Stamp Fraud. Former Hamilton County Jobs and Family Services workers are accused of obtaining more than $100,000 in food stamps and other benefits for friends and relatives. Deters said Savoy Walker, Jacqueline Ward and Tamikia Mosley obtained cash, food stamps and Medicaid benefits totaling about $130,000 for 12 people. Those 12 people, as yet unnamed, are facing charges of receiving stolen property for accepting the benefits.

Rapper Slim Dunkin gunned down outside Atlanta recording studio. Police say the Detroit native, whose real name is Mario Hamilton, was shot in the chest in after getting into an argument before the shoot. Investigators said there were at least 20 people at the scene, each one with a different story.

Police use pepper spray to break up fight among Nike shoppers. The release of Nike's retro Air Jordans caused a frenzy at stores across the nation early Friday [12/23/2011], with hundreds of people lining up for a chance to buy the classic basketball shoes and rowdy crowds breaking down doors and starting fights in at least two cities.

Race for New Air Jordan Sneakers Turns Ugly. The quest for some limited edition sneakers took an ugly turn early Friday morning outside the Mall at Stonecrest in Lithonia. DeKalb police say several people were arrested , including one woman who left two young children in her car, after the new Nike Air Jordan 11 Concords went on sale.

Area mall shoppers squabble over Air Jordan shoes. Michael Jordan reigned supreme once more Friday in the world of sneaker craziness, as scuffles broke out and police were called to three malls in the Charlotte area when hundreds of sometimes-unruly shoppers showed up for a wildly popular Air Jordan shoe. Similar scenes were reported across the country as shoppers were arrested near Atlanta, a shot was fired in a mall near San Francisco, a man was stabbed in New Jersey, and police in the Seattle area used pepper spray on a crowd outside a shoe store.

The blacks blame everybody but themselves for their lawless behavior.
Local Activists Call for Air Jordan Changes. Local activists and ministers are taking on one of the world's top sports brands. They're calling on Nike and Michael Jordan to change the way they sell the highly sought after Air Jordan sneakers. This comes after the frenzy over the limited release last week turned violent in some cities. Now, community leaders say the people at the top should take some responsibility.

Police sources say teen gang targeting the elderly responsible for dozens of home invasions. 7 Action News has learned that two Detroit teenagers have been charged with robbing the 80-year-old mother of NAACP President, Reverend Wendell Anthony. They were arrested after a high speed chase and shootout with Detroit Police. The teens are suspected members of a gang that has been targeting the elderly.

There is a Martin Luther King Boulevard in every big city, and they're all dangerous places.
Quote of the day. Instead of complaining about people avoiding a ghetto, how about fixing up the ghetto? There is no sane reason for ghettos to exist. School integration became the law of the land 57 years ago. The end of job discrimination against blacks became the law 46 years ago. Affirmative action came into being 40 years ago. Trillions have been spent on programs designed to help the poor get out of poverty, or at least ease the pain. And yet no one in their right mind would drive down any Martin Luther King Boulevard after dark?

No justice, no agitation. Murder is largely an intraracial crime. Almost all murders of blacks are committed by other blacks. Blacks as a group commit murder at a rate astronomically higher than other groups. The rate of murder committed by blacks exceeds that committed by whites by approximately seven times. ... If race hustlers like Al Sharpton really had the interests of the black community at heart, they would devote themselves to doing everything in their power to have violent black criminals separated from the community of law-abiding black citizens. The criminals are serial tormentors of law-abiding members of the black community.

The Old Race Card. The Cambridge police did not act stupidly. And if police do stereotype, it may be because 12% of the population commits almost half the violent crime in the nation. In the case of rare black/white and white/black murdering (94% of murdered African-Americans were killed by other African-Americans), a minority is more likely to commit murder (and rape) against a majority than the majority is against the minority.

How Many Crimes Did the New Black Panthers Commit in Florida? Let's start with solicitation to kidnap. In announcing a reward for the seizure of [George] Zimmerman, the New Black Panthers may have violated Florida Code 787.01. It makes it a felony to "by threat, confining or abducting, or imprisoning another person against his ... will without lawful authority with intent to ... terrorize." Merely soliciting someone else to do this is also a felony in Florida under Florida Code 777.04.

New Black Panthers Activity Against Zimmerman May Be Criminal. Florida law makes it a felony to unlawfully seize somebody as a mob, or "at the behest of a mob." Again, solicitation to commit this crime is also a crime. It's a felony, too, to interfere with the administration of government with use of force — and yes, again, solicitation is a crime.

New Black Panther Party seeks citizen's arrest of George Zimmerman. Death threats and a $10,000 bounty offered for a citizen's arrest of George Zimmerman have raised concerns about the threat of "vigilante justice" in the racially charged case. A group identifying itself as the New Black Panther Party is offering $10,000 to anyone who makes a citizen's arrest of George Zimmerman in the Trayvon Martin slaying.

Birmingham News Drops the Ball on Black-on-white Crime. Yesterday I reported on the stabbing of white truck driver Nick Stokes by members of a black motorcycle gang called the Outcasts of Alabama. It's not merely a scary story but also an unusual one, mostly because of the behavior of law enforcement. The Adamsville, AL police department not only failed to question or detain any of the gangsters, but, outrageously, also told Stokes that they "don't mess" with the Outcasts. What isn't at all unusual about the story is the mainstream media's reluctance to cover a case of black-on-white crime. In particular, I cited the Birmingham News (BN), whose crime-beat reporter, Carol Robinson, had brusquely dismissed the incident as not newsworthy.

Cops: Fast-food worker spit in customers' drinks. A South Carolina county's deputies say a McDonald's employee spit in two customers' cups of iced tea after the drinks were returned because they weren't sweet enough.

South Carolina McDonald's employee, arrested for spitting in customers' drink. Greenville County investigators say surveillance video caught [Marvin] Washington [Jr.] leaning over the cups before he filled them Saturday [4/21/2012] at the restaurant.

The Editor says...
Marvin Washington, Junior, is merely following in the footsteps of the "black community leader", Jesse Jackson. See below.

Look it up! Life Magazine, November 29th, 1969, Page 68.
Spitting in Whitey's Food. Jackson talks about himself at these meetings. Once he told of his days as a waiter at the Jack Tar Hotel in his home town of Greenville, S.C. Just before leaving the kitchen he would spit into the food of white patrons he hated and then smilingly serve it to them. He did this, he said, "because it gave me psychological gratification." It was something everybody in the audience understood.
Also quoted here.

Ugly Truths About Prejudice. [Scroll down] The source of this nasty prejudice about blacks and crime is the fact that black crime rates are extremely high. Most of it is directed against other blacks, but that doesn't change the perception by Americans (black, white, or purple). Black murder rates are roughly 4.5x what you would expect for their proportion of the population, with similarly disproportionate rates for robbery (4x), aggravated assault (3x), burglary (3x), forgery and counterfeiting (3x), fraud (3x), and rape (3x). You don't have to read the FBI Uniform Crime Reports to know this, either. Essentially everyone (white or black) who has ever lived in an urban area in the U.S. has first-hand experience of this. There is only one way to fix this problem of racial prejudice — and that is to reduce black crime rates to a level commensurate with the black population. The glorification of criminality in urban black culture is shocking and destructive. It encourages more of the same, and teaches young black men that this is an acceptable cultural form.

Sharpton could use a visit to Chicago. Well, Sharpton isn't as guilty of it as others — and yes, think Michael Eric Dyson and Tavis Smiley here — but there have been times when he has lamented the numbers of black men in prisons and jails. There is absolutely nothing wrong with black men being in either jail or prison if that happens to be where they belong.

Teens Arrested For Cutting Hole in Mall Roof to Steal Air Jordans. Two teenagers were arrested this week after cutting into the roof of a mall in Houston to steal Nike Air Jordan sneakers. A security guard at Greenspoint mall, on the north side of Houston, saw the thieves in the Foot Action store early Wednesday morning [8/22/2012] and called police. John Grant, 19, and another male, 16, were arrested at the scene, but a third suspect believed to be around the same age fled.

Someone In Detroit Pointed A Gun At A Google Street View Car. Google captures its Street View images by literally driving a camera-equipped car down the road while snapping photos. As such, the company tends to capture some weird images. [One image], captured by a Google car in Detroit, clearly shows a group of people hanging out on a porch brandishing a gun. Another image clearly shows one of them taking aim at the Google car.

The Editor says...
Yes, and if you drive through that neighborhood, they'll point a gun at you, too.

Detroit ranked most dangerous city in the country fourth year in a row. For the fourth years in a row, Forbes.com has rated Detroit, Michigan, as the most dangerous city in the country — with a violent crime rate of 2,137 per 100,000 residents.

Detroit Tops The 2012 List Of America's Most Dangerous Cities. The best crime news out of Detroit these days is that the rate of violent crimes — murder, rape, robbery and aggravated assault — fell 10% last year to 2,137 per 100,000 residents. That's still more than five times the national average and more than enough to make Detroit America's Most Dangerous City for the fourth year in a row.



D.C. barbershop owner pleads guilty in $20 million ID fraud operation. The owner of a D.C. barbershop pleaded guilty to a $20 million identity theft and tax fraud scheme that stole personal information from nursing home patients, dead people and victims who were duped into believing they were getting "Obama Stimulus Money." The massive scam involved more than 100 participants, including postal workers and bank tellers, who schemed to file more than 7,000 fake tax returns seeking to rip off $20 million over six years.

White Student Union Claims Towson Has Black-On-White Crime Problem. The founder of the White Student Union — which is not recognized by [Towson] university — says white women are the biggest target for crime committed by black men. Now he and his fellow members are standing up against it.

How do you feel walking alone at night? A list of the scariest — and safest — cities. It's a good thing this column is available online, so that residents of Memphis, New Orleans and Riverside, California can learn how unsafe their city is without having to venture outside. Those are the bottom three metropolitan areas where residents said they felt least safe walking alone at night in their neighborhood.

80-year-old Flint man fires shots at five robbery suspects. An 80-year-old Flint man fired two shots at five male teenagers attempting to rob him Thursday, April 11 in the driveway of his Helber Street home. The homeowner called police around 9:45 p.m. to the home and told officers he'd fired two shots at the suspects, who had guns, in self defense, according to a police report.

The Editor says...
It's Flint, Michigan, there were five thugs fighting one old man, and there's no mention of the suspects' descriptions. Therefore the perpetrators must have been black. Prove me wrong and I will post a retraction.

Deadbeat dad has 22 kids with 14 women, sued for child support. Orlando Shaw guessed he had fathered 18 children with 17 women, but he really has 22 children with 14 women, making him the "most expensive deadbeat dad" in Tennessee history. Shaw appeared in court in Nashville when Child Support Services sued on behalf of the mothers for tens of thousands of dollars in unpaid child support over the years.

The Neighborhood Zimmerman Watched. From the start the facts seemed to be of little importance to the prosecution of George Zimmerman, whether at the State's table in Florida's 18th Circuit Court or in the court of public opinion. The forces lined up against Zimmerman worked diligently to bury the background to his confrontation with Travyon Martin in February of 2012 — namely, the rampant crime, frequently committed by black males, that had put his neighborhood on edge. As the "conversation" about the Zimmerman case and about race in America continues, these widely neglected facts should be exhumed.

Scheindlin's List. In 2012, 74% of shooting victims in New York City were black, as were 75% of those arrested for these shootings. Blacks also comprised 73% of all firearm arrests. They were also the victim 38% of the time, and the arrestee in 48% of all rapes. 60% of murder victims were black, as were 51% of those arrested for murder. Blacks were the victim of 32% of all robberies and were the arrestee 62% of the time. 52% of those arrested for felonious assault were black.

Who you callin' boy?
14-year-old Newark boy killed had 30 bricks of heroin and loaded gun in his bedroom. The 14-year-old boy shot and killed in a Terrell Homes at Riverview Court courtyard Wednesday night [9/4/2013] had 30 bricks of heroin and a loaded handgun in his bedroom, according to law enforcement sources and police documents. The victim, identified as Ali Rajohn Eric Henderson, had several prior arrests for drug possession and robbery, according to police documents and law enforcement officials familiar with the investigation who declined to be identified because they are not yet authorized to speak about the investigation.

Black Guerrilla Family Prison Conspiracy Revealed: Sex, Drugs, and Public Corruption. Seven correctional officers have pled guilty in a racketeering conspiracy involving the notorious Black Guerrilla Family (BGF) prison gang in Maryland. Narcotics and other contraband were smuggled into multiple correctional facilities for the gang by at least seven correctional officers. The facilities, both men's and women's dedicated centers, were operated by the State of Maryland and the City of Baltimore.

Nearly Half of Black Men [are] Arrested by Age 23, Study Finds. Nearly 50 percent of black men and 40 percent of white men are arrested at least once on non-traffic-related crimes by the time they turn 23, according to a new study.

The Most Corrupt Village in America. When the police stopped Luvina Mobley Smith, they found a pound of pot in her car and five EBT food stamp cards which drug dealers often take in payment for drugs. It would have been an ordinary enough story except that Smith, despite being a convicted felon, was also the Deputy Clerk of Alorton. Luvina is the daughter of Callie Mobley, Alorton's former mayor, who had collected double her salary and served time in jail for income tax evasion. Mayor Mobley, who had been the mayor of Alorton for two decades, had been doing the same thing back to her days as liquor commissioner. [...] Alorton, an African-American village run by Democrats, may actually be the most corrupt village in Illinois and the United States.

Pennsylvania Democrats Walk Out of Hearing on Members Accused of Taking Bribes. This morning, the Pennsylvania House State Government Committee held a hearing on the case of the Democrats caught accepting bribes in exchange for voting against voter ID in the state. The case against the Democrats is well-documented, yet Pennsylvania Attorney General Kathleen Kane, a Democrat, scuttled it shortly after she took office. Kane also accused the career investigators who built the case of racism. That charge doesn't stand up to any level of scrutiny. The investigation targeted Republicans and Democrats, male and female, black and white. As it so happens, only Democrats chose to accept the bribes, and those members who did happen to be black.

Authorities confiscate $3M worth of shoes from Kentucky home. According to a search warrant filed last week, the shoes were supposed to be shipped in 2009 from a Nike distribution center in Tennessee to another one in Texas, but never made it.

How Covering up Minority Crime Leads to Gun Control. Why is it that Vermont, with approximately the same rate of gun ownership as Louisiana, has less than one-eighth the murder rate? [...] In the cases of homicide in 2012 in which the races of the perpetrators were known, 55 percent were committed by blacks, 62 percent of whom were under 30 years of age. Black youths are 16 percent of the youth population, but constitute 52 percent of those arrested for juvenile violent crime. [...] And while whites are 35 percent of NYC's population, blacks and Hispanics commit 96 percent of all crime in the Big Apple and 98 percent of all gun crime.

Jersey City man with 77 prior arrests charged with burglarizing Newport mall store. A Jersey City many with 77 prior arrests in three states has been charged with burglarizing a Newport Centre Mall store yesterday hours after the store had closed for the day, officials said. Michael Barton, 44, [...] has been arrested 36 times in New Jersey, where he has 25 disorderly persons convictions and a criminal conviction for drug possession, court officials said.

Anthony Cumia Gets Attacked, then Fired. Anthony Cumia gets attacked all the time: Most often for telling the truth about black crime and violence that is stratospherically out of proportion. And how reporters condone it. On Thursday night, July 3, his bosses at Sirius XM radio fired him for it.



Black crime in Chicago

Minority Feelings and Violent Facts. What is the most important thing about mobs of black teens attacking and seriously injuring innocent pedestrians and businesses? The feelings of teenagers who share the race of the attackers, according to Chicago's local CBS affiliate. That's right: Mobs of teenagers have unleashed terror in the streets of Chicago and other cities in "flash mobs," and the best thing CBS in Chicago has to say about that is that black teenagers are worried about racial profiling.

Chicago's Violent Flash Mobs. Most of these flash mob incidents involved African-American youths who use social websites and cell phones to coordinate their activity. According to Jack Marshall, "The Chicago media has adopted an odd policy in reporting the incidents: it has not reported the fact that the mobs were made up of African-American youths." Flash mobs of African-American youths are not the only reporting about race that is ignored in the Chicago media. For too long the media has ignored the hypersegregation in the city, as well.

Man, 7 teens charged in downtown muggings. An 18-year-old man was charged along with seven teenagers who were charged with mob action following a series of muggings carried out Saturday night [6/9/2012] by groups of attackers, including one that left a visitor from Michigan hospitalized with a broken jaw.

Cops: Man beaten by group in Gold Coast neighborhood. The group of attackers was comprised of between 15 and 20 males and females, police said. Preliminary police reports indicated that they may have been teenagers. Police are listing the attack as a battery and there is no indication that the man was robbed, said Chicago Police Department News Affairs Officer Robert Perez. The attackers did not appear to say anything to the man to indicate why he was targeted, Perez said. "It was without provocation, they just attacked," Perez said.

Victim describes mob attack. At least three people were injured in mob attacks in downtown Chicago this weekend. One of the victims is speaking out about the incident.

Victim: 'They were enjoying frightening people'. All the young doctor wanted to do was walk home from the hospital after work to his wife and child. That walk, one he's taken for years, takes him through the quiet and wealthy Streeterville neighborhood. "It's only four blocks from the hospital to my home," the 36-year-old doctor told me. "But now I have to take a cab. Do you believe it? A cab for four blocks? I'm never going to walk it again, not after what happened to me Sunday night."

Victim of CTA Red Line attack: 'They did a number on me'. The 23-year-old man didn't think much about it when a large group of teenagers got on the Red Line train as he, his wife and a friend returned from a weekend concert at Wrigley Field — especially since a girl in the group was clutching a baby. But the man's enjoyable evening out Saturday quickly took a violent turn.

Chicago's unreported race war. According to a statement in the Chicago Tribune, reporting on the race of individuals involved in news events, such as mobs attacking, robbing and vandalizing, is irrelevant. A news anchor at the ABC affiliate in Chicago goes even further: Anyone who reads or writes about the epidemic of racial violence in Chicago is an "idiot" who engages in "meaningless ... race baiting," says Ravi Baichwal. City officials and the media might be the only two places left where people still deny Chicago is under assault from more than 50 episodes of black mobs attacking, beating, robbing and vandalizing over the last three years in and around downtown. [...] And according to the award-winning police blog Second City Cop, there may be 25 more incidents of mob violence and lawlessness in that weekend alone that were never reported.

Racial violence explodes in more states. While most Americans were commemorating the nation's birthday, racial violence, lawlessness and animosity marred Independence Day celebrations in Georgia, Florida, Ohio, California, Texas and Illinois. Chris Rock started the day off with a bang: "Happy white peoples Independence Day," he tweeted. "The slaves weren't free but I'm sure they enjoyed fireworks." In Chicago, Ill., some were enjoying the celebration until they were set upon by a mob of dozens of black people intent on violence. One man was taken to the hospital, where he remains in good condition. Eleven black people were arrested and charged with assault.

Three teens charged in videotaped fatal attack on disabled man. Malik Jones, 16, now faces first degree murder charges after police saw the video of the attack posted on his Facebook wall. Two others also were charged with murder: Nicholas Ayala, 17, of the 6300 block of North Talman, and Anthony Malcolm, 18, of the 5500 block of North Broadway, police said. Father-of-12 Delfino Mora fell, hit his head and died as a result of the attack early Tuesday morning [7/10/2012] in a West Rogers Park alley, it's alleged.



28 Arrested In Mob Attacks On Mag Mile, Red Line. The warmest day of the year so far brought hundreds of teens to Michigan Avenue on Saturday [3/30/2013]. Police were calling it "mob action." CBS 2 has learned about multiple incidents in at least four different locations along the Magnificent Mile and in the Gold Coast, yielding a slew of arrests. In all, 25 juveniles and three adults were charged. Many innocent shoppers and tourists became caught in the middle of a very chaotic situation. Hundreds of teens littered Michigan Avenue and State Street near Chicago.

Wilding Downtown. Right in the heart of the tourist area. Estimates of up to crowds of 400. The radio is squawking about State and Chicago, Huron, Ohio, Orleans. Wagons have been called in from at least 4 districts. The Mounted Unit has been clearing streets and breaking up crowds of "youths" for the past few hours.

ISRA: One Rampage Too Many — Police Superintendent Garry McCarthy Has To Go. The ISRA [Illinois State Rifle Association] is once again calling upon Chicago Mayor Rahm Emanuel to fire Police Superintendent Garry McCarthy. This latest call for McCarthy's ouster comes after a mob of young thugs — estimated to be in the hundreds — swarmed the Magnificent Mile shopping district Saturday night [3/30/2013] and began beating dozens of innocent shoppers. This latest mob action appears to be the most serious in a string of events over the past two years involving gangs of youths randomly attacking shoppers on North Michigan Avenue.

Attacks on Mag Mile, CTA. An outbreak of wildings on North Michigan Avenue and a separate attack on a CTA Red Line train culminated in the arrest of 25 juveniles and three adults on a sunny and warm Saturday that drew the usual crowds to the Magnificent Mile. Seventeen of the arrests were made around 6 p.m. near Chicago and Michigan after a mob of young people started fighting among themselves, bumping into bystanders and blocking sidewalks and traffic.

Hundreds of rampaging teens target pedestrians in crazy flashmob-style attack on Chicago's Magnificent Mile. Around 400 teenagers brought chaos to downtown Chicago over the weekend with mobs of youngsters attacking pedestrians leading to over 28 arrests. Police were called to disturbances along the Magnificent Mile area between Michigan and Chicago Avenues on Saturday night.

Top cop defends police response to downtown disturbances. Chicago police Superintendent Garry McCarthy said today that his officers responded effectively to a number of disturbances in the downtown area involving large groups of teens on Saturday night that led to nearly 30 arrests ranging from bumping into passersby on sidewalks to attacking women aboard a CTA train. Eleven of Saturday's 28 arrests came about 6:35 p.m. when a group of teens attacked two women aboard a train at the State/Lake station in the Loop and snatched one of their purses. The women were bruised during the attack but declined medical treatment.

Chicago Running Out of Euphemisms. Pity the poor Chicago reporter. She is running out of ways to describe black mob violence without using the words "black mob violence." [...] It's a pretty easy gig: Or it was until the black mobs started showing up three years ago. Since then Chicago has seen at least 50 episodes of black mob violence of all shapes and sizes in all parts of the city: Stealing, beating, destroying, vandalizing, terrorizing, stabbing, even killing. All of a sudden, the reporter must turn color blind. And ignore the central unifying feature of the violence: Everyone involved is black.

Media label black-mob violence 'mischievous teens'. Chicago media are running out of ways to avoid talking about black mob violence. Over the weekend, 500 black people rampaged through several Chicago neighborhoods: beating, pushing and attacking police and tourists and residents. Even a police horse.

Man chased Gold Coast robber because 'I was sick of it'. [Gary] Dailey, 51, on his way to meet his girlfriend near a "quiet crowd" of children and adults, was confronted with something less quiet — a large, noisy group of individuals crowded into the center of a tunnel that led under Lake Shore Drive near Division Street. "They were screaming and yelling and scaring everybody," said Dailey, indicating that there was a crowd of about 40 people backed up while the rowdy group was "roughhousing" in the center of the tunnel.

Surveillance Video Captures Flash Mob Robberies At 3 Chicago Area Stores. Unbelievable surveillance video captured flash mobs dashing into store after store and running out with armloads and sometimes entire racks of sporting goods. It has happened at three different Sports Authority stores in the Chicago area.

Next-Generation Flash Mobs: The Breakdown of Law & Order. As local police departments cut personnel due to excessive spending and budgetary restrictions, cities all across America are rapidly degenerating into gang infested war zones. In the city of Chicago, which has been one of the hardest hit during the opening stages of a greater depression sweeping the country, law enforcement officials compared the situation on the ground to the kind of tribal warfare one might see in places like Iraq. With law and order breaking down, residents of the city have been caught in the middle.

Stone cold silence. The Daley dynasty in Chicago may be giving way to the Obama-Emanuel political machine, but one thing remains constant across the city: youth violence and a collective refusal to acknowledge its root cause. A year after the beating death of a Chicago teen by his fellow students, Chicago remains in denial about the driving factor behind such mayhem: the disappearance of the black two-parent family.

Police: Chicago had no shootings in 24-hour period, first time in nearly a year. Chicago saw something this week it hasn't seen in nearly a year: An entire 24-hour period where there was not a single shooting or murder. Police say the period of quiet happened Wednesday [1/18/2012].

The Editor says...
Wow, what a great achievment -- a whole day without a murder. That's like congratulating a Hollywood couple for being married more than a year. Or being married at all.



Four Chicago Neighborhoods Named on List of 25 Most Dangerous. NeighborhoodScout, a real estate blog, has compiled FBI data from 17,000 local law enforcement agencies to rank America's 25 most dangerous neighborhoods. Chicago has four neighborhoods on the list, tied with Detroit for the city with the most neighborhoods listed.

Veteran With Concealed Carry Permit Shoots Back At Chicago Gunman. One of the spate of shootings that took place in Chicago, Ill. over the July 4th holiday weekend involved a veteran with a concealed carry permit who was forced to a shoot a man who began firing on him and a group of friends. The incident occurred Friday night [7/4/2014], the Chicago Tribune reports.

Prosecutor: Teens killed man in 'knock 'em down' game. Three teenagers accused of killing a 62-year-old father-of-12 in West Rogers Park were playing a game called "Pick 'em out and knock 'em down" when they videotaped themselves punching him in the face, prosecutors say. Malik Jones, 16, Nicholas Ayala, 17, and Anthony Malcolm, 18, were caught after the video of Jones fatally punching Delfino Mora was posted on Jones' Facebook page, according to authorities.



Police: Grandson killed, robbed 72-year-old man who was headed to dialysis. William Strickland waited for his grandfather to step out of his South Side home to take his paratransit ride to a kidney dialysis appointment early March 2, authorities said Saturday — then stood behind the 72-year-old man, shot him six times in the back and stole his wallet, leaving him to die just steps from his home. Prosecutors said Saturday that Strickland, 19, used the money he took from his grandfather, who also was named William Strickland, to pay for new gym shoes, a cellphone and tattoos.

Woman killed for tip money, 2 men charged, 1 at large. Three men have been charged with killing 24-year-old Jacqueline Gardner and taking the tip money she earned from her restaurant job on May 19. One of the three men, Stephen Lee Henderson, 25, of Gary, is still at large and considered armed and dangerous, Schererville police said Wednesday [5/23/2012].


Black crime in Detroit



Detroit, Affirmative Action, and the end of Black-Rule in The Motor City. What if you could see a city where the logical conclusion of the consequences of affirmative action play out, where the desire to rectify past inequities in hiring patterns turns into an orgy of trying to add every conceivable Black person in the city onto the public payroll? What if you could see a city where the founding population was ethnically cleansed after two disastrous race riots (1943 and 1967) and continued high rates of criminality made it impossible to justify living there? Robert Conot's American Odyssey: A Unique History of America Told Through the Life of a Great City offers a direct window into why white people fled Detroit.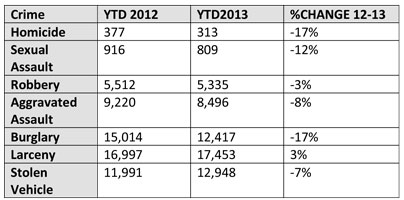 Detroit crime statistics: week by miserable week.


Liberal Views, Black Victims. [Philadelphia and] other cities such as Baltimore, Detroit and Washington, D.C., with large black populations, experience the nation's highest rates of murder and violent crime. This high murder rate is, and has been, predominantly a black problem. According to Bureau of Justice statistics, between 1976 and 2005, blacks, while 13 percent of the population, committed over 52 percent of the nation's homicides and were 46 percent of the homicide victims. Ninety-four percent of black homicide victims had a black person as their murderer.

Disputed study: Detroit is the most dangerous city in the nation. In another blow to the Motor City's tarnished image, Detroit pushed past St. Louis to become the nation's most dangerous city, according to a private research group's controversial analysis, released Sunday, of annual FBI crime statistics.

Leaving Detroit. Those who do not possess basic human values do not value any life. It too often seems that Detroit has more of such beings per capita than anywhere else in the country.

Baltimore's homicide rate moves to No. 1 among big cities. Baltimore had its lowest homicide total in two decades last year, but data released this week show the city's homicide rate was No. 1 among the nation's largest cities in 2008. Despite recording its lowest number of killings in 20 years in 2008 — 234, down from 282 in 2007 — there were 37 homicides per 100,000 city residents last year, ahead of Detroit at 34 per 100,000 and Washington, D.C., at about 31. No other city with a population of more than 500,000 came close...

Report: Nearly Half Of Detroiters Can't Read. According to a new report, 47 percent of Detroiters are "functionally illiterate." The alarming new statistics were released by the Detroit Regional Workforce Fund on Wednesday [5/4/2011].

America's Most Dangerous Cities, 2011. A city where murder is nearly a daily occurance stands a good shot of being named the most violent, crime-prone area in the country. And last year there were 345 murders reported in the Detroit metropolitan area — altogether 1,111 violent crimes per 100,000 residents.

Want to See Pictures From America's Cheapest Zip Code? The distinction of being the absolute cheapest zip code, well below the median price of $15,000, belongs to a neighborhood located in southern Detroit. How "cheap" is this neighborhood? Home prices in the 48208 zip code are about $6,388.

Criminals thrive in cities run by liberals.
Enter Detroit at your own risk! Police issue shocking warning to baseball fans. Police officers in Detroit greeted football fans attending Saturday night's Tigers game with a shock warning: 'Enter Detroit at Your Own Risk.' To protest against plans to cut their pay and increase their hours, an estimated 400 off-duty police officers handed out fliers to fans as they entered the Tigers' Comerica Park stadium.



"White flight" happens for a reason.
Detroit's Tragic Decline Is Largely Due To Its Own Race-Based Policies. In 1960, Detroit's population was 1.6 million. Blacks were 29 percent, and whites were 70 percent. Today, Detroit's population has fallen precipitously to 707,000, of which blacks are 84 percent and whites 8 percent. Much of the city's decline began with the election of Coleman Young, Detroit's first black mayor and mayor for five terms, who engaged in political favoritism to blacks and tax policies against higher income mostly white people. Young's successors, Dennis Archer and Kwame Kilpatrick, followed his Third World tyrant policies, but neither had his verbal vulgarity.

2012 was Detroit's most violent in nearly 20 years. As Detroit recorded its highest homicide rate in nearly two decades, city and police officials pledged to try to stem the tide of violence. Authorities recognized the spiraling problem of gun play and homicide in Detroit during a news conference Thursday — a recognition that comes as the city kicks off the new year with violence. Already this week, a mother has been charged with fatally stabbing her 8-year-old daughter, and a cab driver was shot to death.

Detroit Facing Surge Of Black Violence. The Detroit News wants you to know the black mob violence in Detroit over the weekend was limited to under 100 people. Which is not true. They also would like you know it was an "isolated" event. Which is also not true. And you could "get crazy people anywhere." So it is not fair to single out Detroit. Which is so far from the truth you have to wonder if even the people at the Detroit News believe it. Others are saying this just more of the usual panic — and denial — in Detroit.

Detroit Motorists Under Siege in 'Carjack City'. The armed auto thieves have become so common here that parts of the bankrupt metropolis are referred to as "Carjack City," and many motorists fear getting out of their vehicles even for a few moments to fill a tank.

With Abortions & Crime At All Time High, Detroit Approaches Third World Status. Detroit is often heralded by small government proponents as a perfect example of an over-involved government pushing themselves into the culture of a successful city and creating a state of dependence which eventually collapses in on itself. In other words, a great example of why big government fails. But this is really only a partial explanation of the issue. The real issue in America and the problem that is bankrupting cities just as much as the U.S. treasury, is the problem of cronyism. This, above all other factors, is the legacy of Detroit.

One man gets prison sentence, another gets probation for Detroit motorist beating. Two of five men who pleaded guilty last month in a mob attack on suburban motorist Steve Utash were sentenced Monday [7/7/2014], one to prison and the other to probation. Wayne County Circuit Judge James Callahan ordered Wonzey Saffold, 30, to spend 6-10 years in prison.


Black crime in Philadelphia



Black mob violence in Philly. Well when their parents named them such names they pretty much guaranteed their kids would live a life of crime. I used to be a retail manager in Exton and this is exactly the stereotype that would come into my store and steal time and time again and then try to make it about race when I had them arrested. I have been spit on in the past while trying to stop theft and at one point a black man raised his fist towards my pregnant stomach. That was the only time I backed off.

Philadelphia: Black Mob Violence. [Video clip]

Alleged flash mob leader held for trial. The only adult arrested in the alleged thieving flash mob last month waived a preliminary hearing in district court Monday [7/11/2011] and was ordered held for trial. Kyree Marsh, 19, of the 5200 block of Spruce Street, Philadelphia, was one of 16 persons arrested after allegedly storming into the Sears store, 150 S. 69th St., and grabbing sneakers, socks, watches and other merchandise and hightailing it out of the door on June 23.

Racial Violence Has Not Made It Into the Conversation about Race. If mobs of white youths were going about chanting the phrase "white boys," beating mostly on blacks and attacking black-owned businesses, then the nation would pay attention. Academic, media, political, and legal elites would be calling for symposia, expanded reporting, legislation, and lawsuits. In fact, a mob of black youths in Philadelphia went about chanting the phrase "black boys," beating mostly on whites, and attacking businesses.

Philadelphia mayor to black youth: 'You have damaged your own race'. Mayor Michael A. Nutter, telling marauding black youths "you have damaged your own race," imposed a tougher curfew Monday [8/8/2011] in response to the latest "flash mob" — spontaneous groups of teens who attack people at random on the streets of the city's tourist and fashionable shopping districts.



Another Blacks-on-White Philadelphia Beat Down: When is a Hate Crime NOT a Hate Crime? When it's a bunch of black thugs (girls in this case) beating the shit out of a lone, white girl. Giggling with glee ("like they were enjoying a ride on a rollercoaster," said their victim) while they brazenly and unmercifully beat her in front of Philadelphia's City Hall. In the middle of the day (so much for your curfews stemming the increasing tidal wave of feral packs of black thugs acting... well... very black). Image the outrage if a pack of white teenagers were strolling through town, singling out black kids for random, racially-motivated beatings.

14 Arrested After Large Disturbance Of Teens Gathers In Center City Philadelphia. As soon as the warm weather hit, a large group of students in Center City caused a ruckus, endangered themselves, police and pedestrians. The Philadelphia District Attorney's Office has charged 10 juveniles with Conspiracy, Obstructing Highways, Failure to Disperse and Disorderly Conduct. All 10 defendants are scheduled for a detention hearing Wednesday [4/10/2013] at the Youth Studies Center in Philadelphia.

Crowd Throws Rocks at Officers Helping Dying Man. When officers arrived they found 39-year-old Theodore Jackson unconscious in the middle of the street suffering from a gunshot wound to the chest. According to investigators, as officers administered first aid and CPR on the Wilmington resident, a crowd of about 200 people formed around them. Some in the hostile crowd began to throw rocks, striking several officers, according to police.

New Video Shows Philly Teen Attack. A new video surfaces of another unprovoked attack in Philadelphia, right outside City Hall, by a group of teen girls on a worker. A woman attacked in broad daylight in May is now coming forward. And Fox 29 has obtained chilling video of the attack on her by a group of teenage girls. The exclusive video shows her walking outside City Hall, before dark at 8 p.m. on a Thursday, when out of nowhere, a group of girls comes up behind her, slams her on the ground, and starts hitting her repeatedly.



Violence persists at troubled Bartram High. Trouble persists at Bartram High. A brawl erupted in the school cafeteria this week, with teenagers punching and stomping on one another and on school police. Students set off firecrackers inside the building. And the student who last month knocked a staffer unconscious was back in the halls of the Southwest Philadelphia school. "It's normal for Bartram," said one teacher, insisting on anonymity. "It's our new normal."

The soft bigotry of low expectations, blackboard jungle edition. The Obama administration's Department of Education has announced that it will crack down on "civil-rights infractions" in public schools, including alleged disparities in the disciplining of white and black students. The notion behind this initiative is that black students are disproportionately subjected to discipline they don't deserve. That doesn't seem to be the case in the Philadelphia public school system, however. There, as Abigail Thernstrom and Tim Fay report, it appears that African American students frequently harass and attack Asian students without consequence.

Report: Philadelphia schools unsafe, unjust. Philadelphia public schools are unsafe places where students who commit violent crimes are rarely punished and rehabilitated and with a disciplinary system that is "dysfunctional and unjust," according to a report by the district's safe-schools advocate. In a blistering 72-page document obtained by The Inquirer, Jack Stollsteimer describes a district where students who assault teachers or come to school with guns are not removed from classrooms, a violation of federal and state law.

Philadelphia and the Burqa Bandits. The latest wave of burqa banditry to target Philadelphia began at a branch of More Bank in the East Oak Lane neighborhood two days before Christmas. Following similar heists on January 6, March 14, March 20, and April 4, the Philadelphia Police Department and FBI issued a wanted flier for a pair of black males in "Muslim-like clothing covering their heads and bodies."



SEPTA: Mom, Grandmom Dodge Fare, Leave Baby Behind. SEPTA officials say a mother and grandmother left behind a baby girl while trying to avoid paying full subway fare. Authorities say the incident happened Monday on the Market-Frankford El at the 60th Street station. The baby's 15-year-old mother had a single one-day convenience pass that allows one person to take eight rides. [...] The two women didn't realize they had left the baby until they got to the 56th Street station around ten minutes later.

The hate that dare not speak its name. Another week in Philadelphia, another violent episode where people dare not speak its name: Race Riot. The latest is Port Richmond, where a mob of black people stormed a house, broke in, and beat up the occupants — all because of something that may or may not have happened to a black teenager on a bike. One of the attackers pulled a gun. Luckily the victim disarmed him. Later that day, another mob returned, this time armed with racial taunts and threats of violence against the white family if they testify in court. This is just one of dozens of race riots in the Philadelphia over the last two years.

A Beating and Racial Slurs But No Hate-crime Charges. Ah, the left-wing capacity for rationalization knows no bounds. While we're told that even substantive criticism of Barack Obama is driven by the hatefulness the left has dubbed "racism," a racial attack by three black teenagers on two white men in Philadelphia this past Monday [1/30/2012] is, somehow, not.

Police charge 5 teens in rape of 12-year-old girl in stairwell of Philly recreation center. Police in Philadelphia say they have arrested five teenagers accused of raping a 12-year-old girl at a busy recreation center.

6 Teens Arrested in Taped Beating of Pa. Woman. Six teenagers were in custody Friday on charges they brutally beat a neighbor on her stoop just "for fun" and then posted cellphone video of the attack on Facebook, authorities said.

Teens Laugh While Recording Violent Beating Of Woman In Chester. A group of teens violently attacked a mentally challenged woman at random in Chester and recorded the entire incident on tape. During the vicious attack, which was later posted on Facebook, the teens could be heard screaming obscenities and even laughing. Police say on Thursday morning [9/27/2012], an anonymous Chester resident alerted police of the taped incident that was apparently posted on Facebook.



Group Of Teens Randomly Attack Man On Kelly Drive. On the same weekend that two men were beaten by violent mobs of teenagers in Center City spurring a police crackdown, another man now says he was randomly attacked on Kelly Drive.

Philly police release surveillance video of blind man beating. Philadelphia police released a street-camera video Wednesday [10/9/2013] of a blind man taking a brutal beating in broad daylight. The blind man, who was in the Germantown area, appeared to be pushed from behind and falls off the curb and into the street. While on the ground, the blind man takes two punches, and then gets kicked nearly a dozen times by the attacker. He offered no defense. Police noted that there were bystanders in the video that did nothing to intervene.

Three "Knockout" Attacks Reported In Philadelphia Area. "Knockout" attacks have been reported in several states around the country and now investigators believe three people have been attacked in our area. Police in Lower Merion are investigating two attacks in the area, and Philadelphia detectives are investigating an attack in Northeast Philadelphia. It's a violent crime that in other parts of the country has proven fatal.

Mayor Nutter Says 'Knockout' Attacks 'Will Not Be Tolerated Here'. Mayor Michael Nutter was joined by other city leaders Monday evening [11/25/2013] in an attempt to stop the so-called "Knockout Game" from spreading to Philadelphia. Nutter was joined by Police Commissioner Charles Ramsey, as they discussed the so-called game in which a person is randomly assaulted, while another person films it with their phone or other device. With cases reported in other U.S. cities, including New York, Mayor Nutter says the city is working to stay ahead of the problem, but needs parents to do their part.

New York chef suffers broken jaw, nose in likely 'knockout game' attack in Philadelphia. Diego Moya, 30, described his Tuesday night [11/26/2013] attack in online exchanges with The News as his father drove him back to New York to celebrate Thanksgiving at home. [...] Police told him they believe he was attacked by a group of six to eight men, ranging in age from 16 to 21. He wasn't robbed and nobody's been able to find a motive for the random crime. That's why police suspect it may have been a "knockout game" assault, Moya said.

The Editor says...
Yep, it's another head-scratcher — such an impenetrable enigma that the police just can't figure out the motive. A white guy is beaten up by a bunch of blacks and racial animosity doesn't even occur to the detectives. Or so they say. In reality, the motive is quite clear to everyone involved, yet it's not politically correct to state it in public.

Suspect in hammer attack outside West Philadelphia deli identified. Philadelphia police say they have identified the suspect who brutally attacked a local business owner with a hammer. Nathanial Maybin, 29, from the 800 block of S. 56th Street is wanted for the attack outside Maple Deli at 49th and Lancaster in West Philadelphia. Police say David Woods, 46, was attacked at that location just before just before 5 p.m. Thursday [2/20/2014]. [...] The Gloucester City man was hit so hard, he can't even speak. Police said Woods will likely have to go through intensive speech therapy before he can talk again.

Temple Student Attacked With Brick. A 19-year-old Temple University student suffered serious facial injuries after an attacker hit her with a brick only a block from campus Friday [3/21/2014]. The student was walking with her 20-year-old boyfriend, who also attends Temple, near 16th and Norris streets around 6 p.m. when a group of about 10 teens and young children began taunting them, according to sources.

Female Temple University student, 19, is hit in the face with a brick by gang of children. A female Temple University student is vowing to return to class despite being unable to chew even the softest of foods after a gang of children smashed her in the face with a brick Friday night [3/21/2014]. The 19-year-old woman, who has declined to be identified, was walking with her boyfriend just off campus when a group of about 10 children began taunting them — they were followed for a block until the vicious assault that left her with dislocated teeth and a fractured jaw.

Temple University student attacked by gang of teens before they beat another with brick. Five juveniles have been taken into custody in connection to a trio of seemingly random attacks involving young girls and bricks. The five girls, ages 14, 15 and 17, were arrested early Tuesday afternoon after a Temple University student said she was attacked across the street from a Philadelphia police station on Friday — just minutes before the mob beat another 19-year-old student in the face with a brick.

Cops: 5 in custody for Temple attacks. It's not clear why a group of high school girls lashed out at Temple University students Friday, but, with five girls in custody, police are hoping to get that answer soon. Five girls, ranging from 14 to 17 years old, turned themselves in to Central Detectives today, Capt. Frank Banford said. The girls came forward after seeing news reports about a series of three attacks near Temple's campus Friday night, one of which left a female student bruised and bloodied after being hit with a brick. "They saw themselves in the video, and knew that sooner or later, they would get caught," Banford said.

The Editor says...
As usual, the police are utterly baffled and completely unable to guess the attackers' motive. It is apparently impossible for them to believe that black hoodlums attack randomly-selected white people just because they're white.

Teens Charged as Adults in Temple Student Attacks. Three teens, arrested for allegedly beating several Temple University students in random, gang-style attacks, will be charged as adults, the Philadelphia District Attorney's Office announced on Wednesday [3/26/2014]. Najee Bilaal, 16,15-year-old Zaria Estes, and 15-year-old Kanesha Gainey were charged on Wednesday with Aggravated Assault, Conspiracy, Possession of an Instrument of a Crime (PIC), Terroristic Threats, Simple Assault and Recklessly Endangering Another Person (REAP) for three attacks which took place over a 20 minute span last Friday evening, according to the DA's Office.

Staffer knocked unconscious at Bartram High. A staffer assigned to quell violence at a Philadelphia high school was knocked unconscious in what one union official called the worst assault since a Germantown High School teacher's neck was broken in 2007 by a student. Alphonso Stevens, known as a conflict-resolution specialist, suffered a fractured skull, concussion, and other injuries.

Climate at Bartram High raises concerns about safety, education. When Alphonso Stevenson was knocked unconscious by a student at Bartram High recently, staffers were shocked by the assault on the tall, genial man whose job was to keep the school calm. But many were not surprised. The school, by many accounts, can be a frightening place, where fights and drug use are common and large groups of students often roam the hallways. "I had a better chance in Vietnam," said longtime social studies teacher Stephen Pfeiffer, an Army veteran. "Here, you lock your door and pray no one comes in."

New Black Panthers to protest 'non-blacks'. The New Black Panther Party — an organization known largely for their intimidation of voters outside a Philadelphia precinct — has announced plans for a "National Day of Action and Unity," — ironically urging followers (on their day of unity) to boycott all "non-black business" on April 23.

Racial bullying roils a Philadelphia high school. [Scroll down] Inside is a cauldron of cultural discontent that erupted in violence last month — off-campus and lunchroom attacks on about 50 Asian students, injuring 30, primarily at the hands of blacks.

Group Of Teens Randomly Attack Man On Kelly Drive. Christopher Dean says he was biking along the drive around 6 p.m. on Sunday evening, July 31. It was a sunny day and plenty of people were out. He was between Boathouse Row and the Girard Avenue bridge heading west, he says, when he saw a group of four or five teenage boys standing by the side of the path. Suddenly, one of them stepped out toward his bicycle and punched him in the face.

The Editor says...
The article makes no mention of the suspects' race, but the incident took place in Philadelphia, and the victim was white, so obviously the thugs were all black. Prove me wrong. If the assailants had been white, the reporter would have made that very clear.



Vandals Use Spray Paint To Wreak Havoc In Northeast Philadelphia. According to investigators, the vandals spray-painted racial epithets, sexual symbols and swastikas on cars, houses and fences. The spray paint vandalism included the saying "Fu* Crakers" and some on the swastikas were backwards.

15-Year-Old Girl Attacked By Group of Teens In Delaware County. Speaking exclusively to CBS 3, a 15-year-old high school student, whose identity we are concealing, described a terrifying attack by a gang of at least nine teenage boys as she was leaving an Interboro High School football game Monday night. The teenage victim described first being taunted by the attackers, who followed her down a neighborhood street, cursing and spitting at her, before she was repeatedly kicked and punched, suffering at least one blow to her head.

Violence Comes to Temple. Wait just a minute, Temple University. Don't go getting all huffy just because a black guy beat and robbed an 81-year old white professor. This robbery happened on Tuesday, October 29. A person whose grainy visage is now known to millions of residents in the Philadelphia area walked past a secure guard station, entered the professor's office, punched him in the face, held a knife to his throat, robbed him, punched him again, then calmly walked away, leaving the professor a bloody mess. He lived. By Thursday, police identified their suspect as a convict with a long record of violence and mayhem.

Cops: Kids filmed beating of man, 58. The video was posted to Facebook, a video of teens laughing as one of them goes up to an unarmed 58-year-old man sitting at the Aronimink trolley stop in Upper Darby and punches him square in the jaw. The punch is so hard you can hear it. "It was a violent, vicious, cowardly, punk act," said Upper Darby police Superintendent Michael Chitwood. "He's lucky he didn't kill him."




Black violent crime, and unprovoked black-on-white violence in particular:

This section exists to illustrate the great number of violent crimes perpetrated by blacks on non-black victims, and the widespread media bias by the deliberate omission of the word black when describing crime scenes and suspects. In almost every case, the attacks described in this section are unprovoked, violent assaults on total strangers — the weak, the elderly, the unarmed and the unsuspecting — who have no chance to defend themselves. The news media talk about "the knockout game" as if it were a sport. The participants in this "game" very often record their crimes on video, and can be heard hooting and cackling with delight. Penitentiaries are built for violent felons like these, although there is rarely any display of penitence.

Fat Cats and Democrats. The progressive mind functions by means of mythic narratives that have tenuous connections to reality. Cops shoot a black man, and Eugene Robinson of The Washington Post begs "please don't shoot me," indulging the myth of a lethal American racism endangering black people's lives, even though black offenders kill 90% of black murder victims, and 85% of interracial crime is perpetuated by blacks against whites.

A Discussion On Race, Crime And The Inconvenient Facts. About 90% of interracial violent crime in our nation is committed by blacks against whites. The black-on-white murder rate in the U.S. exceeds the white-on-black rate by about 2.5-to-1. The black-on-white assault and battery rate exceeds the corresponding white-on-black rate in this country by at least 10-to-1. I would rather not report what is known about U.S. interracial rape statistics because it could be taken as incendiary, but the previous numbers in terms of black/white proclivity are dwarfed. [...] Because the number of white-on-black rapes is so low nationally in any given year, the ratio ranges from 100-to-1 to infinity.

MLK would be alarmed by black-on-black violence, lack of family values. The epidemic of black-on-black violent crime indicates that there has been a significant deterioration of values in the black community. Not only are the lives of their fellow blacks and others being devalued by street thugs, but the lives of unborn babies are being destroyed in disproportionate numbers in the black community. There was a time when blacks were justifiably angry that the larger community discounted their value, but now, ironically, many members of the black community themselves place little or no value on these precious lives that are snuffed out without thought.

He professes outrage when there's little evidence of bias against blacks, but ignores attacks on whites.
Obama's Racial Imbalance. Unfortunately, many attacks on innocent people have taken place in revenge for Trayvon's death. Some include:
• Gainesville, Fla.: A white man was beaten by a group of black men yelling "Trayvon."
• Oak Park, Ill.: Two blacks repeatedly punched a young white man; one of the two attackers told police he beat the victim because he was upset with the Trayvon case.
• Toledo, Ohio: A 78-year-old man was severely beaten by a group of black youths while they shouted "this is for Trayvon."
• Washington, D.C.: Three black men robbed and beat a white man, stealing his wallet and iPhone. One of the black men said, "This is for Trayvon Martin" as they approached the victim.
• Mobile, Ala.: A white man was attacked by 20 black adults who hit him with chairs, pipes, brass knuckles, and paint cans. As the group left, two witnesses reported one assailant said, "Now that's justice for Trayvon."
• Baltimore, Md.: A group of black youths beat a Hispanic man while saying, "This is for Trayvon."
• Chester County, Pa.: Firefighters responded to an arson started at a white-owned business with the words "Kill Zimmerman" painted in red on the front wall.
Similar revenge attacks have reportedly occurred in Memphis, Tenn.; Norfolk, Va.; and Sanford, Fla.

Obama's, Media's Double Standard On Interracial Shootings. The black-on-white murder follows the brutal bus beating of a white 13-year-old in Florida by three black 15-year-olds. And the fatal shooting of a white infant in Georgia by a black 17-year-old. Neither of these cases made national news. Nor did a clear-cut case of hate crime in Kansas City, where two black guys doused a white 13-year-old with gasoline and lit him on fire, saying, "You get what you deserve, white boy." Or the 20 black kids in Alabama who beat up white Matthew Owens on his porch "for Trayvon." Then there are the vicious bash-mob attacks on whites taking place with frightening regularity in Baltimore, Philadelphia, Chicago, Milwaukee, Long Beach and Obama's own backyard of Washington, prompting white residents to flee these cities and convincing others — including tourists — to steer clear.

Holder Ignores Real Threat To Young Black Men. [Scroll down] The November 2011 study concluded that "young black males were disproportionately involved in homicide compared with their proportion of the population." This is understating it. The precise data show that even though black men between the ages of 14 and 24 make up only 1% of the U.S. population, they represent 27% of all the nation's murderers. This bears repeating: 1% of Americans are committing over a quarter of the murders. Equally alarming, the administration study also found that blacks of any age are eight times more likely to murder than whites.

Race, Politics and the Zimmerman Trial. Liberals in general, and the black left in particular, like the idea of talking about racial problems, but in practice they typically ignore the most relevant aspects of any such discussion. Any candid debate on race and criminality in this country would have to start with the fact that blacks commit an astoundingly disproportionate number of crimes. African-Americans constitute about 13% of the population, yet between 1976 and 2005 blacks committed more than half of all murders in the U.S.

500 witnesses and no one is talking. About 500 spectators were packed around the Kingsessing Recreation Center's outdoor basketball court Monday night, cheering on an adult league playoff game. Then, at halftime, a thug in a red and black baseball hat loped across the court and fired a .40-caliber handgun 11 times into the bleachers, wounding six people. As of Tuesday afternoon [8/23/2011], none of those 500 witnesses were saying much to police.

I was beaten, taunted for being white, Bronx man says after subway attack. A Bronx man was viciously assaulted and robbed on a subway train Sunday by four men who he says taunted him for being white. Police confirmed they are investigating the assault and robbery of Jason Fordell, 29, but have not labeled it a hate crime.

Authorities Ignoring another Black-on-white 'Hate Crime'. Like the three monkeys who see, hear and speak no evil, our authorities seem intent on ignoring the true nature of yet another black-on-white racial attack. In the New York City subway this past Sunday, 29-year-old Jason Fordell was attacked by a group of black men who taunted him for being white. Yet NYC police "are unsure" if the incident is a bias crime. The problem started when Fordell transferred to a crowded 4 train at 42nd street, where he encountered four black men who began harassing him.

Black Leaders Ignore Black-on-Black Crime. Derrion [Albert] had walked into the middle of a fight between two rival black gangs. He attempted to help one of the victims in the melee and was killed for his trouble. This took place in Barack Obama's Chicago. All his work for "social justice" did a great deal for Obama, but it did nothing for Derrion Albert.

Democrats Jumping the Race-Card Shark.. A rather inconvenient fact, however, is that the only reported act of racial violence so far happened on Tuesday [9/15/2009] on a public school bus in St. Louis and the offenders were black, the victim white. An apparently unprovoked attack on a high school student took place over — get this — a seat on the bus.. The irony is downright nerve-wrenching. A black student beat the white student to the cheers of his black classmates and the bus driver supposedly did nothing to intervene. KKK in reverse? That's a lot more violence than Rosa Parks got over her seat on the bus. In fact, Rosa Parks wasn't on the receiving end of anything more than arrogant stares.

Black and other nonwhite violence against whites: a grim collection. In recent weeks, I have posted a great many articles on the ongoing outbreaks of black on white violence in this country and elsewhere — and not just "ordinary" criminal violence, but violence of a specifically savage and threatening character.

A betrayal of the civil rights struggle. During the 2003-04 school year, only 52 of the nation's 92,000 public schools were labeled "persistently dangerous," a designation under the No Child Left Behind Act entitling students to move to an alternate "safe" school. Philadelphia had 14 schools labeled as "persistently dangerous" and Baltimore had six. … School violence, including assaults on teachers and staff, is not restricted to inner city schools but occurs also in suburban and rural schools. However, the bulk of the violence is at schools with large black populations.

FBI Alarmed At Murder Rate Among Black Men. Both violent and property crimes in the United States declined in 2007 from the previous year, the FBI reported Monday [6/9/2008]. But one expert warned the figures could mask a growing murder problem among young black men. ... "We shouldn't be fooled into thinking our problems are over," said [James Alan] Fox, a criminal justice professor at Northeastern University. Fox said that from 2002 to 2006, the rate of murder committed by black male teens rose 52 percent.

A Black Conservative Lament: [A cable TV news channel] ran a long segment with a black comedian/actor, talking about how he tells his son each and every day about how to talk to the police and how black men must be wary of cops. … The truth is that his son has more to fear from other young black men than he does from the police. I then quoted a homicide statistic: 94 percent of black homicide victims are killed by other black people. It was dismissed by the moderator so we could focus instead on how racist the cops are. Unbelievable.

Murders of Black Teens Are Up 39% Since 2000-01. [Scroll down] An overwhelming proportion of the killings involve black-on-black crime. The reasons for high rates of violence in African-American communities have been the subject of debate among criminologists. Some attribute it to the migration of prison culture, with large numbers of incarcerated young men returning to their communities.

Murders Jump in Obama's Back Yard as Chicago Cuts Police Hires. The recession is stinging in President-elect Barack Obama's hometown, where the Chicago Police Department is slowing hiring even as murders increase. Murders in Chicago rose 16 percent in the first 10 months of the year. The city's homicide rate is triple New York's and double that of Los Angeles.

Ebony and Irony. Put simply, there is no evidence to suggest that blacks aren't committing the majority of homicides in general and first degree murders in particular. Nor is there any evidence to suggest that proponents of affirmative action will demand that we begin to execute more blacks to make up for their present under-representation in American death chambers.

FBI called to deal with 'race' gang violence. Police in Los Angeles have been forced to call in the FBI to deal with a surge in gang-related violence between Latino and black youths. The initiative has been prompted by incidents such as the shooting of a 14-year-old black girl last month by Latino gang members, who are thought to have targeted her because of her race.

[No mention of "hate crime" prosecution.]

New Orleans pizza delivery man blinded by bleach in robbery. Last Thursday about 2:30 p.m., the Domino's Pizza delivery man, whom police did not identify, pulled up to a house in the 8600 block of Palm Street in Hollygrove. He walked to the front door and began to knock when a man standing nearby said he lived there. The man, identified in the police report as Alexis, told the driver to keep knocking and someone would answer. Then, unexpectedly, Alexis allegedly splashed a cup of bleach into the delivery man's eyes, blinding him, and stole the pizza, police said. The delivery man ran back to his car. "You know you're not supposed to be back here, white boy!" Alexis allegedly yelled as the man pulled away.

Black-on-white crime is just ordinary crime. Imagine how this would be reported if the colors were reversed.
Caught on Tape: Teens Beat Pregnant Teen on Bus. A pregnant teen says she feared for her baby when she and her boyfriend were attacked by a group of four girls and a woman on a Seattle Metro bus last month. ... All five suspects have prior arrests, authorities add.

Denver police arrest 32 in series of downtown assaults. The Denver Police Department arrested 32 men and juvenile boys after a months-long undercover investigation into what police said were racially motivated assaults and robberies in downtown Denver, including the LoDo entertainment district. A task force composed of Denver police, the FBI and the Denver district attorney's office investigated 26 incidents in which groups of black males verbally harassed, assaulted and at times robbed white or Latino males, according to Denver Police Chief Gerry Whitman.

LoDo assault victims often sucker-punched. [Peter] DeQuattro, who is white, was one of the most recent men targeted in a downtown-centered spree of attacks where small groups of black men and youths — many with admitted gang ties — tried to knock out white or Latino men with whacks to the head. They sometimes stole from them or taunted them with racial epithets.

Racial terror in Denver that won't make national news. Chilling details are emerging in the local Colorado press about violent black gangs who have been targeting white victims for months. ... Although police knew what was going on, citizens were left in the dark. More dangerously blind diversity-mongering at work?

Teacher still out after beating by student. Vanesta Marshall, a home economics teacher at Worthing who is 5 feet 4 inches tall, said she remembers a ninth-grade male student punching her in the face two or three times before she blacked out Friday [5/11/2007]. … She said school officials didn't inform her about the student's discipline history. "We're just regular-ed teachers," she said. "We don't know how to handle violent behavior."

A Violent Racist Game Claims More Victims. One man was stomped to death and another man nearly killed in a racist amusement called the "knock-out game," currently being played by black teenagers. The victims were both white, and that fact needs to be raised in our national conversation about race.

Racial Violence. In 2008 and 2009, five black people were convicted of the carjacking, torture, rape and murder of University of Tennessee graduates Channon Christian and Christopher Newsom. To the extent the case attracted attention outside Knoxville, it was mostly about how this case was not attracting attention.

DDOT Drivers Refuse To Work: 'They're Scared For Their Lives'. Henry Gaffney, spokesman for the D-DOT bus drivers union AFL-CIO Local 26, [said] this was not an organized maneuver by the union. Gaffney said it's a matter of bus drivers fearing for their safety, citing an incident that happened Thursday afternoon [11/3/2011]. "Our drivers are scared, they're scared for their lives. This has been an ongoing situation about security. I think yesterday kind of just topped it off, when one of my drivers was beat up by some teenagers down in the middle of Rosa Parks and it took the police almost 30 minutes to get there, in downtown Detroit," said Gaffney.

Teen Punches Homeless Man on Red Line While Friends Videotape the Attack. More than 250,000 people have viewed an online video that appears to show a thug punching a homeless guy at a Chicago L stop.

Moving melee causes chaos at packed Mall of America. A noisy, racing crowd of more than 200 young people created a chaotic scene at the packed Mall of America Monday evening [12/26/2011], sending frightened shoppers scrambling for safety and causing some stores to close early, eyewitnesses and officials said. It took more than an hour to quell the disturbance, which began about 4:20 p.m. as a single fight involving a large group in a food court and quickly spread through the nation's largest mall...

The Editor says...
This story is accompanied by video, which shows all the violent actors were black, but the word black is nowhere to be found in any of the articles describing the event.

Mall of America melee may have started over rumors of Drake and Lil Wayne visit. Rumors that rap superstars Drake and Lil Wayne were visiting Minnesota's Mall of America may have sparked Monday's massive brawl at the giant retail center, a local TV station said. Nine people were arrested as dozens of shoppers fought on one of the busiest shopping days of the year, according to local media reports. ... A Mall spokeswoman said the incident involved about 50 youths, but witnesses and police pegged the number at closer to 200.

Riot at the Mall of America. One of my daughters works at a department store at the Mall of America. After the riot was over, she texted one of her sisters: ["][My department store] closed its doors. It was the scariest thing I have ever seen. Hundreds of gang members running through the Mall knocking things over. And there were fights all over! A good half of them were wearing red.["]

National Guardsman thwarts Red Line robbery; 3 teens arrested. Three teens who attempted to rob a judo instructor with a replica gun at a CTA station got more than they bargained for, police say. It wasn't the judo teacher who taught them a lesson, authorities say, but an Army National Guardsman armed with a real gun.

Also posted under guns save lives.

Racial Violence. When I told my friends I was working on a magazine article, then a book, about a tsunami of racial violence in America over the last two years, they said, "I haven't heard about that." When my Tennessee friend told me about a horrific racial crime in Knoxville, Tennessee, I told him: "I haven't heard about that." Outside of Tennessee, most did not. Locals may remember the story: In 2008 and 2009, five black people were convicted of the carjacking, torture, rape and murder of University of Tennessee graduates Channon Christian and Christopher Newsom. To the extent the case attracted attention outside Knoxville, it was mostly about how this case was not attracting attention.

13 wounded at Arizona rap concert shooting. Tempe Police spokesman Sergeant Steve Carbajal said officers responded to reports of shots fired at the Clubhouse Music Venue at 11:30 p.m. Friday [3/2/2012] local time. ... "Witnesses have reported that after the shooting, two black males wearing dark colored clothing fled the scene on foot," Carbajal said. "Those individuals have not been located at this time."

Exclusive: Chris Rock Attacks Conservative Author Over Tea Party Question. The confrontation, which took place around 2:00 a.m. on January 23, 2012, at Spike Lee's Sundance Film Festival after party at Tao night club, ended with Chris Rock challenging the conservative author to a fight, says [Jason] Mattera: "Chris Rock shouted, 'You want to throw down? Let's throw down right now!' Of course, he was standing safely behind two bodyguards when he said it."

Political rope-a-dope. Crime is one of the results of the liberal agenda. Blacks are 13 percent of the population but are more than 50 percent of murder victims. About 95 percent of black homicide victims had a black person as their murderer. Blacks are not only the major victims of murder but also suffer high victimization rates of all categories of serious violent crime. Most often, another black is the perpetrator.

Man Charged With Murder In Assault On Elderly Couple. A Tulsa man has been charged with first-degree murder in connection with an assault that left a woman dead and her husband injured. Court documents show 19-year-old Tyrone Woodfork was charged Monday [3/26/2012] with first-degree murder, first-degree burglary and two counts of armed robbery.

Shawn Tyson gets life sentence for murdering British tourists in Florida. A teenager who shot dead two British tourists on holiday in Florida will spend his life in prison after he was convicted of two counts of murder. A jury in Sarasota took just two hours to decide that Shawn Tyson, 17, killed James Cooper, 25, and James Kouzaris, 24, after they strayed into a rundown area of the city after a night out last April.

Seven black teens arrested for hate crimes. Seven black teenagers who allegedly attacked a Latino boy in Palmdale, Calif., were arrested by police after footage of the attack was posted on YouTube, KTLA reported.

The Murders That Don't Count. Jesse Jackson is right that "blacks are under attack." According to a 2005 FBI report, blacks accounted for 13 percent of the population and 49 percent of all homicide victims. In 93 percent of the cases, the killer was black. Half of the victims were ages 17 to 29. That works out to 4,000 murders of young blacks in one year, overwhelmingly at the hands of other blacks.

Democrats Responsible for Black Culture of Anger. Black twenty-year-old male Danielle Simpson, with two black associates, was interrupted by 84-year-old Geraldine Davidson while in the process of burglarizing Davidson's home. The group duct-taped her mouth, bound her hands and legs, and threw the white former schoolteacher and church organist into the trunk of her own car. Ms. Davidson was severely brutalized before the trio eventually tied a rope attached to a cinderblock around her legs and threw her, still alive, into the river. Brutal crimes are not unique. But here is what makes this case remarkable. For seven hours, Simpson rode around in Ms. Davidson's car, stopping for fast food and opening the truck to show off his victim to his black friends.

Blacks Can Murder Whites, and It Won't Make National News. If you're a 20-year-old black male, you can beat an 85-year-old white woman to death and pummel her 90-year-old white husband straight into ICU, and it won't make the national news. Yep. Tyrone Woodfork, a black male who — much like Trayvon Martin — looks like Obama's son, allegedly killed Nancy Strait and broke her husband Bob's jaw, several ribs and shot him in the face with a BB gun last month in Tulsa. 20-year-old Tyrone also raped the nearly blind 97-pound Mrs. Strait, a great-great-grandmother, before he murdered her. Did the above monstrous crime make the national news? [No!]

Do the Media Want a Race War? [Scroll down] And where is our President in all of this? He says that "If I had a son, he would look like Trayvon Martin." You do have two daughters, Mr. President. Does either one of them look like Aliyah Shell? In case you've never heard of Aliyah, she was a 6-year-old black girl in Chicago who was shot to death last month while sitting with her mother on the front porch of her home. She was one of 10 blacks murdered in Chicago over St. Patrick's Day weekend. Police say all 10 were murdered by other blacks.

No Attention for Daylight Highway Stabbing in Alabama. A frightening event happened March 28 on an Alabama highway. The event has received no national attention apart from a lone story in the Macon Beacon in Macon, Mississippi. Not only was the event frightening, but the response — or lack thereof — by Alabama law enforcement authorities was almost as frightening. The local media, including the Birmingham News, failed to cover the shocking attack. With the flurry of national media attention the Trayvon Martin killing has received, why hasn't the daylight stabbing of Nick Stokes received any attention?

Police to White Victim: We 'Don't Mess' with Black Gang. Most of us have heard about how the media won't report on black-on-white crime. We also may know that authorities sometimes sweep it under the rug due to political pressure, usually with a wink and a nod. But not so in rural Alabama, where the police actually told a white crime victim that they "don't mess" with a local black motorcycle gang. The tragic event that led to this shocking admission occurred on March 28, as truck driver Nick Stokes and neighbor Johnathan Cooper were heading out of Birmingham hauling a portable cabin.

Media Dishonesty and Race Hustlers. Let's look at some non-news cases. On March 14 in Tulsa, Okla., a white couple suffered a home invasion by Tyrone Woodfork, a 20-year-old black man. [...] On March 4, two black Kansas City, Mo., youths doused a 13-year-old boy in gasoline and set him on fire, telling him, "You get what you deserve, white boy." Last summer, Chicago Mayor Rahm Emanuel ordered an emergency shutdown of the beaches in Chicago because mobs of blacks were terrorizing white families. Several years ago, in Knoxville, Tenn., a young white couple was kidnapped by four blacks. [...] None of those black-on-white atrocities made anywhere near the news that the Trayvon Martin case made, and it's deliberate.

Another NYC shooting death that doesn't fit the MSM Narrative. A 48-year old retired NYC police lieutenant is being heralded as a hero for shooting down a would-be armed robber, but you won't hear much about this story from the MSM because it doesn't fit the "Trayvon Martin" narrative. The New York Post reported Friday [4/13/2012] that two men attempted to rob a drug store at gun point looking for cash and expensive prescription drugs. What they got was more than they bargained for.

Suspect: I Beat Up White Man Because I Am Mad About Trayvon Martin Case. Alton L. Hayes III, a west suburban man charged with a hate crime, told police he was so upset about the Trayvon Martin case in Florida that he beat up a white man early Tuesday [4/17/2012]. Hayes and a 15-year-old Chicago boy walked up behind the 19-year-old man victim and pinned his arms to his side, police said. Hayes, 18, then picked up a large tree branch, pointed it at the man and said, "Empty your pockets, white boy."

Man grabs microphone from reporter on live TV, shouts 'n-word'. A North Carolina man is facing assault charges for bum rushing a news reporter on live TV, grabbing her microphone and shouting the n-word into the camera. The broadcast quickly ended, and [Justin] Moore, was arrested just a few moments later, WMBF reported. Moore was charged with third degree assault and battery, and released from jail Thursday afternoon [4/19/2012] on $1,400 bond.

Man Beaten By Mob, In Critical Condition. Mobile police need your help to catch a mob that beat Matthew Owens so badly that he's in critical condition. [...] Owens' sister, Ashley Parker, saw the attack. "It was the scariest thing I have ever witnessed." Parker says 20 people, all African American, attacked her brother on the front porch of his home, using "brass buckles, paint cans and anything they could get their hands on." Police will only say "multiple people" are involved.

MBTA: Have you seen this spitter? The MBTA has released surveillance video of two teens who allegedly spit at and threatened a bus driver last week in hopes of bringing them to justice. The incident took place around 8:45 p.m. Wednesday [4/18/2012] after a suspect believed to be in his late teens refused to pay when he boarded a Route 28 bus at Ruggles Station, putting only a quarter in the fare machine when told by the 51-year-old driver to either pay up or get off the bus, according to the MBTA.

Feds Will Decide If Matthew Owens Beating Is A Hate Crime. Deputy Chief Lester Hargrove says investigators believe only four people, including Terry Rawls, were directly involved. They believe the rest of the mob just watched. Police say the beating is the result of a three year neighborhood dispute between Rawls and [Matthew] Owens.

Calling Out the Mobile Police Department. As I reported yesterday [4/25/2012], the Mobile Police Department is ludicrously claiming that it is likely that no more than three people will be arrested for the now-infamous mob beating of a man in Mobile because the other 17 or so people were supposedly just "onlookers."

If You Don't Look Like Obama's Son, No One Cares. The news story is horrifying: after a trivial encounter with a group of youths who were playing basketball, a man in Mobile, Alabama, was set upon by a gang of twenty men armed with brass knuckles, chairs, pipes and paint cans. The victim, Matthew Owens, was attacked on his own front porch and beaten within an inch of his life.

Beating of Alabama man not seen as hate crime, despite claim 'Trayvon' invoked. A racially charged beating of a white Alabama man by a throng of African-Americans is not being investigated as a hate crime, despite one witness' claim that she heard an assailant exclaim: "Now that's justice for Trayvon."

Victim's sister: Mobile, Ala. black-on-white beating sparked by theft, not basketball. The sister of a white Mobile, Alabama man who suffered severe head trauma during a beating by approximately 20 black neighbors on Saturday spoke exclusively to The Daily Caller, saying that the incident started after one of her children witnessed some of the eventual assailants stealing an item from a neighbor's porch — not, as some media outlets have reported, following a disagreement about a pick-up basketball game in the street.

The Mob in Mobile. Last Saturday night at 8:20 p.m., when the white Matthew Owens was beaten into critical condition by a mob of dozens of black neighbors, Al Sharpton and the New Black Panthers got what they wanted: a white victim, any white victim, in payback for the killing of Trayvon Martin. May God have mercy on their miserable souls — because the rest of us should shun them mercilessly from all decent society.

Motivated By Media Lies About George Zimmerman, a Hate Crime Occurs In Chicago. We're learning today that in Obama's Chicago, 18-year-old Alton L. Hayes has just been charged by police with "attempted robbery and aggravated battery along with a hate crime" for attacking and robbing a 19-year-old man. Hayes is black, the victim is white, and Hayes told investigators "he was angry about the [Trayvon] Martin shooting and decided to attack the victim because of his race."

Another one!
Authorities: Racially charged beating sparked by death of Trayvon Martin. An 18-year-old man charged with a hate crime in Oak Park told investigators he beat his victim in anger over the shooting death of Trayvon Martin, according to the Cook County state's attorney office. Alton L. Hayes, of the 1200 block of Woodbine Avenue in Oak Park, was charged with attempted robbery and aggravated battery along with a hate crime, state's attorney spokesman Andy Conklin said Wednesday afternoon [4/25/2012]. A 15-year-old Chicago boy also was charged with attempted robbery in the incident.

20 Years for Standing Her Ground. "I got five baby mammas, and I put my hands on every last one of them except for one," Rico Gray confessed during a November 2010 deposition. "The way I was with women ... they had to walk on eggshells around me." He recalled punching women in the face, shoving them, choking them, and tossing them out the door. Yet somehow, after one of those women fired a warning shot into the ceiling of her Jacksonville, Florida, home to scare him away during yet another violent outburst, prosecutors managed to convince a jury that Gray was the victim. As a result, Marissa Alexander, a 31-year-old mother of three, faces 20 years in prison for standing her ground against an abusive husband.

Ugly Truths About Prejudice. A number of commentators have pointed out the enormous focus that civil rights leaders have put on the death of Trayvon Martin at the hands of a white man, while essentially ignoring the vastly more common situation of black on black murder. On an average day in 2010, there were eighteen blacks murdered in the U.S., and sixteen of those black victims were murdered by other blacks — and yet those crimes seem to be of no real interest to the mainstream media or the race hustlers like Al Sharpton.

Soldier Beating: Law firm, church offer rewards for information in the attack of Sgt. Johnny Aparico. The violent mugging of a young soldier in Tampa earlier this week has gained national attention. Surveillance video showing 24-year-old Army Staff Sergeant Johnny Aparico being punched and kicked has been seen by millions. It has been described as "heartbreaking" and "shocking."

Two arrests made in relation to Sgt Aparicio robbery. Detectives have arrested two suspects in relation to the violent robbery of Sgt Johnny Aparicio that occurred on Sunday, May 13. According to Tampa PD, detectives received dozens of tips throughout the week with potential suspect names, and the same names were consistent in many of the calls.

Fierce reaction to an outrageous crime. Watching the video of four young thugs beating a MacDill Air Force Base officer on an Interbay street is genuinely stomach-turning. The unprovoked attack is conducted with a joyful brutality that is painful to watch and impossible to comprehend. So it is reassuring to see the Tampa Police Department respond resolutely and effectively to this outrageous crime. The police have arrested three suspects — all 18 years old — and are searching for a fourth.

Man accused of stabbing random Dallas shopper. A Dallas man remains in jail after police say he randomly stabbed a shopper inside a Target store. Police say Antowann Davis, 30, walked into the Target on Marsh Lane around 9:15 p.m. Thursday [5/17/2012] and took a butcher knife out of its packaging in the kitchen department. Martha Jones, 29, said she was browsing inside the store when Davis walked past her and shoved the knife into her lower back.

Should Black People Tolerate This? Each year, roughly 7,000 blacks are murdered. Ninety-four percent of the time, the murderer is another black person. According to the Bureau of Justice Statistics, between 1976 and 2011, there were 279,384 black murder victims. Using the 94 percent figure means that 262,621 were murdered by other blacks. Though blacks are 13 percent of the nation's population, they account for more than 50 percent of homicide victims. [...] Young black males have a greater chance of reaching maturity on the battlefields of Iraq and Afghanistan than on the streets of Philadelphia, Chicago, Detroit, Oakland, Newark and other cities.

Wrigleyville Man's Throat Slashed in Random Attack. Michael Schmidt says he has no idea why a man he passed while walking his dog Sunday night turned around and attacked him. "He came up behind, put his left arm over my chest, took his right arm, and slashed my throat from left to right," Schmidt explained. [...] He described his attacker as a black man about 30 years old who stood about 6 feet, 1 inch or 6 feet, 2 inches tall.

Sixth person charged in delivery driver's murder. After shooting Zhen Bo Liu on a dark Wilmington street, the gunmen stole his food delivery of chicken wings and shrimp fried rice and shared the meal among their accomplices at a nearby house. After eating, they returned to view Liu's body and rummage through his car. When police arrived on South 13th Street to begin their investigation into Liu's June 14 death, the only things missing from the 60-year-old delivery driver's vehicle was the order of food and $48 in cash.

Woman Shot Dead after Confronting Speeder in Neighborhood. A woman has died after being shot during an argument with a driver speeding through her neighborhood in Mobile on Racine Avenue. Mobile Polices say 40-year-old Wendy Fisher died after being transported to USA Medical Center with a life-threatening gunshot to the chest. Witnesses say Fisher confronted a car speeding down her street after it almost hit her dog. Police say three to four black males were inside the car, and one of them opened fire, striking North in the chest.
This is an original compilation, Copyright © 2013 by Andrew K. Dart
Relatives: Racial taunts sparked Lakeview brawl. Witnesses saw the four men running in the streets and striking other people, including an off-duty police officer, [Assistant State's Attorney Lorraine] Scaduto said. One man was struck from behind in the back of his head by Donald Robinson, Scaduto said. Another man was leaving a pizza restaurant and was punched in the neck by Simmons, she said. When the man fell to the ground, he was kicked in the chest and ribs by Edward Robinson, Scaduto said. The four then walked south on Clark and "caused much disruption in the business district," Scaduto said. They were followed by witnesses and some of the victims, she said.

Taking Down the Second Amendment: The Connection between Fast and Furious and the Trayvon Martin Case. [Scroll down] If you live in or near a big city, the reality is that if you have to use your gun to defend yourself, the chances are good that you'll be using it against a young African-American male. According to Eric Holder's Justice Department, between 1976 and 2005, African-Americans, 12.6% of the population, committed 52.2% of all homicides. Over the 30-year period, African-Americans committed murder at about 7.33 times the white rate. (Whites here include Hispanics.) The numbers for other violent crimes are comparable. The perpetrators are overwhelmingly males between fifteen and twenty-five. So the unspoken message of the media crusade against [George] Zimmerman is that if you use a gun to defend yourself against a young black male, there's a chance you'll face a second-degree murder charge.

Children charged in video store holdup. Three children, including a 9-year-old boy, were taken into police custody after a video store was held up by a 14-year-old girl wielding a BB gun that looked like a pistol, authorities said. The holdup happened about 9 p.m. Wednesday at a Hollywood Video store downtown. A 14-year-old girl and a 12-year-old boy were charged as juveniles with armed robbery. The 9-year-old was not charged because police said he was too young. He was released to his mother.

Official in S.C.: Sterilize Bad Parents. A City Council member, reacting to a video store holdup believed to have been carried out by children, says parents who can't properly care for their kids should be sterilized. "We pick up stray animals and spay them," Larry Shirley said in a story published Saturday by The Post and Courier of Charleston. "These mothers need to be spayed if they can't take care of theirs. Once they have a child and it's running the street, to let them continue to have children is totally unacceptable."

[The stray animals analogy is inappropriate. Stray animals are usually put to death.]

Cortnee Brantley federal trial to start today. It's been more than two years since Tampa police officers David Curtis and Jeffrey Kocab met their deaths on the side of an East Tampa road. Their accused killer, Dontae Morris, has yet to stand trial in the slayings. But today [7/16/2012], Morris' former girlfriend, Cortnee Brantley, who drove off in the Toyota Camry Curtis pulled over on June 29, 2010, starts a federal trial on charges she failed to report Morris was a felon in possession of a weapon and ammunition.

Two Aurora Shootings: One Widely Known; the Other Ignored. On April 22 of this year a convicted felon, just out of jail, went to an Aurora, Colorado, church and shot and killed a member of the congregation before being killed himself by a congregant carrying a gun. [...] The killer in the April shooting was 29-year-old Kiarron Parker, who had just been released from prison. He had been convicted for assaulting two police officers, drug abuse, and breaking and entering.

Five people shot after Rucker Park basketball game ends in gunfire. Five people were shot last night at a basketball game at Harlem's famed Rucker Park where ex-Knicks guard Nate Robinson was among those scrambling for safety during the chaos, authorities and witnesses said.

World War II vet attacked: 'They hit me and they kicked me'. An 87-year-old World War II veteran was walking from a corner store in West Englewood after buying lottery tickets when he was attacked by three people who smashed his glasses, knocked out his hearing aid and broke his dentures, then went through his pockets and fled with his wallet, according to his family and police.

Detroit cops hunt woman who shot up crowd leaving midnight party cruise. Police believed the shooting stemmed from a family argument that broke out on the fourth floor of the Detroit Princess cruise ship at around 1 a.m., as it was docking after a midnight cruise party. The party was sponsored by a local hip hop radio station, according to reports.

Memphis gang members post video on Facebook showing their felony crime. A 14-year-old Memphis boy and three of his fellow gang members unwittingly helped law enforcement solve a brutal crime. That's because they videotaped themselves robbing and beating a 22-year-old victim until he was bloody, naked and unconscious, said Vince Higgins, spokesman for the new Memphis-based Multi-Agency Gang Unit, a union of local and federal prosecutors and law enforcement.

Three female customers attack Red Lobster waitress for 'filling up their water glasses too regularly'. According to a witness, the attack was sparked when the women became irritated that the waitress was filling up their water glasses too often. [...] The incident comes just eight months after another waitress was attacked by four customers at the same Red Lobster restaurant.

Two 18-year-old cousins charged with murder of college volley ball star. Two 18-year-old cousins have been charged in the murder of Megan Boken, a former volleyball college star who was shot to death inside her car during a botched robbery.

Video of the moment boy is brutally beaten on school bus. When Lora Hoagland was fighting to make buses to and from Franklin Township schools in Indiana free for all families, she didn't think her son's very trip to class would land him in the hospital. It all started when Caleb Jones, 14, unwittingly sat in the seat of a violent classmate, 15, who decided to push, punch and berate when he did not get up while the bus was moving. A video of the incident was posted on Facebook by the attacker, in which he bragged 'dat wassnt nun'.

Barred from discipline: Bibb County teachers unable to control students under current rules. After 18-year-old Jaqavius Holloway threatened to shoot one of his teachers at Northeast High School in February, he was charged with making terroristic threats and disrupting public school. As one of his bail conditions, the judge told him, "I don't care if the school calls and invites you onto campus, you are not to go back," prosecutor Elizabeth Bobbitt recalled. But in May, Holloway showed back up at Northeast, saying he was allowed to return. No one in the office checked his story, and he had apparently never been expelled. So he went back to class. Within a week, he had shoved a pregnant teacher and thrown her cell phone at her, resulting in a battery charge, according to a July indictment.

D.C. police seek robbery suspect '6-7 years of age'. D.C. police put out a lookout Sunday night [9/16/2012] for an unusual robbery suspect: a black male roughly 6 or 7 years old. [...] In a news release issued about two hours later, a spokeswoman said police were investigating a report that a group of boys between the ages of 7 and 14 approached a customer at a McDonald's in the 4300 block of Nannie Helen Burroughs Avenue in Northeast at approximately 6:30 p.m.

Member of 'Obama Boyz' gang charged in St. Louis shootings. A St. Louis teen who authorities say is a member of a gang called the "Obama Boyz" has been charged with two shootings on Saturday [9/29/2012]. Anthony Jamal Lee, 18, fired at a group of people from the window of a Grand Prix at 2:17 p.m., according to charges. A 13-year-old boy was struck in the side of his body and had to be hospitalized; a 17-year-old boy was grazed by bullets on his face and arm.

Woman files lawsuit against McDonald's for fight she started at Greenwich Village location. A woman who admitted she started the violent fight in a Greenwich Village McDonald's that sent her to the hospital is suing the burger-flipper who gave her a fractured skull.

The Editor says...
Instead of requiring this restaurant to post nutrition information on their drive-through menu boards, they should be required to put up a sign that says, "Danger: We hire violent felons." After all, which of the two is a greater and more likely threat?

Attack on CAPA teacher caught by surveillance cameras. Police from the city's Zone 2 station have confirmed they are questioning a boy in an attack on a teacher from the Pittsburgh High School for the Creative and Performing Arts on a downtown street. Police said the boy was accompanied by his mother while being questioned on Tuesday afternoon [10/9/2012].

Black males kill white female, yet it is not a hate crime.
Mom of teen 'slay sibs' tips off cops after NJ girl, 12, killed for bike. The massive search for Autumn came to a tragic end Monday night when her body was found stuffed in a recycling bin at a vacant property near the boys' house. An autopsy found she had been strangled. [...] The two brothers were charged with murder, body disposal and tampering with evidence.

Teenage brothers charged in NJ girl's death. The mother of a 12-year-old New Jersey girl who was strangled and dumped in a recycling bin said Wednesday [10/24/2012] that the two teenage brothers accused of killing her had treated her daughter "like a piece of trash."

Substitute teacher bullied by students who heckle and flick her face. A shocking video capturing a high school teacher mercilessly bullied by her own students has been revealed showing her flicked in the face while the rest of the class roars with laughter. Standing before the applauding laughter of her students, the substitute teacher in Baltimore, Maryland appears half the size of two girls who approach her while throwing items and flicking her face.



Guards sought for news crews in Oakland. The violent robbery of a television news crew outside an Oakland school last week was the latest in a series of similar incidents in a city where the rate of strong-arm robberies and holdups is surging. But the brazenness of the attack — which occurred during a live broadcast in the middle of the day — has brought fresh urgency to the problem.

Armed robbery suspect shot during holdup of Paterson bodega. A man was critically wounded after being shot while trying to rob a bodega in an unexpected encounter for the man and his partner in the midst of a string of 11 similar robberies during the past week, police said. [...] Police later pulled over a vehicle and arrested Jermaine Eason, 23; Rayvon Wilson, 23, and the car's driver, Clara Amala, 22, all from Paterson.

NYC subway train kills man pushed off platform. A 58-year-old man died Monday [12/3/2012] after he was pushed off a subway platform in Midtown Manhattan and hit by a train pulling into the station, according to news reports.

Fiend watched his victim die: Homeless man arrested in Times Square subway murder. A homeless drifter was arrested and charged this morning for allegedly tossing a Queens dad onto a Times Square subway track, where he was fatally crushed by a Q train, law-enforcement sources told The [New York] Post. Naeem Davis, 30, confessed yesterday while being grilled in the grisly death of Ki Suk Han, 58, who was struck in front of horrified onlookers Monday after trying desperately to scramble back to the platform. [...] He was charged with murder in the second degree and depraved indifference.

Muslim New York Subway Killer Calm After His Murder. Everybody is talking about the New York Post cover photo showing Ki Suk Han about to be killed by the subway train, but the real story here is yet again being ignored by the mainstream media. The real story here is that Naeem Davis is clearly a devout Muslim, and one who displayed behavior characteristic of jihadis after he committed murder.

Subway shove monster: I couldn't stop the voices in my head. The homeless man charged with fatally shoving a Queens father into the path of a subway train said he couldn't drown out the voices in his head. [...] Davis said he is a devout Muslim who prays five times a day and goes to mosque daily.

Boys, 14, 'pose with guns on Facebook hours after gunning down young mother'. Two 14-year-old boys who allegedly shot dead a young mother in an argument over a packet of cigarettes posted pictures of themselves brandishing guns on Facebook hours after the crime. Police are still searching for Todavia Cleckley and Marcus Velasquez, who will be tried as adults for the murder in Beaver Hills, Pennsylvania on Saturday afternoon [12/8/2012].

2 teens accused in Beaver Falls killing charged as adults. Two teenagers accused in a weekend shooting death in Beaver Falls will be charged as adults, Beaver County police Chief Charles R. Jones Jr. said this morning. Todavia S. Cleckley and Marcus Velasquez, both 14, are charged with conspiracy to commit criminal homicide in the killing of 22-year-old Kayla Peterson of Beaver Falls.

2 boys, 14, arrested in cigarette shooting death. Police have arrested two 14-year-olds in the fatal shooting of a western Pennsylvania woman after she told them to "get a job" when they tried to bum a cigarette off her boyfriend.

Mother Hiding with Kids Shoots Intruder. A woman hiding in her attic with children shot an intruder multiple times before fleeing to safety Friday [1/4/2013]. The incident happened at a home on Henderson Ridge Lane in Loganville around 1 p.m. The woman was working in an upstairs office when she spotted a strange man outside a window, according to Walton County Sheriff Joe Chapman. He said she took her 9-year-old twins to a crawlspace before the man broke in using a crowbar. But the man eventually found the family.

This didn't happen; please ignore this post. Liberal-fascists would rather this woman had been raped and murdered, and her children right along with her.

The Scapegoat Express. Filled from birth on a steady diet of the pervasiveness of white racism in America, rage-filled urban youths across the nation play "the knockout game" with often fatal results for their randomly selected white or Asian victims. Meanwhile, the elite liberal media fail to notice the national scope of the almost weekly occurrences. Google "the knockout game" and start reading the dozens of local stories that the media refuse to connect or identify as part of a dangerous national trend. And it doesn't stop with knocking out random passers-by with sucker punches and then kicking them in head until they are dead, disfigured for life, or in comas.

St. Louis teen pleads guilty to "knockout game" attack. A St. Louis teenager has pleaded guilty to second-degree assault in a "knockout game" attack in November 2011. Kwame Thomas, 18, of the 2800 block of Osceola Street, admitted to assaulting a 54-year-old man near Osceola and Nebraska Avenue.

Gunman shoots taxi driver three times. The attack was captured on the in-car security cameras. According to the New York Post, police said he shot at the cab driver five times, hitting him twice, before waiting until the wounded, married father of three stumbled outside the vehicle — and shot him again.

Horror at Bed, Bath & Beyond as shopper is stabbed in chest. A woman was brutally stabbed in the chest more than a dozen times while shopping with her infant child at a Bed, Bath & Beyond store on Thursday evening [1/17/2013]. Tyrik Haynes, 19, was charged with attempted murder in the attack in Middletown, New Jersey on Friday and held on $1 million bail. He had previously been charged with torturing a cat.

Chicago Thugs Celebrate Obama's New Gun Laws By Shooting Woman on Bus. The report says police are looking for three men. No descriptions of the suspects, of course. We doubt they are law-abiding gun owners or members of the NRA.

He's the Biggest Celebrity in the World. The rate of firearms deaths per 100,000 population is about four times higher in the black population than in the white population. Gang-related killings account for much of this difference. In large cities with mostly black populations — such as Newark, Detroit, New Orleans — the rate of firearms deaths is almost unbelievably high compared with the rate in the mostly white suburbs. In any given week, on any given weekend, dozens of black youths are gunned down by other blacks in America's cities. This is a horror show happening in real life.

3 arrested in Newark over videotaped stripping, whipping. The men were identified as 22-year-old Ahmad Holt, 31-year-old Raheem Clark and 23-year-old Jamaar Gray.

Triggerman gets 49 years in pizza deliveryman's slaying in North Charleston. The teenager who pleaded guilty to killing a pizza delivery man last year was sentenced inside a Dorchester County General Sessions courtroom in St. George this morning. Stephawn Brown, 19, of North Charleston, pleaded guilty to murder and armed robbery on Thursday [2/14/2013], three days into his trial.

St. Louis "Knockout Game" Thug Shot And Killed After Breaking Into Home Of Armed American. The "knockout game" involved groups of racist black youths sucker punching an unsuspecting white person.

Teens shot by Detroit utility worker charged with armed robbery. Wayne County Prosecutor Kym Worthy has charged two teens who were shot by a utility worker with armed robbery. Niko Brown, 17, and his brother Devontay Brown, 16, are charged in connection with the robbery of two utility workers on Feb. 6.

Burglary suspect shot, arrested seeking medical help. Texarkana, Texas Police say a man who forced his way into a house with an armed guest was later arrested after seeking medical attention for his gunshot wound. The incident happened about 10:30 p.m. Sunday at a residence in the 2000 block of Wood Street, where police say the homeowner told them about how two masked males had forcefully entered her home and ordered everyone to lie on the floor. Both intruders appeared to be armed with handguns.

This is NOT the Second Amendment. In case you haven't figured it out, this photo montage is not representative of The Second Amendment or its supporters, although to listen to the gun-grabbers, you would think it was. Remember, the goal is to eliminate guns, not criminals.

Think These Guys Will Give Up Their Guns? I got this from my dad, who was also born in the former USSR and understands what it means to have a disarmed populace and an authoritarian government. He doesn't like the idea of civilian disarmament either. The link he sent me is an interesting conglomeration of photos posted by... ahem... people of questionable character on Facebook and other Internet sites.

4 teens charged after allegedly holding Tuskegee airman at gunpoint. Police arrested the alleged robbers — ages 13, 14, 15 and 16 — the next day. "They were charged as juveniles with carjacking," said Maria Miller, spokeswoman for Wayne County Prosecutor Kym Worthy. "As juveniles, the court has the option of retaining jurisdiction on them until they are 21 if they are convicted." A $75,000 bond was set for the gunman and $50,000 bonds were set for his accomplices. All four are scheduled to appear in court on March 20.

Two Teenage Boys Arrested in Georgia Baby Shooting Death. Sherry West, the mother of the child, told police she was walking her 13-month-old son, Antonio, in a stroller Thursday morning [3/21/2013] through their Brunswick, Ga., neighborhood when two African-American boys approached her and demanded money. When she told them she didn't have any money, West said one of the boys pulled out a handgun.

Georgia mom says teen told her, 'Do you want me to kill your baby?' before son fatally shot. The mother of a 13-month-old boy who was fatally shot in his stroller during a botched robbery Thursday said one the of suspects threatened to kill her baby moments before the boy was fatally shot.

Mother, aunt of Brunswick baby murder suspect charged with lying to police. A handgun discovered Tuesday [3/26/2013] will be tested to determine if it was used to kill a Brunswick baby last week in a stroller. After police arrested the mother and aunt of murder suspect De'Marquise Elkins, 17, Tuesday morning on charges of making false statements, the women provided information that eventually led investigators to the gun, Glynn County Police Chief Matt Doering said.

Man charged with attempted homicide after stabbings inside, outside East Liberty Target store. A 41-year-old man faces attempted homicide charges after Pittsburgh police said he stabbed a girl in the East Liberty Target store and injured several others Monday [3/25/2013]. Leon Raymond Walls, who did not have an address listed in court files, is being held in the Allegheny County Jail in lieu of $250,000 bond.

Hackensack officer beaten with his own nightstick, three others injured during street brawl. A city police officer was beaten with his own nightstick and three others were injured Wednesday night [4/3/2013] during a violent confrontation with three men, according to officials. Police Director Michael Mordaga said that Sgt. Ben Marino and Officer Matthew Jacobsen were patrolling the high-crime area around Anderson Street when they spotted three men with known criminal histories.

Multiple black men beat up an elderly white man. It's not a hate crime; in fact, it's hardly a crime at all.
Good Samaritan helps man beaten by teenagers. A witness, who does not want to reveal her identity for fear of her safety, says Friday night [4/5/2013] she was driving down Soutel Drive near Lem Turner Road with her fiancé and saw a group of teenagers beating a man. "We seen a whole bunch of African-American kids you know, beating and stomping on an elderly Caucasian guy and he had bags and everything, he couldn't even defend himself because it was so many kids," said the anonymous witness.

Group Caught On Camera Assaulting Man Outside Windsor Inn. At one point in the video two other suspects search the man's pockets, removing something as witnesses laugh. The victim — about 30 years old — tells police the incident started when someone assaulted his female friend. "Wake up, yo. Wake up, yo," a witness is heard saying in the video.

The rest of the Chesimard story. Just how bad do folks at the FBI think our memories are? Last week the FBI added Assata Shakur to its list of Most Wanted Terrorists. She's the first and only woman to achieve such a dubious distinction. Shakur is also known as Joanne Chesimard, the name the FBI uses when referring to her. In the 1960s, she joined the Black Panther Party, a radical African-American organization that then-FBI Director J. Edgar Hoover designated as the greatest internal threat to the security of the nation.

Mother's Day second-line shooting on Frenchmen Street injures at least 12 people. Immediately after the shooting police reported seeing three suspects running from the scene.

Apparently everyone involved was black, but this news report leaves out the word black.
Shooting suspect possibly caught on video at New Orleans parade. The surveillance video shows the crowd dispersing and some falling to the ground before one person in a white T-shirt and dark pants flees. The image of the man isn't clear but police say they hope someone will recognize him.

Brawl breaks out at Ohio kindergarten graduation. Police were called when one participant pulled out a pipe and another a hammer.

Black mob beats man 'for no reason'. Police are "baffled." So is the daily newspaper. Three black men in New Orleans stalk and stomp a man almost to death. They laugh. They linger. They beat him some more. They move on. Then return and kick him in the face. It's all captured on video.

Knockout Game victim's eye kicked out of socket. After one murder and who knows how many beatings, city officials finally admitted the Knockout Game has come to Syracuse. Absent one fact: The Knockout Game is part of an epidemic of black mob violence played hundreds of times across the country.

Two mothers get into massive brawl at elementary school talent show while their children were performing. Two mothers have been barred from an elementary school after a fight broke out at their children's talent show. [...] Latisha James, 39, was arrested after allegedly trying to choke Jessica Tyler after the 27-year-old mother complained that her view of the stage was being blocked.

Black Mob Violence Shooting in Columbia, Missouri. It is amazing how many large groups of black people fight and shoot every week.

Men get life in prison for grisly Pinellas murder. After deliberating for about an hour and 45 minutes, a jury on Friday [6/21/2013] found Santonio Smith and Letrell McKnight, both 23, guilty of first-degree murder in the death of Stacia Berman. Circuit Judge R. Timothy Peters sentenced them to life in prison without any chance of parole.

Bike trail builds reputation for mob attacks. The titans at the Washington Post cannot get their journalistic minds around the latest case of black mob violence in the nation's capital. They reported the crime but ignored the race and the pattern. But the Titan of Trinidad, a neighborhood blog, had no trouble describing what really happened when a black mob attacked a D.C. commuter on a bicycle, sending him to the hospital with broken bones in his face.

More black mob violence on bike trails — media oblivious. Just finished an article for WND and my book about a rash of black mob violence on a D.C. bike trail: Bike trail builds reputation for mob attacks. Then the cards and letters started rolling in with reports of dozens and dozens more attacks from black mobs on bike trails around the country over the last few years.

Police search for Millburn robber captured by camera in home invasion. Authorities are searching for a man who was caught on camera during a home invasion in Millburn, where police said the owner was assaulted. Investigators, who released snapshots from the home's surveillance footage, said they are looking for a bearded man who forced his way into a Cypress Street home around 10:30 a.m. Friday.

The Editor says...
The reporter doesn't mind calling him a bearded man, but stays away from "black."

Suspect Arrested in Attack on Mom Caught on Nanny Cam. Police have arrested a suspect in the attack on a young mother — captured by a nanny cam — who was beaten in front of her 3-year-old daughter at their home in an upscale New Jersey community. Shawn Custis, 42, was arrested in upper Manhattan by New York and New Jersey FBI agents Friday afternoon, shortly after he was publicly identified as a suspect, a law enforcement official said. Custis, who has a long criminal history of burglaries, was located in the lobby of a building on 10th Avenue in Inwood, where his girlfriend lives, the official said.

Update: The perp had a long record already.
Despite long criminal record, plea deals limited prison time for Millburn home invasion suspect. A muscular man at 216 pounds — a scar between his eyes, his name tattooed on his chest, and "Cathy-Joy" inked on his left forearm — [Shawn] Custis, 42, has been sentenced to prison eight times. First convicted as an adult two months after his 18th birthday, he has done time for burglary, possession of a gun, robbery, assault, resisting arrest, theft and forgery. He has escaped at least once from a halfway house and boasts multiple parole revocations.

Saxophone player attacked in the street by three black women. A saxophone player has claimed that she was assaulted as she played a jazz song in the street by three African American women who said a white girl shouldn't play that sort of music. Cassandra Struve, 26, was performing in the street outside the Summerfest grounds in Milwaukee, Wisconsin around 11 pm on June 26 when the three women approached her.

String of robberies, assaults after Pride. San Francisco police are looking for five men and a woman who they believe robbed and assaulted numerous people after the Pink Saturday gay pride event. In the most egregious incident — which was captured on video footage that police released Friday [7/5/2013] — one of the men robs a woman and then kicks her in the head after she falls to the ground, knocking her unconscious, said Officer Albie Esparza, a police spokesman.

Dante's 'Chicago'. Sunday morning's Chicago Tribune went to bed a full day before reporters could complete their lengthy computer spreadsheet of Independence Day weekend gun casualties: more than 70 people shot, 11 of them fatally, from Wednesday afternoon through Sunday evening [7/7/2013]. Two other murders — a stabbing and a beating — pushed the city's homicide toll to 13.

Maryland's Highest Court Promotes Anti-Gun, Pro-Criminal Agenda. [Scroll down] According to FBI Supplementary Homicide data, between the years of 2000 and 2011, black victims accounted for 92% of Baltimore's murder victims. Worse, this percentage has held steady and appears to be increasing in recent years. Jesse Jackson has time to travel to Baltimore to rail against a youth detention center, but he apparently hasn't held rallies over Baltimore's high incidence of black homicide. Baltimore is 64% black, and between 2000-2011, 94% of all murder offenders were black, and that portion may be increasing over time.

Trayvon's Tragedy: Exploited in Death. [Scroll down] On March 27, 2008, two black teenagers with a third positioned on the street in a getaway car tried to force 19-year-old art student Tyler Binstead and his girlfriend into the trunk of her car after robbing them at gunpoint. [...] The black-on-white killing in Richmond never hit the mainstream news.

2 charged with murder after 3 shot in downtown Charleston; victim identified. Two men who have been in jail several times before have been arrested after a fatal shooting in downtown Charleston early Sunday. [...] The Charleston County Coroner's Office identified the deceased as Don'ta Pringle, 20, of Summerville. He died of multiple gunshot wounds, according to the coroner's office.

Denver police release sketch of suspect in LoDo shooting that killed Buckley airman. Witnesses describe the shooter as a a light-skinned black male with acne. He is in his 20s and is approximately 5-foot 7" tall. He weighs between 160-180 pounds.

Police identify suspect in Family Dollar shooting. The man who shot and killed the manager of a Family Dollar Store over the weekend is only 23 but already has been arrested numerous times, Tampa police said Wednesday. Investigators say the shooter is Demetrius Parks, 23; police have offered a $16,000 reward for information leading to his arrest.

Black mob shoots Hispanics in Brooklyn. It started out Friday with teasing, then taunting. But when the young Hispanic woman behind the counter told the black man and his friends she did not want to go out with them, it escalated into assault. Then gunshots. All at the same time as, a few miles away, Al Sharpton and Beyonce were railing against racial injustice directed at black men. We don't know the names of these alleged would-be killers. Not yet. Nor would we have a description of the mob if we had to rely on the New York Post or Daily News.

Greatest letter ever on Black Mob Violence. If I ever wrote a book, it would be titled "Gimme a nickel." In a threatening/intimidating manner, this would be stated with a palm out — "Gimme a nickel." The victim would reach in his pocket, pull out his lunch money, and the perps would usually then grab the entire handful of change from his or her hand. Teachers and administration turned a blind eye to all of it. White students quickly learned they were on their own.

The Decline of the Civil-Rights Establishment. Today's black leadership pretty much lives off the fumes of moral authority that linger from its glory days in the 1950s and '60s. The Zimmerman verdict lets us see this and feel a little embarrassed for them. Consider the pathos of a leadership that once transformed the nation now lusting for the conviction of the contrite and mortified George Zimmerman, as if a stint in prison for him would somehow assure more peace and security for black teenagers everywhere. This, despite the fact that nearly one black teenager a day is shot dead on the South Side of Chicago — to name only one city — by another black teenager.

Dana Perino Bashes Obama: Where's Your Speech For Baby 'Shot In The Face By Black Teens?'. Former Bush Press Secretary Dana Perino continued the weekend's primary conservative argument on This Week with George Stephanopoulos, when she asked why President Barack Obama chose the Trayvon Martin shooting as a subject for a national address (albeit an impromptu one) but not any other crimes — specifically, the March shooting of a toddler in Brunswick, Georgia by two black teens.

Hammer-wielding thugs attack two men just blocks apart in Harlem: cops. Two men were attacked in Harlem early yesterday by a hammer-wielding gang of thugs, police sources said. The first victim of the seemingly random violence [...] said he was set upon by a gang of five or six black males wearing white T-shirts, and that at least one of the goons struck him over the head with a hammer.

Don't Bring A Bat To A Gun Store: Man's Robbery Attempt Fails Miserably. An Oregon man learned the hard way yesterday that a bat is probably not the best tool for robbing a gun store. 22-year-old Derrick Mosley reportedly attempted to rob Discount Gun Sales in Beaverton, Ore., on Thursday [7/25/2013]. Wielding a baseball bat, Mosley strolled into the store and smashed a display case. But, according to police, upon attempting to steal a gun from the smashed case, he learned that gun beats bat.

Black males allegedly said "This is for Trayvon Martin" before robbing white male of wallet, phone. A weekend robbery in a racially diverse neighborhood of Washington may have been a hate crime, police said. "This is for Trayvon Martin," one of the three black men told a white man as they approached him early Saturday [7/27/2013], according to Washington Metropolitan Police Officer Anthony Clay.

Adams Morgan hate crime was motivated by Zimmerman verdict, police say. A Bethesda man was beaten and robbed early Saturday morning in Adams Morgan by three men who yelled, "This is for Trayvon Martin," before attacking him, police said. The incident is being investigated as a hate crime and robbery, according to D.C. police spokesman Araz Alali.

Five charged in attack on elderly man. Four West Pensacola juveniles and a 19-year-old attacked a 77-year-old man Monday night, according to an Escambia County Sheriff's Office news release. Demetrius Wilson, 12, Javontae Wilson, 13, and Keyon Black, 16, are each charged with aggravated assault and aggravated battery on a person older than 65 years of age.

Paterson police arrest two men for National Night Out murders. Two men were arrested in the shooting deaths of two teenagers during the city's celebration of National Night Out, police said. Kwanique Williams, 21, and Mark Staggers, 20, were arrested over the weekend by police and Passaic County Prosecutor's Office detectives for the two Aug. 6 slayings, said Capt. Heriberto Rodriguez.

The Oklahoma Story. A couple of days ago, a white college baseball star from Australia, Christopher Lane, was running for exercise along a rural road in Oklahoma, my wife's home state. He was attending college there. As he passed by three black teenagers, they decided it would be fun to kill him. They drove up behind him, shot him three times and he was dead. They apparently laughed about it and one of them posted an online comment about their exploit — shooting an unarmed man in the back and killing him — and how cool that was.

If Barack Obama Had a Son, Would He Look Like Chris Lane? Chris Lane is the Australian college student and baseball player who was murdered while jogging along a street in Duncan, Oklahoma. The perpetrators were three teenagers who were bored and decided to murder someone just for fun. They saw Lane running by, got in a car, drove behind him and shot him in the back.

'Bored?' Teenage Murder Suspect James Edwards Appears to Be a Crip. In our first look at what may have motivated the three teens accused of murdering Australian baseball player Chris Lane, we looked at the Facebook and Twitter feeds of James "Lilbuggy" Edwards. His social network posts suggest strong interests in rap and gang culture, and enjoyment of violent behavior.

Murder of Australian student Chris Lane, 22, was not motivated by race says district attorney. An Australian baseball player who was allegedly shot and killed at random while he was jogging wasn't targeted because of his race or nationality, the prosecutor in charge of the case has said. [...] 'At this point, the evidence does not support the theory that Christopher Lane was targeted based upon his race or nationality,' District Attorney Jason Hicks said in a statement on Friday [8/23/2013].

Spokane Police Chief's Statement Re: Arrest of Murder Suspect Adams-Kinard. ["]I would like to make it very clear — the motive for this attack was robbery. Race was not a factor. Additionally, there was no gang activity regarding this incident.["]

The Editor says...
Nonsense. The police chief might come out and say that race wasn't the primary motivation, but this rash pronouncement that race is not (even a contributing) factor is just not believable.

Ford gets a lesson in Chicago muscle. When Chris Lane, a young white man and an Australian student at East Central Oklahoma University, was shot in the back on a jog along a quiet residential street, and a young black man who boasted that he hated white folks was charged with murder, the cops and the district attorney decided there was nothing about it hateful enough to make the hate list. Just your routine neighborly death by murder. One of the suspects was conveniently identified as "white" because he's the son of a white mother and a black father (like the president).

The Editor says...
Aha! That is a remarkable revelation by the Chicago Tribune. All three suspects are black — at least as black as Barack H. Obama. And I don't see anybody disputing the fact that Obama is black. Earlier news reports stated that the half-black suspect was white.

Police seek teens in death of World War II veteran. An 88-year-old man who survived the Battle of Okinawa in World War II died Thursday after police say two teenagers beat him and left him for dead in his parked car. [...] Police launched a search Thursday [8/22/2013] for two black males 16 to 19 years old, releasing surveillance images of the suspects. Both are of average height and build and were dressed all in black at the time of the incident. One was wearing a do-rag.

Police seek 2 young suspects after World War II veteran beaten to death in parking lot. Authorities on Thursday released surveillance photos of the two suspects, who they describe as African-American males between the ages of 16 and 19. Friends identified the victim as Delbert Belton, and say he was sitting outside a lodge for the Fraternal Order of the Eagles when he was attacked.

89-Year-Old Wounded WWII Vet Beaten to Death by Two Black Teens. In Spokane, Washington, on Wednesday night, according to local reports, World War II veteran and Battle of Okinawa survivor Delbert Belton was beaten by two African American teenagers described as between the ages of 16 and 19. Belton passed away Thursday morning [8/22/2013] of head injuries.

All the suspects are black; the victim is white. Yet the cops quickly claim that race was not a factor in the crime.
2nd suspect in beating death of 88-year-old vet arrested. Three others where arrested Monday [8/26/2013] for rendering criminal assistance to the suspect, police said. Another 16-year-old suspect was arrested last week and is expected to be charged with murder.

Teen suspect in brutal beating death of WWII veteran declared 'threat to the community'. One of the teens surrendered to authorities Thursday night, and he was being held on charges of robbery and first-degree murder. His identity has not been released because he is a juvenile. Police Chief Frank Straub identified the suspect still at large Friday as Kenan D. Adams-Kinard. Even though he is a juvenile, his name and photo were released because he remains a danger to the community, Straub said.

The Editor says...
I think it's time to re-define "juvenile" to exclude anyone who commits premeditated murder.

2nd suspect arrested in fatal beating of WWII veteran in Spokane. [Scroll down] For one thing, she said, he didn't look like a man of means, and his car — a 1994 Ford Contour — was anything but flashy. "He didn't dress fancy," she said. "Why these kids thought he had some money, I don't know."

The Editor says...
The old man obviously didn't have any money and obviously wouldn't be able to fight back. OF COURSE it was a racially motivated attack.

Delbert Belton's death: 2 Spokane teens to be tried as adults. Authorities released new details Monday about two teenage boys who are charged with the murder of Delbert Belton, an 88-year-old World War II veteran, in Spokane, Wash., saying the motive of the attack was robbery, and that family members helped lead police to their second suspect.

The Editor continues...
That's nonsense. If the motive had been robbery, they would have attacked someone who looked like he or she had some money. If the motive was in fact robbery, what did they take from the victim, and why would it be necessary to beat him to death afterward? No, they attacked an old white man and beat him to death because they hate white people. In my opinion, the cover stories about how the victim was "randomly selected", or about the perps being so bored that they decided to kill somebody, are diversions.

88-year-old World War II vet 'who was randomly beaten to death by two teens died because he tried to defend himself' . Two teenage boys are charged in the bloody beating of Delbert Belton outside a Spokane, Washington ice skating rink and investigators are now suggesting the soldier — who took a bullet in the Battle of Okinawa — tried to stop the apparent robbery. Police say that enraged the teens and turned their petty theft into full-blown murder as they continued to beat him into submission with 'big, heavy flashlights.'

Murder suspect claims 88-year-old victim shorted him in drug deal. The beating death of a decorated World War II veteran took a bizarre twist Tuesday. Prosecutors said one of the two suspects has suggested that the victim, 88-year-old Delbert Belton, was selling crack cocaine outside the Eagles Lodge and shorted them. Although prosecutors didn't elaborate in court, Spokane police later said they've found nothing to support suspected killer Kenan Adams-Kinard's drug dealing claims.

Funeral for beaten World War II veteran draws hundreds of mourners. Hundreds of people attended the funeral of a World War II veteran who police say was beaten to death by two teens last week in a random robbery. 88-year-old Delbert Belton was buried with full military honors Thursday at a cemetery in Spokane.

Bias alert!
Who says the robbery was random?

Another black-on-elderly-white crime. But the motive is a big mystery to the cops.
Suspect in slaying of city woman, 99, due in court Monday. Police arrested Javon Tyrek Rogers on Friday [8/23/2013] at 11 p.m. and charged him with first-degree murder and first-degree burglary, both felonies, in connection with the homicide of Fannie Gumbinger, who was found dead at her home on Underhill Avenue early Wednesday morning [8/21/2013], said city police Detective Lt. Edward Freer. [... who] declined to comment on a possible motive.

'Point 'em out, knock 'em out': Brutal game ends when assault victim fires his concealed handgun. The game was called "point 'em out, knock 'em out," and it was as random as it was brutal. The object: Target an innocent victim for no other reason than they are there, then sucker punch him or her. But on this day in Lansing, there would be no punch. The teen-age attacker had a stun gun. He did not know his would-be victim was carrying a legally concealed pistol.

Anderson Police charge teen in rape of 93-year-old woman. Anderson [Indiana] Police have made an arrest in the rape of a 93-year-old woman in July. [...] Iquise Vernell Taylor, 17, will be charged as an adult in the crime.

Woman brutally beaten by group of teens in North Side says attack was 'racially motivated'. A woman who said she was brutally attacked by a group of black teenagers in Pittsburgh's North Side Sunday [8/25/2013] said the girls savagely beat her while calling her racial slurs. Ginger Slepski said she suffered multiple injuries, including torn shoulder ligaments. She said she thought the girls were going to kill her.

Let me guess... they were bored?
Two women gang raped by 10-12 juveniles in Delaware park, report says. The alleged attackers fled in an unknown direction, the report said. The condition of the women, who were taken by ambulance to Christiana Hospital, was not released, the report said. "This park is not safe to walk around in at night," Louise Riley, who lives near the park, told Delawareonline.com. "You can tell that a lot goes on in here by the discarded condoms, and police driving by cannot see the isolated pockets from the road."

Two Women Allegedly Gang-Raped by a Dozen Juveniles. On Thursday [8/29/2013], two women ages 32 and 24, were allegedly gang-raped by 10-12 black juveniles at Kosciuszko Park in Wilmington, Deleware [sic]. The attack reportedly happened at 6:54 PM when the women were sitting on a bench. The boys, who range in age from 12 to 17-years-old, allegedly assaulted the women and then fled. One woman called 911 and both were taken to Christiana Hospital.

Four arrested in shooting death of Newark pizza deliveryman. Shaquille Faines, two 17-year-olds and a 16-year-old were charged with felony murder, conspiracy and weapons offenses in the Sept. 1 killing of 20-year-old Jesus Torres, who was working as a deliveryman for Pizza Hut when he was shot and killed in Newark's West Ward, according to Acting Essex County Prosecutor Carolyn Murray. Torres was making deliveries near South 11th Street and 13th Avenue around 9:30 p.m. last Sunday when the four men surrounded his car and attempted a robbery, Murray said.

The Editor says...
The perps who are less than 18 years of age apparently cannot be named in the newspapers because they are "children." It's time to lower that age down to about 14.

Young Fatherless Elephants. Thanks to the cold-blooded murders in Oklahoma and Washington, black teenage thugs have been much in the news lately. But they've been newsworthy for quite a while now. It wasn't that long ago that gangs of them ran wild in Philadelphia, forcing even the black mayor to denounce them. More recently, they ran amok here in California, looting and mugging in L.A. and in Long Beach. And we mustn't overlook the record number of people they've been gunning down in the mean streets of Chicago.

College professor dies after defending woman in stabbing attack. A local man has died and a woman is in serious condition after they were stabbed repeatedly by a stranger who confronted them Friday night [9/13/2013] as they were walking in Pioneer Square after the Seattle Sounders game, police said.

Does Aaron Alexis Represent A New Breed of Killer? In the search for parallels to explain Aaron Alexis's killing spree at the Washington Navy Yard on Monday, the media have turned reflexively to recent incidents in Aurora, Colorado, and Sandy Hook, Connecticut. Almost no one in the media, however, has made the obvious comparison to Christopher Dorner, the former Los Angeles Police Department officer who killed four people and wounded three others in a ten-day spree last February that ended with a self-inflicted gunshot wound.

How to Report on Racial Violence: Don't. [E]very day, we read about the black caucuses, black colleges, black churches, black labor unions, black businesses, black neighborhoods, black leaders, relentless black victimization at the hands of white supremacy, and on and on and on. Many of these stories are written by members of the SPJ and the National Association of Black Journalists. But when it comes to reporting on black on white crime, or black mob violence, these same reporters suddenly turn color blind.

Hoboken neighbors reeling after arrest of three young teens in murder of disabled man. The boys, two 13-year-olds and a 14-year-old, all from Jersey City, face murder charges and have been remanded to the Hudson County Youth Detention Center, Gregory said. Davis said Sunday [9/22/2013] that he knew the victim, a homeless man who was found with his neck wedged between iron fence posts on Third Street in Hoboken, "He went to the 8th Street shelter. He didn't bother anybody. He talked to himself in public but maybe that's why he was attacked," said Davis.

2 Men Charged in Mass Shooting at Chicago Park. Bryon Champ, 21, and Kewane Gatewood, 20, are charged with attempted murder and aggravated battery with a firearm in the shooting Thursday night at Cornell Square Park on Chicago's southwest side, police said late Monday [9/23/2013].

Ebony and Black Violence. White liberals may deny black mob violence but many black people are way past that: Today, its all about white racism. Ebony magazine's latest issue is a good example of that. Ebony is upset that some are trying to score political points from the recent shooting of 13 people on a Chicago basketball court. Black violence in Chicago takes other forms as well, some of it black on white. Some black on Asian. Or black on gay. Or black on young. Or black on old. Black on rich. Black on poor. Black on illegal immigrant. Black on tourist. [...]

Liberalism and Mass Shootings. It's often pointed out that without the top four American cities for homicide — Washington, Chicago (newly crowned murder capital of the USA), Detroit, and New Orleans, the U.S. would have one of the lowest murder rates in the industrialized world. All these cities suffer from the liberal curse. As I demonstrated in my book Death by Liberalism, liberal "judicial reform" triggered the "Great Crime Explosion" of 1964-1994, with a death toll in the hundreds of thousands. The current plague of insane gunmen is simply a back eddy of that colossal act of hubris.

'Running gun battle' at California biker club kills 1, wounds 12. Investigators were trying to determine on Monday what triggered a running gun battle at a weekend dance staged by a Central California motorcycle club that left one man dead and 13 people wounded as hundreds of partygoers scrambled for cover.

Six charged in Craigslist armed robberies in St. Paul. Three brothers allegedly orchestrated seven armed robberies in St. Paul this summer that duped would-be buyers responding to fake Craigslist ads for cellphones. No one was hurt in the robberies that took place between June 5 and July 1, but 11 victims were robbed at gunpoint of cash, cellphones and keys.

Black Skin Privilege. Nationwide there were an estimated 67,755 black-on-white aggravated assaults in 2010, as compared to with just 1,748 white-on-black crimes of the same description. In other words, blacks committed acts of interracial aggravated assault at a rate 200 times higher than whites (181 per 100,000 population versus 0.9 per 100,000). The physical threat to African Americans from whites is actually minimal compared to the epidemic of black violence against whites. The National Crime Victimization Survey reported approximately 13,000 black-on-white rapes in the United States in 2010, and 39,000 black-on-white robberies, both violent crimes against persons. By contrast, the numbers of white-on-black rapes and robberies reported in the same surveys were so infinitesimal that whites were estimated to have accounted for 0% of all rapes and robberies committed against black victims in the United States.

Blacks Commit 90 Percent of Interracial Crime. [Scroll down] Of the approximately 1,700,000 interracial crimes of violence involving blacks and whites, 90 percent are committed by blacks against whites. Blacks are 50 times more likely than whites to commit individual acts of interracial violence. They are up to 250 times more likely than whites to engage in multiple-offender or group interracial violence. There is more black-on-white than black-on-black violent crime. Fifty-six percent of violent crimes committed by blacks have white victims. Only two to three percent of violent crimes committed by whites have black victims. Blacks are twice as likely as whites to commit hate crimes.

Texas jury watches shocking video of robber setting clerk on fire, killing her. Matthew Johnson, 36, was caught on a security camera robbing the store and setting the clerk — 76-year-old Nancy Harris — ablaze. The woman died later died from her injuries, which included first- to third-degree burns across her upper body. Johnson faces the death penalty if convicted.

Home invasion suspects now face 35 charges each. The three suspects arrested in an Oct. 29 home invasion on the northeast side are now listed as co-defendants and will each face dozens of charges when they appear in court Tuesday afternoon [11/5/2013]. Alexander Dupree, 23, Trae Spells, 18, and Michael Pugh, 21, now face the same list of 35 charges. Those charges include criminal deviate conduct, rape, robbery, burglary, aggravated battery, criminal confinement, carjacking and more.

The Sick and Horrifying New Game Teenagers Play "For Fun" Called "Knock Out". One man who was interviewed about the "game" said the victim can be anyone, including a woman and her young children. "You just knock them out, hit them with a blow and take their belongings," a teenager with a blurred face says. Police believe "knock-out" led to the death of a homeless man in Hoboken, New Jersey which is right across from New York City. "It could be anybody, it could be a mother with their children. I know one time they got the UPS guy, it's a macho thing," another man says.

Codebreaker: When the liberal press says "teens," that really means "black teens."
Couple beaten by group of teens tells their story. At first glance, nothing looks wrong with Justin Winter, a tattoo artist in Tacoma. But when you hear his voice project out from his bushy beard, you can sense it is hard for him to talk about what happened one week ago, hard in a couple of ways. The most obvious difficulty comes from having his mouth wired shut. But, perhaps even more painful is the reason why he's in this situation. "Another human life means nothing to these kids," Winter says of what he calls a "pack" of young people who attacked him. "That's what disturbs me most about this."

Brooklyn Rabbi: Gang Of Teens Playing Disturbing Game Of 'Knock Out The Jew'. The NYPD is looking into a series of attacks on Jews in Brooklyn. At least one attack was caught on surveillance tape. Some of the assaults may be part of a disturbing game, CBS 2's John Slattery reported on Tuesday. Police have yet to connect all the incidents, but released surveillance video that shows one group attacking a Jewish man. The video shows from a few different angles the victim, a man in a hooded jacket, getting punched.

16 American cities foreign governments warn their citizens about. [J]ust as State warns Americans about dangerous places to travel, so too do foreign ministries in other countries — and some countries warn their citizens to avoid heading to certain cities in the U.S. France, in particular, warns travelers to be careful in a large number of specific cities.

Potentially Fatal 'Knockout' Game Targeting Strangers May be Spreading. A terrifying new 'game' that's already caused deaths in Syracuse, St. Louis and New Jersey is sweeping the nation, and it preys upon unsuspecting people walking the streets, anywhere. [...] One victim shown in the footage was 46-year-old Ralph Santiago of Hoboken, N.J., who was found dead with his neck broken and head lodged between iron fence posts, according to NJ.com. Video surveillance shows Santiago walking in an alleyway in broad daylight, and just as he's about to pass a pack of teenagers, one launches the fatal, knockout blow.

Dontae Morris guilty of killing police officers. Dontae Morris could not overcome a "mountain of evidence," including a dashboard video recording showing him kill two Tampa police officers and then running away as they lay dead or dying on the side of a road.

CBS, NBC, ABC, CNN, MSNBC Primetime Ignore 'Knockout Game' . The major television media are ignoring the "knockout game," a vicious assault perpetrated by young African-American males against Jews and whites across the nation. In the assaults, unsuspecting pedestrians are punched violently in the head so that the black youths can prance around exhilarated about their successful "knockout." Many concussions and even deaths have been attributed to this "game," but networks such as ABC, CBS, NBC, CNN, and MSNBC have studiously ignored the issue, according to TruthRevolt.

A Very Dangerous Game. New York City police authorities are investigating a series of unprovoked physical attacks in public places on people who are Jewish, in the form of what is called "the knockout game." The way the game is played, one of a number of young blacks decides to show that he can knock down some stranger on the streets, preferably with one punch, as they pass by. Often some other member of the group records the event, so that a video of that "achievement" is put on the Internet, to be celebrated.

How Trayvon's Knockout Game Went Bad. If no one else, WND, the New York Post, and now Fox News have started paying serious attention to an urban pastime known as "the knockout game" or occasionally as "polar bear hunting," a phenomenon that has caused at least seven deaths and countless serious injuries. The "polar bear" refers to the invariably white or at least non-black victim of a hunt by a young black male, usually one of a pack of the same. The hunters tend to prey on those who seem vulnerable. This includes old people, women, children, and, most often, clueless male liberals [...] who have trained themselves not to "profile" young black men even when they approach with malice in their eyes.

Teen Playing 'Knockout Game' Shot Twice by Victim. A teen playing the "Knockout Game" in Lansing, Michigan unwittingly targeted a concealed carry permit holder and was shot twice. He survived and is now in jail. As Breitbart News previously reported, the "Knockout Game" thrives in areas where victims are unarmed.

Dangerous Games — "Point 'em Out, Knock 'em Out". A game called "Point-em-out, Knock-em-out" has made its way to Lansing, and it's exactly how it sounds. The game consists of someone being randomly targeted, then attacked. It's a game that has been growing with popularity on the internet, with teenagers filming themselves punching unsuspecting victims. Lansing had its first case of the game brought to light this summer, but it's possible that it has been happening under the radar for months.

Ingraham Battles O'Reilly Guest Over Media Ignoring Racially-Charged 'Knockout Games'. There is a disturbing trend now being noticed by a few news outlets this week called "knockout games." These games supposedly involve young black men randomly attacking people on the street. Laura Ingraham battled O'Reilly Factor guest Jasmyne Cannick on Thursday [11/21/2013] over the media's refusal to take on these racially-charged attacks in an honest way.

Police Unsure if Random Attacks Are Rising Threat or Urban Myth. Fear swept through Borough Park, Brooklyn, as soon as the news got out: A young man was randomly assaulted by strangers early Friday morning [11/22/2013], and the attack was possibly part of the so-called Knockout Game. Four men were arrested, but on Friday night only one was charged and the others were released. The attack added to a growing log of reports of such crimes in the Northeast and beyond. Young assailants were randomly picking unlucky targets and trying to knock them out with just one punch.

Another 'Knockout' attack in NYC yields four arrests. A round of the disturbing game "Knockout" — in which teenagers try to punch out unsuspecting passersby — ended with the arrest of four suspects in a New York City neighborhood Friday [11/22/2013]. The NYPD said the 24-year-old victim was walking in the Borough Park section of Brooklyn when he heard people talking about the game and then got walloped in the head.

'Knockout' Assaults: One Arrested In New York. Police in New York have arrested a man following a spate of random attacks they believe are linked to a so-called "knockout" game. Officers arrested Amrit Marajh on charges of assault after a man claimed he was punched in the face as he walked down the street. Police are investigating whether the attack was part of a new craze, in which people seek to knock out unsuspecting members of the public with a single punch.

Black Mob Violence: New Denials... and New Violence. The rules of the Knockout Game are simple: Gather a group of black people. Find a white person. An Asian will do. Punch them in the face until they are knocked out. Or dead. Or your arms get tired. If you relied on local and national news accounts, you would not know the violence has a racial component. But the video solves that problem. Many episodes of black mob violence and mayhem — including the Knockout Game — are recorded on video and posted on YouTube. Or Facebook. Or even bragged about on Twitter.

'Knockout Game' Suspect Charged With Hate Crime. The Brooklyn, N.Y., man accused of assaulting an Orthodox Jew in what appears to be another case of the knockout game is being charged with a hate crime for the alleged attack. Amrit Marajh, 28, was charged with harassment as a hate crime after he allegedly punched the 24-year-old Orthodox Jewish man Friday morning [11/22/2013]. The unidentified victim believes he was attacked as part of the deadly "knockout" game, where an attacker aims to knock out the victim with a single sucker punch, police said.

San Diego 'Knockout' Suspect Given Citation, Not Arrested. The "knockout game" may have come to California, as a San Diego man was reportedly punched in the face last week while he was walking on the sidewalk. The alleged assailant was not arrested and was only given a citation because there were reportedly no other witnesses to the attack.

Six 'Knockout' Attacks in New Haven, Connecticut. The New Haven Independent reported that a group of young men approached five males and a 68 year-old woman at different times on Monday and Tuesday [11/18-19/2013] evenings. In all cases, one of the young men in the group faced off with the victim, punched him or her in the face or head, then ran off with the rest of the group, laughing.

72-Year-Old Woman Latest Victim Of 'Knockout' Game Assault? Police are investigating if a 72-year-old woman is the latest victim of the so-called "knockout game," a violent trend in which youths sucker-punch unsuspecting strangers for kicks. Mira Harpazi was walking two blocks from her home at the Starret City housing complex in Brooklyn when she was punched in the face by a man in his 20s, CBS 2's John Slattery reported Tuesday [11/26/2013].

Knockdown games, bigoted receipts, and self-inflicted HIV. [Scroll down] In both cases, social media firestorms erupted over stories that inflamed certain passions and fulfilled certain expectations. The narratives were too good to check. But the press is suddenly very interested in "debunking" the Knockdown Game, building off a hysterical piece in Slate that alleges — based on nothing more than the deep-seated ideological convictions of the author — that the rash of random, racially-charged attacks can't possibly be happening. This Knockdown Game knockdown has to be one of the most bizarre media obsessions ever. It's an objective fact that the game is happening — even the "debunking" pieces admit it! — but they're trying to literally wish it out of existence, presumably because they don't like the commentary it's attracting from conservatives.

Fort Myers teen arrested after random attacks. The Lee County Sheriff's Office has arrested a juvenile in connection with two random attacks reported in Lee County. Traveshia Blanks, of Fort Myers, is charged with two counts of battery on a person 65 years of age or older. On Tuesday around 3:50 p.m., deputies responded to a report of a group of people who randomly attacked an unsuspecting victim in the area of South Pointe Boulevard.

The Knockout Game: What Took the Conservative Media so Long to Notice? Evil flourishes when good men do nothing, and too many conservatives have been wobbly about recent racial violence trends. [...] In June of 2011, at least two people had been killed as a result of the sadistic, racially charged knockout game. Since then, there have regularly been unprovoked attacks by black teens against non-black victims. Now, finally, after a series of attacks against Jewish pedestrians in New York City, mainstream conservatives are discussing the knock-out game. Fox News reports that the death toll from the "game" is now seven.

Knock Out Black Self-Hatred. The "knockout game" is a prime example of the demise of black families across America. The goal of the "knockout game" is to catch someone off guard and try to knock him or her out in one punch. Many media outlets initially highlighted youth as the common denominator among the attackers. Other media outlets reported that the majority of the perpetrators were Black males. [...] How does an individual come to think it's fun to harm another human being, capture the attack on film, and share it with the world through social media? One has to wonder what is (or is not) going on in the households of the attackers.

NYT, NPR: Reports on Knockout Game 'Overblown,' 'No Big Deal'. Writing in Real Clear Politics, Larry Elder says the New York Times (NYT) and National Public Radio (NPR) are ignoring the black-on-white crime taking place in the "Knockout Game" — that the NYT and NPR view reports on the game as "overblown" and "no big deal." The papers claim these attacks "do not represent a trend."

The Knockout Game — NYT/NPR Say No Big Deal. The "knockout game" — and the media underreporting of it — combines the breakdown of the family with the media's condescending determination to serve as a public relations bureau for blacks. The "game" is a dare in which a young man — all the perps appear to be male people of color, mostly blacks — tries to literally knock out an innocent bystander with one blow. Both National Public Radio and The New York Times say these reports of the "knockout game" being widespread are overblown and do not represent a trend. Really?

Hasidic man assaulted by woman becomes 10th possible victim of the 'knockout game' in New York. A Hasidic man walking along a New York street on Sunday night [12/1/2013] became the latest victim of the 'knockout game' — sucker-punched by a woman who laughed hysterically as he lay on the floor. The 26-year-old victim, Eli Leidner, was set-upon at 10.40 pm in the Williamsburg neighborhood of the Big Apple and becomes the 10th victim in recent months of the violent unprovoked assaults. The attacks have predominantly occurred against Jewish people in which the goal of the controversial street game is to strike a random person unconscious with only one punch as they walk by.

NYC Politician Blames 'Jewish Success' for 'Knock-Out' Attacks. Amid an array of "knock-out" attacks against a number of Jews in Brooklyn's Crown Heights neighborhood, a city councilwoman pointed to the success of the Jewish community as triggering the aggression. Councilwoman-elect Laurie Cumbo emphasized that while she "admire[s] the Jewish community immensely" for its work ethic, black teens may see it differently.

De Blasio ally: 'Knockout game' violence stems from 'genuine concern' about Jewish influence. A local New York City politician and ally of mayor-elect Bill de Blasio says the recent spate of "knockout" attacks in Brooklyn may stem from "a genuine concern" about Jewish influence. Laurie Cumbo, the councilwoman-elect for the Brooklyn neighborhood of Crown Heights, made the comments in an open letter posted to her Facebook page. In the letter, Cumbo reports that many of her African-American constituents are alarmed by the growth of the local Jewish community.

Knockout Game Goes Terribly Right as Woman Wails on Her Attacker. Well, this participant of the knockout game probably will reconsider future engagements after being beatdown by the woman he punched. The video shows the assailant targeting the woman, who doesn't go down after he lands his punch. She turns around and starts punching him repeatedly in the head — but, only after the man next to her delivers an epic kick to the face.

Teen brothers accused of killing Iraq war veteran. Brothers Tryon, 19, and Tyshaune Kincade, 18, were formally charged Monday [12/9/2013] in the shooting death of Sergent First Class Jim Vester, 32, after arranging to sell the 12-year military veteran an iPad on Wednesday.

Police: 'Knockout game' type crimes hit Richmond streets. There is a group of teenagers going around Richmond and knocking out people on the streets, Richmond Police Det. W. Cutshall said. The teens then steal whatever they want from the victim. "It's two to three, sometimes four male juveniles knocking pedestrians or bicyclists to the ground," Det. Cutshall said. "When they knock them to the ground, they begin punching them and kicking them and taking whatever they have in their possession."

A Very Dangerous Game: The Knockout Game and Polar Bear Hunting. New York City police authorities are investigating a series of unprovoked physical attacks in public places on people who are Jewish, in the form of what is called "the knockout game." The way the game is played, one of a number of young blacks decides to show that he can knock down some stranger on the streets, preferably with one punch, as they pass by. Often some other member of the group records the event, so that a video of that "achievement" is put on the Internet, to be celebrated. The New York authorities describe a recent series of such attacks and, because Jews have been singled out in these attacks, are considering prosecuting these assaults as "hate crimes."

1 Arrested After Nun Hospitalized Following Assault And Rape. An 18-year-old has been charged in the brutal rape and beating of an elderly nun in Aliquippa. Andrew Bullock, of Orchard Street, faces at least 10 charges in the Friday morning attack.

Walmart employee reportedly shoots co-worker's car after they [sic] win Employee of the Month. A South Florida Walmart employee is under arrest after shooting up a co-worker's car hours after police said he grew disgruntled from learning the fellow worker had been selected as the store's Employee of the Month. Willie Mitchell pulled up to the unidentified Employee of the Month's unoccupied car earlier this month in the parking lot of the Deerfield Beach Walmart, rolled down his back window, fired a single shot into the vehicle and then drove off, according to CBS4 in Miami.

Queens man breaks leg in Harlem attack, claims to be victim of the 'knockout game'. A Queens man broke his leg Thursday [12/12/2013] in a horrific, unprovoked daytime attack similar to a "knockout game" strike, the [New York] Daily News has learned. Clifford Wong, 52, was leaving his job at a New York Lottery office in Harlem and was nearing his car on W. 126th St. near Lenox Ave. at about 2:30 p.m. when he saw a group of black teens watching him. "Something didn't feel right so I crossed the street," he said. "I took a few steps and in an instant one guy was in front of me."

Short Hills mall fatal shooting victim ID'd as Hoboken lawyer. The fatal shooting of Dustin Friedland, 30, by two men after they rolled up on him and his wife in the parking deck on Sunday night is the latest — and deadliest — of the more than 400 carjackings reported in Essex County this year, officials said.

The Editor says...
This case has had extensive coverage in the news media, yet I have seen no description of the suspects in any report, except to say that police are looking for "two men." Therefore it is safe to conclude that the police are looking for two black men; otherwise, the newspapers would make it clear that the suspects were white. That's just the way the news media works.

Update: I was right.
Short Hills mall shooting update: 4 men arrested, identified in connection with deadly carjacking. Nearly a week after 30-year-old Hoboken lawyer Dustin Friedland was gunned down in a deadly carjacking while returning to his vehicle in an upper level parking deck of the Mall at Short Hills, police this morning arrested four men on charges of murder. The four, were identified as Karif Ford, 31, Basim Henry, 32, Kevin Roberts, 35, all of Newark, and Hanif Thompson, 29, of Irvington. All were being held at the Essex County Correctional Facility on $2 million bail each.

Four arrested for killing lawyer, 30, shot dead protecting his wife in carjacking at New Jersey mall. Four men have been arrested over the death of a lawyer shot in front of his wife during a carjacking outside a New Jersey mall last week, authorities said on Saturday. The suspects in the fatal carjacking on Sunday last week, in which Dustin Friedland was killed at The Mall, Short Hills, were arrested in a series of raids overnight.

Short Hills mall carjacking suspects had criminal records ranging from bank robbery to burglary. At least three of the four men charged this morning in the fatal carjacking of a Hoboken lawyer at a The Mall at Short Hills last Sunday evening have been arrested before, according to state and federal records, for crimes ranging from burglary to bank robbery.

4 arrested in deadly New Jersey mall carjacking. Four men have been arrested and charged in the death of a man shot in front of his wife during a carjacking outside an upscale mall in northern New Jersey last weekend, authorities say. The suspects, identified as Hanif Thompson, 29, Karif Ford, 31, Basim Henry 32, and Kevin Roberts, 33, appear to have been motivated by a desire for the victim's silver Range Rover, Essex County Prosecutor Carolyn Murray said in a press conference Saturday [12/21/2013].

Short Hills mall shooting: Discovery of suspect's mother's car led police to carjackers. The big break in the case came Wednesday [12/18/2013]. That's when a green Chevrolet Suburban, caught on surveillance video menacingly circling the parking areas of the Mall at Short Hills, was discovered abandoned in South Orange, according to two law enforcement sources. The large sports utility vehicle, they would later find out, belonged to the mother of one of the suspects in the fatal carjacking last Sunday of 30-year-old Dustin Friedland, who was shot and left for dead on the concrete floor of a mall parking deck as the Hoboken lawyer and his wife were returning to their car after an evening of shopping.

Deadly Short Hills mall carjacking fuels bail reform debate. One week before police say he took part in a deadly carjacking at the Short Hills mall, Hanif Thompson was spotted breaking into property in Newark, getting into an Audi and trying to drive away, Essex County prosecutors say. Newark police caught Thompson near the Weequahic Avenue property on Dec. 7 and charged him with burglary and resisting arrest, prosecutors say.

White-washing Mandela's Memory. After his mother was raped, and then murdered along with his father, sobbing 12-year-old Amaro was gagged and drowned in scalding bathwater. And that's how the youngest member of the Viana family became a statistic: another in a long line of white South African victims of black violence. It's an understatement to say that such crimes have a racial component, yet the government run by the African National Congress — Nelson Mandela's party — denies even that.

Long Island man arrested in multiple 'knockout' assaults. Law enforcement sources tell Eyewitness News, a 20-year-old Long Island man is under arrest and is expect to be charged with up to 7 counts of 'knockout' assaults that date back to April of 2013. Darryl Mitchell of Amityville is expected to be charged in the assaults of residents, at least two of them elderly in the Babylon to Amityville area.

Jon Stewart Chuckles Over 'Knockout Games,' Claims [it is] not a Trend. Stewart brought up the brutal attacks on The Daily Show Monday night, chortling along as he described a series of physical assaults on innocent victims. The liberal comic couldn't scrounge up much sympathy for the victims, nor did he think it might be helpful to boost the penalties against such assaults. [...] Instead, he used his favorite tool — the cherry picker — to insinuate the trend doesn't actually exist while calling once more for stricter gun controls.

Man shot dead during Melbourne break-in, police say. A man who allegedly broke into a Melbourne home was killed Sunday morning when the homeowner shot him, police said. Jermaine Williams, 28, was shot around 2:13 a.m. at a home in the 1100 block of Mathers Street. He was pronounced dead at Holmes Regional Medical Center.

Violent Mother-Son Mugging In Newark Caught On Video. In a crime caught on camera, a mother and son were violently attacked walking down a snowy Newark street Saturday.

Mayoral candidate beaten up by two teenage girls with a billy club at Mall of America Starbucks. A former Minneapolis, Minnesota mayoral candidate was mercilessly beaten up by two teenage girls after having his cellphone stolen at a Mall of America Starbucks. [...] When Mr Andrew fought back, one of the women, 18-year-old Letaija Shapree Cutler-Cain from Brooklyn Park, gouged his face with her fingernails and said: 'I'm going to kill you! Let me go or I'm going to kill you'. Mr Andrew says it took about five minutes for police to arrive [...]

The Editor says...
Assuming the police have a full-time presence in the mall, as is the case in most shopping malls, the mall must be enormous if it took the police five minutes to get to a violent assault.

An Epidemic of Carjackings Afflicts Newark. "It is like a diseased town," said the Newark store owner, who spoke on the condition of anonymity for fear of retribution from the assailants in the Mercedes case, who have not been caught. "There are a lot of predators." Carjackings are nothing new to Newark, a city that was among the nation's worst for such crimes in the 1990s. Like other cities, Newark saw the number of carjackings fall in subsequent years. But they have returned to Newark with a vengeance.

The Editor says...
There is no mention of the word black even though all the suspects are apparently black.

Ohio woman stabs sister during Christmas fight over apple fritters. A fight over apple fritters among sisters on Christmas night led one of the siblings to allegedly stab another in the chest in Akron, Ohio, police said Friday. Contisha Hayes, 21, and Tamara Delaney, also, 21, were play fighting over the fried sweets when it became more serious and one pulled the other's hair, according to a third sister at the scene who was making the fritters, police said.

Elderly man assaulted in Glen Burnie robbery. An elderly man is recovering after he was assaulted and robbed while walking home from an Anne Arundel County McDonald's Monday [12/30/2013]. The 89-year-old victim told police three teenage boys struck him in the head and knocked him to the ground near Cloverleaf and Four Leaf Clover drives in Glen Burnie.

Teens in Muslim garb try, fail to rob gun shop. [Joe] Galiano is the owner of Suburban Armory, the gun shop on MacDade Boulevard in Collingdale, Delaware County. There is a giant gun-shaped sign on the roof. Inside, Galiano is surrounded by guns, including the .45-caliber pistol on his hip. Can't miss it. And the police station is just around the corner from the shop. Despite these conspicuous crime deterrents, two teenagers nonetheless decided to throw on burqas and pull a silver handgun on Galiano about 1:40 p.m. yesterday in a botched attempt to stick him up, police said.

Hate crime suspect arrested for attacking seven women in New York 'knock-out' attacks. A 35-year-old from New York has been arrested for at least seven knock out attacks around Brooklyn. Barry Baldwin is accused of punching his victims to the ground in a spate of attacks carried out between November 9 and December 27, police said. All of the victims were women, and most were Jewish. In one case, a 78-year-old was knocked to the ground as she pushed her great granddaughter's stroller.

Brooklyn man arrested, charged in five 'knockout' incidents against women. A Brooklyn man was busted for a string of assaults against women that some have connected to the infamous "knockout game," authorities said Friday [1/3/2014]. Barry Baldwin, 35, was charged with five incidents in which Jewish women were viciously punched for no apparent reason.

New York cops call video taped 'Knockout' attack harassment, not assault. Rochester New York police are characterizing the brazen attack of an elderly woman as harassment rather than what it appears to be — another example of the hotly-debated "knockout game." The attacker, a young black male who operated a Facebook account under the name "True Goon Tocool Sneekey", narrated his plan for the camera.

Popular sorority member 'shot dead by another woman in front of terrified friends in road rage dispute'. A violent ex-con has been charged with multiple counts in the road rage shooting death of a 21-year-old female Georgia college student. Sparkles Lindsay, 22, followed Kimberly Kilgore, 21, into her gated apartment complex last year and shot her to death while her best friend sat in the passenger seat and watched in horror, police say.

LA's 'death alley': a Two-mile stretch of road which has had 60 homicides in seven years. A new series of photos shows a daily life in Westmont, Los Angeles — including a 2-mile stretch where 60 people have been killed since 2007. Nicknamed 'Death Alley,' it is part of the city's South Vermont Avenue, and goes up to the Imperial Highway. Most of the people killed on this road were shot to death.

New Orleans musician in coma after street attack. A popular New Orleans musician is fighting for his life in hospital after being brutally attacked in what is believed to be the latest case of a sick craze known as the knock-out game. Doug Potter was returning to his car after playing a gig at Cafe Beignet inside the Bourbon Street courtyard venue on Tuesday night [1/21/2014] when he was brutally assaulted by two men. The 54-year-old bass player is now in an induced coma after undergoing intensive brain surgery at University Hospital.

2005 stabbing: Family's lawyer says White Plains didn't secure garage. A lawyer for the family of a woman who was stabbed to death in White Plains because she was white argued Thursday that the city failed to adequately secure a parking garage near the Galleria where the crime occurred. The lawyer spoke during the opening of a civil trial in the case, pressed by the family of Concetta "Connie" Russo-Carriero of White Plains, who was stabbed by Phillip Grant on June 29, 2005, at the parking garage. Grant, who is serving a sentence of 25 years to life in state prison, told police shortly after his arrest that he was waging a race war and only regretted not being able to kill more whites that day.

'I slugged 78-year-old woman in self-defense'. An unhinged Brooklyn man accused of punching seven women — including a 78-year-old — in brutal "knockout" attacks last year told cops he attacked six of them in "self-defense," and hit another woman because she almost made him spill his Dunkin' Donuts coffee, court papers revealed Wednesday. Barry Baldwin, 35, hit the women in seven separate attacks in Canarsie and Midwood between Nov. 7 and Dec. 27, court papers state.

Flint police believe assault on MTA bus driver part of so-called 'knockout game'. Police say a Mass Transportation Authority bus driver was punched in the face as part of the so-called "knockout game" that's gained national attention. The "knockout game" has been blamed for attacks in several cities and involves suspects punching strangers for no reason.

The Editor says...
The blacks do not punch out random white people for no reason, as claimed in the article above. There is an obvious reason for their actions: They hate white people.

2 more arrests made in vicious beating of an elderly Chickasaw man. On the same day charges were dropped against a teen accused of participating in the savage beating of a 86-year-old man, two other suspects were arrested in the case, according to Chickasaw police.

'Knock That White Boy Out': Arrests Made After Mob Of Teens Attack Disabled Vet. Cleveland authorities have made several arrests following the mob beating of a disabled Army veteran by a group of teenagers. Last Friday [2/7/2014], the victim, Matthew Robinson, was surrounded by between six and eight teenagers while riding the RTA Healthline. Robinson told WOIO that he was attacked by the teens, then robbed of his possessions. During the attack, the teens made several derogatory remarks about Robinson. "What they were saying was, 'Knock that boy out!' 'White boy.' 'Cracker,'" he was quoted as saying about the incident. "They were saying, 'Knock that white boy out.'"

Man accused of violent carjacking of 77-year-old woman arrested. James Farley, 18, allegedly violently removed Charlesey Smedley from her vehicle and threw her to the ground before around 2 a.m. on Jan. 13, deputies said.

Kroger stabbing victim still recovering at UK Hospital. Lexington Police say on Wednesday afternoon [2/12/2014] Corey Lane Cummins 44, came up from behind and stabbed Sara Gretz, 77, in the neck at the West Lowry Lane Kroger. Police arrested Cummins, charging him with 1st degree assault. She's retired, married, and busy with grandchildren. It was just another midday trip to the grocery store when her day took a life-threatening turn.

Pride weekend attacker found guilty. Christopher Porter-Bailey, the man arrested in a brutal robbery and attack during San Francisco Pride weekend, has been found guilty in the assault of the woman, the District Attorney's Office said. The June 30 attack was captured on video. In the widely circulated clip, a woman sits dazed on the sidewalk after three men punched her and stole her phone. Having gotten what they came for, the group moves along, but then Porter-Bailey turns back and delivers a violent kick to the woman's face.

Exclusive: Mob of teens attack man in downtown Cleveland. There's evidence of more violent teens running around the heart of downtown Cleveland. A disabled Army vet spoke out about the latest attack that happened Friday, Feb. 7, 2014. Matthew Robinson told our Ed Gallek he was riding RTA's Healthline when six to eight teenagers surrounded him on the bus, and then started following him. Then, he said they attacked, took his stuff, and videotaped what they were doing. The incident went down at 6th and Euclid, and the crowd scattered when cops showed up.

Black mobs terrorize Victoria's Secret shoppers. Some were surprised to hear about the black mob violence on Valentine's Day at Victoria's Secret in Norfolk, Va. Not at the violence: The Galleria at Military Circle has been the site of dozens of episodes of racial lawlessness over the last two years, most of which has gone unreported in the local newspaper. The surprise is that this mall is still open. Most of its major tenants are gone or leaving — Sears, J.C. Penney's, the nearby DoubleTree also closed. The big draw there now is a movie theater with cheap tickets.

Cambridge Police: Mass. Ave. Sucker Puncher Not Part Of 'Knockout Game'. Cambridge police say the man wanted for sucker punching at least three people over the weekend is not part of a disturbing national trend known as the 'knockout game.' The series of unprovoked attacks happened in broad daylight Saturday afternoon between Massachusetts Avenue and Trowbridge Street.

The Editor says...
Does a perpetrator need to show an official "Knockout Game" membership card to be included in this trend?

4 charged after men found dead in burning Detroit home. Four people have been charged in connection with the deaths of three males found in a Detroit house fire last week. Tenisha Jackson, 19; Larry Johnson, 20; Rashawn Johnson, 19; and Keeshon Lake, 19, have all been charged with three counts of first-degree murder; three counts felony murder; two counts armed robbery; and one count of arson. Larry Johnson was also charged for Felony Firearm and Possession of Heroin.

Baseball bats are used to attack Esplanade Avenue bicyclists, New Orleans police say. New Orleans police are looking for attackers who twice used baseball bats to bash bicyclists on Esplanade Avenue, officers said Monday [2/17/2014]. In both cases, two people hit the cyclists in the head. The first incident was reported Friday at 2:20 a.m. near the intersection of Esplanade and North Robertson Street. A man was riding his bicycle on Esplanade when a male believed to be 16 to 18 years old jumped in front of him. The bicyclist slowed, then another male of about the same age came into the street with an aluminum bat. The attacker hit the cyclist in the mouth. The two assailants fled.

The Editor says...
The perpetrators are responsible for their violent criminal actions; and yet, who in his right mind would ride a bicycle on the streets of New Orleans at 2:30 a.m.?

Esplanade Avenue attacks on cyclists involving baseball bats scare area bikers. After news that two men in New Orleans were badly beaten with baseball bats while riding their bicycles, 67-year-old Treme resident Sher Stewart set out to buy a new helmet Tuesday (Feb. 18). The one she'd been using for years to bike the streets of New Orleans no longer felt adequate after such a brutal bout of violence against cyclists unfolded on Esplanade Avenue, just a stone's throw from her home.

The Editor says...
Bicyclists now buy helmets for protection from the inevitable muggings, rather than the slight chance of falling off their bikes.

Louisiana police arrest two in possible 'knockout game' death. Two Louisiana teenagers have been charged with second-degree murder in an attack motivated by a competition between the two to see who could hit harder, according to local police. Windall Herring, 19, and an unnamed 15-year-old were arrested in Baton Rouge on Tuesday for the murder of 55-year-old John Bannon. The attack occurred near Bannon's home around 9:30 p.m. on Feb. 1. Bannon was rushed to a hospital trauma unit, but succumbed last Friday to his injuries which included a fractured skull and brain hemorrhaging, according to The (Baton Rouge) Advocate.

Bible stops two bullets to save life of Ohio bus driver, police say. A Bible saved the life of a Ohio bus driver after the man was shot twice in the chest early Monday [2/24/2014], police said. Rickey Waggoner, a Dayton RTA bus driver, was making a mechanical fix outside his bus when three assailants approached him and shot him in what appears to have been a gang initiation, the Dayton Daily News reported.

RTA bus driver: Attack on me a 'gang initiation'. An RTA bus driver survived being shot and stabbed in a seemingly random attack Monday he told police occurred during what he believes was some kind of gang initiation. Rickey Wagoner, 49, of Trotwood, was standing outside his bus in the 1900 block of Lakeview Avenue when three males assaulted him. He described his attackers as black teenagers who were wearing dark colored hoodies. All three wore dark blue bandannas to obscure their faces.

The Editor says...
There is no doubt that the victim described his attackers immediately after the incident took place, yet earlier news reports actively suppressed the primary component of that description.

Guess what adjective first appears in the 17th paragraph.
Police: Man punches people in face, runs to getaway car. Ames police are investigating multiple reports of a man randomly punching people in the face. Two assaults were reported on the same day, Feb. 16. The people reported to police that a man punched them in the face in two separate incidents. [...] Police said the man involved was a black male about 6 feet tall with dreadlocks that might have had yellow or highlighted tips.

Obama Creates Cabinet-Level Agency for People Like Him. Today [2/27/2014], the Obama administration is unveiling a progressive initiative called "My Brother's Keeper" to help young black men and minorities train for and get jobs. [...] The co-authors not only trade on the race card, they fail to mention Obama has not done a bang-up job in stemming the tide of black unemployment, low graduation rates and urban crime. In fact, his policies over the last six years have exacerbated the problems in the inner city. Not only are black-on-black crimes epidemic, he and his fellow race-baiters like Eric Holder have fueled black-on-white hatred. The knockout assaults and cold-blooded murders of whites are routinely downplayed and ignored by mainstream media; while black victims are elevated to martyr status.

Victim in possible Manhattan 'knockout game' attack speaks out. The incident happened around 2:30 a.m. Sunday morning [3/2/2014] on Bowery Street on the Lower East Side. Surveillance video shows a man attack 23-year-old Kyle Rogers, of Rockville Centre, from behind as he was walking down the street. Another man can be seen on the video recording the whole thing.

Woman punched by group in random attack. Four men assaulted a young woman in a vicious attack on the streets of Brooklyn. New surveillance shows the men after what could be another case of the so-called "knockout game". "It could have been me, just as easily it could have been her, and it's terrifying," a neighbor said.

Police: Violent home invasion one of worst attacks in Madison. Police arrested six people believed to be involved in what they're calling one of the most brutal crimes in recent memory. Madison police say three men planned a home invasion, but broke into the wrong home on Quincy Avenue on the north side around 6 a.m. on February 23. Police say the suspects were aware it was not the intended home, but they proceeded to violently attack the two victims who had been sleeping. The suspects are accused of repeatedly sexually assaulting the woman who was six months pregnant.

Authorities: Attackers who beat man, assaulted pregnant woman meant to target neighbor's home. Madison police say the attack was spurred by a neighbor's girlfriend, who hoped to have him robbed.

2 dead, 23 hurt after car hits crowd outside SXSW venue. According to The Austin American-Statesman, the car, which was being pursued by a DWI task force officer, ran through a barricade near the venue at 12:30 a.m. The driver reportedly struck several pedestrians before striking a scooter, killing the man and woman on board. The driver then hit a taxi, injuring two, and crashed into a parked van.

Car plows through crowd at SXSW in Austin, kills 2. A driver who plowed into a crowded street at a popular festival in Austin this week, killing two people, was charged with capital murder, police said Friday [3/14/2014]. Rashad Charjuan Owens allegedly tore through the crowd while drunk, running over people and hitting other cars. At least 23 others were injured. Police caught Owens, 21, after an alleged foot chase, and Tasered him. His bond was set at $3 million.

Driver in deadly South by Southwest crash 'intentionally' drove car into crowd, report says. Austin police said a rapper with a criminal history "intentionally" drove into a crowd Thursday morning [3/13/2014] at the South by Southwest festival, killing two people, MyFoxDFW.com reported. Rashad Owens, 21, who police say was behind the wheel, faces charges of capital murder and aggravated assault with a deadly weapon.

Suspect in Deadly South by Southwest Crash Charged. The drunken-driving suspect who police say killed two people after he smashed his car through a street barricade at the South By Southwest festival did not use his brakes and even accelerated as he approached crowds, according to an arrest warrant released Friday.

MCSO: Murder Suspects Scouted 'Easy Targets' at Walmart. Two women could face the death penalty after each was charged with felony murder in connection to the robbery and shooting death of a Coden grandfather. Just after midnight Wednesday morning [3/12/2014], Mobile County Sheriff's investigators booked Kymberli Lindsay and Saraya Atkins into Mobile Metro Jail on one count of felony murder and two counts of first degree robbery.

Minnesota: Another Somali gym attack, followed by violent home invasion. A bloody ambush robbery of a Life Time Fitness member in an Eden Prairie locker room left the man badly beaten, and one of his two assailants unleashed a similar attack on a resident in a randomly chosen home in the city about an hour later, according to charges filed Tuesday. Arrested and charged in the Sunday attack at Life Time Fitness were Dalal B. Idd, 18, of Eden Prairie, and Kamal E. Maqadin, 26, of Shakopee.

Teen Allegedly Kills Man for Cell Phone Then Complains of Phone's Quality. On February 23rd 17-year-old Byron White allegedly killed a Seattle man for his cell phone then complained that the cell phone "was not a nicer model." According to The Seattle Times, White was charged as an adult on March 4th "in connection with the fatal shooting." Other charges include "second-degree unlawful possession of a firearm and second-degree attempted robbery."

Seattle teen kills man for cellphone — then complains the device is too cheap: cops . A Seattle teen shot and killed a man for his cellphone — then went to a friend's house and complained the stolen gizmo wasn't nice enough, police say. Byron White, 17, now faces charges as an adult for killing David Peterson last month in the Washington city's Greenwood neighborhood.

The Editor asks...
Was his "friend" an accessory after the fact?

Shots fired, large fights terrorize Kansas City Zoo goers. As police continue on Wednesday to investigate Tuesday's [3/18/2014] violence at the Kansas City Zoo, city leaders are looking at changes to the zoo's free admission days for residents of Jackson and Clay counties. Kansas City Zoo goers described Tuesday afternoon running for their lives after hundreds of teens were involved in fights inside the zoo and shots were fired in a zoo parking lot.

The Editor says...
Here's a tip: Always stay away from events with "free admission."

14-year-old arrested for deadly bus shooting. A 14-year-old boy is in custody and faces a second-degree murder charge in connection with a shocking shooting on an MTA bus in New York City. A 39-year-old passenger died after he was shot in the head while on a B15 bus in the Bedford-Stuyvesant section of Brooklyn, authorities said. Police say the teen was on the bus near Lafayette Boulevard and Marcus Garvey Boulevard around 6:20 when he got into an argument with a rival. He began firing shots on the bus.

Teen arrested in 'knockout' assault of disabled man. A 16-year-old was arrested Friday, accused of attacking a disabled man pumping gas last month. Kevin Johnson is charged with abuse of a disabled adult in the Feb. 4 attack at the Hess station on Merrill Road. Michael Caraway was walking with a cane when he was struck in the face by a group a teens he believes was playing the "knockout game."

Downtown assaults by group of teens probed. Louisville police are investigating a series of assaults by a roving group of teens in the downtown that a spokesman said sent at least two people to University Hospital Saturday night [3/22/2014]. Spokesman Dwight Mitchell said the incidents started about 9 p.m. and involved about 10 to 15 teens assaulting apparently random victims in seven or eight incidents.

APD: Waiter needs stitches after woman hits him with glass dish. Investigators said it happened at the O'Charley's on Clemson Boulevard around 2 p.m. Thursday. Police said the server, Terry Davis, reported that customer Brittany Williams was very disrespectful toward him. He told Williams he was going to get a manager to speak to her. Davis said that's when Williams got up, started cursing at him and threw a glass dish at his face. "All I could remember is this salad plate come flying in the air and she slung it like a Frisbee — hit me right there. And I had credit cards and receipts in my hand and I remember falling down on the floor. It just dumbfounded me," said Davis.

Nothing to see here, move along. Ho-hum, a mob of 200 teenagers rampages through the downtown of an American city, assaulting and hospitalizing people and robbing stores. The mayor calls for calm. And nobody outside that local media market, where it cannot be ignored, hears a thing about it. Now why would that be? Could it possibly be because surveillance video from a convenience store that was robbed shows all the miscreants were black?

200 teens RIOT in Louisville Sat night robbing, assaulting people. Riots broke out in Louisville, Kentucky on Saturday night, according to WDRB News, when 200 teens began robbing and assaulting people, including a 13-year-old girl and a man trying to help her. A woman who was parked in her car with two children in the back seat said she was also assaulted by a group of teens. She told police they repeatedly punched her and threw trash cans at her car. WDRB News also reports that a large group of teens robbed a convenience store, assaulting the clerk as he tried to shut the doors on them. They actually have surveillance video of this attack and all the teens shown appeared to be black.

Jacksonville Channel 4 falsely portrays black on white hate crime attacks as having a white perpetrator. For years we have talked about how the media censors black crime. Many major media outlets now openly admit to having a policy of censoring black crime perpetrators. However, an even more sinister form of censorship is rising. This is what we call Stage 2 censorship of black crime. Where the media purposely leads you to believe that a black crime perpetrator was actually a white guy.

Black Mob Violence in Macon. It started out with a snowball fight among 30 black people at the Warner Robins High School. The kids were on a snow day. [...] Of course there were pictures. And laughing. They made their way to Facebook and Twitter, with the alleged assailants bragging and having a good old time recounting their snowy victory. Police used the triumphant photos to crack the case and arrested Shymalik Raekwon Mitchell and Terrell Antonio Boyd. Both 17 years old. They were charged with a variety of crimes including assault.

Chick-Fil-A targeted by black mob. The large scale mayhem began when hundreds of "teenagers" tried to rush — without paying — into local showings of Tyler Perry's "A Medea Christmas and Mandela: Long Walk to Freedom." When security put an end to that, the mob took the mayhem outside. After lots of pepper spraying and 90 minutes, police brought the crowd under control. Five were arrested. If [Terry] Pulliam thought it was significant that everyone involved in the mayhem was black, he did not say. Instead, he said he just could not figure out what these "teenagers" were up to. Neither could an anchor of the Channel 4 news: It looked as if there were "dozens of people" there, she said, missing the real number by 700 or so.

Black Mob Violence in Rochester: Get Used To It. Rochester does not have a problem with black mob violence. Or black on white crime. The city does, however, have a problem with white people who are not used to it. So says a Rochester city councilman. The latest example is a "disturbing" video of a group of black people laughing and dancing as they talk about how they are going wait for an "old lady" to leave a convenience story, then smash her in the face with a snow ball. And a fist. Which they did. Thanks to the efforts of local activist Davy V., police have a copy of the video and know who the culprits are.

Black attackers leave trail of beatings, vandalism. As black mob violence goes, the recent racial mayhem at the Florida State Fair in Tampa was not that big of a deal. Sure hundreds of black people were fighting. On video. Police were attacked. Property destroyed. Fair-goers beaten. Venders assaulted. Cell phones stolen. An old lady in a wheelchair robbed. People jumping fences and refusing to pay for rides. The fair closed early. And most of the media glossed over most of it. Despite the fact that officials even said they expected it.

Black mob breaks a man's jaw, fractures face. The racial beatings are back in Denver. Just like last year, the year before and the two years before that. Then, like now, the alleged perpetrators are black. The victims are not. This time, however, police told anyone who wanted to know about the pattern of racial violence. And how at least one victim said he and friend were part of the "Knockout Game." Some Denver media thought it was important to report the description. Others, however, followed the lead of the Denver Post, which said the attacks were "random" and refused to report the race of the alleged predators.

Knockout Game fueled by 'Holder effect'? When Barack Obama — the son of a black father and white mother — was elected president in 2008, many hailed it as a monumental step forward for racial reconciliation in the U.S. But five years into his presidency, is the Obama White House actually making racial tensions worse? That's the charge of Russ Vaughn, who posits in an American Thinker commentary that Attorney General Eric Holder's treatment of the "Knockout Game" phenomenon is revealing the White House's racial agenda is more concerned with retribution than reconciliation.

Austin, TX: More black mob violence, more liberal denial and media silence. The white liberals of Austin want us to know that race had nothing to do with the 200 black people who fought, destroyed property, and threw rocks at police a few days before Halloween. White people do it all the time, said Katie Friel, who writes for Culture Map Austin. But the only time anyone calls it a riot is if it involves a large number of black people, she says.

The Editor asks...
What is "a large number of black people"? More than 9? More than 49? More than 199?

Roving black mobs too many to ignore. WHAS-TV News described one of the assaults as a "fight." But it was hardly that. "It was a group of black teens," said Craig Roberts of Louisville. "Wonder why they won't mention that." [...] Writing in the Louisville Examiner in 2011, Thomas McAdam exposed Louisville's dirty little secret: "Sadly, this idyllic urban oasis is fast devolving into a target-rich environment for roving bands of thugs. ... The dirty little secret that City Hall wants to hide from the public is the fact that Waterfront Park is not a very safe place for families, particularly after dark." McAdam went on to describe an incident where 200 black people beat a disabled person at a bus stop after a minor league baseball game. The man went to the hospital with a fractured skull.

Preacher blames city's black violence on slavery. Curiously, the [Wilmington, Delaware] city council was instrumental in killing a $250 million deal to privatize the Port of Wilmington last year. The Port is losing $8 million a year but city officials and union leaders convinced the state to stop the deal because building a new port would somehow kill jobs. And without jobs, there is violence. As the city made its way to what would be record numbers for shootings — 154 shot and 18 dead are the final numbers for the 2013 — the city council found a new excuse in December. It passed a resolution declaring that black violence in Wilmington was the result of Post Traumatic Stress Disorder brought on by slavery.

Chance encounter with CHL holder saves Frisco woman from robber. There is constant sound and motion at DART's Convention Center Station, and it's one of Kim Lanphere's regular stops. "I use DART 30-to-40 times a week," she said. "At most stations, I feel relatively safe, because there's light and people." But as of Saturday, her feeling of safety is gone. Dallas police say she passed 23-year-old Jamail Koroma on a sidewalk near the station. "I felt him change his gait, and at the time I had by bag here," she said, motioning by her side, "and I put it on my shoulder, just to hold it safe."

Activists: Cause of waterfront violence is key to preventing more problems downtown. "They shut down the movies, a party organizer who bills himself Young Commercial. You can't go after 6 without a parent. But you go to Waterfront. Basically they go down there to have a good time. [...] Community organizers won't call Saturday's mob violence a case of wilding waiting to happen. But they caution that it could foreshadow a difficult spring and summer. If we don't get it now -- try to do things, better steps to stop it from happening, somebody else is gonna get really hurt, Young Commercial said.

Woman attacked by mob of teens says she was scared for her life. It was around 8 p.m. Saturday when Viola Loeffler says she and her family were attacked at the intersection at First and Liberty. "Right before we got to the stoplight, we noticed about 50 to 100 teens coming to the middle of the street. It was a one-way street so we couldn't go any further. All of a sudden, one of them throws a garbage can on our car," said Loeffler. Loeffler says after that, the situation quickly escalated. Her boyfriend, Ron Carter, was in the driver's seat and stopped the car to see what was going on. They say when he got out, the teens moved in on him.

LMPD investigating string of attacks in downtown Louisville. LMPD officers responded to numerous calls between 7:45 p.m. and 9:45 p.m. Saturday night involving a large group of teenagers. According to police, around 200 teenagers were gathered at the Big Four Bridge when 12 people started assaulting and robbing a 13-year-old girl. When an adult male tried to intervene, the group turned on him. Once police were called to the scene, officers dispersed the large group of teens.

Downtown business owner says violent teen mobs [are] not uncommon. Police said that Saturday night's rampant vandalism and violence was an isolated event. But those who have seen groups of teens terrorize the area just south of Waterfront Park before, say it's nothing new. [...] The manager of Bader's Market, Adam Bader, said it only took a few minutes for the teens to descend on the convenience store. "As soon as he saw them coming over, he tried to lock the door," said Bader of the clerk on-duty Saturday night. Unfortunately, the man was too late. Surveillance video shows the mob trying to force entry, and police say they even punched the man several times as he tried to close and lock the doors.

Why is the Media Whitewashing Black Flash-Mob Violence? In the latest occurrence of flash-mob violence, 10-15 young people attacked four men in Denver earlier this week. Multiple attacks similar to this one have taken place across the country this summer with one disturbing similarity: The media has generally refrained from reporting that the attackers have generally been black — while their victims have usually been white.

Cyclist Punched By Man Wielding Machete As Accomplice Tapes Attack. [Scroll down] "He got right in my face, but he just punched me in the face," [the victim] said. That's when he noticed the second man was filming the attack with a camera phone. The victim managed to escape on a flat tire. The bizarre run-in was especially puzzling because the bad guys never tried to take a thing.

Councilman Suspects Assault On London Man In Brooklyn Was 'Knockout' Attack. A tourist from London in town for a wedding was attacked and beaten in Brooklyn early Tuesday, in what a City Councilman said might have been another "knockout" attack. As 1010 WINS' Sonia Rincon reported, the 65-year-old man was attacked on McDonald Avenue near 18th Avenue in Borough Park, Brooklyn, as he left the wedding around 2:30 a.m. Tuesday [3/25/2014]. The attackers grabbed him by the head and threw him to the ground. No property was taken.

Teen, 16, punched by student so badly his nose broke off of his skull as other student cheered in locker room. David Egan says he doesn't even know the student who punched him, and that he was confronted over rumors that he stole the other student's sneakers. 'When he first hit me I actually said out loud, "Wow, you actually sucker-punched me?" because it was just crazy that he actually did that,' Egan told WGCL. He also told the channel that when he fell, others in the locker room jumped, cheered and laughed at him.

CMPD charge 4 teens in connection with man's death. Charlotte Mecklenburg Police said they have charged a fourth teenager in connection to a violent crime spree early Sunday that ended with one man dead in his driveway. Police said Randy Shawn Lloyd, 16, turned himself in at police headquarters Monday afternoon — more than 24 hours after he jumped and ran from officers who had spotted the stolen car he was driving.

Prosecutors won't charge janitor, say he killed teens in self-defense. Milwaukee County District Attorney John Chisholm announced Wednesday that Jeremy Rossetto will not be charged in connection with the March 12 shooting death of two teens who were hitting him with a souvenir baseball bat. The district attorney's office reviewed the police investigation, interviewed witnesses and viewed witness cellphone video before concluding that Rossetto shot the teens in self-defense.

Would-Be Robber Shot, Killed by Resident. Police say two masked men with guns attempted to rob the residents of a home in the 2600 block of Shadyside Avenue just after 7 p.m. A resident of the home got into a fight with one of the would-be robbers over his gun. A struggle ensued, and the robber, identified as 26-year-old Dexter Manigault of northeast D.C. was shot. He and a co-conspirator fled the scene in a getaway car, driven by a third suspect.

Woman Punched At NYC Subway Station Speaks Out About Attack. The attack happened Sunday morning at the 4th Avenue-9th Street station in Park Slope, Brooklyn. [70-year-old Judith] Maroney told Carlin her nightmare began with her sitting on a bench waiting for the "R" train on Sunday morning. Next thing she knew, a stranger punched her in the face.

Police Believe Crime Wave Began Near UofL Campus. The spree of armed robberies has been going on since February. At least 40 victims have been identified, including two people who were shot and two who were victims of sexual assault over the weekend. [...] [T]he suspects, who generally work in groups, are African Americans, wearing dark clothing and masks, are always armed.

Obama's 'children' on a rampage. [T]his month in Kentucky, a mob of 50-100 teenagers were involved in looting, assaults and robberies in downtown Louisville. One woman, Victoria Loeffler, said a group surrounded her car, punched her in the face and threw rocks at the car which had her five children in her back. Police confirmed that there were 17 such incidents that weekend. Ms. Loeffler said she was in fear for her life. Also, in March 2014, a female Temple University student, 19, was hit in the face with a BRICK by a gang of black children. This incident received more coverage in the U.K. then in Philadelphia.

Beating of white driver by angry mob ruled NOT a hate crime by Detroit police. A 54-year-old white man has been left barely clinging to life after he was brutally beaten by a group of black men when he got out of his car to check on a young black boy he accidentally hit. Steve Utash, from suburban Roseville, was beaten into a coma Wednesday by an angry mob in a poverty-stricken Detroit neighborhood after David Harris, 10, ran in front of his truck on a busy street, but police insist the incident was not racially motivated. The gang also stole his wallet before leaving him for dead.

The Editor says...
If the police don't believe the incident was racially motivated, I doubt if anyone shares that opinion, especially since any such statements by the police were made days before any of the beating suspects were arrested.

Detroit mayor tweets for #calm #compassion in wake of attack on pickup driver. Mayor Mike Duggan in a statement Friday [4/4/2014] decried a "senseless vigilante style attack" on a man who followed the law to check on a boy he hit with his truck, only to be pummeled by strangers in an east-side Detroit neighborhood.

Daughter of motorist beaten by crowd says family is 'waiting for him to wake up'. As city leaders called for calm on Friday, an African-American pastor plans to create a benevolent fund for the family of the white 54-year-old motorist attacked and robbed by a crowd as a gesture of good faith given the racial tension surrounding the incident. The Rev. David Alexander Bullock, pastor of Greater St. Matthew's Baptist Church, on Friday called the Wednesday assault on Clinton Township resident Steve Utash "a terrible tragedy," by young boys who most likely perceived him as a hit-and-run driver.

The Editor says...
That is another misleading assertion, in my opinion — that the attackers "most likely perceived him as a hit-and-run driver." No, they most likely perceived him as a white driver who got out of his car in their neighborhood.

Detroit man brutally beaten after stopping to check on boy he hit with truck. The 54-year-old man pulled over to help the boy, who was hit after he darted in front of the pickup truck, and was attacked by a group of bystanders. The child was treated for a broken leg, but the driver remained in critical condition on Thursday.

Justice, Detroit Style. Let's get one thing straight: the savage mob attack on a white motorist in Detroit by a dozen or more black men on Wednesday was not a "vigilante style" attack. Yet that's what Detroit Mayor Mike Duggan and City Council President Brenda Jones are trying to call it in a joint statement meant to play down the unavoidable racial element. [...] If you haven't heard about this, 10-year-old Harris, who is black, received minor injuries when he stepped into the street and was struck by Utash's pickup. Utash, who is white, stopped immediately to check on the boy. From the beginning, the police have maintained that Utash was not at fault and had done absolutely nothing wrong. But none of that mattered for at least a dozen or more loitering males, and perhaps as many as 30, all of whom are believed to be black, who attacked Utash, beat him within an inch of his life, and then robbed him.

Lawyer: Teen accused of 'minor role' in driver attack, calls $500K bond 'excessive'. Two men were arraigned on charges this afternoon in connection with the brutal beating of a motorist who hit a child last week in Detroit, just hours after a teen was arraigned in the same case. James Deontae Davis, 24, and Wonzey Saffold, 30, both of Detroit were arraigned in 36th District Court on charges of assault with intent to murder and assault with intent to do great bodily harm. Magistrate Millicent Sherman said Saffold also is a habitual offender.

Hate Crime Charges Possible in Mob Attack. Four people have now been arrested in the April 2 beating of a Macomb County man who accidentally struck a boy who ran into traffic on Detroit's East Side. Meanwhile, by early Monday evening, nearly $123,500 had been raised to offset Steve Utash's accumulating medical bills through an online Go Fund Me campaign. When the family members of the tree trimmer, who has no health insurance, set up the campaign, they hoped to meet a $50,000 [goal.] Utash, who recently moved to Clinton Township from Roseville, remains in critical condition in a medically induced coma in a Detroit hospital.

$400,000 bond set for teen allegedly in Detroit mob attack on driver who accidentally hit boy. A 16-year-old Detroit boy charged with assault and ethnic intimidation was ordered Saturday [4/12/2014] to be held on a $400,000 bond in the brutal beating of a suburban motorist. The serious nature of the mob attack on 54-year-old Steve Utash and the severity of his injuries necessitated a high bond, Circuit Court Referee Raeigen Woods told the teen and his parents during the hearing at a Wayne County juvenile detention center.

Driver beaten by Detroit mob is now talking to his family. The driver of a pickup truck who was severely beaten by a mob after accidentally hitting a child is now speaking to his family. Mandi Emerick, daughter of beating victim Steve Utash, said Friday that her father has retained consciousness and is talking, but remains in a confused state, according to the Detroit Free Press.

NYCHA units see spike in crime that outpaces city, leaving residents in fear. In the last five years, the New York City Housing Authority projects saw a 31% spike in major crimes, while the rest of the city experienced a 3.3% increase, records obtained exclusively by the [New York] Daily News show. Some public housing residents say they are afraid to leave their homes or even open their doors.

Louisville men accused of trying to start riot on Southern Ave.. Police say officers were called to [an] intersection after they received a report of a fight involving an officer. When they arrived, they allegedly found 26-year-old James Bivens and 21-year-old Prieshen D. Mitchell "creating a public disturbance." Police say as Bivens was being arrested, he told an officer that he was "calling his people." A short time later, police say more than 20 people showed up.

Neighbors call Jersey City man slain during robbery 'friendly' and 'quiet'. Neighbors of the 63-year-old Jersey City man who was slain early this morning after he came to the defense of his wife who was being mugged described him this afternoon as friendly and quiet. [...] According to the Hudson County Prosecutor's Office, Smith and his wife had just returned to their home off Kennedy Boulevard when two males approached Smith's wife and one of them grabbed her purse. When Smith tried to get it back, he was fired upon.

Another young-black-on-elderly-white hate crime.
Elderly couple attacked in restaurant. An elderly couple was attacked at a restaurant when they asked a woman to refrain from cursing while talking on a cell phone, according to police. The incident happened at Cuisine of China on Geyer Springs road. In the police report, Don Francis, 74 and his wife Bettye Francis, 69, say they were attacked by Joecelyn Thornton, 33, after Francis asked her to stop cursing.

Police arrest 4th suspect for attack on 83-year-old man. The attack happened early Tuesday morning, April 1st, and Police spent much of the week tracking down three teens named as suspects of the crime. Due to the 10 News Crime Guidelines, we identified the juveniles only to aid police in their search. Once they were taken into custody, 10 News chose to withhold their names and any images of the teen suspects. Police did not indicate there was a fourth suspect until Monday night, when they announced the arrest of 20-year-old Marquez Dunbar.

The Editor says...
The TV station, by its own admission, suppressed images of the suspects after they're caught. I suspect this is done because the viewers would quickly see a pattern when nearly every suspect in a violent crime looks surprisingly similar.

Knockout game comes to Dayton, teens facing felony. The video [in this article] shows Ronald Baird using a cart to collect cans near East Fifth Street last month, then one of the teens suddenly runs up behind him and punches him in the head. He abandons his cart and runs. His attacker keeps chasing him, striking him again in the head and demanding his wallet. They got the man's wallet and $3 cash.

'White man tried to tussle with me so I shot him'. A 16-year-old was today arrested and charged over the murder of Nathan Trapuzzano, the newlywed who was shot dead as he took a morning walk. Simeon Adams, known by the nickname 'Red', is alleged to have confessed to a friend that he shot Nathan once in the stomach — after the newlywed, who was expecting his first child, reached down to his shoes as Adams made him strip during the robbery.

Teen murder suspect smiles, laughs before hearing. A teen murder suspect didn't have much to say about his role in the shooting death of a young father-to-be in court Thursday. When asked by FOX59 about the fatal shooting, Simeon Adams, 16, laughed and smiled before his initial hearing in the case Thursday. The teenager is charged as an adult in the murder of 24-year-old Nathan Trapuzzano, who was shot and killed on April 1.

Parolee Charged In East Nashville Pharmacy Robbery. Officials with the Metropolitan Nashville Police Department said 22-year-old Justin Conyers entered the Rite Aid on Gallatin Avenue around 10:40 a.m. Wednesday [4/9/2014] and acted as if he was going to buy something. He then allegedly walked behind the counter, placed a knife against the clerk's throat, and then took cash from the register.

FBI: NC Inmate Helped Orchestrate Kidnapping. A North Carolina inmate described as a high-ranking member of the Bloods street gang faces a federal kidnapping charge after authorities say he used a mobile phone to help orchestrate the abduction of a prosecutor's father.

Now they're reported three at a time.
3 recent attacks in Worcester believed to be part of 'knockout game'. Police are investigating three recent attacks in the city they believe are part of the "knockout" game, in which an unsuspecting person is attacked for no reason with the goal of knocking the person out with one punch.

Police Investigate After Bicyclist Attacked By Group Of Teens. The man was wearing a helmet with one additional feature his attackers did not know about — a camera positioned on top. Now that video is in the hands of Baltimore City Police, who are combing through the images.

The Editor says...
Any time you see a news report describing a "group of teens" attacking someone, you can be sure of two things: The perpetrators are all black, and the victim is not.

Kansas City investigates possible serial shooter on highways. Kansas City police announced Friday that they officially linked 12 highway shootings to a serial shooter or shooters believed to be driving while the shots are fired. A 630WPRO.com report said police are focusing their investigation between Kansas City and a few surrounding neighborhoods. There are 20 cases being investigated.

The Editor says...
Sounds to me like the "knockout game" is being played with a gun instead of a fist.

Kansas City residents breathe easier after highway shootings suspect nabbed. The man charged with shooting at motorists on Kansas City highways apparently fired a .380 pistol from his own car before speeding away, documents released on Friday [4/18/2014]said. Authorities identified the suspect as Mohammed Pedro Whitaker. He is 27 and lives in Grandview, south of Kansas City, reported CNN affiliate KCTV-TV. He was charged with 18 felony counts covering nine incidents and is being held under $1 million cash bond. Probable cause statements show police connected the shootings through .380 bullets found in the vehicles.

Highway gunman who 'fired at 12 random motorists during month-long crime spree' arrested. A suspect has been taken into custody in connection with a string of random highway shootings that left three people wounded in the Kansas City, Missouri, area. The male suspect has yet to be named as no charges have been filed, police chief Darryl Forte told a press conference on Thursday evening. Police said last week that they had connected 12 shootings since early March that have targeted vehicles on Kansas City-area roads.

Kansas City Highway Shooting Suspect Charged With 18 Felonies. The man suspected of shooting at cars as they traveled on Kansas City, Mo., highways in recent weeks has been identified and charged with 18 felonies, authorities announced today [4/18/2014]. Mohammad Whitaker, 27, is accused of shooting into at least nine cars, injuring two of the drivers, in incidents dating to the beginning of March.

8 charged in South Bend toddler's shooting death — 2 still on the run. Eight people are facing criminal charges for their involvement in the murder of 2-year-old John Swoveland Jr. of South Bend. Police say the shooting happened during a fight between two rival gangs.

Another violent black-on-elderly-white crime:
Arrest Made In Beating Of Elderly West Memphis Woman. Two people have been arrested after an 89-year-old woman in West Memphis, Ark., was beaten so badly a bloody footprint was left on her face. It was just after 9 p.m. Monday [4/14/2014] when Allene Durdin answered her door and was beaten and robbed in her North McAuley Drive home. She had seven broken ribs, a broken nose and bleeding of the brain, according to her granddaughter.

Brooklyn boy shot in foot after budging line to buy 'Yeezy' sneakers. A 15-year-old boy was shot in the foot Saturday [4/19/2014] after he cut the line of customers waiting to buy hot new Nike "Yeezy" and Air Jordan sneakers at a Foot Locker store in Brooklyn. The shooting happened about 5:40 a.m. Saturday at the Knickerbocker Avenue Foot Locker, where customers were waiting for the store to open at 8 a.m. to buy $150 Air Jordan 11 Low "Green Snakeskin" and $250 Nike Air Foamposite Pro "Yeezy" sneakers, the New York Post reported.

Man held on $1 million bail in Friday shooting. A man was charged with attempted murder and aggravated battery in a Friday [4/18/2014] shooting that left a 40-year-old man in the Brainerd neighborhood with six gunshot wounds. Deontae C. Jones, 18, was held on $1 million bail after appearing in Cook County bond court Sunday afternoon. Prosecutors said Jones approached a man who was outside his residence on the 9300 block of S. May St., checking to see if his recycling bin was full when Jones approached the man and fired at him.

Uncooperative witness jailed; 4 to stand trial in Utash beating. A defiant witness left a Detroit courtroom in handcuffs Monday [4/21/2014], after a tense hearing that found sufficient evidence to send three men to trial in the mob beating of 54-year-old Steve Utash near an east-side gas station.

Youths who beat white motorist to within an inch of his life [...] face court. Four men accused of punching and kicking a motorist who accidentally struck a 10-year-old Detroit boy were ordered Monday to stand trial on attempted murder charges, after a judge reviewed their statements to police and witnesses testified about the chaotic mob attack.

5 Newark men charged in NYC subway robbery. Five Newark men are among a group accused of robbing a passenger on a New York City subway Sunday morning, according to a report on NYPost.com. [...] Robert Rainey, 20, Tyquan Goggins, 23, Corey Barber, 18, Devonte Young, 21, and Malik Samuel, 24 are all charged with second-degree robbery. The men fled the train after taking the New York man's wallet, the [New York] Post reported.

Teen muggers busted after targeting people in Central Park early Monday: cops. Four teens and a 12-year-old were busted Monday [4/21/2014] after mugging three people in Central Park, police said.

Gunfire wounds 3 people at Trenton church funeral for teen killed in shooting. Three people were shot today when gunfire erupted at a funeral at the Galilee Baptist Church in Trenton for a 19-year-old man killed in a shooting earlier this month. Two men are in stable condition at Capital Health Regional Medical Center after being taken by ambulance from the church and a woman, who was driven to the hospital, is being treated for a graze wound, said Trenton Police Director Ralph Rivera.

Judge orders trial for 4 charged with beating Detroit motorist. Four men accused of punching and kicking a motorist who accidentally struck a 10-year-old Detroit boy were ordered Monday to stand trial on attempted murder charges, after a judge reviewed their statements to police and witnesses testified about the chaotic mob attack. The little boy was treated for a broken leg, but the driver was critically injured and still recovering at a local hospital.

Police in south suburbs issue alert after 7 women attacked. The most recent attack occurred early Thursday morning [4/24/2014] when a 34-year-old woman was sexually assaulted near the Metra train station in Matteson, police said. The woman was walking on the Old Plank Trail from her home in Park Forest around 5:30 a.m. when she was grabbed by a man between Main Street and Homan Avenue, Matteson police said. The attacker was described as a black man in his late 20s or early 30s, [...]

Prosecutors: Teenager in court, accused of killing grandmother. A teenager accused of killing his grandmother is in court, according to officials. Charles Price III allegedly stabbed his grandmother, Mary Price, to death, early Friday [4/25/2014]. Police say he stabbed her nearly 57 times. Police say they found massive amounts of blood inside the house on Fairburn Road.

Teen accused of poisoning grandmother's Easter Sunday collard greens. A teenage girl is in jail after authorities said she poisoned her grandmother's food on Easter Sunday. Tyt'ana Lisa-Nicole Johnson, 17, of Harrison Street, poured insecticide and termiticide into a cooking pot of collard greens while Gaylon Moody, 51, her grandmother, was at an Easter church service, according to arrest warrants. In a phone interview Thursday night, Moody said the incident happened because she took away Johnson's cellphone.

A version of 'knockout game' stirs outrage in Austin, Texas. A YouTube video has gone viral that shows a black teen slapping a black Wendy's cashier in the face and then running away -- part of a little-known trend called "smack cam." The incident provides an unsettling glimpse into black-on-black violence — and black thug culture. The incident in Austin, Texas, is being investigated by the local police. It is especially disturbing because of who was involved: not only two black teens or pre-teens but a black adult female who appears to be a guardian or role model. Identified as "CB," she drives the get-away car; it's not clear if she also narrates the video.

Man allegedly claims Islamic Law gives him to right to kill wife. Police say a valley man threatened to kill his wife, telling his victim "Islamic Law" gave him the right to kill her. Ansar Muhammad, 43, is facing several charges, including assault and imprisonment.

Time: "Young Black Men Murder 14 Times More than Young White Men. On the one hand, we have ghettos where children grow up without fathers, graduate to gang violence and then shoot each other... and occasionally white people. And we have a black middle class that isn't willing to break with that way of life. It used to be the white liberal upper class that enabled black thuggery for entertainment and political purposes. But these days it's the black middle class that has to take some responsibility for refusing to say no to thug culture while taking refuge behind racism.

Don't Ignore Race in Christopher Lane's Murder. Australian Christopher Lane was killed on Monday [8/19/2013] in Oklahoma by three teens, one of whom has said they were just "bored." The right is complaining that the media is making nothing of the fact that two of the teens were black whereas Lane was white, as opposed to the massive alarm sounded in cases such as white (or white-ish) George Zimmerman killing black Trayvon Martin. And again the cry was heard that there is more "black-on-black" or "black-on-white" crime than "white-on-black," and that young black men are in fact more of a problem than people like Zimmerman.

Video: Black Teens Assault White Student on School Bus. The shaky cell phone video shows a group of black teenage boys punching, knocking down, and kicking a white teenage boy, leaving him dazed and confused on the school bus floor. The victim of the attack had been riding home from Parkway Academy School near Dover when the assault reportedly began. The video shows him sitting alone, facing front, when the attack begins from the rear — and continues from the side and the front of the school bus. "I didn't do nothing," he protests. The student's uncle found out about the incident and spread the word on Facebook. [Video clip]

Teen crews linked to 40 percent of NYC shootings. Police say these groups, clustered around a particular block or housing project, are responsible for about 40 percent of the city's shootings, with most of that violence stemming from the smallest of disses on the street, Facebook, Twitter or Instagram. "It's like belonging to an evil fraternity," said Inspector Kevin Catalina, commander of the New York Police Department's gang division. "A lot of it is driven by nothing: A dispute over a girl or a wrong look or a perceived slight." The trend of smaller, younger crews has also been seen in Chicago and Northeast cities over the last few years as police have cracked down on bigger, more traditional gangs, experts said.

Arrest made in random stabbing caught on video at Dothan Dollar General store. Dothan police arrested a woman accused of jumping and stabbing a woman inside a Dothan Dollar General store for no apparent reason. Police received a tip through Crime Stoppers that led to the arrest of Phyllis Bennett, 49, of Dothan, Dothan police stated in a release.

Police: Rutgers student attacked 'without provocation'. The Rutgers University student reported that while walking on Senior Street he was approached by an unknown man who struck him in the face without provocation. The victim sustained non-life threatening injuries and was treated at a local hospital.

It's open season on prostitutes.
Rape victim not a 'victim,' judge says, giving rapist probation. A Texas judge has sentenced a confessed rapist to just five years' probation, implying his 14-year-old victim was promiscuous and "wasn't the victim she claimed to be." Sir Young, 20, pleaded guilty to raping the girl at Booker T. Washington High School in Dallas when he was 18, even as she told him "no" and "stop," according to the Dallas Morning News. But State District Judge Jeanine Howard stunned many when she opted for probation, which will include 45 days in jail, and also exempted him from standard sex-offender restrictions, [...]

Girl, 15, and teenage boys assault woman, then minutes later, rob man with tire irons in Jersey City: police. On Thursday at around 12:25 a.m. in the area of Grant and Barrow Streets, the 15-year-old girl and two of the teenage boys approached a 29-year-old Jersey City woman walking home from a PATH station, according to a police report. The 15-year-old girl growled at the woman several times and "then struck her with what appeared to be a sock with batteries or rocks in it," the report stated. [...] Just a little over 20 minutes later, the 15-year-old girl and two teenage boys — it is unclear whether they were the same boys — assaulted a 58-year-old man with a tire iron near Christopher Columbus Drive and Warren Street, McHugh said.

Cops Name Suspect In Subway Hammer Attacks. Police have released the name of the man they believe has attacked at least three people with a hammer in New York City subway stations. The suspect is Anthony Coward, 28, police said. He is described as a 28-year-old black man with black hair and brown eyes, standing 6 feet, 1 inch tall and weighing about 160 pounds. On Wednesday, Coward allegedly attacked 32-year-old Richianand Brijanand, of Ozone Park, with a hammer and robbed him as the victim tried to buy a Metro Card at the Fulton Street and Rockaway Avenue station in Bedford-Stuyvesant.

17-year-old boy arrested after 5 shot near Atlanta high school, report says. Police have arrested a 17-year-old boy and charged him with five counts of aggravated assault after he allegedly shot and injured five people near a southwest Atlanta high school on Tuesday, according to a published report. [...] Parent Shavien Dennis told reporters outside the hospital that her 17-year-old daughter, Tekevious Redding, a Therrell senior, was shot and was still being treated for a bullet lodged in her leg.

Parents file federal lawsuit over assault on school bus. The parents of two students involved in school bus assault last fall have filed a federal suit against the Southeast Delco School District, Delaware County Intermediate Unit and a bus driver who allegedly refused to let the boys off the bus or contact authorities about the incident. Some of the Oct. 9, 2013, altercation between black and white students from The County Alternative School in Middletown was captured on video and made headlines across the country. The suit was filed in the U.S. District Court for the Eastern District of Pennsylvania on behalf of C.J. Buonadonna of Collingdale and Dylan Fonner of Sharon Hill, who were confronted by classmates during the bus ride home from school.

4 Gang Members Indicted in Capt. Kevin Quick Murder; 5 Others Charged in Case. According to federal court documents, four people have been charged with murder in the death investigation of Capt. Kevin Quick. Daniel Mathis, Shantai Shelton, Mersadies Shelton and Travis Bell (a.k.a. Kweli Uhuru) are charged with murdering Quick. The capital murder charge could carry a very serious penalty, according to U.S. Attorney Tim Heaphy. "That is a penalty up to the death sentence in this case that is available for that offense."

White Vacationers Attacked by Black Mob. In an apparent racially motivated attack, a white family was assaulted, pummeled, and robbed by a black mob while enjoying Mother's Day weekend in Savannah, Georgia. On Saturday, May 10, Rob Gray and his brother-in-law Jim Thomas, both of Atlanta, and their families were in a tourist-oriented part of Savannah when the trouble started. [...] Unfortunately, the attack upon the Atlanta family is just one of the latest in a spate of black-on-white assaults. These often take the form of mob violence or the "knock-out game," which is virtually always "played" by black teens who ambush a (usually white) victim with the goal of knocking the person out with one blow. This "game" has resulted in numerous injuries and even deaths during the last few years. Despite this, these stories get knocked out of the news, at least in the national mainstream media.

Police: 2 suspects who robbed 2 Waffle Houses [are now] in jail. Men accused of robbing two Gwinnett County Waffle Houses at gunpoint are in jail, police said. Norcross Police said Robbin J. Haynes and Otis Lee Barnes allegedly went into the Waffle House on 5565 Buford Highway around 10:45 p.m., Sunday [3/30/2014] and robbed the employees there. [...] Police said about $1,200 was stolen from the safe, cash register and employee's tips.

House Torched In Black-On-White Revenge Attack. A black teenager is facing charges as an adult for what authorities are describing as the revenge arson of the home of a white woman and her two children. And his arrest, and that of a juvenile, may be just the tip of the iceberg, authorities say. Already, Thaddeus Shields, 18, is facing a court hearing this week on the count, and a 17-year-old whose name was not released is facing juvenile court. Authorities, meanwhile, say their investigation continues and more perpetrators may be arrested and charged in the attack in Middletown, Ohio. The alleged black-on-white crime earlier this week culminated a campaign of terror against the mother, according to a report by WCPO-TV.

White family stalked, pummeled by black mob. A family of eight, "just enjoying their Mother's Day weekend in Savannah," were savagely attacked by an unknown number of blacks in the Georgia city, that left several family members injured, including a 6-year-old girl who was "punched in the stomach." A report from WTOC-TV said the attack on eight members of a family visiting from Atlanta happened in downtown Savannah on Saturday night. Family members said they had finished eating dinner in a Savannah restaurant and were walking along River Street.

Brooklyn Mall In Black Mob Bull's-Eye. Officials vowed to get tough after the last episode of black mob violence at Kings Plaza mall in Brooklyn a few days after Christmas. So they banned teenagers from the mall. That lasted two days.

Detroit's Collapse is 100 Percent Because of it's 89 Percent Black Population. Eighty-nine percent Black Detroit is on the verge of being taken over by the state of Michigan because — well — the Black people of The Motor City can't creat[e] any jobs or wealth, relying on the state to provide EBT cards/Food Stamps, TANF/Welfare, and federal aid/federal grants to keep the city limping along.

Thug report. Much like this page, with more anecdotes and less detail.

'Knockout game' suspect chased down by victim's friend. A Brooklyn fare-beater allegedly punched a young woman in the face while apparently playing the "knockout game" in a Manhattan PATH station — and her friend chased him down, put him in a chokehold and forced him to apologize, sources said. Ibrahim King, 36, allegedly slugged 21-year-old Elizabeth Mejia, breaking her orbital bone, in the Ninth Street station around 3:40 a.m. Sunday [5/18/2014]. "He looks at her for a very short moment and then he pulls his right fist back and lunges across the railing and punches her in the face," said Mejia's friend Steve Sala. Sala chased and grabbed King, then put him in a chokehold, ripping out one of his dreadlocks in the process.

16-year-old killed Pennsylvania cabbie for rejecting his route, police say. A 16-year-old who believed he was being ripped off shot and killed a northeastern Pennsylvania cab driver who refused to take his shortcuts, police said.

CCSO: Surveillance video shows students throwing rocks, food from school bus. Charleston County deputies say eight students have been arrested after they were caught on surveillance video throwing rocks and food at passing cars while on their school bus. According to an incident report, Durham Bus Services notified Septima Clark Academy that several students on bus 529 threw items at a passing vehicles on May 8, causing damage to a truck. Officers arrived on the scene to find a dent on victim's passenger side roof/window area and "food splashed across the grill, hood, and windshield." Deputies say none of the students on the bus admitted to throwing things at the truck.

Reward offered in robbery Durham's The Pit. Three armed men burst in through a back door of The Pit restaurant on Geer Street about 9 p.m. Sunday, demanding access to the safe. [...] Police investigators described at least two of the suspects as black men in their 20s to early 30s, between 5 feet 8 and 5 feet 10.

How are white-black relations our nation's city buses? New York City: An attacker pummeled a bus passenger so hard he smashed the bones in his face after calling the victim a "cracker" in Manhattan — marking the second time in two days that people appeared to be randomly targeted in racial tirades against white people, authorities said. The victim was treated for facial fractures at New York Presbyterian Hospital and released, police said.

Minority Violence at School and College. This webpage documents non-white violence and mayhem at schools and colleges. [24 cases so far.]

Groups of Black people attack Whites at Iowa State Fair. Roving gangs of white youth attacking non-whites is a product of Hollywood fantasy, but the opposite is grounded in reality and happens with increasing frequency.

20 young men kick, punch group in Dartmouth swarming. Halifax Regional Police say the injured man was out with four other people when they were punched and kicked by the larger group. The attackers stole a backpack, which was later found by the K-9 unit. Police believe this was a random attack. No arrests have been made. Police describe the attackers as a group of 15-20 black men in their late teens or early twenties.

Clearwater businesses worry about effects of shootings. A gun battle outside the Hyatt Regency Clearwater Beach Resort and Spa — followed by a second shooting just down the street — on Memorial Day left visitors and business owners wondering whether the publicity would damage Clearwater Beach's reputation as the family-friendly get-away. "I'm kind of concerned about the foot traffic and the tourism now," Jessica Palmer, who sells tickets at Sea Screamer, which guarantees dolphin sightings during its boat tours, said Tuesday."... so now if they hear there was a shooting they won't want to bring their kids to the beach."

Another mass shooting in 'Terror Town'. Police call it Terror Town, a 2-block by 4-block patch of South Shore where apparent gang conflicts have erupted into three mass shootings in a little over two years. The latest occurred Monday evening [6/2/2014] when a gunman walked up to a strip mall on East 79th Street and fired into a crowd, wounding six people, including two boys ages 14 and 16. All are expected to survive. Police have made no arrests but they are looking into whether the boys, the youngest victims of the shooting, may have been the targets. They are believed to be members of a Gangster Disciples faction that has been feuding with a faction of the Black P Stones. Police consider their rivalry among the most violent in the city.

Cops storm through Harlem housing projects in attempt to end gang feud. Hordes of police donning full body armor swept through two Harlem housing projects Wednesday morning [6/4/2014] in a massive sting aimed at unfurling a deadly gang feud that lead to the 2011 cold-blooded killing of an 18-year-old basketball star. The coordinated action began at approximately 6 a.m. when teams of cops from gang divisions across the city donned helmets and carried battering rams as they simultaneously stormed several apartments throughout the Gen. Ulysses S. Grant and Manhattanville houses aiming to arrest some of the over 100 people indicted on conspiracy charges stemming from gang violence in the area.

Memorial Day Racial Violence Even More Widespread than Previously Reported. I have to apologize to the readers of American Thinker. Last week, I wrote about more than a dozen episodes of black mob violence around the country over the Memorial Day weekend. Turns out I was wrong: I missed at least three examples of large-scale racial violence. Or 300 depending on how you count. So let's see if we can make up for these grievous errors of omission, starting in Chicago.

San Leandro mob attacks prompt 'wilding' task force. San Leandro police are creating a task force to tackle recent cases of "wilding," robberies and other attacks said to be committed by large groups of people, including an incident in which a group briefly tried to take a car with a 2-year-old child inside, officials said. Police said there have been at least three incidents in the city over the past month in which mobs of assailants have targeted victims for their cell phones, electronics, expensive sneakers and other property.

Teen violence: Racial assaults are a national problem. Evidence of teen violence goes back to the Wisconsin State Fair in 2011, Philly, Chicago and spring 2014 in Louisville. They all have in common the attacks are by black, teenaged boys and girls. And most of the victims are white. The race factor is not something officials like to talk about. One UC criminology professor says that silence could be deadly. To some who called 911, the race factor was obvious. 11 victims filed reports saying they were kicked, punched or stomped by a group of black teenagers or young adults, boys and girls. Ten of the victims were white, one was Asian. Two reported racial slurs. Noelle Findlay was so certain the assault was racially motivated; the police report says hate crime.

Detroit Police search for two suspects as driver recovers following beating after traffic accident. Nate Szczerbinski says he got into the accident while trying to turn around after going the wrong way down a one way street in Detroit. Szczerbinski says he was beaten and kicked by three men who hurled racial slurs at him. "I realized I was in trouble... when they started calling me names and stuff," Szczerbinski told [WXYZ] News. "I couldn't run. I couldn't really protect myself. I would've been just asking for more trouble. So, I just prayed to God that something would happen."

Caught On Camera: Drexel Hill Man Punched In The Face At Trolley Stop. A man sitting at a trolley stop in Drexel Hill is punched in the face, and it's all caught on camera. "It's a real shame that something like this could take place," said the victim. The victim does not want to be identified, but wants his story told. He says he was just minding his own business at the Burmont and Morgan trolley stop last week when about six teens came up to him.

Cincinnati Station Says 'No' to PC Reporting on Racially Motivated Crime. A remarkable thing happened in Cincinnati on Thursday [6/12/2014]. WKRC-TV, which has taken to calling itself "Local 12," did a story on the growing problem of black-on-white teen mob violence — and called it black-on-white teen mob violence. The event where the violence occurred took place two weeks earlier during Memorial Day weekend at the city's Taste of Cincinnati event downtown.

The Skid Row Bust That Netted 50 Crips. On Tuesday morning [6/17/2014], more than 1,300 LAPD and FBI officers arrested 50 people associated with the Five Deuce Broadway Gangster Crips, a street gang that claims control of the neighborhood just west of Skid Row and has long preyed on the more than 5,000 homeless and often mentally ill Angelenos who live on the streets there. "What makes the conduct of this gang particularly insidious is not only the violent crimes alleged," said United States Attorney André Birotte Jr., "but also the exploitation of Skid Row drug users who are already living in difficult circumstances."

Wilding for profit. The [New York] Post has always been skeptical of the belated claim by serial killer Matias Reyes claim that he alone raped jogger Trisha Meili. Under Mike Bloomberg, the city resisted intense political pressure to settle the five's lawsuit — with good reason. There remains strong evidence that, as famed anti-corruption prosecutor Michael Armstrong found in his review of the case, the five "more likely than not" took part in the jogger attack. There was overwhelming evidence they'd been in the park that night, engaged in a series of "wilding" assaults.

Man, 65, Beaten On Train Platform Succumbs To His Injuries. Los Angeles County Sheriff's detectives investigating a beating last week on a train platform are now investigating a homicide. The 65-year-old victim, now identified as LA resident John Whitmore, was standing on a Metro-Blue Line Imperial/Wilmington train platform on Friday afternoon June 13, when he was accosted and assaulted by two black females.

Five teens shot after midnight basketball tournament. Five teens were shot on Saturday evening, after a Memphis Gun Down event meant to keep teens and guns off the streets; Tony Coburn is in custody with five counts of attempted first-degree murder. Police say four other suspects ran from the scene.

Family Of Man Shot While Robbing A Waffle House Calls For Stricter Gun Laws. Dante Williams, 19, and his accomplice Jawan Craig walked into the Waffle House restaurant and "terrorized" the customers in 2012 intent on robbing it at gun point. Upon being approached by Williams, gun in hand, one of the patrons, Justin Harrison — who also had a concealed weapon on him but had an actual permit for it — shot Williams in self-defense, killing him "almost instantly," according to a Fox News affiliate in North Carolina.

Mother who survived savage McDonald's beating that was filmed by onlookers speaks out. A young New Jersey mother shown in a cell phone video being pummeled by a former co-worker has spoken out for the first time since the vicious attack, saying she was shocked that no one besides her 2-year-old son came to her rescue. Catherine Ferreira, 27, [...] suffered a broken nose and a mild concussion at the hands of Latia Harris, 25, who was captured on video throwing the petite woman to the ground like a rag doll and repeatedly punching her in the face.

Pack of girls beat woman in Brooklyn while bystanders record attack. A video has surfaced of a pack of girls beating up an unsuspecting woman in Brooklyn. The violent video was posted on Facebook earlier today [6/27/2014] \and has yet to be taken down. It shows the three girls walk up to a woman sitting on a bench in Prospect Park and start yelling at her. There are a group of boys and girls standing around, yelling, cursing and even cheering them on.

Robber shot dead after holdup at Los Angeles medical marijuana dispensary: police. The two men showed up to "Nature's Cure" around 12:15 p.m. Wednesday [6/25/2014] and tried to "engage" the guard when he opened fire on the thieves, KTLA-TV reported. One man was hit and ran from outside the pot shop to a nearby Westin Hotel, where he collapsed and died. [...] The robber's accomplice, a black man in a brown baseball cap, beige shirt and green pants, took off in a black BMW.

In Bourbon Street shooting, 6 out-of-state visitors injured. As the investigation into the Bourbon Street shooting continued Tuesday, police confirmed that six of the victims were visitors from out of state, including a woman from Australia. NOPD spokeswoman Hilal Williams sent out a press release shortly before 2:30 p.m., which included a change in what authorities had previously said — that six of the victims were women and four were men.

Police arrest McDonald's worker behind brutal beating of mother caught on video. The woman who police say viciously attacked a New Jersey mother in front of her two-year-old son has turned herself into authorities. Latia Harris, 25, surrendered to police on Monday night [6/30/2014] in relation to last week's brutal that was captured on video.

At Least 20 Shot in Chicago Since Fourth of July Evening. At least 20 people have been wounded in shootings across the city since the evening of Fourth of July. The shootings include an incident in which police shot and killed a suspected gang member in Portage Park and an incident in West Englewood in which suburban teenagers riding in a car may have been mistaken as gang members. Additionally, there was a Mayfair shooting in which a bullet fell on a man's head during what may have been a July 4th celebration.

Fourth of July weekend toll: 82 shot, 14 of them fatally, in Chicago. Responding officers kept cutting each other off on their radios as they reported other gunfire in the area late Sunday night and early Monday morning. Then the heavy equipment rolled in: A helicopter and SUVs packed with lockers of rifles. SWAT teams in green coveralls patrolled the streets with uniformed officers. It was just one of dozens of shooting scenes across Chicago over the long Fourth of July weekend. In all, at least 82 people were shot, 14 of them fatally, since Thursday afternoon when two woman were shot as they sat outside a two-flat within a block of Garfield Park.

Coroner: Haggins died of multiple gunshot wounds. [Scroll down] This robbery is the latest in a string of felony crimes committed by juveniles on Dayton's west side. Dayton police Sgt. Paul Saunders said they're set to nearly double the number of felony arrests involving juveniles this year. He said the incident at Step-N-Style is an example of the crime juveniles are committing escalating. While teenagers were more commonly known to commit less-violent crimes such as thefts and burglaries, Saunders said he's seeing more cases of juveniles using guns to steal cars and commit armed robberies.

Man Beaten to Death at Texas Amtrak Station. An unidentified man was killed Thursday night [7/3/2014] in San Antonio while waiting to board an Amtrak train to Houston. He was allegedly beaten to death by a large man who witnesses observed stating, "I just like killing someone." The victim was a white male in his mid-fifties who weighed about 150 pounds, according to an Amtrack [sic] employee who spoke with Breitbart Texas on condition of anonymity. The alleged assailant was described as a black male weighing approximately 350 pounds.

Paterson community in uproar over shooting that left 12-year-old girl brain-dead. Shootings occur almost nightly in the Fourth Ward, residents told The Record. Nearly half of the city's shootings from the first quarter of this year occurred in the Fourth Ward, where violence largely stems from drug and gang activity. A two-week sweep of the area surrounding Wrigley Park recently nabbed 170 people and netted 20 guns, 2,000 bags of heroin and $25,000 in cash.

11 Killed, At Least 60 Wounded In Citywide Shootings This Weekend. At least 11 people were killed and 60 others were wounded in shootings across Chicago over the long holiday weekend, from Thursday evening [7/3/2014] through early Monday morning. There were also six police-involved shootings, two of them involving teens who were killed. In the most recent fatal shooting, a 24-year-old man was shot in the back, right arm, chest, and eye while he was standing on the 8400 block of South Buffalo Avenue around 2:30 a.m. Monday.

The Editor says...
Here's a helpful tip: Don't stand on the street corner at 2:30 a.m.

Family Of Cop-Killer: If Officer Had Stayed In His Car, He Wouldn't Have Been Shot. The family of a man who used a semi-automatic rifle to kill an Indianapolis police officer Saturday night says it isn't fair that the alleged shooter — Major Davis, Jr. — should "keep being dragged through the mud." They also blamed the officer for not staying in his police car.

Man Beaten to Death at Amtrak Station. Michael Fobbs Jr., 21, is accused of beating a stranger to death with his bare hands. Police say it happened just after eleven Thursday night [7/3/2014] at the Amtrak station east of downtown. Witnesses claim they saw Fobbs pacing back and forth in the waiting area before suddenly attacking a 56-year-old man sitting on a bench.

Indictment in beating of Joe Deters' son. Because they are accused of hurling racial epithets at two white men before beating them, five black males were charged Tuesday [7/15/2014] with ethnic intimidation and other crimes in the May beating of Jonathan Deters, son of Hamilton County Prosecutor Joe Deters. "We believe the sole motivation (for the alleged attack) was because of the color of their skin," Assistant Ohio Attorney General Daniel "Woody" Breyer said of the incident. Witnesses told police, Breyer said, the five adults and one juvenile charged in Deters' beating said, "let's get the (epithet) white guy. And minutes later: "There's another one," when they spotted another white man whom police allege was beaten by the same five.

Atlanta police have warrant for suspect in June attack on bicyclist. Atlanta police issued a warrant Wednesday [7/16/2014] for an Atlanta man on attempted murder and other charges for the vehicular assault on a local bicyclist June 9. Police are seeking Joseph Alan Lewis, 19, as a suspect in the attack on Gregory T. Germani, 50, in the Morningside neighborhood. Lewis' girlfriend Shanelle Woodard, 22, also of Atlanta, was arrested Wednesday and charged with tampering with evidence.

Man beaten, robbed in park believes attack was racially motivated. In just a matter of weeks, a man beaten and robbed in an area park will come face to face with one of the men he says attacked him. According to police, the suspect was a juvenile at the time. But, the courts said Brejon Ford will now be tried as an adult when he goes to trial Sept. 9.

Want to 'kill white people,' says Jersey City man arrested trying to cut through funeral procession. A Jersey City man was arrested today when he tried to cut through the funeral procession of Jersey City Detective Melvin Santiago and began shouting that he wanted to kill "white people," officials said. Quamir Shaw, 22, of Garrison Avenue, made his first court appearance on the charges of aggravated assault on a police officer and resisting arrest after he was taken into custody at 10:40 a.m. on Kennedy Boulevard near Highland Avenue, officials said. Officials said that while he was in a holding cell, Shaw "stated numerous times he was going to get an AK-47 and kill," the officers.

Jersey City 19-year-old charged in murder of popular McNair grad. A Jersey City man charged in February with knocking a man unconscious and robbing him has now been charged with murdering a popular Jersey City man earlier this month, authorities said. Kirt Barrington, 19, of Linden Avenue, was arrested by Hudson County Prosecutor's Office homicide detectives yesterday [7/21/2014] in Hackensack at 5:30 p.m., Assistant Prosecutor Gene Rubino said this morning. A warrant had been issued for his arrest on July 19.

Man sues pizzeria for thwarting robbery. The first time Nigel Sykes tried to get money from the Seasons Pizza in Newport, he did it with a gun, forcing his way into the business through the back door. This time, Sykes is trying to get money from the pizzeria by suing the employees who tackled him and wrestled his gun away during the robbery. Sykes alleges assault in a federal civil complaint claiming the rough treatment was "unnecessary" and that as a result of the injuries he suffered during his attempted hold-up, he is due over $260,000.


Black racism

Related topics:
Jeremiah Wright and the TUCC.
Preferential treatment of the Black Panthers.




Non-Black America Experiences a Paradigm Shift. [O]n the whole, being black trumps everything else for blacks in America today. This is not true of any other ethnic or racial group. [...] The fact that blacks in America seem to sympathize with black thugs and don't publicly condemn them for their crimes leads non-blacks to one conclusion: for blacks, being black trumps all other legal, moral, and ethical considerations. If you aren't black, Black America sees you as its oppressor, and, by extension, its enemy. That's out in the bright sunlight now, and everyone is beginning to see it.

Social Degeneration. [Scroll down] Just to identify the rioters and looters as black is a radical departure, when mayors, police chiefs and the media in other cities report on these outbreaks of violence without mentioning the race of those who are doing these things. The Chicago Tribune even made excuses for failing to mention race when reporting on violent attacks by blacks on whites in Chicago. Such excuses might make sense if the same politicians and media talking heads were not constantly mentioning race when denouncing the fact that a disproportionate number of young black men are being sent to prison.

Social Degeneration Part 2. Although much of the media have their antennae out to pick up anything that might be construed as racism against blacks, they resolutely ignore even the most blatant racism by blacks against others. That includes a pattern of violent attacks on whites in public places in Chicago, Denver, New York, Milwaukee, Philadelphia, Los Angeles and Kansas City, as well as blacks in schools beating up Asian classmates — for years — in New York and Philadelphia. These attacks have been accompanied by explicitly racist statements by the attackers, so it is not a question of having to figure out what the motivation is.

Blacks must not remain silent about America's new racists. Tuskegee Institute records show that between the years 1880 and 1951, 3,437 blacks and 1,293 whites were lynched. ... Today all that has changed. Most racist assaults are committed by blacks. What's worse is there're blacks, still alive, who lived through the times of lynching, Jim Crow laws and open racism who remain silent in the face of it.

Blacks Have Separated Themselves from America. Whatever else Martin Luther King had on his agenda, his words of "judging the content of character, not the color on one's skin," resonated with Americans then and now. Those words summed up the entire perception I had of his struggle for equal rights. Those words are what I thought the struggle was about. I now realize that King's words don't represent the dream of the majority of blacks in America. I say that because those words are not what blacks have attempted to achieve. The goal post shifted from those words. King's marches and speeches have become a platform for angry blacks to achieve both reparations and an elevated status that's far more divisive than uniting.

Ramblings About Race. A white neighbor was stunned when I told him I was not voting for Barack Obama. He said, "You're black. He is black. I don't get it. What is wrong with you?" ... It was weird enough that I, a black, openly express love for America, but I actually expected the first African-American presidential candidate to go through the usual vetting process. Clearly, in their minds, Obama's skin color trumped everything.

The Editor says...
Yes it did, and it still does.

Is Black Support for Obama Racist? Black approval of President Obama is virtually unchanged at 91 percent since his inauguration. Now, unless we believe that 91 percent of blacks are truly as radical as Obama (and every indication is that blacks are far more conservative than he is), then what explains how Obama could have 91% approval, when even among Democrats as a whole, that number is lower at just 79 percent? Worse, black poverty is higher now than under President Bush. In fact, during the Bush years, black unemployment was actually lower than during Clinton's terms (you know, "the first black president"), at an average of 9 percent and certainly lower than the 16.3 percent it stands at today.

He's Obama! He's black! So, shut up! I received this message on Twitter from a black female, "Lloyd Marcus "F—— you!", in response to my opposition to Obama. This woman is obviously a non thinking racist who refuses to take an honest look at her black idol president. She has chosen to ignore Obama's long list of offenses of shredding the Constitution, governing against the will of the American people and using Chicago thug tactics. All this black woman knows is Obama is the chosen one and he is black. So shut up!

Replacing Black Power With Militant Islam. Even with the age of Obama dawning, for too many black Americans life is still fraught with the same old "us against them" sort of thinking. Where once militant blacks paraded in pseudo military garb claiming the mantle of "black power" and patterning themselves as "panthers" thrusting an angry fist into the air, now they cling to the separatist ideals of militant Islam.

The Racism of the Black Community. How can blacks truly approve of Obama more highly than they did when he was elected? The black unemployment rate is 15.6 percent today, as opposed to 11.9 percent in December 2008, over 50 percent higher than the white unemployment rate. There is no rhyme or reason to the continued support for a man who has driven the economy off the rails. But there is racism.

Hating Whitey Makes Unexpected Comeback. From anyone's pre-election calculations, an Obama presidency held the promise of relieving America's white citizens of their centuries-long guilt over slavery and civil-rights injustices. Such, however, has not been at all the case and hating whitey is making an unexpected comeback.

Obama's Popularity Falling -- But Not Among Blacks. On Monday, the daily presidential tracking poll for Rasmussen Reports showed that Barack Obama no longer has the job performance approval of a majority of Americans. His overall approval rating was down to an even 50 percent. Released on the same day was a demographic breakdown of that rating: only 41 percent of white Americans approve of the job he's doing, while 97 percent of blacks approve and 58 percent of all other ethnicities combined approve.

The Editor says...
I suspect the blacks will approve of him as long as he continues to be black, no matter what he does.

Conservative Blacks Choose Pigment Over Principle. What is it about this man that has thoughtful, conservative blacks like Armstrong Williams and JC Watts saying they might vote for him? It can't be his left of left politics that makes even Ted Kennedy look conservative. What thinking conservative could actually support a man who is going to raise taxes, increase the size of government, redistribute wealth, burden small businesses and the working class, and play nice with people who want to destroy us?

Saving us from the race card. The temptation for black conservatives who disagree with Mr. Obama on everything to vote for him anyway as a gesture of racial solidarity is understandable. A lot of Southern whites, thrilled that one of their own could make it to the White House for the first time since the Civil War, voted for Jimmy Carter. We've been trying to live down the shame of it since.

Black Republicans are unfairly marginalized, demonized and vilified. What is it about black Republicans that makes black Democrats cuss them, ignore them, or call them names? When I was a Democrat, I never paid much attention to the negativity hurled at black Republicans. That's probably because I never bought into the habit of gossiping about people or calling them names. My main focus had always been about people's deeds — whether positive or negative.

Racial Organizations: There are hundreds of organizations in the state and the country that are restricted to only black members. Are they not racists? … Although Huntsville, Alabama has a city Chamber of Commerce, at one time headed by a black person, blacks created their own Chamber — no whites allowed. Also, in Huntsville, blacks have their own telephone book — no white businesses allowed. And, there are a host of other all-black organizations, including their own Masonic Lodge. Isn't this racist?

Too White to Win? Democratic Rep. Stephen Cohen … has worked tirelessly on behalf of his constituents and even went so far as to sponsor an official Congressional apology for slavery that passed the House last week in an apparent effort by Democratic leaders to bolster his chances. But Mr. Cohen hasn't been welcomed by many black leaders. He made a clumsy attempt to join the Congressional Black Caucus this year, and was rebuffed.

If this isn't black racism in action, what is it?
Black caucus calls for more diversity in bailouts. Members of the Congressional Black Caucus on Monday criticized the lack of minority participation in the government's financial bailouts and suggested that President Barack Obama isn't doing much better than his predecessor to ensure diversity.

The Real Agenda of Black Liberation Theology. In an article in the Washington Post, unnamed ministers commented that black liberation theology "encourages a preacher to speak forcefully against the institutions of oppression…" And what might these institutions be? They are not specified. But it is safe to say that they are not the welfare state or the Democratic Party. Given that black liberation theology is a product of the dreary leftist politics of the twentieth century, the very vehicles employed by the left to advance statism certainly can't be the culprits. For the left, black liberation theology makes for close to a perfect faith. It is a political creed larded with religion. It serves not to reconcile and unite blacks with the larger cultural, but to keep them separate.

Afrocentrism Is the Problem. At its heart, Afrocentrism is based on a profoundly anti-white and paranoid ideology. First, it asserts that the entire foundation of Western Civilization was stolen by the Greeks from Egypt, which, Afrocentrics claim, was ruled by ancient blacks. Second, it claims that whites are deeply inferior. Afrocentric texts often describe whites as "ice people," whose defective melanin, or skin pigmentation, makes them susceptible to a host of mental and physical deficiencies, including sexual deviancy. And, finally, Afrocentrism encourages blacks to fear whites.

Judge Orders Whites Out Of Atlanta Court. Judge Marvin Arrington insists he's not a racist; despite ordering white lawyers out of his courtroom on Thursday. The Fulton County Superior Court judge said he was just fed up seeing a parade of young black defendants in his courtroom. … The judge said the majority of people who appear before him accused of crimes such as murder, rape and robbery are black and he wanted to do something about it, one on one.

Georgia Judge: Blacks-Only Talk Was Bad Idea. A black judge says he was wrong to evict whites from his courtroom so he could deliver a stern lecture to black defendants, but says he meant no harm. "I wanted to have a fireside chat," Fulton Superior Court Judge Marvin Arrington said Thursday. "And my grandmother said years ago that if you're going to fuss at black people, you don't need to do it in front of white people."

The Editor says...
I have no objection to the judge's actions, if they are effective in reducing crime and convincing the defendants of the overall fairness of the judicial process. On the other hand, the judge seems to have imposed his own flavor of racial segregation -- something that has been opposed by black "leaders" for decades, unless it works to their advantage.

Tancredo: Abolish Black, Hispanic Caucuses. White House hopeful Tom Tancredo said Thursday [1/25/2007] the existence of the Congressional Black Caucus and other race-based groups of lawmakers amounts to segregation and should be abolished. … "If we are serious about achieving the goal of a colorblind society, Congress should lead by example and end these divisive, race-based caucuses," said Tancredo...

"I pledge allegience to my black people". One of the nation's fastest-rising poetry prodigies is a 7-year-old New York girl whose poisonous demagogic advocacy of black separatism makes Al Sharpton look like Mister Rogers. … Autum Ashante' is the natural offspring of militant multiculturalism and government-sanctioned identity politics. We reap what we sow.

Black racism: When we finally stop patronizing loafers, louts and criminals, stop encouraging people who were born 120 years after the Emancipation Proclamation, 20 years after the passage of the Civil Rights Act, to pretend that their sloth and ignorance are the fault of whites, only then will blacks come one step closer to having that colorblind society they claim they want.

Whites-only groups are rare, but blacks-only groups are proliferating.
Getting better. Get ready for the 10th anniversary of the 'Million Man March' in October, and get ready to endure a litany of complaints about the state of race relations in this country.

Not black enough: Alternately, students at Bowdoin College in Brunswick, Maine, are lifting up and lashing back at a recent guest speaker invited by the school's College Republicans club. The group invited Vernon Robinson, a University of North Carolina professor, to address students in honor of Black History Month.

Black Racism at Work: For nearly half a century, predominately white America has been trying to atone for past wrongs done to black people. However, nothing seems to be enough. The more society adapts to their demands, the more the demands increase. And, the demands have gone well beyond that which is justified.

Kill the white man? Writing in the current edition of Harvard Magazine, Noel Ignatiev, a Harvard fellow and Marxist activist, argues that "abolishing the white race" (give or take a few murders, of course) "is desirable" because it would rectify the overt discrimination of the past.

Inter-Racial Crime: The Dirty Little Secret.



"I Hit This White Man" Giggler Charged With Murder: A motorist who allegedly hit a homeless man and left him impaled in her windshield until he died — and who later laughed about her actions — was indicted for murder [4/25/2002]. There was no explanation why she was not charged with a "hate crime."

Update:
Motorist Guilty in Windshield Murder: A fact that many media are refusing to report about the case: Mallard, who is black, giggled as she told friends several months later, "I hit this white man." She has never, however, been charged with a "hate crime."

The Strange Phenomenon of Black Anti-Semitism: Anti-Semitism in America, according to a survey commissioned by the Anti-Defamation League, stands at an all-time low. But alarmingly, the survey found blacks three to four times more likely than non-blacks to be anti-Semitic. Given the tremendous historical Jewish support for blacks, this insensitivity toward Jews and Israel suggests ignorance and lack of gratitude.

Panthers. Racial prejudice is ugly. I never knew how ugly until I was on the receiving end.

Whites File Bias Suit Against Black College: Five white professors in Salisbury, N.C., have filed a lawsuit against Livingstone College, claiming the private college discriminated against them because of the color of their skin.

Denny's victory may show the way for other companies: One of the biggest victims of anti-white racism is the restaurant chain Denny's, which since 1994 has had to shell out more than $50 million in settlement costs and legal fees to assuage the alleged heartbreak various non-white patrons experienced when they supposedly found themselves denied service because of their race. Now, after years of groveling before the idols of Afro-racism, Denny's is fighting back — and winning. There may be a lesson here for much of corporate America.

Fired white worker files discrimination suit against E.C. health center. Taunts of "snowflake" and "honky" and KKK references peppered Lois Sinder's days working in an all-black department at an East Chicago health center between 2005 and 2009, according to court records. Sinder was the only white employee in the Lake County Nursing and Rehabilitation Center's dietitian department, states a federal civil suit filed last week, and her black co-workers did not let her forget it.

Back to the 1950s:
Africentric school to open in 2009. After years of debate that has divided communities of every colour, Toronto's public school board voted tonight to open an Africentric alternative school in September 2009. The junior kindergarten to Grade 5 school — believed to be a first in Canada — is expected to help tackle a 40 percent dropout rate among black students.

Rev. Jackson would condone flash mob attacks. Many have asked what inspired this spate of black-on-white mob attacks. The most obvious answer is the one we don't want to mention. Plain, simple racism. I don't know what else to call it when mobs of blacks single out whites to attack. But there still exists this notion that blacks can't be racists. Racism requires power, the thinking goes. Since blacks have no power, they can't be racists.

MSNBC Gives a Violent Racist a TV Show. Of course MSNBC would never give a white racist like David Duke his own show. But they have no problem giving one to Al Sharpton.

New Divisiveness From The Racists in the Congressional Black Caucus. The most recent stop for this group of African American racial agitators was Miami Beach. The night before the jobs fair they held a town hall so they could talk politics. Rather than discuss politics this group set up on their objective widen the racial divide in America. ... All of these racial arsonists should be ashamed of themselves.

Maxine Waters Needs a Mirror. Queen of the poverty pimps Maxine Waters must so wish that Obama were a whole white man. Democrat or not, if Obama were white, Waters would be heaping all the blame on those frail little shoulders of his. But because Obama has been presented as "authentically black," Waters was recently forced to stop short of condemning him. Instead, she unleashed on the closest white item she could find: the Tea Party. Anything to keep her ignorant followers from actually thinking about where to place the blame.

The Editor apologizes for the profanity in this headline.
Kerosene Maxine to Tea Party: "Go to Hell!". [Representative Maxine] Waters once said of the then-sitting president: "I would like to ... say ... very clearly that I believe George (H.W.) Bush is a racist." She routinely refers to the Republican Party as "the enemy." She also referred to Republican former Los Angeles Mayor Richard Riordan as a "plantation owner." She called the 1992 Los Angeles riots a "rebellion," and bellowed, "No justice, no peace!" She defended looters: "There were mothers who took this as an opportunity to take some milk, to take some bread, to take some shoes. Maybe they shouldn't have done it, but the atmosphere was such that they did it. They are not crooks."

Sorry, Your "Race Card" is Expired, Over-Limit, and Declined? This week I heard yet another black liberal caller to a conservative radio program who felt "offended" that there was so much opposition to "America's First Black President." As I listened, I began to think just how racist the caller's line of thinking was! He was defending the President based SOLEY [sic] on his race. Irrespective of the President's policies, plan, purpose or performance — he was deemed unassailable because he is black. But is he?

Beating the Racism Card. [The 2012] campaign is going to be about one thing: racism. No matter what else happens, racism will be the theme. ... This is the essence of totalitarian thought control: you cannot win, you cannot remain aloof, you cannot get out of the game. That being the case, the game board must be broken, the pieces scattered, and the rules burnt.

Reverse Racism. Those people of good will who want to replace the racism of the past with a post-racial society have too often overlooked the fact that there are others who instead want to put racism under new management, to have reverse discrimination as racial payback for past injustices. Attorney General Eric Holder became a key figure epitomizing the view that government's role in racial matters was not to be an impartial dispenser of equal justice for all, but to be a racial partisan and an organ of racial payback.

Can Obama hold on to African American voters in 2012? For several months, radio host Tom Joyner has pleaded with his 8 million listeners to get in line behind the first black president. "Stick together, black people," says Joyner, whose R&B morning show reaches one in four African American adults. ... Even as Obama and his campaign play down the suggestion that support among African Americans is flagging, a cadre of powerful allies is snapping back at critics in the black community and making explicit appeals for racial loyalty.

The Editor says...
Racial loyalty? "Stick together, black people"? Is that is not blatant racism, what is it?

WaPo Finds Blacks Demanding Racial (Racist?) Unity Behind Obama. The front page of The Washington Post carried a story Tuesday [10/18/2011] on black liberals demanding all blacks stand with President Obama — just because he's black. ... On the front page, Thompson quoted from radio host Tom Joyner on his BlackAmericaWeb.com blog. "Let's not even deal with the facts right now. Let's deal with just our blackness and pride — and loyalty. We have the chance to re-elect the first African-American president, and that's what we ought to be doing. And I'm not afraid or ashamed to say that as black people, we should do it because he's a black man."

Vote For Obama Because He's Black. At the 2004 Democratic National Convention in Boston, Sen. Barack Obama said, "...There is not a black America and a white America and Latino America and Asian America — there is the United States of America." Those were welcome and commendable words. Unfortunately, they appear to be only words. Since then, Obama has divided us along race and class lines more than any modern president. Some of his strongest, high-profile supporters in the black community are now saying that Obama's race, alone, should be enough for black voters to vote for his re-election.

CBC chairman: African Americans would 'march on the White House' if Obama wasn't black. Rep. Emanueal Cleaver — the chairman of the Congressional Black Caucus — told The Daily Caller that African Americans won't "march on the White House" over the high unemployment rate in the black community because President Barack Obama is black.

Samuel L. Jackson Drops the Act: Admits He Only Voted for Obama because of Race. Jackson admitted that he only voted for Barack Obama because of the president's skin color. Said the actor, "I voted for Barack because he was black. 'Cuz that's why other folks vote for other people — because they look like them. That's American politics, pure and simple. [Obama's] message didn't mean **** to me." Well, Jackson certainly isn't alone in his ignoring of Obama's message. ... 96 percent of blacks supported Obama in 2008.

Samuel L. Jackson: I Voted for Obama because he's black. Barack Obama's politics meant nothing to Samuel L. Jackson because the "Pulp Fiction" star only voted for the president for one reason and one reason only ... because he's black.

'I Voted for Barack Because He Was Black'. It seems actor Samuel L. Jackson didn't care about either the hope or the change Sen. Barack Obama promised back in 2008. The young Chicago politician shared the same skin color as Jackson, and that was enough.

Actor Samuel L. Jackson — Vote Your Race. Jackson insists he just does what every voter does. If they did, Obama could not have been elected U.S. senator from Illinois (15 percent of the state is black, 72 percent white) or the president of the United States (13 percent black, 72 percent white). ... Polls repeatedly show that only a small percentage of Americans refuse for vote for a black person.

Republicans need to stand up against Waters racist rhetoric. At the heart of this tediously ongoing investigation is that Maxine Waters (D-CA) is an old school house bully and if you are going question her, get ready to fight. Feeding on emotionally energized behavior during the 2012 California Democratic State Convention, Waters was calling House Speaker John Boehner and House Majority Leader Eric Cantor "demons" whom she doesn't want to see "in our hall, on our screens." The Republicans will always be called demons and devils until they learn how to fight back with logic and solution to urban social subsidized issues versus the emotional rhetoric coming from democrat leaders like Waters who has a method to her oratory madness.

Obama's Marxist Faith Is Legitimate Campaign Issue. BLT [Black Liberation Theology], in fact, is the Rosetta stone for understanding Obama and his agenda, decoding his rhetoric, and divining where he plans to take this country. Here is a primer:
• The doctrine is an explicitly Marxist interpretation of the Bible whose aim is to stir up class and race hatred.
• BLT combines the teachings of Christ with those of Marx to justify the overthrow of the capitalist system.
• It does not believe the Bible is inerrant. Hence, it can be, as Obama put it, "modified to accommodate modern life."
• BLT ignores the epistles of Paul and the other apostles since they accept the institution of slavery that existed at the time.
• As professor James Cone, the father of BLT, once explained it, "Black theology seeks to prepare all nonwhites for revolutionary action."

Obama Plays Race Card, Calls on Churches to Support Campaign. Imagine if Ron Paul announced a national campaign called 'Whites for Ron Paul' — he'd be vilified as a racist. And yet Barack Obama has done the equivalent of precisely that with his launch of 'African Americans for Obama'.

Derrick Bell: The Jeremiah Wright Of Harvard. Obama's days at Harvard have been shrouded in secrecy. But a new video lifts a corner of the veil, revealing his creepy embrace of the "Jeremiah Wright of academia." It turns out his favorite law professor was the late Derrick Bell, a black radical who taught classes trashing the Constitution as racist. He liked Bell so much he led a law school "strike" in support of him in 1991, when the professor went on unpaid leave to protest the lack of affirmative-action hiring on campus.

Reaching Critical Mass. Is CRT oriented around some notion of white dominance or white supremacy? I think we can count on the NY Times to present critical race theory in as gauzy and flattering a focus as possible, so let's see how they described it over the years.

The Racist Ravings of Derrick Bell. Derrick Bell is best known as the founding father of Critical Race Theory, an academic discipline which maintains that society is divided along racial lines into (white) oppressors and (black) victims, similar to the way Marxism frames the oppressor/victim dichotomy along class lines. Critical Race Theory contends that America is permanently racist to its core, and that consequently its legal structures are, by definition, racist and invalid. A logical derivative of this premise, according to Critical Race Theory, is that the members of "oppressed" racial groups are entitled — in fact obligated — to determine for themselves which laws and traditions have merit and are worth observing. Such a perspective's implications for the ability of civil society to function at all, are nothing short of monumental.

Was Boy in K.C. Fire Attack a Victim of His School's Racist Teaching? The boy raised his hand, eager to answer the question. "What would you know about it?" exclaimed the teacher dismissively. "You're not our race." This was not dialogue from a Hollywood movie. According to a woman named Melissa Coon, it was what a teacher at East High School in Kansas City told her 13-year-old son, Allen, when he attempted to answer a question during Black History Month. Coon identifies that teacher as Mrs. Karla Dorsey, who is black; Allen is white.

Chicago Bears' Lovie Smith Calls on Blacks to Back Obama. "Our future's looking bright, because I trust the man who's leading us. And that man is Barack Obama," Smith, 53, says in a new Obama campaign Web video to promote the group African-Americans for Obama. "I have the president's back, and it's up to us as African-Americans to show that we have his back also." Ninety-six percent of black voters in the latest ABC News-Washington Post poll say they approve of the way Obama has handled his job, while just 3 percent do not.

How Derrick Bell Beat Martin Luther King Jr.: "History proves that the white man is a devil," said Malcolm X. "Whites are liars," said Jeremiah Wright. "I love to harass white folks," said Derrick Bell. "This is what you deserve. You get what you deserve, white boy," a black teenager said to Allen Coon, a white student on the porch of his own home, as he set him on fire. ... While white racism continues to decline year by year, black racism has advanced to the White House and into the hearts and minds of millions. It leads to everything from discrimination to murder.

'The Blacks: A Clown Show'. [Scroll down] The play comes back to me now as do Genet's words, because in my recollection of that production and rereading of Genet's work half a century later it occurs to me that his play is a forerunner of Critical Race Theory, a racialist concept at total odds with American principles and ideals, a concept unfortunately at the very heart of our President and his administration. At its very core CRT is hatred and from it Obama's ideas are born.

Discover the Networks: The late Derrick Albert Bell, Jr.. [Scroll down] In 1994 Bell was quoted as having predicted that eventually America would witness the rise of charismatic new black leaders who, in the interests of retributive racial justice, would "urge that instead of [African Americans] killing each other, they should go out in gangs and kill a whole lot of white people." ... Bell endorsed a journal called Race Traitor, whose stated aim is "to abolish the white race, which means no more and no less than abolishing the privileges of the white skin." Moreover, the publication's guiding principle is: "Treason to whiteness is loyalty to humanity."

LeDuff to Minister Malik Shabazz: Burn Down Detroit, Are You Out of Your Mind? Minister Malik Shabazz made headlines when he made this impassioned remark at a Detroit financial review meeting on Monday [3/26/2012]: "This is white supremacy, and we will fight you. Before you can take over our city, we will burn it down first." Shabazz is upset that Governor Rick Snyder will appoint an emergency manager to run the city of Detroit if it cannot find a way to restructure the budget.

Allen West: The New Black Panther bounty on Zimmerman is a hate crime. Rep. Allen West, who has previously decried the police "mishandling" of the Trayvon Martin shooting as an "outrage" and called for a Justice Department investigation, on Wednesday found himself wondering why that very same Justice Department isn't treating the New Black Panther Party's bounty for the man who shot Martin as a "hate crime."

Van Jones: Even a gay Obama won't lose black vote. During a segment [on MSNBC] on gay marriage, anchor Alex Witt asked Jones if Obama, "would lose some of the black vote if he did come out in support of gay marriage." "I think if he came out as gay, he wouldn't lose the black vote," Jones said with a chuckle. "President Obama is not going to lose the black vote no matter what he does."

Six youths 'beat man, 78, in alleged racial revenge attack'. A 78-year-old white man says he was savagely beaten by a gang of six youths shouting: 'This is for Trayvon. Kill that white.' Six youngsters aged between 11 and 17, both white and black, allegedly launched a merciless attack on Dallas Watts in East Toledo, Ohio. ... Detectives have said they are not treating the case as a hate crime.

Marion Barry's racist remarks. Over the years, Marion Barry has said and done so many questionable things that the city whose politics he long dominated has become inured to his behavior. But his racist remarks this week about Asian Americans — and his oblivious response — are too ugly to ignore.

Marion Barry and the Left's Hatred of Asian Entrepreneurs. The disgraced former mayor of Washington, D.C., who was caught on tape in a 1987 crack cocaine sting, made an even bigger disgrace of himself and his city on Tuesday [4/3/2012]. Celebrating a Democratic primary victory, the city councilman attacked small businesses owned by "Asians" in his district.

The Democratic Party should shun the racist politics of DC crackpot Marion Barry. Former Washington DC Mayor, Marion Barry, is back in the news. He won a Democratic primary to seek re-election as a DC councilman last week and, in the middle of an incoherent victory speech, the 76-year old suddenly went a bit racist. "We've got to do something about these Asians coming in, opening up businesses — those dirty shops," he said. "They ought to go. I'll just say that right now, you know. But we need African-American businesspeople to be able to take their places, too."

A Death Bounty and an Attorney General. One can be forgiven for wondering what level of New Black Panther Party (NBPP) thuggery is sufficient to warrant the attention of Florida law enforcement officials or, seemingly, the most myopic U.S. attorney general to ever head the Department of Justice. On March 24th, New Black Panther Party leader Mikhail Muhammad offered a $10,000 bounty for the "capture" of Zimmerman and publicly stated that Zimmerman "should be fearful for his life." Fellow Panthers distributed wanted posters calling Zimmerman a "child killer" and offering that bounty "dead or alive." And in a mind-boggling rant during a conference call, Michelle Williams, Chief of Staff for the Tampa, FL branch of the NBPP, told Party members to get ready for a "race war."

A Psychologist Analyzes The President. Today the Democrats have placed all their hopes in Obama. But this man could put an end to their party. The great majority of blacks voted for Obama. Only a fool does not know that their support for him is racially driven. This is racism, pure and simple. The downside of this is that if Obama turns out to be the disaster I predict, he will cause widespread resentment among the whites. The blacks are unlikely to give up their support of their man. Cultic mentality is pernicious and unrelenting. They will dig their heads deeper in the sand and blame Obama's detractors of racism.

Where are the "separation of church and state" people now?
Black power: NAACP seeks 1 million new teen voters. If the NAACP, black colleges and African-American churches get their way, there will be an additional 1 million black 18-year-olds flooding the nation's voting stations to presumably vote for President Obama in the fall. The civil rights group on Wednesday [5/9/2012] announced a 50-state initiative with the 7.5 million member National Baptist Convention, historically-black Clark-Atlanta University and radio personality Tom Joyner to register voters who turn 18 by Election Day.

Fox News' Decision Not To Fire Jehmu Greene Angers The Right. As you may recall, on last Thursday's [5/3/2012] edition of America Live, Fox News contributor Jehmu Greene called the Daily Caller co-founder Tucker Carlson a "bow-tying white boy" in response to Carlson's criticism of Elizabeth Warren's qualifications. Many outraged conservatives have called upon Fox to fire Greene.

Fox News Won't Fire Black Racist Commentator. Fox News contributor Jehmu Greene, a black feminist, says on her Twitter page that "love can build a bridge." But racism, not love, was on display last Thursday when she called conservative Tucker Carlson a "bow-tying white boy." Greene, a Democratic Party operative who was the national director of Project Vote, a group with close ties to the corrupt ACORN organization, has not offered a public apology. There is no indication that her financial relationship with Fox News has suffered as a result of the racial outburst.

DOJ's Favorite New Black Panther Wants to Hang 'Crackers' From Nooses. Do you remember King Samir Shabazz of the New Black Panthers, the one who the Department of Justice allowed off the hook on voter intimidation charges after the 2008 election? Well, he's back in the news, spouting anti-white rhetoric and talking about beating on and killing "crackers."

The Real Racists. Just a few weeks ago, 56 percent of Maryland black voters were getting ready to cast their ballot against a referendum granting approval to same-sex marriage. Only 39 percent of blacks supported same-sex marriage. Then President Obama announced his support for same-sex marriage. Now, polls show that suddenly, 55 percent of blacks plan to vote for same-sex marriage in Maryland, with only 36 percent opposing. And that statistic holds true nationally. Suddenly, nearly 60 percent of black Americans across the country support same-sex marriage. [...] Only one thing has changed. Barack Obama has spoken. And Barack Obama is black.

Gadhafi is hero to NY House candidate. Charles Barron calls Robert Mugabe and Moammar Gadhafi his "heroes." He compared Israel's government to the Nazis, says he won't salute the American flag, and once offered that he wanted to "slap" the nearest white person. And come January, he could be central Brooklyn's newest congressman, if voters here give him an upset victory in the Democratic primary on June 26. Barron, a longtime New York City Councilman, is running for the congressional seat being vacated by the retiring Rep. Edolphus Towns (D), a 30-year House veteran whom Barron tried to unseat in 2006 and again earlier this year.

In New York City, the U.F.T. Betrays Al Shanker's Legacy. [Many establishment] Democrats see a [Charles] Barron victory as an embarrassment to their party and city, undermining the clout of their congressional delegation. They are terrified about the possibility that Barron will win the primary, and hence win a seat in Congress in a district that always votes Democratic. The problem, however, is that New York City's major trade unions, led by AFSCME, have endorsed Barron and are actively supporting him. DC-37 represents 25,000 Department of Education employees and backs Barron because of his opposition to charter schools, which the union opposes.

The Barron Democrats. Orthodox Jews in the largely Hasidic enclave of Brooklyn's Borough Park neighborhood could soon find themselves represented in Congress by a politician who routinely uses anti-Semitic rhetoric and believes that Israel should never have been created. The possibility that New York City Councilman Charles Barron could clinch the Democratic nomination today in a race against Assemblyman Hakeem Jeffries has put Jewish leaders of all stripes on high alert — and could set the tone for how Jewish voters view the Democratic Party going forward.

Was Obama's socialist party racialist? The socialist-leaning New Party required that 40 percent of its own leadership groups must consist of "people of color," according to correspondence uncovered by WND from an early New Party leader. The New Party was a 1990s party that sought to elect members to public office with the aim of moving the Democratic Party far leftward to ultimately form a new political party with a socialist agenda. In 2008, Barack Obama's campaign denied the president was ever a member amid reports, including from WND, citing the New Party's own literature listing Obama as a member. Information uncovered in recent weeks, including Obama's signed contract with the New Party, further establishes the president's membership with the controversial organization.

Pandering to the Black Voter. According to DeWayne Wickham, who writes for USA Today, on June 23, 2012, Valerie Jarrett, senior adviser to President Obama, met with a small group of black columnists at the National Association of Black Journalists and "decried Republican obstructionism that has kept Obama from getting more done."

Morgan Freeman: No Black President For U.S. Yet. "First thing that always pops into my head regarding our president is that all of the people who are setting up this barrier for him ... they just conveniently forget that Barack had a mama, and she was white — very white American, Kansas, middle of America," Freeman said. "There was no argument about who he is or what he is. America's first black president hasn't arisen yet. He's not America's first black president — he's America's first mixed-race president."

Morgan Freeman: Obama Isn't America's First Black President. Upon his inauguration, many Americans took pride in their country having elected their first black president, seeing it as a tangible sign of progress in overcoming the country's racial history. Enter Morgan Freeman, here to burst that bubble and inform us that America has yet to see its first black president.

Hill Poll: Most Feel Obama Has Changed The Country For The Worse. I'm shocked, shocked I tell you, that most think Obama is ruining the country. And I bet some people are surprised by this poll. They might have listened when Obama said that he wanted to "fundamentally transform America" during his hopey changey run for the White House. And they might have paid attention to his background, policy offerings, and political experience. Amazingly, 92% of Blacks feel that the country has changed for the better, which is strange considering the unemployment rate for Blacks is 14.4%.

Liberal group calls Romney too white for blacks to like. In advance of Republican presidential candidate Mitt Romney's speech Wednesday to the NAACP, a liberal group headed by a former New York Times reporter and ex-Media Matters executive have produced a video "satire" that claims blacks don't like Romney, who they dub so white he makes "Wonder Bread look like pumpernickel."

Mitt Romney was booed for this: Do you agree? No one expected an ovation from the largely Democrat organization, since Romney stuck to his free enterprise platform to replace ineffective government programs. Few, however, expected outright boos for their invited guest. We're publishing here some selective excerpts from Romney's remarks. See if you think the former governor deserved the vocal derision.

8 Ways Blacks Perpetuate Racism and the Only Way to Thwart It. All things considered, blacks and the civil rights culture surrounding them are the most open and prolific purveyors of racism in America. This is an ironic travesty which spits upon the graves of history's abolitionists and offends all who are committed to a dream of equality under the law and goodwill among men. Surely, such a claim is provocative. Unfortunately, it is also demonstrable.

Paterson Aides Said to Have Sought Race-Based Changes to Security Detail in '08. Aides to New York's first African-American governor wanted a police entourage that looked more like their boss, so they made an unusual request to the State Police: Replace at least 10 white troopers assigned to protect Gov. David A. Paterson with black or Latino officers.

How to Secure the Black Vote for Barack Obama. Never give black people logical reasons to vote for Obama because we have none. [...] We must focus on the message of professional "flyjock" Tom Joyner (who should be your unofficial campaign co-chairman) who said: "Let's not even deal with facts right now. Let's deal with our blackness and pride — and loyalty. We have a chance to reelect the first African American president ... And I'm not afraid or ashamed to say that as black people, we should do it because he's a black man."

New Black Panthers to RNC: Our 'Feet Will Be On Your [MF] Necks'. Michelle Williams, New Black Panthers chief of staff threatens the upcoming RNC convention in Tampa, Florida. [Video clip]

Great News: New Black Panther Party Members Plan to Put Their Boots on the Necks of Republicans. Going to the Republican National Convention in Tampa at the end of August? If so, watch out for New Black Panthers who plan to put their boots on your neck.

New Black Panther's Graphic Charge: We Need to Kill White Babies by Bombing Nurseries. "Under siege." That's how New Black Panther Party Chief of Staff Michelle Williams describes the black community in Tampa, FL, site of the GOP convention. And you can bet she blames Republicans, whites, and "tea baggers." [...] But the most shocking comments come in a separate piece of audio posted on the site. In it, the host says blacks are "too scared" to drag whites out of their houses, skin them, hang them in trees, drag them behind trucks, and pour acid on them.

It is always those on the political left who are preoccupied with skin color.
Black journalists protest debate exclusion. A group of black journalists says it is disappointed in the lack of ethnic diversity among the people chosen to moderate presidential debates.

Obama versus Jesus: Black Christians Must Decide. A poll claims that Romney will receive zero percent of the black vote. Well, if the poll proves correct, it means that a vast majority of black voters are ignorant of the truth... or else they're racist. Black Christians who vote for Obama knowing his crimes against Christianity and biblical principles have chosen to worship the idol of racial loyalty over their discipleship to Jesus Christ. Pure and simple. [...] Incredibly, some blacks have completely forsaken their Christianity for Obama. A fellow PK (preacher's kid) said her parents recently changed their stance on same-sex marriage in support of their black president. I find this remarkable.

Where Does That Thirty Percent Come From? A technician at my wife's office has made it well known up and down the corridors that she would file a "racial discrimination" suit if she were ever laid off for any reason. Most offices have one of these.

Obama's Legacy on Black America. Will Obama leave blacks striving for the highest ideals, as did MLK? Unfortunately not. Obama will leave office with blacks behaving at their monolithic worst: voting skin-color over innocent life, national security, the economy, and even their once-sacred relationship with Christ.

Jay-Z: I Support Obama Because He's the First Black President. Hip hop star Jay-Z is about as one percent as it gets, to use Occupy Wall Street negative lingo for the super rich. The rapper also favors smaller government. So, shouldn't that mean he's voting for Mitt Romney Nov. 6?

Congressional Black Caucus Honors Eric Holder. Attorney General Eric Holder was awarded the Congressional Black Caucus's Chair Award last Saturday [9/22/2012 ?] at the Phoenix Awards Dinner in Washington, DC. In her keynote speech for the event, First Lady Michelle Obama gushed over Mr. Holder's "outstanding contributions to our nation."

The Editor says...
Apparently the Congressional Black Caucus doesn't care about any of this.

Destructive Passion. [Scroll down] Another constant feature of [Cornel] West's diatribes is racial animosity and thinly veiled racist attacks on whites. He has a fondness for race-baiters like Jeremiah Wright, pastor of Barack Obama's home church, and James Cone, the founder of "black theology," the tenor of whose thought can be seen in statements like "Theologically, Malcolm X was not far wrong when he called the white man 'the devil,' and in calls for 'the destruction of whiteness, which is the source of human misery in the world.'"

What If Obama Were White? Rep. Emanuel Cleaver, D-Mo., the chairman of the Congressional Black Caucus, said last year, "If (former President) Bill Clinton had been in the White House and had failed to address this problem, we probably would be marching on the White House." The problem to which Cleaver refers is black unemployment. At the beginning of the Obama administration, 12.7 percent of black adults seeking work were unemployed. Black unemployment is now 14.1 percent. [...] The head of the Congressional Black Caucus concedes that blacks suffer from a level of unemployment that would be unacceptable under a white president. But because of Obama's race, Cleaver refuses to criticize him.

Black America: The Klan is right. Let me state unequivocally: If you are a black person, and you are voting for Obama solely "because he is black," then you are by default placing your imprimatur on racism. You are, albeit unknowingly, saying the Klan is right to demand a vote for a candidate solely "because he is white." Many polls, if they are to be believed (and some are), show that blacks intend to once again vote overwhelmingly for Barack Obama. If Barack Hussein Obama deserves 95-97 percent of the black vote solely "because he is black," then Willard Mitt Romney deserves 95-97 percent of the white vote solely "because he is white."

African American Studies Professor Names 'The 15 Most Overrated White People,' Includes Reagan. Can you imagine the outrage if a white commentator wrote an article with the headline "The 15 Most Overrated Black People?" On Monday [10/8/2012], African American Studies professor and political commentator Marc Lamont Hill published a piece at the Huffington Post entitled "The 15 Most Overrated White People." To honor Columbus Day, Hill began his piece by bashing one of our nation's most beloved figures.

'The Dozen Most Overrated Black People'. [Scroll down] Given that [Associate Professor Marc Lamont] Hill works at Columbia's Teachers College, where he instructs those who in turn instruct our children, it's no wonder that our nation's public education system is a disaster, particularly so for black children. Hill is a self-proclaimed expert on things that many people (such as parents of school-age children of all races) would think don't matter. He is a man who includes William Shakespeare in a list of "overrated white people" but who can't count names in his own article.

Dr. Marc Lamont Hill and 'Overrated White People'. White privilege consists of being white. Black privilege consists of denouncing white people in ways that would be considered racist if the shoe were on the other foot. Dr. Marc Lamont Hill, a man whose website modestly describes him as a "Professor, Author, Speaker, Public Intellectual," has assembled a list of what he believes are the 15 most overrated white people to prove the point. Any college faculty member who tried assembling a list of the 15 most overrated black people would soon be the target of the most overzealous witch-hunt since Salem.

Black Christians: Shame! Shame! Shame! Increasingly, I am hearing the following mantra/narrative from black Christians: "I'm voting for Obama because he is the lesser of the two evils." This is an extremely weak attempt to justify their racism and loyalty to The Black Code (never side with a white against a fellow black). [...] Indisputable facts are available everywhere exposing Obama to be the most anti-Christian president in U.S. history. I know some of you black Christians will continue to stick your heads in the sand, refusing to accept the truth. Woe be unto you. Racism is evil, whether it comes from whites or from blacks blindly worshiping Obama because of his skin color.

Black-on-Black Racism During the Presidential Campaign. While it is reported that 94% or more of African-Americans support President Barack Obama over Mitt Romney in the upcoming national presidential election, the rarely-spoken question is: Are many African-Americans only voting for Obama because he's black? [...] Contrary to the 2008 criticism of white prejudice which said that some whites weren't voting for Obama because he's black, social media shows that the reverse is quite true in that blacks' biggest reason for casting their vote for Obama is because he's black.

Police say Winnsboro attack fabricated. Police announced Tuesday [10/23/2012] they believe Sharmeka Moffitt fabricated a story about being attacked and burned Sunday night at Civitan Park in Winnsboro by three men who wrote "KKK" on the hood of her car, and instead set herself afire.

The Editor says...
This is indeed a hate crime, in my estimation. This woman evidently hates white men so much that she was willing to vandalize her own car and set herself on fire in order to blame imaginary racist white men for it. That's a lot of hate.

Police: Burn wounds self-inflicted. Police in Winnsboro are announing at a news conference that they believe Sharmeka Moffitt fabricated a story about being attacked and burned Sunday night at Civitan Park in Winnsboro by three men who wrote "KKK" on the hood of her car.

Pastor who prayed at Obama's inauguration says all white people will go to hell. Pastor Joseph Lowery, a civil rights movement hero who delivered the benediction at President Obama's inauguration, reportedly said that he is shocked that any black Americans would stay home with Obama on the ballot and suggested that all or most white people would go to hell.

Obama's inauguration reverend: All whites are going to hell. All white people are going to hell, longtime African-American civil rights advocate Rev. Joseph Lowery told an audience at a get-out-the-vote event held Oct. 27 in Georgia. Lowery, who gave the benediction at the January 2009 inauguration of President Barack Obama, told the audience of up to 300 African-Americans "that when he was a young militant, he used to say all white folks were going to hell. Then he mellowed and just said most of them were. Now, he said, he is back to where he was," according to an Oct. 31 report in the Monroe County Reporter newspaper.

Obama's inauguration reverend says anti-white slam was a joke. Longtime African-American civil rights advocate Rev. Joseph Lowery told The Daily Caller that he was joking when he told a get-out-the-vote event that all whites will go to hell.

Obama's Appeal: Clueless Entitlement Addicts and Racists. Obama's re-election campaign is geared to three groups: the clueless, the entitlement addicts, and the racists. A black woman at a gas station was interviewed on Fox News. She said the high fuel prices are having a disastrous effect on her family's well-being, but she is voting for Obama because she agrees with everything he is doing. Folks, I do not mean to be rude, but this black woman is clueless and/or a racist. I suspect that her support of Obama is a combo of both. She is voting for Obama because she is uninformed and because he is black like her.

Ebony vs. Ivory: When Obama is 99 and 44/100% Pure. Perhaps we've discovered the real cherished "99 percent." Writing that "[s]ome Philadelphia neighborhoods outdid themselves in Tuesday's presidential election," Philly.com reports that 13 of the city's wards recorded a victory margin for Barack Obama of 99 percent or more. In other words, in some precincts, Mitt Romney was perhaps worth only three fifths of a percent. This places Obama in rare company, with a result hardly seen since Adolf Hitler "won" a 1936 referendum with 99 percent of the vote.



Obama's Jonestowns. At first, the numbers seemed too absurd to be true: did Mitt Romney really receive zero votes in 59 Philadelphia voting districts? Did Barack Obama really outpoll him by a combined 19,605 to 0 votes cast in these 59 districts. According to the Philadelphia Inquirer, which has no interest in deceiving, the answer is yes. Immediately, one suspects some element of fraud, but fraud isn't the real issue here. Obama was producing nearly comparable numbers in inner-cities throughout America, especially those in contested states.

Why African-American Voters Still Support Jesse Jackson Jr.. Even as the congressman reportedly negotiates a plea deal on allegations that he misused campaign funds, his African-American base remains steadfastly loyal.

An Open Letter to Jamie Foxx Explaining Why Black Pride Is Just As Evil As White Pride. When racist whites try and argue that blacks are inherently more primitive and violent, we label them crackpots and dismiss them from civil society. Yet when you want to insist the same thing, we applaud. It's not the fact of your racism that bothers me. It's the real-world consequences of what happens as your poison filters out into the culture and confused young boys (many lacking fathers in the home to model real masculinity) drink it up.

Radio Host on Tim Scott: 'Black Only in Skin Color'. Tim Scott has been appointed to fill the South Carolina Senate seat being vacated by the retiring Jim DeMint and immediately the racebaiters jumped in with both feet to attack him. One of the early hatemongers was Amos Brown, a host on a religious radio station in Indianapolis, Indiana. Brown used his Twitter account to claim that African American Tim Scott isn't really a black man.

The new racial derangement syndrome. There is a different sort of racialist derangement spreading in the country — and it is getting ugly. Here is actor Jamie Foxx joking recently about his new movie role: "I kill all the white people in the movie. How great is that?" Reverse white and black in the relevant ways and even a comedian would hear national outrage. Instead, his hip "Saturday Night Live" audience even gave Foxx applause.

Public School Teaches "White Privilege" Class. A school district in Wisconsin said they will review a high school diversity class that exposed students to radical leftist thinkers and promoted a critical race theory that alleges white people are oppressors. The "American Diversity" class was taught to students at Delavan-Darien High School in Wisconsin, Fox News has learned. "They're teaching white guilt," one parent told Fox News. "They're dividing the students. They're saying to non-whites, 'You have been oppressed and you're still being oppressed.'"

Jamie Foxx: 'Black People Are The Most Talented People In The World'. It seems Oscar-winning actor Jamie Foxx just can't avoid saying something really stupid at awards ceremonies. After calling Barack Obama "Our Lord and Savior" at last November's Soul Train Awards, Foxx, during his acceptance speech as Entertainer of the Year at last Friday's [2/8/2013] NAACP Image Awards, said, "Black people are the most talented people in the world".

The Editor says...
Obviously, if that were true, black people would be the wealthiest people in the country. By and large, exactly the opposite is true, unless violent crime considered a talent.

Massachusetts' new US Senator helped organize 'friendly takeovers' of restaurants for black Bostonians. The black attorney appointed Friday [2/8/2013] to temporarily replace Massachusetts Sen. John Kerry once helped plan "takeovers" of Boston restaurants with his wife and other black professionals, to protest the "lack of color" in downtown hangouts. "We get used to the fact that we'll be the only black people in the restaurant," William "Mo" Cowan, then head of the Massachusetts Black Lawyers' Association, told The Guardian, a British newspaper, in 2003. "We want to come to something like this to see other people who look like us. Everybody has their own comfort zone."

Samuel Betances: Race Hustler on the Dole. The Obama administration would have you believe trimming federal fat will cause a calamity. Here's a suggestion — stop giving federal money to Samuel Betances. Betances is the top-shelf race hustler who receives your hard-earned tax dollars to go inside federal agencies in Washington, D.C., and teach government workers that America is a racist country. Judicial Watch obtained records of one of his looney talks at the U.S. Department of Agriculture. It contained a creepy call and response that would have made the Symbionese Liberation Army proud.

Russell Simmons Slams NRA for Hiring Black Spokesman. Colion Noir, a young African American who is conservative and pro-gun, is the National Rifle Association's newest spokesman, but apparently this has proven too much for rap and entertainment mogul Russell Simmons.

Black teacher suspended for racial slur. Racial sensitivity is a minefield for Americans, and not just whites. A black schoolteacher in Broward County, one Leslie Rainer, has discovered that while blacks apparently can use the n-word, the word "chocolate" applied in any way to a black child in a classroom is enough to get suspended from her job.

AL black legislator sends racist tirade to gun rights supporter. Would it do any good to point out that if this bozo was white and sent a racist screed like that to a black constituent, that there would be calls from one end of the country to the other for his resignation? No — but it is obligatory to point it out.

MSNBC's Touré founded militant anti-white student paper. MSNBC host Touré founded a student newspaper dedicated to black liberation theology while he was a college student attending Emory University from 1989 to 1992. Touré's flagship publication, The Fire This Time, lavished praise on famous anti-Semites, black supremacists, and conspiracy theorists whom Touré helped bring to campus. Before he became an intense-but-sardonic TV personality, Touré also decried "the suffocating white community" and defended a nationally famous fake hate crime.

MSNBC's Idiot Race-Baiter Toure Started an Idiot Race-Baiting Newspaper in College. I suppose a lot of black college students adopt a militant, radical posture, but then, I'm not sure if I want that sort of person lecturing me about politics. I wonder if kids have to get permission signed from their parents if Toure speaks at their school.

Obama housing nominee: Most white people [...] should be excluded from 'democratic process'. President Obama's pick to head the Federal Housing Finance Agency once said that a "majority of white voters" would never vote for a black candidate and that they should be excluded from "the democratic process."

Louisiana legislator claimed Obamacare opposition is motivated by race. Karen Carter Peterson, who also chairs the Louisiana Democratic Party, claimed Monday that opposition to Obamacare is 'about the race of this African-American president.' 'It's not about how many federal dollars we can receive. It's not about that,' she told her fellow lawmakers. 'You ready? It's about race. No, nobody wants to talk about that. It's about the race of this African-American president.'

The Editor says...
The Democratic Party platform is discussed on another page. The primary goal of this particular Democrat, Ms. Peterson, seems to be the acquisition of federal dollars, as if federal dollars can be obtained at no cost. The veneer of racism and perpetual victimhood doesn't help, either.

Lewis Points Finger At 'Rich White People' For School Problems. A day before the first set of school closings was set to begin, Chicago Teachers Union President Karen Lewis had some harsh words about how the Chicago Public Schools are funded and managed, blaming much of the district's problems on racism. WBBM Newsradio's Nancy Harty reports, at a luncheon on education reform, Lewis told members of the City Club that Chicago is the most segregated city in America.

Chicago Teachers Union Prez Blames 'Rich White People'. The president of the Chicago Teachers Union charges that racism and "rich white people" are to blame for the immense financial and educational crisis facing the Chicago Public Schools. [The] Chicago Public Schools (CPS) represent everything that is wrong with public education in America. They are in thrall to the unions that run the system and bankrupt it through bloated salaries and pensions while too many of the students trapped inside graduate as functional illiterates, if they graduate at all.

Racial violence in the classroom of a different kind. This is a different kind of violence. The kind where teachers and kids are bullied into hearing that they are racists and their belief — and practice of White Supremacy is responsible for the disparity in achievement between children of different races. Here is just one practitioner: The head of the Chicago Teachers Union who blames poor Chicago schools on "rich white people."

'Kill Whitey' Panther is held on gun rap. The tattoo on his face says, "Kill Whitey" in block letters, and cops say the gun he carried was loaded and unlicensed. But that didn't stop Maruse Heath — head of the Philadelphia chapter of the New Black Panther Party — from claiming that he's really all about charity and outreach as he was arraigned on a gun-possession charge in Manhattan last night.

Mecklenburg County commissioner Kim Ratliff under fire for racial statements. A Mecklenburg County commissioner is under fire for making statements with racial overtones that have some people calling for removal — or at least a reprimand. This time, it's not Bill James, the longtime Republican commissioner who's been known to utter divisive remarks. It's Kim Ratliff, the board's Democratic vice chairwoman, who told WBTV that she'd prefer commissioners not choose a "white male" to be the next county manager.

Update:
Ratliff apologizes for saying county manager shouldn't be a 'white male'. Mecklenburg County commissioner Kim Ratliff apologized Tuesday night to the public and her colleagues for saying she preferred that the next county manager not be a white man. Ratliff, the board's vice chair who is a Democrat and black, said in a brief statement at the board's regular meeting that she regrets making the statement.

The Editor says...
Apparently she doesn't regret the statement enough to resign in disgrace.

More Americans View Blacks As Racist Than Whites, Hispanics. Americans consider blacks more likely to be racist than whites and Hispanics in this country. Thirty-seven percent (37%) of American Adults think most black Americans are racist, according to a new Rasmussen Reports national telephone survey. Just 15% consider most white Americans racist, while 18% say the same of most Hispanic Americans. There is a huge ideological difference on this topic. Among conservative Americans, 49% consider most blacks racist, and only 12% see most whites that way. Among liberal voters, 27% see most white Americans as racist, and 21% say the same about black Americans.

Saxophone player attacked in the street by three black women. A saxophone player has claimed that she was assaulted as she played a jazz song in the street by three African American women who said a white girl shouldn't play that sort of music. Cassandra Struve, 26, was performing in the street outside the Summerfest grounds in Milwaukee, Wisconsin around 11 pm on June 26 when the three women approached her.

Progress in race relations isn't achieved by having minority leaders. I am so old that I can remember when most of the people promoting race hate were white. Apparently other Americans also recognize that the sources of racism are different today from what they were in the past. According to a recent Rasmussen poll, 31 percent of blacks think that most blacks are racists, while 24 percent of blacks think that most whites are racist. [...] If many blacks themselves now think that most other blacks are racist, that is startling.

Juror B37 Gets a Lesson in Race Incitement. After two days of silence on the part of the jurors in the George Zimmerman murder trial, one member of the panel that voted to acquit him emerged last night in a fascinating interview with CNN's Anderson Cooper. But if she was thinking that her account of the deliberations wouldn't be greeted with derision and abuse, she was soon sadly better informed.

Obama may be incompetent, but at least he's still black. And to some people, that's all that matters.
For blacks, empathy with Obama trumps economic record. For the vast bulk of the African-American political class, the sense of identification and empathy with the nation's first black president has almost always taken primacy over whatever disappointments they have with his record. The disappointment is perhaps strongest on the economy, since black people are worse off now than they were when Obama first took office, according to virtually every major indicator.

Irrational Animal. [Scroll down] In other words, Ice-T contends that Zimmerman must have "done something" to set Martin off. Yes, he did: he showed an interest in Martin's behavior, and tried to keep an eye on him. That is manifestly not a crime, let alone a rational justification for attacking someone — assuming rational justification is required. But Ice-T, like Al Sharpton, Barack Obama, and the rest of America's black on black racists, begins from the opposite assumption, namely that rational justification is not applicable to this case. Trayvon Martin was black, you see, and therefore — so the anti-black racists believe — he is not to be held to standards of rational behavior.

The Meaning of the Zimmerman Trial. Progressive callers to the Chris Plante radio show in Washington, D.C., including the proportion of the black population most exploited by the Progressives, in recent days have effectively been arguing the following: If a white man follows a black man walking around the neighborhood, to observe what he is doing, the black man has the right to beat the white man to death. [...] If the white man resists, then he must be held criminally liable for any harm that results. That is not the law, which is why the jury found Zimmerman innocent.

Professor backs statement that God is racist, says 'I have tenure. I can't get fired'. Anthea Butler, the Ivy League religious studies professor who called God a white racist after the Trayvon Martin verdict last week, doubled down on her statement and denounced the conservative media outlets that criticized her. Butler, an associate professor of religious studies at the University of Pennsylvania, wrote a blog post for Religious Dispatches last week arguing that most Americans worship a "white racist god with a problem" who is "carrying a gun and stalking young black men."

Rangel: Tea Party activists are 'white crackers'. Rep. Charlie Rangel (D-N.Y.) on Friday likened House Republicans to "terrorists" and Tea Party activists to "white crackers" and segregationists. In a wide-ranging interview with The Daily Beast, Rangel blamed the GOP for damaging American competitiveness. "What is happening is sabotage. Terrorists couldn't do a better job than the Republicans are doing," he said. Rangel, 83, also compared fighting the Tea Party to fighting Southern segregationists.

Democratic Congressman: Tea Party 'Same Group' Of 'White Crackers' Who Opposed Civil Rights. Rep. Charlie Rangel (D-NY) suggested on Friday morning [8/2/2013] that the tea party movement is comprised [sic] of the same types of people who fought against the civil rights movement during the 1960s. Speaking with the Daily Beast, Rangel said of the movement: "It is the same group we faced in the South with those white crackers and the dogs and the police. They didn't care about how they looked.

This Homeland Security Employee Is Preparing for a Coming Race War. [Scroll down] Conservatives don't tend to be fans of the Southern Poverty Law Center: this is the same group that labeled The American Family Association and pretty much the entire anti-Islam movement as hate groups. But their report seems primed to stoke the fires of a set of American conservatives who already believe the DHS is hoarding ammunition (contrary to the evidence), either to build a secret army, or to prevent gun owners from accessing it.

DHS employee behind racist website. A Homeland Security employee is the operator of a racist website predicting and advocating a race war, a department official said Thursday [8/22/2013].

DHS worker behind racist website gets paid leave. The Department of Homeland Security said Friday that an employee who runs a racist website predicting and advocating a race war has been put on paid administrative leave. Ayo Kimathi, an acquisitions officer for Immigration and Customs Enforcement who is in charge of buying weapons and ammunition for the government, operates the website named "War on the Horizon." It includes descriptions of an "unavoidable, inevitable clash with the white race." Kimathi is black.

Paid leave = vacation.
DHS employee behind racist website on paid leave. The Homeland Security Department says an employee who runs a racist website predicting and advocating a race war has been put on paid administrative leave.

DHS employee's website: 'We are going to have to kill a lot of whites'. Is an employee at the Homeland Security Department also a racist preparing blacks for a campaign of violence against whites? Ayo Kimathi, a small business specialist at the agency, is also a "gay-bashing, revenge-seeking black nationalist," according to the Southern Poverty Law Center, a nonprofit group that tracks groups and individuals it says are bigoted and hateful.

DHS Still Hasn't Fired Black Supremacist Who Called for Mass Murder of Whites. The black-nationalist Department of Homeland Security employee who was placed on leave almost four months ago for running a website that espouses the mass murder of whites has still not been fired, an agency spokesperson told National Journal.

Militant black nationalist still gets paid by feds: report. A black nationalist who has called for the mass killing of white people is reportedly still on the Immigration and Customs Enforcement (ICE) payroll. Ayo Kimathi works as a procurement officer for ICE and was placed on administrative leave three months ago; he has called for "ethnic cleansing" of "black-skinned Uncle Tom race traitors" and said that in order for black people to survive in the 21st century, "we are going to have to kill a lot of whites — more than our Christian hearts can possibly count."

Professors Blame Racism, Republicans for Government Shutdown. Professors at campuses across the nation have been quick to lay blame for the government shutdown. And they are not blaming Barack Obama or the Democrats. University of Pennsylvania Associate Professor Anthea Butler claimed on twitter that racism against President Obama was responsible for the shutdown stating that a previous shutdown had taken place under the leadership of "fake black president Clinton" but this time Republicans have a "real black president to mess with."

The Editor says...
Just a reminder: Mr. Obama is only half black.

This proves that black voters don't care who a candidate is or what he believes, as long as he is (apparently) black.
White guy wins after leading voters to believe he's black. Dave Wilson chuckles as he talks about his unorthodox political campaign. "I'd always said it was a long shot," Wilson says. "No, I didn't expect to win." Still, he figured he'd have fun running, because he was fed up with what he called "all the shenanigans" at the Houston Community College System. As a conservative white Republican running in a district whose voters are overwhelmingly black Democrats, the odds seemed overwhelmingly against him. Then he came up with an idea, an advertising strategy that his opponent found "disgusting." If a white guy didn't have a chance in a mostly African-American district, Wilson would lead voters to think he's black. And it apparently worked.

Oprah Winfrey is delusional about racism, white and black. In one quick, thoughtless breath, Oprah added another tenet to Libthink: Not only are all racists white, but they also need to "just die," every last one of them. Once all those old, white racists "who were born and bred and marinated in it" have died, then America will be forever purged of racism. Make that "white racism," and remember, according to Libthink doctrine, that's the only racism worth mentioning.

Oprah's Offensive Opinion. Since Oprah Winfrey was in London to promote "The Butler," a movie which depicts its subjects so dishonestly on the subject of race that Michael Reagan — who personally knew the film's key protagonists — called it "The Butler from Another Planet," it's not surprising that she would sputter more falsehoods about "racist" America in an attempt to stay in the public eye. In an interview with the BBC, the self-made billionaire and long-time Obama supporter said that "disrespect for the office (of the president)... occurs in some cases and maybe even in many cases because he is African American."

No, Oprah, America isn't racist. Oprah's pronouncement produced another "huh?" moment for me, considering the fact that it was millions of Americans that gave their colorblind eyes to her show for a quarter-century, famous enough to be interviewed by the BBC. As communism wound down in the Soviet Union, President Reagan was asked whether he still considered it an evil empire. "You are talking about another time, another era," he replied. Oprah is still living in that other time and era in which people separated themselves from one another primarily on the basis of race — a real time to be sure — but one that is, for the most part, not our reality today. That's especially so at the highest levels of politics and entertainment.

Oprah and The Racists Within. A whole generation in the south, born and bred and marinated in prejudice and racism and they just have to die? Oprah is either advocating the killing of old white people in the south or she is saying that through old age attrition, racism will end when they die off of natural causes. Either way, Oprah is 100% wrong and, wrong on so many levels it is mind-boggling.
Punctuation modified and emphasis removed by The Editor.

ICE's Homophobic Black Supremacist Employee Is No Longer with the Agency. Ayo Kimathi, a.k.a. "the Irritated Genie," a.k.a. the black supremacist employee of the Department of Homeland Security's U.S. Immigration and Customs Enforcement agency is "no longer an ICE employee," according to a statement from ICE's Deputy Press Secretary Gillian Christensen. "His last day with the agency was December 6," she added.

Poll: Minorities Provide Bulk of Support for Obamacare. Minorities continue to offer a bulwark of support for the Affordable Care Act, according to the latest United Technologies/National Journal Congressional Connection Poll. But the deepening discrepancy between their views of Obamacare and their support for President Obama's reelection last year shows skepticism about whether the big social-welfare program has worked touched even the White House's most ardent supporters.

The Editor says...
There is a substantial number of blacks who will support Barack H. Obama and everything he does, even if his programs are impractical, wasteful, or even illegal. If Mr. Obama were to suspend the Constitution and run for an illegal third term, I believe most blacks would vote for him.

Alabama lawmaker sends shocking racist rant to gun-rights constituent. A black member of the Alabama legislature uncorked a racist tirade in an email this week to a constituent who urged him not to embrace new gun control laws — copying his incendiary language to every member of the state legislature. Joseph Mitchell, a Democrat who has represented parts of the city of Mobile since 1994 and ran for re-election unopposed in 2010 and 2006, castigated a voter named Eddie Maxwell, a Jefferson County man whom he correctly presumed was white.

Professor blames 'southern white radicals' for Obamacare debacle. A professor who teaches constitutional law courses at the City University of New York's John Jay College of Criminal Justice penned a Christmas Day essay blaming "southern White radicals" for the disastrous, slow-motion train wreck failure that has been the rollout of the Affordable Care Act. The essay, by Gloria J. Browne-Marshall at the website Politics in Color, is entitled "2013: A Year of Racial Challenges." "[S]outhern White radicals vowed to stop implementation of the Obama-care law leading one to wonder if Tea Party members would oppose affordable healthcare if it came from a nonBlack [sic] President," writes Browne-Marshall.

Stop Giving Obama Radicals the Benefit of the Doubt. Right now the nomination of Debo Adegbile to run the Justice Department Civil Rights Division is before the Senate Judiciary Committee. Adegbile was the former NAACP Legal Defense Fund head. In that role, he oversaw the defense of the cop-killing Black Panther Mumia Abu-Jamal. The Fraternal Order of Police has demanded that President Obama withdraw the nomination. Adegbile has pushed every other crackpot racial theory popular among the civil rights industry. His career has been characterized by attacking school discipline policies and employer background checks as racially motivated. He fought to keep Abigail Fisher out of the University of Texas Law School merely because she was white. Just a decade ago, this radical racialist background would have been a disqualifier for any nominee to the Justice Department. But today, radicalism is a prerequisite for the job.

2005 stabbing: Family's lawyer says White Plains didn't secure garage. A lawyer for the family of a woman who was stabbed to death in White Plains because she was white argued Thursday that the city failed to adequately secure a parking garage near the Galleria where the crime occurred. [...] [Phillip] Grant, who is serving a sentence of 25 years to life in state prison, told police shortly after his arrest that he was waging a race war and only regretted not being able to kill more whites that day.

'U' Students Want Crime Alerts To Avoid Using Racial Descriptions. School officials at the University of Minnesota are working with black student and facility organizations after they wrote a letter to the school's president about the racial descriptions given in crime alerts. The letter, sent on Dec. 6, 2013, was issued by members of the African American and African Studies, Black Faculty and Staff Association, Black Graduate and Professional Student Association, Black Men's Forum, Black Student Union and Huntley House for African American Males.

The Editor says...
Here's my simplistic solution: Include racial descriptions only when the suspects are white. In every other case, the race goes without saying. Problem solved!

Melissa Harris-Perry brags about her sixth sense for knowing when stuff is racist. At a recent forum at the University of Michigan, MSNBC host Melissa Harris-Perry explained to her audience that white people will never understand why things are racist, because they lack an innate "racial trigger," that instantly tells them when to be outraged. Harris-Perry, on the other hand, has a very finely-tuned racial trigger.

Dem Congresswoman on Obama's Second Term: 'Just Occupy the Spot ... That Would Be an A'. Speaking with reporters from the Milwaukee Journal Sentinel last month, Democratic Rep. Gwen Moore (D-Wis.) said she was "so relieved when [Obama] won," and would give Obama an 'A' in his second term if he would "just occupy the spot."

The congresswoman's statement is a public exhibit of ignorance far beyond "the soft bigotry of low expectations."

'Knock That White Boy Out': Arrests Made After Mob Of Teens Attack Disabled Vet. Cleveland authorities have made several arrests following the mob beating of a disabled Army veteran by a group of teenagers. Last Friday [2/7/2014], the victim, Matthew Robinson, was surrounded by between six and eight teenagers while riding the RTA Healthline. Robinson told WOIO that he was attacked by the teens, then robbed of his possessions. During the attack, the teens made several derogatory remarks about Robinson. "What they were saying was, 'Knock that boy out!' 'White boy.' 'Cracker,'" he was quoted as saying about the incident. "They were saying, 'Knock that white boy out.'"

Farrakhan: African Americans deserve their own courts. In a fiery speech Sunday [2/23/2014] delivered to 18,000 at Joe Louis Arena, Minister Louis Farrakhan blasted the judicial systems in the U.S. as being biased against African Americans, calling upon the community to set up their own courts. "We want equal justice under the law," Farrakhan said on the last day of the Nation of Islam's annual convention, held in Detroit this year. "Our people can't take much more. We have to have our own courts."

Lewis Farrakhan Wants His Own Water Fountain. Because what the country needs is more racial animus.

Ebony magazine editor attacks black Republican, compares to roaches. Jamilah Lemieux, a senior editor at Ebony magazine, attacked Republican National Committee deputy press secretary Raffi Williams as "a white dude telling me how to do this Black thing" during a heated Twitter exchange Thursday. During a conversation about a new digital magazine for black conservatives, headed by conservative commentator Ben Carson and columnist Armstrong Williams, the Ebony editor interjected that she would prefer to know less about the endeavor.

Teacher 'White Privilege Conference': Whites Are Never Cured of Racism. More details are emerging about what was presented at the "White Privilege Conference" held in Madison, Wisconsin, where tax money was spent to train teachers how to annihilate "white privilege" and "white supremacy" in American schools. One session insisted that whites can never be cured of their permanent racist attitudes.

See what they'll be teaching in the Chicago public schools. Chicago public schools are set to introduce a new Afro-centric curriculum, according to a closely-guarded copy obtained by The Daily Caller News Foundation. The curriculum covers kindergarten through tenth grade and is designed to align with Common Core. It includes a web link to TheAfrican.com, a website whose publisher decries "fake-Jews" and calls the United States a "Zionist-occupied enemy territory." The site also claims that the world will end sometime this year and that President Barack Obama is "merely another trick of [the beast of the 4th Kingdom]." The new Chicago curriculum was announced last December.

Ala. Dem Offers $100K for Proof of White Families Adopting Black Kids; Families Show Up. Earlier this month, Alvin Holmes, who has represented the Montgomery-area 78th District for 39 years, bet a substantial purse on his claim that Alabama whites were incapable of tolerating black children. [...] Holmes has a long history of offensive racial comments. He has accused Republican Senator Tim Scott of South Carolina of voting only as "white folks" tell him to vote and called Supreme Court Justice Clarence Thomas an "Uncle Tom."

Can We Please Hold Blacks to the Same Standard as Donald Sterling? The list of prominent blacks whose racist comments are on record is too long to be adequately cited. Some blacks have uttered far more egregious racist comments than others. Calling for the murder of white babies, for example, is a far graver breach of civil talk than asking for the creation of an all-black professional basketball league. Nevertheless, the "conventional wisdom" among academic social scientists is that blacks cannot be racists. Only whites are racists.

White students fed up with black professor's racial screeds, lawsuits fly. The politics of faux victimization are spiraling out of control at a community college in Minneapolis, Minnesota, where several white students, their black professor and irritated administrators have one-upped each other with complaints, reprimands and now a lawsuit. The trouble began in English professor Shannon Gibney's Introduction to Mass Communications class at Minneapolis Community and Technical College. Though the class ostensibly has little to do with race, Gibney considers herself an activist on racial issues, and frequently invokes white privilege and oppression during class time, according to her students. Recently, several white students announced that they had had enough with Gibney's incessant racial screed. They interrupted her during a lecture, and said, "Why do we have to talk about this in every class?

Yasmin Alibhai-Brown: I Don't Like White Men, I Want Them to Be a Lost Species. Controversial columnist Yasmin Alibhai-Brown is accused of making a series of racist remarks against white people, even going as far as to say she wants them to be a "lost species". According to Rod Liddle, when asked in a TV interview what she thought of white people, she responded: "I don't like them. I want them to be a lost species in a hundred years." Writing for the Sun this weekend, Liddle said: "Can you imagine what would happen if you or I said that about black men, or women? The police would get involved, pronto."


Black hate crimes



Black Leadership and Racial Murder. The recent explosion of black-on-white vicious and hateful killings — the murder of thirteen-month-old Antonio Santiago, the shooting of nurse David Santucci in Memphis, the murder of Australian student Chris Lane, the beating death of elderly veteran Delbert Belton — have served to put an end to one of the great myths of the civil rights movement: that black leadership would lead the country out of racism into an epoch of national reconciliation.

Police: Mableton fatal assault not racially motivated. The deadly assault of a Mableton man has become a national story, at least online, with several web sites and blogs claiming Joshua Chellew was killed because he was white. Initially reported as a hit-and-run, police now say Chellew died June 30 after an attack by four black teenagers in Cobb County. According to the arrest warrant, the 36-year-old victim was repeatedly punched and kicked by the youths outside a Chevron gas station. Chellew, badly beaten, eventually stumbled onto Mableton Parkway, where he was run over. He died at Grady Memorial Hospital.

Racial violence is increasingly common and most media ignore it.
Shot For Being White. Four black people in Wilmington, North Carolina needed money for marijuana and traveling. So they set out to get it by robbing white people. They tried to break into a house, but were seen, so they fled. They stalked a woman through downtown Wilmington, but she escaped. Finally they came upon a 20-year-old college kid named Joshua. They took his money, cell phone and sandwich. Then he asked them to only take his money and not his ID because he explained to them it was hard to replace. Then they shot and killed him.

Concealing Black Hate Crimes. Across the U.S., mobs of black youths are organizing on Facebook to loot stores and beat whites. Yet none dare call the "flash mob" attacks hate crime, least of all the attorney general. ... To [Eric] Holder, blacks are the permanent victims. But his department's own data say otherwise. In most cases of interracial crimes, the victim is white and the perp is black. Black criminals choose white victims 45% of the time, while whites victimize blacks 3% of the time. More than twice as many whites are murdered by a black than cases of a white murdering blacks.

The lack of coverage over horrific black-on-white killings in America's Deep South. It was the kind of crime that strikes terror into the hearts of parents everywhere. A bright young couple were carjacked after a Saturday night date and murdered in the most brutal way imaginable. Christopher Newsom, 23, was tied up and raped, shot in the back of the head and then dragged to a railway track and set on fire. His girlfriend, 21-year-old University of Tennessee student Channon Christian's fate was even more horrific.

Woman beaten on bus. As Sarah Kreager, 26, tried to sit down on a Baltimore City bus Tuesday, police say, a middle-schooler told her she couldn't. When she attempted to take another seat, a middle-schooler wouldn't let her. Finally, according to police, Kreager just sat down. She was "immediately attacked" by nine students — three females and six males — from Robert Poole Middle School. … The suspects in the incident are black. The victim is white, according to the police report.

The Editor says...
If the colors were reversed, this would be called a hate crime and Al Sharpton would be all over it.

Here is an update — and just as I suspected ...
Hate crime charges rejected. Prosecutors in Baltimore have decided not to charge the nine middle school students accused in the beating of a 26-year-old woman on a city bus with a hate crime as a judge postponed their trial yesterday until Jan. 31.

Is A New Civil Rights Movement on The Horizon? The national media has not seen fit to report the instances cited above as reverse racism or as hate crimes against white people. Very often you hear black people simply say "it's our turn." However, the people who were killed, the people who were fired, and the students who were abused were white and the perpetrators were black — these were in fact race crimes, and to call them anything but hate crimes would be plain silly.

Black Racism: The Hate Crime That Dare Not Speak Its Name. While the federal government rushes to Los Angeles to investigate an incident in which a handcuffed youth was slammed into the hood of a car and punched by an officer, a pall of silence still blankets the horrendous racial murder of four young people whose murderers are now on trial. The difference in the responses to these two stories can hardly be attributed to anything other than the skin color of the perpetrators and the victims involved. Apparently the sexual torture and brutal executions of four promising youngsters is of no interest to the nation's moral guardians, because the victims happen to be white.

"Hate Crimes" : A One-Way Street? If a white commits a violent crime and the victim is a minority, that is by definition a "hate crime" and worthy of front-page headlines, complete with lead stories on the national TV news shows. On the other hand, if a minority commits a violent crime and the victim is white, that does not make it beyond the local media.

For example:
Schoolboy Kicked Unconscious Over Confederate Book: A 13-year-old Houston boy who had checked out a book about Robert E. Lee was kicked in the head and sent unconscious to the hospital, a Southern heritage organization reported. The boy's mother and lawyer believe the actions of government school officials set the stage for the attack.

Why It's OK to Hate White People: It's the last and only acceptable prejudice. Racial identity is simply forbidden to whites in America and across the entire Western world. Black children today are hammered with the idea of racial identity and pride, yet racial pride in whites constitutes a grave evil.

The Hate Crimes That Weren't. The public discourse on Islam and terrorism is largely dominated by self-important blowhards who are wrong and wrong again, wrong consistently, and yet are never called to account and are called upon as "experts" again and again.

More proof that blacks have immunity from hate crime prosecution:
Is 'white boy' a slur? It sure isn't a compliment. Is "white boy" a racial slur? Judging from some of the debates that have occurred over the use of "white boy" by African Americans, I'd say the description is certainly heading in that direction. … I'm bringing this subject up because of what happened to Ryan Rusch, the 14-year-old Beverly boy who was robbed and badly beaten, allegedly by three black youths. … One of the juveniles apparently told police that Rusch was beaten and robbed because he was a "goofy-looking white boy," and police are continuing to investigate the incident as a "hate crime." So far, the Cook County state's attorney's office has rejected charging the teens with a hate crime.

Injury Fire At West Chester Business Was Arson, Hate Crime Suspected. Investigators are looking into the possibility that the arson was a hate crime, because the business is owned by a Jordanian family.

But when the suspects turned out to be black, the "hate crime" aspect was dropped.

Police: Arson Not Hate-Crime After All. Investigators said hours after the damage was done, the manager, Musa Shteiwi, and his son Essa were preparing for another arson at the store. Detectives say they had gasoline in the restaurant, when according to the son, the father lit a cigarette and caused an explosion.

Subway attack was to amuse, police say. The four teenagers who ambushed Sean Patrick Conroy in a subway concourse Wednesday [3/26/2008] chose their victim at random and attacked him for no other purpose than to amuse themselves, police said yesterday. … Police yesterday discounted robbery as a motive, and said the youths apparently launched the attack on a lark.

The Editor says...
If the victim had been black and the assailants had been white, the press would be having a "hate crime" field day.

The Democrats' Fake Hate Crime. On March 20th, something truly extraordinary happened. On the eve of the health care vote, a group of black Democrat Congressmen (eschewing the private tunnels they usually use to cross from their offices to the Capitol) chose to walk en masse through a crowd of protesters, confident that the knuckledragging Tea Party goons they and their media pals have reviled for a year now would respond with racial epithets. And then, when the crowd didn't, the black Congressmen made it up anyway.

Cleaver changes his 'I was spit on' story. It's too late to affect the narrative about the tea party protest a couple of weeks ago, but indicative of the rank dishonesty involved in the smear.

Did State-Run Media Conspire on Racist Tea Party Attack. The American Thinker did an outstanding job describing the events on March 20th, when democratic members of Congress in Washington DC were reportedly taunted by tea party activists with racial and sexual slurs. It appears from the timeline of the events that this race-baiting story was in the works before the Black Caucus members paraded through the tea party crowd on Capitol Hill.

Did DOJ Try to Whitewash Black Panther Intimidation Case? On Election Day 2008, two men — identified as members of the New Black Panther Party — stationed themselves outside a polling place in Philadelphia dressed in military clothing. Videotape captured these two strolling back and forth in front of the polling place, with one clearly brandishing a nightstick. A white poll watcher testified that he was called a "white devil" and a "cracker." This poll watcher was told by one of the Panthers that he would be "ruled by the black man."

More about preferential treatment of the Black Panthers.

'Post-Racial' Racialism. In the New Black Panthers case, Justice refused to protect the rights of white voters. Two career prosecutors have now sworn that high-level Obama appointees running the Civil Rights Division scuttled an open-and-shut case of voter intimidation against nightstick-wielding black thugs at a Philly poll in 2008. They also testified that the division has a do-not-prosecute policy if victims are white and offenders black. If that bias weren't bad enough, check out what's going on in the division's housing and civil enforcement section.

The Left and Their 'Good Victims'. A number of years ago, I was the victim of a brutal street crime. Although I was left with a broken nose and two black eyes, I learned soon thereafter that I wasn't a "good victim." A progressive friend, Fran, clued me in. When I told her what happened, she said, "What you went through wasn't half as bad as what he has suffered." Fran was referring to the fact that I am white and the assailant was black. In other words, my suffering didn't matter.

The racist attack at McDonalds. In all the reports of the vicious beating of a patron in a Baltimore McDonalds by other patrons while the staff looked on, not one I read mentioned the race of the victim, the attackers, the restaurant workers who helped the attackers escape or the other patron who managed to call the police. Could it be because the attackers and the employees are black while the victim and telephone caller are white?

Video Shows Woman Being Beaten At Baltimore Co. McDonald's. A woman is badly beaten inside a local McDonald's during the dinner rush with employees and customers looking on.

McDonald's goes into damage control. The Baltimore County McDonald's at the centre of a scandal, after footage of the violent beating of a customer on its premises went viral, has sacked the employee who filmed the attack. Rosedale franchise owner Mitchel McPherson made the announcement today, saying employee Vernon Hackett was no longer employed by the fast food chain.

Nearly everyone in this video is a criminal or an accessory to a crime. It's cell phone video of a beating — two women beat a third, while the manager of the restaurant makes a show of trying to help but ends up standing around uselessly. The beating goes on for several minutes, and toward the end, the women administering it attempt to drag their victim out into the parking lot. Meanwhile, the victim is bleeding and begins to have a seizure.

The Obamas Silent in the Face of Race Atrocity. For the average human being, it was not possible to watch the video of two black women beating the life out of a defenseless white woman at a McDonald's in Baltimore and not feel complete and total revulsion. Adding to the horror was the knowledge that the black employees — one who only half-heartedly attempted to intervene, one who was filming the barbarism, and perhaps others not seen on the video — did absolutely nothing to save the white woman from her assailants.

'Hate crime' justice is no justice at all. Must America's "hate crimes" brigade rush to judgment before all the facts are in? Apparently they must, but that's exactly what you'd expect from people who want to criminalize thoughts, not actions. And nothing illustrates the rush-to-judgment mentality more than what happened in a Baltimore-area McDonald's in mid-April.

Why attacks aren't ethnic intimidation. Why are you hiding the truth? Why won't you call them hate crimes? Can you imagine the outcry if it were white kids attacking blacks?

Police: No hate crimes in these State Fair arrests. West Allis police are releasing new details about some arrests on the opening night of the Wisconsin State Fair, but say none of those incidents possessed elements that would prompt their prosecution as hate crimes.

I was beaten, taunted for being white, Bronx man says after subway attack. A Bronx man was viciously assaulted and robbed on a subway train Sunday by four men who he says taunted him for being white. Police confirmed they are investigating the assault and robbery of Jason Fordell, 29, but have not labeled it a hate crime.

Authorities Ignoring another Black-on-white 'Hate Crime'. Like the three monkeys who see, hear and speak no evil, our authorities seem intent on ignoring the true nature of yet another black-on-white racial attack. In the New York City subway this past Sunday, 29-year-old Jason Fordell was attacked by a group of black men who taunted him for being white. Yet NYC police "are unsure" if the incident is a bias crime. The problem started when Fordell transferred to a crowded 4 train at 42nd street, where he encountered four black men who began harassing him.

The Hate That Dare Not Speak Its Name. In Kansas City on Wednesday, "two older teens" followed a "13-year old boy" walking home from school. When the 13 year-old reached his front porch, the teens grabbed him, pinned his arms, poured gasoline on him, and set him on fire. The boy managed to pull his shirt off and pat the fire out, and the parents rushed him to the local children's hospital. As seen on local TV news, although not obvious in the accompanying article, the parents are white. So is the boy. "We were told it's a hate crime," the boy's mother told the reporter. ... Without the mother's reference to the hate crime, the viewer/ reader would have no sense that the attackers were likely of another, unspecified race.

Teen Set on Fire in Racial Attack; Media Silent. [Scroll down] Of course, if you scrutinize the few local outlets reporting the story and cut and paste, you can piece the picture together. The Fox article I excerpted above provides only the vaguest hint of the attack's racial nature by quoting Mrs. Coon as saying that her family was told "it's a hate crime." KCTV 5 did a bit better, reporting that the victim was white and the assailants black; however, while they quoted the attackers as stating "This is what you get," for some reason they omitted the "white boy" part.

How Derrick Bell Beat Martin Luther King Jr.: [Scroll down] Two years ago Newsweek ran a photo of a white baby asking the question, "Is your baby racist?" While the media will gleefully charge 6-month-old white babies with racism, accusing them of bigotry for staring longer at photos of other races; it will go on ignoring the Allen Coon case, as it has ignored any number of similar and worse cases.

Sharpton, Jackson, Media Silent About Hate Crime in S.C.. Six black men assaulted a white man outside a restaurant in Seneca, S.C. on March 17 after insulting him with a racial remark. Such was the severity of the beating and obvious racial motive that local police have referred the case to federal officials. However, contrary to their usual reaction in such matters, the national media have yet to jump on the case, and civil rights leaders have said nothing about it.

No mention in this article of the word black.
Man, 78, recounts assault by 6 youths in E. Toledo. Mr. Watts said one of the boys delivered a single blow to the back of his head during the incident Saturday, knocking the victim to the ground. At one point, the victim recalled being lifted from the ground so one of the boys could "drop-kick" him in the chest. One boy, he said, put his foot on the back of the victim's neck, with another shouting, "Kill him." While Mr. Watts was down the boys kicked him, over and over, shouting, "[Get] that white [man]. This is for Trayvon ... Trayvon lives, white [man]. Kill that white [man]," according to a police report.

Black-on-Jewish Violence in the U.S.A.. Even though New York State's African-Americans make up 17.5 percent of the population, outnumbering the state's Jewish population by 2 to 1, hate crime statistics for 2010 show that while 31.5 percent of hate crimes were aimed at Jews, only 19.7 percent were aimed at African-Americans. There are few statistics kept on the races of perpetrators, but there is an ugly history recorded in ashes, concussions and speeches going back a long way.



Multiple black men beat up an elderly white man. It's not a hate crime; in fact, it's hardly a crime at all.
Good Samaritan helps man beaten by teenagers. A witness, who does not want to reveal her identity for fear of her safety, says Friday night [4/5/2013] she was driving down Soutel Drive near Lem Turner Road with her fiancé and saw a group of teenagers beating a man. "We seen a whole bunch of African-American kids you know, beating and stomping on an elderly Caucasian guy and he had bags and everything, he couldn't even defend himself because it was so many kids," said the anonymous witness.

Why is Joshua Chellew less important than Trayvon Martin? [Scroll down] Courtesy of Top Conservative News, which notes: ["]If the races had been reversed, this would be the biggest news story in the United States. It would have knocked the Zimmerman trial out of the news.["] Yep. Or, if Chellew had been able to defend himself against one or all of them, he'd be the new George Zimmerman. We'd be seeing baby pictures of his attackers. Al Sharpton would be marching.

'Trayvonned'. The media is silent on what compelled the attackers, but what is known is that Joshua [Chellow] was set upon and mercilessly beaten in a life-threatening attack by a group of four "unarmed" black males. [...] Did any of you know about this attack? No. Because the media reported it as a "hit and run fatality" while deliberately refusing to discuss the events the preceded the fatal "hit and run".

Man Beaten, Robbed at Zimmerman Protest 'Because He Was Latino'. Hidden beneath a benign Los Angeles Times headline that reads, "Peaceful protesters lament L.A.'s violent Zimmerman demonstrations," is the shameful story of Cuauhtemoc Negrete, a man who was beaten and robbed at an anti-Zimmerman protest. Negrete, who was with a large group protesting the verdict when the assault occurred, believes he was targeted because he is Hispanic.

Welcome to Chicago — now give me that iPhone. Two visitors to Chicago received a rude welcome to the city Friday [7/19/2013] when one was robbed by a group of city teens and the other was punched while trying to help, officials said. The two visitors — a 15-year-old Florida girl and a 51-year-old Michigan woman — were both walking on the Mag Mile Friday evening when the older woman was robbed of her iPhone by a group of eight juveniles, officials said. [...] "He just kept saying, 'We didn't take your phone, you white b------, leave us alone,'" said [the victim].

Murder and Double Standards. Few Americans outside of Knoxville, Tenn., know about the case of Channon Christian and Christopher Newsom, two young people who were kidnapped, savagely assaulted, raped, and murdered by people of a different race. If Christian and Newsom had been black, and they had been raped, tortured, and murdered by a group of white people, the victims' names would be painfully seared into the national psyche by the media's saturation coverage of the atrocities and their aftermath.

Attention Al Sharpton: Black Dude in White Hoodie Viciously Stabs White Teenage Girl. Did you hear about the seventeen-year-old Queens resident, Natasha Martinez, who was stabbed eleven times last week by a black male wearing a white hoodie? Yep, just a few days ago, as this young lady was walking home from her job at Mickey D's, and right in front of her house, Natasha was jumped by a black dude in a white hoodie and suffered eleven stab wounds — she is in serious condition.

Three white guys beat up a black guy in DC as #JusticeForGeorge. [Scroll down] Sorry, you guys, I got that all mixed up. They didn't say "This is for George Zimmerman," they said "This is for Trayvon Martin." And the three muggers were black, and the victim was white. Okay, forget everything I just said. This attack was not motivated by racism, and no matter what Metro PD says, it definitely was not a hate crime.

Critics blast Jackson, Sharpton over silence on Florida school bus beating. Al Sharpton and Jesse Jackson, who both blasted Florida in the wake of the Trayvon Martin shooting and the acquittal of George Zimmerman in Martin's death, with Jackson calling it an "apartheid state" and "our Selma," have not spoken publicly of the brutal beating aboard a school bus caught on cellphone and surveillance video. Neither Jackson nor Sharpton responded to requests for comment from FoxNews.com.

Civil rights activists remain silent on Florida school bus beating video. A viral video showing the beating of a 13-year-old white boy by three African-American youths in Florida has left hundreds of thousands of viewers horrified, but critics say the case doesn't seem to be attracting much sympathy from self-styled civil rights activists. In the chilling video, three 15-year-old boys repeatedly beat and kick a victim police said was left with a broken arm and two black eyes.

Allen West on white boy's bus beating: Where's Jesse Jackson? The video, which went viral this past week, depicts a July 9 assault on a Pinellas County school bus. Three black teenage boys, all age 15, beat a white boy, while the bus driver — who has since resigned — tries to verbally halt the altercation but does not physically intervene. The beating, it was later reported, was due to the victim's report to school authorities that one of the videotaped assailants tried to sell drugs to him.

You got that right, mister. He's as sorry as they come.
Father of teen charged in Florida school bus beating says [his] son is 'sorry'. The father of one of three Florida teens charged in a vicious school bus attack said his son is "sorry" for taking part in the July beating that made national headlines. As the trio headed to court on Tuesday [8/13/2013], Julian McKnight said his son Julian, 15, has also suffered in the aftermath of the July 9 attack on a Pinellas County school bus after it left Lealman Intermediate School in the St. Petersburg-area community of Gulfport.

Black teen who allegedly murdered Australian jogger posted racist Tweets. One of the teens charged with first-degree murder in the shooting death of Australian baseball player Christopher Lane in Duncan, Okla., previously posted anti-white statements on his Twitter feed. James Edwards, 15, Chancey Luna, 16, and Michael Jones, 17, have all been charged as adults in Lane's death. Lane, a 22 year-old student from Melbourne, was out for a jog last Friday evening when the three teens began following him in a car and shot him "just for the fun of it," according to Duncan officials.

Allen West comments on 'bored' teen murderers. On the heels of news that three Oklahoma teens allegedly shot and killed an Australian jogger for sport, former Florida Republican Rep. Allen West lashed out at President Obama and the "race industry crew." "'We were bored & decided to kill somebody.' 3 black teens shoot white jogger. Who will POTUS identify w/this time?" West tweeted Tuesday afternoon [8/20/2013] with a link to a New York Post article on the matter.

Parents of 'bored' teens maintain their sons' innocence. Oklahoma native James Johnson told Australia's Herald Sun that his son is an acquaintance of the suspects and that led to the tip-off. [...] Johnson's son said that he knew Edwards and Luna through school and said that the boys were 'bullies' and 'troublemakers' who had 'no parental supervision'.

For 'the Fun of It'. Three teenagers were charged Tuesday [8/20/2013] in the killing of a white college student in Duncan, Oklahoma, and part of the story is what didn't happen. There was no saturation cable TV coverage, no press conference featuring Al Sharpton or Jesse Jackson, and no statement from the Oval Office. The death of Christopher Lane, while as troubling as that of Trayvon Martin, will not become a national touchstone of racial and cultural debate or reflection.

The Thug Culture That Killed Chris Lane. [Scroll down] Before it was removed, Chauncy Luna's Facebook page revealed he goes by the alias Baby Drake. It showed photos of him posing with friends, including Edwards, and flashing gang signs. Two pictures on James "Lilbuggy" Edwards' Facebook page are also quite revealing. One shows a handgun, and several others show staggeringly large sums of cash. Both may be explained by another photo containing hashtags suggesting he was a member of the Crips. There is also a photo of him posing with a shotgun.

Meet Brenda Edwards, Mother of Accused 'Bored' Teen Killer James Edwards. Edwards is currently incarcerated in the Oklahoma Department of Corrections. Her extensive rap sheet begins in 1994 with a conviction for larceny, and spans her son's entire life. [...] She has three known aliases. As things stand now, her relationship with Oklahoma's criminal justice system won't end for several decades.

Double standard seen in white man's killing. The two teens facing murder charges in connection with the incident, James Francis Edwards Jr., 15, and Chancey Allen Luna, 16, are black. A third teen, 17-year-old Michael Dewayne Jones, who is white, has been charged with being an accessory to murder after the fact. Contrasts have been drawn with reaction to the February 2012 shooting death of Trayvon Martin, and the subsequent acquittal of former neighborhood watch volunteer George Zimmerman.

If G.W. Bush Had a Son, He'd Look Like Christopher Lane. Unlike Trayvon Martin, Christopher Lane doesn't have powerful, race-baiting allies in the Oval Office, Justice Department, media, and entertainment industry. Assuredly, General Holder will not use Chris Lane's senseless murder as a catalyst to pursue his often-requested national race dialogue. Nope. Nor will the Justice Department zealously create a tips hotline (in Zimmerman-like fashion) to build an airtight case against the Chris Lane's shooter for a civil rights violation or hate crime, even though the alleged gunman once tweeted, "90% of white ppl are nasty. #HATE THEM."

Chris Lane shooting [was] a gang initiation, says father who called police. Chris Lane was murdered as a part of a gang initiation, according to James Johnson, the father of a boy who was also allegedly targeted by the three youths accused of killing Mr Lane. Police have not commented on the claim, though court documents confirm the accused were eventually arrested in front of the boy's home.

Three Teens Who Could Look Like Obama's Son Murder Australian Man, NRA Gets Blamed. Instead of placing the blame where it belongs, somehow the NRA gets attacked here.

How Responsible Is Obama for the Oklahoma Killing? "Ayeee I knocked out 5 woods since Zimmerman court!" young James Edwards tweeted on July 15 in the wake of George Zimmerman's acquittal for the shooting death of Trayvon Martin. Edwards's tweets surfaced after he and two of his homies were charged with killing Australian baseball player Chris Lane in Duncan, Oklahoma, last Friday. For the record, "woods" is short for peckerwoods, a derogatory term for white people. [...] This "game" is just one form of black-on-nonblack assaults. Although hard to quantify, they seem to have intensified after the media put a racial spin on the Martin shooting eighteen months ago.

The Hood Comes to Duncan, Oklahoma. The murder of Chris Lane makes apparent the advance of violent black urban culture into the hinterlands. Apparent — not recent, and it's been further facilitated by the internet and social media. The accused murderers and their accomplice were "wannabe" Crips, according to James Johnson, a black man, who reported that the three teens were hiding out in a car at — of all places — Duncan's Immanuel Baptist Church. Johnson says that the trio had threatened his teenage son on Facebook and feared his boy was next to be shot.

Suspect in killing of Australian Chris Lane tweeted: 'time to start taken life's'. One of the Oklahoma teenagers accused of killing 23-year-old Australian baseball player Christopher Lane previously posted images online showing himself posing with guns and wads of cash. And three days before what police call the indiscriminate shooting, the suspect, 15-year-old James Edwards Jr., tweeted, "With my n****s when it's time to start taken life's" — a line from the Chief Keef rap song, "I Don't Like."

The Editor says...
You see, the N-word is a term of endearment when it comes from a black thug, but it's a call to arms when it comes from a white man.

Faces of Evil in a Violent Underclass. James Edwards and his buddies murdered Chris Lane "for the fun of it". James Edwards shot him in the back. It was reported that Edwards danced and laughed in the police station after his arrest. Ending a stranger's life was funny to him. He boasted on twitter that he had "knocked out 5 woods [whites] since Zimmerman court". He advised others to "HATE" white people, and a few days before the murder he said he wanted to be "with my niggas when it's time to start taken lifes".

'Bored' teen who 'gunned down' Australian student 'danced and laughed' after being arrested. The Oklahoma police chief in charge of the investigation into the death of an Australian baseball player today revealed one of the suspects danced and laughed after they were arrested. The new jailhouse revelations came as tweets posted by one of the alleged killers emerged claiming that he 'hated white people' and boasting that he beat up five white people after the George Zimmerman acquittal in the Trayvon Martin case.

Three formally arraigned in W&J student's death. McNerney was fatally injured and his phone and wallet were stolen during a street robbery. Zach DeCicco of Jefferson Hills, McNerney's teammate, fled after he and McNerney were assaulted on East Maiden Street at South College, across from the southwest corner of the campus. DeCicco testified at a preliminary hearing that a group of three men approached him in the early hours of Oct. 4 and demanded that he give them his cellphone. He suffered a broken nose in the assault.

White victims, black perps.
United States is raising a nation of savages. In Brunswick, Ga. two teenagers are accused of shooting a young mother and murdering her 13-month-old child. Sherry West was taking her baby out for a stroll when the boys demanded she give them cash. [...] She pleaded with them to spare her child — but one of the boys took a gun and shot the 13-month-old between the eyes.

Would a truly innocent man act this way?
'You ain't got no gun;' no gun was mentioned. Police testifying Friday [8/23/2013] said [De'Marquise] Elkins, 18, bragged to officers who arrested him that "you ain't got s--- on me. You ain't got no gun." Police hadn't told him the murder he's accused of involved a firearm. Elkins, of Brunswick, is charged with murder and cruelty to children in the point-blank shooting of 13-month-old Antonio Santiago in his stroller when he was returning from the post office with his mother March 21 in Brunswick.

5 accused in disposal of gun that allegedly killed toddler. After shooting 13-month-old Antonio Santiago between the eyes, prosecutors say De'Marquise Elkins stashed the murder weapon under a friend's couch in Brunswick. Then his mother and sister threw it in a saltwater pond, Cobb County jurors heard from witnesses Monday [8/26/2013].

Amid tears, mom takes stand, tells of baby being shot. The mother of a slain 13-month-old boy took the stand Tuesday and tearfully told jurors how she witnessed her baby being shot between the eyes by a young man she'd never met before. De'Marquise Elkins is accused of shooting Antonio Santiago execution style on March 21 while Antonio was in his stroller returning home from the post office in Brunswick.

Teen Guilty of Murdering Georgia Baby in Stroller. The [defendant's] mother, Karimah Elkins, was on trial alongside him and was found guilty of tampering with evidence but acquitted of lying to police.

Brunswick baby killing trial Defendant guilty on all counts. Jurors took roughly two hours to find De'Marquise Elkins guilty of fatally shooting a 13-month-old Brunswick baby in between the eyes during a botched robbery attempt earlier this year.

Bias alert:
Shooting an infant point-blank is cold-blooded murder. It is not just a routine component of a "botched robbery attempt."

Teen who shot baby in stroller gets life sentence. De'Marquise Elkins, 18, stood silent and showed no emotion as he was sentenced in a courtroom less than two weeks after a jury found him guilty of murder in the slaying of 13-month-old Antonio Santiago during a robbery attempt.

The perps spew racial slurs, then launch a violent attack. Even so, it's not a "hate crime."
4 teen girls charged with 'ethnic intimidation' after brutally beating Pa. white woman. Four teenage girls are facing several charges, including ethnic intimidation, after police said they brutally beat a 32-year-old white woman Sunday [8/25/2013] in Pittsburgh, Pa. According to police, the four young black girls, ages 14, 15 and 16, threw a bottle at the woman's car while she was stopped at a stop sign and called her a racial slur, a local TV station reported. "She gets out to address it, and that's when the girls jump her," said Lt. Shirley Sloan, the TV station reported.

Teens face ethnic intimidation charges after brutally beating woman in North Side. Three teenage girls are facing several charges, including ethnic intimidation, after police said they brutally beat a 32-year-old woman Sunday in Pittsburgh's North Side. [...] According to police, the girls threw a bottle at the victim, Ginger Slepski's car, and when she stopped to confront the girls, they attacked her.

Teen Arrested In Assault Of Elderly Woman Outside Of Church An 82-year-old woman went home Thursday after spending two weeks first in the hospital, and then in rehab. She was discharged hours after 18-year-old Michael Duku of the North Side was taken into custody on charges including robbery, assault and conspiracy.

FL Police: 16-Year-Old Black Man Murdered 22-Year-Old White Man Because He Had a Bad Day. On Thursday, Clearwater Police arrested 16-year-old Mychal King for the alleged murder of Jason Taylor Paul. According to police, King admitted to killing Paul because he had a hard day and "just wanted to kill the first person he saw."

The victim later died. The police are trying to decide whether to call it a hate crime.
'I'm going to knock out the next white person who walks by'. A 31-year-old African American who allegedly said he wanted to attack the next white person who walked by could be charged with hate crimes after punching three people in an apparent racially motivated attack. One of his victims, 62-year-old Jeffrey Babbitt, has been left brain damaged after being punched to the ground in New York's Union Square on Wednesday afternoon [9/4/2013], in a senseless attack that shocked onlookers.

NYC man reportedly brain-dead after random, possibly racially motivated, attack. Jeffrey Babbitt, a 62-year-old retired train conductor, was walking through the crowd near tables set up with chess boards when the suspect in the attack — 31-year-old Lashawn Marten — shouted a racial comment before hitting Babbitt in the head. "He said 'The next white person who walks by, I'm going to [expletive],'" one female witness told WCBS-TV. "His fist went in and the man's head bobbed and he hit the ground and you could hear his skull hitting the ground."

Union Square 'I Hate White People' Beating Victim Dies At Bellevue Hospital. A 62-year-old man who was brutally attacked in Union Square last week died Monday [9/9/2013]. On Wednesday, a man shouting that he "hated white people" punched victim Jeffrey Babbitt — who is white — in the face, witnesses said, causing him to fall and strike his head on the ground.

Bus rider's face smashed in during 'hate attack'. An attacker pummeled a bus passenger so hard he smashed the bones in his face after calling the victim a "cracker" in Manhattan — marking the second time in two days that people appeared to be randomly targeted in racial tirades against white people, authorities said. In the latest incident, the suspect passed a 31-year-old rider on the M60 bus riding through Harlem, on West 127th Street, between Amsterdam Avenue and Morningside Drive, around 2:45 p.m., Friday, when he shouted the racial slur and punched the victim in the face, breaking his nose and eye socket, cops said.

Satan-obsessed former Los Angeles airport screener busted for making threats on eve of 9/11 anniversary. A Satan-obsessed airport security screener who allegedly made creepy comments to a teen traveler in June is behind bars on suspicion of calling in threats to LAX and taping a menacing note inside his closet invoking the Sept. 11 anniversary, FBI officials said. Nna Alpha Onuoha, 29, worked for the TSA for seven years but was recently suspended after Los Angeles high school student Sarina Frauenfelder accused him of making inappropriate comments about her apparel as she passed through security June 16, a well-placed source told the Daily News.

The Editor says...
Of course, it's illegal to inquire if someone is Satan-obsessed before hiring him or her.

5 Americans Who Were Murdered For Being White in America. [#2] The Denver Crips gang had been specifically targeting white people to rob. They had robbed and attacked dozens of people because they were white. They went out specifically looking for another white person to rob and found 23 year old Andrew Graham. Graham, who had just been accepted into a Master's program for mathematical engineering, was walking home. Five members of the Crips followed him for two blocks before they confronted Graham, murdered him, and left his corpse lying in the front yard of a home in a residential neighborhood.

17-Year-Old Arrested For Murder Of Man Captured On Surveillance Tape. An Opa-Locka teenager is being held without bond after a court hearing and after Miami-Dade Police arrested him for shooting and killing a 71-year-old man. [...] Police say nothing was taken from [the victim] even though they say [the alleged perpetrator] had cased the parking lot looking for a victim.

The Editor says...
This case is just the latest in a series: A young black man kills an old white (or Hispanic) man, with no motive other than hatred. In the case outlined immediately above, nothing was taken from the victim. It wasn't a robbery, it was just an unmitigated murder.

Press Buries Black-on-Hispanic Hit while Killer Hires Trayvon Martin Lawyer. On September 12, Miami-Dade police arrested a 17-year-old black teenager, Jamal Jackson, for the August 21 execution-style murder of Hispanic-American Miguel Pilotos. The black-on-Hispanic killing in Opa-Locka, Florida didn't get much press when it happened. Only after the suspect was arrested three weeks later did various news outlets release more details of the crime.

Who disarmed the military? After the horrific shooting at the Washington Navy Yards, Michael Savage denounced the changes that have made U.S. military bases so vulnerable to these kinds of incidents. "Who disarmed these workers?" Savage asked. "Who disarmed the military? There's a lot of blame to go around." Savage also declared that the shooter "was basically committing a hate crime," even though it will never be reported that way by the mainstream media. "If you look at his victims," said Savage, "it's strange that almost all of them were white. There was one Asian. Truthfully, my friends, none of them looked like the shooter."

Walmart Shooter Targeted White Victims. A North Carolina grand jury found that a man who shot four people at a Walmart in June targeted his victims because they were white. According to WRAL.com, a grand jury indicted Lakim Faust, 23, on Monday [9/23/2013] on 14 charges, including "four counts of attempted first-degree murder."

Greenville Wal-Mart Shooter Picked Victims By Race. A man who shot four people near a Greenville Wal-Mart in June picked out his victims because they were white, according to several indictments handed down against him.

Pennsylvania man charged in assault of charity runner in Wilmington. Wilmington police today arrested and charged a Pennsylvania man with assault, saying a store's surveillance video showed him punching a former Marine who was running in the city Wednesday on a cross-country run to draw attention to veterans' issues. Police confirmed the assault was made "suddenly and without provocation," offering no motive for the attack on the charity runner.

This attack was instigated by a group of black thugs with no motive other than racism. But it isn't called a hate crime.
White soldier, 20, 'stabbed to death by group of African American men in possible hate crime'. The victim's two friends, also soldiers and also white, told police they were walking south on Pacific Highway when a vehicle approached them and someone inside called out a racial slur. One of the soldiers yelled back something about those in the car treating combat soldiers with disrespect, Lawler said. The car then turned around, stopped next to the soldiers and five black males piled out of the vehicle.

Three black soldiers arrested for stabbing white comrade to death 'called him a cracker'. Tevin Geike, 20, was left for dead in a parking lot near his base in Lakewood, Washington in the early hours of Saturday morning. Previously police said they believed the attack was racially motivated because the attackers — a group of five African American men — called Tevin a 'cracker', a racist term for a white person. However, after interviews with those involved in the confrontation officers today [10/7/2013] said they no longer believed the killing to be a hate crime after speaking to everyone they believe was involved.

The Editor asks...
If the colors were reversed, would the cops be so sure?

Autopsy reveals white soldier 'killed by black comrade' was stabbed through the heart. Spc. Tevin Geike, 20, and two friends had been walking away from a confrontation with another group of soldiers in Lakewood, Washington when he was allegedly stabbed by Jeremiah Hill, 23. Geike suffered a deep stab wound to his chest that cut through a rib and plunged through his heart following a confrontation near Tacoma, Washington, the autopsy showed.

Scrap Hate Crime Laws — or Enforce Them. In that Jeremiah Hill does not look like the kind of person who might commit a hate crime — at least by Justice Department standards — prosecutors have all but cleared him of the same in the stabbing death of Army Spc. Tevin Geike on October 5. A review of the known facts in these two cases would make you think [George] Zimmerman and Hill live in two different countries.

If you're black and possibly guilty but a white person is involved, the media will actively volunteer to be your advocate.
Black Skin Privilege. In America today, blacks generally can conduct racist assaults on whites and count on "civil rights" activists and the media not to notice. In the two months following Trayvon Martin's death, black assailants carried out at least fourteen known attacks against white victims with the idea of "avenging" the fallen youth. In East Toledo, six juveniles beat a 78-year-old white man, shouting: "This is for Trayvon ... Trayvon lives, white [man]. Kill that white [man]!" In Gainesville, five blacks shouting "Trayvon!" beat a 27-year-old white man, leaving his face permanently disfigured.

Early Skirmishes in a Race War. Initial skirmishes in that race war have already begun, and have in fact been going on for some years. But public officials pretend that it is not happening, and the mainstream media seldom publish it at all, except in ways that conceal what is really taking place. [...] More dangerous than these highly publicized episodes over the years are innumerable organized and unprovoked physical attacks on whites by young black gangs in shopping malls, on beaches, and in other public places all across the country today. While some of these attacks make it into the media as isolated incidents, the nationwide pattern of organized black-on-white attacks by thugs remains invisible in the mainstream media, with the notable exception of Bill O'Reilly on the Fox News Channel.

4 Teens Charged in Death of WWII Veteran, Hot Tamale King. Four teenagers are being charged with capital murder in the fatal mugging of 87-year-old Lawrence E. 'Shine' Thornton of Greenville, Mississippi. 'Shine' was a World War II veteran and a famous personality in the Delta region for his hot tamales.

George Washington University professor assaulted near Dupont Circle. A George Washington University Professor is in critical condition after a vicious assault Sunday near Dupont Circle. By the time D.C. police got to S Street and Connecticut Avenue in Northwest D.C. Sunday morning, 39-year-old Jason Chambers was out cold. [...] Police don't have a motive for the attack yet, but they say it does not appear that Chambers was robbed.

The Editor says...
There is no mention of "black" in the article, therefore it is reasonable to surmise that the perpetrator must have been black. And if the police say they "don't have a motive," that means they don't have a motive they can discuss, because the obvious motive is black-on-white racism.

'Knockout Game' Suspect Charged With Hate Crime. The Brooklyn, N.Y., man accused of assaulting an Orthodox Jew in what appears to be another case of the knockout game is being charged with a hate crime for the alleged attack. Amrit Marajh, 28, was charged with harassment as a hate crime after he allegedly punched the 24-year-old Orthodox Jewish man Friday morning [11/22/2013]. The unidentified victim believes he was attacked as part of the deadly "knockout" game, where an attacker aims to knock out the victim with a single sucker punch, police said.

Hate Crimes You Don't Hear About. [Scroll down] Four years later, a black man named Colin Ferguson opened fire inside a commuter train in Long Island. Six people died and nineteen were injured. "Police recovered from Ferguson's pocket a handwritten note titled, 'Reasons for This.' It expressed hatred towards whites, Asians, and 'Uncle Tom blacks,' and stated that Nassau County, Long Island was chosen as 'the venue' because of its predominantly white population." [...] Commentators either denied that it was a hate crime or admitted that it was but then tied themselves in knots to explain it away. The Dallas Morning News interviewed a sociologist who "conceded that Ferguson picked his victims on the basis of race, but did not think this justified the hate crime label."

10 Year-Old Girl Attacked In Alleged Racial Hate Crime. The teenage attacker is black; the 10 year-old is white. A YouTube video shows the camera was rolling before the attack, suggesting that it might have been planned. The attacker is seen looking back at the camera before springing towards the 10 year-old, who was riding by on a scooter. A narrator behind the camera is then heard calling for an end to the beating, saying "Alright," and then the name of the attacking girl. Witnesses to the beating said that the 13 year-old called her younger victim a "cracker," according to the Cleveland Plain-Dealer.



---


The 2001 Cincinnati Riots:

Some of the articles in this subsection have disappeared, but they have been left in place as invisible HTML comments.

ACLU approves landmark police deal: A proposed settlement to a racial profiling lawsuit against Cincinnati police was approved today by the American Civil Liberties Union, the last party in the case to ratify the deal.

Vine Street: What was the excuse this time? There was no police shooting, no reverends shouting for justice this time — just 300 black people blocking Vine Street on Monday night [4/15/2002], pelting cars with rocks, bottles and eggs and yelling "get whitey." Some cities would call that a riot. Cincinnati didn't even call it a "disturbance." The headline over a 3-inch story in the Enquirer the next day said, "Fight draws crowd; police close street."

The media's role in the Cincinnati race riots: Could Cincinnati's race riots been averted? Perhaps — if the media had promptly and properly done their job. Instead of citing 15 police killings of blacks, the media could have emphasized that in 11 of those previous shootings, the police were fully justified; that in two, officers were killed or maimed by the person they shot. In only two were the police apparently mistaken.

Riot Ideology and De-Policing: A Seattle policeman explained de-policing as: "Parking under a shady tree to work on a crossword puzzle is a great alternative to being labeled a racist and being dragged through an inquest, a review board, an FBI and U.S. attorney investigation, and a lawsuit." According to columnist John Leo, that's precisely what's happening in Cincinnati in the wake of the city's recent riots. There's less patrolling to prevent low-level crimes. Policemen await 911 calls. As a result, crime soars.

"De-policing" may be the response to racial profiling study.

Blacks pay dearly for riots.

Police frustration brings slowdown: It's been almost three months since Cincinnati was gripped by race riots after police shot a fleeing man who was wanted on 14 misdemeanor warrants. The Cincinnati Enquirer reports that "Cincinnati police are so demoralized that they are ignoring some minor crimes and looking for jobs in the suburbs." Arrests are down 35%, and revenue from traffic tickets has fallen by about three-fourths.


Race-based black-only organizations

Some of the most obvious examples are the NAACP, the Nation of Islam, and the Black Panther Party, which are covered on other pages. But America has a large number of organizations that appear to be strictly for blacks, including...

100 Black Men of America
Action Alliance of Black Managers
Alpha Kappa Alpha Sorority
Alpha Phi Alpha Fraternity
Africa Reparations Movement
African American Coalition
African American MBA Association
African American Museums Association
African-American Press of America
African American Women Business Owners Association
African American Women Entrepreneurs at Home
African Heritage Studies Association
African Methodist Episcopal Church
African-Methodist Episcopal Zion Church
Afrikan Black Coalition Conference
Afro American Historical & Genealogical Society
Alliance of Black Entertainment Technicians
American Association for Affirmative Action
American Association of Black Anthropologists
American Association of Black Cardiologists
American Association of Black Professionals
American Association of Black Psychologists
American Association of Black Sociologists
American Association of Black Women Entrepreneurs
American Association of Black Women Historians
American Association of Blacks in Energy
American Association of Minority Businesses
Association of Black American Ambassadors
Association of Black Women in Higher Education
Association ot Black Foundation Executives
Association of Black Princeton Alumni
Audience Development Committee
Black Academy of Arts and Letters
Black Agency Executives
Black Awareness in Television
Black Business Professionals and Entrepreneurs
Black Caucus of the American Library Association
Black Creative Professionals Association
Black Filmmakers Foundation
Black Press of America
Black Psychiatrists of America
Black Retail Action Group
Black United Front
Black Woman's Forum
Black Women in Publishing
Black Women's Network
Blacks in Government
Booker T. Washington Foundation
Business Policy Review Council
Coalition for African American Health & Wellness
Coalition of African-American Muslims
Coalition Of African American Nurses
Coalition of African-American Pastors
Coalition of Black Trade Unionists
Conference of Minority Public Administrators
Congress of Racial Equality
Congressional Black Caucus
Congressional Black Caucus Foundation
Ebony Queens Motorcycle Club
The Executive Leadership Council
International Association of Black Professional Fire Fighters
The Joint Center for Political and Economic Studies
Malcolm X Institute For Black Studies
Minority Corporate Counsel Association
Minority Technology Entrepreneurs
National Action Council for Minorities in Engineering
National Alliance of Black School Educators
National Associaition of Black Catholic Administrators
National Association of African Americans in Human Resources
National Association of Black Accountants
National Association of Black Female Executives in Music & Entertainment
National Association of Black Geologists & Geophysicists
National Association of Black Hotel Owners and Operators
National Association of Black Journalists
National Association of Black Law Enforcement Officers
National Association of Black Military Women
National Association of Black Narcotic Agents
National Association of Black Owned Broadcasters
National Association of Black Scuba Divers
National Association of Black Social Workers
National Association of Blacks in Criminal Justice
National Association of Colored Women's Clubs
National Association of Minorities in Communications
National Association of Minority Contractors
National Association of Negro Business and Professional Women's Clubs
National Black Business Council
National Black Business Trade Association
National Black Catholic Congress
National Black Caucus of Local Elected Officials
National Black Caucus of State Legislators
National Black Chambers of Commerce
National Black Child Development Institute
National Black College Alumni Hall of Fame Foundation
National Black Data Processing Associates
National Black Justice Coalition
National Black MBA Association
National Black Media Coalition
National Black Nurses Association
National Black Police Association
National Black Public Relations Society of America
National Brotherhood of Cyclists
National Brotherhood of Skiers
National Coalition of 100 Black Women
National Coalition of African American Organizations
National Coalition on Black Civic Participation
National Conference of Black Mayors
National Conference of Black Political Scientists
National Congress of Black Women
National Council of Negro Women
National Forum for Black Public Administrator
National Institute for Women of Color
National Minority Business Council
National Minority Supplier Diversity Council
National Organization for the Professional Advancement of Black Chemists and Chemical Engineers
National Organization of Black Chemists and Chemical Engineers
National Organization of Black County Officials
National Organization of Black Elected Legislative Women
National Organization of Black Law Enforcement Executives
National Organization of Black Women in Law Enforcement
National Organization of Minority Architects
National Society of Black Engineers
Organization of Black Aerospace Professionals
Organization of Black Airline Pilots
Organization of Black Designers
Professional Black Women's Enterprise
Professional Women of Color
Rainbow PUSH Coalition
Union of Black Episcopalians
United Negro College Fund

Imagine the outrage if any of the above organizations had a white counterpart. If you changed "Black" to "White" in the list above, there would be no question that we were looking at a list of racist organizations. They are organizations which presumably restrict membership to those of a specific race. This is exactly the kind of thing that Martin Luther King opposed.

In America, we have freedom of association: the right to meet with whomever we please. The vast majority of blacks indicate by their actions — especially on Sunday morning — that they prefer to associate only with other black people. The list above demonstrates this clearly. And yet when white people do the same, it is called racism.



Prominent Black Leader Calls on Congressional Black Caucus to Disband. Michigan activist Stacy Swimp called on the Congressional Black Caucus to disband today [4/3/2013]. Swimp says the group should start focusing on legislation that helps all Americans[,] not just the black race.

Whites need not apply. It is "critical" that the Congressional Black Caucus remain an all-black organization, one of the CBC's founders has said in a strategy memo.

The Balkanization of College Campuses: The New York Civil Rights Commission has put out a report which surveyed 50 prominent colleges and universities, [and] …shows these schools encouraging minority students to join ethnic organizations, to live in racially separated dormitories, and to participate in race-based cultural activities. This is done in the name of "cultural awareness," which provide "support systems."

Black journalists jeer peer: A conservative activist says that he was booed, jeered and called "the white man's boy" by a crowd of nearly 300 black reporters and media figures for speaking against reparations at last week's annual convention of the National Association of Black Journalists.

Get whitey: Members of the Congressional Black Caucus want you to treat black Americans with respect and racially sensitive language. And if you don't, they will scream racial epithets at you.

Disband The Black Caucus. Next week, the Congressional Black Caucus will hold its 41st annual conference in Washington. It should be its last. The race-baiting group is alarmingly corrupt and out of control.

Sadly, more of the same from the Black Caucus. Black America suffers disproportionately today because its leaders — uniformly liberal Democrats like our president — have been peddling failed big government policies for almost half a century. Now, in the words of Barack Obama's former pastor, "The chickens are coming home to roost."

Obama to break ground for national black museum. With eyes on his own personal legacy, President Obama revealed today that he will help in the groundbreaking of the nation's first African-American museum. According to the White House, he will deliver the key remarks at the ceremony for the Smithsonian National Museum of African American History and Culture to be built on the National Mall. The ground breaking takes place February 22.


Black-only holidays and events

This subsection could include such things as Martin Luther King Day, the San Francisco Black Film Festival, the Annual Black Boaters Summit, Umoja Fest, or the National Black Theater Festival, but I have chosen to focus on only three for now: Kwanzaa, Juneteenth, and Black History Month.


Kwanzaa:



The Republican National Committee's Stupid Kwanzaa Statement. The Republican National Committee released a statement Friday [12/20/2013], commemorating Kwanzaa. There's just one problem, the entire holiday is a fake and was invented out of thin air by a radical ex-con named Ron Karenga. Karenga invented Kwanzaa in 1966 and fashioned the phony holiday as a black alternative to Christmas. Karenga wanted a holiday that was less Eurocentric than Christmas which he considered the commercial exploitation of African Americans. There's absolutely nothing authentic about the seven-day feast. Even the name "Kwanzaa," which is Swahili for "matunda yakwanza," has next to no historical connection to African Americans.

It's that time of year again — time to debunk Kwanzaa. It's that time of year again — the time when lazy journalists go out and write puff pieces about a fake African holiday created by a psychopath who tortured black women. If these characters would just do a Google search on Kwanzaa, they could find the truth about it in this link to a column I did debunking it. My in-depth article on this originally ran in FrontPage Magazine back in 2002. It's easily found on the Internet by any journalist willing to do the tiniest bit of research into Kwanzaa.

Is Kwanzaa a Hoax? "Anywhere we are, Us is." That looks like a line from an Amos 'N Andy show. [...] In fact, however, the line that I have quoted is the motto of a real organization — a real organization that was originally named United Slaves but now calls itself The Organization Us (or simply Us or US). It was created some 40 years ago, in Southern California, by a black racist who had begun life as Ron N. Everett but later had assumed the name Maulana Karenga.

Author Says Black Liberalism, Kwanzaa, Are 'Anti-God'. Dependence on welfare and celebrating Kwanzaa are "anti-God," according to an author who visited the Charlie Langton show Friday morning [12/28/2012] to outline where he believes religion and liberalism have failed black people. Stacy Swimp, a spokesman for black conservative group Project 21, has a basic premise that says church communities — like the large ones in Detroit — are ruining black culture by embracing liberalism.

Kwanzaa, Liberalism And Hypocrisy. I don't have a problem with Black Americans who do choose to celebrate the principles of Kwanzaa. The main reason is because the principles are all quite conservative in nature, albeit I don't know any Black Conservative who recognize Kwanzaa or celebrate it. It does appear, therefore, to be a liberal outlet, so to speak. That leads me to believe that Black liberals who are professing to embrace these so called principles are actually deceiving themselves, because liberalism is a direct affront to each of the principles taught in the Kwanzaa celebration.

Obamas: Best Wishes for Kwanzaa. President Obama and First Lady Michelle released a statement on Wednesday [12/26/2012], extending "warm thoughts and best wishes" to Kwanzaa celebrants. [...] Kwanzaa's controversial and violent origins seem all but forgotten, as it taught in schools around America and most likely, celebrated mostly by white liberals.

Obama hails Kwanzaa holiday, so why not Easter? [Ronald] Everett adopted the name Maulana Karenga, began teaching African studies in California and said he founded the holiday to "give Blacks an alternative to the existing holiday and give Blacks an opportunity to celebrate themselves and their history, rather than simply imitate the practice of the dominant society."

Kwanzaa Is A Fraud of A "Holiday" Created With A Fascist Goal. The man who created the holiday, Maulana Karenga was a convicted violent felon. In 1971 Karenga was convicted of torturing two women who were members of US (United Slaves), a black nationalist cult he had founded. [...] I cannot see rational people wanting to observe a holiday created by such a sick violent man. But this part of the Kwanzaa story is rarely mentioned by the MSM.

The Truth about Kwanzaa. Blacks in America have suffered an endless series of insults and degradations, the latest of which goes by the name of Kwanzaa. ... There is no part of Kwanzaa that is not fraudulent.

Kwanzaa Is Wack: There, I Said It. Kwanzaa is like a bad weave. People might kinda like it, but we all know it ain't real.

Kwanzaa creator a secular kook, convict. There are three aspects of Kwanzaa that most folks don't know. First, most blacks DON'T celebrate the invented holiday. Secondly, very few non-Americans even know of its existence and finally, its inventor is a kook and a violent convict. Born Ron Everett, Maulana Karenga gave up what he calls his "European name" right about the time he began to adopt his Marxist, black nationalistic views in the 1960s, right around the time he invented Kwanzaa (Dec. 26, 1966), a week-long celebration focusing on African heritage and culture.

"Kwanzaa" was invented by a black criminal in California: Kwanzaa is increasingly seen as an appropriate multicultural alternative to Christmas, a holiday considered too religious and "Eurocentric" for public schools. But there is one not-so-insignificant problem associated with Kwanzaa. While many teachers believe it to be an ancient African harvest festival, it was actually born, not in pre-colonial West Africa, but in 1960s southern California. It is, in fact, the brainchild of African-American radical activist, academic and convicted felon Ron Karenga.

Kwanzaa Created by a Rapist and Torturer? Each year, with the onset of Christmas, we are treated to another gauzy, fluff piece about how great Kwanzaa is by yet another PC spewing newspaper columnist. ... Several years ago, the Houston Chronicle got in the act with a piece by Leslie Casimir titled "Learning about Kwanzaa from the holiday's creator." ... Instead of merely celebrating this manufactured holiday Casimir amazingly made a hero of the rapist, race monger and violent thug who created it!

The Trouble With Kwanzaa: Looking back on it, wearing kente cloth and knowing words in Swahili didn't make me any more authentically African than I already am. For me, it all amounted to a superficial connection to Africa that, in its thinness, ultimately degraded the depth of black culture and our ancestry.

Kwanzaa: The Scientology of Holidays. What do you get when you take a bad science fiction writer with a desire for immortality and add a lust for tax breaks? Scientology. What do you get when you take a neo-marxist felon and add a desire for black nationalism? Kwanzaa. What do both Kwanzaa and Scientology have in common? They are fraudulent products of post-modern culture given legitimacy by a press hell bent on diminishing the Judeo-Christian heritage in the United States.

My Triumph Over Kwanzaa! Is it just me, or does Kwanzaa seem to come earlier and earlier each year? This year, I believe my triumph over this synthetic holiday is nearly complete. The only mentions of Kwanzaa I've seen are humorous ones. Most important, for the first time in eight years, President George Bush appears not to have issued "Kwanzaa greetings" to honor this phony non-Christian holiday that is younger than I am.

Kwanzaa was born of separatism and radicalism. The International Black Buyers and Manufacturers Expo and Conference, an association representing more than 1,000 black-owned businesses, has sent a blistering letter to large American firms like Hallmark Cards and Giant Food, telling them to keep their hands off Kwanzaa-related products. The sale of Kwanzaa products by nonblack businesses, the organization contends, is "arrogantly exploitative of the culture of African people."

A lump of coal for Kwanzaa. As some know, this High Holy Week saw its birth 482 moons in the distant past, which means about forty years ago. It was founded by the Great Prophet, Maulana Karenga, who was born in the cradle of religion itself, Maryland. Like many deeply spiritual men, Karenga came from humble origins, christened Ron N. Everett and raised on a poultry farm.

Fleecing the flock: Kwanzaa not only has no roots in Africa, it is not celebrated anywhere in Africa. It is a complete fabrication from the mind of [Ron N.] Everett. Everett said, "I came up with Kwanzaa because black people in this country wouldn't celebrate it if they knew it was American. Also, I put it around Christmas because I knew that's when a lot of bloods would be partying."

The Kwanzaa Hoax: [Maulana] Karenga — known chiefly as the inventor of Kwanzaa, a fake "African" holiday that he contrived in 1966 — has enjoyed a truly colorful career. He was a prominent black nationalist during the 1960s, when his organization was involved in various violent operations. He was sent to prison in 1971, after he and some of his pals tortured two women with a soldering iron and a vise, among other things. He emerged from prison in 1974, and a few years later — in a maneuver that even The Kingfish might have found difficult — he got himself installed as the chairman of the Department of Black Studies at California State University at Long Beach.

Happy Kwanzaa. On December 24, 1971, the New York Times ran one of the first of many articles on a new holiday designed to foster unity among African Americans. The holiday, called Kwanzaa, was applauded by a certain sixteen-year-old minister who explained that the feast would perform the valuable service of "de-whitizing" Christmas. The minister was a nobody at the time but he would later go on to become perhaps the premier race-baiter of the twentieth century. His name was Al Sharpton and he would later spawn the Tawana Brawley hoax and then incite anti-Jewish tensions in a 1995 incident that ended with the arson deaths of seven people.

Another View of Ron Karenga: It seems the founder of Kwanzaa wasn't any more ethical than those who sung its praises. In fact, at the same time Al Sharpton was glorifying the new holiday, its creator was sitting in a California prison for torturing two black women who were members of the United Slaves, a black nationalist cult he had founded. The cult leader Ron N. Everett went by the name Karenga and in the 60's took upon himself the title "maulana," which means "master teacher" in Swahili. He was born on a poultry farm in Maryland, the fourteenth child of a Baptist minister.

Kwanzaa is for Pagans. For decades, the media have given credence to many a self-appointed black "leader", no matter how outrageous. Now they're doing the same with a pagan ritual called Kwanzaa, a so-called African-American holiday. A made-up, anti-Christian observance, Kwanzaa is celebrated by blacks who profess Christ. In our politically correct climate, even President George Bush, a believer in Christ, feels obligated to praise this ritual.

Kwanzaa: a Christmas Substitute? In spite of it being declared a non-religious holiday, Kwanzaa is being accepted in our children's schools, stores and etc., alongside the religious celebrations of Christmas and Hanukkah, sometimes leaving Christmas out altogether. And for many in the Black church, Jesus Christ and the principles found in the Bible are not enough. People are being urged to practice daily the seven principles of Kwanzaa (the Nguzo Saba) to better one's self and to seek intercession on the behalf of dead ancestors (ancestor worship).

Kwanzaa and the Church: Karenga's official Kwanzaa website ... [says] "you should not mix Kwanzaa holiday or its symbols, values, and practices with any other culture." That's in part because Kwanzaa was established as an alternative to Christmas which was viewed as a western holiday. Christian worship would seem to violate the intent of Kwanzaa's promoters. But if public schools and civic ceremonies are any indication, Kwanzaa is gaining equal standing as a third holiday alongside Christmas and Hanukah. And most folks have no idea it is not an ancient African ritual, but rather the invention of a sixties activist.

Another Viewpoint: Kwanzaa is in reality a non-Christian religious ceremony. It is expressly promoted as not being religious but its Seven Principles are taken from directly Everett's personal religious philosophy, which he calls Kawaida (based on Ma'at, an ancient Egyptian mystic religion that Everett, the son of a Baptist minister, left the church to adopt as a young man). Also, its key rituals and artifacts are modeled after non-Christian religious practices and ceremonies. Scripture does not allow the Christian to participate in such.

Kwanzaa was invented in 1966 amidst the madness of the multicultural '60s by a black radical stooge of the FBI, Ron Karenga, a.k.a. Dr. Maulana Karenga. Karenga was a founder of United Slaves, a violent nationalist rival to the Black Panthers and a dupe of the FBI.

The "Merry Christmas!" Not "Happy Kwanzaa!" Campaign. is designed to educate the American public about the phony "African-American" holiday known as Kwanzaa and to encourage the celebration of Christmas. We want the public to know that Kwanzaa was designed to further separate Blacks from identifying with America.

The Truth About Kwanzaa: Should Christians Celebrate It – Should Anyone Celebrate It?

Kwanzaa: A Holiday From the FBI. I believe more African-Americans spent this season reflecting on the birth of Christ than some phony non-Christian holiday invented a few decades ago by an FBI stooge. Kwanzaa is a holiday for white liberals, not blacks.

Kwanzaa U. Almost nobody in Africa has ever heard of Kwanzaa. It is not an African holiday, and at best is a highly obscure Afro-American holiday. The only education or experience children receive in regard to this "holiday" is through the education system, not from centuries – or even decades – of family tradition.

Just Say "No" to Kwanzaa. Blacks should be outraged by attempts to stamp out Christianity from Christmas celebrations while accepting Kwanzaa as mainstream, says a black minister. Rev. Jesse Lee Peterson, founder and president of BOND, Brotherhood Organization of A New Destiny, notes that while public school administrators and city officials attempt to ban nativity scenes, Christmas carols, candy canes and even Christmas trees from public places, Kwanzaa has been accepted as mainstream.

Kwanzaa — Racist Holiday from Hell. In an earlier time, blacks held a strong faith in God. But over the past 40 years, the black community has largely let God slip away. Sure the community has maintained the outer trappings of religion, but the solid morality at its core is nearly gone. Enter a God-hating black racist named Ron Karenga. Born Ron Everett on a poultry farm in Maryland, Everett invented Kwanzaa in 1966, based on an African harvest festival (though it takes place during the Winter Solstice!), and celebrating the first Kwanzaa with his family and friends.

Kwanzaa, The Fraudulent Holiday, Take 2. Kwanzaa isn't traditional at all. It was invented in the late 1960s by convicted felon Ron Everett, leader of a so-called black nationalist group called United Slaves. I use the word "so-called" because United Slaves' veneer of black nationalism was very thin; most of its members had been members of a South Central Los Angeles street gang called the Gladiators.

The True Spirit of Kwanzaa: Kwanzaa is a product of violent black separatism, and it was designed to foment insularity and a sense of racial grievance.

Did you have a happy Kwanzaa? There are few holidays we can actually attribute to one man's vision. Kwanzaa is such a holiday — coined by Ron Karenga in 1966.

The Obamas' Kwanzaa Message. As most readers here know, Kwanzaa was invented out of whole cloth in 1966 by Ron N. Everett, AKA Ron Karenga, founder of United Slaves, which fought with the Black Panthers over control of the African Studies Department at UCLA. One of Mr. Karenga's achievements was torturing two women who were members of his cult and living in his house. ... For that session Karenga spent four years in prison, after which he found a berth in the Department of Africana Studies, California State University, Long Beach, where he still holds forth, a committed Marxist.

Fewer African-Americans are observing Kwanzaa — why? No one can say for certain how many people celebrate Kwanzaa, which began in 1966 and has roots in the Black Nationalist movement. Keith Mayes, author of "Black Power and the Making of the African-American Holiday Tradition" (Routledge, 2009) said that conservative estimates are that between 1 million to 2 million African Americans celebrate Kwanzaa.


Juneteenth:

Crowd attacks, kills man at Juneteenth festival. An angry crowd beat a man to death after a vehicle he was riding in struck and injured a young girl, police said Wednesday. Police believe 2,000 to 3,000 people were in the area for a Juneteenth celebration when the attack occurred Tuesday night.

The Editor says...
Do you notice anything missing from this report? Juneteenth celebrations are attended almost exclusively by blacks. I wasn't there, but I'm guessing this is the story of a black lynch mob, with that one little detail omitted.

Crowd kills passenger of car that struck child. A crowd of Juneteenth partyers outside an East Austin housing project turned violent with several beating a man to death after the car he was riding in apparently struck a small child. … "It's sad for the city," said Commander Harold Piatt, who leads the Austin Police Department's homicide division. … "It's not a hate crime," he said. "It's not racially motivated in any way. The assault has nothing to do with the (city-sponsored) Juneteenth celebration."

The Editor continues...
The reporter describes a crowd of Juneteenth partyers at the beginning of the story, but the police say it had nothing to do with Juneteenth. There is a new ingredient here that was missing from other news stories about this case — it was a crowd "outside an East Austin housing project", which further guarantees that the perpetrators were black, yet the word "black" is not in the text of the story. I'm just saying that if the colors were reversed, the news media would still be talking about a lynch mob and a hate crime. As it is, the story disappeared within two weeks.


Black History Month:

Black History Month: The Left's Favorite Time of the Year. Alas, another Black History Month... or as the left likes to view it, their annual "Opportunity To Exploit Race Month." It is the month in which liberals attempt to convince us that race relations in America have progressed very little since the days of police unleashing dogs on civil rights activists. Rather than presenting a balanced, honest look at black history, leftist schoolteachers and the media say America is still racist and whites should feel eternally guilty.

Black History Month — and the Black Heroes it Ignores. Malcolm X didn't mince words. "I'm not an American!" he sputtered, "America is a nightmare! America practices slavery! The white man is the common enemy!" Naturally, Time Magazine heralded him during Black History Month.

Time to end Black History Month? Obama's triumph, to some, means that we can all put other assumptions — like the need for Black History Month — behind us. "I propose that, for the first time in American history, this country has reached a point where we are can stop celebrating separately, stop learning separately, stop being American separately," Detroit Free Press columnist Rochelle Riley wrote in a Feb. 1 column calling for an end to Black History Month.

Is Black History Month already history? Well, it depends. Abraham Lincoln ... was born 200 years ago on Feb. 12. A hundred years later the National Association for the Advancement of Colored People, the nation's oldest and largest civil rights organization, was born on Lincoln's birthday. A century later we have our first biracial president. What a country. Which raises a question I've pondered increasingly in recent years about the NAACP and Black History Month. If they weren't around, would anyone notice? A lot of people ask, now that Americans of all colors have put an African-American in the White House, how much more "advancement" do we need?

Poll: End Black History Month. The overwhelming majority of respondents to a Moultrie Observer online poll think Black History Month should be abolished. ... The poll was in response to an Associated Press story earlier this month that questioned whether the month had outlived its usefulness, considering the election of an African-American to the presidency.


---
Black History Month vs. Condoleezza Rice:
A friend of mine from Arkansas writes the following: "Thought you'd appreciate this little anecdote. A co-worker of mine has a daughter in public elementary school, here in Pine Bluff. They're still doing Black History Month stuff, apparently, because the kids were told to come to class dressed as a famous (and presumably accomplished) African-American. My co-worker's kid was told to come as Tina Turner. My co-worker informed the teacher that her child would come as Condoleezza Rice instead. The teacher refused to allow it, on grounds that Rice 'is for white people.' Nice, huh?"
---

Morgan Freeman criticizes black history month. Black History Month has roots in historian Carter G. Woodson's Negro History Week, which he designated in 1926 as the second week in February to mark the birthdays of Frederick Douglass and Abraham Lincoln. Woodson said he hoped the week could one day be eliminated — when black history would become fundamental to American history.

Black support for Bush drops to two percent. If only blacks knew of the true history of the Democratic Party. "Black History Month" has been observed for 29 years, yet many blacks know little to nothing about the parties' respective roles in advancing or hindering the civil rights of blacks. How many blacks know that following the Civil War, 23 blacks — 13 of them ex-slaves — were elected to Congress, all as Republicans? The first black Democrat was not elected to Congress until 1935, from the state of Illinois. The first black congressional Democrat from a Southern state was not elected until 1973.


---

Back to Affirmative Action
Back to the Home page