Subsections on this page:

Black mobs and race riots
The crashed pool party in McKinney, Texas, June 5, 2015
The 2016 race riots in Milwaukee, Wisconsin
The race riots in Baltimore, Maryland (A subtopic now on its own page.)
The race riots in Ferguson, Missouri (Ditto.)
Black violence
Black violence in schools
Black crime
Black crime in Chicago
Black crime in Detroit
Black crime in Philadelphia
Black crime in Dallas
Black crime in Memphis
Black crime in New York
Black crime in St. Louis
Black crime in Chicago
Black crime in New Orleans
Black crime in Denver
Black crime in Cleveland
Black crime in Atlanta
Black crime elsewhere in Georgia
Black crime in Maryland
Black crime in Indianapolis
Black crime in Alabama
Black crime in New Jersey
The carjacking at Short Hills Mall
Black violent crime elsewhere
Black racism
Reverse discrimination
Black Lives Matter
The specific case of Shannon J. Miles
The specific case of Vester Flanagan
Black hate crimes
Fake hate crimes
The 2001 Cincinnati riots
Race-based black-only organizations
Black-only holidays and events
Kwanzaa
Juneteenth
Black History Month


---
Black mobs, organized premeditated disruptions, and race riots
North Carolina Mob Attack Female Truck Driver — Police Refuse to Help. Following an officer involved shooting in Charlotte North Carolina yesterday [9/20/2016] a mob of angry protestors assembled. Immediately the protesting mob began attacking police officers and vehicles. The mob clashed with police and riot squads were called, tear gas deployed. The mob grew into approximately a thousand people who then moved collectively onto interstate 85 and blocked traffic. Several vehicles were caught by the mob included numerous tractor trailers.
Protests break out across North Carolina injuring 12 police officers after cops shot dead a 'disabled' black father-of-seven. Keith Lamont Scott, 43, was shot by a Charlotte-Mecklenburg police officer at The Village at College Downs in Charlotte at about 4pm on Tuesday [9/20/2016]. The police department issued a statement saying the officers fired their weapons after considering Scott a threat. But Scott's brother and sister said he didn't have a gun and was reading a book in his car while waiting for his son to be dropped off from school, WSOC reported. On Tuesday night, the Charlotte-Mecklenburg Police Department tweeted that demonstrators were destroying marked police vehicles and that approximately 12 officers had been injured, including one who was hit in the face with a rock.
Protests erupt after fatal shooting by police; 12 officers injured. All lanes of Interstate 85 were reopened early Wednesday [9/21/2016] but still littered with some rocks and glass after a night of protests over an officer-involved shooting of an African-American man in the University City area. The officer was also African-American. Twelve police officers were injured Tuesday night in a series of clashes, and reports were coming in early Wednesday of motorists on Interstate 85 being hurt and their vehicles damaged when protestors threw rocks, bottles and traffic cones off interstate overpasses onto traffic below. At least seven of the police officers needed to be hospitalized after the clashes, including one who was hit in the face with a rock.
Disturbances at Mall of America lead to 10 arrests. Witnesses at the state's largest shopping and entertainment complex described the scene that unfolded Monday evening [9/12/2016] as "chaotic" with people running and chanting. A series of disturbance calls over the course of several hours Monday evening at the Mall of America led to 10 arrests, Bloomington police said. Skirmishes broke out in the third-floor food court area after 6 p.m. and officers made the arrests for alleged offenses ranging from disorderly conduct, obstruction of the legal process and providing false information to police.
New video shows mob of Yale students encircling professor and angrily demanding an apology after he told them to 'just look away' if they were offended by racist Halloween costumes. New videos have surfaced of a Yale professor being protested and yelled at by students for sending an email telling them to ignore people dressed in offensive or racist Halloween costumes last year. The fallout of the email saw Nicholas Christakis, the master of Silliman College at Yale, and his wife Erika, a faculty member, resign from their positions at the university. The new videos, which appeared on The Federalist, give a greater insight into what the students were demanding from Christakis, and his defense that cultural appropriation on Halloween is permissible.
Forget Milwaukee: Cedar Rapids Had Much Better Black Mob Violence and Denial. People outside of Milwaukee may be a bit surprised that last week hundreds of black people burned down businesses, threw bricks at cops, attacked white people, and created an enormous amount of mayhem. All because police killed a member of that city's black criminal elite after he pointed a stolen gun at them. The New York Times certainly was — it even dug up a few locals to say so. But on the porches of Milwaukee, the home town crowd remember how hundreds of black people rampaged through a recent state fair, attacking white people in and outside of the fairgrounds — with all the bloody carnage captured on 911 calls.
Bike trails becoming a center of black on white mob violence. Urban bike and jogging paths are becoming synopsis with black on white mob attacks and media censorship. Groups of young blacks look for vulnerable whites to brutally beat up. Little, if anything, of value is stolen. Racial hatred seems to be the primary motive in most of these attacks. The race of the attackers are often aggressively censored by the media. The attacks are blamed on "a lack of lights" or a "lack of security."
Charleston's impromptu street protest sparked tense police response. "They're throwing bricks!" An officer barked the warning into his radio as an object bounced off an officer's vest and hit him in the face Wednesday night [7/13/2016]. The officer was part of a group who stood at Broad and King streets, trying to keep a throng of protesters marching in the middle of the streets away from the shops and bars a little farther north on King Street. About 100 protesters broke off from a rally against police shootings in Marion Square to take their complaints to the streets. They marched south past the Market to The Battery, then turned around and marched north on King Street, chanting all the while and challenging police orders to get on the sidewalk.
Police: 65 arrested after blocking Baltimore expressway during protest. Sixty-five people were arrested on Saturday [7/16/2016] after participants in a march against police brutality blocked Interstate 83 just north of downtown Baltimore. The arrests created a chaotic scene around Penn Station, where thousands milled around for the annual Baltimore Artscape festival. The march, which was named and tagged on social media as "Afromation," began at Guilford Avenue and Chase Street, moved through Artscape on Charles Street, then to St. Paul Street and past Penn Station to the I-83 onramp, which was closed for the festival.
21 Officers Injured as St. Paul Freeway Protest Turns Violent. Twenty-one officers from various Minnesota law enforcement agencies were injured and more than 102 protestors were arrested as a demonstration on the I-94 freeway in St. Paul turned violent Saturday night [7/9/2016], with protestors hurling rocks, bottles, fireworks and bricks at law enforcement officers on the scene. Hundreds of demonstrators began protesting at the Governor's Residence in St. Paul Saturday night over the police-involved shooting death of Philando Castile earlier in the week before heading onto the I-94 freeway around 8 p.m., local Fox affiliate KMSP reported.
Government Street in Baton Rouge closed due to protests. What started as a peaceful march in downtown [7/10/2016] ended with tense moments between police and protesters. Officials say 48 people were arrested during the unplanned demonstration. A portion of Government Street in downtown Baton Rouge remains closed after a group held an "unlawful protest" following a peace march that was held at the Louisiana State Capitol. Police believe the secondary protest was initiated by out-of-state groups.
Oakland Authorities, Business Owners Worry About More Protests. The city of Oakland was cleaning up Friday[7/8/2016] after a night of disruptive protests as officials and business owners expressed concerns over more unrest to come. Thousands turned out Thursday night to stand against two deadly police shootings in Louisiana and Minnesota this week. A crowd estimated at around 2,000 people gathered in downtown Oakland to protest the recent police shootings, marching through the streets, taking over Frank Ogawa Plaza and gathering outside of the Oakland Police Department on Broadway. Someone painted the word "murderers" on the door of Oakland police headquarters.
Protesters in standoff with police on Atlanta highway. Protesters in Atlanta, Georgia marching against police brutality have shut down Interstate-75 and the northbound side of Interstate-85, where a large police presence is preventing them from advancing further. Meanwhile, in Baton Rouge, Louisiana, some arrests have been made in protests there. Thousands of people rallied in Atlanta, Georgia and Baton Rouge, Louisiana on Friday to protest the recent police-involved deaths of Alton Sterling and Philando Castile, both African-American men, in Louisiana and Minnesota respectively.
Atlanta protesters in tense, peaceful standoff with troopers. A group of protestors engaged in a standoff with Georgia State troopers for hours Friday night. After an earlier protest in and around Centennial Olympic Park ended, this group marched to Williams Street near the Downtown Connector. State troopers gathered in force to form a line to keep the protestors from marching onto the highway.
Thousands of protesters block highway in Atlanta in march against police brutality. Black Lives Matter protesters have been sprayed with tear gas in Phoenix after a march against police brutality spiraled out of control. Police also fired bean bag rounds and pepper spray at the protesters, who were seen running away and shielding their eyes.
Black Lives Matter protesters sprayed with tear gas in Phoenix as rally spirals out of control. Black Lives Matter protesters have been sprayed with tear gas in Phoenix after a march against police brutality spiraled out of control. Police also fired bean bag rounds and pepper spray at the protesters, who were seen running away and shielding their eyes. One image showed a white man holding a Donald Trump 'Make America Great Again' placard interrupting the protest on Friday night. Less than three hours after the demonstration began at 8pm, police declared the protest an 'unlawful assembly' and ordered people to leave after objects were thrown at officers, the Arizona Republic reported. In Rochester, New York, the SWAT team arrived and police arrested 74 protesters who were blocking the streets.
Saturday protesters: 'Disrupt,' 'shut down' outside 24th, 25th Police Districts. Activists started their march Saturday evening [7/9/2016] from the Fairhill section of North Philadelphia toward the 24th and 25th Police Districts, where they planned to "disrupt" and "shut down" police activity and area traffic as part of a "weekend of rage" against fatal police shootings nationwide of young black men, one of the protest leaders said.
This Wal-Mart brawl is unbelievable. Gates [NY] Police Chief Jim VanBrederode says the fight started around 7 p.m. Sunday [7/3/2016] after two 17-year-olds made fun of a dress worn by a 24-year-old woman. [Video clip]
The Editor says...
No, the riot is not "unbelievable." I suspect incidents of this sort take place more frequently than any of us know.
Kanye causes chaos in New York: Thousands mob streets for star's 'secret' gig prompting NYPD shutdown and near riot. Chaos erupted outside Kanye West's secret concert in New York City early Monday morning [6/6/2016] after thousands of desperate fans descended on the venue — forcing officials to cancel the event and requiring dozens of police officers to disperse the crowd. Kanye was heard asking for Mayor Bill de Blasio to shut down the block in a Snapchat video taken by wife Kim Kardashian early Monday morning after some people were trampled in a stampede outside the gig.
Police: Virginia man fatally beaten, stabbed by mob at party. Virginia police say a man found dead in his family's home was beaten by a mob of people and stabbed at a party he attended the night before.
Nashville Cop Of The Year Attacked by Mob at Housing Project. Responding to a shots fired and domestic call last week, Officer Matthew Cammarn arrived at a housing project on South 7th Street where he witnessed 22-year-old Brian Shannon reportedly assaulting a female. Cammarn intervened but Shannon responded aggressively and refused to be taken into custody. He grabbed the officer and pulled him to the ground. Cammarn wrestled with Shannon while a crowd gathered and a group of men started hitting the officer over the head.
The London Loot-athon: Outrage as dozens of people are filmed brazenly snatching bottles of water left for marathon runne. This is the shocking moment a group of people including parents with children were seen stealing bottles of water from London marathon runners. The mob were pictured descending on tables laid out with liquid in Deptford, south-east London. Eyewitnesses say a group of opportunistic thieves started stealing the bottles minutes after the front runners had passed through. One man even brought a trolley with him to pile up crates of the water which should have been much needed refreshment for the athletes.
Police officer attacked in wild brawl, chases suspect at Nashville housing complex. Nashville police are increasing patrols at a housing complex after an officer was attacked in a wild melee that was captured on video. The officer, Matthew Cammarn, suffered a head injury in the brawl, which occurred Tuesday while he was trying to make an arrest at the James Cayce public housing development. Video shows Cammarn and a man — identified as Brian Shannon, 22 — scuffling as a crowd surrounds them. Cammarn allegedly saw Shannon assault a woman, and was pulled to the ground when he tried to intervene.
Black Lives Matter shuts down Chicago expressway over police killing of teen. Traffic on Chicago's Eisenhower Expressway was disrupted Tuesday night [4/12/2016] when a Black Lives Matter vigil held over the death of a 16-year-old boy turned into a march. Several lanes of the expressway were blocked, and two protesters were arrested.
Oklahoma police hunt suspect who punched retired cop trying to break up fight. Oklahoma police are investigating after a fight outside a local convenience store showing a retired police officer being sucker-punched was caught on video. [...] When officers arrived at the scene they encountered a crowd of 50 teens and young adults, Fox 23 News reported.
Armed stand-off at Texas mosque: Racial tensions erupt in Dallas. Racial tensions erupted during an armed demonstration outside a Nation of Islam mosque in Dallas on Saturday [4/2/2016]. Anti-radicalization protesters from the Bureau of American Islamic Relations turned up with semi-automatic rifles, clad in skeleton masks as they confronted members of the New Black Panther Party. Hundreds of black activists meant the group was outnumbered as they lined up behind barricades on Martin Luther King Jr Boulevard.
Nine arrested in giant street brawl that killed teen. Nine people are behind bars in Georgia charged with murder after a massive street fight caught on video. Police are investigating what sparked the brawl in a small town near Augusta that left a teenager dead. David Begnaud reports from outside Glenn Hills High School in Augusta, where some of the suspects are enrolled.
9 face murder charges in recorded after-school brawl in Georgia. It started out as a fistfight. Two girls — emboldened by bystanders alternately yelling out support or derision — went toe-to-toe in the residential street before they tumbled to the ground. It only got uglier from there. A two-minute cell phone video shot by a witness last week in Hephzibah, Georgia, captures the chaos as others join the fray, some wielding bats or pipes, others their fists. The driver of a black car targets two young men, narrowly misses them, and backs up on the subdivision lawn, striking another vehicle. In the end, an 18-year-old boy was mortally wounded.
The Editor says...
Notice that the bystanders all have cell phones with internal video cameras, and every gang fight is televised on the internet. Not to identify the suspects, of course, but to generate internet fame for the photographers. The lower class is preoccupied and driven by celebrity and fame.
A Deadly Fight Involving Up To 50 Teens Started With One 15 Year Old Girl. Authorities say nine people have been charged with murder and another is being sought after a teenager was stabbed to death in a massive, chaotic brawl that involved baseball bats, pipes, knives and other weapons near Augusta.
Video captures teens fighting at Burger King. An all-out brawl inside a Memphis fast food restaurant was caught on camera. A WMC Action News 5 viewer said they took the footage at the Burger King near the intersection of Poplar Avenue and Cleveland Street. In the video, several young people can be seen fighting near the counter. The people appear to be in school uniforms. The video shows what appears to be students throwing punches, pulling hair, and standing on counters in a local fast food restaurant.
Will Thuggish Hip-hop Culture Destroy Austin's SXSW? It is Austin's most important and coolest festival: South by Southwest. But after two gun-related incidents at this year's SXSW, both involving volatile hip-hop crowds on March 18 and 20, the festival's organizers and Austin's liberal political leaders must be in a panic — wondering how to get rid of all the thuggish hip-hop shows while maintaining their high-minded values of political correctness. The mayhem at SXSW's music week together with other hip-hop thuggishness over the years — including the deaths of four festival[-]goers three years ago caused by a black rapper who was eluding police in a stolen car — has stirred public outrage. The talk on social media and in online posts in recent days has veered into the politically incorrect, with many slamming hip-hop's thuggish culture.
Spring Breakers Cause Chaos On South Beach. The crowd became so big and out of control so quickly that Miami Beach police had to call in more units working other areas of the beach as well as units from Miami police. "At first everything was under control," Miami native Jovannae Sweeting told Reporter Donna Rapado. "But then I guess when people tried to fight police, of course when the police were attacked other police tried to help them. It was crazy." Video even captured people even standing on top of cars.
Mayhem over new Air Jordans shuts down Eastland Center. A little pink sneaker created a big ruckus this morning [3/5/2016] at Eastland Center mall in Harper Woods. At 8 a.m., when the doors opened at the Kids Foot Locker for the highly anticipated release of the Girls' Air Jordan 12 Retro Vivid Pink shoe, crowds rushed the gate, broke a lock, shoved and hollered. Police immediately shut the mall down. At 10 a.m., the store tried to open again and the same thing happened, according to William McClure, the general manager at Eastland Center.
Fox News blamed for stoking 'racism' in city's spring break crackdown. The actual bacchanalia is still to come, but the underside of spring break in this party mecca has produced heated council meetings, attempts at a crackdown and court proceedings on whether Fox News is to blame for the town's purportedly racist crackdown. Laws limiting alcohol consumption and scooter rentals have divided businesses and residents of this rural county which, for the past 20 years, has been transformed by hundreds of thousands of young visitors who spend tens of millions of dollars in a raucous six weeks.
Police: Gun owner saved cop from attack by kids. Police are crediting a vigilant gun owner with saving the life of an Upper Darby cop Friday [2/12/2016] after he saw the officer being attacked and surrounded by a large group of teens. "There were 40 kids. If it wasn't for the good Samaritan stepping forward, he'd have been dead meat," Upper Darby Police Superintendent Michael Chitwood said. "There's no doubt they would have attacked him."
No Justice, No Football. For me, the big question isn't which team wins in that football thing this weekend. The real big question is whether local anarchists and malcontents will try to shut down any big-name bridges, freeways or otherwise jam up the Bay Area's Super Bowl festivities.
Lawbreaking Bikers Promote Anti-Second Amendment Message. People all along the East Coast are increasingly being subjected to a low level of lawless intimidation with massive traffic intimidation by a subculture of outlaw bikers. This is a separate subculture that revels in their ability to escape police and to break traffic laws with impunity. [...] Most are unlicensed dirt bikes and ATVs. The riders have learned to break the law with impunity, especially in large, semi-organized groups. The bikes give them the ability to go places where police cars or even conventional police motorcycles cannot go, and police organizations have been under pressure not to chase the law breakers for fear of causing accidents. In many areas the police have given up on enforcing the law, and have broadcast their intentions to the public. This serves to empower and reinforce the attitudes of the outlaws.
ATV, motorcycle riders take over streets in Miami-Dade, Broward counties. Motorcyclists and ATV riders took over the streets of Miami-Dade and Broward counties, ignoring traffic lights, driving the wrong way down city streets and speeding on sidewalks on Martin Luther King Jr. Day. At least 150 riders started in Miami-Dade County about 3:30 p.m., moving north into Broward County on Interstate 95. Riders went as far north as Pompano Beach before turning back south as night fell. Although it's illegal to drive an ATV or an unauthorized motorcycle on roads in both counties, officials said they did not chase the riders or pull them over because it was too dangerous.
Bay Bridge reopening after protesters chain themselves, shut down span. California Highway Patrol officers arrested 25 demonstrators after the group used the Martin Luther King Jr. holiday Monday [1/18/2016] to chain themselves and their vehicles across all five westbound lanes of the Bay Bridge, bringing traffic to a standstill as they demanded racial equity. The activists froze traffic for about 30 minutes before they were arrested on suspicion of public nuisance, unlawful assembly and obstructing free passage, CHP Officer Vu Williams said.
Mob of 50 Black Teens Storm Georgia Walmart, Destroy and Steal Store. Do you think the Old Media establishment will report this story of a mob of 50 black teenagers swarming a Walmart in Georgia and destroying the place? [...] But imagine if it was a mob of 50 white kids doing this?
Teens terrorize holiday shoppers. The entitlement generation is on the rampage — turning many of our nation's shopping centers into war zones. Over the long holiday weekend, mobs of unsupervised teenagers terrorized shoppers and department stores across the fruited plain. As many as 2,000 teenagers rioted Saturday night at the Mall St. Matthews in suburban Louisville, Kentucky. Officer Dennis McDonald, a spokesperson for the St. Matthews Police Department, told USA Today that most of the offenders had been dropped off at the mall or had arrived by public transportation.
Fight breaks out at Newark anti-violence rally. A skirmish broke out between rival activists on the steps of City Hall Wednesday [12/31/2015] during what had been intended as a demonstration against violence in Newark. Police were called to the scene after a small crowd began arguing over escalating violence and the city's attempts to curb it. The noon press conference was called by a group of activists led by Salaam Ismial, co-chair of the New Jersey Study Commission on Violence, and Abdul Muhammad, a longtime Newark anti-violence activist.
Two arrests as Black Lives Matter, other groups protest during Mummers Parade. Philadelphia Police arrested a man and woman who they say briefly disrupted the annual New Year's Day Mummers Parade in Center City Philadelphia. [...] A 45-year-old man was charged with disorderly conduct. A 34-year-old woman was charged with disrupting a procession. Both were among a group of about 50 demonstrators who staged a protest during the annual Mummers Parade.
Police violence protesters 'crash' brunch at North Side restaurants. Several protesters took to popular North Side brunch restaurants on New Year's Day to chant and raise awareness of police violence in Chicago. The protesters, including members of Black Lives Matter Chicago, the Black Youth Project, and Assata's Daughters, went into restaurants Kanela Breakfast Club and Dove's Luncheonette in Wicker Park and chanted "While you are here celebrating over brunch, black families are struggling to keep themselves safe from CPD."
Kentucky's Mall St. Matthews Shuts Down After Brawls Involving Up to 2,000. The officers on duty at the mall called for backup, and 50 officers from five different agencies responded, according to police. "It was a series of brawls" involving 1,000 to 2,000 people ages 13 to their early 20s, McDonald said, adding that "the entire mall" was affected. About 8 p.m., authorities started to advise stores in the mall to close their doors, but those involved in the brawls were refusing to leave. "Businesses were in the process of closing their doors, steel grates, and you had juveniles that were not allowing businesses to close up — [they were] climbing on the grates," McDonald said.
More than 500 people swept up in chaotic flash mob at Deptford Mall. Several law enforcement agencies are investigating after a "large disturbance" involving more than 500 people broke out Saturday night [12/26/2015] at the Deptford Mall. Officials from Gloucester and Camden counties arrived at the scene of what appears to have been a flash mob that took place at the Sears department store on the mall's second floor, according to NJ.com. Police stopped short of calling the disturbance a "fight," confirming there were no reports of assaults or injuries.
America's Newest Christmas Tradition: Black Mob Violence at Malls. In the days before, during, and after Christmas, 15 malls reported large-scale episodes of rioting, shooting, looting, rampaging, fighting, throwing rocks at police, damaging cars and more. Two black people died.
Mall Mayhem: Over 1,000 Teens Shut Down Kentucky Mall. A mall in Louisville, Kentucky, reopened this morning after over 1,000 teens loitering, fighting and refusing to leave businesses forced the shopping center to shut down Saturday night [12/26/2015], police said. Around 7 p.m., police started to receive disturbance calls from the Mall St. Mathews regarding "juveniles who were loitering, refusing to leave businesses, fights, those kinds of things," St. Matthews Police spokesman Dennis McDonald told ABC News today.
500 people involved in large disruption at Deptford Mall. Confusion broke out at the Deptford Mall Saturday night after a "large disturbance" involving more than 500 people erupted near the food court. Multiple law enforcement agencies from both Gloucester and Camden counties were called to the mall, located on Deptford Center Road. Videos posted on social media show droves of people dispersing near the Sears store on the second level.
Media fails to identify the race of 1,000 to 2,000 Black teens that shut down Kentucky mall. The teenagers involved in this incident were Black, but media reports, including Fox News, omit the fact from their reports. Notice how CBS just calls them "unruly". Why? It's obvious. The media works from templates to fit their agenda. Minorities behaving badly will always be unreported as much as possible. But, had a White Cop shot one of these criminal Black teens, then the races of all involved would be indentified.
Kentucky's Mall St. Matthews Shuts Down After Brawls Involving Up to 2,000. Chain-reaction brawls involving up to 2,000 people erupted in one of Kentucky's largest malls Saturday night, forcing the entire mall and businesses in the surrounding area to shut down, police said. [...] The officers on duty at the mall called for backup, and 50 officers from five different agencies responded, according to police. "It was a series of brawls" involving 1,000 to 2,000 people ages 13 to their early 20s, McDonald said, adding that "the entire mall" was affected.
Shakedown:
Riot ideology: Results through coercion. In the summer of 1966, Attorney General Nicholas Katzenbach warned that there would be riots by angry, poor minority residents in "30 or 40" American cities if Congress didn't pass President Lyndon Johnson's Model Cities antipoverty legislation. In the late 1960s, New York Mayor John Lindsay used the fear of such rioting to expand welfare rolls dramatically at a time when the black male unemployment rate was about 4 percent. And in the 1980s, Washington, D.C., Mayor Marion Barry articulated an explicitly racial version of collective bargaining — a threat that, without ample federal funds, urban activists would unleash wave after wave of racial violence. "I know for a fact," Barry explained, "that white people get scared of the [Black] Panthers, and they might give money to somebody a little more moderate."
A Mob's Maul Of America. Presumably the purpose of a protest is to attract attention to one's cause. That police shootings have led the news and are at the top of the White House's agenda isn't quite good enough for Black Lives Matter, because the loose social-media collective wants more than attention. It wants destruction. Its latest protest at the Mall of America is explicitly intended to create economic losses as a means of shaking out concessions from "the establishment."
1 of 8 Arrested in Minnesota Airport Protest Remains Jailed. One of eight people arrested during a flash protest that briefly tangled holiday travel at Minneapolis-St. Paul International Airport remained in jail Thursday [12/24/2015], with the others facing orders to appear in court later.
Hundreds of Black Lives Matter storm Minneapolis Airport and cause travel chaos as riot police are deployed to terminals. Thirty people have been arrested after hundreds of Black Lives Matter protesters disrupted holiday travel and shopping in several states Wednesday with protests blocking access roads to airports and shutting down the Mall of America in Minneapolis. Minneapolis-St. Paul International Airport Police are out in full force today to ensure smooth Christmas Eve travel a day after the demonstrations led to disruptions. Airport spokesman Patrick Hogan said Thursday [12/24/2015] that there's no reason to believe there will be a repeat of protests that led to traffic backups and security checkpoint shutdowns at a secondary terminal Wednesday.
Black Lives Matter protest snarls Minneapolis airport. Several hundred Black Lives Matter activists shut down at least one terminal at the Minneapolis-St.Paul International airport Wednesday for about two hours in an afternoon of protest that began miles away at the huge Mall of America. A total of 15 people were arrested at both sites, mostly for trespassing or obstruction of justice, police said. No injuries or property damage were reported. The protesters not only disrupted rail traffic to the terminals, they blocked the freeway in front of the airport, snarling holiday traffic on one of the busiest travel days of the year.
New at the mall: Fierce black-mob attacks. A mall in Ocoee, Florida, has been forced to impose a curfew after as many as 900 black teenagers, mostly girls, stormed a theater inside the mall so they could see the sexual bondage-themed film, "Fifty Shades of Grey," on Valentine's Day. According to WKMG-TV in Florida, hundreds of middle- and high-school students rushed the AMC Theater at the West Oaks Mall after not being allowed into the R-rated movie. Some reports indicate the riot was organized on social media weeks in advance.
Black Lives Matter Protester Says Disrupting Christmas Travel Is 'A Good Idea'. Black Lives Matter organizer Asha Long says that disrupting air travel is not a bad thing: "I think it's important for that we realize people who are upset about missing their air, their flight, that many black lives are disrupted every day." Appearing on "CNN Newsroom" with Carol Costello on Thursday [12/24/2015], Long was unable to provide statistics to back up her claims arguing, "I do not have statistics but I do have lived experience which is just as valid."
Flash mob hits designer store in Georgetown, steals $13,000 in goods. A large group of juveniles robbed a clothing store in Georgetown on Tuesday evening and stole $13,000 worth of items, according to D.C. police. The incident happened just before 6 p.m. at the Diesel store in the 3000 block of M Street NW. More than 20 people went into the store and grabbed several items off the racks, police said. They stole four leather jackets, costing about $800, and an additional $12,000 worth of merchandise.
Black Lives Matter protesters interrupt Hillary rally. Protesters with the Black Lives Matters movement interrupted a Hillary Clinton rally in Atlanta on Friday [10/30/2015], where she planned to unveil her criminal justice reform plan. Members of the civil rights group in the crowd chanted "Black Lives Matters" and sang hymns throughout her speech.
Cops Fired For Telling the Truth about Black Violence. The first hero is Lori Lavorato, the former spokeswoman for the police in Des Moines, Iowa. A few years ago, at the Iowa State Fair, large groups of black people created havoc and violence in and out of the fair for three nights. In their wake, they left a fractured skull, dozens of black on white assaults, property destruction, defiance, and two hospitalized cops. All at, yes, the Iowa State Fair. When reporters wanted to know why all the black people were violently attacking white people, Lavorato told it the way it was: "In the police report it states that a group of black males and females were out at the fair yelling 'it's beat whitey night'. The police chief said truth was not the "messaging" she wanted. So Lavorato had to go.
Black Lives Matter Protesters Rush LA Mayor's Podium at Town Hall. Los Angeles Mayor Mayor Eric Garcetti was escorted out of a church and taken to his car after Black Lives Matter protesters overtook the town hall meeting. According to KNBC-TV, Black Lives Matter protesters rushed the podium at the town hall event, which was being held to discuss economic opportunity and community safety. As Garcetti attempted to leave the meeting, protesters surrounded his car and continued to chant.
America is due for a revolution. Here's the good news: The chaos and upheaval we see all around us have historical precedents and yet America survived. The bad news: Everything likely will get worse before it gets better again. That's my chief takeaway from "Shattered Consensus," a meticulously argued analysis of the growing disorder. Author James Piereson persuasively makes the case there is an inevitable "revolution" coming because our politics, culture, education, economics and even philanthropy are so polarized that the country can no longer resolve its differences.
Video reveals America is either greatest country in the history of the world, or the low point of human civilization. I have been struggling for several days now, trying to wrap my mind around the video embedded [in this article]. It was recorded on a cruise ship, the Carnival Breeze, as a fight broke out among passengers waiting for cheeseburgers at Guy's Burger Joint, an outlet jointly owned by Guy Fieri of the Food Network and the Carnival Cruise Line.
Rumble in VA! Trump Supporters Brawl with #BlackLivesMatter and Latino Radicals. It was only a matter of time before this happened. Look for it to get much worse. Politico makes a big deal out of a Trump supporter spitting on and cursing at a Black Lives Matter jerk. First off, there is no context. What did the radical say and do before that happened? Second, I'm not sure you can blame the guy. He's obviously had it with these racist, commie thugs. I know I have. The crowd raged over this. I'm surprised there wasn't a bigger brawl. Guess the state police got there in time and hauled away the disrupters. Black Lives Matter thugs and Latino radicals crashed the Trump rally in Richmond, Virginia and this time people fought back. There were 5,000 people there and they were ticked.
Black Violence Matters. [Example #1] Harrisburg. 100 black people leave a local festival, ransack a convenience store, and vandalize more than 50 cars, including one belonging to the chief of police. The mayor said the large scale violence is "isolated." and caused by poverty. The chief of said he is going to stop the repeated and large-scale lawlessness by "preaching" to the kids. Two days after the riot, we learned another mob assaulted two white kids coming from the festival, breaking at least one jaw. The local press finally had to 'fess up': "The beatdown also had a "racial overtone," to it, said the chief of police. He said the attackers, who were black, yelled racial comments at the white victims, who had been "minding their own business."
Putney: Gangs at the center of Charlotte weekend violence. Charlotte-Mecklenburg Police Chief Kerr Putney said retaliatory shootings between at least two gangs were at the root of many of the violent crimes over the Labor Day weekend. Police are treating all of the shootings as if they are connected. Putney wouldn't identify the gangs involved and gave no updates on any possible arrests in any of the five killings over the weekend. Twelve people were shot at six locations over the holiday weekend. So far in Mecklenburg County, there have been 43 homicides in 2015, more than for all of the year before.
MPD officer confronted by crowd, punched, police say. A Madison police officer was confronted by a crowd and punched after a street fight on Prairie Road Wednesday night [9/2/2015], according to a release from Madison police. The officer stopped in the area of Prairie Road and Jacobs Way around 6:20 p.m. after spotting a large number of people in the street. He said that as he approached he saw a woman punch a man in the face, and he could see that the woman had a can of pepper spray. The officer said that as he went to arrest the woman he was surrounded by a crowd that was voicing anti-police sentiments, including "We need to start killing these officers."
Wisconsin Mob: 'We Need to Start Killing These Officers'; Punched Police Officer. Two women in Madison, Wisconsin were arrested Wednesday night after punching and threatening to kill a police officer who was responding to a 911 call about a nearby street brawl. Within minutes of arriving on the scene, police said the officer attempted to arrest a woman he saw punch a man in the face but was quickly overwhelmed by a mob of people chanting anti-police slurs, including "We need to start killing these officers."
School protests hijack Chicago mayor's budget forum. Chicago Mayor Rahm Emanuel held a rare public forum on Monday [8/31/2015], seeking support for painful belt tightening to solve the city's fiscal crisis, at a meeting dominated by protests over the closing of a high school in an African-American neighborhood.
Black Lives Matter Activists, Including Nancy Pelosi Staffer, Shut Down D.C. Highway During Protest. Lives Matter activists, including Minority Leader Nancy Pelosi's press assistant, reportedly shut down a Washington, D.C., interstate highway Saturday afternoon [8/15/2015]. Taylor Griffin, who according to her LinkedIn profile is a press assistant in the Democratic congresswoman's office, tweeted photos and videos of herself and other activists marching and carrying signs. Griffin also tweeted an images of her with the group apparently shutting down I-395, a heavily traveled freeway in D.C.
Please Tell Black Lives Matter to Shut Up and Go Away! [Scroll down] Black Lives Matter thugs are allowed to roam the country wreaking havoc. At a major speaking event, liberal Democrat presidential candidate Bernie Sanders allowed BLM thugs to storm the stage, take his microphone and run him off his own stage. How wimpy is that? Democrat presidential contender Martin O'Malley also allowed BLM thugs to hijack his event. O'Malley wimped out and pandered to the rude thugs. O'Malley's attempt at appeasement emboldened the thugs to demand that he apologize for daring to say "white lives and all lives matter." O'Malley complied. Sanders and O'Malley displayed typical Democratic Party weakness and politically correct liberal thinking.
Bernie Sanders: Pathetic and Outdated. Bernie Sanders, practicing the gutless leadership that he preaches, gave up his podium in Seattle to Black Lives Matter "activists." He was spouting his neo-Marxist rhetoric about the class struggle (oops, "income inequality") when young BLM speakers pushed his old boring rhetoric aside, took over his microphone, and began a dumb-speak chant, "Black Lives Matter, Black Lives Matter, etc." Bernie kept smiling and soon left the area giving up all attempts to control the podium. If we look at the issues section of Bernie's website, we see he advocates a massive program to employ young people age 16-24. The fiasco in Seattle leaves us wondering if he intends to employ those young people to disrupt the speeches of politicians of both the left and right.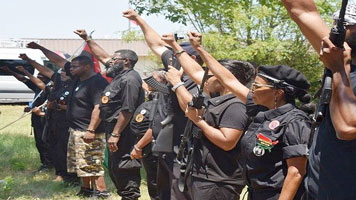 Black Panthers March in Texas. In Waller County, Texas the New Black Panther Party staged a demonstration to protest the suicide death of Sandra Bland while in jail. A small group showed up to voice their displeasure with the Waller County Sheriff's Dept. But, there was a twist to this demonstration as Breitbart reports: [...]




More about the Black Panthers.

Black lawmakers back disruptions of Sanders, Democrats' events. In recent weeks, members of the Black Lives Matter movement have gone after the leading Democratic hopefuls — most notably during a viral weekend encounter with Sen. Bernie Sanders (I-Vt.) — urging them to prioritize criminal justice reform and other race-related issues on the campaign trail. The activists have employed the controversial tactic of interrupting stump speeches and other public forums, which has drawn ire from many Democrats as an uncivil and misguided effort that targets allies, rather than opponents, of such reforms.

Bernie Sanders retreats before Black Lives Matter protestors. While much of the political world obsessed about the latest developments in Donald Trump's takeover of the Republican presidential race, an extraordinary thing happened on the Democratic side. In Seattle on Saturday [8/8/2015], the most liberal candidate in the Democratic contest, Sen. Bernie Sanders, I-Vt., was shouted down by Black Lives Matter protesters, who took the event at which he was scheduled to speak hostage. It was an ugly moment; the anger and bad feelings onstage were intense, judging from several videos of the event.

Fifty Years after Watts. Deep into the second term of our worst president, the man who was supposed to resolve racial problems in America, we can look back fifty years and see how little the dreary cant of leftism has changed. On August 11, 1965, Watts exploded into an orgy of violence and destruction, resulting in 34 deaths and thousands of injuries. Tens of millions of dollars of damage gutted much of Watts, and this destruction, combined with the lawlessness of the black rioters, drove business from that part of Los Angeles.

Five Arrests In Michigan Racial Mob Beating — Twenty Black Teens Brutalize White Victim. Reverse the races and this would be playing 24/7 on CNN. However, specifically because it does not fit the preferred media narrative, it's doubtful this story will reach a single national news broadcast.

Panic in Pittsburgh: Media Struggling to Ignore Black Mob Violence. Large-scale black mob violence is now an accepted part of life in the Pittsburgh area. The latest example came last week, when hundreds of black people rioted outside of a carnival at St. Basil's parish. No one in the press called it a riot. Neither did they identify the hundreds of people involved as black. A few cops and residents took care of that in emails. The parish cancelled the 40-year tradition permanently, for the "safety of its parishioners," said the pastor. And oh yeah, black violence has been a fact of life in that neighborhood for a long time. The local city councilmember said she is really, really sad about it, and had no idea why it happened, but she is pretty sure it was caused by not enough social programs.

Ohio Cops Hunt 70 Juveniles In Late Night "Mob And Rob" Of Circle K Store. Ohio cops are investigating the ransacking of a Circle K store that was overrun early Saturday morning [7/25/2015] by up to 70 juveniles. According to Akron police, the suspects "entered the gas station and started to destroy and steal property" during the so-called mob and rob attack. As seen [in this article], a couple who stopped at the Circle K for gas shot video of the juveniles fleeing the store with stolen merchandise. A woman in the car called 911 and reported that the suspects were "running around in the parking lot like wild children."

Three women caught on camera getting into massive brawl at Epcot with one attacking a park employee. Disney World is supposed to be the happiest place on Earth... but apparently they don't make the same promises for Epcot. [Video clip]

Black Lives Matter Founder Rants at Netroots: 'Burn Everything Down!'. The nascent Black Lives Matter movement cannot claim that these statements were made by a few fringe members: the entire rant was orchestrated by Black Lives Matter Founder Patrisee Cullors, who can be seen in the video enthusiastically pumping her fist and shouting along with every incendiary statement. Nor is Black Lives Matter a fringe group; they have been embraced and given fealty by the highest levels of the Democratic power structure.

Newly Emerged Video Reveals The Real Agenda Of Radical 'Black Lives Matter'. [Martin] O'Malley, the former Maryland governor, tried to appease members of the noisy and insistent disruptors. But when he dared to tell the crowd that "all lives matter," he was caught in such a liberal bind that he quickly backed away from that statement and publicly apologized for his supposed insensitivity to the Blacks Lives Matter message. [...] As Breitbart notes of the profanity-laced disruption of the event: "The shouted manifesto lays bare the theory behind the burning, looting, and rioting that have transpired in recent months in Baltimore and Ferguson, and it also lays out the group's agenda on current news events like immigration reform, transgender activism, and the fables about the death of convicted criminal Sandra Bland that the group is spreading through the media."

Disastrous Consequences of Lib Indoctrination from the 60s to Obama. Due to black youths believing America is against them and cops routinely murder them, black mob attacks, rapes, and murders of innocent whites are on the rise. Black looters feel entitled. Social justice gives them the right to recoup what whitey/America stole from them.

Police Attacked by Black Mob in Cincinnati, Rescued White Man from Beatdown. Did you see this on the news? Because I sure didn't. And even the news reports out there on this downplay or just plain don't mention the white man that was beaten and left in the street by a black mob of about 40. You want a hate crime? That's a hate crime. According to one officer's account online, he was beaten simply because he was white. You can bet Al Sharpton will not ride to the rescue on this one.

Video of black race rioters brutally beating white man at July 4 gathering taken down by YouTube. According to a video posted to the Facebook account of QbabyOfTeamQ, a white man attending a July 4 concert in Fountain Square, the heart of downtown Cincinnati, was beaten bloody and unconscious. Unfortunately, I am not able to embed the video because YouTube has taken it down, with a notice: "This video has been taken down as a violation of YouTube's policy on shocking and disgusting content."

Cincinnati Mob Beats White Male Victim, "simply for being white", While Rioting In Fountain Square. The details of a Cincinnati mob riot this weekend appear customarily poured through the MSM PC-filter, receiving editorial board cleanup prior to publication/broadcast. However, social media accounts, as customary in an era where media are afraid to tell the truth, construct a more honest version of events.

Organized mob (of no particular race, according to media) ransacks a Walmart, attacks handicapped man in motorized cart. The fragile bonds of civilization that keep society peaceful and orderly are fraying in the face of mobs organized online. Last Sunday [6/28/2015], an organized mob of about four dozen people attacked a Walmart in Macon, Georgia, intentionally doing damage to displays and merchandise and dragging a man out of motorized cart and throwing him to the floor.

Report: Macon Wal-Mart mob wanted to see how much damage it could do. Surveillance video of a wee-hours ruckus at a Macon Wal-Mart on Sunday shows a teenager race inside flashing gang signs ahead of a mob of four dozen or so people who burst in and smashed merchandise. The commotion, which caused an estimated $2,000 in damage, appears to have been planned. Some in the crowd also snatched a man, apparently a shopper at the Zebulon Road store, from a motorized shopping cart and dragged him to the floor, Bibb County sheriff's officials said Monday [6/29/2015].

Mob of 50 Black Teens Storm Georgia Walmart, Destroy and Steal Store. Do you think the Old Media establishment will report this story of a mob of 50 black teenagers swarming a Walmart in Georgia and destroying the place?

Documentarian tells story of 1967 Newark riots, city's ongoing recovery. In 1967, five straight days of rioting and civil unrest in the city left 26 dead and hundreds more injured. In a new film that debuts in a private screening at Seton Hall University Saturday, filmmaker Kevin McLaughlin has dubbed it, "The Week that Changed the World."

Hot 97 DJ blames 'idiots' for SummerJam unrest. Ebro, the host of "Ebro in the Morning" on Hot 97, blamed "a few idiots" for the clashes between crowds and state police Sunday at MetLife Stadium during the radio station's annual Summer Jam concert. Crowds of people tried to enter the sold out concert by climbing over fences and forcing their way past security, state police said Sunday night. Troopers shut the gates. Concertgoers said police used tear gas to control the crowds. Members of the crowd reportedly began throwing bottles at State Police.

Police: 61 arrested, 10 troopers injured at concert. The melee [6/7/2015] at the Hot 97 Summer Jam in East Rutherford, New Jersey, drew a sharp rebuke Monday from hosts at WQHT-FM, but it also prompted questions from fans who had tickets but were ordered to leave. [...] New Jersey State Police in riot gear blocked gates outside the arena after officials said people tried to push their way inside or jump the fence.

Police shoot tear gas to disperse New Jersey concert crowd. While tens of thousands of fans listened to some of the biggest names in hip-hop inside MetLife Stadium Sunday night [6/7/2015], hundreds trying to get in clashed with police in riot gear after the gates were closed, leaving 10 troopers hurt.

An Obama Crime Wave Spreads Across America. Fueled by this president's anti-police policies and race-baiting rhetoric, thugs are attacking cops and terrorizing major cities. Horrible violence is breaking out all over. We are witnessing a national crime wave. Law enforcement expects to see an escalation in criminal activity over the summer.

100 Beachgoers Brawl in Massachusetts. More than 100 people brawled on a Massachusetts beach Sunday [5/10/2015] evening in a melee that saw bottles and rocks hurled, some at police, and at least 12 people arrested.

Bottles, Rocks Thrown in Beach Brawl. State police said nine people — five female, four male — were charged with disorderly conduct. One of the people arrested, Cornelius Jackson, 24, was arraigned Monday [5/11/2015] on charges of trespassing, resisting arrest, giving a false name and disorderly conduct. While being arrested, he allegedly attempted to kick out the windows of the State Police cruiser.

The Inconvenient Truth about Ghetto Communities' Social Breakdown. When the recorded fatal shooting of a fleeing man in South Carolina brought instant condemnation by whites and blacks alike, and by the most conservative as well as the most liberal commentators, that moment of mutual understanding was very fleeting, as if mutual understanding were something to be avoided, as a threat to a vision of "us against them" that was more popular. That vision is nowhere more clearly expressed than in attempts to automatically depict whatever social problems exist in ghetto communities as being caused by the sins or negligence of whites, whether racism in general or a "legacy of slavery" in particular. Like most emotionally powerful visions, it is seldom, if ever, subjected to the test of evidence.

Long Hot Summer Coming. What we know so far:
• Valerie Jarrett is the coordinator of "demonstrations" in cities nationwide. She is "on the phone" with mayors, radicals and activists. NYC is the next big one and has already started.
• Every incident of a black person getting shot by police or roughed up resisting arrest is being examined by a Democrat team to see how useful it could be. Media allies will be told which to go after and what messaged to include.
• They will occur in Democrat-run cities and the police will be hamstrung (stand down, fall back, don't look aggressive, etc....) to maximize vivid scenes of violence and destruction and make authorities look powerless.
• This is an IW [information warfare] campaign that will go on all summer and escalate in cities around the country. The overarching memes will be economic injustice, judicial prejudice, income inequality, white racism and police brutality. They are throwing the police and firefighter unions under the bus on this.
• The goal? Set up another Dem messianic candidate and blame Republicans for the violence. Party before country for Democrats, always.

Huge brawl in the aisles of Philadelphia Zara store caught on camera. Philadelphia might mean the City of Brotherly Love in Greek, but the sentiment of the name apparently doesn't always doesn't apply to Philly's female residents. At least five women got into a large-scale brawl that lasted for multiple minutes at a Zara clothing store on Friday afternoon [4/17/2015].

Panama City Gang Rape: A Kitty Genovese for the YouTube Era. After phone footage of a girl being gang-raped in front of hundreds was discovered by cops, it has been revealed that a string of such incidents had taken place; on different days — maybe — and recorded on different phones. Among the confusion, one thing remains a constant: the profile of the victim. Young, drugged, and only aware of the nightmare that had befallen her after videos of the attack wound up online. That a trend of this nature has been allowed to proliferate is disturbing to the core.

Florida beach city may cancel Spring Break. The tourism council in Bay County, Florida voted Tuesday [4/14/2015] to spend more money on spring break security after a month of violence in Panama City Beach — mostly fueled by alcohol. Some people in town wonder if it's time to close the party down for good. When partiers show up, the population grows 2,000 percent — from 12,000 full-time residents to a quarter-million, mostly college kids.

Hamilton Mall brawl in Mays Landing involved 30 people. A fight involving 30 people — some teenagers and others adults — Saturday night [4/11/2015] at the Hamilton Mall in Mays Landing ended in the arrest of a 17-year-old who was charged with disorderly conduct for throwing chairs, police said. Hamilton Township police said the fight was reported at 6:30 p.m. Saturday. Hamilton Mall security officers asked for assistance dealing with a large fight involving approximately 30 people, according to a statement issued by police.

Huge 'gang' brawl involving Four Hundred people breaks out at Queens casino. A four hundred-person mass brawl broke out Friday night [4/3/2015] at a casino in Queens. Patrons at a bar opening inside the Resorts World Casino, next to JFK airport, reportedly turned on one another around 10pm. Video of the fight sees a crowd of people erupting from a bar area, punching, kicking, shouting and re-purposing casino decorations as weapons.

Spring Break Violence is a Black College Thing. [Scroll down] The annual mayhem continued until 2013, when city officials ran out of ways to describe the "living hell" that 400,000 black people created in Miami Beach. So they turned that small town into a large armed camp. Today, lots of attendees complain how the cops, the towers, the dogs, the drones, the license plate scanners, the lights, the Homeland Security and the cameras are all killing their buzz. And attendance is down. [Bill] O'Reilly wrote off the Panama Beach City violence as some kind of new exhibitionism, all made possible by that new-fangled social media; ignoring the whole racial thing, i.e., they were not black rioters, they were just rioters who happened to be black. But large-scale and persistent mob violence during Spring Break is a black thing. Or as the t-shirts say: A Black College Thing.

The Drought: California Apocalypto. I think that we've come full circle in California: from the premodern Wild West of the 19th century to a decadent postmodernism that is every bit as feral, though the roughness of ascension is always preferable to its counterpart in decline. The day before Easter, Sacramento tried to stage the world's largest public Easter egg hunt. From news reports it seems quickly to have devolved into a Darwinian free-for-all, where the ochlos swarmed the few who played by the rules.

Somali Muslims Swarm School, Force Lockdown After Somali Posts ISIS-Supportive Picture. Over a hundred alien Somali Muslims, imported into the U.S., courtesy of non-discriminatory refugee policies, swarmed St. Cloud Technical High School on Friday [3/20/2015] in a rage.

Suspect Dead, Officer Wounded in Arizona Wal-Mart Brawl. An overnight brawl in an Arizona Wal-Mart parking lot has left one person dead and two others wounded, including a police officer who was shot in the leg.

Forget The Terrorists: Malls are Already Under Attack from Black Mob Violence. Forget ISIS and its threat to terrorize American malls. Dozens of shopping areas are already under attack. Since the Christmas season, at least 25 malls around the country have experienced black mob violence, many connected to movie theaters. With much of the mayhem captured on video. With many of the malls turning into No Go Zones because of the regular racial violence and the muted response to it. Let's list these attacks, starting with the latest and working back. [...]

Hundreds of teenagers cause chaos outside of movie theater they couldn't get into. Hundreds of teenagers caused chaos in central Florida, brawling each other after they could not get into a movie theater. Police in Ocoee, west of Orlando, said that 300 high school and middle school students 'caused a disturbance' outside an AMC theater at the local mall on Saturday night. After security guards kept most of them out, the crowd was moved to a parking lot where they began fighting each other and shots were fire into the air.

Massive Black Mob Causes Mayhem At Florida Mall — 800 to 900 Black Teens Involved. This happened last night [2/14/2015] and both police and media are downplaying the story as "kids and teens just being kids"; as would be expected in the new normal reality. Another report shares "just a bunch of stupid kids". Obviously all media ignoring the racial aspect of the thugs gone wild.

Downtown Saint Paul Minnesota Besieged By Black Mob Violence — Media Hides Story. Saint Paul Minnesota is a hotbed of racially driven black mob violence, but the media work diligently to keep it hidden. Recently the frequency of the attacks has increased in severity and now even the local media are forced to discuss it. However, the media avoid the racial motive inherent in all of the suspects being black and all of the victims are white.

Black Teen Girls Riot in Pittsburgh Mall, Force Closure. In a brawl apparently instigated using social media, a thousand or more young teen black girls descended on Monroeville Mall outside Pittsburgh Friday night, resulting in the mall being closed as a massive brawl broke out. An investigation is ongoing, including via social media, although no arrests were reportedly made at the time. Many of the teens used their phones to capture video of the events and that too is now making the rounds via social media.

Scores of rowdy teens start mass brawl in a Pennsylvania mall forcing into lockdown. Authorities say several fights broke out among hundreds of teens who packed a western Pennsylvania shopping center, forcing it to close early and it seems to be a trend cutting across malls in America. Several altercations erupted on Friday evening [12/26/2014] at the Monroeville Mall.

Man killed in Oakwood Center shooting; sheriff describes 'bedlam in the mall'. Oakwood Center mall near Gretna was packed this Christmas Eve afternoon, as throngs of shoppers — young and old — scurried about for last-minute holiday gifts. But one man in that crowd stood outside the Foot Locker store inside the mall, Jefferson Parish authorities said, waiting for 24-year-old James Vaughn to finish his purchase. And when Vaughn did, police say, that man walked up to him and shot him to death.

Black Mob Violence at Christmas, All Over the Country. Let's start in a small town near Houston called Texas City, where hundreds of black people decided to celebrate Christmas Night at a party promoting "Hood Night.' Near midnight, one of the patrons found himself in the parking lot, shooting a handgun. When police arrived, he was shooting toward the crowd and ignored orders to drop the weapon. That is when Hood Night got real: The man with the gun turned towards police and they shot him dead.

NYPD announces $12,000 reward for three women and four men who attacked cops on Brooklyn Bridge during protests. The New York's Police Commissioner has offered a $12,000 reward for the arrest and conviction of seven people who attacked two lieutenants on the Brooklyn Bridge. [...] The incident began when the two officers arrested a City University of New York professor, Eric Linsker, 29, as he tried to pour a rubbish bin onto other cops from a pedestrian overpass. They were punched and kicked in the heads, leaving them needing instant medical attention. Ironically, the officers were from the department's Legal Bureau and were only present at the protest to ensure that demonstrators' civil rights were respected by police.

Al Sharpton Leads March in DC as NYC Protesters Chant: 'What Do We Want? Dead Cops!' Joining the families of blacks killed by police, thousands marched toward the capitol and down New York streets on Saturday [12/13/2014] to protest what they called an epidemic of abuse at the hands of police. But even though it was his event, many attendees didn't want to hear from organizer Al Sharpton.

The news coverage of these incidents is especially disturbing when it becomes apparent that the so-called "journalists" are intentionally omitting any mention of the perpetrators' race or their racial motives. If the newspapers refer to these criminals as "troubled inner-city youths" or "at-risk teens" or some such euphemism, it doesn't make the public better informed. There is no point in publishing a newspaper if you're afraid to state the obvious, and the obvious is this: The teens are not the ones who are most at risk.



Police contain unruly Air Jordan shoppers at Houston-area malls. Police were called to quell unruly crowds after hundreds converged outside several Houston-area malls early Sunday morning [12/14/2014] in hopes of getting a ticket to buy pricey Nike Air Jordan sneakers being released next weekend. Chaos reached a crescendo when a rock shattered a glass entrance door at the Willowbrook Mall and a teenage girl was zapped with a Taser outside The Woodlands Mall.

Black Minister: Ferguson Rioters 'Disgusting' and are 'Glorifying Ignorance'. Protestors rioting in Ferguson, Mo. are "glorifying ignorance" and "what we're seeing in this city is disgusting," said Minister Jonathan Gentry from West Angeles Church of God in Christ on Neil Cavuto yesterday. Gentry accused Al Sharpton of "fueling hate into an innocent generation" and said that activists like Holder, Obama, Sharpton and Jackson need to "look themselves in the mirror before protesting" because change needs to begin within African-American communities. "You want everything else around you changed except yourself," said Gentry. "That is no way to survive."

New Cure for Racial Violence in Minneapolis: Crack down on the victims. Police in Minneapolis have discovered a new way to fight the wave of black violence and mayhem that is now an every day fact of life in their city: Blame the white victims for drinking too much. [...] First, Minneapolis police tried ignoring the problem. But dozens of victims, videos, witnesses, police reports and 911 calls made that impossible. Then they tried denying it: A spokesman for Minneapolis police department told me that race has nothing to do with anything involving crime and anyone who thinks differently is a bad person. That lasted about as long as it took to go the Minneapolis Police Department web site and see all the special programs for "protected" minorities.

The media embargo on "the B word". [Scroll down] If America's reporters are so concerned about race relations in the country that such descriptions are included immediately when discussing a case where a white person is charged with injury to an African American, how is such discussion less valid when the roles are reversed? [...] As much as some of these news outlets may hate to admit it, black people do, on occasion, commit acts of violence. And sometimes the victims of that violence are white. But somehow that's not a story.

Will Black Mob Violence Put an End to State and County Fairs? I remember the first time I was taken to the state fair in Arizona. I was in junior high school and enthralled with all the rides, food and games. It was a fun and safe family atmosphere. However, I can't help but wonder if those days will soon be over for county and state fairs and they become a thing of the past. As reported by WND, last year, the Drew Expo in Roanoke, Virginia was forced to close early due to black mob violence. The violence involved at least 500 people and was almost a repeat of what happened in past years. The Spring Carnival in Hampton, Virginia last May was forced to close a week early after black mob violence erupted and resulted in five people being shot, one of them fatally.

Fights disrupt Albany fireworks. Albany Police suspended the July 4th fireworks show Wednesday night because they say a series of fights put families, who were there to enjoy a night of fun, in danger. Chief John Proctor said a number of fights broke out in the Turtle Park area where many people gathered to watch the fireworks show. He said it became a safety and crowd control issue, and police officers made the decision to suspend the fireworks.

'Black Mob Violence' Archive. at Unamusement Park

Fox News's Bill O'Reilly spotlights 'mob violence' in Detroit. Fox News host Bill O'Reilly gives vigorous coverage to stories in which white people suffer crimes at the hands of black people. In May 2012, he turned a group assault by black youths on two white newspaper staffers in Norfolk into a federal case. Last September, following the not-guilty verdict in the Trayvon Martin case, O'Reilly said: "Is there a rise of hate crimes in the U.S.A. in the wake of the Trayvon Martin verdict? All over the country, police are arresting black men and some girls for assaulting white people." Four examples followed.

Florida State Fair in Tampa Forced to Close Early Due to Massive Black Mob Violence. [T]hough a massive concentration of youth (oddly, they happened to all be black) forced the early shutdown of the Florida State Fair in Tampa last week — covered up for a few days by police, Maj. Tom Feeney would describe this as the "worst thing he has seen in law enforcement" in 30 years — you still aren't supposed to notice or question any racial aspect of this incident.

Beat Whitey Night Goes Viral: the Milwaukee State Fair. The Chamber of Commerce in Atlanta tried to cover-up the Black Atlanta Public Schools (APS) cheating scandal; Philadelphia tried to replicate Atlanta by performing a similar cheating scandal for academically-challenged Black students; and "Beat Whitey Night" just went viral in Milwaukee, a city that is already on the brink of something... big. Chicago has had Mahogany Mobs; Cleveland and Philadelphia too. Carter Strange rests in a hospital, nearly beaten to death by a Black mob in Columbia. The Mainstream Media (MSM) refuses to connect the dots that point to a national emergency that no curfew can contain. [...] Blacks are getting a free pass to attack whites nationwide, and the Beat Whitey night of Iowa's State Fair in 2010 has gone viral.

Downtown business owner says violent teen mobs not uncommon. Police said that Saturday night's rampant vandalism and violence was an isolated event. But those who have seen groups of teens terrorize the area just south of Waterfront Park before, say it's nothing new. Police responded to 17 separate incidents Saturday night between 7 and 9 p.m. They say the criminal acts occurred after police broke up a gathering of around 200 teenagers at Waterfront Park.

The universality of black mob violence. The Media in the U.S.A. generally refer to such attacks as "fights" to make it appear the the victims and their attackers were equally to blame. One such mob attack occurred in Georgia where Joshua Heath Chellew was assaulted by four black males at a Chevron gas station. Like the attack mentioned above, the mob appeared to select Chellew as a random victim merely because he was white. Chellew was severely beaten, then forced into oncoming traffic where he was killed. That attack occurred in June of this year. The Associated Press shamefully reported Chellew's murder as a fight that spilled into the street.

Why is the Media Whitewashing Black Flash-Mob Violence? In the latest occurrence of flash-mob violence, 10-15 young people attacked four men in Denver earlier this week. Multiple attacks similar to this one have taken place across the country this summer with one disturbing similarity: The media has generally refrained from reporting that the attackers have generally been black — while their victims have usually been white. Racially motivated? Not sure — but I am sure of this: If just one group of white youths attacked blacks or Hispanics in similar fashion, all hell would break loose. The liberal media would suffer a collective apoplectic seizure, while Al Sharpton would be on the next jet to wherever the attack had occurred [...]

Black Mob Violence Comes to Kentucky. [L]ess than 24 hours after a mob of 30 black people roamed through the city's downtown Saturday [3/22/2014], beating, laughing, destroying property, sending three seriously hurt people to the hospital and walking away laughing, outraged citizens in Louisville are asking two questions: Why is black mob violence such a problem? And when is local media going to start telling the truth about it?

Race Riots in America. In June, thousands of black people headed to the Brighton Beach for the annual Brooklyn-Queens Day. Five people were shot. Lots of mayhem and violence as well. ... Why does it freak so many people out to state the obvious: This was a race riot. In January, dozens of black people mobbed a Wendy's in Queen's Village, with beatings, property damage and threats. In May, the same thing happened at Dunkin' Donuts, a large group of black people were "terrorizing" employees and stealing from the store.

Possible Flash Mob Hits Maryland 7-Eleven, Police Say. A pack of 30 teens helped themselves to items in a Maryland 7-Eleven early Sunday morning [8/14/2011] in what authorities have labeled another instance of a possible flash mob. The store, which is located in Germantown, Md., was empty at 2 a.m. Sunday morning when a group of teenagers calmly walked in and picked out items as though they were shopping. Then, just as calmly as they entered the store, police say, they exited without paying for the items.

The news media intentionally suppress politically-incorrect facts.
Media Stifling Racial Violence Coverage. Race matters if we want to understand the current wave of racial mob violence. Flash mobs have a lot of people talking, no thanks to PC journalists who have refused all along to help us understand this emerging social problem. For those who care about language and the truth, Mary Schmich of the Chicago Tribune has done a great service. She openly admits that her newspaper refuses to report the race of violent criminals responsible for an outbreak of racial mob violence in Chicago, which mirrors similar violence around the country.

Video Shows Teens Violently Looting Redford Gas Station. Surveillance video shows a group of teenagers on Friday night [7/22/2011] tearing through a Redford Township gas station. The group of nearly 20 teens are shown running through the station and stealing several pieces of merchandise, owner Sam Matalka said. Matalka said he lost hundreds of dollars in merchandise and had to spend hours cleaning up the damages caused by the teens Friday night.

The Editor says...
"Black" would be part of a more accurate description of the suspects, since that's what they all have in common, but that word is completely absent from this story.

'Flash robs' invade Canada. Close to midnight on a hot summer's night in July, the Quickie convenience store in Ottawa's west end was virtually empty. The next minute, 40 or so youth descended en masse. As they marched in they grabbed everything in sight. The next minute, like a well-oiled many-tentacled machine, the mob turned around and left with $800 worth of goods.

The Editor says...
The writer's name is Debra Black; aside from that, there is no mention of "black" in the article, even though an illustration shows that all the perpetrators were black.

Once again, no mention of black.
Teen mayhem hits Philly's streets again. A mob of unruly teens last night once again wreaked havoc on Center City, assaulting and robbing random pedestrians. About 9:15 p.m., police began to receive 9-1-1 calls about a group of 20 to 40 teens assaulting people.

No mention of the forbidden word black here either.
Witnesses Describe Mob Attacks Outside Wisconsin State Fair. Police said the group of young people attacked fair goers who were leaving the fair grounds. Police said that some victims were attacked while walking. They said others were pulled out of cars and off of motorcycles before being beaten.

Witnesses describe mobs, some people claim racially-charged attacks. Witnesses tell [WTMJ] of a mob of young people attacking innocent fair-goers at the end of the opening night of State Fair, with some callers claiming a racially-charged scene. Milwaukee Police confirmed there were assaults outside the fair. Witnesses' accounts claim everything from dozens to hundreds of young black people beating white people as they left [the Wisconsin] State Fair Thursday night [8/4/2011].

Racial mob violence rocks the Wisconsin State Fair. This is far worse than the racially motivated attacks at last year's Iowa State Fair during "beat whitey night." The dramatic and unprecedented rise in black on white violence across America has yet to be addressed by Mr. Obama or any of the leadership in Washington who are far more concerned with attacking Tea Party members as racists and terrorists than they are in facing any of the real issues which are tearing our country apart.

This article mentions the one detail left out by other writers.
Mob Rampages Through Wisconsin State Fair. A concession worker told the newspaper that large groups of African-American youths began running through the midway around 7:00pm, knocking people over, disrupting rides and tearing up signs. He said police, including officers on horseback, were not able to bring the situation under control.

Union Thugs Disrupt Wisconsin State Fair. Wisconsin's public sector unions are ramping up hysteria in anticipation of the recall elections on Tuesday. A reported $15 million, most of it from out of state, has been spent on behalf of the left-wing candidates in the recall races. Yesterday, Scott Walker opened the Wisconsin State Fair, as is traditionally done by the governor. But the unions couldn't let their hyperpartisanship rest even for fifteen minutes, and they put on a disgraceful delay.

Lessons from a Milwaukee Mob. On August 4, 2011, the opening night of the Wisconsin State Fair, the worst race riot in Wisconsin history occurred. As darkness fell over the amusement park area known as the Midway before closing time, hundreds of young blacks swarmed out into the parking lot, seeking out white fairgoers to attack — pulling people off their bikes, out of their cars, to knock them to the ground and beat them: with fists and whatever blunt instruments they had handy.

American Tinderbox. For some time now, residents of some US cities have noted occasional incidents of seemingly random, racially motivated violence in which young Black males are involved. The hot weather and bad economy seem to be combining to generate a small but possibly significant uptick this year. The national media are doing their best to avoid looking too closely at this disturbing phenomenon, and perhaps for good reason. What the United States doesn't need is a media firestorm that triggers copycat violence. Nevertheless some attention should be paid.

It's time to take steps to stop young thugs. While out of town last week, I suddenly started receiving urgent long-distance messages about young black people in Milwaukee acting crazy. Again. Last time it happened, I was on vacation during the Fourth of July weekend when a bunch of misbehaving young black people ransacked a gas station convenience store and attacked residents in a park.

The Taboo on Mentioning Black Mob Violence. The wave of racist violence committed by black flash mobs is different from any other form of racism today. The neglected social problem of racial mob violence is unique in its organization, the high numbers of people involved, the intensity of the violence, and the stark racial impact of that violence. The violence is also unique in that it has been purposefully obscured by the mainstream media, with the editor of the Chicago Tribune, among others, saying that his paper will not report on the race of the attackers.

Boy, 11, among 4 charged in flash-mob attacks. An 11-year-old boy is among four people who have been arrested for allegedly participating in a mob that wrought chaos on Center City on Friday night.

Witnesses describe mobs, some people claim racially-charged attacks. Witnesses tell [WTMJ] of a mob of young people attacking innocent fair-goers at the end of the opening night of State Fair, with some callers claiming a racially-charged scene. Milwaukee Police confirmed there were assaults outside the fair. Witnesses' accounts claim everything from dozens to hundreds of young black people beating white people as they left State Fair Thursday night [8/4/2011].

Weapons of Mob Destruction. In Philadelphia, a group of 20-40 youths went on a rampage in Center City August 1st, resulting in 59 people being beaten and briefly hospitalized. Last Thursday, a mob ran through the Wisconsin State Fair at closing time, beating up people at random. In London, citizens have been besieged by three straight nights of hellish rioting, even as that rioting has spread to other parts of the nation. The common themes? A racial component, studiously ignored wherever possible; technology that makes mob organization far easier than ever before; and the undeniable relationship between welfare state policies and the expansion of underclass mores.

The Mob Tears at the Foundations of Civilization. The law has failed Marty Marshall and his Akron, Ohio, family. On the Fourth of July in 2009, he was watching fireworks in his front yard with his wife and children. A mob of 30 to 50 black teenagers went onto his property and beat up Marshall, his wife, his children and two adult male friends. "This is our world. This is a black world," they taunted the injured victims. Marshall spent five nights hospitalized in critical care.

West Allis Police release timeline detailing incidents at State Fair. The Milwaukee County Sheriff's Department released 911 audio from the opening night of State Fair. These tapes display the graphic details of the attacks, some of which were racially motivated. ... Most callers tell dispatchers they see a racially motivated melee.

White Mob Terrorizes Black Milwaukeeans. I'm sorry. I got that header wrong. It was a black mob that ransacked convenience stores and hammered a group of white people in Milwaukee this past July 4th weekend. ... The fact that it was a black on white assault would explain why we didn't hear about it via the national news.

All eight suspects in brutal Five Points beating in custody. All eight suspects are in custody after a brutal attack in Five Points early Monday morning [6/20/2011] which left the teenage victim in critical condition, according to Columbia police.

Solicitor: No evidence that Five Points beating was racially motivated. Except that the thugs were black and the victim was white. Maybe he didn't notice.

Blacks must not remain silent about America's new racists. Last year, four black Skidmore College students yelled racial slurs while they beat up a white man because he was dining with a black man. Skidmore College's first response was to offer counseling to one of the black students charged with the crime. In 2009, a black Columbia University professor assaulted a white woman during a heated argument about race relations. According to interviews and court records obtained and reported by Denver's ABC affiliate, black gangs roamed downtown Denver verbally venting their hatred for white victims before assaulting and robbing them during a four-month crime wave.

Planned Parenthood's 'Lucy Ricardo moment' arrives in a Texas rape case. Last November, an 11-year-old Latina was gang-raped in the town about 40 miles northeast of Houston. At least one of the idiots who took part in this atrocity recorded the incident on a cell phone camera. Videos of the assault surfaced at the girl's school. One of her classmates alerted the principal, who alerted police. So far, 18 suspects have been arrested and charged. According to some news stories, all of them are black; according to others, the "overwhelming majority" are.

Police: Race a factor in State Fair violence. All the victims were white or Hispanic and the offenders were described as African-American.

These riots were about race. Why ignore the fact? What colour is Mark Duggan? Mark Duggan is the man who was shot dead by the police on Thursday in Tottenham. The Tottenham riots last night were sparked when people protested his death. This morning, I first heard of the riots on the radio, then on the television. I read articles on the internet. But oddly, no one would say what colour Mark Duggan was. No one would say the unsayable, that the rioters were, I suspect on the whole, black.

Flash Mob Robberies Continue. In the latest incident, 10 women stormed the Shop Express convenience store along Benning Road in northeast Washington at about 3:15 a.m. Thursday. They loaded up on food, drinks and snacks at different parts of the store. Some of the women were carrying bags to hold some of the items. Then they all rushed out of the store at the same time without paying.

The Editor says...
Fortunately the accompanying video tells the rest of the story, since the "reporter" didn't: all the suspects were black.

Are the Black Flash Mob Attacks on Whites Obama's Fault? As America's first black president, fair or unfair, Obama's presidency comes with enormous responsibility in terms of its influence on black youths. This is why it is so unfortunate that American black youths' ultimate role model is a characterless, race-baiting political hack. While I am not saying president Obama is responsible for the epidemic of black youth flash-mob attacks on whites around our country, his race-baiting has to be a contributing factor.

'Flash mobs' pose challenge to police tactics. The suspects in these crimes often connected via cellphones and share information on social media sites such as Twitter and Facebook, police say. How best to combat the technology-connected crimes — and how far police agencies should reach into private online and mobile phone access — are at the core of a growing debate among police officials, city leaders and civil rights activists. Everyone agrees: It's uncharted territory for law enforcement.

Again, the most appropriate adjective was omitted.
17 charged in Germantown flash mob theft. Montgomery County police say 17 people have been charged in a flash mob theft of a Germantown convenience store. A group of 25 young people stormed the 7-Eleven at 13001 Wisteria Drive shortly before 2 a.m. on Aug. 13. In just about a minute, they stole snacks, drinks and other items from the store, then left.

The Racial Violence that Dare Not Speak Its Name. Recent flash mob violence has alerted Americans to a troubling wave of sadistic racial mayhem. A notable outbreak occurred in Denver in 2009, setting a pattern of delay, denial, and silence. Now that same scourge has returned to Denver, among many other places. In 2009, a four month wave of mayhem broke out in Denver. There were at least 26 violent robberies committed by two black gangs. The victims were — without exception — whites and Hispanics.

Motive Unclear In Attack By Group Of Teens On 16th Street Mall. Police are asking for the public's help tracking down a large group of violent teenagers. They say 10 to 15 young people — described as black or Hispanic and both male and female — attacked four white men on the 16th Street Mall at about 10:45 p.m. on Sunday [9/11/2011].

WCBS-TV seems very sympathetic with this gang of teenage armed robbers.
Brazen Teenage Gang Robbing Straphangers During Rush Hour. Police are searching for teenage thugs targeting subway riders. There have been at least three armed attacks recently. CBS 2's Dave Carlin has seen pictures of the suspects and knows what they're after. A team of baby-faced bandits, young enough to still be in high school, is making life quite stressful in Gotham's underworld.

White Middle-Schooler Beaten Unconscious by Group of Black Students. The story is shocking enough, even without bringing race into it: on the way to school in Ocala, FA, a thirteen-year-old girl was beaten unconscious and reportedly went into a seizure after being attacked on the school bus by a group of fellow students. The girl reportedly was riding the bus for the first time. ... Aside from the brutality, there was another troubling fact about this crime — a fact that predictably did not make it into the news: the attackers were black, and the victim was white.

Associated Press coverage of the same story, with no mention of the obvious adjective, "black":
7 teens charged with beating classmate unconscious. Seven central Florida teenagers were arrested after authorities said they punched and kicked a 13-year-old until she was unconscious while on a school bus.

Riot breaks out at Dekaney High School. A Dakaney High School student used a cell phone to capture a brawl that broke out in the cafeteria on Friday [1/27/2012]. Spring ISD officials said the fight started between four students and no one was seriously hurt. But students said — and the video will attest — that it was more like a riot, and there were a lot more than four students involved.

Massive brawl at notorious high school. Police were called to a troubled Texas high school after another major brawl erupted in the cafeteria — and parents say they have had enough. Cell phone video provided an inside look at Friday's melee, showing students at Andy Dekaney High School, throwing wild punches and crowding the cafeteria.

Brazen smash-and-grab jewelry store mall robberies continue. Gordon's Jewelers at First Colony Mall in Sugar Land suffered the most recent attack, as KTRK Ch. 13 first reported. A surveillance video from Feb. 22 shows four masked men storming the store, smashing display cases, stealing merchandise and running from the scene in less than a minute.

Media Conceal True Nature of "Flash Mob" Racial Violence. Relying on documents made available exclusively through a Freedom of Information Act request, we can add another face to the growing picture of racial "flash mob" violence in America. It is a face that the media have concealed from public view. This writer was forced to use the local Freedom of Information Act (FOIA) to ascertain the facts about the racial identity of one of the victims of these attacks. The media concealed the identity of the white victim apparently because of misguided racial sensitivity.

Flynn calls looting, beatings in Riverwest barbaric. Shaina Perry remembers the punch to her face, blood streaming from a cut over her eye, her backpack with her asthma inhaler, debit card and cellphone stolen, and then the laughter. "They just said 'Oh, white girl bleeds a lot,'" said Perry, 22, who was attacked at Kilbourn Reservoir Park over the Fourth of July weekend.

Of course there is no mention of black in this article.
Carter Strange Speaks About Five Points Assault. On June 20th, Strange was brutally attacked by a group of eight teenagers as he was walking home in Columbia's Five Points. ... Eight suspects were arrested in connection with his attack, and seven of the suspects were juveniles.

Police issue arrest warrant for seventh suspect in beating of Bayonne man. [Dawid] Strucinski was left in a coma after he was jumped by about nine people near the Quick Chek at Broadway and 12th Street in Bayonne at around 3 a.m. July 3. Today [7/12/2011], police arrested a sixth suspect — a 15-year-old boy — and charged him with the riot and endangering injured victim today after a parent brought him to headquarters, police said.

Police: Trayvon protesters ransack store. North Miami Beach police said surveillance video shows dozens of high school students demonstrating in the Trayvon Martin case Friday [3/23/2012] ransacking a Walgreens store. The incident occurred during a walkout from North Miami Beach Senior High School in support of Martin, 17, who was fatally shot in Sanford.

NMB Students Turn Trayvon March Into Criminal Mischief Investigation. Thousands of students in South Florida have taken part in school walkouts as a way to protest the lack of an arrest in the Trayvon Martin killing at the hands of a volunteer neighborhood watch campaign. All of them remained peaceful except for one and North Miami Beach police released surveillance video Tuesday [3/27/2012] of that incident which took place at a Walgreens located at 1501 NE 163rd Street.

6 charged in beating of NC man in Seneca. The report said that a woman told police that there were several black men attacking the 32-year-old white man, whose identity was redacted. "Upon exiting the restaurant he was jumped by a mob of individuals, and severely beaten about the head and torso," said John Covington, the Seneca police chief. "The report was that racial slurs were being used toward the victim."

Six Men Who Could Be Obama's Sons Arrested For Pummeling White Man. This beating occurred March 17 and we're just hearing about it now? Where's the national media to gin up the outrage?

The Media Downplay Murder When It's Black-on-White and Black-on-Black. If violent black-white crime generates headlines, where were the media after the sickening racially motivated assault that occurred in Long Beach, Calif., on Halloween night, 2006? Three young white women were brutally kicked, punched and beaten by a mostly black mob of 30 to 40 teens and adults. According to witnesses, during the rampage the mob yelled: "We hate white people. F--- whites!" Yet only two local papers reported the story, and one — the Los Angeles Times — published its article a full week after the attack!

'The level of poverty, the disillusionment hasn't changed'. Twenty years ago, at the intersection of Florence and Normandie in south Los Angeles, a mostly black mob, enraged at the acquittal of four Los Angeles policemen in the beating of black motorist Rodney King, dragged white truck driver Reginald Denny from his cab and beat him unconscious while news helicopters hovered overhead. The gory images helped incite six days of fires and looting throughout the city that led to 53 deaths and an estimated $1 billion in property damage.

Twitter Buzzes With Talk of Zimmerman Riots. Since Friday [4/20/2012], there has been an explosion of tweets surrounding the possibility of rioting if Zimmerman is acquitted — or even because he was released on bail.

L.A. Riots Picture Special. This Sunday marks the 20th anniversary of the night when chaos broke out in Los Angeles. Angered by the acquittal of three white and one Hispanic police officers who had been filmed beating black motorist Rodney King rioting erupted across the city. When the flames had died down six days later 55 people had died, 2,300 had been injured and more than 1,500 buildings were left damaged or destroyed.

Thin Veneer of Civilization. [Scroll down] I went back to the hotel on the evening of April 29 to the news of the near-beating death of trucker Reginald Denny in the aftermath the acquittal of the four Los Angeles Police Department officers charged with using excessive force during their arrest of Rodney King after a drunken King led them on a high speed chase and then resisted once the police pulled him over.

What We Should Have Learned. Could it happen again? That is the taboo question on the 20th anniversary of Los Angeles's murderous Rodney King riots, just as another racially charged prosecution — this time in Florida — captures headlines across the nation. Sadly, the answer is yes.

Norfolk, Virginia: Violent Black Flash Mob Assault White Journos — Their Newspaper Buries News For Weeks. The feral wilding mob was 100 strong, at least 30 participated in the attack.

'Justice for Trayvon':
15 Whites Beaten By Gangs of Black Thugs... So Far. At least 15 whites have been beaten not just with fists, but with potentially deadly weapons including hammers and lengths of chain. Many of the victims have been hospitalized, some may never fully recover, and one lingers on the verge of death. David Forster and Marjon Rostami are just the latest victims of brutal beatings tied to the Trayvon Martin shooting, and some Virginians are outraged that the newspaper did not report the attack for "politically correct reasons." The attack was revealed not as news, but in an opinion piece.

Attack on Pilot reporters was a crime — but not the only one. Pilot reporters Dave Forster and Marjon Rostami were pummeled by a pack of punks last month in Norfolk. It was two weeks before any mention of that vicious attack appeared in the paper. As a result, The Virginian-Pilot is now taking a beating. The reporters didn't deserve this act of aggression. But what about The Pilot?

A problem with the truth? As WND reported Tuesday [5/1/2012], dozens of black teenagers attacked two white reporters for the local Norfolk, Va., newspaper, the Virginia-Pilot. Dave Forster and Marjon Rostami were stopped at a traffic light two weeks ago as a crowd of at least 100 black youths congregated nearby. Someone threw a rock at the window of the car and Forster got out to confront the perpetrator. That's when the beating started. When Rostami tried to pull Forster back into the vehicle, the crowd of dozens began pulling her hair, punching her head and scratching her eyes. Both were out of work for a week due to their injuries. Amazingly, though the victims were staffers for the only newspaper in town, the story was not reported.

Mob of between 30-100 black teens brutally beat white male and female in Virginia. The pink slime media and race hustlers have more blood on their hands as yet another racially motivated mob beating has occurred. As usual, with the exception of a few local reports, the pink slime media is silent on this story. Even in the following video from a local ABC station in Norfolk, the reporter mentions: "a mob of teens" forgoing the mention of the race of the attackers. Welcome to Obamaville.

White couple's terror as 30-strong mob of black youths armed with rocks attacks. A 16-year-old male has been arrested after a gang of black youths armed with rocks violently beat a white couple in an unprovoked attack. Reporters Marjon Rostami and Dave Forster were waiting at a red light at the intersection of Brambleton Avenue and Church Street in Norfolk, Virginia, on April 14 when they were set upon by the 30-strong mob. But the couple's ordeal was not reported by their employer, the Virginian-Pilot, for two weeks, sparking outrage among some readers who claim the newspaper buried the story for political reasons.

O'Reilly Producer Confronts Editor Of Virginia Paper About Covering Up 'Racially Motivated' Assault. On his show Monday [5/7/2012], Bill O'Reilly started off by following up on the assault case in Norfolk, Virginia — in which two Virginian-Pilot reporters, Dave Forster and Marjon Rostami, were attacked by a group of black men. The story went unreported in the paper for two weeks, and O'Reilly has been following the case since last week. In this update, we heard from the paper's editor himself.

Bill O'Reilly: 'Inconceivable That Had a White Mob Set Upon Two Black Americans Media Would Sit it Out'. "It is inconceivable that had a white mob set upon two black Americans the media would sit it out." So said Fox News's Bill O'Reilly Monday about the media's almost total silence about a white couple that was attacked by a crowd of young African-Americans three weeks ago in Norfolk, Virginia.

Group of 10 or 15 'thugs' rob and beat 5 people following Prudential Center concert, cops say. A roving band of teenagers assaulted five people as they left a sold-out concert at Newark's Prudential Center Saturday night [5/5/2012], leaving one man unconscious and another with a fractured eye socket during a two-minute crime spree, according to police officials and incident reports. The attacks happened as nearly 20,000 guests departed from a Red Hot Chili Peppers concert and marked only the second major reported crime at the arena since it opened in 2007, officials said.

Newark police: Violence may have been chief motivation in brutal Prudential Center assaults. The mob of teens who attacked and robbed five people who eaving a sold-out Prudential Center concert Saturday night were "laughing" during the brutal assaults, and may have set out to injure people rather than rob them, Newark police officials said this morning.

Mobile police chief: No more arrests expected in Matthew Owens beating. Barring new information, police do not expect to make any more arrests the widely publicized beating of a man in the city's Pleasant Valley community, Police Chief Micheal Williams said today [5/9/2012]. The beating, which left Matthew Owens in the hospital in critical condition, caused a sensation that reverberated across the nation because the victim is white and the large group of men, women and children who confronted him are black.

A Censored Race War? When two white newspaper reporters for the Virginian-Pilot were driving through Norfolk, and were set upon and beaten by a mob of young blacks — beaten so badly that they had to take a week off from work — that might seem to have been news that should have been reported, at least by their own newspaper. But it wasn't. "The O'Reilly Factor" on Fox News Channel was the first major television program to report this incident. Yet this story is not just a Norfolk story, either in what happened or in how the media and the authorities have tried to sweep it under the rug.

It's the toxic culture that's killing our kids. FoxNews' Bill O'Reilly has been publicizing the attack on two white reporters by a mob of about 30 black youths in Norfolk, Virginia that took place on April 14th. He did this because the reporters' own newspaper, the Virginia-Pilot, delayed the report on the assault until after the reporters filed a complaint against the Norfolk police. Since the killing of Trayvon Martin in Sanford, Florida, there have been a number of black on white assaults that have gone unpublicized and Mr. O'Reilly was attempting to tie this mob attack with others.

Evidence presented in Bryan Stow beating case. The video was the first piece of evidence Los Angeles County prosecutors put forth Wednesday [5/30/2012] during the opening day of the preliminary hearing for Norwood and Sanchez. The hearing will determine whether there is enough evidence for the two men to stand trial on charges of mayhem, assault and battery, and inflicting great bodily injury in the brutal beating of San Francisco Giants fan Bryan Stow at Dodger Stadium on opening day last year.

'Flash' Mob Violence, Poverty, and Reclaiming the Streets. As a physician at Northwestern Memorial Hospital learned the other night, you're really not safe in Streeterville. Accosted by a "flash" mob of black teenagers, the physician was repeatedly hit and beaten. He wasn't robbed. He says the motive wasn't racial, as he's Asian. But typically such mobs are black and their victims are whites, who are abused with racist insults while they're being injured. The physician observed that the teenagers had accosted others before they attacked him.

No mention of the word "black", as usual.
'Flash rob' targets Troutdale Albertsons. A group of teens targeted a Troutdale store last weekend in a 'flash rob' and investigators are trying to identify the suspects. Investigators said as many as 40 kids entered the Albertsons store at 25691 SE Stark Street at the same time late Saturday night [7/14/2012] and started stealing things.

Are Race Riots News? When I first saw a book with the title, "White Girl Bleed A Lot" by Colin Flaherty, I instantly knew what it was about, even though I had not seen the book reviewed anywhere, and knew nothing about the author. [...] That phrase was spoken by a member of a mob of young blacks who attacked whites at random at a Fourth of July celebration in Milwaukee last year. What I was appalled to learn, in the course of my research, was that such race riots have occurred in other cities across the United States in recent years — and that the national mainstream media usually ignore these riots.

Again, no mention of the term "black".
Smash mob causes havoc at Walmart. The Walmart off Lem Turner Road in Jacksonville fell victim to a mob of 300 people who entered the store and destroyed the security system as well as some merchandise. According to a police report, the group destroyed an electronic anti-shop lifting security scanner that costs about $1,500. The police report also stated the massive crowd could have arrived at the store after a party that was broken up on Sampson Road.

An interview with Colin Flaherty:
White Girl Bleed a Lot. [Scroll down slowly] I documented hundreds of examples in more than 70 cities. And here is what happens. I hear about a riot or a mob and I check it out and learn that it was a large group of black people creating havoc. So I write the details. In the course of reporting it, or after the story comes out, I almost always hear: "That's been happening here a long time." But reporters are afraid to write about it. City officials are afraid to combat it, or call it by its name. So it goes on. And it is not just the places where you might expect it: Chicago, Philly, Boston, Baltimore. It's in smaller places in the Midwest as well. [...] Ames, Iowa. They had a "Beat Whitey Night" at the State Fair. Peoria, Illinois. They had almost a dozen episodes of racial violence and lawlessness by black mobs over the last year. Milwaukee. Minneapolis. Seattle. Portland. And on and on.

Black mobs now have soundtrack for violence. The epidemic of black-mob violence now has a soundtrack. In fact, lots of them: sophisticated, highly produced songs and videos that urge black people to create all kinds of mayhem. From murdering CEOs and delivery drivers to starting riots and engaging in random warfare and everything in between. Millions of people enjoy them every day; not just as music, but as a lifestyle. It is not known if any of the 1,000 black people who rioted in downtown Greensboro following the Fourth of July festivities this year were dancing to this kind of music. But there is no doubt they were part of the lifestyle.

Chicago clothing store loses $3,000 worth of jeans in flash robbery. A clothing store in a trendy Chicago neighborhood is one of the latest victims of a so-called flash mob robbery — when a large group storms into a shop to collectively rip off a retailer. About 20 people entered the Mildblend Supply Co. in Wicker Park on Saturday afternoon [7/28/2012], together grabbing more than $3,000 worth of high-priced denim jeans, according to police.

Drunken gang of girls in subway stab attack: cops. A wolf pack of drunken young women "acting stupid" on a downtown No. 6 train in Manhattan stabbed a 63-year-old man early today [7/30/2012] — for having had the nerve to ask them to pipe down, police said. The man was on his way to work at about 6:15 a.m. when he was attacked as the train entered the East 23rd Street station, a law-enforcement source told The [New York] Post.

'They were laughing as they slashed at me'. The 63-year-old war veteran who was attacked and stabbed by a group of young girls on a subway on Sunday morning said the gang were laughing at him as they stabbed him. Ralph Carnegary, of Queens, has spoken out about the unprovoked attack which left him in hospital.



The local police and the news media bend over backwards to avoid stating the obvious.
Six teens attacked man because 'they were just bored,' police say. Six teenagers "were just bored and were looking for something to do," a police report said, when they ambushed [Pat] Mahaney as he turned off Simpson Avenue onto Dallas Avenue. [...] Several residents called police, noting the suspects are black and inquiring whether Mahaney was specifically targeted because he is white.

The Editor says...
This is the most transparently false cover story I've heard since the crash of American 587. . How "bored" would you have to be to attack a stranger on the streetcorner and beat him up? Thugs don't ambush people out of boredom. They are inner-city predators looking for someone to punch out. Preferably someone who can't possibly fight back when outnumbered four-to-one. It's a sport. It's a hobby. It's a chest-thumping male dominance ritual.

Update:
Man beaten by 'bored' teens dies 1 year later. Authorities say the Cincinnati-area man who was badly beaten by six teens almost a year ago in a Cincinnati suburb has died. Pat Mahaney, 46, died yesterday in the University of Cincinnati Medical Center, said Julie Wilson, spokeswoman for the Hamilton County prosecutor's office. The six teens, all 13 or 14, injured Mahaney in August and told police they did it because they were bored and looking for something to do.

Moving melee causes chaos at packed Mall of America. A noisy, racing crowd of more than 200 young people created a chaotic scene at the packed Mall of America Monday evening [12/26/2011], sending frightened shoppers scrambling for safety and causing some stores to close early, eyewitnesses and officials said. It took more than an hour to quell the disturbance, which began about 4:20 p.m. as a single fight involving a large group in a food court and quickly spread through the nation's largest mall...

The Editor says...
This story is accompanied by video, which shows all the violent actors were black, but the word black is nowhere to be found in any of the articles describing the event.

Mall of America melee may have started over rumors of Drake and Lil Wayne visit. Rumors that rap superstars Drake and Lil Wayne were visiting Minnesota's Mall of America may have sparked Monday's massive brawl at the giant retail center, a local TV station said. Nine people were arrested as dozens of shoppers fought on one of the busiest shopping days of the year, according to local media reports. ... A Mall spokeswoman said the incident involved about 50 youths, but witnesses and police pegged the number at closer to 200.

Riot at the Mall of America. One of my daughters works at a department store at the Mall of America. After the riot was over, she texted one of her sisters: ["][My department store] closed its doors. It was the scariest thing I have ever seen. Hundreds of gang members running through the Mall knocking things over. And there were fights all over! A good half of them were wearing red.["]

Eric Holder, 'Hate Crimes,' and 'His People'. A group of those whom Eric Holder described as "his people," at least six young men, repeatedly punched a 24-year-old white woman in the face, then proceeded to kick her face over and over when she was on the ground helpless. This occurred in Buffalo, New York last week, but the event has received no attention by the mainstream media because the victim was white and the attackers were black. This was no friendly urban jostling: the woman was left with a broken nose and cracked bones in her face. There must have been a little bit of hate in at least one of those kicks to the face, but you can bet it won't be charged as a hate crime.

Cops: Man hit by car, officer hurt as 100 people brawl in Dover. Multiple fights were happening at once in the crowd of more than 100 people by the time Sgt. Anthony Smith and officers Jonathan Cachola, Walter Michalski and Paul Wilkes arrived, police said. Michalski then went to Mercer Street where he found a man lying bloody on the sidewalk, police said. Friends of the man told Michalski the driver had purposely struck him with a car and left, police said. So Michalski began administering first-aid to the man, but he called for additional units to assist him when a large, raucous crowd encircled them, police said.

The Editor says...
It is sometimes necessary to read between the lines of a news story. The word "black" was not used in any of the news reports about this incident. However, given the news media's track record, it is safe to say that if a mob of a hundred white people had taken part in a street brawl/riot, the story would have been carried by dozens of media outlets, leaving no doubts about the rioters' general description.

Pa. Football player's death ruled homicide. [Timothy] McNerney was walking back to campus with Zach DeCicco from Main Street Brew House on South Main Street when they were approached near the rear of Lombardi's Auto Service by as many as six males wanting to steal a cellphone, [Police Lt. Dan] Stanek said.

The Editor says...
The victim was known to Google, and a search for pictures of "Timothy McNerney" shows he was a white man. The perpetrators were apparently black. What makes me think so? Because if they hadn't been black, they would have been described as white men in the press.

Looters brag on Twitter. [Scroll down] A mob of more than 50 thieves made the most of the opportunity on Coney's Island, starting down Mermaid Avenue on Tuesday morning [10/30/2012] as the water receded. 'People were running in and out of Rent-A-Center carrying these big flat-screens,' witness Aisha John, 20, told the Daily News. 'They were holding on tight. I couldn't understand how someone could steal a big TV in broad daylight, but no one cared.'

Queens residents arm themselves in the post-storm blackout from looters. When night falls in the Rockaways, the hoods come out. Ever since Sandy strafed the Queens peninsula and tore up the boardwalk, it's become an often lawless place where cops are even scarcer than electrical power and food. Locals say they are arming themselves with guns, baseball bats, booby traps — even a bow and arrow — to defend against looters.



Seven Black Teenagers Attack 1 White Teenager And Beat Him Senseless. The white kid was simply going to play football, but seven black kids beat him before he got there. It was only a few blocks from his house. Apparently, the kids at his school didn't like him because he was white.

Black Mobs Take Over Washington Metro. Members of this mob call themselves the 44th Street Crew in Southeast Washington. For those not familiar with the different sections of Washington, that is not the lobbyist/media/functionary dinner-party part of town. Reporters at the Fox affiliate in Washington seemed surprised at the mob violence. But to people who ride the Metro, it was just another day. Metro police have seen so much of it they are ready with instructions for riders who encounter it: Resistance is futile.

Shoe shoppers get sprayed with mace at Hulen Mall. A rush for limited-edition tennis shoes sparked a near riot Friday morning [12/21/2012] at Hulen Mall. [...] The crowd, estimated to be as large as 350 to 400 people, had apparently flocked to the mall to purchase retro Air Jordan sneakers, a re-release of the famous red and black Michael Jordan shoes. The popular shoes retail for between $150 and $200.

Paramus police arrest 2 teens after group of 10 harassed officers. Paramus Police Officer Anthony Liggio had stopped a motor vehicle on Route 4 east, backed up by Officer Joseph Cullen, just before 2:30 a.m. A group of about 10 males walking on the road approached the officers and began to yell and scream insults and obscenities at them, police said.

Flash mob at Mall of Louisiana goes horribly wrong when massive 200-person brawl breaks out instead. A flash mob at the Mall of Louisiana turned violent last night, causing the shopping center to be evacuated. As many as 200 young people were in the food court of the Baton Rouge mall for an apparent flash mob, but things turned ugly quickly.

Large-scale fight erupts at Mall of Louisiana, shutting it down. A large-scale fight involving as many as 200 juveniles erupted in and around Baton Rouge's Mall of Louisiana Saturday night [1/5/2013], prompting three different police agencies to respond and forcing the mall to close, the East Baton Rouge Sheriff's Office reported. No injuries or weapons were immediately reported, Casey Rayborn Hicks, a spokeswoman for the sheriff's department said.

Section 8 housing voucher distribution canceled after thousands waiting in line get out of control. A chaotic scene erupted at the Taylor Human Services Center when the crowd waiting for a Section 8 housing voucher distribution got out of control. [...] Police say thousands of people from all over the area were at the center. Many were homeless, single moms, or disabled. They were hoping to get help paying for their housing from the government.

Riot ensues at Section 8 voucher giveaway. Law enforcement tried to break up a riot in Detroit Saturday morning after 3,000 to 5,000 people showed up for only 1,000 Section 8 housing vouchers. People had lined up overnight waiting for the Wayne County Family Health Services Center to open, and when it came time for the vouchers to be distributed, police said there was a mad rush for the door.

Massachusetts man is savagely beaten outside pizza shop in Greenwich Village. A heinous beatdown in the heart of Greenwich Village has left a Massachusetts man fighting for his life. Kevin McCarron, 24, was bashed with a tire iron, baseball bat and blackjack and stomped repeatedly by a gang of toughs in the middle of MacDougal St. early Sunday, police and witnesses said. Cops on Monday [1/14/2013] busted 24-year-old Hatem Farsakh of Brooklyn, who was arraigned on charges of attempted murder and assault. Onlookers were horrified by the savage attack.

Westampton fight involving 'more than 100 people' leads to five arrests, police say. A fight involving more than 100 people broke out early Sunday morning [1/20/2013] at the Rancocas Community Center and resulted in $800 worth of damage and five arrests, police said. Police were sent to the center on Main Street on a report of shots fired and a large fight, police said. When they arrived about 12:25 a.m., police found more than 100 people acting disorderly and "jumping on top of vehicles," police said.

Brawl At Social Services Office Caught On Video. Sources said the fighting started even before the video started rolling at the Illinois Department of Human Services Office. The video shows at least 4 women involved in the brawl, with fists flying from one side of the lobby to the other.

Flash Mob Mayhem: Violent Groups Of Teens Leave NYC Businesses In Ruins. Violent, thieving mobs have been making headlines across the country for the past few years, and now they have hit New York City. And Maurice Dubois reported in this CBS 2 investigation, the teen mobs have left neighborhoods worried as businesses take matters into their own hands.

12-year-old among 12 accused in beating of pregnant woman. A pregnant woman is recovering from an attack after Seminole County Sheriff's deputies said she was beaten during a brawl in Sanford by 12 people, including four juveniles. The youngest suspect is 12 years old. Neighbors said the fight broke out on Sunday [2/10/2013] just after 10 p.m. in the Palm Point subdivision along Daffadil Terrace.

High school food fight turns into violent 'race riot'. What started out as a lunchtime food fight in a Minneapolis high school ended in a massive brawl involving hundreds of students and police officers wielding canisters of Mace. Minneapolis South High School was placed on lockdown shortly before 1 pm Thursday [2/14/2013] after violence broke out during third-period lunch inside the cafeteria between Muslim and black students.

Hundreds of students brawl at Minn. high school. A food fight quickly turned into a brawl involving hundreds of students at a Minneapolis high school on Thursday [2/14/2013], forcing police to use chemical spray to break up the melee.

A Blind Pendulum. While in the newspapers or on television you will not be informed about it in a form that makes sense, a growing cancer of racially-based violence is metastasizing in our cities. Moreover, unless you were to see these outrages first hand or in media outside the mainstream organs, you would know nothing of it — for it is being withheld from you. For reasons that we may want to speculate on, the news media have made an overt decision to avert your eyes away from the stone cold reality that a spectrum of young black men and women, motivated by race, rage, or entertainment, are increasingly committing crimes against life and property by the medium of flash mob violence.

Explaining the Inexplicable. Almost daily on internet news agencies is some lurid story of a shooting, flash-mobbing, or beating that unfortunately involves a racial motif. [...] Yet such information is usually implicit rather than overt. The paper or news agency that reports the crime either provides no overtly physical description of the suspects, or offers almost every detail of their appearances (sometimes even artists' renditions!) except for their race.

Michigan Avenue warning: Teens allegedly planning disturbance. Chicago police have warned businesses to be on alert for a potential problem on Michigan Avenue Saturday [3/2/2013]. Authorities have learned a large group of teenagers may gather tomorrow to participate in what's described as "disruptive behavior".

Obama's America — Mall Warnings. Now, does anyone else think it's pathetic, sad, and more than a little bit ridiculous that American citizens have to be warned to be on alert for roving bands of teens bent on destruction and mayhem? [...] And the fact that this Department is calling it "disruptive behavior" instead of organized looting, planned batteries and mindless property damage is truly stupid to the n-th degree.

Cleanup in aisle 1: Teen's 'mourners' trash Brooklyn shops. A vigil for a teenager fatally shot by cops turned into a riot in Brooklyn last night [3/11/2013], as a mob of outraged thugs ransacked stores, broke car windows and assaulted residents in East Flatbush. The chaos erupted after about 200 people gathered to mourn 16-year-old Kimani "Kiki" Gray, a reputed Bloods gang member who was shot after pulling a gun on police Saturday.

100 teenagers 'riot' on the streets following vigil of 16-year-old. An orderly protest over the death of an armed 16-year-old turned into a riot in Brooklyn tonight after young people started lashing out at NYPD officers. Between 60 and 100 rioters gathered around Church and Snyder Ave. in East Flatbush and threw bottles and other debris at police, witnesses said, following a vigil for Kimani Gray, 16, who was shot dead by two plainclothes officers over the weekend.

Enraged protesters battle cops in Brooklyn streets during third night of rioting. As fights between cops and angry teens erupted in East Flatbush, 46 were arrested Wednesday night [3/13/2013]. Police struggled to control a furious crowd that broke away from a planned peaceful vigil.

Brooklyn Neighborhood Is 'A Powder Keg' After Teen Killed By Police. [Scroll down] The witness said the teenagers suddenly took off, fanning through streets and side streets, followed by the sound of glass breaking and metal store-front gates being pulled down. Protesters began throwing bricks and bottles while cops began pepper-spraying and arresting. By the end an officer's face and the window of a police van had been hit with bricks, and 46 people had been arrested.

New York gangs use Easter Sunday as a 'day of initiation' to attack people and businesses'. New York police have stepped up patrols in the center of Manhattan today over fears of gang violence over the Easter weekend. Times Square and Midtown have seen a growing trend for crime on Easter Day with gangs seemingly using it as a day of 'initiation'.

Whites attacked by black mob for walking white. When a black mob attacked two reporters in Norfolk, Va., last year, the editor of the Virginian-Pilot newspaper said it was just a "street altercation" and he had no proof of racial motivation. But even the most diehard denier of the epidemic of black mob violence around the country will find this case difficult to explain away: Three white men in Georgia were allegedly robbed and assaulted and almost killed in April by a group of black people, all because of the color of their skin. At least that is what the victims told the local sheriff.

Black Mob Violence Rocks Virginia Beach. Reporters at all the local media in Virginia Beach had trouble describing what happened over the weekend when 40,000 black people descended on their town for a party. Their audiences, however, did not. Daniel Johnson was one of dozens of people who had no trouble describing the lawbreakers and the chaos, danger, thefts, violence and lawlessness they brought to Virginia Beach as part of College Beach Week 2013. A time when black students could "blow off some steam" before final exams. The readers and viewers offered eyewitness accounts that local media could not, or would not, present.

325 calls to VB 911 this weekend. Virginia Beach Police confirm they received 325 calls for service to the Oceanfront this past weekend; a weekend that included several violent crimes. City officials are speaking out about that violence during a college event.

A 100 proof case of racial violence in Georgia. Reporters say racial violence does not exist unless the perpetrators issue a press release or confess to a reporter or blab to the police. Which is what happened down in Georgia.

Euphemism alert! [Scroll down] I don't fault [Eric] Litz for never mentioning any particular racial group. He probably wants to keep his job, his friends, his social contacts, and avoid the deadly label of racist. So he writes in code. [...] There is not one mention of race in the piece, even though that clearly is the heart of the story. The code word "urban" is understood by at least 90% of the adult population to mean black in this context. Nobody is fooled by this obligatory dance with the truth. It is all really quite laughable, this walking on eggshells. It puts the lie to any claim that mainstream journalism is about telling the truth. The dishonesty about social pathologies only makes them worse.

Judge bars racially charged protests from private property. Jason Gosselin, a lawyer for One Liberty Place, sued the group Tuesday and asked [Judge Ellen] Ceisler to bar it from continuing its assemblies. The demonstrations featured about a half-dozen men with thick beards, dressed in robes and using bullhorns to shout at pedestrians. Among their rants, the suit said, were these: "The white man is the devil," and "A woman need to shut her ... mouth."

Happy holiday! Let the violence begin. While locals fled in anticipation of the annual celebration of violence and chaos during Black Beach Week over the Memorial Day holiday in Miami Beach, large-scale black mob violence erupted in Jacksonville, Rochester, West Bloomfield, and Baltimore. A lot of it on video.

'Beach week' draws black crowd — and violence. Reporters with all the local media had trouble describing what happened over the weekend when 40,000 black people descended on Virginia Beach for a party. Their audiences, however, did not.

An Epidemic of Black Mob Violence. Racial violence is back. Along with racial lawlessness and even riots. You didn't hear about it? The Midwest state fair with a "Beat Whitey Night?" Or the Black Beach Week that turns a town into "living hell?" Or the school principal who blamed Asian students for being racist after suffering years of abuse? The eleven episodes of racial violence on the Fourth of July 2012? Some involving more than 1000 black people? These criminal episodes go by different names: Flash mobs, flash robs, black on white crime, or as one social worker put it: Kids just "blowing off steam." Anything except what they are: Racial violence.

150 People Arrested In NAACP Protest Against NC Republicans. Upwards of 150 people were arrested outside the doors to the [North Carolina] state Senate chambers, where demonstrators chanted, sang and delivered speeches decrying what they called a regressive agenda that neglects the poor.

Juneteenth festival ends with several arrests. Milwaukee police sources told [WISN] there were several arrests at Wednesday's Juneteenth celebrations at the Martin Luther King Center, but would not go into further detail about the incidents. The arrests were made as the festival was winding down, authorities said.

Are there any reporters left in Milwaukee? Every year, Juneteenth in Milwaukee is a mess: Lots of violence. Lots of people arrested at this annual festival of black liberation. [...] Something happened at Juneteenth in Milwaukee a few days ago but not one local reporter is talking about it.

Black mob violence claims life of pregnant woman. A Dayton woman who was nine months pregnant is dead today after she was shot during an episode of black mob violence. The incident began Wednesday afternoon [6/19/2013] when Dayton police were called to break up a large fight involving a crowd of black women. Wednesday night, the crowd formed once again. And once again fighting broke out, this time involving 50 to 100 people. Gunfire was exchanged.

400 black people riot in downtown Greensboro. A repeat from last summer: A series of black mob attacks "every single weekend" in July. And before. And after.

Man Claims Attack Was Trayvon Retaliation. The victim, who did not want to be identified, told News Channel 3 and investigators the men drove up to him and asked him to get into their car, implying they had a gun. The man, who is white, told police the men who attacked him are black. The man says the men drove him miles away in silence before pulling him from their car and attacking him, saying, "I'm fixin to beat your a** for Trayvon."

Protesters storm Wal-Mart in Crenshaw area. People protesting George Zimmerman's acquittal marched along Crenshaw Boulevard on Monday night, stomping on cars, chasing bystanders and storming a Wal-Mart. Several protesters made their way into the Wal-Mart as guards scrambled to close security gates. A short while later, Los Angeles Police Department officers wearing helmets and carrying batons swarmed the store as others marched through the parking lot.

Zimmerman verdict protesters attack TV reporter, storm Wal-Mart. A peaceful protest of the George Zimmerman verdict in Los Angeles turned violent Monday after youths broke away from the main demonstration in Leimert Park, stomped on cars, broke windows, set fires and attacked several people. KCBS-TV/KCAL-TV reporter Dave Bryan and his cameraman were among those who came under assault.

'Let's Go Mess Up Hollywood For Trayvon'. On Tuesday night [7/16/2013], a flash mob of some 40 to 50 teenagers invaded the busiest and most tourist-centric part of Hollywood, smashing windows, stealing cellphones, and assaulting passersby. The police described the incident as a "rolling crime wave." One police official said that the George Zimmerman acquittal provided the flash point excuse for the flash mob.

'Bash mobs' sweep through Southern California. Organized "bash mob" crime rampages of roving groups attacking innocent people and businesses have been striking cities around the United States. Law enforcement agencies in Southern California have reported few similar problems — until now. In the last several days, there have been several reports of such group crime waves in South L.A., Hollywood, San Bernardino and Victorville. Long Beach police are bracing for another one Friday [7/19/2013].

Arrests in San Bernardino; 'Bash Mob' in Long Beach. Police say a mob of young people smashed windows and threw rocks and bottles in San Bernardino, resulting in at least six arrests. Police are trying to determine whether Thursday night's [7/18/2013] civil unrest was arranged through social media contacts and whether it was sparked by the acquittal of George Zimmerman in the shooting death of Trayvon Martin.

Racial Unrest and the 'Duty to Retreat'. In response to the second degree murder acquittal of George Zimmerman, pro-Trayvon Martin supporters are expressing their displeasure with the verdict by storming shopping malls and pilfering drive-in markets. The point of the "tear up the city" rallies currently taking place across America is to loudly proclaim that an innocent teenager died because he had a run-in with a trigger-happy racist itching to kill a black boy. In honor of Trayvon, bands of whipped-up teens are "running in and out of traffic, knocking people over on the sidewalks and snatching their belongings."

Video: 'Flash mob' robbery at DC convenience store. "It was crazy. Beyond our control," says the manager of the King Convenience store in the 1500 block of U Street in Southeast D.C. He says a flash mob of teens stole candy, soda and other items from his store Saturday night.

Riot sparked by basketball bet heavily damages Polk juvenile center. The melee needed 150 law enforcement officers from several state and local agencies to quell. Seven juveniles were taken to a nearby hospital for treatment of minor injuries. Polk County sheriff's deputies said 18 of the 20 buildings at the Avon Park Youth Academy were destroyed and nearly half the juveniles had to be taken to a jail. Rioters confiscated a guard's radio and all of the staff golf carts and set fire to a building containing the teens' records and a trash bin, the Polk County Sheriff's Office said. The riot started about 8:30 p.m. after a fight on a basketball court.

The Editor says...
The article above includes no suspect descriptions or names of those arrested. If the rioters had been white guys named Billy and Steve and Seth and Larry, that aspect would have been made abundantly clear in the article's first sentence. So it's safe to assume that everyone involved was black.

Police officers sent to break up raucous party pelted with rocks, bricks and bottles. The pandemonium of between 150 and 300 people behaving in a riotous manner took every Trenton police officer and state trooper working in the city plus Transit police, a Ewing police unit and State Police reinforcements from Hamilton barracks 15 minutes to bring under control, said Lt. Mark Kieffer, a police spokesman.

Student beaten while waiting for school bus. The victim said the four adults — two males and two females — exited the car and demanded cellphones and money.

The Editor says...
This happened in Gary, Indiana, and the newspaper offered no description of the suspects, so it is safe to surmise that the suspects were all black. Prove me wrong.

Two Trenton cops injured in West Ward street brawl. According to the sources, [Officers] Rivera and Flowers were patrolling on North Hermitage Avenue near Boudinot Street around 8 p.m. when they observed two girls fighting out on the street. The females were taken into custody without incident, but after they were handcuffed the situation turned ugly, the police sources said. At least two men approached the officers, one striking Rivera in the face. More people allegedly rushed Rivera and Flowers, causing their injuries as the crowd of undetermined size continued to strike them.

3 more accused in southwestern Illinois attack on Red Lobster waitress over wrong fish order. The latest charges, filed Monday in Illinois' St. Clair County, came six days after one member of the fracas, Ania Wilkes of Ferguson, Mo., was convicted of felony assault and mob action.

Black Mob Violence in the Liberal City of Portland. Portland is in the middle of a nasty bout of black mob violence. This time directed at bicyclists. But Tim Oberlander does not want us to know. [...] Oberlander is a news editor at KGW TV in Portland. His city is under attack from black mob violence centered around Martin Luther King Boulevard. This mob has been attacking bike riders, housewives, students, seniors, you name it. These attacks are part of a long — but quiet — history of racial violence in a liberal enclave that prides itself on racial tolerance and harmony. But you would never know it from Oberlander.

The Editor says...
Every big city has a Martin Luther King Boulevard, and as far as I know, they are all in the most dangerous parts of those cities. Why do you suppose that is?

Urban streets named for MLK still struggle. A walk down the 6-mile city street named for the Rev. Martin Luther King Jr. yields plenty of images that would surely unsettle the civil rights leader: shuttered storefronts, open-air drug markets and a glut of pawn shops, quickie check-cashing providers and liquor stores.

Police make another arrest in biker beating of SUV driver. Police have said the bikers stopped the SUV on a highway, attacked the vehicle and pulled the driver from the car after he plowed over a motorcyclist from Massachusetts while trying to escape.

Motorcyclist charged with gang assault; Off-duty and undercover cops did nothing to stop biker beatdown of dad. Reggie Chance, 38, turned himself in and was being questioned at the 33rd Precinct in Washington Heights on Friday night [10/4/2013], officials said. He allegedly bashed in Lien's driver's-side window with his helmet and pulled him out of the vehicle to be beaten by the merciless mob in front of his frightened family following the confrontation on the Henry Hudson Parkway.

Undercover NYPD Cop Watched SUV Driver Get Beaten. The man who police say was seen on video using his helmet to smash the driver's side window of an SUV besieged by motorcyclists in New York City surrendered to police late Friday. Reginald Chance, 38 of Brooklyn, N.Y., allegedly was the man shown hitting the Range Rover with his helmet before the video cut off and the driver, Alexian Lien, allegedly was assaulted. Chance's possible role in the alleged assault beyond the window smashing was not immediately clear.

Man who intervened in NYC biker-SUV brawl says he 'felt intense danger' as he protected driver. Police have said the bikers stopped the SUV on a highway, attacked the vehicle and then pulled the driver from his car on after he plowed over a Massachusetts motorcyclist while trying to escape the initial confrontation.

Biker in NYC assault arraigned on gang assault charges, flips off reporters. A motorcyclist accused of catalyzing an attack that left a young New York father bloodied and beaten has been arraigned on gang assault charges, which his attorney said were overblown. Reginald Chance, 37, was ordered held on $75,000 cash bail following the court appearance on Sunday. [...] Prosecutors said Chance, a married father of six, played a key role in the beating of driver Alexian Lien, who ran over another biker in what relatives said was fear for his life.

21 Arrests! Biker in NYC Road Rage Assault Was Freed By Lenient Judge. The fallout continues from last weekend's road rage attack in New York City, as we now learn that one of the bikers has a mile-long rap sheet. Reginald [...] Chance appeared on the widely seen video smashing the driver's side window of an SUV driven by New York City father of two Alexian Lien before Lien was dragged out of his SUV and assaulted by several enraged bikers.

Are these the same bikers who beat the SUV driver?
Video emerges of motorbike gang intimidating and terrorising other drivers. The gang of bikers who were filmed beating up a SUV driver had allegedly intimidated and terrorized people on a previous rides. A new video has emerged of a dozens of motorcyclists attacking car drivers, riding through red lights and even speeding along the sidewalk. The latest footage was reportedly uploaded by the same motorcyclist who posted the shocking clip of driver Alexian Lien being beaten by an angry group of riders.

NYPD undercover officer arrested in SUV-motorcycle gang attack. An NYPD undercover detective has now been arrested in connection with an attack on a family in an SUV by a group of motorcyclists, reports CBS News' John Miller. The officer is expected to be charged with criminal mischief for allegedly banging on and breaking the rear window of the SUV. The detective waited four days before coming forward to the NYPD and he allegedly made false statements about his involvement, reports Miller.

NYPD cop arrested in motorcycle-SUV assault case. An undercover detective who investigators said was off duty when he was recorded on video pounding on an SUV as a biker rally spiraled into violence was arrested late Tuesday [10/8/2013].

Undercover NYPD Cop Seen on Video Smashing Window in SUV-Biker Brawl: Source. An NYPD officer who was on a deep undercover assignment when a violent fight erupted between a group of motorcyclists and a man driving a Range Rover in Manhattan has been arrested, police say. Detective Wojciech Braszczok, 32, turned himself in to police Tuesday evening and was charged with riot and criminal mischief, according to police.

Undercover NYPD officer arrested in motorcycle/SUV melee. The New York City Police Department confirms an undercover police officer has been arrested in connection with the Sept. 29 videotaped Manhattan melee between motorcyclists and a motorist and his family in an SUV. Wojciech Braszczok has been charged with riot and criminal mischief, Detective Brian Sessa of the NYPD's public information unit said Tuesday night.

Beating victim Ray Widstrand on the road to recovery after being viciously assaulted and robbed by gangs. The 27-year-old was walking home in his neighborhood on St Paul's East Side on August 4 when he was attacked by a group of 30 to 50 juveniles and young adults. He was hit in the head with a 'can in a sock', stomped on, had his pants ripped off him and was robbed. He was placed in a medically-induced coma when he was taken to hospital.

Group of black youths beat white couple in racially-motivated attack. A young couple in Brooklyn were beaten up Monday in what police are calling a racially-motivated attack. 30-year-old Ronald Russo and his wife Alanna, also 30, were stopped at the intersection of Avenue U and East 58 Street near Kings Plaza Shopping Center Monday [10/21/2013] when they had the green light. Mr Russo couldn't go though because a group of teenagers were blocking his way, so he honked his horn. The group of 10 black youths ranging in age from 12 to 18, including a 12-year-old girl, got agitated and started kicking his car.

Young man killed in big brawl at N.J. bowling alley. A young man was killed [10/19/2013] in a brawl involving about 250 people at a New Jersey bowling alley, police said.

Several Injured, Arrested Outside Howard U. Concert. A group tried to ram the gate of a Howard University homecoming concert in D.C. Friday afternoon, resulting in several injuries. D.C. Police responded to 6th Street and Howard Place NW just after 3 p.m. after several individuals tried to rush a gate into the YardFest concert, hosted by Howard University. Seven people were injured, including two officers and one other person was hospitalized.

Black Mob Violence and Denial. For those who have not picked up a ball for a while, a visit to your local alley in the daytime is like stepping back in time. Same lanes. Same beat up shoes. Same scruffed up balls. But weekend nights, many bowling alleys — and roller skating rinks too — shed their white, lower middle class trappings and are transformed into gleaming centers of hip-hop, with the latest and greatest in lights, sounds, fashion, booze and drugs. All topped off with frequent large-scale, black mob violence.

Rioting black youths stun Austin, Texas. It was a spasm of violence that stunned residents: some 200 black youths raising hell — what police called a full-blown riot — in Austin, Texas. Angry black youths inexplicably converged by the Highland Mall, near an iconic haunted house attraction, and walked atop parked cars, fought among themselves, and hurled rocks at some 30 arriving police officers. Several people, including one officer, suffered minor injuries. Later, police said so many squad cars were need that the department was unable to provide adequate 911 emergency coverage to the rest of Austin.

Fights break out at shoe stores across the country [over] Air Jordan 11 Gamma Blue sneakers. Each year, the highly anticipated release of a new version of limited edition Air Jordans is released and each year, a spate of robberies, assaults, riots and even deaths occur.

600 People Involved in Movie Theater Brawl, 5 Arrested. Five teenagers were arrested when a 600-person brawl broke out in a Florida movie theater's parking lot on Christmas night. Described by police as a "melee," the fight occurred around 8:30 p.m. on Wednesday outside the Hollywood River City 14 movie theater in Jacksonville when a group tried to storm the theater's doors without purchasing tickets, police said. Several had rushed an off-duty police officer working as a security guard.

Flash Mob Of Teens Causes Disturbance At Brooklyn's Kings Plaza Mall. A melee at Kings Plaza Shopping Center in Brooklyn the day after Christmas was captured on cellphone video. According to police, the flash mob involving as many as 300 teenagers, mostly 15 and 16 years old, began a short time before the Mill Basin mall closed at 9 p.m. on Thursday [12/26/2013].

The Editor says...
I surmise that all the perpetrators were black. Prove me wrong.

Hundreds of teens trash mall in wild flash mob. A wild flash mob stormed and trashed a Brooklyn mall, causing so much chaos that the shopping center was forced to close during post-Christmas sales, sources said Friday [12/27/2013]. More than 400 crazed teens — who mistakenly thought the rapper Fabolous would perform — erupted into brawls all over Kings Plaza Shopping Center in Mill Basin on Thursday at 5 p.m., sources said.

Mob of teens caught on tape ransacking convenience store in 20 minute spree. A mob of teenagers have been caught on tape robbing a convenience store in Bryan, Texas. Surveillance video shows the kids rushing through the store, grabbing everything they can get their hands on as girls are seen twerking and doing the splits outside. The frightening ransacking incident took place Saturday [1/4/2014] as store clerk Terry Polsgrove, 19, was shutting up for the night.

Tennessee Robbers Use Sledgehammers to Rob Jewelry Store in Busy Mall. The robbers used the sledgehammers to smash the cases containing Rolex watchers [sic] as shoppers screamed and hid in other stores. The robbers were quick and after stuffing jewelry into held pillow cases, they ran to the closest exit and departed.

'Wilding' youths overwhelmed deputies at state fair. An atmosphere of family fun at the Florida State Fair was trampled Friday night by a crowd of young people carrying out an annual practice known as wilding, sheriff's investigators said. By the end of the night, the fair closed early and one teenager among the 99 people ejected for disorderly conduct was killed — hit by a sport utility vehicle as he tried to cross Interstate 4. Twelve people were arrested on charges including trespassing and fighting.

The Editor says...
In news reports of this sort, the perpetrators are called youths, kids, teens, and every descriptor in the English language except black. And it is well known to be "an annual practice," so why didn't the police have fire hoses, rubber bullets and aggressive dogs ready for this riot? That may sound harsh, but the treatment has to match the disease.

Fair restricts free youth tickets after 'wilding'. The Florida State Fair, reeling from a rampage involving hundreds of youths on opening night, announced late Tuesday [2/11/2014] it is taking steps to curb such outbreaks by requiring that any minor presenting a free entry ticket after 7 p.m. be accompanied by an adult. [...] Most of the chaos was blamed on black youths, law enforcement officials and others said.

The Editor says...
"Black" first appears in the 17th paragraph. And even then, the newspaper lets a little pressure escape by saying most of the chaos was the fault of "black youths," leaving open the unlikely possibility that others were involved as well. But in the opening paragraph one major root of this problem was revealed: Free admission to the fair. What the kids don't pay for, they do not value. Let them pay the full price of admission like everyone else.

Chief Forte says police to crack down on Plaza teen disturbances. Following Saturday's disturbance on the Country Club Plaza, three teens were arrested and one juvenile was detained. While one mother is apologizing and asking for the public's forgiveness, another teen arrested over the weekend remains unapologetic for his actions and says police racially profiled him. Kansas City police were first called to Cinemark Palace, located at 500 Nichols Rd., about 8:15 p.m. Saturday on a large disturbance involving about 150 juveniles. Police said they dispersed the unruly group; however, they scattered through the Plaza.

Arrests pending in Orange Park Mall melee. Dozens of juveniles are accused of starting a violent melee that began at the Orange Park Mall and eventually ended after a shot was fired at the Wells Road Chick-fil-A location on Saturday [3/1/2014], Clay County deputies say. The Clay County Sheriff's Office reports dozens of juveniles first became unruly near the movie theaters at the Orange Park Mall before they crossed the street and created a melee outside of the Chick-fil-A.

Big Gym Fight Has Police Hoping LA Fitness Beefs Up Security. On Sunday, city police responded to a call involving 10-15 people fighting at the gym's Cleveland Avenue location. It started all on the basketball court over a call and escalated, moving into the main fitness area. "People were actually throwing two and a half, five, 10 pound weights within the building," said Police Lt. Lorne Rosand. This recent fight is just part of a bigger problem. Police say the gym has been plagued with crime in recent years.

LMPD: 2 suspects arrested in connection with teen mob violence. Metro Police say two suspects have been arrested in connection with last weekend's violence in downtown Louisville. Shaquazz Allen, 18, and 19-year-old Tyrone Booker are charged with seven counts of first degree unlawful imprisonment, and one count each of fourth degree assault and third degree criminal mischief.

Police: Man Beaten Unconscious By Crowd After Striking Child With His Car. Detroit police are looking for suspects in the beating of a driver who investigators say accidentally hit a young child on the city's east side. [...] Debra Hughes says she saw the attack and claims it was a group of mostly teenagers who beat the man unconscious. Hughes told WWJ's Stephanie Davis that the boy was hit after he ran into the street and that the driver stopped to check on the child, and when he did, he was beaten. [...] Police say the 54-year-old man, whose wallet was also stolen, wasn't at fault for the accident. He's currently hospitalized in critical condition.

LMPD: Teen arrested during mob disturbance at Shawnee restaurant. When officers arrived, police say 18-year-old David Leach was standing in the parking lot of Long John Silvers and refused officers' orders to leave the location, even though allegedly he was not a customer. Police say the group of 50 people alarmed nearby residents and prevented passing motorists from driving through the crowded roadway.

FBI, Louisville police address youth gang memo. A Louisville youth gang known as YNO, or "Young 'N Off That," did not gather at Waterfront Park March 22 to memorialize Me'Quale Offutt, the teen stabbed to death on a TARC bus on March 16, according to an FBI email that was not intended to be made public. Instead, according to the email the FBI sent to law enforcement agencies, YNO went to the park to fight another gang, "believed to be TYS — Trill Young Savages," whose members had been "talking smack" about Offutt. When the TYS members didn't show, according to the memo, "mob violence" ensued.

FBI: Middle school gang behind mob violence. The teens responsible for the mob violence in downtown Louisville last month were members of a gang of middle-school students, according to an FBI memo distributed to law enforcement agencies. The memo, which the FBI says was based on "unverified intelligence," says that the gang — "Young 'N Off That," or YNO, was organized last summer at Frost Middle School but spread to other schools, and that its members are "armed in a major way." The FBI memo also says there have been "rumblings" about the gang showing up in large numbers May 1 at the Kentucky Derby Festival Pegasus Parade.

See if you can guess the forbidden five-letter word that was omitted from this article.
Flash mob of women steal $20,000 worth of sunglasses from California store. A brazen flash mob has been caught on camera storming a California store and making off with $20,000 worth of sunglasses. Surveillance footage shows eight women piling into a Sunglass Hut and crowding around display cases.

Police caught off guard by huge park gathering where 2 women were shot. DeKalb County Police say they were caught off-guard Sunday by the unsanctioned party at a public park that ended with two women being shot. "This came really as a surprise to us," the county's public safety chief Cedric Alexander told reporters on Monday [4/21/2014].

Video: 'Flash mob' robbery strikes DC convenience store. On the video, about 20 people are seen entering a convenience store on the 4400 block of Benning Road — one right after another. The video shows several unidentified subjects dashing out the store with what appear to be goods in their hands. According to the police report, in a matter of about three minutes, the suspects took candy, snacks and soda before running out of the door. Police say the total value of the stolen merchandise was about $350.

Clearwater Beach shootings may not all be connected. Police filed criminal charges against four Tampa men after a series of shootings left Memorial Day revelers reeling in the heart of Clearwater Beach's tourist district. At least two people were shot in the chaos, which spanned three shooting scenes.

Police Arrest Dozens During Memorial Day Ruckus By The Beach. Fort Lauderdale police believe hundreds of young people made their way to the beach for one reason this Memorial Day, to cause trouble. Police described a volatile scene Monday night as they had to arrest dozens of people that were part of unruly crowds. Two separate incidents late Monday afternoon kept officers busy. One scene was near the area of 31st Avenue and West Broward Boulevard.

Police: Taste of Cincinnati was 'general mayhem' Officers report 'numerous incidents' of crime. It was a "kind of general mayhem." That's how Central Business District commander Capt. Paul Broxterman is describing several incidents near last weekend's Taste of Cincinnati event. Police say they were called to some outer areas of the three-day celebration of Cincinnati's eateries to deal with numerous assaults, at least two robberies and even teens throwing rocks at officers.

Widespread Memorial Day Black Violence Ignored by National Media. Black Beach Week used to get all the glory: Every Memorial Day weekend, 300,000 black people gathered in Miami Beach to get their freak on. And also create a tsunami of violence, robbery, shootings, carjackings, vandalism, mayhem, noise and trash. But this year, many party-goers complained that Black Beach Week — only reporters call it "Urban Beach Week" — just wasn't as much fun any more: Too many cops, tactical vehicles, helicopters, lights, towers, cameras, suspicion. Not enough chaos. Not to worry: The rest of the country picked up the slack. Black mob violence over the holiday weekend was reported in more than a dozen cities around the country. Some fatal. Some comical, almost.

Wilding Popping Up Again. If anyone listened to zone 4 last night they would have heard that [...] multiple car and store windows on North Michigan Ave were smashed by "urban youths". That there was a massive fight between "urban youths" on the Red Line platform at State and Lake that shut down the line. That there were multiple thefts of purses, laptops, phones, etc. by groups of "urban youths" celebrating the holiday.

13 Cedar Point workers from Michigan arrested after brawl. Sandusky police arrived at the rec center to find Cedar Point officers struggling with a man and several other men trying to get at the officers. Several other Cedar Point officers were struggling with three other men, who were swinging their arms at officers. Another man, who refused to leave the area, then began pushing an officer.

Massive brawl breaks out on Island Belle during summer cruise on Sunday. Police say an all-out brawl occurred on the Island Belle early Sunday [6/29/2014] while hosting the "Rock Da Boat" summer cruise.

July Fourth Weekend May Bring More Black Violence. Take Miami Beach. Its Memorial Day holiday "Urban Beach Week," aka "Hip-Hop Weekend" or Black Beach Weekend, has come to mean anarchy in the city, and this "tradition" has been going on for ten years. Up to 300,000 black "hip-hop" fans, many intent on wreaking havoc, descend upon a city with fewer than 90,000 residents, only four percent of whom are black. The fans assault and intimidate people, block traffic, blast music 24/7, steal food and drink, trash restaurants, urinate on police vans, and fondle every woman who tries to walk down the street.

NYPD looking into video showing people jumping on squad car. Cops are investigating a video that shows revelers kicking and jumping on an NYPD squad car in what may be a celebration gone wild after the West Indian Day parade, police said. Though law enforcement sources said there is a possibility the mayhem occurred during Monday's parade in Brooklyn, officials could not confirm the time or place that the video showing a horde of young men wrecking the patrol car was shot.

Cops told to ignore drunken booze-fests. Brooklyn cops were ordered to ignore blatantly illegal liquor sales inside three junkyards that were turned into open-air nightclubs — drawing thousands of rowdy revelers who vomited and urinated in the streets during the Labor Day weekend, The [New York] Post has learned. A 25-year-old man who was at one of the parties tied to the West Indian Day Parade was critically injured by two drunken men who followed him outside and stabbed him with a broken beer bottle.

15 people, mostly teens, shot at Miami nightclub. Fifteen people, many of them teenagers and some as young as 11, were shot early Sunday morning [9/28/2014] at a Miami nightclub, Miami-Dade police reported. Police spokeswoman Frederica Burden said the victims ranged in age from 11 to 25 and were taken to area hospitals.

Ferguson flash mob disrupts St. Louis symphony with Michael Brown requiem. It was a protest of an altogether different sort. Rather than take to the streets of Ferguson, these demonstrators took their demands to the seats of the symphony. [Video clip]

Alinsky Tactics 'Disrupt the Blind State of White St. Louis'. Demonstrators interrupted the St. Louis Symphony's performance of Brahms' "German Requiem" on Saturday to protest the August 9 shooting of Ferguson, Missouri 's Michael Brown. After the intermission, as the conductor came to the podium, a middle-aged black man stood and sang, "What side are you on friend, what side are you on?" Soon a white women stood up from a few rows away singing, "Justice for Mike Brown is justice for us all." About 50 protesters scattered throughout Powell Hall then rose out of their seats at different times and joined in the singing. A chorus ensued.

It's Come to This: "Surviving Mob Attacks on Your Vehicle". [Scroll down] The situation changes, however, once the rioters attack you or your vehicle. With your vehicle surrounded in a manner that you can't escape and your attackers being trying to burn your car, flip it over, or drag you out, it is reasonable to assume that you will suffer serious injury or death. That's when you can start striking people with your car.

'Hostile' protest over Garner, Brown decisions wreaks havoc in Berkeley. Protesters described as "hostile" and "aggressive" over the killing of unarmed black men by white police officers briefly blocked a highway in Berkeley, Calif., nearly preventing medics from reaching a pregnant woman stuck in traffic, set garbage cans on fire, threw rocks at police and brought mass transit to a halt during the city's fourth night of protests. "The crowds have become larger, more hostile and more aggressive," Eric Sanchez, an assistant division chief for California Highway Patrol, told the San Francisco Chronicle. The protests started peacefully, but just before midnight small groups broke off and began breaking store windows, including a 7-Eleven and Safeway.

The crashed pool party in McKinney, Texas, June 5, 2015



Introduction by The Editor:
In this case, both sides are at fault: One one side, there was a flash mob of black troublemakers, jumping over the fence into a private pool party, and (in at least one case) fighting in the street. On the other side, the police department showed up to take charge, and (in the inevitably viral video) wrestled a girl in a bikini down to the ground, as if she might be a threat to the body-armored officers if allowed to stand.

McKinney Pool Party Organizers Now Face Eviction From Craig Ranch Sub-Division. On June 5th the McKinney Texas pool party mob at the Craig Ranch sub-division was organized by 20-year-old Tatyana Rhodes, and her mother LaShana Burks. The incident erupted in National 24/7 Headlines for several weeks. [...] We decided to research the real story of what took place, and we discovered how the mob began. In addition our research reflected that Tatyana Rhodes and her mother, LaShana Burks, were facing a very real possibility of civil lawsuits by the Home Owners Association within Craig Ranch.

Celebrity Attorney Gloria Allred Is Involved in the McKinney Pool Party Story Now. In the weeks since the McKinney Pool Party incident on June 5, in which a white officer pulled a gun on unarmed black teenagers, a few names have surfaced: Eric Casebolt, the McKinney police officer who was seen in the video throwing a teenage girl to the ground and brandishing his gun; Tatyana Rhodes, the 19-year-old African-American woman who hosted the party at her neighborhood's pool; and Tracey Carver-Allbritton, the adult white woman who, witnesses at the party have claimed, hurled racial slurs at the teenagers before the police arrived.

McKinney pool party organizer poses in bikinis to 'jumpstart' a 'modeling career' off the situation. Tatyana Rhodes, the organizer of the McKinney pool party that ended in a viral video and a high-profile resignation of a police officer, is doing her best to create a positive out of the negative situation by posing in a series of sultry photos. Earlier this month, Rhodes' pool party was cut short when a fight broke out and a McKinney police officer was caught on video slamming a bikini-clad teen into the ground with his knee in her back and then proceeded to chase other party-goers with a gun.

What the media still won't report about minorities and pools. What exactly were the party organizers, 20 year-old Tatiana Rhodes and her mother thinking when they sent out online invites to a free Dime Piece Pool Party? Dime piece is urban lingo for a beautiful, hot girl. They had been promoting it for over a month in social media yet the pool belonged to a gated community which had strict rules about reserving parties which limited guests to 20. Neither Tatiana nor her mother applied for permission for this "pool party". The party escalated into a free-for-all brawl.

Targeted Pool Party Victim Fights Back — Hires Gloria Allred To Clear Her Name. Tracey Carver, a white woman seen on video in a fight at the McKinney pool party that fueled a national debate about race, spoke at a press conference in Los Angeles on Tuesday to deny accusations that she said racists slurs. In a statement forwarded to The Dallas Morning News, Carver said that she was trying to defuse a fight between her friend and a young woman who pulled the friend's hair. The McKinney woman noted she had to relocate to California because of threats against her and her family.

Crowdrise and GoFundMe Donation Sites Deny Use for Officer Casebolt — Permit Use By Swimming Pool Activist Marvin Bakari. We reported several days ago that Marvin Bakari was fundraising off the controversy at the McKinney "Craig Ranch" pool fiasco. Marvin Bakari is the uncle of Dajerria Becton (15) and the father of Jahda Bakari (13), the "DimePieceCookout" girls. The crowd funding site that Bakari chose to raise money for his racial grievances was/is "CrowdRise.Com". Bakari set up the donation fund, then quickly shut it down when we exposed the real motive of both his efforts and the party itself.

Jahda and Marvin Bakari — The Activism Behind The McKinney Pool Party Narrative. In a video interview, following the chaos of the Craig Ranch pool party, Mr. Marvin Bakari and his 13-year-old daughter Jahda Bakari took to the airwaves to make a very specific series of claims. If you were to follow the construct of the racial narrative espoused by the activists around the Craig Ranch incident, you will find the media delivered "RACISM" story originates specifically from Marvin Bakari and his daughter Jahda. No-one claimed any racial tones to the events until Marvin Bakari stepped forward claiming racism.

'I'm the real victim here'. The ex-cop who was captured on video forcibly detaining a bikini-clad screaming schoolgirl says he has been caught up in an anti-police campaign which has nothing to do with him. Eric Casebolt is in hiding, fearing for his life, as his police department has received more than 27,000 calls and emails from around the world, many of them messages of hate and containing threats.

New Black Panthers, Nation of Islam Arrive in McKinney to Keep the Peace. The word on social media is that members of the New Black Panther Party and the Nation of Islam have arrived in McKinney, Texas, the site of a videotaped incident last week in which a white police officer is seen manhandling a black teenage girl at a pool party that apparently attracted what one witness called "a large, aggressive crowd" to participate in protests against the police.

Benet Embry, black radio host: 'My own people' threatening to kill me over McKinney comments. Benét Embry, a black radio host who lives in the McKinney, Texas, community where a pool party went awry Friday [6/5/2015], says he is facing a wave of death threats from his "own people" after he said on television that he doesn't believe the incident was about race.

Texas woman suspended from job after allegedly starting controversial McKinney pool fight. A California-based company has placed a Texas woman on administrative leave for her part in a controversial pool incident in McKinney that went viral after footage surfaced of a police officer pinning down a 15-year-old black girl. The woman — identified as Tracey Carver-Allbritton by Dallas Communities Organizing for Change — allegedly made racial remarks that sparked a fight that led to police being called, shown in a video uploaded to YouTube.

So, This "Texas Pool Party" Story Seems to be Premised on, Get This, a Huge Lie. Racism and police violence! Yay! A new distraction to be outraged about! Here's he real story — narrated by a black resident of the neighborhood.

The 'Larger Truth' About Eric Casebolt and the McKinney Pool Party. Eric Casebolt, the police officer who was filmed tackling a teenage girl at a McKinney, Texas pool party and drawing his weapon on bystanders, has resigned. That may protect him from disciplinary action, and perhaps keep his personnel file clean enough to apply for another law enforcement job elsewhere. Critics are still calling for a criminal prosecution. More investigation is needed, but not for that reason. Rather, the McKinney case points to the broader "flash mob" problem.

Brawling, 'racist slurs,' profane rap music and gatecrashers: What really happened at Texas invite-only pool party. More than 100 teenagers had already gatecrashed the private pool party in McKinney, outside Dallas, when violence erupted. They had received the invitation on social media and the numbers who arrived from across the city rapidly filled up the area, where local residents had been enjoying the sunshine by the pool with their children.

McKinney Pool Party Organizer, Tatyana Rhodes, Lawyers Up — Likely Trying To Avoid Civil Liability. Tatyana Rhodes and her mother are facing a very real possibility of civil lawsuits by the Home Owners Association within Craig Ranch for an unapproved and unauthorized event that turned into a mob, and has cost the community thousands. Watch this CNN interview with Tatyana who is now lawyered up. Her attorney is Emmanuel Obi, and she appeared with Jahda Bakari (13) one of Tatyana's "Dime Girls". Notice how Tatyana now tries desperately to avoid admitting that her promotional activity is what led to hundreds of party-goers.

The Full Story of The McKinney Texas, Pool Mob. The woman who organized the event in McKinney, Texas is named Tatiana Rhodes (or Tatyana Rhodes). She is approximately 19-years-old; however, she retains a fake id and has began scrubbing most of her social media accounts, so her exact age is undetermined. Update: confirmed profile DOB 04/02/1995, so Tatiana Rhodes is 20. Tatiana had been promoting a party via twitter under the hashtag name "Dime Piece Cookout" for approximately a month. She planned the event at a sub-division called "Craig Ranch" in McKinney Texas. [...] Neither Tatiana Rhodes nor her mother sought permission to use the pool or clubhouse area as part of the event. However, Tatiana hired a DJ and promoted the event to include a pool party.

Video Emerges of Violence at 'Innocent Pool Party' in McKinney, Texas. Left media is ablaze with articles condemning the police response to a pool party at a McKinney, Texas, subdivision. Now a video is emerging showing why police were called to the scene to begin with — violence. Residents in a McKinney subdivision were hosting an end-of-school party in their private community pool. Many teens who were not residents of the subdivision began showing up. Some had been invited by residents, some had not. An ad for the event had been placed on social media sites.

The great McKinney, Texas Rorschach inkblot test. Cell phone video of a suburban Dallas cop pinning a bikini-clad black teenager with his knee on her back and drawing a gun on a crowd of black teens has become the latest cause of the race grievance industry. Last night [6/8/2015] "hundreds" of people peacefully demonstrated in that town, and local "civil rights leaders" are demanding a Justice Department investigation.

McKinney: Of Pool Parties, Police Brutality, and Institutional Racism. Was the police response to the pool party incident in McKinney, Texas, a clear case of law enforcement overreacting — once again — to a trivial dispute, or a necessary response to the antics of delinquent teenagers? Did racial animus play a role, as one bystander claims, or were the black kids the ones who were misbehaving, as a neighborhood resident claims? The video evidence and eyewitness testimony suggests the former (although the latter may possess miniscule kernel of truth). Police responded to a fight that had broken out between a girl and a mother. A video of the encounter establishes that the fight did indeed take place, but it only involved a couple people — not the large swath of teenagers who were later detained by officers.

McKinney officer resigns due to video of pulling gun on teens. McKinney Police Cpl. Eric Casebolt has resigned after video showed him pushing a 15-year-old girl in a swimsuit to the ground and pointing his firearm at other teens. Casebolt's lawyer informed FOX4 of Casebolt's decision on Tuesday afternoon [6/9/2015]. McKinney Police Chief Greg Conley said Casebolt's actions were "indefensible" during a Tuesday evening news conference.

Activists Want Black Host Who Blamed Teens For McKinney Pool Fight Fired. Dozens of activists are calling on a Dallas-based video broadcast station to fire a black talk show host for blaming a group of mostly black teenagers for starting a fracas at a private swimming pool in McKinney, Tex. on Friday [6/5/2015]. [...] The outrage began with a seven-and-a-half minute video released over the weekend showing McKinney police officer Eric Casebolt throwing a 15-year-old black girl on the ground and pulling out his gun as he tried to detain a group of teenagers allegedly involved in the fracas.



The 2016 race riots in Milwaukee, Wisconsin



Judge rules Milwaukee park at center of riots must return to normal hours. A judge has ruled [9/4/2016] that a Milwaukee park at the center of a neighborhood where riots erupted after a police shooting last month can return to its normal hours for now.

Milwaukee. These incidents seem to come at shorter intervals. In characteristic confusion, in Milwaukee the mob believed that the dead man was shot in the back when the body-cam video show that he was raising a pistol toward the policeman. Either they can't read, don't read, don't have access to the internet, or don't care. As usual, sixty years after Brown vs. the School Board they shout in illiterate semi-English. It isn't working. The racial thing, I mean. The hunting of whites, beatings of whites, calls for attacks on whites. In the age of cell phones, the media can hide only so much. To avoid admitting that we are seeing a racial insurgency, the media insist that the police are the problem. They are not. Blacks are unmistakably gripped by a powerful racial hatred of white people.

The Truth About the Milwaukee Riots. The problem is black resentment, not police bias. [Video clip]

Democrats Promise A Future Of Lawlessness; Coming To Your Town Soon! In Milwaukee, Black Lives Matter activists, looters and rioters set out to hunt down and attack any and all white people. Sherelle Smith, sister of Sylville Smith, the criminal shot down in Milwaukee, called for rioters to stop burning down their own neighborhoods and businesses and head out to the suburbs and burn them down. "You're burning down s**t we need in our community. Take that s**t to the suburbs! Burn that s**t down! We need our s**t, we need our weaves, I don't wear them but we need them. We need our gas, We need our food. We need this. You all want to hurt somebody, take that # further out." Was she arrested for inciting violence? Nope! As a matter of fact, CNN, immediately portrayed her as a hero in their newscast.

Milwaukee police charge 3 for looting during riot after shooting. The criminal complaint filed Friday [8/19/2016] says the defendants told police the windows were already shattered and other people were looting the store when they went inside.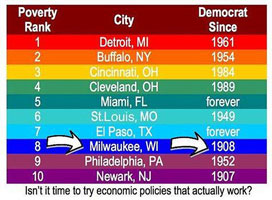 The Worst Cities For Poverty All Have One Thing In Common. Each of these places has been Democratic for many decades, some even longer. And what do each of these places have in common? That's right, they're all run by Democrats. Big government, high taxes, lots of regulation, and plenty of welfare and poverty. Yep, that's Democratville for ya.




Road to urban despair paved by Democrats. Riots broke out in Milwaukee the other day, and before that in other cities, each erupting with familiar sights: fire and pain, anger and looting. It will likely happen again in some other urban area, perhaps after a black man is killed by a police officer, whether the shooting is justified or unjustified. Was the victim a known criminal pointing a gun at a cop? Or not? These are reasons, but reasons really don't matter now, do they?

When the Suspect Is an Armed Black Man — and the Cop Is Black. After the death of a young black man by a Milwaukee police officer, riots, looting and fires followed. In one instance, as a gas station burned, people watching chanted, "Black power!" Local news reported that the 23-yearold suspect was not only armed but that he also defied orders to drop his gun. The Milwaukee police chief refused to identify the officer involved, but did say that he was "black." At one time, such a fact would suggest that racism and police brutality were not at play. But as the death of Freddie Gray — a black man who died after being transported in a Baltimore police van — shows us, not necessarily.

How The Democrats Turned Milwaukee Into a Cesspool. [Scroll down] And indeed, wherever we look — Atlanta, Camden, Newark, St. Louis, Chicago, Flint, Detroit, Philadelphia, Baltimore, Washington — we see one-party cities that are crumbling testaments to the awesome power of bad ideas. Specifically, Trump referenced "the situation right here in Milwaukee, a city run by Democrats for decade after decade," citing its high rates of homicide, joblessness, poverty, and educational failure. But Milwaukee wasn't always like this. It was once a prosperous metropolis with a host of thriving industries, particularly renowned for its breweries and manufacturing. Modern-day Democrats and their leftist allies, however, snuffed out those good-ol'-days like a jackboot on a cigarette butt. Every mayor of Milwaukee since 1960 has been a Democrat, and the one who served just prior to 1960 was Frank Paul Zeidler, an open Socialist.

What's the Matter With Wisconsin? [S]everal hundred blacks burned automobiles and looted buildings, including a cell phone store. A beauty salon was stripped of its hair extensions and then torched. (This wasn't even the first riot in Milwaukee's Sherman Park neighborhood this summer. In late June riot police had to drive off 100 youths throwing rocks.) The dead man, Sylville Smith, was not an upstanding citizen, as his social-media presence demonstrated. He had been arrested nine times since 2011. He had been charged with witness intimidation but had been released due to the witness being properly intimidated. But that didn't matter to the rioters, who identified with Smith.

Milwaukee Officer Who Shot Armed Criminal In Hiding After Death Threats. "Protesters" have posted the name, pictures, and address of the African-American Milwaukee police officer who shot serial predator Sylville Smith (above) this past weekend in Milwaukee, causing the officer to seek shelter at an undisclosed location while Milwaukee police guard his home home against threats on his life.

Trump Vows to Restore Safety, Says Law-Abiding Black Americans Main Victims of Riots. Donald Trump spoke about the violent riots that have plagued the country during a speech on law and order in West Bend, Wisconsin on Tuesday [8/16/2016], promising safety for all Americans and appealing to African Americans. "Law and order must be restored... it must be restored for the sake of all, but most especially for those living in the affected communities," Trump stressed. "The main victims of these riots are law abiding African American citizens living in these neighborhoods." "Crime and violence is an attack on the poor and will never be accepted in a Trump administration," Trump vowed.

DOJ Pushes "Implicit Bias Training" for Local Police Officers. [Rich] Lowry notes that Smith had a long arrest record. It included arrests for a shooting, a robbery, carrying a concealed weapon, theft, and possession of heroin and cocaine. He beat a shooting rap at a jury trial in 2015 when a witness recanted, allegedly after Smith intimidated him. Yet Smith was also the victim of crime, at least according to his mother. She says her son got his gun because he had been shot twice and robbed four times. From all accounts, things aren't much different in Baltimore and Chicago these days. I suspect there are plenty of other cities one could add to the list[.]

Cop who shot and killed Milwaukee man now receiving death threats. The African-American Milwaukee police officer who shot dead a black man Saturday, touching off violent riots, has reportedly received death threats. The police officer, whose identity was reported by the Milwaukee Journal Sentinel but could not be confirmed by FoxNews.com, is reportedly a 24-year-old patrolman who went to high school with Sylville Smith, who was allegedly holding a gun and ignored orders to drop it when he was shot. Thousands of people have circulated a photo, purportedly of the police officer, on Facebook, with some posts accompanied by threats and even his home address. "Now y'all see his face if he's seen anywhere in the city drop him," read one post reported by the Journal Sentinel.

Black males murder five year old white girl in Milwaukee. No national outrage. Two black males in Milwaukee walked up to the home of a white family, in a majority black neighborhood, and unleashed a hail of gunfire. A five year old white girl, Laylah Petersen, was murdered while sitting on her grandfather's lap. Milwaukee police say there is no question the shooters were deliberating trying to kill people inside the house. At least a dozen bullets were fired directly into the house. There may have been a third person driving a getaway car. The house was located in a census tract that is 77% black and 14% white. The Milwaukee Sentinel and Milwaukee channel 6 have actually been trying to downplay the murder. They are falsly reporting that it was "a stray bullet." That directly contradicts all the evidence found by police.

Milwaukee Congresswoman: Black Incarceration Rates Created 'Powder Keg' in City. The first African-American woman to be elected to Congress from the state of Wisconsin said the incarceration rate of black men in her Milwaukee district has created a "powder keg" of tension in the community hit by riots over the weekend. Milwaukee Police reported 10 arrests overnight, one report of shots fired and no new damage to cars or property. The previous evening saw four injured officers, 14 arrests, damage to three police cars and a store with broken windows.

Why Milwaukee boiled over with violence after police shooting death. After two nights of violent clashes between police and residents following a fatal police shooting of a young black man, Police Chief Ed Flynn stepped to the microphone late Monday night to declare a small victory. "We've seen great improvement over yesterday," Flynn said. The night had produced 10 arrests, but no rioting or property damage after officials instituted a 10 p.m. curfew. "This community is not interested in doing damage to where they live," he said. Milwaukee has become the latest U.S. city to see decades of simmering anger and frustration among black residents boil over into violence after a death at the hands of police.

Milwaukee agitators shout 'black power,' attack white drivers. Race agitators in Milwaukee used the police shooting of an unarmed armed black man to burn down their city and attack white people. Several videos show white drivers being stopped in the middle of the street and the "protesters" attempting to pull them out of their vehicles. "They're beating every white person!" one of the agitators shouted in the video. "They jumpin' every white person." When the mob spotted a white driver, they attempted to block his car from passing.

Bodycam footage 'proves cop was RIGHT to shoot armed man whose death sparked Milwaukee riots because he was raising his gun'. Milwaukee's mayor and police chief announced Monday [8/15/2016] that body cam video supports the shooting of Sylville Smith — which sparked riots across the city. At least one person was shot as police clashed with protesters during a second night of riots after Smith, 23, was shot dead by a police officer on Saturday. But Milwaukee Police Chief Edward A Flynn insists the footage makes it clear that the shooting was lawful. He said that Smith was shot after he turned toward an officer and raised his gun. Milwaukee mayor Tom Barrett, speaking at a press conference on Monday, added that a still from the cop's body camera shows 'without question' Smith had a gun in his hand.

Why Milwaukee Burns. The war on cops, ideological and sometimes lethal, may be expanding into a broader race war, in which only one side fights. The thugs who torched businesses and police cars, assaulted cops, and shot at firemen in northwestern Milwaukee on Saturday night [8/14/2016] went after "white bitches," among other targets. [...] The Black Lives Matter-inspired assassin who murdered five police officers in Dallas in July 2016 said that he wanted to kill white people, as well as white cops. The vitriol that officers working in urban areas now encounter on a daily basis is inflected with racism. And if the war on cops escalates into more frequent attacks on whites and their perceived interests, the elite establishment will bear much of the blame. For the last two years, President Barack Obama has seized every opportunity to advise blacks that they are the victims of a racist criminal justice system. We should not be surprised when that belief, so constantly inflamed, erupts into violence.

The anti-cop movement hits a new low in Milwaukee. Tim Pool is a fearless social-media reporter who specializes in getting close to the action. It almost doesn't qualify as a protest or riot if Pool isn't live-streaming from the streets. But he's pulling out of Milwaukee because it's too dangerous for white people. In a carefully stated YouTube video, Pool described the verbal taunts and threats, as well as actual violence, directed at whites. After an 18-year-old male was shot in the neck and extracted by Milwaukee police in an armored vehicle — Pool identifies the victim as white, although other press reports don't mention his race — he concluded he had to leave. (For the record, Pool is half-Korean — not that rioters care).

Milwaukee Message: "Give Me Money Or I'll Kill You". What would you label a person who made a statement like "Give Me Money Or I'll Kill You"? That's exactly the essence of the statement that at least one rioter made in Milwaukee last weekend. We'd call a person making such a statement a robber and a criminal for demanding our money, and we would charge him with robbery and put him in jail. And robbery is exactly what the Milwaukee rioters were referencing when they demanded money or they would start killing more police, and would "beatdown" more white people. The traditional welfare that the non-working underclass have gotten from Democrats the last 50 years is now considered to be chump change and will no longer satisfy their needs. They are tired of all of the failed promises from liberal Democrats these last many decades, and now they want to be made wealthy by the party of compassion, and they want the money now!

Hillary Clinton accused of 'inflaming' violence which tore through Milwaukee after police shot young black man carrying handgun. Wisconsin Gov. Scott Walker, a Republican, pointed his finger in the direction of Hillary Clinton suggesting she's 'inflaming' the situation in Milwaukee by making recent comments. Yesterday [8/15/2016] at her Scranton, Pennsylvania rally, the Democratic nominee said there was 'urgent work to do to rebuild trust between police and communities,' pointing to the recent riots in Milwaukee, Wisconsin as an example.

CNN edits out Milwaukee victim's sister calling for violence in 'the suburbs'. Both online and on television, CNN edited out Sherelle Smith, the sister of a black man who was killed by police in Milwaukee on Saturday, calling for rioters to take their violence "to the suburbs." Correspondent Ana Cabrera reported Ms. Smith was "calling for peace" in a televised segment Monday [8/15/2016] on CNN Newsroom, NewsBusters reported. The network showed a brief clip of Ms. Smith telling protesters: "Don't bring the violence here and the ignorance here." But CNN cut away before Ms. Smith called for rioters to "take that s--- to the suburbs."

Media coverage of Milwaukee riots takes a detour. Have you ever heard members of the media talk about how failed cities across the country are, just-as-a-nonchalant-point-of-interest, run by Democrats? Ever heard them make mention, you know, as a quick aside, that the mayor of Milwaukee and the city alderman for the district where rioting unfolded are both Democrats who, I presume, support a felon for president? I didn't think so.

Police chief was surprised by violence after fatal shooting. Following a night of violence that left half a dozen businesses in flames, the Milwaukee police chief expressed surprise at the level of unrest that erupted after the fatal shooting of a black man by a black officer. "This was, quite frankly, unanticipated," Police Chief Edward Flynn said Monday, two days after the worst of the rioting hit the Sherman Park neighborhood on the city's economically depressed and largely black north side. The city was calmer on Monday evening [8/15/2016] after two nights of unrest.

Communist group members go to Milwaukee to help 'revolution'. A Chicago-based communist revolutionary group blamed by Milwaukee's police chief for stoking a second day of violence said that some of its members did go there to "support a revolution" but didn't set out to cause trouble. Police chief Ed Flynn said members of a Chicago chapter of the Revolutionary Communist Party turned what had been a peaceful night into a tense one by leading marchers down several blocks at around 11:30 p.m.

New Black Panthers Declare War In Milwaukee. [Scroll down] You can't watch "Training Day" and come away with any other conclusion than it is a New Black Panther call for a revolution, beginning with a war on America's police forces. So the Milwaukee "riot" and the Dallas attack that killed 5 police officers should be seen for what it is, and it was not an impulse-driven reaction to police shootings of African-Americans in Milwaukee, Louisiana and Minnesota, but part of a carefully choreographed wave of terrorist violence intended to influence the political outcome of this election. Don't believe us? The "rioters" showed up in "riot gear" ready to rumble according to reports in the UK's Daily Mail. But let's be clear — it wouldn't matter whether Donald Trump or Jeb Bush was leading the Republican field — a summer of radical Leftist violence is coming, and it was planning, building and organizing long before Trump became the Republican nominee for President.

Milwaukee County Sheriff explains the cause of Milwaukee riots: Failed Liberal Policies. Milwaukee County Sheriff David Clarke explained on Fox Business that these riots, like we saw in Milwaukee over the weekend, are the result of "failed liberal urban policies" that have left many of these ghettos with inescapable poverty and terrible school systems: [Video clip]

White Reporter Pulls Out Of Milwaukee Because Of Racial Threats [Video]. A freelance reporter who films protests across the U.S. says he is leaving riot-torn Milwaukee because the situation there has grown too dangerous for white people. "For those that are perceivably white, it is not safe to be here," Tim Pool said in a short video explaining his decision to leave Milwaukee, where protests over the police shooting death of an armed black man turned violent over the weekend.

Journalist Says He's Leaving Milwaukee Because These are Race Riots. Tim Pool, the on-the-ground journalist who runs TimCast, was in fact on the ground last night in Milwaukee during the riots. Today [8/15/2016] he records a video saying that he is now leaving for fear of his own safety. Pool explains that while many were looking forward to him staying and covering the riots, he said it has become unsafe for him, primarily because these riots are about race and not just a civil uprising.

'We WANT BLOOD! We cannot co-habitate with WHITE PEOPLE!' — UGLY video from Milwaukee. A really ugly video surfaced of angry thugs threatening racial violence to police right before last night's rioting in Milwaukee. [...] They're only hurting the people they say they want to protect — the innocent and reasonable people in the same community. Let's not generalize about the entire black community here — I've lived in a very poor, minority community among these kinds of thugs, and I hate it when the decent people are grouped in with them. But the screaming idiots in the video ARE thugs. They're simply assuming the cops are unjustified without caring or even knowing what the facts are. And they're threatening violence for the stupidest reasons, and for very racist reasons.

Video: Milwaukee Rioters To Police: 'We Want Blood...We Cannot Cohabitate With White People Anymore'. A seventeen-minute video has emerged which appears to show the beginning of the Milwaukee riots as the rioters were initially threatening police officers who were trying to keep the peace during the afternoon. The video starts with the Black Lives Matter crowd angrily yelling at officers over the fatal shooting of Sylville Smith, a black man with a lengthy arrest record who, according to Milwaukee's Democrat Mayor Tom Barrett, had stolen the gun, which held 23 rounds in it. Also, it turns out the cop that shot him was black. Worth noting that in the video here, many of cops being threatened are non-whites and female.

CNN Selectively Edits Police Shooting Victim's Sister's Words to Protesters. In a classic case of media bias by omission, CNN took extra care Monday to leave out a crucial part of their reports on the Milwaukee police shooting. After a black police officer fatally shot Sylville Smith Sunday, after he refused to put down his gun, riots and violence ensued in the city. Smith's family was eager to talk to the media and his sister Sherelle had a message that should have been covered and condemned by the media. Instead, CNN decided to air her words but curtail them before they became controversial. In this video posted by user DeeconX on Twitter, Sherelle Smith can be seen here, in front of several reporters, calling for violence to end...in the city. What she says next is shocking.

More on the Milwaukee Riots. Community activists are already asserting that the violence in Milwaukee results from a lack of investment in black neighborhoods, and that there will be more riots unless more money is pumped into black institutions (including theirs). [...] Even before this incident, the Obama Department of Justice was already investigating the Milwaukee police department, just as it investigated the Ferguson, Missouri and Baltimore, Maryland departments, among others. The results of that investigation are 100% predictable, given DOJ's agenda.

National Guard Activated in Response to Milwaukee Rioting. The Wisconsin National Guard has been activated in Milwaukee Sunday in response to violence and protests that erupted there overnight after a man was fatally shot by police. "I have activated the Wisconsin National Guard to be in a position to aid local law enforcement upon request," Wisconsin Gov. Scott Walker said in a statement Sunday [8/14/2016]. [...] Volunteers spent the morning sweeping and picking up debris — including bricks, bottle and bullet casings — after about 100 protesters clashed with a couple of dozen officers in a north Milwaukee neighborhood, NBC News reports.

'This is war': Black Panther leader says' black people are being murdered' and insists violent protests are protected by the Second Amendment. A leading New Black Panther figure has declared 'this is war' in response to the violent protests in Milwaukee at the weekend. Babu Omowale, the national minister of defense for the People's New Black Panther Party, said there is a 'war against black people' as 'we're the ones being murdered'. His comments came as a second night of riots erupted following the death of 23-year-old Sylville Smith, who was shot by an officer. At least one person was shot during the protests as police moved in to disperse nearly 150 protesters, while a cop was also injured.

Violence in Milwaukee after police shoot dead armed 23-year-old in African-American community. Protesters have hurled bricks and fired gunshots at police cars and set a gas station on fire as protester says "this is a warning cry[.]" Violence has erupted overnight in the US city of Milwaukee after a police officer shot and killed an armed man in an African-American community. Protesters hurled bricks and fired gunshots at police cars and set a gas station on fire. The violence came hours after the patrol officer shot and killed the 23-year-old a pursuit that followed a traffic stop. Milwaukee police said a uniformed officer had opened fire while chasing the man.

Milwaukee Rioters Hunt Down, Attack Whites. Several videos recorded during last night's riot in Milwaukee appears to show black rioters hunting down white passerby to attack. Multiple videos recorded by locals show a crowd of people apparently checking the race of passing drivers when deciding what cars they should attack. A collection of these videos were combined and uploaded to LiveLeak Sunday morning. [Video clip]

Milwaukee officials plead for calm after police shooting sparks violence. At a news conference just after midnight [8/14/2016], [Mayor Tom] Barrett said the situation appeared to be calming after a riotous scene in which as many as 10 protesters skirmished with police, torching a squad car and tossing a brick through the window of another. Police mounted at least two efforts to push the protesters out of an intersection at the heart of the violence. Other leaders blamed the Black Lives Matter movement for igniting the violence. Black Lives Matter has "stoked hysteria," Bishop E.W. Jackson told "Fox & Friends" Sunday [8/14/2016]. "A mass hysteria has taken grip" and President Obama has made it worse by embracing the BLM movement, Jackson said. He added: The BLM movement works on the false premise "police are out hunting down black men." They are "using race as a way of avoiding responsibility," Jackson said.

Milwaukee Rioters: 'They Beatin' Up Every White Person!' Paul Joseph Watson of InfoWars collected videos from Saturday night's [8/13/2016] riots in Milwaukee where participants say they are targeting white bystanders for assault.

Milwaukee burns: Four buildings and a police car are set on fire as violent protests erupt after cops shoot and kill armed man during chase. First images of the 23-year-old armed man shot and killed by a Milwaukee police officer, whose death sparked riots and unrest in the city, have surfaced. Officials identified the dead man as Sylville K Smith, previously charged with first-degree recklessly endangering safety for his involvement in a shooting last year, according to the Milwaukee Journal-Sentinel. Both Smith and the officer who shot him are black, according to the Chicago Tribune. During a press conference Milwaukee mayor Tom Barrett said a photo shows 'without question' Smith had a gun in his hand.

Man shot by Milwaukee police subject of witness intimidation case. The man shot and killed by a Milwaukee police officer Saturday [8/13/2016] was charged last year in a shooting and then charged again, with trying to intimidate a witness in that same shooting, the Milwaukee Journal Sentinel has learned. The man shot by police was 23-year-old Sylville Smith, police sources and Smith's family told the Journal Sentinel. Smith was charged with first-degree recklessly endangering safety and with witness intimidation, but the charges were dismissed, court records show. The charges were dropped even though the prosecutors had recorded jail calls in which Smith asked his girlfriend to pressure the victim to recant, according to court records.

BLM Riot Breaks Out in Milwaukee. There's no word yet on how this is Donald Trump's fault, but sources say they're working on it.

Sister of Milwaukee man fatally shot by police urges crowd to torch suburbs. The sister of a Milwaukee man fatally shot by police over the weekend told a group Sunday that they should burn the suburbs down. Sylville K. Smith was shot in the chest and arm by a black police officer on Saturday, which prompted violent protests, looting, and arson. One of Mr. Smith's sisters, Sherelle, was caught on video at the charred remains of a BP gas station telling a crowd to set the suburbs ablaze. "You're burning down s--- we need in our community. Take that s--- to the suburbs! Burn that s--- down!" she screamed in video shared by a Twitter user identified as DeeconX. The story was then picked up by news aggregator website Weasel Zippers.

Liberal politics and media fueled Milwaukee riots. The Milwaukee riots should be the last time the policies of liberal Democrats are held up as anything other than misery-inducing, divisive, exploitative and racist manipulation of the urban populations. Unfortunately they won't. As Sheriff of Milwaukee County, I am furious that the progressive left has put my citizens in harm's way and that I had to send my officers into cauldrons of anarchy and hatred that were created by the left. As an elected public servant I am livid that Milwaukee's pathetic, kowtowing city officials and aldermen take this opportunity to abandon their citizens and preen before the Black Lives Matter-enabling media.

President Obama gets briefing on violence in Milwaukee, then goes golfing. A vacationing President Obama received an update Sunday about a night of rioting and gunfire in Milwaukee, Wisconsin, before he headed out for another round of golf. The White House said Mr. Obama was briefed on the unrest by senior adviser Valerie Jarrett, who spoke to Milwaukee Mayor Tom Barrett.

If Obama Had a City, It Would Look Like Milwaukee. AWD predicted shortly after five Dallas police were assassinated by a Black Lives Matter supporter that black violence against the police would soon spread to black violence against white civilians. Last night in Milwaukee, blacks were recorded yelling "Black Power" and targeting random whites for violence after another black man with a lengthy criminal record was shot by a black policeman. Disclaimer: We at AWD are positive the victim was a goot boy who ain't never done nuffin' wrong.


The race riots in Ferguson, Missouri

This subsection has moved to a page of its own, located here.


Black violence



Trump's Answer to Black-on-Cop Murder. In Chicago, every routine stop in a black neighborhood is accompanied by black mobs, often chanting "CCK, CCK:" Chicago Cop Killer. Many point their index fingers at the cops, as if shooting a gun. And every stop is greeted with the accusation: You are only doing this because I am black. Around the rest of the country, a cop meeting a black person is much more likely to hear "F*** The Police" than "Hello Officer." And it is not just the cops. Racial resentment and hostility against white people have been an institution in this country for at least 40 years.

This is how the Ferguson Effect got started:
Obama's America: Off-Duty NYPD Officer Shoots Man in Self-Defense, Family Promises to 'Hunt Him Down'. Now that we've established that the law is what you want to make it up to be, our descent into lawlessness will be rapidly accelerated. If the cops think the government's got their backs, they're in for a rude awakening.

Rapper busted after video shows him blasting Trump while brandishing stolen guns. By the time [Joe] Meaux called police, he said local authorities and the Secret Service were already aware of the Instagram video featuring Demarcus Davis, 22, a local rapper who goes by "Maine Musik." "I really want to go to war with Donald Trump because Donald Trump is tryin' to take food stamps from my momma and that's all the (expletive) she got," Davis said on the video. "Let Donald Trump know it's up over here. We want war; we're going to declare war."

The Editor would like to ax this question:
Why doesn't your father provide for your "momma" instead of having her rely on the taxpayers for her income?

Witnesses: Massive Los Angeles arson was reaction to Mike Brown shooting. According to witness testimony, a December 2014 fire that burned down an unfinished, 7-story apartment building in Los Angeles was set by a man who was angry about the death of Mike Brown in Ferguson, MO.

Miss. governor calls for probe of councilman who says let's pelt cops with rocks, bricks. Mississippi Gov. Phil Bryant issued a statement Saturday [1/2/2015] denouncing remarks a local elected official made about throwing rocks, bricks and bottles at police officers. Bryant also called for an investigation to determine if Jackson Councilman Kenneth Stokes' remarks "represent criminal threats against law enforcement officers."

Miss. governor calls for probe of councilman who says let's pelt cops with rocks, bricks. Mississippi Gov. Phil Bryant issued a statement Saturday [1/2/2015] denouncing remarks a local elected official made about throwing rocks, bricks and bottles at police officers. Bryant also called for an investigation to determine if Jackson Councilman Kenneth Stokes' remarks "represent criminal threats against law enforcement officers."

Shocking violence casts shadow over federal Job Corps program. [A] 17-year-old was lured into the woods by three of his classmates at the federally funded Homestead Job Corps in Florida. Outside the live-in vocational school, the students pulled out a machete, police say, and began to hack away at him. As he lay in a pool of his own blood, the attackers threw him in a shallow grave and set him on fire, authorities say. [...] Government watchdogs have issued multiple warnings for years about the escalation in violent crime at Job Corps — the $1.6 billion antipoverty program launched during President Lyndon Johnson's tenure to provide free vocational training for low-income students. The program, which was once seen as a safe harbor for teens in high-risk areas, has seen a disturbing spike in documented cases of violence as well as reports that those in charge looked the other way as dangerous conditions developed.

Teen Killed Taking Instagram Photo With Gun To His Head. There are few things dumber than pointing a gun at your own head. One of those dumber things is then pulling the trigger.

Teen accidentally shoots self while taking selfie. A 19-year-old trying to take an Instagram selfie died Tuesday [9/1/2015]. The teen tried to take a picture of himself holding a gun to his head when the gun went off, according to the Houston Police Department.

The Editor says...
This "teen" was an adult, and had he been white, he probably would have been called a man, not a "teen."

What the media still won't report about minorities and pools. I grew up in Spanish Harlem and the only pool nearby was the Jefferson pool located in a nearby project. Inevitably, fights would break out between the few Hispanics outnumbered by an unruly black crowd. This had nothing to do with race but was really just bad behavior. When we first moved to Staten Island, the swimming pool near the Staten Island ferry, Lyons Pool, would be routinely overwhelmed by blacks from Brooklyn who would disobey pool rules and terrorize the families with young children, even urinating and defecating in the community pool. That problem was solved after a multi-million dollar renovation which requires registration via email for entry. Again this is not a race issue as those who utilize pool now are racially balanced by all who obey pool rules.

Black Mob Violence In Swimming Pools: A Long History. Today, residents who live near public swimming pools in New York dread the opening day of summer because of the black violence in the pools and in the surrounding neighborhoods. Ditto for the other swimming pool in Wilmington called Canby Park. It closed 15 years ago, ostensibly for repairs. But neighbors spent one hour on a radio show talking about the black mob violence connected to the pool, and how the black city officials ignored it because they said it was just white people complaining about black people for No Reason What So Ever.

Time for the Welfare State to Stand Trial. As of 1950, "only 9% of black families with children were headed by a single parent." Between 1940 and 1960, "the black poverty rate had been cut in half." [...] By 2012, the black illegitimacy rate was at 73%, starkly high in contrast to other demographic segments. And the moral decay that came with this trend is not obscure. "According to the National Fatherhood Initiative, 60% of rapists, 72% of adolescent murderers, and 70% of long-term prison inmates are men who grew up in fatherless homes." In light of these facts, these statistics may be less surprising: In 2010, blacks (approximately 13% of the population) accounted for 48.7% of all arrests for homicide, 31.8% of all arrests for forcible rape, 33.5% for aggravated assault, and 55% of arrests for robbery. It was by design that the social structure provided by government supplanted the social structure of the family.

Racial Violence and the Conspicuous Silence of the Media. By now, almost everyone has seen one of the semi-amusing videos of black teen mobs rampaging through a store. Maybe we've even seen the non-amusing pictures of the victims, or heard their stories. Most Americans have heard of recent violent "flash mobs," which are the bands of black teens that attack mostly white victims and white businesses, as even the New York Times once noted. But the flash mobs, which are more accurately called "race riots" or "racial mob violence," are not the only interesting topic to cover in our national conversation about race. There is also the "knockout game," which is stunning in its brutal simplicity and stark racial significance.

Liberal Racism. The Berkeley/Oakland area was on high alert last week... but not because of a natural disaster, like an earthquake. A jury was deciding the fate of a white police officer charged with killing a black male at a BART station. ... This is not the first time that riots have occurred relative to this incident. Mobs have already broken windows, looted stores, beat people up, and destroyed cars. The attitude then, as well as now, is that "we" have a right to riot. Why? Why do certain groups have a right to riot? And why do others make excuses when livelihoods are ruined, millions of dollars are wasted, and innocents are hurt? My opinion? Liberal racism.

Excusing the Oakland Rioters. Looting is not an inevitable concomitant of the exercise of speech rights.

Burned, Baby, Burned: Watts and the Tragedy of Black America. The author argues that the riots in Watts launched a new — and misguided — tactic of menacing protest and rebellion for its own sake in the struggle for civil rights.

More Overlooked History: Black Violence. [The Black Panthers] Minister of Information Eldridge Cleaver wrote about his history of raping women, claiming that rape was "an insurrectionary act." Because his victims were white, he explained, rape was not only a way to get revenge but also to defile and trample upon "the white man's law and his values."

Chaos erupts in courtroom during sentencing of 20-year-old carjacker. Chaos engulfed a Jersey City courtroom this morning [5/4/2012] when a woman convicted of a brutal carjacking erupted in screams upon hearing the lengthy sentence imposed. The moment Superior Court Judge Patrick Arre said "15 years," Latoya Campbell, 20, became hysterical, as did her family members sitting in the courtroom.



Massive brawl breaks out at child's birthday party. A young Florida boy saw his mother arrested for his birthday after his party at Chuck E. Cheese turned into a massive 18-man brawl. Besides his mother Briana Walker, a Robert Thompson and Alfred Peoples were also arrested on drug charges as well as defrauding an innkeeper. The trio allegedly fled the restaurant without paying the almost $300 check.

Shocking video shows teacher stuck in the middle of a violent classroom fight. A shocking video shows a teacher helplessly stuck in the middle of a classroom fight — with no one coming to her aid. The footage, recorded by a teenage boy in the class at Gibbs High School in St Petersburg, Florida, shows two young girls exchanging a war of words with their classmates egging them on.

A Localized Culture of Violence. [T]he United States may have a culture of violence, but one that is isolated in easily identifiable communities. The results from Virginia, Minnesota, and Louisiana bring into question the veracity, pragmatism, or true objectives of activists who propose broad restrictions of Constitutional rights when high firearm homicide rates are almost exclusive to less than 1% of the land area and a small fraction of the population. A more logical and effective approach would be to address the root causes of the culture of violence in these communities, but this is more difficult and the required introspective self-analysis appears to be outside of the comfort zone of most community activists.

I presume that the locals call it PERP High School.
PRP High School student allegedly punched school official, cop. According to an arrest report, 18-year-old Shantarra Willis got mad at the assistant principal and began swearing and shouting. When a police officer tried to take her into custody, she allegedly punched him in the face. The assistant principal tried to assist the officer, but Willis punched him in the face 5-6 times, according to police. Willis also allegedly kneed him in the groin.

FBI warns New Black Panther leader in Ferguson inciting violence. The FBI is concerned members of the New Black Panther Party are in Ferguson and advocating violence against police. According to an alert from the St. Louis Division of the FBI the National Chief of Staff of the New Black Panther Party is in Ferguson.


Black violence in schools



Four Selma High School Students Arrested after Pregnant Student Attacked. Selma police say four students have been arrested after a pregnant classmate was attacked inside Selma High School. Police say the four students jumped the victim during class this morning. She was taken to the hospital, but no word yet on her or her baby's condition. Police say two teachers who tried to break up the fight were also assaulted.

If you don't pay attention in school, you can expect to live on the street someday.
Letter from a white teacher. I taught for one year in a black school. I grew up in the South Bronx and never felt racism between the working class dads and moms of all colors who lived side by side. In 2004, I had a rude awakening when my students called me "Cracker B----" and other unmentionable names on a daily basis, refused to let me teach them anything, and howled and carried on all day long. I got them precious time in the computer lab to do the the state test tutorials, and they tried to get through the firewall to look up pics of "Lil Kim" and did a riot in the room destroying some equipment. They did a sort of rap all day long and didn't want any knowledge seeping through. Class treats turned into class chaos. I was the enemy, no matter how hard I tried. Finally a sixth grader threatened to kill me and explained how he was going to do it. A meeting was called and the black VP told me I "didn't understand as I wasn't part of the community". I replied that I thought we all lived in the same county and had the same goals for the kids to succeed and I was laughed out of the meeting.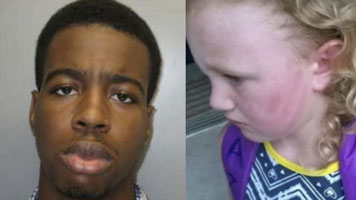 Video: 17 Year-Old Boy Assaults 5 Year-Old Girl On School Bus. Race had nothing to do with this incident. The little girl being white had nothing to do with why the 17 year-old boy hit her. But one thing is for certain, if the little girl had been black, and the 17 year-old boy had been white, the school bus would likely be in flames right now. Yet for some strange reason, much of the media is ignoring this story.




Federal Racial Discipline Quotas Create Chaos In St. Paul Schools. Just days after the last school bell rang, a dramatic uprising of teachers, parents, and school board members ousted [St. Paul] Superintendent Valeria Silva. Silva's approach to school discipline sparked the revolt. Her policies, initiated in 2010, launched the St. Paul schools on a downward spiral of chaos and violence. In December 2015, Ramsey County attorney John Choi labeled the situation "a public health crisis." In 2015, assaults on teachers in St. Paul schools reported to his office tripled compared to 2014, and were up 36 percent over the previous four-year average. On Silva's watch, the city's high schools have become menacing places where gangs of out-of-control teens prowl the halls, and "classroom invasions" by students settling private disputes are commonplace. Tumultuous brawls are a fact of life. Today, fights that "might have been between two individuals" can grow into "melees involving up to 40 or 50 people," according to Steve Linders, a St. Paul police spokesman. Roving packs often attack individuals, and police have had to use chemical irritants to break up what they call "riots."

Cop pepper-sprays teens after LI high school fight. Several teenagers were shot with pepper spray [6/10/2016] after police tried to stop a large fight at a Long Island high school.

Boston authorities search for suspect in deadly shooting outside high school. Authorities in Boston are searching for a suspect in a daylight shooting near a high school that left one student dead and three others wounded on Wednesday [6/8/2016]. The shooting took place near Jeremiah E. Burke High school in the city's Dorchester neighborhood just after a fire alarm went off in school. "We don't know whether it was just a fight that spilled out of the school. Unfortunately, as we know now, kids don't fight anymore with their hands. They run and get weapons," Police Commissioner William Evans said in an afternoon news conference.

Students involved in deadly attack near California high school, officials say. Authorities say one person is dead and another hospitalized after a shooting and stabbing near a San Francisco Bay Area high school. The East Bay Times reports Thursday [5/26/2016] that investigators are working to identify three potential suspects. No arrests were reported. The names and ages of the victims have not been released. One victim had a gunshot wound to the left side of his chest and an exit wound to his back. The victim who died had a gunshot wound to the head and stab wounds.

5th grader savagely attacks 1st grader in Henry Co. school bathroom. A vicious attack in an elementary school bathroom sends a 6-year-old to the emergency room, and her parents tell police it was a fifth grade girl who attacked her. The girl was at home recovering Thursday night, but her mother says she knows exactly who attacked her 1st grade daughter. She warned the school that the fifth grader was a danger last week.

Keeping parents in the dark on the safety crisis in city schools. City Hall is keeping parents in the dark about a growing school-safety crisis. Susan Edelman gave the lowdown in Sunday's [5/15/2016] [New York] Post. New NYPD data contradict Mayor de Blasio's repeated assertions that city schools are safe. Over 1,750 weapons have been recovered in the past 10 months — up 26 percent over last year. Greg Floyd, the head of the school-safety-agents' union, accuses City Hall and the NYPD School Safety Division of whitewashing school-crime reports. The union has exposed multiple scary cases this year — including an 11-year-old waving a loaded gun at another student.

With Apologies to Nathan Hale. [Scroll down] In St. Paul, Minn., two high school students punched and body-slammed a teacher who had complained about lenient disciplinary policies that had led to assaults against teachers. Both students were black, all the beaten-up teachers were white. The Obama administration has threatened school districts with lawsuits and funding cuts if the school punishes the perpetrators.

Black Mob Viciously Beats Blonde Girl at School (Guess What Happened To The Thugs?) This footage is going viral, and it will make your jaw drop in shock. What would you do if this happened to your daughter? Not only that, but according to the video caption, none of the students involved have been disciplined by school officials.

Girl, 15, dies after assault in Delaware HS bathroom. A 16-year-old Delaware high school sophomore died Thursday morning [4/21/2016] after a fight broke out in a restroom involving several female students. Family members identified the victim as Amy Francis-Joyner. She had gotten involved in a confrontation involving two other students at Wilmington's Howard High School of Technology, spokeswoman Kathy K. Demarest said in a statement. She said no weapons were involved and police were questioning other students. Francis-Joyner was pronounced dead at A.I. DuPont Children's Hospital, where she had been airlifted in critical condition, police spokeswoman Sgt. Andrea Janvier said.

Pictured: Girl, 16, who died at school after being 'jumped by a gang of bullies' who slammed her head against a sink in the bathroom. A 16-year-old girl, who died after getting into a fight with another girl over a boy, was jumped by bullies who slammed her head against a bathroom sink at a school in Delaware Thursday morning [4/21/2016]. [...] Students who witnessed the deadly scuffle said that the 16-year-old and another girl started fighting in one of the women's bathrooms over a boy, when a gang of other girls jumped the victim.

Another motive for homeschooling:
Mom: Son Was Attacked, Injured by Classmates and School Never Told Me. A mother says that her 13-year-old son was left cross-eyed after being attacked by fellow students, and she's questioning how school officials handled the situation. Amanda Anderson, whose son Dustin Johnson is a seventh-grader at Livingston Junior High in Livingston, Texas, told Fox 26 that Dustin woke up on March 29 seeing double and with blurred vision. After questioning what happened to her son, Anderson says school officials eventually showed her video of Dustin being attacked by several classmates.

Parents Sue NYC Education Department Over Violence in Schools. Several New York City parents and students have filed a class-action lawsuit against the city Department of Education alleging the nation's largest school district has failed to protect children from violence and bullying. A group of 11 students and 10 parents announced the lawsuit outside the DOE headquarters during a rally with the pro-charter school group Families for Excellent Schools Thursday [4/7/2016], alleging that the district had denied students the right to public education without the threat of violence.

The Editor says...
Is there really a "right to public education" — with or without threats of violence?

Glen Oaks High Student Arrested for Assaulting Teacher. The East Baton Rouge Sheriff's Office arrested 18-year-old Renetta N. Thomas, a student at Glen Oaks High School, after Thomas reportedly assaulted a teacher on campus February 18th. According to a report, the teacher observed Thomas skipping class and ordered her to go back to class. Thomas became "very irate as usual with her cursing being disrespectful." The teacher called the front office and requested the school's discipline administrator to come and handle the situation. Thomas left the scene prior to the administrator's arrival. The teacher completed write-up form on Thomas for her actions. A few minutes later, while the same teacher was teaching another class, Thomas entered the classroom and kicked a desk very hard causing it to fly across the room. Thomas then yelled "bitch you got me suspended! Ima beat your ass now," according to the report. Thomas then picked up a garbage can and threw it at the teacher, who was able to move and avoid being struck. Thomas then left the scene.

Video shows teacher being punched by student at Hunters Lane H.S.. A video making the rounds on the Internet shows a teacher being punched in the face by a student at one of Nashville's largest high schools. The incident, first posted to YouTube, happened Tuesday [3/1/2016] morning at Hunters Lane High School in North Nashville. In the video, captured by a cell phone, the student is seen punching the teacher in the face. [...] In a statement to News 2, [Metro Schools spokesman Joe] Bass said, "The student involved was disciplined appropriately, though Federal privacy laws bar us from publicly stating what that discipline was.["]

The Editor wishes to ax this question:
Why does federal law protect the privacy of violent criminals in schools?

Racial gaps found in Wake County student arrests, suspensions. The Wake County school board will discuss Tuesday [2/16/2016] racial disparities in student arrest and suspension rates in North Carolina's largest school system. The work session agenda includes a report showing that the odds of being arrested for fighting are 1.67 times higher for Wake's black students as compared to other students. The report also shows that the odds of being arrested for theft are 1.7 times for black students as compared to other students. Additionally, black students accounted for 69 percent of the referrals made by school resource officers to the adult criminal justice system, juvenile petitions, teen court, and other restorative programs.

The Editor says...
None of that should be construed as conclusive evidence that blacks are being treated unfairly.

Police: Gun owner saved cop from attack by kids. Police are crediting a vigilant gun owner with saving the life of an Upper Darby cop Friday [2/12/2016] after he saw the officer being attacked and surrounded by a large group of teens. "There were 40 kids. If it wasn't for the good Samaritan stepping forward, he'd have been dead meat," Upper Darby Police Superintendent Michael Chitwood said. "There's no doubt they would have attacked him."

Obama's Hug-A-Thug Policies Backfire In NYC, St. Paul Schools. New York public schools are dealing with escalating classroom chaos after adopting minority-friendly discipline policies that the Education Department pushed to close so-called "racial disparities" in suspensions and expulsions. Educrats have been threatening school districts with lawsuits and funding cuts wherever if finds disparities. High-school kids are getting "warning cards" for offenses that normally would result in a criminal summons and suspension, such as drug possession and disorderly conduct. Liberal New York Mayor Bill de Blasio says crime is down in the schools, but it's not. It's just that schools are ignoring it. The only thing that's down is suspensions.

Teen Busted for blowing smoke in teachers face. The Arkansas student who lit a cigar in class and then repeatedly blew smoke in his teacher's face was arrested yesterday [1/18/2016] on a harassment charge, police report. Christopher Dunn, 18, was busted Monday morning [1/18/2016] on the misdemeanor charge and booked into the Pulaski County jail. He was later released after posting $2500 bond. Dunn was collared in connection with a December 14 incident at North Little Rock High School.

Racial bean-counting is making schools unsafe. President Obama's acting secretary of education, John King, hijacked Martin Luther King Jr. Day to accuse public schools of racism because black students are punished more often and more harshly than others. The Obama administration has been threatening school districts with lawsuits and federal-funding cuts wherever it finds "racial disparities" in who gets suspended or expelled. But racism isn't to blame. Black students misbehave more often. Tragically, school administrators are so fearful of saying it that they're being intimidated into ceding control of classrooms to violent, disruptive students. That's the story in New York City, where serious crimes in schools are soaring.

My year of terror and abuse teaching at a NYC high school. There's nothing dry or academic here. It's tragedy and farce, an economic and societal indictment of a system that seems broken beyond repair. The book is certain to be controversial. There's something dilettante-ish, if not cynical, about a well-off, middle-aged white man stepping ever so briefly into this maelstrom of poverty, abuse, homelessness and violence and emerging with a book deal. What [Ed] Boland has to share, however, makes his motives irrelevant. Names and identifying details have been changed, but the school Boland calls Union Street is, according to clues and public records, the Henry Street School of International Studies on the Lower East Side.

High school cancels season after 3 players charged with rape. After three basketball players were charged with raping a teammate in an apparent hazing incident, a Tennessee high school has taken the unusual step of canceling the rest of the season, officials say.

Rest Of Season Called Off For Ooltewah High Boys Basketball Due To Rape Investigation. County School Supt. Rick Smith said Wednesday night [1/6/2016] that the rest of the season for the Ooltewah High School basketball team has been canceled due to the ongoing rape investigation. He said it was necessary to aid the investigation of aggravated rape charges against three team members against a 15-year-old teammate. Supt. Smith said there had been no wrongdoing found against any adult in the case.

Baltimore Schools Are More Afraid of Students Than Its Police Force. As Baltimore awaits a verdict in the trial of William Porter, the first officer tried in the death of Freddie Gray, city leaders seem particularly afraid of one group of its residents: its students. At least, that's what many are concluding after a letter to parents from the city's school chief was made public on Monday [12/14/2015]. Dr. Gregory Thornton, Baltimore City Public Schools CEO wrote the letter to warn families that no violence will be tolerated in the wake of the verdict, which could come down this week. But Thornton seems to have an especially broad definition of what actually constitutes violence. "Students need to understand that we support their right to express their emotions, and that we will facilitate opportunities for them to do so appropriately," the CEO wrote. "However, we need to make it clear that student walkouts, vandalism, civil disorder, and any form of violence are not acceptable under any circumstances."

At Washington High, a teacher's beating is the final straw. A brutal assault on a teacher at George Washington High School led to the removal Tuesday of the troubled school's principal, Philadelphia School District officials confirmed. Hoping to quiet a culture of violent incidents, district officials reassigned Gene Jones a day after the attack, which occurred during third period Monday morning [12/7/2015], midway through a ninth-grade biology lesson. The classroom door — usually locked against intruders — was open, allowing a handful of students to walk paperwork across the hallway, according to someone with firsthand knowledge of the incident.

Attack on teacher rekindles the worst memories. Frank Burd hadn't heard the news about the George Washington High School teacher pummeled this week by three students, being held down and punched in the face, in a dispute over a cellphone. But his reaction was visceral. "[... A] concussion is serious," Burd said Wednesday [12/9/2015]. "I feel so much for this guy. One minute, everything is normal, and the next, you're in the hospital." Burd, a former math teacher at Germantown High School, has been there — attacked in 2007 by students angry that he had tried to confiscate an iPod. He suffered a broken neck and a brain injury that has divided his life into before and after.

Teachers Union Threatens Strike After Two St. Paul Central Staffers [were] Hurt Breaking Up [a] Fight. Two students have now been charged after two employees were hurt breaking up a cafeteria fight at St. Paul's Central High School. Investigators say the fight, which happened Friday, Dec. 4, started between two students and was about who had better football statistics. The fight involved a 15-year-old student. During the fight, his 16-year-old brother jumped in to help, and a science teacher intervened to stop the older brother from getting involved. Police say the 16-year-old then shoved the teacher's face into a wall, breaking his glasses. An assistant principal also said he saw the 16-year-old pick up the teacher in a strangulation hold, lift him in the air and forcefully slam him on his back onto a cafeteria chair and table. The student then got on top of the teacher and started choking him, and he then hit him in the face and neck repeatedly, according to the complaint.

Two Black Students Posing as White Threaten To Shoot Up Their Schools. It's really hard to imagine how some allegedly aggrieved person would make up a racial hoax.

Arlington Bowie student arrested by police investigating social media threats. Shalaria Jones remained in the Arlington Jail Thursday night [11/19/2015] facing one charge of terroristic threat. Bail was set at $10,000. Police seized her cellphone and obtained a search warrant that linked her to the tweet sent out Tuesday morning, said Lt. Chris Cook, an Arlington police spokesman.

A Creepy, Coercive Turn For Campus Protests. As campuses erupt with protests and the TV cameras pan the crowds, an informal survey among the IBD editorial board members finds that pretty much every college student we know of is so busy studying that he or she has no time for or interest in protesting, no matter what the cause. To the far left, schooled in Alinskyite coercion, that's unacceptable. [...] At Columbia, kids are being coerced into joining protests whether they like it or not, as noted by Rick Moran, writing for the American Thinker. At Dartmouth, it's even worse — kids are being disturbed if they study, with in-your-face violent pushing, shoving and screaming right in the campus library.

My Letter to Dartmouth's President. You say that "we have received no complaints of physical violence" and therefore, apparently, you have no problem with the conduct of the protesters, which included threatening and screaming racist abuse at students who were peacefully studying, in an effort to "shut down" the library. Is racist abuse now acceptable at Dartmouth, as long as no one is actually punched? That sets the bar ridiculously low, and appears to represent a change in policy. I never expected to see a scene straight out of 1930s Germany in my beloved Baker Library, but that apparently, in your view, is now the norm.

Why some LAUSD teachers are balking at a new approach to discipline problems. It's another day of disruption on this campus in the Los Angeles Unified School District, which has been nationally hailed by the White House and others for its leadership in promoting more progressive school-discipline policies. The nation's second-largest school system was the first in California to ban suspensions for defiance and announced plans to roll out an alternative known as restorative justice, which seeks to resolve conflicts through talking circles and other methods to build trust.

LA Unified teachers: Suspension ban creating unruly classes. Teachers in the nation's second largest school district say a new policy aimed at reducing suspensions is also having another effect: More unruly students in their classrooms.

The Editor says...
Wow. Who could have predicted that outcome? Everybody!

Want to see what goes on in a classroom where there is no security? Just watch. Here's a video by a bunch of high school delinquents who went after a teacher who would not fight back. They mocked her, videoed her and abused her. Why the woman didn't stand up to these beasts is unfathomable to me. Is your job worth that kind of treatment? [Video clip]

Teen can face trial on murder charge: Massachusetts judge. A Massachusetts judge on Wednesday [11/4/2015] ruled that a teenager accused of murdering a teacher at his high school is competent to stand trial, despite arguments from his attorneys that the 16-year-old defendant had shown signs of mental disturbance.

Student slams principal to floor during cafeteria melee caught on video. Three Sacramento-area high school students were arrested after a principal was slammed to the floor during a melee that was recorded on video and posted to social media. Two 15-year-olds and a 13-year-old face serious charges, including making threats to students and law enforcement and battery on school staff, in connection with Monday's [10/26/2015] cafeteria brawl at Florin High School, said Sacramento County sheriff's Sgt. Tony Turnbull.

Spring Valley South Carolina — Non-Compliant Student Forcibly Removed By High School Resource Officer. A black female student at Spring Valley High School was being disruptive in class. The student refused to leave after a teacher asked her to. A School administrator, also black, was called to the room, and also asked the student to leave, and she refused again. Finally, the school resource police officer (white guy) was called to the room. The officer requested compliance the student refused twice. The officer forcibly removed the student and placed her under arrest.

Feds probing videotaped arrest of disruptive student. The Justice Department opened a civil rights investigation Tuesday [10/27/2015] after a deputy flipped a student backward in her desk and tossed her across the floor for refusing to leave her math class.

Deputy fired for throwing South Carolina student, even though 'she started this,' sheriff says. The white South Carolina deputy who threw a black student across a high school classroom has been fired for using inappropriate force, Richland County Sheriff Leon Lott said Wednesday [10/28/2015]. "The maneuver that he used was not based on the training or was acceptable," Lott said of Richland County Senior Deputy Ben Fields, who had worked as an officer at Spring Valley High School in Columbia for seven years. "That is not proper technique and should not be used in law enforcement."

The Spring Valley Arrest Video Isn't Disturbing: Here's Why. According to local reporting, [Senior Deputy Ben] Fields was called to the classroom after the student had refused to leave the room, first at the request of the teacher and then at the request of an administrator. A longer video shows Fields asking the student if she'll leave, she refuses, he reaches down and says, "I'm going to get you up," she appears to resist, then the officer escalates his use of force: [Video clip] No one was injured in the fracas, but the media immediately identified it as an example of a white police officer brutalizing a black youth.

The Viral Videos the Anti-Police Left Won't Publicize. Narratives of oppression are simple; life is complicated. After the Internet lit up over video of a South Carolina police officer dragging a high-school student from her desk, tossing her to the ground, and handcuffing her, the Left instinctively began making its "larger points" about the "school-to-prison pipeline," police brutality, and institutional racism. It was the launching pad for another "national conversation" on the Left's terms, about one of the Left's favorite topics: the big, bad, racist police. Yet videos from other schools show more complex realities.

Student walkout backs fired deputy at S.C. school. About 100 students at a South Carolina high school walked out of class briefly Friday [10/30/2015] to show support for a school resource officer fired after video showed him throwing an uncooperative black female student across the floor, according to local media and Twitter feeds. The students walked out of classes at Spring Valley HIgh School in Columbia, S.C., around 10 a.m. and gathered in the atrium to express their views on the firing of Deputy Ben Fields.

Students Stage Walkout In Support Of Deputy Fired Over Viral Video. Hundreds of students at Spring Valley High School in Columbia, S.C. staged a brief walkout on Friday in support of the school resource officer and football coach who was fired earlier this week after video emerged of him dragging a female student out of her desk and slamming her onto the ground. The students donned t-shirts reading "Free Fields" and "#BringBackFields" in support of the officer, Ben Fields.

High school teen who defended a blind classmate who was being beaten by a bully is suspended and kicked off football team. A California teenager has been hailed as a hero after he rushed to help a blind classmate being beaten up by a bully. Shocking footage of the attack, filmed by a bystander, shows the 'visually impaired' student being repeatedly hit round the head during lunch break at Huntington Beach High School, California on Wednesday [9/23/2015]. The assault only ends when the high school intervenes by knocking the bully to the ground with a single punch.

Attack on Teachers. The ongoing and escalating assault on primary- and secondary-school teachers is not a pretty sight. Holly Houston is a post-traumatic stress specialist. She counsels teachers in Chicago public schools and reported, "Of the teachers that I have counseled over the years who have been assaulted, 100 percent of them have satisfied diagnostic criteria for PTSD." It's not just big-city schoolteachers traumatized. Dr. Darlyne Nemeth, in Baton Rouge, Louisiana, said last year, "I have treated many teachers with PTSD, and I am currently following a few of them." [...] School violence is going to get worse. Last year, the Obama administration sent all the school districts in the country a letter warning them to avoid racial bias when suspending or expelling students.

Prosecutors: Two Former NJ Day Care Workers Ran 'Fight Club' For Kids Aged 4-6. Two New Jersey women faced charges Monday [8/31/2015] for allegedly staging a "fight club" among boys and girls at a day care center, Union County prosecutors said. As CBS2's Christine Sloan reported, investigators said the former day care workers — Erica Kenny, 22, of Cranford, and Chanese White, 28, of Roselle — referenced the movie "Fight Club" as they encouraged preschoolers and kindergartners to fight each other on the playground at Lightbridge Academy in Cranford last month.

Why Home Schooling? Many public primary and secondary schools are dangerous places. The Justice Department's Bureau of Justice Statistics and the Department of Education's National Center for Education Statistics show that in 2012, there were about 749,200 violent assaults on students. In the 2011-12 academic year, there were a record 209,800 primary- and secondary-school teachers who reported being physically attacked by a student. Nationally, an average of 1,175 teachers and staff were physically attacked, including being knocked out, each day of that school year. In Baltimore, each school day in 2010, an average of four teachers and staff were assaulted. Each year, roughly 10 percent of primary- and secondary-school teachers are threatened with bodily harm. Many public schools not only are dangerous but produce poor educational results.

Black Violence in Schools: White People to Blame. The Tampa Bay Times just figured out why local black schools are a hot mess of chaos, violence and danger. White people did it. Which, of course, is the same reason why black schools are also violent and dangerous in Baltimore, St. Louis, Philadelphia, Washington, D.C., Milwaukee, Los Angeles, Chicago, Detroit, Rochester, Utica, Albany, Syracuse, Pittsburgh, Harrisburg ... this is a very long list. The Times documented how black violence in epic amounts is directed at students, parents, teachers, administrators, vendors, neighbors, bus drivers, — pretty much anyone who gets anywhere close to these black schools.

13-year-old charged with raping girl on school bus. Officials say a 13-year-old boy attacked a 7-year-old girl on a Chimacum school bus and has been charged with three counts of first-degree rape.

Guess which five-letter adjective (starts with B, ends with ack) is absent from this article.
Four students face charges of raping mentally disabled girl at North Miami Senior High. Near the end of a school day early this year at North Miami Senior High, a student approached one of his classmates — a mentally disabled teenage girl in a job training program. He told her she was pretty and asked her to follow him, leading her to another boy who took her hand. They slipped into a janitor's closet, closed the door, turned out the lights and — joined by three other boys — gang raped her, according to arrest forms. One boy told her not to tell, but she did after a security guard caught them leaving the closet. The girl later told Miami-Dade school police the boys "forced her to perform oral, anal and vaginal sex acts."

Phila. police arrest 5 MLK High teens in beating that went viral. Philadelphia police have arrested five students from Martin Luther King High School who earlier this month kicked and punched another student — knocking out several of his teeth — in an attack that was recorded and posted online Thursday [6/25/2015]. The video, showing teenagers repeatedly beating a classmate June 5 while shouting taunts, was posted on the popular website MediaTakeOut.com. At one point, the student was hit in the face with a traffic cone, knocking out his teeth.

The Editor says...
Again, guess uess which five-letter adjective is absent from this article. Here are some hints: Philadelphia. Martin Luther King High School. Five-against-one fight.

This incident is posted in this section because it took place at an elementary school.
Reward Now $1,250 For Information on This Attack. The video of this attack has been viewed by approximately 10,000,000 people on various platforms. Obviously there is a lot of attention; unfortunately, no strong leads.

Update:
Brutal Beating Location and Video Uploader Identified — Rowlett, Texas. Police today reported the actual attack took place on Friday June 19th — but it was not until video surfaced on 6/24 that the youngest victim, 3-years-old, was witnessed suffering injury from the attack — That aspect raises the attack to felony charges. Fox News Dallas aired a segment on the incident tonight at 9pm — and the local Dallas media affiliate has been made aware of the culprit identification. Police Detective Cruz Hernandez now has all the details. [...] The police do not consider this attack to contain any racial connotations.

The Editor says...
The Rowlett police very quickly pronounced that the incident was not a hate crime and had no racial connotations, even before the suspect was identified, let alone interviewed. A bigger pack of lies would be difficult to find (without the internet). Everybody in the video is black, other than the victims. All the participants, revelers and cheerleaders are black, as is the photographer. Why else would the cameras be recording unless a violent Facebook-worthy attack was imminent?

Oakland Schools: Students who act up, mouth off won't be suspended. The Oakland Unified School District has approved a controversial move to eliminate kicking students out of school for swearing at teachers and ignoring instructions. The school board voted unanimously on Wednesday [5/13/2015] to no longer allow teachers and administrators to suspend students out of class for non-violent offenses. The new policy is expected to be in full effect next July.

Disparate Impact — Too Many Black Students Suspended Leads Oakland Schools to Stop Punishment Completely. When a corrections system focuses entirely on equality of outcome; and when the administrators of the policy are wilfully blind (in that they never addresses the source behavior); and when the non-compliant variables within the system refuse to modify behavior — the only administrative option left is to remove the consequence. FYI the racial composition of Oakland's public school system is about 32 percent black, a little under 40 percent Hispanic, about 15 percent Asian and about 12 percent white, according to Oaklandreads.org.

Black Student Arrests in Jefferson Decried in New Complaint. African-American students are disproportionately arrested and subjected to discrimination in Jefferson Parish public schools, even moreso now than three years ago, according to a complaint the Southern Poverty Law Center filed Thursday (May 7) on behalf of four black students. The new information is a supplement to the law center's 2012 complaint, which also accused Jefferson of discrimination. New data show that in the 2013-14 academic year, black students comprised 80 percent of all school-based arrests and law enforcement referrals, even though they made up only about 42 percent of Jefferson's enrollment.

IPS investigates high school fight caught on camera. Indianapolis Public Schools is investigating a fight caught on camera. The video was first uploaded onto YouTube and has been viewed hundreds of times across social media. Cellphone video captured what happened as dozens of Northwest High School students were trying to get to class Tuesday [5/5/2015]. A teenage girl is seen on camera stopping in the middle of the hallway as she is confronted by a fellow classmate. That classmate, a boy, appears to throw the first punch, pushing her against the lockers as she quickly falls to the ground.

Conservatives Blind to Racism, says RedState Seer. [Scroll down] At nearby Chesapeake High School, video shows large groups of black people fighting and destroying property a few days before the Morgan State gig. Parents say it happens a lot there. In Houston, also last week, a large group of black people fought in the cafeteria at Westfield High School. On video. The parents say it happens a lot there. School officials told Channel 2 news they are working on developing "conflict resolution skills" for the students.

How liberal discipline policies are making schools less safe. New York public-school students caught stealing, doing drugs or even attacking someone can avoid suspension under new "progressive" discipline rules adopted this month. Most likely, they will be sent to a talking circle instead, where they can discuss their feelings. Convinced traditional discipline is racist because blacks are suspended at higher rates than whites, New York City's Department of Education has in all but the most serious and dangerous offenses replaced out-of-school suspensions with a touchy-feely alternative punishment called "restorative justice," which isn't really punishment at all. It's therapy.

Teachers fear for their lives because of administration's hands off blacks guidelines. President Obama didn't dare mention the situation at Richmond, Virginia's Martin Luther King Middle School during his oh-so-eloquent Selma speech last Saturday. The mess at MLK is being played out in majority-black schools across the country. On March 6, an NBC affiliate reported that MLK, a school with 731 students and 99% black, had 1,635 disorderly incidents in 2014. The kicker? The $40-million state-of-the-art middle school opened in January of the same year. The writing was on the wall in May 2014, when teachers at MLK wrote an extensive e-mail to a local TV station saying they feared for their lives.

Louisiana teen accused of knocking school bus driver unconscious. One Louisiana teen has been charged with assault and another with saving the day: The first knocked a school bus driver unconscious and the second prevented the bus from crashing.

I guess some things go without saying.
Univ Drops Racial Descriptions From Crime Alerts; Sheriff Clarke Reacts! The University of Minnesota has dropped racial descriptions from campus crime alerts, after students protested for weeks about campus diversity. Student groups pressured the university to stop sending campus-wide crime alerts using vague racial descriptions of suspects in serious crimes.

Basketball coach body-slams teacher in student-faculty game. It was all fun and games until a basketball coach body slammed a teacher to the ground in a student-faculty basketball game. Police arrested 27-year-old Travis Mims on aggravated battery charges after the incident at Holly Hill School where he was the basketball coach and a campus adviser.

White Maryland School Teacher Beaten Bloody By Black Student. Maryland, the most progressive and race-driven Marxist state within the union. Time and time again Maryland shows up as a hotbed of racial violence. In this latest attack another school teacher was brutally beaten and left bloodied on the floor. The media claim a "racially insensitive" remark provoked the student to attack. In Maryland a "racially insensitive remark" could be the teacher saying "all lives matter", that's enough.

Paterson freshman charged with assault after classroom attack on teacher. A ninth-grader at John F. Kennedy High School in Paterson was arrested Friday and charged with assaulting a teacher in a classroom. The attack, captured on video, shows the teen slamming the 62-year-old educator to the floor in front of other students in an effort to get his cellphone back.

Documented: Black Students Target Teachers for Violence. If all you knew about racial violence came from the protestors at a Manhattan Sunday brunch, you would know that black people are victims of relentless white violence. In the real world, black mob violence and black-on-white crime are astronomically out of proportion. Especially in schools. Especially directed at teachers. Especially this week in Monroe, Yonkers, Little Rock, and Buffalo.

A betrayal of the civil rights struggle. During the 2003-04 school year, only 52 of the nation's 92,000 public schools were labeled "persistently dangerous," a designation under the No Child Left Behind Act entitling students to move to an alternate "safe" school. Philadelphia had 14 schools labeled as "persistently dangerous" and Baltimore had six. … School violence, including assaults on teachers and staff, is not restricted to inner city schools but occurs also in suburban and rural schools. However, the bulk of the violence is at schools with large black populations.



Black mob violence — in Kindergarden? And the cops even charged 8 black people with rioting. Started at a Kindergarten graduation, next thing you know a "very ugly brawl" starts, then spills outside.

Another reason to abandon government schools: They are not safe.
Black on white violence in the schools. The word bullying is often used to obfuscate. Not illuminate. In this case, it covered up significant and intense black mob violence in this school. And it is happening all over the country.

NYC's most dangerous schools. Students at the Brooklyn Academy of Global Finance in Bedford-Stuyvesant face routine bullying, gang activity and a generally unsafe campus, according to the city's 2011 School Survey. "The kids run wild, and the teachers are scared," said an administrator at the high school who asked to remain anonymous. "It's like there are no rules here at all," she added.

High School Basketball Player Attacks Ref. A video of what not to do when you don't like a ref's call has been circulating the Internet. In a game between Florida high school teams Arcadia DeSoto and Port Charlotte, DeSoto's Mason Holland shoved a Port Charlotte player, and then, after a technical foul was called on him, went ballistic and threw the referee to the floor.

Education Cutbacks and Urban Violence. Bloated public education budgets in our large cities may be immune from serious cuts for an unpalatable reason: the threat of urban violence. ... Difficult budgetary choices entail an element that dare not speak its name: cutbacks may risk 1960s style riots, and these costs may far exceed temporary savings. To be blunt, cities often solved riot problems via bloated education-related employment, and bereft of these jobs, cities may return to "long hot summers".

Black Education: According to the National Center for Education Statistics, nationally during 2007-2008, more than 145,000 teachers were physically attacked. Six percent of big-city schools report verbal abuse of teachers and 18 percent report non-verbal disrespect for teachers. An earlier NCES study found that 18 percent of the nation's schools accounted for 75 percent of the reported incidents of violence, and 6.6 percent accounted for 50 percent. So far as serious violence, murder and rapes, 1.9 percent of schools reported 50 percent of the incidents. The preponderance of school violence occurs in big-city schools attended by black students.

Metro Teachers Learn Gang Communication. With a growing gang problem in some Metro [Nashville] Schools, the district is trying be proactive by teaching teachers how gang members communicate, breaking down everything from signs, the colors and clothes, code words used in class and the rappers students idolize.

The Editor says...
Why stoop to the level of the gangs? Is anyone ever expelled anymore?

Overhauling D.C. School Overcome by Violence. D.C. Chancellor Michelle A. Rhee has dispatched a team of administrators and extra security to an Anacostia middle school where three teachers have been assaulted, a 14-year-old was charged with carrying a shotgun and students have run the hallways discharging fire extinguishers. ... "Kids sitting on desks, coming into classrooms and knocking over books, cussing, running through the halls," said Timothy Favors, who has visited Hart on multiple occasions because his son, a sixth-grader, is getting poor grades after doing well at Martin Luther King Jr. Elementary School. "This isn't a school I would recommend for anyone. You could have a perfectly normal child, and he would get flipped here like a pancake."

Teacher still out after beating by student. Vanesta Marshall, a home economics teacher at Worthing who is 5 feet 4 inches tall, said she remembers a ninth-grade male student punching her in the face two or three times before she blacked out Friday [5/11/2007]. ... She said school officials didn't inform her about the student's discipline history. "We're just regular-ed teachers," she said. "We don't know how to handle violent behavior."

Video of the moment boy is brutally beaten on school bus. When Lora Hoagland was fighting to make buses to and from Franklin Township schools in Indiana free for all families, she didn't think her son's very trip to class would land him in the hospital. It all started when Caleb Jones, 14, unwittingly sat in the seat of a violent classmate, 15, who decided to push, punch and berate when he did not get up while the bus was moving. A video of the incident was posted on Facebook by the attacker, in which he bragged 'dat wassnt nun'.

Barred from discipline: Bibb County teachers unable to control students under current rules. After 18-year-old Jaqavius Holloway threatened to shoot one of his teachers at Northeast High School in February, he was charged with making terroristic threats and disrupting public school. As one of his bail conditions, the judge told him, "I don't care if the school calls and invites you onto campus, you are not to go back," prosecutor Elizabeth Bobbitt recalled. But in May, Holloway showed back up at Northeast, saying he was allowed to return. No one in the office checked his story, and he had apparently never been expelled. So he went back to class. Within a week, he had shoved a pregnant teacher and thrown her cell phone at her, resulting in a battery charge, according to a July indictment.



Brawl breaks out at Ohio kindergarten graduation. Police were called when one participant pulled out a pipe and another a hammer.

Two mothers get into massive brawl at elementary school talent show while their children were performing. Two mothers have been barred from an elementary school after a fight broke out at their children's talent show. [...] Latisha James, 39, was arrested after allegedly trying to choke Jessica Tyler after the 27-year-old mother complained that her view of the stage was being blocked.

Teen, 16, punched by student so badly his nose broke off of his skull as other student cheered in locker room. David Egan says he doesn't even know the student who punched him, and that he was confronted over rumors that he stole the other student's sneakers. 'When he first hit me I actually said out loud, "Wow, you actually sucker-punched me?" because it was just crazy that he actually did that,' Egan told WGCL. He also told the channel that when he fell, others in the locker room jumped, cheered and laughed at him.

Video: Black Teens Assault White Student on School Bus. The shaky cell phone video shows a group of black teenage boys punching, knocking down, and kicking a white teenage boy, leaving him dazed and confused on the school bus floor. The victim of the attack had been riding home from Parkway Academy School near Dover when the assault reportedly began. The video shows him sitting alone, facing front, when the attack begins from the rear — and continues from the side and the front of the school bus. "I didn't do nothing," he protests. The student's uncle found out about the incident and spread the word on Facebook. [Video clip]

Parents file federal lawsuit over assault on school bus. The parents of two students involved in school bus assault last fall have filed a federal suit against the Southeast Delco School District, Delaware County Intermediate Unit and a bus driver who allegedly refused to let the boys off the bus or contact authorities about the incident. Some of the Oct. 9, 2013, altercation between black and white students from The County Alternative School in Middletown was captured on video and made headlines across the country. The suit was filed in the U.S. District Court for the Eastern District of Pennsylvania on behalf of C.J. Buonadonna of Collingdale and Dylan Fonner of Sharon Hill, who were confronted by classmates during the bus ride home from school.

CCSO: Surveillance video shows students throwing rocks, food from school bus. Charleston County deputies say eight students have been arrested after they were caught on surveillance video throwing rocks and food at passing cars while on their school bus. According to an incident report, Durham Bus Services notified Septima Clark Academy that several students on bus 529 threw items at a passing vehicles on May 8, causing damage to a truck. Officers arrived on the scene to find a dent on victim's passenger side roof/window area and "food splashed across the grill, hood, and windshield." Deputies say none of the students on the bus admitted to throwing things at the truck.

Minority Violence at School and College. This webpage documents non-white violence and mayhem at schools and colleges. [24 cases so far.]

Consequences From Disparate Impact Rules In School — High School Senior Rapes Teacher On Campus. A Florida high school senior confessed to raping a teacher on campus and fleeing the scene of the crime in her stolen car. Homestead Police arrested 18-year-old Victor Marshall Nash after the Friday [9/19/2014] attack. He made his first court appearance Monday, where a judge set the South Dade Senior High School student's bond at $62,500. Police said Nash attacked two hours after the final bell Friday [9/26/2014].

Student: Daily fights at Lincoln High School have created atmosphere of fear. A school touted just weeks ago by the San Diego Unified School District is now described by some as an atmosphere of fear and fights. 10News has learned in the past two weeks, two separate incidents at Lincoln High School have led to arrests on campus, and one may have involved a butcher knife. "They're actually happening every day," said Jessica, a sophomore who did not want her identity revealed, referring to fights.

Black Males Are Viciously Beating People At Random At The University Of Illinois. Over the last two weekends, a group of men have been roving the streets and beating people completely at random near the University of Illinois at Urbana-Champaign. Police say the beatdowns are consistent with initiations by big-city street gangs — a phenomenon not typically seen on most Big 10 campuses.

Football team forfeits after 5 players charged in vicious assault. Five football players from a state university in western Pennsylvania were arrested and suspended from the school after police say they beat and stomped a man outside an off-campus restaurant, then fled yelling "Football strong!"

Teacher still out after beating by student. Vanesta Marshall, a home economics teacher at Worthing who is 5 feet 4 inches tall, said she remembers a ninth-grade male student punching her in the face two or three times before she blacked out Friday [5/11/2007]. … She said school officials didn't inform her about the student's discipline history. "We're just regular-ed teachers," she said. "We don't know how to handle violent behavior."


Black crime

Note: On another nearby page you can find articles about the looting after Hurricane Katrina.



The lies told by the Black Lives Matter movement. The facts are these: Last year, the police shot 990 people, the vast majority armed or violently resisting arrest, according to the Washington Post's database of fatal police shootings. Whites made up 49.9 percent of those victims, blacks 26 percent. That proportion of black victims is lower than what the black violent crime rate would predict. Blacks constituted 62 percent of all robbery defendants in America's 75 largest counties in 2009, 57 percent of all murder defendants and 45 percent of all assault defendants, according to the Bureau of Justice Statistics, even though blacks comprise only 15 percent of the population in those counties. In New York City, where blacks make up 23 percent of the city's population, blacks commit three-quarters of all shootings and 70 percent of all robberies, according to victims and witnesses in their reports to the NYPD. Whites, by contrast, commit less than 2 percent of all shootings and 4 percent of all robberies, though they are nearly 34 percent of the city's population.

North Miami man convicted of cashing $11 million in tax-refund checks for dead people. His North Miami business cashed more than 2,000 tax refund checks issued in the names of people who were dead or disabled. The refunds added up to more than $11 million, courtesy of the Internal Revenue Service. Now, Junior Jean Baptiste faces up to 20 years in prison at his sentencing in October after being convicted Tuesday by a Miami federal jury of money laundering, theft of government funds, stealing identities and possessing false driver's licenses. His crime, though commonplace in Miami during the past decade, stands out for the sheer volume of stolen identities and fraudulent checks.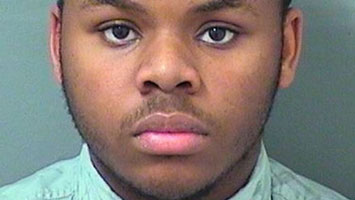 Accused teen 'doctor' arrested on grand theft, fraud charges. A Florida teenager accused of pretending to be a doctor and stealing money from an 86-year-old patient is facing new charges of grand theft and fraud.
Her job was to help victims of identity theft. Instead, she used them to steal from the IRS. For Nakeisha Hall, the IRS might as well have been the family business. The daughter of a longtime employee of the federal tax collection agency, Hall started working for the IRS in 2000. A large chunk of her career was spent in Taxpayer Advocate Service offices in four states, where she assisted people who had been victims of identity theft. But as Hall was helping taxpayers, she was also using them to steal from the government, federal authorities said. Now, she is going to federal prison: The 40-year-old former federal worker was sentenced Wednesday [8/10/2016] to more than nine years after pleading guilty in an identity theft and tax fraud scheme that affected hundreds of taxpayers and netted hundreds of thousands of dollars in fraudulent tax refunds, according to the U.S. Attorney's Office in the Northern District of Alabama, in Birmingham. In all, Hall attempted to steal more than $1 million, the government said. She successfully claimed more than $400,000.
Teen caught fondling commuters tells cops he'd never seen white women. A Jamaican student who was caught in the act fondling a woman in a downtown Brooklyn subway station Monday morning [7/25/2016] — and allegedly did the same to four other women last week — told cops he committed the act because he'd never seen white women before and "they're absolutely beautiful," police sources said. Lt. John DiMeola and Officer Lauren Garcia spotted Damario Johnson, 19, a Jamaican national who is in New York on a student visa, pacing around the Hoyt Street 2 and 3 station before running up to a woman and sticking his hands up her skirt, according to Capt. Zahid Williams, the commanding officer of Transit District 30. They immediately arrested him without incident.
We Have a 'War on Cops' because of the War on the Family. [Scroll down] Millions of black youths — because of the frequent absence of fathers — are growing up poorly disciplined, poorly educated, and poorly churched. Thus, gangs and crime have become far too common in the black communities of America. Sadly, these broken and vulnerable black families typically live in the most dangerous parts of our nation. From the beginning of the Iraq war in 2003, until the U.S. troop withdrawal in 2011, there were 4,485 U.S. casualties. The city of Chicago alone had 4,265 murders during the same time period. Perhaps the most shocking statistic of all when it comes to black Americans and violence is that black men in the U.S. are half as likely to die if they are in prison than if they are not.
Fireworks Explodes In Woman's Vagina During Walmart Shoplifting Attempt. A Philadelphia woman has been hospitalized and now in police custody after she attempted to steal fireworks from a Walmart in Philadelphia. [...] "Several of us were watching the woman on the security cam," said James Worthy, a Walmart employee. "We thought she looked a little suspicious and suspected something was shady when she went into the restroom with a box of TNT Fireworks. I never would have imagined that she was going to do what she did. I bet she didn't think that her shoplifting attempt would end in such a painful and embarrassing way. I've caught a lot of customers trying to steal in weird ways but not this way and not with fireworks. It smelled like a fish fry."
MN Cops: Newport Cigarette Tax Stamps Tie Gangbanger Philando Castile To Convenience Store Robbery. Minnesota police have told GotNews.com that the authorities linked Lavish Reynolds's cigarettes to the scene of an armed robbery where the cigarettes were stolen. GotNews.com's police sources have confirmed that investigators have linked the cigarette tax stamps from a July 2nd robbery to the vehicle driven by Philando Castile and Lavish Reynolds. Reynolds, who has since gone on a media tour, may have even been an accomplice.
Open Season on Cops. [Scroll down] Mister Obama had nothing to say about the incidence of felony crime among his black brothers in high risk, self-segregated schools and ghettoes, the "hood" if you will. He failed to mention the abject sexism, violence, anti-Semitism, and racism in rap and hip-hop quarters. [...] The president also failed to mention that cops have confrontations in black neighborhoods because that's where the crime is. If you are an elderly white in the wrong neighborhood, you might be the prey in a "polar bear hunt," aka the knockout game. Mister Obama also forgot to note that many urban traffic stops are made by black cops. The president failed to tell us how many traffic stops bag creeps with long rap sheets, if not active felony warrants. A punk or thug with a criminal past is unlikely to be a model driver. Good cops know these things.
Gladys Knight's son accused of tax evasion as restaurants raided. Gladys Knight's Chicken and Waffles, an Atlanta dining institution that features Southern favorites and is named after the famed singer, was raided on Tuesday after Georgia's Department of Revenue accused the owner — Knight's son — of theft and tax evasion. Shanga Hankerson, Knight's son and the owner of the three Atlanta-area restaurants, "is accused of stealing over $650,000" in sales taxes and withholding taxes owed to the state, the agency said in a news release. "After penalties and interest the total exceeds $1 million," the department said.
Man admits taking $250K from Head Start; bought Maserati, mink coat. The former executive director of a former Head Start program in Jersey City Tuesday admitted that he diverted more than $250,000 from programs for underprivileged children and used the money for personal expenses, including a Maserati and a mink coat, prosecutors said. Robert E. Mays, 38, pleaded guilty before U.S. District Judge Susan D. Wigenton in federal court to one count of wire fraud. According to court papers charging him, Mays in 2013 forged records and duped employees at the Jersey City Child Development Centers into believing that its board of directors had raised his salary 61 percent to $155,000 after acting as executive director for only two months.
Police Seek Man Caught on Video Spraying Anti-Semitic Graffiti in Manhattan During Passover. The NYPD is seeking the public's assistance in locating and identifying a individual who spray painted anti-Semitic graffiti on a residential building in the Tribeca section of Manhattan on the first day of Passover, police said Wednesday [5/25/2016].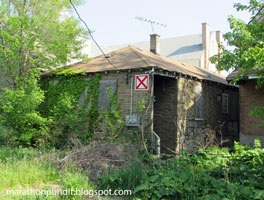 Chiraq hate crime: "Man says "I hate 'expletive' white people" while stabbing and robbing victim. Coincidentally I was just a few blocks from the racist creep's home earlier that day. It's part of the area of Chicago known as the Wild 100s. It's an apt moniker. Near the site of where the picture on top was taken an obese thug in an Indianapolis Colts shirt chased after me while screaming "Hey buddy! Hey buddy!" He was not my buddy. Urban exploration is dangerous — which is why I always have a planned escape route in mind while I snap photographs.
Civil Rights Commissioner: Cutting Sentences Increases Black-On-Black Crime. A member of the U.S Commission on Civil Rights sent a letter to Senators Thursday [5/5/2016] warning them of an increase in black-on-black crime due to sentencing reform. "I live in a predominantly black area of inner-city Cleveland. For my neighbors and me, these concerns are not remote. When these men are released from prison earlier than they otherwise would have been, they are coming back to my neighborhood and neighborhoods like mine," Peter Kirsanow wrote in the letter to members of the Senate Judiciary Committee. The committee has recently approved a criminal justice reform bill that lowers mandatory minimums and will allow convicts have to their sentences retroactively reduced. The bill has 37 bipartisan cosponsors.
Judge Orders Coke Bust Flight Attendant Back to California. The flight attendant who allegedly ditched $3 million worth of cocaine at the Los Angeles airport and went on the run will be flying back to California in the custody of U.S. Marshals. A federal judge in New York, where former beauty queen Marsha Gay Reynolds had surrendered, had approved a $500,000 bail package for her on Thursday [3/24/2016], but prosecutors immediately appealed.
Police launch investigation after disturbing Facebook photo shows two toddlers with duct taped hands and mouths. A disturbing photo posted to Facebook on Friday [3/18/2016] has caused police and other law enforcement agencies in Memphis to launch an investigation. The photo shows two young children with duct tape tied around their hands and on their mouths. The person who posted the picture, Facebook user Jaton Justsilly Jaibabi, appears to be the children's mother, but that has not been confirmed as she has since deactivated her account. She caption[ed] the shocking photo, 'Kids For Sale, 45% Off because they bad'.
Relatives Of Teen Shot While Robbing Home: 'How He Gonna Get His Money?'. Relatives of a teenager shot and killed while robbing a home in Miami are upset with the homeowner for defending herself. Trevon Johnson, 17, spent the final moments of his life last Thursday [3/10/2016] trying to rob a woman's house before she killed him during a confrontation, according to CBS Miami. CBS Miami reports that the police seem to be siding with the homeowner during the investigation, but Johnson's family attempted to justify his actions.
The Editor says...
Has anybody heard from Trevon's father about this matter?
The Shocking Quote That Exposes The State Of 'The Hood'. A 17-year-old Miami teen named Trevon Johnson, a student at D. A. Dorsey Technical College, was shot and killed by a female homeowner who encountered him after he had broken into her house. But Johnson's relatives were very upset, saying he didn't deserve it. As his cousin Nautika Harris commented, "I don't care if she have her gun license or any of that. That is way beyond the law — way beyond." She also said — and this is the quote that is so shocking — "You have to look at it from every child's point of view that was raised in the hood. You have to understand... how he going to get his money to have clothes to go to school? You have to look at it from his point-of-view." What a tragic indictment on the state of America in 2016.
Family Laments Shooting Death of Teen Burglar By Homeowner. [P]rotecting the lives of innocent victims must be held as the higher priority, while the lives of criminals, while not worthless, are devalued by their decision to commit crimes against society. That's why I have very little sympathy for the lives of violent criminals like Trayvon Martin or Michael Brown, or that of lesser criminals such as recently-deceased burglar Trevon Johnson.
Relatives of Dead Teen Burglar Defend his Actions. Some have said that people in black urban ghettos see "burglar", "thief", and "armed robber" as viable career options; that they view concealed carry permits as an OSHA safety violation. That seems to be what is being displayed here. It is not a viable option for a civilization. These attitudes have been fostered by leftists for generations. They view private property as illegitimate, and theft as property redistribution. They have assiduously propagandized the black community with these attitudes.
Bernie's Doomed Democratic Socialism. [Scroll down] Rampant criminality is incompatible with the prosperity vital to generous government-financed entitlements. Capitalist enterprises whose taxes pay the "freebies" bill will almost never remain in crime-ridden areas unless relocation is impossible (as in extractive industries such as mining) or are heavily subsidized to prevent mass unemployment. Few employees want to risk their lives when commuting or send their children to dangerous schools. It is no accident that crime-prone cities like East St. Louis, Missouri, or Selma, Alabama have little industry or commerce. Consider how much more money Washington could spend on our nation's health care if the cost of fighting crime fell sharply? And the billions saved by hospitals not having to treat gunshot wounds or drug overdoses?
Charged with Murder. Elected from Jail. Some elected officials are sworn in at City Hall. Others are sworn in outside the White House. Chicago-area councilman Robert Battle was re-inaugurated from jail, where he is awaiting trial for drug and murder charges last Tuesday [1/19/2016]. As reelection bids go, Battle's was easy. He ran uncontested for his council seat in East Chicago, Indiana. He did not vote, although he could have requested an absentee ballot be sent to his jail cell. But beating the charges against him might prove to be harder than getting a ballot.
New York City Set to Stop Enforcing Law Against Peeing on Sidewalks Because... RACISM! New York City's city council is set to dilute a host of criminal laws including laws against public urination and excessive noise because council members believe too many members of minorities are getting arrested.
California woman confronts Starbucks cashier who admits to stealing her credit card information. A California Starbucks cashier got caught red-handed stealing a customer's credit card information, and faced the grande wrath of her furious victim. Juana Martinez unloaded a fiery tirade Sunday [1/3/2016] in Lakewood on the sticky-fingered cashier, who was stunned and admitted to the crime after being confronted by the theft victim. The 2-minute 30-second clip has since gone viral, a penalty worse than arrest for the 19-year-old coffee shop employee, Martinez told The Daily News.
In Denial About Crime. The campaign to deny the murder and shooting spike in many American cities continues apace. The latest effort is a report by the Brennan Center for Justice, which the press has hailed ecstatically as a refutation of what I and others have dubbed the "Ferguson effect" — the phenomenon of officers backing off of proactive policing and thereby emboldening criminals. In fact, the report confirms the Ferguson effect, while also showing how clueless the media are about crime and policing. The Brennan Center researchers gathered homicide data from 25 of the nation's 30 largest cities for the period January 1, 2015, to October 1, 2015. (Not included were San Francisco, Indianapolis, Columbus, El Paso, and Nashville.) The researchers then tried to estimate what 2015's full-year homicide numbers for those 25 cities would be, based on the extent to which homicides were up from January to October 2015, compared with the similar period in 2014.
Chase Bank Employees Accused of Stealing $400,000 From Elderly, Dead Customers. The defendants used their position in banking to steal Social Security funds, according to Social Security Administration Special Agent in Charge Edward J. Ryan. "[It's] an offense against all taxpayers who contribute to Social Security and spend a lifetime working to earn those benefits," he said. Jonathan Francis, 27, and Dion Allison, 30, both worked as personal bankers at Chase's Restoration Plaza branch at 1380 Fulton Street in Bed-Stuy. They are accused of using their authority to electronically access dormant accounts with high balances, according to Brooklyn District Attorney Ken Thompson's office.
Two JP Morgan Chase bankers in Brooklyn indicted for stealing 400K from accounts of elderly or deceased. Dion Allison, 31, and Jonathan Francis, 27, were personal bankers at the JPMorgan Chase branch at Restoration Plaza in Bedford-Stuyvesant and systematically searched the bank's database for accounts with high balances that weren't used except for direct deposits from Social Security, said Brooklyn Assistant District Attorney Adam Zion. From August 2012 until October 2013, Allison and Francis allegedly found 15 accounts and issued ATM cards to co-conspirators Kery Phillips and Gregory Desrameaux, authorities said. Eight of the accounts belonged to dead people — one of whom died in 1982.
Nutley police: Condom shoplifter had 100 aliases. Nutley police arrested an Irvington man for allegedly shoplifting 22 boxes of condoms. He also had 100 aliases and 60 Social Security numbers, according to authorities. Harry Jackson, 56, was charged with fourth-degree shoplifting of the Trojan condoms, valued at $395, police said.
N.J. man allegedly steals from police Toys for Tots bin. An Irvington man charged with shoplifting Friday [12/11/2015] stole items out of a Toys for Tots bin as he left Wayne Police Headquarters, Capt. Laurence W. Martin said. Staroben Louis, 22, and Jaleel W. Bobbitt, 21, left Lord & Taylor in Willowbrook Mall without paying for several men's clothing items, Martin said. Louis took merchandise valued at $430, while Bobbitt's haul was worth $198, Martin said.
Woman faces felony charges of running 'short change' scams at Target stores. A Long Beach woman was arraigned Monday [12/7/2015] in Orange County Superior Court on allegations that she stole hundreds of dollars from Target stores in Orange County in a "short change" scheme. Ashlie Jane Pentard, 29, was charged with eight felony counts of second-degree burglary. She is accused of stealing $800 while checking out at Target locations in Irvine and Costa Mesa between May and December, according to the Orange County district attorney's office.
Democrats Empower Citizens to Restrict Constitutional Rights. [Scroll down] Just imagine if a storeowner in Illinois used crime statistics to argue that he should be allowed to ban blacks from his store. Look at the facts; he/she may argue: blacks are 13% of the population yet commit 56% of the robberies, 28% of the property crime, and 41% of the weapons arrests. The fact is, the black crime rate is higher than that of whites'. Yet no one, especially a Democrat who fights concealed carry permit laws, would dare suggest that this is a reasonable justification for a storeowner to ban blacks from entering their stores. But storeowners fearing guns are allowed to discriminate against concealed carry permit carriers [even though] there is not one iota of evidence that concealed weapon carriers commit crimes at a rate higher than non-carriers.
Self-Hating Americans, Self-Hating Whites. [Scroll down] According to a 30-year study of homicides by the Justice Department, spanning 1976 to 2005, African-Americans, currently 13.2% of the population, committed 52.2% of all murders. They were 7 times more likely to kill than whites. For the most recent year for which arrest records by race are available, 2012, blacks committed 49.4% of murders, 32.5% of rapes, 54.9% of robberies, 30.8% of burglaries, and comprised 43.8% of prostitution and "commercialized vice" arrests. Since the percentages don't include crimes not reported or where a suspect was not apprehended, a lot of gang-related violence is unaccounted for. Victim surveys discredit the idea that the arrest records are skewed by police bias.
The Tragic and Complete Collapse of Racial Relations. What has happened to racial relations? Crime. A small cohort of urban African-American males under fifty — no more than 3-4% of the general population — is responsible for about 50% of many of the violent crimes committed. Blacks are 5-8 times more likely to commit rather suffer an interracial crime, which makes up less than 10% of most violent crime. Both the analysis and solution have become taboo subjects. Writing the above is a near thought crime.
5 Devastating Facts About Black-on-Black Crime. [Fact #3] Despite making up just 13% of the population, blacks committed half of homicides in the United States for nearly 30 years. DOJ statistics show that between 1980 and 2008, black people committed 52% of homicides. In 2013, black criminals committed 38% of the murders. Whites accounted for just 31 percent.
The Real Story about Deceit in Racial Crime Numbers. When you ask, white people and black people report using cocaine in about the same amount. But when you test, black people are six times more likely to use cocaine. And lie about it.
U.S. Postal Service worker pleads guilty to stealing gifts intended for underprivileged kids. A Secret Santa swindler has pleaded guilty to stealing gifts intended for underprivileged kids while she worked for the U.S. Postal Service. Mahogany Strickland, 23, copped to a misdemeanor charge of mishandling the mail Friday [10/23/2015] in Manhattan Federal Court, papers show. She had faced up to 20 years for more serious charges of mail fraud and receipt of stolen mail.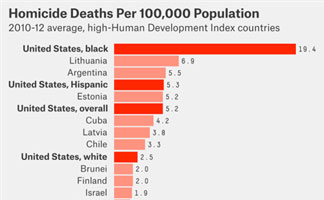 "Black America" Is A Bloody Mess. Please read all of [Nate] Silver's analysis to see how he reached his determination, but the end result is that he determined American blacks are eight times more likely to be murdered than American whites, and while they live in an "advanced country" by any measure, they have a homicide victim rate that you'd expect from a third world hellhole.




Why cops stop blacks: Why cops stop blacks with greater frequency is a question that has been discussed for decades, and with greater frequency since our first black president took office and introduced the concept of injecting presidential opinions and influence into local police/citizen incidents. [...] This legitimate question has become a burning and even lethal issue with some in the liberal and black community, and it is worthy of investigation. The obvious first response is that blacks commit a disproportionate amount of crime in this country, but should one have the temerity to offer that suggestion, one is quickly branded a racist. And we all know that liberals and race-baiters consider that charge a surefire argument-stopper, one that trumps whatever amount of statistical evidence one may produce to substantiate that blacks do indeed commit significantly more crime, proportionately, than whites, particularly crimes of violence.

TSA screener charged with stealing $7,000 diamond watch at JFK airport. A TSA screener at John F. Kennedy International Airport was charged with steeling a passenger's $7,000 diamond watch, authorities said. The screener, Margo Louree-Grant, 41, of Brooklyn, admitted taking the "Diamond Master" watch at a JFK checkpoint on Aug. 26, but told investigators she destroyed it after fearing she would be caught, said Joe Pentangelo, a Port Authority Police spokesman.

It's 1968 Again: Crime an Issue for 2016. Murder is up in New York City, New Orleans, D.C., Baltimore and Chicago, just to name a few Deep Blue hot spots. For Democrats that's a nightmare. [...] The bad old days have returned, and this surge in death and mayhem guaranties that crime will be a 2016 campaign issue.

Guardian Angels are patrolling Central Park again for the first time in two decades amid rise in crime in NYC. [Curtis] Sliwa and eight other Guardian Angels, ranging from graying longtimers to a 20-year-old woman, trooped along roadways, paths and rocky, dark trails for hours one night this week, shining flashlights into thickets, asking people whether they'd had any trouble and eyeballing a quartet of teenagers who quickly took off on bicycles.

Man sneaks into New Jersey home, hides under bed for 3 days, police say. A man sneaked into a central New Jersey home and hid under a bed in a spare bedroom for three days before the homeowner realized what had happened, police say. Spotswood police say Jason Hubbard was charged with burglary in the incident, which occurred in May but wasn't made public until this week. He's also charged with stealing electricity, according to NJ.com, because he allegedly charged his four cellphones in an electrical outlet underneath the bed.

8-month-old baby dies after EMT refuses to respond to call, officials say. A Detroit EMT has been fired after refusing to respond to a call to help an 8-month old baby who was not breathing. According to WDIV, Ann Marie Thomas had finished another call less than a mile away when an EMS supervisor ordered Thomas to respond to the call for service. It's just a two-minute drive away at normal speeds, but Thomas took 6 minutes before telling dispatchers that she had parked around the corner from the scene.

Detroit EMT refuses to respond to infant in cardiac arrest. The EMT told her boss in an internal investigation 'I'm not about to be on no scene 10 minutes doing CPR.'

Detroit EMT Refuses Call to Do CPR on Dying Child. We certainly hope the family of this little girl has retained the meanest, nastiest, greediest personal injury lawyer licensed to practice in the state of Michigan. It's not worth much these days, but they should get the City of Detroit in a settlement.

The New Nationwide Crime Wave. The consequences of the 'Ferguson effect' are already appearing. The main victims of growing violence will be the inner-city poor.

How does one get arrested 111 times without being sent up the river?
Cleveland Man Sheds Pants While Trying to Escape 111th Arrest. A Cleveland man who was arrested for the 111th time on Tuesday shed his pants while fleeing from South Euclid police, according to an arrest report. [...] [Nathaniel] Ferguson was arrested in a similar incident in February, when he was accused of stealing teeth whitening products from CVS. A store employee told police Ferguson is banned from all CVS locations. Ferguson has been in and out of Northeast Ohio jails since his first criminal conviction in 1984. Most of the charges he's racked up are related to theft, robbery and drug possession.

Interracial Crime: Media-driven versus Statistical Realities. The FBI does not record murders by victim's race. But no one could argue that whites murder blacks at a higher rate than blacks murder whites, given that blacks are 6.8 times as likely to murder overall. Yet neither President Obama nor his longtime consigliere, former Attorney General Eric Holder who famously said that we are "a nation of cowards" when it comes to "race related issues" that "continue to divide us," will speak of these statistics. Instead, the Race Industry cherry-picks violent incidents that they can exploit and then falsify as a narrative, to make it appear that blacks nationwide are under constant assault by racist whites. Especially white cops. They isolate a given anecdote and then speak as if it were the rule not the exception, for their political and financial gain.

The perilous new push to excuse lawlessness. Announcing his presidential bid this month, Sen. Rand Paul said he wants to repeal "any law that disproportionately incarcerates people of color." Fulfilling this promise would require gutting murder statutes, and most other criminal laws, given the disproportionate black crime rate. But whether or not Paul reaches the White House, a wide-ranging movement is already under way to transform the criminal justice system in order to avoid a disparate impact on blacks. This push will jeopardize the country's two-decade-long crime drop.

Cops find stolen gun during 'quality of life' stop. A Brooklyn man was busted for biking on the sidewalk — one of the "quality of life" offenses the City Council wants to decriminalize — and cops found he had a stolen, loaded handgun, police said Wednesday [4/30/2015]. Leonard Roberts, 45, was spotted by two patrol cops as he illegally pedaled near the Marlboro Houses in Gravesend around 7:35 p.m. Saturday. He was riding so fast that pedestrians had to jump out of the way, and the officers used their siren to try to get his attention. But Roberts — who has 18 prior arrests and once served 8½ years in prison for armed robbery — ignored the cops and rode into the housing complex, police said.

See if you can guess what they all have in common.
83 Atlanta Public School Cheating Teachers "Unindicted Co-Conspirators" Will Not Be Punished. Those who opted for trial are a small fraction of the original 178 educators and administrators named in the governor's investigative report of teachers changing answers on the Criterion-Referenced Competency Test.

Vandals caught on camera smashing car windows at Dearborn Heights dealership. A Dearborn Heights dealership owners is offering a $1,000 reward for information that leads to an arrest in a costly vandalism act that left dozens of cars damaged. La Marina Auto Sales owner Gus Farias said a group of teens went on a rampage at his dealership Easter night [4/5/2015], smashing car windows with cinder blocks and kicking down car mirrors.

Michael Bloomberg suggests disarming minorities to 'keep them alive'. Former New York Mayor Michael Bloomberg reportedly argued Friday [2/6/2015] that guns need to be kept out of the hands of minorities in order to keep them alive. While speaking at the Aspen Institute, Mr. Bloomberg, 72, said 95 percent of murders fall into a specific category: a male minority between the ages of 15 and 25, The Aspen Times reported.

Another Bogus Academic Study Creates Bogus Headlines. Thanks to the Washington Post, we have new entry in what is surely the fastest-growing industry in academia: bogus studies that purport to show there is no difference between black and white rates of crime. [...] This latest headline from the Post tells a shocking story: "Black teens who commit a few crimes go to jail as often as white teens who commit dozens." Or it would be shocking if it were true. But it is not.

Selfie on stolen iPad helps Houston man ID suspects. A Houston man said he has his iPad to thank for identifying the men who he said stole thousands of dollars in cash and electronics from his truck. "I think they felt elated that they got away with such a big score," said Randy Schaefer.

Time: "Young Black Men Murder 14 Times More than Young White Men". The article is a by an African-American professor and mostly it restates the obvious. It's just that the obvious isn't much talked about.

Parents turn in their OWN KIDS for burglary after recognizing them on surveillance footage. Two parents turned their sons over to police after recognizing them in footage of an electronics store burglary which showed a group of five teens helping themselves to stacks of cell phones and laptops. The mom and dad — who have not been named — took their 14- and 16-year-old children to the police station in Fayetteville, North Carolina, after watching a news broadcast that featured the crime.

Federal Statistics of black on white violence, with links and mathematical extrapolation formulas. Blacks are seven times more likely than people of other races to commit murder, and eight times more likely to commit robbery. Blacks are three times more likely to use a hand gun, and twice more likely to use a knife. Hispanics commit three times more violent crimes than whites, but the statistics are nebulous because sometimes they are classified as white, so it could be far higher. The best indicator of violent crime levels in an area is the percent of the population that is black and Hispanic. Blacks are 39 times more likely to commit a violent crime against whites then vice versa, and 136 times more likely to commit a robbery.

The Color of Crime. New Century Foundation is a 501(c)(3) organization founded in 1994 to study immigration and race relations so as to better understand the consequences of America's increasing diversity. Perhaps the most important publication of New Century Foundation is The Color of Crime, New Century Foundation's report on differences in crime rates by race, bias in the justice system, and interracial crime. First published as a monograph in 1999, the 2005 edition of The Color of Crime is available online as a free PDF download.

The Color of Crime. [PDF]

Commissioner Kelly says almost 75% of violent crime committed by African-Americans. Police Commissioner Raymond Kelly credited the controversial stop-and-frisk tactic for helping to push New York's crime rate to record lows. [...] "The stark reality is that crime happens in communities of color," Kelly told "Nightline" co-anchor Bill Weir Wednesday. "About 70% to 75% of the people described as committing violent crimes — assault, robbery, shootings, grand larceny — are described as being African-American. "The percentage of people who are stopped is 53% African-American," he continued. "So really, African-Americans are being understopped in relation to the percentage of people being described as being the perpetrators of violent crime."

Study: blacks commit 90% of interracial crime. African-Americans commit 90% of the approximately 1,700,000 interracial crimes of violence that occur in the United States every year, and are more than 50 times more likely to commit violent crime against whites than vice versa. Blacks are so much more likely than Americans of other races to commit crimes that police may be justified in stopping and questioning them more frequently — just as they stop men more often than women and young people more often than old people.

When it comes to murder, black people should most fear black people. A United States Department of Justice report which surveyed homicide statistics between 1974 and 2004 stated that of the crimes surveyed, 52.2% of the offenders were Black, 45.8% were White, and 2% were Other Races. Of the victims in those same crimes, 50.9% were White, 46.9% were Black, and 2.1% were Other Races. The report further stated that "most murders are intraracial" with 86% of White murders committed by Whites, and 94% of Black murders committed by Blacks.

Will American Liberals Ever Wake Up? Attorney General Eric Holder, in 2009, said that Americans are cowards when it comes to discussing race. Well, Mr. Holder, I am not a coward, so here is my discussion. [...] From New Century Foundation's The Color of Crime, we learn:
• Police and the justice system are not biased against minorities.
• Blacks are seven times more likely than people of other races to commit murder.
• Blacks are eight times more likely than people of other races to commit robbery.
• When blacks commit crimes of violence, they are nearly three times more likely than non-blacks to use a gun, and more than twice as likely to use a knife.
• Blacks are an estimated 39 times more likely to commit a violent crime against a white than vice-versa, and 136 times more likely to commit robbery.
• Blacks are 2.25 times more likely to commit officially-designated hate crimes against whites than vice versa.

Gas Station Looting Caught On Surveillance Tape. Surveillance video taken Sunday night shows a crowd looting at a Milwaukee gas station. It was just one of the disturbing incidents in Milwaukee's Riverwest neighborhood that evening.

Is Disagreement with Obama Racism? When one says that race is no longer the problem it once was, it is not the same as saying that there are not major problems that confront a large segment of the black population. Grossly fraudulent education is a major problem but it has nothing to do with racial discrimination as evidenced by the fact that the worse education received is in the very cities where blacks dominate the political structure. Crime is a major problem but it has nothing to do with racial discrimination, particularly in light of the fact that blacks commit most of the violent crime in America and well over 90 percent of their victims are black.

Obama's Criminal Silence. Today, I spoke briefly with a liberal member of California's education establishment (forgive the obvious tautology), who told me that his Berkeley home had recently been broken into while he was in Washington, D.C. It's been a wake-up call, he said. We were too lax. We'll be putting in a security-alarm system. And then came the clincher: "This is a very diverse neighborhood." Now what would possibly be the relevance of that euphemism to the likelihood of getting burgled, I wonder?

Racism is not the biggest problem that black Americans face any more. Of course, racism does still exist and will always exist in one form or another. That being said, we've come a long way in this country from the time when black Americans couldn't use the same water fountain as white people, had to sit at the back of the bus, and weren't allowed to go to the same schools as whites. … On the other hand, the illegitimacy rate in the black community is roughly 70% and black on black crime is more dangerous to black Americans than the KKK ever was.

A Tale of Two Cities: The welfare state detaches rewards from behavior. … People are encouraged not to better themselves, but to think in terms of rights and entitlements. … The results are catastrophic. Robberies and street crime – not to mention the unheard of before shootings in broad daylight – have soared to an unprecedented level. Black gangsters are modeling themselves on Jamaican Yardies battling other gangs for control of the lucrative cocaine trade. No one has the guts to mention that the majority of violent criminals using guns and knives are black.

Homicide trends in the U.S.: Charts provided by the Bureau of Justice Statistics show that blacks were seven times more likely than whites to commit homicide in 2002.

Mapping the Unmentionable: Race And Crime. The government makes much detailed information on crime rates by race available. But almost nobody ever tries to learn anything from it.

Milwaukee's black leaders say the enemy is within. Black leaders in Milwaukee say their community is being torn apart from the inside. Civil rights leaders like 57-year-old Prentice McKinney, who fought to free Milwaukee's blacks from the ghetto, say gangs, drugs and violence have left those who still live in the nation's urban cores in fear of the next generation.

The Silence of the Liberals: The reason for the silence stares us in the face. The gangsters themselves are largely black, and Minneapolis's political culture is absorbed in a crusade against the reality that blacks are arrested and incarcerated in numbers that substantially exceed their proportion in the general population.

Why are so many blacks in prison? Between 1976 and 2005, blacks have been killing other people at a rate 6 to 9 times higher, every year, than the comparable homicide rates for whites. Furthermore, these statistics are skewed in favor of blacks, because the "white" category includes also Hispanics who identify themselves as whites but whose crime rates are far higher than those of non-Hispanic whites.

Three Former JFS Workers Accused Of Food Stamp Fraud. Former Hamilton County Jobs and Family Services workers are accused of obtaining more than $100,000 in food stamps and other benefits for friends and relatives. Deters said Savoy Walker, Jacqueline Ward and Tamikia Mosley obtained cash, food stamps and Medicaid benefits totaling about $130,000 for 12 people. Those 12 people, as yet unnamed, are facing charges of receiving stolen property for accepting the benefits.

Police sources say teen gang targeting the elderly responsible for dozens of home invasions. 7 Action News has learned that two Detroit teenagers have been charged with robbing the 80-year-old mother of NAACP President, Reverend Wendell Anthony. They were arrested after a high speed chase and shootout with Detroit Police. The teens are suspected members of a gang that has been targeting the elderly.

No justice, no agitation. Murder is largely an intraracial crime. Almost all murders of blacks are committed by other blacks. Blacks as a group commit murder at a rate astronomically higher than other groups. The rate of murder committed by blacks exceeds that committed by whites by approximately seven times. ... If race hustlers like Al Sharpton really had the interests of the black community at heart, they would devote themselves to doing everything in their power to have violent black criminals separated from the community of law-abiding black citizens. The criminals are serial tormentors of law-abiding members of the black community.

The Old Race Card. The Cambridge police did not act stupidly. And if police do stereotype, it may be because 12% of the population commits almost half the violent crime in the nation. In the case of rare black/white and white/black murdering (94% of murdered African-Americans were killed by other African-Americans), a minority is more likely to commit murder (and rape) against a majority than the majority is against the minority.

How Many Crimes Did the New Black Panthers Commit in Florida? Let's start with solicitation to kidnap. In announcing a reward for the seizure of [George] Zimmerman, the New Black Panthers may have violated Florida Code 787.01. It makes it a felony to "by threat, confining or abducting, or imprisoning another person against his ... will without lawful authority with intent to ... terrorize." Merely soliciting someone else to do this is also a felony in Florida under Florida Code 777.04.

New Black Panthers Activity Against Zimmerman May Be Criminal. Florida law makes it a felony to unlawfully seize somebody as a mob, or "at the behest of a mob." Again, solicitation to commit this crime is also a crime. It's a felony, too, to interfere with the administration of government with use of force — and yes, again, solicitation is a crime.

New Black Panther Party seeks citizen's arrest of George Zimmerman. Death threats and a $10,000 bounty offered for a citizen's arrest of George Zimmerman have raised concerns about the threat of "vigilante justice" in the racially charged case. A group identifying itself as the New Black Panther Party is offering $10,000 to anyone who makes a citizen's arrest of George Zimmerman in the Trayvon Martin slaying.

Birmingham News Drops the Ball on Black-on-white Crime. Yesterday I reported on the stabbing of white truck driver Nick Stokes by members of a black motorcycle gang called the Outcasts of Alabama. It's not merely a scary story but also an unusual one, mostly because of the behavior of law enforcement. The Adamsville, AL police department not only failed to question or detain any of the gangsters, but, outrageously, also told Stokes that they "don't mess" with the Outcasts. What isn't at all unusual about the story is the mainstream media's reluctance to cover a case of black-on-white crime. In particular, I cited the Birmingham News (BN), whose crime-beat reporter, Carol Robinson, had brusquely dismissed the incident as not newsworthy.

Cops: Fast-food worker spit in customers' drinks. A South Carolina county's deputies say a McDonald's employee spit in two customers' cups of iced tea after the drinks were returned because they weren't sweet enough.

South Carolina McDonald's employee, arrested for spitting in customers' drink. Greenville County investigators say surveillance video caught [Marvin] Washington [Jr.] leaning over the cups before he filled them Saturday [4/21/2012] at the restaurant.

The Editor says...
Marvin Washington, Junior, is merely following in the footsteps of the "black community leader", Jesse Jackson. See below.

Look it up! Life Magazine, November 29th, 1969, Page 68.
Spitting in Whitey's Food. Jackson talks about himself at these meetings. Once he told of his days as a waiter at the Jack Tar Hotel in his home town of Greenville, S.C. Just before leaving the kitchen he would spit into the food of white patrons he hated and then smilingly serve it to them. He did this, he said, "because it gave me psychological gratification." It was something everybody in the audience understood.
Also quoted here.

Ugly Truths About Prejudice. [Scroll down] The source of this nasty prejudice about blacks and crime is the fact that black crime rates are extremely high. Most of it is directed against other blacks, but that doesn't change the perception by Americans (black, white, or purple). Black murder rates are roughly 4.5x what you would expect for their proportion of the population, with similarly disproportionate rates for robbery (4x), aggravated assault (3x), burglary (3x), forgery and counterfeiting (3x), fraud (3x), and rape (3x). You don't have to read the FBI Uniform Crime Reports to know this, either. Essentially everyone (white or black) who has ever lived in an urban area in the U.S. has first-hand experience of this. There is only one way to fix this problem of racial prejudice — and that is to reduce black crime rates to a level commensurate with the black population. The glorification of criminality in urban black culture is shocking and destructive. It encourages more of the same, and teaches young black men that this is an acceptable cultural form.

Sharpton could use a visit to Chicago. Well, Sharpton isn't as guilty of it as others — and yes, think Michael Eric Dyson and Tavis Smiley here — but there have been times when he has lamented the numbers of black men in prisons and jails. There is absolutely nothing wrong with black men being in either jail or prison if that happens to be where they belong.

Teens Arrested For Cutting Hole in Mall Roof to Steal Air Jordans. Two teenagers were arrested this week after cutting into the roof of a mall in Houston to steal Nike Air Jordan sneakers. A security guard at Greenspoint mall, on the north side of Houston, saw the thieves in the Foot Action store early Wednesday morning [8/22/2012] and called police. John Grant, 19, and another male, 16, were arrested at the scene, but a third suspect believed to be around the same age fled.

Someone In Detroit Pointed A Gun At A Google Street View Car. Google captures its Street View images by literally driving a camera-equipped car down the road while snapping photos. As such, the company tends to capture some weird images. [One image], captured by a Google car in Detroit, clearly shows a group of people hanging out on a porch brandishing a gun. Another image clearly shows one of them taking aim at the Google car.

The Editor says...
Yes, and if you drive through that neighborhood, they'll point a gun at you, too.

Detroit ranked most dangerous city in the country fourth year in a row. For the fourth years in a row, Forbes.com has rated Detroit, Michigan, as the most dangerous city in the country — with a violent crime rate of 2,137 per 100,000 residents.

Detroit Tops The 2012 List Of America's Most Dangerous Cities. The best crime news out of Detroit these days is that the rate of violent crimes — murder, rape, robbery and aggravated assault — fell 10% last year to 2,137 per 100,000 residents. That's still more than five times the national average and more than enough to make Detroit America's Most Dangerous City for the fourth year in a row.



D.C. barbershop owner pleads guilty in $20 million ID fraud operation. The owner of a D.C. barbershop pleaded guilty to a $20 million identity theft and tax fraud scheme that stole personal information from nursing home patients, dead people and victims who were duped into believing they were getting "Obama Stimulus Money." The massive scam involved more than 100 participants, including postal workers and bank tellers, who schemed to file more than 7,000 fake tax returns seeking to rip off $20 million over six years.

How do you feel walking alone at night? A list of the scariest — and safest — cities. It's a good thing this column is available online, so that residents of Memphis, New Orleans and Riverside, California can learn how unsafe their city is without having to venture outside. Those are the bottom three metropolitan areas where residents said they felt least safe walking alone at night in their neighborhood.

80-year-old Flint man fires shots at five robbery suspects. An 80-year-old Flint man fired two shots at five male teenagers attempting to rob him Thursday, April 11 in the driveway of his Helber Street home. The homeowner called police around 9:45 p.m. to the home and told officers he'd fired two shots at the suspects, who had guns, in self defense, according to a police report.

The Editor says...
It's Flint, Michigan, there were five thugs fighting one old man, and there's no mention of the suspects' descriptions. Therefore the perpetrators must have been black. Prove me wrong and I will post a retraction.

Deadbeat dad has 22 kids with 14 women, sued for child support. Orlando Shaw guessed he had fathered 18 children with 17 women, but he really has 22 children with 14 women, making him the "most expensive deadbeat dad" in Tennessee history. Shaw appeared in court in Nashville when Child Support Services sued on behalf of the mothers for tens of thousands of dollars in unpaid child support over the years.

The Neighborhood Zimmerman Watched. From the start the facts seemed to be of little importance to the prosecution of George Zimmerman, whether at the State's table in Florida's 18th Circuit Court or in the court of public opinion. The forces lined up against Zimmerman worked diligently to bury the background to his confrontation with Travyon Martin in February of 2012 — namely, the rampant crime, frequently committed by black males, that had put his neighborhood on edge. As the "conversation" about the Zimmerman case and about race in America continues, these widely neglected facts should be exhumed.

Scheindlin's List. In 2012, 74% of shooting victims in New York City were black, as were 75% of those arrested for these shootings. Blacks also comprised 73% of all firearm arrests. They were also the victim 38% of the time, and the arrestee in 48% of all rapes. 60% of murder victims were black, as were 51% of those arrested for murder. Blacks were the victim of 32% of all robberies and were the arrestee 62% of the time. 52% of those arrested for felonious assault were black.

Who you callin' boy?
14-year-old Newark boy killed had 30 bricks of heroin and loaded gun in his bedroom. The 14-year-old boy shot and killed in a Terrell Homes at Riverview Court courtyard Wednesday night [9/4/2013] had 30 bricks of heroin and a loaded handgun in his bedroom, according to law enforcement sources and police documents. The victim, identified as Ali Rajohn Eric Henderson, had several prior arrests for drug possession and robbery, according to police documents and law enforcement officials familiar with the investigation who declined to be identified because they are not yet authorized to speak about the investigation.

Nearly Half of Black Men [are] Arrested by Age 23, Study Finds. Nearly 50 percent of black men and 40 percent of white men are arrested at least once on non-traffic-related crimes by the time they turn 23, according to a new study.

The Most Corrupt Village in America. When the police stopped Luvina Mobley Smith, they found a pound of pot in her car and five EBT food stamp cards which drug dealers often take in payment for drugs. It would have been an ordinary enough story except that Smith, despite being a convicted felon, was also the Deputy Clerk of Alorton. Luvina is the daughter of Callie Mobley, Alorton's former mayor, who had collected double her salary and served time in jail for income tax evasion. Mayor Mobley, who had been the mayor of Alorton for two decades, had been doing the same thing back to her days as liquor commissioner. [...] Alorton, an African-American village run by Democrats, may actually be the most corrupt village in Illinois and the United States.

Pennsylvania Democrats Walk Out of Hearing on Members Accused of Taking Bribes. This morning, the Pennsylvania House State Government Committee held a hearing on the case of the Democrats caught accepting bribes in exchange for voting against voter ID in the state. The case against the Democrats is well-documented, yet Pennsylvania Attorney General Kathleen Kane, a Democrat, scuttled it shortly after she took office. Kane also accused the career investigators who built the case of racism. That charge doesn't stand up to any level of scrutiny. The investigation targeted Republicans and Democrats, male and female, black and white. As it so happens, only Democrats chose to accept the bribes, and those members who did happen to be black.

Authorities confiscate $3M worth of shoes from Kentucky home. According to a search warrant filed last week, the shoes were supposed to be shipped in 2009 from a Nike distribution center in Tennessee to another one in Texas, but never made it.

How Covering up Minority Crime Leads to Gun Control. Why is it that Vermont, with approximately the same rate of gun ownership as Louisiana, has less than one-eighth the murder rate? [...] In the cases of homicide in 2012 in which the races of the perpetrators were known, 55 percent were committed by blacks, 62 percent of whom were under 30 years of age. Black youths are 16 percent of the youth population, but constitute 52 percent of those arrested for juvenile violent crime. [...] And while whites are 35 percent of NYC's population, blacks and Hispanics commit 96 percent of all crime in the Big Apple and 98 percent of all gun crime.

Jersey City man with 77 prior arrests charged with burglarizing Newport mall store. A Jersey City many with 77 prior arrests in three states has been charged with burglarizing a Newport Centre Mall store yesterday hours after the store had closed for the day, officials said. Michael Barton, 44, [...] has been arrested 36 times in New Jersey, where he has 25 disorderly persons convictions and a criminal conviction for drug possession, court officials said.

Anthony Cumia Gets Attacked, then Fired. Anthony Cumia gets attacked all the time: Most often for telling the truth about black crime and violence that is stratospherically out of proportion. And how reporters condone it. On Thursday night, July 3, his bosses at Sirius XM radio fired him for it.

Home Owner Wants Out Of Scenic City Due To Chattanooga Gun Crime. This is Michael Barr's home, it's a historic 4 bedroom house he says he has put over 80k into renovations since 2012. But for the veteran originally from Maryville Tennessee, this dream home has become a nightmare. "Closer to downtown, we are here on east 14th street, a lot of the cars here make my house vibrate from the music coming out of their cars every time a car does drive by i'm [sic] always looking up to see if there will be a gun sticking out of the window to shoot me[.]" Earlier this week 4 teens were shot just feet from his front door after he says others tried to break into his home.

Airport baggage handlers booked on theft charges after guns, electronics go missing from luggage. Three baggage handlers at Louis Armstrong International Airport were arrested Thursday (Sept. 24) in connection with the theft of guns and electronics from checked luggage, the Jefferson Parish Sheriff's Office said in a news release. Neishel Santana, 22 was booked on charges of theft and possession of stolen property. Derrin James, 19, was booked on two counts of theft of a firearm. Romalice Honeycutt, 23, was booked on a charge of being a principal to theft of a firearm. They were caught after Dallas law enforcement, investigating the theft of a laptop from luggage on an American Airlines flight out of New Orleans, found out through a pawn-shop database that the computer had been sold at Jefferson Parish pawn shop and contacted local authorities.

Woman accused of filing fake $94 million tax return. A woman accused of filing a phony state tax return for $94 million was arrested when she attempted to claim her check at a Cobb County bank, Channel 2 Action News reported. Brigitte Jackson was arrested and charged with attempted theft by taking and conspiracy to defraud the state, according to an investigator with the Georgia Department of Revenue. "It doesn't matter if it's $94 or $94 million," Special Investigations Chief Josh Waites told Channel 2. "We're going to go after you and hold you accountable."

4-year-old hands out heroin at daycare. A Delaware mother was arrested on Monday [10/6/2014] after her four-year-old daughter unknowingly brought roughly 250 packets of heroin to her daycare, and passed them out to classmates thinking they were candy, police said.

Wichita man sentenced in theft of wedding ring from dying woman. A Wichita man has been sentenced to prison for his role in the theft of a wedding ring from a dying woman's hand. Forty-three-year-old Danielle Zimmerman was pulling into southeast Wichita Taco Bell drive-thru last December when she suffered a brain aneurism. While unconscious in her car, her purse, cell phone and wedding ring were stolen. She died the next day at an area hospital. Police later arrested three suspects: Daquantrius Shaquill Johnson, Quanique Dontrell Thomas-Hameen and Keith Byron Hickels, Jr., all 19 years old.

New Data: It's Still about Black-on-Black Crime. Unfortunately, the FBI continues its usual practice of combining whites and Hispanics into the single category "white," thus overstating white crime and victimization rates. Even so, the data are telling. A "white" homicide victim is over twice as likely to be killed by a black than a black homicide victim is to be killed by a "white." Sixteen percent of "white" victims in homicide incidents involving a single victim and single offender were killed by blacks, compared with only 7 percent of black victims who are killed by "whites." Given the fact that blacks are less than 13 percent of the national population, their homicide rate against whites and Hispanics combined is vastly disproportionate to their share of the population.

Quite possibly the most racist article you will ever read. Every now and then you come across an article that folks just need to read. This one written by Michael Smith entitled, "Confessions of a Public Defender" and originally posted at American Renaissance on May 9, 2014 is one of those articles.

Confessions of a Public Defender. I am a public defender in a large southern metropolitan area. Fewer than ten percent of the people in the area I serve are black but over 90 percent of my clients are black. [...] The media invariably sugarcoat black behavior. Even the news reports of the very crimes I dealt with in court were slanted. Television news intentionally leaves out unflattering facts about the accused, and sometimes omits names that are obviously black. All this rocked my liberal, tolerant beliefs, but it took me years to set aside my illusions and accept the reality of what I see every day.

Lisa Crinel, former Zulu queen, charged in alleged $30 million Medicare fraud scheme. Prominent New Orleans businesswoman Lisa Crinel, the 2004 Zulu Queen, faces federal charges in a scheme prosecutors say defrauded Medicaid for $30 million for bogus home health care fees, according to an indictment announced Thursday (March 12) by U.S. Attorney Kenneth Polite. Crinel, 51, the owner of Abide Home Health Services, was one of 20 people named in the 26-count indictment alleging that from 2008 until charges were filed Thursday [3/12/2015], her company was the centerpiece of a scam that charged Medicaid program for services clients either didn't need or were never performed.

Police Make Arrest in "Devastating" Da Vinci Fire in Downtown LA. Dawud Abdulwali, 56, of Los Angeles was arrested without incident Tuesday morning [5/26/2015] on an unrelated traffic charge and was later booked on suspicion of aggravated arson and arson of a structure, according to a written statement from the Los Angeles Fire Department.



Black crime in Chicago



Chicago's Murder Problem. Already embroiled in a crisis over race and police conduct, Chicago now faces a 62 percent increase in homicides. Through mid-May, 216 people have been killed. Shootings also are up 60 percent.

Aspiring rapper killed after music video about guns turns into bloodbath. An aspiring rapper was killed and four others injured — including one woman who was shot twice in the groin — while filming a music video about guns in a Chicago park at around 2am Tuesday [4/19/2016]. The video, for a song called 'Two Techs and a 50 Shot' — a reference to guns — was to feature a 'party scene' filmed in Foster Park, but the day's filming ended badly when an unknown suspect or suspects opened fire, killing Damond Dawson.

Video Shows Clerk Foiling Robbery Ring in Des Plaines. Dramatic surveillance video shows a quick-thinking grocery store clerk who helped bust a robbery ring in suburban Des Plaines [3/26/2016]. [...] Surveillance cameras captured the 16 year old, wearing a hoodie as he approached the counter with an item from the store. When the clerk arrives, the juvenile then pulls out an air soft gun. The clerk then reaches behind the counter and pulls out his own gun. The teen then runs out of the store as did another 16-year old who was with him. The clerk fired shots after them, but no one was hurt.

Man Who Shot 3 Officers Had 7 Convictions, 43 Total Arrests, Police Say. The man that shot three Chicago Police officers following a drug investigation Monday was a gang member with a litany of felonies and other convictions to his name, police said Tuesday [3/15/2016]. Three Chicago Police officers were treated for non-life threatening wounds after being shot by Lamar Harris, 29, on the West Side Monday night. Harris was fatally shot by the officers he attacked, police said. Harris is documented gang member who has been convicted seven times, including five felonies and two misdemeanors, according to \ Chicago Police. He has been arrested a total of 43 times, police said.

Decades of big government have made Chicago ungovernable. Read the headlines from the city that two generations of Daleys governed effectively. Young males, usually blacks, are dying on the streets often from run-ins with the police. For a certitude, they are acting recklessly, carrying weapons, often knives and guns, but the cops are acting aggressively. Just the other day a young man, agitated and carrying a baseball bat, was shot to death by a cop. Obviously, Chicago cops are dangerous. Moreover, city government seems to be covering up for them.

Tyshawn Lee and Laquan McDonald. Tyshawn Lee's murder has prompted a good deal of outrage and soul-searching in Chicago, but nothing like the marches and demonstrations protesting the death of Laquan McDonald. Today [11/27/2015] Superintendent McCarthy announced that gang member Corey Morgan has been arrested and charged with first-degree murder in the death of Tyshawn Lee. McCarthy said that the police are pursuing several additional defendants.

Man Charged In Execution-Style Killing Of 9-Year-Old Tyshawn Lee. A 27-year-old man has been charged in the execution-style shooting of 9-year-old Tyshawn Lee. Corey Morgan, of the 7800 block of South Hoyne Avenue, has been charged with first-degree murder, according to the Cook County State's Attorney's office. He was due to appear for a bond hearing Friday afternoon [11/27/2015].

Chicago rapper Capo dead in drive-by; fleeing suspects kill baby in hit-and-run. The rapper Capo, a member of Chief Keef's Glo Gang, was killed in a Chicago drive by — and the fleeing shooters mowed down a baby boy in a stroller as they sped away, authorities said. The 22-year-old was shot in the hip and back about 1:40 p.m. on Saturday [7/11/2015] in the city's South Side, police said. The suspects fled after the shooting and plowed into the 13-month-old boy just over three miles away, Chicago police Officer Veejay Zala told the [New York] Daily News.

Who gets shot in Chicago? It turns out that being arrested with someone else is the best predictor of who will get shot in Chicago. No, not by the police, as the Al Sharptons of the world would like to claim. Shot by another civilian, in the epidemic of shootings that have made Chicago at some times more dangerous than Baghdad.

334 blacks killed 2014 in Chicago — no riots. If black lives really matter to leftists and other bandwagon, anti-cop jumping blacks, then were's the outrage here? 334 black lives have been taken (as of 12/22) in Chicago this year. Yet, do you hear about this stat from the liberal media, or other blacks who are so outspoken about the how blacks are targeted by white cops? The 334 blacks killed so far in 2014 in Chicago weren't killed by other cops, they were killed simply for being in the wrong place at the wrong time, i.e., Chicago. The vast majority of the 334 blacks killed this year in Chicago were also killed by other blacks. But where's the so called black lives matter campaign here?

Minority Feelings and Violent Facts. What is the most important thing about mobs of black teens attacking and seriously injuring innocent pedestrians and businesses? The feelings of teenagers who share the race of the attackers, according to Chicago's local CBS affiliate. That's right: Mobs of teenagers have unleashed terror in the streets of Chicago and other cities in "flash mobs," and the best thing CBS in Chicago has to say about that is that black teenagers are worried about racial profiling.

Chicago's Violent Flash Mobs. Most of these flash mob incidents involved African-American youths who use social websites and cell phones to coordinate their activity. According to Jack Marshall, "The Chicago media has adopted an odd policy in reporting the incidents: it has not reported the fact that the mobs were made up of African-American youths." Flash mobs of African-American youths are not the only reporting about race that is ignored in the Chicago media. For too long the media has ignored the hypersegregation in the city, as well.

Man, 7 teens charged in downtown muggings. An 18-year-old man was charged along with seven teenagers who were charged with mob action following a series of muggings carried out Saturday night [6/9/2012] by groups of attackers, including one that left a visitor from Michigan hospitalized with a broken jaw.

Cops: Man beaten by group in Gold Coast neighborhood. The group of attackers was comprised of between 15 and 20 males and females, police said. Preliminary police reports indicated that they may have been teenagers. Police are listing the attack as a battery and there is no indication that the man was robbed, said Chicago Police Department News Affairs Officer Robert Perez. The attackers did not appear to say anything to the man to indicate why he was targeted, Perez said. "It was without provocation, they just attacked," Perez said.

Victim describes mob attack. At least three people were injured in mob attacks in downtown Chicago this weekend. One of the victims is speaking out about the incident.

Victim: 'They were enjoying frightening people'. All the young doctor wanted to do was walk home from the hospital after work to his wife and child. That walk, one he's taken for years, takes him through the quiet and wealthy Streeterville neighborhood. "It's only four blocks from the hospital to my home," the 36-year-old doctor told me. "But now I have to take a cab. Do you believe it? A cab for four blocks? I'm never going to walk it again, not after what happened to me Sunday night."

Victim of CTA Red Line attack: 'They did a number on me'. The 23-year-old man didn't think much about it when a large group of teenagers got on the Red Line train as he, his wife and a friend returned from a weekend concert at Wrigley Field — especially since a girl in the group was clutching a baby. But the man's enjoyable evening out Saturday quickly took a violent turn.

Chicago's unreported race war. According to a statement in the Chicago Tribune, reporting on the race of individuals involved in news events, such as mobs attacking, robbing and vandalizing, is irrelevant. A news anchor at the ABC affiliate in Chicago goes even further: Anyone who reads or writes about the epidemic of racial violence in Chicago is an "idiot" who engages in "meaningless ... race baiting," says Ravi Baichwal. City officials and the media might be the only two places left where people still deny Chicago is under assault from more than 50 episodes of black mobs attacking, beating, robbing and vandalizing over the last three years in and around downtown. [...] And according to the award-winning police blog Second City Cop, there may be 25 more incidents of mob violence and lawlessness in that weekend alone that were never reported.

Racial violence explodes in more states. While most Americans were commemorating the nation's birthday, racial violence, lawlessness and animosity marred Independence Day celebrations in Georgia, Florida, Ohio, California, Texas and Illinois. Chris Rock started the day off with a bang: "Happy white peoples Independence Day," he tweeted. "The slaves weren't free but I'm sure they enjoyed fireworks." In Chicago, Ill., some were enjoying the celebration until they were set upon by a mob of dozens of black people intent on violence. One man was taken to the hospital, where he remains in good condition. Eleven black people were arrested and charged with assault.

Three teens charged in videotaped fatal attack on disabled man. Malik Jones, 16, now faces first degree murder charges after police saw the video of the attack posted on his Facebook wall. Two others also were charged with murder: Nicholas Ayala, 17, of the 6300 block of North Talman, and Anthony Malcolm, 18, of the 5500 block of North Broadway, police said. Father-of-12 Delfino Mora fell, hit his head and died as a result of the attack early Tuesday morning [7/10/2012] in a West Rogers Park alley, it's alleged.



28 Arrested In Mob Attacks On Mag Mile, Red Line. The warmest day of the year so far brought hundreds of teens to Michigan Avenue on Saturday [3/30/2013]. Police were calling it "mob action." CBS 2 has learned about multiple incidents in at least four different locations along the Magnificent Mile and in the Gold Coast, yielding a slew of arrests. In all, 25 juveniles and three adults were charged. Many innocent shoppers and tourists became caught in the middle of a very chaotic situation. Hundreds of teens littered Michigan Avenue and State Street near Chicago.

Wilding Downtown. Right in the heart of the tourist area. Estimates of up to crowds of 400. The radio is squawking about State and Chicago, Huron, Ohio, Orleans. Wagons have been called in from at least 4 districts. The Mounted Unit has been clearing streets and breaking up crowds of "youths" for the past few hours.

ISRA: One Rampage Too Many — Police Superintendent Garry McCarthy Has To Go. The ISRA [Illinois State Rifle Association] is once again calling upon Chicago Mayor Rahm Emanuel to fire Police Superintendent Garry McCarthy. This latest call for McCarthy's ouster comes after a mob of young thugs — estimated to be in the hundreds — swarmed the Magnificent Mile shopping district Saturday night [3/30/2013] and began beating dozens of innocent shoppers. This latest mob action appears to be the most serious in a string of events over the past two years involving gangs of youths randomly attacking shoppers on North Michigan Avenue.

Attacks on Mag Mile, CTA. An outbreak of wildings on North Michigan Avenue and a separate attack on a CTA Red Line train culminated in the arrest of 25 juveniles and three adults on a sunny and warm Saturday that drew the usual crowds to the Magnificent Mile. Seventeen of the arrests were made around 6 p.m. near Chicago and Michigan after a mob of young people started fighting among themselves, bumping into bystanders and blocking sidewalks and traffic.

Hundreds of rampaging teens target pedestrians in crazy flashmob-style attack on Chicago's Magnificent Mile. Around 400 teenagers brought chaos to downtown Chicago over the weekend with mobs of youngsters attacking pedestrians leading to over 28 arrests. Police were called to disturbances along the Magnificent Mile area between Michigan and Chicago Avenues on Saturday night.

Top cop defends police response to downtown disturbances. Chicago police Superintendent Garry McCarthy said today that his officers responded effectively to a number of disturbances in the downtown area involving large groups of teens on Saturday night that led to nearly 30 arrests ranging from bumping into passersby on sidewalks to attacking women aboard a CTA train. Eleven of Saturday's 28 arrests came about 6:35 p.m. when a group of teens attacked two women aboard a train at the State/Lake station in the Loop and snatched one of their purses. The women were bruised during the attack but declined medical treatment.

Chicago Running Out of Euphemisms. Pity the poor Chicago reporter. She is running out of ways to describe black mob violence without using the words "black mob violence." [...] It's a pretty easy gig: Or it was until the black mobs started showing up three years ago. Since then Chicago has seen at least 50 episodes of black mob violence of all shapes and sizes in all parts of the city: Stealing, beating, destroying, vandalizing, terrorizing, stabbing, even killing. All of a sudden, the reporter must turn color blind. And ignore the central unifying feature of the violence: Everyone involved is black.

Media label black-mob violence 'mischievous teens'. Chicago media are running out of ways to avoid talking about black mob violence. Over the weekend, 500 black people rampaged through several Chicago neighborhoods: beating, pushing and attacking police and tourists and residents. Even a police horse.

Man chased Gold Coast robber because 'I was sick of it'. [Gary] Dailey, 51, on his way to meet his girlfriend near a "quiet crowd" of children and adults, was confronted with something less quiet — a large, noisy group of individuals crowded into the center of a tunnel that led under Lake Shore Drive near Division Street. "They were screaming and yelling and scaring everybody," said Dailey, indicating that there was a crowd of about 40 people backed up while the rowdy group was "roughhousing" in the center of the tunnel.

Surveillance Video Captures Flash Mob Robberies At 3 Chicago Area Stores. Unbelievable surveillance video captured flash mobs dashing into store after store and running out with armloads and sometimes entire racks of sporting goods. It has happened at three different Sports Authority stores in the Chicago area.

Next-Generation Flash Mobs: The Breakdown of Law & Order. As local police departments cut personnel due to excessive spending and budgetary restrictions, cities all across America are rapidly degenerating into gang infested war zones. In the city of Chicago, which has been one of the hardest hit during the opening stages of a greater depression sweeping the country, law enforcement officials compared the situation on the ground to the kind of tribal warfare one might see in places like Iraq. With law and order breaking down, residents of the city have been caught in the middle.

Stone cold silence. The Daley dynasty in Chicago may be giving way to the Obama-Emanuel political machine, but one thing remains constant across the city: youth violence and a collective refusal to acknowledge its root cause. A year after the beating death of a Chicago teen by his fellow students, Chicago remains in denial about the driving factor behind such mayhem: the disappearance of the black two-parent family.

Police: Chicago had no shootings in 24-hour period, first time in nearly a year. Chicago saw something this week it hasn't seen in nearly a year: An entire 24-hour period where there was not a single shooting or murder. Police say the period of quiet happened Wednesday [1/18/2012].

The Editor says...
Wow, what a great achievment — a whole day without a murder. That's like congratulating a Hollywood couple for being married more than a year. Or being married at all.



Four Chicago Neighborhoods Named on List of 25 Most Dangerous. NeighborhoodScout, a real estate blog, has compiled FBI data from 17,000 local law enforcement agencies to rank America's 25 most dangerous neighborhoods. Chicago has four neighborhoods on the list, tied with Detroit for the city with the most neighborhoods listed.

Veteran With Concealed Carry Permit Shoots Back At Chicago Gunman. One of the spate of shootings that took place in Chicago, Ill. over the July 4th holiday weekend involved a veteran with a concealed carry permit who was forced to a shoot a man who began firing on him and a group of friends. The incident occurred Friday night [7/4/2014], the Chicago Tribune reports.

Prosecutor: Teens killed man in 'knock 'em down' game. Three teenagers accused of killing a 62-year-old father-of-12 in West Rogers Park were playing a game called "Pick 'em out and knock 'em down" when they videotaped themselves punching him in the face, prosecutors say. Malik Jones, 16, Nicholas Ayala, 17, and Anthony Malcolm, 18, were caught after the video of Jones fatally punching Delfino Mora was posted on Jones' Facebook page, according to authorities.



Police: Grandson killed, robbed 72-year-old man who was headed to dialysis. William Strickland waited for his grandfather to step out of his South Side home to take his paratransit ride to a kidney dialysis appointment early March 2, authorities said Saturday — then stood behind the 72-year-old man, shot him six times in the back and stole his wallet, leaving him to die just steps from his home. Prosecutors said Saturday that Strickland, 19, used the money he took from his grandfather, who also was named William Strickland, to pay for new gym shoes, a cellphone and tattoos.

Woman killed for tip money, 2 men charged, 1 at large. Three men have been charged with killing 24-year-old Jacqueline Gardner and taking the tip money she earned from her restaurant job on May 19. One of the three men, Stephen Lee Henderson, 25, of Gary, is still at large and considered armed and dangerous, Schererville police said Wednesday [5/23/2012].

Black Leaders Ignore Black-on-Black Crime. Derrion [Albert] had walked into the middle of a fight between two rival black gangs. He attempted to help one of the victims in the melee and was killed for his trouble. This took place in Barack Obama's Chicago. All his work for "social justice" did a great deal for Obama, but it did nothing for Derrion Albert.


Black crime in Detroit



Chilling video shows what it is like driving through Detroit at night. It has become known as a mecca of violent crime and poverty, and now a viral video is giving an unpleasant view of Detroit after dark. The clip, called Driving through Detroit at night, was filmed by a woman who was a passenger in a car going around the Motor City and was posted to Twitter at the weekend. It shows terrifying scenes of gangs gathered on the sidewalk, prostitutes lifting up their skirts and dancing, and even a man being run over by a car on purpose.

Legally armed victim shoots his attackers, leaving one robber in serious condition. A licensed gun carrier that was being robbed shot at his attackers Thursday morning [6/30/2016] on the city's west side, hitting at least one of them. [...] The other three suspects, all in their 20s, took off.

Three charged with murder in choking death of 13-year-old Detroit boy. Two men and a woman were charged Thursday [6/9/2016] in the abduction and killing of a 13-year-old boy whose body was found a week ago in a vacant lot in Detroit.

Man arrested after string of attacks on men in Detroit. A 28-year-old man was charged this week with sexual assault and kidnapping after allegedly using a gay dating app to lure victims, police said Wednesday [3/23/2016]. Elazar Withers was charged Tuesday, after he allegedly met his victims through jack'd, a gay dating app. He was arrested Monday during a traffic stop. Three men were robbed and two sexually assaulted in less than six hours Friday, Assistant Detroit Police Chief Steve Dolunt said.

Woman opens fire at Detroit gas station after hiding gun in her underwear. A woman was caught on surveillance video pulling a gun out of her underwear and opening fire at a Detroit gas station early Sunday morning [3/20/2016]. [...] The surveillance video, part of the city's "Project Green Light Detroit" partnership with local gas stations, led cops to the woman.

Detroit man, 91, beaten, doused with gasoline and set on fire in homicide with killer still on the loose: police. A 91-year-old man was beaten, covered with gasoline and set on fire in a homicide in northwest Detroit early Monday, police said. [...] Investigators also found a possible gunshot wound on Monchnik's head, and they're still waiting for autopsy results before they name his official cause of death, according to the Detroit Free Press. Police have released a security camera image of a [BLACK] suspect they say was seen buying a jug full of gasoline at a nearby store.

Detroit pastor shoots, kills hammer-wielding church intruder. Cops say Deante Smith, 25, attacked the unidentified pastor [10/18/2015] and threatened several parishioners of The City of God church with a brick and hammer, FOX2 reported. Police said the attack was not random; the pastor and Smith knew each other and the two have had problems in the past.

Two Couples Ambushed By Group Of Men While Walking Down Detroit Street, Stripped Of Clothes And Sexually Assaulted. According to police, a 22-year-old man and his 21-year-old girlfriend were walking along McNichols when they were approached by a group of six men. The men reportedly forced the couple behind a nearby business where they were robbed and stripped of their clothes. The group then allegedly took turns sexually assaulting the woman. After the attack was over, the nude victims ran to a nearby liquor store for help.

The Butchers of Planned Parenthood. Mitchelle Blair, not knowing what to do with the bodies of two of her children, whom she had murdered, stuffed them in her freezer. She'd tortured them for months first — strangling them, suffocating them with plastic bags until they passed out, starving them, burning them with boiling water. She said she killed her son by accident; she'd intended to torture him further. Her daughter she killed on purpose. "If I had the chance to do it again, I would," the mother said. Pleading guilty, she asked the court to impose the death penalty on her. Prosecutors regretfully informed her that Michigan has no death penalty. Of course the children had different fathers. Of course this was in Detroit. Of course they all resided in a beyond-dismal housing project called the Martin Luther King Homes, a pit of despair that those of us whose faith is less than unshakeable might in our weakness suspect has been abandoned by the One of Whom the Reverend King was a minister.

Detroit mother arrested after bodies of 2 kids found in freezer. Police in Detroit arrested a mother of four Tuesday [3/24/2015] after the bodies of two of her children were found in a deep freezer in the family's home. The bodies were found by a bailiff who was carrying out an eviction order in the three-bedroom home in an low-income apartment complex east of downtown. Detroit Police Chief James Craig said the bodies belonged to an 11-year-old boy and a 14-year-old girl.

FBI offers $25,000 reward in federal judge shooting. The FBI has announced a $25,000 reward for information leading to the suspects wanted in the shooting of U.S. District Judge Terrence Berg, who was shot in Detroit Thursday night [3/5/2015] on his front porch after refusing to let two would-be intruders inside. The tips must lead to the arrest and convictions of those responsible for the shooting.

Detroit, Affirmative Action, and the end of Black-Rule in The Motor City. What if you could see a city where the logical conclusion of the consequences of affirmative action play out, where the desire to rectify past inequities in hiring patterns turns into an orgy of trying to add every conceivable Black person in the city onto the public payroll? What if you could see a city where the founding population was ethnically cleansed after two disastrous race riots (1943 and 1967) and continued high rates of criminality made it impossible to justify living there? Robert Conot's American Odyssey: A Unique History of America Told Through the Life of a Great City offers a direct window into why white people fled Detroit.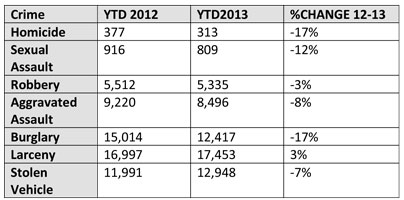 Detroit crime statistics: week by miserable week.


Liberal Views, Black Victims. [Philadelphia and] other cities such as Baltimore, Detroit and Washington, D.C., with large black populations, experience the nation's highest rates of murder and violent crime. This high murder rate is, and has been, predominantly a black problem. According to Bureau of Justice statistics, between 1976 and 2005, blacks, while 13 percent of the population, committed over 52 percent of the nation's homicides and were 46 percent of the homicide victims. Ninety-four percent of black homicide victims had a black person as their murderer.

Disputed study: Detroit is the most dangerous city in the nation. In another blow to the Motor City's tarnished image, Detroit pushed past St. Louis to become the nation's most dangerous city, according to a private research group's controversial analysis, released Sunday, of annual FBI crime statistics.

Leaving Detroit. Those who do not possess basic human values do not value any life. It too often seems that Detroit has more of such beings per capita than anywhere else in the country.

Baltimore's homicide rate moves to No. 1 among big cities. Baltimore had its lowest homicide total in two decades last year, but data released this week show the city's homicide rate was No. 1 among the nation's largest cities in 2008. Despite recording its lowest number of killings in 20 years in 2008 — 234, down from 282 in 2007 — there were 37 homicides per 100,000 city residents last year, ahead of Detroit at 34 per 100,000 and Washington, D.C., at about 31. No other city with a population of more than 500,000 came close...

Report: Nearly Half Of Detroiters Can't Read. According to a new report, 47 percent of Detroiters are "functionally illiterate." The alarming new statistics were released by the Detroit Regional Workforce Fund on Wednesday [5/4/2011].

America's Most Dangerous Cities, 2011. A city where murder is nearly a daily occurance stands a good shot of being named the most violent, crime-prone area in the country. And last year there were 345 murders reported in the Detroit metropolitan area — altogether 1,111 violent crimes per 100,000 residents.

Want to See Pictures From America's Cheapest Zip Code? The distinction of being the absolute cheapest zip code, well below the median price of $15,000, belongs to a neighborhood located in southern Detroit. How "cheap" is this neighborhood? Home prices in the 48208 zip code are about $6,388.

Criminals thrive in cities run by liberals.
Enter Detroit at your own risk! Police issue shocking warning to baseball fans. Police officers in Detroit greeted football fans attending Saturday night's Tigers game with a shock warning: 'Enter Detroit at Your Own Risk.' To protest against plans to cut their pay and increase their hours, an estimated 400 off-duty police officers handed out fliers to fans as they entered the Tigers' Comerica Park stadium.



"White flight" happens for a reason.
Detroit's Tragic Decline Is Largely Due To Its Own Race-Based Policies. In 1960, Detroit's population was 1.6 million. Blacks were 29 percent, and whites were 70 percent. Today, Detroit's population has fallen precipitously to 707,000, of which blacks are 84 percent and whites 8 percent. Much of the city's decline began with the election of Coleman Young, Detroit's first black mayor and mayor for five terms, who engaged in political favoritism to blacks and tax policies against higher income mostly white people. Young's successors, Dennis Archer and Kwame Kilpatrick, followed his Third World tyrant policies, but neither had his verbal vulgarity.

2012 was Detroit's most violent in nearly 20 years. As Detroit recorded its highest homicide rate in nearly two decades, city and police officials pledged to try to stem the tide of violence. Authorities recognized the spiraling problem of gun play and homicide in Detroit during a news conference Thursday — a recognition that comes as the city kicks off the new year with violence. Already this week, a mother has been charged with fatally stabbing her 8-year-old daughter, and a cab driver was shot to death.

Detroit Facing Surge Of Black Violence. The Detroit News wants you to know the black mob violence in Detroit over the weekend was limited to under 100 people. Which is not true. They also would like you know it was an "isolated" event. Which is also not true. And you could "get crazy people anywhere." So it is not fair to single out Detroit. Which is so far from the truth you have to wonder if even the people at the Detroit News believe it. Others are saying this just more of the usual panic — and denial — in Detroit.

Detroit Motorists Under Siege in 'Carjack City'. The armed auto thieves have become so common here that parts of the bankrupt metropolis are referred to as "Carjack City," and many motorists fear getting out of their vehicles even for a few moments to fill a tank.

With Abortions & Crime At All Time High, Detroit Approaches Third World Status. Detroit is often heralded by small government proponents as a perfect example of an over-involved government pushing themselves into the culture of a successful city and creating a state of dependence which eventually collapses in on itself. In other words, a great example of why big government fails. But this is really only a partial explanation of the issue. The real issue in America and the problem that is bankrupting cities just as much as the U.S. treasury, is the problem of cronyism. This, above all other factors, is the legacy of Detroit.

One man gets prison sentence, another gets probation for Detroit motorist beating. Two of five men who pleaded guilty last month in a mob attack on suburban motorist Steve Utash were sentenced Monday [7/7/2014], one to prison and the other to probation. Wayne County Circuit Judge James Callahan ordered Wonzey Saffold, 30, to spend 6-10 years in prison.

Detroit cops hunt woman who shot up crowd leaving midnight party cruise. Police believed the shooting stemmed from a family argument that broke out on the fourth floor of the Detroit Princess cruise ship at around 1 a.m., as it was docking after a midnight cruise party. The party was sponsored by a local hip hop radio station, according to reports.

DDOT Drivers Refuse To Work: 'They're Scared For Their Lives'. Henry Gaffney, spokesman for the D-DOT bus drivers union AFL-CIO Local 26, [said] this was not an organized maneuver by the union. Gaffney said it's a matter of bus drivers fearing for their safety, citing an incident that happened Thursday afternoon [11/3/2011]. "Our drivers are scared, they're scared for their lives. This has been an ongoing situation about security. I think yesterday kind of just topped it off, when one of my drivers was beat up by some teenagers down in the middle of Rosa Parks and it took the police almost 30 minutes to get there, in downtown Detroit," said Gaffney.



Teens shot by Detroit utility worker charged with armed robbery. Wayne County Prosecutor Kym Worthy has charged two teens who were shot by a utility worker with armed robbery. Niko Brown, 17, and his brother Devontay Brown, 16, are charged in connection with the robbery of two utility workers on Feb. 6.

4 teens charged after allegedly holding Tuskegee airman at gunpoint. Police arrested the alleged robbers — ages 13, 14, 15 and 16 — the next day. "They were charged as juveniles with carjacking," said Maria Miller, spokeswoman for Wayne County Prosecutor Kym Worthy. "As juveniles, the court has the option of retaining jurisdiction on them until they are 21 if they are convicted." A $75,000 bond was set for the gunman and $50,000 bonds were set for his accomplices. All four are scheduled to appear in court on March 20.

4 charged after men found dead in burning Detroit home. Four people have been charged in connection with the deaths of three males found in a Detroit house fire last week. Tenisha Jackson, 19; Larry Johnson, 20; Rashawn Johnson, 19; and Keeshon Lake, 19, have all been charged with three counts of first-degree murder; three counts felony murder; two counts armed robbery; and one count of arson. Larry Johnson was also charged for Felony Firearm and Possession of Heroin.

Beating of white driver by angry mob ruled NOT a hate crime by Detroit police. A 54-year-old white man has been left barely clinging to life after he was brutally beaten by a group of black men when he got out of his car to check on a young black boy he accidentally hit. Steve Utash, from suburban Roseville, was beaten into a coma Wednesday by an angry mob in a poverty-stricken Detroit neighborhood after David Harris, 10, ran in front of his truck on a busy street, but police insist the incident was not racially motivated. The gang also stole his wallet before leaving him for dead.

The Editor says...
If the police don't believe the incident was racially motivated, I doubt if anyone shares that opinion, especially since any such statements by the police were made days before any of the beating suspects were arrested.

Detroit mayor tweets for #calm #compassion in wake of attack on pickup driver. Mayor Mike Duggan in a statement Friday [4/4/2014] decried a "senseless vigilante style attack" on a man who followed the law to check on a boy he hit with his truck, only to be pummeled by strangers in an east-side Detroit neighborhood.

Daughter of motorist beaten by crowd says family is 'waiting for him to wake up'. As city leaders called for calm on Friday, an African-American pastor plans to create a benevolent fund for the family of the white 54-year-old motorist attacked and robbed by a crowd as a gesture of good faith given the racial tension surrounding the incident. The Rev. David Alexander Bullock, pastor of Greater St. Matthew's Baptist Church, on Friday called the Wednesday assault on Clinton Township resident Steve Utash "a terrible tragedy," by young boys who most likely perceived him as a hit-and-run driver.

The Editor says...
That is another misleading assertion, in my opinion — that the attackers "most likely perceived him as a hit-and-run driver." No, they most likely perceived him as a white driver who got out of his car in their neighborhood.

Detroit man brutally beaten after stopping to check on boy he hit with truck. The 54-year-old man pulled over to help the boy, who was hit after he darted in front of the pickup truck, and was attacked by a group of bystanders. The child was treated for a broken leg, but the driver remained in critical condition on Thursday.

Justice, Detroit Style. Let's get one thing straight: the savage mob attack on a white motorist in Detroit by a dozen or more black men on Wednesday was not a "vigilante style" attack. Yet that's what Detroit Mayor Mike Duggan and City Council President Brenda Jones are trying to call it in a joint statement meant to play down the unavoidable racial element. [...] If you haven't heard about this, 10-year-old Harris, who is black, received minor injuries when he stepped into the street and was struck by Utash's pickup. Utash, who is white, stopped immediately to check on the boy. From the beginning, the police have maintained that Utash was not at fault and had done absolutely nothing wrong. But none of that mattered for at least a dozen or more loitering males, and perhaps as many as 30, all of whom are believed to be black, who attacked Utash, beat him within an inch of his life, and then robbed him.

Lawyer: Teen accused of 'minor role' in driver attack, calls $500K bond 'excessive'. Two men were arraigned on charges this afternoon in connection with the brutal beating of a motorist who hit a child last week in Detroit, just hours after a teen was arraigned in the same case. James Deontae Davis, 24, and Wonzey Saffold, 30, both of Detroit were arraigned in 36th District Court on charges of assault with intent to murder and assault with intent to do great bodily harm. Magistrate Millicent Sherman said Saffold also is a habitual offender.

Hate Crime Charges Possible in Mob Attack. Four people have now been arrested in the April 2 beating of a Macomb County man who accidentally struck a boy who ran into traffic on Detroit's East Side. Meanwhile, by early Monday evening, nearly $123,500 had been raised to offset Steve Utash's accumulating medical bills through an online Go Fund Me campaign. When the family members of the tree trimmer, who has no health insurance, set up the campaign, they hoped to meet a $50,000 [goal.] Utash, who recently moved to Clinton Township from Roseville, remains in critical condition in a medically induced coma in a Detroit hospital.

$400,000 bond set for teen allegedly in Detroit mob attack on driver who accidentally hit boy. A 16-year-old Detroit boy charged with assault and ethnic intimidation was ordered Saturday [4/12/2014] to be held on a $400,000 bond in the brutal beating of a suburban motorist. The serious nature of the mob attack on 54-year-old Steve Utash and the severity of his injuries necessitated a high bond, Circuit Court Referee Raeigen Woods told the teen and his parents during the hearing at a Wayne County juvenile detention center.

Driver beaten by Detroit mob is now talking to his family. The driver of a pickup truck who was severely beaten by a mob after accidentally hitting a child is now speaking to his family. Mandi Emerick, daughter of beating victim Steve Utash, said Friday that her father has retained consciousness and is talking, but remains in a confused state, according to the Detroit Free Press.

Uncooperative witness jailed; 4 to stand trial in Utash beating. A defiant witness left a Detroit courtroom in handcuffs Monday [4/21/2014], after a tense hearing that found sufficient evidence to send three men to trial in the mob beating of 54-year-old Steve Utash near an east-side gas station.

Youths who beat white motorist to within an inch of his life [...] face court. Four men accused of punching and kicking a motorist who accidentally struck a 10-year-old Detroit boy were ordered Monday to stand trial on attempted murder charges, after a judge reviewed their statements to police and witnesses testified about the chaotic mob attack.

Judge orders trial for 4 charged with beating Detroit motorist. Four men accused of punching and kicking a motorist who accidentally struck a 10-year-old Detroit boy were ordered Monday to stand trial on attempted murder charges, after a judge reviewed their statements to police and witnesses testified about the chaotic mob attack. The little boy was treated for a broken leg, but the driver was critically injured and still recovering at a local hospital.

Detroit's Collapse is 100 Percent Because of it's 89 Percent Black Population. Eighty-nine percent Black Detroit is on the verge of being taken over by the state of Michigan because — well — the Black people of The Motor City can't creat[e] any jobs or wealth, relying on the state to provide EBT cards/Food Stamps, TANF/Welfare, and federal aid/federal grants to keep the city limping along.

Detroit Police search for two suspects as driver recovers following beating after traffic accident. Nate Szczerbinski says he got into the accident while trying to turn around after going the wrong way down a one way street in Detroit. Szczerbinski says he was beaten and kicked by three men who hurled racial slurs at him. "I realized I was in trouble... when they started calling me names and stuff," Szczerbinski told [WXYZ] News. "I couldn't run. I couldn't really protect myself. I would've been just asking for more trouble. So, I just prayed to God that something would happen."

Man Asks Bus Passengers If They Are Muslims And When They Say No, He Stabs Them. Incidentally, the Washington Post's headline makes it sound as if a non-Muslim is stabbing Muslims:

Police: Man stabs two after asking if they are Muslim

People objected to that deliberately-misleading headline, so they've changed it to a slightly different lie:

Police: Muslim man stabs two after discussion about religious beliefs

They did not have a "discussion about religious beliefs." He asked people if they were Muslim and, upon learning they were not, attacked them in accord with the teachings of his religion.

Terror or hate? FBI probes Detroit-area stabbings where Muslim suspect reportedly asked victims' faith. Detroit police contacted the federal law enforcement agency after Terrence Lavaron Thomas, 39, was charged with two counts of assault with intent to murder after allegedly attacking two men with a 3-inch blade at a bus stop near a shopping mall on Saturday [2/14/2015]. Both victims suffered stab wounds, and were treated and released from a hospital for non-life threatening injuries. But it was the exchange the suspect allegedly had with his victims, in which he asked if they were Muslim, that has prompted a further investigation.

Michigan Man Stabs Two After Confiming They Were Not Muslim. A Muslim man in a Detroit suburb Michigan asked two people at a bus stop if they were Muslim. After they both answered no, some talk ensued, after which he stabbed both of them. Terrance Lavaton Thomas, 39, who is suspected of the attack, which occurred on Valentine's Day evening, was arrested by police who found him within minutes of the attack walking in the area carrying two knives, one of which was reported to have been used in the attack. Local reports say that the man did not know the victims previously. He reportedly made a number of comments about Islam and asked them about their religion just before attacking them.

Police: Man stabs two after asking about religious beliefs. Both of the victims were standing at the bus stop outside of Detroit with the suspect on Saturday [2/14/2015], Southfield Police Chief Eric Hawkins said. Several people there "engaged in conversation" until the suspect, identified by Hawkins as 39-year-old Terrence Lavaron Thomas, "asked some of the folks there if they were Muslims." Two of them answered, the chief told The [Washington] Post on Tuesday: They were not Muslims. Thomas "was not not happy with that answer," Hawkins said. Shortly after, "without provocation," Thomas pulled out a 3-inch folding knife "and attacked one of them," Hawkins said.


Black crime in Philadelphia



Philadelphia shooting leaves 2 dead, 5 wounded, including 2 police officers. A "rambling" note expressing hatred for police was found after a man opened fire on a Philadelphia police officer then went on a shooting spree, injuring a second officer, killing a woman and wounding three other people before he was shot and killed by police in an alley, authorities said Saturday [9/17/2016].

Two police, four civilians wounded in Philadelphia shooting spree. Two police officers and four civilians were wounded on Friday [9/16/2016] during a shooting spree in Philadelphia where the suspect was later killed by responding officers, police said. Sergeant Sylvia Young, a 19-year veteran of the department, was shot at least eight times by an approaching gunman as she sat in her vehicle late at night, Philadelphia Police Commissioner Richard Ross said.

Police Consider 'Knockout Game' A Possibility In Fatal Lawncrest Attack. Investigators say the seemingly random and unprovoked attack happened Friday evening [8/26/2016] on the 700 block of Adams Avenue in the Lawncrest section of the Northeast. The victim was 30-year-old Mardoquo Sincal Jochola. He and his brother have been in the U.S. for eight years and are from Guatemala. [...] Police say it was just one sucker punch to the head that killed Sincal Jochola. He stumbled, hit the ground and the group, not even waiting a moment, runs away.

President Obama's Potential Felonies. [Scroll down] Another type of investigation sabotaged by Obama's Dept. of Justice was the investigation of a Black Panther member who aggressively and willfully intimidated voters at a polling place in Philadelphia in 2008. The Obama Administration let the Black Panther member off the hook in 2008 but the leader of that Black Panther chapter, King Samir Shabazz, got arrested on gun charges in 2013. With the Obama Administration's obsession with guns one would expect them to take these charges very seriously. Previously, King Shabazz had uttered numerous comments that were hate speech when he stated that he wanted his followers to raid nurseries and "kill everything white in sight." He also recommended that "black people should create militias to exterminate whites, skin them alive, pour acid on them, sick pit bulls on them, bust their heads with rocks...." Only when he was found in New York City to be carrying an unlicensed gun was any law enforcement action done against him. So while these actions by the Obama Administration may appear to be purely political they are also violations of Title 18 laws regarding the conduct of Federal officials in the handling of investigations.

More about the Black Panthers.

Pennsylvania: Muslim Abdul Wahi shoots cop in the face multiple times. Likely a prison convert to Islam. How many are roaming the streets, freed from prisons by Obama? This took place outside of Philly where the Muslims have a habit of trying to kill cops.

Suspect in custody after Pennsylvania police officer shot. The shooting occurred at around 9:30 a.m. Friday [6/24/2016] after Dorman confronted a group smoking narcotics in the backyard of a property. When Dorman confronted the suspects, shots rang out, according to witnesses. Folcroft Police Chief Robert Ruskowski says suspect Donte Island is in custody and being charged with two counts each of attempted murder and aggravated assault.

Television reporter attacked by bystander during live shot. A reporter was doing a live shot outside Philadelphia City Hall on Wednesday [6/8/2016] when a woman walked up, tried to interrupt her report, then attacked the journalist on camera. Iris Delgado, a reporter for Spanish-language Telemundo's Philadelphia affiliate, was finishing a report on a municipal soda tax bill when a woman that the Philadelphia Inquirer identified as Waheedah Wilson walked up and tried to get her attention. Delgado continued with the conclusion to her report, looking straight into the camera, and began to sign off when Wilson struck her in the back of the head and punched her in the face.

Video Shows Woman Being Beaten While Crowd Watches. It was a disturbing scene Thursday morning [5/19/2016] in 200 block of Ontario Street in the city's Kensington neighborhood. The man who shot the video of a brutal beating on the sidewalk does not want his face shown but did talk to us.

Police Arrest Man Accused of Killing 1, Injuring 2 Others in Stabbing Spree. Police arrested a man accused of killing one person and injuring two others during a stabbing spree along a Philadelphia block. Ronald Stanley, 55, was arrested and charged with murder, criminal homicide, aggravated assault, simple assault and other related offenses.

Teen ordered to stand trial in deliveryman's killing. The hearing began Tuesday with 16-year-old Tyquail Duffy confronted with the testimony of 15-year-old Sahmir Walker, both charged in April's robbery and slaying in Crescentville of a deliveryman for a Chinese restaurant. It ended with Duffy being ordered to stand trial on murder charges in the death of 49-year-old Rendong Zheng, Duffy's mother being held for contempt of court after she took a cellphone photo of Walker in the witness box, and Zheng's widow erupting in wails and pounding on the bulletproof glass separating the gallery from the court.

US Cop Savagely Shot — But Here's What They're Hiding. Giovanni Cotto, was charged as an adult Tuesday night [11/24/2015] with attempted murder, aggravated assault, assaulting a law enforcement officer and related offenses. His father said he was a good boy, but if he did this, he has to pay the price.

State trooper is shot after suspect flees along Philadelphia highway and ends up causing a fiery crash with a school bus. A state trooper was shot after a suspect fled a traffic stop and crashed into a school bus during a high speed chase, sparking a huge fire on a Philadelphia highway. Police said the traffic stop turned violent when the suspect got back into his car and fled along Interstate 676 on Tuesday morning [11/24/2015]. Trooper Patrick Casey, 31, is in good spirits at a hospital and is surrounded by his family and fiancee after being shot, according to State police Capt. James Raykovitz.

Two teens charged in slaying of 16-year-old. Police have arrested two 17-year-olds in last week's slaying of Saleem West, a 16-year-old basketball enthusiast gunned down while riding his bicycle in North Philadelphia. Raheim Feaster of North 24th Street and Tyree Johnson of Belleview Street have been charged with murder, conspiracy, gun crimes, and related offenses.

Video: Baseball bat-wielding man attacks woman, car in North Philly road rage. Police are looking for a man captured on surveillance video attacking a woman and smashing her car windows with a baseball bat during a road-rage attack in North Philadelphia late Tuesday [8/4/2015]. The victim, 26, was driving north on Broad Street near Lehigh about 11:55 p.m., when a newer, dark-colored SUV began beeping at her, police said. The SUV tailed the woman to 16th and Clearfield streets, where a man got out and began hitting her car with a baseball bat, according to investigators.

Philadelphia 15-year-olds murdered married father in failed robbery: cops. Two 15-year-old Philadelphia boys face murder charges for shooting a man while he walked his dog, firing the final round as he pleaded for his life, authorities said. The cold-hearted teens and a 14-year-old boy targeted 51-year-old James Stuhlman for a robbery after they tired of playing basketball, police Captain James Clark told reporters. "At one point, he did plead for his life," Clark said Thursday at a news conference. "He said, 'Please don't shoot me, please don't shoot me,' and they shot still shot him one more time."

Black mob violence in Philly. Well when their parents named them such names they pretty much guaranteed their kids would live a life of crime. I used to be a retail manager in Exton and this is exactly the stereotype that would come into my store and steal time and time again and then try to make it about race when I had them arrested. I have been spit on in the past while trying to stop theft and at one point a black man raised his fist towards my pregnant stomach. That was the only time I backed off.

Philadelphia: Black Mob Violence. [Video clip]

Alleged flash mob leader held for trial. The only adult arrested in the alleged thieving flash mob last month waived a preliminary hearing in district court Monday [7/11/2011] and was ordered held for trial. Kyree Marsh, 19, of the 5200 block of Spruce Street, Philadelphia, was one of 16 persons arrested after allegedly storming into the Sears store, 150 S. 69th St., and grabbing sneakers, socks, watches and other merchandise and hightailing it out of the door on June 23.

Racial Violence Has Not Made It Into the Conversation about Race. If mobs of white youths were going about chanting the phrase "white boys," beating mostly on blacks and attacking black-owned businesses, then the nation would pay attention. Academic, media, political, and legal elites would be calling for symposia, expanded reporting, legislation, and lawsuits. In fact, a mob of black youths in Philadelphia went about chanting the phrase "black boys," beating mostly on whites, and attacking businesses.

Philadelphia mayor to black youth: 'You have damaged your own race'. Mayor Michael A. Nutter, telling marauding black youths "you have damaged your own race," imposed a tougher curfew Monday [8/8/2011] in response to the latest "flash mob" — spontaneous groups of teens who attack people at random on the streets of the city's tourist and fashionable shopping districts.



Another Blacks-on-White Philadelphia Beat Down: When is a Hate Crime NOT a Hate Crime? When it's a bunch of black thugs (girls in this case) beating the shit out of a lone, white girl. Giggling with glee ("like they were enjoying a ride on a rollercoaster," said their victim) while they brazenly and unmercifully beat her in front of Philadelphia's City Hall. In the middle of the day (so much for your curfews stemming the increasing tidal wave of feral packs of black thugs acting... well... very black). Image the outrage if a pack of white teenagers were strolling through town, singling out black kids for random, racially-motivated beatings.

14 Arrested After Large Disturbance Of Teens Gathers In Center City Philadelphia. As soon as the warm weather hit, a large group of students in Center City caused a ruckus, endangered themselves, police and pedestrians. The Philadelphia District Attorney's Office has charged 10 juveniles with Conspiracy, Obstructing Highways, Failure to Disperse and Disorderly Conduct. All 10 defendants are scheduled for a detention hearing Wednesday [4/10/2013] at the Youth Studies Center in Philadelphia.

Crowd Throws Rocks at Officers Helping Dying Man. When officers arrived they found 39-year-old Theodore Jackson unconscious in the middle of the street suffering from a gunshot wound to the chest. According to investigators, as officers administered first aid and CPR on the Wilmington resident, a crowd of about 200 people formed around them. Some in the hostile crowd began to throw rocks, striking several officers, according to police.

New Video Shows Philly Teen Attack. A new video surfaces of another unprovoked attack in Philadelphia, right outside City Hall, by a group of teen girls on a worker. A woman attacked in broad daylight in May is now coming forward. And Fox 29 has obtained chilling video of the attack on her by a group of teenage girls. The exclusive video shows her walking outside City Hall, before dark at 8 p.m. on a Thursday, when out of nowhere, a group of girls comes up behind her, slams her on the ground, and starts hitting her repeatedly.



Violence persists at troubled Bartram High. Trouble persists at Bartram High. A brawl erupted in the school cafeteria this week, with teenagers punching and stomping on one another and on school police. Students set off firecrackers inside the building. And the student who last month knocked a staffer unconscious was back in the halls of the Southwest Philadelphia school. "It's normal for Bartram," said one teacher, insisting on anonymity. "It's our new normal."

The soft bigotry of low expectations, blackboard jungle edition. The Obama administration's Department of Education has announced that it will crack down on "civil-rights infractions" in public schools, including alleged disparities in the disciplining of white and black students. The notion behind this initiative is that black students are disproportionately subjected to discipline they don't deserve. That doesn't seem to be the case in the Philadelphia public school system, however. There, as Abigail Thernstrom and Tim Fay report, it appears that African American students frequently harass and attack Asian students without consequence.

Report: Philadelphia schools unsafe, unjust. Philadelphia public schools are unsafe places where students who commit violent crimes are rarely punished and rehabilitated and with a disciplinary system that is "dysfunctional and unjust," according to a report by the district's safe-schools advocate. In a blistering 72-page document obtained by The Inquirer, Jack Stollsteimer describes a district where students who assault teachers or come to school with guns are not removed from classrooms, a violation of federal and state law.

Philadelphia and the Burqa Bandits. The latest wave of burqa banditry to target Philadelphia began at a branch of More Bank in the East Oak Lane neighborhood two days before Christmas. Following similar heists on January 6, March 14, March 20, and April 4, the Philadelphia Police Department and FBI issued a wanted flier for a pair of black males in "Muslim-like clothing covering their heads and bodies."



SEPTA: Mom, Grandmom Dodge Fare, Leave Baby Behind. SEPTA officials say a mother and grandmother left behind a baby girl while trying to avoid paying full subway fare. Authorities say the incident happened Monday on the Market-Frankford El at the 60th Street station. The baby's 15-year-old mother had a single one-day convenience pass that allows one person to take eight rides. [...] The two women didn't realize they had left the baby until they got to the 56th Street station around ten minutes later.

The hate that dare not speak its name. Another week in Philadelphia, another violent episode where people dare not speak its name: Race Riot. The latest is Port Richmond, where a mob of black people stormed a house, broke in, and beat up the occupants — all because of something that may or may not have happened to a black teenager on a bike. One of the attackers pulled a gun. Luckily the victim disarmed him. Later that day, another mob returned, this time armed with racial taunts and threats of violence against the white family if they testify in court. This is just one of dozens of race riots in the Philadelphia over the last two years.

A Beating and Racial Slurs But No Hate-crime Charges. Ah, the left-wing capacity for rationalization knows no bounds. While we're told that even substantive criticism of Barack Obama is driven by the hatefulness the left has dubbed "racism," a racial attack by three black teenagers on two white men in Philadelphia this past Monday [1/30/2012] is, somehow, not.

Police charge 5 teens in rape of 12-year-old girl in stairwell of Philly recreation center. Police in Philadelphia say they have arrested five teenagers accused of raping a 12-year-old girl at a busy recreation center.

6 Teens Arrested in Taped Beating of Pa. Woman. Six teenagers were in custody Friday on charges they brutally beat a neighbor on her stoop just "for fun" and then posted cellphone video of the attack on Facebook, authorities said.

Teens Laugh While Recording Violent Beating Of Woman In Chester. A group of teens violently attacked a mentally challenged woman at random in Chester and recorded the entire incident on tape. During the vicious attack, which was later posted on Facebook, the teens could be heard screaming obscenities and even laughing. Police say on Thursday morning [9/27/2012], an anonymous Chester resident alerted police of the taped incident that was apparently posted on Facebook.



Group Of Teens Randomly Attack Man On Kelly Drive. On the same weekend that two men were beaten by violent mobs of teenagers in Center City spurring a police crackdown, another man now says he was randomly attacked on Kelly Drive.

Philly police release surveillance video of blind man beating. Philadelphia police released a street-camera video Wednesday [10/9/2013] of a blind man taking a brutal beating in broad daylight. The blind man, who was in the Germantown area, appeared to be pushed from behind and falls off the curb and into the street. While on the ground, the blind man takes two punches, and then gets kicked nearly a dozen times by the attacker. He offered no defense. Police noted that there were bystanders in the video that did nothing to intervene.

Three "Knockout" Attacks Reported In Philadelphia Area. "Knockout" attacks have been reported in several states around the country and now investigators believe three people have been attacked in our area. Police in Lower Merion are investigating two attacks in the area, and Philadelphia detectives are investigating an attack in Northeast Philadelphia. It's a violent crime that in other parts of the country has proven fatal.

Mayor Nutter Says 'Knockout' Attacks 'Will Not Be Tolerated Here'. Mayor Michael Nutter was joined by other city leaders Monday evening [11/25/2013] in an attempt to stop the so-called "Knockout Game" from spreading to Philadelphia. Nutter was joined by Police Commissioner Charles Ramsey, as they discussed the so-called game in which a person is randomly assaulted, while another person films it with their phone or other device. With cases reported in other U.S. cities, including New York, Mayor Nutter says the city is working to stay ahead of the problem, but needs parents to do their part.

New York chef suffers broken jaw, nose in likely 'knockout game' attack in Philadelphia. Diego Moya, 30, described his Tuesday night [11/26/2013] attack in online exchanges with The News as his father drove him back to New York to celebrate Thanksgiving at home. [...] Police told him they believe he was attacked by a group of six to eight men, ranging in age from 16 to 21. He wasn't robbed and nobody's been able to find a motive for the random crime. That's why police suspect it may have been a "knockout game" assault, Moya said.

The Editor says...
Yep, it's another head-scratcher — such an impenetrable enigma that the police just can't figure out the motive. A white guy is beaten up by a bunch of blacks and racial animosity doesn't even occur to the detectives. Or so they say. In reality, the motive is quite clear to everyone involved, yet it's not politically correct to state it in public.

Suspect in hammer attack outside West Philadelphia deli identified. Philadelphia police say they have identified the suspect who brutally attacked a local business owner with a hammer. Nathanial Maybin, 29, from the 800 block of S. 56th Street is wanted for the attack outside Maple Deli at 49th and Lancaster in West Philadelphia. Police say David Woods, 46, was attacked at that location just before just before 5 p.m. Thursday [2/20/2014]. [...] The Gloucester City man was hit so hard, he can't even speak. Police said Woods will likely have to go through intensive speech therapy before he can talk again.

Temple Student Attacked With Brick. A 19-year-old Temple University student suffered serious facial injuries after an attacker hit her with a brick only a block from campus Friday [3/21/2014]. The student was walking with her 20-year-old boyfriend, who also attends Temple, near 16th and Norris streets around 6 p.m. when a group of about 10 teens and young children began taunting them, according to sources.

Female Temple University student, 19, is hit in the face with a brick by gang of children. A female Temple University student is vowing to return to class despite being unable to chew even the softest of foods after a gang of children smashed her in the face with a brick Friday night [3/21/2014]. The 19-year-old woman, who has declined to be identified, was walking with her boyfriend just off campus when a group of about 10 children began taunting them — they were followed for a block until the vicious assault that left her with dislocated teeth and a fractured jaw.

Temple University student attacked by gang of teens before they beat another with brick. Five juveniles have been taken into custody in connection to a trio of seemingly random attacks involving young girls and bricks. The five girls, ages 14, 15 and 17, were arrested early Tuesday afternoon after a Temple University student said she was attacked across the street from a Philadelphia police station on Friday — just minutes before the mob beat another 19-year-old student in the face with a brick.

Cops: 5 in custody for Temple attacks. It's not clear why a group of high school girls lashed out at Temple University students Friday, but, with five girls in custody, police are hoping to get that answer soon. Five girls, ranging from 14 to 17 years old, turned themselves in to Central Detectives today, Capt. Frank Banford said. The girls came forward after seeing news reports about a series of three attacks near Temple's campus Friday night, one of which left a female student bruised and bloodied after being hit with a brick. "They saw themselves in the video, and knew that sooner or later, they would get caught," Banford said.

The Editor says...
As usual, the police are utterly baffled and completely unable to guess the attackers' motive. It is apparently impossible for them to believe that black hoodlums attack randomly-selected white people just because they're white.

Teens Charged as Adults in Temple Student Attacks. Three teens, arrested for allegedly beating several Temple University students in random, gang-style attacks, will be charged as adults, the Philadelphia District Attorney's Office announced on Wednesday [3/26/2014]. Najee Bilaal, 16,15-year-old Zaria Estes, and 15-year-old Kanesha Gainey were charged on Wednesday with Aggravated Assault, Conspiracy, Possession of an Instrument of a Crime (PIC), Terroristic Threats, Simple Assault and Recklessly Endangering Another Person (REAP) for three attacks which took place over a 20 minute span last Friday evening, according to the DA's Office.

Staffer knocked unconscious at Bartram High. A staffer assigned to quell violence at a Philadelphia high school was knocked unconscious in what one union official called the worst assault since a Germantown High School teacher's neck was broken in 2007 by a student. Alphonso Stevens, known as a conflict-resolution specialist, suffered a fractured skull, concussion, and other injuries.

Climate at Bartram High raises concerns about safety, education. When Alphonso Stevenson was knocked unconscious by a student at Bartram High recently, staffers were shocked by the assault on the tall, genial man whose job was to keep the school calm. But many were not surprised. The school, by many accounts, can be a frightening place, where fights and drug use are common and large groups of students often roam the hallways. "I had a better chance in Vietnam," said longtime social studies teacher Stephen Pfeiffer, an Army veteran. "Here, you lock your door and pray no one comes in."

New Black Panthers to protest 'non-blacks'. The New Black Panther Party — an organization known largely for their intimidation of voters outside a Philadelphia precinct — has announced plans for a "National Day of Action and Unity," — ironically urging followers (on their day of unity) to boycott all "non-black business" on April 23.

Racial bullying roils a Philadelphia high school. [Scroll down] Inside is a cauldron of cultural discontent that erupted in violence last month — off-campus and lunchroom attacks on about 50 Asian students, injuring 30, primarily at the hands of blacks.

Group Of Teens Randomly Attack Man On Kelly Drive. Christopher Dean says he was biking along the drive around 6 p.m. on Sunday evening, July 31. It was a sunny day and plenty of people were out. He was between Boathouse Row and the Girard Avenue bridge heading west, he says, when he saw a group of four or five teenage boys standing by the side of the path. Suddenly, one of them stepped out toward his bicycle and punched him in the face.

The Editor says...
The article makes no mention of the suspects' race, but the incident took place in Philadelphia, and the victim was white, so obviously the thugs were all black. Prove me wrong. If the assailants had been white, the reporter would have made that very clear.



Vandals Use Spray Paint To Wreak Havoc In Northeast Philadelphia. According to investigators, the vandals spray-painted racial epithets, sexual symbols and swastikas on cars, houses and fences. The spray paint vandalism included the saying "Fu* Crakers" and some on the swastikas were backwards.

15-Year-Old Girl Attacked By Group of Teens In Delaware County. Speaking exclusively to CBS 3, a 15-year-old high school student, whose identity we are concealing, described a terrifying attack by a gang of at least nine teenage boys as she was leaving an Interboro High School football game Monday night. The teenage victim described first being taunted by the attackers, who followed her down a neighborhood street, cursing and spitting at her, before she was repeatedly kicked and punched, suffering at least one blow to her head.

Violence Comes to Temple. Wait just a minute, Temple University. Don't go getting all huffy just because a black guy beat and robbed an 81-year old white professor. This robbery happened on Tuesday, October 29. A person whose grainy visage is now known to millions of residents in the Philadelphia area walked past a secure guard station, entered the professor's office, punched him in the face, held a knife to his throat, robbed him, punched him again, then calmly walked away, leaving the professor a bloody mess. He lived. By Thursday, police identified their suspect as a convict with a long record of violence and mayhem.

Cops: Kids filmed beating of man, 58. The video was posted to Facebook, a video of teens laughing as one of them goes up to an unarmed 58-year-old man sitting at the Aronimink trolley stop in Upper Darby and punches him square in the jaw. The punch is so hard you can hear it. "It was a violent, vicious, cowardly, punk act," said Upper Darby police Superintendent Michael Chitwood. "He's lucky he didn't kill him."

GameStop collecting fingerprints from Philadelphia gamers. Major video game retailer GameStop is now requiring its Philadelphia customers to provide a fingerprint scan when they try and sell used games. GameStop stores in the city received a mandate from corporate headquarters after Philadelphia police requested they implement harsher security measures, gaming blog Kotaku reported. GameStop says it is following a local law that allows them to collect fingerprints, which then go into a database used by law enforcement to help track down people selling stolen goods, a local CBS affiliate reported.

Cell phone footage of a violent attack against a Philadelphia park ranger by a skateboarder 'because he was told he couldn't ride in the park'. A witness was able to videotape a violent attack against a park ranger by a skateboarder in a Philadelphia park on Friday [8/15/2014]. Police are investigating the violent encounter that occurred in LOVE Park at around 5 p.m. Mariano Verrico of Essex Fells, New Jersey managed to capture the horrific event 'over a no skateboard rule' on film.

Primary Suspect Under Arrest In LOVE Park Ranger Beating. Curtis Tanner, 19, said nothing as he was escorted into Central Detectives on Monday afternoon. Police say he's under arrest in the brutal Friday afternoon [attack] that was all caught on tape. Police say he's been arrested twice before, once for robbery in Montgomery County and once in Philadelphia for disorderly conduct.

Police: Suspects Stalk, Rob Senior Citizens at Philly-Area Banks. Police are trying to track down the trio of suspects who they say have been stalking out senior citizens at banks throughout Philadelphia then attacking and robbing them. "They're scum, really scum — going after people that really can't afford it," said Bayard Stonehill, victim. 83-year-old Stonehill, who is recovering from throat cancer, spoke about the suspects who police say have been targeting the elderly in Northeast Philadelphia, Juniata and Northern Liberties.

Girl to be Tried as Adult in Temple Brick Attacks. A 15-year-old girl who allegedly hit a Temple University student across the face with a brick — breaking her jaw and dislocating her teeth — in one of several random assaults near the North Philly college campus will be tried as an adult. Philadelphia Judge Benjamin Lerner denied a request made by Zaria Estes' attorney to send her case to Family Court, even though he agreed to allow the cases of her alleged accomplices, who are also juveniles, to be moved. Initially, all three teenage girls were charged as adults for the random, gang-style attacks when they were arrested in March.

Customer opens fire on Northeast Phila. barber. A Northeast Philadelphia barbershop owner who was shot four times at his store Monday night [10/13/2014] told police the man who shot him had first asked for a haircut, police said.

Teen who bashed Temple student's face with brick pleads guilty. Zaria Estes, the high school girl who was scheduled to be tried as an adult for attacking a Temple University student with a brick this spring, pleaded guilty Tuesday morning [10/14/2014]. Estes, 15, entered into a non-negotiated guilty plea to aggravated assault, conspiracy and possession of an instrument of crime. Three other charges were dropped: making terroristic threats, simple assault and reckless endangerment.

Man Attacked On Philadelphia Street Speaks To [KYW] Eyewitness News. CBS 3 Eyewitness News first brought you shocking video of a man being sucker-punched and knocked out cold on a Philadelphia street. Now, the victim spoke exclusively with Eyewitness News reporter Diana Rocco.

Philadelphia woman found alive after abduction caught on tape, suspected kidnapper captured: police. A Philadelphia woman whose shocking abduction was caught on tape was found alive and her suspected kidnapper was taken into police custody Wednesday [11/5/2014], according to authorities. 22-year-old Carlesha Freeland-Gaither was found in Jessup, Maryland, with minor injuries, Philadelphia authorities said. Delvin Barnes, 37, was taken into custody in Maryland and will be charged federally for assault and kidnapping, police said. The "vicious predator" is currently being held on a warrant for a previous "violent" case, Philadelphia Police Commissioner Charles Ramsey said at a press conference.

Caught On Camera: Drexel Hill Man Punched In The Face At Trolley Stop. A man sitting at a trolley stop in Drexel Hill is punched in the face, and it's all caught on camera. "It's a real shame that something like this could take place," said the victim. The victim does not want to be identified, but wants his story told. He says he was just minding his own business at the Burmont and Morgan trolley stop last week when about six teens came up to him.

500 witnesses and no one is talking. About 500 spectators were packed around the Kingsessing Recreation Center's outdoor basketball court Monday night, cheering on an adult league playoff game. Then, at halftime, a thug in a red and black baseball hat loped across the court and fired a .40-caliber handgun 11 times into the bleachers, wounding six people. As of Tuesday afternoon [8/23/2011], none of those 500 witnesses were saying much to police.



Teens in Muslim garb try, fail to rob gun shop. [Joe] Galiano is the owner of Suburban Armory, the gun shop on MacDade Boulevard in Collingdale, Delaware County. There is a giant gun-shaped sign on the roof. Inside, Galiano is surrounded by guns, including the .45-caliber pistol on his hip. Can't miss it. And the police station is just around the corner from the shop. Despite these conspicuous crime deterrents, two teenagers nonetheless decided to throw on burqas and pull a silver handgun on Galiano about 1:40 p.m. yesterday in a botched attempt to stick him up, police said.


Black crime in Dallas



Convenience Store Looted Downtown After Attack. Hundreds of people packed into the parking lot of a 7-Eleven at Griffin and San Jacinto as a massive police presence pushed crowds away from the chaotic scene of the attack [on police in Dallas]. News 8's crews stationed near the 7-Eleven saw people taunting officers who were protecting the building. Many were drunk and some were believed to be stealing from inside the convenience store. Some poured alcohol on News 8's vehicles in the parking lot, forcing our crews to move.

Video in aftermath of Dallas police slaughter appears to show protesters dancing and 'taunting' officers in a 7-Eleven parking lot. A video filmed in the aftermath of a deadly attack on police officers in Dallas appears to show protesters dancing in a parking lot. Five officers died and several more were wounded when gunfire erupted at a Black Lives Matter protest on Thursday night. Hundreds of people packed into a 7-Eleven parking lot at Griffin and San Jacinto streets as police pushed the crowd away from the chaos of the crime scene, WFAA reports. A Fox News report showed footage of the parking lot, showing a line of officers standing guard in front of the store and appearing to prevent anyone from entering.

Convenience Store Looted After #DALLAS Attack. Looters took advantage of the shootings in Dallas as an opportunity to raid a 7-Eleven store. Will this help to heal race relations in America? No.

The Editor says...
The Black Lives Matter march in Dallas on Thursday evening [7/7/2016] was touted as a "peaceful" protest, but dozens of the "peaceful" marchers clearly demonstrated that if the police are nowhere in sight, they will eagerly ransack the nearest 7-Eleven store, laughing and cackling the whole time. I have no doubt that if the Dallas police went on strike for a few days, the entire city would be looted by these allegedly "peaceful" people. Incidentally, on the morning after this 7-Eleven store was looted, there was no mention of it from the TV station that sits across the street.

Dallas shooter was affiliated with anti-Semitic group. [Micah X.] Johnson has been variously portrayed as a follower of the Black Lives Matter movement who was pushed to the edge by recent police shootings, a loner who not only was unaffiliated with various black nationalists organizations but was even shunned by them, and a disgruntled veteran who left the military under a cloud of suspicion for sexual harassment. Reports now say he was linked as well to several black power and other confrontational groups, some of which are labeled as anti-Semitic. According to local reports, Johnson was a member of the New Black Panther Party's Houston chapter for about six months a few years ago. He "liked" the group on Facebook and, according to The Daily Beast, he attended multiple NBPP protests and events.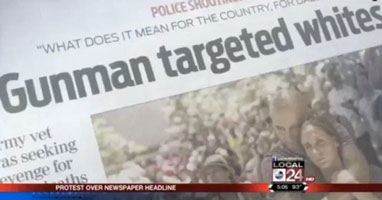 Image of the Day: You know what else is racist? The truth. A newspaper in Memphis came under fire last week for its coverage of the assassination of five police officers in Dallas. What specifically had locals in such high dudgeon was the headline emblazoned across the front page. Protesters who congregated outside the offices of the paper, The Commercial Appeal, were so outraged that a simple correction was deemed sufficient. Instead, the publication's editor offered up a nearly 1,000-word mea culpa. So what did the headline say? This: [Image]




Still no explanation for Dallas gunman's honorable discharge. Almost a week after the Dallas sniper attacks, it's still unclear how the gunman obtained an honorable discharge from the military even though Army officials sent him home from Afghanistan with a recommendation that he be thrown out of the armed forces.

Black militia says Dallas shooter 'shall be celebrated one day'. Micah Xavier Johnson, the lone gunman in Thursday night's ambush on police in downtown Dallas, was an Army veteran who friends described as a nice guy. But he also was enraged with police shootings of black men around the country, he told negotiators during a tense standoff, and he "had very strong feelings about being black," a former co-worker said. Authorities are now investigating whether Johnson was directed by the militant groups he "liked" on social media — including the African American Defense League, the Black Riders Liberation Party, the Huey P. Newton Gun Club and the New Black Panther Party — or merely emboldened by them.

First black Miss Alabama calls Dallas cop killer a 'martyr'. The first black woman to hold the title of Miss Alabama posted a tearful message Sunday calling Dallas cop killer Micah Xavier Johnson a "martyr." Kalyn Chapman James, who was crowned Miss Alabama before placing as a top-10 semi-finalist in the 1994 Miss America pageant, posted a live video on Facebook that's been viewed more than 7,400 times.

Dallas shooting rifle: a "curio or relic," but still deadly. The U.S. Bureau of Alcohol, Tobacco, Firearms and Explosives classifies the SKS rifle that some sources believe Micah Johnson used to kill five Dallas police officers on July 7 a "Curio or Relic." Due to this status, which the SKS shares with many other models of Berettas, Colts, Remingtons, Rugers and other firearms that are at least 50 years old, gun dealers said that in some states and jurisdictions the Soviet-era rifle can be purchased online and delivered to your door without securing a permit.

"Executive Level Gaslighting:"
Obama On Dallas: "it's very hard to untangle the motives of this shooter". Speaking at a press conference in Poland, President Obama actually said it is "very hard to untangle the motives" of the shooter in Dallas who killed five police officers Thursday evening. This statement is despite the shooter telling police exactly what his motive entailed.

Hate Group Urges Gangs To Kill Cops After Dallas Shootings. Groups like the New Black Panther Party are applauding the man who killed five Dallas police officers on Thursday, while another group is calling for more dead cops.

Blame Black Lives Matter Movement for Dallas Carnage. The Dallas shootings are the logical extension of the demonization of police officers by the racial grievance industry spearheaded by the Black Lives Matter movement, a demonization that began almost as soon as President Obama took office.

Why Is Obama Completely Ignoring The Dallas Shooter's Motive Of Wanting To Kill White People? America has a race problem. But it is not the typical race problem you hear about on the six o'clock news or in your social media news feed. Rather, it involves people like Barack Obama refusing to call deliberate attacks on white people racist. Despite Dallas police, including the city's commissioner, outlining how the shooter Micah Xavier Johnson said he wanted to kill white people, especially white law enforcement personnel, Obama claims that the assailant's motives are "hard to untangle."

Dallas suspect taunted police during 2 hours of negotiation. The suspect in the deadly attack on Dallas police taunted authorities during two hours of negotiations, laughing at them, singing and at one point asking how many officers he had shot, the police chief said Sunday [7/10/2016].

The Suspect Said He Wanted to Kill White People. America's modern race-obsessed progressive media exhibits symptoms of brainwashing that are so severe, they make North Korea look positively libertarian. To hear them tell it, last Wednesday evening a black man in Minnesota "was shot dead for a broken taillight" a mere day after a black man in Louisiana "was shot dead for selling CDs." Mais pourquoi? Because, dummy, of "our nation's carnal desires to spill black blood." Duh! What are you — some kind of racist or something? I often marvel at the magical mystical soothsaying ability of self-proclaimed reporters who were likely hundreds if not thousands of miles from the crime scene yet are able to know not only precisely what happened, but also exactly why it happened.

Dallas suspect said he wanted to kill whites. An Army veteran killed by Dallas police after the sniper slayings of five officers during a protest march told authorities that he was upset about the police shootings of two black men earlier this week and wanted to exterminate whites, "especially white officers," officials said Friday [7/8/2016].

Top police group wants Justice to investigate Dallas police killings as hate crime. The Fraternal Order of Police, the country's largest group of sworn law-enforcement officers, is asking the Justice Department to "immediately" investigate the killing of five Dallas police officers as a hate crime. "The U.S. Department of Justice is always quick to insert itself into local investigations," group President Chuck Canterbury said Friday [7/8/2016]. "Today we expect action just as swift. We want a federal investigation into those who were motivated by their hatred of police to commit mass murder in Dallas." Police say the shooter in Thursday's attack, Micah Johnson, a 25-year-old black Army veteran, was angry about two recent incidents in which a police officer fatally shot a black male.

The Editor says...
It is difficult to imagine why such an investigation should be undertaken; for indeed, the perpetrator — hateful or not — is dead. He is paying the price for his actions at this very moment.

Due Process? A Drone Was Used To Blow Up A US Citizen Without Trial This Week. The Dallas shootings have ushered in a very new world for US citizens. For the very first time, drones have been used on US soil to kill Americans without trial or charges. The suspected shooter in yesterday's tragic killings, US Army veteran Micah Xavier Johnson, was, according to police and press reports, holed up in a parking garage and would not give himself up. After hours of what police claimed were fruitless negotiations with Johnson, a weaponized robot was sent to where he was hiding and blown up, taking Johnson with it.

The Dallas Killings Were Inevitable. Yesterday in Dallas, Texas, Micah Johnson — and perhaps several others — opened fire on police during a Black Lives Matter demonstration. Five officers were killed and seven were wounded. Two bystanders were also hit. Johnson told a police negotiator during a standoff that he wanted to kill white people, especially white officers, because he was angry about police killings of blacks. Johnson, who was later blown up by a police robot bomb, fought in Afghanistan but "went all Black Panther" when he returned to the United States. Johnson said he acted alone but a group called the Black Power Political Organization claimed it was behind the police killings and promised "more will be assassinated in the coming days!" Some blacks in Dallas celebrated with they heard that police had been killed. These murders were entirely predictable. They are the logical — even inevitable — result of hatred for the police whipped up by black activists and encouraged by politicians and the media. These killings will not be the last.

Why Isn't The Media Condemning All the People Supporting the Dallas Shooter? [Scroll down] I saw many postings (several with hundreds of "likes" and "retweets") from black people who have been infuriatingly supportive of the man who wanted to kill "white people" and end up assassinating several completely innocent police officers. I'm not talking about the usual conspiracy nuts who insist that Johnson wasn't really the shooter. That isn't that unusual in cases like this. What I saw was flat out praise for Johnson's actions. Perhaps even worse than that, there were numerous blacks who were being viciously attacked for having the gall the criticize those who would publicly support/justify such a heinous crime against humanity. To my knowledge (and I have searched hard to find it), not one major "black leader" has had the guts to call out this outrageous reaction. [...] This is a whole new level of insanity and delusion. This shows that there is a culture, at least within the massive online black community, where, even if it is not nearly the majority view, it is more than acceptable to think is it somehow justifiable to kill whites/police out of revenge for events which we still don't yet even fully understand.

Right One Cue: Obama Pushes Gun Grab Following Attack On Dallas Police. He makes no mention of Black Lives Matter, a racist, violent, socialist group he has all but endorsed as President. He makes no mention of the culture of hate and divisiveness his administration has built for the last eight years. No, instead, Barack Obama once again uses tragedy born of the racial tensions he himself has created, to go after gun rights in America.

Dallas copycat ambushes of police in 3 states yesterday. In the last 24 hours, there have been three incidents in three different states involving the deliberate targeting of police officers. In Misouri and Georgia, the attacks were described as "ambushes." The attack in Tennessee occured before the Dallas shootings, but the motive, according to police, was the same as the cop-killer's reason for the shootings in Dallas.

Hillary plays the race card on Dallas police massacre. Hillary Clinton has crafted her response to the slaughter of Dallas policemen to exploit racial resentment and shore up her support among African-Americans. She needs Obama-levels of turnout and to grab about 92% of the votes in order to win. She has had trouble whipping up enthusiasm among all demographic slices of the electorate, and she apparently sees black anger at whites as just the thing to motivate voters to turn out, and to quiz their friends, families, and neighbors as to whether they have voted on Election Day.

Police union criticizes Obama shooting response, calls for hate crime investigation. The nation's largest police union is calling on the Justice Department to investigate the fatal shooting of five police officers in Dallas Thursday night [7/7/2016] as a hate crime — and is criticizing President Obama for his response to the shootings so far. "We'd like to see the president make one speech that speaks to everybody instead of one speech that speaks to black people as they grieve and one speech that speaks to police officers as they grieve," said Jim Pasco, the executive director of the Fraternal Order of Police, which represents 330,000 officers.

Dallas sniper was sent home from Afghanistan over sexually harassing a female soldier then 'got in touch with bad folks and went all Black Panther'. The Dallas sniper who targeted police officers during a Black Lives Matter protest was sent home from Afghanistan after being accused of sexually harassing a female soldier — then 'got in touch with bad folks and went all Black Panther,' according to a friend. Micah Xavier Johnson, 25, who fatally shot five officers and wounded seven more before police killed him with a remote-controlled bomb in early hours of Friday [7/8/2016], was described as a loner who followed black militant groups on social media. Johnson lived with family members in the blue-collar suburb of Mesquite, Texas, where he played basketball for hours at a time.

Suspect in Dallas Attack Had Interest in Black Power Groups. The man who the Dallas police say killed five officers in a barrage of bullets on Thursday was a troubled Army reservist who left Afghanistan under a cloud of sexual harassment charges made by a fellow soldier who sought an order of protection against him and said he needed mental health counseling. Micah Johnson, 25, left the service in 2015, moving back to the Dallas area, where he had grown up. There, he gravitated toward black power groups, displaying his affinity for them on Facebook. His profile page, which has since been taken down, paid homage to black pride, featuring images of a raised fist and pictures of the red, black and green Pan-African flag. Both have been symbols of nonviolent black empowerment for decades, but have also been co-opted by extremist groups with racist views.

Micah Johnson's sister, Nicole Johnson, ranted against police on Facebook a day before her brother killed five officers. President Obama said that although the country was questioning how to confront the "pain" of this week, it was united, and that Americans of all backgrounds were disgusted by attacks on police. "Americans of all races and all backgrounds are rightly outraged by the inexcusable attacks by police — that includes protesters, it includes family members who have grave concerns about police conduct. And they have said this is unacceptable — there's no division there," he said. President Obama labelled the Dallas sniper "demented", saying he was not representative of all African-Americans.

The Editor says...
Obviously, Obama himself is "not representative of all African-Americans."

Despite racist motives, Obama blames Dallas attacks on gun control. Chicago Mayor Rahm Emanuel once said "never let a good crisis go to waste," and President Obama intends to use the racist anti-police attacks in Dallas for expanding gun control. Despite the fact that one of the shooters, Micah X. Johnson, had racist motives and wanted to kill white police officers because he was angry and cited #BlackLivesMatter as inciting him, the President is claiming it was the lack of gun control that caused the deadly massacre in Dallas. "When people are armed with powerful weapons, unfortunately it makes attacks like these more deadly and tragic," Obama said at a press conference during a trip to Poland. "In the days ahead we're going to have to consider those realities."

An Act of Terror Against the Men and Women of Law Enforcement. We learned on Friday morning [7/8/2016] that one of the suspects "stated he wanted to kill white people, especially white officers," according to Dallas Police Chief David Brown. He also allegedly told a hostage negotiator that his anger was fueled by the Black Lives Matter movement and the recent shootings of African-American individuals at the hands of police. What occurred Thursday evening must be distinguished from legitimate acts of protest, but it must also be distinguished from a random act of violence in and of itself. What occurred Thursday evening was indeed an act of terror perpetrated against the entire law enforcement community. President Barack Obama rightly condemned the violence in Dallas as "vicious, calculated, and despicable." But the president offered these words only after having spent the past seven years routinely criticizing the entire law enforcement community and criminal justice system in the wake of various isolated controversies.

Calls for Black Lives Matter to be recognised as 'terrorist organisation' after Dallas shootings. More than 4,000 people have signed a White House petition urging the US Federal Government to formally recognise the Black Lives Matter (BLM) campaign as a "terrorist organsiation". The calls come as five police officers were shot dead by snipers during a BLM protest in Dallas on 7 July. The petition was started one day before the shooting, however, it gained popularity following events in Dallas. Anyone aged 13 or older can sign a petition on the website and the White House will respond to the request should it gain 100,000 signatures by 5 August.

Dallas gunman was upset about recent shootings, wanted to kill whites: Police chief. Dallas Police Chief David O. Brown said that the sniper told police negotiators that he was angry about recent police-involved shootings and the Black Lives Matter movement, although he claimed to be acting alone and not involved with any group. "The suspect said he was upset at white people. The suspect stated he wanted to kill white people, especially white officers," he said.

Suspect in Dallas police attack wanted to 'kill white people': chief. A black U.S. military veteran of the Afghan war who said he wanted to "kill white people" opened fire in a sniper attack in which five police officers were slain at a protest decrying police shootings of black men, officials said on Friday. Seven other police officers and two civilians were wounded in the ambush in downtown Dallas on Thursday night, officials said. Police killed the gunman, identified by authorities as 25-year-old Micah Johnson, with a bomb-carrying robot after cornering him in a parking lot, ending an hours-long standoff.

Did the false narrative about police killing blacks lead to the Dallas cop killings? Two tragic police shootings resulting in the deaths of two young black men have set the country on fire. And the politicians, eager to score points with the minority community, may have unconciously enabled the snipers in Dallas, who killed 5 police officers and wounded 6 others. Before any evidence was gathered at all, and before any facts involving the police killings were known, several politicians rushed to judgment and declared a racial motive for the tragedies.

Dallas police massacre: BLM demonstrators got what they called for. The attack on Dallas police officers, 12 hit and 5 among them now dead, is the latest blow to the fragile bonds of civil society. The expectation that lawful behavior will predominate and that we can go about our business, once lost, is difficult to recover. Make no mistake: a war against civil society is underway, and attacks on police officers are a key tool with which to bring about a situation where the armed and vicious rule the orderly and disarmed. Lest you forget, #BlackLivesMatter explicitly demanded the assassination of police officers less than a year ago.

Dallas shootings bring number of police killed this year to 56. Five Dallas law enforcement officers were killed in a sniper attack Thursday night, bringing the death toll of officers killed in the line of duty this year up to 56, according to the National Law Enforcement Officers Memorial Fund. The attack, which injured several more officers, occurred during a demonstration held downtown for the black victims of two police shootings this week, which generated national outrage when video of one shooting and the aftermath of the other were shared widely on social media.

Texas Lt. Governor: 'I Blame People on Social Media with Hatred Toward Police'. Texas Lt. Governor Dan Patrick said he blames people on social media with hatred toward police during a Fox News Channel interview Friday morning. The Lt. Governor made a passionate call for viewers to remember these are real people who were killed and wounded during the Black Lives Matter protest in Dallas. "I do blame people on social media with their hatred toward police," Lt. Governor Patrick said. "I saw Jessie Jackson on calling police racist without any facts. I do blame former Black Lives Matter protests. ... We've heard the 'pigs in a blanket' (comments)."

Meet the Leftist Reverend Behind the Dallas Black Lives Matter Protest. The lead organizer of the Dallas protest where snipers opened fire on police officers has made several disturbing comments on his social media. A Breitbart News review of Jeff Hood's internet footprint revealed regular posts about the apocalypse, violent retribution to police, and Hood even recently posted about the 2013 death of a self proclaimed "social justice warrior" who committed suicide by lighting himself on fire in front of a shopping mall in Texas. Video of Hood speaking on camera just after the attack surfaced on social media where Hood talks about "leading the protest."

Dallas police shooting: 'Black Power group' claims responsibility for police killings and warns of more assassinations to come. A Facebook page claiming to represent a black power group has posted messages claiming responsibility for the deaths of five police officers in Dallas. [...] There were initial reports there could have been up to three or four snipers involved in a co-ordinated attack during a peaceful Black Live Matter protest. However — while two men and one women have been arrested in connection with the attacks — it's being claimed tonight that police are operating on the theory of a 'lone gunman' being responsible. This gunman has been named as Micah Xavier Johnson, from Texas, who served with the US Army Reserve for six years and served for a time in Afghanistan.

Police group director: Obama caused a 'war on cops'. The head of a law enforcement advocacy group lashed out at President Barack Obama in the wake of the Dallas shootings that left five police officers dead, accused the president of carrying out a "war on cops." "I think [the Obama administration] continued appeasements at the federal level with the Department of Justice, their appeasement of violent criminals, their refusal to condemn movements like Black Lives Matter, actively calling for the death of police officers, that type of thing, all the while blaming police for the problems in this country has led directly to the climate that has made Dallas possible," William Johnson, the executive director of the National Association of Police Organizations, said in an interview with Fox on Friday morning [7/8/2016]. Johnson said although the Thursday night shooting of law enforcement officers reminded him of "the violence in the streets in the 60's and 70's," he pointed out how Obama's response appeared different than his predecessors.

Who is Dr. Jeff Hood? From his home page: "The Rev. Dr. Jeff Hood is a Baptist pastor, theologian and activist living and working in Texas. A graduate of Auburn University, Southern Baptist Theological Seminary, Emory University's Candler School of Theology, University of Alabama and Creighton University, Dr. Hood also concluded a Doctorate of Ministry in Queer Theology at Brite Divinity School at Texas Christian University. Dr. Hood was ordained at a church within the Southern Baptist Convention in 2006 and received standing in the United Church of Christ in 2015. [...] In 2015, Hood was named Hope for Peace and Justice's Ambassador of Justice for his theological activism and also the Next Generation Action Network's Person of the Year for his work against police brutality. In addition to being the husband of Emily and father of Jeff III, Phillip, Quinley Mandela, Lucas & Madeleine, Dr. Hood also maintains a close friendship with Texas Death Row prisoner Will Speer. With deep soul and a belief that God is "calling us to something queerer," Dr. Hood is a radical mystic and prophetic voice to a closed society."

Micah Xavier Johnson: 5 Fast Facts You Need to Know. An Army veteran "upset about Black Lives Matter" and "recent police shootings" who opened fire Thursday night in Dallas in an attack on police officers has been identified by police as Micah Xavier Johnson. Five police officers were killed and seven were wounded, officials said. Two civilians were also wounded in the shootings, police said. Johnson, 25, was killed when a police robot detonated a bomb near him following a standoff that lasted several hours, Police Chief David Brown said Friday at a press conference. "The suspect said he was upset with white people and wanted to kill white people, especially white officers," Brown said.

Who Is the Dallas Shooter Micah Xavier Johnson? Officials identified Micah Xavier Johnson, 25, from Mesquite, Tx., as the suspect in the murders of five Dallas law enforcement officers and injuries of seven others. He is being described as a recluse who lived with his mother and had no prior criminal record, CNN reports.

Man accused of stabbing random Dallas shopper. A Dallas man remains in jail after police say he randomly stabbed a shopper inside a Target store. Police say Antowann Davis, 30, walked into the Target on Marsh Lane around 9:15 p.m. Thursday [5/17/2012] and took a butcher knife out of its packaging in the kitchen department. Martha Jones, 29, said she was browsing inside the store when Davis walked past her and shoved the knife into her lower back.



Chance encounter with CHL holder saves Frisco woman from robber. There is constant sound and motion at DART's Convention Center Station, and it's one of Kim Lanphere's regular stops. "I use DART 30-to-40 times a week," she said. "At most stations, I feel relatively safe, because there's light and people." But as of Saturday, her feeling of safety is gone. Dallas police say she passed 23-year-old Jamail Koroma on a sidewalk near the station. "I felt him change his gait, and at the time I had by bag here," she said, motioning by her side, "and I put it on my shoulder, just to hold it safe."

It's open season on prostitutes.
Rape victim not a 'victim,' judge says, giving rapist probation. A Texas judge has sentenced a confessed rapist to just five years' probation, implying his 14-year-old victim was promiscuous and "wasn't the victim she claimed to be." Sir Young, 20, pleaded guilty to raping the girl at Booker T. Washington High School in Dallas when he was 18, even as she told him "no" and "stop," according to the Dallas Morning News. But State District Judge Jeanine Howard stunned many when she opted for probation, which will include 45 days in jail, and also exempted him from standard sex-offender restrictions, [...]

The teen neighbor who senselessly gunned down Iraqi newlywed. A 17-year-old boy has been charged with the murder of an Iraqi newlywed who was gunned down as he took pictures of his first snowfall just weeks after arriving in the U.S. Nykerion 'Kaca' Nealon has been charged with killing Ahmed Al-Jumaili, 36, who was shot outside his Dallas, Texas apartment block on March 4 as he played in the snow with his wife and brother-in-law.

Man randomly attacked, killed along White Rock Creek trail. An upset young adult randomly attacked and fatally stabbed a jogger along the White Rock Creek trail early Monday [10/12/2015]. Police said Thomas Johnson, 21, used a large, edged weapon to kill the unidentified male jogger on Monday morning [10/12/2015].

Police: Former Texas A&M football player randomly hacked jogger to death in Dallas. Former Texas A&M football player Thomas Linze Johnson was out of football and out of his home. And, Dallas police say, he was angry. Johnson allegedly took out that rage Monday morning [10/12/2015] by hacking a jogger to death with a "large-edged weapon" on the White Rock Creek Trail, police said.

Update:
Widow of runner slain at random by machete-wielding schizophrenic kills herself three weeks later. The widow of a jogger who was brutally hacked to death by a machete-wielding schizophrenic in a random attack three weeks ago has committed suicide. At the time, Patti Stevens, 54, told local newspapers she was 'lost' without David, 'the love of her life' and husband of 25 years. He was killed by 21-year-old Thomas Johnson, a mentally ill former football player, as he ran along the popular White Rock Creek Trail in Dallas on the morning of October 12.

The Editor says...
If you get all your information from the television stations in Dallas, you probably haven't heard this news, because the local TV stations generally do not report suicides.

Fast Food Worker Says She Was Attacked Over Milkshake. Dallas police detectives want to identify a fast food customer they say went on a threatening rampage because he was dissatisfied with a milkshake order. Surveillance video from the Burger King at 11800 block of N. Central Expressway from June 13 shows the man at the counter. The video has no audio. But the recording shows him throwing a drink at someone outside the scope of the camera. The man then grabs a highchair from the seating section and flings it across the counter.

Gunman Was Gregarious Until Army Career Ended in Disgrace. He was disarmed in the middle of a war zone and placed under 24-hour escort. The most humiliating part was that everyone in Micah Johnson's unit in Afghanistan knew why: He was accused of stealing a female soldier's panties. Johnson's aspirations to a military career were over. Now he faced removal from the Army. The well-liked, easygoing young black man whose friendships were described as colorblind was suddenly deeply shamed and ostracized. People who knew him, both before and after, say he was never the same.

CBS Issues Correction, Jumped the Gun on AP Bullets Used in Dallas Ambush. CBS's Scott Pelley had to issue a correction Friday July 15 on CBS Evening News for an overzealous segment on the Dallas ambush he aired on Monday July 11. In the original report Pelley claimed that so-called armored piercing bullets were used to kill the police, that claim turned out to be false. "Early in the investigation, a city official told us the ammunition the killer used was armor-piercing," he stated, "Well, now we've learned that the bullets were not the armor-piercing type."

Black Liberal Establishment's Misinformation Campaign On Dallas Assassination. The horrific assassination of five police officers in Dallas, Texas exposed how the black liberal establishment echo chamber operates to manipulate the views of black Americans. Following the shooting, elected officials, Attorney General Loretta Lynch, black media, and community activists shifted blame from the attack from a black racist to gun control, the NRA and police brutality. The unified message misinforms the black community about the real causes of problems facing urban areas.


Black crime in Memphis



Woman charged with criminal exposure to HIV after allegedly biting Memphis police officer. A Memphis woman is facing multiple charges, including criminal exposure to HIV, after she allegedly bit an officer during a traffic stop on Wednesday [8/3/2016]. [...] She "had her keys between her fingers and was swinging at the officer," according to the affidavit. She then bit one of the officers in the left arm, drawing blood. Smith refused treatment, but was taken to the Regional Medical Center for injuries sustained during the struggle. While at the hospital, she informed the medical staff that she has AIDS, police said. The injured officer was also taken to the hospital for treatment.

Fatal shooting in North Memphis marks city's 100th homicide. Memphis hit an unenviable milestone Saturday [6/11/2016]. Shortly after 2 p.m., the city recorded its 100th homicide of 2016.

Variety of solutions discussed to Beale Street violence. Mothers are demanding answers to the violence from city leaders after an alarming number of homicides involving teenagers being killed and teenagers being charged with murder. "We're not even halfway through the year and it's already been 93 murders; that's a problem," Bridget Bradley said. Bradley is with Memphis Mothers Against Violence and for the second straight day she, as well as other outraged Memphis mothers, have been outside city hall demanding a response from the mayor about the recent crime.

Violent sex offender arrested for flashing women at KFC. A registered violent sex offender was arrested after police said he flashed two women at KFC on Poplar Avenue. A woman told police she went to KFC to meet her daughter when she saw a man banging on her daughter's vehicle. She told police she told the man to step away when he approached her and asked for money. When she denied giving out money, the man, 46-year-old Karron White, exposed himself while cursing at her.

Video captures teens fighting at Burger King. An all-out brawl inside a Memphis fast food restaurant was caught on camera. A WMC Action News 5 viewer said they took the footage at the Burger King near the intersection of Poplar Avenue and Cleveland Street. In the video, several young people can be seen fighting near the counter. The people appear to be in school uniforms. The video shows what appears to be students throwing punches, pulling hair, and standing on counters in a local fast food restaurant.

18-year-old girl charged with murder of 14-year-old girl. Police said one of the girls "disrespected the family" of the other in what they describe as a "festering disagreement" among a group of teenage girls. Treyonta Burleson was pronounced dead at Vanderbilt University Medical Center after being shot in the torso by Antwana Smith.

Man convicted in 2013 shooting death of nurse on South Main. [David] Santucci's mother, Darlin Fugit, said their case was "so clear and so precise." She said she holds no anger or bitterness, and [Dondre] Johnson will have plenty of chances to think about what he did while in prison.

Authorities identify suspect wanted in fatal shooting of Memphis police officer during traffic stop. A suspect has been identified in the search for a gunman who shot and killed a Memphis police officer during a traffic stop, the city's police director said Sunday night [8/2/2015]. A warrant for first-degree murder has been issued for 29-year-old Tremaine Wilbourn, who is believed to be the shooter, Police Director Toney Armstrong said at a Sunday evening press conference. Wilbourn is currently on supervised release for a 121 month sentence for robbery of a banking institution, Armstrong said.

Memphis Cop Shooter Tremaine Willbourn WANTED $10,000 Reward Via U.S. Marshals. 29-year-old Tremaine Willbourn is the wanted individual. Police believe he is the shooter. Wilbourn was on supervised release for 121 month sentence for a bank robbery.

Black Man Saves White Woman from Black Mob Violence in Memphis. The best explanation for black mob violence just might come from a place where it is an everyday fact of life: Memphis. "It's fun," said one black person to a local reporter inquiring about why so many "teens" are so eager to be so violent. But the central organizing feature of the violence is not age. It is race. The members of these mobs are black.

Video: Mob of high school students attacks man at gas station. Memphis police say a large group of high school students swarmed a BP gas station and beat a man, according to CBS affiliate WREG. Orrden Williams, Jr., the man seen in the surveillance footage being beaten, told the station that one of the kids "sucker punched" him. He had reportedly been helping an older woman to her car, after saying that she didn't feel safe when the crowd began coming into the parking lot. [Video clip]

Memphis Tennessee Church Hides Arrest Of Violent Sex Offender. A violent sex offender is now facing charges after police say he exposed himself in a church soup kitchen. Willie Edwards is listed as a violent sex offender on the Tennessee Sex Offender Registry for offenses dating back to 1989. Edwards was working in the kitchen at St. John's United Methodist Church when he exposed himself to a female worker January 27.

Mother and child held at gunpoint; MPD makes arrest in driveway robberies. A handful of driveway robberies have people living in fear around the Memphis area, but police say they've caught two people causing the turmoil.

A teen mob strikes again. Three teens have been cited by Memphis police after a mob of teenagers attacked several people Friday night [9/26/2014]. Police said a large group of teens flooded the streets near Central High School Friday just before 10:00 p.m. "Had I had been armed we would have had a lot of kids laying in the Bellevue street that night," Sharon Mourning said. Mourning said she would have done whatever she needed to protect herself, "So we just driving and all of a sudden all of the kids ran into the middle of the street."

Memphis gang members post video on Facebook showing their felony crime. A 14-year-old Memphis boy and three of his fellow gang members unwittingly helped law enforcement solve a brutal crime. That's because they videotaped themselves robbing and beating a 22-year-old victim until he was bloody, naked and unconscious, said Vince Higgins, spokesman for the new Memphis-based Multi-Agency Gang Unit, a union of local and federal prosecutors and law enforcement.



Another violent black-on-elderly-white crime:
Arrest Made In Beating Of Elderly West Memphis Woman. Two people have been arrested after an 89-year-old woman in West Memphis, Ark., was beaten so badly a bloody footprint was left on her face. It was just after 9 p.m. Monday [4/14/2014] when Allene Durdin answered her door and was beaten and robbed in her North McAuley Drive home. She had seven broken ribs, a broken nose and bleeding of the brain, according to her granddaughter.

Five teens shot after midnight basketball tournament. Five teens were shot on Saturday evening, after a Memphis Gun Down event meant to keep teens and guns off the streets; Tony Coburn is in custody with five counts of attempted first-degree murder. Police say four other suspects ran from the scene.

Tips lead to arrest of TJ Maxx robbery suspects. Two people are charged in a bizarre robbery attack at a Memphis TJ Maxx, where a security guard was threatened with AIDS. Christopher Talley and Latasha Brooks face several charges, including attempted first-degree murder.

Screaming With Glee: "oh look, they got a white dude" — Black Mob Attacks White Kroger Customer and Employees. According to police, three white people were jumped by a large group of teenagers who were chanting "fam mob." The black group, who came from CiCi's Pizza, reportedly attacked a 25-year-old white customer as he left his car to enter Kroger. Two white employees, ages 17 and 18, were attacked while trying to stop the fight. Both were "struck several times in the head and face while being knocked to the ground". The victims say large pumpkins were thrown at their heads. They both were eventually knocked unconscious.

Three New Suspects in Kroger Beatings, Incident Will Not Be Investigated As Hate Crime. The beatings of three people in a Kroger parking lot Saturday night will not be investigated as a hate crime, according to police officials. Memphis Police Department director Toney Armstrong said he's had lots of calls asking how the investigation would proceed but said there is "not sufficient enough evidence to investigate this as a hate crime."

Kroger Mob Beating Victim Speaks, Four Teens Arrested. It's a violent attack that was caught on camera — and now, police in Memphis say they have arrested and charged four juveniles. The attack happened in the parking lot of a Kroger grocery store on Saturday, September 6th.

Video goes viral of black-on-white mob attack in Memphis. It's the latest instance of black-on-white mob violence sweeping America — and a YouTube clip of the attack has gone viral. It shows a 17-year-old boy in Memphis, Tennessee, getting punched, knocked to the ground, and kicked in the head while lying helpless. Jubilant shouts and laughter from the black mob can be heard in the background. The YouTube video shows a white youth — an employee of a Kroger supermarket — stepping outside the store's front doors last Saturday evening as a mob of black youths rampaged through the parking lot terrorizing shoppers. Reportedly, the mob was playing a version of the so-called "knock-out game" — with this one called "point 'em out, knock 'em out."

Memphis attack: Father weeps over video of badly beaten son. The video showed a rampaging mob attacking people indiscriminately in the parking lot of a Kroger supermarket in Memphis, Tennessee. A bag boy saw the advancing crowd and sought shelter. He tried to escape but within a matter of moments the young man found himself swept up in the violence and chaos.

Oh! If an actor says so, I guess the attorney general has to do something!
Actor James Woods calls for Attorney General to investigate Kroger mob attack as hate crime. To some who watched a grainy cellphone video of Saturday's brutal mob attack outside an East Memphis grocery store, the math is simple: Black assailants plus white victim equals hate crime.

Mob of Black Teens Brutally Beats Elderly Man, Smashes Cars in Memphis. Memphis, Tennessee suffered another attack by a rampaging mob of black teenagers after they flooded the streets after a local high school football game Friday. The mob of some 40 teens flooded into the street near inner city Central High School on Friday, September 26 just after the end of the game. A witness to the rampaging mob, Sharon Mourning, said she wished she were armed at the time.


Black crime in New York



NYC police charge teen in clothes-burning attacks on women. New York City police have charged a 14-year-old boy in connection with one of a series of attacks on women whose clothes were set on fire in Manhattan.

J'Ouvert murder victim may have bumped into gunman before shooting. The thug who fatally shot a young woman execution-style at the J'Ouvert festival in Brooklyn was arrested Tuesday [9/6/2016] — while drunkenly driving on three wheels and with a Caribbean flag wrapped around his bloody hand, police said. The 20-year-old suspect, Reginald Moise, was picked up at 8 a.m. for driving drunk, and police then linked him to the shooting of 22-year-old Tiarah Poyau at the pre-West Indian Day Parade event, police said.

New video shows man punching victim in face on Q66 bus. Police are asking for the public's help Saturday [8/27/2016] to identify a man in connection with an assault that occurred on a Q66 bus in July. The victim was sitting on the bus while it was idling at the corner of 21st Street and 35th Avenue around noon Friday, July 8.

Cuomo stiffens penalties for assaulting subway employees. New Yorkers will face stiffer penalties for assaulting subway station agents and cleaners. Gov. Cuomo on Friday [8/19/2016] signed legislation allowing prosecutors to seek punishment of up to seven years in prison for such crimes. The law makes the punishment the same as the one meted out to anyone who attacks subway-train operators and bus drivers. Some 117 transit workers were assaulted between June 2015 and May of this year, according to transit-union officials.

Man Punches 14-Year-Old Boy in Face Then Steals $7 and Phone: NYPD. Police are searching for the man who went up to a teenage boy in Queens and punched him in the face before stealing $7 and a phone from him. The 14-year-old boy was walking near Astoria Boulevard and 44th Street in Astoria late last month when the suspect came up from behind him. The man punched him in his face and demanded his valuables, police said. The boy handed over $7 and his iPhone 4.

Teen arrested for Queens hate crime assault on Muslim man admits to playing 'knockout game'. A 14-year-old boy arrested for a hate crime assault on a Muslim man told police he and his friends were playing the vicious "knockout game," cops said on Monday [8/15/2016]. The teen, whose name was withheld because of his age, was arrested for attacking Mohamed Rasheed Khan, 59, with two friends as the man left his Jamaica Ave. mosque near 205th St. in Hollis on June 1. The boy admitted to investigators that one of his friends suggested they play the "knockout game" — a barbaric practice of trying to knock a random person unconscious with one punch, police said.

Man Shot, Killed inside NYC Barbershop After Fight With Owner: Sources. Police say they're investigating after a man was shot and killed in a barbershop in the Bronx Tuesday evening [8/2/2016]. Julio Lebron was shot inside Believe Beauty Spa on Tremont Avenue in West Farms at about 6 p.m., police said. He was taken to St. Barnabas Hospital, where he died. Police sources say the 29-year-old Lebron went to the salon earlier in the day demanding money from the owner.

Police hunt for man accused of dragging woman, 60, into boiler room, then raping her. The victim was collecting cans and bottles in East New York [7/13/2016] with another person when she was dragged by the assailant into a boiler room of the apartment where he repeatedly punched her in the face and then raped her, police said. He then ran away to parts unknown, police said.

Three men sought by police after Brooklyn assault. Three men shown in surveillance video released by police Wednesday [7/20/2016] allegedly attacked a woman in Brighton Beach and stole money from her. The three men approached a 58-year-old woman near the intersection of Brighton 4th Street and Ocean View Avenue just after 6:30 p.m. on July 16 and shoved her to the ground, police said. One of the men pulled $40 out of her hand. Another one of the men tried to wrench a shopping bag out of her hands. He punched her in the face when she resisted.

65-Year-Old Man Sucker Punched in Brooklyn Heights: NYPD. A 65-year-old man was walking down a street in Brooklyn Heights when he was sucker punched by another man in an attack that sent him toppling over a fence into a yard, police said. Richard Carey was walking in front of 99 Joralemon Street, 20 feet from his front door, on the night of July 6 when he was approached by three men and one woman, surveillance video shows. [Video clip]

Man sucker-punched while walking quietly down the street. Disturbing video released on Tuesday shows a thug sucker-punching a 65-year-old man in the face in front of his Brooklyn Heights apartment building in an apparent "knockout game" attack. And the victim has a message for the low life who socked him. "You're not tough," said Richard Carey, who is still nursing a pair of cuts around his left eye.

Elderly man brutally assaulted in broad daylight. A 75-year-old man was punched, kicked and knocked to the ground in the West Village on Wednesday afternoon [7/13/2016]. [...] The assailant is described as a black man with black hair with a red streak. He was wearing a white T-shirt, beige pants and a black and grey backpack. The lookout is a black female who was wearing a green dress with a hood over her head and black sneakers.

Pair sought in brutal assault of 75-year-old man in Greenwich Village: NYPD. Police are looking for a pair who viciously beat up a senior citizen, knocking him unconscious on a Manhattan sidewalk. [...] Police say a male ambushed the 75-year-old victim, punching him in the back of the head and knocking him to ground. He then kicked him in the face and rendered him unconscious as his female accomplice stood by as lookout, according to police.

NYC subway riders fight back at groping, grinding, lewd acts. With subway ridership approaching all-time highs, averaging 5.6 million daily riders, reports of sex crimes are also rising, up nearly 57 percent.

Suspect pushed man, 69, down flight of stairs at Queens subway station: NYPD. Police are searching for a man who allegedly pushed another man down a flight of stairs at a Queens subway station. The incident happened Wednesday afternoon around 1:30 p.m. inside of the 36 Street M/R subway station in Long Island City. [...] The suspect is described as being 6-foot, heavy set and in his late 20s.

The Editor says...
Surveillance video shows one other aspect of the suspect's description. Perhaps you can guess what I mean.

Poopy pants attacker has struck before. A second woman was attacked with feces on the Upper East Side by a homeless man already suspected of shoving excrement down another woman's shorts, cops said on Thursday [6/30/2016]. "Really disgusting attacks," NYPD Chief of Detectives Robert Boyce said. Cops Thursday night were questioning a suspect at the 19th Precinct station house. In the first attack, a 33-year-old woman was walking when a man threw feces at her, striking her face and torso at about 4:30 p.m. Monday [6/27/2016] in front of 67 E. 91st St.

The Editor says...
Victim: white. Perp: black. Hate crime charges? Not a chance.

3 men charged in fatal shooting of former Gov. Cuomo aide Carey Gabay: DA. Three people have been arrested and charged in connection to the fatal shooting of Carey Gabay, a former aide to Gov. Andrew Cuomo who was killed last year during a gang shoot out while walking at the J'ouvert Festival in Crown Heights, police and the DA announced Wednesday [6/29/2016]. Suspected gang members Micah Alleyne, 24, of Jamaica, Queens; Tyshawn Crawford, 21, of East New York, Brooklyn; and Keith Luncheon, 24, of Crown Heights, Brooklyn all face charges, according to Brooklyn District Attorney Ken Thompson.

NYPD: Teen Throws Rock at Jewish Woman's Van While Yelling Anti-Semitic Slurs. A black teenager threw a rock into a minivan window that belongs to a 38-year-old Jewish woman who was driving in the east Midwood neighborhood of Brooklyn on Tuesday afternoon. The rock smashed through the window and fell right next to her six-year-old daughter, who was in the back seat, NYPD said Wednesday [6/29/2016]. Investigators said that the woman reported the incident to police on Tuesday, around 4:53 p.m. while she was driving on Nostrand Avenue, near Avenue J. The teen yelled "hate you Jew," and "dirty Jew," and proceeded to throw a rock through the rear driver's side window of her 2015 Chrysler minivan which was traveling northbound on Nostrand Avenue.

'Thank God nothing's broken': NYPD's chief chaplain attacked. The 80-year-old chaplain, who was dressed in a tracksuit at the time, told The [New York] Post on Monday [6/20/2016] that he was out for his usual morning stroll from his home on Riverside Boulevard up to Grant's Tomb in Morningside Heights when he was attacked. "I'm a walker; I like to go up to Grant's Tomb and back in the mornings," Kass said. "Someone hit me from behind and knocked me down." "They didn't say a word, didn't take anything. They just started running." Kass suffered a cut to the right side of his head. He was taken to New York Presbyterian/Weill-Cornell Medical Center for treatment, police said.

NYPD's Jewish Chief Chaplain Attacked While Working Out in Manhattan. The 80-year-old Jewish chief of chaplains for the NYPD was pushed to the ground Sunday morning, suffering minor injuries after he was attacked while working out in the Upper West Side section of Manhattan, police said Monday [6/20/2016]. Rabbi Alvin Kass was walking, his routine morning exercise, at Riverside Drive and West 83rd Street, where an unknown person approached him and pushed him to the ground.

The Editor says...
It's safe to assume that [#1] the perpetrator was a black male playing the so-called Knockout Game, and [#2] there is a video recording of the attack on a cell phone somewhere in New York, with a record of the incident captured by one of the perpetrator's friends.

Teen arrested for Queens hate crime assault on Muslim man admits to playing 'knockout game'. A 14-year-old boy arrested for a hate crime assault on a Muslim man told police he and his friends were playing the vicious "knockout game," cops said on Monday [6/20/2016]. The teen, whose name was withheld because of his age, was arrested for attacking Mohamed Rasheed Khan, 59, with two friends as the man left his Jamaica Ave. mosque near 205th St. in Hollis on June 1. The boy admitted to investigators that one of his friends suggested they play the "knockout game" — a barbaric practice of trying to knock a random person unconscious with one punch, police said.

New York man, 21, slashed across the neck on Manhattan subway platform after string of similar attacks. A Subway passenger has been viciously slashed across the neck inside a New York city subway station early Monday morning [6/20/2016]. The dispute between two groups of passengers began aboard a northbound A train at around 1.30 am, according to the NYPD. But the row quickly escalated and spilled out onto the 59th Street Columbus Circle platform. A 21-year-old man had pulled out a knife and slashed his victim, also 21, across the neck as he left the train.

Teenagers beat woman on Brooklyn subway for 'sucking teeth' in disrespect. A 21-year-old woman was attacked by a group of teenage girls after she sucked her teeth at them in disgust on a Manhattan-bound A train in Brooklyn, cops said Saturday [6/11/2016]. Police have released images of the teens, who are still being sought for the May 27 attack.

Woman in wheelchair slashed in face by unknown attacker in East Harlem. A 42-year-old woman in a wheelchair woman needed 50 stitches to close her facial wounds after a sicko randomly slashed her early Sunday [6/5/2016] in East Harlem, police said. The unknown assailant cut the woman's face with an unknown object in front of a strip mall on E. 125 St. near Third Ave. at 3:19 a.m., according to authorities.

Moms turn in teen daughters wanted for beating elderly woman. Two Brooklyn moms took "tough love" to a new level Friday [6/3/2016], turning their teenage daughters in to the cops after one recognized them in a wanted photo in the beating of a 78-year-old straphanger. The girls, ages 15 and 16, had allegedly pounded Nora Trotman on a Bedford-Stuyvesant subway platform the previous day — because she had asked the girls to remove their feet from a seat on a Manhattan-bound C train, police said.

Two teen girls 'put elderly woman, 78, in the hospital after senselessly beating her on a New York City subway. The two teenage girls who are being accused of beating an elderly woman so severely that she had to be rushed to a New York City hospital have reportedly been turned in to police. The New York Daily News reports that police are questioning the two suspects, with the first girl being brought in Friday morning by her mother after she recognized her from surveillance photos released by authorities after the attack. The second suspect was brought in shortly after.

The Editor says...
Guess which five-letter adjective is completely absent from the article immediately above. Here's a hint: It starts with a B and rhymes with LACK.

Video Shows Man Robbing Another at Knifepoint: NYPD. Police have released clear, close-up video of a man allegedly robbing another man at knifepoint inside an East Harlem building last week. The video shows the alleged robber confronting the 62-year-old victim in what appears to be a lobby in the area of East 106th Street and Second Avenue after 11 p.m. Friday, May 27, police said.

Man beaten to death by vagrant at bus stop in Queens. A 57-year-old man was beaten to death by a homeless man as he stood at a bus stop in Queens early Thursday [5/26/2016], police said. The victim was found unconscious with head trauma laying at a bus stop on Mott Avenue near Beach Channel Drive in Far Rockaway at around 4:30 a.m., cops said. Emergency responders rushed the man, whose identity was not immediately released, to St. John's University Hospital where he died about 40 minutes later.

NYPD releases images of attempted rape suspects. Police said that two men beat and tried to rape a woman in Brooklyn early Wednesday. Authorities release security camera footage of the two men and hope that tips from the public will lead to a break in the case.

2 more slashings in NYC. The NYPD is investigating two more slashings in the city. [...] There have been more than 600 slashings or stabbings in the city so far this year.

3 teens arrested after 15-year-old punches 60-year-old, knocking him unconscious in the road: police. Police have arrested three teens in connection to two unprovoked punching attacks in Long Island. [...] The teen approached a 60-year-old man from behind, punched him in the face, causing him to fall to the ground, unconscious, inches away from oncoming traffic, police said.

Police: Teen charged with knockout attack on Long Island. A teenager knocked out a man on the street on Long Island and then fled in a car with two other teens earlier this week, police said. Police said that the attacker — a 15-year-old boy — punched the 60-year-old victim in the face, which knocked him into the street just inches from oncoming traffic. The attack happened just before 1 p.m. on May 4.

Strangers Caught Taking Selfies From Stolen Phone In Highland Park. Police are investigating a strange purse snatching case after selfies of the possible suspects started popping up on the victim's Google account. Desiree Hernandez said her purse, containing her phone, wallet and keys, was rapidly stolen from her arms while she walked home early Saturday morning [4/30/2016] in Highland Park. "The passenger of the car just hung out and, like, grabbed my purse from me and just, like, snatched it from my hand," she said.

Man creeps up behind teenage girl, chokes her in the Bronx: NYPD. The suspect, who had been following the victim, allegedly grabbed her from behind and placed his hands around her neck. After choking her, the suspect took off on foot down White Plains Road. The victim remained conscious but said she was experiencing dizziness. She refused medical attention at the scene. According to police, the suspect is described as being between 16 and 19 years old. He is 5-foot-7 and weighs 145 pounds.

The Editor says...
The most obvious adjective omitted from the text of this article (pertaining to the suspect's description) was supplied by the accompanying video clip.

Police: Woman arrested in robbery of 103-year-old. Police say a suspect has been arrested in an attack on a 103-year-old woman in her New York City apartment building.

Woman wanted for punching straphanger on 7 train: police. Police are looking for a woman who punched a straphanger, then threw her phone out of the train when she tried to call police. On Friday [4/29/2016] at 3 p.m., the suspect was arguing with a straphanger on a Queens-bound 7 train en-route to 46th Street station. The suspect accused another passenger, a 48-year-old woman, of staring at her, then approached and punched her in the face, police said.

Nursing student robbed and beaten in broad daylight on Chicago 'El' train as other passengers ignore her plight. It has taken a lot of concerted effort on the part of the grievance industry, but the bonds of civil society are finally fraying to the breaking point. In broad daylight at 10 AM Thursday [4/28/2016], 19 year old nursing student Jessica Hughes was attacked and beaten by a pair of muggers whose race the media do not care to mention, as other passengers on the train did not lift a finger to help her.

Bronx raid is biggest gang takedown in NYC history, prosecutor says. Law enforcement rescued a Bronx housing project with the biggest takedown in New York City history and now, officials are investigating whether the city's 400,000 public housing residents were being protected in safe conditions as required by federal law, a federal prosecutor announced Wednesday [4/27/2016].

3 men wanted for beating man with rock, sought in string of Queens robberies. Police are searching for three suspects linked to a string of violent robberies in Queens last weekend. A 25-year-old man walking in the vicinity of Glenmore Avenue and 76th Street around 1:45 a.m. Saturday when one of the robbers approached him from behind, according to police. He pushed the man to the ground as the others punched and kicked him. They took his cellphone and wallet before fleeing the scene, police said.

Woman, 23, slashed by would-be rapist while jogging in Prospect Park. A 23-year-old woman was slashed while fighting off a man who said he was going to sexually assault her, police said. [...] Police say the suspect is a 6-foot-tall black man with light facial hair and was wearing a black sweatsuit.

Two people slashed by vagrants in separate attacks. Panhandlers slashed two men in Manhattan subway stations in separate attacks on Friday — one for refusing to fork over money, and the other because he didn't give enough, cops said. The first attack took place at the Chambers Street station around 5 a.m. when a straphanger on the A platform was approached by a beggar and then slashed across the face when he declined to give the vagrant any money. The slasher then fled, cops said. The injured man left the train station and went to his workplace where he called 911. He suffered a minor cut to his face and refused medical aid at the scene.

Man says he slashed woman because she's white. A man who was arrested for randomly slashing a woman's neck earlier this month in Brooklyn told police he attacked her because she is white, police sources said. Gregory Alfred, 25, told police he set out to find white people to slice back on Mar. 10 because he blamed them and "the system" for preventing him from freely smoking weed, sources said. The slasher chose to take out his anger on 53-year-old Janina Popko, and cut her across the neck as she was walking near the corner of Beverly and Rugby roads that morning in Ditmas Park, sources said.

NYC's streets run red after 23 'random' slashings in 5 months. Two dozen seemingly random slashings since November have Gotham on edge. "It's not the crime statistics that are causing the fear, it's the perception of being attacked by a razor blade or a knife," said Joseph Giacalone, a professor at John Jay College of Criminal Justice and a retired NYPD detective. Cops are battling an 18 percent spike in knife assaults this year, and police sources and criminologists are blaming copycats, gang initiations and hordes of mentally ill homeless people.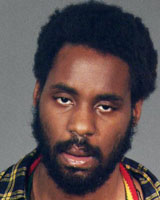 Cops identify Brooklyn slasher who attacked woman while wearing American flag bandana. Cops have identified the man who wore an American flag bandana over his face as he crept up from behind and slashed a woman in Brooklyn last week. Police are looking for Gregory Alfred, 25, after his fingerprints were matched to a knife left behind where Janina Popko, 53, was randomly attacked on Beverly Road near Rugby Road in Ditmas Park just before 10 a.m. March 10.




2 stabbed less than 2 hours apart at same intersection in Jackson Heights. Two people were stabbed less than two hours apart in the Jackson Height section of Queens Saturday night, police say. The first incident happened at 7:35 p.m. as a 16-year-old was walking his dog at 80th and Northern Boulevard when he was approached by two men who asked him if he was down with the ABK, a local gang. The victim replied, "I'm not into that." The suspects then allegedly stabbed him and the dog.

Trio beats 62-year-old unconscious, steals his phone and cash in the Bronx. A violent trio beat a 62-year-old man so viciously for his phone and cash that he was knocked unconscious, police said. It happened about 9:30 p.m. on March 10 near East 220th Street and Bronx Park East. Three males attacked 62-year-old man, punching and kicking him until the victim fell unconscious onto the sidewalk. When the man was on the ground, the attackers stole his Android phone and unknown amount of cash, then ran away and left him in the roadway.

Woman 'screaming racial profanities' attacks passenger at King's Highway Station. A suspect with a history of violence has been arrested for attacking a passenger, police said. According to police sources, the suspect, Monique Barbaro, 25, of Queensbridge, was lying across seats on a northbound Q train. Barbaro stood up and started yelling "Move!" at the victim, sources said. The victim got up and Barbaro followed her, then start punching her in the face and head, police sources said.

Queens bouncer, 46, beaten to death by bar patrons while trying to break up fight. Two men — 31-year-old Deonarine Deoraj and 48-year-old Harrydatt Nandalall — were arrested for the horrific beatdown. Both were charged with manslaughter and gang assault.

Update:
No manslaughter charges for two men in fatal beating of Queens bouncer. Elsworth "Dale" Reid, 43, was trying to break up a fight inside Johnny's Restaurant and Bar in Ozone Park Saturday, when a group of customers pounced on him and beat him, even after he hit the ground and stopped breathing, according to cops. Police arrested Deonarine Deoraj, 31, of Richmond Hill, and Harrydatt Nandalall, 48, of Ozone Park, and initially charged them with manslaughter. But on Monday [3/14/2016], prosecutors only hit them with misdemeanor riot and attempted assault charges — punishable by up to a year in jail.

Teen girl recounts how she was pushed in front of Queens subway train; police arrest man who allegedly shoved her. When a 15-year-old girl was shoved into the path of an oncoming train in Queens, nothing seemed real — especially the massive subway car barreling down on her. "It just didn't seem realistic," the still stunned Xinyi Huang told the Daily News on Friday to describe the March 5 brush with death at the 103rd St./Corona Plaza station in Corona. "I was just standing there waiting for the train to go to Manhattan (and) he pushed me from behind. I'm still not sure what happened. I'm not brave ... I was just lucky."

Three people attacked in spree of Brooklyn slashings. A 53-year-old woman was slashed on the neck while walking on a quiet Brooklyn street near Prospect Park Thursday morning [3/10/2016], cops said. The attacker approached her just before 10 a.m. near the corner of Rugby and Beverley roads in Ditmas Park and cut her without warning.

Man menaces straphangers with knife on the Q train in Brooklyn. Imagine you're riding a crowded Q train in Brooklyn and all of a sudden, you see a man walking inside the subway car brandishing a knife. [...] Ysaac Paul, 31, was arrested after police say he was observed "aggressively standing with a knife in hand," around 2 p.m. Thursday [3/3/2016], alarming fellow subway riders. He's been charged with menacing and criminal possession of a weapon.

Child molester drops his pants, rubs against woman on subway. A convicted child molester dropped his pants and pushed himself against a female passenger aboard a crowded subway car during Friday's morning rush in Union Square, police said. The disturbing encounter happened a day after a convicted murderer rubbed his groin against another female passenger entering the same station, police said. [...] This is the second sex crime arrest near the Union Square subway station in as many days.

Dunkin' Donuts worker slashed in face by man she asked to leave store. A Dunkin' Donuts worker was slashed in the face by a man whom she tried to boot from the shop, police sources said. The 35-year-old victim was working at the shop on East Kingsbridge Road in the Bronx around 5:45 a.m. Wednesday [3/2/2016] when she asked the suspect to leave. After a brief argument, the fiend, identified as Ronald Thompson, 31, agreed to leave, sources said. But he returned a short time later, approached a walk-up window and slashed the woman's face with a razor blade.

Subway rider slashed in face by attacker blocking doorway. A worker at the high-end Swiss jeweler Chopard became the city's latest slashing victim when he bumped into a man who was blocking the door of a crowded subway train in Manhattan on Friday [2/26/2016], police sources said. Arman Telfeyan, of Mahwah, NJ, was boarding a northbound train at the N/Q/R station in Times Square around 8:15 a.m. when he made contact with his attacker, the sources said. The slasher, described as an Indian man around 45 years old, stared at Telfeyan, then cursed at him, saying, "F*** you," according to law-enforcement sources. They got into an argument as the train continued moving uptown — and at 57th Street and Seventh Avenue, the attacker suddenly pulled a knife out of his pocket and sliced Telfeyan on his left cheek. The victim was also slashed on the left thumb as he tried to defend himself.

Exclusive: Long Island woman punched out by mentally ill ex-con in Times Square. A 27-year-old woman was punched out without warning by a mentally ill ex-con in the Times Square subway station. "I saw him wind back and punch me," Erin Reilly, 27, said of the unprovoked Wednesday [2/24/2016] beatdown. "I wasn't expecting it. When he leaned back I remember saying to myself that there was no way he was going to punch me — but then he did. The next thing I know I was lying on the ground." Reilly was headed to catch a No. 2 or 3 train to Penn Station, where she planned to connect to the Long Island Rail Road, when she was attacked about 12:30 a.m.

Dramatic spike in NYC slashing attacks frightens citizens, puzzles experts. The frightening wave of slashing attacks terrorizing New York since the year began has gripped both hardened city folks and tourists with fear and left experts searching for an explanation. Through Sunday [2/21/2015], the NYPD had recorded 567 slashing attacks, some 20 percent above the pace set in early 2015. Police and criminologists have identified no single pattern for the slashings, which have plagued the city's subway system as well as both trendy and tough neighborhoods.

Accused granny slasher says he thought 71-year-old on the subway was armed. A deranged Brooklyn man who allegedly sliced the face of a random 71-year-old granny tried to tell cops she may have been armed, court papers say. "I observed a silver object in her coat pocket and it made me lose it. I felt threatened," said accused slasher Damon Knowles who also he had been on a five-day crack bender when he encountered Carmen Rivera on Jan. 25 about 7 p.m. as the D train they were on pulled into the Broadway-Lafayette station. "I approached her and slashed her in the face with a razor," the accused menace continued. He described the imaginary object as "an illusion" that caused him to "black out."

Teen attacks delivery man at East Harlem's Wagner Houses in fight on video. A teen attacked a delivery man to howls of laughter in East Harlem in a disturbing fight video that surfaced online Sunday [2/21/2016]. The NYPD is searching for the teenage boy shown in footage from an unknown date at 445 E. 120th St. in the Robert F. Wagner Houses, DNAinfo reported. A video posted on Facebook by the gossip site Mediatakeout had been viewed over 6 million times Monday night [2/22/2016] as angry social media users blamed people like the teen assailant for restaurants not delivering to certain areas.

Man slashed in the face at Supreme clothing event in Soho. A man was slashed in the face Thursday [2/18/2016] as people lined up to shop at a SoHo clothing store, police said. As people lined up around 2:10 p.m. outside the Supreme store near Prince and Lafayette streets for the release of the Spring/Summer collection, a man walked up to the victim as he left the store and demanded his shopping bags, according to witnesses.

Yet another slasher attack in New York as young woman, 20, is left needing 26 face stitches after midnight Bronx attack. Another terrifying slashing has taken place in New York — leaving a 20-year-old woman needing 26 stitches after she suffered from a six-inch gash across her face. The early-morning attack happened on Friday [2/12/2016] in the Bronx as the victim, identified only as Paula, was walking home when she said a man slashed and kicked her face. The psychology student said during the attack he took her bag which contained her ID, debit card and other personal belongings, according to a Facebook post she wrote recounting the ordeal.

Crook's arm ripped off after failed robbery attempt. A 17-year-old robber's arm was severed in Brooklyn after he held up a 39-year-old man at gunpoint for a pair of pricey sneakers, police sources said. Through the app Wallapop, the pair had arranged to meet up at 1 p.m. on Friday [2/12/2016] in Canarsie. But when the seller showed up, asking $490 for a pair of Air Jordan 8 Retro sneakers, the teen crook pulled out a gun and demanded the kicks for free inside the older man's car, police sources said.

Woman slashed across face in another terrifying NYC attack. A young woman was sliced across the face in the early morning attack Friday [2/12/2016] that left her with a six-inch wound — becoming the latest in a spate of terrifying slashings across the city. "It all happened very quickly," said Paula Delos Santos, 20, who was cut across the left cheek at 12:15 a.m. in The Bronx. "I was terrified, very frantic, hysterical. I had blood all over me. I thought it was because he kicked me in the face." The pretty brunette had just gotten off the No. 2 train and was talking to a pal on the phone on her way home when she was attacked from behind on Holland Avenue near Morris Park Avenue.

Cops investigating second anti-white attack in Brooklyn this week: 'This is for Malcolm X, cracka'. Police are investigating a second anti-white bias incident in Brooklyn where the attacker called his victim "cracka," the [New York] Daily News has learned. A 51-year-old white man told cops he was on Nostrand Ave. near Glenwood Road in East Flatbush when a black man ran up and knocked him to the ground about 5:40 p.m. Monday [2/8/2016]. "This is for Malcolm X, cracka," the brute said before storming off.

Exclusive: Brooklyn train commuter explains attack by man who called him 'cracka'. [Scroll down] Once they were on the train, [Randy] Aveille thought he saw actress Emily Bergl of the Showtime series "Shameless" on the other side of the train car. His attacker — a well-groomed black man sporting a beard and wearing a skull cap with embossed white lettering on it — was in his line of sight, he said. "He must have thought that I was staring... or challenging him in some way," Aveille said, showing the bruised right eye he suffered because of his stargaze.

The Editor says...
Notice that there was no attempt on the part of the perpetrator to settle the dispute verbally or negotiate a peaceful settlement. The assailant didn't like (what he perceived as) being stared at. So badly was he offended, or his male dominance threatened, that he met the stare with physical aggression. That's exactly the behavior one would expect in the gorilla cage at the zoo.

White subway rider assaulted by black man in Brooklyn station: 'Cracka, you don't belong here'. A 44-year-old white straphanger was beaten [2/6/2016] in a Brooklyn subway station by a black man who told him, "Cracka, you don't belong here," police sources told the [New York] Daily News. The suspect also allegedly elbowed the victim's fiancée in the head, then spit in another straphangers' face.

Teen slashed while jogging in Jackson Heights. The NYPD is still looking for a man who slashed a Jackson Heights woman Sunday morning [2/7/2016]. According to police, the 19-year-old woman was out jogging when the suspect ran by and stabbed her with an unknown sharp object. Police said the attack was unprovoked and the suspect didn't say anything to the young woman.

Brooklyn man sentenced to 12 years for subway hammer attacks. A mugger who hit two New York City subway riders on the head with a hammer has been sentenced to 12 years in prison. Brooklyn District Attorney Ken Thompson says Anthony Coward, 30, was sentenced Monday [2/8/2016]. The May 2014 attacks occurred in the Rockaway Avenue station in Bedford-Stuyvesant. The victims were ambushed from behind and hit in the head with a hammer while they were buying fare cards.

Slash City. In his 1951 poem "Subway Rush Hour," the Harlem Renaissance writer Langston Hughes sketched a portrait of an underground world, where people of all colors, ethnicities, and backgrounds are packed so tightly together that there's "no room for fear." Late last week — in an effort to convince New Yorkers that the subways are safe despite a rash of recent stabbings and slashings on the transit system — NYPD commissioner Bill Bratton made a similar point. "It's amazing anybody can assault anybody because you can't really move on some of those cars," he said. Bratton's attempts at reassurance clash with the growing sense among New Yorkers that the city's celebrated public-safety gains are increasingly under threat. Ten people have been slashed or stabbed so far this year on the subways. Overall, such crimes are up nearly 20 percent. "I'll chop you up right on this f---ing train!" 37-year-old Ras Alula Nagarit allegedly yelled at two women after bumping into them on a crowded platform in Brooklyn.

Three more victims slashed in separate incidents across NYC, as trend of knife violence continues to plague city. Tuesday's [2/2/2016] spree of slashings began in Brooklyn when an 18-year-old was attacked by four teens as he made his way home from school about 3:15 p.m., police sources said. "Cut him now!" one attacker screamed as another sliced the teen three times on the chest, above his left eye and on his left cheek on Graham Ave. near Maujer St., sources said.

Three more victims slashed in separate incidents across NYC, as trend of knife violence continues to plague city. Slashings and stabbings in the city were up 24% this year through Tuesday — with 381 incidents compared with 308 in the same period last year. Slashings were also up in the subways. As of Monday night, cops were investigating seven slashings and three stabbings on the rails this year. During the same period in 2015, three slashings and two stabbings had occurred. Police Commissioner Bill Bratton downplayed the rise in blade attacks on the rails during a radio interview on Monday [2/1/2016], calling them an "aberration."

The Editor says...
It's only a mere "aberration" when somebody else is getting stabbed.

Man slashed on subway platform in sixth attack this year. A man was slashed Sunday [1/31/2016] in the sixth such attack in New York's subways and on streets this year — following a spate of blade-wielding assaults in public places that started in the fall, police said.

Woman slashed on subway in another random attack. A psychopath sliced a woman with a 2-foot-long machete Tuesday night [1/26/2016] aboard a Brooklyn-bound 3 train after he threatened to "chop" her up — the third city slashing this week, police sources said. The 29-year-old woman, identified by police sources as Natalie Lewis, was hacked on the hand by a man wearing a green cap after he bumped into her as she was waiting for the train with her sister around 9:30 p.m. at the Atlantic Avenue-Barclays Center station, cops said.

Woman slashed in the face on NYC subway train. Police in New York City said they were on the hunt for a man suspected of slashing a 71-year-old woman in the face on a Manhattan subway train Monday. [...] Both the man and woman got off the train when it stopped. The suspect escaped on a southbound D train.

71-year-old woman slashed in face with razor while riding on 6 train in NYC. Another slashing by a random assailant — the 10th unsolved attack since October — took place Monday morning [1/25/2016] when a 71-year-old Brooklyn grandma was cut across the face as she sat on a subway train in lower Manhattan. The victim said the latest attack took place on a Manhattan-bound D train at the Broadway-Lafayette station when a man wielding a razor slashed her as the train pulled into the station. It was also the latest incident in a disturbing citywide spike in stabbings and slashings since Jan. 1, which has seen a nearly 15% increase compared with last year, police said.

Bratton under fire for suggesting women use 'buddy system' to prevent rapes in cabs. City pols are hitting Police Commissioner Bill Bratton for telling women to use the "buddy system" to guard against rapes in cabs. "It is completely inappropriate to say that young women should buddy up when getting into a cab or going home late at night," Councilwoman Laurie Cumbo (D-Brooklyn) said at a press conference outside City Hall. "What I want from my commissioner of the NYPD is to say that he's going to do a full crackdown," she said. "We want to make sure that taxi cab drivers are put on notice that this type of behavior will not be tolerated, that we are going to be enforcing laws, that there will be civil and serious penalties coming down on any driver that disrespects, that rapes, that sexually assaults. I want a commissioner who's going to come out and is going to state that, not tell us as women that we need to get a buddy system."

Teen walking in park with dad raped by group of men. The 18-year-old and her dad were inside Osborn Playground, near Hegeman Avenue and Osborn Street in Brownsville, at 9:10 p.m. [1/7/2016] when the perverts, all strangers, accosted them. One had a gun and pointed it at the pair, demanding that the father leave. The father ran out of the park, desperately looking for help.

New York is hit by its third knife attack in as many weeks. [Scroll down] Two weeks ago, a 28-year-old New York woman was slashed in the face on New Years day in the Bronx, and then another lady was attacked while walking to work in Chelsea. On both those occasions, a 41-year-old man was arrested and charged with the attack. He was also linked to several similar attacks across the city in recent months.

'Slasher' hit woman with bottle while yelling 'white b****': cops. The career criminal accused of slashing a woman on her way to work at Whole Foods on Wednesday [1/6/2016] is also suspected of striking a 25-year-old victim on the head with a bottle while calling her a "white b****," police sources said. Kari Bazemore, 41, was charged Thursday night [1/7/2016] with a third assault, and has been linked to two more attacks since the end of September, sources said. According to the newest charges, he struck a 43-year-old victim in the face with a heavy shopping bag as she stood on Fifth Avenue in Midtown on Nov. 4.

Woman slashed in face by homeless man in Manhattan furious he was on the streets despite 32 prior arrests. A mentally ill man, off his meds and free to roam the streets, victimized at least six women — even before cops say he randomly slashed a woman in the face in Chelsea. The family of 41-year-old Kari Bazemore told the Daily News the accused Chelsea slasher has been in and out of psychiatric institutions for at least the last five years. Bazemore began showing signs of psychiatric problems 15 years ago, his sister Dana Bazemore said. He was diagnosed with bipolar disorder and schizophrenia, and was hospitalized at least three times following arrests.

Serial Spitter Targets Passersby in Prospect Lefferts Gardens, Brooklyn. The spitter is described as a tall, slender black man in his 20s or 30s, usually wearing a grey hooded sweat shirt. The 71st Precinct is encouraging people to report these disturbing attacks to them.

6 arrested, officers injured after massive brawl at Garden City bowling alley. A massive brawl in a Long Island bowling alley led to a stolen wallet, discovery of illicit drugs, officers injured, and six people, aged 17 to 48, placed under arrest. Around 8:10 p.m. Sunday [12/27/2015] at Garden City Lanes, police say Deyahna Curtis started arguing with the victim, 24, and quickly escalated to a physical altercation.

NYC woman arrested after allegedly cutting baby from mother's womb. A baby was cut from the womb of a 22-year-old woman who was nearly nine months pregnant by a childhood friend with a knife, and the suspect was arrested on a murder charge, police said Saturday [11/21/2015].

Emotional service for pregnant woman killed for unborn child. The baby who was ripped from her murdered mother's womb last week was under police guard at a Bronx hospital Sunday [11/22/2015]. The 8-pound, 2-ounce infant, named Genesis, was being guarded by an NYPD officer who stood outside her hospital room at Montefiore Medical Center.

Suspected C train slasher Stanley Gray released from jail days before alleged attack with box cutter: court records. Suspected C-train slasher Stanley Gray had been released from jail on an assault charge just days before he allegedly attacked two subway passengers with a box cutter, according to court records. Gray was arraigned Thursday [11/5/2015], two days after he terrorized a Manhattan-bound train and randomly slashed two men in the head at a train station in Bedford-Stuyvesant. Gray, 29 of Brownsville, was charged with assault, criminal possession of a weapon, menacing and harassment.

Police Release Sketch of Man Wanted in Queens Acid Attack. Police have a better idea of the man they are trying to find in an acid attack on a woman in Queens. The NYPD has released a sketch of the suspect. The attack happened Wednesday night [8/19/2015] in Sunnyside, as 59-year old Alexandra Dyer entered her car on Skillman Avenue.

3 killed, 4 injured in shooting near New York Boys and Girls Club. Officials say three people have been killed and four others wounded when a gunman shot into a crowd after a basketball game in western New York [8/19/2015].

Exclusive: Man Beaten in Broad Daylight in Bronx Neighborhood. The incident happened near the corner of Briggs Avenue and East 197th Street in Bedford Park — not in the wee hours of the morning, but at 2 in the afternoon on a beautiful, bright and busy day. One man pounded the 67-year-old, while another acted as a lookout — both were left empty-handed. "I believe it was a racial attack — they weren't trying to rob me, I had money on me and my wallet and all. They weren't trying to rob me," adds King.

I was beaten, taunted for being white, Bronx man says after subway attack. A Bronx man was viciously assaulted and robbed on a subway train Sunday by four men who he says taunted him for being white. Police confirmed they are investigating the assault and robbery of Jason Fordell, 29, but have not labeled it a hate crime.

Authorities Ignoring another Black-on-white 'Hate Crime'. Like the three monkeys who see, hear and speak no evil, our authorities seem intent on ignoring the true nature of yet another black-on-white racial attack. In the New York City subway this past Sunday, 29-year-old Jason Fordell was attacked by a group of black men who taunted him for being white. Yet NYC police "are unsure" if the incident is a bias crime. The problem started when Fordell transferred to a crowded 4 train at 42nd street, where he encountered four black men who began harassing him.



How are white-black relations our nation's city buses? New York City: An attacker pummeled a bus passenger so hard he smashed the bones in his face after calling the victim a "cracker" in Manhattan — marking the second time in two days that people appeared to be randomly targeted in racial tirades against white people, authorities said. The victim was treated for facial fractures at New York Presbyterian Hospital and released, police said.

Another NYC shooting death that doesn't fit the MSM Narrative. A 48-year old retired NYC police lieutenant is being heralded as a hero for shooting down a would-be armed robber, but you won't hear much about this story from the MSM because it doesn't fit the "Trayvon Martin" narrative. The New York Post reported Friday [4/13/2012] that two men attempted to rob a drug store at gun point looking for cash and expensive prescription drugs. What they got was more than they bargained for.

Five people shot after Rucker Park basketball game ends in gunfire. Five people were shot last night at a basketball game at Harlem's famed Rucker Park where ex-Knicks guard Nate Robinson was among those scrambling for safety during the chaos, authorities and witnesses said.

Woman files lawsuit against McDonald's for fight she started at Greenwich Village location. A woman who admitted she started the violent fight in a Greenwich Village McDonald's that sent her to the hospital is suing the burger-flipper who gave her a fractured skull.

The Editor says...
Instead of requiring this restaurant to post nutrition information on their drive-through menu boards, they should be required to put up a sign that says, "Danger: We hire violent felons." After all, which of the two is a greater and more likely threat?



NYC subway train kills man pushed off platform. A 58-year-old man died Monday [12/3/2012] after he was pushed off a subway platform in Midtown Manhattan and hit by a train pulling into the station, according to news reports.

Fiend watched his victim die: Homeless man arrested in Times Square subway murder. A homeless drifter was arrested and charged this morning for allegedly tossing a Queens dad onto a Times Square subway track, where he was fatally crushed by a Q train, law-enforcement sources told The [New York] Post. Naeem Davis, 30, confessed yesterday while being grilled in the grisly death of Ki Suk Han, 58, who was struck in front of horrified onlookers Monday after trying desperately to scramble back to the platform. [...] He was charged with murder in the second degree and depraved indifference.

Muslim New York Subway Killer Calm After His Murder. Everybody is talking about the New York Post cover photo showing Ki Suk Han about to be killed by the subway train, but the real story here is yet again being ignored by the mainstream media. The real story here is that Naeem Davis is clearly a devout Muslim, and one who displayed behavior characteristic of jihadis after he committed murder.

Subway shove monster: I couldn't stop the voices in my head. The homeless man charged with fatally shoving a Queens father into the path of a subway train said he couldn't drown out the voices in his head. [...] Davis said he is a devout Muslim who prays five times a day and goes to mosque daily.

Gunman shoots taxi driver three times. The attack was captured on the in-car security cameras. According to the New York Post, police said he shot at the cab driver five times, hitting him twice, before waiting until the wounded, married father of three stumbled outside the vehicle — and shot him again.

Black mob shoots Hispanics in Brooklyn. It started out Friday with teasing, then taunting. But when the young Hispanic woman behind the counter told the black man and his friends she did not want to go out with them, it escalated into assault. Then gunshots. All at the same time as, a few miles away, Al Sharpton and Beyonce were railing against racial injustice directed at black men. We don't know the names of these alleged would-be killers. Not yet. Nor would we have a description of the mob if we had to rely on the New York Post or Daily News.

Hammer-wielding thugs attack two men just blocks apart in Harlem: cops. Two men were attacked in Harlem early yesterday by a hammer-wielding gang of thugs, police sources said. The first victim of the seemingly random violence [...] said he was set upon by a gang of five or six black males wearing white T-shirts, and that at least one of the goons struck him over the head with a hammer.

Brooklyn Rabbi: Gang Of Teens Playing Disturbing Game Of 'Knock Out The Jew'. The NYPD is looking into a series of attacks on Jews in Brooklyn. At least one attack was caught on surveillance tape. Some of the assaults may be part of a disturbing game, CBS 2's John Slattery reported on Tuesday. Police have yet to connect all the incidents, but released surveillance video that shows one group attacking a Jewish man. The video shows from a few different angles the victim, a man in a hooded jacket, getting punched.

'Knockout' Assaults: One Arrested In New York. Police in New York have arrested a man following a spate of random attacks they believe are linked to a so-called "knockout" game. Officers arrested Amrit Marajh on charges of assault after a man claimed he was punched in the face as he walked down the street. Police are investigating whether the attack was part of a new craze, in which people seek to knock out unsuspecting members of the public with a single punch.

'Knockout Game' Suspect Charged With Hate Crime. The Brooklyn, N.Y., man accused of assaulting an Orthodox Jew in what appears to be another case of the knockout game is being charged with a hate crime for the alleged attack. Amrit Marajh, 28, was charged with harassment as a hate crime after he allegedly punched the 24-year-old Orthodox Jewish man Friday morning [11/22/2013]. The unidentified victim believes he was attacked as part of the deadly "knockout" game, where an attacker aims to knock out the victim with a single sucker punch, police said.

72-Year-Old Woman Latest Victim Of 'Knockout' Game Assault? Police are investigating if a 72-year-old woman is the latest victim of the so-called "knockout game," a violent trend in which youths sucker-punch unsuspecting strangers for kicks. Mira Harpazi was walking two blocks from her home at the Starret City housing complex in Brooklyn when she was punched in the face by a man in his 20s, CBS 2's John Slattery reported Tuesday [11/26/2013].

The Knockout Game: What Took the Conservative Media so Long to Notice? Evil flourishes when good men do nothing, and too many conservatives have been wobbly about recent racial violence trends. [...] In June of 2011, at least two people had been killed as a result of the sadistic, racially charged knockout game. Since then, there have regularly been unprovoked attacks by black teens against non-black victims. Now, finally, after a series of attacks against Jewish pedestrians in New York City, mainstream conservatives are discussing the knock-out game. Fox News reports that the death toll from the "game" is now seven.

Hasidic man assaulted by woman becomes 10th possible victim of the 'knockout game' in New York. A Hasidic man walking along a New York street on Sunday night [12/1/2013] became the latest victim of the 'knockout game' — sucker-punched by a woman who laughed hysterically as he lay on the floor. The 26-year-old victim, Eli Leidner, was set-upon at 10.40 pm in the Williamsburg neighborhood of the Big Apple and becomes the 10th victim in recent months of the violent unprovoked assaults. The attacks have predominantly occurred against Jewish people in which the goal of the controversial street game is to strike a random person unconscious with only one punch as they walk by.

NYC Politician Blames 'Jewish Success' for 'Knock-Out' Attacks. Amid an array of "knock-out" attacks against a number of Jews in Brooklyn's Crown Heights neighborhood, a city councilwoman pointed to the success of the Jewish community as triggering the aggression. Councilwoman-elect Laurie Cumbo emphasized that while she "admire[s] the Jewish community immensely" for its work ethic, black teens may see it differently.

De Blasio ally: 'Knockout game' violence stems from 'genuine concern' about Jewish influence. A local New York City politician and ally of mayor-elect Bill de Blasio says the recent spate of "knockout" attacks in Brooklyn may stem from "a genuine concern" about Jewish influence. Laurie Cumbo, the councilwoman-elect for the Brooklyn neighborhood of Crown Heights, made the comments in an open letter posted to her Facebook page. In the letter, Cumbo reports that many of her African-American constituents are alarmed by the growth of the local Jewish community.

Queens man breaks leg in Harlem attack, claims to be victim of the 'knockout game'. A Queens man broke his leg Thursday [12/12/2013] in a horrific, unprovoked daytime attack similar to a "knockout game" strike, the [New York] Daily News has learned. Clifford Wong, 52, was leaving his job at a New York Lottery office in Harlem and was nearing his car on W. 126th St. near Lenox Ave. at about 2:30 p.m. when he saw a group of black teens watching him. "Something didn't feel right so I crossed the street," he said. "I took a few steps and in an instant one guy was in front of me."

Long Island man arrested in multiple 'knockout' assaults. Law enforcement sources tell Eyewitness News, a 20-year-old Long Island man is under arrest and is expect to be charged with up to 7 counts of 'knockout' assaults that date back to April of 2013. Darryl Mitchell of Amityville is expected to be charged in the assaults of residents, at least two of them elderly in the Babylon to Amityville area.

Hate crime suspect arrested for attacking seven women in New York 'knock-out' attacks. A 35-year-old from New York has been arrested for at least seven knock out attacks around Brooklyn. Barry Baldwin is accused of punching his victims to the ground in a spate of attacks carried out between November 9 and December 27, police said. All of the victims were women, and most were Jewish. In one case, a 78-year-old was knocked to the ground as she pushed her great granddaughter's stroller.

Brooklyn man arrested, charged in five 'knockout' incidents against women. A Brooklyn man was busted for a string of assaults against women that some have connected to the infamous "knockout game," authorities said Friday [1/3/2014]. Barry Baldwin, 35, was charged with five incidents in which Jewish women were viciously punched for no apparent reason.

New York cops call video taped 'Knockout' attack harassment, not assault. Rochester New York police are characterizing the brazen attack of an elderly woman as harassment rather than what it appears to be — another example of the hotly-debated "knockout game." The attacker, a young black male who operated a Facebook account under the name "True Goon Tocool Sneekey", narrated his plan for the camera.

2005 stabbing: Family's lawyer says White Plains didn't secure garage. A lawyer for the family of a woman who was stabbed to death in White Plains because she was white argued Thursday that the city failed to adequately secure a parking garage near the Galleria where the crime occurred. The lawyer spoke during the opening of a civil trial in the case, pressed by the family of Concetta "Connie" Russo-Carriero of White Plains, who was stabbed by Phillip Grant on June 29, 2005, at the parking garage. Grant, who is serving a sentence of 25 years to life in state prison, told police shortly after his arrest that he was waging a race war and only regretted not being able to kill more whites that day.

'I slugged 78-year-old woman in self-defense'. An unhinged Brooklyn man accused of punching seven women — including a 78-year-old — in brutal "knockout" attacks last year told cops he attacked six of them in "self-defense," and hit another woman because she almost made him spill his Dunkin' Donuts coffee, court papers revealed Wednesday. Barry Baldwin, 35, hit the women in seven separate attacks in Canarsie and Midwood between Nov. 7 and Dec. 27, court papers state.

Victim in possible Manhattan 'knockout game' attack speaks out. The incident happened around 2:30 a.m. Sunday morning [3/2/2014] on Bowery Street on the Lower East Side. Surveillance video shows a man attack 23-year-old Kyle Rogers, of Rockville Centre, from behind as he was walking down the street. Another man can be seen on the video recording the whole thing.

Woman punched by group in random attack. Four men assaulted a young woman in a vicious attack on the streets of Brooklyn. New surveillance shows the men after what could be another case of the so-called "knockout game". "It could have been me, just as easily it could have been her, and it's terrifying," a neighbor said.

14-year-old arrested for deadly bus shooting. A 14-year-old boy is in custody and faces a second-degree murder charge in connection with a shocking shooting on an MTA bus in New York City. A 39-year-old passenger died after he was shot in the head while on a B15 bus in the Bedford-Stuyvesant section of Brooklyn, authorities said. Police say the teen was on the bus near Lafayette Boulevard and Marcus Garvey Boulevard around 6:20 when he got into an argument with a rival. He began firing shots on the bus.

Councilman Suspects Assault On London Man In Brooklyn Was 'Knockout' Attack. A tourist from London in town for a wedding was attacked and beaten in Brooklyn early Tuesday, in what a City Councilman said might have been another "knockout" attack. As 1010 WINS' Sonia Rincon reported, the 65-year-old man was attacked on McDonald Avenue near 18th Avenue in Borough Park, Brooklyn, as he left the wedding around 2:30 a.m. Tuesday [3/25/2014]. The attackers grabbed him by the head and threw him to the ground. No property was taken.

Woman Punched At NYC Subway Station Speaks Out About Attack. The attack happened Sunday morning at the 4th Avenue-9th Street station in Park Slope, Brooklyn. [70-year-old Judith] Maroney told Carlin her nightmare began with her sitting on a bench waiting for the "R" train on Sunday morning. Next thing she knew, a stranger punched her in the face.

NYCHA units see spike in crime that outpaces city, leaving residents in fear. In the last five years, the New York City Housing Authority projects saw a 31% spike in major crimes, while the rest of the city experienced a 3.3% increase, records obtained exclusively by the [New York] Daily News show. Some public housing residents say they are afraid to leave their homes or even open their doors.

Brooklyn boy shot in foot after budging line to buy 'Yeezy' sneakers. A 15-year-old boy was shot in the foot Saturday [4/19/2014] after he cut the line of customers waiting to buy hot new Nike "Yeezy" and Air Jordan sneakers at a Foot Locker store in Brooklyn. The shooting happened about 5:40 a.m. Saturday at the Knickerbocker Avenue Foot Locker, where customers were waiting for the store to open at 8 a.m. to buy $150 Air Jordan 11 Low "Green Snakeskin" and $250 Nike Air Foamposite Pro "Yeezy" sneakers, the New York Post reported.

Teen muggers busted after targeting people in Central Park early Monday: cops. Four teens and a 12-year-old were busted Monday [4/21/2014] after mugging three people in Central Park, police said.

Teen crews linked to 40 percent of NYC shootings. Police say these groups, clustered around a particular block or housing project, are responsible for about 40 percent of the city's shootings, with most of that violence stemming from the smallest of disses on the street, Facebook, Twitter or Instagram. "It's like belonging to an evil fraternity," said Inspector Kevin Catalina, commander of the New York Police Department's gang division. "A lot of it is driven by nothing: A dispute over a girl or a wrong look or a perceived slight." The trend of smaller, younger crews has also been seen in Chicago and Northeast cities over the last few years as police have cracked down on bigger, more traditional gangs, experts said.

Cops Name Suspect In Subway Hammer Attacks. Police have released the name of the man they believe has attacked at least three people with a hammer in New York City subway stations. The suspect is Anthony Coward, 28, police said. He is described as a 28-year-old black man with black hair and brown eyes, standing 6 feet, 1 inch tall and weighing about 160 pounds. On Wednesday, Coward allegedly attacked 32-year-old Richianand Brijanand, of Ozone Park, with a hammer and robbed him as the victim tried to buy a Metro Card at the Fulton Street and Rockaway Avenue station in Bedford-Stuyvesant.

Brooklyn Mall In Black Mob Bull's-Eye. Officials vowed to get tough after the last episode of black mob violence at Kings Plaza mall in Brooklyn a few days after Christmas. So they banned teenagers from the mall. That lasted two days.

'Knockout game' suspect chased down by victim's friend. A Brooklyn fare-beater allegedly punched a young woman in the face while apparently playing the "knockout game" in a Manhattan PATH station — and her friend chased him down, put him in a chokehold and forced him to apologize, sources said. Ibrahim King, 36, allegedly slugged 21-year-old Elizabeth Mejia, breaking her orbital bone, in the Ninth Street station around 3:40 a.m. Sunday [5/18/2014]. "He looks at her for a very short moment and then he pulls his right fist back and lunges across the railing and punches her in the face," said Mejia's friend Steve Sala. Sala chased and grabbed King, then put him in a chokehold, ripping out one of his dreadlocks in the process.

Cops storm through Harlem housing projects in attempt to end gang feud. Hordes of police donning full body armor swept through two Harlem housing projects Wednesday morning [6/4/2014] in a massive sting aimed at unfurling a deadly gang feud that lead to the 2011 cold-blooded killing of an 18-year-old basketball star. The coordinated action began at approximately 6 a.m. when teams of cops from gang divisions across the city donned helmets and carried battering rams as they simultaneously stormed several apartments throughout the Gen. Ulysses S. Grant and Manhattanville houses aiming to arrest some of the over 100 people indicted on conspiracy charges stemming from gang violence in the area.

Wilding for profit. The [New York] Post has always been skeptical of the belated claim by serial killer Matias Reyes claim that he alone raped jogger Trisha Meili. Under Mike Bloomberg, the city resisted intense political pressure to settle the five's lawsuit — with good reason. There remains strong evidence that, as famed anti-corruption prosecutor Michael Armstrong found in his review of the case, the five "more likely than not" took part in the jogger attack. There was overwhelming evidence they'd been in the park that night, engaged in a series of "wilding" assaults.

Pack of girls beat woman in Brooklyn while bystanders record attack. A video has surfaced of a pack of girls beating up an unsuspecting woman in Brooklyn. The violent video was posted on Facebook earlier today [6/27/2014] \and has yet to be taken down. It shows the three girls walk up to a woman sitting on a bench in Prospect Park and start yelling at her. There are a group of boys and girls standing around, yelling, cursing and even cheering them on.

Family of Bronx Man Killed in Sucker-Punch Attack Stunned by Suspect's Misdemeanor Charge. A grieving Bronx family is stunned that the teen accused of sucker-punching their father and husband is being charged with a misdemeanor that could result in the suspect doing less than a year in jail. Ildefonso Romero Jr. died days after a teenage boy allegedly sucker-punched him outside his home on Thieriot Avenue in Soundview on June 21. Witnesses said Romero had been protecting a girl from local teens who were apparently causing trouble in the street, and one of the teens punched Romero.

Shocking 'knockout' attack on elderly man caught on tape. A heartless creep slugged an elderly man in the face on a Greenwich Village street in an unprovoked knockout, cops said. The suspect was caught on a surveillance camera waiting on the sidewalk on Jane Street near West Street around 5:30 p.m. Monday [8/11/2014] while the victim was walking up the street.

72-year-old bleeding from brain after Village 'knockout' attack. A 72-year-old cancer survivor was left with bleeding on the brain when he was knocked out in broad daylight on a West Village street, law enforcement sources and the victim said on Tuesday [8/12/2014]. Retired cabbie Donald Lathrom was listening to his iPod while walking to his home from a local deli around 5:30 p.m. when a punk standing on the sidewalk near the corner of Jane Street near West Street smashed him in the face. The sickening attack was caught on surveillance video, which shows a stunned Lathrom tumbling into a doorway and hitting the sidewalk before the suspect bolts across the street, where a friend was waiting, cops said.

Woman chases down, captures alleged cellphone thief. A dramatic photo captured the moment on Friday [8/15/2014] when a Brooklyn mugging victim became a crime fighter — as she busted the punk who allegedly snatched her cellphone and held him in a bear hug for the cops. Clara Vondrich, 36, was taking a business phone call while standing in front of a Williamsburg coffee shop on South Third Street at 1:20 p.m. when the teen approached her with two pals. The 13-year-old, whose name is being withheld by The [New York] Post because he is a minor, allegedly pushed her from behind, nearly knocking her to the ground.

Pregnant woman punched in Brooklyn knockout game: 'I was worried about the baby'. It may be the most cold-hearted case of the knockout game yet. A 33-year-old punk punched a pregnant woman in the face so hard that she lost consciousness. But the creep was quickly arrested, just blocks away, cops said Friday [8/15/2014]. Jannatul Ferdous — two months from her due date — told the Daily News she was horrified for her unborn child. "I was scared and worried about the baby," the 34-year-old victim said at her home in Brooklyn.

The Editor says...
Please note: She wasn't worried about a fetus, or a clump of cells, or any part of her own body, she was worried about a her baby.

Man accused of firing pellet gun at Central Park jogger blames friends for shooting. The maniac charged with shooting a woman and a man with a pellet gun in Central Park blamed his friends for those attacks and two others over a 10-day span. Edward Fall, 20, accused a friend named Hollywood of shooting the two joggers in Central Park earlier this month, according to his confession. He fingered another friend, Antwan Ross, 21, as the man who shot two people — and a dog — in Midtown West with pellets on Thursday, cops said.

Thug who 'used a pellet gun to shoot white joggers in Central Park' arrested and charged with hate crimes. An African-American man has been arrested and charged with a hate crime over pellet gun attacks on white joggers in New York's Central Park. Edward J Fall, 20, from Morningside Heights was charged with criminal possession of a weapon as part of a hate crime, assault and reckless endangerment after the attacks on August 17 and 18. A woman jogger told police that she was hit in the back of the head by a pellet gun as she ran in the park on August 18, and when she turned round saw Fall and his accomplices.

Police: Three men attacking NYC woman caught on video. Surveillance video shows that on Oct. 2 around 2 a.m., Gwendolyn Reyes walked past three men in Brooklyn. After a vicious beating, the three suspects left her lying helpless on the ground. [...] They had gotten away with her purse and iPhone and Reyes was treated for a broken nose at a local hospital. Police told CBS New York that the attacks appeared random and the suspects targeted her because she was walking alone.

The Editor says...
CBS News successfully avoids using the word "black" in this article about three black men beating up a randomly-selected white woman.

Man arrested in subway shoving that killed Bronx man is suspected in another case, has long rap sheet. Kevin Darden, a career criminal with 30 arrests in 15 years, was the target of a massive police search as a 'person of interest' in the Sunday death of Wai Keun Kwok, who was shoved by a deranged assailant into the path of a D train at the 167th St. station in the Bronx. Darden's rap sheet includes an arrest for trying to burn down his own brother's house.

Ex-Con Arrested for Fatal Subway Push, Police Say. Police have arrested an ex-con suspected of pushing a 61-year-old father to his death in front of a D train. Kevin Darden, who has an extensive criminal history and was released from jail only two days before the fatal shove, was caught walking on a street in the 48th Precinct shortly after his mugshot was released Tuesday to the public, according to the NYPD. Darden, 34, was on the Manhattan-bound platform of the 167th Street station about 8:45 a.m. Sunday [11/16/2014] when he pushed Wai Kuen Kwok, a stranger, in front of the train in full view of Kwok's horrified wife, sources said.

Suspect Charged In Deadly Subway Incident. And as CBS2's Weijia Jiang reported, detectives have also linked Darden to two other crimes at subway stations — both of them earlier this month. The first incident took place on Nov. 6 at around 5:30 p.m., police said. In that incident, a 51-year-old Asian man said he was pushed to the ground while waiting on the platform at West 4th Street in Manhattan, police said. The victim in that incident was hospitalized with serious bruising, CBS2 reported. He came forward after recognizing the suspect from the surveillance photo released following the most recent fatal incident.

Cops Arrest Suspect In Fatal Subway Shoving. After an extensive manhunt, police apprehended the suspect in Sunday's fatal subway shoving. Kevin Darden, 34, was caught yesterday near his mother's house in the Bronx. And investigators believe he had also pushed a passenger in another violent incident earlier this month.

Man who killed teen girlfriend he thought was pregnant wanted community service. A man who suffocated his 14-year-old Brooklyn girlfriend because he thought she was pregnant — then burned her corpse and stuffed it in a suitcase — asked if he could do only community service for the crime, court papers reveal. After confessing to killing Shaniesha Forbes in January 2013, Christian Ferdinand, 22, asked cops, "Do you think I can get some kind of community service?" according to documents obtained by The [New York] Post.

Bloods gang member 'sucker-punches cop' during anti-police protest. Nearly a week after firebrand Brooklyn Councilman Jumaane Williams tweeted his support for members of the Bloods to join anti-cop protests, a member of the violent gang took him up on the offer — and sucker-punched an NYPD officer at a Harlem rally. Jonathan Allen slugged Deputy Inspector Andrew Capul in the face, ambushing him from behind Thursday [12/11/2014] as the police official, dressed in uniform, talked to protesters near West 125th Street at the Adam Clayton Powell State Office Building around 9:30 p.m., police said.

Eric Garner Protesters in NY Attack 2 Officers, 'Bag of Hammers' Discovered. New York police report that two officers were assaulted by marchers that took to the streets to protest police violence on Saturday [12/13/2014]. Police also reported finding a bag of newly-purchased hammers that were apparently intended for use as weapons.

Two NYPD Officers Killed In 'Execution-Style' Shooting In Brooklyn. Police said the suspect, 28-year-old Ismaaiyl Brinsley, approached the passenger window of the marked police car and opened fire, striking Officers Rafael Ramos, 40, and Wenjian Liu, 32, in the head.

One last good deed. Police have released video from a McDonald's security camera that show a police officer's final act of kindness shortly before he was killed in a random act of violence. The video clip shows Officer Jeremy Henwood paying for a 10-year-old boy's meal at a McDonald's restaurant in the San Diego, California, neighbourhood that he patrolled.


Black crime in St. Louis



Note: Ferguson is on another page.

Mother, two relatives named in scheme to eliminate witnesses against her son in St. Louis murder case. The mother of a teenage murder suspect has been accused of orchestrating two follow-up murders to eliminate witnesses against her son. Latashia Mopkins, 38, is among five people, including her son, who are charged with multiple counts of murder, conspiracy and other offenses in three murders that took place between September 2013 and April 2014.

Runner attacked by youths with tree branches along Forest Park trail. Five teens have been charged as juveniles with felony assault after police say they attacked a runner on a trail along the western edge of Forest Park Sunday night [4/17/2016] with tree branches. The man, 45, had cuts on his face and bruises to his body after the attack and was taken to a hospital for treatment, police said. Five boys, ranging from 13 to 16, were arrested and turned over to juvenile authorities. Police said the the man was running on the trail near Skinker Boulevard and Arundel Place about 7 p.m. when he saw the group of teens blocking the trail.

Senior store owner pulls gun on armed robber. The hunt is on for a robber that started a gun battle in a St. Louis Grocery store [1/4/2016]. Sone Maniphonh is one 63 year old you don't want to mess with.

St. Louis Church Arsons: A Suspect Is Nabbed. St. Louis-area police have arrested David Lopez Jackson, a 35-year-old black man, in connection with the burning of churches around the area. Jennings has been charged with two counts of second-degree arson. There have been seven fires in St. Louis and nearby Jennings over the course of October. The arsons struck a range of denominations, but mostly black churches.

Another fake hate crime. Reading a hard copy of the New York Times this morning, I find Monica Davey's story "Suspect is charged in St. Louis church fires." [...] Not wanting to go too far out on a limb, she puts it this way: "The authorities said Mr. Jackson was black."

Army veteran is shot and paralyzed outside St. Louis Cardinals game after celebrating his mother's 60th birthday with his family. An Army veteran who was mugged and shot in the back after leaving a St. Louis Cardinals game on Friday [9/25/2015] has been told he may never walk again. Christopher Sanna, 43, was at the stadium celebrating his mother's 60th birthday with his family when he made an early exit with his girlfriend because he had work in the morning[.] As he returned to his car around 10.30 pm, two armed men in a black sedan cornered and robbed them but when they tried to flee one of the men opened fire and hit Sanna, shattering his spinal cord.

Former Tuskegee Airman, 93, is robbed, then carjacked. A 93-year-old veteran who was part of the famed Tuskegee Airmen was the victim of crimes twice within a few minutes in St. Louis, being robbed and then having his car stolen.

The Editor says...
You can rest assured that if the perpetrators had been white, the Associated Press would have mentioned that aspect in the first sentence. Therefore we can safely presume that the perps were black.

Saint Louis Hotel Manager Is 7th Murder In 24 Hour Span. Saint Louis Missouri has encountered a massive spike in homicide violence since the Ferguson riots and protests began. Last weekend 7 murders took place in a span of 24 hours, and this example below is reflective of how they are being reported. However, something is just, well, there — visible, on the surface, yet not being discussed. Take a look at this Daily Mail article and you'll note the victim was shot twice, once in the chest and then again in the head. It certainly sounds more like an execution within the motive.

'6 murders in 13 hours': Wave of violence hits St. Louis. St. Louis is suffering through a wave of fatal shootings. The police chief blames easy access to guns and difficulty prosecuting gun crimes, but also notes that some officers are "distracted" after the waves of protests in the area.

Democrats Jumping the Race-Card Shark. A rather inconvenient fact, however, is that the only reported act of racial violence so far happened on Tuesday [9/15/2009] on a public school bus in St. Louis and the offenders were black, the victim white. An apparently unprovoked attack on a high school student took place over — get this — a seat on the bus.. The irony is downright nerve-wrenching. A black student beat the white student to the cheers of his black classmates and the bus driver supposedly did nothing to intervene. KKK in reverse? That's a lot more violence than Rosa Parks got over her seat on the bus. In fact, Rosa Parks wasn't on the receiving end of anything more than arrogant stares.

Three female customers attack Red Lobster waitress for 'filling up their water glasses too regularly'. According to a witness, the attack was sparked when the women became irritated that the waitress was filling up their water glasses too often. [...] The incident comes just eight months after another waitress was attacked by four customers at the same Red Lobster restaurant.

Member of 'Obama Boyz' gang charged in St. Louis shootings. A St. Louis teen who authorities say is a member of a gang called the "Obama Boyz" has been charged with two shootings on Saturday [9/29/2012]. Anthony Jamal Lee, 18, fired at a group of people from the window of a Grand Prix at 2:17 p.m., according to charges. A 13-year-old boy was struck in the side of his body and had to be hospitalized; a 17-year-old boy was grazed by bullets on his face and arm.



St. Louis teen pleads guilty to "knockout game" attack. A St. Louis teenager has pleaded guilty to second-degree assault in a "knockout game" attack in November 2011. Kwame Thomas, 18, of the 2800 block of Osceola Street, admitted to assaulting a 54-year-old man near Osceola and Nebraska Avenue.

St. Louis "Knockout Game" Thug Shot And Killed After Breaking Into Home Of Armed American. The "knockout game" involved groups of racist black youths sucker punching an unsuspecting white person.

Footage shows elderly man attacked with his own oxygen supply and carjacked by protesters in Ferguson. The victim is shown lying face down on the pavement with his oxygen tank beside him. 'You need to take us live. Some gentlemen was in his car, he was on oxygen, they stole his car, left him on the ground. We're standing here where he is,' said reporter Robin Smith of KMOV-TV. According to witnesses the man, who is dependent on oxygen, was attacked by two men as he returned to his vehicle to replace his almost empty tank.

Motorist beaten to death by several juveniles with hammers; 2 teens held. "We're just angry because we're trying to protect our community," said Mirza Nukic, 29, of St. Louis. "We're just trying to be peaceful." Nukic was among at least 50 people, mostly, if not all Bosnians, who briefly blocked Gravois Avenue at Itaska Street on Sunday night to protest the killing. The intersection was near where Zemir Begic, a Bosnian man who moved to St. Louis this year, was attacked by at least three teens with hammers early Sunday [11/30/2014].

The Saint Louis Murder of Zemir Begic — Not Random At All. [Scroll down] What's that? You mean the other white guy whose head was smashed by a group of "unarmed teens" wielding hammers was not the first subject of their collective interest that day? [...] Yes, Zemir Begic, who happens to be white, was not the ONLY target of the five "teens" who happen to be "black". Indeed, the suspects, and the victims, all appear to hold a similar profile. Nothing to see here folks, move along, move along. It's all just a coincidence.

Fatal hammer attack on Bosnian immigrant not racially motivated, St. Louis police say. A 17-year-old St. Louis man has been charged with first-degree murder and armed criminal action in the bludgeoning death of a Bosnian immigrant. Police say Robert Mitchell along with two other teens, both juveniles, attacked the 32-year-old man with hammers early Sunday [11/30/2014]. He was pronounced dead at a hospital.

Saint Louis Officials Blame Victim Zemir Begic For His Own Brutal Murder. At approximately midnight on Saturday night [11/29/2014] Seldin Dzananovic, 24, was attacked by a group of black Saint Louis teen thugs wielding hammers. Mr. Dzananovic was able to escape the attack suffering bruises and scratches. However, an hour later 32-year-old Zemir Begic would not be so fortunate. Mr. Begic was brutally murdered by the same teens around 1:30 am.

Bosnian community in St. Louis outraged over fatal hammer attack. The St. Louis Bosnian community erupted into anger and demonstrations Sunday night after a local man was murdered with hammers Sunday morning. Two teen males, 15 and 16, were arrested Sunday, and a third, 17, turned himself in to city police headquarters Sunday night in connection to the death of Zemir Begic, 32.

St. Louis' Bosnian community sees hammer murder as hate crime. Insistence by St. Louis officials that the beating death of a Bosnian man was not a hate crime is being met with skepticism and anger, according to leaders of the city's 70,000-strong Bosnian community, and the victim's brother is calling on authorities to "investigate every possible motive."

Are the media ignoring another St Louis killing? The murder [of Zemir Begic] has stunned the city's Bosnian community, one of the largest in the US. On Sunday [11/30/2014] more than 150 residents took to the street to protest what they see as increasing incidents of violence in their neighbourhood. Given that the attack occurred less than 14 miles from the town of Ferguson, which has been under a bright media spotlight since the August shooting of a black teen by a white police officer, local residents have been quick to draw comparisons.

Off-duty police officer shot multiple times in St. Louis. An off-duty St. Louis police officer remained in critical condition Saturday [12/20/2014] after being shot multiple times in his personal vehicle by an unknown assailant. The shooting occurred near the intersection of Breman Avenue and North 25th Street in North St. Louis just before 4 p.m. Friday, a local NBC affiliate reported.

St. Louis County police: City officer shot, killed man who pulled gun at gas station. St. Louis County police say a man who pulled a gun and pointed it at an officer has been killed in Berkeley, Missouri.

Saint Louis Shooting Has Signature of Attempted Cop Assassination. A Berkeley police officer fired at least three shots at a suspect who pulled a gun on him, the St. Louis County Police chief said at a Wednesday morning [12/24/2014] news conference.

Was St Louis cop ambushed? The lawyer for the St. Louis-area cop who shot dead Antonio Martin has suggested his client may have been set up and ambushed by Antonio Martin, who police say pulled a loaded 9mm pistol on the officer without warning. The Berkeley, Missouri, officer was responding to a 911 call about a possible theft from a Mobil gas station about 11.15pm on Tuesday [12/23/2014]. Brian Millikan, the lawyer for the unnamed 34-year-old Berkeley officer, told the St. Louis Post-Dispatch that the cop may have been walking into a deadly trap set by Martin and his friend.

Cop in St. Louis suburb near Ferguson shoots and kills black man pointing a gun at him. A near-riot has already broken out in Berkeley, Missouri, two miles from Ferguson, where an armed man identified as Antonio Martin was shot and killed by a police officer after he pointed a loaded gun at the cop.


Black crime in Chicago

This subsection has moved to a page of its own, located here.


Black crime in New Orleans



Deadliest stretch in 6 years in New Orleans. There have been 19 murders over the past 18 days in New Orleans. WWL-TV crime analyst Jeff Asher says it's the bloodiest stretch of time in the city since 2010. "To be having a stretch that is equaling what we had six years ago when murder was much more prevalent is obviously not a positive sign," Asher said. NOPD Deputy Chief Paul Noel called it a spike in violent crime, not a long term trend.

The Editor says...
How does the Deputy Police Chief know it's just a spike, and not the leading edge of a long-term escalation of crime?

Man shot to death while visiting New Orleans to plan his wedding. Investigators believe robbery was a motive in the weekend shooting death of a St. Louis man visiting New Orleans to plan his wedding, police chief Michael Harrison said Monday [5/9/2016].

Police investigate whether ex-NFL defensive end Will Smith was killed out of revenge. Police said Sunday [4/10/2016] they were investigating whether the shooting that killed former New Orleans Saints defensive back Will Smith was a simple case of road rage or part of a more elaborate revenge plot. Just hours before the deadly confrontation Saturday night, Smith had dinner with former New Orleans police officer Billy Ceravolo and they were pictured together, The New Orleans Advocate reports. The shooting suspect, 28-year-old Cardell Hayes, had sued the city's police department over a 2005 police shooting that killed his father, naming Ceravolo as one of the defendants.

Will Smith's accused killer settled lawsuit with city over NOPD's fatal shooting of his father. Cardell Hayes, the man accused of murdering former Saints star Will Smith following a traffic accident late Saturday night (April 9), won a settlement from the city in 2011 to end a federal lawsuit alleging Hayes' mentally ill father was unjustly shot to death by New Orleans police. The suit against the City of New Orleans and six NOPD officers was filed in June 2006, less than six months after Anthony Hayes was pepper-sprayed and shot nine times by police while brandishing a knife along St. Charles Avenue in the Garden District.

Will Smith dined with defendant in suspect's lawsuit prior to shooting death. One of the defendants named in Cardell Hayes' lawsuit against the city of New Orleans in 2005 dined with Will Smith hours before the former Saints defensive end was killed late Saturday night, The Advocate reported Sunday [4/10/2016]. Hayes, 28, has been charged with second-degree murder of Smith. Bill Ceravolo, one of the defendants in the lawsuit, told The Advocate on Sunday he dined with Smith hours before the shooting. Ceravolo said he was not at the shooting scene, nor was he aware he was named in the suit.

Australian students shot while visiting New Orleans. Investigators say the two students were in a bar in the 500 block of Bourbon Street when they asked to buy drugs from an unknown man. They told detectives they then left the bar, got in a car with another man and headed to the west bank. Once there, a third man demanded money. "At some point at the west bank there was an encounter there. We learned through our investigation it was presumably about purchasing drugs. At some point the encounter became physical, and both of them were shot," said NOPD Superintendent Michael Harrison.

New Orleans police considering drones, transit hub changes, in wake of weekend violence. Sixty-three law enforcement members were on patrol up and down the roughly mile-long stretch of New Orleans' Bourbon Street early Saturday morning (Nov. 28), yet a single gunman managed to kill 26-year-old Brandon Robinson amid the crowd of revelers. Forty-four hours of overtime over the past week were used for New Orleans police officers to keep watch near the busy public transportation hub around Canal and Rampart streets, yet a 19-year-old man was gunned down just after 5:30 p.m. Monday at the busy intersection. With both fatal shootings, the crush of foot traffic may have hindered the police response and allowed the suspected gunmen to escape.

New Orleans playground shooting suspect has long rap sheet. New Orleans police were hunting Friday (Nov. 27) for Joseph "Moe" Allen, 32, the first suspect to be named in the Bunny Friend Park shooting that injured 17 people. And they are pleading for people who were at the Upper 9th Ward playground to come forward with information. Despite the crowds at the park when the gunfire erupted Sunday evening [11/22/2015], no one there had sent videos to police, Mayor Mitch Landrieu said. "And everyone knows there are lots," he said. [...] Two groups of people turned their guns on each other, and police found as many as 70 bullet casings just the next morning. No shooters other than Allen have been identified by police.

'We're going to find you': Suspect Id'd in shooting of Tulane good Samaritan. The suspect seen on a surveillance camera dragging a woman down a street Friday morning [11/20/2015] and then pointing a gun at Peter Gold, 25, and shooting him in the stomach when he intervened has been identified as Euric Cain, 21, police said today. The gunman tried to shoot Gold, a Tulane University medical student, a second time, police said, but the gun jammed. The gunman then took the woman's purse and fled, said police. Cain is wanted for attempted first degree murder, second degree kidnapping and armed robbery.

Police say 16 injured after shooting at New Orleans park. A dispute between two groups of people in a New Orleans park Sunday [11/22/2015] escalated into a shooting that injured at least 16 people, police said late Sunday. The shooting took place at around 6 p.m. local time after approximately 500 people had gathered at Bunny Friend Playground in the city's 9th Ward to film a music video, the New Orleans Police Department said in a statement. Ambulances took 10 victims to area hospitals, and police later learned that another six victims had been taken to the hospital in private vehicles.

Shooting in New Orleans park leaves at least 16 people wounded. A gunfight between two groups in a New Orleans park where hundreds of people were gathered for a block party and the filming of a music video has left 16 wounded, police said. Shooting erupted at around 6.15pm on Sunday night in Bunny Friend park in the city's upper ninth ward, police said, although no fatalities were reported.

In New Orleans, the number of police is down and crime is up. In late August, three gunmen burst through the doors of Patois, one of the most cherished restaurants in this city's tony Uptown neighborhood. They forced diners to drop to the floor and hand over their cash and cellphones. In September, it happened again, this time at an Uptown bistro called Atchafalaya. Four days after that, robbers hit the Monkey Hill Bar, an upscale watering hole three blocks from Patois. For a city reliant on tourism, where the culinary scene is king, the idea that diners might get held up between the appetizer and entree was a big problem.

$12,500 reward for information in shooting of good Samaritan. Tulane University and Crimestoppers are offering a $12,500 reward for information that leads to the arrest of a man who shot 25-year-old Peter Gold on Friday morning (Nov. 20) after Gold disrupted the man's attack of a woman. Detectives are sifting leads after police released surveillance video showing the incident, New Orleans Police Chief Michael Harrison said in an interview Friday night [11/20/2015].

Trio in stolen SUV escape DWI checkpoint, New Orleans police say. New Orleans police say detectives are looking for the three occupants of a stolen SUV that sped away from a DWI checkpoint Friday (Nov. 20) at Dublin and Dixon streets, near Xavier University's campus. NOPD released photographs of two of the three men who were inside a 2014 black Ford Explorer when they came upon a DWI checkpoint conducted by members of NOPD's Traffic Division. Police said the driver gave officers the car's registration, but claimed he had no identification on him.

NOPD investigating bike attack in the Bywater. There is no shortage of riders using the bike lane along St. Claude Avenue in New Orleans. The bike community is on edge after one rider was attacked near St. Claude and France Street. The attack happened around 7, Wednesday night [11/11/2015]. One neighbor, who did not want to give her name, said a group of 3 to 4 teenagers tackled a woman who was riding down the street.

Suspect arrested in French Quarter robbery captured on video. New Orleans police arrested a suspect Thursday (Nov. 5) night in last month's French Quarter robbery of a man police say was beaten in the street and stripped of his wallet. The New Orleans Police Department identified the suspect as a 29-year-old transgender woman whose birth name is Wayne Dillard. She was booked around 6 p.m. Thursday [11/5/2015] on a charge of simple robbery.

Burglars posing as repairmen force way into Metairie home, beat woman: JPSO. Three burglars posing as repairmen forced their way into a woman's Metairie home and beat her before stealing her wallet and cash, according to authorities. [...] Deputies eventually arrested all three men following foot and car chases that left one officer injured. Authorities found the third suspect hiding underneath the victim's bed.

3 more guilty pleas nearly complete downfall of New Orleans' 'Taliban' gang. The state racketeering case targeting New Orleans' "Taliban" gang moved closer to completion as three more reputed members admitted guilt as part of plea deals entered in Orleans Parish criminal court. Cornie "Porch" Jones, Darryl "Dino" Bannister and Jerome "Sookie" Tolliver each pleaded guilty to racketeering, aggravated battery and public intimidation on Tuesday [10/6/2015] before Judge Karen Herman. In exchange, the state amended attempted murder charges that potentially could have sent the trio to prison for far longer sentences.

15-year-old sought in fatal eastern New Orleans shooting of 17-year-old. New Orleans police are searching for a 15-year-old they suspect of fatally shooting another teenager last month at an eastern New Orleans apartment complex. Miqueghele Brown is wanted in connection with the July 16 shooting, which took the life of 17-year-old Ortez Williams Jr. The Times-Picayune generally does not name juveniles except in cases of the most serious crimes. A provision in Louisiana state law allows law enforcement to name juvenile suspects "to assist in finding and taking into custody a child wanted for a felony-grade delinquent act ..."

Facial tattoos, $1 armed robbery help lead NOPD to 7th Ward suspect, police say. An accused thief who New Orleans police said put a gun to a construction worker's head Wednesday to rob him of a power saw and a $1 bill has been captured and linked to at least three other crimes, authorities said. Albert Myles was booked with armed robbery, armed robbery with a firearm, simple burglary of an inhabited dwelling and resisting an officer, with additional charges expected.

6 wounded, 2 dead in 4 shootings across New Orleans Tuesday night. Eight people were shot — two fatally — in a four-hour span in New Orleans Tuesday (Aug. 25) night. One of the shooting victims was a 2-year-old boy who authorities said was sitting with his uncle on the porch of a 7th Ward home. The violence started around 5 p.m., when NOPD Superintendent Michael Harrison said the toddler and an adult man were shot in the 1700 block of Laharpe Street. Harrison said two men got out of a car, walked up to the man on the porch and started shooting after "some type of conversation."

Who Runs the Streets of New Orleans? Crime has dropped to record lows in most major American cities, but New Orleans, where wealthy neighborhoods sit side by side with some of the nation's poorest, continues to struggle. The persistence of crime today stands as the most dominant threat to the resurgent image the city has had since Katrina. Though the murder rate has been in decline, it is still second in the nation, just below Detroit. Nonfatal shootings rose 23 percent last year, leading criminologists to argue that any decline in murders had more to do with advances in emergency medicine, not law enforcement.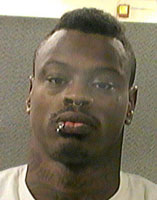 NOPD arrests barber accused of murdering young mother found in burning car's trunk. A 30-year-old barber from eastern New Orleans has been arrested and accused of murdering Lindsay Nichols, the young mother found shot to death June 21 inside the trunk of a burned-out car abandoned on Michoud Boulevard. Thayon Samson was booked Monday night [7/21/2015] with second-degree murder, following an investigation led by NOPD Homicide Detective Rob Barrere. Arrest documents show Barrere was able to place Samson at the murder scene using both cellphone data and DNA results from a telltale pair of basketball shorts found inside the charred car and worn by Samson in a photo found on his Instagram account.




New Orleans hits 100 murders 55 days sooner than last year. New Orleans' year-to-date murder tally hit 100 on Thursday morning (July 9), 55 days sooner than a year ago, and 101 late Thursday night. The grim triple-digit milestone had not been reached until the first week of September in each of the previous two years. The City Hall chest-thumping that followed three consecutive years of declining murder totals has been muted this year, as officials and observers privately concede a fourth annual decline doesn't appear to be in the cards for 2015.

New Orleans police officer killed while transporting prisoner. Travis Boys, 33, was being taken to jail early Saturday [6/20/2015] by Officer Daryle Holloway when Holloway was shot dead. Boys fled the scene and was the focus of a "relentless" 24-hour manhunt before he was taken into custody Sunday morning as he was attempting to board a bus, police said. Harrison said Sunday that Boys will be charged with first degree murder in the death of Holloway, who was 45.

Those people sure do like expensive sneakers.
Teen shot in eastern New Orleans 'shoe-jacking'. A 16-year old boy was shot Saturday (June 13) during a struggle with a man who tried to steal his shoes in an eastern New Orleans apartment complex, New Orleans Police said. The victim was approached around 10 p.m in the 5100 block of Bundy Road by a man who said he wanted to buy the victim's shoes. The man had a gun, and told the victim "You just got jacked out of your shoes."

In Canal Street shooting, woman gets 1 year in prison after plea deal. A woman accused of spraying gunfire on Canal Street and shooting another woman in the leg during an argument outside a restaurant last summer will spend a year in prison after accepting a plea offer Wednesday (May 6). Niya Harris, 22, had faced the potential of 10-50 years in prison for each of the four counts of attempted second-degree murder with which she was charged following the incident outside the IHOP restaurant at 833 Canal St.

Oil exec and his son shot dead 'execution-style' by heavily- armed teen robbers. Nicholas Pence, 25, and his father David, an oil company manager, had been celebrating a victorious football game in their garage in New Orleans, Louisiana, on Wednesday [4/22/2015]. But moments after jovially waving goodbye to the last-remaining revelers shortly before midnight, they were both shot dead at close range in an attack that shocked and baffled the quiet community of Metairie.

Father slain in Metairie double-murder may have been asleep when shot, JPSO says. David Pence and his son, Nicholas, were gunned down by shotgun blasts inside the living room of their Metairie home on Wednesday [4/22/2015], a double murder that Jefferson Parish Newell Normand said began with a pair of New Orleans teens breaking into David Pence's car in the driveway. But Normand said investigators still have no idea how a how a car burglary — one of several committed in the neighborhood that by the two New Orleans charged in the killings — escalated into an "execution-style" shooting.

Random double murder rattles Metairie. The news that two teens had been arrested in connection to the murder of David Pence and his son, Nicholas, provided small comfort to their neighbors in an upscale Metairie neighborhood, residents said. Sunday's (April 26) sunny afternoon passed in typical quiet after the announcement by the Jefferson Parish Sheriff's Office that Dexter Allen, 17, and Haraquon Dugrey, 18, were jailed Friday. But behind the stillness, residents were uneasy.

Red vehicle pulled up to corner, shots started firing in Central City shooting Saturday, NOPD says. Police are looking for the driver and passengers of a vehicle that pulled up to a Central City corner Saturday afternoon [4/18/2015] and started shooting, leaving two older men injured.

Suspect in Domino's delivery driver killing has history of armed robbery, weapons charges. The man accused by New Orleans police of murdering Domino's delivery driver Michael Price late last month has a history of armed robbery and weapons charges in Houston and New Orleans. Michael Portis, 24, is facing a possible first-degree murder charge after his arrest Wednesday morning (April 1) in the 4900 block of Pauger Street. His arrest came a little more than a week after police found Price's bullet-riddled body inside his car shortly before 1 a.m. on March 24 in the 6100 block of North Roman Street in the city's Lower 9th Ward.

Heart recipient, 17, dies in high-speed police chase crash. A teenager who received a life-saving heart transplant two years ago after initially being denied because of his bad behavior has died following a high-speed car chase with police. Anthony Stokes, 17, died on Tuesday [3/31/2015] after he crashed a stolen Honda into a pole as he fled the scene of an attempted burglary at an elderly woman's home in Roswell, Georgia.

The Editor says...
What a delightful story. Even after a heart transplant, he was still able to pursue his chosen profession.

Convict who killed 14-year-old boy over 'frozen cup' dispute admits guilt, gets 34 years. A convicted felon who shot and killed a 14-year-old boy sparked by an alleged dispute over a "frozen cup" in 2013 pleaded guilty to manslaughter charges Tuesday (March 31) and received a 34-year sentence. Jury selection was about to begin when Milton Bangham, 34, told prosecutors he was willing to plead guilty to killing Edward Barton, who was shot execution-style while sitting on a Central City stoop on June 30.

Mother accused of beating 2-year-old son after he fails to spell name with blocks. A young eastern New Orleans mother accused of beating her 2-year-old son because he could not correctly spell his name with lettered blocks was arrested Thursday (March 19) by New Orleans police. Tharaneka Sparrow, 22, was booked with cruelty to a juvenile following an investigation by an agent of the state's Department of Children and Family Services and a detective from the New Orleans Police Department's Child Abuse Unit.

Black Mob Violence in New Orleans? Police are "baffled." Police in New Orleans say they have never heard anything like this: A black mob beating up someone for the pure thrill of it. All on video.

As warning signs go up, victim of Quarter stabbing calls for more police. Pictures show in graphic detail exactly what happened the night of Dec. 17. "He approached me quickly," he said. "They knew exactly what they were doing." The victim, who lives in New Orleans, doesn't want to be identified since the suspect hasn't been arrested. He was walking with a friend when they were attacked by as many as eight people, some armed with knives, others with guns. "They waited until they were even with us, acted quickly, I didn't know I had been stabbed until I saw the knife," the victim said.

New Orleans pizza delivery man blinded by bleach in robbery. Last Thursday about 2:30 p.m., the Domino's Pizza delivery man, whom police did not identify, pulled up to a house in the 8600 block of Palm Street in Hollygrove. He walked to the front door and began to knock when a man standing nearby said he lived there. The man, identified in the police report as Alexis, told the driver to keep knocking and someone would answer. Then, unexpectedly, Alexis allegedly splashed a cup of bleach into the delivery man's eyes, blinding him, and stole the pizza, police said. The delivery man ran back to his car. "You know you're not supposed to be back here, white boy!" Alexis allegedly yelled as the man pulled away.



Mother's Day second-line shooting on Frenchmen Street injures at least 12 people. Immediately after the shooting police reported seeing three suspects running from the scene.

Apparently everyone involved was black, but this news report leaves out the word black.
Shooting suspect possibly caught on video at New Orleans parade. The surveillance video shows the crowd dispersing and some falling to the ground before one person in a white T-shirt and dark pants flees. The image of the man isn't clear but police say they hope someone will recognize him.

Black mob beats man 'for no reason'. Police are "baffled." So is the daily newspaper. Three black men in New Orleans stalk and stomp a man almost to death. They laugh. They linger. They beat him some more. They move on. Then return and kick him in the face. It's all captured on video.

New Orleans musician in coma after street attack. A popular New Orleans musician is fighting for his life in hospital after being brutally attacked in what is believed to be the latest case of a sick craze known as the knock-out game. Doug Potter was returning to his car after playing a gig at Cafe Beignet inside the Bourbon Street courtyard venue on Tuesday night [1/21/2014] when he was brutally assaulted by two men. The 54-year-old bass player is now in an induced coma after undergoing intensive brain surgery at University Hospital.

Baseball bats are used to attack Esplanade Avenue bicyclists, New Orleans police say. New Orleans police are looking for attackers who twice used baseball bats to bash bicyclists on Esplanade Avenue, officers said Monday [2/17/2014]. In both cases, two people hit the cyclists in the head. The first incident was reported Friday at 2:20 a.m. near the intersection of Esplanade and North Robertson Street. A man was riding his bicycle on Esplanade when a male believed to be 16 to 18 years old jumped in front of him. The bicyclist slowed, then another male of about the same age came into the street with an aluminum bat. The attacker hit the cyclist in the mouth. The two assailants fled.

The Editor says...
The perpetrators are responsible for their violent criminal actions; and yet, who in his right mind would ride a bicycle on the streets of New Orleans at 2:30 a.m.?

Esplanade Avenue attacks on cyclists involving baseball bats scare area bikers. After news that two men in New Orleans were badly beaten with baseball bats while riding their bicycles, 67-year-old Treme resident Sher Stewart set out to buy a new helmet Tuesday (Feb. 18). The one she'd been using for years to bike the streets of New Orleans no longer felt adequate after such a brutal bout of violence against cyclists unfolded on Esplanade Avenue, just a stone's throw from her home.

The Editor says...
Bicyclists now buy helmets for protection from the inevitable muggings, rather than the slight chance of falling off their bikes.

In Bourbon Street shooting, 6 out-of-state visitors injured. As the investigation into the Bourbon Street shooting continued Tuesday, police confirmed that six of the victims were visitors from out of state, including a woman from Australia. NOPD spokeswoman Hilal Williams sent out a press release shortly before 2:30 p.m., which included a change in what authorities had previously said — that six of the victims were women and four were men.

Three people killed, six wounded in separate New Orleans shootings. Authorities said that two people were killed and five were wounded in a shooting in the Lower Ninth Ward, an area of the city that has been slow to recover since it was ravaged by Hurricane Katrina in 2005.

Two women stab, rob man in French Quarter. According to NOPD, a 25-year-old man was walking to a hotel around 3:45 a.m. [8/29/2014] when he was approached by two unknown black women that touched him and made sexual advances. The victim said he attempted to get away and realized his wallet was taken from his back pocket. When he demanded the wallet back a fight began and one of the suspects stabbed him in the hand.

Free advice: While wearing an ankle monitor, you should avoid engaging in violent felonies.
Teens arrested in slaying of Domino's driver likely to be prosecuted as adults. Tracking data from court-ordered electronic monitoring devices linked two 16-year-old boys to the slaying of a Domino's Pizza delivery driver who also worked as a French Quarter DJ, New Orleans police said. NOPD Interim Superintendent Michael Harrison announced the teens' arrest at a news conference Tuesday afternoon (Sept. 23) at police headquarters. Citing the suspects' ages, Harrison would not identify the teens nor elaborate on what previous offenses led to their monitoring devices. "I believe their history indicates they were violent offenses," Harrison said.

Beaten French Quarter musician undergoes more surgery as trial date set for accused attackers. Musician Doug Potter was back in a hospital's intensive care unit this week, while the two men accused of beating and kicking him into a coma last January in the French Quarter were ordered to stand trial Nov. 12 on charges of second-degree battery. The trial date for 21-year-old Reeshawn Arnold and 30-year-old Terrell Belvin was set Tuesday (Sept. 23), following a hearing in which New Orleans police outlined evidence they say links the men to the Jan. 21 incident. Prosecutors will be relying primarily on testimony from one witness, surveillance video they said shows the suspects leaving the scene, and a recorded jailhouse phone call they believe implicates both men in the assault.

Newcomb Boulevard woman speaks out about brutal robbery, carjacking that preceded Domino's slaying. The teen was wearing an ankle-monitor following an arrest in a previously undisclosed crime. [Martha] Brosch was battered and bruised. She was treated for an eye fracture, a broken nose, chipped teeth and bruises to her arms, legs and ears.

Man drops baby during pursuit, parents arrested on burglary charges, JPSO says. A couple suspected of burglarizing a Harvey home were arrested Monday afternoon (Sept. 29) following a high-speed police chase that endangered the life of an infant, authorities said. According to a news release from the Jefferson Parish Sheriff's Office, authorities arrested Clinton Mingo, 27, and Thadnesha Williams, 22, after officers said the New Orleans couple burglarized a home on the 800 block of 5th Avenue and fled the scene with their 7-month-old daughter.

Lawyer bewildered as to why he was beaten unconscious but not robbed of Rolex, cash. Bill Callaham, a California lawyer, never had a chance to hand over his Rolex, cell phone or hundreds of dollars in cash. The men who attacked him from behind in the Central Business District never made any demands. They beat him unconscious, breaking his nose and his jaw. And afterward, he said, they took nothing. "If somebody had confronted me and asked for money, I would've happily given them my money," Callaham said Friday [12/19/2014], a week after the assault. "I don't know if it was random, I mean, I have no idea. I just think it's a sad state of society right now."

The Editor says...
Get a clue, sir. They beat you up because you're white and they're black. To them, it's a hobby. It's a sport. They didn't take anything from you because the whole purpose of the attack was the attack itself.

JPSO: Man booked with murder of girlfriend, attempted murder of grandmother. Authorities have arrested a 19-year-old man accused of killing his girlfriend and accidentally shooting his grandmother. Jarius Cole was booked with second-degree murder and attempted second-degree murder in the Tuesday night [12/23/2014] double shooting that took place on his grandmother's front porch near Westwego, said Col. John Fortunato, spokesman for the Jefferson Parish Sheriff's Office. Cole gave detectives conflicting statements about how his girlfriend, Andrea Grant, 20, of Violet, was fatally wounded by multiple gunshots.

3 suspects sought in Christmas Day armed robbery on Magazine Street. A group was held up at gunpoint and robbed on Coliseum Street on Christmas Day, police said. Police said a 15-year-old boy, a 49-year-old man and a 52-year-old woman, were walking near the intersection of Seventh and Coliseum streets about 9:49 p.m. when they were approached from behind by three men. The men brandished a gun and demanded the victims hand over their belongings.


Black crime in Denver

Denver police arrest 32 in series of downtown assaults. The Denver Police Department arrested 32 men and juvenile boys after a months-long undercover investigation into what police said were racially motivated assaults and robberies in downtown Denver, including the LoDo entertainment district. A task force composed of Denver police, the FBI and the Denver district attorney's office investigated 26 incidents in which groups of black males verbally harassed, assaulted and at times robbed white or Latino males, according to Denver Police Chief Gerry Whitman.

LoDo assault victims often sucker-punched. [Peter] DeQuattro, who is white, was one of the most recent men targeted in a downtown-centered spree of attacks where small groups of black men and youths — many with admitted gang ties — tried to knock out white or Latino men with whacks to the head. They sometimes stole from them or taunted them with racial epithets.

Racial terror in Denver that won't make national news. Chilling details are emerging in the local Colorado press about violent black gangs who have been targeting white victims for months. ... Although police knew what was going on, citizens were left in the dark. More dangerously blind diversity-mongering at work?



Aurora teen robbed on RTD bus and shot for his cell phone tells story. An Aurora man who was robbed on an RTD bus and shot over his cell phone, said he hopes someone will come forward with information. No one would blame Jordan Hough if he didn't feel up to telling his story with his jaw wired shut, but the 19-year-old said he refuses to live in fear while the guys who shot him walk. [...] Aurora police are now releasing a more detailed description of the two suspects: Two black males in their mid-to late-teens, both between 5 feet 7 inches and 5 feet 9 inches tall, with a medium build.


Black crime in Alabama



85-year-old white man torched; black suspect arrested. Gene Emory Dacus, 85, was doused with gasoline and set afire in his black [sic] yard. Dacus, a Korean War veteran, died from his injuries. Police took 18-year-old Thomas Sims into custody after witnesses identified him as the individual seen running from the scene, carrying a gas can. Dacus was white. Sims is black.

Teen neighbor charged with capital murder in slaying of burned elderly veteran. A teen neighbor of an elderly Korean War veteran found burned to death in the back yard of his North Birmingham home is now charged in the brutal slaying. Thomas Sims, an 18-year-old already awaiting trial in connection with an armed carjacking earlier this year, is charged with capital murder and held on no bond. He is charged in the killing of 85-year-old Gene Emory Dacus, affectionately called "Mr. Gene" by his neighbors.

85-year-old Alabama man found burned to death, suspect seen running away with gas can. Early Wednesday morning [8/17/2016], Birmingham Police officers responded to the location on a report of a person on fire. Arriving officers found the victim, described as an 85-year-old white male, lying on the ground in the backyard. His body was severely burned. He was pronounced dead on the scene by Birmingham Fire and Rescue. The victim was identified as Gene Emory Dacus.

Alabama inmate who shot at cop escapes from jail. Alabama authorities were hunting an escaped inmate on Wednesday morning [8/17/2016] who was convicted last week of shooting at a sheriff's deputy. State and local authorities are searching for 23-year-old Eric Washington, The Alabama Law Enforcement Agency told media outlets Tuesday night. He is considered armed and dangerous, officials said. Washington overpowered staff members at Green County Jail at about 9 p.m. on Tuesday and stole a pair of keys before fleeing on foot, ALEA spokesman Reginal King said.

Suspected home invader dead after being shot at by victim; 2 cohorts arrested in Pike County. Lt. Troy Johnson of the Pike County Sheriff's Office said they were called to a home in the 100 block of County Road 3016 at about 2:30 a.m. [5/12/2016] He said the 36-year-old resident told them he answered a knock on his door and three men forced their way inside. The victim said one of them pulled a gun on him and told him to "give it up," Johnson said. The victim said he grabbed the gun and got it away from the robber. He said he shot at them as they advanced on him. All three fled on foot after the shot was fired.

2 teens charged with capital murder after Cullman man found in Birmingham driveway. Birmingham police charged two teenagers with capital murder on Thursday after a Birmingham woman found the body of a Cullman man in her driveway on Wednesday [4/20/2016]. Vershawn Edwards 17, and Horayshio Fletcher, 17, are being held without bond.

2 more suspects, including 16-year-old, charged in murder of Hoover's Mike Gilotti. Two more suspects — including another 16-year-old — are now charged in the shooting death of a Hoover husband, father and Iraq war veteran. Authorities today [3/25/2016] announced murder charges against 16-year-old Darrian Bryant, of Bessemer, and 19-year-old De'Ron Lucas, of McCalla, in the Jan. 5 slaying of Mike Gilotti.

Witnesses say large crowd was "scary" before movie theater shooting. It was a usually peaceful holiday, and busy movie day, when at least five shots rang out at a local movie theater. Mobile Police say four people were shot in the parking lot just after 10 p.m. Christmas night. Police say the two shooters, who are possibly juveniles, ran away from the scene. Frances Carr was at the theater picking up her daughter around the time of the shooting. She says she felt uneasy with the huge crowd of people standing in front of the doors, when a fight broke out.

4 shot outside Alabama movie theater. Four people were shot outside an Alabama movie theater late Friday [12/25/2015] and the suspects remained at large, police said. Two adults and two juveniles were wounded in the shooting outside Carmike's Wynnsong Cinemas in West Mobile around 10:15 p.m., police told Fox 10 TV.

The Editor says...
How can I presume to know the perpetrators are black? Here are the clues: (1) Alabama. (2) Shooting people on Christmas Day. (3) No mention of the suspects' description in the article above. Prove me wrong, and I'll take this item out of the list.

4 charged in rape of unconscious Tuscaloosa woman. A woman is in a Tuscaloosa hospital and four men are behind bars after a reported gang rape. Three of the suspects are students at the University of Alabama, police said this afternoon [10/7/2015]. The victim is a student as Shelton State Community College.

Three People, Including Pastor And Baby, Shot At Church In Selma, Alabama. A man has been charged with attempted murder after allegedly injuring three people, including a pastor and baby, in a shooting at a church in Selma, Alabama, on Sunday morning [9/20/2015]. Authorities say James Minter, 26, shot his 24-year-old girlfriend, their one-month-old baby son, and the 61-year-old male pastor of the church in East Selma around 10:25 a.m. on Sunday morning [9/20/2015].

The Ferguson effect:
Cop Pistol-Whipped With His Own Gun After Restraining Himself For Fear of Backlash. The story of an Alabama police detective went viral this week after being pistol-whipped with his own gun for fear of becoming the newest police headline. "A lot of officers are being too cautious because of what's going on in the media," the officer later told reporters. "I hesitated because I didn't want to be in the media like I am right now."

Cop Pistol-Whipped With His Own Gun After Restraining Himself For Fear of Backlash. After pulling-over to a parking lot at a shopping mall, Janard Cunningham reportedly got out of the car, sucker-punched the officer, and then grabbed the officers gun which he used to pistol-whip him unconscious. After waking up in the hospital with stitches and a concussion, the officer said that he could have used his gun after Cunningham became noticeably belligerent and uncooperative, but refrained for fear of becoming a media pariah.

Pistol-whipped Alabama police officer mocked on Twitter, Facebook as bloody pictures surface. The suspect stole the detective's gun during the struggle and clubbed him repeatedly with it, leaving the officer lying limp on the ground, Al.com reported. Pictures of the bloodied officer surfaced on social media shortly after the brutal confrontation. "Pistol pimped his face n um chillen now," Twitter user @TriggaMane666 posted with a picture of the wounded officer. "Pistol whipped his a** to sleep," a Facebook user wrote before deleting a post showing the officer face down on the sidewalk.

Officer Beaten by a Convicted Felon Hesitated for Fear of Being Called Racist: Welcome to Post-Ferguson Policing. Last Friday [8/14/2015], a Birmingham plainclothes detective pulled over a car being driven erratically. The officer, who has chosen to remain anonymous to protect his family, told the driver to stay in the car while he called for backup. Instead, according to CNN, the driver got out and became belligerent, angrily and repeatedly asking why he'd been stopped. The driver, a 34-year-old convicted felon, allegedly grabbed the detective's gun and pistol-whipped him with it until the detective lost consciousness. The felon, Janard Cunningham, reportedly fled the scene but was later apprehended. His record includes convictions for robbery and assault, among other crimes, and an attempted-murder charge, according to ABC 3340 and WVTM 13.

Police: Facebook Feud Led To Fatal Shooting Of 14-Year-Old Girl. A Facebook feud led to the fatal shooting of a 14-year-old Alabama girl after the social media dispute turned into a deadly planned brawl at a park. The Birmingham Police Department says Kierra'onna Rice, 14, was shot and killed on Friday evening during a planned fight with several other girls at a park on Washington Avenue, WVTM-TV reports. The fight, which investigators say spilled over from a Facebook dispute, was intended to be videotaped and then posted online.

Police to White Victim: We 'Don't Mess' with Black Gang. Most of us have heard about how the media won't report on black-on-white crime. We also may know that authorities sometimes sweep it under the rug due to political pressure, usually with a wink and a nod. But not so in rural Alabama, where the police actually told a white crime victim that they "don't mess" with a local black motorcycle gang. The tragic event that led to this shocking admission occurred on March 28, as truck driver Nick Stokes and neighbor Johnathan Cooper were heading out of Birmingham hauling a portable cabin.

No Attention for Daylight Highway Stabbing in Alabama. A frightening event happened March 28 on an Alabama highway. The event has received no national attention apart from a lone story in the Macon Beacon in Macon, Mississippi. Not only was the event frightening, but the response — or lack thereof — by Alabama law enforcement authorities was almost as frightening. The local media, including the Birmingham News, failed to cover the shocking attack. With the flurry of national media attention the Trayvon Martin killing has received, why hasn't the daylight stabbing of Nick Stokes received any attention?

Man Beaten By Mob, In Critical Condition. Mobile police need your help to catch a mob that beat Matthew Owens so badly that he's in critical condition. [...] Owens' sister, Ashley Parker, saw the attack. "It was the scariest thing I have ever witnessed." Parker says 20 people, all African American, attacked her brother on the front porch of his home, using "brass buckles, paint cans and anything they could get their hands on." Police will only say "multiple people" are involved.

Calling Out the Mobile Police Department. As I reported yesterday [4/25/2012], the Mobile Police Department is ludicrously claiming that it is likely that no more than three people will be arrested for the now-infamous mob beating of a man in Mobile because the other 17 or so people were supposedly just "onlookers."

If You Don't Look Like Obama's Son, No One Cares. The news story is horrifying: after a trivial encounter with a group of youths who were playing basketball, a man in Mobile, Alabama, was set upon by a gang of twenty men armed with brass knuckles, chairs, pipes and paint cans. The victim, Matthew Owens, was attacked on his own front porch and beaten within an inch of his life.

Beating of Alabama man not seen as hate crime, despite claim 'Trayvon' invoked. A racially charged beating of a white Alabama man by a throng of African-Americans is not being investigated as a hate crime, despite one witness' claim that she heard an assailant exclaim: "Now that's justice for Trayvon."

Victim's sister: Mobile, Ala. black-on-white beating sparked by theft, not basketball. The sister of a white Mobile, Alabama man who suffered severe head trauma during a beating by approximately 20 black neighbors on Saturday spoke exclusively to The Daily Caller, saying that the incident started after one of her children witnessed some of the eventual assailants stealing an item from a neighbor's porch — not, as some media outlets have reported, following a disagreement about a pick-up basketball game in the street.

The Mob in Mobile. Last Saturday night at 8:20 p.m., when the white Matthew Owens was beaten into critical condition by a mob of dozens of black neighbors, Al Sharpton and the New Black Panthers got what they wanted: a white victim, any white victim, in payback for the killing of Trayvon Martin. May God have mercy on their miserable souls — because the rest of us should shun them mercilessly from all decent society.

Woman Shot Dead after Confronting Speeder in Neighborhood. A woman has died after being shot during an argument with a driver speeding through her neighborhood in Mobile on Racine Avenue. Mobile Polices say 40-year-old Wendy Fisher died after being transported to USA Medical Center with a life-threatening gunshot to the chest. Witnesses say Fisher confronted a car speeding down her street after it almost hit her dog. Police say three to four black males were inside the car, and one of them opened fire, striking North in the chest.
This is an original compilation, Copyright © 2015 by Andrew K. Dart


MCSO: Murder Suspects Scouted 'Easy Targets' at Walmart. Two women could face the death penalty after each was charged with felony murder in connection to the robbery and shooting death of a Coden grandfather. Just after midnight Wednesday morning [3/12/2014], Mobile County Sheriff's investigators booked Kymberli Lindsay and Saraya Atkins into Mobile Metro Jail on one count of felony murder and two counts of first degree robbery.

Arrest made in random stabbing caught on video at Dothan Dollar General store. Dothan police arrested a woman accused of jumping and stabbing a woman inside a Dothan Dollar General store for no apparent reason. Police received a tip through Crime Stoppers that led to the arrest of Phyllis Bennett, 49, of Dothan, Dothan police stated in a release.


Black violent crime in Cleveland



Parma Chuck-E-Cheese brawl suspect shot with stun gun after court hearing. A Cuyahoga County sheriff's deputy used his stun gun to shock a man charged in the March brawl at a Chuck-E-Cheese after a court hearing Monday [4/27/2015]. Jahmeel Green Sr., 43, was arraigned Monday in Cuyahoga County Common Pleas Court on two charges of aggravated riot and two charges of inciting violence. He was given a $5,000 bond.

Black mob violence — in Kindergarden? And the cops even charged 8 black people with rioting. Started at a Kindergarten graduation, next thing you know a "very ugly brawl" starts, then spills outside.

'Knock That White Boy Out': Arrests Made After Mob Of Teens Attack Disabled Vet. Cleveland authorities have made several arrests following the mob beating of a disabled Army veteran by a group of teenagers. Last Friday [2/7/2014], the victim, Matthew Robinson, was surrounded by between six and eight teenagers while riding the RTA Healthline. Robinson told WOIO that he was attacked by the teens, then robbed of his possessions. During the attack, the teens made several derogatory remarks about Robinson. "What they were saying was, 'Knock that boy out!' 'White boy.' 'Cracker,'" he was quoted as saying about the incident. "They were saying, 'Knock that white boy out.'"

Exclusive: Mob of teens attack man in downtown Cleveland. There's evidence of more violent teens running around the heart of downtown Cleveland. A disabled Army vet spoke out about the latest attack that happened Friday, Feb. 7, 2014. Matthew Robinson told our Ed Gallek he was riding RTA's Healthline when six to eight teenagers surrounded him on the bus, and then started following him. Then, he said they attacked, took his stuff, and videotaped what they were doing. The incident went down at 6th and Euclid, and the crowd scattered when cops showed up.

Cleveland judge accused of beating wife had 2,500 rounds of ammunition, semi-automatic rifles, sword and smoke grenades in home. Police confiscated smoke grenades, semi-automatic rifles, a sword, a bulletproof vest and more than 2,500 rounds of ammunition from the home of Cuyahoga County Common Pleas Court Judge Lance Mason's home, according to a police report. Mason, 46, entered no plea Monday [8/4/2014] during his initial appearance in Shaker Heights Municipal Court. He's charged with felonious assault, a second-degree felony. He's accused of punching his wife in the face several times along with biting and choking her.

Five Men Attack Chuck E. Cheese Employees In Huge Brawl Over A Photo Booth. A parent upset over a malfunctioning photo booth sparked a mob attack at a Cleveland-area Chuck E. Cheese which left two store managers seriously injured, one of whom was knocked unconscious. Surveillance footage from the Parma, Ohio pizza restaurant — a popular destination to celebrate children's birthdays — shows the part of the attack that spilled into the kitchen. The melee occurred Sunday evening [3/8/2015].

Black Mob Violence Spreads as the President Preaches Victimization. At Chuck E. Cheese outside of Cleveland, a large group of black people attending a birthday party said they were unhappy that one of the machines was not working. So they attacked the staff, sending five to the hospital with "serious" injuries, including a teenager girl who was knocked unconscious. Much the way Congressman John Lewis reminded us on Sunday at Selma that he too was knocked unconscious. This is just the latest is a series of recent episodes of black mob violence in Chuck E. Cheese stores around the country, including Long Island, Florida, South Carolina, St. Louis, Dearborn, California, Memphis, Commack, Beaumont, Colorado Springs and other places.

Somewhat related:
Kentucky Chuck E. Cheese refuses to serve police officer with firearm. A Kentucky Chuck E. Cheese appears to have taken the kid-friendly chain's "no guns" policy too far, refusing to serve a police officer who entered the restaurant with a firearm. The gun-toting officer encountered the problem at the Chuck E. Cheese in the Greenwood Mall in the city of Bowling Green, prompting outrage from some people, including a sheriff from a neighboring jurisdiction, WBKO-TV reported Friday [8/21/2015].

Uniformed Officer Booted From Chuck E Cheese Over Duty Handgun. The comments to the article seem split between being outraged that the store's on-duty staff and manager were ignorant of both state law and the chain's own policies, and regular folks who are outraged that the chain bans citizens from providing for their own self-defense. Chuck E Cheese locations have been the scene of everything from attempted assassinations to assaults to a mass murder, attempted rapes, and massive brawls. Clearly, the chain's policy of denying citizens the right to self-defense inside their establishments isn't working.

Black city councilman breaks the silence on black on white crime. Black on white violence in Cleveland is no secret. But everyone pretends it is. Until now. Black city councilman Zack Reed has broken the silence: [...] Reed is talking about a recent episode of black mob violence on white people at a bus stop on St. Patrick's Day in the part of downtown known as Public Square. A local television station broke the story of the violence, and broadcast the video. On it, large groups of black people are seen attacking white people at a bus stop. When the police arrived, the predators scattered. When police left, predators returned within 90 seconds to resume their assault on the downtown tourists, students and office workers. At least six people were attacked for what the local reporter said happened for "no apparent reason."


Black violent crime in Atlanta



Police: Georgia man killed in shootout with US marshals. A man suspected of shooting at Atlanta officers last week was shot and killed Friday [8/5/2016] after getting into a shootout with authorities trying to arrest him, a police spokesman said.

Two murder suspects, including a 14-year-old boy, shared photos brandishing a gun hours 'before the robbery and shooting death of a pizza delivery man'. Disturbing Facebook photos showing two murder suspects, including a 14-year-old boy, holding a gun that is believed to have been used in a pizza delivery driver's murder in Georgia were presented during a court hearing in the case on Friday [2/25/2016]. Reginald Lofton, 14, and Jermaine Young, 21, are accused of robbing and murdering Papa John's pizza delivery man Shane Varnadore on March 1 at an apartment complex in Gwinnett County, WSB-TV reported. Young and Lofton, who is being charged as an adult, face charges of felony murder, aggravated assault and armed robbery in Varnadore's shooting death. Varnadore, 28, was found dead from an apparent gunshot wound just before midnight, WSB-TV reported.

Nine arrested in giant street brawl that killed teen. Nine people are behind bars in Georgia charged with murder after a massive street fight caught on video. Police are investigating what sparked the brawl in a small town near Augusta that left a teenager dead. David Begnaud reports from outside Glenn Hills High School in Augusta, where some of the suspects are enrolled.

9 face murder charges in recorded after-school brawl in Georgia. It started out as a fistfight. Two girls — emboldened by bystanders alternately yelling out support or derision — went toe-to-toe in the residential street before they tumbled to the ground. It only got uglier from there. A two-minute cell phone video shot by a witness last week in Hephzibah, Georgia, captures the chaos as others join the fray, some wielding bats or pipes, others their fists. The driver of a black car targets two young men, narrowly misses them, and backs up on the subdivision lawn, striking another vehicle. In the end, an 18-year-old boy was mortally wounded.

The Editor says...
Notice that the bystanders all have cell phones with internal video cameras, and every gang fight is televised on the internet. Not to identify the suspects, of course, but to generate internet fame for the photographers. The lower class is preoccupied and driven by celebrity and fame.

A Deadly Fight Involving Up To 50 Teens Started With One 15 Year Old Girl. Authorities say nine people have been charged with murder and another is being sought after a teenager was stabbed to death in a massive, chaotic brawl that involved baseball bats, pipes, knives and other weapons near Augusta.

Rapper Bankroll Fresh killed at recording Atlanta studio. Fulton County Medical Examiner senior investigator Tami Sedivy-Schorder says 28-year-old Trentavious White, also known as rapper Bankroll Fresh, was found shot outside Street Execs Studio around 11 p.m. Friday [3/4/2016].

Atlanta girl shot during robbery for her hoverboard. WSB-TV reported Sunday [1/3/2016] the bullet came out the girl's side after it struck her in the back. Her brother Doryan Sanford said his sister was riding the hoverboard she got for Christmas and didn't realize she had been targeted by robbers. "He just said, 'Give it up,' and I said, 'What?' He pulled out a gun and put it to my face," Sanford told the station. "I pushed him back. That's when I tried to close the door and that's when the bullet came through and hit my sister." [...] There was no word on a description of the robbery suspects.

MLK's sister-in-law punched in face during attempted carjacking. "[The assailant] demanded her car and told her he was going to bust her in her mouth," said friend Lena Reid Morrow. Morrow said King refused to hand over her car. "Before she could say anything, he had hit her in the mouth and was looking to see where her purse was in the car. But he could not see that, so he turned and hit her again and by this time she was screaming," Morrow said. Police say the young male came from a wooded area nearby. They say he disappeared back through the trail that leads to three different communities.

Father shot three times in front of his wife and children by teen robbers who knocked on their door claiming to have a flat tire. An Atlanta couple have told of the terrifying moment four men pretending to have had car troubles burst into their home and robbed them at gunpoint, shooting the father-of-two in front of his children. Mike and Whitney Lash had just returned to their house with their two young children on August 16 when the men knocked on their door. Mr Lash answered the door, and the men said they had just moved down the street but had a flat tire and wanted to borrow a jack, but Mrs Lash felt something was amiss from the start.

Woman killed in Atlanta police shootout had long arrest record. Despite being handcuffed and in the back of a patrol car, a 26-year-old woman managed to get one hand free and use a stolen gun to fire three shots at two officers, Atlanta police Chief George Turner said Friday [5/1/2015].

Rapper Slim Dunkin gunned down outside Atlanta recording studio. Police say the Detroit native, whose real name is Mario Hamilton, was shot in the chest in after getting into an argument before the shoot. Investigators said there were at least 20 people at the scene, each one with a different story.



17-Year-Old Anthony Stokes Home Invasion, Shooting, Carjacking — Dies During Police Chase. The story of Anthony Stokes didn't start the day he died after crashing a stolen car into a pedestrian and sign post. Nor did his story start moments earlier when he kicked down the door of an elderly Roswell Georgia woman and shot at her as she sat on the couch during his home invasion. The public story of Anthony Stokes actually began a few years prior, in 2013, when he was diagnosed with an enlarged heart, a terminal condition if he did not receive a heart transplant.

Police use pepper spray to break up fight among Nike shoppers. The release of Nike's retro Air Jordans caused a frenzy at stores across the nation early Friday [12/23/2011], with hundreds of people lining up for a chance to buy the classic basketball shoes and rowdy crowds breaking down doors and starting fights in at least two cities.

Race for New Air Jordan Sneakers Turns Ugly. The quest for some limited edition sneakers took an ugly turn early Friday morning outside the Mall at Stonecrest in Lithonia. DeKalb police say several people were arrested , including one woman who left two young children in her car, after the new Nike Air Jordan 11 Concords went on sale.

Area mall shoppers squabble over Air Jordan shoes. Michael Jordan reigned supreme once more Friday in the world of sneaker craziness, as scuffles broke out and police were called to three malls in the Charlotte area when hundreds of sometimes-unruly shoppers showed up for a wildly popular Air Jordan shoe. Similar scenes were reported across the country as shoppers were arrested near Atlanta, a shot was fired in a mall near San Francisco, a man was stabbed in New Jersey, and police in the Seattle area used pepper spray on a crowd outside a shoe store.

The blacks blame everybody but themselves for their lawless behavior.
Local Activists Call for Air Jordan Changes. Local activists and ministers are taking on one of the world's top sports brands. They're calling on Nike and Michael Jordan to change the way they sell the highly sought after Air Jordan sneakers. This comes after the frenzy over the limited release last week turned violent in some cities. Now, community leaders say the people at the top should take some responsibility.



Atlanta police have warrant for suspect in June attack on bicyclist. Atlanta police issued a warrant Wednesday [7/16/2014] for an Atlanta man on attempted murder and other charges for the vehicular assault on a local bicyclist June 9. Police are seeking Joseph Alan Lewis, 19, as a suspect in the attack on Gregory T. Germani, 50, in the Morningside neighborhood. Lewis' girlfriend Shanelle Woodard, 22, also of Atlanta, was arrested Wednesday and charged with tampering with evidence.

17-year-old boy arrested after 5 shot near Atlanta high school, report says. Police have arrested a 17-year-old boy and charged him with five counts of aggravated assault after he allegedly shot and injured five people near a southwest Atlanta high school on Tuesday, according to a published report. [...] Parent Shavien Dennis told reporters outside the hospital that her 17-year-old daughter, Tekevious Redding, a Therrell senior, was shot and was still being treated for a bullet lodged in her leg.

Woman pleads guilty; gets life in killing of KSU student. When road rage between two carloads of people spilled into a Cobb County apartment complex, another woman was called to help and grabbed a gun. She was already a convicted felon on probation. Sparkles Lashayla Lindsey didn't know the woman she shot, according to police. But hours later, a 21-year-old Kennesaw State University student was dead. On Tuesday [2/10/2015], Lindsey pleaded guilty in the October 2013 shooting death of Kimberly Faith Kilgore and was sentenced to life in prison, with the possibility of parole.

Police: 3 shot Clark Atlanta student, then took his Nikes. A Clark Atlanta University student is the latest victim of deadly scams involving the same website: Craigslist. And the death is one more reminder of the potential dangers with the online site, according to police. James Jones Jr., 21, was attempting to buy an iPhone 6 off the site late Monday when he agreed to meet the alleged seller in a Marietta neighborhood. Instead, he was confronted by three men who shot him twice, robbed him of his Nike tennis shoes, and left him to die in the front seat of his car, police said.

Hundreds attend service for Clark Atlanta student killed buying iPhone. James Earl Jones Jr. was a scholar. [...] On Feb. 2, Jones posted on Facebook that he wanted an iPhone 6. One week later, he was attempting to buy the phone he saw advertised on Craigslist when he was shot and killed in Cobb County, according to police. Jones agreed to meet the alleged seller Monday night in a Marietta neighborhood. Instead, he was confronted by three men who shot him twice, robbed him of his Nike tennis shoes, and left him to die in the front seat of his car, police said. Jones, 21, was dead when officers arrived.

Officials ID construction worker killed confronting man in Kroger lot. A construction worker was shot and killed outside a Kroger store in Atlanta on Tuesday [3/10/2015] by an assailant apparently trying to steal his work truck, police told The Atlanta Journal-Constitution. The victim was identified as Joshua R. Richey, 38, of Hayden, Ala., the Fulton County Medical Examiner's Office said Tuesday night. Richey was shot in the chest outside the store at 725 Ponce de Leon. The market has been called the "Murder Kroger" because of crime in the area.


Black crime elsewhere in Georgia



Men fall from ceiling in robbery attempt at check cashing store. The manager of Discount Check Cashing, 1411 Rocky Creek Road, and an employee reportedly heard noises in the ceiling sometime before 9:15 a.m. [8/27/2016], and as the manager investigated, two men fell from the ceiling, according to a sheriff's office news release. While one of the men tried to rob the business, a man in the store exchanged gunfire with one of the suspects, according to the release. One of the suspects, 22-year-old Rarrekcus Delbridge, of Lawrenceville, was shot in the leg. He was taken to The Medical Center, Navicent Health, where he was later charged with aggravated assault and criminal attempt to commit armed robbery.

Elderly Grantville woman dies after being beaten, set on fire. An elderly woman that was attacked during a home invasion has died after spending weeks in the hospital. According to family members, 83-year-old Dorothy Dow had been on a ventilator since the incident occurred at her home in Lone Oak just south of Grantville on August 10. Meriwether County Sheriff's Office officials said the suspects forced their way into her home, beat her, poured something on her and set her on fire.

Woman who was beaten, set on fire in Georgia home dies. Authorities say [83-year-old Dorothy] Dow was doused with flammable liquid and set on fire Aug. 4 when five people demanded money from her after she told them she didn't have any.

Georgia officer killed 2 days before birthday. An Eastman police officer who was shot and killed Saturday night [8/13/2016] would have turned 31 on Monday, authorities said. Officer Tim Smith, who joined the Eastman Police Department in February 2011, might have celebrated his birthday with his three children and father, in whose footsteps he followed to become an officer. But Saturday, while answering a "suspicious person" call about 9:30 p.m., Royheem Delshawn Deeds shot Smith as he was getting out of his patrol car, Georgia Bureau of Investigation spokesman Scott Dutton said.

Man arrested in shooting death of Georgia police officer. A man suspected of killing a Georgia police officer over the weekend was arrested early Monday [8/15/2016], authorities said. Roysheen Delshawn Deeds, 24, was identified as the suspect accused of killing Eastman police officer Tim Smith on Saturday. Smith was shot and killed when responding to a report of a suspicious person. Authorities said Deeds was arrested in Nassau County in North Florida.

71-Year-Old Armed Woman Fights Off Robber. [Scroll down] When the man became distracted by a customer[, Janet] Willis was able to grab her 9mm handgun. "When he turned around I said 'I'll blow your guts all over this store,'" she told the paper. "Then I led him out." She kept her gun pointed at the attempted robber as he ran out and got into a car he had apparently stolen at another point. That car had a flat tire and the sparks created by driving on the rim caused the stolen car to be set ablaze. Shortly thereafter the suspect, 21-year-old Prince William Dennis, was arrested by police. [1/31/2016]

Three men finally charged in murder of Georgia college student. A Chatham County grand jury indicted Kevin Lenard Smith, 23, Roderick Demione Parrish, 22, and Jordan Lamar Campbell, 23, this week, according to NBC News. Each man is charged with malice murder, felony murder, aggravated assault and weapons possession during the commission of a felony.

Two Teenage Boys Arrested in Georgia Baby Shooting Death. Sherry West, the mother of the child, told police she was walking her 13-month-old son, Antonio, in a stroller Thursday morning [3/21/2013] through their Brunswick, Ga., neighborhood when two African-American boys approached her and demanded money. When she told them she didn't have any money, West said one of the boys pulled out a handgun.

Georgia mom says teen told her, 'Do you want me to kill your baby?' before son fatally shot. The mother of a 13-month-old boy who was fatally shot in his stroller during a botched robbery Thursday said one the of suspects threatened to kill her baby moments before the boy was fatally shot.

Mother, aunt of Brunswick baby murder suspect charged with lying to police. A handgun discovered Tuesday [3/26/2013] will be tested to determine if it was used to kill a Brunswick baby last week in a stroller. After police arrested the mother and aunt of murder suspect De'Marquise Elkins, 17, Tuesday morning on charges of making false statements, the women provided information that eventually led investigators to the gun, Glynn County Police Chief Matt Doering said.

Prosecutors: Teenager in court, accused of killing grandmother. A teenager accused of killing his grandmother is in court, according to officials. Charles Price III allegedly stabbed his grandmother, Mary Price, to death, early Friday [4/25/2014]. Police say he stabbed her nearly 57 times. Police say they found massive amounts of blood inside the house on Fairburn Road.

Police: 2 suspects who robbed 2 Waffle Houses [are now] in jail. Men accused of robbing two Gwinnett County Waffle Houses at gunpoint are in jail, police said. Norcross Police said Robbin J. Haynes and Otis Lee Barnes allegedly went into the Waffle House on 5565 Buford Highway around 10:45 p.m., Sunday [3/30/2014] and robbed the employees there. [...] Police said about $1,200 was stolen from the safe, cash register and employee's tips.

White family stalked, pummeled by black mob. A family of eight, "just enjoying their Mother's Day weekend in Savannah," were savagely attacked by an unknown number of blacks in the Georgia city, that left several family members injured, including a 6-year-old girl who was "punched in the stomach." A report from WTOC-TV said the attack on eight members of a family visiting from Atlanta happened in downtown Savannah on Saturday night. Family members said they had finished eating dinner in a Savannah restaurant and were walking along River Street.




Black violent crime in Maryland

This subsection has moved to a page of its own, located here.


Black violent crime in Indianapolis



Man Wearing "F--- the police" Shirt Fires Shots at IMPD's Officer's House. March Ratney, 27, was taken into custody a short time after the shooting around 2:00 a.m. Tuesday on the near east side. IMPD Chief Troy Riggs says Ratney fired at least a dozen shots after yelling obscenities directed at police. Five of the shots hit the officer's house and three hit his patrol car. No one inside the house was hurt, and Riggs says members of the community helped officers track down Ratney. [...] Though Ratney was wearing a t-shirt that said "f--- the police" on the front and "black lives matter" on the back, Riggs says he does not believe Ratney is representative of any organization or movement.

Man fires 17 shots into officer's patrol car and home, screams he hates police. March Eugene Ratney, according to Department of Correction records, wasn't due to be released from prison until this past June 6 after serving half of a 12-year sentence following his conviction as a serious violent felon with a weapon. Ten days later, Indianapolis Metropolitan Police Department (IMPD) officers were called to an east side address where Ratney's sister said he had pulled a gun and threatened to kill her. Investigators now report, and neighbors confirmed, Ratney, on parole, was the man clad in a Black Lives Matter t-shirt and screaming profanities at police, who shot up an IMPD officer's house not far from his own home early this morning [6/12/2016].

Three suspects arrested over rape and murder of pregnant pastor's wife who was killed in her home. Three people are being held by police in connection with the rape and murder of the pregnant wife of an Indiana pastor. Eighteen-year-old Larry Taylor, Jalen Watson and Diano Gordon were arrested over the sexual assault and homicide of Amanda Blackburn, 28. Taylor had been previously questioned in the case but then released and the three will also be charged in other burglaries including a rape in Indianapolis, FOX 59 reported.

Ind. police arrest teen for rape, murder of pastor's pregnant wife, Amanda Blackburn. Officials on Monday [11/23/2015] announced murder charges against two men — Larry Jo Taylor, Jr., 18, and Jalen Watson, 21 — in the shooting death of Amanda Blackburn in the Indianapolis home she shared with her husband Pastor Davey Blackburn. A third man, Diano Gordon, 24, faces related burglary charges. The Marion County prosecutor's office announced the charges on Monday [11/23/2015], hours after police announced Taylor's arrest. He and Watson also face charges for felony burglary, theft, robbery and auto theft.

Teenager charged with the murder of pastor's pregnant wife. This is the teenager charged with the murder of an Indianapolis pastor's pregnant wife — but her widower has said he has chosen to forgive the alleged killer. Larry Taylor, 18, Jalen Watson, 21, and Diano Gordon, 24, were arrested and taken into custody in connection with the homicide of Amanda Blackburn, 28. At a press conference this afternoon, Marion County Prosecutor Terry Curry announced that formal charges had been filed against the men.

The Editor says...
The three suspects are black. Guess which five-letter word in the previous sentence is remarkably absent from all the press coverage of this story.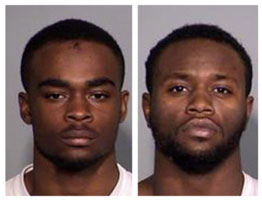 Amanda Blackburn murder arrest. The crime spree that ended Amanda Blackburn's life began with a series of burglaries carried out across the Northside of Indianapolis. The Blackburn home was the third burglary in the early-morning hours of Nov. 10. The perpetrators, police said, were after money. But the chaos ended around 7 a.m., police said, when one of the suspects — a teenager — leaned over Blackburn's body and shot her in the back of the head. Then he leaned further, police said. He looked at her face. And he watched her bleed. That harrowing account of events was made public Monday [11/23/2015] as the city's top law enforcers announced a slew of charges against two suspects, accused triggerman Larry Taylor, 18, and suspected accomplice Jalen Watson, 21.




Suspect in Indiana Pastor's Wife's Murder Caught on Video, Police Say. On Tuesday morning [11/10/2015], shortly before Blackburn was killed in her home, there was a burglary that took place two doors down, said Capt. Craig Converse, who heads the police department's homicide division. [...] "We know the person standing outside the home is the subject that murdered Amanda," Converse said. The suspect has been described as a man with slim to medium build whose height could range from 5'4" to 5'9" and was seen wearing a two-tone hoodie sweatshirt on the day of the murder.

Indianapolis Police Kill 15-Year-Old Carjacking Suspect. Indianapolis police fatally shot a "troubled" 15-year-old boy who evaded officers at a traffic stop and accelerated toward them in a car that matched the description of one that had been reported carjacked, the city's assistant police chief said Monday [8/10/2015].

A 'scuffle' with dozens of people with guns. Large groups of black people continue to create violence and mayhem at Indianapolis shopping malls. But many local people have no idea why. Or what to do about it. [...] The latest event of black mob violence was over the weekend at the Castleton Square Mall — the largest and some say nicest shopping district in the state. Local media accounts were eager to downplay the violence and ignore the racial component of the mob.

How to Report on Racial Violence: Don't. [Scroll down] One hour after I read [Abe] Aamidor's piece, I came across a tweet about one of the more popular euphemisms for black mob violence: Large fights. This one in Indianapolis, involving 80 people with baseball bats and other weapons. Everyone was black. The next day, the Indy Star dutifully reported some of the details of the riot. Everything except the race. The paper also dutifully reported that this kind of large scale violence had happened twice before in the last year. And dutifully gave some details. Except the race.

Family Of Cop-Killer: If Officer Had Stayed In His Car, He Wouldn't Have Been Shot. The family of a man who used a semi-automatic rifle to kill an Indianapolis police officer Saturday night says it isn't fair that the alleged shooter — Major Davis, Jr. — should "keep being dragged through the mud." They also blamed the officer for not staying in his police car.

Sickening video shows teenager and her 5-year-old brother being savagely beaten by another girl in Indianapolis park. A disturbing video has been making the rounds online showing the savage beating of a teenage girl and her baby brother at the hands of another teen in an Indianapolis park over the weekned [sic]. The cell phone footage was posted on the video-sharing site LiveLeak Sunday [3/15/2015].

Conservatives Blind to Racism, says RedState Seer. [Scroll down] No one is even trying to keep count of how many dozens of times over the last three years black mob violence has erupted in that once-gleaming showcase of Midwestern downtown revival. Many of them on video. Each and every time the reporters pretend they are surprised, refer to the creators of the chaos as "teens", and dutifully report a few days later that racism in Indianapolis caused the whole thing. Then everyone gets ready for the next cycle of violence and denial and deceit.


Black crime in New Jersey



6 shooting deaths in 72 hours is just another normal 3-day stretch for some Newark residents. For some Newark residents, six shooting deaths within 72 hours is just another normal week. "That's normal for us. That's normal. Anytime of the year really, but in the summertime you are going to catch... there is a lot of homicides."

2 fatal Newark shootings mar city's 24 Hours of Peace celebration. For the second consecutive year, the Essex County Prosecutor's Office and Newark police are investigating two fatal shootings on a night meant to highlight an attempt to curb violence in the city. As was the case last August, gunshots rattled the city just hours after the annual "24 Hours of Peace" celebration got under way downtown on Friday [8/19/2016].

Arrest Made In Shooting Death Of NJIT Student, 2nd Suspect Still At Large. Two suspects were arrested and charged Friday [5/6/2016] in the fatal shooting of a New Jersey Institute of Technology student who was killed during a burglary at a fraternity house in Newark. As CBS2's Meg Baker reported, Nafee Cotman, 18, was in taken custody earlier Friday. Taquan Harris, 22, who had been the subject of a manhunt, was located and arrested in Irvington Friday afternoon [5/6/2016]. Both face murder, burglary and weapons charges, authorities said.

Cousin of 'knockout' game victim: Attackers should 'man up,' turn themselves in. A family member of the man who remains hospitalized after a vicious "knockout game" attack wants those responsible to "man up" and turn themselves in to authorities. The victim — believed to be in his early 50s — was taken to Jersey City Medical Center-Barnabas Health last night after a group of teenagers approached him on Ocean Avenue and knocked him unconscious, according to a police report.

3 men were running drug biz out of Newark deli, authorities say. Three city men were arraigned Tuesday on charges that they were operating an illicit drug business out of a deli, Essex County Sheriff Armando Fontoura announced. Following a task force investigation into alleged drug trafficking on 16th Avenue, investigators executed a search warrant at the Fairmount Deli Monday morning [4/18/2016], Fontoura said. At the deli's front counter, detectives found 18 plastic bags filled with marijuana, and in the storage room, 138 heroin-filled glassine envelopes and 146 grams of marijuana hidden above tiles in the drop ceiling, authorities said.

Jersey City man with violent past wanted for murder. A Jersey City man who has been in and out of prison since he was 16 years old is wanted for the murder of a man inside an Ocean Avenue convenience store in November. DeAndre Thomas, 23, of Martin Luther King Drive, has been charged with the Nov. 15 fatal shooting of 23-year-old Davonte Carswell inside Los Yoleros Mini Market Deli, Hudson County Assistant Prosecutor Leo Hernandez said today [3/8/2016]. Hernandez said Thomas, who was released from prison on April 30 after serving 18 months for two counts of aggravated assault, was charged on Dec. 3 and his bail was set at $1 million cash only. A warrant has been issued for his arrest.

Police: Man charged in North Bergen crash that killed 2 teens driving at 'outrageous' speed. Shock and sorrow overflowed among relatives and friends who gathered in mourning on Monday [3/7/2016] at the site where two teenagers were killed by a speeding car in North Bergen over the weekend, as more details emerged about the motorist who is charged in their deaths. Eric Patterson, 23, of Jersey City had tallied a long list of motor vehicle violations and had racked up 23 license suspensions. He had last driven legally in September 2014. Law enforcement officials on Monday [3/7/2016] said he may have been traveling at 74 mph on the 25-mph roadway just before the deadly crash occurred.

The Editor says...
This young man is 23 years old, and has had his license suspended 23 times, prior to September 2014, which was 18 months ago. If he started driving when he was 16, that means he got his license suspended 23 times in 5½ to 6 years, or about every 90 days. It would be interesting to read the court transcript from the day his license was suspended for the 21st time. Surely something was said along the lines of, "We'll give you just one more chance, and then you're really in trouble!" But no, for whatever reason, the State of New Jersey is determined to keep a license in this guy's pocket — even though he would probably drive around without one. To me it appears that the judges in New Jersey don't care what you do, or how many times you fail to learn your lesson, as long as you hire a lawyer and pay the fine promptly. Even for the 22nd time. It's no wonder there's so much crime in this country. Punishment is hit-and-miss, at best.

Polar Bear Hunting — Police Investigate Another Brutal Knock Out Assault In Paterson New Jersey. We tracked these for more than two years because the MSM refused to admit they were taking place. We identified 28 victims in 2014 alone, multiple victims and multiple murders. [...] Until we honestly confront the reality of what is taking place we cannot expect to see this trend stop. Every single one of these attacks is identical. A black suspect — usually a youth — a specifically intended random white or asian victim, a random blow to the face/head: [List of attacks.]

Authorities arrest 3 of 5 men wanted in brutal downtown Newark beating. Police have arrested three of the five men wanted in connection with a bloody attack on a local man in downtown Newark last week, city public safety director Anthony Ambrose announced Wednesday [1/20/2016]. [...] According to police reports, the 28-year-old victim, whose name is being withheld, told investigating officers the attack began as a confrontation over cigarettes. The victim told police he was distributing promotional flier and free cigarettes near the corner when a group of men selling cigarettes nearby took issue. Their confrontation led to a fight, during which several men began kicking and punching the victim, the reports said.

Brutal beating caught on video prompts Newark to step up downtown patrols. Days after video of a brutal beating surfaced online, officials say they are stepping up crime-fighting efforts at one of the city's busiest intersections. The disturbing footage surfaced Sunday just hours after a man was left visibly bloodied by several attackers at the corner of Broad Street and Market Street — the heart of the city's "Four Corners" historic district.

The Editor says...
I used to complain (on this page) that the news media left out the word black from any description of the suspects in cases like this. But now I realize that it isn't necessary to describe the suspects as black. Nobody else acts like this! White guys don't gang up 10-against-1 on a victim and take turns beating and kicking him, while another white person stands by and records it on his or her cell phone.

N.J. men ran underage prostitution ring, prosecutors allege. Two New Jersey men face decades in prison after authorities accused the pair of running an underage prostitution ring in Atlantic County, according to police. After a four-month investigation, authorities have charged Seleem Reynolds, 25, and Mikal Mitchell, 29, with promoting the underage prostitution, a first-degree crime, Atlantic County Prosecutor Jim McClain announced Friday [1/8/2016]. The state alleges that Reynolds and Mitchell sold four teenagers for prostitution, according to Jay McKeen, a spokesperson for the Atlantic County Prosecutor's Office.

Teaneck woman charged in pipe attack over parking spot at Garden State Plaza. A 48-year-old Teaneck woman hit a Paterson teenager in the head with a 15-inch metal pipe during a fight over a parking spot at the Garden State Plaza mall over the weekend, authorities said Monday [12/21/2015]. Kenia E. Nicolas-King was charged with aggravated assault and was released, said Deputy Chief Robert Guidetti of the Paramus police.

Newark woman, gang member sentenced to 22 years for Elizabeth killing. A 24-year-old Newark woman was sentenced today to 22 years in prison, and must serve at least 85 percent of the term, for the 2011 fatal shooting of a woman outside an Elizabeth night club. Superior Court Judge Scott J. Moynihan imposed the sentence on Tiffany Moore, who had pleaded guilty to a charged of manslaughter in the killing of Felicia Hester, 19, of East Orange, acting Union County Prosecutor Grace Park said today [11/12/2015].

2 'persons of interest' sought in fatal beating of 68-year-old Newark man. Authorities are seeking help identifying two "persons of interest" in the fatal Sept. 25 beating of a 68-year-old city man. A video released by the Essex County Prosecutor's Office shows two unidentified men in hooded sweatshirts walking into a gas station shortly after 7 p.m. near the location where Arthur DeMarsico was found beaten.

83-year-old woman assaulted during Bridgeton home invasion, police say. An 83-year-old woman was assaulted during a home invasion early Friday morning [8/28/2015, according to city police. She was asleep in bed when the intruders dragged her from the bed to the dining room and gagged her. During the home invasion, the three suspects demanded money from the woman and, when she told them she didn't have any, they punched her in the face. [...] Police describe the suspects as three black men, all wearing clothing dark clothing and all having their faces obscured.

Pictures show the dark underbelly of one of America's most dangerous cities. These haunting images show the bullet-ridden walls and derelict buildings show the dark side of one of America's most dangerous neighborhoods. Camden is the most dangerous city in New Jersey, where your chances of becoming a victim of crime are one in 13. Bullet holes pictured [in this article] are evidence of the fact that there are nearly 2,000 violent crimes committed in this small city every year, and 57 of those are murders.

Irvington police captain arrested after trying to run down Newark councilman, authorities say. An Irvington police captain was arrested early this morning after allegedly trying to run over a city councilman with her car, according to authorities. Monique Smith, 43, was taken into custody on charges including aggravated assault, stalking, harassment, criminal mischief and multiple weapons charges related to the incident involving South Ward Councilman John Sharpe James, Newark police spokesman Sgt. Ronald Glover said in a statement.

Black males kill white female, yet it is not a hate crime.
Mom of teen 'slay sibs' tips off cops after NJ girl, 12, killed for bike. The massive search for Autumn came to a tragic end Monday night when her body was found stuffed in a recycling bin at a vacant property near the boys' house. An autopsy found she had been strangled. [...] The two brothers were charged with murder, body disposal and tampering with evidence.

Teenage brothers charged in NJ girl's death. The mother of a 12-year-old New Jersey girl who was strangled and dumped in a recycling bin said Wednesday [10/24/2012] that the two teenage brothers accused of killing her had treated her daughter "like a piece of trash."



Armed robbery suspect shot during holdup of Paterson bodega. A man was critically wounded after being shot while trying to rob a bodega in an unexpected encounter for the man and his partner in the midst of a string of 11 similar robberies during the past week, police said. [...] Police later pulled over a vehicle and arrested Jermaine Eason, 23; Rayvon Wilson, 23, and the car's driver, Clara Amala, 22, all from Paterson.

Horror at Bed, Bath & Beyond as shopper is stabbed in chest. A woman was brutally stabbed in the chest more than a dozen times while shopping with her infant child at a Bed, Bath & Beyond store on Thursday evening [1/17/2013]. Tyrik Haynes, 19, was charged with attempted murder in the attack in Middletown, New Jersey on Friday and held on $1 million bail. He had previously been charged with torturing a cat.

3 arrested in Newark over videotaped stripping, whipping. The men were identified as 22-year-old Ahmad Holt, 31-year-old Raheem Clark and 23-year-old Jamaar Gray.

Hackensack officer beaten with his own nightstick, three others injured during street brawl. A city police officer was beaten with his own nightstick and three others were injured Wednesday night [4/3/2013] during a violent confrontation with three men, according to officials. Police Director Michael Mordaga said that Sgt. Ben Marino and Officer Matthew Jacobsen were patrolling the high-crime area around Anderson Street when they spotted three men with known criminal histories.

Police search for Millburn robber captured by camera in home invasion. Authorities are searching for a man who was caught on camera during a home invasion in Millburn, where police said the owner was assaulted. Investigators, who released snapshots from the home's surveillance footage, said they are looking for a bearded man who forced his way into a Cypress Street home around 10:30 a.m. Friday.

The Editor says...
The reporter doesn't mind calling him a bearded man, but stays away from "black."

Suspect Arrested in Attack on Mom Caught on Nanny Cam. Police have arrested a suspect in the attack on a young mother — captured by a nanny cam — who was beaten in front of her 3-year-old daughter at their home in an upscale New Jersey community. Shawn Custis, 42, was arrested in upper Manhattan by New York and New Jersey FBI agents Friday afternoon, shortly after he was publicly identified as a suspect, a law enforcement official said. Custis, who has a long criminal history of burglaries, was located in the lobby of a building on 10th Avenue in Inwood, where his girlfriend lives, the official said.

Update: The perp had a long record already.
Despite long criminal record, plea deals limited prison time for Millburn home invasion suspect. A muscular man at 216 pounds — a scar between his eyes, his name tattooed on his chest, and "Cathy-Joy" inked on his left forearm — [Shawn] Custis, 42, has been sentenced to prison eight times. First convicted as an adult two months after his 18th birthday, he has done time for burglary, possession of a gun, robbery, assault, resisting arrest, theft and forgery. He has escaped at least once from a halfway house and boasts multiple parole revocations.

Paterson police arrest two men for National Night Out murders. Two men were arrested in the shooting deaths of two teenagers during the city's celebration of National Night Out, police said. Kwanique Williams, 21, and Mark Staggers, 20, were arrested over the weekend by police and Passaic County Prosecutor's Office detectives for the two Aug. 6 slayings, said Capt. Heriberto Rodriguez.

Four arrested in shooting death of Newark pizza deliveryman. Shaquille Faines, two 17-year-olds and a 16-year-old were charged with felony murder, conspiracy and weapons offenses in the Sept. 1 killing of 20-year-old Jesus Torres, who was working as a deliveryman for Pizza Hut when he was shot and killed in Newark's West Ward, according to Acting Essex County Prosecutor Carolyn Murray. Torres was making deliveries near South 11th Street and 13th Avenue around 9:30 p.m. last Sunday when the four men surrounded his car and attempted a robbery, Murray said.

The Editor says...
The perps who are less than 18 years of age apparently cannot be named in the newspapers because they are "children." It's time to lower that age down to about 14.

Hoboken neighbors reeling after arrest of three young teens in murder of disabled man. The boys, two 13-year-olds and a 14-year-old, all from Jersey City, face murder charges and have been remanded to the Hudson County Youth Detention Center, Gregory said. Davis said Sunday [9/22/2013] that he knew the victim, a homeless man who was found with his neck wedged between iron fence posts on Third Street in Hoboken, "He went to the 8th Street shelter. He didn't bother anybody. He talked to himself in public but maybe that's why he was attacked," said Davis.

The Sick and Horrifying New Game Teenagers Play "For Fun" Called "Knock Out". One man who was interviewed about the "game" said the victim can be anyone, including a woman and her young children. "You just knock them out, hit them with a blow and take their belongings," a teenager with a blurred face says. Police believe "knock-out" led to the death of a homeless man in Hoboken, New Jersey which is right across from New York City. "It could be anybody, it could be a mother with their children. I know one time they got the UPS guy, it's a macho thing," another man says.

Violent Mother-Son Mugging In Newark Caught On Video. In a crime caught on camera, a mother and son were violently attacked walking down a snowy Newark street Saturday.

An Epidemic of Carjackings Afflicts Newark. "It is like a diseased town," said the Newark store owner, who spoke on the condition of anonymity for fear of retribution from the assailants in the Mercedes case, who have not been caught. "There are a lot of predators." Carjackings are nothing new to Newark, a city that was among the nation's worst for such crimes in the 1990s. Like other cities, Newark saw the number of carjackings fall in subsequent years. But they have returned to Newark with a vengeance.

The Editor says...
There is no mention of the word black even though all the suspects are apparently black.

Neighbors call Jersey City man slain during robbery 'friendly' and 'quiet'. Neighbors of the 63-year-old Jersey City man who was slain early this morning after he came to the defense of his wife who was being mugged described him this afternoon as friendly and quiet. [...] According to the Hudson County Prosecutor's Office, Smith and his wife had just returned to their home off Kennedy Boulevard when two males approached Smith's wife and one of them grabbed her purse. When Smith tried to get it back, he was fired upon.

5 Newark men charged in NYC subway robbery. Five Newark men are among a group accused of robbing a passenger on a New York City subway Sunday morning, according to a report on NYPost.com. [...] Robert Rainey, 20, Tyquan Goggins, 23, Corey Barber, 18, Devonte Young, 21, and Malik Samuel, 24 are all charged with second-degree robbery. The men fled the train after taking the New York man's wallet, the [New York] Post reported.

Gunfire wounds 3 people at Trenton church funeral for teen killed in shooting. Three people were shot today when gunfire erupted at a funeral at the Galilee Baptist Church in Trenton for a 19-year-old man killed in a shooting earlier this month. Two men are in stable condition at Capital Health Regional Medical Center after being taken by ambulance from the church and a woman, who was driven to the hospital, is being treated for a graze wound, said Trenton Police Director Ralph Rivera.

Police: Rutgers student attacked 'without provocation'. The Rutgers University student reported that while walking on Senior Street he was approached by an unknown man who struck him in the face without provocation. The victim sustained non-life threatening injuries and was treated at a local hospital.

Girl, 15, and teenage boys assault woman, then minutes later, rob man with tire irons in Jersey City: police. On Thursday at around 12:25 a.m. in the area of Grant and Barrow Streets, the 15-year-old girl and two of the teenage boys approached a 29-year-old Jersey City woman walking home from a PATH station, according to a police report. The 15-year-old girl growled at the woman several times and "then struck her with what appeared to be a sock with batteries or rocks in it," the report stated. [...] Just a little over 20 minutes later, the 15-year-old girl and two teenage boys — it is unclear whether they were the same boys — assaulted a 58-year-old man with a tire iron near Christopher Columbus Drive and Warren Street, McHugh said.

Mother who survived savage McDonald's beating that was filmed by onlookers speaks out. A young New Jersey mother shown in a cell phone video being pummeled by a former co-worker has spoken out for the first time since the vicious attack, saying she was shocked that no one besides her 2-year-old son came to her rescue. Catherine Ferreira, 27, [...] suffered a broken nose and a mild concussion at the hands of Latia Harris, 25, who was captured on video throwing the petite woman to the ground like a rag doll and repeatedly punching her in the face.

Police arrest McDonald's worker behind brutal beating of mother caught on video. The woman who police say viciously attacked a New Jersey mother in front of her two-year-old son has turned herself into authorities. Latia Harris, 25, surrendered to police on Monday night [6/30/2014] in relation to last week's brutal that was captured on video.

Paterson community in uproar over shooting that left 12-year-old girl brain-dead. Shootings occur almost nightly in the Fourth Ward, residents told The Record. Nearly half of the city's shootings from the first quarter of this year occurred in the Fourth Ward, where violence largely stems from drug and gang activity. A two-week sweep of the area surrounding Wrigley Park recently nabbed 170 people and netted 20 guns, 2,000 bags of heroin and $25,000 in cash.

Want to 'kill white people,' says Jersey City man arrested trying to cut through funeral procession. A Jersey City man was arrested today when he tried to cut through the funeral procession of Jersey City Detective Melvin Santiago and began shouting that he wanted to kill "white people," officials said. Quamir Shaw, 22, of Garrison Avenue, made his first court appearance on the charges of aggravated assault on a police officer and resisting arrest after he was taken into custody at 10:40 a.m. on Kennedy Boulevard near Highland Avenue, officials said. Officials said that while he was in a holding cell, Shaw "stated numerous times he was going to get an AK-47 and kill," the officers.

Jersey City 19-year-old charged in murder of popular McNair grad. A Jersey City man charged in February with knocking a man unconscious and robbing him has now been charged with murdering a popular Jersey City man earlier this month, authorities said. Kirt Barrington, 19, of Linden Avenue, was arrested by Hudson County Prosecutor's Office homicide detectives yesterday [7/21/2014] in Hackensack at 5:30 p.m., Assistant Prosecutor Gene Rubino said this morning. A warrant had been issued for his arrest on July 19.

Man shot multiple times outside Paterson restaurant, police say. Paterson police found the victim lying on the sidewalk outside Rosa Parks Fried Chicken, near Rosa Parks Boulevard and Hamilton Avenue, Detective Lt. Patrick Murray said in a release. The man, whom police would not identify, suffered multiple gunshot wounds in the "upper/lower" extremities, Murray said.

Trenton man charged with trying to incite a riot. A Trenton man was arrested and charged Tuesday with inciting a riot, police said. Rudie Bellamy, 31, of Centre Street, was apprehended by the State Police Street Crimes Unit around 4:28 p.m. on the 300 block of Monmouth Street, Lt. Mark Kieffer said. Bellamy was at the scene of a gun arrest on Sunday, Kieffer said, when he encouraged a gathering crowd to attack the police.

Hackensack cops seek 'knockout game' suspect after three assaults. Hackensack residents were warned to be alert as police hunted for a man who randomly approached and punched three others Monday night in what may be the first local incidents of "the knockout game." The activity has resulted in one North Jersey death and plagued urban areas nationwide. The three separate, sudden assaults took place within 15 minutes and involved the same man, who appeared to be acting alone, police said.

Hackensack store's surveillance video shows suspect in possible 'knockout' assault. A video of a man's sudden, vicious attack on a passer-by in what city police warn may be among the first local incidents of the "knockout game" was released from a store surveillance camera Wednesday [8/20/2014]. The athletically built assailant is recorded walking coolly into a convenience store. Four minutes later, he strolls outside, empty-handed and with the same demeanor. But in a burst of violence, he slugs a man he encounters in the face, causing the man to instantly fall to the ground.

Hackensack and Paterson assaults are not part of 'knockout game,' police say. After a man in his 60s was beaten by a group of teenagers in Paterson on Wednesday night [8/20/2014], a city councilman said it looked like an example of a supposedly trending national game called "knockout." Fears that the game, blamed for at least one death in New Jersey, had taken root locally were fanned earlier in the week when a lone assailant randomly punched three people in separate incidents in Hackensack.

Two arrested in Camden in rape and beating of homeless woman. Camden County Police, with an assist from the community, arrested two men in the rape and beating of a 54-year-old homeless Camden woman. Miguel Nunez, 36, and Quameer Hence, 23, were arrested and charged Thursday [9/18/2014] with aggravated sexual assault, aggravated assault, and robbery. Nunez was additionally charged with unlawful possession of a weapon for using a brick against the woman.

Bridgeton robbery victim defends self with pocket knife, police say. Two alleged robbers were treated for stabbing injuries after attempting to rob a man that defended himself with a pocket knife. Dakwon Thomas, 18, of North Street, and a 17 year old allegedly committed two robberies on Myrtle Street Wednesday evening, according to authorities. Both are charged with robbery, aggravated assault, conspiracy and weapons offenses.

Plainfield man found guilty of beating officer, but not attempted murder. A Plainfield man was found guilty today in the beating and stomping of a 60-year-old city police officer in 2012, but was found not guilty of the more serious charge of attempted murder. Jurors in Superior Court deliberated about six hours over two days before finding Andre Henderson, now 38, guilty of beating Officer Israel Valentine on March 11, 2012.

Murderer finishes 30-year term, kills mother after welcome home party, police say. A 45-year-old man who on Friday [10/10/2014] finished serving 30 years in prison is charged with killing his mother two days after being released, authorities said. Steven Pratt was arrested Sunday morning, less than 48 hours after he was freed from Bayside State Prison for killing his neighbor in 1984.

'Oopy from Bullet Town' charged in Wendy's attack in Jersey City. Jersey City police have arrested a woman who allegedly identified herself as "Oopy from Bullet Town" after climbing through a Wendy's drive through-window, assaulting two employees and threatening to have them shot by gang members. Bail was set at $25,000 with a 10 percent cash option when Shahouna Dutton, 31, of Fremont Street in the Booker T. Washington public housing complex, aka "Bullet Town," made her first court appearance on the charges in Central Judicial Processing court today.

Two people charged in fatal shooting of Newark mother during cell phone robbery. Two people have been charged in the fatal shooting of a young mother during a cell phone robbery last month in Newark. Massai Laboo, 22, and Lauren Whatley, 25, both of Irvington, are facing felony murder, robbery and weapons charges in the shooting death of 22-year-old Newark resident Ana Satian.

Keywords: fried chicken, public transportation, Martin Luther King Drive.
Girl robbed in Jersey City after she tells men she has $90 to buy shoes. A 15-year-old Jersey City girl was robbed yesterday after she told two male acquaintances she had $90 on her to go buy shoes, according to a police report. The girl was waiting for a bus inside the U.S. Fried Chicken at Bidwell Avenue and Martin Luther King Drive around 5:15 p.m. when she shared the information with two people she knew from the neighborhood, according to the police report. Once she told them about the money, one of the males she was speaking with struck her in the head and then held her wrists, while his accomplice, a 22-year-old later identified as Nigel Nealey of Bidwell Avenue, took the money and a cellphone from her pockets, reports said.




Black violent crime, and unprovoked black-on-white violence in particular:

This section exists to illustrate the great number of violent crimes perpetrated by blacks on non-black victims, and the widespread media bias by the deliberate omission of the word black when describing crime scenes and suspects. In almost every case, the attacks described in this section are unprovoked, violent assaults on total strangers — the weak, the elderly, the unarmed and the unsuspecting — who have no chance to defend themselves. The news media talk about "the knockout game" as if it were an all-American sport. The participants in this "game" very often record their crimes on video, and can be heard hooting and cackling with delight.

Related topic: The Oklahoma Beheader

When the Suspect Is an Armed Black Man — and the Cop Is Black. [Scroll down] As to Milwaukee, a city with a population of approximately 600,000, it is 40 percent black and 37 percent nonHispanic white. Yet of its 146 homicides last year, 84 percent of the victims were black — and most of those were killed by other blacks. The nearly 150 murders constitute a 50 percent increase over the number of homicides just five years earlier. The point, of course, is that killers of blacks are overwhelmingly other blacks. At 13 percent of the population, blacks commit nearly half of the nation's homicides, and almost always the victim is black. Old people tend not to kill. Nor do women and the very young. This means 3 percent of the population, black men from 15 to 44 years old, commit nearly half of the country's homicides.

'Gun Culture' — What About the 'Fatherless Culture'? The face of gun violence is not Sandy Hook. It is Chicago. In 2012, President Barack Obama's adopted hometown had 506 murders, including more than 60 children. Philadelphia, a city that local television newscasters frequently call 'Killadelphia," saw 331 killed last year. In Detroit, 386 people were murdered. Since 1966, there have been 90 school shootings in the U.S., with 231 fatalities. Yes, Sandy Hook shocked us. But the odds of a child being killed at a school shooting are longer than the odds of being struck by lightning. Of the 11,000 to 12,000 gun murders each year, more than half involve both black killers and black victims, mostly in urban areas and mostly gang-related. The No. 1 cause of preventable death for young black men is not auto accidents or accidental drowning, but homicide.

We Don't Need Another 'National Conversation' On Race. Among the nation's most dangerous cities are Detroit, Chicago, St. Louis, Baltimore, Memphis, Milwaukee, Birmingham, Newark, Cleveland and Philadelphia. These once-thriving cities are in steep decline. What these cities have in common is that they have large black populations. Also, they have been run by Democrats for nearly a half-century, with blacks having significant political power. Other characteristics these cities share are poorly performing and unsafe schools, poor-quality city services and declining populations. [...] In Chicago alone, so far this year, over 2,000 people have been shot, leaving over 320 dead. It's a similar tale of mayhem in other predominantly black cities.

The President's Prejudices. [Scroll down] In other words, young black males are about 27 times more likely to kill somebody than the average American. Interestingly, that datum comes from the Obama administration's Bureau of Justice Statistics, which published a report entitled Homicide Trends in the United States, 1980-2008. One reason young black males are disproportionately homicidal is that they are young (homicide rates are highest among 18- to 24-year-olds). Another factor is that they are male (according to the BJS, "Males were 7 times more likely than females to commit murder in 2008"). That the police keep a warier eye on men than women and the young than the old is never seen as offensive. It's just common sense. Yet profiling blacks as tending to be more threatening than whites (not to mention Hispanics or Asians) is the worst offense imaginable under today's ruling ideology.

We Have A Thug Culture Problem, Not A Gun Problem. The majority of homicides of young black males in the United States are far from random acts of violence, but are instead typically linked to gang-related activity. While I can't easily find national data to support my thesis, we all know where the "bad part of town" is where we live. We also know that's where violent crime tends to occur, and that the majority of those shootings and stabbings are related to gang activity, typically over territory, perceived slights, and the narcotics trade. Democrat politicians dishonestly assert that we have a "gun problem" in the United States because it's much easier to blame problems on an inanimate object than deal with the reality that decades of Democrat social engineering have utterly and consistently failed to manufacture prosperity in certain communities.

Better Get Used to It: The Ferguson Effect Is Real. The only thing preventing some neighborhoods in Los Angeles, Chicago, Baltimore and many other cities from being even deadlier than they are is the fear of the police. Where that fear is diminished, violence will only increase.

Vicious 'knockout game' racial hate crime captured on camera. The rhetoric of victimization has progressed to the point where young black people apparently think they are free to assault other races, record the act, and post the videos to social media, with no consequences to follow. The fact that they are mistaken in that belief, and often apprehended, is cold comfort to the victims, singled out for attack because of race. The so-called knockout game (aka, polar-bearing, polar bear hunting, point 'em out, and others) is a sign of our times.

Knockout: Mainstream Media Downplays 'Black On White' Crime. The media is infinitely more concerned about crimes against blacks than they are with crimes against whites. It's sad, but there remains a definite hierarchy of crimes with blacks and homosexuals at the top and Christian white people at the bottom. There is an epidemic of black-on-white crime and some have even made a game from this concept. The "game" is called the "Knockout Game" and mainly consists of angry black youths blitz-attacking innocent white people and beating the hell out of them. Those this is but a small portion of the country's minority population that is "playing" this "game," the mainstream media and the black community simply refuses to shine a light on these vicious attacks out of fear of the backlash that would inevitably occur at a time when many Americans of color feel that "Black lives matter" above all the others.

The 50 most violent cities in the world are revealed, with 21 of them in Brazil. The 50 most dangerous cities in the world have been named and shamed, and an astonishing 21 of them are in Brazil. [...] But the list doesn't just include Latin America, with U.S. cities St Louis, Baltimore, Detroit and New Orleans also featuring.

The Editor says...
Hmmm... what can be found in St Louis, Baltimore, Detroit and New Orleans in much greater abundance than in other cities?

PP and MSM condemning decent Americans. [There have been] numerous attacks on cops and whites across America, in which assailants proudly proclaimed their motivation to be BLM's war on cops and whites. And yet, the BLM attacks on whites are purposely unreported, along with the epidemic of black-on-black violence. Ironically, murders and shootings are highest in Democrat-controlled cites that have the toughest gun laws. For example: in Chicago over the Thanksgiving weekend, 30 people were shot, and 8 died. Was this widely reported nationally? [No.] And yet every rare occasion in which a cop kills a black, regardless of the circumstances, is broadcast 24/7, made front-page news. This year, Baltimore broke its 43-year record for murders, mostly black on black.

'Broken Windows' policing is not broken. Tragically, a surge in violent victimizations has swept across several American cities in the past two weeks. This may well be a reflection of what happens in the public square when the forces of order are weakened or demoralized. [...] Data from every major report show profound declines in crime in the U.S. over the past two decades, accompanied with sharp increases in incarceration. In this sense, our court system has worked. But the Obama Administration's Department of Justice has shown troubling signs it hopes to use racial politics to prevail over the courts and public safety.

Why Don't Liberals Care About Black-on-Black Killing? [Scroll down] Each murder, routine as it is, devastates a family, but the cops only arrest a suspect in about 40 percent of the murders. To add insult to injury, the cops compensate by harassing young men on the street with arrests for minor infractions. Of course, everybody knows "who dunnit" because the perpetrators typically come around to the victim's home and taunt the grieving family. Why would they do that? Because the gang-bangers need to intimidate potential witnesses. Thus, everybody knows who did it, but nobody is willing to testify.

What Statistics Say About Policing America. The FBI's Uniform Crime Statistics reports an average 51 officers killed a year over the past decade, with 24 killed by people identified as black. Assuming this data is comprehensive, about 11 black civilians are killed by on-duty police (some of whom are black) for every police officer killed by black civilians. Federal statistics report 43 million blacks or African-Americans in the U.S. and 630,000 police officers, or about 68 blacks per officer. Combining that with the 11-to-1 homicide ratio suggests that police are six times as likely to be killed by black civilians than black civilians are to be killed by police.

Fat Cats and Democrats. The progressive mind functions by means of mythic narratives that have tenuous connections to reality. Cops shoot a black man, and Eugene Robinson of The Washington Post begs "please don't shoot me," indulging the myth of a lethal American racism endangering black people's lives, even though black offenders kill 90% of black murder victims, and 85% of interracial crime is perpetuated by blacks against whites.

A Discussion On Race, Crime And The Inconvenient Facts. About 90% of interracial violent crime in our nation is committed by blacks against whites. The black-on-white murder rate in the U.S. exceeds the white-on-black rate by about 2.5-to-1. The black-on-white assault and battery rate exceeds the corresponding white-on-black rate in this country by at least 10-to-1. I would rather not report what is known about U.S. interracial rape statistics because it could be taken as incendiary, but the previous numbers in terms of black/white proclivity are dwarfed. [...] Because the number of white-on-black rapes is so low nationally in any given year, the ratio ranges from 100-to-1 to infinity.

MLK would be alarmed by black-on-black violence, lack of family values. The epidemic of black-on-black violent crime indicates that there has been a significant deterioration of values in the black community. Not only are the lives of their fellow blacks and others being devalued by street thugs, but the lives of unborn babies are being destroyed in disproportionate numbers in the black community. There was a time when blacks were justifiably angry that the larger community discounted their value, but now, ironically, many members of the black community themselves place little or no value on these precious lives that are snuffed out without thought.

He professes outrage when there's little evidence of bias against blacks, but ignores attacks on whites.
Obama's Racial Imbalance. Unfortunately, many attacks on innocent people have taken place in revenge for Trayvon's death. Some include:
• Gainesville, Fla.: A white man was beaten by a group of black men yelling "Trayvon."
• Oak Park, Ill.: Two blacks repeatedly punched a young white man; one of the two attackers told police he beat the victim because he was upset with the Trayvon case.
• Toledo, Ohio: A 78-year-old man was severely beaten by a group of black youths while they shouted "this is for Trayvon."
• Washington, D.C.: Three black men robbed and beat a white man, stealing his wallet and iPhone. One of the black men said, "This is for Trayvon Martin" as they approached the victim.
• Mobile, Ala.: A white man was attacked by 20 black adults who hit him with chairs, pipes, brass knuckles, and paint cans. As the group left, two witnesses reported one assailant said, "Now that's justice for Trayvon."
• Baltimore, Md.: A group of black youths beat a Hispanic man while saying, "This is for Trayvon."
• Chester County, Pa.: Firefighters responded to an arson started at a white-owned business with the words "Kill Zimmerman" painted in red on the front wall.
Similar revenge attacks have reportedly occurred in Memphis, Tenn.; Norfolk, Va.; and Sanford, Fla.

Obama's, Media's Double Standard On Interracial Shootings. The black-on-white murder follows the brutal bus beating of a white 13-year-old in Florida by three black 15-year-olds. And the fatal shooting of a white infant in Georgia by a black 17-year-old. Neither of these cases made national news. Nor did a clear-cut case of hate crime in Kansas City, where two black guys doused a white 13-year-old with gasoline and lit him on fire, saying, "You get what you deserve, white boy." Or the 20 black kids in Alabama who beat up white Matthew Owens on his porch "for Trayvon." Then there are the vicious bash-mob attacks on whites taking place with frightening regularity in Baltimore, Philadelphia, Chicago, Milwaukee, Long Beach and Obama's own backyard of Washington, prompting white residents to flee these cities and convincing others — including tourists — to steer clear.

Holder Ignores Real Threat To Young Black Men. [Scroll down] The November 2011 study concluded that "young black males were disproportionately involved in homicide compared with their proportion of the population." This is understating it. The precise data show that even though black men between the ages of 14 and 24 make up only 1% of the U.S. population, they represent 27% of all the nation's murderers. This bears repeating: 1% of Americans are committing over a quarter of the murders. Equally alarming, the administration study also found that blacks of any age are eight times more likely to murder than whites.

Marco Rubio: The Newest Member of Black Lives Matter. In Kansas City, hundreds of black people fought, destroyed property and challenged police at the mayor's Rock the Block concert. And oh yeah, that has been happening there a long time. [...] In Brooklyn, Asian immigrants are targets of daily harassment and violence. Often against older people. [...] In Milwaukee, a large group of black people interacted with an older woman, then ran her over with a car. On video. In at least four theaters over the weekend, black people attending the new movie about the gangster rappers N.W.A. fought and fired guns. There are lots more.

Race, Politics and the Zimmerman Trial. Liberals in general, and the black left in particular, like the idea of talking about racial problems, but in practice they typically ignore the most relevant aspects of any such discussion. Any candid debate on race and criminality in this country would have to start with the fact that blacks commit an astoundingly disproportionate number of crimes. African-Americans constitute about 13% of the population, yet between 1976 and 2005 blacks committed more than half of all murders in the U.S.

Black and other nonwhite violence against whites: a grim collection. In recent weeks, I have posted a great many articles on the ongoing outbreaks of black on white violence in this country and elsewhere — and not just "ordinary" criminal violence, but violence of a specifically savage and threatening character.

FBI Alarmed At Murder Rate Among Black Men. Both violent and property crimes in the United States declined in 2007 from the previous year, the FBI reported Monday [6/9/2008]. But one expert warned the figures could mask a growing murder problem among young black men. ... "We shouldn't be fooled into thinking our problems are over," said [James Alan] Fox, a criminal justice professor at Northeastern University. Fox said that from 2002 to 2006, the rate of murder committed by black male teens rose 52 percent.

A Black Conservative Lament: [A cable TV news channel] ran a long segment with a black comedian/actor, talking about how he tells his son each and every day about how to talk to the police and how black men must be wary of cops. … The truth is that his son has more to fear from other young black men than he does from the police. I then quoted a homicide statistic: 94 percent of black homicide victims are killed by other black people. It was dismissed by the moderator so we could focus instead on how racist the cops are. Unbelievable.

Murders of Black Teens Are Up 39% Since 2000-01. [Scroll down] An overwhelming proportion of the killings involve black-on-black crime. The reasons for high rates of violence in African-American communities have been the subject of debate among criminologists. Some attribute it to the migration of prison culture, with large numbers of incarcerated young men returning to their communities.

Ebony and Irony. Put simply, there is no evidence to suggest that blacks aren't committing the majority of homicides in general and first degree murders in particular. Nor is there any evidence to suggest that proponents of affirmative action will demand that we begin to execute more blacks to make up for their present under-representation in American death chambers.

FBI called to deal with 'race' gang violence. Police in Los Angeles have been forced to call in the FBI to deal with a surge in gang-related violence between Latino and black youths. The initiative has been prompted by incidents such as the shooting of a 14-year-old black girl last month by Latino gang members, who are thought to have targeted her because of her race.

[No mention of "hate crime" prosecution.]

Black-on-white crime is just ordinary crime. Imagine how this would be reported if the colors were reversed.
Caught on Tape: Teens Beat Pregnant Teen on Bus. A pregnant teen says she feared for her baby when she and her boyfriend were attacked by a group of four girls and a woman on a Seattle Metro bus last month. ... All five suspects have prior arrests, authorities add.

A Violent Racist Game Claims More Victims. One man was stomped to death and another man nearly killed in a racist amusement called the "knock-out game," currently being played by black teenagers. The victims were both white, and that fact needs to be raised in our national conversation about race.

Racial Violence. In 2008 and 2009, five black people were convicted of the carjacking, torture, rape and murder of University of Tennessee graduates Channon Christian and Christopher Newsom. To the extent the case attracted attention outside Knoxville, it was mostly about how this case was not attracting attention.

Racial Violence. When I told my friends I was working on a magazine article, then a book, about a tsunami of racial violence in America over the last two years, they said, "I haven't heard about that." When my Tennessee friend told me about a horrific racial crime in Knoxville, Tennessee, I told him: "I haven't heard about that." Outside of Tennessee, most did not. Locals may remember the story: In 2008 and 2009, five black people were convicted of the carjacking, torture, rape and murder of University of Tennessee graduates Channon Christian and Christopher Newsom. To the extent the case attracted attention outside Knoxville, it was mostly about how this case was not attracting attention.

13 wounded at Arizona rap concert shooting. Tempe Police spokesman Sergeant Steve Carbajal said officers responded to reports of shots fired at the Clubhouse Music Venue at 11:30 p.m. Friday [3/2/2012] local time. ... "Witnesses have reported that after the shooting, two black males wearing dark colored clothing fled the scene on foot," Carbajal said. "Those individuals have not been located at this time."

Exclusive: Chris Rock Attacks Conservative Author Over Tea Party Question. The confrontation, which took place around 2:00 a.m. on January 23, 2012, at Spike Lee's Sundance Film Festival after party at Tao night club, ended with Chris Rock challenging the conservative author to a fight, says [Jason] Mattera: "Chris Rock shouted, 'You want to throw down? Let's throw down right now!' Of course, he was standing safely behind two bodyguards when he said it."

Political rope-a-dope. Crime is one of the results of the liberal agenda. Blacks are 13 percent of the population but are more than 50 percent of murder victims. About 95 percent of black homicide victims had a black person as their murderer. Blacks are not only the major victims of murder but also suffer high victimization rates of all categories of serious violent crime. Most often, another black is the perpetrator.

Shawn Tyson gets life sentence for murdering British tourists in Florida. A teenager who shot dead two British tourists on holiday in Florida will spend his life in prison after he was convicted of two counts of murder. A jury in Sarasota took just two hours to decide that Shawn Tyson, 17, killed James Cooper, 25, and James Kouzaris, 24, after they strayed into a rundown area of the city after a night out last April.

Seven black teens arrested for hate crimes. Seven black teenagers who allegedly attacked a Latino boy in Palmdale, Calif., were arrested by police after footage of the attack was posted on YouTube, KTLA reported.

The Murders That Don't Count. Jesse Jackson is right that "blacks are under attack." According to a 2005 FBI report, blacks accounted for 13 percent of the population and 49 percent of all homicide victims. In 93 percent of the cases, the killer was black. Half of the victims were ages 17 to 29. That works out to 4,000 murders of young blacks in one year, overwhelmingly at the hands of other blacks.

Democrats Responsible for Black Culture of Anger. Black twenty-year-old male Danielle Simpson, with two black associates, was interrupted by 84-year-old Geraldine Davidson while in the process of burglarizing Davidson's home. The group duct-taped her mouth, bound her hands and legs, and threw the white former schoolteacher and church organist into the trunk of her own car. Ms. Davidson was severely brutalized before the trio eventually tied a rope attached to a cinderblock around her legs and threw her, still alive, into the river. Brutal crimes are not unique. But here is what makes this case remarkable. For seven hours, Simpson rode around in Ms. Davidson's car, stopping for fast food and opening the truck to show off his victim to his black friends.

Man Charged With Murder In Assault On Elderly Couple. A Tulsa man has been charged with first-degree murder in connection with an assault that left a woman dead and her husband injured. Court documents show 19-year-old Tyrone Woodfork was charged Monday [3/26/2012] with first-degree murder, first-degree burglary and two counts of armed robbery.

Blacks Can Murder Whites, and It Won't Make National News. If you're a 20-year-old black male, you can beat an 85-year-old white woman to death and pummel her 90-year-old white husband straight into ICU, and it won't make the national news. Yep. Tyrone Woodfork, a black male who — much like Trayvon Martin — looks like Obama's son, allegedly killed Nancy Strait and broke her husband Bob's jaw, several ribs and shot him in the face with a BB gun last month in Tulsa. 20-year-old Tyrone also raped the nearly blind 97-pound Mrs. Strait, a great-great-grandmother, before he murdered her. Did the above monstrous crime make the national news? [No!]

Media Dishonesty and Race Hustlers. Let's look at some non-news cases. On March 14 in Tulsa, Okla., a white couple suffered a home invasion by Tyrone Woodfork, a 20-year-old black man. [...] On March 4, two black Kansas City, Mo., youths doused a 13-year-old boy in gasoline and set him on fire, telling him, "You get what you deserve, white boy." Last summer, Chicago Mayor Rahm Emanuel ordered an emergency shutdown of the beaches in Chicago because mobs of blacks were terrorizing white families. Several years ago, in Knoxville, Tenn., a young white couple was kidnapped by four blacks. [...] None of those black-on-white atrocities made anywhere near the news that the Trayvon Martin case made, and it's deliberate.

Man grabs microphone from reporter on live TV, shouts 'n-word'. A North Carolina man is facing assault charges for bum rushing a news reporter on live TV, grabbing her microphone and shouting the n-word into the camera. The broadcast quickly ended, and [Justin] Moore, was arrested just a few moments later, WMBF reported. Moore was charged with third degree assault and battery, and released from jail Thursday afternoon [4/19/2012] on $1,400 bond.

MBTA: Have you seen this spitter? The MBTA has released surveillance video of two teens who allegedly spit at and threatened a bus driver last week in hopes of bringing them to justice. The incident took place around 8:45 p.m. Wednesday [4/18/2012] after a suspect believed to be in his late teens refused to pay when he boarded a Route 28 bus at Ruggles Station, putting only a quarter in the fare machine when told by the 51-year-old driver to either pay up or get off the bus, according to the MBTA.

Feds Will Decide If Matthew Owens Beating Is A Hate Crime. Deputy Chief Lester Hargrove says investigators believe only four people, including Terry Rawls, were directly involved. They believe the rest of the mob just watched. Police say the beating is the result of a three year neighborhood dispute between Rawls and [Matthew] Owens.

20 Years for Standing Her Ground. "I got five baby mammas, and I put my hands on every last one of them except for one," Rico Gray confessed during a November 2010 deposition. "The way I was with women ... they had to walk on eggshells around me." He recalled punching women in the face, shoving them, choking them, and tossing them out the door. Yet somehow, after one of those women fired a warning shot into the ceiling of her Jacksonville, Florida, home to scare him away during yet another violent outburst, prosecutors managed to convince a jury that Gray was the victim. As a result, Marissa Alexander, a 31-year-old mother of three, faces 20 years in prison for standing her ground against an abusive husband.

Ugly Truths About Prejudice. A number of commentators have pointed out the enormous focus that civil rights leaders have put on the death of Trayvon Martin at the hands of a white man, while essentially ignoring the vastly more common situation of black on black murder. On an average day in 2010, there were eighteen blacks murdered in the U.S., and sixteen of those black victims were murdered by other blacks — and yet those crimes seem to be of no real interest to the mainstream media or the race hustlers like Al Sharpton.

Soldier Beating: Law firm, church offer rewards for information in the attack of Sgt. Johnny Aparico. The violent mugging of a young soldier in Tampa earlier this week has gained national attention. Surveillance video showing 24-year-old Army Staff Sergeant Johnny Aparico being punched and kicked has been seen by millions. It has been described as "heartbreaking" and "shocking."

Two arrests made in relation to Sgt Aparicio robbery. Detectives have arrested two suspects in relation to the violent robbery of Sgt Johnny Aparicio that occurred on Sunday, May 13. According to Tampa PD, detectives received dozens of tips throughout the week with potential suspect names, and the same names were consistent in many of the calls.

Fierce reaction to an outrageous crime. Watching the video of four young thugs beating a MacDill Air Force Base officer on an Interbay street is genuinely stomach-turning. The unprovoked attack is conducted with a joyful brutality that is painful to watch and impossible to comprehend. So it is reassuring to see the Tampa Police Department respond resolutely and effectively to this outrageous crime. The police have arrested three suspects — all 18 years old — and are searching for a fourth.

Should Black People Tolerate This? Each year, roughly 7,000 blacks are murdered. Ninety-four percent of the time, the murderer is another black person. According to the Bureau of Justice Statistics, between 1976 and 2011, there were 279,384 black murder victims. Using the 94 percent figure means that 262,621 were murdered by other blacks. Though blacks are 13 percent of the nation's population, they account for more than 50 percent of homicide victims. [...] Young black males have a greater chance of reaching maturity on the battlefields of Iraq and Afghanistan than on the streets of Philadelphia, Chicago, Detroit, Oakland, Newark and other cities.

Sixth person charged in delivery driver's murder. After shooting Zhen Bo Liu on a dark Wilmington street, the gunmen stole his food delivery of chicken wings and shrimp fried rice and shared the meal among their accomplices at a nearby house. After eating, they returned to view Liu's body and rummage through his car. When police arrived on South 13th Street to begin their investigation into Liu's June 14 death, the only things missing from the 60-year-old delivery driver's vehicle was the order of food and $48 in cash.

Taking Down the Second Amendment: The Connection between Fast and Furious and the Trayvon Martin Case. [Scroll down] If you live in or near a big city, the reality is that if you have to use your gun to defend yourself, the chances are good that you'll be using it against a young African-American male. According to Eric Holder's Justice Department, between 1976 and 2005, African-Americans, 12.6% of the population, committed 52.2% of all homicides. Over the 30-year period, African-Americans committed murder at about 7.33 times the white rate. (Whites here include Hispanics.) The numbers for other violent crimes are comparable. The perpetrators are overwhelmingly males between fifteen and twenty-five. So the unspoken message of the media crusade against [George] Zimmerman is that if you use a gun to defend yourself against a young black male, there's a chance you'll face a second-degree murder charge.

Children charged in video store holdup. Three children, including a 9-year-old boy, were taken into police custody after a video store was held up by a 14-year-old girl wielding a BB gun that looked like a pistol, authorities said. The holdup happened about 9 p.m. Wednesday at a Hollywood Video store downtown. A 14-year-old girl and a 12-year-old boy were charged as juveniles with armed robbery. The 9-year-old was not charged because police said he was too young. He was released to his mother.

Official in S.C.: Sterilize Bad Parents. A City Council member, reacting to a video store holdup believed to have been carried out by children, says parents who can't properly care for their kids should be sterilized. "We pick up stray animals and spay them," Larry Shirley said in a story published Saturday by The Post and Courier of Charleston. "These mothers need to be spayed if they can't take care of theirs. Once they have a child and it's running the street, to let them continue to have children is totally unacceptable."

[The stray animals analogy is inappropriate. Stray animals are usually put to death.]

Cortnee Brantley federal trial to start today. It's been more than two years since Tampa police officers David Curtis and Jeffrey Kocab met their deaths on the side of an East Tampa road. Their accused killer, Dontae Morris, has yet to stand trial in the slayings. But today [7/16/2012], Morris' former girlfriend, Cortnee Brantley, who drove off in the Toyota Camry Curtis pulled over on June 29, 2010, starts a federal trial on charges she failed to report Morris was a felon in possession of a weapon and ammunition.

Two Aurora Shootings: One Widely Known; the Other Ignored. On April 22 of this year a convicted felon, just out of jail, went to an Aurora, Colorado, church and shot and killed a member of the congregation before being killed himself by a congregant carrying a gun. [...] The killer in the April shooting was 29-year-old Kiarron Parker, who had just been released from prison. He had been convicted for assaulting two police officers, drug abuse, and breaking and entering.

Two 18-year-old cousins charged with murder of college volley ball star. Two 18-year-old cousins have been charged in the murder of Megan Boken, a former volleyball college star who was shot to death inside her car during a botched robbery.

D.C. police seek robbery suspect '6-7 years of age'. D.C. police put out a lookout Sunday night [9/16/2012] for an unusual robbery suspect: a black male roughly 6 or 7 years old. [...] In a news release issued about two hours later, a spokeswoman said police were investigating a report that a group of boys between the ages of 7 and 14 approached a customer at a McDonald's in the 4300 block of Nannie Helen Burroughs Avenue in Northeast at approximately 6:30 p.m.

Attack on CAPA teacher caught by surveillance cameras. Police from the city's Zone 2 station have confirmed they are questioning a boy in an attack on a teacher from the Pittsburgh High School for the Creative and Performing Arts on a downtown street. Police said the boy was accompanied by his mother while being questioned on Tuesday afternoon [10/9/2012].



Guards sought for news crews in Oakland. The violent robbery of a television news crew outside an Oakland school last week was the latest in a series of similar incidents in a city where the rate of strong-arm robberies and holdups is surging. But the brazenness of the attack — which occurred during a live broadcast in the middle of the day — has brought fresh urgency to the problem.

Boys, 14, 'pose with guns on Facebook hours after gunning down young mother'. Two 14-year-old boys who allegedly shot dead a young mother in an argument over a packet of cigarettes posted pictures of themselves brandishing guns on Facebook hours after the crime. Police are still searching for Todavia Cleckley and Marcus Velasquez, who will be tried as adults for the murder in Beaver Hills, Pennsylvania on Saturday afternoon [12/8/2012].

2 teens accused in Beaver Falls killing charged as adults. Two teenagers accused in a weekend shooting death in Beaver Falls will be charged as adults, Beaver County police Chief Charles R. Jones Jr. said this morning. Todavia S. Cleckley and Marcus Velasquez, both 14, are charged with conspiracy to commit criminal homicide in the killing of 22-year-old Kayla Peterson of Beaver Falls.

2 boys, 14, arrested in cigarette shooting death. Police have arrested two 14-year-olds in the fatal shooting of a western Pennsylvania woman after she told them to "get a job" when they tried to bum a cigarette off her boyfriend.

Mother Hiding with Kids Shoots Intruder. A woman hiding in her attic with children shot an intruder multiple times before fleeing to safety Friday [1/4/2013]. The incident happened at a home on Henderson Ridge Lane in Loganville around 1 p.m. The woman was working in an upstairs office when she spotted a strange man outside a window, according to Walton County Sheriff Joe Chapman. He said she took her 9-year-old twins to a crawlspace before the man broke in using a crowbar. But the man eventually found the family.

This didn't happen; please ignore this post. Liberal-fascists would rather this woman had been raped and murdered, and her children right along with her.

The Scapegoat Express. Filled from birth on a steady diet of the pervasiveness of white racism in America, rage-filled urban youths across the nation play "the knockout game" with often fatal results for their randomly selected white or Asian victims. Meanwhile, the elite liberal media fail to notice the national scope of the almost weekly occurrences. Google "the knockout game" and start reading the dozens of local stories that the media refuse to connect or identify as part of a dangerous national trend. And it doesn't stop with knocking out random passers-by with sucker punches and then kicking them in head until they are dead, disfigured for life, or in comas.

He's the Biggest Celebrity in the World. The rate of firearms deaths per 100,000 population is about four times higher in the black population than in the white population. Gang-related killings account for much of this difference. In large cities with mostly black populations — such as Newark, Detroit, New Orleans — the rate of firearms deaths is almost unbelievably high compared with the rate in the mostly white suburbs. In any given week, on any given weekend, dozens of black youths are gunned down by other blacks in America's cities. This is a horror show happening in real life.

Triggerman gets 49 years in pizza deliveryman's slaying in North Charleston. The teenager who pleaded guilty to killing a pizza delivery man last year was sentenced inside a Dorchester County General Sessions courtroom in St. George this morning. Stephawn Brown, 19, of North Charleston, pleaded guilty to murder and armed robbery on Thursday [2/14/2013], three days into his trial.

Burglary suspect shot, arrested seeking medical help. Texarkana, Texas Police say a man who forced his way into a house with an armed guest was later arrested after seeking medical attention for his gunshot wound. The incident happened about 10:30 p.m. Sunday at a residence in the 2000 block of Wood Street, where police say the homeowner told them about how two masked males had forcefully entered her home and ordered everyone to lie on the floor. Both intruders appeared to be armed with handguns.

This is NOT the Second Amendment. In case you haven't figured it out, this photo montage is not representative of The Second Amendment or its supporters, although to listen to the gun-grabbers, you would think it was. Remember, the goal is to eliminate guns, not criminals.

Think These Guys Will Give Up Their Guns? I got this from my dad, who was also born in the former USSR and understands what it means to have a disarmed populace and an authoritarian government. He doesn't like the idea of civilian disarmament either. The link he sent me is an interesting conglomeration of photos posted by... ahem... people of questionable character on Facebook and other Internet sites.

Man charged with attempted homicide after stabbings inside, outside East Liberty Target store. A 41-year-old man faces attempted homicide charges after Pittsburgh police said he stabbed a girl in the East Liberty Target store and injured several others Monday [3/25/2013]. Leon Raymond Walls, who did not have an address listed in court files, is being held in the Allegheny County Jail in lieu of $250,000 bond.

Multiple black men beat up an elderly white man. It's not a hate crime; in fact, it's hardly a crime at all.
Good Samaritan helps man beaten by teenagers. A witness, who does not want to reveal her identity for fear of her safety, says Friday night [4/5/2013] she was driving down Soutel Drive near Lem Turner Road with her fiancé and saw a group of teenagers beating a man. "We seen a whole bunch of African-American kids you know, beating and stomping on an elderly Caucasian guy and he had bags and everything, he couldn't even defend himself because it was so many kids," said the anonymous witness.

The rest of the Chesimard story. Just how bad do folks at the FBI think our memories are? Last week the FBI added Assata Shakur to its list of Most Wanted Terrorists. She's the first and only woman to achieve such a dubious distinction. Shakur is also known as Joanne Chesimard, the name the FBI uses when referring to her. In the 1960s, she joined the Black Panther Party, a radical African-American organization that then-FBI Director J. Edgar Hoover designated as the greatest internal threat to the security of the nation.

Knockout Game victim's eye kicked out of socket. After one murder and who knows how many beatings, city officials finally admitted the Knockout Game has come to Syracuse. Absent one fact: The Knockout Game is part of an epidemic of black mob violence played hundreds of times across the country.

Black Mob Violence Shooting in Columbia, Missouri. It is amazing how many large groups of black people fight and shoot every week.

Men get life in prison for grisly Pinellas murder. After deliberating for about an hour and 45 minutes, a jury on Friday [6/21/2013] found Santonio Smith and Letrell McKnight, both 23, guilty of first-degree murder in the death of Stacia Berman. Circuit Judge R. Timothy Peters sentenced them to life in prison without any chance of parole.

Bike trail builds reputation for mob attacks. The titans at the Washington Post cannot get their journalistic minds around the latest case of black mob violence in the nation's capital. They reported the crime but ignored the race and the pattern. But the Titan of Trinidad, a neighborhood blog, had no trouble describing what really happened when a black mob attacked a D.C. commuter on a bicycle, sending him to the hospital with broken bones in his face.

More black mob violence on bike trails — media oblivious. Just finished an article for WND and my book about a rash of black mob violence on a D.C. bike trail: Bike trail builds reputation for mob attacks. Then the cards and letters started rolling in with reports of dozens and dozens more attacks from black mobs on bike trails around the country over the last few years.

Saxophone player attacked in the street by three black women. A saxophone player has claimed that she was assaulted as she played a jazz song in the street by three African American women who said a white girl shouldn't play that sort of music. Cassandra Struve, 26, was performing in the street outside the Summerfest grounds in Milwaukee, Wisconsin around 11 pm on June 26 when the three women approached her.

String of robberies, assaults after Pride. San Francisco police are looking for five men and a woman who they believe robbed and assaulted numerous people after the Pink Saturday gay pride event. In the most egregious incident — which was captured on video footage that police released Friday [7/5/2013] — one of the men robs a woman and then kicks her in the head after she falls to the ground, knocking her unconscious, said Officer Albie Esparza, a police spokesman.

Trayvon's Tragedy: Exploited in Death. [Scroll down] On March 27, 2008, two black teenagers with a third positioned on the street in a getaway car tried to force 19-year-old art student Tyler Binstead and his girlfriend into the trunk of her car after robbing them at gunpoint. [...] The black-on-white killing in Richmond never hit the mainstream news.

2 charged with murder after 3 shot in downtown Charleston; victim identified. Two men who have been in jail several times before have been arrested after a fatal shooting in downtown Charleston early Sunday. [...] The Charleston County Coroner's Office identified the deceased as Don'ta Pringle, 20, of Summerville. He died of multiple gunshot wounds, according to the coroner's office.

Denver police release sketch of suspect in LoDo shooting that killed Buckley airman. Witnesses describe the shooter as a a light-skinned black male with acne. He is in his 20s and is approximately 5-foot 7" tall. He weighs between 160-180 pounds.

Police identify suspect in Family Dollar shooting. The man who shot and killed the manager of a Family Dollar Store over the weekend is only 23 but already has been arrested numerous times, Tampa police said Wednesday. Investigators say the shooter is Demetrius Parks, 23; police have offered a $16,000 reward for information leading to his arrest.

Greatest letter ever on Black Mob Violence. If I ever wrote a book, it would be titled "Gimme a nickel." In a threatening/intimidating manner, this would be stated with a palm out — "Gimme a nickel." The victim would reach in his pocket, pull out his lunch money, and the perps would usually then grab the entire handful of change from his or her hand. Teachers and administration turned a blind eye to all of it. White students quickly learned they were on their own.

Dana Perino Bashes Obama: Where's Your Speech For Baby 'Shot In The Face By Black Teens?'. Former Bush Press Secretary Dana Perino continued the weekend's primary conservative argument on This Week with George Stephanopoulos, when she asked why President Barack Obama chose the Trayvon Martin shooting as a subject for a national address (albeit an impromptu one) but not any other crimes — specifically, the March shooting of a toddler in Brunswick, Georgia by two black teens.

Don't Bring A Bat To A Gun Store: Man's Robbery Attempt Fails Miserably. An Oregon man learned the hard way yesterday that a bat is probably not the best tool for robbing a gun store. 22-year-old Derrick Mosley reportedly attempted to rob Discount Gun Sales in Beaverton, Ore., on Thursday [7/25/2013]. Wielding a baseball bat, Mosley strolled into the store and smashed a display case. But, according to police, upon attempting to steal a gun from the smashed case, he learned that gun beats bat.

Black males allegedly said "This is for Trayvon Martin" before robbing white male of wallet, phone. A weekend robbery in a racially diverse neighborhood of Washington may have been a hate crime, police said. "This is for Trayvon Martin," one of the three black men told a white man as they approached him early Saturday [7/27/2013], according to Washington Metropolitan Police Officer Anthony Clay.

Adams Morgan hate crime was motivated by Zimmerman verdict, police say. A Bethesda man was beaten and robbed early Saturday morning in Adams Morgan by three men who yelled, "This is for Trayvon Martin," before attacking him, police said. The incident is being investigated as a hate crime and robbery, according to D.C. police spokesman Araz Alali.

Five charged in attack on elderly man. Four West Pensacola juveniles and a 19-year-old attacked a 77-year-old man Monday night, according to an Escambia County Sheriff's Office news release. Demetrius Wilson, 12, Javontae Wilson, 13, and Keyon Black, 16, are each charged with aggravated assault and aggravated battery on a person older than 65 years of age.

The Oklahoma Story. A couple of days ago, a white college baseball star from Australia, Christopher Lane, was running for exercise along a rural road in Oklahoma, my wife's home state. He was attending college there. As he passed by three black teenagers, they decided it would be fun to kill him. They drove up behind him, shot him three times and he was dead. They apparently laughed about it and one of them posted an online comment about their exploit — shooting an unarmed man in the back and killing him — and how cool that was.

If Barack Obama Had a Son, Would He Look Like Chris Lane? Chris Lane is the Australian college student and baseball player who was murdered while jogging along a street in Duncan, Oklahoma. The perpetrators were three teenagers who were bored and decided to murder someone just for fun. They saw Lane running by, got in a car, drove behind him and shot him in the back.

'Bored?' Teenage Murder Suspect James Edwards Appears to Be a Crip. In our first look at what may have motivated the three teens accused of murdering Australian baseball player Chris Lane, we looked at the Facebook and Twitter feeds of James "Lilbuggy" Edwards. His social network posts suggest strong interests in rap and gang culture, and enjoyment of violent behavior.

Murder of Australian student Chris Lane, 22, was not motivated by race says district attorney. An Australian baseball player who was allegedly shot and killed at random while he was jogging wasn't targeted because of his race or nationality, the prosecutor in charge of the case has said. [...] 'At this point, the evidence does not support the theory that Christopher Lane was targeted based upon his race or nationality,' District Attorney Jason Hicks said in a statement on Friday [8/23/2013].

Spokane Police Chief's Statement Re: Arrest of Murder Suspect Adams-Kinard. ["]I would like to make it very clear — the motive for this attack was robbery. Race was not a factor. Additionally, there was no gang activity regarding this incident.["]

The Editor says...
Nonsense. The police chief might come out and say that race wasn't the primary motivation, but this rash pronouncement that race is not (even a contributing) factor is just not believable.

Ford gets a lesson in Chicago muscle. When Chris Lane, a young white man and an Australian student at East Central Oklahoma University, was shot in the back on a jog along a quiet residential street, and a young black man who boasted that he hated white folks was charged with murder, the cops and the district attorney decided there was nothing about it hateful enough to make the hate list. Just your routine neighborly death by murder. One of the suspects was conveniently identified as "white" because he's the son of a white mother and a black father (like the president).

The Editor says...
Aha! That is a remarkable revelation by the Chicago Tribune. All three suspects are black — at least as black as Barack H. Obama. And I don't see anybody disputing the fact that Obama is black. Earlier news reports stated that the half-black suspect was white.

Police seek teens in death of World War II veteran. An 88-year-old man who survived the Battle of Okinawa in World War II died Thursday after police say two teenagers beat him and left him for dead in his parked car. [...] Police launched a search Thursday [8/22/2013] for two black males 16 to 19 years old, releasing surveillance images of the suspects. Both are of average height and build and were dressed all in black at the time of the incident. One was wearing a do-rag.

Police seek 2 young suspects after World War II veteran beaten to death in parking lot. Authorities on Thursday released surveillance photos of the two suspects, who they describe as African-American males between the ages of 16 and 19. Friends identified the victim as Delbert Belton, and say he was sitting outside a lodge for the Fraternal Order of the Eagles when he was attacked.

89-Year-Old Wounded WWII Vet Beaten to Death by Two Black Teens. In Spokane, Washington, on Wednesday night, according to local reports, World War II veteran and Battle of Okinawa survivor Delbert Belton was beaten by two African American teenagers described as between the ages of 16 and 19. Belton passed away Thursday morning [8/22/2013] of head injuries.

All the suspects are black; the victim is white. Yet the cops quickly claim that race was not a factor in the crime.
2nd suspect in beating death of 88-year-old vet arrested. Three others where arrested Monday [8/26/2013] for rendering criminal assistance to the suspect, police said. Another 16-year-old suspect was arrested last week and is expected to be charged with murder.

Teen suspect in brutal beating death of WWII veteran declared 'threat to the community'. One of the teens surrendered to authorities Thursday night, and he was being held on charges of robbery and first-degree murder. His identity has not been released because he is a juvenile. Police Chief Frank Straub identified the suspect still at large Friday as Kenan D. Adams-Kinard. Even though he is a juvenile, his name and photo were released because he remains a danger to the community, Straub said.

The Editor says...
I think it's time to re-define "juvenile" to exclude anyone who commits premeditated murder.

2nd suspect arrested in fatal beating of WWII veteran in Spokane. [Scroll down] For one thing, she said, he didn't look like a man of means, and his car — a 1994 Ford Contour — was anything but flashy. "He didn't dress fancy," she said. "Why these kids thought he had some money, I don't know."

The Editor says...
The old man obviously didn't have any money and obviously wouldn't be able to fight back. OF COURSE it was a racially motivated attack.

Delbert Belton's death: 2 Spokane teens to be tried as adults. Authorities released new details Monday about two teenage boys who are charged with the murder of Delbert Belton, an 88-year-old World War II veteran, in Spokane, Wash., saying the motive of the attack was robbery, and that family members helped lead police to their second suspect.

The Editor continues...
That's nonsense. If the motive had been robbery, they would have attacked someone who looked like he or she had some money. If the motive was in fact robbery, what did they take from the victim, and why would it be necessary to beat him to death afterward? No, they attacked an old white man and beat him to death because they hate white people. In my opinion, the cover stories about how the victim was "randomly selected", or about the perps being so bored that they decided to kill somebody, are diversions.

88-year-old World War II vet 'who was randomly beaten to death by two teens died because he tried to defend himself' . Two teenage boys are charged in the bloody beating of Delbert Belton outside a Spokane, Washington ice skating rink and investigators are now suggesting the soldier — who took a bullet in the Battle of Okinawa — tried to stop the apparent robbery. Police say that enraged the teens and turned their petty theft into full-blown murder as they continued to beat him into submission with 'big, heavy flashlights.'

Murder suspect claims 88-year-old victim shorted him in drug deal. The beating death of a decorated World War II veteran took a bizarre twist Tuesday. Prosecutors said one of the two suspects has suggested that the victim, 88-year-old Delbert Belton, was selling crack cocaine outside the Eagles Lodge and shorted them. Although prosecutors didn't elaborate in court, Spokane police later said they've found nothing to support suspected killer Kenan Adams-Kinard's drug dealing claims.

Funeral for beaten World War II veteran draws hundreds of mourners. Hundreds of people attended the funeral of a World War II veteran who police say was beaten to death by two teens last week in a random robbery. 88-year-old Delbert Belton was buried with full military honors Thursday at a cemetery in Spokane.

Bias alert!
Who says the robbery was random?

Another black-on-elderly-white crime. But the motive is a big mystery to the cops.
Suspect in slaying of city woman, 99, due in court Monday. Police arrested Javon Tyrek Rogers on Friday [8/23/2013] at 11 p.m. and charged him with first-degree murder and first-degree burglary, both felonies, in connection with the homicide of Fannie Gumbinger, who was found dead at her home on Underhill Avenue early Wednesday morning [8/21/2013], said city police Detective Lt. Edward Freer. [... who] declined to comment on a possible motive.

'Point 'em out, knock 'em out': Brutal game ends when assault victim fires his concealed handgun. The game was called "point 'em out, knock 'em out," and it was as random as it was brutal. The object: Target an innocent victim for no other reason than they are there, then sucker punch him or her. But on this day in Lansing, there would be no punch. The teen-age attacker had a stun gun. He did not know his would-be victim was carrying a legally concealed pistol.

Anderson Police charge teen in rape of 93-year-old woman. Anderson [Indiana] Police have made an arrest in the rape of a 93-year-old woman in July. [...] Iquise Vernell Taylor, 17, will be charged as an adult in the crime.

Woman brutally beaten by group of teens in North Side says attack was 'racially motivated'. A woman who said she was brutally attacked by a group of black teenagers in Pittsburgh's North Side Sunday [8/25/2013] said the girls savagely beat her while calling her racial slurs. Ginger Slepski said she suffered multiple injuries, including torn shoulder ligaments. She said she thought the girls were going to kill her.

Let me guess... they were bored?
Two women gang raped by 10-12 juveniles in Delaware park, report says. The alleged attackers fled in an unknown direction, the report said. The condition of the women, who were taken by ambulance to Christiana Hospital, was not released, the report said. "This park is not safe to walk around in at night," Louise Riley, who lives near the park, told Delawareonline.com. "You can tell that a lot goes on in here by the discarded condoms, and police driving by cannot see the isolated pockets from the road."

Two Women Allegedly Gang-Raped by a Dozen Juveniles. On Thursday [8/29/2013], two women ages 32 and 24, were allegedly gang-raped by 10-12 black juveniles at Kosciuszko Park in Wilmington, Deleware [sic]. The attack reportedly happened at 6:54 PM when the women were sitting on a bench. The boys, who range in age from 12 to 17-years-old, allegedly assaulted the women and then fled. One woman called 911 and both were taken to Christiana Hospital.

Young Fatherless Elephants. Thanks to the cold-blooded murders in Oklahoma and Washington, black teenage thugs have been much in the news lately. But they've been newsworthy for quite a while now. It wasn't that long ago that gangs of them ran wild in Philadelphia, forcing even the black mayor to denounce them. More recently, they ran amok here in California, looting and mugging in L.A. and in Long Beach. And we mustn't overlook the record number of people they've been gunning down in the mean streets of Chicago.

College professor dies after defending woman in stabbing attack. A local man has died and a woman is in serious condition after they were stabbed repeatedly by a stranger who confronted them Friday night [9/13/2013] as they were walking in Pioneer Square after the Seattle Sounders game, police said.

Does Aaron Alexis Represent A New Breed of Killer? In the search for parallels to explain Aaron Alexis's killing spree at the Washington Navy Yard on Monday, the media have turned reflexively to recent incidents in Aurora, Colorado, and Sandy Hook, Connecticut. Almost no one in the media, however, has made the obvious comparison to Christopher Dorner, the former Los Angeles Police Department officer who killed four people and wounded three others in a ten-day spree last February that ended with a self-inflicted gunshot wound.

How to Report on Racial Violence: Don't. [E]very day, we read about the black caucuses, black colleges, black churches, black labor unions, black businesses, black neighborhoods, black leaders, relentless black victimization at the hands of white supremacy, and on and on and on. Many of these stories are written by members of the SPJ and the National Association of Black Journalists. But when it comes to reporting on black on white crime, or black mob violence, these same reporters suddenly turn color blind.

Ebony and Black Violence. White liberals may deny black mob violence but many black people are way past that: Today, its all about white racism. Ebony magazine's latest issue is a good example of that. Ebony is upset that some are trying to score political points from the recent shooting of 13 people on a Chicago basketball court. Black violence in Chicago takes other forms as well, some of it black on white. Some black on Asian. Or black on gay. Or black on young. Or black on old. Black on rich. Black on poor. Black on illegal immigrant. Black on tourist. [...]

Liberalism and Mass Shootings. It's often pointed out that without the top four American cities for homicide — Washington, Chicago (newly crowned murder capital of the USA), Detroit, and New Orleans, the U.S. would have one of the lowest murder rates in the industrialized world. All these cities suffer from the liberal curse. As I demonstrated in my book Death by Liberalism, liberal "judicial reform" triggered the "Great Crime Explosion" of 1964-1994, with a death toll in the hundreds of thousands. The current plague of insane gunmen is simply a back eddy of that colossal act of hubris.

'Running gun battle' at California biker club kills 1, wounds 12. Investigators were trying to determine on Monday what triggered a running gun battle at a weekend dance staged by a Central California motorcycle club that left one man dead and 13 people wounded as hundreds of partygoers scrambled for cover.

Six charged in Craigslist armed robberies in St. Paul. Three brothers allegedly orchestrated seven armed robberies in St. Paul this summer that duped would-be buyers responding to fake Craigslist ads for cellphones. No one was hurt in the robberies that took place between June 5 and July 1, but 11 victims were robbed at gunpoint of cash, cellphones and keys.

Black Skin Privilege. Nationwide there were an estimated 67,755 black-on-white aggravated assaults in 2010, as compared to with just 1,748 white-on-black crimes of the same description. In other words, blacks committed acts of interracial aggravated assault at a rate 200 times higher than whites (181 per 100,000 population versus 0.9 per 100,000). The physical threat to African Americans from whites is actually minimal compared to the epidemic of black violence against whites. The National Crime Victimization Survey reported approximately 13,000 black-on-white rapes in the United States in 2010, and 39,000 black-on-white robberies, both violent crimes against persons. By contrast, the numbers of white-on-black rapes and robberies reported in the same surveys were so infinitesimal that whites were estimated to have accounted for 0% of all rapes and robberies committed against black victims in the United States.

Blacks Commit 90 Percent of Interracial Crime. [Scroll down] Of the approximately 1,700,000 interracial crimes of violence involving blacks and whites, 90 percent are committed by blacks against whites. Blacks are 50 times more likely than whites to commit individual acts of interracial violence. They are up to 250 times more likely than whites to engage in multiple-offender or group interracial violence. There is more black-on-white than black-on-black violent crime. Fifty-six percent of violent crimes committed by blacks have white victims. Only two to three percent of violent crimes committed by whites have black victims. Blacks are twice as likely as whites to commit hate crimes.

Texas jury watches shocking video of robber setting clerk on fire, killing her. Matthew Johnson, 36, was caught on a security camera robbing the store and setting the clerk — 76-year-old Nancy Harris — ablaze. The woman died later died from her injuries, which included first- to third-degree burns across her upper body. Johnson faces the death penalty if convicted.

Home invasion suspects now face 35 charges each. The three suspects arrested in an Oct. 29 home invasion on the northeast side are now listed as co-defendants and will each face dozens of charges when they appear in court Tuesday afternoon [11/5/2013]. Alexander Dupree, 23, Trae Spells, 18, and Michael Pugh, 21, now face the same list of 35 charges. Those charges include criminal deviate conduct, rape, robbery, burglary, aggravated battery, criminal confinement, carjacking and more.

Codebreaker: When the liberal press says "teens," that really means "black teens."
Couple beaten by group of teens tells their story. At first glance, nothing looks wrong with Justin Winter, a tattoo artist in Tacoma. But when you hear his voice project out from his bushy beard, you can sense it is hard for him to talk about what happened one week ago, hard in a couple of ways. The most obvious difficulty comes from having his mouth wired shut. But, perhaps even more painful is the reason why he's in this situation. "Another human life means nothing to these kids," Winter says of what he calls a "pack" of young people who attacked him. "That's what disturbs me most about this."

16 American cities foreign governments warn their citizens about. [J]ust as State warns Americans about dangerous places to travel, so too do foreign ministries in other countries — and some countries warn their citizens to avoid heading to certain cities in the U.S. France, in particular, warns travelers to be careful in a large number of specific cities.

Potentially Fatal 'Knockout' Game Targeting Strangers May be Spreading. A terrifying new 'game' that's already caused deaths in Syracuse, St. Louis and New Jersey is sweeping the nation, and it preys upon unsuspecting people walking the streets, anywhere. [...] One victim shown in the footage was 46-year-old Ralph Santiago of Hoboken, N.J., who was found dead with his neck broken and head lodged between iron fence posts, according to NJ.com. Video surveillance shows Santiago walking in an alleyway in broad daylight, and just as he's about to pass a pack of teenagers, one launches the fatal, knockout blow.

Dontae Morris guilty of killing police officers. Dontae Morris could not overcome a "mountain of evidence," including a dashboard video recording showing him kill two Tampa police officers and then running away as they lay dead or dying on the side of a road.

CBS, NBC, ABC, CNN, MSNBC Primetime Ignore 'Knockout Game' . The major television media are ignoring the "knockout game," a vicious assault perpetrated by young African-American males against Jews and whites across the nation. In the assaults, unsuspecting pedestrians are punched violently in the head so that the black youths can prance around exhilarated about their successful "knockout." Many concussions and even deaths have been attributed to this "game," but networks such as ABC, CBS, NBC, CNN, and MSNBC have studiously ignored the issue, according to TruthRevolt.

A Very Dangerous Game. New York City police authorities are investigating a series of unprovoked physical attacks in public places on people who are Jewish, in the form of what is called "the knockout game." The way the game is played, one of a number of young blacks decides to show that he can knock down some stranger on the streets, preferably with one punch, as they pass by. Often some other member of the group records the event, so that a video of that "achievement" is put on the Internet, to be celebrated.

How Trayvon's Knockout Game Went Bad. If no one else, WND, the New York Post, and now Fox News have started paying serious attention to an urban pastime known as "the knockout game" or occasionally as "polar bear hunting," a phenomenon that has caused at least seven deaths and countless serious injuries. The "polar bear" refers to the invariably white or at least non-black victim of a hunt by a young black male, usually one of a pack of the same. The hunters tend to prey on those who seem vulnerable. This includes old people, women, children, and, most often, clueless male liberals [...] who have trained themselves not to "profile" young black men even when they approach with malice in their eyes.

Teen Playing 'Knockout Game' Shot Twice by Victim. A teen playing the "Knockout Game" in Lansing, Michigan unwittingly targeted a concealed carry permit holder and was shot twice. He survived and is now in jail. As Breitbart News previously reported, the "Knockout Game" thrives in areas where victims are unarmed.

Dangerous Games — "Point 'em Out, Knock 'em Out". A game called "Point-em-out, Knock-em-out" has made its way to Lansing, and it's exactly how it sounds. The game consists of someone being randomly targeted, then attacked. It's a game that has been growing with popularity on the internet, with teenagers filming themselves punching unsuspecting victims. Lansing had its first case of the game brought to light this summer, but it's possible that it has been happening under the radar for months.

Ingraham Battles O'Reilly Guest Over Media Ignoring Racially-Charged 'Knockout Games'. There is a disturbing trend now being noticed by a few news outlets this week called "knockout games." These games supposedly involve young black men randomly attacking people on the street. Laura Ingraham battled O'Reilly Factor guest Jasmyne Cannick on Thursday [11/21/2013] over the media's refusal to take on these racially-charged attacks in an honest way.

Police Unsure if Random Attacks Are Rising Threat or Urban Myth. Fear swept through Borough Park, Brooklyn, as soon as the news got out: A young man was randomly assaulted by strangers early Friday morning [11/22/2013], and the attack was possibly part of the so-called Knockout Game. Four men were arrested, but on Friday night only one was charged and the others were released. The attack added to a growing log of reports of such crimes in the Northeast and beyond. Young assailants were randomly picking unlucky targets and trying to knock them out with just one punch.

Another 'Knockout' attack in NYC yields four arrests. A round of the disturbing game "Knockout" — in which teenagers try to punch out unsuspecting passersby — ended with the arrest of four suspects in a New York City neighborhood Friday [11/22/2013]. The NYPD said the 24-year-old victim was walking in the Borough Park section of Brooklyn when he heard people talking about the game and then got walloped in the head.

Black Mob Violence: New Denials... and New Violence. The rules of the Knockout Game are simple: Gather a group of black people. Find a white person. An Asian will do. Punch them in the face until they are knocked out. Or dead. Or your arms get tired. If you relied on local and national news accounts, you would not know the violence has a racial component. But the video solves that problem. Many episodes of black mob violence and mayhem — including the Knockout Game — are recorded on video and posted on YouTube. Or Facebook. Or even bragged about on Twitter.

San Diego 'Knockout' Suspect Given Citation, Not Arrested. The "knockout game" may have come to California, as a San Diego man was reportedly punched in the face last week while he was walking on the sidewalk. The alleged assailant was not arrested and was only given a citation because there were reportedly no other witnesses to the attack.

Six 'Knockout' Attacks in New Haven, Connecticut. The New Haven Independent reported that a group of young men approached five males and a 68 year-old woman at different times on Monday and Tuesday [11/18-19/2013] evenings. In all cases, one of the young men in the group faced off with the victim, punched him or her in the face or head, then ran off with the rest of the group, laughing.

Knockdown games, bigoted receipts, and self-inflicted HIV. [Scroll down] In both cases, social media firestorms erupted over stories that inflamed certain passions and fulfilled certain expectations. The narratives were too good to check. But the press is suddenly very interested in "debunking" the Knockdown Game, building off a hysterical piece in Slate that alleges — based on nothing more than the deep-seated ideological convictions of the author — that the rash of random, racially-charged attacks can't possibly be happening. This Knockdown Game knockdown has to be one of the most bizarre media obsessions ever. It's an objective fact that the game is happening — even the "debunking" pieces admit it! — but they're trying to literally wish it out of existence, presumably because they don't like the commentary it's attracting from conservatives.

Fort Myers teen arrested after random attacks. The Lee County Sheriff's Office has arrested a juvenile in connection with two random attacks reported in Lee County. Traveshia Blanks, of Fort Myers, is charged with two counts of battery on a person 65 years of age or older. On Tuesday around 3:50 p.m., deputies responded to a report of a group of people who randomly attacked an unsuspecting victim in the area of South Pointe Boulevard.

Knock Out Black Self-Hatred. The "knockout game" is a prime example of the demise of black families across America. The goal of the "knockout game" is to catch someone off guard and try to knock him or her out in one punch. Many media outlets initially highlighted youth as the common denominator among the attackers. Other media outlets reported that the majority of the perpetrators were Black males. [...] How does an individual come to think it's fun to harm another human being, capture the attack on film, and share it with the world through social media? One has to wonder what is (or is not) going on in the households of the attackers.

NYT, NPR: Reports on Knockout Game 'Overblown,' 'No Big Deal'. Writing in Real Clear Politics, Larry Elder says the New York Times (NYT) and National Public Radio (NPR) are ignoring the black-on-white crime taking place in the "Knockout Game" — that the NYT and NPR view reports on the game as "overblown" and "no big deal." The papers claim these attacks "do not represent a trend."

The Knockout Game — NYT/NPR Say No Big Deal. The "knockout game" — and the media underreporting of it — combines the breakdown of the family with the media's condescending determination to serve as a public relations bureau for blacks. The "game" is a dare in which a young man — all the perps appear to be male people of color, mostly blacks — tries to literally knock out an innocent bystander with one blow. Both National Public Radio and The New York Times say these reports of the "knockout game" being widespread are overblown and do not represent a trend. Really?

Knockout Game Goes Terribly Right as Woman Wails on Her Attacker. Well, this participant of the knockout game probably will reconsider future engagements after being beatdown by the woman he punched. The video shows the assailant targeting the woman, who doesn't go down after he lands his punch. She turns around and starts punching him repeatedly in the head — but, only after the man next to her delivers an epic kick to the face.

Teen brothers accused of killing Iraq war veteran. Brothers Tryon, 19, and Tyshaune Kincade, 18, were formally charged Monday [12/9/2013] in the shooting death of Sergent First Class Jim Vester, 32, after arranging to sell the 12-year military veteran an iPad on Wednesday.

Police: 'Knockout game' type crimes hit Richmond streets. There is a group of teenagers going around Richmond and knocking out people on the streets, Richmond Police Det. W. Cutshall said. The teens then steal whatever they want from the victim. "It's two to three, sometimes four male juveniles knocking pedestrians or bicyclists to the ground," Det. Cutshall said. "When they knock them to the ground, they begin punching them and kicking them and taking whatever they have in their possession."

A Very Dangerous Game: The Knockout Game and Polar Bear Hunting. New York City police authorities are investigating a series of unprovoked physical attacks in public places on people who are Jewish, in the form of what is called "the knockout game." The way the game is played, one of a number of young blacks decides to show that he can knock down some stranger on the streets, preferably with one punch, as they pass by. Often some other member of the group records the event, so that a video of that "achievement" is put on the Internet, to be celebrated. The New York authorities describe a recent series of such attacks and, because Jews have been singled out in these attacks, are considering prosecuting these assaults as "hate crimes."

1 Arrested After Nun Hospitalized Following Assault And Rape. An 18-year-old has been charged in the brutal rape and beating of an elderly nun in Aliquippa. Andrew Bullock, of Orchard Street, faces at least 10 charges in the Friday morning attack.

Walmart employee reportedly shoots co-worker's car after they [sic] win Employee of the Month. A South Florida Walmart employee is under arrest after shooting up a co-worker's car hours after police said he grew disgruntled from learning the fellow worker had been selected as the store's Employee of the Month. Willie Mitchell pulled up to the unidentified Employee of the Month's unoccupied car earlier this month in the parking lot of the Deerfield Beach Walmart, rolled down his back window, fired a single shot into the vehicle and then drove off, according to CBS4 in Miami.

White-washing Mandela's Memory. After his mother was raped, and then murdered along with his father, sobbing 12-year-old Amaro was gagged and drowned in scalding bathwater. And that's how the youngest member of the Viana family became a statistic: another in a long line of white South African victims of black violence. It's an understatement to say that such crimes have a racial component, yet the government run by the African National Congress — Nelson Mandela's party — denies even that.

Jon Stewart Chuckles Over 'Knockout Games,' Claims [it is] not a Trend. Stewart brought up the brutal attacks on The Daily Show Monday night, chortling along as he described a series of physical assaults on innocent victims. The liberal comic couldn't scrounge up much sympathy for the victims, nor did he think it might be helpful to boost the penalties against such assaults. [...] Instead, he used his favorite tool — the cherry picker — to insinuate the trend doesn't actually exist while calling once more for stricter gun controls.

Man shot dead during Melbourne break-in, police say. A man who allegedly broke into a Melbourne home was killed Sunday morning when the homeowner shot him, police said. Jermaine Williams, 28, was shot around 2:13 a.m. at a home in the 1100 block of Mathers Street. He was pronounced dead at Holmes Regional Medical Center.

Mayoral candidate beaten up by two teenage girls with a billy club at Mall of America Starbucks. A former Minneapolis, Minnesota mayoral candidate was mercilessly beaten up by two teenage girls after having his cellphone stolen at a Mall of America Starbucks. [...] When Mr Andrew fought back, one of the women, 18-year-old Letaija Shapree Cutler-Cain from Brooklyn Park, gouged his face with her fingernails and said: 'I'm going to kill you! Let me go or I'm going to kill you'. Mr Andrew says it took about five minutes for police to arrive [...]

The Editor says...
Assuming the police have a full-time presence in the mall, as is the case in most shopping malls, the mall must be enormous if it took the police five minutes to get to a violent assault.

Ohio woman stabs sister during Christmas fight over apple fritters. A fight over apple fritters among sisters on Christmas night led one of the siblings to allegedly stab another in the chest in Akron, Ohio, police said Friday. Contisha Hayes, 21, and Tamara Delaney, also, 21, were play fighting over the fried sweets when it became more serious and one pulled the other's hair, according to a third sister at the scene who was making the fritters, police said.

Elderly man assaulted in Glen Burnie robbery. An elderly man is recovering after he was assaulted and robbed while walking home from an Anne Arundel County McDonald's Monday [12/30/2013]. The 89-year-old victim told police three teenage boys struck him in the head and knocked him to the ground near Cloverleaf and Four Leaf Clover drives in Glen Burnie.

Popular sorority member 'shot dead by another woman in front of terrified friends in road rage dispute'. A violent ex-con has been charged with multiple counts in the road rage shooting death of a 21-year-old female Georgia college student. Sparkles Lindsay, 22, followed Kimberly Kilgore, 21, into her gated apartment complex last year and shot her to death while her best friend sat in the passenger seat and watched in horror, police say.

LA's 'death alley': a Two-mile stretch of road which has had 60 homicides in seven years. A new series of photos shows a daily life in Westmont, Los Angeles — including a 2-mile stretch where 60 people have been killed since 2007. Nicknamed 'Death Alley,' it is part of the city's South Vermont Avenue, and goes up to the Imperial Highway. Most of the people killed on this road were shot to death.

Flint police believe assault on MTA bus driver part of so-called 'knockout game'. Police say a Mass Transportation Authority bus driver was punched in the face as part of the so-called "knockout game" that's gained national attention. The "knockout game" has been blamed for attacks in several cities and involves suspects punching strangers for no reason.

The Editor says...
The blacks do not punch out random white people for no reason, as claimed in the article above. There is an obvious reason for their actions: The blacks who attack random whites do so because they hate white people.

2 more arrests made in vicious beating of an elderly Chickasaw man. On the same day charges were dropped against a teen accused of participating in the savage beating of a 86-year-old man, two other suspects were arrested in the case, according to Chickasaw police.

'Knock That White Boy Out': Arrests Made After Mob Of Teens Attack Disabled Vet. Cleveland authorities have made several arrests following the mob beating of a disabled Army veteran by a group of teenagers. Last Friday [2/7/2014], the victim, Matthew Robinson, was surrounded by between six and eight teenagers while riding the RTA Healthline. Robinson told WOIO that he was attacked by the teens, then robbed of his possessions. During the attack, the teens made several derogatory remarks about Robinson. "What they were saying was, 'Knock that boy out!' 'White boy.' 'Cracker,'" he was quoted as saying about the incident. "They were saying, 'Knock that white boy out.'"

Man accused of violent carjacking of 77-year-old woman arrested. James Farley, 18, allegedly violently removed Charlesey Smedley from her vehicle and threw her to the ground before around 2 a.m. on Jan. 13, deputies said.

Kroger stabbing victim still recovering at UK Hospital. Lexington Police say on Wednesday afternoon [2/12/2014] Corey Lane Cummins 44, came up from behind and stabbed Sara Gretz, 77, in the neck at the West Lowry Lane Kroger. Police arrested Cummins, charging him with 1st degree assault. She's retired, married, and busy with grandchildren. It was just another midday trip to the grocery store when her day took a life-threatening turn.

Pride weekend attacker found guilty. Christopher Porter-Bailey, the man arrested in a brutal robbery and attack during San Francisco Pride weekend, has been found guilty in the assault of the woman, the District Attorney's Office said. The June 30 attack was captured on video. In the widely circulated clip, a woman sits dazed on the sidewalk after three men punched her and stole her phone. Having gotten what they came for, the group moves along, but then Porter-Bailey turns back and delivers a violent kick to the woman's face.

Black mobs terrorize Victoria's Secret shoppers. Some were surprised to hear about the black mob violence on Valentine's Day at Victoria's Secret in Norfolk, Va. Not at the violence: The Galleria at Military Circle has been the site of dozens of episodes of racial lawlessness over the last two years, most of which has gone unreported in the local newspaper. The surprise is that this mall is still open. Most of its major tenants are gone or leaving — Sears, J.C. Penney's, the nearby DoubleTree also closed. The big draw there now is a movie theater with cheap tickets.

Cambridge Police: Mass. Ave. Sucker Puncher Not Part Of 'Knockout Game'. Cambridge police say the man wanted for sucker punching at least three people over the weekend is not part of a disturbing national trend known as the 'knockout game.' The series of unprovoked attacks happened in broad daylight Saturday afternoon between Massachusetts Avenue and Trowbridge Street.

The Editor says...
Does a perpetrator need to show an official "Knockout Game" membership card to be included in this trend?

Bible stops two bullets to save life of Ohio bus driver, police say. A Bible saved the life of a Ohio bus driver after the man was shot twice in the chest early Monday [2/24/2014], police said. Rickey Waggoner, a Dayton RTA bus driver, was making a mechanical fix outside his bus when three assailants approached him and shot him in what appears to have been a gang initiation, the Dayton Daily News reported.

RTA bus driver: Attack on me a 'gang initiation'. An RTA bus driver survived being shot and stabbed in a seemingly random attack Monday he told police occurred during what he believes was some kind of gang initiation. Rickey Wagoner, 49, of Trotwood, was standing outside his bus in the 1900 block of Lakeview Avenue when three males assaulted him. He described his attackers as black teenagers who were wearing dark colored hoodies. All three wore dark blue bandannas to obscure their faces.

The Editor says...
There is no doubt that the victim described his attackers immediately after the incident took place, yet earlier news reports actively suppressed the primary component of that description.

Guess what adjective first appears in the 17th paragraph.
Police: Man punches people in face, runs to getaway car. Ames police are investigating multiple reports of a man randomly punching people in the face. Two assaults were reported on the same day, Feb. 16. The people reported to police that a man punched them in the face in two separate incidents. [...] Police said the man involved was a black male about 6 feet tall with dreadlocks that might have had yellow or highlighted tips.

Obama Creates Cabinet-Level Agency for People Like Him. Today [2/27/2014], the Obama administration is unveiling a progressive initiative called "My Brother's Keeper" to help young black men and minorities train for and get jobs. [...] The co-authors not only trade on the race card, they fail to mention Obama has not done a bang-up job in stemming the tide of black unemployment, low graduation rates and urban crime. In fact, his policies over the last six years have exacerbated the problems in the inner city. Not only are black-on-black crimes epidemic, he and his fellow race-baiters like Eric Holder have fueled black-on-white hatred. The knockout assaults and cold-blooded murders of whites are routinely downplayed and ignored by mainstream media; while black victims are elevated to martyr status.

Police: Violent home invasion one of worst attacks in Madison. Police arrested six people believed to be involved in what they're calling one of the most brutal crimes in recent memory. Madison police say three men planned a home invasion, but broke into the wrong home on Quincy Avenue on the north side around 6 a.m. on February 23. Police say the suspects were aware it was not the intended home, but they proceeded to violently attack the two victims who had been sleeping. The suspects are accused of repeatedly sexually assaulting the woman who was six months pregnant.

Authorities: Attackers who beat man, assaulted pregnant woman meant to target neighbor's home. Madison police say the attack was spurred by a neighbor's girlfriend, who hoped to have him robbed.

2 dead, 23 hurt after car hits crowd outside SXSW venue. According to The Austin American-Statesman, the car, which was being pursued by a DWI task force officer, ran through a barricade near the venue at 12:30 a.m. The driver reportedly struck several pedestrians before striking a scooter, killing the man and woman on board. The driver then hit a taxi, injuring two, and crashed into a parked van.

Car plows through crowd at SXSW in Austin, kills 2. A driver who plowed into a crowded street at a popular festival in Austin this week, killing two people, was charged with capital murder, police said Friday [3/14/2014]. Rashad Charjuan Owens allegedly tore through the crowd while drunk, running over people and hitting other cars. At least 23 others were injured. Police caught Owens, 21, after an alleged foot chase, and Tasered him. His bond was set at $3 million.

Driver in deadly South by Southwest crash 'intentionally' drove car into crowd, report says. Austin police said a rapper with a criminal history "intentionally" drove into a crowd Thursday morning [3/13/2014] at the South by Southwest festival, killing two people, MyFoxDFW.com reported. Rashad Owens, 21, who police say was behind the wheel, faces charges of capital murder and aggravated assault with a deadly weapon.

Suspect in Deadly South by Southwest Crash Charged. The drunken-driving suspect who police say killed two people after he smashed his car through a street barricade at the South By Southwest festival did not use his brakes and even accelerated as he approached crowds, according to an arrest warrant released Friday.

Minnesota: Another Somali gym attack, followed by violent home invasion. A bloody ambush robbery of a Life Time Fitness member in an Eden Prairie locker room left the man badly beaten, and one of his two assailants unleashed a similar attack on a resident in a randomly chosen home in the city about an hour later, according to charges filed Tuesday. Arrested and charged in the Sunday attack at Life Time Fitness were Dalal B. Idd, 18, of Eden Prairie, and Kamal E. Maqadin, 26, of Shakopee.

Teen Allegedly Kills Man for Cell Phone Then Complains of Phone's Quality. On February 23rd 17-year-old Byron White allegedly killed a Seattle man for his cell phone then complained that the cell phone "was not a nicer model." According to The Seattle Times, White was charged as an adult on March 4th "in connection with the fatal shooting." Other charges include "second-degree unlawful possession of a firearm and second-degree attempted robbery."

Seattle teen kills man for cellphone — then complains the device is too cheap: cops . A Seattle teen shot and killed a man for his cellphone — then went to a friend's house and complained the stolen gizmo wasn't nice enough, police say. Byron White, 17, now faces charges as an adult for killing David Peterson last month in the Washington city's Greenwood neighborhood.

The Editor asks...
Was his "friend" an accessory after the fact?

Shots fired, large fights terrorize Kansas City Zoo goers. As police continue on Wednesday to investigate Tuesday's [3/18/2014] violence at the Kansas City Zoo, city leaders are looking at changes to the zoo's free admission days for residents of Jackson and Clay counties. Kansas City Zoo goers described Tuesday afternoon running for their lives after hundreds of teens were involved in fights inside the zoo and shots were fired in a zoo parking lot.

The Editor says...
Here's a tip: Always stay away from events with "free admission."

Teen arrested in 'knockout' assault of disabled man. A 16-year-old was arrested Friday, accused of attacking a disabled man pumping gas last month. Kevin Johnson is charged with abuse of a disabled adult in the Feb. 4 attack at the Hess station on Merrill Road. Michael Caraway was walking with a cane when he was struck in the face by a group a teens he believes was playing the "knockout game."

Downtown assaults by group of teens probed. Louisville police are investigating a series of assaults by a roving group of teens in the downtown that a spokesman said sent at least two people to University Hospital Saturday night [3/22/2014]. Spokesman Dwight Mitchell said the incidents started about 9 p.m. and involved about 10 to 15 teens assaulting apparently random victims in seven or eight incidents.

APD: Waiter needs stitches after woman hits him with glass dish. Investigators said it happened at the O'Charley's on Clemson Boulevard around 2 p.m. Thursday. Police said the server, Terry Davis, reported that customer Brittany Williams was very disrespectful toward him. He told Williams he was going to get a manager to speak to her. Davis said that's when Williams got up, started cursing at him and threw a glass dish at his face. "All I could remember is this salad plate come flying in the air and she slung it like a Frisbee — hit me right there. And I had credit cards and receipts in my hand and I remember falling down on the floor. It just dumbfounded me," said Davis.

Nothing to see here, move along. Ho-hum, a mob of 200 teenagers rampages through the downtown of an American city, assaulting and hospitalizing people and robbing stores. The mayor calls for calm. And nobody outside that local media market, where it cannot be ignored, hears a thing about it. Now why would that be? Could it possibly be because surveillance video from a convenience store that was robbed shows all the miscreants were black?

200 teens RIOT in Louisville Sat night robbing, assaulting people. Riots broke out in Louisville, Kentucky on Saturday night, according to WDRB News, when 200 teens began robbing and assaulting people, including a 13-year-old girl and a man trying to help her. A woman who was parked in her car with two children in the back seat said she was also assaulted by a group of teens. She told police they repeatedly punched her and threw trash cans at her car. WDRB News also reports that a large group of teens robbed a convenience store, assaulting the clerk as he tried to shut the doors on them. They actually have surveillance video of this attack and all the teens shown appeared to be black.

Jacksonville Channel 4 falsely portrays black on white hate crime attacks as having a white perpetrator. For years we have talked about how the media censors black crime. Many major media outlets now openly admit to having a policy of censoring black crime perpetrators. However, an even more sinister form of censorship is rising. This is what we call Stage 2 censorship of black crime. Where the media purposely leads you to believe that a black crime perpetrator was actually a white guy.

Black Mob Violence in Macon. It started out with a snowball fight among 30 black people at the Warner Robins High School. The kids were on a snow day. [...] Of course there were pictures. And laughing. They made their way to Facebook and Twitter, with the alleged assailants bragging and having a good old time recounting their snowy victory. Police used the triumphant photos to crack the case and arrested Shymalik Raekwon Mitchell and Terrell Antonio Boyd. Both 17 years old. They were charged with a variety of crimes including assault.

Chick-Fil-A targeted by black mob. The large scale mayhem began when hundreds of "teenagers" tried to rush — without paying — into local showings of Tyler Perry's "A Medea Christmas and Mandela: Long Walk to Freedom." When security put an end to that, the mob took the mayhem outside. After lots of pepper spraying and 90 minutes, police brought the crowd under control. Five were arrested. If [Terry] Pulliam thought it was significant that everyone involved in the mayhem was black, he did not say. Instead, he said he just could not figure out what these "teenagers" were up to. Neither could an anchor of the Channel 4 news: It looked as if there were "dozens of people" there, she said, missing the real number by 700 or so.

Black Mob Violence in Rochester: Get Used To It. Rochester does not have a problem with black mob violence. Or black on white crime. The city does, however, have a problem with white people who are not used to it. So says a Rochester city councilman. The latest example is a "disturbing" video of a group of black people laughing and dancing as they talk about how they are going wait for an "old lady" to leave a convenience story, then smash her in the face with a snow ball. And a fist. Which they did. Thanks to the efforts of local activist Davy V., police have a copy of the video and know who the culprits are.

Black attackers leave trail of beatings, vandalism. As black mob violence goes, the recent racial mayhem at the Florida State Fair in Tampa was not that big of a deal. Sure hundreds of black people were fighting. On video. Police were attacked. Property destroyed. Fair-goers beaten. Venders assaulted. Cell phones stolen. An old lady in a wheelchair robbed. People jumping fences and refusing to pay for rides. The fair closed early. And most of the media glossed over most of it. Despite the fact that officials even said they expected it.

Black mob breaks a man's jaw, fractures face. The racial beatings are back in Denver. Just like last year, the year before and the two years before that. Then, like now, the alleged perpetrators are black. The victims are not. This time, however, police told anyone who wanted to know about the pattern of racial violence. And how at least one victim said he and friend were part of the "Knockout Game." Some Denver media thought it was important to report the description. Others, however, followed the lead of the Denver Post, which said the attacks were "random" and refused to report the race of the alleged predators.

Knockout Game fueled by 'Holder effect'? When Barack Obama — the son of a black father and white mother — was elected president in 2008, many hailed it as a monumental step forward for racial reconciliation in the U.S. But five years into his presidency, is the Obama White House actually making racial tensions worse? That's the charge of Russ Vaughn, who posits in an American Thinker commentary that Attorney General Eric Holder's treatment of the "Knockout Game" phenomenon is revealing the White House's racial agenda is more concerned with retribution than reconciliation.

Austin, TX: More black mob violence, more liberal denial and media silence. The white liberals of Austin want us to know that race had nothing to do with the 200 black people who fought, destroyed property, and threw rocks at police a few days before Halloween. White people do it all the time, said Katie Friel, who writes for Culture Map Austin. But the only time anyone calls it a riot is if it involves a large number of black people, she says.

The Editor asks...
What is "a large number of black people"? More than 9? More than 49? More than 199?

Roving black mobs too many to ignore. WHAS-TV News described one of the assaults as a "fight." But it was hardly that. "It was a group of black teens," said Craig Roberts of Louisville. "Wonder why they won't mention that." [...] Writing in the Louisville Examiner in 2011, Thomas McAdam exposed Louisville's dirty little secret: "Sadly, this idyllic urban oasis is fast devolving into a target-rich environment for roving bands of thugs. ... The dirty little secret that City Hall wants to hide from the public is the fact that Waterfront Park is not a very safe place for families, particularly after dark." McAdam went on to describe an incident where 200 black people beat a disabled person at a bus stop after a minor league baseball game. The man went to the hospital with a fractured skull.

Preacher blames city's black violence on slavery. Curiously, the [Wilmington, Delaware] city council was instrumental in killing a $250 million deal to privatize the Port of Wilmington last year. The Port is losing $8 million a year but city officials and union leaders convinced the state to stop the deal because building a new port would somehow kill jobs. And without jobs, there is violence. As the city made its way to what would be record numbers for shootings — 154 shot and 18 dead are the final numbers for the 2013 — the city council found a new excuse in December. It passed a resolution declaring that black violence in Wilmington was the result of Post Traumatic Stress Disorder brought on by slavery.

Activists: Cause of waterfront violence is key to preventing more problems downtown. "They shut down the movies, a party organizer who bills himself Young Commercial. You can't go after 6 without a parent. But you go to Waterfront. Basically they go down there to have a good time. [...] Community organizers won't call Saturday's mob violence a case of wilding waiting to happen. But they caution that it could foreshadow a difficult spring and summer. If we don't get it now — try to do things, better steps to stop it from happening, somebody else is gonna get really hurt, Young Commercial said.

Woman attacked by mob of teens says she was scared for her life. It was around 8 p.m. Saturday when Viola Loeffler says she and her family were attacked at the intersection at First and Liberty. "Right before we got to the stoplight, we noticed about 50 to 100 teens coming to the middle of the street. It was a one-way street so we couldn't go any further. All of a sudden, one of them throws a garbage can on our car," said Loeffler. Loeffler says after that, the situation quickly escalated. Her boyfriend, Ron Carter, was in the driver's seat and stopped the car to see what was going on. They say when he got out, the teens moved in on him.

LMPD investigating string of attacks in downtown Louisville. LMPD officers responded to numerous calls between 7:45 p.m. and 9:45 p.m. Saturday night involving a large group of teenagers. According to police, around 200 teenagers were gathered at the Big Four Bridge when 12 people started assaulting and robbing a 13-year-old girl. When an adult male tried to intervene, the group turned on him. Once police were called to the scene, officers dispersed the large group of teens.

Downtown business owner says violent teen mobs [are] not uncommon. Police said that Saturday night's rampant vandalism and violence was an isolated event. But those who have seen groups of teens terrorize the area just south of Waterfront Park before, say it's nothing new. [...] The manager of Bader's Market, Adam Bader, said it only took a few minutes for the teens to descend on the convenience store. "As soon as he saw them coming over, he tried to lock the door," said Bader of the clerk on-duty Saturday night. Unfortunately, the man was too late. Surveillance video shows the mob trying to force entry, and police say they even punched the man several times as he tried to close and lock the doors.

Why is the Media Whitewashing Black Flash-Mob Violence? In the latest occurrence of flash-mob violence, 10-15 young people attacked four men in Denver earlier this week. Multiple attacks similar to this one have taken place across the country this summer with one disturbing similarity: The media has generally refrained from reporting that the attackers have generally been black — while their victims have usually been white.

CMPD charge 4 teens in connection with man's death. Charlotte Mecklenburg Police said they have charged a fourth teenager in connection to a violent crime spree early Sunday that ended with one man dead in his driveway. Police said Randy Shawn Lloyd, 16, turned himself in at police headquarters Monday afternoon — more than 24 hours after he jumped and ran from officers who had spotted the stolen car he was driving.

Prosecutors won't charge janitor, say he killed teens in self-defense. Milwaukee County District Attorney John Chisholm announced Wednesday that Jeremy Rossetto will not be charged in connection with the March 12 shooting death of two teens who were hitting him with a souvenir baseball bat. The district attorney's office reviewed the police investigation, interviewed witnesses and viewed witness cellphone video before concluding that Rossetto shot the teens in self-defense.

Would-Be Robber Shot, Killed by Resident. Police say two masked men with guns attempted to rob the residents of a home in the 2600 block of Shadyside Avenue just after 7 p.m. A resident of the home got into a fight with one of the would-be robbers over his gun. A struggle ensued, and the robber, identified as 26-year-old Dexter Manigault of northeast D.C. was shot. He and a co-conspirator fled the scene in a getaway car, driven by a third suspect.

Police Believe Crime Wave Began Near UofL Campus. The spree of armed robberies has been going on since February. At least 40 victims have been identified, including two people who were shot and two who were victims of sexual assault over the weekend. [...] [T]he suspects, who generally work in groups, are African Americans, wearing dark clothing and masks, are always armed.

Obama's 'children' on a rampage. [T]his month in Kentucky, a mob of 50-100 teenagers were involved in looting, assaults and robberies in downtown Louisville. One woman, Victoria Loeffler, said a group surrounded her car, punched her in the face and threw rocks at the car which had her five children in her back. Police confirmed that there were 17 such incidents that weekend. Ms. Loeffler said she was in fear for her life. Also, in March 2014, a female Temple University student, 19, was hit in the face with a BRICK by a gang of black children. This incident received more coverage in the U.K. then in Philadelphia.

Louisville men accused of trying to start riot on Southern Ave.. Police say officers were called to [an] intersection after they received a report of a fight involving an officer. When they arrived, they allegedly found 26-year-old James Bivens and 21-year-old Prieshen D. Mitchell "creating a public disturbance." Police say as Bivens was being arrested, he told an officer that he was "calling his people." A short time later, police say more than 20 people showed up.

Another young-black-on-elderly-white hate crime.
Elderly couple attacked in restaurant. An elderly couple was attacked at a restaurant when they asked a woman to refrain from cursing while talking on a cell phone, according to police. The incident happened at Cuisine of China on Geyer Springs road. In the police report, Don Francis, 74 and his wife Bettye Francis, 69, say they were attacked by Joecelyn Thornton, 33, after Francis asked her to stop cursing.

Police arrest 4th suspect for attack on 83-year-old man. The attack happened early Tuesday morning, April 1st, and Police spent much of the week tracking down three teens named as suspects of the crime. Due to the 10 News Crime Guidelines, we identified the juveniles only to aid police in their search. Once they were taken into custody, 10 News chose to withhold their names and any images of the teen suspects. Police did not indicate there was a fourth suspect until Monday night, when they announced the arrest of 20-year-old Marquez Dunbar.

The Editor says...
The TV station, by its own admission, suppressed images of the suspects after they're caught. I suspect this is done because the viewers would quickly see a pattern when nearly every suspect in a violent crime looks surprisingly similar.

Knockout game comes to Dayton, teens facing felony. The video [in this article] shows Ronald Baird using a cart to collect cans near East Fifth Street last month, then one of the teens suddenly runs up behind him and punches him in the head. He abandons his cart and runs. His attacker keeps chasing him, striking him again in the head and demanding his wallet. They got the man's wallet and $3 cash.

'White man tried to tussle with me so I shot him'. A 16-year-old was today arrested and charged over the murder of Nathan Trapuzzano, the newlywed who was shot dead as he took a morning walk. Simeon Adams, known by the nickname 'Red', is alleged to have confessed to a friend that he shot Nathan once in the stomach — after the newlywed, who was expecting his first child, reached down to his shoes as Adams made him strip during the robbery.

Teen murder suspect smiles, laughs before hearing. A teen murder suspect didn't have much to say about his role in the shooting death of a young father-to-be in court Thursday. When asked by FOX59 about the fatal shooting, Simeon Adams, 16, laughed and smiled before his initial hearing in the case Thursday. The teenager is charged as an adult in the murder of 24-year-old Nathan Trapuzzano, who was shot and killed on April 1.

Parolee Charged In East Nashville Pharmacy Robbery. Officials with the Metropolitan Nashville Police Department said 22-year-old Justin Conyers entered the Rite Aid on Gallatin Avenue around 10:40 a.m. Wednesday [4/9/2014] and acted as if he was going to buy something. He then allegedly walked behind the counter, placed a knife against the clerk's throat, and then took cash from the register.

FBI: NC Inmate Helped Orchestrate Kidnapping. A North Carolina inmate described as a high-ranking member of the Bloods street gang faces a federal kidnapping charge after authorities say he used a mobile phone to help orchestrate the abduction of a prosecutor's father.

Now they're reported three at a time.
3 recent attacks in Worcester believed to be part of 'knockout game'. Police are investigating three recent attacks in the city they believe are part of the "knockout" game, in which an unsuspecting person is attacked for no reason with the goal of knocking the person out with one punch.

Kansas City investigates possible serial shooter on highways. Kansas City police announced Friday that they officially linked 12 highway shootings to a serial shooter or shooters believed to be driving while the shots are fired. A 630WPRO.com report said police are focusing their investigation between Kansas City and a few surrounding neighborhoods. There are 20 cases being investigated.

The Editor says...
Sounds to me like the "knockout game" is being played with a gun instead of a fist.

Kansas City residents breathe easier after highway shootings suspect nabbed. The man charged with shooting at motorists on Kansas City highways apparently fired a .380 pistol from his own car before speeding away, documents released on Friday [4/18/2014]said. Authorities identified the suspect as Mohammed Pedro Whitaker. He is 27 and lives in Grandview, south of Kansas City, reported CNN affiliate KCTV-TV. He was charged with 18 felony counts covering nine incidents and is being held under $1 million cash bond. Probable cause statements show police connected the shootings through .380 bullets found in the vehicles.

Highway gunman who 'fired at 12 random motorists during month-long crime spree' arrested. A suspect has been taken into custody in connection with a string of random highway shootings that left three people wounded in the Kansas City, Missouri, area. The male suspect has yet to be named as no charges have been filed, police chief Darryl Forte told a press conference on Thursday evening. Police said last week that they had connected 12 shootings since early March that have targeted vehicles on Kansas City-area roads.

Kansas City Highway Shooting Suspect Charged With 18 Felonies. The man suspected of shooting at cars as they traveled on Kansas City, Mo., highways in recent weeks has been identified and charged with 18 felonies, authorities announced today [4/18/2014]. Mohammad Whitaker, 27, is accused of shooting into at least nine cars, injuring two of the drivers, in incidents dating to the beginning of March.

8 charged in South Bend toddler's shooting death — 2 still on the run. Eight people are facing criminal charges for their involvement in the murder of 2-year-old John Swoveland Jr. of South Bend. Police say the shooting happened during a fight between two rival gangs.

Teen accused of poisoning grandmother's Easter Sunday collard greens. A teenage girl is in jail after authorities said she poisoned her grandmother's food on Easter Sunday. Tyt'ana Lisa-Nicole Johnson, 17, of Harrison Street, poured insecticide and termiticide into a cooking pot of collard greens while Gaylon Moody, 51, her grandmother, was at an Easter church service, according to arrest warrants. In a phone interview Thursday night, Moody said the incident happened because she took away Johnson's cellphone.

A version of 'knockout game' stirs outrage in Austin, Texas. A YouTube video has gone viral that shows a black teen slapping a black Wendy's cashier in the face and then running away — part of a little-known trend called "smack cam." The incident provides an unsettling glimpse into black-on-black violence — and black thug culture. The incident in Austin, Texas, is being investigated by the local police. It is especially disturbing because of who was involved: not only two black teens or pre-teens but a black adult female who appears to be a guardian or role model. Identified as "CB," she drives the get-away car; it's not clear if she also narrates the video.

Man allegedly claims Islamic Law gives him to right to kill wife. Police say a valley man threatened to kill his wife, telling his victim "Islamic Law" gave him the right to kill her. Ansar Muhammad, 43, is facing several charges, including assault and imprisonment.

Time: "Young Black Men Murder 14 Times More than Young White Men. On the one hand, we have ghettos where children grow up without fathers, graduate to gang violence and then shoot each other... and occasionally white people. And we have a black middle class that isn't willing to break with that way of life. It used to be the white liberal upper class that enabled black thuggery for entertainment and political purposes. But these days it's the black middle class that has to take some responsibility for refusing to say no to thug culture while taking refuge behind racism.

Don't Ignore Race in Christopher Lane's Murder. Australian Christopher Lane was killed on Monday [8/19/2013] in Oklahoma by three teens, one of whom has said they were just "bored." The right is complaining that the media is making nothing of the fact that two of the teens were black whereas Lane was white, as opposed to the massive alarm sounded in cases such as white (or white-ish) George Zimmerman killing black Trayvon Martin. And again the cry was heard that there is more "black-on-black" or "black-on-white" crime than "white-on-black," and that young black men are in fact more of a problem than people like Zimmerman.

4 Gang Members Indicted in Capt. Kevin Quick Murder; 5 Others Charged in Case. According to federal court documents, four people have been charged with murder in the death investigation of Capt. Kevin Quick. Daniel Mathis, Shantai Shelton, Mersadies Shelton and Travis Bell (a.k.a. Kweli Uhuru) are charged with murdering Quick. The capital murder charge could carry a very serious penalty, according to U.S. Attorney Tim Heaphy. "That is a penalty up to the death sentence in this case that is available for that offense."

White Vacationers Attacked by Black Mob. In an apparent racially motivated attack, a white family was assaulted, pummeled, and robbed by a black mob while enjoying Mother's Day weekend in Savannah, Georgia. On Saturday, May 10, Rob Gray and his brother-in-law Jim Thomas, both of Atlanta, and their families were in a tourist-oriented part of Savannah when the trouble started. [...] Unfortunately, the attack upon the Atlanta family is just one of the latest in a spate of black-on-white assaults. These often take the form of mob violence or the "knock-out game," which is virtually always "played" by black teens who ambush a (usually white) victim with the goal of knocking the person out with one blow. This "game" has resulted in numerous injuries and even deaths during the last few years. Despite this, these stories get knocked out of the news, at least in the national mainstream media.

House Torched In Black-On-White Revenge Attack. A black teenager is facing charges as an adult for what authorities are describing as the revenge arson of the home of a white woman and her two children. And his arrest, and that of a juvenile, may be just the tip of the iceberg, authorities say. Already, Thaddeus Shields, 18, is facing a court hearing this week on the count, and a 17-year-old whose name was not released is facing juvenile court. Authorities, meanwhile, say their investigation continues and more perpetrators may be arrested and charged in the attack in Middletown, Ohio. The alleged black-on-white crime earlier this week culminated a campaign of terror against the mother, according to a report by WCPO-TV.

Thug report. Much like this page, with more anecdotes and less detail.

16-year-old killed Pennsylvania cabbie for rejecting his route, police say. A 16-year-old who believed he was being ripped off shot and killed a northeastern Pennsylvania cab driver who refused to take his shortcuts, police said.

Reward offered in robbery Durham's The Pit. Three armed men burst in through a back door of The Pit restaurant on Geer Street about 9 p.m. Sunday, demanding access to the safe. [...] Police investigators described at least two of the suspects as black men in their 20s to early 30s, between 5 feet 8 and 5 feet 10.

How are white-black relations our nation's city buses? New York City: An attacker pummeled a bus passenger so hard he smashed the bones in his face after calling the victim a "cracker" in Manhattan — marking the second time in two days that people appeared to be randomly targeted in racial tirades against white people, authorities said. The victim was treated for facial fractures at New York Presbyterian Hospital and released, police said.

Groups of Black people attack Whites at Iowa State Fair. Roving gangs of white youth attacking non-whites is a product of Hollywood fantasy, but the opposite is grounded in reality and happens with increasing frequency.

20 young men kick, punch group in Dartmouth swarming. Halifax Regional Police say the injured man was out with four other people when they were punched and kicked by the larger group. The attackers stole a backpack, which was later found by the K-9 unit. Police believe this was a random attack. No arrests have been made. Police describe the attackers as a group of 15-20 black men in their late teens or early twenties.

Clearwater businesses worry about effects of shootings. A gun battle outside the Hyatt Regency Clearwater Beach Resort and Spa — followed by a second shooting just down the street — on Memorial Day left visitors and business owners wondering whether the publicity would damage Clearwater Beach's reputation as the family-friendly get-away. "I'm kind of concerned about the foot traffic and the tourism now," Jessica Palmer, who sells tickets at Sea Screamer, which guarantees dolphin sightings during its boat tours, said Tuesday."... so now if they hear there was a shooting they won't want to bring their kids to the beach."

Memorial Day Racial Violence Even More Widespread than Previously Reported. I have to apologize to the readers of American Thinker. Last week, I wrote about more than a dozen episodes of black mob violence around the country over the Memorial Day weekend. Turns out I was wrong: I missed at least three examples of large-scale racial violence. Or 300 depending on how you count. So let's see if we can make up for these grievous errors of omission, starting in Chicago.

San Leandro mob attacks prompt 'wilding' task force. San Leandro police are creating a task force to tackle recent cases of "wilding," robberies and other attacks said to be committed by large groups of people, including an incident in which a group briefly tried to take a car with a 2-year-old child inside, officials said. Police said there have been at least three incidents in the city over the past month in which mobs of assailants have targeted victims for their cell phones, electronics, expensive sneakers and other property.

Teen violence: Racial assaults are a national problem. Evidence of teen violence goes back to the Wisconsin State Fair in 2011, Philly, Chicago and spring 2014 in Louisville. They all have in common the attacks are by black, teenaged boys and girls. And most of the victims are white. The race factor is not something officials like to talk about. One UC criminology professor says that silence could be deadly. To some who called 911, the race factor was obvious. 11 victims filed reports saying they were kicked, punched or stomped by a group of black teenagers or young adults, boys and girls. Ten of the victims were white, one was Asian. Two reported racial slurs. Noelle Findlay was so certain the assault was racially motivated; the police report says hate crime.

Cincinnati Station Says 'No' to PC Reporting on Racially Motivated Crime. A remarkable thing happened in Cincinnati on Thursday [6/12/2014]. WKRC-TV, which has taken to calling itself "Local 12," did a story on the growing problem of black-on-white teen mob violence — and called it black-on-white teen mob violence. The event where the violence occurred took place two weeks earlier during Memorial Day weekend at the city's Taste of Cincinnati event downtown.

The Skid Row Bust That Netted 50 Crips. On Tuesday morning [6/17/2014], more than 1,300 LAPD and FBI officers arrested 50 people associated with the Five Deuce Broadway Gangster Crips, a street gang that claims control of the neighborhood just west of Skid Row and has long preyed on the more than 5,000 homeless and often mentally ill Angelenos who live on the streets there. "What makes the conduct of this gang particularly insidious is not only the violent crimes alleged," said United States Attorney André Birotte Jr., "but also the exploitation of Skid Row drug users who are already living in difficult circumstances."

Family Of Man Shot While Robbing A Waffle House Calls For Stricter Gun Laws. Dante Williams, 19, and his accomplice Jawan Craig walked into the Waffle House restaurant and "terrorized" the customers in 2012 intent on robbing it at gun point. Upon being approached by Williams, gun in hand, one of the patrons, Justin Harrison — who also had a concealed weapon on him but had an actual permit for it — shot Williams in self-defense, killing him "almost instantly," according to a Fox News affiliate in North Carolina.

Robber shot dead after holdup at Los Angeles medical marijuana dispensary: police. The two men showed up to "Nature's Cure" around 12:15 p.m. Wednesday [6/25/2014] and tried to "engage" the guard when he opened fire on the thieves, KTLA-TV reported. One man was hit and ran from outside the pot shop to a nearby Westin Hotel, where he collapsed and died. [...] The robber's accomplice, a black man in a brown baseball cap, beige shirt and green pants, took off in a black BMW.

Coroner: Haggins died of multiple gunshot wounds. [Scroll down] This robbery is the latest in a string of felony crimes committed by juveniles on Dayton's west side. Dayton police Sgt. Paul Saunders said they're set to nearly double the number of felony arrests involving juveniles this year. He said the incident at Step-N-Style is an example of the crime juveniles are committing escalating. While teenagers were more commonly known to commit less-violent crimes such as thefts and burglaries, Saunders said he's seeing more cases of juveniles using guns to steal cars and commit armed robberies.

Man Beaten to Death at Texas Amtrak Station. An unidentified man was killed Thursday night [7/3/2014] in San Antonio while waiting to board an Amtrak train to Houston. He was allegedly beaten to death by a large man who witnesses observed stating, "I just like killing someone." The victim was a white male in his mid-fifties who weighed about 150 pounds, according to an Amtrack [sic] employee who spoke with Breitbart Texas on condition of anonymity. The alleged assailant was described as a black male weighing approximately 350 pounds.

San Antonio's Unarmed Black "Gentle Giant" Occasions No Riots — Just Beats White Victim To Death With Fists. At 11 p.m. on July 3, a 21-year old black man, Michael Joseph Fobbs Jr., was pacing angrily in and out of the San Antonio Amtrak Station, waiting for a train. At one point, according to a crowd of witnesses and a surveillance videotape, Fobbs stopped in front of a white man who was quietly sitting on a bench just outside the station door, also waiting for a train, and sucker punched him in the head, and then hit him again, knocking him out. Fobbs, who is 6'3" and over 250 lbs., then reportedly said, "I feel like killing someone," and beat his white victim to death.

Man Beaten to Death at Amtrak Station. Michael Fobbs Jr., 21, is accused of beating a stranger to death with his bare hands. Police say it happened just after eleven Thursday night [7/3/2014] at the Amtrak station east of downtown. Witnesses claim they saw Fobbs pacing back and forth in the waiting area before suddenly attacking a 56-year-old man sitting on a bench.

Indictment in beating of Joe Deters' son. Because they are accused of hurling racial epithets at two white men before beating them, five black males were charged Tuesday [7/15/2014] with ethnic intimidation and other crimes in the May beating of Jonathan Deters, son of Hamilton County Prosecutor Joe Deters. "We believe the sole motivation (for the alleged attack) was because of the color of their skin," Assistant Ohio Attorney General Daniel "Woody" Breyer said of the incident. Witnesses told police, Breyer said, the five adults and one juvenile charged in Deters' beating said, "let's get the (epithet) white guy. And minutes later: "There's another one," when they spotted another white man whom police allege was beaten by the same five.

Man beaten, robbed in park believes attack was racially motivated. In just a matter of weeks, a man beaten and robbed in an area park will come face to face with one of the men he says attacked him. According to police, the suspect was a juvenile at the time. But, the courts said Brejon Ford will now be tried as an adult when he goes to trial Sept. 9.

Man sues pizzeria for thwarting robbery. The first time Nigel Sykes tried to get money from the Seasons Pizza in Newport, he did it with a gun, forcing his way into the business through the back door. This time, Sykes is trying to get money from the pizzeria by suing the employees who tackled him and wrestled his gun away during the robbery. Sykes alleges assault in a federal civil complaint claiming the rough treatment was "unnecessary" and that as a result of the injuries he suffered during his attempted hold-up, he is due over $260,000.

Neighbors feared 12-year-old murder suspect. Residents at a Westside apartment complex where a 12-year-old murder suspect used to live said they were terrified of him. Sharron Townsend was arrested Thursday [7/31/2014] on a murder charge after police said he randomly shot and killed a 54-year-old homeless man in June.

The 12-year-old boy charged with murder for stabbing a boy, nine, to death on the playground. The 12-year-old boy who allegedly stabbed a 9-year-old playmate to death on a Michigan playground has been identified as Jamarion Lawhorn. Police say that after he stabbed Michael 'Conner' Verkerke in a Kentwood, Michigan, trailer park on Monday night [8/4/2014], Jamarion called 911 and confessed — telling police dispatchers 'Hi. I just stabbed somebody. Please pick me up.'

'Knockout Game' Attacker Asked Man If He Had A Gun Before Punching. A teenager playing "knockout game" punched a Florida man in the face after making certain he was not carrying a gun, the victim told police. According to a witness who saw the attack unfold, a teenager approached a man who was walking alone on Neptune Beach on July 31, the Florida Times-Union reported Friday [8/8/2014]. According to the victim, the teen, who was with three accomplices, asked him if he had a "glock."

CMPD: Robber, store employee exchange gunfire at mini mart. Police said the men, who had their faces covered, were armed with handguns. They stormed the store demanding money. Police said one of the men fired a shot at the store's 73-year-old security guard as they ran from the store. The security guard shot back and no one was hit. [...] Police said the suspects, described as black males in their early 20s with their faces covered, ran off.

Fatal shooting of 3-year-old girl in Landover may have resulted from a fight over clothes. The man had just gotten into a fight over clothes with a teen at the house on Forest Terrace in Landover, so he left and returned with a handgun, Prince George's County Police said. Facing the house, the authorities said, he