Why airplanes are still packed in the coronavirus pandemic — and is flying still safe? Despite the ongoing coronavirus pandemic and social distancing guidelines advising people stay six feet apart, reports of terrified airline passengers on packed flights continue to emerge. Just this week, passengers on an Iberian Airlines flight became incensed over their crowded flight, which had jammed the plane to 70 percent capacity despite airline guidelines to have the cabin no more than half full. And photos from a United Airlines flight last week showed passengers sitting shoulder-to-shoulder — while a doctor returning from helping fight the virus in New York had a similar experience with the carrier.
The airlines are sitting on $10B in customer refunds. I was already aware that many customers have had issues trying to get refunds from the airlines on flights they had booked before the coronavirus shut everything down. But I had no idea the extent of the problem was so vast. This report from NextGov indicates that there are currently enough of these cancellations that ten billion dollars worth of refunds are in limbo. The airlines want to give people travel vouchers instead of money, basically saying that once they have your money, they're going to keep it. Whether you fly or not is up to you.
Airlines withholding $10B in cash from customers, lawmakers say. US airlines are estimated to be sitting on more than $10 billion in travel vouchers that should have been cash refunds from canceled flights, a group of senators released on Friday [4/17/2020]. Many US airlines are canceling 60 percent to 80 percent of their flights, and under federal law passengers on those flights are entitled to full refunds, Senators Ed Markey, Elizabeth Warren and Richard Blumenthal said in a statement. "However, many airlines have been obfuscating this right by offering travel vouchers as the default option, requiring passengers to take burdensome steps to request refunds instead," they said.
Here's Why So Many Planes Are Still Flying, Nearly Empty. You have probably seen the video of an American Airlines flight attendant making the best of a difficult situation on March 27, providing a customized inflight safety briefing for Sheryl, the sole passenger on a flight from Washington Reagan National Airport to Boston. Sheryl was on the way to visit her dying mother and the American crew did the best they could to cheer her up in a way she really appreciated. As travel blogger Gary Leff has noted, flying alone on a commercial airliner is usually a once-in-a-lifetime hoot for a frequent traveler, but now it's becoming a much more frequent and grim occurrence. While the airlines have drastically cut their schedules, those service cuts haven't nearly kept up with the drop in demand, which is why lots of flights are going nearly empty.
Crisis Socialism: No Bailouts for Open Borders Globalists!. After the aviation industry's last $15 billion shakedown of taxpayers following the 9/11 terrorist attacks (a hefty combo of direct cash assistance and loan guarantees plus civil liability protection), airline stocks soared as oil prices plummeted, carriers crammed more passengers into tinier seats and customers faced new and higher charges on everything from carry-on baggage to Wi-Fi to peanuts. High-flying American, JetBlue, United and Southwest splurged on megastock buybacks and dividend hikes for shareholders. In fact, Bloomberg News reported that the top airlines plowed 96% of their free cash flow over the last decade on buybacks.
Eight-Hour Waits at U.S. Airports for Virus Screenings Called 'Unacceptable' and 'Atrocious'. There wasn't much "social distancing" at U.S. airports Saturday as the ban on travel to Europe resulted in 7- and 8-hour waits at airports for virus screening. The situation at Dallas/Fort Worth airport was described as "atrocious, no semblance of a line beyond the barriers and no officials or staff around to direct." Illinois Governor J.B. Pritzker called the situation at O'Hare "unacceptable," among other, more colorful epithets.
DFW airport passenger fights police. Passenger attacked female gate agent then attacked police officers after being shot with tazers [sic] multiple times. Passenger goes for officer's pistol at one point as well. This is all inside the security area as well. [Video clip]
Cabin crew struggle to contain heated argument over alleged drinking on US flight. Man films shocking moment a group of women on a flight from Atlanta to Los Angeles are caught arguing and screaming at each other before the cabin crew have to get involved. The clip, filmed on February 11, shows the moment three women started arguing on the flight after two were allegedly drinking and speaking loudly.
Canada's first coronavirus patient had symptoms on flight from China. Canada's chief medical officer said on Sunday [1/26/2020] that an individual who was declared the country's first "presumptive" confirmed case of the novel coronavirus had developed symptoms on the plane while traveling from Wuhan in China to Toronto.
Horrible passenger uses airplane vent to dry shoes. An unidentified traveler turned an airplane vent into their personal dryer in a viral video that has the internet disgusted. The clip shows a passenger holding their presumably wet sneaker up to their overhead air vent to dry them out. Posted to the Instagram account Passenger Shaming, the revolting video has amassed more than 333,000 views from naysayers on Instagram. It's unknown on which airline the barbaric incident occurred, captured on video by Canadian professional wakeboarder Dylan Miller.
No more free rides: US seeks to limit emotional support animals on planes. Some animal lovers and nervous fliers may squawk but the US government wants a definitive "neigh" to the question of passengers bringing rabbits, turtles, birds, miniature horses and other unusual emotional support animals on planes in future, especially free of charge. Even cats could be running out of lives to while away under passengers' seats at 30,000 feet.
Airline passenger allegedly storms cockpit, attacks flight attendant, injures 6 officers. Authorities took a man into custody after he allegedly assaulted a flight attendant and attempted to storm the plane's cockpit last week. A fellow passenger on the flight described the Jan. 9 incident to news outlets, saying that the plane was about to land when the suspect headed towards the cockpit in a "full sprint." A flight attendant and six law enforcement agents were injured in the ensuing scuffle. Matthew Dingley was taken into custody after his flight United Express flight from Dulles International Airport landed at Newark, NBC New York reports. He reportedly began acting erratically during the flight and stormed the cockpit as the plane neared its destination.
At least 5 US airports have exposed travelers to measles, health officials warn. An unknown number of U.S. air travelers have been exposed to measles after at least five airports allowed people with the highly infectious disease to pass through this month, according to health officials in the affected cities. At Chicago's O'Hare International Airport, a person with the disease traveled through two terminals over the course of a week, ABC News reported.
CNN Pays 58 Airports $100,000 Each to Play Channel at Gates. Tucker Carlson Tonight reported CNN is spending millions of dollars to have their channel played at fifty-eight airports across the United States. As Carlson explained, CNN is paying the airports approximately $100,000 each to "pump propaganda into America's airports, holding its hapless travelers hostage." He commented: "It's not something [the airports] would do willingly. Who would? Nobody watches [CNN] — it's garbage."
CNN Pays Airports $100,000 Each to Play Fake News At Gates. An investigation by Tucker Carlson Tonight has revealed that CNN is paying off more than fifty major airports throughout the United States to play their broadcasting to unsuspecting travelers at airline gates. The network pays airlines around an average of $100,000 each to play the fake news, adding up to more than $6 million dollars in bribery. Such a use of network resources could be easily used to fund legitimate and newsworthy journalistic endeavors, but the network, under the leadership of Jeff Zucker, instead adopts an approach of merely paying to have its propaganda broadcast to non-consenting viewers.
Trump Admin Proposes Using Facial Recognition On All Airport Travelers — Including Americans. The Department of Homeland Security is proposing a rule that would allow the government to use facial recognition data to identify everyone traveling to and from the country, including U.S. citizens. [...] "The Department of Homeland Security (DHS) is required by statute to develop and implement a biometric entry-exit data system," the proposal reads. "To facilitate the implementation of a seamless biometric entry-exit system that uses facial recognition and to help prevent persons attempting to fraudulently use U.S. travel documents and identify criminals and known or suspected terrorists, DHS is proposing to amend the regulations to provide that all travelers, including U.S. citizens, may be required to be photographed upon entry and/or departure," the filing continues.
American Eagle Flight Slides Off Runway At O'Hare. "I think we've landed." [Video clip]
Business vs. Coach: The Class Divide in the Sky. [Scroll down] My crime, you see, had been wanting to use the toilet. Not an uncommon experience, even at 30,000 feet. I had risen from my seat and observed with horror the long queue for the toilets at the back of the plane. It was about 20 passengers deep, all of them anxiously hopping about. But then I peeped through the curtain separating "my" area from the privileged few and saw not only no queue for the toilets but also that both cubicles were free. So I did what any right-minded person would do and strode forward in search of relief. Big mistake. Crossing the Berlin Wall would have been easier.
Flight shaming is gaining traction and could cost airlines billions. Consumers are paying more attention to their carbon footprint and it could cost airlines billions of dollars, Citi said in a note to clients Tuesday [10/22/2019]. The firm said that "flight shaming," which it defines as "the inherent guilt that an individual feels as a result of one's aviation-related carbon footprint" is causing consumers to explore alternative modes of transportation when possible and to look for ways to offset their carbon emissions. Citi estimates that over the next five years the cost of carbon offsetting economy flights will grow to $3.8 billion per year. It will either be absorbed by the consumer or the airline. But really the airline gets hit in both scenarios since if the price is absorbed by passengers the higher cost could lead to an overall slowdown in air travel.
Eco madness may be reason for disastrous Boeing 737 MAX safety issues. Air travel, which accounts for 2 percent of global emissions, has become the great bogeyman for climate alarmists, sparking a backlash against airlines. Punitive eco-taxes, aviation regulations, activist investors, green NGOs and climate-aware passengers conspire to force airlines and manufacturers to lower CO2 emissions by using less fuel, which accounts for 99 percent of aviation's carbon footprint. No one has said it explicitly yet, but this relentless pressure to reduce emissions appears to have been a significant factor in the disastrous safety failures of the Boeing 737 MAX aircraft, which resulted in two fatal crashes in the past year, claiming 346 lives. The warning from Boeing's catastrophes is that climate ideology can have fatal consequences.
American Airlines Joins Southwest In Abandoning Hope 737 MAX Will Fly Again This Year. Even as Boeing still tells anyone who will listen that it is confident the infamous 737 MAX plane will fly again this year, its biggest clients are giving up hope, and earlier today American Airlines abandoned expectations it would resume flights with the Boeing Co. 737 Max this year, pulling the troubled plane from the carrier's schedule beyond the end of 2019, at least through January 15, 2020.
Southwest pilots sue Boeing for $100 million over lost wages from 737 MAX. Southwest Airlines' pilots union has filed a lawsuit against Boeing for $100 million over lost wages from the grounding of 737 MAX jets in the wake of two crashes and a myriad of safety issues. The lawsuit was filed in Dallas County, Texas, and alleges that Boeing represented the planes as "airworthy and essentially the same as the timetested 737 aircraft that its pilots have flown for years." The union called that assertion "false."
Nothing gets past the TSA!
Woman dragged off Delta flight after boarding without ID, ticket. A woman somehow managed to get on a Delta flight without identification or a boarding pass, causing a three-hour delay in Florida over the weekend, officials said. The airline apologized in a statement Sunday after the unidentified woman got on an Atlanta-bound flight Saturday at Orlando International Airport, sat in another person's assigned seat and flatly refused to move, WFTV reported. "She said very bluntly, 'I'm not moving,'" another traveler told the station, adding that a supervisor and a pilot tried unsuccessfully to get the woman out of the 15th-row seat.
Sources: Woman Who Sneaked Onto OIA Flight Fooled TSA Agents. A woman who boarded a Delta Air Lines flight at Orlando International Airport over the weekend without a boarding pass or ID fooled a TSA agent by pretending to be a part of another family, multiple people with knowledge of the investigation tell Spectrum News 13.
Woman refused to get off Delta flight after boarding without a ticket or ID. The female stowaway, identified as Sylvia Rictor, is said to have refused to move after ticketed traveler Jenni Clemons found her sitting in her assigned seat for the journey from Orlando International Airport to Atlanta on Saturday [10/5/2019]. In footage taken on board the aircraft Rictor can be heard telling Delta workers she 'threw out' her boarding pass 'as soon as she got on the plane'. She later tries, and fails, to convince crew that a picture of herself on her phone can be used for ID.
Ignore the sensational headline: This happened on the ground. In China.
Plane passenger opens emergency exit for 'a breath of fresh air'. Airlines passenger recently delayed her flight's departure by one hour when she opened the emergency exit door of the aircraft because she reportedly felt the cabin was "too stuffy" and wanted "a breath of fresh air." Video footage of the unbelievable sight is said to have gone massively viral on social media in China.
Police: Man who urinated on floor of BNA re-arrested for throwing rock off bridge. A man who was arrested for exposing himself and urinating on the floor at Nashville International Airport was re-arrested hours later for throwing rocks off the I-40 Jefferson Street bridge. According to Metro Police, 56-year-old Eliezer Nieves Gonzalez was originally at the Southwest Airlines baggage office on Monday around 4 p.m. exposing himself and urinating in front of passengers near the baggage belt. Officers noticed a large amount of urine on the wall and floor. Gonzalez was found with urine on his hands and pants, and he admitted to investigators to urinating on the floor, saying it was okay to do so in Puerto Rico so he thought he could do it here.
Shocking scene as American Airlines passenger tries smoking weed mid-flight causing emergency landing. The shocking moment is captured as a passenger on an American Airlines flight from Phoenix to Minneapolis on Saturday (September 20) forces an emergency landing in Denver after he decided to attempt to smoke marijuana mid-flight. The dreadlocked man is seen here trying to spark a joint while shocked onlookers and flight crew intervene.
Climate Activists Try to Shut Down Heathrow by Flying Drones in Front of Passenger Planes. Brain-dead climate activists came up with the scathingly brilliant scheme of protesting against airplanes at Heathrow Airport by flying drones in front of passenger planes to prevent them from taking off or landing. I guess the climate activists got it in their heads that making airplanes crash would be an excellent way to reduce the world's carbon footprint. Fortunately, British police foiled their plan by jamming drone frequencies. Several nutcases were arrested and, for the moment, plane passengers have been spared the ordeal of being grounded by idiots who think threatening to kill people is a legitimate way of battling global warming.
Family Alleges Alaska Airlines Deserted Teen Daughter at SFO. A North Carolina family is seeking a full refund from Alaska Airlines after it claims the carrier "abandoned" their unaccompanied 13-year old daughter, who was traveling alone from Raleigh, N.C. to Spokane, Wash.
Muslim blocks aisle to pray on plane, punches flight attendant, resists arrest while screaming "Allahu akbar". Somehow his peaceful religion of peace prayer didn't leave him feeling kind and magnanimous toward the Infidels. That most learned of imams, Pope Francis, needs to find this man and explain to him how "authentic Islam and the proper reading of the Koran are opposed to every form of violence."
Air Transavia France Steward takes a punch. Man praying on the plane gets up and punches Steward. [Video clip]
Hong Kong Cancels All Remaining Monday Flights as Protesters Swarm Airport. Hong Kong airport authorities canceled remaining flights on Monday after protesters swarmed the main terminal building for a fourth day, the biggest disruption yet to the city's economy since demonstrations began in early June. Thousands of black-clad protesters on Monday packed the arrival area, where they had gathered for a three-day sit-in that was originally planned to end last night.
Drunk flight attendant busted after passing out for [an] entire trip. A boozed-up flight attendant was busted in Indiana after passengers saw her stumbling all over the cabin — and then passing out in her seat for the entire flight, according to new reports. Julianne March, 49, of Waukesha, Wis. was charged Thursday [8/8/2019] by St. Joseph's County prosecutors in connection to an Aug. 2 incident on a flight from Chicago to South Bend, The South Bend Tribune reported.
Bill de Blasio makes fliers wait on tarmac so he can rush to 'The View'. Mayor Bill de Blasio made Delta passengers wait in their seats on the tarmac at LaGuardia Airport for 10 minutes Thursday after flying back from his less-than-stellar performance in the Detroit debate — so that he and his security detail could deplane first. But it wasn't a pressing matter related to City Hall or the potential firing of Eric Garner chokehold cop Daniel Pantaleo that necessitated the inconvenience to his fellow passengers — de Blasio had to rush off to tape an appearance on ABC's "The View." And passengers on Flight 788 were not pleased.
Suspected drunk Delta pilot arrested just before flight. A Delta pilot who authorities suspect was boozed up was booted off a fully boarded plane in Minneapolis and arrested, according to new reports. Gabriel Lyle Schroeder, 37, was cuffed just after 11 a.m. Tuesday [7/30/2019] after police at Minneapolis-St. Paul International Airport found him reeking of alcohol and with a bottle of booze on him.
This is only slightly off-topic:
Airbus A350 software bug forces airlines to turn planes off and on every 149 hours. Some models of Airbus A350 airliners still need to be hard rebooted after exactly 149 hours, despite warnings from the EU Aviation Safety Agency (EASA) first issued two years ago. In a mandatory airworthiness directive (AD) reissued earlier this week, EASA urged operators to turn their A350s off and on again to prevent "partial or total loss of some avionics systems or functions". The revised AD, effective from tomorrow (26 July), exempts only those new A350-941s which have had modified software pre-loaded on the production line. For all other A350-941s, operators need to completely power the airliner down before it reaches 149 hours of continuous power-on time.
Mom Says Airline Changed Booked Seats, Then Tried Charging Her $75 to Sit With Her Child. A California woman is claiming that an airline changed her booked seats and then tried charging her a $75 fee to sit next to her child. The mom, who only gave her first name, Aliss, told KGTV she chose two seats next to each other when she booked the flight with Sun Country Airlines from Providence, Road Island, to San Diego on a third-party website.
France Announces 'Eco-Tax' Of Up To €18 On Tickets For All Flights Leaving Country. France will introduce an "eco-tax" of up to €18 (£16.19) on tickets for all flights leaving the country, the government has announced. Transport minister Elisabeth Borne told a news conference that the €180m (£162m) it is expected to raise annually from 2020 would help finance daily transport, notably rail, in the country. The new tax will range from €1.50 for short-haul flights and up to €18 for long-haul journeys in business class.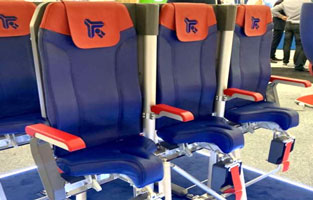 How small can airline seats get? (This small). You may have suspected this was coming, ever since the last time you banged your knee on the airplane seat in front of you. Airlines have been reducing the space between rows of seats in order to squeeze in a few more rows of seats and max the profits per flight. As a reward, they've also raised fares. You don't mind do you?
Terminal 1 At LAX Evacuated, Morning After Major Power Outage. Terminal 1 at LAX was evacuated early Thursday [6/6/2019] due to residual problems from a major power outage that lasted for nearly four hours Wednesday night. Terminal 1, home to Southwest Airlines, was evacuated just before 6 a.m. due to problems with passengers and baggage not being properly rescreened. Airport officials decided Thursday to clear the terminal and rescreen all passengers by the TSA.
'Extinction Rebellion' Climate Activists to Shut Down Heathrow for 10 Days in Drone Attack. The climate change activist group Extinction Rebellion is planning a series of protests using drones to shut down Heathrow Airport for 10 days in July, unless plans to expand the airport are scrapped. The group has threatened to hold a one-day demonstration on the 18th of June, with ten days of disruption planned from July 1st if their demands are not met. This threatens hundreds of thousands of passengers' journeys, most going on their summer holidays, and it is expected it would cost millions of pounds in policing.
"France Does Not Belong to the French!" Algeria, Tunisia and Pakistan belong to Muslims. But France doesn't belong to the French. Or so the invaders say. [Video clip]
Footage shows hundreds of migrants occupying French airport terminal. Video showed hundreds of illegal immigrants storming a French airport and occupying an entire terminal Sunday, demanding to meet with the country's prime minister. Footage posted on Twitter shows roughly 500 migrants chanting in Terminal 2 of the Charles de Gaulle airport as about a dozen police officers in tactical gear look on. "France does not belong to the French! Everyone has a right to be here!" one person can be heard yelling into a loudspeaker.
Boeing admits it KNEW of safety alert flaw in 737 MAX planes a YEAR before the fatal crashes, but didn't tell airlines or regulators. Boeing said Sunday [5/5/2019] that it discovered after airlines had been flying its 737 Max plane for a year that a safety alert in the cockpit was not working as intended. But it didn't disclose that fact to the Federal Aviation Administration and other airlines that used these planes until after one of the planes crashed.
WSJ: Boeing Turned Off Malfunction Alerts On 737 Max, and Didn't Tell Airlines Or FAA. Just when did the airlines know that they had to pay extra for a key warning system on the Boeing 737 Max? The Wall Street Journal reported last night that it wasn't at the point of sale. Until a crash in Ethiopia last October, Southwest Airlines thought the system came standard with the platform — so much so that their operating manuals included them. Somehow, the news that the safety feature was an upgrade didn't get mentioned to the FAA, either.
Garage floods at Dallas Love Field amid heavy rains, leaves dozens of cars partially submerged. Cars parked on the ground floor of a garage at Dallas Love Field were partially submerged after heavy rains took their toll on the airport overnight [4/24/2019]. The airport confirmed its lower-level ground transportation area was also flooded, according to a statement obtained by Fox News.
Passenger dies on board flight from Germany to Houston. A passenger on board a Houston-bound Lufthansa flight from Germany died Tuesday, according to media reports. Officials at George Bush Intercontinental Airport received a call around 1:30 p.m. about a death on the airliner during its 11-hour journey, a Houston Airports spokeswoman told KTRK-TV.
British Airways apologizes to travelers after flight lands 525 miles away from destination. A British Airways flight from London to Germany accidentally took off in the wrong direction, landing 525 miles away in Scotland. The flight from London City Airport was supposed to head to Duesseldorf, Germany, but ended up in Edinburgh, Scotland, instead — the total opposite direction. The airline said Monday [3/25/2019] the problem started when an incorrect flight plan was filed by WDL Aviation, which operated the flight on behalf of British Airways.
The Editor says...
Do the pilots not know where they are, and what direction they're headed?
Woman looks 'possessed' during in-flight meltdown over a Pepsi. The unidentified Spanish woman began screaming and taking shots from a flask right after boarding the TAP Air Portugal flight in Lisbon for a trip to Malaga on March 9, according to the Daily Mail. But the turbulence really erupted when flight attendants informed her that they had no Pepsi, only fruit juice. "Her hands had turned into claws. She looked like a demon. She was the worst passenger I have ever seen on an airline and I fly quite a lot," a 38-year-old British tourist told the outlet.
Crashed jets reportedly lacked key safety features because Boeing charged extra for them. Boeing jets in Ethiopia and Indonesia lacked two safety features in their cockpits because the company charged extra to install them. The features could have helped the pilots detect erroneous readings, which some experts believe might be connected to the planes' failures, The New York Times reports.
Ethiopian Airlines Had a Max 8 Simulator, but Pilot on Doomed Flight Didn't Receive Training On It. Ethiopian Airlines surpassed many carriers by becoming one of the first to install a simulator to teach pilots how to fly the new Boeing 737 Max 8, but the captain of the doomed Flight 302 never trained on the simulator, according to people close to the airline's operations.
Plane turns around after mom realizes she left baby at airport. A Malaysia-bound plane made a U-turn for a frantic passenger who realized that she forgot her baby back at the airport in Saudi Arabia, according to reports. The pilot of Saudi Arabian Airlines Flight SV832 made the rare request to air traffic controllers shortly after takeoff, when the passenger told crew members that she had left her child at the terminal in Jeddah, Gulf News reported.
Air Canada employee says staff [is] trained to 'dupe' passengers at risk of being bumped from oversold flights. A pair of Air Canada insiders are shedding light on the airline's policy of overselling flights, revealing what they say is a widespread practice of duping passengers into believing they have a seat on a plane and stringing them along until the last possible moment.
Air traffic controller shortage delays flights at Newark, LaGuardia and Philadelphia. An increase in sick leave among air traffic controllers delayed hundreds of flights at several major airports in the eastern U.S. on Friday [1/25/2019], the Federal Aviation Administration said. Flights at New York's LaGuardia Airport, Newark Liberty International Airport and Philadelphia International Airport were delayed on Day 35 of the partial government shutdown. More than 14,000 air traffic controllers and thousands of other federal aviation workers have been deemed essential employees and ordered to work without pay due to the impasse between lawmakers and President Donald Trump over funding for a wall along the U.S. border with Mexico that the president had proposed.
Shutdown Exposes Another Government Agency Ripe For Privatization. As the partial government shutdown drags on, the nation's air traffic controllers warn that it's putting the safety of air travel at risk. Here's a solution: Privatize the air traffic control system.
Hawaiian Airlines flight diverted after flight attendant dies. A Hawaiian Airlines flight traveling from Honolulu to New York City was reportedly diverted to San Francisco on Thursday night after a flight attendant died of an apparent heart attack. Doug Yakel, a San Francisco airport spokesman, said Hawaiian Airlines Flight 50 landed in California after a flight crew member had "a suspected heart attack."
United Airlines cracks down on 'emotional support' animal air travel. United Airlines is closing a loophole for passengers who try to avoid traveling fees when they fly with their pets. United will only let dogs and cats be designated as "emotional support animals" and won't let passengers get on a plane with kittens or puppies who are younger than four months. It also will not allow passengers to fly with emotional support animals if the flight is more than eight hours long. Dogs, cats, and miniature horses will be allowed to fly as service animals to help passengers with physical disabilities.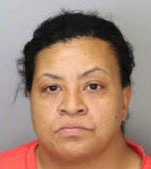 Passenger takes trip to jail after meltdown at Memphis airport. Tamiko Warner didn't just make a scene before her flight at the Memphis airport — she made a mess, turning over furniture and setting off a fire extinguisher that filled the airport gate with fog. The man who filmed the rampage and posted it to Facebook said it was all over a $20 baggage fee. "I don't care about going to jail. Whatever. This is worth it," Warner said in the video. She carried on for nearly five minutes uninterrupted in the video, causing thousands of dollars of damage in the airport.




Gatwick Airport: Drones ground flights. Tens of thousands of passengers have been disrupted by drones flying over one of the UK's busiest airports. Gatwick's runway has been shut since Wednesday night, as devices have been repeatedly flying over the airfield. Sussex Police said it was not terror-related but a "deliberate act" of disruption, using "industrial specification" drones. About 110,000 passengers on 760 flights were due to fly on Thursday. Disruption could last "several days".

Southwest Airlines bans college student's pet fish from plane. A college student says Southwest Airlines banned her pet fish from flying with her, and now she's lost her best friend. Lanice Powless, a sophomore at the University of Colorado, was not allowed to board a Southwest Airlines flight from Denver to National City, Calif., with her pet fish, Cassie, on Thursday [12/20/2018]. "This lady was just not having it," Powless told San Diego news station KGTV. "So the supervisor comes and she said 'Unfortunately, you cannot bring fish onto Southwest Airlines.'"

Southwest Airlines flight returns to Seattle after human heart is left on board. A human heart left on a Southwest Airlines plane caused a Dallas-bound flight to turn around and return to Washington state. "We made the decision to return to Seattle as it was absolutely necessary to deliver the shipment to its destination in the Seattle area as quickly as possible," Southwest said in a statement obtained by USA Today. Apparently, the heart was supposed to be delivered to a hospital. However, it was mistakenly left on the connecting flight rather than being taken out of the cargo hold.

Delta Air Lines Says No More Support Kittens, Puppies on Flights. Delta Air Lines Inc. is barring emotional-support and service animals that are less than four months old, while banning all support animals from flights longer than eight hours. The changes will take effect for tickets issued on or after Dec. 18, the carrier said Monday. Passengers who bought tickets before then and who already requested to travel with an emotional support animal will be allowed a grace period to fly as originally planned until a full ban starts Feb. 1. The changes don't affect pets that customers pay to take into the cabin in enclosed carriers.

Delta passenger removed from plane for head-butting flight attendant. A "violent" and "unruly" passenger forced a Delta flight to make an emergency landing in Oklahoma City Friday morning [9/21/2018]. Flight 2603 was heading from Salt Lake City to Orlando when 28-year-old Derek Edward Maas had to be restrained. The captain then determined he needed to be removed from the flight to ensure the safety of the other passengers and crew, KOCO 5 reports.

Japan Airlines pilot admits being almost 10 times over alcohol limit. A Japan Airlines co-pilot arrested after failing a breath test shortly before a London to Tokyo flight pleaded guilty Thursday [11/1/2018] to being almost 10 times over the legal limit for alcohol.

Man accused of groping woman on Southwest flight says Trump said 'it's OK'. A woman flying from Houston to Albuquerque on Sunday had just settled into her seat and fallen asleep when she was awoken by an unwanted touch — a hand from behind her grabbing the right side of her breast. And the man authorities say is responsible allegedly cited President Donald Trump's past lewd language about women. Federal prosecutors allege the hand belonged to 49-year-old Bruce Michael Alexander from Tampa, Florida, another passenger on the Southwest Airlines flight, who reportedly told authorities after being arrested Sunday that "the President of the United States says it's OK to grab women by their private parts," according to a criminal complaint.

'Disruptive' Delta passenger gets flight diverted to Maine. A Delta Air Lines flight from Georgia to Stuttgart, Germany, was diverted to Maine on Sunday after a passenger "got a little disorderly" midflight, according to a fellow traveler. Delta passenger Tyler Hunter, of Atlanta, shared footage on Twitter of what appeared to be a woman sitting on the floor of the cabin, with surrounding crew members attempting to get her to return to her seat.

Swedish student who refused to sit down on flight in effort to stop man's deportation to Afghanistan is indicted. A student who livestreamed her dramatic efforts on a plane to stop an asylum seeker from being deported to Afghanistan in July was indicted by Swedish prosecutors Friday [10/19/2018]. Elin Ersson, 21, a student at the University of Gothenburg and a volunteer with refugee groups, had her broadcast go viral as she attempted to stop a flight from Gothenburg to Turkey on July 23. Ersson and other asylum activists discovered an Afghan man on the flight was being deported to Kabul, Afghanistan.

Southwest flight makes emergency landing after passenger allegedly plays unwanted game of 'footsie'. A Southwest flight on Tuesday [10/16/2018] was diverted after a Texas man on board played an unwanted game of "footsie" with a female passenger sitting next to him and got into a confrontation with the flight crew, authorities said. Justin Riley Brafford, 29, remains in federal custody in New Mexico and faces felony interference with a flight crew and a misdemeanor assault charge, the Dallas Morning News reported. Brafford and the woman, identified only as M.W., were seated next to each other on Southwest Flight 859 from Los Angeles to Dallas when he allegedly put his arm on her leg as the plane readied for takeoff, according to a criminal complaint filed in U.S. District Court in Albuquerque.

'Emotional support' squirrel gets passenger removed from Frontier flight. A woman was removed from a Frontier Airlines flight Tuesday night [10/9/2018] after the airline refused to let her fly with her emotional support squirrel. The airline said the woman noted in her reservation for Flight 1612 from Orlando, Fla., to Cleveland that she would be boarding with an emotional support animal, FOX8 Cleveland reported.

The Editor says...
If you need the constant presence of a squirrel to maintain your enotional stability in public places, you really should either stay home or have yourself locked up in a mental hospital.

Woman removed from flight bound for Cleveland due to 'emotional support' squirrel. Frontier Airlines said a woman had to be escorted off a flight bound for Cleveland Tuesday night due to a squirrel. Frontier said a passenger boarded Flight 1612 in Orlando, saying the squirrel was an emotional support animal. The airline said the passenger noted in her reservation that she was bringing an emotional support animal, but it was not indicated the animal was a squirrel. Frontier said "rodents, including squirrels are not allowed" on its flights.

The Editor continues...
Next time I fly, I should bring along a little box of my emotional support bedbugs.

This is why they call it "Lyin' Air."
Lion Air passenger boards flight and discovers assigned seat does not exist. A Lion Air passenger was shocked when she boarded her flight from Palembang to Jakarta in Indonesia and discovered her seat did not exist on the plane. Satwika Ika took to Facebook to express her confusion over the seating mishap. In the photo Ika shared on social media, her ticket appeared to be marked for 35F, but the plane rows ended at 34.

Florence travel nightmare: Hundreds of flights are cancelled. Hurricane Florence was already causing travel chaos on Wednesday [9/12/2018], with hundreds of flights and train journeys cancelled and roads gridlocked with evacuees. A total of 967 flights were cancelled over the next three days as of 2.30pm (ET) — 230 on Wednesday, 504 on Thursday and 233 on Friday. That is in addition to more than 1,600 delays on Wednesday, according to Flight Aware. Charleston International Airport — the busiest in the Carolinas — is set to close at midnight on Thursday and not resume until Saturday at the earliest. Amtrak has stopped trains running to Virginia and stops south of Washington, DC, until Monday.

What's With All the Planes Full of Sick People? The first one that came to my attention was a flight into the United States from the Dubai. On that plane headed toward JFK International Airport in New York City, approximately 100 passengers and members of the crew became ill. The CDC met the flight at the airport and determined that out of the plane full of 521 people, about a hundred of them self-reported fevers of over 100 degrees and coughing. 19 of those people were found to be ill, 10 or 11 (reports vary) of them enough to be hospitalized by the CDC and the other 500+ people on that plane were sent on their ways, all over the nation, as JFK is a hub for international flights.

American Airlines flight attendant told passenger to 'pee in a bag' after plane's toilets overflow. An American Airlines flight to Hawaii became a trip from hell when a flushed diaper caused the plane's toilets to overflow, forcing passengers to urinate in bags and bottles. On August 31, things got messy aboard flight 663 from Phoenix, Arizona, to Kona, Hawaii, NBC News 12 reports. The outlet obtained video footage of a female passenger who desperately had to use the restroom and spoke with a flight attendant, who agreed that the situation was "horrible" and suggested that she use a plastic bag.

Protesters plan to disrupt Labor Day traffic to [and] from O'Hare. An anti-violence demonstration scheduled for Monday [9/3/2018] plans to shut down a part of the Kennedy Expressway aiming to disrupt traffic to O'Hare International Airport. The Labor Day protest is led by Reverend Gregory Livingston, who organized a similar protest that shut down a part of North Lake Shore Drive on August 2.

Kentucky youth group kept off American Airlines flight over check-in delay. A youth group headed to Mexico was kept off a flight for being late — however, the group's youth pastor feels the blame is with American Airlines. William Davis, a youth pastor at Clays Mill Road Baptist Church in Lexington, Ky., said he and his group of 40 teenagers were heading to Irapuato, Mexico, as part of a mission to help children.

Passengers complain of bed bug infested seats on international flights from Newark. Passengers have been bitten by bed bugs on multiple Air India flights out of Newark Liberty International Airport in the past week, according to a passenger accounts and a published report. Pravin Tonsekar said that the business class seats he, his wife and children had for a 17-hour flight to Mumbai on Tuesday [7/17/2018] were infested with bed bugs.

Over 20 cars burned in possible arson attack at Salt Lake City airport. An overnight parking lot fire at the Salt Lake City International Airport destroyed more than 20 cars, causing an estimated $500,000 in damages and prompting an arson investigation by authorities. Firefighters responded to the fire around 12:30 a.m. on Sunday morning [7/8/2018] in the Hertz Rental Car Lot, according to Fox 13. Captain Kyle Lavender with the Salt Lake City Fire Department said that the fire doubled in size between the time crews were dispatched and their arrival.

'Verbally abusive' United Airlines passenger caused massive delay after refusing to check bag, leave aircraft. A passenger onboard a United Express flight from Indianapolis to Newark, N.J., caused more delays for flight 3708 Monday night [7/16/2018] after she refused to gate check her bag, and then became "verbally abusive" and refused to leave the plane. The unidentified woman reportedly boarded the plane with her carry-on suitcase, but was unable to fit it in the overhead bin.

'Unbearable' smelling jet passenger who later died identified as rock star. A man who caused a Transavia flight that originated in the Spanish island of Gran Canaria to make an emergency landing in Portugal has died from tissue necrosis, De Telegraaf reported. The male passenger, now identified as Russian rock musician Andrey Suchilin, purportedly smelled so strongly that others on the flight began fainting and vomiting before the plane could touch down at the Netherlands' Schiphol Airport. Several passengers said the smell was "unbearable" and the man was "unwashed." The Daily Mail reported the 58-year-old contracted an infection while on vacation in the Canary Islands that caused his body tissue to die, resulting in the odor.

Obama put diversity over safety at FAA. The Obama administration's hiring rules for the Federal Aviation Administration's (FAA) air traffic controllers placed diversity ahead of safety, says an attorney suing the federal agency for putting American passengers at risk. Former President Barack Obama changed the FAA's rules for hiring air traffic controllers so that applicants must pass a diversity test before being considered — an added step in the initial process that is argued to put millions of passengers and crew members as risk. "For decades, the selection process for the Federal Aviation Administration's air traffic controllers was rigorous," TheBlaze reported. "After all, one minor mistake could cost hundreds of people their lives."

Affirmative action in the control tower. I don't fly. When folks ask me why, the short answer is that I know too much: I'm a former FAA air traffic controller. It's been recently reported that the FAA is now actively recruiting new trainees to work in the towers and control rooms directing airplanes and that the criteria they now utilize to screen applicants is a curiously absurd "biographical questionnaire." [...] First, the FAA stopped reporting aviation incidents, including near mid-air collisions and runway incursions. When safety incidents are under-reported or deceitfully downgraded, the system starts to look like perfection, and the FAA will gladly report, as it frequently does, that it is "The Safest System In The World." These people want the flying public to skate out onto the ice, even as they are lying about how thin the ice is, and while we are at it, how warm it is today.

Obama-era FAA hiring rules place diversity ahead of airline safety, attorney tells Tucker Carlson. The safety of America's airline passengers is being compromised for the sake of diversity in hiring air traffic controllers, an attorney suing the Federal Aviation Administration (FAA) told "Tucker Carlson Tonight" host Tucker Carlson on Friday. During the Obama administration, the FAA replaced the previous hiring standards with rules designed to increase diversity among air traffic controllers, attorney Michael Pearson said. "A group within the FAA, including the human resources function within the FAA — the National Black Coalition of Federal Aviation Employees — determined that the workforce was too white," Pearson told Carlson. "They had a concerted effort through the Department of Transportation in the Obama administration to change that."

American Airlines bans emotional support amphibians, ferrets, goats and more. The carrier is joining rival airlines in tightening rules for passengers flying with emotional support animals, expanding the list of animals that can't fly in addition to requiring customers vouch for their animal's ability to behave. Federal laws require airlines to permit passengers with disabilities to travel with service and emotional support animals in the cabin, though airlines can require a statement from a licensed mental health professional documenting the passenger's need for an emotional support animal.

MH370 experts think they've finally solved the mystery of the doomed Malaysia Airlines flight. On two occasions, whoever was in control of the plane — and was probably the only one awake — tipped the craft to the left. The experts believe Zaharie, the plane's pilot, was taking a final look. That is the chilling theory that the team of analysts assembled by Australia's "60 Minutes" have posited about the final hours of MH370. They suspect that the plane's 2014 disappearance and apparent crash were a suicide by the 53-year-0ld Zaharie — and a premeditated act of mass murder. [...] Zaharie and co-pilot Fariq Abdul Hamid were prime suspects in the plane's disappearance from the beginning. There were rumors that Zaharie's marriage was ending and that he downed the plane after learning that his wife was about to leave, the news site said.

Shocking news about the missing Malaysia Airways flight MH-370. MH-370 aviation experts claim they have solved the mystery surrounding the disappearance of the Malaysia Airlines flight, saying the passengers were a victim of a deliberate and unconscionable act by the doomed plane's Muslim pilot — Captain Zaharie Ahmad Shah. However, this is not so shocking if you were following BNI at the time the plane went missing.

Disruptive Spirit airlines passenger refuses to leave, forces whole flight to deplane. A disruptive passenger who was late to board a Spirit Airlines flight from Atlanta to Las Vegas refused to get off, forcing the crew to ask all other passengers to deplane. Even more bizarre, she filmed the entire ordeal for Facebook Live.

Nigerian passenger in Houston says United Airlines ejected [her] for "pungent" odor. A Nigerian passenger has filed a civil rights lawsuit alleging that United Airlines personnel ejected her and her children from an international flight departing from Houston in 2016 because of her "pungent" odor. The woman says in a federal discrimination suit filed in Houston Friday that she and her minor children were boarding a San Francisco bound plane — the second leg of a three-flight journey from Nigeria to Canada — when an incident occurred involving a white male passenger that escalated to her being asked by United staff to exit the plane.

Delta passenger toppled drink cart, threw coffee before attacking air marshal, police say. A woman on a Delta Air Lines flight was arrested Thursday [4/19/2018] after she toppled a drink cart, threw coffee on passengers while running up and down the aisle before assaulting an air marshal, police said. Sarah Maria Beach, 45, was on a flight from London to Salt Lake City, Utah, when she allegedly went on a rampage that ultimately left her handcuffed for the remainder of the trip, FOX13 Salt Lake City reported. She doused coffee on passengers, knocked over a drink cart and "repeatedly" ran up and down the aircraft's aisle, the criminal complaint stated.

Alaska Airlines tightens emotional support animal policy. Alaska Airlines is the latest carrier to tighten up the rules for traveling with emotional support animals, following the lead of United and Delta. In January, the story of a woman denied boarding her United flight with an emotional support peacock went viral and sparked debate about the ethics of policy, given escalating instances of customer abuse and animal-related incidents in the high skies, according to the carriers.

The Great Pet Scam: More fliers feeling need to bring pets on board — for free. The bond between pets and their human is amazing, powerful, touching, inspiring and really, really annoying if you're seated next to them on a packed airplane. That's happening more and more these days as thousands of Americans catch on to this generous scam of airlines. The con is that passengers can claim they need the dog or cat's company for "emotional support." Airlines simply require a health professional's letter confirming the need for such support. Apparently, few doctors have the emotional fortitude to deny a paying patient such a letter.

Delta passenger suffered 'painful' cartilage damage after child on flight repeatedly kicked her, she claims. A Delta passenger has claimed she suffered bruised ribs after a child repeatedly kicked her on a Minneapolis-bound flight. Sally Canario was on an overnight flight from Los Angeles to Minneapolis on April 2 when the violent incident occured, The Sun reported.

Growing questions about CNN's airport monopoly as network veers left. CNN's ubiquitous presence in airports — where it broadcasts from thousands of screens to a captive audience of millions — is facing new scrutiny after the cable network's hard left turn. The CNN Airport network dates back to when CNN was known for straightforward news programming — and has been a fixture at airports since before competitors MSNBC and Fox News even existed. But critics are now asking if busy travelers should be subjected to CNN's increasingly ideological programming — at gates, bars, food courts and baggage claims — which can include on-screen chyrons or subtitles that gleefully mock President Trump.

What's going on with airline travel? United, Southwest, American and Alaska Airlines are just a few of the carriers scrambling to explain the behavior of crew members. And tales of passengers gone wild can often be even more harrowing. In a recent survey of airplane crew members, 67 percent of respondents said they have witnessed passengers behaving aggressively or violently toward each other, and 10 percent have experienced firsthand passenger-initiated violence. But it's not just the flyers acting out.

Travelers at Newark airport may have been exposed to measles. New Jersey health officials are warning travelers at Newark Liberty International Airport that they may have been exposed to the measles virus.

Dog dies after United flight attendant forces it into overhead bin. On Monday night [3/12/2018], a dog died in a plane after a United Airlines flight attendant forced the dog into an overhead bin. Maggie Gremminger, a passenger on a flight from Houston to New York's LaGuardia Airport, uploaded a photo of the dog's owners on Twitter.

The Rapid 'Progress' of Progressivism. Not long ago I waited for a flight to board. The plane took off 45 minutes late. There were only two attendants to accommodate 11 passengers who had requested wheelchair assistance. Such growing efforts to ensure that the physically challenged can easily fly are certainly welcome. But when our plane landed — late and in danger of causing many passengers to miss their connecting flights — most of the 11 wheelchair-bound passengers left their seats unassisted and hurried out. It was almost as if newfound concerns about making connections had somehow improved their health during the flight. Two passengers had boarded with two dogs each. No doubt the airlines' policy of allowing an occasional dog on a flight is understandable. But now planes are starting to sound and smell like kennels.

Planes full of vomiting passengers land in Washington DC amid powerful wind turbulence. Flights full of vomiting passengers have been landing in Washington DC as powerful winds buffeted the state today [3/2/2018]. Even the pilots were on the verge of throwing up as the planes were hit with heavy turbulence on Friday. One passenger, My Nguyen, was flying back to Washington on a Jet Blue aircraft when the turbulence hit. She warned anyone planning to fly into DC today, to 'rebook it for tomorrow.'

Fight over man's flatulence forces flight to make emergency landing. A pilot made an emergency landing after a fight broke out over a passenger who allegedly refused to stop passing gas. Two Dutchmen sitting next to the flatulent passenger reportedly asked the man to stop, but he refused and continued to break wind aboard the Transavia Airlines flight from Dubai to Amsterdam Schiphol.

Why Is CNN Always on at Airports? Tucker Carlson Explains. Travelers don't have a choice in most cases, since the network has an agreement with dozens of U.S. airports to broadcast the channel.

'Mob' breaks out at Des Moines International Airport after 14-hour delay. A 14-hour flight delay erupted in chaos at Des Moines International Airport overnight, causing police and security to be called in to calm the irate passengers. Allegiant Air Flight 153 was supposed to leave Friday morning, but didn't take off until 2:30 am Saturday, KCCI reports, stranding passengers at the airport. "They couldn't get a refund," Cassie Marks, whose parents were stranded in Des Moines, IA, on their way to Arizona, told KCCI. "They couldn't get their luggage. People were literally stuck."

At last!
Judge denies release for suspected serial jet stowaway. A judge has denied a request to release from jail a woman with a history of sneaking onto planes whose attorney wanted her sent to a nonprofit facility.

Next time I fly, I'll insist on bringing my emotional support skunk.
Woman denied emotional support peacock on United flight. Live and Let Fly reported earlier this week that even though the unidentified woman claimed that she had a second ticket for the peacock, the airline denied her request. A spokesperson for United further tells Fox News that the traveler(s) with the peacock were told they would not be able to bring it on board. "This animal did not meet guidelines for a number of reasons, including its weight and size. We explained this to the customers on three separate occasions before they arrived at the airport," said United in a statement.

'Serial stowaway' arrested at O'Hare days after judge bans her from airport. A woman charged earlier this month with flying to London without a ticket was arrested again early Sunday and denied bail after police spotted her at O'Hare International Airport, a violation of a previous order banning her from Chicago's two airports, authorities said. Marilyn Hartman, 66, was barred by a Cook County judge from entering the airport after she was charged earlier this month with felony theft after allegedly sneaking onto a British Airways jet at O'Hare and flying to the United Kingdom without a $2,400 plane ticket. Hartman, who is notorious for stowing away on commercial airplanes, also was charged in that incident with misdemeanor criminal trespassing for allegedly entering O'Hare illegally.

Now illegal aliens are getting priority boarding on commercial flights? As if commercial airline flights weren't miserable enough, now we have Homeland Security officials escorting unscreened groups of illegals onto commercial airline flights, riding alongside paying passengers. In another example of special treatment, the illegals board with all their luggage on a priority boarding basis, ahead of paying passengers. It's the return of catch-and-release, and it's responsible for a nearly threefold surge of illegal crossers of the U.S.'s southern border in the past few months, according to Judicial Watch.

United Airlines flight diverted after 'toilets reach capacity'. A passenger aboard a United Airlines flight from Denver to Hawaii claims the airline "ruined a lot of people's vacations" by failing to service the plane's bathrooms before takeoff on Sunday [1/14/2018]. United Flight 1219, which left for Hawaii just before noon, was forced to divert back to San Francisco after the "lavatories had reached capacity" before the aircraft was able to arrive at its intended destination of Lihue, in Kauai, United confirmed in a statement.

Jet Airways fires pilots who fought on flight, left cockpit unattended. Jet Airways has ultimately decided to terminate the employment of two employees who got into a heated in-flight fight on New Year's Day, during which the male co-pilot allegedly slapped his female commander and later left the cockpit completely unattended. "Consequent to the review of the events ... Jet Airways has terminated services of both the cockpit crew with immediate effect," said the airline in a statement obtained by the AFP. Jet Airways had initially grouned the two pilots following an incident during a 9-hour trip from London to Mumbai on Jan 1. During the altercation, which occurred shortly after takeoff, the male co-pilot allegedly slapped the aircraft's female commander, prompting her to leave the cockpit of the Boeing 777 in tears, according to sources for The Times of India.

Woman accuses United of giving her seat to Houston's Sheila Jackson Lee. A passenger on a flight from Houston to Washington D.C. has accused United Airlines of giving her first-class seat to U.S. Rep. Sheila Jackson Lee. D-Houston, and then threatening to remove her from the plane for complaining and snapping a photo of the Houston congresswoman. "It was just so completely humiliating," said Jean-Marie Simon, a 63-year-old attorney and private school teacher who used 140,000 miles on Dec. 3 to purchase the first-class tickets to take her from Washington D.C. to Guatemala and back home.

United apologizes to passenger booted for congresswoman. United Airlines has apologized to a female passenger and given her a $500 travel voucher after she accused the company of giving away her first-class seat to a Texas congresswoman, an airline spokesperson said Monday [12/25/2017]. Jean-Marie Simon, 63, of Washington, DC, claimed she was tossed aside to make way for Rep. Sheila Jackson Lee, a Houston Democrat, during a Dec. 18 flight. Airline officials told reporters that their internal systems showed that she canceled her trip following a weather delay, but Simon denies doing this.

Unruly traveler forces jet to make unscheduled Alabama stop. Police say a Southwest Airlines flight from Tennessee to Florida made an unscheduled landing in Alabama [12/22/2017] after the flight crew struggled to control an unruly passenger.

Terrorism Not Ruled Out In Atlanta Airport Power Outage Incident, FBI Says. Federal authorities have not ruled out terrorism — or another inside threat — in the power outage at Hartsfield-Jackson Atlanta International Airport earlier this week. [...] The outage forced the Federal Aviation Administration to suspend outgoing flights and implement a "ground stop" for incoming flights. No one was injured in the incident.

Time to Get CNN Out of the Airports, etc.. With minor exceptions, almost everywhere one goes that is a public facility like airports, bus and railroad stations, as well as most private venues like the lobbies of banks and corporate towers and even bars and restaurants, CNN is the default cable news network hanging Big Brother-like on the wall for all to see and believe. Often it is blaring at us in elevators. This is true even though in terms of voluntary home viewership CNN trails massively behind Fox News and even the less popular MSNBC. It's clear from years of ratings, the people, by and large and consistently, don't want to watch CNN. Nevertheless, they are force fed the network's vision of the world as they sit stupefied in airport lounges waiting endlessly for a delayed flight. It's like having your brains drilled. This has been going on for decades. Why?

The hassle factor of flying to the US is about to rise. New security measures take effect Thursday [10/26/2017] at airports around the world. A spokeswoman for the Transportation Security Administration said the new steps will cover about 2,100 flights a day.

Airport worker filmed 'opening passenger bags' and stealing contents. Abdullah Hayee Mayeh was arrested October 12 following video footage that circulated showing him opening airplane passenger's bags in the luggage compartment of a Jetstar flight and stealing the contents inside. The 27-year-old airport worker was caught on CCTV "opening passenger bags and helping himself to contents," the Mirror reported.

Woman contracts rare bacterial infection on 12-hour flight. In a rare case, a woman contracted a potentially deadly bacterial infection while on a 12-hour flight from Japan to Germany, according to a new report. Called meningococcal disease, this bacterial infection is generally transmitted only through close contact, for example, by kissing or living in close quarters with someone who is sick, according to the World Health Organization. The new report is only the third case ever reported of this disease being transmitted on an airplane, said Yushi Hachisu, of the Chiba Prefectural Institute of Public Health in Chiba, Japan, who helped investigate the case.

Worldwide airport chaos after computer check-in systems crash. Air passengers have been suffering major disruption at airports around the world after computer check-in systems crashed. Problems were reported at airports including London's Heathrow and Gatwick, Charles de Gaulle in Paris, Zurich, Melbourne, Johannesburg, Changi in Singapore and Washington DC's Reagan Airport. Travellers endured delays at check-in desks after the outage from about 10.30am on Thursday [9/28/2017].

Flying Coach Is So Cramped It Could Be a Death Trap. A Daily Beast investigation has found:
• The tests carried out to ensure that all the passengers can safely exit a cabin in an emergency are dangerously outdated and do not reflect how densely packed coach class seating has become — or how the size of passengers has simultaneously increased;
• No coach class seat meets the Department of Transportation's own standard for the space required to make a flight attendant's seat safe in an emergency;
• Neither Boeing nor the Federal Aviation Administration will disclose the evacuation test data for the newest (and most densely seated) versions of the most widely used jet, the Boeing 737.

TSA agent caught stealing cash from luggage at Orlando International Airport, cops say. Transportation Security Administration employee was arrested Thursday after he was caught on video stealing cash from a bag going through screening at Orlando International Airport, Orlando police say. Alexander Shae Johnson, 22, who had been with TSA just a few months, was arrested on a charge of third-degree felony grand theft, records show. A passenger was going through security when she was selected for a pat-down search and saw Johnson was standing near her bag. Afterward, she went through her bag to make sure her cash was still there, but it was missing.

Sewage leak contaminates checked bags at Nashville airport. A sewage leak at Nashville International Airport may have contaminated about 200 Southwest Airlines passengers' bags, the airline said in a statement Thursday [8/3/2017]. Airport officials told ABC News that the source of the problem was a single toilet in a women's restroom inside the terminal, closely positioned over the baggage handling area. The sewage flowed through the bathroom floor, leaked into the bagging handling area and seeped into some bags that were checked in for Southwest's early morning flights, according to the officials. The bags are currently being sanitized, and replacement bags are being offered on a case-by-case basis, the airline said.

Our air traffic control system is badly broken and the FAA is hopeless. For over 30 years the Federal Aviation Administration (FAA) has tried — and failed — to modernize America's woefully dysfunctional air traffic control system (ATC). It is time to get ATC out from under the thumbs of federal bureaucrats and partisan politicians, and create a completely new structure that will get U.S. air traffic moving. American ATC is stuck in the 1950s. Unbelievably enough, in the age of computers, U.S. air traffic controllers still hand each other little slips of paper to track aircraft locations. Pilots are forced to fly from one radar point to another (a 70-year old technology), instead of following the most direct routes from A to B. Our air space is so congested it takes 20 percent longer to fly to most places today than it did 20 years ago.

The Editor says...
Radar is not obsolete. Over-reliance on computer systems is a very dangerous thing. Stick with whatever works. The article immediately above sounds like a sales pitch for some new computer system that would refurbish the FAA's system. This would be a very lucrative contract, of course. To tout this product, it would be necessary to generate some frightening press coverage that makes the current system sound archaic and unsafe. The Editor has neither the time nor the inclination to connect the dots.

Security Officers to Shed 'Police' Label After United Airlines Dragging Episode. It was a video clip watched around the world: A screaming doctor, forcibly yanked from his seat by an officer, who dragged the man down the aisle of a United Airlines jet. As passengers cried out in horror, two other officers followed down the aisle at the man's feet. They were draped in black jackets with one word stitched in white capital letters across their backs: "POLICE." But on Wednesday, more than three months after the episode, the Chicago Department of Aviation conceded that their security officers were not actually police officers and that the uniforms had been "improperly" marked. It vowed to remove the word from uniforms, vehicles and other insignia in the coming months.

Hundreds of New York-area airport workers go on strike. The airport workers at Newark Liberty International Airport walked off the job at 9 p.m. Tuesday [7/11/2017] in a labor dispute with their employer, PrimeFlight, a subcontractor for several airlines.

There Was No 'Golden Age' of Air Travel. It's pile-on time for America's commercial airlines. The contempt people hold for them has long been severe, but following a raft of highly publicized incidents, resentment has hit a fever pitch. It started about a month ago, with the forced removal of a passenger onboard a United Express flight. This was followed by several more airlines-behaving-badly controversies, up to and including the death of Simon, a giant rabbit who perished after a London-to-Chicago United flight. Over and over we are reminded about the hellishness that is commercial flying. Enabled by cellphone cameras and the catalyst of social media, even the most mundane boarding snafu or onboard fracas has been getting its 15 minutes. I'm a commercial pilot, so I take some of this personally. I also think it's time for a slightly different perspective.

Delta worker to dad: Give up the seat you bought, or go to jail! A family from California was threatened with jail time and then booted off an oversold Delta flight last week for refusing to give up a seat they paid for, according to a report. The latest debacle for the airline was caught in an eight-minute YouTube video that shows employees telling Brian Schear that he and his family would be tossed behind bars if they didn't get off the Los Angeles International Airport-bound flight from Maui on April 23. A female employee can be heard telling him in the video, "Then that's going to be a federal offense and you and your wife will be in jail and your kids."

Statistical Summary of Commercial Jet Airplane Accidents. [For those who enjoy statistics.]

The 10 worst airports in the US. President Trump wants to upgrade the nation's infrastructure, and much of that desire comes from his hatred of the nation's airports. Trump in a presidential debate compared the nation's airports to what he would expect to find in a "third-world country." As a frequent flyer on his own personal jet, the subject of airports is something very close to the president's heart. Here are the 10 worst large airports in the United States based on customer satisfaction, according to a year-end study by J.D. Power and Associates, in descending order of quality.

Soda spill prompts emergency landing during American Airlines flight. An American Airlines flight on Monday [3/13/2017] from Miami to Chicago was diverted to Jacksonville shortly after takeoff due to a soda spill. Matt Miller, a spokesman for American Airlines, told Jacksonville.com that a soft drink splashed on an electronic device in the main cabin. Preston Wake, 43, a passenger, said a flight attendant fumbled a soda that soaked him. "I can't really tell you how far it went, but I was soaked," Wake told the paper. "I had to change my clothes and everything."

'Emotional' Pilot Removed From SFO-Bound Flight After Bizarre Rant. A United Airlines pilot was removed from a plane bound for San Francisco International Airport after a bizarre rant about politics and her divorce. It happened Saturday [2/11/2017] before United Flight 455 left from Austin, Texas.

United Airlines pilot is removed from flight from Austin to San Francisco. An unidentified female United Airlines pilot was removed from a plane before a flight from Austin to San Francisco Saturday evening. United flight 455 was scheduled to depart Austin-Bergstrom International Airport at 5:02 pm but was delayed for more than two hours after the pilot went on what passengers described as a 'rant'. The pilot came into the cabin wearing 'street clothes' and talked to passengers over the intercom about her divorce and the presidential election, passenger Randy Reiss told KVUE.

Anti-Trump Protests Block Airports, Frustrate Travelers. Protests against President Donald Trump and his executive order restricting travel from several terror-prone countries continued Sunday evening [1/29/2017] at several West Coast airports, blocking traffic and causing some travelers to miss their flights. In contrast to the demonstrations on Saturday evening, which ostensibly were aimed at securing the release of individuals who had been detained after arriving from one of seven countries on a list originally approved by the Obama administration, the protests on Sunday aimed primarily at disrupting travel and creating chaos to send a signal to the Trump administration.

Liberal hag tossed off plane after harassing Trump supporter. Late Saturday, Facebook user Scott Kotesky said he had what he called the "craziest experience ever on an airplane." Kotesky said he had a somewhat harrowing experience when he boarded a flight going from Baltimore to Seattle. It seems he sat next to a woman who apparently didn't like President Donald Trump. In no time, she began berating him, telling him that she would throw up in his lap because he supports the new president. Eventually, the woman was removed from the airplane for her conduct.

Passengers cheer as anti-Trump woman Thrown Off Plane for angry rant on President. Passengers on a plane clapped, cheered and chanted "USA" as a woman was escorted off a flight by police after aggressively challenging a Donald Trump supporter. In video footage posted online on Saturday, the woman is heard asking a flight attendant if the man sitting next to her could be moved to another seat. She tells the man next to her: "You pretend you have the moral high ground but you put that man's finger on the nuclear button."

Woman kicked off plane for berating Trump supporter in viral video. The left wing is always a dangerous place for a Trump supporter to be. Even on an airplane. But when Scott Koteskey boarded his flight from Baltimore to Seattle on Saturday, he likely had no idea the woman sitting next to him would berate him in an incoherent and unhinged rant — that was all captured on a video that quickly went viral.

Al D'Amato kicked off flight after starting rebellion against crew. Former Sen. Al D'Amato was escorted off a JetBlue flight Monday night [1/9/2017] after trying to lead passengers in a rebellion against seating changes that followed a lengthy delay, an eyewitness told The [New York] Post. JetBlue flight 1002 from Ft. Lauderdale to JFK was scheduled to depart at 1:40 pm Monday, but didn't take off until 8 pm.

Flight attendants can't 'think straight' after 'toxic fumes' leak. British Airways attendants began babbling, stuffing food in their mouths and forgetting where they were during a flight after "toxic fumes" leaked into a cabin, according to a report. At least 12 attendants began exhibiting weird behavior on the Oct. 25 flight from San Francisco to London, including "forgetfulness, confusion, inability to think straight," the Sunday Times of London reported. They treated themselves with emergency oxygen as the pilots called for an emergency landing in Vancouver, Canada.

Hawaiian Airlines faces DOT investigation for weighing passengers. Two American Samoan businessmen have filed complaints with the U.S. Department of Transportation allegeding they may have been the target of discrimination after being weighed while boarding a recent flight from Honolulu. In the complaints, the men also say they were assigned new seats on the aircraft that they did not originally select, to ensure that the weight on the flight was evenly distributed.

The Editor says...
Weight and balance are critical to the safe operation of an airplane. The uniform distribution of an airplane's payload must be arranged before the plane leaves the runway. An imbalance discovered after take-off can bring the plane down immediately. In the good old days, one could have presumed that all adults weighed about the same, and seats could have been assigned accordingly. Unfortunately there are thousands of airline passengers today who weigh twice as much as they should. If they all sit on one side, or they all sit in the front or the back, the plane is in big trouble. The safe operation of the airplane is more important than the risk of occasionally offending a few grotesquely obese passengers.

Calif. woman: Airline changed my seat to honor Pakistani monks' religious beliefs. A Southern California woman said she is the victim of discrimination, CBS Los Angeles reports. Mary Campos said her pre-booked ticket was given away by United Airlines. The reason? She's a woman, and two men didn't want to sit next to a female. A million-mile flier, Campos, a mom who lives in Coto de Caza, said she thought she'd seen it all -- until a gate agent handed her a new boarding pass just before she got on a flight to Houston last Monday [9/26/2016].

'Carnage' at Heathrow airport as protesters take over terminal. Passengers reported "total carnage" trying to get into Heathrow airport today as protesters staged a demo against airport expansion. Police were on site as crowds of cyclists dressed in red rode their bikes outside the airport in a bid to block traffic before staging a 'die-in' inside the terminal. Demonstrators lay on the floor inside the terminal building and refused to move as passengers made their way to catch flights.

Lawyer sues Emirates airline after 'enduring' nine-hour flight seated next to an obese man. A disgruntled flyer is suing Emirates airline and claiming his nine-hour flight was 'ruined' by an obese passenger seated next to him. Giorgio Destro, a lawyer from Padua in northern Italy, claims the 'spillover' caused by the South African man neighbouring his 29K window seat, made for a deeply uncomfortable journey from Cape Town to Dubai. According to an Italian newspaper, Mr Destro is 'gold member' flyer, but says Emirates wouldn't let him change seats and refused to offer an apology or any form of compensation.

London City Airport flights disrupted after 'Black Lives Matter' protesters occupy runway. Flights at London City Airport were disrupted this morning [9/6/2016] after a group of protesters occupied the runway. Nine demonstrators got onto the runway and chained themselves to a tripod at about 5.40 am, police said. The protesters, who claim to be acting in support of Black Lives Matter UK, are said to have got onto the tarmac at the airport after using a boat to sail across the Royal Docks.

U.K. Airport Brought to a Standstill by Protesters. A group of protesters from Black Lives Matter UK brought London's City Airport to a standstill for nearly six hours early on Tuesday [9/6/2016], holding up thousands of passengers.

JetBlue sends 2 children to wrong destinations. A five-year-old boy from Manhattan and another child from Boston are finally home where they belong. Both unaccompanied children were traveling to the U.S. from the Dominican Republic last month when JetBlue says they boarded the wrong fights and ended up in the wrong cities.

The best (and worst) dishes at 35,000ft according to an in-flight food addict who travels the world sampling plane food. Airline food doesn't always have the best reputation — especially if you're travelling in economy or with a budget carrier. But for one man, the joy of flying is all about the food served on board. For the last four years, Australian ex-pat Nik Loukas has hopped on hundreds of flights just to sample their culinary offering. Along the way, he's eaten everything from steak and lobster to satay and sushi — and he can certainly tell you which airlines have the best, and the worst, food. Now, the airline food addict is looking to make a documentary about the subject.

Delta cancels 300 more flights amid third day of computer problems. Delta fliers faced delays, cancellations and more headaches Wednesday as the Atlanta-based airline struggled with its computer systems for the third straight day.

Delta flights grounded after IT systems failure. Delta Air Lines flights have resumed after a "major system-wide network outage" temporarily grounded all the carrier's flights worldwide [8/8/2016], causing massive delays. Delta advised customers to expect "delays and cancellations" as the backlog of missed flights begin to get airborne again.

Carbon monoxide diverts plane to Tulsa, passengers panic. Passengers getting sick on a flight from Atlanta to Denver Saturday began to panic before the flight was diverted to Tulsa. "As people started seeing other people freaking out everybody just kind of went in to a panic," passenger Dylan Doyle said.

FBI no-fly list revealed: 81,000 names, but fewer than 1,000 are Americans. The FBI's no-fly list contains about 81,000 names, but fewer than 1,000 of those are "U.S. persons," a top lawmaker revealed Monday, giving the outlines of the secretive program on the floor of the Senate. Another list maintained by the FBI, dubbed the "TSA selectee list" because it triggers higher scrutiny but doesn't ban flying, has some 28,000 records, of which fewer than 1,700 are U.S. persons, Sen. Dianne Feinstein said as she argued for denying gun sales to those who appear on the lists, in the wake of the Orlando terrorist shooting.

Holiday headache for thousands at JFK airport. It was a holiday travel headache for many passengers at John F. Kennedy Airport after a computer outage forced delays and cancellations for hundreds on Sunday [5/29/2016], CBS New York reported. Passengers inside Terminal 7 said the crowded mess seen late Sunday evening was actually an improvement since many of them arrived earlier for their international flights. "It's been pretty packed. And pretty cramped and pretty unsafe at times," passenger Mike Priestley said.

Cops: Woman Boards Plane Without Ticket: 'My Name and Faith is My I.D.'. A woman who claimed "my name and faith is my I.D." bypassed an airport security checkpoint and boarded a plane at Nashville International Airport without showing identification or a boarding pass, officials said. Naja Eva Haynes, 24, drove herself to the airport, parked and went inside, where she went to a TSA security checkpoint and through a lane without being screened on March 24, according to an arrest affidavit. "(Haynes) then went to gate B5, got on a Delta Airlines plane without proper identification and occupied a seat near the rear," the document said.

Danger in the cockpit: FAA records show pilots fly drunk, engage in criminal activity. An American Airlines pilot flunked two sobriety tests before a 7 a.m. flight out of Detroit. An Alaska Airlines pilot flew a commercial plane from California to Oregon and back again, all while allegedly drunk. Yet another pilot, from United, allegedly moonlighted as a pimp, running half a dozen brothels out of apartments in Houston, according to authorities. The cases are enough to frighten the flying public, and are not isolated, according to a FoxNews.com investigation.

Exclusive: Black Lives Matter activist rages after being kicked off American Airlines flight. An award-winning poet and Black Lives Matter activist says she was kicked off an American Airlines flight for questioning a flight attendant for moving non-English speaking passengers from the emergency exit row.

Korean man arrested after allegedly doing yoga, meditating on airplane. A Japan-bound airplane returned to Hawaii [3/26/2016] because of a violent passenger who wanted to do yoga instead of sit in his seat, the FBI said.

Passenger from hell gets lifetime ban from British Airways. A woman has received a lifetime ban from British Airways after arguing with another passenger who claimed she got up too many times on their flight from London to Dubai. Bridget Nhire, 33, was handcuffed and escorted off the plane, but claims she did nothing wrong. Passengers on the flight had a different story. A number of them described a series of in-flight incidents to the Daily Mail that included Nhire becoming intoxicated, making racist remarks to the crew, getting up from her seat at least 20 times, yelling, and even trying to get into the cockpit. The fashion stylist claims she only got up three times, had two glasses of wine with her onboard meal, and was "treated like a terrorist."

Airbus could seat obese passengers on benches. Travel can be tricky for passengers of larger girth. For years, travelers have been getting wider, while airline seats have been getting smaller. Not to mention the fact that heavier fliers are too often rewarded with ridicule from their thinner cohorts. Airbus might have a solution: replace individual seats with rows of benches.

The Editor says...
Sure, put in bench seats, but then charge airline passengers by the pound. What could be more equitable than that?

It will take drastic action to make air travel bearable again.
How the Left Ruined Air Travel. [Scroll down] Obviously, the TSA is part of it, but only part. That's too shallow an answer. The real reason is that, despite deregulation, there is no real competition among airlines. Why is that? Because the four major U.S. airlines — United, American, Delta and Southwest — have monopolies over particular markets. At 40 percent of America's large airports, one of the big four controls an outright majority of the seats sold. At 93 percent of the large airports, a majority is controlled by two of the four combined. Which means their market shares are assured and there's no need to compete with one another. Where do the monopolies come from? Why don't smaller, newer airlines just start flying out of the monopolized airports? There aren't enough airports for the volume of air traffic the American market demands. Because of airport "slots."

Panic on Second American Airlines flight as mystery fainting illness hits passengers and crew. Unnerved passengers feared for their lives after a plane was forced to make an emergency landing when passengers and crew passed out mid-flight. The American Airlines flight, which was flying from Brazil to the United States, was travelling at a height of more than 30,000 ft when three members of staff became ill. This is the second time this week that the US airline has been forced to ground a plane as a result of a mystery illness on board.

Delta Flight Attendants Get in Fist Fight, Plane Lands. According to the Aviation Herald, the flight attendants had a disagreement over work issues on the Jan. 22 flight. A third woman on the plane tried to break up the fight and was also hit by the brawling flight attendants. At that point, the captain made the decision to land the Boeing 757. The plane was flying just south of Salt Lake City when the fight broke out.

American Airlines jet diverted to Canada after turbulence injures 7. Seven people were hospitalized Sunday night [1/24/2016] after an American Airlines plane from Miami to Milan ran into heavy turbulence and was forced to make an emergency landing in eastern Canada.

You're more likely to be killed intentionally on an airplane than accidentally. An industry tally shows more airline deaths worldwide were due to deliberate acts in 2015 than to accidental air crashes, for the second year in a row.

TSA Says It Will Stop Accepting Driver's Licenses From Nine States. The last time we took notice of the Transportation Security Administration (TSA), it was to inform you that the unpopular, expensive, and ineffectual outfit had decided it could force travelers on domestic airline flights to go through full-body scanners. Previously, TSA had allowed folks to submit instead to a full-body pat-down. Now comes even more troubling news. A decade ago, Congress passed The Real ID Act which was supposed to make it easier for law enforcement to share information on driver's licenses issued by the states and territories. Even during a period of heightened fear of terrorism, there was massive and continuing pushback because everyone realized that when the federal government (or any other centralized authority) concentrates information, it just makes it that much easier for it to get hacked or misused.

Terminal Confusion? DHS push could make some IDs invalid for flying. Millions of air travelers across the U.S. are potentially at risk of finding themselves grounded in the new year thanks to a post-9/11 law that took a decade to finally come into effect. The REAL ID Act, originally passed in 2005, was meant to tighten standards for government-issued IDs like driver's licenses — to boot, it banned federal agencies from accepting any IDs that don't meet the bar. That means the TSA technically shouldn't accept driver's licenses from certain states, once the law is in full effect. While Washington let the rules slide for years, the Department of Homeland Security could start to enforce them in 2016 and is pushing states to comply.

Hundreds wait for hours in DIA security, baggage lines; Denver airport blames TSA. Security lines eased at Denver International Airport by late Tuesday [12/29/2015], following a day of missed flights and wait times that lasted several hours. Airport spokespeople apologized to frustrated travelers because of the massive wait times that began Monday night and went on through the morning that caused passengers to miss their flights. DIA tweeted that heavy security wait times were due to holiday traffic and blamed TSA for poor staffing levels at the security checkpoints.

There are those who think blacks can get away with anything.
7 passengers kicked off Spirit Airlines flight at LAX; some claim racial discrimination. Seven passengers were booted from a Spirit Airlines flight at Los Angeles International Airport on Monday night [11/2/2015], and one of them says they were discriminated against because they were black. The onboard commotion began about 7:15 p.m. when an African American couple raised concerns about an overbooked seat on Flight 868 to Dallas, said Officer Rob Pedregon, an airport police spokesman.

Sudanese Man Tries to 'Slaughter' Israeli Passenger on Flight to Ethiopia. The Israeli victim, identified as Arik, works in Africa and was traveling on to Israel. He said that the alleged attacker choked and threatened to "slaughter" him. [...] "He hit me over the head with a metal tray and shouted 'Allah akbar' and 'I will slaughter the Jew.' Only after a few seconds, just before I was about to lose consciousness, did I manage to call out and a flight attendant who saw what was happening summoned her colleagues," Arik said.

Brazilian man bites passenger on Irish aircraft, collapses and dies. A postmortem exam is being conducted Monday on a 24-year-old Brazilian man who collapsed and died aboard an Irish aircraft Sunday [10/18/2015] after he bit another passenger. Cork police arrested a 44-year-old Portuguese woman traveling with the man after discovering five pounds of suspected amphetamine powder in her suitcase.

San Francisco-bound Southwest flight returns to LAX after 'altercation'. A San Francisco-bound Southwest Airlines flight returned to Los Angeles late Sunday night [10/18/2015] after an apparent altercation between two people on the plane. One eyewitness account from the flight indicated that the fracas may have begun after one passenger reclined her seat, possibly provoking the passenger behind her.

Southwest flight forced to turn around after fight between passengers. A brawl between two passengers that broke out Monday [10/19/2015] forced a Southwest Airlines plane bound for San Francisco to turn around mid-flight. The captain declared an emergency to receive priority handling from air traffic controllers to land the Boeing 737-300 back at Los Angeles International Airport, ABC's Channel 7 reports. The pilot on board Southwest Flight 2010 taxied to a gate where police entered the cabin.

Chaos, long lines at JFK Airport after glitch knocks out Customs, Homeland Security computer system across the country. Chaos and confusion were reported at JFK and airports around the country Wednesday night [10/14/2015] after customs computers that screen for terror suspects went down. The problem reportedly started about 7 p.m., when a Homeland Security Department computer system that checks for airline passengers on terror watch lists experienced a service disruption — meaning passengers traveling internationally couldn't be checked in or out. The scare lasted about two hours with some systems coming back online about 9 p.m.

Escaped Tarantula Grounds Plane Overnight Near Baltimore. An eight-legged creature that escaped in the cargo hold of a passenger flight from BWI to Atlanta's Hartsfield-Jackson International grounded the plane and sent passengers onto another flight.

Man arrested for urinating on fellow passengers during JetBlue flight, police say. Jeff David Rubin, 26, of Oregon, was booked on misdemeanor accusations of offensive littering and third-degree criminal mischief. [...] Plane staff and other passengers told officers that Rubin had been sleeping for most of the flight, but stood up toward the end of the trip and began urinating between the space of the seats in front of him, the report said. The urine hit passengers sitting there. Rubin soon lost his balance and fell backward, causing his urine to shoot upward, the report said. Other passengers, their seats and their personal belongings were hit.

TSA screener charged with stealing $7,000 diamond watch at JFK airport. A TSA screener at John F. Kennedy International Airport was charged with steeling a passenger's $7,000 diamond watch, authorities said. The screener, Margo Louree-Grant, 41, of Brooklyn, admitted taking the "Diamond Master" watch at a JFK checkpoint on Aug. 26, but told investigators she destroyed it after fearing she would be caught, said Joe Pentangelo, a Port Authority Police spokesman.

Six hostile, unruly, aggressive Muslim passengers kicked off Southwest Airlines flight and arrested. A Southwest Airlines flight from San Diego to Chicago was diverted to Amarillo, Texas, after pilots reported that six Muslim passengers started swearing at flight attendants and making obscene gestures at passengers who tried to calm them down, authorities said.

Six Men Detained In Texas After Disrupting Flight From San Diego To Chicago. A Southwest Airlines flight from San Diego to Chicago was diverted to Amarillo, Texas, late Monday night, after six passengers became unruly during the flight. [...] The men who were detained were being processed at the Randall County Jail and charged with interference with a flight crew, police said. They have been identified as Saiman Hermez, 19; Jonathan Khalid Petras, 20; Ghazwan Asaad Shaba, 21; Essa Solaqa, 20; Khalid Yohana, 19; and Wisam Imad Shaker, 23. They are all from the San Diego area.

D.C., New York flight delays caused by air traffic glitch, FAA says. A computer problem at a Virginia air traffic control center led to significant flight delays Saturday [8/15/2015] at airports in the Washington and New York City areas, the Federal Aviation Administration said. Just after 4 p.m. ET, the FAA tweeted that an automation system that experienced problems was back in service.

For Your Travel Inconvenience. Having created the problem of too many passengers lugging their suitcases aboard airplanes by charging for checked bags, the major airlines are now planning to make checked bags even more unpopular. The are testing various methods for making bag-checkers do their own checking instead of giving their bags to attendants with the attendant putting tags on the bags and sending them on a conveyer belt

From the Gang that Brought Us the Obamacare Website: 'NextGen' Air Traffic Control Computer System Blows Up. Flight delays are being reported up and down the East Coast, courtesy of a glitch in the new air traffic control computer system. The system went down Saturday morning and initially affected airports in Washington, D.C., and New York. But the outage quickly spread to Baltimore and other points, causing the cancellation of more than 200 flights and leaving passengers scrambling on a busy weekend.

Keep your face buried in your cell phone or you'll be face-to-face with some talkative stranger.
New airline seat arrangement looks to increase passenger capacity. After years of financial struggles, the nation's airlines are now collecting hefty profits thanks in part to industrywide efforts to squeeze more seats into the economy section of most planes. But if you thought airlines were finished trying to shoehorn more seats into each plane, think again. One of the world's largest airline seat makers, Zodiac Seats France, has applied for a patent to reconfigure the seats on airplanes so that every other passenger in a row is facing toward the back of the plane.

Justice Dept. investigating potential airline price collusion. The Justice Department is investigating whether some of America's biggest airlines have colluded to keep airfares high, striking at an industry that has posted record profits recently while limiting routes and affordable seats, officials familiar with the matter said Wednesday [7/1/2015]. Justice Department spokeswoman Emily Pierce confirmed the probe, saying investigators are looking into "possible unlawful coordination by some airlines," but she would not name the carriers.

Woman who tries to sneak onto planes arrested twice in 2 days. A woman who has repeatedly tried to sneak aboard airplanes has been arrested in Chicago twice in as many days, the latest incident while trying to get through security without a ticket at O'Hare International Airport.

The Editor says...
Two obvious questions arise: Why hasn't she locked up for a long time, and how many times has she successfully flown without a ticket?

Industry on edge as EPA prepares to regulate airline emissions. The Environmental Protection Agency will soon announce it plans to regulate airline emissions, asserting they contribute to global warming and endanger public health, according to industry and environmental groups. Those findings will prompt a regulatory process for the EPA to determine and enforce aircraft emissions limits, following a similar effort to limit emissions by cars, trucks and power plants. But conservatives say higher airplane efficiency standards will only force airlines to raise ticket prices or install more seats on already cramped flights.

The vast warehouse tucked away in Alabama that is filled with America's lost luggage. It's a paradise for bargain-hunters — filled to the rafters with electronics, clothes, musical instruments and jewelry, sold with as much as 80 percent of the value lopped off. Inside, crowds of shoppers pore over the gear — some of it practically brand new — in the hope of giving the best finds a new home. In an earlier life, all the items were checked onto planes, trains and buses, their real owners expecting to see them again a few hours later.

Trouble in the Skies. Millions of Americans will fly to their summer vacations unaware that some of the men and women in the nation's air traffic control towers and centers may have cheated on the test to get their jobs. Fox Business presents Trouble in the Skies[,] a six month investigation of the FAA's new hiring practices which uncovers changes that may put the nation's flying public at risk as well as allegations that the newest air traffic control recruits had access to answers on a key test that helped them gain jobs with the FAA.

Family forced to sit in vomit on United flight. A Maryland family says they were forced to sit in a vomit-soaked seat during a return flight home after a vacation in Orlando last Sunday [4/19/2015]. Scott Shirley had boarded a United Airlines flight with his wife and son when the trio noticed an unusual smell after placing their carry-on bags underneath their seats. After realizing their bags were damp, the family recognized the odor as vomit.

Hidden Cameras Show Airport Workers Stealing. Inside a plane at Miami International Airport, baggage handlers are going on a shopping spree with passengers' bags. What they don't know is that they are being recorded on a hidden camera. The Miami-Dade Police Department set up the camera as part of an ongoing police investigation into luggage thefts by the very airport workers who are supposed to get bags safely onto planes.

First Officer Lands Delta Jet As Captain Locked Out Of Cockpit. A jammed door in a Delta Air Lines jet left the captain locked out of the cockpit during a flight from Minneapolis to Las Vegas Thursday [2/12/2015], leaving the first officer to complete the flight in the right seat. Delta 1651 otherwise landed uneventfully and on time at McCarran International Airport. However, since the first officer notified the airport of an in-air emergency, as CNN reported, the media was alerted and interviewed passengers afterward.

Hate Flying? It's Your Fault. I hardly need to tell you that flying these days is a miserable experience. In fact, it's so miserable that it's tempting to suspect that the suffering is deliberate — that airlines are making us miserable as part of a calculated strategy to extort more money from us.

Airline: 'Emotional support' pig kicked off flight for being 'disruptive'. A woman was kicked off a US Airways flight after the pig she brought for "emotional support" became disruptive, an airline spokeswoman told CNN. The passenger and her large pig were booted from the flight before it left Connecticut's Bradley International Airport on Wednesday, spokeswoman Laura Masvidal said. "After the animal became disruptive, the passenger was asked to deplane," she said. How disruptive? Fellow passengers told the Hartford Courant that the pig stank up the cabin of the tiny DC-bound aircraft.

More than 700 flights cancelled and tens of thousands left without power in holiday travel misery. There were more 4,688 delays at airports across the U.S by 10 pm Wednesday [11/26/2014] and more are expected Thursday as the storm moves across the East Coast, reports Flight Aware. Snow fell in every state from Virginia to Maine as Winter Coast Storm Cato hit its peak, with over a foot by midday in the Mid-Atlantic region and the same amount expected in New England.

What Is America's Worst Airport? The first observation: Are bookstores dying in airports? Do people on planes not read anymore? If so, this strikes me as a strikingly depressing development for our society. It's one of the few places where you can get relative peace and quiet, you're out of cell-phone range, and you probably don't have Internet access (and if you do, it's pretty slow). [Indeed], reading is one of the few things you can do comfortably in an airline seat. Yes, perhaps everything has shifted to e-readers and Nooks, but there's something so inviting about seeing an actual bookstore, as opposed to a newsstand, near your gate with time to kill.

Flying Coach: How Airlines Engineer You Out of Room. Some 24.6 million people (equal to the whole population of Australia) will be heading down the aisle toward a seat on an American airline during this Thanksgiving holiday. That's an average 31,000 a day more than last year — including international and domestic flights — as Americans wing their way home from far and not so far. Depending on whether they turn left or right at the door, they're going to find increasingly different levels of service, from a hearty, personal welcome to a dismissive instruction to get seated ASAP.

Fresh fears after passenger flying from Nigeria to JFK dies in his seat after vomiting profusely. A 63-year-old American man has died during a flight from Nigeria to New York's JFK after vomiting profusely -- but it was only a 'cursory' exam by the CDC that confirmed he did not have Ebola. The unnamed passenger boarded an Arik Air plane out of Lagos, Nigeria, on Wednesday night [10/15/2014], but passed away before the plane reached its final destination. Flight attendants called the CDC, Port Authority and customs officials, who then boarded the plane in protective gear as it touched down, forcing 145 worried passengers to remain on board.

The Editor says...
Right after 9-11-2001, the government would issue rash pronouncements whenever any suspicious event occurred, saying there was absolutely "no connection to terrorism." We are now seeing the same thing with regard to Ebola: In the story immediately above, other passengers have ample reason to be concerned; after all, people don't usually throw up and die after boarding an airplane in Nigeria. But don't you worry, Big Brother says immediately, there's no reason to think this has any connection to Ebola.

Plane cleaners strike at LaGuardia terminal. Airplane cabin cleaners have set up pickets outside a LaGuardia Airport terminal over health and safety issues.

Ultra-Orthodox Jews delay flight, refuse to sit next to women. Hundreds of Ultra-Orthodox Jewish men refused to sit next to women on an El Al jet from New York to Israel — and spent the 11-hour flight trying to bribe people to switch seats and loudly praying in the aisles when they refused. "It was an 11-hour long nightmare," one of the passengers told Israel's ynet news Web site after the Wednesday morning [9/24/2014] flight landed. The flight — on the eve of Rosh Hashanah — was not only delayed, but degenerated into chaos once in the air, passengers said.

Police: Fire at FAA radar center deliberately set but 'no terrorist act'. Nearly 2,000 flights in Chicago have been canceled so far today as federal aviation officials slowly resume operations at O'Hare and Midway airports following a fire that was deliberately set at an FAA radar center, apparently by a disgruntled worker.

Air passengers forced to wait 2 hours for VIP politician. Resentment over the arrogance of ruling elites has boiled over. While reports of air rage in the United States are increasingly common, the phenomenon of resentment over the indignities of contemporary air travel is global.

A standing-only section on planes could mean lower fares, study says. Would you buy a bargain-priced airline ticket, but the catch was you had to stand for the entire flight? A new university study says the idea of standing-only sections on planes is no joke. An airline that removes seats can fit about 20% more passengers and, as a result, offer discounts of as much as 44% compared with airlines that offer big comfy seats, according to the study published in the International Journal of Engineering and Technology. Airlines in Ireland and China have looked into the concept, but none have yet put the idea into practice.

The Editor says...
Isn't the air stale enough on an airplane without this? And wouldn't all the standing-room passengers break their necks if the plane hit a pocket of clear-air turbulence? And isn't it illegal to take off, or even leave the gate, before all the passengers have buckled up? Will the airlines push people into the doors, the way they pack people onto Japanese subways? How about an additional discount if you agree to squeeze into the unpressurized cargo hold?

LAX thieves stole thousands of valuables from luggage, police say. As the sea of luggage twists and turns down rollers from terminals at Los Angeles International Airport, the bags stop briefly at large platforms where workers separate them for flights across the world. It is there, police said, that a group of baggage handlers pulled off one of the largest property heists in airport history. For months, detectives said, workers rifled through bags looking for items to steal. "Basically everything of value — be it electronics, jewelry and items — that could be stolen in seconds would be removed from bags," LAX Police Chief Pat Gannon said. "They'd just open up the suitcases and rifle through them and pocket valuables."

Virtuoso's flutes destroyed by US Customs. Before you whine about an airline temporarily losing your luggage, think of poor Boujemaa Razgui. The flute virtuoso who performs regularly with The Boston Camerata lost 13 handmade flutes over the holidays when a US Customs official at New York's JFK Airport mistook the instruments for pieces of bamboo and destroyed them.

Tone Deaf? Musician claims feds destroyed rare flutes at airport. A Canadian musician claims that U.S. Customs officials seized and destroyed 11 rare flutes as he passed through New York's John F. Kennedy International Airport last week. The reason? Concerns they were an ecological threat.

Delta Will Ban Calls On Planes Even If Feds Approve Them. The airline's frequent fliers believe that calls in the cabin would disrupt the travel experience, CEO Richard Anderson told employees in a memo [12/18/2013].

The Air Boehner Tax. He is the new tax collector for the welfare state. And House Speaker John Boehner's latest gift to the American people — a 124% tax increase on air travel — can aptly be called The Air Boehner Tax.

JFK baggage handlers accused of stealing iPads, cash. Seven men who worked as contract baggage handlers for El Al Airlines in New York have been charged with stealing iPads, iPhones, cash and jewelry from passengers' luggage.

A wise move by the airline generates positive publicity:
United to let lucky travelers fly on tickets accidentally sold for $0. Airlines have posted so-called mistake fares before.

Tragic security snafu: Man dies at JFK after doors delay responders. A man died after suffering a heart attack at Kennedy Airport after two teams of first responders failed to reach him — because their electronic ID cards couldn't open secure doors at the newly renovated Delta terminal, The Post has learned. [...] A call went out for help, but what happened next was a massive mix-up.

You will watch a movie, whether you want to or not.
Flight diverted after family raises concerns over PG-13 inflight movie. A family's criticism of inflight entertainment allegedly prompted a United flight to be diverted over "security concerns." In a story published in The Atlantic, one family recounts traveling from Denver to Baltimore with two young sons, ages 4 and 8. During the flight, the PG-13-rated detective film "Alex Cross" was shown on drop-down monitors across the plane. The family worried about their young children seeing inappropriate content in the film.

That's How They Getcha: Airlines Extract $6 Billion in Fees From Americans. What's the true price of flying? It's much more than the price of a ticket. And it has been for a long time. Last year, Americans likely spent more than $6 billion in baggage, cancellation, and change fees, on top of their ticket price, in 2012.

Wife called in bomb hoax to prevent husband from flying to Paris without her. A whacked-out New Jersey woman sent police rushing to Newark Airport yesterday after falsely accusing her husband of plotting to blow up a plane, authorities said. Eunice Ukaegbu, 50, called cops about her hubby, Okieze Ukaegbu, 58, because she didn't want him to leave the country without her, authorities said.

Another TSA Agent Accused of iPad Theft. A TSA agent was arrested this week and charged with stealing from passengers traveling through New York's John F. Kennedy Airport, adding to the long list of TSA officers accused of theft of passenger belongings.

Woman Says TSA Agent Stole Jewels At Logan Airport. Terri Ivester was on her way to a family christening in Chicago when she ran into a snag at the security checkpoint at Logan Airport. Terri Ivester says, "The TSA agent holds my backpack up, and um, says there's a water bottle in this backpack, I'm going to have to take that." That's when Ivester says the agent left the area with her bag.

TSA Worker Steals $500 From Traveler As Punishment For Complaining. A former TSA worker has pleaded guilty to stealing over $500 in cash from a man who complained about the TSA's invasive pat down procedure, with the TSA agent admitting the theft was a punishment for the man's lack of obedience. 60-year-old John W. Irwin pleaded guilty to one count of grand larceny following an incident in November 2011, during which a man asked that he be given a pat down rather than face a body scanner due to a medical condition.

TSA Confiscates Camera, Deletes Footage of Checkpoint. Despite the TSA admitting on its own website that there is no law which prevents people from filming TSA checkpoints, a man traveling through San Juan airport in Puerto Rico had his camera confiscated and footage deleted. [...] Tom McCormack explains how he was repeatedly harassed by TSA officers and then police simply for filming at a body scanner checkpoint, before TSA agents violently grabbed his camera from him and disappeared, a concerning development given the fact that TSA workers are routinely caught stealing expensive personal items belonging to travelers.

More about videotaping the cops.

ABC News Tracks Missing iPad To Florida Home of TSA Officer. In the latest apparent case of what have been hundreds of thefts by TSA officers of passenger belongings, an iPad left behind at a security checkpoint in the Orlando airport was tracked as it moved 30 miles to the home of the TSA officer last seen handling it. Confronted two weeks later by ABC News, the TSA officer, Andy Ramirez, at first denied having the missing iPad, but ultimately turned it over after blaming his wife for taking it from the airport.

Convicted TSA Officer Reveals Secrets of Thefts at Airports . A convicted TSA security officer says he was part of a "culture" of indifference that allowed corrupt employees to prey on passengers' luggage and personal belongings with impunity, thanks to lax oversight and tip-offs from TSA colleagues.

JFK Booster Shots. A gang of 18 JFK Airport workers really could have used a stiff drink yesterday after they were busted for stealing thousands of the tiny liquor bottles served on airplanes to resell at bodegas around the city, officials said. The airport insiders allegedly grabbed the mini-bottles — at a total value of $750,000 — that were left over after American Airlines flights landed at the airport.

What Not to Wear: Debate Over Airline Dress Code Continues. In short, since airlines and their planes are private property and not a public space like the courthouse steps, crews can tell you what to wear.

Man with saggy pants booted from plane after dispute. A man was kicked off a Spirit Airlines flight at O'Hare International Airport over the weekend after he became "verbally abusive" to flight attendants who asked him to to pull up his sagging pants, an airline spokeswoman said. The man and the woman he was traveling with Sunday morning became "verbally abusive," threatening physical harm to flight attendants who had asked him to pull up his pants, which were "excessively low," hanging below his buttocks, Spirit spokeswoman Misty Pinson said. The man was boarding the Orlando-bound plane when flight attendants spoke to him, she said.

50 airlines collect $22.6 billion in extra passenger fees in 2011. Fifty airlines throughout the world collected $22.6 billion from bag fees and other extra passenger charges last year, according to a study released Monday [7/23/2012]. The fees that air passengers pay to check bags, change reservations, upgrade to roomier seats and buy food and drinks, among other fees, have grown steadily for the past four years, representing a major share of total revenues for most airlines, according to the study by Wisconsin-based IdeaWorksCompany, a consultant on airline revenues, and Amadeus, a travel technology firm based in Madrid.

Toxic uniforms sicken 1 in 10 Alaska Airlines flight attendants. Hundreds of Alaska Airlines flight attendants say their uniform is making them ill. The Association of Flight Attendants — which represents roughly 2,800 Alaska employees — says the company's recent uniform makeover has prompted itching, hair loss, and other adverse health reactions.

Best seat on the plane is 6A. Flying, as we all know, is not always fun. Along with long delays, disappearing services and creeping costs, choosing the right seat is always a gamble. But one survey claims there is a perfect seat — one that combines maximum comfort with convenience.

Sleepy Air Canada pilot mistook planet for plane, report finds. He had indulged in a lengthy mid-flight nap, denied himself a hit of caffeine and was suffering from the sleepiness experienced by North American pilots flying overnight to Europe. So it was in a groggy haze that an Air Canada first officer flying over the Atlantic initially mistook the planet Venus for another aircraft, then plunged his Boeing 767 — with 95 passengers on board — 120 metres to avoid an imaginary crash with an oncoming U.S. C-17 military cargo plane.

More than 200 items stolen every day from checked baggage at JFK airport. It's one of the busiest airports in the world, but it's fast earning a tarnished reputation. More than 200 thefts occur daily at the New York City airport, law enforcement officials told CBS New York. What's worse is that these thefts are not being reported — rather, the airlines involved write the stolen items off as 'lost luggage.'

The Stunning JFK Airport Baggage Scandal; 200 Thefts Per Day. Think twice before you check your luggage at John F. Kennedy International Airport. Cash, jewelry, electronics and other valuables are being stolen from passengers' baggage at a staggering rate.

JetBlue Plane Makes Emergency Landing In Amarillo After Co-Pilot Disrupts Flight. A federal government official tells CBS the captain became incoherent, which caused the co-pilot to become concerned. According to the official, the co-pilot convinced the captain to leave the cockpit and then locked him out.

Update:
JetBlue pilot who had midair meltdown to plead insanity-filing. A JetBlue pilot whose midair meltdown prompted a cross-country flight to make an emergency landing in west Texas last month will plead he was insane at the time of the incident, his lawyer said in a federal court filing on Wednesday [4/18/2012].

Airplane air: Does it really make you sick? Despite literally millions of passengers being crammed daily in tightly sealed, industrial flying tubes like sardines in a can, research has shown that the risk of infectious disease transmission aboard a plane is very low. In fact, the risk of airborne transmission is probably higher in the departure lounge, where air isn't rigorously filtered.

Look Out Below! Do airplanes ever dump their waste while in flight? Not intentionally.

No female TSA agents means no flight for Denver woman. A Denver woman claims she couldn't board a flight from Wyoming to Denver because of her gender. Jennifer Winning makes the flight from the small airport of Rock Springs, WY to Denver often, but on January 29th it was different. "They wouldn't let me get on the plane because I'm female," Winning said. She said she checked in and arrived at security about 35 minutes before the scheduled departure of her United flight.

TSA screener arrested for swiping $5K from passenger. A TSA screener was busted for allegedly stealing $5,000 from a passenger who was going through a security checkpoint, the latest in a string of snafus by the federal agency at the city's three airports, authorities said.

Steal $40K, Get 6 Months in Jail — If You're a TSA Worker. Steal $40,000 from a bank, and you'll spend a decade or two in prison. Steal $40,000 from an airplane passenger's luggage and you'll get six months — if you're a Transportation Security Administration employee, that is.

JFK, La Guardia and Newark terminals among worst in world. Three [New York] area airport terminals were cited as among the worst in the world yesterday — with Kennedy's Terminal 3 earning the dubious distinction as the most miserable layover location on the planet. The former Pan Am terminal — which now houses Delta Air Lines — took home the dubious dishonor for its "endless immigration lines," crummy food and shopping options, and dank environment, according to the travel Web site Frommer's. "JFK's terminals range from the awful to the mediocre, but Delta's hubs take the rotten, worm-infested cake," according to Frommer's.

Europe's Unfriendly Skies. Flying to and from Europe just became more expensive thanks to the European Union's Emissions Trading Scheme (ETS). The ETS was instituted in January 2005, in an attempt to control greenhouse gas emissions, specifically carbon dioxide. Initially the scheme applied to power-generating facilities, oil refineries, steelworks, and other heavy industry in Europe. Now, as of the first of the year, the regulations have reached the airline industry, including aircraft based in the United States.

'We began descending very sharply'. A British Airways jet was forced to make an emergency landing after two women pilots 'almost passed out' at the controls. The captain and first officer had to put on oxygen masks as the aircraft, which had just taken off from Heathrow, was climbing at 20,000 feet.

Ways to get thrown off your holiday flight. You may not know this (but probably should, in case you need to remind flight attendants that the rule does, in fact, exist) airlines have the right to boot you off the plane if you smell bad: Several airlines state in their policies that it can remove a passenger with an offensive odor and the language varies.

O'Hare named worst airport in America; Midway seventh. To the surprise of no one, our very own O'Hare International Airport has "won" the top spot in The Daily Beast's third annual "Worst Airports in America" survey. Midway International Airport came in seventh.

Pilot of JetBlue plane stuck on tarmac for seven hours begged for assistance as passengers grew hostile. The passengers on a JetBlue plane stuck on the tarmac for seven hours on Saturday [10/29/2011] without food, water or working bathrooms weren't the only ones panicking. The pilot of Flight 504 begged officials with Bradley Airport, near Hartford, or help as passengers grew hostile.

Reporter trapped on plane: 'We were all slowly losing it'. JetBlue Flight 504 had been a perfectly normal flight right up until it wasn't. And then it stayed that way — a strange, surreal experience that trapped passengers and the flight crew on board for nearly seven and a half hours amid one of the worst October snowstorms on record.

FAA romance led to $970 million contract award, increase in ATC errors. A recent spike in air traffic control errors is likely attributable to a change in the Federal Aviation Administration's chosen contractor for training air traffic controllers, The Daily Caller has learned. That change was likely the result of a government contracting shuffle orchestrated by an FAA official and her lover — a former FAA official who worked for Raytheon at the time the contract was awarded. Raytheon won the contract, worth nearly $1 billion. Potentially deadly aircraft incidents attributable to control tower mistakes have increased dramatically in recent years.

Laura Ingraham says $11,000 in jewelry was stolen from her checked baggage. Conservative radio host Laura Ingraham says she had $11,000 in jewelry stolen from her checked baggage by a sticky-fingered thief at Newark Airport, including a baptismal cross that was blessed by the pope. And she's not happy about it — at all!

Airport workers stole my baptismal cross! Laura Ingraham's baptismal cross went missing from her checked luggage at the Newark airport this weekend, and the syndicated radio host says either a Transportation Security Administration (TSA) worker or a Continental Airlines employee is responsible.

Unruly Passenger Who Diverted Plane is Arrested. The unruly passenger that caused United Airlines flight 944 headed from Chicago to Frankfurt, Germany to make an unscheduled stop in Cleveland was arrested Monday [7/11/2011].

TSA Agent Caught With Passenger's iPad in His Pants. The Broward Sheriff's Office says 30-year-old Nelson Santiago stole around $50,000 worth of electronics over the past six months from Fort Lauderdale-Hollywood International Airport's Terminal 1. Santiago — a TSA officer since 2009 — was caught earlier this week by a Continental Airlines employee taking an iPad out of someone's luggage and stuffing it into his pants, the cops say.

TSA agent accused of pilfering from passengers. A Transportation Security Administration employee accused of stealing from passengers at a South Florida airport has been arrested. Nelson Santiago, 30, of Hollywood, Fla., was arrested Monday on two counts of grand theft.

TSA arrested, accused of stealing from passengers. A TSA screener in Fort Lauderdale Florida was arrested and charged with stealing from passengers, deputies said. Sheriff's deputies said Nelson Santiago stole items out of passengers' luggage and sold them online.

Oregon man stung by scorpion on commercial flight. An Oregon man got a big surprise on a commercial flight from Seattle to Anchorage, Alaska, when he was stung by a scorpion while sitting in his plane seat.

TSA worker arrested on suspicion of stealing from passengers at LAX. A Transportation Security Administration worker has been arrested on suspicion of stealing from passengers' luggage at Los Angeles International Airport, police said. Paul Yashou, 37, was arrested Thursday for burglary. Yashou posted $20,000 bail and is set for arraignment on July 14.

Newark TSA Supervisor Sentenced for Bribery. A former supervisor with the Transportation Security Administration has been sentenced to more than two years in prison after pleading guilty to taking bribes from a TSA officer who was stealing from passengers.

Furious passengers stage mutiny after being on board jet for seven hours. Passengers 'mutinied' on a flight from Heathrow after a thunderstorm left them waiting for take-off for almost seven hours. Witnesses said the ensuing fracas resembled a scene from Lord Of The Flies.

Sex, Lies & the TSA. [Scroll down] Recent studies have shown that naked body devices showed radiation levels 10 times higher than expected. Despite this statistic, the government has assured their workers and the flying public alike that the scanners are perfectly safe. Given the incestuous involvement of government with the scanner manufacturers, would anyone expect a report to the contrary? Where are the journalists who should be actively investigating this issue?

Doctors sound TSA germ alert. Syphilis, lice, gonorrhea, ringworm, chlamydia, staph, strep, noro and papilloma viruses all are part of the possible fringe benefits when airline passengers next go through a full hands-on pat-down by agents of the federal government's Transportation Security Administration, according to doctors.

Spreadin' the glove: TSA infecting U.S.? Those latex gloves Transportation Security Administration agents wear while giving airline passengers those infamous full-body pat-downs apparently aren't there for the safety and security of passengers -- only the TSA agents. That's the word being discussed on dozens of online forums and postings after it was noted that the agents wear the same gloves to pat down dozens, perhaps hundreds, of passengers, not changing them even though the Centers for Disease Control in its online writings has emphasized the important of clean hands to prevent the exchange of loathsome afflictions.

Panic on Flight 547. An American Airlines plane had to be diverted today after four passengers fainted and two flight attendants complained of feeling extremely dizzy. The flight made an emergency landing at Dayton, Ohio, after a suspected problem with the plane's air conditioning system. Passengers may have suffered 'aerotoxic syndrome' caused by breathing in contaminated air.

Vegetarian's blood boils over in-flight. A vegetarian air passenger was so disgusted by the food she was served on a Newark-bound Continental Airlines flight that she threw the loaded tray at a flight attendant. The New York Post reported that things came to a boil somewhere between the Dominican Republic and Newark Airport after the 30-year-old passenger complained that her special meal did not meet her expectations.

TSA employees admit to repeatedly stealing money from passengers. A TSA supervisor stole money from passengers who went through his security checkpoint and accepted bribes and kickbacks from a colleague. Michael Arato, a supervisor at Newark Liberty Airport, admitted on Monday [2/14/2011] that he regularly took money from passengers during security screenings and deliberately targeted foreigners who could not speak much English.

Two TSA agents arrested at JFK Airport for stealing $39K from passenger's bag. Two TSA officers were busted Wednesday for stealing $40,000 from a bag at Kennedy Airport they thought belonged to a drug dealer, a law enforcement source said. Under questioning, the pair also admitted swiping up to $160,000 from other unsuspecting passengers.

TSA Worker Avoids Prison After Stealing Travelers' Laptops. A 37-year-old former Transportation Security Administration officer has been sentenced to three years' probation for stealing laptop computers from passengers' luggage at Philadelphia International Airport. Federal prosecutor Arlene Fisk says defendant Troy Davis, upset about a demotion and lost pay, admitted stealing five laptops and a Sony Playstation.

Radiation risk from flying trumps body scanners. "Most people are unaware about the fact that there is significant radiation exposure associated with air travel because they are well above the Earth's atmosphere," said Robert J. Barish, a radiological and health physicist in New York City. "You'd get as much radiation in a whole-body scanner as you'd get in two minutes at 30,000 feet."

Petite woman bumped from plane for hefty passenger. It's irritating enough to get bumped from a flight. If you are already seated on that flight, having to walk off the plane adds a little indignity. But to be told to leave a plane because a too-large passenger needs two seats? It turned into a seeing-red, head-scratching moment for one frequent flyer.

Dude Where's My Gun? No one can escape the experience of lost luggage when traveling by air, not even the Israeli Secret Service. The Israeli Secret Service confirmed to Fox News that a suitcase belonging to the Israeli Secret Service entourage traveling with Prime Minister Benjamin Netanyahu to Washington, was accidentally (or not) sent to Los Angeles instead. When it was located and opened in L.A a box with 4 guns were missing.

Airline Food Health Threat: Roaches, Rat Feces, Horrors, Says FDA. Airline meals are notoriously unappealing, but newly disclosed reports from the FDA suggest they could pose a serious health threat. The reports, obtained by USA Today via the Freedom of Information Act, say that some kitchens where the meals are prepared use unclean equipment, employ food handlers who practice poor hygiene, and store food at the wrong temperatures.

Airbags on airplanes: Your seatbelt may hide a lifesaving surprise. The perception persists among many passengers that a commercial airline accident is all or nothing — either disaster is averted or everyone succumbs. And while many aviation professionals have long known that surviving an accident is not only possible but increasingly likely, educating the public remains a serious challenge.

While you're standing in line at the airport...
Reid, Boxer flying high on Feinstein's private jet. Hey, who wouldn't like to travel by private jet? It's a treat few of us get to enjoy, including members of Congress. Financial disclosure forms released Wednesday [6/16/2010] show that Sen. Dianne Feinstein let Senate Majority Leader Harry Reid and Sen. Barbara Boxer hitch a ride Christmas Eve on her private plane after they had trouble booking commercial flights because of a blizzard, reports our colleague Paul Kane.

Tiny turtle causes taxiing plane to return to gate. A caged, 2-inch turtle traveling with a 10-year-old girl caused a crew to turn around a taxiing plane, take the girl and her sisters off the flight and tell them they couldn't bring their pet along.

Airline radiation a concern, but not from scans. Passengers may be suspicious of the low-level radiation doses coming from full-body scanners being deployed at airports, but a far greater threat comes from the radiation that creeps into airliners while in flight. The phenomenon has been well known in scientific circles for years but has never gained much mainstream attention.

Europe extends flight bans as ash cloud spreads. Millions of people faced worsening travel chaos Saturday [4/17/2010] as a volcanic ash cloud from Iceland moved further south and east, forcing European countries to extend flight bans into next week. France decided to shut the three airports in the Paris area and others in the north of the country until 8:00 am (0600 GMT) on Monday [4/19/2010] due to the ash cloud that has caused the biggest airspace shutdown since World War II.

Pilot's brush with ash now aviation lore. When Speedbird 9 ran into trouble on its way from Kuala Lumpur to Perth, the pilots had no idea why their engines had stopped. They were flying in the dark and the crew saw only a bright light on the windshield as the glass was being sandblasted. There were fumes and a smell of sulphur in the cabin and the passengers could see fire as unburnt fuel ignited behind the stopped engines. Only later did the crew hear that the nearby Mount Galunggung had erupted days earlier and that its ash had choked their engines.

Dead man kept off plane. Two women were arrested at a British airport on suspicion of trying to smuggle a dead relative onto a flight bound for Germany, police said on Tuesday. The 91-year-old deceased man was pushed in a wheelchair through Liverpool's John Lennon airport wearing sunglasses before check-in staff became suspicious on Saturday and he was prevented from boarding the plane.

A 16-hour flightmare. They were supposed to be taking a direct flight from LAX to JFK — but wound up on a 16-hour nightmare tour by air and bus of New York state. Before finally arriving at their destination, the starving passengers of jinxed Virgin America Flight 404 had been stranded on a tarmac for seven hours and forced to ride a bus for another 2½ hours.

A no-fly list? Count him in. Over the weekend, an idiot walked the wrong way through a secure exit for arriving passengers at Newark airport. An entire terminal was shut down so that everybody on the "sterile" side of the security barriers could be herded back out and rescreened. The entire process took just under seven hours. The cascading delays disrupted air travel worldwide.

It doesn't help if the pilot is insane.
Pilot: I kept having urges to crash. Bryan Griffin, a veteran Qantas pilot, had a problem. During flights he experienced overwhelming urges to crash his plane. Once he had to pin his arm behind his seatbelt to prevent himself switching off the engines.

The airport is a police state.
Military Blogger Michael Yon Detained, Handcuffed by TSA in Seattle Airport. [Scroll down slowly] Yon described the TSA officials as noticeably frustrated by his refusal to answer their questions: "I always assume everything is being recorded. I was trying to be professional." Yon continued, "They said I wasn't under arrest, but I'm handcuffed. In any other country, that qualifies as an arrest." ... "TSA people are out of control," he said. "They are not doing their jobs, they are harassing people, creating animosity. They ask you 'what time is your connective flight?' and they bully you until you miss the flight."

Government Flight From Hell. The Obama Administration is rarely careful about what it wishes for, and right in time for the holidays it has decreed there shall be no more flight delays. If you happen to be reading this editorial stuck in an airport, we sympathize, though the new regulations will almost certainly result in longer waits, more cancellations, higher ticket prices and even greater inconvenience.

Flying Barely. I, like most frequent flyers nowadays, am mentally ready to hurl myself at some guy with a weapon or who acts like a terrorist. But I was totally paralyzed by the naked man.

You never know when some of your fellow passengers may exhibit remarkably poor judgment.
Arabic-language flashcards don't fly with TSA. Nicholas George planned to brush up on his Arabic vocabulary during a flight in August from Philadelphia to California, where he was to start his senior year at Pomona College. So he carried some Arabic-English flashcards in his pocket to study on the plane. But those flashcards changed George's life far beyond the classroom.

Smelly Passenger Kicked Off Plane. Few people would argue that air travel doesn't stink on same days, but what about their fellow passengers? Well, the smell of one passenger was so bad that he was apparently asked to leave a recent Air Canada regional airline flight.

Airline asks passengers to use the toilet before boarding. A Japanese airline has started asking passengers to go to the toilet before boarding in a bid to reduce carbon emissions. All Nippon Airways (ANA) claims that empty bladders mean lighter passengers, a lighter aircraft and thus lower fuel use. Airline staff will be present at boarding gates in terminals to ask passengers waiting to fly to relieve themselves before boarding, The Independent reported.

No charges for Salem man. A man whose "concerning" behavior aboard a flight from Portland to Hawaii today caused the plane to turn around was released without being charged. The plane's captain decided to turn the plane around after the man "made threatening remarks and refused to store his carry-on bag," said Dwayne Baird, a Transportation Security Administration spokesman.

Southwest Flight Turns Around After Passenger Removes Clothes During Scuffle. A Southwest Airlines flight was forced to turn around after a dispute erupted on board that left one passenger completely naked.

Crying babies and overflowing toilets. When Link Christin boarded a Continental Airlines flight from Houston to Minneapolis on Friday night [8/7/2009], he expected to be on the ground in about three hours and ready for a comfy bed. Instead, he was among 47 passengers who spent the night trapped inside a small airplane, parked at the Rochester, Minn., airport, complete with crying babies and the aroma of over-used toilets.

47 Spend 'Surreal' 6 Hours on Grounded Plane. By its sixth hour sitting on a deserted tarmac, Continental Express Flight 2816 had taken on the smell of diapers and an overwhelmed lone toilet. What should have been a 2½-hour trip from Houston to Minneapolis had moved into its ninth hour, and the 47 passengers on board had burned through the free pretzels and drinks handed out early in their Friday night [8/7/2009] flight from Houston.

Nightmare on a plane — the Flight 2816 fiasco. The latest infamous incident of Major Airline Tarmac Dysfunction occurred in Minnesota last weekend when a severe storm curtailed Continental ExpressJet Flight 2816. The flight, bound from Houston to Minneapolis-St. Paul, was redirected to Rochester, Minn., and landed around midnight. Then, because some person or persons made an unconscionably stupid call, the airline did not release the 47 passengers until 6 a.m.

Pilot tried to let stranded passengers deplane. The pilot of an airliner stranded overnight on an airport tarmac in Minnesota pleaded unsuccessfully for her 47 passengers to be allowed to get off and go inside a terminal.
This is an original compilation, Copyright © 2013 by Andrew K. Dart
Taxing Off A Runway. Hard to say which is worse. From the U.S., the Democrat-led Congress is mulling the misnamed "Travel Promotion Act" to hit travelers with a $10 tax for visiting the U.S. under the visa waiver program. High-spending Europeans will take the hit. The aim? To promote more tourism through a "nonprofit" company staffed by political cronies and set up to buy advertising. From the U.K., a government advisory Committee on Climate Change is recommending a $10 tax of its own on every airline ticket sold. The purpose here is to compensate Third World countries for global warming, turning every business trip into a guilt trip.

New kiosks at SFO first to sell carbon offsets. Travelers flying out of San Francisco International Airport can be the first in the nation to wipe away some of the damage their flights wreak on the planet by swiping their credit cards.

The Editor says:
There's a sucker boarding every minute.

When Skies Become Unfriendly: Should rowdy airline passengers be prosecuted under the USA PATRIOT Act? On the surface, the question seems to answer itself: PATRIOT, enacted by Congress in the wake of 9/11, was intended to protect against a terrorist attack, not the drunk in seat 16A. Dig a bit deeper, however, and there are good reasons to hold people accountable when they prevent pilots or flight attendants from doing their jobs.

Three luggage handlers convicted of stealing. Three baggage handlers at San Francisco International Airport have been convicted of stealing from luggage during an undercover sting begun after the theft of a retired police sergeant's gun, authorities said Friday [7/31/2009].

Turtles on runway delay flights in New York. The speed of the world's biggest jets was no match against the slow and steady pace of a group of turtles who delayed flights at New York City's John F. Kennedy International Airport on Wednesday morning. A runway that juts out into a bay was closed for 35 minutes while 78 diamondback terrapin turtles, each weighing 2-3 pounds, were removed, said a spokesman for airport operator The Port Authority of New York and New Jersey.

Music video: United Breaks Guitars.

United Airlines Song Background (short version): In the spring of 2008, Sons of Maxwell were traveling to Nebraska for a one-week tour and my Taylor guitar was witnessed being thrown by United Airlines baggage handlers in Chicago. I discovered later that the $3500 guitar was severely damaged. They didn't deny the experience occurred but for nine months the various people I communicated with put the responsibility for dealing with the damage on everyone other than themselves and finally said they would do nothing to compensate me for my loss.

Sting nabs sticky-fingered JFK airport workers going through luggage. A sting captured by security cameras nabbed two sticky-fingered airport workers who swiped electronics planted by authorities, officials said. [Two suspects] stole a laptop and cell phone from the decoy luggage as it moved through Kennedy Airport, Port Authority officials said.

Out of business, Clear may sell customer data. Three days after ceasing operations, owners of the Clear airport security screening service acknowledged that their database of sensitive customer information may end up in someone else's hands, but only if it goes to a similar provider, authorized by the U.S. Transportation Security Administration. Until this week, the Clear service had given customers a way to skip long security lines in certain airports.

TSA asked to ensure safety of customer data after Clear closing. For a $199 annual fee, New York-based VIP offered a service called Clear that was designed to help air travelers get through airport security checks faster by vetting their identities and backgrounds in advance. VIP was the largest of seven private companies approved by the TSA to operate a registered traveler program. VIP announced it was ceasing operations on June 21 because of financial reasons. The announcement prompted immediate concerns about the privacy and security of the detailed personal identity information, including fingerprints, iris scans and digital images, the company had collected on its approximately 260,000 customers.

Ryanair may charge for toilet use on planes. Irish carrier Ryanair, Europe's largest budget airline, might start charging passengers for using the toilet while flying, chief executive Michael O'Leary said on Friday. "One thing we have looked at in the past and are looking at again is the possibility of maybe putting a coin slot on the toilet door so that people might actually have to spend a pound to spend a penny in future," he told BBC television.

Man who stripped naked on L.A.-bound jet held by FBI. A passenger who stripped naked aboard a Los Angeles-bound US Airways jet, forcing its diversion to Albuquerque, will be arraigned Thursday [7/2/2009] and possibly be ordered to undergo a psychiatric examination, the FBI confirmed today.

Cops: Late passenger claims to be air marshal. A man running late for a flight flashed a fake police badge to airline workers and claimed to be an air marshal so they would let him through the gate, authorities say. Miami-Dade police said a 49-year-old man was booked on a flight to Los Angeles Wednesday night [2/25/2009], but the gate had already closed and the plane was departing.

Corporate Jets and Congress. Most of us seem to hate the idea that our corporate executives are able to fly without the normal burdens of lines, delays and bureaucratic hassles. We resent the whole business and our politicians know that so they pile on. Corporations are so intimidated that no corporate jet carries any form of public identification. It is impossible to tell from looking at these planes who owns them.

The Scariest Little Flight Attendant. It's been a little while since I talked about the horrors of contemporary air travel. Either I've become so desensitized to the situation or it's gotten better in the last year or so, I don't know. Either way, my head hasn't flown off my shoulders in quite some time. Which made my experience of JetBlue the other day all the more rich and surprising. I'll just tell it to you as it happened.

Qantas probe laptop link after 300 foot plunge. Passenger laptop computers are now being investigated as a possible cause of the Qantas mid-air emergency off Western Australia on Tuesday [10/7/2008]. The Airbus A330-300, with 303 passengers and a crew of 10, experienced what the airline described as a "sudden change in altitude" north of its destination on Tuesday. … In July, a passenger clicking on a wireless mouse mid-flight was blamed for causing a Qantas jet to be thrown off course, according to the Australian Transport Safety Bureau's monthly report.

Update:
Qantas mid-air drama explained. An error in the automatic pilot system caused an Airbus jet to plummet last week, injuring scores of passengers on a Qantas flight from Singapore to Perth, Australia's air safety agency said on Tuesday. The incident was an "unique event", but was serious enough to prompt Airbus to issue emergency guidelines to airlines worldwide operating the Airbus A330-300 in the event of a similar emergency, Australian Transport Safety Bureau director Julian Walsh told reporters in Canberra.

FBI: Airline passenger restrained with duct tape. An airline crew used duct tape to keep a passenger in her seat because they say she became unruly, fighting flight attendants and grabbing other passengers, forcing the flight to land in North Carolina. Maria Esther Castillo of Oswego, N.Y., is due in court Thursday [11/6/2008], charged with resisting arrest and interfering with the operations of a flight crew aboard United Airlines Flight 645, from Puerto Rico to Chicago.

American cancels 922 more flights. American Airlines canceled 922 flights today — including 16 that were to depart from Logan International Airport — as the world's largest carrier continued its struggle with aircraft safety inspections. Today's cancellations followed nearly 1,000 on Wednesday [4/9/2008].

The Editor says...
As I understand it, the FAA (under pressure from Congress) won't let American fly their MD-80's because of potential wiring problems in the airplanes' wheel wells. Obviously the airline considers the planes to be reasonably safe. Here's my proposed solution: Instead of inconveniencing thousands of people at airports all over the country, why not let them fly on the planes as usual, after signing a waiver and acknowledging that the plane might not be 100% safe. American Airlines would be be better off letting people fly for half price, rather than getting so upset that they would never fly American again. That would be the free market solution. Unfortunately the American public has been conditioned to assume that the government can and will keep everyone 100% safe all the time, so that's why people are sleeping on cots in the terminals at DFW Airport.

American Cleared To Return All But Three MD-80s To Service. There may finally be a (landing) light at the end of the tunnel for American Airlines, stifled for days following groundings of its 300-plane fleet of MD-80 airliners for safety inspections. On Saturday [4/12/2008], FAA officials cleared the airline to return all but three of the aircraft to service.

The Best Route to Airline Safety: [Scroll down] Unnoticed in the furor is that during all the time these carriers were doing something supposedly dangerous, it didn't cause any accidents. The carriers' definition of "safe" seems to have been vindicated. That should come as no shock. As a rule, it makes sense to assume the industry puts great emphasis on safety. Aircraft manufacturers have a huge stake in producing safe vehicles, and airlines have powerful incentives not to crash those planes.

The Latest Political Crusade: CFL Light Bulbs and Airline Safety. We are in an unprecedented era of safety as far as American commercial airlines are concerned and the uninspected items did not all have to be inspected immediately. Since there were thousands of airline flights cancelled in the name of safety, this means that there were at least tens of thousands of passengers unable to take the flights they had booked. Some of those passengers drove cars to reach the destinations to which they had originally planned to fly.

Delta Air doubles fee for second checked bag to $50. Delta Air Lines on Tuesday [7/29/2008] doubled the fee to check a second bag for domestic flights to $50 from $25 to help offset record fuel prices.

30 lashes for smoking on plane. A Sudanese man has been sentenced to 30 lashes for smoking on a domestic Saudi Arabian Airlines flight, local media reported on Monday.

US Airways to charge $7 for pillows and blankets. If you want a pillow and blanket in coach on US Airways, it's going to cost you $7. US Airways said Thursday [2/5/2009] it will begin charging for its "Power-Nap Sack" on Feb. 16. It's following the lead of JetBlue Airways, which announced a similar policy last summer.

American Airlines waives 3rd bag fee for military. American Airlines said Wednesday [8/13/2008] it will waive the fee to check a third bag for active members of the U.S. military. Fees for first and second checked bags have always been waived for active service members, American said. Previously, military personnel had to pay the $100 fee for the third checked bag, and then fill out a form to be reimbursed. The new waiver policy begins immediately.

US Airways to follow JetBlue's pillow fee. US Airways will likely begin selling pillows and blankets to its customers by the end of the year, following closely behind discount carrier JetBlue Airways Corp., which said Monday [8/4/2008] it will start charging fliers $7 to use a pillow and blanket.

Airlines' rising fees confuse and anger their passengers. Rising airline fees reached new milestones last week with a charge for pillows and blankets and record charges for frequent-flier award tickets. JetBlue began charging $7 for a new pillow-and-blanket set that passengers can keep. US Airways established processing fees for frequent-flier tickets that will cost fliers booking online $30 for a domestic flight and $40 for nearly all international destinations.

American, Cutting Back, Plans $15 Bag Fee. There's an old saying about the best way to travel: bring half the clothes and twice the money. Now may be the time to take that advice to heart. American Airlines said Wednesday [5/21/2008] that it would soon start charging passengers $15 to check their first bag each way, or $30 round-trip, if they are flying on a discounted fare.

The Editor says...
Now American Airlines is grounding its MD-80s for a different reason: The airline says (if I heard the TV report correctly) that the MD-80s are such gas-guzzlers that even if they were filled to capacity, the price of a ticket wouldn't pay for the jet fuel they burn.

Had a lost bag in 2007? It was one of 42 million. Airline passengers suffered more delays than ever in retrieving their luggage last year as 42 million bags went missing, 25 percent more than in 2006, according to a report issued Thursday [4/17/2008]. Of these, 3 percent or one bag for every 2,000 travelers were never found, said the report from the Geneva-based SITA organization, which provides computerized services including baggage handling to the air travel industry.

Arriving on carousel 1, far fewer of your bags. After the crammed parking lot, the amusement-park-length check-in lines, security procedures that require all but a striptease, flights that are jampacked, if they're not delayed or canceled — after all that comes baggage claim, where the maddening odyssey of modern air travel is supposed to end but often just gets worse. More than 1 million pieces of luggage were lost, damaged, delayed or pilfered by U.S. airlines from May to July, according to data from the Bureau of Transportation Statistics. June and July ranked among the 20 worst months for mishandled baggage in 20 years.

Planes Late, Fliers Even Later. As anyone who has flown recently can probably tell you, delays are getting worse this year. The on-time performance of airlines has reached an all-time low, but even the official numbers do not begin to capture the severity of the problem. That is because these statistics track how late airplanes are, not how late passengers are. The longest delays — those resulting from missed connections and canceled flights — involve sitting around for hours or even days in airports and hotels and do not officially get counted.

Fliers Fed Up? Airline Employees Feel the Same. And you thought the passengers were mad. Airline employees are fed up, too — with pay cuts, increased workloads and management's miserly ways, which leave workers to explain to often-enraged passengers why flying has become such a miserable experience.

Air passengers win right to water, food. A group representing air travellers in the US have claimed victory after a New York judge ruled airlines in the state must provide essential services to passengers stranded for long periods.

Passengers sue after being stuck on airplane. Two passengers who were stranded for hours on American Airlines airplanes diverted during a major storm over North Texas have sued the carrier, accusing it of false imprisonment, fraud and negligence. … After landing, passengers sat in the planes for more than eight hours, unable to leave despite overflowing toilets and little food or water.

Update:
Court overturns air passenger rights law. A federal appeals court Tuesday [3/25/2008] struck down a state law requiring airlines to give food, water, clean toilets and fresh air to passengers stuck in delayed planes, saying the measure was well-intentioned but stepped on federal authority.

The Editor says...
Airline passengers fork over hundreds of dollars to get on an airplane, only to be held captive on the plane for hours in some cases. Here is the solution: Pick the airline with the worst track record in this category, and don't fly on that airline again! (Indeed, the courts have just ruled that there is no other recourse.) When they go out of business, the other airlines will get the message.

Flight delays worst in 7 years. Last year was the worst on record for flight delays since 2000, according to a new report from the federal Transportation Department. … Fort Worth-based American Airlines tied with U.S. Airways for the worst 2007 record among the largest domestic carriers, with more than 31 percent of flights delayed, according to the Transportation Department. Southwest Airlines of Dallas posted the best record, with just 20 percent of flights delayed.

Flight delays are the second worst in 12 years. "Travelers should look back on 2007 with a sense of fondness," said Kevin Mitchell, chairman of the Business Travel Coalition, a Radnor, Pa.-based trade group of corporate travel managers. "It's going to get worse. These will be the good old days." … Any flight arriving less than 15 minutes behind schedule is considered to be on time.

Flight Delays, Lost Bags at Record Highs. Flying, if it ever was fun, became less fun last year. According to the Department of Transportation's (DOT) Air Travel Consumer Report, U.S. airlines experienced a lower rate of on-time flights and more reports of mishandled baggage last year than in 2006, and passengers filed more complaints with the government about airline service than they did the previous year.

Hundreds Of Items Disappear From Luggage At OIA. Thousands of dollars in property are being stolen from luggage handled at Orlando International Airport. That information is according to the new data the Transportation Security Administration released after a year-long battle with the media to keep it private.

Flight delays, mishandled-luggage incidents on the rise nationwide. Incidents of flight delays and mishandled baggage have risen steadily since 2003, and according to a report issued by the U. S. Department of Transportation on Tuesday [2/5/2008], the number of incidents has continued to climb in 2007.

Heathrow a national embarrassment, says airlines' chief. Giovanni Bisignani, the director general of the International Air Transport Association, rounded on the airport when he addressed aviation executives at the industry summit in Istanbul. … "Look at Heathrow," he said. "Service levels are a national embarrassment, but still the Civil Aviation Authority increased charges by 50 percent over the last five years and plan 85 percent for the next five.

Workers Use Handicapped Parking Slots at Airport. The lure of free and convenient parking for the handicapped was apparently too much for some able-bodied baggage handlers to resist. County investigators said Wednesday [4/9/2008] that at least 227 workers at Miami International Airport had been caught parking near the terminals with permits for the handicapped, only to walk away from their cars, typically with very little effort and bags in hand.

More flights cancelled as Heathrow bag mountain grows. British Airways on Monday cancelled dozens more flights from its new flagship terminal at London Heathrow amid mounting anger over the disruption and a mountain of stranded luggage. Five days after Terminal Five opened, ministers criticised anger at the chaos which has engulfed the multi-billion pound facility, while it also emerged that the turmoil had triggered a diplomatic incident.

British Airways bags sent to be sorted out in Milan. British Airways is sending thousands of suitcases by lorry to Milan because staff cannot cope with the Terminal 5 baggage mountain. A large chunk of the 20,000 suitcases, which built up after the Terminal's disastrous opening day, are being sent to the courier firm in Italy to be driven or flown to their owners.

My Escape from the Titanic: In the case of T5, the planners had forgotten to create parking spaces for the baggage handlers. When the handlers finally got to the doors of T5, their security passes didn't work. The few that managed to get through didn't know where their workstations were. The baggage handling software had already failed. My two bags I had complacently supposed were being whirled at tremendous speed to the Boeing 747 at Gate 38 in Terminal B had in fact joined a vast logjam in the center of the baggage maze. Everything came to a standstill.

Equipment problem delays flights at DFW Airport. [Doug] Church said the FAA had called in a technician from Oklahoma to fix the problem. "We were told he was told not to fly, but he was supposed to get in his car and drive," Mr. Church said. … [Ric Loewen, spokesman for NATCA at D/FW Tower, asks,] "Why is the maintenance guy who is responsible for the nation's third busiest airport driving from Oklahoma City? Why don't we have enough technicians here at D/FW that are certified who can fix it?

The Editor says...
Why drive all the way from Oklahoma City? Couldn't he fly to Love Field and take a taxi?

Airline pilots may have slept past their stop in Hawaii. The Federal Aviation Administration is investigating whether two airline pilots who flew past the airport in Hilo Hawaii by 15 miles last Wednesday [2/13/2008] were asleep. Go! Airlines flight 1002 left from Honolulu and was expected to land in Hilo around 10 a.m., but had to turn around after flying past the airport.

This item was published four weeks later...
'Sleeping pilots' overshoot destination. The pilots of a passenger jet are being investigated over suspicions that they both fell asleep at the controls. An air traffic controller monitoring Hawaiian airspace repeatedly tried to raise the two pilots of the go! flight from Honolulu to Hilo as it overshot its destination by 15 miles. Aside from a suspicious 17-minute-long radio silence, the plane remained flying at an altitude of 21,000 feet, suggesting that it had not even begun its descent to land.

Update:
Pilots Who Slept Through Landing Suspended. Two pilots for Hawaii's Go airlines who slept through their flight's landing procedure were suspended for the careless and reckless operation of an aircraft, the Federal Aviation Administration said. The pilots, who have been fired by Go, completed their suspensions on Sept. 9, FAA spokesman Ian Gregor said Tuesday [9/23/2008]. He did not know whether they are flying again with a different carrier.

A similar case:
Plane soared past destination as pilots slept: report. An Air India flight headed for Mumbai overshot its destination and was halfway to Goa before its dozing pilots were woken out of a deep slumber by air traffic control, a report said. The high altitude nap took place approximately two weeks ago, the Times of India reported today [6/27/2008].

Passengers also sleep past their destinations sometimes:
Woman says she fell asleep, woke up alone on plane. A Michigan woman who fell asleep on a United Express flight to Philadelphia says she woke up and was shocked to find she was alone on the plane.

Flying the angry skies. Flights are packed. Delays are rampant. Cancellations are all too common. … This year, airline passengers and employees already frustrated by delays say they have added peevishness, anger, even shouting matches to their travels. Chances are not only greater that you will arrive late at your destination these next few months, they say. It's just as likely you'll have a thoroughly unpleasant time on the way.

US Airways flight to Phoenix sat on NY tarmac for nearly 7 hours. Passengers on a US Airways flight from New York to Phoenix spent nearly 7 hours sitting on the tarmac waiting for bad weather to clear, finally arriving nearly six hours late, and presumably a whole lot grumpier.

The Editor says...
I'm not a pilot, but I do know that the time to check the weather forecast is before loading people onto an airplane.

Flight diverted due to alleged groping. Federal air marshals charged a Seattle-area man with groping a female passenger aboard a United Airlines flight that the pilot diverted to Pittsburgh because of the disturbance.

3 a.m. home invasion? No, it's American Airlines. In November, The New York Times reported that U.S. airlines lost one in every 138 bags checked in the first nine months of 2007. That's 3.4 million bags, a 17 percent increase over the same period in 2006. And during the holiday travel season the situation is usually even worse.

Power Outage Hits Grand Rapids Airport. A nearly 14-hour power outage caused some flight delays Monday [12/24/2007] for holiday travelers at Gerald R. Ford International Airport, which was left without heat in the passenger terminal.

Stranded, angry air travelers overrun ticket counters, destroy equipment at Argentine airport. Local television broadcasts showed passengers overrunning ticketing counters, throwing computers and wrestling with airport personnel, even as a spokesman for the airline attempted to explain the cause of delays. Tempers flared as hundreds of travelers awaited word on suspended and canceled flights.

Coffee Grounds Qantas. Qantas Flight QF2 from London To Sydney via BKK (Bangkok) (a Boeing 747-400) suffered a total AC electrical loss 15 minutes before landing at BKK on 8 January 2008. … Inspection of the aircraft showed that water from the first class galley had overflowed down onto the sub-floor E racks which contained the GCU's (controllers for engine generators) and BPCU (backup PCU). All controllers were disabled resulting in total loss of AC power.

Airline passengers demand more legroom. Airline passengers should be given the legal right to at least two inches more legroom to counter the threat of deep vein thrombosis (DVT), peers have said. The gap should be widened from the current statutory minimum of 26 inches to at least 28.2 to take into account the fact that the traveling public were getting fatter and taller.

Man Drinks Liter of Vodka at Airport Line. A man nearly died from alcohol poisoning after quaffing a liter (two pints) of vodka at an airport security check instead of handing it over to comply with new carry-on rules, police said Wednesday. The incident occurred at the Nuremberg airport on Tuesday, where the 64-year-old man was switching planes on his way home to Dresden from a holiday in Egypt.

'Drunk' flight attendant arraigned. A flight attendant for Atlantic Southeast Airlines who was removed from a plane because she was allegedly drunk was arraigned Monday in a Lexington, Ky. court. Public safety officials at the Lexington airport said the flight attendant threatened the jet's captain, telling him "You're dead" as she was removed from the plane.

United Airlines [stinks] (part 40). United damaged our bag, refused (through a contractor) to accept our damage report at the airport, and then over the phone blatantly misrepresented what it was offering as compensation. If United had been telling the truth then we would have received the $150 compensation that United owes us. Instead we seem to be receiving nothing at all.

Planes, Trains, and Solicitations: With the holidays fast approaching, Americans are already bracing for the high anxieties of holiday travel: missed flights, lost luggage, weather delays, and explaining to the children why that TSA agent gets to open all their presents. But this weekend's latest expose in the Idaho Statesman gives millions traveling through the nation's crowded airports a whole new worry: how to get home for the holidays without being solicited by Larry Craig.

Operations Returning To Normal After Second LAX Computer Glitch. [Scroll down] A more serious snag occurred about 2 p.m. on Saturday [8/11/2007]. The Customs and Border Protection computer system — which is used to process travelers entering and leaving the country and identifies those on a "no-fly" terrorist watch list — went down and was not restored for about seven hours. The outage prompted security officials to keep international passengers on their planes on the tarmac for up to six hours, creating gridlock throughout LAX. Some 20,000 passengers were affected.

Update:
LAX airport delay cause. According to the Los Angeles Times (and an Associated Press article), the issue that caused thousands of travelers to be delayed at LAX was caused by a faulty network interface card (NIC) on a single machine.

Terror crackdown: Passengers forced to answer 53 questions before they travel. Travellers face price hikes and confusion after the Government unveiled plans to take up to 53 pieces of information from anyone entering or leaving Britain. For every journey, security officials will want credit card details, holiday contact numbers, travel plans, email addresses, car numbers and even any previous missed flights. The information, taken when a ticket is bought, will be shared among police, customs, immigration and the security services for at least 24 hours before a journey is due to take place.

53 reasons to stay at home. If you think radical Muslims, bureaucrats and cops have made travel miserable for everyone in America, you might have to stay away from Britain. Gordon Brown, the new prime minister in London, revealed his new scheme yesterday for saying hello and goodbye to tourists and other travelers, and it's a scheme that could please only a busybody bureaucrat. … The relevancy of all this to Americans is clear and present, since bad things spread swiftly to unexpected places.

British Airways Places Dead Passenger in First Class Seat. A British Airways passenger traveling first class has described how he woke up on a long-haul flight to find that cabin crew had placed a corpse in his row.

Passengers Spend 5 Hours On Plane At LaGuardia. Stormy weather in the Northeast had led to canceled and delayed flights at all local area airports, hundreds being stranded at LaGuardia, John F. Kennedy and Newark Liberty airports, and frustrated passengers sitting for hours on planes that never took off.

JetBlue passengers endure 25-hour trek from Fort Lauderdale to N.Y.. A 2½-hour JetBlue Airways flight bound from Fort Lauderdale to New York on Wednesday turned into a 25-hour odyssey that finally ended Thursday afternoon, as a chain of problems left 150 passengers staggered by the mind-boggling delay.

Sewage flows down aisles of trans-Atlantic flight. Passengers on a Continental Airlines flight had to hold their noses for hours as sewage overflowed from toilets while they were high over the Atlantic. "To be blatantly honest, I was more nervous than I had ever been on a flight," said Collin Brock. The University Place man was on board Continental Airlines flight 1970 from Amsterdam to Newark, New Jersey last week when things went bad.

Airline industry in a jam. Flight 1073 shows how easy it is for a situation to go from bad to worse, especially when carriers operate with little or no slack.

Plane diverted from IAH over unruly passenger. A Continental Airlines flight bound for Houston from Dallas Love Field was diverted Wednesday night to College Station, according to a spokeswoman for the airline. Continental Express Flight 2828, which had 40 passengers and three crew members on board, was diverted to Easterwood Field in College Station.

Computer problem grounds United. United Airlines grounded all of its flights for two hours yesterday [6/20/2007] because of a computer malfunction, adding to the woes that fliers are expected to endure this summer.

Travelers Forced to Throw Out Liquids. Airline passengers around the country stood in line for hours and airport trash bins bulged with everything from mouthwash and shaving cream to maple syrup and fine wine Thursday [8/10/2006] in a security crackdown prompted by the discovery of a terror plot in Britain.

Amazingly, people go along with this new level of stringent baggage checking without complaining. Many were shown on television tossing their toothpaste and carbonated beverages into trash cans, while professing a belief that they're keeping America safe by doing so. Someday even more restrictions will be put in place and the people who travel by air will gladly comply. Some people believe that security guards are always right, no matter what they demand.

Flying naked: Air travel quit being fun about the time snazzy Braniff Airlines went out of business, but it has become a nightmare as a result of the most recent security rules. Not only can't you bring a bottle of water aboard to stave off dehydration on a five-hour flight, but even a tube of lipstick or mascara has become suddenly suspect in response to the recently foiled plot against American carriers in Great Britain.

Obese can get 2 airline seats. Obese people have the right to two seats for the price of one on flights within Canada, the Supreme Court of Canada ruled on Thursday. The high court declined to hear an appeal by Canadian airlines of a decision by the Canadian Transportation Agency that people who are "functionally disabled by obesity" deserve to have two seats for one fare.

Fat man sues over plane seat. An overweight passenger has sued Air France after being told he was too fat and forced to buy a second seat to accommodate him on a flight. A lawyer representing Air France told a court the company had a clear policy of asking obese passengers to pay for two seats. "Let's be objective. This man is fat," lawyer Fernand Gamault told the court in Bobigny. "He barely fits on the courtroom chair. How could he sit in an aeroplane?"

Call for airlines to charge 'fat tax'. Obese airline passengers should be forced to pay a "fat tax" to cover the cost of transporting their excess weight, according to a controversial proposal by health experts. Calls for the tax — which would be determined per extra kilo, in the same way as excess baggage — come as obesity rates and fuel prices surge to new highs in Australia.

United Air to Charge Obese Fliers Twice on Full Jets. United Airlines, the third-largest U.S. carrier, may force some obese travelers to buy a second seat when flights are full and other passengers complain about being cramped. The policy brings practices at UAL Corp.'s United in line with those at the other five biggest U.S. carriers including Delta Air Lines Inc. The rule took effect today after being adopted in January, said Robin Urbanski, a United spokeswoman.

Air France to charge obese passengers for two seats. Overweight passengers who struggle to fit into just one seat will have to pay double to fly with Air France in a new rule introduced by the airline. Obese passengers will be charged 75 percent of the cost of a second seat if they are deemed too large to fit into just one seat of a 43-44cm width.

The Editor says...
Charging by the pound is, in my opinion, the only sensible way to sell airline tickets.

Swearing grounds NWA jet. The Federal Aviation Administration is investigating a Northwest Airlines pilot who locked himself inside an airplane lavatory while screaming obscenities before the flight was scheduled to take off for Detroit from Las Vegas on Friday [4/7/2007].

Passengers Sue British Airways For Lost Luggage. When does an airline's mishandling of luggage cease to be a major inconvenience... and become an actionable, legal issue? According to three US travelers, British Airways has crossed that line, and they have filed a proposed class-action lawsuit to prove it.

Airline Luggage Found Near Houston Store. Authorities were trying Tuesday [12/26/2006] to figure out how dozens of pieces of luggage belonging to air travelers ended up in a trash bin behind a Houston pet store. The store's owners discovered 60 to 70 pieces of luggage, which belonged to passengers of Continental Airlines, Lufthansa, British Airways and U.S. Airways, and contacted the Harris County Sheriff's Department, according to Houston television station KRIV.

Airport tries to get handle on bag theft. The 68 pieces of baggage that turned up in a trash bin Tuesday [12/26/2006] near George Bush Intercontinental Airport were probably stolen by a team of thieves in a single day's work while airline staffers were stretched thin by the demands of holiday travel, a Texas travel adviser theorized Wednesday.

Update:
Five arrested in Houston airport theft. Police in Houston arrested five contract workers suspected of stealing luggage at the George Bush Intercontinental Airport. [They] were charged with engaging in organized criminal activity after dozens of pieces of luggage were found in a trash bin near the airport.

Dogfight over MSP: If you arrive at Minneapolis-St. Paul International Airport, 16th busiest in the world, with a seeing eye dog and want to take a taxi, you may be out of luck. God help you if it is January and the temperature is twenty degrees below zero, for you may be refused service. Somali Muslim taxi drivers, who comprise roughly three quarters of the supply of drivers there, think that Muslim law regards dog saliva as unclean, and they want to make their religious beliefs the basis on which they supply service to the traveling public.

BA passengers share first class cabin with dead traveller. First Class travelers on a British Airways transatlantic flight were horrified when they were forced to sit next to a dead body for three hours. The elderly passenger had died of a heart attack just minutes earlier and was carried into their cabin to continue the journey to America. It followed a mid air drama in which a doctor and crew lost a 35 minute battle to resuscitate the man after he suffered a cardiac arrest in business class where he was traveling with his wife.

Like Clockwork: Hour of Delay, Hour of Flight. Few things are certain in air travel today, but one comes close: If you're on Delta Connection Flight 5283 from New York to Washington, you can expect to be late. The flight had the nation's worst on-time performance in September, arriving late 100 percent of the time at Reagan National Airport, according to a recent government report.

Questions Raised About Airport Staffing. The ban on carrying liquids and gels onto airliners will continue indefinitely, raising questions about whether there are enough airport screeners to do the added work.

The filth that you would expect on a bus or subway can now be found on an airliner.
Beware of the Squish Behind the Jet Seat. Seatback pockets hiding sticky surprises, carpets with patterns that can no longer conceal the curious stains, overripe lavatories and crevices oozing snack grit and plain old grime. Increasingly, that describes the modern airliner, an untidy tube hurtling through the sky full of passengers who cannot wait to land and go wash their hands with disinfectant soap. Cleanliness may be next to godliness, but in the airline industry it has taken a back seat to financial survival.

Security Ban Could Put Passengers' Health at Risk. The highly restrictive carry-on rules in force today at airports could put many passengers' health at risk, especially those who suffer from chronic conditions such as heart disease, asthma and diabetes, a doctor warned. Plus, the long lines and anxiety could exacerbate health conditions.

[Note to poorly educated TV news writers: Plus is not a conjunction.]

U.S. relaxing ban on liquids, gels on airliners. The government is partially lifting its ban against carrying liquids and gels onto airliners, as long as they are purchased from secure airport stores, and will also permit small, travel-size toiletries brought from home, officials said today [9/25/2006]. A total ban on such products, instituted after a plot to bomb jets flying into the United States was foiled, is no longer needed, said Transportation Security Administration chief Kip Hawley.

The War on Terror Is Worth the Costs. Tighter restrictions on passengers, of course, severely limited carry-on luggage. In addition, extra security at the gate required each passenger to go through a thorough search before boarding the plane. After that, passengers were held in a secured area until they were allowed to board. You could forget about getting a coffee or taking a trip to the facilities after being searched. Add to that the restriction on standing up in the plane at the beginning of the flight, and you start talking serious hardship. We might be losing the war on terror, but we are winning the war on trips to the bathroom.

Trapped on flight 63: Police boarded a jumbo jet yesterday [8/24/2006] amid fears furious passengers would riot after being stuck in their seats for seven hours. The 352 travelers were kept cooped inside Virgin Atlantic Flight 63 on the ground after a technical problem.

Airlines are squeezing more Fourth of July travelers into fewer planes. Before celebrating the nation's birthday, many travelers will fight some Independence Day-caliber battles of their own. They will face long airport check-in lines, followed by security lines and even lines at Starbucks. Planes packed to record levels are great news for cash-strapped carriers but frustrating for travelers who want a little extra space. And those who haven't traveled in a while will discover check-in kiosks and mandatory fees for skycaps.

On the other hand...
Airways in USA are the safest ever. A passenger hasn't died in a U.S.-registered airline jet accident in more than 4½ years, the longest stretch in the modern history of aviation. Even accounting for the death of a 6-year-old boy in a car that was struck by a Southwest Airlines jet last December in Chicago and other accidents involving small planes, the risks of flying are at an all-time low.

Next Time, We're Driving. All things considered, our flight to Cleveland took eight hours from driveway to hotel check-in. Some of our compatriots drove the same trip in ten hours. The two hours saved were not worth the loss of freedom, hassle, and expense. We are going to go on another trip soon. This time we will be driving.

The Airport Experience: [In the first two months after the September 11th attack, there were] at least four instances of people smuggling knives and guns successfully past security, in most cases, just to prove it could be done. Clearly, making people stand in line for hours while ill-trained inspectors paw through their bags is not the answer.

Put your seat in the upright position — or else. I am on a book tour, sitting in the middle seat of a row in the economy class cabin of an Airbus A-320. Surrounding me are two people who are considerably larger than I, one of whom is eating a sandwich the size of a ferret that smells like a seafood Dumpster in August.

U.S. Airlines' service ranks worst in five years, report shows. Customer service at U.S. airlines was the worst it's been in five years during the first quarter, according to a University of Michigan index that ranks customer satisfaction.

United airlines computer out(r)age. TSA, not known for their flexibility, was not allowing people to go to the gates directly with a boarding pass. Even an e-ticket receipt with a seat assignment wouldn't get you there.

United abandons Denver baggage system. The $250 million automated system was intended to be a cutting-edge model but turned into a major problem for Denver International Airport. The city, which owns the airport, spent an additional $100 million for construction and $341 million in interest to try to get it to work. The automated system was an underground, computer-driven railroad network for moving baggage. But bags were misdelivered, luggage was chewed up and cars derailed and jammed tracks.

Should Cities Be Allowed to Block Your Airwave Access? Imagine if an airport declared that all food was banned — except for food that it specifically allowed you to buy, and that food was overpriced. Does it sound fair? Who decided that it's okay to ban access to the Internet, turning it into a monopoly?

Read this article! G.I. Joe a security risk? Airline travel is more than getting from place "A" to place "B" and it used to be fun. It's not fun anymore. People, who travel on other than business, use airlines strictly as an option. Families who fly save their money all year long to go on a deserved vacation, but I predict that this optional way to travel will soon go the way of the Buffalo, caused by government over-reaching, ordered by mindless, stupid bureaucracy.

Be Careful What You Write: On September 1, 2002, I wrote a column critical of the way screening is carried out at U.S. airports ("A U.S. Police State"). Since that time I have been on ten flights. On every one of those ten flights I have been "selected" for "random" searches by the same airline screeners I criticized. Surely this was a coincidence!

Flowers, perfume in airline cabins not OK? The Canadian Transportation Agency has issued a landmark ruling that could affect what passengers are allowed to take on airplanes, including pets, flowers and even the perfume they wear.

Editor's Note: The following is an anti-war column, but the writer makes some interesting points.

Isn't it time for the truth?: Last Friday, at Los Angeles airport, I saw people trying to check their baggage — standing in a line that was at least 200 yards long. I stood in five separate lines to identify myself and my carry-on luggage. The soldiers in fatigues with sub-machine guns reminded me of a Third World country.

IRS Laptop Lost With Data on 291 People. An Internal Revenue Service employee lost an agency laptop early last month that contained sensitive personal information on 291 workers and job applicants, a spokesman said yesterday [6/10/2006]. The IRS's Terry L. Lemons said the employee checked the laptop as luggage aboard a commercial flight while traveling to a job fair and never saw it again. The computer contained unencrypted names, birth dates, Social Security numbers and fingerprints of the employees and applicants, Lemons said.

Revenge of the Tweezer People: The backlash against senseless — and useless — airport security rules is building up into something nasty. The anger that travelers feel toward airline security measures — like the confiscation of G.I. Joe, nail clippers and tweezers, or "random" searches that seem to target mostly white-haired old women or whoever's the first person in line — is real. It could blossom into a political force.

Cigarette Lighters Banned From Airplanes. Starting Thursday [4/14/2005], air travelers will have to leave their lighters at home. Unlike guns, knives and other dangerous items that a passenger cannot carry aboard but may stow in checked bags, lighters are banned everywhere on a plane.

Flying the unhappy skies. The allure has vanished, but the adventure remains, but it's an adventure into long security lines, high-tech glitches compounded by inefficiency, incompetence and irresponsibility.


Note: All the information about cell phones on airliners has been moved here.


Waiting in line: The feds are considering changing the rules on airport security again, which could end up creating even greater bottlenecks at those security checkpoints that are the bane of every traveler.

Woman banned from flight in blasphemy row. Christian says she asked airport boarding staff to not use God's name in vain.

Handbag incident on plane gets passenger kicked off. A passenger was escorted off a Tokyo-bound plane in Hong Kong after she refused to put her Gucci handbag under her seat, holding up the departure of a flight for more than an hour.

Air Rage Information Resources: Extreme misbehavior by unruly passengers, often called air rage or sky rage, can lead to some tense moments in the air and may even put crew members and passengers at risk.

Is cabin air making us sick? More and more pilots are reporting that air polluted by engine fumes is making them ill and even incapable of handling their aircraft. So why are passengers not being told? … Incidents of contaminated air on aircraft are referred to in hundreds of reports filed by pilots in recent years, and some of the accounts have been seen by The Daily Telegraph. They highlight concerns about the effects of toxic fumes from engines — which some medical specialists refer to as "aerotoxic syndrome".

Air Rage is Caused by Oxygen Deprivation. Passenger unruliness began to rise some 20 years ago, coinciding with the cost-cutting practice of using recycled air instead of fresh air in commercial jets.

Nitrogen Used To Fill Aircraft Oxygen Systems. Airlines all over the world are being warned to check to make sure there's actually oxygen in their aircraft oxygen systems after an embarrassing mix-up by Qantas Airlines at Melbourne International Airport. For ten months, crews have been filling airliner oxygen systems from a nitrogen cart that's supposed to be used to fill tires.

Boeing 787 Dreamliner is a breath of fresh cabin air. The successful launch of the Boeing Dreamliner this week has highlighted concerns about the amount of toxic air in conventional aircraft cabins. The new lightweight plane, which is designed to cut fuel costs by 20 percent, has been hailed as the answer to the problem of contaminated air that scientists claim affects up to 200,000 British passengers each year — known in the industry as aerotoxic syndrome.

Airline Air: Airline pilots get ten times more oxygen than passengers get. Insufficient oxygen can cause many symptoms including impaired visual acuity. … What about flight attendants who catch tuberculosis from passengers and then spread it on subsequent flights? This is a big coverup. I've been contacted by several international flight attendants who have TB.

TB case brings warning to air passengers. A man with a rare and exceptionally dangerous form of tuberculosis has been placed in quarantine by the U.S. government after possibly exposing passengers and crew on two trans-Atlantic flights this month, health officials said Tuesday. It is the first time since 1963 that the government issued a quarantine order.

Fear of flying with tuberculosis: One unglamorous truth about airplane travel is that it is a place where several hundred people are trapped for hours in a confined space, coughing, breathing on one another and sharing germs. Nowhere is this more true and upsetting than in the case of a budding groom from Georgia with a dangerous form of tuberculosis. This Atlantan simply had to get to Europe and back on two trans-Atlantic flights for his wedding.

Man crisscrossed border with TB. A Mexican national infected with a highly contagious form of tuberculosis crossed the U.S. border 76 times and took multiple domestic flights in the past year, according to Customs and Border Protection interviews and documents obtained by The Washington Times.

Airborne contagion. A tubercular Mexican national's 76 border crossings and multiple domestic flights over 10 months beginning in August 2006 require explanations from Customs and Border Protection. So, too, does the six-week lag between April 16, when federal authorities first learned of this mobile danger to public health, and May 31, when the Department of Homeland Security finally got around to warning its inspectors. Add the fact that not until June 7 was the infected Mexican businessman placed on the Transportation Security Administration's "no-board" list, by which time the man had flown to Atlanta, Salt Lake City and Phoenix after dozens of border crossings by land. Finally, add a cover-up. We are witnessing a genuine public-health scandal.

Congress orders probe of TB case. Capitol Hill lawmakers yesterday called for an investigation into why federal officials knowingly allowed a Mexican national infected with a highly contagious form of tuberculosis to repeatedly board planes and cross U.S. borders.

Sick Man On 'Do Not Board' List Flies From Philly. The Centers for Disease Control said a passenger with tuberculosis has been detained after boarding a flight from Philadelphia to San Francisco despite being on a "do-not-board" list.

Sick Passenger on "Do Not Board" List Flies Out of Philly. An investigation has been launched to find out why a man with an extremely contagious disease was allowed to fly out of Philadelphia International Airport.

Is First Class Worth It? For me, the most significant first-class perk is oxygen. According to a study by the US National Academy of Sciences (The Airliner Cabin Environment, 1986), first-class passengers get about three times more oxygen per person than economy passengers!

Skypoxia: Flight attendants, unlike other employees in the U.S., are not protected by OSHA. Instead, the FAA has full responsibility.

Immobility is Not the Only Factor in DVT Risk. Air travel, particularly long-haul flights, can increase the odds of developing dangerous blood clots but researchers said on Friday [3/10/2006] they are not only due to being immobile for long periods. Low pressure and low oxygen levels in aircraft may also contribute in some people to the risk of deep vein thrombosis (DVT).

Flying Hassles Ground Many Passengers: Security checks, random searches, new airline ticket fees and other hassles since the Sept. 11 attacks have kept many people off planes and on the road, particularly for short trips. The number of people flying commercially between 200 miles and 400 miles dropped 22 percent in the year after the attacks.

In a speeding world, rage is all the rage. Air rage and road rage are distinct products of our time. We are too impatient for gracious living. And if we want it, the people who service us have no desire to provide it. Today's airline travel - especially in coach - makes steerage on the Titanic look like the lap of luxury. Passengers are packed in like sardines without the oil.

Editor's Note: I have a hard time feeling sorry for someone who's getting to his (or her) destination at 500 miles an hour. If you don't like airline travel, get on a bus; or just drive on an interstate highway for a couple of days and see how you like it.

Love Field is again in the news, this time illustrating the farcical consequences of the government's ten-thumbed attempt to manage an industry. … If you want to fly Southwest from Love Field to Los Angeles, you must buy a ticket to Albuquerque, collect your baggage there, buy another ticket, go through security again and board another plane.

Set Love Free: Southwest Airlines would like to show you the statistics and let the consumers decide.

What is the Wright Amendment anyway?

Obese fliers: A judge has ruled that Southwest Airlines did not unlawfully discriminate against Cynthia Luther, whose weight exceeds 300 pounds, when it required her to buy a second seat on a flight from Reno to Burbank.

In England:
Airlines load extra charges onto air fares. Airlines are loading extra charges on to air fares, which can more than treble the basic price of a journey. Research by The Independent on one of the key international air routes, London to Amsterdam, reveals sharp discrepancies between airlines about the amount added on to fares as "taxes, fees, charges and surcharges".

Big bottoms crushing airlines' bottom lines. Heavy suitcases aren't alone in weighing down airplanes and requiring them to burn more fuel, raising flight costs. A new government study reveals that airlines increasingly have to worry more about passengers' weight.

Why Airlines Can't Cut The Fat: The current flap over whether and how to deal with overweight passengers is a no-win situation. The latest dustup involves a woman flying from London to Los Angeles on Virgin Atlantic in 2001. She apparently suffered leg injuries after being seated next to an obese woman who spilled over into her seat, reportedly squashing her. This week, Virgin paid the woman $20,000 in compensation, but the company is not changing its policy on overweight passengers.

Thirteen SFO cargo handlers charged with stealing military mail. Thirteen cargo handlers at San Francisco International Airport were charged Friday [4/15/2005] with stealing $200,000 worth of computers, cameras and other goods from mail bound for U.S. soldiers stationed in Japan, authorities said.

That's No Camel, That's My Baggage! A baggage handler wearing a camel suit taken from a passenger's luggage has left Qantas Airways red-faced, with Australia's national carrier investigating a potentially embarrassing security lapse. Passenger David Cox complained after he saw a baggage handler driven across the Sydney airport tarmac Wednesday [4/6/2005] wearing the camel suit that had been packed into the baggage he had checked in only minutes earlier.

DFW Airport Skylink train system cost $880 million to construct, making it perhaps the most costly mass transit system ever, in dollars per passenger mile.

Deputy on the carpet for trying to get woman past airport screeners. An Allegheny County sheriff's deputy could face a fine, suspension or other disciplinary action for violating security procedures when he attempted to help a friend bypass screeners at Pittsburgh International Airport.

Unlike Chelsea, Bush Daughter Flying Commercial after Terror Attack: "Remember Clinton saying no one should be afraid to fly and that he was taking four different domestic flights last week?" reminded Lucianne Goldberg on her website Monday [10/08/2001]. "Last Sunday he and Chelsea hopped onto a grocery mogul's private jet at Dulles and whisked off to Oxford."

Back to the Airline Insanity Page.
Back to the Home page