Feminism Has a Ferocity Problem. [Hollywood is] crafting girlhood into stereotypical boyhood, and pop culture is going to extreme lengths to give girls that boyish fighting spirit. Perhaps nothing personifies this effort more than the "fearless girl" statue now squaring off against the charging bull of Wall Street in downtown Manhattan. It's become a place of pilgrimage, where women pay homage to the new feminine ideal and woke men pledge allegiance to female ferocity. [...] On its own terms, the statue is absurd. Taken together with the charging bull, the entire art installation would be more properly titled "Where Are Her Parents?" or "Seconds from Tragedy."
The Dark Side of Hillary Clinton's Electoral Rationalizations. At this point, it's safe to say that Nimrata Randhawa has a far, far better chance to be the first female president of the United States than Hillary Clinton. But here's the question: When or if Nimrata (she goes by "Nikki") — a conservative, Indian-American daughter of immigrants who married Michael Haley, became governor of South Carolina, and is now the U.S. ambassador to the United Nations — wins a presidential election, will Hillary's friends and supporters hail Haley's ascension to the White House as a tremendous achievement for women? Will the fans of intersectional feminism laud the ultimate success of a woman of color?
Gender Pay Gap? What About The Workplace Death Gap? Economist Mark Perry has for years noted that there's an even bigger and far more consequential gender gap in the workplace — one that literally means the difference between life and death. He notes that official government data show that men suffer almost all of the workplace fatalities that take place in a given year. In 2015, for example, there were 4,836 workplace deaths, according to the Bureau of Labor Statistics. Of those, 4,492 were men, and 344 were women. In other words, men suffered 93% of workplace fatalities that year. This wasn't some aberration. From 2011 through 2015, men accounted for 92.5% of all workplace deaths. [...] This huge gap has nothing to do with discrimination, of course. It has everything to do with the type of jobs men and women voluntarily choose to take.
'Equal Pay Day' this year is April 4 — the next 'Equal Occupational Fatality Day' will be on January 21, 2029. Every year the National Committee on Pay Equity (NCPE) publicizes its bogus feminist holiday known as Equal Pay Day to bring public attention to a completely spurious apples-to-oranges comparison of incomes by gender. According to the NCPE, Equal Pay Day will fall on Tuesday, April 4 this year, based on a 20% unadjusted difference in median annual earnings for women and men in 2015 (most recent data available) when absolutely nothing relevant is controlled for that would explain income differences like hours worked, marital status, number of children, education, occupation, and the number of years of continuous uninterrupted job experience. Therefore, Equal Pay Day on April 4 this year misleadingly represents how far into 2017 a typical woman will allegedly have to continue working to earn the same income that her male counterpart earned last year for doing the exact same job. That's not only illegal, it's completely out-of-touch with reality. How many organizations today have a dual pay scale with a different wage for the same position based on gender? Probably none.
Womyn? Womxn? Womban? Taxpayer-Funded University Ponders Alternate Spellings For 'Woman'. Missouri State University sponsored an hour-long event last week dedicated to the various ways fringe feminist activists can misspell the word "woman." The event, entitled "Womyn, Wymen," was held in the taxpayer-funded school's Multicultural Resource Center Annex, reports The Standard, Missouri State's newspaper. Yvania Garcia-Pusateri, the executive director of Missouri State's five-employee Multicultural Programs staff, led the event. Garcia-Pusateri kicked off by asking attendees — all of them female — to announce the gender pronouns they prefer.
University Hosts 'Masculinity Confession Booth' Instructing Male Students to Repent. The University of Regina in Saskatchewan, Canada, is hosting a "masculinity confession booth" this week, in which male students are asked to confess sins that may have been inspired by the Western world's emphasis on "hypermasculinity." Students at the University of Regina had the opportunity this week to confess their "hypermasculinity sins" at a confessional booth on campus.
Stunning Evidence that the Left Has Won its War on White Males. There is a sickness in American society, fanned by the propaganda campaigns of the left, and it is killing people. White males, in large numbers, are simply losing their will to live, and as a result, they are dying so prematurely and in such large numbers that a startling demographic gap has emerged. It is not just the "opioid epidemic" that is killing off white working class males, it is a spiritual crisis, and Princeton economists Anne Case and Angus Deaton have the numbers to sustain this conclusion.
Alyssa Milano: Up to Women to 'Remove' Trump from Office. Actress Alyssa Milano says the task of "removing" President Donald Trump from office is up to the women of the United States. "Trump has proven that he really can't take the heat in the White House kitchen. But, he won't get out of it, either. His ego won't let him. Removing him will be up to us," the Who's the Boss actress wrote in an essay published in Marie Claire. Milano says the "crushing, life-altering blow" of Trump's election spurred women to begin "organizing the resistance."
'Day Without Women' Was A Bit Of A Bust. Apart from the misguidedness of trying to fight the wisdom of specialism and division of labor — a tool for increased satisfaction and economic gain — the fight against female smiling is just, well, sad. Some of the women mentioned in the piece said they were specifically going to avoid "fake smiling" but the fact is that the world doesn't have too much smiling, but too little. Feminism seems too often to take female traits that separate us from men and make us feel bad for them. Yes, women tend to be better at nurturing the ties that bind and focusing on relationship health. This is not something to be ashamed of, but something to cherish and celebrate. Turning off smiles for a day also reinforces the stereotype that feminists are humorless scolds.
United Nations Pushes "HeforShe" Dolls for Boys. There certainly have to be some intermediate steps between your son's birth and his ingestion of puberty-blocking drugs and subsequent "gender-reassignment surgery," and the United Nations is on the case. It has joined forces with a new company to push dolls for boys so your child can get in touch with his "feminine side." Writes PR Newswire, "HeForShe, UN Women's global solidarity movement for gender equality has teamed up with start-up company ... Boy Story to launch two special edition action dolls named Billy and Mason. The action dolls challenges [sic] current prejudice surrounding boys playing with dolls, and promotes the notion that both boys and girls should have the same opportunity to bond with a special playmate, and that all children, regardless of their gender, need to learn nurturing, emotional intelligence, and empathy."
The Women's Strike Is A Self-Indulgent Day For Privileged Females. This event, "A Day Without A Woman," is the latest in a string of public events and personal efforts organized by the Women's March folks to ostensibly raise awareness of the value of women. [...] This is a self-indulgent day for academics and professional women who are fortunate enough to hold positions requiring a relatively specific skill set and bear no real risk of harm from taking a day off. It assumes the privilege of being able to pause one's work at will, and the privilege of being able to shuffle duties like child or elder care to someone else. It categorically demands more risk of women in lower-income brackets, in jobs requiring low-specificity skill sets, and without a support system.
Female lawmakers support 'Day Without Women' — but won't skip their votes. As many women go on strike around the world Wednesday, some female lawmakers in Congress are standing with them in support. But they're not taking the day off. "I certainly admire this as an opportunity to remind people how important women are to our society," said Sen. Jeanne Shaheen, D-New Hampshire. "But I will be here working." "There's so much mischief going on in this Congress with the Republicans, we dare not turn our backs," quipped Rep. Lois Frankel, a Florida Democrat who chairs the women's caucus in the House.
The Leftist Roots of the 'Day Without a Woman'. Across the country Wednesday — organizers hope — women will skip out on work to send a message to the world. The idea is to show solidarity among women everywhere by demonstrating how poorly the world would work without female workers in the labor force or the home front. Some of the same people who organized the Women's March on Washington the day after President Donald Trump's inauguration are promoting the general strike.
Organizers of Women's March Share Radical Past. On Saturday [3/11/2017], hundreds of thousands of women will descend on Washington, D.C. for the anti-Trump "Women's March on Washington." A closer look at the event and its organizers, however, reveals that the exercise should more accurately be called the "Radical Far-Leftists' March on Washington." The march was recently mired in mild controversy when organizers discovered that a participating feminist organization, New Wave Feminists, was — gasp! — pro-life. The group was quickly banished from participating in the event. Interestingly, however, the Women's March has eagerly accepted the sponsorship of the Center for American-Islamic Relations (CAIR) and two of its local chapters. Muslims — and CAIR is no exception — are strictly opposed to abortion.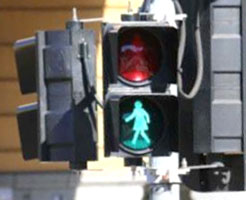 City Installs 'Female' Traffic Signals for Equality, Gets Slammed for Stereotyping Women as Skirt-Wearing. The city of Melbourne, Australia, has started installing dress-wearing, "female" traffic signals in the name of gender equality, and now they're being hit for perpetuating the sexist idea that women should wear dresses. According to an article in the local news source ABC, the city started installing the new lights on Tuesday as part of a campaign to eliminate "unconscious bias." In other words, the city was concerned that seeing only "male" traffic signals was causing its residents to subconsciously develop the idea that male people mattered more than female people.




Yale Student Group Wants to Force Fraternities to Admit Women, Gives Sororities Free Pass. A Yale student group has waged a war on the university fraternities and will use Title IX to force them into admitting women — while letting female-only sororities off the hook. Engender, a group led by students of Yale, claims it will lobby the university — citing Title IX, which prohibits discrimination based on gender, and internal Yale policies against discrimination — to issue sanctions against male-only fraternities. Will McGrew, a co-director of the organization, told Yale News that it's a "logical next step" to approach the Yale administration "because all of these organizations fall under the purview of Yale legally, either because they are registered as Yale organizations or it is literally all Yale students that constitute them."

The continuing liberal meltdown. During the election and after the inauguration of President Trump we've been swamped with vile, sanctimonious lectures from the smug smart set, a privileged class of superrich celebrities, actors, television comedians and music performers. We've had screeds from Meryl Streep, Madonna and Ashley Judd. Robert De Niro assured us earlier in the month that he still wants to punch Mr. Trump in the face. Lena Dunham continues to whine, Susan Sarandon and Cher remain bereft for the nation, and want us to know how horrible they feel. Because it's their feelings that matter. The most revealing aspect of the continuing liberal meltdown is how anti-woman the so-called feminist movement has really become.

'World's First Feminist Gov't' Wears Hijabs During Iran Visit. The Swedish government, which calls itself the world's first "feminist government," has defended its decision to wear hijabs Saturday during a state visit to Iran. Trade Minister Ann Linde got slammed by Swedish politicians for her decision to wear a hijab during meetings in Iran. The government said it wanted to respect the customs and abide by the law.

Mrs. Clinton Is Not the Future. Hillary Rodham Clinton has had an odd career for a feminist icon. Her main occupation has consisted of being the long-suffering wife of a powerful man, infamous for treating subordinate women as disposable conveniences, who abused her ruthlessly and humiliated her publicly.

Feminist Darling Will Speak At Event With Convicted Palestinian Terrorist And Immigration Fraudster. Linda Sarsour, the Palestinian-American activist and newest darling of the feminist movement, is scheduled to speak in April at an event with a Palestinian woman who was convicted of terrorism in a 1969 bombing in Israel. Sarsour, the head of the Arab American Association of New York, will appear alongside Rasmea Odeh at an event in Chicago hosted by the Jewish Voice for Peace, a left-wing group that focuses on the Israeli-Palestinian conflict. Sarsour was one of the organizers of last month's Women's March, and Odeh recently signed on as an organizer for a worldwide women's strike next month.

How Abortion Activists Hijacked The Women's Movement. [Scroll down] Basically, Betty [Friedan] claimed to be speaking for every working woman in America when, in fact, at least as far as the abortion vote was concerned, she was speaking only for herself and 57 people in the Chinese Room. And that's how propaganda works, my friends.

The Anti-Women March on Washington. This was not a women's march with any kind of logic behind it. It was an anti-women march, and women participated because they fell for a steaming-hot pile of platitudes. These useful idiots were duped by Islamist Linda Sarsour, who is determined to normalize her extremist culture. It was one of the stupidest marches in the history of modern politics, and it says a lot about where we are as a country. In short, we are a bunch of spoiled ingrates who are so desperate to complain, we will demand rights we already have.

Yarn shop won't sell to 'women's movement' supporters. A knitting shop in Tennessee is asking those who want yarn for any project relating to the recent "women's movement" to go elsewhere. In a Facebook post Tuesday, The Joy of Knitting asks that "if you want yarn for any project for the women's movement that you please shop for yarn elsewhere," and said the "vulgarity, vile and evilness of this movement is absolutely despicable."

The Pointless Paranoia of the Women's Marches. I am no stranger to protesting, having marched so often in the sixties and seventies that I sometimes felt as if I were chanting "Hey, hey, LBJ" in my sleep. But I have come to think over the years that too much demonstrating can get to be a bad habit, like smoking. Now I'm not talking here about the Gloria Steinems and Michael Moores, for whom protest is so much a way of life they couldn't exist without it. Or the Madonnas who, like other entertainment stalwarts, have business reasons for constantly reminding us they are still have their "edge" even as they age, liberally dropping the f-bomb and speculating about bombing the White House in the process.

Here's The Question No Liberal Protester Can Answer. There have now been a ton of reports that the hundreds of thousands of women sauntering around in Washington Saturday made a big scene and a lot of noise that caught the attention of the world. But for many women, it's more of a show without any real meaning. Asked about the following day's big event at the inauguration, a number of women who supported Trump weren't sure what all the agitation was about. Susan Clarke, 50, who came to the capital from Charlotte, North Carolina gave this remark: "I think it's great, do your thing, but I just don't know what they're doing it for. They're talking about rights, women's rights, but what rights are being taken away from any women? I don't understand what the point is."

Women's March — See What a Massive, Hillary-Shaped Bullet America Just Dodged? Has anyone actually worked out yet what that Women's March over the weekend was all about? Or is it another of those things we're just supposed to know — and the very fact we don't know shows precisely how insensitive and unobservant we are?

The DC Women's Tantrum. The day after Donald Trump took the oath of office to become the forty-fifth President of the United States, radical liberal feminazis took to the streets of Washington D.C. and put on a disgusting display of hedonism and hate. What was billed as the "Women's March on Washington" quickly devolved into what any sound-minded political observer knew it would, and the worst of the American left was on unhinged display for all the world to see.

Three Mainstream Media Lies on Trump's First Day. Lie #3: The anti-Trump protests in Washington, D.C. were important. The protests were nothing more than the venting of outrage at Trump's election. For all the talk of "women's rights," there was nothing particular to point to that Trump had done about anything relating to women. The demonstration was large, but also disorganized, as well as vulgar, and protesters left heaps of trash over the various routes they took, including protest signs abandoned at Union Station as they left the capital.

Great March You Had There, Liberals — You Alienated Millions of Regular Americans. Just as Barack Obama drove conservatives crazy, Donald Trump seems to be pushing his adversaries to the brink of insanity. During the celebration of the peaceful transfer of power this weekend, we were treated to some crude and irresponsible comments from liberal celebrities: [...]

Obscenity and violent rhetoric-laced 'women's march' was a bleeping disaster for the left. We conservatives have a secret weapon on our political battles with the left: their own hatred for us and for the country we love. The inauguration of Donald Trump was a trigger for the left to let their inner essence become visible, with no need for any "Russian hacking." And best of all, the MSM, in particular CNN and MSNBC, gave huge amounts of coverage to the primal scream day, including live coverage of rants containing liberal amounts of obscenity form the likes of Madonna and Ashley Judd.

Nationwide shortage of pink yarn handicaps Women's March. The crowd was surprisingly large. [...] Some speakers described the president as being either a reincarnation of Hitler or a dangerously deluded psychiatric case. Many marchers had signs expressing support for various left-wing sacred cows — for example; illegal immigrants, Muslims, Planned Parenthood, Black Lives Matter, state schools, and socialized medicine. Unusual for the left, there were lots of people denouncing Russia and Vladimir Putin, obviously because Trump said something slightly positive about that country and its leader.

The Anti-Semite Who Organized The 'Women's March On Washington'. A leading organizer of the Women's March was the Palestinian-American activist Linda Sarsour, executive director of the Arab American Association of New York. This group was founded shortly after 9/11 — not to condemn the attacks, of course, but rather, to lament "the heightened sense of fear and the acts of blatant discrimination aimed at [the Muslim] community" in the racist wasteland known as America. On the premise that all government efforts to forestall additional terrorism constituted Nazi-like fascism, Sarsour and her organization played a central role in pressuring the New York Police Department to terminate its secret surveillance of the many Muslim groups and mosques suspected of promoting jihadism.

The Women's March: Why Trump Won. Ugly women holding up ugly signs expressing ugly sentiments — the [Women's March] to protest Donald Trump's presidency is perhaps the clearest explanation of why Donald Trump is president. The all-out feminist crusade mounted on behalf of Hillary Clinton's 2016 campaign reminded millions of Americans of why they hate feminism. Yet it is clear today that Democrats have learned nothing from their defeat.

They Came. They Marched. They Left A Mess. Lots of women (and some men) demonstrated today in Washington D.C. to express their anger that their candidate didn't win the election. They carried even more of the usual vulgar signs, expressed amazing ignorance of both history and politics, and ranted with the usual Leftist vocabulary that is impressive only in its lack of any originality whatsoever. Let's see, Nazi, Sexist, Racist, Hate, Hitler, Misogynist, seems to cover the usual. "Stay Out of My Uterus" in slight variations was popular. They were advocating reproductive rights for women, which, oddly, does not include the right to produce children, but only to get rid of unwanted pregnancies. Women who actually do celebrate their reproductive rights by having three or more children are apt to get all sorts of sneering comments.

Making Moonbattery Great Again. Most of America knows the organizers of the various "Women's Marches" today did not construct women's events, they constructed events for women who are anti-Trump and voted for Hillary Clinton, ie. liberal women. After all, billionaire George Soro's financing is behind more than 50 groups who organized the various events.

Women's March Organizer Recently Met Ex-Hamas Operative has Family Ties To Terror Group. Linda Sarsour, one of the organizers behind Saturday's Women's March, being held in Washington, D.C., was recently spotted at a large Muslim convention in Chicago posing for pictures with an accused financier for Hamas, the terrorist group. Sarsour, the head of the Arab American Association of New York and an Obama White House "Champion of Change," was speaking at last month's 15th annual convention of the Muslim American Society and Islamic Circle of North America. While there, she posed for a picture with Salah Sarsour, a member of the Islamic Society of Milwaukee and former Hamas operative who was jailed in Israel in the 1990s because of his alleged work for the terrorist group.

Soros's Women's March of Hate. [W]hat happened Saturday [1/21/2017] at the "Women's March" was not spontaneous. No mass rallies are, especially on the Left. This so-called "protest", like the violent attacks orchestrated by the DisruptJ20 coalition on pro-Trump events such as Friday's "DeploraBall" at the National Press Club, was not an organically generated demonstration. The usual culprits were involved behind the scenes using the same fascistic tactics they used to shut down the massive Trump campaign rally at the University of Illinois at Chicago in March last year. The groups that organized the Women's March on Washington on Saturday were underwritten by radical currency speculator George Soros, the same man who says Communist China's system of government is superior to our own and that the United States is the number one obstacle to world peace.

Billionaire George Soros has ties to more than 50 'partners' of the Women's March on Washington. In the pre-dawn darkness of today's presidential inauguration day, I faced a choice, as a lifelong liberal feminist who voted for Donald Trump for president: lace up my pink Nike sneakers to step forward and take the DC Metro into the nation's capital for the inauguration of America's new president, or wait and go tomorrow to the after-party, dubbed the "Women's March on Washington"? The Guardian has touted the "Women's March on Washington" as a "spontaneous" action for women's rights. Another liberal media outlet, Vox, talks about the "huge, spontaneous groundswell" behind the march. On its website, organizers of the march are promoting their work as "a grassroots effort" with "independent" organizers.

War of Words. Obituaries used to employ the euphemism "longtime companion"; now they regularly say "partner." [...] As I've mentioned in these pages before, I grew up in one of the most politically correct places in America, Ann Arbor, Mich. — and at a very, very politically correct time. This was a time when people were (seriously) saying "person-hole cover," instead of "manhole cover." We got to replacing "man" with "person" automatically.

Pro-Lifers Denied Access To Women's March. It looks like brain-sick liberals are preparing a "Women's March" after the inauguration in protest to Donald Trump. The women who accused Bill Clinton of sexual assault made it crystal clear what they thought about such an attempt. Apparently, the "tolerant" protesters aren't permitting anyone who dissents from 'their' idea of equality to attend the march.

Anti-Trump Women's March Calls For Legalizing Prostitution. Like most left-wing fronts that employ identity politics, the anti-Trump Women's March on Washington is actually a collection of general left-wing agenda items from Global Warming to Black Lives Matter. The latter though interacts perversely with the former. After paragraph 3 focuses on rape, 4 moves to the usual BLM anti-police rant. While 5 escalates to supporting "restorative justice and alternatives to incarceration." Not to mention "disrupting the school-to-prison pipeline that prioritizes incarceration over education by systematically funneling our children... into the justice system." The Women's March can oppose rape or it can support restorative justice, which is a euphemism for freeing criminals while convincing their victims to meet with them and forgive them. It's one of the twisted pro-crime ideas that the left is compulsively pushing.

Lazy Fat Women Screech About Beauty Standards While Rejecting Men For Being Short. Women being fat and men being short are the biggest laments of the dating scene today, and, while they are falsely rated as equivalent (a man cannot become taller, but a woman can certainly lose weight), there is an additional misdirection at play here. Women hold the belief that everything about their physical appearance is tied up in one quality: that of beauty, and it is both the only thing men want and the thing she cannot change about herself. Today we will talk on how beauty is not attractiveness, that which also is what men actually want in a woman.

Let's Just Be Blunt Here: If You See "Rev" Before a Woman's Name, Go the Other Way. There are many reasons the Bible is pretty clear that women should not be leaders in the church. In fact, if you look at the churches where women have joined the leadership you find churches that are shrinking in denominations headed towards collapse. Both Christian and Episcopalian church leaderships that have gone left have almost always done so after scrapping this basic rule in the name of inclusivity.

Whoopi Goldberg: Celebrating Christmas And Getting An Abortion Is The Same Thing. "The View" host was talking about the right to display Nativity scenes on Tuesday [12/13/2016] when she brought up abortion out of nowhere.

How to Blast Away the Left's Attacks on Manliness. The liberal/progressive belief is that manly declarations should be censored, banned, and expunged from our minds for being insulting to women and, perhaps, also to those effeminized men among us. This politically correct censorship is at the basis of why manliness is in crisis. If being "manly" is akin to sexism and worse, men should then be something else, but the cabal of Hollywood, academia, and the mainstream media haven't given men anything else to be. They are simply told not to be men. They are guilty from birth and so should just shut up.

Another Smackdown of the Smug Elite. Demagogues like Hillary Clinton can point to the fact that women as a group do not receive as much income as men as a group. But, factual studies over the past 40 years have shown repeatedly that, when you compare women who work as many hours a year as men, and as many continuous years in the same occupations as men, the income differences shrink to the vanishing point, and sometimes even reverse. But how many politicians or media people care about facts, when the facts go against their preconceptions?

Why do liberals glorify JFK's promiscuity? [Scroll down] This kind of glorification of Kennedy continues to make me laugh, because it's not just magazine authors and professors who do it. Democrats continue to hold him (and Bill Clinton) up as paragons of their party while claiming Republicans are the anti-women party. Now we have an entire book telling men that being like Kennedy is the cool thing to do.

You're Never Gonna Get the Smell Out. If America's unmarried women are so intent on having a female president, they should want a woman who doesn't need to ride her husband's coattails. Had Hillary not been First Lady, would New York have considered a carpetbagger to be their U.S. senator? And if she hadn't been the senator from New York, how likely would the rest of her political career have been? If you single gals really believe "you've come a long way, baby," then support a woman who's achieved things on her own, like Condi Rice.

Still Think Hillary Clinton Is a Role Model for Your Daughter? In light of how much more we now know about Clinton's activities while secretary of state, and given the FBI's renewal of its investigation of her private e-mail server as well as the revelation, denied months ago by Clinton, that the FBI is also investigating her family-run charities, the notion of Clinton as a role model is a topic worth revisiting. Good and decent men and women who are Democrats ought to stop thinking this way, for America's sake and for their daughters' sake. Only those in willful denial can continue to reject the overwhelming evidence that Mrs. Clinton is essentially a crook, a person prone to chronic lying, and, worst of all, one who betrayed America's best interests for petty personal gain.

Hillary Clinton is a Disaster Without Accomplishment. In an interview for The Spectator.com with Emily Smith, Camille Paglia blows up any idea that Hillary Clinton is good for feminism, women in general or America. It is so refreshing to read the truth about Hillary spoken by a woman who is her peer. Both women were born in 1947. Paglia does not recite the feminist company line.

Get Your Story Straight, Hillary! Are Women Strong or Are They Victims? Americans are still recovering from the whiplash of Hillary Clinton's rhetoric concerning women during the final presidential debate Wednesday evening [10/19/2016]. Clinton's anti-women, anti-family politics were on full display during the final pre-election showdown, masquerading before millions of viewers as "women's empowerment" and "feminism." But in the end, instead of brandishing her womanly strength, the Democratic nominee abandoned her campaign slogan, "Stronger Together," and whipped out her woman card. Her message was clear: Women need to stand up to men like Donald Trump and show them that they won't be pushed around. But as with all things "progressive," over the course of the evening, Clinton laid out her case for female victimhood instead. Her long list of grievances included the fact that states are restricting women's "right" to an abortion by defunding Planned Parenthood, and the fact that the so-called wage gap is a roadblock in the fight for women's equality.

Anti-Trump Feminism's Fever Pitch. Enjoying maximum power over politics and culture, the czarinas of feminism have informed Americans headed for Hillary's animal farm that "not all pigs are equal." Hence, Hillary, with grimly comic gall, can say that a man like Trump doesn't "belong in the White House" while riding back to it on the coattails of a credibly accused rapist.

Trumped-Up Outrage. The sudden onset of Victorian vapors among the liberal intelligentsia and political class at the revelation of Trump's locker-room talk is part and parcel of the Left's hypocrisy when it comes to feminism and sexual liberation. [...] But the feminists can't have it both ways: declaring that women should be equal to men in all things and then still demand a chivalric deference to female's delicate sensibilities. Either women are the same as men or they're not. It is particularly galling to see the selective resurrection of Victorian values from the same crowd that has been pushing transgender locker rooms on the world, in an effort to destroy the last shred of girls' innate sexual modesty.

A Requiem for Feminism. It all seemed so exciting during the heady days of the 1960s and 70s as radical feminists jumped on the civil rights bandwagon, demanding equality with men. Gloria Steinem, Betty Friedan, Germaine Greer, Bella Abzug and others led the push for women's equality, including the right to abortion on demand. Now Steinem is 80 and wearing T-shirts that proclaim "I had an abortion." Steinem's T-shirt headlines what feminism considers its crowning achievement. Abortion on demand at any stage of gestation is radical feminism's gold standard. It is upheld as an absolute right by the Democratic Party and its candidate for president, Hillary Clinton. But abortion on demand and the aggressive transgender movement are proving to be the Achilles heel of feminism.

Feminists Fight for Abortion — Not for Women. There are millions of students who are either pregnant or are raising children, at a whopping 26% of all undergraduate students, yet they frequently are discriminated against, and the issues that they face are overlooked. Today's so-called feminists should be fighting for these women. Instead, they just encourage women to have abortions.

Cosmo Objects To Maternity Leave For Women Because Men Don't Get It. Cosmopolitan is rabidly pro-abortion, which might be why they have zero staff who understand what maternity leave is. The interviewer's main objection to Trump's maternity leave proposal is that it focuses on women, who give birth.

Princeton scrubs 'men' from campus. As first reported Thursday [8/18/2016] by the conservative campus news outfit The College Fix, Princeton's Human Resources and Office of Communications issued a four-page memo filled with examples of gender-neutral terminology that must now be used in official school documents, such as:
• The word "actress" should be replaced by "actor."
• A "cameraman" must now be called a "camera operator."
• There will be no more references to a "cleaning lady," but instead an "office cleaner."
• New students are no longer "freshmen" but rather "first-year students."
• A "mailman" no longer delivers letters or packages, because that's the work now of a "mail carrier," "letter carrier" or "postal worker."
• Nothing is to ever be done for the betterment of "mankind" but instead for "humanity," "human kind" or simply "people."

Feminist Magazine: Bill Clinton Isn't Necessarily A Bad Guy If He Raped Juanita Broaddrick. An online feminist magazine recently featured an article that excused former President Bill Clinton's alleged rape of Juanita Broaddrick. A Wonkette article titled "Let's Talk About Juanita Broaddrick" claimed that even if Clinton had raped Broaddrick in 1978 — he was running for Arkansas governor at the time — it does not necessarily mean he's "an evil man." "To sum up, I think Bill Clinton could very well have raped Juanita Broaddrick; that it doesn't make him an evil man, or irredeemable (I'm Catholic; we're all forgiven, if we're sorry, and Broaddrick says Bill Clinton personally called her up to apologize). It doesn't even necessarily make him a bad feminist — you know, later, once he stops doing that," the article claimed.

Feminist Columnist: Reporting on Bill Clinton's Rape is Sexist. This is how little professional feminism has to do with helping women.

Obama the feminist. Feminism is an ideology based on fiction. Women and men are not the same. While they may be equal under the law, they are not equal in everything else.

Hillary Clinton Is A Big Fat Hypocrite On Women's Rights. As a woman, I have a high opinion of women. So high, in fact, that I don't even think becoming president is the greatest thing a woman can do. We're capable of a lot more; we're capable of shocking, wonderful things — things I would even call miraculous, in the truest sense. No man can bring a new human life into the world like a woman can! That's why I was so disgusted when Planned Parenthood President Cecile Richards got up on that platform and had the nerve to talk about women at the Democratic National Convention. This woman, along with Hillary Clinton herself, has been one of the prime instigators of a practice that is singularly degrading to women. I can't believe the Dems actually did that. They actually let Richards get up there and represent their party after the scandalous discovery last year that Planned Parenthood sells dead baby parts. Do they think we've already forgotten that was a thing?

The Dumbest Idea. A recent article in the New York Times saw as a problem the fact that females are greatly under-represented among the highest rated chess players. Innumerable articles, TV stories and political outcries have been based on an "under-representation" of women in Silicon Valley, seen as a problem that needs to be solved. Are there girls out there dying to play chess, who find the doors slammed shut in their faces? Are there women with Ph.D.s in computer science from M.I.T. and Cal Tech who get turned away when they apply for jobs in Silicon Valley? Are girls and boys not allowed to have different interests?

If a Man Doesn't Want to be a Father, He's a Deadbeat; A Woman is Just Pro-Choice. [Scroll down] Courts can require a father to pay child support based not just on what he earns, but on what courts believe he has the ability to earn. Child support obligations remain even if a father goes to prison, or declares bankruptcy. Even if he wants to terminate his parental rights (and therefore his parental responsibilities), the courts usually won't allow it unless there is another adult prepared to adopt the child and take over that responsibility. And there are many methods for enforcing child support. A man's tax refunds can be intercepted, his property seized, business or occupational license suspended, and in some states his driver's license can be revoked. If he still fails to make payment, he can be held in contempt and given jail time.

Hillary, the blushing bride, stalks history on her husband's coattails. All across America, there are millions and millions of strong and successful women in every occupation imaginable. Many have overcome insurmountable odds to become the best at what they do. And not one of these strong, successful women got to where she is by riding her husband's coattails. There is nothing feminist whatsoever about Hillary Clinton's ascent in politics. Rather, Hillary Clinton is the most anti-feminist candidate in decades. Which is fine, really, if that's what you want to run on. But just don't claim to be carrying the torch for successful women when you cannot hold a candle to the millions and millions of strong and successful women in this country who made it the hard way: by earning it.

The Deliberate Ugliness of Feminism. Many have noticed this "warning sign" phenomenon in the characteristic costumes of Third Wave feminists of the "Social Justice Warrior" (SJW) variety — weirdly colored hairstyles, facial piercings, tattoos, etc. Quite often, we find this aposematic appearance accompanied by obesity (because "fat feminism" is an actual movement) and LGBT sexuality, so that a clichéd type can be discerned in the vicinity of "social justice" activism. Strange appearance is a way for disgruntled misfits to turn their maladjusted anti-social attitudes into a visible display, so everybody who sees them knows how much they hate Mommy and Daddy.

What the restroom war is really about. So why have liberals chosen to force the issue of "transgender" rights down our throats and trigger another (and possibly) losing fight over loo access? The answer is not only that liberals are drawn to the issue like salmon to their home stream, but that they're afraid to leave it be. But not for the reason you think. Indeed, they couldn't care less about the hurt feelings of the sexually confused. What they're targeting is the mindset of those men who aren't at all confused. After all, you have to remember that their goal has always been a state of being that doesn't admit any identity for oneself other than that provided by the government.

Sorry, Liberals, But Gender Is Not a "Social Construct". One of the most harmful and also false ideas that liberals have introduced to American culture is the idea that gender is nothing more than a "social construct." Put another way, there's no real difference between men and women; we just think there are differences because we accept illogical cultural norms that have been passed down through the years. This is a "the moon is made out of green cheese" grade dumb concept; yet and still this idea undergirds liberal feminism. If a man can do it, then a woman can do it just as well, even if we're talking about the military, firemen or being a cop. It's the core concept that allows liberals to try to present transgenderism as a civil rights issue instead of a mental health issue. Undoubtedly, it's also part of the reason you see so many sad, lost, nearly androgynous young men these days. If being a man doesn't mean anything, why go through the work of taking on masculine traits?

The Feminization of American Males. Not only are the government schools harmful to a child's brain, they are infinitely more harmful to boys with their jihad against masculinity in all of its manifestations. Historically, all political ecologies demand obedience, which they win through warfare, violent compliance regimes and gender-norming to estrogen nation. As Iceland has demonstrated, there is terrific danger to governments that don't savage the very notion of masculinity. Job one in the American education system beside instupidation and surgical removal of critical thinking faculties is the absolute supremacy of the feminine mindset and concomitant pursuit of security above all else and absolute risk aversion and mitigation. This is not a jeremiad against the fairer sex but a simple affirmation that both happen to be genetically and psychologically wired differently for very good reasons when combined in a cooperative union.

School's father-daughter dance canceled after some complaints it wasn't inclusive. Brockman Elementary School in Columbia chose to scrap the May 13 dance in response to complaints about its inclusiveness from fewer than 10 parents, who apparently ignored a flyer for the dance that stated that all were invited, WIS-TV reports. "There were a few parents that did not think the father-daughter dance was inclusive, when actually at all times it was never an event that was exclusive to only fathers and daughters," Karen York, a spokeswoman the Richland One school district which includes Brockman. "Mothers and anyone else who wanted to show up at the dance were certainly welcome to attend."

Real War on Women: Enslaving Them to Government. House lawmakers took a large step toward putting female soldiers on the front lines on Wednesday [4/27/2016], approving legislation requiring women to register for the draft. The left wants to erase the distinctions between men and women in their Marxist war on the culture and the Republicans appear to be striking out for equal rights. Of course, feminists did ask for this. They want full equality of the sexes.

Childless Author Thinks Non-Moms Should Get Maternity Leave Too. Childless author Meghann Foye has come under fire. The reason: She believes that maternity leave is, in her words, a "time and space for self-reflection." The magazine editor — whose new novel, Meternity is about a woman who fakes her pregnancy — explained how the book came about in a controversial essay for the New York Post. [...] That's when the 38-year-old dreamed up the term "Meternity," which she describes as "a sabbatical-like break that allows women and, to a lesser degree, men to shift their focus to the part of their lives that doesn't revolve around their jobs."

The Editor says...
In other words, this childless woman wants paid time off from work — presumably several days or weeks at a time — for no legitimate reason at all, other than to attend to her personal business or indulge in her own abject laziness. And when her employer refuses, no doubt she will make a big fuss about the unfairness of it all.

Whether they're qualified or not...
Hillary: My Cabinet Will Be 50% Women. Democratic presidential candidate former Secretary of State Hillary Clinton promised that her Cabinet would be 50% women if she is elected president during a town hall on MSNBC on Monday [4/25/2016].

The Queering of Feminism and the Silencing of Heterosexual Masculinity. According to feminist theory, male sexuality is inherently oppressive to women, and there is no reason why women should attempt to understand or sympathize with men. Feminists condemn any expectation that women naturally desire heterosexual relationships, and therefore might wish to make themselves appealing to males.

Hillary's henchwomen have a dirty secret. When Madeleine Albright and Gloria Steinem tried to shame and bully young women into supporting Hillary Clinton, they inadvertently revealed a dirty secret of the left's fixation on gender, race and ethnicity. They demonstrated that hiding behind the gauzy appeals to make history is a willingness to use brass knuckles to achieve conformity. In their warped vision, biology trumps individuality, and those who don't agree are traitors to their gender. That's not just unappealing, it's also un-American.

Women Don't Need To Get Drafted To Be Equal With Men. [Scroll down] Who told you that you weren't equal? Was it the advocates of legalized abortion, who insist that women are not equal to men until they are equally unaccountable for an unplanned pregnancy? Was it those voices who said that, because some men despise fatherhood and treat pregnant women like lepers, women aren't free until they are equally able to treat motherhood as slavery and pregnancy as a disease? [...] Was it the same group that said pornography empowers women and that women won't be equal to men until they too can be heralded as heroes by the moral adolescents of their own sex for engaging in on-camera sex acts?

Feminist Shtick. No serious person can believe the whining voices telling us that women are oppressed by men. [...] Even sillier (except that too many naïve and angry women buy feminism as true) is the idea that women are worse off economically than men. Women have most of the wealth, even if they do not earn most of the wealth. Mass Mutual Financial Group reported in 2007 that women over 50 own seventy-five percent of the nation's wealth. Just as importantly, an estimated 85% of consumer purchasing decisions are made by women.

Hillary's bullies trying to make election all about gender. When Madeleine Albright and Gloria Steinem tried to shame and bully young women into supporting Hillary Clinton, they inadvertently revealed a dirty secret of the left's fixation on gender, race and ethnicity. They demonstrated that hiding behind the gauzy appeals to make history is a willingness to use brass knuckles to achieve conformity. In their warped vision, biology trumps individuality, and those who don't agree are traitors to their gender.

Maher to Gloria Steinem: Why Isn't Anti-Woman Sharia Law a Bigger Feminist Issue? Bill Maher spoke with iconic feminist Gloria Steinem tonight [2/5/2016] about a cause he thinks more feminists should care about: radical Islamic law. He brought up how horribly women are treated in the Muslim world and asked why it isn't a bigger feminist issue. Steinem argued that it actually is, pointing to feminists in Muslim nations attempting to push reforms. She said that "all monotheism is a problem," but Maher jumped in to say that Islamic nations are particularly horrible to women and bad on women's rights.

Behold: The Hillary Rodham Clinton children's book. The children's book "Hillary Rodham Clinton: Some Girls Are Born to Lead" by Michelle Markel and illustrated by LeUyen Pham, is dedicated to implanting the proper Hillary attitudes in the minds of the next generation. Aimed at ages 4 to 8, is meant to instill in girls a thrilling sense of gender pride, even if the book (like Hillary's campaign) has a difficult time identifying anything she has actually accomplished, other than giving speeches and being in the proximity of famous men.

The Corrosion of Conformity on Campus. In the mid-1990s, Joanna Williams embarked on an English degree "as a very naive 19-year-old" who liked reading. By the end of the first year, she'd decided that she hated the course. It turned out to be about "feminism, historicism, postmodernism, Marxism, structuralism and poststructuralism". Williams and her peers were asked, for example, "to interpret Jane Eyre from a feminist perspective. 'Oh look, he's standing by the chimney, that's a phallic symbol!' It was very much on that rigid level: every man is bad, dominating, representative of the patriarchy; every long, tall object is a phallic symbol. We were pushed into thinking about these works in a particular way." Not only did this kind of ideological analysis seem all too easy, it also left her "feeling kind of cheap".

Why Feminism Failed Cologne's Women. Big Feminism, fresh from fighting pitched battles against swimsuit posters in European subways and other phantoms of "rape culture", failed the women who were attacked by violent Muslim migrant mobs in Cologne, Berlin and Hamburg who were the products of an actual rape culture dating back to Mohammed's injunction to his men that Muslim women must wear burqas to avoid being "molested" while non-Muslim women captured in the House of War could be raped by Muslim Jihadis at will. [...] Feminism is only another of the many manipulative masks that the left wears. Its acolytes cannot see rape as a personal crime, only as an ideological one. To the left, rape, like racism, is a form of institutional oppression practiced by the stronger white male against everyone else.

German Feminists Claim "Muslim Rape Gang Story" Just A Cover For Racism. In a truly bizarre story a group of German feminists have decided that the stories circulating around the interwebs about Muslim rape gangs attacking large numbers of German women in cities like Cologne, Germany on New Years eve are simply a cover for racism. [...] As if the feminists in this country weren't insane enough — especially on this topic-the Germans seem to have upped the ante considerably on this one on the other side of the pond. You see, you cannot blame the poor refugees. No, not at all. After all, they are peaceable types seeking shelter for their wives (who seem to have stayed home) and their children, who may be abandoned by their families depending on their own health challenges. Yeah, I wasn't buying that either. So these insane women blame their German male counterparts — oh and the "rape culture" they perpetuate — for the roving bands of rapists that molested German women on New Years eve.

Is move by Defense Department 'to provide a level, gender-neutral playing field' realistic? [Scroll down] Then there's hand-to-hand combat training, which comes near the end of the Army's basic training. Recruits spend a few hours facing off against each other in pugil stick bouts. Pugil sticks are padded training weapons used since World War II by each branch of the military to train service members for hand-to-hand rifle and bayonet combat. The object of the training is to subdue your opponent. Women are at a severe disadvantage because upper-body strength really counts. Given the timidity and character of today's military leaders, I predict several possibilities: Training with pugil sticks will be banned, or servicewomen will train only against other servicewomen, or, if the training is integrated, servicemen will be court-martialed if they knock out or knock down a servicewoman. Even if our military leaders fudge this aspect of training, what happens in actual combat when hand-to-hand skills are called upon?

20 Ways To Tell If You Might Be A Liberal. You might be a liberal if... [#5] You believe there's a "Republican War on Women;" yet you are okay with aborting baby girls for any reason, think any man who says he identifies as a woman should be able to use the women's bathroom and you want to put Bill Clinton back in the White House.

Blakely teacher restricts Lego-play to her girl students in the pursuit of gender equity. In Karen Keller's kindergarten classroom, boys can't play with Legos. They can have their pick of Tinkertoys and marble tracks, but the colorful bricks are "girls only." [...] Although her approach might anger some parents, Keller is sticking to her guns: It's all part of a plan to get girls building during "free choice," the 40 minutes of unstructured play time embedded at the end of every school day.

Feminist Teacher's Lesson Plan: Discriminate against Boys. [Scroll down] And, of course, innate sex differences evident since time immemorial cannot be allowed, so Keller's leftist sense of equality compelled her to action. She discriminated so the girls could use the blocks "unencumbered." Now, this story quickly went viral, and Keller and the school have since backtracked. It was all a misunderstanding, you see. [...] If Keller is really so concerned about girls being discouraged by the boys' presence (a pity science hasn't yet weeded those creatures out of the species), there's a simple solution: create separate boys' and girls' Lego areas. But this wasn't good enough for her; she had to stick it to the boys for being boys.

Feminization of America Is Bad for the World. Very little academic research on sex differences is likely to be as accurate as research conducted by businesses and advertising agencies. The reason is simple: Businesses and advertising agencies have no social or political agenda; their agenda is profit. Their assessments must be accurate or they lose money; and those providing wrong assessments are fired. Academics, on the other hand, have nothing on the line. When they publish studies that purport to show that boys and girls want the same types of toys, they lose nothing for asserting something so patently false. In business there is a very big price paid for believing what is untrue. Among academics, there is no price — certainly not their reputations, because other academics want to believe the same nonsense.

Gloria Steinem Blames Rush Limbaugh for Ruining [the] Word Feminism. During an appearance on Friday's CBS This Morning to promote her latest book, far-left feminist Gloria Steinem eagerly blamed Rush Limbaugh for making the word feminism a "bad word" because he "talks about feminazis everyday." Co-host Norah O'Donnell teed up Steinem to bash Limbaugh by noting the Meryl Streep "doesn't consider herself a feminist. She says she considers herself a humanist.

Feminism Has Officially Jumped The Shark. As women are able to boast more education and more opportunities than men in contemporary America, the concerns of feminism are no longer about rectifying injustices or addressing inequalities. Instead, modern feminism is about turning the petty complaints of the nation's most privileged caste into injustices. The only conclusion to draw from this development is that feminism has truly jumped the shark. Feminism may have had to deal with genuine injustices in the past, but it is now only an enforcement mechanism for the will of deluded, power-hungry ladies.

Liberal Columnist: All Men Should Be Put In Camps & Heterosexuality Should Be Eradicated. Modern feminism is a far cry from the feminism that once advocated for equality. Today's feminism is about retribution and supremacy, not equality. One leading feminist has stopped the charade entirely and stopped advocating for equality and has been brutally honest; she feels heterosexual men should be rounded-up into camps.

Tech Jobs and Female Privilege. Overall, women received 18 percent of Computer and Information Sciences undergraduate degrees in 2013, yet were 26% of the computing workforce in 2014. Women make up 30% of the workforce at tech giant Apple; at Intel, they represent about 24%; 22% of leaderships positions at Google are held by women. Compared to their rates of participation in STEM majors in college, women also receive disproportionately higher job offers in IT, engineering and physics. [...] Intel is upping the ante, adding additional incentives including referral bonuses that are double for women candidates than male. 25% of Intel's workforce is female; moreover, 35% of its recent new hires were women, both well above the rates at which they are awarded computer-related degrees. This affirmative action decays into reverse discrimination when they introduced a quota system to draw 40% of recruits in 2015 from underrepresented groups.

Why Progressives Are Wrong to Revere Margaret Sanger. Margaret Sanger is a saint in the feminist church. She is a charter member of the progressive hall of fame. Liberals revere this woman who preached "race improvement" and denounced what she called "human weeds". Hillary Clinton glows that she is "in awe of" Sanger. She said so in 2009 upon receiving Planned Parenthood's "highest honor" that year: its coveted Margaret Sanger Award. Likewise effusive was Nancy Pelosi when she proudly accepted the award in 2014. Speaking to Planned Parenthood a year earlier, President Barack Obama, hailed the organization founded by this racial eugenicist committed to creating a "race of thoroughbreds" and purging America's "race of degenerates."

Hillary's Qualifications. How did it happen that, in this the land of Washington, Jefferson, Madison et al, someone so fundamentally dishonest and so unbelievably incompetent should not only aspire to be its president, but should actually be taken seriously in this aspiration by one of the country's two major parties? I cannot recall any presidential contender from either party over the past 60 years as fundamentally undeserving of such a distinction as Hillary Clinton. So let's just look at the only two things that she is relying on to stake her claim — her gender and her marriage (i.e. her husband). Aside from the fact that neither should have any bearing on her claim to high office (or, for that matter, any office) in point of fact, neither should have any bearing on her case for both claims are a fraud, i.e. Hillary is neither feminine nor a feminist.

Why women still need husbands. Research shows that what women want more than anything else is not to work full-time and year-round but to live balanced lives. How will they do it? That's the number-one conversation among women today. 'Round and 'round we go, asking how women can gain more control over their lives. How can they spend more time with their children? How can they make time for exercise or even a social life? How can they keep their houses in order and still have time to cook? The answer is obvious. Lean on your husband.

The Hidden Message of Same-Sex Marriage. The road to gay marriage began with feminism. Feminists argued that there were no important differences between the sexes. Thus, mothering and fathering were interchangeable. The word "parent" became a verb. If mothers and fathers bring nothing unique or complementary to their roles, then it logically follows that two mothers or two fathers should be just as good. Talk of three or more parents misses the mark. The relevant number is one. If fathers are no different from mothers, then single women needn't pause before embarking on "parenthood" solo — and they aren't. Along with feminism, the past few decades have featured a widespread retreat from the idea of family duty. [...] Marriage today is treated as optional by many parents, just one of many available paths. As Alito noted in his dissent, fully 40 percent of American births are now to unmarried women. Additionally, more than half of all children will spend some part of their childhoods in a non-nuclear family.

5 feminist myths that will not die. Much of what we hear about the plight of American women is false. Some faux facts have been repeated so often they are almost beyond the reach of critical analysis. Though they are baseless, these canards have become the foundation of Congressional debates, the inspiration for new legislation and the focus of college programs. Here are five of the most popular myths that should be rejected by all who are genuinely committed to improving the circumstances of women: [...]

When the Insane Are Normal, the Normal Are Insane. The wave of media cheerleading for Bruce Jenner's splashy debut as Caitlyn Jenner, his new putatively female identity, is one of those moments that has a lot of us of looking around and wondering if the whole world has gone insane. Obviously, Bruce Jenner is not a woman. But the fact that so many people want us to think this is true, and that they appear to want to believe it themselves, is ominous. [...] Notice the way people are attacked for questioning any aspect of this. I have already noted how the actress Alice Eve was forced to recant when she didn't get on the Jenner bandwagon. [...] This is going to be a great intramural battle: feminists who have fought for years for special rights and the special perspective of women, only to find that the beneficiaries of their efforts are men pretending to be women.

Bruce Jenner exposes there's no such thing as feminism. Ah, the Left. They want us to believe that when it comes to celebrating Bruce Jenner's tragic descent into the mouth of madness, gender is a no-longer-needed societal construct. That is, of course, right before they tell us to vote Hillary for president just because she's a woman.

Magazine Posts Op-Ed by a Muppet Pig on Feminism. Now that all the power and swagger of the news magazines Newsweek and U.S. News & World Report have passed away — even as the brands continue — the death rattle of Time magazine is becoming obvious... when you run articles "written" by Muppets. On Time's "Ideas" blog on Thursday [6/4/2015], they posted an article headlined "Miss Piggy: Why I Am a Feminist Pig." Apparently, the Muppet star never burned her bra, but feels like as an accomplished "Porcine American," she can be included in the pantheon of great feminists.

The Editor says...
Liberals use fictional characters — for example, Lisa Simpson, Murphy Brown, Gloria Stivic, and now Miss Piggy — to spread feminist propaganda. Every time such an event happens, the left-wing liberal news media spread the propaganda as far and wide as they can. The low-information voters, sitting at home in a stupor as the television wastes their lives away, tend to admire these fictional characters as great role models and spokeswomen for progressive ideas, without considering that every word spoken by a such a character is written by a committee months in advance. We'd all sound like geniuses if given months to prepare every word.

Why men won't marry you. When more women make themselves sexually available, the pool of marriageable men diminishes. "In a world where women do not say no, the man is never forced to settle down and make serious choices," writes George Gilder, author of "Men and Marriage." Scoff if you wish. Call me a fuddy-duddy. But how's that new plan working out? [...] In the span of just a few decades, America has demoted men from respected providers and protectors of the family to superfluous buffoons. Today's sitcoms and commercials routinely paint a portrait of the idiot husband whose wife is smarter and more capable than he.

5 Pieces Of Evidence That The "War On Women" Is Over And Women Won. As the late, great Eric Hoffer once said, "Every great cause begins as a movement, becomes a business, and eventually degenerates into a racket." So it is with feminism. There was a time in America when women couldn't vote, when they weren't allowed to work in the same professions as men and when they weren't really considered the equal of a man. Feminism grew in response to that and even many men embraced it because they saw the inherent unfairness of society.

It's Time To Push Back Against Feminist Bullies. A relatively small percentage of the population identifies as feminist — only about 20 percent of Americans, according to [a] 2013 poll. And whatever you think of feminism, its bullies are an even smaller subset of that group. Feminists — and feminist bullies — can seem more populous than they are for two important reasons. One is that much of our media lacks diversity of thought. Many reflexively identify as feminist and promote feminism, unaware, perhaps, of how outside the mainstream much feminist discourse has become. Another reason is that social media amplifies outrage machines, which are easily manipulated by feminist bullies demanding some kind of action.

Obama, Jon Stewart and Progressivism's Bodyguard of Lies. [Scroll down] Political correctness, though, isn't just a new form of good manners that conveniently silences us. Instead, as Orwell predicted when he dreamed up Newspeak, PC codes force us to lie to ourselves. PC thought force upon us the lie that men are women and women are men, just because a vocal minority wants that to be true. [...] PC thought forces upon us the lie that women are precisely the same as men in all ways and should therefore be integrated into America's military precisely as if they were men. In the same way, PC's tyranny of the intellect forces us to pretend that women's sexual make-up is the same as men's. This is not a harmless lie. It leads to a culture that degrades women, whether by turning them into the perfect victims for sadists or leaving them a mass of quivering fear because of fear of false rape statistics (statistics that are gamed based upon another lie, which is that women never lie).

Gavin McInnes: Women Happier at Home With the Kids. What started out as a discussion of the (so-called) gender wage gap evolved into the verbal equivalent of a cage match on Hannity on Thursday [5/14/2015] when Gavin McInnes, author of The Death of Cool, told Fox News contributor Tamara Holder that part of the reason for the wage gap is that women are less ambitious than men. "Women do earn less in America because they choose to," McInnes said. "They would rather go to their daughter's piano recital than stay all night at work working on a proposal. So they end up — they're less ambitious. This is God's way of saying women should be at home with the kids. They're happier there."

Boys Explained: If It's Fun, Let's Make It Dangerous. They are fearless. Anything seems possible, and anything is worth trying. They are born with an implicit understanding that it's easier to ask forgiveness than permission. If it's fun, let's make it dangerous. Loud is good and big is better. And if you can turn something small and meaningless into something big and loud and powerful? Well, that is really the ultimate victory. We've taken a lot away from them in our "sit still, behave, stay inside, talk nicely, inside voices, please don't try that, what did I tell you, be safe" culture.

In Austin, outrage over city-sponsored seminar on female leadership. It was supposed to be a training seminar for city employees on how to deal with a new leadership dynamic: a female-dominated City Council. Instead, the seminar in hip and left-leaning Austin, Texas, has triggered a political brouhaha resulting in one high-level resignation and an ongoing investigation — all after word leaked that management experts at the city-sponsored seminar dared to say that woman process information differently than men; view issues differently; and need to be treated differently. One expert was widely quoted as suggesting that women tend to ask too many questions (or at least more than men do) in part because they dislike dealing with financial minutia provided in memos before meetings. Members of the female-dominated City Council were outraged.

Group pushing to replace Andrew Jackson on the $20 selects Harriet Tubman as their candidate. A group campaigning to replace Andrew Jackson on the $20 bill with a woman has announced who they want that woman to be: Harriet Tubman. Starting in March, the non-profit Women on 20s held two rounds of voting in which the conductor of the Underground Railroad claimed victory over 99 other trailblazing women including Rosa Parks, Eleanor Roosevelt and Wilma Mankiller, the first female chief of the Cherokee Nation.

Tex. bill would bar local officials from issuing same-sex-marriage licenses. Texas Republicans are pushing legislation to bar local officials from granting same-sex couples licenses to marry, launching a preemptive strike against a possible U.S. Supreme Court ruling next month that could declare gay marriage legal. Supporters of the measure, which is scheduled for a vote as soon as Tuesday [5/12/2015] in the Texas House, said it would send a powerful message to the court. Taking a cue from the anti-abortion movement, they said they also hoped to keep any judicially sanctioned right to same-sex marriage tied up in legal battles for years to come.

Ten Most Harmful Books of the 19th and 20th Centuries. [#7] In The Feminine Mystique, Betty Friedan, born in 1921, disparaged traditional stay-at-home motherhood as life in "a comfortable concentration camp" — a role that degraded women and denied them true fulfillment in life. She later became founding president of the National Organization for Women. Her original vocation, tellingly, was not stay-at-home motherhood but left-wing journalism.

I Spent 17 Years as a Stay-at-Home Mom and Have Zero Regrets. During Bill Clinton's 1992 presidential campaign, a controversy arose about the president allegedly funnelling money through his wife's law firm for state business. When asked about it by a reporter, Hillary Clinton responded in her trademark caustic style: ["]I suppose I could have stayed home and baked cookies and had teas, but what I decided to do was to fulfill my profession which I entered before my husband was in public life.["] This was before her handlers realized that Hillary needed to be kept in a protective media-free zone for her own good, because when she speaks her mind, venom often flows out. Hillary likely thought it was virtuous to derisively dismiss stay-at-home mothers — housewives — who were putzing their lives away wiping snotty noses and baking cookies all day instead of participating in some meaningful paid labor.

Attack of the Leftist Snowflakes. Partnering with the American Enterprise Institute, [Christina Hoff] Sommers has made a splash with her "Factual Feminist" video series, in which she calmly challenges and debunks oft-accepted and frequently absurd feminist talking points. A few examples: No, it is not true, as is often repeated, that one in five college women will be the victim of sexual assault. (The number, according to the Department of Justice, is more like 6 in 1,000.) No, the male-to-female "wage gap" is not solely based on insidious gender discrimination, helmed by an evil network of sexy Don Draper look-alikes.

The Feminist Fantasy of Women in Combat. President Obama seems hellbent on forcing the women of the U.S. military into direct combat units at great potential risk both to themselves and their fellow soldiers. Obama supplicants in the military have been cowed by radical feminist ideology. They are promoting change for the sake of ideology, not because it is actually needed.

Hillary's coattail career and her glass-ceiling myths. Strangely, feminists ignore the damning facts about how Hillary got where she is. Recently, Hillary addressed 5,000 Silicon Valley businesswomen — real career women. Vowing to "crack every last glass ceiling," a hint at her White House ambitions, she urged them to demand equal pay and promotions. She invoked her own supposed early struggles to become the first female partner at the Rose Law Firm in Arkansas while a new mother. But in truth, even then she was riding on Bill's coattails. She got the law job in 1977 — surprise — just after he was sworn in as the state's attorney general. Then, two years later when he was inaugurated as governor — bingo! — she was vaulted to partner. Hardly the struggle she now recalls. Though Hillary was called a trial lawyer, her former colleagues told The New York Times they can't remember her ever trying a case.

The Second Demographic Transition — The End of Humanity as We've Known It. Economist Nicholas Eberstadt lays out a bleak future in an important essay just published in The Wall Street Journal. Eberstadt makes the case that selfishness, as evidenced by the unwillingness of people to get married in the first place and stay married in the second, is setting humanity on an unknown and potentially dangerous course. Eberstadt describes a global flight from family. "All around the world today, pre-existing family patterns are being upended by a revolutionary new force: the seemingly unstoppable quest for convenience by adults demanding ever-greater autonomy," he writes.

New Liberal Christmas Tradition: Mary Was Raped. Valerie Tarico wrote an article at Alternet, republished at Salon, that should get her a lot of invites to ironically themed liberal Christmas parties. The title: "Why rape is so intrinsic to religion." Tarico lays out a series of myths from pagan traditions, mostly Greek and Roman, in which women are abducted, violated, and coerced. We have Danae, Europa, Rea Silvia... and, what do you know, the Virgin Mary.

Not working for the working class. [Scroll down] So if Democrats want to win back the white working class — and they kind of need to, if they want to win elections, because it's an enormous demographic — maybe they need to start thinking about honoring and encouraging work, rather than talking about race or class. One person who has some ideas in this direction is Vermont Sen. Bernie Sanders, who suggests that the government invest heavily in infrastructure, which would create a lot of blue-collar jobs. That was actually an original part of Barack Obama's stimulus plan, but it was derailed by feminists within the Obama coalition who thought it would produce too many jobs for men.

Modern Feminism: Appalling Stupidity Backed by Hysterical Rage. Modern feminism is getting embarrassing. There's a reason why so few women identify as feminists: It's less a true "women's movement" than the public face of hysterical leftist intolerance — combined, of course, with utterly bizarre (and bizarrely stupid) ideas. While I had numerous brushes with extremist feminists in law school — women who declared that all (heterosexual) sex was rape and often responded with literal screams to classroom speech they didn't like — it all felt fashionably fake. Surely no one took that level of extremism into the real world, did they? Then my wife encountered a lesbian couple in Ithaca, N.Y., who was raising their child to be "genderless." They refused to call him a boy or girl, allowing him to "choose his gender" identity during his teenage years. And, apparently, they are not alone.

Neo-Victorianism on Campus. It is impossible to overstate the growing weirdness of the college sex scene. Campus feminists are reimporting selective portions of a traditional sexual code that they have long scorned, in the name of ending what they preposterously call an epidemic of campus rape. They are once again making males the guardians of female safety and are portraying females as fainting, helpless victims of the untrammeled male libido. They are demanding that college administrators write highly technical rules for sex and aggressively enforce them, 50 years after the proponents of sexual liberation insisted that college adults stop policing student sexual behavior.

Brave New Stereotypes. [Scroll down] The statistics [...] come in bite-size, journalist-friendly squibs: Men make up only half the labor force, down from 70 percent a generation ago. Sixty percent of the bachelor's degrees in the United States are earned by women. Women hold most entry-level managerial jobs. Single women in urban areas out-earn men by as much as 8 percent, on average. Among all younger women, the infamous "pay gap" with men has shrunk to statistical insignificance. By some measures women dominate most of the fastest-growing professions. Over the last 30 years, their wages have risen 25 percent while those of men have fallen 4 percent.

Why women still need husbands. Over the past several decades, America has witnessed a profound change in the way women view men and marriage. It began with the baby boomer adage "never depend on a man." This message resulted in a generation of women who turned their attention away from the home and onto the workforce. They did what their mothers told them to do: they became financially independent so they'd never have to rely on a husband. In time, "never depend on a man" turned into the full-blown belief that men are superfluous.

The unhappiest workers of all. How's that feminism workin' out for ya? According to a survey reported in a Psychology Today article, the unhappiest workers are:
Female
42 years old
Unmarried
Have a household income under $100,000
Work in a professional position (i.e., as a doctor or a lawyer).
Sounds exactly like the feminist ideal: a woman who needs a man like a fish needs a bicycle. On her own, independent, unburdened, I am woman, hear me roar. Except that she's not very happy.

Katie Pavlich Takes Down the Feminist Marxists. The leftwing tradition of turning worthless men who abuse women into false icons goes all the way back to grandpa Marx. [...] "Marxist teaching" wrote Pavlich, [whose] family lived under Communism in Yugoslavia, "is not a tiny fringe part of the modern, militant feminists' agenda. It is its centerpiece." Among its most basic tenants are that family and monogamy are awful for women. Pavlich responds: "In reality, a monogamous relationship is anything but sexually exploitative. The principles of monogamy are based on mutual respect, commitment, trust, care, and comfort in order to protect a significant other."

Turkish President: 'Equality between men and women is against nature'. Turkish President Recep Tayyip Erdoğan has said equality between men and women is "against nature" at a summit in Istanbul. He sparked outrage with the speech made at a convention organised by women's groups campaigning to eliminate gender discrimination in all its forms.

Meet the Woman Who Wants to Reduce The Male Population by 90% "For Peace". Meet a 22-year-old, southern criminology student with a three-year-old child. She calls herself the Femitheist and has a blog, YouTube channel, and is writing a book all about the "importance" of reducing the male population to roughly 1-10% in order to achieve world peace and "true equality." Somehow, she expects this to end war, rape, and violence in general. Though this seems like trying to end violence by committing violence — because it is — she asserts that it is "the only logical solution."

The Editor says...
I doubt if she has put much thought into her claim that a ratio of 10 women to every man would achieve "true equality." What does that say about women?

Feminist, Liberal Media Demand 'Free Tampons' For All. It's the terminus point of modern feminism: make the deeply personal very publicly political, and get someone else to pay for it! If one man is keeping you in the style to which you're accustomed, you're a kept woman — perhaps even [shudder] a stay-at-home mom. But if your sugar is funneled from thousands of hapless tax payers through a legion of faceless bureaucrats, you're a tower of feminist self-determination. Fight the power, sisters! Demand government tampons!

Scenes from the feminist implosion. The radical feminists are under attack because they don't accept in their ranks people born as biological men but now convinced they're women. The RadFemmers argue that the transgendered just aren't oppressed enough to gain membership. Goldberg explains their position: "Anyone born a man retains male privilege in society; even if he chooses to live as a woman — and accept a correspondingly subordinate social position — the fact that he has a choice means that he can never understand what being a woman is really like." Got that? Yet the RadFem women are apparently in the minority. Most young Women's Studies majors consider the transgendered to be whatever the transgendered say they are.

How about bring back the draft to include women? This push to have women in combat is based on an ideological premise of equality; it is not based on merit or common sense. Feminizing the military is a huge mistake that will endanger the lives of soldiers who are already in combat situations and that ignores the physical restraints of women. We are not as physically strong as men. We are not as muscular. That is a given.

Huffington Post Endorses Paid 'Menstrual Leave' for Working Women. HuffPost Live held a discussion about a current topic in employment: whether women deserve paid "menstrual leave." [...] The editors of the left-wing news aggregator displayed emphatic support for the feminist cause by declaring on their homepage that "America Is Way Behind On Paid 'Menstrual Leave.'"

The Editor scoffs...
Really? Name the countries that consider this a problem and have laws to deal with it.

The incredible hypocrisy of 21st Century feminism. As ambiguously written, the ERA, would eliminate the men-only draft requirement, repeal protective laws like sexual assault and eliminate the tendency for mothers to obtain custody over their children in divorce cases. Ironically, one of the arguments that helped sink the amendment from ratification was the fear that single-sex bathrooms would no longer be permitted. In addition, opponents of the amendment also warned that it would lead to abortion on demand and same-sex marriages.

'Ban Bossy': A Bad Remedy for a Fictional Problem. A closer look at the research invoked by "Ban Bossy" defenders shows it to be shaky and selective. What's more, the "facts" cited on the campaign's own website are such a collection of abused data that it brings to mind another common B-word — the crude synonym for bovine excrement.

Unmasking the junk science behind the #BanBossy campaign. [Scroll down] Claim 5: Between elementary school and high school, girls' self-esteem drops 3.5 times more than boys'. This was another study conducted in the early 90s. How do you even measure self-esteem? Apparently, by five measures: "I like the way I look," "I like most things about myself," "I'm happy the way I am," "Sometimes I don't like myself that much" and "I wish I were somebody else." The dating website eHarmony asks more questions than that before you even start your dating profile. You know what's not in the study? Any mention of the word "bossy." Is that word the reason behind girls' self-esteem problems?

The Legitimacy of White Male Anger. When one enrolls in a course taught by a feminist professor, one hears a familiar story: the integration of the trades. When women first moved into the blue collar trades they received a rather unfriendly reception from the men already there. While this is bad, and the men shouldn't have done this, do feminists ever stop and consider the men's perspective? The man they replaced probably needed that job more, and suffered more for the loss of it than the woman gained by taking it. Given the social norms, men were expected to be the breadwinners, they had families to support. Bemoan the norms all you want, but their existence is a matter of fact not opinion.

We're losing the war on poverty because our schools turn boys into eunuchs. As men increasingly check out of work, marriage, and fatherhood, it's hard not to root for a man fiercely determined to secure his family's future before dying — despite his morally abhorrent methods. That there are dramatically fewer men willing and able to safeguard family prosperity is perhaps America's greatest — and most unrecognized — problem. [...] First, two times more men than women aged 25-34 languish in their parents' basement far below the glass ceiling, according to U.S. Census data. Second, women now outperform men in nearly every measure of social, academic and vocational well-being.

Feminist Film: Violence Caused by (Surprise!) Masculinity. The focus of "The Mask" is the male population's place in and relationship to American culture. Predictably, judging from the trailer and the film's enthusiastic reception in left-leaning media, traditional masculinity is a leading cause of murder and mayhem.

Camille Paglia: War on Men Destroying American Culture. Paglia disparages the mushiness that has become rampant in American culture, beginning as early as kindergarten. "Primary-school education is a crock, basically. It's oppressive to anyone with physical energy, especially guys," she says, and observes how difficult it is for boys in schools that have discontinued recess. "They're making a toxic environment for boys. Primary education does everything in its power to turn boys into neuters." Paglia is especially tuned in to this situation now that she is raising her 11 year-old son with her ex-partner, artist and teacher Alison Maddex, who lives nearby. Paglia sees that "female values," such as sensitivity, socialization, and cooperation, are fostered and put up on a pedestal in schools over creative energy and the teaching of hard facts. She notes that it only gets worse in colleges and universities.

Five Ways Lenin's Propaganda Destroyed Marriage And The Family In Russia. Lenin and his feminist lieutenants, particularly Alexandra Kollontai, the first female commissar in the Soviet government, considered much of what the suffragettes were fighting for, including voting rights and equal protection under the law, "bourgeois convention." What they had in mind was something far more radical: An all-out war on "old and outdated" institutions like marriage and family so dominance of the state could be achieved. Instead of marriage, there would be more disposable "unions of affection and comradeship." The first salvo in the "liberation" of the family was easy divorce, established almost immediately by the Bolsheviks. Abortion on demand — until then illegal in every country in the world — came in 1920.

Why women still need husbands. Over the past several decades, America has witnessed a profound change in the way women view men and marriage. It began with the baby boomer adage "never depend on a man." This message resulted in a generation of women who turned their attention away from the home and onto the workforce. They did what their mothers told them to do: they became financially independent so they'd never have to rely on a husband. In time, "never depend on a man" turned into the full-blown belief that men are superfluous. In 2010 Jennifer Aniston claimed women needn't "fiddle with a man" to have a child.

Why would Obama send American girls into combat? Under Defense Department mandates, the armed forces are implementing incremental plans to order (not "allow") women into Army and Marine infantry and special operations forces that attack the enemy. Acquiescent generals insist that training standards will be "the same" for men and women, but the fine-print "catch" is hidden in plain sight. Footnotes in a June Marine Corps report to Congress stated that physical fitness and combat fitness Test standards would be "gender-neutral" with "gender-normed" scores that "account for physiological differences between the genders." In the Marines' new physical fitness test — recently postponed owing to "potential risks" — women will have to complete three pull-ups. Five more will earn 100 points, but men will have to do 20 to get the same score.

The feminist campaign to make weaklings of America's warriors. Feminism is trying to yank the U.S. military in two directions at once. While claiming that women have no problem meeting the rigorous standards of the SEALs or infantry, advocates of opening these branches to women argue that female members of the military must be protected from the male sexual predators that, we are assured, are widely represented in the military. However, they can't have it both ways. Are women "hear me roar" Amazons, or are they fragile flowers who must be protected from "sexual harassment," encouraged to level the charge at the drop of the hat?

Meet the seemingly unfireable female firefighter. Despite failing a required FDNY running test five times, Wendy Tapia was allowed to graduate from the Fire Academy and become a firefighter. On Dec. 2, she is taking the test for an unprecedented sixth time. [...] At the end of 18 weeks of probationary training, Tapia failed to run 1½ miles in 12 minutes without gear, as required by the academy. She blamed a foot injury. The FDNY let her graduate anyway — and gave her five more deadlines over the past six months to pass the running test. She failed all five times, insiders said. Normally, probationary firefighters who fail the running test at the end of academy training don't graduate — period.

'Unfireable' female FDNY firefighter quits. The female FDNY probie who was allowed to graduate from the Fire Academy without passing a required running test has quit. Wendy Tapia, 31, resigned Thursday [11/21/2013] after trying again — her sixth attempt — to run 1.5 miles in 12 minutes or less, officials said. "She didn't make the 12-minute cutoff," an FDNY spokesman said. "She'll return back to EMS ranks."

Jezebel, the 'Mainstream' of Feminism. [Scroll down] Now this website has been transformed into a book, "The Book of Jezebel," a snark-loaded feminist encyclopedia. It can be repetitive. The condom is "a must-have accessory for protection against two potentially life-threatening conditions: AIDS (among other STIs) and babies." You read that sentence correctly. "Children" are defined as "the side effect of sex," and "nephew, niece" is defined as "child of a sibling, a partner's sibling, or a dear friend. They work well as both practice kids and as reminders to use birth control." A "zygote" is "too young to be a slut, so way more entitled to civil rights than you are." The Jezebel entry for "misogyny" is "Exemplified by God, Aristotle, Phyllis Schlafly, Rush Limbaugh, The Republican Party, Allen West."

Boyhood Is Not a Mental Illness. The purpose of psychologist Enrico Gnaulati's 2013 book is to argue how ordinary childhood behavior is often misdiagnosed as ADD, ADHD, depression and autism — frequently with life-long, disturbing consequences. [...] He cites numerous studies showing that typical boy behavior — wrestling, rough games of tag, good guy/bad guy imaginative play that involves "shooting" — are condemned by preschool and elementary school teachers, the vast majority of whom are women, without the behavior being redirected appropriately to release boys' "natural aggression." Boys who play in the way noted above are not on a path to mass murder, contrary to what zero tolerance school policies suggest. For the vast majority of them, they are simply on the path to manhood.

School Has Become Too Hostile to Boys. In May, Christopher Marshall, age 7, was suspended from his Virginia school for picking up a pencil and using it to "shoot" a "bad guy" — his friend, who was also suspended. A few months earlier, Josh Welch, also 7, was sent home from his Maryland school for nibbling off the corners of a strawberry Pop-Tart to shape it into a gun. At about the same time, Colorado's Alex Evans, age 7, was suspended for throwing an imaginary hand grenade at "bad guys" in order to "save the world." In all these cases, school officials found the children to be in violation of the school's zero-tolerance policies for firearms, which is clearly a ludicrous application of the rule. But common sense isn't the only thing at stake here. In the name of zero tolerance, our schools are becoming hostile environments for young boys.

The Dread Pony. Much has been written about the infantilization of the American male, which for a change is not media hype. The average age of video-gamers is now 37, and 2011 census data show roughly a quarter of 25-to-34-year-olds still living with their parents. By some counts, more adult-leaning superhero/comic-book movies have been made in the last couple of years than in the entire decades of the '50s, '60s, and '70s combined.

Children are being taught "men cause climate change." Not mankind in general, just men.
Indoctrination At Schools In Germany Reaches New Level. The main message of the text is that men, with their macho lifestyles, produce far more CO2 than women and thus the planet is suffering because of it. The text cites scientific studies (from women) and presents claims made by the studies as fact.

A civilization where 'few men are left'. What does it mean about a culture when ads pitched to men are increasingly about whiter teeth and dieting and hormone enhancement, and when commercial advertising is constantly based on the "dumb male" premise?

Women Can Thank Women's Movement ... for Nothing. The Women's Movement has gotten what it wants, and now women are MEN! Congratulations for achieving nothing.

Rise in Female Breadwinners Means America Is a Loser. When women start doing what men have traditionally done, yours is a civilization of the setting sun. This is brought to mind when pondering a recent Pew Research Center study showing that women are now the primary or sole breadwinners in 40 percent of American households.

Feminism may be dead: 72 percent of Americans say they're not 'feminists'. It is likely disappointing news for old school bra-burners and Gloria Steinham-inspired activists. "Has feminist become a dirty word?" demands a new Economist/YouGov Poll released Wednesday [5/1/2013]. "Feminism is a mixed bag in the eyes of most Americans. Overall, 28 percent consider themselves to be feminists, 72 percent do not," the findings report.

Feminist Leaders Compared to Religious Right Leaders. Gloria Steinem was the beauty queen of the feminist movement. Steinem, a Phi Beta Kappa graduate, was engaged to her college boyfriend. After breaking up with him and discovering that she was pregnant, she had an abortion. She remained childless. Later, Steinem founded Ms. Magazine and coined two phrases — "reproductive freedom" and "pro-choice" — bringing a brilliant sense of marketing to a movement that glossed over the realities of promiscuity and abortion and propelled so-called "sexual freedom" into the mainstream. Steinem famously declared that a woman needs a man like a fish needs a bicycle.

Title IX for our boys. Large urban school districts are losing students at an alarming pace. They're going to charter schools, to online schools and to home-schooling. But now there's another reason for parents to think about moving their children out of public schools — the boys. It seems that teachers — overwhelmingly female — just might be prejudiced against boys and it's hurting their grades. Stereotyped as "naughty," boys quickly learn that they are thought of as dumber and more trouble than girls. And that has consequences.

The Welfare State and Manhood. To the statists or to big-government ideologues and their supporters, the motivation behind the admission of women into combat is the reverse of the feminist's motivation, because the statist knows that for the social welfare state to succeed, it is a question not of women being elevated, but of men being degraded. To the statist, the fundamental purpose of employing women in military combat is to destroy the unique virtues that define manhood.

20 Reasons America Is Becoming An Increasingly Nonfunctional Society. [#11] Women becoming educated, moving into the work force and becoming much more independent has been a positive development. However, the downside of it is that it has led to later marriages, a soaring divorce rate, more out-of-wedlock birth, and much more conflict, discontent, and fights over children between the sexes. Marriage and relationships are an order of magnitude more complicated for Americans today than they were sixty years ago.

59 percent support women entering would-be draft, poll says. As the Pentagon unveiled plans to reverse a ban on women serving on the front lines, a poll released Wednesday [6/19/2013] found that most registered voters believe women should be eligible for a military draft if one is reinstituted. The survey conducted by Mason-Dixon Polling & Research shows that 59 percent believe women should be included if a draft becomes necessary again, compared to 38 percent who say they should not be included.

The feminists and anti-war protestors are all completely silent.
Next question: Must women register for the draft? For as long as women have been excluded from combat, they've also been exempt from having to register for the Selective Service System, the database kept just in case all hell breaks loose and the U.S. must reintroduce the draft. But now that women are being admitted into combat units, the justification for making only young men register is on shaky ground. "It would seem a little strange to have nearly every job in the military open to women and not also require them to register for Selective Service," said David McKean, legal director at the Servicemembers Legal Defense Network.

Confessions of a Bad Woman. I suppose I'm a bad woman — by today's standards, that is. For some reason, I take absolutely no pride in the accomplishments of women per se. I am utterly uninspired by first women astronauts or secretaries of state. It is of no consequence to me what percentage of the United States Senate or House of Representatives shares my chromosome pattern. I don't wait with gnawing impatience for America to pass the milestone of needing a fellow to fill the post of first gentleman.

The war on men. All the articles and books (and television programs, for that matter) put women front and center, while men and children sit in the back seat. But after decades of browbeating the American male, men are tired. Tired of being told there's something fundamentally wrong with them. Tired of being told that if women aren't happy, it's men's fault.

Hey, Man-Hating, Nerve-Grating Feminists: Good Fathers Are Irreplaceable. I have two twentysomething daughters who're currently taking over the planet. When these female charges popped out of their mommy's womb, this thing called "responsibility for their upbringing" hit me like a Jackie Chan punch. I didn't slough off my role in their lives onto my wife, my church, public school, day care, relatives, TV, or "the village." I didn't expect any of the aforementioned to fill my boots chiefly because ... they can't.

Hillary Clinton: 'I've Made Women a Cornerstone of American Foreign Policy'. During her tenure as secretary of state, Hillary Clinton says she's instructed U.S. diplomats and development experts to "partner with women to find ways to engage and build on their unique strengths, help women start businesses, help girls attend school" and "push" women to get involved in peace talks and elections. "I've made women a cornerstone of American foreign policy," Clinton told a 'Women in the World Summit' in New York City on Saturday [3/10/2012].

China's One Child Policy: A Real War on Women. While the American feminist left devotes its time, money and energy to pushing for taxpayer-funded contraception, claiming the right to call each other "slut," and ranting about the right's fictional "War on Women," there is a real war being waged on one out of every five women and girls in the world — China's "One Child Policy." The soul-wrenching reality of this rather bureaucratic-sounding term is a cruelty that is unimaginable to most Americans: forced abortion and sterilization, female infanticide, and a concomitant rise in sexual slavery throughout Asia.

Gender-Specific Writer. Apple offers its own word-processing program called Pages that you can have for $20.00. ... Pages has traits that are not immediately apparent, however. While it's a sturdy little word processor, its true personality is not revealed until you use the proofreader — or Proofreadress, as I now think of her. Yes, she's female all right. Seems to have been designed and programmed by the women's-studies department of the Cupertino community college.

Apple's covert war on gender-specific expressions. Why do feminists perceive it as a threat to gender equality to acknowledge that men and women are, in fact, different? Why are they unable to see that what is uniquely female — yes, I'm talking, among other things, about childbearing and mothering — has a value all its own? By denying the value of the uniquely female, they essentially say women are unequal to men, that what women alone can contribute to society is of less value than what men alone can contribute.

Save the World on Your Own Dime. One public university in North Carolina has just found money to start (in the midst of a budget crisis) a new scholarship to reward feminists for engaging in feminist political activism on the job. Here in the Tar Heel state, this year's budget cut in higher education is nearly 16%. But there was still enough money in the pot to create a new Janet Mason Ellerby Women and Gender Studies Scholarly Award. The award was created to recognize Ellerby's "significant contributions to feminist scholarship and activism." What are those contributions?

How the Dual Income Destroys the Lower Classes. It is oftentimes complained, partially unfairly, that the American lower classes are getting poorer and poorer. But enough has been written, by practically every conservative think-tank, about how the welfare state and anti-discrimination legislation destroy neighborhoods and promote the business interests of those with poor moral constitutions (leftists, primarily) by providing layabouts with an arsenal of unreasonable lawsuits. This article, recognizing the above socioeconomic maxims, will seek instead to show how two-income households have played an equal, if not greater role in impoverishing American lower classes. This aspect of American poverty has not been adequately addressed — perhaps, considering how feminism pushes women into the workplace, because it is now culturally offensive to do so.

Our Colleges and Universities Produce Educated Fools. Judge Robert Bork, in his great book, Slouching Towards Gomorrah, 1996, contends that the feminist movement was even more harmful to our country than the homosexual movement, although he wrote that book before the homosexual movement was in full swing. He gives many examples of how things similar to what happened to [Lawrence H.] Summers have harmed our institutions of higher learning, and our military forces. He thought that the feminist movement, along with the other liberal agendas, may have gone so far that our country is irredeemably on its way to self destruction.

Is the NCAA Anti-Male? In 1972, Congresswoman Patsy Mink authored an amendment to the Civil Rights Act of 1964. ... The law was called Title IX. The question now is whether this admirable idea has evolved into a law that is anti-male, and particularly anti-black male.

The government is really good at solving problems that have already been solved.
Big Sister in the Workplace. Today there are twice as many women in the American workforce as there were four decades ago, three times as many women getting college degrees. More working women than men now hold degrees. The growth rate of female-owned businesses stands at four times the growth rate of male-owned businesses. Labor Secretary Hilda Solis acknowledges all of these statistics. But it seems that an admission of reality by the head of the U.S. Labor Department is no guarantee that reality will influence Labor policy. After touting dramatic progress by women in corporations, universities, and small businesses, Solis still thinks that government must do more for women.

Sisterhood and the SEALs. It was just a matter of time before the successful Navy SEAL operation against Osama bin Laden on May 1 provoked a complaint that SEAL teams are all-male. Sure enough, Washington Post pundit (and founder of the feminist website Jezebel.com) Anna Holmes came through last week with a column denouncing the "paternalistic, discriminatory" exclusion of women from special-operations units and comparing that exclusion to racial segregation.

There Is No Male-Female Wage Gap. A study of single, childless urban workers between the ages of 22 and 30 found that women earned 8% more than men.

Where the Women's Movement Went Wrong. International Women's Day was celebrated earlier this month and Daniel Craig, the latest James Bond, donned a dress and blonde wig in a short film to focus on the inequality between the sexes. It's only fitting that this masculine movie star made this simpatico gesture because let's face it — the real beneficiaries of the modern women's movement were men. The sixties movement of feminism was completely unlike that of the early pioneers battling for suffrage.

Wrestler forfeits rather than fight a girl.
Iowa's girl wrestlers: Some drama, some sport. The crowd cheered as Cassy Herkelman's hand was raised, but the historic moment of the first girl to win a match at the traditional state wrestling meet comes with an asterisk. Her opponent, Joel Northrup of Linn-Mar of Marion, forfeited.

Not Wrestling Girls. It's so easy to look at teenagers in general today and sigh. They're more than a bit lazy, a bit spoiled and more than a bit morally compromised. Two teenagers made national news. One showed common decency and sportsmanship, two virtues seemingly uncommon in that generation. Hope is restored.

Should Boys Be Wrestling Girls? This year's Iowa state championships attracted attention nationwide when the promising high school sophomore Joel Northrup (the fifth-ranked wrestler in the state) defaulted on his first match. He had drawn Cassy Herkelman, a female freshman, as his opponent, and he could not, in good conscience, wrestle a girl. ... Had he not declined to wrestle Herkelman, he might have won it all. The New York Times, the AP, and other national news organizations noted that Northrup's father is a minister — the suggestion being that such peculiar and backward views as the young man expressed must be chalked up to a religious sensibility. Most of the coverage stressed the "girl against the old boys network" angle.

Feminism Has Become a Hot Topic. The liberals have unjustly blamed Sarah Palin for many things, but there's one thing for which she is probably responsible: making feminism the hot topic that it has become today. Every couple of years Time and Newsweek ask "Is Feminism Dead?", but all of a sudden feminism is being discussed and debated in the MSM.

Phyllis Schlafly talks on failings of feminism. Phyllis Schlafly, founder and president of Eagle Forum and a national leader of the conservative movement since the early 1960s, says she's discovered women, because of the feminist movement, have more freedom, education and power, but less happiness.

Equal Rights Or Neo-Paternalism? The ideology of legal feminism today goes far beyond the original and widely supported goal of equal treatment for both sexes. The new agenda is to redistribute power from the "dominant class" (men) to the "subordinate class" (women), and such key concepts of Western jurisprudence as judicial neutrality and individual rights are declared to be patriarchal fictions designed to protect male privilege.

NOW Goes Shark-Jumping. The women of NOW share a palpable disdain for certain women, but particularly those who refuse to accept the narrative of their inequity — and most notably Sarah Palin. In an August 2008 press release, PAC Chair Kim Gandy stated, "'[W]e recognize the importance of having women's rights supporters at every level but, like Sarah Palin, not every woman supports women's rights." Or, in the words of University of Chicago professor Wendy Doniger, Palin's "greatest hypocrisy is in the pretense that she is a woman." Touché. Meet the feminists of today, or, Women In Name Only.

The Descent of Woman. If there were an enemy bent on destroying all humanity, he would find no better place to start than by destroying femininity. Despite social pressures to the contrary, women will probably always form the next generation. "Liberating" young girls from a model of purity and docility to God and supplanting it with a burden of guilt, shame, and rage would breed mothers who would inevitably infuse their children with resentments and hostilities thereby creating a self-propagating blight sure to infect future generations. If the attack coincided with a decline in religious belief that precluded the prospect of divine forgiveness, the potential for human devastation would be unlimited.

Epic "Feminist" Hypocrisy. The day after he (or a member of his staff) is caught on tape calling Meg Whitman a whore, Jerry Brown has announced the endorsement of the National Organization of Women (NOW). You know, it's fashionable in feminist circles to sit around bemoaning the fact that few young women want to identify themselves as feminists. Wanna know why? This kind of hypocrisy is the reason why.

National Organization of W... Jerry Brown's campaign conspired to commit political rape, calling Meg Whitman, his female political opponent, a "whore." And he got N.O.W.'s political endorsement for doing so. The liberal beauty mask is so off the wrinkled, geriatric, age-spotted National Organization of Whores. Yet for all the mild hand-wringing over whether the "w-word" should have been used, no one in the Make-Believe Media is even questioning N.O.W.'s endorsement much less mocking the utter hypocrisy of it all.

California NOW Chief: Calling Whitman a 'Whore' is Accurate. The president of the National Organization for Women may have said it's wrong for anyone to call a woman a "whore," but the head of the California NOW affiliate says Republican gubernatorial candidate Meg Whitman is one.

Those Dirty Democrats. [Scroll down] The personal attacks from Democrats know no bounds. ... For an organization that claims to "take action to bring about equality for all women" and "eradicate sexism" to come out and ENDORSE Jerry Brown literally a day after the recorded message came to light is simply uncalled for and inexcusable.

Eek! A Male! Last week, the lieutenant governor of Massachusetts, Timothy Murray, noticed smoke coming out of a minivan in his hometown of Worcester. He raced over and pulled out two small children, moments before the van's tire exploded into flames. At which point, according to the AP account, the kids' grandmother, who had been driving, nearly punched our hero in the face. Why? Mr. Murray said she told him she thought he might be a kidnapper. And so it goes these days, when almost any man who has anything to do with a child can find himself suspected of being a creep.

The Editor says...
This is the inevitable fruit of the fatherless society created by the welfare state. Interaction with men is so rare that the natural assumption is that they must be up to no good.

The Envious Feminists. [Scroll down] This brings us to a truth about classical feminists: They hate traditional motherhood — which, dare I say, is true motherhood — because they are jealous of traditional mothers. When they ridicule a woman who tends to hearth and home, it's not so much because she is kowtowing to the patriarchy or not taking her place in the phalanx of the sisterhood. It is because the mother has a good that they, for some reason, cannot have. And women are notorious for being jealous of one another.

Poll: Women today treated with less chivalry. Feminists may insist that life for women has gotten better since the days when raucous female activists marched in the streets for equality and questioned traditional social mores about men, marriage and career. Pollsters say otherwise.

When Masculine Virtues Go Out of Fashion. The culture war begun in the sixties has, in large part, been won by the left. Nowhere is this clearer than in the feminization of men. The virtues of manhood which had been extolled and celebrated throughout the middle ages right up to the 1950s have been completely expunged from academia and pop culture. The baby boom generation was the last to be taught the values of rugged individualism, risk-taking, courage, bravery, loyalty, and reverence for tradition.

Feminism: No Longer about Equality. [Scroll down] If the feminist movement is really trying to champion women, then they need to realize that women care about lot more than sex and reproduction issues. Valenti recoils from the idea of trying to rally women in support of a political movement when advancing "women's causes" (i.e. abortion) isn't part of the agenda. But those of us on the right recognize that women are citizens first and foremost. Their biggest concerns aren't abortion and the wage gap. Women care about the economy, unemployment, government debt, and national security.

The New Cleaning Ladies of Leftism. Forty years ago, American society (or at least those parts of it owned by the leftist establishment) was aflutter with feminism. ... Men were dumbfounded to discover that they had been "oppressors" — that they had forced wives to stay home while they savored the sweet joys of rush-hour traffic and heart-attack jobs, that the higher life expectancy of women proved that inadequate attention had been paid to "women's health issues," that they relished the privilege of suffering horrific combat wounds while women performed noncombatant roles in the military, and that the sex which owned most of the wealth of our nation was also, somehow, the helpless sex.

Forty Years of Feminism Now Bearing Fruit. [Scroll down] This is the bitter fruit of forty years of feminist domination in the United States. Virtue, self-worth, and man's moral value are DOA in the age of the cultural domination of the left. What an awful stench this decaying corpse gives off, lying in a smoldering, fetid pile of ash. ... I am sickened by this — not because I am prudish, but because it speaks volumes about how girls view themselves and their roles, not to mention the ever-increasing diminishing of women in American society.

Rabid feminism is self-extingishing.
Roe, Roe, Roe Your Boat. If the next generation of abortion proponents is mysteriously missing, it may be because their mothers availed themselves of the right to have an abortion and thus did not become mothers.

America's Sinking Middle Class. The U.S. middle class is sinking into government-provided economic quicksand. U.S. living standards have declined ever since 1970; vanished stay-at-home moms were the alarm bell. ... So will the jobs be back soon? Short answer: No. And the main reason, politicians' speeches to the contrary being lies, is deliberate government policy.

I'll never buy another cookie from these hapless pawns.
Girl Scouts Distribute Planned Parenthood Sex Guide at UN Meeting. The World Association of Girl Scouts and Girl Guides hosted a no-adults-welcome panel at the United Nations this week where Planned Parenthood was allowed to distribute a brochure entitled "Healthy, Happy and Hot." The event was part of the annual United Nations Commission on the Status of Women (CSW) which concludes this week.

Girl Scouts Back Away From Lobbying Pledge. The Girl Scouts of the United States of America has launched a campaign called Forever Green that included an online pledge girls could sign, promising they would encourage public officials to pass emissions-reducing legislation. But after CNSNews.com asked the organization about the political advocacy on Tuesday [2/8/2011], the pledge was removed from the Girl Scouts' Web site. The language should not have been so "inflammatory," one official said.

Radical Feminism's Attack on Manhood in America. Over the years, radical feminism has been attempting to demonize any display of testosterone. The slightest aggressive behavior is taken to the ultimate extreme and used to portray males as abusers. Their goal clearly is to wimpify maleness.

The Domestic Violence Industry's War on Men. Over the years, as the triumphalist feminist revolution's long march through the institutions of the West proceeded with eerily unchallenged vigor, [Domestic Violence] emerged as a highly politicized touchstone justifying women's entitlements — legal, economic, familial — at the expense of boys' and men's human rights.

Demasculation of America's Boys. The attacks on our boys are endless and very purposeful: if they are taught to be nothing more than crude dolts then they will become emasculated men who keep to themselves. And the women will end up wearing the pants. I've also observed on countless occasions a minor, but powerful, display of how ours is quickly becoming a culture where men are having trouble being men: females struggling alone to lift a heavy suitcase into the overhead compartment on a plane all the while surrounded by men who pretend they don't see.

National Organization for Irresponsible Women. Maj. Gen. Anthony Cucolo is in command of 22,000 American combat forces in northern Iraq. ... Pursuant to his powers as a general officer, he issued regulations for soldiers under his command. Some dealt with Iraqi sensibilities (soldiers were forbidden to enter mosques except in cases of "military necessity"), and others with good order and discipline (no gambling or drug use). Additionally, the general directed that soldiers who become pregnant or impregnate someone else while deployed would be subject to courts martial. Uh-oh. Cue the feminists.

The teenage-ification of manhood. The word "teenagers" appeared in the late 1940s, signalling the arrival of a new tribe of young people, the replacements for what were once called adolescents. These self-important newcomers were not just adults-in-training, as young people had been through history. They had a unique identity and some independence. They had money to spend and they wanted to spend it as they chose.

Outlawing Manhood. Across the nation, "Zero Tolerance" polices are commonplace in public school district after public school district. And while they were ostensibly instituted to stop kids from bringing weapons on campus following the 1999 Columbine massacre, they're actually just another tool which liberals and over zealous school board members use to war against manhood.

Glass Ceilings Aren't Glass Slippers. You don't have to be from Venus or Mars to notice that Sonia Sotomayor was appreciated more for her Hispanic roots than for female gifts. That's how President Obama introduced her. Firsts are firsts, after all, and Sandra Day O'Connor was followed by Ruth Bader Ginsberg, and that was that for a woman expecting recognition as a pioneer. No one any longer regards it as worth remarking when a woman becomes a doctor, lawyer, editor, astronaut or CEO. Women have shattered a lot of glass ceilings, and when nobody notices the broken glass, that's a sign of progress.

Why Women Are Unhappy: The National Bureau of Economic Research released a study to be published soon in the American Economic Journal that shows women's happiness has measurably declined since 1970. It's no surprise that this has stimulated much comment. This study covers the same time period as the rise of the so-called women's liberation or feminist movement. The correlation demands an explanation.

My Idea and Your Consequence. One really bad idea that is thriving in higher education is the so-called trans-gendered rights movement. It is thriving not because of the work of trans-gendered persons but because of feminists who are willing to use them to advance their own ideas about gender and equality. Feminists have been increasingly enamored with the idea that there are no innate differences between men and women. In recent years, they have been arguing with greater and greater frequency that all male/female differences come from the "culture" or that they are "socially constructed."

The Myth of Women as "Victims". In fact, modern feminism is only the most recent manifestation of the powerhouse female. Feminism was propagated by power-driven women who simply claimed (without a shred of evidence) that all women are victims. Tell that to the Last Empress of China, or Hillary Clinton, or Michelle Obama. Or any of Obama's women commissars like Janet Napolitano.

The Silence of NOW. The ACORN scandal isn't just about tax evasion and the bad behavior of a few ACORN staffers. Rather, the videotapes that started it all captured several ACORN staffers' unflinching comfort with the growing crime of human trafficking and child prostitution. The weeks since the story unfolded have witnessed a willingness within the women's advocacy community and Congress to turn a blind eye to human suffering in the cause of growing government.

Did someone mention ACORN?

Where Have All the Ladies Gone? As our society abandons the conservative values that make women into ladies, women with grace and dignity have become an endangered species — especially on today's college campuses. The kind of woman who inspired Tom Jones' song "She's a Lady" has become an antiquated figure from America's past. Most popular songs about women today are more like "Youse a Ho" by Ludacris.

Left-wing women: Stop impaling Palin. Palin doesn't need to be rescued; she's capable of defending herself. But the attacks on Palin by so-called feminists cannot be ignored. Many of the same voices who claimed the right-wing was attacking Hillary Clinton just because she was a strong woman are now attacking Palin not for her beliefs, but for her very gender identity.

Feminists against Palin — shame on you. Feminist anger against Sarah has exposed the fact that feminism is not about women's success and achievement. If it were, feminists would have been bragging for years about self-made women who are truly remarkable achievers, such as Secretary of State Condoleezza Rice, or former Hewlett-Packard CEO Carly Fiorina, or Sen. Elizabeth Dole, or even Margaret Thatcher. Feminists never boast about these women because feminism's basic doctrine is victimology. Feminism preaches that women can never succeed because they are the sorry victims of an oppressive patriarchy.

Who Defines Feminism? A hive of feminist organizations are swarming around media outlets and telling America that Sarah Palin does not stand for women and does not support women's rights. This hive of hornets is complemented by a long line of party-line Democrat women marching around America saying much the same thing. Christina Hoff Sommers wrote a wonderful book several years ago entitled Who Stole Feminism? Tammy Bruce, once the head of NOW in Los Angeles, has also exposed the moral and intellectual vacuity of self-described feminism.

The Return of the Equal Rights Amendment. When Congress approved the Equal Rights Amendment in 1972, supporters said it would bring about huge changes in attitudes and practices, and they were right. Women now mostly work outside the home, they run giant corporations, they serve in the military in combat zones, they occupy high offices in all three branches of government, and one may be the next president. The amazing thing is that the amendment precipitated all these advances without ever being ratified.

Fatherless families, a dangerous Bill and a dilemma for David Cameron. What is that strange and unfamiliar noise, a bit like the distant rumble of a dam breaking or tectonic plates on the move? It is the almost forgotten sound of a civilisation fighting back. For years we have watched helplessly the undermining of the traditional family, which has been relentlessly attacked by an alliance of feminists, gay rights activists, divorce lawyers and "cultural Marxists" who grasped that this was the surest way to destroy Western society.

1968 Policies and Election 2008. Two 1960s policy "innovations" were especially destructive. The Flemming Rule (1960) was named for Arthur Flemming, then head of the Department of Health and Human Services, who issued an administrative ruling that states could not deny eligibility for income assistance through the AFDC program on the grounds that a home was "unsuitable" because the woman's children were illegitimate. In 1968, the Supreme Court's "Man-in-the-House" rule struck down the practice of states declaring a home unsuitable (i.e., an immoral environment) if there was a man in the house not married to the mother. Thus, out-of-wedlock births and cohabitation were legitimized.

Denver diversity-training video said to 'hammer the white guy'. The city of Denver is showing its employees a diversity training video that portrays a white man as a narrow-minded buffoon — triggering allegations of "institutional racism" against Anglos. "Right now, their diversity program is racially motivated against white males," said Dennis Supple, a heating, ventilating and air-conditioning mechanic who has worked for the city 1½ years.

City Worker: Denver Diversity Video Discriminates. A diversity training video has drawn a complaint from a Denver city employee who claims its unfavorable portrayal of whites amounts to "institutional racism." A city official said Tuesday [11/27/2007] it was suspending use of the video.

Have You Bashed a White Male Today? [Scroll down] Here we are forty years later, and it seems to me that all we've really accomplished is an exchange of all of our old prejudices for a new one. The demographic group that now gets it full on the chin at every turn, in every public sphere, is the lone, white male. Christians, especially the Catholic Church, are also an approved target, but that topic is for another article. So we haven't gotten any better as human beings. We simply changed targets.

Feminism and the English Language: Our language used to belong to all its speakers and readers and writers. But in the 1970s and '80s, arrogant ideologues began recasting English into heavy artillery to defend the borders of the New Feminist state. In consequence we have all got used to sentences where puffed-up words like "chairperson" and "humankind" strut and preen, where he-or-she's keep bashing into surrounding phrases like bumper cars and related deformities blossom like blisters; they are all markers of an epoch-making victory of propaganda over common sense.

Hillary Underrates Women. To listen to Senator Hillary Clinton proposing gender pay equity legislation last week, one might reasonably conclude that she is paid only 77% of Senator Obama's $165,200 salary. … Mrs. Clinton tries to obscure the trend toward equal pay and the reality that men and women generally have equal pay for equal work now — if they have the same jobs, responsibilities, and skills. Mrs. Clinton and Mr. Obama are paid identically, as are many other men and women with the same job.

A Complete Hillary Whitewash. Feminism has been a very disgraced brand for decades. The final nail was placed in the coffin when feminists tried so athletically to see no evil, hear no evil, and speak no evil with Bill Clinton's record of serial adultery, sexual harassment, and even a credible accusation of rape. But now that Hillary Clinton has finally conceded to Barack Obama, the media elites have suddenly discovered the glorious and militant cause of women.

'Career women' empty nation's sperm banks. Career women in Sydney are creating a nationwide sperm shortage as they race to have a family before turning 40. With demand for sperm growing rapidly — particularly from single Sydney women — clinics are importing vials from the US on a monthly basis. ... The most surprising trend has been a 40 percent rise in the number of single women seeking sperm donors. "These are women, aged from 35 to 40, who are single, attractive career women, who cannot find a man to have a baby with," he said.

The Editor says...
If, as the article says, these are "attractive career women", they should have no trouble finding a husband. It's called a husband. Say it with me.

AAUW's Fuzzy Math is an Insult to Working Women. Equal Pay Day has become one of our annual rites of Spring. And once again Hillary and her gal-pals were out in force, trying to convince us that women are undervalued and underpaid in the American workplace. This year the gender victimologists came armed with a new report from the American Association of University Women, Behind the Pay Gap, which purports to show that one year after graduation, women are paid 80% of what men earn.

The Truth About the Pay Gap. Equal Pay Day, observed this year on April 24, is named for something that, we are told, doesn't exist — equal pay for men and women. … Most if not all of the discrepancy can be traced to factors other than sexism. When it comes to pay equity, we really have come a long way.

Gender Equality Gobbledygook: One would think that the just-released 148-page United Nations Children's Fund (UNICEF) report, "The State of the World's Children 2007" — with its exclusive focus on gender equality — was produced by leftists and feminists. Instead, it is the product of Ann M. Veneman, the Executive Director of UNICEF and a Bush appointee who promised to bring back a sane perspective on children's issues. It is obvious at the outset, however, that the report merely re-packages the feminist agenda without even changing the tired old rhetoric.

Men Aren't Couch Potatoes, After All. Did you hear about the latest Urban Legend to bite the dust? Back in 1989 Arlie Hochschild wrote a book called The Second Shift. This was Hochschild's conclusion: Compared to men, "women work an extra month of 24-hour days a year." Basically she was making the claim that while wives cook, clean, and sew after a long day at the office, His Royal Highness was chillin' in front of the TV set.

L.A. fire captain awarded $3.75 million. In the latest bizarre court case involving the Los Angeles Fire Department, a jury has awarded $3.75 million to a male fire captain who said he was retaliated against for not making training exercises easier for women.

The girls on The View. These are women who pride themselves on being independent and empowered when they dress like prostitutes (look at the view of cleavage on the View!). These are the women who watch the View. These are the women who support Hillary Rodham Clinton. These are the women on the show who ask Senator Clinton questions like "Do you think being a mom will help you in the White House?" as they did on December 20.

This just in: Feminists achieve their goal.
51% of Women Are Now Living Without Spouse. For what experts say is probably the first time, more American women are living without a husband than with one, according to a New York Times analysis of census results. In 2005, 51 percent of women said they were living without a spouse, up from 35 percent in 1950 and 49 percent in 2000.

[Don't be mislead by the numbers. Many of these women live with men, but without the formality of marriage.]

Update:
Journalistic Malpractice in "Marriage is Dead" Report. On Tuesday, January 16th, 2007, the American people awoke to startling and disturbing news: for the first time ever, the majority of women in the country were living without a husband. ... [But] it's not true. The entire story (based on the work of one ax-grinding, irresponsible, agenda-driven journalist for the New York Times) has been cooked up from willful, blatant and shameful distortions. Amazingly enough, none of the most respected and purportedly responsible media authorities have taken the trouble to call him on it.

At universities, little learned from 9/11. The feminists at Harvard seek to remove every vestige of patriarchy in America, but they have said almost nothing about the complete dismissal of women's rights by radical Islam. To do so would be to attack Islamic culture, and according to multiculturalism, every culture is equal and none is evil.

As NOW holds its annual convention, is feminism still relevant? One panel discussion speculated that some women want to avoid the feminist stereotype of bra-burning man-haters, or could be unfamiliar with current women's issues. Other women, such as National Review's Washington editor Kate O'Beirne, have argued that most women don't want the things feminists are fighting for. In her recent book, … O'Beirne argued that the feminist movement not only led to the breakdown of the traditional family, but also degraded motherhood, weakened the military and much more.

Moms make lousy dads. One of the more fatuous beliefs that has been foisted off by self-proclaimed feminists and other politically correct lamebrains is that children don't really need fathers.

Fatherless On Father's Day. Less than 50 years ago 8% of children were born out of wedlock. Today that number is more than 40%. On Father's Day children who have a father at home have reason to be grateful. Statistically, those who do not are destined to have a much harder life. On this Father's Day only a small percentage of families are honoring a father. The children born out of wedlock never had a father in the home. Other children's fathers have left never to return, or only see them occasionally. Still other children are denied contact with their fathers by their mothers or the courts.

Getting theirs: In the popular culture of America today, Ms. Levy argues, female chauvinist pigs are women who promote the sexual objectification of other women, and of themselves. But, unlike their truck-driving male counterparts, they believe that in doing so they are emancipating women from the patriarchal male agenda of the past.

Raising boys that feminists will hate: Part two. Make no mistake about it: misandry (man hatred) is now the dominating motif of postmodernism.

The superstition of equality. The Myth of course, is that men and women have identical aptitudes for math and science, and the gender disparities in these fields reflect discrimination. The modern superstition is that if the government could just have enough enforcement power in enough different areas, we could wipe out the differences in male and female participation in math and hard sciences.

Women's Work Is Never Done. International Women's Day began as a communist holiday to liberate women to do the work of a man. A popular 1932 Soviet poster, depicting women escaping the drudgery of the home, declared, "Down with the oppression and the narrowmindedness of household work!" (Then it was on to cement-mixing and road-building.) When the Iron Curtain collapsed in 1989, the holiday was transformed in many countries into a kind of Valentine's Day, where gents were expected to bring gifts and flowers to the ladies.

Brainwashing the Children: A Global Effort. Emma Goldman (often called "Red Emma") gave a speech in San Francisco during the suffragette movement. A contemporary of Chesterton, she said that if men were oppressing women, women were to blame because of the way they raised their sons. Her speech didn't go over well, but her words still apply today. Sons are no longer raised by their mothers to be men, but some sissified hybrid that God didn't create or intend. Their individuality and ruggedness has been drummed or drugged out of them by the socialists in Washington, DC.

The feminist complaint festival: There's one problem with Equal Pay Day — the premise is bogus. Department of Labor data confirms that the median wage of a full-time working woman is three-quarters of that of a full-time working man, but like too many statistics, this fact ignores more than it reveals. This data doesn't account for relevant factors such as occupation, experience and educational attainment. Feminists may not like it, but the evidence shows that women's choices — not discrimination — cause wage gap.

Betty Friedan's passing: Orthodox feminism's secondary solution, to make men more involved in children's lives, has been stymied by its simultaneous commitment to divorce, unwed parenting, and female sexual "autonomy" as signs of social progress. If men aren't in the home, they can hardly do any of the housework, can they?

Don't give us government childcare for Mother's Day. What's the perfect Mother's Day gift? A bouquet of tulips? Jewelry? Breakfast in bed? The National Organization for Women has something a little more expensive in mind — universal childcare.

Feminism isn't dead, but a new book wounds it badly. Some women protest, "I'm a feminist, just not a radical feminist." Kate O'Beirne is impatient with such qualifications. She is not any kind of feminist, and when you finish her sparkling new book "Women Who Make the World Worse," you won't be one either.

Debunking militant feminist orthodoxy: Kate O'Beirne's "Women Who Make the World Worse" is one of the boldest books challenging the orthodoxy of political correctness to be released in years. Above all, it documents the real damage inflicted on our culture by radical feminism and the women who lead that destructive movement.

Feminists Abuse Domestic Violence Laws. Radical feminists who would be the recipients of the act's awesome bureaucratic and money power are very selective about the kinds of violence they will target in 10 to 20 foreign countries. They have no interest in speaking up for the hundreds of thousands of unborn girls in China and India who are victims of sex-selection abortions.

Why I don't take feminists seriously: Generally speaking, feminists get together with other feminists because it is less expensive than seeing a therapist. Feminists are usually drawn together by an inability to deal with men. When they get together, whether in a small group or a large one, criticism of males tends to dominate the discourse.

Why I don't take feminists seriously, part II. Feminists are less concerned with women's rights than they are with their own right to have an abortion. George Bush has done more for women's rights than any president in modern history. But feminists hate him because he is opposed to abortion rights. Bill Clinton sexually harassed more women than any president in American history. But that's okay. He supports abortion rights so feminists love him. If he were ever convicted of rape, feminists would still love him because he supports abortion rights.

Part III wasn't that interesting, but then he wrote ...
Why I don't take feminists seriously, Part IV. Feminists would rather solve a problem by changing "society" than by changing their own behavior. ... Sociology professors often pursue the notion that beauty is not objective but "socially constructed" by showing their students medieval paintings of nude, pudgy women. The argument is that fat used to be considered attractive. Therefore, it can be that way again with enough social engineering.

Why I don't take feminists seriously, Part V. The four most common words a feminist uses are "I," "me," "my," and "mine." I really get tired of hearing these four words from feminists. "I feel this" or "I feel that." "Keep your laws off MY body." "It's MY body, MY choice." Feminists are the only people in society who actually use these four words more in adulthood than they did when they were two years old.

Why I don't take feminists seriously, Part VI. Feminists are the biggest censors on college campuses today. … And they are always driven to censor those who do not take them seriously — just to punish them for the crime of not taking them seriously.

Why boys should be allowed to play with toy guns: Playing with toy weapons helps the development of young boys, according to new Government advice to nurseries and playgroups. Staff have been told they must resist their "natural instinct" to stop boys using pretend weapons such as guns or light sabres in games with other toddlers.

Why Do Women Outnumber Men in College? The highpoint of gender imbalance in college attendance was reached in 1947, after the return of men from World War II then eligible for educational subsidies through the GI bills, when undergraduate men outnumbered women 2.3 to 1. Women's relative numbers in college have increased ever since the 1950s, with a pause when many men went to college to avoid serving in the Vietnam War.

Failing women of the Third World. The plight of Islamic women abused in the name of Allah in the Middle East and in Europe requires aggressive rebuke from women in the free world, but feminists in the West, and particularly in the United States, are struck dumb in an academic ghetto, stuck with a parochial approach to women's studies and obsessed with their personal "body rights" and their sexuality.

Women's minister wants men purged from national anthem. In a move that spells trouble for half of Europe's national anthems, Austria's Minister for Women's Affairs has demanded wholesale changes to her country's paean to purge it of sexist references. Mentions of the "fatherland", "great sons" and "brotherly choruses" should be replaced by gender-neutral terms such as "homeland" and "joyful chorus", said Maria Rauch-Kallat, whose quest stands a fair chance of success.

Strong marriages, the Biblical way. The Bible clearly shows the error both of feminists who claim no differences between men and women, and of sexual segregationists who argue that women are to be concerned only with marriage and motherhood.

Frequently Asked Questions about Women in Combat: Recent news reports about the unprecedented roles of female soldiers serving in Iraq have generated many inquiries about the issue of women in land combat. Should female soldiers be assigned to units that engage in direct ground combat, and if not, why not?

Men are too rough to train with, Army tells women. The [British] Army is abandoning mixed-sex training units because too many female recruits are getting injured trying to keep up with their male counterparts. … "Men are stronger and more robust and it's silly to pretend otherwise."

Five Lies the Church Tells Women: I'm not saying all churches say all these things, but there are certain pockets of Christianity where these lies are circulated.

All dolled up and no place to go. Tragically, it seems that the place we carefully chose to help teach our daughters important life lessons about sacrifice, selflessness and friendship now promotes the "me first" mantra of selfish feminism. The [American Girl doll] company has decided to donate money from the sale of its "I Can" bracelets to Girls Inc., a group that promotes an agenda that sounds as if it was ripped from the pages of Planned Parenthood.

Feminism's devolution from hoaxers to whores. Men haven't turned away from smart, successful women because they're smart and successful. More likely they've turned away because the feminist movement that encouraged women to be smart and successful also encouraged them to be hostile and demeaning to men.

Ladies Restrooms: Who is That Male-Bodied Woman In the Next Stall? The New York Association of Gender Rights Advocacy has won a victory over restroom use by individuals who believe they are a member of the opposite sex.

Editor's Note: Only a few decades ago, such a person would have been confined to a mental institution for everyone's benefit.

Hissy fits and real progress: Susan Estrich is playing a dog-eared victim card and in doing so reveals herself as well behind her curves. Three-fourths of American women between 25 to 34 are in the workforce, up from half in 1975. A report by the World Future Society finds that Generation Xers and their younger counterparts in the millennial generation toil in a workplace that is all but "gender-blind." Fully 57 percent of American college students are women.

So much for compliments. America is supposed to be a land of self-reliant, hardy individualists who cherish their freedom. But sexual harassment law treats women as so weak and vulnerable that not only can they not handle rude and boorish insults, they can't even handle gallant compliments.

One thing leads to another:
Is there a right to have a baby? Reproductive freedom is usually a code-word for abortion on demand. But the right to terminate a pregnancy is only the right to say "no" to having a baby. Full reproductive freedom would include the right to pregnancy on demand, analogous to abortion on demand. A California case in which a lesbian couple is suing an infertility clinic suggests we may be closer than we think to establishing a right to have a baby. And far from being an advance for women's liberty, this development would be a disaster for everyone's freedom.

Real Women's Liberation: It's happening in Afghanistan, and U.S. feminists don't care.

Lesbians turn "gayelle". A group of lesbians who are unhappy with the title have launched a world-wide movement to change the name of their sexuality to "gayelle". Websites devoted to the change are springing up, with the motivation said to be a "persistent distaste for the word lesbian."

The Editor says...
You can put a tuxedo on a pig, but it's still a pig.



This is an original compilation, Copyright © 2013 by Andrew K. Dart

Making the Muslims love us. Feminists in the United States, eager to blame fundamentalist Christians for everything, are reluctant to criticize fundamentalist Muslims for anything. But a cursory scan of the Internet finds several sites beginning to expose the way Muslim men both here and abroad get a politically correct pass in the name of multicultural tolerance. When all cultures are considered equal, it's difficult to criticize culturally protected traditions, even if those traditions brutalize women.

No Thanks, Uncle Sam. If feminists truly cared about women succeeding rather than constructing a social utopia, they would herald individual women who have genuine, free-market success stories to tell. These women are not running to government for affirmative-action privilege because they are too busy running companies.

The feminization of society: As a result of the repudiation of Judeo-Christian values, we are witnessing the ascendance of the feminine in Western society.

Amnesty International Promotes Violence By Women. Congress is playing a fatal game with the lives of half of American citizens by pretending that violence is purely a matter of sex. During a 10-day period, Saint Louis has recently seen two brutal murders of husbands on one week, and a nearly-successful one. …There was no place for these men to seek assistance because there are no shelters for men in Saint Louis.

Biased VAWA Discriminates Against Men. The federal Violence Against Women Act (VAWA) is up for reauthorization in 2005. VAWA funds billions of taxpayer dollars to combat violence against women, principally domestic violence (DV). The definition of DV touted by victim advocates runs the gamut from jokes and insults to murder, with "power and control" being the overriding characteristic of the man's behavior towards the woman. Real violence is rarely at issue.

VAWA Re-authorized. On Thursday, January 5, 2006, President Bush signed into law a five-year, $3.9 billion extension of the Violence Against Women Act (VAWA), originally enacted in 1994 under President Clinton. VAWA is a particularly pernicious piece of pork-barrel legislation that puts billions of dollars of taxpayer funds, and the imprimatur of the federal government, in the service of the radical feminist ideology that all men and boys are potential abusers who must be re-educated according to the dictates of the nation's left-leaning "domestic violence" industry.

Double Standards: Lt. Kara Hultgreen was killed in October 1994, while trying to land her F-14 Tomcat fighter plane. [Another] woman pilot, Lt. Carey Lohrenz, was dismissed from further aviation training after her flying performance was described by instructors as "unsafe, undisciplined, and unpredictable." The CMR's report is filled with factual data on how the Navy leaned over backwards to accommodate the obvious shortcomings of women trainees.

The Demoralization of the Military. Of the many painful consequences brought on by the surrender to political correctness, the demoralization of the United States military is surely among the saddest. … The fear of this type of disruption is one of the reasons military leaders fought so hard, in 1992, against approving openly acknowledged homosexuals. But what the "gay" lobby lost, the feminists won. And we may all pay dearly for it some day.

The Feminist Movement Can Destroy Women, Family, Morality and Godliness. God presents Himself in Scripture as male. He wants us to know Him in this way. He sent His Son (not daughter) to die for us. The intent of the Feminists is obvious. They wish first to destroy gender difference in our human relations and then to feminize the very nature of how God presents Himself to our sense.

Episcopal Church Officially Promotes Idol Worship. "Women's Eucharist" calls for worship of pagan deities specifically condemned in Scripture.

See more comments about this at Midwest Conservative Journal.

The grand fallacy. It is hardly surprising that women work part-time more often than men, drop out of the labor force more often than men, specialize in a different mix of jobs, and major in a different mix of subjects in college and postgraduate education. Seldom are the data sufficiently detailed to permit comparisons of women and men who are the same on all the variables that matter. But the more detailed the data, the higher is a woman's income relative to that of a comparable man, sometimes surpassing that of men.

The mommy party's tea party: Hillary gets to speak, after all, [at the Democratic Convention] but only to introduce Bill. He basks in applause, she glows. Is this the feminist dream, or what? The Democrats are the party of the radical feminists but their women are sidelined together at the convention in Boston like a Beacon Hill tea for the ladies auxiliary. Hillary, the most prominent of all, is relegated to "wife of," standing by her man.

Same-sex marriage and the disposal of fatherhood: Single motherhood, despite the heart-warming stories of virtuous single moms, is a predictor for children at higher risk for teen pregnancy, sexually transmitted diseases, academic underachievement, drug use and juvenile delinquency.

Feminist dream of military equality becomes nightmare in Iraq. The picture of female U.S. Army Pfc. Lynndie R. England holding a leash and collar around the neck of a prone and naked Iraqi male prisoner, like a dog, is a worldwide public relations disaster.

Good news, bad news about stay-at-home moms. When Time magazine runs a cover story called "The Case for Staying Home," and Reuters reports that housework is good for women because it can help prevent ovarian cancer, you know the feminists are on the run. Stay-at-home moms are coming back in style.

Day Dreamin' Anti-Dude Dames: Because I am a man, my opinion regarding the role of women in society no longer counts. Not because I'm not properly briefed regarding women's issues, but because I am a Christian, conservative, white male. Yes sir, I'm the new millennium's latest whipping boy … the receptacle of all society's ills … the pariah of postmodernism … the spawn of all societal sewage. At least according to the feministas.

Feminism on film: Panning pompous propaganda. Another feminist propaganda movie hit the theaters during the Christmas season, proving again that the feminists are an unhappy bunch whose lifestyle leads to loneliness.

Feminism mugged by reality: The feminist revolution that swept the United States in the 1970s promoted the dream of a land in which at least half of all corporate officers, Fortune 500 CEOs, partners in law firms and doctors would be women. But a funny thing happened on the way to achieving that promise. Feminism was mugged by the reality that most women don't seek those goals.

Militant Feminism: "Freedom for women cannot be without the abolition of marriage," wrote Sheila Craven, feminist author. This incredible statement was made by the National Organization for Women in 1988: "The simple fact is, every woman must be willing to be recognized as a lesbian to be fully feminine.

The Feminists Movement's Grand Deception: The Guide To Feminist Organizations * details the political agenda and funding support for the nation's top 35 feminist organizations. Author Kimberly Schuld argues that most American women find these groups irrelevant to their concerns.

No man's land: Even some liberals are unsettled by the contents of [Louise] Sloan's book. A jaunty part-memoir, Knock Yourself Up — "a tell-all guide to becoming a single mom" — is provocatively subtitled, No Man? No Problem! Alongside her own experiences, she has interlaced the stories of more than 50 single mothers — most straight, all "the new breed of single moms".

"Feminist Lies" Blamed for Fewer Guys on Campus: A men's issues columnist says rampant anti-male feminism has made colleges a place where many males feel unwanted and unwelcome.

All-Female Organizations Demand Reform of All-Male Club: In case you have missed it, the National Council of Women's Organizations, which its website says is composed of "more than one hundred women's organizations representing more than 6 million members," is trying to force the Augusta National Golf Club, sponsor of the Masters Golf Tournament, to "change its all-men's membership."

Criminalizing Masculinity: If you are a heterosexual male of any race, tear yourself away from the war on terrorism and let Howard S. Schwartz inform you of your real enemy. His book, "The Revolt of the Primitive: An Inquiry into the Roots of Political Correctness," has just been released by Praeger Publishers in Westport, Ct. The book is a bombshell. Schwartz, a professor of organizational behavior, shows that feminism has metamorphosed from demands for gender equality into gender warfare against masculinity.

Moms Can Be Deadbeats Too: Single dads are sick and tired of being labeled "deadbeats" when it comes to paying child support. And data suggest they have good reason to be upset. The percentage of "deadbeat" moms is actually higher than that of dads who won't pay, even though mothers are more consistently awarded custody of children by the courts.

No Thanks, Uncle Sam: Until now, the framework for discussing women in the workplace has been set by feminists – activists who will not be silent until 51 percent of every job classification is filled by women. These same radicals are willing to wave aside the achievements of the individual for the collectivist utopia of group success.

G.I. Joe is No Great American Hero, Group Says: The Lion & Lamb Project says military action figures are "aggressive toys." However, a Hasbro spokesperson says, "G.I. Joe has been a part of our culture for nearly 40 years and represents core American values – patriotism, honor and bravery."

The Feminine Mistake: The argument in favor of "equal pay for equal work" rests on a concept of labor that was overturned in the 1870's. It assumes that there is such a thing as concrete human labor, a physical entity that in some way can be measured. Value is in some way linked to labor, and pay should reflect value. This was the economic premise of virtually all economists until the advent of modern economics; Karl Marx was the last major economist to hold the labor theory of value. Modern economics rests on the concept that value is linked to usefulness; the value of labor depends on the value of labor's output. The distinction between the two concepts of value is crucial.

The Liberation of Women: Thoughts on Reading Some Old Cookbooks. The nineteenth century housewife had to be a Jill of all trades. The industrial revolution with its increased specialization and division of labor barely ruffled the surface of traditional housekeeping practices. The 1859 housewife purchased a few more household items than her grandmother could have in 1832. But she still had to kill her own fowl, cut up the family's meat, salt it, smoke it, or otherwise cure it and keep it safe from bugs and animals.

Feminist Censorship: The rhetoric that promotes injustice is always dangerous and self-defeating, and we should have no more tolerance for reverse sexism than for sexism itself.

Judge Halts an Army Policy on Promotion: A federal judge struck down the Army's equal-opportunity promotion process yesterday [3/4/2002], saying the policy gives undue preference to women and minorities at the expense of white, male officers. The Army's written direction to promotion boards that urges them to consider the "past personal or institutional discrimination" faced by women and minorities is unconstitutional because the policy does not order the board also to consider possible discrimination against white men, the judge found.

Subjecting Boys to Feminist Propaganda and Reprograming Them Through Gender Sensitivity: Beginning in 1995, the Clare Boothe Luce Policy Institute began to expose this stealth feminist holiday that breeds victimology in girls and left boys behind year after year.

Worsening Job Prospects for White Males: White males are suffering from long-term deterioration in lifetime income growth and job security, according to a study, "Divergent Paths," just released by the Russell Sage Foundation.

Feminizing the Black Beret: The military under Clinton had aggressively promoted the "politically correct" belief system, which says that despite the obvious physical and emotional differences, men and women are the same.

Feminist Movement Exploits Sports to Advance Agenda: "Gender equity" groups and think tanks target professional and collegiate athletics.

Fatherhood Group Studies TV's Portrayal of Male Figures


---

Islam vs Feminism:

This section has been moved to a page of its own, located here.

Back to News from the Culture War
Back to the Home page