— Isaiah 5:20.
---
Woman Films Her Own Abortion To Show World How 'Cool' It Is. Emily Letts, a counselor at a New Jersey abortion clinic, decided to film her own abortion and post it on YouTube as a form of positive inspiration to women who are contemplating having the procedure but worry that they might feel guilty afterward. Letts has no such guilt. She recalls the procedure with fondness. She even describes it as "birth-like," and said it made her feel good, just like giving birth would.
Probe finds 104 school staff-student flings since 2009. More than 100 city teachers, administrators and other school staffers have been caught in the last five years engaging in sexual or "inappropriate" relationships with students, The [New York] Post has learned. The special commissioner of investigation for city schools, Richard Condon, has fielded 593 complaints about such illicit relationships since April 2009. His office substantiated 104 cases, it revealed Friday [4/11/2014]. "I'm absolutely stunned at that number," said Laura Timoney, a Community Education Council member whose 15-year-old daughter attends a city high school on Staten Island. "It's shocking, but what do you do to stop this?"
Book thieves stole 70,144 books from the Brooklyn Public Library in 2012. GED prep guides, nursing and other professional exam cliff notes were high on the list of frequently filched books — but so too were graphic novels, library officials said.
Custom Writing Service Says Students 'No Longer Have to Face the Burden of Academic Coursework'. A Dallas-based company that writes research papers, essays and other classroom assignments — so students don't have to — says it is doing so well that it has expanded its staff from just a few writers to more than 100 in the past year. The company bills itself as the one "students trust to write professional, in-depth and plagiarism-free essays that receive the highest grades for all levels of coursework... so they no longer have to face the burden of academic coursework." It says the writing is done for an "affordable" fee; and it has foreign writers on staff for non-American students.
The Editor says...
This used to be called cheating, except in college, where it was called plagiarism.
Triumph of the Vulgarians. [A]s Lee Siegel wrote recently in the Wall Street Journal, vulgarity has become so common in the culture that there's nothing rebellious about it anymore. Elvis's below-the-belt gyrations were taboo-breaking and suggestive. Today, there's nothing suggestive about Miley Cyrus. Nobody watching her twerk thinks, "I wonder what she's getting at?" Indeed, if there's any larger message to her routine, it is simply to announce that the exception has now become the rule: Vulgarity is expected, decency a surprise.
Having STDs Is Feminist Badge of Honor! Well, no thanks.
Staffers with company tattoo get pay raise. How far would you go to express your company pride and make some extra bucks while you're at it? What about a tattoo? Forty of Rapid Realty's employees in New York are wearing a tattoo of the company's logo in exchange for a 15 percent pay hike, according to published reports. Company owner Anthony Lolli is making the offer to any employee, and there are no restrictions on where the logo is tattooed or its size.
The Editor says...
Is this a means of discouraging an employee from leaving a company and going to work for the competition? How much would the company pay to have their logo branded on an employee's forehead? How about if I get a cattle tag attached to my ear?
Many think "welfare" no longer belongs in Pa. agency's name. The name Department of Public Welfare was no doubt seen as an improvement when the state came up with it nearly a century ago, merging two older offices — the Board of Charities and the Committee on Lunacy. But now, 90 years later, Pennsylvania is one of just two states in the nation that still use the word welfare in the name of the massive agency that serves mainly the elderly, disabled, and children.
Suffering from 'tattoo regret'. Plastic surgeons and dermatologists are seeing more and more people who want their tattoos removed, often because they worry that the tattoos could cause problems with employment. According to the American Society for Aesthetic Plastic Surgery (ASAPS), the number of people undergoing laser tattoo removal increased 43% from 2011 to 2012.
Labor Dep't. Spending $26M to Help Juvenile Delinquents Get Jobs, Pass Background Checks. The U.S. Labor Department on Monday [4/1/2013] announced the availability of $26 million in grants to improve the job prospects — and expunge the court records — of young people who have spent time in juvenile detention centers. The "Face Forward" grants will support job-training and skills-development to help people ages 16-24 overcome the stigma of a juvenile arrest record, which can be a lifelong barrier to advancement in the workforce.
Man owes $80K in back child support; has 15 paternity cases
. Eric Holder changed his name in 2002 to Shekem Amsu Khnemu. [...] In Lancaster County, Khnemu owes nearly $80,000 in back child support in cases dating back to November 1984, according to county records.
Too Many Fish And Not Enough Fishers
. Giving 15-year-old girls a check every month for having a baby and a bigger ones for having another one may sound compassionate, but in reality, those policies have created three ever-growing generations of government dependents who are now convinced that it is society's obligation to send them a check every month for as long as they live.
The Revenge of Murphy Brown
. The pathologies that we used to believe were centered only in low-income, minority communities are now rampant in the new lower class, and these challenges could potentially overwhelm the fundamental values of our entire society. [...] This has manifested itself in many ways. First and foremost is the exploding number of children born out of wedlock (along with the societal challenge of children having children). While this rarely occurs in the new upper class, it is now grudgingly considered acceptable and not to be looked down upon. That outlook changed, however, with the explosion of out-of-wedlock births. The result of the dubious trend is that fathers have become mere accessories.
Alabama nightclub raises eyebrows with 'Food Stamp Friday' party
. A nightclub in Montgomery, Ala. is raising eyebrows by hosting a "Food Stamp Friday" party on April 6 that seems to glamorize life on the federal government's food assistance program. An invitation for the April 6 party obtained by The Daily Caller tells patrons of the Rose Supper Club in North Montgomery that the Friday night cover charge will be just $5 if a "food stamp card" is shown upon arrival.
The Entitled States of America: We Want More!
Around the country, there is a lot of "taking" going on. There was some mild bureaucratic embarrassment in Michigan recently when a 24-year-old woman who won $1 million in the state lottery was found to be collecting food assistance. "I feel it's okay because, I mean, I have no income and I have bills to pay," explained the woman, Amanda Clayton. "I have two houses." She was utterly without embarrassment of any kind.
Update:
Michigan lottery winner kept cashing welfare checks
. Amanda Clayton, 25, of Lincoln Park in suburban Detroit, received public assistance through March of this year despite winning $1 million from the Michigan lottery in September, the state attorney general's office said. [...] Clayton was charged on Monday [4/16/2012] with two counts of welfare fraud.
Govt. Funds Campaign To Reduce Food Stamp Stigma
. The effort to boost the food stamp rolls was announced this month [October, 2010] in California, where more than 3 million residents benefit from the federal program each month. Evidently, state and federal officials believe the number is way too low for the virtually bankrupt state with a population of about 37 million.
Sex-Crazed Co-Eds Going Broke Buying Birth Control, Student Tells Pelosi Hearing
. A Georgetown co-ed told Rep. Nancy Pelosi's hearing that the women in her law school program are having so much sex that they're going broke, so you and I should pay for their birth control. ... Apparently, four out of every ten co-eds are having so much sex that it's hard to make ends meet if they have to pay for their own contraception, Fluke's research shows.
The Editor says...
It's one thing to be promiscuous, but it's quite another to testify about it before Congress.
I did not have this much sex in law school
. That said, the idea that they are paying $1000 per year for birth control is a little crazy. Condoms at CVS cost $1, so that means, if you take this cheaper option, you are actually having sex three times a day, which is kind of insane and you're going to have a lot more medical expenses than just birth control.
Wag the Coed
. Sandra Fluke, a third-year law student at Georgetown law school, in testimony before a congressional committee argued that she and forty percent of her fellow students are "struggling financially" because they have to pay for their own contraceptives. The Democrat-media complex, rather than laughing in her face, is making Ms. Fluke a hero. She even got a phone call from President Obama urging her on. How did we get to this point? Birth control is not a significant budget item. Recreational sex is not a necessity.
The Editor says...
It turns out the woman who appeared before Congress is a 30-year-old Democrat activist,
not just a Fluke
.
In Defense of Slut-Shaming: One in five women have herpes
. Sandra Fluke, an abortion activist masquerading as a law student, spoke before the House Democratic Steering and Policy Committee on a very important issue: the right for college students to have endless amounts of sex while someone else pays for their birth control. According to Fluke, female students shell out $3,000 for three years of contraceptives. Of course, do the math and find that this means Fluke and her fellow law students have sex two or three times daily (since condoms only cost about a dollar). Rush Limbaugh noticed this, and made the apparently grave error of pointing out the obvious, calling Sandra Fluke a slut and a prostitute on air.
Seattle libraries: No sleeping or eating allowed, but porn-watching OK
. The Seattle Public Library has a long list of rules of things you can't do in the library, to ensure "comfort and safety" of staff and patrons. You can't eat, sleep, look like you're sleeping, be barefoot, be too stinky or talk too loudly. But you can watch graphic porn on a public computer in front of kids. Despite repeated complaints from female patrons about men watching porn in full view of their children, the library has held fast to its policy of unfettered online access for grown-ups. The reason: It's not in the business of censorship.
Occupiers Dump Condoms on Catholic School Girls
. A group of Occupy Wall Street protesters disrupted a Right to Life rally and threw condoms on Catholic school girls inside the Rhode Island state capitol building. Barth Bracy, executive director of Rhode Island Right to Life, said their rally had to be cut short after the Occupiers began screaming and refused to allow a Catholic priest to deliver a prayer.
Study: Nearly 1 in 3 will be arrested by age 23
. Nearly one in three people will be arrested by the time they are 23, a study to be published today in
Pediatrics
found. "Arrest is a pretty common experience," says Robert Brame, a criminologist at the University of North Carolina-Charlotte and principal author of the study.
State Gets $5 Mil Bonus For Food Stamp Sign Up
. In its quest to promote taxpayer-funded entitlement programs, the Obama Administration has actually rewarded one state with a $5 million bonus for its efficiency in adding food-stamp recipients to already bulging rolls. It's part of the administration's campaign to eradicate "food insecure households" by improving access and increasing participation in the government's Supplemental Nutrition Assistance Program (SNAP). Incidentally, the program was recently changed to SNAP to eliminate the stigma that comes with a name like food stamps.
Obama Baits the Dependency Trap
. The Obama administration is busy expanding the exact type of vicious, ungrateful underclass which recently exploded in London. An administration program will expand free school meal coverage to millions of young people who are not even supposed to be eligible. A stated goal of the program is to eliminate the stigma of getting a free lunch. But that stigma is one of the only things separating dignified free people from wretched government dependants.
Nothing Is Anyone's Fault Anymore
. In modern-day America, Anthony Weiner is not some out-of-control horndog with an over-size ego. He is a "sexual addict," exhibiting "narcissistic tendencies," all of which can be "addressed" by some sort of therapy.
New London's whale fountain shut off for sanitary reasons
. The city turned off the water at the new whale tail fountain over the weekend after someone reportedly defecated in the water. "People are using the tail as a latrine," Evelyn Louziotis said. "It's an $11 million bathroom." ... Buscetto said since water started flowing in the whale fountain last month, police and fire officials have been called for people urinating, defecating and washing themselves off in the fountain water.
Food Stamp Millionaire
. If you have any uncertainty regarding the responsibility for the nearly bankrupt status of the state of Michigan and its cultural and philosophical epicenter, Detroit, take a gander at the state's food stamp program.
Michigan man still on food stamps despite winning $2M
. A man who won $2 million on a Michigan lottery show has told a TV station that he still uses food stamps. Leroy Fick of Bay County admitted he still swipes the electronic card at stores, nearly a year after winning a jackpot on "Make Me Rich!" He told WNEM-TV in Saginaw that more than half the prize went to taxes.
Update:
Lottery winner's luck running out
. The luck of Leroy Fick, Michigan's 59-year-old "Food Stamp Millionaire" — a lottery winner on government food assistance — appeared to be running out Wednesday [5/25/2011] as state officials worked to get him off the dole.
Grown-up babies
. Not from nowhere has this stubborn, self-destructive sense of entitlement sprung. As I reported last month, a record-breaking 12 million Americans have been added to the federal food stamp rolls over the past two years, and the bloated $6 billion AmeriCorps social justice army has been converted into a publicist corps for the welfare machine. Just this week, a Michigan man boasted that he's still collecting food stamps after winning a $2 million government-sponsored lottery prize. "If you're going to ... try to make me feel bad, you aren't going to do it," he told a local TV reporter. Embedded in his rebuke is the eternal refrain of the self-esteem-puffed teenager: "You can't judge me!"
USDA Spends $5 Mil To Recruit Food-Stamp Recipients
. The number of food-stamp recipients has skyrocketed in the last few years yet the Obama Administration keeps wasting millions of taxpayer dollars to recruit more participants in the name of eradicating "food insecure households." ... Last fall the government financed a separate campaign to reduce the "stigma" associated with food stamps by "rebranding" the name of the decades-old welfare benefit to encourage more people to apply. Colorful brochures sporting a new logo (Better Food For Better Living) were printed and distributed amid government figures that the number of food-stamp recipients had increased by 50% in three years.
A Fitting Prophet for our Age?
We happen to live in an era of moral relativism whose foundational claim is that there is really no transcendent right and wrong. Public schools teach children today that pretty much everything goes, because there is no objective standard by which to judge the moral content of human actions. The societal transformation that this worldview has engendered is striking: sexual looseness, lying, vulgarity, various forms of substance abuse and such are not considered nearly as abject as they were only a generation or two ago. Instead of being subject of shame, excesses of these kinds are seen in many circles as something to be proud of.
Obama's Brand of 'Greatness' for America
. In the old days, people hid the fact that they needed government assistance, and they worked hard to get off the system. Not anymore... To remove the stigma of being a freeloader, the government has gone to the welfare credit card. And in California you can now buy liquor and cigarettes on your welfare credit card, not to mention the gambling and Hawaiian vacations people were taking with them last year.
Vegan activist pleads guilty to Sheepskin Factory arson
. Vegan activist Walter Edmund Bond, of Utah, today pleaded guilty to felony counts related to an April fire that burned down the Sheepskin Factory in Glendale. Bond, 34, was arrested on July 22, accused of using fire or explosives to damage property involved in interstate commerce and of using force, violence or threats involving animal enterprises.
Eco-terrorists: Ready to Kill for Their Cause?
So far, law enforcement has not focused heavily on organizations like the ALF or the ELF for a couple of reasons. First, because they're hard to catch. They use an operational model called "leaderless resistance" in which small cells or individual operatives function underground without a command structure. They are in turn given some cover guidance by above-ground political organizations which are very careful not to do anything illegal. They also tend to get cover from a sympathetic media which, when they do report on it, will tend to decry the action and then proceed to talk about the horrors of animal testing. The other reason these cases don't get a lot of attention is that to date the terrorists have been very careful not to target people deliberately. There are some indications this may be changing.
Shame is a virtue
— one of which we see entirely too little these days. It's an unpleasant emotion, yes, but it can yield great things. It can be what makes us take responsibility for wrongdoing, change old, bad habits and avoid falling into new ones. It can be what makes us see a mistake for what it is and never make it again. It used to be that if you couldn't muster your own healthy sense of shame that society would make up for it in most cases by telling you when you should hang your head a bit.
The Age of Irresponsibility
. [Scroll down] The celebrity of the age was Paris Hilton, an exemplar of the inequality and promiscuity that characterize the present moment. Hilton was born into extraordinary wealth but did not achieve true fame until 2003, when her homemade porno movie made it to the Internet. Twenty or even fifteen years ago, Paris Hilton's behavior would have been a scandal. Not today. Why? Because the wealthy, famous, and well-connected can do as they please and suffer no consequences — as long as they possess no shame.
The Wrong Things are Stigmatized
. Historically, stigmas surrounded things like philandering and divorce, unethical business dealings, illegitimate children, abortion, homosexuality and crime. The general thinking was that behavior should be shaped around those things that best contribute to the common bond of a people into stable communities and societies that adhered to American founding principles. Thus stigmas (and their accompanying shame and guilt ) served as sanctions far superior to mere statutes, whose only shaping force was risk of punishment.
Law vs. Moral Values
. Behavior accepted as the norm today would have been seen as despicable yesteryear. There are television debt relief advertisements that promise to help debtors to pay back only half of what they owe. Foul language is spoken by children in front of and sometimes to teachers and other adults. ... Baby showers are held for unwed mothers. Yesteryear, such an acceptance of illegitimacy would have been unthinkable. ... Years ago, a young lady who allowed a guy to have his hand in her rear pocket as they strolled down the street would have been seen as a slut. Children addressing adults by first names was unacceptable.
Where Have All the Ladies Gone?
As our society abandons the conservative values that make women into ladies, women with grace and dignity have become an endangered species — especially on today's college campuses. The kind of woman who inspired Tom Jones' song "She's a Lady" has become an antiquated figure from America's past. Most popular songs about women today are more like "Youse a Ho" by Ludacris.
Out-of-Wedlock Birthrates Are Soaring, U.S. Reports
. Unmarried mothers gave birth to 4 out of every 10 babies born in the United States in 2007, a share that is increasing rapidly both here and abroad, according to government figures released Wednesday [5/13/2009]. Much of the increase in unmarried births has occurred among parents who are living together but are not married, cohabitation arrangements that tend to be less stable than marriages, studies show.
Food Stamp Use Soars, and Stigma Fades
. With food stamp use at record highs and climbing every month, a program once scorned as a failed welfare scheme now helps feed one in eight Americans and one in four children. It has grown so rapidly in places so diverse that it is becoming nearly as ordinary as the groceries it buys.
Roman Polanski, Child Rape, and the Shifting Sands of Cultural Morality
. The Founders of this nation understood full-well that a nation of liberty could not long survive without a strong moral foundation. If government exists to control people, then limited government naturally would control them very little. The potential upside was tremendous. If allowed to live free, a human being might pursue their own interests to the betterment of all of society. ... But it came with great risk.
Food stamp fraud may steal $400M from stimulus funds
. Fraud has declined to between one-third and one-quarter of what it was in the early 1990s, according to the Government Accountability Office. That's largely a result of the USDA's phasing out stamps and replacing them with ATM-like cards. Rather than handing over pieces of paper, recipients swipe the card at the grocery checkout and the amount is automatically deducted from their monthly allotments.
Socialism is no longer an insult, but it is a bit of a joke
. Even before a poll last week revealed that almost a third of young Americans now prefer it to capitalism, socialism has been enjoying something of a renaissance recently in the United States. For decades, calling another American a socialist was about the nastiest thing you could say. Franklin Roosevelt got it all the time. But it declined in the post-Cold War era: without the commies, it just didn't sound so menacing.
Attention Wal-Mart Shoppers
. If actions speak louder than words, what do recent events at a New York state Walmart say about the state of American culture? On "Black Friday," two thousand people burst through the doors of a Walmart store in Long Island at five a.m., trampling an employee to death in a mad dash to get to sale items before the person next to them. Signs of America's rampant consumerism have existed for decades, but this tragedy takes the cake.
Colorado Governor Signs She-Male Restroom Bill
. This bill makes all public accommodations — including public restrooms and locker rooms in the state — "gender free." This law now means that anyone who identifies as the opposite sex, can freely access public facilities formerly reserved for a single sex. Sexual predators can now enter women's restrooms and claim they have a sexual identity different from their birth sex. It makes it legal for drag queens, cross-dressers and anyone else with a serious Gender Identity Disorder to use opposite sex restrooms and locker rooms. But it goes further. It defines "public accommodations" as including malls, restaurants, schools, and small businesses.
Students lie, cheat, steal, but say they're good
. In the past year, 30 percent of U.S. high school students have stolen from a store and 64 percent have cheated on a test, according to a new, large-scale survey suggesting that Americans are too apathetic about ethical standards.
You call it copying; today's college students call it collaborating
. Duke University's business school recently announced that 34 of its first-year M.B.A. students will be expelled, suspended or awarded failing grades for cheating on a take-home examination in a required class.
Pimps, Pedophiles: Welcome to San Francisco
. A quick reading of the measure that will go before San Francisco voters in November to decriminalize prostitution easily could leave you with the misimpression that the measure is an exercise in fairness that demands that prosecutors go after men who abuse prostitutes and implement policies "to reduce institutional violence and discrimination against prostitutes." A careful reading of the initiative, "Enforcement of Laws Related to Prostitution and Sex Workers," however, shows a measure that shields child prostitution and traffickers of human beings.
San Francisco Measure Seeks to Decriminalize Prostitution
. Voters in this west coast city that celebrates sadomasochism, homosexuality and pornography are being asked to decide whether they would like to become the first major U.S. city to decriminalize prostitution. Approval of ballot measure Proposition K would effectively decriminalize prostitution in the city by preventing the Police Department from arresting and prosecuting prostitutes; the measure, however, does not go so far as to actually legalize the sex trade because state law still prohibits it.
San Francisco weighs decriminalizing prostitution
. In this live-and-let-live town, where medical marijuana clubs do business next to grocery stores and an annual fair celebrates sadomasochism, prostitutes could soon walk the streets without fear of arrest. San Francisco would become the first major U.S. city to decriminalize prostitution if voters next month approve Proposition K — a measure that forbids local authorities from investigating, arresting or prosecuting anyone for selling sex.
The Proliferation of Public Profanity is a Cultural and Spiritual Problem
. Raw profanity has become an acceptable part of popular culture today. Rap music — the most popular music among young people today — is filled with gutter language. They play it loudly in their cars. Movies and television programs use hard profanity on a regular basis. In a way, we have become desensitized to it. This has been the goal of Hollywood for many years. There was a time before the mid-60s when foul language was not used on television, in movies or popular music.
Does Pro-life Now Mean Pro-libertinism?
At NationalPost.com, journalist David Frum has a piece in which he discusses what he perceives to be the transformation of the pro-life movement. His thesis is that the widespread acceptance of unwed motherhood — including by pro-lifers — has eliminated the stigma attached to that state, thereby causing a quarter-century decrease in the abortion rate. [... But] I don't like the implication that the degrading of sexual mores is an acceptable — or even effective over the long term — remedy to the abortion problem.
California Rep. Linda Sanchez's baby announcement
. When was the last time you read a baby announcement on the Op-Ed pages? Exactly. So this is obviously more than baby news. It's about how far we've come, and where we may still fall short. California Congresswoman Linda Sanchez is pregnant. ... What makes Sanchez's pregnancy news is that she is not married to the baby's father — not yet, anyway.
Congress's First 'Unwed Mother'
. Over at National Review's "The Corner," K-Lo calls it a "cultural indicator:" Congresswoman Linda Sanchez, D-Calif., will likely become Congress's first unwed mother, or single mom, if you prefer. As reported by the Washington Post's Reliable Source, Sanchez — with help from her "unofficial fiancé" Jim Sullivan — is "poised to become only the eighth congresswoman in history to have a baby while in office — and the first to do so while single. ... The two are 'unofficially engaged,' she says, and looking to buy a house. They will plan a wedding later — but at her age, she says, planning a baby couldn't wait."
Welfare's Devastating Effects
. To most people, I imagine, welfare seems an obviously good thing. But in fact the corrosive and iniquitous side of welfare has been evident for many decades. It's only now that people are poking their heads out of the trench and daring to say so. You can see the devastating effects of welfare in Britain, for example, in the exponential rise in single motherhood. The figures are astonishing. In the 1950s almost all children in Britain were brought up by their natural parents. Today, only around half the children in Britain are brought up by their natural parents. Half!
Washington voters approve assisted suicide initiative
. Voters approved Initiative 1000 on Tuesday [11/4/2008], making Washington the second state to give terminally ill people the option of medically assisted suicide. The ballot measure, patterned after Oregon's "Death with Dignity" law, allows a terminally ill person to be prescribed lethal medication, which would be self-administered.
It's about time to clean up our act
. There is virtually no aspect of our culture which is not tainted with selfishness and coarseness, yet as a society we simply don't care. The reasons range from laziness and foolishness to formalistic belief in the First Amendment as a guarantor of the right to be naughty, sophomoric and offensive.
Stop Dressing Your Daughter Like a ...
. My baby was growing up. And apparently into a prostitute. "Where are the sevens?" I asked the sixty-something clerk who wore her glasses on a chain just like me. "You're standing in 'em," she said. … "But these look like things a hooker would wear!"
Speaking of hookers...
Prostitution measure makes in onto S.F. ballot
. A measure that would make it more difficult to investigate and punish prostitution crimes in San Francisco qualified for the November ballot on Friday [7/18/2008], opening another passage in the city's long fight over decriminalizing the sex-trade industry.
The Editor says...
The goal, of course, is legalization of prostitution. But the public might not vote for that all at once. That is why liberals use these smaller incremental changes, scattered over several years, to accomplish their goals.
Have We Raised A Generation Of Narcissists?
. Growing older has many drawbacks and one unalloyed pleasure: passing judgment on the younger generation. Lately, people have been scrutinizing the members of Generation Y and finding them deficient. What's wrong with the kids? A recent article in
The Wall Street Journal
reported that because they have been told since infancy that they were special, they believe it and expect to keep hearing it.
The Editor says...
Kids are also told there is no absolute truth, and they can make up their own standards of right and wrong, which is why some of them decide that Columbine-style shooting sprees are justifiable. They are also told in kindergarten that they can grow up to be anything they want to be. That's true as long as they aim low, but we can't all be brain surgeons, rocket scientists, or 8-VSB specialists.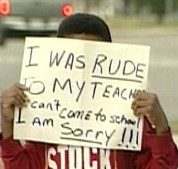 The rebirth of shame
. ABC News has the story of parents who are actually — gasp — acting like parents and refusing to let their children get away with rotten behavior. They spotlight some creative methods of discipline. Naturally, the self-esteem uber alles crowd is horrified.
Stop 'medicalizing' bad behavior
. It may be hard to recall, but once there was a time when people took responsibility for their behavior, without recourse to the psychiatric and psychological communities. It wasn't even all that long ago. There was a day when drug addiction, alcoholism and other pathologies were seen for what they were: human failures by individuals who had lost control of their lives.
Chase mortgage memo pushes 'Cheats & Tricks'
. A newly surfaced memo from banking giant JPMorgan Chase provides a rare glimpse into the mentality that fueled the mortgage crisis. The memo's title says it all: "Zippy Cheats & Tricks." It is a primer on how to get risky mortgage loans approved by Zippy, Chase's in-house automated loan underwriting system. The secret to approval? Inflate the borrowers' income or otherwise falsify their loan application.
Nursing home employee mixed drug cocktails to quiet residents, report says
. An employee of a McHenry County nursing home at the center of an investigation into suspicious deaths mixed drug cocktails to make sure that troublesome residents "would not be bothering her during her shift," according to a state report. The 130-page report of an investigation by the Illinois Department of Public Health says that improper use of drugs such as morphine sulfate contributed to five suspicious deaths in 2006 at the facility in Woodstock, then called the Woodstock Residence.
Flying Foul: Passengers Behaving Badly
. You'll never look at, or reach into, an airline seat-back pocket the same after reading this. Besides being a repository for magazines, newspapers, books, iPods and air-sickness bags, seatback pockets get stuffed with all kinds of disgusting trash, from toenail clippings to mushy meals. People do things on airplanes that they would never do in other public settings. They pluck eyebrows, polish nails and pick noses. They stick chewed gum in places only other passengers will discover. They blow noses into blankets that get folded up for the next weary traveler. They prop bare feet up on bulkheads and seats. Sometimes they even engage in sex acts.
Transgender man elected mayor of Silverton
. This election marked the first African-American President. The first time in 40 years an Oregon Senate candidate beat an incumbent Senator. And in tiny Silverton, Oregon, residents have elected the man who's believed to be the first ever openly transgender mayor in the United States.
Memphis High School: Reading, Writing and Bumping & Grinding
. The purveyors of porn have got to be chuffed after watching Memphis school kids hump (en masse) both the floor and each other during Mitchell High School's "talent show" this month. Yep, it doesn't look as if sellers of smut are going to be taking an additional night job to pay bills anytime soon because they have formally tapped the teenage market. At least in Memphis they have. Good job, Memphis.
This is an original compilation, Copyright © 2013 by Andrew K. Dart
Iowa Mom Gets Probation for Attempting to Sell 4-Year-Old Son to Pay for Wedding Dress
. A Davenport woman received five years of probation Thursday [12/6/2007] for attempting to sell her 4-year-old son to help pay for a wedding dress. Marcy Gant, 32, was convicted in October of purchase or sale of an individual and could have been sentenced up to 10 years in prison.
Bunks for drunks
. An experimental social-service project rewards chronic alcoholics with room and board, no strings — or help — attached.
Thoroughly modern mutilation
: Have you noticed how many young people are wearing jewelry these days? I don't mean wristwatches, bracelets, and finger rings. I'm talking about nose rings, lip rings, tongue studs, bellybutton rings, and even baubles dangling from pierced eyebrows. I've heard of several other places that have been pierced and "adorned" with trinkets, but propriety prevents me from mentioning them in a public forum.
Art and Degeneration
: Several months ago I had the pleasure of viewing an exhibition of three-dimensional photo collages by Renee Kahn, who has an unerring eye for the artistic aspects of reality. … One of the presenters, photos of whose work were warmly received by the audience, has made his career by illegally plastering graffiti "art" on public buildings and private property in New York City. One has to wonder what such artists' conception of a good society is.
Not so 'hilarious': Dumping ice water on a 90-year-old
. A Cloquet, Minn., teenager told police that he found it so funny when he dumped a pitcher of ice water on a 90-year-old nursing home resident in June that he returned and did it twice more, in December and again last month.
Mom Taught Children to Fake Retardation
. A woman admitted Monday [2/26/2007] that she coached her two children to fake retardation starting when they were 4 and 8 years old so she could collect Social Security benefits on their behalf. Rosie Costello, 46, admitted in U.S. District Court that she collected more than $280,000 in benefits, beginning in the mid-1980s. Most was from Social Security, but the state social services agency paid $53,000.
Almost 40% of Children Born in the U.S. in 2005 Were Out of Wedlock, an All-Time High
. While out-of-wedlock births have long been associated with teen mothers, the teen birth rate actually dropped last year to the lowest level on record. Instead, births among unwed mothers rose most dramatically among women in their 20s. The overall rise reflects the burgeoning number of people who are putting off marriage or living together without getting married.
US births break record; 40 percent are out-of-wedlock
. More babies were born in the United States in 2007 than any year in the nation's history, topping the peak during the baby boom 50 years earlier, federal researchers reported Wednesday. There is both good and bad news from the more than 4.3 million births: The U.S. population is more than replacing itself, a healthy trend. However, the teen birth rate was up for the second year in a row.
Stigma Of Teen Pregnancy Fading
. Too scared to tell her mom she was pregnant, Courtney Walker, 16, reluctantly handed her the positive pregnancy test. Her mother burst into tears. Walker's friends, excited for her, threw her a baby shower. "I think it's more accepted now," Walker said. "All of my friends have kids."
Let's Get Journalists To Report The Truth About The 'Pregnant Man'
. Thomas Beatie has gained worldwide attention for allegedly being the first "pregnant man." Mainstream media outlets are reporting Beatie's story as if were fact and referring to her as "he" instead of accurately reporting that Beatie is really a woman. Thomas Beatie is actually Tracy Lagondino who lived in Hawaii with her lesbian girlfriend Nancy. Lagondino and her girlfriend were lesbian activists who lobbied for "gay marriage" in that state. They are now transgender activists working to redefine what it means to be married, to be male or female and to be parents.
Moral turpitude ain't what it used to be
. What a funny world. Where once it was scandalous to be unmarried and pregnant, now it is scandalous to disapprove of another's being unmarried and pregnant.
The case of Michelle McCusker
: The case of Michelle McCusker, the unmarried and pregnant teacher fired by a Catholic school, may turn out to be an important one, with heavy impact on our understanding of religious liberty.
Teen Pregnancy is Not An Accident
. Seventeen magazine is a great gift to the youth of our nation. Before the magazine's February issue, our nation's adolescent girls were in danger of "accidentally" falling into pregnancy, or so their cover implies: "Shocking Ways You Could Get PREGNANT By Accident." Last time I checked, pregnancy results from an activity that requires some effort, some decision-making. Seventeen's editors, however, don't seem to live in my reality. Instead, it buys into the same dangerous and conventional wisdom that kids will have sex — end of conversation. So all adults can do is help them prevent disease and pregnancy.
Birth leave sought for girls
. Kayla Lewis, a senior at East High School, asked school-board members last month to establish maternity leave for students who are new mothers. Pregnant students in a Denver high school are asking for at least four weeks of maternity leave so they can heal, bond with their newborns and not be penalized with unexcused absences.
The Editor says...
These ignorant girls are determined to give birth to illegitimate bastard offspring so they can get on the welfare state gravy train and blame society for their poverty. Fifteen years later (maybe sooner) the cycle repeats. The school is merely accomodating and enabling these girls, rewarding their negligence, ignorance and poor judgement. Instead, the school officials should be ostracizing, humiliating and shaming them all for the betterment of society.
Warning: The following commentary contains information not suitable for children.
Hugh Hefner's legacy
: According to a Wall Street Journal article by Matthew Scully, [Hugh] Hefner wants to be remembered as a philanthropist, social philosopher, cultural revolutionary. In fact, Hefner wants to be remembered as anything but what he was: a smut peddler, and the exploiter of women. … The fact is Hugh Hefner did more than anyone else to turn America into a great pornographic wasteland.
Evolving Standards of Decency
. William Kristol sarcastically thanks the US Supreme Court for its recent decision saving the life of Christopher Simmons, the youthful sadist who murdered Shirley Crook for the fun of it in 1993. In seven paragraphs of well-tempered fury, Kristol contrasts the judicial sensitivity to "evolving standards of decency" that spared Simmons from the death penalty because of his age with the absence of any such sensitivity when it came to Terri Schiavo.
Accepting sinful behavior as the norm hurts society
. My answers may not be what you want to hear, but I think we are reaping what we have sown! We have allowed everybody and everything to come out of the closet and now we are facing the consequences of our actions.
Hit-and-run deaths at 10-year high
. Data from the National Highway Traffic Safety Administration in Washington show that hit-and-run pedestrian deaths have risen 20 percent since 2000. A total of 974 pedestrians were killed in hit-and-run cases in 2005, marking the highest level since 1996, when 982 people were killed, USA Today reported Tuesday [10/17/2006]. Overall pedestrian deaths totaled 4,881 in 2005, a 2-percent increase from 2000 but less than the more than 5,400 deaths in 1996.
Motorized Scooters and Laziness
: Over the last few years I've noticed an increasing number of these scooters meandering along the sidewalks ... Are more disabled people buying them, or are there more disabled people? Or could it be that an electric scooter is the perfect answer for lazy people everywhere? ... Could the proliferation of these devices actually be
impairing
mobility?
Manners and virtue in a modern world
: Many people have no notion of propriety when in the presence of other people, because they are not actually in the presence of other people, even when they are in public. With everyone chatting on cell phones when not floating in iPod-land, "this is an age of social autism, in which people just can't see the value of imagining their impact on others." We are entertaining ourselves into inanition.
Survey: 24 percent between 18-50 are tattooed
. The telephone survey on tattoos included 253 women and 247 men and was conducted in 2004. It has a margin of error of 4.5 percentage points.
Ink-Stained Wretchedness
. The tattoo is the battle flag of today in its war with tomorrow. It is carried by sure losers. About 40 percent of younger Americans (26 to 40) have tattoos. About 100 percent of these have clothes they once loved but now hate. How can anyone who knows how fickle fashion is, how times change, how their own tastes have "improved," decorate their body in a way that's nearly permanent? I don't get it.
Body art and deviant behavior:
Study finds link between multiple tattoos, piercings and trouble
. Here's a new aphorism: "The more body art you have, the more likely you are to be involved in deviance." So says Jerome Koch, a sociologist with Texas Tech University's "Body Art Team" — true moniker — which surveyed 1,753 students at four colleges and found a correlation between multiple tattoos or piercings and "deviant behavior."
The Editor says...
First of all, the term "body art" is a euphemism for multiple tattoos. Tattoos are nasty and permanent displays of poor judgment. When I was young, I was taught that the very act of getting a tattoo was deviant behavior; thus, to me, this new study reveals nothing beyond the obvious.
One Third of Adults in the UK use Overdrafts "to Stay Solvent"
. The United States isn't the only country with a negative savings rate and high level of credit card debt. In Great Britain, the Daily Telegraph reports this weekend that "over a third of adults with bank accounts are relying on their overdrafts to keep them afloat."
Bad credit is a way of life — It shouldn't be!
The billions or maybe trillions of dollars being spent in advertising to show you how easy it is to live today and worry about it tomorrow trumps a lot of people's resistance. The credit card companies didn't get as big as they are by accident. They know how to push your buttons and they do!
The Moral Economy
: In this heated campaign season, housing prices are plummeting. Banks write off billions of dollars in unrecoverable debt. The stock market wildly fluctuates almost hourly. Candidates promise painless and near instant relief. But despite the politicians' rhetoric, it is not hard to understand why America is in trouble.
Self-harmers to be given clean blades
. Nurses want patients who are intent on harming themselves to be provided with clean blades so that they can cut themselves more safely. They say people determined to harm themselves should be helped to minimize the risk of infection from dirty blades, in the same way as drug addicts are issued with clean needles.
[What a completely inappropriate response! Individuals bent on self-destruction are mentally and spiritually ill and need therapy and wise counsel, not enablers. Abnormal and perverse behavior should be corrected and eliminated, not normalized. We should all recognize that there are some people who should be incarcerated for their own good.]
Study Shows Seven Percent of Workers Drink on the Job
. Just over seven percent of American workers drink during with workday — mostly at lunch — and even more, nine percent, have nursed a hangover in the workplace, according to a study.
Students get message: Leave phones at home
. Schools across the USA are cracking down on students whose cellphones disrupt classes and make it easier to cheat. Starting Monday [1/29/2007], the 222 public schools here will enforce a ban prompted by fights that escalated into brawls when students used cellphones to summon family members and outsiders.
Welcome to the culture of rudeness
. Not for a long, long time have parents enforced the notion that children should be seen and not heard. All us fogies, even young ones, flinch when the kids talk at loud length on their cell phones at school, at play and in their living rooms. They turn the music up as high as it can go no matter where they are.
For whom the phone rings
: There are those who use [cell phones] and, then, there are those of us who think that there is something awfully silly about people who can't go five minutes without having one glued to their ear. Knowing people as I do, I know that 999 out of a thousand cell phone conversations are totally unnecessary.
Miami tops auto club list for rude drivers
. Stressed Miami drivers speed, tailgate and cut off other drivers so frequently that the city earned the title of worst road rage in a survey released Tuesday [5/16/2006]. AutoVantage, an automobile membership club offering travel services and roadside assistance, also listed Phoenix, New York, Los Angeles and Boston among the top five cities for rude driving.
Poll: Americans See, Hear More Profanity
. Nearly three-quarters of Americans questioned last week — 74 percent — said they encounter profanity in public frequently or occasionally, according to an Associated Press-Ipsos poll. Two-thirds said they think people swear more than they did 20 years ago.
Arrested for asking for quiet in cinema
. An Australian tourist has been charged with assault after telling a Texas woman to stop talking on her mobile phone at the movies. Pauline Clayton was enjoying a matinee screening of Brokeback Mountain in a Texas cinema when her day suddenly turned ugly. The former Sunshine Coast councillor said about halfway through the movie, a mobile phone started ringing nearby, a woman answered it and started talking.
Theater owners want cell phones blocked
. The National Association of Theater Owners wants the Federal Communications Commission to allow the blocking of cell phone signals in theaters. John Fithian, the president of the trade organization, told the Los Angeles Times theater owners 'have to block rude behavior' as the industry tries to come up with ways to bring people back to the cinemas.
A month later, the same story showed up on Reuters:
Movie theaters may ask to jam cell phones
. Movie theater owners faced with falling attendance are considering asking federal authorities for permission to jam cell phone reception in an attempt to stop annoying conversations during films, the head of the industry's trade group said on Tuesday [3/14/2006].
Mental illness is the new normal
. According to a new government-sponsored survey, most Americans qualify for a psychiatric diagnosis at some point in their lives.
Goth who walks fiancee on a leash is banned by bus driver
. A goth, who likes to take his fiancee out for a stroll on a leash, claims that a bus driver told them "no dogs allowed" and banned them from boarding. Dani Graves, 25, and his girlfriend dress all in black and like to take unusual walks, but the pair have been branded "freaks" and pushed off buses.
Homeless Alcoholics Receive a Permanent Place to Live, and Drink
. Rodney Littlebear was a homeless drunk who for 15 years ran up the public tab with trips to jail, homeless shelters and emergency rooms. He now has a brand-new, government-financed apartment where he can drink as much as he wants. It is part of a first-in-the-nation experiment to ease the torment of drug and alcohol addiction while saving taxpayers' money.
Divorce: The Cause of the Shrinking Middle Class
. The average middle class family cannot support two households (and two divorce attorneys) without falling out of the middle class.
Unwed Motherhood Has Lost Its Stigma
. Births to unmarried women in the United States hit a record 1.4 million in 2003 … Births to unmarried women increased to 34.6 percent of all U.S. births — also a new record, said researchers with the National Center for Health Statistics (NCHS), which released its final report on 2003 birth data yesterday [9/8/2005]. The rise in out-of-wedlock births worries social conservatives, who say the problem is linked to poverty, juvenile delinquency and poor social and educational outcomes.
Victims
. The government is still subtly, slowly and surely destroying the human spirit, creating a dependency that Katrina has so clearly and powerfully revealed.
This Tolerance Industry is Killing Us
. The authors of
One Nation Under Therapy
say what the older moralists spoke of as irresponsible behavior due to bad character, the new champions of therapism – an array of helping professionals, journalists and educators – speak of as an ailment, dysfunction and brain disease.
Thank You for Not Sharing
. Our nation is under the thrall of a movement that exerts its loathsome and self-righteous influence upon us whenever we tug at a dog's leash or tell somebody that they should "toughen up." The name of this movement and belief system is therapism and its takeover of America has displaced traditional values like resilience, drive, pride, and honor.
When society is the asylum
: A survey for the National Institute of Mental Health (NIMH) says that more than half of all Americans will develop mental illness in their lifetimes, and that a quarter of us are already suffering from a mental disorder. These extremely high numbers suggest inflation of rhetoric if not reason, or at least an appetite for a larger budget appropriation.
NYC to change ID rules for transgendered
. The city wants to make it easier for transgender New Yorkers to switch the sex listed on their birth certificate (sic) even without undergoing sex-change surgery, putting the city at the forefront of efforts to redefine gender. Under present city rules, only people who can show proof of surgery qualify for getting a revised birth certificate. Even then, the only change made is the elimination of any reference to gender on the document.
The Editor says...
All this "stuck in the wrong body" stuff is nonsense. It is a sure sign of mental illness and should be treated as such. God does not make mistakes in the assignment of gender to individuals.
Ladies Restrooms: Who is That Male-Bodied Woman In the Next Stall?
The New York Association of Gender Rights Advocacy has won a victory over restroom use by individuals who
believe
they are a member of the opposite sex.
Candidate worked as prostitute
. A Dallas Democrat who is seeking election to the Texas House … acknowledged Thursday [2/16/2006] that he once worked as a prostitute.
The word 'prostitute' is banned in favour of 'person'
. In a dramatic softening of the law on prostitution, only 'persistent' street offenders will face any police action. The term 'common prostitute' will be banished from English law. Instead, sex workers must be referred to as 'persons'.
More women have abortions as it loses stigma
. Women are finding it more acceptable to have an abortion than to drift into an unplanned pregnancy, the head of Britain's leading abortion agency said yesterday. Ann Furedi, the chief executive of the British Pregnancy Advisory Service (BPAS), said one women in five was now childless at the age of 45 and an increasing number were making the choice not to have children at all. Ms. Furedi said there had been a shift in public opinion about parenthood. The stigma of abortion had diminished but there was now concern about being a poor parent.
Attack on decency
. Years ago, the lowest of lowdown men wouldn't use the kind of language that's routinely used today not only in the presence of women but often to women. To see men sitting while a woman was standing on a public conveyance used to be unthinkable. Children addressing adults by their first name was also unthinkable, not to mention the use of foul language in the presence of or to adults.
Take care of yourself
. A major reason why government has grown to the point where President Bush has submitted a record $2.57 trillion budget to Congress is that too many Americans have ceded personal responsibility to the state.
Leaning hard on government
: Is America, the country that produced the Declaration of Independence, becoming a nation of dependents? Specifically, are we now a nation of people tethered to government, a society that has abandoned a proud and grand tradition of self-reliance and rugged individualism?
A Call to Let Felons Start Fresh
. San Francisco supervisors urge deletion of the question about prior felonies from public job applications.
The 2005 Index of Dependency
. A citizenry that reaches a certain tipping point in dependency on government runs the risk of evolving into a society that demands an ever-expanding government that caters to group self-interests rather than pursuing the public good. Today, are we more or less dependent on the government's income and social support programs — especially federal programs — than we were 40 years ago? Are we close to a tipping point that endangers the working of our democracy? Or have we passed that point already?
Residents think "Whorehouse Days" festival has a bad ring to it
. A group of angry citizens showed up at a [Gilbert, MN] City Council meeting Tuesday [1/25/2005] to protest the event. The festival's name refers to a time when Gilbert was known for its bars, gambling and "working girls" during Prohibition.
Staged alienation
: Apologists for the grotesque, vulgar noise called "hip-hop" music like to point to those songs that contain positive or "constructive" messages, when defending against the critics of this genre. The defenders would have you believe that the more benign lyrics found in occasional songs are as representative of this music style as the songs containing blatantly coarse lyrics.
Vulgarity as an art form
: Some truths about the gross noise called "hip-hop."
Grand Theft Auto and us
: Game play in the San Andreas and earlier versions of Grand Theft Auto also features buying and selling drugs, stealing cars, foul language, racial slurs, running down pedestrians, attacking people with chainsaws, sexual jokes, evading and killing police officers, and feeding people into a wood chipper.
New Jersey's "Sex, Etc."— Your tax dollars at work
. "Sex, Etc." gives us Jerseyans something to be ashamed of besides the governor. The cyber-version is available to anyone with a computer, while the monthly print version is found in many local schools and libraries. It's hard to write about this X-rated publication, whose purpose seems to be to persuade "teens" — or anyone else who reads it, regardless of age — to practice sex unrestrained by morality.
The Anti-Self-Responsibility Movement
: Enforcing a curfew, particularly in a town where rampant crime, riots and war are far from the rule or are nonexistent, is just another way of taking away more responsibilities from parents. Just as parents must decide whether their teens can drive the family car, date and smoke cigarettes, they must determine when their kids should come home at night.
Prisoner abuse and the rot of American culture
: Should we be shocked that some Americans are capable of such barbaric behavior as depicted in the infamous photos?
Top 10 Best and Worst Network TV Shows for Family Viewing
. Each year, the Parents Television Council rates the best and the worst shows on primetime television on the seven major broadcast networks. The PTC Best and Worst list does not examine artistic quality. But it measures series' appropriateness for family audiences from a content perspective.
Attitudes Toward Crime, Police, and the Law: Individual and Neighborhood Differences
. Fifty years ago, criminologists argued that traditions of delinquency and crime were powerful forces in some communities but were only a part of the community's system of largely conventional values. Recently, ethnographic studies of urban neighborhoods in New York and Philadelphia suggest that in certain disadvantaged communities, conventional values clash with a "street culture" in which crime, disorder, and drug use are accepted.
How an older citizen might view illegals
: Harold is a white retiree who … hates illegal immigration with a bitter passion. … "Already we have these Mexican gangs, we have people working illegally, we have people buying fake documents, stealing people's identities. We have signs in Spanish, stores where they only speak Spanish. It's got to stop or our country will end up as lawless and corrupt as their country. Old guys like me who played by the rules are going to die off. The young people will have learned all their lives that illegal isn't bad, it's OK. If you decide something is unfair, or you want a better life, just break the law, that's the way to get ahead."
Ex-welfare queen exposes "Uncle Sam's Plantation"
: "America has two economic systems," says Star Parker, "capitalism for the rich, and socialism for the poor."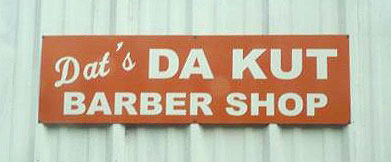 How are little kids and immigrants supposed to learn to read English when people put their illiteracy on display like this? I can remember when it was rather shocking to see a misspelled word on a professionally painted sign. In this case, even the name of the business is intentionally misspelled, in order to attract a very narrow range of customers.
Is This The America We Want?
The anti-obesity campaign might seem preposterous and amusing were it not for the successes of the anti-tobacco campaign premised on the idea that individuals are not responsible for their choices. It's a logical follow-up: Food producers, not people themselves, are responsible for overindulgence.
Bring back human kindness — please!
Recently I was taking a van loaded with kids, ages 11 to 16, home from a night at the movies. When I dropped them off at their respective homes, something was obviously missing as nearly every child jumped out and slammed the van door.
Real Reality
: "Reality" TV is out of control. Cameras have faithfully recorded everything from contestants eating rats to foolish women marrying for money, and soon French TV will show live action in — you guessed it — a brothel. I have an idea to put all those cameras to good use, in a way that will benefit the citizenry.
Here's a pony!
A parent cannot possibly raise children in this country today and protect them from this growing, stinky, mound of garbage. We used to protect our kids, and at one time we actually tried to be a better people, but apparently no more.
Complaints to FCC Over Use of "F-Word" Top 150,000
: The American Family Association has announced that, to date, more than 150 thousand of its supporters have sent letters to the Federal Communications Commission, criticizing the agency's recent ruling that the use of the
"f-word"
on radio and TV was allowable in certain contexts.
Slouching Towards Gomorrah: Modern Liberalism and American Decline
. America as a nation is rapidly deteriorating from within. In Slouching Towards Gomorrah: Modern Liberalism and American Decline
*
, Robert H. Bork analyzes the likely cause for this decay: the modern liberal philosophies of radical egalitarianism (belief in equality of outcomes rather than in equality of opportunity) and radical individualism (belief in removing all limits to the individual pursuit of pleasure).
Virtue is freedom's handmaiden
: Freedom without virtue is a logical impossibility. Self-government, and the governing of one's own passions necessarily precedes free government. "Only a virtuous people are capable of freedom," said Ben Franklin.
McFollishness
[sic] In pursuit of corporate deep pockets, a substantial number of Americans seem willing to portray themselves as complete idiots. Yes, we are talking about the lawsuit filed against McDonald's on behalf of eight teen-agers who have become obese and have other health problems after years of gobbling Big Macs and fries on a daily basis.
Sanity has left the building
: In 1962, a young truck driver named Elvis Presley had become a rock superstar singing about hound dogs, tender love and his mama, whom he apparently loved. In 2002, Marshall Mathers II, aka Eminem, has become the country's hottest recording star rapping about rape, drugs and his mother, whom he apparently hates. In both cases, polite society cringed.
The Prison Revolving Door
: Recidivism is the rate at which ex-convicts become convicts all over again. You thought that all those in-prison rehabilitation programs were working, right? You figured that if you ever had to spend time in prison, you would learn your lesson and make sure you never went back, didn't you? Well, that's not the way it happens. U.S. recidivism is estimated to be as high as 76%. The lowest estimates place it at more than 50%.
Family Law and the Collapse of Culture
: Creeping statism is destroying family law and the protections granted families to raise their children. In their stead, the state is seen increasingly as the primary care giver. Welfare agencies thus gain the upper hand to take children from families and profit from adoption and foster home systems.
Knowledge can be Lost in Just a few Generations
: It seems we have lost our knowledge of what it means to be moral. This loss of moral knowledge was abundantly apparent during the eight years of the Clinton presidency. After years of lying to the American public, when Bill Clinton finally admitted that he had a relationship with a girl almost half his age and, more importantly, with someone other than his wife, it didn't matter to the majority of Americans. And after it was so abundantly clear that he had committed perjury, it still didn't matter.
Grandma Gets Stuck Raising the Children
: The high rates of teen pregnancy and cohabitation among young couples are the main reasons why nearly 2.5 million Americans are raising their grandchildren, according to conservative pro-family groups. The cohabitation rate has increased by 73 percent in the past decade.
If A Tree Fell on Dad, Who Would You Sue?
Within days after The Day Everything Changed we heard whisperings of a government compensation fund for the victims who survived the attacks on the World Trade Center and the families of those who died. There was no such fund for the victims and families of the Oklahoma City bombing tragedy, the USS Cole, or the Embassy bombings. No one gave millions of dollars to the families of those who died in Vietnam, Korea, World War II, or the Spanish-American War. What makes these people so special?
Illegitimacy is the Major Cause of Child Poverty
.
Cronyism 101: The Perks of Being "Disadvantaged"
. The "Disadvantaged Business Enterprise" program, run by the U.S. Department of Transportation and adopted by states and cities across the country, is one of the most atrociously corrupt government endeavors in existence. Opportunists of all colors have used the racial set-aside law to win billions of dollars worth of federal contracts for themselves and their friends under the guise of being "victims."
Legal jam over prisons' supply of peanut butter and jelly
: Inmates are "heavily invested emotionally" in certain foods and could riot if the prison cut off their daily two-ounce ration of creamy peanut butter and strawberry or grape jelly, the state declared.
Statism: The Opiate of the Elites
: One of America's leading investors and philanthropists argues eloquently that we have forgotten about the Golden Rule as it applies to business and politics. Worse yet, we have traded our biblical principles and individual responsibilities for the empty promises of secularism and statism.
Back to
News from the Culture War
Back to the
Home page