The Head Start program has cost the American taxpayer more than the price of putting men on the moon. Yet it has been judged a complete failure by many people, as you can read below.



Don't Overestimate Preschool Programs. Participating students saw benefits in health and quality of life, labor income, crime reduction, and education gains, and their mothers saw increases in their income because of the child care provided by the program. Sure, the cost was enormous, as the authors readily admit. The program cost $18,514 per child per year (in 2014 dollars) and lasted from birth to age five. But it produced $6.30 in benefits for every dollar spent. That equates to a 13 percent rate of return, leading NPR to headline a story "How Investing in Preschool Beats the Stock Market, Hands Down." The Atlantic went so far as to ask, "Why Doesn't Public School Start at Birth?" Taking a more measured tone, the Christian Science Monitor led with "High ROI: Why Preschool Programs Are a Good Investment for Society." But we need to clarify something right off the bat: These are the findings from a study of 70 kids.

Man admits taking $250K from Head Start; bought Maserati, mink coat. The former executive director of a former Head Start program in Jersey City Tuesday admitted that he diverted more than $250,000 from programs for underprivileged children and used the money for personal expenses, including a Maserati and a mink coat, prosecutors said. Robert E. Mays, 38, pleaded guilty before U.S. District Judge Susan D. Wigenton in federal court to one count of wire fraud. According to court papers charging him, Mays in 2013 forged records and duped employees at the Jersey City Child Development Centers into believing that its board of directors had raised his salary 61 percent to $155,000 after acting as executive director for only two months.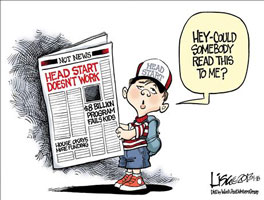 "Head Start" Initiative Crashes and Burns. Clinging to the hope that a model for a universal preschool program could run effectively, the U.S. Department of Health and Human Services created a project known as Head Start CARES in order to put this concept to the test. The purpose of this initiative was to put to the test three "evidence-based" ways of helping children in lower income communities develop a love of learning, which would eventually grow their academic prowess and help create a rise in the number of high school graduates in impoverished communities throughout the country. Sadly, Head Start has proved to be a failure to launch. According to Heritage Foundation research fellow David Muhlhausen, PH.D. "Experimental evaluations released in 2014 and 2015 by the U.S. Department of Health and Human Services found that enhanced Head Start CARES demonstration programs had little to no effect."




Obama Unveils $1B Boost for Preschools, Including $55 Million From Disney. It's a year-end present for tens of thousands of kids and early childhood education programs. President Obama today [12/10/2014] is set to unveil a $1 billion package of new public and private funding for U.S. preschool programs during a White House summit to promote one of his favored domestic initiatives.

Welcome to TotCare: Obama's Preschool Takeover. The wheels on the bus go 'round and 'round, just like the endless cycles of big, bad government programs to federalize preschool and day care. On Wednesday [12/10/2014], the White House Summit on Early Education will unveil nearly $1 billion in new "investments" to "expand access to high-quality early childhood education to every child in America" from "birth and continuing to age 5." It's a retread of President Obama's 2013 State of the Union school-spending plan, which was a repackaging of his 2011 Race to the Top Early Learning Challenge program.

Obama announces $1 billion investment for early childhood education. Declaring early childhood education "one of the best investments we can make," President Barack Obama on Wednesday followed up on a promise to expand early education opportunities for tens of thousands of children by announcing $1 billion in public-private spending on programs for young learners. Obama said that less than one-third of 4-year-olds are enrolled in preschool and blamed the high cost of these programs for essentially shutting off access to poorer infants, toddlers and preschoolers.

The Bogeyman has entered the nursery. In the nightmare world progressives are designing for civil society, little tots are no longer your little tots. They are government-sought human resources to be raised as tomorrow's anarchists. [...] Once these innocent children are in hand, progressives will read the small fry their own version of the fairytale. Karl Marx and not George Washington will be the role model. Before going on to Grade 1 in Common Core-captive public schools, these children will already be repeating by rote that Obama and not Jesus is the Messiah. They will be taught that the Constitution is old hat; that America is racist and needs to pay a never-ending debt to the outside world; that all cops are bad and that government and their teachers know better than their untrustworthy parents.

The Truth Behind Obama's $1 Billion Early Education Plan. The CEA report Obama mentioned does indeed cite research showing that, "for every dollar spent on the Perry Preschool program, the benefits totaled $7 to $10, with a baseline estimate of $8.60." But the Perry Preschool Project was a single study that tracked just 128 children in just Ypsilanti, Michigan more than 50 years ago! The track record for other preschool programs is far more mixed and the most scientific studies of the federal government's own Head Start program show the spending is largely wasted.

Obama, Shakira Push Preschool Education. The Obama administration teamed up with pop singer Shakira and The Walt Disney Company on Wednesday [12/10/2014] to announce a billion-dollar investment for American children's access to pre-K education, while pressuring Republicans in Congress to add far more.

President Obama to announce $1 billion in funding for preschool. Among the announcements that Obama and Duncan will make at the summit Wednesday [12/10/2014]:
• Some $250 million in federal preschool development grants, to help 18 winning states expand the reach of early education programs in high-need communities. [...]
• Up to $500 million in federal grants to expand and improve Early Head Start programs and child care partnerships.
• A new policy statement around preschool suspension and expulsion, aimed at curbing the high rates of these discipline strategies, especially for boys and children of color.

The price of pre-K in 2016 might be higher than you think. Over the past couple of years, a number of red and blue states across the country have joined the pre-K bandwagon, including Republican strongholds like Oklahoma and Georgia. And the trend might continue: last month, the Obama administration announced its new Preschool Grant Program in which states are eligible for a chunk of $250 million to build or expand preschool programs. The administration's tempting offer has begun to place a growing group of Republican governors, members of Congress, and mayors in the pro-pre-K posse.

Head Start: An $8 billion, ineffective political sacred cow. Head Start, the federal preschool program for low-income kids, is a politician's favorite. They regard the sum of the money poured into Head Start as the measurement of the depth of their concern "for the children." No wonder it's costing $8 billion a year. There's no limit to the concern the right-minded have "for the children." For all that money, we're not getting much. This is the conclusion in a working paper by the National Bureau of Economic Research. The bureau is unable to find lasting benefits for the 900,000 children enrolled in the program.

California leaders strike deal on pre-kindergarten. The proposal, still making its way through the legislature, would provide hundreds of millions of dollars to offer preschool access to 234,000 low-income four-year olds, state Senate President Darrell Steinberg (D) said Thursday [6/12/2014]. Four-year-olds from low-income families with at least one working parent would be eligible for full-day pre-kindergarten. Tens of thousands of additional students would have access to so-called "transitional" programs.

HHS Extends Head Start Participation to Same-Sex Marriage Families. The administration for children and families, part of the Department of Health and Human Services (HHS), issued guidance in a memo on Wednesday [6/4/2014] regarding application of the federal government's policy on same-sex spouses/marriages to all Head Start and Early Head Start programs. [...] HHS instructed all grantees and delegate agencies in the memo to ensure that "[f]amily support and parent engagement activities should be inclusive and supportive of single, coupled, and married LGBT parents":

The Dubious Promise of Universal Preschool. The idea of universal preschool is not new, and a handful of states already have such policies. Oklahoma, for instance, has the highest rate of four-year-old enrollment at about 70%. The president's endorsement and the offer of federal start-up money give a tremendous boost to this concept. Before we launch a universal preschool program and dedicate billions of dollars in federal funds, however, it is important that we take into account the outcomes of students participating in the existing federal preschool program: Head Start.

Leftists Committed To Getting Their Grubby Paws On Your Kids Early. Progressives will trot out study after study to prove to you that your child will never learn to write his name without sticking the pen in his eye if you don't get him to a preschool STAT. (One wonders how all of the scientists who got us to the moon were able to do so without the benefit of having gone to preschool.) It's all garbage, of course, but it's purposeful garbage. The sooner they can get your kids out of your hands and into those of a government employee who will say anything for a pension, the better.

Obama's Cash for Universal Preschool Clunkers. It's elementary: When Democrats find themselves in political trouble, they reach for your wallets. After squandering billions on an ineffectual stimulus, failed green energy boondoggles and the disastrous Unaffordable Care Act, the Obama White House wants to dump $75 billion more into "free" preschool for all. That'll solve everything.

Universal Child Care Does Not Bode Well for America's Children. Increased spending of Americans' tax dollars for universal child care means more government involvement in determining which facilities should receive funds. As prospects for the President's plan to create a federal scorecard to evaluate colleges indicate, that will be, at the very least, a problematic venture. A new study published by the journal Science found that pre-kindergarten classes that received the highest quality scores in ratings systems used by most of the states were no better in preparing children for school than were classes with lower ratings.

Going Around Congress, Again. [Scroll down] Just before Christmas, Health and Human Services (HHS) were preparing to release their long-overdue evaluation of the Head Start Program. Since it's [sic] inception in 1965, taxpayers have spent more than $180 billion on the program. The HHS scientifically-rigorous study tracked 5,000 children who were randomly assigned to a group receiving Head Start services or a group that did not participate. It followed their progression from age three or four through the end of third grade. The first-grade study found that any benefits the children may have accrued while in the Head Start program were gone by the time they reached first grade. [...] In spite of prodding from Congress, they did not make the study public until the Friday before Christmas.

Somewhat related...
Kindergarten show canceled so kids can keep studying to become 'college and career ready.' Really.. This didn't come out of the blue. Kindergarten (and even preschool) has increasingly become academic — at the expense of things such as recess and the arts — in this era of standardized test-based school reform. In most states, educators are evaluated in large part on test scores of students (sometimes students they don't have) and on showing that their students are "college and career ready," the mantra of the Obama administration's education initiatives.

Sequestration Closes Colorado Head Start. Head Start students are on their summer breaks, but when classes resume in August, the Crab Orchard Head Start facility will not be welcoming back the smiling faces of three- and four-year-old students. The center, which served 37 students, will remain closed due to federal budget cuts known as sequestration that cut federal programs across the board.

Only if grandma is under 30 and has a job.
Education Secretary Arne Duncan: Pre-School is Better Than Grandma. Education Secretary Arne Duncan said Wednesday [6/12/2013] that "cultural hesitation" makes it more difficult for some Hispanic parents to want to enroll their children in public pre-school programs because of their preference for family and friends.

Obamacare Scares Head Start Staffers More than Budget Cuts. You'd think that at a national Head Start conference, sequestration, across-the-board federal spending cuts, would be the top issue. No. Instead, Head Start teachers and administrators told The Daily Caller that the health care law is their biggest headache.

Head Start Officials Cancel School Days, Attend Expensive Conference. The Head Start program, a favorite of President Barack Obama, had an interesting solution for the problems caused by sequestration: low-income children in the program were sent home ten days early. At the same time, 2,800 Head Start leaders spent a total of $752,059 attending a three-day conference in National Harbor, MD.

Why We Don't Need Universal Preschool. There are already 45 government preschool programs run by numerous federal agencies, including the Departments of Education, Health and Human Services, Agriculture, the Interior, and Housing and Urban Development. Burke and Sheffield note that these 45 programs "are estimated to cost taxpayers more than $20 billion annually. Many are duplicative and ineffective, failing to serve the needs of children from low-income families." Head Start, of course, has already shown us the ways government preschool can fail American children.

Universal Preschool's Empty Promises. In February 2013, President Obama proposed significantly increasing federal spending on early childhood education and care as part of his drive for a "cradle-to-career" government-controlled education system. A massive federal preschool expansion would further entangle Washington in the education and care of the youngest American children.

Obama 'Preschool For All' Unlikely To Live Up To The Hype. An outline released by the White House contends that President Barack Obama's universal preschool proposal will "improve quality and expand access to preschool" by, among other things, using federal funding incentives to require states "to meet quality benchmarks that are linked to better outcomes for children." There is justifiable skepticism, however, regarding the quality of those benchmarks and whether they are really linked to higher student results.

Obama Appears to Have Exaggerated Effects of Sequester on 'Head Start'. In the days leading up to sequestration, President Obama and other administration officials often singled out Head Start as one of the vital programs that would be severely impacted by the automatic spending cuts. Phrases like "70,000 kids get thrown off of Head Start" and "70,000 young children would be kicked off Head Start" were common refrains. [...] However, a look at recent Head Start enrollment numbers and budgets calls that assertion into question.

Obama Should Admit That Dan Quayle Had It Right. Late last year, the Department of Health and Human Services released results of a rigorous study showing that the Head Start program, costing $8 billion a year, has had little or no effect on the cognitive, physical or emotional well-being of kids once they reach third grade. This was clearly what President Obama didn't want people to hear, and we can't help but wonder why the study, completed in October, was not made public until the Friday before Christmas. Undaunted by the data, Obama now wants to replicate the ineffectiveness of Head Start on a much bigger scale.

The Risk of Obama's Universal Daycare. Heavy-handed state intrusion always beings innocuously, a "good idea" to cure a seeming intractable problem but as one intervention after the next falls short, state power expands and personal freedom slips away. Obama's initiative is only emerging but its key elements are clear. A state-federal partnership will guarantee a pre-kindergarten education to every family whose income falls below 200% of the poverty line ($38,000 for a single parent with two children). Head Start will also be massively expanded (it currently consumes $7.6 billion).

Welcome To Your 21st Century Global Educational System. We are entering into a new era of education with a global curriculum designed by the United Nations that will be implemented not just in developing countries, but right here in the United States. Once our daycares are forced to shut their doors because of purposeful and costly over-regulation by state and federal governments, babies will be forced into the 0-12 educational system and the educational leaders will have accomplished their goal of compulsory education for even the youngest in our society. Once all children are herded into the public school system (because homeschooling will no longer be allowed), this is what our newly transformed educational system will look like.

The Definition Of Liberal Is To Take Failed Program And "Double Down And Make It Universal". We have created already, with under Obama, the biggest entitlement in 50 years. And now he wants to create a new entitlement for preschool for every 4-year-old in the country. The worst part of this, this isn't just any new entitlement. This is an entitlement in an area where we know the $7 billion a year that we spend on Head Start doesn't make any difference after the third grade.

Head Start fails kids and taxpayers. Head Start, the federally funded education program for low-income children, doesn't give participants the developmental boost it's supposed to offer. According to a study released last month by the US. Department of Health and Human Services, Head Start students aren't any farther along than students in the same demographic who didn't attend the program. Head Start offers traditional classroom education and in-home learning opportunities for children from birth to five years old. The program's apparent failure comes at a high cost. Taxpayers give Head Start $8 billion a year, roughly $7,000 for each of the 900,000 low-income children it serves.

HHS Study: Yep, Head Start doesn't work. It's a heart-string puller. It has its roots deep in the Great Society, established in 1965 and expanded over the years to become one of the country's longest-running programs to combat the effects of poverty. More than 20 million American children have gone through the program, which is designed to impart parenting skills to parents, and cognitive, emotional, and health improvements to children. Over the years, the program has cost $180 billion. For the second time in two years, a Congressionally mandated study of the Health and Human Services program has shown it does not work.

Head Start Impact Evaluation Report Finally Released. Since 1965, taxpayers have spent more than $180 billion on Head Start. Yet, over the decades, this Great Society relic has failed to improve academic outcomes for the children it was designed to help. [...] President Obama has pledged to use only one test when determining which education programs to fund: "It's not whether an idea is liberal or conservative," Obama stated, "but whether it works." HHS's third-grade follow-up evaluation makes it unequivocally clear that Head Start fails that test. HHS has released definitive evidence that the federal government's 48-year experiment with Head Start has failed children and left taxpayers a tab of more than $180 billion.

NEA: Poverty Pimp #1. The NEA's "experts" claim that pouring money into education will eradicate poverty is wrong on all counts. For example, they state that children would be better educated by attending a "high quality pre-school." Yet Head Start, according to Reason's Lisa Snell, U. of Arkansas Professor Jay Greene and others, has been a bust. [...] So, $100 billion later, children are no better off attending a preschool, but what's important to the unions is that more adults are employed. And that means more dues for them to spend on their progressive political agenda which favors causes that have nothing to do with education — e.g. abortion on demand, same-sex marriage, income redistribution, and nationalized health care. In 2010-2011, NEA spent $133 million in lobbying and gifts to further its progressive agenda.

Preschool ineffective, for children. Gov. Mike Rounds recently proposed a preschool program for South Dakota that might as well be called "No Child Left With Parents." Not only is expanded preschool ineffective in improving academic achievement, it may be bad for children. National Center for Education statistics show that any achievement advantages realized from preschool have disappeared by the third grade.

Head Start: A $150 Billion Failure. President Obama and other supporters of increasing government spending on preschool have argued that "investments" on early childhood education yield big results later in life. As President Obama told an audience last March, "For every dollar we invest in these programs, we get nearly $10 back in reduced welfare rolls, fewer health care costs, and less crime." The president and other preschool backers generally base these claims on impressive results from one or two small-scale preschool programs that existed decades ago and that have not been replicated since.

The Failure of Head Start. It is now 45 years since this program was begun. Today, we spend more than $7 billion each year on the Head Start program, serving over 1 million children. [Joe] Klein writes that "there is indisputable evidence about the program's effectiveness, provided by the Department of Health and Human Services: Head Start does not work." The title of the HHS report is "Head Start Impact Study" and it declares that the positive effects of the program are minimal and vanish by the end of first grade.

It's Time to Stop Head Start. In 1985 the Department of Health and Human Services undertook the first meta-analysis of Head Start research and shook the establishment with its dire findings: "In the long run, cognitive and socioemotional test scores of former Head Start students do not remain superior to those of disadvantaged children who did not attend Head Start." In other words, Head Start was a false start — the net gain to children was zero.

Head Start and Other Subsidies. The formula for allocating Head Start funds is very complex. Each state receives an initial allocation based on the amount it received the prior year. Between 2.5 percent and 3.0 percent of total funding is used for training and technical assistance from HHS. A complex formula then allocates remaining funds to provide a cost-of-living adjustment. If there are funds remaining after that, 40 percent are used for quality improvement purposes, 45 percent for expansion of programs, and 15 percent for funding State Advisory Councils. Convoluted funding formulas in grant programs generate bureaucracy and encourage interest groups and politicians to battle to get a greater share.

Head Start Fraud. GAO investigators attempted to register children from fictitious families in Head Start programs in six states and the District of Columbia. The GAO created 13 fictitious families that earned too much income or possessed other characteristics that would disqualify the children from participating in Head Start. The result is embarrassing: ["]In 8 out of 13 eligibility tests, our families were told they were eligible for the program and instructed to attend class.["]

Head Start: A Tragic Waste of Money. Head Start, the most sacrosanct federal education program, doesn't work. That's the finding of a sophisticated study just released by President Obama's Department of Health and Human Services. Created in 1965, the comprehensive preschool program for 3- and 4-year olds and their parents is meant to narrow the education gap between low-income students and their middle- and upper-income peers. Forty-five years and $166 billion later, it has been proven a failure.

Head Start's Impact Evanescent — HHS Study. We have spent more than $100 billion on the program to date and HHS's own research shows that its results diminish to essentially nothing by the end of the first grade. There are other government education programs whose effects actually grow substantially over time, and that are comparatively economical. Consider the federal DC voucher program. ... But Congress, and particularly Democrats, have defunded the DC voucher program while raising spending on Head Start. President Obama is at the forefront of this travesty. If you weren't already jaded and disgusted by education politics and its domination by employee unions opposed to educational choice, start now.

Did someone mention the teachers' unions?

'Head Start': The $166 Billion Fed Ed Failure. "Head Start," the flagship pre-kindergarten program introduced in 1965, has been a $166 billion failure. That's the upshot of a sophisticated multi-year study just released by the Department of Health and Human Services. An earlier iteration of the study, published in 2005, had found a few modest improvements in the language skills of participating students while they were enrolled in the program. But by the end of the first grade, even those few effects have disappeared, according to the follow-up released this month.

How the Media Are Covering 'Head Start's' Failure. I particularly liked this, from HHS Secretary Kathleen Sebelius: "Research clearly shows that Head Start positively impacts the school readiness of low-income children." Umm, yes Ms. Secretary, but the same research shows those effects vanish by the end of first grade. I guess that information is on a need-to-not-know basis. The public needs to not know about it or the administration hasn't got a snowball's chance in Kauai of getting American tax payers to throw another $100 billion or so at government pre-K, as President Obama is so very keen to do.

Some Head Start workers commit fraud so kids qualify, investigators say. Undercover investigators trying to enroll a handful of fictitious children in federally funded Head Start child care centers found that in about half of the cases, workers fraudulently misrepresented parents' incomes, addresses and other information to allow kids to qualify for a slot. In one instance, according to the investigators' report, a Head Start worker in New Jersey handed back one of two pay stubs and told an investigator posing as a parent, "Now you see it, now you don't."

Head Start Program: Fraudulent and Ineffective. The year 2010 will surely go down as a bad year for Head Start — a "Great Society" pre-school program intended to provide a boost to disadvantaged children before they enter elementary school. First, a scientifically rigorous experimental evaluation of Head Start found that the program largely failed to improve the cognitive, socio-emotional, health, and parenting outcomes compared to the outcomes of similar children. Second, the U.S. Government Accountability Office found that Head Start centers located in California, Maryland, New Jersey, Pennsylvania, Texas, Wisconsin, and the Washington, D.C., metropolitan area were actively enrolling children from families not qualified to participate in the early education program.

Head Start Fraud: It's Worse than You Think. "Fraud," "deceit," and "exploitation." Those words were used this week at a hearing about the Head Start program -- the federal government's long-standing preschool program for low-income children. An investigation carried out by the Government Accountability Office (GAO), revealed several cases of underreporting of income and the falsification of addresses by Head Start employees in order to "qualify" children for the program. Head Start grantees receive money based on the number of children they serve.

Kill This Test. Enacted in 1965, Head Start funds public and private groups that run local centers which provide what the Head Start Bureau calls "comprehensive child development services" for preschoolers from poor families. In 1966, Head Start enrolled 733,000 children and spent $198.9 million. By 2005, enrollment had increased modestly to 906,993, but spending had rocketed to $6.8 billion.

Head Start Needs to Clean House. Some of the most alarming cases included: the indictment of both a Maryland Head Start director on charges that she stole $335,777 and a South Dakota woman for embezzling $185,000 from a Head Start service provider; and a New Mexico program suspected of defrauding the program of $526,000. The latter program received a $2 million federal grant while the fraud case was still pending.

Inquiry uncovers fraud in Head Start program. A budget of $3.7 trillion and you begin to wonder how much of it is flushed down the tubes through gargantuan waste and fraud. We are spending $7.2 billion on the Head Start program this year with an additional $2.1 billion in stimulus funds. The question in this case is how much of that is going to help the kids the program is meant to help?

Head Start costs $7.1 billion per year.
Government Says Head Start Made Millions in Improper Payments. A House Appropriations subcommittee has proposed $7.1 billion in funding for the Head Start program for Fiscal Year 2009, even though the program has made over $400 million in improper payments since 2005, according to government audits. ... Head Start's improper payments seem minor compared to the Medicaid program, which made improper payments of $12.9 billion in FY 2007, the GAO said.

Time to face failure of Head Start. Washington has spent hundreds of billions on Head Start as a Great Society program designed to ensure that at-risk kids from poor and minority communities start school on an equal footing with those from other neighborhoods. For years, nobody questioned Head Start's efficacy, but in 1997 a Clinton administration advisory panel recommended that funding be approved for the Head Start Impact Study. ... The study found that Head Start "has no demonstrable impact on [students'] academic, socio-emotional, or health status at the end of first grade."

Head Start rife with enrollment fraud. An undercover investigation into the federal government's Head Start program has found enough enrollment abuses to generate a report to President Obama and a major damage-control effort by the agency that runs the program. At a hearing Tuesday [5/18/2010], members of the House Education and Labor Committee heard dramatic audio clips of fraud being taken by Government Accountability Office (GAO) agents. In one clip, a New Jersey Head Start worker handed back a $23,000 pay stub to two agents who were pretending to enroll their children in the preschool program.

Head Start: Can a Failed Program Ever Be Killed? To grasp the scope of this program's profligacy, compare the federal government's attempts at early-childhood education to its efforts to send men to the moon: Head Start has actually cost more ($170 billion to $145 billion) than the Apollo program.

Politicizing Preschool: Does Head Start provide lasting benefits? In 1965, President Lyndon Johnson created Head Start, the first national preschool and childcare program serving low-income children. Nearly 45 years later, the federal government has spent more than $100 billion on it. With annual funding of approximately $7 billion, Head Start currently spends at least $7,300 annually on each of the 900,000 low-income children served. For more than a decade, Congress has been trying to figure out whether Head Start has provided lasting benefits for participating children. In 1997, the GAO reviewed the available literature on Head Start's impact and concluded that body of research was inadequate for drawing conclusions about the program's effectiveness.

Higher (Priced) Education. How is it that Americans who lived hard scrabble lives 150 years ago could read, write, do math problems and quote at length from Shakespeare and the Bible, while today, in spite of "Sesame Street," pre-school, Operation Head Start, computers and mind-numbing hours of homework, millions of youngsters entering college can do none of those things? It seems obvious to me that our education system, which costs us billions and billions of dollars, is a wreck.

12 Policies that Undermine Civil Society. [#1] Massive Expansion of the Welfare State. Within his first two years in office, President Obama will have increased spending on means-tested programs for the poor by 30 percent, and over the next decade he will spend $10.3 trillion on welfare programs alone. These are programs such as food stamps, Medicaid, housing, and Head Start that are targeted at low-income people. In addition to increased spending, the President and Congress are widening eligibility for the programs so that more people will qualify. Government-sponsored welfare programs do little to actually help move families from a position of dependence to self-sufficiency.

The "War on Poverty" Turns 40. In his State of the Union address forty years ago this week, President Lyndon B. Johnson declared an "unconditional war on poverty in America." Since then, the federal government has created vast new bureaucracies and raised taxes to a staggering level not seen since World War Two. LBJ helped create welfare (AFDC), Medicare, Head Start, the Job Corps, and Medicaid. Worst of all, most of LBJ's War on Poverty was a failure.

Impervious to Evidence. Like most liberals, [E.J.] Dionne is enchanted with the idea of Head Start — the romance of a government program that would provide care, nutrition, education, and skills to impoverished preschoolers in order to erase, to the degree possible, the handicaps poverty imposes. That was the idea in 1965, when Head Start was founded. Lyndon Johnson declared, upon signing the enabling bill that "Today, we reach out to five and half million children held behind their more fortunate schoolmates by the dragging anchor of poverty." Head Start, he promised, would be their "passport" out. It would have been worth the $166 billion taxpayers have spent on the program since 1965 if a significant portion of Head Start alumni did improve their educational outcomes and escape poverty. But that did not happen. As any number of studies have demonstrated over the years, the effects of Head Start are modest to nugatory.

Head Start Racked by Failure and Fraud. [Scroll down] Cutting Head Start doesn't make sense? What really doesn't make sense is that at a time when the President has said, "We've got to live within our means" and "get serious about managing our budget," he then draws a line in the sand over an agency on which, Congress, without seeing any solid results, has spent $167.5 billion from its founding in 1965 as part of Lyndon Johnson's Great Society until two years ago. Head Start, which was designed to boost disadvantaged children before they enter elementary school never had a thorough evaluation of its effectiveness until Congress mandated one in 1998.

Rep. Joe Walsh Blasts Obama's $1B for Head Start. As a study by the Congressional Research Service (CRS) earlier this year clearly points out, Head Start is by no means financially strapped, in spite of the critical assessments it received in 2010. According to the CRS study, "The FY2012 President's Budget, released on February 14, 2011, requests $8.1 billion for Head Start for FY2012, an increase of roughly $866 million over the program's FY2010 funding level of $7.2 billion". The same study noted that the program expanded under the American Recovery and Reinvestment Act (ARRA, P.L. 111-5), which appropriated $2.1 billion for Head Start and Early Head Start in FY2009."

Turns Out Head Start's as Bad as It Always Was. While dining out with my wife some time ago, I found myself waxing poetic about the latest government offense: the folly of dumping additional billions of dollars into the ancient Head Start program, naturally as part of the President Obama's voluminous economic stimulus plan. Studies have revealed, I explained, that children who participated in this 46-year-old multi-multi-multi-billion-dollar "educational" program exhibit no better academic achievement than do children from the same socioeconomic background who did not make use of Head Start.

The Buck Always Stops with Taxpayers. Since Obama took office a short three weeks ago, he has proposed a second $1 trillion "stimulus package," which reads like the greatest pork orgy in human history, and makes FDR's New Deal look like a Raw Deal for Americans permanently affixed to the public teat. [It includes]
$1.2 billion in grants to states for youth summer jobs programs and other activities
$2 billion in Child Care and Development Block Grants for states
$1 billion for Head Start programs
$1.1 billion for Early Head Start programs
$1.5 billion in homeless prevention activities

True Cost of Stimulus: $3.27 Trillion. All of the major news outlets are reporting that the stimulus bill voted out of conference committee last night [2/11/2009] has a meager $789 billion price tag. This number is pure fantasy. No one believes that the increased funding for programs the left loves like Head Start, Medicaid, COBRA, and the Earned Income Tax Credit is in any way temporary.

Ten Reasons Why the "Economic Stimulus" Should Not Include Education Spending. The draft American Recovery and Reinvestment Act calls for an unprecedented increase in federal education funding. The proposed legislation includes at least $142 billion in new federal funds to be disbursed over the next two years — nearly double the total outlays of the U.S. Department of Education in 2007. It nearly matches the level of all on-budget federal funds for education in 2006: $166.5 billion. ... The package provides funding increases for early childhood education and care programs. Specifically, the proposal calls for $2.1 billion in new funds for Head Start.

The Editor says...
The Head Start program is already a bottomless pit which cost the taxpayers $6,441,044,000 in FY 2003. [Source: page 119 of this document.]

Jump to Money Down the Drain
Back to the Home page