Overview:
'Progressive' = the New Nazi. Comments by Rep. Ilhan Omar, Rep. Jim Clyburn and Rep. Rashida Tlaib display contempt for Jews — in Rep. Clyburn's case, for victims of the Holocaust. Heavily Democratic legislatures in New York, Illinois and Virginia perpetuate the wanton destruction of human life by passing laws allowing abortion to the moment of birth. In Virginia, Democratic Gov. Ralph Northam said a woman can choose whether a baby who survived a botched abortion should live. False flags are cynically organized to delude the unsuspecting and promote an agenda. Behind those developments is the pervasive identity politics that defines some groups as inherently better than others. In those four areas — anti-Semitism, genocide, false flags and identity politics — do "democratic socialists" and Nazis share more than the former want to admit. Contempt for Jews is not limited to Nazis or "democratic socialists." But by embracing Islam in their politics of "diversity" and "inclusion," the "democratic socialists" tolerate Islam's anti-Semitism.
The emergence of the Congressional Pogrom Caucus. It is clear that anti-Semitism in the United States has become a social movement that is swiftly metastasizing into mainstream institutional politics. It has captured large sections of the Democratic Party, especially its progressive wing, and essentially taken over America's institutions of higher learning. It is ubiquitous in the activism that drives left-wing politics in the U.S. It has taken to the streets in the form of the May 2021 pogrom committed by Muslim-Americans. And it has now entered Congress, the citadel of American democracy itself.
Buffalo shooter's manifesto shows the cross-pollination between Right and Left antisemitism. Payton Gendron, the 18 year old white supremacist who targeted Black people as he murdered 10 at a Buffalo supermarket last weekend, wrote a 180 page manifesto where laid out his bizarre philosophy. The document is divided into three major sections. The first describes Gendron's racial theories, the second describes in detail his preparations for the massacre, and the third is his call to action for white people. For the most part, his racial theories are copy/pastes from far Right websites. He does not have any real original thoughts.
Ilhan Omar Lets Her Anti-Semitism Slip Again. Shireen Abu Akleh, a reporter for Al Jazeera, was killed by a bullet Wednesday as the Israeli Defense Forces (IDF) hunted for jihad terrorists in Jenin. That much is certain. But who actually fired the bullet is a matter of significant dispute. The Palestinians claim that the IDF shot Abu Akleh in cold blood; however, Palestinians were firing guns in the area at the time as well. Palestinian leaders have rebuffed Israeli requests for a joint investigation and even refused to allow Israeli officials to examine the bullet that killed Abu Akleh, despite the fact that such an examination would likely definitively establish who is responsible for her death. But there is one person who is absolutely certain about who killed Abu Akleh: Rep. Ilhan Omar (D-Ramallah), who tweeted on Wednesday with serene certainty about this matter that is so difficult and troubling to everyone else.
The Entire BDS Movement is a Fraud. The express purpose of the Arab League's Resolution 1547 was to weaponize displaced Palestinian Arabs against Israel. This is incontrovertible and damning evidence that every single organization and business that is involved in the anti-Israel boycott, divestment, and sanctions (BDS) movement is at best a stooge and enabler, if not a willful participant, in an international fraud that abuses the trust of the entire international community to support the agenda of terrorists.
Under Federal Scrutiny, NYU Law School Faces Uproar Over Anti-Semitism. New York University School of Law may be legally obligated to punish some of its star students after nearly a dozen student groups signed a statement that defended terrorist attacks on Israeli civilians and bemoaned the "Zionist grip on the media." The statement, drafted by NYU Law School's chapter of Students for Justice in Palestine, has elicited harassment complaints from Jewish students who say that the letter — and some of the responses it sparked from students — constituted vicious anti-Semitic attacks. [...] NYU may have no choice but to punish these students because the university in 2020 agreed to adopt a zero-tolerance policy toward anti-Semitism as part of a settlement with the Department of Education's civil rights office, which was investigating a string of anti-Semitic incidents at the elite scool.
US offering $1 million to report on Israeli human rights violations. The US State Department has offered a grant of up to $987,654 for projects that include reporting human rights violations by Israel, raising concern about the potential for abuse by organizations seeking boycotts, sanctions and international law tribunals against Israel. The Bureau of Democracy, Human Rights and Labor (DRL) announced "an open competition for projects that strengthen accountability and human rights in Israel and the West Bank and Gaza" last month, thought to be the first of its kind from Washington. The proposals are meant to "collect, archive and maintain human rights documentation to support justice and accountability and civil society-led advocacy efforts, which may include documentation of legal or security sector violations and housing, land and property rights."
Environmentalists Give in to Anti-Semitic Pressure Campaign, Cancel Israel Trip. The environmentalist group Sierra Club has scrapped scheduled trips to Israel under pressure from left-wing anti-Israel organizations. In an email distributed by the group and obtained by the Jewish News of Northern California, the Sierra Club announced that it was canceling the trips after facing accusations from activists that it was "greenwashing the conflict" and "providing legitimacy to the Israeli state, which is engaged in apartheid against the Palestinian people."
How the Biden Administration Is Funding the Effort To Delegitimize Israel. The Biden administration is offering nearly $1 million for groups to investigate alleged human rights abuses in Israel, the West Bank, and the Gaza Strip, an effort that will delegitimize Israel, according to sources who spoke to the Washington Free Beacon. The State Department's Bureau of Democracy, Human Rights, and Labor (DRL) is soliciting nonprofit groups to apply for grant money up to $987,654 to "strengthen accountability and human rights in Israel and the West Bank and Gaza," according to a grant notice first posted online in mid-February. Groups applying for the grant money will investigate alleged crimes inside Israel and these territories and "collect, archive, and maintain human rights documentation to support justice and accountability and civil society-led advocacy efforts, which may include documentation of legal or security sector violations and housing, land, and property rights," according to the State Department.
BLM activist Quintez Brown who was arrested for trying to kill a Jewish mayoral candidate showed 'allegiance to anti-Semitic causes' on his social media accounts. A Black Lives Matter activist who was charged with attempted murder last week following an alleged assassination attempt on a Jewish mayoral candidate exhibited anti-Semitic views on social media. Quintez Brown, 21, was arrested and charged with attempted murder shortly after Monday's shooting in Louisville, Kentucky, in which Democratic candidate Craig Greenberg narrowly avoided the bullet. But he was released from prison and placed under house arrest just two days after the shooting when a BLM chapter, the Louisville Community Bail Fund, posted his $100,000 bond.
BLM privilege & Jan. 6 capitol riot ignominy. When prominent young far-left activist Quintez Brown was arrested last week for allegedly trying to assassinate a Jewish mayoral candidate in Kentucky, he was portrayed sympathetically by the media and immediately bailed out of jail by his Black Lives Matter comrades, who crowdfunded the $100,000 cost. Brown, 21, had BLM privilege. A celebrated gun control advocate, anointed as a rising star by the Obama Foundation, he was an honored guest on Joy Reid's MSNBC show. He was granted a biweekly opinion column in the Louisville Courier-Journal to spew boilerplate leftist, race-based, anti-cop sentiment. And according to Andy Ngo, author of "Unmasked," the definitive Antifa expose, Brown's social media accounts show a disturbing allegiance to anti-Semitic causes, such as the Lion Of Judah Armed Forces, an armed black nationalist group that is linked to the virulently anti-Semitic Black Hebrew Israelites.
Pramila Jayapal Accused Israel of 'War Crimes' After Visiting Holocaust Museum. "Progressive" caucus leader Rep. Pramila Jayapal (D-WA) accused Israel of "war crimes" shortly after visiting Yad Vashem, Israel's Holocaust memorial, prompting then-U.S. Ambassador David Friedman to walk out of a meeting with her in 2018. The story is told in Friedman's new memoir, [...] set to be released on February 8 by HarperCollins. Friedman was opposed by many Democrats, but met with congressional delegations when they came to Israel — except, he notes, left-wing Reps. Ilhan Omar (D-MN) and Rashida Tlaib (D-MI), whom Israel barred because of an Israeli law preventing those who advocate boycotts of Israel from entering the country. Jayapal and several other Democrats had been touring Israel with a group sponsored by J Street, a controversial, George Soros-backed left-wing organization that opposes many pro-Israeli policies.
Whoopi Goldberg believes the Holocaust was not racist. [Scroll down] Whoopi later issued the requisite "apology." She emphasized that she wasn't just pretending to apologize. She really, truly was "sorry for the hurt I have caused." Mollified, her bosses at Disney where they're canceling the seven dwarfs suspended her for two weeks. Two weeks? Imagine if a Republican said such a thing. If Whoopi's words were simply a misspeak — they didn't reflect her thoughts, sort of like when a person says "left" but means "right" — then two weeks punishment is too much. If she actually believed her words, however, then even two decades is too little. I suspect it's the latter. I'll stipulate that she is really, truly sorry. Not for what she believes, but for saying it. The question, then, is how could she believe such a thing? The reason she believes such a thing is because she wants to, and the reason she wants to is because it serves her purposes. She wants to believe that she and other blacks, and only blacks, are racism victims.
ADL Hires Director for Jewish Outreach Who Hates Jews. After the Hamas, kidnapping and murder of three Israeli Jewish teens, resulting in Israeli forces aggressively pursuing the Islamic terrorist group over the horrifying atrocity, Tema Smith retweeted and praised an article titled, "There Are No Good Guys In The Gaza-Israel Conflict". The article, among other things, claimed that, "Hamas — and the Palestinians as a whole — have desperately real and legitimate grievances against Israel." She also retweeted another piece urging Jews to, "repent for Gaza's dead." "Here's the thing: Jews *have* to be ok with Palestinians *explaining* why some turn to terrorism," Tema Smith insisted two years ago. Now, the ADL has chosen Tema Smith as its Director of Jewish Outreach.
Whoopi Goldberg reveals herself as an antisemitic ignoramus. Whoopi Goldberg (born Caryn Johnson and most decidedly not Jewish), de-Judaized the Holocaust, a strikingly antisemitic act. After a deserved uproar, she apologized but that's not good enough. Just as Sharon Osborne and Roseanne Barr got fired for offending racial shibboleths, Goldberg needs to go. Goldberg a staple on The View, a show in which several inane left-wing women loudly opine about the issues of the day, dismissed the Holocaust as a uniquely Jewish event and, essentially said that a lot of people died during World War II, so the Jews shouldn't make it all about themselves. And by saying it was a White-on-White crime, she obliquely asserted an argument I've heard from Blacks, which is that Blacks suffered slavery for centuries in America, so the Jews shouldn't make such a big deal about the few years of the Holocaust.
Hollywood and Anti-Semitism. One of the existing mysteries is why actors and celebrities, whose job is to misrepresent people and actions, are taken seriously when they pontificate on political, social, and economic events. The most recent example is the outburst of support from film professionals speaking out in support of Emma Watson, the British actress born in Paris, who shot to stardom as Hermione Granger in Harry Potter movies, and has become a well-known actress. Watson, an outspoken feminist who has declared Barack Obama as one of her heroes, issued an Instagram post, illustrating a pro-Palestinian political rally featuring Palestinian flags, overlaid with the words, "Solidarity is a verb." [...] The usual Hollywood suspects, fellow members of Free Palestine, came out in support of Watson. First, it is important to point out that almost all these more than 40 suspects from the film world are always willing to support a cause or petition that is anti-Israeli in nature, but apparently do not discern any problems from the other 92 countries in the world that deserve censure.
AOC Staffer: Israel [is] a 'Racist European Ethnostate Built on Stolen Land'. One of Rep. Alexandria Ocasio-Cortez's (D-NY) staffers called Israel a "racist European ethnostate built on stolen land" in one of his social media posts. Hussain Altamimi is a legislative assistant to Rep. Ocasio-Cortez, who joined the office last month. He reportedly shared a picture of himself with the Congresswoman on Instagram, adding the caption, "New beginnings," in November.
Being Pro-Palestinian Actually Means Being Anti-Israel. Writing in 2009 about the Israeli/Palestinian conflict, the insightful Palestinian/Israeli journalist Khaled Abu Toameh observed that, "What is happening on the U.S. campuses is not about supporting the Palestinians as much as it is about promoting hatred for the Jewish state. It is not really about ending the 'occupation,'" he wrote, "as much as it is about ending the existence of Israel." And that is what those who observe the campus activism against Israel have never fully understood: that being pro-Palestinian, by definition, means being anti-Israel.
The Real Intersectional Struggle: Civilization against Savagery. The political left uses the term "intersectionality" to depict all members of advanced and largely Westernized societies as oppressors and all non-white people and residents of third-world countries as oppressees. Slaves in the antebellum United States, black Americans under Jim Crow laws, and Palestinians are now one and the same. Zionism is racism, Israel equals Simon Legree, and Black Lives Matter rallies feature Palestinian flags along with anti-Israel and anti-Semitic hate speech. "Israel, we know you, you murder children, too." BLM supporter Marc Lamont Hill added that the group supports dismantling Israel. The Movement for Black Lives, meanwhile, depicted Israel as an "apartheid state" and accused it of genocide. BLM leader Patrisse Cullors, while speaking in her capacity as a co-founder of BLM as opposed to on her own behalf, called to "end the imperialist project that's called Israel." The International Holocaust Remembrance Alliance includes in its definition of anti-Semitism, "Denying the Jewish people their right to self-determination, e.g., by claiming that the existence of a State of Israel is a racist endeavor." Black Lives Matter therefore appears to fit the IHRA definition of an anti-Semitic organization.
Jewish leaders worry about rising antisemitism from the left. Jewish leaders say they are on edge about a rise in antisemitism from the political left in the U.S. The recent spate of hate directed at Jews ranges from people asked to leave public events for looking "visibly Jewish" to sharp anti-Israel stances in Congress to descendants of the Holocaust being accused of supporting genocide. There has been "a slow but steady, unmistakable rise of antisemitism among progressive groups," Jonathan A. Greenblatt, CEO and national director of the Anti-Defamation League of B'nai B'rith, recently wrote in an op-ed in The Washington Post. He felt compelled to write the article after a liberal environmental group refused to participate in a voting rights rally because Jewish groups were going to be there.
Democrats' Antisemitism: It's Not Just the Squad, it's the Entire Party. Democrats claim that "it's just the Squad," but it is time to say the quiet part out loud. From remaining silent on the antisemitic Iran Deal to not supporting the U.S. embassy move, to re-instating funding to the Palestinian Authority and Hamas, supporting the antisemitic Black Lives Matter — it's the whole [...] party. In the Democrat party's latest unsurprising political stab against Israel, on Sept. 21st, House Democrats voted against funding Israel's Iron Dome missile defense system; $6.3 billion for African refugees remained in place. The Iron Dome has prevented not just the deaths of numerous Jews, Muslims, and Christians living in the only Jewish country, but averted more frequent large-scale defense wars with two of Iran's proxies: Hamas and Islamic Jihad. Though the Iron Dome will continue to be funded via a stand-alone bill that was passed days later, the Democrats are solidifying their hatred of Jews, both in Israel and domestically. A "moderate" Democrat who has a massive history of antisemitism currently occupies the White House.
Kamala Harris applauds student, who accused Israel of 'ethnic genocide,' for speaking 'your truth'. Vice President Kamala Harris nodded while a student accused Israel of ethnic genocide and then responded by saying the student's "truth should not be suppressed." After speaking at George Mason University in Fairfax, Virginia, to commemorate National Voter Registration Day on Tuesday [9/28/2021], Harris took questions from the audience. That's when a female student raised questions about the money the U.S. is providing to Israel and Saudi Arabia.
Kamala Harris nods, lauds student accusing Israel of 'ethnic genocide' for speaking her truth. It's not like key members of the Biden administration go out of the way to hide their hard-left views on most issues, but every once in a while the extreme nature of their beliefs shines through for all to see. Nowhere is this more apparent than with Israel, as seen Tuesday [9/28/2021] when Vice President Kamala Harris visited George Mason University in northern Virginia to mark National Voter Registration Day. After addressing a class, the vice president took questions from students and praised a student who accused Israel of committing "ethnic genocide," telling her that "your truth should not be suppressed." The student identified herself as "part-Yemeni, part-Iranian" and said that "a lot of taxpayer money is allocated for funding the military, whether it's in backing Saudi Arabia or in Palestine," according to the New York Post.
Why Your Otherwise Smart Friends Think Stupid Things. To those of us paying attention, the shift to anti-Semitism from a not insignificant part of the Democratic party is unmistakable. But, probably because they share that view, the publishers of the New York Times have gone to some pains to disguise this. This week, the effort by Alexandria Ocasio-Cortez, her squad, and their hangers-on to strip from the budget funds for Israel's Iron Dome, a major defensive weapon against rocket attacks, went down in defeat. The Times carried a quote from her on the loss in their print edition, which they later renoved from the online editions: "NYT Removes Line Saying AOC Changed Iron Dome Vote Because of "Influential Lobbyists and Rabbis."
Democrat Rep Delivers Surprise Shellacking of Rashida Tlaib's Anti-Semitism. While Democrat infighting has been a common occurrence since the beginning of the Biden administration, there have still been areas that have seemed to be "off-limits." One of those is going after members of the "squad," specifically those who are rabidly anti-Semitic. So while you'd get some denunciations of anti-Semitic things Ilhan Omar said, for example, those denunciations from her colleagues were always couched in weasel language that never truly got to the point. Perhaps that's changing? As RedState reported earlier, the lunatics came out to play during the vote on funding for Israel's Iron Dome, including Alexandria Ocasio-Cortez breaking down into tears. But Rashida Tlaib's speech was easily the most disgusting response.
Anti-Semite Sharpton Says Dems Have Asked Him To Run For NY Governor. Anti-Semite Rev. Al Sharpton has reportedly been asked by multiple people about running for New York governor in 2022. The New York Times reports Sharpton, a weekend host for MSNBC and a former 2004 Democratic presidential candidate, has been approached by associates of state Attorney General Letitia James, Mayor Bill de Blasio, Comptroller Thomas P. DiNapoli and Rep. Thomas Suozzi to run in next year's race amid the fallout of Gov. Andrew Cuomo's misconduct allegations. Sharpton's name has emerged as Cuomo continues to lose support from high-profile Democratic politicians, including President Joe Biden and House Speaker Nancy Pelosi, and 70% of New Yorkers believe Cuomo should resign. For those that are unaware, or need a reminder, Shaprton is the rabid anti-Semite, who fueled the Crown Heights riots 27 years ago that ended with the murder of Yankel Rosenbaum HY"D.
Ilhan Omar Knows What She's Doing. The Jews can never seem to live up to Rep. Ilhan Omar's (D., Minn.) exacting standards. The Minnesota congresswoman's latest broadside came Tuesday afternoon, when she told CNN's Jake Tapper that her Jewish Democratic colleagues "haven't been partners in justice" and have yet to apologize for their allegedly Islamophobic comments. Omar's statement came after Tapper asked whether she regrets her comments last month comparing the United States and Israel with terrorist organizations like Hamas and the Taliban. Her answer was unequivocal: "I don't." That's funny, because Omar at the time "clarified" that statement, which elicited a rebuke from Democratic leaders and a dozen Jewish Democrats, saying that she did not say what in fact she said: "I was in no way equating terrorist organizations with democratic countries." To be clear, she also believes Israel is a terrorist nation.
Omar blasted for remarks about Jews in Congress: 'This is what a modern day Muslim Supremacist looks like'. Rep. Ilhan Omar's latest remarks about Israel and Jewish members of Congress have sparked backlash, as the Minnesota Democrat expressed zero regret for comparing Israel to Hamas and the Taliban. In a CNN interview on Tuesday, Omar said she does not regret her tweet from earlier this month in which she lumped Israel, the U.S., Hamas, and the Taliban together. When asked if she knows why fellow Democrats — particularly Jews — found previous comments of hers about Israel to be anti-Semitic, Omar accused them of not being "partners in justice" while claiming that she herself "knows what it feels like to experience injustice in ways that many of my colleagues don't."
Today's blacklisted American: International food festival bans Israeli vendor for being Jewish. Persecution is now cool! An international food festival in Philadelphia decided to ban an Israeli food truck, Moshava Philadephia, in response of the many threats of physical violence it received if the Jewish vendor was allowed to attend. The backlash to this bigoted decision was so immediate that the organizations putting together the food festival, called "Eat up the Borders" and "Sunflower Philly", decided to cancel the entire event rather than back down and allow a Jew to sell food there.
Black Lives Matter Promoted the Destruction of Israel. It came to light during the past couple of months that Black Lives Matter Global Network's co-founder Patrisse Cullors called for the destruction of Israel in 2015 — an agenda shared by the terrorist group Hamas. The Daily Mail is not a particularly reliable source, but Cullors speaks for herself in the linked YouTube video. [...] No decent person or organization can continue to associate with an entity that advocates the actual destruction of the world's only Jewish-majority nation, and this includes (1) the Democratic Party, (2) corporations that support BLM and/or allow their workers to wear BLM attire on the job, and (3) universities such as Hardin-Simmons. In fairness to Starbucks, however, the company probably did not know about Cullors's reprehensible statements. Neither did I until recently. While BLM has not gone so far as to voice support for the terrorist organization Hamas, it has nonetheless shilled for Hamas by referring to Israel as "settler colonialism."
Street Violence as a Political Tool. This week, pro-Palestinian demonstrators auditioned for the chance to join already established Democratic Party militias antifa and Black Lives Matter by attacking Jews in New York and Los Angeles. Apologists for the violence reason that the demonstrators are angry about the deaths of innocent Palestinian babies under Israeli fire in Gaza so they're taking their frustrations — admittedly misplaced! — out on American Jews. That is not what's happening. Who knows how many of the activists waving the Palestinian flag as they beat Jews and detonate fireworks in front of Jewish-owned businesses are genuinely Palestinian Americans? Maybe some aren't even Arab or Muslim, but that's irrelevant — they are staking their claim to recruit, promote, and represent Arabs and Muslims as an interest group. And so the flag they're really flying isn't for the Palestinians but rather for the Democratic Party.
Google's head of diversity is slammed for saying 'Jews have insatiable appetite for war and killing' in 2007 blog post. Google's head of diversity has been slammed for writing that Jews have an 'insatiable appetite for war and killing' and arguing they should have more 'compassion' because of the Holocaust. Kamau Bobb, who is also an 'Equity in Computing' don at Georgia Tech, wrote a 2007 blog post, which remains on his website, titled: 'If I Were A Jew.' Bobb writes: 'If I were a Jew I would be concerned about my insatiable appetite for war and killing in defense of myself. Self defense is undoubtedly an instinct, but I would be afraid of my increasing insensitivity to the suffering of others.'
Watch BLM co-founder explicitly call for 'the end' of Israel. Patrisse Cullors, the co-founder of the radical leftist organization Black Lives Matter, is on video calling for the end to Israel. The National Pulse uncovered the video clip that dates back to 2015. She's appearing on a panel called "Globalizing Ferguson: Racialized Policing and International Resistance," which was organized by Harvard's Human Rights Program. She said, "Palestine is our generation's South Africa, and if we don't step up boldly and courageously to end the imperialist project that's called Israel, we're doomed."
Biden and the Dems' Situational Racism. [Scroll down] Enter next-generation Democratic Kluxers like Ilhan Ilhan Omar of Minnesota, who calls Israel a "terrorist state," and Rashida Tlaib of Michigan, who accused Israel of "human rights violations" in a recent tweet regarding its attempt to defend its humans against violations of their lives. Omar has also accused Jewish Americans of being loyal to Israel first, of money-grubbing and compared the boycotting of Israel to the boycotting of Nazi Germany in the 1930s. Tlaib has been under fire for suggesting that Israel cease to exist altogether. There is also Alexandria Ocasio-Cortez, leader of this "squad" of anti-Semites, who has styled Israel an "Apartheid state" for fighting back against the recent attacks upon it by terrorist bands, including the Hamas, which has been occupying (and terrorizing) the Gaza strip adjacent to Israel, along the Mediterranean Sea.
Dumb and getting dumber. While Iranian sponsored Hamas terrorists were firing more than 4,000 rockets at Israel civilians, the McBeth-like quartet of the Weird Sister Witches, Alexandria Ocasio-Cortez (D-NY), Ilhan Omar (D-MN), Ayanna Pressley (D-MA) and Rashida Tlaib (D-MI) and dumber-than-a-barrel-of-hair Bernie Sanders, jointly condemned Israel for defending itself and fighting back. They attempted to block Biden from sending Israel $730 million in arms. While sending $10million to Hamas, Biden went out of his way to praise the most outrageous loon, Tlaib, who in an interview broadcast on MSNBC, claimed Washington was "taking orders" from Netanyahu. She added that Biden should condemn Israel's military actions. Meanwhile BLM-like mobs of vile crackpots waving Palestinian flags prowl American cities attacking Jewish people and synagogues like it was Kristallnacht 1938 in Germany. One of the advantages of being a Democrat is that you can lie, commit crimes, sellout part of your base, and bomb people, and the party still thinks you're terrific.
The Deterioration of Democratic Support for Israel. The fragile truce that remains in effect between Hamas and Israel follows eleven days of Israel enduring the worst violence it has witnessed in years, with Iranian proxies in Gaza launching over 4,000 rockets towards Israeli cities and terrorizing its citizens. The conflict also revealed the fraying support among Democrats in Congress, a growing number of who struck a tone of moral relativism and concentrated their efforts on criticizing Israel's defensive actions rather than Hamas' terrorist aggressions. The recent introduction of legislation targeting Israel also underscores the ever-increasing political potency of congresswomen Rashida Tlaib (MI), Ilhan Omar (MN), and other members of "the Squad," whose distorted positions against Israel has weakened the resolve of others within the Democratic party to speak out in support of Israel. Last Thursday [5/20/2021], House Democrats unanimously rejected a Republican effort led by Congressman Tony Gonzales (TX) to provide Israel with emergency security funding following the depletion of its Iron Dome system. The 218-209 vote against the Gonzales measure was preceded two days earlier by House Democrats halting consideration of legislation that would apply sanctions to foreign entities known to do business with Hamas.
The media and Democrats [are hiding] the digusting anti-semitism within the Democrat Party. [Thread reader] At a time when the Socialist Democrats and the Jihad Squad are supporting terrorists Hamas, and their supporters are attacking Jewish people on the streets of America, it's never been more important than now to stand up against forced vaccinations and mask mandates that the left is using to discriminate against Americans who refuse to comply. Their attempts to shame, ostracize, and brand Americans who choose not to get vaccinated or wear a mask are reminiscent of the great tyrants of history who did the same to those who would not comply. And everyone feeding into it is allowing them to hide the truth, which is the disgusting anti-semitism within the Democrat Party. The Democrats are the party of division, hate, critical race theory (pure racism), discrimination, totalitarianism, socialism, globalism, gender destruction, BDS, defunding our police, and ANTIFA / BLM terrorists.
Elite anti-Semitism at the Boston Globe. Some people think the vicious attacks on Jews happen only in Times Square or in Los Angeles restaurants. Not so. They think the apologists for these crimes are limited to the Squad and extreme leftists, some of whom actually tweeted it is wrong even to condemn anti-Semitism. That sewer of hatred would be dreadful enough, but the problem is bigger than that. The thugs on the street have some ideological backing from the mainstream media and, of course, universities. Take a truly noxious cartoon in the Boston Globe, one of America's most prominent newspapers. It appeared in the May 22 print edition (page A9) and online on May 21. The drawing and text by Christopher Weyant efficiently consolidated elite hatred of Israel and Jews into a neat, toxic mix. It is shameful that the Boston Globe printed it and tried to ensure its national distribution by posting it as an official newspaper tweet.
17,000 tweet 'Hitler was right,' and Big Tech barely reacts. Yesterday afternoon [5/23/2021], the phrase #FireMeghanMcCain was trending on Twitter. What terrible, awful thing had she said to warrant trending on Twitter? The co-host of "The View" had done something few others have: decried an alarming spike in anti-Semitism. It's not surprising, if you're familiar with Twitter, to see how an outspoken defender of the Jewish people may find herself in its cross hairs. This is a place where variations of the phrase "Hitler was right" were posted more than 17,000 times (according to the Anti-Defamation League) in just a one-week span in May. As in-person violence against Jews has spiked, so too has hatred against Jews online. They are not disconnected phenomena, but part of the same ecosystem of hate that has blossomed along with the increase in tensions in the Middle East.
Inside the Dems' betrayal of Israel. As presidential press releases go, this one was very short and enormously consequential. Eleven minutes after Israel declared its independence on May 14, 1948, the White House issued a two-sentence statement. The first said simply, "This Government has been informed that a Jewish state has been proclaimed in Palestine and recognition has been requested by the provisional Government thereof." The second sentence made history: "The United States recognizes the provisional government as the de facto authority of the State of Israel." It was signed "Harry Truman." The president's decision made America the first country to recognize the new nation and made him a hero to Jews around the world. It also helped make the Democrat Party a reliable ally of Israel for decades as war after war threatened its survival. Unfortunately, Truman would not recognize his party today.
New York's pro-Israel Dems [are being] bullied into silence by AOC, Jewish activists say. Jewish activists accused powerful Democrats in the New York congressional delegation of cowering to Rep. Alexandria Ocasio-Cortez and other leftist House members of the "Squad" by failing to forcefully stand up for Israel during its fight with Hamas in the Gaza strip. "Chuck Schumer? Who?," a frustrated Michael Nussbaum, president of the Queens Council of Jewish Organizations, said sarcastically of the powerful Senate majority leader who represents New York. "I'm surprised and disappointed. Members of the New York congressional delegation who have a lot of sway have not spoken out forcefully to defend Israel, and they have not denounced AOC or corrected her," said Nussbaum.
The Prevalence of Antisemitism. Antisemitism is the canary in the coal mine of hatred. Throughout the years and in a unique manner, Jews have experienced prejudice, discrimination, critical stereotypes, exclusion, accusations of conspiracy theories, and extermination. Modern societies must reject the view, as the British education secretary said, that antisemitism is a less serious or more acceptable form of racism.
Ilhan Omar Throws a Hissy Fit Over Being Criticized for Israel Remarks. Rep. Ilhan Omar (D-MN) is miffed. Apparently, Facebook has taken a rare departure from ensuring that only the most complimentary of ads regarding Democrats are displayed on its platform and allowed an organization to criticize the lawmaker for her stance on the hostilities between Israel and the Palestinians. Omar's office demanded that the social media giant remove an ad posted on its platform by the American Israel Public Affairs Committee (AIPAC) that features the lawmaker's face on Hamas rockets and says, "When Israel Targets Hamas Rep. Omar calls it an 'act of terrorism.'" Last week, Omar tweeted: "Israeli air strikes killing civilians in Gaza is an act of terrorism."
Why Does the Left Hate Israel? As over 3,000 rockets are fired into Israel by Hamas, the establishment of the Democratic Party seems paralyzed over how to respond to the latest Middle East war. It is not just that they fear that the squad, Black Lives Matter, the shock troops of Antifa, and the woke institutions such as professional sports, academia, and the media are now unapologetically anti-Israel. They are in terror also that anti-Israelism is becoming synonymous with rank anti-Semitism. And soon the Democratic Party will end up disdained as much as was the British Labour Party under Jeremy Corbyn. The new core of the Democrats, as emblemized by Representatives Alexandria Ocasio-Cortez (D-N.Y.), Ilhan Omar (D-Minn.), and Rashida Tlaib (D-Mich.), has in the past questioned the patriotism of American Jews who support Israel, and often has had to apologize for puerile anti-Semitic rants.
Pro-Palestinian Activists In Los Angeles Hunt Down And Assault Jews. Authorities are investigating whether an attack on diners that occurred outside a Beverly Grove restaurant late Tuesday night [5/18/2021] was a Jewish hate crime. The brawl occurred a little before 10 p.m. outside Sushi Fumi in the 300 block of North La Cienega Boulevard. Witnesses said a mob of pro-Palestinians attacked a group of Jewish men who were dining at the restaurant. Cell phone video showed a group of men get out of the car and start to attack them while yelling anti-Semitic slurs. [Video clip]
As Israel faces Hamas rocket attacks, these are its most virulent critics in Congress. With much of Congress on Israel's side as it wages a defensive war against the terrorist group Hamas, a swath of House lawmakers is expressing hostility to the Jewish state. Most of those who have consistently cast Israel-critical votes in recent years are Democrats, and they're increasingly causing headaches for their party's leadership. They're also complicating dynamics for President Joe Biden as Hamas fires thousands of rockets into Israel and the country responds with deadly strikes in Gaza. Members of the far-left "Squad," who are relatively recent additions to Congress, are among the most hostile to Israel. Democratic Reps. Alexandria Ocasio-Cortez of New York and Rashida Tlaib of Michigan on Wednesday are planning to introduce a resolution that would block a planned $735 million sale of bombs to Israel.
Dem Leaders Thwart Leftist Attempt To Delay Military Assistance to Israel. Democratic leaders convinced their colleagues on Tuesday [5/18/2021] to drop an effort championed by the party's left flank that would have delayed U.S. military assistance to Israel as the country battles Iranian-backed terrorist groups. Rep. Steny Hoyer (D., Md.), the House's second-highest-ranking Democrat, told reporters that after pressure from leadership, Rep. Gregory Meeks (D., N.Y.), chairman of the House Foreign Affairs Committee (HFAC), abandoned efforts to delay over $735 million in arms sales to Israel. The Jewish state has used such weaponry during the past two weeks to battle Hamas terrorists as they fire thousands of rockets at Israeli civilians. Hoyer is one of the party's most vocal pro-Israel voices. Meeks's bid was widely seen as part of a larger effort by Democratic leaders to placate far-left House members who continue to bash Israel and accuse the country of terrorism for conducting defensive operations.
Work of the Left: Hamas thugs assault Jewish diners in Los Angeles. [Scroll down] It's also notable that they were so confident and brazen in this assault on Jews, unworried about defunded police, unconcerned about cameras, probably liking the cameras. "Who here is Jewish?" These Hamas thugs in Los Angeles were like just those 1986 hijackers asking who was American, as if they came from the same training book. They didn't try to hide anything about what they were about, and they were confident there would be no repercussions. It's as if they were sent in, which raises questions about some kind of plan. Here's the vile thing we know for sure: they've got the full support of the left, which is openly supporting Hamas and all its violence and murder in these days as Prime Minister Bibi Netanyahu vows to wipe them out. When I hear about that restaurant assault, all I can think about is Rep. Alexandria Ocasio-Cortez's open braying for the Palestinian side, led by terrorists. Or I think about the other members of the squad, particularly Rep. Rashida Tlaib, who are even worse.
Black Lives Matter 'stands in solidarity' with Palestinians, vows to fight for 'Palestinian liberation'. The leading Black Lives Matter organization declared "solidarity with Palestinians" Monday, a week after Hamas terrorists in Gaza began firing a relentless barrage of rockets into Israel, indiscriminately shelling civilian targets as well as dropping some missiles short and blowing up buildings within its territory. "Black Lives Matter stands in solidarity with Palestinians," the group tweeted. "We are a movement committed to ending settler colonialism in all forms and will continue to advocate for Palestinian liberation. [...]" The announcement prompted a "thank you" tweet from the controversial Boycott, Divestment and Sanctions movement, or BDS, which has for years called for an economic embargo of Israel.
House Democrats Vote Against Sanctioning Hamas Terrorists. By a vote of 217-209, the House rejected a bid to bring a bill to the floor that would have applied sanctions against the terror group Hamas. The sanctions targeted foreign individuals and governments that assist Hamas or the Palestinian Islamic Jihad. Both organizations are terror groups so designated by the State Department. The bill had been introduced by Rep. Brian Mast (R-Fla.) and would have reauthorized the Palestinian International Terrorism Support Prevention Act. The act passed the House last session but failed to make it to the Senate floor.
The inconvenience of left-wing antisemitism. Last week, in New York City, there was an antisemitic march. But apparently, this march was not newsworthy. The fact that marchers attacked and bloodied a Jewish counterprotester received only limited coverage. These marchers chanted a slogan that called for the extermination of the Jewish state and compared Jews to Nazis and Hitler. Their chant was the pro-Hamas slogan "From the river to the sea, Palestine will be free." As is the case with the Hamas charter, the slogan implicitly calls for the extermination of the Jewish state, and presumably all the Jews in it. Hamas, which has fired more than 3,000 rockets at Israel in the last week, is a U.S.-designated terrorist organization with the stated objective of eliminating by terror the Jewish state. How many times has the Charlottesville parade of neo-Nazis and white supremacists chanting, "Jews will not replace us," been seen on television?
Muslim Brotherhood Praises Dems for Abandoning Israel in Time of War. The Muslim Brotherhood's official online mouthpiece offered praise this week to Democratic members of Congress who are publicly criticizing Israel as it defends itself against an onslaught of terrorist rockets. "Democratic representatives demand the protection of Palestinians from Zionist attacks," reads a headline in Ikhwan Online, the Brotherhood's official propaganda site. The jihadist extremist group, which is designated as a terror outfit in multiple countries, highlighted critical remarks about Israel's defensive operations made by outspoken opponents of the Jewish state — Reps. Ilhan Omar (D., Minn.), Rashida Tlaib (D., Mich.), Alexandria Ocasio-Cortez (D., N.Y.), Andre Carson (D., Ind.), Debbie Dingell (D., Mich.), Mark Pocan (D., Wis.), and Cori Bush (D., Mo.), as well as Sen. Bernie Sanders (I., Vt.).
AOC criticizes Biden statement of support for Israel as siding with 'occupation'. U.S. Rep. Alexandria Ocasio-Cortez, D-N.Y., criticized President Biden over his Wednesday statement of support for Israel amid escalating violence with Hamas, claiming he gave little context for what stoked the tensions and was consequently "siding with occupation." Biden told reporters Israel has a right to defend itself "when you have thousands of rockets flying into your territory." Ocasio-Cortez tweeted that Biden had failed to mention the pending evictions of dozens of Palestinians from their homes in East Jerusalem in favor of Israelis and the Israeli police raid of the Al-Aqsa mosque that left hundreds of worshippers hurt as an instigator to Hamas' rocket attacks.
Ted Cruz: Ilhan Omar Is 'Acting as Press Secretary for Hamas'. Sen. Ted Cruz (R-TX) said Monday that Rep. Ilhan Omar (D-MN) is "acting as the press secretary for Hamas," the Palestinian terror organization, after she tweeted false information about recent clashes in Gaza. Omar, who is staunchly anti-Israel, and has a history of antisemitic rhetoric, tweeted Monday: [Tweet] Omar was responding to claims by Palestinians that 20 Palestinians had been killed in Israeli airstrikes, including 9 children. What the report did not mention was that Israel claimed it had targeted and killed 11 Hamas fighters who had fired rockets at Israeli civilians. The Hamas attack was aimed at Jerusalem, where Palestinians have rioted in recent days, at the instigation of Palestinian terror groups and political leaders.
Jewish hard-left campaign manager for Democrat NYC council candidate brands Upper West Side 'too white and Jewish'. The campaign manager for a New York City council candidate has sparked backlash after suggesting the Upper West Side is too white and Jewish during a Twitter row. Quinn Mootz, who is running Sara Lind's bid, told her followers that the wealthy Manhattan neighborhood has a 'diversity problem' in now deleted tweets. She added: 'Jews are not POC [people of color] for just being jewish sorry.'
Teachers' Union Head Rips Jews in Interview on School Reopening. Union leader Randi Weingarten criticized Jews as "part of the ownership class" dedicated to denying opportunities to others in an interview released on Friday [4/2/2021]. Weingarten — who is herself Jewish and draws a six-figure salary as head of the American Federation of Teachers (AFT) — took aim at American Jews in an interview with the Jerusalem Post. When asked about parents critical of the AFT's resistance to school reopening, Weingarten took aim squarely at Jewish critics. "American Jews are now part of the ownership class," Weingarten said. "Jews were immigrants from somewhere else. And they needed the right to have public education. And they needed power to have enough income and wealth for their families that they could put their kids through college and their kids could do better than they have done." "What I hear when I hear that question is that those who are in the ownership class now want to take that ladder of opportunity away from those who do not have it," she said.
Teachers' union head blames Jews for school reopening controversy. It's finally come to this, the last refuge for scoundrels in need of scapegoats. [...] It is the teachers' unions that are denying opportunities to youngsters by keeping schools closed when private schools across the land have been open for classroom instruction with no waves of illness among students or teachers. I hope and pray that more parents will see the evil that teachers' unions are inflicting on the nation and especially the generations that have been brainwashed into support of socialism and identity politics, both of which are dead ends, while allowing substantive skills of reading and math to deteriorate, leaving America far behind its major competitors. The answer is simple: have all tax monies dedicated to education go to the parents, who can spend it enrolling their children in the schools that are best for them. They might be public schools, when they are capably managed. But they might be union- and bureaucracy-free havens that focus on academic achievement, not indoctrination.
Kamala Harris To Speak At Summit With Ties To Antisemitic Former Women's March Leader. Vice President Kamala Harris is scheduled to speak at a summit with connections to Tamika Mallory, a left-wing activist who was forced to step down as the national chair of the Women's March in 2019 because she was accused of antisemitism for her praise of the bigoted Nation of Islam leader Louis Farrakhan and for antisemitic comments. Harris will be a featured speaker at the Black Women's Roundtable, scheduled for March 24-28. Mallory is a member of the Black Women's Roundtable, which is part of the National Coalition on Black Civic Participation headed by Mallory's friend Melanie Campbell. In 2020, Mallory was named one of the National Coalition on Black Civic Participation's President's Circle Leadership Award Honorees. Before Mallory stepped down from the Women's March, Campbell defended her against accusations of antisemitism, sharing a petition in support of Mallory.
ActBlue Facilitating Donations to Terror-Tied Charity, Legal Group Says. The ActBlue charity platform is facilitating payments to an anti-Israel group tied to multiple terror organizations, potentially violating U.S. anti-terrorism laws, according to a legal group. ActBlue, an online donation portal that primarily services liberal and Democrat-aligned organizations, works with Palestinian Campaign for the Academic and Cultural Boycott of Israel (PACBI), "a hate group that is controlled by a coalition of organizations that the United States and other countries have designated as foreign terror organizations," according to the Zachor Legal Institute, a think-tank and advocacy organization that fights anti-Semitism. The Zachor Legal Institute maintains that by hosting services for PACBI — a key organizational cog in the Boycott, Divestment, and Sanctions movement, which wages economic warfare on Israel — ActBlue is violating its own terms of service and aiding a group that promotes anti-Semitism and hatred of Israel.
MSNBC gives a raging anti-Semite his own show. David Harsanyi writes MSNBC hired a former Al Jazeera, anti-Semite journalist Mehdi Hasan to host a show. "A guy who regularly peddles anti-Semitic tropes for Qatar, once said gay men are no better than pedophiles, and calls non-Muslims "cattle," gets a show. But if you don't believe there are 90 genders, you get your book banned." MSNBC is giving journalist Mehdi Hasan his own prime-time television show starting this Sunday, the Los Angeles Times reports. Hasan's first guest will be another anti-Semite Rep. Alexandria Ocasio-Cortez (D-N.Y.). Hasan is a former journalist for Al Jazeera, where he hosted the show "UpFront." He has also been a senior columnist for The Intercept and the host of that outlet's podcast "Deconstructed."
Antisemitism Continues its March Toward Acceptability on the American Far Left. Cornel West, a celebrity academic, asked Harvard, where he had once been tenured before decamping to Princeton, to offer him a tenured position. Harvard declined, and instead offered the 67-year-old West a ten-year contract. This may be an example of (rational but illegal) age discrimination, as Harvard may not want to tenure someone whose most productive years may be behind him. It may be a product of West having left Harvard last time under less-than-pleasant circumstances following a dispute with then-President Lawrence Summers. And it may be the result of the fact that West hasn't published academic scholarship in years, so tenuring him would make a sham of the process and lead to litigation when Harvard denies other people tenure for not meeting appropriate standards for scholarship. (It's one thing to keep a celebrity academic who no longer publishes academic scholarship in their field like Alan Dershowitz or Noam Chomsky on payroll; it's quite another to tenure them from the outside.) What it does not seem to have anything to do with is Israelis, Palestinians, Jews, or any combination thereof.
'SNL' under fire for 'anti-Semitic' joke about Israeli COVID vaccine rollout. "Saturday Night Live" and star Michael Che are under fire from critics for a joke they claim was anti-Semitic. "Israel is reporting that they've vaccinated half of their population. I'm going to guess it's the Jewish half," the Weekend Update correspondent cracked Sunday morning [2/21/2021]. The vast majority of Israel's population — 74 percent — is Jewish, according to the Jewish Virtual Library. Vaccination rates of Israeli Arabs are much lower than Jews in the country, partially due to distrust of the government in the Arab community, according to a January article in The Christian Science Monitor. By Sunday afternoon, the topic was trending, with many accusing Che and NBC of bias, and others coming to his defense.
Rabbis: Ilhan Omar's Promotion Shows 'Antisemitism Now Accepted in Congress'. The Coalition for Jewish Values (CJV), the largest rabbinic public policy organization in America, declared Monday that the promotion of Rep. Ilhan Omar (D-MN) to a senior committee position shows that Congress accepts antisemitism. As Breitbart News reported Sunday, Omar was promoted to the position of Vice Chair on the Africa, Global Health, and Global Human Rights subcommittee within the U.S. House Committee on Foreign Affairs.
California Is Cleansing Jews From History. [Scroll down] But three years later, when the first draft of the Ethnic Studies Model Curriculum (ESMC) was released, [Elina] Kaplan couldn't believe what she was reading. In one sample lesson, she saw that a list of historic U.S. social movements — ones like Black Lives Matter, #MeToo, Criminal Justice Reform — also included the Boycott, Divestment, and Sanctions Movement for Palestine (BDS), described as a "global social movement that currently aims to establish freedom for Palestinians living under apartheid conditions." Kaplan wondered why a foreign movement, whose target was another country, would be mischaracterized as a domestic social movement, and she was shocked that in a curriculum that would be taught to millions of students, BDS's primary goal — the elimination of Israel — was not mentioned. Kaplan also saw that the 1948 Israel War of Independence was only referred to as the "Nakba" — "catastrophe" in Arabic — and Arabic verses included in the sample lessons were insulting and provocative to Jews. Kaplan, 53, a Bay Area mother of two grown children who describes herself as a lifelong Democrat, was further surprised to discover that a list of 154 influential people of color did not include Dr. Martin Luther King Jr., John Lewis, or Supreme Court Justice Thurgood Marshall, though it included many violent revolutionaries. There was even a flattering description of Pol Pot, the communist leader of Cambodia's Khmer Rouge, who was responsible for the murder of a quarter of the Cambodian population during the 1970s.
Biden administration reestablishes diplomatic ties with Palestinian Authority. The Biden administration announced on Tuesday [1/26/2021] that they would be restoring diplomatic relations with the Palestinian Authority, Times of Israel reports. As part of this reestablishment of relations, the United States will be restoring diplomatic aid to the Palestinian authority, a move which has been heavily criticized by pro-Israel groups. Critics of the decision warn that US diplomatic aid may go towards the Palestinian policy of "pay-for-slay," whereby the Palestinian Authority pays the families of terrorists who murder Israeli civilians.
The Left's mainstreaming of anti-Semitism continues apace. If there is one thing that unites the political extremes — from the halls of Congress and the steps of the Capitol, from Main Street to academia — it's disdain for Jews. Embraced and excused by both the far-Right and far-Left in America, anti-Semitism has gone mainstream. Bigotry has a strange way of sticking to its historical roots and evolving to meet contemporary times. The far Right tends to believe the traditional lies about Jews controlling the government, media, and financial institutions. Staunch liberals adopt the same old canards but also deflect their anti-Semitism with woke code terms such as "anti-Zionism" — blaming the world's ills not on the Jews but on Israel and its supporters. Politicians and media outlets talk a good game about condemning anti-Semitism. But when it's propagated by a vocal, influential minority in the Democratic Party, anti-Semitism is tolerated and covered up by the Left's power structure.
Democrat Hypocrisy on Condemning Anti-Semitism Is Becoming Tiresome. As an American Jew who retired after 30 years of practicing law in order to fight anti-Semitism and anti-Zionism, including spending the past 15 years working with many Jewish and non-Jewish organizations on these issues, I am disgusted at the hypocrisy of Democrat lawmakers and liberal Jewish leaders who are blind to anti-Semites in their midst while using anti-Semitism on the right as a political tool for grandstanding and self-promotion. I have written extensively over the years about rising anti-Semitism in the Democrat Party and on the left more generally. Yet American Jews continue to remain tethered to the party that refuses to denounce Jew-hatred in its midst while embracing lawmakers who are raging anti-Semites, including Ilhan Omar, Rashida Tlaib, Alexandria Ocasio-Cortez, Pramila Jayapal, Betty McCollum, and Keith Ellison, to name a few.
Can Georgians Be Foolish Enough to Vote for a Hate-Filled Lying Phony Like Warnock? Of course Raphael Warnock has no business running for a serious political office. Still, he certainly is allowed to try. [...] For years Warnock would get up in church, week after week, and attack Jews in Israel, accusing them of horrific things that have no relationship to reality. It was safe for him to do so. He was preaching in a Black church. Jews don't attend Black churches in any particular numbers, if at all, so there is nowhere safer to beat up on Jews. Compare us to Nazis — who is going to take umbrage? Tell a Black audience that Jews in Israel are like those who imposed Apartheid against Blacks in South Africa. Who will stand and exclaim, "You are a liar!" In a room where even Waldo will not be found, it is safe to slander Jews and Israel. So, with no Jews in the church to bear witness to truth, this anti-Semite compared the prime minister of Israel to... former Alabama Gov. George Wallace, the ultimate racist encountered by Blacks in southern segregationist states like Georgia and adjacent Alabama. Warnock used his Black church pulpit for years to attack Jews, to attack Israel. Who can know or gauge how many truly decent, kind-hearted Black Americans in Georgia have been converted for life into Jew-haters for life by this evil man? Preachers carry enormous influence.
I am appalled at the election of Raphael Warnock. As an American who reveres our country, our founding, and our Constitution, I am appalled at the election of Raphael Warnock. His beliefs, as declared over the course of decades, about this country, race, Israel, and a host of other issues are frightening. As a Jew, Warnock's relentless anti-Semitic and anti-Israel statements are shocking, yet they represent a growing view within the Democrat Party, the Left, and the media. And those statements were never condemned by Democrat Party leaders and the media. In fact, Joe Biden and Kamala Harris campaigned hard for Warnock, and this morning the media are touting his historic victory without comment about what the election of such an extremist and anti-Semite means for the future of the Democrat Party and the nation.
De Blasio's Perfect Patsies. Are the Jews to blame for spreading COVID-19 throughout New York City? That's what Mayor Bill de Blasio suggested in an inflammatory tweet back in April, which, in his typical bumbling fashion, he defended for six months before kinda, sorta walking it back. Never mind all that. The city is serious! It believes in science! Earlier this week, the mayor's office launched its "NYC Vaccine for All" campaign, announcing that it will begin offering the COVID vaccine soonest. Who will get it first? Naturally, the neighborhoods "hardest hit" by the pandemic, the mayor's office assured us, 27 of them in total. Hallelujah! So now we have an official record of the hardest hit corners of New York, which means that if the mayor's criticism was correct, we should find many familiar ZIP codes among those singled out for urgent care. Let us, then, turn to the list and search for the neighborhoods heaviest populated by Orthodox Jews, the clear target of the mayor's ire.
Obama's Latest Autobiography Rewrites Israeli History to Make You Hate the Jewish State. Whatever the merits or lack thereof of Barack Obama's presidency, he certainly leads all other presidents in the number of autobiographies he has written, with three compared to a number of his peers who are tied at one. However, his latest one, A Promised Land, is more than just an update on the trials, tribulations, and triumphs of the Most Undeservedly Celebrated Man on the Planet; it's a full-on apologia for his policies as president, and a program for his impending third term, aka the Biden administration.
Rabbis Denounce Raphael Warnock for 'Antisemitic Rhetoric'. The Coalition for Jewish Values, a group of traditional rabbis, accused Georgia Democratic Senate candidate Rev. Raphael Warnock of "antisemitic rhetoric" on Friday [12/18/2020]. The group, which represents "over 1500 traditional rabbis in matters of public policy," also accused liberal Jews from the Jewish Democratic Council of America (JDCA) of trying to "whitewash" Warnock's views by circulating a petition claiming that he was the victim of "baseless claims and attacks."
Are There Anti-Semitic Tropes in Obama's Memoir? Writing in The Australian, economist Henry Ergas noticed something in Obama's memoir that has so far been ignored by the mainstream media. Or perhaps it was just never seen before because, really, how many people who bought Obama's absurd book (which is only the first volume of his presidential memoirs) actually read the thing? According to Ergas, "The silence that has greeted the former US president's description of Nicolas Sarkozy in his book reflects the normalisation of casual anti-Semitism on the 'progressive' side of politics." What did Obama say about Sarkozy? [Book excerpt and discussion omitted for brevity.] The political left assumes a moral high ground on diversity, so ready to be offended at words so innocent they have to be dubbed "micro-aggressions" so they can virtue-signal their own "anti-racist" bonafides. In fairness, Obama's casual anti-Semitism during his eight years at the White House makes his unflattering depiction of Sarkozy seem trivial by comparison, but imagine if Donald Trump wrote such a thing.
Omar, Tlaib, Sarsour to headline Georgia Senate event as Warnock fights anti-Semitism claims. Democrat Raphael Warnock was already struggling to beat back allegations of anti-Semitism, and then Linda Sarsour and Reps. Ilhan Omar and Rashida Tlaib jumped into the Georgia Senate election picture. The Georgia chapter of the Council on American-Islamic Relations [CAIR] plans to hold Sunday evening a virtual "vote-a-thon" aimed at encouraging Georgia Muslims to vote in the Jan. 5 run-off elections, an event featuring the Democratic congresswomen as well as Ms. Sarsour. All three have expressed support for the anti-Israel Boycott, Sanctions and Divestment cause, and all three have been embroiled in recent years in headline-grabbing anti-Semitism controversies. All three deny being anti-Semitic or anti-Jewish.
Keywords: Blasphemy, ignorance, pernicious, antisemitism.
GA Senate Candidate Raphael Warnock Spread Fabrication that Jesus Was a "Poor Palestinian". Groucho Marx once famously quipped, "If you've heard this story before, don't stop me, because I'd like to hear it again." Reverend Raphael Warnock — senior pastor at the Ebenezer Baptist Church in Atlanta (where MLK Jr. and Sr. served as co-pastors) and Democratic candidate for Senate — seems to have adopted Groucho's joke as a personal mantra: like Yasser Arafat, Ilhan Omar, Linda Sarsour, the Rev. Jeremiah Wright, The New York Times, and many others before him, Warnock has attempted to rewrite history, claiming that Jesus of Nazareth was "Palestinian."
Omar and Tlaib Headline Anti-Israel Hatefest. Democratic representatives Ilhan Omar (Minn.), Rashida Tlaib (Mich.), and Betty McCollum (Minn.) headlined a conference this weekend run by one of the nation's most prolific anti-Israel advocacy groups, lending their support to an organization that champions boycotts of Israel and has partnered with individuals tied to terrorism. The lawmakers, known for their anti-Israel rhetoric and promotion of anti-Semitic materials, appeared at the American Muslims for Palestine's (AMP) annual conference, which was held virtually over Thanksgiving weekend. The conference featured outspoken critics of Israel, including those with reported ties to the Hamas terror group. AMP, which itself has been tied to terror financiers, is a leading promoter of the Boycott, Divestment, and Sanctions movement, which seeks to wage economic warfare on Israel by boycotting Jewish-made goods.
Barack Obama's Visceral Dislike of Israel, the Jewish State, Revealed in his Latest Book. Though we have not over the years accused Barack Obama of anti-Semitism, we did feel even prior to his election in 2008 that Obama was uncomfortable with the idea of Jewish sovereignty, as well as Jewish rights in and of themselves, disconnected from intersectionality. In his recent book, Promised Land, it is crystal clear that Obama is uncomfortable, perhaps even hostile to a specific Jewish state in the Land of Israel and used his tenure as president to undermine the proud and glorious history of Zionism. He spent excessive zeal and capital to reshape American and world policy so as to establish the Palestinian Arab narrative as the only legitimate political outlook and forum. Had his book been written by someone else, many would have easily characterized the author's anti-Zionism and non-regard for the right of the Jewish people to possess and control their land as bordering on anti-Semitism.
Rashida Tlaib Reacts to Likelihood of Jewish Secretary of State With Textbook Antisemitism. Fresh from being announced as a panelist on a "Dismantling antisemitism" panel, congresswoman Rashida Tlaib has gotten back to work, showing how her expertise on antisemitism comes from personal experience[.] Antony Blinken is Jewish. Tlaib's first utterance to him being the likely US Secretary of State is concern he will be pro-Israel. Of course to those of us paying attention (or who care), this is not Tlaib's first time perpetuating the antisemitic dual loyalty canard. She simply cannot help herself.
[Mayor] de Blasio Has Sent Spies With High Power Lenses Into Jewish Neighborhoods To Catch Them Congregating. These two New York City workers were caught taking photos with high power lenses of Jewish apartments to catch them congregating in apartments. Indoor gatherings in New York are limited to 10 people max and masks must be worn at all times. This comes only a month after Mayor Bill de Blasio admitted he and his administration should have done a better job of communicating the dangers of the coronavirus to the city's Orthodox Jewish communities. de Blasio [has] caught heat for singling out the Jewish community in a tweet about people who are not following the city's social distancing rules earlier this year. [Video clip]

Brown U professor hates Israel so much she erases Jews from her photos of "Palestine". About a week ago, Ariella Aisha Azoulay of Brown University gave an anti-Israel lecture at Cornell. One of the attendees described the lecture this way: ["]Today I attended a lecture given by Brown University professor Ariella Azoulay who had been invited to talk to a Cornell class in the school of architecture. This lecture was afactual, ahistorical and steeped in antisemitic narratives to the extent that all photographs showing Jews or Israelis she had erased the image of the people because 'I can't bear to look at them.' Deeply disturbing and profoundly depressing.["] Sure enough, Azoulay tweeted her photos that she showed at the lecture, and they show all Jews who were the early pioneers of modern Israel are deliberately blacked out of the photos.
Ohio doctor who boasted she would give Jews the wrong medications loses license. The State Medical Board of Ohio permanently revoked the medical training certificate of a doctor who was fired from two residency programs after old anti-Semitic tweets surfaced — including one in which she threatened to give Jews the wrong medications. Lara Kollab is permanently prohibited from practicing osteopathic medicine or surgery in Ohio, Cleveland.com reported. She surrendered her certificate prior to its revocation August 12, according to the report, and cannot participate in another medical training program in the state.
DNC features performance by rapper who has promoted infamous anti-Semite Farrakhan. During Night 4 of the Democratic National Convention on Thursday, the Democratic Party featured an artist with ties to a known anti-Semite. Lonnie Rashid Lynn Jr., better known by his stage name Common, performed a song celebrating the 1965 Selma to Montgomery voting rights marches. Common has promoted the work of Nation of Islam leader Louis Farrakhan, whom the Anti-Defamation League describes as "quite possibly America's most popular anti-Semite."
Dems' uneasy coalition already fracturing over DNC featuring a Palestinian anti-Semite Tuesday night. Forget the happy talk of the mainstream media. The Democrats are a coalition of mutually antagonistic factions, united only by their hatred of President Donald Trump. They couldn't even keep a lid on the conflict between the dominant radicals and the pseudo-moderates propping up senescent Joe Biden as a putative centrist. Don't look for the mainstream media to mention this, but the Biden campaign actually disavowed one of the speakers during last night's Democratic National Convention internet TV show, Linda Sarsour and she is muttering about retaliation at the polls. Remember her? [...] Sarsour's Jew hatred is so toxic that she was forced out of her leadership role in the "Women's March on Washington" last year.
Karen Bass Denies Links To Nation Of Islam, Despite Photos And Event Appearances, But Doesn't Disavow Radical Group. Rep. Karen Bass, a top contender to become presumptive Democratic presidential nominee Joe Biden's running mate, appeared at Nation of Islam events, posed for a picture with a top Nation of Islam official, and attended a forum in 2013 hosted by the organization's official mouthpiece. Nation of Islam leader Louis Farrakhan has referred to Jewish people as "satanic," blamed them for the Holocaust and the Sept. 11, 2011 terrorist attacks, and once praised Adolf Hitler as a "very great man." Farrakhan has also denounced interracial marriage, which he said has "mongrelized" the black race. The Nation of Islam holds that white people were created 6,000 years ago as the result of a selective breeding program by a black scientist called Yakub.
Nancy Pelosi Stands with Anti-Semites. Last Wednesday [7/29/2020], Speaker of the House Nancy Pelosi endorsed Rep. Rashida Tlaib in her August 4 Michigan Democratic primary rematch with Detroit City Council President Brenda Jones, whom Tlaib narrowly defeated in 2018. Similarly, for the August 11 Minnesota primary, Pelosi endorsed another of Congress' three Israel-boycotters, Rep. Ilhan Omar, who has been enthusiastically praised by David Duke, and was voted 2019 Antisemite of the Year in a poll by stopantisemitism.org. What is Pelosi's motivation in supporting them? Is it identity politics? In Omar's race, Pelosi had the option of endorsing her progressive African-American opponent, who opposes the Boycott-Divest-Sanction (BDS) campaign to isolate and destroy Israel. In Tlaib's race, where opponent Brenda Jones is a staunch ally of Rev. Louis Farrakhan, Pelosi had the option of staying neutral.
Bias and bigotry on the Syracuse University campus. What appeared to be a noble effort to discuss bias at Syracuse University ironically turned into a vicious exercise in bias and bigotry as the conversations turned into an anti-Semitic witch hunt. A few students recently created multiple Instagram pages, inviting fellow students and faculty to post stories about incidents of bias on campus. Those who share their stories are permitted to remain anonymous, but the students and professors accused of perpetrating bias are freely and fully identified — and targeted. One of the pages has warned their viewers to look out for "openly Zionist" professors on campus, naming one professor in particular and attacking students who support the faculty member.
Biden's interviewing with radical anti-Semite Linda Sarsour now. Renowned anti-Semite Linda Sarsour was the interviewer during a recent phone call by Joe Biden to the nation's largest Muslim-American PAC. It was televised from his basement. He promised her he would end the Trump travel ban and 'Islamicphobia'. As an aside, the Trump travel ban was similar to the Obama travel ban and the Bush travel ban. "If I have the honor of being president, I will end the Muslim ban on day one, day one," Biden said during the "Million Muslim Votes Summit" call hosted by Emgage Action which endorsed his White House bid in April.
NBA Legend Kareem Abdul-Jabbar Blasts Anti-Semitism in Black Lives Matter Movement. One of the greatest basketball players of all time has given an insightful and eloquent warning that the lack of attention to anti-Semitism is helping to perpetuate racism in America. Los Angeles Lakers all-star Kareem Abdul-Jabbar is a columnist for The Hollywood Reporter and wrote a stern warning this week that there was an alarming connection between hatred of Jews on social media and Black Lives Matter. "Anti-Semitic tweets and posts from sports and entertainment celebrities are a very troubling omen for the future of the Black Lives Matter movement, but so too is the shocking lack of massive indignation," Abdul-Jabbar wrote.
'Tolerant' Liberals Sure Hate Jews. That the political left is a cesspool of hatred and bigotry is nothing new, a simple Internet search about college campus life over the past few years turns up disgusting, violent attacks on anyone not deemed "woke" enough. Not bowing down and kissing the boots of the Marxist ANTIFA or "Black Lives Matter" or whatever fascistic flavor of the moment Democrats are embracing to terrorize the public into submission has become so "normal" that even when it takes out a fellow useful idiot in the media, it barely registers as a news story anymore. But there is one form of hatred that doesn't rate a blip on the radar of the leftist media, mostly because it is a pandemic among their fellow travelers: anti-Semitism.
Nick Cannon propagated antisemitic conspiracy theories on his podcast. Actor and TV host Nick Cannon has been seen spreading antisemitic conspiracy theories and praising Nation of Islam leader Louis Farrakhan in a video that has resurfaced and been circulated on social media, Jewish Insider reported. [...] The actor and TV host also said that "it's never hate speech, you can't be antisemitic when we are the semitic people. When we are the same people who they want to be. That's our birthright," adding that "we are the true Hebrews." Cannon also spoke about conspiracies linking Zionists, the Rothschilds and the Illuminati, and praised controversial Nation of Islam leader Louis Farrakhan, saying "every time I've heard him speak, it's positive, it's powerful, it's uplifting... for whatever reason, he's been demonized."
Reaction to the article immediately above:
Nick Cannon propagated antisemitic conspiracy theories on his podcast. BLM's antisemitism destroys their entire mission by objective. The normalization of Jew-hatred in America's Black community should not come as a surprise. The Black Lives Matter movement is totally aligned with the BDS (Boycott the Jews) Movement. In addition, America's Leftist Black leaders such as Louis Farrakhan, Cornel West, Al Sharpton, and Jesse Jackson are virulent anti-Semites. It is sad that the profound contributions made by Jewish Americans to the civil rights movement have been forgotten.
Genocide is coming to America. Time after time for the past four decades my liberal friends and relatives have refused to believe anything I say to them — always based on actual events — about politics and the growing corruption and bigotry within the Democratic Party. Like those decent Germans in the 1930s, these decent Americans find reasons to quickly dismiss what I say, without making any effort to find out if there is any merit to it. [...] At one point I made mention to my brother, who remains a very typical Jewish liberal, the growing pro-Democrat partisan extremism of modern American journalism, to the point of blackballing conservative writers. He immediately told me that couldn't be true. When I then told him I have experienced this shunning personally because of my political positions, often resulting in the loss of jobs and the rejection of my writing, he shrugged, giving me that same look of dismissal that I am sure that German woman in 1930s Germany saw many times. What I said was simply too unbelievable to be true, even though I had actually experienced it.
Pro-Palestinian BLM Rallies in U.S. Call for 'Death to Israel, Death to America'. At pro-Palestinian Black Lives Matter rallies in New York and Washington, chants were heard calling for "Death to Israel," "Death to America" and "From Gaza to Minnesota, globalize the Intifada!" Several hundred protesters attended the July 1 demonstration in Brooklyn dubbed as a "Day of Rage" event, set to coincide with the earliest date Israel could begin its plans to apply Israeli law over parts of the West Bank and the Jordan Valley. Speakers issued inflammatory rallying cries that ran the gamut from anti-Semitic and anti-American to just plain absurd. One pro-North Korea activist called for the end of the United States of America and its "puppet governments," the liberation of "Palestine," and for Korea to "be one again."
If You Really Believe Black Lives Matter, Stop Supporting Black Lives Matter. BLM, like the Women's March, has from its start been ardently antisemitic. Members of BLM carried out a pogrom in the Los Angeles area in May during the Jewish holiday of Shavuot. You probably never heard about it because in the intersectional left-wing milieu, Ashkenazi Jews sit at or near the apex of the privilege pyramid. That is, the descendants of Eastern European Jews, 6 million of whom were massacred during the Holocaust, are considered by BLM and its ideological cohorts to be the world's greatest victimizers. For the like-minded media, covering such atrocities would only undermine the narrative and hurt the cause, so they remain silent. For BLM, antisemitism is not a cancellable offense. As we have seen across America these past weeks, like other left-wing, antisemitic movements, BLM justifies violence and resorts to it. Marxists using race as a cover for revolution ought to be condemned for cynically exploiting the deaths of Americans. They are not condemned, however, as too many people consider it politically unacceptable to do so.
Black Lives Matter's Anti-Semitic Platform. Black Lives Matter, the revolutionary, anti-American and anti-Semitic movement at the heart of the riots and the intellectual terror in the United States today first published its charter in August 2016. Jewish organizations from left to right condemned it for its slanderous accusation against Israel which it accused of committing "genocide: and claimed was an "apartheid" regime that had passed 50 discriminatory laws against Palestinians. BLM's charter also endorsed and joined the movement to the anti-Semitic boycott, divestment and sanctions operation against Israel and its American Jewish supporters.
The Oldest Hatred Rears Its Head. It's been more than two days now since the New York Times opinion page, policed closely by the paper's readers and employees for evidence of bigotry, published an op-ed that approvingly cites the black anti-Semitism explained away in a 50-year-old essay by the writer James Baldwin. We've been waiting for the reference to spark some sort of backlash and outcry from the paper's reporters, for the Twitter hashtag decrying the insensitivity, for the internal finger pointing about who dropped the ball and allowed the publication of a piece that could make American Jews feel so unsafe. Are you surprised to hear it never came?
De Blasio Orders Gates Welded Shut at Jewish Park While Approving Mass BLM Gatherings. New York Mayor Bill de Blasio ordered gates at a park in a Jewish area welded shut to keep people out despite simultaneously approving numerous mass gatherings of BLM protesters. "Bill de Blasio is Welding the gates at the biggest park in the Jewish community, (Borough Park, Brooklyn) So your child shouldn't try to break in," tweeted Joel Fischer. "While Hundreds of thousands of people gathered yesterday at Brooklyn Museum."
As Rioters Destroy New York, Cops Kick Jewish Families Out of a Playground. Jewish community leaders are condemning New York Mayor Bill de Blasio for a "blatant double standard." He singled out the Jewish community in enforcing coronavirus restrictions, yet defended protesters who violated social distancing rules in order to protest the heinous police killing of George Floyd. In fact, videos showed police officers dispersing Jewish mothers and their children at a playground while a larger group of protesters gathered in violation of lockdown rules.
De Blasio Broke Up a Jewish Funeral a Month Ago — But Today Allows Thousands at George Floyd Funeral Service in Brooklyn. In late April New York City Mayor Bill de Blasio sent the NYPD in to break up the funeral for a popular rabbi in Brooklyn. New York City Mayor Bill de Blasio (Democrat) issued a warning to the "Jewish community" that he would arrest them for gathering in public as they did for a rabbi's funeral in the Williamsburg neighborhood in late April. [...] But today [6/4/2020] thousands of New Yorkers attended a memorial service for George Floyd. De Blasio spoke at the funeral. The city is still under de Blasio's quarantine.
De Blasio's Jew hunters nabbed Rabbis studying with masks. Why are Americans allowing this? Rabbis sitting a distance apart studying — with masks — were busted by de Blasio's enforcement squad, which used to be the NYPD. They used to arrest criminals, but no need for that now. New York City doesn't have criminals, they only have victims who need reform. The Rabbis were given summonses up to $1,000. Even if you're not Jewish, even if you are a Democrat, can't you see how wrong this is?
The real reasons De Blasio and leftists target Orthodox Jews. New York Mayor De Blasio has shown his true blue color in harassing Orthodox Jews in New York. The Mayor threatened to arrest those who gathered to bid a final farewell to a religious leader. The Coronavirus pandemic has allowed blue state governors and mayors to follow Rahm Emanuel's political advice to never let a good crisis go to waste. What people do not realize is that Emanuel's advice is based on Saul Alinsky's Rules for Radicals. Red state governors are already beginning to open up their states for business, while blue state leaders are locking down, clamping down, and cracking down hard.
De Blasio's Tweet against Jews Is the Tip of the Iceberg. Mayor de Blasio of New York City recently tweeted what has become a controversial tweet. After hearing of a large gathering of Chasidic Jews in Brooklyn attending a funeral for a well known neighborhood rabbi, de Blasio tweeted: "My message to the Jewish community, and all communities, is this simple: the time for warnings has passed. I have instructed the NYPD to proceed immediately to summons or even arrest those who gather in large groups." While I don't think de Blasio is an anti-Semite, nonetheless, I would wager my last subway token that he would never publicly tweet against the Muslim, Hispanic, or black community in the general terms he did just now regarding the Jewish community. He was wrong to extrapolate regarding the entire Jewish community based on something done by a subset — namely, the Chasidim of Brooklyn's Williamsburg and Boro Park sections.
Pence: Sanders would be 'most anti-Israel president in the history of this nation'. Making the case for U.S. President Donald Trump's re-election, U.S. Vice President Mike Pence warned on Monday that if elected, Sen. Bernie Sanders (I-Vt.) would be the complete opposite of Trump as it pertains to the U.S.-Israel relationship. "We must ensure that the most pro-Israel president in history must not be replaced by one who would be the most anti-Israel president in the history of this nation," said Pence at the annual AIPAC Policy Conference, where he slammed Sanders for calling Israel "a racist state" and defaming AIPAC as "a platform for bigotry."
Imported Antisemitism and Those Who Support It. On March 6, 2019, Britain's Equalities and Human Rights Commission launched a probe into claims that the country's Labour Party, currently led by the lifelong Trotskyite Jeremy Corbyn, is "institutionally anti-Semitic". We are all too familiar with the development that the conflation of antisemitism and antizionism may be found today within politics. Challenging this distortion remains a priority in Western countries. Fortunately, as recent events within Britain's Labour Party have shown, many constituents are rejecting the overt antisemitism and anti-Israel extremism of the groups who have often underhandedly taken control of their party. It increasingly seems as if one source of antisemitism — as shown by more than one survey in Europe and in the United States — is that there often seems to be widespread antisemitism within Muslim communities.
Rashida Tlaib to speak in Missouri at event for American Muslims for Palestine. U.S. Rep. Rashida Tlaib, D-Mich., is scheduled to speak Saturday [2/29/2020] in Missouri at the annual gala of the state's chapter of American Muslims for Palestine (AMP), according to the group's website. The event will be held at the Crowne Plaza St. Louis Airport Hotel in Bridgeton, northwest of St. Louis. AMP is considered an anti-Israel group that has expressed support for the Boycott, Divestment and Sanctions (BDS) movement against the Jewish State, the Jewish News Syndicate reported.
An Imam at a Bernie Rally Had Called for the Destruction of Israel. When Imam Omar Suleiman appeared at a Bernie rally in Mesquite, TX, the hateful Islamist cleric spoke in front of a backdrop of giant American flags and signs urging donations to Sanders. Before Bernie took the stage, he called for an, "America where we uplift our most vulnerable, celebrate our diversity." The Imam did not mention, as he has before, that he believes that, "Zionists are the enemies of God." By "god", the Imam meant Allah. The occasion for that hateful outburst was Operation Protective Edge which began after Hamas kidnapped and murdered three Jewish teenagers. One of them American.
Elizabeth Warren Refuses To Recognize Jerusalem As Israel's Capital: Still Need To "Determine The Capital". Jerusalem is the capital of Israel. Period. It has been the capital for thousands of years. President Donald Trump did the right thing. He had the guts to actually do what every candidate has promised to do but didn't.
Scurrilous Bernie Trashes 'Racist' Israel. Strong words; to my knowledge Bernie hasn't called any other U.S. democratic ally's government or leader "racist." Although he says that he's "very proud to be Jewish and I look forward to becoming the first Jewish president in the history of this country," he seems to single Israel out. But are his words true?
How Jew-Hatred Infected the Democratic Party. [Video clip]
What Happened When a Jewish Activist Confronted Tlaib's Jew Hatred at Rutgers. On Sunday [2/9/2020], Rutgers University hosted the 14th Annual Interfaith Prophet Muhammad Conference. The speakers were Rep. Rashida Tlaib, who had just falsely accused Jews of a blood libel, Craig Considine, a Catholic apologist for Islam who supports BDS, and Imam Sayed Moustafa Al-Qazwini, an Iranian-trained Shiite cleric who had accused Israel of being behind ISIS. This panel of Jew hatred was a project of Muslims 4 Peace promoting Islamic migration. But the founder of Americans Against Anti-Semitism instead showed up to ask them some tough questions about hate. "What about your anti-Semitism?" Dov Hikind, a former elected Democrat official who now takes on anti-Semitism in his former party, challenged Rep. Tlaib as she declaimed about racism in America. Hikind was immediately confronted by a man in a keffiyah. Rutgers police officers surrounded the founder of Americans Against Anti-Semitism and escorted him out of the room for asking an elected official about anti-Semitism at a state university funded by the taxpayers of New Jersey. The "Interfaith" Mohammed conference had consisted of two Muslim panelists and one token Christian who spends much of his time promoting Islam and bashing Israel. There had not been a single panelist of another religion.
Jewish Democrat Dov Hikind booted from Rashida Tlaib event: 'What about your anti-Semitism?'. Former Democratic New York state assemblyman Dov Hikind was escorted by police out of an event featuring Rep. Rashida Tlaib after he shouted a question about anti-Semitism. Ms. Tlaib, Michigan Democrat, was the guest speaker at an event Saturday [2/8/2020] at Rutgers University, titled "A Global Crisis: Refugees, Migrants, and Asylum Seekers — Lessons from the Prophet Muhammad," which was organized by the group Muslims4Peace, Fox News reported Monday. Mr. Hikind tweeted a video of the moment when he interrupted Ms. Tlaib's speech and was immediately manhandled by an attendee and eventually escorted out of the room by police. In the clip, Mr. Hikind is able to stand up and say, "What about your--," before a man comes up from behind and forcefully grabs him.
Warren Agrees with Supporter that AIPAC is 'Unholy Alliance of Islamophobes'. Fading presidential candidate Elizabeth Warren raised eyebrows among Democrats across the country this week; seemingly agreeing with a supporter who described the American-Israeli Public Affairs Committee, or AIPAC, as an "unholy alliance of Islamophobes and White Supremacists." "I'm terrified by the unholy alliance that AIPAC is forming with Islamophobes and anti-Semites and white nationalists," one attendee began as Warren nodded in agreement.
The Democrat Party's Third Rail: Israel. The 2020 election is presenting the electorate with Democrats of both the extreme and "moderate" varieties who hold starkly different views than Republicans on America's relationship with Israel. American Jews, who for decades have felt at home in the Democrat Party, are now facing a predicament as Democrats become more comfortable taking anti-Israel positions and making statements previously unheard. When Obama entered office, he made it clear that the new sheriff in town would insert daylight between the U.S. and Israel. He distanced us from our most strategically important ally in the region and realigned diplomatic relationships while removing the pax-Americana that had maintained stability for decades. What followed was eight years of a deteriorating U.S.-Israel relationship as Democrats moved away from supporting Israel. This was on full display at the Democrats' 2012 convention at which thousands of delegates booed when leadership reinserted language in the party platform pertaining to G-d and Jerusalem as Israel's capital. It was an omen.
Ilhan Omar Named 2019 Anti-Semite of the Year. Rep. Ilhan Omar (D., Minn.) was named the 2019 anti-Semite of the year by an organization that seeks to combat the spread of anti-Jewish bias. The organization StopAntiSemitism.org chose Omar, who has repeatedly spread anti-Israel and anti-Semitic conspiracy theories, following a public nomination and voting period.
The Left Goes Over the Edge. Anti-Semitism [...] has always been the last refuge of the political fanatic, and the current murder campaign against American Jews over the past few weeks is no exception. These attacks have largely been carried out by sheltered minorities, triggered by BLM and assorted Islamists, and egged on by the likes of Sandy O, Tlaib, Omar, and De Blasio, whose People's Republic has hosted most of the atrocities. We can take some small comfort in the fact that these campaigns often mark the last spasm of the movements carrying them out.
A Democrat Blames His Democratic Party For Upsurge In Antisemitism; He's Right. Saturday night [12/28/2019] saw the seventh violent anti-Semitic attack in recent days. A machete-wielding attacker stabbed five people in the home of Rabbi Chaim Rottenberg during a Chanukah celebration in Monsey, New York. Perhaps the most honest reaction to the anti-Semitic attack came from a member of the Democratic Party. Former New York State Assemblyman Dov Hikind said what most pundits are afraid to say, the Antisemitism originates with members of Mr. Hikind's own party, the Democrats: [Video clip]
Soros' War Against the Jews. Soros' Jewish problem was generational. He grew up in, in his own words, a "Jewish, anti-Semitic home[.]" He had adopted his father Tivadar's worldview, that God was a human invention. It was Tivadar who forged and sold documents to Jews trying to escape the Holocaust, charging "wealthy clients", as he put it, "whatever the market would bear". And it was Tidavar who found his teenage son a place with a Hungarian fascist official who was confiscating Jewish property. In his biography, Tivadar later described the trip to confiscate Jewish property as a move by the "kind-hearted" Nazi collaborator to "cheer the unhappy lad up" where after a dose of watching the persecution of Jews, "he quickly regained his spirits". Soros would later describe this, a period that most Jews remember as a time of utter horror, as "the most exciting time of my life" or an "adventure".
How liberals are allowing anti-Semitism to flourish. [Scroll down] "Anti-Semitism is an attack on the values of our city — and we will confront it head-on," De Blasio tweeted after this latest round of violence against Jews in the city. He has to stop beating around the bush. These attacks aren't an attack on "our values." They're attacks on visibly Jewish people. Even Sunday [12/29/2019], after the Monsey stabbings, he blamed Trump and "Washington" for creating "an atmosphere of hate." De Blasio needs to stop trying to find a "them" to be the opposite of his "us." His juvenile obsession with having the right adversaries allows anti-Semitism to flourish.
The Left Lines Up With the Terrorists. Britain's voters rejected soundly the Labor Party, whose former leader Jeremy Corbyn has called Hamas and Hezb'allah terrorists "his friends" and for whom Hamas expressed reciprocal support. Americans must similarly ostracize and marginalize politicians, organizations, and religious institutions that give tacit support to Hamas, Islamic Jihad, Hezb'allah, and other terrorist organizations. There is a huge legal difference (no criminal liability versus up to 15 years in prison), but little moral difference, between giving material support to terrorists and seeking to damage Israel's economy through boycott, divestment, and sanctions (BDS). Alexandria Ocasio-Cortez, who endorsed Jeremy Corbyn, supports BDS, as do Ilhan Omar, Rashida Tlaib, and 14 other House Democrats. So does Jewish Voice for Peace, which I call "Jews for Jihad."
Cory Booker's statement on Jersey City slaughter doesn't mention Jews or antisemitism. New Jersey Senator Cory Booker delivered a slap in the face of Jews everywhere with his statement on the horrific attack on his constituents in Jersey City targeted because they were Jews. Not a word about Jews or Jew-hatred, or the spread of violence directed against Jews. Nothing! Booker is traveling the same road as his buddy Barack Obama, who could only bring himself to condemn "zealots who behead people or randomly shoot a bunch of folks in a deli in Paris," on the parallel targeted slaughter of Jews in Paris at a kosher supermarket. They were not "randomly" targeted, and to pretend that Jew-hatred was not the motive is dishonest and dangerous. Booker is equally irresponsible, using only the word "residents" to describe the victims. At least he didn't call the slaughter random, but he gave no reason behind it, calling it merely "senseless," as if there were no motive behind it.
Rashida Tlaib Headlined Anti-Semitic Hate Fest. Rep. Rashida Tlaib (D., Mich.) was the keynote speaker at a conference hosted by a Muslim organization that traffics in anti-Semitic conspiracy theories and that counts among its supporters many who seek Israel's destruction. Tlaib headlined the American Muslims for Palestine's (AMP) 2020 election conference late last month in Chicago. The freshman lawmaker, known for her routine criticism of Israel and its supporters, shared the stage with a who's who of leading anti-Semitic conspiracy theorists, including Bernie Sanders surrogate Linda Sarsour.
Israel Equals Jewish 'Supremacy': Linda Sarsour Again Stoops To Antisemitism. Former Women's March leader and current Bernie Sanders campaign surrogate Linda Sarsour attempted to explain controversial comments she made at the 12th Annual Conference for Palestine, which took place in Chicago this past weekend. True to her noxious brand, the Palestinian-American activist compared Jewish self-determination to white supremacy in a full-throated speech that only a hateful artist of her caliber could manage.
Democrats ignore Israel. Last week, Israel once again faced a barrage of rockets from Gaza while most of the mainstream Democratic candidates whistled and looked away. Candidates don't have to comment on every event happening around the world, but the silence of much of the Democratic field feels like more than passing disinterest. And when Vice President Joe Biden offered even a bland message of support for Israel that would have been unremarkable a few years ago, he got massive pushback from the left on Twitter.
Raheel Raza: 'I will Not Be PC About Anti-Semitism'. There has been mass immigration to the West from countries that have institutionalised anti-Semitism and teach hatred for Jews even in their school curricula. So those who have grown up on a diet of hate and conspiracy theories bring this ideology with them. We are witnessing this from elected representatives south of the border in America. With the rise of immigration patterns, the demographics have changed. Western politicians are not only ignoring the rise of anti-Semitism but siding with those who perpetuate it. Adding insult to injury, the Left and Islamists have joined hands to weaponize anti-Semitism. Islamist organizations host the hateful Al Quds Day rally in major cities. Recently, there has been an increase of anti-Semitic attacks by neo-Nazis and white supremacists, who are now using the playbook of the Muslim Brotherhood.
Socialism becomes the anti-Semitism of the enlightened. [Scroll down] Today, the Socialist International, which once honored former Israeli President Shimon Peres as one of its leaders, is a bastion of the BDS movement and therefore opposes the Jewish state's existence. Sanders embodies the irony that the man who stands a chance of becoming the nation's first Jewish or Socialist president is someone who gave up the practice of Judaism and is not supportive of Israel. Nor is it irrelevant to point out that the greatest enemies of Israel and the most blatant purveyors of anti-Semitism in our political system, like AOC's fellow "Squad" members Reps. Ilhan Omar (D-Minn.) and Rashida Tlaib (D-Mich.),have endorsed him.
Here's a List of 100 Members of Congress Supporting CAIR. Ahead of the Council of American-Islamic Relations' 25th Anniversary Gala event last Saturday, the Muslim Brotherhood-linked organization boasted that "120+" members of Congress had sent them letters of support. We never saw those letters, however, thanks to Clarion reader Viola Rose, we were directed to a list of 100 members of Congress who voiced their support of CAIR in 2018. The list was published by the Investigative Project on Terrorism, along with the letters of support. The list includes Democrat presidential candidates Cory Booker, Kamala Harris and Amy Klobuchar. Ninety-seven out of the 100 names on the list were Democrats; three were Republican.
Leading Democrats Call for Conditioning Military Aid to Israel. At the J Street conference last week, Sen. Bernie Sanders (I., Vt.) demanded that Israel "fundamentally change" its approach to terrorist-controlled Gaza, adding, "I think it is fair to say that some [U.S. military aid to Israel] should go right now into humanitarian aid in Gaza." Israeli officials believe such moves would enable Hamas to import more weapons and lead to another war.
Ilhan Omar Knows Exactly What She is Doing When She Engages in Antisemitic "Dog Whistles". [Scroll down] Nope, I believe Omar is very cunning and knew exactly what she was tweeting and implying. I posit she deliberately tweets and says things that can be interpreted as being antisemitic, because knows she can turn any accusations of antisemitism around and go on the counter-attack with accusations of Islamophobia and racism against her detractors.
The Democrats and CAIR. In 2018, Democratic lawmakers and a few Republicans openly supported the Council on American-Islamic Relations (CAIR), congratulating the organization on its 24th year of operation. Furthermore, sixteen likely Democrat presidential candidates are endorsing CAIR. For instance, "Elizabeth Warren sent in a video message threatening to cut off aid to Israel unless it surrenders to Islamic terrorists. Then she promised to divide Jerusalem, turning half the ancient holy city into a killing ground for the murderous terrorists already occupying Gaza and portions of the West Bank." Thus, the majority of the 2020 Democrat presidential field have aligned with CAIR, an anti-American and anti-Israel organization. Moreover, it is now patently clear that the "Democratic party's celebration of Linda Sarsour... exposes the poison" that has enveloped the party.
RJC Releases Brutal Ad Hitting Democrats For Anti-Israel Agenda. The Republican Jewish Coalition (RJC) announced on Monday [11/4/2019] that it was kicking off new campaign ads to re-elect President Donald Trump by hammering Democrats for "turning their backs on" and "threatening" Israel. "The RJC, which is backed by billionaire GOP donor Sheldon Adelson, has spent millions over the past two presidential elections, leading the Republican Party's outreach to Jewish voters," Axios reported. "In April, the RJC board authorized its largest ever campaign budget: $10 million."
Lowlife Jew-Hater Sharpton Says Trump Needs To Fight Antisemitism. If there is a Nobel Prize for mendacity or an Oscar for hypocrisy, this statement by Al Sharpton would get the award. This scumbag who calls himself a Reverand and a Human Rights leader has spent a lifetime spreading Antisemitism but never acknowledged or apologized has the nerve to talk about the need for Trump to fight Jew-hatred. Just the fact that he mentioned Antisemitism gave me the creeps.
Jews Will Not Abandon the Democrats, Even as the Democrats Abandon Them. Nothing seems to dissolve the sinew that ties Jews to the Democrats. President Obama's association with the anti-Semitic Rev. Jeremiah Wright brought a collective yawn. Photos of Barrack Obama embracing the Rev. Louis Farrakhan, who compared Jews to termites, did not concern them. The anti-Semitic diatribes of the so-called "Squad" have been dismissed as a minority voice among the Democrats that would be easily controlled by Speaker Nancy Pelosi. The House resolution condemning boycotts, divestment, and sanctions against Israel was showcased for having been passed, while ignoring that of the 17 votes against it, 16 came from Democrats.
Anti-Trump Camp Includes Hatred of Israel. Nazi propagandist Joseph Goebbels purportedly said, "Accuse the other side of that which you are guilty," a principle the Democrat Left puts into practice with unfounded accusations that Donald Trump supports racism, white nationalism, and anti-Semitism. The anti-Israel organization If Americans Knew praised Democrat front-runner Elizabeth Warren by stating, "She said 'yes' to pressuring Israel to end the occupation. Keep saying yes, and add some teeth to it." The same web page adds, "Israel has been a 'foreign policy problem' for years, but also — especially recently — it has become a diplomatic albatross around America's neck." The political Left, rather than Donald Trump, has a problem with our fellow democracy Israel to the extent of excusing, ignoring, and whitewashing behavior similar to that of which they accuse Trump: Palestinian discrimination against and even physical abuse of women, religious minorities, and LGBT people.
Liz Warren issues a threat to Israel over Palestinian land!. Senator Elizabeth Warren is saying she's open to making aid to Israel conditional on whether the government ceases settlement building in the West Bank. Speaking to reporters on Sunday [10/20/2019], Warren said by increasing settlements, Netanyahu does not move in the direction of a two-state solution.
Elizabeth Warren warns she may cut off US aid to Israel if elected. Did Sen. Elizabeth Warren, D-Mass., just touch one of the third rails of American politics? Speaking with reporters in Iowa, the 2020 Democratic presidential candidate stated that if she becomes president, cutting off U.S. aid to Israel is a very real possibility if Prime Minister Benjamin Netanyahu does not stop building settlements in the West Bank. Warren was asked if she would make U.S. aid conditional on settlement building and she was unequivocal in saying that "everything is on the table." Democrats are searching for quid pro quo, how's that fit the bill?
Warren on Israel aid: 'Everything is on the table'. Senator Elizabeth Warren is saying she's open to making aid to Israel conditional on whether the government ceases settlement building in the West Bank. Speaking to reporters on Sunday [10/20/2019], Warren said by increasing settlements, Netanyahu does not move in the direction of a two-state solution.
Far-Left Squad Obtains Antisemitism Cloak In Endorsing Bernie Sanders. Three of the four members of the infamous all-female House "Squad" are gearing up to endorse Sen. Bernie Sanders for the 2020 Democratic presidential nomination. While Rep. Ilhan Omar has formally expressed her support for Sanders' candidacy, reports indicate that Reps. Rashida Tlaib and Alexandria Ocasio-Cortez are expected to publicly throw their weight behind the 78-year old Vermont senator soon. Omar's ringing endorsement letter was shared by the official "People4Bernie" Twitter page late Tuesday night following the primary debate. It highlighted the various projects Omar and Sanders are working together on — including legislation to "cancel" all student debt and provide every student in America "free" breakfast, lunch, and dinner (words such as "cancel" and "free" are friendly euphemisms the left uses to justify forcing people to pay for others' expenses).
Bernie Sanders's Anti-Semitic Surrogate. Senator Bernie Sanders's announced last week that Palestinian-American activist and Women's March co-chair Linda Sarsour would be joining his presidential campaign as an official surrogate. Sanders is in a fierce competition with Senator Elizabeth Warren and other Democrats for the votes of the party's left-wing base, which united behind him in opposition to Hillary Clinton four years ago. So it says something important about the tone of the nomination battle that Sanders and his team think Sarsour will help them more than her baggage will hurt them. Sarsour became a celebrity in the months after Trump's election as one of the organizers of the Women's March, which mobilized the "resistance" to the new administration even before it took office. The group gave her a prominent platform, but from the very start of the massive anti-Trump rallies that launched it on the day after Trump's inauguration, it was clearly tainted by anti-Semitism.
Report: Rashida Tlaib Met with Members of Terrorist-Supporting, Pro-Palestinian Group. Rep. Rashida Tlaib (D-MI) recently met with members of the terrorist-sympathizing, anti-Israel group Palestine Youth Movement, according to a picture on social media featuring the lawmaker with supporters of the organization. The Washington Free Beacon first reported on Tlaib's visit with members of the group. It reportedly took place at the Arab Texas Festival of Dallas, according to social media posts.
American Jews Are in Total Denial about the Democratic Party. Not a day goes by without Jews being shot in their synagogues, stabbed, bludgeoned by blocks, physically attacked, pushed to the ground, spat on, and cursed; without graffiti on the walls of Jewish institutions, graffiti on the walls of synagogues; without victims killed, maimed for life, traumatized, hospitalized, extended rehabilitation. [...] American Jewry, being so closely associated with the Democratic Party, seem to suffer from perpetual numbness. It seems as if almost no one in the Democratic Party will stand up for American Jews despite the obligatory calls for tolerance, yet any real action is clearly missing and not a part of the public discourse concerning the epidemic of anti-Semitic attacks throughout America.
Anti-Zionism Is Anti-Semitism. Progressives — those who view mainstream liberals as too centrist and moderate — have a bizarre, illogical obsession with Israel and Zionism, one that causes them to invoke conspiracy theories about the Jewish state controlling media, banks, even American foreign policy, and to portray Israel as the most wicked country on earth. The core feature of anti-Semitism is accusing Jews of cosmic evil. How is accusing the only Jewish state of cosmic evil not anti-Semitic when that state is, in reality, a vibrant, tolerant democracy and when, by all relevant standards, other countries are far more deserving of such condemnation? History shows that anti-Semitism is a virus that mutates with time to conform to what is socially and culturally acceptable: Falsely describing the Jewish people as devilish and guilty of mass slaughter is deplorable today, but describing the Jewish state in such terms is fine — in some circles, even woke and intellectual.
Miami Herald Columnist Echoes Farrakhan's Antisemitism, Smears Jewish Conservative as 'Termite'. Miami Herald columnist Leonard Pitts, Jr., used what many conservatives and Jewish leaders are saying is an antisemitic attack against those working to expose the media, calling in a just-published column those involved in the effort, such as GOP strategist Arthur Schwartz, "termites." Schwartz, the only person Pitts, Jr., names as involved in the effort, is a Jewish conservative and ally of President Donald Trump. The use of the word "termites" echoes antisemitism from Nation of Islam leader Louis Farrakhan, who has recently used the word to attack Jewish people.
Lee Zeldin: New York Times' Double Standard [is] 'Crushing Their Credibility'. Rep. Lee Zeldin (R-NY) charged on Sunday that the New York Times' double standard on racism and antisemitism is "crushing their credibility." Zeldin lashed out at the New York Times in the wake of a Breitbart News investigation which found that the newspaper's politics editor Tom Wright-Piersanti wrote racist and antisemitic comments on Twitter. The Times admitted Sunday [8/25/2019] that the comments were racist and antisemitic. The paper also admitted that Wright-Piersanti's remarks were in "violation" of its standards.
New York Times Admits Editor's Comments Were Racist and Antisemitic. The New York Times has, several days after Breitbart News first exposed politics editor Tom Wright-Piersanti's racist and antisemitic comments on Twitter, admitted the comments were in fact racist and antisemitic. A piece the New York Times released on Sunday [8/25/2019], which described a broader operation of loosely organized supporters of President Donald Trump fighting back against the media with aggressive new tactics, was the first time the newspaper in its own pages addressed the scandal regarding Wright-Piersanti.
Rep. Mo Brooks: "Growing Influence Of The Islamic Religion In Democratic Party" Fuels Anti-Israel, Anti-Jewish Views. Wednesday during an appearance on "The Jeff Poor Show" on Alabama's WVNN radio, Rep. Mo Brooks warned that the "growing influence" of Islam in the Democratic Party will eventually lead to the party becoming "very strongly anti-Jewish and anti-Israel." "Keep in mind — Muslims, more so than most people, have great animosity towards Israel and the Jewish faith," Brooks noted.
Democrats Continue Normalization of Anti-Semitism. Democrats have been continuing a long trend of normalizing anti-Semitism in their party. Congresswomen Ilhan Omar and Rashida Tlaib had been leading the charge on Capitol Hill to deploy anti-Israel legislation with the goal of weakening Israel. They put forth legislation to support the abominable Boycott, Divestment, and Sanctions (BDS) movement, whose ultimate goal is to handcuff and damage the Middle East's sole democracy. It's so noxious that it drew the fire of even liberal Bill Maher. The two congresswomen followed up this action by announcing a trip to a nonexistent "Palestine," knowing that Israel would have no choice but to reject their request.
A flashback that isn't: EU set to require warning labels on Jewish products. Some Americans may find modern day concerns about anti-Semitism and anti-Israeli sentiment overblown, especially if they haven't experienced some centuries of religious discrimination. Such concerns typically appear when Israel is in the news, as it is this week by denying entry to a pair of Muslim congresswomen. Now, comes the European Union with a clever idea to add consumer warning labels to products from Israel as being from that Jewish state. No, seriously. Of course, this is not the first time Jews have been singled out for such public alerts.
Rashida Tlaib's "grandmother" trick — nice try. Some of us remember it as the excuse we gave for playing hooky for class or for work, "I had to go visit my sick grandmother." It's always been the classic routine to gain sympathy, and no one does it better than BDS-flavored Palestinian Arabs, or more cynically than Rashida Tlaib, who was elected to represent Michigan's 13th congressional district, largely Detroit. Imagine the surprise, among voters, to listen to her say, "When I won, it gave the Palestinian people hope..." Wasn't she elected to give the "Michigan people hope?" [...] Then what about grandma? She seems awfully spry at 90 for someone living under "oppression." It is a statistical fact, by the way, that Arabs living under Israeli "oppression" live longer, healthier, happier lives than anywhere in the Arab world.
On Losing or Saving our Country. There is no Democrat(ic) Party anymore. It has gone full-tilt to the Socialist/Marxist/Communist/Islamist etc. party. And, it appears that all of the Socialist Democrat Party — the Democrat Party has already died and been buried — leaders have achieved the level of total corruption, now, with their anti-Semitic and anti-Christian screeds. California Democrat Rep. Ted Lieu accused US Ambassador to Israel of dual loyalty and not supporting the USA when he said that his "allegiance should be to America, not to a foreign power." This followed the ambassador's remarks in support of Israel's decision to bar entry to two anti-Israel congresswomen, Ilhan Omar and Rashida Tlaib." Democrat Senator Mazie Hirono defended the anti-Semitic speech of Rep. Ilhan Omar (D) and accused the GOP of "hate speech" for criticizing the Congresswoman. [...] There are many more Democrats who appear to be "converting" to the new and regrouping and regrowing religion of anti-Semitism each day. This bespeaks a growing extremely ominous for our country.
Don't Be Thrown by the Left Wing-Islamist Alliance. Why are some of the most famous names in the Left wing in America today aligning themselves with Islamists, the Muslim religious Right? Islamists believe in things no sane Left winger would ever endorse: strict gender roles, the authority of scripture over human reason and law, and a rigid hierarchy based on religious faith and practice. The Left wing is largely atheist and opposes any sort of governmental role for clerics. Yet Left wing socialists like Alexandra Ocasio-Cortez routinely rub shoulders with Islamist apologist Linda Sarsour.
Ilhan Omar and Rashida Tlaib's Shameful Lie-Fest. In case you missed it, congresswomen Ilhan Omar and Rashida Tlaib hosted a press conference yesterday [8/19/2019], to speak about their banning from Israel. As expected, it was an Israel bashing-fest, replete with lies.
Why Pelosi is surrendering the Democratic Party to the Jew-haters. A historic transition of the American political landscape is underway, as the older of our two parties is embracing antisemitism and moving away from support of Israel, driven by the personal ambition of a craven politician clinging to power. Nancy Pelosi's desire to remain Speaker of the House is why she is surrendering the Democrats' party to the Jew-haters, with the highly visible, openly antisemitic Ilhan Omar and Rashida Tlaib becoming the real face of her party.
House Democrats [are] Now Lining Up to Punish Israel on Behalf of Ilhan Omar and Rashida Tlaib. Last week the Israeli government officially announced Democrat Congresswomen Ilhan Omar and Rashida Tlaib would not be allowed to enter the country due to their pro-BDS activism. Israel has a law that bars those engaged in the movement, which is aimed at eliminating the country, from admission. However, Tlaib was granted a humanitarian visa to visit her grandmother in the West Bank, which she turned down. [Tweets] Also keep in mind the organization sponsoring Omar and Tlaib's trip celebrates suicide bombers and the murder of Israeli children.
The Unmasking of BDS. After fourteen years of being lulled by propagandists into believing that their boycott, divestment, and sanctions campaign (BDS) is a human rights movement, we're finally waking up to the deception. The U.S. House last month overwhelmingly passed a bill opposing BDS efforts to target and delegitimize the State of Israel. Last February, the Senate passed a bill, never taken up by the House, legalizing the right of state governments and employee benefit plans to refuse to do business with companies boycotting Israel, thereby protecting the 27 states with anti-BDS legislation. Concerned about BDS similarity to Nazi boycotts and incitement of anti-Semitism becoming "the breeding ground for escalations to violence," the German parliament recently passed a resolution declaring BDS anti-Semitic.
Report: Ilhan Omar, Rashida Tlaib Share Antisemitic Cartoon by Participant in Iran's Holocaust Denial Contest. Reps. Ilhan Omar (D-MN) and Rashida Tlaib (D-MI) both reportedly shared an antisemitic cartoon by an artist who participated in Iran's Holocaust denial contest on their respective Instagram accounts on Friday, according to Forward editor Batya Ungar-Sargon. Ungar-Sargon noticed that Omar and Tlaib had each shared the image on their Instagram "stories." Both were barred from entering Israel Thursday because of their support for the "boycott, divestment, sanctions" (BDS) movement.
House Democrats will retaliate after Israel block of Tlaib and Omar: Report. Reports on Saturday indicated that House Democrats could be interested in pursuing retaliation against Israel's decision to block Reps. Ilhan Omar and Rashida Tlaib from entering the country. Senior congressional Democrats are said to be considering legislative action against Israel's ambassador to the United States Ron Dermer and David Friedman, the U.S. ambassador to Israel. Sources told McClatchy that close to 12 Democratic lawmakers are considering action against Dermer and Friedman for their roles in blocking the congresswomen from traveling to Israel.
McCarthy on the Antisemitism 'Growing Around the World': 'We Haven't Seen Something Like This Since the 1930s'. On Wednesday's [8/14/2019] broadcast of Fox News Channel's "Special Report," House Minority Leader Kevin McCarthy (R-CA) appeared on location in Israel to discuss that trip he was on with a bipartisan group of lawmakers. McCarthy told host Bret Baier that he and House Majority Leader Steny Hoyer (D-MD) wanted to show those members the threats from Hezbollah to Israel.
Israel Has Every Right To Block Rashida Tlaib And Ilhan Omar. Israeli officials have decided to block U.S. Reps. Rashida Tlaib and Ilhan Omar from entering their country, a reversal of policy that President Donald Trump seems to have prompted. Should Israel have taken the high road and issued the duo visas for their propaganda visit? Probably. It usually does in these cases. Allowing foes to enter the country reflects the strong liberal values that make Israel a unique place in Middle East. However, the notion that obstructing the two anti-Semitic terror apologists from entering Israel is an attack on liberal democracy, or the United States, or that such a move is accelerating the corrosion of the Democratic Party's support for Israel, is absurd.
Netanyahu: Omar, Tlaib's 'Sole Objective' for Trip Was to 'Harm Israel'. Israeli prime minister Benjamin Netanyahu said the "sole objective" for Reps. Rashida Tlaib (D., Mich.) and Ilhan Omar's (D., Minn.) trip to Israel was to deny the country's legitimacy in a lengthy Twitter thread explaining the decision to deny them entry into the country. "Only a few days ago, we received their itinerary for their visit in Israel, which revealed that they planned a visit whose sole objective is to strengthen the boycott against us and deny Israel's legitimacy," the prime minister's official account tweeted.
Ilhan Omar and Rashida Tlaib Partnered with Vicious Anti-Semites to Plan Their Trip to Israel. To the extent that I care at all about Israel blocking entry to two U.S. congresswomen who partner with anti-Semites who seek its destruction, I agree with critics who argue that Bibi Netanyahu should not appear to bow to Donald Trump's tweeted demands and that blocking Rashida Tlaib and Ilhan Omar from visiting Israel handed them a short-term propaganda victory. But that's not the most important part of the story. The most important element of the story is the fact that two American congresswomen shunned a bipartisan congressional delegation to Israel to go on an independent trip to Israel sponsored by vicious anti-Semites. Another important element of the story is that, as of today, the mainstream media have whitewashed Omar and Tlaib's vile associations.
Here's what Ilhan Omar and Rashida Tlaib were going to do on their trip to Israel and the West Bank. By now it seems clear that Reps. Ilhan Omar and Rashida Tlaib are not going to be visiting Israel or the Palestinian areas of the West Bank. Israel's government announced Thursday that it would not allow the Democratic congresswomen to make their scheduled visit this weekend because both have declared support for the Israel boycott movement. A 2017 law entitles the state to deny entry to boycott activists.
Rep. Rashida Tlaib rejects Netanyahu's terms and forgoes trip to visit grandmother. Rep. Rashida Tlaib will forgo a trip to see her aging grandmother in the West Bank after the Israeli government said it would allow a visit on "humanitarian" grounds. In a reversal, Tlaib rejected the conditions laid out by Israeli Prime Minister Benjamin Netanyahu for the humanitarian visit, namely, that she not broadcast her support for boycotting Israel over its actions against Palestinians during her stay.
The Editor says...
Mr. Netanyahu doesn't need my advice, but I would deport the grandmother!
Israel's BDS against Congresswomen Omar and Tlaib and their anti-semitism. Democrats Rashida Tlaib and Ilhan Omar are not welcome in Israel. The congresswomen were seeking to tour the West Bank and East Jerusalem, according to the country's deputy foreign minister. The decision to bar entry was made by Prime Minister Benjamin Netanyahu, Foreign Minister Israel Katz and Minister of Strategic Affairs Gilad Erdan.
Bernie Sanders threatens to 'leverage' US aid to combat Israel 'racism'. Sen. Bernie Sanders, I-Vt., threatened Tuesday to use billions of dollars in aid to Israel as "leverage" to combat what he called "racism" from the Jewish state's government, while going so far as to compare America's Israel alliance to its relationship with Saudi Arabia. Sanders, one of the leading candidates in the Democratic presidential primary race and an increasingly vocal critic of the Netanyahu government, said during a New Hampshire town hall event that the U.S. should take a broader view of the Middle East — and the Israeli-Palestinian conflict in particular — and not always side with Israel.
Al Sharpton is not a lifelong fighter for justice. Al Sharpton — who should still be seen as a notorious hate figure but has somehow escaped that fate — practically tripped over himself trying to get Trump's attention. It worked. "Al is a con man, a troublemaker, always looking for a score," Trump tweeted. "Just doing his thing. Must have intimidated Comcast/NBC. Hates Whites & Cops!" Then ensued one of the more depressing news cycles of the year, as major Democratic presidential candidates praised Sharpton to the heavens. [...] Calling Sharpton a lifelong fighter for "justice" ignores his history of race-baiting and deadly anti-Semitic incitement.
Thank You, Representative Ilhan Omar. As a congressional representative, Ilhan Omar has masterfully manipulated American freedom in order to make anti-Semitism a more accepted idea. She has admirably done the work of the Muslim Brotherhood in normalizing anti-Semitism in the land of the free. By cloaking the evil as merely an expression of her freedom of speech, she has removed the "racist portrayal of Jews from the neo-Nazi fringe into the mainstream." She has mastered the art of psychological warfare as she couples "Muslim anti-Semitism with the American left's vague notion of 'social justice.'" She has shown her bona fides as a representative of the jihad on free speech while vigorously claiming this vital freedom. As Ayaan Hirsi Ali notes, Omar hails from Somalia, where anti-Semitism is taught at an early age. Thus, she was taught that to destroy the Jews, the Zionists, and the state of Israel is a worthy goal.
Ilhan Omar: American Congresswoman or threat to America? Ilhan Omar is either the most admired or vilified member of Congress. You like her or you don't. She is totally anti-American or just what America needs. There is a good reason for the mixed response to the pixieish Somalian. Those that support the Somali immigrant see her as a fighter and agree with her goal of transforming the US into a socialist country. To others, Ohmar hates America, white men and people of Jewish heritage. She is a supporter of Islam and Palestine. Omar is an anti-semite, proven by her BDS resolution.
Sanders says he would 'absolutely' consider cutting US military aid to Israel. U.S. presidential hopeful Sen. Bernie Sanders (I-Vt.) says while he is "not anti-Israel," America "cannot just be pro-Israel, pro-Israel, pro-Israel," but has to be "pro-region."
Jake Tapper Questions Rashida Tlaib About BDS, Israel's Right To Exist. When I hear Rep. Rashida Tlaib (D-MI) speak, I can't believe she was ever elected to public office. The Palestinian-American Congresswoman recently co-sponsored a resolution in the House with her great pal Rep. Ilhan Omar (D-MN) to support the anti-Israel Boycott, Divestment, and Sanctions (BDS) movement. Last week, she was one of 17 lawmakers to vote against a House resolution to condemn BDS. She compared the BDS movement to the American boycott of Nazi Germany. Tlaib spoke to Jake Tapper on CNN's "State of the Union" this morning. Even Tapper was a bit ruffled by several of Tlaib's replies.
BDS champ Ilhan Omar powers her website through Israeli company. Jew-hating Rep. Ilhan Omar has a hypocrisy problem. She was last seen sponsoring a boycott-divest-sanction (BDS) measure against Israel in Congress to try to free the path for pressure groups to force boycotts of Israeli products onto leftists the next time one of them feels it's necessary to virtue-signal. Her measure failed miserably, but not on account of supposed logic. Actually, she's a pretty impressive hypocrite. Here's what someone, probably in Israel, spotted about her website, according to Breaking Israel News: ["]Congresswoman Ilhan Omar (D, MN), who introduced legislation that seeks to protect those who want to boycott, divest and sanction (BDS) Israel, uses an Israeli company to power her own website.["]
Another CNN Personality's Antisemitic Tweets Unearthed: 'I Love You Hitler'. Another CNN personality who was presenting on the CNN Arabic network as recently as last week appears to have expressed a series of antisemitic sentiments on Twitter, even praising Hitler. This follows the recent resignation of a CNN editor, whose past antisemitic statements surfaced Thursday afternoon.
The Left vs. Alan Dershowitz. Alan Dershowitz is a lifelong liberal, but in recent years he has diverged from the left-wing line on a few issues, including Israel and, to a degree, the Trump administration. That has brought the knives out. Liberal anti-Semites, in particular, are out to get him. The New Yorker, a disgusting rag, has been "researching" a hit piece on Dershowitz for some time.
CNN Editor Resigns After History of Antisemitism Resurfaces. An editor at CNN has resigned after a series of antisemitic comments he made resurfaced on Thursday. [...] CNN's statement accepting the resignation of the editor makes clear the editor had worked at CNN for some time, and had made the antisemitic statements back in 2011.
Why the Left So Despises Donald Trump. The far-left faction of the Democrats, led by congresswomen Alexandria Ocasio-Cortez, Ilhan Omar, Ayanna Pressley, and Rashida Tlaib, have with this big, very white, rigorously politically incorrect billionaire, what they believe, tactically and by uncontainable impulse, is the target of their political dreams. Mr. Trump is the personification of every policy they hate and every human trait they despise; to them, he is a monster of ignorance, greed, bombast, bellicosity, and racist bigotry. [...] All four of them qualify as anti-Semites. As has been widely mentioned, the president is doing what he can to help make these four the best publicly known face of the Democrats.
House Passes Anti-Boycott Israel Resolution by Large Margin; Three of 'The Squad' Vote No. The U.S. House of Representatives on Tuesday night passed by an overwhelming margin a resolution opposing the anti-Israel boycott, divestment and sanctions (BDS) movement, with three of the four Democratic freshmen known as "the squad" voting against the majority of their colleagues. Sponsored by Rep. Brad Schneider (D-Ill.), and co-sponsored by almost 80 percent of the House (175 Republicans and 174 Democrats), H.Res. 46 passed by 398 votes to 17. The measure opposes the BDS movement, calls on Israelis and Palestinians to resume direct negotiations, reaffirms support for the so-called "two-state solution" to the conflict, and — in response to a key complaint of opponents — affirms U.S. citizens' constitutional right to free speech.
Jewish Fawning of Omar Has Made Her More Aggressive. Most of the Jewish community has feverishly and piously supported last week's Democrat-sponsored Resolution condemning President Trump's remarks against Ilhan Omar. Omar, of course, is a notorious, unrepentant anti-Semite and daily demonizer of Israel. But she has become, for many Jews, a heroine, a civil rights star, a noble cause. Enjoying such support, Omar rewarded the Jewish community by immediately announcing, after the Resolution's passage, a piece of legislation demanding that Congress vote in favor of BDS against Israel and her Jewish inhabitants.
Throw Her Out. The four Congressional vipers now known as "the [Odd] Squad" came to Washington this January, swinging. Two of them came swinging at Jews right away. Rashida Tlaib is a Jew-hater with a long resume and Twitter history to document that hate, and with a filthy mouth to boot. The "M-F" word she used to describe the President of the United States — my president, your president, and her president — instantly defined her as trash. In this country, even if you do not like the president — even if you despise him to your utmost innermost core, as I despised and still despise Obama — he still is your president. I never have used such a word to describe Obama. Tlaib reflected herself as trash by speaking in such a way about the president of this country. Ilhan Omar is a vicious Jew-hater, an anti-Semite. I often describe her as a Nazi. Not all Nazis murdered Jews or even touched Jews. Some just lined the streets to cheer Hitler's passing motorcades. Her litany of anti-Jewish tweets by now is legendary.
Ilhan Omar proposes resolution supporting boycott of Israel. US Rep. Ilhan Omar proposed a resolution this week supporting the right to boycott Israel, likening the boycott of the Jewish state to boycotts of Nazi Germany and the Soviet Union. Omar's resolution seeks to push back against US laws banning the boycott of Israel and affirms the right of Americans to organize boycotts of foreign countries if they wish. While the resolution doesn't explicitly name Israel or the pro-Palestinian Boycott, Divestment and Sanctions (BDS) movement, she told media outlets that the resolution concerns the Jewish state.
Omar introduces resolution defending boycott of Israel, likens it to boycotts of Nazi Germany, Soviet Union. U.S. Rep. Ilhan Omar proposed a resolution this week supporting the right to boycott Israel, likening the boycott of the Jewish state to boycotts of Nazi Germany and the Soviet Union. Omar's resolution seeks to push back against U.S. laws banning the boycott of Israel and affirms the right of Americans to organize boycotts of foreign countries if they so wish. While the resolution doesn't explicitly name Israel or the pro-Palestinian Boycott, Divestment and Sanctions (BDS) movement, she told media outlets that the resolution concerns the Jewish state.
Rep. Omar Pro-BDS Bill Compares Israel To Nazi Germany. Democrats can't stop arguing that any criticism of Rep. Ilhan Omar is a victim any time that she's criticised. Meanwhiile none of her anti-Semitic antics merit criticism. Like introducing a pro-BDS bill that compares Israel to Nazi Germany.
Omar to Introduce Resolution Declaring Support for Anti-Israel BDS Movement. Representative Ilhan Omar (D., Minn.) will introduce a resolution this week declaring support for the Boycott, Divestment and Sanctions (BDS) movement, which seeks to elevate the Palestinian negotiating position vis-a-vis Israel through an international pressure campaign.
Trump Admin Tackles Rising Anti-Semitism. The Trump administration is working on multiple fronts to investigate and combat a rising tide of anti-Semitism in America that top officials warned is spreading across the country via a network of far left, anti-Israel activists, who seek to mainstream hatred against Jews at the nation's college campuses and elsewhere. During a daylong conference, the first of its kind for this administration, senior administration officials from across the government gathered with legal experts and scholars to address the growing threat of anti-Semitism, which has resurged in America and across the globe in recent years.
Rep. McCaul on Antisemitism in Congress: 'Omar Has to Go'. Rep. Michael McCaul (R-TX) said on Monday [7/8/2019] at the Christians United for Israel summit in Washington, DC, that Rep. Ilhan Omar (D-MN) should be removed from the House Foreign Affairs Committee for her antisemitic remarks about Israel and the Jewish people. McCaul, who is ranking member on the committee, made the remarks in an interview with Michelle Makori, anchor and editor-in-chief at the Israeli news outlet i24 NEWS.
Warren: I Would Push Israel to End Occupation of Palestinian Territories. 2020 hopeful Sen. Elizabeth Warren (D., Mass.) told activists at an event Monday that she supported pressuring Israel to, in their words, "end occupation" of Palestinian territories.
Liberals are eating their friends as well as their enemies. [Scroll down] Speaker Nancy Pelosi is constantly being undercut by House Dems who want to impeach Trump yesterday, making her look weak and leading her to make wild accusations of criminal conduct against Trump to prove she also hates the president of the United States. Others in her caucus, especially rookie Alexandria Ocasio-Cortez, are pushing Pelosi to the left with their nutty Green New Deal, which would destroy the economy if enacted. And the two Muslim women in Congress, Ilhan Omar and Rashida Tlaib, keep infuriating many of their fellow Dems with their obvious hatred of Israel.
Mark Levin Lights Up Alexandria Ocasio-Cortez Like a Christmas Tree at Chernobyl. This Democrat Party is a horrid party. It is a party of hate. It is a party of racism. It's a party of anti-semitism. It's a party of un-Americanism, which perhaps explains why the media are attached at the hip to the Democrat Party. There is a revolution taking place. Over the years I've called it a counter-revolution to the American revolution. It's been going for a hundred years and you're seeing its progeny right now. The Democrat Party has always been a hateful party. Slavery, segregation, Jim Crow, and now today. If you're an anti-semite, you can find a home in the Democrat Party. The Democrat Party is the modern home to anti-semitism. As I said, this party has become a poison. It's the party of the New Left and the old Reds.
AOC attack group targets top Dem — who voted with her 96% of the time but criticized Omar. A far-left group backed by Rep. Alexandria Ocasio-Cortez is supporting a political newcomer to unseat a 30-year Democratic New York congressman who called out Rep. Ilhan Omar over anti-Semitism. Justice Democrats, a group that initially recruited Ocasio-Cortez to run against former Rep. Joe Crowley, is targeting Rep. Eliot Engel. The candidacy of Jamaal Bowman, a 43-year-old public middle school teacher, was put forward by Justice Democrats in a continued effort to elect more progressive Democrats to Congress, the New York Times reported.
The Editor says...
Who is Jamaal Bowman? Two minutes of research turned up this, from November 9, 2015:
Principal says standardized testing is 'modern-day slavery'. In an online rant, a Bronx public school principal has likened standardized testing to slavery, redlining and crack cocaine in damaging the lives of minorities. "Public school high-stakes standardized testing is a form of modern-day slavery, and it is designed to continue the proliferation of inequality," Cornerstone Academy for Social Action Middle School Principal Jamaal Bowman says in an Aug. 31 blog entry titled "The Tyranny of Standardized Testing." "America was born of horror for black people and that horror continues today for brown and poor people as well. Slavery, Jim Crow, redlining, crack cocaine and now standardized testing were all sanctioned by the American government. All designed to destroy the mind, body and soul of black and brown people."
Spate of Antisemitic Attacks in US and The Antisemitism Most Won't Dare Talk About. In the past year or so, there have been a spate of antisemitic attacks in the US, especially NYC. [Numerous video clips] Do you notice a pattern with these attacks I have highlighted? Without putting too fine a point on it, the perpetrators have all been African Americans. And it is no coincidence. This uptick in Black attacks on Jews coincides with an escalation in the rhetoric of prominent activists in the intersectionality movement. Activists like Linda Sarsour who compares "Zionists" to "White supremacists[.]"
Anti-Semitism in America is an apolitical cancer. Anti-Semitism is a serious and deadly disease in the United States. And in many ways, it is getting worse. Anti-Semitic attacks neared a new record last year as assaults against Jews more than doubled, according to the Anti-Defamation League. Just last year alone, there were 1,879 recorded attacks on Jews and Jewish institutions, the most notable being a deadly mass shooting by a white supremacist at a synagogue in Pittsburgh that left 11 people dead and more injured. There is a sickness in this country that our leaders must work to heal. Some have risen to the occasion. Others, sadly, have fallen far short of the mark.
The Editor says...
The writer goes on to say, "Anti-Semitism is a cancer that plagues both the American Left and the Right." But the only example in the whole article of antisemitism coming from the political right was David Duke. With the exception of that one politician, antisemitism always comes from the political left.
Is America Experiencing Europe's Growing Anti-Semitism? Is America experiencing Europe's growing anti-Semitism? That was the central question at the Hudson Institute last Tuesday afternoon. As Hudson Institute CEO Ken Weinstein noted in opening remarks, it's a question we never thought we'd have to ask. Yet, in 2019, it's an unavoidable, even urgent question. After deadly attacks in Pittsburgh and Poway, along with openly anti-Semitic rhetoric in the U.S. Congress and anti-Semitic imagery in The New York Times, the climate has clearly changed.
D.C. Gay Pride March Bans Israeli Flags, Allows Palestinian Ones. A Washington gay pride parade is banning participants from brandishing Israeli flags, Israeli pride flags, or any "pro-Israel paraphernalia" during its event on Friday [6/7/2019]. Yael Horowitz, a Jewish organizer of the D.C. Dyke March, said organizers had decided to ban "nationalist symbols," including flags and banners that represent "nations that have specific oppressive tendencies." Palestinian flags would be allowed, however, the Forward reported.
Dyke March bans Israeli and Jewish Pride flags; Palestinian flags still OK. The D.C. Dyke March, which is being billed as an all-inclusive celebration of underrepresented people, is banning Israeli and Jewish Pride flags but allowing Palestinian flags during Friday's [6/7/2019] event. The march, which is returning to Washington after a 12-year hiatus, is seeking to be more radical than its previous version, including LGBTQ people of various races, religions, socioeconomic classes and gender identities, organizers told The Washington Post.
The Editor says...
How odd. They banned Israeli flags to avoid representing certain people at an event that's all about under-represented people.
"We don't want no Jew state," shouts Leftist speaker in the middle of Times Square. Public displays of virulent Jew/Israel hatred by Muslims and their useful idiots from the far left aren't only in 'Dearbornistan' in Michigan, but also in the heart of New York City, home to the country's largest Jewish population. Yet NYC Commie Mayor Bill De Blasio still insists that ALL anti-semitism is coming from the right.
De Blasio's whitewashing on anti-Semitism. Here's what's been happening in New York City over the past year: Jews who are visibly Jewish have been getting assaulted in record numbers. We've seen numerous videos of these assaults, in which a bearded man in a yarmulke is smashed in the head or knocked down or otherwise physically set upon by one or two African-American men. We've also seen videos like the one in which Rabbi Uriel Vigler took care to photograph the menacing conduct of a man who followed him along an Upper East Side street, taunting him and then calling him the "devil" as he fled once Vigler pointed him out to the security guard at his synagogue. Don't worry, says our mayor — the real danger Jews face is from the right wing.
Ilhan Omar To Join Black-Jewish Caucus Despite Repeated Allegations Of Anti-Semitism. The office of Democratic Minnesota Rep. Ilhan Omar revealed Thursday she will be joining the House's newly formed Black-Jewish Caucus. A spokesman for Omar confirmed to Jewish Insider that Omar intends to join the bipartisan committee a day after the Minnesota congresswoman expressed her support for it on Twitter. [...] Omar, and fellow Democratic Rep. Rashida Tlaib of Michigan became America's first Muslim congresswomen and their time in office has been embroiled in allegations of anti-Semitism and anti-American sentiments.
Who's to Blame for Rising Anti-Semitism? As anti-Semitic incidents proliferate in Western Europe, the burning issue seems to be: who is to blame? Should we all blame right wing populists like the German AfD and the French Marine LePen or should we blame the politicians, like German Chancellor Merkel, who opened her nation to Muslim anti-Semites? Obviously, the leftist media is spinning as fast as it can. It's true enemy is the radical right, and thus, anything bad must be the fault of the right.
Calling Out Anti-Semitism Isn't 'Islamophobic'. irginia State Delegate Ibraheem Samirah is the poster child for a new crop of Democratic politicians. He's young, charismatic, and very progressive, with a history of activism that began in his student days on the campuses of Boston University and American University. Samirah has spent his brief time as a Virginia delegate hawking a "Green New Deal" for Virginia in the Washington Post. But Samirah also has a history of shockingly antisemitic and virulently anti-Israel statements and troubling associations, and he doesn't take kindly to those who point it out.
Socialist Group Applauds Rep. Ilhan Omar's CAIR Speech, Calls Pro-Trump Protesters 'Fascists. Rep. Ilhan Omar (D-MN) spoke on Saturday [5/25/2019] at a Washington branch of the Council on American-Islamic Relations (CAIR) fundraiser in Seattle, Washington, where security was tight and protesters showed up in support of Omar and others came to condemn her antisemitic remarks. On Monday, Liberation, the Newspaper of the Party for Socialism and Liberation, announced it was behind the pro-Omar protests.
The Calming Feeling as Jew-Hate Now Takes Deeper Root in the Democrat Party. Rashida Tlaib (D-MI) has logged tomes of anti-Israel and anti-Jewish tweets and rhetoric. Those tweets initially outraged Democrats no less than they did Republicans. And then the Democrats started counting votes. [...] The initial outrage felt among Democrat leaders when Omar and Tlaib tweeted Nazi tropes is no more. The turning point came when the Democrats prepared to condemn anti-Semitism within their ranks, then learned that they could not pass such a resolution, that the Old Timers had lost control of the ship, that the new trope driving discrete small but influential primary voting blocs is that Israel and Jews do not fit into the world of contemporary Intersectionality. Rather, as the vile Jew-haters who lead "The Women's March" have demonstrated, Israel-hatred and Jew-hatred is cool. The Left has adopted hatred of Israel as a new sacrament.
Rashida Talib and the Democrat sanctioned Revision of Democrat history. [Scroll down] Unfortunately, her clarification and early comment taken at face value present other problems every bit as severe. For one thing, Talib's claimed sympathy for Jewish victims of the Holocaust comes up rather empty, particularly inasmuch as her own website supports BDS (Boycott, Divestment, and Sanction of Israel). According to the Jerusalem Post, BDS has connections with the terrorist group Hamas which calls openly for the complete and utter destruction of Israel. Talib also wrote a column for Luis Farrakhan's publication in 2006. While she claims that is not an endorsement of the man, any association at all should raise eyebrows. After all, Farrakhan calls Jews "termites" and says Hitler was a "great man."
The Islamization of Minnesota Media. [Scroll down] Before even being sworn in, [Ilhan] Omar began making her demands, specifically that the longstanding rule banning the wearing of head coverings on the U.S. House floor be overturned so she can appear in her hijab. That change to a 181-year old rule is part of a package of rules changes introduced by Democrats, to be voted on in January 2019. Additionally, Omar already has appeared on the cover of Time magazine, been a guest on several late-night television shows, and is active on the CAIR fundraising circuit, both on behalf of herself as well as fellow Muslim candidates. Minnesota media consistently decline to report on these activities. Omar, however, allegedly has violated Minnesota House ethics rules by taking honoraria from schools that she oversees in one of her legislative capacities. Alpha News was the news outlet that broke the story and a fellow House member brought the violations to the wider public. The evidence is strong that Omar intentionally timed the filing of her disclosure reports with state authorities in order to avoid being found out while the legislature was in session. She's somewhat infamous, of course, for allegations of committing immigration fraud by marrying her brother. This too was a subject that local media only reluctantly covered, giving her every benefit of the doubt and not asking probing questions. The best examination of her sham marriage came from Powerline's Scott Johnson and Alpha News' Preya Samsundar. The former has credited the latter with uncovering the strongest evidence that Omar married her brother by combing through various social media accounts. Those accounts were quickly deleted or made private when Samsundar's reporting became known.
Why is Al Sharpton, inciter of Crown Heights, speaking at a Jewish conference in Washington? The disgraceful decision by the Religious Action Center of Reform Judaism to have Al Sharpton speak this morning at a plenary session of its conference in Washington, D.C., (titled "Consultation on Conscience") sends a very dangerous and intolerable message to the anti-Semites among us. Anti-Semitism is on the rise, not just in the form of shouts or graffiti but also the murder of Jews. It is thus incomprehensible how the Religious Action Center could have ever made this decision.
Democrats Rally Round Their Anti-Semites. Representative Rashida Tlaib (D-Mich.) and the Democratic Party leadership defending her indefensible comments on the Holocaust are now promoting the Big Lie about Arabs as innocent victims of World War II. Nazism was widely popular among Palestinians, who played a key role in the Holocaust. Adolf Eichmann himself went to Cairo to train the Muslim Brotherhood in anti-Semitic propaganda, military sabotage, and terrorism — launching the modern jihadi movement in the process. Without Arab Nazism, 6 million Jews would not have been murdered.
Sorry, Rashida Tlaib: Israel was not a consolation prize for Jews after the Holocaust. Recent assertions made by Rep. Rashida Tlaib regarding the Holocaust and the establishment of the State of Israel have no foundation in the historical record. In this imagined version of history, after the Holocaust, the Jews were awarded a consolation prize — the establishment of Israel — at the expense of those already living there.
Rashida Tlaib Reaps the Rewards of Anti-Semitism. If you harbor any doubts that the Democratic Party has fully embraced anti-Semitism, you can put them to rest by tuning in to C-SPAN and watching the replay of a single congressional session that began at 3:30 p.m. Wednesday [5/15/2019]. The representative standing at the Rostrum, proudly presiding over the floor proceedings for the United States House of Representatives was none other than Rashida Tlaib. Speaker Nancy Pelosi and Majority Leader Steny Hoyer have gone beyond their disgraceful defense of Tlaib's grotesque distortions of Middle East history and have decided to rub the electorate's face in a calculated exercise in bigotry.
From Rashida With Love. Congresswoman Rashida Talib has been in the news as a result of a Yahoo News podcast in which she participated. The podcast, titled "Skullduggery," is an anti-Trump hatefest. This episode began with the hosts discussing the desirability of impeaching President Trump. Then they welcomed Tlaib as a guest, and talked about impeachment some more. (Tlaib is an enthusiastic advocate.) Next they turned to foreign policy, specifically the Middle East. This is where the interview turned controversial. Numerous Republicans, including President Trump, have denounced Tlaib's comments, some because they interpreted them as anti-Semitic. The majority view, however, is the one expressed by Paul, who termed Tlaib's musings on the Middle East "not anti-Semitic" but "blatantly false."
A Calm Feeling about the Holocaust. Nothing very new here. A Democratic Congressperson utters some blatantly anti-Semitic remarks. Republicans denounce her. Democrats rush to defend her... on the grounds that her remarks were taken out of context. You see, it's the context that matters and only the context.
The Rot Is Irreversible. Disease is reversible — rot isn't. Representatives Ilhan Omar and Rashida Tlaib brought the disease of anti-Semitism into the upper echelons of the Democratic Party when they were elected in November. The party could have fought the disease. It chose instead to nurture it. And that's when the irreversible rot set in. The rot explains why Democrats, from Speaker of the House Nancy Pelosi on down, are vigorously defending Tlaib's recent lies about Arabs welcoming Jews after the Holocaust. It doesn't matter what Tlaib or Omar say, how blunt their Jew-hatred is, or how often it's aired. A defense pact is already in place that covers all calumnies against the Jews. Both the Democratic leadership and the liberal media establishment will back these bigots against any and all charges of anti-Semitism in return for smooth relations with the social-justice left. It's a monstrous deal made by people too weak to defend their party and speak the truth.
Top Democrats' defense of Rashida Tlaib's Holocaust inversion and revisionism is unforgivable. Tlaib falsely portrayed Palestinians as the true victims of the Holocaust who suffered by providing Jews 'safe haven' during and after the Holocaust. Yet Nancy Pelosi and Stenny Hoyer demand an apology not from Tlaib, but from her critics.
Rashida Tlaib's Lies Remind Us Why Israel Must Exist. During a recent SkullDuggery Podcast on Yahoo!, Rep Rashida Tlaib dropped a few historically illiterate thoughts on the Holocaust and Israel. None of it was especially surprising to anyone who's followed far-left or Palestinian rhetoric for any amount of time. For Tlaib, the Holocaust was primarily a tragedy for the Palestinian people, who were unable to repel Jews' immigration and stop the formation of a Jewish state. Her words are a helpful reminder of not only why Israel exists, but also that the tragedy of the Palestinian people is neither the fault of the Jews, nor the British, nor the Holocaust. Tlaib offers two important revisionist claims: The first revolves around the contention that Palestinian Arabs were not only welcoming of the Jews, but actually sacrificed their own dignity and lives so Jews could be safe. The second revolves around the notion that Jews were, or would be, safe under Palestinian rule.
Anti-Semites R'us. Rashida and her homies are complaining about people taking her words out of context and using them to stoke racial hatred for political reasons. To be clear, that technique is only acceptable when applied to a President you don't like.
The Rantings of Rashida. For once, I find myself agreeing with the contemptible Rashida Tlaib, the freshman Democratic representative from Michigan. Her vile comment that she gets a "calming feeling" when she thinks about how Palestinians allegedly offered refuge to Jews fleeing the Holocaust indeed was "twisted" and "taken out of context," as she tweeted over the weekend. In fact, what she said in a May 10 podcast interview is much worse — and it wasn't a gaffe or even an example of her propagating the myth that Palestinians aided European Jews after World War II. Tlaib knew exactly what she was talking about.
The Florida Democratic Party's Own Muslim Anti-Semite. Anti-Semitism is quickly on the rise within the Democratic Party, and the poster children for it are two high-profile freshmen US Representatives, Ilhan Omar of Minnesota and Rashida Tlaib of Michigan. Florida, too, has its own Democrat Islamist anti-Semite, anti-Israel activist Rasha Mubarak. Mubarak is on a mission to destroy the Jewish state, Israel, and she is taking the Florida Democratic Party with her.
Ilhan Omar Viciously Attacks Liz Cheney For Calling Out Tlaib's Anti-Semitism. On Monday [5/13/2019], after Rep. Liz Cheney (R-WY) (who is fearless in calling out anti-Semitism) had properly called out Rep. Rashida Tlaib (D-MI) for her latest display of it, Tlaib's good friend Rep. Ilhan Omar (D-MN) attacked Cheney with a tweet that was both vicious and self-pitying, ranting, "Give it up, we all know you never met a Muslim you didn't want to vilify! Your deep seeded hate and Islamophobia might be a tool to rally your base, but won't get rid your colleagues. You just have to deal."
Congresswoman Tlaib Says She Gets a 'Calming Feeling' From the Holocaust. Democratic Party Congresswomen Rashida Tlaib (D-MI) has said she feels a "kind of calming" when she thinks about the Holocaust, according to her own words from a new episode of the Yahoo News podcast Skullduggery. [...] Asked about her position on the latter, she explains her support for a "one state solution" — a proposal also backed by terrorist faction Hamas. While Tlaib explains she does not believe in violence like Hamas does, she explains around the 28 minute mark that she gets a "kind of calming feeling" when thinking of the violent murder and extermination of six million Jews: [...]
House of Representatives' opening prayer given by militantly anti-Semitic preacher. A Muslim cleric who called for violence against Israel and expressed support for Hamas gave the opening prayer before the House of Representatives Thursday [5/9/2019], angering several representatives. Omar Suleiman, an imam and president of the Yaqeen Institute, delivered the invocation at the invitation of his congresswoman, Democratic Rep. Eddie Bernice Johnson of Texas, according to the Jewish Telegraph Agency. Republican New York Rep. Lee Zeldin, who is Jewish, decried the invitation in light of the fact that Suleiman has repeatedly called for a third Intifada against Israel, referred to Jews as "Zionists" and called them "enemies of God," and defended the terrorist organization Hamas on social media.
Mike Pence Calls for Ilhan Omar to Be Removed from House Foreign Affairs Committee. Today [5/10/2019], in an interview with Fox News, Vice President Pence called on the Democratic House leadership to remove Rep. Ilhan Omar (D-Minn.) from the powerful House Foreign Affairs Committee. "Ilhan Omar has made statements, anti-Semitic comments against our most cherished ally, Israel, that ought to be rejected by every American," Pence said in the interview. "And frankly the fact that very recently, she's been trying to blame the United States of America for the deprivation and the poverty brought on by the dictatorship in Venezuela tells me ... Congresswoman Ilhan Omar has no place on the House Foreign Affairs Committee and the Democratic leadership ought to remove her."
Rep. Rashida Tlaib Attacks Fellow Democrat As A 'Bully' Over Meeting To Discuss Anti-Semitism. This story is about a meeting between Democrats which took place back in February. Rep. Josh Gottheimer and Rep. Elaine Luria held a private meeting with Rep. Rashida Tlaib to express their concern about some of the things she (and others) had said which were deemed anti-Semitic. Yesterday, the Intercept published a story in which Tlaib claimed that during the meeting she realized Rep. Gottheimer was a "bully."
Ilhan Omar Boasts: I'm Trump's 'Biggest Nemesis'. Speaking with The Huffington Post, Rep. Ilhan Omar, who has made numerous anti-Semtic and anti-America remarks, bragged that she is President Trump's "biggest nemesis." Omar boasted, "This is a president who has come to power because he was very much willing to vilify and demonize immigrants and refugees. He so proudly said we should halt Muslims from entering our country. He clearly has a disdain for black women who see themselves as equal to him. And so, for many people, it's not a surprise that he finds his biggest nemesis in me. Clearly, I am a nightmare — because he can't stop really thinking about ways that he can continue to use my identity to marginalize our communities."
Rep. Crenshaw Pushes Back at 'The View' Hosts: Yes, What Omar Said About 9/11 Was Awful. Conservative congressman Dan Crenshaw (R-TX) knew he was sitting down at a majority liberal coffee table on "The View" Monday morning [5/6/2019], but he willingly debated the hosts on his ideals, a certain controversial freshman lawmaker, and, of course, President Trump. Since entering Congress, Rep. Ilhan Omar (D-MN) has uttered a string of what many would call anti-Semitic remarks and has also made an outrageous comment about September 11, which she defined as, "some people did something." Crenshaw shared his frustration with her rhetoric on Monday and Democrats' inability to call her out. He mused that while some Democrats may disagree with Omar behind closed doors, in public they are "playing a team sport." Even the party's attempt to pass an anti-hate resolution ended up being watered down because House Speaker Nancy Pelosi apparently didn't want Omar to be singled out.
Zuhdi Jasser: 'Ilhan Omar and Rashida Tlaib Are Normalizing' Radical Islamism. [Alex] Marlow invited Jasser's comments on a Friday report of a video depicting Muslim children wearing Palestinian attire and singing jihadist songs and shared on the Muslim American Society Islamic Center in Philadelphia's (MAS Philly) Facebook page. "People see these clips and they think it's just an aberration or a one-off," said Jasser. "Even the bizarre Philadelphia Enquirer had the temerity to have a reporter report after this was going viral that the heads of the school said this was an oversight and it wasn't properly vetted. The only thing that wasn't properly vetted was that some parent posted that."
Omar: The One in Every Generation. In the past few years a virus-like, anti-Israel malady has been brewing on college campuses across the United States. It has targeted pro-Israel, Jewish students, faculty members and speakers brought on campus to educate anybody willing to listen about Israel realities. In the beginning, the confrontations appeared relatively civil. However, as coverage by press and television crews expanded, the rhetoric appeared to intensify. The hostile exchanges that followed were largely ignored by campus authorities among others. Characterized as "mere" anti-Israel policy actions, angry protestors could be heard spouting recognizable anti-Semitic characterizations, some laced with intimidation and some with violent threats.
Rep. Rashida Tlaib's Loyalties Do Not Lie With America. She Just Made That Explicitly Clear. The usual suspects came out in support of the people who launched rockets at Israel over the weekend. Sadly, it is not surprising to see the likes of Rep. Ilhan Omar (D-MN) or Rep. Rashida Tlaib (D-MI) siding with terrorists. It should, of course, be surprising — shocking, even — for members of the United States Congress to express such views, but we are far past being shocked over terror-sympathizing among Democrats.
Ilhan Omar, Rashida Tlaib Stand with Iran Over Terror Attacks in Israel. Controversial Democrats Ilhan Omar and Rashida Tlaib have stood with Iran's regime in support of Palestinian terrorists attacking Israel.Minnesota Rep. Ilhan Omar and Michigan Rep. Rashida Tlaib, two of three Muslim members of Congress, expressed their support for the rocket attacks against Israel over the weekend.Since Friday, the Palestinian terrorist groups Islamic Jihad and Hamas fired over 700 rockets into Israel during unprovoked terrors attacks.
Virulent Anti-Semitic Swine Blame Israel for Terrorist Attacks. There's little in this world that evokes a more visceral reaction in me than bigotry and racism, which is why the two evil, anti-Semitic sows in Congress — Ilhan Omar and Rashida Tlaib — bring out my worst, most enraged persona to the surface. This weekend, the terrorists in Gaza decided to violate yet another ceasefire and began a wholesale attack against Israeli civilians. [...] HAMAS and PIJ went on the offensive in Israel, lobbing more than 600 rockets at innocent Israelis, provoking a decisive response from the Israel Defense Forces (IDF), who attacked 350 HAMAS and PIJ targets, including rocket launch sites, terrorist operatives, HAMAS cyber offensive sites, weapon storage facilities, and military compounds. Israel's restrained response brought out the virulent, anti-Semitic sows Omar and Tlaib, along with their sister in Jew hatred Linda Sarsour, who instead of standing in solidarity with innocent people being attacked by terrorists, immediately trotted out the "poor, put upon Palestinians" card.
Hey, Congressmuslim Ilhan Omar, are there any Islamic terrorists you don't support? 'How many times will YOU defend TERRORISTS'?! Rep. Liz Cheney (R-WY) rightly attacks Ilhan Omar for blaming Israel for attacks on Israel by Hamas. Rep. Dan Crenshaw (R-TX) attempts to educate this little Somali Muslim infiltrator.
Ilhan Omar Wrongly Refers to Gaza as 'Occupied'. Rep. Ilhan Omar (D-MN) wrongly referred to Gaza as "occupied" in a tweet supporting Palestinian terrorists against Israel on Sunday [5/5/2019], as hundreds of rockets were fired at Israeli civilian population centers, killing four Israelis.
'What's Pelosi going to do?' Rudy Giuliani asks, after Tlaib calls Palestinians 'our people'. Rudy Giuliani has pointedly asked, "What is Pelosi going to do?" about Rashida Tlaib. Giuliani was referring specifically to Tlaib's tweet of support for the Hamas terrorist 700-rocket barrage on Israel this weekend that killed at least 4 Israeli civilians and injured dozens.
Why Is Ilhan Omar's Collusion With Islamists Acceptable? Freshman Rep. Ilhan Omar (D-MN) has distinguished herself with often offensive, outrageous, and unpatriotic rhetoric. One week she invokes classic anti-Jewish tropes. The next she trivializes the September 11 jihadist attacks. Another it is unearthed that she espouses morally relativistic if not overtly anti-American views about U.S. soldiers, the very ones who fought to defend civilians in her native Somalia to boot. Omar's penchant for provoking millions of Americans with odious words has masked the related, equally if not more troubling, elements of her associations, ideology, and background.
The New York Times and the Climate of Anti-Semitism. [Scroll down] Before the second cartoon hit the wires, Times opinion writer Bret Stephens called out the paper for its anti-Semitic cartoon while describing the accusation that the Times was purposefully anti-Semitic as a "calumny," a false and despicable accusation. Stephens' colleagues rose almost immediately to deny the Times' obsession with depicting Jews in the vilest ways, its description of the Arab/Israeli conflict as resting solely on the shoulders of Israel, and its role as a bully pulpit for the emergent anti-Semitism of the left. Despite years of documentation of these trends by Honest Reporting and Algemeiner, Stephens' colleagues dismissed his observations as fantasies. Fantasies? This is a newspaper that attributed the measles outbreak in New York City to Orthodox Jews. While the views of Orthodox Jews on vaccination are perfectly fair game, it is interesting that the Times barely noted outbreaks in other communities that have resistant attitudes toward vaccination — such as the Amish or the Somalis in Ilhan Omar's congressional district. Rather it is the historic Jew as the transmitter of disease and the infamous black death that the Times seizes upon.
Today's anti-Semitism festers in online sewers — and the pages of The New York Times. The San Diego synagogue shooter was self-radicalized on a right-wing message board on the website 8chan, posting before he went on his rampage a thank-you to the board's users: "What I've learned here is priceless." The attack, which killed one and injured three, came six months to the day after the shooting at the Tree of Life synagogue in Pittsburgh that killed 11. The San Diego shooter declared the Pittsburgh shooter — also a creature of fringe internet culture — one of his heroes. Anti-Semitism is a millennia-old phenomenon, and anti-Jewish shootings in the US aren't new, either (several occurred while George W. Bush and Barack Obama were president).
Der New York Stürmer. The New York Times? How about more accurately calling it Der New York Stürmer? This despicable anti-Semitic publication has been attacking Jews mercilessly for more than half a century. Now its Jew-hatred has been translated into pictures for those neo-Nazis of the Left and Right who have difficulty keeping up with words that are spelled with letters. In a vicious, unforgivable cartoon over the Passover holy season, the international edition of Der New York Stürmer published a cartoon depicting Israeli Prime Minister Benjamin Netanyahu as a dog — a dirty Jew dog — with a big Jewish Star of David hanging from its neck. Get it? Jew dogs? Get it? A Star of David? Get it? Rep. Ilhan Omar (D-MN) surely got it. Rep. Rashida Tlaib (D-MI) certainly got it.
Ilhan Omar Allowed To Talk To Elementary Students Behind Closed Doors — Parents & Press Allegedly Not Allowed. On Friday [4/26/2019], jihad Rep. Ilhan Omar (D-MN) visited elementary and middle school students in Minneapolis, but allegedly, parents and the press were allegedly not allowed to attend. However, not to miss a moment in the spotlight without any serious questioning of her clear Islamic agenda, Omar posted video of her arrival at Anne Sullivan Community School. "One of the best parts of my job. It's so rewarding to be back in-district visiting with dedicated staff and curious students," Omar wrote on Twitter.
Also posted under Islamic indoctrination in schools.
Two days after synagogue shooting, Buttigieg kisses anti-Semite Al Sharpton's ring. House Speaker Nancy Pelosi, D-Calif., boasted this month that there is "no taint" of anti-Semitism in the Democratic Party. She may want to tell that to her colleagues, especially the 2020 presidential candidates, many of whom continue to kiss the ring worn by noted race hustler and anti-Semite, Al Sharpton. On Monday [4/29/2019], just two days after a gunman opened fire at a San Diego synagogue, killing one and injuring three others, South Bend Mayor Pete Buttigieg dined with Sharpton in New York. The two spoke at length about the upcoming presidential election and homophobia in churches and faith-based communities.
The Peculiar Progressive-Islamist Alliance. After Congresswomen Ilham Omar's and Rashida Tlaib's incendiary anti-Semitic rants directed at Jewish Americans and American ally Israel, the Democrat House "progressive caucus," led by Alexandra Ocasio-Cortez, rallied around to protect and support them. The progressive media chimed in, supporting the Islamist congresswomen. Even after Rep. Omar dismissed the 9/11 attacks as "someone did something," Democrat progressives defended her, accusing the president of religious bigotry when he objected. Not to be outdone, the ever more progressive and pro-Islamist New York Times published a political cartoon that even they admit is anti-Semitic, as well as an article claiming that Jesus was a Palestinian, which was applauded by Ilhan Omar! The anti-Semitic congresswomen and media were right in tune with the powerful "Women's March" leaders, who allied with notorious anti-Semite Louis Farrakhan, head of the Nation of Islam, calling him "The greatest of all times."
6 Dem Senators Sell Out Jewish Terror Victims to Restore Cash to Islamic Terrorists. [Scroll down] Last year, the Palestinian Authority informed the United States that the terror group would no longer accept any aid from the United States that would expose it to ATCA lawsuits. The terror group's letter suggested that it might revisit its refusal if the law were changed. That's just what 6 Democrat senators, led by Senator Dianne Feinstein have set out to do, using the false claim of a humanitarian disaster. "President Trump's refusal to provide humanitarian aid to the Palestinian people is a strategic mistake," Senator Feinstein claimed, accusing him of "denying funding for clean water, health care and schools in the West Bank and Gaza." Senator Chris Coons urged that, "It is critical that we restore lifesaving aid to the West Bank and Gaza." Senator Jeff Merkley insisted that, "Aid to innocent civilians should not be caught up in broader geopolitical battles. We can and should restore aid to children and other vulnerable populations at the same time as we stand steadfastly by Israel's security." But the real agenda revealed by their resolution shows that it's not about humanitarian aid, but about restoring funding to the Islamic terrorists of the Palestinian Authority.
Report: Omar Attacked US Soldiers Who Died Fighting in 'Black Hawk Down' Operation. A newly unearthed tweet shows Minnesota Democratic Rep. Ilhan Omar attacking the U.S. soldiers who fought and died in the Battle of Mogadishu. "In his selective memory, he forgets to also mention the thousands of Somalis killed by the American forces that day! #NotTodaySatan," Omar wrote in a tweet in October 2017, uncovered Monday [4/22/2019] by John Rossomando of the Investigative Project on Terrorism. Omar was responding to another tweet about the Battle of Mogadishu, a 1993 humanitarian operation by the U.S. military that sought to save starving Somalis by preventing food and aid from being captured by enemy combatants.
The Terrorist Caucus In The House. Representative Ilhan Omar is a Minnesota Democrat who has been in Congress four months and, courtesy of House Speaker Nancy Pelosi, sits on the House Foreign Affairs Committee, where she has privileged access to classified American secrets. Omar recently caused a stir — one of many that have made her a focus of national attention — by describing the attack on America on 9/11, as an attack on Muslims. The 9/11 attack — the worst by foreigners on American soil since the British burned the White House in 1814 — was in fact the work of Islamic supremacists engaged in a global jihad or "holy war." This war had been unilaterally declared on America — "the land of Jews and Crusaders" — by Osama bin Laden and his terrorist army, al-Qaeda three years earlier. Omar's reference to the tragedy that befell Americans in September 2001 was revealing in itself. She prefaced it by complaining that Muslims in America were "second class citizens" who were denied the civil liberties afforded to other ethnic and religious groups. This was one of many lies in her brief comments.
Rashida Tlaib Hosted Activist Who Called Palestinian Terror Attack 'Heroic'. Representative Rashida Tlaib (D., Mich.) hosted an extremist anti-Israel activist who has openly and explicitly endorsed terrorism at her congressional office in mid-April to celebrate the American Muslims for Palestine Advocacy Day. The organization American Muslims for Palestine (AMP), which organized the meeting, posted a photo on its Facebook page of Tlaib standing next to Joe Catron, a veteran anti-Israel activist who has openly praised various Palestinian organizations for committing acts of terrorism.
Democrats Begin Refunding, Rejecting Donations From Ilhan Omar. Democrats in the House of Representatives have started to reject and refund campaign donations from Rep. Ilhan Omar (D-MN) over Omar's anti-Semitism scandal and her recent trivialization of the 9/11 terrorist attacks. The Washington Free Beacon reported on Wednesday [4/17/2019] that the reelection campaign for Rep. Lucy McBath (D-GA) left a $2,000 contribution from Omar off its quarterly fundraising report, and, when pressed by the Free Beacon, admitted that they left the money off the report because they decided to reject it.
The Congresswoman From Somalia. If a politician of Japanese extraction were addressing a "largely Japanese-American audience" and characterized the December 7, 1941 attack on Pearl Harbor as "some people did something," would you think that those words diminished the loss of life and of property suffered by our country 78 years ago in the Pacific Ocean? I would, but apparently Congresswoman Ilhan Omar (D-Minn.) would not. She thinks it is a perfectly respectful — and accurate! — way to refer to the 9/11 attacks on New York City and Washington, D.C. by 19 Muslim terrorists in 2001. She characterized the 9/11 attacks in this way just last month to a largely Muslim audience saying, "some people did something." What the terrorists did, for those who might have forgotten, was murder 2977 people, injure countless thousands more, and cause billions of dollars of property loss.
Tulsi Gabbard: Trump, 'Al-Qaeda's Big Brother,' Turned U.S. into 'Prostitute' of the Saudis. A presidential campaign video by Rep. Tulsi Gabbard (D-HI) in which she calls President Donald Trump "al-Qaeda's big brother" in Syria caught the eye of Iran's state-run PressTV on Wednesday [4/17/2019], which highlighted her "Twitter attack" in defense of Rep. Ilhan Omar (D-MN). President Trump called Omar, one of the first Muslim women elected to the U.S. House of Representatives, "extremely unpatriotic and extremely disrespectful to our country" this week after video surfaced showing the lawmaker describing the September 11, 2001, al-Qaeda attacks as "some people did something" at an event hosted by the Council on American-Islamic Relations (CAIR).
Pelosi: 'We have no taint' of anti-Semitism in the Dem party. House Speaker Nancy Pelosi dismissed claims by President Trump and asserted that there is "no taint" of anti-Semitism within the Democratic party. Pelosi slammed President Trump for being "bankrupt of any ideas" in his accusations of an anti-Semitic agenda by the Democratic Party, staunchly defending her party and freshman congresswoman Ilhan Omar during an interview with CNN's Christiane Amanpour.
Alexandria Ocasio-Cortez brands Benjamin Netanyahu a 'Trump-like figure' and says that America should consider cutting military and economic aid to Israel. Democratic Congresswoman Alexandria Ocasio-Cortez has slammed Israeli Prime Minister Benjamin Netanyahu for being an authoritarian, 'Trump-like figure' while suggesting that US military and economic aid to Israel should be cut. The Representative for New York, a rising star in her party, has insisted that the idea of cutting aid to Israel should 'definitely be on the table'. The 29-year-old has been criticised by the Jewish Democratic Council of America for the comments, with the organisation saying that US-Israel ties 'must supersede politics'.
Making Rep. Ilhan Omar a Victim. It isn't so obvious that rhetoric produces violence, but we are within our rights to ask which unhinged leftist incited James Hodgkinson to open fire on a softball team made up of Congressional Republicans. Obviously, no one cares any more, but still. Now, the armies of the left are out in force defending poor put upon anti-Semite, Rep. Ilhan Omar. You know about Omar, she of the repeated insincere apologies. Along with her partners in crime, Alexandria Ocasio-Cortez and Ilhan Tlaib, she has made the Democratic party the epicenter of American anti-Semitism.
Photos Surface Revealing 2017 'Closed-Door' Meeting Between Rep. Ilhan Omar and Turkish President Erdogan. Conservative Review reporter Jordan Schachtel recently came upon an interesting tidbit in the Tusmo Times, a publication that covers the Somali community in the Twin Cities, Minnesota, area. He found a story there by the Somali-language paper's founder and editor, Abdirahman Mukhtar, about a "closed-door meeting" that took place in New York City in September 2017 between visiting Turkish President Recep Tayyip Erdogan and a then-relatively unknown Minnesota state representative named Ilhan Omar.
Why Did Obama Import a Somali Muslim Congressional District for Ilhan Omar to Represent? [T]he Democrats couldn't bring themselves to pass a resolution denouncing anti-Semitism. Until, that is, they'd diluted the resolution by including almost every other kind of prejudice, including the made-up, politicized crime of "Islamophobia." It had just a few exceptions. White people, males, and Christians are not included among the groups that Congress forbids you to hate. That exclusion is telling. It tells you that the ideology reigning today has no interest in fairness. Or even in fighting hate. It wants to direct that hate toward acceptable targets.
Truly Awful People. Ilhan Omar, the well-known anti-Semite and freshman Democratic Congresswoman, makes the list this week, in part for her declaration that "Stephen Miller is a white nationalist." Miller is Jewish, which might have something to do with Omar's hatred of him, so proclaiming him a "white nationalist" is particularly hilarious. Not that she'd let something like reality bother her. But it's not just her Tourette's-like radar for hating Jews, but the casual way in which she referred to the September 11th terror attacks. "Some people did something," she told a group at a Council on American Islamic Relations (CAIR) fundraiser. It's hard to say what they did, or why, but know that these random people woke up one morning and decided to do whatever it was they did and, as a result, "all of us were starting to lose access to our civil liberties," she told the group. [...] She doesn't mention which civil liberties she and her audience lost, mostly because there aren't any, but she thinks she's the real victim in all this "something" that happened.
Beto O'Rourke's Israel Comments Are Astoundingly Bad And Only Help Antisemitic Radicals. Former Texas Congressman Robert "Beto" O'Rourke has proven he's willing to jump in radical camps when it comes to various issues, but the latest one falls in line with a problem of antisemitism that the Democratic party has been having lately. To be clear, I'm not accusing O'Rourke of being an antisemite himself, but he seems to be playing right into their hands. According to O'Rourke Israel is too in league with Republicans and following Prime Minister Benjamin Netanyahu down a bad path because, as O'Rourke claimed, Netanyahu is racist.
Democrat Beto O'Rourke Calls Israeli PM Benjamin Netanyahu a 'Racist'. Democrat presidential candidate Beto O'Rourke called Israeli Prime Minister Benjamin Netanyahu a "racist" on Sunday, telling an audience in Iowa that the U.S.-Israel relationship must "transcend a prime minister who is racist."
Trump says Dems have let anti-Semitism 'take root' in their party. President Trump said Saturday that Democrats have allowed anti-Semitism to "take root in their party and their country" as the party's base is pushing it to the left and to positions more critical of Israel. "They've become the party of high taxes, open borders, late-term abortion, crime, witch hunts and delusions, and now the Democrats have even allowed the terrible scourge of anti-Semitism to take root in their party and in their country," he said in a speech before the Republican Jewish Coalition in Las Vegas. "They've allowed that."
Swastika-Clad Protesters Interrupt Trump Speech to Jewish Republicans. A group of protesters — at least one of whom was wearing a swastika T-shirt — interrupted President Donald Trump's address to the Republican Jewish Coalition (RJC) on Saturday before being ejected by security. The demonstrators clambered on top of their seats in the ballroom at the Sands Expo and began chanting slogans against the Israeli "occupation" of the West Bank. (Israel considers the area, which Jews calls Judea and Samaria, to be "disputed," not "occupied.") At least one of the protesters, who happened to stand up a few rows in front of this reporter, was wearing a t-shirt emblazoned with a swastika — perhaps intended ironically, since some of the protesters unfurled a banner against "white nationalism."
Sorry You're Offended, But 'Palestine' Does Not Exist. In progressive America, an official elected in a predominantly Jewish district in the country's largest city can be punished for asserting an indisputable historical fact if it happens to offend the sensibilities of hard-left activists. In this case, Kalman Yeger, a councilman from Brooklyn, in a back-and-forth about Rep. Ilhan Omar, tweeted that, "Palestine does not exist. There, I said it again. Also, Congresswoman Omar is an antisemite. Said that too." Mayor Bill de Blasio quickly issued an ultimatum to Yeger demanding he apologize, or else. After he refused, NYC Council Speaker Corey Johnson booted Yeger from — what I assume is a wholly useless — city immigration committee. "I found Council Member Yeger's comments completely unacceptable..." Johnson explained. "They were dehumanizing to Palestinians and divisive, and have no place in New York City."
Rashida Tlaib on Obama Meeting: He Told Me 'I'm Proud of You'. Rep. Rashida Tlaib (D-MI) revealed Thursday [3/28/2019] that former President Barack Obama said he was "proud" of her during a meeting this week with House Democrat freshmen in Washington, D.C. "President Obama met with us new members of Congress and it was a thoughtful discussion. The best part was when he looked straight at me and said, "I'm proud of you," Tlaib wrote on Instagram, sharing a photo of her posing with the former president.
Ben Rhodes Blames Jewish Donors for Obama Not Being More Anti-Israel. Ben Rhodes, a former national security aide to President Barack Obama, told the New York Times this week that the "donor class" had prevented Obama from taking more anti-Israel steps than the administration had wanted to take. Rhodes spoke to author Nathan Thrall for a feature article titled, "How the Battle Over Israel and Anti-Semitism Is Fracturing American Politics." The headline describes "politics," but Thrall focused on policy debates within the Democratic Party, which has seen the rise of an assertive anti-Israel constituency in recent years.
Too Many Are Ignoring the Rise of Anti-Semitism on the Left. During the last two years, the media have been reporting about a rise in anti-Semitism. When the media write and speak about it, their focus is almost exclusively on "right-wing" anti-Semitism. Most of the establishment Jewish organizations, well known for their political liberalism and identification with the Democrat Party, similarly focus on anti-Semitism from the right and give only rare lip service when anti-Semitic writings and attacks come from the political left. (The Ilhan Omar case is a mild exception, though not generating anywhere near the determination and demonization if she had been from the political right). As each day goes by, guided by their own left-wing outlook as well as the hit-lists coming from the Southern Poverty Law Center, the category "right-wing" has expanded to include almost anything conservative or nationalistic, so that even expressed love of many aspects of America's historic culture can confer on one the status of "white supremacist," i.e., anti-Semite.
Licensed to Ilhan. I am unwilling to surrender this deep and true sense of the blessings of the United States to the grotesqueries of a freshman member of Congress who wants the world to believe that the Jewish people are working behind the scenes to silence her and people with her views — using their $100 bills ("all about the Benjamins") as lure and bait. If what Ilhan Omar says she believes about the Jews were true, she would be sitting in a Twin Cities living room in deserved obscurity, left to rot there by the very conspiracy she claims is so powerful. If the Jews were indeed "hypnotizing the world," as Omar claimed in 2012, then Israel wouldn't be the subject of more hostile United Nations resolutions than every other nation on earth combined. And if moneyed American Jews were so powerful that they could successfully suppress views hostile to Israel, she wouldn't ever have gotten to Washington in the first place.
Kamala Harris mobbed on Twitter after meeting with California AIPAC leaders. Despite not attending this year's American Israel Public Affairs Committee (AIPAC) policy conference, California Sen. Kamala Harris met with California AIPAC leaders in her Senate office Monday, much to the dismay of critics of Israel, many of them progressives. [...] American-Israeli relations and AIPAC have also faced increased scrutiny from the left after Rep. Ilhan Omar (D-MN) criticized American politicians for supporting Israel with language that many deemed anti-Semitic.
Women's March Leader Apologizes for Sharing Post Blaming 'American Jewish Establishment' for New Zealand Shootings. Women's March co-chair Bob Bland shared a Facebook post last week blaming the "American Jewish Establishment" for the deadly attacks at the two New Zealand mosques, but later apologized by blaming her two kids for her not being "mindful" when sharing the post. Bland shared a Facebook post by Jesse Rabinowitz, a social justice advocate, that likened the language used against Rep. Ilhan Omar (D., Minn.) to that used against the 54 Muslims who were killed in New Zealand, according to the Jerusalem Post. "The same language and hate that folks spew against Sisters Linda Sarsour and Rep. Ilhan Omar (D-Minn.) killed 54 Muslims in New Zealand. You can't stand in solidarity with the Muslim community and simultaneously disavow Muslim women for speaking their truths. American Jewish Establishment, I'm looking at you," the Facebook post read.
Pompeo to AIPAC: Democratic Lawmakers, Politicians Mainstreaming Anti-Semitism. Secretary of State Mike Pompeo declared on Monday that growing anti-Semitism across the globe, including in the United States, will not be tolerated by the Trump administration and that efforts to delegitimize Israel will not be tolerated, according to comments before a pro-Israel crowd at the American Israel Public Affairs Committee's (AIPAC) annual gathering in Washington, D.C. Pompeo, in some of his clearest remarks on the rise of anti-Semitism worldwide, said that anti-Zionism is tantamount to anti-Semitism, despite claims from many on the far-left that attacks on Israel are not anti-Semitic in nature. With freshman Democratic lawmakers like Rep. Ilhan Omar (Minn.), Rashida Tlaib (Mich.), and others trying to turn support for Israel into a partisan fight, Pompeo told AIPAC that "anti-Semitism is a cancer metastasizing again in the Middle East, in Europe, and here in the United States."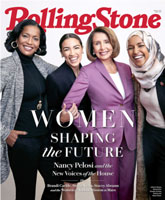 Rep. Omar and the New Flock of Congressional Doves. For the cover photo on its current issue, Rolling Stone gathered together House Speaker Nancy Pelosi (D-CA), Rep. Jahana Hayes (D-CT), Rep. Alexandria Ocasio-Cortez (D-NY) and Rep. Ilhan Omar (D-MN) under the headline "Women Shaping the Future." The inclusion of Omar was bold given the controversy over her repeated anti-Semitic remarks and how Pelosi stumbled in her attempt to separate the Democratic party from them. Yet, Omar's views have long been known. In 2012 she called on Allah to "awaken the people and help them see the evils of Israel." Yet, Democratic leaders appointed her to the House Foreign Affairs Committee (HFAC) and are rejecting calls for her removal. This is because her world view is embraced by her left-wing colleagues who now dominate policy.




2020 Democrats want to Make the Iran Deal Great Again. Several major 2020 Democratic presidential candidates want to resuscitate the Iran nuclear deal, the controversial Obama-era agreement that President Trump withdrew from in May 2018. Sens. Bernie Sanders, I-Vt., Elizabeth Warren, D-Mass., and Kamala Harris, D-Calif., told the pro-Tehran Al Monitor that they would support re-entering the nuclear agreement with the Iranian regime.

More about Obama and Iran.

2020 Democrats abandon pro-Israel pretense, refuse to speak at AIPAC conference. AIPAC, a bipartisan pro-Israel organization that advocates for the strengthening of the U.S.-Israel bond, is the opposite of a fringe group. In fact, many in the pro-Israel community have become frustrated with its watered-down stances in order to accommodate Democrats' increasing abandonment of the Jewish state. If anything, AIPAC has become what can be fairly labeled a center-left pro-Israel organization. AIPAC has continuously appeased liberals through its support of the two-state solution and continuing engagement with the Palestinian Authority.

Rep. Ilhan Omar faces hundreds of protesters outside CAIR fundraiser in California. U.S. Rep. Ilhan Omar faced hundreds of protesters Saturday outside a Southern California fundraising event for the local chapter of a major advocacy group representing Muslim-Americans. "Burn the Quran!," "Ilhan Omar, go to hell!" and "Shame on you, terrorists!" were among some of the messages shouted outside a Woodland Hills hotel where the Minnesota Democrat spoke at a fundraiser for the Council of American-Islamic Relations (CAIR) of Greater Los Angeles, according to a report. The town is about 25 miles northwest of downtown L.A.

Heavy Protests Against Ilhan Omar Speech at Los Angeles CAIR Event. A large protest was held outside the Hilton hotel in Los Angeles where Ilhan Omar will be speaking Saturday night at the Council on American-Islamic Relations (CAIR) of Greater Los Angeles's fourth annual Valley Banquet. The protesters lined the sidewalks waving Israeli and American flags and held up signs saying "Omar equals hate" and various other slogans, supporting Israel and denouncing Omar. Protesters staying at the Hilton hotel waved large banners saying "CAIR hates Jews" and "Ilhan hates Israel" from their balconies. [...] CAIR has a long history of affiliation with the terrorist groups Hamas and Hezbollah. CAIR members have often defended the actions of Hamas in Gaza.

Omar Holding Secret Fundraisers With Islamic Groups Tied to Terror. Democratic freshman Rep. Ilhan Omar (D., Minn.) has been holding a series of secret fundraisers with groups that have been tied to the support of terrorism, appearances that have been closed to the press and hidden from public view. The content of these speeches, given to predominately Muslim audiences, remains unknown, prompting some of Omar's critics to express concern about the type of rhetoric she is using before these paying audiences, particularly in light of the lawmaker's repeated use of anti-Semitic tropes in public.

Nine Democratic presidential candidates to skip AIPAC's pro-Israel conference. The annual conference of the American Israel Public Affairs Committee (AIPAC) is generating plenty of controversy even before it starts on Sunday [3/24/2019]. At least nine candidates for President from the Democratic primary have issued statements in the last 48 hours, announcing that they will be skipping the AIPAC conference. The move is in of itself unusual, given that primary candidates don't traditionally speak at AIPAC, but have decided this year to make a political point and note their absence from the pro-Israel gathering.

The AIPAC Boycott and Obama. NBC News reported Thursday [3/21/2019] that "several Democratic presidential candidates will skip the American Israel Public Affairs Committee's policy conference this year after a prominent progressive group called on them to boycott the event." This has been a rapid descent. In 2017, Kamala Harris said it was "an honor" to speak before AIPAC. But as quickly as the Democrats' Jew-hatred is being normalized now, it has also been a long time coming.

Hollow Globalism Drives Ilhan Omar's Politics of Affectation. The world," "the planet," and "other nations" get a lot of mentions in the speeches of newly elected members of Congress such as Alexandria Ocasio-Cortez (D-N.Y.), Ilhan Omar (D-Minn.), and Rashida Tlaib (D-Mich.). Each of them focuses on what can be done globally, usually at the expense of the United States. This calls into question whether they are here to represent their district constituents or if they are on a mission to submit America to global governance. Like a misguided college undergraduate, Ocasio-Cortez awkwardly intones the alleged merits of socialism, conveniently ignoring the death toll. Or perhaps, like many undergraduates, she believes that gulags were "educational camps." Tlaib is openly more proud of being Palestinian than about being American. And like Ocasio-Cortes and Tlaib, Omar uses worn out clichés about what's wrong with America. Not coincidentally, fixing those things means embracing a globalist ideology.

Omar Shares Praise for Democrats Boycotting AIPAC. Rep. Ilhan Omar (D., Minn.) appeared to take credit on Twitter for the Democratic Party's decline in support for Israel Thursday [3/20/2019]. She shared two tweets from progressive organization MoveOn and from Rep. Alexandria Ocasio-Cortez's (D., N.Y.) chief of staff that praised Democrats for not attending the American Israel Public Affairs Committee's (AIPAC) annual Policy Conference. MoveOn is circulating a #SkipAIPAC petition asking Democratic presidential hopefuls to avoid next week's massive annual event. At present, none will attend.

President Trump: Democrats Have Proven to Be Anti-Israel... Frankly I Think They Are Anti-Jewish. President Trump spoke with reporters briefly on Friday morning before departing for Mara-lago for meetings this weekend. On Thursday [3/21/2019] President Trump announced the Golan Heights belonged to Israel — another historic move for the most pro-Israel president in US history. But on Friday a liberal reporter asked him about his comments on the Democrat Party and his comments on their recent behavior.

CAIR's dirty deeds. One of the most vocal critics of policies to guard American sovereignty is radical Somali-born Muslim Rep. Ilhan Omar, D-Minn. CAIR leaders and members poured thousands of dollars into her campaign. This weekend, the America-bashing, Israel-deriding congresswoman will headline a sold-out fund-raising banquet in Southern California. It will be a triumphant celebration, no doubt, of Rep. Omar's escape from Democratic leadership sanctions (with an invaluable assist from the CAIR lobby) for her nasty swipes at Republicans, Jews, and, of course, Trump, Trump, Trump, Trump, Trump. While they drape themselves in the mantle of "civility," the CAIR brigade speaks viciously and cavalierly about their enemies. Omar says Trump is not "human." On an Arab-American talk show, she mocked a college professor who treated terrorist organizations al-Qaida and Hezbollah with gravity. She cackled at how he named them with a sternness in his voice and questioned why the words "Army" and "America" are not uttered with equal contempt.

Pompeo: Omar's Anti-Semitic Comments 'Abhorrent'. Secretary of State Mike Pompeo, in his first public comments on the matter, forefully condemned Democratic freshman Rep. Ilhan Omar's (D., Minn.) use of anti-Semitic tropes, calling them "abhorrent" and condemning her repeated anti-Semitic declarations as contributing to the rise of anti-Semitism across the globe. Pompeo, who is in Israel for meetings with top officials, was asked during an interview in Jerusalem about Omar's repeated declarations that influential Jewish people control politics and foreign policy. Pompeo did not mince words, calling Omar's rhetoric "deeply troubling" and inappropriate for a member of Congress.

No Democratic Presidential Candidates to Attend AIPAC Event. No Democratic candidate for president has yet agreed to attend the American Israel Public Affairs Committee's annual Policy Conference next week. According to Politico, Sen. Kamala Harris (D., Calif.) confirmed through an aide Thursday that she will not be attending. Sen. Elizabeth Warren (D., Mass.), former Rep. Beto O'Rourke (D., Tex.), and Howard Schultz will reportedly do the same. A representative for former Rep. John Delaney said he had hoped to attend, but could not.

When They Come for the Jews, They Won't Ask Questions. [Scroll down] We have our own anti-Semitic scandal with newly elected congresswoman Ilhan Omar (D), a Somalian hijab-wearing Muslim who tweets anti-Semitic tropes "without sinister intentions" or retractions. Democrat leadership won't condemn, censure, or remove her from the House Foreign Affairs Committee, leftist Jews have defended her, and House Speaker Nancy Pelosi excused her inadvertent offense. Yes, Congress passed a resolution condemning anti-Semitism and anti-everything else, without singling out Omar and the Jews. Thus, the Democratic Party is falling farther left toward Islamic ideology.

It's Omar's party now. When freshman Congresswoman Ilhan Omar came out with smears whose anti-Semitic nature couldn't be denied, Nancy Pelosi and Chuck Schumer responded rapidly, with unequivocal denunciation. But when Pelosi tried to steer a resolution condemning anti-Semitism through the House, her party's young radicals, who rightly view themselves as representative of the Democrats' base, rebelled. Omar and her fellow "progressives" won the day, and Pelosi replaced her anti-Semitism resolution with one so anodyne that Omar happily voted for it. Yesterday [3/20/2019], the arch-leftist group MoveOn denounced the American Israel Public Affairs Committee (AIPAC), which has until now enjoyed broad bipartisan support, and urged Democratic presidential candidates to boycott AIPAC's upcoming conference.

The curious case of Ilhan Omar. Ilhan Omar has refused to answer substantive questions regarding her marriage to husband number 2, Ahmed Nur Said Elmi. I think is fair to infer that Elmi is her brother and that she entered the marriage for some dishonest purpose. If so, the dishonest purpose would likely have something to do with student aid while she and Elmi went to college in Fargo at North Dakota State University. If Omar is not Elmi's sibling, the marriage nevertheless appears to involve some serious dishonesty she has concealed.

Freshman Dem Rep. 'Horrified' by Ilhan Omar's Antisemitic Comments. Freshman Rep. Max Rose (D-NY) on Tuesday apologized to his constituents at a town hall who were offended by Rep. Ilhan Omar's (D-MN) latest antisemitic outburst, saying he was "horrified" by his colleague's controversial remarks.

Judge Jeanine and the paradoxes of the post-9/11 world. Saturday before last, Judge Jeanine Pirro, whose weekly hour on Fox News airs immediately before Gutfeld's, opened her show with a powerful editorial about the pathetic failure of the House of Representatives to properly chastise freshman Congresswoman Ilhan Omar for her repeated expressions of anti-Semitism. In the course of her editorial, Pirro made a thoroughly legitimate point: "Omar wears a hijab, which according to the Koran 33:59 tells women to cover so that they don't get molested. Is her adherence to this Islamic doctrine indicative of her adherence to sharia law, which in itself is antithetical to the United States Constitution?" It was a perfectly fair question, based on an understanding of Islam that's presumably not shared by the non-Muslim residents of Minnesota's fifth district who voted for Omar last November — or, for that matter, by the Michiganders who elected Omar's fellow Muslim Rashida Tlaib. A hijab is, quite simply, a declaration of adherence to sharia law, and sharia law is antithetical to the Constitution.

Bizarre Ignorance of Israel at the Washington Post. Today's Washington Post includes a story about a meeting among Muslim and Jewish Democratic members of Congress that took place on March 5. The story got a lot of play, but it included an extraordinary error — an error that was mostly covered up, rather than revealed, by the correction the Post subsequently ran: [...] Rashida Tlaib is the newly-elected Michigan Congresswoman who is, among other faults, viciously anti-Israel. But the Post's correction didn't explain what, exactly, was wrong with the original story.

Ilhan Omar Doesn't Represent American Muslims, She Represents Islamists. When the newly elected Rep. Ilhan Omar kicked off her acceptance speech with "As-Salaam-Alaikum," I felt a space of belonging. There was a feeling that American Muslims had arrived — but what arrived with them, and which version of Islam was going to be represented through her and fellow Muslim freshman Rep. Rashida Tlaib? As-Salaam-Alaikum means "peace be with you," but how Omar has carried herself in the weeks that followed has been anything put peaceful. Here's a quick rundown of her recent actions. Omar accused American Jews of holding dual loyalty toward Israel. However, there was no word of her loyalty to Islamist supremacism and its gold star prize of advancing the Palestinian cause by decimating the Jewish state's right to exist. [...]

We Cannot Bury Our Heads in the Sand about Ilhan Omar. [Scroll down] [R]ather than being seen as a threat, many see Rep. Omar as a victory of American culture over the inherent divisiveness of a hate-filled world. However, her many anti-Semitic comments since she has taken office intensify the debate. She talks about the Jewish power through "Benjamins" ($100 bill pictures of Ben Franklin), about AIPAC buying illegitimate influence, and about Jewish dual loyalty to Israel as well as the USA (with no mention of her possible triple loyalty to the USA; Somalia; and Islam, which is as much a political as a religious system). Her defenders, like Speaker Nancy Pelosi, say these comments are reflections of mere rhetorical inexperience, and not of deep-seated anti-Semitism. Does she not know that the USA was the first country to recognize the existence of Israel as a nation-state? Does she not know that when Jews were disparaged and worse in Europe, they found a haven in these United States going back to the 17th century because freedom of conscience was so valued? Acceptance of Jewish people is not just a matter of current events, but part of the foundation of liberty in this country.

Progressive Socialist and Muslim Lies About Racism. Last week a vote was taken on a resolution in the House of Representatives. The resolution was to condemn Ilhan Omar for the anti-Semitic tropes she has used since coming to Congress. An avid Muslim and Anti Semite, Omar has forced the government to change rules that have been in force since time immemorial. The anti-Semitism condemnation never passed but a diluted resolution against hate was passed. The new resolution that passed is one claiming the "hate groups" against virtually every identity group that the Democrats need to win an election. It was passed in an attempt to endear the leftists to homosexuals, blacks, Muslims, and illegal immigrants. However, there a few marginal groups that were not mentioned and will continue to be ignored by the progressive socialists. Christians and white males. Hey, progressive socialists, care to explain to me why this isn't the leftist form of racism?

Nancy Pelosi, your excuses for Democrat anti-Semitism are un-American. Last week's House resolution began because of clear and unequivocal anti-Semitic comments by Rep. Ilhan Omar, D-Minn., a Somali-born Muslim who has been called to account before on her anti-Semitism by Jewish leaders in her own district. But Speaker Pelosi tried to act as though Omar was simply unaware that her comments would be taken as anti-Semitic and therefore should be given a pass. The Islamist activist Omar is an anti-Semite because she is an Islamist activist. Pelosi has held positive views of the mutual enemies of Israel and America.

The Lies of Ilhan Omar and the Progressive Socialists. There are those in our country and in our Congress actively working against the principles that have made this country great. They continually work against the people of this country and have malice for those who disagree. Using the false idea that they know better than those whom they are supposedly governing they cannot understand the alienation that the American people feel or the violence that will come if the people continue to feel alienated. One of the people is terrorist sympathizer Ilhan Omar. Many points in her past have come to a pinnacle of deception. In the past, she has sided with terrorists rather than those who elected her in Minnesota.

Dem Lawmakers Admit During Private Meeting They Don't Know What Anti-Semitism Looks Like. A meeting of Democratic lawmakers about anti-Semitism in the party included anti-Semitic jokes and unapologetic members of Congress, the Washington Post reports. In the wake of anti-Semitic comments from Rep. Ilhan Omar (D., Minn.) and several closed-door conferences by Democrats to discuss related issues within the party, Rep. Andy Levin (D., Mich.), a former synagogue president, organized a meeting as "a more formal event that would focus on anti-Semitism." The March 5 meeting of Muslim and Jewish lawmakers was a "moment meant to be about listening and learning" about the "raw experiences" of the elected officials, according to the Post. Levin invited Omar and her allies Reps. Alexandria Ocasio-Cortez (N.Y.), Ayanna Pressley (Mass.), and Rashida Tlaib (Mich.) to attend.

Barack Obama's Radicalism Laid The Groundwork For Ilhan Omar's. Rep. Ilhan Omar's controversial comments are not limited to anti-Semitic attacks on supporters of Israel. She recently took flak from Democrats for criticizing former President Barack Obama: [...] Omar is not wrong to note Obama aggressively used drones and caged kids at the border, neither of which were covered by the establishment media with the hysterics accompanying similar stories about the Trump administration. In general, however, Omar's critique resonates only with her fellow travelers on the identitarian left. It is more accurate to say that Obama laid the foundation for the Party of Omar.

The Democratic Party's Anti-Semitism Problem Is Obama's Legacy. Why does Ilhan Omar (D-Minn.) still have her position on the House Foreign Relations Committee? House Republicans stripped Rep. Steve King (R-Iowa) of his committee positions after making his own controversial remarks. Omar should have met the same fate. But considering recent history, it's not surprising that Omar remains unpunished. It's just the latest example of their party turning a blind eye to the rise of anti-Semitism in their ranks over the years — if not embracing it at times. [...] Prior to being elected president of the United States, Obama spent twenty years in the congregation of Jeremiah Wright. Wright's anti-American and anti-Semitic remarks became a liability for Obama during the 2008 election but didn't matter enough to the people who voted for him. Obama may have been forced to quit his church and distance himself from Wright, but that didn't change who Obama was at heart — and it presented itself once he showed up to the White House.

Dem Rep. Tlaib: Ilhan Omar Is 'an Easier Target' Because She's Black and Muslim. Sunday on CNN's "State of the Union," Rep. Rashida Tlaib (D-MI) said the bipartisan outrage over controversial remarks made about Israel by Rep. Ilhan Omar (D-MN) was "because she's Muslim and because she's black, she's an easier target for them to attack."

Chelsea grovels - to defender of Jew-hating Omar. [Scroll down] Her apology was not only cowardly, but also bad stuff for her supposed "brave" stance condemning anti-Semitism in the wake of Omar's revolting statements, giving a few inches to her defenders, presumably in the interest of "civility." You never give anti-Semites so much as a millimeter of ground, and she ought to know it. It just goes to show how weak and tenuous the Democratic elites' claims to supporting condemnation against anti-Semitism really are. Chelsea Clinton folded like a cheap suit, when she should have pulled out her inner attack dog.

Why is Congress Ignoring Alleged Congressional Terrorist Ilhan Omar? When Glenn Beck is good (and there can be little doubt that he sometimes is) he's brilliant. In a stunning video, posted on Front Page Mag today, Beck calls out Minnesota Representative Ilhan Omar for what she appears to be in her new-found political life, a terrorist or an in-the-closet propagandist for the amped-up advance of terrorism. "Is Congresswoman Ilhan Omar a Jew-hating, America-hating terrorist? Watch the video and decide for yourself, "FrontPageMag.com asks today [3/15/2019]. In his spellbinding video, Beck proves point by point that CAIR (Council on American-Islamic Relations) is nothing but "the propaganda arm for the Muslim Brotherhood and Hamas", and advises viewers to follow their fundraising efforts: "Please do you own homework".

Leftists see bigotry everywhere — except where it actually is. As a proud American Jew, I don't look for anti-Semitism around every corner. But I didn't have to look hard to see it in the ongoing and egregious case of Rep. Ilhan Omar, D-Minn. Her overt Jew hatred keeps slapping me in the face. At first, the Democratic Party just ignored Omar's blatant bigotry. Then, Democrats twisted themselves into pretzels to avoid naming her in their feckless resolution, which eventually sounded like all of their other clichés. Did they hope we wouldn't notice that she was the reason for the resolution in the first place? The left has worked so hard at its agenda of identity politics, and has stereotyped everyone according to various groupings, that when it's time to admonish one person in a specific case, the leftists fear the very behavior that they themselves planted — that everyone belonging to that group will revolt as the "victims" they've been taught to be.

How Do You Solve a Problem Like Rashida? [Scroll down] The object of the freshman Michigan Democrat's derision was, of course, President Trump. This sentiment naturally got whoops and cheers from the guests at a MoveOn.org reception, who were there to celebrate the election of the Muslima from Dearbornistan, one of two female followers of Mohammed — the other is Ilhan Omar — now occupying chairs in the Capitol. The triumphalism was multi-layered: not only had the Democrats — thanks, Paul Ryan! — retaken the House by both hook (free stuff for everybody except old toxic-male white guys, served up piping hot by the media) and crook (ballot harvesting in California that delivered once solidly Republican Orange County over to the Democrats) but, in the guise of "diversity," they had also put two more co-religionists of the 9/11 hijackers into the Congress. Tlaib and Omar have wasted no time in getting to work against American norms and the republic itself.

Outraged Jews and Supporters Stage Sit-in at Nancy Pelosi's Office. Jexodus is the new movement urging Jews, especially millennials, to exit the party of the Democrats because of that party's increasing willingness to excuse bald antisemitism amongst its ranks. Now comes an appeal to all Jews to stand up to the Democrats' leadership and demand they "stop this anti-Jewishness dead in its tracks." Therefore, in response to what it calls the failure of the Democratic leadership, the National Conference of Jewish Affairs (NCJA) has called for a sit-in at the office of House Speaker Nancy Pelosi on Thursday, March 14, at 1:00 p.m. The sit-in will be followed by a press conference.

Before Ilhan Omar, Barack Obama Mainstreamed Anti-Semitism In The Democratic Party. D.C. is still reeling from last week's debacle involving Rep. Ilhan Omar, who has made a series of statements many have criticized as anti-Semitic. In 2012, she tweeted, "Israel has hypnotized the world, may Allah awaken the people and help them see the evil doings of Israel." In February, Omar had tweeted that support for Israel was "all about the Benjamins baby," prompting charges she was raising anti-Semitic tropes involving Jews and sinister financial machinations. Two weeks ago, she raised the issue of dual loyalty, and old anti-Semitic canard, before a D.C. crowd: "Nobody ever gets to have the broader debate of what is happening with Palestine. So for me, I want to talk about the political influence in this country that says it is okay for people to push for allegiance to a foreign country."

The Democrats Go Anti-Semitic As They Turn Socialist. American socialism traces its ideological ancestry to Charles Fourier, a French socialist bigot who declared that Jews were the embodiment of capitalism, "parasites, merchants, usurers", and the "incarnation of commerce: parasitical, deceitful, traitorous and unproductive". Even the term 'anti-Semite' was popularized by Wilhelm Marr, the socialist founder of the League of Antisemites. The inventor of anti-Semitism's arguments were the same ones put forward by Marx, Fourier, H.G. Wells, Lenin and countless other socialists. The Jews were all about the 'Benjamins'. They started wars. They were disloyal and manipulated society. They were a dangerous foreign element.

Did Barack Obama Legitimize Anti-Semitism? Is it conceivable that the Democratic Party became the epicenter of American anti-Semitism without this having something to do with Barack Obama? Did Obama make it safe to be anti-Semitic and a Democrat? Such is the argument made by Mark Hemingway in The Federalist. We have made a similar argument here, but Hemingway has amassed the evidence. We might begin with the fact that Palestinian terror group Hamas endorsed the Obama candidacy in 2008. And of course, Obama's favorite pastor, Rev. Jeremiah Wright hated Israel, hated Jews and supported Hamas: [...] And then there was the matter of Obama's close relationship with one Rashid Khalidi, a supporter and sympathizer with Palestinian terrorism: [...] One notes that, to this day, we have not heard the tape of Obama's remarks at Khalidi's departure dinner. The Los Angeles Times is holding them in its safe, and no one seems to care about pressuring them to spit them out.

The Democrats Have a Race Problem. Consider last week's uproar in the House of Representatives, where Democrats attempted to pass a resolution condemning anti-Semitism, but instead were forced to pass a watered-down statement against "hate," generalized to the point of incoherence. That debacle was made necessary by the anti-Jewish rhetoric of Rep. Ilhan Omar, the newly elected Democrat from Minnesota's 5th District. Omar is a Somali immigrant who represents an area of Minneapolis known as "Little Mogadishu" that has become a prime U.S. recruiting ground for Islamic terrorists. Dozens of Muslims from Omar's district joined ISIS in Syria, so that her repeated smears of American Jews and her Hamas-style rhetoric against Israel cannot be dismissed as incidental or harmless. However, as Abraham Miller noted last week ("Institutionalizing Anti-Semitism in the Halls of Congress"), because the Black Caucus "ran to Omar's aid and defended her vile anti-Semitism," Speaker Nancy Pelosi was unable to get a straight-up vote on this crucial issue. If any Republican had demeaned Jews the way Omar did, the outrage of liberals would have been thermonuclear in its intensity, yet Democrats bent over backwards to make excuses for her. Pelosi asserted that Omar failed to understand "the full weight" of her own words, claiming Omar was ignorant of the "cultural impact" of what she said.

Dual Loyalty Detectives. Representative Rashida Tlaib (D-Mich.) recently bashed those U.S. Senators who voted against Boycott Divestment and Sanctions (BDS) legislation, charging that "they forgot what country they represent." In similar style, Rep. Ilhan Omar (D-Minn.) cited political influence "that says it's OK for people to push for allegiance to a foreign country." Omar is also on record that "Israel has hypnotized the world, may Allah awaken the people and help them see the evil doings of Israel." Millennials and their younger siblings may not have heard such charges, so they might consider ways to detect dual loyalty. First, check for American politicians who claim there is no distinction between the United States and Israel. At the same time, look for American politicians who bring Israeli candidates to the United States to help them campaign in U.S. elections. Understand that these politicians are open to charges of dual loyalty.

Omar Strikes Again: Trump Is Not A Human. Rep. Ilhan Omar (D-MN) made dehumanizing remarks about President Donald Trump on Monday when asked about an interview she gave last week, saying that the president was not human. Fox News' Guerin Hays asked Omar, who has been engulfed in an anti-Semitism scandal, about an interview she gave to Politico last week where she attacked former President Barack Obama and suggested that he was a murderer. Omar came out after the interview was published and claimed that Politico was lying about the interview and that she did not make those comments. Omar tweeted an audio clip of that segment of the interview that she thought exonerated her but it ended up proving that she did say it. After being mocked online she deleted the tweet.

Tlaib says 'Islamophobia' among Dems may be why Omar was criticized by own party. Rep. Rashida Tlaib, D-Mich, defended her colleague Rep. Ilhan Omar from backlash within their own party regarding the Minnesota representative's controversial remarks deemed by some to be anti-Semitic. Omar suggested on Twitter that pro-Israel politicians are bought by groups like AIPAC and that those who support Israel have an "allegiance to a foreign country." Her remarks sparked much condemnation, including several of her Democratic colleagues.

Assyrian Warns Americans to Visit Ilhan Omar's District: You Won't Think It's America. Middle Eastern Women's Coalition (MEWC) director Nahren Anweya on Wednesday warned Americans who visit Minnesota's 5th district, Rep. Ilhan Omar's district, the 2016 "terrorist recruitment capital of the country." "You won't even think you're in America," she said of the district that elected Ilhan Omar. MEWC Director of Speical Projects Anweya was speaking at an MEWC press conference calling for Rep. Omar to resign. She said she has cousins and family members "called whores for showing" part of the back of the arm in Iraq, "a country where one day they were wearing mini skirts."

Liberal Jews Better Wake Up Before It's Too Late. Back in Berlin in the 1920s and well into the 30s, many, if not most, Jewish liberals of that time and place thought it could never happen to them. They were good Germans, after all, culturally advanced members of a sophisticated society much like today's Manhattan. As we all know, they were dead wrong. Hitler put the atheist communists and the ultra-orthodox Hasidim on the same trains to Auschwitz. He could not have cared less about what side of what they were on[.] At first glance, it might seem excessive to reference such extreme events, but you don't have to be Yogi Berra to see the potential for déjà vu all over again.

Jewish Americans And The Democrat Party: Time To Go? Since Donald Trump's election, we've seen the beginning of a shake-up in at least a couple of longtime Democratic Party constituencies. Candace Owens heads up "Blexit," a movement by black Americans who, having recognized the damage done to them by the Great Society and its aftermath, are leaving the Democratic plantation. Then there's Brandon Straka, a gay guy and former hard-core lefty and Trump-hater who, after the 2016 election, realized he'd been served a bill of goods by the mainstream media and Democratic Party and is now, with his WalkAway campaign, helping other disillusioned former progressives — including many gays who now grasp the existential danger that Islam represents to them — to shake off identity politics, victimhood rhetoric, speech suppression, and incipient socialism. Given the apparent success of these initiatives, it occurred to me, after reading Roger Simon's piece, that a similar group targeted especially at Jews might not be a bad idea. I even came up with the perfect name for it: Exodus. But hallelujah! A quick Google search revealed that somebody else is already on the job.

Virginia Dems add anti-Semitism accusation to party's troubles. Ibraheem Samirah, Democrats' candidate in a special election for a state House seat later this month, apologized Friday [2/8/2019] for anti-Israel comments from earlier this decade, saying that while he made them, the fact that they are rising now is a "slander campaign." Dr. Samirah, who was born in the U.S. but calls himself a "second-generation Palestinian refugee," said he wrote the offending comments five years ago on Facebook, and says they were the musings of his college mind, which "I sincerely regret and apologize for."

Intra-party friction:
The offspring of Trump Derangement Syndrome is Pelosi's triple nightmare. First, can you imagine how the leftist mob would have reacted if a conservative had posted something about President Obama "caging the kids"? My guess is that Facebook or Twitter would have deleted the remarks for being unsuitable for the community. I wonder if Omar's Twitter account will be shut down! Second, I wonder how many from the left agree with Omar's anti-Obama remarks. My guess is that many do but were afraid to say it. After all, President Obama never closed Gitmo or stopped the drones, and indeed, he put a lot of kids in cages. These three ladies are Pelosi's nightmare because she can't stop them. They owe nothing to the party leadership, and I wouldn't be surprised if they think of Pelosi what Omar thinks of Obama.

How Do You Solve a Problem Like Ilhan Omar? Conservatives are accustomed to leftists hiding their true motives and feelings as they attempt to claw their way to political control over all of us, but Omar is different in that she makes no attempt to disguise her true feelings, either about America or the Jews. Anti-Western to her core, she rewards the generosity of the Americans toward the Somali Muslim community by spitting in our faces. As I wrote recently at PJ Media, there's something about the Somalis that makes them different from other cultural aliens who have arrived in — or, in the Somalis' case, been deliberately imported to — the United States. An ethnic group low on its share of geniuses but long on violence, the Minnesota Somalis have the disgraceful distinction of sending more men and boys to join foreign terrorist organizations such as al-Shabab and ISIS over the past dozen years than any other place in the country. And this, of course, is Omar's district — why would we have any doubt that she will represent it faithfully?

Rank-and-file Dems revolt against Pelosi over resolution to condemn anti-Semitism. House Speaker Nancy Pelosi is "taken aback" by the growing dissent and anger among rank-and-file Democrats over a possible resolution to formally condemn anti-Semitism, a Democratic source told Fox News on Wednesday — highlighting Pelosi's tenuous grip on control over the House and underscoring the growing power of the party's nascent far-left progressive wing. Pelosi even reportedly walked out of a meeting Wednesday [3/6/2019] with Democrat House members, setting down her microphone and telling attendees, "Well if you're not going to listen to me, I'm done talking." The stalled resolution originated after freshman Democratic Rep. Ilhan Omar of Minnesota, for at least the second time in recent months, ignited an uproar for echoing tropes critics have deemed anti-Semitic.

Ilhan Omar To Fundraise For Islamic Terror-Linked Palestinian Organization. Democratic Minnesota Rep. Ilhan Omar is scheduled to raise money in March with the Hamas-linked Council on American-Islamic Relations (CAIR) only a week after she used an anti-Semitic trope to claim Israel has paid for GOP support. Omar will be the keynote speaker at CAIR's 4th Annual Valley Banquet on March 23 to discuss advancing justice and empowering Muslims, according to the organization's invitation. Single tickets start at $55 per person and a table can cost upwards of $500. Hassan Shibly, the chief executive director for CAIR-Florida, will also be speaking at the event.

Ilhan Omar Runs From Reporters. That's not a woman who looks sorry to me. That is not a woman who looks like she made a mistake — this is something she knows she's going to get away with. Why? Because the Democratic Party is increasingly anti-Israel and, thereby, through that an anti-Semitic party.

Ilhan Omar to keynote event alongside antisemite days after AIPAC rant. Congresswoman Ilhan Omar will be a keynote speaker at an Islamic Relief USA emergency fundraising dinner for Yemen in Tampa, Florida, on February 23. Omar will be speaking alongside a well-known Islamic Relief USA official, Yousef Abdallah, who has advocated for violence against Jews and has shared antisemitic sentiments on his social media pages. The Middle East Forum's Islamist Watch blog highlighted this address, and reported several instances in which Abdallah posted or shared stories of incitement. This includes his captioning and sharing a "very beautiful [folk] story" about "martyrs" who provide guns to "kill more than 20 Jews" and "fire rockets at Tel Aviv."

Ten Years Ago Today: Democrat Rep. Ilhan Omar Marries Her Biological Brother from Somalia. Ilhan Omar built a vast coalition of East African voters to defeat the incumbent in Minneapolis. The liberal media forgot to mention Ilhan was married to her brother.

Pelosi Releases Weak Statement on Anti-Semite Democrat Ilhan Omar, But Won't Kick Her Off Foreign Affairs Committee. Anti-Jew Democrat lawmaker Ilhan Omar continued her string of anti-Semitic tweets on Monday morning following a night of controversial statements. Rep. Ilhan Omar has a record of radical statements and positions. Ilhan Omar also called for a lenient sentence against an ISIS supporter in Minnesota just three years ago, in 2016. And Democrat Rep. Ilhan Omar blamed the US for the al-Shabab attack at a Kenyan mall killing nearly 70 people.

Rashida Tlaib wrote column for Louis Farrakhan publication in 2006. Freshman Democratic Rep. Rashida Tlaib once wrote a column for the Final Call, an official publication of the Nation of Islam and its notorious leader Louis Farrakhan. Tlaib, a Palestinian American, has been facing criticism ever since her arrival in Congress and promise to impeach President Trump using profane language. She later came under bipartisan criticism from Jewish groups for appearing with radical anti-Israel activists during her swearing in ceremony in Michigan, with some activists previously praising terror group Hezbollah and Palestinian terrorists, and saying that Israel has no right to exist.

Pelosi, Dem leaders condemn Rep. Omar for 'anti-Semitic' language. In an unprecedented rebuke under the new Congress, House Democratic leaders on Monday roundly condemned Rep. Ilhan Omar, D-Minn., for statements about supporters of Israel that were widely viewed as anti-Semitic and called on her to apologize. The statement issued by House Speaker Nancy Pelosi and the rest of the Democratic leadership team followed the latest in a string of controversial comments from the freshman lawmaker — as well as pressure from Republican leaders to speak out.

House Dems just can't bring themselves to condemn antisemitism. If the Democratic Caucus that controls the House of Representatives could be said to have a soul, this would be a battle for it. The new version of the Democratic Party, the one that embraces identity politics — a coalition of aggrieved parties who unite under the doctrine of "intersectionality" — no longer considers Jewish Americans worthy of care, protection, or even consideration. Regarded now as Caucasian oppressors, Jews can be attacked for "dual loyalties" and as craven manipulators using money to buy support from non-Jews — classic attacks used for centuries to justify persecution and even extermination. Yesterday [3/5/2019], a planned vote on a resolution condemning antisemitism — with no mention, much less condemnation of Rep Ilhan Omar for her repeated invocation of antisemitic tropes — was mysteriously cancelled. But a good clue as to what happened can be inferred from the startling change by Rep. Eliot Engel (D-NY), who only a few days ago was attacking Omar for her "vile antisemitic slur."

As Democrats Normalize Anti-Semitism, a Jexodus Momentum is Building. Rep. Ilhan Omar played a game of chicken with the Democrats, making a series of anti-Semitic statements and betting that they would blink. And the blink has all but happened. The second toothless resolution condemning anti-Semitism, but not Omar, is stalled. A high pressure media campaign has rolled out across major papers, the New York Times, the Washington Post, not to mention the usual digital media smear sites, normalizing and defending Rep. Omar's anti-Semitic comments. The Progressive Caucus is standing by her. As is the Congressional Black Caucus, which has met with Farrakhan, and has its own issues with anti-Semitism.

President Trump Rips Anti-Semitic Democrat Ilhan Omar. Anti-Semitic Democrat Rep. Ilhan Omar was back in the news this week for a new batch of anti-Jew remarks. The Muslim Democrat from Minnesota revived an old trope about divided loyalties among Jewish-Americans when she criticized the idea that it's "OK for people to push for allegiance to a foreign country." Jewish Rep. Eliot Engel (D-NY) lashed out at the anti-Semitic representative on Friday [3/1/2019] in a statement. Rep. Ilhan Omar is a radical anti-Semitic wildcard for Democrats.

Democrats get ready to issue anti-Semitic Ilhan Omar their 'stern warning'. [Scroll down] That's the proverbial "stern warning," following on from Pelosi's earlier "yelling at" statement to Omar for the second incident, yet the press reports it's somehow unprecedented. Actually, they're doing nothing, and Omar can see they're doing nothing, not even naming her for her statements, which are the reason the resolution is coming out in the first place. She's an odious anti-Semite; she's proven it with her statements, covering the map of the anti-Semitic universe — from Jews rule the world to Jewish money controls politics to Jews having dual loyalties — and now she's doubling down on it, refusing to apologize.

The Anti-Semitism of AOC, Omar, and Tlaib. That fractious coven of freshman Democrats so beloved of the media — Alexandria Ocasio-Cortez, Ilhan Omar, and Rashida Tlaib — have been patiently indulged by the leadership of their party. The obvious reason for putting up with the antics of these three involves the hope that they will help get out the millennial vote in 2020. But this trio of weird sisters is now stirring up such a bilious brew of dissension in their caucus and bad PR that prominent Democrats are starting to complain, particularly about the anti-Semitism of Omar and Tlaib.

Leading Jewish Groups Demand Anti-Semitic Omar Be Removed From Foreign Affairs Committee. A group of leading Jewish organizations petitioned the House of Representative's top Democrats on Monday, demanding that Rep. Ilhan Omar (D., Minn.) be removed from her position on the powerful Foreign Affairs Committee in light of her numerous anti-Semitic remarks and ties to groups that advocate terrorism against Jewish people, according to a copy of a letter exclusively obtained by the Washington Free Beacon. Omar, who has been singled out multiple times in her short career on Congress due to several anti-Semitic comments, continued to double down on her belief that pro-Israel members of Congress are more loyal to Israel than America on Sunday [3/3/2019].

Actions speak louder than words. These are just words.
House Dems plan to introduce resolution condemning anti-Semitic comments amid Omar controversy. House Democrats are drafting a resolution condemning anti-Semitism and plan to introduce it on the floor later this week in the wake of controversial comments made by freshman Rep. Ilhan Omar, D-Minn. While it is not clear whether the resolution will specifically condemn Omar's remarks, a senior House Democratic aide told Fox News that a draft of the resolution was worked on over the weekend by the staff for House Speaker Nancy Pelosi along with those of Reps. Steny Hoyer, D-Md., Eliot Engel, D-N.Y., Jerry Nadler, D-N.Y., and Ted Deutch, D-Fla. Despite only being in Congress since January, Omar has been the center of controversy over numerous remarks she's made that have been labelled anti-Semitic.

Where's Ilhan Omar's denunciation of anti-Semitic Louis Farrakhan? Three days ago, Nation of Islam pooh-bah Louis Farrakhan praised Rep. Ilhan Omar's revoltingly open Jew-hating tweets and offered her some unsolicited advice: not to apologize. [...] On her Twitter feed, she's instead got tweets about her advocacy for Liberians about to be deported for overstaying their welcome; a video featuring herself as the embodiment of Black History Month — odd, for someone who's been in the U.S. for only two decades — a link to a leftist essay defending socialism; and, in that mirthless mocking way of hers, a selective quote from Abraham Lincoln about people who deny others freedom not deserving their own freedom. There's also her pinned tweet at the top showing her well heeled arrival to Congress, citing her refugee roots. But not a word about Farrakhan, which would be a golden opportunity to dissociate herself from him and actually prove she's not an anti-Semite.

Ilhan Omar's Hateful Anti-Semitism and Anti-Americanism. Watching the recent fallout from Rep. Ilhan Omar's latest anti-Semitic tweet, in which she claims that the American Israel Public Affairs Committee buys congressmen's support of Israel, several thoughts struck me. The first was that despite the existence of internationally and nationally recognized definitions of anti-Semitism, pundits and journalists either remain willfully ignorant when confronted with this millennia-old hatred or intentionally whitewash it for personal, ideological, and political reasons. Both explanations are dangerous. Reading headlines and watching news accounts regarding Omar's tweets, I was disgusted at phrases such as "some call these anti-Semitic," "these may border on anti-Semitism," "considered to be anti-Semitic by some," "possibly anti-Semitic," and similar permutations that leave open the question of whether her tweet was actually anti-Semitic.

Omar Has Ties to Radical Anti-Israel, Anti-American Group. Rep. Ilhan Omar (D., Minn.) has ties to a group that includes numerous radical anti-American and anti-Israel activists on its board of directors. Notes of support posted to the controversial congresswoman's door include a message from the organization Witness for Peace. [...] Witness for Peace is now led by a group of radical board members who have taken positions against America, Israel, democracy, and capitalism. Members of the board include activists who have called for efforts to "dismantle U.S. militarism," accused Israel of inflicting "institutionalized racism that equates to modern day apartheid," and pro-Maduro activists who write "dear comrade" letters calling for war against capitalism. One board member has ties to a group founded by a Palestinian activist who called for the "eradication of Israel."

Nervous Nancy Has Lost Control of Her Crazy Party. The only thing that should keep you from roaring in laughter as Nancy Pelosi freaks out trying to keep a lid on the freak show that is the Democratic caucus is the knowledge that the freshmen freakettes giving her fits would impose an ideology of tyranny and murder if given the chance. [...] This was on display as the Democrats struggled to find a way to publicly pretend to condemn their superstar bigot's hatred of Jews without annoying all the Democrats for whom hatred of Jews is a key component of their intersectional web of leftist prejudices. Nancy essentially tried to excuse it by explaining that Rep. Ilhan Omar (D-Berlin) is too stupid to know she's anti-Semitic which, to be fair, is plausible.

FBI data shows Ilhan Omar's district is terrorist recruitment capital of the US. One of two newly elected Muslim congresswomen, both of them known antisemites, reportedly grew up in what has been dubbed the terrorist recruitment capital of the United States. "More men and boys from a Somali American community in Minneapolis have joined, or attempted to join, a foreign terrorist organization over the last 12 years than any other jurisdiction in the country," Fox News reported Saturday [2/16/2019], citing data from the FBI. The data specifically shows that over the past 12 years, a total of 45 Muslims have departed from the Minnesota city to go join a radical Islamic troop, be it ISIS or al-Shabab. And of this 45, roughly a dozen Somalis left as recently as 2018 and some even reportedly this year.

Ilhan Omar [defies] Pelosi and the DNC bows to Islam. It has begun. It will not be long before DNC meetings begin with the Islamic call to prayer. Nancy Pelosi has surrendered her party to Islam. No matter what Pelosi says, Ilhan Omar is now in command.

As the Democrats Go Socialist, They Go Anti-Semitic. American socialism traces its ideological ancestry to Charles Fourier, a French socialist bigot who declared that Jews were the embodiment of capitalism, "parasites, merchants, usurers", and the "incarnation of commerce: parasitical, deceitful, traitorous and unproductive". Even the term 'anti-Semite' was popularized by Wilhelm Marr, the socialist founder of the League of Antisemites. The inventor of anti-Semitism's arguments were the same ones put forward by Marx, Fourier, H.G. Wells, Lenin and countless other socialists. The Jews were all about the 'Benjamins'. They started wars. They were disloyal and manipulated society. They were a dangerous foreign element. These are the same tropes that were put forward by Rep. Ilhan Omar and defended by her socialist allies in the House Progressive Caucus and across the media. Anti-Semitism is one of the meeting points between socialists and Islamists. The more anti-Semitism she spews, the more Rep. Omar unites the identity politics caucus of minority group racial nationalists and Islamists, with the traditional Left.

The lightning rod effect: How Rashida Tlaib is being used as an Islamic agent provocateur. Down in little Hallandale Beach, Florida, a local city commissioner is in big trouble because she had the audacity to voice her opinion about the outspoken new Muslim Congresswoman from Michigan, Rashida Tlaib. Tlaib, as everyone knows by now, became one of the first two Muslim women elected to Congress in November, the other being Ilhan Omar of Minnesota. Soon after being sworn into office, Tlaib wasted no time introducing herself to America by publicly calling for the removal from office of President Donald Trump in the most vulgar terms imaginable, sharing at a news conference that she had told her young son, "Don't worry honey we're gonna impeach [Trump]!" Tlaib also is known to be rabidly anti-Semitic. A map of the Middle East in her office has a sticky note pasted over the state of Israel that says "Palestine" and she is friends with pro-Sharia activist and Women's March co-founder Linda Sarsour.

Taxpayers should not be funding this anti-American hate-spewer. With the fierce Twitter tirades she routinely unleashes against ideological foes — particularly American patriots and supporters of Israel — Linda Sarsour could be the scariest political player you may never have heard of. Until now. Sarsour, a Muslim activist and ally of Mayor Bill de Blasio, blasted into the mainstream in August with a fawning profile published in The New York Times headlined: "Linda Sarsour is a Brooklyn Homegirl in a Hijab."

The Nazification of the Democrats. In America's current political climate, Democrats are making frequent use of terms they understand poorly at best. To silence debate and criticism, Democrats routinely employ labels such as "Fascist," "Nazi," or "racist" to shut down and intimidate their political targets. Ironically, however, as Democrats engage this way they are quickly adopting the very characteristics of those groups they supposedly despise. Most notably, the Democrats increasingly display anti-Semitism along with their hostility to Christianity, traditional American values, and individual liberty. The recent revelation that Representative Ilhan Omar (D-Minn.) tweeted in 2012 that Israel had "hypnotized the world" is a clear indication of where the Democratic Party is headed — and why Americans should worry.

Nancy Pelosi Must Rescind Ilhan Omar's Foreign Affairs Post. Rep. Ilhan Omar (D-MN) has spent two weeks proving that Speaker of the House Nancy Pelosi (D-CA) made a big mistake promoting her to the House Foreign Affairs Committee — an error that is hurting her party and the country. [...] The result has been a public relations mess for Democratic Party leaders. They have been at pains this week to defend Omar as well as fellow first-year Rep. Rashida Tlaib (D-MI), as the Capitol Hill press corps has finally begun to ask whether their hostility to Israel goes too far.

Linda Sarsour Outs Herself as an Anti-Semite on Holocaust Remembrance Day. On Sunday, Women's March leader Linda Sarsour effectively outed herself as an anti-Semite. Ironically, her statement for Holocaust Remembrance Day in 2019 did the very thing she denounced in 2017 as the "definition of anti-Semitism" — she did not mention the Jews. "May the memories of those who perished inspire us to love and protect one another. May we never forget history so that we may never repeat it," Sarsour wrote in a Facebook post.

Tlaib Denies Reports That She Was Sworn In On Thomas Jefferson's Quran. Democratic Michigan Rep. Rashida Tlaib on Saturday denied recent reports that she was sworn in with former President Thomas Jefferson's 18th-century Quran. Tlaib insisted that she instead used her own copy of the Islamic scriptures to make her ceremonial swear-in "more personal." "I used my own *personal Quran* that my best friend of 25 years gifted me to use for the ceremonial swear in (basically a photo with Speaker Pelosi). [...]"

Dem Rashida Tlaib Unleashes Anti-Semitic Slur Against Congressional Colleagues, Says They Have Dual Loyalties. Freshman Democratic Congresswoman Rashida Tlaib (D-MI) is creating fresh controversy in her second week in the House of Representatives, but this time it's over a shocking, anti-Semitic slur leveled at her Congressional colleagues for their support of a bill which would allow local, state, and federal agencies to avoid doing business with entities that support the anti-Israel Boycott-Divestment-Sanction (or BDS) movement. Phil Klein in the Washington Examiner reports that Tlaib "charged that supporters [of the anti-BDS] bill" were torn by their "dual loyalty" to both Israel and the United States, and claimed that the bill's supporters "forgot what country they represent."

Ilhan Omar Suggests Israel Should Not Be Allowed To Exist As Jewish State, Suggests Not A 'Democracy'. Anti-Semitic Rep. Ilhan Omar (D-MN) suggested in an interview this week that Israel should not be allowed to exist as a Jewish state, Israel is not a democracy, and compared Israel to Iran — which is the world's leading state sponsor of terrorism.

Rep. Tlaib: 'We Have to Fight Against Transphobia, Homophobia, Racism, Anti-Blackness, Islamophobia, Xenophobia, Antisemitism, Sexism — You Name It'. Rep. Rashida Tlaib (D.-Mich.) spoke at the National LGBT Task Force's Creating Change Conference in Detroit on Saturday where she said that transphobia, homophobia, racism, islamophobia, antisemitism and sexism "are intertwined," according to a video of her remarks posted by the National LGBTQ Task Force. She also said: "I want you all to know that I will continue to fight for LGBTQ rights in Congress." "We have to fight against transphobia, homophobia, racism, anti-blackness, islamophobia, xenophobia, antisemitism, sexism — you name it," Tlaib said. "Because we know that these things are intertwined. They are so connected. We know that those that advance hate are trying to deny it for all of us, they are trying to deny all of our existence."

The Editor says...
It sounds like she lives in a really messed-up little world, because I don't see any such problems. At least not in substantial quantities.

Red Omar, Our Crazy Little Congresswoman from Minnesota. Muslim Democratic Socialist/Communist Ilhan Omar has been sticking up for Nicolas Maduro, Venezuela's Democratic Socialist/Dictator. In tweets, she condemns the President's so-called support of a coup in Venezuela, ignoring the fact that the people are starving and the election of Maduro this past week was a fraud. Also, there is no U.S. coup. It's not unusual for this far-left religious fascist to take the wrong side. There is no way she should even be in Congress. Omar doesn't like the United States.

Rep. Ilhan Omar facing new scrutiny over past effort to win leniency for 9 men accused of trying to join ISIS. Embattled congressional freshman Rep. Ilhan Omar, D-Minn., once asked a judge to show leniency toward a group of Minnesota men accused of trying to join the Islamic State terror group. "The best deterrent to fanaticism is a system of compassion," she wrote at the time. "We must alter our attitude and approach; if we truly want to effect change, we should refocus our efforts on inclusion and rehabilitation." The nine Minnesota men were facing decades in prison after being accused in 2015 of making plans, including buying fake passports, in an effort to travel to Syria and fight for ISIS, which was at its peak level of activity and held territory in Syria and Iraq.

Pelosi, Dem leaders condemn Rep. Omar for 'anti-Semitic' language. In an unprecedented rebuke under the new Congress, House Democratic leaders on Monday roundly condemned Rep. Ilhan Omar, D-Minn., for statements about supporters of Israel that were widely viewed as anti-Semitic and called on her to apologize. The statement issued by House Speaker Nancy Pelosi and the rest of the Democratic leadership team followed the latest in a string of controversial comments from the freshman lawmaker — as well as pressure from Republican leaders to speak out.

Ilhan Omar's Anti-Jewish Views Are Typical For Democrats' Congressional Black Caucus. A House vote on a resolution to condemn anti-Semitism met fierce pushback from various factions within the Democrat Party this past week, leaving many to contemplate at what precise point in politics the condemnation of anti-Semitism became a controversial notion. We couldn't agree last week that allowing a breathing, injured baby to be denied the care of a hospital was criminal. Apparently, we also can't agree that hating Jews is despicable. As David Marcus of The Federalist remarked darkly, "Hatred of the Jews is nuanced." As the Democrats' indulging of Rep. Ilhan Omar (D-Minnesota) reveals, perhaps to the left it is. Or, more perniciously, what we have witnessed this past week is a highly public fight for the soul of the Democrat Party, a sort of forced reckoning with the wildly left elements of the party that seem intent on dragging the party to the depressing depths of their ideology.

Omar's anti-Semitism poses grave danger to Dems' 2020 election chances. President Trump wasted no time Friday [3/8/2019] in attacking Democrats for their refusal to condemn Rep. Ilhan Omar, D-Minn., for her anti-Semitic comments when the House passed a resolution condemning a broad range of bigotry. The president clearly sees an opening to pick up votes of Jews — and non-Jews who support them and Israel — by portraying Republicans as their true friends. And the opening is indeed there. By failing to specifically condemn Omar in the resolution and by failing to remove her from the House Foreign Affairs Committee, Democrats have not fulfilled their responsibility to take an unequivocal and tangible step to right Omar's anti-Semitic wrong.

Pelosi says Omar isn't anti-Semitic: 'I think she has a different experience in the use of words'. House Speaker Nancy Pelosi, speaking Friday at an Economic Club event, said she doesn't think embattled Rep. Ilhan Omar, D-Minn., is anti-Semitic. "I don't think our colleague is anti-Semitic, I think she has a different experience in the use of words, doesn't understand that some of them are fraught with meaning that she didn't realize," Pelosi said. Pelosi defended the congresswoman a day after the House passed an anti-hate resolution, prompted largely by a series of perceptibly anti-Semitic comments made by Omar.

Democrat Rep. Ted Deutch Slams Inability to Condemn Antisemitism Alone. Florida Democrat Rep. Ted Deutch in an emotional speech on the House floor on Thursday slammed his fellow Democrats for tolerating antisemitism, after Democrats changed a resolution against antisemitism to one that condemned all hatred. Deutch was one of three Democrats who had first called for a resolution condemning anti-Semitism, after his fellow Democrat colleague Rep. Ilhan Omar (MN) made comments suggesting that some lawmakers had "allegiance" to Israel, which smacked of the antisemitic trope of American-Jewish citizens having "dual loyalty."

Nancy Pelosi Appoints Anti-Israel Radical Ilhan Omar to House Foreign Affairs Committee. Speaker of the House Nancy Pelosi appointed anti-Israel radical Rep. Ilhan Omar (D-MN) to the House Foreign Affairs Committee on Thursday [1/17/2019]. Omar confirmed the appointment on Twitter on Thursday afternoon. Omar supports the boycott, divestment, and sanctions (BDS) movement against Israel, which has been called antisemitic because it singles out the Jewish state for isolation and ignores the Palestinian side.

Linda Sarsour Explains How She Influenced Democratic Leadership To Scrap Original Anti-Semitism Resolution. Women's March co-founder Linda Sarsour explained Friday [3/8/2019] how she and other left-wing organizers influenced the final language of the "anti-hate" resolution that passed the House Thursday night [3/7/2019]. The resolution, initially launched as a rebuke exclusively against anti-Semitism following remarks made by Democratic Minnesota Rep. Ilhan Omar, was later broadened to include all forms of bigotry. Sarsour in her video took credit for convincing House Democratic leadership for "expanding the language of the resolution to include condemning all forms of bigotry."

AOC Campaign Calls For End To US/Israel Special Relationship In Fundraising Appeal. AOC's campaign sent out an email on Thursday claiming that AIPAC (American Israel Public Affairs Committee) is coming after them. "It's official — AIPAC is coming after Alexandria, Ilhan and Rashida." The email continued, "Rashida, Ilhan and Alexandria have at times dared to question our foreign policy, and the influence of money in our political system. And now, lobbying groups across the board are working to punish them for it." Perhaps most significant of all, referring to the US/Israeli friendship, it said, "In this administration and all others, there should be no special relationship or status."

Rep. Tlaib Guest Praised the Murderer of a Jewish 4-Year-Old Girl. The media isn't outraged over this. It's refusing to report it. Meanwhile it's outraged that someone suggested that Rep. Tlaib might be a terrorist because of her association with terrorist supporters.

Pro-Hezbollah activist posts photos with Rashida Tlaib at swearing-in ceremony. Rep. Rashida Tlaib, Michigan Democrat, was called out Monday after Palestinian activist Abbas Hamideh, a staunch defender of the terrorist group Hezbollah, posted photos of the two of them posing at her swearing-in ceremony in Detroit. [...] Critics were quick to point out that Mr. Hamideh, a co-founder of the pro-Palestinian group Al-Awda, which means "right of return," has a history of praising Hezbollah leaders such as Sayyed Hassan Nasrallah and declaring that Israel has no right to exist.

Rashida Tlaib Delights CAIR. On September 11, 2001, anyone who said that Americans would one day vote for this would have been torn apart by an enraged mob: [...] CAIR is a terror-affiliated expansionist Islamic outfit that specializes in lawfare and propaganda. You might call it the Islamic equivalent of the ACLU.

Ilhan Omar, Alexandria Ocasio-Cortez, and the collapse of the center-left. A real treasure, Omar is. A typical freshman congresswoman sees her mission as — forgive the expression — bringing home the bacon for her district. Not Ilhan. Her project is to mainstream anti-Semitic rhetoric within the Democratic Party. Once upon a time, you'd have to visit the invaluable website of the Middle East Media Research Institute to hear such tripe. Now you just need to flip on C-SPAN. And Democrats are powerless to stop it. They're tripping over themselves, making rationalizations, dodging reality, and trying to clean up this anti-Semitic mess. Omar is new to this, they say. She never intended to come across as anti-Semitic. She can't help it. "She comes from a different culture." She didn't know what she was saying — she's a moron! She's just trying to "start a conversation" about the policies of Israel's government. And why are you singling her out, anyway. "She is living through a lot of pain." She's black, she's a woman, and she's Muslim. You can't condemn her without also condemning white men of privilege. What are you, racist? Islamophobic?

The Omar Affair is a turning point. The world's oldest hate finally, officially has found purchase in America with the support of the world's oldest political party, the Democratic Party of the United States. Yesterday's shameful House resolution was not so much a turning point for American Jewry as a view of the turning point in the rear view mirror. Faced with clear examples of Ilhan Omar's Jew-hatred ("anti-Semitism" is a wishy-washy 19th-century British euphemism that implies that the same people equally hate Jews and Palestinians because they are both Semitic; claiming "dual loyalties" is not about legitimate criticism of Israel's policies), House Democrats chose to condemn not her, but "white supremacists" and "Islamophobia."

Ilhan Omar Supporters Slam Democratic Leadership: 'It is No Longer Political Suicide to Criticize Israel'. Rallying in support of Rep. Ilhan Omar (D-Minn.), under fire for comments about Israel and Jews, Muslim, left-wing Jewish and other figures said Wednesday the U.S. was undergoing a time of transition, with criticism of Israel no longer "taboo" or "political suicide" for members of Congress. At a press event on Capitol Hill, they took the House Democratic leadership to task for plans to put forward a resolution condemning anti-Semitism — arising from Omar's controversial remarks but not mentioning her by name — and demanded that the measure be broadened to cover bigotry of other kinds. Palestinian-American activist and Women's March co-leader Linda Sarsour said the Democratic leadership should expand the language of the resolution beyond anti-Semitism, to include "Islamophobia, anti-black racism and xenophobia."

Jewish Analyst Doug Schoen: Trump Could Get 40% of Jewish Vote. Jewish-American political analyst Doug Schoen joined Stuart Varney on Friday to discuss the Democrat Party's failure to pass a stand-alone resolution condemning anti-Semitism by Rep. Ilhan Omar. Schoen told Varney and Co. that if Democrats do not nominate a pro-Israel candidate Trump could get up to 40% of the Jewish vote and people like him won't be voting for the Democrat.

Some Democrats Searching for Primary Challenger to Ilhan Omar. Some Democrats have had enough of the repeated antisemitism coming from Rep. Ilhan Omar (D-MN) and intend to primary her out of office, several sources familiar with an effort to recruit a candidate to run against her tell Breitbart News. Several Democrats, speaking on condition of anonymity, described Omar's repeated antisemitic episodes as "the elephant in the room" distracting from what Democrats are trying to do in their first few months of a new House majority heading into the all-important 2020 presidential election. As such, these Democrats say, they are seeking out a primary challenger in Minnesota's fifth congressional district to remove her from office in the 2020 congressional elections.

Trump says Democrats have become 'anti-Jewish' party, calls bigotry resolution a 'disgrace'. President Trump accused Democrats on Friday [3/8/2019] of becoming an "anti-Israel" and "anti-Jewish" party, after the House passed a broad resolution that called out bigotry of all kinds without directly condemning freshman Rep. Ilhan Omar for allegedly anti-Semitic remarks.

The Stark Choice Facing Jewish Democrats. The week of March 4, 2019 will go down in history as the week that the Democratic Party wholly, completely, and unequivocally sold out its Jewish supporters. There is truly no other possible conclusion. The Democrats' profound moral cowardice and shameful obfuscation this week was, at its core, not about criticism of the State of Israel's (entirely lawful and morally just) presence in the historical Jewish heartland of Judea and Samaria. It was not about what Sen. Bernie Sanders (Communist - VT) so mendaciously and disingenuously calls "legitimate criticism of the right-wing, Netanyahu government in Israel."

AOC Campaign Emails 'The Jews Are Out To Get Us'. You just can't make this stuff up. At almost the exact same time Speaker Nancy Pelosi brings an anti-bigotry resolution to the floor for a vote, representative Alexandria Ocasio-Cortez sends out a campaign email proclaiming the Jews are out to get her.

Congresswoman Rashida Tlaib (D-Minn.) wore the Palestinian flag on election night and a Palestinian thobe to the House offices, clearly stating where her alliances lie.
Islam Enters Congress. On January 3, 2019, new members of Congress arrived at their Longworth House offices radiating a contagious excitement. Scores of political fans from Muslim districts in Michigan and Minnesota greeted each other in Arabic, smiling as if Uncle Sam were Santa Claus bringing gifts to greet the first female Palestinian and the first Somali members of the U.S. House of Representatives.

No, This Is Not JFK's Democratic Party. Speaker Nancy Pelosi's House has more women, persons of color and LGBT members than any House in history — and fewer white males. And Thursday, the day Rashida Tlaib was sworn in, her hand on a Quran, our first Palestinian-American congresswoman showed us what we may expect. As a rally of leftists lustily cheered her on, Tlaib roared, "We're gonna impeach the (expletive deleted)!" Not only was no apology forthcoming, the host of the New American Leaders event where Tlaib spoke warmly endorsed her gutter language.

New Dem reps have close relationship with anti-Semite Linda Sarsour, but we're not supposed to notice. It seems no one celebrated the election of the first two Muslim women to Congress more than highly controversial Linda Sarsour. The Palestinian American activist and co-organizer of the feminist Women's March on DC was invited to attend the swearing-in ceremonies of one of the women, fellow Palestinian American Rep. Rashida Tlaib, D-Mich. [...] Sarsour is considered a fierce anti-Semite, with rocker Courtney Love going so far as to call her an anti-Semitic terrorist in a series of tweets — a display of a map in Tlaib's office showing a slight alteration to Israel may convince you that the newly elected congresswoman shares Sarsour's attitude.

Leftists "Make History" in Foreign Garb, Swearing Allegiance on a Quran. Democrats say nothing about the anti-semitism of new congresspeople in the House as they take an oath which means nothing to them. They are the face of the New Democratic Party. Ilhan Omar is taking over the seat previously held by Rep. Keith Ellison. The corrupt media and fellow Democrats portray her as a force against bigotry even though that isn't true. She is an ardent supporter of anti-Semite, America hater Linda Sarsour and she backs the Boycott, Divestment, and Sanctions against Israel, despite denying it until she was voted into office.

Keywords: Captious, truculent, eristic.
Defiant Ilhan Omar: 'As long as I breathe I will continue to make people uncomfortable in the best way possible'. A video posted Tuesday [3/5/2019] shows a defiant Rep. Ilhan Omar (D-MN) telling a room of supporters not to worry about her and vowing, "I know that as long as I breathe that I will continue to make people uncomfortable in the best way possible." [Video clip] The video was posted by Rasha Mubarak, president of the Young Democrats of Orange County (Florida) and has received over one million views. Mubarak did not post the context of the video, but its posting comes in the midst of a firestorm about Omar's questioning the loyalty of Jewish-American supporters of Israel. A Democrat resolution against anti-semitism inspired by Omar was postponed from a planned vote on Wednesday after being fought by progressive and Islamist activists.

Rashida Tlaib wrote column for Louis Farrakhan publication in 2006. Freshman Democratic Rep. Rashida Tlaib once wrote a column for the Final Call, an official publication of the Nation of Islam and its notorious leader Louis Farrakhan. Tlaib, a Palestinian American, has been facing criticism ever since her arrival in Congress and promise to impeach President Trump using profane language. She later came under bipartisan criticism from Jewish groups for appearing with radical anti-Israel activists during her swearing-in ceremony in Michigan, with some activists previously praising terror group Hezbollah and Palestinian terrorists, and saying that Israel has no right to exist.

Intersectionality at the Crossroads. [T]he inconsistency between the views and associations of the [women's] march leaders and the useful idiots who followed their call was highlighted in recent weeks when the media were compelled to finally report what had been known for a long time but kept hidden from credulous consumers of their pap: the Women's March leaders were linked inextricably to Louis Farrakhan, an anti-Semite, anti-homosexual, anti-white propagandist who spreads lies about slavery — ignoring the most significant role of Moslems in it even to this day. And the press hid the fact that women like Linda Sarsour were all in for Sharia, the religious-legal system that more than any other punishes women, gays, and blacks. Sharia creates the submission culture that keeps the poor at the bottom with little chance of upward mobility and society at such a low level of productivity that environmental protection and proper healthcare are unaffordable, and legitimizes slavery, which continues in places like North Africa. Indeed, her anti-American point of view was known months before the march in 2017 but barely, if at all, covered by the mainstream media.

Michigan Candidate for Governor Linked to Nation of Islam. Michigan gubernatorial candidate Abdul El-Sayed was recently a special guest speaker at a fund raiser for a Nation of Islam (NOI)-affiliated mosque. The Muslim Center Mosque and Community Center states that it was "founded under the leadership of the late Imam W. Deen Mohammed, a Nation of Islam Leader and son of its founder, Elijah Muhammad." This is not the first time El-Sayed has spoken at a fundraiser for the mosque. In October 2017, El-Sayed spoke at their annual fundraiser, alongside radical left-wing activist and sharia apologist Linda Sarsour. NOI has a long history of extremism. Imam Deen Mohammad's former assistant Imam Mubarak affiliates himself with the mosque and regularly posts to the Center's Facebook page, including posts describing Jews and Christians as untrustworthy.

Ilhan Omar Knows Exactly What She Is Doing. There's an old joke about upper-class British anti-Semitism: It means someone who hates Jews more than is strictly necessary. Ilhan Omar, the freshman representative from Minnesota, more than meets the progressive American version of that standard. Like many self-described progressives, Omar does not like Israel. That's a shame, not least because Israel is the only country in its region that embraces the sorts of values the Democratic Party claims to champion. When was the last time there was a gay-pride parade in Ramallah, a women's rights march in Gaza, or an opposition press in Tehran? In what Middle Eastern country other than Israel can an attorney general indict a popular and powerful prime minister on corruption charges? But America is a free country, and Omar is within her rights to think what she will about Israel or any other state. Contrary to a self-serving myth among Israel's detractors, there's rarely a social or reputational penalty for publicly criticizing Israeli policies today. It's ubiquitous on college campuses and commonplace in editorial pages.

'Legitimate Criticism' of Israel is Democrats' Phony Excuse for Ilhan Omar's Antisemitism. House Democrats failed Wednesday to introduce a resolution condemning antisemitism, which had been promised in response to the latest antisemitic remarks by Rep. Ilhan Omar (D-MN). Speaker of the House Nancy Pelosi (D-CA) tried to contain the political damage, claiming that repeat-offender Omar was not "intentionally antisemitic." Other Democrats found another excuse: they claimed criticizing Omar would stifle "legitimate criticism" of Israel.

Anti-Semite Linda Sarsour and CAIR Hold Rally in Washington DC for Ilhan Omar, Abuse Reporter. Women's March founder and noted anti-Semite Linda Sarsour and Niwad Awad, the Executive Director of CAIR, held a rally today in Washington DC in support of Rep. Ilhan Omar. Sarsour was asked if she believed the nation of Israel has a right to exist — She refused to answer. The group then walked the halls of Congress in support of Ilhan Omar.

Rep Clyburn digs Dems deeper, makes 'offensive' Holocaust comparison to defend Ilhan Omar. In the running list of excuses made by the left for Rep. Ilhan Omar's anti-Semitism, Rep. James Clyburn just offered his stunning addition. The South Carolina Democrat suggested Wednesday [3/6/20109] that Omar's experience of escaping violence in Somalia where she was born was "more personal" than that of Jews who had parents survive the Holocaust, The Hill reported.

Anti-Semitism's Collaborators. If the Democrats have a minor socialist problem, they have a major problem in the form of Jew-hating weirdos, preeminent among them the Reverend Louis Farrakhan of the so-called Nation of Islam. Farrakhan has been an out-and-proud Jew-hating weirdo for many decades now, but Democrats still feel the need to make gestures of obeisance before him: Anti-Trump leaders such as Tamika Mallory and Linda Sarsour of the Women's March have embraced Farrakhan and courted his favor. Barack Obama came a-calling in 2005 when he was ramping up his political career. The Congressional Black Caucus has consulted him. Bill Clinton stood alongside him at Aretha Franklin's funeral, implicitly elevating the cult leader. California Democrats Barbara Lee and Maxine Waters attend Farrakhan's public events, and Obama-administration veteran Eric Holder recently posed for a picture with him.

Democrats' refusal to call out Ilhan Omar's anti-semitism is just appalling. It's really not hard to get to the bottom of this: When you say that Jews have magical hypnotic powers to control other people, you're an anti-Semite. When you say Jews control other people through money, you're an anti-Semite. When you say Jews have conspired to force you to apologize for saying anti-Semitic things, you're an anti-Semite. Ilhan Omar is an anti-Semite. Now what? Well, now nothing. For a while this week there was a thought that the House of Representatives, where Omar serves as a freshman from Minnesota, might vote on a resolution condemning her anti-Semitism. Then it was thought that maybe said resolution would come up for a vote but wouldn't mention her name and instead condemn anti-Semitism generally.

Subversive Congresswoman Swears to "Transform Our Democracy". Communist/Democratic Socialist Ilhan Omar, who appears to have married her brother while married possibly as part of an immigration scam, plans to bring 'resist' to congress to 'transform' the USA through legislation in order to "transform our government and our democracy". 'Democracy' is the buzzword of the Socialist/Communist. We live in a constitutional Republic. Omar said, "And so we are just really excited to get to work and make sure that the words we said on the campaign trail transform into legislation that will transform our government and our democracy."

Laurie Cardoza-Moore claims Ilhan Omar may have ties to Muslim Brotherhood. Laurie Cardoza-Moore, president of Proclaiming Justice to the Nations called on the US Justice Department "to launch a full and thorough investigation" into Congresswoman Ilhan Omar's (D-Minn.) "possible connections to the Muslim Brotherhood." Cardoza-Moore, an Evangelical leader who hosts the popular Christian television program Focus On Israel, which reaches nearly two billion viewers globally, said on Wednesday that "while she has already established her credentials as a vehement antisemite, Ilhan Omar is far worse than that." "Omar may be in violation of a federal statute for fundraising for two Muslim Brotherhood charities that seek to destroy America," she claimed. She made it clear "Omar's antisemitic comments do not reflect the values of Americans," adding that the people of America "demand that the Justice Department conduct a full and thorough investigation into her possible connections with the Muslim Brotherhood and its affiliates."

Nancy Pelosi Overrules Engel's Call for Ilhan Omar to Apologize for 'Vile Antisemitic Slur'. House Speaker Nancy Pelosi (D-CA) on Thursday did not call for Rep. Ilhan Omar (D-MN) to apologize for her latest anti-Jewish remark, overruling House Foreign Affairs Committee Chairman Eliot Engel (D-NY), who demanded the freshman congresswoman apologize for her "vile antisemitic slur" last week. Speaking before reporters on Capitol Hill Thursday [3/7/2019], Pelosi said she doesn't believe Omar suggesting pro-Israel groups pressure lawmakers into hold "allegiance" to a foreign country was made with "any antisemitic attitude."

House Democrats accuse Pelosi of rushing resolution over Omar tweets. House Democrats confronted Speaker Nancy Pelosi and other party leaders Wednesday, accusing them in a closed-door meeting of rushing a resolution that would indirectly rebuke Rep. Ilhan Omar for her comments about Israel. The bickering broke out at a Democratic caucus meeting in which some Democrats faulted Pelosi for failing to handle the controversy and for not keeping lawmakers in the loop. Rep. Jahana Hayes of Connecticut was among those pressing Pelosi about why they weren't consulted about the response to Omar before hearing on cable TV what would happen.

Ilhan Omar will remain on the House of Foreign Affairs Committee. Rep. Ilhan Omar will keep her position on the House Foreign Affairs Committee despite demands that she step down for making remarks considered anti-Semitic.

Dems have only themselves to blame for Ilhan Omar's anti-Semitic comments. With zero apologies to the Rev. Jeremiah Wright, the chickens of the Democratic Party are coming home to roost. Dems are now squawking mad over the overtly anti-Semitic comments of freshman Rep. Ilhan Omar of Minnesota. With some fanfare, Speaker Nancy Pelosi said the House would pass a resolution condemning anti-Semitism, citing charges Omar has raised repeatedly, including "the myth of dual loyalty." Unfortunately, Omar's colleagues are not mad enough to name the very person whose conduct they are denouncing. Nor, as it turned out, did they have the votes even to do that. Their latest plan is to water the resolution down to mush by also condemning other forms of hate, including Islamophobia.

Andrew Gillum Marches With Anti-Semitic Racist Who Led Anti-Semitic Pogrom. If the left really cares about anti-Semitism, maybe it should stop palling around with anti-Semites?

Andrew Gillum Attends Event Hosted By Anti-Israel Organization Following Mass Attack On Jews. Florida's Democratic gubernatorial nominee Andrew Gillum spoke at an event hosted by an anti-Israel organization the day after the deadliest attack on Jews in American history. Gillum and his running mate, Chris King, spoke at a "Muslims for Gillum" rally Sunday [10/28/2018] at Apna Bazar in Orlando, Florida. The event was co-hosted by Emgage, an American Muslim lobbying organization. Only a day earlier on the Jewish Sabbath, 11 people perished in the Tree of Life synagogue in Pittsburgh after an individual carried out a mass shooting while reportedly shouting, "All Jews must die." Emgage has been a vocal supporter of Gillum, the mayor of Tallahassee, and repeatedly endorsed his candidacy for governor of Florida.

6 Liberal Democrats Photographed With Anti-Semite Louis Farrakhan. Here are five photos of prominent Democrats with Louis Farrakhan, the leader of the Nation of Islam — a man who recently compared Jews to termites.

Cory Booker Backtracks After Being Photographed Holding Pro-Palestinian, Anti-Israeli-Wall Sign. Senator Cory Booker was photographed holding a sign bearing a pro-Palestinian movement slogan. The image appeared on the Twitter feed of the U.S. Campaign for Palestinian Rights, a self-described "coalition of 330+ groups" working "for a US policy toward Palestine/Israel based on freedom, justice, and equality." "From Palestine to Mexico, all the walls have got to go," the sign read.

NYT Whitewashes Democrats' Ties To Anti-Semite Farrakhan. The New York Times whitewashed several Democrats' ties to Nation of Islam leader Louis Farrakhan in an article that ran in Wednesday's paper. Farrakhan is a notorious racist and anti-Semite who has praised Adolf Hitler as a "very great man," called white people "devils," blamed Jews in Hollywood for gay marriage and described Jews as "satanic." Several congressional Democrats have ties to Farrakhan and the leaders of Women's March have publicly declared their support for him.

Clyburn: Ilhan Omar's Experience 'More Personal' than Holocaust Is to Many Jews. House Majority Whip James Clyburn (D-SC) on Wednesday [3/6/2019] defended Rep. Ilhan Omar (D-MN) over her latest antisemitic outburst, arguing that her experience of fleeing violence in Somalia is "more personal" than Jews whose parents survived the Holocaust. Omar is facing blowback after suggesting last week that pro-Israel groups pressure members of Congress to pledge "allegiance" to a foreign country. In an interview with the Hill, Clyburn criticized reports omitting mention of Omar escaping Somalia and spending four years in a Kenyan refugee camp before immigrating to the U.S. "There are people who tell me, 'Well, my parents are Holocaust survivors.' 'My parents did this.' It's more personal with her," said Clyburn. "I've talked to her, and I can tell you she is living through a lot of pain."

The 8 Most Twisted Policy Positions of Your Modern Democrat Party. [#5] The Farrakhan Lovers: While serving in Congress, eight Democratic members of the House of Representatives met with Louis Farrakhan, who has been labeled "the leading anti-Semite in America" and praised Adolf Hitler as "a very great man." [#6] Hatred for Midwesterners: Prominent Democrats have engaged in disdainful and divisive rhetoric towards conservatives: Barack Obama said small-town voters across the Midwest "cling to guns and religion" while Hillary Clinton called Donald Trump supporters "deplorables" and implied states that voted for Trump were "backwards looking," sexist, and racist.

Farrakhan, The Left, and Anti-Semitism. As documented here many, many times, "playing the race card," as racism is politely called these days, is part and parcel of the Left in America and always has been. What once was slavery and segregation are now laughably called "identity politics." And most assuredly, a thorough going part of that racism is anti-Semitism. And when the spotlight is turned on, in this case on a leader of the so-called "Women's March" and various members of the Congressional Black Caucus or various other lefty Democrats, there is much hemming and hawing at having been caught in the act. But the "why" behind all of this latest go-round over left-wing support for Farrakhan — the man who once proclaimed that "Hitler was a great man" — is simple to understand. This streak of racism is part of the larger racial agenda that the Left has been preaching for decades. To wit: divide by race. Win elections. And if, in this case, it means hanging with one of the most vicious anti-Semites of the day? So be it.

The New Democratic Party. [Bernie] Sanders said the US is "complicit" with Israel's "occupation" of Judea and Samaria and Gaza. He said that he would consider cutting off US military aid to Israel. He argued the US should take a more evenhanded approach to Israel. No similar statements have ever been made by any major presidential contender or political leader in either party. And yet, they have raised no outcry among his fellow Democrats. Sanders's rise has unleashed forces in the party such as former Nation of Islam spokesman Rep. Keith Ellison and BDS activist Linda Sarsour. Both have been outspoken in their antisemitism. Both routinely defame and delegitimize American Jews who support Israel. And both are all but unanimously embraced as leaders by their partisan colleagues.

The Muslim Face of the New Democratic Party. [Scroll down] One case, among countless others: The anti-Trump women's march was co-led by an Islamist in a hijab. It is well worth reading the front-page exposé on Linda Sarsour, because she is a leader of so many of the causes that Obama promoted as president: Occupy Wall St., BDS, Black Lives Matter, the Muslim Brotherhood. After 9/11, Sarsour rose in power by promoting the jihadi fiction of "Islamophobia." The Democratic Party uses this accusation to fight Republican national security measures and accord itself unmerited moral superiority. Sarsour's Islamic group was a big success. It prevented the New York Police Department from conducting surveillance of Muslim groups and mosques the police suspected of promoting terrorism. For her work, Ms. Sarsour was honored by President Obama as a "White House Champion of Change" and was invited to the White House seven times. [...] She did not sneak into the White House or get placed on the podium of the Women's March by mistake. The Democratic Party rejects moderate Muslims and is happy to ally itself with Muslim-American radicals.

Far-Left Democrats Are Normalizing Anti-Semitism In Democratic Party. A trio of far-left Democrats are normalizing blatant anti-Semitism in the Democratic Party as leaders in the party idly stand by and refuse to condemn their actions and statements. Reps. Alexandria Ocasio-Cortez (D-NY), Ilhan Omar (D-MN), and Rashida Tlaib (D-MI) — all new members of Congress — have all defended anti-Semites or espoused anti-Semitic positions over the last several months.

The Democrats sign up with the anti-Semites. It is important that support for Israel in the US Congress is bipartisan. … Regrettably, this bipartisan support appears to be slipping away. A year ago, I wrote an article titled Why the left hates Israel, pointing out how the biggest threat to the Jewish state today comes from the political left. But I noted then, that at least in Congress, where support for Israel might be a bit stronger among the GOP than among Democratic members, the fever swamps of anti-Israel hate had not yet reached into the Democratic side of the aisle, with the exception of a very few members such as Cynthia McKinney, Jim Moran, and Fritz Hollings.



Obama, Black Liberation Theology and Antisemitism. Until I started following the threads of Obama's Chicago history, his church, his other associations, especially the religious ones, I honestly didn't think anyone but the scantiest few fringe neo-Nazis or throngs of Middle-Eastern Muslims still harbored Jew hatred. … But when I read the Black Liberation Theology books of James H. Cone, I saw a subtly disguised, resentful kind of antisemitism which I had never encountered before.

Jeremiah Wright: 'Them Jews' Keeping Him from Obama. A day before an anti-Semitic gunman shot and killed a guard at the U.S. Holocaust Museum in Washington, controversial Chicago pastor Jeremiah Wright was making news with some anti-Jewish comments of his own. In a Tuesday evening [6/9/2009] interview, Wright told a Virginia reporter that Jewish members of the White House staff had kept him from talking to his former church member, President Obama, since last November's election.

Rev. Jeremiah Wright says "Jews" are keeping him from President Obama. Same brashness. Same spontaneity. Same lightning-rod remarks. If you were thinking the Rev. Jeremiah Wright had been tempered by a national backlash that nearly derailed Barack Obama's trip to the White House, guess again.

Obama and 'Them Jews': Do you remember Jeremiah Wright, the long-time pastor, mentor and spiritual guide to Barack Obama? ... Well, the good reverend is back in the news. Asked by a reporter if he had recently spoken to the president, Wright said, "Them Jews aren't going to let me talk to him." "Them Jews" was an apparent reference to several top Obama aides, including White House Chief of Staff Rahm Emanuel.

Obama's Pastor Yelps: "Them Jews Aren't Going to Let Him Talk to Me!". Rev. Wright, who served for many years as Mr. Obama's pastor at the Trinity UCC in Chicago, said in an interview this week that President Obama had not spoken with him recently because "them Jews aren't going to let him talk to me." He added: "Ethnic cleansing is going on in Gaza. Ethnic cleansing of the Zionists is a sin and a crime against humanity."

Rev. Jeremiah Wright and 'them Jews'. What, exactly, did Wright mean with his remark? Well, at least two things. The first is that Obama is not a man who knows his own mind or can make his own decisions. He's merely a puppet in the hands of "them Jews." The second is the premise of all classic Jew-baiters and anti-Semites: That Jews control the economy and the government and that there is some sort of Jewish cabal that seeks to run the world.




---

Back to Islam in general
Back to the Home page