Of course Hillary isn't a name that's new or unfamiliar to anyone, since she has already served two terms as co-president. But now her goal is to the the President of the United States, officially and without taking a back seat to anyone. With that in mind, it's time to learn more about her.

Nobody expects that if Hillary Clinton is elected as President, Bill Clinton will sit in the car and wait for her to get finished with it. They will serve again as co-presidents. The people who denigrated the Bush father-and-son team in the White House as a "dynasty" are keeping silent about the Clinton husband-and-wife team.

The Clintons come as a two-for-one package deal. When one is president, the other is co-president. Hillary's campaign should be seen for what it is: an attempted end-run around the Constitution to allow Bill Clinton to serve an illegal third term.

It's hard to imagine a hard-core leftist like Hillary ("It Takes a Village") Clinton becoming the President of the U.S., but with the help of the news media — the news media that only reluctantly reports about the Clintons' many scandals — it is within the range of possibility.

For a while, it appeared that Hillary's biggest obstacle was going to be the Norman Hsu scandal. But that issue has quickly disappeared from the headlines. More recently, the Clintons reluctantly released their tax returns, which paint a picture of just another ultra-rich limousine liberal who pretends to be the champion of the little guy.

Also please note that I don't intend this to be an ad hominem attack on Mrs. Clinton, necessarily — I would like to say that it is her platform that I oppose. At the same time, it is appropriate to call attention to her inability to give a straight, honest answer to even the simplest question. That's called chicanery. Very simply, it means that she can't be trusted.

You may think that Hillary has become irrelevant to those of us outside of New York, but she will probably make another run for the presidency in 2012.

Note: This page has been restructured and is now split into five major subcategories, but instead of putting them all on separate pages, I have left all the material on this page.

Here are the subsections:
Baggage.
Suppression of old Clinton scandals.
The Clinton Library, also known as Little Rock's Fort Knox.
The William J. Clinton Foundation.
Hillary's college thesis.
Hillary "It Takes a Village" Clinton is a left-wing Socialist... or worse.
HillaryCare: Socialized medicine with a very thin candy coating.
The Baby Bond: Hillary attempts to buy votes with other people's money.
Hillary's leftists friends include the labor unions, homosexuals, AARP, NAACP, La Raza, and Hollywood.
Hillary is in the middle of one or more fundraising scandals which are being kept quiet by the mainstream press.
Norman Hsu is one of the central figures.
Hillary appears to be a ruthless control freak.
Hillary's scripted campaign events use pre-arranged shills and audience plants.
Hillary Clinton's 2016 presidential campaign
The launch was a little bumpy
Hillary's use of astroturf
Hillary Clinton's cloud of corruption
Hillary's platform
(Dis)qualifications
The extreme wealth and greed exhibited by the "champion of the middle class"
Disingenuousness, evasiveness and dishonesty
Media bias in Hillary's favor
Intra-party politics
Current scandals
Imperious behavior and immunity from criticism
Hillary's secret email servers
Bill and Hillary work as a team: when you vote for one, you get the other.
Media bias in Hillary's favor prior to 2016.
CNN's obvious bias in favor of Mrs. Clinton.
Evidence of poor judgment and other disqualifications from earlier campaigns.
The "Sniper fire in Bosnia" story.
More examples of dishonesty and prevarication.
Secretary of State Hillary Clinton.


---



Years and years of baggage:

Hillary Clinton revises history when it doesn't suit her needs. She and her team focus on suppression of the many old Clinton scandals, major and minor. For example, she tried not to let anybody read her pro-communist college thesis. Her whole campaign relies on a steady supply of hypocrisy, dishonesty, chicanery, secrecy, paranoia, flip-flops, and non-committal disingenuousness we haven't seen since... Bill Clinton's presidency!

What is Hillary Hiding? Hillary has spent her time in the Senate, and her presidential campaign, striving to revamp her image and soften highly negative public perceptions. Instead of the cold and calculating politician she casts herself as the friendly but tough candidate; instead, of the schemer looking out for number one, she is the leader looking out for the little guy.

Getting Mrs. Clinton: I think we've reached a signal point in the campaign. This is the point where, with Hillary Clinton, either you get it or you don't. There's no dodging now. You either understand the problem with her candidacy, or you don't. You either understand who she is, or not. And if you don't, after 16 years of watching Clintonian dramas, you probably never will.

What will a Hillary Clinton presidency look like? The answer by now seems obvious: It will look like her presidential campaign, which in turn looks increasingly like the first Clinton presidency. Which is to say, high-minded ideals, lowered execution, half truths, outright lies (and imaginary flights), take-no prisoners politics, some very good policy ideas, a presidential spouse given to wallowing in anger and self-pity, and a succession of aides and surrogates pushed under the bus when things don't go right. Which is to say, often.

'Annie Oakley' changes her tune. Sen. Hillary Rodham Clinton (D-N.Y.), who has cast herself in the past few days as a champion of gun owners, had a very different message when she spoke eight years ago to the Newspaper Association of America. "CLINTON TAKES AIM AT GUNS," said the all-caps headline on the group's Web site after she told members in May 2000, during her Senate campaign, that "there isn't a more important task" than passing gun-safety laws.

Hillary Fibs in Iowa About Ethanol — She Voted Against It. During her first visit as a presidential candidate to early-caucus state Iowa, Sen. Hillary Clinton spoke out strongly in favor of boosting the production of ethanol in the United States. But that's a complete turnaround from her earlier actions regarding the alternative fuel, which is made from corn — and could provide a big boost to the economy of agricultural Iowa. … As a Senator from New York, Clinton has voted at least 17 times against measures promoting ethanol production, the RNC noted.

Ethanol is one of those supposedly good ideas that may not be good after all.

Hillary's First Broken Campaign Promise: Just two weeks after inviting the American public to "chat" about her bottomless powerlust, Hillary Clinton has already broken her first campaign promise. At the Democratic National Committee's winter meeting last Friday [2/2/2007], Hillary Clinton made her newest, most left-wing statement on Iraq. Goaded on by — and trying to drown out — protestors from Code Pink and Iraq Veterans Against the War, Hillary pledged: "If we in Congress don't end this war before January 2009, as president, I will." And thus she continued the grand tradition of Clintons lying to the public.

Chicanery and triangulation

The amorphous world of Hillary Clinton: What she personally believes seems to depend largely on the audience. … That's both the beauty and the problem of Hillary Clinton. She's whatever she needs to be to advance the only agenda to which she is unwaveringly loyal: the power of Hillary Clinton.

The night Hillary's funny bone went missing. You learn a lot about people not just by what they say, but by what they don't say. Or by what they don't do, where they don't show up. With a Clinton, no move is accidental. And she is, of course, considered the most likely Democratic candidate for president in 2008. Could she win?

Many faces of Hillary – none a winner. There's something oddly satisfying in the possibility that Clinton being herself is politically disastrous. And, if she's really just playing one more role according to some classically Clintonian political triangulation, there's something equally satisfying to the prospect that even her fans aren't falling for it anymore.

Obama Joins Right-Wing Attack Machine. [Scroll down] The hit against Hillary as a triangulator wouldn't have as much punch if her husband hadn't lived off poll-driven, situational politics for eight years. In a general election, a key point of thematic contention will be whether a Hillary presidency will represent change or — as Republicans will argue — an unwelcome return to the 1990s.

The Clintons' 'politics of personal destruction'. It may seem unfair to single out [Sen. Hillary] Clinton in this matter when the bunker in which she took shelter was crowded with her fellow quivering candidates. But Clinton is the front-runner, quite possibly the next president of the United States, and so it is reasonable to focus on her and wonder if, as some allege, she indeed does have a spine. In this instance, it was nowhere to be found.

Hillary Clinton's memory loss: Hillary Clinton once again asserted during the latest presidential debate that "the American people know where I've stood for 35 years." Yet, she repeatedly refuses to tell us where she stands on Social Security reform. And when she does, Mrs. Clinton misrepresents the condition of Social Security when she and her husband left the White House.

Those 27 Words. What Hillary Clinton was trying to say, it seems, was anything to avoid suggesting that she had made a mistake in voting for the 2002 joint resolution authorizing the use of force against Iraq. Admitting error regarding Iraq has become the litmus test for Democratic candidates.

Anti-war rowdies torment Hillary. Stopping just a fraction of an inch short of saying it outright, [Hillary Clinton] calculatedly implies that she was duped by the Bush administration into supporting the removal of the Saddam regime by military force. But if the Bush administration duped her into over-rating Saddam as a threat, then she is left to answer this question: Who duped her spouse — President Bill Clinton — and his top aides into likewise over-rating the Saddam threat?

At Wal-Mart, Clinton didn't upset any carts. At a Democratic presidential debate last month, Sen. Hillary Rodham Clinton described Wal-Mart, the world's largest retail company, as a "mixed blessing." She spoke from experience. From 1986 to 1992, Clinton was a member of its board of directors, carefully navigating through a spate of internal policy concerns that now weigh on Wal-Mart's corporate image.

Clinton Remained Silent As Wal-Mart Fought Unions. In six years as a member of the Wal-Mart board of directors, between 1986 and 1992, Hillary Clinton remained silent as the world's largest retailer waged a major campaign against labor unions seeking to represent store workers.

As a Director, Clinton Moved Wal-Mart Board, but Only to a Point. Mrs. Clinton's six-year tenure as a director of Wal-Mart, the nation's largest company, remains a little known chapter in her closely scrutinized career. And it is little known for a reason. Mrs. Clinton rarely, if ever, discusses it, leaving her board membership out of her speeches and off her campaign Web site.

Clintons Mum on Tsunami Donation. Multimillionaire political couple Bill and Hillary Clinton pledged on Friday [12/31/2004] to make a generous personal donation to relief efforts in the wake of the Christmas tsunami disaster. But the ex-prez and his senator wife won't say exactly how generous they intend to be.

Liberals slam Hillary over dodge tactics. In pointed political broadsides from some of the major liberal-leaning publications — including the New York Times and The Washington Post — the New York senator has been the target of surprisingly sharp criticism about her refusal to answer policy questions, investigative reporting about her husband's business dealings and unsavory fundraisers, and even assertions that her candidacy was solely beholden to her husband's political influence.

Slick Hillary: Without her husband's gift for triangulation and obfuscation, Hillary Clinton has forgotten that if you're going to take both sides of an issue, don't do it in the same room before the same audience.

Clinton Not Ready to Release Tax Returns. Resisting calls from Barack Obama to release her income tax returns, Hillary Rodham Clinton said Monday she would only do so if she secures the Democratic presidential nomination and contended her rival had been less than candid about his relationship with major campaign contributors.

What are the Clintons Hiding? [Scroll down] When will Hillary Clinton finally release her tax returns? This isn't such a stretch: Bill and Hillary's finances are co-mingled, and the senator recently loaned her sinking campaign $5 million. Indeed, the loan was made at about the same time that Bill Clinton ended a business relationship with another longtime benefactor that allowed him to reap a $20 million bonanza. On top of the $50 million he's earned for himself and the hundreds of millions he's picked up for his global charities — not to mention his presidential library. Yet he refuses to identify most of the sources of all this cash. What's the big mystery?

Clinton Won't Release Taxes Soon. Sen. Hillary Rodham Clinton says she won't release her tax returns until she has the Democratic presidential nomination in hand, and not before tax filing time comes in mid-April. Clinton argued for openness Tuesday night [2/26/2008] during her latest debate with Democratic rival Barack Obama.

Why Clinton Stands to Lose Millions: Thanks to a little-known provision in 2002's McCain-Feingold campaign-finance reform bill, a campaign must repay the loan to a candidate before Election Day. In this case, that's the nominating convention. After the election has passed, a bankrupt campaign is limited to gathering just $250,000 from contributors, which means that modest sum is all it can give back to a candidate. In short, Clinton stands to lose $11,150,000.

Poor Hillary. The Clintons raked in more than $100 million in personal income since leaving the White House in 2001. The idea that they would have any trouble paying back their campaign debts or compensating themselves (regardless of what the campaign laws say) for their own money spent on the campaign is laughable.

The $20 Million Blues: [Scroll down] Clinton, however, might stay in the race in part because of financial reasons. A little more than $11 million has come from her own pocket, and if she can't raise that by the summer convention, she'll be out the money for good. … If Clinton quits before the convention, she'll have to talk donors into giving her money to retire the debt.

The Editor says...
Maybe she can wring some more money out of the Chinese dishwashers. [1] [2] [3] [4] [5]

Hillary's Debt-ly Sins. Hillary Rodham Clinton's campaign is $20 million in debt — and vendors, consultants and aides in her home state are among those getting stiffed, new campaign-finance records show. The debt includes the $11 million that Clinton herself lent the campaign.

Fact Check: Clinton and jobs promised. She's reminded of it all the time around here, so Sen. Hillary Rodham Clinton couldn't have been surprised when her failed 2000 campaign promise to bring 200,000 jobs to economically desperate upstate New York became part of the latest presidential debate. In her first term in the Senate, the region saw a net loss of 26,500 jobs, according to an analysis of U.S. Bureau of Labor statistics by the Business Council of New York State.

Crocodile tears and disingenuousness

Can Hillary Cry Her Way Back to the White House? When I walked into the office Monday, people were clustering around a computer to watch what they thought they would never see: Hillary Clinton with the unmistakable look of tears in her eyes. A woman gazing at the screen was grimacing, saying it was bad. Three guys watched it over and over, drawn to the "humanized" Hillary. One reporter who covers security issues cringed. "We are at war," he said. "Is this how she'll talk to Kim Jong-il?"

The Crying Game: Never underestimate the Clintonian team. Hillary Clinton is in the midst of a complete focus-group/poll-driven/handler make-over. And to the degree she sticks to it (a big if), she will do fine. As we heard tonight, Hillary has now "found her voice"; she suddenly speaks more slowly, there are more bite-the-lip-like pauses, and she has been reminded not to go into frenetic panic mode or hit that screech-owl high note as much.

Tear-Jerking America's Chain. Girls stick together when boys gang up. But let's get something straight: Clinton wasn't emotional because she cares deeply about the country. She was near tears because she cares deeply about becoming the first woman president. Thwarted ambition is the politician's waterboard.

The Latest Version of Hillary Clinton: [Scroll down] She gushed about her "full heart," and how she had "found my own voice." Sixty years old, with all that massive experience in the work of transforming the nation, and she's just now finding her voice? More likely, she's just found a new way to disguise her essential self. This is not her first conspicuous change of convenience. When she and Bill were married, she declined to take his last name, only to suddenly adopt it for political reasons after he was voted out of the governor's office in 1980.

Never Underestimate the Power of Tears. Conventional wisdom says that a woman should never cry in the workplace … Professional women are told that they should get tough enough to never break down in the office under any circumstance. This week, though, the whole nation saw presidential candidate Hillary Clinton get all teary-eyed as she talked about why she is running for president and how much she fears that America might go backward.

Hillary's Crocodile Tears in Connecticut. I have just seen Hillary Clinton and her former Yale law professor both in tears at a campaign rally here in my home state of Connecticut. Her tearful professor said how proud he was that his former student was likely to become our next President. Hillary responded in tears. My own reaction was of regret that, when I terminated her employment on the Nixon impeachment staff, I had not reported her unethical practices to the appropriate bar associations.

Ambition unmasked in U.S. presidential race. The feminist who decided to stand by her serially philandering political meal ticket, was mocked by some for crying her way to victory in New Hampshire this week, raising more questions about just how far politicians are willing to go in the quest for personal glory. And with every such act, ambition takes another hit, a nasty character trait deployed not with a careful understanding of how it relates to ones values and ideals, but, venally, simply to get ahead.

For Cryin' Out Loud. There she goes again. It was another two-hanky day on the campaign trail yesterday [2/4/2008], as Hillary Rodham Clinton teared up at an event targeting female voters on the eve of the Super Tuesday elections.

Little Miss Sunshine. Notice her gold power suits. The wide stance. Notice how Hillary's voice has gone up several irritating decibels as she shrieks, "I hear you," to supporters. Sen. Clinton strategically projects the image of front-runner, despite being in a statistical dead heat with rival Barack Obama. … Just like old times, the Clintons are up to their necks in smoke and mirrors and secrecy. Despite assurances of government transparency, Sen. Clinton wants the public to know what she wants it to know when she wants it to know.

Hillary's Voice: I have come to the conclusion that Hillary Clinton with either not get the nomination or, if she does, will not get elected. The reason is her voice. I don't think there is a man of voting age in America who will want to listen to her every day for four years in office. … Then there are the tears. What American man wants a President who is prone to burst into tears when she's had a hard day or hears something that touches her deeply?

Hypocrisy

Hillary Rodham Gore: The upside is that Mrs. Clinton is raising money from the very industries she is bashing, making her sincerity open to question. The Center for Responsive Politics reports that Mrs. Clinton has raised $269,436 from the pharmaceutical industry, more than any other candidate, including Republicans, and $220,550 from the oil and gas industry, more than double what her closest Democratic rivals raised from the industry.

Democrats and Heretics: while Mrs. Clinton criticizes Wal-Mart for its lack of a union and refuses money from its political action committee, Mr. Podesta's firm last year received $260,000 representing the retailer in Washington — making his firm Wal-Mart's most highly paid lobbyist. … Mrs. Clinton's campaign is a who's who of K Street lobbyists, from campaign chief Maggie Williams to communications director Howard Wolfson to a long list of volunteer advisers. Chances are one, two or several dozen have represented, or continue to represent, positions to which Mrs. Clinton is opposed.

Saint Hillary. Hillary Clinton is on a personal jihad against what she calls the Republican-led "culture of corruption and cronyism" in Washington. Corruption? Cronyism? She's one to talk. It's hard to think of a more unqualified candidate for Girl Scout of Washington. But Hillary, queen of the Arkansas mafia, has appointed herself to that role in this, the next stage of her pre-2008 media makeover.

The Hubbell Standard: Hillary Clinton knows all about sacking U.S. Attorneys. Congressional Democrats are in full cry over the news this week that the Administration's decision to fire eight U.S. Attorneys originated from — gasp — the White House. Senator Hillary Clinton joined the fun yesterday, blaming President Bush for "the politicization of our prosecutorial system." Oh, my. As it happens, Mrs. Clinton is just the Senator to walk point on this issue of dismissing U.S. attorneys because she has direct personal experience. In any Congressional probe of the matter, we'd suggest she call herself as the first witness — and bring along Webster Hubbell as her chief counsel.

The Editor would remind you ...
Attorney General Janet Reno demanded the resignation of all United States Attorneys on March 24, l993.*

Re-written and revised history

Hillary's re-invented history: Either Mrs. Clinton is, or used to be, dumb as a post, or she made up the story. As it happens, Mrs. Clinton doesn't always tell the letter-to-NASA story the same way. As she was inducted in the National Women's Hall of Fame this weekend, Mrs. Clinton said the young Hillary Rodham was 14 and inspired by Alan Shepherd's 1961 trip into space when she wrote to the National Aeronautics and Space Administration. But in this transcript of a May 2005 commencement speech by Sen. Hillary Clinton, archived on her own Web site, the young Hillary is 12 when the incident occurs: "I wrote off to this new agency called NASA, and asked how a 12-year old girl could become an astronaut."

Secrecy

Team Clinton Does Its Best Work In Secret. Let's face it: The Clintons will say anything in their quests for the presidency. Just as Bill Clinton railed against Republican corruption in 1992, promising his would be "the most ethical administration in history," Hillary Clinton now is presenting herself as the antidote of the Republican "culture of corruption" and the antithesis of the Bush administration's penchant for secrecy. What makes this argument all the more laughable is that secrecy has always been their modus operandi, and their key method of their scandal damage control.

Clinton schedule a mystery. After a rally in Philadelphia Tuesday night, the traveling reporters covering Hillary Rodham Clinton tried in vain to get an answer to what seemed like a simple request: What was the candidate's schedule for the next day? Only one evening event was on the books. But word had trickled through the press corps that she might also speak at a breakfast meeting of the U.S. Hispanic Chamber of Commerce. Or might not. Or, again, might.

Clinton's Schedules as First Lady to be Released. The National Archives announced on Tuesday [3/18/2008] that 11,046 pages of Senator Hillary Rodham's White House schedules will be released on Wednesday. The records were the subject of a legal fight between Judicial Watch, a conservative watchdog group, and the National Archives, which has been slow to comply with a request to release the records, arguing that the vetting process takes time.

Taboo topics

Hillary's Doomed Taboo: Does Hillary realize that this taboo-enforcement strategy plays into the worst aspect of her public image — the dogmatic PC enforcer whose loyal aides seem, at least in public, to live in zombie-like fear that too much candor could incur her wrath? I don't think it's too much to draw a line from Hillary's attempt to suppress the speech of her fellow candidates to a general, instinctive distaste for the tumult and self-expression inherent in democracy itself.

Clintons brace for 'wandering Bill' claims. Hillary Clinton's aides have launched a characteristically withering attack against two long-expected biographies of the Democratic presidential front-runner. They have dismissed one as "totally discredited" because of a single disputed anecdote, and claim that both simply rehash old ground.

Hillary carefully avoids the use of the Clinton name.

The Mononym Platform: There's something missing in Senator Hillary Rodham Clinton's recently unveiled presidential campaign, something so conspicuous in its absence that it's certain to set off debate — not on Pennsylvania Avenue, but on Madison Avenue. What's missing is her surname. Someone has apparently decided that Mrs. Clinton will be the first major single-name candidate since 1952, when Ike's P.R. gurus realized that "Eisenhower" was tough to fit on a bumper sticker.

It's just Hillary, if you please. As she seeks to become the country's first female president, Clinton wants to be known to supporters simply as 'Hillary' — no married name or maiden name necessary. Any reference to Clinton, or Rodham, is absent from the New York's senator's official campaign biography except in direct reference to her husband, Bill, or her father, Hugh.

Paranoia

Hill is Right Back to Her Old Ways. Sen. Hillary Rodham Clinton yesterday [3/13/2007] revived a much-ridiculed phrase she first used during the Monica Lewinsky scandal — saying there is a "vast-right-wing conspiracy" to attack Democrats and steal elections.

Is Hillary Cracking Up? Journalists and Democratic politicians seemed to sense that once again Clintonistas had gone too far. Of course, the Clintons always do. They predictably overreact and it gets them into trouble — avoidable trouble.

Clinton: Right-Wing Conspiracy Is Back. Democratic presidential candidate Hillary Rodham Clinton on Tuesday [3/13/2007] described past Republican political malfeasance in New Hampshire as evidence of a "vast, right-wing conspiracy." Clinton's barbed comments revived a term she coined for the partisan plotting during her husband's presidential tenure and echoed remarks she made last weekend in New Hampshire, which holds the nation's first primary.



Suppression of old Clinton scandals
Keywords: Whitewater scandal, Castle Grande, Madison Guaranty, Webster Hubbell, Arkancide, Rose law firm billing records, cattle futures, carpetbagger, Saul Alinsky, Hassan Nemazee, Charlie Trie, Johnny Chung, Norman Hsu, Kase Lawal, William Danielczyk, stained blue dress, Kathleen Willey, Juanita Broaddrick, Gennifer Flowers, Monica Lewinsky, Vince Foster, Ron Brown, filegate, travelgate, false testimony before a federal judge, concealment of subpoenaed documents, It Takes a Village, Clintonesque.


On January 20, 2001, his last day in office, President Clinton pardoned or commuted the sentence of almost every individual whose conviction had been secured by an independent counsel during his Presidency.* Hillary Clinton is hoping you don't know this, or you'll forget.

Let me refresh your memory...
Chronology of the Clinton-Lewinsky Scandal.



The story of Tripp 'Body Count' list. During Linda Tripp's two-day deposition with attorneys from Judicial Watch on Filegate issues, she mentioned a "list" that was given to her mysteriously. While she believes the list was left at her workstation in the White House counsel's office by her former friend Monica Lewinsky, the list originated with WorldNetDaily investigative reporter David Bresnahan. Known around the Internet as "the Body Count," the list is a collection of names of people associated with Clinton administration scandals who have died mysterious and often violent deaths. Bresnahan broke the story of the list during the summer of 1997 while researching his book, "Cover Up: The Art and Science of Political Deception."

More about the Clinton Body Count.

The Clinton Crime Family. I have more than 20 years of experience with Bill and Hillary Clinton. I was numbered at the very top of their enemies list in the 1990s among media people. They didn't mind hurting their enemies — and they used the power of the state to do it. They are only too willing to let their friends and supporters pay for their crimes, as top fundraiser Peter Paul can attest, after serving more than a decade behind bars for campaign finance violations coordinated by Hillary herself. They used the Internal Revenue Service to go after their enemies, their critics and even ex-lovers who posed a threat. They bullied, harassed, intimidated, and, though no one likes to talk about it in polite company, there is indeed an impressive trail of inexplicable death that has followed in their wake. The famous "Clinton Body Count" even persuaded Monica Lewinsky not to make unnecessary trouble for the "family."

Cattlegate explained in detail. [Scroll down] These results are quite remarkable. Two-thirds of her trades showed a profit by the end of the day she made them and 80 percent were ultimately profitable. Many of her trades took place at or near the best prices of the day. Only four explanations can account for these remarkable results. Blair may have been an exceptionally good trader. Hillary Clinton may have been exceptionally lucky. Blair may have been front-running other orders. Or Blair may have arranged to have a broker fraudulently assign trades to benefit [Hillary] Clintons account. Many people familiar with these markets think that the first two explanations are exceedingly unlikely. Well-informed traders rarely trade with such remarkable success and consistency. In other words, the odds of a trader honestly achieving these results are simply too high for hard-nosed traders to believe. The Journal of Economics and Statistics placed those odds at 250 million to one.

Monica Lewinsky is offered $1Million by Las Vegas sex museum for DNA-stained blue dress. It is the item of clothing she is most closely associated with. But now, Monica Lewinsky has reportedly been offered a whopping $1million for her 'DNA-stained' blue dress, which she wore during her liaisons with then-President Bill Clinton in the nineties. The 41-year-old has been offered the enormous sum of money by the Erotic Heritage Museum in Las Vegas, which had previously tried to pay her a smaller $250,000 for the infamous GAP dress.

Monica Lewinsky offered $1 million by Las Vegas erotic museum for dress worn during tryst with Bill Clinton. Monica Lewinsky now has one million reasons to part ways with her infamous blue dress. The Las Vegas Erotic Heritage Museum is upping its offer to $1 million for the dress Lewinsky wore during her illicit rendezvous with then-President Clinton. The museum had previously proposed to pay Lewinsky $250,000 for the DNA-stained fashion piece.

Hillary's Armor. Forty years ago, Hillary would have us believe that she wasn't just the wife of a man running for Arkansas governor — she was a lucky or brilliant investor who in less than three weeks doubled her money. No, tripled! No, wait — quadrupled ... no, actually, much more! "Clinton made almost $100,000 in the cattle futures market," reported Tom Brokaw, and "many wondered whether that was a sweetheart deal arranged for the governor's wife." Of course it was. In less than three weeks, Hillary turned $1,000 into $16,427. "I don't understand how that could have possibly occurred," she said. "My husband and I missed the fact that we had actually made some money." A hundred thousand dollars — twice what her husband made as governor. Who remembers trivia like that?

Put "$16,427 Clinton" into Google, and this is what you get:
White House Defends Hillary Clinton's Profitable Commodities Trading. In the late 1970's, Hillary Rodham Clinton made almost $100,000 in the cattle futures market, causing many to wonder if it might be a sweetheart deal arranged for the wife of the then-Arkansas Governor Bill Clinton.

I Believe Hillary Clinton. I have always believed her. I believed her when she said that her own investment savvy allowed her to realize a 10,000 percent profit by turning a $1,000 investment in cattle futures into nearly $100,000 within ten short months with help from an Arkansas crony, James Blair, just as her attorney general husband was about to become governor. I believed her when she said that Blair did not arrange to have a broker fraudulently assign trades to benefit her account, even though economists calculated the odds of such a return happening as, at best, 1 in 31 trillion. I believe Mrs. Clinton and her husband did not pressure David Hale, when Bill Clinton was governor of Arkansas, into providing an illegal $300,000 loan to the Clintons' business partner in the infamous Whitewater land deal. I believed Mrs. Clinton when she reported as missing hundreds of pages of her law firm billing records and other documents in response to a grand jury subpoena seeking to investigate the Whitewater matter.

The Hillary Baggage No One is Talking About. Lots of people are talking about the scandals of the Clinton Foundation and how Bill and Hillary Clinton enriched themselves by selling their political influence. But there's another, more personal side of Hillary's candidacy that no one is discussing.

Hillary, the Loser. [Scroll down] Exactly as she's doing today, Hillary stumbled into 2008 under the impression that the presidency was hers for the taking. She had never run for office before, in any meaningful sense (her Senate seat was in a safe New York Democratic district, the 3rd millennial equivalent of a rotten borough, seized from a befuddled Daniel P. Moynihan on his retirement), and it showed. She had no strategy, no ground plan, not even a real organization apart from the guttersnipes and hustlers that had infested Bill's White House. When Obama began walking across the water nationwide, she had no response. Then it was too late for anything but Bill's Orval Faubus imitation.

The Clinton Myth. Bill Clinton presided over a failed presidency. [...] The single domestic policy goal that Bill and Hillary sought, health care reform, failed. Every foreign policy and national security problem under Clinton got worse. The newly freed Russia began as our friend and ended as our enemy. Clinton ignored the threat of radical Islam. He let North Korea make major strides toward becoming a nuclear power. He ignored genocide in the southern half of Sudan. As Hillary plans to capitalize on the Clinton Myth, America ought to wonder what the heck she is thinking. Bill Clinton was a failure as president, just as Hillary Clinton was a failure as secretary of state.

Clinton Foundation cash undermines Hillary's 'champion' claim. [Scroll down] But here's the part the Clintons, for all their Ivy League smarts, are incredibly still clueless about: that it's the appearance of impropriety, of conflict of interest, that hurts. And that's the (electoral) problem. These are the same people who debased the White House by selling access to the Lincoln Bedroom. The same people who pardoned Marc Rich, a fugitive from justice, after receiving large donations from his ex-wife, Denise. The president waited until his last day in office to issue the pardon. Even close friends like James Carville said it was a disgrace. But it wasn't illegal, and in Clintonland that's what counts.

Hillary's Resume: What She Hopes You've Forgotten. HILLARY assumed authority over selecting a female Attorney General. Her first two recommendations (Zoe Baird and Kimba Wood) were forced to withdraw their names from consideration, and then she chose Janet Reno. Janet Reno has since been described by Bill himself as "my worst mistake." HILLARY recommended Lani Guanier for head of the Civil Rights Commission. When Guanier's radical views became known, her name had to be withdrawn. HILLARY recommended her former law partners, Web Hubbell, Vince Foster, and William Kennedy for positions in the Justice Department, White House staff, and the Treasury, respectively. Hubbell was later imprisoned, Foster committed suicide, and Kennedy was forced to resign.

The War on Women: Juanita Broaddrick and Bill Clinton. To set the stage for why the country needs Hillary Clinton to be the next president, Democrats are trying to force-feed Americans a "war on women" pablum, when such a war — as they present it — does not exist. For the real "war on women," however, Democrats might turn to Hillary Clinton herself and her husband, former President Bill Clinton.

Why Hillary's Alinsky Letters Matter. Alana Goodman's revelation at the Washington Free Beacon of previously unknown correspondence between Hillary Clinton and Saul Alinsky shows that Clinton has not been honest about her far-left past. The lost Alinsky letters also remind us of what we ought to know but have forgotten: Hillary is not "Clintonian." While Bill and Hillary have worked, schemed, and governed as a couple for decades, Hillary has always been to the left of Bill. As president, she would govern more like Obama than like her husband.

Hillary Clinton, Saul Alinsky correspondence revealed. Previously unpublished correspondence between Hillary Clinton and the late left-wing organizer Saul Alinsky reveals new details about her relationship with the controversial Chicago activist and shed light on her early ideological development. Clinton met with Alinsky several times in 1968 while writing a Wellesley college thesis about his theory of community organizing. Clinton's relationship with Alinsky, and her support for his philosophy, continued for several years after she entered Yale law school in 1969, two letters obtained by the Washington Free Beacon show.

Aide who accused Bill Clinton of groping her says 'Americans deserve better than the Clintons'. Kathleen Willey was a Democratic fundraiser volunteering in the White House during Bill Clinton's presidency who claims the former president kissed and groped her inside a private study off of the Oval Office. Now, with a potential presidential run by Hillary Clinton in the works, Willey has resurfaced to warn the American public about the 'dysfunctional' former first family.

Why Mrs. Clinton's Entire History Matters. Mrs. Clinton herself, if given the chance to dictate the review of her past, would doubtless say, "What difference, at this point, does it make?" And why shouldn't she pretend that all she has done, and that every awful, self-serving lie she has told, means nothing? Look at the heights she and her husband have scaled by pretending to be sincere, competent, or ethical, while those who know otherwise protect them from themselves.

Hillary Clinton's war on women. The "bimbo eruptions" that Bill and Hillary thought were well behind them are coming back with a vengeance, and it's only 2014. [...] The fact that Bubba's bimbos were leftovers from an earlier century means that the recollection of them won't be old news to the millions of voters who grew up after the Clintons left the White House. Fourteen years and two presidents later, a lot has been swallowed by the memory hole. Bubba's bimbos and Hillary's enabling and manipulation of scandal will be new and titillating stuff.

Hillary, Relentless and Shameless. The phrase "Clinton fatigue" entered the political lexicon during the previous century; by this point, we surely must have entered the age of Chronic Clinton-Fatigue Syndrome. But the recent making public of the so-called Hillary Papers — the notes kept by her close friend Diane Blair during Mrs. Clinton's tumultuous White House years, as reported by the Washington Free Beacon — shed additional light on the character of the "co-presidents" who just will not go away.

The Clintons' Legacy of Lies. It is difficult to explain to Americans, particularly young Americans, what was wrong with the Clinton era, and why we ought not want to re-live it. The 1990s are sealed into our national memory as a time of great prosperity and expectation — killed off, in Democrats' rewriting of history, by the 2000 recount and all that followed. The truth is that by 2000, Democrats could not run away from Clinton quickly enough. It's worth revisiting why.

The Disgraceful Republican Cave-in on Loretta Lynch. Hillary Clinton didn't have such a bad week after all. Sure, she's reeling from the latest unseemly revelations about the Clinton Foundation family piggy bank. But they're only marginally worse than earlier unseemly revelations about the Clinton Foundation. They are roughly on par with the revelations about how Mrs. Clinton obstructed Congress's Benghazi investigations by purging her unlawful private e-mail system, which was worse than her obstruction of the State Department's Benghazi investigation. Yet it may not have been as bad as the obstruction of justice that was a staple of her husband's administration. Those obstructions, in turn, were on par with her husband's selling of a pardon to a fugitive fraudster on the FBI's Ten Most Wanted List ... which itself was not quite as bad as his awarding pardons to FALN terrorists — to ingratiate Hillary! with the New York Puerto Rican community (or at least the radicals therein) in preparation for her Senate campaign.

Hillary Clinton has a baggage problem. The single biggest threat to Hillary Clinton's chances of being elected president next November — more so than any one running against her in the Democratic primary or even her future Republican general election opponent — is a sense among the electorate that the bad of putting another Clinton in office outweighs the good. What Clinton cannot have — if she wants to win — is lots of voters saying some variant of this: "I like her and I think she'd probably be a good president. But, I just don't want to go through all of that stuff again." Which is why today is a not-at-all-good day for Clinton's presidential hopes.

Hillary's Iran Scandal: The Empress Has No Clothes. Where to begin as the fairy tale image of Hillary Clinton begins to dissolve under the white heat of a presidential campaign?

Hillary Clinton Must Answer For Libya. The Mediterranean, now known as "a cemetery without graves," will be crossed by some 500,000 refugees this year, up from about 220,000 last year. At the same time, a second round of beheadings of Christians by Islamic State terrorists on Libya's beaches over the weekend drives the point home: Terrorists are on the rise, and a strong base of their operations is in Libya, a failed state that was taken over by a vile menagerie of pirates, slavers and smugglers in the rubble of the toppled Gadhafi regime. Who's responsible here? None other than Hillary Clinton, who served as President Obama's secretary of state during the overthrow of the longtime dictatorship of Moammar Gadhafi in 2011.

Hillary Clinton's NH Co-Chair Insists He Knows Her Positions, Then Admits He Doesn't. Hillary Clinton has been so non-committal in choosing where she stands on a number of issues, not even her campaign co-chairman in New Hampshire, William Shaheen, knows. Shaheen said he knew Clinton's ideology, but when Bloomberg's John Heilemann asked him to explain Clinton's positions on two issues, Shaheen went 0 for 2. Shaheen said he did not know how his boss felt on the Keystone XL Pipeline or the Trans-Pacific Partnership trade agreement.

Don't let Hillary Clinton escape the blame for Libya's anarchy. American military adventurism relies on a very backward notion of causation. When evil men in the world kill their own people, somehow America is to blame for not stopping them. When American action leads directly to disorder, barbarism, and terror, well, that's someone else's fault. It's our unspoken doctrine of humanitarian anarchy.

Clintons change foreign donation policy, but it depends on your definition of change. Here we go again. Because the Mrs. is seeking the presidency, the Clintons' family foundation has changed its policy on accepting millions of dollars in donations from foreign governments. It seems many worry that foreign governments might just maybe possibly be seeking favorable treatment from another Clinton administration through the back door — if you can imagine such a thing from the people who brought you Whitewater, Travelgate, Monica, Emailgate and more. And remember the Lincoln Bedroom business, where Clinton guests overnighted and then later, coincidentally, happened to donate to Clinton causes?

Hillary Has A History of Stiffing Waitresses, Hair Stylists. While the revelation that Hillary Clinton failed to leave a tip during her stop at a Chipotle earlier this week fell flat — few customers tip at the fast-casual Mexican restaurant — a deeper look at the former First Lady's tipping habits shows she does have a history of stiffing people who depend on tips to make ends meet. [...] Clinton's tipping habits were put front-and-center on Wednesday [4/15/2015] when Bloomberg News reported that Clinton and her aide, Huma Abedin, did not leave money in a tip jar after ordering at a Chipotle in Maumee, Ohio.

Read Hillary Clinton's Letters to Communist Revolutionary Saul Alinsky. Law student Hillary Rodham apparently had quite a thing for left-wing organizer Saul Alinsky — more than she seems willing to publicly admit. The Washington Free Beacon has been diligently uncovering pieces of the former first lady and presumed 2016 presidential contender's past, on Sunday [9/21/2014] publishing letters between the young Hillary Clinton and Alinsky, the author of the community organizing handbook "Rules for Radicals."

Rewriting the History of Whitewater. Were the Clintons convicted of a crime relating to Whitewater? No. Were they even indicted for any such crimes? No. Was there evidence that they engaged in criminal behavior in that affair? Decidedly yes, and it is documented not in the Starr report on Whitewater, which was, in fact, never issued, but in the report put out by Robert Ray, who replaced Judge Starr before he had completed his task.

Clinton Housing Policy Wrecked Economy, Not 1%. It wasn't the richest 1% or Wall Street bankers who crashed the economy and created the financial wreckage from which working Americans "have fought" to dig themselves out of. No, that path to destruction was set by Bill Clinton and his social housing policies. The evidence is overwhelming that Clinton was the architect of the financial disaster that wiped out trillions of dollars in household wealth. Under his National Homeownership Strategy, Clinton took more than 100 executive actions to pry bank lending windows wide open.

Google/Dems deadly duo whitewashing Hillary Clinton's Past. A whopping 60% of Democrats want Hillary Rodham Clinton (HRC) as their next president. They have decreed America has to have its first woman president "because it's time". This time the Democrats, Marxist liars holding public office, have joined ranks with the world's largest search engine, with intentions to foist upon a largely unsuspecting America, the First GOOGLE Woman President. No other politician ever got off to a presidential run with a scrubbed clean slate, but that's what Google — self-proclaimed owners of the truth — will do for HRC.

A breakdown of every scandal swirling around Hillary. [Scroll down] Without ever breaking any laws, the Clintons have long appeared to be reaping ill-gotten gains. Right before Bill was elected governor of Arkansas, family friend James Blair, who also worked as a lawyer for Tyson Foods, helped her turn $12,000 worth of stock — Hillary only had $1,000 in her account at the time — into a near-immediate $100,000 profit. She did not disclose this until her husband's second year in office. It was during Bill's first run for president, in 1992, that the Whitewater scandal surfaced. In the 1970s and '80s, the Clintons and their friends Jim and Susan McDougal had invested in the Whitewater Development Corp.; it was alleged that Clinton, as governor, had pressured a local S&L to loan Susan McDougal $300,000 for real estate investments with the company, and that transactions between an Arkansas bank and Bill Clinton had been concealed. Neither Clinton was charged, though both McDougals and Gov. Jim Guy Tucker, who served as governor after Clinton, were convicted of fraud.

A brief guide to Clinton scandals from Travelgate to Emailgate. Hillary Clinton is entering the presidential race in a cloud of scandal surrounding foreign contributions to the Clinton family foundation and her use of a private email account and server to conduct official business while secretary of state. But she and her husband are no strangers to scandal. There often seemed to be no end of the scandals during President Bill Clinton's two terms in the White House and Hillary Clinton's campaigns for the Senate starting in 2000 and the Oval Office in 2008. Political experts began diagnosing "Clinton Fatigue" long ago.

Keeping Hillary Clinton's testimony private is a strategy sure to fail. After Whitewater, Travelgate, Filegate, Sandy "the burglar" Berger stealing documents from the National Archives and Bill's dalliance with Monica Lewinsky, political reporters got a bit lazy because they had to sit back and wait for the next scandal to break. The cascading Clintons always served one up. Some reporters I know openly yearn for a return to the Clinton days. They miss remarks like what then-Sen. Fritz Hollings of South Carolina said when Bill's poll numbers were falling. There was no reason to worry, Mr. Hollings said, because, "If they reach 60 percent, then he can start dating again." The joke illustrated the big difference between the Clintons: Bill's scandals were for the tabloids, and Hillary's for the business page or the police blotter. His were perverse fun, hers not so much. Now that the former senator and secretary of state is about to declare her run for the presidency, happy days for political reporters may be here again.

Report Accuses Hillary Adviser Who Ran Intel Service of Illegally Lobbying for Vladimir Putin Ally. The Hillary Clinton confidant who was caught running a clandestine intelligence service for her may have also illegally lobbied for Russian President Vladimir Putin's ally in the nation of Georgia.

Top State Department Aide Listed as Clinton Foundation Director. Hillary Clinton's chief of staff at the State Department was listed as a director at the Clinton Foundation in its corporate records for more than three years after joining the administration, highlighting concerns that Clinton's aides were too close to the foundation during her tenure. The "William J. Clinton Foundation Corporation" named Cheryl Mills as one its three directors when it applied for nonprofit corporate status in Florida in June 2009 — five months after Mills began serving as Clinton's chief of staff and counsel at the State Department. The organization continued to list Mills as a director in its annual state filings in 2010, 2011, and 2012. During this time, the foundation updated its office address and registered agent on the same documents. Chelsea Clinton replaced Mills in the March 2013 report.

Hillary Agonistes. [Scroll down] Consider the roll call: Whitewater, the Rose law firm, the miracle of the cattle futures, Vince Foster, Benghazi. They stand as towering monoliths of pure corruption on the horizon of the American political landscape, fading into the mist down the past forty years and more. Incidents that would have destroyed anyone else's political career have scarcely even been broached in public; you can bring them up and have no one in hearing distance have any idea of what you're talking about — e.g. her Watergate firing.

Cheryl Mills: The Woman Who Knew Too Much? The New York Times reports that Cheryl Mills, Hillary Clinton's long-time henchwoman will not be joining the Presidential campaign now presumably in the final stages of formation. Why? Perhaps Mills is, to borrow a phrase from Alfred Hitchcock, the woman who knew too much. Mills, who was the State Department's counselor and chief of staff during the entirety of Hillary's tumultuous tenure, is up to her waist in the Benghazi matter, where the overwhelming evidence is that Secretary of State Hillary Clinton put politics before the security and safety of U.S. citizens serving their country in that hell-hole.

Meet the Men Behind Hillary Clinton's Private 'Spy Network'. Two big Clinton stories landed last week. The first is that Hillary Clinton destroyed the electronic copies of her State Department emails on her private server after the State Department subpoenaed her emails. The second is that Hillary Clinton had an aide running a "secret spy network" that was, among other things, feeding her information on Benghazi, according to a report by Pro Publica and Gawker. Earlier this month, I noted the myriad ways that Clinton running her own private email server breathes new life into the Benghazi investigation, but this last revelation takes things to a whole new level.

The Return of the Jolly Roger. Jeff Gerth and Sam Biddle at Gawker write that Hillary's private email server acted as portal to a private intelligence network that included retired members of special operations, former CIA clandestine personnel and foreign informers. Acting in some indeterminate capacity over it was Sidney Blumenthal, former aide to president Bill Clinton and now apparently a retainer to the family dynasty.

Clintons Received Money from 'Front for the Government of Iran'. As President Barack Obama and Secretary of State John Kerry close in on a nuclear deal with Iran, it's worth remembering that the Bill, Hillary, and Chelsea Clinton Foundation received money from "a front for the government of Iran" called the Alavi Foundation. The front gave the Clintons $30,000 between April 2005 and March 2006, according to tax forms. This occurred years after law enforcement officials tied the group to Iranian radicals.

Was Hillary running a secret intel network? If the motives to wipe the hard drive on Hillary Clinton's e-mail server weren't already crystal clear, a new development last night put it in Ultra HD. Gawker's Jeff Girth and Sam Biddle uncovered a secret, private intelligence network run by Sidney Blumenthal for Hillary's benefit, apart from the State Department's own Bureau of Intelligence and Research.

Lawsuit: Clintons are guilty of racketeering, influence peddling. A conservative watchdog has filed a racketeering lawsuit against former Secretary of State Hillary Clinton, arguing that the nation's former top diplomat used a personal email server in order to sell access in return for donations to the Clinton Foundation. The complaint, filed by conservative activist Larry Klayman's Freedom Watch organization, also names Bill Clinton and the Clinton Foundation as defendants. It alleges that both Bill and Hillary Clinton "systematically and continuously... conducted a corrupt enterprise" under the definition of the Racketeer Influenced and Corrupt Organizations Act. The suit also alleges that the Clintons used mail and wire fraud to ignore multiple Freedom of Information Act requests for documents pertaining to State Department waivers to people and business thwarting U.S. sanctions by doing business with Iran.

Clintons Received Money from 'Front for the Government of Iran'. As President Barack Obama and Secretary of State John Kerry close in on a nuclear deal with Iran, it's worth remembering that the Bill, Hillary, and Chelsea Clinton Foundation received money from "a front for the government of Iran" called the Alavi Foundation. The front gave the Clintons $30,000 between April 2005 and March 2006, according to tax forms. This occurred years after law enforcement officials tied the group to Iranian radicals.

The Clintons have always been about pay to play. The Clintons only sold nights in the Lincoln Bedroom to just a few hundred of their closest friends, right? And who can forget Clinton scandal figure Johnny Chung's defining quote: "I see the White House is like a subway: You have to put in coins to open the gates." While in White House exile since 2000 the Clintons have evidently upgraded their subway. Mr. Chung told the Los Angeles Times in 1997 that he personally handed a $50,000 check to Mrs. Clinton's chief of staff, Maggie Williams. In 2013 and 2014 the Clinton Global Initiative received donations from Saudi Prince Turki al-Faisal — the former Saudi ambassador to the U.S. and a member of the Saudi royal family. The donations were likely a good bit more than $50,000.

We're Going To Reward The Presidency To A Woman Who Enabled A Sex Criminal? Hillary is a mess. And we're going to reward the presidency to a woman who's enabled the depredations and exploitation of women by that cornpone husband of hers? The way feminists have spoken makes us blind to Hillary's record of trashing [women]. They were going to try to destroy Monica Lewinsky. It's a scandal! Anyone who believe in sexual harassment guidelines should have seen that the disparity of power between Clinton and Monica Lewinsky was one of the most grotesque ever in the history of sex crime.

Hillary's coattail career and her glass-ceiling myths. Strangely, feminists ignore the damning facts about how Hillary got where she is. Recently, Hillary addressed 5,000 Silicon Valley businesswomen — real career women. Vowing to "crack every last glass ceiling," a hint at her White House ambitions, she urged them to demand equal pay and promotions. She invoked her own supposed early struggles to become the first female partner at the Rose Law Firm in Arkansas while a new mother. But in truth, even then she was riding on Bill's coattails. She got the law job in 1977 — surprise — just after he was sworn in as the state's attorney general. Then, two years later when he was inaugurated as governor — bingo! — she was vaulted to partner. Hardly the struggle she now recalls. Though Hillary was called a trial lawyer, her former colleagues told The New York Times they can't remember her ever trying a case.

Hillary's Haitian Headache. If you've followed American politics for the last quarter century or so, especially on the national level, you know that when you try to navigate your way through the labyrinth of Clinton scandals, you'd better have a good sense of direction because of the vast number of twists, turns and dead ends each particular scandal road leads. That said, it's kind of fun to see mainstream media begin to chart out the dirt path that tees off of Clinton scandal road dealing with Haiti.

Hillary Clinton's Top Five Clashes Over Secrecy. [#3] 1994: Records from the Rose Law Firm: U.S. investigators in 1994 subpoenaed the First Lady's billing records from her years at the Rose Firm in Little Rock, Arkansas, documents that had been also sought by reporters. A focus of their interest was her legal work for a failing savings and loan, but records of those billings weren't found. Much later, Clinton's long-time assistant, Carolyn Huber, said she found in the White House residence an additional box of records that contained the billing memos. They were turned over to the independent counsel in 1996. Clinton testified she had no knowledge of how the records wound up where they did.

7 Years Ago Today: Hillary Said She Came Under Sniper Fire in Bosnia, Was Called Out by Sinbad. Tuesday [3/17/2015] marks the seven-year anniversary of Hillary Clinton telling a campaign crowd that on a 1996 trip to Bosnia she came under sniper fire and was forced to run for cover. "I remember landing under sniper fire," Clinton said during a George Washington University campaign event on March 17, 2008. "There was supposed to be some kind of a greeting ceremony at the airport, but instead we just ran with our heads down to get into the vehicles to get to our base." Clinton added that the feeling in the White House at the time of her visit was "if a place was too small, too poor, or too dangerous, the president couldn't go, so send the First Lady."

Hillary or Bust! [Scroll down] On the face of it, the idea of Hillary Clinton as a feminist trailblazer should be ludicrous. Forty-four women have already served in the Senate since the first one did 93 years ago. When Hillary took over as secretary of state in 2009, there had not been a white male secretary since 1997. Unlike national female politicians like Sarah Palin and Carly Fiorina, Hillary Clinton gained public exposure only by virtue of marriage to the powerbroker governor and then president Bill Clinton. Implicit in her messaging is a return to Bill Clinton's economic good times of the 1990s and the implication that he might well be running half the show — a subliminal and quite sexist message.

Document theft and destruction nothing new for Hillary Clinton. In the 1990s, the documents Clinton stole and/or caused to be destroyed established her role as the attorney for participants in a fraudulent scheme called Castle Grande. Clinton, working with Webster Hubbell and Vince Foster, stole hard copies of the billing records of the Rose law firm where they were partners. They erased the electronic version of these records. One set of these documents was later found in the White House, just outside Hillary's private office, by an employee. Another set was found in Foster's attic by his widow, some years after he committed suicide. Clinton's time sheets (handwritten, as was the practice back in the day) were never found. To understand why Clinton stole and destroyed the documents, it's necessary to understand the Castle Grande back story.

Hillary's War on the Women Who Boinked Bill. Why do so many people believe that Bill Cosby is a rapist when he hasn't been convicted? Because woman after woman keeps coming forward with the same sort of story. Well guess what? Woman after woman has come forth with the same sort of story about being harassed by agents of Bill and Hillary Clinton. We also know Bill and Hillary hired AT LEAST one person who has been caught engaging in the sort of harassment these women faced and turned him loose on them. In addition, one thing everyone should know about Hillary after her latest email scandal, if they didn't already know it before, is that's she's perfectly willing to engage in criminal behavior that looks sleazy because she believes she can get away with anything. The way these women Bill slept with, molested and perhaps even raped have been treated by the Clintons while they've paid very little price for it suggests she may be right. I don't know about anyone else, but I believe that these women were threatened, burglarized and harassed by agents of Bill and Hillary.

Hillary Clinton e-mail controversy revives memories of old White House scandals. Hillary Rodham Clinton's exclusive use of a private e-mail account while she was secretary of state, combined with her disclosure Tuesday in a tense press conference that she deleted more than 30,000 e-mails that she deemed personal, has given Republicans a rich line of attack. The controversy is resurrecting memories of the host of two-decade-old controversies that dogged the first couple during their time at 1600 Pennsylvania Ave.: Whitewater, the White House travel office, the Lincoln Bedroom, Vince Foster, the Monica Lewinsky affair, and the pardon of Marc Rich to name a few.

Has the media finally turned on the Clintons? Think about all those Clinton scandals in the nineties — Travelgate, Cattlegate, Hillarycare, BedroomGate and, of course, "that woman, Ms. Lewinsky." OK, don't think about all of them. They were mind-numbing. But there were a lot. That pair just denies any wrongdoing. And they and their minions talk each one to death until everyone is tired of trying to follow the complications they've thrown up. And then Hill and Bill declare it's old news. That's what Obama is trying to do with the IRS and Benghazi scandals. It worked on Fast & Furious, Solyndra and others. Stall to make the details old. Then, point out they're old.

How Many Straws on Hillary's Back? Does anyone still remember Travelgate, Whitewater, Filegate, shady cattle futures, defiance of subpoenas for billing records at the Rose Law Firm in Little Rock, the fact that she is the only first lady in history to be subpoenaed to appear before a grand jury, and the mysterious presidential pardon during her Senate campaign of convicted Puerto Rican terrorists in New York? The common denominator in all these fiascos was her assumption that she was above the law — that, and petty avarice. Or rather, Hillary always believed that progressive warriors such as herself needed the resources to do noble work and therefore should be exempt from legal scrutiny. No matter. Clinton is probably right that the public either has forgotten all those ethical lapses or wants to move beyond them.

Hillary Clinton's Long History of Hiding Documents. It doesn't matter. That's what some in the media have insisted about former Secretary of State Hillary Clinton's decision to use her own private server and email address to avoid public scrutiny for her entire tenure. [...] Hillary Clinton has a long and inglorious history of alleged document tampering and questionable legal maneuverings.

Why Are Brian Williams and Hillary Held to Different Standards? The Brian Williams saga has grown so large it now has its first victim of collateral damage: Hillary Clinton. You all know the story by now and why it relates to Williams: The then-First Lady and then-teenage daughter Chelsea making a trip to hostile Bosnia. The video and photos of Mrs. Clinton hugging children and smiling as if making her first foray into Euro Disney. Not a care in the world, and certainly not someone ducking and running from sniper fire, as she claimed numerous times on the 2008 campaign trail before finally admitting it was all BS while blaming sleep deprivation. Hillary said in 2008 that she "misspoke," which isn't much different from Williams saying he "misremembered".

Forget Brian Williams, it's Hillary Clinton's lie that matters. [Scroll down] In March 2008, giving a foreign policy speech on Iraq about her days as first lady and a trip to Tuzla, Bosnia, she delivered an unbelievable tale. "I remember landing under sniper fire. There was supposed to be some kind of a greeting ceremony at the airport, but instead we just ran with our heads down to get into the vehicles to get to our base." So, picture that: Chopper lands, sniper bullets pinging and zinging everywhere, she and her comrades sprinting across the tarmac, perhaps zigzagging to throw off the sharpshooter.

Huge trove of Hillary Clinton White House files set for release. A massive collection of documents related to Hillary Clinton's policy work as first lady is set to go public this spring, just as her expected campaign to return to the White House could be ramping up. The more than 150,000 pages of records come largely from the files of Clinton's policy advisers in her husband's White House and cover topics such as welfare, equal pay, family leave, civil rights, race, poverty and health care reform.

The Editor asks...
Do you suppose there is anything in these documents about Webster Hubbell, or Ron Brown, or Vince Foster?

Bill Clinton's Immunity. Amidst all of the attention being given to Hillary Clinton's inevitable presidential run, there awaits a debate that must provoke intense and thoughtful commentary. The prospect of returning Bill Clinton to the White House tests our objectivity and risks widening the gap between those with and without privilege. While president, Bill Clinton entered into a sexual relationship with an employee, showing flagrant insensitivity to the "power dynamics" underpinning their affair. He conducted liaisons in the White House which still strike notes of incredulity. When confronted by accusations, he twisted language with artful deliberateness and was able, quite remarkably, to set aside the internal strictures of conscience and personal responsibility. These facts are not for debate but are now even more relevant.

Why Hillary Is Not Inevitable: Bill's Sordid Past. Clinton faces multiple challenges and vulnerabilities, and predictions of her coronation are indeed premature. So daunting are her challenges, I'm shocked she appears to be running. Clearly taking a paid speech in the late spring means she intends to milk it and perhaps get in later. It's a good idea. She won't wear well. More importantly, Mrs. Clinton has nothing to say. Her claim to be "dead broke" shows her isolation from the real world. Her claim that "companies do not create jobs" seems like a sop to the party's hard left. She has no overarching theme other than it is her turn to be president.

Obama's attorney general pick wants to throw the book at convicted Hillary Clinton bundler. The U.S. attorney nominated by President Barack Obama to be his next attorney general is asking a federal judge to impose a stiff prison term of up to four and a half years on a former Hillary Clinton fundraiser convicted of making more than $180,000 in illegal campaign contributions. The request by Loretta Lynch, the U.S. attorney in Brooklyn, to reject leniency for wealthy hotelier Sant Singh Chatwal and have him sent to federal prison is the latest example of the tough stance Justice Department prosecutors are taking with those convicted of making so-called conduit contributions — campaign cash that is falsely reported as being made in the name of others.

Morris: I Left When Hillary Hired Secret Police to Go After Woman Victimized by Bill. Friday [10/31/2014] on OraTV's "Politicking," former advisor to President Bill Clinton, Dick Morris said it was then-first lady Hillary Clinton's "Nixonian" attempt to attack the woman Bill Clinton victimized and sexually harassed by hiring detectives to dig for dirt in their lives Hillary could use against them to smear their character.

12 Funniest (and Most Diabolical) Hillary Clinton Quotes.

19 Times the Government Withheld Documents It Didn't Want You to See. [#4] In 1996, after nearly two years of searches and subpoenas, the White House reported it found copies of missing documents from Hillary Rodham Clinton's law firm that described her work for Madison S&L in the 1980s. The White House previously said it did not have the records. The originals have not turned up.

First Whitewater prosecutor says 'serious crimes' were uncovered in probe. The first federal prosecutor to probe the financial dealings of Bill and Hillary Clinton says he was poised to bring high-profile indictments against top Arkansas political and business figures — based in part on testimony from a chief witness against the then president — when he was abruptly replaced by a panel of federal judges, throwing his investigation into turmoil.

Soon-to-Be-Released Clinton Records Show Attempts to Shackle Militia. Files scheduled to be released from Clinton White House records will show his efforts to shackle militias and set up a "strict licensing system" for paramilitary groups, Politico reports. In other words, gun control was to be complemented — and in places, supplemented — by people control. According to Politico, the release is certain to raise the ire of citizens already concerned about "enhancing government surveillance powers and regulating armed groups of U.S. citizens."

Unconditional Surrender. The University of Arkansas library has backed down from its decision to block the Washington Free Beacon from accessing its special collections archives following a month-long public uproar. The library suspended the Free Beacon's research privileges in June after the outlet published a story based on audiotapes from university archives that included Hillary Clinton discussing her 1975 defense of a child rapist. Library officials said the Free Beacon had violated the university's intellectual property rights by publishing the excerpts without submitting a permission-to-publish form. However, the library later acknowledged it did not own the copyright for the audiotapes. The copyright holder, veteran Arkansas reporter Roy Reed, has said he does not object to the audio excerpts being published.

The Clinton Police State Cometh. Political journalists are going to love the Hillary Clinton presidency. Judging by the way Team Clinton has responded to a series of books that are critical of the elderly homeowner and her philandering husband, it will be a real treat to cover them in the White House (again). According to Politico, for example, public relations representatives for the Clinton family have issued a joint statement condemning the recent publication of "trashy" books by Ed Klein, Daniel Halper, and Ronald Kessler, all of which reflect less than favorably on the Clintons. The spokesmen condemned the "despicable" authors, arguing that "their behavior should neither be allowed nor enabled," and called on "legitimate media outlets" to promptly censor them.

Former Clinton Press Secretary Ensures Blackout of Book. Former Clinton administration press secretary Mike McCurry is quietly waging a campaign to quash coverage on a new tell-all book that exposes Bill and Hillary Clinton's massive political empire. McCurry has successfully blocked Politico media reporter Dylan Byers from writing about the bestselling Clinton, Inc., written by Weekly Standard editor Daniel Halper, according to emails obtained by the Washington Free Beacon. McCurry, who spoke to Halper, now claims that he "only vaguely remembers" the interview. In the emails, McCurry tells Byers to abandon an article about the book.

Library Coordinated with Clinton Staff Prior to Free Beacon Ban, Internal Emails Show. University of Arkansas library administrators were in contact with Clinton Foundation officials the same day the university rushed to take action against the Washington Free Beacon for publishing recordings of Hillary Clinton discussing her 1975 defense of a child rapist, according to internal emails obtained by the Washington Free Beacon. Administrators scrambled to "get the lawyers involved" to draft a "cease and desist" letter to the Free Beacon the morning after the "Hillary Tapes" report, and over a week before the university admitted it did not actually own the copyright for the recordings.

Clinton Donor Bans Free Beacon From University of Arkansas Archives. A Hillary Clinton donor who serves as dean of the University of Arkansas libraries has banned the Washington Free Beacon from the school's special collections archives, after the news outlet published revealing stories about Hillary Clinton based on documents available at the university library. The ban came days after the Free Beacon ran a story about Clinton's 1975 defense of a child rapist that drew from audio recordings available at the University of Arkansas library's special collections archives. However, the ban was not mentioned in a June 16 email to this reporter from Steve Voorhies, manager of media relations at the university.

Rape Victim of Clinton Client Speaks Out: Hillary 'Took Me Through Hell'. In an interview with The Daily Beast, the victim of Hillary Clinton's first criminal client, an alleged rapist whom she successfully defended, spoke out against the 2016 hopeful's women's rights record. The victim, whom the Daily Beast did not name, was raped as a 12-year old by two men in an attack that left her in a coma for five days and hospitalized for months afterwards. Clinton, then a 27-year-old attorney in private practice, represented her alleged rapist in court, and reduced his sentence to one year in prison. However, the Free Beacon recently unearthed tapes from the University of Arkansas in Fayetteville, which houses the Clinton's document archives, in which Clinton "appears to acknowledge that she was aware of her client's guilt, brags about successfully getting the only piece of physical evidence thrown out of court, and laughs about it all whimsically."

'Hillary Clinton Took Me Through Hell,' Rape Victim Says. Hillary Clinton is known as a champion of women and girls, but one woman who says she was raped as a 12-year-old in Arkansas doesn't think Hillary deserves that honor. This woman says Hillary smeared her and used dishonest tactics to successfully get her attacker off with a light sentence — even though, she claims, Clinton knew he was guilty.

Hillary vs. Walker: Due Process Only Applies If You're A Liberal. Clinton. Champion of women, slayer of conspiracies, and a woman who as a lawyer once went hard at a 12-year-old rape victim in Arkansas was simply providing an invaluable constitutional service. It was her job. In the Daily Beast, the now 52-year-old victim says that "Hillary Clinton took me through Hell" — a line that would surely eradicate the political aspirations of any Republican candidate. Man or woman. Of course, the case against Clinton is not a question of whether the accused deserves a competent defense — this, we hope is settled. What it should focus on is whether Clinton deployed some of that unbridled ambition to unethically denigrate and lie about a 12-year-old who was raped.

Hillary Changes Story on Rapist Defense, Claims She Had No Choice. In a video interview with a UK website, Hillary Clinton contradicts her earlier story about how she came to represent a child rapist. Hillary now claims she had no choice in representing the 41-year-old who raped a 6th grader, a story which is at odds with the one she told an interviewer three decades ago.

Tapes Reveal Hillary Clinton Discussing Her Defense Of Child Rapist. A newly unearthed audio recording reveals Hillary Clinton engaging in a candid discussion of a case involving a man she defended who had been accused of raping a 12 year-old girl in 1975. The recording is of an interview with Clinton in which she tells an Arkansas journalist how she obtained a plea bargain for the accused rapist, despite her indication that she knew he was guilty.

The Hillary Tapes. Newly discovered audio recordings of Hillary Clinton from the early 1980s include the former first lady's frank and detailed assessment of the most significant criminal case of her legal career: defending a man accused of raping a 12-year-old girl. In 1975, the same year she married Bill, Hillary Clinton agreed to serve as the court-appointed attorney for Thomas Alfred Taylor, a 41-year-old accused of raping the child after luring her into a car. The recordings, which date from 1983-1987 and have never before been reported, include Clinton's suggestion that she knew Taylor was guilty at the time.

Why Was Hillary Clinton Laughing About Helping Suspected Child Rapist? It's hardly unusual for a criminal trial lawyer to gossip about a courtroom triumph on behalf of a less than admirable client, often with gallows humor and over drinks after a hard day's work. But it's highly unusual for a lawyer to boast and laugh about such a circumstance in an on-the-record interview with a journalist — and pretty much jaw-dropping when the lawyer is Hillary Rodham Clinton.

Totally Unworthy Liberal Icons. When Hillary Clinton ran for senator of my state I researched her background to confirm if she was indeed the smartest woman in the world as she was being touted in the media by campaign promoters. Hillary Clinton's true character surfaced upon this research which completely belied what her campaign was selling. But they show that the pattern of lies, deceit, fabrications and unethical behavior was established long ago. Not many Americans even know about her misadventures with the Rose law firm and Madison Guaranty Bank nor have they heard of her fortuitous and dubious cattle futures, Travelgate and Whitewater and other overlooked scandals involving the woman whom many are still touting as the next president of the United States.

Hillary's Chinese Espionage Problem. Johnny Chung was born in Taiwan but living in Southern California when he was given $300,000 by Chinese Gen Ji of the Peoples Liberation Army (PLA) Military Intelligence because, "We like your president very much." Among Chung's objectives in using the money were to go directly to Hillary Rodham Clinton and request: A tour of the White House[,] Lunch at the White House Mess[,] A photo op with the First Lady[,] An invitation to attend the president's radio address. [...] It would be interesting to know who the CIA White House officer was reporting back to at Langley CIA HQ about all this. Because the PLA money, laundered through Chung and given to Hillary Clinton, comprised a felony and the Agency should have made a criminal referral to the FBI and Department of Justice.

Hillary Milhous Clinton. She and her husband probably trail behind them more baggage than even Nixon did. He resigned before being impeached. The Clintons brazened it through before President Clinton was finally impeached. He was not convicted, however, and — almost miraculously if you can remember what even Democrats were saying about them — the Clintons continued their amazing political lives. Though they acquired still more baggage. [...] Now with all her baggage trailing behind her, it is only a matter of time before Hillary Clinton is forced to rebrand herself. All those years, dating back to Arkansas politics, will prove too much.

I'm Sick To Death Of Bill And Hillary. [Scroll down] Hillary herself has more baggage than could fit into Air Force One. Perhaps the largest and most malodorous piece is the mysterious disappearance and reappearance of court-subpoenaed law-firm records belonging to her. After going missing for years, they suddenly turned up in her book room on the third floor of the White House. The FBI's fingerprint analysis of the billing records revealed only the prints of Hillary and White House lawyer Vince Foster, who had committed suicide under suspicious circumstances. The records were needed to show the extent of Hillary's legal work for a savings and loan involved in fraud.

Clintons Enjoyed Friendly Relationship With Mosque Leader. The Daily Caller recently reported that Bill Clinton sent a handwritten note on official stationery in March 2000 to Bassam Erstwani, the chairman of the board of the Dar Al-Hijrah Mosque in Falls Church, Virginia, in response to a letter from the chairman. Clinton's note was released as part of a document dump by the Clinton presidential library. The note was marked "THE PRESIDENT HAS SEEN 3-10-00." "I'm interested in all these suggestions. Let's follow up," Clinton said in the note, in which he also said that it would be good to have support from Muslims. Clinton signed the note "Bill."

Report: Hillary Clinton Accused GOP Staffers of Colluding with 'Extremists' on Internet. On January 27, 1998, Hillary Clinton appeared on NBC's Today Show. During her interview with Matt Lauer, she claimed that a "vast right-wing conspiracy" had been trying to destroy her husband "since the day he announced for president." That interview drew a lot of raised eyebrows and became a joke for years afterward. Hillary's accusation became such a hot-button issue that Clinton's White House felt it had to defend itself and drew up a full 28-page report to "prove" that there was, indeed, a "vast right-wing conspiracy."

Hillary's glass jaw. Do you remember Webb Hubbell, the McDougals, the missing Rose Law firm billing records, Travelgate, or Hillary's surprise acumen at high-risk commodities trading? Super PACs and other groups will remind voters of all of these case studies of corruption if Hillary proceeds with a campaign. Democrats are terrified of this likelihood, not because it points to Hillary's distant past, but because it helps illustrate her more recent corrupt behavior — and that of the elite political class she represents.

Major Democratic donor indicted over campaign contributions. A hotel executive and Democratic fundraiser has pleaded guilty in New York to witness tampering and conspiracy to evade campaign finance laws. Hampshire Hotels chairman Sant Singh Chatwal appeared Thursday in federal court in Brooklyn. The candidates were not identified. Chatwal, whose firm runs hotels around the world, had raised at least $100,000 for Secretary of State Hillary Rodham Clinton's 2008 presidential campaign against Barack Obama.

Hotel Magnate Pleads Guilty to Campaign Finance Fraud. Hotel magnate Sant Singh Chatwal, who has lavished campaign cash on everyone from Hillary Clinton to Mayor Bill de Blasio, pleaded guilty today in Brooklyn federal court to campaign finance fraud and witness tampering, U.S. Attorney Loretta Lynch announced. Mr. Chatwal, 70, who runs a chain of luxury hotels and other companies, allegedly broke federal law by using straw donors — whom he called "conduits" — to make more than $180,000 in illegal campaign contributions to three candidates in an effort to gain access and influence federal regulations, according to a federal complaint.

Aide who accused Bill Clinton of groping her says 'Americans deserve better than the Clintons'. Kathleen Willey was a Democratic fundraiser volunteering in the White House during Bill Clinton's presidency who claims the former president kissed and groped her inside a private study off of the Oval Office. Now, with a potential presidential run by Hillary Clinton in the works, Willey has resurfaced to warn the American public about the 'dysfunctional' former first family.

The Hillary Riddle Begins to Unravel. Winston Churchill once said that Russia "is a riddle wrapped in a mystery inside an enigma." So is anything even remotely having to do with Bill and Hillary Clinton. And just as with the Russians, that is intentionally so. The Clintons go to great lengths to cover-up their cover-ups.

Clinton-era White House memo from Rose Law Firm adviser. In a pair of stunning 1993 memos from the Clinton White House, advisers to Bill and Hillary Clinton railed against physicians for putting personal greed ahead of 'Hillarycare' medical insurance reform, and wrote that scheduled listening-session meetings with health care stakeholders were political exercises organized purely for show.

Hillary is sick. Of the media. It was back on Jan. 27, 1998, that Hillary Clinton first used the phrase "vast right-wing conspiracy" to describe the attacks on her husband. [...] For Hillary, the Monica [Lewinsky] story was the last straw in what she firmly believed was a conservative conspiracy to get her husband. And Hillary stuck to that belief even after she learned the truth about Bill and Monica. After all, one or both of the Clintons had been accused of all sorts of ugly things in the preceding years: Whitewater, being involved in the death of Vince Foster, controversial cattle futures trading, international drug smuggling through Mena, Ark., etc.

The many lies of Bill Clinton. It was 10 years ago tomorrow that Clinton looked right into a TV lens — thus looking every American in the eye — and told us a bold-faced, despicable lie, the same one he had told under oath in a court case nine days earlier. The earlier recitation of the lie led to Clinton being impeached, fined by trial court and stripped of his law license. But it was the public lie, in its brazenness, that ought to make every American skeptical of every word Mr. Clinton says.

Clinton Family Loan Mystery. Those of us old enough to recall the 1990s can remember presidential half-brother and pardon recipient Roger Clinton, as well as presidential brothers-in-law Tony and Hugh Rodham — all of whom were caught up in the pardon-gate controversy. None of them has been seen much (or at all) during Sen. Hillary Clinton's presidential campaign, not without good reason. I don't want to be too harsh, but let's just say they all firmly seem to fall into the Bill Carter mold of presidential siblings.

The Oil Connection: It's interesting that Hillary Clinton not only was behind the formation of the oil-for-food program, but that it was a direct contact with an agent of Saddam that accomplished the task. So, fast forward a few years. Baghdad has fallen, the doors have been kicked open, and the oil-for-food program has become the oil-for-food scandal. What seems amazing now is not only the extent of the corruption, but how little most Americans even know about it. The left is often proud of its hatred for Enron and the $1.5 billion in corruption it represents. Rightly so — but they so easily excuse nearly 40 billion in corruption in a single UN program.

Seeds of Destruction: A huge scandal erupted when it became known that Mrs. Clinton's brothers, Tony and Hugh Rodham, had lobbied the president on behalf of criminals who then received presidential pardons or a sentence commutation from Mr. Clinton. Tony Rodham helped get a pardon for a Tennessee couple that had hired him as a consultant and paid or loaned him hundreds of thousands of dollars. Over the protests of the Justice Department, President Clinton pardoned the couple, Edgar Allen Gregory Jr. and his wife, Vonna Jo, who had been convicted of bank fraud in Alabama. Hugh Rodham was paid $400,000 to lobby for a pardon of Almon Glenn Braswell, who had been convicted of mail fraud and perjury, and for the release from prison of Carlos Vignali, a drug trafficker who was convicted and imprisoned for conspiring to sell 800 pounds of cocaine. Sure enough, in his last hours in office (when he issued a blizzard of pardons, many of them controversial), President Clinton agreed to the pardon for Braswell and the sentence commutation for Vignali.

1994 Redux: Clinton Hasn't Changed A Bit. The 1994 [health-care task force] was a debacle of biblical proportions for the Democratic party. To win the presidency, everyone assumed Hillary Clinton would need to erase memories of her flawed leadership of that catastrophe. And doing so would mean showing voters she had the capacity for a different kind of leadership, one based on openness to the private sector, appreciation for the complexity of the task, and policy flexibility — not 1990's style war-rooms and the promised destruction of opponents with differing views.

Hillary stranger than fiction. I have no time for Obama, and I think he'd be a disastrous president. But he's your ticket out if you're a Democrat who can't face the thought of giving your party to the Clinton mob for another decade. And, evidently, quite a lot of Dems feel like that.

The Whitewater Proxy: Hillary's and Bill's scandals have been the elephant in the primary room ever since she first signaled a run. Yet up to now everyone has been too scared, or too loyal, or too weary to touch the ugly past. Her Bosnia misspeak is now serving as proxy for all the truths about the Clintons' non-truths, allowing even liberals to break free from their Clinton dependence.

Remembering and then forgetting the Clintons: [Upon leaving office, President] Clinton garnered unwanted publicity for a greedy duo of mini-scandals first, by lifting several thousands of dollars of White House furniture and his pursuance of a high-priced office in a palatial New York City high-rise. Then there was his pardon of fugitive-financier Marc Rich, who had been on the run for evading millions of dollars in taxes and doing business with the Iranian government while it held American hostages. … Despite his assurances at the time to the contrary, the pardon had all the appearances of a quid pro quo.

Criminals, Clintons, Campaigns. The news that Mrs. Clinton has accepted money from three criminals who were pardoned by Mr. Clinton in highly contentious circumstances — or, more accurately, two criminals and Mr. Deutch, who was on the point of being charged by the Justice Department when he was let off the hook — is sure to prove hugely embarrassing to Mrs. Clinton's campaign.

Judicial Watch scrutinizing controversial Clinton White House pardon. Tom Fitton, president of Judicial Watch, filed a Freedom of Information Act request to obtain the official pardon application submitted to the Clinton White House on behalf of Marc Rich. … Rich fled the United States in 1983 to avoid prosecution on racketeering, wire fraud, and tax evasion charges. He was one of about 140 individuals pardoned by Bill Clinton in the waning hours of his administration.

Clinton papers reveal donor, embargo ties. With a large charitable donation in hand, Indonesian businessman Mochtar Riady flew to Little Rock to dine with first lady Hillary Rodham Clinton at a 1993 gala honoring her as an "Arkansan of the Year" at a time his company, a multibillion dollar banking conglomerate, was seeking an end to a 30-year trade embargo with Vietnam.

This article includes a long list of Clinton scandals.
Clinton bends the rules — when she can't break them. America's chief domestic priority this year is to prevent Hillary Rodham Clinton's election as president of the United States. Beyond her dreadful ideas, she shares her husband's allergy to the rule of law and the basic standards of fairness and honesty that most people expect of themselves. Instead, the Clintons do whatever it takes to accomplish whatever they want. And if normal conduct or even federal statutes interfere, they smash right through them.

With Friends Like These ... It's not that we expect politicians to have squeaky-clean donor lists. You try running for office without, at one point or another, taking money from someone you probably shouldn't. Even Barack Obama, Mr. Clean, has Tony Rezko. But the Frank Giustra-Kazakhstan-Uranium affair, blown open by The New York Times last week, serves as a reminder that the relationship between the Clintons and money has not always been lily-white. Here, a guide to the unsavory characters who have been associated with Bill and Hillary Clinton.

Over the Top. "He [Senator Obama] hasn't been able to find a way to be tough with a woman opponent," they say on TV. But that's not it, or is only half the truth. The other half is that it has long been agreed in the Democratic Party that one must not, one cannot, ever, refer to the long caravan of scandals that have followed the Clintons for 15 years. "We don't speak of the Clintons that way." But why not? Everyone else does.

Landlord: Clinton staff stiffed me on rent. Rochester physician Terry Bennett said he rented a city building to people who worked for Sen. Hillary Clinton's presidential campaign — and skipped town without paying the bill. Making matters worse, Bennett said, the 3,000-square-foot building at 236 Union St. was left trashed. Campaign signs were left lying all over the place, he said.

The Editor says...
It is reminiscent of the way the Clintons left the White House in January 2001.

Let me refresh your memory about ...
Trashing the White House when Clinton's Staff Left. White House officials yesterday [6/2/2001] released a list of damage they say was done by outgoing staffers of President Bill Clinton, including obscene graffiti in six offices, a 20-inch-wide presidential seal ripped off a wall, 10 sliced telephone lines and 100 inoperable computer keyboards.

Official GAO report: Allegations of Damage During the 2001 Presidential Transition.

Departing Clinton Staff Trashed White House Like Never Before. In 2001, the departing Clinton White House staff made quite a mess, according to [the GAO report]. … When news of this first came out in early 2001, Clinton apologists pointed the finger at previous adminsitrations, saying in effect, "They did it first!" But the truth is that no administration in decades did as much damage as the Clinton team did on its way out the door.

Clinton Amnesia: The colossal Clinton gall is matched only by the sure hand with which they manipulate events masterfully, in the face of the knowing contempt of the news media, the Democratic Party and lastly, of course, the American people. Try and recall the actual Clinton Administration that seems to have disappeared from the collective memory. Bill blessedly closed his sordid time in power with an appropriate and delightful flourish, pardoning one hundred and forty convicted felons at the last hour while Hillary and her minions stole White House furnishings and property. They were, and are, beyond parody.

Senator Hillary Clinton: "He that has ears to hear, let him hear." If even a fraction of this information is true, it should be cause for alarm.

The Clintons' Terror Pardons: On Aug. 7, 1999, the one-year anniversary of the U.S. African embassy bombings that killed 257 people and injured 5,000, President Bill Clinton reaffirmed his commitment to the victims of terrorism, vowing that he "will not rest until justice is done." Four days later, while Congress was on summer recess, the White House quietly issued a press release announcing that the president was granting clemency to 16 imprisoned members of FALN. What began as a simple paragraph on the AP wire exploded into a major controversy.

What Kind of "Experience"? Whether in Arkansas or in Washington, Hillary Clinton has spent decades parlaying her husband's political clout into both money and power. How did that benefit anybody but the Clintons? For those people whose memories are short, go on the Internet and look up Whitewater, the confidential raw FBI files on hundreds of Republican politicians that somehow — nobody apparently knows how — ended up in the Clinton White House illegally. … It would be hard to find two people less trustworthy than the Clintons or with a longer trail of sleaze and slime.

Whitewater: Years of legal trouble. Whitewater. The word symbolizes years of legal troubles for Hillary Rodham Clinton during her husband's presidency. The scandal stoked a $52 million criminal investigation and offered moments of extraordinary spectacle, including the unprecedented grand jury appearance by a first lady. "It's not a first that I'm particularly pleased about," she acknowledged at the time.

If Spitzer, Why Not Clinton? [Scroll down] Bill Clinton, who admittedly committed perjury and obstruction of justice, ended up being a rock star. It is well known that when you commit perjury or obstruction of justice, you will receive jail time, since these are acts that go to the very heart of our system of justice that is based on people telling the truth under oath. Clinton, thanks to DNA and a girl who didn't bother going to a dry cleaner, was clearly guilty of both — perjury and obstruction of justice. This is all not to mention his other crimes of a sexual nature. Just ask Juanita Broaddrick and Kathleen Willey.

The Case Against Hillary Clinton: What do you have to forget or overlook in order to desire that this dysfunctional clan once more occupies the White House and is again in a position to rent the Lincoln Bedroom to campaign donors and to employ the Oval Office as a massage parlor? You have to be able to forget, first, what happened to those who complained, or who told the truth, last time. … In my opinion, Gennifer Flowers was telling the truth; so was Monica Lewinsky, and so was Kathleen Willey, and so, lest we forget, was Juanita Broaddrick, the woman who says she was raped by Bill Clinton.

Women in the Clinton era: Abuse, intimidation and smears. Here is Bill Clinton's legacy of mistreatment of women. The common threads are that, almost to a woman: (1) they had some vulnerability that he could exploit. (2) they were victims of a smear campaign, and (3) there is an eerie similarity to the stories they tell of intimidation, threats, and burglaries of odd items, such as photographs and tapes.

Hillary donors slept in Lincoln bedroom. Nearly one in five big-money contributors to Sen. Hillary Rodham Clinton's presidential campaign, known as "Hillraisers," are the same donors who surfaced in a 1996 White House scandal involving sleepovers in the Lincoln Bedroom and other perks to help re-elect President Clinton.

Clinton Considers Giving Up Some Powers. Democratic presidential candidate Hillary Rodham Clinton said Tuesday [10/23/2007] that if elected she would consider giving up some of the executive powers President Bush and Vice President Dick Cheney have assumed since taking office.

Clinton vows review of executive power. Hillary Clinton would launch a policy review as president with an eye towards giving up some of the executive powers accumulated by George Bush, she tells Guardian America in an interview today. … Ms Clinton said the accumulation of executive power had put America into "new territory" because Mr Bush and the vice president had taken the view that were what previously extraordinary powers were now inherent powers that belonged to the White House.

Clinton's Executive Orders. During his two terms as president, Bill Clinton averaged about one executive order each week. By doing so, he was able to effectively legislate from the Oval Office. He wrote executive orders to set aside large tracts of land as national monuments. He wrote executive orders to restructure federalism. He wrote executive orders adding "sexual orientation" to laws on federal hiring. He wrote executive orders prohibiting federal contractors from hiring permanent striker replacements. In other words, he exercised a legislative function: he made laws.

Was that $100,000 profit from cattle futures a bribe? The big question, still, is whether Mrs. Clinton was, as she said, just well-advised and "lucky," or whether — via the filter of the futures markets — she took a fat bribe and then coolly lied about it.

Cattle Futures and Conflicts of Interest: In 1979, Hillary Clinton's trades in cattle futures contracts generated criticism regarding conflict of interest and allegations of disguised bribery. Her initial $1,000 investment generated $100,000 when she stopped trading ten months later.

Hillary Clinton's greatest hits: Two months after commencing the Whitewater scheme, Hillary Clinton invested $1,000 in cattle futures. Within a few days she had a $5,000 profit. Before bailing out she earns nearly $100,000 on her investment. Many years later, several economists will calculate that the chances of earning such returns legally were one in 250 million.

Lest We Forget — Hillary's $100K Cattle Scam. The story intensified in April 1994, when the first couple was forced to pay an additional $14,615 in back taxes and interest after it was learned that the first lady had made more money on commodity trades than had been revealed to the public or to the IRS.

Is the bloom off the Rose Law Firm? The Rose Law Firm became emblematic of the scandals that dogged Clinton and her husband, Bill, while he was president: Whitewater; the death of Vince Foster, a Rose partner who became deputy White House counsel; and the missing billing records from Rose that were discovered in Hillary Clinton's book room at the White House.



Obama's HHS Nominee Proved Her Loyalty to Clinton by Digging Through a Dead Man's Trash. In July 1995, Burwell (then Sylvia Mathews) was one of several key aides questioned by the Senate Whitewater Committee regarding the death of deputy White House counsel Vince Foster. [...] Under questioning, Sylvia Mathews and her colleagues denied impeding a police investigation into Foster's death after his body was found in a northern Virginia park. According to the New York Times, Mathews testified "in laborious detail about what she had found in Mr. Foster's garbage on the night he died." That experience may come in handy as she prepares to oversee the implementation of Obamacare.

Did someone mention Vince Foster?

Clinton's records vanished after warning of 'very serious' problems. Hillary Rodham Clinton's Rose Law Firm billing records, found in the White House residence in January 1996 two years after they had been subpoenaed by government regulators, disappeared shortly after the first lady was warned that the firm's billing problems were "very serious" and the then-ongoing Whitewater investigation could result in criminal charges, newly obtained records show. More than 1,100 pages of grand jury testimony ... say Mrs. Clinton knew considerably more about the firm's billing problems and their potential ramifications than she publicly acknowledged at the time.

The Clintons' Coal-Gate: Hillary Clinton calls President Bush's talks with the Saudis about increasing oil output "pathetic." But it's not as pathetic as her co-president husband locking up billions of tons of clean coal in exchange for political contributions.

Democratic Chickens Coming Home to Roost. When she says she is more "experienced," she is either lying outright, or counting her time as Arkansas' and America's First Lady. But that's nonsense. First Lady is not an elected post, or any post. Clinton was simply the wife of a privileged white male. Besides, what was her experience as First Lady? Was it the experience of Travelgate, in which she engineered the malicious prosecution of White House Travel Office director Billy Dale, which ruined him financially, just so she could turn the office into a cash cow for her friends from Arkansas, socialist TV producer Harry Thomason. Or Filegate, wherein Hillary collected and kept FBI files on hundreds of Republican officials and staffers whom she considered political enemies?



How Hillary Clinton sicced the FBI on the White House travel office. As speculation that former Secretary of State Hillary Clinton will run for President in 2016 heats up, the question that must be asked is: Hillary 2016, prison or POTUS? Recently, the Washington Free Beacon reported on statements found in archival documents by one of Hillary Clinton's closest friends, Diane Blair, painting a portrait of Hillary as a ruthless First Lady. Without question ruthless is an accurate description except not only is Hillary ruthless, she is lawless.

Hillary's Smear Campaign. During the Whitewater investigation, Independent Counsel Kenneth Starr investigated the legal work performed by Mrs. Clinton, then a partner in the Rose law firm, on behalf of Jim McDougal and his bank, Madison Guaranty. Mr. Starr believed that Mrs. Clinton helped orchestrate the fraudulent land deal known as Castle Grande. [...] In the end, no charges were brought against Mrs. Clinton because there was insufficient evidence to prove that she knowingly assisted anyone in the perpetration of a fraud.

Once-secret memos question Clinton's honesty. The summaries said Mrs. Clinton billed Madison for 60 hours of legal work, spoke with Madison officials about the Castle Grande project on 14 occasions, discussed legal matters with Madison's owners — the McDougals — 16 times, had 28 meetings with Rose firm lawyers on Madison, and met with state regulators about Madison at least twice. At the time, Madison was seeking help from Mrs. Clinton's Rose Law Firm in Little Rock to fend off state and federal regulators concerned that the thrift was insolvent. … The summary is all that remains, since the original Rose firm billing records for Madison disappeared.

Trustee: Sen. Clinton's brother owes debts to carnival operators. Tony Rodham, the brother of Democratic presidential contender Sen. Hillary Clinton, is being asked again to appear in court on debts owed to a Tennessee carnival operator whose owners received presidential pardons from President Bill Clinton.

Pardon Scandal Still Looms for Sen. Clinton's Brother. A court-appointed bankruptcy trustee asked a federal judge this week to schedule a new court date in a case against Tony Rodham, the brother of Sen. Hillary Clinton, D-N.Y., accused of failing to repay $109,000 in loans from a carnival company whose owners received controversial pardons issued by President Bill Clinton in the last hours of his presidency.

Update:
Clinton's Brother Settles Lawsuit. A lawsuit accusing Democratic presidential candidate Hillary Rodham Clinton's brother of failing to repay debts to a Tennessee carnival operator has been settled. Tony Rodham was accused of failing to repay $107,000 plus interest to the bankrupt estate of Edgar Allen Gregory Jr. and his wife, Vonna Jo, both of whom received a presidential pardon in 2000.

Pardons reemerge as issue in Clinton run. Six years ago, the launch of Hillary Clinton's career in the US Senate was marred by allegations that her brothers had received payments from people pardoned by President Bill Clinton in the waning months of his presidency. Now, in the wake of the launch of her presidential campaign, the pardon controversy has reemerged in an obscure court case in which Senator Clinton's brother Tony is battling an order to repay more than $100,000 he received from a couple pardoned by President Clinton.

The Editor says...
The list of people pardoned by President Clinton is not difficult to find. [1] [2] [3] [4]

Hillary Clinton's Pardongate Scandal: When you fast forward today and consider the areas where a huge segment of Americans have reservations about another Clinton presidency, the appearance of and real improprieties surrounding everything from Whitewater, the Lincoln Bedroom, Paula Jones, Vince Foster, cattle futures, the Rose Law Firm, Monica Lewinsky and 'Pardongate' provides the opportunity to resurface Senator Clinton's connection to a very dark episode in American politics.

Hill's Brother a Deadbeat. Hillary Rodham Clinton's youngest sibling is a deadbeat dad who owes tens of thousands of dollars in child support to his politically connected ex, The Post has learned. In a disclosure that could prove embarrassing for his sister, Anthony Rodham has stiffed his former wife, Nicole Boxer, out of $75,000 in child support, as well as $55,000 in alimony, a source close to the case said.

Hillary's Spousal Albatross. Hillary Clinton doesn't have the luxury Al Gore did of choosing to dump Bill Clinton on the presidential campaign trail. She's stuck with him, for better or for worse. And if she becomes president, so is America. People always questioned Gore's judgment to cut his umbilical cord from Mother Bill … But in Hillary's case, it's obviously more complicated. Bill will not just have been a past president with very close ties to President Hillary, should she win. He won't merely be with her in the White House. He will be in her space.

A Shower of Gifts for Hillary and Bill: What's most revealing here is not the gifts themselves — although it is hard to picture one adult giving another a sofa — but how horrified people were at the very suggestion that Hillary would lean on supporters to furnish her house. The Clintons have long dismissed the criticism of those in the vast right-wing conspiracy whom they don't respect. But how do you dismiss the views of those you do respect — who insist you would never sink so low, until they are silenced by proof of your grasping?


---
"Hillary was not in a mood to walk away from her cherished lifestyle simply because the Twenty-second Amendment forced her husband from office on January 20, 2001. She took the trouble to register with luxury retailers, as though she were about to become an impoverished new bride. This sent clear signals to donors as to the kinds of items they needed to buy if they expected to stay in Hillary's good graces. No first lady had ever been quite so crass."

— Barbara Olson,
The Final Days: The Last Desperate Abuses of Power by the Clinton White House,
Regnery Publishing, Inc. 2001, pp. 63-64.


---

Hillary Was Key Partner in Clinton Attack Machine. With the paperback version of Clinton's memoirs set to hit bookstores in early June, World Ahead Publishing has unveiled Their Lives: The Women Targeted by the Clinton Machine by Candice E. Jackson. Billed as the stories that Clinton left out of My Life, Jackson uncovers the trail of bribes, threats and intimidation that Clinton's inner circle leveled at the women who got in their way.

She blasts Bush over Libby case, but the Clintons abused the power. The list of investigations, allegations and a few convictions during the Clinton administration was so long and tangled that the cases now morph into a fog. Distinctions among Travelgate and Whitewater and FileGate and GiftGate and the $100,000 commodities windfall get lost, with only Monica and the stained blue dress forever vivid. Now and then, that fog is pierced by something that reminds us what a grubby time it was. The case of Lewis (Scooter) Libby does that.

Do the Clintons Now Support Jail Time For Perjurers? Former President Bill Clinton and Senator Hillary Clinton are absolutely outraged that President Bush granted executive clemency to Scooter Libby, recently convicted of making false statements under oath. They obviously believe that Libby should serve his thirty month sentence. Does that mean that they now think that perjurers should go to jail? Or have they simply forgotten about Bill Clinton's own plea agreement in the last hours of his presidency — for making false statements under oath? Some people would call that perjury.

A Remembrance Of Pardons Past. Presidential candidate Hillary Clinton made this comment, dripping in irony: "This commutation sends the clear signal that in this administration, cronyism and ideology trump competence and justice." Is this the same Democratic Party that shamed the White House for eight years in the 1990s with its illicit activity and lying?

Of pardons, perjury, and hypocrisy. Compare the behavior of Democrats on Bush's pardon for perjury against their behavior concerning Clinton's own perjury and you will find hypocrisy. Just for fun, add into the mix Clinton's own pardons and you get rank hypocrisy.

Unpardonable Hypocrisy: The Clintons aren't the only Democrats who've attacked the president for the Libby commutation. But they're surely the most hypocritical. "This commutation sends the clear signal that in this administration, cronyism and ideology trump competence and justice," wailed Hillary. Hmm. Back in 2001, when her husband left office by extending outright pardons and/or clemency to 176 people, all she had to say about it was: "It's a presidential decision." Apparently, Bill Clinton's pardon of his own brother (a cocaine-trafficking conviction), as well as of folks who'd paid Hillary's brother tens of thousands of dollars for presidential clemency, had nothing to do with "cronyism."

Bill Clinton blasts commutation of Libby's prison sentence. Former President Bill Clinton blasted his successor's decision to spare former White House aide I. Lewis "Scooter" Libby from prison, telling Iowa radio listeners that Libby's case differed from his own administration's pardon controversy. … Bush administration officials, he said, "believe that they should be able to do what they want to do, and that the law is a minor obstacle."

Allow me to refresh your memory...
The Long List of Pardons Granted by President Clinton.

Bill Clinton's old pardons roil 2008 campaign. It's a blast from the past that Hillary Clinton could probably do without. Just as Bill Clinton takes a higher profile in his wife's 2008 White House bid, a string of controversial pardons he granted in the last hours of his presidency is back in the news. … Clinton's last-minute 2001 pardons of some 140 people included financier Marc Rich, who fled the US after being indicted for tax evasion and whose ex-wife was a major donor to Democratic causes. He also pardoned several people close to him, including his half-brother Roger, a convicted cocaine distributor.

Hillary gets her groove on. It's been a hellish 4 months for Hillary R. Clinton. She began the race for the presidency, a goal she has been obsessed with since hitching up with boy wander Bill, as if it were her right. She paid for her claim by putting up with roaming Bill's circus of women, often corralled and marshaled before him by the Arkansas Highway Patrol. She endured and shared in escapades including hidden commodity and real estate scams, accusations and denials of rape, and drug dealing. That was BEFORE Hillary rose to co-presidency.

Clinton Fights to Keep Impeachment Taboo. With a swift response to attacks from a former supporter last week, advisers to the New York Democrat offered a glimpse of their strategy for handling one of the most awkward chapters of her biography. They declared her husband's impeachment in 1998 — or, more accurately, the embarrassing personal behavior that led to it — taboo, putting her rivals on notice and all but daring other Democrats to mention the ordeal again.

[Attention all Republican strategists: Hillary just told everyone where her weakness lies.]

Siege Mentality: The Clintons find themselves victimized and under siege. The presidency is being stolen from them. The press is out to get them. They deride elites and champion the masses. They live in a constant state of emergency. But they will endure any humiliation, ride out any crisis, fight on even when fighting seems hopeless. That might sound like a fair summary of how Bill and Hillary Clinton have viewed the past five months. But it also happens to describe what, until now, was the greatest ordeal of the Clintons' almost comically turbulent political careers: impeachment.

The cut-rate pursuit of power: [Hillary is] not just a frontrunner and a woman, but half of a power couple who may finally be required to pay for the excess baggage, both his and hers. The former first lady is the most exposed candidate in the race, and the least known. Despite the endless revelations of scandal and sharp dealing, we've never gotten to the bottom of "Wifewater," her financial killings in the commodities markets or the whereabouts of the lost records that suddenly and inexplicably showed up in the living quarters of the White House.

Hillary's Purpose Driven Drivel: Listening to liberal politicians attempt to speak about Biblical Christianity is something akin to quizzing porn stars about the finer points of acting. … Would anyone who has tolerated serial adultery, first hand accounts of rape and sexual assault against other women, and an infantile like obsession with never being criticized call their "family" (i.e. the philanderer she's married to and bore a child with) a blessing?

Two Cheers for Obama. [Scroll down] Add Clinton's staggering tactlessness to her thirst for funny money (e.g., disgraced fundraisers Norman Hsu, Charlie Trie, Johnny Chung), missing legal documents, abused FBI personnel files, politically motivated IRS audits, stolen antiques, and the multifarious wrongdoing that defined the Clinton White House. Obama has spared America another four to eight years of official lawlessness. For this he merits abundant applause.

Axelrod Playbook Flashback: Obama Demands Clinton Release Tax Returns. FROM ABC NEWS - Feb 7, 2008: Sen. Barack Obama called on his rival Sen. Hillary Clinton to release her recent income tax returns — a move the Clintons have long resisted. Strapped for campaign cash, Clinton announced this week that she loaned her presidential committee $5 million of her own personal funds, but it was not immediately clear how she came by that much money.

The Clinton Library

The Clinton Library is important for at least two reasons: It is the vault where a potentially damaging paper trail from the 1990s can be hidden away, despite the best efforts of investigators and journalists. More importantly, it is apparently being used as a means of funneling unlimited amounts of money into the Clinton [re]election campaign.

Secrets of The William J. Clinton Foundation. Chicago bankruptcy lawyer William Brandt Jr. pledged $1 million for the Clinton library in May 1999, at the same time the Justice Department was investigating whether he'd lied about a Clinton fundraising event. The Clinton DOJ cleared him a few months later. … A major investor in cellular firm NextWave — Bay Harbour Management — pledged $1 million in 1999, when NextWave was waiting to see if the Clinton FCC would allow it to keep its cellular licenses. NextWave didn't immediately get its licenses, and Bay Harbour never made good on its pledge. And let's not forget the $450,000 contribution from Denise Rich, which was followed by Mr. Clinton's pardon of her fugitive husband, Marc Rich.



The Clinton library's secret files. A trove of Clinton White House records long processed for release remains hidden from public view at the Clinton Presidential Library in Little Rock — even though the legal basis initially used to withhold them expired more than a year ago. [...] Under the Presidential Records Act, such records can be withheld for up to 12 years after a president leaves office. However, at the 12-year mark, those broad restrictions fall away and the once-secret presidential papers are generally subject to disclosure. For the Clinton files, that milestone came and went in January 2013.

Photos from Clinton Presidential Library Link Hillary Clinton to Clinton Presidential Pardons. Judicial Watch … researchers obtained 34 photos from the Clinton Presidential Library of Hillary Rodham Clinton, then-President Bill Clinton and Grand Rabbi David Twersky at a White House meeting during which the Grand Rabbi and other community leaders allegedly lobbied the Clintons to commute the jail sentences of four Hasidic men convicted of stealing $30 million in government education aid. The meeting took place in December 2000, just after the New York based Hasidim sect delivered 1,400 votes to Hillary Clinton's Senate 2000 campaign and only 12 to her opponent Rick Lazio.

Clinton Library Is Hillary's Campaign Springboard. If the opening of Bill Clinton's presidential library had the feel of a campaign event, that's because that's just what it was.

Clinton Library Won't Release Berger Documents. The William Jefferson Clinton Presidential Library will not make available to the public the documents that former National Security Advisor Sandy Berger illegally took from the National Archives in 2003. A letter from the library said the total 502 pages from the Millennium Alert After Action Review (MAAR) are "restricted in their entirety," under federal law and that the documents are "classified in the interest of national defense or foreign policy."

Hillary Clinton Arkansas Papers Unreleased. It's unlikely that Arkansas papers on Hillary Rodham Clinton's years as the state's first lady will be released before the 2008 election, says the director of the Little Rock library that holds Bill Clinton's gubernatorial files.

Who Was Hillary Clinton? Hillary Clinton is running for President based in large part on her experience, especially her eight years as first lady. So it is revealing that she and her husband don't want the media and others to have ready access to the records that might tell us a good deal more about that 1990s "experience." We're referring to the controversy over records at the William J. Clinton Presidential Library, which opened in 2004. At the time, Mrs. Clinton promised that "everything's going to be available."

Papers? I Don't See Any Papers. When author Sally Bedell Smith was researching her new book about Bill and Hillary Clinton's White House years, she flew to Little Rock to visit the one place she thought could be an invaluable resource: the new William J. Clinton Presidential Library. Smith was hoping to inspect records that could shed light on what role the First Lady played in her husband's administration. But Smith quickly discovered the frustrations of dealing with a library critics call "Little Rock's Fort Knox."

Clinton Library Has Responded to UFO Inquiries — Little Else. Under the Presidential Records Act, presidential records are public records. But many are complaining about the Clinton library's lack of progress in making relevant records available to the public. The library opened in 2004, and the records became subject to the Freedom of Information Act in January 2006.

Clinton Library Answers UFO Theorist, Not USA Today. Even though it says it processes Freedom of Information Act (FOIA) requests on a first-come-first-serve basis, the William Jefferson Clinton Presidential Library has answered multiple requests related to Unidentified Flying Objects made in late February 2006 but not any of the requests made a month earlier by USA Today.

Clinton Library Got Funds From Abroad. Bill Clinton's presidential library raised more than 10 percent of the cost of its $165 million facility from foreign sources, with the most generous overseas donation coming from Saudi Arabia, according to interviews yesterday [12/14/2007].

How Much Information Can You Really Get From the Clinton Library? Newsweek reports the national archives says barely one-half of one percent of the 78 million pages of documents and 20 million e-mails stored at the library are open to the public. Nearly 300 Freedom of Information requests are pending for Clinton documents — and an archives spokeswoman says it is hard to predict if any of the material will be released before next year's election.

Researchers and journalists are finding it hard to get papers out of Clinton's Presidential Library. Among the documents requested … detailed files on Filegate, Travelgate, Whitewater, Monica Lewinsky, the pardons scandal and even back-and-forth about Clinton's 2000 Senate bid. Sixteen months after the library started accepting applications, no major request for sensitive documents pertaining to Clinton's first-lady years have been released.

Why We're Touring the Clinton Library: Like far too many women in this country, all three of us have experienced the crime of sexual assault and the violation of sexual harassment by men in powerful positions. Each of us has battled with the shame, humiliation, and fear of coming forward to report the assault. Each of us has worried about how this sexual harassment and assault will affect our careers. Two of us, however, suffered this kind of experience at the hands of a United States president.

The Saga of the First Lady Files: Word that nearly 2 million pages of documents related to Hillary Rodham Clinton's time as first lady could remain locked up until after next year's election produced the predictable catcalls among critics suspecting coverup. But it raises the broader, unprecedented question of how someone's service as first lady should be evaluated in terms of her qualifications to be president in the first place.

Hillary, Under Lock and Key. The authors of the "Kids First" memo were, of course, Hillary Clinton's staffers from the 1993 health-care task force. Its discovery validated conservative arguments that the proposed S-CHIP expansion is an integral part the larger movement to nationalize health care. The AAPS lawsuit successfully exposed this memo, as well as other key documents. But as Judicial Watch's [Chris] Farrell points out, a great deal of Hillary's record as First Lady remains inaccessible to the public.

Clinton Presses for White House Papers. Former President Clinton said Friday [11/02/2007] that a letter he wrote to the National Archives was to expedite release of his papers, not slow the process or hide anything as rivals are suggesting in criticism of his wife. Hillary Rodham Clinton was quizzed during this week's Democratic presidential debate as to why correspondence between her and her husband from their White House years remained bottled up at the National Archives.

Clinton no open book on healthcare. [Scroll down] But a big part of that history is being concealed. Hundreds of pages of memos and correspondence involving the healthcare plan of the early 1990s have been withheld, leaving a gap in a historic period when Clinton undertook one of the most ambitious domestic policy forays ever attempted. Some of the records kept from public view are memos from the early 1990s that White House aides wrote to Clinton about members of Congress, some of whom are still serving.

GOP issuing 'Clinton library cards'. Republicans across the country are encouraging voters to sign up for a "Clinton library card," a publicity stunt to highlight the dispute over Sen. Hillary Rodham Clinton's White House records. The Democrats have been arguing over the issue since it surfaced during an Oct. 30 debate, and former President Bill Clinton has since said the debate question about the records kept by the National Archives was "breathtakingly misleading."

Clinton library a closed book. Almost three years after the library's opening and nearly two years after the administration's archives became subject to federal open-records laws, only a small fraction of the archives has been opened to the public. Virtually all of the 3 million pages of documents that detail the internal workings of the health-care task force that Hillary Clinton headed remain stored away in boxes, for example.

Several obstacles hold up release of Clinton records. In her presidential campaign, Sen. Hillary Rodham Clinton of New York argues that if elected she could hit the ground running, because her days as first lady prepared her for the spotlight and the rigors of the Oval Office. The voluminous records of former President Bill Clinton's administration would seem to be a great source for proving those claims. The trouble is, many of the documents haven't been released.

2,600 Pages of Clinton Records Withheld. The National Archives is withholding from the public about 2,600 pages of records at President Clinton's direction, despite a public assurance by one of his top aides last month that Mr. Clinton "has not blocked the release of a single document." The 2,600 pages, stored at Mr. Clinton's library in Arkansas, were deemed to contain "confidential advice" and, therefore, "closed" under the Presidential Records Act, an Archives spokeswoman, Susan Cooper, told The New York Sun yesterday [12/18/2007].

Archivists block release of Clinton papers. Federal archivists at the Clinton Presidential Library are blocking the release of hundreds of pages of White House papers on pardons that the former president approved, including clemency for fugitive commodities trader Marc Rich. That archivists' decision, based on guidance provided by Bill Clinton that restricts the disclosure of advice he received from aides, prevents public scrutiny of documents that would shed light on how he decided which pardons to approve from among hundreds of requests.

Some Clinton Pardon Papers Still Sealed. The Clinton Presidential Library … released 2,830 pages of documents this week on pardons President Bill Clinton considered for Rich and others during his last months in office. But the library withheld another 1,114 pages that archivists said would disclose confidential discussion of advice the former president received from advisers or would violate someone's personal privacy.

The Clintons' Records: So it turns out that — in the middle of a desperate primary battle — the Clintons are withholding from the public documents from the William Jefferson Clinton presidential library. This was denied back in December, when our roving national correspondent, Josh Gerstein, reported that about 2,600 pages of documents were being withheld at Mr. Clinton's direction, despite assurances from the former president's office that he "has not blocked the release of a single document from his library."

Hide and seek. The campaign manager for Sen. Barack Obama has a point. David Plouffe wants Hillary Clinton to release her income tax returns for the last several years and couple that with a speedier process for releasing papers from the Clinton White House years. That's so voters will be able to judge whether Mrs. Clinton's claims of experience are justified by what she says she did as a virtual "co-president." Mr. Plouffe told reporters last week that Mrs. Clinton is "one of the most secretive politicians in America today." Who would disagree, other than Mrs. Clinton?

Even ABC News wonders...
The Clinton Tax Returns: What's the Holdup? After weeks of intense pressure, and more than a year after announcing her presidential candidacy, Sen. Hillary Clinton has offered little explanation for why she has delayed releasing the tax returns made public by most other Democratic presidential candidates in recent years.

The Clinton Runaround: Have you ever been to a government office to pick up a document — your driver's license, say — only to be sent to another window, where the clerk sends you to another window, where a clerk sends you back to the first to start all over again? That's what it feels like these days asking Bill and Hillary Clinton about their White House records.

Peace and Bitterness: The Clintons are resisting the disclosure of a document that could help clarify the New York senator's claims that she was "instrumental" in Northern Ireland peacemaking. The document's unlikely author: Chelsea Clinton. As a Stanford University senior in 2001, the former First Daughter wrote a 150-page thesis on the subject. Her faculty adviser, Prof. Jack Rakove, has said that Chelsea spoke with her father "at some length" about the negotiations. But the Clinton camp has declined to make it public.

Fishy Way of Sheiking the Money Tree. [Scroll down] So how much of Bill's earnings came from Burkle really come from the Emir's petrodollars? And what does Bill bring to Yucaipa? A rolodex of contacts made while he was president, and nothing else. By the way, this is the same Emir who aggressively boycotts Israel and has been cited for human rights violations by the State Department. How much did Bill get from the Emir and what did he do for it? The tax returns don't say and the Clintons aren't talking.

The Clinton library's sanitized history. The description of his impeachment in Bill Clinton's new presidential library beats anything I've ever seen at a supposedly historical exhibit. Its flawless Newspeak brings to mind the airbrushed prose of the Late Great Soviet Encyclopedia, in which any embarrassing images would be dutifully erased in successive annual editions.

Detractors gear up to build Counter Clinton Library. A group pledging to build the Counter Clinton Library in Little Rock is moving forward with its plans this year for a rebuttal to the Clinton Presidential Center despite fund-raising delays.

Bill Clinton Never Balanced A Budget And Never Ran A Surplus. On Friday [9/30/2011] Former President Bill Clinton spoke at the dedication of a bridge at his Presidential library. During his address he complained that Republicans try to take too much credit for his welfare reform legislation and for balancing the budget. The two parties can argue about who was behind welfare reform, but no one deserves credit for balancing the budget. The truth is the United States federal budget was not balanced in any of Bill Clinton's eight years as President. Not once!




The William J. Clinton Foundation
and the Clintons' ability to raise money for themselves.

This subsection has moved here.

Hillary's college thesis

Another Clinton Cover Up Exposed. Recently made available for public viewing, Hillary Clinton's controversial college thesis was for years ordered sealed by the Clinton White House to keep her Marxist and socialist views from becoming public. The 92-page document paints a favorable picture of the radical leftwing community organizer Saul Alinsky, who Hillary refers to as having a "compelling personality" and "exceptional charm."

Hillary's Secret Thesis Reveals Socialist Thinking. Well, it is finally available to the public, fortunately in time for the public to avoid making the huge mistake of electing Hillary. By the directive of President Bill Clinton, Hillary's senior thesis was sealed; the only time this has ever been done in the history of Wellesley College. The reason it was hidden away? It reveals Hillary's Socialist/Communist philosophy and sympathies.

Hil's College Thesis Reveals Her Mind. The thesis' title, "There is Only the Fight … An Analysis of the Alinsky Model," exposes Clinton's strong ideological attachment to her most influential mentor, Saul Alinsky. Reading this work makes it clear why she had to remove it from public view, for Alinsky, who died in 1972, was a radical social activist who preached grass-roots organizing and intense, confrontational politics.

Hillary's Thesis: The Village Needs an Enemy. She titled the paper, written to fulfill her Bachelor of Arts degree at Wellesley College, "There is Only the Fight." It praises the work of radical activist Saul Alinsky, a man who epitomized a self-interested no-holds barred campaign style that Hillary has emulated in later years. Clinton's savvy-but-ruthless politics, including the "politics of personal destruction" she so often condemns but more often practices, seem rooted in Alinsky's famous rules for radicals.

"There is only the Fight". Hillary Clinton has a written life plan, but there have been only two copies available to the public — until now. Written in 1969, and kept under lock and key during her years as First Lady, Hillary's Wellesley College senior thesis has only been readable in person at the campus library and in a single microfilm copy made available to individual researchers on inter-library loan. Clinton lawyers have previously blocked people who sought to make it public.

Here it is...
"There is only the fight": Hillary Clinton's 1969 Thesis from Wellesley College.

Hillary's Choice: Political Power and Alinsky. Many questioned whether Hillary's tears were real or contrived. They should read Hillary's 1969 Wellesley College Senior thesis. Kept under lock and key during her years as First Lady, Hillary's Wellesley College senior thesis has until last summer only been readable in person at the campus library and in a single microfilm copy made available to individual researchers on inter-library loan.

Obama, Hillary and Alinsky's Tactics: The emergence of a racial tinge to the Democratic Party nomination fight was all but inevitable, given both Hillary Clinton's and Barack Obama's training as disciples of Saul Alinsky. Hardball tactics right out of Rules for Radicals provide perspective for understanding the unfolding battle. Saul Alinsky, the hero of bloodless socialist revolution in America, was a master at explaining how to patiently use whatever weapons one has to bring about the transfer of power from the Haves to the Have Nots.

Saul Alinsky: the Puppet Master. Saul Alinsky, who died in 1972, at the age of 63, was a Chicago Marxist. Among his many books was one titled "Rules for Radicals," in which he explained to his acolytes, "The most effective means are whatever will achieve the desired results." It took Alinsky 11 words to paraphrase Karl Marx's far more succinct "The ends justify the means." Alinsky, by the way, dedicated that particular book to Lucifer, whom he coyly referred to as "the first radical."

Rubber-Stamp Approval Slips Over Hil's Chasms of Conflicts. "The (William J.) Clinton Foundation exists as a temptation for any foreign entity or government that believes it could curry favor through a donation," cautioned Sen. Richard Lugar of Indiana. "It also sets up potential perception problems with any action taken by the secretary of state in relation to foreign givers or their countries...." Therefore, he concluded, in a sharp reversal of his own logic, "I believe that every member of this committee will seek ways to support Senator Clinton's work as secretary of state." Huh?

Rules for Radicals: A Blurred Vision. Saul Alinsky's book "Rules for Radicals," first published in 1971, has been read and assimilated by a number of those who espouse a Far Left agenda. Our current Secretary of State, Hillary Clinton, wrote her senior thesis on Alinsky while at Wellesley College. The following excerpt is from that paper. "Much of what Alinsky professes does not sound 'radical.' His are the words used in our schools and churches, by our parents and their friends, by our peers." Perhaps in your world, Madam Secretary — certainly not in mine.



---

Section 2
It's not enough to call her a liberal or a progressive. Hillary "It Takes a Village" Clinton is a hard-core left-wing pro-abortion Socialist.

Hillary Clinton (D.-MoveOn.org) Is A Radical. Hillary is not mainstream. She's not even on the far left bank of the mainstream. She is way, way out there — a genuine '60s girl, and the ideas and staff she would bring to the White House would represent a sharp break with all that has gone before in American politics. With as many as six appointments to the Supreme Court in the next eight years (six Ruth Bader Ginsburgs!) a Hillary Court would be like a Hillary presidency — a radical Bench to back up a radical Administration. That's the 2008 campaign in a nutshell.

Read this!
Hillary's Radical Skeletons: The former Goldwater girl would write her 1969 thesis for Wellesley College on the ideas of native Chicago radical Saul Alinsky. … Hillary had one difference with Alinsky: she did not believe street demonstrations were effective avenues to promote their shared, far-Left values. Instead, she affirmed her commitment to working "inside the system," because she believed all change came about only by acquiring political power.

How crypto-Marxism won the Cold War. Today, for the first time in American history we have two — count 'em, two — hard-core Leftists running for the Democrat Party nomination. The Left hasn't had this kind of chance for power since Truman defeated Henry Wallace in 1948. Hillary and Obama are Marx twins who only differ in race and gender. All the media tell us is how great it is to have a woman and a black man running for president.

What else are the media not reporting?

Clinton will eliminate disparities for same-sex couples. Democratic Sen. Hillary Rodham Clinton said she would defend gay rights as president and eliminate disparities for same-sex couples in federal law, including immigration and tax policy. Clinton said states such as New Jersey and Massachusetts are extending rights to gay couples "and the federal government should recognize that and should extend the same access to federal benefits across the board. I will very much work to achieve that."

Clinton Calls for $30 Billion for Home Mortgage Crisis. Senator Hillary Rodham Clinton returned to one of her major campaign themes Monday — the economic impact of the home mortgage crisis — and called on Congress to provide $30 billion to help states and communities lessen the number of foreclosures.

Cradle-to-college socialism:
Hillary Clinton Backs Federal Funding for 'America's Pre-K Movement'. While senators scrambled to pass a financial "rescue" or "bailout" package that could cost taxpayers up to $700 billion on Wednesday [10/1/2008], Sens. Hillary Clinton (D-N.Y.) and Kit Bond (R-Mo.) called for expanding the public education system to include 3- and 4-year-olds. The pre-K programs would be paid for by state funding and supplemented by federal grants.

Going After OPEC: Hillary Clinton says she wants to dismantle OPEC if she becomes president. ... But Clinton's plan to go after OPEC is a slick PR exercise, and her recent threats against U.S. oil companies are downright dangerous. "(Oil companies) have record profits," she said, "that they frankly are just sitting there counting because they are not doing anything new to earn it; they are just taking advantage of what's going on." This is patently false.

Don't Stop Worrying About the Clintons. On the trail these days, Clinton is waging a campaign whose motto should be "Say Anything." … "We're going to go after OPEC," she hollered, dismissing it as "monopoly cartel" in which members "sit in some conference room a couple of times a year, decide how much oil they are going to produce, and how much they are going to charge for it." It's a nice idea, but her strategy of changing laws to sue the organization on anti-trust grounds is risible, because it's hard to see how the group would abide by any U.S. court decision.

The "Problem" Of Human Freedom: Could it be that a foolish and abusive use of governmental power is a causal factor with our energy woes? Could it be, as [Bill] O'Reilly suggested, that our government's (and Mrs. Clinton's) prohibition of domestic energy development is part of the reason we are now held hostage to the "monopoly" of OPEC? Not so, for Hillary. In her leftist world, the problem is that American citizens are enjoying too much freedom. "Consumers" and "drivers" behave badly, they drive too much, and they drive the "wrong" vehicles; and American oil corporations (just as President Carter told us in the 1970's) are once again raking in "windfall profits."

Will Hillary's 'Secretary Of Poverty' Solve Problems Of The Poor? "I believe we should appoint a cabinet level position that will be solely and fully devoted to ending poverty as we know it in America," she solemnly intoned. … The media largely ignored her proposal but her former rival John Edwards applauded it.

The Editor says...
You remember John Edwards — the champion of the poor, who pays $400 for a haircut.

Hillary's plan for economic ruin: Hillary Rodham Clinton sat down with The New York Times to outline her economic plans if elected president, and we now know the sad, sordid facts — how confused the senator is and how intent she is on ruinous policies. … The Times story tells us that Hillary Clinton is generally far more skeptical of free trade and free markets than was Bill Clinton as president. The truth is that relatively unhampered trade has produced literally millions of jobs for this nation. It has also driven down prices to far greater benefit for America's poor than any dozen new governmental programs the senator's socialistically inclined imagination might come up with.

Clinton pits herself against business. Sen. Hillary Rodham Clinton (D-N.Y.) trashed an array of corporate interests in an economic speech in Ohio Thursday [2/14/2008], vowing that as president she would go after oil, credit-card, insurance, pharmaceutical, investment, and loan firms.

Clinton: Rein in special interests. Democrat Hillary Rodham Clinton, criticized for taking corporate special interest contributions, proposed restrictions on a wide array of industries Thursday [2/14/2008] … She said she would rein in oil, insurance, credit card, student loan and Wall Street investment companies and generate $55 billion a year that would be used for middle-class tax cuts, create jobs and pay for an array of domestic programs.

The Editor says...
Senator Clinton's feigned objection to "special interests" is a little hard to swallow. Are the labor unions a "special interest?" Are the baby-killing feminists a "special interest?" Is Norman Hsu a "special interest?"

Clinton Issues Economic Plan. Democrat Hillary Rodham Clinton's campaign released a 13-page blueprint for fixing the economy Monday [2/18/2008], detailing the former first lady's plans to achieve universal health care, address the home foreclosure crisis and develop jobs for the middle class. The pamphlet, which will be distributed to voters at campaign events and posted online, outlines many of the ideas she talks about on the campaign trail each day. But by pulling them together, the document resembles a populist manifesto … with Clinton championing the needs of working-class voters over corporate and business interests.

Liberal Media is Hillary's Secret Weapon. All you have to do is look it up. How hard is this to do? It would take a reporter about five nanoseconds. When you've got an "F" from the National Taxpayers Union, a zero from the National Tax Limitations committee, an eight from Citizens Against Government Waste, a twelve from the American Conservative Union, an "F" from the Gun Owners of America, how are you moderate? When you've got a 95 from the ADA, when you've got a 100 from the Brady campaign against guns, a 93 from the AFL-CIO, a 100 from the State and County Municipal Employees, that doesn't make you a moderate!

Hillary would raise taxes on rich. Sen. Hillary Rodham Clinton yesterday [12/13/2007] said her plan for fiscal responsibility includes tax increases, during a debate at which the Democratic contenders kept it civil and stressed they will "ask" Americans to sacrifice to achieve their policy goals. "I want to restore the tax rates that we had in the '90s," said the New York Democrat and former first lady.

Santa Claus Politics: Senator Hillary Clinton's Christmas commercial, showing various government programs as presents under a Christmas tree, was a classic example of calculated confusion in politics. Anyone who believes that the government can give the country presents has fallen for the oldest political illusion of all — the illusion of something for nothing.

The Hillary Who Stole Christmas. If you take Hillary's ad remotely as seriously as many are taking Huckabee's, you're left with a disturbing glimpse of not just Hillary's politics but her vision of government. Her programs, which would cost billions and billions of dollars by even the most generous accounting, are simply "gifts" for the American people. No sacrifice, no cost, no strings attached at all — save the price of your vote.

Candidates lose fear of wishing 'Merry Christmas'. In Sen. Clinton's Christmas message, Hillary is bundling up presents for all of us. … "Where did I put 'Universal Pre-K'?" she says. "Ah, there it is." If you thought Christmas at the mall was too materialistic, this is bonanza time. Message: It Takes A Santa's Village Staffed By Unionized Government Elves To Raise A Child, and I'm Santa and you're gonna need a much bigger chimney for all the federal entitlements I'll be tossing down there.

Mrs. Hillary Clinton and the Neo-Marxist Democrats. Evidence of the resurgence of Marxism, or neo-Marxism, as a result of the failures of the neo-conservative Bush regime, is evident both in polling data and in the current debate among the participants in the Democrat primary contest. The leading contender, Mrs. Hillary Clinton, proffers a specific set of concepts designed to assert a "progressive" or positivistic policy whose intention is to "improve" the condition of the American people.

Hillary Rodham, The Making of a Social Radical. Most know that Hillary Rodham Clinton's politics veer to the outer fringes of the radical Left. But how many understand the reasons for her conversion from Goldwater conservative to cultural Marxist, and how this would play out during her controversial bid for the U.S. presidency?

Hillary's Chutzpah: What the Congress needs to do is give us classical supply-side measures. It needs to incent earning the next dollar, which means the opposite of the kinds of tax increases Mrs. Clinton wants. It needs to pass the trade agreements awaiting ratification in the Congress. It needs to stabilize the dollar and work toward a policy of sound money.

Hillary Clinton 'would move US to Left of France'. America under Hillary Clinton would suffer high taxes and lavish public spending that would make it more Left-wing than France, Rudy Giuliani, the Republican presidential hopeful, has claimed. His remarks drew anxious gasps from his audience of party supporters in the key primary state of New Hampshire.

The Democrats and Gun Control: Mrs. Clinton has repeatedly voted for antigun proposals, and co-sponsored many of them. After Hurricane Katrina, the New Orleans and St. Tammany police confiscated guns from law-abiding citizens, violating an explicit Louisiana law. In some cases, the confiscation was carried out with the assistance of federal agents, and was perpetrated via warrantless break-ins into homes. The next year, the U.S. Senate voted 84-16 for a homeland security appropriations rider stating: "None of the funds appropriated by this Act shall be used for the seizure of a firearm based on the existence of a declaration or state of emergency." Mrs. Clinton was one of the 16 who voted "no."

We're All Gun Nuts Now. During a campaign debate on April 16, Barack Obama and Hillary Clinton were asked if the District of Columbia's ban on gun possession, now facing a challenge before the Supreme Court, is constitutional. "I think a total ban, with no exceptions under any circumstances, might be found by the Court not to be. But I don't know the facts," said Clinton (Yale Law '73), dodging the question for the third and final time.

Hillary Clinton's Left Hook: After Hillary Clinton clerked in the summer of 1971 at an Oakland, Calif., law firm run by attorneys with ties to the Communist Party, she never returned to work there. But she stayed in touch with one of the firm's partners and his wife, and they stayed in touch with her, until they died.

Hillary Clinton's Radical Summer: In a life marked largely by political caution, one entry on Senator Clinton's résumé stands out: her clerkship in 1971 at one of America's most radical law firms, Treuhaft, Walker and Burnstein. One partner at the firm, Doris Walker, was a Communist Party member at the time. Another partner, Robert Treuhaft, had left the party in 1958, several years after being called before the House Un-American Activities Committee and labeled as one of America's most "dangerously subversive" lawyers.

Clinton: Use Fluorescent Bulbs, Wrap Water Heaters in Blankets. Visitors [Hillary's] Web site are asked to take a pledge to "confront … global warming and move our country towards energy independence." The energy-saving advice was posted to coincide with the release of Clinton's new proposed energy policy, which would, among other things, set up a $50 billion strategic energy reserve and phase out the incandescent light bulb.

The Editor says...
The alternative to the incandescent light bulb is the compact fluorescent light bulb, about which I have posted a lot of information — none of it favorable. And if the people on the political left are really interested in America's energy independence, why do they oppose drilling for oil in Alaska?

The Liberal Card Deck. Hillary knows she can cream any other liberal presidential candidate, but she still can't figure out how to be more conservative than a conservative. That concept of personal responsibility as opposed to governmental intrusion to solve societal deficiencies is far beyond her grasp.

Hillary Lurches Leftward: An Early Abandonment of Her Centrist Strategy. Hillary Clinton apparently felt the need for these swiftly escalating efforts at flamboyant anti-warism to match the "bring the troops home within months" proposals of her two strongest challengers: former Sen. John Edwards and Sen. Obama. Compounding this dangerous leftward pull on the Democratic Party presidential aspirants is the fierce economic populist message of former Sen. Edwards, who is currently running disconcertingly (for Clinton and Obama) strongly nationwide — particularly in Iowa.

It Takes a Snow Job. Hillary Clinton is a reminder that self-described children's activists pose one of the greatest threats to children. Many children's activists are just feminists who don't particularly like children, and certainly don't want to stay home and raise them. Their children's activism amounts to an attempt to shift responsibility for children from mothers to the state.

There's something about Hillary. Hillary Clinton is an immensely dangerous politician. Despite recent attempts to modify her image, Hillary remains an unabashed liberal — a radical on abortion, health care, the judiciary and the economy. Hillary maintains a 100 percent favorability rating from the National Abortion Rights Action League.

Sen. Clinton's Abortion Record May Haunt '08 Campaign. The presumed frontrunner for the Democratic presidential nomination, [Senator Hillary] Clinton has a 100 percent rating from Planned Parenthood. The same can be said of Democratic Sens. Barack Obama of Illinois, John Kerry of Massachusetts, Joseph Biden of Delaware and former North Carolina Sen. John Edwards — all of whom are expected to challenge Clinton for the nomination. Although helpful in a Democratic primary, a rigid stance on the issue could pose a challenge in a general election.

Hillary Clinton: Shill for the pill. Sen. Hillary Clinton, D-N.Y., portrays herself as a scourge of the pharmaceutical industry, but she has shown that she's willing to help a drugmaker if that's what it takes to profit Planned Parenthood, her indispensable political ally. Clinton's campaign Web site touts that she has "battled the big drug companies." Yet she has sponsored many bills that would directly subsidize Barr Laboratories, maker of the emergency contraceptive pill Plan B, which also functions as an abortifacient.

Disturbing Questions about Hillary Clinton and Abortion. Especially when the issue involves protecting innocent life, the subject of this report, the American people deserve to know the full truth about the Clintons' radical, and often corrupt, agenda. And Judicial Watch is committed to providing it. As part of Judicial Watch's Open Records Project, we have examined important government documents about the core public policy issue of abortion. This special report examines three new documents pertaining to the Clintons pro-abortion policies, with special emphasis on Hillary Clinton's central role in crafting and promoting these policies.

Hillary Clinton: Still Socialist After All These Years. The ever-cautious Clinton occasionally exposes her true ideological core. "We're going to take things away from you on behalf of the common good," she told San Franciscans in June 2004. As First Lady, she said: "We must stop thinking of the individual and start thinking about what is best for society." Hillary Clinton is a hardened socialist, despite the mainstream media's efforts to portray her as a "centrist"….

Clinton Would Fund Stem Cell Research. If elected president, Democrat Hillary Rodham Clinton says she would sign an executive order rescinding President Bush's restrictions on federal funding for embryonic stem cell research. She says she also would bar political appointees from altering or removing scientific conclusions from government research without a legitimate reason for doing so.

Clinton proposes to extend Family Medical Leave Act. Democratic presidential front-runner Sen. Hillary Rodham Clinton (N.Y.) unveiled a plan Tuesday [10/16/2007] that would expand the Family Medical Leave Act to cover 13 million additional workers.

Hillary Weaves. Indeed, it actually sounded like the woman who wanted to nationalize one-seventh of the U.S. economy was never in favor of big government. But rather than admit she's a liberal, she pulls the rhetorical rip cord and parachutes to safety: "I prefer the word 'progressive,'" she proclaimed, "which has a real American meaning, going back to the progressive era at the beginning of the 20th century. I consider myself a modern progressive." Refusing to define that, she moved on, neglecting to mention that progressives — modern and old-fashioned alike — believe in big government, too.

8 Reasons Why Conservatives Must Defeat Hillary. Today's Democratic Party and its likely nominee, Hillary Clinton, have moved well to the left of where they were in the pre-George W. Bush era. That could have some rather serious consequences if she becomes the next President of the United States.

What a difference a Clinton makes. Hillary Clinton will forever be the Orwellian Big Sister candidate. She has fallen victim to a video, being screened on YouTube, which portrays her as Big Brother, telling the serried ranks of human drones that she wants a "conversation" about America. … The spoof hits home because it portrays exactly what bothers America about Hillary.

Hillary: The Big Sister We Can Do Without. The first is that many people in both parties see her as ideologically repellent. … If the right regards her as a dangerous leftist and the left regards her as an unprincipled accomplice in the Iraq disaster, who really likes her?

Hill Eyes National Cig Curb. Hillary Clinton lavished praise on New York City's tough anti-smoking laws yesterday — and said she supports smoking bans in public places across the country. Asked at an Iowa forum on cancer whether banning smoking in public places would be good for America, Clinton replied, "Well, personally, I think so. And that's what a lot of local communities and states are starting to do."

Look out, Hillary's morphing into Bill. If you've listened to Hillary Clinton lately, you could be forgiven for thinking you were hearing her husband Bill. In the last week in particular, she's been positioning herself for a presidential run in 2008, modifying or even lying about her positions in an effort to obscure her hard-left record. Hillary a centrist? That's the plan.

Hillary the Chameleon: I have always considered Hillary Clinton a formidable politician, but I haven't really feared a Hillary presidency because I haven't thought she was electable. I'm not quite as sure anymore. Hillary, in her true skin, is too stridently liberal and unlikable to be electable in a national election. But who says she has to show her true skin? … She has been doing a masterful job of toning down her liberalism a little dose at a time. Even so, her metamorphosis has been so transparent that even the perennially apathetic and ignorant should be able to see through it. But many don't.

Sen. Clinton's Slur: Sen. Hillary Clinton yesterday [9/12/2007] found herself positioned firmly to the left of House Speaker Nancy Pelosi regarding that disgusting New York Times/MoveOn "General Betray Us" attack on Gen. David Petraeus' integrity. That's not an enviable position for a woman who's trying to convince the American people that she's fit to be president of the United States.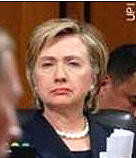 A Picture Worth 1000 Words.

Hillary's refusal to condemn attacks on Gen. Petraeus is unpresidential. With her refusal to denounce the far-left MoveOn.org for its smear of our top commander in Iraq, Clinton has taken another big step away from the center of American politics. On the most important issue of our times — Iraq and the fight against Islamic terrorism — the Democratic presidential front-runner has thrown her lot in with the radicals, kooks and nuts that litter the wackadoo wing. And she has turned her back on our soldiers and their leaders during wartime.

It takes a (socialist) village. Senator and Democratic presidential candidate Hillary Clinton has unveiled her economic vision. Should she be given the power to implement it, we can say goodbye to the prosperity and opportunity we have enjoyed since the Reagan years. In a speech at Manchester School of Technology in New Hampshire, Clinton said it's time to replace President Bush's "ownership society," which she called an "on your own" society, with one based on shared responsibility and prosperity.

Subprime. Senator Hillary Clinton presents herself as a policy expert and declares her readiness to govern from "day one." But her recent prescriptions for the housing market should cause doubts for thoughtful observers.

Religion and politics New York style: In a 1996 address to the United Methodist General Conference, Mrs. Clinton amplified the theme in her book, "It Takes a Village": "As adults we have to start thinking and believing that there isn't really any such thing as someone else's child … . For that reason, we cannot permit discussions of children and families to be subverted by political or ideological debate," which, of course, is precisely what she does.

Child's Play. Hillary Clinton's entire approach to public policy, from her earliest days as a "children's rights advocate," has been grounded in the idea that political differences need to be put aside for the sake of The Children. In 1996 she proclaimed, "As adults we have to start thinking and believing that there isn't really any such thing as someone else's child." … But here's the thing: There really is such a thing as somebody else's child. I don't want to live in a country where there's no such thing as somebody else's child, because that means there's no such thing as my child. … Almost as important, I don't want to live in a country where I am a "subversive" simply by offering political or ideological debate against this vision.


---
"As adults we have to start thinking and believing that there isn't really any such thing as someone else's child."

---

HillaryCare: Socialized medicine with a very thin candy coating.



What Hillary Knew — In 1993. Former White House press secretary Robert Gibbs' recent comments doubting that Obamacare's employer mandate will ever be implemented — he called it "one of the first things to go" — likely caused heartburn among his onetime West Wing colleagues. But there's one former Obama administration official whom Gibbs must have terrified more than most. Years ago, that famous figure testified publicly that if Congress were to pass legislation with an individual mandate to purchase insurance, "we worry that the numbers of people who currently are insured through their employment will decrease because there will no longer be any reason for many employers" to offer coverage, when individuals can receive government subsidies instead. That figure's name is Hillary Clinton.

Before ObamaCare, IBD Helped Spare The Nation HillaryCare. Although this editorial was written more than 20 years ago, just replace "Clinton" with "Obama," and it all applies perfectly to ObamaCare, from the phony promises to the bogus financing scheme to the massive new bureaucracy. It was this editorial and as many as 100 more like it in IBD that helped spare the nation the tragedy that would have been HillaryCare.

Clinton Files: Advisers pushed 'Health Care University,' crafted 'enemies' list. Members of the Clinton administration were so vigorous about their push for health care reform in 1993 that they pushed the idea of launching a "Health Care University" — and even circulated an "enemies" list of those who opposed the overhaul. The details were included in the latest batch of Clinton administration documents released Friday by the National Archives. Included in the 7,500 pages were two curious documents from 1993.

Documents: Biden and Kerry both opposed Hillarycare before they supported Obamacare. Then-Sens. Joe Biden and John Kerry were both opposed to Hillary Clinton's 1993 health-care reform program, according to documents released by the Clinton presidential library. Clinton marked a handwritten "No" beside Biden's name on Clinton's list of Capitol Hill lawmakers that she needed to win over for her universal health care law, known as the "Clinton health plan" or "Hillarycare," to pass. John Kerry, meanwhile, was marked with a "Probably not." "Hillarycare" ended up dying in the Democratic-controlled Senate in 1994 without coming to a floor vote.

Judicial Watch Obtains 57,000 Pages of Records on Hillary's Health Care Task Force. Judicial Watch has long been on the trail of the corruption and deceit that were part and parcel of former First Lady Hillary Clinton's National Taskforce on Health Care Reform. I'm pleased to report that we have scored another breakthrough, pulling back more the veil of secrecy in which the Clintons have long shrouded their most famous policy failure.

Remember Presidents Clinton? Bill was just half of the 1990s White House duo. Many argued that Hillary was actually the driving force behind the Clinton co-Presidency, even though Bill was the charismatic face and voice of the administration. Hillary-Care failed under Bill, but some in America still think that socialized medicine is the answer to our health care challenges. Nobody believes this more than Hillary, and she has many who agree.

Hillary Clinton: Upon entering the White House in 1993, then-President Clinton appointed his wife to lead a task force on health care reform, the centerpiece of his agenda. The finished product was so controversial it was abandoned in September 1994 without receiving a vote in either congressional chamber. Six weeks later, Mrs. Clinton's political debacle on health care was instrumental in the political maelstrom that installed Republicans in control of the House (for the first time in 40 years) and the Senate.

Hillarycare revisited: During Hillary Clinton's 1993 visit to Capitol Hill to testify about her proposed health-care plan, she was asked by Virginia Rep. Norman Sisisky what could be done to ease the burden of the plan's mandates on small businesses. The former first lady responded in her best let-'em-eat-cake style: "I can't go out and save every undercapitalized entrepreneur in America."

Clinton urges health care for all. Democratic presidential candidate Hillary Clinton on Sunday made a stronger pitch for universal health care and again defended her Iraq position, at the outset of a campaign swing through Iowa. … "I have some goals. One of them is we're going to have universal health care coverage," the New York senator said, prompting loud cheers from the capacity crowd on the Dubuque campus.

Hillary Claiming Bill Clinton's Record. Hillary was the moving force behind the Clinton presidency in 1993 and 1994 — with primary responsibility for the disastrous health-care plan, which helped hand Congress to the Republicans. After that, her husband sent her into a polite exile.

Hillarycare will be mandatory.
A second shot at health care for Hillary. Hillary Rodham Clinton will plunge back into the health care debate tomorrow with a sweeping plan that would require all Americans to sign up for health insurance — putting her at odds with top rival Barack Obama, Newsday has learned.

The Wages of HillaryCare. Mrs. Clinton's proposal requires everyone to buy health insurance, along with more insurance regulation, a government insurance option for everyone and tax hikes. Mr. Obama likes all that but his mandate would only apply to children. He argues that the reason many people aren't insured is because it's too expensive, not because they don't want it. Mrs. Clinton counters that coverage can't be "universal" without a mandate.

Bend over for Nurse Hillary. Last week freedom took another hit. Hillary Rodham Clinton unveiled her new health care plan. Unlike her old health care plan, which took longer to read than most cancers take to kill you, this one's instant and painless — just a spoonful of government sugar to help the medicine go down. From now on, everyone in America will have to have health insurance. Hooray! And, if you don't, it will be illegal for you to hold a job.

It's Not Hillarycare, It's Hillarycon. Sometimes Hillary Clinton leaves me breathless with the sheer arrogance of her assumption that the American people are like a bunch of straw-chewing rubes eager to buy her latest brand of snake oil. … Hillary knows that the law provides that nobody can be turned away because of their inability to pay for needed medical services — she just hopes the voters don't know that.

Hillary Clinton shills again for health care. Nearly 15 years after her grand plan to revolutionize American health care collapsed in ignominious defeat, a chastened Hillary Clinton will propose today [9/17/2007] a new easier-to-swallow centrist proposal that focuses on providing universal coverage and reducing skyrocketing medical costs.

The Dark Side of Hillary Clinton's Health Care Plan: The public face of Hillary Clinton's new health care plan is sunny, filled with choices for consumers and bright with promises for better health care for all. But a close examination of the proposal alongside other initiatives of Sen. Clinton in the past few years reveals a dark side she wants to hide from public view until after the election is over.

Hillary's health care bomb could blow up a good system. Hillary Clinton just dropped the universal health care bomb that everyone knew was coming. "I intend to have a universal health care system that does three things — lowers costs for everybody, improves quality for everybody and covers everybody."

Hillarizing Health Care: The new Hillary health-care plan is very different from the old 1993-1994 Hillary plan. It is far slyer, and far cleverer, far more well-packaged. The same arguments that applied to the old Hillary plan do not necessarily apply to the new plan. But the new health plan ends up in the same place as the old health plan — with the government running everything.

Unlearned Lessons: HillaryCare II. This is supposedly the grand lesson [Senator] Clinton learned from her many political scars: People don't want government-run health care. But she might want to study her mistakes a bit more closely because her alternative is to provide government-run health insurance, which ultimately is the same thing. Clinton's plan would yank insurance regulation from the states and impose a series of federal mandates on employers, individuals and insurance companies.

It's Not True That Thousands Died for Lack of Health Insurance, Critics Say. Last month, when she announced her $110-billion health-care reform plan, Sen. Hillary Clinton (D-N.Y.), said, "Each year, 18,000 people die in America because they don't have health care. … But while some experts looking at Clinton's statistics and the issue of a health care crisis said she is correct, other experts said the data and claims are not accurate.

Schip Wreck: Oregon voters send a message on HillaryCare. Oregon voters passed judgment Tuesday [11/6/2007] on a plan that would have made their state children's health insurance program "universal." Sound familiar? It should, because Oregon reproduced the current Schip fracas in D.C. on the state level — and the referendum took a major shellacking, with voters siding three to two against. Oregon's expansion was almost identical to the one backed by Congressional Democrats….

Exhuming Hillarycare: In the 1990s, Judicial Watch, an organization that seeks to hold Democrats and Republicans accountable to the law, pursued members of the Clinton administration. … Now the self-described "public interest group" may have come up with its biggest find of all (so far). It has obtained records from the library at the Clinton Presidential Center that reveal the internal workings and attitudes of people associated with Hillary Clinton's National Taskforce on Health Care Reform. These documents penetrate Mrs. Clinton's carefully crafted personae, expose her true character and suggest what she and her Democratic allies would impose on the nation, if given the power.

Hillary's Health Care Cabal: Judicial Watch released new documents last week from the Clinton Presidential Library regarding Hillary's botched attempt to stage a government takeover of our nation's healthcare system in 1993. Our investigators found them during a trip to the Clinton Library in Little Rock last year. Here are a few highlights from what we found.

The SCHIP Hits the Fan. Hillary Clinton, now seeking the Democratic presidential nomination, has put forth a vision of health care for all the uninsured which would be funded by increasing federal income taxes, raising tobacco taxes and raising capital gains taxes. This would assure a universal health care system, she contends, and move us in the direction of socialized medicine (a term she has been careful not to use).

Hillarycare is mandatory!
Hillary's Plantation Politics. Both [Obama and Clinton] noted a key difference in their approach to health care. Each wants extensive government regulation. But Clinton wants federal government mandates to force individuals to buy her plan and Obama rejects individual mandates. This key departure in health policy hints at a far more fundamental difference in the mindsets of these two candidates. Clinton's big-government liberalism is less rooted in liberal ideals than in the interest-group plantation politics that has defined the Democratic Party of recent years.

Clinton health plan may mean tapping pay. Democrat Hillary Rodham Clinton said Sunday [2/3/2008] she might be willing to have workers' wages garnisheed if they refuse to buy health insurance to achieve coverage for all Americans.

Clinton May Garnish Wages to Achieve Universal Health Care. Will Sen. Hillary Clinton garnish the wages of people who can afford health insurance but refuse to buy into her universal health care plan? Maybe. The Democratic presidential hopeful tried to duck the question Sunday, when ABC's George Stephanopoulos asked her about wage-garnishing three times. But she didn't rule it out.

Denied. Hillary Rodham Clinton's dream of overhauling the country's health-care system as the steward of a new Senate subcommittee has reportedly flatlined. The New York senator had made health-care reform the centerpiece of her presidential campaign.

Reading the Bill... The White House has pointedly refused to say whether President Obama will read the 1,000+ page health care bill — HR 3200 — now pending before the House of Representatives. ... The language may seem innocuous, but Sec 1866D actually describes the plan for American health care that was first proposed as HR 3600 in 1993 and known as HillaryCare.

Read more about about Obamacare.

Judicial Watch Gets Hillarycare Docs ... After 5-Year Legal Battle. After a five-year battle with two presidential administrations, Judicial Watch finally got notification of a large cache of documents at the Clinton Presidential Library related to Hillarycare. How large? Try 54,527 pages.

Another nearby page has more information about socialized medicine and SCHIP.


---

The Baby Bond:
Hillary attempts to buy votes with other people's money.

This is a classic example of liberal utopian politics, where politicians promise to provide everything to everybody at no cost. But this idea only lasted about a week, and when the polls showed what a huge mistake Hillary had made, she wasted no time in retracting the offer.

Clinton: $5,000 for Every U.S. Baby. Democratic presidential candidate Hillary Rodham Clinton said Friday [9/28/2007] that every child born in the United States should get a $5,000 "baby bond" from the government to help pay for future costs of college or buying a home. Clinton, her party's front-runner in the 2008 race, made the suggestion during a forum hosted by the Congressional Black Caucus.

Hillary's baby bounty: Just last week at a forum hosted by the Congressional Black Caucus, Hillary Clinton proposed that each baby born in the United States receive a $5,000 "baby bond" from the federal government. … Such a program extends government's hold over Americans' lives, from cradle to grave, and provides yet another "benefit" that can be used to justify higher taxes and greater regulation. It would help condition otherwise self-sufficient voters to sup at the government trough — to expect government assistance even when it's not necessary.

GOP hits Hillary's 'baby bonds'. Republican strategists say Sen. Hillary Rodham Clinton"s call for giving every newborn $5,000 for education is the first major mistake in her front-running campaign for the Democratic presidential nomination. They say it undermines the centrist image the New York Democrat has carefully built and, if exploited skillfully, could prove fatal in the 2008 general election.

Hillary McGovern. Political candidates routinely do the obligatory baby-kissing. Hillary Clinton wants to give each baby a check. Never mind that she'll get the money by raising their parents' taxes. George McGovern, who parlayed his $1,000-in-every-pot proposal into a 49-state loss in 1972, should sue for copyright infringement after Sen. Clinton told the Congressional Black Caucus' annual legislative conference that every baby born in America should be given a $5,000 "baby bond."

Let the backpedalling begin...
Hillary abandons 'baby bonds' plan. Sen. Hillary Rodham Clinton's quick backtracking from an off-the-cuff "baby bonds" proposal demonstrates her campaign's ability to jump on damage control. It's been less than two weeks since the New York Democrat casually said, "I like the idea of giving every baby born in America a $5,000 account that will grow over time."


---

Hillary's friends
Hillary's leftists friends include the labor unions, AARP, NAACP, La Raza, and a large number of Hollywood millionaires.

The Taxpayer Frog In the IRS Pot: The Communist Party USA openly advocates to "defeat McCain and strengthen Democratic majorities in Congress" and to elect either Barack Obama or Hillary Clinton in 2008. The CPUSA itself says electing more Democrats helps the Communist cause.

Clinton Keeps Quiet About Her Own Radical Ties. When Hillary Rodham Clinton questioned rival Barack Obama's ties to 1960s radicals, her comments baffled two retired Bay Area lawyers who knew Clinton in the summer of 1971 when she worked as an intern at a left-wing law firm in Oakland, Calif., that defended communists and Black Panthers. "She's a hypocrite," Doris B. Walker, 89, who was a member of the American Communist Party, said in an interview last week. "She had to know who we were and what kinds of cases we were handling. We had a very left-wing reputation…."

Clinton gets backing of Maxine Waters. Democrat Hillary Rodham Clinton has won the backing of California Rep. Maxine Waters, an influential member of the Congressional Black Caucus whose support could help blunt charges of racial polarization against the Clinton campaign in the South Carolina primary.

The Clinton family machine: In the case of AFSCME the back story is yet another example of how the Clinton husband-and-wife team works together as they strive to move back into the White House. Hillary has diligently done her part as senator from New York, championing AFSCME causes in Congress.

Former president of La Raza named co-chair of Clinton campaign. An immigration reform activist thinks Democratic presidential candidate Hillary Clinton revealed a great deal about how she really feels about the illegal immigration problem when she announced that a former president of the National Council of La Raza has joined her campaign team. Senator Clinton (D-New York) says Raul Yzaguirre will co-chair her campaign and lead its outreach to Hispanic voters.

Clinton Polls Best Among Gays, Lesbians. Senator Hillary Rodham Clinton of New York is the clear favorite among gay and lesbian voters, who see her as a champion of gay rights, according to new nationwide poll released today by Hunter College in New York.

Rep. Barney Frank Endorses Clinton, Will Serve as Economic Advisor. Frank possesses "one of the sharpest minds in Congress," said Clinton, who currently leads the Democrats in national polling.

Gay lawmakers line up to support Clinton. Both openly gay members of Congress have now endorsed Hillary Clinton for the Democratic presidential nomination. The New York senator secured the support of Tammy Baldwin, the Wisconsin congresswoman who is the only out lesbian in the House, months ago. And this week Clinton gained the enthusiastic endorsement of House Financial Services Committee Chairman Barney Frank, the only out gay man currently serving in the chamber.

Clinton's Social Security fecklessness. In words a more thoughtful Clinton likely would have avoided, the leading Democratic presidential contender told a cheering crowd of AARP policy wonks and political activists that when she's back in the White House, there won't be any talk about cutting or privatizing Social Security. "This is the most successful domestic program in the history of the United States. When I'm president, privatization is off the table because it's not the answer to anything," she said. Also off the table will be any benefit cuts or increases in the retirement age.

Hillary will bring her broom...
Hillary Rodham Clinton rallies at the CWA Hall in Houston. Saying "it will take a woman" to clean up the problems in the White House, Sen. Hillary Rodham Clinton today urged about 1,000 Houston-area voters to support her campaign to change America. "Bring your brooms," the Democratic presidential candidate told the crowd at a union hall in downtown Houston.

Clinton Gets Another Controversial Endorsement. A former San Francisco mayor, [Democratic Senator Dianne] Feinstein was first elected to the U.S. Senate in 1992 and she is one of California's most powerful and popular politicians as well as one of the wealthiest members of Congress with a net worth of about $42.6 million.

Alcee Hastings To Lead Clinton Campaign. Hastings has the dubious honor of being one of only six federal judges to be removed from office through impeachment for perjury and conspiracy to obtain a bribe. Hastings was wrapped up in a 1983 scandal involving the solicitation of a $150,000 bribe in return for favorable treatment for defendants in a racketeering case before him.

Blaspheming Hillary plays up to Harlem Baptists. How can these parishioners sing "What A Friend We Have In Jesus" while at the same time shaking hands and clapping applause for the devil's agenda? That's what goes on when Hillary steps inside a Christian sanctuary — it's called anathema. It's known in biblical terms as "hypocrisy."

The Clintons' New Escape: Bill and Hillary Clinton have their eyes on the ball when it comes to 2008, but in the meantime, has anyone noted that they bought a piece of beach property in the Dominican Republic right next to the beautiful domain of designer Oscar de la Renta and his wife, Annette?

Pardon Me But... Said Tony Snow: "I don't know what Arkansan is for chutzpah, but this is a gigantic case of it." Here, after all, is the wife of a president who all but peddled pardons to an assortment of felons and miscreants including one malodorous fugitive from justice who had renounced his American citizenship. Doesn't this woman recall that on her husband's last day in the White House he signed 140 pardons and several commutations? … In the wake of the pardons the Federal prosecutor in New York, Mary Jo White, was appointed to investigate what the media was calling "Pardongate." She was replaced by James Comey, who obligingly cleared Clinton of any wrongdoing.

Hill Hauls In a Cool $10 Million. Sen. Hillary Rodham Clinton's weekend trip to California capped off a breathless week of fund-raising that hauled in nearly $10 million, revealing the reach of her network of wealthy supporters.

Clinton rakes in millions; outraised by Obama. Sen. Hillary Rodham Clinton's presidential campaign has gathered an additional $27 million in campaign contributions in the past three months, but will finish behind rival Senator Barack Obama in the money-collecting sweepstakes, a key Clinton aide said today.

Too Much Money, Too Little Joy. Hillary Clinton's campaign has announced that the $26 million she has raked in so far for her presidential effort is "staggering." But the only thing that staggers me is why anybody would give a dollar to these campaigns.

Clinton backs public funds for campaigns. A day after her campaign announced a record-breaking fundraising haul, Democrat Hillary Rodham Clinton said Monday she would support public funding of campaigns if elected president next year. … In fact, Clinton's campaign was the first to completely opt out of the public funding system that has existed for more than 30 years.

Clinton Woos Black Vote, Targets Obama. Far from conceding African-American support to the most credible candidate ever of African descent, Sen. Barack Obama, D-Ill., the Clintons are pushing aggressively for the help of their longtime allies in the black business, political and entertainment elite. Clinton's supporters say she intends to make the Illinois senator fight for every black endorsement and every black vote.

Clintons' Guests De$ert to Obama. They jumped from Clinton's guest bedroom to Obama's bandwagon. … Movie mogul and former friend of Bill David Geffen led the list of Democratic turncoats last week when he held a fund-raiser for Obama and trashed the Clintons in the process.

Barack Obama isn't the only candidate with ties to a controversial religious group. When I was profiling [Hillary Clinton] two years ago, I learned about her involvement with a secretive Christian organization called The Fellowship that has operated in the Washington shadows since the 1930s. … There is something deeply strange about the group. They certainly do not like press coverage, so in that regard Clinton's attraction might make sense. Reporters hoping to look into the group might want to think again. A few years ago, The Fellowship's archives, which are held at Wheaton College, the evangelical school in Illinos, were reclassified as "restricted" and placed under lock and key.



---
Fundraising
This subsection has moved here.
---

Personality flaws
Without resorting to ad hominem attacks, is it fair to say that Mrs. Clinton appears to be a short tempered, vindictive, ruthless, power hungry control freak who can't give a straight answer?

Can Mrs. Clinton Lose? She is preoccupied to an unusual degree with toughness. A man so preoccupied would seem weak. But a woman obsessed with how tough she is just may be lethal.

Democratic Party Official: Clinton Pursuing 'The Tonya Harding Option'. The question is — what will Clinton have to do in order to [win the nomination]? What will she have to do to Sen. Barack Obama, D-Illinois, in order to eke out her improbable victory? … It implies that Clinton is so set on ensuring that Obama doesn't get the nomination, not only is she willing to take extra-ruthless steps, but in the end neither she nor Obama win the gold.

The Card Clinton Is Playing: As a rationale for why Democratic Party superdelegates should pick her over Obama, it's a slap in the face to the party's most loyal constituency — African Americans — and a repudiation of principles the party claims to stand for. Here's what she's really saying to party leaders: There's no way that white people are going to vote for the black guy. Come November, you'll be sorry. How silly of me. I thought the Democratic Party believed in a colorblind America.

Damsel of Distress: The Democratic Party can't celebrate the triumph of Barack Obama because the Democratic Party is busy having a breakdown. You could call it a breakdown over the issues of race and gender, but its real source is simply Hillary Clinton. Whose entire campaign at this point is about exploiting race and gender.

Don't Let 'Moderate' Hillary Fool You. Hillary eagerly pounces on her political opponents' supposed betrayal of their values, but what about her values? Far from walking in the footsteps of the Good Samaritan or "Jesus himself," Hillary has consistently revealed a personal and political character the core values of which are ruthlessness, unbounding arrogance and endless ambition.

Clinton's Collateral Damage: When it comes to politics, the Clinton philosophy is simple: It's war, and wars are for winning. Bill put it this way, back in 1981: "When someone is beating you over the head with a hammer, don't sit there and take it. Take out a meat cleaver and cut off their hand."

Go Already! [Scroll down] Clinton's path to the nomination, then, involves the following steps: kneecap an eloquent, inspiring, reform-minded young leader who happens to be the first serious African American presidential candidate (meanwhile cementing her own reputation for Nixonian ruthlessness) and then win a contested convention by persuading party elites to override the results at the polls.

The Clintons, Race, and the 50-year-old Calculation. Since I think the Clintons would probably sell their souls and firstborn for another White House tenure, the idea they would play the race card raises no eyebrow here. They are political creatures first, everything else second and statesmen last.

Hillary I vs. Hillary II: [Scroll down] Then there's Hillary II. This is the Hillary who played the cattle futures markets as Arkansas' first lady, allowing a lawyer for the largest employer in the state to "advise" her on futures trades in a manner that brought her remarkable profits — and a lot of questions about how they were made. This is the Hillary who never convincingly explained the disappearance — and mysterious reappearance — of those pesky billing records at her Arkansas law firm that were sought by a grand jury during the Whitewater investigation. (No, she's never been indicted for any of this, but that's not exactly the highest standard). Hillary II is the Hillary who dissembled for years about Bill's other women. Hillary II is not the dewy-eyed idealist, but the shrewd Machiavellian many see her as now.

Slinging slime is what Clintons do best. Politics is a game of hard knocks, some below the belt, and it is not for the faint-hearted. And no one plays political hardball as aggressively as the Clintons. They are ruthless when it comes to smashing their opponents or anyone else who threatens their political ambitions. What they are doing to Barack Obama is not all that different from what they did to the women who outed Clinton as a serial adulterer as governor of Arkansas and as president.

Hillary's Dennis Rodman impression: If the Democrats go forward and nominate Hillary and Bill they will be voting for business as usual, not change at all. The same ole manipulating lying government. … Democrats are leaning towards nominating Hillary who will create the ugliest political season in the history of the country. This is mostly due to silly gender bias which the Clintons are doing their best to inflame.

Why Hillary Should Not Be Trusted:
A review of "The Extreme Makeover of Hillary (Rodham) Clinton". Ms. Buchanan offers this summary: "Hillary's character is not a pretty sight. In stride she can lie, cheat, steal, commit perjury, obstruct justice, malign reputations and destroy the lives of innocent people. Driven by ambition, arrogance, greed, elitism, power and entitlement, Hillary's road to the top has been a bloody one. Reputations and lives of real people have been left in the dirt along the way. But it has worked for Hillary. She made it to the top — and may do so again."

Hillary Scares Me. With such a preponderance of damning evidence against her already widely disseminated, it strikes me as more than a little strange that this woman is not in prison or a mental institution. That she has managed to remain not only free, but center-stage in the Democratic Party and a Senator from an "adopted" state is an indictment of our press and her Party. If she succeeds in lying and manipulating her way into the White House, it will be an indictment of us all.

Hillary's slick willies: Hillary's persona is simply not compatible with another strong will, male or female — but definitely male, and that itself is a big red flag. What kind of person would go to work for a Clinton in the first place? A naive true-believer? Everyone knows what they would be getting into: constant war rooms, personal attacks, spin, daily damage control, a boss prone to temper tantrums, placing your own integrity out on the ledge as a shill for a fundamentally dishonest person.

Hillary's Mean Machine Scores a Hit. Lest any of the Democratic candidates forget, tangling with Hillary Clinton comes at a painful price.

The Candidate's 'Catch Me if You Can'. ABC correspondent Kate Snow was ready to push through the crowd and ask Hillary Clinton a question until an aide blocked the path of Snow's sound man as he aimed his boom mike in the senator's direction. "Sorry, we've gotta go," the woman said, though it was clear that Clinton would be shaking hands for some time.

Who's Afraid of Hillary Clinton? Hillary Clinton may be the Titanic of 2008. She is widely regarded, and rightly so, as smart and ambitious. These are fine traits but they often come as a package deal with arrogance and a refusal to admit error. Clinton has a very lengthy history of refusing to admit when she's wrong — her conflicting and outright deceitful statements concerning her votes on Iraq being only one example — and blaming others for her mistakes, unattractive qualities for the voting public.

The Return of "That'll Teach 'Em" Hillary. There is nothing independent, nonpartisan, or disinterested about Media Matters and the rest of the Clinton Shadow Party — they are the tanks and bombers and battleships of Hillary's campaign arsenal. They will do whatever they are asked, whenever they must, to destroy anyone who stands between her and the Oval Office.

Hillary Gets Worst Reviews Yet. The usual flood of editorials and blog posts after a major presidential debate were particularly harsh on Hillary Clinton this morning following Tuesday night's Democratic debate [10/30/2007] at Drexel University. Opinion leaders said her performance reinforced negative stereotypes that Clinton is shrill, calculating and evasive.

The Clintons and History: There's an old joke people here in the capital like to tell about Charles E. Schumer, the New York senator, and over the years I'm sure it's been used to describe other politicians, as well: The most dangerous place to stand in Washington is between Chuck Schumer and a bank of television cameras. Well, that may be, but it seems to me that the most dangerous place to be in the rest of the country is between the Clintons and an elected office.

Clinton cries gender, opponents cry foul. Sen. Hillary Clinton found herself the object of rare ridicule and criticism Friday [11/02/2007] for injecting gender into the presidential campaign as Democratic and Republican opponents blistered her for parsing her words, engaging in secrecy and blaming the male candidates for the controversy. Even as she denied playing the gender card, she evoked gender with a reference to her own familiarity with the kitchen.

The Editor says...
She's being pounced upon because she's the apparent leader in the race, not because of gender. She's being questioned and doubted because she is not giving straight answers to simple questions.

The Issue the Democrats Dread. More significant than Hillary Clinton's supposed gaffe at the end of Tuesday's Democratic presidential debate is the subject around which she tiptoed so delicately: immigration. Democrats fear the issue because it could leave them with a set of no-win political choices.

Hillary played the role of victim just long enough to see if it would work. It didn't.
The pants vs. the pantsuit: When you're leading the Democratic presidential race, as Sen. Hillary Clinton is, you might expect other candidates to focus their sharpest criticism your way. Yet the spin coming out of the Clinton campaign is that the men were ganging up on Hillary. Sorry, but when girls insist on playing hardball with the boys, they don't get to cry foul — or change the game to dodge ball — when they get bruised.

Clinton 'victim' defense apparently backfires. After Hillary Rodham Clinton's floundering finale at last week's debate in Philadelphia, her campaign counterattacked immediately, almost instinctively, with a tactic that had proved effective in the White House and in two New York Senate races. They portrayed her as a victim. In the week following the debate, Clinton and her proxies have suggested, at various times, that she was the victim of sexism, a group ambush by her enemies and journalistic bias.

Big Girls Don't Cry. Last week, Hillary Clinton's campaign blamed her poor debate performance on sexism. It was a maneuver that seemed suspiciously aimed at detracting from Hillary's lackluster showing whilst simultaneously shoring up her female support. But, ironically, it has had the opposite effect.

Pedestrian Down. Democrats who are nervous about having Hillary Clinton as their nominee had their fears confirmed last night [10/30/2007]. Mrs. Clinton finally stumbled in her seventh Democratic debate once the other candidates decided to chew on her. Mrs. Clinton responded to the criticism by retreating to her briefing books, giving rehearsed answers to questions in a too loud, slightly shrill voice. She was pummeled for not releasing White House records kept by the National Archives that would shine light on her claim to be the most experienced candidate based on her service as First Lady.

Hillary a Noo Yawka? Sez Who? There was shock and awe on her face. It was as if no one had ever dared to contradict Hillary Clinton before, far less challenge her directly. … When John Edwards, Barack Obama and the hitherto reliable Tim Russert all stuck pins in her during the Tuesday night MSNBC "debate", Clinton became visibly angry. Her face was a frozen mask. … Hillary Clinton can dish it out, but she can't take it.

Little big brother: In the unlikely event that Hillary Clinton and Rudy Giuliani face off against each other for the presidency, Americans could be faced with a difficult choice. … Both will also flip-flap like hummingbird wings to avoid appearing over-committed to anything that could lose them votes. … There is no doubt that, despite her faux-folksiness, the softest thing about Hillary is her teeth. She has an impressive drive for power that is reminiscent of Margaret Thatcher on the rampage.

The power of a Clinton's stare: In this undeclared war between the candidates, there was no stronger weapon at Clinton's disposal than the Stare. In the first Democratic debates, Obama seemed visibly uncomfortable with being the object of Clinton's gaze, and avoided eye contact.

Why They Dislike Hillary. First, many women don't like Hillary because they believe she made a deal with her husband. That is, she'd stand by him and ignore his infidelities in return for his help in her political life. … Second, many men objected to her leftist ideology. They see the senator as a big government, limousine liberal who lives large herself, but wants to impose high taxation on those who are achieving in America. And finally, some of the callers see Hillary as a cold, calculating woman with a sense of entitlement.

Depends What the Meaning of 'Mistake' Is. Hillary Clinton's rivals would love to paint her as inflexible, programmed, focus-grouped within an inch of her life and intent on bringing nothing less than a full-fledged Clinton Restoration to the White House. So why is she sitting for the portrait?

"Hugo Chavez in a pantsuit". [Hillary] Clinton must have been shocked that the free market works so well that some Americans actually profit from dealings other than Whitewater. So she decided this sort of thing must end. "The other day the oil companies recorded the highest profits in the history of the world. I want to take those profits. And I want to put them into a strategic energy fund that will begin to fund alternative smart energy, alternatives and technologies that will begin to actually move us toward the direction of independence," she told the audience. Notice she didn't say tax the profits. She just said "take."

Some Pieces of Our Minds: In all of the thousands of photographs of Hillary on the campaign trail, she always appears wearing trousers — not even one photograph of her wearing a skirt. Not a peep on the subject from any commentator or member of the media.

Control Freak: Hillary Clinton says our trade deficit and reliance on foreign investors are big problems, and wants to fix them. But her cure would be far worse than the disease, and should be rejected out of hand.

Books show 'dark side' of Hillary Clinton. Two new books about Sen. Hillary Clinton, D-N.Y., give a sometimes unflattering portrait of the presidential candidate and former first lady.

Make that three new books...
Hillary Clinton, a Trojan Horse? The Extreme Makeover illustrates Hillary's unfamiliarity with the virtue of responsibility, and that she is every bit as prolific and stunning a liar as her husband. The junior senator's personality revolves around a lust for power, a need to control others, and rampant insecurity. Anger and irritability are natural attributes, and but only her family, advisors, and the secret service are allowed to observe them.

The Hillary Chronicles: Worse Than You Thought. Though bereft of headline-making disclosures, each book contains page after page of new details, some of them so far ignored in the press, that reveal Hillary Rodham Clinton to be even more secretive, even more politically tin-eared, and even more combative than previously known.

Hillary's Hypocrisy: This woman, who refused to change a comma or a word of her thousand-page-plus healthcare reform bill and, as a result of her intractable stubbornness, sent the bill down to defeat along with the Democratic Congress and almost her husband's presidency, is daring to show herself now as the apostle of compromise. Unbelievable.

Hair-raising stuff from good ol' Bubba. Now comes Bill Clinton, who auctioned pardons in the last hours of his presidency, and his shrill surrogate to berate George W. Bush for reluctantly commuting the prison sentence of Scooter Libby. The president stopped short of granting a pardon. … Most men in his position would go miles out of their way to avoid talking about pardons, but good ol' Bubba … was eager to talk about how he conducted his auction.

The vaulting ambition of America's Lady Macbeth. This little incident, the skilfully choreographed exploitation of a human tragedy, the cynically manipulated deployment of public sympathy in service of a personal political end, offered a timely insight into the character of the politician who this week launched the most anticipated presidential election campaign in modern history. There are many reasons people think Mrs Clinton will not be elected president. She lacks warmth; she is too polarising a figure; the American people don't want to relive the psychodrama of the eight years of the Clinton presidency.

Message Testing Billary: Emmett Tyrell, founder and editor of the American Spectator and author of "The Clinton Crackup," said Mrs. Clinton's "whole life is a public relations campaign." In order to win in 2008, he said it would be "politically important" for Clinton to discuss her marriage, but "it's pretty difficult to explain the inexplicable." He called her the "greatest enabler in the world."

Hillary the Calculator: When Hillary Clinton announced her presidential exploratory committee while sitting on a couch in her living room, she didn't project warmth so much as a sense that she was desperately trying to project warmth. As TV producer Steve Rosenbaum wrote of her performance on the liberal website The Huffington Post: "Hillary is struggling with words that are not her own. You can practically see the teleprompter reflected in her eyes. Every word has been word-smithed, every phrase looked at by a team of consultants."

Why Hillary Drops Her Final "G"s. Why isn't it noticed, or, if noticed, not commented upon? At least in her Ohio and Texas talks, Hillary Clinton drops the final "G" from the "ing" words (participles, gerunds) — an annoyance, especially to those who've heard her talking to other people and groups where not one "G" is dropped and she sounds like the young woman who gave a famous Wellesley College commencement address, was one of America's 100 most successful lawyers, was first lady of Arkansas and the United States, and has been a successful U.S. senator from New York State for eight years. Of course, it's clear that Hillary wants to sound more like the audience of "ordinary" people she's pumpin' for votes.

Hillary on 60 Minutes: 'Voters Are Tired of People Who Lie to Them'. [Scroll down] She also said, "Part of what I believe with all my heart is that the voters are tired of people that lie to them. They're tired of people who act like something they're not." Like acting like you have an Arkansas accent?

Hillary, We Thoroughly Knew Ye. [Scroll down] And so the campaign rolled out (what else?) a new slogan — "The Hillary I Know" — and a new Web site with 38 videotaped testimonials from the senator's friends and constituents. But the get-to-know-me campaign has hit a snag: Hillary.

Hillary Clinton: How Dare You Call Universal Health Care Socialized Medicine? Hillary goes off on a reporter at the National Association of Black Journalists Presidential Forum for daring to call socialized medicine …well… socialized medicine. What do you think she's angry about more, that she's essentially being called a socialist or that a black man dared wander off the liberal plantation to question her 'we liberals know what's best for you' policies?

Clinton hypocrisy: Abuse of power in pursuing opponents. [Scroll down] The Democratic Party cannot allow her name to appear on a presidential ballot for either office — not in August, not in 2012, not ever. It's not because she's a woman — the last desperate wild card she had been playing before raising the specter of assassination. It is because she's a Clinton. Being a Clinton, she brings to any national campaign trail a wagonload of combustible baggage that the GOP has been salivating to explode at first sight of her name on the Democratic ticket.



---

Scripted campaign events using pre-arranged shills and audience plants:

Gee, what a coincidence on the trail with Clinton. At a campaign forum in the [Donnellson, Iowa] fire station, a caucus site come Jan. 3, Clinton happened to be asked about her religious faith. Practicing Methodist, she responded, adding, "I'm often asked if I'm a praying person, and I am a praying person. My father prayed at his bedside every night and we prayed at the table over dinner." Then, someone pointed out that Clinton's childhood Sunday-school teacher, Rosalie Bentzinger, from her Park Ridge, Ill., days, happened to be right there in the very same Iowa fire station at that same moment. Can you believe it? The Sunday-school teacher stood up. Clinton rushed over. They hugged.

Clinton staff admits planting question on college student. A Grinnell College student says an aide for Hillary Rodham Clinton gave her a prepared question to ask the presidential candidate during a forum this week in central Iowa. Clinton staffers acknowledge the incident but claim Clinton did not know the question had been issued when the senator called on the student during a question and answer session with the audience.

The Editor says...
I find it hard to believe that Mrs. Clinton didn't know all about it in advance, especially since it happened more than once. Keep reading...

New 'Hill Shill' Questions. Hillary Rodham Clinton faced more embarrassing disclosures yesterday [11/10/2007] about her staff's aggressive efforts to script her campaign appearances, as a second person came forward to claim Clinton's staff tried to use him to plant a question at a campaign event.

Is Clinton campaign too scripted? At a campaign stop in Newton, Iowa, last week, Sen. Hillary Rodham Clinton peered out at the crowd of 250 people and called on a 19-year-old college student, who posed a friendly question about global warming. The Clinton campaign insists that the New York senator chose the student at random. If so, it turned out to be a fortuitous pick.

Hill Shill Spills All. An Iowa college student pulled back the curtain on Hillary Rodham Clinton's stage-managed campaign stops — claiming the candidate seemed to know to call on her for a canned question at a cooked-up event that was passed off as spontaneous. Muriel Gallo-Chasanoff, 19, said a Clinton staffer waved her off the question she first wanted to ask — then produced a binder with a series of questions she could ask. The binder, she said, had about eight questions.

Memo to Clinton staffers: Trust your candidate or find a new one. Does the Clinton campaign really need to twist a college kid's arm to ask Clinton a question about climate change at a climate change event? … Why would the Clinton campaign do it, especially since getting caught is so embarrassing? Because the culture of control in presidential campaigning has gotten way out of control.

Student describes how she became a Clinton plant. The college student who was told what question to ask at one of New York Sen. Hillary Clinton's campaign events said "voters have the right to know what happened" and she wasn't the only one who was planted. In an exclusive on-camera interview with CNN, Muriel Gallo-Chasanoff, a 19-year-old sophomore at Grinnell College in Grinnell, Iowa, said giving anyone specific questions to ask is "dishonest," and the whole incident has given her a negative outlook on politics.

Hillary Clinton: I'm So Glad You Asked! America's trust in the Clintons suffered a horrible blow last week, when it was discovered that Hillary Clinton's campaign staff had planted the "spontaneous" questions being asked by audience members at an Iowa campaign event. "They were canned," Muriel Gallo-Chasanoff (a Grinnell College student attending the performance) said of the questions that Clinton took. In a remarkable coincidence, Clinton's answers seemed quite polished — almost prepared, really.

Clinton Aides Prompted Queries at Events. At two campaign events in Iowa this year, aides to Senator Hillary Rodham Clinton encouraged audience members to ask her specific questions, a tactic that drew criticism from an opponent for the Democratic presidential nomination and led her yesterday [11/11/2007] to promise that it would not happen again. Mrs. Clinton, speaking to reporters in Iowa, said she was unaware that her aides had ever planted questions.

The Editor asks...
Did she promise not to do it, or never to get caught again? And really, how much is a promise worth when it comes from Bill or Hillary Clinton?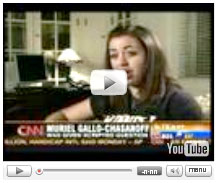 Interview with the unwilling audience plant.

"Diamond v. Pearl" Student Blasts CNN. Maria Luisa, the UNLV student who asked Hillary Clinton whether she preferred "diamonds or pearls" at last night's debate wrote on her MySpace page this morning that CNN forced her to ask the frilly question instead of a pre-approved query about the Yucca Mountain nuclear waste repository. "Every single question asked during the debate by the audience had to be approved by CNN," Luisa writes. … "For sure, I thought I would get to ask the Yucca question that was APPROVED by CNN days in advance."

Clinton aides plant student's question. Under the pressures of major media coverage, with polls narrowing in Iowa, campaigns can potentially control questions and coverage by planning questions ahead of time. While no campaigns admit to this practice, at a recent Hillary Clinton campaign event in Newton, Iowa, some of the questions posed to the New York Senator were planned in advance, planting some audience members in the crowd.

So Who Was Asking Questions At That Debate? A couple bloggers have looked into the questioners at last week's Democratic debate, and found more than a few of them have formal, professional ties to the Democratic party. One, in fact, was political director of the Arkansas Democratic Party. … In the aftermath of the controversy over "planted" questions at Hillary events, one might think CNN would want to keep an eye on this sort of thing.

Clinton, CNN and Fall out from the Debate. Hillary Clinton's performance at the Las Vegas debate has been overshadowed by charges of planted questions, a planted audience, and curious behavior by CNN that seemed to favor Clinton over other candidates.

Vote for Me. I'm a Sock Puppet. You may have seen that some Hillary Clinton "sock puppets" were recently outed on a New Hampshire blog, to the campaign's great embarrassment. A sock puppet, for those of who you aren't immersed in blog culture, is what they call someone who pretends to be commenting as a regular voter but who is in fact posting propaganda.

Hillary's "Iron My Shirt" Protester Was Yet Another Plant. Today at a whistle stop in Salem, New Hampshire, an alleged protester raised a sign saying "Iron My Shirt" while hollering the same idiotic slogan. I do not know anybody in the men's movement who would resort to this level of idiocy. I do, however, know a few individuals hitting the whistle stops with truly intelligent questions, all of whom have been hustled away literally before they could finish the question. The way Hillary handled the situation was too smooth and prepared to be a legitimate protest. Having worked in the entertainment business previously, I know a plant when I see one.



---
The launch of Hillary Clinton's 2016 presidential campaign
Introduction by The Editor:
Hillary's long-anticipated presidential campaign was launched on or about April 13, 2015, incorporating a few bizarre features: A giant van named Scooby, which reminds me more of the van used on the old NBC show, Ironside, a logo that looks a lot like the Cuban flag, and a series of carefully astroturfed public appearances that nobody cared about. The rollout of the Hillary campaign generated almost no favorable press and was quickly overshadowed by a series of emerging scandals.
Expect even more executive power grabs from Hillary. Hillary Clinton's presidential campaign launch was meant to present a different side of Hillary — a softer, more humble, less power-hungry version of the candidate. The "Scoobie" van road trip to Iowa portrayed Hillary as the everywoman, interested only in You. Hillary was trying to shift the public's attention away from her scandal-ridden days in Arkansas and as first lady, her Wall Street connections, the Clinton Foundation's questionable fundraising and her role as diplomatic field general for a disastrous foreign policy. Clinton's campaign not only wanted to leave the old Hillary behind, but to distance her from President Obama as well.
The Clintons' Criminal Board of Trustees. [Scroll down] Hillary Clinton, of course, is the increasingly radical now 67-year-old presidential candidate who in 2008 somehow managed to snatch defeat from the jaws of what for years before had seemed to pundits far and wide like an "inevitable" victory. She is the unceasingly devious, condescending plutocrat who at the launch of her 2016 campaign told the American people, "Everyday Americans need a champion. I want to be that champion."
Hillary Clinton's candidacy could sink. Sometimes the idea of a thing is much better than the thing itself. Take the Titanic, for example, or Hillary Clinton's campaign for president. During the all-important conceptual phase, both benefited from an aura of invincibility — which is a great thing to have, until you meet your iceberg.
Hill and Bill can't hide from shady deals exposed in 'Clinton Cash'. The Clintons have been playing the political press for idiots. Revealing what they've been up to took a little bit of work. It wasn't obvious. While Bill Clinton was giving a speech about fighting AIDS in Africa, or about educating girls in Asia, reporters simply regurgitated the press release. They didn't ask: Who's that shady guy standing next to Bill? What are his interests? How much money has he given to, or raised for, Bill, Hillary and their foundation? And what favorable treatment did the shady guy subsequently receive from Hillary? When you're a political reporter, complexity is boring. Curiosity takes work. Asking questions and looking up information can lead to dead ends.
Does Bill Clinton Not Want Hillary to be President? I think there is some secret, dark part of Bill Clinton — not that he actually has many "secret" dark parts, but stick with me here — that does not want his wife to be president. How else can one explain how this most sublime of politicians seems to do everything possible to destroy her chances? He constructed a shady charity/business empire when he knew full well she would run for president. He helped screw up her 2008 effort with some dumb remarks about race. The most recent unforced Bill Clinton error is his revival on the Today show this morning of the "We were so poor" theme, which Hillary already took for a test flight and crash landed with a few weeks ago.
Hillary Clinton's insultingly vapid video. The more I watch Hillary Clinton's announcement video, the less I like it. [...] For one, the video was relentlessly, insultingly vapid — a Verizon commercial without the substance. "Americans have fought their way back from tough economic times, but the deck is still stacked in favor of those at the top," Clinton said in what passed for a meaty message. "Everyday Americans need a champion, and I want to be that champion." Seriously, this makes Ronald Reagan's gauzy "It's Morning Again in America" commercial look like a Brookings Institution seminar on economic policy.
Hillary Clinton: The candidate of meh. Hillary Clinton's campaign launch video (no big speech among the little people for her) seems at first like a commercial for Target. It ends up with a message about — what, exactly? That all these people who are getting on with their lives just fine somehow need Clinton to be their champion. Her website is long on biographical information, short on policy positions. ThinkProgress actually proposed some "economic policies Hillary Clinton could use to energize voters," since Clinton currently has none of her own.
Our fawning press and Hillary Clinton's Iowa magical mystery tour. Republicans critiquing this comedy should not get too cocky. A recent Rasmussen poll, taken in the wake of the email scandal, showed that 57% of Americans likely to vote think Hillary will be our next president. That kind of certainty can become self-fulfilling, causing people to withhold donations and stay home on voting day. Republicans have to work much harder than they may think to turn this around.
Our fawning press and Hillary Clinton's Iowa magical mystery tour. No one in their right mind thinks that Hillary is more comfortable traveling 1,000 miles in a mini-van Secret Service convoy than in the back seat of a limo, or on Air Force One for heaven's sake. If Hillary's advisers think that Iowans are that simple-minded, shame on them.
Big: Hillary debuts new, even gayer campaign logo. Offhand I can't think of another major Democratic politician who arrived later to the cause of legalizing same-sex marriage by judicial decree than Hillary Clinton, and of course somehow she's the party's prohibitive frontrunner for the nomination anyway. The more I think about it, the more I think that's an even bigger lefty hypocrisy than letting Obama off the hook for opposing SSM on the trail in 2008. For every other gay person and Democratic pol in the universe, years-long steadfast support for legalized gay marriage is an absolute litmus test for the base's support [...]
Now is the time for all good men to come to the aid of the party. More specifically, it is time for all Democrats to start thinking of candidates other than Hillary Clinton, and of building a bench up as quickly as possible, using all possible twigs. It's not just that the "one hand clapping" plan of running a non-incumbent without opposition was always problematic. It's that this particular candidate is not only scandal-prone but a bad politician. On a meet-and-greet tour she went to Chipotle without talking to anyone, met "everyday people" who were liberal activists, parked her van in a space reserved for the handicapped and unveiled a logo that looks like the directions to the emergency room, where her campaign may be headed.
The Other Clinton Foundation Scandal. In the wake of revelations about the curious timing between donations to the Bill, Hillary & Chelsea Clinton Foundation and favorable policies during Hillary's tenure as secretary of state, the foundation has admitted to making a couple bookkeeping "mistakes" involving foreign donations. But the foundation, the Clintons and their phalanx of defenders all insist there's absolutely no evidence of any quid pro quo. If that's the case, just what were these foreigners donating money for?
Clinton Foundation follies starting to roil the left. To hear Hillary Rodham Clinton's aides and supporters tell it, questions about her family foundation's fund-raising while she was secretary of state are "nothing more than a tangled web of conspiracy theories" by Republican operatives. Sorry: The steady flow of disturbing news has concern growing in Democratic circles. That's likely one reason the foundation's acting CEO, Maura Palley, released a long statement admitting "mistakes" that she insisted were mostly minor clerical errors.
Granny Clinton Ditches 'Common American' Ruse, Flies 1st-Class Back to DC. She must have been seething to have to drag her baggage (and boy howdy, does this woman have baggage) through Logan Airport under the glare of television cameras and gazes of the average schlubs. This woman has spent the better past of the past quarter century flying on Air Force One or private jets and now she has to lower herself to fly commercial.
Scooby hits the road at 92 MPH! Democratic Presidential front-runner Hillary Clinton's security detail led a handful of journalists on two lengthy high-speed chases to homes of influential Democrats on Monday [4/20/2015]. Her lone official appearance on her first day in New Hampshire was a carefully stage-managed small-business roundtable in Keene. But a lunchtime visit to a main-street bakery and two more appointments later in the day were off-the-books and under the public's radar. If police radar had been engaged, however, it would have clocked Hillary's signature black conversion van — 'Scooby', for the uninitiated — hitting 92 mph in a driving rainstorm on Interstate 89, where the top speed limit is 65. No one in the motorcade displayed flashing lights or blasted a siren.
Voters, Hillary doesn't have time for you. So it looks like Hillary Clinton's idea of a "listening" tour is strictly invitation only. Just ask the good people of Keene, N.H., a liberal hamlet where a half-dozen workers at a business hand-picked by Clinton's campaign made the cut. But dozens of unscreened voters standing outside in the rain? Sorry, Hillary won't be "listening" to you.
Hillary Clinton Flies First Class Back to Washington. With her first campaign trip drawing to a close, Hillary Clinton traded the Scooby road-trip van for a first-class airplane seat to make the trip back to Washington. The Democratic presidential candidate flew from Boston's Logan Airport to Ronald Reagan National Airport on Tuesday night [4/21/2015], sitting in row one of the U.S. Airways' first-class section.
All Aboard the (Magical) Mystery Machine. Hillary Clinton's giant, unmarked black van meandered out of Chappaqua after her announcement video, barreling down the highway into a place a Clinton has seldom seen: the heartland. Shielded by Secret Service agents, accompanied by senior staff, and armed with the comforting knowledge that, once in Iowa, she'd be meeting with people as rich as she is, Hillary Clinton embarked on her quest to become one of the "little people." She stopped for gas that she didn't pump, and ordered lunch from the crosstabs of a demographic poll. She met with hand-selected Real Americans and failed to notice tip jars in minimum wage restaurants, and though she once tried to make a populist point about CEO wages, couldn't locate a credit card in her wallet that wasn't already registered with her aide.
In N.H., 'accessible' Hillary Clinton ignores supporters. Presumptive Democratic presidential nominee Hillary Clinton, who has vowed to be "accessible" to New Hampshire voters, left many of her rain-soaked supporters here high and dry when she sped in and out of a public meeting without so much as a hello. "It should have been advertised that we're not allowed to see her," said Keene resident Michelle Isabelle.
Our fawning press and Hillary Clinton's Iowa magical mystery tour. No one in their right mind thinks that Hillary is more comfortable traveling 1,000 miles in a mini-van Secret Service convoy than in the back seat of a limo, or on Air Force One for heaven's sake. If Hillary's advisers think that Iowans are that simple-minded, shame on them.
Government by Google. It was a mainstream media asking no questions that inflicted a Marxist president on an unsuspecting West in 2008, but it is Google that is keeping him there, and Google which is making the election of Hillary Clinton in 2016 all but inevitable. As much as half of the U.S. population so fervently wishes otherwise, America-hating Marxists in office are there to stay, courtesy of the airtight power bestowed upon them by the most arrogant, powerful and influential company on earth: Google.
Also posted under News and commentary about Google.


Hillary's Campaign Logo And The Left's Love Affair With Communist Cuba. Hillary Clinton's logo has been taking its share of lumps since she unveiled it Sunday [4/11/2015]. Some say it looks like a hospital sign. Or the Twin Towers. Or just plain ugly. We can see that. But we'd agree with those who say it looks as though it was inspired by the Cuban flag. Not just because of the visual similarities — the blue stripes and red arrows pointing right — but because it doesn't take a big or surprising leap to make a connection between the two.
Hillary's Antiseptic Campaign: No Contact With the Riff Raff. Hillary's famous "Listening Tour" started off just as I figured it would. She stopped at Kirkwood Community College in Cedar Rapids to discuss education and how to make it more affordable. The visit was good for Hillaryphiles, who have no problem overlooking that Hillary has no record of accomplishments and a long history of dishonesty and failure. That she is running a campaign solely based on the fact that she's a woman. (Really?) But to come into contact with Hillary, you must pretend her record matches her rhetoric. You can't let on you know that she accepts millions of dollars from countries where women are treated like possessions and extreme cruelty is common. You must also overlook Hillary's long record of paying women significantly less than men.
Keeping Hillary Under Wraps — Don't Open 'Til Election Day. Hillary is touring Iowa in a van that resembles Scott Brown's truck or even Scooby Doo's Mystery Machine less than a vehicle used to transport very important people and tie up traffic via a motorcade. What could have less of a common touch than inspecting the peasants through tinted windows while sitting in the backseat of a chauffeured car?
Hillary doesn't have just one Mystery Machine; she has TWO (and a motorcade) to meet 'ordinary' Americans. Hillary Clinton's security detail arrived at a suburban Des Moines, Iowa fruit processing company on Tuesday [4/14/2015] with an added vehicle — a second Scooby. After her signature oversize black Chevy conversion van dropped her off at Capitol Fruit Company in Norwalk, Iowa, a visually identical GMC van drove up to the building with a nearly identical Secret Service escort vehicle. Both armored vehicles have raised roofs, deep-tinted windows and New York license plates.
Hillary's Campaign Is Even Creepier Than You Think. Americans have fought their way back from tough economic times, but the deck is still stacked in favor of those at the top," Hillary declared in her announcement video, which looked suspiciously like a 1990's Mentos commercial. "Everyday Americans need a champion, and I want to be that champion." There are several things wrong with this, so we'll start with the obvious: Who in America older than the age of 12 wants a politician to be their "champion"?
Why is Hillary's 'Scooby' van parking in handicapped spaces? Nothing could better represent the "rules are for little people" attitude of Hillary Clinton than cavalierly parking in parking spaces reserved for the handicapped. But that is exactly what was captured in a video report aired by Omaha television station KETV when it covered her exit from a private meeting with local Democratic leaders in Council Bluffs, Iowa, across the Missouri River from Omaha. The station's online news report made no mention of abusing the handicapped space, even though the camera clearly captured the Handicapped Parking sign where her van was parked.
Semi-Lifelike Robot, Running for 'President,' Invents Fake Family History. That would be Hillary!, of course — a woman so dishonest and phony that she's cannot seem to the tell the truth about anything.
At her first Iowa stop, Hillary calls for constitutional limits on free speech. You may very well have missed it. But at her first 2016 campaign stop in Iowa Tuesday [4/14/2015], wannabe president Hillary Clinton called for a constitutional amendment if necessary to limit free speech rights granted by the Supreme Court to unions, companies and organizations donating to political campaigns. Few might have expected the ex-Obama aide to kick off her second bid to infiltrate the Oval Office with such a proposal for fundamental change in settled American law.
Hillary Visits College, Puts 'Everyday Iowans' On Lockdown. Hillary Clinton's effort to meet with some ordinary Iowa college students during her van tour have apparently inconvenienced those unlucky enough to be caught in her path, according to the Independent Journal Review. [...] However, while some students were meeting with Hillary, according to other students at the school, classrooms that sat along Hillary's planned walking route were put on lockdown, often leaving students stuck in classrooms until the presidential candidate was no longer nearby.
Clinton Campaign Kicks Off as Huma Abedin Probe Begins. Hillary Clinton and the senior aide, Huma Abedin, apparently conspired to keep the sweetheart working arrangement that the Muslim Brotherhood-linked employee had at Foggy Bottom a secret. Because it involves a Clinton, the story is, of necessity, complex and convoluted. And it's classic Hillary as she tiptoes through a minefield of ethics violations, conflicts of interest, and potential national security-related breaches.
Madam Clinton descends from magical mystery van for coronation as Candidate of the People. Granted, she has not actually steered an automobile in 19 years and quite possibly has never in her life pumped a gallon of her own gasoline, but Madam Candidate of the People is most at home with The People.
Down the Yellow Brick Road with Hillary. The idea, I suppose, was to picture the dawning of an idyllic Clintonesque day when unflatteringly called "everyday Americans" — women, gays, the poor, single moms, workers, small business folks — would eagerly join hands with Hillary on her enlightened journey to Election Day 2016. It was like an infomercial in which she's hawking an age-defying product: herself.
The astonishing incompetence of Hillary's campaign rollout. [Scroll down] No, the source of this disaster has to be at the top, Hillary herself. She has a reputation as imperious for good reason. The woman who once commanded that staff in the White House not look her in the face as she walked by likes to be in charge. [...] The idea of driving a van from the East Coast out to Iowa sounds pretty good, just like lots of grandmas might do on the way to visiting family. But an oversize, tall, shiny black van with darkened windows with a Secret Service convoy does not exactly bespeak ordinary folks. It looks more like a monarch inspecting her domain.
No Questions, Please: Hillary Announces on Twitter. America rejoice! A multi-millionairess serial liar married to a multi-millionaire serial adulterer has just announced for the presidency of our country to save the middle class from impoverishment!
Clinton announces 2016 White House bid. Former Secretary of State Hillary Clinton on Sunday officially announced her 2016 presidential campaign, ending months of speculation and anticipation about whether she would seek the Democratic nomination. Clinton made the announcement in a YouTube video in which she says "Everybody needs a champion. And I want to be that champion." The roughly two-minute video begins by showing a cross-section of Americans working to get ahead before Clinton says: "I'm doing something, too. I'm running for president."
8 Reasons Hillary Clinton's Campaign Will Be A Train Wreck. Hillary Clinton has announced what everyone's known for years: She's running for the Democratic nomination for president. Anyone not a Democratic partisan who was old enough to be mildly cognizant by the late 1990s is sighing. After all the scandals and lies and claims of victim status, do we really need to go through all that again?
Hillary Clinton just doesn't get it: She's already running a losing campaign. Hillary Clinton joins the race for president today. If you believe the leaks from her staff, and there's no reason you shouldn't, she'll do it in a video released at noon as she herself flies high above the nation in a chartered plane. She and her top advisors, all smart people, must think it's a good idea. It doesn't feel like one.
Liberal Politico Reporter: Clinton Campaign 'Collapsing Completely'. Politico senior staff writer Glenn Thrush opined on Twitter that the Hillary Clinton 2016 presidential campaign was "collapsing completely" before it started, and that she "shouldn't even bother to enter the race."
Clinton's Nixonian path to office. The effective kickoff of Hillary Clinton's presidential campaign was an act of deck-clearing so breathtaking, so brazen, that it remains difficult to process. The former secretary of state summoned reporters to the United Nations, made a statement on Iran nuclear negotiations, then admitted deleting more than 30,000 e-mails she had deemed personal from the account she exclusively used while in office. This was the culmination of a deliberate, multiyear end run around congressional oversight, the Freedom of Information Act and the archiving of federal records. Documents she found inconvenient to sort while in government were convenient to destroy after leaving office.
Astroturf
Campaign staff drove 'ordinary' Iowans to Hillary's first campaign stop — including health care 'lobbyist in training'. Hillary Clinton's astroturf candidacy is in full swing in Iowa. Her Tuesday morning [5/19/2015] visit to a coffee shop in LeClaire, Iowa was staged from beginning to end, according to Austin Bird, one of the men pictured sitting at the table with Mrs. Clinton. Bird told Daily Mail Online that campaign staffer Troy Price called and asked him and two other young people to meet him Tuesday morning at a restaurant in Davenport, a nearby city. Price then drove them to the coffee house to meet Clinton after vetting them for about a half-hour.
You won't believe Hillary Clinton's spin on avoiding the press. With Hillary Clinton rapidly approaching a month since she answered a question from a reporter, her allies are working to push back on the idea that she is ducking the press. [...] The vast majority of the people who have asked Clinton questions in Iowa, New Hampshire and Nevada were part of a pre-selected group who sat with her around a roundtable. That's not exactly like hosting a town hall event in which none of the questions are pre-screened. And if you look at the questions "regular" people are asking Clinton, they are not exactly the most probing of queries.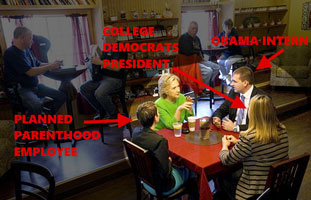 Mia Love Obliterates Hillary Clinton With the Stroke of a Pen. In related Hillary news, the would-be empress held a "listening tour" on a college campus in Iowa (which means no one was allowed to ask her questions and students were actually locked in their buildings to prevent Hill from breathing the same air as the riff-raff). Oh, and Hillary's 'unscripted' coffee shop sit-down with 'ordinary' Americans turned out to be just as phony as a jetsetter worth $200 million engaging in class warfare.
The plastic candidate with the AstroTurf campaign. First, there was the video. The 2:19 clip hit all the touchstones: There were blacks and whites and Hispanics and chubbies and skinnies and gays and straights and men and women (and men with men and women with women). The quick-cut flurry sought to portray the people in the video as simply Clinton fans whom the filmmaker had skillfully tracked down and captured in off-the-cuff adoration. But they were nothing of the kind. Instead, they were campaign volunteers for Hillary's last run, or Democratic donors. All were approached by Team Clinton and asked to appear in the video. And all were given scripts with exactly what to say for the seemingly "candid" video.
Clinton aide admits they screen 'everyday Americans' for Hillary's campaign events. A Hillary Clinton campaign official explained on Monday why her presidential advisers have brought pre-screened partisans to some events promoted as an opportunity for the former secretary of state to meet with 'everyday Americans.' Just steps away in a Keene, New Hampshire bakery, a few run-of-the-mill people decided they didn't want to be seen with her.
Campaign staff drove 'ordinary' Iowans to Hillary's first campaign stop. Hillary Clinton's astroturf candidacy is in full swing in Iowa. Her Tuesday morning visit to a coffee shop in LeClaire, Iowa was staged from beginning to end, according to Austin Bird, one of the men pictured sitting at the table with Mrs. Clinton. Bird told Daily Mail Online that campaign staffer Troy Price called and asked him and two other young people to meet him Tuesday morning at a restaurant in Davenport, a nearby city. Price then drove them to the coffee house to meet Clinton after vetting them for about a half-hour.
Hillary's 'everyday Americans': Democrat state campaign manager and a Martin O'Malley supporter. Three more of Hillary Clinton's 'everyday Americans' have been revealed to have strong links to the Democrat party — including one who could be set to support a rival bid for the White House. Julie Stauch and married couple Sean Bagniewski and Vidhya Reddy all appear in on the video announcing Clinton's 2016 bid. They are part of a diverse group of people — from young mothers and people preparing for retirement, to Spanish-speaking brothers preparing to start a business and an Asian-American college graduate looking for her first job — chosen to show aspirational citizens as Clinton looks to speak to to wide demographic of voters.
Hillary's use of astroturf in earlier campaigns
---



Hillary Clinton's cloud of corruption

This subsection has moved to a page of its own, located here.



---
Hillary Clinton's secret email servers
This subsection has moved to a page of its own, located here.
---
Hillary Clinton's 2016 campaign
The party platform:
Hillary's campaign-finance reform advocacy isn't hypocrisy, it's self protection. Hillary Clinton is making campaign finance reform a major plank of her presidential run. Laugh if you like at this risible pledge from a candidate who will shatter all previous fundraising records. But don't call it hypocrisy. It's something worse than hypocrisy. Clinton, in advocating the same restrictions on political speech Democrats have sought for years, is pushing for a legal regime that would protect her from criticism while increasing her power and her own fundraising advantages.
Cisneros: Hillary Clinton's only option for VP is Castro. Henry Cisneros told a Spanish-language television network that Julian Castro is Hillary Clinton's first and only option to run as her vice presidential running mate. Cisneros told Univision's Félix De Bedout that people within the Clinton campaign have told him that Castro, the Secretary of Housing and Urban Development and former San Antonio mayor, is "the first person on their list."
The Editor says...
Fidel Castro would be an even better match than Julian. He has leadership experience and probably agrees with the entire Democratic Party platform.
Hillary Clinton's betting that America is moving left. Polls show that despite two months of problematic stories about destroyed emails and discomfiting revelations about the behavior of the foundation that bears her last name, she remains wildly popular among Democrats. That fact should give her all the running room in the world — and usually when presidential candidates have running room, they run as fast to the center as they possibly can.
Hillary Clinton's hypocritical bid to settle a grudge and smash free speech. Her fans may see it as a principled stand, but we suspect it's just Hillary Clinton holding another grudge against her critics. According to The Washington Post, Clinton told a roomful of supporters (behind closed doors) that as president she would require her Supreme Court nominees to pledge in advance to overturn the 2010 Citizens United decision. That's the case where the high court upheld the right of a conservative group to air its anti-Clinton documentary, "Hillary: The Movie," and run ads for it during the 2008 Democratic primaries.
Litmus test:
Hillary Clinton's litmus test for Supreme Court nominees: a pledge to overturn Citizens United. Hillary Clinton told a group of her top fundraisers Thursday [5/14/2015] that if she is elected president, her nominees to the Supreme Court will have to share her belief that the court's 2010 Citizens United decision must be overturned, according to people who heard her remarks.
The Unassailable Virtue of Victims. If Hillary Clinton wins the presidency in 2016 she will not only be the nation's first woman president but our second affirmative-action president. By affirmative-action president I mean that she, like Barack Obama, will have got into office partly for reasons extraneous to her political philosophy or to her merits, which, though fully tested while holding some of the highest offices in the land, have not been notably distinguished. [...] How have we come to the point where we elect presidents of the United States not on their intrinsic qualities but because of the accidents of their birth: because they are black, or women, or, one day doubtless, gay, or disabled — not, in other words, for themselves but for the causes they seem to embody or represent, for their status as members of a victim group?
Hillary Clinton, Immigration Extremist. If you like President Barack Obama's constitutionally dubious expansions of presidential power, you'll love President Hillary Clinton. Obama has repeatedly insisted that the Constitution poses limits on his ability to set immigration policy, and then has repeatedly blown through those limits. In 2011, he was asked to grant "administrative relief" from deportation to immigrants who were brought to the U.S. illegally as minors. He responded that it was "just not true" that he had the authority to do so, and that suggestions to the contrary were getting in the way of passing legislation that would provide real relief.
Clinton's bold campaign promises stun immigration advocates, baffle White House. Hillary Rodham Clinton's campaign pledge to give pro-immigration activists almost everything they want — including expanding President Obama's deportation amnesty to more illegal immigrants — wowed activists but also left them wondering whether she was merely pandering to Hispanic voters. Her bold immigration agenda also gave pause to the White House, which has argued that Mr. Obama has gone as far as legally possible to unilaterally change immigration laws. Cesar Vargas, co-director of the anti-deportation Dream Action Coalition, said activists wanted more than words from the Democratic front-runner after Mr. Obama failed to keep promises to illegal immigrants.
Hillary In 2003: 'I Am, You Know, Adamantly Against Illegal Immigrants'. Presumed Democratic Party nominee Hillary Clinton said Tuesday [5/5/2015] that any immigration overhaul must include a path to "full and equal citizenship." It was one of her many flip-flops in recent years. [...] Clinton's stance may or may not differ with her potential 2016 opponents, but it definitely differed with what she said to John Gambling in 2003.
Unearthed Audio: Hillary Said She's 'Adamantly Against Illegal Immigrants'. Though you wouldn't know it from her remarks earlier this week, Hillary Clinton was once "adamantly" against illegal immigration and was for erecting a border fence similar to one that protects Israel. "I am adamantly against illegal immigrants," then-Sen. Clinton said on the John Grambling radio show in Feb. 2003. "Certainly we've got to do more at our borders," she said, adding that, "people have to stop employing illegal immigrants."
Hillary Clinton's betting that America is moving left. Hillary Clinton is doing the country a great service. By making it clear she is going to run for president as an unapologetic left-liberal — with emphasis on the "left" — she has made sure that the 2016 election will be exactly the referendum on America's future it ought to be. She did not have to make this choice. Polls show that despite two months of problematic stories about destroyed emails and discomfiting revelations about the behavior of the foundation that bears her last name, she remains wildly popular among Democrats.
Clinton swerves harder left than even Obama. Leaving hubby Bill to defend their family foundation's fundraising foolishness, Hillary Clinton has made another leap to the left in her basically unchallenged romp to the Democrats' presidential nomination next year.
'I Have Some Questions': Middle-Class Millennial Female Writes Scathing Open-Letter to Hillary. A young millennial has taken aim at Hillary — and good for her, if you ask me. She isn't backing down, and she is asking all the right questions.
Hillary's Foolish Amnesty Double Down. If the current objective of Hillary Clinton's presidential campaign is to give possible liberal challengers as little room to maneuver as possible then her remarks on illegal immigration yesterday [5/5/2015] was smart politics. The former secretary of state not only embraced President Obama's extralegal executive orders granting amnesty to millions of illegals but also went further signaling her support for an easy path to citizenship for all 11 million people currently in this country without permission. By tilting to the left in this manner, Clinton believes she is making it harder for a credible opponent to outflank her with the base of the Democratic Party. Even more, she appears to think that by doubling down on amnesty, she is guaranteeing a heavy Hispanic turnout in 2016 that will vote for her over any possible Republican rival.
Hillary Clinton says Obama's immigration orders are 'just the beginning'. Hillary Rodham Clinton threw down the immigration gauntlet on Tuesday [5/5/2015] and pledged that she would extend President Barack Obama's executive orders past their current boundaries if she were to succeed him in the White House. 'I will fight for comprehensive immigration reform and a path to citizenship,' she told a Las Vegas roundtable of illegal immigrant high school students, including one who said he was transgender and another who identified herself as a lesbian.
Hillary Clinton goes all in on immigration; pledges to outdo Obama. Hillary Clinton held a Cinco de Mayo event with illegal immigrants in Nevada Tuesday — "an especially appropriate day for us to be having this conversation" — in which she promised to go farther than President Obama in using executive authority to confer legal status on illegal immigrants, and to ultimately to award them U.S. citizenship. No matter what Republicans might offer to illegal immigrants in terms of legal status, Clinton said, she will offer more. Changing the immigration system will be a top priority should she become president, Clinton said. "We can't wait any longer. We can't wait any longer for a path to full and equal citizenship."
Hillary Clinton Just Told Immigration Activists What They Wanted to Hear. What activists really wanted to know ahead of the speech was whether Clinton was prepared to pick up where Obama left off on executive actions. She gave them an answer. "I will fight for comprehensive immigration reform and a path to citizenship for you and for your families across our country," she said Tuesday [5/5/2015].
Clinton speaks forcefully for path to citizenship for illegal immigrants. Staking a strongly liberal position on the divisive issue of immigration, Hillary Rodham Clinton said Tuesday [5/5/2015] that she wants to ensure that illegal immigrants can gain full citizenship under a reform of the patchwork system and the limited protections President Obama has put in place in the meantime. Republicans want to make sure immigrants can never be more than "second-class" Americans, the Democratic presidential candidate said in sharply partisan remarks that could shake up the presidential contest by pushing immigration to the fore.
The Editor says...
Hillary is right (and at the same time, wrong) about one thing: I don't want illegal immigrants to be "more than 'second-class' Americans; in fact, I don't want illegal immigrants to get the idea that they are Americans at all.
Clinton To Endorse Path To Citizenship For Illegal Immigrants. Hillary Clinton will endorse a pathway to citizenship for illegal immigrants during a campaign stop at a Nevada high school Tuesday [5/5/2015], according to reports. Politico's Playbook reports that during a roundtable at the majority Hispanic Rancho High School, Clinton is expected to call for a comprehensive immigration reform plan that includes "nothing less than a full and equal path to citizenship" for illegal immigrants.
Hillary Equates Gun Owners With Terrorists, Says They're "Prone to Violence.". Democrat Presidential candidate Hillary Clinton thinks that "gun free zone" signs work, twice claims that modern sporting rifles are "automatic weapons," and states that owners of the most popular rifle sold in the United States today are a small group "that terrorizes the majority of people." The June 17, 2014 interview shows just how out of touch Clinton is with a nation where the majority of people in this country who favor gun rights. Clinton went on to bizarrely claim that those who do not bow to her views on gun control are "prone to violence."
Clinton Proposal Could Allow Feds to Ban Book Critical of Clinton Foundation. Hillary Clinton's proposal to get money out of politics could allow the federal government to restrict or ban the publication of a book that has embroiled her presidential campaign in controversy, experts say. Clinton called for a constitutional amendment to "get unaccountable money out of" politics in an op-ed for the Des Moines Register published Monday. Her campaign did not respond to requests for additional details, but legal experts say similar efforts over the past two years would have profound effects on Americans' free speech rights.
Likely Felon Hillary Clinton: Let's Open Up All the Prisons. [Scroll down] WaPo black-and-gay-issues writer Jonathan Capeheart got a round of approbation for admitting that everything he thought he knew about the Brown shooting was a lie, and then, a couple of weeks later, listed Brown anyway in the List of the Fallen Black Innocents. Hillary Clinton is claiming that our jailed are filled with the indiscriminately-imprisoned — that "masses" of people are just winding up in jail. It is one thing to call for criminal justice reform. It is another thing entirely to demagogue the issue from a hard leftwing viewpoint and claim that "masses" of prisoners — most of them — are essentially politically prisoners.
Hillary channels Madame Mao: 'deep-seated cultural codes, religious beliefs and structural biases have to be changed'. Barack Obama was a piker when he wrote about audacity. Hillary Clinton seems to be calling for nothing less than a Great Proletarian Cultural Revolution in the United States, mimicking Mao Zedong's wife Jiang Qing, who sought to overturn millennia of Chinese culture in order to impose a communist paradise through the Cultural Revolution. But of course, Hillary was urging the rejection of our religious and cultural heritage in order to facilitate the killing of unborn children.
Hillary On Abortion: 'Deep-Seated Cultural Codes, Religious Beliefs And Structural Biases Have To Be Changed'. Democratic presidential candidate Hillary Clinton took a feminist tone on Thursday [4/23/2015]. She told attendees at the sixth annual Women in The World Summit that "deep-seated cultural codes, religious beliefs and structural biases have to be changed" for the sake of giving women access to "reproductive health care and safe childbirth." "Far too many women are denied access to reproductive health care and safe childbirth, and laws don't count for much if they're not enforced. Rights have to exist in practice — not just on paper," Clinton said.
Hillary Clinton conveniently evolving. We are all familiar with then-Senator Obama defending traditional marriage in 2008. Mr. Obama used Christianity and God to justify his position. We learned later from Mr. Axelrod that the whole thing may have been just a little "lie" to appeal to black Americans. In other words, he was always for same-sex marriage but did not have the courage to share that with voters in 2008. The latest discovery is Hillary Clinton in 2004, or back in the days when she was a hawk on Iraq and defending traditional marriage.
Hillary at meeting with economists: We need to "topple" the wealthiest one percent. It takes a net worth of around $8 million to join "the one percent." The Clintons' net worth is estimated at $55 million; Hillary alone got a cool $14 mil as an advance for her dismal memoir "Hard Choices." The electorate's usually willing to let populists slide on their personal wealth — FDR is the ultimate example but John Edwards was a lefty heartthrob for a time as recently as 2008 — but I wonder if they'll be so forgiving for Hillary.
Martin O'Malley Slams Hillary for Late Evolution on Gay Marriage, Driver's Licenses for Illegals. On Thursday [4/16/2015], former Maryland Governor Martin O'Malley criticized Hillary Clinton for her late evolution on gay marriage and driver's liceses for illegal immigrants. Clinton's team this week said she believes gay marriage is a "constitutional right" and illegal immigrants should receive driver's licenses. When she ran for president in 2008, Clinton opposed gay marriage and driver's licenses for illegal immigrants (after much waffling).
Hillary Clinton pushes Supreme Court on same-sex marriage. As recently as a year ago, Hillary Clinton was sparring with a public radio host about her position on same-sex marriage, defending her past reticence to discuss the issue and falling well short of full-throated support. Now, in a markedly new position, Clinton is offering just that, calling gay marriage a right afforded by the Constitution.
Hillary Says We Should Rewrite the First Amendment, If That's What It Takes to Reverse Citizens United. Hillary Clinton endorsed a constitutional amendment today [4/14/2015] to reverse the Supreme Court's ruling in Citizens United v. FEC. Clinton said that the Citizens United ruling should be reversed "once and for all, even if it takes a constitutional amendment," according to MSNBC's Ari Melber.
Hillary Clinton on Guns: Not a Big Fan. The presidential candidate, who once supported licensing and registration, says resistance to gun control "terrorizes" the nation.
When and how will Hillary Clinton break from President Obama's foreign policy? Over the next 20 months, how many enemies of the United States can President Obama outright lose to or accommodate? He has embraced Cuba, acquiesced to Iran and gone silent on Syria and continues to be ignored by Russia; he has done much to embolden our adversaries. Meanwhile, our allies — from Britain and Canada to Japan, Egypt and Israel — are at best bewildered and at worst disgusted with how this administration has conducted foreign policy over the past six years.
Hillary Clinton Won't Spell Out Position on Late-Term Abortion. Former secretary of state Hillary Clinton is dodging a key question in the abortion debate: Under what circumstances should late-term abortion be legal? Every declared or likely Republican presidential candidate has expressed support for legislation that would ban most abortions later than 20 weeks after conception — or 5 months into pregnancy — when infants can feel pain and survive if born prematurely. But Hillary Clinton and her spokesman have declined to spell out Clinton's position on late-term abortion.
The Tough Questions Hillary Faces As Candidate. First, the political culture has changed dramatically since 2008. Back then, both she and Barack Obama officially opposed "same-sex marriage," an issue that has changed the political landscape at light speed — becoming an intensely polarizing issue that has even challenged previous assumptions about religious freedom. Today both Obama and Clinton support same-sex marriage, both acknowledging that their views have "evolved" over the years.
Israel's future: Hillary Clinton's silence on Netanyahu's win speaks volumes. Following his election victory, Israeli Prime Minister Benjamin Netanyahu spoke at length with Fox News host Megyn Kelly, and with President Obama, but there's no sign that Netanyahu has heard from Hillary Clinton, who is expected to announce soon that she will run for U.S. president. This stands in stark contrast to several Republicans contemplating presidential bids who rushed to congratulate Netanyahu right after his "against all odds" win for his Likud Party.
Hillary Clinton Endorses FCC's Title II Designation for the Internet. Although Clinton defended the FCC's attempt to make the internet a public utility, she seemed open to other ideas to bring about net neutrality. "They have to have a hook to hang it on, so they're hanging it on Title II," she said, defending the FCC's decision as "the only hook they've got" to bring about change. Clinton signaled support for "another hook" for net neutrality derived from a "modern 21st century telecom technology act" but conceded that it was unlikely to happen in the near future.
Hillary Clinton veers left in search of the Democratic base. Hillary Clinton angrily condemned the bleakest results of Barack Obama's economy in a recent speech, but didn't dare say who was responsible for them. "What would Robert Kennedy say about the fact that still, today, more than 16 million children live in poverty in the richest nation on earth," she said in an address to an elite, well-fed crowd in a Manhattan ballroom at an awards gala to honor the slain Democratic presidential candidate.
Hillary Clinton looks to shore up support on the left. Hillary Rodham Clinton, the Democratic front-runner for president, is working hard to shore up support among liberals in hopes of tamping down a serious challenge from the left in the battle for the 2016 nomination. Clinton has aligned herself firmly with President Obama since the November midterms on a range of liberal-friendly issues, including immigration, climate change and opening diplomatic relations with Cuba.
Hillary Clinton: 'I would consider' anti-Citizens United amendment. While eying a potential presidential run that would surely be boosted by deep-pocketed super PACs, Hillary Clinton said Monday evening [7/21/2014] that she's open to supporting a constitutional amendment to overturn the Supreme Court's Citizens United decision, which opened the door to the outside groups and the flood of money that poured into the political process with them.
Dinesh D'Souza's 'America' warns Hillary Clinton will 'finish off' the country. In his highly anticipated new book and movie "America," conservative author Dinesh D'Souza is warning that Hillary Clinton won't be a clone of her moderate husband, but will instead take the baton from President Obama to continue radicalizing the country and "undo the nation's founding ideals." "America — Imagine a World Without Her," published by Regnery and set for release Monday, charges that as students of radical organizer Saul Alinsky, Obama and Clinton could have enough time to "unmake and then remake America" into a nation the founding fathers wouldn't recognize.
Hillary Clinton: Gun Laws Are Too Lenient, Must Be 'Reined In'. During a May 6th speech at a National Council for Behavioral Health conference, while making the case that gun laws are far too lenient and need to be "reined in," Hillary Clinton asserted, "We're way out of balance" on guns. According to the National Journal, "Clinton said she supports Second Amendment rights, [but] she added that there needs to be a proper trade-off between safety and freedom."
The Editor says...
The government's job is to preserve liberty, not safety.
Pure coincidence? The 'ban bossy' movement and Hillary's campaign. The bizarre movement to "ban" the word "bossy" because it allegedly stigmatizes girls struck many people as ridiculous. But on consideration, it is something far more sophisticated and sinister than mere feminist hyperventilating. Hillary Clinton faces an image problem, and the deep thinkers on her propaganda team know it. In a debate during the 2008 primary campaign, Barack Obama alluded to it when he called her "likable enough," a backhanded compliment/slap that stung. The woman who as first lady demanded that military service personnel assigned to the White House not look her in the face is an imperious, demanding, and frosty sort of person.
Memo Says Hillary Supports Single Payer Health System. A 20-year-old memo says Hillary Clinton backed a single-payer socialist health system, believing ObamaCare-like mega-regulation to be "a crock." As president, she'd double down on government control. It's buried over 60 paragraphs into Alana Goodman's investigative article in the Washington Free Beacon this week about unpublished documents exposing Clinton's ruthlessness.
Hillary's Racial Politics. Hillary Clinton began her 2016 march to the White House last week, and it wasn't a promising debut. The former first lady and Senator used her first big policy speech since leaving the State Department to portray American election laws as fundamentally racist. The speech was longer on anecdotes than statistics, so allow us to fill in some of the holes.
Hillary Builds 2016 Campaign on Racial Politics. Hillary Clinton has worked her way back in the news by making racially-charged remarks to the American Bar Association's annual meeting in San Francisco. There is, she claimed, an ongoing "assault on voting rights." But the only "assault" going on is a liberal assault on the truth about efforts to protect the integrity of our election process.
Hillary's race card. Madam Secretary hasn't missed a beat. She knows that the calling card of Democrats in the Barack Obama era is a polarizing politics that seeks to fire up minority voters by stirring fears of fire hoses and police dogs. Its basic vocabulary is imputations of racism; its evidentiary standard is low and dishonest; and its ethic is whatever works — so long as its stirs fear, anger, and resentment. Get ready for Hope and Change 2.0. The latest target is the state of North Carolina, which is accused of soiling itself with a new voter ID law, among other changes in its election laws.
Campaign themes and slogans:
First 'Rodham,' now 'Clinton' missing from Hillary's pitch. First the middle name, "Rodham," disappeared, and now the last name, "Clinton," is MIA in Hillary for America's latest email to donors. Campaign boss Robby Mook's offer to supporters to donate just $5 to become a "founding donor" never refers to his candidate "Hillary Clinton." It's just Hillary. "You're all in to elect Hillary as our next president," he wrote. "You're proud to be one of the first people to get Hillary's back in this race," he added.
Hillary Clinton Is Learning All the Wrong Lessons From Obama. Hillary Clinton is clearly looking to emulate President Obama's historic 2008 campaign as she makes a second bid for the White House. Her kickoff campaign video features the very constituencies that Obama effortlessly energized in his first bid for office — working women, minorities, gay voters. She's hired several of Obama's top advisers to guide her bid, including pollster Joel Benenson and media strategist Jim Margolis. Even the name of her campaign organization, "Hillary for America," is a throwback to "Obama for America."
(Dis)qualifications:
Gender is no credential for the White House. This early in the presidential cycle, I make no predictions about how the race will play out. But one thing I'm sure of: America doesn't need to send a woman to the White House. Needless to say, many Clinton supporters vehemently proclaim the opposite. "Hillary Clinton Is Running For President, And I'm Voting For Her Because She's A Woman," reads the headline on a long essay by Gabrielle Moss in Bustle magazine. House Minority Leader Nancy Pelosi, asked whether Clinton's vote for the Iraq War should disqualify her from the support of progressive Democrats, responds that "what's important is what it would mean to elect a woman president of the United States." Never mind old controversies, Pelosi suggests; Clinton's sex is what should animate voters now.
Cowardice:
Krauthammer's Take: Hillary 'Hiding in the Bunker' as Clinton Foundation Story Creates Problems. The curious case of the Clinton Foundation's cash continues to unravel, and it's not good for Hillary, says Charles Krauthammer. "Where is she?" Krauthammer asked on Tuesday's [5/5/2015] Special Report. "First, they put out their stooges to go out and defend them; then their daughter, then the husband. She's sort of hiding in the bunker." But those proxies are not working out.
Can't be trusted:
Do Americans trust Hillary Clinton? Not when she's running for office. Carly Fiorina is spending a lot of time making a key argument against the likely Democratic nominee for the presidency in 2016. Hillary Clinton, Fiorina told George Stephanopoulos in making her official announcement Monday [5/4/2015], "clearly is not trustworthy, about a whole set of things." Hillary Clinton is not trustworthy, she said on "Fox and Friends" in April. "In effect, @HillaryClinton told us to trust her," Fiorina tweeted in March. "Nothing in her track record suggests we should do so." Americans seem to agree.
Age and health:
Hillary's health and our right to know. We the people feel entitled to a president of the United States who is in good enough health so that he or she can endure the pressures of the job without suffering a heart attack, stroke or sudden death. Of course, any good physician will tell you that she can't be entirely sure of health risks, and our presidential candidates shouldn't be gauged entirely by physical criteria alone. Still, full health disclosure must be a prerequisite for running for the highest office in the land.
The Editor says...
Really? Does a full disclosure include a drug test? Would Barack H. Obama have passed a surprise drug test six years ago? Or yesterday?
Incompetence:
The Hillary Op-Ed Challenge: How many platitudes can you fit in one paragraph? In the 1950s, college students used to try squeezing as many of their friends as possible into telephone booths. In the 1960s, the fad shifted to Volkswagens. Perhaps hearkening back to her youth, Hillary Clinton wrote an op-ed in the Des Moines Register that attempts to squeeze as many platitudes it can into the Iowa newspaper's column inches. One paragraph in particular wins the prize.
Incompetence:
Cecily Strong was wrong about Hillary Clinton's appearance being off limits. If looks lead to snap judgments — or at least first impressions — in, literally, every other aspect of life, it seems counterintuitive that the appearance of a candidate wouldn't matter in politics. That's especially true in the modern era of politics in which two things are true: (1) Television is king, and (2) voters are less and less engaged in the actual policy platforms of the candidates.
Slovenly, unprofessional appearance:
Why Hillary Clinton's Looks Matter. Chris Cillizza of the Washington Post has an interesting rebuttal about why a candidate's looks sometimes matter. He left out one thing, however, something perhaps a female writer such this one might notice: Quite often, Hillary looks noticeably disheveled while on official business, and during her tenure as secretary of state looked downright dirty and unkempt. If that's her situation, it's a tangible sign she's unable to manage the job as well as present herself as the face of America to foreign nations. Combine it with the fact that she's made significant gaffes while abroad, as well as been seen apparently drunk in public and it's an external reflection of her incompetence.
Unknown motives:
Whatever You Think About Hillary, It's Worse! I asked a liberal the other day what liberalism was, what exactly it was he supported, and he was stunned that I asked, and then he was just stunned. He didn't know how to answer because he didn't have one. It was just a habit. [...] And speaking of habits, that's what Hillary Clinton is. No one, including Hillary, knows why she is running for president.
Unknown motives:
But why does Hillary Clinton want to be president? Hillary Clinton has made a career out of wanting to be president of the United States. But in all this elapsed time she's never been able or bothered to explain Why she wants the nation's highest office. The Clintons clearly feel entitled to many things. One of them should not be the Oval Office.
Incompetence:
Hillary's Biggest Foe in 2016 Will Be The Weak Obama Economy And The Voters' Realization That She Is Utterly Incapable of Fixing It. Hillary Clinton's slick campaign video announcing her candidacy for the presidency is being shot down as "insultingly vapid," vacuous and utterly "without... substance." And this is coming from her liberal friends, not from her Republican critics. Washington Post columnist Ruth Marcus compared the former First Lady's campaign announcement to a Verizon commercial — filled with with a soft, pablum message to persuade voters that she's not the wild-eyed, far left wing, lamp-throwing radical described in recent books about her.
Hillary's Seinfeld Moment. It's a replay of the Obama campaign of 2008 in which he sought to be the blank slate on which voters could cast their dreams. Now Hillary wants to be that blank slate. Of course, it's all meant to say, "Don't think of me as another Clinton or the second oldest president ever elected, I represent perpetual rebirth!" It's also meant to keep you thinking about something other than her record.
What Hillary's Nomination Would Say About Democrats. Hillary Clinton has announced that she is running for president of the United States. What her likely nomination says about the Democratic Party and tens of millions of Americans is depressing. Other than Barack Obama — whose resume consisted of being a charismatic black — it is hard to come up with a less accomplished individual who has run for president in our lifetime. And, unfortunately, that is saying something. Moreover, at least Obama had the excuse of having been in public life for only a few years, as a state senator and then a two-year U.S. senator. Clinton, on the other hand, has been in public life most of her adult years, as a very politically active first lady, a U.S. senator and secretary of state. Yet she has accomplished nothing.
What Does Hillary Clinton Stand For? Getting Elected President, Apparently. A website for a presidential campaign should probably be fairly simple and easy to navigate. They don't want to scare away potential voters, donors or volunteers with a site that's too complex to figure out. Hillary Clinton's campaign may have taken the idea a bit too far. On Hillary Clinton's campaign site, which launched Sunday along with her campaign, there's hardly anything there at all. More specifically, there's no "issues" section to help potential voters grasp where she stands on the topics of the day. It's really easy to find out how to volunteer or donate money. But want to find out what Clinton stands for, well, she stands for you electing her, it seems.
Three Reasons Hillary Won't Win the Democratic Ticket. Reason 3: [...] In short, Hillary Clinton lacks charisma, and the Democrat powers-that-be may soon come to understand that they can only exploit her appeal as a potential woman president and her name recognition only so far before that reality sets in.
Some Lunatics Offended by Granny Clinton Being Referred to By Her First Name. So a woman who's been an utter failure at everything she's ever done is seemingly a shoo-in for the White House and she's a victim of inequality. Got it.
'Feminist' Hillary Clinton is simply a fool. Hillary Rodham Clinton is the first dame ever to have clawed her way to the dizzying heights of American politics through a combination of ruthless cunning and the unabashed pity doled out by gullible voters, most of them Democrats. She's a lady whose star power is not based on her intellect or contributions to the common good, but on her willingness to excuse randy husband Bill Clinton for turning her into a fool.
Why, Exactly, Do We Need A Woman President? It appears that those who voted for Barack Obama for president simply because he is black are now urging we vote for Hillary Clinton simply because she is a woman. At a recent public event, Clinton asked her Democrat supporters, "I suppose it's fair to say: don't you someday want to see a woman president?" My answer to that ridiculous remark is — 'that would depend on the woman.' That woman should be as qualified as any male candidate but if they believe that Hillary is eligible than that means they plan to vet her as poorly as they did Barack Obama.
Hillary Clinton in 2016: The wrong woman at the wrong time. Hillary Clinton's long-expected presidential campaign launch came over the weekend. Despite the recent scandals over her Chappaqua-based personal email server, and the renewed hostility of the press toward her tight-lipped and hostile political machine, Clinton has to be considered the most likely successor to President Obama. It doesn't matter if she's only ever beaten a small-time congressman and a Yonkers mayor in her previous elections. The lack of a serious challenge from within the Democratic Party means she has a very clear shot at the nomination and the presidency.
Marco Rubio Calls Hillary Clinton the 'Architect of a Failed Foreign Policy'. [Scroll down] Clinton is currently the front-runner among the potential Democratic presidential candidates by a wide margin, and polls over the past few months have shown her leading the Republican field. However, as Breitbart News reported, a poll by Public Policy Polling (PPP) conducted at the end of March showed that Clinton's lead had shrunk since February. And while she enjoys high name recognition, she also has high unfavorability numbers too.
Hillary's Baggage. Hillary Clinton's latest misadventures are not just so typically Clintonian, but more to the point, they reveal a fatal flaw in the woman's makeup — she has absolutely no judgment! [...] Now this unaccomplished fraud gets $300,000 a speech to inform her audience of absolutely nothing of consequence. In the end, perhaps this says more about her audience than it does about her; that is, why would any one pay that kind of money to a person who not only accomplished nothing, but is a charmless political hack?
Hillary is too old to run. As a woman who is the same age as Clinton, I can understand it. I travel a great deal — about 100,000 miles a year — but nothing like Clinton will when she runs. Sixteen-hour days are one thing when you're in your 40s and another as you approach 70. And, let's face it, women may hold a gender advantage with the public on some personal attributes, but age isn't one of them. Clinton will be 69 in 2016 — the same age as Ronald Reagan was in 1980 when he ran and won in a landslide.
American Tragedy: The Reality of a Hillary Clinton Presidency. Imagine if Hillary Clinton wins the presidency in 2016. What would it actually be like? Roughly forty percent of the country will consider the incoming first-term president an extreme serial liar with a sense of entitlement the size of Australia. Another forty percent will think, yes, she may be dishonest, but all politicians are and we support her anyway. The middle twenty percent will be some muddle of the previous two views.
Clintonworld's Self-Pitying Shadiness Returns. Democrats who were not adults in the 1990s have spent the past week learning what it's like to have the Clintons at the head of their party. It means constantly having to defend questionable behavior. Is that the way they want to spend the next two to 10 years? Hillary Clinton is in a strong position to win the Democratic nomination, and right now has no serious challenger. But the e-mail controversy, and Clinton's stonewalling in response to it, has to be causing some qualms. How badly do Democrats need her?
Hillary Clinton Lies... A Lot. Hillary Clinton says that she is the most transparent woman in American politics. There's just one problem — Hillary Clinton lies... a lot. Ben Shapiro takes a trip in the way back machine to look at a few of the more egregious examples.
The Mendacious, Charmless, Painfully Mediocre And Unelectable Hillary Clinton. What is it Hillary supposedly brings to the table? What has she ever done successfully that would make her rate as a top-tier presidential candidate? Does she know people who donate lots of money? Yeah. So what? Lots of politicians know rich donors. Does she give a great speech? No. Not even close. She's a terrible speaker. She's got an irritating, cold speaking voice and she rarely says anything people can unite around. [...] Is she honest? Not only is the answer no, but her lies are so brazen and so provable that they insult the sensibilities of ordinary Americans. Claiming that the Benghazi massacre happened because of a YouTube nobody had ever seen, for example.
After Obama, 'Dead-Broke' America Cannot Afford Four Clinton Years. Like a bad moon rising, a Clinton revival takes shape now as Hillary Rodham Clinton, presumed front runner among Democrats, casts her eyes on the prize she has chased with every fiber of her being for so long — a chance to be elected the first female President of the United States.
Clinton '16 Would Give Gender More of a Role Than Clinton '08 Did. [R]ather than the assertive feminism associated with her years as first lady, Mrs. Clinton's campaign message will be subtler. It will involve frequent references to being a mother and grandmother and to how her family has inspired her to embrace policies that she believes would help middle-class families. As one Democrat close to her put it, voters have learned that she is tough; now she can also present herself as a sensitive candidate capable of nurturing the nation at a difficult time.
A line-by-line rebuttal to the article immediately above:
Hillary: I should be president because I have lady parts. [Scroll down] Mrs. Clinton is very much against the forced marriage of little girls, and the rapes, beheadings, and executions of women abroad, and if anyone other than radical Muslim groups start to do these things, I expect she will be the first to speak out against it.
Hillary Clinton is no feminist champion. [W]hile Hillary made her own way in the world during the 70s and 80s at a law firm, those doors opened for her after Bill was elected Arkansas attorney general. Prior to that, she was teaching criminal law at the University of Arkansas-Fayetteville. Now, that could have led to her work at a prestigious law firm and then higher office (worked for President Obama), but her upward trajectory really started because her husband's name was elevated.
Why Should You Vote For Hillary Clinton? Because 'It's Her Turn'. Competence? Qualifications? Basic sentience? Such considerations are secondary. Hillary should be our next president because... well, because otherwise, it's simply not fair.
5 Questions for Hillary Clinton. [#1] Why are you running for president? Can you answer this question without mentioning your grandchild? [...] [#2] How would you explain to a normal American why you insist on charging a public university $300,000 to hear you speak? If your first instinct is to point out that $300,000 is a "special university rate," do you realize how ridiculous that sounds?
Hillary is in Worse Shape Than in 2008. Every advantage Hillary has in 2016, she had in 2008... and she lost. To make things worse, her circumstances for a presidential run have grown worse since 2008. Rather than incredulously wondering how Hillary could lose in two years, the more credible question is why so many people now believe she can win.
Hillary Clinton Is a Terrible Politician. Celebrity homeowner Hillary Clinton is a terrible politician, a [Washington] Free Beacon analysis has found. This is one of many reasons why some observers have concluded she will never be president. Clinton, who may ultimately decide not to run for president because, among other factors, the job only pays $400,000 a year, is not polling as well as one might expect of an "inevitable" candidate. A recent NBC News/Wall Street Journal found that 50 percent of American adults could see themselves supporting her for president, compared to 48 percent who could not.
The Obama trap: Hillary Clinton's popularity drops, president's record an albatross. President Obama's high-risk immigration gamble may have severe consequences for Washington, the country and the Democratic Party, most of all Hillary Clinton. Mrs. Clinton's putative bid for the Democratic presidential nomination is already running into trouble. The national exit poll from the recently completed midterm elections showed her with less than a majority of voters (43%) saying she would make a good president. When pitted against an unnamed Republican candidate, Mrs. Clinton lost 40% to 34%.
Family Affairs. The career of our recently retired secretary of state has been an odd one: a feminist icon whose main role in life has been that of accessory to her husband, whose understanding of sex roles is as thoroughly traditional as Warren G. Harding's.
Hillary Clinton Could Be the Youngest Democrat Running in 2016. Grandmother Hillary Clinton, 67, is vying to become one of the oldest world leaders in history. In order to achieve that goal, however, she may have to defeat a slate of Democratic challengers who are even older than she is.
MSNBC Stumped Trying to Figure Out Any Rationale Hillary Has to Run for President. The hosts of MSNBC's Morning Joe stumped themselves Friday morning [11/14/2014] trying to explain why Hillary Clinton should run for president. Their conclusion? There is no rational explanation. "At this moment, beyond 'it's her turn, it's her time,' there's not a clear articulated rationale for the candidacy as of yet," Bloomberg's John Heilemann said. Heilemann argued that there is a more obvious explanation for Elizabeth Warren to seek the Democratic nomination than Clinton.
Since Hillary couldn't overcome her Obama link this year, what about 2016? Emerging financial reports from the campaigns of last week's midterms indicate that Democrat candidates spent upwards of three-quarters of a million dollars just to fly in Hillary or Bill Clinton, or both, as celebrity endorsers. How'd that work out for the candidates? As usual when Democrats spend a lot of other people's money, not very well. Most of the candidates the couple was allegedly trying to help went down to substantial defeats. By one count, barely 40% of the 54 candidates either Clinton "helped" actually won their election.
America's "Elites" Are No Longer Elite And Our "Intellectuals" Aren't Intellectual. [Scroll down] Even worse are the legions of "elites" and "intellectuals" who haven't accomplished anything of note, truly proven their intellect or shown that they're particularly good at anything. For example, what accomplishments led anyone to believe that Barack Obama was ready to be President or that the Democrat Party's assumed candidate in 2016, Hillary Clinton, is up to the job? Neither of them are stunning intellects. Neither have led particularly accomplished lives given the gravitas of the presidency. Neither of them seem to be extraordinarily gifted at anything. If either of them were unknown, it seems unlikely that they could successfully run their own small businesses or work their way up through the ranks of a corporation. In other words, they're both Paris Hiltons of politics who are famous for being famous.
Meet your next President. As far as I am concerned, one of America's worse political blunders, ever, in the history of this nation, was, of all things, the election of Barack Hussein Obama to be our president, not once but twice, first in 2008 and then again in 2012. [...] For those of us who think it cannot not get any worse than what it already is, brace yourselves for the election of a Hillary Rodham Clinton to the presidency of the U.S.
This One Little Secret Could Sink the Hillary Campaign. It is unclear whether or not Hillary herself is putting her health at risk with a meat-free diet. What is clear is that she's putting her political future at risk with such anti-carnivore flirtations. Who wants to have a beer with someone that might scoff at them for eating a burger with their suds?
10 Weird Things You Didn't Know About Hillary. [D]espite the blanket coverage of the former First Lady and her ubiquitous husband, there are still a good number of interesting facts about her that have been buried over the years.
Go Away, Hillary. Other than earning her law degree, name one thing that Hillary Clinton has accomplished on her own. Her accomplishments — slim as they are — have been achieved on the coattails of either Bill Clinton or Barack Obama. Had she not been the First Lady, would anyone have ever heard of her in the context of high power political posts? The short answer is no. She had traded on her celebrity and name recognition to become a Senator from New York and then, after a failed bid to become the Democratic Party's candidate for President, accepted the position of Secretary of State. Obama wanted to make sure she was "inside the tent" during his first term and, following that, her resignation has permitted her to now begin distancing herself from a man that many regard the worst President the nation has ever had.
No More Affirmative Action Presidents. We all make mistakes, but the real question is whether we learn from them. With many people now acting as if it is time for "a woman" to become president, apparently they have learned absolutely nothing from the disastrous results of the irresponsible self-indulgence of choosing a president of the United States on the basis of demographic characteristics, instead of individual qualifications.
Hillary is a hypocrite because she has to be. The writer, ambassador and congresswoman Clare Booth Luce once told President John F. Kennedy, "A great man is one sentence." The same would apply to a woman who aspires to be great, and Hillary Clinton knows what she wants her sentence to be: "She was the first female president." Unfortunately, her sentence, written truthfully, would end like this: "... And she was elected with money donated by rich men."
Hillary Clinton has only one goal, one plan and no idea. A Politico story, headlined "Searching for Hillary Clinton's Big Idea," reports that it can't find one. It dissects the Democratic Party's debates on topics ranging from income inequality to income inequality and finds her positions are mushy. It concludes that, during a campaign, "the pressure will be on to make clear what she would actually do in the White House." That's easy: She'd live in it. That's her Big Idea.
Hillary embarrasses herself in Britain. If a prominent Republican in contention for the presidency had suffered a brain injury and subsequently started making the sort of gaffes Hillary Clinton has been spouting, we'd be seeing front page stories on the New York Times analyzing brain function and the likelihood of permanent impairment, complete with charts and solemn pronouncements from academic experts. But this is the Great Female Hope of the Democratic Establishment, so nary a peep from mainstream media.
The story isn't that Hillary Clinton is rich, it's that she's an overrated politician. Because the Clintons are often viewed in tandem, a lot of people have mistakenly transposed Bill's political acumen onto Hillary. But in reality, her political career has involved winning a Senate seat in New York over a weak Republican opponent in a year that Al Gore carried the state by 25 points — and squandering a massive lead against candidate Barack Obama in the 2008 Democratic nomination battle. While Hillary can stay on message and often seems unflappable, she also lacks the natural instincts of Bill.
Is Hillary Clinton the World's Biggest Blunderer? We're hearing it again now — that Hillary Clinton is a shoo-in for the presidency in 2016. She's unbeatable. No Democrat stands a chance against her if she decides to run. The Republicans shouldn't even bother to field a candidate. Of course, they were all saying the same things about Clinton in 2007. She became quite evitable when Barack Obama came out of nowhere to steal her birthright with grins, celebrity and empty speeches. Clinton will probably prove to be just as not-invincible in 2016. For all the hype that the media builds around her, Hillary Clinton is probably the most over-rated politician on the planet.
Watch Hillary Backers Completely Fail 'Name an Accomplishment Challenge'. Hillary supporters are ready for a "new, fresh face" in office and that entails checking the vital two boxes of "Democrat" and "first female president." I mean, what else is there? Qualifications?
DNC Attendees Can't Name a Single Hillary Accomplishment. Last week, the Democratic Party had their winter meeting and MRCTV's Dan Joseph decided to ask DNC committee members and guests if they're ready for Hillary — and why. [Video clip] Some said she had about a hundred moments of greatness when she served under President Obama — but, strangely, couldn't name a single accomplishment of hers, besides marrying Bill Clinton.
Hillary! Because What Difference Does it Make? Watching Hillary get a Liberty Medal on September 10, the day before the anniversary of the attack on the United States soil and the more recent murder of our ambassador and others in Benghazi, I think it's time to review the record of a woman whose life is marked by deceit and professional failure and ask about the sanity and judgment of her ardent supporters.
25 Reasons To Dislike Liberals. [#17] Liberals talk up Hillary Clinton as the most prominent and important female politician in America; yet her entire political career is based on the fact that she married Bill Clinton. That's actually kind of pathetic.
How would he know?
Barack Obama says Hillary Clinton would be 'excellent president'. "She was a formidable candidate in 2008, she was a great supporter of mine in the general election, she was an outstanding secretary of state, she is my friend. I think she would be an excellent president," Mr Obama said during a news conference [4/11/2015] at the Americas summit in Panama City.
Bloomberg Politics Poll: Democrats and Independents Don't Want a Hillary Coronation. If Hillary Clinton is to become her party's 2016 presidential nominee, independents and even Democrats overwhelmingly want to see her earn the title, according to a Bloomberg Politics national poll that also shows increasing headwinds for her candidacy. As Clinton prepared to formally announce her candidacy on Sunday [4/12/2015], nearly three-quarters of Democrats and independents in the survey said it would be a good thing for the Democratic Party if she were to face a "serious" challenger for the nomination.
Just How Bad a Candidate Would Hillary Be? The Clintons' foundation received money from foreign governments while Hillary was secretary of state. Hillary used her own private e-mail system, and not the official and secure government e-mail system, to conduct government business as secretary of state. She whines about the problems of paying the mortgage(s) on her house(s) as a way to draw sympathy from the middle class. The stupidity and arrogance of Mrs. William Jefferson Clinton must appall Democrats, who find themselves manacled to her. They have to wonder what else will come out before November 2016. The simmering scandals are bad enough, but what else may emerge? Almost everything we eventually learn about the Clintons is smug and ugly.
The extreme wealth and greed exhibited by the "champion of the middle class:"
Related page: The wealthy liberal elite pretend to watch out for the little guy.
The Clintons and the Sultan of Brunei Have a History. In words spoken from the Sultan of Brunei's lavish Empire Hotel in 2000, President Bill Clinton told reporters that his post-presidency would be about making money: "Now I have a United States senator to support, I understand that's an expensive proposition." Clinton traveled to Brunei with his daughter, Chelsea, for an economic summit that was also attended by leaders such as President Vladimir Putin of Russia and Jiang Zemin, then China's president. The sultan, known in Brunei as His Majesty Haji Hassanal Bolkiah, put on an exhibition of luxury for his summit guests. Four hundred ninety three new cars were purchased to transport the various dignitaries around town.
By the Way, Bill and Hillary Have Banked More than $30 Million Since Last January. She's running for president as a "topple the rich" champion of "everyday Americans," and he's just tryin' to pay the bills, y'all: [...] "The former President was even paid $175,000 for a speech in Miami where he appeared via satellite." Hillary also made six figures for addressing a gathering she didn't physically attend.
Our new normal: Ramadi falls, Obama golfs, tweets and Clinton chit-chats. It's been weeks now since Clinton took questions on current events, her stance on the Iraq war or her email and foundation fundraising scandals. The deck is still stacked in favor of rich people at the top, said Clinton, who just reported making $25 million in speech fees with her husband in recent months.
Hillary Clinton was paid millions by tech industry for speeches. In one of her last gigs on the paid lecture circuit, Hillary Rodham Clinton addressed an eBay summit aimed at promoting women in the workplace, delivering a 20-minute talk that garnered her a $315,000 payday from the company. Less than two months later, Clinton was feted at the San Francisco Bay-area home of eBay chief executive John Donahoe and his wife, Eileen, for one of the first fundraisers supporting Clinton's newly announced presidential campaign.
Hillary's two-pronged money problem: The scale and the slime. There is a great deal of doubt about whether a person, who's not exactly relatable to begin with, who has not the natural talent of her husband for connecting with people, and who has been living a life behind the tinted windows of a chauffered town car for some 25 years being shuttled from $100K speech to $100K speech can connect with so-called everyday Americans.
Clintons Earned $30 Million in 16 Months, Report Shows. Hillary Rodham Clinton and her husband made at least $30 million over the last 16 months, mainly from giving paid speeches to corporations, banks and other organizations, according to financial disclosure forms filed with federal elections officials on Friday [5/15/2015]. The sum, which makes Mrs. Clinton among the wealthiest of the 2016 presidential candidates, could create challenges for the former secretary of state as she tries to cast herself as a champion of everyday Americans in an era of income inequality.
Hillary and Bill Clinton have earned over $25 million since January 2014. A Clinton campaign official told CBS News that Bill and Hillary Clinton together earned just over $25 million from about a total of 100 paid speeches. They also earned an estimated $5 million from the proceeds of her book, "Hard Choices." The Clintons accumulated no capital gains earnings in this period, and their federal effective tax rate for 2014 was more than 30 percent, the official said. Hillary Clinton's speaking fees ranged from about $100,000 to over $300,000.
Schweizer: No One Would Tolerate the Clintons' Behavior From Anyone Else. Asked about the unwillingness of prosecutors to look at the allegations in the book, [Peter] Schweizer said that this was due to the fact that the book just came out and "people kind of expect from the Clintons that you're going to get scandal. What I've encouraged people to do is look at these cases, take the name Clinton out of it and ask yourself, would you tolerate this from any other political figure? And I think the answer is no."
How Hillary Is Winning. AS fleetly as Hillary Clinton vacuums up the money, she piles up the paradoxes. She showed fatal weaknesses the last time she chased the presidency and her inevitability evaporated like a California puddle, but she's somehow inevitable all over again. Invincible, even. Journalists have to remind themselves daily not to type or say "presumptive Democratic nominee" before her name. She's fashioning herself as someone uniquely attuned to "everyday Americans" while her husband fashions $500,000 speeches as amulets against the bill collector. Someone's got to pay for the burrito bowls.
Can a One-Percenter Lead the Democrats? Does it strike you as an indication of a political party's robust vitality that in a country of more than 300 million people that party has just one likely nominee for president? Notwithstanding the fact that she has at her disposal nearly a billion dollars, she is 67 years old, and she stands accused of committing at least one felony. What country are we talking about, the old USSR? No, we are talking about the contemporary U.S. of A.
Granny Clinton Ditches 'Common American' Ruse, Flies 1st-Class Back to DC. She must have been seething to have to drag her baggage (and boy howdy, does this woman have baggage) through Logan Airport under the glare of television cameras and gazes of the average schlubs. This woman has spent the better past of the past quarter century flying on Air Force One or private jets and now she has to lower herself to fly commercial.
Hillary Clinton Flies First Class Back to Washington. With her first campaign trip drawing to a close, Hillary Clinton traded the Scooby road-trip van for a first-class airplane seat to make the trip back to Washington. The Democratic presidential candidate flew from Boston's Logan Airport to Ronald Reagan National Airport on Tuesday night [4/21/2015], sitting in row one of the U.S. Airways' first-class section.
Hillary at meeting with economists: We need to "topple" the wealthiest one percent. It takes a net worth of around $8 million to join "the one percent." The Clintons' net worth is estimated at $55 million; Hillary alone got a cool $14 mil as an advance for her dismal memoir "Hard Choices." The electorate's usually willing to let populists slide on their personal wealth — FDR is the ultimate example but John Edwards was a lefty heartthrob for a time as recently as 2008 — but I wonder if they'll be so forgiving for Hillary.
Wealthy Hillary Clinton Lambasting CEOs For High Pay is, Well, Rich. Hillary Clinton apparently plans to base her presidential campaign on the noble goals of greater fairness and shared sacrifice. She has already lambasted vast differences in compensation. "The average CEO makes about 300 times what the average worker makes," Clinton warned. She is right — but can best appreciate that fact from her own career and family. Recently, Clinton has demanded up to $300,000 for brief 30-minute speeches. She apparently believes in the free-market theory that on the lecture circuit, speakers — like CEOs — should be paid as much as the market can bear. At UCLA recently, Clinton's fee worked out to about $165 per second. In three minutes of autobiographical chitchat, Clinton pulled in more than the average full-time fast-food worker makes in a year.
No one is buying that Hillary is anything other than the candidate of Wall Street. It was only a few short years ago that Democrats in high office were openly embracing the anarcho-communist, semi-criminal Occupy Wall Street movement. There is no small amount of irony in the realization that the Democratic Party is today prepared to nominate a presidential candidate with a history of defending the interests of the financial classes.
By one measure, Hillary earned more than America's top 10 CEOs. Democratic presidential candidate Hillary Clinton is drawing a populist bead on lavish Wall Street pay packages as she revs up her march to the 2016 Democratic presidential nomination, but in some respects the fat-per-speech fee she can charge puts her far ahead of the top 10 highest-paid American CEOs.
Clinton to spend $37.92 for every vote in $2.5b campaign. Hillary Rodham Clinton and her support groups are opening a massive fundraising effort to collect an historically-high $2.5 billion to win the White House, according to reports. That amounts to $37.92 per vote in the general election for the Democrat, more than ever spent in a national campaign. The math is based on the votes received by President Obama in his reelection, 65,915,796.
Hillary's $2.5 billion obscene fundraising goal. Hillary Clinton's newly minted presidential campaign plans on raising — and spending — as much as $2.5 billion. That was the mind-blowing datum that accompanied Sunday's announcement of Clinton's candidacy. To give you a sense of just how mind-blowing, consider the fact that in 2012, Barack Obama and Mitt Romney together spent $2.14 billion.
Hillary Clinton's road from riches. The economic gap between Hillary Rodham Clinton and an average, "everyday American" is wide enough to drive a Scooby van through. On Monday [4/13/2015], the newly minted Democratic presidential front-runner had nearly completed her 1,000-mile journey from her mansion in Chappaqua, N.Y., to a first campaign event in Iowa, in the van her staff has likened to the rattletrap "Mystery Machine" from the 1960s cartoon "Scooby-Doo." The trip was intended, in part, to rebrand the former secretary of state, a 67-year-old multimillionaire accustomed to private jets and presidential suites, as a warrior for the middle- and working classes.
'Middle Class Champion' Hillary Plans To Raise $2.5B. You could feed a lot of 'hongry' childrens for $2.5 billion dollars. (And who knows how much of this money will have ultimately come from her slush fund 'foundation'? So it could be taking the food right out of the mouths of the poor.) And don't worry, in any case she will spend far more than she raises. (As her last campaign did.)
Woman with $14 million book advance attacks CEO pay. [Scroll down] First, she takes in six times the annual average household income per hour for her speeches, at $300,000 a pop. It would only take her 50 speeches to get to the same 300x metric she decries here. Furthermore, Hillary signed a deal in 2013 for a $14 million book advance for the memoir she released last year, which sold unimpressively for such a marquee advance. On top of that, she'd already received an $8 million advance for her first memoir, "Living History." That totals $22 million in advance of any work at all, or roughly 440 times what average American households gross in a year. In the years since the Clintons left the White House, they've earned well over $100 million. And unlike CEOs at that level, they don't employ many people, and don't produce anything except income for their own benefit.
Hillary's Million-Dollar Air Travel. Hillary Clinton is, maybe not best know[n] for her utter destitution upon her husband leaving office in the early 2000s, but may be most recently known for her claim that she and Bill struggled desperately to make ends meet once they were relegated to only two homes and lucrative speaking tours that paid in the six figures per appearance. It now seems that those hard times were even shorter than previously imagined.
Dems stand for poor, vacation like the wealthy. The Obamas and Clintons sure know how to summer! And you have to hand it to them, they aren't letting their position as standard-bearers of the party committed to end income equality get in the way. While the president and his family enjoy a lavish getaway in tony Martha's Vineyard, the woman who wants his job is also indulging in a glitzy summer vacay. Hillary and Bill Clinton spared no expense for their digs in the Hamptons — shelling out a cool $100G for a three-week stay in one of America's most exclusive summer destinations.
$5 million, $50 million or even more — just how rich is Hillary Clinton? Ever since Hillary Clinton drew attention to her finances by claiming her family was "dead broke" when they left the White House, speculation has focused on a seemingly simple question: Exactly how rich are the Clintons? [...] In 2010, then-Secretary Clinton's financial disclosures revealed a net worth totaling between roughly $10 and $50 million. In 2012, the last year for which she disclosed finances, Clinton's net worth was estimated to be between $5 million and $25 million.
Clinton Earns $12 Million Speaking, Writing After Service. Hillary Clinton has earned at least $12 million in 16 months since leaving the State Department, a windfall at odds with her party's call to shrink the gap between the rich and the poor. Clinton's income since her resignation as secretary of state in February 2013 is derived mostly from her latest memoir, speeches and paid appearances at corporate retreats, according to an analysis of data compiled by Bloomberg.
Poor Hillary Clinton. Is this really what "dead broke" looks like? Seems like the Clintons should be just fine with their two multi-million dollar houses. No need to add the "White House" to the list.
Hillary Takes Six-Figure Speaking Fees From Universities Raising Student Tuition. The Washington Post reports that likely 2016 presidential contender Hillary Clinton made somewhere around $1.8 million from eight universities in just nine months. While paying the former Secretary of State anywhere from $200,000 to $300,000 per speech, some of these schools were raising tuition prices on students already burdened by the growing student loan bubble. Clinton was paid $251,250 from the University of Connecticut not long after the school hit its students with 6.5% tuition increase.
Bill and Hillary Clinton top the list of richest ex-first families. They may have left the White House "dead broke," as Hillary Clinton claimed, but she and Bill Clinton cashed in so fast and big that they sit atop the list of former first couples who struck gold after the presidency. Since leaving office, according to financial records and news reports, they have earned at least $155 million from speeches, salaries and book deals, easily outpacing the post-White House incomes of other former presidential families and distancing themselves from the time when Bill Clinton deducted $2 apiece for used underwear donated to an Arkansas charity.
2001 was Hillary's Year of Great Fortune, not of being "dead broke". The problem is not that the Clintons made a fortune. This is America, after all. People are entitled to make a fortune so long as they do so lawfully, and we've not yet reached the point where the law dictates when people have made enough. The problem is that Hillary is not being straight with the public. [...] In mid-December 2000, a month before Bill left office, Hillary signed a book deal with a near record $8 million advance.
Hard Knocks Hillary. Democratic presidential candidate Hillary Clinton thinks everyone should shut up and stop second-guessing her (and her husband's) voracious appetite for money. Clinton, who charges up to $200,000 to give one-hour speeches to Goldman Sachs executives and others, claims that she and Bill were "dead broke" and in debt following their eight years in the White House, and "struggled" to pay the mortgages on their multiple mansions and finance their daughter Chelsea's education at Stanford, Oxford, Columbia, and Oxford (again).
Hillary, Obama, and the Democrats' Vices. Since 1992, the Clintons have had exceptional, almost unparalleled political power. From the point of view of most Americans, they've been wealthy. But not super-wealthy. In 1992, they listed their net worth at nearly $700,000. Yes, they had to spend quite a bit of money on lawyers during their time at the White House. But even before President Clinton gave his first post-presidential speech or signed his first book deal, he was going to get a pension of about $199,000 per year, plus a taxpayer-funded office, etc. She was elected to the Senate, with a salary of $141,300. Hillary Clinton famously declared she and her husband were "dead broke" when they left the White House; of course, around that time they bought a $2.35 million home in Chappaqua. Between leaving the White House and beginning her Senate term she signed the $8 million book deal for "Living History"; years later, she got a $14 million advance for "Hard Choices."
Clinton spent heavily on charters before races. Before her 2006 Senate re-election campaign and 2008 presidential bid, then-senator Hillary Rodham Clinton dramatically increased her use of taxpayer-funded charter flights, becoming the Senate's biggest spender on reported charter airfare. In the four years before the 2008 presidential campaign, she spent more than $300,000 on charters while the four other senators running for president — including then-senator Barack Obama — took a grand total of two taxpayer-funded charter flights. Clinton spent $225,000 traveling on such charters during her eight-year tenure. That covers only her own airfare. The figure rose to $527,000 when the cost of the staff who flew with her is included. Clinton almost always flew with senior adviser Huma Abedin, and spokesman Philippe Reines was also a regular passenger, Senate spending records show.
Hillary's Messy Habits. Hillary and Bill Clinton have one home in Washington, D.C., another in Chappaqua, N.Y., and a whole wide world that opens its arms and wallets to them. [...] Although they've long been derided for a surrender of principle when they're on the hunt for donations, their foundation has raked in money in a manner that opens them up to fresh, predictable accusations of that. Although they've long been cast as greedy — remember the china, flatware and furniture carted out of the White House? — they hit the speaking circuit in a way that only strengthened that impression.
Will the Clintons' Greed Do Them In? It has long been remarked that a certain Dogpatch air hangs over Bill and Hillary Clinton. They have, apparently, led separate lives for quite a few years, but one quality that they share is greed. Indeed, they seem unable to restrain that grasping instinct even when it undermines their presumably more important goals — as, for example, when Hillary extracts $300,000 from universities for 45 minutes of platitudes.
Hillary Clinton [was] paid $300,000 for a speech lecturing the middle class on how they can make ends meet. Hopefully, her instructions reveal how I can make six figures a speech, which would certainly come in handy. Can you imagine the hubris of this woman — who has largely disappeared from public view as her "Smart Power" diplomacy initiatives have left the Middle East a boiling cauldron of death, torture, and pain — to dare lecture middle class Americans on making ends meet?
From the Clinton Foundation, a Heaping Pile of Corporate BS. The Clintons just can't help themselves. As Bloomberg editor John Heilemann said on Monday [2/23/2015]: "Their obsession with money ... has been a hallmark of their careers." When the Wall Street Journal revealed last week that the Bill, Hillary, & Clinton Foundation had quietly dropped its prohibition on donations from foreign governments, many thought it was an especially sleazy move, even for the Clintons. The foundation's initial response was defensive and evasive, agreeing only to reevaluate its acceptance of foreign donations "should [Hillary] decide to run for office."
Still dead broke: Hillary Clinton makes Grimes pick up the tab for charter flight. Despite her comments suggesting she and her husband were "dead broke," Hillary Rodham Clinton has had a good year for her personal finances, running a battery of six-figure speeches and scoring a $14 million advance for her memoirs. But she's apparently not making enough to cover her lavish charter flights to help out her fellow Democrats. Politico reported that Kentucky Senate hopeful Alison Lundergan Grimes' campaign shelled out more than $17,000 to bring Mrs. Clinton to a campaign rally last month.
Hillary Clinton to deliver Vegas speech for $225G fee. Hillary Clinton called for businesses to collaborate with universities to make higher education more affordable at a $225,000 speech Monday night [10/13/2014] at the annual University of Nevada Las Vegas Foundation dinner. "Higher education shouldn't be a privilege for those able to afford it," Clinton told a crowd of approximately 900 people. "It should be an opportunity widely available for anybody with the talent, determination and ambition."
The Editor says...
In a free country, everything is "a privilege for those able to afford it," so that's why normal people get jobs and make money, with which they can buy what they want, e.g., college education. Mrs. Clinton is apparently willing to have the government supply college education for everyone, because "higher" education these days (at most universities) is nothing more than leftist indoctrination.
Actually, Getting Rich Is Hillary's Greatest Achievement. [T]he problem with Hillary isn't that she's wealthy. It's not even that she became wealthy asking for exorbitant fees while most Americans were living through a brutal recession. Nor is it that, for the most part, she's lived a privileged life under the protection of taxpayers for decades and still acts like she's broke. It's that today she has nothing to offer voters but a reconstituted Obama-style populist progressivism that doesn't fit her history. She may well win, of course. But that would have more to do with the luck of history than her political skill.
Hillary Clinton's wealth complicates image as populist champion. When your own minimum wage reportedly is in the neighborhood of $200,000 a speech, it might be difficult to sell yourself as the populist champion of the working class. In recent weeks, Hillary Rodham Clinton has begun a calculated transition from respected diplomat to fierce advocate for the 99 percent, using a "haves versus have-nots" message to build support among progressives who are desperate for a strong voice to battle Wall Street, protect entitlement programs such as Social Security and promote income equality. But for Mrs. Clinton, a rich, successful woman and part of one of America's most powerful political families, there are questions about how effectively she can carry that banner if she runs for president in 2016.
Duck This Dynasty. What does Hillary Clinton have to do with inequality in America? She's no robber baron, of course. But the core case against inequality isn't about resentment of wealth — it's about the ways in which the concentration of wealth is making politics increasingly pointless, a game of access and not arguments. Anyone who fears that future should think twice before casting a ballot for a dynastic politician, because dynastic candidates turn politics pointless in essentially the same way. They trade on family capital to make elections less meaningful; they are prone to be inflexible and indifferent to inequality; and they have good reason to be even less accountable to the public than ordinary politicians. Concentrated economic power and concentrated political power are, in the end, two sides of a coin.
Disingenuousness, evasiveness and dishonesty:
What Hillary said in her lucrative speeches remains a mystery. The Clintons earned more than $25 million in 2014 from speech income, and a second list released by the Clinton Foundation this week showed that an additional $12 million or more was directed to the family charity after 2001 from 97 speeches made by Bill, Hillary or Chelsea Clinton to various universities, businesses and foreign entities. The Clintons have offered no explanation for how they decided which speech earnings to donate to their charity and which to take as income. The lists offer a glimpse into complex relationships the Clintons have with numerous special interests that hired them as speakers, all of which could pose ethical questions as Hillary Clinton makes a run for the White House. Clinton has guarded herself from some criticism by keeping the speech texts private and signing contracts in which her remarks must be closely held.
Hillary Clinton's terrible, horrible, no good, very bad Friday. Campaign events with Clinton are "staged" and her staffers will only admit supporters who are "pre-selected" and "pre-screened," Associated Press reporter Julie Pace said Friday [5/22/2015], reiterating a media complaint that is growing louder by the week. Unsurprisingly, being tightlipped with reporters has not gone over well with newsrooms, but there are other issues that are starting to rub the press the wrong way.
Flying as close to the flame as Hillary dares. Neither Bubba nor Hillary know how to tell the truth, but both of them are masters at spinning the lie. The dump of some of Hillary's official emails this week reveals just how she operated as the secretary of State, employing an old courtier to help her deceive and distort the facts about her role in hanging an American ambassador out to die in Benghazi.
The State Department's In-Kind Contribution to the Clinton Campaign. The State Department is taking a page directly from the IRS's playbook. First, you destroy incriminating emails, but don't tell anyone. Former Top IRS official Lois Lerner and the IRS perfected this as thousands of her emails mysteriously disappeared. Clinton played that part well, destroying emails on her own private server instead of using the government server, while State Department staffers blocked attempts by the public to obtain public information. Second, you wait years until the public discovers what you've done. Third, you deny anything happened to the emails. Fourth, you cover up. When that is no longer feasible, you delay, stonewall, obfuscate, and otherwise drag out the process of turning over said emails.
Top Clinton Aides Worked To Limit And Block Access To Public Records. Cheryl Mills, then Secretary of State Hillary Clinton's chief of staff, and other top Clinton aides were personally involved in certain Freedom Of Information Act requests during Clinton's tenure at the State Department, the Wall Street Journal reports.
Another day, another press dodge for Hillary Clinton. Monday [5/18/2015] marked another day and another dodge for Hillary Clinton, who is increasingly coming under attack for not answering questions on the campaign trail. The numbers are in dispute, but the rough estimate is that Clinton has only fielded 13 questions from the press during the first 37 days of her official candidacy for the White House.
Three Pinocchios:
Clinton's inaccurate claim that immigrant detention facilities have a legal requirement to fill beds. The United States has broad authority to hold immigrants in civil custody while determining whether they legally entered the country. [...] During her recent immigration discussion, the Democratic presidential candidate called for a "better, fairer and more humane" immigrant detention system. Detention centers privately contracted with the federal government have a legal requirement to fill beds, she said, which makes no sense and is "not the way we should be running any detention facility."
The Democrats' Baffling Behavior. My perplexity starts with former President Bill Clinton. How has such a talented man become so tone-deaf? [...] He justified his continued acceptance of speaking fees up to a half-million dollars while his wife is running for president by saying, "I gotta pay our bills." That isn't likely to go over well with Americans whose median household income each year is one-tenth of what Mr. Clinton earns with one speech. When he tried to further the "we're just ordinary Americans" image by claiming he and Hillary had taken "almost no capital gains" since leaving the White House, did he not know or care that financial documents filed by Mrs. Clinton when she was a senator show that to be utterly false?
When elites lie without much consequence, the public follows their examples. Hillary Clinton, to be candid, is a habitual fabulist. She entered public life lying about everything from her 1-1000 cattle futures con to the location of her law firm's subpoenaed legal documents. Recently she has been unable to tell the truth in any context whatsoever. She will lie about big and small, trivial and fundamental, from the immigrant myths about her grandparents to the origins of her own name Hillary to her combat exposure in the Balkans. [...] Her press conference on the disappearing emails was unique in American political history in that everything Ms. Clinton said was, without exception, a demonstrable untruth.
Is Hillary Clinton too much of a 1 percenter to face the press? It looks like Hillary Clinton is aiming to make it to the White House without answering any questions more challenging than, "How are you liking Iowa?" [...] You have to wonder if the campaign is afraid to expose the candidate — or if the candidate's refusing to submit to the indignity of talking to the sweaty working press. Almost from the day they left the White House in early 2001, Bill and Hillary Clinton joined the 1 percent — hobnobbing almost exclusively with movers and shakers around the world.
Why would she announce her candidacy and then go into hiding? Is she playing rope-a-dope?
Hillary Hides from Media, Voters for First Month of Campaign. It's been a month since Hillary Clinton officially announced that she was running for president. On April 12, Hillary launched her presidential campaign by releasing a video — and then going into hiding as she road-tripped half-way across the country. And since then, Hillary has kept on hiding from the press — and the voters. The Democratic presidential candidate hasn't done a substantive interview since entering the presidential race. She hasn't held a press conference. She hasn't done an open campaign rally, either.
Hillary Clinton hasn't answered a question from the media in 20 days. Welcome to day 29 of the Hillary Clinton 2016 presidential campaign! In those 29 days — including April 12, the day she announced, and today — Clinton has taken a total of eight questions from the press. That breaks out to roughly one question every 3.6 days. Of late, she's taken even fewer questions than that.
Four Pinocchios:
Clinton's claim that illegal immigrants pay more in taxes than some corporations. "In New York, which I know a little bit about because I represented it for eight years and I live there now, our undocumented workers in New York pay more in taxes than some of the biggest corporations in New York." — Hillary Clinton, roundtable in North Las Vegas, May 5, 2015.
Forbidden Questions. Might Hillary reveal to us her exercise regime? Back in 2011 she told Politico about her weekly workouts at home with a personal trainer and a personal yoga instructor. But we've never actually seen Hillary do anything physical.
Video proof: Hillary Clinton has manufactured more accents than Hyundai. You can't say "phony" enough times to describe Hillary Clinton, but this is truly amazing: [Video clip]
She's a flip-flopper from day one:
How Hillary Clinton is running against parts of her husband's legacy. On issues large and small, the Democratic presidential contender is increasingly distancing herself from — or even opposing — key policies pushed by Bill Clinton while he was in the White House, from her recent skepticism on free-trade pacts to her full embrace of gay rights. The starkest example yet came Wednesday, when Hillary Clinton delivered an impassioned address condemning the "era of incarceration" ushered in during the 1990s in the wake of her husband's 1994 crime bill — though she never mentioned him or the legislation by name.
Bill Clinton's Wife Condemns 'Scourge Of Sexual Assault' In First Big Speech. Thanks to her husband's actions as president and as the governor of Arkansas, Hillary is no stranger to the sexual assault scourge.
Tracking Hillary Clinton's Use of Every American Accent East of the Mississippi. Over the past three decades, Clinton's accent has moved around a lot.
Hillary Says! 'We are all immigrants!' Voilà! In addition to handling a private/official email problem, flying coach, and carrying her own luggage, Hillary Clinton may now be able to add to her list of outstanding accomplishments singlehandedly resolving the contention surrounding immigration reform. Recently, on a tightly stage-managed listening tour Hillary, granddaughter of alleged immigrants, revealed her acute sensitivity for the plight of — you guessed it — immigrants.
From Fauxcahontas to the coal miner's granddaughter. It's one thing for Hillary Clinton to lift Granny Warren's applause lines, but now she's speaking with a forked tongue about her grandparents, just like the fake Indian does. You know how Fauxcahontas says she's an Indian because her grandma told her she had "high cheekbones"? [...] Now Hillary is out in Iowa making it up about her grandparents, saying, "All my grandparents, you know, came over here." Er, no. Actually, only one of them did.
Hillary's Fatal Conceit. While in the Hawkeye State, Mrs. Clinton's fabrications [...] included the lie that "all my grandparents, you know, came over here (as immigrants)." Even the liberals at PolitiFact point out that only one of her four grandparents was not born in the United States.
Hillary Clinton Wrong On Family's Immigration History, Records Show. Speaking in Iowa Wednesday [4/15/2015], former Secretary of State Hillary Clinton said that all her grandparents had immigrated to the United States, a story that conflicts with public census and other records related to her maternal and paternal grandparents. The story of her grandmother specifically immigrating is one Clinton has told before.
Hillary fudges the truth about her 'immigrant' grandparents. Hillary Rodham Clinton fudged her family history at a campaign appearance in Iowa Wednesday [4/15/2015] when she described her grandparents as immigrants. "All my grandparents, you know, came over here and, you know, my grandfather went to work in a lace mill in Scranton, Pa.," Clinton said. But, acccording to documents posted on Buzzfeed.com, only one of her grandparents immigrated, while the others were born in the United States shortly after their parents arrived.
Obama, Hillary Clinton pay equality records fall short of Democrats' rhetoric. Democrats made a big show Tuesday of promoting equal pay for women, unfazed by data showing that both President Obama and leading presidential contender Hillary Rodham Clinton haven't walked the walk on pay equity. Mr. Obama declared Tuesday [4/14/2015] to be National Equal Pay Day, a symbolic measure of how far along the yearly calendar a woman needs to work to earn as much as her male counterpart did the year before. [...] But it's well documented that his White House has a history of paying female staffers less than men on average. An analysis of White House salaries last July showed that there was still a 13 percent pay gap between male and female staffers.
Ready to Defeat Hillary. Never before has a Presidential candidate played so fast and loose with the truth as has Mrs. Clinton. From her refusal to shoot straight with the American people on the deaths of four Americans, including an ambassador, in Benghazi, to her unwillingness to play by the rules in the handling of her official emails during her time at the State Department, we have seen time and time again that Hillary Clinton thinks she does not have to follow the laws the rest of us have to follow.
Ready for Blatant Censorship. According to Hillary, after her husband was forced to retire from his job as President of the United States, the impoverished couple lacked financial resources with no future job prospects or source of income for Bill. Hillary, with a husband and one child to support, was forced to find work, any work she could. And she did. All by herself. The financially strapped Clinton family moved to New York State, somehow scraped together money for a down payment and qualified for a mortgage on a $1.7 million home in a town inhabited by the upper 10% in wealth. Adapting to her new situation, plucky Hillary soon found a job as U.S. senator from her new home state based just on her totally awesome skills.
Hillary Clinton doubles down on poverty claim and says 'relentless persecution' by Republicans made them 'deeply in debt'. Former secretary of state Hillary Clinton told the German magazine Der Spiegel on Tuesday that she and her husband Bill were indeed 'deeply in debt' when they left the White House and blamed 'relentless persecution' by Republicans for her legal bills after his presidency. The claim has added fuel to the fire Clinton herself touched off last month when she claimed they were 'dead broke' after their time in the White House. The former first lady earns $200,000 or more every time she makes a public speech. The former president has earned a reported $104 million in speaking fees since he left the Oval Office behind him.
Hillary's biggest problem: she's a phony. By far, Hillary Clinton is the best-known presidential candidate in the world. Everybody knows her status, her name, but not where she stands on the issues. She reminds you in every speech that it's time for a woman, especially if she is the woman in the picture.
More examples of Hillary's dishonesty
Media bias in Hillary's favor:
ABC spokeswoman in Stephanopoulos flap worked in Clinton White House. The ABC News spokeswoman who slow-walked The Washington Free Beacon's request for comment on George Stephanopoulos' undisclosed donations to the Clinton Foundation also worked in the Clinton administration. Heather Riley — spokeswoman for ABC News programs "Good Morning America" and "This Week" — worked in the White House press office from 1997 to 2000, according to her LinkedIn profile, and is a member of the Facebook group "(Bill) Clinton Administration Alumni."
Clinton Camp Demands Anonymity On Conference Call With Media. Hillary's brief interaction with the press in New Hampshire was not well received by some on a recent conference call. Clinton's campaign told reporters on the rare media conference call last week that names of Clinton campaign reps on the line should remain anonymous. A Nashua Telegraph reporter on the call said the Clinton team made the request so they could speak "candidly." In the end, the conference call had such little substance.
How Stephanopolous Tried to Save Hillary in 2008. Always more an activist than a journalist, once Hillary was knocked out of the campaign Stephanopoulos joined his pals in their quest to get Obama elected. He got a chance to prove his loyalty in September of that year when interviewing the senator on ABC's This Week. "You are absolutely right that John McCain has not talked about my Muslim faith," said Obama carelessly. Stephanopoulos quickly corrected him with a sotto voce "Christian faith," and Obama affirmed the correction. The rest is history. Were it not for "reporters" like Stephanopolous the comically inept and hopelessly corrupt Ms. Clinton would not dare run for mayor of Chappaqua. As it is, she could well be the next president of the United States.
Christie: Imagine If I Made Hillary's Excuses During Bridgegate. New Jersey Governor and prospective GOP presidential candidate Chris Christie criticized the media for having a double standard in its Bridgegate coverage compared to how it has covered Hillary Clinton's emails and the Clinton Foundation on Thursday's [5/21/2015] "Squawk Box" on CNBC.
Poof! CNN's Jake Tapper disappears from Clinton Foundation website. Yet another high-profile TV newsman may find himself embroiled in controversy over his connections to the Clinton Foundation. Until late Tuesday afternoon [5/19/2015], the Clinton Foundation website listed CNN anchor Jake Tapper as a "speaker" at a Clinton Global Initiative event scheduled for June 8-10 in Denver. After USA TODAY asked CNN about the event, Tapper's name was swiftly removed from the Clinton Foundation website.
That was Quick: George Stephanopoulos Back on Hillary Stories. Journalists on all three networks, Wednesday [5/20/2015], covered Hillary Clinton talking to reporters for the first time in a month. Yet, ABC's Good Morning America managed to do the story without any Republican critics and with George Stephanopoulos returning to anchor the segment. GMA correspondent Cecilia Vega underlined, "Twenty eight days. That's how long Hillary Clinton went without taking questions from reporters and, believe me, we have been asking."
The protected, connected liberal media elite. [ABC anchor George] Stephanopoulos was busted by the Washington Free Beacon last week for donating a total of $75,000 to the Clinton Foundation without disclosure to his employer or the audiences he serves. The revelation came less than one week after Stephanopoulos conducted a harsh interview with Clinton Cash author Peter Schweizer, where he accused him of having a lack of evidence to support his claims that Hillary Clinton traded political favors for donations to the Clinton Foundation during her time as secretary of State. Stephanopoulos defended the Clintons and the Clinton Foundation and claimed ABC News had done a thorough investigation and found no wrongdoing — all while hiding his own donations to the organization.
NY Post: Stephanopoulos gets $105M from ABC. When it emerged that George Stephanopoulos had failed to disclose $75,000 in donations to the Clinton Foundation to either the network or viewers while repeatedly covering the organization, ABC News declared that it would stand by its "chief news anchor." The New York Post's Emily Smith explains that they have one hundred and five million reasons to ignore their own declared standards and practices. ABC renewed Stephanopoulos' contract last year for more than double what NBC paid Brian Williams ... and it's working out just as well.
GOP Exposes Second Hillary Clinton Email Address NY Times Ignored. The New York Times has published two articles on the relationship between former Secretary of State and 2016 Democratic presidential frontrunner Hillary Clinton and longtime confidant Sidney Blumenthal. It has been known for some time that Blumenthal, barred by the Obama White House from working at State, nevertheless ran "a secret, private intelligence network" for Mrs. Clinton's benefit, "apart from the State Department's own Bureau of Intelligence and Research."
George Stephanopoulos' future — and $105M contract — in danger. The "Good Morning America" and "This Week" anchor renewed his contract last year for $105 million, TV industry sources told The [New York] Post Monday [5/18/2015]. The seven-year deal — which dwarfs the five-year, $50 million contract scored by since-suspended NBC rival Brian Williams — was supposed to keep Stephanopoulos in front of ABC's cameras through 2021. But now his credibility, and future, have been called into question since he admitted Friday that he had donated $75,000 to the Clinton Foundation since 2011, just as the presidential race gears up with Hillary Rodham Clinton the leading Democrat.
10 questions Hillary Clinton won't answer — Part I. The nation was treated recently to four days of blanket news coverage and adverse commentary on Republican Jeb Bush's clumsy answers to hypothetical questions about what he might or might not have done about invading Iraq if he had been president and had or had not known its dictator possessed no weapons of mass destruction. Unlike then Florida Gov. Bush, Sen. Hillary Clinton actually voted to authorize the war in Iraq, bearing some responsibility for the conflict. Did you hear her responses to the same set of questions? No, you didn't. She wasn't asked.
ABC Policy Required Stephanopolous to Disclose His $75,000 Clinton Foundation Donation. ABC News policy required that George Stephanopolous disclose his contributions to the Clinton Foundation to management before covering stories related to it, according to an ABC spokesman who responded to a Washington Free Beacon inquiry. Stephanopolous issued an on-air apology on Friday's [5/15/2015] Good Morning America after it was discovered by the Washington Free Beacon's Andrew Stiles that he had covered news directly related to the Clinton Foundation without disclosing that he contributed $75,000 to it.
Stephanopoulos's Long, Long Record of Loyal Service to the Clintons. If George Stephanopoulos had simply donated $75,000 to the Clinton Foundation while also serving as one of its favorite media panelists, the controversy over his conflicts of interest would be much less. Stephanopoulos would be guilty of a clear error, but he also would have had a lot of media company. What makes his scandal different is that he himself chose to interrogate Peter Schweizer, the author of Clinton Cash, the new exposé on the Clinton Foundation. If you watch the interview, it's pretty obvious that Stephanopoulos is playing prosecuting attorney against Schweizer while also declining to ask key questions, for instance, about Hugh Rodham, Hillary Clinton's brother and his highly questionable dealings involving the foundation.
Press gobbles up Hillary's spam campaign. The Clinton campaign is like a funhouse mirror version the Obama White House. Tightly controlled press access has become no press access. Opaque accountability has become concrete-thick secrecy. Augmenting traditional public interactions with, um, unconventional outreach has become a public persona that is just a Spam loaf of stagy interactions. With the help of a cadre of Obama insiders who pioneered the style, Hillary Clinton is on an expedition into the deep space of an airless, utterly contrived campaign. And guess what? It's working. She and her team are probably delighted in their ability to run for president without actually running and without having to play by the rules (again).
Weasel words from a weasel. When [George] Stephanopoulos's contributions to the Clinton Foundation were discovered by the Free Beacon's Andrew Stiles and leaked by Stephanopoulos, or on his behalf by ABC public relations, to Politico, Stephanopoulos prepared a statement that amounted to old-fashioned damage control. [...] Stephanopoulos wraps his statement in a profession of his great generosity, of which the Clinton Foundation was coincidentally an additional beneficiary. He made the donations over the past three years only to support worthy causes: to heal the sick, protect the weak and feed the starving. Make room for the apostle George.
Dishonest mistake. Of course he's from Massachusetts. How could George "Steffi" Stephanopoulos possibly be from anywhere else — he's insufferably smug, duplicitous, politically correct, corrupt and obscenely overpaid. And most significantly, in the tradition of every Bay State sleaze from Ted Kennedy to Barney Frank to Jonathan Gruber, Steffi is going to get away with it.
George Stephanopoulos's top ABC spokeswoman was a Clinton employee too. The ABC News spokeswoman who is helped anchorman George Stephanopoulos navigate the media fallout from his Clinton Foundation contribution scandal is herself an alumna of the Bill Clinton White House, Daily Mail Online can reveal. Heather Riley is a vice president of communications at the network, in charge of handling media requests for 'This Week with George Stephanopoulos, 'Good Morning America,' 'World News Tonight' 'Nightline' and '20/20.' Her first job, however, was in the West Wing press office during Clinton's second term.
George Stephanopoulos's Clinton Foundation Hypocrisy Is Staggering. The problem with George Stephanopoulos's Clinton-gate mess is that his own words prove him to be both a bully and a hypocrite, as well as abjectly unethical.
Clinton Foundation donors include dozens of media organizations, individuals. NBC Universal, News Corporation, Turner Broadcasting and Thomson Reuters are among more than a dozen media organizations that have made charitable contributions to the Clinton Foundation in recent years, the foundation's records show. The donations, which range from the low-thousands to the millions, provide a picture of the media industry's ties to the Clinton Foundation at a time when one of its most notable personalities, George Stephanopoulos, is under scrutiny for not disclosing his own $75,000 contribution when reporting on the foundation.
George Stephanopoulos A Member Of Clinton Global Initiative In 2010, 2011. George Stephanopoulos' connections to the Clinton Foundation may be more substantial than he has so far admitted. An archived page of the Clinton Global Initiative website lists George Stephanopoulos as a "notable member" for the years 2010 and 2011. ABC News has confirmed Mr. Stephanopoulos was a member during both years.
Ten Times George Stephanopoulos Sucked Up to the Clintons on ABC News. George Stephanopoulos may be in trouble right now for donating cash to the Clintons but for years he's been giving in-kind contributions, in the form of on-air praise and suck-up questions to them in his time as anchor of Good Morning America and host of This Week. In a 2007 interview with former President Bill Clinton about the Clinton Global Initiative, Stephanopoulos asked if his old boss worried that he might be become better remembered as the "philanthropist who happened to be President." He also gleefully wondered if Bill's old slogan of "buy one, get one free" was still in effect if Hillary were to win the presidency as he pressed: "Is it more true now than it was then?"
Flashback: George Stephanopoulos to Hillary Clinton: 'I Love You'. Former Democratic operative turned journalist George Stephanopoulos was rocked this week by the revelation that he donated $75,000 to the Clinton Foundation, an action he kept from the public and his bosses at ABC. This is the same Stephanopoulos who grilled the author of a book critical of the foundation's finances. But Stephanopoulos's affinity for the Clintons has never been in doubt. In 1999, the now-ABC anchor recounted his "love" for Hillary Clinton and the heartfelt affection he received in response.
Quotes of the day. How deep in bed is ABC with the Clintons? ABC is the same network that not only edited its own "Path to 9/11" miniseries to protect the Clintons; ABC has since memory-holed the miniseries. Rather than make money with a DVD release or a re-broadcast, ABC decided instead to protect the Clintons by deep-sixing a miniseries critical of Bill Clinton. How are we supposed to begin to trust an anchorman and news outlet that would cover up such a massive conflict of interest until they were caught — and then engage in Clintonian spin after being caught?
Flashback: To Protect Clintons, ABC Censored and Buried 'Path to 9/11' Miniseries. The length to which ABC, its news division, and its parent company (Disney) have gone to protect and curry favor with the Clintons is almost impossible to grasp. To begin with, in 1996, ABC News hired George Stephanopoulos, a former Clinton campaign and White House official. Within a few years he would become the ABC new division's chief anchor and political reporter. Then, just today [5/14/2015], we learn that ABC News and Stephanopoulos are involved in a massive conflict of interest — a $50,000 donation Stephanopoulos made to the Clinton Foundation.
'Clinton Cash' author slams Stephanopoulos: 'Massive' ethics breach. The author of a new book that scrutinizes the Clinton Foundation is slamming ABC News anchor George Stephanopoulos for not publicly disclosing his donations to the group. Peter Schweizer questioned the journalistic integrity of Stephanopoulos, who, during a testy interview on ABC's "This Week," was among the first reporters to question the claims in Schweizer's book, Clinton Cash.
I never want to see George #Stephanopoulos moderate another debate. This is ridiculous. More to the point, it's insulting. Did they think that people wouldn't ferret this stuff out?
ABC's Stephanopoulos Grilled "Clinton Cash" Author: Forgot to Note His Own Donations to Bogus Foundation. While Politico got credit for the story, it turns out it was Andrew Stiles at Washington Free Beacon who broke the original scoop.
Donation disclosure issue snowballing for ABC News, Stephanopoulos. Revelations that George Stephanopoulos made donations to the Clinton Foundation in recent years, while failing to disclose them in relevant news reports, are generating a world of trouble for ABC News and its chief anchor. [...] Sen. Rand Paul (R-Ky.), a presidential candidate, said that the donations essentially disqualified Stephanopoulos from moderating debates in the 2016 race. "It's impossible to divorce yourself from that, even if you try. I just think it's really, really hard because he's been there, so close to them, that there would be a conflict of interest if he tried to be a moderator of any sort," said Paul.
Why Stephanopoulos tarnished his credibility by hiding his Clinton Foundation donations. For 18 years, George Stephanopoulos has tried to leave behind his political past as a Clinton Democrat and establish himself as an unbiased journalist at ABC News. Now he's cast a dark shadow over that very question. By donating $75,000 to the Clinton Foundation, and failing to disclose it, Stephanopoulos has committed an awful blunder. He has handled the story badly. And ABC is giving him a pass.
The Great Stephanopoulos Mess. [Scroll down] The donation corrodes much of the journalistic credibility Stephanopoulos has labored so carefully to build since joining ABC News as a correspondent and analyst in December 1996. Stephanopoulos critics were many at the time of his appointment, predicting his crack-up even before he completed his first assignment. The Los Angeles Times' Howard Rosenberg spoke for many when he prophesied that Stephanopoulos would not be able to "shed his intense loyalty for Clinton in his new role."
Ex-operative gets J-school ethics lesson. [George] Stephanopoulos, who leveraged his role as a political operative for Hillary and Bill Clinton to become among the most prominent faces at ABC News, was outed Thursday [5/14/2015] as an undisclosed donor to the Clinton Foundation. It wasn't all that much, by Stephanopoulos standards, just $50,000 over two years — wait, it was $75,000 over three years — or slightly less than a day's pay a year based on his $8 million annual salary. Even if his motivations were precisely as cooked up — uh, provided — (to support the foundation's worldwide battle against deforestation and AIDS, he — wink — says) the payments were a lousy idea. This is indisputable.
Hillary Clinton's 2016 Campaign Manager Interned for George Stephanopoulos. Overt connections between ABC news anchor George Stephanopoulos and the 2016 Hillary Clinton presidential campaign continue to surface; Clinton's campaign manager, Robby Mook, once worked as an intern for Stephanopoulos when the news anchor briefly worked at Columbia as a visiting professor.
Whom would you pick to moderate the Republican debates? The surprising thing isn't that George Stephanopoulos donated to Hillary's charity/slush fund and didn't tell anyone about it. The really surprising thing is that Republicans continue to pick debate moderators who are clearly liberals. Regardless of whom George did or did not donate to, we know what side he's on. My radical suggestion is to pick debate moderators who are either conservatives or clearly impartial, who won't ask gotcha questions akin to "Why do Republicans hate the poor?"
Is George Stephanopoulos the Next Brian Williams? With word emerging today [5/14/2015] that ABC News chief anchor George Stephanopoulos gave "$50,001 to $100,000" to the Clinton Foundation, the network will soon face the Brian Williams Quandary — is its top "newsman" trustworthy when delivering news. Stephanopoulos only disclosed the donations to the nonprofit when asked about them by a reporter from the Free Beacon (choosing to control the story through a statement to friendly liberal outlet, Politico).
Schweizer to ABC: 'Let's Do Another Interview'. Clinton Cash" author and Breitbart Senior Editor-at-Large Peter Schweizer suggested that ABC "do another interview" with him on Thursday's [5/14/2015] "Hannity" on the Fox News Channel. "I think what ABC could do is let's do another interview on the Sunday morning show to talk about the contents of the book. So, we actually get a chance for viewers to hear what is in the book. That's the first thing that I would ask. [...]"
Stephanopoulos and ABC News now in a no-win situation. George Stephanopoulos's self-recusal from the GOP debates constitutes an admission of his lack of impartiality, but he refuses to take it to the logical conclusion and recuse himself from the presidential campaign. That is going to be increasingly difficult for him and ABC News to defend. If he admits to being tainted, then how can he be trusted to cover Hillary Clinton fairly? Of course, for the man ABC News has made its principal face, recusal from the biggest story of the next year and a half would be untenable. How could he continue in his role as anchor?
ABC Must Bench Stephanopoulos on Sunday Mornings for Failure to Disclose Clinton Donation. More than a few people in the business wondered aloud why Stephanopulos conducted such a partisan interview with Peter Schweizer, the author of Clinton Cash. It was as if we were witnessing the 1993 version of George, the one who served as de facto press secretary for the Clinton administration, trying to destroy a narrative as if he was getting paid to do it. In case you missed it, Schweizer's credibility was attacked for the entire interview while exactly zero of his claims about the Clintons were even remotely entertained by the host — the same who contributed to the very foundation in question.
Stephanopoulos Apologizes On-Air for Not Disclosing Clinton Foundation Donations. The Washington Free Beacon reported yesterday that the ABC News anchor had made about $75,000 in donations to the foundation, run by former president Bill Clinton and wife, Democratic presidential candidate Hillary Clinton. Stephanopoulos confirmed this information to Politico, and in this morning's statement, added that he'd publicly made the donations to "stop the spread of AIDS, help children, and protect the environment in poor countries."
The Editor says...
So, George, did you stop the spread of AIDS, help children, or protect the environment? My guess is your money didn't help anybody outside of Chappaqua.
Stephanopoulos' $75,000 Gift To Clintons Underlines Media Corruption. In another sign the left's grip on the news is bigger than anyone knew, ABC News' George Stephanopoulos hid a $75,000 gift to the Clinton Foundation even as he reported news about corruption allegations. While skeptically interrogating author Peter Schweizer about "Clinton Cash," his book exposing the Clinton Foundation last April 26, the anchor for ABC News conveniently left out the highly relevant fact that he himself had donated $75,000 to the Clinton Foundation.
Flashback: Clinton Donor George Stephanopoulos Praised Foundation. Showcasing an extreme conflict of interest, it was revealed on Thursday [5/14/2015] that George Stephanopoulos donated $50,000 to the Clinton Foundation and did not disclose the contribution to the public or his employer, ABC. A look back at past interviews shows a cozy Stephanopoulos fawning over the charity.
Geraldo: ABC Fired Me for $200 Donation, Why Not the Same for Stephanopoulos? Geraldo Rivera sees a double standard at work in ABC News' decision to stand by George Stephanopoulos after the network's chief anchor apologized for failing to publicly disclose $75,000 in donations to the Clinton Foundation over the last three years. In a Facebook post Friday morning [5/15/2015], Rivera claimed he was fired by ABC News in 1985 for making a $200 political donation and wondered why Stephanopoulos isn't getting the same treatment. "In 1985, after fifteen great years, I was fired by ABC News," Rivera wrote. "The official reason for my firing was a non-disclosed $200 donation to a family friend running in a non-partisan mayoral campaign in New Bedford Massachusetts."
George Stephanopoulos discloses $75,000 contribution to Clinton Foundation. ABC News chief anchor George Stephanopoulos has given $75,000 to the Clinton Foundation in recent years, charitable contributions that he did not publicly disclose while reporting on the Clintons or their nonprofit organization, the On Media blog has learned.
The last nail in the coffin of MSM credibility?
George Stephanopoulos donated $50k to Clinton Foundation, did not disclose when interviewing Peter Schweizer. It is time for him to resign, and if he does not, for ABC to fire him.
Stephanopoulos Recuses Himself From GOP Debate. In frantic damage control mode, ABC's George Stephanopoulos ran to the safe zone of the left-wing Politico to announce the he will recuse himself from ABC's February GOP debate in New Hampshire. He also admitted that the total amount he contributed to the Clinton Foundation was a whopping $75,000, not the $50,000, as originally reported.
Clinton — 30 Days, 8 Press Questions; Fiorina — 8 Days, 322 Press Questions. Tuesday [5/12/2015] will mark exactly 30 days since Hillary Rodham Clinton launched her official presidential bid for the White House, yet she still hasn't done a formal sit down interview with national media, setting a record for the longest running presidential candidate without doing so following a campaign launch, as first reported by Breitbart News. Unlike Clinton, GOP presidential candidate Carly Fiorina has been on what CNN coined a "media blitz" introducing herself to voters.
Hillary Clinton Goes 24 Days Without Talking To Media. The fact that Hillary Clinton — the likely Democratic presidential nominee — hasn't addressed the controversy over her private email server and the fundraising controversy surrounding the Clinton Foundation in an interview or with the public seems to be causing the former Secretary of State to take a hit in the polls.
How long will her media allow Hillary Clinton to avoid questions? Clinton's skating smoothly so far because despite little gripes here and there, media members have largely gone along with the Clinton campaign's determination to protect the party's most likely presidential nominee from awkward questions, gaffes and hypocrisy charges. Planners do this by plopping her in front of hand-picked sympathizers to ask them questions that allow her to utter the day's themed policy platitudes, as cameras snap and roll.
Clinton "Déjà vu" Scandals. During the Democrat presidential primary debates of 1992, then California Attorney General Jerry Brown accused then-Arkansas governor Bill Clinton of being involved in a shady real estate business known as the Whitewater Development Corporation. While Clinton was able to sidestep the issue that evening, the tip was given to the press and they began to take a look into the situation. As evidence of crooked deals and illegal land-flipping grew more and more obvious, the liberal-leaning press got less and less curious, especially after Bill Clinton won the 1992 election and began to settle into office.
Here Are All Seven Media Questions Hillary Clinton Has Answered During Her Campaign. When the press corps comically sprinted across an Iowa lawn in pursuit of Hillary Clinton's van, they weren't just hoping to catch a glimpse of the most-likely Democratic presidential nominee. They were hoping to ask Clinton questions, and — in the dream scenario — get an answer. Those answers, however, have been few and far between. Despite being bombarded with press questions at every chance, Clinton has only personally answered seven inquiries since formally launching her campaign April 12. Instead, she has spoken directly to voters in Iowa and New Hampshire, taking their questions in small-scale events.
Clinton Embroiled in Scandal Again, Newsweek Frets Over 'Enemies' Discrediting Her. [Scroll down] The worst reading of this is that the media is hopelessly biased in favor of Democrats, and to some latent degree actually buys into Hillary Clinton's famous assertion that there's a "vast right-wing conspiracy" out to get her. The most favorable interpretation of this is that the media is incapable of covering substantive facts in a straightforward manner, and always defaults to petty horse race coverage of the presidential race. And there's always a possibility that it's a little bit of both.
WashPost Reporter Claims: 'The Media Isn't Biased in Favor of Hillary'. Washington Post political reporter Chris Cillizza recently lectured Rand Paul not to play media critic. Now he's decided conservative media critics as a whole have no argument in an article provocatively headlined "No, the media isn't biased in favor of Hillary Clinton." There is no evidence for that charge, he wrote, even as he acknowledged the embarrassing video of journalists chasing after the Scooby van.
Hillary Clinton Campaign Wines & Dines Media at Off-Record Dinners. ABC's George Stephanopoulos, MSNBC's Joe Scarborough, and a half-dozen reporters from CNN were reportedly among the media elites that attended an off-the-record New York dinner with Hillary Clinton's advisers on Friday evening [4/10/2015] ahead of her Sunday campaign announcement.
Clinton spokesman circulates pro-Foundation talking points. Hillary Clinton is not happy with the recent spate of stories questioning the Clinton Foundation's fund-raising activities. On Monday morning [3/2/2015], in an email sent to allies in the Clinton orbit, her spokesman Nick Merrill circulated some helpful talking points.
Hillary's foreign fundraising mess: Even the liberal press is fed up. [Scroll down] What's more, what is now the Bill, Hillary and Chelsea Clinton Foundation thinks it's all right once again to solicit foreign governments that of course would love to buy influence with a potential president. A New York Times editorial urged Hillary "to reinstate the foundation's ban against foreign contributors" and "reassure the public that the foundation will not become a vehicle for insiders' favoritism, should she run for and win the White House." When you're a Democrat and lose the Times editorial page, you're in trouble. Now the broadcast networks have largely blown off the story, except for half a minute on CBS.
Big Media Blacks Out the Clinton Foundation Foreign-Money Story. [M]any liberal-media critics smell a rat every time the airwaves are filled with obsession over a frivolous story. NewsBusters clocked six minutes on the story of llamas running loose in Arizona, but only 32 seconds of coverage on one of the major networks (CBS) for the incredible tale of Hillary Clinton's foundation raking in foreign and corporate cash both during and after her tenure as Secretary of State.
Hillary Clinton Blames 'Different Media' For Dividing Country. Former Secretary of State Hillary Clinton complained that "different media" are dividing the country, making it impossible for people to even have a conversation with each other. Clinton made her remarks yesterday in an interview with Re/Code's Kara Swisher. She criticized America's "partisan bunkers" for getting in the way of confronting tough issues like racism, sexism and homophobia.
Liberal Media Ignore "Hillary Letters". [Scroll down] The letters also reveal that Clinton and Alinsky shared not only a similar political philosophy, but a fondness for each other as well, which is important to know and understand if Hillary runs for president, as she is widely expected to do. Hillary has tried to craft a more moderate image over the years, even stating in Living History that she didn't agree with Alinsky's anti-establishment tactics. But the letters showed that she was more in agreement with Alinsky than she has acknowledged publicly. And as far as we know, she still may share some of those views. Instead of the media asking Clinton about her views on Alinsky — given these letters — they have chosen to ignore them, to avoid damaging her chances in 2016. The silence is deafening.
Related topic: Obama and Alinsky.
Media In 2014: Who Is Saul Alinsky And Why Should We Care? Now if you're a moderately well-read person, you know who Saul Alinsky is. You know that he wrote the book — influential particularly for folks on the left — Rules for Radicals. And if you were born before a few years ago, you know that Clinton has always been a tad touchy regarding her ties to Alinsky. When she was First Lady and it was discovered that her senior thesis was written on Alinsky's controversial tactics, someone — no idea who — gave her college the idea to seal her thesis from public view. She's largely downplayed his influence in the years since. And Clinton's ties to radicals are interesting because she is now running for president, obviously.
Why Hillary Clinton's health matters. Is Hillary Clinton's health an issue for 2016? You bet it is, and well it should be. Ronald Reagan took office when he was 69. He was mocked, jeered and sneered at, with prominent Democrats leading the charge (and the compliant media following, as always). If elected, Hillary would be — 69. [...] Hillary is even more secretive about her health. On Dec. 7, 2012, she disappeared from view — without a word. Three days passed before the State Department said the secretary of state was "under the weather" as it announced she would cancel a planned trip to the Middle East. ABC News put out this mysterious entry in a timeline on what happened next: "Sometime early the week of Dec. 9: Clinton faints and falls while at home." There's never been any independent confirmation of that, nor did America's crackerjack media do anything more than write down what State officials claimed.
What Is Hillary Clinton Afraid Of? If Clinton says yes, she'll have access to a bottomless pool of Democratic political talent and cash to match all those hyperbolic pronouncements about her inevitability. If she doesn't run, the single biggest factor holding her back will be the media, according to an informal survey of three dozen friends, allies and former aides interviewed for this article.
Every Media Outlet: Hillary Grandkid the Most Consequential Baby Since Jesus. Less than 16 hours after Chelsea Clinton announced she was pregnant, a lot of major news outlets started staring into the crystal ball of Chelsea's womb, wondering what this currently floating zygotic multicellular being meant for the prospects of Hillary Clinton's 2016 campaign, which is also a floating, zygotic, multicellular being. Their answer: The immaculately conceived Clinton child could mean everything.
The rehabilitation of Hillary Clinton. While Hillary Rodham Clinton has all but vanished, hitting the speaker's circuit at $200,000 a pop and bouncing between her two palatial mansions in New York and Washington, the press corps is working overtime to rebuild her tarnished reputation. First came The New York Times with a lengthy "investigative" piece of the Sept. 11, 2012, Benghazi terrorist attack. The 7,500-word tome ignored the former secretary of state's role in the deaths of four Americans. What's more, the Times never mentioned Mrs. Clinton — not once — and concluded that the attack "was fueled in large part by anger at an American-made video denigrating Islam," a White House lie disproved just weeks after the attack.
The Golden Egg. As far as Bill and Hillary Clinton are concerned, the media's horizon of expectations is stunningly narrow. It encompasses on the one hand the belief that the "secretary of explaining stuff" is a national treasure beyond reproach, and on the other hand the expectation that the former secretary of state will be our next president. Stories that fall outside of this horizon are problematized, scrutinized, ascribed to partisanship, and read with the sort of incredulity reporters are supposed to apply to public figures such as the Clintons.
More examples of media bias in Hillary's favor
Intra-party politics:
The awful truth about Hillary is beginning to dawn on Dems. Hillary looks like a disaster-in-the-making, with very poor campaign skills and an indefensible record overseeing foreign policy disasters that have exploded in the face of Obama. But some in the mainstream media are beginning to shed their reluctance to say that the empress has no clothes.
Barack Obama's Hillary Clinton Problem. You knew it was coming: The White House is starting to get a case of Clintonitis. With Hillary Rodham Clinton the overwhelming favorite to carry the Democratic torch next year — and now an official candidate starting to spout policy positions — the White House has been forced to parry an ever-increasing barrage of questions. Speaker John A. Boehner got the ball rolling by asking President Barack Obama to enlist Clinton's help to pass fast-track trade authority.
Hillary's Unqualified Top VP Choice. [Scroll down] First, let's begin with the fact that [Julian] Castro's most important elected experience was as San Antonio's mayor, which is a largely symbolic position. "San Antonio's city government is a council-manager system," explains the Atlantic's City Lab: "Unlike the strong-mayor governments of Chicago or New York, San Antonio's government is led by a city manager, which is appointed by the City Council. The city charter invests in the city manager the authority to execute the laws and administer the government of the city." Elected in 2009, Castro was basically a glorified ribbon-cutter.
Julian Castro is 'only' veep prospect for top Clintonians, says source. Top members of Team Hillary are already pushing Julian Castro as her vice presidential nominee, with one source telling me last week that right now, there isn't even a second choice. "There's only one person the top guys are looking at right now, and that's Julian," said the source, who is close to top Clinton officials.
The Editor says...
Isn't this rich. The "pro-choice" party has only one possible nominee and the nominee has only one possible running mate. (Sounds like Zimbabwe or Cuba or North Korea.) And this would seem to preclude next year's Democratic Party convention. If Hillary becomes the next President, brace yourself for a number of unilateral decrees like this one.
Uh-oh! Terrible news for Hillary in new poll. How long will it take for Democrats to realize that Hillary Clinton is terrible candidate who will lead them to disaster in 2016? [...] I will leave aside her terrible track record, her inability to speak extemporaneously without committing gaffes, her unappealing screech when excited, her inner arrogance and anger, and the ethical compromises as SecState that led her to destroy the email evidence that could have either exonerated or convicted her. What is of concern here is some terrible polling results over something she can do nothing about.
4 Reasons To Think Hillary Clinton And Bernie Sanders Are In Cahoots. Did Team Clinton put the lovable socialist folk singer up to this for some reason? Consider the following: [#1] He is one of very few people in the political world who can make Hillary seem younger and more in touch with normal people. [#2] He is one of very few people in the political world who can make Hillary's politics seem more moderate.
Can the Democrats Get Rid of Hillary? Hillary has the Democratic Party where she wants it. By scaring off every serious candidate, the party has no choice but to get behind her. And the more it gets behind her, the more it's stuck with her. It's a bad marriage that the Democrats can't seem to escape.
Hillary Candidacy Doesn't Worry Me. I hope I'm not wrong; the country can't take four more years of the same disastrous policies. Frankly, I'm a bit surprised that Hillary appears to be the anointed candidate with virtually no one in the party surfacing to challenge her for the nomination. If she was ever a good candidate, her time has clearly passed, because the mythical image that she has invested so much energy cultivating for herself has mostly been shattered by reality. Perhaps the main reason the Democratic Party can't come up with anyone to challenge her is that for six or seven years, it has put all its eggs in the Obama basket.
This is why the Democratic Establishment is still desperate to run Hillary Clinton. There are two things that we know about the next election, more or less: first, the Democrats [are] tanking among white voters. Second, black voters aren't going to come out for a non-black Presidential candidate with the same intensity that they did for Barack Obama. Add those two together, and the end result looks very bad for the Democratic party.
Hillary Clinton Will Not Implode! Ultimately, she may lose the 2016 election, but she will not lose the chance to be the Democratic nominee.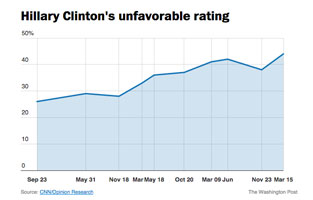 Hillary Clinton is increasingly unpopular. It's not because of her e-mails. Not only is the change from CNN's polling not statistically significant from two polls last year, it's also part of a long-term trend. Clinton's numbers have been declining for some time, and the shift in the latest poll is very much in line with what we would expect.
Looks like Hillary doesn't really want it that much. Last time Clinton announced her candidacy 22 months before the 2008 election, even before what's-his-name from Illinois. It's now 20 months and she reportedly still hasn't decided when to pull the trigger. Gotta squeeze in a few more big-buck-speeches. Gotta minimize chances of fumbling the ball, run out the clock.
Why Won't Anyone Challenge Hillary? Many Democrats probably feel as if there's no other viable choice. But despite the generous treatment she's received from the media, Hillary has never been an especially electrifying or potent political power. She badly fumbled her first preordained presidential nomination to Barack Obama — falling into every trap imaginable along the way. Nearly every high-profile project she took on during her husband's administration turned into a disaster. Her time as secretary of state is now riddled with questions. And she has never effectively rallied grass-roots activists to her cause — probably because her only real cause is Hillary.
Why Are Democrats Stuck With Hillary? Blame Obama. The furor over Hillary Clinton's private email account while Secretary of State, and her poor handling of the revelations, should be a serious blow for her presidential ambitions. She broke or twisted the rules apparently to hide her communications from the public. More broadly, it revived general concerns about her likability and skill as a campaigner. Yet Clinton has no serious rivals for the nomination.
Let's say Hillary's out in '16. Then what for Dems? Clinton's bid to capture her party's next presidential nomination is as absolutely certain today as it was at this point in 2007. A recent Rasmussen Reports poll found 75% of all likely voters and 88% of likely Democrat voters felt it was "likely" she'd be the nominee in Philadelphia come late July, 2016. But given her campaign careening from iceberg to iceberg in recent months, pollsters wonder about things that seem inevitable.
Democrats Are Ready for Hillary and Stuck with Her. The good news was that after a week of ominous and politically damaging silence, Hillary Clinton emerged to answer questions from the press about her emails and demonstrated that she had no intention of letting this story deflect her from her goal of winning the presidency. The bad news was that barely-suppressed rage about having to answer those questions and arrogant "trust me" attitude not only failed to defuse this controversy, it also raised serious questions as to whether she had the temperament to run a successful campaign for the presidency. Taken together, it is more or less a perfect storm for a party seeking to hold onto the White House next year without having Barack Obama on the top of the ticket.
'The Only Person Who Could Beat Hillary Clinton Is Michelle Obama'. Was he serious? It certainly wasn't obvious that conservative commentator Ben Domenech was kidding when on today's [3/8/2015] Up With Steve Kornacki he said that "the only person I think who could beat Hillary Clinton is Michelle Obama." Domenech's comment came during a segment on the subject of who might jump into the race should Hillary decide not to run. The mere fact that there was such a segment suggests that the controversy over Hillary's email might not be the much ado "about nothing" that some claim.
Not ready for Hillary Clinton. She's still the overwhelming poll favorite among Democrats, but questions, for now just tiny butterflies in the tummy, are beginning to disturb the narrative so carefully nurtured by the party faithful. Is she the strongest Democratic prospect on the horizon because she's so terrific, or because the other prospects are so dreadful?
What if Hillary Bows Out? Until now, Hillary Clinton's run for the presidency has been viewed as pretty much a sure thing. But lately the road to near-certain nomination has taken a couple of rough turns, especially with the revelation that Clinton may have broken federal rules as secretary of state by communicating only on her private email account. Which makes us wonder: What if The Unthinkable did happen and she actually dropped out? What would be the Democrats' response?
No Trust for Hillary on the Left. "It's Hillary's turn," say pundits. Others, scanning the horizon, say, "Who else but Hillary?" Yet among the Democratic Party's activist left, Hillary isn't a cinch. The left has suspicions about Hillary and those may persist and fester.
Democrats suffering from Clinton fatigue say they're ready for Warren. Thirteen Iowa Democrats wearily took their seats here [in Ames, Iowa] this weekend and discussed among themselves the source of their angst: Hillary Rodham Clinton. "I'm utterly tired, tired of the Clintons and the whole establishment," said Carol Brannon, 71, a retired nurse.
Hillary's not looking so inevitable, after all. First of all, she has tons of baggage, including a disastrous term as Secretary of State. Relations with Russia are in the tank, and there is that picture of her with an idiot grin holding a "reset button" with her Russian counterpart. Then, there is Benghazi, still ignored by the major media, but fodder for devastating ads to be used against her. Beyond that, the entire Obama foreign policy has been a disaster, and she planted all of the seeds for it, from the Arab Spring to the dissing of Israel.
Hillary's poll numbers are collapsing. In just the past month, when no one with a real life was thinking about the 2016 presidential race, Hillary Clinton's massive poll lead over every single potential Republican opponent has collapsed.
Obama's third term. Personnel is policy, as the saying in Washington goes. That's why, when President Clinton's former chief-of-staff John Podesta went to serve as an adviser to President Obama in the White House, it hinted at continuity between the policies of two administrations led by two apparently very different Democrats. It is therefore telling that Podesta plans to leave the White House in February so he can help run Hillary Clinton's 2016 presidential campaign. The campaign has not been officially launched, but Podesta's move, announced Tuesday [1/13/2015], means we know something highly significant about it. Assuming Clinton seeks the office her husband left in 2001, she will be running not only for a third Clinton term, but also for a third Obama term.
Dem Dilemma: Hillary "very old, slow" but Elizabeth Warren unelectable. Hillary is the presumptive Democratic Party presidential nominee. She has a large double-digit lead over other potential contenders. The one thing Hillary doesn't have, however, is grassroots enthusiasm. Her support as the presumptive nominee is a mile wide and an inch deep. She's popular because of name recognition and organizational power. No one wants to be on Bill and Hillary's enemies list.
The Editor says...
That's because people of the Clintons' enemies list sometimes end up like Vince Foster.
Why Hillary's walk to the Democratic nation is a sign of the party's weakness. [A]ccording to the latest CNN poll, Hillary is 55 points ahead — yes, I said 55 points ahead — of her closest rival. She gets 65 percent to Sen. Elizabeth Warren's 10 percent. We've never seen numbers like this for any putative presidential candidate before.
The tricky Obama-Clinton handoff begins. As the presumptive Democratic front-runner in 2016, Hillary Rodham Clinton has many of the same goals as President Obama, starting with reassembling and reenergizing the coalition responsible for Obama's victories in 2008 and 2012. But if she becomes the nominee, Clinton will have to unlink herself from Obama while positioning herself to inherit the bloc of young people and minorities that helped put Obama in the White House.
Don't believe the hype — Hillary Clinton can be beat. The accumulating evidence that the Democratic Party is an exhausted volcano includes its fixation with stale ideas, such as the supreme importance of a 23rd increase in the minimum wage. Can this party be so blinkered by the modest success of its third recent presidency, Bill Clinton's, that it will sleepwalk into the next election behind Hillary Clinton?
Hillary mocked by Rand Paul after almost every Democrat she campaigned with LOST in midterms. Tuesday night's [11/4/2014] victory for the Republicans wasn't just a blow to President Barack Obama — it was also a knock on Hillary Clinton, who campaigned for almost all of the candidates who lost Democratic US Senate seats on Tuesday. And Kentucky Senator Rand Paul, a likely challenger to Clinton in the 2016 presidential race, isn't letting her forget that she backed the wrong horses in 2014.
Obviously an audience plant. Who can sneak into an event like that with a bullhorn?
Hillary Clinton gets heckled. Former Secretary of State Hillary Clinton isn't officially running for president but she's already attracting one of the regular features of the campaign trail: hecklers. During an address to the annual meeting of the American Academy of Pediatrics Sunday [10/12/2014] in San Diego, someone in the 3,000 person crowd began to goad her using a bullhorn.
Clintonphobia: Why No Democrat Wants to Run Against Hillary. There are plenty of ambitious but little-known Democratic governors or senators who are a decade or two younger than Clinton. So why aren't more of them considering a presidential campaign that might set them up to be Clinton's successor? The answer speaks to one of Clinton's underappreciated assets: her ability to instill fear.
Hillary Clinton's air of 'inevitability' evaporating. Hillary Clinton needs a conscience transplant, and she needs it now. Her book tour is in a shambles, the fate of her $14 million advance from her publisher is marooned somewhere in limbo. She's under 50 percent approval for the first time in the presidential polling for 2016, and, scariest of all, she's having to call on Bubba for help. She knows better than to become merely "a wife of," but 2014 is beginning to smell like 2008, and she's Miss Inevitability once more.
Hillary Clinton is Humpty Dumpty. If Hillary Clinton runs for President, she's still the odds-on favorite because she has the Democratic machine behind her. The conventional wisdom is that the nomination is Hillary's to lose. If Hillary's disastrous book rollout and tone-deafness about her wealth are any indication, Hillary might just accomplish the unthinkable of imploding a second time as presumptive nominee. Hillary's worst enemy is Hillary. There's only so long you can pretend to be something you are not.
Elizabeth Warren crouches in the not-running tall grass as Hillary flounders. I am rapidly coming to the preliminary conclusion that Elizabeth Warren will be the Democrats' 2016 standard bearer. Hillary Clinton is just too unlikable (remember that Barack Obama called her "likable enough" in one of the most memorable back handed compliments of recent political memory), and too transparently greedy, self-serving, and out of touch. Not to mention the appalling foreign affairs crises the United States faces in the wake of her term as Secretary of State. Her brand is tarnished.
You would think that the most obvious "anti-Hillary group" would be the Republican Party.
Anti-Hillary Group Brings in Half a Million Dollars. It's not just pro-Hillary Clinton super PACs that are gearing up for a potential presidential run. The Stop Hillary PAC brought in more than half a million dollars and signed up 250,000 supporters since it started last summer, according to its spokesperson.
Elizabeth Warren would crush Hillary, and they both know it. Forget the current polling as between Hillary and Elizabeth Warren. It pits Hillary against someone who "isn't running." For all my criticisms of Warren, and they are extensive, I am convinced that if she ran, she would crush Hillary, just as Obama did. Warren, as did Obama, has a unique ability to demagogue the core Democratic narrative of victimhood in ways that would make Hillary blush. She is more cunning than Hillary, more popular with the base, would bring an excitement the contrived Ready-for-Hillary movement could only dream of. Democrats may be "ready" for Hillary, but they don't really want her.
More about Senator Elizabeth Warren.
The Bigger They Are. This week's Fox News poll has Clinton's favorable rating at its lowest point in six years. She is at 49 percent favorable, 45 percent unfavorable — similar to her 47 percent favorable, 46 percent unfavorable rating when she ended her last presidential campaign. More important than the individual results, however, is the trend. Since leaving office as secretary of state, Clinton's favorable rating has been on a downward trajectory.
Hillary Clinton pretends to be above excessive partisanship. Let's assume that Hillary Clinton was serious the other day when she said that excessive partisanship was taking America "backwards." That means she's on the phone right now reading the riot act to fellow Democrats Harry Reid and Chuck Schumer. Yeah, right. Clinton's pose of rising above the political scrum made for a good headline just as her party is plumbing new depths of mud and smears. Reid and Schumer are tarring David and Charles Koch in ways that smack of McCarthyism, though Tail Gunner Joe at least found a few real Communists.
Poll: Hillary Clinton tops list of Dems voters don't want in 2016. Former Secretary of State Hillary Clinton is on top of yet another poll today. But it's not the result her team was hoping for.
Since 1988, we've been offered this choice in every presidential election: A centrist versus a leftist.
2016: Clinton vs. Christie? If there were any doubts that the former secretary of state plans to run for president, they were put to rest when she and Obama had lunch on the patio outside the Oval Office on Monday. The White House photographer, Chuck Kennedy, took pictures of the tete-a-tete that were immediately beamed around the world, sending a clear message that the Clintons were gearing up to take back the presidency — and that maybe Obama was ready to help them do that.
What if Hillary Clinton passes on 2016? The hope of retaining the White House in an open-seat election is very real — and the letdown that will set in among Democratic activists and operatives will be very deep if Clinton takes a pass on a campaign, as she may well do.
The Hillary Clinton 2016 fantasy. You have to wonder if there's already a committee planning Hillary Clinton's presidential inauguration festivities for 20 January 2017. According to the political rumor mill, she's not only running, she's unbeatable.
Hillary Super PAC fundraiser linked to Soros, Media Matters. A founding member of the Ready for Hillary PAC's Finance Council is a member of George Soros' progressive donor network, The Democracy Alliance, and has links to controversial progressive organizations Media Matters for America and the Tides Foundation. San Francisco environmentalist Susie Tompkins Buell is one of the key founding members of the Finance Council for Ready for Hillary, a super PAC that hopes to build a strong coalition of donors and online supporters in preparation for Hillary Clinton's expected 2016 presidential campaign.
Hillary's Children are 'Too Small to Fail'. It's not news that shameless, self-promoting know-it-all Hillary Clinton has been champing at the bit for 40 years to assume the role of Big Kahuna. After failing miserably as Barack Obama's secretary of state, now Ms. Hill is gearing up for another presidential run in 2016, when, instead of explaining what happened in Benghazi, she plans to divert attention by feigning concern for small children.
Nightmare scenario for the Democrats. What if Hillary Clinton chooses not to run, or for some reason is not able to run? After such a deep emotional investment in a Hillary candidacy, do Democrats have a Plan B? If by Plan B you mean a two-time presidential loser and lifetime Washington player, then the answer is yes. The Democrats have Vice President Joe Biden.
Democrats start transition from President Obama to Hillary Clinton. Democrats in Washington are starting to shift from the Obamas to the Clintons. Hillary Clinton has already racked up a couple of endorsements for the 2016 presidential race — and she hasn't even announced she's running yet.
Hillary 2016 — What difference does it make? The Clintons are getting the old band back together again for one last geriatric tour. Hillary 2016. Because 22 years of Clintons dominating the Beltway isn't enough.
Nancy Pelosi: 'I pray' Hillary Clinton runs for president. House Minority Leader Nancy Pelosi said Thursday [5/2/2013] at an event in Little Rock, Ark., that she prays former Secretary of State Hillary Clinton will run for president, saying it would send a powerful message to women in the world.
Current scandals:
(See also former scandals and another whole page about Mrs. Clinton's improper use of private email to conduct public business.)
Who's Afraid of the Big Bad Hillary? The Clintons have been implicated in scandal after scandal after scandal, none of which appears to be taken seriously enough by voters at large. Why? Some would point to the change in America's culture. The character and behavior of public officials no longer seem as important to the electorate as other factors. Now the big question for some Americans is whether a candidate for president feels our pain or drinks our brew. In any event, the consensus is that all politicians are dishonest and contentious anyway, so why the big fuss?
In just five weeks, Hillary has had a lifetime quota of scandals. Everybody knows that there are no secrets in the age of Snowden and that transparency is now a requirement for the political class. But Clinton conducts public business on a private server, destroys 30,000 e-mails of her choosing and provides the rest in boxes of unsearchable paper records. Everyone knows that social media and the 24-hour news cycle create an insatiable demand for content, which presidential campaigns must strive to fill. Clinton grants media access in frothy little dollops even as large controversies unfold. This is creating a crisis of relevance for members of the traveling press, who are either compromised by complicity or moved to rebellion.
Watergate Redux? Will Sid 'Vicious' Upend Hillary? Another shoe, a big one this time, dropped in the endless Benghazi-missing-emails-erased-servers-what-difference-does-it-make controversy that the Clintonistas are trying so hard to push under the rug before it upends Dame Hillary's presidential campaign. And the scoop comes, once again, from the New York Times, of all places, not some rascally website run by rightwing lunatics like this one.
Hillary's hell. She refuses to take questions. She hedges on the most central issue of our time, Iran. She won't tell us her view on the XL Pipeline. And liberals know all too well how long she took to change her view (or admit she changed her view) on gay marriage. It's ironic that Clinton regards herself as a pioneer. She makes even the most cautious politicians seem reckless in comparison. One has always sensed with Clinton that, far from leading, she is following, and doing so clumsily. But the presidency is no place for cowards.
Hillary Clinton's consigliere covers up for her scandals. If Congress really wants to get to the bottom of Hillary Clinton's missing Benghazi and pay-to-play emails, it should call her consigliere Cheryl D. Mills to testify — under oath, and under the klieg lights. A hearing featuring Clinton will be a wasted show trial with a lot of political grandstanding. But Mills, who served as the former secretary of state's chief of staff and counselor, knows where the bodies are buried. After all, Hillary tasked her with "identifying and preserving all emails that could potentially be federal records." And, presumably, deleting. Mills has a long track record of hiding Clinton documents.
Signs of panic in the Clinton War Room. The pattern is familiar. Dismiss the charges as lacking factual basis ("there is no evidence of..." as opposed to actually denying the truth of the charge); viciously attack the person making the charge in defamatory language ("what happens when you drag a hundred-dollar-bill through a trailer park"); use lawyerly language to convey a lie in terms that can be defended in ways that offend common sense but hope to avoid perjury charges sticking ("I did not have sexual relations with that woman..."); and the clincher: wait for the media to tire of the story and the low-information voters to forget about it.
The Clinton War Room Jumps the Shark. The drip, drip, drip of scandal stories from a variety of news outlets inspired by Peter Schweitzer's muckraking book has kept the allegations in the news rather than it fading away. As a result, the Clinton "War Room" that has been assembled to trash Schweitzer and dismiss the book is starting to show the initial signs of panic.
John Bolton: Hillary should be 'Disqualified' from Presidential Run. At the South Carolina Freedom Summit on Saturday, former U.S. Ambassador to the United Nations John Bolton said that Hillary Clinton was not fit to be president of the United States because she did not take necessary steps to protect Americans in Libya. On the day that Ambassador Christopher Stevens, along with three other brave Americans, was killed in Benghazi, Bolton said that "not only was nothing done, the response of the administration was to go home. The president left the Oval office in the situation room to go to the residence. Hillary Clinton left the State Department to go home."
More about Benghazi.
Frankenhillary. As Clinton scandals continue to mount and her credibility plummets, gleeful Republicans are quietly discussing what once seemed impossible: Hillary Clinton might not survive primary season, let alone make it all the way to Pennsylvania Avenue. That may well turn out to be the case. But it's not because of the allegations about "Clinton cash" or deleted emails. Those are major political scandals, to be sure, but of a kind that a shameless Bill Clinton skated through easily during his own administration.
Of course the media should report on 'Clinton Cash'. Clinton herself addressed the issue during a roundtable event in New Hampshire on Monday afternoon [4/20/2015]. "[I'll be] subjected to all kinds of distractions and attacks, and I'm ready for that," Clinton said. "I know that that comes, unfortunately, with the territory, it is I think worth noting that Republicans seem to be talking only about me."
The Editor says...
If you're the party's only candidate, the opposition will talk about you, exclusively. That's just common sense. Liberals routinely depend on your lack of common sense.
Don't count on Hillary Clinton self-destructing. As cringe-worthy as her retail political skills and empty as her policy portfolio may be, Republicans risk taking Hillary Clinton too lightly. The e-mail scandals and even the foreign-money scandals don't seem to have lessened her grip on the Democratic Party.
A breakdown of every scandal swirling around Hillary. [Scroll down] Clinton will likely position herself as the champion of the middle class. Yet in 2014, it was revealed that Clinton, who charges a minimum of $300,000 per speech, also had an extensive list of demands. Most anyone who hires Hillary to speak must also provide a private jet — a $39 million Gulfstream G450 or better — and put her up in presidential suites. Her standard agreement requires her presence for only 90 minutes, and 50 photos with 100 attendees — no more. Hillary has defended her enormous speaking fees by saying she and Bill were "not only dead broke, but in debt" when they left the White House. In 1999, Bill and Hillary bought their house in Chappaqua for $1.7 million, and in 2000 purchased a seven-bedroom in Washington, DC, for $2.85 million.
A breakdown of every scandal swirling around Hillary. [Scroll down] Clinton will likely position herself as the champion of the middle class. Yet in 2014, it was revealed that Clinton, who charges a minimum of $300,000 per speech, also had an extensive list of demands. Most anyone who hires Hillary to speak must also provide a private jet — a $39 million Gulfstream G450 or better — and put her up in presidential suites. Her standard agreement requires her presence for only 90 minutes, and 50 photos with 100 attendees — no more. Hillary has defended her enormous speaking fees by saying she and Bill were "not only dead broke, but in debt" when they left the White House. In 1999, Bill and Hillary bought their house in Chappaqua for $1.7 million, and in 2000 purchased a seven-bedroom in Washington, DC, for $2.85 million.
IG to review 'special' program that let Clinton aide Huma Abedin have 2 jobs. The State Department inspector general plans to review a controversial program that allowed a longtime Hillary Clinton aide to work for a private firm at the same time she was working for the former secretary of state. Sen. Chuck Grassley, R-Iowa, who originally sought a probe of Huma Abedin's job status citing conflict of interest concerns, revealed the development on Friday — releasing a letter from Inspector General Steve Linick confirming the review. Grassley's questions centered on how Abedin was allowed to work as a top assistant to then-Secretary of State Clinton under a special, part-time status while also being employed at a politically connected consulting firm.
Huma Abedin's job arrangement under Hillary investigated by State Dept. IG. The State Department's inspector general has agreed to investigate the program that allowed former Secretary Hillary Rodham Clinton to hire one of her key advisors, Huma Abedin, for government work even as she was also employed by a private firm, a senator revealed Friday [4/10/2015]. Inspector General Steve A. Linick also said he wasn't aware of Mrs. Clinton's or Ms. Abedin's use of a non-government email account to conduct official business, and said that's generally been frowned upon at the department. He pointed to a 2012 report that instructed an embassy to stop using a commercial email system as evidence.
Hillary Commits A Crime & They Defend Her. MSNBC's Ed Schultz who never saw a Democratic he did not like or a Republican who should not be executed, amazingly admitted in trying to defend Hillary that she is 67 years old and too old to know what she is doing. [...] You cannot get around the fact that what she did was criminal for when all those emails were subpoenaed by Congress, she failed to produce them or inform Congress she had a secret personal email. That is outright obstruction of justice and anyone else would go to prison for 5 years. Then when they are discovered, she erases the files.
Hillary Clinton's unpardonable scandal trail. It was bad enough that while secretary of state — under President Obama's watch — Clinton violated the rules, and possibly the Federal Records Act, by operating her own private email server system in her home rather than using the government email system. Now we learn that not only has Clinton deleted more than 30,000 emails, but her non-governmental server has since been wiped clean. This is despite the ongoing congressional investigation into the attack on the U.S. Consulate in Benghazi, subpoenas and multiple Freedom of Information Act requests from a variety of parties.
Servergate Doesn't Matter: Hillary Was Never Going to Be President Anyway. Mere mortals who defy the letter and meaning of laws requiring transparency for high government officials have their careers ended, pay fines, and face jail terms. But even if White House enforcer Valerie Jarrett leaked the story, as the New York Post reported, and regardless of what millions of Americans conclude from this lawless behavior, it won't affect the outcome of her campaign for the presidency.
DNC chair: Clinton emails a non-issue in 2016. Democratic National Committee Chairwoman Debbie Wasserman Schultz defended Hillary Clinton in the ongoing email controversy and emphasized that it will not be an issue for Clinton if she runs in 2016. "Whether Hillary Clinton or anyone else uses a private email or a government email will not have anything to do with voters' decision on who to cast their ballot for, for president of the United States," she said Monday [3/23/2015] on CNN's "Newsroom." "She's made it clear that the reason that she used a private email account was to for purely for convenience."
Hillary Clinton to face tough questions on Benghazi, email scandal with 2016 bid official. The days of answering softball questions at paid speaking engagements have ended for former Secretary of State Hillary Rodham Clinton, who will face a slew of tough questions that she has sidestepped for months now that she has formally announced her bid for the Democratic presidential nomination. She will have to wrestle with a broad range of topics — from foreign policy issues, such as how she would handle the Islamic State terrorist army that grew up on her watch as secretary of state, to domestic priorities pushed by her Democratic Party's liberal base, including whether she is willing to crack down on big Wall Street banks that have been major donors to her campaigns. The former first lady, senator and top diplomat also must field questions on matters of ethics, including being pressed to more fully address an email secrecy scandal and a potential conflict of interest with the Clinton Foundation accepting foreign donations while she served as secretary of state.
The Dirty Business of the Billary Machine, Again. A new Bloomberg poll finds approval of Hillary at 48 percent in the wake of her e-mail scandal. The poll finds 53 percent of Americans believe "she purposely withheld or deleted some relevant e-mails from a private account and home server she used while in office." Just 29 percent of respondents think she is being truthful.
Clinton's Cover Up Team. [Scroll down] Ray Maxwell, a former assistant secretary of state for North Africa, has told reporters that Mills was one of several Clinton aides who on a Sunday afternoon "separated" out Benghazi-related documents that might put Clinton or her team in a "bad light." These documents were kept out of the pile that the State Department turned over to the Accountability Review Board that was investigating Benghazi. When Maxwell stumbled upon the operation, which was taking place in a "basement operations-type center at State Department headquarters in Washington," he questioned whether it was above-board. "Isn't that unethical?" he asking the office director in charge of the weeding-out process. "Ray, those are our orders," she answered. A few minutes later, Mills entered the room and challenged Maxwell over his presence, asking him, "Who are you?"
The NSA spied on everyone — other than Hillary Clinton. From the 'Believe it or Not Department' of the cunning Obama administration: America's National Security Agency (NSA) retrieves and stockpiles millions of incoming and outgoing emails of government agencies and from the public at large — but not any coming in or going out from Hillary Clinton's private home email accounts! [...] During the Benghazi scandal, for which the Obama administration has yet to come clean, Clinton was the only one in the whole of America with guaranteed privacy from NSA.
Can Hillary's hopes survive Benghazi? Former successful cattle-futures investor, first lady, senator, unsuccessful presidential candidate, secretary of State and presumable repeat presidential candidate Hillary Clinton has reportedly sent word to the House Select Committee investigating Benghazi that she is eager to testify. That may be another statement she comes to regret, along with her now infamous "What difference at this point does it make" outburst before a congressional committee. Clinton is following standard political protocol for damage control: To appear up front and get the bad news, all of it, over with as quickly as possible. Better 2015 than 2016.
RNC chief: Bill Clinton's personal life 'fair game'. Republican National Committee Chairman Reince Priebus says Bill Clinton's personal life would be "fair game" if Hillary Clinton makes her widely predicted run for the presidency. "Bill Clinton's activities are fair game for Hillary Clinton to answer, absolutely," Priebus said in an interview with BuzzFeed. "And if there are things that Bill Clinton has done that we don't know about, politically or through business enterprise, that are questionable and/or illegal, then we ought to look into it and ask Hillary about it too, because the presumption is that she's gonna benefit from the successes of Bill Clinton, so I think it's fair game."
Protesters Gather at Clinton Foundation to Complain of 'Missing Money' from Haiti Recovery. Protesters gathered outside the Clinton Foundation in New York City to complain about "missing money" from the Haiti recovery effort from the 2010 earthquake: [Video clip] "New Yorkers with roots in Haiti say the picture [of the Haiti recovery] isn't so rosy," said the NY1 anchor. The protesters claimed that the $10 billion meant to help rebuild Haiti did little to help the country after the devastating quake. And that much of the money went to non-Haitian companies.
Former Haiti official: We have no idea where all that recovery money went. Nearly five years after a 7.0 magnitude quake killed hundreds of thousands of its citizens, Haiti's recovery efforts remain muddled and confused, with the whereabouts of the billions of dollars pledged by the international community an apparent mystery to the country's leaders. "We don't know where the money has gone," Raymond Joseph, former ambassador of Haiti to the U.S., said Friday [1/9/2015] in an interview on Bloomberg's "Market Makers."
Hillary Clinton's jaded sense of justice. The Benghazi massacre most certainly deserves to be a subject Hillary Rodham Clinton should be held accountable for and never allowed to forget. Yet there is another, even more recklessly dangerous thing that will affect Mrs. Clinton's designs on the White House: her attitude in general toward America's enemies.
Typhoid Barry. Barack Obama, electorally immune from defeat, has become an asymptomatic carrier of the defeat virus for Democrats. With two more years of his term ahead, the party faces some very decisions. Do they continue to shun him as they did during the campaign? [...] Then there is the tricky matter of the 2016 presidential race. Does Hillary Clinton turn on him? If she does, who knows what might leak out about her behavior the night of Benghazi?
Hillary Clinton Quietly Scrubs 'Remarks' From Website. Hillary Clinton is widely considered, should she enter the 2016 presidential race, the Democratic front runner. But the former secretary of state is shrinking rather than building an already limited website presence. Sometime within the last two months, Hillaryclintonoffice.com quietly removed the only substantive content featured on her website, a set a remarks from three events from early 2013. The home page of the site that included a "remarks" button in addition to the "contact" button vanished sometime between July 23 and August 27 as these images show: [...]
Rand Paul: Benghazi "precludes" Hillary Clinton's 2016 bid. Marking another milestone on his warpath against Hillary Clinton's status as the early 2016 Democratic presidential front-runner, Sen. Rand Paul, R-Ky., took advantage of a friendly audience Friday to knock the biggest blemish on her record as secretary of state: the Sept. 11, 2012, terrorist strike at a U.S. compound in Benghazi, Libya, that killed four Americans.
Could You Lie to a Bereaved Father? The Ben Rhodes memo revealing the duplicity of this administration on the subject of Benghazi reminds us about the character of those involved. That President Barack Obama could lie so evenly and so passionately (remember the second presidential debate?) is not perhaps surprising at this stage. But let's not forget what it took for Hillary Clinton to lie to the grieving father of an American hero.
Hillary Clinton's Legacy Issue. [T]he legacy of Hillary Clinton is turning out to be one of incompetence, bungled efforts, chicanery and outright scandal. Her most famous words have become, "What difference at this point does it make?" referring to how the four brave Americans died in Benghazi in September of 2012. And a number of other scandals have followed her, both from before and during her tenure as Secretary of State. The latest is about $6 billion in contract dollars that the State Department lost track of over the last six years."
Hillary Clinton Cancels Appearance Where Benghazi Victim's Mom, Protestors Await. Hillary Clinton was the planned keynote speaker at the 17th Annual Western Healthcare Leadership Academy in San Diego on April 11 — but she's cancelled her visit in the midst of planned protests from San Diego locals and military families. Protestors organized by "The Difference Matters" do not want the former U.S. Secretary of State to come because of Clinton's role in the Benghazi scandal.
Good News, San Diego: Hillary Won't Be Showing Due To Your Planned Benghazi Protest. Hillary Clinton cancelled her planned appearance as the headline speaker at next week's Western Healthcare Leadership Academy in San Diego due to planned protests over her failed leadership involvement in the Benghazi attacks. She will now be doing the speech via teleconference.
Activists plan protest for Hillary Clinton visit. Hillary Clinton cancelled her upcoming visit to San Diego in the midst of a planned protest. Clinton will be the keynote speaker for the 17th Annual Western Healthcare Leadership Academy on April 11. She was originally going to deliver the speech in person, but will now be seen by satellite.
Hmm: Hillary Camp Claims Zero Emails Exist Between Top Spokesman and Reporters. More censorship, less responsiveness, longer FOIA wait times — and it's gotten worse. This president is a fraud. But that's old news. Obama is unpopular, he's lost independents, and he's on the fast track to lame duck status. But she who would be queen is another story. Charles Krauthammer has long discussed the administration's successful and ongoing stonewall on the Benghazi massacre, but that matter doesn't appear to be the only front on which Clinton's protectors are fogging over details.
Hillary's Private NSA. Hillary Clinton has her own private NSA. American Bridge PAC spent last week spying on the private conversations of attendees at the Conservative Political Action Conference (CPAC). The group also plans to spy on the private lives of GOP delegates to the 2016 Republican National Convention wherever the convention is located, but Politico reports ABPAC has issued the following threat if the GOP selects Las Vegas as its host city. [...]
Hillary Clinton's baggage is piling up. [Scroll down] And there will be the inevitable questions from Republicans about her handling of Benghazi. Of course, as former secretary of state, she will also have to defend Obama's policies on Syria, drones, the NSA spying program and Iran, in all of which she had direct involvement. Clinton will most certainly want to run away from some of Obama's missteps and prove she would have done things differently, which will make things difficult for the sitting President and the Democratic narrative.
Democrats Put Hillary Clinton at Risk by Dismissing Benghazi Criticism. Democrats are in denial if they think Benghazi won't be an issue in the 2016 presidential race, should Clinton run. A new poll from Pew Research Center and USA Today shows the danger. When respondents were asked to name in their own words the biggest negative for Clinton from her long career in public service, the most common response was Benghazi. Sure, it's only 15 percent who gave that answer, but that's still a lot.
Woman Sexually Harassed by Clinton says: "Hillary is the War on Women.". Hillary Clinton is pathetic, makes constant excuses for Bill Clinton, blames herself and blames the women that her husband goes after. As a feminist role model, she's right up there with her aide, Huma Abedin.
Grandma Obamacare. Hillary Clinton is the matriarch of the disaster that Americans now scorn as Obamacare. And helpfully for opponents, she was kind enough to detail her role in this unending rolling disaster. As it were, in chapter if not verse. In fact, Mrs. Clinton's 2003 memoir Living History, an autobiography that takes her from childhood to the U.S. Senate, can be viewed as something unique in the annals of candidate biographies. Hillary Clinton's book is a literary landmine. A self-detailed look at just where all those false promises — about keeping your doctor and your health insurance if you like it — originated.
Hillary Clinton's approval ratings underwater, Benghazi blamed. The nation's view of former Secretary of State Hillary Clinton, colored by the horrific Benghazi assassination of the U.S. ambassador to Libya on her watch, has suddenly turned upside down, with more now holding an unfavorable opinion of the likely 2016 presidential candidate.
Hillary Clinton is worshipped on the awards circuit — but hides from journalists asking about Benghazi or Syria. No matter how many awards she garners at glitzy ceremonies, idolised by her admirers, the fact remains that Hillary Clinton was one of the least successful US Secretaries of State in modern times, with a track record of failure and poor judgment. It is little wonder that she has been keeping the press out of her recent speaking engagements — for it is in her own interest to have as little public scrutiny as possible of her less than stellar record as America's top diplomat. After all, there is nothing like a question on Benghazi or Syria to spoil the coronation party.
Can Hillary Clinton Survive Benghazi? [B]y any normal standard Benghazi would be considered a career-ending debacle. Four men, including one of her own ambassadors, were murdered on Hillary's watch, after they had pleaded with her State Department for better security. The cable denying the ambassador's request for better protection went out over Hillary's signature. That's just a formality! The Democrats say. She knew nothing about it!
Benghazi Victim's Mother Says Hillary Lied: 'You Don't Want This Person to be President'. The reinstatement of four State Department employees who were put on administrative leave following last year's Benghazi attack only further has only reinforced Pat Smith's believe that Hillary Clinton should never be president. Smith's son, Sean, was one of four Americans who died in the 9/11 attack on the American diplomatic facility in Benghazi.
Stopping the Hillary Juggernaut. Clearly, stopping Hillary at the polls should be the first priority for conservatives. But the only way to stop her is by employing the same ruthless tactics Democrats used against Romney in 2012. Identify her greatest weakness, isolate it, and pound on it from now until November 2016. In Hillary's case, the weakness is Benghazi. Conservatives should remind voters that Hillary Clinton was in charge when four Americans were murdered in Benghazi on September 11, 2012.
Did someone mention Benghazi?
Only Benghazi Can Save Us from Hillary. As Daniel Henninger pointed out the other day, there's plenty of damage our increasingly authoritarian president can yet do in his remaining time in office. But because of the extra-constitutional power grab Henninger describes, it is all the more imperative that Hillary Clinton not step into Obama's shoes for eight years, cementing policies and programs never voted on by the Congress or approved by the public. The nature of our republic would be altered forever.
Hillary Clinton Has the Most to Lose From Obama's Scandals. Conventional wisdom has long held that Hillary Rodham Clinton, if she runs for president, would be the clear frontrunner for the Democratic nomination in 2016. But after a trifecta of scandals buffeting President Obama — fresh questions about the White House's veracity on Benghazi, the IRS's harassment of conservative non-profits and the Justice Department seizure of AP telephone records — Clinton's close connections with Obama could become politically problematic.
Could Biden benefit from scrutiny of Hillary Clinton's handling of Benghazi? If former Secretary of State Hillary Clinton hoped she could segue quietly into private life as she pondered a presidential bid in 2016, that fantasy has been abruptly harpooned in the resurrection of the political squabble over the terrorist attack on the American consulate in Benghazi.
Benghazi 2012, Hillary 2016. Hillary's many controversies are mostly ancient history, and mostly the fault of her husband, and are unlikely to derail a general election bid. Rather, Hillary's weakness is her time as Secretary of State, an abysmal performance which has left us weaker internationally than ever before. And foremost among her failures in her own right was Benghazi and the cover up to help Obama's campaign.
Imperious behavior and immunity from criticism:
Clinton inevitable? Really? [Scroll down] Mrs. Clinton, however, has seemed imperious, remote and tone-deaf to the clamor to hear directly from her instead of being defined by the people who hope to oppose her next Election Day. She's already lost one presidential campaign; it's up to her now to persuade Americans that she really wants to be president and is not just going through the motions because of ...inevitability.
Miss Uncongeniality. There it was — the classic Hillary charm. Close to a month had passed since the Democratic frontrunner answered questions from the press. So this week, when reporters were invited to gawk at the spectacle of Clinton sitting with "everyday Iowans," Ed Henry of Fox wanted to know: Would the former secretary of state take a moment to respond to inquiries from non-stage-managed reporters? Before Henry was able even to finish his sentence, however, Clinton interrupted him, tut-tutting his impertinent shouting and raising her hand, empress-like, to quell her subject. After a few seconds of talking over each other Clinton must have realized that she had to give Henry an answer. Whereupon she said, slowly and sarcastically: "I might. I'll have to ponder it." What a kidder.
Your Normal Rules Don't Apply to Hillary Clinton. What the press still fails to appreciate about Hillary Clinton is that she's not running for president, she's running as president, and all the usual rules about when and how she should speak don't apply to her. In her mind — and who can blame her? — she's the incumbent, this is a reelection campaign, and she occupies a place miles above the liquescent bogs of petty politics into which reporters would dunk her.
Think like a liberal — or else. [Scroll down] Recently, Clinton declared that if elected president, she would pick Supreme Court nominees by the litmus test of demanding that they oppose the Citizens United ruling. Clinton is apparently still furious at the high court's 2010 decision, which dismantled federal election rules restricting independent political expenditures by nonprofit organizations. Citizens United, remember, was a conservative nonprofit group that produced an unflattering movie about Hillary Clinton. The Federal Election Commission went to court to prevent the film from airing on TV before the 2008 Democratic primaries. In other words, Clinton wishes to judge the qualifications of future Supreme Court nominees on the basis of whether they agree that a nonprofit organization had no right to be critical of her in a documentary at election time.
Want To Make Hillary Answer Questions? Start Ignoring Her Campaign. Hillary Clinton's 2016 presidential campaign is a mere 37 days old, but it's been 28 days — four full weeks — since the candidate last deigned to answer a substantive question from the media. Earlier today during yet another orchestrated and banal campaign event, Hillary mused that she "might" consider answering media questions at some point in the future. "I'll have to ponder it," she said about the prospect of answering questions from reporters, to adoring laughs from the crowd of Clinton plants in the audience.
Hillary wants the power to ban books and movies that criticize her. Hillary Clinton says that as president, she would have a litmus test for Supreme Court nominees: they must promise to vote to overturn the Citizens United case. It is easy to understand why Hillary isn't fond of Citizens United. The case involved a film called Hillary: The Movie that was critical of her. In Citizens United, the Supreme Court held that it was unconstitutional to criminalize showings of Hillary within 30 days of a primary or 60 days of a general election, simply because the movie (like all movies) was produced by a corporation.
Candidate Hillary Clinton Releases "Rules" that "Everyday Americans" Must Follow If Participating In Her Events. The Clinton Rules for meeting candidate Clinton are coming to light. After recent events in Iowa some reporters were able to talk to the limited number of "everyday Americans" who participated in her presidential rollout.
The case for a national Powder Room Initiative. If you're a woman who might prefer someone other than Hillary Clinton as the next president of the United States, you're a self-loathing, anti-woman traitor. Already, women I know report that they're feeling the heat from their more-liberal friends. Not a Democrat for Hillary? Good luck leaning forward, at least in this town. I've heard from a few readers along the same lines.
Calling her 'Hillary' is now 'sexist'. Now that Hillary is officially in the running, prepare to start hearing the s-word. Don't like her politics? Sexist! Disagree with her positions? Sexist! Still have issues with Benghazi? Sexist! The s-bomb will be dropping left and right over the next 18 months during an election season that's bound to witness a violent collision of culture and politics.
Cellphones and Cameras Confiscated Before Meeting With Hillary. "On Thursday [4/16/2015], Clinton's motorcade left the SpringHill Suites for Main Street Cafe, where she met privately with party leaders for about an hour and a half," reports KETV in Omaha. "Pottawattamie County Democratic Chairwoman Linda Nelson said the meeting was so private that everyone invited was asked to hand over their cellphones and cameras before taking part."
Chipotle Manager: Hillary Clinton Didn't Leave Anything in Tip Jar. "Her bill was $20 and some change, and they paid with $21 and left" without putting anything in a tip jar on the counter [4/12/2015], Charles Wright, the manager at the Maumee, Ohio, Chipotle restaurant told Bloomberg.
Hillary Has A History of Stiffing Waitresses, Hair Stylists. While the revelation that Hillary Clinton failed to leave a tip during her stop at a Chipotle earlier this week fell flat — few customers tip at the fast-casual Mexican restaurant — a deeper look at the former First Lady's tipping habits shows she does have a history of stiffing people who depend on tips to make ends meet. [...] Clinton's tipping habits were put front-and-center on Wednesday [4/15/2015] when Bloomberg News reported that Clinton and her aide, Huma Abedin, did not leave money in a tip jar after ordering at a Chipotle in Maumee, Ohio.
If Obama had an adopted mother, she'd look like Hillary Clinton. Not only did Obama and Clinton choose the same mentor, Uncle Saul Alinsky, in their salad years, both practiced law before becoming nest-feathering career politicians and both are sworn Marxists at heart. A most loyal and all too willing servant in the Obama regime, at the ready to go it on her own in the fullness of time, Hillary Clinton is every inch as imperious and presumptive as the man who would be king.
The secret list of requirements to get a Hillary speech (Not counting the $300K). Hillary Clinton is going to have a real problem running for president as a woman of the people. And the evidence mounts by the day. First, you'll recall her hilarious claim of being "dead broke" upon leaving the rent-free White House in 2001 and confronting mortgages on two mansions. We've all heard about her scores of strictly-controlled, quarter-million dollar speeches to every convention of scrap metal dealers and the like since jumping off the sinking S.S. Obama last year. Now comes a most amazing compilation of regal needs and demands before the ex-first lady, ex-senator, ex-secretary of State will condescend to accept up to $10,000 per minute to address her countrymen.
Hillary's hummus. When The Washington Post exposed Hillary Clinton's contract for a March speech at UCLA, the terms looked more like something a rock star might demand than something from a former senator and first lady. Among the details Clinton negotiated were the color and style of the armchairs she would be sitting on, the plates of hummus and crudités she demanded and the number of photos she would be willing to pose for. Oh, yes, she also told the school it would have to cough up a $300,000 speaking fee on top of all this to get her. When a college representative asked if Mrs. Clinton would consider a discounted rate because it was a public university, her people quickly responded: This was the discounted university rate.
Hillary Clinton charged $300k for UCLA speech, demanded crudité and diet ginger ale. Former Secretary of State Hillary Rodham Clinton charged $300,000 to speak to students and faculty at University of California Los Angeles in March, even after school officials tried to negotiate the deal. According to new documents obtained by the Washington Post under the Freedom of Information Act, the school asked for a reduced rate for public universities, but Mrs. Clinton's representatives said that $300,000 was the "special university rate."
Sharpton Guest Defends Hillary's Private-Jet Travel: 'American Royalty'. Appearing on Al Sharpton's MSNBC show this evening [11/11/2014], [Chris] Witherspoon defended Hillary against an RNC email criticizing her for expensive private-jet travel billed to the campaigns of candidates for whom she made appearances. Witherspoon generated this gem: "they're the Clintons. They're American royalty. I don't want to see them flying on domestic Delta flights in first class. I mean, they were flying on Air Force One for eight years. How do you go from that to not staying on private jets and kind of having like that luxurious travel experience?"
Democratic Candidates Spent At Least $700K To Fly In Clintons. Bill and Hillary Clinton were the most sought after surrogates in the Democratic Party this year. [...] When the Clintons travel, they fly private. This year, their airfare cost candidates at least $699,000, available state and federal campaign finance reports show.
For Hillary Clinton, Nothing Less Than A Gulfstream G450 Will Do. Wherever Hillary Clinton is going, she needs at least a Gulfstream G450 to get there. The once nearly "dead broke" former First Lady now makes steep demands when she gives speeches to corporations, groups and universities, according to emails between Clinton's agent and the University of Nevada, Las Vegas, where Clinton will earn $225,000 for a 90-minute speech in October.
Hillary Clinton requires 'presidential suite,' stenographer for speaking engagements, report says. Hillary Clinton has not yet announced whether she will be running for president in 2016, but a new report suggests that she has a taste for luxury to match any world leader. The Las Vegas Review-Journal obtained Clinton's contract and related documents related to a scheduled October 13 speech at a University of Nevada, Las Vegas (UNLV) Foundation fundraiser. The documents show that Clinton received $225,000 to speak at the fundraiser, a discount from her initial $300,000 asking price. But the fee was only the first of Clinton's many stipulations.
10 Things You'd Have to Offer Hillary Clinton In Order to Have Her Speak at Your Event. [#10] A speaking fee of between $225,000 and $300,000, depending upon the situation. [...] [#7] A TelePrompter. [#6] A stenographer. [#5] Meals and incidentals for Clinton, her travel aides and advance staff, as well as all phone charges.
Too rich for her own blood. Numerous reports have revealed that top Democratic 2016 presidential hopeful Hillary Clinton is living a lavish, over-the-top affluent lifestyle befitting — you guessed it — a mean old One-Percenter. She and her fellow Democrats pretend they're the party of the poor, the "hammered" middle class — the 99 percent. Well sorry, Hillary, but average Americans don't vacation in the Hamptons in $18 million homes, fly private jets, get paid more than $200,000 a pop for speeches or stay in presidential suites while traveling.
University at Buffalo paid $275,000 for Hillary Clinton speech. When Hillary Rodham Clinton agreed to address the University at Buffalo, the largest campus of the State University of New York system, she negotiated a few requirements in addition to her pay of $275,000. The potential 2016 presidential candidate's agent requested that the university provide "a presidential glass panel teleprompter and a qualified operator," that Clinton's office have "final approval" of her introducer and the moderator of any question-and-answer session, as well as "the sets, backdrops, banners, scenery, logos, settings, etc," and that the topic and length of the former secretary of state's speech would be at her "sole discretion."
Hillary Clinton's $275K Speaking Fee Comes with Diva Demands. Former Secretary of State and almost-certain 2016 presidential candidate Hillary Clinton not only demanded $275,000 to speak at the University of Buffalo, her nine-page contract is filled with the kinds of demands that Pop Divas like Madonna are regularly mocked for.
Keywords; imperious, arrogance, control freak
Hillary's $2,777 PER MINUTE speaking contracts demand a 'presidential' teleprompter, let her cancel 'for any reason whatsoever'. Hillary Clinton, the former secretary of state who is preparing to run for president on a populist platform of fighting income inequality, demanded $2,777 per minute for two university speaking engagements and insisted on contracts that cut off reporters' access to her and limited the number of photos she would take with well-wishers. [...] The once-and-maybe-future White House resident is routinely granted iron-grip control over the circumstances surrounding her speeches.
Bill and Hillary Clinton go to the grocery just like us. Bill Clinton and his wife are just regular folks, you should know. He says they talk to towns people near both of their mansions. They go to the grocery store on weekends and perhaps squeeze the fruit, as careful shoppers would watching their dollars in this stagnant Obamaconomy. Never mind the burly guys in cool shades nearby with curly wires running into their ears and machine guns under the jackets. Or their specially-trained defensive driver. Or the friends' private jets that whisk them to another $200K speech.
DEMOCRATS tear into 'imperial' Hillary after major gaffes about her enormous wealth. Hillary Clinton's fellow Democrats smell blood in the water after her recent gaffes over her considerable wealth and they began pouncing on the presidential hopeful on Monday. Dick Harpootlian, a former Democratic Party chairman in South Carolina, framed his insult in terms the fictional aristocratic Crawley family and their servants could understand. 'I don't know whether it's just that she's been "Madam Secretary" for so long, but she's generating an imperial image,' Harpootlian told The Washington Post.
Hillary Clinton and the Language Police. With each Hillary Clinton presidential campaign comes the requisite language policing from her supporters. Before the 2008 election, some argued it was sexist to call her "Hillary," a claim that lost most of its force when it became clear that Clinton herself wanted to use her first name. And now we have the latest attempts to rule out certain words or phrases: Hillary's poor social skills apparently must not be named, especially with words like "polarizing." But her supporters are doing her no favors.
Hillary 'Super Volunteers' Warn Reporter Against Using 'Sexist' Words. Sexist words, according to the group, include: "polarizing," "calculating," "disingenuous," "insincere," "ambitious," "inevitable," "entitled," "over confident," "secretive," will do anything to win," "represents the past," and "out of touch."
Hillary Clinton's 12 Dirty Words. What do you call a polarizing, calculating, disingenuous, insincere, ambitious, entitled, overconfident, secretive politician who will do anything to win and thinks she's inevitable even though she's out of touch and represents the past? Not "Hillary Clinton," because, you know, that would be sexist.
Here Are The Words Hillary's Supporters Won't Let You Say. Do you work in the media and have the gall to think that the entire Webster's dictionary is at your disposal? Think again, you sexist. When it comes to reporting on Hillary Clinton, George Carlin's "Seven Words You Can Never Say on Television" have turned into "Twelve Words You Can Never Say About a Powerful Politician."
Her Royal Heinous vs. the Democrat Opposition. Hillary is younger than Ronald Reagan when he took office, and around the same age as several other former presidents. So it may not be Clinton's chronological age that concerns some people as much as it is the increasing sense of world-weary entitlement she displays toward the presidency. It's not the bags under her eyes that rankle; it's the baggage under the table. It's not the manner in which Her Highness sashays to the lectern; it's the bombast she utters once she gets there.
Clinton Press Secretary Thinks Hillary Should Be a Supreme Court Justice. The only question is why stop there? Can't we just appointed a politician, whose only qualification for every job she has gotten in the last two decades has been her last name, Supreme Overlord of the Universe?
Hillary Wants to be President, She Just Doesn't Want to Run. Ready for Hillary, the campaign before the campaign which has churned out some creepy t-shirts and a terrible country song, is $11 million in debt, and Hillary still isn't ready. While Hillary was delivering six figure speeches at heavily indebted universities, Ready for Hillary was burning through a giant pile of money trying to stir up Obama level enthusiasm for their uncharismatic candidate by selling fifty dollar champagne glasses emblazoned with a giant H, a Hillary Clinton cat collar and a Hillary Clinton Christmas tree ornament.
Hillary's hummus. When The Washington Post exposed Hillary Clinton's contract for a March speech at UCLA, the terms looked more like something a rock star might demand than something from a former senator and first lady. Among the details Clinton negotiated were the color and style of the armchairs she would be sitting on, the plates of hummus and crudités she demanded and the number of photos she would be willing to pose for. Oh, yes, she also told the school it would have to cough up a $300,000 speaking fee on top of all this to get her. When a college representative asked if Mrs. Clinton would consider a discounted rate because it was a public university, her people quickly responded: This was the discounted university rate.
The secret list of requirements to get a Hillary speech (Not counting the $300K). Hillary Clinton is going to have a real problem running for president as a woman of the people. And the evidence mounts by the day. First, you'll recall her hilarious claim of being "dead broke" upon leaving the rent-free White House in 2001 and confronting mortgages on two mansions. We've all heard about her scores of strictly-controlled, quarter-million dollar speeches to every convention of scrap metal dealers and the like since jumping off the sinking S.S. Obama last year. Now comes a most amazing compilation of regal needs and demands before the ex-first lady, ex-senator, ex-secretary of State will condescend to accept up to $10,000 per minute to address her countrymen.
Sharpton Guest Defends Hillary's Private-Jet Travel: 'American Royalty'. Appearing on Al Sharpton's MSNBC show this evening [11/11/2014], [Chris] Witherspoon defended Hillary against an RNC email criticizing her for expensive private-jet travel billed to the campaigns of candidates for whom she made appearances. Witherspoon generated this gem: "they're the Clintons. They're American royalty. I don't want to see them flying on domestic Delta flights in first class. I mean, they were flying on Air Force One for eight years. How do you go from that to not staying on private jets and kind of having like that luxurious travel experience?"
Hillary Clinton again shuts out media. We've been here before: Hillary Rodham Clinton lands in a major U.S. city for a speech. Her team bars the media from the speech. Local media documents the firm stiff-arm from Clinton Inc. Happened in Miami. Happened in Atlanta. Now the San Francisco Chronicle's Carla Marinucci reports it's about to happen in San Francisco. The former secretary of state will be speaking at a mammoth Saturday event for the National Association of Realtors at San Francisco's Moscone Center. And later that day, she's scheduled to appear at a "Millennial Network" event to benefit the Clinton foundation, at San Francisco's Regency Ballroom, Marinucci reports. Both events will be closed to the press.
Hillary Clinton's security grabs man's phone to erase photo at Miami speech. Hillary Clinton may have posted a selfie on Twitter, but that doesn't mean just any old shutterbug can take her picture. During a Clinton speech Thursday at a convention in Miami, an audience member dared snap a pic of the presumed presidential candidate with his smartphone, but Clinton's team swept in, confiscated the man's phone and deleted the snapshot.
Hillary Clinton's image control: Security swipes man's phone, erases pic of her at speech. At one point, a member of the audience, Andrew Rothberg, had his Galaxy Note II smartphone taken from him by security, which removed his picture of Clinton onstage and then gave his device back in front of a Miami Herald reporter in the auditorium stands. "It's crazy," Rothberg said. "That's American politics," said a docent, one of a handful of hotel security and volunteers who roamed the aisles looking for people taking pictures or making recordings. None was allowed.
The Editor says...
One must wonder why a politician — whose goal is to be widely known, recognized, and quoted in the newspapers — is opposed to being photographed or recorded.
Other signals and noise:
Beware of the candidate without accomplishments. Last week on MSNBC, Mark Halperin asked ten Iowa Democrats who are Hillary Clinton supporters to name one of her accomplishments while serving in the Obama administration. They couldn't name any. Seven years earlier on the same network, Chris Matthews asked a Texas state senator a similar question about Barack Obama — he was stumped too.
Halperin Finds Iowa Democrats Can't Name Hillary Accomplishments as Secretary of State. For his With All Due Respect show on Bloomberg TV, Mark Halperin sat down with a focus group of Iowa Democratic voters to discuss Hillary Clinton's prospects for the 2016 presidential election. While the group fawned over the former First Lady's personality and politics (one called her a "bad mama jama"), they were stumped when Halperin asked them to name a single accomplishment of Hillary Clinton's during her tenure as Secretary of State. The responses ranged from "I really can't name anything off the top of my head" to "Give me two minutes" to "I honestly can't say I followed along everything that was going on" to outright "No."
Anti-Hillary PAC must change name or face FEC sanction. A political action committee created to block Hillary Rodham Clinton's path to the White House has been ordered by the Federal Election Commission to stop using the Democrat's name — or else. Stop Hillary PAC has until June 1 to decide if it will fight the FEC, a battle others in similar situations have tried and failed at. "Your committee's name includes the name of a candidate; however, your committee does not appear to be an authorized committee of that candidate," said the FEC letter sent to Dan Backer, treasurer of Stop Hillary PAC.
The Incarceration Speech: Typical Hillary. In a speech to the David N. Dinkins Leadership & Public Policy Forum at Columbia University on April 29, Hillary said, "It's time to end the era of mass incarceration." The problem is that in her speech she offered platitudes rather than specific, concrete solutions as methods to achieve for what she called. She spoke many words, yet they were entirely void of meaning or substance.
Sabotage! Will Bill Save Us from Hill? The more we read of the escapades or listen to the remarks of William Jefferson Clinton, the less it seems he wants his wife to be president. Even the court eunuchs at the Washington Post are starting to worry. Now naturally, Bill cannot come out and say as much, not even to himself in the small hours of the morning. But the way he's behaving under fire — "I gotta pay our bills!" — does the talking for him.
Hillary Rodham Clinton: Liar, Globalist Traitor. [Scroll down] I believe Hillary has serious health problems she's trying to hide from the world. I don't know if she will be chosen by the masters of the game to run in 2016, but I do know, we must never let that happen. The only way to stop her and those working to destroy our beloved republic is to expose their real agenda — and Hillary's past.
Barf alert: 19 months of Chelsea in your face on the way. Chelsea Clinton is no longer the innocent teen she was when she lived in the White House and reportedly called the Secret Service agents guarding her family with their lives "pigs." She has signed on as a key part of her mother's campaign for the presidency, and now she is fair game. Although her God-given looks are not generally worthy of mention, the excesses of PhotoShopping are also fair game.
When 'inevitable' candidates disappoint. The "common wisdom" among politicos these days is that when the smoke clears, next year's presidential election will pit former Florida Gov. Jeb Bush against former first lady Hillary Rodham Clinton. They're both far better known, better financed with a wider network of activist supporters and more national experience than the rest of the wannabes. This is all true and makes some of their supporters wonder why the rest are even bothering. Where do people like Rand Paul, Martin O'Malley and Joe Biden get off challenging the inevitable?
Here Comes Hollywood: Robert De Niro Endorses Hillary Clinton. "Hopefully it will be her, yes," said De Niro of the former Secretary of State's chances next fall. "I think that she's paid her dues. There are going to be no surprises, and she has earned the right to be president and the head of the country at this point. It's that simple. And she's a woman, which is very important because her take on things may be what we need right now."
The Editor says...
[#1] The opinion of an actor is no more valuable than the opinion of a guy who pushes a lawnmower for a living. [#2] Mr. De Niro says Hillary "has earned the right to be president." That is a lie: One does not earn a right. Rights are given to us by God himself, not by political parties or governments. Presidents are selected by a vote, not by a pre-ordained schedule of whose turn is next. [#3] De Niro's statement is also a lie because Hillary has done nothing in her life that should be rewarded with the presidency. "Carpetbagger" is not a resumé enhancement. [#4] The fact that Hillary is a woman is immaterial and will be of no benefit to anyone but her, just as Barack H. Obama's skin color hasn't benefited anyone but Mr. Obama, despite the widespread assumption (and mostly-unspoken promise) that the election of a black president would solve a lot of problems. In reality the First Black President knows he is a sacred cow and can't be impeached, no matter what he does. Thus he has become a loose cannon. Similarly, Hillary Clinton would be sure to deflect all criticism during her reign by claiming it is based on sexism.
Taxpayer tab for Clinton Inc.: $16 million. By Election Day 2016, taxpayers will have paid out more than $16 million to fund Bill Clinton's pension, travel, office expenses and even the salaries and benefits of staff at his family's foundation, federal records show. Since he left the White House in 2001, Clinton and his office have received more money through the Former Presidents Act than any other ex-president, according to a POLITICO analysis of budget documents.
Carefully scripted Hillary knocked out of comfort zone. On Monday [3/9/2015], Hillary had a "No Ceilings" event at the Clinton Foundation. After her opening remarks, the Associated Press reported, she declined to take any questions. "When she sat down to lead more informal conversations with invited speakers, participants appeared to be reading from teleprompters." I'll give the AP reporters a pass on this odd locution since they at least conveyed the truth to the reader. But for the record, a dialogue between people on a stage in which they read from teleprompters is not an "informal conversation" — it's a play.
Nostalgia for a Pre-Obama America. The Bush and Clinton political express is moving forward not because these families have become dynasties, but because the majority of Americans want to go back to a time before Obama. Hillary and Jeb are not popular on their own merits. To Democrats, Hillary seems to offer a return to the Bill Clinton days when the economy was up and the country didn't hate them.
Why the media turned on Hillary: a theory. One theory, that I have advocated, is Democrat desperation over her poor campaign abilities, Wall Street ties, Clinton Foundation enrichment, and other scandal vulnerabilities. Better to force her to withdraw and seize the chance to nominate a more attractive and farther left alternative like Elizabeth Warren. But another very attractive hypothesis is being advanced by Lee Smith, writing in Tablet Magazine. She is being taken out by the Obama administration, that fears her opposition to its all-important Iran policy goals.
The Clintons Are a 21st-Century Machine. What is a political machine, boiled down to its essence? In a nutshell, it is a tightly-run, extra-governmental organization that conducts business on behalf of governmental agents. At first glance, political parties may be thought of as machines, but parties are basically open to any and all participants who more or less agree with the platform. Machines are closed off, premised on loyalty, and usually operated on behalf of a close-knit group of leaders, who control entry to and exit from the operation.
Hillary Clinton's War on Women. Hillary Clinton portrays herself as a champion of women in the workforce, but women working for her in the U.S. Senate were paid 72 cents for each dollar paid to men, according to a Washington Free Beacon analysis of her Senate years' salary data. During those years, the median annual salary for a woman working in Clinton's office was $15,708.38 less than the median salary for a man, according to the analysis of data compiled from official Senate expenditure reports.
Where is Hillary on Paris attacks? For someone supposedly running for president, Hillary Clinton is awfully scarce lately, completely silent on the jihad attacks on Charlie Hebdo and the kosher supermarket. Wasn't she secretary of state? Isn't foreign policy supposed to be one of her strengths? Isn't she trying to put some daylight between herself and her former boss, President Obama? She could have flown to Paris and marched, and it would have gotten her lots of attention as the president-in-waiting. Yet she didn't. Did Huma Abedin, who remains at her side, tell her that those who slander the prophet of Islam have no future?
Hillary Clinton: I May Not Run For POTUS Because Job Too Difficult. Hillary Clinton said she may not run for president because the modern American presidency may just be too tough of a job. Acknowledging to PBS's Charlie Rose that America's president must be both the head of state and government, Clinton said the job of being president "has only gotten harder" and it is now an "all-consuming commitment."
The Editor says...
The job doesn't seem to be all that tough on Barack H. Obama!
Hillary Clinton Praises GOP Establishment, Big Business For Taking On TEA Party. Hillary Clinton thanked the Republican establishment and its big business allies for taking on the Tea Party and defeating conservative candidates like Chris McDaniel in Mississippi's June runoff. In a Thursday interview with Charlie Rose on PBS, Clinton said tea partiers and conservatives needed to be reined in.
The Editor says...
Reined in? By the IRS, perhaps?
Hillary Clinton is Obama's George H.W. Bush: The designated successor. Hillary Clinton is Obama's George H.W. Bush — the candidate the current president bested eight years ago but who dutifully and quietly swallowed the anger and served that president, and in doing so set herself up to succeed the man she tried eight years ago to crush.
Jeb Bush to award Hillary Clinton with 2013 Liberty Medal. Jeb Bush will present Hillary Clinton with the 2013 Liberty Medal this September in Philadelphia. Mr. Bush is chairman of the National Constitution Center, which is honoring the former first lady for her career in public service and her advocacy efforts on behalf of women, The Hill reported.
Hillary's Perfect Campaign Slogan. It's the perfect expression of the utter contempt and disdain that Hillary, Obama and their ilk have for our "old-fashioned" American notions of honor, accountability and personal responsibility. At the rate we're going — at the rate the "fundamental transformation of America" is being implemented — by the time Hillary does run for president, the country will be so demoralized, so depressed, so bereft of hope that our slide into Third-Worldism can ever be reversed, that it will be the perfect campaign slogan!
First-ever national campaign to elect a woman president launched. For the first time since women became the largest voting block, Democratic women are organizing to elect one of their own to the White House in 2016. The unstated goal: Putting Hillary Clinton in the Oval Office. The influential women's political group Emily's List next week plans to announce their new national campaign.
The Big Switch. It's been said over and over again, [at] American Thinker and in many other places, that this nation will simply not survive four more years of Barack Obama. If that is true (and it certainly is), what, then, will America be like after four — or even eight — additional years of Hillary Clinton?
Hillary Clinton's quiet campaign for President. Hillary Clinton is running for President in 2016. Her silence gives it away.
---

Section 5
Bill and Hillary work as a team — you vote for one, you get the other.

A Hillary Clinton presidency. The choice ahead … is clear enough at this point, at least in terms of what the 2008 Clinton campaign is about: the Clintons — plural. Theirs is a campaign for Restoration to the White House, not simply the election of Hillary Clinton. Theirs is, has always been, a joint enterprise, a see-saw routine in which the psyches and actions of each balances the board according to the personal dynamics of the moment.

We haven't seen the back of the Clintons yet. I have detested the Clintons ever since I covered the New Hampshire primary in 1992. The man I saw was not the silver-tongued charmer who seems to have bewitched so many people. Up close, he seemed like a red-cheeked, piggy-eyed bully with a mean streak a mile wide. And when he lied — which he more or less did for a living — he had a hard-faced little spouse to step into the TV studios to cover up for him.

Power at any cost: Whatever else he might accomplish, Senator Barack Obama has prevented the restoration of the Clintons. That alone is cause for rejoicing. How did he do it? It was partly about him, but mostly about her. … A freshman senator with an ultraliberal voting record does not win the nomination without deep weakness in the competition. Obama became the chosen instrument for those who fervently wished to prevent the Clintons from coming back. In this race, being the not-Clinton was as important as being black.

Menino against Obama-Clinton ticket. [Boston] Mayor Thomas M. Menino said that Hillary Clinton should not run for vice president on a ticket with Barack Obama because her husband, former president Bill Clinton, could cause problems for the new administration. "If she got back into the White House, she'd bring along Big Daddy, and he would overshadow the president," Menino said in an interview. Bill Clinton is "pushing real hard" for his wife to be Obama's running mate, Time magazine reported this week.

No Ménage-à-trois for Obama. Putting Hillary Clinton on the ticket for vice president creates a ménage-à-trois. Bill will be the unexpected roommate. Even if a President Obama can discipline Hillary and get her to play second fiddle, there is not the remotest chance that he can get the former president to accept such rules.

Hillary Clinton's candidacy has done feminism no favours. She is both inspiring role model and cringe-making bad example — an overtly feminist careerist who never found a way to succeed without her husband's connections, advice, and intervention. … The next major female presidential candidate will be well advised to stuff any errant husband into a rucksack and chuck him down a laundry chute. If they are to be truly equal, women must fight their own fights and not rely on a borrowed spotlight.

It's all about the Clintons. In truth, Obama is not running against Hillary Clinton, he is running against the Clintons — a political machine headed by the New York senator and her ex-president husband, Bill, that includes some of the most ruthless operators in modern politics. The Clinton machine is fuelled by a smorgasbord of pathologies and resentments, some of them based on genuine experiences and others the product of quite frightening self-obsession. It's been clear for many months now that what the Clintons are proposing is a sort of co-presidency, with Bill — prohibited by the US constitution from running again — doing much more than conducting occasional morning coffees in the White House and doing some charitable work.

We Are The President? During the government investigation of the Clinton Whitewater scandal (difficult times for them — 15 of their colleagues/friends were convicted of Whitewater crimes), Hillary Clinton responded to questions regarding the possible release of Whitewater documents by saying "I'm not going to have some reporters pawing through our papers. We are the president." (Underscoring that her co-presidency was a reality.)

Ma and Pa Clinton: "Interesting discussion with one of my clients in Texas," a leading political observer in Washington tells Inside the Beltway. "Topic was that Bill Clinton is treating this election as his third, and that the missus looks far less presidential while he grabs more and more limelight on the stage. "My client was reminded of an old, real-life Texas story of Ma and Pa Ferguson — she being the first woman governor of Texas."

Hillary and the Ferguson factor: Historical analogies can only go so far. Nothing in the colorful Ferguson tale is meant to suggest that Hillary Clinton would be a mere surrogate, or that Bill Clinton would use his position in the nefarious ways that Jim Ferguson did. It does, however, serve as a reminder of the complicated dynamics that can arise when a former elected official finds himself back in the executive mansion, eager to serve but holding no title other than first spouse.

Hillary disappearing in Bill's shadow. Any marriage blends affection, memories and quid pro quos. But 99 percent of marriages do not affect national political life. Mao Zedong's did. The Clintons' does. Hillary's political ambition and bargains with her husband recall Jiang Qing's rise as Mao's wife and him ushering her into high office in 1966.

Hillary's bridge back to the 20th century: Facing yet another contest in a state she's declared to be a firewall against Barack Obama, Clinton is tapping into 1990s nostalgia everywhere she goes. It is, once again, the economy, stupid; Hillary is practically offering to build a bridge back to the 20th century. The white working-class voters she's relying on to win say they miss the prosperity and peace of the Clinton years, and they figure she's the next best thing to getting Bill back.

The Clinton Reunion Tour: When watching the inaugural ceremonies in 2001, when Bill Clinton lingered, and lingered, and lingered a bit longer, I knew that not only would he not go away, but that the media wouldn't let him. This week the Vast Right Wing Conspiracy celebrated its ten year anniversary and the woman who coined the phrase looks poised to return with Bill Clinton to the White House. Considering how reluctant they were to leave it, it is no surprise they are fighting so hard to return.

First what? In all the excitement over the prospect that Hillary Rodham Clinton might be our first woman president, largely overlooked is the fact that, after trying numerous other strategies, she has ended up dependent on her husband to help her win.

Will the Clintons be the new Southern political dynasty? To a Southerner of a certain age, Bill Clinton's vigorous campaign to elect his wife to the office he once held brings back memories of George Wallace's 1966 campaign to elect his wife, Lurleen, governor of Alabama and of their ensuing co-governorship. Like Clinton, Wallace could not run again because of term limits.

The Clintons and their -ism: Bill has supplemented Hillary's tightly wound discipline with his out-of-control ego, her off-putting devotion to script with his wild and dishonest improvisations, her inability to project warmth with his self-adoring affability. What they have always held in common is ambition and willingness to resort to any means — sheathed in self-righteousness — to achieve power.

The 'Two-fer' Problem: As Bill Clinton crisscrosses America defending his wife's candidacy, he's fueling speculation about who'd be in charge should Hillary be elected. Sen. Clinton — the incredible shrinking candidate — seems at times almost a bystander at her husband's campaign, merely playing a somewhat more active role than she did in '92.

Hillary Rodham Clinton: A Pillar Of Female Achievement? Really?? Thus far, 2008 has provided nothing short of a Clinton psychodrama. In the month of January alone, Bill admitted that there's only "so much" he can do to get his spouse elected, and that he can't make her "taller, younger, or male;" Bill insultingly described Obama's stance on the Iraq war as a "fairytale;" Bill accused the media of being "stenographers" for the Obama campaign; Bill claimed that electing Obama to be President would be tantamount to "rolling the dice;" Bill compared Obama to the racially polarizing Jesse Jackson; we saw Bill explode into red-faced, Elton John-style tantrums with television news reporters; and after all this (and with Obama's polling numbers rising), Hillary explained that Bill just got a little "carried away" simply because he "loves her" so much, and assured voters that she'll be able to "control him" when they return to the White House.

Bill Clinton: Rogue Co-President In Waiting. Make no mistake about it: If Hillary Clinton is elected president, her husband will be her rogue co-president, causing constant chaos, crises and conflicts for her new administration. And sometimes, that will be exactly what Hillary wants. Chaos is Bill Clinton's signature style and he's not about to suddenly change.

GOP savoring a chance to take a shot at Hillary's albatross. There is nothing the Republicans would love more than running against the political hermaphrodite. … Are we to assume that the GOP will not hit the Clintons with everything that they have been amassing up until today?

The 'Bill' question hovers over the Clinton campaign. If Sen. Hillary Clinton wins the Democratic nomination and is later elected president, her prospective First Laddie will dance into the White House. Only, Bill Clinton won't be elected this time. He'll be the spouse and therefore untouchable. And that's not only her problem; it's our problem, even if you're not a Democrat. Sen. Barack Obama's people have raised the issue, but not loudly enough.

The Real Hill-Bill Problem. We have never had an ex-president move back into the White House. When in 1992 Bill Clinton promised "two for the price of one," it was taken as a slightly hyperbolic promotion of the role of first lady. This time we would literally be getting two presidents. … Do Americans really want a historically unique two-headed presidency constantly buffeted by the dynamics of a highly dysfunctional marriage?

Nader rails on Clinton family. Bill Clinton is generally viewed as one smart politician, having been twice elected the President, helped by lackluster Robert Dole, having survived the Lewinsky sex scandal, lying under oath about sex, and impeachment. When is it all about himself, he is cunningly smart. … It has always been all about him, Now he sees another admission ticket to the White House through his wife, Hillary Clinton.

The Temper-Tantrum Kid. In recent weeks, [Bill Clinton] has proved that adolescents can't be elder statesmen. His performance on Hillary's behalf has been desperate, accusatory, self-pitying and misleading. It has been a full-on blast of Bill Clinton's do-whatever's-necessary ethic of the sort we haven't seen since he wagged his finger at the country almost 10 years ago and denied having sex with Monica Lewinsky.

Slick Willie Rides Again. The Clintons play dirty when they feel threatened. But we knew that, didn't we? The recent roughing-up of Barack Obama was in the trademark style of the Clinton years in the White House. High-minded and self-important on the surface, smarmily duplicitous underneath, meanwhile jabbing hard to the groin area. They are a slippery pair and come as a package. The nation is at fair risk of getting them back in the White House for four more years. The thought makes me queasy.

Tag-teaming, Clinton-style. Barack Obama may have distilled his biggest problem in eight words he blurted out almost in exasperation. "I can't tell who I'm running against sometimes," he told Hillary Clinton at Monday night's acrimonious Democratic presidential nomination debate in Myrtle Beach. That appears to be just the way Hillary and Bill Clinton want it and despite some obvious discomfort in senior Democratic ranks about a former president as attack dog, it also appears to be working.

A Clinton twofer's high price. Whether you loved them or hated them, Bill and Hillary Clinton were always a twofer. On the campaign trail in 1992, Bill used to joke about it. Vote for me and get "two for the price of one," he chuckled. Plenty of Americans thought this wasn't such a bad idea. A bumper sticker popular at the time proclaimed: "I'm voting for Hillary's husband." The Clintons seem to want that bumper sticker resuscitated.

Two Clintons: One too many? In 1992, when he was running for president, Bill Clinton bragged that his brainy lawyer wife would give voters "two for the price of one." This year, Hillary Rodham Clinton's chief rival for the presidential nomination says that's precisely the problem he faces in the campaign.

Hillary and Bill Use Alinsky Tactics To Bring Down Obama. Obama was up; now he's down. Even though Obama seems to be harnessing the South Carolina black vote that will give him that state's delegates, he has been feeling the brunt of the Clintons' mastery of the tactic of polarization, taught decades ago to Hillary by Saul Alinsky.

Oh no, not him again. When the New York Times, Yahoo News and The Onion run the same story on the same day, you know that something's afoot. Yes, it would appear that despite the constitutional bar, Bill Clinton is running for the White House again. Americans might say that I have no right to say this — I'm merely a green card holder, not a citizen — but he must be stopped. Why? Because he is one of the most disgusting people ever to rise to high office in the democratic era.

Bubba, Toil & Trouble! Outbursts are an Omen. America, consider yourself fairly warned. Bill Clinton's latest tirades are a healthy reminder of the never-ending drama that was the Clinton years — and surely will be again if Bubba gets back into the White House.

Bill Clinton coming on too strong. Chill, Bill. Standing in for Sen. Hillary Clinton in South Carolina, the former president has been gut-punching Sen. Barack Obama, his wife's toughest opponent for the Democratic presidential nomination. Bill Clinton has never shied away from trench warfare. There are few contemporary politicians, if any, who do it better. But it's conduct unbecoming a former president.

Clintons Play Bad Cop, Worse Cop. No more Ms. Nice Gal. After Obama's surprising success on the campaign trail, the Clinton team is pulling out all the stops. Hillary's most important advocate, her husband Bill, has jumped into the fray. But some critics say his behavior is unfitting for an ex-president.

Clinton: Parenthesis In Search Of A Legacy. There was general amazement when (the now-muzzled) Bill Clinton did his red-faced, attack-dog, race-baiting performance in South Carolina. Friends, Democrats and longtime media sycophants were variously perplexed, repulsed, enraged, mystified and shocked that this beloved ex-president would so jeopardize his legacy by stooping so low. What they don't understand is that for Clinton, there is no legacy.

Hillary goes negative. Employing innuendo and half-truths against Sen. Barack Obama, Sen. Hillary Clinton and her husband, the former President, have introduced the politics of personal destruction to the Democratic presidential campaign. They bear responsibility for cheapening the tone of the contest.

Vast Left-Wing Conspiracy. The Democratic epiphany about the political tactics of Bill and Hillary Clinton continues, with scales falling from eyes on a daily basis. "I think it's not Presidential," said former Senate Majority Leader Tom Daschle, about Mr. Clinton's steady barrage against Barack Obama. "It's not in keeping with the image of a former President, and I'm frankly surprised that he is taking this approach." Mr. Daschle supports Mr. Obama, but how he could be surprised is another matter.

The empire strikes back. The Clintons seem truly stunned that anyone would have the gall to challenge what they believe is their birthright: the Democrat presidential nomination and eventual return to power. … After all, Hillary Clinton didn't suffer her husband's philandering for nothing. Her expected clear, unobstructed path to the White House is "the ultimate alimony," according to columnist Charles Krauthammer. Ouch.

Hillary's biggest asset? Now Bill is looking like a liability. Think about it. A former president, who knows the inner workings of government intimately, would be back in the White House. He may have no official title or role. Yet he would, it's fair to assume, be deeply enmeshed in both politics and policy. To what extent would this constitute a co-presidency?

Bill Clinton's running again — and it's all about him. Bill Clinton is running again. For what, exactly, isn't clear. Watch: He's stalking the stage in South Carolina, as he did in New Hampshire and Iowa — a microphone in one hand, a wagging finger in the air, eyes wide open, the lip strategically bitten.

Hillary is on the ticket, but Bill is running. There is no mystery about why Bill Clinton has gone from big dog to attack dog in his wife's campaign. He's not just campaigning for her. He's campaigning for him. To put his wife in the White House would be a one-finger salute to the people who wanted to remove him from office.

Hillary Clinton plot to keep Bill in the spotlight. Bill Clinton will play a bigger role in his wife Hillary's election campaign than her vice presidential running mate if she wins the Democratic White House nomination, The Sunday Telegraph has learned. In late night strategy sessions Mr and Mrs Clinton have decided together that the former president will stay in the spotlight for the rest of the primary campaign and then take the fight to the Republicans in the general election.

Hillary unleashes pit bull Bill. [Bill Clinton's] role in his 60-year-old wife's campaign became so dominant last week that it was as if he was running for a third term in office. Camille Paglia, the cultural commentator who has voted for him twice, pities whoever might serve as Hillary's vice-president, should she reach the White House. "It's pretty clear that Bill Clinton will castrate any vice-president that Hillary nominates and undermine her authority," Paglia said. "His behaviour is atrocious. It is one lie and fantasy strung out one after another. It just feels tacky and trashy."

Bill Clinton, Nasty Man. Time to face an inconvenient truth: Bill Clinton is running for a third term. … It's the same old Clinton game, over and over: The Iowa caucuses were important until they weren't; South Carolina was key until they were going to lose. There is no yesterday that can't be rewritten; there is no consideration about the blowback from all this tomorrow. The only thing that matters is winning, or appearing to win, at no matter what cost, today.

Off the leash: Democratic politics is all about Bill — again. Over the past few months Mr Clinton has downgraded himself from global statesman to political hatchet-man. No former president has inserted himself so wholeheartedly into a presidential race. … He is spending more time campaigning in South Carolina than the candidate herself.

It's about Hillary, stupid. I'm tired of Bill Clinton. … Tired of his whining, as when he says the media has been too tough on [Hillary] and too soft on Barack Obama. All of this is as real as the lovey-dovey, hug-and-smile photo ops of them in Iowa. It's theater, staged for maximum political impact. We're being played again on the two-for-the-price-of-one angle. But, as always, the game for him is about him. A vote for her is a vote for him.

Hillary can run, but she can't hide from Bill. Electing Hillary means re-re-electing Bill. … Electing Hillary will be the same two-for-one deal it was in 1992 and 1996. Americans like moving forward, not backwards.

None of The Below. Last Tuesday [11/27/2007], Bill Clinton, trying to whet Iowans' appetites for another Clinton presidency, announced/discovered/remembered that he opposed the Iraq war "from the beginning," thereby revealing disharmony with his spouse, who voted for it.

The Marriage, Again. While Hillary will certainly try to take credit for the Clinton administration's accomplishments, and compare them favorably to the Bush years, does she also bear responsibility for what went wrong? Does this sort of chatter remind people that her White House "experience" was being married to a president? (Yes, she spearheaded health care reform, but we all remember what happened to that.)

A Problem Like Bill. Hillary Clinton tells audiences that having lived in the White House for eight eventful years, she's eager to take charge as president on "day one." Apparently, though, so is Bill. … On the stump, he draws big crowds and comes off as charming, eloquent and persuasive. But reporters who have tallied his words say that he talks more about himself than about his wife — at a ratio of about 9 to 1.

Question for Hillary: What will Bill's impact be? The possibility of Bill Clinton returning to the White House he left six years ago raises some questions that are far touchier than whether Americans are ready for a "first gentleman." As an ex-president, how much influence would he have in his wife's administration? Will memories of the Monica Lewinsky scandal haunt Hillary Clinton's campaign and drive away voters? What's the status of the Clintons' marriage — and does it matter?

Clinton Reminds New Hampshire, I'm With Bill. As she made her first outing to New Hampshire as a presidential candidate last weekend, Senator Hillary Rodham Clinton left her husband at home, yet she tried to tap his old political magic at nearly every turn. Mrs. Clinton, Democrat of New York, mentioned Mr. Clinton at least eight times on Saturday — at one point talking about "Bill's heart surgery" to illuminate her own travails with health care bureaucracy — and a few times on Sunday, most memorably when she said of Republicans, "Bill and I have beaten them before, and we will again."

Clintons make rare appearance together. Democratic Sen. Hillary Rodham Clinton took the stage Sunday with her husband, the former president, at a major fundraiser that brought in over $1 million for her presidential campaign.

Working as a team...
Clinton Says Rove Fears Her Candidacy. Campaigning in New Hampshire, Clinton claimed that she — and her husband, the former president — are the Democrats that Rove and other leading Republican handicappers fear most. "I know what Gingrich tells people privately, I know what DeLay tells people privately, I know what Karl Rove tells people privately," she said. "I'm the one person they are most afraid of. Bill and I have beaten them before, and we will again."

Clinton camp shrewdly managing the 'Bill factor'. Much as Mr. Bush did with his father in 2000, the Clinton camp is seeking to leverage Bill Clinton's appeal with select voters while limiting joint appearances that might diminish the candidate. … Clinton strategists have dispatched the former Democratic president separately to fundraisers and events with the party faithful. Experts predict joint appearances will be carefully rationed.

Bill Clinton's $700,000 stock windfall: The spring before his wife began her White House campaign, former President Bill Clinton earned $700,000 for his foundation by selling stock that he had been given from an Internet search company that was co-founded by a convicted felon and backed by the Chinese government, public records show.

Two for the price of one, if Hillary wins. If Americans elect Hillary Clinton as president next year they will also be re-electing her husband Bill, according to the author of a new biography of the former First Lady. Carl Bernstein, one of the reporters who broke the Watergate scandal which brought down Richard Nixon, told The Daily Telegraph that the couple would operate a joint presidency in which Bill would advise on policy and tactics as well as act as trouble shooter.

Clintons planned to have eight years each as president, book says. Bill and Hillary Clinton drew up a secret plan 15 years ago under which each of them would occupy the White House for eight years, according to one of several new books about the leading Democratic candidate for the US presidency. … Taken with other allegations contained in a separate book, it also boosts a widely held belief in political circles, that by the late 1980s, the Clinton marriage had become little more than a mutually-beneficial political arrangement.

Two Presidents in the White House? For many years, one of Bill and Hillary Clinton's closest friends, TV producer Linda Bloodworth-Thomason, has been fond of saying that when the Clintons "are dead and gone, each of them is going to be buried next to a president of the United States." It is an idea that the Clintons began talking about decades ago.

Arkansas Hillary's Southern strategy. Arkansans warmly welcomed back Hillary Rodham Clinton this weekend in the Democrat's first visit to her old stomping ground since becoming a White House candidate. Voters here view her — the state's first lady when her husband, Bill, was governor — as a native daughter and say they think electing her president would effectively give her husband another term.

Who Exactly Is Running for President? I wrote not long ago about Bill as the "Clinton Albatross," but now it is more apt to compare him to an attack dog unleashed. His (not her) victory speech in Nevada was quite extraordinary: He went on and on, while she stood next to him, mute. He gloated over her comeback, took digs at the other candidates, referenced himself of course, and was reluctant to give up his iron grip on the microphone.

Bill Clinton Casts Glow Over Wife's Presidential Campaign. Making his first solo campaign stop in Iowa, Bill Clinton is using his star power to summon support for his wife's presidential campaign. No town is too small or off the beaten track for the former president in a state with a tightening race.

Clinton Papers Suggest 'Co-Presidency,' Conservative Says. The 11,046 pages of former first lady Hillary Clinton's calendars and schedules that are now available to the public indicate, among other things, that she was a "co-president," according to a conservative analyst and, to a degree, according to Hillary Clinton's presidential campaign. The William J. Clinton Presidential Library agreed to release the papers after a long legal battle, and the documents were made available through the National Archives on Wednesday [3/19/2008].

Filings provide a glimpse of corporate Clintons. A close look at the delayed financial disclosure report of Sen. Hillary Rodham Clinton for 2007 should banish any lingering thoughts that she and the former president are distinct entities. As she entered the 2008 election year, the New York Democrat and Bill Clinton were clearly a corporation and they were rich. … They sold 165 separate securities accounts in April, 2007. The valuation tables employed in the form indicate they were worth up to $25,440,000. Significantly all 165 accounts were marked "J," meaning joint.



TWA Flight 800: Hillary Rodham Clinton's Benghazi warm-up. Hillary Rodham Clinton, the nation's first co-President, was as much a powerful political influence and purveyor of false reality then as she is today. In fact, the parallels between her role in the narrative of TWA Flight 800 and the official story behind the murders of four Americans in Benghazi, Libya, on September 11, 2012, are strikingly similar. [...] There were 270 documented eyewitnesses to the events of that night, each observing what can best be described as a missile striking the aircraft.



---
"I'm not going to have some reporters pawing through our papers. We are the president."

---


Section 6
Bill and Hillary succeed only because of the friendly, very sympathetic and malleable "mainstream" news media.

Liberal Media is Hillary's Secret Weapon. Hillary's Clinton's secret weapon to win the 2008 election isn't her former president husband. It's the liberal media, according to L. Brent Bozell, III, president of the Media Research Center. Bozell and Tim Graham, MRC's director of media analysis, document how Clinton enjoys "unprecedented media favoritism" in their new book Whitewash. Bozell and Graham say the "establishment" media makes no secret of actively supporting Clinton's political ambitions with favorable articles, interviews and news reports.

Hillary puff pieces on ET. Liberal advocates of the "Fairness Doctrine" seem unconcerned that the Hollywood gossip TV show Entertainment Tonight has featured puff pieces every day this week on Hillary Clinton. These essentially represent highly-produced three-minute campaign ads distributed nationally for free — perhaps in an effort to counter Oprah Winfrey's endorsement of Barak Obama. Similar puff-pieces on the other presidential candidates are apparently not on offer.

Bill Clinton Remembered. As the incessant march for the 2008 Democratic presidential nomination continues, probably the most entertaining aspect is watching the mainstream media take sides. And although many of their liberal icons — most notably Ted Kennedy and Pat Leahy — are endorsing Barack Obama, Hillary is still the subject of loving puff-pieces like this one from ABC News: "Is Clinton Scrutinized About Her Looks Too Much?"

Why Shuster Was Sacrificed: Last week, MSNBC suspended David Shuster for saying, "Doesn't it seem as if Chelsea [Clinton] is sort of being pimped out in some weird sort of way?" A search through MSNBC's archives quickly uncovered a glaring double standard: Last September, MSNBC host Keith Olbermann accused President Bush of "pimping General David Petraeus." It's the same analogy — these days, the word "pimping" is slang, meaning to use in an unseemly way.

Here is a long list of questions the press should be asking.
Tough Questions for Hillary Clinton: In the 1990s, the Clinton administration furiously denied the suggestion you were a "co-president." Now you routinely suggest your tenure as first lady was presidential experience. So which was it? And why should your tenure in the Clinton administration count when the one thing you ran — health-care reform — failed miserably without a vote in Congress?

Hillary Clinton's Party Plane: The life of a political reporter on the campaign trail is not exactly an enviable one: The combination of bad local cuisine, a lack of exercise, and sleep deprivation do not a healthy lifestyle make. Which is why the Hillary Clinton campaign decided to treat the 75 hard-working journos who made the midnight flight on the Clinton press plane from Des Moines to Manchester, New Hampshire, to a boozy sendoff.

Hillary Clinton's 'Guidance' for the Media: The Clinton political machine is nothing if not formidable. When annoying tidbits inadvertently surface in the mainstream press, the political hammer comes down. MSNBC is simply not allowed to criticize Democrats and especially not Hillary.

Happy Birthday, Monicagate! The only reason I mark Hillary a "possible" winner is that Monicagate is the last thing she wants to hear about, especially now. Which probably helps explain why its anniversary has gone ignored in the press. The whole subject is a source-killer for any journalist who wants to cover Hillary's presidential campaign.

Hillary '08: Already Snared in Her Own Tangled Web. While conservatives have been talking about this tangled web of Democrat lies for years, the lamestream press has nearly broken its collective neck trying to look the other way and ignore the very real set of events that lead our nation to depose the Hussein regime, namely, 12 years of failed diplomacy and 16 ignored UN resolutions under her husbands watch, which ended with four years of no inspections at all and little current data concerning Iraq's real WMD status.

Mrs. Clinton's 'experience': What plausible claim does Miss Hillary have to experience in managing a national economy, balancing a budget or fixing income inequality? … Is the national media actually going to accept without even a murmur of skepticism Mrs. Clinton's claim to possess all the experience gained by her husband as president? If Mr. Obama (or for that matter any other candidate in either party) were to claim such experience, a reporter might well ask him on what basis he claims such experience.

Hillary Tale: The upcoming elections in [Pakistan] are for the next parliament; Musharraf was re-elected president for another five-year term in October. That might be forgiven as a momentary lapse, except that last Sunday, speaking to ABC, Hillary did it again — more explicitly — contending that Musharraf "could be the only person on the ballot." Of course, neither CNN's Wolf Blitzer nor ABC's George Stephanopoulos jumped on this while interviewing her. Nor did anyone in the establishment media mention the gaffe in the following days.

The Baggage Hillary Bears: When you Google the phrase "unconstitutional third term," you get references to a rogue's gallery of strongman leaders — Vladimir Putin, Alberto Fujimori, Olusegun Obasanjo, Islam Karimov, Hugo Chávez — who in recent years at least have flirted with the idea of holding on to power beyond statutory limits. Now the name Bill Clinton pops up, too.

The Media Love the Clintons. Few will be shocked by Professor [Carole] Simpson's coming-out party — or by the Clinton campaign's ready embrace of this self-important liberal activist who has masqueraded as a fair and objective journalist for more than two decades. The only real surprise is that Simpson and her Serious Professional Journalism colleagues bother to keep up the pretense of neutrality and perform their media ethics kabuki theater.

Hillary's No Moral Conservative. To describe Hillary Clinton as a "moral conservative" is so upside down and backward it sounds like "This is your brain on drugs." That's what Time reporter Amy Sullivan announced on Tucker Carlson's show on MSNBC. She suggested Clinton might be "fairly liberal" on economic issues, "but she's a moral conservative." Sullivan was once an aide to Sen. Tom Daschle. In Clinton, Sullivan has allegedly found an authentic Christian conservative's role model.

Media Avoid Linking Democratic Party With NJ Scandals. New Jersey = Corruption. That is the conclusion when reading news stories about the latest round of criminal charges involving public officials in the Garden State, according to political scientists and media analysts. However, the political scandals that continue to beset New Jersey have not translated into negative press coverage for the Democratic Party, which has been disproportionately affected by the corruption charges and arrests.

How Hillary Avoids Media Scrutiny: Reporters have learned not to approach Sen. Clinton in the halls of the Capitol. Experienced journalists have found that she answers nearly all on-the-spot questions with a variation of "I don't know" — a safe answer for her that renders the interviews useless, and prevents coverage of her views on any issues on which she has not sought coverage. After a vote she breezes past reporters to a car waiting outside, avoiding any interviews.

The New Clinton Propaganda Machine: [Scroll down] The Clintons learned the importance of knowing how to take a punch, but more essentially, they learned how to change the subject and how to selectively use the White House megaphone to drown out negative stories. Clinton chucked mini-initiatives into the media air, where they worked like chaff to flummox the news radar of the press corps. He and his spokesmen stayed on message to control the agenda, sidetracking unwanted questions with quick, disdainful responses.

More on the Clinton Propaganda Machine: For reporters, the key to derailing the Clinton propaganda machine is to thrust a stick into its spokes the first chance you get. Hillary — much more so than Bill — is an automaton on the campaign trail, and disrupting her stay-on-message rhythms will cause her machine to topple and crash.

Hillary Clinton's war room aims to be faster, tougher than husband's famous one. Bill Clinton's war room was famous, the subject of a documentary showing how the 1992 Clinton team never let a news cycle pass without responding to charges. With the 24-hour news cycle of today, however, Hillary Clinton's campaign team aims at not allowing the hour to pass without a response to criticism.

Hillary criticized for press strategy. When Sen. Hillary Rodham Clinton wants to get a message out, her presidential campaign handpicks news outlets. Or, in some cases, bypasses the media entirely. … The strategy allows Mrs. Clinton — who rarely holds press availabilities — to avoid taking questions from reporters who cover her campaign and who might have detailed follow-up queries to her carefully planned policy announcements.

Likely voters concerned about corruption if Hillary elected president. Judicial Watch president Tom Fitton … believes the Clintons will do whatever it takes to keep scandal news out of the headlines. "It's going to be a battle," he says, "because the Clintons are going to try to destroy anyone who raises these issues. They've already said Bill Clinton's personal life — for instance — is off limits, which means that everything he did during [his] presidency is off limits."

What's Not to Like: Mrs. Clinton's most effective means of communication is not the debate stage, the sit-down interview or the podium, where her speeches are both tinny and hectoring. Her most effective area is in short campaign videos.

Hillary's Lap Dogs: When Don Imus was fired … a great deal of attention was focused, appropriately, on the influence of Jesse Jackson and Al Sharpton, each of whom expressed outrage over the broadcaster's racial insensitivity and demanded that he be fired. The real guiding hand over Imus' downfall, however, belonged neither to Sharpton nor Jackson, but to Hillary Rodham Clinton.

Clinton hits turbulence. Sen. Hillary Rodham Clinton (D-N.Y.) last week flew into a sudden burst of media wind shear. After months of mostly rosy portrayals of her campaign's political skill, discipline and inevitability, the storyline shifted abruptly to evasive answers, shady connections and a laugh that sounded like it was programmed by computer. … A convergence of factors is now putting emphasis on the supposedly "Old Hillary": Someone who is ruthless in self-advancement, who may get tripped in the end by her and her husband's overreaching.

Online Slime Machine Media Matters Co-Founded by Hillary Clinton. I want to talk about an online slime machine known as Media Matters for America. It is a tax-exempt organization which states its purpose as countering conservatives in the media. … Media Matters was started in offices provided by the Center for American Progress, a Soros-funded operation. It has since received Soros money.

Hillary Slaps Iowa Voter. Whether this incident does any damage to the well-oiled Clinton machine remains to be seen. But one thing it does make clear is that no matter how scripted Hillary is, over the course of a long campaign, she will not be able to mask her contempt for average Americans who dare to challenge her.

The Editor says...
Here is the same story, candy-coated by MSNBC to remove any negative reflection on Mrs. Clinton:

Clinton Gets Snippy With Iowan Over Iran.

Beware Hillary's 'Whitewash'. How is it that the wife of an impeached president, the policy architect of a 1300-page left-wing health-care fiasco, and the document-shredding stonewaller of a welter of scandals can turn her controversial career and bizarre First Marriage into assets, and not liabilities? How is it that Team Clinton, disgraced and disgraceful, is back for another presidential run? Credit the national "news" media.

Queen Hillary's disruptive court. The mainstream media have been in a breathless tizzy about how Hillary Clinton waffled, tripped, stumbled or generally screwed up at the Democratic debate in Philadelphia two weeks ago. But Hillary's performance at prior debates was never as deft or "flawless" as the media claimed in the first place.

Questions about Carville and CNN. There are very few political analysts more closely associated with the Clintons than James Carville, who was a key adviser to Mr. Clinton in the 1992 campaign. So it's no surprise that Mr. Carville's appearance on a round table after last night's CNN-sponsored Democratic debate is arousing some morning-after controversy. "Would it kill CNN to disclose that James Carville is a partisan Clinton supporter when talking about the presidential race?" wrote Daily Kos.

Wolf Blitzer is No Tim Russert. Judging by the reaction to Thursday night's CNN debate, everything seems to be falling into place for Senator Hillary Rodham Clinton's campaign for president. After flirting with subjecting her to some scrutiny, the media seem to be coming to the conclusion that her nomination as the Democratic presidential candidate is inevitable.

Ugly Clinton Rising. If Hillary Clinton becomes president — get ready for everything we hated about our government to come springing back to life. CNN's Wolf Blitzer's less than robustly honest form of debate engineering reminded us of the old idea that when it came to being bought and sold in favor of the Clinton's — CNN's brand was head and shoulders above the crowd.

Just Like Real Leadership: The Clinton 'Hostage Crisis'. My late mother-in-law used to say of anything that tasted good to her," It's just like from the can." It made us all laugh, but she was seriously unable to distinguish between good food and pap. Frankly, that's what I think of the efforts by AP, Larry Sabato and others to suggest that Hillary's role in Friday's hostage crisis reveals she is a leader.

The Clintons Play Dirty – And The Media Lets Them. Sen. Clinton appeared on NBC's Today Show and talked about the choice that voters were faced with in New Hampshire. She said the following: "When they say to themselves, OK, I have a choice between a truly inspirational speaker (Obama) who has not done the kind of spade work with the sort of experience that another candidate has…" … Consider for a moment what would happen to a Republican candidate if he used the word "spade" in any way, shape or form while referring to a black opponent.

Closed Broders: Suddenly the mainstream and conservative media press critics are in agreement — and not just about the shoddy journalism at the New York Times. Now that they suspect Hillary Clinton is going down for the count, they feel emboldened to say it: she is not very nice and neither is her staff. … We are entering the general election and it would be nice to think that the media, having thrown Clinton under the bus, will now begin an exhaustive and probing appraisal of Obama's record.

The Beatification of Hillary. After all these years, the Christian Science Monitor is starting to live up to its religious name. At least they are beginning to publish hagiography-the reverent biographies of saints. In the current issue, their candidate for canonization is St. Hillary Clinton. Howard LaFranchi's "Hillary Clinton: A Quiet Brand of Statecraft" is as gushily adulatory as Chris Matthew's leg tingle.



---

Section 6.1
CNN's obvious bias in favor of Mrs. Clinton:

Clinton News Network: The CNN/YouTube Republican presidential debate serves as a perfect example of why conservatives refer to CNN as "Clinton News Network." Republicans should have declined CNN's invitation, just like Democrats declined Fox News, though it's doubtful Fox would have orchestrated or permitted a similar ambush of Democratic candidates.

The Clinton News Network Strikes Again. The YouTube/CNN debate that Republican presidential candidates tried to boycott proved as hostile as they feared last night in St. Petersburg, Florida. CNN — sarcastically called the "Clinton News Network" — allowed a member of Democratic presidential candidate Hillary Clinton's gay steering committee to ask Republican candidates if military personnel were "professional" enough to work with gay troops.

CNN's Irresponsible Debate: There were many reasons to be disturbed by the CNN/YouTube debate on Wednesday night [11/28/2007] — the questions were repetitive and cliché, key concerns of Republican voters were not addressed and the crowd's conduct ranged from rude to embarrassing as they booed and hissed like Romans at the Coliseum. But the most egregious aspect of the date was that the questioners were strewn with Democratic plants and supporters, none of whom identified their affiliations.

The YouTube Debacle. Wednesday night's CNN/YouTube debate was barely over before the network was forced to make an embarrassing admission: One of its supposedly disinterested questioners, retired gay Army officer Keith Kerr, has an official position with the Hillary Clinton campaign. Wait. There's more.

CNN's Screwup: If any more political plants turn up at CNN's presidential debates, the cable-news network will have to merge with the Home and Garden channel. At CNN's Democratic debate in Las Vegas two weeks back, moderator Wolf Blitzer introduced several citizen questioners as "ordinary people, undecided voters." But they later turned out to include a former Arkansas Democratic director of political affairs, the president of the Islamic Society of Nevada and a far left anti-war activist who'd been quoted in newspapers lambasting Harry Reid for his failure to pull out of Iraq.

A questionable format for debate. Google "Clinton News Network" and you'll get 65,000 hits — such is the conviction among conservatives, and even occasionally some Democrats, that CNN tilts its coverage favorably toward Bill and Hillary Clinton. Mainstream critics and liberals lambaste the Fox News Network for a perceived right-wing bias, but conservatives see them giving CNN a pass for leaning liberal.

Death, Taxes and Mrs. Clinton: It was a good debate, feisty and revealing. It's not bad that the questions had a certain spin, and played on stereotypes of the GOP. It's just bad that it doesn't quite happen at Democratic debates. Somehow, there, an obscure restraint sets in on the part of news producers. Too bad. Running for most powerful person in the world is, among other things, an act of startling presumption. They all should be grilled, everyone, both sides.

CNN hit for planted questions. CNN intended for political sparks to fly during Wednesday"s Republican presidential debate, but outrage and accusations of partisanship were directed at the network instead. The backlash started after it turned out that a homosexual retired soldier asking about "don"t ask, don"t tell" has an affiliation with Sen. Hillary Rodham Clinton"s campaign.

Questions That Raise Questions. CNN had an opportunity to shine as co-host of last week's Republican presidential debate. Instead, the network faltered with millions watching, leaving conservatives with yet another example of bias at the highest level of the media establishment. It was a sad case of liberal elites stereotyping conservatives as gun-toting, Bible-thumping, gay-bashing bigots.

This Is CNN. Shortly before Wednesday night's CNN/YouTube Republican debate, host Anderson Cooper defended the innovative format in which "ordinary citizens" were invited to submit their own questions by uploading videos to the Internet. … The day after the debate, it was revealed that at least six of the questioners were Democratic activists rather than typical voters, whose opinions and concerns were supposed to be represented.

CNN'S Virtual Reality: In what was billed as a glorious exercise in democratic do-goodery and civic seriousness, CNN opened its gates to the American people and, to their surprise, the network's relentlessly touted credibility ran out the door like a dog in heat. Nearly a third of the questioners in the debate proved to be if not outright plants of the Democratic Party or other liberal interests, then at least very far from the "ordinary Americans" this whole circus was supposed to be catering to.



---

Section 7
Evidence of poor judgment or other disqualifications:



Hillary: Jesus' loaves and fishes thing was his way of teaching us liberal policies. A good rule of thumb with Hillary Clinton is this: If it comes out of her mouth, it's insincere. You will never lose money taking that bet 100 times out of 100. And a good corollary to that rule is this: When she tells you what something is supposed to mean, that's not what it means at all. Especially when she's talking about the Bible.

The Editor says...
Politically-motivated blasphemy of this sort is especially reprehensible because it takes advantage of the profound ignorance of the Bible that has resulted from the removal of Christianity from the public schools.

Clinton: Drilling not the answer. Exploring new sources of oil in the United States is not the solution to the nation's growing energy crunch, Democratic presidential candidate Sen. Hillary Clinton said last week. There are places where exploration and drilling can take place, such as the Gulf of Mexico, but it doesn't make sense to open up the Arctic National Wildlife Refuge in Alaska, Clinton said during an interview with the Argus Leader on Friday.

The Editor says...
In other words, Hillary Clinton wants to leave the oil in the ground and depend entirely on conservation to achieve "energy independence." Anyone with an ounce of critical thinking will see immediately that her plans cannot succeed, and that she will blame someone else when the ideas flop.

Clinton's Shocking Florida Gambit: Hillary Clinton's rhetoric today about counting the results in Florida and Michigan is simply incredible. Her speech compares discounting the Florida and Michigan primaries to vote suppression and slavery. ... This gambit by Clinton is simply an attempt to steal the nomination.

Clinton evokes ghosts of Bush v. Gore. Hillary Clinton is evoking one of the darkest episodes in modern Democratic party history in her effort to salvage her bid for the party's presidential nomination. ... Clinton on Wednesday [5/21/2008] made stops in the other two counties as well: Miami-Dade and Palm Beach. In each, she fanned the flames of outrage, still burning bright after eight years. And she tried to harness them to pressure the Democratic National Committee to recognize the results of the Florida and Michigan primaries.

Cutting Hillary Down to Size: [Scroll down] From there she proceeded onward and upward to working as an attorney for the Congressional committee preparing to impeach President Nixon. The committee's achievements were rendered moot by the Prez's preemptive surrender, but young Ms. Clinton managed in her brief tenure to leave a legacy of vicious absurdity. She wrote one legal brief arguing that an impeached President had no right to an attorney, and another maintaining that he enjoyed no presumption of innocence.

Hillary Strangelove. There are some red lines that should never be crossed. Clinton did so Tuesday morning [4/28/2008], the day of the Pennsylvania primary, when she told ABC's "Good Morning America" that, if she were president, she would "totally obliterate" Iran if Iran attacked Israel. This foolish and dangerous threat was muted in domestic media coverage. But it reverberated in headlines around the world.

Clinton Says Economy Needs Experience. The economy needs help and fast, Hillary Rodham Clinton declared Monday [11/19/2007], claiming the experience for the job and saying the nation can't afford to break in a newcomer.

The Editor says...
What experience? Is she now admitting her role as co-president? What's wrong with the economy now? Unemployment is low and the stock market is high. What is there to fix?

Does Marrying Bill Clinton Qualify Someone To Be President? If a CEO of a fortune 500 company were to retire, would anyone seriously consider his wife to be an adequate replacement simply because she was married to him when he ran the company? What about a Super Bowl winning football team? What do you think the reaction of their fans would be if their coach's wife was being seriously discussed as his replacement?

Who Needs Experience? Hillary Clinton declared the other day — apropos of whom, she didn't say, or need to — "We can't afford on-the-job training for our next president." Barack Obama immediately retorted, "My understanding is that she wasn't Treasury secretary in the Clinton administration. I don't know exactly what experience she's claiming."

What Kind of "Experience"? Whether in Arkansas or in Washington, Hillary Clinton has spent decades parlaying her husband's political clout into both money and power. How did that benefit anybody but the Clintons? For those people whose memories are short, go on the Internet and look up Whitewater, the confidential raw FBI files on hundreds of Republican politicians that somehow — nobody apparently knows how — ended up in the Clinton White House illegally. … It would be hard to find two people less trustworthy than the Clintons or with a longer trail of sleaze and slime.

President Clinton and Mr. Hyde: [Scroll down] Does any of this matter? Yes. It brings the tawdriness of the Clinton years rushing back. And it's not as if Hillary can distance herself from Bill — or from those years. What is, after all, Hillary Clinton's claim to the presidency? Her seven years in the Senate? Her years of law practice? No. Her claim is the "experience" she acquired as first lady. Her claim is that she was and is Mrs. Bill Clinton.

I Hold Hillary Responsible. Can someone quote me an original idea by Hillary Clinton upon any subject of diplomatic or military interest? The fact that she went along with some of our tough stands in Afghanistan and Iraq just shows she can listen to reason now and then; it does not crown her as a genius. What else is there to cite in support of this putative wisdom? When has she stood out from the pack and made a unique mark for herself with any inspired initiative, save the health-care catastrophe in 1993?

Clinton leadership a study in missteps. Clinton has overseen two major staff shake-ups in two months. She has left a trail of unpaid bills and unhappy vendors and had to loan her own campaign $5 million to keep it afloat in January. Her campaign badly underestimated her main adversary, Barack Obama, miscalculated the importance of organizing caucus states and was caught flat-footed after failing to lock up the nomination on Super Tuesday. It would be easy to dismiss all of this as fairly conventional political stumbling — if she hadn't made her supreme readiness and managerial competence the central issue of her presidential campaign.

Hillary's Pastor, in Interview, Sympathizes With Jeremiah Wright. One of the Democratic presidential candidates has a pastor who opposed both Iraq wars, supports same-sex marriage, opposes the death penalty, and has been a passionate critic of American foreign policy. The clergyman isn't the Reverend Jeremiah Wright, Senator Obama's spiritual leader who has become a household name and a campaign issue for his fiery rhetoric, but the Reverend Edward Matthews, a little-known Arkansas preacher who is the closest Senator Clinton has to a pastor of her own.

Did someone mention Reverend Jeremiah Wright?

The Qualifications of Hillary W. Clinton. What exactly is the rationale that supports Hillary Clinton's candidacy? Her claims to "experience" crumble at anything more than a cursory inquiry. The myth that she served as co-president is transparently bogus. Her time in the Senate has been either undistinguished or ignominious, depending on your viewpoint. And yet some Democrats consider her the safe, predictable choice. Why?

Hillary is the candidate of retribution, not of hope. Her problem is that a lot of people do not buy into her, while a significant minority actively hate her. She is one of the most divisive figures in American life, however hard she tries not to be. If elected, she would reignite the culture wars in spite of herself. All this makes even her admirers fear that she is neither a winner nor what the country really needs.

Clinton in Blackface: A Political Tragedy. I could not disagree more with Barack Obama's pork spending, tax raising, and defeat-embracing liberal agenda, but a recent attack by the Clinton campaign on Mr. Obama was the worst sort of the politics of personal destruction. It was one based on racial stereotypes. Such an attack is racism in all of its ugliness.

A lady and her voice: After Hillary won the New Hampshire primary — that is, after her tears and sniffles — she said, "I found my own voice." That made me wonder: What voice, or voices, had she been using, in her long, long — and very successful — political career? I myself would have been a little bit hesitant to say, at this late date, "I found my own voice."

Remarkably unqualified to be president. While Clinton has been an outspoken liberal activist since the 1960s, she never has run a business, a city, a state or a Cabinet department. She was a partner at Little Rock's Rose Law Firm, but did not administer it. Arkansas Advocates for Children and Families aside, she headed none of the nonprofits whose boards her Web site says she joined. While she conducted President Clinton's health-reform task force in 1993, the plan it concocted in secret collapsed in public.

Hillary's Record: Lamenting the healthy U.S. economy, a certain senator from New York says "it takes a Clinton to clean up after a Bush." But the Clintons' brand of soap always seems to be a mix of sleaze and socialism.

Ouch! Hillary Clinton's softer image is clawed over dumped cat. As the "first pet" of the Clinton era, Socks, the White House cat, allowed "chilly" Hillary Clinton to show a caring, maternal side as well as bringing joy to her daughter Chelsea. So where is Socks today? Once the presidency was over, there was no room for Socks any more. After years of loyal service at the White House, the black and white cat was dumped on Betty Currie, Bill Clinton's personal secretary, who also had an embarrassing clean-up role in the saga of his relationship with the intern Monica Lewinsky.

Hillary's Gender War. The greatest controversy during the upcoming political campaign will not be Republican vs. Democrat or conservative against liberal. Rather, the most riveting debate is likely to revolve around the question of whether a female president can better lead the nation than a man. It will be the ultimate Battle of the Sexes, played out in endless bedroom discussions, backyard debates, and newspaper headlines.

A Hillary apology? Sorry, no can do. Clinton is strongly focused on the swing voters, maybe 10 or 12 percent of the electorate, who will ultimately determine the outcome of the '08 November election. More specifically, the swing voters in winnable red states, the states John Kerry failed to carry in 2004. If Clinton was to issue an apology, she would immediately expose herself to the flip-flop charge — the same charge that doomed Kerry among swing voters.

Hillary Clinton Finds the South Too Southern. Instead of celebrating diversity and singing the praises of the gray stripe in the American rainbow, Clinton and comrades have declared that the Confederate flag has no place being displayed anywhere near the South Carolina state house. I mean think about it — a Confederate flag in South Carolina! What's next, Mickey Mouse ears at Disneyland?

Hillary Wants Ex-felons to Vote. Sen. Hillary Rodham Clinton, a possible White House candidate in 2008, joined 2004 nominee John Kerry and other Democrats Thursday in urging that Election Day be made a federal holiday to encourage voting. She also pushed for legislation that would allow all ex-felons to vote.

Elect me and oil prices instantly drop, says Hillary Clinton in Iowa. Hillary Clinton predicted Saturday [12/22/2007] that just electing her President will cut the price of oil. When the world hears her commitment at her inauguration about ending American dependence on foreign fuel, Clinton says, oil-pumping countries will lower prices to stifle America's incentive to develop alternative energy.

Living History: Hillary gone wild. The Clinton team was supposed to be known for sticking to the year-long make-over script, especially after the disastrous sound bite ("suspension of disbelief"), but lately the senator has gone wild. She egotistically claimed that ipso facto her election would bring down world oil prices. Then she claimed ownership of the surge she tried to stop, by boasting that those parochial Iraqis apparently listen to her every word, as Iraqis, the U.S. military, and the enemy all must adjust their strategy to her most current position on the war.

Glowing Over Radioactive Hillary: Not only does "Living History" fail to add to history, it tries to subtract from it. In the spring of 1992, the news emerged that Bill Clinton received a draft notice, and plotted with college buddies to get around it. But on page 240, our ever-spinning author renews the lie: "I knew that Bill respected military service, that he would have served if he had been called." In fact, they did call, and Bill failed to answer.

Flighty Hill Changes Planes — Constantly. Jet-setting Democratic presidential front-runner Hillary Rodham Clinton is a fussy frequent flier who used three different planes in a single day during a recent campaign swing through South Carolina. The former first lady even grounded one aircraft — a chartered Gulfstream II — in Columbia, S.C., last Friday [4/27/2007], demanding a swankier Gulfstream III replacement for a flight out west.

Hillary Clinton Reigns as Queen of Federal Pork. Democrats have been so busy preparing the coronation of Hillary Clinton that they have failed to train a critical eye on her record. When it comes to earmarks, an issue that voters responded to more than any other in the last election except for Iraq, her record is about as bad as it gets. If Dennis Hastert was the king of earmarks, Hillary Clinton was his queen. Republicans had their "bridge to nowhere." Hillary has her knitting mill.

Clinton linked to $340 million in earmarks. Senator Hillary Rodham Clinton helped secure more than $340 million worth of special projects for her home state of New York in last year's spending bills, according to a new study by a government watchdog group. The figure places her among the top 10 Senate recipients of what are commonly known as earmarks, said the group, Taxpayers for Common Sense.

Top Earmark-er Clinton Grants $303,000 to Gay Lobby Group. A group that lobbies for needle exchanges, for allowing more immigrants with HIV/AIDS to legally enter the country, and for condom distribution in prisons received a $303,000 federal earmark pushed by Sen. Hillary Clinton (D-N.Y.). That was one of 261 earmarks Clinton personally helped usher through Congress. That's more earmarks than any other member of Congress seeking the presidency, according to an analysis by the watchdog group Citizens Against Government Waste (CAGW).

Seven Things To Know About the Clintons: Editorially in February 2001, The New York Times … lamented that it might "never understand the process by which a departing president and his wife come to put sofas and flatware ahead of the acute sense of propriety that ought to go with high office." The New York Observer assessed Hillary's election to the Senate "a terrible mistake," adding that "Hillary Rodham Clinton is unfit for elective office." Those are some of the unlovely things said about the Clintons by their friends.

Crooked Hillary: "Unfit for elective office." Those are the words of the (very) liberal New York Observer in a 2001 editorial. Ultra-liberal New York Times columnist Bob Herbert added that Hillary's husband Bill Clinton "is so thoroughly corrupt it is frightening." It is, of course, almost impossible to separate Bill from Hillary in this regard, because their careers are so intertwined and because so many of the corruptions in Clinton's past specifically involved projects on which Hillary was actively involved.

Commander in Chief Hillary? Those who worry that a Hillary Clinton presidency would just be the Return of Bill may yet be proved optimists. Judging by her article in Foreign Affairs on October 16 Hillary is determined to bring back the human rights-based failures of Jimmy Carter.

Clintons Go From Rags To Riches. The former president made more than $10 million last year delivering speeches worldwide at corporate retreats, trade group gatherings and motivational seminars. In 2006, Bill received an average of about $180,000 a speech and he collected nearly half a million dollars for a single talk to a London financial forum in the latter part of the year.

How Hillary Became New York Senator. Rabbi Twersky has never publicly commented about the sins of his community members and repeatedly turned down interviews to explain the scandal. That visit launched a series of events that culminated in a controversial last-minute clemency action on behalf of New Square by outgoing President Clinton. The decision by President Clinton to commute the sentences of four prominent New Square men who stole tens of millions from the federal government in a phony yeshiva scheme enraged law enforcement officials.

America hates Hillary Clinton and Co. [Scroll down] We never brought up Bill Clinton's sexual dalliances, but many ordinary Americans did. "She couldn't keep her own home together, so how can we trust her to manage America?" asked Micki Martinson, a housewife in Somerset, Pennsylvania.

The Editor says...
The same question was asked about Bill Clinton, but nobody would listen.

The Psychobiography of Hillary Rodham Clinton: Hillary was Daddy Hugh's girl but what does this mean? She was Hugh Rodham's victim who wanted his love and approval even as she tried to escape his stinginess, irascibility and perfectionism. The victim survived and was marked by an identification with the aggressor. Like Hugh the adult Hillary became irritable, demanding and the family breadwinner but that's getting ahead of her story.

Why do people hate Hillary Clinton? Includes a very long list of Hillary Clinton quotations, most of which involve the F-word.

Episode #9 — Sister Frigidaire. The survival of our Republic is threatened by two things — fundamentalist Islamic terrorists and Hillary Rodham Clinton. President Bush is leading the fight against the terrorists. It is up to those of us who know the real Hillary Clinton to lead the fight against her. We must shine the light of truth on this dangerous woman so that all Americans may know the real Hillary.

Conventional Wisdom: Increasingly the Clinton campaign puts me in mind of presidential campaigns waged by the late segregationist George Wallace. Senator Hillary Rodham Clinton even has Wallace's surly style. Yet Wallace was rarely accused of lying. Hillary is caught lying every few days, and the lies are not even as clever as those of her mendacious husband, the sex maniac. Of course, when the fur ceases to fly over these racial charges, I think it will be clear that Hillary is not nearly the bigot Wallace was, but neither is she as nice a person. I cannot think of one of Governor Wallace's household pets disappearing under mysterious circumstances.

An Empty Pantsuit. If Hillary Clinton is proud of her experience and record of change, why are 2 million pages of her White House files locked up? … Hillary did urge her husband to appoint Janet Reno as the first female attorney general, a move he'd later describe as "my worst mistake." While the Clinton Justice Department treated the first attack on the World Trade Center as a law enforcement matter, Reno kept busy incinerating religious zealots in Waco. Hillary has been in the Senate for seven years, during which time she has accomplished nothing of note except for voting for the Iraq War before she was against it. No major piece of legislation bears her name. … Her possible GOP opponents have experienced and accomplished much more than the author of "It Takes a Village."

Clinton is big winner in unlikability contest. What's wrong with just saying "congratulations" and going on your way? That's being the bigger person. But apparently Clinton is not big on being big. Recently, she raised eyebrows when — in a breach of presidential campaign protocol — she neglected to congratulate Obama for his victories in Washington, Louisiana, Maine, Nebraska and the U.S. Virgin Islands. Nor did she congratulate him on the day after he swept the Potomac primaries in Virginia, Maryland and the District of Columbia.

Clinton campaign spending worries supporters. Nearly $100,000 went for party platters and groceries before the Iowa caucuses, even though the partying mood evaporated quickly. Rooms at the Bellagio luxury hotel in Las Vegas consumed more than $25,000; the Four Seasons, another $5,000. And top consultants collected about $5 million in January, a month of crucial expenses and tough fund-raising. Senator Hillary Rodham Clinton's latest campaign finance report, published Wednesday night [2/20/2008], appeared even to her most stalwart supporters and donors to be a road map of her political and management failings.

Deli Pigout a Clinton Gut Bu$ter. Hillary Rodham Clinton's free-spending campaign blew a whopping $95,000 at a low-end supermarket-deli chain last month in Iowa — a telling sign of why she can no longer cut the mustard financially against Barack Obama in critical states. Clinton's latest campaign filings reveal how a sprawling, top-heavy campaign organization splurged on posh hotels and pricey consultants but still struggles to define its message against Obama, a charismatic opponent whom Clinton's camp now calls the front-runner.

The Clintons Just Won't Learn. Whether one likes, dislikes, loves, hates, admires, fears, despises, or envies them, every Clinton watcher has this in common: They are dumbfounded both by the incompetence with which Hillary has run for president and her intransigence at sticking to a failed message.

Hillary Unmasked: The real Hillary Clinton stood up at the Democratic presidential debate this week: angry, sarcastic, stubborn, secretive, arrogant, mired in the past, victim of the media, and still firmly convinced that she is uniquely entitled to the Democratic Party nomination and the presidency. That Hillary hasn't really been on display much since the debacle of her disastrous health care plan and the end of Bill Clinton's impeachment trial, when she haughtily flaunted her combative personality.



Read this book:
Hillary Rodham Clinton: What Every American Should Know. Hillary Clinton has a history of Leftwing radicalism that the mainstream media have successfully concealed for more than a decade now. She has run with a pack of political predators fiercely committed to replacing our market economy and the traditional family with a socialist regime that commands Americans to accept economic servitude. It didn't work in the Soviet Union. It won't work here. Hillary Clinton believes otherwise, as this book will prove.

The Editor says...
This little book also includes sections about various scandals — Cattlegate, Whitewater, Travelgate, Filegate, etc. An excerpt from the book can be seen here.

Clinton's experience under scrutiny. While Hillary Clinton represented the U.S. on the world stage at important moments while she was first lady, there is scant evidence that she played a pivotal role in major foreign policy decisions or in managing global crises.

First Lady's Foreign Trips All Pomp. Hillary Rodham Clinton boasts on the campaign trail of having had a key foreign-policy role when she was first lady — but newly released records of her travel abroad paint a picture that looks more like an extended vacation of get-togethers and tea parties.

Hillary Clinton papers sink experience claims. Hillary Clinton's boasts that she gained major foreign policy experience as First Lady have been undermined after 11,046 pages of her White House schedules provided scant evidence to back up her claims. The documents were made public by the US national archives after pressure from her rival Barack Obama and freedom-of-information groups. Many details were redacted at the request of lawyers acting for former president Bill Clinton, citing privacy and national security concerns.

Release of Clinton Schedules Offers Chance to Test Campaign Assertions. Gregory B. Craig, who was a senior State Department official in the Clinton administration and is now a policy adviser to Mr. Obama, said Friday [3/21/2008] that the White House records showed that Mrs. Clinton was absent when critical foreign policy decisions were made and that her trips abroad were largely ceremonial. "The fact is, and this was established by the White House schedules, that she did not attend N.S.C. meetings or routinely meet with the secretary of state or the national security adviser," said Mr. Craig, a lawyer who represented Mr. Clinton in his 1998-99 impeachment and trial.

Voter Doubts About Her Honesty Costing Clinton. [A] survey for the Charlotte Observer/WCNC-TV reported that only 25 percent of voters gave high marks to Clinton for trustworthiness compared to 48 percent for Obama and 54 percent for Arizona Sen. John McCain. Nearly 9 in 10 voters said trust would be a major factor in deciding how they would vote.



---

Section 7.1
The "Sniper Fire in Bosnia" story:

If you want a real man, just vote for Hillary. Wow. Why hasn't this woman won the Nobel Peace Prize? The reason is, her resumé is as inflated as the Goodyear Blimp. There were no bullets in Bosnia. She went there on a tour with Sheryl Crow and another entertainer named Sinbad, who says the most harrowing part was deciding where they were going to eat. The borders she claims to have negotiated for Kosovo refugees were already open by the time she got there. She was not involved in the Northern Ireland peace negotiations, and nobody but her husband recalls that she ever mentioned Rwanda. She has never been on the front lines of any foreign policy crisis, ever.

WaPo Awards 'Four Pinocchios' to Hillary on Sniper-Fire Fable. [Michael] Dobbs wrote on Saturday [3/22/2008] that "Clinton's tale of landing at the Tuzla airport "under sniper fire" simply is not credible. Photographs and video of the arrival ceremony, complete with contemporaneous news reports, tell a very different story.

Clinton 'Misspoke' About Bosnia Trip, Campaign Says. The Clinton campaign says Senator Hillary Clinton may have "misspoke" recently when she said she had to evade sniper fire when she was visiting Bosnia in 1996 as first lady. She has been using the episode as an example of her foreign policy bona fides.

CBS Video Contradicts Clinton's Story. It was supposed to be an example of Hillary Clinton's battle-tested experience: "I remember landing under sniper fire," Clinton said at a recent campaign event. It started when, in a recent speech, Clinton spoke of her visit to Tuzla, Bosnia, in 1996 as first lady.

Hillary's "Senior Moment": Now what kind of president would you want answering the red phone at 3 in the afternoon not to mention 3 in the morning when the kiddies are sound asleep and the president's mind is tired? [1] a president who thinks traveling to a relatively safe neighborhood in a hostile area guarded by troops indicates her bravery and competence and experience [or] [2] a president who has endured sniper fire and worse, surviving with mind and integrity intact.

Pants on Fire. Twelve years ago this month, Hillary visited Bosnia accompanied by scores of reporters, photographers, and even television crews. … Her visit to Bosnia was perfectly peaceful and uneventful. She says as much in her autobiography, Living History. Yet on the campaign trail she has been saying that in Bosnia she came under enemy "sniper fire." A planned "greeting ceremony" could not take place in Tuzla. Instead, she laughs bravely to her agog supporters, "we just raaan with our heads down to get into our vehicles to get to our base." Hillary, you were at the base, you shameless BS-er. The whole arrival is on tape!

The Clintons' Truth Deficit Disorder. Seeking to burnish her foreign policy leadership credentials, Sen. Clinton has repeatedly peddled a harrowing anecdote about dodging sniper fire during a trip to Tuzla, Bosnia, in 1996. … When Sinbad, the Washington Post and every fact-checker on the Internet and under the sun debunked her tall tale, Sen. Clinton doubled down. She dissed Sinbad as a mere "comedian." She asserted that she and her compatriots ran for safety with "our heads down." She clung to her story that she "had to be moved inside because of sniper fire." And she embellished further: "There was no greeting ceremony, and we were basically told to run to our cars. Now, that is what happened."

Further Debunking the 'War Zone' Myth. The Clinton campaign has cited newspaper accounts, including one in The Washington Post, to bolster the senator's claim that her now-famous March 1996 trip to Bosnia was the first visit to a "war zone" by a first lady since World War II. She is overlooking a trip to Saigon by Pat Nixon at the height of the Vietnam War as well as a trip by Barbara Bush to Saudi Arabia two months before the Persian Gulf War began.

Lie Lady Lie. Shrewdness and audacity have been political trademarks of both Clintons, but now Hillary has certainly overextended herself by trying to remedy an obvious deception with an even bigger untruth.

Remember "A Willing Suspension of Disbelief"? It was Hillary Clinton, among all her colleagues, who dared to insinuate that General Petraeus was lying in his September 11, 2007 testimony before Congress about the progress of the troop surge. After he gave an up-to-date assessment of the situation in Iraq, Hillary said that his version of the military and political dynamic required "a willing suspension of disbelief." Who would stoop so low as to lie to the country about their experience in a war zone!

Hillary's Just Making It Up As She Goes Along. We all exaggerate. Life is mundane. Stories about it are usually more entertaining with just a bit of tweaking. … So where does Senator Hillary Clinton's retelling of her 1996 trip to Bosnia fall on the scale from acceptable hyperbole…? Let's try this: Al Gore was a lot closer to inventing the Internet than Clinton was to having a corkscrew-landing in Tuzla under sniper fire so frightening that a tarmac greeting had to be scrubbed.

Vets Snipe at Clinton's Lies. Veterans who saw their lives flash before their eyes in the jungles of Vietnam and the bloodstained beaches at Iwo Jima are baffled at how Hillary Rodham Clinton could concoct a story of landing in Bosnia under sniper fire.

Fibber in Chief: "A good memory is needed once we have lied," observed Pierre Corneille, the 17th-century French tragedian. He was right. The complexities involved in keeping an untruth plausible and consistent are so tortuous that to be really good at lying demands exceptional recall of what was said when and where. But Corneille was writing before the age of YouTube.

When Hillary Clinton tells such obvious mistruths, she exposes herself as a fantasist. [Scroll down] Unfortunately for Mrs Clinton, after a few days of her increasingly irate dissembling, CBS started broadcasting its 12-year-old tapes of the then First Lady landing at Tuzla airport. It showed the following: No sniper fire. No running for cover — heads down or otherwise. Instead we see Mrs Clinton — accompanied by daughter Chelsea — taking part in a charming greeting ceremony, receiving a bunch of flowers from an eight-year-old girl.

Lying About Terror: Hollywood mogul David Geffen once said of the Clintons: "Everybody in politics lies, but they do it with such ease, it's troubling." When it involves national security and terrorism, it's also dangerous. Hillary would never get her inaugural address past the fact-checkers. Hillary Clinton — ready to lie on Day One.

Hillary's St. Patrick's Day Massacre. Here is the one compelling mystery still unresolved about Hillary Clinton's Bosnia fairy tale: Why did she keep repeating this whopper for nearly three months, well after it had been publicly debunked by journalists and eyewitnesses?

Hillary Clinton orders Bill to keep quiet after remarks on Bosnia 'sniper fire'. The Big Dog has managed to land himself in an even bigger doghouse. Hillary Clinton ordered her husband Friday [4/11/2008] to keep his mouth shut and stop making excuses, which compounded her false claim that she landed "under sniper fire" on a goodwill trip to Bosnia as First Lady.

Err Apparent. As the saying goes, if you want political reporters to eat their vegetables, it helps if they have nothing else on their plate. The Clintons, meanwhile, are serving whoppers. Former president Bill Clinton is the latest to hand out a juicy fib — circling back to Bosnia to cram four falsehoods into 23 words: His wife, he said, "one time late at night when she was exhausted, misstated and immediately apologized for it, what happened to her in Bosnia in 1995." Where to start? If his telling is accurate, it depends on what the definition of "one time," "late at night," and "immediately apologized" is. (And it was 1996, not 1995.)



---

Section 7.2
More examples of dishonesty and prevarication:

Clinton is playing by her own set of rules. Let's first deal with Clinton's fantasy lead in the popular vote. "I'm very proud that as of today, I have received more votes by the people who have voted than anyone else," Clinton said the day after her victory in the April 22 Pennsylvania primary. But has she really? No. Not really. Not unless you throw out the existing rules of the Democratic Party and invent a new set of Hillary Rules.

Count Every Half Vote! The Democratic Party set the rules for its primaries, barring delegates from Florida and Michigan for advancing their primary dates. The candidates agreed to abide by those rules. Yet when the contest began to look closer than Mrs. Clinton ever thought possible, her campaign decided that those rules were no longer valid.

Hillary Clinton: 'Maybe Barack Obama will be assassinated'. [Scroll down] In the same chat in South Dakota, Clinton denied reports that her people were talking to the Obama campaign about her being his vice-presidential candidate. She even had the gall to state: "I would look to the campaign of my opponent for the source of those stories." Having been covering the Obama campaign pretty closely, I can tell you almost 100 percent that this talk is not coming from his people. They do not want her on the ticket and there's no way they're floating it. It's the opposite. Throughout this campaign, talk of a joint ticket — whether with Obama second or on top — has always emanated from the Clinton campaign. And it's been reliably reported today, the notion is currently being floated by no other than Bill Clinton.

Hillary Clinton's colossal blunder simply the last straw. Sick. Disgusting. And yet revealing. Hillary Clinton is staying in the race in the event some nut kills Barack Obama. It could happen, but what definitely has happened is that Clinton has killed her own chances of being vice president. … Her shocking comment to a South Dakota newspaper might qualify as the dumbest thing ever said in American politics. … We have seen an X-ray of a very dark soul. One consumed by raw ambition to where the possible assassination of an opponent is something to ponder in a strategic way.

An X-Ray of Senator Clinton's Soul: What a rare and candid revelation of a desperate and Machiavellian candidate. Please consider the fact that the imaginative Senator from New York did not envision the possibility of assassination for herself or Senator John McCain, only for the black American Senator from Illinois. This was undoubtedly not a mere coincidence.

Give voters a clue. Clinton's new populist demagoguery is entirely symbolic. The "substance" is stage dressing, no more real than the scenery in a play. She is trying to tell blue-collar workers that she's on their side. The language may be economic, but the message is about values. It's I-feel-your-pain treacle gussied up as tax policy, devoid of anything approaching substance.

Hillary Clinton's Trail of Tall Tales: Sen. Hillary Clinton presents the image of a seasoned, ever-disciplined politician whose experience as first lady and a New York senator makes her ready to be commander-in-chief. But a series of misstatements — exaggerations, half-truths and lies — made by Clinton over the last 15 years have at times undermined her image and called her credibility into question.

The Clinton Divorce: By the time Mrs. Clinton made her famous claim about dodging Bosnian sniper fire, Democrats and their media friends no longer called it a mere gaffe, as they once might have. This time the remark was said to be emblematic of her entire political career. The same folks who had believed her about Whitewater and the rest now claimed she never tells the truth about anything. As the scales suddenly fell from liberal eyes, the most striking statistic was the one in this week's North Carolina exit poll. Asked if they considered Mrs. Clinton "honest and trustworthy," no fewer than 50% of Democratic primary voters said she was not.

Flatbed Hillary: One of the more bizarre developments of this campaign season has been to see Hillary Clinton, of all people, turned into an electoral favorite of blue-collar white voters. The reality is that very few people in politics have more contempt for white workers than does this product of Park Ridge, Wellesley, the Senate Watergate Committee, and the super powered Rose Law Firm.

Obama and Clinton: two cynical losers. Mr Obama's missteps with the working class of Pennsylvania have thus transformed Mrs Clinton from the bluestocking Wellesley graduate into the good old girl, hanging out there with the straw-chewing rednecks, embracing their values, their worldview and even their lifestyle. Obliterate Iran! Here comes Osama bin Laden! I love duck hunting! I can do shots and beer at the same time! It's hard to know what's worse — expressing condescending views about the working class or pretending to be one of them.

Clinton battles the facts. Did Chelsea Clinton go to a private school in Washington because it was best for her education, as the White House said at the time, or because "the press would never leave her alone," as Clinton said in a debate last year? … Why did she perpetuate the family tale that she had been named for the mountaineer Sir Edmund Hillary, only to correct the record in 2006, on the eve of her presidential campaign? … And why are there at least two instances of her vividly telling a story that happened to someone else, as if it happened to her?

Stop The Presses! Hillary Lied! From her "cattle futures" scam to the mysterious disappearance/reappearance of the Rose Law firm billing records, Hillary Clinton ran the gauntlet of legal problems that would easily have sunk any public figure less adept at dancing away from the truth. And nobody in recent memory has been more flagrant in their taunting deflections of questioners than Hillary Clinton, who is probably best remembered for her sneering retort of "I do not recall," when queried about her dubious dealings by Congressional committees.

Obama is Toast. The great thing about this agonizingly long primary season is that it has provided plenty of time to identify, once again, Hillary's (and Bill's) penchant for lying. They lie, I think, in the belief that no one will actually remember their lies. They have lied so often and with such success, they may not even be able to discern between the truth and a lie any more.

Not another lying Clinton. If Hillary will distort the truth to get into the obvious, what makes us think she won't deceive to get her way in office? It's obvious the Clintons don't mind lying to get what they want. If Bill was willing to lie to stay President and Hillary is will to lie to get your vote, they shouldn't be anywhere near the Oval Office again.

'Two Pinocchios' for Hillary Clinton. One of the nation's major, liberal-leaning newspapers is giving Sen. Hillary Clinton "two Pinocchios" for "significant omissions or exaggerations" at Monday's Democratic debate in South Carolina. And a former Senate leader — a Democrat — is part of a new South Carolina Truth Squad to counter the Bill and Hillary Clintons' "incredible distortions."

Hillary Clinton has only herself to blame. Way back in 1992, when Hillary and Hubba Bubba first burst onto the national scene, many Americans expressed doubts about their honesty and integrity. Clintonesque, parsing, the definition of "is" — those and other phrases became polite shorthand ways of accusing a Clinton of lying. Fast forward to last week, to fresh proof that the charge is still political dynamite.

Hillary Denies Denial After 'Mishearing'. First she "misspoke," now she misheard. Hillary Rodham Clinton yesterday seemed to deny that she told New Mexico Gov. Bill Richardson that Barack Obama could not win the presidency. But her campaign later said she misheard a reporter's question.

Clinton's Fibs Remind Many Of the Bad Ol' Days. Clinton's problem is that a corkscrew landing under sniper fire is the kind of thing that is hard to forget and harder still for memory to invent. This is confabulation on a pathological scale. A Clintonian scale. And that's the problem. Barack Obama has been gaining on Hillary in part because Tuzla reminds Democrats what they had largely succeeded in banishing from consciousness: the Clintons' arm's-length relationship with truth.

Hillary's biggest mistake. What worked for P.T. Barnum didn't do as well for Sen. Hillary Rodham Clinton (D-N.Y.). When the great showman said, "Nobody ever went broke underestimating the intelligence of the American people," he unknowingly anticipated the fundamental assumption that underlay the campaign of the first woman seriously to contend for the presidency.

You couldn't make it up (unless you're Hillary, that is). Someone who routinely lies like she does, then dismisses it as a consequence of the number of words she says has severe psychological problems. Perhaps her disorder is a result of the sort of politician she is.

Hillary's Common Ground: It's hard to tell which is the real Senator Clinton, the one who thinks Republicans are the enemy or the one who wants to reach out to them. It's the sort of episode that lends credence to those who say Mrs. Clinton doesn't really have many core beliefs, but will do or say whatever it takes to get elected.

Clinton's fibs becoming a bad habit. She now says she "misspoke." It's a benign characterization of a troubling fact: The gap between Clinton and truth has become suddenly vast. And that raises manifold questions.

The Editor says...
That gap has been there all along. There's only one recent change: The scrutiny of the media has suddenly kicked in. Reporters are becoming reporters rather than cheerleaders.

Clinton's '35 years of change' omits most of her career. The overall portrait is of a lifelong, selfless do-gooder. The whole story is more complicated — and less flattering. Clinton worked at the Children's Defense Fund for less than a year, and that's the only full-time job in the nonprofit sector she's ever had. She also worked briefly as a law professor. Clinton spent the bulk of her career — 15 of those 35 years — at one of Arkansas' most prestigious corporate law firms, where she represented big companies and served on corporate boards. Neither she nor her surrogates, however, ever mention that on the campaign trail.

Vetting Hillary; a Crack in the Legend. Candidate Hillary Clinton now speaks non-stop about her work at the Children's Defense Fund, after Yale law school. In doing so, she stretches the truth by claiming that she spent her time "fighting for abused women and children" (advocating for larger welfare benefits is more like it).

Clinton called a liar, oh my! On Wednesday, billionaire movie and music executive David Geffen was quoted by The New York Times' Maureen Dowd as saying, "Everybody in politics lies, but they [the Clintons] do it with such ease, it's troubling." This comes from a former Friend of Bill. Had Sen. Clinton let it go without comment, or with a wave-of-the-hand explanation that it was only the lashing out of a bitter former friend and she refused to stoop to such personal attacks, it would have blown over in a day. But Clinton couldn't resist proving Geffen's point.

Clinton antics will make Bill and Hil the next American Idles. For all of the sound and the fury, I do not think that the Clintons will destroy the Democratic Party. And they will not ensure the victory of McCain. But I think that they have destroyed any possibility for themselves of returning to the White House. The press now has another grudge against them, their supporters have to be shocked by this level of lying, and the rest of America sees pathos in their continuing desperation. Then, of course, her documented lie about Bosnia is just what the Republicans would need to perforate any belief in her ability to tell the truth.

It Takes A Village To Stiff a Waitress. Trish Trupo, a 31-year-old waitress in Albion NY, worked for $2.90 per hour plus tips. Hillary stopped by to fill up on scrambled eggs and left no tip. The next day, when Hillary was asked about the tipping incident by a reporter in New York, she did what she does best. She lied. She said, "That's just another wild story."

A window into Hillary's heart: Hillary has positioned herself as the protector of the poor and downtrodden. She has fought to nationalize our health care system. She has savaged the Republicans for being anti-poor. She wanted to keep more Americans on welfare, and she really cares about the children. However, when she had a chance to put her campaign contributors' money where her mouth is, she just walked out. No tip, no thank you, no nothing.

Cash-strapped Clinton fails to pay bills. Hillary Rodham Clinton's cash-strapped presidential campaign has been putting off paying hundreds of bills for months — freeing up cash for critical media buys but also earning the campaign a reputation as something of a deadbeat in some small-business circles.

Clinton owes her own high school money. Hillary Clinton's campaign has made little secret that it has been routinely outspent by rival Barack Obama in the extended race for the Democratic presidential nomination and has been forced to curtail checks for some of its vendors and staff. But stiffing your high school alma mater?

Clinton didn't pay health insurance bills. Among the debts reported this month by Hillary Clinton's struggling presidential campaign, the $292,000 in unpaid health insurance premiums for her campaign staff stands out. Clinton, who is being pressured to end her campaign against Barack Obama for the Democratic nomination, has made her plan for universal health care a centerpiece of her agenda.

Bill Clinton Says Hillary Tried to Join the Army. I assume this is a version of the "Hillary Clinton tried to join the Marines" anecdote that then-First Lady Clinton told in 1994 that we wondered about since it's a story she never seems to have told again.

14 Questions I'd Ask Hillary After I Hooked Her Up to a Lie Detector …assuming that she hasn't gotten so good at lying that she could beat the machine. … [Question 3] Your Rose Law Firm billing records were removed from Vince Foster's office after his death. Those records were "(m)issing and under subpoena for two years (and) they turned up in January 1996 in the Clintons' private quarters at the White House." Whoever took those records committed a crime by obstructing justice. Despite the fact that your records were taken and eventually turned up in your private quarters, you have denied taking the records or having anyone take them for you. Is that true?

Did someone mention Vince Foster again?

Questions about character cost Clinton. Layered upon the wholesale dishonesty that defines Senator Clinton's presidential campaign is a projected arrogance that it doesn't matter. That somehow this nomination and this election belong to her, regardless of what she says or does.

Clinton role in health program disputed. Hillary Clinton, who has frequently described herself on the campaign trail as playing a pivotal role in forging a children's health insurance plan, had little to do with crafting the landmark legislation or ushering it through Congress, according to several lawmakers, staffers, and healthcare advocates involved in the issue. In campaign speeches, Clinton describes the State Children's Health Insurance Program, or SCHIP, as an initiative "I helped to start."

Clinton: Exaggerating Help for the Troops. In a recent ad, Clinton claims members of the National Guard and military Reserve didn't have health insurance until she and a GOP colleague took action. We find the ad misleading. In fact, active-duty Guard and Reserve troops already were covered by federal insurance, and four out of five non-active-duty guardsmen and reservists already were covered by their civilian employers or other sources.

Clinton Claims Credit for Bill She Didn't Pass. In September 2005, shortly after Hurricane Katrina, Clinton introduced a bill (S 1615) that among other things would have … established FEMA as its own Cabinet-level agency. That bill went nowhere. … In May 2006, Clinton introduced a bill (S. 1427) containing the same language as her previous one. On July 11, 2006, Clinton's bill failed overwhelmingly — by a vote of 32 to 66.

Hillary Underrates Women. To listen to Senator Hillary Clinton proposing gender pay equity legislation last week, one might reasonably conclude that she is paid only 77% of Senator Obama's $165,200 salary. … Mrs. Clinton tries to obscure the trend toward equal pay and the reality that men and women generally have equal pay for equal work now — if they have the same jobs, responsibilities, and skills. Mrs. Clinton and Mr. Obama are paid identically, as are many other men and women with the same job.

The First Broken Promise. How about that Hillary Clinton: She's already breaking her campaign promises — and she doesn't even have her party's presidential nomination yet. Clinton yesterday reneged on her vow to explain how she'll "pay for everything" she proposes when she pushed a whopping $110 billion "economic stimulus" package — and offered no fund source to underwrite its cost. Gee, that was quick. Wasn't it just a few weeks ago that the former first lady was an apostle of "fiscal responsibility"?

Hillary's illegals: "No woman is illegal," Hillary Clinton declared Thursday [1/10/2008] to campaign-rally attendees after a man said his wife is an illegal alien. The applause followed. … As a nonsequitur and a dodge, it is both true — no person is inherently "illegal," just their immigration status — and meaningless in the context. No border-enforcement activist believes that a "person" is innately illegal. Via this nonsequitur, and by imputing meanness or hatred, "No woman is illegal" and "No person is illegal" help open-borders, pro-amnesty politicians evade an honest consideration of the nation's illegal-immigration conundrum. Don't be fooled.

Botox rumours put spite into White House race. Hillary Clinton's enemies have long criticised her political makeover, from the liberal firebrand First Lady to the moderate senator and White House candidate that she is today. Now, the frontrunner for the Democratic presidential nomination is the subject of a whispering campaign suggesting that she has also undergone a physical makeover — with Botox injections to enhance her appearance.

The Editor says...
The article above might be construed as an ad hominem attack on an old lady who is just trying to make herself look better; however, it shows Senator Clinton to be a person who actively pretends to be something she is not.

Clinton's cackle may give opponents the last laugh. They call it the Clinton cackle. It comes out of the blue, lasts a few seconds and leaves those who witnessed it wondering if they have missed a joke. Hillary Clinton's deployment of the full belly laugh is the latest weapon used by the leading Democratic presidential candidate when she is being pummeled by reporters or rivals. … When attacked about her many flip-flops — she voted for war in Iraq but now opposes it and she opposed universal healthcare but now wants it — she now bursts out laughing.

The Editor says...
Liberals frequently resort to ridicule and mocking derision when their arguments crumble under scrutiny. But in Clinton's case, even her laughter is apparently cold and calculated.

Hillary Clinton's Howard Dean moment. Remember "the Scream" by Howard Dean? Well, in today's debate in Johnston, Iowa it was "the Cackle". In the press debate room there was an eruption of mirth and disbelief from reporters as a lapel microphone picked up Hillary Clinton's belly laugh when her rival Barack Obama was put on the spot. It'll be up on YouTube very soon.

Hilliam Clinton. In the 1990s, "Clintonesque" became a by-word for political double-speak. We even became, briefly, a nation of deconstructionists when President Bill Clinton mused on the meaning of "is." Such existential questions seemed to be in the past. But with another Clinton running as if she's all but a sure thing for the White House, Clintonesque is once again becoming a politically relevant adjective.

The unmasking of Hillary Clinton. The New York senator emerges as a political chameleon as the race for Democratic nomination heats up.

Driver's Ed. As uncomfortable as the Clintons are with giving yes or no answers to yes or no questions, sometimes it is required, whatever the meaning of the word "is" is. Particularly when you consider the history of this issue.

Hillary Hits a Pothole. It was her debate performance, best described by the Washington Post as a "night of fumbles." She fudged replies on Social Security, the release of documents from her husband's administration, and most strikingly on issuing driver's licenses to illegal immigrants. At first, she seemed to defend the proposal, then she suggested she was against it, and finally, when pressed for a direct answer, she accused the moderator of playing "gotcha."

Hillary in the Headlights: Hillary Clinton certainly knows how to read the polls — especially ones showing overwhelming public opposition to Gov. Spitzer's now-aborted plan to let illegal aliens get driver's licenses. No doubt that's why she released a statement late yesterday declaring that "As president, I will not support driver's licenses for undocumented people." But that's not what she's been saying.

Hill's 'Stand?' Well, Today is Thursday …. Barack Obama's spokesman, Bill Burton, said: "When it takes two weeks and six different positions to answer one question on immigration, it's easier to understand why the Clinton campaign would rather plant their questions than answer them." Since the last Democratic debate, a recent Rasmussen poll showed that 77 percent of Americans oppose granting driver's licenses to illegal immigrants.

Hillary, Not as in the Mount Everest Guy. For more than a decade, one piece of Senator Hillary Rodham Clinton's informal biography has been that she was named for Sir Edmund Hillary, the conqueror of Mount Everest. The story was even recounted in Bill Clinton's autobiography. But yesterday, Mrs. Clinton's campaign said she was not named for Sir Edmund after all. … Sir Edmund became famous only after climbing Everest in 1953. Mrs. Clinton, as it happens, was born in 1947.

Hillary's List of Lies: Hillary simply cannot tell the truth. Here's her scorecard:
• Chelsea was jogging around the Trade Center on Sept. 11, 2001. (She was in bed watching it on TV.)
• Hillary was named after Sir Edmund Hillary. (She admitted she was wrong. He climbed Mt. Everest five years after her birth.)
• She was under sniper fire in Bosnia. (A girl presented her with flowers at the foot of the ramp.)
• She learned in The Wall Street Journal how to make a killing in the futures market. (It didn't cover the market back then.)

Hillary Lied: Hillary '07 vs. Hillary '02-'03. Yesterday we did a then-and-now with Mrs. Clinton, showing how she is literally lying over the weekend in Iowa, in Des Moines as she was describing to people how she voted for the Iraq war and what it meant. She wasn't voting for the war, she was voting for the president to negotiate, and he mistrusted everybody and tricked her and misused her vote, which she was not authorizing anybody to go to war. We found sound bites from 2003 speaking to Code Pink where she contradicted herself in every substantive way possible, even before the Iraq war started.

Middling mummery: When Sen. Hillary Clinton, New York Democrat, began to readjust her campaign rhetoric to reinvent herself as a born again centrist, few bothered to check out whether she had shifted rightward in her voting record, too. With rare exceptions, she hadn't. Her rhetoric had changed around the edges, as when she talked about finding common ground with right to life advocates. But "her voting record on abortion issues didn't change one iota," said an official at the National Right to Life Committee.

Two Positions and Two Tall Tales in One Stop For Hillary. At a campaign stop in Philadelphia today, Hillary Clinton proposed an anti-crime package that would put 100,000 more cops on the streets of the U.S. It's a good thing, too: Another part of her package calls for letting imprisoned crack users back out on the streets to mix it up with the extra cops.

Hill and Illegals' Health Care. If you thought Hillary Clinton had trouble making up her mind about drivers licenses for illegal aliens, wait until someone tries to pin her down about health care for illegals. She fumbled for days after being asked about Gov. Spitzer's now-aborted plan to give licenses to illegals. But the New York governor is pushing ahead on giving free health care to the same folks.

More Clinton lies. After [Webster] Hubbell resigned as the third-highest official in the Justice Department on March 14, 1994, Mrs. Clinton told the public that his dilemma involved an "internal billing dispute" with his Rose partners that "likely would be resolved." (Mr. Hubbell was later convicted of numerous felonies.) It was not the first time — nor the last — that Hillary Rodham Clinton told an inaccurate tale that proved to be as demonstrably false as it was disinformational and self-serving.



---

Secretary of State Hillary Clinton

This subsection has moved to a page of its own, located here.


---

More about Benghazi
Jump to Liberals - Intro Page
Back to the Home page