Obsolescence
---
Visualizing The Top 25 US Newspapers By Daily Circulation. [M]ost people today — more than 8 in 10 Americans — get their news via digital devices, doing their reading on apps, listening to podcasts, or scrolling through social media feeds. It's no surprise then that over the last year, only one U.S. newspaper of the top 25 most popular in the country saw positive growth in their daily print circulations. Based on data from Press Gazette, this visual stacks up the amount of daily newspapers different U.S. publications dole out and how that's changed year-over-year. The most widely circulated physical newspaper is the Wall Street Journal (WSJ) by a long shot — sending out almost 700,000 copies a day. But it is important to note that this number is an 11% decrease since 2021.
The Editor says...
The Wall Street Journal contains more actual paper than any newspaper I've ever seen, and is also the most expensive newspaper I've ever bought. I subscribed for about a year, and reading the whole paper would have been a full-time job.
The Decline and Fall of Newspapers. The most important point is the most obvious: The changes are huge — and irreversible. One recent study shows that in our country of 332 million people, no newspaper has a print circulation of more than 1 million. Only nine have more than 100,000 subscribers. Among the 25 largest papers, only one showed an increase in circulation, and it serves a retirement community. It's shocking, really, that a paper with less than 50,000 subscribers is among the nation's largest. The decline is relentless. Print papers are losing one out of eight subscribers every year. Their daily circulation, over 63 million at its peak in the 1980s, is now about one-third that size. Over 25% of all American newspapers have died in the past 15 years.
Newspaper Giant Gannett Faces More Layoffs Amid Disastrous Quarter and Recession Fears. In Louisiana, there are a handful of papers owned by Gannett. With the exception of the one I worked with, the papers seemed to operate with skeleton crews. A couple of reporters, sales staff, and a person in charge. Local journalism involves wearing many hats, and those journalists are city reporters, education reporters, sports reporters, and lifestyle reporters all rolled into a single staff member. Recent filings from Gannett show that things are only getting worse, however.
The Mainstream Media has committed Suicide with its COVID-19 Lies. Newspaper circulations have been falling for years. In 2003 I resigned as a columnist on The Sunday People newspaper after the editor refused to print a column I had written criticising the Iraq War. The circulation then was 1.4 million. Recent figures show that the circulation has fallen to 87,000 though it's probably lower than that now. Britain's other newspapers have also seen their circulations fall. And the collapse has been dramatic in the last two years — since the newspapers betrayed the public and sold their integrity for money from the Government and in some cases for a 'financial relationship' the Bill and Melinda Gates Foundation. Today the national press has remarkably little influence. In the two years from 2020 this is what has happened to newspaper circulations:
The Daily Mail fell from 1,169,000 to 862,000.
The Daily Mirror fell from 451,000 to 313,000
The Express fell from 296,000 to 205,000
The Star fell from 277,000 to 185,000
The i fell from 217,000 to 137,000
The Financial Times fell from 157,000 to 113,000
The Guardian now keeps its circulation secret. I don't blame them.
Our Incredible Media. I've worked in and around newspapers and magazines for nearly 30 years. I sometimes joke that if I had any knack for numbers — or had any basic sense — I wouldn't have gone into a dying industry that's more about subtraction than addition. Fewer newspapers. Fewer readers. Fewer listeners. Fewer jobs. Lower revenues. Less respect all the way around — and for good reason. The only thing journalists possess in abundance is an overly high regard for what they do. And if their diminished audience doesn't understand what an invaluable service they provide, whose fault is that? The profession has struggled with a trust deficit for decades.
How the Media Polarized Us. [Scroll down] The Google-Facebook duopoly surpassed 60 percent of the share in the U.S. digital ad market in 2018. It became increasingly clear that old media had little chance of competing with digital platforms. Ad revenue in the U.S. press hit rock-bottom in 2013, falling below the level of 1950, when the industry started measuring the print ad market. In 2016, the Newspaper Association of America stopped reporting newspapers' annual ad revenue: this source of revenue had basically ceased to exist. Residual advertising in print media, both offline and online, lost its industrial scale and any commercial meaning. Today, advertising contracts in the media often resemble charity from ideologically aligned businesses.
A few years too late.
America's largest newspaper chain Gannett orders USA Today and other publications to roll back op-eds after 'repelling readers' with biased articles. America's largest newspaper chain Gannett has instructed its newsrooms to scale back opinion pieces which are 'repelling readers' who do not want to be told what to do. The newspaper chain owns the USA Today network which takes in hundreds of local newspapers in almost every state across the country. At a recent editors committee meeting in April, editors said in a presentation: "Readers don't want us to tell them what to think.["]
200+ Local Newspapers Sue Google and Facebook. More than 200 newspapers across the U.S. have reportedly joined antitrust lawsuits against Google and Facebook over the past year. The lawsuits claim that Facebook and Google have monopolized the digital ads market, taking revenue that should have gone to local news outlets. Axios reports that newspapers across the United States have been joining antitrust lawsuits against Google and Facebook for the past year, claiming that the tech giants monopolized the online digital ads market and took revenue that would otherwise have gone to local news.
The Editor says...
How would newspapers run digital ads? Isn't the absence of pop-up ads one of the few remaining reasons to buy a newspaper? (At my house, reason #1 is that you can't line the bird cage with Facebook and Google.)
Gallup Poll: Only 21 Percent of Americans Trust Newspapers. We have been discussing the rapid decline of American journalism. As news organizations adopt echo and advocacy journalism as models, the public has lost faith in the media as a source of information. This is coming at a time when journalism professors are arguing for the abandonment of objectivity as the touchstone of the journalism. The result is the death of American journalism as reporters frame the news to reaffirm their own views or that of insular groups. That decline is reflected in chilling detail in a new Gallup poll.
Chicago Tribune downsizes their star columnist. As the newspaper business collapses, even its stars — the kind of writers that people buy a newspaper specifically to read their work — are getting downsized. And it's happened to John Kass, one of the best columnists in America, in the wake of his newspaper, the Chicago Tribune, being acquired by a hedge fund that is attempting to downsize its way to viability.
Silicon Valley Algorithm Manipulation Is The Only Thing Keeping Mainstream Media Alive. The emergence of the internet was met with hope and enthusiasm by people who understood that the plutocrat-controlled mainstream media were manipulating public opinion to manufacture consent for the status quo. The democratization of information-sharing was going to give rise to a public consciousness that is emancipated from the domination of plutocratic narrative control, thereby opening up the possibility of revolutionary change to our society's corrupt systems. But it never happened. Internet use has become commonplace around the world and humanity is able to network and share information like never before, yet we remain firmly under the thumb of the same power structures we've been ruled by for generations, both politically and psychologically. Even the dominant media institutions are somehow still the same. So what went wrong? Nobody's buying newspapers anymore, and the audiences for television and radio are dwindling. How is it possible that those same imperialist oligarchic institutions are still controlling the way most people think about their world? The answer is algorithm manipulation.
Study Shows People Are Buying Newspapers — but Not to Read Them. [Scroll down] I mean, it's common knowledge that things in the journalism world are rough-going — across the board — right now. Lay-offs, consolidations of staff, closings. And that's especially true in print media: newspapers, magazines, and sundry other publications made primarily of wood pulp and ink. It can't help morale, then, to learn the very people you're trying to reach with news content, and those important advertisements surrounding them, are instead using it to prep their weekend barbecue. It almost sounds worse than that long-standing insult about using some newspaper you dislike to line your birdcage. But, as fun and striking as that headline is, there's more than meets the eye in the Nieman Labs story.
Fast facts about the newspaper industry's financial struggles as McClatchy files for bankruptcy:
• U.S. newspaper circulation fell in 2018 to its lowest level since 1940, the first year with available data. Total daily newspaper circulation (print and digital combined) was an estimated 28.6 million for weekday and 30.8 million for Sunday in 2018. Those numbers were down 8% and 9%, respectively, from the previous year. Both figures are now below their lowest recorded levels, though weekday circulation first passed this threshold in 2013.
• Newspaper revenues declined dramatically between 2008 and 2018. Advertising revenue fell from $37.8 billion in 2008 to $14.3 billion in 2018, a 62% decline.
• Newsroom employment at U.S. newspapers dropped by nearly half (47%) between 2008 and 2018, from about 71,000 workers to 38,000. Newspapers drove a broader decline in overall U.S. newsroom employment during that span.
• Layoffs continue to pummel U.S. newspapers. Roughly a quarter (27%) of papers with an average Sunday circulation of 50,000 or more experienced layoffs in 2018. The layoffs came on top of the roughly one-third (31%) of papers in the same circulation range that experienced layoffs in 2017. What's more, the number of jobs typically cut by newspapers in 2018 tended to be higher than in the year before.
The mainstream media's quandary ... and panic. Although it was written back in October, the cry is still echoing throughout the mainstream media. It comes from Hamilton Nolan, formerly at Gawker Media and now the public editor for the Washington Post. [...] The mainstream press is in a panic. Its circulation and ad revenue may be falling as is its trustworthiness among the American people. Plus, those readers the press still holds tend to be in an aging demographic. They are not the future. Younger people prefer Internet alternative news sources for their news source. The growing alternative media which is taking big bites out of the legacy media's influence and revenue stream.
Democrats Want You to Pay the Media's Bills. The media is dying. Its business model is defunct. Its bias has alienated most of the country. In the latest Pew survey, the only group that still trusts the media are Democrats. And while so many millions are out of work, Democrats are bailing out the media. The wave of consolidations and bankruptcies is sweeping like a fire through major papers. Cable news will be a casualty of demographics and the end of bundling. The end of network television is less than a decade away. Brand names like CNN and MSNBC will soon be where Time, Newsweek, and other news magazines ended up once subscriptions collapsed. The media is dying, but it's not about to die gracefully. It just needs to find money. Lots of it.
The Daily News Is Now a Newspaper Without a Newsroom. A tabloid once famous for its bustling, big-city newsroom no longer has a newsroom. In a move that was almost unthinkable before the coronavirus pandemic, Tribune Publishing said on Wednesday that The Daily News, once the largest-circulation newspaper in the country, was permanently closing its physical newsroom at 4 New York Plaza in Lower Manhattan. The same day, Tribune, the Chicago newspaper chain that has owned The News since 2017, told employees that it was closing four of its other newspapers' offices.
The Media's Political Suicide. McClatchy had bought Knight Ridder for $4.4 billion to create the second largest news company. After going into Chapter 11 bankruptcy, McClatchy was won in an auction by a hedge fund, which also owns the National Enquirer, in a secret bidding which started with $30 million cash and $270 million in debt. None of this says anything good about the future of its D.C. bureau, or the Miami Herald, the Fort Worth Star-Telegram, the Sacramento Bee, the Kansas City Star, and other hollowed out husks of major urban papers carrying huge loads of pension debt and even bigger loads of radical left-wing politics.
The Editor says...
The last time I bought a copy of the Star-Telegram, a/k/a the Startle-gram, it went straight to the bird cage.
Seattle Times, Tampa Bay Times, Axios receive coronavirus rescue loans. The feds granted a trio of news outlets millions of dollars in small-business rescue loans as the coronavirus crisis battered the media industry. The Seattle Times, the Tampa Bay Times and political news website Axios received multimillion-dollar, government-backed loans through the $349 billion Paycheck Protection Program, which aims to help small businesses retain jobs amid the pandemic. The Seattle Times Co. got $9.9 million that will reportedly help its eponymous newspaper avoid laying off workers and cutting hours during the crisis, according to company president and chief financial officer Alan Fisco.
Kill Capitalism, Kill the Media. The economic destruction of our government-imposed, nationwide (for the most part) shutdown has been unprecedented, widely felt, and well documented. An overlooked example involves the media, specifically the newspapers. [...] As most well know, for a couple of decades now, newspapers across America have been on the decline. Newspapers in Northeast Georgia have been no exception. Since about half of newspaper revenue comes from advertising, the main reason small local newspapers are suffering now like never before is because this shutdown has so devastated small businesses, many of whom currently have little to no reason to advertise.
Please support local journalism. Our industry is hurting, and we need you more than ever. Today, the coronavirus is the latest challenge facing our industry, another body-blow that will thin the ranks of reporters, photographers, editors, sales representatives and production specialists at newspapers and websites across the country. We learned of our cuts last week, even as our journalists were two months into some of the best work we have ever done. Our parent company, Advance Local, announced furloughs and temporary pay cuts. We also will temporarily lose the company's 401k match, but we avoided layoffs.
The Editor says...
It's time for "survival of the fittest." If you put as much effort into gathering facts as you put into propaganda and left-wing activism, you'd have the support of the media marketplace. You're "hurting more than ever" because you're more shamelessly biased and sensationalized than ever. Here's an idea: Before you shut down completely, sell newspapers that are mostly (or completely!) blank on the inside. Just for bird cages and miscellaneous wrapping. I am not kidding.
U.S. newspapers have shed half of their newsroom employees since 2008. Newsroom employment at U.S. newspapers continues to plummet, falling by around half since 2008, according to a new Pew Research Center analysis of Bureau of Labor Statistics data. But a modest increase in jobs after 2014 in other news-producing sectors — especially digital-native organizations — offset some of the losses at newspapers, helping to stabilize the overall number of U.S. newsroom employees in the last five years. The years covered in the current analysis predate the spread of the coronavirus in the United States. The economic effects of the virus have led to a fresh round of layoffs, pay cuts and other changes at U.S. media outlets, especially newspapers.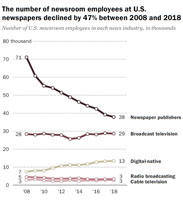 9 charts about America's newsrooms. [#2] The number of newsroom employees at U.S. newspapers declined by 47% between 2008 and 2018. The greatest decline in newsroom employment has occurred at newspapers. The decline in overall newsroom employment has been driven primarily by one sector: newspapers. The number of newspaper employees dropped by nearly half between 2008 and 2018, from about 71,000 workers to 38,000. Only the digital-native news sector saw notable job growth during this period. The number of digital-native newsroom employees increased by 82% between 2008 and 2018, from about 7,400 workers to about 13,500. This increase, however, fell far short of offsetting the loss of about 33,000 newspaper newsroom jobs.
US newspapers face 'extinction-level' crisis as Covid-19 hits hard. As journalists across the US scramble to cover the impact of the coronavirus, they are grappling with a bitter irony: as demand for their stories soars, the decline of the business model that funds them is speeding up catastrophically. The devastating sweep of Covid-19 is the biggest story in a generation, and for most newspapers and news sites it has triggered record numbers of readers. Yet the virus, industry experts warn, will spell the end for "hundreds" of those organizations, laying off journalists and closing titles. Media outlets across the US have already responded to a huge drop in advertising triggered by the economic shutdown by sacking scores of employees.
LA Times says ad revenue 'nearly eliminated' as it furloughs workers. The Los Angeles Times, claiming "advertising revenue has been nearly eliminated" because of the coronavirus, said it will furlough business-side employees and slash pay for senior executives by 5 percent to 15 percent. The furloughs are slated to start April 19 and will last up to 16 weeks, according to a memo from the newspaper's president, Chris Argentieri. The company said it will also suspend 401(k) contributions for non-union employees. The cuts also apply to the San Diego Union Tribune, but not the community weeklies, according to a spokesman for California Times, which also owns the LA Times.
The coronavirus crisis is devastating the news[paper] industry. Two months ago, Cleveland Plain Dealer reporter Brie Zeltner became consumed by one topic: the coronavirus crisis that would soon sweep into her state. [...] Suffering a dramatic dip in advertising revenue amid the sudden economic downturn, the long-struggling newspaper cut 22 journalists from its payroll. Among them, Zeltner. [...] The Tampa Bay Times laid off 11 journalists and stopped five days of its print edition. Seattle's Pulitzer-winning weekly the Stranger laid off 18 staffers and stopped printing altogether. There have been layoffs at the Denver Post and Boston Herald and salary cuts at the Dallas Morning News. Some smaller papers are folding altogether.
$349B stimulus comes too late to save many newspapers. The reeling US newspaper industry will be eligible to tap a portion of the $2 trillion stimulus package that contains $349 billion earmarked for small businesses. But the potential rescue package comes too late to help dozens of newsrooms that have been slashing jobs as shuttered local businesses stop advertising. News advertising has plummeted between 20 and 30 percent in the past two weeks compared to a year ago, according to the International News Media Association. The Washingtonian stopped using freelancers, laid off all its fellows and instituted a 10 percent pay cut for surviving staffers. The Austin Chronicle is moving from a weekly publication to one that publishes every other week, while the Portland Mercury in Oregon and The Stranger in Seattle suspended their print editions and laid off dozens of staffers.
Don't exempt the press. While restaurants, hotels, factories, and movie theaters close across California, it is business as usual at the Sacramento Bee. A worldwide pandemic [notwithstanding]. If California really wanted to flatten the curve instead of flattening the economy, McClatchy would be ordered to shutter its virus magnet presses and take a month off. Small businesses across America have shut down. Why not the Sacramento Bee? What makes it so special? [...] We should not exempt them. Newspapers have not been essential since the 1950s. The public largely ignores them. 500 newspapers and magazines endorsed Hillary. 28 endorsed Donald John Trump. Who became president? Local TV stations can provide the news faster, more accurately, and without making a person break the quarantine to fetch the paper.
More Cleveland Plain Dealer layoffs hit ravaged newsroom. The Cleveland Plain Dealer, the biggest newspaper in Ohio, is in the process of axing 22 journalists from its already ravaged newsroom — the latest dramatic downsizing of a major metro paper. The paper is part of Advance Publications, the media empire owned by the billionaire Newhouse family that also owns Condé Nast. The Plain Dealer News Guild blasted the move as "union busting," claiming it will be down to only 14 unionized editorial employees at the daily paper. In the mid-1990s, it said there were still more than 340 people on the editorial side of the paper.
Amid coronavirus panic, Australian newspaper prints extra pages because of toilet paper shortage. Toilet paper has been disappearing from shelves around the world as coronavirus-wary consumers stockpile emergency and household supplies. A newspaper in Australia wants to help the #ToiletPaperCrisis or #ToiletPaperEmergency — as it's been dubbed on social media — and decided to print some extra pages in its editions. "Yes, we actually did print it!" NT News, a Darwin-based newspaper, said in a tweet Thursday with a video showing a special eight-page insert that can be cut into toilet paper.
Newspapers drop endorsements. In 2016, the Arizona Republic and Dallas Morning News attracted attention by breaking ranks from conservatives and endorsing Hillary, a Democrat. Voters in their states overwhelmingly ignored the advice, and went for Donald John Trump. Now both newspapers have announced they will no longer make political endorsements.
The Editor says...
In other words, the Dallas Morning News would like to endorse Bernie Sanders, but if they did, their circulation would collapse even more than it has already.
McClatchy Newspapers File for Chapter 11 Bankruptcy Protection. The McClatchy Company, the publisher of newspapers from the Miami Herald to the Kansas City Star, is filing for Chapter 11 bankruptcy protection. The company, which oversees 30 local newsrooms, will continue to operate as usual while the company restructures under Chapter 11 bankruptcy protection, the Associated Press reported.
Star-Telegram Owner Files for Chapter 11 Bankruptcy. McClatchy, the publisher of the Fort Worth Star-Telegram, Miami Herald, The Kansas City Star, and dozens of other newspapers, has filed for bankruptcy protection as it struggles to pay off debt while revenue shrinks because more readers and advertisers are going online. McClatchy said Thursday [2/13/2020] that its 30 newspapers will continue to operate normally as it reorganizes under Chapter 11 bankruptcy protection, helped by $50 million in financing from Encina Business Credit.
It won't be the last time.
Newspaper Publisher McClatchy Skips Payment to Pensioners. The McClatchy Co., the newspaper publisher that's teetering near bankruptcy, skipped a payment to some of its pensioners. The company will not be releasing funds to a "small number" of participants in its Supplemental Executive Retirement Benefits plan as it addresses its long-term liquidity pressures, McClatchy said in a statement Thursday. The company faces a mandatory $124 million contribution to its pension plan in 2020. "This decision is not taken lightly, but at a time when the company is actively negotiating the future of the qualified pension plan, it would be inconsistent with our culture to continue payments on the non-qualified plans," Chief Financial Officer Elaine Lintecum said in the statement.
7,800 people have lost their jobs so far this year in a media landslide. The media industry continued to execute cuts in December and November as Verizon, Gannett, Highsnobiety, and the CBC reduced headcounts. The cuts followed large rounds of layoffs and buyouts earlier in the year from companies including BuzzFeed and Vice Media. The massive cuts this year represent a recent trend in media that has seen upstart companies and newspapers alike shrinking and disappearing.
After Its Merger, Gannett Will Be the Largest Newspaper Publisher in the U.S.. Roughly one in four newspapers in the United States has closed since 2004, and many that managed to survive have been cut to the bone. Now, more than 260 dailies will be controlled by the same company. Shareholders voted on Thursday to approve a deal that would join the two largest newspaper chains in the United States, all but guaranteeing the creation of a newspaper colossus that is likely to result in thousands of layoffs. The combination of GateHouse Media and Gannett — already the two largest newspaper owners in the country, by both number of papers and print circulation, according to researchers at the University of North Carolina — means that more than 550 newspapers, 300 of them weeklies, will have the same owner.
New York Times Ends its Spanish-Language Version. The New York Times announced Tuesday [9/17/2019] that it would be shutting down its Spanish-language version, NYT en Espanol, according to The Hill. A spokesperson for the Times confirmed to The Hill that the publication had "discontinued NYT en Espanol as a separate, standalone operation" after it had launched three years prior, admitting that "it did not prove financially successful."
Fishwrap: 33,000 newsroom jobs slashed, newspapers the last choice for news. The ongoing shrinking of the old media industry and business model has resulted in the elimination of 33,000 newspaper jobs, and now, even big, new-age, digital outlets are facing pressure, according to a new analysis. The Pew Fact Tank report is the latest portrayal of the difficulties faced in the news business and the reality that the explosion in online media has fallen far short of making up for the job losses in newspapers and magazines. The worst news for the industry is that from 2008-2018, 33,000 newspaper jobs were axed.
Journalism Keeps Finding New And Creative Ways To Get Worse. [W]hen Newsweek sold for a dollar a few years ago, that wasn't the warning it should have been to do their jobs better, it was the start of these once great institutions turned from important sources of information into a mirror on the Internet. Printed versions of TIME and Newsweek have become harder find. Grocery stores, many of which used to carry them in the checkout aisles, now don't carry them at all. If you do manage to find a hard copy, what you find is a leaflet with almost no heft. They're so thin, with so few pages, they can barely support their own weight. [...] TIME and Newsweek were once important, they used to do real, in-depth investigative journalism. Their magazines were must-reads for people wanting a deep dive into the issues of the day. Now there isn't enough to either to line a birdcage.
Newspapers are so vital that no one's buying them. Salena Zito wrote in the New York Post, "The death of a local newspaper rocks America to its core." [...] But she didn't talk to any former readers. Indeed she failed to mention the sudden drop in circulation. Pew Research reported, "Total weekday circulation for U.S. daily newspapers fell to 35 million, while total Sunday circulation declined to 38 million — the lowest levels since 1945." That was in 2016 amid the newsiest presidential election in 16 years. People were not turning to their local newspaper for coverage and opinions about the election. They used TV and the Internet to follow the race because the news was covered in real time with better graphics.
The Editor says...
I hope the Dallas and Fort Worth newspapers continue publication, because I have a cockatiel whose sanitation depends on them.
The death of a local newspaper rocks America to its core. When the press stops rolling at The Vindicator this month, a lingering question will once again taunt the residents of the Mahoning Valley: How much collapse can one region take? The family-owned newspaper announced in June — just days after celebrating its 150th anniversary — that it is permanently ceasing production on Aug. 31. The paper, which started in 1869 just months after Ulysses S. Grant was sworn into office, has been run by the descendants of William F. Maag ever since he purchased the paper midway through Grover Cleveland's first term. The closure will cost 144 employees and 250 carriers their jobs and comes just weeks after the GM Lordstown plant down the road turned out the lights, leading to thousands of job losses.
More than 2,000 US newspapers have closed in past 15 years. The newspaper industry has continued its relentless downward spiral, which started with the advent of the internet and accelerated during the Great Recession. The pace of the decline has not slowed. New research shows that over 2,000 newspapers have closed since 2004, a staggering figure given that the industry was once among the largest employers in America.
Journalists Failed Our Newspapers. America's newspapers are dying, especially in the heartland. New York Times executive editor Dean Baquet predicted recently that "most local newspapers are going to die in the next five years." He called it the "greatest crisis in American journalism[.]" It's certainly one of them. Many of us would choose the mainstream media's historic loss of public trust and accountability as the greater, though Baquet, a major player in that crisis, would probably rather not discuss it. Both crises do share one thing in common: Journalists take no responsibility for either.
McClatchy stock sinks after reporting $42M loss. McClatchy stock sank to a new 52-week low on Thursday [5/9/2019] after the company, which was feverishly trying to do a deal with the larger Tribune Publishing earlier this year, reported a net loss of $42 million in the first quarter as revenue tumbled 9.3 percent to $180.3 million. McClatchy, owner of the Miami Herald, Kansas City Star and other papers, still had close to $745.1 million in debt on its books at the end of the quarter thanks in large part to its acquisition of Knight Ridder a dozen years ago.
Extra, Extra! Newspapers Found Dying. The [Wall Street] Journal, one of three major papers seemingly assured a long life — the others being The New York Times and The Washington Post — writes that "time is running out" for local franchises unable to compete with Google and Facebook for advertising revenue. The market has shifted. The internet brings you everything, not just what local editors have selected and arranged for you. You choose now to believe or not believe, to read or not to read. Such liberation from intellectual authority the world never before imagined.
They were all axed to leave.
Entire New Orleans' Times-Picayune staff axed after sale to competitor. The Newhouse family sold the 182-year-old daily The Times-Picayune and its Web site, nola, to a scrappy New Orleans competitor, and the entire staff is being laid off. That has stirred worries across the other papers in the family's Advance Publications empire. A total of 161 staff members are being laid off, according to a WARN (Worker Adjustment and Retraining Notification Act) notice filed with the Louisiana Workforce Commission, which listed 65 reporter and editor jobs in the bloodbath.
McClatchy Circling the Drain? The slow collapse of the newspaper industry continues, for better or worse. [...] But McClatchy has brought its demise upon itself by publishing fake news, as Scott has described here and elsewhere. McClatchy "reporters" Greg Gordon and Peter Stone published an obviously false story, with no support whatsoever, in order to advance the leftist, anti-Trump agenda.
Social Media Ad Spending to Outweigh Print Revenue by 2020. The amount of money spent on advertising on social media is set to catch up with newspaper ad revenues by 2020, a leading forecaster said on Monday [1/28/2019]. The rapid expansion of social media platforms on mobile devices, as well as faster internet connectivity and more sophisticated technology, has triggered a huge shift in the way many people get their news.
Hedge fund called 'destroyer of newspapers' bids for USA Today owner Gannett. A New York hedge fund known for gutting newsrooms is backing a hostile takeover bid for Gannett, the publisher of USA Today and 100 other newspapers. The unsolicited offer, worth over $1.3 billion, would create the largest newspaper company in the United States and further consolidate a struggling industry.
Tough times for online media. Websites are not yet going the way of newspapers, but financial stringency has arrived for web-based media, including American Thinker. The carnage extends from independent voices to the big, investor-backed sites. At the top end, the gold rush for staking claims to digital readership has gone bust, and the Big Money investors are licking their wounds after a number of changes have taken out much of money that flowed to digital publishers.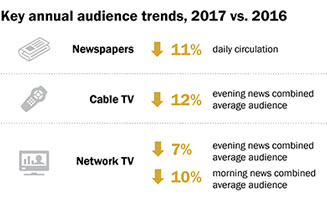 Five facts about the state of the news media in 2017. [T]he circulation for U.S. daily newspapers, whose audience has been steadily declining for several decades, fell by 11% last year, according to an analysis of data from the Alliance for Audited Media (AAM).
Don't Cheer the Decline of the Newspaper Industry. According to [a recent] Pew report, in 2008 there were 114,000 people employed in American newsrooms (this number includes the newsrooms of newspapers, radio, broadcast television, cable television, and digital news). That number dropped to 88,000 in 2017, for a total loss of about 27,000 employees in newsrooms. Newspapers took the largest hit, with newsroom employment dropping by a whopping 45 percent over the period, from 71,000 employees in 2008 to 39,000 in 2017, for a total loss of 32,000 jobs. Digital news, meanwhile, which many wrongly assume to be replacing newspaper jobs, saw its newsroom employment increase by only 6,000 jobs.
'The Village Voice' is dead, shuts down and lays off half its staff. After operating for more than 60 years, the Village Voice is shutting down. The owner of the groundbreaking New York City publication, Peter Barbey, gave staff the news on Friday [8/31/2018]. "Today is kind of a [bad] day," he said, according to audio obtained by Gothamist. "We're going to stop publishing Voice's material online." The decision to close shop comes one year after the former alternative weekly newspaper went 100 percent digital as a last-ditch effort to stay afloat.
Daily News axes 5 more staffers. The Daily News quietly showed five more staffers the door, pushing the number hit by the devastating mass layoffs to 98 people. A New York state WARN notice filed this week listed the newest layoffs as members of "digital services," involved in putting together digital ads for advertisers. The company laid off half of its newsroom July 23, hitting the photo and sports departments particularly hard.
The Children's Hour: American Journalism Today. Having thrown in its lot with #TheResistance, the media now faces its inevitable, if not actually imminent demise. Jobs in the newspaper industry continue to disappear, as physical publishing becomes an increasingly unprofitable occupation and advertisers bail for greener pastures. On television, ratings for the cellar-dwelling CNN — once the premier brand in the cable-news racket — are abysmal. [...] The reasons for the media's collapse include the rise of the internet and its instantaneous delivery system, the evaporation not only of its advertising revenue base, but of many of its former avenues of employment as well, including (from the newspaper days) linotype operators, printers, mailers, truck drivers, delivery boys, etc. The democratization of publishing also has led to the withering of reporting staffs — the skills once prized and rewarded (news judgment, reporting, and writing ability) — matter increasingly less when, in a classic case of Gresham's Law, the amateur product is outwardly indistinguishable from that of the professional, so why pay for it when you can have it for free?
Study: Media Employment Down 23 Percent over Past Decade. The number of employees working in the news media has declined 23 percent over the past decade, according to a Pew Research Center study released Monday [7/30/2018]. The Pew Research Center study found that 114,000 employees worked in the media industry — including in newspapers, cable, radio, and broadcast — in 2008, but that number fell by 23 percent to 88,000 employees in 2017. [...] Employment at newspapers dropped by 45 percent between 2008 and 2017.
Who killed the news? Recently the New York Times accused Donald Trump of destroying journalism. Describing a recent meeting at the White House A.G. Sulzberger wrote, "I told the president directly that I thought that his language was not just divisive but increasingly dangerous. ... I was not asking for him to soften his attacks on The Times if he felt our coverage was unfair. Instead, I implored him to reconsider his broader attacks on journalism, which I believe are dangerous and harmful to our country." Actually Silicon Valley and not the White House has inflicted the most damage on journalism over the last decade. The flight of advertising revenue to the Internet has devastated newsrooms all over America forcing even the NYT to charge readers for content. From coast to coast every publication is desperately fleeing what the Atlantic called the media apocalypse.
Newsroom employment dropped nearly a quarter in less than 10 years, with greatest decline at newspapers. Newsroom employment across the United States continues to decline, driven primarily by job losses at newspapers. And even though digital-native news outlets have experienced some recent growth in employment, too few newsroom positions were added to make up for recent losses in the broader industry, according to a Pew Research Center analysis of Bureau of Labor Statistics Occupational Employment Statistics survey data. From 2008 to 2017, newsroom employment in the U.S. dropped by 23%. In 2008, about 114,000 newsroom employees — reporters, editors, photographers and videographers — worked in five industries that produce news: newspaper, radio, broadcast television, cable and "other information services" (the best match for digital-native news publishers). By 2017, that number declined to about 88,000, a loss of about 27,000 jobs.
Are there any newspapers left in New York? Everyone chooses a side and the [New York] Post, which for years we've trusted as the most reliable source of information, has chosen the Hamas terrorists as its darlings. This development is something new. Something happened. Over the past few months, to the surprise of we the readers, generally conservative, the paper has been trending anti-Israel and anti-Trump. On WABC's Bernie and Sid in the Morning program, one of them asked if the Post had been sold. No, it just seems that way.
Tronc Exec Tells Daily News Staff to Their Faces: We Have No Strategy. When a top executive from frugal newspaper giant Tronc was asked Tuesday [7/24/2018] about the specific strategy behind draconian cuts to the New York Daily News on Monday [7/23/2018], he didn't have an answer. On Monday, the company slashed 50 percent of the editorial staff at one of New York's two remaining iconic tabloids, including dozens of top longtime staffers from virtually every section of the paper.
Newspapers in New York, Like Their Readers, Are Vanishing. Once upon a time, The [New York] Daily News sold more than two million papers a day. Now its circulation is only about a tenth of that, and the paper's non-hometown owner, the Chicago-based media company Tronc, which bought the paper last year, does not have the patience for non-profitability that the prior owner, Mortimer B. Zuckerman, did.
Layoffs at the Daily News mark a grim day for New York City. Monday's [7/23/2018] mass layoffs at the Daily News are bad news for New York: This town needs more good reporters, not fewer. The numbers are brutal: a newsroom staff slashed in half; no staff photographers at a place that long billed itself as "New York's Picture Newspaper." A sports department down from 34 people to just nine — how can a New York tabloid survive with that?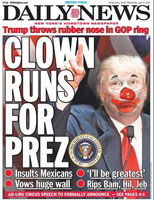 Welcome to the Trump Schadenfreude List, New York Daily News. The New York Daily News is the worst of the worst. Its mean, vile, and nasty attacks of President Trump are without modern precedent and a bane on American journalism. That not a single journalistic organization or professor called the Daily News out tells you all you need to know about this trade with pretensions of being a profession.




NY Daily News slashes newsroom staffing in half. The New York tabloid Daily News cut half of its newsroom staff Monday including Jim Rich, the paper's editor in chief.

New York Daily News announces massive 50% cut to newsroom staff. The New York Daily News announced a 50% cut to its editorial staff early on Monday, marking a tremendous blow to one of the most popular papers in New York City and in the US as a whole. In an email circulated to staff, executives said they had been working hard to transform the paper into "a truly digital-focused enterprise" but that they "have not gone far enough". Along with the 50% cut, the email said the paper will be refocusing on "breaking news — especially in areas of crime, civil justice and public responsibility."

This Is How a Newspaper Dies. For a preview of the newspaper industry's coming death, turn your gaze to Colorado, where the withering and emaciated Denver Post finds itself rolling in profits. The Post's controlling owner, "vulture capitalist" Randall Smith, has become journalism's No. 1 villain for having cheapened and starved not just its Denver paper but many of the titles — including the St. Paul Pioneer Press, the San Jose Mercury News and the Orange County Register — that his firm, Alden Global Capital, operates through the Digital First Media chain. At the Post, Smith's firm cut the newsroom from 184 journalists to 99 between 2012 and 2017, Bloomberg News' Joe Nocera writes. Over the same time, Smith's Pottstown Mercury fell from 73 journos to 10 while its Norristown Times-Herald went 45 to 12. And the cuts just keep on coming. For newspaper lovers, the cuts have been a disaster.

CNN's May Ratings Already Collapsing by 20-Plus Percent. While Fox News and MSNBC are more or less holding steady this week when compared to the full month of May last year, the far-left CNN is already in a total ratings freefall by 20 percent and more. With three weeks of May still remaining, the Stormy Daniels Network might be able to mount a comeback, but as of right now the month is looking like it could be a serious humiliation for CNN — and not just in total viewers but the advertiser-coveted 25-54 age demo, as well.

The Boston Herald filed for Chapter 11 bankruptcy and was sold to GateHouse Media. The Boston Herald is declaring bankruptcy and has agreed to be sold to GateHouse Media. The daily newspaper founded in 1846 announced Friday [12/8/2017] it filed a voluntary Chapter 11 bankruptcy petition in Delaware. Publisher Patrick Purcell didn't disclose the sale price but said the purchase is subject to court approval. Purcell cited pension liabilities, declining revenue, digital media and growing competition for the decision. He said the company would continue its day-to-day operations.

Boston Herald publisher announces sale of newspaper company. Boston Herald Publisher Patrick J. Purcell announced today that the media company with its flagship Boston Herald tabloid has reached an agreement with GateHouse Media, LLC for them to acquire the company's operational assets. The purchase is subject to court approval.

Daily News lost more than $90M over the last three years. The floundering [New York] Daily News lost $90.4 million over the last three years — including $23.7 million of red ink in the year ended Dec. 25. Revenue last year tumbled 14.2 percent, to $144.78 million, according to a regulatory filing on Monday [11/20/2017]. Paid print Monday-to-Friday circulation slipped to 182,472 in the second quarter, according to the Alliance for Audited Media.

Why Newspapers Are Dying and Why Antitrust Can't Save Them. The business of newspapers — for all the self-righteous talk about "the people's right to know," the First Amendment, and "afflicting the comfortable while comforting the afflicted" — is to sell advertising. [...] The problem newspapers have now is that — compared to web advertising — they're very expensive. [...] Google can deliver an ad for something like .04 percent of the cost, with 100 times better effect.

End newspaper subsidies. The practice of posting legal notices in newspapers has been a billion-dollar boondoggle for newspapers since the 19th century.

New York Times reports 95.7 percent fall in quarterly profit. The New York Times Co reported a 95.7 [percent] fall in quarterly profit, hit by restructuring charges related to headcount reductions. Net profit attributable to the newspaper publisher fell to $406,000, or break-even per share, in the third quarter, from $9.4 million, or 6 cents per share, a year earlier. Revenue fell to $363.6 million from $367.4 million. The company, struggling to transition to digital, said online ad revenues grew 21.5 percent and now account for more than 35 percent of its advertising receipts.

Daily News employees brace for upcoming layoffs. Daily News staffers are growing more nervous by the day. New Editor-in-Chief Arthur "Chucky" Browne is said to be exploring a move of up to 40 jobs to a facility in the Jersey City printing plant. In addition, 15 to 30 newsroom jobs at the struggling tabloid will be eliminated between Election Day and Thanksgiving, sources said. The New Jersey news operation was supposed to be a temporary fix implemented in the aftermath of Superstorm Sandy, which flooded the paper's Lower Manhattan office.

The Media Is Liberalism's Achilles Heel. We need to help these Democrat shills in newspapers and on the networks join scrolls and town criers in the cesspool of history, where they'll be among friends. The media is already dying, terminal due to new technology and its cancerous contempt for its audience. So let's pull the plug. Cancel your newspaper subscription, if you still have one. And tell them why. It has an effect. Years ago I told the sad sack taking my LA Times cancellation that I was quitting because if I wanted to read Pravda I would prefer to do it in the original Russian.

Several newspapers that endorsed Hillary Clinton for president have taken huge subscriber hits. The Arizona Republic, one of Arizona's largest newspapers, endorsed Democratic nominee Hillary Clinton for president last week. The paper could have never imagined what followed. According to the New York Times, who spoke with the paper's editorial page editor, the paper received cancellation calls every 10 minutes following the endorsement.

Endorsing Clinton Costs Newspapers Subscribers. Newspapers that have traditionally endorsed Republicans for president are paying a financial price — cancelled subscriptions for crossing over and endorsing Democrat Hillary Clinton. According to The New York Times, the cancellations were coming in every ten minutes at The Arizona Republic, which had never endorsed a Democrat for president in its 126-year history.

Dallas Paper Offers Discount In Scramble To End Hillary Endorsement Fallout. The Dallas Morning News is offering massively discounted subscriptions to its readers in an effort to withstand the fallout caused by its editorial board's endorsement of Democratic nominee Hillary Clinton. The endorsement has generated a lot of reader pushback in the form of angry comments, phone calls and vows to unsubscribe from the paper, which hasn't endorsed a Democrat in 75 years. Editor Joe Wilson has acknowledged it came with a price of dropped subscriptions, but no one from the paper has revealed how many readers actually unsubscribed.

The Editor says...
It is difficult enough to keep a newspaper afloat in the 21st century, without stuff like this. Dallas already has a left-wing propaganda rag competing for the attention of the far left. The city doesn't need two of them.

Clinton endorsements by conservative newspapers spark threats, cancellations. Over the past month, traditionally conservative newspaper editorial boards across the country have rejected Donald Trump and instead lined up behind Hillary Clinton — and some are facing vicious backlashes. The Cincinnati Enquirer, which hadn't endorsed a Democrat in almost a century, and The Arizona Republic, which had backed only Republican presidential candidates in its 126-year history, said they had lost subscribers and received angry letters from readers since coming out in favor of Mrs. Clinton.

Newspapers rethink paywalls as digital efforts sputter. Paywalls were supposed to help rescue newspapers from the crisis of sinking print circulation as readers shifted to getting their news online. But with a few exceptions, they have failed to deliver much relief, prompting some news organizations to rethink their digital strategies. Newspapers in the English-speaking world ended paywalls some 69 times through May 2015, including 41 temporary and 28 permanent drops, according to a study by University of Southern California researchers.

Is It Worth Reading a Newspaper Anymore? The New York Times runs an editorial on "The NRA's Complicity in Terrorism," but the Orlando mass murderer Omar Mateen isn't a member of the NRA. He is a member of the Democratic Party, who voted for Obama twice, and worked as a subcontract security man for Homeland Security under Obama appointee Jeh Johnson. The New York Times professes total confusion as to Mateen's motivation, while the same day Senator Charles Johnson, Chairman of the Homeland Security Committee, described how Mateen had made over 16 calls in the four hours after the shooting inside The Pulse, while the police outside were presumably trying to decide who ordered the pepperoni and who the anchovies on their pizza while victims bled to death inside. Several of Matteen's calls were specifically pledging his loyalty and service to ISIS, speaking to law enforcement at 911, and he made several postings of the same pledge to ISIS on his five accounts on Facebook.

The Editor says...
I bought a copy of the Dallas newspaper yesterday, but it went straight to the bird cage.

Sixty Percent of Newspaper Jobs Have Disappeared Since 1990. The Bureau of Labor Statistics has confirmed what many of us already knew — newspaper jobs have disappeared at an alarming rate over the last 26 years. According to the BLS, newspaper jobs fell from about 458,000 in 1990 to roughly 183,000 in March 2016, which is a drop of almost 60%. Radio and broadcasting also saw losses — though not as steep as newspapers — with employment falling 27% from 1990 to 2016. The job losses were partially offset by the rapid rise in Internet publishing and online broadcasting, from 30,000 to nearly 198,000.

New York Times plans to cut hundreds of jobs later this year. The New York Times Co. is preparing to lay off a few hundred staffers in the second half of the year, The [New York] Post has learned. Chairman and Publisher Arthur "Pinch" Sulzberger Jr.'s management team has been talking with some of the Times' unions to come to a deal to provide reduced severance to those affected, sources told The Post. "There's a goal of a couple of hundred people," said a source familiar with talks. "They don't want to pay out big packages, and they're having negotiations with the unions."

Newspaper reporter rated worst job in America. A new survey of the best and worst jobs in the country has declared that being a newspaper reporter is the worst career you could be pursuing. CareerCast just published its Worst Jobs of 2016 list. It cited fewer job prospects because of publications going out of business and declining ad revenue providing less money for decent salaries. The survey put the annual median salary of a print reporter at $37,200.

Democracy's Destabilizer: TMI. Over history, [Martin] Gurri argues, information has grown "in great pulses or waves" as technologies have changed — from writing to the alphabet to the printing press to mass media to today's digital networks. Each of these great waves has brought with it new institutions and sometimes great political and social upheavals, most notably in the case of the printing press. We are in the very early days of what he calls the Fifth Wave. Institutions that developed in the age of industrialized, top-down mass media are losing legitimacy while new arrangements have yet to evolve.

The End of Academic Elites. Even more so than the press, the internet has evaporated prior means of didactic instruction. The printing press created change, but only the rich could afford to buy one. For less than $100 today, one can get a domain and start a media empire on the web. Kids now get their news from the internet. Prior to YouTube, news came from "respected" media sources. Now any kid with an iPhone can break a story. In America, videos of police brutality have become a cottage industry, with attendant consequences. I could have used an iPhone when I was a teen. Craigslist has done a runaround on newspapers by offering free advertising, thus cutting their revenues. Newsprint is collapsing. Paper after paper has gone broke. The Media Elite are gone.

ESPN Has Lost 7 Million Subscribers The Past Two Years. According to a 10K filing from Disney today, which you can read here, ESPN now has 92 million subscribers. That's a troubling number because just two years ago ESPN reported it had 99 million subscribers in the same 10k filing. The last time ESPN had 92 million subscribers was 2006, so the past two years have erased the previous seven years of subscriber growth. These filings are important because it's the first public acknowledgement of ESPN's massive subscriber losses. Given that the average ESPN subscriber pays $6.61 a channel per month, this means that ESPN has lost somewhere in the neighborhood of $550 million in subscriber revenue per year since 2013.

Report: ESPN plans to cut 350 jobs. The reduction of about 4.3% of its workforce could be announced early Wednesday [10/21/2015], the report said, citing unnamed sources. ESPN declined to comment on the report. The network has been battling rising programming costs and sluggish advertising sales as viewers increasingly ditch cable for streaming options.

Daily News lays off dozens more as newsroom keeps bleeding. The [New York] Daily News swung the ax for a third day, putting the layoff tally for the teetering tabloid at close to 50 newsroom staffers. Owner Mort Zuckerman's henchmen, who on Wednesday decimated sports by laying off nine writers and columnists, went after business and features on Thursday. The business section, which had already been reduced to one page, will cease to exist after Friday [9/18/2015].

San Diego newspaper lays off 1/3rd of workforce after sale. San Diego's dominant newspaper on Tuesday [5/26/2015] announced the layoffs of nearly a third of its 600 employees after it was acquired last week for $85 million by Los Angeles Times owner Tribune Publishing.

Media Fail: Arkansas Passes Religious Liberty Bill. A religious liberty bill similar to the one causing a phony uproar in Indiana this week was just passed by Arkansas lawmakers Tuesday [3/31/2015] and serves as yet another sign of the left-wing mainstream media's waning power to intimidate and bully. Arkansas Governor Asa Hutchinson said he is going to sign the bill, which will then offer the Faithful the same legal civil rights protections offered in 20 other states. One of the primary reasons the media joined the political left in a coordinated and massive bullying misinformation campaign against Indiana was in an obvious attempt to intimidate other states from passing similar laws that give a legal standing to people of all faiths. The fact that Arkansas moved forward unafraid shows that the heyday of the mainstream media is coming to an end.

USA Today Axes Dozens; Marched Out, Email Cut. Up to 70 veteran USA Today journalists, editors, and others were laid off Wednesday [9/3/2014], and reports claim that the newly unemployed were "marched out by security" and within 15 minutes had their email accounts shut off. The layoffs came as no surprise after the Gannett Company followed the lead of many other companies that have already separated and spun off their dying publishing business into separate companies. It was only a few weeks ago that Gannett did the same.

Star-Ledger cuts 167 jobs, including 40 newsroom positions. In a grim day of reckoning at the state's largest newspaper, the owners of The Star-Ledger today [4/3/2014] said they were eliminating the jobs of approximately 167 people, including 25 percent of the newsroom. The sweeping job loss was part of a plan announced last week in an effort to greatly reduce costs and combine resources by consolidating the operations of The Star-Ledger, along with its sister publications in New Jersey and its online partner, NJ.com, which also announced cutbacks today.

Journalism's problem may not be the Internet. Even in a supposedly prosperous and well-educated state like Connecticut, how strong can demand for those things be now that half the children are being raised without two parents at home and thus acquiring developmental handicaps; 70 percent of community college and state university freshmen have not mastered what used to be considered basic high school skills; poverty has risen steadily even as government appropriations in the name of remediating poverty have risen steadily; and democracy has sunk so much that half the eligible population isn't voting in presidential elections, 65 percent isn't voting in state elections, and 85 percent isn't voting in municipal elections? This social disintegration and decline in civic engagement coincide with the decline of traditional journalism just as much as the rise of the Internet does.

Survey: 28% of Journalism Students Unhappy with Career Choice. According to the study, 5 percent of journalism and mass communication graduates indicated they had selected the field without considering it.

Study: Journalism grads don't read newspapers, mags, books. This could be the final blow to paper and ink news: Reporters graduating out of journalism school and headed to work at newspapers and magazines don't read print media, with over seven of 10 choosing digital news and social media websites instead, the highest number ever, according to an authoritative new study.

Newspaper union: Plain Dealer in Cleveland cuts about one-third of newsroom staff. The Plain Dealer in Cleveland cut about a third of its newsroom staff Wednesday, months after announcing it was reducing home delivery of the newspaper.

In SFO Air Disaster, Amateurs Lead Networks in Breaking News. When it comes to breaking news on stories like Saturday's tragic Asiana jet crash at San Francisco airport, it's becoming increasingly clear that we've moved into a new era for journalism.

Gallup: Less Than One Fourth of Americans Trust Newspapers. A new poll on newspapers and television news shows that Americans' confidence in the news industry continues to erode in this era of mass communications, reaching a low not seen since 2007. [...] Naturally, liberals trust newspapers more than conservatives.

The Real Reason that Readers Have Soured on Their Paper. Last week Pew issued a report suggesting that journalism was entering a death spiral: the loss of ad dollars, particularly for classified ads, has led newspapers to make cutbacks. This causes a decline in quality, because writing a good story takes a lot of time and resources. And the readers respond to the quality decline by cutting back on their subscriptions.

Print bloodbath: Human Events kills newspaper, dumps staff. Human Events, for decades the lone national conservative newspaper before the Fox era, on Wednesday [2/27/2013] announced that the grim reaper killing off print publications around the nation has reached its door on Capitol Hill. The Feb. 18 issue currently on the stands will be its last. But Human Events, Ronald Reagan's fave, like the Christian Science Monitor, U.S. News and Newsweek before it, will live on via the Internet, where it receives 1 million visitors a month.

Poll: Internet edges networks as public's source for news. A new Rasmussen Reports poll finds that traditional network news continues to fall as the nation's source for news. The internet now is a bigger source of news for Americans than network TV, by a point, 25 percent to 24 percent. Cable TV is still king, with 32 percent of the 1,000 likely voters Rasmussen polled getting their news from that source. Newspapers barely register a 10 percent, and radio is the source of news for 7 percent of the country.

Clueless fops wonder why they're tanking. Who in his right mind would ever buy The Boston Globe? Maybe the physical plant of the "newspaper" on Morrissey Boulevard, but the actual product? Let me put it another way: When was the last time you bought an actual copy of The Boston Globe?

Time Inc. to Reduce Global Staff by 6 Percent. Time Inc. joined the many news organizations trying to tighten their belts in a tough advertising climate by announcing layoffs and offering employees buyout packages on Wednesday [1/30/2013]. In a memo to the staff, Laura Lang, chief executive of Time Inc., said that she planned to reduce the company's worldwide staff of 8,000 employees by 6 percent, or about 480 employees.

Obama Economy Hits Reuters: Major Layoffs Announced. Just as we saw last week at the New York Times and Time Magazine, the mainstream media's pro-Obama chickens are finally coming home to roost. The media sold its soul to elect Barack Obama and then re-sold it to re-elect him. This, even though his economic policies have been a stone cold disaster. But now, in a fit of extremely satisfying karma, Reuters has joined the membership of high-profile, left-wing news outlets announcing a series of layoffs.

Star-Ledger announces layoffs of 34 employees, including 18 newsroom staff. The Star-Ledger lost nearly 10 percent of its newsroom today [1/16/2013] as the state's largest newspaper cut editors, photographers, news clerks and others in its first ever large-scale layoff. The jobs of 34 employees of the paper were eliminated, according to publisher Richard Vezza, who called it a "difficult day."

CNET Reporter Resigns Over CBS' Censorship. One of the existential threats to broadcast and cable television is anything involving Internet streaming. We the People are slowly but surely getting used to the idea of watching what we want, when we want. And as people get used to this technology, the idea of flipping endlessly through expensive nothing-to-watch cable packages feels more outdated by the day.

'Gun Map' Newspaper in Circulation Free Fall. Buried at the bottom of a New York Times piece might be the real reason to explain why New York's Journal News did something as sensationally stupid as publishing the names and addresses of over 30,000 legal gun owners living in two New York counties. In just five years, the Journal News' Monday through Friday circulation rate has plummeted almost 40%, "from 111,536 in September 2007 to 68,850 in September 2012."

Extra! Extra! American Newspapers Don't Care about Reading Newspapers need readers. If children aren't learning to read, newspapers will struggle to survive. What could be more obvious? You might think that newspapers — as a simple matter of survival — would do anything possible to promote literacy.

R.I.P. Newsweek. The beginning of the end for the longtime number two news magazine began when the Washington Post Co. sold the publication to audio electronics billionaire Sidney Harman two years ago for $1, plus the assumed liabilities. [...] But after suffering a reported $30 million in losses, Harman merged Newsweek with The Daily Beast hoping to take advantage of the digital savvy of the Beast and staunch the bleeding.

Chicago Tribune, Six Other Papers Drop Associated Press. The Chicago Tribune has announced that starting in January, the Chicago-based paper and several other Tribune-owned papers will be dropping the Associated Press as its chief wire service. Along with the Chicago paper, six other Tribune-owned papers will also be dropping the AP.

It Gets Even Worse for Newspapers. It's been a hellish decade for members of the once-mighty newspaper industry, but down in Miami, the ink-stained wretches have just endured the deepest insult of all. It is now official policy that the Miami Herald's long and powerful history of dominance over the Miami media is not worth preserving.

Cleveland Plain Dealer Cutting One-Third of Newsroom. The Cleveland Plain Dealer is one of Ohio's biggest papers but neither size nor influence is likely to save the jobs of one-third of the paper's newsroom employees who are preparing for big cuts to hit as the new year begins. Workers at the paper found out on Wednesday that 58 employees would likely be losing their jobs starting in 2013.

Providence Journal lays off 23 full-time employees. The Providence Journal Co. laid off 23 full-time workers Wednesday as part of a cost-cutting effort, including 16 members of the Providence Newspaper Guild and 7 non-union employees. The cutback represents 5 percent of The Journal's workforce.

Newsweek to cease print edition after 80 years. Newsweek will end its print publication after 80 years and shift to an all-digital format in early 2013.

CNN, newspapers hammered as Americans turn to mobile news. Americans are fast turning to mobile devices to get their news, resulting in stunning viewership declines for CNN and existence-threatening readership drops for newspapers, according to a new Pew Research Center survey. The winners: social network sites, online news and websites like the Drudge Report and Yahoo. In Pew's latest look at trends in news consumption, Americans said that they have turned away from CNN. In just four years, the percentage of those who say they watch CNN has dropped from 24 percent to 16 percent.

10 Reasons Mitt Will Win: [#6] The avalanche of negativity spewing from the liberal media can be discouraging to conservatives, but the liberal media have steadily lost clout over the past 20 years, and the alternative conservative media have never been more robust. Not only are the liberal media less powerful but also conservative talk show hosts, bloggers, tweeters, columnists and Fox News react with lightning speed to counter every single lie they promulgate.

Newspaper Ad Revenues Collapse to 1950 Levels. [T]his graph proves that we're the ones who are winning and on two fronts. First off, the business model of being shameless left-wing shills when alternative and honest opinion is available online just isn't working. Secondly, as we've seen this election year, the corrupt media is more desperate to hold on to its narrative and political power than to fix its business problems. This means that in competition with the New Media, Old Media is forced to quadruple down on the appalling behavior that's driving customers away.

Old Media Death Watch. Yesterday [9/18/2012], Rasmussen released survey findings showing that the internet is inching ahead of television as the best way to get news and information in the world. The survey was conducted September 12-13 among 1000 adults. The internet lead the pack among the various news outlets, with 40% identifying it as the best source of news. Television was a close second with 37%. Perhaps the most shocking revelation is that a mere 7% identify print newspapers as the best way to get news.

And Now Let Us Gasp In Astonishment At What Just Happened To The Newspaper Business. Over the past decade, lots of big newspaper companies have gone bust. But when you take a look at what's happened to newspaper advertising over that period, it's a wonder they all haven't.

An end of an era for NOLA newspaper. Seven years ago next week, Katrina ravaged New Orleans. Among the heroic efforts was that by the staff of the Times-Picayune newspaper. The news will continue in New Orleans — just not on paper every day as the Times-Picayune will be cutting back its print edition.

Abandoned Newspaper Buildings Mirrors Decline in Industry. [John] Reinan looked around the country and found that many once big time daily newspapers have been forced to move to digs definitely less high-end. Among the many downscalers, he found the Oakland Tribune, the Atlanta Journal-Constitution, the Philly Inquirer, the Philly Daily News, the Des Moines Register, the Indianapolis Star, and many more have left the buildings that were once known as centers of power and prestige only to seek refuge in lower rent buildings in a possible last ditch effort to remain viable.

The Collapse of CNN. In a little over twenty years, CNN devolved from the most important television news organization in the world to another channel to skim through or skip over. But don't take my word for it. Look at the numbers.

NBC News Declared Dead: Microsoft Leaves MSNBC. NBC News, the legendary television and news organization that once starred such journalistic pros as Chet Huntley, David Brinkley, John Chancellor and Tom Brokaw was declared officially dead on Wednesday afternoon [7/11/2012]. The death was preceded by a stunning divorce announcement between Microsoft and NBC that had resulted in a long, tempestuous televised and website union known as MSNBC.

NBC, Microsoft Getting Online Divorce. NBC and Microsoft plan to announce a deal to finally part company, with the network buying back the remainder of their hugely popular MSNBC website from the software giant, say people familiar with the matter. Under the plan, officials will rebrand MSNBC.com, which consistently ranks among the top three in online news sites, as NBCNews.com.

The New York Times At Twilight. The personal anecdotes are interesting, of course. But the real story here is an economic one: the drying up of advertising revenue that has brought the once-profitable New York Times Company to its knees. The paper's most recent effort to restore profitability is its second attempt at erecting a pay wall.

New Orleans Times-Picayune to limit printing to three days per week. Many daily newspapers have been moving away from paper for years, emphasizing digital news. Lately, some print dailies have been moving away from publishing daily, too. To try to combat the industry's decline — in readership, advertising and profits — a handful of newspapers are now cutting back their publishing schedules from seven days a week in print to just three.

3 Alabama newspapers dropping daily circulation. Three of Alabama's largest newspapers, The Birmingham News, The Huntsville Times and the Press-Register in Mobile, will drop daily circulation this fall and distribute printed editions three days a week.

Papers pulling the plug, from LA to New York. The bankrupt Tribune Co. has become the latest newspaper publisher to pull the plug on a monthly magazine. The staff of LA, Los Angeles Times Magazine got the word yesterday that the June 3 edition will be the last. The current monthly lauched four years ago, but the 138-year-old paper has long published its own LA Times magazine.

Ratings: CNN Hits 15 Year Low. Last week on Twitter, Piers Morgan taunted me with an invitation to come on his show and debate. We responded in the most serious way we could; we reached out directly to his producer and said, "anytime." Haven't heard back. Kind of glad now. I can get more attention strolling through a supermarket.

Desperate Newspapers Pin Hopes on Annoyed Readers. News publishers have always treated readers like commodities — because that's what readers are. The real customers for publishers aren't readers, but advertisers. Readers are the product. It's not quite that simple, of course, and more enlightened publishers treat readers with respect and cover the news fearlessly (which actually makes the readers more valuable to advertisers).

Will News Reporting Die? [Scroll down] In that America of six decades ago, there was one daily newspaper for every $24 million the federal government spent during the year, and every day there was one copy of a newspaper circulated for every 2.8 people. [...] In the America of 2009, there was one daily newspaper for every $2.5 billion the federal government spent during the year, and every day there was one copy of a newspaper circulated for every 6.6 people.

College newspapers feel financial pinch. Editor Joseph Valdez says he has seen his newspaper's budget "cut drastically" the past two years. His print paper may soon be eliminated, as the push continues to take news to what many see as newspapers' ultimate destination: the Internet, with all of its uncertain profitability.

Cable Loses Nearly Three Million Subscribers to Streaming. The rise of streaming television is something I've been covering rather obsessively on my Daily Call Sheet for going on a year now. Not because I have any kind of inside information or data, but because if you connect the dots of the hundreds of various news stories that have been written about the phenomenon, you can see that something seismic is happening.

New Report Names Newspapers as the Fastest Shrinking Industry in America. A new report issued this week from the Council of Economic Advisers (CEA) and social media network Linkedin that studied a wide range of industries showed that the newspaper industry suffered the biggest decline of any from 2007-2011. While renewables grew 49.2%, the Internet 24.6% and online publishing 24.3%, newspapers led the way in a downward direction, shrinking a whopping 28.4%.

Washington Post profits drop 22 percent. The Washington Post Co. said fourth-quarter profit fell 22 percent after enrollment at its Kaplan education unit and print advertising sales declined. Net income fell to $61.7 million, or $8.03 a share, from $79 million, or $9.42, a year earlier, the company said Friday [2/24/2012]. Revenue dropped 10 percent to $1.06 billion.

Why Pay to Read Lies? Newspapers in Decline. Like a biblical punishment, newspapers are feeling the brunt of the changes the Internet has brought about. With search engines at our fingertips, anyone can research any topic of interest, often finding that what the daily newspaper or news magazine had to say about it is replete with omissions of critical facts or the deliberate dissemination of falsehoods.

Newspapers Defend Their Crony Capitalism: Outdated Monopoly on Public Notices. The newspaper industry has successfully lobbied for the past 10 years to preserve their archaic monopoly over the printing of public notices. They use deceptive technical arguments to sway conservative Republican legislators in Arizona and other states. It is well overdue to stop this corporate welfare that keeps liberal newspapers artificially alive longer, and move public notices to the internet where people might actually see them.

New Study Predicts the Death of Newspapers in Five Years. A new report to be issued in January by the USC Annenberg Center for the Digital Future predicts that most newspapers will be dead in five years. The Center's director, Jeffrey I. Cole, had this to say about the future of newspapers: "Circulation of print newspapers continues to plummet, and we believe that the only print newspapers that will survive will be at the extremes of the medium — the largest and the smallest," said Cole.

9 Things to Say Goodbye To: [#3] The Newspaper. The younger generation simply doesn't read the newspaper. They certainly don't subscribe to a daily delivered print edition. That may go the way of the milkman and the laundry man. As for reading the paper online, get ready to pay for it.

CNN to Lay off 50 Staffers; Photojournalists Lose Out to Smartphones, Flip Cams. After a three-year analysis of the company's work processes CNN began to issue layoff notices yesterday to staffers in Atlanta, New York, Washington, DC, Los Angeles and Miami. The network is eliminating about 50 positions, from photographers to news editors to those employed at the CNN Library in New York, which is closing and being consolidated with one in Atlanta.

CNN babes fail. If you are offended by male (and lesbian) chauvinism, kindly read one of the 1 million other political blogs. The difference between CNN and Fox News is that the Fox News babes are blond and the CNN babes are brunette. That and the women on Fox News get the ratings. The women on CNN get awards. I bring this up because another CNN babe is about to bite the dust.

OBrien's Unpopularity Destroys Morning Ratings for CNN. Executives at CNN must be in shock at the catatrophic implosion of their morning lineup, as Starting Point With Soledad O'Brien recorded the cable network's lowest ratings for that time slot in more than a decade. Fewer than 100,000 adults 25-54 tuned in to O'Brien's program on an average day, according to the latest quarterly Nielsen numbers.

5 Long-Term Trends Working Against The Democratic Party. At one point, the Left had an almost total lock on the media. People watched one of the big three liberal networks, they read a liberal newspaper, and they had few other options to find out what was going on in the world. That has changed dramatically in the last few decades. The big three networks? They've lost 55.5% of their audience since 1980. Liberal newspapers? They're dinosaurs that are slowly but surely sliding towards extinction in their current form. Staffs are being laid off across the country and The New York Times, which is the most prestigious paper in America, is 1.1 billion dollars in debt and fading.

Could robots replace journalists? Journalists today have more to worry about than just getting that elusive scoop, with the arrival of new software that creates articles without the need for humans.

The Editor says...
It's a sad day for your profession when someone suggests that you can all be replaced by automation. I speak from experience.

Gannett laying off 700 more workers amid ad slump. The nation's largest newspaper publisher is laying off another 700 employees to cope with an unrelenting advertising slump.

Is the internet going to be the death of television? Nielsen, who track US television viewing habits, have reported a drop in television ownership -- albeit from 98.9% to 96.7%. DVD sales are falling, while Netflix recently overtook cable operator Comcast to become the biggest subscription video service in North America.

Journalism Tops List of Most Useless Degrees. Journalism schools are trying to adapt to survive. But in a world where traditional journalism is dying, students seeking a j-school degree are doing so at their own risk.

Report: Journalism Degrees Are Probably Just As Useless As You Expected. Getting into a good university, as anyone will tell you, is hard work. Harder still is mustering up the confidence that your (often all too pricey) education will be put to good use, so that one does not find oneself spending an entire semester reading The Canterbury Tales in its original middle English for nothing. It's good to know ahead of time, then, that your degree has some sort of worth, that it will eventually lead to a well-paying job rife with opportunities for advancement. Which is exactly why I will dissuade my hypothetical children from majoring in journalism...

Big Media Suicide Compact. Is there a profit-making business — other than TV networks and The New York Times — that so disrespects its audience it works overtime to offend them? What other business metaphorically flips the bird to those who don't subscribe to their social, cultural and political worldview? That is precisely what big media does to a large number of potential viewers and subscribers.

The Media and the Republicans. The American mainstream media, once the most dominant news gathering entity in the world, has lost its credibility and is in the process of losing its influence. Yet the Republicans and some conservative intelligentsia in Washington D.C. still foolishly curry the media's favor, cower in fear of their by-gone power and do not understand their motives and mindless acquiescence to group-think mentality. Since 1990 total newspaper circulation has dropped by 17.3 million readers (28%). The three network news broadcasts have suffered a similar fate. Since 1991 they have lost 12.6 million viewers (34%). The various mainstream news magazines such a Time and Newsweek are a mere skeleton of their former selves.

Television's Latchkey Journalism. TV news' phony objectivity, once personified by avuncular Walter Cronkite, has mutated into the "bratcast." When CBS' Cronkite for decades told millions of viewers each day "that's the way it was," Americans were expected to take it as gospel truth from the lips of a grandfatherly wise man. In the Internet age, with its endless flavors of news reporting, a Cronkite is as obsolete as an 8-track tape player.

U.S. Consumers Ditching Cable TV In Droves. U.S. cable TV operators lost 741,000 basic video customers in the third quarter, research firm SNL Kagan reported Wednesday [11/17/2010]. That's the single largest quarterly drop for cable since SNL Kagan began compiling data for the segment in 1980. Cable's share of the multichannel pay television market continues to slide, dipping to 60.3% from 62.9% in Q3 2009.

Morning Show Retreat: Almost half a million fewer women tuned into the big three morning shows this season compared to last. And though that number may not be devastating to ABC, CBS, and NBC just yet, the 10 percent drop off is making networks and their advertisers (a good portion of whom have their revenues tied up in moms' purse strings) nervous.

TV media finally feeling print media's pain. What happened this week at KPIX, where 15 of about 250 station employees were laid off, is both an old and a new story. Old in that it — and other CBS-owned and -operated stations from Chicago to Dallas — weren't making enough profit, so salaries were shed. And new in that local TV stations are finally feeling the impact of the changing ways people consume media.

CBS Moves Ahead With Layoffs in News. News operations at CBS stations in several cities started a series of job cuts this week even as the CBS News network moved ahead with plans to lay off about 1 percent of its nearly 1,200 employees. Over the last several days, layoffs were ordered at local stations that CBS owns, including ones in New York, Chicago, Boston and San Francisco. Dana McClintock, a spokesman for CBS, said the actions at the network and the local stations were not related.

Dead Air: Why CBS should shutter its news division. To judge by the ads, the most loyal adherents to CBS' quasi-journalistic programming are impotent and incontinent. It so happens that they share these afflictions with the network's actual news division. … Most weeks, the perfectly decent Bob Schieffer, who will retire after the 2009 inauguration, sees Face the Nation to a finish as the third-rated Sunday show. And the only thing worse than the Nielsen numbers is the product.

A Low-Water Mark for Broadcast TV Viewing. TV viewers must have taken to the beach: It was the least-watched week in recorded history for the four biggest broadcast networks.

Who Really Needs a Journalism Degree? There are rumblings that journalism schools, as we have known them, are on the decline in America. It's assumed that this is tied to the decline in job opportunities in newsrooms and magazines as those industries die an agonizingly slow and painful death. In some corners the decline of the J-schools is being lamented almost as if it is the death of truth, itself.

The Sorry State of Journalism: Journalism today is broken. Blame media bias, the internet, reader apathy ... what have you. Ultimately, the public wants something different.

It's not News Unless it's Reported by a Mainstream Journalist. The Leftist "Media Matters" is scandalized because Fox News reported an anti-Greenie story that was originally put on the net via a blog rather than by one of the mainstream news organizations. … They couldn't question the truth of the story — because it is true. The only thing to criticize that they could find was who reported the event.

The Prevalence Of Media Bias: In 1985, in another Gallup question, 55% said news organizations usually get their facts straight. But only 36% gave that response the last time Gallup asked about it. Given these findings, it's hardly surprising that Americans are watching less network news and reading fewer newspapers. In 1995, more than 60% told Gallup they watched network nightly news every night; that number has dropped, precipitously, to 35%.

Dying For An A. Why the decline of the establishment media? The Internet, of course, lets us all choose from a countless array of news sources, couched in whatever political philosophy each of us fancies. Today, why bother buying a paper? ... But we're also now all finally liberated from what the media have been for so long: an echo chamber for the mind-set of big government, high taxes, subpar national defense and cultural radicalism.

So Much More Than Just the New York Times. Over the weekend NBC offered up their latest versions of Tim Russert's Meet the Press and the Chris Matthews Show — the latter being political television's answer to Jerry Springer. In them we were treated to two more glittering examples of all that is wrong with the Jurassic Press.

More Americans turning to Web for news. Nearly 70 percent of Americans believe traditional journalism is out of touch, and nearly half are turning to the Internet to get their news, according to a new survey. … Nearly half of the 1,979 people who responded to the survey said their primary source of news and information is the Internet, up from 40 percent just a year ago. Less than one third use television to get their news, while 11 percent turn to radio and 10 percent to newspapers.

Major Journalism Scandal at Sacramento Paper. As more comes to light about Diane Griego Erwin, the former Sacramento Bee columnist, the more revealing and instructive the story becomes. It is a story we mentioned in a recent Media Monitor, but much more has come to light. In one sense, it is another validation for the New Media, specifically the blogs; and for another, it shines a light on problems related to diversity in the newsrooms, when diversity strictly refers to skin color.

Liberal reporters, an arrogant bunch. The declining state of the American newspaper apparently warms a lot of hearts. Polls tell us about the general public's disrelish for Congress. Equally disrelished are journalists and newspapers. Frankly, I sympathize. The American journalist is an odd creature. Most are as arrogant and provincial as the average American college professor. Curiously, many journalists even look like university professors, especially journalists from the major liberal newspapers.

The News Business Is in Decline. The evidence is the current emphasis on individual crime stories and stories about the entertainment industry. … Today's newsroom resembles a Prudential Insurance office. Smoking is forbidden, and there is only the faint clatter of computer-keyboard keys. I knew the business was doomed when they put a salad bar in the lunchroom. Today's journalists tend to be salad-eaters and joggers, and those who smoke don't smoke tobacco.

Tony Snow and the deteriorating media: President Bush's new White House Press Secretary is all the rage. But unfortunately, Tony Snow's appointment will only feed the media's craving for personal recognition and attention. One of the major problems with the media today is too much focus on the "personality" delivering the news, while any actual substance of the news takes second stage.

The Collapse of Big Media: Starting Over. They've seen their audiences shrink, they've had to worry about vigorous new competitors, and they've suffered more than a few self-inflicted wounds — scandals of their own making. They know that more and more people have lost confidence in what they do. To many Americans, today's newspaper is irrelevant, and network news is as compelling as whatever is being offered over on the Home Shopping Network. Maybe less.

Von Hoffman: TV Media Biased and Inept. "Left, right and center, people by the tens of millions have stopped watching network news," columnist Nicholas von Hoffman concludes. "And that may be a healthy thing if it betokens skepticism, disbelief and an effort to find out for one's self."

Television Losing Ground to the Internet as a Main Source of News. Television remains the main source of national and international news for most Americans, but it is steadily losing its lead over the Internet, according to a Pew Research Center poll conducted Dec. 1-5. The trend toward the Internet is particularly marked among 18-to-29 year-olds who now favor it over television to learn what's going on in the country and the world. Sixty-six percent of those surveyed said they get their dose of news from television compared to 41 percent who said they count on the Internet.

To Be Well-Informed You Must Go Online. [Scroll down] But it's the 2008 presidential campaign that will go down in history as the most blatant corruption of the Fourth Estate, with most of the mainstream media losing all perspective and going gaga over candidate Barack Obama. While some of their fervor has dimmed because of the catastrophic state of the economy, there are still loyalist press hounds defending this administration. ... The reason the Democrats are in trouble is that many voters are ignoring the status quo sources with the liberal stamp of approval and getting their news straight from the World Wide Web.

The Fading Fourth Estate. This is National Newspaper Week, but there's not a lot of celebrating going on for this fading industry. In fact, National Newspaper Week might soon be a thing of the past. Newspapers were once called the "Fourth Estate", meaning they were like a fourth branch of government. As the fourth branch, newspapers were expected to be independent of the other government branches. Hence newspaper readers would have an autonomous source that impartially evaluated the regular branches of government. Sadly, that is no longer the case. If it ever was.

The Media Loses Readers and Viewers to its Own Radicalism. Whether it's Newsweek being sold to the husband of a Democratic congresswoman for a dollar, or ABC deciding to turn This Week into a BBC program by turning over to Christiane Amanpour, last week the dying media itself provided us with two examples of why it's dying. By choosing radicalism over readers, the media continues narrowing its own readership and viewership, pursuing ideological purity, not only over integrity, but even over its own profits and future viability.

A Farewell to the MSM. It's hard to tell whose ratings are falling faster — those of the Cold-Hearted Social Engineer in the White House, or the activist old media that adore him so (oh, just for the record, the Democrat Congress is actually at the bottom in this survey.) Gallup just completed its annual Confidence in Institutions survey and things do not look good for the news media.

A Dying Media Writes its Own Obituary. Most people think of the news media differently than the participants in it think of themselves. While most people think that the job of newspapers, news radio stations and television newscasts is to report on events, those on the other end of the wire, the printing press and the cable, think that their job is not to report, but to advocate.

Media Elites Are Living in Their Own Dying World. On Sunday, CBS' Bob Schieffer admitted that he was on vacation the week before he interviewed Attorney General Eric Holder on "Face the Nation," and thus he had not heard the story of the Justice Department dropping the Black Panther voter intimidation case. Bernie Goldberg believes him — and noted that Schieffer is simply living in the world of the New York Times, like other media elites.

Newspapers still needed, but going fast. Lately, many people have asked me about the fate of the American newspaper in an era when circulation, advertising and staff size are all sharply down. I've told them what editors have told me: The next 18 to 24 months may well see the first major U.S. city without a daily paper.

Newspaper death spiral accelerates some more. The decline in advertising revenues at the NYT accelerates again, and now the largest newspaper in New Jersey, the Star-Ledger of Newark, is threatening to shut down next January, if its employees do not voluntarily accept buyouts and unions do not agree to concessions.

Tribune Company Loses $121 Million. The Tribune Company, owner of newspapers including The Los Angeles Times and The Chicago Tribune, along with the Chicago Cubs and Wrigley Field, said Monday that it lost $121.6 million in the third quarter as newspaper advertising revenue fell.

A Scary Look at the Future of Media. Convention time just ended for journalists, and they are on edge about the future. Not the political conventions — the annual Society of Professional Journalists event. With ad dollars shrinking and job losses mounting, the future they are most concerned with is their own. Media outlets are changing to survive, and those changes could move journalism even further to the left.

Steep Decline at 'NYT' While 'WSJ' Gains. The New York Times lost more than 150,000 copies on Sunday. Circulation on that day fell a whopping 9.2% to 1,476,400. The paper's daily circulation declined 3.8% to 1,077,256. … At The Washington Post, daily circulation decreased 3.5% to 673,180 and Sunday dropped 4.3% to 890,163. Meanwhile, daily circulation at The Wall Street Journal grew a fraction of a percent, up 0.3% to 2,069,463 copies.

The Worst of Times. The New York Times' news room is bracing for a bloodbath in the next 10 days. The word from inside is that approximately 50 unionized journalists have accepted the buyout proposal, and only another 20 non-union editorial employees have gotten on board. That means the ax could fall on as many as 30 editorial people in the company's first-ever mass firing of journalists in its 156-year history.

S&P slashes New York Times rating to junk. Standard & Poor's on Thursday [10/23/2008] slashed its ratings on the New York Times Co into junk territory and cited concerns about the newspaper publisher's revenue outlook, after it posted a third-quarter loss.

It's Official: NYT is Junk. Friday, the New York Times endorsed Barack Obama for President as "the right choice" to follow the "battered, drifting and failed leadership" of George W. Bush. That wasn't a surprise. The real news came from another part of town: Yesterday [10/27/2008], Standard & Poors slashed the New York Times rating on its $1 billion debt to "junk" status. Coincidence, or cause and effect?

Steep Decline at 'NYT' While 'WSJ' Gains. The New York Times lost more than 150,000 copies on Sunday. Circulation on that day fell a whopping 9.2% to 1,476,400. The paper's daily circulation declined 3.8% to 1,077,256. … At The Washington Post, daily circulation decreased 3.5% to 673,180 and Sunday dropped 4.3% to 890,163. Meanwhile, daily circulation at The Wall Street Journal grew a fraction of a percent, up 0.3% to 2,069,463 copies.

Pressed for Cash. The Minneapolis Star Tribune, reeling under a heavy debt load and plummeting advertising sales, is on the brink of bankruptcy, The Post has learned. One of the nation's top dailies, "The Strib," as it is known to readers in the Twin Cities, recently hired the Wall Street powerhouse Blackstone Group to restructure its balance sheet after failing to meet its debt obligations, according to people familiar with the company.

Newspapers likely to be free in the future: survey. Newspapers seeking to compete with the Internet are likely to become free and place greater emphasis on comment and opinion in the future, a survey of the world's editors showed on Tuesday [5/6/2008]. The report, conducted by Zogby International for the World Editors Forum and Reuters, revealed that newspaper editors were still optimistic about the future of their publications but believed they would have to adapt further for the digital age.

Star-Ledger cuts newsroom staff by nearly half. The Star-Ledger of Newark, N.J., will reduce its newsroom staff by nearly half through voluntary buyouts as New Jersey's largest newspaper seeks to return to profitability.

Media Credibility Plummets, 'Most Trusted' CNN Believed by Just 30%. "Over the last 10 years," the just-released biennial news consumption survey from the Pew Research Center for the People and the Press determined, "virtually every news organization or program has seen its credibility marks decline" and "Democrats continue to give most news organizations much higher credibility ratings than do Republicans."

Key News Audiences Now Blend Online and Traditional Sources. On any given day, 57% of Americans watch news on TV, a rate that has remained largely stable over the past 10 years (59% in 1998). By comparison, the share that reads a newspaper yesterday stands at 34%, down six points in just the past two years and down 14 points from 48% a decade ago. Radio news is suffering comparable losses.

Pressed for Cash. The Minneapolis Star Tribune, reeling under a heavy debt load and plummeting advertising sales, is on the brink of bankruptcy, The Post has learned. One of the nation's top dailies, "The Strib," as it is known to readers in the Twin Cities, recently hired the Wall Street powerhouse Blackstone Group to restructure its balance sheet after failing to meet its debt obligations, according to people familiar with the company.

Gannett to cut 1,000 newspaper jobs: memo. Gannett Co Inc plans to eliminate 1,000 positions from its local newspapers around the U.S. because of declining advertising and circulation revenue, and may cut more if those conditions persist.

Newspapers likely to be free in the future: survey. Newspapers seeking to compete with the Internet are likely to become free and place greater emphasis on comment and opinion in the future, a survey of the world's editors showed on Tuesday [5/6/2008]. The report, conducted by Zogby International for the World Editors Forum and Reuters, revealed that newspaper editors were still optimistic about the future of their publications but believed they would have to adapt further for the digital age.

Now the bad news. CNN's 11 p.m. show NewsNight summed up the theme: "Killer hurricanes, massive earthquakes, monstrous fires: Are these unpredictable acts of nature signs the end of days is near?" it asked on October 12. … "The end" may not be near, but the end of television news ought to be, if such vague scare tactics are all it has left to offer. Unfortunately, even though viewership is going down — deservedly so — the old mainstream liberal media remains influential.

Katie Couric — Death throes of a media dinosaur. It was recently announced that CBS will be losing millions on the Evening News and that the lost revenue will be made up by draining dough from other parts of its vast antediluvian broadcasting swamp. … But as costs balloon and viewers continue to disappear, how long can the network continue to pour increasing amounts of money and all that jazz into a support network for a mashed potato soft non-journalist like Ms. Couric?

Paradigms Lost. [Katie] Couric disdains putting unqualified people in important jobs. So let's turn to the new paradigm that allows us to question the credibility of mainstream journalists. When, exactly, did Katie Couric begin to dance on the national mainstream media scene and what qualified her to do so?

Can CBS Be Saved? People abandoned network news because network news abandoned them. Sure, the networks can try gimmicks to lure viewers back — such as solo female anchors, letting viewers vote for the stories they want to see, and hiring heartthrobs as national correspondents. But that's all just window-dressing.

Papers Facing Worst Year for Ad Revenue. For newspapers, the news has swiftly gone from bad to worse. This year is taking shape as their worst on record, with a double-digit drop in advertising revenue, raising serious questions about the survival of some papers and the solvency of their parent companies.

Time Embraces a Timeless Idea. Time magazine, the superannuated newsweekly, seems to reinvent itself every few years with slackening energy, in one vain attempt after another to postpone its inevitable, rapidly approaching, and much-anticipated demise. Its most recent incarnation has largely dispensed with the snoozy business of gathering and conveying fresh information in favor of political advocacy.

Ideal of the Scoop. Following are excerpts of remarks by the Editor of the Sun, Seth Lipsky, to the newspaper's staff: It is my duty to report today that Ira Stoll and I and our partners have concluded that the Sun will cease publication. Our last number will be the issue dated September 30, the first day of Rosh Hashanah. I want you to know that Ira and I, and our partners, explored every possible way to avoid having to cease publication.

The Late, Great New York Sun. More than any other daily newspaper of our time, the Sun helped its readers understand that in standing up for the defense of Israel, they were also standing up for the defense of America.

International Herald Tribune Website Joins Dinosaurs. The International Herald Tribune website — sister site of NYTimes.com — will soon shut down, citing "growth" opportunities.

Media Meltdown. The public has already turned on big media, but big media is too into denial to notice. People are no longer buying their product; newsrooms are being downsized. "Journalists" are now left to wonder what happened to their once-great profession, as they pick up their final paychecks.

The Limits Of The Tanning Bed Media. When the MSM moans about the gallons of red ink it's spilled since 2001, it needs to ask itself if it's prepared to actually report the news, in a fashion that interests readers, or if it exists as a non-profit ideological support system.

E.W. Scripps cuts 400 newspaper jobs. Media company E.W. Scripps Co. said Friday [11/7/2008] it is laying off around 400 employees at its newspapers in a restructuring expected to save about $15 million a year, as it swung to a third-quarter loss in a weak advertising market.

The Newspaper Belongs in the Trash. It is time to start giving reputable blogs the status historically given newspapers, because they are gradually becoming the newspapers of the future. Just like Fox News and talk radio destroyed the hegemony of the major TV news networks, blogs are now taking down the left's last media bastion, print media.

Newspapers Censor Their Way to Oblivion. This campaign season The Kansas City Star passed on a parcel of the nation's most eye-popping stories. Incredibly, at least five of those stories flared up in the Star's home state, Missouri. As the reader might guess, all five stories reflected unfavorably on Democratic candidates. This is nothing new. What is new is that by censoring such stories the Star has continued to show its indifference to the majority of its potential customers even as it struggles to stay afloat.

PC Magazine dropping print for online. PC Magazine, which has documented the explosive growth of the personal computer since 1982, announced on Wednesday [11/19/2008] that it was dropping its print edition next year and going online only. PC Magazine publisher Ziff Davis Media, which recently exited Chapter 11 bankruptcy, said in a statement that the final edition of the iconic magazine would be the January 2009 issue.

Sources say the Associated Press will cut 10 percent of its jobs in 2009. The Associated Press plans to cut up to 10 percent of its workforce in 2009, according to sources at the news service, as it copes with tough financial times and ailing member newspapers.

Newsday cutting 100 jobs, raising newsstand prices. Newsday announced plans Friday [12/5/2008] to cut 100 jobs, or about 5 percent of its workforce, and raise newsstand prices for the weekday and Sunday editions as the newspaper grapples with the worsening economy.

As newspapers struggle, change brings pain. We'll remember it as Terrible Tuesday: The day last week this newspaper cut 25 employee positions. That followed layoffs of 10 employees in August and two longtime managers in September. Co-workers huddled, whispering, worrying, crying. ... Yes, this is a bad year for the economy and all industries. But it's the worst year ever for newspapers.

Journalists Out of Work? Resurrect Leftwing Federal Writers Project. Mark Pinsky, writing for the New Republic, has an idea of what to do with all the journalists currently being laid off by the dying newspapers around the country: put them on the public payroll by hiring them for a resurrected Federal Writers Project. This was the New Deal project which provided funding for works which were primarily of a leftwing nature. And any current version of this government program is likely to have the same political ideology as its predecessor.



This is an original compilation, Copyright © 2017 by Andrew K. Dart

Read all about it! US newspapers fall prey to the internet and recession. The US newspaper industry is in a full-blown crisis that has seen its business model dynamited by technology and its dwindling prospects threatened by the financial meltdown, which has, in effect, forced advertising revenue off a cliff. In the past week the Tribune Company, which owns the Chicago Tribune and the Los Angeles Times, has sought bankruptcy protection from its creditors.

Three community newspapers close. Without so much as a word of warning to their readers or employees, the Journal Register Co. on Thursday closed three longtime community newspapers in Philadelphia. Staffers of the Olney Times, News Gleaner and Northeast Breeze were told all three weekly publications were going to be shut down immediately during an impromptu morning meeting, said Stuart London, the News Gleaner's sports editor. London said publisher J. Wesley Rowe Jr. cited the struggling economy and an unsuccessful attempt by the Journal Register Co. to sell the papers when he delivered the grim news.

No easy fix for US newspaper industry. Circulation is dropping, print advertising revenue is falling and readers are going online to get news for free, leaving the US newspaper industry awash in red ink and threatening some of the biggest names in journalism.

Bad times in newspaper biz. December has been an ominous month for newspapers -- and all Americans should be concerned. Gannett Co., the largest newspaper chain in the United States, laid off about 2,000 workers, or 10 percent of its work force. The E.W. Scripps chain announced that the Denver-based Rocky Mountain News was up for sale. If no buyer steps forward in the next four to six weeks, the paper, which is expected to lose $15 million this year, could be closed.

The Editor says...
High speed internet service is rendering many industries obsolete. If you work at a newspaper or magazine publisher, you should look for another job. Similarly, if you work in a picture tube factory, you should be worried, too, because most people are buying flat-screen TV's and computer monitors. Also disappearing are camera film, VCR's, and coin-operated telephones. Nobody makes slide rules, phonographs, typewriters, film projectors or cassette players any more. Small town radio announcers have all but disappeared, largely due to the wide assortment of radio stations on the internet. Telephone operators are fairly uncommon, even for directory assistance. Before long I expect movie theaters to disappear, although television should persist for a few more decades, especially if there are no newspapers.

Album Sales Plunge, Digital Downloads Up. Music sales have continued to slump in 2008 as the increased number of downloads of digital tracks failed to make up for a plunge in the sale of compact discs. ... Physical album sales fell 20 percent to 362.6 million from 450.5 million, while digital album sales rose 32 percent to a record 65.8 million units.

Major Detroit Newspapers to Slash Workforce, Home Deliveries. Two major newspapers will be making sweeping changes to the way news is read in Detroit, following the path of smaller papers across the country that have slashed print circulation and shifted focus online to stay in business.

What's killing newspapers is the same thing that killed the slide rule. Hardly a day goes by, it seems, without some laid-off or bought-out journalist writing a letter of condolence to himself and his profession. The Columbia Journalism Review and the American Journalism Review have harbored these self-pitying fellows, as have newspaper columns and blogs.

The Last March Of The Dinosaurs: The Death Of Network News. The nets can't change their DNA, and that DNA isn't meant for the world of new media. They are slow when the new media is fast. … Worst of all, they lost their collective news judgment years ago, and still haven't figured out how to get it back. They keep hiring people from inside the junior varsity bubble of the Ivies and J-schools and wonder why they can't break out of their Manhattan-Beltway bubble.

New York Times Nov. ad revenue drops 20.9 percent. The New York Times Co. said Wednesday that advertising revenue dropped 20.9 percent in November from a year ago, as the financial crisis prompted steep declines in classified and national ad spending.

Americans prefer news from Web to newspapers. The Internet has surpassed newspapers as the main source for national and international news for Americans, according to a new survey. Television, however, remains the preferred medium for Americans, according to the survey by the Washington-based Pew Research Center for the People & the Press.

Print News Fading, Still Source of Much News. CNet's Dan Farber took a look, not only at the popular news of how print media is dying a slow death, but also what contribution to the news print journalists are still making.

Chicago's newspapers facing troubled futures. A little more than a century ago, Chicago boasted 11 daily English-language newspapers. ... Today, only two major dailies remain in this city of 3 million, and both are in serious trouble from declining circulation, plummeting ad revenue and a new kind of competition that threatens to make newsprint itself obsolete.

Chilly Numbers: Big Newspaper Companies Endure November Rev Plunge. The newspaper business got another round of alarming (but not terribly surprising) news over the last week, as three leading publishers revealed that ad revenues essentially fell off a cliff in November As the New York Times Co., McClatchy and Media General are bellwethers for the industry overall, their weak results suggest that newspapers will see a year-over-year fourth-quarter revenue decline in the double digits, possibly exceeding 20%.

Mainstream Media on Life Support. One-fifth of the world's nearly 7 billion people are now Web-capable — all reporting, opining, interacting, twittering, digging and blogging. Bloggers, bless their hearts, are becoming the new-old curmudgeons, thinking hard before writing, still insisting on complete sentences with more than 140 characters, clinging to their gerunds, participles and semicolons. Many are camouflaged renegades from (or appendages to) newspapers, not so much new breeds as Darwinian adapters to a new environment.

Hearst Looks to Sell Or Close Seattle Paper. The Seattle Post-Intelligencer will stop printing in 60 days unless the newspaper's owner, the Hearst Corporation, can find a buyer by then, the company said on Friday. Hearst said that if it could not find a buyer, it would either shut the paper entirely or make it an Internet-only operation with a much-reduced staff.

Sun-Times Media to close 12 newspapers. Chicago's Sun-Times Media Group Inc. said it would close 12 weekly newspapers to cut expenses as advertising revenues have fallen. The 12 suburban newspapers scheduled to close are part of 51 newspapers published by Pioneer Press, which the Sun-Times purchased in 1989.

Star Tribune files for Chapter 11 bankruptcy. The Star Tribune, saddled with high debt and a sharp decline in print advertising, filed a Chapter 11 bankruptcy petition Thursday night. Minnesota's largest newspaper will try to use bankruptcy to restructure its debt and lower its labor costs.

Scripps not commenting on possible sale offers for Rocky. E.W. Scripps, owner of the Rocky Mountain News, gave no word Friday on whether it had received any bids for the 149-year-old newspaper. But the company said the next step won't be determined for several days at the earliest.

As liberals take power, loony media Left behind. There is much irony in the fact that while liberals have won power in Washington big time, left-wing media are collapsing all over the place. In the last couple of weeks, the Seattle Post-Intelligencer, the Minneapolis Star Tribune and the mother of all liberal publications, The New York Times [NYT], each has issued SOS announcements.

Times Co. Results Reflect Ad Slump. Battered by a steep drop in newspaper advertising, The New York Times Company on Wednesday [1/28/2009] reported fourth-quarter income of $27.6 million, or 19 cents a share, down 47.8 percent from a year earlier.

The Gray Lady turns a deathly shade of pale. Arthur Ochs "Pinch" Sulzberger Jr. has driven the proudest institution in journalism to the doorstep of ruin, its corporate debt earning the humiliating label of "junk" from Moody's Investors Services. And it wasn't just a slide over the line, the company tumbled three steps below investment grade.

Newspapers fight perceptions industry is dying. Several newspaper executives launched a public relations campaign on Monday [2/2/2009] to counter what they call "gloom-and-doom" reports of the industry's demise. ... With the ads, commentary pieces and a Web site, the industry is painting itself as a vital source of information and the best place for advertisers to sell anything from grapes to a house — not the dinosaur often portrayed in the media.

The Editor says...
The idea that newspapers are archaic and passé is not just a perception. Their declining circulation and frequent layoffs speak for themselves. As you can see on this web page, newspapers are constantly being sold off to the highest bidder, when large companies own other enterprises, like TV stations. Why did this happen? Their average customer is getting older and older: School kids spend all day in front of a computer or TV and they don't have the patience (or the ability) to spend 30 minutes with a daily paper. The kids (and most adults) know that the news in today's newspaper was on the internet yesterday, and there's no demand for comic strips when television has several channels of non-stop cartoons.

Slim Times For American Newspapers. Good! American newspapers are dying. Let us celebrate, since in their extinction lies the only hope for journalism ... In former Times (that's Times with a capital "T") it would have been unthinkable to say such a thing. Newspapers were journalism and journalism was newspapers. But those days are long gone, and it's not just because of talk radio and the internet. What we have in these Times are newspapers engaging in the fraud of providing propaganda in the guise of journalism. Until these publications disappear, journalism as we once knew it can't make a comeback.

Exclusive: Interview with Bernie Goldberg. There are two reasons a lot of print media is on the verge of death. Literally, on the verge of going under. One is technology. The internet is killing newspapers. It is very difficult to make as much money putting out the New York Times online as it is putting out the paper version. Because if Tiffany's buys a full page ad in the paper version they get a lot more money than some ad they would buy online. So part of it has, is strictly technology, has nothing to do with ideology. But the other part has a lot to do with ideology. I know real people, whose names I could tell you, people I know who have said "I've stopped buying the New York Times." Why? Because their editorial position has filtered, has leached into the news pages.

Journal Register Co. files for Chapter 11. The Journal Register Co. filed Saturday for Chapter 11 protection from its creditors and said slumping advertising revenue and circulation are to blame. In court documents filed in U.S. Bankruptcy Court in Manhattan, company Chairman and Chief Executive James W. Hall said the recession had placed an even greater burden on an already distressed industry.

Inquirer owner files for bankruptcy protection. Philadelphia Newspapers LLC, which owns The Inquirer, the Philadelphia Daily News, and Philly.com, filed for bankruptcy protection yesterday in a bid to restructure its $390 million in debt load. The company, bought by a group of Philadelphia-area investors for $562 million in 2006, said the voluntary Chapter 11 filing would not interrupt its daily operations.

Gannett slashes dividend 90 pct, saving $325M. Gannett Co. is slashing the dividend on its stock for the first time in its history as the largest U.S. newspaper publisher finally succumbs to the financial squeeze that has triggered similar moves by its cash-strapped brethren.

Rocky Mountain News to close, publish final edition Friday. The Rocky Mountain News publishes its last paper tomorrow. Rich Boehne, chief executive officer of Rocky-owner Scripps, broke the news to the staff at noon today [2/26/2009], ending nearly three months of speculation over the paper's future. "People are in grief," Editor John Temple said at a news conference later. Boehne told staffers that the Rocky was the victim of a terrible economy and an upheaval in the newspaper industry.

Rocky Mountain News closes down. The Rocky Mountain News, one of America's most venerable newspapers, closed down yesterday [2/27/2009] amid a rising tide of grim forecasts for an industry struggling with falling advertising revenues and changing media formats.

Newspaper editors' convention scrapped. Following the cancellation of their annual convention for only the second time in 86 years, the American Society of Newspaper Editors is considering draconian measures to right their leaky vessels.

Cosmic revenge is sweet. [Scroll down slowly] All these publications have been hurt by the internet and by the recession, but these aren't the real source of their ills. In their bias, they fell into mission confusion, and neutered the reasons for which they were made. ... Consumers aren't buying.

Liberal Media Unemployment. Recently, a friend of mine who is a self-described liberal editor at a major newspaper in the United States, explained to me one of the reasons why the major dailies started their death spiral a number of years ago. "So many of my colleagues put their far-left ideology before the bottom line and the financial health of the very newspaper that pays them. In still what is basically a 50/50 nation politically, they have gleefully delivered insults onto the front porches of conservatives and centrists and were thrilled when those from the center or center-right would call to cancel their subscriptions to the paper."

The 10 Major Newspapers That Will Either Fold or Go Digital Next. Over the last few weeks, the newspaper industry has entered a new period of decline. The parent of the papers in Philadelphia declared bankruptcy as did the Journal Register chain. The Rocky Mountain News closed and the Seattle Post Intelligencer, owned by Hearst, will almost certainly close or only publish online. Hearst has said it will also close The San Francisco Chronicle if it cannot make massive cuts at the paper.

Some Cities Might Go Paperless. As the economic downturn combines with a rapidly changing landscape on how consumers get their news several cities may see their major newspaper disappear entirely.

The New York Times death spiral continues. Bye, bye corporate jet! At long last, the beleaguered company is sacrificing top management's plaything, the ultimate status symbol. A long overdue cost saving mechanism in a time when the company's workers endure downsizing and cost reductions, even crowding themselves into smaller office space to save money.

Seattle Post-Intelligencer Ditches Print. The Seattle Post-Intelligencer, which has chronicled the news of the city since logs slid down its steep streets to the harbor and miners caroused in its bars before heading north to Alaska's gold fields, will print its final edition Tuesday [3/17/2009].

Newspapers' troubles escalate in recession. It's the worst of times for the newspaper industry, and it's not the best time, either, for finding solutions amid a crisis of downsizings, bankruptcies, and closings.

Conservatives and the death of newspapers. As watchdogs, newspapers aren't the Dobermans they once were. Liberalism increasingly dictates what they will and won't bark at, while shrinking staffs provide an ever-diminishing check on communities and governments. There's no reason to believe others won't step up in time and perform the job equally well or better once these monopolistic dinosaurs relinquish their hold on the local marketplace.

How Will This Story End? Across the country famous nameplates are struggling, bankrupt or defunct. Circulation has plummeted, and advertising along with it. Perhaps the foremost example is the Boston Globe — owned by The New York Times (itself the recent recipient of a quarter billion-dollar infusion from a Mexican financier). Circulating in what may be the nation's most literate community and long a prestige newspaper property, the Globe has been on the market for several years with hardly a suitor. To enhance the Globe's allure for potential buyers, The Times reportedly is throwing into any prospective deal its 18-percent interest in the Boston Red Sox.

Newspapers keep cutting costs, print editions. The pall looming over U.S. newspapers grew even darker Monday as Gannett Co. informed most of its employees that they will have to take another week of unpaid leave this spring, while a Michigan daily unveiled plans to close its print edition after 174 years.

Hearst's Houston Chronicle cutting 12 pct of staff. The Houston Chronicle is laying off about 12 percent of its work force. In a story posted Tuesday on the Chronicle's Web site, Publisher Jack Sweeney blamed the cuts on the troubles of the newspaper industry, though he noted that all kinds of companies are being forced to slash expenses.

Dangerous Paper Route. In an end around to a newspaper industry bailout, Maryland Senator Benjamin Cardin, a Democrat, would like to begin his first paper route by delivering newspapers from non-profit organizations to the American public. Today [3/24/2009], Cardin introduced the Newspaper Stabilization Act that would allow newspaper organizations to convert from corporation to non-profit status.

Not Dead Yet. The arrival of the Internet threatens all previous media, as the avalanche of choice in information and entertainment assails all franchises and dilutes everyone's market share, and the cost is spread over all services, including e-mails. The newspaper, as the most technically traditional, dependent on a conversion and manufacturing process andvulnerable of the old media.

Sun-Times Files For Bankruptcy. This was a dark day at the Chicago Sun-Times. The Sun-Times Media Group, owner of the Chicago Sun-Times and numerous suburban newspapers, filed for Chapter 11 bankruptcy Friday morning [3/27/2009], just a few months after rival newspaper titan Tribune Company did the same thing. It's been only two days since the price of the Sun-Times went from 50 to 75 cents, but it's clear the newspaper needs every quarter it can get.

Disappearing Daily Newspapers. As someone who began his career in journalism, working for weeklies, moving on to a daily, and later seeing my by-line on occasion in the New York Times, I have a nostalgic fondness for newsprint. I actually start my day reading my local daily, albeit mostly checking the obituary pages — it's an age thing — and having a freshly brewed cup of coffee. Then, in order to really know what is going on in the nation and the world, I surf the Net for an hour, visiting various news and opinion websites ... .

Life After Newspapers. Few industries in this country have been as coddled as newspapers. The government doesn't actually write them checks, as it does to farmers and now to banks, insurance companies and automobile manufacturers. But politicians routinely pay court to local newspapers the way other industries pay court to politicians.

Media Insiders Say Internet Hurts Journalism. In a poll of prominent members of the national news media, nearly two-thirds say the Internet is hurting journalism more than it is helping. The poll, conducted by The Atlantic and National Journal, asked 43 media insiders whether, on balance, journalism has been helped more or hurt more by the rise of news consumption online. Sixty-five percent said journalism has been hurt more, while 34 percent said it has been helped more.

A world without newspapers? Heaven forbid... Of course, you don't have to look back too many years to a time when there were no newspapers. Before Johannes Gutenberg invented the printing press around 1440, they just couldn't exist. It is instructive therefore to look at what the world was like before Gutenberg. Didn't they have a name for the period before the 1400s? Oh yes, the Dark Ages, or more politely, the medieval era.

Times owner bleeds red ink, cites Boston Globe. The New York Times Co. reported a quarterly loss yesterday, blaming a 27 percent drop in advertising revenue and poor performance at The Boston Globe, which might close this year.

Red ink mounts at the NYT. The New York Times Company announced today [4/21/2009] a first-quarter 2009 operating loss of $61.6 million compared with operating profit of $6.2 million in the first quarter of 2008.

The New York Times and its money are easily parted. According to Businessinsider.com, the $250 million loan the New York Times took from Mexican billionaire Carlos Slim isn't much different than a payday loan you'd get from the corner cheque-casher.

Online news fees: financial salvation or suicide? The Arkansas Democrat-Gazette is a rarity among large U.S. newspapers — it's selling more weekday copies than a decade ago. In Idaho, the Post Register's circulation has remained stable, while many other print publications have lost readers to the Internet. How can this be? The executives behind the Arkansas and Idaho newspapers believe it's because they've been giving free access to their Web sites only to people who subscribe to the printed edition.

Liberal Media on Life Support. [Scroll down slowly] Ten years ago, this might never have surfaced, as the media giants, in their lockdown control of the presses and airwaves, seemed to have things their own way. Then the Internet emerged as a free and alternative center of power, a 'press' that looked at the press with the critical eye that the press turned on others, and an age of exposure began. Skeptics took aim at the press and its doings. Blogs rose that put the Times under their microscope. Powerline and Hugh Hewitt took on local papers, which are now in some trouble. Instapundit pointed out double standards when and where they occurred.

Media Driving Customers Away. Newspaper circulation is down. Papers have shut down this year in Seattle and Denver. The New York Times is threatening to close its sister paper the Boston Globe unless labor unions make major concessions. Network news viewership is plunging too. ... A liberal party line is about all the MSM still has in stock. Small wonder it's going out of business and cannot find many buyers, even at bargain basement prices.

Broadcasters hurt by economy and changes in the way we consume news. When KSDK lead anchor Deanne Lane disappeared from the airwaves in mid-April, it may have demonstrated the new reality facing local TV and radio broadcasters across the nation. Lane's departure came near the end of her contract, amid rumors that she was being asked to take a significant pay cut. Neither Lane nor the station have discussed her exit, which came with little fanfare.

Gannett cutting 1,400 jobs at local papers. USA Today owner Gannett Co., the biggest newspaper chain in the United States, announced plans on Wednesday to cut some 1,400 jobs at its local newspapers.

Obama: We Need To Bail Out Newspapers Or Blogs Will Run The World. Obama yesterday [9/20/2009] expressed concern at the sorry state of the news industry and said that he will look at a news paper bailout, because otherwise, blogs will take over the world, and that would be a threat to democracy, The Hill reports.

No government bailout for newspapers. Those immortal words — "I'm from the government and I'm here to help you" — are now being spoken to newspaper owners and their employees, all of whom are desperate to survive in the Internet Age. The main voice behind the words is Sen. Ben Cardin, D-Md., author of proposed legislation allowing newspaper owners to restructure their properties as 501c(3) education foundations. The idea is to lure rich donors who will bail out "quality newspapers" if the government will make doing so tax deductible. What will actually happen is newspapers will become government toadies.

New York Times to cut 100 newsroom jobs. The New York Times Co. plans to cut 100 newsroom jobs, about eight percent of the total, by the end of the year, the newspaper reported Monday [10/19/2009].

Warren Buffett: 'Newspapers Have Got a Terrible Future'. Warren Buffett, the second richest man in the world and CEO of Berkshire Hathaway, doesn't have much faith in the future of print media.

The Media Death Spiral. The circulation figures for the top 25 dailies in the US are out, and they're horrifying. The median decline is well into the teens; only the Wall Street Journal gained (very slightly). I think we're witnessing the end of the newspaper business, full stop, not the end of the newspaper business as we know it. The economics just aren't there.

Why Newsweek is the Punch Line. Newsweek lost almost $20 million in the first quarter of this year; in response, [editor Jon] Meacham said that he would attempt to cut readership in order to increase profits. His plan involved "discouraging renewals," ostensibly by creating a magazine so far to the left that no rational human being could take it seriously, and "targeting a more highbrow audience" (the term "highbrow" being used in the loosest possible sense).

Journalism's slow, sad death. Like the nearby Smithsonian National Museum of Natural History, the Newseum — Washington's museum dedicated to journalism — displays dinosaurs. On a long wall near the entrance, the front pages of newspapers from around the country are electronically posted each morning — the artifacts of a declining industry.

Washington Times firing 370 employees, Miami Herald 24. The Washington Times will lay off 370 employees, reportedly around 40 percent of its workforce, as part of a major overhaul that will also see the paper distributed for free in some places. In a statement, the Times' president and publisher, Jonathan Slevin, said the cuts were part of a strategy to transform the paper into a 21st century media company.

The Great Newspaper Bailout. The pattern repeats itself — an industry in chaos, companies going bankrupt, thousands of workers losing jobs. It's time for government intervention. That's been the Obama administration's model for Wall Street, insurance giant AIG and the auto industry. Now it could be the same for the American media. Congress, the Federal Trade Commission and the FCC are all looking at ways to "help" journalism.

Journalism and Freedom. The old business model based mainly on advertising is dead. Let's face it: A business model that relies primarily on online advertising cannot sustain newspapers over the long term. The reason is simple arithmetic. Though online advertising is increasing, that increase is only a fraction of what is being lost with print advertising. That's not going to change, even in a boom.

Soak The Rich, Save The Media! [Scroll down] The glory days of journalism began to wane not for economic reasons but for political ones. Journalists started reporting the news with an agenda and abandoning long-held ethical standards like objectivity and fairness. ... The "tipping point in the industry" came not in the 1980s, as [Robert] Niles believes, but in the 1990s, when Fox News launched and started reporting the news that liberal journalists had ignored, suppressed or spun for years.

Toward the End, Editor and Publisher Lurched Left. With the demise of the Editor and Publisher this week, many media commentators are nostalgic for the hard-nosed trade journalism the newspaper industry publication often engaged in. E&P's strength was always in its core mission of reporting news industry trends. In its latter years, like a number of other outlets, it began to stray off-course into garden-variety, hypocritical leftist media criticism.

Did the Supreme Court Just Save Newspapers? The Supreme Court's decision Thursday [1/21/2010] striking down limits on campaign spending by corporations, which was split along ideological lines, will change the political and media landscape in profound ways that transcend ideology. Unless Chuck Schumer and others find a way to legislate around this, an explosion of advertising and other instruments of persuasion will soon erupt from every corner.

Obviously the fair market value is near zero.
After Three Months, Only 35 Subscriptions for Newsday's Web Site. In late October, Newsday, the Long Island daily that the Dolans bought for $650 million, put its web site, newsday.com, behind a pay wall. The paper was one of the first non-business newspapers to take the plunge by putting up a pay wall, so in media circles it has been followed with interest.

The Internet and the Agora: The blogosphere seems to be flushing the mainstream downstream. The blowback is venomous and not a pretty sight. Media stars, especially, are fighting a vicious rearguard action against the inevitable. The rise of the internet and the fall of traditional journalism are giving hyperbole a new lease on life. ... The mainstream monopoly is over. It is no longer possible for a few elites with a narrow ideology to control information or analysis, the building blocks of belief.

Do Liberal Editors Read Their Papers? Circulation for the New York Times is way down. Some people are seriously speculating that the days of America's great newspapers are over. They may be replaced by Kindle, or iPad, or some other newer technology. This is not a new problem. The bygone great age of newspapers has been fading from memory as they become more distanced from the real life of our people.

US newspaper circulation drops 8.74 percent. Circulation figures for US newspapers released Monday [4/26/2010] provided another dose of bad news for an industry that has seen a wave of bankruptcies, closures and cutbacks in newsrooms across the country.

Good Riddance to Newsweek. It is extremely doubtful that The Washington Post will find a buyer for Newsweek magazine and it would not surprise me if Time magazine disappears as well. Both are an offense to anything that passes for journalistic ethics or practices and have been for far too long.

Big Three Nets' Evening News Dives Deepen. Five weeks ago (covered at NewsBusters; at BizzyBlog), the Big Three Networks' combined evening news audiences dropped to below 20 million — an audience about 5% less than what Matt Drudge in the summer of 2006 headlined as "TV's Lowest Week." ... Just 10 years ago, the nets' evening news audience was about 12 million larger in a country with a population that was about 9% smaller.

Newsweek: The Canary In The Liberal Coal Mine. The men and women who produce this magazine, in existence since 1933, doubtless have families to feed, kids to educate, lives to live. We wish them well. But the failure of Newsweek is a significant moment in American culture that should not go unnoticed. It is the journalistic equivalent of the canary, a sign that that the coal mine that is liberal beliefs, assumptions, and ways of looking at the world is about to explode.

An Ode to Citizen Journalists. Why are newspapers published? ... During my thirty years in journalism, I've interviewed dozens of candidates who were hoping to be hired as a reporter or editor. I asked each one: Why are newspapers published? In thirty years, no recent graduate of a journalism school has known the answer.

U.S. News Kisses Ink Goodbye. Facing an increasing tough advertising climate U.S. News and World Report announced this week that it will cease publishing a print magazine and switch to an all digital format.


Back to the top of this page
Back to the Media bias page
More about the New York Times
Read about the prosecution (in the media) of the Duke Lacrosse Team
and Steven Hatfill
Back to the Home page