News media bias is dangerous because of the way some stories are reported — with important details omitted — and because of the stories that are suppressed.
The most obviously suppressed issue in the mainstream press is the subject of abortion. The Democratic Party, in close cooperation with the news media, does not (and cannot afford to) allow a rational discussion of the facts, because if people would stop to consider what an abortion really is, the practice would come to an immediate halt.
Other issues are also conspicuously absent from the evening news on television. Most stations do not report suicides and don't report cases where people successfully evade the police and get away with their crimes. When somebody gets away with murder, a reporter will say, "the case is still under investigation", or, "police are still looking for a suspect." Even in the newspaper, you have to read carefully to get the whole story in these cases.
The news media have very little to say about widespread everyday violent crime on mass transit systems. I suspect there is a great deal of violent crime on mass transit vehicles that goes unreported by the victims, and even more that goes unreported by the news media.
One of the most successfully hushed-up news stories in history is the mysterious collapse of World Trade Center Building 7. No airplane hit that building, yet it suddenly collapsed on the afternoon of September 11, 2001. The official explanation is that the collapsed resulted from an internal fire, but there was almost no smoke visible when the building fell, which is why there was no news media presence at the building. We are apparently supposed to forget that it happened, because it hardly made a blip on the news media radar, and the story evaporated within a few days. More information can be found here.
---



Editor's Note:
All the information about the Las Vegas mass shooting on October 4 has moved to this page.




Overview / recap articles:




Chappaquiddick Ted Kennedy to Ilhan Omar: 50 years of leftist free passes. Fifty years ago today, Democrat Massachusetts Senator Ted Kennedy got drunk (allegedly) and drove over a bridge (really). Kennedy left his female passenger Mary Jo Kopechne to die. He never answered for leaving Kopechne to die. Fifty years ago today began the tradition of the liberal media covering up everything bad that liberal Democrats did. Thus allowing liberals to become more emboldened. Benghazi and "Fast and Furious" just two of many examples of getting innocent people killed, then covering it up.

Weinstein allegations are not the first stories 'spiked' by media. Many people seem shocked by claims from a former New York Times reporter who says the newspaper sat on her 2004 information exposing alleged sexual misconduct by Hollywood mogul Harvey Weinstein. The Weinstein question aside, I can tell you that every day, in newsrooms around the country, stories are killed because powerful people know how to get them killed. Recently, a former managing editor of Time magazine said that the only bias reporters have is their bias to get a great story on the front page. That may be true of good journalists — and there are many. But good journalists' intentions are impacted by managers and editors with authority to shape and censor; by managers and editors who are lobbied, enticed, pushed, pressed, cajoled and threatened by PR companies, crisis management specialists, global law firms, super PACs, advertisers, "nonprofits," business interests, political figures, famous people, important people, wealthy people, and their own corporate bosses. An entire industry has been built around companies and operatives that work to get stories placed, discredited or wiped.

Hall Monitor Nation. The media relentlessly lied to the public about Hillary's health, denouncing conservatives as "conspiracy theorists" for mentioning it. Then an alert citizen with an iPhone captured Hillary having to be carried to her car at the 9/11 memorial service in 2016. Mainstream media outlets painted a cherubic picture of Michael Brown after he was fatally shot by Missouri. He was a "gentle giant," gunned down like a dog as he plaintively cried, "Hands up! Don't shoot!" HEY! Wait a second! How did that video get out of Brown manhandling a tiny Indian man while robbing a convenience store? That should have been suppressed like the Broaddrick interview! Would we ever have known about Monica Lewinsky, but for the Drudge Report publishing the blockbuster story that Newsweek had killed? Currently, the establishment media are in a rage that the public has found out about the modern genocide being waged against white South African farmers.




Timely news and commentary:




A Kindergarten Was Attacked, Several Are Dead And Injured, But No One Is Talking About It: Why? On Wednesday morning, a kindergarten was attacked, leaving six people injured and at least three people dead. A 48-year-old man has been arrested and is being charged with murder. [...] But for such a terrible story, we have to wonder: Why has it not received more coverage? Why has it been largely ignored by our media and government? The answer is threefold:
• First, this cowardly attack happened in China, a country with which Democrats and their media are smitten.
• Second, the weapon used in the attack was a knife, not a mean, old, dirty gun.
• And third, the prudent remedy being applied is completely contradictory to the narrative of America's left regarding school shootings.

When The Just Go to Prison. Daniel Hale, dressed in a khaki uniform, his hair cut short and sporting a long, neatly groomed brown beard, is seated behind a plexiglass screen, speaking into a telephone receiver at the federal prison in Marion, Illinois. [...] Hale is one of a few dozen people of conscience who have sacrificed their careers and their freedom to inform the public about government crimes, fraud and lies. Rather than investigate the crimes that are exposed and hold those who carried them out to account, the two ruling parties wage war on all who speak out. These men and women of conscience are the lifeblood of journalism. Reporters cannot document abuses of power without them. The silence on the part of the press over Hale's imprisonment, as well as the persecution and imprisonment of other champions of an open society, such as Julian Assange, is stunningly shortsighted. If our most important public servants, those with the courage to inform the public, continue to be criminalized at this rate, we will cement in place total censorship, resulting in a world where the abuses and crimes of the powerful are shrouded in darkness.

CNN Finally Reports on Hunter's Laptop It Once Called 'Breitbart Rabbit Hole'. More than 18 months after describing Hunter Biden's laptop as a "Breitbart rabbit hole," far-left CNN has begun to report on it. [...] Oh, but now that Biden is damaged goods... Now that the left wants Biden not to seek reelection... Now the Breitbart rabbit hole is not so much of a rabbit hole. Now that the Breitbart rabbit hole is useful to the left in holding on to the presidency in 2024 with a different nominee than Biden, CNNLOL is all up in that rabbit hole reporting on the laptop.

The Media Ignores What You Really Care About. Do you ever turn on your favorite cable news channel and sit for an hour or so before you actually hear about an issue that really matters to you? You're not the only one. Cable and broadcast newsrooms are more and more defined by the interests and agendas of the producers, reporters, and anchors who work there rather than reflecting the interests and agendas of the very viewers they're trying to reach. (Assuming they're actually trying to reach any viewers.) Given that these newsrooms are filled with graduates of East Coast universities or specialized journalism schools, and given that these newsrooms are located in either Manhattan or Washington, DC, the topics selected by these media gatekeepers continue to display a narrow and myopic vision of what these few decision-makers view as essential and news-worthy. A new poll from Rassmussen bears this out with stark evidence.

SCOTUS and media silence: Whatever happened to the leak probe? The leak rocked the federal judiciary, the American political scene, and led to an ugly campaign to intimidate Supreme Court justices, inspiring one assassination plot that thankfully went nowhere. Chief Justice John Roberts promised an investigation to identify the leaker, and the pool of suspects seemed relatively small — the justices themselves and their clerks. Almost three months later, though, the leaker has seemingly escaped detection and punishment.

Forget Fake News, News Blackouts Are More Dangerous. Ever since Donald Trump announced his candidacy, I have collected hundreds and hundreds of instances of fake news in print, television, and the internet. But almost nothing has been said or written about "news blackout," that is, the deliberate, coordinated effort to exclude certain news events, or opinions, that contradict the journalist hivemind ideology. Though specific instances have been occasionally pointed out, news blackout as a general principle, as a pattern of behavior, has not been alluded to. As has happened from time to time, several conservative news/opinion websites have pointed out that the media has ignored important news events or details.

The Media Don't Want You To Know About The Massive Protests Going On Around The Globe. If you skim the front pages of major corporate news outlets, you'll find no mention of the economic protests raging in Spain, Morocco, Greece, and the United Kingdom. On The Washington Post homepage these days, you'll find headlines such as, "How To Deal With A Chatty Coworker Who Won't Get Out Of Your Office," but you won't find mention of the more than 100,000 people protesting in Madrid. [...] According to the Carnegie Endowment for International Peace, which records protests worldwide, 11 countries are currently seeing protests of more than 1,000 people in response to the rising cost of living and other economic woes in 2022. As of July 5, Carnegie had recorded protests of more than 120,000 people in France, 100,000 in Spain, 10,000 in Greece, 10,000 in Kazakhstan, 10,000 in Sri Lanka, 10,000 in India, 5,000 in Iran, 5,000 in Peru, 1,000 people in Argentina, 1,000 in Morocco, and 1,000 in the U.K.

Whatever Happened to the Information of The DNC Law Firm Having an FBI Search Portal in Their DC Office? On May 31st, Representative Matt Gaetz (R-FL) made an explosive announcement as an outcome of a whistleblower providing information to him and Jim Jordan. The claim was the FBI held a collaborative relationship with the Clinton/DNC law firm Perkins Coie. Specifically, the explosive element surrounded the FBI having a workspace within the DNC law firm that would give Democrats an open portal into FBI databases for political opposition research. Additionally, formerly indicted Clinton campaign lawyer, Michael Sussmann, was reportedly in charge of this arrangement within Perkins Coie for the past year. Obviously, the potential ramifications from this joint collaboration are vast. However, have you noticed that not a single media outlet has followed up on the claim? Generally, in Washington DC when the media ignores an issue, especially a major issue with large consequences; and doesn't even attempt to snarkily debunk an explosive claim or belittle the person bringing the information; it's usually because the claim itself has merit and the DC defenders do not want to give it any fuel for further discussion or awareness.

s

Biden's Mental Decay. The President of the sole global superpower is confounded by a teleprompter. The Commander in Chief of the most powerful military in the world, with 700+ military spanning the globe and nearly 4,000 nuclear warheads, can barely make it through public appearances. [...] Apparently he goes nowhere without the paper crutch prepared by his handlers. Issues relating to Russia — from the war in Ukraine to the expansion of NATO, etc. — are certainly briefed to the President on a daily basis. And his memory is so bad, his intellect is so defeated, that he cannot recall his constant briefing. If you need further proof of his mental state, there's this "cheat sheet," where he is instructed on how and when to enter the room and leave the room. [...] Make no mistake, Biden's senility is one of the biggest stories in the world. The media's silence on this matter is telling. Never before has the press tried to so hard to ignore so big a story (I venture this is bigger than Hunter's laptop), as they're afraid of what a correct assessment of Biden's facilities might reveal.

The biggest story the media don't want to tell you about. Illegal invaders planned a July 4 terror attack with assault weapons. Why isn't this big news? Why aren't the nation's socialist media all over a potential mass shooting with "assault weapons" like the attack in Highland Park on July 4? Richmond police chief Gerald Smith revealed in a news conference Wednesday that two "non-U.S. citizens" were planning a mass shooting at a Fourth of July celebration in Richmond. The attack was thwarted on July 1 when Richmond police received a tip from a citizen. The police chief stated that a heroic citizen overheard the planning for the attack, which was to take place at the Dogwood Dell Amphitheater during the annual Independence Day celebration, in a phone conversation. A call to the Richmond Police Department on Friday led to the eventual arrest of two Guatemalan men in the country illegally. Roommates Julio Alvarado-Dubon, 52, and Rolman Alberto Balacarcel, 38, were arrested separately, and each was charged with being non-US citizens in possession of a firearm, officials said.

The Fed Is Quietly Handing Out $250 Million To A Handful Of Happy Recipients Every Single Day. The Fed's QE may be over, and QT may be just starting (it won't last long), but don't think the Fed free money giveaway is ending any time soon. In fact, for a handful of happy, mostly anonymous counterparties, the real free-money bonanza has just begun! Case in point: the Fed's reverse repo facility. While one can debate for hours why there is a record $2.330 trillion in cash parked at the Fed's overnight facility and what it means for systemic plumbing problems, the fact is that there is a record $2.33 trillion in cash parked at the Fed's overnight facility, doing nothing.

US FED is Quietly Handing Out $250 Million in Interest Payments PER DAY to [a] Small Group of Nameless Beneficiaries. With all of the money laundering schemes currently in the works — 'stimulus' money, billions in aid to Ukraine, executive orders for... solar panels, endless money for experimental vaccines, etc. — it seems as if the powers at be are literally 'cashing out' while they can as they burn the economy down in preparation for the great reset. In response to the record inflation, which is being caused by reckless and destructive spending by the Biden administration and the Federal Reserve, the FED raised interest rates by 75 basis points last month — the largest increase since 1994 — in an effort to slow the Bidenflation tidal wave.

There Was Another Mass Shooting On Monday, But Democrats Don't Care — Why? There was another mass shooting in America on Monday, and the carnage was horrific. A total of nine people were shot, all of them were taken to nearby hospitals, and at least one person is dead: a 21-year-old college basketball player who, by all accounts, wasn't just a terrific athlete but was also a genuinely good person. [...] Why has this story been so widely brushed off? The answer is simple: Because of where it happened. Monday's mass shooting of nine people happened in New York City, first and foremost, and that's a city run by Democrats. Furthermore, the incident happened on 139th Street in Manhattan. And for those of you who are unfamiliar with the Big Apple's geography, that part of the city is considered Harlem, a neighborhood whose residents are almost exclusively black.

Bill Maher Slams New York Times for Burying Kavanaugh Assassination Attempt. Bill Maher is getting more red-pilled by the day, and now the attempted assassination of Supreme Court Justice Brett Kavanaugh or rather the Leftist media's nothing-to-see-here non-coverage of the attempt took him to new heights of clear-sightedness. On Friday [6/10/2022], Maher actually agreed with his guest, Kellyanne Conway, that the New York Times' coverage of the attempt on Kavanaugh's life was a clear indication that the Times and its establishment media allies are not news outlets but simply propaganda arms for the hard Left.

The Eerie Silence Around Kavanaugh Assassination Attempt. Just consider how when then-Rep. Gabby Giffords, D-Ariz., was shot in 2011, former Alaska Gov. Sarah Palin was blamed for inciting violence with a map with a series of political targets — despite there being zero evidence tying Giffords' shooter to Palin. Yet in 2017, when a gunman shot five people at a Republican lawmakers' practice baseball game in Alexandria, Virginia, there was little in the way of a national conversation. It looks like 2017, not 2011, is the road map for what will happen in the aftermath of the attempted assassination of Kavanaugh, despite there being clear evidence Kavanaugh's would-be shooter was motivated by politics. As noted in the criminal complaint, Roske told police "he was upset about the leak of a recent Supreme Court draft decision regarding the right to abortion as well as the recent school shooting in Uvalde, Texas." In light of Roske's motivation, it seems relevant to remember the remarks of then-Senate Minority Leader Chuck Schumer in 2020 when, amid a discussion of abortion, he said in part, "I want to tell you, Kavanaugh, you have released the whirlwind and you will pay the price."

Here is the Updated List of US-Based Food Manufacturing Plants Destroyed Under Biden Administration. Joe Biden's 'Build Back Better' is not working as planned, or is it? Gas prices are at record highs, stock markets are down, parents are having difficulty finding a baby formula, and the cost of everything is way up. According to the U.S. Department of Agriculture (USDA), there are currently no nationwide food shortages in the country. "There are currently no nationwide shortages of food, although in some cases the inventory of certain foods at your grocery store might be temporarily low before stores can restock," the agency said on their website. "Food production and manufacturing are widely dispersed throughout the U.S. and there are currently no wide-spread disruptions reported in the supply chain." As the Gateway Pundit previously reported, at least 18 major fires have erupted at food industry facilities and plants over the past six months. All of the fires have been officially listed as accidental or inconclusive.

The Editor says...
From the reports I've seen, the fires seem to have two things in common: [#1] By the time anyone notices the fire, the entire building is involved, indicating arson. [#2] None of the arsonists have ever been caught. There are surveillance cameras everywhere in America, and yet nobody sees anything. Fires Be Increasing. Far Beyond Incidental. Find Biden's Incentive.

96 Examples of Food Shortages Being Created in the Past Year. Have you heard about all of the farms, distribution centers, and food plants that have been mysteriously burned down or destroyed? The government is not predicting a food shortage. They are creating it! Open your eyes! There are WAY too many incidents in the past year for it to be a coincidence.

Abortion militants are firebombing pro-life centers across America and the media pretends like nothing is happening. The latest incident among many occurred in Eggertsville, N.Y., where a pro-life center called CompassCare was reportedly "firebombed" and sprayed with graffiti early this week. An "abortion terrorist group" called Jane's Revenge has been tied to the incident as an incriminating message scrawled on the side of the CompassCare building read "Jane was here." Every visible window of the facility was smashed in and reports indicate that the offices inside were "extensively damaged by flames and smoke" — all to fight back against the overturning of Roe v. Wade. Jane's Revenge took credit for another recent incident in Madison, Wisc. The group firebombed the headquarters of Wisconsin Family Action (WFA), a pro-life organization.

Videos capture Chattanooga, Philly shoot-outs this weekend. Multiple dead, including MSM narrative. This story and the shooting in Philadelphia won't get the mainstream media attention that "mass shootings" get under other circumstances, and we bet you know why. The start of the Chattanooga shooting was caught in a video that was shared to Facebook. [Video clip] News Channel 9 posted that clip, writing: In the 11-second clip, you can hear more than 20 shots ring out as the woman dives to safety in her car. Other people can be seen outside the car running away. The Facebook account Tabby Tab shared several live updates on her page in the early morning hours that show she was in the vicinity of the bar on McCallie Avenue. The start of the Philadelphia shooting was posted to Twitter. [Video clips] And in Chattanooga, the Mayor made this statement, which will pretty much guarantee CNN and MSNBC ignore the story and drop it from their websites as soon as they can get away with it, probably within hours: ["]This violence is gang related. Period. We cannot fix the problem until we are honest about the problem.["] Yeah. If it can't be made out as a case of a guilty gun or a guilty "white supremacist" it goes away.

'What Is a Woman' Sends the Movie Critics Running for the Hills. "What Is a Woman" has dropped like a bomb into the center of the political sphere, drawing a wide variety of reactions. [...] But while there's been no shortage of public praise and outrage, those you'd expect the most to give their opinions are running for the hills. According to emails published by Walsh, movie critics are refusing to even review the movie. Out of curiosity, I went to Rotten Tomatoes just prior to penning this piece to check and see if the dynamic illustrated has changed. Have critics begun to review the movie in the days after its release? The simple answer is no. Currently, there is still only one review, done by a right-leaning Hollywood site. And as the emails released by Walsh show, the anger from critics is palpable, lashing out for even being asked to watch the movie. What you are seeing in those responses is intellectual cowardice perpetrated by a group of people who are too scared to have their irrational beliefs challenged. Moreover, the fear of being called a bigot outweighs everything for those who make their living in Hollywood. Because of that, they won't even entertain the idea that a man can't, in fact, become a woman.

The worst shortage you haven't heard of. Should China occupy Taiwan, it would control a majority of the world's microchip manufacturing production. But China needn't invade Taiwan to bring America to its knees — simply reducing urea and other existing Chinese exports is already wreaking havoc. Agricultural fertilizer prices have nearly doubled in the past year, and shrinking supplies of Diesel Exhaust Fluid (DEF) now threaten America's transportation system. The impact of urea supply shortages on food inflation will be compounded by distribution failures if additional DEF resources are not procured immediately. DEF is an emissions control liquid required by the EPA in diesel engines manufactured after 2010 as an "aftertreatment technology" to reduce vehicle emissions. This additive is required for most modern diesel truck fleets. Without it, many trucks cannot exceed five miles per hour in speed, or even be started. Truckers are now reporting increasing DEF shortages around the nation.

"Accidental Fires" Continue To Happen At Food Processing Facilities All Over The United States. We are supposed to believe that what we are witnessing is just one "tragic accident" after another. We aren't supposed to see any sort of a pattern, and we aren't supposed to ask any questions. Last month, I wrote an article about 16 mysterious fires that have happened at important food industry facilities in the United States since the start of 2022. Unfortunately, this trend has continued since that time. In fact, there have been more "accidental fires" in recent days, and I believe that the American people deserve some answers. On Saturday night, a "massive" fire erupted at a commercial egg farm in Minnesota.

This Footage Aired Once After 9/11 and Never on TV Again. An reporter at the Pentagon describes the lack of large airplane parts on the scene. [Video clip]

FBI Knew Trump-Russia Collusion Was a Hoax All Along. On Tuesday [5/17/2022], the prosecution and defense teams in special counsel John Durham's trial against former Clinton campaign attorney Michael Sussmann delivered opening arguments. Sussmann is charged with making false statements to the FBI. During opening arguments, prosecutors revealed that Sussmann used the FBI to create an October surprise during the 2016 presidential election against then-candidate Donald Trump. Despite this revelation that a lawyer for the Clinton campaign lied to the FBI in order to frame Donald Trump, all three evening news broadcasts ignored the story. Instead, ABC's World News Tonight, CBS Evening News, & NBC Nightly News wasted airtime on local weather reports, a brush fire in Los Angeles, and an entire segment on the Johnny Depp/Amber Heard trial. Thankfully, Fox News Channel's Special Report covered the new allegations against Clinton hatchet man Sussmann.

Why the media is ignoring trial at center of the real Russiagate scandal. Why are most media basically ignoring the trial of Michael Sussmann, when it centers on a huge political scandal — an effort to frame a presidential candidate for treason? In her devastating opening statement, prosecutor Deborah Brittain Shaw explained, "It was a plan to create an October surprise ... that was designed to inject the FBI into a presidential election." Sussmann's charged with falsely claiming to have been acting as a concerned citizen when he told a top bureau official of a supposed secret Donald Trump channel to the Kremlin, when in fact the lawyer was billing the Hillary Clinton campaign for his dirty work. Indeed, Brittain Shaw noted, that lie was "part of a bigger plan carried out in concert with two clients, the Clinton campaign and Rodney Joffe," the tech executive (and Sussmann client and would-be Clinton appointee) who created the "evidence" of Trump skullduggery.

Guess how the Buffalo shooter identified himself politically. The alleged supermarket killer is self-described as authoritarian left — so why isn't this being reported? If the alleged Buffalo killer's "manifesto" is authentic, he was deep into communist ideology and now is an authoritarian leftist. Why is this being kept under wraps? The teenager accused of murdering ten people last Saturday in Buffalo, N.Y. also allegedly posted a 180-page "manifesto" online that the national media are selectively exploiting, leaving out key facts.

Record-high gas prices reported for seventh day. For the seventh consecutive day, gas prices hit a record high. According to AAA, the average for a gallon of regular gas reached an all-time high of $4.48 nationwide on Monday [5/16/2022] after increasing by 1 cent overnight, AAA said. According to AAA, gas has increased 16 cents in the last week, 41 cents in the last month and $1.44 in the last year. This streak of records topped the nation's previous record of $4.33 set back on March 11.

'It's Just Incompetence': There Were Red Flags Everywhere With the Buffalo Shooter. Tragedy has struck Buffalo. A mass shooter gunned down and killed 10 people at the Tops Friendly Market. The shooter, Payton Gendron, was taken into custody. There is a 180-page manifesto that the FBI is currently authenticating. Gendron appears to be a racist and targeted this area due to its high concentration of black Americans. Unlike other mass shootings, like Boulder in 2021 and or the most recent New York City subway shooting, this one will remain in the news. Gendron is white. He's racist. He's everything the liberal media wants when an incident like this occurs. Boulder's mass shooting was committed by a Syrian. The New York Subway shooter was black. Both stories vanished into the ether rapidly because they didn't fit the liberal narrative.

Radio host injured by COVID jab says media 'don't want to hear' about adverse events. A BBC radio host who suffered from painful adverse events after taking AstraZeneca's COVID shot has spoken out against media silence on injuries arising from the jabs. BBC Kent Radio host Jules Serkin blasted mainstream media outlets in an interview with GB News Monday night, arguing that either the "media have been told to be quiet" on the topic of "vaccine" injuries or they "don't want to hear another side."

The Media Let January 6 Committee Skate. [Scroll down] Notice anything curious here? Or should I say curiously missing? That would be serious media coverage of the January 6 Committee members themselves, what they did or did not do on January 6 and in the run-up to that day, not to mention their role afterwards in the establishment of the Stalin-esque show trial Committee itself. Note well that the Committee has already issued subpoenas to AT&T, Verizon, Sprint, T-Mobile and any other company that might have the texts, e-mails and phone records of Trump family and staff members, conservative members of the media (think: Sean Hannity and Laura Ingraham.) In fact, predictably, the Committee has leaked the private correspondence of various of these people to, but of course, the media. But what about the media investigating the Committee itself? Where are they? Where are the media demands to make public the texts, e-mails and phone records of the nine Committee members — 7 Democrats plus Republican Never Trumpers Liz Cheney and Adam Kinzinger? Where are the demands for all of the same communications from the Committee staff members?

Nigeria: Muslims murder 29 Christians, including at least two children. If this had happened in Europe or North America, we would be hearing about it. We would be hearing about how the perpetrators were mentally ill, and/or about how they had misunderstood Islam, and about how the local mosque was asking for police protection against an "Islamophobic backlash," and about how Muslims are victims everywhere. But at least we would be hearing about it. This? We won't hear about this.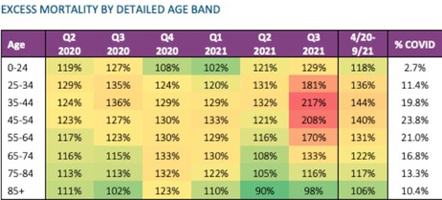 Feds and media [are] ignoring doubling of mortality among young and middle-aged adults in latest data. Something is killing off large numbers of 25-to-54-year-olds in the United States, and the powers that be in government and the media are pretending it is not happening. There is no visible effort to study the alarming statistics gathered by actuaries for the life insurance industry, which keeps track of deaths because they directly impact their bottom line through calins from the insured. Aaron Kheriaty, MD spotted the alarming table [left] on page 23 of a report from the Society of Actuaries Research Institute.
White Thomson Reuters data scientist says he was fired from $350k role by woke bullies for sharing data showing cops kill more unarmed white people than black people. A former director of data science at Thomson Reuters said he was fired for sharing research on the company's internal social media platform that showed police killed more unarmed white people than black people and that the Black Lives Matter movement allegedly caused the deaths of thousands. Zac Kriegman, who worked at Thomson Reuters for six years before being fired last summer, claimed he was let go from his $350,000 job because he stood against the company's reporting conventions on BLM in order to dispel what the 'false narrative' that black people were the largest victim of police violence. In a piece first published on Bari Weiss's Substack, Common Sense, Kriegman said he shared with collogues concerns that reports saying unarmed black people are killed by police at a disproportionately higher rate than their white counterparts was not accurate.
Senator Probes Biden Admin for Offloading Baby Formula to Illegal Immigrants. Congress is investigating the Biden administration for reportedly shipping pallets of baby formula to illegal immigrants, according to a copy of the probe obtained by the Washington Free Beacon. Sen. Ron Johnson (R., Wis.) is asking the Department of Homeland Security and the Food and Drug Administration to provide information on the steps it is taking to combat the nationwide shortage of baby formula in light of reports that illegal immigrants detained by federal authorities are receiving "pallets" of formula at detention centers. "As hard-working American parents struggle to find infant formula, a recent news report indicated that illegal immigrants detained by Border Patrol may not be experiencing these difficulties," Johnson writes in a letter sent Friday to Biden administration leaders. "A member of Congress reportedly obtained photographs from a Border Patrol agent showing that shelves at a Customs and Border Protection (CBP) detention center in McAllen, Texas, are stocked with 'pallets' of baby formula."
Lawmaker Says Migrants Are Getting 'Pallets' Of Baby Formula Amid Nationwide Shortage. Migrants are receiving ample supplies of baby formula, according to Republican Florida Rep. Kat Cammack, while Americans are experiencing severe formula shortages. Photos allegedly taken by a Border Patrol agent at the Ursula Processing Center in McAllen, Texas showed fully stocked shelves of baby formula supposedly given to migrants, according to a Wednesday Twitter post by Cammack. The photos come as Americans across the country are seeing empty shelves where stores used to have baby formula as a result of the supply chain crisis and product recalls.
Why is biggest baby formula plant in US still shut down after three months? The biggest baby formula supplier in the U.S. has denied its Michigan plant is responsible for the deaths of two children despite the FDA closing it down. The plant was shutdown nearly three months ago after a bacterial infection caused the deaths and other serious illnesses. In mid-February Abbott Laboratories issued a nationwide baby formula recall and ceased operations at its plant in Sturgis, Michigan amid reports of babies contracting bacterial infections from its products.
GOP rep says illegal migrants sent 'pallets' of hard-to-find baby formula. Pallets of baby formula are being sent to holding facilities at the border amid a shortage that has seen many parents unable to find it at their local stores, according to a GOP representative. "They are sending pallets, pallets of baby formula to the border," Rep. Kat Cammack, R-Fla., said in a video posted to Facebook Wednesday. "Meanwhile, in our own district at home, we cannot find baby formula." Cammack posted pictures to social media of empty formula shelves in Florida next to the pallets of food being sent to the border, saying in the video that a concerned border patrol agent sent her the image.
Florida press hides black Democrat's gay sex scandal. Florida Politics broke a big story on Monday: a rising star in the Democrat Party faced accusations of groping and harassing an official at Florida A&M University. The rising star — Ramon Alexander — and the accuser — Michael Johnson Jr. — are both male. Alexander is married to Taniyah Alexander, a woman. They have two kids. Alexander said the sex was consensual. The man is next in line to be the Democrats' next leader in the House. While it broke the story, Florida Politics asked others to go easy on Alexander. A confederacy of dunces followed and the rest of the media in Florida largely ignored the story. The Tallahassee Democrat, the only newspaper to report on it, hid its story behind its subscribers only paywall.
Wikipedia deletes article on PA senate primary candidate who is surging toward defeating Dr. Oz. Wikipedia, now a highly politicized propaganda outlet, apparently wants Dr. Oz to win the Pennsylvania Republican Senate nomination. That is the logical conclusion from their decision to delete an existing article on Kathy Barnette, who has surged into second place, only 1.3% (i.e., within the margin of error) behind Dr. Mehmet Oz in the latest Trafalgar Group poll: [...] As of this writing, the only mention of Kathy Barnette is in an article on the Republican primary.
Why is the media reluctant to cover the American baby formula shortage? It is becoming increasingly difficult to find baby formula in the United States. And yet almost nothing is being said about it by the media because it makes Joe Biden look bad. As you may recall, Hunter's dad promised to fix everything supposedly caused by his predecessor, including the ever-present broken supply chains. Ever since Biden took office, however, everything has gotten worse. Last fall, Biden's Food and Drug Administration (FDA) received a warning from a whistleblower about contamination issues at the Abbott Nutrition baby formula factory in Michigan. The regime had months to act but chose to do nothing instead. "The FDA reacted far too slowly to report this," said Rep. Rose DeLauro, a Democrat from Connecticut and a "reliably liberal ally," according to reports. Even DeLauro can see that Biden dropped the ball on this one.
Who is torching our food supply? Once is an accident. Twice, a coincidence. Three times is a pattern. But four times is an act of war. Who has declared war on us by setting fire and explosions to America's food processing plants? In the last four months, 16 major fires have erupted at food industry facilities and plants. Sixteen. This does not seem to be a conspiracy theory. It seems to be a conspiracy. In a General Mills plant in Iowa this month, two major incidents within 48 hours took place; one was a roof fire, the other at a General Mills facility in Covington, Georgia where a small plane crashed into the plant. Azure Standard, less than a week ago, burned to the ground in a massive fire. CEO David Stelzer is admitting that all Azure Market liquid products will be out of stock for the foreseeable future as a result. Around the same time, an important food processing plant in Salinas, California experienced a four-alarm fire. Taylor Farms California Foodservice production facility burned almost to the ground. In March in Arizona, 50,000 pounds of food were lost to a fire at the Maricopa Food Pantry.
The Timing Was Intentional: Roe v Wade Leak Was Left's Answer to "2000 Mules" Documentary Release Today that Proves 2020 Election Was Stolen. The movie '2000 Mules' is set for its theater release today in over 200 theaters across the country. In the film, Dinesh D'Souza and True the Vote provide answers and evidence of the stolen 2020 Election in this documentary released on Tuesday at select theaters across the nation. [...] The movie proves through geotracking and video confirmation that Democrats used ballot trafficking to steal the election in a conspiracy that included every 2020 battleground state. We also know from our investigative reporting that Democrat PACs were involved in every state in the ballot trafficking operations. This was a planned, organized, and well-coordinated conspiracy in battleground states. We also know from investigators Catherine Engelbrecht and Gregg Phillips that roughly 7% of mail-in ballots in each state were trafficked. Without those stolen votes, Joe Biden would have lost the election.
Update On Food Plants: More Fires, FBI Alert, One Off-The-Wall Explanation. Last week, PJ Media reported on the suspicious number of food processing plants, factories, logistics centers, and other industrial food facilities across the U.S. that had burned, exploded, or had planes crash on them. In the past week, more accidents have occurred, the FBI has issued a warning, possible motives have emerged, and one company offered a rather implausible explanation for the destruction of their facility. At this point, we still have more questions than answers.
A Series Of "Mega Disasters" Could Make This A Catastrophic Year For Food Production In The United States. What I am about to share with you is extremely disturbing. There are some that don't want to hear bad news like this, but most people would rather know what is coming so that they can prepare for it. As I have been documenting on my websites for months, we were already heading for a nightmarish global food crisis even before the war in Ukraine erupted. Fertilizer prices have risen to absolutely absurd heights, and this is going to depress agricultural production all over the planet in 2022. And of course the war in Ukraine has now made this emerging crisis a whole lot worse, because Russia and Ukraine collectively account for approximately 30 percent of all global wheat exports under normal conditions. So with everything that has been going on, it is absolutely imperative that we have a good growing season here in the United States this year. Unfortunately, it appears that a series of "mega disasters" is going to prevent that from happening.
Boyd: Media Fixed the Hunter Biden Story to Absolve Joe of Biden Family Corruption. "There's plenty, plenty of evidence out there that Joe Biden did know about his son's overseas business dealings and may have even profited off of them. But guess who's dropped the ball the last four years or so on that? The corporate media. It's not accidental. They're doing it on purpose. They ran interference for Biden while he was on the campaign trail," Federalist Staff Writer Jordan Boyd told Andrew Wilkow of "The Wilkow Majority" on the Salem News Channel. [Video clip]
Inflation Can't Be Censored. An increasingly disturbing feature of American politics is the routine suppression of major news stories that reflect poorly on candidates favored by the Fourth Estate. The most egregious example in recent years occurred in October of 2020 when corporate news outlets and social media platforms colluded to bury a New York Post article on Hunter Biden. Fortunately, some stories just aren't susceptible to such censorship. Inflation is a case in point. It can't be hidden from the voters because soaring prices shout the bad news from every grocery store shelf and gas pump in the nation. And the voters don't like what they're hearing. A new Gallup poll reports: "Americans' confidence in the economy remains very low, and mentions of economic issues as the most important problem in the U.S. are at their highest point since 2016." Moreover, when asked to specify the most important economic issue, inflation topped the list. Not coincidentally, the survey found that Americans identified "the government/poor leadership" as the most important non-economic problem facing the country.
The Great Reset: Cyber-attacks on America's Food Supply Have Started. Last night, there was a fire at a food processing plant in America. It was the 18th such "accident" to hit our food processing plants and distribution centers in 2022. Eighteen such incidents in only four months is an unprecedented rate. Usually, there are a dozen, or less, in any calendar year. On April 22nd, there was an "explosion" at Shearer's Foods in Hermiston, Oregon. On April 21st, an "unidentified small plane" crashed into the General Mills plant in Covington, Georgia. On April 19th, a mysterious fire destroyed the largest independent food distributor in the United States. On April 14th, a food processing plant in Salinas, California called Taylor Farms caught fire. On April 13th, a pilot crashed his plane into a potato plant in Idaho. On April 12th, the East Conway Beef & Pork plant in New Hampshire caught fire. All of that happened in the last two weeks.
'60 Minutes' Enables FBI Dysfunction. Scott Pelley of "60 Minutes" didn't tell his viewers whether FBI Director Christopher Wray imposed conditions before agreeing to be interviewed on camera by CBS. But his slobbering pro-FBI questions, which aired Sunday, had the feel of something Wray's communication director may have fed the "news" program. [...] Under Wray, the FBI has disgraced itself with misconduct and abuse of power. In the days leading up to the interview, victims of serial child molestor and Olympic gymnastics doctor Larry Nassar sued the FBI for $130 million after agents charged with investigating the abuse instead covered it up by fabricating victim statements. Pelly [sic] failed to ask Wray a single question about the scandal. Pelley also failed to ask Wray about the humiliating acquittal of two men the FBI attempted to entrap into the Governor Gretchen Whitmer plot engineered by the FBI to interfere in the 2020 election. Among the FBI agents involved, one was accused of perjury, another of wife beating (now convicted), and a third of using the investigation to help promote a side-business. Nor did Pelley ask about the FBI child rapist who rampaged across multiple states for years under the noses of his colleagues responsible for protecting such victims, some younger than 13. Nor did Pelley ask about the FBI's failure to stop the Jeffery Epstein child-rape-for-profit business. An FBI lawyer pleaded guilty to falsifying evidence to help spy on a Trump campaign figure. Pelley didn't ask about that, either.
Food Processing Plants are Blowing Up All Across America, and We have Questions. The bizarre and growing series of fires, explosions, and major accidents at American food processing plants have caused some to wonder if there is something nefarious going on, or if these incidents are just the mother of all coincidences? During his April 22 broadcast, Fox News host Tucker Carlson remarked on the odd series of food processing plant disasters that have befallen facilities all across the nation and noted the oddity that two of these plants were hit by falling airplanes in the same week. "A plane apparently crashed at a General Mills plant in Covington, Georgia. Six tractor trailers were reportedly on fire. This is the second time in a week that something like this has happened," Tucker told his audience.
Tucker Carlson Discusses Food Processing Plants Across the Country Catching Fire, Over a Dozen Factories Destroyed. With the cost of energy skyrocketing and record-breaking inflation, the Biden administration came out last month and warned the public about "food shortages" hitting the US. Naturally, like with the 'Putin price hike', fingers were pointed at the war in Ukraine for causing the shortages. Biden himself was even trotted out by his handlers, warning that the shortages in the US would be nothing short of "real." Well, something odd and concerning has been happening ever since the Biden Administration made their ominous prediction. Over the past month, there has been a mysterious wave of destruction hitting the US food processing infrastructure that has seen "over a dozen" food production facilities destroyed completely or rendered inoperable. This week alone there were TWO — yes two — separate incidents where a plane crashed into food processing plants, one in Idaho on April 13th, and the other in Georgia on the 21st at the General Mills Processing Facility.
What's With All the Food Processing Plants Blowing Up Lately? A weird trend has emerged over the past few months that seems statistically unlikely. A number of factories, logistical centers, and food processing plants have caught fire or exploded, including two that had planes crash on them. More and more people have noticed and wondered about the trend on social media. Of course, this has caused the conspiracy theorists to come out in force, so one must make a sober assessment without jumping to conclusions. But man, this is weird. With all the negative pressures on our economy and supply chains, and even Joe Biden talking about global food shortages over the next several months, one has to wonder what's going on here.
Media suddenly incurious about January 6 when the narrative stops going the Democrats' way. The media and others are in full campaign mode for 2022, and it seems the only story they focus on is January 6, where there was a protest. The FBI said it wasn't an insurrection. Why do the media and other Democrats repeat that lie? This week, the story is that Mark Meadows was warned by intelligence that there might be violence. That clearly means that Pelosi, Schumer, Schiff, and others were warned yet did nothing. Yet no stories about them, and no subpoenas asking about what they knew. [...] I watch ABC News every night, and they seem to have something on January 6 but rarely anything about the illegal activity at the border. A border guard died last week saving someone, yet I didn't see the story. The Russian collusion story was the greatest threat to our republic in my lifetime, yet when Durham has a new filing, most of the media still don't cover it because that is Democrats threatening our elections.
How did Biden get a ghost gun to the White House? President Biden showed off a ghost gun kit at the White House on April 11 for his new regulations for these pieces of metal. Ghost guns are illegal to possess in the District of Columbia. While the White House is federal property, how did the kit get into the president's hands?
Muslim Riots Engulf Sweden For Nearly A Week, Corporate Media Silent. Unbeknownst to most Americans is the very real and very disturbing news that the northern European nation of Sweden, Bernie Sanders' white, idyllic socialist paradise, is suffering under the immense reality of the inevitable failure of multiculturalism. Trending Politics noted that it all started after a Danish politician who recognizes Europe can either be rooted in historical Western value or Islamic values — but not both — desecrated a copy of Islam's holiest book.
Study: How Big Tech Tried to Kill the Hunter Biden Story. Twitter and Facebook worked in lockstep to restrict the flow of the Hunter Biden laptop story just before the 2020 presidential election. These platforms stifled the spread of that story at the same time that Big Media did, as MRC research found. Facebook's suppression broke the platform's own fact-checking policy, and Twitter's attempt to cancel the story so outrageously violated content moderation norms that it drew criticism from the likes of leftist Poynter Institute fact-checkers. Even then-Twitter CEO Jack Dorsey criticized his platform after the fact. Facebook spokesperson Andy Stone announced the platform had preempted third-party fact-checks on the Hunter Biden story the day it broke on Oct. 14, 2020, and limited its spread moving forward. Stone has a long history working directly for Democrats, and Facebook's hair-trigger, broad-brush blackout blatantly broke the platform's content moderation policy.
Brooklyn Subway Shooter Frank James Is Already Being Memory-Holed. At 5 p.m. ET on Sunday afternoon, I did a Google search for Frank James, who shot ten people on the subway in Brooklyn on Tuesday. There was a grand total of one news story posted about this crime on Sunday, a "what you need to know" video from WPXI in Pittsburgh. Before that, there were three articles posted Saturday, one by a site called Complex, one from the UK's Daily Mail, and a New York Post article. These were sparse results for a mass shooting in the nation's largest city less than a week ago, but they weren't surprising: when a story doesn't fit the establishment media narrative, it tends to disappear quickly.
The Regime Media's Quandary: By Exposing Joe Biden They Exonerate Donald Trump. In August of 2019, Politico International, in a lengthy article, traced the beginning of the "Biden Family Enterprise" back to 1973, Joe's first year in the Senate. Freshman Senator Biden adamantly demanded and was appointed to a seat on the Senate Banking Committee. Soon thereafter, his brother James, then a 23-year-old business neophyte with a net worth of less than $10,000, decided to open a nightclub. Per a bank officer, James used the Biden family "connection" to obtain $165,000 ($1.1 million in 2022 dollars) in mostly unsecured loans from a failing Delaware bank. Within less than 18 months the venture started to unravel, and James was unable to make the loan payments. Joe intervened with the bank's Chairman to make certain the bank did not harass James for payment or foreclose on the nightclub. Miraculously, James was able to find another bank, which was on the Federal Reserve watch list, that gave him a $500,000 ($2.6 million in 2022 dollars) loan. Around the same time Joe Biden met with that bank's senior vice-president on "other matters" — no doubt a coincidence. The nightclub venture soon failed, leaving behind a trail of lawsuits and unpaid loans and debts. The Bidens sanctimoniously proclaimed that Joe and his status as a U.S. Senator had nothing to do with James getting the loans. The fact that Joe served on the Senate Banking Committee (which oversees bank regulatory agencies) and his 23-year-old brother with no business experience received extraordinary — actually, unheard-of — loans from two banks under scrutiny by the government was, no doubt, also a mere coincidence.
BLM Global Network Foundation's Creators Are Not Interested in Black Lives. Black Lives Matter benefits from a vicious cycle that allows the organization to carry on changing America beyond recognition. Large media companies like The New York Times, The Washington Post, and TV networks have imposed a news blackout that ensures that BLM supporters ignore its intent and practices. This continues to be the case despite several breaking bombshells this year alone regarding financial improprieties by the Black Lives Matter Global Network Foundation, BLM's mothership. So unless you are that rare BLM backer who assiduously watches Fox News or reads the New York Post or the Washington Examiner — three organizations that take their journalistic responsibilities seriously regarding BLM, and which have recently been joined by New York Magazine — there are a number of important things you have missed.
Records Reveal Multiple Attacks on Secret Service by Biden's Dog, Agents Upset with Psaki's Misleading Statements about an Incident. Judicial Watch announced today it obtained 400 pages of new records including incident reports detailing multiple attacks and damages caused to United States Secret Service (USSS) members by President Joe Biden's dog Major at both the White House and Biden's lake home in Wilmington, DE. The documents also reveal that a member of USSS who was attacked by the dog was displeased that White House Press Secretary Jen Psaki misled the press about the incident. (In August 2021, Judicial Watch uncovered records from the Secret Service revealing Biden's dog was responsible for many more biting incidents than the Biden White House has publicly acknowledged. One email notes that "at the current rate an Agent or Officer has been bitten every day this week (3/1-3/8) causing damage to attire or bruising/punctures to the skin.")
Brooklyn subway shooting has 'disappeared from the headlines'. When a crime is committed by someone with progressive values, the media is "suddenly uninterested," says Sky News host Rita Panahi. "Are you surprised at how quickly the Brooklyn subway shooting has disappeared from the headlines," Ms Panahi said. "You'd think what looks like a clear case of domestic terrorism in New York would be worthy of far greater coverage. "You can be certain that if Frank James had posted any pro-Trump material online, his face would be plastered on front pages around the world." [Video clip]
The Brooklyn Subway Terror Attack Shooter Was On FBI's Terrorist Radar Until 2019 - No MSM Coverage. New York City police named a "person of interest" in the shooting Tuesday morning aboard a subway train in Brooklyn. Ten people were shot and 13 others were injured after a man wearing a gas mask threw two smoke canisters and then opened fire aboard a subway car on the N train as it approached the 36th Street Station in Brooklyn during the morning rush hour, authorities said. [...] The mainstream media claims that this wasn't a terror attack, however recent social media post, as well as the exclusive video that we have from James, shows that his attack was a hate crime that could be labeled as terrorism because he injured more than one person! Like the Waukesha suspect & the Louisville BLM activist who allegedly tried to assassinate a mayoral candidate, he appeared to be a fan of black nationalism.
This portion of The Big Morning Show is brought to you by ... the Socialist Democratic Party!
Morning Nets Largely Ignore Inflation Announcement — Again. The NBC, CBS and ABC morning news shows largely ignored a new inflation report that showed inflation raging at 8.5 percent. That was the highest increase since 1981 — the same year Raiders of the Lost Ark hit the box office. The Bureau of Labor Statistics reported at 8:30 a.m. ET April 12 that inflation increased by a terrifying 8.5 percent over the past year. This was the "largest 12-month increase" since December 1981. Energy inflation fared the worst at a shocking 32 percent rise over last year, with gasoline alone rising 48 percent. Food inflation also took a steep hike at 8.8 percent. Housing and shelter inflation rose 5 percent over the past year in the biggest increase in over 30 years. This was critical news for Americans who have already been suffering from painfully high prices at the gas pump and the grocery store, but where were the morning networks?
A regime based on fraud and media collusion. The unmasking of Dr. Anthony Fauci is the straw that I think will break the back of the camel of an evil cabal. Everyone in the United States was directly and personally affected by the fraud and cover-up that obscured the origins of COVID-19 in the laboratory of the Wuhan Institute of Virology, imposed unnecessary lockdowns, and denied effective therapies to those infected with the virus. It brought home to Americans the untrustworthiness of the ruling class and its media servants that have covered up numerous frauds in recent years:
• Fast and Furious: [...]
• Benghazi: [...]
• Pay to Play by Hillary: [...]
• The bathroom server: [...]
• Comey's presser: The FBI director indicted Hillary and then said no intent could be shown. These charges do not require intent [...]
• Bill Clinton met on the Phoenix Airport tarmac with A.G. Lynch just before Comey's exoneration of his wife.
• Russiagate never was anything other than a domestic disinformation operation run by the CIA with the FBI doing the grunt work. Comey, Clapper, and Brennan also lied to Congress. Hillary had to have an excuse for why she lost. She was a very poor candidate, and Trump ran circles around her. [...]
The election was a full-court press using COVID as an excuse to illegally allow mail-in ballots with no identity verification on ballots to be cast. Where is Hunter Biden's laptop that was put in the memory hole in the FBI, that the FBI is apparently not doing anything about? And there's the issue of Ukraine and China with the big guy, Uncle Joe. And let's not forget that Eric Swalwell and Hunter Biden were both compromised by Chinese honey traps. How many others are there?
There's Something Happening Here. Scott has been writing about the strange case of the two men "of Washington, D.C." who are under arrest, having purported to be high-level Department of Homeland Security agents. The men are Arian Taherzadeh and Haider Ali, which might give the politically incorrect some ideas. [...] It strikes me that Mr. Taherzadeh and Mr. Ali are likely to take their place in a line of news stories with respect to which we never got to hear the punch line: the Pakistanis who handled tech services for the Democratic House caucus until their arrest; the Chinese spy who, for years, was Dianne Feinstein's driver; the Chinese spy Fang Fang who bedded Eric Swalwell — the life of a spy is not an easy one; and I suppose we should add the Chinese companies that slid millions of dollars to Joe Biden and his relatives. (Can I say it one more time? No one has ever bribed the unemployable crack addict Hunter Biden. Any money that wound up with him was a transaction cost.) Such stories are allowed to die a quiet death, because one of the requirements to be a reporter these days is a total lack of curiosity about anything that reflects poorly on the establishment in general, and the Democratic Party in particular. So, yeah, there is something happening with the two "Washington, D.C." men.
Update:
Someone Tipped Off Secret Service Dupers Before FBI Raid, Prosecutor Says. Two men accused of posing as federal law enforcement agents were tipped off to the FBI's raid on their apartments, according to a court document filed Sunday [4/10/2022]. Arian Taherzadeh, 40, and Haider Ali, 36, were arrested Wednesday in Washington, D.C., on suspicion of posing as Department of Homeland Security agents since as early as February 2020 to buy off members of the Secret Service, including one agent assigned to first lady Jill Biden's security detail, according to an affidavit. Taherzadeh and Ali were tipped off before the FBI came for them, buying the two men time to stash guns and other possessions, according to a memo from U.S. Attorney Matthew Graves. The two are each charged with the federal offense of false impersonation of an officer of the United States, the U.S. Attorney's Office said in a statement obtained by the Daily Caller News Foundation.
The Democrats have a pedo problem. Empirically and factually, an overwhelming majority of public figures who are confirmed and aspiring pedophiles (along with pedo-friendly corporations like Disney) are progressive Democrats in terms of political orientation. All of this is hushed up by our progressive media, and thanks to progressive privilege, virtually nobody is ever prosecuted or punished. Why is it never a national scandal when Democrats routinely prey on young children? Simple — because the progressive media protect Democrats far better than Rome's Praetorian guard ever protected any of the Caesars. [...] Instead of truth and exposure, we have media silence. A favorite media tactic is the lie by omission. If a station chief or agent from John Brennan's beloved and woke CIA sexually abuses a two-year-old baby, but CNN producers and the media decide it is not a scandal, then poof, it all goes away. Like the tree falling in the forest with nobody to see or hear it, perhaps it simply never happened at all.
ABC Entertainment Breaks Silence With 6 Seconds on Hunter: 'Made Up Stories'. ABC journalists, along with the rest of the media, are still burying the revelation from The New York Times on March 16 that the Hunter Biden laptop story is, in fact, real. It's not Russian disinformation. Except for two seconds on MSNBC, ABC, CBS, NBC and CNN have all been silent. And while ABC News still refuses to cover the story, ABC Entertainment discussed Hunter Biden for a scant six seconds. Of course, it wasn't six seconds of substance or six seconds of making fun of the President's son. Instead the eponymous host of Jimmy Kimmel Live claimed that Donald Trump was trying to "make up stories about Hunter Biden." Even when faced with reality, media figures like Kimmel are still hiding the truth.
Glenn Greenwald Blows Up Media's Collusion To Shield Hunter Biden. Independent journalist Glenn Greenwald laid into corporate media in a Twitter thread on Saturday morning, detailing how government officials and media outlets had effectively colluded to protect President Joe Biden's embattled son Hunter — particularly during the 2020 presidential election. Greenwald ultimately left The Intercept, the outlet he cofounded, when he was asked to sanitize an article he was writing about then-candidate Joe Biden, his son Hunter, and their past dealings with both China and Ukraine — and he argued Saturday that multiple media outlets had been drawn into the coordinated effort to protect the Bidens. His comments come in the wake of a report from The New York Times — which, in addition to confirming that Hunter Biden remains under a federal investigation, let slip that the emails found on the laptop he reportedly abandoned at a Delaware repair shop were, in fact, authentic.
There's A Lot of Young, Healthy Servicemen Suddenly Dying in Their Bunks, and The Military Won't Talk About It. There is something very odd going on at Fort Bragg. [...] Likewise, in January 2021, an Army captain named Robert Latham died from an "apparent heart attack," despite being 32 years old and seemingly in excellent physical condition. In October, a highly trained Green Beret and intelligence sergeant named Calvin Rockward died from a "sudden, unexpected medical event," though he was only 38 and in even better shape, to go by his Instagram photos. In total, a staggering 83 active-duty soldiers stationed at Fort Bragg died in the 18 months ending June 2021, according to data obtained by Rolling Stone. Only 11 of these deaths were from "natural causes." Many, perhaps a plurality, were suicides. But in no fewer than 33 cases, the Army has classified the cause of death as "undetermined."
How Dem officials, the media and Big Tech worked in concert to bury the Hunter Biden story. Everlasting, undying, soul-rending shame be upon you, Facebook and Twitter and Politico and all the others who covered up, denied and suppressed this newspaper's true and accurate reporting about Hunter Biden's laptop in 2020. You should be hurling yourselves at the feet of the American people, begging forgiveness. You should be renting billboards saying, "WE LIED." But most importantly, you should be hauled before Congress to answer humiliating questions. These and other information purveyors owe us — not just this paper, but this country — restitution for what now looks like the most egregious and willful fake-news scam of our time. This paper's scoops on Hunter Biden's laptop in 2020 were labeled "Russian misinformation" (Politico), a "hoax" (Steven Brill of "fact-check" site NewsGuard), discredited by "many, many red flags" (NPR) and a "hack and leak" operation that had to be throttled (Facebook's Mark Zuckerberg).
Networks Punt on Massive Hunter Biden Story as NYT Confirms Laptop Emails. In a story posted Wednesday night [3/167/2022], The New York Times finally came around to implicitly admitting to what many knew in 2020 but, like the intrepid New York Post, were censored for saying: The emails on Hunter Biden's laptop are indeed real. And, worse yet, the specific e-mails that The Times confirmed involved Burisma. Worse yet for Hunter, it was revealed he took out a loan to pay millions in back taxes while a "broad federal investigation" of his life has expanded, including testimony from the woman who's alleged he fathered a child with. Of course, this was of no interest to Thursday's broadcast network morning newscasts on ABC, CBS, and NBC. The exposure came on the heels of stories from earlier in the week that revealed the State Department would begin handing over any communications involving or referencing Hunter to The Times following a lawsuit over a Freedom of Information Act request.
An Injustice Worse than the Plight of George Floyd. The names of Terry Aultman and Brenda Aultman are not well known, but they should be, more so than that of George Floyd. [...] According to reports, the Aultmans were peacefully riding their bicycles home from a Biker Week event when they were stabbed repeatedly, had their throats cut, and were left on the street to die. They were an older couple, apparently without criminal records, who had moved to Daytona Beach just six months before to enjoy their retirement. The suspect in the Aultman murders is Jean R. Macean, a 32-year-old black man with a criminal record of drug-related and driving offenses who was filmed walking down the street at the time the Aultmans were killed. According to Daytona Beach Police chief Jakari Young, Macean has now confessed to the double-homicide. He is "the man responsible for murders of Brenda Aultman and Terry Aultman." Macean, who was captured in the Orlando area, has been charged with two counts of first-degree murder. Unlike his victims, aged 48 and 55, Macean is an extremely large and muscular young man. He certainly had the means to carry out these horrific murders. The motive in this case remains unknown or unreported. It may turn out that the crime involved a black man who, on a whim, simply chose to kill two defenseless older white people. If this is the case, will the courts decide to try the perpetrator on hate crime charges as well as first-degree murder?
The Ukraine War Can't Save Biden. Since Russia invaded the Ukraine, the U.S. news media has focused nearly exclusively on the war underway. Wars are attention-grabbers, so news coverage makes sense. Certainly, a war of aggression by nuclear-armed Russia in Europe merits significant coverage, though we can do without the snap analyses, ridiculous speculation based on sketchy or false reports, and warmongering. Domestic news coverage has been light. There's been some reporting on blue states and cities ending ludicrous mask mandates, except for kids five and younger in New York City. Those poor kids will still have to wear unsanitary obedience rags at school. Hikes in gas prices get mentioned. Turbulence in the stock markets gets a word. Otherwise, it's Ukraine 24/7. But that won't last. And it's silly to think that the war has distracted Americans from the country's festering domestic woes. Sillier still is the idea that the Russia-Ukraine conflict is Biden's means of offloading the troubles he's created.
White House Quietly Calls On US Oil Companies to Increase Production. In a move that likely angered his environment-conscious base, the White House has issued a muted request for U.S. oil companies to increase crude oil production in the wake of high crude oil and gasoline prices. Though words are different than deeds — and President Joe Biden's deeds have been decisively anti-fossil fuel expansion — a White House official told U.S. oil companies on Tuesday [3/1/2022] that they could increase production if they want. [...] U.S. oil companies have long held that while the Administration hasn't directly restricted U.S. output, the energy policies flowing out of the White House have put a damper not only on the attitude involving crude oil production but has made it far more difficult for oil companies to ramp up.
Nets Ignore Hunter Biden's Business Partner's Fraud Conviction. On Monday, a former business partner of Hunter Biden named Devon Archer has been sentenced to over a year in prison for his involvement in a scheme to defraud a Native American tribe of over $60 billion in bonds. Not surprisingly, all three evening newscasts completely ignored this news of the President's son's business partner going to federal prison. While ignoring this report, ABC's World News Tonight, CBS Evening News & NBC Nightly News did all have time to hyperventilate over global warming, while CBS also had additional time to report on a mail truck that crashed off a bridge and fell into a river. According to a report in the New York Post, Archer was sentenced to one year and one day in federal prison by Manhattan Judge Ronnie Abrams. "There's no dispute about the harm caused to real people," Judge Abrams said. In addition to jail time, Archer will have to pay back over $15 million in forfeiture as well as over $43 million in economic restitution.
'Mainstream' Media Hides Hillary's Hackers. [Scroll down] In reality, the highly regarded Justice Department special counsel John Durham submitted legal papers Feb. 11 that accused Hillary Clinton's campaign and pro-Hillary attorneys of hiring technicians to hack into the computer servers of Donald Trump, his residence, and his presidential campaign offices. They did so, Durham wrote, to "establish 'an inference' and 'narrative' tying then-candidate Trump to Russia," and "for the purpose of gathering derogatory information about Donald Trump." When such evidence did not emerge, Team Hillary yelled about it anyway. What good is a lie unless everyone hears it? "Computer scientists have uncovered a covert server linking the Trump Organization to a Russian-based bank," Hillary's chief foreign policy adviser, Jake Sullivan, declared Oct. 21, 2016. "This secret hotline may be the key to unlocking the mystery of Trump's ties to Russia." Sullivan was as transparent as tar. He failed to disclose that Hillary Clinton financed these "computer scientists." The duchess of Chappaqua made this Big Lie even bigger.
Week One of Spying Scandal: Nets, CNN Bury Blockbuster Claims Against Clinton. Just over one week ago, a bombshell broke in the world of politics. But if you got your news solely from the networks, you might have missed it. On Friday, February 11, Special Counsel John Durham alleged in a court filing that the 2016 Clinton campaign effectively spied on the Trump campaign to push a Russian collusion narrative. While outlets like The Washington Times and The Washington Examiner jumped on the story immediately, CBS and ABC stonewalled all week, censoring the explosive allegations on their morning or evening newscasts. That's ZERO coverage. NBC by contrast, offered a meager 5 minutes, 16 seconds on February 17. The network reporting offered a defensive posture, dismissing the "unproven claims" against Clinton.
War over Trump spying. Anyone who has followed political journalism for more than a minute or two could predict how some big outlets would cover the revelation that operatives connected to the Hillary Clinton campaign spied on the Trump campaign. Once legacy media journalists saw the story reported on Fox News, and especially when they saw former President Donald Trump promoting it, they immediately thought: How can we knock this down? Normally, when news breaks — and the spying information was contained in a court filing by Justice Department special counsel John Durham — a news organization first reports the news. Then it might publish one or more analysis pieces, reaction pieces, and follow-up stories. But first, they report the news. That didn't happen this time.
The Top Three Most Pathetic Stories ABC Covered Instead of Durham. Four days after the bombshell revelation from court filings that connected the 2016 Hillary Clinton campaign to spying on Donald Trump's, ABC, as well as CBS and NBC are still silent.
Unaddressed issues corrode America like battery acid. These days, when it comes to news reports about issues that matter, a lot falls through the cracks. [...] Currently, the top story must be Durham's little bombs about spying on Trump Tower, Trump's apartment, and the White House. Do you think we will ever know the full story concerning "Internet Company-1" and unnamed "University" in Durham's investigation? More importantly, I'm exceedingly curious why those people and entities who were the subjects of illegal spying are suing in civil court (for very large sums) for gross violation of their civil rights? [... Also,] Has anyone ever reported to us what are the major funding sources for Antifa? Where did the money come from for all those pallets of bricks and incendiaries? More seriously, who paid for the transportation, housing, and meals to support all those (unemployed) revolutionaries in the violent summer of 2020? Where is "follow the money" here?
John Durham, Almost the Media's Invisible Man. Special counsel John Durham, tasked with investigating the origins of the FBI's probe into Donald Trump and Russia, reported a client for Hillary Clinton's law firm, Perkins Coie, was monitoring internet traffic at Trump Tower, Trump's Central Park West apartment building and the Executive Office of the President. They wanted information to sell a "narrative" of Trump-Russia collusion. ABC, CBS and NBC coverage? None. Other networks and major newspapers balked. Then they tiptoed in to deny it meant anything.
Media suddenly develops 'laryngitis' after years of pushing Trump-Russia collusion, critics say. The mainstream media spent years fixated on alleged collusion between Donald Trump and Russia but have largely downplayed or otherwise ignored the court filing from Special Counsel John Durham as part of his investigation into the origins of the sprawling Russia probe. "The traditional media is more interested in whisper campaigns and rumors than filings from U.S. attorneys," former chairman of the House Oversight and Government Reform Committee and Fox News contributor Jason Chaffetz told Fox News Digital. "If they got it wrong, and they did, then cover the truth with the same vigor," Chaffetz continued. "It seems some media outlets were so interested in perpetuating a lie they can't now say they were wrong."
Establishment Media Knock Durham Filings that Alleged Clinton Associates Spied on Trump. Establishment media on Tuesday [2/15/2022] panned Special Counsel John Durham's court filings that alleged Hillary Clinton's campaign associates spied on Donald Trump's campaign and presidency. After more than 48 hours since Durham's court filing revelations were reported, the New York Times and Washington Post finally wrote articles on the subject, but they cast doubt on the filings' significance. The outlets framed their articles around criticizing "right-leaning media" for "carefully" scrutinizing "off track" narratives that are "often based on a misleading presentation of the facts or outright misinformation."
We're Still Waiting, Washington Post, for Your Story on Clinton Spying. The Washington Post has yet to file a report on a bombshell allegation from special counsel John Durham that the Hillary Clinton campaign spied on Donald Trump during his 2016 campaign and the presidency. Outlets like The Washington Times and The Washington Examiner broke the story over the weekend, but the Post, as of 4:55 PM ET on Monday, doesn't have a story in print or online. A search on WashingtonPost.com finds six results in the last week, including the Durham Police in Ontario, Canada, Duke University basketball, among others. But nothing on the Durham probe.
48 Hours: Media Ignore Durham Investigation of Hillary Clinton's Operatives Allegedly Spying on Trump. The establishment media ignored news over the weekend from the John Durham probe that alleged Hillary Clinton's campaign operatives spied on Donald Trump's 2016 campaign and presidency. After the revelations of Hillary Clinton's alleged shenanigans broke early Saturday morning, the New York Times, Washington Post, Wall Street Journal, CBS News, NBC News, and ABC News — all ignored one of the largest political scandals of the past ten years.
Inside the Bizarre World of Minneapolis. Rebecca Brannon describes herself as an independent photojournalist covering Minnesota politics, protests, and riots. Rebecca has the nerve to do much of her reporting from the inside. If I have the chronology right, Rebecca got inside the "two hour black bloc Antifa protest" on Lake Street in Minneapolis, and the perpetrators are not happy about it. They don't really want the exposure. Say this for the Star Tribune. The paper's nonfeasance is appreciated. Indeed, the Star Tribune's nonfeasance is a critical component of the bizarre hellworld that Minneapolis has become. [Numerous video clips]
Pelosi's Watergate. There has been much written lately about the similarity of Watergate and Special Counsel John Durham's revelations about the Clinton campaign and others spying on Donald Trump, both as a candidate and a sitting president. There is also the entry into the offices of Rep. Troy Nehls by the Capitol Police. They are under the control of Nancy Pelosi, of whom Rep. Nehls has been critical regarding her so-called J-6 investigation. [...] Were it not for a dishonest and totally biased MSM, the call for investigations, incarcerations, and resignations would be plastered all over the news. We don't have to imagine what the press would have done had it been President Trump doing the spying, because the press swallowed the lies about Trump and Russia and ran it for over a year. Even though that link has been debunked, few MSM agencies have had the journalistic integrity to correct their previous claims. Now that the shoe is on the other foot, the silence is deafening. This story makes Watergate look like child's play. Where are the Woodwards and Bernsteins of today?
Why Aren't Corporate Media Talking About The Car That Crashed Into The Freedom Convoy? [Scroll down] Thankfully, no one was killed in the incident. Winnipeg police apprehended the suspect, a 42-year-old man from Headingley, this past Sunday. He faces 11 counts of assault with a vehicle with failure to stop at the scene of the crime. Although the police were able to quickly detain the suspect, why isn't there major media coverage of this? Where's the legacy media calling out violence aimed towards peaceful protesters? Corporate media would be talking of nothing else if this happened at a Black Lives Matter protest. Yet apart from Fox News, local Canadian news outlets, and some British publications, there isn't much talk of this violence at all. CNN published an article about the growing Freedom Convoy, offering only a brief summary about the Friday evening hit-and-run.
A School Shooting You Won't Be Hearing About. Liberals love to use school shootings as springboards for their favored hobby horses, usually more gun control. But what happened yesterday at the South Education Center in Richfield, Minnesota doesn't fit the narrative. This high school is part of a school district that focuses on special education, alternative learning and transitional services. As I understand it, many of its students come from other high schools where they have gotten into trouble, so that the South Education Center represents a second chance. It also embodies, perhaps, the ultimate in high school wokeness. [...] But far leftists and the teachers' union are driving Resource Officers out of the public schools. ["]Superintendent Lewandowski also ordered the removal of all metal detectors for the 2021-2022 school year 'after serious concerns about the racial equity impacts of using metal detectors.'["] Contemplate that idea for a moment! Everyone has to go through the metal detector, not just members of one race, so how can it represent racial inequity? The only possible answer is that "students of color" are presumed to be most likely to bring guns to school.
CNN, MSNBC, NYT, WaPo completely avoid Johns Hopkins study finding COVID lockdowns ineffective. There has been a full-on media blackout of the new study outlining the ineffectiveness of lockdowns to prevent COVID deaths. According to a Johns Hopkins University meta-analysis of several studies, lockdowns during the first COVID wave in the spring of 2020 only reduced COVID mortality by .2% in the U.S. and Europe. "While this meta-analysis concludes that lockdowns have had little to no public health effects, they have imposed enormous economic and social costs where they have been adopted," the researchers wrote. "In consequence, lockdown policies are ill-founded and should be rejected as a pandemic policy instrument."
Why did so many American mainstream media outlets ignore a reputable university's study that lockdowns didn't work? Mainstream liberal news has largely ignored a new study showing that COVID lockdowns had virtually no effect on stopping COVID-19 — because they 'already have their own narrative written', according to the study's author. A review by three respected economists from Johns Hopkins University, Lund University in Sweden and the Danish think-tank the Center for Political Studies, found that restrictions imposed in the spring of 2020 — including stay-at-home orders, masks mandates and social distancing — only reduced COVID mortality by 0.2 percent. The study, published in the Studies in Applied Economics January 2022 edition, that lockdowns caused 'enormous economic and social costs' and concluded that they were 'ill-founded and should be rejected as a pandemic policy instrument' going forward.
Shocking Border Stories the Networks Don't Want You to Know About. Last week saw explosive developments in the crisis at the border, a crisis that is now spreading throughout the country. But you wouldn't know that from the corrupt news networks that are censoring the shocking details of multiple border-related nightmares. Here's the latest bombshell border crisis stories that ABC, CBS and NBC's morning and evening newscasts are censoring. On Thursday [1/27/2022], only Fox News covered illegal immigrant criminals being deposited in places like New York, to the bewilderment of local law enforcement. Fox reporter Bill Melugin explained, "A source within ICE tells me that the agency has in fact been releasing some illegal immigrants who have misdemeanor criminal record, some things like assault, or drunk driving."
Networks Ignore U.S. National Debt Topping $30,000,000,000,000 for First Time. The ABC, CBS and NBC evening networks committed one of the most egregious acts of news censorship by ignoring the U.S. debt topping $30 trillion for the first time ever. The U.S. Treasury Department released data on Tuesday [2/1/2022] showing that the U.S. total public debt outstanding was $30.01 trillion as of Jan. 31. The Wall Street Journal reported the new figure "was a nearly $7 trillion increase from late January 2020, just before the pandemic hit the U.S. economy." Committee for a Responsible Federal Budget President Maya MacGuineas reportedly told The Journal that the enormous spike in the national debt was due in part to "trillions and trillions of borrowing for no reason other than politicians have stopped being willing to pay the bills."
Time to end the witch hunt obsession with Donald Trump. President Clinton gave U.S. technology and advanced military weapons know-how to China, but no one is obsessing over hunting him down to finish him off. Obama put critical U.S. assets off-limits, such as low-pollution coal, to send business to his old home in Indonesia. Yet no one calls a search party to apprehend him for declaring U.S. coal reserve areas "historic sites." So why on Earth is there a nearly psychotic obsession with destroying Donald Trump and his family? Is the left that afraid that it may not have a candidate who can compete in 2024 for the miserable Oval Office job of trying to undo all the damage Biden did during his term? What's wrong with resurrecting Al Gore or ponying-up Hillary? It's not as if she ran off with top secrets in her laptop and hid it in her bathroom or anything, right? Even if she did, the mainstream media wouldn't give an investigation like that the time of day. They still haven't held Hunter accountable for his laptop.
The Canadian Convoy Has Stolen the Hearts of the People and the Media Is Not Taking It Well. The trucker convoy protest has been making its way through Canada's capital city of Ottawa and has become the largest in history spanning an astounding 45 miles. At the center of the protest is the message that Canadians are rejecting the government vaccine, mask, and lockdown mandates, and the desire to be treated as free westerners, not subjects of a single man and his leftist whims. Canadians of all stripes showed up to show their support for the convoy over the weekend en masse. The media was content to never speak of the convoy — unless it was to demonize it — as it was proof-positive that the people are not with them, the politicians they serve, or the ideology they support, despite all their claims to the contrary. The issue was that this gathering over the weekend around the truckers was so large that they had to acknowledge it.
The media blackout on Fauci's emails. Last week saw another batch of emails drop from Anthony Fauci, and another media blackout as to their contents. The strategy by the press in cases like this has been pretty straightforward: ignore the story, wait for right-leaning media or Republicans to pick it up, then frame any attacks on the subject as tainted by partisanship. Last week, when confronted once again by Senator Rand Paul of Kentucky, Fauci responded with more hyperbole and ad hominem. The media, meanwhile, framed the exchanges as "Rand Paul Attacks!" and "Anthony Fauci defends!" They refused to look at the information in the emails that Paul was asking about, refused to ask questions about them, refused to even report on them. They are interested in the bloodsport, not the truth. The reason for that is simple: the truth is becoming very problematic for the man who once conflated himself with science itself.
Protection Racket: ABC, CBS and NBC Hide [the] Latest Hunter Biden Bombshell. Showing that they will never change or truly "turn" on Joe Biden, the networks are ignoring the latest Hunter Biden bombshell and how it might ensnare his president dad. All of this is particularly relevant as questions continue to be raised about Joe Biden's toughness in questioning China over the origin of COVID. Fox News, unlike, ABC, CBS and NBC on Friday [1/21/2022], reported on the latest scandal. Here's Dana Perino on America's Newsroom: "New e-mails obtained exclusively by Fox Business show Hunter Biden, along with a former aide to then-Vice President Biden invested in Chinese companies with close ties to top officials in the communist government." [...] None of the evening newscasts on Thursday or the morning shows on Friday covered this.
It is no wonder most people don't trust the media since they frequently bury truthful stories while endlessly running false stories. [Scroll down] Hillary and the DNC didn't have much to worry about. The American media were willing to kill the story for them as they campaigned for Hillary. They didn't worry about all the crimes Hillary committed or kickbacks the Clintons took, either. [...] How many women and young girls were physically and mentally destroyed by the Clintons, Epstein, and Weinstein because the media, entertainers, and other Democrats were busy campaigning for the Clintons? [...] In 2015, the NYT was willing to report on the corruption of the Bidens because they were supporting Hillary. [...] Yet in 2020, as they campaigned for Biden and sought to destroy Trump, they buried a story they knew was true about the Biden family corruption. They faked that it was Russian disinformation to justify burying the story. It is no wonder we have so much corruption by politicians like the Clintons and Bidens when the media and others are so willing to bury the truth from the public. While the media were burying the story of the Biden and Clinton corruption, they were running endless false stories about Trump and Russia.
How the Networks Buried One Year of Biden's Disasters, Failures and Controversies. Over the last year, the three network evening newscasts have done their best to hide Joe Biden's policy disasters, such as Afghanistan and the border. They have ignored controversies involving Hunter Biden, as well as extremist nominees picked by the President. [...] During the 2020 presidential elections, the networks did everything they could to hide the evidence of Hunter Biden's corrupt dealings with Ukraine and any connection to Joe Biden. For the first year of Biden's presidency, Hunter's alarming art sales to unknown individuals and his dealings with China, they were all buried by the networks. From January 20, 2021 to the present, ABC's World News Tonight allowed just 57 seconds on the multiple Hunter Biden scandals. The CBS Evening News offered an equally pathetic 60 seconds and the NBC Nightly News managed a slightly higher 191 seconds. All totaled, that's just 308 seconds, slightly higher than 5 minutes, in one year. The last mention of Hunter on the network evening newscasts came on the July 12 NBC Nightly News. There, anchor Lester Holt chided the "secret art sale by President Biden's son."
CBS Outlines Collapsed Support for Biden Regime, But Purposefully Ignore One Central Component of Their Own Poll. CBS conducted a poll of the collapsed support for Joe Biden and then outlined their findings earlier today [1/16/2022]. However, keeping up with their need to ignore things, they skip over how the vaccination mandate is opposed within their responses. Margaret Brennan and Anthony Salvanto, CBS News' director of elections and surveys, discuss how inflation and the economy are the two central issues at the top of concern. However, Joe Biden's handling of COVID, and specifically the vaccination mandate, are also driving opposition to the regime intent. [Video clip] The people behind Biden have boxed him in on the economic consequences. Inflation is an outcome of economic policy that cannot be reversed without completely refuting their own policy and reversing course. As a consequence, there's nothing Biden can do to stop this negative outcome.
Why the Media Is About to Run Away From the Texas Synagogue Hostage Story. A madman held people hostage at a synagogue in Colleyville, Texas. For 12 hours, a gunman held four people including a rabbi hostage for over 10 hours at Congregation Beth Israel. It was a happy ending. The gunman is dead, and all the hostages were released unharmed. [...] Now, here's where the funny business begins — the FBI can't say what the motive was regarding this attack. Seriously. This is the same FBI who said that the 2017 GOP congressional baseball shooting by a violent and dedicated leftist was not politically motivated. It's a clown show, but one that will soon pack up shop. The name of the shooter has been revealed, and it's not in keeping with the liberal media narrative. It's not a MAGA supporter. It's not a white nationalist. I know liberals were hoping it would be a white guy. It's not.
The Likely Cause of the Media Blackout on Imploding Whitmer Kidnapping Plot. Once upon a time in America, a high-profile federal prosecution imploding amid credible accusations of FBI entrapment would earn wall-to-wall headlines in the national news media. A wife-beating FBI agent who used at least one criminal informant and a dozen more government assets to concoct a plot to abduct a sitting governor — intended to create damaging headlines for an incumbent president right before Election Day — would receive nonstop coverage on cable and broadcast news outlets. Social media would be flooded with all the juicy details. Names like "Richard Trask" and "Stephen Robeson" would be household names. But none of that is happening with the Justice Department's rapidly crumbling case against several men arrested for allegedly conspiring to kidnap Michigan Governor Gretchen Whitmer from her vacation cottage in the fall of 2020. Defense attorneys have made a strong case that without the FBI's guiding hand — and deep pockets courtesy of American taxpayers — the scheme never would have materialized past random social media chatter.
AP instructs editors: Start downplaying case counts in our stories about COVID. If this is their way of trying to hide the bad COVID news from the public in order to help Democrats, they're waaaaaay too late. [...] When tests are scarce and there's a meaningful number of "COVID hospitalizations" that aren't really due to COVID, the numbers tell us less than they used to. But I still pay attention to them for the simple reason that they remain our best indicator of the magnitude of the surge, however imperfect they might be. It's curious that a news agency would prefer to omit information entirely from its reports than include it with caveats about what the numbers aren't able to capture.
Media ignored the lies in Biden's January 6 anniversary speech. The unhinged and irascible manner in which President Biden delivered his viciously partisan speech on the anniversary of January 6 was unprecedented. So, too, was the media's complicity in covering up his misrepresentations. When matters devolve to this level of absurdity, the reactions are usually driven by emotions, precluding the possibility of any dispassionate scrutiny. Predictably, the mainstream news media praised the speech with a devotion almost as if it were the word of God. Most of the right-leaning media and the Republicans excoriated Biden for his divisive rhetoric. Few fact-checked the contents of the speech.
Nets Ignore Hunter Biden's 'Close Friend' Being Charged With Treason. A "close friend" of President Joe Biden's son Hunter was charged with treason in Kazakhstan according to a report in the Washington Examiner. Despite this revelation, all three evening news broadcasts ignored the report, while One America News was the only cable television network to report on the incident at the time of publication. Karim Massimov, who Hunter Biden once referred to as his "close friend" in a 2016 email, is a former Kazakhstan intelligence chief, and former chairman of the Kazakhstan National Security Committee before being fired and tried for treason during violent protests caused by a spike in gas prices in the region. Massimov had a close business relationship with Hunter while serving on the board of the Ukrainian energy company Burisma. During this time Massimov was serving as Prime Minister of Kazakhstan. During his stint as Prime Minister, Massimov met with Hunter to work on an energy deal for Burisma. What makes this story even more worthy of network coverage is the fact that Joe Biden has been pictured with Massimov and Hunter while he was vice president.
Media Forgets that Democrats Spent 4 Years Lying About Trump Winning the 2016 Election. The mainstream media now claims that anyone who questions the 2020 election is somehow evil and hates America. What they fail to acknolwedge is they spent the entire Trump presidency claiming he wasn't the actual President. But, like everything else liberals say... more hypocrisy. According to the current claims the libtard media is running with, Kamala is an insurrectionist who hates America and should be shunned from society for questioning the 2016 election results. [Video clip]
The Mainstream Media Is Losing The Fight Of Its Life... All Thanks To Joe Rogan. I listened to the Joe Rogan Experience podcast interview of mRNA inventor Dr. Robert Malone, M.D., hours after the doctor was banned from Twitter for having opinions on Covid that stood at odds with the mainstream narrative. The opinions that Malone echoed during his Rogan appearance included, but were not limited to:
• Calling the government "out of control" and "lawless" in their Covid response
• Stating mandates of "experimental" vaccines are "explicitly illegal"
• Noting that India had success in treating Covid early with drugs like ivermectin
• Saying "half a million" excess deaths have occurred due to government actions
• Arguing those with natural immunity have higher risk of vaccine adverse events
• Alleging that people are living through a mass formation psychosis
I'm not going to rehash all of the doctor's points about Covid, but instead will say that I believe he made an extraordinary amount of thoughtful points that the mainstream media and "big tech" are too scared (and/or too stupid) to touch on themselves.
CBS Reporter Hit a Homerun on This Year's Underreported Story, and the Network Censored Her. Reporter Jan Crawford hit the nail on the head regarding this year's most underreported story in the most recent episode of "Face the Nation." It was so good — it got edited out. [...] Yes, there is a mental health crisis going on among young Americans. The lockdown czars are responsible. The teachers' unions are responsible. They created this mess by peddling nonstop science fiction-based propaganda to scare the hell out of parents. Children are one of the least at-risk and best-protected segments of our population against this virus, and we treat it as some aerosolized super-Ebola strain. It's not. And yes, a price will be paid for these hysterics, the extent of which we won't know for a long, long time.
In 2021, Media Did More to Erode Trust Than to Repair It. The case of actor Jussie Smollett's fake hate crime came to a conclusion this month, revealing that media outlets still are eager to pounce on a racially divisive story and cast blame, but reluctant to examine themselves when the story falls apart. [...] Earlier this month, Smollett was convicted of five of six counts of disorderly conduct, all stemming from his lies to Chicago police about the "hate crime" he staged with the help of others. And how did the media react to this outcome? Not well, and in some cases, not at all. ABC News, which had featured Smollett and allowed the actor to elaborate on the hoax in 2019, failed to tell viewers that his trial was underway. When Smollett's guilty verdicts were announced, the entire prime-time lineup on MSNBC completely ignored the news, despite the fact that the network was one of the principal promoters of Smollett's original claims. An incredible headline on CNN muttered: "Jussie Smollett guilty on some charges," blatantly downplaying the multiple verdicts. It would have been more accurate to say "most charges," or even better, the precisely accurate "five of six." And finally, some wondered why we were talking about the Smollett verdicts at all.
British Newspaper Cancels 'Person Of The Year' Poll After J.K. Rowling Runs Away With Top Spot. Readers of the British newspaper, The Guardian, are accusing the outlet of deactivating an online poll that asked readers to vote on "Person of the Year" after it became apparent that J.K. Rowling would handily win. "Tell us: who is your 2021 person of the year?" ran the headline, posted on Dec. 15, with the subtitle, "Time Magazine chose billionaire Tesla boss Elon Musk — but who would be your choice?" A short time later, when Rowling was far and away in the lead, the voting form disappeared, as did the results. A message in small print stated, "This form has been deactivated and is closed to any further submissions." Rowling has been at the center of numerous cancel culture storms this year for her refusal to deny the reality of biological sex. Earlier this month she stirred up controversy by mocking Scotland's law enforcement policy that allows accused rapists to self-identify as female.
Guardian 'Person of the Year' Poll Deactivated After J.K. Rowling Takes Lead. An online poll conducted by the staunchly left Guardian newspaper seeking nominations for "Person of the Year" has been turned off, sparking speculation it was shut down when author J.K. Rowling took the lead. The poll was launched on December 15 and posed a simple question: "Who would be your 2021 person of the year, and why?"
Six Political Predictions For 2022. [Scroll down] Unbeknownst to most readers of the New York Times or viewers of corporate media outlets is the fact that the Russian Collusion scandal was entirely fabricated. In an honest world, this story alone would be the biggest news item of the 21st century. Think about it for just a second: A sitting president (Obama) and the heir apparent (Clinton) both knew about and helped orchestrate a gigantic lie that would paint their adversary (Trump) as an operative of Russia's Vladimir Putin. For four years, they claimed that the 2016 election was stolen, aided in part by Russian interference and participation with the Trump campaign. This country endured two years of incessant blather on newsprint and television about the scandal, and corrupt politicians like Adam Schiff kept promising a nail-in-the-coffin moment, despite clearly knowing better. Robert Mueller was finally dragged in front of Congress to report on the fact that no collusion existed. Then, two years later, and once Trump was no longer president, we learn that the Clinton campaign funded false research and allowed the FBI to lie itself and use falsified statements from other folks to even move the story forward in the first place. What's more, it was Clinton that colluded with Russian assets, not Trump.
I suspect this happens far more than the news media knows, or wants to know:
Jury Foreperson Says 3 Jurors Wouldn't Convict Murderer Soley Because He Is Black. The foreperson of the jury in the murder trial of Dayonte Resiles said three jurors were unwilling to convict Resiles based on his race. The foreperson discussed on Friday the most recent twist in the trial that ended Wednesday with the hung jury. "[The three jurors] said, 'I don't want to send a young Black male to jail for the rest of their life or have him get the death sentence,'" said the foreperson. Resiles faces life in prison and possibly the death penalty for the murder of Jill Su, a 59-year-old Davie woman who was killed in her home back in September of 2014. [Video clip]
Roses are Red, Crime is Blue. Rising crime in American cities is often ignored by the media, instead focusing on the Omicron variant and fully vaccinated universities and sport teams shutting down over new COVID cases, flying in the face of common sense and everything we have been told about vaccinations. ABC News dipped it's [sic] toe into crime reporting recently with this headline, "It's just crazy: 12 major cities hit all-time homicide records." While COVID cases might be spiking, so is crime, some cities breaking decades old homicide records. [...] It's interesting that the media and law enforcement have trouble finding motives or explanations when those might be politically incorrect. [...] What is the common denominator regarding the homicide spike in 12 major American cities? While ABC News is befuddled as to what these 12 cities have in common, Fox News, practicing journalism by asking basic questions of who, what, where, and why, easily found the common denominator. All 12 cities are led by Democrat mayors.
'White Privilege' Isn't Getting People Killed, Democrats Are. Most media outlets never post the race of a criminal if he or she isn't white. For instance, you never saw, "Black Gang Beats Elderly White Woman, Breaks Her Arms, Sets Her on Fire" in regards to Dorothy Dow. The truth is, you probably never even heard of her. Certain news outlets love a good race battle, but only if the bad guy is white, thus perpetuating the myth that white people are "oppressors" and minorities are their victims. [...] Violent criminals, no matter their race, don't belong in society with peaceful people. Instead of crying "racism" or "white privilege," perhaps we should point our fingers at those who are really letting violent people out of jail: Democrats.
Tucker Carlson, Sean Duffy Torch the Liberal Media for Neglecting Waukesha. Wednesday night [12/15/2021] on his eponymous Fox News Channel show, host Tucker Carlson and former Congressman Sean Duffy (R-WI) lambasted the liberal media and their allies in elected office for having moved on from the deadly November 15 attack on the Waukesha, Wisconsin Christmas parade as the facts of the case run conflict with the left's narratives about America. Put simply, as both acknowledged, it largely comes down to a few factors, most notably race and religion.
The Whitewashing of Black Crime. Media tongues suddenly stopped wagging after a young black man drove his car into a Christmas parade in Waukesha, Wisconsin, killing six and injuring dozens. Darrell Edward Brooks, a career criminal with a forty-four page vitae of lawbreaking, deliberately plowed his car through a marching group and onlookers in what many considered a blatant and premeditated act of domestic terror. Brooks effectively made that case in his own social media postings, characterizing himself as a child abusing, Hitler-coddling anti-Semite and BLM acolyte with a predilection to run down elderly whites. Suddenly faced with an incident at odds with the progressive race narrative and no white scapegoats in sight, CNN, MSNBC, and liberal newspaper outlets cashiered all arrest photographs of Brooks save one released by the police a day after the initial mugshot. In the updated close-up, Brooks appears bug-eyed and washed-out, the melanin drained from his face as if the strong lighting of an arrest processing room were all that was needed to flesh out the white supremacist from the black xenophobe. MSNBC fabulists Joe Scarborough, Rachel Maddow, Joy Reid, and Chris Hayes gave Waukesha an outright cold shoulder.
The Story No One Knows: A White Florida Kid Was Stabbed Repeatedly In The Head By An Angry Black Man. For the many readers likely ignorant of the story, the Post Millennial ran a recap the other day. In short, the young Ryan Rogers, who is white, was riding on his bicycle when the accused, an older black man by the name of Semmie Lee Williams, attacked him for no reason with a knife, and in the words of the Post Millennial, "allegedly stabbed Ryan Rogers multiple times in the face and head near an I-95 overpass." It is beyond sickening to mentally replay the experience. My heart aches for the survivors of this young person. There will never be closure, and the family will doubtless relive their son's agonizing final moments in their heads forever. How could you not?
Tucker: Real inflation is significantly worse than even the boldest headlines. Tucker Carlson, in a monologue that deserves wider attention than it received, reminds us that the feds changed their consumer price metrics in a way intended to obscure that inflation is actually worse than it was 40 years ago. [...] [Video clip] Tucker walks viewers through the core changes to the Consumer Price Index and the gaslighting in which Democrats are engaging but the real kicker comes when he points out how specific prices in ordinary goods have increased dramatically: ["]In the last year, the price of a used car, for example, is going up by more than 30%. Beef prices have risen by 21%. Crude oil up 55%. Dimensional lumber, 35%. Wheat, 37%. Sugar, 33%. Corn, 39%. Palm Oil, 43%. Do you drink coffee in the morning, ever? Oh, too bad. The price of coffee has risen 108% in the last year. Do you like breakfast cereal? Oh, sorry. Oats are up 114%. And those are just the numbers you see on the label at the grocery store. In addition to conventional inflation, consumers also face widespread shrinkflation. That's an informal term that economists use for the stealth shrinking of consumer products. So companies sell you less for the same price. Have you bought a Snickers bar recently? If it seems a lot smaller than it used to, that's because it is.["]
Mainstream Media Downplays Crowd Size at Trump Rally in Sunrise, Florida — Event Was Larger Than All Biden Rallies in 2020 Combined. Big Mainstream Media is at it again. They can't help but mislead and lie when it comes to President Trump. On Saturday [12/11/2021] President Trump and Bill O'Reilly held an event in Sunrise, Florida. The History tour was a great success. But you wouldn't know it from the Mainstream 'fake news' media. [...] What the media will never report is the size of Biden events in the 2020 Presidential race. In the two months leading up to the 2020 Election, Joe Biden couldn't get more than 2,000 people at all his events. At the same time, President Trump had 1.1 million at his events.
Jussie Smollett verdict: MSNBC primetime hosts completely avoid disgraced actor's conviction. History appears to be repeating itself on MSNBC as its primetime stars, again, buried the hate crime hoax that has now resulted in the conviction of disgraced "Empire" star Jussie Smollett. [...] In fact, MSNBC's most-watched programs have never covered the hoax since Smollett made his initial claims and as his false narrative unraveled, according to Grabien transcripts. [...] In 2019, top Democrats, celebrities, and liberal news outlets, including MSNBC, all uncritically peddled the false narrative that Smollett was attacked by two MAGA hat-wearing Trump supporters at 2 AM during the polar vortex in Chicago.
TV show deletes poll after 89% oppose mandatory vaccination. ITV breakfast television show 'Good Morning Britain' received backlash on social media after deleting a poll which showed a vast majority of respondents opposed mandatory Covid-19 vaccination. The poll, which asked viewers whether it was "time to make vaccines mandatory" in response to the spread of the Covid-19 Omicron variant, was posted to Twitter on Tuesday and soon received more than 42,000 votes. A whopping 89% of those who voted opposed any scheme to make vaccination mandatory, with just 11% in favor. After the poll went viral, however, social media users noticed that it had been deleted by the Good Morning Britain Twitter account, and critics accused the program of trying to cover up the public consensus.
Proof: COVID vaccines cause prion diseases. There is no doubt the mRNA vaccines are causing prion diseases. People didn't have these diseases before the shot and suddenly they develop them after the shot. There is no other explanation for this. None of the "fact checkers" can explain the cause of the excess rates. Prion diseases are incurable and always fatal. You can die as soon as 6 weeks after COVID vaccination (see within 6 weeks and within 6 months examples). However, Twitter believes this is not true, but they refuse to tell anyone why they think that. Other fact checkers who have checked this out never did a VAERS query and are unable to explain away the "excess" number of reports other than doing a blanket dismissal that everything in VAERS is fraudulent without providing any evidence of that claim (other than one report out of 1.6M reports). None of the fact checkers will debate on this to set the record straight.
Mainstream Media Silent On Darrell Brooks Because He's Black And His Victims Were White, Report Says. Mainstream media networks are curiously silent on Darrell Brooks, the driver of the SUV that killed several people during a recent event, because of his skin color as well as that of his victims', a report says. NewsBusters reported that if Brooks was White and his victims were a crowd of Black people, the mainstream "media would still be talking about Waukesha." The report is referring to Wisconsin's Waukesha Christmas Parade that turned tragic this year as Brooks intentionally drove his Ford Escape SUV straight into the crowd on Nov. 21. Brooks injured 48 people and killed five as his SUV plowed through two groups of dancers, as well as, bystanders that included children and elderly. Mainstream media networks CNN and MSNBC have rarely given attention to the tragic incident despite its news worthiness and gravity, NewsBusters noted. The media outlet cited the few occasions the incident was actually reported in the days that followed Nov. 21.
Willie Horton and the Democratic Party's Greatest Fear. [Scroll down] Fast-forward to November 21, 2021. In the tranquil suburban community of Waukesha, Wisconsin, a vicious bigot named Darrell Brooks — free on bail with multiple pending felonies, one being his recent attempt to run over his onetime girlfriend with his SUV — allegedly drove through a Christmas parade, running down as many innocent people as he could, killing at least five, injuring some sixty more. Media-watchers have already begun to comment on how relatively little detailed coverage there has been. We have noticed blatant photo-editing techniques used to lighten the perpetrator's skin in media photos. We have seen a surprising lack of MSM interest in both the man's history and his apparent motive. We have seen, if anything, a textbook case in how to all but bury a story too big to dismiss.
The Myth of White Supremacy Is Getting People Killed, But the Media Isn't Telling You About It. [Fortunately] we have jackpuddings like Joy Reid of MSNBC and lickspittle Don Lemon to remind us that our nation is brimming with white supremacy; otherwise, we wouldn't know. I personally can't see any. What I have seen are well over 400 fake hate crimes. No racism? No problem! Fake it 'til you make it. Our bigoted nation just crowned Elle Smith as Miss USA. She is the second black woman in a row to claim the award. Systemic racism must have taken those days off. The completely objective National Association of Black Journalists (NABJ), which has a history of screaming "racist" in a crowded theater, was quick to congratulate Smith. [...] Speaking of racism in the news, you may have noticed that the lefty news media went crickets on Darrell Brooks, the black supremacist domestic terrorist who plowed 62 white people into the street, killing six (thus far). [Tweet] You may have also noticed that the Hitler-loving mass murderer was granted bail for his racist onslaught.
Waukesha: The media whitewashes anti-white hate. Anyone expecting to find extensive news coverage of the Darrell E. Brooks mass murders at the Waukesha Christmas parade can save their time. It's not there. The mainstream media is doing what it does best when the perpetrator is black and the victims are white. They don't report on it. [...] Whatever headlines did show up for the first few days often stated that this was a "crash." On day one after the murders, the headline in the New York Daily News read: "Driver Darrell Brooks facing 5 counts of first-degree homicide for Wisconsin parade crash." The most recent New York Times story I could find about the Waukesha mass murders was on November 25, on p. A16. It was all about bail reform, which seems to concern the Times editors more than the man responsible for the carnage.
Why Jussie Smollett deserves to be punished for his shameful hoax. If you have been following the US mainstream media, you would be forgiven for not knowing that the Jussie Smollett trial opened just yesterday. There has been scant coverage of the trial largely because the press had embarrassed themselves covering the story of the purported racist and homophobic attack on him in 2019. Since they aren't too keen on learning lessons and certainly not eager to relive their humiliation, they just stay away from the story. The case merits a quick revision owing to the rapidly evolving or perhaps devolving news cycle.
RFK Jr.'s book exposing Fauci is #1 bestseller on Amazon despite 'total media blackout'. Robert F. Kennedy, Jr.'s book The Real Anthony Fauci: Bill Gates, Big Pharma, and the Global War on Democracy and Public Health is currently the #1 bestseller on Amazon despite "a total media blackout," the book's publisher told Tucker Carlson Tuesday night. "It's the bestselling book in America, and you won't read about it in any newspaper," Tony Lyons of Skyhorse Publishing told the popular FOX News host. "If you try to advertise on ... any of the online platforms, they send you a notice that you can't advertise it there. It's just really crazy that this can happen in America."
Media ignoring the utter weirdness of Biden's Nantucket stay at a billionaire's estate. Normally, when going to stay at a friend's house, etiquette requires bringing a gift — say, flowers, some wine, or something to eat. But what about the strange circumstances Joe and Dr. Jill Biden face while staying at the Nantucket estate of multi-billionaire hedge fund founder David Rubenstein? It's a really, really long (since Tuesday night) weekend stay, so one might wonder if Benjamin Franklin's famous aphorism, that guests, like fish, start to smell after 3 days, comes into play. But nope, not a chance. You see, while "visiting" their "friend's" estate, Joe and Dr. Jill are not going to see the Rubensteins at all. They've cleared out. Traveling overseas, doncha know. I very much doubt that they had booked a non-refundable airfare when Joe's staff called up and asked about "visiting" over Thanksgiving weekend. They no doubt have at least one private jet at their disposal. So, they cleared out of their estate to make room for Mr. and Dr. POTUS. How thoughtful!
San Francisco Officers Fatally Shoot Man Who Charged At Them With A Knife While Screaming "Allahu Akbar" — No MSM Coverage. A man wielding a knife was fatally shot by police inside a residential building in San Francisco Friday [11/19/2021], authorities said. Officers responded to the building in the South of Market neighborhood after receiving a call about a man armed with a knife, San Francisco Police Officer Robert Rueca said in a statement. The officers made contact with the man and an officer-involved shooting occurred, Rueca said without offering any other information on what led to the fatal shooting. Chief Bill Scott and other department officials held a virtual town hall Wednesday in the death of 41-year-old Ajmal Amani. [...] What it's more important is the fact that not one mainstream media reported that the man was screaming "Allahu Akbar" while running towards the officers and that he was a former Afghan interpreter!
The Media Again Buries A Hunter Biden Scandal on Foreign Deals During the Biden Vice Presidency. I previously wrote a column on the one year anniversary of the Hunter Biden laptop story that marveled at the success of the Biden family in making the scandal vanish before that 2020 election. [...] Now, in an encore, a new major story on Biden's Chinese dealings has surfaced. Once again, poof! The media has made the story disappear except for a couple of the usual outlets. Even with the New York Times reporting on the story, the disclosure of Biden's role in securing one of the world's largest cobalt mines for China (a key component to electric battery production) has been ignored by the major networks and many other print outlets. Once again, ABC. NBC, CBS, CNN, MSNBC, and other media just cannot see the elephant. What is most amazing about this continuing trick is that the story has all of the elements that the media longed to confirm during the Trump Administration on the financial dealings of the Trump children.
Ghislaine Maxwell trial: media ignoring the case, hiding it from the public. Is it fixed? Epstein didn't kill himself... let's be real. We all know what's up. The powers that be have lots of Pedos, and they have billions and will kill if needed to protect themselves. Money here, money there, gets many executives to shut up and toe the line. Or else. [Video clip]
Media Outlets Lose Interest in Waukesha Christmas Parade Massacre as Death Toll Mounts. Prominent media outlets have already lost interest in the vehicular massacre that took place on Sunday at the Waukesha Christmas parade, a Washington Free Beacon analysis has determined. Darrell Edwards Brooks Jr., 39, allegedly plowed his red Ford SUV into a crowd of parade attendees in the small Wisconsin town, injuring dozens and killing six as of Tuesday, when an eight-year-old boy succumbed to his injuries. Wednesday's [11/24/2021] edition of the Washington Post included a brief mention of the mass-death event in the bottom left-hand corner of the front page. The New York Times similarly downplayed the significance of the "6th Death in Wisconsin Crash."
A common thread in Waukesha tragedy, Kenosha shootings: Government failure. When is a racial hate crime not a racial hate crime? When it doesn't advance the left's, and the Democrats', narrative. When white teenager Kyle Rittenhouse shot three white men who were violently assaulting him, it somehow got treated by the press and politicians as a racial hate crime. President Joe Biden (falsely) called Rittenhouse a white supremacist, and the discussion of his case was so focused on racial issues that many Americans mistakenly thought that the three men Rittenhouse shot were black. But when a black man, Darrell Brooks, with a long history of posting hateful anti-white rhetoric on social media drove a car into a mostly white Christmas parade, killing six people and injuring dozens, the press was eager to wish the story away. (The New York Times buried it on page A22.) Even when a Black Lives Matter activist connected it to the Rittenhouse verdict, observing "it sounds like the revolution has started," the media generally downplayed it. Were the races reversed, of course, we all know that the press would be turning its coverage up to 11, with deep dives into Darrell Brooks' associations, beliefs, friends and family and more. But doing that here wouldn't fit the narrative.
Liberal media ignores Waukesha Christmas parade horror. There's a reason that the Waukesha massacre has faded from the national media. There's a reason that MSNBC and CNN and CBS refer to it as merely a "parade crash" and quickly move on to other news. There's a reason that President Biden and Vice President Kamala Harris have not prejudged the violent, racist, BLM-supporting career criminal charged with murder for driving his SUV deliberately into a Christmas parade in the mostly white Wisconsin town of Waukesha on Sunday, killing six innocents, including an 8-year-old boy, and injuring 62 others. There's a reason the media are incurious about the hate-filled, anti-white social-media posts of suspect Darrell Brooks. Waukesha is of no interest to these people, not just because the story does not serve their political purposes, as the Kyle Rittenhouse case did when they wanted to paint Donald Trump as a white supremacist.
Cultural Marxism, Are We Supposed to Ignore What All the San Francisco Looters Have in Common? Perhaps there is a rule book somewhere that says you must not point out that all of the San Francisco looters who hit Nordstrom and Louis Vuitton are black. There are hundreds of media reports talking about the brazen nature of the ongoing mob and rob situations, but no one seems to point out what they all have in common. All of the people doing the robbing are black. Here's an example of CBS outlining a massive mob-n-rob of Nordstroms just outside San Francisco. [Video clip]
ABC, CBS, NBC, CNN skip DOJ whistleblower revealing 'threat tag' targeting parents at school board meetings. The media have largely ignored the explosive allegation made by a DOJ whistleblower about the counterterrorism targeting of outraged parents that appears to undercut sworn testimony from Attorney General Merrick Garland. On Tuesday, a whistleblower revealed the FBI created a "threat tag" to aid in tracking alleged threats against school board officials, teachers, and staff as part of its implementation of a controversial memo issued by Garland last month. An Oct. 20 internal email from the FBI's criminal and counterterrorism divisions, released Tuesday by House Republicans, instructed agents to apply the threat tag "EDUOFFICIALS" to all investigations and assessments of threats directed specifically at education officials.
Inflation Rises. Russiagate Falls Apart. And J.K. Rowling Is Erased. [Scroll down] Until quite recently, the mainstream liberal argument was that burning down businesses for racial justice was both good and healthy. Burnings allowed for the expression of righteous rage, and the businesses all had insurance to rebuild. When I was at the New York Times, I went to Kenosha to see about this, and it turned out to be not true. The part of Kenosha that people burned in the riots was the poor, multi-racial commercial district, full of small, underinsured cell phone shops and car lots. It was very sad to see and to hear from people who had suffered. Beyond the financial loss, small storefronts are quite meaningful to their owners and communities, which continuously baffles the Zoom-class. Something odd happened with that story after I filed it. It didn't run. It sat and sat.
Reporter claims NY Times sat on her Kenosha riots story until after election. A few weeks ago, John covered a story about former New York Times reporter Nellie Bowles quitting her job at the Gray Lady and writing a newsletter for Bari Weiss' Substack. That was, as John put it, sort of an inside baseball report for those who closely follow the political media industry, or at least it seemed so at first glance. [...] While pointing readers to her previous work at the Times, she specifically listed and linked a few articles covering the impact of last summer's riots on small businesses. She didn't say any more about that topic at the time, but since she was bringing it up only weeks after she quit her job at the newspaper, perhaps we should have guessed there was more to the story. Now we know there was. Bowles is back and she's describing how she wrote an article covering the riots in Kenosha last August and the impact they had on local businesses. But to her surprise and apparent suspicion, her editors informed her that the story wouldn't run until after the election.
Ex-New York Times reporter claims paper held report on Kenosha arson, looting until after 2020 election. Former New York Times reporter Nellie Bowles claimed the Gray Lady held her story until after the 2020 election about the aftermath of riot-driven arson and looting in Kenosha, Wis., following the police shooting of Jacob Blake. Bowles wrote she went to Kenosha to see for herself if the "mainstream liberal argument" that burning down businesses for racial justice was a good thing, since the chaos allowed for "expression of righteous rage" and the businesses have insurance anyway. "When I was at the New York Times, I went to Kenosha to see about this, and it turned out to be not true. The part of Kenosha that people burned in the riots was the poor, multi-racial commercial district, full of small, underinsured cell phone shops and car lots. It was very sad to see and to hear from people who had suffered. Beyond the financial loss, small storefronts are quite meaningful to their owners and communities, which continuously baffles the Zoom-class," Bowles wrote in a Substack entry.
Turley: The media oddly missed the "crash and burn" of Rittenhouse prosecutors this week. They didn't miss it at all — national media outlets just tried their best to report around it. We have covered the errors and outright violations committed by Kenosha prosecutors in the trial of Kyle Rittenhouse, and so our readers are aware of what Jonathan Turley describes as the "crash and burn" of the murder case over the past week. Most media consumers have instead been fed a narrative of judicial bias and bizarre attempts to inject race into a case where the accused, the alleged victims, and most of the witnesses are all white.
Terrorisim: Nets Ignore BLM Threatening to Bring 'Bloodshed' to NYC. The broadcast networks (ABC, CBS, and NBC) routinely exercise their power to raise local stories to national attention when they decide it helps the narrative, or squash it if it doesn't. So, obviously, Wednesday's terroristic threats from New York City's Black Lives Matter leader Hawk Newsome were conspicuously absent Thursday evening even though he had said his group would bring "riots," "fire," and "bloodshed" (emphasis his) if Mayor-elect Eric Adams (D) tried to bring back the "anti-crime" unit. While they were ignoring how the socialist-extremist organization was threatening to launch terrorist attacks on New York City, ABC's World News Tonight, the CBS Evening News, and NBC Nightly News were busy touting snow in the Midwest.
Our Racist-In-Chief Biden Refers To Black Baseball Player Satchel Paige As 'The Great Negro At The Time' — No MSM Coverage. Just a few moments ago our racist in President Joe Biden once again went off script and told a bizarre story during his Veterans Day speech about former Negro League baseball Satchel Paige. "You know I've adopted the attitude of the great negro at the time, pitcher in the negro league, went on to become a great pitcher in the pros, Major League Baseball, after Jackie Robinson," Biden said. "His name was Satchel Paige." Paige played Major League Baseball for 6 years after a 20-year career in the leagues for black players, commonly known as the "Negro League". Biden was referring to Paige's age at the time of his rookie season in Major League Baseball, basically that age is only a number.
Dozens of athletes now confirmed to have dropped dead from covid "vaccines". Professional athletes all around the world are dropping dead from Wuhan coronavirus (Covid-19) "vaccines," and the mainstream media is doing everything in its power to hide this fact from the public. When it does get reported, the talking-heads call it a "mystery," but it is no mystery. In every case, an athlete develops heart problems immediately after getting jabbed that eventually lead to sudden death. Prior to the unveiling of "Operation Warp Speed," it was unheard of for the average person to develop myocarditis, for instance. Now it is a common occurrence, even in young children. Mark Playne from "Not on the Been" [sic] is keeping a running list of professional sports players who develop sudden health issues, including death, almost immediately after getting injected for the Fauci Flu. The following are some of the cases he has documented thus far:
• Lexi Riggles, a college basketball player who "died unexpectedly" back in October
• Tom Greenway, a champion jockey who died in early November
• Nelson Solano, a Spanish footballer who died of a heart attack in early November
• Shawn Rhoden, a bodybuilder and former Mr. Olympia who died of an apparent heart attack in early November
• Layla da Costa, a Miss World contestant from Italy who was found dead at her house after failing to show up for work
• George "Da Bull" Peterson III, who was found dead in a Florida hotel room just two days before he was scheduled to compete in the Mr. Olympia contest
• Jordan Tucker, a footballer who passed away unexpectedly during play
• Avi Barot, a Saurashtra batter who died after suffering cardiac arrest
There are also many other instances of players falling to the ground during the play and having to be hospitalized.
Never Trumpers and Black Lives Matter Have the Same Backer. The press releases went out on schedule and the media rewrote them into news stories. A group of "principled" Republicans was going to fundraise to support Democrat congressmen. The stories rolled out on schedule from different media outlets while appearing nearly identical. And the real story, as usual, was not what was on the page, but what had been deliberately left out. Reuters described the Renew America Movement as a group of Never Trump Republicans "whose leadership includes former Republican Governors Christine Todd Whitman of New Jersey and Bill Weld of Massachusetts." Hardly a single story mentioned the actual leaders. The Renew America Movement was co-founded by Evan McMullin and his running mate Mindy Finn. Its national political director, Joel Searby, who is quoted in the media's writeups, was the chief strategist for the McMullin campaign. Donations to RAM go through Stand Up Republic, which is the anti-Trump group that McMullin and Finn originally set up. The press release for the new pro-Democrat campaign even came from Stand Up Republic. The media actually had to work not to mention McMullin or Stand Up Republic in its stories about the RAM campaign. And the media did a fine job of lying by omission to the public in order to elect Democrats.
Our mostly complicit, compliant, sycophant press has no concern about facts, only Democrat power. The corruption and dishonesty of the media have been clear for decades. Here are some things they haven't cared about or have lied about as they campaigned for Democrats and set out to destroy their political opponents. Didn't care about how many women the Clintons physically and mentally abused. People who we are told respect women called them bimbos and trailer trash. The women were disposable as the media, entertainers, and other Democrats campaigned for Bill. Didn't care about Bill committing perjury and causing a young subordinate to commit perjury and obstruct justice. Monica was disposable. Didn't care how many trips Bill took with known pedophile Epstein. The young girls were disposable if the Clintons wanted power. How many women and young girls were sexually abused by powerful men because so many were campaigning for the Clintons? Didn't vet Obama, or care that he associated with radical leftists such as Reverend Wright and Bill Ayers. They also didn't care about Obama's record as they sought to destroy McCain and Palin. All that mattered was electing Obama. Didn't care about all the lies used to pass Obamacare, nor did they care that Pelosi wouldn't let members of Congress, the media, or the public see it before it was voted on. All the media cared about was the agenda. Didn't care about the separation of powers when Obama illegally bypassed Congress to pay for shortfalls in Obamacare. Didn't care when Obama and Holder obstructed justice for years on Fast and Furious. Didn't care when Holder or others in the Obama administration committed perjury before Congress. They were above the law.
USA Today snubs Winsome Sears, Jason Miyares from report on 'candidates of color' who won historic elections. USA Today raised eyebrows for a report highlighting the "candidates of color" who made history in various election races on Tuesday but initially left out two of the night's biggest winners. Virginia rocked the political world with Glenn Youngkin leading the Republican ticket to victory in the commonwealth that President Biden won by ten points last year. The two other big winners were Winsome Sears, who will become Virginia's first woman of color lieutenant governor, and Jason Miyares, who will be the state's first Hispanic attorney general. However, neither of them was mentioned in USA Today's roundup of the diverse candidates that emerged victorious this week.
The California Version of The Green New Deal is What's Creating The Container Shipping Backlog. Hundreds of requests for details on the specifics of the container shipping backlog. So, I spent 3 days calling sources, digging for details and gathering information on the substantive issue at hand. The epicenter of the problem is not what is being outlined by financial media, corporate media and politicians who have a specific interest in distracting from the issues at hand. This has nothing to do with COVID-19. The issues being discussed today relate to events that happened a long time ago. As a matter of fact, it was so predictable that Amazon, Walmart, UPS, FedEx, Samsung, The Home Depot and Target all had taken actions years ago — long before COVID — because they knew this day would come. It was not accidental that those companies showed up at the White House to discuss the issue, because there's now a full court press to hide it.
Corrupt Media Censor News of Illegal Who Raped Woman on Philly Train. News broke last weekend of a disturbing crime that occurred on a train in Philadelphia in which several passengers allegedly stood by and did nothing to help a fellow passenger while she was being raped. It also turned out that the alleged attacker, Fiston Ngoy, is an illegal immigrant who was released in 2019 by an immigration judge without deportation in spite of a history of serious offenses. While most liberal news sources have ignored the story, CNN has reported the story a couple of times this week — mostly recently on Friday — but without mentioning the illegal immigration angle, while several Fox News Channel shows have fully covered the story.
Man Travels From Portland to Kill Matt Gaetz, DOJ Yawns. How many FBI agents does it take to arrest the man who threatened to kill Florida Rep. Matt Gaetz? Zero, you silly goose, because Gaetz is a Republican. If Gaetz were a Democrat, the alleged hitman would likely have been arrested and detained without bail, like the 71-year-old Pennsylvania man who was stopped while driving to D.C. with plans to kill various Democrats in February 2021. He is looking at a maximum ten-year sentence. Rep. Matt Gaetz stated on the House floor that someone had threatened to kill him and the Department of Justice (DOJ) won't arrest the man, despite the Capitol Police recommending they do so.
Alarming Wage Report Not Being Discussed in Financial Media — Blue Collar Wages Decreased in Third Quarter, While Inflation Skyrocketed. The Bureau of Labor Statistics (BLS) released the third quarter review of average weekly wages. The results of the year-over-year comparison should alarm everyone. This is a very serious data point that likely means we are in a recession, it just has not been quantified yet. By now everyone knows the term "stagflation", which means a stagnant economy and large inflation (price increases), the easiest comparison is Jimmy Carter economic program in the 1970's. However, let me assure you what this latest BLS release foretells is not that. This is far more serious than stagflation. I am not an alarmist, but I am encouraging everyone to take this economic data seriously.
[The] Press [is] too busy carrying Biden COVID-19 policy to investigate Southwest Airlines. Over the weekend, the media engaged in a concerted effort to suggest that any mention that the cancellation of 1,800 Southwest Airlines flights last week was due to President Joe Biden's COVID-19 mandates are part of a right-wing conspiracy theory founded on a few online rumors. But despite protestations from media like BuzzFeed News, which contends that union denials about a Southwest pilot work stoppage prove that there was no "sick out" by its pilots, the union denials only prove that the union understands that a work slowdown, or "sick out" would be illegal under the contract and subject both the union and union leadership to possible heavy financial penalties for losses by the airlines.
Chicago's Art Institute Fires All of Its Docents: Too Many Wealthy White Ladies. The Art Institute of Chicago fired all of its roughly 100 volunteer museum guides, or docents, in September because too many of them were wealthy, white women. The news of the mass firing has only trickled out slowly, partly because the institute asked docents not to speak to the media, and because the left-leaning Chicago media showed little interest in covering the issue.
The Latest Mass Shooting In Minnesota That No One Heard About. On Saturday, October 9th, a bar in the capital city of Saint Paul was the scene of chaos, fear, and death. Two gunmen began exchanging gunfire, leaving one innocent female patron dead and over a dozen wounded. It has received scant coverage in Saint Paul and none outside of the metro area. I doubt most Minnesotans are aware, let alone others in this country. It brings me no joy to note that both shooters were black and the deceased was black. Of course, it fully explains why the propagandist American media is disinterested in the story.
Mainstream Media Silent After Florida Reports 3rd Lowest Rate Of Covid Infection. The media took great joy in seeing the Florida Covid spike over the summer, but now they are being eerily quiet. It felt like Florida was the top news story every evening on the left-wing networks as they slammed Ron DeSantis for doing a "poor job". Funny enough, whenever covid spikes hit blue states, the media kept their mouths shut. Now, however, they're being silent about Florida because they have just reached the 3rd lowest rate of infection in the United States.
The suddenly disappearing news about Florida Covid cases. For the last couple months there were constant stories about how DeSantis wanted people to get sick and die because he wouldn't follow the dictatorial edicts to require masks. Those stories have disappeared, and we know why. Cases in Florida are dropping faster than almost everywhere, and the media can't allow the public to see the truth or else people wouldn't submit.
Katie Couric covered up RBG's dislike for taking the knee: Anchor says she edited 2016 interview to 'protect' the justice. Katie Couric has admitted to 'protecting' Ruth Bader Ginsburg from public backlash by cutting out negative comments she made about people who kneel during the national anthem. The former Today show host reveals in her new book that she let her personal political views influence her editing decisions after her interview with the late Supreme Court justice in 2016.
CHI Memorial Hospital in Tennessee memory-holes Tiffany Dover, the nurse who passed out on live television after getting early covid "vaccine". As far as Chattanooga-based CHI Memorial Hospital is concerned, Tiffany Dover, a nurse who used to work there before she collapsed during a live press conference right after getting early "vaccinated" for the Wuhan coronavirus (Covid-19) no longer exists. CHI recently deleted all of its tweets about Tiffany Dover, who has since completely disappeared, from its official Twitter account. These tweets were tweeted right after the collapse incident to reassure the public that Tiffany Dover supposedly did not die from her injections and was doing just fine at home "resting." Rumors have since circulated that Tiffany Dover's collapse on live television probably did her in because the public was never given a legitimate follow-up about her health status. On December 18, 19 and 21, just days after Tiffany Dover received her shot, CHI tried to perform damage control by tweeting that Tiffany Dover was okay, but nobody has seen or heard from her directly in nearly a year.
It's Not Just Southwest Airlines — Air Traffic Controllers in Jacksonville Reportedly Walked Out Friday Night Protesting Mandatory COVID Vaccinations Too. Big Media blacked out the news on Friday night that hundreds of flights out of Jacksonville were cancelled due to walkouts in response to vaccine mandates. We've reported already on the Southwest Airlines flights canceled this weekend. In addition, according to one source air traffic controllers staged a walkout in Jacksonville in response to the vaccine mandate being forced on them.
Falls Church could see school bus double runs, delays due to driver shortages. Falls Church City Public Schools in Virginia is alerting parents that some school bus routes could be delayed because of double runs starting Tuesday. The problem is driver shortages. The announcement comes as many school districts in the D.C. region are experiencing similar issues. [...] Elsewhere, in Calvert County, Maryland, drivers planned to "call out sick" Monday to draw attention to what they described as "challenges with pay and benefits." And in Anne Arundel County, drivers last week executed a two-day strike to express similar concerns.
The Editor says...
Bias alert: The article above made no mention of vaccine mandates as a possible cause of the driver shortage.
Woman Injured by COVID Vaccine Pleads With Health Agencies for Help, as Local News Agency Kills Story After Pressure From Pfizer. Kristi Dobbs, a 40-year-old dental hygienist from Missouri, said she can no longer work after being injured by Pfizer's COVID vaccine. She has spent the past nine months pleading with U.S. health agencies to research the neurological injuries she and others are experiencing in hopes of finding a treatment. Since getting the vaccine, Dobbs has seen 16 different medical providers. She's been on 22 different medications to address more than 20 different symptoms — none of which she had prior to getting the vaccine. Dobbs said she and others who developed neurological injuries after getting a COVID vaccine shared their experiences with a reporter, in hope of raising awareness about their experiences. But the story never ran because, according to the reporter, a "higher up" at Pfizer pressured the news agency to drop it.
Critics Accuse ABC Of Selective Editing In Obama Interview. ABC News is being accused of selective editing following the release of an interview with former President Barack Obama. The recently aired interview on Good Morning America shows Obama scolding Republicans over immigration reform. However, analysts quickly pointed out the news network excluded Obama's warning about open borders. ABC ultimately conceded and included the clip online, eventually airing it, but not until late in the night. [Tweet with video clip]
What the press is leaving out about the Arizona election audit. The ethical corruption of our national new media has extended to a degree that once would have seemed unimaginable. We were exposed to yet another remarkable example with the reporting on the long-awaited audit of the 2020 presidential election results in Arizona. [...] While the audit did find that a hand-recount of all of the original ballots did widen Joe Biden's margin by several hundred votes, the press deliberately and steadfastly ignored and left unreported the most critical results of the draft audit. Included among those original ballots, the most comprehensive election audit ever conducted established the following:
• More than 23,000 mail-in votes were cast under voter IDs from people who should not have received their ballots by mail because they had moved.
• More than 10,000 voters cast ballots in more than one county.
• More than 9,000 mail-in ballots were returned and counted than had been mailed out of registered voters.
• Thousands of official results did not match those who voted, and thousands more were cast in-person in the name of those who had moved out of state.
• Logs and data files related to the election had been deliberately erased from the Election Management System (EMS) server, in violation of the law.
• Thousands of original ballots were duplicated more than once.
• Auditors were never provided with the required chain-of-custody documentation for the ballots, causing increased ambiguity regarding the accuracy of the election results.
• None of the various systems related to the election had numbers that would balance and agree with one another.
• Maricopa County officials actively interfered with the audit, withheld subpoena items, and refused to answer questions that are normally standard in such audits.
All of This Is Just a Series of Media Distractions. We focused on Biden's plan to enable OSHA to mandate vaccines in private businesses, but when you actually look around, you don't see that story advancing at all. Meanwhile, the Biden administration killed an innocent man and a handful of children. A week later, we are still talking about the former and not really discussing the latter. We focused on a blown-up submarine deal involving Australia and France, but while that dominated headlines we continued to get no answers on Americans and allies still trapped in Afghanistan. We focused on a false media narrative about Border Patrol and the whips they definitely didn't use in pursuit of illegal immigrants at the border. Meanwhile, POLITICO just comes out and says "By the way, looks like the Hunter Biden laptop story was true!" and there are crickets from the media and the left.
August Jobs Report Bad — And Worse Given American Worker Displacement (Which Regime Media Doesn't Report). The news is worse than the Regime Media is reporting — immigrants took most of what few new jobs there were. Consequently, American Worker Displacement is inching up again — at exactly the moment when the Biden Administration is scheming to push through an unprecedented Amnesty/ Immigration Surge via the budget reconciliation process and has also allowed the southern border to collapse. The Biden Rush at the border had never stopped, it just mysteriously dropped out of Regime Media headlines.
Biden's Border Crisis Rages On; TV News Airtime Down 94%. The crisis along the U.S. southern border is still terrible, and the liberal news media still don't care. According to the latest statistics from U.S. Customs and Border Security, there were 208,887 encounters along the southern border, only a slight decrease from a revised 213,534 reported in July, a 21-year record. Yet broadcast evening news coverage in August was virtually nil: Just 6 minutes, 28 seconds on the Big Three during the entire month, including weekends. That's four minutes, 12 seconds on the NBC Nightly News; two minutes and 16 seconds on the CBS Evening News, and nothing — zero minutes and zero seconds — on ABC's World News Tonight in August. This is barely unchanged from July, when those same newscasts spent just four minutes, 20 seconds on the border crisis, despite the worsening numbers.
Networks Skip Biden Claiming Nobody Uses the Word "Tornado" Anymore. During a Tuesday [9/7/2021] press conference in New Jersey, President Biden stumbled over his words and wound up claiming that people no longer use the word "tornado." While this peculiar moment has been covered by a handful of news outlets that aren't right wing by any stretch of the imagination, the Biden-friendly broadcast TV networks (ABC, CBS, and NBC) have avoided discussing it entirely, even though all three offered extensive coverage of his trip.
Why Isn't the Attack on Larry Elder the Biggest Story in America? A white woman in a gorilla mask threw an egg at a black man seeking to become the first non-white governor of our largest state, and the media shrug. Do a search for "Larry Elder" and gorilla on the CNN website and nothing comes up. Washington Post? Zilch. Nothing comes up on the New York Times site either, although if you make it to the 15th paragraph of a story entitled "The Vice President pushed back against the effort to recall Newsom in the Bay Area," you will find a bland passing reference to Wednesday's disgusting incident.
White racist leftist in ape mask assaults Larry Elder and take a look at how the LA Times covered it. So is naked racism of Bull-Connor-era ilk against the man who may become California's first black governor O.K. so long as a Democrat is doing it? Apparently so, based on how the Los Angeles Times is covering yesterday's egg-hurling incident. A leftist white woman, unsubtle as she can get, wearing a gorilla mask, hurled an egg at the head of gubernatorial candidate Larry Elder in Venice, California, nearly hitting him, and then another leftist did the same as Elder was hustled off by his aides into an SUV.
California recall candidate Larry Elder targeted by egg-throwing hostile crowd. At least one egg was thrown at Larry Elder, the Republican front-runner in the California gubernatorial recall election, during a confrontation with a hostile crowd while walking with his team on Wednesday [9/8/2021]. Local reporters posted video to social media that showed an individual wearing a gorilla mask and tossing an egg in the direction of the conservative radio host, who was in the Venice neighborhood of Los Angeles to tour a homeless encampment.
'If I were a Democrat they'd be calling it a hate crime': Larry Elder slams the left. California governor hopeful Larry Elder has slammed Democrats for not calling attack on him a hate crime after a white woman in a gorilla mask was filmed throwing an egg at him on a campaign stop Wednesday [9/8/2021]. On Thurday night, the GOP candidate told Fox News' Tucker Carlson Tonight host Jesse Watters that he encountered the 'very angry and ugly scene' while he was touring a homeless encampment in Venice Beach. 'If I were a Democrat, obviously, this would be called systemic racism, they'd be calling it a hate crime. I don't like to play that game,' he said.
Media ignore racial attack on Larry Elder because he's a black Republican. Do a search for "Larry Elder" and gorilla on the CNN website and nothing comes up. Washington Post? Zilch. Nothing comes up on The New York Times site either, although if you make it to the 15th paragraph of a story titled "The Vice President pushed back against the effort to recall Newsom in the Bay Area," you will find a bland passing reference to Wednesday's disgusting incident. According to our nation's media leaders, it's not a story that a white person wearing a gorilla mask attacked Larry Elder, a black man seeking to become the first non-white governor of California, by hurling an egg that touched his head. If Elder were a Democrat, the attack would have been instantly and with good reason dubbed racist. It would not only be front-page news, it would be just about the only news you were hearing about today on CNN and MSNBC.
Assault On Black Gubernatorial Candidate Larry Elder Exposes Double-Standard On Race. Imagine for a moment that a white woman wearing a gorilla mask threw an egg at the first black American with a serious chance of becoming governor of California as he visited homeless encampments with black and Latino community leaders. Imagine that, seconds later, both the gorilla-masked woman and a white man punched the candidate's security guard. And imagine that somebody fired a pellet gun into the crowd. It is reasonable to expect that such an event would be instantly and roundly condemned as a racist hate crime by civil rights leaders, talking heads, and political leaders. Some might demand an FBI investigation into whether the woman acted alone, and why the L.A. police had failed to protect the candidate. And it is reasonable to expect that, within hours, there would have been protests in Los Angeles and across the country. And yet, after this exact event occurred in Los Angeles yesterday before noon it aroused neither extensive news media coverage, widespread condemnation, nor protests.
LA sheriff on Larry Elder's gorilla mask assailant: 'How is this not a hate crime?'. The gorilla mask-wearing woman who threw an egg at California recall candidate Larry Elder and slapped his security guard should be charged with a hate crime, said Los Angeles County Sheriff Alex Villanueva. The unidentified woman was seen in a viral video riding a bicycle next to Elder and his guards after a campaign event in Venice Beach. She threw an egg that narrowly missed Elder's head, and then she slapped a security guard. [...] LAPD, which has jurisdiction over Venice Beach, issued a press release Thursday night saying two men also hit Elder's guard in the head. Police asked for the public's help in identifying those suspects, along with the woman in the gorilla mask. "She might be one of the 20,000 felons from our prisons released by our soft-on-crime governor," Elder quipped on Tucker Carlson Tonight about the woman.
Report: At Least 500 Americans [are] Stranded in Afghanistan, Contradicting Joe Biden's Estimates. At least 500 Americans are reportedly stranded in Afghanistan, contradicting President Joe Biden's estimate of between 100 and 200, according to the Associated Press (AP) on Sunday [9/5/2021]. Among those who believe Biden has miscalculated how many Americans remain trapped behind enemy lines includes Rep. Darrell Issa (R-CA), who told the AP, "the number of U.S. citizens still there and wanting to leave is closer to 500." And if the family members of those trapped Americans are included, Issa believes the overall "number of people could be as high as 1,000."
HFAC Congressman Mike McCaul Reports Six Planeloads of Americans Currently Being Held Hostage in Northern Afghanistan. Once you see the strings on the marionettes, you can never watch the puppet show and not see them. During a scripted discussion between guardian of the swamp gates Chris 'Baghdad' Wallace and representative Mike McCaul, the House Foreign Affairs Committee (HFAC) member states that six plane-loads of Americans (AmCits) and Afghan 'interpreters' are currently being held hostage by the Taliban at Mazar I Sharif airport in Northern Afghanistan. Notice how Baghdad Wallace has been instructed to steer the framework of the first question to the current status; ie, "Who has gotten out since Friday?" Wallace knows the script. He needs McCaul to deliver on the expectation of the "hostage narrative" that Wallace knows pre-exists in the background. McCaul plays pentagon friendly politics, and Wallace feeds the neo-con's narrative. Only the first 2 and a half minutes is needed. [Video clip]
What About the American Hostages? One of the disturbing results of the Biden administration's disastrous withdrawal of American military forces from Afghanistan is that the Taliban, a terrorist group, is now holding an unknown number of American citizens hostage. [...] Whatever the real number of hostages, it is outrageous that President Joe Biden ordered the withdrawal of our military before securing the release of every American in Afghanistan. We should never have left the fate of these Americans in the hands of the Taliban, a group that allowed terrorists to plan the 9/11 attacks in their country. The Taliban is closely affiliated with Al-Qaeda, which organized the attacks that killed 3,000 innocent Americans on 9/11. Upon our withdrawal, Al-Qaeda is back in Afghanistan, along with ISIS-K and other terrorist organizations. Thus, the Taliban are not only back in power, but are also stronger than ever because they will be able to use billions of dollars of military equipment that President Biden left behind in Afghanistan.
Joe Biden's Very Public Clash With His Own Church. As a rule dating back to the election, the reporters who follow the president go everywhere with him but two places: inside his home and inside his church. [...] But if you had been standing outside the church when Biden's car door swung open on this particular Saturday afternoon, you would have heard the shouting. You would have seen Moira Sheridan and David Williams outside the church gates, carrying faded posterboard signs. Both from Wilmington, both in their late 60s, both Catholics, they are a familiar presence at St. Joseph — they have come at least 20 times since the general election — though they rarely make the pool reports.
McCaul: Taliban Is Holding American Citizens, Afghan Allies 'Hostage'. Representative Michael McCaul (R-TX), the top Republican on the House Intelligence Committee, said on this week's broadcast of "Fox News Sunday" that the Taliban were holding American citizens and Afghan allies "hostage." [Transcript, video clip.]
Mainstream Media Outlets Ignore Report on Biden's Compromising Call with Afghan President. Reuters reported this week that in a July phone call President Joe Biden urged then-Afghan president Ashraf Ghani to project that the fight against the Taliban was going well, "whether it is true or not." "I need not tell you the perception around the world and in parts of Afghanistan, I believe, is that things are not going well in terms of the fight against the Taliban," said Biden, according to Reuters, which reviewed a transcript and recording of the call. "And there is a need, whether it is true or not, there is a need to project a different picture." Except for a few mainstream media outlets, including USA Today and The Washington Post, there has been no reporting on the story from publications like The New York Times. Additionally, the major networks — CNN, MSNBC, NBC, CBS and ABC — appear to have completely ignored it, according to a review of transcripts on media monitoring service TVEyes.
Something Missing. We are told by the powers that be, that approximately 6,000 to 7,000 American citizens were rescued by daring efforts of the U.S. State Department and U.S. military in evacuations from Kabul airport. Okay, fair enough, that's a good outcome. Happy to hear it; we can debate the other 116,000 at a later time. However, it seems a little odd now that there's no videos of the survivors of the Afghan crisis arriving at airports. No crowds or families greeting the extracted American residents; no human interest stories and local broadcasted news coverage of relieved Americans, husbands, wives, daughters or sons arriving back in their hometown. Nothing. Six to seven thousand Americans saved from the clutches of the Taliban, and not a single story of those Americans arriving home to the waiting arms of their loving family.
The Good News — A COVID-19 Update. Now that we have had 18 months to "slow the spread" it is time to take stock of the pandemic. We have learned many good things that the media and our pandemic managers rarely report. Most fundamentally, we do not need to be afraid of COVID-19 anymore. The media and some government health authorities are still pushing hysteria and fear, but that should not prevail. Let's look at the good news that can calm our fears about COVID-19. [...]
[#1] Globally, the survival rate for COVID-19 is 99.8%. Under the age of 70, the survival rate for COVID-19 is 99.97%. This is on par with many influenza seasons. [...]
[#2] Herd immunity for the alpha strain is here. Sixty-seven percent of the American population have had at least one COVID-19 vaccination. [...]
[#3] The average age of death from COVID is 78. The average life expectancy in America is 78. [...]
[#4] Early outpatient treatment should be adopted immediately for COVID-19. Hydroxychloroquine works. Ivermectin works. It has been estimated 85% of COVID-19 deaths could have been prevented were these medicines used early. [...]
[#5] Children are safe from COVID-19 and don't spread the virus either. A study in the UK showed that the survival rate in children is 99.995%. [...]
[#6] Sweden did not have a lockdown or mask mandate and did better with cases and deaths than many countries. Lockdown did not work and had serious cultural and economic side effects. [...]
[#7] Persons who have had COVID-19 infection have a robust and long-lasting immunity. This immunity also is likely to protect against variants. [...]
[#8] There is very little, if any, spread of COVID-19 from asymptomatic persons. This lie was spread early to maximize fear of this new virus.
[#9] The death rate nationally for COVID-19 has been going down since January. Breathless "news" reporters talk about cases, hospital occupation, and contagiousness but never mention the death decline. [...]
Australians In Sidney Take To The Streets After Another Lockdown Declared, Battle With Police. Anti-lockdown protesters clashed violently with police as thousands of unmasked people marched through the streets of Melbourne on Saturday [8/21/2021]. Victoria police said they had made 218 arrests and that six officers were hospitalised during a series of altercations. Police said in a statement the majority of the estimated 4,000 demonstrators "came with violence in mind". "The behavior seen by police was so hostile and aggressive that they were left with no choice but to use all tactics available to them," the statement said. Footage posted on social media showed protesters cheering, throwing objects at police officers and letting off flares as well as police pepper-spraying protesters. [Video clip]
What To Make Of The Corporate Media Blackout Of The Latest Hunter Biden Scandal. The establishment media have settled a new motto: "If we don't cover it, it didn't happen." The uniform silence of the supposed standard-bearers of journalism in response to last week's release of another Hunter Biden video confirms the corrupt media's adoption of this maxim. On Wednesday, The Daily Mail first broke the story that it had obtained a copy of a video showing a naked Hunter Biden telling a prostitute that in the summer of 2018 he nearly overdosed during a drug-laden binge in Las Vegas. After coming to, a Russian woman, Hunter's drug dealer, and two of the dealer's associates remained in the Vegas penthouse, he said, and Hunter later discovered his laptop missing. [...] The potential blackmailing of Hunter Biden pales in comparison to the real national security risks revealed by the videos, yet the corrupt media couldn't care less. That the media is not questioning the authenticity of the video indicates they both believe the videos are real and know a repeat of their performance in October 2020 won't fly in the public's eye.
Not One Single Mainstream Outlet Reports on President's Naked Son with Hooker Complaining About Russians Stealing His Laptop for Blackmail. Earlier this week video was released of President Biden's son Hunter Biden naked with a hooker complaining about Russians stealing his laptop for blackmail purposes. Hunter Biden filmed the whole thing and kept the video on his laptop that he later abandoned at a computer repair shop in Delaware. This is a national scandal like nothing this country has ever seen before. Certainly, dirtbag Chris Wray and the FBI are on top of this? And yet NOT ONE mainstream liberal outlet even ran the story! NOT ONE!
Fox News Edits Dan Bongino Interview With President Trump to Delete The President's Comments About Voter Fraud and The Rigged Election. President Trump appeared on Fox News for an interview with Dan Bongino last night [8/7/2021]. Unfortunately, when the interview segment was posted to the Fox News channel, some specific words from President Trump were deleted from the interview segment. Ironically the name of Dan Bongino's show is "unfiltered." Alas when President Trump's spokesperson, Liz Harrington, reviewed the tape she discovered the censorship [...] [Video clip]
Israel's Top Respiratory Doctor Blows the Whistle on Vaccine Effectiveness and American Media Ignores it Completely. Dr. Kobi Haviv is not just any doctor. He's world-renowned for his work on Covid-19 treatments, particularly aiding patients who have acute respiratory ailments as a result. One would think an interview with him explaining the growing problems Israel is facing with Covid-19 hospitalizations would be newsworthy in the United States, but there has been a media blackout. Why? Because he had the gall to utter the phrase, "Yes, unfortunately the vaccine... as they say, its effectiveness is waning." But during the interview, he laid out other bombshells concerning the hospitalization rates in Israel as they relate to vaccinated versus unvaccinated patients. [Video clip] [...] The majority that we've interviewed do not believe these are actually even "vaccines" but rather experimental injections that have taken on the "vaccine" label for the sake of political expediency. Meanwhile, people continue to die from the injections, including children.
Meghan McCain blasts Chris Cuomo for 'the worst kind of nepotism' over Andrew Cuomo coverage. "The View" co-host Meghan McCain on Wednesday [8/4/2021] slammed Chris Cuomo as an example of "the worst kind of nepotism" after the CNN host failed to cover the sexual harassment scandal engulfing his brother, New York Gov. Andrew Cuomo. The daughter of late Arizona Sen. John McCain was referencing a debate about nepotism she had on "The View" last week when she commented on the scathing official report into the allegations against the governor during Wednesday morning's show. "You want to talk about nepotism?," McCain said, "Not having to talk about the biggest scandal in the country when it has to do with your brother and you're hosting CNN, that's nepotism." "The Cuomo family and CNN are the worst kind of nepotism that the media has an example of," she railed.
Trump Accuses Legacy Media of Spreading 'Fake News' Claim 'No Evidence of Election Fraud'. Former President Donald Trump accused legacy media outlets on Aug. 1 of continuously spreading the claim that "there is no evidence of election fraud," noting in a statement that "in the end, truth will win." "The New York Times, and others, always insert a clause into their stories, 'without evidence, that the election was decided fraudulently.' As usual, this is fake news," Trump said in a statement. Trump said that there's "massive" and "unconditional" evidence that the 2020 presidential election was "shattered with fraud and irregularities" at a level that has never been seen before in the United States. "Much of it is already public, and a great deal more is coming out in the very near future," he wrote. "Every time you read a statement that there is 'no evidence of election fraud,' about the 2020 election scam, just attribute that statement to a crooked and collusive media (they work closely together with the radical left Democrats) that will do anything to hide the real facts of this election fiasco."
News Outlets That Criticized Trump for Targeting Reporters [are] Mostly Silent About 'Unmasking' of Tucker Carlson. The New York Times, The Washington Post, and CNN strongly objected and protested when the Trump administration obtained reporters' phone records as part of an investigation into the leak of classified information. Yet those same news organizations aren't willing to stand with popular Fox News Channel host Tucker Carlson, who the National Security Agency "unmasked" during the early months of the Biden administration. The New York Times is "very concerned about government surveillance of journalists," a spokeswoman said when asked this week about the Carlson revelations. Just last month, the Times' executive editor, Dean Baquet, said the Trump administration's action "profoundly undermines press freedom." [...] After an internal investigation, the Biden administration's National Security Agency admitted that Carlson's identity was "unmasked" and leaked, as first reported July 23 by The Record, a news site focused on cybersecurity, and later by other news outlets.
Isn't it time that the media and other Democrats stop pretending they care about facts? It should have been a big story on the nightly news that France warned the Obama administration in 2015 about the Wuhan lab but it didn't seem to make the cut. It should also have been a big story last year when President Trump, Sen. Tom Cotton, and others were raising concern about the lab as being the origin of the virus, but most of the media and other Democrats dismissed that as a false conspiracy and buried the story because all they cared about was defeating Trump and discrediting everything he said.
Served Its Purpose? CDC and FDA Recall Faulty COVID PCR Test. Last week, big media was salivating over the COVID Delta variant and recommendations for indoor masking, even for the vaccinated, masking young children, and the possibility of a return to last year, with social distancing, capacity limits, and business closures. There were also news stories that the media dutifully ignored, like ongoing election audits, Hunter Biden's laptop, his father's growing inability to think and speak coherently, and growing inflation and unemployment. Also somehow missed by the investigative sleuths at CNN and MSNBC was the recall of a COVID rapid antigen test last month. This wasn't just any recall but according to the FDA a serious one, "The FDA has identified this as a Class I recall, the most serious type of recall. Use of these devices may cause serious injuries or death." That's an understatement.
Only 2 Networks (Barely) Mention New Record in Border Crisis, All Skip Hunter Biden Scoop. On Friday [7/16/2021], U.S. Customs and Border Protection reported another record number of apprehensions at the Mexican border in June: almost 190,000. This number does not include those who have been able to get away from Border Patrol. But somehow, this is not an ongoing Biden border crisis. On Friday night's newscasts, only ABC and NBC mentioned it. CBS and PBS did not. NBC tossed just 19 seconds on the border.
Delaware US Attorney Blocked Hunter Biden Warrants and Subpoenas in Order to Protect the Joe Biden 2020 Election Effort. Baselines are always important when reviewing information; I cannot stress this enough. When the corrupt [institutional] officials within the DOJ and FBI need to justify their corrupt activity, or get out in front of any exposure of their corrupt activity, they consistently run to two media outlets, The New York Times and Politico. [State Dept use CNN, Intelligence Community use Washington Post] This is the one constant you will notice in all reporting. That is the baseline for Politico writing today about U.S. Attorney David Weiss intentionally burying information about an investigation of Hunter Biden in the summer and fall of 2020 in order to protect the candidacy of Joe Biden. USAO Weiss of Delaware stopped the investigation of Hunter Biden, stopped issuing grand jury subpoenas, and stopped the issuance of search warrants in order to keep the public from knowing that Hunter Biden was under a criminal investigation.
A Coup Against The Constitution? The information space is dominated by leftist control and ideas. The outlets that propagate conservative ideas must operate as insurgents and constantly be alert for attacks on their operations. The usual answer to complaints about this notes, "These are private companies who can do what they want on their own platforms, just build your own". That requires access to certain technical resources, which, as the alternative to Twitter startup Parler found out, are also controlled by the statist left. Conservative efforts were shut down by an alliance of Amazon, Google, and Apple. The monopoly status of the tech tyrants makes competing with them effectively impossible. The use of this power was painfully evident when the tech firms all conspired to hide evidence of corruption by Hunter Biden and then candidate Joe Biden near the end of the 2020 election. Hunter's laptop was found and contained a potentially election-crushing trove of information. The news media and social media propaganda wing of the left went into immediate 1984 mode and hid the story by the New York Post, then banned anyone on social platforms who mentioned it. They even went back to their old favorite and claimed it was Russian disinformation.
The Man They Helped Build: CBS, NBC Ignore Avenatti's Prison Sentence. The justice system worked on Thursday [7/8/2021] as "creepy porn lawyer" Michael Avenatti was sentenced to two and a half years in prison for trying to extort over $20 million from Nike. And reports from the courtroom say he cried like a little baby. He's the man the liberal media built to be their sleazy fighter against then-President Trump, but the CBS Evening News and NBC Nightly News wanted nothing to do with this latest chapter for their chosen champion. Of the broadcast networks, only ABC's World News Tonight gave the story any airtime at all, though it was fleeting. In his rushed news brief, ABC anchor David Muir gave Avenatti's sentencing only 17 seconds between two commercial breaks.
Boston Police Have Standoff With 'Heavily Armed Black Supremicist Group 'Rise of the Moors. The self-proclaimed leader of the Rise of The Moors group who was arrested along with 10 other heavily armed men following a police standoff in Massachusetts on Saturday [7/3/2021] has been identified as a man who believes himself to be the 'grand chief of Rhode Island.' Jahmal Latimer, who also goes by the title Talib Abdulla Bey, cofounded the militia group which claims to be a non-profit educational organization based out of Rhode Island. [Video clip]
11 'heavily armed' members of an extremist militia group arrested; media buries mention that they are Black. Imagine if these people were White! It would be the top story all weekend, and you know it. But they are Black, so only in the 22nd paragraph of this New York Times article does the word "Black" appear.
What the Media Don't Tell You About Biden's Illegal Immigration Crisis. Once upon a time, President Joe Biden put Vice President Kamala Harris in charge of the border crisis — what the Biden administration is calling a "challenge." Back during the Democratic presidential debates, Biden said he would make sure a surge would happen at the border. As of today, Border Patrol has intercepted nearly 180,000 people trying to illegally cross the border, not to mention the many others who got away. Meanwhile, the mayor of Del Rio, Texas, is pleading with the Biden administration to put a halt to releasing immigrants in their city, saying they don't have the resources to house and accommodate migrants. In this episode, Larry suggests that this crisis would have ended yesterday if illegal aliens-turned-citizens-turned-voters pulled the lever overwhelmingly for Republicans. [Video clip]
Secret Service Arrested Dozens of Extremists at U.S. Capitol — But Nobody in the Media Cared. The U.S. Capitol was the site of a gathering of hundreds of extremists earlier this week. Protesters held aloft picket signs blaring 'No Compromise!' Blockades were erected at entrances. Secret Service agents made dozens of arrests. The media completely ignored it. All extremists may be equal, but some extremists are more equal than others. These were climate extremists demanding that President Biden take authoritarian action to keep the climate from changing. Therefore, just as with Black Lives Matter torching cities and looting communities, and Antifa violently attacking civilians, they can be 'safely' ignored. The radical activists were led once again by Rep. Alexandria Ocasio Cortez, who had been the inciter of an 'insurrection' before. In 2018, the notorious AOC had actually staged a sit-in at Nancy Pelosi's office.
Unarmed Hunter Brittain Was Killed By Police But Unfortunately For His Family, He's White. Chances are you haven't yet heard about 17-year-old Hunter Brittain who, despite being unarmed, was shot dead by police during a traffic stop. It's not that this isn't a shocking and tragic story, but there has been a complete national media blackout on the incident because, unfortunately for Brittain's family, they're all white. Brittain was pulled over in the middle of the night last week in Cabot, Arkansas, for reasons that remain unclear. According to 16-year-old Jordan King, who was in the vehicle with Brittain, the truck was having gear trouble and would not remain in park, so Brittain exited to place a container behind a tire in order to keep it from backing up into the squad car. That's when the deputy fired at Brittain, striking him in the neck. King said he never heard the officer command Brittain to halt or return inside the truck. An investigation is underway.
Two Black Teens Burn Mentally-Ill White Man Alive And Kill Him — The Media Ignores Another Hate Crime. A disturbing story emerged back in March but crucial information about the story is still ignored by the MSM. Two teens in Rochester, New York set a 53-year-old mentally ill man on fire, ultimately killing him. The Rochester teenagers who were accused of setting the 53-year-old man on fire are now facing murder charges after the victim died from his injuries. The boys, ages 14 and 16, were initially arrested and charged with arson and assault on after allegedly pouring a flammable liquid on Steven Amenhauser and lighting him on fire in his home. Those charges have now been upgraded after police said Amenhauser died.
The Meat Mafia: The Great Reset of Food. On his Wednesday night [6/23/2021] special this week, Glenn Beck exposes how ranchers are slowly and secretly being run out of business and how farmers are economically being forced to comply. Environmental, social, and corporate governance (ESG) is the weapon, and the top food suppliers have caved. The heart of our country — farmers and ranchers — is being destroyed in the name of "social progress." From Biden's infrastructure plan, his tax deal, and inflation, Glenn reveals how it's all connected to transform society into something completely un-American. South Dakota governor Kristi Noem joins to discuss the attacks on our food supply and says America's agriculture industry should be treated as a national security issue. She discusses the plans for how her state is going around the Biden administration "to create our own meat processing supply ... and take our destiny back into our own hands." [Video clip]
Why won't the national media cover the story Americans care about most? It's a very basic concept of journalism: Cover the stories that impact your viewers and readers most, the stories they most care about. But for one very big story, there's been relative silence from our national media, just passing mentions. It is the skyrocketing violent crime that is paralyzing many major American cities while prompting record numbers of police officers either resigning or retiring. Here's a look around the country at what many cities are dealing with: [...] Overall, across all major American cities, homicide rates are up 24 percent since the beginning of the year. So, one would think major national media — the evening newscasts — would be all over this story, but they're not. Why? Well, perhaps because that would mean actually holding the leaders of these and other major cities accountable. And almost all mayors of major American cities are Democrats, as is the current president.
The Troubling World Media Takes on Biden's Trip. We've seen some pretty ridiculous spinning from the U.S. media on Joe Biden's performance during his meetings in Europe. Particularly egregious — as always — CNN, who just couldn't keep from bootlicking for Biden despite there being no facts to support the notion that he'd actually succeeded at anything. [...] However, you get other views from foreign media who won't be so fawning and will cover things more honestly. We saw leaders and others laughing at Joe Biden when he got confused in this Sky News video. [Video clip] There was Biden being treated like a five-year-old by his wife with other people laughing in response from ITV (British) News. [Video clip] Then there was this take from the Australian media. [Video clip] [...] There are the pictures, taken by Getty, but not used in U.S. media, of the French President and Biden. At least one made it into Politico.EU so it went out into EU media. It's a pretty stark look, no matter what is being said here. The optics are awful for Biden, it looks like Macron is scolding him or pushing him around.
US Senate: 'Establishment Covid-19 narrative is a lie'. Over the weekend, members of the United States Senate, spearheaded by Tennessee Senator Marsha Blackburn, joined to speak out against the false Covid-19 narrative. Not surprisingly, mainstream media did not report on this incredibly significant event. A video of the Senators' announcement to officially investigate the Wuhan lab leak and, more specifically, the cover up thereof — what has aptly been referred to as 'Batgate' — was posted on Rumble. Rumble, a Canadian online video platform, has been growing in popularity due to the staggering censorship being carried out by its rival YouTube.
National Embarrassment: Photos Of Macron Scolding Joe Biden Behind Closed Doors Receive No Media Attention. It's beyond any reasonable dispute that the slack-jawed old senile man staggering through this punchline presidency is getting more senile by the day. All the while, his cackling understudy is biding her time everywhere but at the border, getting huffy at being questioned, and generally failing at a job historically assigned to morons as a role where they could do little damage. The only people who dig their hep jive — yeah, go on and believe the 79 percent approval numbers among people now paying $5 a gallon for unleaded — are the talking tubers of cable news. But even the tater thots of Brian Stelter, who is a potato, can't dispel the growing sense of unease that watching these incompetent weirdos brings.
Statement from the Associated Press:
AP will no longer name suspects in minor crime stories. Usually, we don't follow up with coverage about the outcome of the cases. We may not know if the charges were later dropped or reduced, as they often are, or if the suspect was later acquitted. These minor stories, which only cover an arrest, have long lives on the internet. AP's broad distribution network can make it difficult for the suspects named in such items to later gain employment or just move on in their lives. Broadly speaking, when evaluating such stories, we should consider first whether the story is worthy of our news report, and if distributing it is indeed useful to our members and customers. If the answer is yes, in keeping with AP's commitment to fairness, we now will no longer name suspects in brief stories about minor crimes in which there is little chance AP will provide coverage beyond the initial arrest.
The Editor says...
[#1] News stories used to have long lives in newspapers, too, although it was more difficult to search through old papers looking for a specific name. [#2] Minor stories are usually the only stories in a newspaper. That doesn't mean the few remaining readers aren't interested. [#3] How many arrested criminals are eventually acquitted? One in a thousand? Wouldn't that be in the newspaper, too, when it happens? [#4] It is easy to surmise that the whole purpose of this announcement by the Associated Press is to conceal the tidal wave of unprovoked black violent crime in the U.S. today. [#5] The era of newspapers is coming to an end. I still buy a newspaper occasionally, but the paper goes straight to the floor of my birdcage. The few subscribers who still want to pay for a paper copy of yesterday's news are getting older and older, and the demand for newspapers will steadily decrease.
Hiding the Facts from Readers Is the Opposite of a Journalist's Job. As you may have heard, on Friday night there was a mass shooting in Austin, Texas, in the Sixth Street entertainment district. [...] The Austin American-Statesman, the local daily, refused to publish that description. [...] In fact, the description put out by the police was that of a black man with a skinny build and dreadlocks. Vague? Maybe. But nonetheless useful, and the Statesman is obviously wrong — and must know it — to claim otherwise. Black men compose about 4 percent of the population of Travis County. Skinny black men with dreadlocks (or braids — witnesses sometimes say one when they mean the other) make up an even smaller share of the population. In a county of 1.3 million people, eliminating 96 percent or 99 percent of the population is useful. A suspect, a minor, was arrested over the weekend. A second suspect remains at large as of this writing. The local newspaper won't tell you the relevant information about him, either. What are newspapers for?
A Major Newspaper Is Refusing to Describe the Austin Mass Shooting Suspect. My colleague Jennifer Oliver O'Connell reported earlier on a mass shooting in Austin, Texas, late Friday night [6/11/2021]. Fourteen people were wounded, with at least two critically-injured during a shooting in downtown Austin. Two men are suspected of being involved in the shooting, according to the initial reports; although the police later said the number was unclear, but there was a description of one of the suspect. But it's what the Austin American-Statesman said about that suspect that is causing a lot of talk today. At the bottom of its article on the shooting, the paper included the following. ["]Editor's note: Police have only released a vague description of the suspected shooter as of Saturday morning. The Austin American-Statesman is not including the description as it is too vague at this time to be useful in identifying the shooter and such publication could be harmful in perpetuating stereotypes. If more detailed information is released, we will update our reporting.["]
The Editor says...
Yep, the suspect is black, which you can easily infer when 14 people are injured but nobody was killed. That's the sign of a black man spraying small-caliber bullets into a crowd. When a mass shooter is white, a high percentage of the victims are killed immediately. Pardon me for "perpetuating harmful stereotypes."
Mainstream media ignores lewd Hunter Biden N-word texts to his lawyer. The news this week that first son Hunter Biden routinely used a racial slur in conversations with his white attorney as recently as early 2019 has been studiously ignored by the mainstream media. The messages between Hunter Biden and Chicago-based lawyer George Mesires were saved on his abandoned laptop and were first reported by DailyMail.com on Tuesday. "How much money do I owe you," Hunter Biden asked Mesires in one exchange on Dec. 13, 2018, before adding, "Becaause [sic] n---a you better not be charging me Hennessy rates."
The liberal media have completely IGNORED Hunter Biden's N-word scandal: Not ONE left-leaning outlet covered the president's son using racist language. The liberal media in the US are coming under fire for completely ignoring Hunter Biden's n-word scandal after it was revealed by DailyMail.com that the president's son had used the racial slur multiple times in text messages. The texts, which were exchanged in late 2018 and early 2019, were recovered from Biden's laptop and published by DailyMail.com on Monday [6/7/2021]. The messages showed Biden repeatedly used the n-word in conversations with his white Chicago lawyer George Messires.
The media asks President Biden about ice cream and ignores Hunter. My question for today has nothing to do with President Joe Biden's favorite ice cream. I don't know if ice cream is a big thing in China. But does China have anything on our president, through first son Hunter Biden's questionable and clout-heavy China business dealings? [...] When his father was vice president, as then-President Barack Obama's point man in China and Ukraine, future first son Hunter followed the big guy off the planes and made friends in China and Ukraine. Hunter reportedly made millions. It's important to examine, especially now, even as much of the Democrat-friendly corporate media is strenuously avoiding the Hunter Biden story, which may turn out to be like the Wuhan lab leak story — one that was ignored by the media for political reasons and then rediscovered for political reasons. The New York Post is on it, but others step away. The president's son is under federal investigation for tax fraud, his famous laptop is now in the custody of the FBI, and photos are circulating of Joe Biden at dinner with Hunter's business friends. Keep in mind the Biden folks have never forthrightly disputed the material on the laptop.
The Hunter Biden Omission Continues. It's a feeling you get that echoes last fall, a sense that every new example of investigative journalism on the Hunter Biden laptop is going to be ignored by the "mainstream media." To be fair, when they didn't ignore it back then, they constantly implied it was a Russian disinformation plot. On May 28, the New York Post returned to the corrupt scene with a story on how "A photo shows Joe Biden with a pair of his troubled son's business associates from Kazakhstan" at the Georgetown power-dining spot Café Milano. The photo "shows the Bidens smiling while flanked by Kazakhstani oligarch Kenes Rakishev and Karim Massimov, a former prime minister of Kazakhstan." The Post reported this event occurred on April 26, 2015, while Biden was vice president. A third man, banker Marc Holtzman, emailed Hunter Biden following the gathering. "Thank you for an amazing evening, wonderful company and great conversation," wrote Holtzman, then chairman of Kazakhstan's largest bank. "I look forward to seeing you soon and to many opportunities to work closely together."
AUDIT of Elections Update: A Week's Worth of Bombshells. Spring has sprung, and the lilacs are in bloom. Speaking of blooming, reports of election irregularities and audits and agitated Democrats and their lickspittle media are breaking out all over. Let's start this update with signs of panic in the Democrat-media complex, as no matter how hard they try, they will never suppress the deeply held suspicions by many Americans about the lack of integrity of the 2020 election. [...] And NOBODY believes that The Hologram received 81 million legal votes! The ever-reliable Democrat mouthpiece, the Associated Press, has been trying very hard to squelch any notions that election fraud in 2020 and audits that might prove same are anything other than "fantasies" concocted by President Trump and his supporters, as noted [elsew]here.
The Media's Embarrassing Incuriosity About Wuhan. Pardon the whiplash! It feels like the media suddenly decided the theory that the deadly coronavirus leaked from a lab in Wuhan is now considered plausible when it was aggressively dismissed by the press as a "fringe theory" in 2020. It's not a mystery why this happened. The Democrats thought the coronavirus was going to be that "silver bullet" that would remove Trump from office. Their arrogant belief that Trump was an ignoramus led them to shame anyone or any theory that Trump endorsed on the year's biggest story. They were willing to embrace the supposed authority of communist China, of the China-enabling World Health Organization, and the "prevailing opinion" of science journals and magazines.... that endorsed Biden for president. Needless to say, "Science" doesn't operate on this principle. The "hard news" business does.
Mollie Hemingway: Media Killed Lab-Leak Theory, They Couldn't Let Donald Trump Be Right. Mollie Hemingway called it a scandal that the media downplayed the lab-leak theory under the Trump administration but are giving it credence now on Wednesday's edition of 'Special Report.' ["]I think it's not just that the Biden administration couldn't have Donald Trump having said anything true. The media really play a role here, too. You just pointed out, Bret, this is what we knew a year ago. And the media thought that there were two options, basically, you can blame China for how they handled this, you know, viruses can come from anywhere, how you handle them is key. So many problems with how China handled this, even if you leave aside it was always a strong possibility that it came out of this Wuhan Institute of Virology, they couldn't let Donald Trump or Mike Pompeo be right. So they couldn't even be curious about those origins.["]
More L.A. Parents Protest Teachers Union Shifting Re-Open Standards. It seems the legacy media is deliberately ignoring these grassroots protests by parents who are concerned, angered, and extremely tired of the American Federation of Teachers (AFT), local school boards, and local teachers unions using their children as pawns. Parents have been rising up in great numbers, but if you watched any legacy media, you would barely know it. [...] On April 27, 2021, Vail, AZ parents stormed a School Board meeting to protest the board's intention to extend the mask mandate for their children. The Board canceled the meeting and then called the police! [...] On May 20, 2021, parents in Palm Beach County, FL flooded a school board meeting to protest mask infractions being used as a cudgel to penalize their children. [...] On May 21, 2021, Orange County, California parents held a "No More Masks Rally" which was extremely well attended. However, in California, the battle over masks is only one aspect of parents' frustrations; particularly in Los Angeles County.
Man With Rifle Stops Mass Shooter. Good thing Colion Noir is doing the reporting the national media refuses to do. [Video clip]
Waiting for Democrats to Condemn Lightfoot's Racism, and Hearing Only Crickets. Is anyone truly surprised by the racist interview policy from Chicago Mayor Lori Lightfoot? As she reaches the midway point in her term, she decided that she would not be interviewed by white reporters. She will sit down and talk to white reporters in the future. But the damage is done. Lightfoot stands at the intersection of the Chicago Way and the Woke Freeway that bisects the nation. And to paraphrase the late Supreme Court Justice Louis Brandeis, if it is true that local governments are the laboratories of democracy, then what's coming out of the Chicago laboratory, to be carried on the Woke Freeway to Washington, will be profoundly toxic to the health of our republic.
Armed Citizen Uses Rifle To Stop Attempted Mass Shooting. A shooting in Fort Smith, Arkansas that left an elderly woman dead could have had many more victims, according to neighbors, if an armed citizen hadn't stepped up and put down the killer on Saturday morning [5/15/2021]. Police say that 87-year old Lois Hicks was shot and killed in her apartment by 26-year old Zachary Arnold, who then continued to fire rounds from a rifle at other apartments in the complex on the city's south side, targeting other residents.
Biden Child Detention Facilities [are] More Massive in Scope, Less Humane Than Administration Admits. According to a confidential report obtained by the Associated Press, there are "tens of thousands of asylum-seeking children in an opaque network of some 200 facilities that The Associated Press has learned spans two dozen states and includes five shelters with more than 1,000 children packed inside." There's much more. Because the Biden administration has been trying to play down the crisis, they've allowed thousands of children to enter "shelters" that are little better than private homes with a lot kids running around. There are no standards for these homes and children have been "coming out sick, with COVID, infested with lice, and it will not surprise me to see children dying as a consequence, as we saw during the Trump years," child psychiatrist Amy Cohen told the AP. "The Biden administration is feverishly putting up these pop-up detention facilities, many of which have no experience working with children."
Georgia Cop Shoots Black Teen in Self-Defense, Media Is Silent. A 17-year-old black kid was shot by Georgia police multiple times after pointing a gun at an officer, the Georgia Bureau of Investigations reported, but the mainstream media has not reported on it. Isiah Gabriel Young was found Monday night [5/10/2021] in Cartersville, located about an hour north of Atlanta. There was reportedly a warrant for his arrest for stealing a motorcycle and assaulting a Bartow County deputy. Young had been in violation of his juvenile probation in the past as well, prompting a warrant in Cherokee County.
TV Buries Biden's Worse-than-Ever Border Crisis. New numbers show the crisis at the U.S. southern border actually worsened in April, but the ABC, CBS and NBC evening newscasts have drastically cut back on their coverage of the Biden administration's ongoing debacle. In April, the number of encounters at the Southwest border region, as reported by U.S. Customs and Border Protection was 178,622, an increase from the then-record-breaking 173,348 in March. The number of unaccompanied children intercepted in April was a still-high 17,171, compared to 18,960 in March. Earlier this week, the Associated Press reported that "the number of migrant children in government custody more than doubled in the past two months.... Attorneys, advocates and mental health experts say that while some shelters are safe and provide adequate care, others are endangering children's health and safety."
A Legal System Corrupted. Since the press has quickly smothered this story, let me remind you. In June 2017 [James] Hodgkinson, a Bernie Sanders supporter who had posted on Facebook that "Trump is a Traitor. Trump has Destroyed our democracy. It's Time to destroy Trump & Co," and had otherwise demonstrated his extreme hostility to Republicans, traveled to Virginia from his home in Illinois, and after learning that the men playing ball there were Republican congressmen, opened fired on them, wounding five people including Congressman Steve Scalise, who nearly bled to death and required multiple surgeries before he could return to Congress. While Attorney General Merrick Garland claims that white supremacists are the biggest terror threat facing us, and the press regularly hypes such a danger, the truth is that this was the most serious partisan political terrorist act in recent years on our soil.
The Truth Behind The Cheney Story. Republican Rep. Liz Cheney is out as Republican conference chair in the House of Representatives. The story has dominated American news outlets over the past week. Most Americans are probably hard-pressed to care about the story, but to the political press in the United States, the story has mattered deeply. [...] One would think the House GOP conference chair was an important position. It is not. One would assume Americans care. They do not. [...] Therein lies the reason for the press's obsession with Liz Cheney. In the absence of the press's obsessive coverage, they might have to focus on the calamitous effects of the first five months of the Biden presidency. The border is overrun with illegal aliens. Inflation is on the rise above initial Federal Reserve estimates. The number of available jobs in the private sector grows as unemployment increases. The free market, it turns out, cannot compete against the government using taxpayer dollars to subsidize unemployment. There are gas lines and energy price increases.
Media Silent As Biden Sends Out Boastful Letters with Stimulus Checks After Slamming Trump's Signature on Checks. There's a million different ways to prove that the U.S. media is largely in the back pocket of the Democratic Party. And now that Americans have yet another round of stimulus checks in their back pockets, President Biden wants us to be grateful the U.S. government is giving us our own money back. Joe Biden is going a step beyond merely putting his signature on stimulus checks, as his predecessor had done to widespread ridicule and contempt in the U.S. media. He is sending Americans letters bragging about his purported accomplishment via the U.S. Treasury.
Things I Never Knew Existed: Wealthy Black Communities. At the risk of modeling a "soft bigotry of low expectations" and/or sounding racist, here goes nothing: I recently learned that there are several majority-black, upper-class communities in America. And I am not talking like an inversion of George Floyd Square that encompasses a few blocks; I am talking entire developments and dedicated city areas. It's not necessarily surprising given the profundity of opportunity in and greatness of this country, and yet I genuinely didn't know such prosperous communities existed. After all, we bathe in lies about systemic oppression.The stories told are generally of poverty, despair, and chains for the black population. Moreover, people like Lebron James and Patrisse Cullors move to predominantly white neighborhoods, evidently eschewing their own kind and further cementing the idea that only white communities could be upper-middle class. For all their blather and hatred, why not move in with other brothers? And then there are people like Don Lemon, Lori Lightfoot, and Kamala Harris who willfully marry into white families, so for all of the talk of black solidarity and the evils of whiteness, apparently that's only a thing for other white people. Their whites are okay.
Trump Congratulates 'Patriots' for Election Audit Most People Don't Know About. There is an election audit taking place in America right now, and it's not in Arizona. On Thursday [5/6/2021], Donald Trump brought people's attention to it by issuing a new statement. "Congratulations to the great Patriots of Windham, New Hampshire for their incredible fight to seek out the truth on the massive Election Fraud which took place in New Hampshire and the 2020 Presidential Election," Trump wrote. "The spirit for transparency and justice is being displayed all over the Country by media outlets which do not represent Fake News." "People are watching in droves as these Patriots work tirelessly to reveal the real facts of the most tainted and corrupt Election in American history," he added. "Congratulations Windham — look forward to seeing the results." In Windham, New Hampshire, a town of about 14,000 near the Massachusetts border, a state legislative race was thrown into disarray when a recount found major discrepancies with the original total.
Dr. Joseph Mercola provides a case study in how censorship works in America. Another chapter is being written in the book known as "I don't recognize my country anymore." The latest entry is the leftist jihad waged against Dr. Joseph Mercola for daring to contradict the left's agreed-upon narrative about preventing and treating COVID. Up until COVID hit, Dr. Joseph Mercola was a well respected osteopathic physician and bestselling author whose specialty was natural health — that is, maintaining good health through smart nutrition and healthy living. Since the left was long about natural health, he was even featured in such leftist media outlets as Time, Forbes, and CNN. With the coming of COVID, Dr. Mercola was interested in ways to ward off the virus, lessen symptoms, and even cure it. To that end, he wrote articles about Vitamins D and C, both of which are necessary for a robust immune system, and zinc, which seems to have operated as both an immune response and an aid to recovery. In a country dedicated to freedom of speech and the free exchange of ideas, Dr. Mercola would have been unmolested for his ideas.
The Incredible Vanishing Flu. Seasonal influenza, also known as "the flu," visits America every year, similar to tornados, thunderstorms, heat waves, and snowstorms. As tracked by the CDC, over the past decade symptomatic flu cases ranged from 9 to 45 million cases per year in the US. Hospitalizations varied from 140 to 810 thousand, and deaths from 12 to 61 thousand, depending on the particular year, strain of influenza, and effectiveness of the vaccine. This year, "flu activity is unusually low at this time" according to CDC surveillance. Since late September 2020, they recorded only about 2000 cases, a minute fraction of the tens of millions of cases in past years. Hospitalizations this flu season are minimal with only 224 confirmed influenza hospitalizations from September 2020 to mid-April 202, nowhere near the hundreds of thousands of hospitalizations in past seasons.
Mainstream media don't want you to know the difference between vaccines that work and vaccines that don't. So far two countries have exited the worldwide COVID-19 pandemic using U.S.-made vaccines (Israel and the United States), while two other countries have seen infection rates rising despite heavy use of Chinese-made vaccines (Chile and Seychelles). Israel achieved herd immunity by vaccinating almost 60% of its population using the U.S.-made Pfizer vaccine. According to a chart published by Worldometer, the COVID death rate has fallen to almost zero in Israel. Similarly, the United States exited the pandemic the week of March 20, when just 25% had been vaccinated, compared to 45% today. That was the week when deaths in the United States, according to the "Excess Deaths" statistics published by the CDC, stopped exceeding the threshold of what is considered to be a normal number.
More Americans Homeless than Ever; Bring in Impoverished Migrants Anyway. I had no idea so many 'people of color' make up such a large percentage of the homeless. It seems, at least to me, that most photos of homeless people in corporate media reports show White drug-addled derelicts. So why isn't Black Lives Matter supporting their Black brothers instead of encouraging more immigrants who will continue to compete with Blacks for jobs and social services?
ABC, CBS, NBC, and MSNBC all ignore New York Times report on Kerry allegedly leaking Israeli intel to Iran. Many major news outlets ignored a bombshell New York Times report that presidential envoy for climate John Kerry shared intelligence with Iran about covert Israeli military operations. ABC, CBS, NBC, and 24-hour news network MSNBC dedicated zero coverage on their morning and evening news programs to the Sunday New York Times report, according to Fox News. CNN addressed the report just twice on Tuesday [4/27/2021], once in the morning and briefly during Jake Tapper's interview with Secretary of State Antony Blinken.
Damage Control: White House Reporters Refuse to Ask Psaki About Kerry Selling Out Israel. Without someone from the Daily Caller, the Fox News Channel, or Real Clear Politics's Philip Wegmann in the room, the White House reporters seated for Tuesday's briefing refused to follow up on Wegmann's attempt from Monday to ask Press Secretary Jen Psaki about former Secretary of State John Kerry reportedly selling out Israel to his friends in the terrorist-loving Iran. Instead, two reporters asked questions from the left as they touted a Human Rights Watch report blasting Israel as an apartheid state and purposefully treating Palestinians to a life of ruin. Iran was definitely on the mind of at least some in the room as one journalist levied four questions about the progress of talks involving the resumption of the Iran nuclear deal.
Washington Post shuts down presidential fact-checking database after 100 days of Biden. One hundred days into the Biden administration, The Washington Post is calling a lid on the presidential fact-checking database. Glenn Kessler, editor and chief writer of the Fact Checker, tweeted late Monday that the team would continue to fact-check President Biden "rigorously" but would no longer maintain the database started under former President Trump. "Here's the Biden database — which we do not plan to extend beyond 100 days," Mr. Kessler tweeted. "I have learned my lesson."
The Media Doesn't Seem To Want You To Know COVID-19 Cases Are Plummeting Nationally. Case numbers trended upward in late March and early April, but the 7-day average has now declined for 12 of the last 13 days and is back to mid-March levels. Deaths have mostly flattened, rather than increased, when cases saw a brief bump, and Sunday the CDC reported 294 new deaths. That's the lowest single-day number since Sept. 7. Despite the overwhelming abundance of good news to share about the coronavirus pandemic in the United States — cases and deaths are falling, vaccines seem to be working exceptionally well and new variants aren't causing the hiccups some feared — positive coverage of the pandemic is hard to find in American media.
The Actual Number of Unarmed Black Men Shot and Killed By Police Every Year Will Blow Liberals' Minds. In nearly every case, a suspect was wanted by police and threatening circumstances gave rise to an unfortunate police shooting.
• Daunte Wright had a warrant out for his arrest for aggravated armed robbery of a woman and unlawful possession of a firearm. He resisted arrest and attempted to flee in a vehicle before being shot.
• Contrary to misleading reports that he was 'unarmed,' Jacob Blake admitted that he was armed with a knife.
• 13-year-old Adam Toledo was armed and gun residue was found on his hand. He tossed a 9mm Ruger moments before being shot.
• Michael Brown fought with a police officer for his gun. He later advanced despite being told to freeze. 'Hands up, don't shoot' is a lie.
• Laquan McDonald had a knife in his hand. He was suspected of committing robbery. He punctured the tires of a police cruiser following him and smashed its windshield.
• Tamir Rice had a toy gun that was mistaken for a real one. A grand jury decided it was an accident and did not bring charges. The family is now pleading for the DOJ to reopen the closed case.
Even if one concludes that these police shootings were wrong, the cases are a lot grayer than the mainstream media often portrays. The radical activist left has nonetheless weaponized these people's tragic stories to push a truly dangerous agenda: Defunding the police.
The Bay of Pigs 60th Anniversary: And the media-Democrat cover-up continues. When the smoke cleared and their ammo had been expended to the very last bullet, when a hundred of them lay dead and hundreds more wounded, after three days of relentless battle, barely 1,400 of them — without air support (from the U.S. carriers just offshore) and without a single supporting shot by naval artillery (from U.S. cruisers and destroyers poised just offshore) — had squared off against 21,000 Soviet-led Castro troops, his entire air force, and squadrons of Soviet tanks. The Cuban freedom-fighters inflicted over 3,000 casualties on their Soviet-armed and -led enemies. This feat of arms still amazes professional military men. "They fought magnificently and were not defeated," stressed Marine Col. Jack Hawkins a multi-decorated WWII and Korea vet who helped train them. "They were abandoned on the beach without the supplies and support promised by their sponsor, the Government of the United States."
Information on the Adam Toledo killing that the mainstream media is overlooking. If you receive your news only from mainstream media outlets then you probably don't know that Adam Toledo, a thirteen-year-old Chicago seventh-grader, was likely a member of the Latin Kings gang, a criminial organization whose reach is worldwide. Toledo was killed in a police shooting at 2:30 am on March 29, It was a Monday, which is what my parents called "a school night." That night the young teen was with a 21-year-old, Ruben Roman, who was on probation for gun crimes. Chicago's former police superintendant, Garry McCarthy, places the blame on Toledo's death on street gangs, not the cop shot who shot him. "They have the 'shorties' who they give the gun to," McCarthy told WBBM-AM. Toledo apparently was one of those "shorties." Youngsters such as Toledo, if caught, usually end up in the more lenient juvenile court system, although with Kim Foxx as Cook County's prosector, the adult courts are quite lenient too.
Daunte Wright [was] accused of choking and robbing woman at gunpoint, had [an] arrest warrant. Daunte Wright, the 20-year-old Black man shot by a police officer in a Minneapolis suburb Sunday afternoon, had an open warrant for his arrest related to an aggravated armed robbery attempt when he was killed, according to court records. Wright and another man, identified as Emajay Maurice Driver, a high school acquaintance, had both been charged with first-degree aggravated robbery in a December 2019 incident in Osseso, Minn., Hennepin County District Court documents show.
Minnesota Shooting Victim Daunte Wright had Outstanding Warrant for Aggravated Robbery. Daunte Wright, the 20-year-old African-American man who was shot and killed in Brooklyn Center, Minnesota on Sunday, already had an outstanding warrant for his arrest for the charge of attempted aggravated robbery, according to Fox News. Court records relating to the warrant reveal that Wright and an accomplice, Emajay Driver, were charged with first-degree aggravated robbery following an attempt in December of 2019. The incident took place in nearby Osseso, Minnesota, where the suspects attended a party at an apartment complex. The two of them spent the night at the apartment when they told the two women who were living there that they did not have a ride back home. The next morning, after one woman left for work, the other woman prepared to leave the apartment with $820 in cash to pay for that month's rent. In her witness testimony, she testified that Wright blocked the front door to her apartment and demanded the money from her, eventually pulling out a handgun.
Daunte Wright had a warrant out for his arrest for attempted aggravated robbery charges. Daunte Wright choked a woman and threatened to shoot her if she did not hand over $820 she had stuffed in her bra, court papers obtained by DailyMail.com allege. That is the case that led to a warrant for his arrest at the time he was shot and killed by police officer Kimberly Potter in Minnesota on Sunday, leading to days of unrest. And online speculation that he did not know there was a warrant out for his arrest is false, DailyMail.com has learned. A letter returned to the court for having a wrong address was giving notice of a court date in August and had nothing to do with the warrant.
The warrant that Daunte Wright tried to flee was pretty serious, not a 'victimless crime'. The shooting of Daunte Wright was a terrible thing that should never have happened. There is no justifying his death. But contrary to the first reports that he died over a deodorizer hanging from his rearview mirror (a claim that evidently originated with his mother), the fact is that he was committing the crime of fleeing execution of a warrant for his arrest over a rather serious crime. [...] To repeat: he did not deserve to die over this charge. He should have complied with the lawful orders of police to submit to handcuffing and transport to jail to face trial. If he had done so, he would be alive today.
Why the Left Ignores the Killing of a Pakistani Immigrant Uber Driver. On March 23, Mohammad Anwar of Springfield, Virginia, a 66-year-old immigrant from Pakistan earning his living as an Uber Eats driver, was killed by two girls, ages 13 and 15. They carjacked Anwar, Tasered him and then, as he held on to the car (the source of his livelihood) in an attempt to stop them from stealing it, floored the gas pedal and crashed the car, killing him when he was thrown from the vehicle. [...] After the unharmed girls climbed out and joined the onlookers milling around the car, one of them could be heard yelling, "My phone is in there!" (The Washington Post, March 31) and, "He has my phone!" (CBS News, March 30). I found no mainstream media that identified the girls as black. In The Washington Post report cited above, there was no mention of the girls' race, just, "Two girls ages 13 and 15 have been charged with felony murder." CNN's report on March 27 made no mention of race: [...] In a March 31 Washington Post editorial on the subject, there was no mention of the girls' race.
Occupied Portland ICE building set afire by left-wing extremists during Saturday night insurrection. Left-wing extremists reportedly set a U.S. Immigration and Customs Enforcement building on fire during another insurrection Saturday evening [4/10/2021] in Portland, Oregon. Horrifying video footage from the insurrection showed the facility's entrance on fire and its doors shaking as agents were "trying to apparently get out." Besides trying to burn down the facility and kill those inside, the left-wing extremists also reportedly launched fireworks at the building, lit a fire in its driveway and smashed its windows. Yet as of Sunday morning, not a single media outlet in America save for Fox News had even taken note of the insurrection. Even local media outlets in Portland appeared to be ignoring it.
The FBI / DOJ is MIA on Hunter Biden, Seth Rich, Anthony Weiner laptops. The FBI and DOJ have been missing in action for years. Failing in disclosing and acting on the information in the Hunter Biden, Seth Rich, and Anthony Weiner laptops. The two-tiered system of American justice has never been more hypocritical on display. Democrats and the deep state lie, cover-up and protect the likes of Barack Obama, Hillary Clinton, Hunter Biden, and the Biden crime family. Yet the full weight and power of the government are brought against any Republican connected to Donald Trump. The story of the Hunter Biden, Seth Rich, and Anthony Weiner laptops is a tale of just how debased and corrupt our Government institutions and modern media have become. [...] Attorney General William Barr covered up the existence of the Hunter Biden FBI investigation for two years. Twitter, Facebook, and corporate media censored the Hunter Biden laptop story with weeks to go before the election.
Biden's New Security Reality. Despite a media blackout, the truth about the situation is evident, and the cartels and human traffickers are well aware of America's new attitude towards illegal immigration and are raking in the profits as they benefit from enabling human transport as well as activities related to illegal drug trafficking and other criminal activities. Now we've seen detention centers that were built to house individuals awaiting their day in court date to determine their fate in the U.S. become filled well beyond capacity. But despite this, Department of Homeland Security Chief Alejandro Mayorkas claimed just weeks ago that there was no crisis at the border, while simultaneously acknowledging that the U.S. is on pace to encounter more illegals on the southern border than at any time in the last two decades.
Biden Sends Unaccompanied Migrant Children to Former Japanese Internment Camp — Media and Democrat Frauds are Silent. Will the fake news media ignore this too? Joe Biden is sending unaccompanied migrant children from Central America to a former Japanese Internment Camp. This is the third camp for unaccompanied children in the state of California so far this year!
What the left ignores in all these anti-Asian hate crimes. [Scroll down] On 03/25/2021, police arrested and charged a suspect wanted in the homicide of a 74-year-old Asian man in Phoenix, AZ. He was punched in the face, and his skull fractured when he hit the ground, causing brain bleed. Marcus Williams was charged with second-degree murder. You also may not know that the NYPD's Hate Crimes Task Force is currently seeking a suspect who assaulted an Asian woman on 03/27/2021 at the 51st Street and Lexington Avenue subway station. He too made anti-Asian, racist statements during the attack. Also on 03/27/2021, a 38-year-old Asian man walking with his wife and five-year-old son was sucker-punched in an unprovoked Central Park attack. On 03/28/2021, two teenagers (15 and 17) in Milwaukee found an Asian woman alone in a park, assaulted her, dragged her to a pond in the woods, then raped and killed her. They recorded the crime on their phones. Around the same time, a man named Chris Hammer was arrested over multiple hate crime attacks on Asians in Seattle. He is a BLM activist and was a participant at CHAZ. His social media profile is filled with posts against Trump and Republicans. On 03/28/2021, an Asian woman was struck in the face by a man spewing ethnic slurs at her in a Manhattan subway station. Currently, the NYPD Hate Crimes is asking for help identifying a man who assaulted an Asian woman in front of her three children while on the 5 train heading to Times Square on March 30. He made racist comments to her as well. An elderly Asian couple in Oakland, CA was robbed by four males after they returned home from grocery shopping. The video went viral. A male robbed a Korean-American-owned convenience store in Charlotte, NC on 03/30/2021. [...] The current #StopAsianHate movement seems to focus of Caucasian perpetrators of racial hate crimes, but all of the aforementioned cases were conducted by non-white people.
Nets Cheered 'Important New Job' for Kamala at Border, Crickets as She's MIA Now. Despite being given the task of "speaking" for the Biden administration on the crisis at the border, Kamala Harris hasn't given a news conference in almost two weeks. On March 24 and 25, ABC, CBS and NBC were all excited for the Vice President's "important new job" of trying to "stem the surge of migrants crossing the southern border." They hyped it on six different shows. But now that she's basically absent, they don't care. As Fox News's Sam Dorman reported on Monday [4/5/2021], "Since the beginning of the administration and a week after Biden's announcement, Harris has fielded questions from the media but has yet to hold a formal news conference." Now the networks haven't objected to this or mentioned her disappearance. Yet, on the March 24, CBS Evening News, Margaret Brennan trumpeted, "Tonight, Vice President Kamala Harris has an important new job: Leading the administration's effort to stem the surge of migrants crossing the southern border."
'60 Minutes' Ignores Democrat Governors' Scandals, Invents One About DeSantis. Rather than cover actual scandals involving Democrat governors and their botched responses to COVID, CBS' "60 Minutes" tried to invent a scandal involving Florida Gov. Ron DeSantis' distribution of vaccines. To push the false narrative and protect its favored governors, "60 Minutes" refused to interview people who disputed its false narrative, selectively edited video to hide facts, and omitted data that debunked its thesis and accurately describe Florida's success. It's not that "60 Minutes" couldn't have reported on real scandals involving governors and COVID, if it wanted to. New York's Democrat Gov. Andrew Cuomo, a media darling despite his many failures, sent COVID patients into long-term care facilities full of vulnerable people, and then covered it up. California's Democrat Gov. Gavin Newsom has imposed draconian lockdown measures that have crushed his state's economy, its schools, and the entire population of the state. He's currently facing a recall attempt from citizens livid at his handling.
CBS caught being nakedly partisan, sends evidence to the memory hole. CBS seems to be vying with NBC for the title of most Democrat-friendly broadcast network, with a hat trick of 3 separate instances of propaganda aimed at favoring the donkeys by attacking Republicans in the last few days. In addition to lying-by-omission about Florida Governor Ron DeSantis, as Andrea Widburg explains on these pages today, the former "Tiffany network" got caught publishing nakedly partisan material favoring the Democrats' opposition to Georgia's voting rights law. Joseph A. Wulfsohn of rival Fox News first spotted the pro-Democrat activism: [...] Ridicule, as Saul Alinsky taught those fighting the powerful interests (which means us, these days) is a powerful tool, and CBS reacted by clumsily attempting to bury the evidence.
Dead Capitol Police Officer Suffered Medical Condition, No Evidence of Getting Hit By Fire Extinguisher. The U.S. Capitol police officer who died following the Jan. 6 Capitol invasion is believed to have suffered from a pre-existing medical condition that contributed to his death. This fact complicates the mainstream media's narrative, which seeks to pin the officer's death on supposedly violent pro-Trump protesters. The media is trying to forge resentment against Trump and conservative activists in the eyes of Middle America, using the fallen officer as a cause celebre. But even the officer's family is pleading with the public not to politicize his death as narrative-busting details emerge.
Elderly Asian Couple Attacked By A Black Gang, The MSM Fails To Disclose That The Attackers Are Black. A frightening scene [was] caught on camera as an elderly Asian couple [was] attacked and robbed returning home from grocery shopping. Then a hero emerges, their own son — wielding a machete. Surveillance video showed four black people approach an elderly couple of Asian heritage and attempt to rob them while beating them. The son of the couple, who did not want to be identified and did not want his neighborhood revealed, said the incident occurred at about 4:30 p.m. PDT on Monday[.]
Report: Biden Quietly Hands Over At Least $60 Million To Palestinians. The Biden Administration silently gave Palestine millions in financial aid, reversing Trump-era policies, according to the Associated Press (AP). The administration announced on March 25 they would give $15 million to Palestinian communities in the West Bank and Gaza for pandemic purposes, according to ABC News. The administration then alerted Congress on Friday that it would give Palestinians $75 million for economic support to be used to restore their "trust and goodwill" after Trump cut aid, according to the AP. "Given the absence of USAID activity in recent years, engaging civil society actors will be critical to regaining trust and goodwill with Palestinian society," the notification sent to Congress said, according to the AP.
NBC News Anchor: 'Fairness Is Overrated'. NBC Nightly News anchor Lester Holt says "fairness is overrated" and the news media no longer needs to present both sides of a given story. Holt, who was this week awarded the Edward R. Murrow Lifetime Achievement Award in Journalism from Washington State University, waxed poetic on the news media, at one point declaring that "it's become clearer that fairness is over-rated." "Before you run off and tweet that headline, let me explain a bit," he said. "The idea that we should always give two sides equal weight and merit does not reflect the world we find ourselves in. That the sun sets in the west is a fact. Any contrary view does not deserve our time or attention." Holt said "you won't have to look far to find more current and relevant examples," noting misinformation about the 2020 presidential election and COVID-19. And the anchor said there's no longer any need for a journalist to give both sides of a story equal weight.
The Politically Incorrect Secret That May Have Led to Thousands of Covid Deaths. If you're woke, or want to be woke, or support wokeness, chances are you probably congratulate obese people for being "body positive" despite all medical evidence pointing to obesity as a leading cause of cancer and heart disease. As it turns out, we don't hear much about the dirty little secret that obesity easily killed as many people as mask avoidance — perhaps more. The Washington Examiner's Brad Polumbo did a deep dive into the issue of weight and Covid deaths and found some shocking correlations. [...] This isn't really "news" in the sense that the CDC had been warning obese people since the beginning of the pandemic that they were at higher risk of serious illness and death. So why did so many obese people ignore the warning?
A big news story from last week is swept into the Memory Hole:
Did Something Happen In Boulder? The point is that I went looking through the media, because whatever it was that went down was a super-big deal for a while, and then — nothing. Nada. Zip. I guess the media and the Democrat politicians forgot about what went down in Boulder too. It seems strange though because I recall it was really important at the time it happened. It's almost like there was some coordinated effort to never mention the event again. [...] And then, I think, there was some sort of press conference about the person who actually did the bad thing and ... poof! Everything went black — except the part about us having to give up our guns. [...] I'm also a bit confused because I think I remember that a police officer was murdered, and all those smart setpeople were talking about the horrible crime of murdering a cop until they suddenly stopped talking about it. I have to confess to having some confusion about this, because these same people usually seem to hate cops, calling them systemically racist and wanting to defund them. But once in a while they love cops, like when they can blame their murder on people like us or when the cops are arresting conservatives for protesting.
Senator James Lankford Snuck Into A Migrant Camp At The Southern Border And What He Found Is Not Pretty. Senator James Lankford snuck into a migrant camp in McAllen, Texas and filmed it and what he found is a disaster. Hundreds of people living under a bridge with a disastrously chaotic system that will bring on more and more humanitarian issues. This was an area that the media is NOT ALLOWED access to. [Video clip]
Fox News Cuts Off Foster Parents Who Were Asked To Accept Migrants As They Try To Tell That Once A Child Is Placed In A Foster Care System They Gain Citizenship. Foster parents in California are being asked to hold as many as 26 unaccompanied migrant children in their homes amid the burgeoning border crisis, according to a new report. [...] In the video below you can see the foster parents explaining everything and Fox News acting like they support the conservative stance. But once the woman tries to explain that once a child is placed in a foster care system they immediately gain citizenship, they cut her off! [Video clip]
After Boulder, Will The Media Report on the Atlanta Man Arrested with Guns? We've had a horrible mass shooting in Boulder, Colorado that left 10 people dead, including a police officer. It was not committed by a white guy, though that's what all of liberal America thought for a hot second before police announced that 21-year-old Syrian refugee Ahmad Al Aliwi Al-Issa was in custody for the crime. You could probably hear the audible groans from liberal newsrooms. They can't bash white guys. It rehashes the national security issue regarding letting Syrian refugees resettle here. There's no clear-cut narrative to push unconstitutional gun grabs. So, with the country of edge, you might or might not have heard about the recent arrest in Atlanta. It was in the parking lot of a supermarket, and the person had a bunch of guns with him. The situation is similar to that of Boulder.
Atlanta man arrested with 6 guns, body armor at Publix grocery store. Two days after 10 people were murdered at a grocery store in Colorado, a man was arrested at an Atlanta supermarket with a semiautomatic rifle, a shotgun and four handguns. The man also was wearing body armor and had a cache of ammunition, according to police. Atlanta police identified the suspect as Rico Marley, 22, and said he'd been charged with reckless conduct. The incident happened at about 1:30 p.m. when a witness saw Marley allegedly enter the Publix grocery store's bathroom with a cache of weaponry. The individual called police and the suspect was arrested when he left the bathroom, law enforcement said.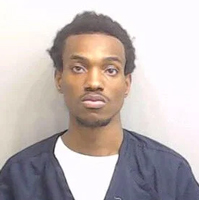 Who is Rico Marley? Armed man arrested at Publix in Atlanta. A Georgia man took an arsenal of guns to a supermarket in Atlanta [3/24/2021] in a planned attack similar to that of the recent Boulder, Colorado shootings. According to police the man was identified as Rico Marley and he was immediately arrested and charged.
The Unfit President. President Joe Biden is functionally incapable of discharging his duties. Robotically signing executive orders doesn't count. In 1919, the stroke that waylaid Wilson was covered up. Wilson wasn't paraded before the public. Then, a measure of decorum was maintained in deference to citizens' sensibilities. [...] Not so with Biden. The 46th president is trotted out before cameras often enough. Almost inevitably, some aspect of his meager performances proves his dysfunction. He fluffs lines, forgets, wanders off message, and, last Friday, stumbled so badly up the stairs to Air Force One that he was within an inch of serious injury. Yet, however obvious Biden's fumbles and stumbles, his performances are gaslighted by administration flaks and the mainstream media. Nothing to see, so move on.
Report: 3,000 Illegals Packed in Detention Camp Meant for 250, Biden Has Kids in Cages. Thousands of Illegal aliens are packed like sardines into a detention camp where they sleep on floors, wrapped in what appear to be aluminum thermal blankets, Project Veritas revealed on Monday [3/22/2021]. The report on the Biden Regime's facility in Donna, Texas, contains images of illegals confined in cubicles that resemble greenhouses for growing food on a forbidden planet in a sci-fi film. Many of the illegals have the China Virus, PV reported, and many are minors. The problem? For years, Biden, the leftist media, and the open-borders lobby accused President Trump of keeping "kids in cages." Biden has kids in cages, and they can't get a regular shower.
The Climate Headline The Legacy Media Wouldn't Dare Write. Barack Obama's undersecretary of energy for science has shattered the popular global warming narrative. If he had worked in the Trump administration, he'd be labeled a "denier" and hounded like a suspected witch in 17th century Massachusetts. But because he was an Obama appointee, the press simply ignores him. Steve Koonin, a Massachusetts Institute of Technology- and CalTech-educated physicist, said last week that "discussions of existential threat, climate crisis, climate disaster are really at odds with what the official science says in reports that are issued by the U.N. and the U.S. government." Shouldn't the press have picked up on this? Koonin, in an interview on Fox Business with Larry Kudlow, busted the tale that humans are wrecking the planet and endangering themselves through their fossil-fuel burning habits.
Most of the left-leaning US media totally ignored Biden's Air Force One stumble. Major left-leaning U.S. press outlets are largely avoiding mention of President Joe Biden's repeated stumbles as he boarded Air Force One, while many foreign publications are devoting prominent coverage to the incident. As of Friday afternoon [3/19/2021], the homepages of MSNBC, CBS News, Washington Post, Los Angeles Times and New York Times had no mention of Biden's stumbling incident earlier in the day at Joint Base Andrews. The news blackout was not strictly partisan, with the homepage of right-leaning One America News Network also omitting any mention of Biden's repeated tripping.
The Biden Administration Is Imposing A Media Blackout At The Border. On Wednesday [3/17/2021], NBC News reported the Biden administration has imposed what amounts to a media blackout at the southwest border amid a worsening crisis. Border Patrol agents, including sector chiefs and press officers, are under an unofficial gag order not to answer questions from the press, according to four current and two former Customs and Border Protection officials who spoke to NBC News on condition of anonymity. Federal officials along the border, they say, have been verbally instructed — there is no official memo, no paper-trail — to deny all press requests for ride-alongs and refer all media inquiries, even from local reporters, to Washington. Officials responsible for gathering data about the number of illegal immigrants in federal custody, they say, have been told not to share that information with anyone to prevent possible leaks.
Keywords: insolent, stonewalling, incompetent.
White House Press Secretary Questioned about Biden Administration Muzzling Customs and Border Patrol, Response: "ask them". Today [3/17/2021] Press Secretary Jen Psaki was asked about Customs and Border Patrol officers informing media they are not allowed to talk about the border crisis per instructions from DHS and the White House. The response from the White House is talk to DHS. [Video clip]
Biden's Migrant Blackout. Is there something missing from press coverage of the thousands of unaccompanied children who have illegally crossed the U.S. border from Mexico and are now in the custody of the Biden administration? Yes, there is something missing — pictures. Descriptions of the conditions in which the children are being held indicate a worsening situation. "Hundreds of immigrant children and teenagers have been detained at a Border Patrol tent facility in packed conditions, with some sleeping on the floor because there aren't enough mats," The Associated Press reported recently from Donna, Texas, citing nonprofit lawyers who had interviewed the children but had not been allowed to inspect the facility. Some of the young people had been held for more than a week — that's against the law — and had not been allowed to phone parents or relatives. "Despite concerns about coronavirus," the AP continued, "the children are kept so closely together that they can touch the person next to them, the lawyers said. Some have had to wait five days or more to shower, and there isn't always soap available, just shampoo, according to the lawyers."
Covert Biden Admin Border Tour Continues with No Media Allowed. Law enforcement sources report the acting head of U.S. Customs and Border Protection (CBP) will continue his southern border tour in the Del Rio Sector on Saturday. Officials denied an interview request from Breitbart Texas, calling the event a "no-media visit." CBP denied a formal request from Breitbart Texas to speak with CBP Senior Officials Performing the Duties of the Commissioner, Troy Miller, about what his observations during his border tour have been and what plans the administration has to address them. CBP officials sharply responded, "Sorry but this is strictly a no-media visit" when asked if the Acting Commissioner would allow for a media visit and answer questions. As sources previously reported, the Biden administration is tightly controlling the messaging on an ever-growing immigration crisis[.]
Why you haven't seen photos from inside migrant facilities. Despite pledges of "transparency," the Biden administration has prevented the public from seeing any photos or videos from inside federal facilities where migrant children and families are being held in overcrowded rooms for longer-than-permissible periods — all amid the coronavirus pandemic. [...] Reporters have not been allowed inside buildings and tents where thousands of families and children have passed through after being apprehended on the border then transferred to other agency facilities for longer-term holding. The media were also not permitted into federal facilities prior to the Biden administration except for in rare circumstances in which the facility invited reporters for a tour. Any person visiting such a facility, including lawmakers and media, must lock up his or her phone, camera, and any other recording devices in lockers before entering areas where people are held.
Shocking evidence of the growing U.S. Southern border crisis. It may not be garnering much national media coverage, but the evidence of the growing U.S. border crisis is easily found in public view. While many illegal immigrants prove to be hardworking and deserving foreigners seeking a better life, many of them prove to be quite the opposite. Below are just a sampling of photos posted by Customs and Border Protection. [Numerous illustrations]
How safe are the COVID vaccines? I'll bet you haven't heard this: more congenital anomalies/birth defects and emergency room visits were reported after getting a COVID vaccine in the U.S. than after any of the other 93 vaccine types in the CDC's VAERS database. And more deaths than 92 other vaccine types. Here is how COVID vaccines rank among 94 vaccine types in terms of reported post-vaccine adverse effects.
• Congenital anomaly/birth defect: 1.
• Emergency room: 1.
• Death: 2.
• Life threatening: 5.
• "Serious" adverse effects: 7.
• Hospitalized: 10.
• Permanent disability: 12.
• Total adverse effects: 15.
Censorship Kills: The Shunning of a COVID Therapeutic. Doctors fighting COVID-19 should be supported by their profession and their government, not suppressed. Yet today physicians are smothered under a wave of censorship. With coronavirus variants and vaccine hesitancy threatening a prolonged pandemic, the National Institutes of Health and the broader U.S. medical establishment should free doctors to treat this terrible disease with effective medicines. For centuries, doctors have addressed emerging health threats by prescribing existing drugs for new uses, observing the results, and communicating to their peers and the public what seems to work. In a pandemic, precious time and lives can be lost by an insistence on excessive data and review. But in the current crisis, many in positions of authority have done just that, stubbornly refusing to allow any repurposed treatments. This departure from traditional medical practice risks catastrophe. When doctors on the front lines try to bring awareness of and use such medicines, they get silenced.
The New York Times Is Having An Embarrassing Meltdown Over Josh Hawley's Existence. [Scroll down] The media may wish that the coordinated effort to control the outcome of the 2020 election through censorship, deplatforming, and removing scrutiny for mail-in ballots be downplayed or ignored, but some people aren't allowing that to happen. Hawley is one of the Republican elected officials who takes highly funded and highly coordinated Democrat efforts against vote integrity seriously, and that's the main reason left-wing activists in and outside the media are opposed to him.
Why the NY Times ignored the attack on Ras Tanura. When I read over the weekend that Iran-backed Houthis attempted to mount a 12-drone attack on Ras Tanura, Saudi Arabia (the world's) biggest oil port), I wanted to check with the New York Times — but there was nothing to check on. Bloomberg and the Wall Street Journal reported the attack, but for the Times it was not "news that's fit to print." [...] Indeed, the attempted attack by an Iranian proxy does not look good for Biden's attempts to re-establish ties to Iran and to get back into Obama's Iran deal. Houthis are armed by Iran, world's worst state supporter of terrorism, and take orders from it. Publicizing Iran's proxy attack on the major oil supply hub does not exactly help the task of making Iran look not as bad as it is, especially because the attack came shortly after Biden administration removed Houthi designation as a terrorist entity, in a clear signal to Iran of Biden's desire to lower the temperature and get back into the deal, a goal which the New York Times fully supports.
Jen Psaki Stumbles Upon the Real Issue With the White House Dog-Biting Story (and It Ain't the Dogs). CNN breathlessly filed a report Monday on how both of President Joe Biden's dogs — Champ and Major — were removed from the White House last week after an alleged "biting incident" involving Major, the younger of the two dogs, and someone from the White House's security team. According to the Biden apologist network, the "exact condition of the victim is unknown." Major's aggressiveness was "serious enough", however, that it prompted the eviction of both dogs. They have been moved to the Biden family home in Delaware, where they are said to sometimes be placed when First Lady Jill Biden is traveling. [...] What made me take a second look at it, however, was when I read how the White House was not commenting on this, the most inarguably benign of stories about something that happened at the White House involving one of their dogs and someone who is presumably a security guard or Secret Service agent.
Biden Admin Restricts Senior DHS Officials from Sharing Border Crisis Info with Reporters. A senior-level law enforcement source in the Department of Homeland Security (DHS) told Breitbart Texas they received verbal orders from within the agency limiting their ability to speak freely about the growing crisis along the border. The official with knowledge of the restrictions spoke under the condition of anonymity because they are not authorized to speak on the matter. "The situation with media relations now is night and day compared to the last administration, The official said. "We have been advised not to speak on immigration issues at the border and to rely on DHS's Office of Public Affairs and the Whitehouse Press Office to handle messaging."
Why Won't The Media Say Who Keeps Attacking Asian People? Recently, there has been a number of high-profile attacks on Asian-Americans — in some cases specifically because of their race. [Paywall]
What We Know And Don't Know About The Events Of January 6th. [Scroll down] Perhaps most of all, I'd like to know why a police officer dealing with unrest could fire a fatal shot at an unarmed woman without consequence. I'd also like to know the officer's identity. On any other occasion, we would. Police officers tell me that's often done before they've finished the paperwork.
Media Memoryholes the Sicknick Story. During his Senate testimony, FBI Director Christopher Wray publicly admitted his agency does not know how Capitol Police Officer Brian Sicknick died. "We're not at a point where we can disclose or confirm the cause of death," Wray, clearly uncomfortable, told Senator Charles Grassley (R-Iowa) on Tuesday morning [3/2/2021]. Unfortunately, no one on the Senate Judiciary Committee confronted Wray with the now-retracted story that Officer Sicknick was murdered by Trump supporters using a fire extinguisher. Republicans missed a golden opportunity not just to expose the New York Times' primary role in seeding the bogus account but also to confront their Democratic colleagues who voted to convict Donald Trump partially based on the notion his comments on January 6 led to the death of a police officer. "The insurrectionists killed a Capitol Police officer by striking him in the head with a fire extinguisher," according to the House Democrats' impeachment memo. But suddenly, the news media have lost all interest in what happened to Sicknick. After nonstop coverage — including somber videos of the police procession in his honor and a memorial in the Capitol Rotunda, attended by Joe Biden, just days before the impeachment trial began in February — major news organizations have memoryholed the initial account about the fire extinguisher; some apparently have forgotten about Sicknick altogether.
Why Democrats are scared. The Democrats are proud of their ill gotten success, but they know they cheated, and they are afraid of the truth eventually being revealed. They are consumed with pride and alarm — pride in their power, alarmed that they cannot force the probably seventy-five-plus millions of voters who support Trump to submit to their authoritarian agenda. Their solution? We must be forced to comply by any means necessary. Any and all discussion or references to the fraud that so characterized the 2020 election must be censored. And it has been censored, just as any legitimate but skeptical medical opinions about COVID and the vaccine must be censored and most certainly have been. The alarm of the left dictates the deletion of any and all voices that do not align with the fear-mongering narrative that COVID is going to kill us all if we do not submit to their tyrannical restrictions on our freedom. Their "narrative" is all nonsense, a ruse, part of a grand plan, the "great reset."
10 Big Warning Signs Biden is the 'Missing' President. [#2] Biden schedule not posted online, White House visitor logs a secret: "The schedules for the president and vice president aren't posted online," Politico reported. "The White House comment line is shut down. There are no citizen petitions on the White House's website.The White House has committed to releasing visitor logs. But it doesn't plan to divulge the names of attendees of virtual meetings, which are the primary mode of interaction until the coronavirus pandemic eases." So, who is making the presidential decisions? Who is Biden meeting with? Who are others in his administration meeting with? It's a shroud of secrecy that America's failed press isn't doing enough to penetrate.
With These Data Points, NY Post Delivers the Kill Shot to Biden's $1.9 Trillion COVID Bill. [Scroll down] Dr. Marty Makary, an epidemiologist at Johns Hopkins, decided to do something that Dr. Anthony Fauci has refused to do which is to take a position based on the current scientific data, not the political winds. Makary was blunt the straight-forward: we're going to have herd immunity by the end of April. The vaccination rate is on a trend to hit 100 million people. Johnson & Johnson's vaccine will add a third option to supplement the supply. And all of this is thanks to the Trump administration. Based on the current numbers, Makary said that with an infection fatality rate of 0.23 percent and 1 in 600 Americans dying from the virus, two-thirds of the country has already contracted the disease. We're underestimating natural immunity. There's that other bit too, which is we've seen a drop in COVID cases over the past six weeks. How big a drop? Oh, it's to the tune of 77 percent. Even in nations with these new strains, deaths and cases are going down. Why is this news being buried?
My Pillow CEO Mike Lindell cut off during CPAC interview over COVID comments. My Pillow CEO Mike Lindell was cut off during an interview at the Conservative Political Action Conference Sunday [2/28/2021] after he hurled wild conspiracy theories about COVID-19 and the vaccines for the virus. Lindell was stopped in the middle of his interview with host Liz Willis of the conservative YouTube channel Right Side Broadcasting Network when he claimed that people who did not have the coronavirus were being diagnosed with it. "You stub your toe, and they say, 'Oh you've got COVID.' Let's pile on, you know," Lindell told Willis — who interrupted him to quickly shut the conversation down. "We do have to be super careful. I hate to do it. You know I love you, but due to YouTube's guidelines, we will get our whole platform shut down if we talk about vaccines," she interjected.
The Editor says...
[#1] What had Mr. Lindell said about vaccines at that point? Nothing! [#2] The claim that some people are being mis-diagnosed with Covid-19, or that deaths have been mis-attributed to Covid, is not a "wild conspiracy theor[y]." [#3] If you invite a somewhat controversial guest onto your internet-only news show, without pre-recording it, you must understand in advance that the discussion might go off-topic (or worse) at any moment. [#4] If you are afraid of losing YouTube's approval, you are not an independent journalist.
Lying About Obama. [Scroll down] Then there are the exceedingly shady Obama friendships that the MSM strove to ignore, downplay, or whitewash. Take Obama's mentorship in Hawaii by Frank Marshall Davis, the Communist pedophile whose identity was first obscured in the memoir Dreams from My Father (in which he was referred to only as "Frank") and who was omitted entirely from the audiobook. Or Obama's coziness, during his Chicago days, with Bill Ayers and Bernardine Dohrn of the radical Weather Underground, the former of whom is believed by many to have ghostwritten Obama's memoir Dreams from My Father. Journalists who have shown curiosity about either of these relationships have been shot down as racists, right-wing extremists, conspiracy theorists, or all of the above. Granted, Obama's two-decades-long relationship with his anti-Semitic, America-hating Chicago minister, Jeremiah Wright, did make MSM headlines. The story was simply too big to bury. Still, the MSM was quick to help Obama out.
4 Dead, 15% of Oregon Lost Power: Why Don't We Hear About It? The answer is obvious. When a disaster hits a Democrat state, it's the fault of global warming and vague conditions. But when a disaster hits a Republican state, it's the fault of the Republicans. Even if, in reality, they have as little to do with it as Senator Ted Cruz does. The media is in the propaganda business. Not the business of facts. While the situation in Texas is worse than in Oregon, for obvious reasons of scale and weather, 600,000 people lost power in Oregon, the National Guard has been deployed, and, currently, some 50,000 people still don't have power. And yet coverage of the situation is minimal to non-existent. While the media loudly blares coverage of "survivors" of the storm in Texas, there's not much coming out of Oregon.
Why The Texas Blackout Has The Greens So Scared: Deflecting blame to a more exciting apocalypse. Within days, most of the country was seeing "with our own eyes" and feeling "in our bones" a cold wave so severe that five million people lost electricity and, in a special irony, nearly half of the ballyhooed wind turbines in Texas, which had risen to supply 23% of her energy, were left frozen (and inoperable). This constituted a double whammy to the huge global warming establishment. [...] For the global warming establishment, the disastrous performance of renewables was more upsetting than the cold spell itself. The New York Times, in a lengthy article on the Texas energy blackout (Feb. 6) simply ignored the freezing wind turbines while Bloomberg buried a mention. When other media outlets took notice, it was generally to minimize the role of the turbines in the energy shutdown, putting most of the blame anywhere and everywhere else.
The mainstream media's quandary ... and panic. Although it was written back in October, the cry is still echoing throughout the mainstream media. It comes from Hamilton Nolan, formerly at Gawker Media and now the public editor for the Washington Post. [...] Nolan and the media from which he gains employment are highly selective in what the public has a right to know. It never seems to include damaging information about high level Democrats. Look at numerous Clintons scandals, such as Bill allegedly raping women or his reported numerous flights on Jeffery Epstein's Lolita Express. Where was the exposure? And Hillary's law-breaking while Secretary of Sate was never full investigated and the Clinton Foundation was never touched.
Press focuses on Ted Cruz, ignores the building crisis at the border. The media is intent on reporting on Ted Cruz's one-day trip to Cancun, because it wants to divert attention from Joe Biden's intentional destruction of America. It is the same reason they lied that Biden was a 'moderate' during the election and why they buried the stories of all the Biden family corruption while they were effectively campaigning and de facto contributing to Biden. The truth would have destroyed Biden. The media manipulated and colluded in the election more than Russia or even China has ever done. Biden is violating his oath of office to uphold immigration laws while flooding Texas and other states with illegals, including many violent criminals, yet Cruz should resign because he left the U.S. for a day?
Why media coverage of Biden is nothing like Trump's... nor Obama's. [Scroll down] No, the real reason is much more troubling. They aren't covering Biden or his policies because they're being instructed to keep it all off the public's radar by their handlers. Go ahead and put on your tinfoil hats if you'd like to at this point, but it's as crystal clear to me now as anything I've written about in weeks. Whoever is pulling the various strings of their mainstream media puppets, they do not want the public to know the direction the Biden administration is taking the nation. Joe Biden is not a leader. He's a tool for the powers and principalities to quietly usher in their nefarious plans. Whether it's the Chinese Communist Party, the United Nations, George Soros, Bill Gates, the New World Order, the Deep State, or a combination of all-of-the-above, they groomed Biden's entire candidacy and force-fed him to the American people through the most massive voter fraud the nation, and possibly the world, has ever seen.
The legacy media is losing its ability to present plausible distractions from news stories it doesn't want to cover.
An Offering of Squirrels. [Scroll down] [I]t won't be long before the Democrats and their compliant minions in the news media and pop culture recognize the urgency of air cover for all kinds of coming disasters. There's the unscientific failure to reopen schools as parents groan under the strain of trying to survive the COVID economy while becoming amateur homeschoolers. There's the burgeoning failure to fulfill Dirty Joe Biden's vaccine promises while Biden purports to have conjured the vaccines out of thin air. There's the fact Biden is calling a lid on conducting foreign policy and delegating it to Kamala Harris. There is the looming disaster in China and Iran policy, and particularly the coming crippling shortage in rare-earth minerals. There is the growing recognition that the Brian Sicknick story, on which the Jan. 6 "insurrection" narrative has been built, appears not to have contained a wisp or a smidgeon of truth. And on and on. The problem with squirrels is eventually the dogs lose interest.
MSNBC, CNN Give Rush the Soviet Treatment, Black Out Morning News of His Death. Love Rush Limbaugh or hate him, it is undeniable that he was a huge, transformative media figure. If there was ever a more impactful conservative media voice in the last 30 years, who would it be? As just two examples of how Rush's importance spanned decades, consider that over a quarter-century ago, Republicans saluted Rush as the "majority maker" and made him an honorary member of the House. Republicans credited Rush for helping them win back the majority after decades in the wilderness. And it can rightly be said that Rush was instrumental in the success of Donald Trump's 2016 presidential run. So Rush's death is, indisputably, a tremendously newsworthy event — his life and legacy eminently deserving of discussion. And yet, incredibly, despicably, during their combined six hours of airtime this morning, neither MSNBC's Morning Joe nor CNN's New Day devoted a single moment to a discussion of Rush's passing. On New Day, the blackout was absolute. The word "Rush" never crossed the lips of any of the hosts, reporters, or guests.
Where Is All of the Ammo Purchased by the Obama Administration? That is a serious question. Looking at recent images of our nation's capital gives me the feeling that the federal government is afraid of something. Just maybe, a government that wasn't popular with the people, would need to use a bit of force to stay in power. That got me thinking about all of the arms and ammunition that was purchased by the last administration run by the democrats. They weren't just buying it for the military. All kinds of agencies that you wouldn't think needed bullets were getting them. This was all happening circa 2014.
Critics Must Be Silenced for Billionaires to Keep Profiting From Pandemic. On Feb. 15, the Jeff Bezos-owned Washington Post published a Feb. 11 Associated Press article applauding the censorship of those who criticize the government's pandemic response policies. The lockdown has netted Bezos $70 billion since its start. If you are Bezos, a permanent lockdown is a goldmine. Bill Gates, meanwhile, has made $20 billion from the lockdown he previously war-gamed and then cheer-led. His strategy has included emasculating the independent media — the most likely sources of the sort of vigorous journalism that might otherwise scrutinize his self interest in the polices he helped successfully engineer for the rest of us.
More Media Blackout — Report: Nearly 1,200 Dead Following COVID Vaxx In US In Less Than 2 Months. These drug pushers are doing nothing but lying to the American people and at the cost of lives. I reported on Thursday that the January Vaccine Adverse Events Report indicated nearly 3,000 entries and almost 460 deaths. However, the Center for Disease Control is now saying that from the middle of December to the first week of February, nearly 1,200 people have died following getting the experimental COVID jab, but have no concern, the CDC claims that what you need to know is that they are "safe and effective."
7 Reasons Fake News Media Had a Very Bad Friday. [#5] Lincoln Project Implodes: Credibly accused sexual predator. Shielding a credibly accused sexual predator. Lying about shielding a credibly accused sexual predator. Toxic, sexist, homophobic workplace. Lining their own pockets with tens of millions of donor dollars. Lying about lining their own pockets with tens of millions of donor dollars. Their own wretched cofounder (father of the year and liar George Conway) publicly accusing them of committing a felony for publishing private correspondence. Donors bailing. FBI investigation. Multiple resignations. The fake media knew exactly who these grifters were, knew the "open secret" about John Weaver, knew everyone was lining their own pockets, and still boosted and enabled these monsters; and now they have all been exposed.
Media Fails to Report on the Booing of Biden Heard at Super Bowl. Joe Biden has already had a lot of firsts. Almost immediately, his first broken promise, failing to deliver the $2000 virus relief, and people are not letting him forget it. Then he had his first court loss, trying to suspend virtually all deportations for the first 100 days and getting slapped down by the judge. Now according to a lot of people who watched the Super Bowl, he had his first boos at a major event. He and his wife Jill appeared virtually over a huge screen at the game. Jill, as usual, did the most talking. [...] While people heard boos and the British media, The Daily Mail and Independent U.K. reported it, not so much American media, although it was acknowledged by this home page editor of Fox News although it didn't seem to have made it onto their front page.
Insurrection In Washington. The fascist organization Antifa does not exist, according to Democratic Party orthodoxy, so our news media avert their collective eyes from its depredations. Ignoring Antifa isn't so easy if you live in cities that are under siege, like Portland, Seattle, and, in this case, Bellingham, Washington, which is north of Seattle and south of Vancouver. This police body cam video was filmed on January 28, released some days later and tweeted yesterday by one of America's few actual journalists — an almost extinct profession — Andy Ngo. As Andy notes, during an Antifa attack on City Hall last month, the Mayor of Bellingham (unlike Alexandria Ocasio-Cortez) had to be evacuated. Sounds like an insurrection, but for some reason it hasn't been in the headlines. [Video clip]
Joe and Jill Biden get BOOED by Super Bowl fans during pre-game video message. Moments before Super Bowl LV kicked off Sunday night, President Joe Biden and First Lady Jill Biden made a pre-recorded appearance to honor the more than 463,000 people who have died from COVID-19 by asking for a moment of silence — instead they were booed by some of the crowd. 'Before kickoff we wanted to thank all the frontline healthcare heroes both at the game and watching across the country. You put yourself at risk to keep the rest of us safe. You and your families carried us through this year with courage, compassion and kindness. We couldn't have made it without you. With all our hearts thank you. The president said: 'Now as we thank you and all of our essential workers, let's remember we all can do our part to save lives. Wear masks, stay socially-distanced, get tested, get vaccinated when it's your turn, and most of all let's remember all those who we've lost.
These black lives didn't seem to matter in 2020. Last year saw the largest year-to-year increase in homicides ever recorded in US history. The homicide rate in 34 cities was 30 percent higher in 2020 compared to the previous year, according to a Jan. 31 report by the National Commission on COVID-19 and Criminal Justice. Victims of these homicides are disproportionately African American. At least 8,600 black lives were lost to homicide in 2020, an increase of more than 1,000 compared to 2019 (7,484). Violent crime is concentrated in primarily low-income, marginalized black communities where the police are underresourced and Democratic leadership has abysmally failed. In Chicago, 80 percent of gun-violence victims in 2020 were black. According to the latest data in New York City, 71 percent of shooting victims are black — even though black people constitute just 26 percent of the city's population. [...] Since more than 90 percent of black homicide victims are killed by black offenders, the ghost of endemic white supremacy cannot be invoked to push racial grievance narratives. As a result, the media turns a blind eye. Black lives only seem to matter when racism is involved.
List of 20 Individuals at the Capitol on January 6th — All Appear to be Connected to Antifa or Far Left Groups. For weeks the FBI, Democrats, and the fake news media have insisted there was no Antifa or far-left activist infiltration of the January 6th protests where activists stormed the US Capitol. We already know this is false. The individuals who entered the US Capitol and caused damage on January 6th were not all Trump supporters. Known members of Antifa were inside the Capitol and there was even an Antifa event called for that day at 11 AM nearby at the Washington Monument organized by John Sullivan that was closer to the US Capitol than the Ellipse where President Trump spoke to half a million supporters.
This article is presented with a grain of salt.
Video PROOF That Joe Biden Is NOT At The White House But Rather Castle Rock Studios. There has been a lot of photographic proof that Joe Biden is not at the actual White House when signing executive order after executive order but rather on a sound stage at Castle Rock. Castle Rock is also known as Amazon Studios, the location where many famous oval office scenes have been shot for movies such as Nixon and Independence Day. Fact-checkers have been busy trying to call these 'false claims' by focusing on the minutia details some are making online such as the curtains or carpet being different but none of the fact-checkers can debunk the SUV's parked right outside the window to the right of Biden, nor will they be able to debunk this video which shows several screens at once, one of which has an aerial view of Castle Rock. [Video clip]
The Editor says...
I don't endorse or necessarily agree with any statements made in the video clip linked above. Even if the claims in the video clip are true, I'm not sure it matters that much. Media dishonesty is already well known and documented. Joe Biden's dishonesty... ditto. Maybe this is Biden's way of laying low and playing it safe, since he knows he is the beneficiary of a stolen election.
Hiding Biden. As many as 45 percent of Biden voters said they were unaware of Hunter's financial scandals before the election. [...] Last September, when a Senate intelligence panel report revealed that a firm co-founded by Hunter Biden received a $3.5-million wire transfer from the wife of a Russian politician, the New York Times, Washington Post, CNN, and MSNBC did not cover the story. When Trump raised the issue at the first presidential debate, Biden claimed it had been "totally discredited" even though its existence was confirmed by Treasury Department documents. This news blackout may have helped propel Biden to victory, but questions regarding the Bidens have not gone away. There is the laptop, which, far from Russian disinformation, did indeed belong to Hunter Biden, who in December admitted he has been the subject of a federal corruption probe since 2018.
Spanish Nets Silent on Biden Deportations. For the hundreds of undocumented immigrants deported this past week, it must have been quite the shock to not see activists, television camera crews and (crying) politicians bidding them farewell. But that is exactly how immigrants from Jamaica, Honduras and Guatemala were sent back to their homelands by the Biden-Harris administration this past week: very quietly. Most importantly, not a word was said about the inconvenient news at the nation's Spanish-speaking networks, keenly focused on selling their audiences the push for filibuster-proof immigration reform. In fact, over a 24-hour time span, Telemundo and Univision combined, spent close to 15 minutes on the subjects of Biden, executive orders and immigration reform with the help of immigration "experts," lawyers, activists, and of course, politicians betting on an immigration wave.
Kamala Harris already becoming a problem for Biden White House. I suspect that regret already is setting in among his handlers over their pick of Kamala Harris for Joe Biden's running mate. [The] first of what will be many clean-up efforts began yesterday for her bungling an incident 8 days in office. CNN reports: ["]The White House called Democratic Sen. Joe Manchin after Vice President Kamala Harris conducted interviews with West Virginia media, according to a person with knowledge of the conversation. The outreach comes after Harris' apparent move to apply pressure on Manchin frustrated the conservative Democrat, something that he made clear over the weekend.["] The pressure VP Harris attempted to apply came in the form of an exclusive interview she granted to WSAZ TV in Huntington, WV. Curiously, I have been unable to locate a video clip on Rumble or YouTube or Twitter. Even WSAZ's own website is not making available what has to be one of the most newsworthy broadcast moments in the station's history.
Watch: Furious Woman Whose Mother Died In NY Nursing Home Says NBC News Blocked Her Mentioning Cuomo's Name. On Monday [2/1/2021], in an explosive condemnation of both the mainstream media and New York Governor Andrew Cuomo, a woman who lost her mother to COVID-19 in a New York nursing home told Fox News that NBC News barred her from using Cuomo's name when she spoke of her mother's death. Dawn Best, whose mother died in April 2020, told Brian Kilmeade of "Fox & Friends" that she was told by NBC News, "Can you say that a different way without Governor Cuomo's name, and just say New York failed you?" Best continued, "So I had no choice. So I had to say, 'New York failed me.'"
The Media's Lies Of Omission When It Comes To The WHO. The Lugenpress, or Lying Press, lie by commission and omission. Commission dishonesty, which is obvious, includes incessant propagandizing progressive policies and political correctness as news. Lies of omission often are difficult to detect. [...] This article surveys one particular example of omission involving the World Health Organization ("WHO"). Over the last four years, examples of Lugenpress lies of omission include disinforming and un-informing citizens about:
• The left's transition (both leaders and the pack) into progressive fascism,
• Coverage of First Lady Melania Trump,
• Coverage of President Donald Trump's accomplishments,
• The Russia collusion hoax fueling a coup attempt,
• Worldwide coordination of climate alarmism,
• Black and Hispanic prosperity under President Trump's economic policies,
• True loaded costs of solar and wind energy to the grid,
• Federal Reserve actions causing the previous credit bubble leading to the Bernanke-Yellen-Powell 2020 recession,
• Impacts from the Federal Reserve's current actions re-inflating the credit bubble,
• Disclosure of the coordination of the worldwide coronavirus stampede,
• The totalitarian natures of BLM and Antifa organizations and their attendant violence and destruction,
• Barack Obama's role as puppet-master selecting Joe Biden for the Democrat nomination,
• Elevated Black and Hispanic voting rates for President Trump,
• Multiple nominations of President Trump for the Nobel Peace Prize, and
• Details of voter fraud in the 2020 presidential election.
Most recently, hidden from media scrutiny, the WHO is sitting on the horns of a dilemma that the media have kept hidden from the public. This article addresses that WHO's inaccurate testing protocols and the changes that need to occur.
Big Tech is suppressing information about writ of quo warranto, the 'Trump play'. President Trump has a play he and his team can make to challenge the results of the 2020 election. It's a longshot, but it doesn't fall into the realm of shadow-government-military-coup or some of the other theories we've heard lately. This one is legitimate, legal, and does not require suspension of disbelief. It's called a "writ of quo warranto," something we've covered a couple of times on NOQ Report recently. Unfortunately, unless you're a regular reader of Leo Donofrio, 100percentfedup, or a handful of other websites, you've probably never heard of it. We've found a strong suppression of the facts and opinions surrounding this, a suppression that has hit close to home here. Google, after showing our original article on the first page for searches for the term, has removed the article altogether. Links of Facebook and Twitter were quickly censored.
Trump Did Well on the Environment and Saved Americans Money in the Process. Over the past four years, Trump's Environmental Protection Agency demonstrated that it is possible to alleviate the regulatory burden on average citizens and private businesses while improving air quality and cleaning up hazardous waste. Recently, the agency released a "2020 Year in Review" documenting some of the most significant and enduring achievements of the Trump years. And yet, Google searches that make use of "Trump," "deregulation," "Year in Review," or any close approximation to those words and phrases fail to produce any reference to the report and its major takeaways. There are several that deserve scrutiny for the benefit of posterity.
Buyer's Remorse? Let's Blame the Press. [Scroll down] Evidence of legacy news media propaganda during the four years of the Trump administration are legion. Reporting about the Biden family influence-for-graft business was nonexistent. In fact, Joe's brother and his son received millions of dollars from China, the Ukraine, and Russia. [...] The legacy media didn't bother to mention that Hunter Biden is under federal investigation, and that Joe may be implicated. Hunter Biden's laptop had been abandoned and its contents were legally disclosed. The contents revealed that Joe Biden was actively involved in Hunter's business dealings — even to the point of sharing an office with a Chinese businessman. The laptop even disclosed that a percentage of the business proceeds were to go to Joe. Yet Joe has always claimed he had no involvement in Hunter's business. The legacy media spiked stories on the subject and social media censored anyone attempting to report it.
More Video Evidence Shows the 'Riots' At the US Capitol Were Infiltrated by Antifa and Other Radicals. Antifa and others inserted themselves into the Capitol protests and framed Trump supporters. There is now ample evidence to support this. Antifa-BLM leader John Sullivan organized an Antifa protest at the Washington Memorial not far from the US Capitol on January 6th. This was right before the violence at the US Capitol. For some reason, the mainstream media refuses to report on this Antifa protest? John Sullivan was later arrested for rioting inside the US Capitol. No one has yet asked what happened to his cronies? There is also video of Antifa handing out weapons from a bag during the Capitol Hill riots. The media has also ignored this.
"80 Million Votes". [Commentary on the sparsely-attended Biden inauguration ceremony.] [Video clip]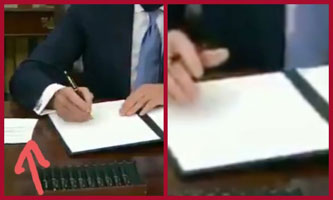 Video And Images Allegedly Show Joe Biden Signing Blank Pages During His First Day In Office. President Joe Biden signed more than a dozen executives orders on his first day in office, some of which reverse former President Trump's policies. Biden signed a total of 15 executive orders, which his transition team announced ahead of his inauguration as part of the new administration's plan for the first 100 days in the White House. [...] But what caught the eye of the internet sleuths is the allegations that Joe Biden was signing blank pages. [Video clip] The mainstream media protected the newly elected President and didn't write a thing about these allegations.
'Uncle Tom' Blacklisted by Hollywood. Actor Ben Affleck once explained why he found it difficult to watch Republican actors on screen. "It's...hard," explained Affleck, "to get people to suspend disbelief. ... When I watch a guy I know is a big Republican, part of me thinks, I probably wouldn't like this person if I met him, or we would have different opinions. That (expletive) fogs the mind when you should be paying attention and be swept into the illusion." This likely explains why "Uncle Tom," the documentary on which I worked as executive producer, gets no love from the lists of best documentaries of 2020. A critical and financial success by any measure, the gross earnings of "Uncle Tom," so far, exceed seven times its cost and counting. It recently became available on iTunes, Amazon Prime and Walmart online, as well as on store shelves. Former CBS reporter Sharyl Attkisson recently wrote about the film's snub with the headline: "Censored: Larry Elder's 'Uncle Tom' film." But the Hollywood trade publications Variety and Hollywood Reporter? Silence.
Now They Tell Us! Politico on Biden's Cognitive Decline. [Scroll down] Now... "There are many troubling things about this story. Biden forgetting part of a stump speech is bad enough, but this is an incident that took place last year, but has only come out now. Biden's handlers kept it under wraps until now." Now they are free to let it out. Now they are free for Politico to run with this story. "How many other examples of Biden's cognitive decline from the 2020 campaign have been covered up?" We have to think quite a few. Now, if this example was leaked to the media earlier, they didn't report on it. Obvious question, why not? Well, they were covering up for Biden. We don't need to delve deep into this. They were not reporting anything negative about Biden. But now they are. On the day before his inauguration. Well, on the day of his inauguration.
The Media Finally Notice Joe Biden's Dementia, Sort of Anyway. Isn't this timing just perfect? On the day of Joe Biden's inauguration, the media are finally offering reports that offer a glimpse into his dementia ridden world. This is a man who can't remember where he's at half the time, much less is he capable of actually leading the country. Here's Politico noting his decline without realizing they are noting it. That or they are simply unwilling to admit the real reason. [Tweet]
Investigators Release Huge Bombshell That Could Change The Entire Narrative About January 6th. In what should be front page news, federal law enforcement officials have told CNN that they believe the January 6th storming of the Capitol was planned ahead of time by bad actors instead of a random riot inspired by President Trump's speech. Those of us on the right have known all along that Trump had nothing to do with the riot, but it appears law enforcement is beginning to come around as well. If they prove that this was a pre-planned event by radicals who just wanted to see destruction, it will be the biggest news story of the year after the media viciously slandered Trump for "inciting" the scattered violence that occurred. The entire impeachment witch hunt and de-platforming of the President is based on the lie that Trump "incited an angry mob". As the investigators are beginning to learn, that was not the case at all.
Pfizer, CDC probing death of Florida doctor who took COVID-19 vaccine. Pfizer says it is investigating the death of a Florida doctor who had received one dose of the company's COVID-19 vaccine. The Centers for Disease Control and Prevention is also reportedly looking into the death of Gregory Michael, a 56-year-old obstetrician who had taken the shot 16 days earlier. Pfizer said there is no evidence so far indicating Michael's death was caused by the vaccine it developed with German biotech firm BioNTech. Manhattan-based Pfizer called it a "highly unusual clinical case" of a condition called severe thrombocytopenia, which limits the body's ability to clot blood and stop internal bleeding.
Here's what really happened before the incursion into the Capitol. The Save America Rally, sponsored by Women For America First, was a totally separate happening from what took place inside the Capitol building. [...] Only when we got home did we find out what happened. We got double whammed. First, Congress failed. Congress failed to comprehend that the Save America rally was peaceful, respectful, and an example of how vast crowds of Americans can gather to protest without causing any trouble. There was no window-smashing, turning cars over, burning them, and burning people's businesses at the rally or by the rally attendees. Nope, any window-smashing and looting were done by kids on bikes. That's what the news reported. The people there to protest to Save America didn't riot and get into the Capitol. That crowd was stationed at the Capitol before the rally even started. The police shot a war veteran in the neck and killed her. A news report showed security forces rushing out of the Capitol. They opened the doors to pepper spray rioters who were stupid, but they weren't in the building. Why on Earth would security forces even think of opening those doors?
Do Not Believe These People. When it was learned that Congressman Eric Swalwell, who has access to this nation's most important national security secrets as a member of the House Intelligence Committee, had a long-term connection with a Chinese communist spy, and that she helped him fundraise for his reelection in 2014 even though she was a college student (which should seem weird how a foreign national college student could have enough contacts to be a political money bundler), the networks barely touched the story. CNN had him on for a short, softball interview, and The New York Times, to this day, hasn't mentioned it once.
Cumulus Media tells its hosts — including conservatives Mark Levin and Dan Bongino — they will be fired if they don't stop claiming election fraud. Cumulus Media is clamping down on claims about election fraud across their network of radio stations which feature right-wing talkers such as Mark Levin and Dan Bongino. In a memo sent internally, executive vice president Brian Philips made clear that radio hosts will be fired if they start or continue to make baseless claims about election fraud. 'We need to help induce national calm NOW,' the memo read. 'The election has been resolved, and there are no alternate acceptable 'paths,' the memo continued. 'If you transgress this policy, you can expect to separate from the company immediately.'
Update:
Mark Levin Debunks Leftist Lie About Conservative Radio Network Instructing Hosts to Stop Talking About Election Fraud. Conservative pundit and legal scholar Mark Levin pushed back against a Washington Post report on Monday [1/11/2012] claiming that his syndicator is demanding that its talk radio hosts stop talking about vote fraud in the 2020 election. [...] The memo allegedly said that Cumulus "will not tolerate any suggestion that the election has not ended. The election has been resolved and there are no alternate acceptable 'paths.' If you transgress this policy, you can expect to separate from the company immediately." But Levin, who began warning in September that states were unconstitutionally changing their balloting laws ahead of the Nov. 3 election date, has also been explaining the constitutional ins and outs of why those changes were wrong. Also, he questioned whether the memo was actually real, considering he's never seen it nor has he heard of anyone syndicated by Westwood One getting it, either — which would be par for the course for the Post in the Trump era (phony Russian dossier, 'Russian collusion,' etc.).
After Trump's Last Stand, Left Seeks Revenge. [Scroll down] Wuz we robbed? It's very likely, given the suspicious circumstance of Biden's materializing popular votes in precisely the swing states that were needed for victory. And while the multiple lawsuits contesting those votes have been consistently thrown out in various courts (including, disgracefully, the Texas suit presented to the U.S. Supreme Court), they were dismissed on procedural grounds, and the evidence remains to this day unheard. In the aftermath of Bush v. Gore in 2000, the Florida counts were analyzed independently several times after Bush had been sworn in, and each review showed a narrow Bush victory. The election of 2020 deserves no less — but don't hold your breath waiting for the media to do its duty. The media has spoken on the subject, and will now draw a curtain of silence around the issue. It's simply too invested in the Democrat Party for it ever to return to the days of "objective" journalism.
Media Publications Are Ignoring News Critical Of Raphael Warnock As Georgia Race Approaches Finals Days. Most major publications have ignored police body camera footage showing Democratic Georgia Senate candidate Raphael Warnock's ex-wife calling him "a great actor" following a domestic dispute. Fox News host Tucker Carlson aired the footage, obtained exclusively, on Dec. 22. The footage showed Warnock's then-wife Ouleye Ndoye appearing to tell police in March that her husband is "a great actor" and "phenomenal at putting on a really good show" after he denied running over her foot on purpose. Warnock wasn't charged in the incident as police did not find damage to Ndoye's foot. Since the body camera footage aired, though, most publications have opted not to cover the domestic dispute in print.
Media Ignore 'Most Admired Man' Poll After Trump Edges Obama. On Tuesday morning [12/29/2020], Fox News viewers got to see that, for the first time, President Donald Trump has come in first place in Gallup's annual poll of "most admired man" of the year. But in contrast with how journalists swooned over former President Barack Obama the last time he came in first place, the other networks have so far ignored the finding. On Tuesday's Fox & Friends, news reader Jillian Mele informed viewers that Trump had pulled ahead of Obama for the first time, and that, in spite of winning the presidential election, President-elect Joe Biden still comes in behind Obama. [Video clip]
How to Steal an Election in Four Steps. [Scroll down] The media and social media considered the Hunter Biden story so politically devastating to Joe Biden that they censored it. The American free press banned a true, well-documented, relevant news story because it harmed their candidate politically, something a totalitarian government does. In the days preceding the election, that same media tried to make it seem as if covid was getting much worse, quickly, and that we needed to mandate closures nationwide: we needed to elect Biden. Dr. Fauci and the CDC implied the virus could be a problem for years. Two days after the election they announced that a vaccine had been discovered, which actually had been found weeks or months earlier since a number of researchers and Trump himself had made references to it in tweets, but the news — and the vaccine — had been withheld from the public because it could've helped Trump politically.
The Warnock Media Blackout. The last time there was an off-cycle Senate election, investigative reporting was the decisive factor in the race. The enterprising work of the Washington Post, among others, revealed that the former Alabama Supreme Court justice turned Republican Senate candidate Roy Moore had repeatedly engaged in inappropriate behavior with teenage girls. A trio of Post reporters tracked down four of those women, who attested on-the-record to Moore's revolting behavior. Fast forward three years to a Senate race in which another set of lurid allegations has surfaced, this time involving Democratic candidate Raphael Warnock. The difference: their political affiliation. Like Moore, the allegations against Warnock involve the abuse of underage children decades ago. They center on a Maryland church camp where a young Warnock served in a senior role, and where he was arrested in 2002 for obstructing a police investigation into alleged abuses taking place on camp grounds.
Incriminating facts emerge from a Georgia hearing the media buried. The media kept quiet about a hearing on Wednesday before the Georgia Senate Judiciary Subcommittee on Elections. Perhaps they did so because important information emerged establishing beyond a doubt that significant fraud occurred in Georgia, enough to change that state's electoral votes. This post focuses on voting machine hacking, shredded evidence, statistical improbabilities, negative counts, and over one hundred thousand "adjudications" that destroyed all evidence of a citizen's original intent. Jovan Pulitzer, the man who says there's a very easy way to determine whether mail-in ballots are real or faked, announced during the hearing that his team had easily hacked into a voting system identical to the systems used during the election and then explained how that access could lead to changes in voting data: [...] Susan Knox testified that she was at Jim Miller Park in Cobb County on November 20, the day the vote was going to be certified. That was where ballots for the election had been stored, although it's not a permanent ballot storage facility. She was in the parking lot and saw a Shredding and Recycling truck that was shredding huge bins full of ballots. Knox produced pictures proving that the bin contents were ballots. When Knox called 911, emergency services refused to show up.
This Tennessee Data for Masked vs. Unmasked Counties Would Be on Every Front Page, if the Results Were Different. When I first started getting the data together, I didn't know entirely what to expect. If there was a sharp difference showing masked counties doing better than unmasked ones, it would be a truth I would have to report, even if it went against my preconceived (in this case anti-mask) notions. Then again, I figured if that were the case every news outlet in the country would be reporting it. After all, they make a national news story out of every cherry-picked "study," like the one that came out of Kansas a few weeks ago, that purports to show masks working. The Tennessean even lamely tried to use positivity rates, which vary widely in urban vs rural settings often because rural areas test significantly less, to shame [Tennessee Governor Bill] Lee into giving in. But if they had raw numbers showing masked areas doing significantly better, wouldn't they be shouting those from the rooftops? Of course they would, which led me to believe the numbers I generated would be, shall we say, inconvenient for the chosen narrative on masks.
Are Democrats In Trouble In 2022? [Scroll down] [W]hat Democrats like Adam Nagourney determinedly call "protests against police abuses" consist largely of arson, assault and looting. Nothing says "I'm against police abuses" like looting a pharmacy, liquor store or jewelry store. There is a reason why countless stores in urban areas were boarded up, and in many cases remain boarded up, and the reason isn't that someone is "protesting against police abuses." Further, Democrats in a number of cities, like Seattle, Portland, Chicago and Minneapolis, proved to be so sympathetic to rioters that they were unwilling to take effective measures to stop them. Voters noticed. One more thing: Nagourney's statement that riots, looting and arson were "heavily covered on local television" is revealing. The [New York] Times, the Washington Post, the Associated Press, the broadcast networks and other reliable Democratic outlets tried to suppress information about the riots that took place across the country, precisely so that such information would not damage the Democratic Party. But they failed, mostly on account of local news coverage, which was less dedicated to the Democratic cause and more interested in letting viewers know what was going on.
What the Media Didn't Want To Report About These Capital Punishment Cases. This summer, the federal government began putting people to death for the first time in 17 years. "Trump administration executes Brandon Bernard, plans four more executions before Biden takes office," said a Washington Post headline last week. While that is technically true, it wasn't Trump who convicted these men of murder; it was a jury of their peers. It wasn't Trump who upheld their convictions after numerous appeals; it was the judicial system. It wasn't Trump who found the death penalty constitutional; here, it was the Supreme Court that reaffirmed the Federal Death Penalty Act of 1994 requires executions to be carried out "in the manner prescribed by the law of the state in which the sentence is imposed." It wasn't Trump who sponsored that law in 1994; it was Joe Biden. Reporters nearly always glide past the horrifying specifics, spending inordinate amounts of space presenting the case of anti-death penalty advocates, who often dishonestly paint these men as victims.
Protect Election Integrity - Censor Anyone Who Questions the Election. Google's YouTube announced that "supporting the integrity" of the election required it to censor anyone alleging that "widespread fraud or errors changed the outcome of a historical U.S. Presidential election". By historical presidential election, Google meant this one. Democrats are still free to allege that they would have won in 2000 or 2016, if it hadn't been for the chads or the Russians. A huge tech monopoly closely tied to the Democrats, which was sued by the Trump administration over its illegal abuses, censoring critics of the Democrat election fraud is protecting and supporting something alright, but that thing is very definitely not integrity. Election integrity, like fact checking, is one of those curious terms whose meaning was 'Orwellianized' in the last decade. Fact checking used to mean media organizations checking their facts before they published a story. Now the media has mostly done away with internal fact checking and uses fact checking to describe its efforts to censor conservative media.
Joe Biden's niece Caroline gets no jail time after DUI guilty plea. Another Biden walks free. Joe Biden's niece Caroline Biden pleaded guilty to DUI on Dec. 3 — and was sentenced to 20 days to six months of "confinement," Pennsylvania court records said. But the small print shows Biden, 33, won't see a day behind bars after she negotiated a plea deal with the Montgomery County district attorney. Instead of jail, she got five-plus months of probation, with 20 days of rehab in January counted toward her sentence. The walk-free plea continues a long Biden family tradition of avoiding jail time. A [New York] Post investigation in July found at least eight other busts of Bidens resulted in wrist slaps.
Fox News: Mainstream Media Seem to Have Forgotten Chris Krebs. The nation's former top cybersecurity official has gone from media darling to pretty much missing in action very quickly. Christopher Krebs, former head of the Cybersecurity and Infrastructure Security Agency, was a very popular mainstream media guest when he was disputing President Donald Trump's allegations of voter fraud. After being fired as CISA director by President Trump in November, Krebs received a lot of media attention. He even was the subject of a CBS "60 Minutes" story after saying there was no evidence of voter fraud. But now, as reported by Fox News, Krebs is being mentioned a lot less frequently as his former agency is under fire following a suspected Russian cyber attack revealed this week.
Anti-lockdown protesters scuffle with police in London as city heads into new Tier 4 lockdown. Anti-lockdown protesters clashed with police officers at a demo in London this afternoon (December 19). Protesters were demanding an end to covid lockdown restrictions, and comes as the capital and South East were plunged into new 'tier 4' restrictions. [Video clip]
China, Spies, And Sexual Harassment: 3 Bombshell Stories The Legacy Media Are Hiding From You. In the weeks leading up to November 3rd's election, one unfortunate truth became abundantly clear: the legacy media are the Democratic party's propaganda wing. To the Left — and some in the middle — this will sound like lazy conservative hyperbole, where the media is presented as the "enemy of the people," pushers of "fake news." The truth is, however, that the "good old days" of subtle subjectivity or mild bias in the field of journalism are long gone. Instead, the legacy media have ushered in a new age of blatant and shameless narrative control with the expressed goal of achieving partisan political objectives. For those who disagree, here is a list of stories from this past week alone which — had they received any attention — could be hugely damaging to the Democratic party and have been suppressed or even ignored by our supposedly "objective" media elite.
Joe Biden Is Not President Elect. You won't hear it said anywhere else, but until the joint session of Congress and the Senate meet on January 6, Joe Biden is not the president elect. [Video clip]
Republican Mackenzie Kelly Wins Austin City Council Runoff. Local Paper Declines to Cover It. In a stunning upset, Republican Mackenzie Kelly defeated Democrat incumbent Jimmy Flannigan in Austin's District 6 runoff Tuesday. Kelly ran on a platform that includes restoring police department funding and ending the city's permissive homeless camping ordinance. She won with 52% to Flannigan's 48%, a margin of just about 700 votes overall. Kelly's win, and Republican Jennifer Virden's near-win in District 10, may signal a major shift in Austin voters' thinking. The Democrat-dominated city was already up in arms over the homeless camping ordinance, which allows homeless people to camp just about anywhere they want all over the city (except city hall) since the council passed it unanimously in the summer of 2019. That has led to encampments under overpasses and even on the fringes of neighborhoods all over Austin.
Corporate Media Awfully Quiet on News of Fraudulent Dominion Voting Systems Results. One of the ways you can tell if a story is damaging to the Democrats is to look at how their close friends and allies in the corporate press handle it. For example, it turns out the left-wing activists in the media really really really don't want you to know about the recent revelations regarding voting machines in Antrim County, Michigan, so they are refusing to report on it. [...] The bottom line is that the media is ignoring the story because they do not want more Americans to doubt the integrity of the 2020 presidential election. They have been downplaying and suppressing stories showing indications of fraudulent activity at the polls. As usual, they are motivated by fear. Despite the front they put up for the American public, they know that this election was not immaculate and they know that the cheating came from their side.
Major cable networks quiet on sexual harassment allegations against Cuomo. Several major cable networks failed to report on sexual harassment allegations against Gov. Andrew Cuomo in the wake of the Sunday accusations, according to a media watchdog group. CBS, NBC and ABC were all silent on Sunday night [12/13/2020] — the same day Cuomo's former aide Lindsey Boylan tweeted out the claims against her ex-boss, according to the Media Research Center. The group said the same networks' Monday morning news shows also failed to report on the allegations, which Cuomo has denied. Fox News, meanwhile, ran a report on the news at about 6:10 p.m. Sunday. Boylan served as Cuomo's deputy secretary for economic development and a special adviser from March 2015 through October 2018, when she resigned amid scrutiny of her own workplace conduct.
Hack Networks Silent on Sex Harassment Claims Against Andrew Cuomo. The network newscasts on Sunday night [12/13/2020] and Monday morning were predictably silent on the shocking sexual harassment claims against Governor Andrew Cuomo, a hero among liberals. These are the same networks that praised his "excellency" and gossiped over the single Democrat. On Sunday night, Fox News broke from the Democrat media and alerted viewers to the story.
Big Tech, MSM attempt to snuff out Hunter Biden investigation. The mainstream media is being exposed for attempting to kill the New York Post's article on Hunter Biden. Following the release of the article, mainstream news outlets began pumping out stories alleging the documents used in the article were apart of a Russian disinformation campaign or just not credible. The majority of the media's reporting on Hunter Biden's shady business dealings attempted to dismiss the allegations. At the same time, Big Tech media companies like Twitter and Facebook tried to limit the breadth of the stories reach online. Twitter went as far as to suspend the New York Post's account, which is one of America's most read newspapers. This week, the nation learned that, in fact, there is an active investigation underway into Hunter Biden's taxes. While little is known about the case, the subject matter of the investigation, which has been going on since 2018, could prove some of the facts in the New York Post's article to be valid.
Media outlets knew of massive CCP infiltration in September but chose to wait until after the election. The stunning report about Chinese Communist Party members infiltrating seats of power across the western world is old news, at least to many journalists. They were made aware of the data leak in September, but with the presidential election coming up, nobody reported on it until yesterday. The leaks, which were made public by multiple news outlets today [12/13/2020], reveal that among nearly two million active members of the Chinese Communist Party, thousands have positions of power at major companies, non-government organizations, and even in western government bodies. It's a shocking revelation that shines a light on the massive influence Beijing has over western society. On top of that, this data was collected in 2016, meaning there are likely thousands more major players in the CCP who have embedded themselves around the world in the last four year.
Curiouser and Curiouser. [Scroll down] All the people that hate America have aligned for this coup. This is the Hail Mary of all times and they're going for it. Big tech such as Google, You tube, Twitter and facebook have shut down conservative commentary. If you do something as simple as tweet about the irregularities of this election, you're booted. Total control, and there's nothing you can do about it. Well, TV is worse. On Monday, Rudy and the crew were in Arizona presenting their case. If you thought that the witnesses, mathematic anomalies, extended time frames, weird ballots, etc, in Pennsylvania were pretty amazing, that was just a warm up to Arizona. I have to believe that anyone who is being honest with themselves and not running on blind hatred of Trump, would have to say after that hearing, that there's NO WAY that there wasn't massive fraud involved. So let me ask those who continue to tell me that I'm spreading vile [falsehoods], that Trump lost because people hate [him], and I should suck it up and move on: Why isn't the media broadcasting these hearings so the American people can make up their own minds? If it's just smoke and mirrors, if there's no substance, then why not air it. Make fools out of people like me?? Better yet, if Rudy and his evidence and witnesses are really [baseless], why isn't the media covering it, so they can rip it all to shreds? You know why. They don't want YOU to see what really happened. The less people that see what these folks have as evidence, makes their job of pushing their agenda much easier. So, we have big tech in on this. We have the media in on this. Who else is in on this? I'm afraid that it's so widespread that we really are in the biggest clash between good and evil we have ever seen.
Hunter Biden cover-up was the lie of the year. The devil had a good year that could end in the demise of our constitutional republic. If it does it will be based on many lies, but the biggest lie is what the media failed to report. [...] But the biggest lie was the story not told about Hunter Biden. A laptop he owned contained details of the bribes he collected while his father was vice president. Only the New York Post was brave enough to publish it. Democrats immediately moved to have the story banished. Twitter blocked the Post's account in an attempt to stop the Post from publicizing its blockbuster story. Oh, Hunter making money off his father's position was not news. He had done that all his adult life. MBNA, a credit card company, paid him off when his dad was in on the committee re-writing bankruptcy laws.
The Stealing of the Presidency, 2020. The left-wing news media didn't just poison the information environment with their incessantly negative coverage of President Trump going into the 2020 election. They also refused to give airtime to important arguments of the Republican campaign — both pro-Trump and anti-Biden — which meant millions of voters cast their ballots knowing only what the media permitted them to know about the candidates. [...] This lack of information proved crucial: One of every six Biden voters we surveyed (17%) said they would have abandoned the Democratic candidate had they known the facts about one or more of these news stories. A shift of this magnitude would have changed the outcome in all six of the swing states won by Joe Biden, and Donald Trump would have comfortably won a second term as president.
Actionable News. [A] study that shows even with Democrat cheating, Trump would have trounced Joe Biden at the polls if the "news" media had just been reporting actual news to their audiences. In a survey of Biden voters in seven swing states, one in six declared they wouldn't have voted for Biden (and in some cases would've voted for Trump) if they had been aware of major news stories which somehow (ahem) had been omitted from mainstream newscasts and censored by social media sources. Here are some of the main things that Biden voters didn't know (and which they now say would have influenced their votes). In each case, had the voters known even one of these stories, Biden would have lost.
The District of Corruption Has Overplayed Its Hand. Outside D.C., Americans have common sense, and their common sense tells them that the 2020 election for president was a sham. By hook or by crook, and without changing current election laws through the state legislatures, Democrats transformed the 2020 election into a contest of which side could manufacture more fraudulent mail-in ballots. Since only the Democrats were manufacturing ballots, they won by default, but only after working well past double overtime to overcome the historic turnout for Donald Trump's re-election. Can you imagine how surprised those cheaters must have been when they realized in the hours after the polls closed that they'd have to double up their cheating efforts just to match the real voters who showed up for the president? Trump voters were so aware that they'd have to prevail over a "margin of fraud" that they turned out in numbers that shocked everybody. And instead of noting the huge surge in voters for the president, the Democrat press simply ignored it completely.
Daily Beast: Isn't it odd that the Hunter Biden money-laundering probe went "largely unnoticed" until now? "Largely unnoticed," purposely ignored, or actively suppressed? The Daily Beast's reporting team on Hunter Biden's legal woes sound somewhat surprised that the FBI's money-laundering probe didn't get noticed before the election: [...] The word "unnoticed" is doing an awful lot of heavy lifting in this sentence. Not only did it get noticed, it got reported by Sinclair TV's James Rosen a few days before the election. A large number of online outlets — mostly conservative — picked up on Rosen's report about the FBI's criminal probe of Hunter Biden, including us. Rosen reported that Tony Bobulinski had cooperated in the probe, and that its focus was money laundering.
How the media covered up the Hunter Biden story — until after the election. It's now clear that the Hunter Biden story was real, with Hunter himself acknowledging a federal probe into his taxes — one that reportedly began in 2018. Really, it was always clear. Yet, when The New York Post broke the details, virtually the entire journalistic establishment and left-wing punditsphere defamed the newspaper, claiming it was passing on Russian "disinformation" or partisan fabrications. The political media quickly began pumping out process stories about the alleged discord in The Post's newsroom and about the problems with the reporting. In so doing, of course, they did practically no reporting on the substantive allegations that Joe Biden's family had spent years cashing in on his influence. Tech companies, spurred on by these censorious journalists, shut down the account of one of America's most-read newspapers to inhibit users from reading the story. It was completely unprecedented.
The Editor says...
The whole story about Hunter Biden's laptop (containing courtroom-quality evidence of corruption) would still be under the rug today except that Joe Biden is no longer useful to the Democratic Party. Joe Biden is now being set up for a hasty resignation — probably after he is sworn in as president, so he can have a lifetime of benefits and his wife can make book deals. Then the real nominee, Harris, takes over and names her vice-president — probably either Hillary Clinton, Valerie Jarrett, Oprah Winfrey, or Michelle Obama. Along the way, the news media will only report the stories they are permitted to mention — by their puppeteers in the Democratic Party.
Politico Reporter Drops Info on Investigation Involving Biden's Brother Jim, Conservatives Eat Them Alive for Prior Spinning. One of the things that's been most infuriating about media like CNN suddenly "discovering" the story of allegations and recognizing Hunter Biden was under investigation by federal authorities was that all this information was readily available before the election. But MSM chose not only to sit on it but actively suppress it from coming out and informing the public. Now that they believe Joe Biden has won the election, whoops, suddenly, the information comes out.
The Media Are Suddenly Interested in Hunter Biden. You may have noticed a shift yesterday after news that Hunter Biden was under federal investigation broke. Suddenly, as if the memo had gone out, the media were interested. Multiple mainstream media outlets, including CNN and Politico, put out reports actually saying that Hunter Biden's issues were worse than his father's transition team statement let on. That may be all well and good, but no one should forget how these "journalistic" outfits treated the very same story when it could have cost Joe Biden the election. We know about the censorship of the New York Post, but it wasn't just that. News outlets also actively tried to discredit the story despite having no evidence it was false and ample evidence it was true. In fact, as I reported yesterday, it's been known since late October that Hunter Biden was indeed under investigation. Not a single member of the mainstream media reported it. They will now try to act as if the latest admission by the Bidens somehow constitutes this as new.
Youtube Announces It Will Delete All Posts Alleging that Widespread Fraud Cost Trump the Election. Google-owned Youtube has announced that it will summarily delete all videos that claim that Donald Trump lost the presidency due to widespread voter fraud. In a Wednesday blog post, YouTube said any post "that misleads people by alleging that widespread fraud or errors changed the outcome" of the election will be removed. The content will be removed starting Wednesday [12/9/2020]. YouTube added that it is already rigging search results and algorithms to hide "misleading" election videos from its users. YouTube said that the censorship effort will be "Limiting the reach of borderline content and prominently surfacing authoritative information." YouTube added that "Problematic misinformation represents a fraction of 1% of what's watched on YouTube in the U.S," and adds, "we know we can bring that number down even more."
Google, YouTube, Announce They Will Block Content That Challenges 2020 Election Result. After the Marxist-left spent four years challenging the result of the 2016 election, forming the "resistance" and calling Donald Trump an illegitimate president; and after Big Tech supported, allowed and amplified that message on all media platforms; Big Tech's largest control agent, Google (via YouTube), now steps-in to say they will not permit content that challenges the outcome of a demonstrably fraudulent 2020 election.
YouTube will now remove videos disputing Joe Biden's election victory. On Wednesday [12/9/2020], YouTube announced that it will begin removing any content alleging widespread voter fraud influenced the outcome of the 2020 US presidential election. In the immediate aftermath of the November 3rd election, YouTube came under fire for allowing channels to publish videos making false claims about election results. In one instance, One America News Network, a verified YouTube channel, published a video declaring that "Trump won" the election. At the time, YouTube defended its decision to let the video stand, saying in a statement, "Like other companies, we're allowing these videos because discussion of election results & the process of counting votes is allowed on YouTube." The company went on to say that content from "authoritative news organizations" were "the most popular videos about the election."
Google/YouTube is erasing all evidence of election fraud. [Scroll down] The policy rejoices under the Orwellian name "Supporting the 2020 U.S. election," which actually means squelching all challenges to the massive human and electronic fraud that pushed Biden over the top. [...] As you may recall, if your memory hasn't been memory-holed, in pursuit of this main goal, Google/YouTube systematically censored any negative coverage about Biden — most especially reports about Hunter Biden's sexual and drug debauchery, and about his corrupt dealings with China and Ukraine, including written evidence and first-person statements about Biden's knowledge of and profiting from Hunter's deals. Now that Operation Big Brother Phase One has succeeded, and the AP has declared Biden the winner (something that supersedes silly little things like constitutional requirements for victory), YouTube/Google is ready for Operation Big Brother Phase Two — the Memory Hole.
We have been manipulated and will not admit it. In a survey after the election, Media Research Center reported that 45% of the people responded that they knew nothing about the money laundering done by Hunter Biden. The mainstream media, which is the third leg of the power in the United States, didn't report the wire transfers to Hunter Biden from foreign governments by foreign individuals. Americans didn't hear the story, because the media didn't report it. Americans would not accept the idea that government officials could be bought. They reject the idea that the sitting Vice-President could steal millions of dollars.
Win Over FOX News Host Martha MacCallum for the First Time Ever. This was a first. Newsmax nighttime host Greg Kelly scored a ratings win over FOX News host Martha MacCallum for the first time on Monday night [12/7/2020]. FOX News continues to crash and burn after they turned a blind eye to the massive voter fraud in the 2020 election.
Networks Censor Bombshell on Chinese Spy-Swalwell Relationship; Tucker Buries All of Them. When it comes to claims of Russian collusion (fake or real), the liberal media have proven to be all ears. But when it comes to the ever-growing threat from China, they're far less interested. Whether it's due to their corporate interests, the Communist Party's tilt, or something else, the outrage was almost non-existent. So, it was unsurprising to see how the major broadcast network newscasts refused on Tuesday [12/8/2020] to acknowledge a bombshell Axios story chronicling how a Chinese spy named Christine Fang "developed extensive ties with local and national politicians, including a U.S. congressman, in what U.S. officials believe was a political intelligence operation run by China's main civilian spy agency between 2011 and 2015." That congressman? Eric Swalwell (D-CA). Thankfully, the Fox News Channel's Tucker Carlson not only covered this in his opening monologue, but went further by stating that "U.S. intelligence officials believe that Fang had a sexual relationship with [Swalwell]" and that his team contacted Swalwell's office seeking comment on all of the allegations.
Media Don't Want You to Know About Alleged Shooting Attack on Trump Supporters. A South Carolina prosecutor says a 23-year-old man shot into a crowd of Trump supporters in late August. And — surprise, surprise — this is something our useless national media don't want anyone to know about. Of course the corporate media don't want you to know. What do you expect from a media that ask you to believe that when the terrorists in Black Lives Matter and Antifa loot and burn and assault, the looting and burning and assaulting is "mostly peaceful." The corporate media lie to protect left-wing terrorists, lie to smear Trump supporters, and hide inconvenient truths such as this one. And that's why New Media is here. Not so much to complain about the corporate media. That's a waste of time. But to report actual news that matters, such as this story, which the Washington Examiner found in a local newspaper.
Pennsylvania Bombshell: Biden 99.4% v. Trump 0.6%. This particular gem was provided by Ret. Col. Phil Waldren, a former combat officer with a background in Army information and electronic warfare. [...] If what Waldren alleges here is true, then this would constitute one of the most insidious examples of documented voter fraud in the history of American presidential politics. This one spike alone would have erased Donald Trump's 600,000-vote lead over Joe Biden late Tuesday night, November 3. Biden has reportedly won Pennsylvania by about 70,000 votes. This one swing would have done it. If this is true, then this episode alone might well constitute a smoking gun affirming a fraudulent election in Pennsylvania. And yet, this electoral bombshell has been completely ignored by the mainstream press. The only national sources that I could find reporting it were RealClearPolitics, Breitbart, and Greg Kelly of Newsmax TV. The video link that I've provided is courtesy of Right Side Broadcasting Network, a conservative source, filling a gap vacated by shameless mainstream "news" sources, which avoided the hearing like the plague.
The Pennsylvania hearing: The second Gettysburg Address. If a huge story drops in the middle of a crowded room and no "journalist" is there from the mainstream media to cover it — is it still a story? The answer is yes. Wednesday November 25, the day before Thanksgiving, may go down as the backdrop for the nation's second Gettysburg Address. And there is a good chance you might not have heard it or anything about it. Apart from several live streams of the event, OANN was the only network to cover it on television. But despite the media blackout and Twitter's censorship, the truth has a funny way of spreading. If the Trump team and their witnesses manage to duplicate and produce testimony as compelling and powerful as what was on display in Pennsylvania, the 2020 election is far from over.
Did President Trump Spring a Trap on Treasonous Democrats on Election Night? After the November 3 presidential election of 2020, a news story broke reporting the seizure of important computer servers in Frankfurt, Germany. Though the event is disputed, what occurred, according to the Gateway Pundit, was this: "[a] unit under the command of USEUCOM (i.e., United States European Command) did in fact conduct an operation to take control of computer servers. But these servers belong to the CIA. ... Such an operation would have been carried out with US law enforcement present to take custody of the evidence." The presence of federal agents of the court would guarantee a chain of legal custody for the servers that would render their data admissible before a judge. Gina Haspel and Christopher Wray were supposedly not informed of the raid in advance, leaving the CIA and FBI heads necessarily blind to this action and, therefore, unable to interfere. This means that the CIA was certainly the target and that a law enforcement agency unrelated to the FBI, such as the U.S. Marshalls or the Secret Service, was likely used to take control of the evidence. The timely firing of Mark Esper prior to the raid would mean that the oppositional defense secretary was cut off from foreknowledge of the raid and, therefore, would have been unable to disrupt what was going to transpire.
New reports about election manipulation read like a Tom Clancy novel. On Friday [11/27/2020], a retired top Air Force intelligence analyst stated with certainty during an interview that special forces had secured a CIA-run facility in Germany that had computers showing election manipulation. If this report is real, we are witnessing the biggest coup attempt, sabotage, and treason in American history. No matter what, though, because this report is out there and comes from serious people, it deserves serious investigation. I have no idea whether this raid happened. Its having taken place, however, is consistent with my ruminations about Trump's peculiarly-timed shake-up at the Pentagon: Firing defense secretary Mark Esper and replace him with Christopher Miller, a special forces man; moving special forces into their own command, rather than having them function as subsets of other military branches; and firing potentially disloyal members of the civilian Defense Policy Board. These actions indicated that Trump was clearing the decks for something big.
'Durham has been looking at 2020 election fraud as well". [Thread capture]
The Editor says...
The most interesting articles are the ones where the reader can hardly tell if it's fact or fiction. This is one of those cases.
Media Childishly Dismissive of Gettysburg Vote Fraud Hearing. The mainstream media, rather than cover in any real detail the serious allegations of voting fraud that were presented at a Gettysburg hearing of the Pennsylvania Senate Majority Policy Committee on Wednesday, instead mocked and dismissed the event. CNN made no effort to hide its extreme bias over the hearing in its headline which described it as a "baseless voter fraud event," "Trump invites Pennsylvania GOP lawmakers to White House after calling in to baseless voter fraud event." In addition, the story put "hearing" in quotes so as to present it as somehow not a real hearing.
Neither the Media Nor the Electoral College Calls Races — the GSA Does & They've Been Silent. In a Nov. 2 piece recounting the longstanding role of The Associated Press in determining winners of presidential elections, New York Times reporter Katie Robertson wrote "In the United States — which, unlike many other countries, does not have a national electoral commission — the news media takes the role of race-caller in presidential elections." According to who? Robertson conveniently left out that it's not the self-anointed media experts who call elections, but rather the General Services Administration, which issues a letter of determination in a race. So far, the GSA hasn't done that, regardless of what the media "race-callers" dictate. Interestingly, Robertson's article included commentary from Sally Buzbee, executive editor for The Associated Press, who actually explained in clear detail why it's premature and disingenuous for anyone in the media to declare Joe Biden the victor right now.
Twitter is now warning you away from witness testimony at public hearings. If these facts were asserted by Team Biden, every network would have covered this Pa hearing LIVE.
8 U.S. House Races Still Have Not Been Called. Republicans Lead All 8 Races. The results from eight U.S. House races have still not been finalized in the 2020 elections nearly four weeks after election day. The Republican candidates in all eight races currently are leading their Democrat opponents.
There's More Than One Way to Steal an Election. The evidence is strong that the Democratic Party press swung this year's election to Biden by its selective non-coverage of critically important news stories that reflected well on President Trump or poorly on Biden. The Media Research Center has conducted extensive polling in seven key swing states. The MRC asked Biden voters whether they were aware of certain facts or news stories, and if they were not, whether awareness of those facts or issues would have caused them to change their vote away from Biden. [...] You might think that Democratic voters simply don't care about the facts. But that isn't what respondents said in this survey. MRC asked whether, if the respondent had known a particular fact, he would nevertheless have voted for Joe Biden, voted for President Trump, voted for a third-party candidate, or not voted at all. It turns out that all of these under-reported stories had the potential to swing significant numbers of voters away from Joe Biden.
Poll: One In Six Biden Voters Would Have Changed Their Vote If They Had Known About Scandals Suppressed By Media. A new report from the Media Research Center shows that the media's lack of coverage and big tech's suppression of certain issues and scandals surrounding Democratic Presidential Nominee Joe Biden could have cost President Donald Trump the election. The survey results report that 17 percent of Biden voters would not have voted for the Biden-Harris presidential ticket if they had known about at least one of the eight news stories that were suppressed by big tech and mainstream media outlets. "This is not happenstance. This is not coincidence. This is not oversight and this is not just a mistake," president and founder of Media Research Center Brent Bozell said at a press conference Tuesday. "These were deliberate decisions that were made thousands of times, literally thousands of times, to either twist or to not cover it at all, which we found in this case."
Sen. Tom Cotton: It's the 400th anniversary of the Pilgrims' arrival. Why haven't we heard more about it? We are marking a great American anniversary this month. In November 1620 a battered old ship called the Mayflower arrived in the waters off Cape Cod in what is now the state of Massachusetts. The passengers aboard the Mayflower were our nation's first founders — or, as Daniel Webster called them, "Our Pilgrim Fathers." Webster delivered a speech to honor these Pilgrims on the 200th anniversary of the Mayflower's arrival. Calvin Coolidge, then-governor of Massachusetts and president-elect, delivered an address on the 300th anniversary. Regrettably, we haven't heard much about this year's anniversary because the Pilgrims have fallen out of fashion in elite circles. Just this week, The New York Times food section published an article that called the Pilgrim story, including the First Thanksgiving, a "myth" and a "caricature." In place of these so-called "myths," the liberal newspaper seeks to substitute its own, claiming the history of our nation is an unbroken tale of conflict, oppression and misery.
Flat Out TDS: Media Is Already Trying to Erase Trump Being President. News broke yesterday [11/20/2020] that President Donald Trump's son, Donald Trump, Jr. had tested positive for the Wuhan coronavirus. Now most normal people on both sides of the aisle would wish him well, perhaps even telling the president they wished his son well. Not so much Yahoo. Here's the headline from the Yahoo article about the news: Former reality TV show host's son tests positive for COVID-19. Yes, that's how they're now trying to describe President Donald Trump. They're so incapable of accepting the reality they can't even put it in a headline and they're hoping to obliterate his presidency simply by obstinacy.
Fox Makes It Easy for Amnesty. [Scroll down] Fox is supposed to be the feisty opposition network. You'd think it would wage a rousing campaign against Obama's executive actions on immigration, which are surely wildly unpopular among its viewers, both because of their ends (de facto legalizing of illegals) and their means (presidential overreach). You'd think that. But you would be wrong. Fox didn't editorialize in favor of Obama. It just covered other issues.
Chaos and Anarchy in DC. In case you missed it, over the weekend tens of thousands of protesters marched in the District of Columbia to voice their support of the president and opposition to voter fraud. The "Million MAGA March," held Saturday afternoon, was a peaceful event. But as the sun went down and the pro-Trump demonstrators left the protest, violent agitators and counterprotesters emerged and descended upon them to harass and, in many cases, to commit violence. [Seven video clips] Police arrested 21 people in connection to the violence, according to NBC Washington. NBC Washington described some of the various charges of the suspects in this maelstrom, which included disorderly conduct and assault. Though many local outlets covered these incidents extensively, the story gathered little attention from national media. One would think that widespread violent attacks on peaceful protesters expressing their First Amendment rights would elicit a strong response from journalists. But coverage was both lukewarm and deceptive, portraying the incident as if it was Trump supporters who were the originators of the violent behavior.
Rudy and Sidney's Krakentastic Spectacle, and What It Could Mean. [Scroll down] In Georgia, Pennsylvania, Michigan, and Wisconsin, Trump had what looked like an insurmountable lead on Election Night. Then things changed. The media narrative held that this was always going to be the case because of the proclivity of mail-in ballots due to COVID-19. But why that didn't happen in Ohio and Florida, which have generally been considered the two most prominent bellwether states in presidential politics, has never been discussed by the corporate legacy media. Trump won both comfortably; the counting of mail-in ballots didn't materially reduce his lead as the night wore on (Florida counted the mail-in ballots first).
The press conference the media mocked, derided, and refused to cover. I watched the news conference Thursday conducted by President Trump's campaign attorneys, and later visited the websites of the major networks to see what their interpretation of the bombshell would be. CNN said they wouldn't even air the news conference because it was 'so bananas' and 'full of BS.' Yes, really. MSNBC linked to a Chuck Todd commentary saying: "This has been a bonkers press conference." ABC linked to this headline: "Promising more lawsuits, Trump attorney Rudy Giuliani recycles debunked claims." CBS News, at 9:32 p.m., had no mention of the news conference at all. NBC News put out: "Rudy Giuliani baselessly alleges 'centralized' voter fraud at free-wheeling news conference." Fox News's Kristin Fisher blatantly called Giuliani a liar.
CNN to MSM: Refuse to Report on Trump Election Challenges! Suggested new CNN slogan: "We Don't Report. We Decide for You." On today's [11/19/2020] New Day, the idea was seriously propounded that the media should refuse to report on, or examine the merits of, Republican challenges to election results. CNN has concluded that the challenges are not "serious," and thus that reporting on them would only serve to do the Republicans' work for them. Co-host Alisyn Camerota kicked off the discussion by pointing to a recent poll showing that 70 percent of Republicans think that Biden's win was due to fraud. An angry John Berman shouted that Republicans believe that because people like Republican House Minority Leader Kevin McCarthy have "made it happen."
Report Suggests Mainstream Media Silence On Hunter Biden Laptop Story Vital To Biden Success. Internal data from the Biden campaign shows that bombshell stories relating to a laptop apparently owned by Hunter Biden made more noise online than the massive Hillary Clinton email scandal of 2016. However, Team Biden was spared scrutiny from the mainstream media, seemingly boosting him in the 2020 presidential election. "According to Biden campaign metrics, online chatter about the Hunter Biden story during the election's last week was greater than it was around Hillary's emails during last month of '16," the Daily Beast's Sam Stein reported Monday [11/16/2020]. "The difference: it never spilled over into mainstream outlets."
The U.S. Economy's Remarkable Recovery Continues As Biden Plans To Crush It. Good news about the economy continued to pour in during Election Week. Predictably, the nation's establishment press, obsessed with its self-appointed insistence that Joe Biden is the nation's president-elect, virtually ignored it. On Nov. 6, the government's October jobs report revealed that the nation's unemployment rate dropped a full point to a seasonally adjusted 6.9 percent, while nonfarm payroll employment increased by 638,000. The reported unemployment rate smashed expectations that it would only drop to 7.6 percent, while the employment increase beat expectations by 58,000.
Left-wing rioters are no longer news.
Lefties attack MAGA marchers in DC — and the media shrug. If counter-protesters had triggered fighting across Washington, DC, in the wake of the January 2017 Women's March, the media would have erupted in fury. Yet the morning after Antifa types went after MAGA marchers in the nation's capital, the press obsessed about ... Kayleigh McEnany's estimate of the crowd size. The difference, plainly, is that no one felt the need to confront the anti-Trump marchers. But a significant element of the left seized the opportunity to harass and even assault the pro-Trump crowd.
Text messages cast doubt on Georgia officials' 'burst pipe' excuse for pause in counting. Officials in Georgia have not been able to produce any invoices or work orders related to a "burst pipe" at Atlanta's State Farm Arena that was blamed for an abrupt pause in vote counting on election night. The only evidence for the burst pipe, released under freedom-of-information laws, was a text message exchange in which one senior employee at the stadium described it as "highly exaggerated ... a slow leak that caused about an hour and a half delay" and that "we contained it quickly — it did not spread". "Beyond the lack of documentary evidence of the inspection or repair of a ruptured pipe, we are being asked to believe that there is not one single picture of this allegedly ruptured pipe, at a time and in a place where virtually everything is recorded and documented," Georgia lawyer Paul Dzikowski, who obtained the text messages, told news.com.au in an email on Wednesday night [11/11/2020].
Atlanta's Election Day Pipe Dream. Election Day 2020 was unusual for several predictable reasons involving high in-person turnout and veritable avalanches of mail-in ballots. One exceptionally odd event, however, took everyone by surprise — vote counting suddenly stopped for hours in several key swing states late Tuesday night. One of these mysterious halts occurred in Fulton County, Georgia, where election officials insisted that a broken water pipe necessitated a four-hour delay before counting of absentee ballots could resume. Yet evidence for what would have been quite a serious plumbing issue has been strangely elusive. There doesn't appear to be any paperwork involving this leak. Atlanta lawyer Paul Dzikowski, like many of us who vote in Georgia, was interested in the details of an incident serious enough to stop the vote-counting process for hours yet had been covered only in passing by the news media. As he expressed it in one email to me, "I guess we shouldn't be surprised that News Corp. from Australia picked up this story from halfway around the world but CNN hasn't bothered ... even though CNN's headquarters are literally in the same building."
NYT Tech Reporter Doubles Down on New Ways to Censor Conservative Content, Is Shown No Mercy. "News" outlets like CNN, the New York Times, and MSNBC have made a point in the last week of more closely monitoring the links posted on social media platforms from conservative websites under the guise of trying to prevent the post-election "spread of disinformation." But influential NYT tech reporter Kevin Roose accidentally gave up the game Monday in tweets detailing the content he had allegedly observed from three popular conservative websites (four stories total). To recap that story before we get to the update on it: The problem with Roose's investigation is that the reports he referenced — which came from Breitbart, Bongino.com, and the Daily Wire — were not the "misinformation" he originally claimed them to be and they weren't untrue, as even he noted in a later tweet. In fact, two of the stories Roose mentioned were actually based off of reports from his own paper. It was clear, however, from the thread that Roose was fishing for new ways for social media platforms to censor conservative content.
"Right-Wing Misinformation"? It's True! [Scroll down] At the New York Times, indisputable truth is "misinformation," and must be denounced as such, if it doesn't advance that newspaper's political agenda. Truthful information, in Timesspeak, is what helps the Democratic Party. "Misinformation" is what could harm the Democratic Party. As, very often, the facts tend to do. I have been saying for a while that the principal job of journalists these days is to block Americans from receiving information that they are better off (in the opinion of the Left) not knowing. Journalists don't so much report the news as cover it up. This is an excellent example of that sick phenomenon.
Media Determined to Ignore Vote Fraud, Dismiss Proof Offered at News Conference. Two reporters offered a preview of the media blackout of misdeeds we'll get for four years if Democrat presidential candidate Joe Biden lands in the White House. Yesterday [11/9/2020] in Philadelphia, when Kayleigh McEnany, President Trump's spokeswoman, and Ronna McDaniel, chieftain of the Republican National Committee, offered proof of voter fraud in Michigan, the worthies of the Fourth Estate pretended they didn't hear. One reporter mentioned the dreaded "C" word — conspiracy — to dismiss and mischaracterize clear evidence of fraud. The two said they had more than 100 affidavits alleging vote fraud and almost 3,000 incident reports in Michigan alone. [...] As for the fraud itself, [Ronna] McDaniel continued with two stories. A city employee in Detroit saw election workers and other employees "coaching voters to vote for Joe Biden and the Democrat Party," she said. "This employee witnessed these workers and employees encouraging voters to do straight Democrat ballot and witnessed these election workers and employees going over to the voting booths with voters in order to watch them vote and coach them who to vote for." The employee's supervisors, McDaniel said, ordered her "never to ask for a driver's license or any photo ID when a person was trying to vote." Then came the back-dating of ballots that had not landed in the voting system by the 9 p.m. deadline on November 3.
Civil War: Tucker Carlson Hits His Own Network in Epic Post-Election Monologue. As I wrote last night, Fox News seems intent on driving its current audience away. They are now getting into the practice of "protecting" viewers from information they don't like. In the latest example, they cut away from a presser held by Kayleigh McEnany in which evidenced claims of voter fraud were made, including citing of the court cases being filed. Neil Cavuto smugly declared that he couldn't expose whoever bothers to watch his show to that information in "good conscience," mimicking a practice popularized by CNN (which of course they never apply to liberal politicians). Tucker Carlson had apparently seen enough last night [11/9/2020]. He took a largely unprecedented swipe at his own network for their behavior in what was a far-reaching, epic post-election monologue.
'Whoa, whoa, whoa': Neil Cavuto slammed after he cuts off Kayleigh McEnany presser. Neil Cavuto was lambasted by Fox News viewers for abruptly cutting away from a press conference during which White House spokeswoman Kayleigh McEnany — an attorney — accused Democrats of not supporting a transparent election as the Trump administration seeks to expose alleged voter fraud. "There is only one party in America trying to keep observers out of the [vote] count room, and that party, my friends, is the Democrat Party," McEnany said. "You don't oppose an audit of the vote because you want an accurate count. You don't oppose our efforts at sunlight, at transparency, because you have nothing to hide. You take these positions because you are welcoming fraud and you are welcoming illegal voting." That's when Cavuto cut away, saying: "Whoa, whoa, whoa! She's charging that the other side is welcoming fraud and welcoming illegal voting. Unless she has more details to back that up, I can't in good countenance continue showing this."
The Darkness Where Democracy Dies. [Scroll down] President Trump brokered real peace between Israel and an ever-expanding list of long-hostile Arab nations that so far includes UAE, Sudan, and Bahrain. The press ignored it or disparaged it, so the people are in the dark about it. American cities have been devastated by riots that the media called "mostly peaceful protests." Millions of Americans don't know the extent of what happened or were poisoned with regard to interpretation of those tragic events. For three years, the Deep State and the media propagated a complete fabrication known as Trump/Russia Collusion. No evidence was found for it. It never happened. Yet they still report that it did. Today, nearly half the country believes it happened. That is known as propaganda, which is very dark. Tony Bobulinski came forward with hard, credible evidence of Joe Biden's egregious corruption of American foreign policy for the purposes of enriching his family with laundered millions from China, Ukraine, and others. Social media censored the story. Incredibly, the entire MSM dismissed it as Russian disinformation. The result is this: a compromised man with regard to national security has been crowned president by the same media that kept the people in the dark.
Reality: 'The media stole the election'. A new post-election poll conducted by the Media Research Center reveals that 36% of voters who chose presumptive President-elect Joseph R. Biden were not aware of the evidence linking him "to corrupt financial dealings with China through his son Hunter Biden," noted an analysis of the findings released Monday [11/9/2020]. "Thirteen percent of these voters (or 4.6% of Biden's total vote) say that had they known these facts, they would not have voted for the former Vice President. Such a shift away from Biden would have meant President Trump would have won the election with 289 electoral votes," the conservative press watchdog noted. The greater implication: Press coverage was at fault. "It is an indisputable fact that the media stole the election. The American electorate was intentionally kept in the dark. During the height of the scandal surrounding Hunter Biden's foreign dealings, the media and the big tech companies did everything in their power to cover it up. Twitter and Facebook limited sharing of the New York Post's reports, and the liberal media omitted it from their coverage or dismissed it as Russian disinformation," says Brent Bozell, founder of the center.
Why Trump Shouldn't Concede. Like the Potemkin villages quickly erected to hide the squalor in which Russian peasants lived during the reign of Catherine the Great, a façade of legitimacy is under construction by the Fourth Estate to cover up the widespread voting irregularities and outright fraud that gave us "President-Elect Biden." Never mind that the election was prematurely called for our erstwhile vice president by the same "news" media that steadfastly refused to report his well-documented history of racism, influence peddling, serial plagiarism, and conspicuous cognitive decline. They now expect the electorate to accept their word that Biden has won the presidency — a month before he is actually elevated to that office by the Electoral College. Even worse, having called the election for Biden without any legal or moral authority to do so, they are now hectoring President Trump to concede.
FNC drifts further left, suspends Jeanine Pirro upon learning she planned to cover election fraud. On Saturday, Newsmax reported that the Fox News Channel suspended Judge Jeanine Pirro's program after the network learned that she planned to cover issues related to election fraud in the 2020 race for the White House. "Sources close to the network tell us us that's because she made a very staunch defense of President Trump and wanted to expose or attempt to expose" the voter fraud that the Trump campaign and Republicans allege took place, Rob Schmitt said.
ABC, CBS, NBC Cut Away from President Trump's Live Remarks on Election. The three major news networks — ABC, CBS, and NBC — all cut away from President Donald Trump during a press briefing on Thursday evening in which he was discussing his view of the 2020 election results, including the presidential race. Trump said: "If you count the legal votes, I easily win. If you count the illegal votes, they can try to steal the election from us." The Biden campaign likewise claimed Wednesday that it "won," though Joe Biden himself has put that in future tense.
The Mainstream Media's COVID Cover-up Continues. On October 5th, The Great Barrington Declaration (GBD) was released to the public, almost three full weeks before Biden's interview. For those who've never heard of the GBD, you shouldn't feel left out. Our mainstream media has barely covered its existence, and are in fact doing everything they can to ignore it. Written by three renowned infectious disease epidemiologists — one each from Harvard, Stanford and Oxford — the GBD makes several recommendations that sound suspiciously similar to what Dr. Atlas has advocated for, and what President Trump has pitched to the American public. Among other things, the document advises:
• "Those who are not vulnerable should immediately be allowed to resume life as normal."
• "Restaurants and other businesses should open."
• "Schools and universities should be open for in-person teaching."
The GBD advises that communities and countries strive for herd immunity. The very mention of herd immunity has become verboten in many circles, with opponents such as Dr. Anthony Fauci of the CDC suggesting such an approach will kill people. But the credibility of the GBD is not simply limited to the credentials of its three authors, though their résumés are thoroughly impressive. To date, there have been over 11,000 medical and public health scientists from around the world that have also signed the declaration, along with another 32,000 medical practitioners. But Joe Biden told 17 million Americans that "no serious doctor around the world" agrees with Dr. Atlas? And Norah O'Donnell just went right along with the lie? As Joe might say, "C'mon man."
Scarborough: If Trump Tries To Declare Victory Tomorrow Night, We Won't Carry The Live Feed. [Scroll down] This is shaping up to be a highest-possible-stakes version of Twitter shutting down the New York Post's Hunter Biden story. A media platform decides that certain information is too unreliable and inflammatory for its users to consume, so it blacks it out. By dropping the Trump feed, Peacock would be making a statement about how much it trusts its viewers to responsibly process questionable information the same way Twitter made a statement about how much it trusts its readers to handle Huntergate. With an important difference. The Post liked to remind people that no one, including the Biden campaign, successfully challenged its story or proved that it's a dirty trick perpetrated by a foreign intelligence service. Twitter blacked out a major news story due to suspicion, not proof.
Biden Whistleblower Calls Out Media for Corruption Silence: 'History Will Not Judge Kindly'. Tony Bobulinski is lashing out at the media for undercutting his allegation that former Vice President Joe Biden was involved in his youngest son Hunter's business dealings. Bobulinski, a one-time business associate of Hunter Biden, released a statement to Breitbart News and other outlets on Friday criticizing the media for suggesting his claims, and the corresponding documentation he has provided, are illegitimate. "I would like to make clear that the emails, text messages, and other evidence that I have provided came from my own phones or computers and that those documents have been authenticated by an independent, nationally recognized forensic analysis firm," he said. "Moreover, the suggestion that I would provide falsified documents to the [United States] Senate and the Department of Justice is patently absurd."
CNN, MSNBC prime-time shows skip historic 33.1% GDP growth amid economic recovery. CNN and MSNBC may still call themselves 24-hour news networks, but their most-watched shows in prime time continue to avoid some of the biggest headlines. On Thursday morning, the Commerce Department announced that the gross domestic product (GDP), the broadest measure of goods and services produced across the U.S. economy, surged by 33.1% on an annualized basis in the three-month period from July through September. The previous post-World War II record was a 16.7% increase in 1950. Refinitiv economists expected the report to show the economy had expanded by 31%. However, despite the encouraging and historic economic figures amid the nation's recovery from the coronavirus shutdowns, it received no mention on CNN's and MSNBC's biggest programs Thursday night [11/29/2020].
Biden's Laptop Problem. [Scroll down] First there is the media, which used to be thought of a fourth estate bringing another level of checks and balances to government. For the first two hundred years of American history, no one doubted or questioned the fact that the media was a necessary institution to protect and ensure the integrity of the American democratic republic by informing voters of vital information — like corruption — bearing on candidates for public office, with the Presidency clearly being the most important office. Now we have the spectacle of the mainstream media not only ignoring a record of political payoffs documented in Hunter Biden's verified correspondence found on his computer's hard drive — corroborated by two former business associates — but also a media blackout on the recently released Senate Intelligence Committee report that contains confirmation by the U.S. Treasury Department of a $3.5 million wire transfer from the wife of the former mayor of Moscow, Elena Baturina, to Rosemont Seneca Partners, a firm Hunter Biden cofounded with Christopher Heinz (stepson of Secretary of State John Kerry) and Devon Archer (who currently awaits sentencing from a securities fraud conviction).
'It's Not Going Away'; Tucker Fires Back at 'ProfessionalClass' Ignoring Biden Corruption. On Thursday night, Fox News Channel host Tucker Carlson continued to reiterate the mounting evidence of corruption by the Biden family, two days after his interview with Tony Bobulinski and two days into the "complete media blackout" that raises questions about how we can "maintain a democratic system when reality itself has been banned." Carlson said that, "until recently, no one debated" whether the Biden family was selling access based on their family name, but "since Joe Biden received the Democratic nomination," "anyone in the media has claimed otherwise" with the Bobulinski blackout being the latest.
Read the piece The Intercept refused to run. Journalist Glenn Greenwald has resigned from news outlet The Intercept which he co-founded after claiming he was being silenced over an article on Presidential candidate Joe Biden. He says he was told his article would only be published if critical points against the Democratic candidate were removed and he says this forms part of a US media conspiracy of silence over Hunter Biden's laptops and the serious questions Joe still has to answer over his son's sketchy Chinese and Ukrainian business deals. He argues that political censorship has 'contaminated virtually every mainstream centre-left political organization, academic institution and newsroom.'
Glenn Greenwald resigns from the Intercept over site's refusal to publish a story about Hunter Biden docs. Here's a 2020 twist I didn't see coming. Glenn Greenwald is a co-founder of the Intercept, a progressive news site that leans toward the far left. Today Greenwald announced he had resigned from his own site after editors attempted to force him to remove criticism of Joe Biden from a story before publication. The exact content that offended the editors isn't spelled out but it certainly sounds as if it's related to the Hunter Biden documents.
Yes, [the] Media Are Rigging [the] Election Against Half The Country. Here's How. [Scroll down] The story was sourced to a laptop computer allegedly left by Hunter at a Wilmington computer repair store. Big Tech moved immediately to squash the blockbuster story on both Twitter and Facebook. Twitter has banned the New York Post from tweeting and Facebook publicly announced they were suppressing the story, pending journalistic fact checks. It's been more than two weeks since Facebook announced it was suppressing the story pending fact checks. It has not shared who it tasked with the fact checks, and the only journalistic checks on the information have confirmed the story. One of the recipients of an email found on the laptop confirmed it was real, on the record. Government officials said it was not Russian disinformation. No information has come to light to suggest it was Russian disinformation. And last night, the key email in question was verified as legitimate by a cyber expert who was given access to the metadata for the email. Other media outlets participated in the coordinated effort to squash the story, either by ignoring it completely or by claiming it wasn't a big deal.
Suppression Of Biden Story Claims Another Journalist's Scalp. In a bit of "inside baseball" news, journalist Glenn Greenwald has announced his intent to resign from the news site he helped found during the Edward Snowden leaks due to what he claims is censorship of an article he wrote detailing the allegations Hunter Biden — and, by extension, his father Joe Biden — were involved in an influence peddling scheme with a state-connected Chinese energy firm. Greenwald, one of three co-founders of The Intercept, announced his intention in a twitter thread Thursday [10/29/2020].
The Intercept Co-Founder Glenn Greenwald Resigns, Alleging 'Censorship' of Views 'Critical' of Joe Biden. Journalist Glenn Greenwald announced his resignation from The Intercept on Thursday [10/29/2020], alleging that the outlet he co-founded was attempting to censor a column in which he criticizes Joe Biden. Greenwald said he would continue publishing a freelance column, joining a number of journalists such as Matt Taibbi and Andrew Sullivan who have moved their work to the independent publishing platform Substack. Sullivan announced in July that he would leave New York Magazine, writing at the time that editors and writers at the publication were forced to commit to "critical theory in questions of race, gender, sexual orientation, and gender identity."
Evidence of Joe Biden Corruption Just Keeps Piling Up, and the Media Refuses to Cover It. On Wednesday, Fox News host Tucker Carlson condemned the legacy media for attempting to bury the bombshell story of Tony Bobulinski, Hunter Biden's former business partner who has testified that Democratic nominee Joe Biden was involved in his family's influence-peddling operations in China, Ukraine, and elsewhere. More and more sources have confirmed parts of Bobulinski's story — most recently a Senate committee — but many media outlets have refused to cover it. "Bobulinski told a remarkable story. Joe Biden — who once again could be [elected] president of the United States next week — was planning business deals with America's most formidable global opponent. And when he was caught doing it, Joe Biden lied. And then he went further, the slandered an innocent man as a traitor to his own country," Carlson explained. He lamented that "no one in America's vast media landscape has pressed Joe Biden" for his excuse to smear Bobulinski.
We Soon Learn Whether Most Americans Are Any Different From the Masses Who Fell in Line With Hitler and Stalin. [Scroll down] Lesley Stahl said a great deal when she told the president she would not ask him about the Hunter Biden laptop because CBS had not independently verified its ownership. So the biggest scandal imaginable — a corrupt and immoral presidential candidate who leveraged his political positions for half a century to get his family and him rich by compromising the national interest in order to curry favor with our nation's mortal enemies — is kiboshed. In lockstep Facebook and Twitter will not allow the New York Post to share its extraordinary journalistic breakthrough on the Hunter Biden laptop. Of course the laptop was Hunter Biden's — the signature on the repair order, the photos within it of him naked in a bathtub, the emails verified by a third party who worked with him. But they will not tell the story, and they will not allow others to tell it, so half the country's voters do not even know enough about the story to reject it.
CNN blasted as 'Democrat State Media' for Completely ignoring Bobulinski bombshells. President Donald Trump's 2020 campaign blasted CNN as "Democrat state media" in a tweet posted late Wednesday [10/28/2020] after a cursory search of the far-left "news" publisher's website unearthed zero reports about Tony Bobulinski. It was clear from the search that CNN had no interest in reporting anything about Bobulinski, the former Hunter Biden associate who's accused Democrat presidential nominee Joe Biden and his youngest son of illicit activities. Conversely, searches of The New York Times, The Washington Post and even HuffPost conducted Wednesday morning produced a few stories about Bobulinski.
Tony Bobulinski's evidence means media should push Biden to answer big questions. Journalists had a rare chance to ask Joe Biden a few questions Wednesday and — of course — failed to ask him anything about his knowledge of his son's business dealings. Even though former ally Tony Bobulinski gave sitdown interviews with Fox News and The Post's Michael Goodwin outlining in detail his evidence disproving Joe's repeated claims of lifelong ignorance of son Hunter's profitable affairs. And even though Twitter CEO Jack Dorsey was testifying to the Senate about the company's censoring of stories about the Bidens. Two big developments that the press felt wasn't worthy of mention.
The Media's Smear Job Campaigning for Joe Biden. As the national political media have conducted practically the entire Democratic presidential election campaign, the credibility of the media is entirely implicated in the election result. In the latest revelations about the financial activities of the Biden family while presidential candidate Joe Biden was the vice president, the national political media and the principal social media companies have sandbagged another large media company, News Corporation's New York Post, and have tried to impose online silence on the White House press secretary Kayleigh McEnany. The media either had to suppress the story to maintain support for their candidate and continue to make his campaign for him, or give normal attention to such a well-attested story and probably sink his candidacy — effectively their joint candidacy. If they had chosen the second course of action and treated Biden as they would have treated Trump or any previous presidential candidate mired in such allegations, the Biden candidacy almost certainly would be doomed. In going full metal jacket to ignore the story and to maintain Biden in their candidate protection program, the major media and the executives behind them are putting the credibility and ultimately the value of their franchises on the line.
The media — and social media — drive to squelch information [is] a menace no matter who wins election. The incredible decision by Twitter and Facebook to block access to a New York Post story about a cache of e-mails reportedly belonging to Democratic nominee Joe Biden's son Hunter, with Twitter going so far as to lock the 200-year-old newspaper out of its own account for more than a week, continues to be a major underreported scandal. The hypocrisy is mind-boggling. Imagine the reaction if that same set of facts involved The New York Times and any of its multitudinous unverifiable "exposés" from the last half-decade: from the similarly leaked "black ledger" story implicating Paul Manafort, to its later-debunked "repeated contacts with Russian intelligence" story, to its mountain of articles about the far more dubious Steele dossier. The flow of information in the United States has become so politicized — bottlenecked by an increasingly brazen union of corporate press and tech platforms — that it's become impossible for American audiences to see news about certain topics absent thickets of propagandistic contextualizing.
Nets Spend a Meager 21 Minutes Out of 113 Hours on Biden Scandals. Since the morning of October 14, when the New York Post published new evidence of Hunter Biden's corrupt business dealings with Ukraine and Joe Biden's potential knowledge of it, the broadcast nets have buried the allegations. Even when journalists mentioned the story, they devoted much of their time to knocking it down. From Wednesday, October 14 through the morning of October 27 MRC analysts looked at the ABC, CBS, NBC evening and morning shows and their Sunday roundtable programs. Out of a total of 113 hours of news programming, there was less than 22 minutes (21 minutes, 46 seconds) spent on the latest scandals involving Joe Biden's son. ABC spent 65 seconds on Hunter Biden corruption. NBC spent just 9 minutes on Hunter's scandals. CBS led the broadcast networks with a still-measly 11 minutes and 41 seconds.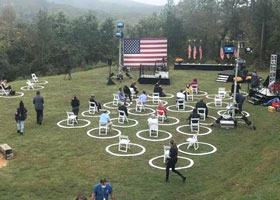 Ronna McDaniel's Twitter feed tells you what the polls are missing. If you pay attention only to the polls and the mainstream media narrative, you'll believe that, even though the presidential race is tightening, Biden still maintains a lead and can handily win the upcoming election. However, if you look at the information on the Twitter feed of Ronna McDaniel, the GOP Chairwoman, you'll see an entirely different story and one that is more in sync with Trump's well-attended rallies compared to Biden's anemic afternoon teas. Today, Joe Biden shuffled out of his basement for another one of his "rallies." It was an embarrassment: [Photo] Meanwhile, Donald Trump is doing two to three rallies a day, every day, and looking more vibrant and alive with each passing appearance before tens of thousands of people.
Joe Biden Campaigns to 38 Circles of Supporters and Media in Warm Springs, Georgia. 38 circles were drawn on the ground today in Warm Springs for Joe Biden's "rally" today [10/27/2020]. It appears the media was sitting in a few of the circles.
Joe Biden Rallies Dozens in Georgia. Former Vice President Joe Biden spoke to a few dozen attendees, including press, for his scheduled remarks in Warm Springs, Georgia, Tuesday afternoon [10/27/2020] with the presidential election just one week away. Reporters took to social media to share photos from the event, which divided the small number of supporters up using large white circles.
The Editor says...
Virus or no virus, if the presidential election is a week away and one of the two candidates can't get three dozen chairs filled at a rally, the candidate surely must know that he's about to lose the election. Joe Biden knows he lost the election last week, when Hunter Biden's laptop hit the fan, and Joe himself said he would eliminate the petroleum industry if given the chance. No amount of media spin can save him now. His only hope is massive voter fraud (e.g., dead voters, duplicate votes, corrupt election judges, fraud at the central counting station, etc.), combined with weeks of hair-splitting legal arguments (e.g., hanging chads), activist judges, and frivolous litigation in courtrooms all over the country.
Anti-lockdown riots convulse Italy as resistance spreads in Europe. Europeans are in open rebellion over the reimposition of harsh anti-Coronavirus lockdown measures. Severe limits on personal freedoms have failed to arrest the spread of the China virus in Italy and Spain, as positive tests for the virus have surged in both nations after relaxing the measures imposed last spring. [...] Rioting resumed Tuesday night [10/27/2020], though there is scant coverage from our media, other than Fox News. With Joe Biden endorsing a national mask mandate and discussing a national lockdown, media committed to his victory are loath to let Americans know that citizens in Europe are in open rebellion over such measures that have already failed.
Media Firemen Scramble to Save Biden Candidacy. During the Biden stretch run, the firemen on the left have shredded what is left of their reputations as journalists to destroy information the Deep State does not want their audiences to have. Even before Hunter Biden's laptop surfaced, the media busied themselves suppressing information that was readily available to the ordinary citizen — montages of Biden plagiarizing, groping little girls, making racially insensitive comments, eulogizing exalted KKK cyclops, threatening Ukrainian prosecutors, even sexually assaulting at least one very credible Democrat — and they did so with enough success that the Biden camp felt comfortable positioning Joe as the candidate with "character." The Hunter laptop was too tangible to dispose of subtly. Not since Joseph Goebbels urged the German Student Union "to commit to the flames the evil spirit of the past" has a western nation so flagrantly thrown in on the side of ignorance. Twitter has gotten most of the attention for its total blocking of the New York Post, which broke the laptop story, but the firemen at NPR were not far behind.
It's Amazing What You Won't Find If You Don't Look. [Scroll down] ["]Investigative journalism is a type of journalism that uncovers what others don't want uncovered. Investigative journalism is also called watchdog journalism. An investigative journalist digs deep into one story, whether it be corporate financial corruption, violent crime, or other topics that might not get covered in everyday news. One of the main goals of investigative journalism is to spur change. An investigative journalist might spend four years following a politician and uncovering a money laundering crime to protect the people from electing a criminal.["] But not now, certainly not at CNN; they can spend four years chasing a manufactured Russian dossier that might get rid of President Trump but they can't spend four minutes looking at a potentially explosive corruption case that might harm "their" candidate.
The big Trump rallies you don't see. "I can't believe there aren't any newspeople here," said Linda of Greene County, Pennsylvania, as she stood among hundreds of cars and pickup trucks idling in long parallel lines in a vast big-box-store parking lot Saturday, waiting to join the Interstate 70 Trump Train. Indeed, although there were carloads of Trump supporters as far as one could see, and many more on the way from Ohio and West Virginia, and this enormous political event was happening less than two weeks before the presidential election, as far as I could tell, I was the only newsperson there. It was the biggest political rally no one saw.
Christiane Amanpour Gives The Game Away On Media Blackout Of Biden Scandal. [Scroll down] There is no question that the press, which has done anything and everything to ruin Trump's presidency, will do anything and everything it can to get him out of office, including burying a big scandal involving his opponent. Nor should there be any doubt that a mainstream journalist perceived to have helped Trump would see his or her career immediately canceled.
With the Hunter Biden Expose, Suppression is a Bigger Scandal Than The Actual Story. The flow of information in the United States has become so politicized — bottlenecked by an increasingly brazen union of corporate press and tech platforms — that it's become impossible for American audiences to see news about certain topics absent thickets of propagandistic contextualizing. Try to look up anything about Burisma, Joe Biden, or Hunter Biden in English, however, and you're likely to be shown a pile of "fact-checks" and explainers ahead of the raw information.
Rep. Paul Gosar calls for NPR to be defunded over blackout on Hunter Biden allegations. Rep. Paul Gosar (R-Ariz.) is calling for National Public Radio to be defunded by the federal government. The movement to defund NPR comes after the media organization announced that it would not cover the allegations against Joe Biden's son, Hunter Biden. On Thursday [10/22/2020], NPR managing editor Terence Samuels declared that covering the news story about emails from Hunter Biden's laptop that was left at a computer repair store is a "waste" of time, and discredited the allegations a "distraction." "We don't want to waste our time on stories that are not really stories, and we don't want to waste the listeners' and readers' time on stories that are just pure distractions," Samuels stated.
The Biden Family Scandal Is Monumental. [Scroll down] Of course, the media and Big Tech immediately censored this story because they want Biden to win the election. They also believe they are in charge. Their Soviet-style tactics to censor this scandal reinforces the need to expose the Biden family activities. And in the typical Biden style of "the best defense is an offense," the one reporter who had the guts (or gall) to ask Biden about the subject was met with the following, "I have no response. It's another smear campaign, right up your alley, those are the questions you always ask." Thank goodness there are real journalists like Peter Schweizer, John Solomon and others who are diligently doing the investigative work the Democrat party media simply refuses to do.
Major Denmark Study May Show Masks Are Largely Ineffective, 'Science' Promptly Censors It. With the United States reaching it's highest daily case total of the pandemic yesterday, the case for masks continues to become more perilous. At no point has the country had more widespread mask mandates and usage than now, yet once again, we see almost no correlation between face coverings (most of which were never previously thought to be effective) and infection numbers. One study may have shown just that, and it may have happened all the way back in June. Unfortunately, the "scientific community" has decided that religious devotion is more important than an honest assessing of the facts.
Bernie Bro with Van Full of Guns and Explosives Plotted to Assassinate Biden — Media Buries the Lede, as Usual. Most of the time, the media doesn't outright lie to you. Yeah, every once in a while they'll blurt out a huge whopper ("Russian collusion"), but usually it's more subtle than that. They'll give you the facts, but they'll emphasize some facts over others to preserve the narrative they're selling. They'll lie by omission. They'll distract you with trivia while the real story slips by you unnoticed. For example, did you hear about the guy they just arrested in North Carolina for plotting to kill Joe Biden? Do you think you know why he wanted to do that? [...] What was [Alexander Hillel] Treisman's motive? He must be one of those evil Proud Boys or crazy QAnon freaks we keep hearing so much about, right? Wrong. But to find out the actual motive, you have to go all the way down to paragraph 15 of the WaPo story. [...] He's a Bernie Bro. He wanted to kill Biden to somehow help Bernie.
The Mainstream Press Is Desperate To Help Joe Biden, Even If It Means A Media Blackout. It's hard to imagine a media establishment more corrupt and insular than the American political press, which refuses to cover one of the biggest political stories of the 2020 presidential election unfolding just weeks before Election Day. Despite the best efforts of the corporate media and Big Tech, the story of Hunter Biden's emails keeps getting out there, and with each passing day it gets worse for Democratic presidential nominee Joe Biden. Of course, the story is not just about the younger Biden's emails anymore. It's about the extent of Joe Biden's role in what can only be described as a massive foreign corruption scheme worth tens of millions of dollars. On Thursday morning, news broke that one of Hunter Biden's former business partners, Tony Bobulinski, whose name appears in the trove of emails uncovered by the New York Post last week, verified the authenticity of those emails, which include details about a lucrative deal in May 2017 with a Chinese energy firm that appears to have included the elder Biden as an equity partner.
Tapper: Hunter Biden Story 'Too Disgusting' to Cover on CNN. CNN's Jake Tapper is the epidemy of modern journalism; partisan, incurious, grossly opinionated, and dedicated to his cause. Tapper was involved in a panel discussion with political commentator Bakari Sellers and made some startling statements about the Hunter Biden story that show what's terribly wrong with journalists and CNN. [...] As an aside, Tapper and CNN didn't consider it "too disgusting" to report on every salacious rumor about Donald Trump before and after the 2016 campaign.
Jake Tapper declares Hunter Biden claims 'too disgusting' to repeat on CNN. CNN anchor Jake Tapper declared that the growing allegations made against Hunter Biden ahead of the final presidential debate are "too disgusting" to repeat on-air. Ever since The New York Post released its initial batch of emails that allegedly came from Hunter Biden's laptop, a trove of other emails and text messages emerged suggesting impropriety between his foreign business deals and his father Joe Biden while he was vice president. During a panel discussion on what advice President Trump and Joe Biden should take ahead of the final debate, Tapper alluded to the line of attacks the president is likely to make against his Democratic opponent and his son, though he avoided sharing details of the explosive claims to his viewers.
Censorship Of The Biden Story. The destruction of journalistic ethics is nearly complete. The same group of reporters and pundits who rushed to report every rumor, every speculation, every lie about Donald Trump for the last four years now close ranks and refuse to report the emerging allegations about the Biden family. Hunter Biden's abandoned laptops have been a treasure trove of inside information about his reported influence peddling and shady deals, based entirely on his status as son of the vice president. It is obvious that Joe Biden supported his son's dealings, and it may also be the case that the "big guy" directly profited from them. And it is now beyond question that Joe Biden used the power of his office to bully Ukraine to end an investigation into corruption at the energy firm Burisma, where his son inexplicably was a board member.
3 Ways Donald Trump's Debate Performance Will Affect The Race. [Scroll down] You could almost hear the "No! No! No!" coming from [Joe Biden's] campaign war room, but there he went, claiming his family's now-public, corrupt dealings with foreign corporations seeking access to power are just Russian disinformation. [...] For a week, the titans of the American left have worked to quash this story, sending surrogates out to argue with the evidence while Big Tech actively suppresses the information and Biden hides from reporters more interested in asking him the flavor of his milkshake. It was going to be hard to hide until Election Day, but any hope of that is now dashed. Even the allied news networks that have diligently worked to ignore the story have now unintentionally aired it. There's no part of this story that plays into the vice president's campaign message, and no aspect of it will do well with voters.
The Media's Shameful Hunter Biden Abdication. In an interview with National Public Radio's public editor today, Terence Samuel, managing editor for news, explained why readers haven't seen any stories about the New York Post's Hunter Biden email scoop. "We don't want to waste our time on stories that are not really stories, and we don't want to waste the listeners' and readers' time on stories that are just pure distractions," Samuel reasoned. "And quite frankly, that's where we ended up, this was ... a politically driven event and we decided to treat it that way." Samuel, sadly, speaks for much of the media, which has ignored or dismissed the emails out of hand. In her 60 Minutes interview with the president (released preemptively by the White House), Lesley Stahl vigorously denies that Joe Biden is in the midst of a scandal.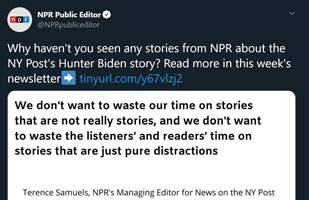 Yes, NPR really posted this. "Waste of your time?" "Not really a story?" "Just a pure distraction?" On the contrary, this is a bombshell that keeps getting bigger while the hack mainstream media runs defense for the Biden campaign! One can't help but wonder, would they be singing the same tune if this were Trump Jr. instead of Hunter Biden, with all other details the same? Of course not. It would be the biggest story in the country.
NPR: We're Not Covering Biden Laptop Scandal Because It's 'Not Really' A Story, 'Pure Distractions'. Taxpayer-funded NPR announced Thursday on Twitter that it is not covering the Hunter Biden laptop scandal because it's not really a story, which prompted widespread backlash online. "Why haven't you seen any stories from NPR about the NY Post's Hunter Biden story?" NPR wrote on Twitter. NPR then answered the question, writing: "We don't want to waste our time on stories that are not really stories, and we don't want to waste the listeners' and readers' time on stories that are just pure distractions." Almost instantly, the tweet sparked accusations of bias, which comes after one of Hunter Biden's former business partners said in a statement on Thursday that Hunter Biden allegedly asked his father, Democrat presidential nominee Joe Biden, to "sign-off" on his business deals. The statement contradicts Joe Biden's public statements that he never spoke to his son about his son's overseas business dealings.
NPR Refuses to Report on Growing Biden Scandal: We Don't Want to Waste Listeners' Time. A tweet from the National Public Radio Public (NPR) Editor on Thursday — on the day of the presidential debate — explained why the taxpayer-funded news outlet has been ignoring the growing scandal surrounding former Vice President Joe Biden, his son Hunter Biden, and the family's business dealings in China. "Why haven't you seen any stories from NPR about the NY Post's Hunter Biden story," the tweet said. "We don't want to waste our time on stories that a re not really stories, and we don't want to waste listeners' and readers' time on that stories that are just pure distractions." The tweet included the link to a newsletter written by Kelly McBride, who is with the Poynter Institute, the so-called gatekeeper for good journalism.
A Handy Media Guide To Covering (Up) Democratic Scandals. In the week after the New York Post published its damaging report on Hunter Biden, the New York Times has run a grand total of five news stories on the topic. The first report started this way: "The Biden campaign on Wednesday rejected a New York Post report about Joseph R. Biden Jr. and his son Hunter that the nation's leading social media companies deemed so dubious that they limited access to the article on their platforms." Two of the other stories focused on the social media angle. Another hinted that the scandal was part of a Russian disinformation campaign. The fifth was about how some reporters at the New York Post had "questioned the credibility" of the story. Whatever you think of the New York Post or Donald Trump or Joe Biden, this story is what we in the news business call "news." Yet the rest of the mainstream press handled it almost exactly as the Times did — as an inconvenience.
The Media Skips Its Own Scoop. as the media missed the biggest story of the century? Not Hunter Biden's email scandal as reported, but the media's interpretation of that New York Post exposé. Pooh-poohed as "Russian disinformation," the Hunter Biden story would amount to the media's holiest of grails — ruthless proof of what they have long sought to uncover — President Trump is in bed with the Russians. [...] Consider the operation necessary for the media's take to be rooted in any semblance of truth. A man named Hunter Biden drops off his laptop at a repair shop, leaving Hunter's contact details, and signing in Hunter's name. Hunter Biden's lawyer then attempts to retrieve that laptop from the repair shop. The Biden campaign then does not deny the veracity of the emails contained on that laptop. Yet, according to the media, the above amounts to "Russian disinformation" — perhaps the most skilfully crafted of hoodwinks. Would this not be the story of the century?
Homeland Security Creates National Center for Countering Human Trafficking — Media Run Away (Literally). Earlier today the U.S. Department of Homeland Security launched the first ever national Center for Countering Human Trafficking (CCHT), and DHS Secretary Chad Wolf held a 30 minute press availability to announce the new federal agency. [...] However, in a stark example of how liberal media refuse to discuss this topic; perhaps motivated to protect their Hollywood allies who participate in sexploitation; and perhaps because major Democrat donors are connected to the human trafficking industry; check out what happens when DHS officials open up the Q&A portion: [Video clip]
The Media's Futile Information Suppression Complex. If you needed evidence that "Russian disinformation" has become a catchall term for anything that undermines the Democratic Party's electoral prospects, look no further than the response of top party apparatchiks and the mainstream media to last week's New York Post exposé on Hunter Biden. According to Sen. Chris Murphy (D., Conn.), the story is "very likely Russian propaganda." House Intelligence Committee chairman Adam Schiff (D., Calif.) is certain the materials came "from the Kremlin." And CNN's John Harwood tells us the story is "clear disinformation by Russian intelligence." [...] The Biden campaign has offered no suggestion that the emails are phony. Instead, Biden has offered the magical one-word response that his former boss, aided and abetted by the press, used so effectively in 2008: Smear! It says something about the state of the mainstream media that their response has been functionally indistinguishable from that of the Democratic Party's leadership, elected and otherwise.
This Is How the Left's Power Structure Collapses. [Scroll down] Corruption. Full grown. Oozing its way into America. It's everywhere on the left. The Biden family. Clintons. The Democratic Party. The FBI. The CIA. The mainstream media. The tech giants. It's a full-out plague, aided and abetted by their demonic philosophy, all of them gone astray. All of them corrupt. The New York Post story has been there for about a week now. The Democrat-media complex has ignored it entirely; the tech giants went into overdrive removing all evidence from their platforms. Google. Facebook. Twitter. Instagram. The whole lot of them. Covering up a story that deserved universal distribution and condemnation. Instead, they covered up the most damning story to their side, their chosen side. All of them colluded to bury this mounting evidence of wrongdoing.
Media, Big Tech let Bidens sin and grin while vilifying The Post. Sportswriter John Feinstein, after legendary basketball coach Bobby Knight alternately called him a pimp and a whore, had a memorable response: "I wish he'd make up his mind so I'd know how to dress!" Something similar is going on with The [New York] Post's breakthrough reports of the Biden family business secrets. The media Praetorian Guards are throwing up defenses faster than Bobby Knight hurled insults. One day, The Post is accused of spreading Russian disinformation for reporting on e-mails contained on a laptop belonging to Hunter Biden. The next day, the paper is accused of being cruel because Hunter has obvious dependency and psychological issues. What's next — that poor Joe Biden was duped into getting involved in Hunter's deals because of early-stage dementia? Oops, can't go there, at least not yet. That has to wait until he's sitting in the White House and Donald Trump is banished. Then it will be safe to let the facts come out.
If Joe Biden lies and the media ignore it, does he make a sound? Shawn Steffee was at a political function in Indiana County, Pennsylvania, last Thursday evening when he started receiving an overwhelming number of calls and text messages. "My phone started going off like a slot machine. Initially, I had no idea what was going on," he said from his home in Homer City. Steffee, a Boilermakers Local 154 business agent and executive board member, soon found the flood of texts and calls were because Joe Biden lied about Steffee and his union supporting him during the ABC News town hall event last week. [...] "The boilermakers overwhelmingly endorse me, OK?" Biden snapped on Thursday, adding, "So, the Boilermakers Union has endorsed me because I sat down with them, went into great detail with leadership, exactly what I would do, No. 1." Except they didn't. In truth, the Local 154 endorsed President Trump in a September message from business leader John Hughes. They appeared with him onstage at a massive rally shortly after.
Cover-Up! ABC/CBS/NBC Bury Hunter Biden Scandals. The Big Three (ABC, CBS, NBC) networks are doing everything they can to avoid investigating the latest Hunter Biden bombshells. Since the morning of October 14 when the New York Post published new evidence of Hunter Biden's corrupt business dealings with Ukraine and Joe Biden's potential knowledge of it the broadcast nets have buried the allegations. For Wednesday, October 14 through the morning of October 19 MRC analysts looked at the ABC, CBS, NBC evening and morning shows and their Sunday roundtable programs, plus ABC's and NBC's townhall events with Joe Biden and President Trump. Out of a total of 51 hours of news programming, there was less than 15 minutes (14 minutes, 15 seconds) spent on the latest scandals involving Joe Biden's son. ABC spent ZERO seconds on Hunter Biden. NBC spent just 5 minutes, 2 seconds on Hunter's emails. CBS led the broadcast networks with nine minutes and 13 seconds.
The media 'cover' Joe Biden the way a protection racket does. Joe Biden is the most cosseted presidential candidate in memory. He has run a minimalist campaign that has avoided the press as much as possible, while the press hasn't been braying for more access and answers, but eager to avoid anything that could be discomfiting to the campaign. Never before have the media been so openly fearful of asking or reporting something that might hurt a presidential candidate. What are supposed to be the animating values of our adversarial press — informing the public, getting answers, holding the powerful to account — have all been subordinated to the protection racket that is coverage of Joe Biden.
Censoring the Biden story: How social media becomes state media. [Scroll down] Yet the funny thing about kompromat — a Russian term for compromising information — is that often it is true. Indeed, it is most damaging and most useful when it is true; otherwise, you deny the allegations and expose the lie. Hunter Biden has yet to deny these were his laptop, his emails, his images. If thousands of emails and images were fabricated, then serious crimes were committed. But if the emails and images are genuine, then the Bidens appear to have lied for years as a raw influence-peddling scheme worth millions stretched from China to Ukraine to Russia. Moreover, these countries likely have had the compromising information all along while the Bidens — and the media — were denying reports of illicit activities. Either way, this was major news. The response of Twitter and Facebook, however, was to shut it all down. Major media companies also imposed a virtual blackout on the allegations. It didn't matter that thousands of emails were available for review or that the Bidens did not directly address the material. It was all declared to be fake news.
TV News Networks Bury Hunter Biden Story with Less Than 10 Minutes of Coverage Over 2 Days. As Twitter worked overtime this week to suppress the bombshell New York Post reporting about emails allegedly linking Democratic presidential nominee Joe Biden to his son's shady business dealings, network and cable news broadcasts cumulatively gave the story fewer than 10 minutes of air time over two days. [...] While much of the country expressed shock and dismay that Twitter would go to such extreme lengths to keep a potentially damning story for Biden from being read, the establishment media was right on cue helping to ensure the story would die.
If We Let Big Tech Strangle The Press, Say Goodbye To Your Freedoms. With the recent suppression of a New York Post story damaging to Joe Biden's presidential campaign, many Americans have finally had enough of the one-sided censorious behavior of tech giants. Less than three weeks before one the most contentious and fraught elections in American history, Facebook and Twitter users were alarmed when it became clear they were prevented from sharing the Post's article detailing the sordid dealings of Joe Biden's son, Hunter. Both citizens and lawmakers justifiably fear the enormous influence wielded by entities like Facebook, Google, and Twitter; the rise of an unchecked tech-tyranny where one side of the political aisle has its views promoted while the other side has its views punished. Nearly two centuries ago, the author of one of the most penetrating insights on American life shared similar fears of what would happen should a free press remain free in name only.
ABC's George Stephanopoulos Fails to Ask Joe Biden About Hunter Biden Emails. ABC News' George Stephanopoulos failed to ask former Vice President Joe Biden at a town hall Thursday night about new email evidence that his son, Hunter Biden, arranged a meeting with him for an adviser to the corrupt Ukrainian energy company Burisma in 2015. As Breitbart News noted Wednesday, the New York Post reported on emails it had obtained from an abandoned laptop in which Hunter Biden's correspondence with a senior Burisma official was preserved.
Biden doesn't get one question on Hunter Biden exposé at ABC News town hall. Joe Biden was not asked a single question about The Post's bombshell exposé on son Hunter Biden's overseas business dealings during his 90-minute ABC News town hall on Thursday evening. Moderator George Stephanopoulos and undecided voters asked the Democratic nominee about everything from mandating a COVID-19 vaccine to how he'd handle a defeat on Nov. 3, but no one pressed Biden on newly unearthed emails which showed Hunter Biden selling access to his then-vice president dad. It was Biden's first televised interview since The Post made public a tranche of documents from a laptop which allegedly belonged to Biden's oft-troubled son. Among the emails on the hard drive was one which indicated Hunter Biden introduced his father to a top executive at a Ukrainian energy firm who was at the time under investigation before the elder Biden pressured government officials in Ukraine to fire that prosecutor a year later.
Biden Muddles Through Gentle, Hunter-Free Town Hall. Joe Biden came into Thursday night's town hall, which was originally supposed to be a debate, stung by new allegations of influence-peddling involving his son Hunter. The question on everyone's mind going in was whether he would be allowed to answer any question harder than chocolate or tapioca? [...] What didn't come up was Hunter Biden. What didn't come up was credible claims from the New York Post, the oldest daily newspaper in America, showing that the former vice president met with a Ukrainian businessman connected to his son. The biggest story in America right now was just ignored. That tells us pretty much everything.
Behind the social-media blackout of Biden family corruption. Hunter Biden is now the subject of multiple stories involving serious corruption. Whether he committed any crimes is a question for prosecutors and the courts. Whether he was paid handsomely for his family's political clout is a question for voters. You wouldn't know that from ABC's pathetic town hall with his father Joe Biden on Thursday night [10/25/2020]. They spoke with him for 90 minutes and didn't ask a single question about the shocking emails published by the New York Post. That's either journalistic malpractice or public-relations work. After all, the emails raise profound questions that the candidate needs to answer. They appear to show his son, Hunter, repeatedly using his last name to fill his pockets. Hunter's family is his only asset. How else did someone with no special skills manage to collect such huge payments from foreign companies with deep interests in US policy? He has no knowledge of Ukraine or China, no experience in energy or banking, and a crack pipe full of personal problems. So, how exactly did he get rich?
Media risks malpractice by dismissing alleged anti-Biden bombshell. The New York Post story alleging additional nefarious doings among the Biden family and Ukrainian entities put nearly as great an onus on the establishment media as it does on the Bidens. Yes, let's stipulate that the involvement of President Trump's political henchman Rudy Giuliani in the provenance of the Post's story makes the anti-Biden report immediately suspect. Still, the simple reality is that there's ample reason, both internal to the alleged emails in question and regarding other things we know about the Bidens' practices, that make the story plausible. Because of that plausibility, every major media outlet in the country should now rush to follow up on the story with neutral, open minds and no agenda pro or con, so as to shed more light on its level of accuracy. The actions of leftist social-media giants Facebook and Twitter to spike the story make it more imperative that real news outlets do even more reporting for the public's benefit.
Biden campaign, MSM, and social media oligarchs all are signaling voters that Joe Biden's pay-for-play scandal with Hunter as bagman is a BFD. The surest way to convince people that they ought to pay attention to something is to tell them they shouldn't be allowed to see it. About a century ago, when Boston had a municipal movie censor, producers vied to be "banned in Boston" as a way of convincing the public to flock to their flicks. This century's version of the same lesson is called "the Streisand effect," after the singer drew attention to her lavish seaside estate in California by attempting to suppress aerial pictures taken of it. [...] The Biden campaign has already badly blundered in its handling of the scandal unearthed when a computer repair store took legal ownership of a MacBook left with it more than 90 days and discovered thousands of emails as well as images and videos, some of them pornographic, showing Hunter Biden. The store owner turned the laptop over to the FBI late last year, which has taken no public action and, out of frustration with the story being buried, released a copy of the hard drive to Rudy Giuliani, through an intermediary.
Tucker Carlson Hits a Home Run Describing Censorship and Biden Emails: "This is a dark moment". Tucker Carlson described Hunter and Joe Biden's dealings tonight [10/14/2020] in a brutally honest monologue. Carlson began by describing the censorship of social media monopolies trying to keep the truth from the American people about what Joe and Hunter Biden were doing to make big money. Influence peddling seems to be the main focus with the Bidens, who are accused of selling access to the former VP. The monologue described the Computer Repair Shop owner who came to find the emails and photos on a laptop brought in for repair but never claimed. The description Carlson gives of the corruption should be devastating but CNN reported zero minutes about the emails tonight. Our media is actively protecting Joe Biden right before an election.
Democrats, Mainstream Media, Silicon Valley Try to Suppress Biden-Burisma Story. The Biden campaign lashed out at the New York Post after it reported Wednesday [10/14/2020] on emails showing that Hunter Biden arranged a meeting between an adviser to the Ukrainian company he worked for and then-Vice President Joe Biden, despite the elder Biden's repeated denials he ever discussed business dealings with his son. One email dated April 17, 2015, said, according to the Post: "Dear Hunter, thank you for inviting me to DC and giving an opportunity to meet your father and spent [sic] some time together. It's realty [sic] an honor and pleasure."
Biden's Son-In-Law Advising Campaign On Pandemic While Investing In Companies That Will Benefit From It. In what should be an obvious conflict of interests, Joe Biden's son-in-law Howard Krein is advising Biden's campaign on the Coronavirus pandemic, while investing in companies which stand to gain from it. Try to imagine the reaction from Democrats and the media, if Trump's son in law was poised to benefit financially from the pandemic. It would be front page news.
Yale Scientist: Fauci 'in Bed with Forces,' 'Decisions not Based on Science,' 'Killing Americans.' Why Is No One Investigating This Man? You may not have heard, but on August 23, a guy named Harvey Risch made some shocking accusations against Anthony Fauci. Of course, that by itself doesn't say much since a lot of people have accused Anthony Fauci of a lot of things since he stepped into the spotlight as the de facto leader of America's response to COVID-19. But Harvey Risch isn't just anybody. Risch is a professor of epidemiology at Yale University. He has an M.D. from UC San Diego, a Ph.D. from the University of Chicago, and he's published over 300 papers in a career that spans four decades. Harvey Risch can't be dismissed as a "crackpot conspiracy theorist." You can't brush aside such unbelievably serious accusations with some mantra about "following the science" when a world-renowned scientist is the one making them. Yet what's in a way more alarming than Risch's accusations themselves is the way they, nonetheless, have been completely brushed aside. There hasn't been a single call by anyone to investigate whether there's any truth to what Risch is saying.
Biden-Harris joint appearance in Arizona draws no spectators — as in ZERO attendees. Who are you going to believe — the polls or your lying eyes? With apologies to Groucho Marx, we now have the answer to the question: "What if they held a Biden-Harris rally and nobody showed up?" The answer is a shocked TV street reporter: [Video clip]
Pennsylvania: Nearly 60,000 Mail Ballots Unaccounted for in Trump-Heavy County. Westmoreland County, Pennsylvania, a county that Trump won by over 30 points in 2016, has had a "snafu" in the distribution of ballots. The ballots, which were supposed to be sent out this week to voters, never arrived. [Tweet] [Advertisement] County officials blamed the lost ballots on an independent contractor responsible for distributing the ballots, saying that the ballots were not lost — rather, they were never sent out. The officials stated that the issue was resolved, and that ballots should begin being sent out Friday morning, but did not state when the process would be completed by or when they expected to be all caught up. They only said that they expected Mid-West Direct (the vendor) to be able to get through the backlog over the weekend, and for the process to run smoothly from that point forward. We all know that, if this were a Democrat-heavy county, this would have made national news.
Media largely avoids Steve Scully controversy, TV networks skip debate moderator's 'hack' claim. The controversy that has enveloped debate moderator Steve Scully attracted little notice from the mainstream media Friday [10/9/2020]. Scully, the C-SPAN host who was selected to moderate the now-canceled town hall event, went viral on Thursday night after a tweet sent from his account indicated he had reached out to former White House Communications Director Anthony Scaramucci, something he later alleged was the result of being hacked. Despite the controversy driving social media over the previous 24 hours, none of the major news networks covered the alleged hacking scandal. CNN and MSNBC didn't touch the subject, nor did any of the three broadcast networks on their morning and evening newscasts.
Big Three Censor Poll Showing Majority Say They're Better Off Now than 4 Years Ago. It turns out the ABC, CBS and NBC evening news shows won't show you polls that show the majority of the American voters feeling better off now under President Donald Trump's economy than under former President Barack Obama's economy. But they do love parading around questionable polls showing Trump losing the election by double digits. Gallup released a jaw-dropping news released Tuesday, the day of the vice presidential debate. A new poll, taken between September 14 [and] September 28, showed that 56 percent of registered voters said that "they are better off now than they were four years ago, while 32% said they are worse off." That's a 24 percent disparity.
Poll: 56% Americans Say They Are Better Off Now Under Trump Than Four Years Ago Under Obama-Biden. A solid majority of 56 percent of Americans say they are better off now than they were four years ago, a new Gallup survey reveals. Only 32 percent say they are worse off than four years ago. The number is, as Fox News's Laura Ingraham noted on Thursday night, "the highest Gallup has ever recorded." [...] While the 56 percent number is impressive indeed — again the highest ever recorded this close to an election — it was even higher before the coronavirus pandemic swept across the United States.
The Editor says...
The news media won't mention this poll, because if it is accurate, then the polls showing Joe Biden with a substantial lead over President Trump can't be right. The MSM, on Joe Biden's behalf, is suppressing the poll that's most likely to be accurate.
We All Know Why Corporate Media Is Avoiding Hunter Biden's Corruption Scandals That Implicate Joe. Last week, a Senate Intelligence Committee report detailed how the son of a major presidential candidate, who has an extensive history of shady foreign business dealings, received a $3.5-million wire transfer from the wife of a Russian politician. The New York Times, Washington Post, CNN, MSNBC, and most major media outlets didn't cover the wire-transfer story at all. Four years ago, not reporting such a story was a possibility too absurd to even contemplate — but then again, no one would have predicted the candidate with the shady Russia ties is not Donald Trump, but Joe Biden. People often talk about how Trump is responsible for destroying political norms, and that's a valid concern. One of the truly frightening things about the Trump era, however, is how institutions have exploited a perceived crisis in truth-telling to justify abandoning their own standards by blaming it on Trump. Increasingly, we see major stories break where the media establishment decides on a collective omertà because the story undermines its own credibility or might sway voters in directions it doesn't approve of. When that happens, no news is good news.
BLM meets Proud Boys, discovers they're not racists and 'POOF,' the media disappears. Notice how all the attention on the "Proud Boys" organization fell off the map in the past few days. Granted, President Donald Trump and a growing number of people in his inner circle have tested positive for COVID-19, aka the "plague from China," and that has come to dominate the news cycle since the debate, but the Trump-hating media is known to stay on a story they believe may hurt his reelection chances for days on end. Or, is there really not much of a story there to begin with? Another failed narrative by those looking to undermine the president — we've lost count of how many there have been since the original Russian collusion hoax. Jacarri Kelley, who identifies herself as the leader of Black Lives Matter, Northern Utah, is seen in a video making the rounds suggesting the media narrative about the group being racist just isn't so. [Video clip]
Associated Press stylebook revisions sugarcoat rioting and looting. The stylebook published by the Associated Press was virtually the bible for journalistic writing until the past several years, an authoritative guide as to which terms to use and which to avoid in order to present the news fairly, without biasing readers one way or another. But that memory is fading fast now that the capture of journalism by the left is a fait accompli. Instead of eliminating bias, the AP Stylebook is being revised along the lines George Orwell laid out in 1984 — as a tool for indoctrination.
AP Issues New Guidance for Reporters to Cover Up Leftist Violence. Mobs of violent left-wing kooks have been roaming the streets of American cities for months terrorizing residents, murdering Trump supporters, beating people to a pulp, shooting police officers, and assaulting people in their vehicles. But you wouldn't know any of this if you consumed news exclusively from the mainstream media because the mainstream media doesn't want you to know about it. The Associated Press (AP) issues guidelines, closely adhered to by many journalists, dictating what words are politically correct at the time and what words to avoid. The AP issued new guidance on Wednesday telling journalists to avoid using the word "riot" when covering leftwing events and refrain from reporting on property destruction because, according to the AP, such reporting has been used in the past as a way to stigmatize protests against lynching and racial injustice. To the AP, it's not the job of journalists to report the news. It's the job of journalists to advance a left-wing narrative.
The Times is proud that it released Trump's tax returns, but it shouldn't be. The [New York] Times' intrepid reporters are not interested in the fact that Joe Biden used his political connections to enrich his family, especially Hunter. They don't write that (to date) there is unrefuted evidence that Biden blocked the new Ukrainian government's efforts to root out corruption by withholding American money until Ukraine stopped investigating a corporation that paid Hunter for doing nothing. You'd think that a major news outlet would find that intriguing a story involving political corruption and foreign meddling, but the Times has given it a hard pass.
Black Man Murders Four-Year-Old White Child in Targeted Attack. Does Anyone in the Media Care? The media reacts quickly and with righteous indignation when a black person is shot by police, or by someone white, no matter what the facts of the case are. But far too often, even in the most heinous of cases, when the perpetrator is black and the victim or victims happen to be white, the headlines and reporting are not anywhere near the same. We have seen it in the case of 5-year-old Cannon Hinnant, who was executed by a black man in August, and we are seeing it again in the death of a 4-year-old white child in a targeted attack by a black man, WKBN reported.
Revolution 2020. [Scroll down] Suffice it to note that not a day in four years has gone by without the news media hyperventilating or ruminating on some allegation of Trump's wrongdoing or wrongbeing. For what? Again, the list of subjects is so exhaustive that it is easier to note that there is hardly any mortal transgression of which he has not been accused. [...] Nor has the media forgone any occasion to protect, foster, and embellish narratives in support of each and every member of the "intersectional" coalition and to shut out or denigrate alternatives thereto. It labels as false and/or as "hate speech" facts and arguments that counteract its narratives. Since the ruling class can be certain of the media's unquestioning support, it need not worry about truth. For example, do physicians in America and around the world use hydroxychloroquine successfully against the COVID-19 virus? Yes, correct — but banished as if it were false because it is politically incorrect. Riots, arson, and looting are leading so many to relocate from America's major cities as to cause urban vacancies and a house-building boom in the country? Fact. But politically incorrect fact, indeed, racist. Repeat: "mostly peaceful protests, mostly peaceful protests."
Anyone have any idea who that Moscow widow was, who handed Hunter Biden $3.5 million? When Hunter Biden took that $3.5 million in money transfers from Yelena Baturina, Russia's richest woman, the media lapsed into sudden incuriosity — very bizarre, given that it spent four years yelling about President Trump and his supposed "Russian collusion." Here was real Russian collusion, and the blue checks went blue screen. [...] Was this just any Russian oligarch that young Hunter Biden with his dad as vice president, took the big payment from? Nope, it was a person associated with political corruption and lots of pocket-lining. Take a gander at who her now late husband was: [...]
As Joe Rogan's Platform Grows, So Does the Media and Liberal Backlash. Why? Joe Rogan has amassed one of the largest and most influential media platforms in U.S. politics, if not the single most influential. The value of his program was quantified in May when the streaming service Spotify paid a reported $100 million for the exclusive rights to broadcast his podcast. As one illustrative example of his reach, NSA whistleblower Edward Snowden appeared on Rogan's program six days ago, and the episode has already been viewed more than 5 million times on YouTube alone. The first time Snowden appeared on his program was last October, and that episode, just on YouTube, has more than 16 million views. To put that in perspective: The top-rated cable news programs are the Fox News shows hosted by Tucker Carlson and Sean Hannity, and they average between 4 to 5 million viewers, or one-fourth the number of views Rogan's discussion with Snowden generated. Rogan is rarely discussed in mainstream political and media circles, which raises its own questions.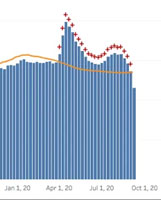 Some Coronavirus Facts Democrats And The Media Want To Keep Buried. For those who feel as if the coronavirus crisis is never going away, we offer some optimism. Get it here, because lockdown Democrats and their pandemic-cheerleading media allies want to keep the pessimism running high. On two separate occasions in recent weeks, we've presented data that indicate the crisis is winding down. No, this doesn't mean that infections and deaths will drop to zero. The virus isn't going away. What it does mean is that the virus isn't the threat it was when deaths spiked in the middle of April. This is primarily based on deaths in excess of the expected numbers of fatalities. The Centers for Disease Control chart [sample at left] shows that total deaths, the blue bars, have fallen below the threshold for excess deaths. Stanford biophysics professor and 2013 winner of the Nobel Prize for Chemistry Michael Levitt called it "a huge milestone."
After Taking Another Day Off The Campaign Trail, It's Time To Ask If Joe Biden Is OK. Tuesday morning [9/22/2020] before 9crapshoota.m., the Biden campaign announced it was putting a lid on the day. For those unfamiliar with this lingo it means that Biden will have no events or appearances for the rest of the day. This is a Tuesday, just 42 days away from an election that by all accounts seems to be tightening, especially in key battleground states. To basically take the day off in the midst of a heated campaign is strange, even more so because he has done this several times in the past few weeks. It is becoming impossible not to wonder if Biden really is fit to campaign, and by extension, be president of the United States. [...] This is an issue that most of the corporate media really, really, really does not want to cover. But we are getting to a place where they will just have no choice. Put simply, what looked this summer like a reasonable strategy to lay low and let an inevitable win come to Biden now looks flat out bizarre.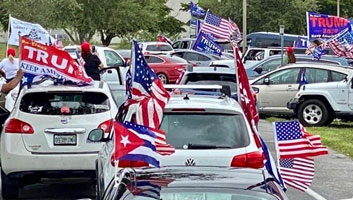 Media Completely Ignored Thousands Of Cubans Rallying For Trump In Florida At Mother Of All Caravans. A massive caravan of Cuban-Americans rallied in support of President Donald Trump in the Sunshine State on Sunday [9/13/2020] shouting through megaphones to let the world know about their support for the president. Over 4,000 cars and trucks ascended on Florida's Doral Central Park, flying Trump 2020 flags and blaring their horns while people hung out of their sunroofs and windows waving Trump flags. Their car windows were painted with slogans like "No Communism," "Vote for Trump" and "Free Cuba." Yet, in this era of fake news, as to be expected, the mainstream media completely ignored the monumental turn out of Hispanic Trump support in Florida, the coveted battleground state and home to the majority of refugees from Cuba.
The Biden Hoax. Joe Biden's nomination is the Democrats' crowning insult. They're making another go at playing voters for chumps. [...] Biden's nomination is more than a go at sly stagecraft; it's the most audacious gaslighting in American history. Everybody and his sister can see that Biden is suffering early onset dementia. If not, then let's see the neurological evals, because Biden's compass isn't pointing true north. He's slow, often confused, irritable, and, increasingly vacant. He shuffles when he walks. Trotting ten feet to a podium — once — doesn't count. He takes days off, and his availability is strictly limited. Packing Biden off for a quick, canned event in Florida isn't close to Trump's indefatigable stumping. Most days, Biden lives out the campaign at his spacious Wilmington, Delaware house. Not surprisingly, the MSM throws Biden softballs. That's a given among Fourth Estate bulldogs. Democrats always get passes, even when their minds are intact.
Why Aren't We Allowed To Talk About George Soros's Plan To Remake America? Since 2015, George Soros has been executing a plan to reshape the country through local district attorney elections by pumping unprecedented amounts of money into races that typically only see candidates spend in the low five figures. Here's why he has an interest in these local races. Soros is exploiting the reality that all politics are local in some way. To transform America, you have to transform the way towns and cities operate. A recent exchange on Fox News involving former House Speaker Newt Gingrich, Fox News host Harris Faulkner, Democrat commentator Marie Harf, and Fox commentator Melissa A. Francis made the hair on my arms stand up because I realized how many people were either unaware of what Soros is doing or have been silenced by the idea that it's somehow antisemitic to criticize Soros's political activity.
The Soros Cover-Up. Ihave been watching a truly curious phenomenon over the past few days. It seems there is suddenly a movement in media to silence anyone who speaks out against George Soros — and, specifically, his funding of radical prosecutors seeking to change the criminal justice system by simply ignoring certain crimes. This happened to me personally this week while I was being interviewed on Fox's Outnumbered. When I brought up Soros's plan to get pro-criminal, anti-police prosecutors elected across the country, two of the show's participants interrupted me and forcefully asserted that Soros was not involved. Host Harris Faulkner, it seemed, was stunned by the interruptions, and did her part to move the show forward after some awkward silence. The next day, she addressed the strange moment during the show and condemned censorship. Immediately after the show, Twitter and other social media went crazy. People were alleging that any criticism of Soros's political involvement is automatically false, anti-Semitic, or both.
Kayleigh McEnany drops the mic on press for not asking single question about historic peace deals. White House Press Secretary Kayleigh McEnany called out D.C. journalists for ignoring the historic Trump-brokered peace agreements between Israel and the United Arab Emirates and Israel and Bahrain known as the Abraham Accords. In yet another — of many — mic drop moment by the relentless McEnany at the daily news briefings, she chided the naysaying White House press corps, plus House Speaker Pelosi, for hypocritically downplaying an enormous foreign policy achievement. "I did not receive a single question about [peace deals]. That was the first time it's happened in a quarter of a century. If Obama and Biden had achieved this, it would look a lot different. You wouldn't have Chuck Todd saying he's uncomfortable with the deal that brings peace between the United Arab Emirates and Israel and Bahrain. You wouldn't have CBS calling it a business deal.
Fox News Hosts Display Awkward Ignorance About George Soros. On Wednesday, September 16, former Speaker of the House Newt Gingrich was a guest on the Fox News show, Outnumbered, discussing the costs of the recent riots. When Gingrich brought up the fact that George Soros funds races for left-leaning district attorneys who are releasing criminals back onto the streets, he was told (a) that George Soros did NOT fund their races, and (b) there was no reason to bring up George Soros. Gingrich paused a moment and said, "Okay ... so it's verboten?" After his question, there was seven seconds of awkward silence — an eternity on live television. Finally, with the technical director struggling to decide whose face to show on the screen, anchor Harris Faulkner changed the topic and moved on without acknowledging Gingrich any further.
Fox News Harris Faulkner and Crew Have Meltdown When Newt Gingrich Accurately Points Out George Soros Funding of Radical District Attorneys. CTH has previously mentioned the not-so-subtle agenda carried by several FOX news hosts including the generously dissonant Harris Faulkner. However, today the effort to pretend not to know was on full display as the FOX crew awkwardly shut down Newt Gingrich for calling out George Soros. [Video clip]
Fox News 'Outnumbered' Hosts Cut Off Newt Gingrich After He Links George Soros to Violent Riots. Former Speaker of the House Newt Gingrich found himself clearly "outnumbered" on Fox News Wednesday morning [9/16/2020] when he was shushed by the hosts for invoking the name of left-wing hedge fund billionaire George Soros. The "Outnumbered" panel was discussing the costly impact months of race riots have had on small businesses in riot-torn communities, when Gingrich tried to point out that Soros can be linked to much of the destruction. "Look, the number one problem in almost all of these cities is George Soros elected left-wing, anti-police, pro-criminal district attorneys who refuse to keep people locked up," Gingrich explained. Indeed, it has been widely reported in the media — including Fox News! — that Soros poured millions of dollars into getting far-left district attorneys elected. These Marxist DAs are responsible for the lax catch and release policies that allow violent rioters back on the streets day after day, allowing them to continue their campaign of destruction.
Fox News Harris Faulkner and Crew Have Meltdown When Newt Gingrich Accurately Points Out George Soros Funding of Radical District Attorneys. CTH has previously mentioned the not-so-subtle agenda carried by several FOX news hosts including the generously dissonant Harris Faulkner. However, today the effort to pretend not to know was on full display as the FOX crew awkwardly shut down Newt Gingrich for calling out George Soros. [Video clip] It is a demonstrable fact that George Soros has been attempting to manipulate law and order by funding radical left-wing ideologues to run for district attorney offices. St Louis' Kimberly Gardner is one such example. The selective prosecution, and lack thereof, is a decision leading to increased crime and violence within the communities. In an era when truth-telling is filtered by politics the background agenda of all news hosts is becoming increasingly clear.
Fox News panel reprimands Newt Gingrich for mentioning George Soros in discussion about BLM riots. A Fox News panel scolded and cut away from former Speaker of the House Newt Gingrich after he linked liberal billionaire George Soros to the violent riots that have caused damage across the country over the last few months. "The No. 1 problem in almost all the cities is George Soros-elected, left-wing, anti-police, pro-criminal district attorneys who refuse to keep people locked up," Gingrich said to a panel on Fox News's Outnumbered on Wednesday. "Both Harris and Biden have talked very proudly about what they call progressive district attorneys. Progressive district attorneys are anti-police, pro-criminal, and overwhelmingly elected with George Soros's money. And they are a major cause of the violence we are seeing because they keep putting the violent criminals back on the street." Host Melissa Francis pushed back immediately, telling Gingrich, "I'm not sure we need to bring George Soros into this."
Black Lives Matter Led to [a] Record Number of Mass Shootings. Even as gun violence breaks records in New York City, Chicago, and Philly, the Democrats don't have much to say about the epidemic of shootings or their pet cause, gun control. While activist Democrat prosecutors like Attorney General Letitia James have neglected to deal with the violence and are instead targeting the NRA, they aren't really talking about gun control. Mass shootings are rarely mentioned anymore even though there are more of them than ever. A Washington D.C. mass shooting at a cookout last month that wounded 20 people was treated as another local crime story.
It's Official: Trump Unleashed A Middle-Class Boom That Benefited Women, Minorities Most. Not that you'd ever know it from the media blackout, but households have seen the biggest jump in real median income in at least 52 years. The poverty rate is lower than it's been since at least 1959, the annual Census report on income and poverty shows. These are incredible achievements that would be leading every newspaper and TV news program if they had happened under a Democratic president. The absence press coverage is even more astounding when you consider that the gains were among lower-income families, women, blacks and Hispanics.
Forget the Polls: Massive Enthusiasm Gap Between Trump and Biden Bodes Ill for Democrats. Although Joe Biden continues to lead President Trump in most national polls, the enthusiasm gap between the two candidates could not be more striking. The situation is reminiscent of the 2016 race, only there is even less enthusiasm for Biden than there was for Hillary Clinton. Trump draws huge crowds wherever he appears while Biden can barely muster a few dozen socially distanced quasi-supporters at his meager, tightly scripted events. As American Greatness previously documented, massive grassroots pro-Trump boat parades have been a thing all year, although they have been mostly unnoticed or ignored by the national media.
What everyone's missing from the ActBlue 'unemployed' donor scandal. [Scroll down] Action Fund President John Pudner: "We found it took other vendors only a matter of hours to switch their system to allow verification of donations and thus prevent the possibility of illegal foreign money being moved into campaigns. Choosing to use an untraceable system has a higher cost in terms of the risk of credit card fraud and also tends to incur higher bank fees. And this untraceable system allows someone with a gift card to make donations in anyone's name, even if that person never actually made that donation, or even if that person doesn't exist at all." 48.4% of the Democrats' ActBlue donors last year were allegedly unemployed. By comparison, Republican-affiliated WinRed only listed 4%, which happened to be the national unemployment rate at the time, of their donors as unemployed. While everyone seems focused on the risk of foreign donations, I pointed out that it's really the rich domestic donors who should be concerning us the most. Regardless of whether it's foreign or domestic entities piling in donations under fake names, it's illegal.
Univision Hides Protesters At Harris Visit To FL Restaurant. Within the space of one hour, Univision chose to omit mention of a protest (yet again), while giving the Democratic vice-presidential candidate celebrity treatment during a PR stint that included an 'unannounced' visit to a Venezuelan restaurant in an effort to attract Latino voters. As you can see from the following video that compares the Telemundo and Univision reports on Harris' trip to South Florida, Telemundo anchor Jose Diaz-Balart did acknowledge that "outside, there were also protesters with pro President Trump posters." What he did not say was that the group, from Latinos for Trump, was there on behalf of Cubans, Venezuelans and Nicaraguans who suffered the hardships of socialist and communist regimes. Univision, as can be expected, completely omitted the protest from its report, which could be considered a textbook case of what a Public Relations presidential campaign hit-piece should look like. [Video clip]
Who Will Tell the Truth About Joe Biden? The inability of the mainstream media to accurately cover any of Joe Biden's foibles is truly astonishing. [...] Consider that in the last four months alone, Biden has asked a reporter if he was a "junkie," told black voters that they're not really black unless they vote for him, and said that there were "over 120 million dead from COVID," in the U.S., without suffering any backlash from the media. He has confused the location of where he was speaking from, and was led by hand by a staffer out of a venue, as though he were blind. He has read his talking point notes out loud during a virtual interview, "Look, Venezuela topline message is President Trump's policy is an abject failure." He can lose his entire train of thought during a roundtable discussion in which he has prepared notes in front of him, "You know the rapidly rising umm uh in with uh with I don't know," without so much as a peep from the media. Can anyone imagine what the headlines and constant barrage of media outrage would be if President Donald Trump had said or done any of those things?
Riots? What Riots? In my three decades as a media critic, this summer's huge effort by the press to cover up the endless rioting by George Floyd's mourners has been its most shameless and shameful episode yet. Until very recently, a remarkable number of naive Americans had fallen for the mainstream media's repetitions that the Peaceful Protesters were not — repeat, not — looting and burning. The MSM has been in such flat-out denial mode that it hasn't even bothered to concoct exculpatory euphemisms for the riots, such as Retail Mourning, Do-It-Yourself Reparations, or Arson for Equity. Even last week a new report from a leftist think tank, the Armed Conflict Location & Event Data Project, admitting to the immense number of violent demonstrations during this Summer of George was spun by the media as proving that all those boarded-up shops near you don't exist.
WHEC Reporter Chased By Knife-Wielding BLM Mob — Station Ignores Attack And Describes 'Protests' As 'Peaceful'. WHEC reporter Charles Molineaux was attacked and chased by a knife-wielding Black Lives Matter mob during "protests" on Sunday night in Rochester and yet his own news station ignored the incident and described the night's "protests" as "peaceful" on their front page. Video shows Molineaux and his security guard getting attacked and called "Nazis" after apparently getting accused of being undercover cops. An African-American man with a knife is seen running at them and threatening to stab them repeatedly, only backing down when Molineaux's security guard turns around to defend him with an expandable baton. UPDATE: The video was just deleted!
Where's "The Talk" When We Need It? [Scroll down] With the verdict in, liberals have lost their minds about Rittenhouse. They tell outrageous lies about him, lionize the ex-cons he shot and aggressively censor anyone who takes his side. Rep. Ayanna Pressley and Sen. Chris Murphy called Rittenhouse a "white supremacist" and "white nationalist," respectively (in non-congressionally immunized tweets, for any lawyers who might be interested). Meanwhile, for suggesting that Rittenhouse may be innocent, both Rittenhouse's attorney and I have been suspended from Twitter. Oh by the way, over the weekend, an hour away in Chicago, 54 people were shot; 10 are dead. Woke media: Everyone involved was black, right? No big deal.
Black Lives Matter activists shut down I-5 in Seattle, nine arrested. [Scroll down] I've written before about the way in which black police officers really get the worst abuse from BLM and other left-wing protesters. They are treated as race traitors. And as usual, the racist abuse of police never makes it into the news. Here's the Seattle Times write up of the story which mentions the videos and the arrests but not the garbage coming from this protester toward the police. [...] You'd think reporters might find racist abuse newsworthy but not if police are the target. Somehow that stuff never makes it into print in major newspapers. The journalists don't want to create a PR problem for BLM or get an earful from angry activists, so the abuse of police just winds up on the cutting room floor.
The Enemy Within Our Nuclear Weapon Labs. President Trump needs to "drain the swamp" at national laboratories responsible for maintaining the safety and reliability of U.S. nuclear weapons — starting with Sandia National Laboratory. Christopher Rufo and Tyler Durden are among the few journalists who are spotlighting Sandia's treasonous program to brainwash white male employees that America is inherently racist and evil. The Left-stream national media are burying this story.
Top ABC, NBC Morning Shows Ignore Mob Attacking Rand and Kelley Paul. After President Trump's Thursday night RNC speech, Senator Rand Paul (R-KY) and wife Kelley were attacked and threatened by an angry, far-left, Black Lives Matter mob upon leaving the White House (as were other attendees). But when it came to the top Friday morning [8/28/2020] network newscasts acknowledging this, ABC's Good Morning America and NBC's Today didn't think it was worth caring or talking about.
Young Woman, Stepfather Killed in Road Rage Execution — Where's the National Media? Three people were shot, two fatally, in an altercation following a minor traffic accident Monday in Georgetown, South Carolina, according to WBTW-TV in Florence. Ty Sheem Ha Sheem Walters III, 23, of Moncks Corner, has been arrested and charged with two counts of murder and one count of attempted murder in relation to the shooting. There has been almost no national media coverage of the incident — likely because it does not match the media's narrative of black people being the victims of racist white violence. Walters is black and the victims were white.
MSNBC Cuts Away from Pro-Life Nun Before RNC Viewers Can Hear Her Heartbreaking Description of Abortion. At irreconcilable odds with their progressive counterparts at every turn this election cycle, conservatives are standing once again with feet planted firmly on the pro-life platform. Renowned Catholic "sister, soldier, surgeon" Deirdre Byrne led the charge in a Wednesday address before the 2020 Republican National Convention, praising President Donald Trump's "courage and conviction" in fully realizing key portions of the pro-life agenda. At least one establishment outlet, however, saw fit not to cover the moment.
CNN Curiously Cuts to Commercial as Kim Klacik Delivers RNC Speech. It is the kind of move that, had the players been changed, would have had Brian Stelter pontificating loudly about the inference of intolerance. But as the Republican convention kicked off last night, we saw a very curious decision made by the production staff at Brian's network, and you have to raise a number of questions about the move, especially considering some of the comments made by Stelter himself. Kim Klacik made a quick name for herself with a campaign ad she made to run for the representative seat in her hometown of Baltimore. That a forceful person of color was running as a GOP in Maryland's 7th District is enough to turn a few heads, but her message, while strolling through the gutted backdrop of her city, was powerful and she became a sensation as a result. So much so that she was invited to be one of the featured speakers at the Republican convention Monday night — just don't tell that to CNN. In truth, it appeared someone had let the network know.
MSNBC Cuts Away So Viewers Don't Hear Kim Klacik's Terrific Condemnation of Democratic Failure. Baltimore's Kim Klacik is an up-and-coming Republican star, someone with a clear message who wants to make her city better after years of Democratically-controlled decay. She first came to public prominence by advocating cleaning up blighted Baltimore areas. Klacik is running to represent Maryland's 7th District in Congress, a very blue district. She released a campaign video that lit up the internet, going mega viral in days. It already has 11.6 million views. [...] But MSNBC apparently didn't want to hear the speech or have Americans hear it.
A New Consciousness Is Replacing Education. [Scroll down] In another school known for violence and mayhem, all students had to have their book bags scanned for weapons every morning, and students were randomly body-scanned for weapons when they entered the building. Eighteen security officers were assigned to the building with the power to arrest but carried no weapons. Additionally, two full-time armed police officers were assigned to the school. Fights continually were breaking out, weapons were being smuggled into the school, and one day a female student was shot in the leg exiting the building. There was also a full-scale riot between Jamaican and Haitian students. None of these incidents was reported in any newspaper or on TV.
Democrats Killed Cannon Hinnant and George Floyd. The deaths of George Floyd, a 46-year-old Minneapolis black ex-con strung out on drugs, and Cannon Hinnant, a 5-year-old white boy from a small city in North Carolina, are both symbols. Floyd's death during a struggle with police led to nationwide race riots, the destruction of statues and stores, hundreds of millions in damage, severe injuries and deaths, and a political inquisition. Hinnant's death has been ignored outside the local and conservative media.
Democrats stay silent on violence in their cities. The timing could not have been more inconvenient for Democrats. The day before they eulogized the Black Lives Matter movement and elevated it to the centerpiece of their national convention, a white man was dragged out of his pickup truck by BLM protesters, kicked in the head and beaten almost to death. Even more inconvenient was the fact that the victim, laborer Adam Haner, had been trying to stop these "mostly peaceful" social-justice warriors from attacking a transgender woman at the time. You couldn't make it up. The sickening hate crimes we are seeing in Democratic-run cities in the name of BLM over the past 12 weeks are occurring with the tacit encouragement of Democratic mayors, governors and district attorneys. This is the dirty secret Democrats are trying to sweep under the carpet until the election, with the help of their media allies.
Big Three Stooges: Evening Networks IGNORE New S&P 500 Record Erasing 2020 Losses. The Big Three's ignorance of an astounding market rally reached a climax last night [8/18/2020]. The S&P 500 closed at 3,389.78, breaking a record set at its February peak (3,386.15). It eliminated all of its losses taken from the pandemic-induced shutdown in the months after. The Wall Street Journal reported that "[w]ith just 126 trading days between peaks, the index makes its fastest-ever recovery from a bear market." [Emphasis added.] The index's recovery is indeed V-shaped. The Big Tech-heavy NASDAQ Composite stock index also rose 0.73 percent to close at 11,210.84, setting another record high of its own, according to Fox Business August 18. ABC World News Tonight, CBS Evening News, and NBC Nightly News ignored the entire market story. They instead chose to do political PR for Democratic presidential nominee Joe Biden's wife Jill, boosting her image prior to her speech before the virtual Democratic National Convention. The S&P 500's close, according to Fox Business, is the "129th record close under President Trump." Perhaps that's why the Big Three ignored it.
7 Big Stories Corporate Media Is Ignoring Because The Truth Might Help Trump. [#7] Riots? What Riots? The media also finds itself struggling to cover the riots occurring throughout our country. The "mostly peaceful protests" spin remains strong because any acknowledgment of the violence confirms Trump's criticism of Democratic-run cities and his decision to use federal law enforcement officials to protect federal property. So the press bypasses or shades these major stories. At any other time and under any other president, the media would have descended on the Portland federal courthouse to report the insurrection taking place. Reporters would have infiltrated the autonomous zone and covered the rampant crime and violence occurring. Profiles of the small business owners whose livelihoods were destroyed by the riots would run.
National Media Ignores Massive Pro-Trump Boat Parade Phenomenon Sweeping the Nation. A pro-Trump Boat Parade in Clearwater, Florida on Saturday set the record for the biggest boat parade of all time, shattering the previous world record. Organizers of the Clearwater boat parade said that over 1,600 boats signed up for the event, and that didn't include last minute arrivals and those who joined in along the route. All told, as many as 2,000 boats took part, organizers told Fox 13. The previous record was set in Malaysia with 1,180 boats.
Scenes From The Destruction of New York City. The New York City riots were just a blip in the largest series of coordinated antifa/#BlackLivesMatter riots sweeping the country then, but this video indicates that the looting and destruction in de Blasio's New York City was far more more extensive than the media let on. [Video clip] I had a friend who recently visited NYC, and he says from the Holland Tunnel to the Williamsburg Bridge through lower Manhattan almost everything was still boarded up and covered with graffiti, with lots of trash on the sidewalk. "Looked like a scene from an early Scorsese movie." Is it any wonder that people are fleeing the city in droves?
Major Development In Durham Probe Ignored During CNN, MSNBC Primetime Coverage. CNN and MSNBC largely ignored the news Friday that a former FBI lawyer will plead guilty to altering an email related to Carter Page, the former Trump campaign aide. Neither network mentioned the case against the former FBI lawyer, Kevin Clinesmith, in their primetime broadcasts, according to a review conducted by the Daily Caller News Foundation. The networks had brief segments during the daytime broadcasts that reported the news that Clinesmith would plead guilty to making false statements by altering an email that downplayed Page's past work for the CIA. Page had been an operational contact for the CIA through at least 2013 and provided information about his interactions with a Russian intelligence officer. Clinesmith, 38, added a line to a CIA liaison's email in June 2017 that said that Page was "not a 'source'" for the spy agency, according to the charging documents.
The State of Our Cities That Our Media Is Hiding From You. [Quoting Mike Doran:] I've been exchanging messages with friends about what what's happening in our cities: NY, Philadelphia and LA especially. A lot of disturbing things are not making the news. Even Republicans aren't drawing attention to it. Here's a message from a friend about life in NY today: "Here's my neighborhood, Mike: An elderly man, enjoying dinner w/his wife at an outdoor restaurant, punched in the face. A woman waiting for the subway to come stabbed in the back. An older neighbor pausing to catch his breath told to pay two dollars in protection money or get [...] off that particular street corner. This is just the ten block radius from where I live in the last six days." Other friends from NY talk about shattered business districts, drugstores with locked shelves, and hundreds of homeless people and parolees, including sex offenders, being moved into hotels on the Upper West Side adjacent to schools and playgrounds, which are filled with needles again like in the 1970s. Friends in Philadelphia report large homeless encampments in the city center and being robbed at gunpoint. Friends in LA talk about squatters taking over empty homes in professional class neighborhoods whose residents fantasize about emigrating to Canada.
Kamala Has Already Struck Out. Even before the Democrat presidential candidate, Joe Biden, named his choice for vice president, a group of Democrat Party activists released an unprecedented document outlining their "rules" for how the media could address issues surrounding the woman Biden ultimately chose. These guidelines made it abundantly clear that the media were "required" to handle Biden's choice with kid gloves. Questions were not to be probing; instead, this veep candidate, unlike the vicious coverage Sarah Palin endured years ago, was to be above questioning. With astounding hubris, the Democrats actually warned the media that they would "monitor coverage" of the female veep candidate and that anything even slightly critical would be condemned as "racist and sexist." Hollywood celebrities and the usual line-up of leftist women's groups (NARAL, Planned Parenthood, etc.) have promised Kamala, "We've got your back." Bottom line: Biden is in hiding; Kamala is untouchable. This mafia-style intimidation cannot be allowed to stand.
NBC, ABC, CBS, and CNN show zero results for reports on the 5-year-old white child allegedly executed by black 25-year-old neighbor. Four major news networks have not reported on a story of a 5-year-old white child who was allegedly shot in the head at point-blank range by a 25-year-old black man while he played in the street. "Cannon Hinnant Say his name @CNN @NBCNews @CBSNews @ABC," Jason Howerton of the Blaze tweeted, along with screenshots from four major news networks showing no coverage of the execution-style murder of 5-year-old Cannon Hinnant. The Washington Examiner also confirmed the four networks' result pages showed no coverage as of Wednesday [8/13/2020].
Cannon Hinnant Is a Victim of Systemic Racism. Cannon Hinnant, a 5-year-old boy from North Carolina, was shot and killed execution-style in front of his family on Sunday. Hinnant was playing with his sisters, ages 7 and 8, near their father's house when the shooting occurred. The suspect, Darius N. Sessoms, walked up to the boy, shot him in the head point blank, and then fled the scene, according to a witness. Sessoms lived in a neighboring house and had reportedly been over for dinner with Hinnant's father on Saturday, the night before the shooting. The police have yet to establish a motive, but a GoFundMe set up by the family suggests that the murder was in retaliation for Hinnant riding his bike into Sessoms' yard. This murder, one of the most heinous in recent American history, happened more than three days ago. There has been virtually no coverage by any of the national news outlets. Neither the New York Times nor the Washington Post have mentioned the story once. Nor have NBC, ABC, CBS, CNN, or NPR. Search Hinnant's name and you'll find only local news affiliates covering the story.
Black Man Executes Five-year-old White Boy in Front of His Sisters; National Media Ignore Story. It's a shocking, unthinkable crime: A man rushes a five-year-old neighbor boy playing outside and shoots him in the head, fatally, in broad daylight. But here's what's just as shocking: The national media — which couldn't give enough ink to the death of criminal George Floyd — apparently don't find this story newsworthy. It could be because unlike in the Floyd case, the victim is white and his killer is black. As WSocTV.com reports, "A 25-year-old man accused of shooting his 5-year-old neighbor in the head at point blank range in Wilson, North Carolina on Sunday night has been charged with first-degree murder in the boy's death." "Darius Nathaniel Sessoms, 25, was arrested Monday after fleeing the scene and is in the custody of Wilson Police and members of the U.S. Marshals Service Carolinas Regional Task Force, The Wilson Times reported," the site continued.
Media Refuses To Cover Black Man's Murder Of White Boy. The media continues to be the primary driver of racial divisions in America. The most recent example makes the blood boil, but perfectly demonstrates how coverage, and lack of coverage, drives a false narrative that results in American cities burning for a lie. Five-year-old Cannon Hinnant was playing outside his father's North Carolina house on a sunny Sunday afternoon, riding his bike with his two sisters, eight and seven years old. He apparently rode onto the lawn of the neighbor's house, where Darius Sessoms lived. According to police reports and witnesses, Sessoms came out of his house with a handgun, went up to little Cannon, put the gun to his head and murdered him while his sisters were watching. [..] This is just a gut-wrenching story at multiple levels. And yet the mainstream media outside of Fox News has refused to cover it. Doing searches for NBC, ABC, CBS, CNN, The New York Times, Reuters News Service and so on, you will not find a story on it. Only local media in North Carolina and some conservative outlets have covered it.
#SayHisName Trends After Media Refuse To Report On Alleged Murder Of 5-Year-Old Cannon Hinnant. Mainstream media outlets have yet to cover the brutal Sunday night execution of a five-year-old North Carolina boy named Cannon Hinnant, allegedly at the hands of 25-year-old Darius Sessoms, sparking the hashtag #SayHisName to trend on social media Thursday morning. As The Daily Wire reported on Tuesday, Sessoms, who is black, allegedly walked up to young Hinnant, who is white, and shot him in the head at point-blank range in front of the child's 7- and 8-year-old sisters.
New group tells media what they can't report about Biden's running mate. A new group, We Have Her Back, is comprised of far-far left agitators — all women — including Valerie Jarrett (the Obamas' close friend), Planned Parenthood and NARAL, Emily's List, Times Up, and others. They sent out an absurd, and stunning memo. The group put the memo together as we "embark on a historic moment — once again — having a woman on the presidential ticket." After bloviating about George Floyd and regurgitating the weaponization of black and brown women, they listed all the things they don't want to hear from News Division Heads, Editors in Chiefs, Bureau Chiefs, Political Directors, Editors, Producers, Reporters, and Anchors. How is that acceptable? These far-left women are telling the media — the news — what they are allowed to say. The media will acquiesce.
Democratic Party sets rules for criticizing Biden's VP pick Kamala Harris. Media organizations have just been warned by the Democratic Party machine that they better be very, very careful with how they cover Joe Biden's vice presidential choice — just revealed to be Kamala Harris. Any criticism of the expected woman will be considered racist and sexist, we are told. Oh, they wrap up that threat in a word salad, but that's the bottom line: There should be second and even third thoughts about any criticism of Mr. Biden's VP pick. An actual memo went out from an ad hoc group of Democratic operatives (pretending to be advocates for women) to media organizations with orders on how to proceed with their coverage. The fact that they expected this partisan missive to be accepted and adhered to by media entities tells you all you need to know about the problem with today's legacy media.
MSNBC skips coverage of Chicago riots during prime time, CNN airs less than 3 minutes. Mass destruction took place in the heart of Chicago in the early hours on Monday morning as looters raided the shopping district and other stores across the city, but MSNBC and CNN offered little to no coverage of the unrest during their network's most-watched shows. Chicago Police Superintendent David Brown said as of Monday morning responding units had arrested more than 100 people on charges ranging from disorderly conduct to battery against police. He added that 13 officers were hurt in the unrest, including a sergeant struck in the face with a bottle and an officer who had his nose broken while scuffling with a group of looters. "This was not an organized protest. Rather, this was an incident of pure criminality," Brown told reporters. "This was an act of violence against our police officers and against our city."
The Editor says...
Of course it was an organized protest. Organized in an hour via social media, perhaps, but organized one way or another.
Black Mob Viciously Beats White Man During BLM Protest In NYC. During a BLM protest in New York City this weekend, a white man was severely beaten by a black mob. Social media posts claim he was randomly targeted. You can see him put his hands up during the beating as if to be shocked and surprised for the bashing. There of course are NO news reports on this incident. [Video clip]
Tucker rips lack of coverage of DC mass shooting, claims media silent to help Biden campaign. The single biggest U.S. mass shooting of 2020 occurred over the weekend in Washington, but because the story didn't "help the Biden campaign," it went largely unreported on, Tucker Carlson said Monday [8/10/2020]. "Twenty-one people were shot in this single incident ... more than half of them were women. One was a D.C. Police officer. It was the single biggest mass shooting in America this year and yet you probably heard nothing about it," the "Tucker Carlson Tonight" host said. [...] "It wouldn't help the Biden campaign to talk about it, so they didn't talk about it."
The worst mass shooting you never heard about (this year, anyway). In the early hours of the morning yesterday, there was a massive party taking place on the 3300 block of Dubois Place in Southeast Washington, D.C. The good times came screeching to a halt when sustained gunfire broke out. When the smoke cleared, one 17-year-old male was dead and another twenty people had been shot. Among them was an off-duty police officer who had responded to the violence and was left "fighting for her life." No suspects have been identified. Here's the curious part about this horrible tale. Unless you happened to live in the District and were watching the local news, you probably didn't hear about it. If we all put our heads together, we might be able to figure out why.
AG Barr On Far-Left Extremism: Media Is Censoring What's Happening, Americans Are Being 'Told A Lie'. Attorney General William Barr told Fox News host Mark Levin during an interview Sunday that the mainstream media are lying about the far-left violence that has been playing out in the streets across America over recent weeks. "We have the citizen reporters, who have these videos of these events, which are quite different than what we get a lot of times from the media, which seems to be censoring the violence," Levin said to Barr. "No?" "Absolutely. Their narrative — they are projecting a narrative," Barr said. "When the word narrative came into currency, I knew we were in trouble, because the word narrative really suggests that there's no objective truth. There's no real story of what happened, it's just everyone has their own narrative." "And you get to then — the press can justify presenting a story that doesn't really correspond to objective truth, but it's our narrative. We have a narrative, you have a narrative," Barr continued. "I've been appalled at — on this violence, because it's happening right out in the streets, anyone with eyes can see what's happening. They see the violence."
Mark Levin calls journalists 'liars' for not reporting on vote-by-mail issues. Conservative radio show host Mark Levin slammed journalists as "liars" for a lack of reporting on cases in which mail-in ballots caused disruptions during elections. "Let me give the media some evidence, from the media," Levin said during an appearance on Fox & Friends on Sunday morning [8/9/2020] before rattling off cases in which mail-in ballots caused voting disruption. "Here's a piece in Just The News. Half a million, half a million, by my calculation, that's 500,000, incorrect absentee ballot applications sent across Virginia, including to dead people. Look at this one, 'Nevada sent more than 200,000 mail and primary ballots to the wrong addresses.' Wow." "By my calculation, that's now 700,000," he continued. "'84,000 mail-in ballots disqualified in New York City primary vote.' Wow. ... California, we checked at 102,000 mail-in ballots because of mistakes. 'New Jersey, all mail-in vote debacle is a warning for November.' Here's one, 'Developed countries 'ban' mail-in voting, US would be 'laughing stock.'"
7-year-old boy in Georgia died 'from COVID-19'? Media leaving out key details. [Scroll down] So it seems that the boy died not "from COVID-19," but rather as the result of a seizure and a fall in the shower. It seems that, prior to his death, the child had zero Wuhan virus symptoms, and that after he was pronounced dead, "a rapid test showed evidence of COVID-19 positivity." I don't know about you, but I've followed the news and the science on this virus as closely as most anyone, and I have yet to hear any reports of the Wuhan virus causing seizures. If this were the case — especially where children are concerned — it is a virtual guarantee that the media would have daily told us so. It would seem that fair and accurate reporting of this incident would include all of the circumstances surrounding this terrible tragedy and that this is almost certainly another example of someone dying with the Wuhan virus and not from it. All the media have done here is give us another reason not to trust them in this grave matter.
ABC Ignores Leaked Video of George Floyd Arrest; CBS & NBC Caught Editing Out "Stop Resisting". Body cam footage from the arrest of George Floyd has been leaked. But instead of leaking through a U.S. media outlet, the footage was given to the U.K.'s Daily Mail, which posted the footage online. Why would someone give the body cam footage to a foreign media entity? Well... we can't know for certain, but we have a pretty good guess: whoever leaked this footage KNEW that the American fake news media would IGNORE this story. And for the most part, they have. ABC News spiked the story completely. And CBS and NBC were both caught editing out parts of the body cam footage that go against the national BLM narrative.
Scandalous 5-word hashtag mega-trending for Bill Clinton chokes media and Dems into utter silence. Explosive unsealed court documents related to the Jeffrey Epstein/Ghislaine Maxwell sex trafficking investigation have caused #BillClintonIsAPedo to trend on Twitter Sunday [8/2/2020], making it the top item in the politics category on the social media network. Most media outlets have ignored the revelations, which would be massive headline news if a past or present Republican president was implicated in the allegations. Twitter users jumped on the Epstein-Clinton connection, however, particularly in the context of the media trying to bury the story because it reflects poorly on Clinton specifically and Democrats generally.
Leftist Media Ignores Court Docs Alleging Clinton Visited Epstein Island. The corporate and left-wing media has largely ignored details in newly released court documents about the Jeffrey Epstein case, in which one of Epstein's victims alleged that former President Bill Clinton was seen on the deceased sex offender's private island in the company of two young girls. Analysis by the nonpartisan bias-checker Ground News, which tracks coverage of news stories and assigns a "bias rating" to stories based on coverage or lack of coverage from partisan media, found that coverage of the story came mainly from right-wing outlets. Just five left and left-leaning sources have covered the story, compared to twenty-five right, right-leaning, or "far right" news outlets that have done so.
Ignored by Liberal Media: President Bill Clinton Thanks James Clyburn for Destroying the Bernie Sanders Campaign. This didn't make any headlines in the liberal mainstream media. Former President Bill Clinton thanked Rep. James Clyburn for destroying Socialist Bernie Sanders' presidential hopes. Bill Clinton made the remarks at the politicized funeral of John Lewis on Thursday [7/30/2020].
The Video The MSM Will Never Show You: The Massive Violence BLM and ANTIFA Have Brought The Past 2 Months! This is the first compilation of just some of the violence we've documented the past 60 days since the death of George Floyd. This 50 plus minute video doesn't even have the monument toppling and the newer violence footage from Portland and CHOP. This video would be hours long if we included it. [Video clip]
Nets Conspire to Protect Bill Clinton After Bombshell New Epstein Documents. New documents in the Jeffrey Epstein sex abuse case dropped late on Thursday with a potential bombshell. A second person now places Bill Clinton at the pedophile's private sex island. The three networks on Friday [7/31/2020] devoted a total of 7 minutes and 26 seconds to the case and Ghislaine Maxwell in general, but NEVER mentioned that the former Democratic president has been named. As Fox News explained, "The data include records of a 2011 meeting between accuser Virginia Giuffre and her lawyers where she talked about the powerful people in Epstein's orbit who she said either flew on his private Boeing 727 or stayed on his private island in the Caribbean. One of the names mentioned was that of former President Bill Clinton." Yet, ABC, CBS and NBC explicitly skipped this part of the story.
Alan Dershowitz, Prince Andrew, Bill Richardson and Bill Clinton: All Named in Epstein Court Documents as Involved With Underage Girls. [Scroll down] In 2008, Epstein pled guilty to state charges in Florida for procuring an underage girl for prostitution. As part of that arrangement, the US Attorney for the Southern District of Florida agreed to a "Deferred Prosecution Agreement" (DPA) to resolve an indictment on similar charges that had been filed under seal by a Florida grand jury. If Epstein successfully completed his sentence in the state case, the federal case would be dismissed without further proceedings. There is nothing "ordinary" about the disposition of the federal case in Florida, and the details of that case are not well known beyond the reporting by the Miami Herald. But one aspect of the DPA that no one connected to federal law enforcement that I know has ever seen done before is that it supposedly grants immunity to other individuals, including ANY unnamed "potential co-conspirators". Ghislaine Maxwell's attorneys have publicly stated that they intend to assert the language of the DPA as a defense on her behalf in the federal indictment recently returned against her. It is reported that Alan Dershowitz negotiated the terms of the DPA on Epstein's behalf. But I have yet to see anyone pose a serious legal argument for how unknown "potential co-conspirators" have any legal standing to assert a claim arising from the DPA on their own behalf.
Washington Press Corps engaged in 'willful blindness' of Obama's spying on Trump campaign. Legal expert Jonathan Turley ripped the "Washington Press Corps" in a Saturday column, accusing outlets of "willful blindness" in ignoring "what should be one of the biggest stories in decades," the Obama administration's spying on the 2016 Trump campaign without evidence. "The Washington press corps seems engaged in a collective demonstration of the legal concept of willful blindness, or deliberately ignoring facts, following the release of yet another declassified document that directly refutes past statements about the Russia collusion investigation," the George Washington University law professor wrote in The Hill. Turley noted that the document reveals the FBI utilized an August 2016 intelligence briefing to then-GOP nominee Donald Trump and a few advisers as cover to gather evidence for its "Crossfire Hurricane" counterintelligence probe alleging 'Russian collusion.'
Turley Wonders: Why Are Media Outlets Uninterested In A Modern Watergate? Over forty years ago, the press took a decided interest in a government using its investigative and intelligence authority to intervene in an election. The Watergate scandal unlocked a whole series of abuses of power, which might not have been viewed as anything other than business as usual if not for the crusading journalists that made it a front-page story. Carl Bernstein and Bob Woodward got lionized in print and on the silver screen, and to this day the media insists that its main function is to speak truth to power. That depends on which power is in question, Jonathan Turley argued over the weekend.
There Will Be No Marches To Commemorate The Death Of Phillip Thiessen. Imagine if you will, seeing the following story breaking on the news out of Wisconsin during all of the racial tension and rioting going on. A White guy in a truck is driving along the road when he sees a bicyclist approaching in the other direction. The bicycle rider appears to be dark-skinned, either Black or Hispanic. The White driver makes a spur-of-moment decision and intentionally swerves into the other lane, striking and instantly killing the bicyclist. When the police question him later, he freely admits that he ran the guy down intentionally because of his race and he'd gotten up that morning thinking about killing a person of color. That would be national news for weeks to come. Many other issues would be pushed off the front pages to make room for the coverage. But this is one story that's actually true, and yet the odds are you haven't heard a peep about it unless you follow one of a handful of conservative sites or live in the same town. That's because the driver of the truck was Daniel Navarro, a 27-year-old Hispanic man of Mexican descent. And the victim (who was actually on a motorcycle) was Phillip Thiessen, a Marine, former Police Officer and worker for the Wisconsin Department of Justice. He was also White. National Review has more of the details that make the media silence on this story so glaring.
Stanley Kurtz sheds light on Trump's latest 'tremendous accomplishment,' and why media largely overlooked it. Stanley Kurtz, a senior fellow at the Ethics and Public Policy Center, spoke to Fox News about what he called a "tremendous accomplishment" of the Trump administration, one that the mainstream media apparently failed to notice. In an interview on "Life Liberty & Levin" that aired Sunday, Kurtz shed light on the "Affirmatively Furthering Fair Housing Rule" (AFFH), a law added by former President Barack Obama to the 1968 Fair Housing Act, which the conservative scholar said has aimed to expand federal influence over suburbia.
More willful blindness by the media on spying by Obama administration. The Washington press corps seems engaged in a collective demonstration of the legal concept of willful blindness, or deliberately ignoring facts, following the release of yet another declassified document that directly refutes past statements about the Russia collusion investigation. The document shows the FBI used a security briefing of then candidate Donald Trump and top aides to gather possible evidence for Crossfire Hurricane, its code name for the Russia investigation. What is astonishing is that the media has refused to see what should be one of the biggest stories in decades. The Obama administration targeted the campaign of the opposing party based on false evidence. The media endlessly covered former Obama administration officials ridiculing suggestions of spying on the Trump campaign or of improper conduct in the Russia investigation. When Attorney General William Barr told the Senate last year that he believed spying did occur, he was lambasted in the media, including by James Comey and others involved in that investigation. The mocking "wow" response of the fired FBI director received extensive coverage.
Fox News Cuts Away From White House Briefing Showing Violence, Profanity in Portland. Fox News cut away on Friday [7/24/2020] from a White House briefing when Press Secretary Kayleigh McEnany showed footage of violent demonstrations in Portland, Oregon, because the video included images of profane graffiti on a federal courthouse. "We were not expecting that video, and our management here at Fox News has decided we will pull away from that at this time," said anchor Harris Faulkner.
Why Aren't the Media Polling and Reporting in-Depth on the Riots? Up until a few weeks ago, late June or early July, media constantly polled Americans' attitudes toward the ongoing street protests over the death of George Floyd. Those polls consistently found that Americans generally supported the protests. But if you Google "poll Americans reactions to city violence" you'll see something interesting. The media appears to have stopped polling about the protests/riots. [...] Sometime in late June or early July the polling on the riots and what to do about them appears to have stopped. Or, at least, the reporting on the polling stopped. Insert the thinking emoji here. Why would media stop polling on an ongoing issue that is affecting the entire national mood and discourse, the function of some of our largest cities, how we see and depict our history, and, by the way, the upcoming presidential election? What if the media didn't stop polling about this? They just stopped reporting on their polls. Now, why would they do that? Insert that thinking emoji again.
Wisconsin and National Media Ignore a Murder That Defies Their Narrative. When national media and Wisconsin's largest news outlets ignore something so clearly tied to national events, it becomes nearly impossible not to conclude that they are doing so because it does not fit their preordained narrative. To many, the sound of a roaring Harley is iconic — an audible symbol of American freedom and ingenuity. To Wisconsinites especially, seeing a Harley on the road is a source of pride, as Milwaukee serves as the company's global headquarters. Yet to Daniel Navarro, the sight and sound of a Harley represented white supremacy. As a result of that misplaced rage, over the July 4 weekend Navarro allegedly decided to take out his prejudice on Phillip Thiessen, swerving his pickup truck head-on into Thiessen. With the exception of a few local news outlets, the incident has received little attention. It simply does not fit with the national media narrative, so there will be no marches or protests commemorating Thiessen's service-oriented life.
Social And Mainstream Media Tells You ANTIFA Is Peaceful, Watch This Video And Share. Contrary to mainstream media reports, the protests in Portland this summer have been anything but peaceful. If you go into this city with a differing viewpoint, you will be attacked. It is not a matter of if, but a matter of when. Antifa attacks people wearing Trump gear, USA flags, and people that do not bow down to their Marxist, racist, communist ideology. Please see Andy Ngo on twitter to see what is really going on here in Portland. [Video clip]
The Media's Atrocity Narrative. You have probably never heard of Sean Ernest Ruis, but the Michigan man's death last week marked the convergence of two current media propaganda themes — police shootings and the threat of COVID-19. [...] Because the knife-wielding dead man was white, nobody rioted after he was shot to death. No statues were toppled, no stores were looted, no sports teams were renamed. White people getting shot by cops doesn't interest the national media or arouse the outrage of "social justice" activists, so there were no angry protest mobs chanting outside Gov. Whitmer's office, blaming her for Sean Ruis's death. Crime is only of interest to the national media when such stories can be used to advance the political agenda of the Democratic Party. By selectively focusing on crime stories that support a progressive "social justice" narrative, the media's coverage produces a distorted perception in the public mind.
Nets Cover-Up Biden Quoting Mao, CBS Campaigns for Him Instead. If President Trump were to quote one of the world's deadliest dictators in a positive way, the liberal media would have a Chernobyl-level meltdown. In fact, they tried to claim his campaign's use of a bald eagle was a nod to Nazi Germany. But when Democratic presidential candidate Joe Biden quoted Mao Tse-tung during a Monday evening campaign event, his allies at ABC, CBS, and NBC covered it up. Instead of reporting on Biden's controversial comment, Tuesday's [7/14/2020] CBS Evening News took to campaigning for him.
Black Mass Shooter Kills Two Random Men in Indiana Before Being Gunned Down by CCW Holder. On Wednesday 22-year-old black male Joshua Hayes traveled a few miles outside Indianapolis to Brownsburg, a neighboring community. Joshua Hayes stopped his car, got out and started shooting at the first people he saw — two white males working at a cemetery. One victim was hit, and fell in the road. Shooter Hayes walked up to him and shot him three times point blank in the chest killing him. Hayes then chased the second man down shooting at him and hitting him. Joshua Hayes then approached the wounded man, and as his gun was pointed at the second victim's head, a man sitting in his car (which was hit by bullets) witnessing all of this and a concealed carry weapon holder, got out of his vehicle and shot the shooter dead. [...] Of course, this did not make any national headlines. Just like the like the young white mother Jessica Whitaker who was shot in Indianapolis by Black Lives Matter protesters.
Huge Scandal: 300 Florida COVID Test Sites Reported False 100% Positivity Rate. This is a huge, huge story, and it was started by a Fox station in Orlando. Fox Orlando, Channel 35, reporting that Florida hospitals are making massive mistakes with coronavirus case reporting. The biggest story in the country, and you can't find it. You literally can't find it, certainly not anywhere in the Drive-By Media. More than 300 COVID testing labs in Florida reported 100 percent positive rates. That simply isn't possible. Every person they tested was reported as positive. Upon investigation, the actual positive cases were 10 times lower. Now, this opens the question, how many other states have been reporting fake numbers? Alex Berenson, the former New York Times reporter who has now become a Twitter expert on the virus, is saying that Texas' numbers are also off the rails, that they are not accurate.
Strange Things Happening: Epstein, Maxwell, Online Retailers, & Child Trafficking. Very strange things took place at the online retailer, Wayfair in recent days. The "fact-checkers" have already made sure to classify this "conspiracy theory" as "false" though, so don't think about it, and go back to sleep. The newest "news" that mainstream media is desperately trying to get you to ignore, involves child trafficking. It's not a complete shock, but when the media distracts and the "fact-checkers" go into overdrive for something they claim is "false," we should probably take a closer look at what's going on. Social media users shared screenshots of the cabinets, which cost upward of $14,000, and speculated that the items were in fact missing children who could be purchased through Wayfair's website, according to a report by Business Insider. The odd thing that they won't explain, however, is how the overpriced cabinets and throw pillows came with the names of missing children.
Monday Was A Big Day For Democrats, But You Probably Missed It. Monday [7/13/2020] was the first day of the Democratic National Convention. You might be forgiven for not knowing that, as the news was nowhere. Not in the papers, not on the shows, and not in the morning news letters most of Washington relies on for what to think that day. The long-planned dates — July 13-17 in Milwaukee, Wisconsin — were first moved to Aug. 17-20, then cancelled and turned into some kind of national Zoom meeting, and finally dropped down the memory hole and forgotten faster than it takes Joe Biden to forget what he had for breakfast. There was no daily coverage of this disaster, no countdown to the big day, no masked reporters flitting and flailing after the former vice president or his team demanding to know when America might expect the most festive Democratic Party event since Samantha Power invited HBO to her 2016 election party.
No more pandemic panic, please. As expected by most observers, the number of cases of Covid-19 continues to increase across the country. There are primarily three reason for the spike in cases:
[#1] More testing is being performed
[#2] People are moving about as the economy opens up
[#3] Massive protests and riots across the country
The next statistic that will be used to frighten the American people will be the increase in hospitalizations that will follow the expanded number of cases. Days or weeks after hospitalizations grow in number, even more deaths are likely to arise. What will not be reported in the gloomy news roundups is the fact that we now have effective treatments for Covid-19. More appalling, many doctors and hospital systems are refusing to use these effective therapeutics. Dr. Vladimir Zelenko, a New York family medicine physician, has pioneered a treatment strategy that works well but is still shunned by most of the medical profession and ignored by the mainstream news media.
A suspicious fire at Mission San Gabriel and a curiously incurious press, parroting the left's lies. One of the great California missions begun by St. Junipero Serra in 1771, Mission San Gabriel Archangel near Los Angeles, has burned almost to the ground. It was a 249-year-old church, as if California has a lot of those around, amounting to a huge destruction of the state's unique Spanish heritage. [...] And it wasn't just a museum — it was a live church, a special one, for generations, marking weddings, funerals, communions, Easter processions, and more, beloved to anyone who ever grew up here as well as most who came since from another Spanish-heritage country. [...] To suggest there's nothing to be suspicious about, or ignore the possibility of leftist arson, is disingenuous. Thus far, the press has not raised that possibility. In fact, they've generally ignored the story, except when they were running stories to take digs at the Missions.
The Wayfair Scandal is More than Cabinets. [Scroll down] While it all started on Reddit about a series of cabinets... in the last day, numerous products surfaced that follow the same pattern of missing child naming and 5 figure pricing. I came across this on Twitter. This is important because most news sources only reported the cabinets, which theoretically could cost that much... but below you'll see images with pillows. Pillows that are the same brand as the industrial cabinets. Pillows that are, like the cabinets, identical but named various names of missing kids and listed separately.
Weinstein, Epstein, and the Democrats. [Scroll down] The public wondered what truths Epstein would spill but were soon disappointed. After prison guards found Epstein unconscious with strangulation marks on his neck, he was placed on suicide watch, only to be quietly removed from suicide watch, placed in an isolated cell, and strangled to death while the guards missed a mandatory checkup. Video footage from both strangulations had been destroyed and Epstein's death was passed off as a suicide. Legacy media organizations mocked the disbelieving public as conspiracy theorists until undercover footage from Project Veritas revealed that even journalists knew Epstein had been murdered. Furthermore, an ABC News story featuring proof that Prince Andrew, Bill Clinton, and other elites had been Epstein's clientele had been killed after the royal palace had "threatened us a million different ways." The story of Epstein and Prince Andrew, entrusted to ABC by a victim of child trafficking who had spent 12 years in hiding, had been traded for an interview with Prince William and Kate Middleton and additional interviews guaranteed to ABC for years to come.
Press Now Plumbs Its Own Depths Of Depravity. On the July 4 weekend, Chicago had 87 shootings resulting in 17 deaths, New York City 64 shootings and 10 deaths, Atlanta 31 shootings and five deaths, and the crime rate in New York City since the city council voted to reduce the annual police budget by a billion dollars has increased 130% over the corresponding figure in 2019. The anti-Trump media have said almost nothing about this. The semi-organized mobs of urban guerrillas masquerading as social reformers and champions of racial equality have been generally soft-pedaled by the anti-Trump media as understandable forces of resistance to Trumpian injustice.
How Selective Reporting Hides The Truth About Race And Crime. On Saturday [7/4/2020], a man drove his car onto a Seattle freeway that had been closed by a Black Lives Matter crowd. The driver killed one person and seriously injured another after going the wrong way up a ramp and then around a barricade. Reports noted that police "don't believe impairment was a factor." Over the weekend, news outlets replayed the brutal hit, but there's one thing you won't learn from their coverage: The driver was black and his victims were white. NPR linked this attack to other car-ramming incidents by "right-wing extremists targeting Black Lives Matter protesters." They quote a researcher about how these right-wingers were "trying to intimidate the most recent wave of BLM protesters, to stop their movement." The driver was a Seattle local named Dawit Kelete. But you'll find scant mention of the driver's ethnicity in mainstream media coverage. You might have more easily learned that Kelete was black by going to the Australia Broadcasting Corporation. The American national media also doesn't note that Kelete's two victims were white. You can find that out over at the U.K.'s Daily Mail.
The Media and 2020: Deja vu All Over Again. The media that has been so dishonest in covering the health pandemic and the riots is now claiming that Trump's reelection prospects are falling apart due to his slumping poll numbers. In reality, they are struggling to find positive things to write about Joe Biden, so they need to continue to deflect any coverage of him by attributing failures to Trump. Biden has very little enthusiasm, few original policies, and no grandiose plans to call his own. The few ideas that he does have seemed to have come directly from avowed socialists Bernie Sanders, and Alexandria Ocasio Cortez. Given his apparent mental decline, the media is covering for him, in a way not seen since they kept Franklin Delano Roosevelt's clandestine polio condition off the record.
Let's Talk about Black Privilege. When a free black man, with dozens of priors, allegedly kills a white cop, and no one hears about it on CNN or on the pages of The New York Times, was the black man privileged? Such was the case in May, when Officer Cody Holte, of the Grand Forks, North Dakota Police Department, was gunned down. Holte is survived by his wife and infant son. DMIC blackout of black-on-black crime: black privilege — yes or no?
Not dying is bad for headlines. As the bumpy COVID-19 path back to normalcy bounces along, you would never know that we were headed in the right direction. Teasers on television and headlines in newspapers report a "surge" in new cases of COVID-19 and hospitalizations. The teasers and headlines fail to mention that the most important measure of our progress in getting ahead of the virus is the number of deaths recorded. The fact that the rate of fatalities to infection is very low now is seldom if ever mentioned. [...] The CDC data show that as of July 1, 2020, death in people younger than 25 is less than 170 out of a total of 120,000. It is almost non-pronounceable to state a fatality rate — too many zeros after the decimal point. My point is this: if you are young and healthy, you have nothing to fear from the coronavirus except the fear-mongering from the media.
Kayleigh McEnany scolds reporters for not asking about deadly weekend of violence across America. White House Press Secretary Kayleigh McEnany scolded reporters during Monday's press briefing for failing to ask a single question about a violent weekend that saw an 8-year-old girl die in Atlanta, as the nation saw a surge in gun violence. "I'd end with this, I was asked probably 12 questions about the Confederate flag, this president is focused on action and I'm a little dismayed that I didn't receive one question on the deaths that we got in this country this weekend," McEnany said. "I didn't receive one question about New York City shootings doubling for the third-straight week... not one question. I didn't receive one question about five children who were killed," McEnany said.
What you wouldn't know from reading the news: There's a soaring economic recovery roaring in. [Scroll down] Look at that amazing doom and gloom — lots of "yes but," lots of bad news for suburban women — from slow wage growth to not being able to get a babysitter. Big doom-and-gloom forecasts from a government agency that's gotten it wrong every time. Lots of loaded language — "deep hole," "struggles," "stalls," "falling apart," "won't recover." Oh, and a snipe at the stock market and a little plug for green energy, which is supposed to make us slaver for a Joe Biden presidency. The actual news is buried in that bland, contextless, vanilla fifth headline in the New York Times, "U.S. Added Nearly 5 Million Jobs in June," signaling a powerful economic recovery underway. Seriously, five million jobs? When was the last time you saw figures like that? Typical jobs additions in a good month have figures around 100,000 or 300,000.
Is Provo, Utah Ground Zero? Here's a little experiment for you to conduct this morning. Go to Google or whatever other search engine you use and do a search on "Provo shooting." Now, try to identify a single story on that topic from a national news media outlet. If you find one, let me know because it is not coming up on my computer. For those of you who may have missed it, on Monday, BLM rioters actually shot and almost killed a man who was attempting to escape after his car had been surrounded by thugs wielding clubs and other weapons. One man — who has now been arrested — drew a pistol and fired two shots at the man, with one severely wounding him. Videos taken of the incident show at least one additional man pulling a pistol and firing on the car as it drove away. This is an incredibly dangerous escalation in the violence that BLM and Antifa have been committing on the streets of major cities for the past five weeks, yet it gets not a peep out of our utterly corrupt national news media.
Against the Police: Nets Skip Death of Tulsa Officer Shot in the Head. On Tuesday, 15-year Tulsa Police Department veteran and Sergeant Craig Johnson died at a hospital after sustaining a gunshot wound to his head on Monday. Six-week rookie Officer Aurash Zarkeshan was also in critical condition after also being shot in the head during the same struggle with a suspect. Though Monday's [6/29/2020] CBS Evening News was the only broadcast newscast to report on their hospitalization, neither they nor ABC, or NBC informed their viewers about Sgt. Johnson's passing.
Press Secretary McEnany: Over 100 Anarchists [have been] Arrested. Arrests are happening across the country for vandalism to statues, rioting, looting and arson. According to Press Secretary Kayleigh McEnany in the press briefing today from the White House, "Over 100 anarchists have been arrested for rioting and destruction of Federal property. The FBI has over 200 open domestic terrorism investigations on-going, AG Barr has created a task force on violent anti-government extremists led by the US Attorney's office in NJ and the US Attorney's office in Northern Texas. With 200 Trump-appointed judges confirmed, the rule of law will be upheld". The arrests include 7 people who were arrested on June 11 in Miami, Florida for the removal of and vandalism of Christopher Columbus and Juan Ponce de Leon statues. The charges against the arrested men include inciting to riot, battery against an officer, aggravated assault, criminal mischief, unlawful assembly, disorderly conduct, and resisting an officer.
The Good News About COVID-19 the Corporate Media Keeps Hidden. As the pandemic panic porn continues because identified cases are rising, Dr. Fauci is back on television, and the media is once again demanding a national response. However, there is news they don't share with you that could help reduce the already unwarranted levels of fear. Obviously, that doesn't fit their partisan agenda. Many commentators have noted that rising case numbers are not necessarily a reason to sound the alarm. The fear with COVID-19 was always of overwhelming the hospital system. [...] A doctor from the University of Pennsylvania Medical Center said in a press conference Wednesday that people who are testing positive do not appear to be getting as sick as they did earlier in the pandemic. Dr. Donald Yealy also noted this trend was being seen in the wake of massive protests.
Trump: 'I Think the Public Should Know' Hundreds Have Been Arrested for Rioting. In a Fox News town hall hosted by Sean Hannity in Green Bay, Wis., President Donald Trump said Thursday that hundreds of people have been arrested for rioting in cities across the U.S., a fact he said that no one is talking about. "Well, first of all, we have arrested, I think, almost — but it could be over the number — hundreds of people. We have arrested a lot of people for what they've done. They've created bedlam. They've destroyed very important things. I mean, you're also talking about statues of George Washington, Abraham Lincoln. [...]" he said. "These are nothing to do with any particular event, other than they're troublemakers or agitators, and they're anarchists. The big thing they want is they want to really destabilize our country, and we don't let them. So I said to my people, 'If you've arrested so many, how come we don't know about it?'" the president said.
Where are the deaths? The coronavirus doomsayers could not even wait until the fall for the apocalyptic announcements of the dreaded second wave. Because the red states recklessly loosened their lockdowns, we are now told, the US is seeing a dangerous spike in coronavirus cases. [...] The high to date in new daily cases was on April 24 — 39,072. Since April 24, the daily case count started declining, then began rising again after around June 9. What virtually every fear-mongering story on America's allegedly precarious situation leaves out, however, is the steadily dropping daily death numbers — from a high of 2,693 on April 21 to 808 on June 24. That April high was driven by New York City and its environs; those New York death numbers have declined, but they have not been replaced by deaths in the rest of the country. This should be good news. Instead, it is no news.
Obama and his Gang of Untouchables. Despite a steady flow of evidence confirming that Obama's White House directed the operation to infiltrate, spy on, and sabotage Trump's presidential campaign and then employ those same forces against Trump after he won, the media refuses to report any of it. Notes released this week once again reveal that the targeting of Lt. General Michael Flynn, Trump's incoming security advisor, was openly discussed during a high-level Oval Office meeting in early January 2017 with Obama, Biden, James Comey, Susan Rice, and Sally Yates. The notes, apparently transcribed by disgraced FBI official Peter Strzok based on a debriefing with Comey after the January 5, 2017 meeting, indicate Obama wanted to make sure the "right people" would investigate Flynn. [...] So, it's clear that on at least two occasions, President Obama and his FBI director discussed the investigation into Trump and his associates. That bombshell is not hearsay or a Deep State "conspiracy theory" or the delusions of Fox News hosts; it has been confirmed by Obama's closest aides.
Barr hits establishment media for 'bovine silence' on collapsed Russiagate narrative. Attorney General William Barr hit the establishment media in an interview aired Sunday [6/21/2020] for what he called its "bovine silence" regarding the debunked narrative of collusion between the Trump campaign and Russian government. In an interview on "Fox Sunday Futures," Barr also asserted that the various government investigations into the Trump campaign's possible ties to Kremlin were the "closest we have come to an organized effort to push a president out of office" since the assassination of Abraham Lincoln. Barr has long questioned the FBI's decision to open a counterintelligence investigation against the Trump campaign in July 2016.
What If I Trust Science and Don't Trust Dr. Fauci? [Scroll down] When the virus hit our shores, we were preparing the health system to deal with a severe respiratory infection that caused Acute Respiratory Distress Syndrome (ARDS). Ventilators were all the rage and occupied the national response. Within days of the first patients hitting the ICU in New York City, doctors were questioning this assumption. Ventilators did not seem to be working, and the patients were presenting with severe hypoxia, or low blood oxygen, and other symptoms that were not indicative of ARDS. This was not well-reported and all but ignored by the corporate media.
Newspapers ditching mugshot galleries amid concerns they advance negative stereotypes. The days of heading to newspaper websites to check out images of people who have been arrested in your area are coming to an end. The Tampa Bay Times will no longer publish mugshot galleries of the recently arrested amid concerns they "disproportionately show black and brown faces," the paper announced Monday [6/15/2020]. The Memorial Day death of George Floyd in police custody has put a nationwide emphasis on systemic racism and police brutality, and the Tampa Bay paper will stop publishing photos of every person arrested in the area as a result.
The Editor says...
The local newspapers and television reports used to include the general description of suspects as relevant details of many stories, expecially when interracial crime was the topic. That stopped at least 20 years ago. TV news stories generally show pictures of suspects and let the photos speak for themselves. As far as I know, the only time a suspect's race is mentioned on TV is when he or she is at large and the police need help finding him or her.
BLM protesters violently attack police cruisers in broad daylight in cities around the US. When it comes to Black Lives Matter protests, the liberal media continues to sell the American people on the lofty ideas of racial equality while vilifying police officers on the front lines of the cultural rot seen in urban America. Officers put their lives on the line to ensure law and order every time they put on the uniform, but that risk has gone up exponentially after the violent BLM riots over the past two weeks. Cops have been attacked, shot and stabbed, and the attacks continue to this day — even as the media pushes a "peaceful protesters" narrative.
Riots In Defense Of The Narrative Are No Vice. It's widely known that our betters say it's OK to protest in massive groups despite the risk of coronavirus transmission, but small gatherings not in support of Black Lives Matter are still unacceptable. Now we're told that it's also fine for protests to turn violent as long as it happens for the "right" reason. [...] While the media are generally ignoring Seattle because, says, DePauw University professor and media critic Jeffrey McCall, it "is a bridge too far for even a sympathetic media to cover," the lack of coverage is tacit approval. In Latin, the phrase is "qui tacet consentire videtur." In English, we'd say "silence means consent." Those entering the six-block section of occupied Seattle are told via cardboard sign "you are now leaving the USA." What's meant to be a taunt is closer to accidental reality.
Hundreds of looters storm a Florida Walmart and make off with $100,000 worth of merchandise. Authorities in Florida have released disturbing surveillance video showing the moment hundreds of looters broke into a closed Walmart and stole more than $100,000 worth of merchandise. The incident took place on the night of May 30 during George Floyd protests in Tampa and the surrounding areas. The Hillsborough County Sheriff's Office on Thursday [6/11/2020] issued a plea to the public seeking help with identifying the looters who ransacked the Walmart at 2701 East Fletcher Ave. in Tampa. [Video clip]
The Editor says...
I check the news every day. I wonder why I've only seen this in the British press.
Mobs Filmed Rampaging Throughout Ocean City, Maryland. Shocking videos out of Ocean City, Maryland show giant mobs of thugs attacking people on the boardwalk and in the streets over the past few days as lockdown restrictions were lifted. While the media has been hyper-focused on policing microaggressions and "Karens," these giant mob attacks appear to have received zero coverage outside of local news.
The Media Suppresses Anyone Who Thinks Like You. Tom Cotton was invited to write a New York Times op-ed that expressed the sensible position that if local governments could not (or, as seems plausible) would not prevent mass leftist violence, the president should consider the use of active-duty military forces under the Insurrection Act. Polls said that 58 percent of folks agreed with this position, and it is hardly unprecedented in American history. I was personally part of the federal Army force that suppressed the Los Angeles riots in 1992. But the Red Guard Kids who apparently now run the NYT collectively wet themselves in horror and declared a position held by six in 10 Americans completely out of the bounds of acceptable discourse. The sissy management of that garbage fish wrap rolled over and submitted. And the Lil' Maoists delighted in their total victory. The alleged Newspaper of Record not only will not, but cannot, dare mention what a huge percentage of Americans believe.
Gov. Noem: Establishment Media Coronavirus Bias Shows in 'What They Choose to Cover, Not Cover'. Much of America's news media manipulate public perceptions through sensationalism and omission of context to further a political agenda, determined Gov. Kristi Noem (R-SD), highlighting the industry's broad advocacy for lockdowns in relation to the coronavirus outbreak. [...] Noem continued, "They definitely spent a lot of time attacking — and I would say — really sensationalizing items and pulling out facts that worked for an agenda that they were trying to sell, and then rarely covering the good news of what was happening here in South Dakota, and that really is what is disturbing to me."
Systemic Racism and Bigotry Are the Lifeblood of the Left. [Scroll down] If one wants to find systemic hate in America, you will find it among outliers on the right and within the very core and system of the left. The hate that has been shown in burning down even minority-owned drug stores and clothing stores. The looting and the physical violence that awaits us all if the Left and its Ocasio-Hyphen anarchists ever attain their dream of defunding ICE at the border and the police in our cities. And when the mob strikes, nowhere do they let their hate demonstrate itself more manifestly than when they go after the Jews. First they go after the Jews who will not bow, just as Stalin did. And eventually they get to the Schumers and Bernies just as Stalin got to the anti-Semitic Jewish apostates of another time like the Trotskys, Kamenevs, and Zinovievs. The Left media have been so enthralled covering a few troubling but isolated cases of police roughness that they conveniently have refused to cover the anti-Jewish pogrom that took place in Los Angeles in the name of "Black Lives Matter."
What about Black Christian Lives? Where are the marches and the outrage regarding the deliberate and quite systematic murder by jihadist Muslims of Black Christians in Nigeria and other African countries? At Genocide Watch, one learns that Nigeria is "a killing field of defenseless Christians." Since June 2015, "over 11,500 Christians have been murdered and 2,000 churches were destroyed." The "statistics are based on careful records kept by church groups that include the names of victims and dates of their murders."
While Defending Rioters, The Media Ignore Slain Black Police Officers. Two terrible things just happened only days apart. In Oakland, during anti-police protests outside of a federal courthouse, federal protective service officer Dave Patrick Underwood was killed in a drive-by shooting that was targeted at the police. Another officer was shot but survived. The killing of Underwood, a black American, has only appeared in a few national outlets — one of which was the Wall Street Journal. Cable news outlets CNN and MSNBC, meanwhile, appear to have completely ignored Underwood's killing. At best, they glossed over it.
Retired St. Louis Police Officer Assassinated Live on FaceBook By Mostly Peaceful Protesters. Was he wearing a Hawaiian shirt? Oh? He was black? So we can't claim it was justified. So we'll just ignore it.
Retired police captain killed on Facebook Live while protecting friend's pawn shop. David Dorn was trying to help a friend. The retired St. Louis police captain was shot to death early Tuesday [6/2/2020] during a violent night of protests in which four active St. Louis police officers were also shot. Dorn, who also served as police chief in Moline Acres, was 77, according to the St. Louis Post-Dispatch. The shooting took place around 2:30 a.m. Tuesday as Dorn tried to protect Lee's Pawn & Jewelry from looters, the Post-Dispatch reported. He was shot in the torso and died on the sidewalk in front of the shop. His killing was captured on a Facebook Live video. [...] The video of Dorn's death was taken down shortly after it was broadcast, according to The Associated Press. A Facebook spokesperson told the Post-Dispatch, however, that the removal was a mistake because the video did not expressly violate the platform's policy on violent or graphic content.
At least 10,000 people died in Tiananmen Square massacre, secret British cable from the time alleged. The death toll from the 1989 Tiananmen Square massacre was at least 10,000 people, killed by a Chinese army unit whose troops were likened to "primitives", a secret British diplomatic cable alleged. The newly declassified document, written little more than 24 hours after the massacre, gives a much higher death toll than the most commonly used estimates which only go up to about 3,000. It also provides horrific detail of the massacre, alleging that wounded female students were bayoneted as they begged for their lives, human remains were "hosed down the drains", and a mother was shot as she tried to go to the aid of her injured three-year-old daughter.
Study: 99.3 percent of Broadcast Networks' Protest Coverage Ignores Mob's Murder Victims. Broadcast networks ABC, CBS, and NBC have been consistent cheerleaders for the nationwide protests against police brutality, offering nearly 12 hours of coverage (710 minutes) over the past seven days on just their flagship morning and evening news shows. But despite dedicating all of those hours of airtime to the protests and riots, these networks have barely breathed a word about those who have died in the resulting violence. MRC analysts examined all three broadcast networks' major morning and evening newscasts between May 28 and June 3, and found that the total airtime spent on those who died during the past week of riots accounted to just four and a half minutes, or less than one percent of the total protest-related coverage.
The CDC confirms remarkably low coronavirus death rate. Where is the media? Most people are more likely to wind up six feet under because of almost anything else under the sun other than COVID-19. The CDC just came out with a report that should be earth-shattering to the narrative of the political class, yet it will go into the thick pile of vital data and information about the virus that is not getting out to the public. For the first time, the CDC has attempted to offer a real estimate of the overall death rate for COVID-19, and under its most likely scenario, the number is 0.26%.
Two black males arrested in shooting of white female cop in Michigan sparks no outrage, protests. As riots and demonstrations continue around the country in protest over George Floyd's death, who died as he was being held to the pavement by a white police officer, two black suspects have been arrested for allegedly shooting a white female cop in Michigan — without sparking similar violence. As reported by MLive on Tuesday, Kordney Antwoine McDonald of Ypsilanti and Koby Ryan Falls of Monroe were charged with shooting Cpl. Renae Peterson of the Monroe City Police Department on Sunday [5/31/2020]. McDonald reportedly faces 17 counts that include charges of assault with murderous intent, assault on a police officer, and felony weapons charges. Falls, meanwhile, faces 13 similar counts that also include a concealed carry violation.
Media Downplay an Unfolding Biden-Ukraine Scandal. The sketchy story about Joe Biden's involvement into Ukrainian politics during the times when he oversaw the Obama administration effort in fighting Ukrainian endemic corruption is rapidly developing into something ugly. Two interesting twists of the story were recently revealed. First, it turned out that then-U.S. ambassador to Ukraine Marie Yovanovitch lied to Congress in her testimony during the impeachment inquiry last year that she had had little knowledge about Burisma Holdings in the fall of 2016, when she started her position. But the State Department emails published on May 13 clearly demonstrate that she was involved in discussions about the natural gas firm Burisma Holdings during the 2016 election and transition to settle a long-running corruption investigation and polish its image before President Trump took office and even had a meeting with a company representative. Yovanovitch, for instance, was specifically warned in an email by her top deputy in September 2016 that Burisma had hired an American firm with deep Democratic connections called Blue Star Strategies to "rehabilitate the reputation" of the firm and that it had placed "Hunter Biden on its board."
The Doctrine of Media Untruth. Take the strange case of the respective records of liberal New York Governor Andrew Cuomo and Florida counterpart Ron DeSantis. Both states have roughly equal populations, with Florida slightly larger by about 2 million. Both have populations that travel daily back and forth between their respective major cities. Both are major international tourist and travel hubs. Both have widely diverse populations. Both have large numbers of retirees and long-term-care homes. Yet, New York has suffered 14 times the number of coronavirus deaths as has Florida. Florida is now increasingly open, and on May 19 saw 54 deaths attributed to the virus. That same day, New York was completely locked down and yet saw nearly twice that number at 105 deaths. One would never know from the media of the contrasting fates of the two states during the epidemic.
Democrat vote fraud is real, and Republicans must begin fighting back. Don't tell the mainstream media, but another case of "nonexistent" voter fraud managed to squeak a few times this week before "objective" journalists quickly jumped on top of the story and smothered it with a pillow. The U.S. Attorney's Office in Philadelphia secured a guilty plea from an election judge who admitted to "literally standing in a voting booth and voting over and over, as fast as he could, while he thought the coast was clear." The investigation is ongoing, and prosecutors alluded to a much larger conspiracy involved. What is definitive, according to the guilty plea, is that a Democratic Party ward chairman stuffed the ballot boxes for Democratic candidates in the 2014, 2015, and 2016 elections in exchange for thousands of dollars in cash. If he pleaded guilty to cheating Pennsylvanians out of honest local, state, and federal elections in the small window of '14 to '16, just think of all those other elections he might have affected while nobody was looking or for reasons other than money.
Twenty Questions for Barack Obama. Over the last two weeks, considerable evidence has been released related to what appears to be a major, historic political scandal. The declassification of Susan Rice's CYA email to herself alone raises a multitude of questions. Yet the mainstream media, who've suddenly become invincibly incurious about Russia-related matters, have posed not one question, either directly or indirectly, to the person to whom all the players in the scandal reported: Barack Obama. Since the Senate Judiciary Committee has signaled that the former president won't be called to testify, it falls to the media to get some answers. But members of the media have avoided questioning Obama on the entire Russia issue for the last three years. Maybe these reporters are suffering from a form of writer's block.
Why is There so Little Coverage of Nursing Home Fiascos? The promises and predictions in the media have been plentiful. The failing of those pandemic predictions has nearly been as widespread. As consistently wrong as these seers of doom in the press have been there is one other failing they have been adept at delivering; holding local officials accountable. [...] For a time New York's Governor Andrew Cuomo (D) had been something of a media darling. For a time he was hailed for his leadership and his ability to either work with President Trump, or call out the administration for supposed problematic responses. For a time he was hinted at as a possible presidential ticket name. That time has ended. In recent weeks, Gov. Cuomo's swelling presence has ebbed as problems with the response in his state have been revealed, with one in particular being a jarring reality.
Inside the Media's Desperate Cover-Up of 'Obamagate'. Obama's Director of National Intelligence James Clapper, now a CNN contributor, told his viewers that it is "routine" to unmask Americans who are communicating with foreigners under surveillance. Yahoo News told its readers unmaskings are "routine." New York Times reporter Charlie Savage tweeted the practice is so "routine" that under President Trump, the National Security Agency handled 10,000 unmasking requests last year and 17,000 requests in 2018 — an average of 37 per day over the two years." [...] What all of these Obamagate deniers are about is a determined effort to journalistically cover-up what arguably is the biggest scandal in American history — a silent coup attempt against a President of the United States by a collection of dirty cops and dirty bureaucrats.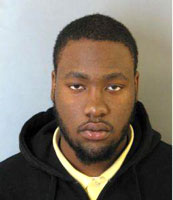 Why Hasn't the New York Times Reported The Murder Of Paul And Lidia Marino? So there was this couple, he 86 and she 85, crossing the cemetery on their way to Anthony's grave on the morning of May 8th as they had done hundreds of times before. Twenty-nine-year-old Sheldon Francis, a black man dressed entirely in black, with a black face mask, came up behind them and shot them both with a handgun. [For couple slain in veterans cemetery, visiting son's grave was a daily ritual, Carl Hamilton, Newark (Maryland) Post, May 14, 2020] Lidia was shot first, and died at the scene. Paul was shot in the head, presumably after just seeing his wife shot; he died later in hospital. The killer, Sheldon Francis, ran off into some nearby woods. He had a good-quality rifle with him and plenty of ammo, which suggests some planning beforehand. There was a standoff with police and a firefight. When Francis had been silent for a while, cops went into the woods and found him dead of a gunshot wound. Whether the wound was self-inflicted or the result of police shooting, we don't know. A horrible end to two lives well lived, and a third that would have been better not lived at all. Plainly a homicide, though, so we're naturally curious to know the motive.
WaPo's new mantra is Just Don't Report. As the walls close in on Obama's use of the FBI to spy on political opponents, the Washington Post has a simple solution for a press that aided and abetted him: If something looks bad "just don't report that it does." The full quote by columnist Greg Sargent is, "There is a legitimately difficult editorial challenge in figuring out how to scrutinize a mostly conventional politician who is running against a bottomlessly corrupt and dishonest opponent like Trump, as Brian Beutler has noted, without placing a similarly sized question mark over both of them. "There's just no doubt that this happened in 2016, as has been widely documented. "This is plainly on its way to happening again. But it doesn't have to. One way to avoid this: If something doesn't actually 'boost' or 'lend fodder' to a big claim that Trump is making, just don't report that it does. "It's simple, but it's a start." Just don't report.
NYTs and L.A. Times Reject NSC Advisor O'Brien's Column on Ventilators Because it 'Didn't Fit Their Narrative'. National Security Advisor Robert O'Brien on Friday revealed in an interview Friday that the New York Times and Los Angeles Times declined to publish his recent column on American ventilator diplomacy because it "didn't fit their narrative." Back in early March, many experts feared that a shortage of ventilators in America could be a public health catastrophe because there would not be enough of the life-saving machines in hospitals to treat critically ill COVID-19 patients. The column describes in detail how the Trump administration became a world leader in the fight against the coronavirus by ramping-up production of ventilators. The piece, which had high praise for Trump's handling of the crisis, was published at Fox News.
Where is Christine Blasey Ford and why hasn't she said anything about Tara Reade? [Scroll down] Christine Blasey Ford wasn't whisked away from earth in 2018. She's still out there somewhere reading the news. She knows about Tara Reade and, so far, she hasn't offered a word of public support about her allegation. That's true even though Tara Reade made a point of saying she believed Christine Blasey Ford in her interview with Megyn Kelly. Isn't it pretty remarkable that Ford has remained silent? Has anyone in the media even tried to ask Blasey Ford if she believes Reade? Did reporters at every news outlet suddenly lose her number after the confirmation? Given the media comparisons between the two women over the past several weeks, it really does seem like an obvious avenue to pursue. So why hasn't the media pursued it?
GOP victories from Tuesday's special election races largely ignored by media. The GOP clinched major victories in two special elections held on Tuesday but was largely ignored by the mainstream media. Mike Garcia managed to flip California's 25th District, becoming the first Republican to do that in the state since 1998. Garcia, a former Navy combat pilot, was declared the winner on Wednesday after his Democratic challenger, state assemblywoman Christy Smith, conceded the race. The congressional seat was previously held by Rep. Katie Hill, who resigned last year. Both Garcia and Smith will face off again in November.
Chinese Fortune Cookie for 2020: 'Orange Man Bad'. There will be no official "Chinese collusion" in 2020. There will be plenty of collusion among the Democratic Party, the American press, and the Chinese Communist Party to prevent President Trump from winning re-election come November. It just won't be reported or turned into a news story of any kind. [...] Nobody will talk about the large American corporations now controlled by Chinese interests or the large amount of prime real estate the Chinese communists secretly own from Bangor, Maine to San Diego, California. Nobody will care that the state-owned Bank of China provided Hunter Biden's investment firm with $1.5 billion in financing for development of the same facial recognition surveillance software the communist dictatorship uses to control its citizens' movements. Just as anyone who questions the veracity of the 2016 "Russian collusion" myth is dismissed as a quackish conspiracist by the mainstream media, anyone who points out the obvious "Chinese collusion" taking place right before our eyes will be just as quickly accused of quackery, too. It will be the most important story of the 2020 election that never merits mentioning.
AP revises its stylebook to outlaw the use of the word 'mistress.' Hilarity ensues. When it comes to dictating how the news shall be presented to the American public, the Associated Press stylebook plays a key role, and has for many decades. Among other functions, it tells reporters and their editors which terms are to be preferred and which are verboten in describing phenomena. [...] On Friday [5/8/2020], the AP suddenly announced that the word "mistress" is doubleplusungood.
AP Admits Not Reporting, Deleting Tara Reade 2019 Interview Detailing Charges Against Joe Biden. The Associated Press reported on Saturday it interviewed Tara Reade Friday about her allegations that former Vice President and presumptive 2020 presidential candidate Joe Biden sexually assaulted her in the 1990s when she was an aide in his Senate office but buried that the outlet failed to report on its interviews with Reade in 2019, when she first made public her dealings with Biden. "The AP declined to publish details of the 2019 interviews at the time because reporters were unable to corroborate her allegations, and aspects of her story contradicted other reporting," the report said.
Tara Reade Demands Biden Release Senate Records, Rips Media for Censoring Her Complaint. If you're not sure Biden's a rapist, then Hillary Clinton's swearing for his character should be the last proof you need.
Virtual Blackout: Liberal TV Networks Bury Joe Biden Sex Scandal. Presumptive Democratic nominee Joe Biden is facing a growing sexual assault scandal, but Americans who only watch left-leaning TV networks may not have even heard about it. Biden's former staffer Tara Reade went public with her claims on March 25, and since then new evidence has arisen, making her accusation far more credible than Christine Blasey Ford's claims against then-Supreme Court nominee Brett Kavanaugh. Yet left-leaning mainstream media outlets have nearly boycotted the story over the past month.
Cable News Anchor's Wife Recommends Bleach Baths, Media Ignores It. Cristina Cuomo is the founder of the health and wellness blog The Purist. She is also the wife of CNN's Chris Cuomo. She is recovering from the coronavirus and has been blogging about her experience with COVID-19. She, her husband, and their 14-year-old son have all been battling the virus recently. I don't wish that on anyone. Fortunately, Chris Cuomo has recovered and Cristina is doing well in her recovery. Her blog features her suggestions for fighting the coronavirus, though she does recommend that everyone consult a doctor before trying anything. She's not being irresponsible in her recommendations, as a non-medical professional, but let's just say her approach is not a traditional one.
Three Potential Biden Running Mates Appeared On Sunday Shows. None Were Asked About Sex Assault Allegations. Three women believed to be among the frontrunners for former Vice President Joe Biden's running mate on the 2020 Democratic presidential ticket appeared on Sunday morning news programs, but not a single woman was asked about sexual assault allegations leveled against Biden by a former staffer. In fact, not a single one of the Sunday news programs that aired on April 26th discussed the allegations despite revelations from CNN Saturday evening that indicated the woman's mother called in to "Larry King Live" in the late 1990s to ask the host's panelists how her daughter should go about reporting sexual harassment by a male Senator.
'Larry King Live' episode with Tara Reade's mom removed from CNN catalog. Campaign collusion? [A] 1993 CNN video featuring Tara Reade's mother lamenting that her daughter was preyed on by then-senator Joe Biden has reportedly been removed from Google Play. Liberal Twitter user J.L. Hamilton posted a screenshot of the Google Play catalog of "Larry King Live." The show aired on CNN from 1985 to 2010. Apparently missing was the August 11, 1993 episode, where Tara Reade's mother, Jeanette Altimus, called in to "Larry King Live" and revealed that her daughter's pleas for help following her alleged sexual assault went ignored in Washington, D.C.
Major Media Outlets Fail To Expose Bombshell Evidence Showing Dodgy Dossier Was Russian Disinformation. Many main stream media outlets and cable networks have failed to correct their record of misinformation they delivered to the American people regarding President Donald Trump's 2016 campaign, even after evidence continues to surface showing that the dodgy dossier compiled by a former British spy was Russian lies. Sen. Ron Johnson and Sen. Chuck Grassley's urging to have acting Director of National Intelligence Rick Grenell and Attorney General William Barr declassify footnotes in Inspector General Michael Horowitz's December report on the FBI's handling of the Russia investigation, cleared any speculation that the Trump campaign conspired with Russia.
Hey, NBC News, You Buried This Critical Detail in Your Article About Hydroxychloroquine. Well, it looks like NBC News is at it again. With no vaccine against the Wuhan coronavirus, there have been reports that the anti-malarial drug hydroxychloroquine has been effective in combating the symptoms of the virus. It is not a cure and it has yet to get the seal of approval from the task force as something which is recommended as a treatment for those infected with COVID-19. It's a stopgap until we get a vaccine, giving us some breathing room regarding preventing future deaths. It's a hopeful story that the anti-Trump opposition press is trying to squash. They can't have hope. That means Trump is doing something right.
Florida Has Beaten the 'Surge'. Less than two weeks ago, the number of new coronavirus cases reported in Florida hit a one-day peak, a key metric that has since declined by about 20 percent. The third-most-populous state in America has reported a cumulative total of about 21,000 cases of COVID-19, which means the Sunshine State's per-capita infection rate is about 90 percent lower than New York's. For some reason, however, the good news from Florida hasn't been reported in the national media, nor has it gotten significant coverage in the local press.
Funny How Joe Biden's Woman-Assaulting Allegations Aren't News. The #MeToo movement is finally here and at a long last, powerful and lecherous men are going to be held to account for their dastardly deeds against women! Or maybe not. It turns out that the #MeToo movement was all another sham designed to destroy the lives and careers of elected Republicans and one icky Hollywood movie mogul. When women started speaking up and it turned out that most of the men being accused were liberals and elected Democrats, the movement suddenly started to fizzle.
It's Good to Be a Democrat. Joe Biden, the presumptive Democratic Party nominee, has been credibility accused of sexual assault by a former staffer named Tara Reade. Don't search her name on CNN's website. As of this writing they have not done a single report about her and her story. They don't care. Moreover, they don't want their audience to know. But audiences do know. Thanks to the Internet, the old liberal tactic of ignoring stories they don't like can't work anymore.
New York Times admits Biden team influenced edits to story on sexual assault allegation. The New York Times revealed that Joe Biden's campaign influenced the newspaper's decision to edit out allegations of sexual misconduct from a story published over the weekend. On Sunday [4/12/2020], the New York Times was criticized for editing a sentence and deleting a tweet noting that Biden has been accused of sexual misconduct by women who found that his hugging and hair sniffing crossed the line. [...] The newsroom claimed at the time that it made the edits because the original language was confusing, tweeting, "We've deleted a tweet in this thread that had some imprecise language that has been changed in the story." On Monday, however, Executive Editor Dean Baquet admitted that the Biden campaign's reaction to the piece played a role in making the changes.
NY Times Editor Admits Editing Article on Biden Sexual Assault Allegation After Campaign Complained. The New York Times edited a controversial passage in an article about a sexual assault allegation against former vice president Joe Biden after his campaign complained, the paper's executive editor said Monday [4/13/2020]. Dean Baquet, in an interview with Times media columnist Ben Smith, explained why edits were made to the following sentence, which appeared as follows in the print edition of the paper, on page A20: "The Times found no pattern of sexual misconduct by Mr. Biden, beyond the hugs, kisses and touching that women previously said made them uncomfortable." Baquet said the Times decided to delete the second half of the sentence, without explanation in the form of an editor's note, because "the [Biden] campaign thought that the phrasing was awkward and made it look like there were other instances in which he had been accused of sexual misconduct."
President Trump needs to set the country free now. For weeks now, nearly every media outlet has behaved as though the Covid19 virus was a cause for celebration. They broadcast the numbers like they show the stock market or election returns. It is positively ghoulish. [...] They are engaged in panic-mongering. They are encouraging the wholesale destruction of the American economy. The worst are hoping and wishing for that outcome. [...] By all accounts, most of those who have died around the world, most but not all, have had serious underlying health conditions: obesity, diabetes, chronic lung or heart disease. The media conceals these data. It does not fit with their narrative that Trump is somehow responsible for the advance of the disease, even though he was on it from the beginning.
CBS Skips [its] OWN Poll Results Showing Majority Support for Trump on Corona. Another network poll is out finding majority support for Donald Trump's handling of the coronavirus and this time CBS didn't even manage 10 seconds for the news. Instead, CBS This Morning on Thursday [4/2/2020] skipped the positive numbers and barely mentioned the survey at all. In the 7am hour, co-host Tony Dokoupil announced, "A CBS News poll out this morning shows about half of Americans, 51 percent of us, believe the outbreak will get worse in the next month. Only 28 percent think it will get better." In the 8am hour, co-host Anthony Mason picked out this detail: "In the latest CBS News poll, 83 percent of Americans say our top priority should be staying home to stop the spread of the virus. Seventeen percent said getting back to work to get the economy going is more important." That was it for the poll.
Here's the Number of Times the Mainstream Media Have Mentioned Joe Biden's Sexual Assault Accuser. In case you missed it, a woman named Tara Reade, who was a former staffer for Joe Biden, is accusing him of sexual assault. [...] Whether Reade is telling the truth or not is still an open question. The fact that she worked directly for Biden and was later fired adds an additional layer of credibly to her accusation, but any claim of sexual assault needs to be fully adjudicated. Biden, despite being a creep who's often caught groping and sniffing women, still maintains the presumption of innocence until further evidence is presented. Regardless, what's not an open question is how hypocritical and biased the mainstream media are. The Daily Wire took a look back at the coverage of Brett Kavanaugh accuser Christine Blasey Ford to comprehensively compare it to how Biden is now being treated. The results are stunning.
If it bleeds, it leads: Media omits US fatality rates in reports. The mainstream media's headlines border on sensational and incomplete, thus drumming up fears of massive amounts of deaths without pointing out how the fatality rate is not as high as the media portrays it. Both CNN and NBC News are to blame for the incomplete headlines that focus on death counts, but not the percentage of people who have since recovered from the virus.
Sara Carter: No One Is Reporting Biden's Gaffes, Dems Counting On That. Sara A. Carter told Fox New's host Steve Hilton Sunday night that the Democrats are counting on the media for not reporting former Vice President and 2020 presidential candidate Joe Biden's gaffes. "Now, what we're seeing is Joe Biden actually doing what Joe Biden does best lately, which is have these enormous gaffes," Carter told Hilton. [Video clip] Carter concluded, "The sad thing is, Steve, is that no one is really reporting on this and I think that's what the Democrats are counting on."
The curious paucity of MSM coverage of Biden's #MeToo accuser. If you're a regular reader of Hot Air or any other generally conservative websites, you're probably aware that one of Joe Biden's former Senate staffers, Tara Reade, has accused the former Vice President of sexual assault. But if you're getting the majority of your news from CNN, MSNBC, the New York Times or the Washington Post, the name may not even ring a bell. Given the nature of my work, I generally have the television on for the majority of the day while I'm writing (usually with the sound muted) and I flip back and forth between CNN and Fox News, with occasional visits to our local Spectrum News channel. That way I can keep an eye on the chyron for breaking news stories and get a feel for what they're covering. While it's certainly possible that I missed a mention somewhere, I don't recall seeing Ms. Reade's name pop up on CNN for days.
Coronavirus Causing a Right Turn. [W]henever Trump speaks directly to the American people, they believe him, gravitate to him, and love his America first agenda. This is why Democrats/fake news media continuously seek to block Trump from communicating directly to We the People. Absurdly, they claim his tweeting is an impeachable crime. The Democrats'/fake news media was thrilled when coronavirus hit our shores, giving them an opportunity to demand that Trump stop holding rallies. The mega thousands who attend Trump rallies include a growing number of Democrats eager to jump aboard the Trump Train. To further block the people from hearing Trump, fake news media has outrageously decided to stop broadcasting Trump's coronavirus update press conferences.
Second French Study by Dr. Raoult finds Hydroxychloroquine and Azithromycin Helped Almost Every Patient in Study Group. This time Dr. Raoult administered hydroxychloroquine and azithromycin to 80 patients and observed improvement in EVERY CASE except for a very sick 86-year-old with an advanced form of coronavirus infection. This is very promising news once again from Dr. Didier Raoult. This is wonderful news. Unfortunately, this doctor's work helps the the global community and Trump so the the liberal media has either igored, attacked or mocked his research.
As Trump's Poll Numbers Rise, Media Begin Censoring Press Conferences. The political media have been working extremely hard to craft a narrative that the spread of the coronavirus was essentially the fault of the man they had blamed for all other ills in recent years. How could the people not accept that narrative, particularly considering that most everyone in the media was pushing it? Things got worse when additional polls showed Trump receiving high ratings at the same time that the media received poor ratings. A brand new Gallup study — "Coronavirus Response: Hospitals Rated Best, News Media Worst" — was particularly bad news. When Americans were asked about nine different institutions and political leaders, they gave majority approval to all but the media. President Trump has a 22-point net approval rating while the media's net approval rating was negative 11 points.
White House Responds To Seattle NPR's Decision To Stop Airing Coronavirus Press Conferences. The White House criticized Wednesday the Seattle-area NPR station's recent decision to stop airing the coronavirus task force press briefings. "It's not surprising, but also a failure of their duty to the American people, that some media outlets would choose to block their audiences from receiving accurate, up-to-date information on President Trump's whole-of-government approach to slowing the spread of COVID-19," White House deputy press secretary Judd Deere told Daily Caller. "No other Administration has been as transparent and as accessible as this one, and we will continue to make sure this Nation hears from its leaders and top health experts during this global pandemic."
Is The Media Ignoring Good News On Coronavirus? here has been some tantalizingly good news about the coronavirus in the past few days, not that you'd know it from the end-of-the-world treatment it gets in the press. Of the 10 countries with the most COVID-19 cases, five showed declines in new reported cases over the past few days. In France, the number has been flat for days. [...] The Hong Kong researchers also found that the risk of dying was heavily concentrated among older people. For those over 64, the fatality rate was 2.4%. For those under 64, it dropped to 0.5%. For those younger than 15, the researchers found the fatality rate was zero. These findings were actually available a week ago, when the draft paper started to circulate. But few noted the findings. Even when the study was officially published late last week, only a few major news outlets bothered to cover it.
White House Blasts CNN, MSNBC For Cutting Away From Daily COVID-19 Briefing. The White House blasted two liberal news networks for repeatedly cutting away from President Trump's daily coronavirus task force briefing, calling their actions "disgraceful." [...] A CNN spokesman responded to [Judd] Deere's tweet with a statement saying, "If the White House wants to ask for time on the network, they should make an official request. Otherwise we will make our own editorial decisions," The Hill reported. But it's easy to imagine if Barack Obama — The Chosen One — were president, the mainstream media would cover every second of his briefings.
Increasingly Unstable Media Demand Blackout of Trump's Coronavirus Briefings. For the first time since World War II, for the first time in nearly 80 years, Americans have no idea what their country will look like a year from now, and the corporate media want to impose a full blackout on the daily briefings the American president is making to the American people. There's a lot of jokes out there about the hypocrisy of how this demand is coming from the same media that had a tantrum over the White House canceling the daily press briefings. But this time we're talking about something so much more than hypocrisy.
ABC Gives 10 Seconds to [Their] Own Poll Showing Approval of Trump's Crisis Response. After weeks of the broadcast network using the coronavirus pandemic as a cudgel to attack the Trump administration, on Friday, ABC's Good Morning America could only bother to spend 10 seconds on their own poll finding that 55% of Americans approve of the President's handling of the crisis.
FDR at Yalta, and why Joe Biden's mental acuity matters. On August 18, 1944, Senator Harry S. Truman met President Franklin D. Roosevelt for lunch at the White House. Truman had just been nominated to be Roosevelt's running mate that year, and the two men dined on the White House lawn and chatted about the upcoming campaign. Truman had not seen the president for over a year and was shocked at Roosevelt's haggard appearance. He noticed that FDR was so ill that he couldn't even pour cream into his coffee. Despite seeing direct evidence of Roosevelt's poor health, Truman told reporters afterwards that Roosevelt "Looked fine... He's as keen as a briar." Truman was lying. Roosevelt was a dying man, which was evident to everyone who saw him. But during the 1944 campaign, a conspiracy of silence reigned about his health. Roosevelt had a physical in the summer that showed he had high blood pressure and was suffering from congestive heart failure, but the results were kept from the public. With the assistance of a compliant media that was overwhelmingly sympathetic to FDR, the issue of Roosevelt's ability to serve four more years never materialized as a serious campaign issue.
NBC Manipulates Video: Cuts Around Biden Threatening to Assault Autoworker. In a viral moment from an auto plant in Detroit Tuesday, a raging Joe Biden lashed out and threatened to assault (slap) an autoworker who confronted him about his support for curtailing Second Amendment rights. The threat was omitted by all the broadcast networks (ABC, CBS, and NBC) and Univision, with CNNEE and Telemundo ignoring the incident altogether. But what NBC Nightly News did was particularly deceptive in that they completely cut around Biden's threat of physical violence. In the NBC coverage of the "tense confrontation," correspondent Gabe Gutierrez actually noted that Biden did want to ban so-called "assault weapons" before boasting that the former Vice President "pulled no punches." He then played the manipulated video: [...]
Mainstream media ignore report of Joe Biden's brother facing fraud allegations. The mainstream media has downplayed another scandal involving former Vice President Joe Biden's family. A new report revealed legal problems and allegations of possible fraud involving former Biden's brother, James, on Monday — but anyone who relies on the mainstream media would have no idea. In the latest instance of the Democratic primary front-runner's family members' dealings drawing scrutiny amid his presidential bid, James Biden's business with medical companies — including Americore Health — led to allegations that he potentially engaged in fraud and traded on his brother's name, Politico reported early Monday [3/9/2020].
Helping Joe Out! ABC, NBC Hide Biden's Latest Blunders. This week Joe Biden emerged as the Democratic frontrunner as he started consolidating his liberal base, including his allies on the ABC, CBS, NBC evening and morning shows — who continue to cover-up his blunders and gaffes. In just the last few days Biden botched an attempt to recite the Declaration of Independence and confused his wife with his sister. MRC analysts looked at the Big Three evening and morning shows (March 2 evening [through] March 5 morning) and found only CBS This Morning (59 total seconds) reported on the latest Biden bloopers. Even then, they just relegated them to in their "Eye-Opener" montage. The CBS Evening News joined ABC and NBC in completely skipping the frontrunner's faux pas.
The Muslim Migrant Attack in St. Louis You Heard Nothing About. St. Louis resident Alicia Clarke says she feels as if she has been "failed by the system" and is now "not feeling safe," and she has good reason to feel this way. After she was savagely beaten and stabbed by her neighbor, her attacker walked free. The court considered it decisive that he has an IQ of 49. He is also a Muslim migrant, which may explain both the reluctance to prosecute him and the scant and incomplete coverage this incident has received. St. Louis' KSDK reported Monday [3/2/2020] that Clarke went out for a run near her home; when she returned, her cell phone was missing. Tracking it with Find My iPhone to her neighbor's backyard, she went to get it, and told her neighbor, "I know you did this and I'm calling the police!" At that point the neighbor, whom KSDK describes only as a "6-foot teen," attacked her. [...] "The most hurtful thing of all of this, is the dropped charges," said Clarke. "That was much more hurtful than the physical assault."
A Quiet Little Murder in Mississippi. You probably haven't heard about the sixteen-year-old girl who got murdered by five other kids early last Monday afternoon [2/24/2020] on a quiet little street in the quiet little town of Biloxi, Mississippi. If the circumstances had been altered slightly, it would be the only news story you'd heard about all week. You'd also continue to hear about it for years. [...] In case you've been asleep for the past generation, there is no longer any kind of Southern white identity that a young white girl in Mississippi can safely claim anymore. There is no longer anything in America even representing a cohesive "redneck" or "poor white" culture. There are too many risks, and you get called too many names if you even make a point of being white. If you're young, white, Southern, and not affluent, you'd best at least act black if you don't want to get killed.
Coors Mass Shooter Doesn't Fit the Media Narrative - Is That Why You've Heard Nothing About Him? He doesn't fit in the narrative box the media likes to stuff mass shooters into. There's the unpleasant but salient fact of Ferrill's race. According to Heavy, the shooter was a 51-year-old African-American man. Motives are sketchy at the moment, although neighbors said he talked of "spies" from the brewing giant who were sent to his neighborhood to ensure he wasn't faking a shoulder injury that had caused him to miss work, according to the New York Post. Lest you think he's crazy in this department, this does actually happen: "Miller Brewing Company, now part of Molson Coors, hired outside investigators to watch an employee in Ohio over a disputed foot injury in 2000," The Associated Press reported. "The employee sued Miller for a variety of claims, including a retaliation claim for the surveillance, but none of the claims succeeded."
There's a very good reason the media is silent about the Milwaukee mass shooting. On Wednesday [2/26/2020], an angry ex-employee got a gun, put a silencer on it, went to the MillersCoors facility where he had once worked, and shot five people to death before shooting himself. One would expect to have a barrage of news stories about America's gun violence problem and the need to ban guns. After all, on Tuesday, before the shooting happened, the Democrat candidates were all over each other trying to explain why each would be more effective at destroying the Second Amendment. Instead, though, we got crickets. The reason for the media's silence became apparent when the media identified the shooter: 51-year-old Anthony Ferrill was black. This meant that the media couldn't use its white supremacist narrative to justify grabbing guns. The narrative broke down even further when social media posts revealed that Ferrill may well have been an Elizabeth Warren supporter, an assumption arising from the fact that his wife proudly posted a selfie of herself last year at an Elizabeth Warren rally.
Networks Bury Trump's India Visit, Gave Obama's 21x More Coverage in 2010. President Trump's state visit to India received less than a single minute of evening news coverage from broadcast networks (ABC, CBS, and NBC). But back in 2010, those same networks dedicated more than 20 times as much coverage (18.5 minutes) to then-President Obama's India trip, often making it the top item of their nightly broadcasts. Each of the evening newscasts allocated just a single news brief to Trump's trip, all on February 24 (the first day of the visit). NBC and ABC spent a paltry 13 and 15 seconds respectively on the Presidential excursion. While CBS's report lasted just 23 seconds, it was the only one even to mention the President's trade negotiations — albeit with a single sentence.
Big Three Ignore Soros Giving $2 Million to Group Supporting Smollett Prosecutor Kim Foxx. When apparent hoaxer Empire actor Jussie Smollett's charges were controversially dropped last year for allegedly faking a hate crime incident, the twitter page for the Empire writers rubbed it in everyone's faces. Now, liberal megadonor George Soros is giving millions in an apparent effort to help the controversial Cook County State's Attorney Kim Foxx, whose office dropped the charges against Smollett, remain in power. The Big Three are ignoring it.
America continues to lead in cutting greenhouse gas emissions. If you listen to the mainstream media, you probably think that the Bad Orange Man is boosting pollution and destroying the climate because we withdrew from the Paris climate agreement. (It's not a "treaty" as defined in the United States because Congress never approved it.) The reality, however, is very different. The U.S. Energy Information Administration has quietly released yet another report saying that America once again reduced greenhouse gas emissions in 2019 and they project that such emissions will be going down even further this year. So why isn't CNN blanketing the airwaves with this good news so everyone can celebrate the progress?
The ISIS Plot in Kansas City You Heard Nothing About. A few years ago, Robert Lorenzo Hester, Jr. of Columbia, Missouri met "several young men who suggested that Islam was a religion that valued men like him." That was when his troubles began: prosecutors announced Wednesday [2/19/2020] that they want Hester to serve twenty years in prison and be under supervision for the rest of his life for plotted a jihad massacre in Kansas City. His case shows yet again how politically correct willful ignorance regarding the motivating ideology and magnitude of the jihad threat renders us all vulnerable. True to form, federal prosecutors are already busily ignoring the possibility that Hester was inspired to try to kill non-Muslims by Qur'anic exhortations such as "kill them wherever you find them" (2:191, 4:89; cf. 9:5). According to the Columbia Tribune, they claim that "mental health issues combined with a mockery of his race and intellect by fellow soldiers led him to extremists ideologies."
'Woke' Media Fail to Notice Historic Cabinet Appointment by Trump. These days we're often regaled with news stories highlighting firsts [...] So it was rather surprising to discover that mainstream news stories of the first openly gay White House Cabinet member — ever, ever — were left on the newsroom floor. Rick Grenell, the U.S. Ambassador to Germany, was just named to head the Department of National Intelligence by President Trump. For those of you not into identity politics, we can understand why you cared not two cents about the state of Grenell's private life. However, the media hypocrisy shouldn't go by without comment.
Trump Grants Commutations To Several Women In Need In 'Clemency Spree,' Media Focuses On 'Corruption'. President Donald Trump granted clemency to eleven people Tuesday [2/18/2020] in what mainstream media outlets are calling a "clemency spree," but many are ignoring the several women — including women of color — who were granted relief from long prison sentences, in pursuit of headlines tying Trump to "corruption" and "white collar crime." [...] Angela Stanton received a pardon, at the behest of Alaveda King (neice of the Rev. Martin Luther King, Jr.), after serving "a 6-month home confinement sentence for her role in a stolen vehicle ring." After doing her time, Stanton went on to become an advocate for former inmates, pioneering "re-entry" programs for those returning to the workforce from a stint in prison," focusing on the critical role of families in the process," according to the White House's official statement on the matter. Trump, it seems, built on his earlier criminal justice reform initiatives in deciding to commute the sentences of several other women, including Crystal Munoz, who served her time with Alice Marie Johnson — the woman found herself free after forging a friendship with Kim Kardashian West who, subsequently, took her case to the White House.
'I want you dead': Nancy Pelosi's GOP challenger threatened by leftist thug, still crickets from media, lawmakers. California has devolved into an anarchic domain ruled by violent Antifa leftists. An unhinged leftist physically threatened John Dennis, a Republican who's running against Nancy Pelosi for her Congressional seat representing San Francisco. The ominous threats were caught on a disturbing video, in which a burly, bearded bully warns Dennis: "I'm going to catch you when all the cameras aren't around and I'm gonna f--- you up! I want you dead." Predictably, CNN, MSNBC and other mainstream media outlets totally ignored the story.
Political Bias of Lead Stone Juror EXPOSED, Nets Respond With Blackout. Tameka Hart, the forewoman in the federal trial against Roger Stone, was exposed on Wednesday by Daily Caller investigative reporter Chuck Ross for once being a Democratic candidate for Congress, on top of being a staunch anti-Trump opponent. While the story continued to spread online, the liberal broadcast networks (ABC, CBS, and NBC) tried to hide the revelation from their viewers. On Thursday, the networks continued to insist (via obsession) that the only controversy with the case was Attorney General William Barr requesting a shorter incarceration period than what prosecutors were demanding. A simple review of Hart's Twitter account proves how politically motivated she was by far-left politics. In October of last year, she took President Trump's strong condemnation of Turkey's dictator and suggested our President was the real "devil." And other deep dives of her social media history show much of the same.
Media Is Complicit in Leftist Violence Against Trump Supporters. It isn't safe out there these days if one is a Trump supporter exercising one's right to participate in the American political process. You have to look out for lunatics in vans, lunatics with cane swords, and lunatics who wake up looking like mug shots and slap kids. If — as all of you are — frequent consumers of conservative media, you know about these stories. Those left to the editorial whims of The New York Times or any of the evening news networks, however, are probably blissfully unaware. It's not that they aren't being covered at all, it's that they aren't being covered with the fervor and repetition that, say, a story about the president saying something mean to Jim Acosta would.
Media Spends Just 64 Seconds Covering Anti-Trump Van Attack, MSNBC Ignores Entirely. The mainstream media lived up to its 'Fake News' moniker this week, dedicating a mere 64 seconds of coverage in total to a leftist plowing a van through a Republican Party voter registration tent with six volunteers inside. The scant total is the sum of just three separate mentions on NBC and CNN while their establishment counterparts MSNBC, ABC, and CBS ignored the attack entirely.
Where was the media on this act of political violence? The media frets constantly that President Donald Trump's rhetoric will lead to violence against Democrats and even — the horror! — journalists. But the same media is curiously silent when Republicans become the targets of hate. On Saturday, for instance, a Florida man drove his van through a Trump campaign volunteer tent because, as he told police, 'someone had to take a stand'. The incident started when the man drove his van slowly up to the tent, according to a police report. Two volunteers approached the man's van to chat with him when 'the vehicle accelerated towards them and the tent.' 'Both victims had to move out of the way quickly in order to prevent themselves from being struck by the vehicle. The suspect continued to drive and knocked over several chairs, tables, and a tent,' the police report stated.
Stephanie Grisham: Networks refusing White House airtime after good week for Trump. White House press secretary Stephanie Grisham claimed a slew of networks declined to book a White House official for Sunday programming after a good news week for President Trump. Grisham, in a Friday night [2/7/2020] appearance on Hannity, acknowledged the White House will not get much airtime to discuss the State of the Union address, the president getting acquitted in the Senate impeachment trial, and a strong jobs report. "I have got to tell you there is not going to be one White House official on any of the Sunday shows this weekend. Only Fox Business is taking a White House official to talk about what an amazing week this president has had, and I do find that timing very, very suspect," she explained.
Depressed Democrat Turnout: The Iowa Story that Matters. While the most entertaining story of the Iowa caucuses was either the utter chaos and incompetence that unfolded or the sinister machinations of the Democrat party, depending on your take on the events, the more important story is getting far less attention. When given the first opportunity to turn out and vote for a candidate to oppose President Donald Trump, Democrats largely shrugged and said, "Meh." Turnout was down almost 30% from 2008. This is by far the most important story out of this primary, which is why it will be largely blacked out by the media.
The News They Won't Report. Jake Tapper doesn't want you to know the name of the so-called "whistleblower" who caused the impeachment drama. Of course, the identity of Eric Ciaramella was never much of a secret — lots of people in D.C. knew that the former National Security Council staffer was the reputed source for California Rep. Adam Schiff's investigation of President Trump's July 25 phone call to Ukrainian President Volodymyr Zelensky. Ciaramella's name has been in many news stories in recent months: [Examples] to cite just a couple. But CNN viewers have never heard Ciaramella identified, and Jake Tapper evidently wants to prevent anyone else from reporting this fact, either. [...] If Tapper and his CNN colleagues want to treat Eric Ciaramella's identity as a secret, they are free to do so. Others, however, are free not only to name Ciaramella but also to point out that CNN is deliberately refusing to report important information relevant to the impeachment trial.
'Whistleblower' Censorship Hits Facebook and the Senate. The nation's top reporters have taken a virtual oath of silence regarding his name, even though it's an open secret inside their newsrooms. Suppressing their news instincts, they have been unified in complying with Democratic demands to back off identifying the whistleblower and exploring his motives. As a result, they have left large gaps in reporting on the origins of this momentous story, only the third presidential impeachment in U.S. history. The Washington Post, which normally would own such a local story, has scarcely touched it. Instead of doing its own deep reporting, it's assigned reporters to do media stories questioning RCI [RealClearInvestigations] for its journalistic decision to "unmask" the whistleblower, who enjoys limited, not blanket, anonymity.
It's Time to Question Michael Atkinson on FISA Abuses. In a fair world — one with responsible media organizations that didn't act as propagandists for the Democratic Party — the news that a secret government court admitted it authorized unlawful warrants to spy on an innocent American based on his political activity would be front-page news. The January 7 order issued by the Foreign Intelligence Surveillance Court revealing that at least two of the four warrants against Trump campaign associate Carter Page were "not valid" — meaning they were illegally obtained — would be on a nonstop loop at CNN and would dominate the news and opinion pages of the Washington Post. But alas, the average CNN viewer or Post reader will be hard-pressed to find coverage of such a shocking disclosure; after all, how could either outlet report that bombshell when two signers of the garbage applications — former FBI Director James Comey and former Deputy FBI Director Andrew McCabe — now work as paid contributors to those same news organizations?
ABC, CBS, NBC BLACK OUT Pam Bondi's Damning Presentation Exposing Biden, Burisma Corruption. Pam Bondi opened her testimony [1/27/2020] by asserting the Democrats mentioned Burisma and Hunter Biden 400 times during their opening arguments last week. Ms. Bondi clearly and concisely showed how Hunter Biden was sitting on the board of a very corrupt Ukrainian natural gas company whilst his father then-Vice President Joe Biden was tasked with handling Ukrainian relations. The Senators got to see for the first time all of the bank statements proving Hunter Biden was paid over $3 million in a 17-month time span for sitting on the board of Burisma, despite having zero experience in oil and gas. Bondi not only exposed the Bidens' corruption in Ukraine, she also brought up Hunter Biden's sweetheart deal from the Bank of China after flying with his daddy on Air Force Two to China.
Cruelty to Animals Gets More Media Coverage than Beheaded Christians. First there was the beheading of 11 Nigerian Christians during the recent Christmas celebration. The next day, a Catholic woman, Martha Bulus, was beheaded in the Nigerian state of Borno with her bridesmaids, five days before the wedding. Then there was a raid on the village of Gora-Gan in the Nigerian state of Kaduna, where terrorists shot anyone they met in the square where the evangelical community had gathered, killing two young Christian women. There was also a Christian student killed by Islamic extremists who recorded his execution. Then pastor Lawan Andimi, a local leader of the Christian Association of Nigeria, was beheaded. "Every day", says Father Joseph Bature Fidelis, of the Diocese of Maiduguri, "Our brothers and sisters are slaughtered in the streets. Please help us not be silent in the face of this immense extermination that is taking place in silence".
March For Life time lapse. If this were liberal every station and paper would have it on, instead of hiding it. [Video clip]
Nets Hype Alleged Trump Audio Only ABC Has Heard, Refuses to Air. Without providing any evidence, ABC News made headlines on Friday when they claimed they had heard an audio recording of President Trump ordering the former U.S. ambassador to Ukraine to be fired, something that would supposedly aid Democrats with impeachment. Both CBS News and NBC News pounced on the reporting during their evening newscasts despite the fact ABC had not released the audio or commented on its authenticity. For something that was supposedly a bombshell uncovered by his own network, World News Tonight anchor David Muir sure kept his distance when he kicked off the program with the report.
Ilhan Omar in Service of Islamist Agendas. Freshman congresswoman Ilhan Omar (D-Minn.) is often presented in the press as the quintessential Muslim American, representing the values of an increasingly politically active class of voters who cling to their religious convictions while embracing progressive activism. She has unilaterally established the boundaries of appropriate discussion among Muslims, labeling any topic "Islamophobic" that infringes upon her carefully curated image as a champion of the oppressed. Yet, when it comes to Omar's flirtations with Islamist dictators such as Turkish president Recep Tayyip Erdoğan, her agenda could not be more at odds with the Muslim Americans she claims to represent. While serving as a Minnesota state legislator in September 2017, Omar met Erdoğan in a closed-door meeting. She gleefully tweeted about her experience in her native Somali, and it was covered in official Turkish media. The only U.S.-based coverage of the exchange came from a Somali-language newspaper article that explained how Erdoğan concluded the meeting by asking Omar to pledge support for Turkey, before inexplicably being deleted.
George Stephanopoulos Caught on Camera Telling ABC Studio to Cut-Off Trump Defense Attorney. A good reminder of what we can expect when President Trump's defense team has their first opportunity in five months to defend him. During a broadcast segment on ABC news reporters in the Capitol were interviewing President Trump defense attorney Jay Sekulow. Back in the ABC studio, Clinton operative George Stephanopoulos did not want to see ABC broadcasting statements from the defense and he is caught on camera using hand signals to tell the producers to cut-off the broadcast. Stephanopoulos realized he was caught: [Video clip]
Here's A Tipping Point The Left Wants You To Ignore. [Scroll down] Based on current trends, over the next decade, the middle-class population will climb by 1.7 billion while the number who are poor or vulnerable will go down by more than 1 billion. The authors called it "something of enormous global significance" that "is happening almost without notice." And they are right. It's a tipping point. But not the kind of tipping point that the left would ever want to acknowledge.
The Best 'White Supremacist' Minority Protests From the Virginia Gun Rally You Won't See on the News. All day Monday the media tried to whip up fear and loathing by calling peaceful Americans of all colors and creeds "white supremacists," "white nationalists," "hate groups," and "militia groups," warning they would cause "violence" at the rally for Second Amendment rights in Virginia on Monday. Here's an absolutely mind-numbing montage of the kind of fake news pumped into every American living room today. Literally none of it happened. Not only was no one arrested, but they carried out their trash too.
Impeachment Crusade Blinds Media to Trump's Accomplishments. Americans see beyond spin and media narratives, but ascertaining what has been going on in Washington behind the sea of impeachment headlines can be difficult. A new Media Research Center analysis found that from the time that Democrats' impeachment push began on Sept. 24, the evening newscasts on CNN, ABC, and NBC gave the president's historic economy and trade developments just nine minutes of coverage, combined, out of 1,098 total minutes. Conversely, impeachment efforts and Ukraine received 849 minutes of airtime. That means news on Trump's economy made up far less than 1% of the coverage.
Illinois: Muslim slashes tires of 19 cars at churches, explains he did it because he doesn't like Christians. You will only hear about this here, because it doesn't fit the establishment media narrative of Muslims being subjected to wholesale discrimination and harassment by Christians in the U.S.
Bloody Harvest: How Everyone Ignored the Crime of the Century. In June of this year the China Tribunal delivered its Final Judgement and Summary Report. An independent committee composed of lawyers, human rights experts, and a transplant surgeon, the Tribunal was established to investigate forced organ harvesting on the Chinese mainland. These rumours have haunted the country for years — lurid tales of the fate suffered by members of the banned Falun Gong religion after being taken into police custody. Their organs, so the rumours go, are cut from their bodies while they are still alive, and then transplanted into waiting patients. The Tribunal examined these claims, extending the group of victims to include Uyghur Muslims (among others), and its findings were unambiguous. "On the basis of all direct and indirect evidence, the Tribunal concludes with certainty that forced organ harvesting has happened in multiple places in the PRC [People's Republic of China] and on multiple occasions for a period of at least twenty years and continues to this day."
The Media Can't Keep Ignoring The Racial Element Of The New York Pogrom. There are many kinds of anti-Semitic hate crimes. Muslims attack Jews. Neo-Nazis attack Jews. Far leftists attack Jews. Right now, in the New York region, the problem is overwhelmingly black New Yorkers attacking Jews. Over the eight-day Chanukah holiday last week, the attacks mounted, including nine attacks in the New York City area since December 10. The most recent case was a machete-wielding man who attacked five people at a holiday celebration Saturday night.
Who is Doing the Raping? America's apparently unstoppable gusher of mass Third World immigration is on track to deliver a sick, dystopian future, where some people will do very well — cheap maids and all — but women and children will fare quite poorly. [...] With the major media actively covering up the crimes of immigrants, and big tech companies censoring people who point out the peculiarities of other cultures, there seems to be a major campaign on to prevent Americans from noticing.
Press silent on the biggest story of 2019. One year ago, as 2019 was about to debut, the press already declared the Mueller Report the story of the year of 2019. In fact, Chris Matthews predicted the report would lead to President Donald John Trump's resignation. [...] The Mueller Report was the biggest story in 2019 because the deep state spent 2 years and $20 million-plus investigating the president and it could not find any instance of a crime by him. None. He is the cleanest president in history. And the press cannot stand it.
Topics We Aren't Allowed to Talk About. Baltimore may be the most depressing big city on the eastern seaboard. Have you been there? Everyone in Washington has. If you want to take a train from Washington to New York, you have to pass through Baltimore. This summer, the president told the rest of the world what it's like. Baltimore, he said, is "rodent infested, not to mention a corrupt mess." Why is Baltimore so bad? How did it get so poor and hopeless? Part of the answer is 50 years of uninterrupted Democratic Party rule. But saying that would be embarrassing to the Democratic Party, so the party's apologists don't want to have the conversation. Instead, they attacked the man who tried to start it. Baltimore remained dangerous, the kind of place where a kid gets shot riding his bike. That is what life is like for the poor people stuck in Baltimore, a place where MSNBC contributors don't dare to tread. The people in charge want to make certain you never think or talk about Baltimore.
A media that fails to report the biggest stories is no fit custodian. We've all heard the accusations that President Trump won 2016 with dodgy money, that fake donors were funneling cash into his campaign, and that he basically won by cheating. No one has yet provided evidence or made a credible accusation that could be brought to the courts regarding these claims. Not so for Democrats. A court filing unsealed on December 3 that received almost zero media attention was that a number of folks have now been charged with sending illegal campaign contributions to ... you've guessed it... Democrats. Ahmad "Andy" Khawaja of Los Angeles, California, used his online platform to hide excessive donations and to anonymize those who should have been listed publically.
Post-Impeachment, CNN Admits US Economy Received Best Ranking in Nearly 20 Years. It must be difficult for CNN to have to admit President Donald Trump's economy is remarkable after their obsession over his impeachment. Their latest poll shows a stunning result even the liberal outlet felt compelled to concede. CNN reported on Dec. 20 that as the year 2019 closes, "the US economy earn[ed] its highest ratings in almost two decades". This, according to CNN, potentially boosts "President Donald Trump in matchups against the Democrats vying to face him in next year's election, according to a new CNN poll conducted by SSRS."
Impeachment Aside, Trump Just Had A Great Week. If their only intent was to distract the public's attention from all the good news piling up around President Donald Trump, Democrats could not have timed their impeachment votes better. Trump is racking up wins that are going unnoticed by the impeachment-obsessed media, but not, apparently, by the public.
Time-Lapse Footage Shows CNN Skipping Lindsey Graham's Opening Statement. Recently released time-lapse footage shows CNN intentionally skipping Sen. Lindsey Graham's opening statement on FISA abuse; coverage carried by other major news networks for the entire 45-minutes. "Media bias is not only how something is covered, it's what they cover. This is what bias at CNN looks like," posted GOP Chairwoman Ronna McDaniel. [Video clip]
CNN, MSNBC Cut Away From Horowitz Hearing Into Obama FISA Abuses. As Department of Justice Inspector General Michael Horowitz testified about his report on Obama's DOJ and FBI abuses in the FISA applications to spy on the Trump campaign, CNN and MSNBC cut away from the hearing just as Sen. Lindsey Graham (R-S.C.) delivered his opening statement. This was a stark departure from the liberal-leaning networks' coverage of Democrat-led congressional hearings on impeachment. The bias was not lost on the Trump campaign.
CNN Skips Live Coverage of Hearing on FBI Misconduct. CNN opted against airing Justice Department Inspector General Michael Horowitz's testimony before the Senate Judiciary Committee on the FBI's Foreign Intelligence Surveillance Act (FISA) abuses during its investigation of the 2016 Trump campaign. The move was highlighted by Ari Fleischer, White House press secretary for President George W. Bush, in a tweet: "CNN is not taking the Senate Horowitz hearing live. Unbelievable. A perfect example of how bias works. It's not just what they cover. It's what they don't cover."
Nolte: Massive Media Fail As Poll Of Polls Prove Trump's More Popular Than Obama. Real Clear Politics, a non-partisan (and indispensable) site that tracks countless polls and averages them, also tracks the job approval numbers for President Trump and former (thank heaven) President Obama in a way that allows us to see how the two presidents compare on this same day during their respective presidencies. [...] We are now entering our fourth year of a media jihad against Trump, a hate campaign unlike any other in modern history. Literally, billions and billions and billions of corporate dollars are being spent by every corner of the establishment media to destroy one man, this one man: Trump. The "Very Fine People" Hoax, the Russia Collusion Hoax, the Fish Food Hoax, the Brett Kavanaugh-Rapist Hoax, the Kurds Are Being Exterminated Hoax — I'm forgetting a hundred more — and now we have this laughable Impeachment Hoax. Compare that to Barry Obama, a man this same media spent billions and billions and billions of corporate dollars to shield, to protect, to assure and reassure the public of his unique magnificence, competence, and holiness.
Media Propaganda About Ruth Bader Ginsburg's Health Is Irresponsible. Ginsburg is clearly a strong woman in the personality sense. That is beside the point. If she were not a far-left political actor, Ginsburg's health record would not be lipsticked. It's also much worse than Trump's. She's 13 years older than Trump, who is 73. She's been falling asleep in oral arguments since 2006. Ginsburg also fell asleep during two of President Obama's State of the Union Addresses and Pope Francis's speech to Congress in 2015. Ginsburg can barely get herself off the Supreme Court dais, another long-time situation. She is typically extremely hard to hear when she speaks from the bench. Two weeks ago, she missed oral arguments due to a stomach bug. She also missed two weeks of oral arguments in January due to lung cancer surgery. The first two times she was treated for cancer, in 1999 and 2009, she didn't miss a day of oral arguments. In August, Ginsburg was treated with three weeks of radiation for a different cancer, pancreatic. Last November, she fell and broke three ribs. Ginsburg is simply and clearly not in good health.
CNN, MSNBC Refuse to Carry Live WH Event for Conan the Dog from the Baghdadi Raid. On Monday morning [11/25/2019], CNN and MSNBC missed an easy lay-up that would have reinforced their love for America and our military. Instead, they refused to carry live the public portion of a White House event honoring Conan, the Belgian Malinois dog who became famous for their heroism during the October 26 raid that killed ISIS leader Abu Bakr al-Baghdadi. In CNN's case, the Jeffrey Zucker-led network's hatred for Trump led them to not even acknowledge that the event took place during Inside Politics and since then (as of this blog's publication). And for MSNBC, there was a 34-second brief before a pivot back to the only story that matters to the press, which is removing President Trump from office.
MSNBC and Washington Post dutifully ignore black protesters who confronted Elizabeth Warren. Sen. Elizabeth Warren of Massachusetts was confronted Thursday [11/21/2019] in Atlanta by a mostly black crowd of pro-school choice demonstrators who oppose her anti-charter and anti-voucher platform on schools. The tenor, volume, and unrelenting nature of the demonstration got to the point where Warren stepped back from her podium and called on Rep. Ayanna Pressley of Massachusetts to deal with the protesters. "What do we do with this?" the senator asked the black congresswoman of the activists, who were being shouted down at the time by Warren's mostly white supporters. [...] Unsurprisingly, neither the Washington Post nor MSNBC, both of which have dedicated an enormous amount of time and energy to promoting Warren's 2020 Democratic primary campaign, have made any effort to cover the incident, despite its inherent newsworthiness.
CNN downplays its own FISA bombshell report, receives minimal on-air coverage. Despite having a major bombshell website report on DOJ Inspector General Michael Horowitz's ongoing probe into the origins of the Russia investigation, CNN offered very little coverage of its own exclusive reporting on-air. CNN first reported that Horowitz had been investigating an FBI official who allegedly altered a document used to obtain a FISA warrant in order to surveil Trump campaign adviser Carter Page during the 2016 election. Horowitz reportedly turned the evidence over to U.S. Attorney John Durham, who has launched a criminal probe in the origins of the Russia investigation. The Washington Post also verified the reporting. However, CNN barely promoted its own digital scoop on the network.
Reuters Deletes Story Meant to Make Trump Look Bad After Realizing it Made Obama Look Bad. Reuters completely deleted a wire story concerning the number of children in migrant detention centers after discovering that the author's figures were from 2015 and do not reflect the current number of children in such centers. Adding an editor's note or something of the like was tossed for a complete revocation, which is always last and worst case scenario in the news world.
Today's Liberal Media Fail. A left-wing doofus at the United Nations did an analysis of how many children are "in detention" in countries around the world, and concluded that the U.S. has more than anyone else — presumably as a result of the flood of illegal immigrants at our Southern border. Pretty much every news organization in the world jumped on the story: the Associated Press, Reuters, NBC News, NPR, the Huffington Post, all the usual suspects. But then a funny thing happened. The U.N. guy explained that his number for children detained in the U.S. was not current, but dated from 2015. That is, during the Obama administration. So news organizations were faced with a dilemma. What to do? As Ed Driscoll notes, some, like AFP and Reuters, simply deleted their articles.
When the villain is Obama, not Trump, news suddenly becomes not worth reporting. So the United States has "the world's highest rate of children in detention." Is this worth reporting? Maybe, maybe not. Nevertheless, Agence France-Presse, or AFP, and Reuters did report it, attributing the information to a "United Nations study" on migrant children detained at the US-Mexico border. Then the two agencies retracted the story. Deleted, withdrew, demolished. If they could have used one of those Men in Black memory-zappers on us, they would have. Sheepishly, the two news organizations explained that, you see, the UN data was from 2015 — part of a border crackdown that had begun years earlier. We all know who the president was in 2015. It wasn't evil, child-caging monster President Trump. It was that nice, compassionate, child-caging monster President Barack Obama. Zap. The story made Obama look bad. Hence the story was removed. Not updated or corrected, removed.
McCarthy Sends Letter To ABC Demanding Information On Killed Epstein Story. House Minority Leader Kevin McCarthy sent a letter Sunday [11/17/2019] to ABC News demanding answers surrounding allegations that the network killed a 2015 story about dead alleged child sex trafficker Jeffrey Epstein, journalist Megyn Kelly said. ABC News has come under fire after Project Veritas released a video of anchor Amy Robach Nov. 5 complaining that the network killed her interview with Epstein accuser Virginia Roberts Giuffre. The anchor said Buckingham Palace threatened ABC News after finding out Prince Andrew was a part of the story and added that she "had all of" the reporting years ago.
Brian Stelter Hides ABC's Jeffrey Epstein Scandal from CNN Viewers. CNN's so-called media reporter Brian Stelter hid ABC's Jeffrey Epstein scandal from CNN viewers. There's just no question that the Project Vertitas video of Amy Robach laying out how she had nailed down the Jeffrey Epstein story all the way back in 2015, only to have ABC News "quash" it, is one of the biggest media stories of the last 20 years. Just like NBC News covering up for Harvey Weinstein, here you have ABC News covering up for a rapist and sex-trafficker, and almost certainly doing so as a means to protect Hillary Clinton's doomed 2016 presidential campaign. Robach says right in the video that she had the goods on Bill Clinton.
Also posted under Media bias in Hillary's favor.
ABC Chooses Royal Interview Over Taking Down Pedophile Sex Ring. ABC was exposed this week for killing a story about Jeffrey Epstein's alleged pedophile ring, which anchor Amy Robach claimed was due to an upcoming interview the network had with the royal family. Project Veritas released the clip this week that showed Robach lamenting the fact that the network apparently stopped her from reporting on Epstein and his ties to former President Bill Clinton and Prince Andrew. In the aftermath of the video's release, ABC colluded with CBS to fire the employee they suspected of leaking it.
ABC Spiked Epstein Story to Help Clinton. ABC News isn't the first network to spike a story for political reasons, but this one's a doozy. The network admitted sitting on a 2016 interview with Virginia Robert Giuffre, who had accused the late Jeffrey Epstein of sexual assault. But it was the connections to Bill Clinton, Great Britain's Prince Andrew, and Epstein attorney Alan Dershowitz that sent the interview to the dustbin.
Also posted under Bill Clinton and Jeffrey Epstein.
CNN's Brian Stelter ignores ABC News' Jeffrey Epstein scandal on 'Reliable Sources' media show. CNN's "Reliable Sources" media show on Sunday ignored the scandalous hot mic tape of ABC News anchor Amy Robach admitting her network refused to air damning reporting about now-deceased sex offender Jeffrey Epstein. CNN senior media correspondent Brian Stelter has raised eyebrows this week by giving little attention to the story surrounding Epstein, in which an ABC News staffer apparently leaked the explosive video to controversial Project Veritas — a group that has been critical of CNN. The story is widely regarded as one of the biggest media stories in recent memory, but it appears that CNN isn't interested in informing its viewers.
Journalistic standards have had nothing to do with the truth for a long time. For decades ABC and other media outlets have hidden the truth about the serial abuse of women and young girls by the powerful Clintons, Weinstein and Epstein. The cover-up was to protect the Clintons from scrutiny as they sought to elect and reelect Bill and to put the corrupt Hillary in the White House in 2016. All these people pretending to be journalists didn't care about all the women who were physically and mentally abused. Now, with the "Me Too Movement," we are told they really care, but only some of the time. How many women and young girls have been abused by powerful men while the media looked the other way — as long as they supported the Clintons and wanted Democrats in power?
"The leaker's still inside": Fired CBS staffer tells Megyn Kelly that she didn't leak the Amy Robach/Epstein ABC footage. The staffer, producer Ashley Bianco, admits to having accessed the Robach footage on the day that it happened and marked it in ABC's internal system, making it easy to find. But sharing it with Project Veritas? Nope, wasn't her. If the firing offense here was supposedly airing a network's dirty laundry — not her current network's laundry, mind you, but ABC's — then Bianco was wrongfully terminated. Assuming she's telling the truth. Coincidentally, Project Veritas published a post a few hours ago apparently written by its source entitled, "Why I, alone, released the Amy Robach Epstein tape." It appears to corroborate Bianco's claim that she didn't leak it, although no names are used.
Clinton buddy Stephanopoulos the real reason ABC sat on that Epstein story? Project Veritas broke a scandal a couple of days ago, featuring an unwitting ABC News anchor, Amy Robach, fuming angrily that she had the Jeffrey Epstein scoop three years ago, with solid reporting, and ABC News refused to run it. Unlike Ronan Farrow, who quit NBC News on principle after the network spiked his Harvey Weinstein story and took his scoop to the New Yorker, (winning a richly deserved Pulitzer prize for it), Robach, for whatever reason, stayed on the job and decided to get along to go along, keeping her mouth shut. She's obviously found herself in hot water since the Veritas tape, and has since disavowed the interview, robotically saying her own work didn't meet journalistic 'standards' just like the good public relations people told her. [...] The story makes one wonder how many other spiked stories are out there, spiked and kept out of the news by reporters with bosses who don't want them out there.
Child Rape Stories Are Too 'Stupid' for ABC News to Cover. In case you missed it, a video came out this week that makes it look like ABC News affirmatively protected billionaire alleged pedophile Jeffrey Epstein. This came on top of allegations from journalist Ronan Farrow that NBC News killed his reporting on alleged rapist Harvey Weinstein to protect their own in-house sexual abuser, morning anchor Matt Lauer. In case anyone's still wondering why people don't trust the press, this is a pretty good place to start. Amy Robach, anchor at ABC, was caught on the recording saying that, under pressure from the British royal family, ABC executives killed her story that would have exposed sex offender Epstein: "I've had the story for three years," Robach said. "I've had this interview with Virginia Roberts. We would not put it on the air. First of all, I was told, 'Who's Jeffrey Epstein? No one knows who that is. This is a stupid story.' Then the palace found out we had her whole allegations about Prince Andrew and threatened us a million different ways. We were so afraid we wouldn't be able to interview Kate and Will that we — that also quashed the story. And then Alan Dershowitz was also implicated in it because of the planes. [...]"
ABC News is visited by Jeffrey Epstein's ghost. We no longer have Jeffrey Epstein around due to his highly coincidental and suspicious suicide, or as Hillary calls it, Tuesday house cleaning. We do, though, have the ghost of Epstein materializing at least weekly. ABC Studios felt his presence most recently. ABC's Amy Robach spoke frankly about an unaired story on Epstein that she helped develop. The news piece included connections to Bill Clinton and adventures involving the Lolita Express and Orgy Island.
NBC, ABC And CBS Now Appear To Have Run Cover For World's Most Powerful Rape Rings. NBC, ABC and CBS News have all now appeared to run cover for some of the world's most powerful rape rings, allegedly killing stories and firing employees who tried to expose the outlets. As three of America's biggest networks, these outlets have each become embroiled in controversy in 2019 following multiple separate reports that they have played a part in covering up some of the world's most powerful rape and pedophile rings. The allegations range from killing entire stories outing disgraced movie mogul Harvey Weinstein, shutting down an interview detailing accusations against alleged child sex-trafficker Jeffrey Epstein and firing an employee who might have tried to hold an outlet responsible.
Killing America in anonymity. On Inauguration Day, the New York Times ran a front-page story based on transcripts of that wiretapping — but six weeks later the newspaper lied and denied the wiretapping. Now the Fake News media that promoted the Russian Collusion Hoax refuses to name Eric Ciaramella as the phony whistle blower behind the Ukrainian Collusion Hoax. The media that pushes every unfounded rumor about President Trump said it cannot verify this. The only quid pro was Joe Biden holding up a billion in aid to Ukraine until the government fired a prosecutor who threatened Hunter Biden's $600,000-a-year no-show job by a crooked Ukraine company seeking favor from Obama. Quid Pro Joe Biden bragged about this in 2018. Every American who cares about justice wants Biden investigated. Everyone in the media seems to want to let his abuse of office slide. Instead the media wants to impeach President Trump.
ABC warns rival CBS about leaker after Amy Robach flap. ABC News chiefs have discovered a former employee could be behind the leak of the damning footage of Amy Robach slamming the network for shelving her interview with Jeffrey Epstein's "sex slave" Virginia Roberts Giuffre. Sources told Page Six that a former staffer had access to the footage of Robach as she aired her frustrations over a hot mike. The employee is now believed to be working at CBS. ABC sources confirmed to us they've informed counterparts at rival CBS about the staffer "as a courtesy." An ABC source told us the network is considering its options — but added that it's more difficult because the person no longer works there. If they did, the leak would be a "fireable offense."
ABC Spiking Epstein Story Reactionpalooza. Assuming you're not getting your news from unreliable sources like ABC, you've probably already seen the Project Veritas tape with ABC news reporter Amy Robach, about how her network spiked a story on Jeffrey Epstein's pdophile ring three years ago. [Video clip] Like every other normal person in America, she thinks Epstein was murdered. Naturally, when this story came out, ABC vowed to find out who spiked the Epstein story and terminate them. Ha! Just kidding! They've sworn to track down and punish the leaker. Because what's protecting a serial pedophile compared to punishing those who have tarnished your reputation by revealing the truth?
Katie Pavlich cites Stephanopoulos, Clinton connection in ABC's Epstein cover-up scandal. Fox News contributor Katie Pavlich dropped ABC anchor George Stephanopoulos into the center of the story of why the network backed off covering the bombshell Jeffrey Epstein report. Pavlich didn't miss a beat Wednesday [11/6/2019] on "Tucker Carlson Tonight," boldly making the connection that ABC's resistance to running with a story on the late convicted pedophile could be connected to Stephanopoulos, ABC News' chief anchor on "Good Morning America," and the Clintons.
The Jeffrey Epstein Story Is A Giant Rats' Nest That Needs Dogged Investigation. [Scroll down] The whole thing is troubling. Robach tried unconvincingly to walk her comments back. ABC claimed it didn't run the story because it didn't meet ABC's standards. But three years ago, when ABC News had the story, Epstein was a free man, and girls were still being abused. And this revelation comes on the tail of NBC being credibly accused of trying to kill the Harvey Weinstein story, even while it allowed Matt Lauer's alleged sexual abuses to go unchecked. Plus these revelations are juxtaposed against a long history of these networks' eagerness to publish unsubstantiated sexual smears against center-right figures, including Justice Brett Kavanaugh. The timing of coverage has also been suspect. It's astonishing to think how frenzied the Epstein coverage was, only to fade into relative oblivion after Epstein's alleged suicide. The truth is that the media was only interested in the Epstein story when they thought they could tie Epstein's crimes to President Trump because Trump was friends with Epstein in the 1990s.
Report: Heads Roll over ABC News' Epstein Coverup — at CBS, for Exposing It. A CBS News staffer believed to have leaked unaired footage of ABC News anchor Amy Robach saying the network quashed a bombshell report on Jeffrey Epstein has been fired, according to a report. The Huffington Post's Yashar Ali, citing two sources familiar with the situation, said Thursday morning [11/7/2019] that CBS News has "fired the staffer in question."
The media protected Jeffrey Epstein and crucified Brett Kavanaugh. Is it any wonder the American public distrusts the media? This week, Project Veritas released a video featuring ABC News anchor Amy Robach on set, speaking in August with a running camera and a hot mic. In her conversation with others off-camera, apparently during a setup or commercial break, Robach noted with some frustration that she had the story about the allegations against Jeffrey Epstein all to herself three years ago and with about as much detail as anyone could expect. But her network, she added, inexplicably refused to air it.
The House of Stephanopoulos Airbrushes Jeffrey Epstein Down the Memory Hole. Just to review: ABC News' public face is George Stephanopoulos, the former communications director for Bill Clinton. In 2015, Stephanopoulos donated $75,000 to the Clinton Foundation, which the Sunlight Foundation has described as a "slush fund for the Clintons" — which Jeffrey Epstein claimed he co-founded in a 2007 letter "written by high-powered lawyers Alan Dershowitz and Gerald Lefcourt." Court documents "obtained by Fox News in 2016 showed that Clinton took at least 26 trips flying aboard Epstein's private jet, known as the 'Lolita Express,' and apparently ditched his Secret Service detail on some of the excursions." The New York Times reported in July that "A strange thing happened when Jeffrey Epstein came back to New York City after being branded a sex offender: His reputation appeared to rise. In 2010, the year after he got out of a Florida prison, Katie Couric and George Stephanopoulos dined at his Manhattan mansion with a British royal."
Katie Pavlich Ties ABC's Epstein Cover-up To Clintons, Stephanopoulos. Fox News contributor Katie Pavlich drew a straight line from ABC's alleged quashing of a bombshell Jeffrey Epstein story to the network's news anchor with ties to the Clintons. Pavlich, who appeared Wednesday [11/6/2019] on "Tucker Carlson Tonight," suggested that ABC's reluctance to cover a story that tied former President Bill Clinton and others to the late convicted pedophile could be summed up in just one name: veteran ABC anchor George Stephanopoulos.
ABC's Excuse for Failing to Report on Jeffrey Epstein Makes Absolutely No Sense. James O'Keefe's Project Veritas, a group that has often infiltrated news organizations to uncover liberal bias, has released an explosive "hot mic" video of Good Morning America co-host Amy Robach venting about ABC's decision to spike a story about Jeffrey Epstein's nefarious activities three years ago. "I had this interview with [Epstein victim] Virginia Roberts," Robach is seen saying in the video, "we would not put it on the air. The [British royal] Palace found out that we had her whole allegations about Prince Andrew and threatened us a million different ways. We were afraid we wouldn't be able to interview Kate and Will that we, that also quashed the story." Robach now claims, through a network statement, that she was caught "in a private moment" of frustration over the lack of progress on a story.
ABC News' spiking of Epstein story draws scrutiny toward Clinton ally George Stephanopoulos. The bombshell claim that ABC News "quashed" a story on allegations against Jeffrey Epstein has drawn new scrutiny on the controversy's ties to its own star anchor, George Stephanopoulos. Project Veritas, whose controversial founder, James O'Keefe, has described himself as a "guerrilla journalist," published the footage that featured ABC News anchor Amy Robach claiming the Disney-owned network refused to air an interview she conducted with one of Epstein's accusers and even suggesting she'd uncovered new information about Epstein's ties to former President Bill Clinton as his wife, former Secretary of State Hillary Clinton, was running for president.
Project Veritas Releases Insider Video Highlighting Claim ABC Executives Killing Epstein Story for Years. Newly revealed footage leaked by an ABC insider has exposed how network executives rejected allegations against Jeffrey Epstein years ago, even though there was content regarding the merit of those claims in-hand. Amy Robach, 'Good Morning America' Co-Host and Breaking News Anchor at ABC, explains how a witness came forward years ago with information pertaining to Epstein, but Disney-owned ABC News refused to air the material for years.
Virginia Roberts' attorney: ABC's Amy Robach had it right the first time. Earlier today [11/5/2019] Project Veritas published a video of ABC anchor Amy Robach complaining that she had the Jeffrey Epstein story several years ago but the network refused to run with it. Specifically, Robach had interviewed Virginia Roberts Giuffre, who has claimed she became Epstein's sex slave. "We had everything," Robach said. She later walked back her comments saying they were a "private moment of frustration." But this afternoon Giuffre's attorney weighed in saying she was right the first time: [...]
ABC News Says Epstein Bombshell Didn't Satisfy Its 'Standards,' Ran Unfounded Allegations on Kavanaugh. ABC News released a statement following the damning Project Veritas video that suggested it quashed a massive story on billionaire pedophile Jeffrey Epstein, claiming the story did not meet its "standards." Yet the network did not appear to apply its so-called standards in the case of Supreme Court Justice Brett Kavanaugh, eagerly providing a platform for the unfounded allegations of sexual assault against the then-nominee.
Project Veritas Exposes ABC News: Network Allegedly Killed Epstein Story Implicating Bill Clinton, British Family, and More. Project Veritas' James O'Keefe released another tape that was leaked to the watchdog group from a whistleblower inside a major network newsroom. On Tuesday [11/5/2019], the investigative journalism outlet exposed ABC News for allegedly spiking a story implicating heinous pervert and now-dead child molester Jeffrey Epstein.
The Editor says...
Conversations (like the one described in the article above) take place in TV stations all the time, simply because the reporters and producers know about a lot of stuff they can't discuss on the air until it's all nailed down and verified. Going on the air with half-baked information is potentially catastrophic for all parties. But when reporters and news readers are grousing on an open mike, even if a lot of other technicians and "worker bees" overhear it, everyone knows that information is not supposed to leave the building.
Project Veritas: Leaked ABC News Insider Recording Exposes #EpsteinCoverup "We had Clinton, We had Everything". [Scroll down] "[Amy] Robach goes on to express she believes that Epstein was killed in prison saying, "So do I think he was killed? 100% Yes, I do... He made his whole living blackmailing people... Yup, there were a lot of men in those planes. A lot of men who visited that Island, a lot of powerful men who came into that apartment."
Antifa thug sentenced to 6 years for savage assault. An Antifa domestic terrorist was sentenced to almost six years in prison, after taking a deal and pleading guilty to second-degree assault during violent demonstrations June 29 in Portland, Oregon. A masked Gage Halupowski brutally attacked a man, Adam Kelly, who was coming to the aid of another who was being assaulted by a group of Antifa rioters. Halupowski was just one of many black-clothed protesters who were recorded hitting and pepper-spraying Kelly.
Antifa members don Andy Ngo masks, stalk his home, banging on doors and windows. Journalist Andy Ngo documents the crazy Antifa "protests" in Portland, filming them blocking intersections, fighting with police, destroying property, and attacking people — including him — on the streets of an American city, which they do because they don't like Trump. And because he films them, they really don't like Andy Ngo, either. The fascist violence of Antifa is well-documented. There is simply no question that it happens often and goes unpunished routinely. The press simply don't want to tell America about it because it doesn't fit the narrative.
Remember that Antifa thug who cracked an old man's skull open? Yeah, he's going bye-bye. The media may give a pass to every Antifa transgression but there's a least one judge who did no such thing, because an Antifa thug from Portland is going away for a long time. Y'all might remember the 20-something loser caught on camera cracking people over the head with a baton at a so-called "protest" in Portland, America's combat zone. The story and the dramatic photos and video went everywhere. Well, everywhere on the right, at least. A bit tougher to find in the MSM.
Justice: Antifa Thug Who Busted a Man's Head Open Gets Nearly 6 Years in Prison. This past June, masked thugs organized under the banner of anti-fascism, or "antifa," and beat up conservative journalist Andy Ngo and others in Portland, Ore. In one particularly gruesome attack, local conservative Adam Kelly got his head busted open with a baton. He suffered a concussion and needed 25 staples to close the wounds. Gage Halupowski, the 24-year-old man who pleaded guilty to second-degree assault in the attack, was sentenced to 70 months (5.83 years) in prison on Friday [11/1/2019]. "Antifa militant Gage Halupowski sentenced to nearly 6 years in prison for striking a man on head from behind w/ a baton during riot," Ngo tweeted, sharing the breaking news Friday evening. "He was masked at the time & assaulted an officer while trying to escape. His lawyer says sentence is too severe."
The Editor says...
That's his lawyer's job. The lawyer is supposed to say his client is innocent, even if that's obviously false. Somebody else did it. You can't send this choir boy to prison! This sentence is too harsh, even for a violent assault, in which my client strenuously denies any involvement!
Nets Skip Joe Biden Being Denied Communion for Abortion Views. While trying to receive holy communion at South Carolina's St. Anthony Catholic Church, former Vice President and 2020 hopeful Joe Biden was denied by the priest, citing Biden's support for abortion. The liberal media were once floored by Biden's support for the Hyde Amendment but welcomed his buckle to political pressure and their radical demands. So, it's no wonder ABC, CBS, and NBC ignored the religious rebuke of Biden on their morning and evening newscasts. During Tuesday evening's [10/29/2019] Special Report on Fox News Channel, correspondent Peter Doocy noted the incident in his report on the state of the Democratic primary.
MSNBC Hides Bizarre Democratic Sex Scandal. As NewsBusters has previously reported, ABC World News Tonight was the only network newscast to report on the latest developments in the scandal surrounding Democratic Congresswoman Katie Hill's relationship with one of her staffers; which has led to a probe from the Congressional Ethics Committee. The scandal, to say the least, is weird.
Feminist Democrat: Media Won't Let Us Speak Out Against Transgender Agenda. In an interview on his Fox News show Wednesday night [10/23/2019], host Tucker Carlson spoke with Women's Liberation Front board member Kara Dansky — a self-described "lifelong" Democrat — about the controversy swirling around the latest championship won by a biological male in a women's sports competition. In response to Carlson's questions about transgender cyclist Rachel McKinnon — a biological male who just set a world record in a women's track cycling championship — Dansky said that many on the Left strongly oppose the transgender agenda but are "subjected to a media blackout."
Brutal wipeout for Democrats in Louisiana and the press trying to keep it quiet. The last of the Louisiana state election numbers are in, and it's not pretty for the Democrats. Not only does its moderate Democratic governor, John Bel Edwards, face a runoff, as noted here, but the state Senate has taken a supermajority. And a whole bunch of key state offices went squarely to Republicans. Funny how the press isn't covering this much.
It's Good To Be A Democrat. Cory Booker invented an imaginary gangster friend named T-Bone and campaigned in the past on the lessons his "friend" taught him. Kamala Harris claimed she smoked weed and listened to music on college from artists that hadn't yet recorded a note. Bernie Sanders removed millionaires from his list of people to blame for people's ills once he became one and he owns three times as many homes as the average American family. Beto O'Rourke, a wealthy man who married the daughter of a billionaire, declared his miserly charitable giving (0.3 percent of his income, $1,166) wasn't what it appears to be because he didn't deduct all his giving (then why did he declare any if it?), while claiming the time he's spending running for office is charity. You name the Democratic candidate and there is a story of raging hypocrisy or straight-up lies they've told right there for the world to see. Yet consumers of the Democratic "mainstream" media has only, at best, heard them in passing before they were memory holed.
The Curious Case of the Incurious Press. Instead of expressing curiosity about why the Bidens had been the subject of a criminal investigation in Ukraine, reporters fell into lockstep with the Democrats' impeachment narrative. Everywhere you turned for the last two weeks, whenever a reporter was talking about Biden at all, it was to talk about how he was being maligned by Trump, that he had been cleared of any wrongdoing, that the claim that he had gotten a prosecutor fired to protect his son was a "debunked conspiracy theory." When you asked who cleared Biden, you got no answer except the news media themselves.
Rudy Giuliani: Media "Deliberately" Covering-Up Joe Biden Selling Public Office. Rudy Giuliani appears on Media Buzz [10/6/2019] to discuss how the U.S. media has refused to dig into the details of Joe Biden's corrupt activities. [Video clip]
Major Newspaper Refuses to Run Father's Memorial for Aborted Son. Who knew that it is against the rules of civilized society to mourn a pre-born child whose mother chose abortion over life? The sad truth came to light recently after a Nebraska man submitted an obituary to the Omaha World-Herald for his late son, who was aborted by the woman with whom he had had an affair. As related by pro-life columnist Lisa Bourne at LifeSiteNews.com, the affair between Brad Allen, a married man with two daughters, and his next-door neighbor, a single mother with two young sons, resulted in a son being conceived.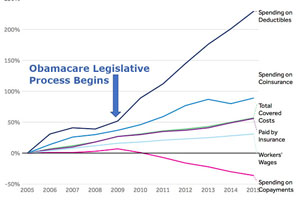 The Obamacare Chart The Media Are Hiding From You. While I'm not a mathematician by trade, I'm pretty confident the chart shows that President Barack [...] Obama's incessant promises that the Democrats' health care law would "cut the typical family's health care [costs] by $2,500 a year" was one of the most egregious lies by a politician ever. Which is truly saying something.

Also posted under Obamacare is horribly expensive.




Obama Admin. Gave Ukraine "List" Of People Not To Prosecute In 2016. Many people wonder if the full extent of the criminal corruption that ran rampant in the Obama regime will ever be fully exposed, and they think there's no way it can be. Mainly because there is so much illegal activity to investigate. In fact, new evidence shows that while the 2016 presidential election was underway, [Barack H.] Obama and [George] Soros were busy protecting their interests by shutting down investigations in the Ukraine.

The speech they're trying to hide: President Trump's stellar UN speech. Seems the mainstream media are desperate to keep President Trump's stellar United Nations speech out of the news. On Tuesday [9/24/2019], Trump delivered a far from throwaway speech articulating the vision of the voters who elected him, speaking of nationalism, globalism, and socialism, along with an added rundown of problem nations to condemn and props for others.

Media Silent After Violent Weekend in 'Gun Free' Chicago. Chicago, a city with strict gun control laws, suffered a violent weekend, yet the mainstream media outlets like CNN, MSNBC, The New York Times and others offered no blanket coverage similar to when a lone shooter in other cities sparks Democratic calls for gun control.

Media Dead Silent: Illegal alien charged with raping 4-year-old girl in Baton Rouge. A story that literally escaped almost the entire news cycle, both locally and nationally is getting new attention, after a Grand Jury handed down an indictment of first-degree child rape against an illegal alien in Baton Rogue, on Wednesday [9/18/2019].

NBC: Network's Double Standards Surface Yet Again. [Scroll down] If now-Attorney General Bill Barr, who works for the hated-by-the-media President Trump, once endorsed a book that demands due process for those on a college campus accused of sexual assault — that is horrific. It is a slap in the face to "survivors and the challenges they face.["] But if seven illegals have shown up in the sanctuary county of Montgomery County, Maryland and sexually assaulted seven different victims, one who was eleven-years old? No big deal at NBC, it's simply not worth reporting. There is curiously no concern for the "survivors and the challenges they face." In fact, there is just no reporting on the acts themselves, much less the survivors of the assaults.

Ulrich Klopfer, another Dr. Frankenstein of abortion meets a silent media. On the afternoon of Sept. 13, Will County, Illinois Sheriff's Detectives received a call from an attorney representing family members of the late Dr. Ulrich Klopfer. Klopfer died ten days prior to the call. The family made a gruesome discovery while taking inventory at Dr. Klopfer's home somewhere outside Chicago. You see, Dr. Klopfer was an abortion doctor. But he was just one of many Dr. Frankenstein's in the evil trade.

Blackout: ABC, NBC Ignore Pro-Kavanaugh Bombshell; CBS Gives Scant 36 Seconds. While the liberal broadcast networks ABC, CBS, and NBC have spent nearly 32 minutes (31 minutes, 47 seconds) hyping the disintegrating bombshell against Justice Brettt Kavanaugh over the past three days, they have withheld from viewers how Christine Blasey Ford friend (and supposed corroborating witness) Leland Keyser now states that she has does not believe Ford's account. Both of these disclosures were contained in a new book excerpt by New York Times reporters Robin Pogrebin and Kate Kelly, but apparently only the anti-Kavanaugh allegation was deemed worth of airtime and inclusion in the Sunday Review print section of The Times.

If Obama had done this, it would have been front-page news.
Black Poverty Hits Record Low Under President Trump. President Donald Trump can claim credit for pushing poverty among black American adults to record lows, according to data in the U.S. Census Bureau's 2018 economic report. The good news is hidden deep in the 77-page report, Income and Poverty in the United States: 2018, which was released Tuesday, September 10.

FBI arrests top FEMA administrator, two others for Hurricane Maria relief fraud. The FBI arrested one of the top administrators of FEMA and the CEO of a contractor on wire fraud and bribery charges, along with a lower-level FEMA official today [9/10/2019] for fraud and bribery involving Hurricane Maria relief. The contractor got a $1.8 billion contract for rebuilding Puerto Rico's notoriously unreliable electrical infrastructure, which the Department of Justice says came by way of bribery. [...] Trump's accusations usually are directed at officials in Puerto Rico rather than the federal government. Nonetheless, this semi-corroboration of Trump's longstanding accusations might account for the light media coverage of these arrests.

Leftist U.S. Donors Using Secretive Arabella Advisors to Push Government Control of the Internet. A largely unknown, massively funded strategy company pushing the interests of wealthy leftist donors has been quietly funding successful efforts to ensure the federal government's role in control of the internet. The secretive Arabella Advisors is a centralized hub that runs nonprofit arms that in turn have spawned a nexus of hundreds of front organizations outwardly designed to appear grassroots but actually working against ordinary people by expanding government control in the lives of Americans.

Joe Biden's Bloody Eye on CNN Somehow Spiked by Everyone But Fox. On Thursday [9/5/2019], we noted CNN's New Day skipped over Joe Biden's bloody eyeball during the seven-hour CNN Town Hall on climate change, despite it being an all-day Drudge Report item. But then something happened that we didn't expect: CNN never reported it. Neither did MSNBC. Neither did ABC, CBS, NBC, or PBS. Even The New York Times and The Washington Post skipped it. Fox News covered it, but not obsessively. The Bloody Eye wasn't Earth-shattering news. But some wondered if it suggested a health problem for Biden.

NYT Keeps Readers In The Dark On Bernie Sanders' Population Control Comments. The New York Times is keeping readers in the dark about Democratic presidential candidate Bernie Sanders' embrace of population control, including abortion, as a means of combating climate change. Sanders was asked during CNN's climate town hall on Wednesday whether he would support measures to curb population growth in order to protect the climate. The Vermont senator answered yes, and said using taxpayer dollars to fund abortion abroad, "especially in poor countries around the world," is something he "very, very strongly" supports.

Media blackout: At least 6 illegal aliens charged with brutal murder in Baltimore suburb. Yesterday, local media in Baltimore reported that seven individuals had been charged with first-degree murder for the killing of Daniel Alejandro Alvarado Cuellar, whose body was found near Towson, Maryland, on July 31. According to Baltimore County police, "The cause of death was multiple stab wounds, and through our investigation, we were able to determine it was more than one person who caused those stab wounds." Sound familiar? Whose modus operandi is it to murder in groups with knives in the state of Maryland? Well, not a single local media outlet bothered to ask the most important question: Is this a problem native to suburban Baltimore County, or is this an imported problem? [...] Maryland has the highest concentration of Salvadorans in the country.

Media Cancel James Mattis After They Learn His Book Criticizes The Wrong President. [Scroll down] The current story is that [James] Mattis is writing his memoir and that got the media press corp really excited. You see, because Mattis left on rocky terms from the Trump administration, including a fairly forward resignation letter, the expectation was that he was going to blast Trump. So you got headlines like The Man Who Couldn't Take It Anymore from The Atlantic and The Man Trump Wishes He Were from The New York Times. You could almost see the foam forming around their collective mouths. They were about to get another tell all they could fluff for weeks, and if that meant rehabilitating a person they used to hate in James Mattis, then that was a price they were willing to pay. Then something happened. While Mattis' book laid into a President, it just so happened to be the wrong President in the media's eyes. That would be Barack Obama.

Study: Andrew Yang, Tulsi Gabbard Receive Disproportionately Small Media Coverage. A new Axios study shows that Andrew Yang and Tulsi Gabbard are receiving minimal media coverage for their relatively successful presidential campaigns. According to the study, Yang is currently polling at 2.5 percent as the sixth-highest-polling Democratic presidential nominee, and Gabbard is polling at 1.4 percent as the ninth highest. During the Democratic debates, Yang was tweeted about 295,200,000 times. He was the fourth most tweeted about candidate. He even surpassed Joe Biden and Pete Buttigieg, who are polling higher than he.

Media Mute After 7th Illegal Arrested For Rape Since July In Sanctuary County. Montgomery County, Maryland's liberal leaders are defending their lax treatment of illegal immigrant crime, after ICE revealed that seven illegal immigrants have been arrested for sexual assault or rape charges in the past six weeks, alone. Unbelievably, the networks could find no time at all to cover even one of the stories of children being assaulted in completely preventable crimes. Friday [8/30/2019], local Maryland reporter WJLA's Kevin Lewis reported there's been at least seven "undocumented" arrested in Mongtgomery County for rape, since late July. On his timeline, he described some of the disgusting details of these horrific crimes, against victims as young as 11 years old.

Mass shooting Friday that received little notice. At least ten people were injured in a shooting on Friday night [8/30/2019] at a high school football game in Ladd Peebles Stadium in Mobile, Alabama by a 17-year-old black male, Dangelo Parnell. This shooting took place Friday night but did not trend on Twitter.

Media Ignores Climate Alarmist's Court Loss — It Doesn't Fit The Warmist Agenda. Last week, a Canadian court tossed out a lawsuit in which Michael Mann, the researcher who published the idolized hockey stick temperature chart, had sued another researcher for libel. Did the mainstream media run with this story? Of course not. That would ruin the narrative.

What Happened to the Epstein Story? [Jeffrey] Epstein's July 6 arrest and subsequent death made a lot of headlines. Now, two weeks after his death, the story has nearly disappeared. Epstein died on August 10 and had a broken hyoid bone. This is, in the words of pathologists, more often indicative of death in a struggle, such as strangulation. But New York City Medical Examiner Barbara Sampson concluded it was suicide. The New York Times reported that her report conclusively disposed of "a wave of unfounded conspiracy theories" that he may have been killed. You see, when an official says something, that's the end of the discussion. Homicides are never mistaken for suicides. Experts never disagree. Consider the facts. Epstein was the most notorious prisoner in federal custody. No one has committed suicide at MCC since 1998. Epstein had attempted suicide once already and remained on suicide watch only for six days after his previous suicide attempt on July 23. Reports attributed to his team suggest that he was, in fact, attacked in that earlier incident. His cellmate was moved on the night of his death, and he was left alone.

Why Are We Funding PBS? Why are working Americans funding abusive liberals at PBS? Back in November 2018 President Trump held a press conference following the 2018 midterm elections. During the presser PBS reporter Yamiche Alcindor accused President Trump of being the leader of the White Nationalist party. Of course, the hateful anti-Trump media completely ignored this outrageous statement. Trump immediately called her out — and then he called her a racist!

Americans Feel Better About Race Relations, And Other Trump Poll Results The Press Doesn't Want You To Know About. How do you cover a poll that shows satisfaction with the economy, despite all the harrumphing about an impending recession, is much higher than it ever was under President Barack Obama? Or reveals that views on race relations are actually better today than three years ago? Or shows that most think the political system is being shaken up in a good way? Answer: You don't. That is, if you'rea mainstream media outlet and the poll is your own.

A Dead Cat, A Lawyer's Call and a 5-Figure Donation: How Media Fell Short on Epstein. Before his death earlier this month, [Jeffrey] Epstein owned the largest townhouse in Manhattan, little more than a mile from many of the nation's leading news organizations. He counted a former and a future president among his friends. He partied with royalty and supermodels. He was said to advise billionaires. Epstein killed himself, authorities say, in federal prison as he faced criminal charges alleging sex trafficking of underage girls, some as young as 14, in his mansions in New York and Florida. And yet with a few notable exceptions, the national media infrequently covered Epstein's behavior and rarely looked at the associates who helped him evade accountability for his actions — at least, not until the Miami Herald's Julie K. Brown's investigative series late last year.

Underlying Reality in All of America's Violent Incidents — Spiritual Malaise. America's problem is a spiritual malaise caused by a great deficiency — a vacuum — of good. As science tells us, a vacuum demands to be filled. And right now, evil is rushing in. [...] The glimpses of the devil we've gotten from these shootings confirm this. In the case of the Dayton shooter, for example, his notebook scrawlings included entries where he was explicitly hailing Satan. That's a detail which received very little attention in media reports.

Why Isn't AOC Taking Blame For Violent Attacks On ICE? If you didn't know about Tuesday's [8/13/2019] shooting at the Immigration and Customs Enforcement office in San Antonio, Texas, don't feel bad. The story got almost no coverage. Even though it was the fourth attack on ICE offices in just the past four weeks, and these attacks are clearly politically motivated. The San Antonio shooter knew what he was doing. He targeted two floors that housed ICE administrative offices. Another shooting occurred at a separate facility that housed an ICE contractor. In other words, this was an attack specifically targeting ICE and those who work with ICE.

More on the San Antonio ICE office shooting. Let's keep in mind that this isn't an isolated incident. Here are the attacks on ICE offices just from this summer.
Aug. 13 — San Antonio, TX
July 16 — Washington, DC
July 14 — Tacoma, WA
July 12 — Aurora, CO
The next thing to note is that most of the media appears to be treating this shooting as a "local news story," as we so often say. As I'm writing this post this morning, I have seen a grand total of one mention of this on CNN today, though I suppose it's possible I missed one. And there hasn't been any deeper analysis of why it happened, etc. Just the straight "who, where, when, how" type of journalism.

Media fails to report on illegal aliens killing their own family members. [Scroll down] It's illegal for illegal aliens to own guns, but they wind up obtaining them anyway. However, as a matter of immigration law, he should never have been able to remain in Washington for the past number of years undetected by ICE. Washington is a sanctuary state, and unless ICE catches someone on its own, illegal aliens are free to live there without fear of being detected, the exact opposite of what the law mandates. This also demonstrates that the lack of border security allows some of the worst individuals to return to the country, even if ICE successfully deports the criminal, once again proving the important symbiotic relationship between border security and interior enforcement.

Missing! Evening Newscasts Hide the (D) in Epstein-Linked Democrats. It's a trend that NewsBusters has documented before, as scandal-tarnished Democrats are often detached from their political party, while Republicans in similar circumstances are properly identified. In this case, both Mitchell and Richardson have unequivocally denied the allegations, which were contained in a previously-sealed civil lawsuit brought by Virginia Roberts Guiffre against Epstein associate Ghislaine Maxwell. But that didn't stop the ABC, CBS and NBC evening newscasts from mentioning them both by name in five different broadcasts since the news broke on Friday — they just didn't mention that they were both Democrats.

Jeffrey Epstein Fallout Shows How Little Trust Americans Have in Media and Government. A July 2019 Pew Research survey showed that "about two-thirds (69%) of Americans say the federal government intentionally withholds important information from the public that it could safely release, and 61% say the news media intentionally ignores stories that are important to the public." That indicates a massive failure not of the public, but by the very institutions we fund and have entrusted to promote the nation's safety, well-being and prosperity.

Media Not Interested in 47 People Shot in Chicago Over the Weekend. Sorry, these are not the shootings we're interested in. They don't create the right sort of national dialogue. So we're not discussing them. Not even when 47 people get shot over the weekend. After all there's no manifesto.

The Killers In El Paso And Dayton Targeted Unarmed Citizens — But The Media Won't Admit It. The media has ignored the fact that killers targeted unarmed citizens — including in El Paso, Texas and in Dayton, Ohio. [...] So what we see are politicians making false claims out of ignorance. For example:
• Cory Booker claimed that mass shootings are a "uniquely American problem." But this is false. The United States is not even in the top 50 countries when one compares mass shootings per capita among nations.
• Countless Democratic presidential hopefuls are bashing firearms like AR-15s, claiming that Americans have no use for owning such weapons. Again, this is grossly false. Several men and women have used these guns in self-defense, including a Houston man who used his AK-47 to fend off five home invaders this year.
• Even the president weighed in on Monday, arguing that Congress should encourage states to pass "red flag" Gun Confiscation Orders. But these gun grabs allow for the confiscation of firearms from innocent Americans — which often turn out badly, as seen by the police killing of an African-American Maryland man last year.

President Trump thanks OAN for report on alleged Ohio shooter's political leanings. President Trump recently thanked One America News for its coverage on the alleged Dayton, Ohio shooter. This comes after a report acknowledging the fact that the gunman had "a history of supporting political figures like Bernie Sanders, Elizabeth Warren and Antifa." The president noted most news outlets have purposefully omitted the Ohio shooter's political leanings now that it appears he had liberal and anti-Trump beliefs.

Weaponizing the dead of El Paso and Dayton. Those angry loner white boys with guns, this time in El Paso, Texas, and Dayton, Ohio, have again erupted on the body politic. And those with eyes to see are reminded that the American culture is ill. But what of the mass shootings in Chicago, the 55 people shot over the weekend, with seven hit near a park and then eight more not far away? You might think these are "mass shootings" too, but, in political/media terms, they're not treated as such. The victims, and in all likelihood the shooters, are black. And Democratic politicians find no political advantage in weaponizing the victims of everyday street violence in a Democratic town.

What ails the US Press? [Scroll down] The subhead to the column puts it this way: "The media's lack of interest in the Steele dossier amounts to collusion in a coverup." The lack of journalistic interest calls for an explanation. Laziness, stupidity, herd mentality, and partisanship all seem to have something to do with the utter lack of interest in what it's all about, although any one of these factors all by itself may be enough to explain it.

Black Youth Unemployment Falls to Lowest Level in History. The American economy is providing jobs for younger African-Americans at an unprecedented level. In July, the unemployment rate for African-Americans between the ages of 16 and 19 fell to a seasonally adjusted 17.7 percent, the lowest rate since the government began tallying the figures in the early 1970s. A total of 762,000 young African-Americans had jobs in July, according to the most recent data from the Department of Labor. That's the highest number on record.

Ted Cruz had a line of people in a California airport clamoring to shake his hand. Sure, about half, statistically speaking, may have been returning to other places. But those other places could have easily been other parts of California, as Ronen was, so the odds are, it was more than half the people there who were from California. There they were, lining up to shake the cordial Ted Cruz's hand as he stood in an airport line, breaking the unspoken taboo known in Los Angeles that you don't pester stars when you see them. Bottom line: Even in deep blue California, people were lining up to shake Ted Cruz's hand.

Apparently Omar perjured herself 8 times on a 9-question document. Mainstream media had this information, but chose to ignore it. They are still ignoring it.

Secret U.S. Army mission of undetermined duration in Washington, DC. Since last October, the Pentagon has had a secret Army mission with Black Hawk helicopters flying over the Washington, D.C., area, backed by active-duty and reserve soldiers, but we're only now finding out about it. Anthony Capaccio reports for Bloomberg, July 22, 2019, that the mysterious classified operation was disclosed only when the Army asked Congress for approval to shift funds to provide an extra $1.55 million for aircraft maintenance, air crews and travel in support of an "emerging classified flight mission." The Defense Department maintains that without this additional funding, "the Army will not be able to perform this classified mission."

Is the 'Baseless Rumor' True? Why Don't Journalists Do Some Actual Journalism? The question of whether Rep. Ilhan Omar (D-Minnesota) married her brother is an interesting question and, earlier this year at CPAC, I covered a press conference by bloggers who said the answer is "yes." The persistent accusations that her marriage to Ahmed Nur Said Elmi was a fraud finally prompted the Minneapolis Star-Tribune to investigate, and they could not rule out the possibility that Elmi is indeed her brother.

Ilhan Omar Marriage Flummoxes Media Fact-Checkers. Media outlets scrambled to prove false the accusation that Rep. Ilhan Omar (D., Minn.) married her brother after President Donald Trump mentioned it, but none have been able to definitively reach an answer, largely due to Omar's unwillingness to provide information. Trump was asked about the accusation that Omar's husband, Ahmed Nur Said Elmi, was also her brother during a scrum with reporters last Wednesday and said he had heard talk that she married her brother but knew "nothing about it."

The Decline and Fall of New York. [Scroll down] As always happens in these lists, the one missing name is: Bill Clinton. Whatever you read about Epstein's pedophilia, the point of the manufactured outrage is to create enough distraction to protect the reputation of Bill Clinton. It's a bit like the 9/11 Commission, skillfully directed by Democrats to leave Clinton out of the picture.

The Media Protecting Ilhan Omar's Obviously False Presentation of Family is a Gift To President Trump. The 2019 U.S. media are akin to the Monty Python "killer rabbit" skit, as every broadcast and print publication runs away from anything that might be adverse to their political interests. [...] An armed Antifa terrorist can attempt to use home-made bombs to attack an ICE detention center, get killed in the process, and leave behind a manifesto that actually quotes Democrat Representative Alexandria Ocasio-Cortez as his motive to stop the "concentration camps", and the media flee from coverage [...]

Ilhan Omar Happened Because Media Chose to Lie to You. Three years ago, most American newsrooms picked Ilhan Omar — despite her crawling Jew-hatred and evidence of an extensive criminal past — to be the transcendent face America needed to fight bigotry and federal corruption. Reporters apparently chose to lie about Omar to help birth a more trusting country. Perfectly irrational idiocy. Legacy newsmedia, decayed, perhaps brought itself final ruin by getting exactly what it wanted. The first Somali-born woman and the first female Muslim to be elected to a U.S. statehouse, Ilhan Omar defeated 44-year incumbent Phyllis Kahn in the Democrat-Farmer-Labor primary for Minnesota House District 60B in 2016. A former child refugee from civil war, Omar was perceived as a best-case image for shepherding progressive causes against President Trump. Ilhan Omar's individual character, however, was openly trending towards worst-case.

ABC, CBS Ignore Planned Parenthood's Embarrassing Shake-Up. It was a great day for the pro-life cause on Tuesday [7/16/2019] as the board of the abortion group Planned Parenthood embarrassingly fired president and Dr. Leana Wen after only eight months on the job. Unfortunately, ABC's World News Tonight and the CBS Evening News saw no reason to inform their viewers about Wen's ouster as the organization charged with murdering unborn children has found itself in dire financial straits.

Why Americans Are Never Told About Murders by Illegal Aliens. Why is it that we only hear about illegal aliens who die of natural causes, and their deaths being blamed on ICE, but never hear about the daily rapes and murders by illegal aliens? [Video clip]

Organizations For Journalists Not Reporting On The Attack On Andy Ngo After A Week. The Voice of America (VOA), Committee to Protect Journalists (CPJ) and The Reporters Committee For Freedom Of The Press (RCFP) have yet to publish press statements or articles on their respective websites for the Ngo attack, which happened on June 29 and left Ngo with a reported brain hemorrhage. [...] VOA launched its "Press Freedom" initiative earlier this year in an effort to tell the stories of journalists "facing threats or other repercussions" as they reports the news, according to the VOA website. VOA has yet to publish a press release or article about the attack on Ngo. "I'm familiar with the story; uncertain if or how we might approach it. Sort of lost the 'news' angle with time," Doug Bernard, VOA press freedom editor, told the Daily Caller News Foundation when asked if a statement had been released on the attack.

New York Democrat Pledges to Vote GOP Because [the] Democrat Party [is] Being Led by Insane Liars. It's yet another story the far-left media refuses to tell. The Democrat Party is imploding, torn asunder by radicalized anti-Americanism that was once on the fringe but is now running the Democrat agenda.

CBS, ABC, NBC and CNN Join MSNBC, Will Not Air President Trump's July 4th Celebration. President Trump is planning a massive military parade this year in Washington DC for the 4th of July. [...] Many Democrats are not supportive of the event. Code Pink will fly a Baby Trump blimp. And MSNBC will not carry the "Salute to America" live event. And now this: ABC, CBS, NBC announced today they will not air President Trump's July 4th American Celebration.

The Lie of Portland's Antifa. For some time, self-described "anti-fascists," or Antifa, have been finding spurious and imaginary reasons for demonstrating in the city. Though these are less like demonstrations than carnivals of civil disobedience, violence and intimidation. One of the very few journalists to have taken an interest in the repeated shutting down of the city center by these groups has been the young journalist Andy Ngo. Despite the police apparently regularly handing over the city to Antifa to do what they want, there has been relatively little coverage of this whole story in the mainstream press.

Ignoring FLOTUS is the Mainstream Media's loss. A glaring failure of the mainstream media is their inattention to one of the most stunning and charming first ladies ever to grace the White House, Melania Trump. You will search in vain for a Vogue cover shoot. You won't find anywhere an in-depth feature on how the first lady manages policy issues while being a charming, multi-lingual representative of the United States of America. There are few serious stories about her personal business pursuits, which have made her the wealthiest First Ladies with a personal net worth of $50,000,000.

It Only Took Three Years For Mainstream Reporters to Catch Up to Conservative Coverage of Ilhan Omar's Marriage. I have never worked in crisis communications, but I suspect the worst possible lede sentence to read about a client must be this one: "New investigative documents released by a state agency have given fresh life to lingering questions about the marital history of Rep. Ilhan Omar and whether she once married a man — possibly her own brother — to skirt immigration laws." As Minneapolis' Star Tribune reported on page one over the weekend, the Minnesota Democrat was caught filing joint taxes in 2014 and 2015 with her current husband Ahmed Hirsi, despite the fact that she was legally married at the time to another man named Ahmed Nur Said Elmi. And yes, there is a smattering of evidence that Omar and Elmi are possibly siblings. No one seems to be able to prove that they aren't (all the hard evidence is in war-torn Somalia), and bizarrely enough, Omar is the one keeping the rumor from being definitively debunked.

The Muslim Plot to Bomb a Black Church the Media Won't Talk About. "The best news is when you call get ready for jihad," Mustafa Mousab Alowemer wrote in a public housing project in Pittsburgh. "I will spill my blood for the victory of my religion." Northview Heights, the low-income housing project, is 90% African-American. Or at least it was. Then a flood of Syrian Muslim refugees showed up. Obama had promised to admit 10,000 Syrian migrants in 2016. The terrorist who plotted a massacre at a black church was one of them. The Alowemer clan arrived at JFK airport in New York City. The same airport through which other terror refugees, including the World Trade Center bombers, had penetrated the United States. Instead of staying in New York, they were resettled in Pittsburgh joining a growing Syrian enclave there.

Media Buried Biden's Love of Segregationists to Protect Obama. Joe Biden spent eight years as vice president, and thanks to our useless, partisan, deceitful, fake news media, we are only now learning about Biden's abiding love for Democrat segregationists. [...] Look at everything our fake news media chose not to tell us in 2008 when Biden was running for vice president — and don't forget we are talking about the same fake news media that sent legions of fake journalists to Alaska to find out which library books Biden's rival, then-Gov. Sarah Palin, checked out. Only now are we learning that in 1975 Biden said his party needed a "liberal George Wallace," that he believed segregation was a good thing as a "matter of black pride," and that he voted to restore the American citizenship of confederate president Jefferson Davis. Did you know that as recently as 1988, Biden praised a Democrat segregationist as a "man of character and courage?" All of this is coming to light now for only one reason: the media were not interested in 2008 because in 2008 the media were only interested in protecting Barack Obama.

Who's Paying African Migrants At Our Border? Swiss Journalist Asks The Questions Our Media Won't. How did they get here? Who helped them get here? Hundreds of Congolese illegal aliens have come to the U.S. border seeking asylum. You would think our media would be asking questions about how they got here and who helped them but our media ignores the border invasion. It took a Swiss investigative journalist to look into this curious flow of Congolese.

CNN cuts out of Orlando rally after Trump gets crowd chanting [in derision]. Those with big egos tend to be overly sensitive to criticism, and well, judging by the way the folks at CNN reacted Tuesday evening [6/18/2019] to President Donald Trump's presidential election re-launch, they must have egos bigger than life itself. As the crowd began chanting "CNN s****" and the president panned the media for their poor ratings, the left-wing network quickly cut away from the rally to begin its daily airing of grievances. Some reports suggest that MSNBC also cut away from the event.

How Dangerous is Fake News? Did you know that last week two hundred illegal immigrants originating from the Congo, that were picked up by border patrol agents, have tested positive for the deadly and highly contagious Ebola virus or that a company whistleblower announced that YouTube has been placing millions of subliminal anti-Trump messages in a variety of videos? You most certainly did not. But nearly every American has heard of President Donald Trump colluding with Russia and calling all Mexicans rapists or of Supreme Court Justice Brett Kavanaugh sexually assaulting women even though these events never took place and were concocted out of thin air.

Giuliani claims media 'covered up' Chinese deal by Biden's son. President Trump's lawyer Rudy Giuliani tweeted Sunday that the news media had "covered up" the fact that Hunter Biden, son of Democratic presidential front-runner Joe Biden, had financial dealings with the Chinese government. Arguing that his son's dealings influenced Biden's views on China, Giuliani wrote, "A Fox poll shows that Dems view ethics as critical and prefer Biden. That's because warped media has covered up how he brought his son to China, and while he was caving in to China, his son got $1.5 billion investment from China. Corrupt media can't hide it forever."

Hey Joe Biden, Here Are Some Scandals You Forgot. [Scroll down] Then again, Obama could secretly send planes filled with cash to pay ransom to an Islamist terror state responsible for the deaths of hundreds of American servicemen (using money that had been earmarked for terror victims), and most reporters would still regurgitate echo-chamber talking points. You remember Ben Rhodes bragging about how the Obama administration could trick 27-years-olds whose "only reporting experience consists of being around political campaigns" because they "literally know nothing?" Politico's Josh Meyer, who did know something, would write a deeply sourced piece — featuring numerous real-life, on-the-record administration officials — about the Obama administration's efforts to undermine investigations into a drug-trafficking ring run by Hezbollah operating in the United States, and most major news organizations never even mentioned it.

How Long Can The Media Ignore The Fact That A Senior House Democrat Is Married To A Fraudster. So far the media has managed to avert its eyes and studiously ignore a major story of corruption and malfeasance in Congress because to cover said story would totally destroy a narrative and expose them to allegations that they are racist. At the epicenter of this tale is the pustulent and rather dim Elijah Cummings from my current state of residence. Cummings is your typical product of the Maryland Democrat machine. The reek of corruption is always near him but never quite attaches to him because he is, as I said, the product of the Maryland Democrat machine and therefore bulletproof. Now all of that may be getting ready to change. In late May, the National Legal and Policy Center filed an IRS complaint against Maya Rockeymoore Cummings, who is the wife of Elijah Cummings.

In Ignoring Nasty FBI Info, Are The Media Protecting MLK Or 'Call-Out Culture'? Martin Luther King Jr. biographer David Garrow recently wrote an article in the British magazine Standpoint on FBI files alleging King's adulteries were more prolific than previously known (including an orgy) and he may have fathered a child with one of his mistresses. More explosively, the reports allege King laughed and offered advice to a friend committing sexual assault in his presence. In response, The Federalist ran an article by Ellie Bufkin concerned that the latest allegations should not negate the greatness of King's achievements. This concern was misplaced. The establishment media in America not only refused to run the column Garrow pitched, but largely ignored it after it was published in the United Kingdom. The story was kept off television, but for one segment by Laura Ingraham and one by Tucker Carlson. The two flagships of American establishment journalism — The New York Times and the Washington Post — not only turned down the story, but ran articles attacking both it and Garrow.

Trump Has Improved Relations with Every U.S. Ally. President Donald Trump has improved relations with every one of America's allies. You will not learn that from reading the news. The prevailing dogma in the mainstream media reflects the Democratic Party's revisionist propaganda, which obscures the fact that Barack Obama disrupted relations with our allies in an effort to appease Russia, Iran, and other enemies.

Martin Luther King, Jr.: The Bombshell the Media Refuse to Handle. The world media, except in the U.S., are awash in the depressing, deplorable, and disturbing revelations about Martin Luther King, Jr. David J. Garrow, King's friendly and liberal official biographer, revealed up to 45 sexual encounters by King and the observation of and encouragement by King of the rape of a church member by her pastor — all supported by FBI surveillance tapes. One FBI memo reported, "King maintains intimate relationships with at least three women, one in Atlanta, one in Mt Vernon, New York, and one in Washington, DC," making him susceptible to blackmail. He also had a longtime mistress in Los Angeles, wife of a dentist, in addition to his many one-night stands. It goes on and on.

The Editor says...
Where are all the great feminist leaders? They are all completely silent about this.

Liberal Media Blackout: Bill de Blasio's Wife Cannot Account for $850 Million Collected from Taxpayers. The mainstream media in America can not be trusted, Period. I noticed an article from The Daily Mail (UK) trending on Voat this evening and was shocked to learn that the story is actually months old, and not shocked to find that only a handful of conservative sites covered the story. It seems that Mayor Bill de Blasio's wife (Chirlane McCray) headed a taxpayer funded project called ThriveNYC and now she can not, or will not, account for $850 million in taxpayer money.

NBC Edits Out Alex Trebek Crediting Prayers With Helping His Cancer Battle. In an interview with People magazine out Wednesday [5/29/2019], Jeopardy! host Alex Trebek credited the prayers of millions of his fans for helping him in his fight against stage-four pancreatic cancer, now in "near remission." Yet, while ABC's World News Tonight touted Trebek's praise, the CBS Evening News ignored that part of Trebek's comments and NBC Nightly News edited it out of the quotes read and video clips they aired. Before we can examine what was missing, let's look at what should have been reported.

Funny how no one wants to look into that report that Omar married her brother. You'd think they'd be all over this like tabloid papparazzi. Wild and prurient news always sells papers and draws viewer eyeballs, and the scattered reports about how America's first Muslim congresswoman, Rep. Ilhan Omar, reportedly married her own brother in a bid to bring him into the country ahead of the others trying to get in, is quite a doozy. The press certainly got excited about the Stormy Daniels controversy for such a reason, but why the absence of interest in Omar's kinky weird love life? Now the fearless Michelle Malkin has taken up the case, wanting to know why this isn't being looked into by either the press or more importantly, these law enforcers.

Revoke Ilhan Omar's Marriage Fraud Immunity Card. If you are not a member of the Democrats' protected class of bitter loudmouths who hate America, you can be investigated and prosecuted for marriage fraud. The headlines have been filled with recent crackdowns. In Texas last week, 96 people were indicted on federal charges of conspiring to defraud our immigration system by arranging phony unions between American citizens and sham spouses in Vietnam. In Bridgeport, Connecticut, three men pleaded guilty to participating in fraudulent marriages with noncitizens and sponsoring them for green cards under false pretenses.

Tyrannical Government Hunts Down Parents Of 3-Year-Old, Forces Child To Undergo Chemo, Then Strips Parents Of Their Custody. When there is clearly neglect of a child, someone must step in and do something to ensure that the child is protected, but many times, I have become aware that the state quite often violates its jurisdiction and inserts itself into something it has no knowledge of nor business being involved in. This is the situation involving 3-year-old Noah McAdams and his parents, Taylor and Josh. Not only were the parents reported by Johns Hopkins All Children's Hospital to authorities, but the government forced them to reluctantly submit their little boy to chemotherapy and later would strip them of their parental rights and custody of their son. However, surprise! The media failed to report the entire story and made the parents out to look like criminals.

CNN Completely Edits African American Pro-Lifer Out Of Abortion Documentary. Last October, Bell produced a show about abortion and the CNN documentary crew tapped Students for Life of America (SFLA) to provide a pro-life perspective for the episode. The group sent their Minority Outreach Coordinator Elizabeth Parker (who is African American) to represent the organization and the unborn on camera. Naturally Parker and her colleagues were excited to see how the interview turned out in the final cut and honored to be included in a show aimed at "exploring communities across America". In a discussion about abortion, it goes without saying that the pro-life community is an unavoidable and vital part of the conversation — literally half of it. When the May 19th premiere finally came around the SFLA team was disappointed to discover Parker had been cut out of the documentary altogether. Even worse, it turned out there were no pro-life views represented at all. CNN even cut out footage of pro-life advocates outside local abortion facilities. Parker says she suspects their views simply didn't fit the narrative they were trying to weave. Rather than present a two-sided story, they simply cut the side that didn't fit the script.

Antifa Scumbags Have Their Faces Polished. Yesterday there was a violent clash of Antifa supporters and the Italian police in the Italian city of Bologna. The police tried to stem the demonstrators gathered to protest the visit of the Forza Nuova founder Roberto Fiore. He held a rally at Galvani Square ahead of the European elections. When the activists tried to break the chain of police, they rebuked and pushed back with the help of batons. [Video clip]

CNN Refuses To Report On Illegal Alien Serial Killer Allegedly Murdering 12 Elderly Women In Texas. The story broke last Wednesday when Kenyan national Billy Chemirmir, 46, was charged with the deaths of six women in Dallas County and then was charged on Thursday with the deaths of five women in Collin County. Chemirmir was already in prison from charges he faces from 2018 involving another alleged murder of an elderly woman. The story garnered national attention and was widely reported on at most news organizations, except for CNN. On CNN's website, there are no reports about the case, and the network buried the story on its television coverage, giving it minimum coverage so it could not be accused of ignoring it completely.

Information slowly emerging about pipe-wielding mob of Somali 'youths' who attacked people waiting for light rail train in Minneapolis last Friday. My hometown of Minneapolis has been totally transformed by the arrival of tens of thousands of refugees from Somalis, one of whom now represents the city and a few suburbs in Congress. Nobody there was asked if such a makeover was desired by the residents; State Department officials decided that the generous welfare benefits available in Minnesota were reason enough to send people whose native land is tropical to the coldest major city in the United States. But now that the old 97%-plus Caucasian city has been made into a multicultural exemplar, the local establishment, including the newspapers and broadcasters, is ultra-protective of its prized diversity-endowing Somali community. That might explain why the news of a horrific attack on people waiting for a light rail train at the University of Minnesota has been so slow to emerge.

Mob with Hammers Descends on Minneapolis East Bank LRT Patrons. A mob of eight to 10 males wielding hammers descended upon bystanders at the East Bank Light Rail station on Friday night [5/17/2019]injuring several, according to recorded police dispatch audio.

The Booming Jobs Market Mystifies the Press, When They Notice It At All. If there's not dancing in the streets, it's because the mainstream press refuses to cover the economy. Or if they do, they fixate on the negative. This bias isn't new, by the way. In the early 1990s, coverage of the economy suddenly turned overwhelmingly positive in 1993. That, of course, was the year control of the White House shifted from Republican to Democratic hands. Throughout President Obama's eight years, reporters tried desperately to put a happy face on a gloomy and historically anemic economic recovery.

The Media at Their Lowest. On any number of subjects, building a wall between Mexico and the United States being a current topic of the day, there are literally dozens of video recordings of Democrats contradicting themselves from the position they took even a decade ago. Joe Biden once pounded the pulpit demanding that we build a wall. With Joe Biden as the Democratic frontrunner for U.S. president, you've seen that contradiction reported all over the national mainstream media, haven't you? Contrast that with anything and everything Donald Trump says. The media are quick to pull any quote, any tweet out of context or bend it out of shape to promote the narrative that the president is an unhinged liar.

NY Times Somehow Avoids Socialism While Discussing Venezuela's Failing Economy. The New York Times front-page story Saturday brought the latest sad update from the failed socialist state of Venezuela — with a strange but predictable omission. Reporter Anatoly Kurmanaev graphically described the day-to-day tragedy in "Venezuela's Fall Like A Civil War — A Once Robust Economy Has Become a Ruin." But the culprit is left unnamed? Socialism, installed in the once-prosperous country by strongman Hugo Chavez, to disastrous results, is not mentioned a single time. Not even the generalizations of "left-wing" or "left" make appearances.

2016 Arizona Police Report: Cocaine Pipe Found in Car Rented by Joe Biden's Son Hunter Biden, Authorities Declined to Prosecute. Breitbart News has exclusively obtained a heretofore unreported-on police report from days before the 2016 presidential election that describes how a cocaine pipe that authorities determined was used to smoke cocaine was found in a rental car returned to an Arizona Hertz location in the middle of the night. Also found in the vehicle were several personal effects of Hunter Biden, then-Vice President Joe Biden's son, like two of his DC driver's licenses, multiple credit cards, and personally identifying information like a Delaware Attorney General badge and a U.S. Secret Service business card that police said bore his name.

Levin: 'What [...]' is Dianne Feinstein 'doing talking on an iPhone' to the Iranian foreign minister? Mark Levin called out the hypocrisy of the Democrats after Sen. Dianne Feinstein, D-Calif., was caught on the phone with Iranian Foreign Minister Javad Zarif earlier Thursday [5/16/2019], and the media said nothing. "He's the foreign minister to an enemy state that seeks to attack American military personnel in the Middle East, that seeks to put nuclear warheads on ICBMs so they can reach the United States. It is a terrorist regime, an Islamo-Nazi regime in Tehran, that has killed Americans, that funds Hezbollah to kill Americans, that funds Hamas to kill, and is a threat to our national security, obviously," Levin said. "What [...] is the ranking Democrat on the Senate Intelligence Committee doing talking on an iPhone around the Capitol to Javad Zarif?"

No Wonder the Post Hid Obama's Red Mentor. In August 2008, back when it mattered, the Washington Post ran a 10,000-word article by its Pulitzer Prize-winning reporter David Maraniss titled, "Though Obama Had to Leave to Find Himself, It Is Hawaii That Made His Rise Possible." [...] Up until this week, I presumed that Maraniss ignored [Frank Marshall] Davis as a way of protecting [Barack H.] Obama's candidacy. If so, he was in good company. I could find no mentions of Davis in the New York Times before the 2008 election and precious few mentions afterwards. In the Times' humble defense, however, only the Post commissioned a 10,000-word article on Obama's Hawaii years by a Pulitzer Prize-winning journalist. It turns out that Maraniss had personal reasons for this impressive exercise in truth suppression. His father Elliott Maraniss and Frank Marshall Davis had a good deal in common.

You didn't hear about this mass murder because guns weren't involved. A 25-year-old man is in custody in Tennessee, accused in the brutal murders of seven people including his parents, and injuring an eighth person, but this mass killing didn't involve the one thing that would have earned national headlines. The suspect, identified as Michael Cummins, was arrested after a search. According to WSMV, the state medical examiner says all of the victims died from "blunt force trauma or sharp force injuries." If all reporting of grisly murders was equal, what would they be calling this on network news broadcasts? Would it be "blunt instrument violence?" How about "knife violence?"

Why journalists and other Democrats keep pushing phony scandals about Trump. There are many reasons most journalists and other Democrats have focused on additional witch hunts on President Trump, and why they seek to destroy A.G. Barr — while they lie to the public that they are trying to unite us. Here is a small sample of topics they need the voting public to ignore or not hear about: They don't want to talk about their continuous lie about Russian collusion with no evidence while Trump told the truth from the start. They don't want to admit that the Obama administration spied illegally on many Americans, including Trump. They laughed at Trump when he truthfully said he was spied on. They don't want to discuss all the scandals, cover-ups, and criminal activity by people throughout the Obama administration, including Obama himself. [...] They certainly will not talk about how ignorant Biden was when he said China is not a threat to the U.S.

Mueller moans, media misleads. Yesterday [5/2/2019], I noted that mainstream media coverage of William Barr's testimony to the Senate Judiciary Committee omitted an important piece of information — Barr tried to address the concern of Robert Mueller that some combination of Barr's four-page memo and media reporting about it was "confusing" the American public. Barr responded with a statement designed to clarify the situation. The media did not report this fact even though it figured prominently in Barr's testimony. In addition, the media either did not report or barely mentioned three other important facts to which Barr testified.

Experts predicted economic Armageddon under Trump — where are they now? The economy is strong, unemployment is low and wages are rising, according to the latest economic data released Friday, which is in stark contrast to what the vast majority of elite economic opinion predicted just a few years ago from a Trump presidency. The latest unemployment report has joblessness at 3.6 percent. Where is the Trump Armageddon Squad now? What's even more egregious is that the same folks predicting the end of the world refuse to provide sane analysis of radical proposals dribbling out of the mouths of the Democrats. They report on Medicare-for-All, the Green New Deal and college debt forgiveness as if these cockamamie ideas will have no impact on the economy.

Greenland's glacier grows alarming climate hysterics. Have you happened to notice that some news most of us would normally regard as very cheering is often treated by the mainstream media as tragic, or goes unreported altogether? [...] A case in point is a screaming lack of enthusiastic media coverage regarding recent evidence that Jakobshavn, the previously fastest-flowing, fastest-thinning glacier on Greenland's west coast, has now gone rogue. Jakobshavn has represented the largest source of periodic ice mass loss over the last 20 years, and has produced about 10 percent of the country's icebergs.

The Notre Dame fire: Conclusions enforced before the evidence was examined. The recent fire in Notre Dame Cathedral has highlighted the attempts of the powerful to control the news. The Paris prosecutor, Rémy Heitz, has decided the fire was "likely accident, not arson." [...] There it is: the orthodox truth. If you don't accept the "orthodox" story, you are a "conspiracy theorist," an Islamophobe, and a racist. Deviance from the orthodox view must be silenced. Fox News's Shepard Smith invited the French media analyst Philippe Karsenty for an eyewitness interview while the fire was still raging. Karsenty said, "Of course you will hear the political correctness, that it's probably an accident, but..." Before he could finish, Smith interrupted: "Sir, sir, sir, we're not going to speculate here of the cause of something that we don't know." Karsenty continued: "I'm just telling you, you need to be ready..." Smith cut him off: "No, sir. We're not doing that here. Not now. Not on my watch! Philippe Karsenty, it's very good of you to be here." Fox's Neil Cavuto had a similar experience in his interview with William Donohue, president of the Catholic League. Donohue was skeptical about the accident claim. He commented, "Forgive me for being suspicious. Just last month, a 17th-century church was set on fire in Paris. We've seen tabernacles knocked down, crosses have been torn down, statues." Cavuto responded, "We don't know that. So if we can avoid what your suspicions might be." Dohohue then stated, "When I find out that the Eucharist is being destroyed and excrement is being smeared on crosses..." At that point, Cavuto decided to terminate the interview: [...]

Fires at college in Vancouver were caused by a terrorist attack. According to Vancouver police, 23-year-old Nasradin Abdusamad Ali placed at least three incendiary devices around Langara College. At least two of them detonated resulting in fires around noon. The college was evacuated with no injuries. Ali was apprehended around 4:00 pm. "T Building" suffered significant structural damage and will remain closed. T Building is a five-story building that housed science and technology classes. It was full of students when the attack occurred. For an attack that had the potential to cause so many deaths, the media seems like they can barely be bothered to report on it.

Lara Logan tells riveting untold story: My Benghazi report was buried to protect the Obama admin and Hillary. In 2013, then-CBS reporter Lara Logan had an investigative report on the 2012 Benghazi terror attack that was buried and "discredited," reportedly due to the network's mistaken vetting of one eyewitness's account of the incident. However, according to Logan, the report was disparaged because it was critical of the Obama administration's failure to come to the defense of Ambassador Christopher Stevens and his compound when it was attacked by Islamist terrorists.

Outbreak of Colorblindness Strikes Chicago Reporters. Chicago picked a strange time to go all colorblind on us. The occasion was the occasional riot in one of America's premier high-end shopping districts: the Magnificent Mile. Wednesday night [4/17/2019], 500 people rampaged through downtown looting, destroying property, attacking white people, defying police, stopping traffic, threatening tourists, and created lots of mayhem and chaos. All on video. Some of which you can find [online]. If local media is to be believed, race had nothing to do with the fact that every single one of the rioters was black. Strange behavior from a local media that is obsessed with race, especially white racism and black victimization.

Large Pro-Life March in Virginia Gets Little or No Press Coverage. On a perfect, cloudless spring day in Richmond, Virginia, thousands of pro-life protesters marched around the state capitol building against a bill that would allow abortion up to the moment of birth. They were also protesting recent remarks made by Gov. Ralph Northam (D) in support of legal infanticide. It was the largest pro-life march since the annual March for Life in Washington, D.C., on January 18 of this year, which attracted hundreds of thousands of marchers.

Newsweek's 'Who Is Louis Farrakhan?' Story Originally Failed to Mention Anti-Semitism. Newsweek failed to mention Louis Farrakhan's extensive history of anti-Semitism in a story published Thursday [4/11/2019] about his involvement with the funeral processions for the late rapper Nipsey Hussle. Newsweek subsequently decided to add the missing detail to their piece after The Daily Caller reached out to them about it.

Nets Give One Minute to Obama Counsel Indictment, Gave Manafort's 60 Percent of Airtime. One more indictment that originated from the Trump-Russia probe came tumbling down the pike on Thursday, when a former White House counsel for President Obama was charged with lying to investigators about his foreign lobbying work for Ukraine. If that sounds familiar, it's because that's similar to what former Trump campaign head Paul Manafort was convicted of. But despite the similarities, the airtime dedicated to the indictment by the broadcast networks was grossly lopsided. On Thursday [4/11/2019], the combined evening airtime allowed by ABC, CBS, and NBC for the indictment of former White House lawyer Greg Craig was one minute and 15 seconds. Both ABC's World News Tonight and CBS Evening News sprinted past the story with 16 and 17 seconds respectively. NBC Nightly News offered a little bit more time (42 seconds) but it was still under a minute.

America has quietly become the global oil superpower. Will the courts stop that too? Yesterday [4/10/2019], President Trump was in Houston, touting his new plan to expedite oil pipeline construction and permitting for oil and gas extraction, two vital infrastructure projects that have been hampered by liberal states and held up by activist judges. While the media has barely covered it and many Americans take our prosperity and energy production for granted, it's worth reviewing and quantifying the magnitude of what the shale oil boom has done for this country over the past few years.

CNN Laughably Asserts AG Bill Barr Provided "No Evidence" Of Trump Spying. After AG Bill Barr announced yesterday [4/10/2019] that the Trump campaign was spied on, this sent mainstream news agencies into a hair-fire-setting frenzy. I wrote about some of their reactions here. All kinds of crazy and obtuse claims emanated from blue checkmark Twitter accounts everywhere. You'd think journalists would be happy to pursue a story possibly as big as Watergate (i.e. a sitting President weaponizing intelligence to spy on a rival). But nah, it hurts their narrative so they are doing everything they can to bury the story.

Media Impervious To Multiple Migrant Deaths. Nothing but crickets can be heard after a Texas landowner urged the media to go to Brooks County, where the bodies of over 1,000 migrants could be documented in the last five to seven years. The dead included the elderly, children and pregnant women. The "coyotes" bringing the migrants into Texas take their money, leave them with water and tell them the trek to cities like Dallas, hundreds of miles away, will be an easy one.

Why is Facebook censoring a conference on Christianity and religious freedom? Every day millions of Christians around the world are persecuted for their faith. They are often intimidated, abused and in fear for their lives all because of their commitment to Christ. The Pew Research Centre Report, which analyses religious freedom in 198 countries and territories, reveals that Christians are the most persecuted religious group in the world today. Research shows a staggering 11 Christians every hour are being slaughtered for their faith — 100,000 Christian martyrs a year. In the last couple of weeks alone, there were attacks on Christians at a church in Nigeria with 32 deaths; in the Philippines an attack killed more than 20 Christians, not to mention the eight dead in a Somalia market attack and the nine dead in Egypt.

All the Progressive Plotters. No reporter seems to care that Hillary Clinton hired a foreign national to work with other foreign nationals to sabotage, first, her opponent's campaign, then his transition and his presidency, along with the wink and nod help from key Obama officials at the Department of Justice, State Department, National Security Council, FBI and CIA. The final irony? If the CIA, FBI, and DOJ have gone the banana republic way of Lois Lerner's IRS and shredded the Constitution, they still failed to remove Donald Trump.

The Full Story of How Obama, Hillary and Brennan Carried Out The Crime of the Century. This is the information the Establishment Media has been working very hard to ignore in order to keep enough Americans ignorant so as to avoid justified marching in the streets of D.C. And know that this isn't the first time the Deep State has directly attempted to manipulate an election outcome. It's just that this time because President Trump fights so hard, refuses to give up, and his tens of millions of supporters stand by him, that the Deep State was caught in the act.

Levin Slams Silence of the Media on Democrats Digging Into Fox News Editorial Process. Chris Pandolfo at Conservative Review reports that radio host Mark Levin lit into the media on Wednesday night's [4/3/2019] show for its very fair-weather approach to freedom of the press. On Mediaite, former Fox News Digital executive Ken LaCorte protested Rep. Elijah Cummings (D-Maryland) digging into the conspiracy theory that it's somehow a violation of campaign-finance laws to fail to publish a Stormy Daniels piece that was in the works before the 2016 election. Cummings asked former Fox reporter Diana Falzone for working documents on the story, and an interview with the committee.

How journalists dodge exposés. Democracy Dies in Darkness is the credo of the Washington Post because the power of the press lies not in what it publishes but in what it does not print. The favors it does are on a spike in the newsroom where stories go to die without seeing the light of day.

Ignored by Media: Ex-Felon Gregory Allen Praises Trump, Thanks Him for First Step Act. President Trump designated April as the First Step Act Month. The program includes cutting prison sentences for thousands of federal inmates. During the ceremony Trump noted that Americans with criminal backgrounds are unemployed at rates up to five times the national average.

Jihad and the Media in an Age of Delusion. [Scroll down] Language is key. Subtle and not-so-subtle restrictions are placed on what would offend the invading force with its hair-trigger sensibilities. These restrictions are rigorously enforced by quisling societal institutions — media, academia, and so forth. So, for example, "Muslim" is replaced with "South Asian" or "Asian," with no fear that the "South Asians" or "Asians" will bomb a pop concert, mow down scores of families on a national holiday such as Bastille day or Halloween or Christmas, shoot up a gay nightclub, and so forth. Actual South Asians and Asians have held demos against the media using them to cover for jihadis, but no media reported on them, of course.

LA Times went big on Avenatti's Kavanaugh accuser; makes no mention of her in new profile on his downfall. Michael Avenatti's fumbled attempt to cash in on the campaign to destroy Supreme Court Justice Brett Kavanaugh largely ruined the celebrity attorney's good standing in Democratic and press circles, transforming him from a possible 2020 Democratic candidate and media darling into a universally reviled huckster. Yet, in an otherwise comprehensive expose this week detailing the porn lawyer's swift fall from grace, the L.A. Times managed somehow to omit all mentions of the Kavanaugh debacle.

CNN, MSNBC ignore explosive misconduct allegation against Biden. Two prominent cable news networks offered zero coverage to the breaking misconduct allegation made against former Vice President and potential 2020 candidate Joe Biden on Friday night. A former Democratic candidate from Nevada alleged in an op-ed published in New York Magazine's The Cut that Biden inappropriately touched her at a 2014 campaign event.

CNN, MSNBC Ignore Inappropriate Kissing Allegations Against Biden. CNN and MSNBC have not covered the allegations a former Democratic lawmaker levied against former Vice President Joe Biden in the 12 hours after the allegations surfaced on Friday afternoon [3/29/2019].

Tech tyrants at Google do their best to obscure no indictments of Mueller Report. If the internet search monopolists at Google are trying to build a case that they are a dangerous threat to democracy in need of antitrust remediation, they are doing a good job of it. We already know that Google is run by leftists for leftists and fired software engineer James Damore for political reasons — because he dared question P.C. orthodoxy. But there is an accumulating body of evidence that Google attempts to manage the public's access to information so as to bias it in favor of Google's friends and against those Google decides are its enemies.

Not Surprising: Networks Ignore Trump's Executive Order On Campus Free Speech. What better example for how the left-wing media views the free speech rights of campus conservatives than their ignoring of President Donald Trump's executive order protecting those rights. Newsbusters reported Friday evening that the major broadcast networks — ABC, CBS, and NBC — ignored Trump's executive order in favor of covering New Zealand's recent "assault weapon" ban. Naturally, Fox News was the only outlet to cover the story in detail, placing it early in the broadcast of "Special Report."

Lara Logan's Response To Mueller Report Is An Indictment Of American Media. Journalist Lara Logan said Saturday [3/23/2019] that the response to the Mueller report was striking because of what was not happening: there were no blaring headlines boldly proclaiming the vindication of President Donald Trump. Logan, during an appearance on "Fox & Friends" Saturday, argued that if the Mueller report had resulted in indictments or charges of any kind, that would most certainly be the top story in every paper.

Media Ignores Major Story About the Dossier — Again. Whispers about the late Senator John McCain's involvement in spreading the infamous Steele dossier around Washington mostly have been a sidebar to the larger scandal. But the court deposition of David Kramer, a close associate of McCain who was part of a defamation lawsuit related to the dossier, now confirms McCain's wider role. Explosive details in the deposition, released to the public on March 14 on order by a Florida district court, reveal how Kramer and McCain distributed the infamous Steele dossier to the media, the FBI, and Republican lawmakers after the November 2016 election. It's now a harsh fact that one of Trump's most powerful foes on Capitol Hill worked in tandem with Democratic schemers to discredit his election. This is not inconsequential news.

The Yellow Jackets revolt and the Future of America. The media has been so quiet on the Yellow Jackets in France that you could be excused for thinking my title refers to some kind of invasion by weird wasps. Well, for the record, it doesn't. It refers to the ongoing revolt in France by various groups but mostly, honestly, middle aged, middle class people who have just had middle-class enough and are now setting fires to things and making life hell in the ritzy districts of Paris (and elsewhere.) You probably thought that was all over and done with, and you'd be excused for thinking it, because our media has worked so hard not to report it.

The Not So Soft Bigotry of Liberal Media's Racism. The liberal media were quick to pounce on the recent killings in Christchurch, New Zealand — loudly and frequently. This was to be expected as New Zealand is largely a white western culture, and therefore afforded "most favored status" among mostly white, mostly liberal, western media. The murders that occurred during the same period in Nigeria, although greater in number, were largely ignored because (1) the victims were black, and (2) worse, Christian blacks, and (3) worse still, African Christian blacks, so who cares?

Nigeria: Muslims Murder 32 Christians, Torch Church in Brutal Attack, Muslims Have Killed 120 Since February. Why do attacks on New Zealand mosques warrant international media coverage and condemnation from world leaders, but murderous jihad attacks on churches get no attention at all? The mosque attack is the rarity, the exception, while Muslims attacking churches and synagogues are commonplace; yet there is no outcry about attacks such as this one. The double standard is glaring and obvious. In this as in all other cases, Judaism and Christianity can be freely denigrated and their adherents killed; all that matters to the enemedia is protecting Islam's image and portraying Muslims as victims.

How Do We Know What We Know? As I sit here writing, a terrible thing is happening. It started mid-week, but there's nothing being reported on the national news. No TV cameras or on-the-street interviews. [...] This was a hard winter and much snow accumulated and ice formed on all the rivers. Then suddenly the weather turned and most of that H2O turned liquid. What didn't melt floated high-speed in chunks the size of cars, ripping out grain elevators and barns, tearing into houses and businesses. I saw one picture of a kitchen filled to the tops of the counters with dirt-laden ice. [...] But what has bothered me the most is the realization that the news tells us so little of what is happening in the world. The TV news rattles on and on 24-7 and not a single story about the heart of this country and the suffering and struggle of our fellow Americans. Not until the story was three days old does it even make honorable mention.

Media Silence Surrounds Muslim Massacre of Christians. Political leaders and public figures were falling over themselves this weekend to condemn the mosque attacks in New Zealand, while dozens of Christians were slaughtered by Muslims in Nigeria to the sound of crickets. The mosque attacks were indeed a horrific affair and worthy of universal condemnation. Presidents, prime ministers, royalty, and religious leaders rushed to extend their condolences to victims and their families — as well they should — while decrying the hate that purportedly motivated the shootings.

Muslim Doctor Stuns CNN: President Trump And GOP 'Beloved' In Much Of The Muslim World. On Saturday [3/16/2019], a Muslim doctor who has been highly critical of radical Islam appeared on CNN and must have given that network heart palpitations as she insisted that in many parts of the Muslim world, not only is President Trump beloved, but so is former President George W. Bush, and that the Trump administration is not Islamophobic. Dr. Qanta Ahmed, who hails from Great Britain, stated, "One thing the viewers should know, this president and this administration is often castigated as Islamophobic, but I move in the Muslim word, in Egypt, in Oman, in Jordan, in Iraqi Kurdistan, where this president is beloved. This president and the Republican Party going back to George Bush is very dearly held. Today is the anniversary of Halabja, the massacre of 180,000 Kurds at the hands of Saddam Hussein. That only change would [be] because of a Republican president. So it is very important not to lose so much perspective that we start believing our entire government is Islamophobic. That is not the case."

Media Gorges Itself on Hatred While Ignoring Atrocities. On a day in March, more than 40 members of a religious minority were targeted for their faith and murdered. I don't mean the Mosque shooting in New Zealand, but the massacre of Christians in Nigeria, about which the American media was altogether unconcerned. [...] A search for "Nigeria" in the [New York] Times' archives shows that no ink has been spilled in the columns of this, America's "newspaper of record," for the Christians facing extermination at the hands of Muslims in that country. This is odd, isn't it?

Media Silence Surrounds Muslim Massacre of Christians. Political leaders and public figures were falling over themselves this weekend to condemn the mosque attacks in New Zealand, while dozens of Christians were slaughtered by Muslims in Nigeria to the sound of crickets. The mosque attacks were indeed a horrific affair and worthy of universal condemnation. Presidents, prime ministers, royalty, and religious leaders rushed to extend their condolences to victims and their families — as well they should — while decrying the hate that purportedly motivated the shootings. [...] The bizarre aspect of the coverage was not, in fact, the attention paid to a heinous crime committed in New Zealand, but the absolute silence surrounding the simultaneous massacre of scores of Christians by Muslim militants in Africa.

Media Largely Ignore Death of San Jose Woman Caused by Sanctuary Policies. Two weeks ago, Bambi Larson of San Jose was murdered by illegal immigrant Carlos Arevalo-Corranza; who has an extremely lengthy criminal history. Not surprisingly, the legacy media largely ignored this story. With the exception of CNN's Early Start and a segment on Univision, all of the cable news coverage of Larson's death came from either Fox News or One America News Network. The Ingraham Angle, one of the Fox News shows that has covered Larson's death, obtained a copy of a DHS immigration detainer notice for Arevalo-Corranza from October 9, 2018; one of seven detainers ICE has issued for him. The detainer had a stamp with the words "not honored per county policy," referring to the sanctuary policy of Santa Clara County, which contains San Jose.

Democratic presidents behaved a lot worse than Trump in the White House. The country never learned the full extent of Franklin Delano Roosevelt's paralysis. Much less did it know of FDR's past and ongoing affairs — the mechanics of which were sometimes carried out in the White House and with the skillful aid of his own daughter Anna. By fall 1944, Roosevelt, seeking a fourth term, was suffering from a series of life-threatening conditions. Worrying that the public would not vote yet again for a terminally ill president, sympathetic journalists and military physicians covered up Roosevelt's illnesses — on the theory that FDR would survive long enough to get elected to a fourth term and ensure a continued Democratic administration. [...] John F. Kennedy, by contemporary standards, was a serial sexual harasser, if not a likely assaulter. While physically in the White House he carried on sexual trysts with subordinates and others without security clearances, mostly with the full knowledge of the complacent White House press corps.

Yet another the crime hoax at yet another expensive college. So far as I can tell, no national media have picked up the story of the arrest of Ajani Arthur, a black student at Goucher College (tuition: $43,440) who allegedly created graffiti that "depicted swastikas, the letters 'KKK' and appeared to include the last names of four black students, including Arthur." A previous incident last November, one floor below where the current graffiti were found and attributed to Arthur, said, "all 'n------' on campus would be killed." The U.K. Daily Mail is doing the job that the American national media refuse to do, with the most extensive coverage of the fraud (though local media, including the Baltimore Sun, Washington Times, and the alleged perp's hometown paper, along with the College Fix, managed to take notice). A Google search for Goucher College yields no note of the incident at all.

An Inside Look at the Blexit Rally in Virginia Ignored by Establishment Media. Candace Owens hosted a Blexit — or black exit from the Democrat Party — event on Sunday [3/3/2019] in Richmond, Virginia, where hundreds of people gathered to hear from Owens and several other featured speakers, including Breitbart News Entertainment Editor Jerome Hudson.

What new jobs? Broadcast news ignores Trump triumphs in the economy, study says. The big three networks — CBS, NBC and ABC — have essentially ignored President Trump's triumphs related to the economy and job creation in the last 15 months. [...] "In the past 15 months of their coverage of regular jobs reports, the networks almost never gave Trump any credit for that economic success. Stories sometimes mentioned that he was taking credit or celebrating good jobs news. But out of 45 broadcasts the night of monthly jobs reporting, there was just one network story about jobs that gave Trump any credit at all — they refused to credit him nearly 98 percent of the time," wrote analyst Julia Seymour, who led the research for the conservative press watchdog. CBS, NBC and ABC also overlooked news about record unemployment among African Americans and Hispanics.

Senate passes new national parks deal you've heard nothing about. Last week, the Senate passed massive public lands legislation that contains a lot of good, but a lot of bad too. In light of the national emergency for the wall being declared, the Green New Deal, and Democrats running for President, this land deal got little to no news coverage.

Democrats Con Their Base with Green New Deal. [Scroll down] If you believe for one second that any material provision of the Green New Deal will become policy, you're being conned. A competent media could and should prove as much in mere moments. A competent media could and should ask Kamala Harris at every campaign stop for her precise plan to "guarantee a job with a family-sustaining wage" to every person in the U.S. A competent media could and should rush to press Elizabeth Warren about her precise plan to completely overhaul American power generation in a mere ten-year span without crushing the economy. After all, if a series of Republican presidential candidates pledged together to, say, abolish Social Security, Medicare, and Medicaid yet still also guarantee health care and retirement security for all Americans, wouldn't the media be extremely curious as to how they could pull off such an astounding achievement?

The War Next Time? As everyone knows, India and Pakistan both have nuclear weapons, and it is still not widely known on the Acela corridor that India and Pakistan were close to war once in the late 1990s, and it supposedly required the strenuous interventions of Tony Blair and Bill Clinton to keep that crisis from escalating. I'm guessing some of our media's lack of interest in this current crisis is that they haven't figured out how to blame it on Trump yet.

DOJ Planned a Coup Against Trump, and the Press Doesn't Care. Andrew McCabe and Rod Rosenstein, along with other Department of Justice (DOJ) officials, plotted a political assassination of President Trump. Listen closely so you can hear the mainstream media's crickets. Former FBI acting Director McCabe confessed on 60 Minutes and elsewhere that he and Deputy Attorney General Rosenstein discussed ousting the president in May 2017, even going so far as contemplating Rosenstein's wearing a wire to capture the words of the president regarding his reason for firing Comey. Their weapon for ousting the duly elected president: the 25th Amendment to the Constitution.

A press blackout on news top FBI lawyer James Baker wanted Hillary Clinton prosecuted. The news is out that then-FBI director James Comey did indeed have some credible prosecutors for Hillary Clinton's mishandling of classified documents during her stint as secretary of state, passing around some of the U.S. government's most secret documents on an illegal private account attached to a server in some guy's bathroom. "No reasonable prosecutor" would take the case, Comey intoned, who then let the former secretary of state and then-presidential candidate off the hook. Actually, there was one, at least one, and he was sitting right next to Comey: none other than FBI general counsel James Baker, who admitted in congressional testimony that he did think Clinton's dishonest act merited prosecution.

Thank you, Pres. Trump: 18 trillion gallons of rain fall on thirsty California. For once, California's terrible-to-moderate drought that caused tight statewide water-use restrictions has abated. The southern Golden State is turning green in mid-winter after swollen skies dumped a record amount of rain this month. Look at what's happening here out in the Palm Springs desert! And some northern parts have enough snow to extend the ski season into July. It, of course, has nothing to do with the White House. But water-soaked rivers of atmospheric air from the north this month have delivered such a soaking to the thirsty state that with still a week yet to go, officials say California has received 18 trillion gallons of water this month alone. That's an amazingly large amount provided to the public with the absolute confidence that no one else is counting.

Networks Refuse to Cover Senate's 'No Russia Collusion' Report. The same networks that spent 2,202 minutes of collective airtime to push the Russia Collusion Media-Hoax are refusing to cover the Senate Intelligence Committee bipartisan report, which found no collusion between the Trump campaign and Russia. The Media Research Center (MRC) did the research and found that between January 21, 2017, and February 10, 2019, "ABC's World News Tonight, the CBS Evening News, and the NBC Nightly News [spent] 2,202 minutes on the Russia investigation [, which] accounted for nearly 19 percent of all Trump-related reporting [, and now] none of those three shows have even mentioned the investigation since NBC's report came out on February 12." The same is true elsewhere on the left-wing networks.

Networks: 2,202 Minutes on Russia Scandal, Zero for No Collusion Report. It's been two days since NBC's exclusive reporting that the Senate Intelligence Committee has found no material evidence of collusion between the Trump campaign and Russia, and as of yet none of the three major broadcast networks (ABC, CBS, and NBC) have given it even a single second of coverage in their evening newscasts. Considering these networks have given the Russia probe a massive 2,202 minutes of airtime, their silence on this major development is deafening. MRC analysts examining all coverage on ABC's World News Tonight, the CBS Evening News, and the NBC Nightly News found that those 2,202 minutes spent on the Russia investigation accounted for nearly 19 percent of all Trump-related reporting between January 21, 2017 and February 10, 2019. However none of those three shows have even mentioned the investigation since NBC's report came out on February 12. The situation has been much the same on those networks' flagship morning shows.

Someone Just Noticed The Middle-Class Revival Going On Under Trump. USA Today ran a surprising story on Tuesday [2/12/2019] headlined "Can the middle-class revival under Trump last?" It's surprising — shocking really — because it might just be the first time a major news outlet has admitted that there has been a middle-class revival under Trump.

Russia Hysteria Proves America's Foreign Policy Establishment Is A Raging Dumpster Fire. Chuck Todd got his MSNBC pals together on "Meet the Press Daily" to have a serious, objective, and intellectual discussion of foreign policy and politics. Just kidding. The Senate Intelligence Committee had just announced it found "no direct evidence" of collusion between President Trump and Russia. Democrats dispute this, without giving much reason why, which is a story in itself. But Todd and his panel largely ignored that. They were laser-focused on former Trump campaign chair Paul Manafort's legal troubles, which is supposedly the next bombshell in the Russia investigation.

Cotton says media was 'Stalin-like' in Ocasio-Cortez Green Deal cover up. Arkansas Republican Sen. Tom Cotton unloaded on Rep. Alexandria Ocasio-Cortez's Green New Deal and said the media were "complicit" in burying the most radical parts of the deal. Cotton, a staunch Republican, appeared on The Hugh Hewitt Show on Tuesday and discussed the widely ridiculed Green New Deal that aims to implement sweeping changes across the nation. But what particularly caught Cotton's eye was how the media became complicit in hiding the now-infamous FAQ document circulated by the Ocasio-Cortez office, which included lines such as promising a job to "all people of the United States" — including those "unwilling to work" — and making air travel industry obsolete.

Trump's wild popularity overseas is one of media's best kept secrets. The mainstream media pretends that their scorn for President Trump is almost universally shared overseas. While globalists everywhere (along with their media allies) dislike him for standing up for national sovereignty, a rising tide of populist revolt is shaking them to their core. And Trump is a hero — even a superhero — to the growing number of anti-globalist populists around the world. Stark evidence of this popularity of President Trump comes from Italy, where a populist government won power — though the media tend to ignore this.

Minneapolis: Muslim refugee brutally rapes 10-year-old girl, media hides facts. A 34-year-old Muslim immigrant has been arrested and charged with brutally raping a 10-year-old girl in Minnesota and the local media in Minneapolis has refused to identify the man as a refugee from Somalia. KSTP 5, an ABC affiliate in Minneapolis, referred to the suspect, Ahmed Hersi Abdi as "A Minneapolis man." CBS affiliate WCCO 4 used the same description, giving no mention of the man's background or how he arrived in the U.S. The attack occurred Sunday evening in an apartment complex in the city's Cedar Riverside neighborhood, also known as "Little Mogadishu" for its high concentration of Somali refugees imported from United Nations refugee camps in Africa.

Democrats Are Showing Us All Who They Really Are — Let's Believe Them. The absolute horror uncovered by the Kermit Gosnell case shined a long-delayed spotlight on late-term abortions in America. Gosnell not only murdered viable infants very late in the pregnancy, but horrified investigators also discovered he actually kept trophies stored away in freezers on the premises. In case you've never read the grand jury's report on the horrors found inside Gosnell's clinic, I covered that extensively on my blog. The mainstream media tried to hide the scandal of the Gosnell case by simply refusing to cover it and dismissing it as a 'local news story' that only people in the state of Pennsylvania were interested in.

The truth in 15 minutes. The family of Nick Sandmann has retained the services of attorney Lin Wood to rectify the damage done to the young Mr. Sandmann's reputation following flawed reports of the encounter with Nathan Phillips at the Lincoln Memorial last month. Among those who falsely disparaged the young Mr. Sandmann is Minnesota's own Fifth District Rep. Ilhan Omar, though you would never know it if you get your news from the Star Tribune.

Biden Endorsed Segregation in 1975, Mainstream Media Dead Silent. Democrats have had an extremely bad week. From Virginia Governor Ralph Northam's past racist photos surfacing to HBO's Bill Maher mocking a black Republican Congressman, the liberal party can't seem to slow the madness. Enter former Vice President Joe Biden, who is now dealing with a serious racial issue of his own involving segregation and "black pride" [...]

The Mayors of the Worst Cities in America are Running for President. Newark is the most dangerous city in New Jersey, Tallahassee is the most dangerous city in Florida, and South Bend is the most dangerous city in Indiana. But instead of fixing their failed cities, the current mayor of South Bend, and the former mayors of Newark and Tallahassee want to run for president. Mayor Peter Buttigieg has announced that he's forming an exploratory committee for a 2020 run. Media reports have focused on the possibility that he might become America's first gay millennial president, instead of on the fact that he's headed a city since 2011 which has double the national and statewide violent crime rates. And a city where Hispanic poverty rates are 10% higher than the national average, African-American households have double the poverty rate, and Asian-American incomes are halved. South Bend was recently rated one of the "worst cities" to live in. The unemployment rates are higher than average, the property values are lower, and even the water quality is below average. Gushing media reports about the gay millennial mayor, a Harvard grad and a Rhodes scholar, overlook South Bend's poverty rate of 24.7% and that 45% of households are living near the poverty level.

CNN Hid Images and Video of Roger Stone's 72-Year-Old Wife Being Dragged Out of Home Barefoot and In Nightgown. On Monday Roger Stone told Judge Napolitano in a FOX Nation interview that his 72-year-old wife was also forced to stand outside barefoot and in her nightgown. For some strange reason this was not aired on CNN who had a camera crew at Stone's home during the arrest. The Gateway Pundit wrote CNN for comment — It would be completely irresponsible if they hid this from the American public.

Blackout: Why Won't TV News Talk About NY's New Abortion Law? It's been a full week since the state of New York legalized late-term abortions, yet none of the major national TV networks has bothered to mention the story. This deafening silence is in stark contrast to the alarmist coverage seen when a state passes legislation that the media see as curtailing "abortion rights."

Media shuts out prominent Hispanic pastor who agrees with Trump on border. The national media appears to have little interest in Ramiro Peña, the Texas pastor who remains one of President Donald Trump's most prominent Hispanic evangelical supporters and advisers. Much like a recent PBS/NPR poll that showed 50 percent of Latino adults approve of Trump's job as president, up a whopping 19 points from December, the media has not been eager to cover Peña's significant role, which included advising the president on the crisis over U.S. border security. "The deliberate suppression of Pastor Peña's views, which are shared by tens of millions of people throughout the country, was especially glaring when President Trump recently visited South Texas," reported MCR's Newsbuster.

Networks Give Roughly 15 Times More Coverage to Women's March Than March for Life. Despite what was a much delayed but important avalanche of headlines about the group's anti-Semitism, the 2019 Women's March took place Saturday and it still received nearly 15 times the broadcast network newscast coverage of the 47th annual March for Life that was held Friday [1/18/2019]. Between Wednesday morning and Saturday evening, the Women's March fetched 14 minutes and 26 seconds of coverage on the ABC, CBS, and NBC morning and evening newscasts. This stood in stark contrast to just 58 seconds for the March for Life.

All Three Networks Ignore 'March For Life,' Cover Pro-Abortion 'Women's March' Instead. On its 46th anniversary, all three major networks (ABC, NBC, and CBS) ignored the March for Life in Washington, D.C., the largest pro-life event in the nation, opting instead to cover the feminist Women's March rally. According to LifeNews, despite an estimated 100,000 people being in attendance at the pro-life march along with President Trump's address to the crowd via video, the left-wing machines could not so much as "give a passing mention to the March for Life" during the Friday morning [1/18/2019] shows.

Shutdown could shrink government. Civil service protection rules are confusing, convoluted, and the reason so many Democrat moles are able to get away with sabotage against our duly elected president. Americans are ruled by a bureaucracy accountable to no one. The shutdown, however, may provide an opportunity to eliminate thousands of government jobs permanently, according to some conservative thinkers. The argument is that if a furlough goes longer than 30 days, the job can be eliminated.

OMB issues guidance on Reduction in Force layoffs due to partial shutdown. A new statement from the Office of Management and Budget provides cold comfort for federal bureaucrats worried that furloughs during the partial shutdown could become permanent layoffs, as long as Democrats refuse to give in and fund the border barrier. There will be no immediate layoffs (what the federal government calls reductions in force — or RIFs) if and when the current partial shutdown passes the 30-day mark in four more days. As I explained yesterday in "Trump's shutdown trap?," federal law requires RIFs when federal employees are furloughed more than 30 days. But after the matter was raised and widely discussed, the OMB issued a statement that indicates that it would require an actual reorganization plan that would make furloughed positions permanently identified as unnecessary, in order for the furloughs to be RIFed.

FBI interview makes big news — so why is it still secret? James Baker — the general counsel of the FBI during both the Clinton email and Trump-Russia investigations — sat for two interviews with House investigators last October. After the sessions — one on Oct. 3, the other Oct. 18 — Republican Rep. Mark Meadows called parts of Baker's testimony "explosive." Republicans intended to make the interview transcripts public. The questioning was not conducted in a classified setting, and Baker had FBI and other lawyers with him the whole time. But the House still had to send the transcripts to the FBI for clearance, just to make sure public release would not reveal any classified or otherwise secret information.

U.S. woman stabbed 14 times by Somali migrant, media go dark. Morgan Evenson was walking home in downtown Minneapolis on the evening of Dec. 13 when a black man got out of his car, chased her down, tackled her and repeatedly thrust a 3 [to] 4-inch blade into her flailing body. The 26-year-old computer-store clerk frantically fought back, kicking, scratching and screaming for help. At some point, neighbors heard her screams and came to her aid. Her attacker — described as a Somali man in his early 20s, about 5-foot-7 with a slight build and wearing grey stone-washed jeans — fled. Evenson was left bleeding on the curb with 14 stab wounds on her arms, neck and back. Her kidney was lacerated. She was lucky to survive. It happened while she was walking home from the Apple Store, where she worked, about eight blocks away from her apartment. That's when the man attacked her for no apparent reason. Police, who have not made any arrests in the case, are calling it a botched robbery.

The Editor says...
Right. Maybe it was a "botched robbery," or maybe it was an Islamic terrorist going nuts over an unaccompanied female going out in public with her head uncovered.

Real Collusion in America Is Between Democratic Party and Liberal, Progressive News Media. The real crisis that has been manufactured in America is one by the liberal, progressive fake news media that refuses to report the truth. They have taken up the position that they will not report anything that is contrary to their goal to support progressive socialism in America. Also, they make sure that anything that would favor President Donald Trump is to not reported. And so, it is, on the issue of border security, when one confronts a progressive, socialist leftist who depends on ABC, CBS, NBC, MSNBC, CNN, or PBS for their news reporting, not to mention Mother Jones or other far leftist internet sites, they are woefully uninformed.

Media Refuse to Discuss Angel Families, Victims of Illegal Alien Crimes. Since January 1, neither CNN nor MSNBC has booked a single "Angel Mom" — mothers of children brutally murdered by illegal aliens — as guests on their networks, per an analysis conducted by the Republican National Committee (RNC). The RNC told Breitbart News it has tracked both networks since the beginning of the year as they intensely bash President Donald Trump over the government shutdown that is now the longest ever in the history of the United States. Since the turn of the year to 2019 from 2018, neither network has conducted a single interview with any family members of victims of illegal alien crimes.

Peace is breaking out. Media won't cover it. Kim Jong Un was in Beijing this week as U.S. trade officials met with their Red Chinese counterparts. Behind the talk of tariffs and trade deficits, the denuclearization of the Korean Peninsula loomed. A war that began 68 years ago nears its end. The American press is ignoring it, instead nattering on about nonsense.

CNN rejects local San Diego report on border wall because it doesn't support its 'narrative'. CNN is "news, corrupted." Seriously, the people over there are rejecting actual news because it doesn't support their manufactured "narrative," turning down a report they themselves commissioned from local station KUSI because they didn't like the facts-on-the-ground the report contained — or, more likely, the bigger fact on the ground that the local report supports the stance of a president who says and shows by numbers that there really is a crisis at our border.

San Diego-Based KUSI: CNN Disinvited Our Journalist Because We Reported Border Wall 'Does Work'. KUSI News, a television news outlet based in San Diego, California, said Thursday [1/10/2019] that CNN invited — and subsequently rescinded the invitation — for it to provide a reporter to give "a local view of the debate surrounding the border wall and government shutdown."

Black Gangbangers, Not White Guy, Killed 7-Year-Old Jazmine, Media Will Now Disappear. When a 7- year old girl named Jazmine Barnes was shot and killed two weeks ago, celebrities and media jumped on it as a racist hate crime by a blue-eyed white man based solely on an ID from a distraught mother and her three children. They tweeted nonstop that the shooter was a white male with blue eyes in a red truck and it was a hate crime. [...] But then it turned out the killers were two black guys in a grey car. The white man in the red truck passed by after the shooting. The story will now die.

Intersectionality at the Crossroads. [T]he inconsistency between the views and associations of the [women's] march leaders and the useful idiots who followed their call was highlighted in recent weeks when the media were compelled to finally report what had been known for a long time but kept hidden from credulous consumers of their pap: the Women's March leaders were linked inextricably to Louis Farrakhan, an anti-Semite, anti-homosexual, anti-white propagandist who spreads lies about slavery — ignoring the most significant role of Moslems in it even to this day. And the press hid the fact that women like Linda Sarsour were all in for Sharia, the religious-legal system that more than any other punishes women, gays, and blacks. Sharia creates the submission culture that keeps the poor at the bottom with little chance of upward mobility and society at such a low level of productivity that environmental protection and proper healthcare are unaffordable, and legitimizes slavery, which continues in places like North Africa. Indeed, her anti-American point of view was known months before the march in 2017 but barely, if at all, covered by the mainstream media.

If You Only Get Your News From CNN, You Have No Idea This Story Happened. A left-wing billionaire gave $100,000 towards an online misinformation campaign that mimicked Russian interference operations — but if you only get your news from CNN, then you have no idea that happened. Linkedin co-founder Reid Hoffman, an early investor in Facebook, was behind a six-figure misinformation campaign that involved falsely linking Republican Senate candidate Roy Moore to Russian influence operations during Alabama's December 2017 special election. Hoffman funded Democratic operatives who staged a "false flag" — in their own words — meant to falsely link Moore's campaign to Russian bots in order to boost Democratic candidate Doug Jones' Senate campaign. Jones went on to win the election after defeating Moore in an upset.

Not Reported by Fake News: Father of Guatemalan Boy Who Died in US Custody Declined Further Medical Treatment for Son. An 8-year-old Guatemalan boy died in Customs and Border Protection custody in New Mexico very early Tuesday morning [12/25/2018] after being transferred to the hospital earlier Monday. According to reports, the boy's father was with him in the hospital where he was diagnosed with a cold. Doctors gave the boy amoxicillin and medication to bring his fever down then released him.

Why Are Hershey's Kisses Suddenly Missing Their Tips? Bad kisses sound like a problem you haven't dealt with since your teenage years, but they're a serious concern right now for bakers who are accusing candy maker Hershey of selling its signature chocolate Kisses with broken off tips. The issue apparently initially came to light thanks to members of the Facebook group The Wedding Cookie Table Community.

Shooting of Criminal by Citizen NOT Reported by Police & NOT Unusual. On 7 December 2018, at about 7:45 p.m., the owner of the Alibaba's convenience store in Syracuse, New York shot and wounded an armed robber. The robber ended up in the hospital. The story made the news. A local reporter for syracuse.com, Patrick Lohmann, investigated the story and wrote it up. While doing a followup, Lohmann discovered the store owner had shot another robbery suspect six weeks earlier. That story did not make the news.

Media Blackout After Trump Launches Urban Council To Invest $100 Billion in Black Communities. It's been a busy few weeks in media land, what with Michael Cohen's sentencing and talk about whether Donald Trump will be impeached, or Michael Flynn's sentencing and talk about whether Donald Trump will be impeached, or Jamal Khashoggi's death and how that relates to whether Donald Trump will be impeached. [...] That being said, this doesn't give the media a pass on reporting other aspects of the Trump presidency — particularly those that might paint it in a favorable light. For instance, you basically had to actively search to find any mention of the Opportunity and Revitalization Council, a $100 billion initiative to deliver growth in urban communities.

Protesting French Chanted "We Want Trump" as Media Ignores Them. There appears to be a new French Revolution underway — an anti-climate change revolution. The French common folk appear to have rejected the globalists and embraced Donald Trump's country first mantra. There is a media blackout in the United States on the reason for the protests and riots.

On TV, Only Fox Locates Obama Boasting on Oil Boom: 'That Was Me, People!' When former president Barack Obama starts bragging about his record as president, sounding remarkably egotistical, the networks seem to ignore it. New York Times reporter Peter Baker reported on a Houston event where Obama sat next to former Bush Secretary of State James Baker (no relation to Peter) and boasted about how America's oil boom is all his doing: [Video clip]

The Escalating Assault on Citizen Journalism. In December 1997, after the FBI arrested independent journalist James Sanders for investigating the destruction of TWA Flight 800, not a single reporter at a post-arraignment press conference managed to frame even one First Amendment question. In fact, the Newsday reporter argued the government's case, insisting the Justice Department found insufficient evidence to declare Sanders a journalist. The fact that Sanders had already written two successful investigatory books did not count. By challenging the media's defense of a Democratic administration, Sanders all but sacrificed his First Amendment rights. At the time of Sanders's arrest roughly 40 percent of America was using the Internet. Within 20 years that figure would approach 90 percent. The Internet was the great equalizer. It enabled citizen journalists to report stories that the major media underreported or failed to report at all.

More about TWA 800.

Liberal media tell us the left is right, and the right is wrong. [Louis] Farrakhan, who heads the Nation of Islam, despicably compared Jewish people to insects in one recent rant. "I'm not an anti-Semite. I'm anti-termite," declared the left-wind bigot. Presidential daughter Chelsea Clinton rightly called his comments "dangerous." But there has been almost no coverage of Farrakhan on the broadcast networks for a year. That's especially appalling since the press all-but memory holed President Obama's ties to Farrakhan, too.

Former Senior Ohio Lawmaker Arrested for Murder of His Estranged Wife, Media Plays 'Guess the Political Party'. A former senior Ohio lawmaker who had served as assistant minority whip in the Ohio legislature was arrested this past weekend for the murder of his estranged wife. He had previously served nine months in state prison for assaulting her in 2014 while a common pleas judge in Cuyahoga County — a position he had been appointed to by then-Gov. Ted Strickland (D). But would you ever know that Lance Mason was a Democrat? Not if you relied on the media reporting.

Networks Silent as Dem 2020 Hopeful Compares ICE to KKK. Under most circumstances, a sitting United States Senator and potential presidential candidate comparing a federal law enforcement agency to the Ku Klux Klan would be major national news. However, after California Democrat and 2020 hopeful Kamala Harris did exactly that during a Senate hearing on Thursday, the broadcast networks decided it wasn't worth a single second of coverage. During a contentious confirmation hearing exchange with Acting Immigration and Customs Enforcement Director Ronald Vitiello, nominated to become the permanent head of the agency, Harris grilled him about a tweet he sent out three years earlier labeling the Democratic Party "neo-Klanist." Vitiello promptly apologized for the social media post and acknowledged that it was inappropriate.

Yes, Michelle Obama, YOU helped push out an independent government watchdog. Michelle Malkin has the story the Obama-slobbering media won't touch.

The Press Is Public Enemy No. 1. Consider that in a typical presidential election, Washington correspondents vote 93 [to] 7 percent for the Democrat, while the rest of America votes somewhere around 50-50, according to Timothy Groseclose of George Mason University. The reason that we will never hear our moral superiors in the press condemn Maxine Waters, Tim Kaine, Keith Ellison, or Eric Holder for their endorsements of political violence, then, is that they do not see it as political violence. In their view, it's self-defense against those who threaten their ideology. There is a reason, as Chris Buskirk notes, Americans have seen very little coverage of the recent attacks and actual terrorism against Republicans: [...]

ABC, NBC Ignore Antifa Mob Assaulting Home of Fox News Host Tucker Carlson. The same night the liberal broadcast networks ABC and NBC were acting as though Trump's combative press conference on Wednesday was some kind of affront to the First Amendment, the Washington D.C. area home of Fox News Channel host Tucker Carlson was under assault by a radical leftist mob shouting threats. During both their morning and evening broadcasts Thursday, ABC and NBC ignored the actual attack on someone's free speech. The CBS Evening News was the only network broadcast program to mention the assault on Carlson's home.

105 Articles Cover Ilhan Omar's Win. Zero Cover Her Anti-Semitism, Finance Investigations, or Perjury Evidence. For two years, U.S. media has maintained a near-blackout on the specific evidence of Rep. Ilhan Omar's (D-Minnesota) disturbing character and legal issues. In the 18 hours after Omar was elected to replace Keith Ellison in MN Congressional District 5, the media left zero doubt as to why. At approximately 3:00 p.m. EST on Wednesday [11/8/2018], Google News was returning 105 links to the search term "Ilhan Omar" which had been posted since her victory. [...] Not one of the 105 linked articles presents the troubling evidence against Omar — except, in two or three cases, to dismiss it without explanation.

Media Uninterested in the First Korean Woman In Congress, Because She's a Republican. The media loves firsts. It's obsessively promoting the first gay governor. The first two Muslim anti-Semitic women in the House, one of whom is accused of marrying her brother (the media obviously isn't mentioning that part), and Alexandria Ocasio-Cortez, the youngest elected dimwit. It's oddly uninterested in the first Korean-American woman in the House.

The case of the disappearing campaign issues. You don't have to be Sherlock Holmes to figure out why certain perennial concerns hyped by the mainstream media have disappeared from the 2018 campaign cycle. The disappearance illustrates the degeneration of the principal American mass media into mere propaganda outlets for the Democrats. When the topics seemed to work against Republicans, they were almost constantly drummed into the public's consciousness. They were a threat to our very democracy, and all good citizens were horrified, according to the instructions from our media betters. But now, because they reflect badly on Democrats, they have mysteriously vanished.

Why did nobody mention that Beto O'Rourke's wife is a billionaire heiress? Young Beto O'Rourke casts himself as the 'anti-Trump'. But his father-in-law, it turns out, is a billionaire property developer with a contentious relationship with non-white residents — not unlike the President. Beto's more the proto-Jared Kushner. The New York Times today [10/29/2018] revealed the highly interesting news that friend-of-the-little-guy Beto married well. Very well. His wife is not only the daughter of William D. Sanders, aka the Warren Buffet of real estate, Cockburn can reveal she is the only daughter. Sanders's portfolio is valued at about $20 billion.

Nearly a dozen Beto O'Rourke profiles, and almost none mention his crony capitalist background. Rep. Beto O'Rourke's, D-Texas, 1998 drunken driving accident isn't the only thing his media profilers have ignored. The New York Times did a fine job this week detailing the Democratic Senate candidate's shady history of political backscratching, including a real-estate deal he championed when he served on the El Paso City Council that would've benefited his billionaire father-in-law, developer William D. Sanders.

CBS Skips Anti-Israel Views of Muslim Democrat Running for Congress. CBS This Morning on Thursday [11/1/2018] fawned over the woman who would be one of the first Muslim women elected to Congress. But while journalist Reena Ninan hailed what could be a "Muslim wave" headed to Congress, she completely skipped the anti-Israel views of congressional candidate Rashida Talib. Sounding more like a press release than a journalist, Ninan enthused, "[Talib] tells me she's looking to change history at a time when most people think it just isn't impossible." The reporter parroted, "While many have focused on her faith, she says this moment is so much more." Candidates say a lot of things about themselves. How about asking a tough question? That didn't happen.

Why Did Media And Democrats Abandon Their Investigation Into Brett Kavanaugh? What happened to the multiple allegations of sexual misconduct levied against Brett Kavanaugh during his confirmation battle? The claims ranged from Christine Blasey Ford's remotely plausible if unsubstantiated allegation of a violent attempted rape to Michael Avenatti's completely outlandish and also unsubstantiated allegation of hosting serial gang rape parties. From September 12 to October 6, the claims absolutely dominated all major media. They ran on the front pages of all major newspapers and filled the hours on cable and network news. Magazine journalists at The New Yorker ran with the claims, despite massive corroboration problems. The claims were taken so seriously by the media and some U.S. senators it led to serious delays of the confirmation voting process. A hearing was held during and after which all the talking heads on cable asserted Blasey Ford was completely "credible." Sen. Jeff Flake, R-Arizona, even maneuvered to reopen an FBI investigation to dig into the claims. Then they disappeared. Overnight.

NBC Tries, Fails To Defend Itself After Sitting On Information That Undermined Kavanaugh Accusers. An NBC reporter who interviewed one of Supreme Court Justice Brett Kavanaugh's accusers, and who admitted to sitting on evidence that two of his accusers were not credible, is now trying to defend herself and her network. It's not working. [...] Last Thursday [10/18/2018(?)], NBC acknowledged that a second accuser represented by attorney Avenatti, whose name is still unknown, said her words were "twisted" in her sworn statement and that she never saw Kavanaugh spike punch or act inappropriately toward women. NBC had this information days before Kavanaugh's confirmation vote, but didn't report it until now. On Saturday, Snow took to Twitter to defend herself and her network for sitting on information that could have helped Kavanaugh gain some of his reputation back after the salacious allegations.

Why Did NBC And Time Magazine Sit On Their Avenatti Scoops For So Long? I think Time has an excuse. I can't imagine what NBC's excuse is. Remember that newsy quote from him about Democrats needing to nominate a "white male" to stop Trump in 2020? That came from a story in Time magazine. Avenatti responded predictably when liberals began attacking him over it yesterday, crying FAKE NEWS and demanding that Time reporter Molly Ball provide the full context. So she did. Here's the transcript posted last night of her exchange with Avenatti. Note the date. [...]

NBC News Hid Information that Would Have Cleared Kavanaugh of Avenatti Rape Allegations. NBC News deliberately hid vital information that would have helped clear Brett Kavanaugh of the serial rape allegations Julie Swetnick and her attorney, Michael Avenatti, leveled against him. On September 16, Kavanaugh and his loved ones were dropped into a pit of hell due to allegations of sexual assault from Christine Blasey Ford. Although her story quickly fell apart during public testimony, for the three-plus weeks that would follow, in an effort to derail his confirmation, Democrats and their allies in the establishment media did everything in their power to personally destroy this man as a drunken serial rapist. NBC News and Avenatti played a huge role in this obscene smear campaign. One notable example was NBC breathlessly publishing and airing an assault allegation against Kavanaugh that was quickly exposed as a hoax. NBC did not even bother to independently corroborate this allegation prior to airing it. A Democrat handed NBC the smear, and NBC ran with it.

Juanita Broaddrick is credible: Bill Clinton may have raped her. Almost a year ago, Sen. Kirsten Gillibrand said that Bill Clinton should have resigned over his affair with Monica Lewinsky. At the time, I thought Gillibrand was wrong — not to mention a bit tardy — but now I'm undecided. What moved me, though, has little to do with Lewinsky and much more to do with a name that seems to have been forgotten: Juanita Broaddrick. She claimed Clinton raped her. Broaddrick's allegations first surfaced in the media 1992 as Clinton was running for President, and then resurfaced in 1999 when he was being impeached.

The Editor says...
Uh-oh. If the news media realizes that Juanita Broaddrick's story is true after all, how many other "right wing conspiracy theories" are also credible? What if Vince Foster really was murdered? What if TWA 800 really was shot down? What if Barack H. Obama really is a Muslim, and his legal name really is Barry Soetoro, and he really does use somebody else's Social Security number? What if the Oklahoma City bombing really was a terrorist attack (as Jayna Davis describes in her excellent book)? Ms. Broaddrick is lucky she didn't end up like Mary Caitrin Mahoney, Kevin Ives, Don Henry, Kenneth M. Trentadue, or Ron Brown.

An American Journalist Just Died After a Racist Beating, and the Washington Post Didn't Even Report It. While the Washington Post weeps and wails over Khashoggi, an anti-Semitic foreign Islamist, it has no interest in the murder of a Jewish journalist in the United States. [...] And there are no conversations about whether top Democrats like Obama and Holder appearing with Louis Farrakhan, or leaders of the Women's March supporting Farrakhan, helps encourage racist and anti-Semitic violence like this.

Donald Trump [is] More Popular than [the] Media Want You to Believe. We keep hearing about how divisive and unpopular President Trump is, about how "historically" unpopular he is. This is not even close to the truth. Doing an apples to apples comparison using the Gallup poll, Investor's Business Daily discovered that Trump's job approval numbers are right in line with three two-term presidents. As of right now, in the Gallup poll, Trump enjoys a 44 percent approval rating. And when Investor's Business Daily looked at the approval ratings of previous presidents during this same week in their respective presidencies, they found that Trump is tied with Barack Obama (44 percent) and is doing better than both Bill Clinton (41 percent) and even Ronald Reagan (42 percent).

McCaskill Scandal. How about the scandal involving Sen. Claire McCaskill's husband, who's been accused of using a federal program intended to help the poor to enrich himself in the 10 years since McCaskill joined the Senate? McCaskill is in a tight race in Missouri against challenger Josh Hawley, in a year when control of the Senate is up for grabs. So, a juicy scandal like this would normally be irresistible to reporters. Except McCaskill is a Democrat. And as the MRC found, this story got zero coverage on the big three networks. Then there's the scandal involving a former staffer for Rep. Sheila Jackson Lee, who was arrested and charged with several felonies, after he disclosed personal information on Republican Senators on the Judiciary Committee during the Kavanaugh hearings. The networks completely ignored this story.

6 Political Scandals The Press Doesn't Want You To Know About. When the mainstream press isn't busy putting out negative — and often false or misleading — stories about President Donald Trump, they're equally busy burying scandals that involve Democrats. The Media Research Center recently documented this flagrant bias by omission.

Media Ignores Big Opening and Critical Acclaim for 'Gosnell' Movie. The new movie about Kermit Gosnell, the notorious Philadelphia late-term abortionist eventually convicted in the deaths of three infants, made it into the Top 10 films at the box office this past weekend — an impressive feat for a crowd-funded film. But you won't hear the mainstream media talking about it. "We were [No. 10] on Friday and Saturday, but slipped back to 12 on Sunday," Phelim McAleer, who co-produced the film with his wife, Ann McElhinney, told The Daily Signal. "We are the No. 1 independent movie of the weekend and [No. 5] per screen average across the U.S." "This has been achieved despite the mainstream media virtually refusing to review the film, despite it opening nationally," McAleer added.

Six Democratic Scandals That The Elite News Media Suffocated With A Pillow This Cycle. In the Trump era, liberal media bias is worse than ever. So, it shouldn't shock us that the Media Research Center's Newsbusters division probably has carpal tunnel syndrome from jotting down all the insanity that is transpiring across CNN, MSNBC, and the Big Three (CBS, NBC, and ABC). In this media bubble, Trump colluded with the Russians to win an election; he's a tax cheat, a serial sexual abuser, and the most corrupt politician since Henry Clay and the corrupt bargain of 1824. Outside of this glass case of emotion, the economy is growing at four percent. There are more jobs than job seekers, and job openings are at a whopping 7.1 million. Three million jobs have been created, new trade deals with Mexico and Canada are in motion, the Trump tax cuts have formed a solid base for growth, and more than three million working-class families have received bonuses of $1,000 or more. Oh, and consumer and small business confidence have reached 18-year highs. And did I mention that unemployment is at 3.7 percent. Yeah, things are going well, but the Democrat-media complex is hoping that the president fails, of course.

Rand Paul Reveals Media Hid Key Detail About GOP Baseball Attacker. Kentucky Republican Senator Rand Paul revealed on Wednesday [10/10/2018] that the media largely ignored a key detail from the attempted mass murder of Republican lawmakers last year at a baseball field in Virginia. Appearing on Fox News' "FOX & Friends," Paul condemned the violent rhetoric of the political Left and the Democratic Party and warned that someone is going to end up getting killed if the inflammatory rhetoric doesn't stop. "I was there at the ball field when Steven Scalise almost died from a very, very angry violent man who was incited really by rhetoric on the left," Paul said.

Rand Wonders Why Media Had Little Interest in This Detail About GOP Baseball Practice Shooting. On Wednesday morning, Sen. Rand Paul (R-KY) shared a shocking new detail about last year's attack at the Republican congressional baseball practice. When the shooter, James Hodgkinson, began firing on the lawmakers, he reportedly shouted, "This is for health care!" Some wondered why the media had not included this detail in their reporting at the time. [...] Unfortunately, a year after that horrific shooting, some leading officials are inciting violence against their political opponents. Rep. Maxine Waters (D-CA) told supporters to "harass" Trump administration officials in public. Some seemingly listened and proceeded to bully White House Press Secretary Sarah Huckabee Sanders out of restaurants. Former presidential candidate Hillary Clinton told CNN that people should be uncivil to Republicans because they deserve it. Then, just this Wednesday, former Attorney General Eric Holder told a crowd to "kick" Republicans.

Study: Economic Boom Largely Ignored as TV's Trump Coverage Hits 92% Negative. In four weeks, Americans go to the polls for the midterm elections that the news media are casting as a referendum on the Trump presidency. Over the summer, the broadcast networks have continued to pound Donald Trump and his team with the most hostile coverage of a President in TV news history — 92 percent negative, vs. just eight percent positive. For this report, MRC analysts reviewed all 1,007 evening news stories (1,960 minutes of airtime) about the Trump administration on ABC, CBS and NBC from June 1 to September 30, tallying the coverage of each topic and all evaluative comments made by anchors, reporters and non-partisan sources (such as voters or experts).

Pay No Attention To That 'Unexpected' Good Economic News Over There. The past week saw more signs that the growing economy is benefiting middle class households, including another jump in household income. Not that you'd know it from the coverage, which is wall-to-wall Brett Kavanaugh.

The Washington Post Sandbagged The Story That Might Have Cleared Brett Kavanaugh. If you are keeping score, this makes four people — Brett Kavanaugh, Mark Judge, Patrick Smyth, and Leland Keyser — who have denied this incident ever happened under penalty of perjury. The only person who has not made a statement under oath is... Christine Ford. Now the Wall Street Journal's Kimberly Strassel reports that the Washington Post knew of Keyser, they knew of her denial, and they refused to report it.

Media Continues Its Slow Suicide. Americans, in a recent poll, cited inaccuracy and bias as the key reasons why they no longer trust the media. But there is a more sinister agenda behind this collective media cacophony: To hide their complicity in the biggest political scandal of all time, which included the weaponization of the nation's most powerful government agencies to spy on a rival presidential campaign; the illegal leaking of classified information to friendly journalists to defame American citizens associated with the campaign; and the sabotage of an incoming presidency, the media is happy to distract us with manufactured non-scandals that advance the political interests of their friends.

Two Days Later: CNN Has Still Not Done A Story About Farzad Fazeli Who Attempted To Stab Republican Candidate. It has been two days since a man named Farzad Fazeli tried to stab Republican congressional candidate Rudy Peters with a switchblade and CNN has still not covered the story. [...] Do you think CNN would ignore this story if the political roles were reversed? Imagine if a Trump supporter tried to stab a Democrat candidate for Congress. Does anyone believe CNN would ignore that? They would likely turn it into a lead story and run it for days.

CNN Ignores Switchblade Attack On GOP Congressional Candidate. More than 24 hours after authorities announced the arrest of a California man who allegedly tried to stab a Republican congressional candidate, CNN has yet to inform its audience of the story. Farzad Fazeli, 35, allegedly made disparaging remarks about the Republican Party before pulling out a switchblade and attempting to stab Rudy Peters at a festival Sunday, according to the Alameda County Sheriff's Office. Peters is the Republican nominee in California's 15th Congressional District, where he is challenging incumbent Democratic Rep. Eric Swalwell.

New York Times Covered Up Google Tape's Most Newsworthy Details. The New York Times reported on the explosive Google Tape back in March but chose not to informs its readers of virtually all the key details revealed during this company town hall. On Tuesday [9/11/2018], Breitbart News obtained video of an hour-plus long company meeting at Google that took place shortly after the 2016 presidential election. You can watch the full video to judge the context of these individual quotes for yourself — but in my view, what you have here is a smoking gun proving the biggest Internet search engine in the world (by far) intends to abuse its corporate power to affect the outcome of elections, to manipulate searches in a way that will result in political outcomes desired by a multinational corporation and Silicon Valley.

What Francis Knew. In 2016, after the film Spotlight — which portrayed a group of Boston Globe reporters who uncover a sex-abuse scandal covered-up by the Catholic Church — won the Academy Award for best picture, a cultural commentator praised the movie on the Vatican website. The Globe reporters, wrote Luca Pellegrini, "made themselves examples of their most pure vocation, that of finding the facts, verifying sources, and making themselves — for the good of the community and of a city — paladins of the need for justice." Two years later, as a far worse abuse scandal unfolds in the church — a scandal that may involve the pope himself — the Vatican is silent and the paladins of the news media seem eager to ignore the whole thing.

Double Standard: Obama Defended Russia In His South Africa Speech. The varied accusations of treason all hinge on Trump not being sufficiently critical of Russia. Meanwhile Obama had delivered a speech in South Africa which was widely praised for its supposed covert attacks on Trump. But here's a part of the speech that the media chose not to emphasize because it would only reveal the double standard of Russiagate.

Not One Single Liberal Mainstream Media Outlet Carries Papadopoulos Spygate Revelation that Obama DOJ Set Him Up! Former Trump campaign staffer George Papadopoulos was sentenced on Friday [9/7/2018] to 14 days in prison after being set up by the Obama Deep State in the 2016 election. George Papadopoulos went on CNN and ABC this weekend to discuss his role in the Spygate scandal. Papadopoulos told the liberal anchors about how he was set up by Obama spy Stephan Halper in London after he was brought on by the Trump campaign.

Flashback: Obama prosecuted staff leakers, gave lie-detector tests, 'paranoid'. Should President Trump need a model to use to track down leakers inside his administration like the "anonymous" insider who challenged his authority in a New York Times op-ed, he need go no further back than the Obama administration that prosecuted leakers and shutout the media. According to reports at the time from even New York Times journalists, no administration was tougher on leakers and punishing to the media than Obama's, a saga reinforced by reporters who have called Trump's team more forthcoming. Criticism of Obama's attacks on the media and leakers did not just come in tweets and TV appearances by journalists but in an official report from the Committee to Protect Journalists, authored by former Washington Post Executive Editor Leonard Downie Jr.

Explosive Ivy League Study Repressed For Finding Transgender Kids May Be A Social Contagion. "Rapid-onset gender dysphoria" among teens and young adults may be a social contagion linked with having friends who identify as LGBT, an identity politics peer culture, and an increase in internet use, finds a study out this month from a Brown University professor. The study was quickly yanked from Brown's news releases after a transgender activist feeding frenzy, and the journal it was published in is reconsidering the publication. There is a parent and researcher-driven petition to stand behind the publication of the first study to look in detail at rapid-onset gender dysphoria.

WaPo Buries Bush/Obama Connection To Pin State Department Policy On Trump Administration. The Washington Post published an article about the U.S. government choosing not to renew the passports of people born near the border, as they are skeptical that those people were actually born in the country. It's not until the ninth paragraph that the article begins to address that the policy began under the Bush administration and continued under Obama. The article was titled, "U.S. is denying passports to Americans along the border, throwing their citizenship into question" and was written by Kevin Sieff. The article addressed the problems faced by "a growing number of people whose official birth records show they were born in the United States but who are now being denied passports."

Household Income Jumps To All-Time Highs Under Trump: Why Isn't This Big News? Median household income is up more than 4%, the economy is growing fast, optimism is at decades long highs. Not that you'd know it, since the press is too busy trying to drive President Trump from office.

O'Rourke Media Profiles Didn't Report on Serious Details of 1998 DWI Arrest. In more than a dozen media profiles of Rep. Beto O'Rourke (D., Texas) and his Texas Senate candidacy written over the past two years and reviewed by the Washington Free Beacon, no publications delved into the serious details about his 1998 arrest for driving while intoxicated. Those details now include he caused a crash and he attempted to flee the scene, according to a witness who spoke to police.

New Mexico Compound Story Buried by Opposition Media. What do you think would happen if a compound was found in rural Kansas where children were being held against their will? Particularly if at least one of the children had died mysteriously and been buried secretly. And the surviving children were undergoing military-style training designed to help them carry out killing sprees in nearby Kansas government schools. Finally, the compound was founded and run by the homosexual-hating Westboro Baptist Church. Can you say Opposition Media jihad against Christians? First network news reader anchors would be on-site "investigating." Childcare experts would be interviewed to explain to the audience at home the harm of "forcing religion down children's throats." Other experts would talk about exposing vulnerable children to firearms. Neighbors would be button-holed and asked about the compound and its inhabitants.

The Silence Over A Potential Chinese Spy In Feinstein's Office Is Deafening. With concerns over attempts by foreign adversaries to influence the American political system at a fever pitch — notwithstanding that in the case of the president, the commentariat's charges of certain treasonous Russian collusion have grudgingly been downgraded in slightly more sane quarters to dubious alleged campaign finance infractions — that the story of a Chinese spy in Democratic Sen. Dianne Feinstein's office has seemingly died is simply stunning. From the start, this was a story the media had no interest in covering. Now it is apparent that our political class has no interest in probing it.

A Perfect Storm Threatens America's Survival. Fake news on TV and in newspapers starts with outright lies and slander against conservatives and the president of the United States. One survey found that 90% of news coverage is slanted against the president. Even more insidious is censorship by omission. Important stories on sites like American Thinker, Frontpage Mag, Breitbart, LifeZette, the Geller Report, and Drudge will rarely or never be found in the so-called mainstream media.

Who Watches the Media Watchdogs? Who was it that told America Al Gore won the 2000 election? Who told us the Fort Hood shooter wasn't an Islamist terrorist? Who told us a meek and mild Michael Brown was shot with his hands up, begging to surrender? Who told us CAIR, the Muslim Brotherhood front in the U.S., is a "civil rights organization"? Who is still telling us that after 9-11, there was a violent "backlash" against Muslims in America? Who told us climate change is settled science? Who ducked the story about abortionist Kermit Gosnell's Philadelphia slaughterhouse? Who told us all the troubles in the Middle East are caused by Israel? Who told us that Robert Mueller's list of indictments proves Trump colluded with Russia? Who told us it was Trump who initiated the "policy" of family separation at the southern border? Who ran a fake magazine cover to show Trump looming over a crying Honduran toddler?

Flashback: LA Times Refuses to Release Video of Obama Praising Radical Former PLO Operative Rashid Khalidi. The Mueller Special Counsel and New York District Attorney's Office seek to destroy President Trump for paying out $130,000 in hush money to two former paramours. The New York District Attorney's office has picked up the case because New York state crimes can not be pardoned by a president. It should be noted that Barack Obama's close associates allegedly bribed Jeremiah Wright with $150,000 to go away before the 2016 election. And the liberal media did all it could to protect Barack Obama throughout his presidency.

More about the Khalidi tape.

Dear CNN: This Previously Deported 'Dreamer' Brutally Slaughtered a Minnesota Woman — Is That 'News?'. Here's another story that you won't see on CNN. It doesn't fit the sweet, innocent border-crosser just looking for a better life. Enedelia Perez Garcia, 27, was stabbed to death on August 12 in Shakopee, Minnesota. An illegal immigrant, Fraider Diaz-Carbajal, 35, has been charged with second-degree murder (not premeditated) in relation to her death. And guess what? He had a lengthy criminal record.

New York Times Deletes Immigration Status Of Mollie Tibbetts's Killer From Headline. The New York Times opted to delete the immigration status of the man suspected of killing Iowa college student Mollie Tibbetts in an update to a headline about the incident Wednesday [8/22/2018]. According to the Twitter account Editing TheGrayLady, The Times made a number of changes to the headline of its story on Tibbetts's murder before finally falling on "Immigrant Is Charged In Mollie Tibbetts Murder in Iowa, and Trump Seizes on Case."

The Most Underreported Stories Of The Week. If you've been paying attention to the news lately, you would think the only things people care about are Omarosa's new book filled with unsubstantiated claims about the president and former CIA director John Brennan losing his security clearance. But there are other noteworthy things going on in the country, including the alleged Muslim extremist Compound found in New Mexico, Governor Cuomo saying "America was never that great," Antifa violence and Keith Ellison's #MeToo moment.

Huffpo Reporter Urges Media Not to Cover Antifa Violence. Vox published an article about the planned Unite the Right rallies this past weekend that indicted antifa for engaging in violence while claiming to be against fascism. "This weekend in Charlottesville and DC, though, it wasn't neo-Nazis and white supremacists the antifa attacked," the author explained. "It was police who were there to help keep the peace among all the demonstrators and journalists who were there to cover the events."

Media Conspiracy Theories About Devin Nunes Are Getting Out Of Control. It is worth noting that Nunes' and others' work doing real congressional oversight has deeply embarassed the media. Without congressional oversight, the country would not know:
• That Clinton and the DNC secretly funded Fusion GPS's dossier.
• That Trump affiliates were wiretapped during the campaign.
• That a $50 million public relations operation is ongoing to feed Russia stories to the media and government even now.
• That the FBI is working with this group running the PR operation.
• That Bruce Ohr's wife worked for Fusion GPS.
• That top officials were leaking to CNN.
• That the unverified dossier was used to justify FISA warrant applications.
• That no official intelligence was used in Peter Strzok's electronic communication launching the investigation.
And much, much more.

DOJ & FBI Land a 757 Jet in Clinton's Hometown Little Rock, Arkansas; Load It With Boxes & Documents. This is very interesting. A stealth DOJ flight into Little Rock and then back to Virginia — or would have been stealth if it were up to the mainstream media. [...] Apparently loaded with evidence.

Antifa Attacks Journalists; Journalists Then Shamed for Reporting On It. What a mess the radical left has made of reality this week, particularly when it comes to Antifa and their quest to literally kill the President. Antifa, or the "anti-fascist" wing of the militant, radical left has long been attempting to convince us that they are freedom fighters of some sort, even though they themselves are openly advocating against the First Amendment, and promoting the same sort of authoritarian culture control that allowed Adolf Hitler to rise to power in the 1930's. Now, they have even somehow convinced the mainstream media that reporting truthfully on their actions is somehow wrong, even when those actions were vile, reprehensible, and downright fascist in their own regard.

The Sound of (Media) Silence, Minnesota Edition. Keith Ellison's alleged domestic abuse of a former girlfriend is not his leading disqualification to serve as Minnesota Attorney General. I think his leading disqualifications for the office are his past involvement with the hate cult known as the Nation of Islam (and his continued lying about same) along with his support for cop killers. Yet we have heard not a word from the Minnesota media about Ellison's public record in either case as he seeks the position of Minnesota's top law enforcement officer, while the domestic abuse allegations have been accorded a banner headline — ""Keith Ellison denies abuse allegations," as it reads in the hard copy — at the top of page one of the Star Tribune today [8/13/2018].

NBC News Ignores Antifa Attack On Their Own News Crew In Charlottesville. NBC News has ignored the story of their own reporter and news crew being attacked in the streets of Charlottesville by Antifa marchers on Saturday [8/11/2018].

Levin: The Obama admin interfered in TWO elections, and crickets. Thursday [8/9/2018] on his nationally syndicated radio program, LevinTV host Mark Levin pointed out the hypocrisy of the Democrats' hysteria over foreign interference in American elections. Levin reminded listeners that the State Department under the Obama administration used taxpayer dollars to build a campaign to oust Prime Minister Benjamin Netanyahu in the Israeli parliamentary election.

Left Working Furiously To Bury Feinstein Spy Story. The revelation that California Senator Dianne Feinstein's office manager was a Chinese spy has generated a huge backlash, but not against the liberal Senator. Instead of prompting a deeper media or government probe of the former Chairman of the Senate Select Committee on Intelligence the experience of our friend Ben Weingarten suggests that there is a concerted DiFi Spyeffort to stifle the story and marginalize anyone who digs into it.

Why Is the Mainstream Media Ignoring the New Mexico Compound/Islam Story? News broke this week that a deranged man, Siraj Wahhaj, was arrested for training a group of starving children at a filthy New Mexico compound how to carry out school shootings. Still, despite the newsworthy aspects of the story, including a Muslim ringleader, children, and the potential for deadly school shootings, mainstream news outlets have covered it only briefly, if at all. The story, which involved minors, has a particularly ideological angle that outlets seem uncomfortable lingering over for too long. Not only were Siraj Wahhaj and his adult companions "heavily armed," but CBS reported, "Taos County Sheriff Jerry Hogrefe previously said adults at the compound were 'considered extremist of the Muslim belief.' He did not elaborate, saying it was part of the investigation."

Father of New Mexico Islamist Compound Leader Is Linda Sarsour's 'Mentor'. Siraj Ibn Wahhaj Jr., 40, of Clayton County, Georgia, was arrested along with his two sisters and two other adults last Friday in New Mexico on charges of felony child abuse for holding 11 starving children in an underground trailer hidden from view in a compound described as "overflowing" with weapons and ammunition. But there is more to this story that is not appearing in the nightly news accounts we've all been following. Nobody is talking about Wahhaj's well-connected father, Siraj Wahhaj Sr., a radical Brooklyn imam who is the spiritual adviser to Democratic Socialist and Bernie Sanders supporter Linda Sarsour.

ABC/CBS Refuse to Report Links to Muslim Extremism at New Mexico Compound. The disturbing reports about the mysterious New Mexico compound were 11 starving children and one little boy's body were found grew even darker on Wednesday, after court documents were released alleging that the kids were being trained to carry out school shootings. Despite those revelations, ABC's World News Tonight and the CBS Evening News still refused to report the connection to Muslim extremism by the five adults there. The alleged training appeared to be the final straw for NBC because, up until that point, they were in lockstep with the rest of their liberal colleagues and omitted the extremism connection from their reports. ABC seemed to be tired of reporting on the disturbing compound because they only gave it a news brief lasting only 15 seconds.

Media Omits New Mexico Compound Leader's Muslim Ties. Media outlets are leaving out a key detail about the New Mexico compound leaders who were reportedly training young children to commit school shootings. Eleven children were recently rescued from the "filthy" compound, which police say appears to be run by Siraj Wahhaj and Lucas Morten. Wahhaj, the son of a prominent imam, was accused in court documents released Wednesday of training the children on the compound to commit school shootings.

Democrats have their own foreign espionage problem. Imagine if it emerged that the Republican chairman of the House or Senate intelligence committee had a Russian spy working on their senate staff. Think it would cause a political firestorm? Well, this week we learned that Sen. Dianne Feinstein, D-Calif., had a Chinese spy on her staff who worked for her for 20 years, who was listed as an "office director" on payroll records and served as her driver when she was in San Francisco, all while reporting to China's Ministry of State Security through China's San Francisco Consulate. The reaction of the mainstream media? Barely a peep.

Sen. Dianne Feinstein's Ties To China Go Way Deeper Than An Alleged Office Spy. As media, intelligence agency, and political scrutiny of foreign meddling is seemingly at its apex, a story with big national security implications involving a high-ranking senator with access to America's most sensitive intelligence information has been hiding in plain sight. The story involves China and the senior U.S. senator from California, and former chair of the Senate Select Committee on Intelligence, Democrat Dianne Feinstein. It was buried eight paragraphs into a recent Politico exposé on foreign efforts to infiltrate Silicon Valley, as a passing example of political espionage.

Outrageous: Media shrug off Feinstein spy scandal story. Imagine for a minute if Representative Devin Nunes or Trey Gowdy or Matt Gaetz had employed a Russian spy for two decades. Imagine further that this Republican solon were married to a spouse who had made a fortune investing in Russia. Do you think such news would receive less than wall-to-wall coverage on CNN, MSNBC, or any of the other television news operations? Yet, with very little media attention, the story has emerged that Senator Dianne Feinstein — of the Senate Select Committee on Intelligence, with access to the highest-level secrets — employed for two decades a spy who reported to China's Ministry of State Security (MSS). When the news was first made public, buried paragraphs deep into a Politico story, hardly anyone noticed. [...] If Lowe is the spy, then a scandal was completely covered up for five years. Let's see: who was in charge of the FBI then, allowing a Democrat senator to fire a spy who had spied for twenty years? That's right: James Comey. The rot is far deeper than we suspected.

Feinstein's Chinese Spy Identified — 'Russell Lowe' — Was Office Manager Not just a Driver — Feinstein Aide for 20 Years! The Chinese spy who worked for Senator Dianne Feinstein was identified on Monday night [8/6/2018]. The Daily Caller reported the name of the spy tonight: Russell Lowe. Russell Lowe was Senator Feinsein's office manager. Lowe is a Chinese-American who spent 20 years as the aide to Dianne Feinstein. Lowe worked for Feinstein while she was chair of the US Senate Intelligence Committee.

Far Left Mobs Riot In 3 Major US Cities — NOT ONE Mainstream Outlet Reports on the Widespread Leftist Violence. Far left violent Antifa mobs rioted in three Major US cities this past weekend. Antifa mobs attacked police and conservatives in Portland, Providence and Berkeley. Antifa cracked skulls and beat protesters and attacked grandmothers in Portland, Oregon on Saturday [8/4/2018]. Far left Antifa thugs destroyed property, beat conservatives and abused police in Providence, Rhode Island on Saturday. And on Sunday far left Antifa mobs rioted and vandalized a Marine recruiting office in Berkeley, California. NOT ONE national mainstream media outlet carried reports on left-wing violence in three major US cities this weekend.

Media Blackout: 13-Year-Old Girl was Decapitated by a Pair of Illegal Aliens in Alabama. A preliminary hearing Thursday [7/12/2018] gave more information into a grisly double homicide in Madison County. Mariah Lopez, a 13-year-old, was decapitated and her grandmother, Oralia Mendoza, was also killed. Investigators now believe the case has connections to a drug cartel. 26 year-old Yoni Martinez Aguilar, one of the capital murder suspects, appeared before a judge on Thursday.

Freeing People from Left-Wing Lies. Because real people don't tell big lies, they assume that others won't, either. Hence, when Hitler, or the WaPo, repeats big lies over and over, people tend to end up believing them so long as they don't hear any contradictory voices. That's why so many Americans think abortion is legal only in the first trimester or for the hard cases when in fact it's legal for any reason at any time during a pregnancy. That's why so many Americans think Trump somehow colluded with Russia even though there is not a shred of evidence to indicate that. That's why so few Americans know that Carter Page, the supposed Russian spy targeted by the FISA warrant, helped the FBI sting to capture Russian spies in 2013. Clearly, the media have to work hard to hide that from the bubble people they're trying to fool. That's why few Democratic voters know that the NYT has armed guards to protect its newsroom even as it says making it harder for average citizens to have guns is a good thing.

We Now Have a Direct Line From Russia To... The Media. We're fretting about Facebook ads hoping to influence the election... yet this is a direct line from Russia to the mainstream media. Look at all the trouble Russia went through to set up, staff, develop, finance, hide, spoof, and disguise their "Troll Farm" operation — all in the hopes of turning some Facebook heads amidst a million other ads and issues. But with Steele and Fusion GPS, all it takes is a word to a Steele "source" and a week or so later it's being directly disseminated to the most influential segment of US society: the national press. [...] It's unimaginable, but it happened. The FBI allowed uncorroborated, foreign-sourced derogatory info on a presidential candidate, paid for by his opponent, to be used as credible evidence in a FISA hearing in order to gain access to the communications of a former campaign member.

Trump Gives $400,000 to Repair Military Cemeteries — Liberal Media Ignores the Story. President Trump has donated his salary each quarter to different federal agencies. President Donald Trump donated his first-quarter 2018 salary to the Department of Veterans Affairs. Of course, the media has mostly ignored this generous move by the US president.

McCain Flunky Who Weaponized the IRS Now Controls All Internal DoJ/FBI Probes. As corruption continues at the DoJ/FBI, it is important to know the name of an operative who is working behind the scenes in a powerful position. That person is Henry Kerner. Former McCain staffer, Henry Kerner, a deep state bureaucrat, has oversight over whistleblowers and internal probes. This is no ordinary staffer. This man hates conservatives. Senator John McCain's Staff Director Henry Kerner urged the IRS' Steve Miller and Lois Lerner to target the tea party and any conservative groups until its "financially ruinous". Henry Kerner is now in charge of all internal investigations in the government. In his past positions, he was in investigative control during Obama's scandals.

The Crimes Committed By Illegals This Month You Probably Didn't Hear About. The liberal media has been too busy breathlessly reporting on the Trump administration's "Zero Tolerance" policy to give attention to the heinous crimes committed by people who shouldn't be in this country in the first place. Now of course these crimes go ignored or underreported because they don't fit the liberal agenda, and they also make the case for actually enforcing our immigration laws and building Trump's wall.

The Top 50 Liberal Media Bias Examples. Probably the single worst example of liberal media bias is the media's steadfast refusal to accurately report the monstrous evils of the Soviet Union — even still to this day. It didn't matter how many millions of Soviet citizens that Joseph Stalin and his successors murdered, it didn't matter how evil the Soviet Union was, the liberal media was not going to report about it. The media even awarded itself a Pulitzer Prize through the lies of one Walter Duranty a New York Times columnist that was a shill for the murderous Soviet Union.

Barack Obama Says He's 'First American President From Kenya' In Foreign Speech. Former President Barack H. Obama had a slip of the tongue during a speech in Kogelo, Kenya today [7/21/2018]. "Now, three years ago, I visited Kenya as the first sitting American President to come from Kenya," he said. There was a pause and some awkward laughter from the crowd after he made his remark at the 5:49 mark of the 15-minute speech.

Nets Turn a Blind Eye to San Francisco Allowing Illegals to Vote. Which would you say was more important, The Brady Bunch house going up for sale in Los Angeles or San Francisco giving illegal aliens the right to vote? Well, for ABC's World News Tonight and NBC Nightly News, it was the former. On Thursday [7/19/2018], San Francisco began a campaign to register illegal immigrants so they could vote in school board elections. Instead of reporting on that controversial liberal policy, ABC and NBC chose to focus on frivolous topics like the Brady Bunch house. ABC also fawned over Billy Joel and Bruce Springsteen playing together at Madison Square Garden, while NBC touted Baltimore banning sugary drinks from kid's menus and parents fighting at Little League games.

The Media's Self-Inflicted Gunshot Wounds. In 2002, Freddie [Cheaves] decided to strike a blow for black people against their one true enemy — the L.A. Times! Now, the Times has a mile-wide bias in favor of black activists and their causes. This is a newspaper that had no problem putting the lives of every woman in the city at risk by sitting on a story about an at-large black rapist-murderer. This is a paper that hid the description of an at-large black serial everyone's lives at risk — all so as not to spread "negative images" of black men. So what was Freddie's beef? We may never know. [...] It turned out that Freddie had no bomb. He gave himself up and was arrested, tried, and sent to state prison. You'd think that if there's one crime the L.A. Times would report on thoroughly, it would be a crime committed on L.A. Times property. Literally, a crime that happened in their own [...] building. But no. The Times purposely sat on any mention of Cheaves' accusations against the paper. I say "purposely" because when the story first went online the day of the incident, reporter Anthony McCartney dutifully mentioned those details. But within hours, "Not Me" from Family Circus had magically erased any mention of the "L.A. Times kill our black kids" rant. I emailed McCartney that morning, and he was [angry] at the redaction. The poor [fellow] obviously didn't realize the character of the people he worked for. In all of the Times' subsequent coverage of Cheaves' arrest, trial, and conviction, the paper never once mentioned the substance of Cheaves' complaint.

Did The FBI Ignore Evidence That A 'Foreign Entity' Hacked Clinton's Emails? Last week we learned that a "foreign entity" may have been secretly receiving Hillary Clinton's emails while she was Secretary of State, including many that contained classified information. And that the FBI apparently ignored this information during its "investigation." The reaction by the press to this bombshell? Crickets. [...] If what Gohmert is saying is true, and he repeatedly claims to have the evidence, the disinterest shown by the FBI at this revelation is simply astounding.

Obama's Meddling in Foreign Elections: Six Examples. While the media obsess over an alleged Russian conspiracy to collude with Donald Trump to affect America's 2016 presidential election, what about Obama's interference in the elections of other countries? Most Americans have no idea that President Obama meddled in elections all over the world. And apparently, the media decided there's no reason for Americans to know about this illegal activity. [...] The media is hysterical about a flimsy conspiracy theory that Russia colluded with Trump to steal the 2016 election but was mostly silent about Obama's efforts to control the outcome of elections in at least six countries during his tenure.

Media Silent As US Agrees To 'Full Implementation' of United Nations Gun Control Pact. While the United States is typically set apart from other countries when it comes to gun laws, a recent conference with the United Nations has raised major red flags, as the U.S. agreed to enact "full implementation" of an international agreement on gun control that will violate Americans' constitutional rights by adding their personal information to a global database. The Third Review Conference (RevCon) of the United Nations' Program of Action (PoA) on Small Arms and Light Weapons was held in New York last week with a 2018 agreement, which states that its purpose is to serve as "a renewed commitment to prevent, combat and eradicate the illicit trade in small arms and light weapons in all its aspects."

Illegal Entrants and Separating Family Members. Ignored by most of the mass media and Trump haters are several relevant facts germane to this discussion. First, during the Barack Obama and George W. Bush administrations, border guards serving our nation regularly arrested adults seeking illegal entry. And, when those adults had children with them, the adults were separated from the youngsters while the lawbreakers were being held. Then, adults and children were reunited. Was there any uproar about this from left-leaning politicians and media during the previous administration? Hardly a peep!

An Inconvenient Truth: Greenhouse Gas Emissions Are Falling Under Trump. Environmental data for 2017 are pouring in, and the results might not be what you'd expect. In the United States, where President Trump has promised to unshackle the coal industry and to abandon an international climate change treaty, greenhouse-gas emissions fell last year and are expected to continue falling. In Europe, where political leaders consider climate change an urgent priority, emissions rose last year.

The Editor says...
The volcanos and termites and cows don't care who the politicians are. They will keep producing carbon dioxide day after day, no matter what laws are enacted.

Media Ignore Dem Staffer Found Guilty of Bank Fraud. A Democratic aide is arrested while attempting to flee the country, ultimately pled guilty to felony charges, and an investigation found that he violated numerous standards of conduct imposed on House employees. Sound like a news story? In the two days since former Democratic House IT aide Imran Awan pleaded guilty to bank fraud, no broadcast news outlet has bothered to report on the story. This lack of coverage reflects the media's historic disinterest in case.

More about Imran Awan.

Democrats are in a crisis and the media won't talk about it. The Democratic Party is in an ongoing crisis, but most of the national media aren't interested. They'd rather talk about the new "rock star," Democratic Socialist Alexandria Ocasio-Coretz, and ignore that the party is up in flames. Both Republican and Democratic voters are turning out in record numbers for their primary elections this year, according to analysis published this week by the Hill. Democrats have a slight advantage by about a million votes, but that's only in primaries.

Media Blackout: Miami Serial Killer Turns Out to Be an Illegal Alien. A Honduran national in the United States illegally has been charged with killing two women in Miami over the past three months and dumping their bodies on the street, police announced Monday [6/18/2018]. Juan Carlos Hernandez-Caseres, 37, was arrested Saturday morning [6/23/2018] for the murders of Ann Farrin, 41, and Neidy Roche, 39. Both women, police said, were prostitutes.

Report Alleges Obama Admin. Forced Psychotropic Drugs On Illegal Alien Kids To Calm Them Down. Several days ago, LU's Ben Bowles uncovered a newly released report published by the ACLU claiming that "migrant children long have reported varied mistreatment in CBP custody, including sexual, physical, and verbal abuse, and the deprivation of basic needs such as food, water, and emergency medical care." As Bowles noted in his last sentence, the abuses occurred between 2009 and 2014 — the Obama years — which explains why the mainstream media have still not touched the story.

Obama Separated 72,410 Children from Their Illegal Immigrant Parents in 2013. You haven't seen this anywhere in the liberal news this week.

[#7] Obama and Democrats Incentivized This 'Family Separation.' [#9] The ONLY Way to Unite Families Is to Release Them into America. Obviously, we cannot have children living in adult detention centers. Obviously, we cannot have adults living in child detention centers. Therefore, the only way to "reunite" these families is to release these illegals into our country. The media will not tell you this because the media do not want you to know that flooding America with non-citizens is their true agenda. The rich and powerful love to exploit and abuse these individuals, as they can leverage their immigration status for illegally low wages, and politicians are salivating at the chance to bestow voting rights on them — and thus entrench their power.

Anyone Notice That Trump Is Now Tied With 'Popular' Obama On Job Approval? President Trump can't get a break from negative press coverage, but somehow his approval rating continues to edge upward. In fact, it's now tied with where the "extremely popular" President Obama was at this point in his first term.

Here Are The Photos Of Obama's Illegal Immigrant Detention Facilities The Media Won't Show You. The media and political class become more and more outraged over the Trump administration's decision to detain and prosecute immigrants illegally crossing the border. Lost in the debate is any acknowledgment that President Obama's administration also used detention facilities. Current U.S. immigration laws, when enforced, have the consequence of temporarily separating adults who arrive with children into separate detention facilities in order to prosecute the adults. The policy of prosecuting immigrants for crossing the border illegally has been in place for multiple administrations. The Obama administration prosecuted half a million illegal immigrants and similarly separated families in the process. So did the Bush administration.

15 Photos of Obama's Illegal Alien Child Detainees That Legacy Media Won't Show You. Democrats aren't just manufacturing photos of fake news. They're now resorting to using photos of Obama-era immigration policies — including separating children from adults — and claiming they're President Trump's.

Here Are Horrifying Photos Of Obama's Illegal Alien Facilities The Media Refuses To Show You. The media and political class become more and more outraged over the Trump administration's decision to detain and prosecute immigrants illegally crossing the border. Lost in the debate is any acknowledgment that President Obama's administration also used detention facilities. Current U.S. immigration laws, when enforced, have the consequence of temporarily separating adults who arrive with children into separate detention facilities in order to prosecute the adults.

Democratic Lawmaker: Obama Admin Kept Child Migrant Crisis 'Very Quiet'. Rep. Henry Cuellar (D-TX) claimed in an interview Saturday that the Obama administration tried to cover up the number of unaccompanied minors crossing the United States' southern border. "It was kept very quiet under the Obama Administration. There were large numbers of people coming in. The Obama administration was trying to keep this quiet," the Texas Democrat told CNN's Fredricka Whitfield on Saturday [6/16/2018].

Mueller's Bumbling and Hysterical Special Counsel Team Is Getting Pummeled in Court — Media Is Ignoring All of This. The attorneys representing Concord Management, one of the Russian Companies that the corrupt Mueller team accused of impacting the 2016 Presidential election, crushed the "Unlawfully Appointed Special Counsel" in court last week again. They continue to make a laughing stock out of the Mueller team of misfit and conflicted attorneys. Mueller's team of ignorant and misguided attorneys really have no chance. They never expected anyone to take them to court on their fake Russian indictments and are certainly no match for the attorneys representing Concord Management.

Why Do They Hate Us? It's bad enough to "censor" one's opponent, as the fake news does every minute with lies and omissions and outrageous claims. The media were hoping Trump would fail at the Singapore summit. Now that he has succeeded, that success is not being reported. [...] By every objective measure, the U.S. is becoming freer and more prosperous, and liberals hate it. They are rooting for a recession in advance of the 2020 presidential election, even if ordinary Americans are harmed.

CNN, MSNBC Bury FBI Agents Getting Freebies From Reporters. CNN and MSNBC buried the inspector general report's revelation that a number of FBI agents were receiving unauthorized free handouts, such as dinners and tickets, from reporters. Justice Department Inspector General Michael Horowitz noted in his report on the Clinton investigation, which was released Thursday, that his department found numerous instances in which FBI agents were improperly in contact with reporters and were receiving a number of free perks from their relationships.

News articles that conspicuously omit the race of the perpetrator. For additional review at your convenience.

Restatement on Fozia Ali. [Scroll down] Fozia Ali served as the centerpiece of [Jeff] Baillon's story. She stole $1.5 million from the Child Care Assistance Program over an 18-month period. The media can't quibble with the facts of the Fozia Ali case. Her guilty plea in federal court earlier this year told its own story, although the media somehow overlooked it. Reviewing the facts of Ali's case I called and wrote the Minnesota Department of Human Services to ask one question: "CCAP seems to be a program that is relatively easy to defraud. How else to account for a case like Fozia Ali's and the multiplicity of similar cases?" DHS responded: "Any amount of fraud is too much. DHS created the Office of the Inspector General in 2011 to address fraud, waste and abuse in public programs. DHS has added resources and made recommendations to the Legislature to increase our ability to ensure public funds are used for those who need them." DHS also instructed me not to attribute this nonresponse response to the person who provided it.

As Snopes 'Debunks' Child Trafficking Camp, 160 Kids as Young as 3 Rescued in Georgia. A massive sting operation carried out by the FBI in metro Atlanta captured dozens of child traffickers and rescued 160 children who had been forced into sex slavery by their captors. This news comes as Snopes and the other ostensible arbiters of truth distort information claiming that similar trafficking is taking place in Arizona. Illustrating the massive scope of the sting, called Operation Safe Summer, it was a collaborative effort between the FBI and 38 other law enforcement agencies from six metro counties.

Ignoring the Samantha Power bombshell. Of all the political stories from 2017, surely the most curious is this: why is everyone ignoring the bombshell revelations from Samantha Power? As you recall, Power was caught using her security clearance as a U.N. ambassador to review private conversations by U.S. citizens. According to official records, she requested the unmasking of these private citizens over 260 times in 2016 (this was an election year). She was brought before the House Intelligence Committee to explain her actions. Her defense? It wasn't me. Someone else in the Obama White House did this, using her security clearance. There are two possibilities: that she is telling the truth, in which case someone else in the Obama administration is lying. Or she is lying herself.

The Clintons will always have defenders in the media. As long as there are journalists in the U.S., there will be apologists for Bill Clinton. With the exception of the Obamas and the Kennedys, few in public life have enjoyed as much protection and support from the U.S. press as America's 42nd president. Yes, the Clintons have endured unflattering coverage, but usually only when it's unavoidable. It takes an FBI investigation or articles of impeachment to attract national media scrutiny. And even then, many in the American press are perfectly content to dismiss, downplay, or explain away whatever legitimately awful or terrible thing the Clintons are caught saying or doing.

Indicted Muslim Congressional IT aide had two wives, kept one "like a slave". The establishment media has steadfastly ignored this story, but it just keeps getting bigger. Imran Awan and his family had access to all the emails and files of twenty percent of the Democrats in the House of Representatives. His treatment of that data is highly suspicious. And from the looks of this story and others, he is a doctrinaire Muslim with ties to Pakistan. If Republicans and conservatives had been enabling and protecting Awan, this story would have been front-page international news for months. As it is, we are likely never to discover the full extent of what happened.

Senate Intelligence Committee under pending DOJ investigation over leaks. Brian Tau of the Wall Street Journal yesterday [6/6/2018] scooped the mainstream media, which prefers to ignore what he has uncovered about a potentially huge story: that the Department Justice is in the early stages of an investigation into illegal leaks from the Senate Intelligence Committee. [...] So far as Google is telling us, no other major news source has picked up the story.

Nothing to See Here, Just a Child-Trafficking Camp on Land Owned by a Clinton Foundation Donor. A group of veterans has made a disturbing discovery in the remote desert of Arizona, near our still wall-less southern border, that has shaken its members to the core. If you watch any videos posted by Veterans on Patrol, you will notice that they look shell-shocked, as if they just finished clearing a neighborhood in Fallujah circa 2003. Their emotions are very raw, and the situation is only compounded by the noncommittal, uncaring shrugs they've received from law enforcement after reporting their findings to them. A word of caution: This story is not for the weak of heart.

What Happened to Jill Stein's Recount Millions? Shortly after the 2016 election, Jill Stein raised more than $7 million from shell-shocked liberals eager to pursue a swing-state recount. Two years later, the U.S. Green Party's last candidate for president is still spending that money. Ongoing litigation, travel costs, and staff salaries are also likely to eat up whatever is left, meaning those who donated to Stein are unlikely to receive a once-promised chance to vote on how the post-recount money would be spent. Nor have donors been given much of a window into how Stein is actually spending their donations.

More about Jill Stein.

[Redacted] Arrested for [Redacted] Outside [Redacted]: Leeds Crown Court Issues Media Ban. The Leeds Crown Court has issued a UK media ban following the arrest of well-known activist and citizen journalist [redacted] outside [redacted]. The reporting restriction, which requires on all publications within the United Kingdom to cease any mention of the details of the arrest or court proceedings of [redacted], was issued Friday afternoon [5/25/2018].

Orwell's Nightmare: Articles About Tommy Robinson's Arrest Rapidly Scrubbed From the Internet. Articles about the arrest and subsequent imprisonment of independent journalist and activist Tommy Robinson are being rapidly scrubbed from the internet after the British government put restrictions in place banning any reporting on the matter.

48 Hours Later, Media Still Keeps Dems' Total Collapse in Reuters Poll a Secret. On Monday [5/21/2018], Reuters/Ipsos announced that the Democratic Party's strong lead on the generic ballot question, which had remained stable for most of 2018, had rapidly collapsed over the prior week. The #BlueWave narrative — the media's all-but-concluded assumption that Democrats would retake the House of Representatives from the GOP in November — has largely been based on the state of the generic ballot poll. So you might assume the media tasked with covering the 2018 midterm elections would immediately react to a sudden shift in the most important metric available for predicting the most important outcome of those elections.

Media Goes Ballistic As It Scrambles To Protect Obama From Growing Spygate Scandal. The Obama administration spied on the Trump campaign, infiltrated the campaign, colluded with foreign powers to attack the campaign, then worked to damage a newly elected president and ultimately overthrow an entire administration. Those collective actions are now known as "Spygate" and the Establishment Media is desperate to insulate Mr. Obama from being directly implicated in what is quickly turning into the single greatest political scandal in U.S. history.

Happening Now: FBI Investigating Terror in Your State. The U.S. is currently investigating some 2,000 potential or suspected terrorists.

Press hypocrisy of the day. Obama wiretapped President Donald Trump. The press does not care. Obama planted a spy in President Trump's campaign. The press does not care. But President Trump's Twitter account isn't secure. That's a five alarm fire.

The Media See Only One Collusion Story. Liberals and journalists used to be appalled at the abuses of power by J. Edgar Hoover's FBI and the CIA against Martin Luther King and others. More recently, while many liberals deplored Edward Snowden's leaks revealing how extensive U.S.-government snooping has become, they also agreed that the information he revealed showed the need for reforms. Indeed, former CBS News journalist Sharyl Atkisson has detailed how U.S. intelligence agencies have abused the privacy of Americans. She lists ten examples of such abuses and concludes that, to this day, intelligence and Justice Department officials sometimes "operate not just in direct defiance of their superiors, but of the Congress, the courts and the very laws of the land as well." But those aren't the issues the media are looking to follow.

Stefan Halper is obviously a bigger scandal than the media want to admit. The swiftness with which the media have brushed aside Stefan Halper's role in the Russia investigation should be a sign that he's certainly more important than they're admitting. Halper was identified by the Daily Caller's Chuck Ross last weekend as the professor who worked in some still-unknown capacity to inform the FBI on the Trump campaign in 2016 as part of the agency's probe of Russia's election meddling. Halper met with at least three of then-candidate Donald Trump's campaign advisers, and records show he was paid nearly $300,000 by the Defense Department in September 2016.

Greensboro, NC fire that killed 5 children exposes more concerns with US refugee program. Did you hear the news about the five children from the DR Congo who died in an apartment fire in Greensboro, North Carolina just over a week ago? Probably not because stories showing the unhappy side of refugee resettlement are rarely seen outside the immediate locale.

Clinton Campaign Busted Funneling $150,000 to Company Solely Owned by Hillary. Hillary Clinton's personal company received a $150,000 payment (from 2016 campaign funds). The MSM is all over this one! Oh, wait. No, they're not.

Clinton Campaign Funneled $150,000 To Hillary Clinton's Personal Company. Hillary Clinton's presidential campaign has transferred nearly $150,000 of leftover campaign funds to a company she solely owns in the months following her election defeat, according to filings with the Federal Election Commission (FEC). The Clinton campaign has paid $149,457 to ZFS Holdings LLC, since May 2017 for the purpose of "rent," FEC filings show, but the campaign has left it unclear if it's paying at, above or below fair market value for the office space it's renting. Also, the rent payments to ZFS were sent to the same address as Rorrie Gregorio, Clinton's personal financial manager.

Something Very Important Happened Yesterday That Has The D.C. Establishment Very Concerned. A district court judge ordered the release of the Weiner laptop. This is the same laptop the James Comey FBI buried under mountains of sealed "protection" to keep secret. The laptop that had the entire Obama intelligence apparatus (and the Clinton Machine) in a panic shortly before the 2016 Election. All the major media outlets knew about this development — but said nothing. The reason why is simple. They fear who might be implicated.

Mueller Year One: The Real Heroes in Journalism. The reality is that there are only a handful of reporters bravely bucking the media's status quo and conducting real investigative journalism to expose what, quite possibly, is the biggest political scandal in U.S. history: How top officials in an outgoing administration colluded with a presidential candidate's campaign and a major political party for the purpose of discrediting the rival presidential candidate and then stage a soft coup against him after he won. Out of thousands of reporters in the United States, fewer than a dozen journalists have dared to cover the ways in which the world's most powerful law enforcement and intelligence apparatus leveraged its authority to try and destroy Trump's candidacy, then his presidency.

Breaking stories overshadow terrific jobs report. Last Tuesday [5/8/2018], there was more breaking news than I can remember in a long time — which overshadowed a great jobs report that could provide a brighter future for every American. Lost in the barrage of tawdry news [...] was an absolutely terrific Job Openings and Labor Turnover (JOLT) report from the Bureau of Labor Statistics. The report said there are 6.6 million job openings — the highest number of openings ever recorded — and far more positions than there are Americans on unemployment.

Big news that the MSM downplays and ignores. Iraq, the U.S., and Turkey worked together to capture five ISIS leaders. They did not kill them with drones, which allowed them to get intelligence that allowed them to kill other ISIS members. [...] According to Newsbusters: ["]CBS Evening News was the only member of the big three networks (ABC, CBS, and NBC) to even mention it that evening. The national evening newscasts of Spanish-language Univision and Telemundo also kept quiet about it.["]

Obama May Finally Be Investigated After All These Years! Barack Obama is under investigation and while you may not be hearing about it from the mainstream media, it is indeed the truth. [...] The Barack Obama Foundation is under audit after it was discovered that the foundation's accountant, a small CPA firm in Chicago, has been reprimanded by the Public Company Accounting Oversight Board in Washington, D.C. for having filed an audit considered deficient according to industry accepted accounting standards.

Did you hear about the violent teen flash mob that took over Chicago's fanciest shopping area Saturday? The end result of indoctrination in government schools and mass media that teaches "urban youths" that American society is racist, corrupt, unfair, and unworthy of compliance is the crumbling of civil order. When a substantial group of young males (the segment of society most prone to acting out with violence) think they have no stake in the continuation of existing social and property relations, they are able to impose anarchy in local areas. When enough people think and feel this way, the forces of order — police, and in extremis the National Guard — can be overwhelmed and powerless to stop the disorder. This nightmare scenario is developing step by step. The rise of social media enables the organization of what are now called "flash mobs" that can descend on targets and cause chaos. Sometimes, targets are chosen for the lucrative looting opportunities. That appears to be what happened last Saturday night [5/4/2018] on Chicago's Magnificent Mile, at the very heart of upscale shopping, dining, and residential life, the Water Tower Place, a multistory shopping mall at the base of a 74-story tower.

Report: Documents Show Obama Admin Interfered In Israeli Election. Newly unearthed documents from The American Center for Law and Justice (ACLJ) have shown the Obama administration interfered in the 2015 Israeli elections in an attempt to defeat Prime Minister Benjamin Netanyahu, then misled Congress about it. President Obama's State Department provided hundreds of thousands of dollars in grants to a pair of non-profit groups who, in turn, funneled the money to political groups trying to unseat Netanyahu.

Media indifference to Hillary's money laundering. The media have never shown much interest in Hillary and the DNC laundering over $10 million in campaign funds through a law firm to hide the purpose of creating a fake dossier. Instead, the media are [excited] about a porn star and a $130,000 payment. The $130,000 payment appears to be pure blackmail about an unverified seven-hour rendezvous that occurred in 2006. Why did Stephanie Clifford, who went by the name Stormy Daniels when having sex on camera for money, wait until less than one month before the election to come forward? Do people think that if Stormy Daniels had much information, it would have cost only $130,000? Can the media think of any other porn star who has been treated as pure as the driven snow by the media because of one unsubstantiated claim of a seven-hour rendezvous twelve years ago? I want to know if Stormy claimed the $130,000 as income on her 2016 tax return. If not, she is a felon, but no journalist seems to be interested.

Students Across the Country Walk Out of School in Defense of Gun Rights. Called "Stand for the Second," the demonstration was a response to the March 14 National School Walkout in support of gun control. The idea was hatched by New Mexico high school senior Will Riley. Riley told USA Today: "I'm watching the news, and I see they're saying, 'We have to do something about this. We have to enact some sort of gun control legislation because this is what the kids are asking for.' And I'm thinking, 'I'm not asking for that.' I look at my friends, and I think, 'They're not asking for that.'" Riley says his event was for pro-Second Amendment students "who feel that they're being misrepresented by the media."

Either Hillary Clinton Broke Federal Election Laws or Our Election Laws Are Broken. With so much attention being paid in recent weeks to former FBI Director James Comey, former FBI Deputy Director Andrew McCabe, Donald Trump, Stormy Daniels and others, one of the most interesting cases of a candidate potentially breaking federal law during the 2016 election has largely been forgotten by the press and, it seems, law enforcement officials: In 2016, Hillary Clinton's presidential campaign possibly violated federal election law — or, at the very least, the spirit of it.

Hillary's Money Laundering Scheme. While it obsesses over an aging porn star, Russians, discredited ex-FBI officials, and pimple-faced gun-grabbers, the mainstream media has been ignoring an explosive federal lawsuit unearthing a huge illegal money-laundering conspiracy said to have been masterminded last election cycle by the Democratic National Committee and the Hillary Clinton campaign. It is yet another facet of the plot by which Clinton, possibly in league with then-President Obama, broke the law in an attempt to rig the election. Throughout his agonizingly long presidency, Obama serially abused his powers as the nation's Chief Executive to undermine his political opponents.

Here's One Global Warming Study Nobody Wants You To See. A new study published in a peer-reviewed journal finds that climate models exaggerate the global warming from CO2 emissions by as much as 45%. If these findings hold true, it's huge news. No wonder the mainstream press is ignoring it. In the study, authors Nic Lewis and Judith Curry looked at actual temperature records and compared them with climate change computer models. What they found is that the planet has shown itself to be far less sensitive to increases in CO2 than the climate models say. As a result, they say, the planet will warm less than the models predict, even if we continue pumping CO2 into the atmosphere.

Time to End the Resistance of the Swamp The president and his trusted advisers are either being investigated or threatened with investigation. The best public servants appointed are flooded with death threats, and neither the FBI nor the DOJ does anything about that. Scott Pruitt and Ajit Pai are the first names that come to mind. These threats are backed by actions, such as the mass murder attempt in which Representative Scalise was injured. Violence against lesser known persons standing in the way of the Democratic Party agenda is not reported by the mainstream media.

Leftist Propaganda Thwarts Unity. The Americans who listen to the Washington Post, the New York Times, and all the networks are being systematically lied to. [...] One key aspect of the propaganda machine is that Republicans are always shown in a bad light, and Democratic scandals are minimized. We all remember the MSM trying to make us think Bill Clinton was impeached because of his sex scandals and not because he lied under oath in order to minimize his risk of having to pay a settlement for sexually harassing an Arkansas government employee. Similarly, a Democratic senator was on trial for seven weeks recently for corruption, and the MSM ignored it. When a Republican senator was on trial years ago, there was extensive coverage.

The mainstream media took no notice:
FEC Records Indicate Hillary Campaign Illegally Laundered $84 Million. The press continues to feed the dying Russia collusion conspiracy theory, spending Friday's news cycle regurgitating Democrat talking points from the just-filed Racketeer Influenced and Corrupt Organizations Act lawsuit against the Trump campaign, WikiLeaks, and Russia. Yet the mainstream media took no notice of last week's federal court filing that exposes an $84 million money-laundering conspiracy the Democratic National Committee and the Hillary Clinton campaign executed during the 2016 presidential election in violation of federal campaign-finance law.

The $100 Million Parkland Boondoggle Broward Schools Doesn't Want You to Hear. Kenneth Preston is another side of the Parkland shooting story. The hushed-up school-safety side. [...] All he's done since the Valentine's Day serial shooting of 17 people at Marjory Stoneman Douglas High School is spend more than 100 hours searching through thousands of pages of local government documents that most taxpayers would never dream of reading. He's spoken with dozens of school and law enforcement officials, parents of victims and members of the media. The kind of investigation you would expect only from a well-trained special prosecutor. The story first was reported by DML News but avoided by most mainstream media who chose instead to expend their resources on the Washington anti-guns march. Immediately after the story became public, Broward Schools Superintendent Robert Runcie tweeted out a message calling it "fake news." What Preston alleges is that the Broward school system, superintendent and School Board members in particular, are directly responsible for shooter Nikolas Cruz and the student and teacher deaths not only by their liberal policies, but by holding back money directly intended to address school safety.

ABC News Cuts Comey Criticism of Obama's Actions During Clinton Investigation. In the broadcast of its interview with former FBI Director James Comey, ABC News did not air Comey's strong criticism of President Obama for twice publically stating that Hillary Clinton's private email server did not endanger national security despite an ongoing investigation. In the unaired remarks, Comey went so far as to describe Obama's comments as creating the impression that the Justice Department was biased with regard to Clinton. He charged Obama's remarks "created this drumbeat that the Obama Justice Department, the fix is in because the president has told them what result they should reach."

How Much Did The Media Cover Pro-Life Student Walkout Vs. Gun Control Walkout? Last week, pro-life students across the country walked out of their classrooms in protest of the war on unborn children. But you wouldn't know it because the media stonewalled them, unlike the pro-gun control students who received wall-to-wall glowing coverage during their anti-gun walkouts. According to LifeSiteNews, during the protest last Wednesday, the "three broadcast networks (ABC, CBS, NBC) never once mentioned the pro-life walkout during their news shows on the night of the event." Compare that to the more than 10 minutes that networks devoted to the pro-gun control National School Walkout Day. In total, the networks covered the March for Our Lives 13 times more than the pro-life March for Life.

The Media's War On Freedom Of The Press. In '08, the New York Times published an op-ed by Obama, but rejected McCain's response. It just published an editorial titled, "Watch Out, Ted Cruz. Beto is Coming" which appears to have no purpose other than to help Beto O'Rourke raise money from New York Times readers. [...] "In one instance, The Enquirer bought but did not publish a story about an alleged extramarital relationship years earlier with the presidential candidate," the Times sniffs. It's not unprecedented for a paper to have damaging material about a politician without publishing it. Just ask the Los Angeles Times about the vault they're keeping Obama's Khalidi tape in. Or ask the Washington Post about its embargo of the photo of Obama posing with Nation of Islam hate group leader Louis Farrakhan at a CBC event.

Texan couple's enormous stash of weapons including AR-15s and grenades is found in Boston hotel room. A Texan couple have been arrested in Boston after police found a haul of weapons inside their hotel room including AR-15 and AK-47 rifles along with parking tickets which suggest they were surveilling the site of Saturday's March for Our Lives protest. Francho Bradley, 59, and Adrianne Jennings, 40, were arrested at the Marriott Residence Inn in Tewksbury, Massachusetts, on Saturday after he called police to report someone breaking into his room. He told police he was in his Jeep where he had surveillance video feed from his hotel room linked up to a laptop in his car but that it had suddenly cut out. He said he worried someone had broken into the room and gotten their hands on his one weapon which he said he had hidden in a drawer.

Weapons cache couple remain held. A Texas man who made a series of outlandish claims when he and his wife were caught with a large cache of weapons and military-style gear will continue to be held without bail while an investigation into what he was doing here continues. Francho Bradley, 59, and Adrianne Jennings, 40, both of Frisco, Texas, have been held without bail since Monday [3/26/2018], when they were arraigned on 45 felony charges in connection with the discovery of the weapons cache.

Texas man who allegedly had weapons stockpile in Boston-area hotel says he was on a classified mission. A Texas man who was arrested Sunday [3/25/2018] after police said they found a weapons stockpile that included an AK-47, AR-15 and bump stock in his hotel room told investigators that he was on a classified government mission, The Lowell Sun reported. Francho S. Bradley, 59, and Adrianne D. Jennings, 40, were taken into custody after Bradley called police to the hotel room to report that someone was breaking in. Police responded and found the weapons, the report said.

Texas Army Vet, Arrested With Massive Weapons Cache, Claims It's For A 'Classified' Mission. A 59-year-old Army veteran arrested in a Massachusetts hotel with dozens of weapons claims that he assembled his arsenal as part of a "classified" mission for an unnamed government agency, according to law enforcement. Texas native Francho Bradley and partner Adrianne Jennings were arrested at the Marriott Residence Inn in Tewksbury, Mass., on March 24th with a massive assortment of firearms and military-style equipment. Bradley claimed he had transported the stockpile to Massachusetts from Texas "because he needed them with him for his mission," according to a police report obtained by The Lowell Sun.

The Editor says...
From the four articles above, it looks like this story was well publicized. The story of Francho Bradley and Adrianne Jennings made a brief splash in the national headlines, and promptly went down the Media Memory Hole. I can't find anything that had been said about the case in the last two weeks. Were they two crazy people with lots of guns, or were they working for somebody else? Crazy people generally don't have the monetary resources to accumulate that many weapons and transport them across the country. If they were freelance gun dealers, they probably wouldn't have made claims about being "on a classified government mission."

How $37 Million from the Clinton Foundation Disappeared in Baltimore. Why did the Clinton Foundation send a $37 million grant for the Clinton-Bush Haiti Fund in 2010 to a Baltimore post office box when the CBHF told federal tax authorities that its only office that year was in Washington, D.C.? For the rest of us, the answers to that and many other questions posed by those who wonder why investigations into obvious and rampant frauds involving Bill, Hillary and Chelsea Clinton and their purported foundation never go anywhere are complex. But they're worth following if you care about combating charitable fraud.

Boeing's Role in the Iran Nuclear Deal Must Be Investigated. [Scroll down] We see that Russia has accelerated its program of designing jets for Boeing. There are multiple design centers in Russia. Further, Boeing is deeply involved with the design of jetliners in both Russia and Ukraine. In fact, recently a number of Ukrainian designers of jets were reportedly unhappy with working in Moscow and transferred back to become part of a huge design center in Ukraine. Boeing kept a low profile after this move to Ukraine in order not to offend Russia, which is a big supplier of titanium needed for the production of jetliners. But get this: the Boeing company in Ukraine is a wholly owned subsidiary of two U.S. Boeing companies! Boeing has a global penetration that is truly incredible.

The Biggest Demonstration in DC Has Nothing to Do With Guns. Jeff Sessions — who so far has been almost entirely leak-proof — has quietly opened four investigations in the past eight months, almost all of which were ignored by the media. DOJ has, at the moment,
• An investigation into Hillary's emails.
• An investigation into the Clinton Family Foundation, in Little Rock. With a prosecutor.
• An investigation into U1, which has already brought indictments.
• An investigation into the FISA abuse.
The last investigation, announced two weeks ago with the prosecutor, John Huber, named last week, has empaneled a grand jury (this is separate from either of Mueller's). Huber has as much power as an independent counsel, and is working closely with Inspector General Michael Horowitz, who is no fan of the Deep State.

Air Force Academy Releases Report on Hate Crime Hoax: Media Goes AWOL. After hundreds of fake "hate crimes" have been exposed as hoaxes, the Fake News media continues to give lavish coverage to each new claim, then ignores the truth when the stories prove false.

Trump is Now More Popular Than Obama. Media hostility to President Trump has been unremitting since he secured the Republican nomination. It didn't stop, or even slow down, with his inauguration. The many achievements of his young administration haven't given the press pause, either: his coverage continues to be just about 100% negative. What, then, to make of the fact that Rasmussen Reports, which conducts the only daily presidential approval poll of likely voters, finds Trump at 50% approval and 49% disapproval? Those are better numbers than Barack Obama had in the same survey at the same point in his administration, and the press boosted Obama almost as relentlessly as it denigrates Trump.

Injured Victim Suing FBI — for Allowing Terrorist Attack to Happen. It's perhaps one of the biggest, and most underreported, stories of the last few years. It involves two different allegations, the first being that the FBI allowed a terrorist attack to happen. More damning still, the second is that the FBI actually encouraged it. And now a man injured in the attack is suing the bureau. The incident was the jihadist attack on the "Draw Mohammed" free-speech event in Garland, Texas, in 2015. The plaintiff is the security guard wounded in the gunfire, Bruce Joiner, who charges that an FBI agent "solicited, encouraged, directed and aided members of ISIS in planning and carrying out the... attack," court documents relate.

Anti-Gun "National School Walkout" Duped Students, Families. Before the events, organizers and establishment propaganda outlets often painted the so-called National School Walkout on March 14 as an event to honor the victims of last month's school shooting in Parkland, Florida. But the real agenda — at least of the establishment billionaires, leftists, and globalists behind the operation — was to promote more infringements on the unalienable right of Americans to keep and bear arms. In fact, one of the leading student voices endlessly hyped by CNN even called publicly for "Revolution." And thousands of naive students across America were duped into participating by well-funded political operatives with no compunctions about exploiting children to advance an anti-constitutional agenda. The truth and the facts, meanwhile — including the counter-protests by pro-gun students — were carefully concealed.

Why is the Media Suddenly So Interested in the EPA? For eight years, President Obama's two EPA administrators — Lisa Jackson and Gina McCarthy — received very little scrutiny from major news organizations. Reporters and opinion writers overlooked their misconduct at the EPA: excessive travel costs; blatant disregard of congressional oversight and lying to Congress; deleted texts and phony email accounts; colluding with activists who sought to use the agency to impose their costly, ideological agenda.

Was the FBI's Investigation of Hillary Clinton a 'Sham'? This should be big news. In fact, this should have led the evening news on Sunday night, and there should be some kind of media investigation of this planned today, but there wasn't, and there won't be. The reason this story didn't lead the news yesterday, and that the media won't be investigating it today (or ever) is because it doesn't fit the liberal narrative. Senator Lindsey Graham (R-SC) appeared on the Fox News Channel Sunday morning to continue his call for a second special counsel to investigate the FBI's behavior during the 2016 elections.

Washington Post Asks Why Andrew McCabe Was Fired — Then Leaves Out The Reason Why Andrew McCabe Was Fired. So why exactly did Andrew McCabe get fired? Many words and paragraphs follow but none of them state the obvious reason — one that everyone in the Establishment Media knows but have been working together to hide from the American people: The FBI's own independent Office of Professional Accountability recommended Andrew McCabe be fired — immediately. McCabe was fired from the FBI because the FBI said he should be fired. It's that simple.

France: Toward Total Submission to Islam, Destruction of Free Speech. The French government and the French justice system claim to treat all religions equally, but they treat Islam as if it were "more equal than others" — able to enjoy special privileges. Those who criticize Islam — or who just show the results of Islamic terrorism — are victims of fierce prosecution, while hate-filled, racist organizations are never touched. [...] President Macron recently said he wants a law against "fake news". If the law is adopted, all online magazines in France that do not broadcast what the government defines as "true news" could be subject to immediate government suspension. If they are located outside France, access to them would be blocked. Islamic online magazines and websites are not on the list of "fake news" providers. What online magazines and websites top the list? Those that question Islam.

The Editor says...
Special farewell message to our readers, if any, in France: Perhaps you should have resisted the Muslims while you had the chance. Now you are no longer free even to criticize Islam. Soon, you will will be forced to submit to Islamic law. After that, you will be forced to either convert to Islam or die. If I were in your position, I'd flee the country, while that's still possible.

Establishment Media Ignores All of the Young NO WALKOUT School Patriots Who Think School is for Learning, Not Far-Left Indoctrination. The Mainstream Media largely created the anti-gun rights walkouts being staged today so it's no surprise they are covering them both breathlessly and lovingly as thousands of school kids snicker and preen for their own social media accounts while accomplishing little beyond being allowed to skip class. Meanwhile, there are thousands of other schools and millions of other students who feel school is for learning, not taxpayer-funded protest movements. The media isn't covering them though because it doesn't fit their narrative.

Here's How the Democrats Plan to Impeach Trump. Recently, the Republicans on the House Intelligence Committee released a memo officially stating that there is no evidence of any collusion between Donald Trump and Russian intelligence during the 2016 presidential election. Of course, you might not have heard this news if you have been punishing yourself by watching or reading any of the mainstream news. For its part, the mainstream media continues to prop up the improbable narrative that Donald Trump is a Russian agent of influence who is out to corrupt our democracy in Vladimir Putin's name.

White South African farmers in fear for their lives as the government prepares to seize their land. The government of Australia is offering to fast track visas for white South African farmers who are under siege on their own land. It's a story that's not getting much play in the US — for obvious reasons. A group representing Afrikanners, the white minority claims that 82 white farmers were murdered just last year with 432 incidents of violence. The government is challenging those numbers and even whites admit that white farmers are not the only victims of violent crime in rural areas. But at least some white farmers are living in fear and they are blaming the bill passed by parliament last month that will allow the government to sieze white owned land without compensation. Many white farmers are choosing to leave and Australia is trying to expedite "humanitarian" visas.

Nets Give Less than a Minute to House Committee's 'No Collusion' Findings. On Monday, the House Intelligence Committee closed its inquiry into Russian meddling in the 2016 presidential election, much to the chagrin of the liberal media. The committee confirmed that the Russians were indeed trying to cause chaos in the election, claimed they weren't out to help candidate Donald Trump specifically and that there was no collusion between the Trump campaign and Russia. But during their evening broadcasts, ABC and CBS downplayed the findings while NBC ignored them. CBS Evening News only gave 31 seconds to the House committee's findings.

The Vegas Massacre Exposé: What Really Happened? Vegas has video cameras everywhere. After NYC terror attacks we had videos on TV within hours. In this case, in hotels covered by hundreds of [cameras], 6 months later we've never seen one video of the killer walking through the hotel. Why? [...] Police say they found child porn on Paddock's computer. But it was announced after the shooting, Paddock's hard drive was gone. Removed from his computer. Nowhere to be found. So how did police find child porn? Not one journalist questioned this development. No one ever asked, "Did the hard drive miraculous re-appear?" Police never said a thing. First it was gone. Then they found child porn. Strange. But if in fact child porn was found (on another computer removed from his home, or office) wouldn't it make sense to investigate the connection to ISIS and the Philippines, where child sex trafficking is a primary mode of funding for Islamic terror groups?

CNN's Bizarre Blackout On Democrats' Farrakhan Scandal. CNN has refused to inform its audience of a growing scandal tying prominent Democratic politicians and activists to Nation of Islam leader Louis Farrakhan, a notorious racist and anti-Semite. At least eight Democrats are known to have met with Farrakhan, who routinely calls Jews "satanic" and has said that white people "deserve to die." Minnesota Rep. Keith Ellison, the deputy chair of the Democratic National Committee, misled the public for years about his relationship with Farrakhan, new reporting has shown and The Washington Post has acknowledged. Illinois Rep. Danny Davis, a Democrat, defended Farrakhan as an "outstanding human being" and admitted to having a personal relationship with him in a pair of interviews with this reporter.

President Trump's Economic Approach Toward National Security Wins — U.S. Media Ignore. The corporate media are hopelessly deficient in their coverage and explanations of how strategic objectives for national security are being delivered through a geopolitical Trump Doctrine via economic leverage. The results are stunningly effective, yet few have noticed and even fewer seem willing to articulate; perhaps their inability is because they simply just don't get it.

Even when Trump is right, mainstream media downplays it rather than be honest. President Trump's foreign policy is defying the media so much, even they are finally sounding positive over his "stunning" peace moves with North Korea. But journalists haven't liked the president's criticisms of Europe. President Trump has been repeatedly critical of how Europe has handled its refugee crisis — pointing out the reality of no-go zones and specifically discussing a spike in immigrant-related crime in Sweden. This week he was proven at least somewhat correct on both fronts.

Citizens need secret decoder rings when reading about immigrant crimes. How many times have you seen headlines like (for example): Minneapolis "man" arrested for _____? [...] We have to play the name game and try to figure out who the perps are — from which country they came. Sometimes there is a photo to help you play the game. But, rarely does the mainstream media admit his (or her) home country and almost never immigration status.

The Russian Collusion Story the Media Ignores. Last week, a congressional committee released a jarring and persuasive report on Russian meddling in American politics. Despite a media feeding frenzy over anything tangentially connected to questions of Russian interference, this report went largely unnoticed. The U.S. House Science, Space, and Technology Committee's "Russia's Social Media Meddling in U.S. Energy Markets" details Russian funding of U.S. environmental groups, which used resources to protest the process of fracking and the existence of the Keystone pipeline. Russia, the world's largest oil producer, figures to watch the U.S. surpass it within five years. Killing fracking and the pipeline stand as two ways for Russia to avert this fate. Rep. Lamar Smith, the chairman of the committee, describes the "mechanics of Russia's scheme to use nonprofit entities to influence U.S. public policy and public opinion" with regard to oil and gas and the fracking process.

The Media Decision To Ignore Democrat Ties To Farrakhan Reveals Toxic Bias. What would the establishment media reaction be if tens of members of Congress met with one of America's most notorious racists and anti-Semites and refused to denounce him? Or if the leaders of one of America's hottest social movements embraced him? If the bigot in question is Nation of Islam leader Louis Farrakhan — who has blamed Jews for the 9/11 attacks, said white people "deserve to die" and praised Adolf Hitler — the answer seems to be ... not much, at least not when those embracing him are Democrats and progressives.

The World's Energy Superpower: Us. It is ironic that our myopic press obsesses on trivialities like Russians posting on Facebook, while largely ignoring the geopolitical implications of the policies that are freeing up U.S. energy production.

Meet the Conservative Parkland Massacre Survivor the Media Has Largely Ignored. With his parents' permission, I agreed to meet him. He has a lot to say but can't help but wonder aloud if many in the mainstream media have any interest in listening. Some of his schoolmates have gained prominence as television mainstays in the aftermath of the killings, their opinions validated with verified social media statuses, amassing millions of followers in the process. Kashuv is just as much a Parkland survivor as now-familiar names like David Hogg and Cameron Kasky, yet his views have only garnered limited attention.

Establishment Press Ignoring Schumer's Race-Based Objection to Trump Judicial Nominee. Wednesday, Democratic Senate Minority Leader Chuck Schumer opposed the nomination of A.&nbsp