News media bias is dangerous because of the way some stories are reported — with important details omitted — and because of the stories that are suppressed.
The most obviously suppressed issue in the mainstream press is the subject of abortion. The Democratic Party, in close cooperation with the news media, does not (and cannot afford to) allow a rational discussion of the facts, because if people would stop to consider what an abortion really is, the practice would come to an immediate halt.
Other issues are also conspicuously absent from the evening news on television. Most stations do not report suicides and don't report cases where people successfully evade the police and get away with their crimes. When somebody gets away with murder, a reporter will say, "the case is still under investigation", or, "police are still looking for a suspect." Even in the newspaper, you have to read carefully to get the whole story in these cases.
One of the most successfully hushed-up news stories in history is the mysterious collapse of World Trade Center Building 7. No airplane hit that building, yet it suddenly collapsed on the afternoon of September 11, 2001. The official explanation is that the collapsed resulted from an internal fire, but there was almost no smoke visible when the building fell, which is why there was no news media presence at the building. We are apparently supposed to forget that it happened, because it hardly made a blip on the news media radar, and the story evaporated within a few days. More information can be found here.
---
Police: Three men attacking NYC woman caught on video. Surveillance video shows that on Oct. 2 around 2 a.m., Gwendolyn Reyes walked past three men in Brooklyn. After a vicious beating, the three suspects left her lying helpless on the ground. [...] They had gotten away with her purse and iPhone and Reyes was treated for a broken nose at a local hospital. Police told CBS New York that the attacks appeared random and the suspects targeted her because she was walking alone.
The Editor says...
CBS News successfully avoids using the word "black" in this article about three black men beating up a randomly-selected white woman.
Also posted under Black violent crime.
What election? Network news gives up on covering midterms. It is probably safe to assume that you have been following the midterm elections closely. You decided to click on this link, which would indicate that you have at least a passing interest in the coming national vote in which Americans will determine which party controls the upper chamber of Congress for the remainder of the Obama presidency. If, however, you have been closely following the coverage of the coming midterms, you might have noticed that network news outlets do not appear to share your enthusiasm. You're not imagining things.
TV News Blacks Out This Year's Bad Election News for Democrats. In less than two weeks, voters head to the polls in midterm elections that seem certain to yield strong Republican gains, if not outright control of the U.S. Senate. Such a political sea change is big news, but a new Media Research Center study finds that, in contrast to their enthusiastic coverage of the 2006 midterms when Democrats made big gains, the Big Three broadcast evening newscasts are all but ignoring this year's political contests.
What election? Big 3 networks ignore anti-Obama election. The nation's Big Three TV networks that breathlessly reported the 2006 anti-Bush election which gave Democrats control of Capitol Hill have practically ignored this year's anti-Obama midterms that are expected to return full control of the Hill to the GOP.
Obama: Hey, all these red-state Democrats running away from me are strong supporters who vote with me! As I've mentioned before, there's maybe nothing that cheers me more about Republican prospects that Democrats acting so very, very desperate. You'll hear not a thing about a tone of "unprecedented negativity" in this year's ads because the worst examples are coming from endangered Democrats. But just because the press doesn't report the pattern doesn't mean it doesn't exist.
NBC Newscasts Avoid NBC's Latest Bad-News Poll for Dems. Jeffrey Meyer noted earlier that Meet the Press host Chuck Todd announced on Sunday morning that the latest NBC News-Wall Street Journal-Annenberg weekly tracking survey found "the biggest lead we've reported yet for generically for the Republicans," 49 to 44 percent among likely voters (and 45-43 among registered voters). "Here's what I can tell you. All Democrats agree, it was a bad week for them," Todd said. But Sunday's NBC Nightly News and Monday's Today couldn't locate that poll, much like they've avoided other NBC News polls that look bad for Democrats.
ABC, NBC Omit Any Mention of Midterm Elections on Day Two Weeks from Election Day. On Tuesday [10/21/2014], ABC and NBC made no mention of the upcoming midterm elections, which were two weeks away from Tuesday and include numerous Senate races that will decide whether Republicans or Democrats control the U.S. Senate.
Stunning federal corruption case moving forward with almost no media attention. Corrupt federal prosecutors presenting false evidence in order to shake down a blameless corporation and bring in tens of millions of dollars seems like a pretty dramatic story. Especially when former prosecutors support the charge and a chief judge acts on the allegations and takes dramatic action. Yet the media silence is deafening. Eric Holder's Justice Department is implicated in a dramatic and shocking case of alleged corruption that is so bad that the Chief Judge of the Eastern District of California has taken what can rightly be called the "nuclear option" and recused all the judges in the district from the case because they may have been defrauded by the DoJ prosecutors.
Bozell: Network Censorship of Houston Mayor's Subpoenas Part of Left's 'Relentless Assault on Free Speech'. According to a new analysis by MRC Culture, over the past two days the broadcast networks (ABC, CBS, and NBC) have completely censored liberal Houston Mayor Annise Parker's attempt to subpoena sermons of five pastors critical of the mayor, homosexuality, gender identity, or the city's new "equal rights" ordinance. MRC President Brent Bozell released a statement in response to the networks' refusal to cover Parker's brazen attack on religious freedom and free speech: "When the government mandates what a pastor can or cannot say, and criminalizes preaching the Bible, we're no different than Red China. [...]"
Network Priorities: 57X More Coverage of NFL Scandals Than Obama Scandals. In the crucial weeks leading up to the midterm elections, the broadcast networks were obsessed with scandals, but not any of the Obama administration controversies that might influence how voters behave on Election Day. No, despite revelations in the Benghazi, IRS, Veterans Administration and Secret Service prostitution scandals it was the NFL domestic abuse scandals that captured the attention of the Big Three (ABC, NBC, CBS) networks.
ABC Gives 17 Seconds To [its] Own Poll Showing 'Democrats Sweating' Before Midterms. The latest ABC News/Washington Post poll is out and it has some sobering news for Democrats with less than three weeks to go until the midterm election. The poll found that President Obama's approval rating has dropped to a new low of just 40 percent and the Democratic Party's popularity is at its weakest point in the last 30 years. Despite ABC News declaring that their own poll "has Democrats sweating", ABC's Good Morning America> gave the story a mere 17 seconds on its Wednesday morning [10/15/2014] broadcast and buried it among a flurry of news briefs.
'Face the Nation' Leaves Out Netanyahu's Criticism of Obama. Anyone watching Sunday's [10/5/2014] broadcast of Face the Nation on CBS did not hear critical comments about President Obama from Israel Prime Minister Benjamin Netanyahu. Those were edited out and sequestered to CBS's website, leaving only the positive comments aired.
Surgeon General Still Silent On Ebola. On Wednesday [10/1/2014], Breitbart News reported that the U.S. Surgeon General's office had not said anything about the ongoing Ebola crisis, as public confusion, fear and frustration continue to mount. In fact, the lead story on the Surgeon General's website on the first day of October was a message that September was "Fruits & Veggies — More Matters Month!" Since then, nothing has changed: Acting Surgeon General Boris D. Lushniak is silent.
Fifth Child Dies To Support President Obama's Illegal Immigration Goals:
Illegal South American Immigrants Introduce Deadly Virus To U.S. Children. Though the U.S. government is keeping secret the locations of the illegal immigrant children, there are significant numbers of them in both cities in which the current outbreak was first identified, Kansas City, Missouri and Chicago, Illinois, according to local advocates and press reports.
Sharyl Attkisson: CBS News Nixed Story that Predicted Obama's Comments on ISIS. Former CBS News investigative reporter Sharyl Attkisson told Fox's MediaBuzz Sunday morning [10/5/2014] that her former employer nixed a story of hers two years ago that anticipated much of what President Barack Obama is currently saying about ISIS. Attkisson very publicly split with CBS News in the spring following a string of stories on Fast and Furious and Benghazi; on the way out she accused CBS of being too compliant with the Obama administration.
NBC Silent on Oklahoma Beheader's Islamic Radicalism. In NBC's sole report on the incident on the Friday "Nightly News," host Brian Williams didn't mention Islam. Segueing from a report on ISIS that, ironically, mentioned beheadings, Williams said "The FBI is investigating an absolutely awful attack in our country." Williams went on: ["]Police say a man who was fired yesterday from a food processing plant went on a rampage there beheading a co-worker then repeatedly stabbing another before a company executive who happens to be reserve deputy in the area shot and subdued him. The suspect is expected to survive his wounds and face multiple charges.["] So as far as NBC viewers know, Nolan could be a Methodist, a devotee of Wicca or an atheist.
The media embargo on "the B word". [Scroll down] If America's reporters are so concerned about race relations in the country that such descriptions are included immediately when discussing a case where a white person is charged with injury to an African American, how is such discussion less valid when the roles are reversed? [...] As much as some of these news outlets may hate to admit it, black people do, on occasion, commit acts of violence. And sometimes the victims of that violence are white. But somehow that's not a story.
25 Rules of Disinformation. These rules are generally used more directly by those at the leadership, key players, or planning level of the criminal conspiracy or conspiracy to cover up. [#1] Hear no evil, see no evil, speak no evil. Regardless of what you know, don't discuss it — especially if you are a public figure, news anchor, etc. If it's not reported, it didn't happen, and you never have to deal with the issues.
Eric Holder's Fast and Furious Fiasco Was Media Scandal, Too. Thanks to his stonewalling of the House of Representatives investigation into the Fast and Furious scandal, in 2012 Eric Holder became the first Attorney General held in contempt by Congress. Maybe his resignation on Thursday will revive the story for the three broadcast network evening newscasts, but don't count on it. With Sharyl Attkisson no longer working at CBS News, there is no broadcast journalist who has shown any interest in pursuing this disgraceful story.
The Alleged Leftwing Firebomber the Media Doesn't Want You to Know About. Twenty-eight year-old Eric King was charged with attempting to firebomb U.S. Congressman's Emanuel Cleaver's Kansas City office on September 11. According to local media[,] law enforcement found a letter in his apartment that railed against capitalism and war. In other words, the alleged firebomber is a leftist, which is why this incident is receiving absolutely no national media coverage.
David Limbaugh's book banished from NYT best seller list. The New York Times Book Review, which has a history of belatedly recognizing conservative bestsellers, has banished conservative legal author David Limbaugh's latest, Jesus on Trial, from its upcoming best seller list despite having sales better than 17 other books on the list.
The Alleged Leftwing Firebomber the Media Doesn't Want You to Know About. Twenty-eight year-old Eric King was charged with attempting to firebomb U.S. Congressman's Emanuel Cleaver's Kansas City office on September 11. According to local media, law enforcement found a letter in his apartment that railed against capitalism and war. In other words, the alleged firebomber is a leftist, which is why this incident is receiving absolutely no national media coverage.
The Scandals Are Catching Up With Mary Landrieu. You would think the news that since 2000 Landrieu had spent some $34,000 on forty-three separate incidents of chartered travel to fundraisers and other campaign events, the result of an audit by the law firm of Perkins Coie into her Senate office books, would have exploded into Louisiana's media. But Landrieu's embarrassing and troubling disclosure was released — naturally! — on Friday afternoon. And by Sunday, no mention of the news had made the front pages of the newspapers in New Orleans, Shreveport, Lafayette or Lake Charles.
Black Crime in Baltimore High — but Should be Higher. The idea that crime in Baltimore is going down comes up every time a case of black mob violence hits the local news. Which is pretty much all the time. Everything except that black part, that is, which they leave out. Baltimore reporters are getting tired of having to constantly remind everyone how their city is safe — and getting safer.
Holder Aide Accidentally Calls Issa's Office to Spin IRS Scandal, Nets Don't Report. An aide to Eric Holder, who thought he was calling Democratic congressman Elijah Cummings' office for help on leaking documents to selected reporters, accidentally spilled the beans of the latest IRS spin job because he called House Oversight Committee Chairman Darrell Issa's office instead. This newest twist in the IRS targeting scandal, that broke last night, was not covered on ABC, CBS or NBC's Wednesday morning [9/10/2014] shows. According to Issa, the documents in question were related to Andrew Strelka — the former Lois Lerner employee that the committee demanded be turned over to them for questioning last week.
Blackout: 300 Days Since ABC's 'Nightline' Covered ObamaCare. As of September 10, 2014, it's been 300 days since ABC's Nightline covered ObamaCare. In the 43 weeks since November 14, 2013, the show has avoided problems with the health care law and instead focused on extremely superficial topics, such as nude reality shows and the royal baby. When the Associated Press reported, "More people newly insured by Medicaid under ObamaCare are seeking treatment in hospital emergency rooms," the hosts of Nightline didn't notice.
ABC and NBC Barely Mention Obama Approval Rating 'Near Record Lows'; CBS Ignores. On Tuesday, ABC's Good Morning America and NBC's Today, offered mere seconds on President Obama's approval rating hitting "near record lows" amid his reluctance to aggressively combat ISIS terrorists. CBS This Morning skipped any mention of the dismal poll numbers for the commander-in-chief.
MRC Study: TV Buries the Bad News on Obama's Collapsing Polls. It's no secret that television news has long been addicted to public opinion polls; decades ago, all three broadcast networks decided to partner with an influential newspaper (ABC News with the Washington Post; CBS News with the New York Times; and NBC News with the Wall Street Journal) to sponsor their own regular surveys for use in their political coverage. That's why it's so extraordinary that polling news has practically vanished from the Big Three evening newscasts in 2014 as President Obama's approval ratings have tumbled and the public opposes defining administration policies like ObamaCare. Just last Thursday, for example, Gallup found Obama's approval rating at a record low of 38 percent, yet none of the three broadcast networks bothered to mention this on their evening or morning newscasts.
Cold Summer: 1,025 Record Lows in First Three Weeks of August. The NOAA Daily Weather Records for today, August 25, report that in the last 30 days there have been 331 U.S. "High Max" records set. However, there were 2,104 (more than six times as many) "Low Max" records set. The same NOAA page reports in its "Year to Date" section that 2014 has seen 7,053 High Max records set, but nearly three times that number (19,178) of Low Max records were set during the same period. [...] Of course, we continue to see blazing headlines and breathless broadcasts from the establishment news media regarding every new high temperature record, but a near total blackout of the news of low temperature records.
Sotloff Family Furious with White House... and The NYT Buried It. The family of Steven Sotloff, the latest American journalist beheaded by ISIS, is reportedly "outraged" at the Obama administration for "deliberate leaks" they interpret as "an attempt to absolve the administration of inaction." This reporting comes Wednesday from no less a source than the New York Times, which chose to bury the news under more than two dozen paragraphs: [...]
Networks Ignore Report That Obama Was Briefed on ISIS Going Back 'at Least a Year'. On Tuesday night [9/2/2014], the three major broadcast networks omitted from their coverage on the Islamic group ISIS a report that President Barack Obama has received briefings on the terrorist organization "for at least a year before the group seized large swaths of territory over the summer." ABC, CBS, and NBC all led their evening newscasts with multiple segments on the gruesome murder of American journalist Stephen Sotloff at the hands of ISIS in a propaganda video released on Tuesday afternoon.
Md. Governor Does Illegal Immigrants Another Favor, WashPost Buries it on B4. In yet another instance of the Washington Post shielding the Maryland Democratic political establishment, including the party's nominee for governor, editors buried on page B4 of the Saturday, August 30 edition a stunning story about outgoing Gov. Martin O'Malley's refusal to cooperate with federal immigration officials to eventually deport illegal immigrants who have served time behind bars.
A Crisis As Millions Of Students Abused By Teachers. We've all heard of the Catholic Church child abuse scandal that's still regularly covered, 20 to 40 years after much of the abuse took place. It too was tragic, and acknowledged as such by the church, which has taken action to prevent its ever happening again. The same can't be said of unionized public education — where child abuse appears to be rampant, often with little done about it and with teachers unions largely silent. It gets little national media attention — certainly not on the scale that the church scandal did.
Networks Dodge Huge IRS Scandal News as DOJ Attorney Says Lost Lerner E-Mails Do Exist. Judicial Watch president Tom Fitton appeared on the Fox News Channel (FNC) Monday afternoon and informed viewers that a Department of Justice (DOJ) attorney admitted to his organization on Friday [8/22/2014] that the e-mails belonging to former IRS official Lois Lerner that were thought to be lost likely still exist. He declared to FNC's Shannon Bream that the story of Lerner's hard drive being damaged and destroyed and thus her e-mails were permanently lost has "all been a pack of malarkey" and "a big lie." When it came to the major broadcast networks covering this huge story on their Monday evening newscasts, there was no coverage to be found as ABC, CBS, and NBC all carried out the latest censoring of news surrounding the IRS.
More about the missing IRS emails.
10 Acts of Jihad in America That Americans Haven't Heard About. Here are some recent acts of jihad on American soil that you may have missed — all from this spring and summer.
Mainstream media censors Soros' connection to Rick Perry indictment. On January 27, 1998, then First Lady Hillary Clinton — without a shred of credible evidence — infamously claimed during an NBC "Today Show" interview with Matt Lauer that a "vast right-wing conspiracy" had been working to destroy her husband "since the day he announced for president." Sixteen years later we have tangible, documented proof that a vast left-wing conspiracy is in fact out to destroy conservative presidential hopeful Gov. Rick Perry, and the liberals who run the establishment media are doing everything possible to cover it up.
NBC and ABC Ignore Obama Admin. Broke Law With Bergdahl Exchange; CBS Gives It 24 Seconds. After Thursday's [2/21/2014] network evening newscasts ignored a report from the Government Accountability Office that the exchange of five terrorists from Guantanamo Bay for Army Sergeant Bowe Bergdahl was illegal, NBC's Today and ABC's Good Morning America remained silent on the Obama administration scandal on Friday [8/22/2014]. Only CBS This Morning made any mention of the violation of federal law, providing a mere 24-second news brief on the topic.
The Jihadi Serial Killer no One's Talking About. For two bloody months, an armed jihadist serial killer ran loose across the country. At least four innocent men died this spring and summer as acts of "vengeance" on behalf of aggrieved Muslims, the self-confessed murderer has now proclaimed. Have you heard about this horror? Probably not. The usual suspects who decry hate crimes and gun violence haven't uttered a peep. Why? Like O.J.'s glove: If the narrative don't fit, you must acquit. The admitted killer will be cast as just another "lone wolf" whose familiar grievances and bloodthirsty Islamic invocations mean nothing.
Nonwhite cop kills unarmed white youth, national media, AG and POTUS ignore. While American and world media, along with the President and Attorney General of the United States, obsess over the death of Michael Brown at the hands of the Ferguson, Missouri police, few people outside of Utah have heard of the remarkably parallel and contemporaneous death of Dillon Taylor, an unarmed young man (and father-to-be) from a gun shot by a Salt Lake City policeman, whose name has not been released, but who has been identified the SLC chief of police as nonwhite.
New York Times Buries News of Officer Wilson's Injury. The New York Times has big news on the biggest story in the country today, but as Noah Rothman at Hot Air discovered, the Times buried that news 26 paragraphs deep. According to the Times' own police sources, "witnesses and forensic analysis have shown that Officer Wilson did sustain an injury during the struggle in the car."
Beaten to Death at McDonald's. Out on a double date, the two couples pulled into the parking lot of so-called "University McDonald's" shortly after 2 a.m. that Sunday — and beheld a scene unlike anything portrayed in all those wholesome McDonald's television commercials. Before them, hundreds of young black males were loitering about, some without shirts. Other local residents — the more cynical and world-weary, both whites and most blacks — would have taken one look at the crowd and driven off, dismissing many of the young and posturing black males as thugs. But not them:v innocent white kids from the suburbs. They presumed this was post-racial America — and that they were in an easy-going college town. Twenty minutes later, two of them were dead. Incredibly, the race of the assailants was scrubbed from local news coverage; [...]
Cincinnati Enquirer Keeps Michelle Obama's Name Out of Story on District Ending Federal School Lunches. Fort Thomas Independent Schools in Northern Kentucky have decided to get out of the federal school lunch program, specifically because of the requirements imposed in the Healthy, Hunger-Free Kids Act championed by First Lady Michelle Obama. Simply put, the district is tired of being forced to give kids food they won't eat. Until it ran into problems, HHFA was seen as Mrs. Obama's signature achievement, and the press fawned over its alleged awesomeness. Now that the program has encountered fierce real-world resistance, her association with it seems to have vanished from many press reports.
An Inside Look at How Democrats Rig the Election Game. The 2010 elections reversed decades of Democrat majority control in state houses. Since then, GOP governors and legislatures all over the country have been restoring sanity to state government. Most Americans don't know this of course, because the media won't tell you.
Not National News: Ohio Dem's Gubernatorial Campaign Implodes. Several months ago, based on several far from minor out-of-the-gate mistakes, I characterized the candidacy of the Democratic Party's challenger to incumbent Republican Governor John Kasich as "the wreck that is Edward FitzGerald." In the past week, FitzGerald has utterly imploded. The latest revelation Tuesday afternoon, namely that he had "no license to drive at all from 2002 to 2008," leaves one wondering whether his party vetted him at all. Former Cleveland Plain Dealer editorial director Brent Larkin calls this "at or near the top of the list" of "bizarre developments" he's seen in 45 years of covering politics.
Only CBS Acknowledges Gov't Missing $619 Billion from Agency Budgets. On Wednesday, August 6, USA Today reported that the federal website USASpending.gov which is tasked with tracking government money, can't find $619 billion from different agency budgets. Despite the government losing track of hundreds of billions of taxpayer dollars, CBS This Morning was the only network morning show to cover the report on Wednesday morning. ABC's Good Morning America and NBC's Today ignored the story altogether.
Obama is Betraying the Republic's Trust. Real unemployment is still unmanageable and the number of people who have simply dropped out of the workforce may have as much as doubled during the last 6 years. Has any of this made the news? Has it led any evening reports? Has anyone but FOX even mentioned these things? When's the last time you read a story about the cost of a loaf of bread or a pound of hamburger since Obama was elected?
Samaritan's Purse Chief Admits Ebola 'Out of Control,' Slams Drudge for Reporting It. Thursday [8/7/2014] at the House Foreign Affairs Subcommittee on Africa, Global Health hearing titled, "Combating the Ebola Threat," Samaritan's Purse's vice president of programs and government relations Ken Isaacs said, "Ebola is out of control in West Africa," and then criticized the reporting on the crisis by saying, "I look at the Drudge Report, it can drive a lot of panic."
"There is not a truth existing which I fear or would wish unknown to the whole world."
Top Secret Hamas Command Bunker in Gaza Revealed And why reporters won't talk about it. The idea that one of Hamas' main command bunkers is located beneath Shifa Hospital in Gaza City is one of the worst-kept secrets of the Gaza war. So why aren't reporters in Gaza ferreting it out? The precise location of a large underground bunker equipped with sophisticated communications equipment and housing some part of the leadership of a major terrorist organization beneath a major hospital would seem to qualify as a world-class scoop — the kind that might merit a Pulitzer, or at least a Polk. So why isn't the fact that Hamas uses Shifa Hospital as a command post making headlines?

Report: At Least 160 Children Died Digging Hamas' Tunnels. Because of their size and agility, children make good tunnel-diggers. The English knew this when they were digging coal mines during the Victorian era; Hamas knows it now. Thus, the Journal of Palestine Studies (edited by President Obama's pro-Palestinian friend Rashid Khalidi) reported in 2012 that Hamas uses children to help dig tunnels into Israel.

White House condemns Israeli shelling of UN school. The United States is condemning Israel's shelling of a U.N. school in the Gaza Strip that was sheltering displaced Palestinians.

The Editor says...
The AP didn't mention anything about missiles being stored in UN schools. Hmmm. I wonder why they left that part out.

NY Times Decries ISIS's 'Brutal Crackdown' on Iraqi Christians; Big Three Networks Yawn. ABC, CBS, and NBC's morning and evening newscasts have yet to cover the dire situation of Christians in Iraq, particularly after ISIS's takeover of the key city of Mosul. The Islamic extremist group drove most of the Christians out of the city, and issued an ultimatum to those who remained: covert to Islam, pay a hefty tax, or face death. Refreshingly, the New York Times spotlighted the crisis in a Thursday [7/24/2014] op-ed, and noted that the Christian community in Mosul has lived there for nearly 2,000 years.

Boston Globe Ignores [its] Own Reporter's Viral Tweet About Obama Reaction to MH17 Crash. It was the tweet that went viral around the world and all over the web. The one notable exception where the tweet remains unmentioned is at the Boston Globe. So what's so strange about that? It's because the author of the tweet is Boston Globe reporter, Matt Viser.

TV Reporter Suspended After Rant About Fatherless 'Young Black Men'. News 12 reporter Sean Bergin made a controversial statement about "young black men" on TV Monday [7/14/2014] and now he has reportedly been suspended. The regional News 12 Networks, which serve New York and New Jersey, ran a story (above) about Jersey City Police Officer Melvin Santiago, who was fatally wounded in a shootout at a Jersey City Walgreens on Sunday. The network interviewed angry residents in the segment, many of whom weren't very sensitive to the police officer's death.

TV Reporter Suspended for On-Air Comment About 'Young Black Men'. News 12 New Jersey reporter Sean Bergin has reportedly been suspended for comments he made on-the-air Sunday evening about the black community. [...] The segment itself has also apparently been scrubbed from the News 12 website.

Reporter Suspended, Could Lose Job Over What He Said About 'Young Black Men' Live on the Air. News 12 reporter Sean Bergin has been suspended after he argued on the air that the "anti-cop mentality that has so contaminated America's inner cities" is largely the result of "young black men growing up without fathers." A source with direct knowledge of the situation confirmed to TheBlaze on Monday that Bergin has, in fact, been suspended over his remarks about the black community and may end up being fired. The source said Bergin was asked not to come in Monday and Tuesday as the news station figures out how to handle the situation.

TV Reporter Speaks Out to Fox About Why He Quit After 'Young Black Men' Comment. Sean Bergin, the New Jersey reporter who was suspended and got his pay docked (then quit) for a brief commentary he made about young black men, spoke out for the first time on Fox News tonight, telling Megyn Kelly why he quit and why he felt the need to speak out in that way. Bergin was bringing attention to an "anti-cop mentality" in the black community and said, "The underlying cause of all of this, of course: Young black men growing up without fathers. Unfortunately, no one in the news media has the courage to touch that subject."

More about this taboo topic: The Collapse of the Family Unit as the Building Block of Society.

NBC Ignores VA Whistle-Blower Hearing; ABC Gives News Only 23 Seconds. On Tuesday morning [7/15/2014], NBC's Today refused to cover the latest news in the Veterans Affairs scandal as the House Veterans Affairs Committee heard testimony Monday night [7/14/2014] from additional whistle-blowers who faced punishment from superiors for identifying allegedly manipulated response times for veterans who filed benefit and disability claims.

French 'Mother' Kills Teacher in Front of Class. It was headlining AOL on Friday [7/4/2014]: a story about a woman stabbing a schoolteacher to death in front of a class of five and six-year-olds. The gruesome and bloody crime occurred in the southern French town of Albi; the victim was a 34-year-old mother of two. But a certain bit of information is conspicuously missing from virtually all the reportage. We're told the killer was under the impression that the teacher had accused her five-year-old daughter of theft. We're told she had a history of child abuse and "severe psychiatric problems." We're told she's 47. And we're told she's a she. But her name is nowhere to be found, and information about her background is... well, you'll see.

Anthony Cumia Gets Attacked, then Fired. Anthony Cumia gets attacked all the time: Most often for telling the truth about black crime and violence that is stratospherically out of proportion. And how reporters condone it. On Thursday night, July 3, his bosses at Sirius XM radio fired him for it.

Truth Buried — Again. You'd think that a government audit showing how ObamaCare couldn't tell whether millions of enrollees were eligible for the subsidies they're getting would be front-page news. Instead, the press hid it from view. If you wanted to read in the New York Times about these findings — which detailed rampant problems verifying eligibility and income information from millions of ObamaCare applicants — you had to dig 17 pages into the news section.

89 Percent of Network Stories Omit Obama's Role in Causing Border Crisis. While all three networks played clips of Barack Obama on Monday blaming the GOP for the border crisis, they have been reluctant to cite the President's own failure to enforce immigration laws as a cause for thousands of immigrants illegally crossing the U.S.-Mexican border. From June 8 through the morning of July 1 ABC, CBS and NBC have offered a total of 45 stories on the border crisis, on their evening and morning shows, and in only 5 (11 percent) have they brought up Obama immigration policies as a possible cause for the most recent surge of illegal immigrants, including unaccompanied children, crossing the border.

Media Silent on Allegations that Cochran Campaign Engaged in Cash-For-Votes Scheme. Reverend Steve Fielder, a pastor at the First Union Missionary Baptist Church in Meridian, Mississippi, is accusing Senator Thad Cochran's campaign of violating election laws by giving black Democratic voters cash in exchange for votes in the recent GOP runoff. But mainstream media seem uninterested in the story. The only outlet outside of conservative media covering the story is Forbes magazine.

IRS: Shame and Loathing on the Media Trail. The front page of Tuesday's New York Times made no mention of the congressional hearings on the missing Lois Lerner emails and putative computer crash; the networks were a virtual silence of the not-so-lambs. [...] Political parties and politicians come and go. The media doesn't. They may be in the tank for Obama, but much more than that they are in the tank for themselves — a whole lifestyle and world view that has been going on for decades, moral narcissism distilled to its purest essence.

Media Bias and the Obama Scandals. We live in a strange time. Historically, reporters and editors have believed that their job is to disseminate news. That is no longer true. [...] On the VA, don't get me started. Just today, more details about the scandal emerged — secret waiting lists, altered records, dying veterans. A year or two ago, leftists like Paul Krugman were touting the VA as evidence that socialized medicine is a smashing success. Mightn't the current scandal tell us something about the desirability of government-administered medicine? Our reporters and editors won't touch that angle with a stick.

Scarborough Savages NYT For Burying IRS Email Scandal: 'This Is A Scam!' Co-host Mika Brzezinski had just wrapped up explaining another possible scandal for New Jersey Republican Governor Chris Christie, involving diverted funds for the Pulaski Skyway, when Scarborough pounced on the newspaper. "Let's see, so this is the top of The New York Times," he began. "I'm trying to figure out where the IRS story — is it on the front page? Because actually, there was an investigation launched yesterday of the IRS — an internal investigation."

MSNBC's Halperin: If IRS Scandal Happened Under GOP President, 'This Story Would Be A National Obsession'. Mark Halperin, a frequent panelist on MSNBC's Morning Joe, made an intriguing observation on Monday's [6/23/2014] show about the IRS scandal. After saying that the recent news regarding the destroyed hard drive belonging to former IRS official Lois Lerner would be "a test for the news media," Halperin took a stance on the scandal that few on the cable channel would dare take. "I think with a different administration, one that was a Republican administration, this story would be a national obsession and, instead, it's getting coverage here and a few other places, but it really deserves a lot more questions," opined Halperin.

Omission Control. Reporter Sharyl Attkisson's story sounds familiar to me: A major network got tired of her reports criticizing government. She no longer works there. The CBS correspondent reported on Fast and Furious, the shifting explanation for the Benghazi, Libya, attacks and the bungled rollout of the Obamacare website. "But as time went on, it was harder to get stories on," she says.

CBS and NBC Skip New VA Scandal Outrage; ABC Gives News Just 14 Seconds. Despite the newest revelation in the Veterans Affairs scandal on Thursday [6/19/2013] that one in ten veterans have to wait at least one month before they can get an appointment to see a doctor, CBS and NBC refused to cover the latest news in both their evening news shows on Thursday night as well as their morning shows on Friday morning. ABC News only gave 14 seconds of coverage to the issue in a news brief during the 7:00 am hour on Friday's Good Morning America. CBS News chose to instead publish an article about it on their website Thursday afternoon.

Media won't tell you, so here are reasons to doubt global warming. Remember the poor polar bears? The conservative Daily Caller website reported May 30: "Researchers with the Polar Bear Specialist Group (PBSG) of the International Union for the Conservation of Nature recently admitted to experienced zoologist and polar bear specialist Susan Crockford that the estimate given for the total number of polar bears in the Arctic was 'simply a qualified guess given to satisfy public demand.'" A "qualified guess"? Crockford, a professor at the University of Victoria in British Columbia, says there are 6,000 to 9,000 more bears than the 20,000 to 25,000 the PBSG guessed at.

More about polar bears.

Cincinnati Station Says 'No' to PC Reporting on Racially Motivated Crime. A remarkable thing happened in Cincinnati on Thursday [6/12/2014]. WKRC-TV, which has taken to calling itself "Local 12," did a story on the growing problem of black-on-white teen mob violence — and called it black-on-white teen mob violence. The event where the violence occurred took place two weeks earlier during Memorial Day weekend at the city's Taste of Cincinnati event downtown.

Proof that Friday afternoon document dumps work!
Only CBS Covers IRS Losing Two Years of Lois Lerner Emails. On Monday [6/16/2014], only CBS This Morning reported Friday's stunning revelation that the IRS somehow lost two years worth of emails from Lois Lerner, the official at the center of the agency scandal in which conservative groups were unfairly targeted. At the top of the morning show, co-host Norah O'Donnell wondered: "How did the IRS lose emails in the scandal targeting conservatives after the government spent millions to back up data?"

More about Friday afternoon document dumps.

NBC's Williams Skips V.A. Scandal in Obama Interview; Omits Reid's Claim on Bergdahl Swap. Brian Williams glossed over the V.A. scandal during his interview of President Obama on Friday's [6/6/2014] NBC Nightly News. Williams did devote time to the ongoing controversy surrounding the release of senior Taliban leaders in exchange for Bowe Bergdahl — specifically the White House failing to inform Congress 30 days before the Islamists were let go from Guantanamo Bay, as required by federal law. However, the anchor didn't mention that Senate Majority Leader Harry Reid revealed that he was informed of the trade for Bergdahl on May 27, 2014 — a day before it actually happened.

American Nazi gives Hitler Salute from Rose Garden. Today the corporate media are still covering up their complicity in Obama's worse-than-Watergate criminality. Former SecState Hillary is still denying her own betrayals in Benghazi, sacrificing our people to protect the personal careers of big Democrats with a lifelong history of anti-American sabotage. No wonder our former allies are enraged at us today. No wonder Putin and the Iranians are drunk with laughter. No wonder the Taliban are celebrating the coming Muslim Dark Ages, now visibly beginning to descend again over Afghanistan. We can now see Obama's version of the Knockout Game against our allies, always favoring our deadliest self-proclaimed enemies.

How the Government Violated Its Own Ethics Rules, Then Covered It Up. In her debut story as a senior independent contributor for The Daily Signal, Sharyl Attkisson investigates a government-funded experiment that put the lives of premature babies at critical risk. The study of 1,316 infants deliberately manipulated preemies' oxygen levels — an action that could result in death or permanent disabilities. Attkisson, in an exclusive interview with The Daily Signal, details her findings and argues why this story should matter.

Sharyl Attkisson on Journalism's Very Dangerous Trend. Sharyl Attkisson, an award-winning investigative reporter who resigned from CBS News earlier this year, says the news media are heading down a dangerous path with attempts to "censor or block stories" that don't align with their preferred agenda. "There's a tendency in the news media, on the part of some managers, to censor or block stories that don't fall in line with the message they want sent to the viewers," Attkisson said in an exclusive interview with The Daily Signal. "I think that's really a very dangerous perspective to have."

Heritage Foundation starts an online site to cover unreported and under-reported news. It's not enough to be a newsmaker these days, as the conservative Heritage Foundation surely has been with its vigorous opposition to federal budget deficits, Obamacare, immigrant "amnesty" and same-sex marriage. Nowadays, you have to cover the news, too. Or so says the Heritage Foundation, which on Tuesday [6/3/2014] will start doing just that.

In a Month, TV News Gives Less Airtime to VA Scandal Than Christie Controversy Received in Four Days. In nearly four and a half weeks, the ABC, CBS and NBC morning and evening news shows have offered 110 minutes to an evolving Obama administration scandal involving secret lists designed to keep veterans from receiving proper medical treatment. Back in January, it took those same network shows just four and a half days to churn that much coverage for Chris Christie's Bridgegate.

The IRS's Media Firewall. After the full House of Representatives cited former Internal Revenue Service (IRS) official Lois G. Lerner for contempt of Congress on Wednesday, the Washington Times fittingly made it the lead story. Over at the Washington Post, however, print readers had to go 19 pages deep to "The Fed Page," a union-style newsletter for federal employees. If the Post had buried the story any deeper, it would have been wedged into the classifieds or crumpled up in a backyard mulch barrel.

ABC, NBC Ignore Report Showing Obama Administration Knew About Ongoing VA Problems. Of the big three networks, only the CBS Evening News with Scott Pelley covered the new revelations in the VA scandal. CBS News host Scott Pelley noted that "The Bush White House was so concerned about this back in 2008 that it warned the incoming Obama Administration." CBS Evening News and Fox News' Special Report with Bret Baier were the only evening news programs to cover the report while NBC Nightly News and ABC World News remained silent.

Benghazi: How to rebut Democratic talking points in 7 easy lessons. Most Americans have heard little if anything about this investigation because they've been relying on the main stream media for their news and in that forum, discussion about Benghazi has been fleeting. It's difficult to be tired of something you seldom hear about.

5 Things the Media and Government Won't Tell You About Boko Haram. [#3] Muslim clerics recruit for them in mosques. The British tabloid The Sun reported in late April that "Nigerian Muslim clerics living in the border towns of Cameroon and Nigeria are recruiting Boko Haram members in their mosques, the government of Cameroon has alleged." [...] This recruitment gives the lie yet again to the mainstream media and government dogma that Islamic jihad groups actually pervert the teachings of Islam. If they did, Muslim clerics, above all, would know that and oppose them. Yet Muslim clerics, all too often, are enthusiastic in their support of such groups, and sometimes even participate in them. But that fact is not one that our law enforcement or military establishment is willing, at this point, to ponder.

Media misdirection and Climate Change. While Republicans fitfully pursue contempt against Lois Lerner and form a select committee to dig into the Benghazi cover-up, the "mainstream" media pretend none of it is happening; following Speaker of the House John Boehner's announcement of the new Benghazi investigation, none of the three primetime "broadcast" news programs even mentioned it.

Report: TV abandons IRS scandal; just 14 stories in 10 months as issue rages again. According to the conservative media watchdog, when a Democratic report was issued in June 2013 suggesting that liberal groups were targeted equally by the IRS, the major media gave up coverage, even though that report was widely rejected, even by Treasury's inspector general. Since then, the House Committee on Oversight and Government Reform voted along party lines to recommend that the full House hold Lerner in contempt. A Roll Call report even suggested that the House, after voting, could imprison her.

DHS Covers Up Another Mexican Military Incursion Into U.S.. Another Mexican military incursion into the United States occurred near San Diego this month and the Obama administration is trying to cover it up, though officials at one Homeland Security agency have come forward with the startling details. The infiltration took place a few weeks ago at a cross-border drug tunnel recently discovered by federal authorities. The U.S. Border Patrol was charged with guarding the tunnel, which runs under the U.S.-Mexico border and leads to a warehouse in Otay Mesa. A group of at least five armed Mexican military soldiers came through the tunnel on April 1 and attempted to enter California through the warehouse, according to an account posted on the Border Patrol's local union website.

Networks Give 15 Times More Coverage to Correspondents' Dinner Than Benghazi. On Monday, the three network morning shows provided 12 minutes 24 seconds to Saturday night's White House Correspondents' Dinner but only CBS This Morning reported House Speaker John Boehner on Friday announcing a new investigation into Benghazi — a news brief that totaled a mere 47 seconds.

CBS Evening News Finally Notices Benghazi Emails. On Friday, CBS Evening News caught up with its Big Three competitors and reported on the latest developments on the controversy surrounding the September 2012 terrorist attack on the U.S. facility in Benghazi, Libya. CBS also finally mentioned its own president's family connection to a White House official involved in the Obama administration's handling of the immediate aftermath of the attack.

ABC Buries Own Results, Allows 18 Seconds for Obama 'Facing Worst Poll' of His Presidency. The news that Barack Obama is "facing the worst poll numbers of his presidency" warranted a mere 18 seconds of attention from Good Morning America on Tuesday [4/29/2014]. This scant coverage is despite the fact that ABC conducted the poll in question (along with the Washington Post). Reporter Amy Robach briefly explained, "And President Obama is returning to Washington today, facing the worst poll numbers of his presidency. His approval rating has dropped to 41 percent, mostly because of the economy." In contrast, when George W. Bush's approval rating dropped to 42 percent on March 7, 2006, GMA offered two segments.

ABC Ignores [Its] Own Poll Numbers Showing Obama's Lowest Approval Rating. Tuesday's World News ignored ABC's own poll showing President Obama's lowest approval rating of his presidency. ABC gave a scant 18 seconds to the numbers on Good Morning America earlier that day. [...] Instead of the poll numbers, however, the World News found two minutes for an update in Italy's trial of Amanda Knox, which NBC and CBS didn't think newsworthy. ABC also devoted a 50-second news brief to the announcement of the cast members in new Star Wars movie.

CBS Evening News Again Makes No Mention of Benghazi. CBS Evening News again failed to make mention of new revelations about Benghazi Thursday night, with such stories as flooding, wildfires and the Korean ferry disaster taking precedence. There is a clear conflict of interest: CBS News President David Rhodes is the brother of Ben Rhodes, the senior White House adviser at the center of the controversy over the White House talking points on the false narrative over what prompted the Benghazi terrorist attack.

NBC, CBS Ignore Congressional Hearing on Benghazi; ABC Gives It Only 46 Seconds. On Thursday evening, ABC was the only broadcast network to cover the day's congressional hearing on the Benghazi attacks. Both CBS and NBC ignored the hearing. ABC only covered the story for 46 seconds; they gave twice that amount of coverage to the U.S. Olympic speedskating suits. World News quoted retired Air Force Brigadier General Robert Lovell, at the U.S. Africa Command headquarters during the attacks, telling Congress that the military "should have done more" to respond.

Exclusive: an interview with investigative reporter Sharyl Attkisson. Before her recent resignation from CBS, Sharyl Attkisson was a mainstream news star. Multiple Emmys. CNN anchor, CBS anchor on stories about space exploration. Host of CBS' News Up to the Minute. PBS host for Health Week. Investigative reporter for CBS. Attkisson dug deep into Fast&Furious, Benghazi, and the ill-effects of vaccines. Too deep. Her bosses shut her down and didn't air key stories.

Media ignores sold-out global warming 'skeptic' conference. Climate scientists skeptical of claims that man-made greenhouse gas emissions are warming the planet gathered in Germany this month for a major, now sold-out climate conference, which the media has opted not to cover. In early April, the European Institute for Climate and Energy (EIKE) hosted its seventh Climate Conference in Mannheim, Germany. The two-day conference featured prominent climate scientists including Dr. Richard Lindzen of the Massachusetts Institute of Technology, physicist Nir Shaviv of the Hebrew University of Jerusalem and physicist Henrik Svensmark of the Danish National Space Institute.

Attkisson: Some CBS Bosses Seemed 'Personally Defensive' of the Obama Administration. [Scroll down] Some CBS News managers are so "ideologically entrenched," Attiksson explained, that they're willing to quash or bury reports that could inflict political damage on the sitting administration. [...] "I didn't sense any resistance in doing stories that were perceived to be negative to the Bush administration. By anybody, ever."

Progressive Insurance. Three miscreant California Democratic state senators — two charged with multiple felonies, one convicted of them — have only recently been put on leave. They are still receiving their state salaries. Since they are left-wing and of minority status, the scandals will soon be off the front pages, and calls for their resignations will be muted.

Big Three Networks Censor Huge IRS Scandal Developments. At this point it might take a dead body to get the Big Three (ABC, CBS, NBC) networks to give the IRS-Tea Party scandal any sort of real coverage. Huge developments in the last week — like IRS official Lois Lerner receiving a criminal referral from the House Ways and Means Committee and e-mails proving she fed tax information on a targeted group to the staff of Rep. Elijah Cummings (D) — were completely censored by ABC and NBC news. Only a 90 second report on Thursday's CBS This Morning kept last week's revelations from being totally blacked out on the Big Three networks.

New Census Questions Will Change ObamaCare Findings; Networks Ignore. New Census questions will change the findings on the impact of ObamaCare, reported the New York Times on Tuesday. The broadcast networks ignored this new report on the Tuesday evening newscasts, however. In fact, a census official told the Times they "are expecting much lower numbers" of the uninsured "just because of the questions and how they are asked." As the Times stated, the Census Bureau "is changing its annual survey so thoroughly that it will be difficult to measure the effects of President Obama's health care law in the next report, due this fall, census officials said."

AP's Julie Pace: Media Not Covering IRS Scandal Because 'We Don't Have A Lot To Work With'. Last week, the House Oversight Committee asked the Justice Department to seek criminal charges against former IRS official Lois Lerner. Despite the newest revelations in the IRS scandal, the Associated Press' Julie Pace attempted to excuse the lack of media coverage. Appearing as a panelist on Fox News Sunday on April 13, Pace argued, "If you are going to keep the story going and you want to keep the investigation going, eventually there has to be some material there to work with. And we're in this period of time where we don't have a lot to work with."

The Editor says...
Plenty of other news outlets have found a lot to report, over the last couple of years, about the use of the IRS as a weapon. A great deal of it has been collected on this page.

Networks Ignore House GOP's Criminal Referral for Lois Lerner. In a major new development in the IRS scandal, House Republicans voted on Wednesday to send a criminal referral to the Department of Justice for former IRS chief Lois Lerner. FNC's Special Report with Bret Baier devoted a full story to the vote by the committee chaired by Congressman Dave Camp, but none of the three broadcast network evening newscasts covered the vote. The letter sent to Attorney General Eric Holder stated that "findings" from the Ways and Means Committee, chaired by Republican Camp, "suggest that Lerner may have violated multiple criminal statutes." The letter went on to add that "the Committee asks that you pursue this evidence." The three networks ignored this letter, however, although CBS and ABC talked about Hillary Clinton's presidential aspirations.

Leland Yee is no longer a story, but CNN is. It's not that there isn't still an important news story unfolding in the saga of California State Senator Leland Yee... there is. In fact, federal indictments were handed down on Friday and one of his alleged co-conspirators was ordered released on a quarter million dollars bail. [...] What's really begun to come into focus here is the mind boggling side bar involving the complete radio silence on this at CNN. It's gone well beyond the level of slow response, lack of interest or some sort of administrative snit at the network and moved into the range of the truly bizarre.

The media hate Republicans. California State senator (and, until last week, candidate for secretary of state) Leland Yee was well-known as an anti-gun activist. Then, last week, he was indicted for, yes, conspiring to smuggle guns and rocket launchers between mobsters and terrorists in exchange for massive bribes. Some highlights, as excerpted by San Francisco Magazine. [...] This all sounds like news. You've got charges of huge bribes, rampant hypocrisy, illegal weapons and even a connection with foreign terrorists — and from a leading politician in an important state. But — and here's the part Hollywood would miss — outside of local media like San Francisco magazine, the coverage was surprisingly muted.

Indicted Charlotte mayor used access to White House in making plans for pay-offs. Former Charlotte Mayor Patrick Cannon was indicted on federal corruption charges last week and immediately resigned his position. Cannon had replaced former Mayor Anthony Foxx, who was tapped in 2013 by the Obama administration to lead the Department of Transportation. News of Cannon's indictment got only passing mention in national news, along with a handful of other corruption charges for Democrats.

The poster boy for liberal hypocrisy ignored by national media, but outrages San Francisco. The liberal media are trying to ignore his arrest, but California State Senator Leland Yee is such an amusing piñata of liberal hypocrisy that even his home town liberal newspaper is joining in the mockery fun. [...] Outlets like CNN which ignore this embarrassment to liberals do so at their peril.

The Leland Yee Story, As a Free Press Would Tell It. Now, one might think that this is a major scandal. A prominent politician, a principled advocate of gun control, turns out to be a gun runner who wants to import shoulder-fired missiles, in exchange for a large bribe. How could the networks resist a story like that?! Poor CNN has been limping along with a lousy lane closure for what, two or three years now? A dynamite story like Yee's could put them back on the ratings map! Oh, one thing I forgot to mention — Leland Yee is a Democrat. So no national news organization has any interest in his story. Sorry. It's on the back pages of the local papers. This is more proof, if it were needed, that the Democratic Party's news media are not primarily interested in ratings or profits, but in advancing the party's narrative.

Obama's 'children' on a rampage. [Scroll down] The mainstream media, ever-supportive of Obama, neglects to publicize any such event and only local newspapers are reporting the increasing meaningless and violent attacks against white victims. [...] It is undeniable that once those wrong doers in the black community (which represent a very small minority) realized they could essentially get away with murder, it was inevitable that racial anarchy would ensue. America might have been a post racial nation before but after 2008, it has become anything thanks to the constant class warfare promoted by the Democrat Party for its own preservation of power.

Wind Blows. Despite the hundreds of square miles of wind turbines in the Lone Star State, just 6.4 percent of electricity used to keep the lights on in homes comes from wind. Nationally, it's just 3 percent. [...] The earth is trashed in the process of building these farms, something big wind companies, so-called environmentalists, and the government don't want people to know. Not only are hundreds of miles of land destroyed with concrete that is often left behind by companies when a farm is out of use, the products necessary to manufacture wind turbines are mined in China without regulation and with a byproduct of toxic, radioactive waste.

Bob Kerrey Calls Obama a Delusional Liar; Renders Himself MSM Nonperson. Imagine if a former Republican presidential candidate and U.S. senator had called a current Republican president a delusional liar whose programs are wasteful. Would the mainstream media not be all over the story? Such a person would be interviewed at length by Wolf Blitzer on CNN as well as made the rounds of the morning talk shows and the Sunday news programs as well. The media buzz would be red hot on this topic for days extending into weeks. Well, there is such a person but because he is a Democrat saying these things about President Obama, we can expect him to become an MSM nonperson.

Politico Buries Senator Leland Yee's Arms Trafficking Scandal. The world of political news was captivated by Thursday's [3/27/2014] report of the arrest for gun trafficking of a famously anti-gun California state senator. Yet while most other news outlets reported the incident, Politico, an outlet that supposedly leads the nation in political news, didn't post a single story on the incident the day the news broke. This is the same Politico that managed to publish 90 separate stories on the Herman Cain sexual harassment scandal when it broke — within six days.

Brent Bozell Tells Megyn Kelly About TV's Obamacare Omission. MRC president Brent Bozell appeared Thursday night [3/27/2014] (as he often does) on "The Kelly File" on the Fox News Channel. The subject was this week's MRC studies on Obamacare — the Rich Noyes study on the under-coverage of Obamacare, and the Geoffrey Dickens study on all the victims who've been ignored. Brent touched on how only CBS did one Saturday story on a four-year-old who was denied care under Obama's alleged "signature achievement." But he professed amazement about how a program so ambitious that the networks called it a "landmark" and "historic" when it passed is now getting buried by Brian, Diane, and Scott: [Video clip]

'A Criminal Organization Masquerading as a Political Party'. Certainly, at a minimum it's safe to say that Democrats were rather active on the nation's police blotters today. Since this is one narrative the MSM will never assemble (as they're in on the fun), it's up to the Blogosphere — so here we go.

And now... some censored news from the Democrat Utopia of Venezuela. I'm so confused: we're not seeing any of this on "mainstream" media.

ABC, CNN, MSNBC, PBS All Skip Political ID for 'Shocking' Corruption By Democrat Mayor. ABC, CNN, MSNBC and PBS on Wednesday and Thursday all covered the "shocking" corruption involving the Democratic mayor of Charlotte, North Carolina. Yet, while talking about the tens of thousands of dollars in bribes he sought, none of these networks identified Patrick Cannon's political party. Only a Fox News host referred to him as a Democrat.

Unethical Media Helps Sweep Democrat Bribe-Taking Under the Rug. So far, the big three networks have yet to cover the major bribery scandal unfolding in Pennsylvania. In that scandal, state investigators targeted Republicans and Democrats in the legislature and offered them bribes. But only a few of the Democrats accepted bribes. The investigation began under a Republican attorney general, but when Democrat Kathleen Kane won the state attorney general's office in 2012, she quickly scuttled that investigation.

Story on Bin Laden's Pakistan Ties Disappears from International New York Times. Readers of today's edition of the The International New York Times in Pakistan might be forgiven for thinking there was a severe mix up at the printing press, finding a glaring blank space on the cover. It was actually a snipping of a story from the New York Times Magazine titled "What Pakistan knew about Bin Laden." In the piece, Carlotta Gall, who has reported from Afghanistan since around 2001, proposes that the Pakistani government not only knew about Osama bin Laden's whereabouts for years, but had a desk assigned to handle him.

Ego te absolvo. Carlota Gall of the New York Times describes what — if true — must be the biggest cover up in of all of the Obama administration's checkered history. Her article is titled "What Pakistan Knew About Bin Laden". But it is really about what the Obama administration knew that Pakistan knew about Bin Laden. The answer, as far as she can tell is that Washington knows for a fact that Osama bin Laden was Pakistan's creature. They know it was Pakistan — or factions within it — that ran the whole war on terror. But, she writes, the Obama administration has made a policy decision to ignore this perfidy, since to publicly acknowledge Islamabad's guilt would force the administration to act in ways they are not prepared to act.

The Pornified Professor Versus Pro-Life Youth. The other day, this story hit the New Media. It's one the Old Media will simply never report. Two sisters, 16 and 21, and members of Survivors of the Abortion Holocaust, were holding a pro-life sign while demonstrating at the University of California, Santa Barbara. A choppy cell phone video caught the scene: Students hurl obscenities at the young girls while a large, imposing woman, with two accomplices in tow, march off with the sign, having ripped it from one girl's hands. The girls follow the thugs to the elevator, and as the video continues recording, the intimidating woman sneers at the girls, taunts them and dares them to try retrieving the stolen sign while her accomplices laugh.

The Not-So-Mysterious Disappearance of News about Malaysian Flight 370. Like many of you, I have read and watched "news" reports about Malaysian flight 370 (MH370) ad nauseum. And I have been especially struck by (and concerned by) what has not been reported. For example: did you know that the pilot of MH370 was Muslim? Did you know that the copilot was Muslim? Did you know that the captain of MH370 was a fervent supporter of Muslim political activist Anwar Ibrahim? Did you know that Captain Shah was (is?) related to a son-in-law of Ibrahim's? Did you know that Ibrahim was convicted of sodomy (a crime in Malaysia) only hours before flight 370 took off? Did you know that Captain Shah probably attended that sodomy trial and heard the verdict? Did you know that Ibrahim purportedly has ties to the "Muslim Brotherhood?" (Please keep in mind that I am not trying to imply any conclusions regarding the fate of MH370 — I am merely stating facts). If you are aware of those things, then congratulations, you are ahead of the curve — most folks don't have a clue. And that is just the way the MSM would like to keep it.

Doomed airliner pilot was political fanatic. An image has emerged of the pilot of the missing Malaysia Airlines jet wearing a T-shirt with a 'Democracy is Dead' slogan as it has been revealed he could have hijacked the plane in an anti-government protest. Captain Zaharie Ahmad Shah, a father-of-three, was said to be a 'fanatical' supporter of the country's opposition leader Anwar Ibrahim — jailed for homosexuality just hours before the jet disappeared. It has also been revealed that the pilot's wife and three children moved out of the family home the day before the plane went missing.

WSJ: Terrorists Could Darken U.S. Power Grid; Nets Ignore, Cover Late Princess Diana Instead. "The U.S. could suffer a coast-to-coast blackout if saboteurs knocked out just nine of the country's 55,000 electric-transmission substations on a scorching summer day, according to a previously unreported federal analysis," the Wall Street Journal's Rebecca Smith reported on the front page of Thursday's paper. [...] A development like this is quite newsworthy and a topic that makes for good TV news, yet the broadcast networks — ABC, CBS, and NBC — completely ignored the item both on the March 13 evening newscasts and the March 14 morning news programs.

Exclusive: High Level Source Confirms Secret US Nuclear Warhead Transfer. A high level source inside the military has now confirmed to us that Dyess Air Force base is actively moving nuclear warheads to the East Coast of the United States in a secret transfer that has no paper trail. [...] This is of particular interest not only due to the fact that the Syrian situation has escalated to the point of a very realistic hot war scenario, but due to the fact that Dyess has repeatedly denied the existence of nuclear warheads inside the base.

Top Nuke Commanders Terminated Following Missing Nuclear Warheads Report. Two of the top nuclear commanders within the United States have now been terminated following the exclusive high level military leak report by Alex Jones and myself regarding the secret and unsigned nuclear weapons transfer from Dyess Air Force base to South Carolina. Disturbingly, the high level suspensions from top generals within the military establishment are not the only red flags to follow the leaked report.

Intelligence Insider Speaks on the Record About False Flags and Government Lies. This source talks explicitly about the incident at the Dyess Air Force Base involving the reported unauthorized shipment of nuclear warheads from that base. The incident at Dyess was broken exclusively by Anthony Gucciardi and Alex Jones of Infowars last Tuesday, on the same day that war hawk Senator Lindsey Graham (R-SC) made a speech citing the need for the U.S. to attack Syria. During that speech, Graham made the extraordinary and almost surreal statement that failure by the U.S. to intervene could result in nuclear weapons in the hands of terrorists, and that "could result in a [nuclear] bomb coming to Charleston Harbor." Coincidence?

ObamaCare Meets Kafka. Daily we learn of cancer patients who are losing their medical coverage, their doctors, their access to oncology centers only to be met with the derision of Harry Reid who calls them "liars." Gary Weiss writes of his experience as he signed up for his 2014 health insurance on the New York exchange. He was puzzled by the fact that the Gold plan cost more than the Silver plan although the Silver plan was substantially better and he "thought it odd that this peculiarity was nowhere noted in any of the news media accounts of the New York debut of Obamacare."

Sharyl Attkisson resigns from CBS News. CBS News investigative correspondent Sharyl Attkisson has reached an agreement to resign from CBS News ahead of contract, bringing an end to months of hard-fought negotiations, sources familiar with her departure told POLITICO on Monday [3/10/2014]. Attkisson, who has been with CBS News for two decades, had grown frustrated with what she saw as the network's liberal bias, an outsize influence by the network's corporate partners and a lack of dedication to investigative reporting, several sources said. She increasingly felt that her work was no longer supported and that it was a struggle to get her reporting on air.

Echoes of Edward R. Murrow in Sharyl Atkisson's departure from CBS News. CBS News has lost its strongest claim to be a fair and non-partisan news source with the departure of Sharly Atkisson from the network. The award-winning reporter has been squeezed-out because of her reporting on investigative themes inconvenient to the Obama administration, including Fast and Furious and the Benghazi Scandal — two incidents in which United States government officials lost their lives.

Sharyl Attkisson's Time on CBS Evening News Fell by Two Thirds After 2009. Earlier today Sharyl Attkisson announced on Twitter that she was leaving CBS News. Early reports suggest the split was "amicable" though Attkisson is said to have wanted to leave because she had grown frustrated with the network's "liberal bias." Specifically, she felt it was a struggle to get her work on the CBS Evening News, the network's flagship news program.

The Sharyl Attkisson approach. The Obama administration won't answer the CBS News correspondent's questions because her investigations — into Benghazi, Fast and Furious, Solyndra — often reflect negatively on it. Some colleagues at CBS News, where she has worked for two decades and earned multiple Emmy awards, dismiss her work because they perceive a political agenda. And now, she says, someone may have hacked into her computers. Attkisson's one piece of solace may come from finally gaining some like-minded colleagues in the media. For years, Attkisson has been one of the few mainstream reporters pursuing critical stories about the Obama administration. [...] Attkisson is a dogged reporter, driven by a strong skepticism of government.

The Media's Obama Protection Society. While [Sharyl] Attkisson is just one reporter and CBS has long since ceased being a dominant force in the national media, this may be a crucial moment in the history of American journalism. It was assumed that any major news outlet would regard aggressive coverage of all administrations as a given. But that ceased to be the case when Barack Obama entered the White House. If Attkisson is being shown the door at CBS it is not because her work is not highly regarded but because she has violated the prime directive of liberal media insiders: thou shalt not report on Obama in the same way that you reported on George W. Bush or even Bill Clinton. The liberal bias that conservatives have long complained about is out of the closet.

AP Reports Ex-Rep. Mel Reynolds' Saga's Latest Absurd Turn; Omits Party ID. Suffice it to say, that story would be the watercooler topic of the day in the liberal media and the Republican's party ID would be noted in every story. But, of course, we're talking about the saga of ex-congressman and ex-con Mel Reynolds (D-Illinois). The Associated Press has the latest in his ongoing saga, but, alas, left out his party affiliation from the story entirely.

Establishment Press Ignores Turley's 'Government Unto Himself' Warning on Obama's Executive Overreach. [L]eft-leaning law professor Jonathan Turley warned a Congressional committee on Wednesday that President Obama's extensive use of executive orders, executive actions, and unilateral regulatory moves threatens to enable the President, as Turley phrased it in a Fox News interview on Thursday, to "effectively become a government unto himself." If Turley had made his statement in 2006 or 2007 during the Iraq War, it would almost certainly have become a media obsession. Instead, [...] Turley's testimony is being completely ignored by everyone except center-right news outlets and bloggers.

Employees Petition MSNBC Hosts for Workplace Rights, Left-Wing Anchors Remain Silent. As much as MSNBC's left-wing prime time hosts portray themselves to be on the side of the workers, none of the anchors have responded to 10,000 petitions delivered to the network on Thursday [2/20/2014] from NBC writers and producers demanding more workplace rights.

NY lawmaker: Parents should take parenting classes. New York state Sen. Ruben Diaz Jr. introduced a bill that would require parents of elementary school children to attend a minimum of four parent support classes. If parents don't go, 6th graders won't move onto 7th grade. Leslie Venokur, the co-founder of Big City Moms, called the idea "crazy" and "insane."

The Editor says...
When the news media says "parents," that almost always means "mothers." And somehow the writer of this article forgot to mention that the State Senator with the totalitarian idea is a Democrat. Oops. The word "Democrat" was probably omitted because there was no room for it. No, wait -- the article was posted on the internet, where space is unlimited.

This article includes no mention of the Senator's party affiliation:
Former Hospital Owner Will Say He Bribed Senator. The former owner of a tiny orthopedic hospital with an unusually heavy roster of spinal surgery patients was charged Friday [2/21/2014] with health care fraud in a $500 million scheme to defraud workers' compensation insurance providers with the help of a California state senator.

A Real New Jersey Scandal Tied to Democrats Being Ignored by Media. Even as Newark, New Jersey was laying off policemen and was pleading for more tax money and state bailouts, it has now been discovered that a heavily employed city contractor was stealing millions from the city with crony deals and bribery and it's all tied to people appointed by Cory Booker — the man many Democrats think might be the "next" Barack Obama. There is even no-work jobs to buddies and other such criminal waste. All this comes from investigations into a city agency called the Watershed Conservation Development Corporation, an entity that supposedly monitored and managed the city's 35,000 acres of reservoirs and other water resources.

Planned Parenthood Pays $2 Million for Wrongful Death, Press Ignores. Late last week came the news that Planned Parenthood of Illinois, Northwestern Memorial Hospital, and Northwestern Medical Faculty Foundation have agreed to pay $2 million in a wrongful death settlement to the surviving young son of a woman who died after an abortion at a Chicago Planned Parenthood in 2012. This is huge news, no? Were this a settlement to a family whose loved one died because a hospital refused her an abortion, it would be broadcast everywhere.

Media Sidestep Five-Figure Price Estimate on Mrs. Obama's State Dinner Dress. Michael W. Chapman of our sister site CNSNews.com reports on cost estimates for the hand-sewn gown Michelle Obama wore at Tuesday's state dinner for the prime minister of France. Think five figures. If Ann Romney were First Lady now, would that escape the media's politicized scrutiny?

US Troop Deaths in Afghanistan Skyrocket Under Obama. U.S. military deaths in Afghanistan have skyrocketed under President Obama. Since 2009, 73 percent of all U.S. deaths in the country have taken place, amounting to 27.1 fatalities per month, on average. Billy and Karen Vaughn, Gold Star parents of Special Operations Chief (SEAL) Aaron Vaughn who was killed in action in 2011, are speaking out about why.

Steve Hayes Pleads: 'Where is the Mainstream Media' on Obama's Lawlessness? "Where is the mainstream media on this?" Steve Hayes of The Weekly Standard pleaded on Tuesday's [2/11/2014] Special Report with Bret Baier in reference to President Obama's latest decision to change the ObamaCare law. "Can you imagine if this were George W. Bush? I mean, we would be talking about a constitutional crisis, front page New York Times splashed above the fold, 'George W. Bush: Dictator President.' You're seeing none of that."

Poof: A Scandal Disappears. It requires terrific confidence in the passivity of the press to float the discredited "Cincinnati did it all" dodge since we know that IRS employees in that office were taking direction from Washington. We further know that IRS offices in California, Oklahoma, Washington, D.C. and other places have been identified as singling out groups with "Tea Party" or "Patriot" in their names. Obama's confidence in the press is not misplaced. Despite juicy opportunities to delve into the story of government abusing its power, reporters have let the matter drop.

Satellites show no global warming for 17 years 5 months. The monthly satellite lower-troposphere temperature anomaly from Remote Sensing Systems, Inc., is now available. Taking the least-squares linear-regression trend on this dataset (the bright blue horizontal line through the dark blue data), there has now been no global warming — at all — for 17 years 5 months. [...] Would readers like to make a projection of how many mainstream media outlets will report this surely not uninteresting fact?

George Will: IRS Scandal [is] as Big as Watergate and Iran-Contra; So Where's the Media? Appearing on Fox News Channel's Special Report on Wednesday [2/5/2014], conservative columnist George Will said the scandal involving the Internal Revenue Services' targeting of conservative groups is as serious as Watergate or Iran-Contra. The distinction between those scandals and the one involving the IRS, he said, was that the press covered those earlier controversies heavily while they have largely dismissed the latest.

Another Obamacare Horror Story Which Won't Get Further Than Local News. I suspect that more than a few readers have noticed, with likely little surprise, that there hasn't been a lot of national establishment press attention paid to how Obamacare has been working out in the real world since it officially went into effect on January 1. [...] You might find coverage of that in the British wing of the Washington press corps, and that's about it.

Don't Know the Party of a Politician Caught in a Scandal? He's Probably a Democrat. Within the span of 40 seconds, NBC Nightly News anchor Brian Williams reported on two politicians caught in scandals, one a Republican the other a Democrat, but he gave the party affiliation of only one of the troubled politicians. Can you guess which one?

Word Not Found In NYT 5500 Word Hillary Profile: Benghazi. Friday [1/24/2014], the venerable New York Times Magazine published a mammoth 5500-plus word profile of Hillary Clinton and the world around her. It is titled "Planet Hillary," and two words you will not find on this mammoth planet are "Libya" and "Benghazi."

Did someone mention Benghazi?

Colorado will show why legalizing marijuana is a mistake. On Jan. 1, Colorado made history as the first jurisdiction in the modern era to license the retail sales of marijuana. [...] While it is true that most people who use marijuana won't become addicted to heroin or otherwise hurt society as a result, Colorado's experiment with legal pot can be called anything but successful. What didn't make the news were some troubling developments.

What a lost prison manuscript reveals about the real Nelson Mandela. Everyone thought Mandela was a known entity, but he turns out to have led a double life, at least for a time. By day, he was or pretended to be a moderate democrat, fighting to free his people in the name of values all humans held sacred. But by night he donned the cloak and dagger and became a leader of a fanatical sect known for its attachment to the totalitarian Soviet ideal. When Ellis first aired this theory, it read like a Cold War thriller, but when Mandela died last month, the African National Congress and the SACP [South African Communist Party] both issued statements confirming that it was true: at the time of his arrest in 1962, Nelson Mandela was a member of the SACP's innermost central committee.

New Evidence Emerges about Nelson Mandela and His Secret Communist Past. We've known for some time that Nelson Mandela was a member of the South African Communist Party. It was hard for fawning liberals to acknowledge the meaning of his membership, so they came up with a narrative explaining it. Their story went something like this: He only briefly joined to get the benefit of their organizational talent, and his membership was rather symbolic, and hardly meaningful. What is important is his steadfast commitment to non-violence, his adherence to political democracy, and the role he played after emerging from prison in the waning days of apartheid. But with each passing day, more has come out to put Mandela's allegiance to communism in more perspective.

WashPost Suffers Another Disgusting Case of Fort Hood Amnesia in Assessing Obama's Terrorism Record. On the front page of Saturday's Washington Post, reporter Scott Wilson spun furiously to avoid the obvious fact that candidate Obama's promises and President Obama's record on the War on Terror are remarkably at odds. Worse yet, Wilson insisted that only the Boston Marathon bombings (death toll: three) counts as a "successful mass terrorist attack on Obama's watch," which completely avoids the mass shooting at Ford Hood by an Islamic radical (death toll: 13), which is often ridiculously categorized as workplace violence.

The Conservative Targeting Scandal You've Never Read About. It's funny what the mainstream media will and won't cover. Remember how big networks tried to downplay the IRS's targeting of conservative groups? Now they're downright ignoring a similarly disturbing abuse of power — this time, in Wisconsin.

Secret Mandela Autobiography Reveals Soviet Sympathies. In Nelson Mandela's celebrated 1994 autobiography, Long Walk to Freedom, the late South African leader and Nobel laureate was careful to distance himself from communism. However, in the original manuscript — quietly published online in 2011 and 2012, and only recently noticed — Mandela openly sympathizes with communism and the Soviet Union, and calls the "US brand" of "imperialism" the "most loathsome and contemptible."

CBS Ends 6-Month Censorship of IRS Scandal to Tell Viewers FBI Won't File Charges. CBS finally ended its almost six-month long ban on the IRS-Tea Party investigation to announce to its viewers, on Tuesday's [1/14/2014] CBS This Morning, that the FBI is not expected to "file criminal charges" and has yet to find "proof of political bias." However in the time since CBS last reported on the scandal on July 24, they have censored bombshells in the investigation like: Rep. Darrell Issa accusing the FBI of stonewalling; the discovery of e-mails by IRS officials sent both to the FEC and the White House; and most recently the announcement of an Obama donor being named in charge of the Justice Department investigation.

FBI Feeds Cynicism About IRS Scandal. After several months of virtual radio silence in the mainstream press about the IRS scandal, [...] the IRS affair got back into the news in its own right today [1/14/2014] as the Wall Street Journal reported that the FBI is unlikely to prosecute anyone for the practice in which organizations affiliated with the Tea Party and other conservatives causes were specifically targeted for discriminatory treatment.

1,687,000 Fewer Americans Have Jobs Today Than 6 Years Ago. Although the number of people who had jobs in the United States increased by 143,000 from November to December, according to the Bureau of Labor Statistics, that still left 1,687,000 fewer Americans holding jobs than held jobs six years ago in December 2007ัthe month the last recession began.

The Holder Effect. Thanks to the internet, the liberal elites who censor the output of the major news organizations can no longer cover up events that fail to depict contemporary life as they wish it to be. But even if you don't hear about it or read about it from one of their publications or networks, your chances of learning about these ["knockout game"] crimes are much better today than just a few years ago when the so-called mainstream media could effectively bury what was unfavorable to their vision of fit to print.

24 Underreported Democrat Scandals That Make News Media's 'Bridgegate Mania' Look Like a Joke. Whatever happened in New Jersey under Governor Chris Christie in regards to the already-infamous "bridgegate," the open gloating by the media over the unacceptable behavior of the Republican governor's staffers is extremely revealing. Regardless of one's views on Governor Chris Christie, this coordinated political feeding frenzy is liberal hypocrisy at its finest.

How the Obama administration dismantled American government. Obamacare is a flea bitten dog that never would have been enacted without wholesale and deliberate falsehoods said over and over again by Barack Obama and every Democrat cheerleader. It never would have been enacted without legislative sleights-of-hand and backroom bribes offered to key Democrats. It never would have been enacted and Barack Obama would likely not have won a second term without the willing negligence of a toothless "watchdog press" who refused to independently investigate or report obvious lies.

ABC, NBC Mum on Why Gay Wedding on Rose Parade Float Wasn't Part of TV Coverage. The two television networks — ABC and NBC — that covered the 2014 Tournament of Roses parade live on Jan. 1 are not saying why the wedding of two men atop the AIDS Healthcare Foundation's float was not part of their programming viewed by more than 60 million people around the world. When CNSNews.com asked whether the wedding was covered and, if not, why not, ABC's press office said there would be no official statement about the event and cited technical issues. NBC did not respond to the questions.

Reporters Hit a White House Stone Wall. With the exception of those who depend on Fox, ABC radio, the Wall Street Journal, and other conservative outlets, too many of the consumers of news are blissfully unaware of the liberal, rubber stamp product they are receiving. It is the complete betrayal of those whom the press is supposed to serve. They did not report the truth about Obamacare. They have not reported the truth about Obama's failed foreign affairs policies, including the attack on Benghazi. They have largely ignored other scandals. Obama's new economic "inequality" lies are right out of the Communist Manifesto. The result, however, was his reelection in 2012 and millions of canceled health plans.

Ripping Off the "Progressive" Mask. It is a sad fact that telling a lie these days has become more convenient than telling the truth. This is a terrible commentary on those with access to our major media. Consider the coverage of the inauguration of Bill de Blasio as New York City's mayor. The term "progressive" is used in most accounts to describe him and his backers. De Blasio accepts that term. Yet, by any objective measure, he is a dedicated Marxist, and has been for most of his life. For example, he never disavowed his support for the communist Sandinistas in Nicaragua. He claims to have honeymooned in communist Cuba, when such a trip was illegal. His wife was a member of a Marxist collective.

10 Forms of 2013 Media Malpractice. [#3] Decide that really bad news doesn't matter. When the government's initial report on fourth-quarter 2012 economic growth showed contraction, the editors at Bloomberg News decided that the nation's gross domestic product (GDP) is an "imperfect measure of progress," and that we really should be looking at indicators of "social progress or human happiness." How convenient.

MSM Glosses Over Irony of Global Warming Scientists Trapped in Antarctic Ice. Somewhere far, far to the south where it is summer, a group of global warming scientists are trapped in the Antarctic ice. If you missed the irony of that situation, it is because much of the mainstream media has glossed over that rather inconvenient bit of hilarity.

Networks Miss 'Climate Change' Irony of Ship Stuck in 10 Feet of Antarctic Ice. A Russian research vessel has been stuck in thick ice in the Antarctic since Christmas morning, and predictably the big three networks are enjoying the novelty of such an event. However, despite the obvious news story, ABC, CBS and NBC have all missed one great irony in their reporting. On Monday December 30, all three networks covered the story, but only CBS even used the words "climate change" when discussing the trapped ship. All three failed to point out the irony that this event is an embarrassment for those pushing the liberal "climate change" narrative.

Global Warming Researchers Ice-Bound; 96 Percent of Network Stories Censor Why Ship Is There. Antarctic ice trapped a ship full of scientists on a climate change expedition. Yet, 96 percent of network news reports about the stranded researchers ignored climate change entirely. The ship has been stuck since Christmas morning. The broadcast networks mostly ignored the reason the Russian ship, Akademic Shokalskiy, was on its way to Antarctica. Twenty-five out of 26 stories (96 percent) on the network morning and evening news shows since Dec. 25 failed to mention climate change had anything to do with the expedition.

Frozen Out: 98% of Stories Ignore That Ice-bound Ship Was On Global Warming Mission. A group of climate change scientists were rescued by helicopter Jan. 2, after being stranded in the ice since Christmas morning. But the majority of the broadcast networks' reports about the ice-locked climate researchers never mentioned climate change. The Russian ship, Akademic Shokalskiy, was stranded in the ice while on a climate change research expedition, yet nearly 98 percent of network news reports about the stranded researchers failed to mention their mission at all. Forty out of 41 stories (97.5 percent) on the network morning and evening news shows since Dec. 25 failed to mention climate change had anything to do with the expedition. In fact, rather than point out the mission was to find evidence of climate change, the networks often referred to the stranded people as "passengers," "trackers" and even "tourists," without a word about climate change or global warming.

Sharpton Holds Chicago 'Town Hall' on Gun Violence, 'Tea Party' Rhetoric Breaks Out; Local Media Mum. Rebel Pundit at Breitbart News reports that a Thursday meeting in the city's Hyde Park area not far from President Obama's Chicago home didn't exactly turn out the way Sharpton would have liked. There was even talk of having "Tea Party" meetings "like Republicans do." Sharpton doesn't need to worry too much, though, because Chicago's establishment press has ignored what happened. Shamefully, so have a couple of smaller publications which apparently prefer bland misdirection over substantive reporting.

NY Times admits Obamacare will cause middle class suffering more than a year after election. The mainstream media follows the New York Times' lead in deciding what is and isn't news. Hardly an editor or news director anywhere in the country lacks a subscription to the Gray Lady. So, when the Times practiced omerta about the downsides of Obamacare for most people, the media followed its lead, quite willingly. [...] There are going to be a lot of people asking why the media didn't let them know what was in store for them with Obamacare.

The 'Duck' is all about the left being bored with Obama. Let's look at this partial list of disappointments:
1) GITMO is still open and it won't close anytime soon;
2) The NSA program has really shaken up liberals;
3) The "still in place Bush anti-terror policies" that they hated so much at "the yes we can" rally;
4) Income inequality at a high level in the 5th year of "hope and change";
5) Black unemployment is very bad under our first black president;
6) The Iran deal under attack by Senate Democrats;
7) Global warming not so warm; and,
8) The Obama Care "roll out" has raised serious concerns about competence and the future of liberalism. [...] You can make a good case that the law is falling apart.
My point is that you will see a very aggressive left on same sex marriage, abortion, Voter ID cards, and the issues that create excitement with the base. They need something to grab and "get pumped up about." It already started with Charles Blow bringing racism into it.

Short Hills mall fatal shooting victim ID'd as Hoboken lawyer. The fatal shooting of Dustin Friedland, 30, by two men after they rolled up on him and his wife in the parking deck on Sunday night is the latest — and deadliest — of the more than 400 carjackings reported in Essex County this year, officials said.

The Editor says...
This case has had extensive coverage in the news media, yet I have seen no description of the suspects in any report, except to say that police are looking for "two men." Therefore it is safe to conclude that the police are looking for two black men; otherwise, the newspapers would make it clear that the suspects were white. That's just the way the news media works.

Denver Post Stealth Edits Out 'Socialist' from Profile of Arapahoe School Shooter. In a profile on the shooter in the Denver Post which focused on his "strong political beliefs," several of Pierson's classmates offered their impressions of the shooter. One of the shooter's classmates described him as a "very opinionated socialist." Shortly after that post was published, however, that description was edited out. The current copy simply describes him as "very opinionated."

Tiny Vermont Gets $208 Million to Build Disastrous Obamacare Exchange; Where Are the Press Watchdogs? In mid-November, Americans for Tax Reform compiled a list of federal spending on state Obamacare exchanges totaling a breathtaking $4.5 billion. One number on the list stands out from the rest — and it's not California's, though its $910 million amout is awful, disproportionate, and surely highly wasteful (before considering scalability concerns, the fixed costs of building a web site should be close to the same regardless of a state's population). The big eye-catcher is tiny Vermont's staggering $208 million. The nation's second-least populous state (626,000 as of 2012) has 0.2 percent of the U.S. population, but has received 4.6 percent of grants from the Center for Medicare and Medicaid Services.

Comrade Mandela's Secret Life. The South African Communist Party is admitting Nelson Mandela was a high-ranking member. Will the media report these facts? Or will the "myth" continue to prevail?

Why Mandela's Communist Party membership is important: On the day of Nelson Mandela's death the South African Communist Party chose to reveal a fact that it had long denied: that he was a party member. Indeed, at the time of his arrest he was on the Central Committee.

Did Obama know date of Mandela's death was June 26, 2013? According to the read-by-millions Las Vegas Guardian Express, Mandela died on June 26th, 2013, but was kept on life support until December 2013. On December 5, 2013, the White House tweeted a picture showing Obama behind the bars of the Robben Island prison, where Mandela had been incarcerated for 27 years. The picture tweeted on Dec. 5, 2013 had been taken on June 29, 2013, when Barack and Michelle Obama visited the world famous site. As president and first lady of the USA, the Obamas make pretty good vultures.

Nelson Mandela: What Were We Thinking? On the morning of June 26, we received a message from one of our South African correspondents, Laura Oneale that Nelson Mandela had passed away the previous evening. The news had come to her in the form of a text message from an acquaintance who was well-placed in the South African media. It should be understood that this organization was not authorized to break the news. Clearly, the South African government and the Mandela family had already decided that the news would not be made public.

The Knockout Game: What Took the Conservative Media so Long to Notice? Evil flourishes when good men do nothing, and too many conservatives have been wobbly about recent racial violence trends. [...] In June of 2011, at least two people had been killed as a result of the sadistic, racially charged knockout game. Since then, there have regularly been unprovoked attacks by black teens against non-black victims. Now, finally, after a series of attacks against Jewish pedestrians in New York City, mainstream conservatives are discussing the knock-out game. Fox News reports that the death toll from the "game" is now seven.

Knockdown games, bigoted receipts, and self-inflicted HIV. [Scroll down] In both cases, social media firestorms erupted over stories that inflamed certain passions and fulfilled certain expectations. The narratives were too good to check. But the press is suddenly very interested in "debunking" the Knockdown Game, building off a hysterical piece in Slate that alleges — based on nothing more than the deep-seated ideological convictions of the author — that the rash of random, racially-charged attacks can't possibly be happening. This Knockdown Game knockdown has to be one of the most bizarre media obsessions ever. It's an objective fact that the game is happening — even the "debunking" pieces admit it! — but they're trying to literally wish it out of existence, presumably because they don't like the commentary it's attracting from conservatives.

Media ignores Democratic infighting, abandonment of Obama. At stake: In the short term, the makeup of the Senate. In the long term, much more: The future of liberalism. Obamacare (a term which, not surprisingly, the White House last week suddenly stopped using, opting for "Affordable Care Act"), is the pinnacle of liberalism. The government will take over one-sixth of the U.S. economy and make all your decisions for you. And don't worry: your most personal information is safe with us (just ask the National Security Agency).

What ObamaCare Disaster? NBC Continues Blackout of Failing Health Care Law. After going 72 hours without even mentioning ObamaCare on its air waves, NBC's continued refusal to cover the disastrous policy on Thursday's [11/21/2013] Nightly News or Friday's Today brought that total up to 96 hours. Amazingly, Friday's Today had the audacity to include two segments about Vice President Joe Biden buying lunch at a Washington D.C. sandwich shop rather provide any ObamaCare updates.

Why Obama can't wave away this scandal. Attorney General Eric Holder has survived three scandals that would have felled a Republican. His department attempted to soft-pedal its responsibility for the so-called "gunwalking" policy called Fast and Furious — which led to the murders of US border agents by Mexican drug-cartel members with guns effectively provided to the killers by the Justice Department. He approved the secret surveillance of Fox News Channel reporter James Rosen in a leak investigation on the outrageous grounds that Rosen was a possible "co-conspirator" in an act of espionage. And he approved similar tactics against reporters at the Associated Press in another leak investigation. Holder's still there. Obama defends him. When was the last time you heard Rosen's name mentioned, or the AP story referenced, or Fast and Furious come up?

Ingraham Battles O'Reilly Guest Over Media Ignoring Racially-Charged 'Knockout Games'. There is a disturbing trend now being noticed by a few news outlets this week called "knockout games." These games supposedly involve young black men randomly attacking people on the street. Laura Ingraham battled O'Reilly Factor guest Jasmyne Cannick on Thursday [11/21/2013] over the media's refusal to take on these racially-charged attacks in an honest way.

More about the knockout game.

Blackout: NBC Censors All Coverage of ObamaCare for Days. NBC News has completely censored any mention of the unfolding ObamaCare disaster for the last 72 hours. Not one word about the millions of Americans losing their health insurance nor the severe political damage that has been done to President Obama and the Democratic Party. In that same time period, both CBS and ABC reported on major developments regarding the new law, including revelations that much of ObamaCare's infrastructure was still unfinished and that the administration knew of serious problems with the HealthCare.gov website as early as March.

CBS, NBC, ABC, CNN, MSNBC Primetime Ignore 'Knockout Game' . The major television media are ignoring the "knockout game," a vicious assault perpetrated by young African-American males against Jews and whites across the nation. In the assaults, unsuspecting pedestrians are punched violently in the head so that the black youths can prance around exhilarated about their successful "knockout." Many concussions and even deaths have been attributed to this "game," but networks such as ABC, CBS, NBC, CNN, and MSNBC have studiously ignored the issue, according to TruthRevolt.

Might the Establishment Turn Against Obama?. Communist childhood mentors? Don't go there. Boasting in print about his university penchant for Marxism and his heavy drug use? Well, all students are "idealists" and "party-goers." Explicit statements declaring fully socialized medicine his long-term goal? Surely he's learned now that Washington is about compromise. Long personal, professional, and political association with Bill Ayers — terrorist, avowed communist revolutionary, advocate of Marxist re-education camps, and education "reformer"? But he says Ayers was just a guy from his neighborhood, and his word should be good enough for us. Refusing to release his school records? So what? — the man has a Harvard law degree.

ABC, CBS Notice Obama's 'Lowest Ever' Approval Rating; NBC Out to Lunch. On Tuesday, ABC's World News and CBS Evening News both reported the latest poll numbers from the "respected" Quinnipiac University, as CBS's Scott Pelley labeled the institution, regarding President Obama's "lowest ever" approval rating, along with Americans' dim view of the politician's honesty. ABC's Diane Sawyer noted that "for the first time in his presidency, a majority of American voters — 52 percent...say President Obama is not honest and trustworthy."

Byron York: Sympathetic Journalists All Knew Cancellations [were] Coming. In a Friday editorial mainly taking aim at President Obama and Democrat lawmakers, The Washington Examiner's Byron York argues that the wave of millions of insurance cancellations were in fact not a surprise for many who are now claiming it was. They knew, knowingly lied and they were not the only ones. York points out that "sympathetic journalists" also knew what was coming and remained silent.

New York Times' Obama cheerleading harms the nation. The ObamaCare debacle is the exception that proves the rule. Wall-to-wall complaints are forcing the media to report that the law's Web site is a lemon and that its rules are causing millions of people to lose insurance plans they liked. The mainstream media is acting only because the story is too big to ignore.

Virginia Duo Hooked Up 300 Illegal Immigrants with Photo ID; WashPost Buries Story on B8. A former DMV clerk, Maria Cavallaro, and her accomplice, Jose Calderon, pleaded guilty in federal court yesterday to helping roughly 300 individuals "most of them illegal immigrants" to obtain Virginia-issued "driver's licenses, learner's permits and identification cards for those... [who] were not eligible for them," Washington Post staffer Matt Zapotosky reported in the November 7 paper. Suffice it to say, such a pervasive criminal conspiracy merits prime real estate in a major metropolitan newspaper, but Post editors seem to disagree, placing the 14-paragraph story on page B8 of Thursday's [11/7/2013] paper, the very back page of the Metro section.

NBC hides its bombshell that Obama knew millions would lose health insurance. An NBC investigative internet story that has upended the administration's oft-repeated promise that Americans will be able to keep their health care plan under Obamacare was largely ignored on the network's premier TV shows, NBC Nightly News and Today, according to a media watchdog group.

NBC News Deletes Huge Obamacare Story, Stealth Edits, Breaks Drudge Link. On Monday [10/28/2013], NBC News reported that President Obama's administration knew for three years that Americans would lose their current insurance under Obamacare. The story quickly became the lead at the Drudge Report, making it the hottest political story on the Internet immediately. For several hours, there was no problem. Then, late at night, the story was pulled, the link was changed thereby breaking the Drudge link, and stealth edits were made to the piece. In particular, one key paragraph met the cutting room floor.

Where was the media when "open secret" of ObamaCare problems arose? Where does one go to get some objective reporting on public policy? One unmentioned aspect of the "sticker shock" and "exchange collapse" stories, which the media now reports well, is that these problems were readily apparent before October 1, too — as the NYT admits in the second half of its Friday [10/25/2013] article.

The Editor says...
The "mainstream" news media only began to "report" Obamacare's flaws after the whole world was aware of them.

Questions Rarely Asked — and Never Answered. Is there still a notion of scandal? If EPA director Lisa Jackson's fake email con and the Pigford payouts were small beer, what were the scandals about Benghazi, the IRS, the AP, and the NSA? Does anyone care that every presidential pronouncement about the Affordable Care Act was false? We have reached a new point where either the media is an appendage of government, or the public is too weary to care about the conduct of its government — to the degree that this administration could do pretty much anything. [...] How did Barack Obama become the most anti-civil liberties president in history — to almost complete silence?

60 Minutes: Benghazi Revelations of Betrayal, No Mention of Hillary, Obama. In the whole segment, which established damning evidence that the U.S. had evidence that an attack on the annex where Ambassador Chris Stevens was killed was clearly in the works, [Lara] Logan never once mentions the names of Hillary Clinton of Barack Obama. Unsurprising that a featured player in the MSM should not report on the truly lethal evidence that could have sunk Obama's 2012 campaign until almost one year after his reelection.

Early Skirmishes in a Race War. Initial skirmishes in that race war have already begun, and have in fact been going on for some years. But public officials pretend that it is not happening, and the mainstream media seldom publish it at all, except in ways that conceal what is really taking place. [...] More dangerous than these highly publicized episodes over the years are innumerable organized and unprovoked physical attacks on whites by young black gangs in shopping malls, on beaches, and in other public places all across the country today. While some of these attacks make it into the media as isolated incidents, the nationwide pattern of organized black-on-white attacks by thugs remains invisible in the mainstream media, with the notable exception of Bill O'Reilly on the Fox News Channel.

Ted Cruz Spots a Tsunami. One doesn't need to recall simple math or economics lessons from school to hear and recognize the ugly sucking sound emanating from our nation's 17-plus trillion dollar debt clock. But most cover their ears with soothing opinion polls (likely answered by people who flunked both subjects) and would rather know President Obama's answer to tough questions, such as what he thinks is the coolest thing about his job.

Poynter Offers Media Guide to Gloss Over Millions of ObamaCare's Victims. Because the media are as desperate as Obama to see ObamaCare succeed, the faulty federal website is getting all kinds of attention. One thing that isn't, though, is that millions among the working and middle class are losing insurance they are happy with and seeing their monthly premiums spike, sometimes by as much as 150%.

Top Five ObamaCare Catastrophes the Media Refuse to Cover. While the media's coverage of the rolling disaster that is the ObamaCare launch is both welcome and appropriate, what the media will not cover is what is now and is always going to be the real ObamaCare disaster: the economic chaos ObamaCare is forcing millions upon millions of everyday Americans to needlessly pay for and deal with. And the people callously being thrown into this maelstrom aren't The Wealthy, aren't Mitt Romney, aren't the Top 1%, aren't even Tea Partiers — they are the very people Obama repeatedly promised could keep their insurance and that he would never tax: the working poor and the middle class.

President Obama's Attack On The First Amendment. Truth is, the unions and black caucus will never turn their backs on this president and the media will continue to pronounce the scandals surrounding Benghazi, the IRS, Fast and Furious, intelligence leaks and the NSA as "phony" and ignore the administration's incoherent foreign policy and diplomatic failures. No one wants a government shutdown, but the principles behind this one are worth fighting for. The shutdown challenges Obama's reckless policies and brings to light the real danger they pose, something the media refuse to do.

Obama's military contempt: The outrageous treatment of Clint Lorance. Army First Lieutenant Clint Lorance, a 28-year-old combat leader in the 82d Airborne Division from Celeste, Texas was recently found guilty of two counts of murder in Afghanistan and sentenced to 20 years in Ft. Leavenworth. The story of First Lieutenant Lorance has not been covered by a single major media source.

Majority Think Obama Is Putting His Agenda Ahead of What's Good for the Country, Media Mum. The Obama-loving media couldn't wait to report findings from an NBC News/Wall Street Journal poll concerning how the public are giving far more blame for the government shutdown to Republicans than the President. What they chose not to report was that 51 percent of respondents in the very same poll said of Barack Obama, "He is putting his own political agenda ahead of what's good for the country".

Memo details terrorist's 'dry run' aboard flight last month. We've been hearing these reports for years, but this appears to be the real deal. On a flight from Washington to Orlando last month, several Middle Eastern men caused what was termed a commotion and "appeared to be conducting a test run to gauge procedure and reaction to an in-flight threat during an incident aboard US Airways Flight 1880 from Reagan National Airport to Orlando International Airport on Sept. 2," according to Fox News.

Pilots union warns of 'dry run' by possible terrorists on US flight. Security experts for a major airline's pilot's union have warned members that potential terrorists conducted apparent "dry runs" aboard domestic flights in recent weeks, and urged flight crews not to be pressured into taking to the skies if they are fearful. A memo from the U.S. Airline Pilots Association, which represents more than 5,000 pilots who fly for US Airways, cites "several cases recently throughout the (airline) industry of what appear to be probes, or dry runs, to test our procedures and reaction to an in-flight threat."

Unbelievable: Obama gets no questions at presser on ObamaCare rollout or shutdown theater. It ran for one hour and six minutes, with 12 different reporters being called on — although, notably, not Ed Henry of Fox News — and between them they couldn't muster one question about the catastrophe that is Healthcare.gov or the spectacle of National Park Rangers locking senior-citizen tourists out of war memorials and/or inside their hotels.

ABC, NBC, CBS Nightly Newscasts Ignore Amnesty Rally. On Tuesday [10/8/2013], not one word about the immigration rally on the National Mall in Washington, D.C. was mentioned on the nightly newscasts for NBC, CBS, or ABC. Americans watching the nightly newscasts would not have known that such a rally ever happened during the government shutdown.

LA Times: We Don't Publish Letters to Editor Claiming Man Isn't Causing Climate Change. It's one thing for a news outlet to advance the as yet unproven theory of anthropogenic global warming; it's quite another to admit that you won't publish views that oppose it. As amazing as it may same, that's exactly what the Los Angeles Times did Saturday [10/5/2013] in an article by editorial writer Jon Healey.

FBI raids on homes in Texas, Michigan remain a mystery. Federal officials on Monday remained silent on why they raided homes in Texas and Michigan this weekend that property records indicate are owned in part by a Houston art appraiser.

The Editor says...
I find it hard to believe there's a valid reason for all the secrecy about what they were looking for, or what they found. My guess, based on the treatment of Gibson Guitar, is that the "art appraiser" said or did something Barack H. Obama didn't like.

Dangerous Times: The Crisis-Monger. The Center for Policy Studies has now exposed secret money streams from the Muslim Brotherhood to the Democrats. That hidden flow of cash explains everything that made no sense before, going back to 9/11/01. The MBs run layers of shell corporations to hide money for the Democrats from the IRS — which isn't looking very hard. The Clinton Center is one major conduit. The Obama campaign is another.

CNN Does Twelve Minute Interview With Susan Rice Without Mentioning Benghazi. It goes without saying that the reason Susan Rice was scrapped from consideration to replace Hillary Clinton as Secretary of State last year was due to the claims she made on numerous television programs the Sunday after our consulate in Benghazi, Libya, was attacked. Despite this, when CNN's Fareed Zakaria did a twelve minute interview with Rice Sunday [9/29/2013], he didn't mention Benghazi at all.

The Editor says...
I suspect and surmise that Ms. Rice probably consented to the interview upon the condition that no Benghazi questions were to be asked.

This story originally appeared at NewsBusters
'Islam,' 'Muslim' censored from newspaper reports on Kenya, Pakistan attacks. In Nairobi, Kenya last weekend, Islamist militants took over a high-end shopping mall and began executing non-Muslims. In Pakistan, Islamist suicide bombers detonated at a Christian Church on Sunday. Yet on Monday, September 23, 90 percent of the top ten (via circulation numbers) daily newspapers' headlines in the United States censored the words "Islam" and Muslim" from Nairobi and Pakistan reports. One — the New York Daily News — didn't even have a headline for the latest Islamic terrorist attacks. That's journalism at its finest.

Media Almost Totally Ignore Book Claiming Matthew Shepard Murder Wasn't a Hate Crime. The 1998 murder of Matthew Shepard is considered one of the nation's most notorious hate crimes. Yet when a new book comes out by a gay author contending that Shepard was not killed because of his sexual orientation, America's media appear disinterested in reporting the new revelations.

How to Report on Racial Violence: Don't. [Scroll down] One hour after I read [Abe] Aamidor's piece, I came across a tweet about one of the more popular euphemisms for black mob violence: Large fights. This one in Indianapolis, involving 80 people with baseball bats and other weapons. Everyone was black. The next day, the Indy Star dutifully reported some of the details of the riot. Everything except the race. The paper also dutifully reported that this kind of large scale violence had happened twice before in the last year. And dutifully gave some details. Except the race.

An unanswered question in the Navy Yard mass murder. In a post yesterday, Aleister noted how quickly the media dropped any interest in the politics of the Navy Yard shooter — as soon as it became clear that the was a mentally-ill liberal black man, not a conservative/Tea Party/right-wing white guy. [...] The same phenomenon took place as to the Family Research Council shooter, motivated by a Southern Poverty Law Center hate watch list. Almost complete media disinterest, including in the sentencing this week.

Why Has The Media Stopped Talking About The Navy Yard Shooter? The media typically loves stories about people who go on shooting sprees but just a few days after the Navy Yard shooting story broke, no one in the media is talking about it anymore. Why? The answer is pretty simple. The story didn't fit the media's preferred gun control narrative. Had the story been about a white Tea Party member as everyone in the liberal media was hoping, we'd still be bombarded with coverage of the story. Black guy? Liberal? Mentally ill? The story no longer served any purpose for the left's agenda so it was dropped.

Networks That Touted Tom DeLay's 2010 Conviction Silent About His Complete Vindication. Back in 2010, when ex-House Majority Leader Tom DeLay was convicted on money laundering charges related to campaign fundraising, all three network morning and evening news shows made sure to tell their viewers. But Thursday night and Friday morning, after an appeals court overturned that verdict and completely acquitted DeLay of those charges, none of the broadcast networks bothered to even mentioned the former Republican leader's exoneration.

Term you will not hear about Atlanta kidnapping perp: Illegal Alien. The Associated Press and numerous other media outlets have banned the terms "illegal alien" or "illegal immigrant" after a relentless campaign by immigration activists who illogically claimed the terms were racist, and who want to soften the reality of crime committed by people in the country illegally. The recent kidnapping and rescue of a teenager in Atlanta demonstrates how the media is wording around the term, and diminishing the facts by making it unclear if the perpetrator was in the country illegally.

Obama, Spiked For His Own Good? President Obama barely noticed, but there was a horrific mass shooting at the Washington Navy Yard on Monday. [...] It was tasteless, inappropriate, and diminishing of the presidency. ABC, CBS, and NBC skipped over Obama's refusal to let breaking news of a gun massacre deter conservative-bashing remarks. These were the same networks that went absolutely bonkers when Romney made what they saw as inappropriate political comments on the heels of the Benghazi attacks.

Press Buries Black-on-Hispanic Hit while Killer Hires Trayvon Martin Lawyer. On September 12, Miami-Dade police arrested a 17-year-old black teenager, Jamal Jackson, for the August 21 execution-style murder of Hispanic-American Miguel Pilotos. The black-on-Hispanic killing in Opa-Locka, Florida didn't get much press when it happened. Only after the suspect was arrested three weeks later did various news outlets release more details of the crime.

Is there a con man in the Oval Office? The media headlines should be about ObamaCare — a fast moving train wreck about to destroy the entire U.S. economy. It's so bad that Congress exempted themselves a month ago. It's so bad that union leaders met with Obama at the White House to demand they all be exempted, or ObamaCare be repealed. Yes, unions are asking for the repeal of ObamaCare, the signature achievement of the man they elected President. Shouldn't this story be in the headlines?

Is your 401K about to be nationalized? The $19.4 trillion sitting in personal retirement accounts like the 401K may be too tempting an apple for a government that is quite broke, both monetarily and morally. The U.S. Consumer Financial Protection Bureau director Richard Cordray recently mentioned these accounts in a recent interview, stating "That's one of the things we've been exploring and are interested in, in terms of whether and what authority we have."

What John Adams Foretold Has Come True. [Scroll down] What's next? Confiscation! "The Obama administration is reportedly moving on plans to nationalize private 401k and IRA retirement accounts, and replace them with government sponsored annuities (aka Treasury bonds that the Treasury currently can't sell to anyone but the Fed)." Obama has begun a plan to nationalize (aka confiscate) private pensions and to eliminate private retirement accounts, including IRAs and 401k plans. Think it can't happen here? Think again!

The new CBO debt study is way worse than the media is telling you. [Scroll down] So over the next 25 years, Americans will be taxed more to pay for a federal government that will more purely become a redistribution, wealth-transfer mechanism. Taxes and spending at record highs. America as a nuclear-armed insurance company. But here's the thing: that forecast, as the CBO notes, does not factor in "the harm that growing debt would cause to the economy." Hey, that would be a good thing to know, right? Well, you have to dig deeper into the CBO study to find those numbers. And when you take into account stuff like how deficits might "crowd out" investment in factories and computers and how people might respond to changes in after-tax wages, you find the debt is much, much larger, closer to 200% of GDP.
[Emphasis in original.]

Ty Woods dead body left on Benghazi tarmac for three hours. According to Charles Woods on Huckabee, Ty Woods' body was left on the tarmac for three hours and there wasn't even an American plane sent to rescue or even take his body home. As usual, the rest of the media will never report this disgusting fact.

Lois Lerner + Malik Obama = White House IRS Scandal. Whenever the subject of Malik Obama's ties to the government of Sudan comes up — via his role as Executive Secretary of the Islamic Da'wa Organization (Muslim Brotherhood) — there are always detractors who say it's guilt by association. Just because the President's half-brother works for a terrorist regime doesn't mean the President is guilty, they say, before attempting to move on. Not so fast.

Everything you need to know about LADEE, the thing NASA just sent to the moon. It's the first spacecraft designed and built by NASA's Ames Research Center and the first spacecraft to use a modular body. It's 7.7 feet high, 4.74 feet deep and wide, and powered by a bunch of solar cells mounted on the body.

The Editor says...
The article goes on and on and on about the technical specifications of the satellite, and indeed, tells you "everything you need to know" about it — except the cost. Apparently the Washington Post writer believes you don't "need to know" that. Once again NASA, with nothing else to do, is flying around in circles, but this time the circles will be around the moon.

How the Big Three Networks Have Censored or Spun Obama's Deadly Foreign Policy Failure:
Benghazi Blackout. Wednesday marks the one year anniversary of the attack on the U.S. embassy in Benghazi that left Ambassador Chris Stevens and three other Americans dead and sent the Obama administration scrambling for a cover story that the Big Three broadcast networks initially bought and were slow to unravel. A similar pattern has emerged in 2013. As new information about the administration's actions before and after the attacks have been revealed through congressional testimony, whistleblowers, and eyewitnesses, the Big Three have responded by censoring, breezing past or spinning politically damaging bombshells.

Not National Establishment Press News: Longshoremens Union Leaves AFL-CIO Over Obamacare, Other Disagreements. The AFL-CIO has just lost 40,000 of its most militant members, and it's not news at the Associated Press's national site (there is a regional AP story at the Seattle Times) or at the New York Times. It is getting virtually no other establishment press coverage.

CBS Highlights Benghazi Anniversary; Fails to Mention Obama and Hillary By Name. Tuesday's [9/3/2013] CBS This Morning spotlighted the upcoming one-year anniversary of the Islamist attack on the U.S. diplomatic facility in Benghazi, Libya, but whitewashed the role of President Obama and his administration, including that of former Secretary of State Hillary Clinton.

Black Mob Violence in the Liberal City of Portland. Portland is in the middle of a nasty bout of black mob violence. This time directed at bicyclists. But Tim Oberlander does not want us to know. [...] Oberlander is a news editor at KGW TV in Portland. His city is under attack from black mob violence centered around Martin Luther King Boulevard. This mob has been attacking bike riders, housewives, students, seniors, you name it. These attacks are part of a long — but quiet — history of racial violence in a liberal enclave that prides itself on racial tolerance and harmony. But you would never know it from Oberlander.

Why are major media outlets ignoring bestselling writer Mark R. Levin? To read the book reviews in The New York Times, the Los Angeles Times, The Washington Post or The Boston Globe, you might be unaware of the existence of the work of Mark Levin. Unless you skip to the page with the bestseller lists.

ABC, CBS and NBC Overlook Obama's Gaffe-tastic Performance on Leno. Barack Obama delivered one gaffe after another in his August 6 interview with Jay Leno, but the networks that usually mock every mistake or slip of the tongue made by Republicans ignored the President's verbal mishaps.

More Questions ABC-NBC-CBS-CNN-PBS-NPR-AP-NYT-LAT Won't Ask. [Scroll down] But in a really low blow, Matthew Continetti wrote a column pointing out that America's elite scribblers had an extended audience with the leader of the free world and didn't ask a single question about, oh, say, Edward Snowden, Lois Lerner, James Rosen, Mohamed Morsi, Bashar Assad, Nouri al-Maliki, Vladimir Putin, Hasan Rouhani, and Hamid Karzai. Not even about Eliot Spitzer, Anthony Weiner, or Bob Filner.

Murder and Double Standards. Few Americans outside of Knoxville, Tenn., know about the case of Channon Christian and Christopher Newsom, two young people who were kidnapped, savagely assaulted, raped, and murdered by people of a different race. If Christian and Newsom had been black, and they had been raped, tortured, and murdered by a group of white people, the victims' names would be painfully seared into the national psyche by the media's saturation coverage of the atrocities and their aftermath.

Media Can't Ignore New Developments In IRS Scandal. From stonewalling Congress to Federal Election Commission collusion to harassment of already-tax-exempt conservative groups, the IRS scandal metastasizes. Someone high-up was clearly giving orders.

Censored! IRS Scandal Being Buried by Big Three Networks. The Big Three (ABC, CBS, NBC) networks have colluded with the Obama administration to censor the latest IRS scandal news. The following is a list of key developments in the IRS scandal and how many days it has been since they were discussed, if at all, by the Big Three on their morning and evening news shows.

Four Things the Media Aren't Telling You About Today's GDP Numbers. [#4] Reagan also inherited a dead economy and we roared out of that recession — One of the bald-faced lies told by Democrats and their media is that Obama inherited the worst economy since the Great Depression. This rhetorical trick is used to excuse Obama's dismal "recovery." The truth is that when Reagan assumed office in 1981, the economy he inherited was in many ways worse.

President Obama calls the United States and Europe 'developing countries'. You can imagine the derision that would have flowed from the liberal "mainstream media" if George W. Bush had referred to the United States as well as its European allies as "developing countries." This is exactly the term he used in an interview with The New York Times, which has just been published. [...] As we've seen on a number of previous occasions, Barack Obama clearly struggles with his words when he is without his beloved teleprompter.

WaPo Buries Lede On Zimmerman Juror: She Called Trial A 'Publicity Stunt'. The headline of the July 25 piece blares what the left-wing commentators have been screaming for days: "Zimmerman got away with murder." It's juicy. It's eye-catching, but it paints a two-dimensional portrait of how the juror, who calls herself Maddy, feels about the case. In fact, Maddy, a mother of eight of Puerto Rican heritage — bursting once and for all the "all-white jury" meme in the liberal media — said in a televised interview that she thought the trial was a "publicity stunt," and probably shouldn't have been convened the first place.

Omission Watch: Networks Skip Clip of Obama Boasting Reporters Say He Has 'Good Ideas' That 'Sound Great'. One snippet of Obama's speech in Galesburg, Illinois is getting left out of the TV news packages for perhaps obvious reasons. Obama announced yesterday that reporters are with him in thinking his socialist plans are "good ideas" and "sound great," but Republicans will never back them. This might also make it sound like there's zero overlap between "reporters" and "Republicans."

Why Won't the Media Cover Huma Abedin's Ties to the Global Jihad Movement? [Scroll down] The journal that Huma worked for — which promotes Islamic supremacism and was founded by al-Qaida financer Naseef, who also headed the Muslim World League, a leading Muslim Brotherhood organization — is called the Journal of Muslim Minority Affairs. It was edited first by Huma's father, Syed Abedin, and now by her mother, Saleha Abedin. Saleha is a member of the Muslim Sisterhood.

Zimmerman Lawyer: Trayvon Had Recipe For "Poor Man's Ecstasy". "If you do a Google Search for 'Purple Lean' or 'lean drink' or 'lean drank' it is sort of an urban kind of drug. It's known in some circles as poor man's ecstasy or something like that," George Zimmerman's attorney Mark O'Mara told "The Steve Malzberg Show" on Newsmax. "The main ingredients are watermelon, Arizona watermelon juice, a hard candy ... for sweetness, and then some type of either codeine tablets if you can get them or Coricidin D, Robitussin DM," he explained.

WashPost Downplays D.C. Vandalism Story Starring Son of CBS Radio Boss. The Washington Post knows how to downplay scandalous news when it's about the children of other D.C. journalists.

Journalist calls out his newspaper's coverage of IRS scandals. We live in a time of extraordinary media corruption when testimony late last week tying a presidential political appointee to the IRS' suppression of the president's political opposition was widely ignored, except for Fox News and the conservative talk radio and internet ghetto. But at least one brave journalist in the MSM is speaking up about the disgraceful suppression of an important story of political corruption of the highest order. Mike Hashimoto, an editorial writer of the Dallas News, is bothered by this media corruption. He posted a blog Friday, calling out his employer and AP.

IRS scandal creeps closer to White House. You remember the IRS scandal, right? If [Carter] Hull did testify, and I have no reason to think he didn't, isn't that news? Hasn't one of the big questions of the improper, if not illegal, IRS scrutiny been whether this program was designed and directed from someplace other than the much-maligned Cincinnati office?

Black mob shoots Hispanics in Brooklyn. It started out Friday with teasing, then taunting. But when the young Hispanic woman behind the counter told the black man and his friends she did not want to go out with them, it escalated into assault. Then gunshots. All at the same time as, a few miles away, Al Sharpton and Beyonce were railing against racial injustice directed at black men. We don't know the names of these alleged would-be killers. Not yet. Nor would we have a description of the mob if we had to rely on the New York Post or Daily News.

Trayvon's Tragedy: Exploited in Death. [Scroll down] On March 27, 2008, two black teenagers with a third positioned on the street in a getaway car tried to force 19-year-old art student Tyler Binstead and his girlfriend into the trunk of her car after robbing them at gunpoint. [...] The black-on-white killing in Richmond never hit the mainstream news.

Muslim "Youth" looting the dead at French Rail Crash. This is the second unexplained train crash in as many weeks. More bodies are still being recovered in a mysterious Quebec train disaster in Canada. In this latest disaster in France, French Atlas readers tell me that Muslim "youths" were looting corpses at the train crash site. Most media neglected this monstrous bit of news; The Daily Telegraph makes a brief mention of the ghouls, referring to the Muslims as, ahem, "local people."

'Trayvonned'. The media is silent on what compelled the attackers, but what is known is that Joshua [Chellow] was set upon and mercilessly beaten in a life-threatening attack by a group of four "unarmed" black males. [...] Did any of you know about this attack? No. Because the media reported it as a "hit and run fatality" while deliberately refusing to discuss the events the preceded the fatal "hit and run".

Salute to the Treepers. If you've never heard of the Treepers, that's because the media have studiously ignored the best journalism done on the Zimmerman trial. The moniker denotes a group of bloggers posting at The Conservative Treehouse whose painstaking research uncovered a conspiracy by "elements within the SPD and the Miami-Dade School District Police Department... [who] conspired to keep Martin's criminal history buried," in the words of Jack Cashill, the premier investigative journalist working the Trayvon Martin story.

MSM protecting Hillary from scandal taint. A former member of then- Secretary of State Hillary Clinton's protective detail has been sentenced to a year in prison, extending the strong of scandals that have engulfed the agency since Mrs. Clinton's tenure began. The diplomat had faced a possible 7 year term, but pleaded guilty, sparing the expense and delay of a trial and perhaps shortening his sentence.

NAACP Blackballs Borelli and Bryant. The NAACP is blackballing black conservatives. Specifically, two black conservatives: Deneen Borelli and the Reverend C. L. Bryant. You missed this? Considering the state of the liberal media these days, one shouldn't be surprised.

If a Republican were in the White House, the nightly news would comprise this:
Obama's Climate Change Plan Telegraphs Desperation, Disconnect. His poll numbers are plummeting, and his grand speech at the Brandenburg Gate last week had a 95% drop off in attendance. Russia and China are laughing at him over the NSA leaker. He's under siege for abuse of power and McCarthy-style tactics to intimidate both the press and conservative groups. The majority of Americans now oppose the forthcoming implementation of his signature legislative proposal, Obamacare. He's fresh off a G8 conference where he insulted Catholics and all people of faith by calling parochial education divisive and an impediment to peace. He's about to embark on a whirlwind Africa trip that will cost upwards of $100 million while agencies deal with Sequester cuts. His Attorney General was just caught lying to Congress. Perhaps most importantly, "hope and change" still hasn't come to the more than 21 million Americans who are unemployed or underemployed.

Are there any reporters left in Milwaukee? Every year, Juneteenth in Milwaukee is a mess: Lots of violence. Lots of people arrested at this annual festival of black liberation. [...] Something happened at Juneteenth in Milwaukee a few days ago but not one local reporter is talking about it.

The Editor says...
The news media are afraid to report anything that reflects badly on blacks, such as the following...

Bike trail builds reputation for mob attacks. The titans at the Washington Post cannot get their journalistic minds around the latest case of black mob violence in the nation's capital. They reported the crime but ignored the race and the pattern. But the Titan of Trinidad, a neighborhood blog, had no trouble describing what really happened when a black mob attacked a D.C. commuter on a bicycle, sending him to the hospital with broken bones in his face.

More black mob violence on bike trails — media oblivious. Just finished an article for WND and my book about a rash of black mob violence on a D.C. bike trail: Bike trail builds reputation for mob attacks. Then the cards and letters started rolling in with reports of dozens and dozens more attacks from black mobs on bike trails around the country over the last few years.

Networks Ignore 'Audit the IRS' Rally; Minimize Coverage of $70 Million in IRS Bonuses. The Big Three all punted on covering the Capitol Hill "Audit the IRS" rally on their Wednesday evening and Thursday morning newscasts. [...] The CBS morning show also stood out for spotlighting how the "IRS is under fire again... it's paying $70 million in employee bonuses, despite a White House order." CBS This Morning devoted 47 seconds of coverage to this latest IRS controversy, while ABC and NBC ignored the development.

Not News at AP: Connecticut Legislative District Goes GOP For First Time in 40 Years. A GOP candidate for the Connecticut State Legislature's 53rd District about 70 miles northeast of Sandy Hook Elementary School in Newtown won election on Tuesday [6/11/2013], marking the first time the seat has gone to a Republican since Richard Nixon was president.

Poof! Media drop coverage of IRS scandal. That was fast — but not unexpected. The media frenzy over the IRS scandal, which dominated the Big Three networks for two weeks, has practically disappeared from the news, according to a new report. The dominant story in May when ABC, CBS and NBC crawled over each other for new details and provided 96 stories on morning and evening broadcasts has fallen to just one this week on ABC's Good Morning America, according to the Media Research Center. In some cases, it was replaced by the National Security Agency snooping scandal.

Washington Post Plays 'Hide the Benghazi' In Its Front-page Susan Rice Promotion Story. Apparently, the Post thinks American values include shameless lying on TV news shows.

Story Ideas for a Press Turning Against Obama. Last week the Associated Press ran an astonishing story about how America's windmills have been killing thousands of rare birds, including golden eagles, while getting a free pass from the Obama administration. [...] How did the mainstream press manage to ignore this story for four years? And did its final emergence have something to do with the discovery that the administration had been reading the AP's phone records?

The IRS attempts to save Obamacare by unilaterally declaring that it will disregard the law.
An IRS Scandal Inseparable from Obamacare. Thanks to ubiquitous if imperfectly honest press coverage, most Americans know about the IRS scandal involving tax-exempt applications from various Tea Party groups. The public is still, however, getting the mushroom treatment on two other outrages by that rogue agency. The media have devoted scant coverage to its theft of 60 million medical records, now the subject of a class action lawsuit, and they have been all but silent regarding the illegal IRS scheme to fund Obamacare's federal insurance exchanges.

As Stockholm Riots Move Into Fifth Day, Press Aversion to the M-Word Is Nearly Unanimous. A Google News search on "Sweden riots" done tonight [5/24/2013] at 10 PM ET (not in quotes, sorted by date, with duplicates) returned 314 items. Adding the word "Muslim" to the search reduced the number of results to nine. Fewer than a handful are from establishment press outlets, and one of those only appeared in the search results because a commenter and not the story's writer used the M-word. That pretty much tells you all you need to know about the determined denial of reality in which the worldwide press is engaged in reporting riots in the suburbs of Stockholm, which have entered their fifth day.

Fox Gives 15 Minutes to Latest IRS Scandals Details; ABC, NBC, and CBS Ignore [it]. There have been a number of new revelations this week in the ever expanding scope of the IRS scandal. However, even with so many developments in the investigation of this egregious scandal, there was extremely limited coverage of the unfolding of this affair in the morning news of many more liberal stations like ABC, NBC, and CBS. In contrast, Fox News devoted almost 15 minutes in their programming on Thursday morning's [5/23/2013] Fox & Friends show to enlighten the public of all of the new information in the scandal.

Three Labor Unions, Including Teamsters, Want ObamaCare Repealed. As the media, by and large, ignores the train wreck that is on the horizon with ObamaCare, yet another union has jumped ship on the president's health care overhaul. Back in April, you may recall, the United Union of Roofers, Waterproofers, and Allied Workers officially said thanks but no thanks to the president's plan. Well, now, a major labor union in the grocery industry is balking at the policy.

How much news has the Obama administration successfully suppressed? During his first term, liberal journalists often remarked at how "scandal free" the administration was, despite Solyndra, Fast and Furious and other revelations. But maybe what really happened is that the administration's concerted effort to suppress the reporting of news was actually quite successful.

WashPost Reports Obama DOJ Also Spied on James Rosen of Fox News. The Washington Post on Monday [5/20/2013] reported that Obama's Department of Justice was investigating journalists before they started wiretapping the Associated Press — for one, Fox News correspondent James Rosen in 2010. Their headline wasn't "Obama Team Also Spied on Fox News." Fox wasn't in the headline, on A-1 or on A-12, where the story continued.

Note praising Allah didn't float PC boat. Finally, we get the note in the boat — a month late. Do you how much media effort has been devoted to unearthing what Dzhokhar Tsarnaev apparently thought was his last will and testament? But somehow, the cops held it tight until yesterday [5/16/2013]. Unconfirmed stories have circulated that in Dave Henneberry's backyard in Watertown that Friday evening, the feds went so far as to check out the cellphones of the local cops, to make sure no one had snapped a photo of the note in the boat.

CBS' Attkisson: 'There Hasn't Been an Appetite for the Stories I've Offered on Benghazi'. CBS News correspondent Sharyl Attkisson has been one of the more aggressive reporters covering the aftermath of the attack on the U.S. Consulate in Benghazi last September. But the veteran CBS News reporter feels the story's she's pitched lately are getting picked up on the TV network.

AP Phone Records Furor Breaks 335 Days of Silence on Obama Leak Scandal. The media furor that began Monday night over the Justice Department obtaining two months of phone records from the Associated Press marks the first time in 335 days that any of the Big Three evening newscasts have even mentioned the existence of two criminal investigations into whether White House or other national security officials leaked sensitive secrets, perhaps to politically benefit Barack Obama's re-election campaign.

Finally: 56 Days Later, ABC Ends Blackout and Covers Gosnell 'House of Horrors'. Fifty six days after the grisly trial of abortionist Kermit Gosnell began, ABC broke its self-imposed blackout and finally offered coverage. [...] Terry Moran explained, "For two months, jurors heard often shocking, grisly testimony." He described the details as a "house of horrors." A house of horrors that ABC took 56 days to notice.

Report: NBC Spiked Story ID'ing Benghazi Whistleblower as Obama/Clinton Voter. Victoria Toensing, attorney for Benghazi whistleblower Gregory Hicks, says Hicks is a Democrat who voted for Hillary Clinton during the 2008 primaries, and President Obama twice for President. Toensing also said that NBC News "spiked" the story this week, prior to Hicks' dramatic testimony before Congress.

Benghazi Whistleblower's Attorney Claims NBC Spiked Him Being a Democrat Who Voted for Obama. If you were a journalist reporting on Benghazi whistleblower Gregory Hicks, wouldn't you find it interesting that he was a Democrat who voted for Barack Obama twice?

Benghazi hearings in the Mirror Universe. It's amazing to watch the media bury yesterday's explosive testimony on Benghazi. Just imagine for a moment that today is the day after a veteran career diplomat — the top man on the ground in Libya after the murder of the ambassador — testified that a Republican administration told him not to cooperate with Democrat congressional investigators, shook him up with a menacing phone call from the top political "fixer" for a Secretary of State widely viewed as a leading 2016 presidential candidate, demoted him under cloudy circumstances so they could portray him as "disgruntled"... and then spent eight months loudly boasting of their enthusiastic, transparent cooperation with Congress.

MSNBC Viewers Discover Benghazi... for the First Time. For the professional left, this story on Morning Joe is a double disaster. In the short term it forces the MSMBC audience to confront the possibility that their heroes President Obama and Hillary Clinton left Americans to die in Benghazi and lied about it for political reasons. It gives a story they have been able to dismiss MSM credibility, that's bad. In the long term it raises the possibility that there is another story beyond the wall of silence. That there is a whole world of news they might be missing. What happens if those viewers decide they want to see more.

Why Is the Attempted Firebombing of a Mormon Church Not National News? We blame the leftwing climate of hate. Be assured if someone tossed a Molotov cocktail at a mosque it would be a major story.

Molotov cocktail thrown into Ogden church. A failed Molotov cocktail thrown through a window at an LDS church sometime Sunday night has sparked a joint investigation. [...] The remains of the cocktail, which caused about $1,000 damage to the church's kitchen, was discovered by maintenance personnel who went to the church about 7:30 a.m. Monday [5/6/2013], said Eric Bauman, Ogden Fire Department deputy chief.

Destroying our country, our military and our very existence. How many Americans have heard of Extortion 17? Extortion 17 was the call sign for the Chinook helicopter shot down in Afghanistan on the night of August 6, 2011. Killed in that crash were 25 special ops forces, including 15 members of Seal Team 6, 5 national Guard troops and 8 Afghans. Today, the families of the military killed in that crash held a press conference to lay out the coverup by Obama and the military that has gone on since that crash.

Gun Violence Is Down, But You Wouldn't Know From The News. The rate of firearm homicides has plummeted over the past two decades, but the public doesn't seem to notice. Could the agenda-driven media have something to do with that?

Ariel Castro, Cleveland Kidnapper, Is a Registered Democrat. According to voter registration records, Ariel Castro, the Cleveland kidnapper, is a registered Democrat. He was also the alleged leader among the three Castro brothers, who were arrested this week, and the owner of the house at 2207 Seymour Ave., where the three abducted local women had been kept in captivity for over a decade. Why is this important? Whenever a crime or a scandal captures national attention, the pattern in the mainstream media is to either identify the culprit as a Republican or hold silence — in which case we can rest assured that the culprit is a Democrat.

New York Times Ignores Benghazi. In the past week, the investigation into the September 11, 2012 attacks on the US Consulate in Benghazi has been the dominant news story on most media outlets, including such traditional media venues as CBS News and The Washington Post. But you wouldn't know it, if the New York Times was your sole source of news and information.

Real Purpose Behind Obama Jaunt to Mexico: Recruitment! Americans like to think of their press as freer, but it's only free in the sense that it voluntarily puts on its own muzzle. European tabloids get into bloody brawls with regulators. American newspapers have nothing to brawl about. They will gleefully report anything that undermines national security at the drop of a hat, knowing that they won't be touched, but there is a long list of subjects that they won't touch with a million-mile pole.

Nobody Drowned at Watergate. The emergence of the whistle blowers has made the story too big to ignore, as much as the media would prefer it would go away. You will note that when it wasn't until after their beloved Obama was safely ensconced in the White House for another four years did the media show any interest in the biggest story of the administration.

America must see Gosnell evil, so that we may rid ourselves of it. Many of you may not have heard about this case. It has the dubious distinction of being one crime story the mainstream media isn't all over. It is an "abortion story," the one topic that defies the media's "if it bleeds, it leads" mantra. Whether it is the gruesome details of how these children were allegedly killed or that the case involves the politically inconvenient topic the courtroom seats reserved for the media went largely unused.

Benghazi isn't the only bloody disaster being covered up by the Obama administration.
The Camp Bastion Cover-Up. Do you remember what happened last year on 9/14? Where are the White House phone calls for the families who continue to grieve? What is being done to prevent another fatal attack like the one on 9/14? And why is the full truth being withheld from the American public?

Saudis Warned U.S. in Writing of Boston Bomber's Danger. For what it's worth, the Department of Homeland Security and the White House are denying this report. Regardless, this is now out there. One wonders, what exactly, it would take at this point for our media to actually fall back in love with the once celebrated exercise of truth-gathering and shoe leather reporting. Yet again, this comes from the foreign press.

Sins Of The Fourth Estate (Part II). We know the media is spineless. However its neglect to report on the Gosnell abortion trial shows that they have lost any moral compass they ever had just to cover up Obama's strong support of the abortion industry. [...] What a bunch of hypocrites there are in the mainstream media. I've been reading their excuses and apologies for shirking their responsibility in ignoring the trial of abortionist Kermit Gosnell. Either details from the Grand Jury trial are "too grisly" or they don't cover "local news" and other such nonsense spew from their barf-inducing tripe masquerading as opinion columns. One pundit had the nerve to suggest that conservatives hadn't covered the story either.

GMA Devotes 109 Minutes to Other Trials, But Not One Second for Gosnell Horrors. Forty two days ago, on March 18, 2013, abortionist Kermit Gosnell went on trial, charged with the grisly murder of multiple babies and a patient. Yet, in the seven weeks that followed, ABC News has permitted no coverage, discussion or mention of the case, not even a single utterance of Dr. Gosnell's name. But that's not due to lack of interest in shocking criminal cases.

Philly Archbishop: National Media Have 'Allergic Disinterest' to Abortionist's Murder Trial. Catholic Archbishop Charles Chaput, head of the archdiocese of Philadelphia, said that in addition to the ongoing trial of abortionist Kermit Gosnell, an equally important story is the "failure" of the "most important national media" outlets to cover the case. "The real story in the Gosnell trial is bigger than the ugly allegations against Gosnell himself," said Abp. Chaput in his April 25 column. "It includes the failure — the allergic disinterest — of some of our most important national media."

Transparency on birther issue — Barack Obama's best-kept secret. Article 1 of our Constitution gave the Press the right to reveal, not to conceal news of interest to the American People, yet, fear of disclosing Barack Obama's true eligibility status, the Birther Issue, has permeated the Mainstream Media to this day. For over four years they have been silent on this issue. Even Fox News, though vocally critical of the "Stimulus" plans, "Tsar appointees", etc. will not even mention the existence of previous or present eligibility lawsuits in the courts.

AP Edits 'Muslim' Out of Obama's 'Muslim Socialist' WHCD Joke. In some of its reports on Saturday night's White House Correspondents Dinner (WHCD), the Associated Press chose to edit one of President Obama's own gags. The AP strangely edited out the word "Muslim" in one of Obama's self-referential jokes.

Obama: 'I'm Not the Strapping Young Muslim Socialist That I Used to Be'. President Obama quipped at the White House Correspondents' Dinner Saturday night that he's "not the strapping young Muslim socialist" he once was as gray has salted his hair.

AP Omits 'Muslim' from Obama WHCD Joke. In some of its reports on Saturday night's White House Correspondents Dinner (WHCD), the Associated Press failed to include one of President Obama's own gags. AP strangely left out the word "Muslim" in one of Obama's self-referential jokes.

The Sleepers Awake. The regular media is finally covering the Kermit Gosnell trial in a big way. It's as if they woke up from a deep sleep to notice that a poor black doctor offering a service to the community is being lynched in Philadelphia by 'racist' and 'elitist' prosecutors. Now they're making up for lost time.

How Abortion Has Changed America. The trial of Philadelphia abortion doctor Kermit Gosnell, facing the death penalty for the deaths of four infants and one woman in his clinic, is over. America has moved on. It's exactly what the pro-abortion contingent wants. They want Gosnell out of the news because they want abortion out of the news.

The Pressure is Building! [Scroll down] Two of the more dangerous issues, aside from gun control, amnesty, EPA dictates, Fast & Furious, the Benghazi Massacre, NDAA, drones being used against U. S. citizens within our borders, Dodd-Frank, the Sequester, etc., are U. N. Agenda 21 and Common Core. The low information voter is blissfully ignorant of these assaults, thanks to the media. The media will not discuss these issues because if people/parents knew about these assaults, they would get involved. If people were to become involved, the layers on the onions of lies, fraud and malfeasance may be unwound.

People Making Over $100K Received Unemployment Benefits in 2011, Media Mum. With all the media panic about sequestration, one would think a study finding billions of dollars of fraud in a government program would be national news. Apparently not, for with few exceptions, a report published by the St. Louis Federal Reserve last week finding $3.3 billion in fraudulent unemployment claims in 2011 got almost no attention.

Secretary Napolitano Caught in Lie, Media Absent. Homeland Security Secretary Janet Napolitano testified before the Senate Judiciary Committee to discuss immigration policy and was quickly questioned about a Saudi national who was reported early in the investigation of the Boston Marathon bombings as a "person of interest." Senator Chuck Grassley (R-IA) inquired about Abdul Rahman Ali al Harbi, about whom Napolitano refused to answer questions at a previous hearing. "Before the [Tsarnaev] brothers became the focus of the investigation, authorities questioned a Saudi student who reportedly was on a terror watchlist," said Grassley, "...if so, how did he obtain a student visa?"

The Gun Rights Revolution You Might Have Missed. If you live in Arkansas, you can now carry a concealed gun into a bar, or a liquor store — or a church. College staffers can bring guns on campus. Folks with a permit from other states can pack heat in Arkansas without filing any paperwork. These are among the half-dozen legal changes in the state that passed only four months since the Newtown massacre, and Arkansas has plenty of company.

Gosnell the baby-killer and the liberals who shielded him. One of the most disgusting serial killers in American history is standing trial in Philadelphia at the moment — and, since it's happening in the US, where reporting restrictions are light, the media are free to discuss his case. Only they haven't — at least, not until recently, and even when the crimes are reported, they haven't merited many headlines. Which is horrifying, when you consider what the killer is accused of.

Bachmann on Gosnell: 'Mainstream Media Failed to Cover this Horrific Violence Against Women'. Rep. Michele Bachmann (R-Minn.) said the mainstream media have "all but gone silent" in their trivial coverage of the trial of late-term abortionist Kermit Gosnell, a dearth of reporting that she described as perpetrating "violence against women."

Eleven More Seconds of Gosnell Trial Coverage on CBS; More Crickets From ABC and NBC. CBS is putting its Big Three competitors to shame in actually covering the capital murder trial of Dr. Kermit Gosnell, but that's not saying much, as Thursday's CBS This Morning devoted a paltry 11 seconds to the latest development in the case. Norah O'Donnell highlighted that the abortionist's defense attorney rested his case without calling his client or any other witness to testify.

What may be the most sensational mass murder trial in American history went unreported.
President's speech to Planned Parenthood: a reminder of the Left's dishonest abortion views. Lately, abortion has been in the news. It never gets far out of the news, but it intruded with extra force these past two weeks for two reasons. The first was the story about the media's decision to ignore the Kermit Gosnell trial because it didn't fit into the abortion narrative. The narrative is that abortion should be "safe, rare, and legal." The Gosnell reality was that women died in his filthy clinic, that living babies got murdered (with the psychopathic Gosnell collecting hands and feet as trophies), and that the abortions were illegal under any standards, since they were so late term as to constitute murder under Pennsylvania law.

Evading Gosnell, Still. The word in TV newsrooms has long been that "if it bleeds, it leads," meaning that a crime story is often the fastest way to get media attention and coverage. It doesn't even have to be bloody — witness the wall-to-wall coverage of the Jerry Sandusky sexual-assault case at Penn State last year. But the trial of Dr. Kermit Gosnell, currently America's most grisly serial killer, has been an exception.

MSNBC Finally Covers Gosnell Trial in Primetime Five Weeks After it Began. The murder trial of abortionist Dr. Kermit Gosnell began on March 18. On April 23, more than five weeks after it started, the folks at the so-called "news network" MSNBC decided it was time they reported it in primetime. Hardball's Chris Matthews surprisingly ended the blackout Tuesday [4/23/2013].

Networks: All Quiet on the Gosnell Front. After a month of ignoring the trial of Kermit Gosnell, the Philadelphia abortionist accused of murdering one woman and seven infants, it looked like the media had been shamed into covering the story. Barely. Even after the most gruesome detail in a trial full of them came out — a baby who survived an abortion "swimming" in a toilet and "trying to get out" — the silence resumed. In fact, the only major news outlet that bothered to report on that testimony was The Chicago Tribune. CNN.com mentioned it, it got no air time.

An Abortionist's Unglamorous Victims. He's allegedly killed more people than Jeffrey Dahmer and John Wayne Gacy combined, but most Americans have never heard of him.

Gosnell Murder Trial Shows Media Bias At Its Worst. The trial of notorious Philadelphia abortionist Kermit Gosnell — as close to a demonic presence as anything this country will ever see — was almost a month old when the network blackout finally ended. CNN broke its silence, as did CBS. National newspapers sent reporters to the trial for the first time. They started covering it only because of a national outrage that they would so deliberately withhold this horror story from the public — for political reasons.

Yes, There Is a Gosnell Trial Cover-up by Major News Organizations. The local press has extensively covered the shocking testimony about the Philadelphia "House of Horrors" where Gosnell allegedly killed seven babies and one woman since the trial began on March 18, nearly a month ago. But while it seems obvious that the national media has mostly ignored the story, a bevy of left-wing journalists and activists have loudly disagreed in recent days — asserting that the big three networks and the major newspapers have appropriately covered a trial that none sent a reporter to cover.

The Meaning of the Gosnell Trial. The trial of Kermit Gosnell — a Philadelphia doctor charged in January 2011 with, among other things, murdering seven infants who survived abortions he performed — has been under way for a month. But it was only last week that the case was thrust into the national spotlight. Thanks to intense pressure from conservative critics of the media's apparent lack of interest in the case, the rest of the country has now glimpsed some of what went on for years in Gosnell's benignly named Women's Medical Society.

The Media After Gosnell. Indeed, the silence had been stunning since the Gosnell trial began back on March 18. No mention of the story at all on ABC, NBC, CBS, PBS, NPR, or MSNBC, and no front-page stories in any major paper. National Review, the Weekly Standard, Breitbart.com, and Michelle Malkin, on the other hand, provided early and consistent coverage.

From Roe to Gosnell. Here is incontrovertible proof that Kirsten Powers and Conor Friedersdorf are correct in arguing that the murder trial of Philadelphia abortionist Kermit Gosnell has received insufficient media coverage: On Friday, Snopes.com was compelled to publish a page confirming that the story is real, not merely an urban legend.

The Top 50 Liberal Media Bias Examples. [#36] Name That Party: Another example of Old Media, left-wing "process," the name that party game is one of the Old Media's favorite mechanisms for giving cover to Democrats. Here is how it is played: every time a Democrat is caught in misconduct, the media will either "accidentally" forget to mention his party affiliation or will bury it at the tail of the article were fewer people will see it — you see, the media knows that more people quit reading an article before they get to the last paragraphs than finish reading to the end.

Kermit Gosnell Should Receive The 2013 Margaret Sanger Award. The media blackout of the Kermit Gosnell trial continues. Heaven forbid they would find the murder of minority newborns, the spread of venereal disease due to unclean conditions, or the maiming of black women newsworthy. It's a horrific story that should be making headlines nationwide. It's so horrible there are many different angles the media could use to cover it. But they don't.

Did someone mention Margaret Sanger?

The Curious Case of Kermit Gosnell. If there was ever a case of clear-cut media bias and cover-up, this is it.

Snortworthy Myth: 'Conservative' Media Almost as Culpable as Broadcast Networks in Ignoring Gosnell Trial. Through Monday evening, April 8, the Media Research Center's Matt Philbin noted that Gosnell's trial "has received exactly zero seconds of airtime on the broadcast networks." In a pathetic attempt at a response on Friday, Salon's Alex Seitz-Wald and several others are trying to claim that "conservative" outlets have also virtually ignored the trial.

The Mass Murderer Who Didn't Make the Mass Media. Relatively few people wish to commit mass murder on the scale of Gosnell — that's the good news. The bad news is that the vast ranks of newspaper publishers, TV executives, editors, news producers, radio assignment editors, and reporters somehow reached an instant, near universal consensus that a man who may well be America's all-time champion mass murderer isn't a story at all, never mind one to hold the front page for — because they didn't see him as a murderer; they saw him as a "choice-provider" who got a little out of hand.

Working Up to Auschwitz. A demon has been revealed in twenty-first-century Philadelphia, and the three broadcast networks have been enforcing a policy of silence about the discovery. So have most major newspapers.

The Gosnell silence: Murder, abortion and the media. In Philadelphia, a doctor is on trial for the gruesome murders of eight people inside his low-rent office. A former assistant testified that she personally witnessed the physician commit at least 30 murders. Most of the patients were "beheaded," another assistant said, adding that there was "blood all over the place." If you have not heard of this doctor's trial for committing a terrifying, decades-long string of serial killings, there is a reason. He is an abortionist.

How to Murder the Innocent, Defenseless, and Undefended and Make Big Bucks Doing It! If you are unaware of the trial taking place in Philadelphia, Pennsylvania, of the abortion doctor (I use the term "doctor" loosely) Kermit Gosnell, I am not surprised. Our feckless, spineless, corrupt and statist-driven media have done their best to sweep it all under the rug. [...] The police originally raided Dr. Gosnell's "House of Horrors" because he was overprescribing oxycontin — not because he was murdering infants.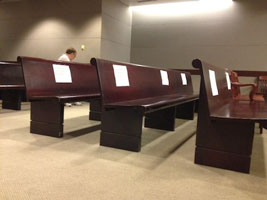 Tip Line: Did Your Editor Spike Kermit Gosnell Coverage? Report It Here Anonymously. The media behavior regarding the trial of monster Kermit Gosnell is a turning point: with all of conservative media's complaints regarding the liberal bias of U.S. media, we never imagined this could happen. We know there are journalists out there infuriated by their employer's current behavior: The change must start with you.
MSM facing a new game with Gosnell blackout. Pajamas Media has established an anonymous tip hotline for media people to blow the whistle on spiking of coverage of the Gosnell horrors at their newspaper, TV station, website, or network.

Shaming the MSM on abortion house of horrors blackout. The progressive media are deliberately ignoring the horrifying practices of Dr. Kenneth Gosnell, the Philadelphia abortionist who executed babies born live and is now on trial for murder. [...] At this stage of media corruption, the only option we have in facing such evil is public shaming and ridicule. We must demand answers as to why they ignore such a compelling story, and when we get them, we must parse them and ridicule the self-serving rationalizations.
If President Barack Obama had a son, would he look like any of the babies Kermit Gosnell beheaded? If you don't know who Kermit Gosnell is, that's because you read the New York Times and Politico.com, and you watch network news.
Truly horrifying allegations of the murder of babies that the US media are playing down . British readers must know about the case of Dr Kermit Gosnell, which has been played down in the American media — possibly because the allegations of a homicidal abortion doctor don't fit into their pro-choice narrative.
Why Dr. Kermit Gosnell's Trial Should Be a Front-Page Story. Inducing live births and subsequently severing the heads of the babies is indeed a horrific story that merits significant attention. Strange as it seems to say it, however, that understates the case. For this isn't solely a story about babies having their heads severed, though it is that. It is also a story about a place where, according to the grand jury, women were sent to give birth into toilets; where a doctor casually spread gonorrhea and chlamydiae to unsuspecting women through the reuse of cheap, disposable instruments; an office where a 15-year-old administered anesthesia; an office where former workers admit to playing games when giving patients powerful narcotics; an office where white women were attended to by a doctor and black women were pawned off on clueless untrained staffers. Any single one of those things would itself make for a blockbuster news story.
The Editor says...
It could be that "Doctor" Gosnell's house of horrors is the rule, not an isolated exception. What percentage of abortion clinics nation-wide are routinely inspected? There could be dozens more like this. And even if the offices are cleaner, and the babies younger, the techniques are similar and the outcome is the same.
House pro-lifers: Abortion trial ignored. Reflecting mounting frustration over the lack of press coverage of inner-city Philadelphia abortion doctor Kermit Gosnell's murder trial, a group of pro-life House members took to the floor to denounce what they call a "national media cover-up" of the sensational case. "Again, I ask my colleagues and I ask the news media, 'Why the blackout?'" said Rep. Christopher H. Smith, New Jersey Republican. "Will America ever be told of the brutality of abortion?"
Why They Won't Talk About Kermit Gosnell. You may not have heard much about Gosnell's case. That's because the mainstream press has chosen by and large to ignore it. There is no area of American politics in which the press is more activist or biased or unethical than social issues, the so-called culture wars.
Abortion Doc 'Gosnell' Is Most Searched Term on Politico, Yields Zero Matches. The media will tell you they are all about news, sensationalism, "if it bleeds it leads," ratings, money, fulfilling demand, and clicks — but that is all a lie. Over at Politico, the number-one "most searched" term is "kermit gosnell," the abortion doctor currently on trial in Philadelphia for the murder of seven babies. That search yields zero matches.
Photo: Empty 'Reserved Media Seating' at Abortion Doc Trial. The picture [in this article], for what it's worth, is of the reserved media seats at the Gosnell trial. It was taken by JD Mullane, a news writer and columnist for the Bucks County Courier Times, The Intel and the Burlington County (NJ) Times.
Obama Wants Americans' Hard-Earned Retirement Savings. Last year Washington raked in $1.16 trillion in individual income tax revenue and expects to squeeze $1.36 trillion out of taxpayers in 2013. But President Obama wants more — and he's coming after your retirement.
Bozell: ABC, CBS, NBC 'Deliberately Censoring' Bad News on Obamacare. Media Research Center President Brent Bozell, based on a new analysis, said ABC, CBS, and NBC "are deliberately censoring news and information" that is negative about Obamacare, an assertion that Stuart Varney, host of Fox's Varney & Co., said was true, adding, "There is deliberate censorship of information about Obamacare."
News that must be suppressed. If our major media were not fully committed propagandists, they would report the findings of a large scale survey of law enforcement personnel on the subject of further gun legislation. After all, they are currently following the President's strategy of distracting the public from the awful state of the economy by exploiting the victims of Newtown to push for further erosion of Second Amendment rights. So the views of law enforcement personnel ought ot [sic] be of some interest.
Dead silence. The [Kermit Gosnell] trial is receiving intensive coverage in Philadelphia and across the conservative press and Web sites. But national networks and newspapers? Not so much. The reason seems obvious: Much of our press corps skews to one side on abortion. So even though what Gosnell is charged with is closer to infanticide — an unlicensed abortionist profiting mightily by killing the newborn babies of poor, minority women — somehow it's not news.
We've forgotten what belongs on Page One. Since the murder trial of Pennsylvania abortion doctor Kermit Gosnell began March 18, there has been precious little coverage of the case that should be on every news show and front page. The revolting revelations of Gosnell's former staff, who have been testifying to what they witnessed and did during late-term abortions, should shock anyone with a heart.
Planned Parenthood's defense of infanticide. When Rep. Todd Akin made his outrageous comments about "legitimate rape" it was front page news — and rightly so. But when a representative of Planned Parenthood is caught on camera defending infanticide, it merits barely a mention in the mainstream media.
How The Media Continues To Serve As Obama's Bodyguard. [Cindy] Sheehan was given any and every platform, with the media tripping over itself, for years, to report her words. The espoused rationale for the intense coverage was, purportedly, that this grieving mother deserved an 'explanation' for her son's death. [...] That same media, however, who believed Sheehan was owed an explanation, is curiously dismissive of Pat Smith. Pat Smith lost her son, Information Officer Sean Smith, in the Benghazi attack last autumn.
The most shocking news you won't see in the MSM today. The murder trial of abortionist Kermit Gosnell largely is being ignored by the mainstream media, even in the face of grisly testimony, such as what we heard yesterday. [...] The MSM cannot mentally deal with this trial either, mainly because they realize it exposes the logical destination of the euphemistically title "pro-choice" movement.
Abortion doctor on trial, but media not interested; pro-lifers see bias in Philadelphia case. The trial details are nothing short of sensational: A doctor accused of killing seven newborns and a young woman at a filthy Philadelphia clinic strewn with body parts and described as a "slaughterhouse." It's big news in Philadelphia, but nationally, not so much. The lack of coverage is a problem for a growing chorus of conservative and media critics, who allege that the scant national media attention can be attributed not to the courtroom drama but the politics of abortion.
Why Media Are Ignoring Fox News' Jana Winter, And Why They Should Start Caring. There is a fine and often unspoken line of trust between journalists and their sources, which often takes months, if not years, to establish. Break that line with one source and you'll face an uphill battle the next time you want to establish confidential rapport with another. But what happens when the trade off is jail time? It's a dilemma Fox News reporter Jana Winter is facing right now, provided she refuses to reveal her sources.
CNN journalist criticizes liberal media bias in Jana Winter case. Denver-based CNN journalist Jim Spellman says the total lack of media coverage of the legal travails faced by Fox News reporter Jana Winter for protecting her sources clearly demonstrates an anti-Fox News bias in the press.
Mexican, U.S. Media Too Scared To Cover Border Crime. Violence along the southern border has gotten so out of control that both Mexican and American journalists have stopped reporting it out of fear that drug cartels will retaliate against them and their families. This means Americans will be kept in the dark about the crisis along the porous and increasingly dangerous Mexican border. We certainly can't expect the truth from the government.
Chicago Running Out of Euphemisms. Pity the poor Chicago reporter. She is running out of ways to describe black mob violence without using the words "black mob violence." [...] It's a pretty easy gig: Or it was until the black mobs started showing up three years ago. Since then Chicago has seen at least 50 episodes of black mob violence of all shapes and sizes in all parts of the city: Stealing, beating, destroying, vandalizing, terrorizing, stabbing, even killing. All of a sudden, the reporter must turn color blind. And ignore the central unifying feature of the violence: Everyone involved is black.
"Traditional Grading" vs "Esteem Grading" in Atlanta. For several years the Atlanta cheating scandal has been percolating first in the local press then in the state press and finally nationally. [...] The people involved were democrats, members of the teachers union and people of color. It's not a narrative that the mainstream media can allow. These facts can't be highlighted by the media any more than the idea that the Catholic Church's sex scandals were overwhelmingly committed by gay priests.
White House Scrubs First Daughters Ski Trip Report. A local news affiliate in Idaho reported that the First Daughters, Sasha and Malia Obama, are on a Spring Break ski trip in Sun Valley, Idaho. The story quickly spread across the Internet when picked up by the highly trafficked Drudge Report website. But hours later, the story disappeared from the KMVT website without an update or correction. Breitbart News confirmed that the White House requested that the post be removed.
Media compliant with White House censorship. While spring break students visiting Washington DC are locked out of the sequestered White House, the resident students of the White House, Malia and Sasha Obama, are enjoying their spring break. First they jetted off to the Bahamas for sun and fun and then, for a change in weather, jetted off to Sun Valley, Idaho for some skiing. [...] But, unless you got an early glimpse of the Drudge Report or a local Idaho television news report, the Obama sisters' double spring break vacation disappeared from the news.
The Editor says...
If the White House can order a newspaper to remove an unflattering story, that is a direct assault on the First Amendment. If the newspaper voluntarily removes such a story, that is an example of unmitigated bias. Either way, it stinks.
Networks Silent as Obama Gives Up on Closing Guantanamo. Barack Obama's State Department on Monday [1/28/2013] announced that it will close the office dedicated to shutting down Guantanamo Bay. According to the New York Times, this means that the President "does not currently see the closing of the prison as a realistic priority, despite repeated statements that [the administration] still intends to do so." Yet, all three network newscasts on Monday night [1/28/2013] and the morning shows on Tuesday skipped the revelation.
Conservative Leaders Demand Media Stop Censoring Gosnell Trial. Today [4/4/2013] twenty prominent leaders of the conservative movement have joined NewsBusters publisher and Media Research Center founder Brent Bozell in demanding the broadcast networks stop censoring coverage of the trial of Philadelphia abortion doctor Kermit Gosnell and the testimony of the Florida Alliance of Planned Parenthood Affiliates in favor of murdering children who survive botched abortions.
A House of Horrors in Philadelphia. Over three decades, abortionist Kermit Gosnell and his staff dispensed death to thousands of unborn babies, born-alive babies, and at least two women. Like the Governor, Gosnell kept trophies of his victims — bags and bottles holding aborted fetuses and fetus parts that were scattered throughout his squalid West Philly "clinic." Gosnell is now on trial for the first-degree murder of seven newborn babies and the third degree murder of a mother who died after a botched abortion.
Skipping an Abortionist's 'House of Horrors'. Abortionist Kermit Gosnell is on trial in Philadelphia, and not just for killing babies outside the womb, but also for killing a mother through reckless use of anesthesia. Network TV coverage of the trial? Zero on ABC, CBS, NBC, MSNBC, NPR, and PBS. CNN's entire coverage seems to be one sentence from Jake Tapper on March 21.
Top Ten ObamaCare Horror Stories the Media Are Covering Up. Three years ago, Obama, Democrats, and his media lied to us about cutting the cost of health care, being able to keep our insurance, and not taxing the middle class. Today, those lies and what ObamaCare is and will do to the working and middle class are the biggest untold story in America. The media is currently engaged in an ObamaCare cover-up every bit as big, corrupt, and damaging as the ongoing Libya cover up.
Obama Compared the Palestinians to Canada? Networks Ignore The Gaffe. Radio hosts like Mark Levin and Web sites like Canada Free Press are mocking President Obama's statement in a press conference yesterday [3/21/2013] with Palestinian president Mahmoud Abbas, where he compared the Israeli-Palestinian conflict to U.S.-Canada relations. What? Levin called him a "moron" for the comparison. But ABC, CBS, and NBC failed to notice. They acted like a press release service for Obama on their newscasts Thursday night and Friday morning [...]
Peggy Noonan Interrupts Blackout as Networks Continue to Ignore Abortionist's Trial. The Big Three networks' morning and evening newscasts still haven't covered the murder trial of Dr. Kermit Gosnell as of Monday morning [4/1/2013]. ABC, CBS, and NBC have maintained their coverage blackout despite the graphic witness testimony and the in-your-face courtroom antics of Dr. Gosnell's defense attorney during the first two weeks of the proceedings. The Philadelphia physician is charged with murdering seven newborn children at his decrepit abortion facility.
Big Three Networks Ignore Abortion Doc Who Snipped Babies' Necks. ABC, CBS, and NBC's morning and evening newscasts have yet to cover the trial of Dr. Kermit Gosnell, which began on Monday [3/18/2013]. Gosnell is charged with murdering seven babies who were born after viability in his rundown abortion facility. The Big Three also gave the story minimal coverage back in January 2011, after the Philadelphia physician was arrested. ABC completely ignored it, CBS Evening News aired one full story, and NBC gave just 50 words on Today.
In land of legal abortion, Gosnell case is no big deal. Turns out, at least outside of his home town, the capital murder trial of Kermit Gosnell, the Philadelphia abortionist who specialized in delivering late-term babies alive and then killing them by severing their spinal cords with scissors inserted into the backs of their necks, and collected their severed baby feet in jars, isn't much of a news story. As of Wednesday [3/20/2013], not one of the three major networks was covering it; it seems that America isn't terribly disturbed by the killings of one woman and a bunch of unwanted, unnamed babies who were already marked for destruction anyway.
The City of Chicago Declared War on Cop Bloggers! Having spent the last 24 years as a freelance TV news producer I learned the primary reason that important stories go untold and published. Journalists all think they need cooperation from politicians, bureaucrats and government in order to report news. In fact journalists beg for exclusive tips on government activities like police crackdowns, raids and important crime stories. The payoff for the tips comes in important exposure and glad-handing for certain self-serving accomplishments real or imagined. That, along with killing any unflattering stories. Reporters can't seem to develop independent information sources and wrongly think without government official's help they would be unable to report on government at all. Very few reporters have the courage to become persona non-gratia with any government agency.
Biden Press Office Apologizes for Forcing Reporter to Delete Photo. Just imagine if VP Cheney's office had accosted a reporter at public event and demanded that a photo be deleted from the reporter's camera. It would be the lead story on every MSM outlet, offered as proof of the rising tide of fascism. Yet such an incident happened last week with VP Biden, and virtually no mention of it can be found in the mainstream media.
GM has 574,000 Cars In Dealer Inventory, Despite No Interest Loans, Highest Car Discounts. As of yesterday desperate car buyers who can't rub two dimes together, can drive to the local unemployment office in the luxury of their brand new Chevy Imapala, or alternatively pick a just as worthless Chevy Malibu, HHR WAgon, Traverse SUV, as well as a Silverado, Colorado and Avalanche pickups, which are now offered at either 72 or 60 months of interest-free loans. "The 60-month deal also applies to the Buick Enclave and GMC Acadia SUVs and Sierra pickups." That pretty much covers the entire line up.
The "Stuffing" Is Back As GM's February Dealer Inventory Soars To Second Highest Ever. [GM has] a near record 743K cars with dealers -- the second highest ever.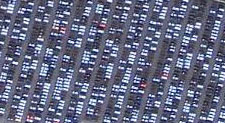 Where 'Channel-Stuffed' German Cars Go To Die. This car park of chaos is full of nearly-new cars meant for destruction so as never to enter the car market as a cheap alternative and to maintain a high-priced spare parts market. It seems the Keynesian profligacy or digging a hole to fill it in has progressed in the 21st century to building a car and crushing that car as the engine of growth for our economies.


Broadcast Networks Ignore Kwame Kilpatrick Conviction; PBS Fails to Report Party Label. Former Detroit mayor Kwame Kilpatrick (D) was convicted yesterday [3/11/2013] on 24 separate federal corruption charges, which could cost him up to 20 years in prison. However, ABC, CBS, and NBC could not be bothered to even mention the conviction of this disgraced ex-mayor of a major, blighted American city on their nightly news programs.

Media Protects Obama From Post-Sequester Poll Collapse. The media knows that any Narrative about Obama's fall from grace with the public will only undermine his political capital all the more. So rather than act like journalists and report on a real story, the media instead conspires together in silence, hoping they can ignore reality long enough to ride it out.

The media's approach to Rand Paul's filibuster: pretend it never happened. [The] front pages from some of the dominant newspapers in America provide a textbook example of mainstream media control over political dialogue in America. The media's playbook is simple: For Democrats, elevate good stories and bury bad ones. For Republicans, elevate bad stories and bury good ones. Because the drive-by media is no longer interested in reporting news, but only cares about obtaining outcomes, it is up to us [...] to offset the media hegemony.

All the President's unaccountable men. When Bob Woodward, one of Washington's most distinguished journalists, accuses the White House of rewriting history, even liberals should take note. And when the White House responds by threatening him, you'd think the story would become a national scandal.

If this is even half true, Barack Obama is the most destructive traitor in the history of the world.
The Most Open Administration in History. As Erik Rush has stated "far more dangerous and terrifying than Obama's utter disregard for the Constitution is the abject treason of this president." According to Rush, Obama has met with the Chinese "to find out if the Chinese [are] open to a land and resource swap for debt forgiveness." This would translate into the Chinese obtaining American land in payment of the U.S. debt to China.

"It is the Chinese who are pushing for the disarming of the American populace."
Obama: Selling out America — literally. [Scroll down] According to this source, President Obama had a mid-level U.S. official meet with a Chinese officer in 2011 to find out if the Chinese were open to a land and resource swap for debt forgiveness. The upshot of this is that the Chinese are now engaging in experimental "farming" and "scientific" studies in several locations in the U.S. (in various states). The personnel involved are all Chinese military, and the plan is to use these as the base for the expansion of "land settlements" in payment of the U.S. debt to China. [...] According to this scenario, the issuing of new drilling licenses in the U.S. have been stopped on federally held land until the Chinese can be in position to take over new oil production.

Mainstream Media Censorship Exposed. Flagship news publications in the United States mainstream media have been forced to admit that over the years they quietly forged partnerships with the federal government in order to withhold from American taxpayers vital information on such topics as the government's drone-assassination program, torture, secret prisons and warrantless snooping. Some of the worst cases of collusion and suppression go back 10 years to the early days of the modern "war on terror."

Debtor Prisons Popping Up Across America. While Wall Street banks are being rewarded billions in taxpayer-funded bailout money to recover from risky financial schemes, cash-strapped Americans around the country are being jailed for simply not having enough money to pay their bills.

Obama and the Media: Old Policy Resurfacing. When Amory Gutierrez from the Pleasanton Weekly wanted to do a puff piece on the Obamas' helicopter, "Marine One," the White House put out the welcome mat. [...] Gutierrez, however, did not keep to the anticipated script. Her piece gushed over the helicopter flown by a Marine crew, but then went on to repeat what the Marines had told her. In nearly four years of flying the Obamas, Michelle Obama had never so much as verbally acknowledged the crew's existence. Intentional or not, the one line in the otherwise celebratory piece made the first lady look aloof and disdainful of the military — or as some people put it, just plain snooty. The White House moved decisively into damage-control mode.

Employees: Obama donor in process of buying up and 'destroying' America's top pro-gun media outlets. Employees of Obama donor Leo Hindery Jr.'s media conglomerate Intermedia Partners, which now owns most of the top gun-culture media outlets in the country, believe that Hindery plans to gut and destroy all of them as part of a business plan that has already led to numerous layoffs and the virtual shuttering of prominent television production facilities in Minnesota and Montana. Hindery, who was in consideration to be President Barack Obama's secretary of commerce, is managing partner of Intermedia Partners. The New York-based media private equity fund owns Intermedia Outdoor Holdings, which publishes 17 hunting, fishing, and shooting magazines, including Guns & Ammo, Handguns, Gun Dog, Rifle Shooter and Shooting Times.

The Editor says...
If there is no demand for those magazines, let them all die. On the other hand, if there is a market, you should start a new gun magazine as soon as the others are out of the way -- unless it is already impossible to start a business in this country.

Explaining the Inexplicable. Almost daily on internet news agencies is some lurid story of a shooting, flash-mobbing, or beating that unfortunately involves a racial motif. [...] Yet such information is usually implicit rather than overt. The paper or news agency that reports the crime either provides no overtly physical description of the suspects, or offers almost every detail of their appearances (sometimes even artists' renditions!) except for their race.

The David Gregory police mystery. The District of Columbia seems not to want the public to know what it did — if anything — while investigating NBC News' David Gregory for possession of an illegal 30-round magazine. The police refuse to turn over the public documents in the case, and the city council is allowing them to stonewall.

GAO Report: Obama's Policies 'Not Sustainable'. For two months, reporters and lawmakers have ignored a devastating report from the federal government itself, which warns that the nation's current fiscal policy will lead to economic collapse. The Government Accountability Office (GAO) — the personal auditor of President Obama and the federal government — released its assessment of the federal government on January 17, 2013. The report's findings illuminate just how dire America's spending problem is and, therefore, how little the current cuts debated by Congress do to fix it.

How Democrats Sponsored Illegal Immigration. [J]ust as Barack Obama escaped media scrutiny during his 2008 and 2012 campaigns, the news media in Chicago have never reported on the corrupt administrative actions its mayors have taken to make it a sanctuary city for illegal immigration. To this day the media refuse to discuss its sanctuary status or tell the story of how it came about, and how Hispanics are being directed, through government programs, into highly segregated communities.

Man Shoots and Kills Two Home Invaders: National Media Silent. In yet another example of self defence using a firearm, a man used a gun to defend himself, and his toddler son from home invaders. Yet, the national media chose to take a pass on covering it.

Broadcast Networks Largely Ignore Jesse Jackson, Jr. Indictment. A survey of the big three networks showed news coverage of the indictment of former Chicago Democrat Congressman Jesse Jackson, Jr. was sparse to non-existent for the first three days after the indictment was made public. Even when his trouble was reported, the fact that he is a Democrat went unmentioned.

MSNBC's Jansing, Roberts Note Jesse Jackson Jr. Guilty Plea, Omit Party Label. Twenty minutes into her February 20 Jansing & Co. program, MSNBC anchor Chris Jansing noted that former Illinois Democrat Jesse Jackson was entering a federal courtroom later that hour to plead guilty to campaign finance violations. Only Jansing left out the part about Jackson being a Democrat. What's more, while Jansing noted that Jackson's wife Sandi was answering charges of filing false tax returns, she failed to note that Sandi Jackson, also a Democrat, resigned her seat as Chicago city alderman in January.

Saving the Fish to Kill the Fish. Saving the fish isn't about saving the fish. With the price of gasoline at record heights, why are there so many abandoned rigs in the Gulf? A safe bet would be because of the government.

Media Ignore Domestic Terrorist Conviction of Gay-Rights Activist. How many stories have you seen on the broadcast networks or cable networks — any of the networks — about the first-ever domestic terrorism conviction in our nation's capital? Is same-sex marriage such a politically correct issue that no one wants to inform the public when a gay-rights political activist shoots someone in an attempted mass-murder?

News orgs had 'informal arrangement' not to mention Saudi drone base. A media story lies at the center of a Washington Post article on the Obama administration's targeted killing program. In the story, The Post reveals that the 2011 attack that killed U.S. citizen and al-Qaeda operative Anwar al-Awlaki was launched from a base in Saudi Arabia. That base, notes the story, was set up to combat al-Qaeda's presence in the Arabian peninsula. From there, Greg Miller and Karen DeYoung explain why news of the base is just now emerging[...]

NYT and WaPo Got Pulitzers Disclosing Secrets Under Bush — Those Secrets Are Safe Under Obama. The media complicity in President Obama's drone strategy gets more and more astonishing with each passing day. On Wednesday [2/6/2013], Britain's Guardian published a piece with the incredible sub-headline "New York Times and Washington Post knew about secret drone base in Saudi Arabia but agreed not to disclose it to the public."

The Truth About Dorner: Leftism Is Violence. The media has been dishonest in trying to cover up [Christopher Jordan] Dorner's left-wing views. They've been beyond hypocritical in drawing no link between Dorner's acts and his politics — after they have repeatedly tried to link acts of violence to conservatism even when, as usual, there was no link to be made. Worst of all, as Big Government has shown, they are beginning to try to justify the slaughter.

Suspected Mass-Murderer's Manifesto Endorses Hillary, Obama, Gun Control, Elite Media. Chris Dorner, the former-police officer suspected of being behind the murder rampage presently unfolding in Los Angeles, has apparently left behind a manifesto addressed to America that the media's already selectively reporting on to leave out the more inconvenient portions. You see, there's no political upside for the media to reveal the politics of this suspected madman.

Suspected L.A. Cop Killer Posted Pro-Obama, Pro-Gun Control, Leftist Rant on the Web. The suspect, Chris Dorner, posted a manifesto on the web, but media are ignoring some of its key passages. Dorner's rant begins with an attempt to justify his crimes, and then reveals a man steeped in typical Think Progress, Media Matters style leftist thinking.

News Media Scrub Cop Murderer's Manifesto of Pro-Obama, Hillary, MSNBC, CNN, Gay, and Anti-Gun Comments. I started noticing that some of the details the media was talking about didn't fit the released manifesto I've read everywhere. Especially interesting, is that KFI's morning news regurgitator Bill Handel had mentioned some pro-Obama comments and anti-NRA sentiments in the manifesto. But these weren't in the copy that KFI themselves released — see for yourself.

Former LAPD officer on rampage, still at large; media deletes half of his manifesto. The only thing more chilling than the Dorner manifesto [...] is the partial Dorner manifesto being misrepresented as a complete document, where his gun-control loving, pro-Hillary, pro-Obama, rants are completely edited out. Yes, like the Occupy terrorists, Floyd Corkins, and Nkosi Thandiwe, Christopher Dorner is another radical left wing terrorist the media is trying hard to cover up for, even as they are forced to cover his crimes.

If Christians acted like this, it would be front-page news.
'Muslim Patrols': Sharia Enforcers Hit Britain's Streets. No longer content with preaching Sharia in the mosque, some British Muslims are now attempting to impose Islamic law on the streets. In videos posted on YouTube, self-described "Muslim patrols" have filmed themselves berating young women for being inappropriately dressed, seizing cans of beer from men, and burning posters advertising women's underwear. In another video, a mob pursues a man they suspect of being gay down a street, calling him a "fag" and telling him to get out of their "Muslim area."

Major News Media Ignore Woman's Reported Botched Abortion Death. A 29-year-old woman died Thursday [2/7/2013] after undergoing a late-term abortion at the Maryland clinic operated by the notorious Dr. LeRoy Carhart. However, despite Carhart's international reputation, no major news organization is covering the reported death. The victim, who was eight months pregnant, traveled from out of state to the Germantown Reproductive Health Center that Carhart operates in suburban Montgomery County, about 20 miles from Washington, D.C.

Suspect Shot and Killed in Attempted Home Invasion in Fairborn, Ohio. Well, shouldn't this be flooding the news channels, considering everything else?

47 million Americans on food stamps, Obamas pig out on a 3,000 calorie inaugural luncheon. Although Obamacare requires restaurants to post calorie counts for all their menu items, Dear Leader's inaugural luncheon got a pass. It's good to be king! Of course, if you tried to serve this lunch in your local high school cafeteria, Moochelle would have you arrested.

At Church, Obama's Pastor Calls Republicans "The Enemies" — Starts Chanting "Forward". Obama went to church today in Washington DC. His pastor used the story of Moses to call Republicans "the enemies." And, started chanting "Forward!" [...] For some strange reason the Obama-media didn't think this outrageous service was newsworthy.

When Kids and Guns Mix. The mainstream media won't report stories of children who have successfully used guns in self-defense to save their lives.

Obama's Greatest Legacy Might Be Destroying the Media. On Thursday [1/17/2013], while looking wistfully back at Obama's first four years, NBC News accidentally did some actual reporting. [...] But there it finally was: The Truth — and from NBC News, no less. Poverty's up (from 43.6 million to 46.2 million), middle class incomes are down ($50k compared to $52k), the deficit's exploded (from $10 trillion to $16 trillion), food stamp recipients have skyrocketed (33.5 million to 46.6 million), unemployment hasn't budged, and the same number of people are without health insurance today as there were in 2009.

The Mainstream Media has avoided any mention of Brennan's significant role in the Benghazi tragedy. [Scroll down] [John] Brennan is head of the president's National Counterterrorism group. During his time there he has worked very closely with our favorite FBI Director, Mr. Eric Holder. Their work has resulted in the single greatest expansion of police state surveillance on American citizens in the history of this country. Once again, the mainstream media is silent on this fact. Remember, it was the FBI who Obama said he sent to Benghazi to investigate the attack that killed four Americans. It was the FBI who delayed that investigation because they said it was too dangerous and it's the Holder FBI who says the investigation is "ongoing". Right. The cover-up is right there in front of everyone but this Obama administration doesn't care. They know there isn't [sic] enough people wanting to challenge them so they'll just go right on lying to us.

The Vast Left-Wing Conspiracy. Matthew Continetti writes at the Washington Free Beacon about the formation of an incredibly powerful lobbying group, composed of organizations that boast millions of political foot soldiers, with a total income measured in the billions of dollars. It plans to spend tens of millions of dollars pushing a rigid ideological agenda. It's a textbook example of everything we are constantly told is "wrong" with Washington, a combination of big money, political self-interest, political influence, and secrecy.

CBS Actually Covers Gun Self-Defense Case Promoted By NRA; ABC, NBC Punt. On Friday's [1/11/2013] CBS This Morning, Bill Plante refreshingly spotlighted how firearms are used to protect the lives of ordinary Americans. Plante noted how the National Rifle Association "Tweeted a story... about Melinda Herman, a Georgia woman who shot an intruder in self-defense as she waited with her two children in a closet.... She fired at the man multiple times with a .38 caliber handgun." The two other Big Three morning shows failed to mention this story during their coverage of the current gun control debate.

School Shooting in Tennessee That National Media Did Not Report. I am sure that no one outside of our immediate region has ever heard the story, because the only person who was shot — and killed — was the gunman. These types of stories don't fit the narrative of those who want "gun-free zones" and so are ignored by the national media.

Leaked Report, Suppressed by Cuomo, Says Fracking is Safe. Cuomo's reluctance to release a report his administration commissioned is understandable in light of a potential backlash by environmentalists. But suppressing information favorable to the use of fracking is only harming the economy of the state which is losing out on jobs and tax revenue.

NYT Puts Story of Leaked 'Fracking Is Safe' Report Covered Up for a Year on Page A19. One would think that a newspaper which in its view has largely made its reputation on publishing leaked government documents and revealing government secrets would have been a bit more excited about being the sole receipient of a report from the State of New York indicating that hydraulic fracturing, or "fracking," is safe. The State had already sat on the report for a year.

More about fracking.

The Scapegoat Express. Filled from birth on a steady diet of the pervasiveness of white racism in America, rage-filled urban youths across the nation play "the knockout game" with often fatal results for their randomly selected white or Asian victims. Meanwhile, the elite liberal media fail to notice the national scope of the almost weekly occurrences. Google "the knockout game" and start reading the dozens of local stories that the media refuse to connect or identify as part of a dangerous national trend. And it doesn't stop with knocking out random passers-by with sucker punches and then kicking them in head until they are dead, disfigured for life, or in comas.

The Anniversary that Wasn't There. A sesquicentennial is a really big deal! A century and a half ago, something happened that affects us today. So why was the abolition of slavery in the United States (if that isn't a big deal, what is?) worthy of almost no attention when it marked its sesquicentennial on January first, 2013? In the words on MLK, Jr, "Free at last, free at last, thank God almighty we are free at last," yet there were no celebrations of freedom in the black community.

The Editor says...
Blacks apparently would prefer to play the role of perpetual victims, rather than celebrate their costly freedom.

Coldest Week Since 1938 Kills 45 Across Russia. How come we never hear about how many people die from hypothermia? It is one of the biggest killers in the world. Hypothermia kills far more than heat and hurricanes combined. Not to mention what it does to crops, which in turn causes more deaths. And yet we never hear about the dangers of cold weather.

If it isn't already obvious to you, global warming is a hoax, it stopped 15 years ago, and a few degrees of warming would be a good thing.

The December 16 Movie Theater Shooting You Didn't Hear About. The story was covered locally, but seeing as it happened just one day after the Sandyhook massacre in Connecticut, you would think it would have gotten more airplay in the MSM. Don't stories like this one play right into their anti-gun hands? No — not this one.

The Fiscal Cliff is a Diversion from the Real Problem. The fact that the Federal Reserve recently decided to more than double its monetary stimulus (also known as "money printing," debt monetization, quantitative easing or simply QE) to $85 billion a month is telling. It suggests the Fed may be taking emergency measures to contain systemic risk and fund deficit spending and U.S. government debt issuance foreigners no longer want. The doubling of QE to a trillion dollars a year is a complete departure from what any previous Federal Reserve board would consider appropriate or responsible.

The Fiscal Cliff Diversion. [Scroll down] Yet maybe the most telling informational deficiency is the shortage of reporting on the economic stimulative effects of previous income tax and capital gain tax reductions. Reductions that then resulted in growing tax revenues and appreciable increases in prosperity for the American people. In fact MSM stories have tried to debunk the realities of the Coolidge, JFK, Reagan, Clinton and Bush 43 tax reductions that kick started past sagging economies. The media's reluctance to discuss tax cutting or the subsequent economic surges that followed their execution has largely removed these strategies from public debate.

Something is fundamentally wrong with the media in this country. [Lt. Col. Ralph] Peters says, the lack of media interest in this entire Benghazi scandal where 4 people needlessly died and the Obama administration lied points to the fact that there is a fundamental problem with the media in this country. He says the media are more concerned with a stray kitten than Benghazi.

U.S. Press Won't Report That Egypt's Constitution Is Sharia-Based — And Socialist. While the Associated Press, New York Times, and the vast majority of the U.S. establishment press have avoided directly referring to Egypt's newly-approved constitution, spearheaded by ruler by decree Mohammed Morsi, as oriented toward imposing Muslim sharia law in that nation, the international press hasn't been so reluctant. Who do you believe, the rest of the world or your agenda-driven U.S-based news sources? Additionally, as will be seen, the constitution is so unabashedly socialist it would have been labeled communist if it had appeared any time prior to 1990.

Racial violence is increasingly common and most media ignore it.
Shot For Being White. Four black people in Wilmington, North Carolina needed money for marijuana and traveling. So they set out to get it by robbing white people. They tried to break into a house, but were seen, so they fled. They stalked a woman through downtown Wilmington, but she escaped. Finally they came upon a 20-year-old college kid named Joshua. They took his money, cell phone and sandwich. Then he asked them to only take his money and not his ID because he explained to them it was hard to replace. Then they shot and killed him.

More examples of black hate crimes.

Questions the Press Doesn't Ask. An unpaid intern working in the office of Democratic New Jersey Senator Robert Menendez (who was reelected on Nov. 6) was arrested on Dec. 6. It seems the 18-year-old illegal immigrant from Peru (who helped the senator on immigration issues!) was a registered sex offender. ICE knew about him, but he was repeatedly told by higher ups at DHS, according to a government source, to delay the arrest until after the election. If true, that's a remarkable politicization of law enforcement.

With Election Over, Americans Find They Were Duped By Democrats And Obama. Yes, the total number of people with private-sector jobs has grown by 2 million over the last year, as the White House proudly trumpets — and did on the campaign trail. But what never gets reported is that 2.4 million people have left the workforce entirely over the same stretch — so there is no net real job growth.

Ambassador Stevens Funeral, no news coverage? Not One Word? There has not been a breath of information on Ambassador Stevens' funeral in the news anywhere. Was he not a U.S. Ambassador? Was he not killed in the line of duty? Should not Obama, who Stevens represented abroad, present a wreath or something? The family has a web page where they state that a ceremony was held October 16, 2012. But there is no information anywhere about what happened at that ceremony or who was there.

Kwanzaa Is A Fraud of A "Holiday" Created With A Fascist Goal. The man who created the holiday, Maulana Karenga was a convicted violent felon. In 1971 Karenga was convicted of torturing two women who were members of US (United Slaves), a black nationalist cult he had founded. [...] I cannot see rational people wanting to observe a holiday created by such a sick violent man. But this part of the Kwanzaa story is rarely mentioned by the MSM.

Did someone mention Kwanzaa?

Hillary Clinton Must Answer for Benghazi. It's almost as if many in the mainstream press wish we could switch temporarily to a monarchy. That way we could coronate Secretary of State Hillary Clinton and assure her role as our next leader and be done with it. [...] Four Americans lay dead because of these failures, and most of the media seems entirely comfortable with this being swept under the rug.

446 school age children shot in Chicago so far this year with strongest gun laws in country — media silent. The cesspool known as Chicago probably has the toughest gun laws in the country, yet despite all the shootings, murders, and bloodshed, you never hear a peep about this from the corrupt state run media. In Chicago, there have been 446 school age children shot in leftist utopia run by Rahm Emanuel and that produced Obama, Jesse Jackson, Louis Farrakhan, etc. 62 school aged children have actually been killed by crazed nuts in Chicago so far this year with almost two weeks to go. So why isn't this news worthy?

Climate Change Draft Undermines U.N.'s Claims. [Scroll down] While the IPCC works overtime to spin the Rawls leak, another headache has emerged for the group. Figure 1.4 from the draft shows that the models used to predict warming have projected temperatures higher than the observed temperatures we've seen. The chart also shows that observed temperatures, rather than climbing ever upward, are where they were 15 years ago. Skeptic Anthony Watts calls the chart a bombshell. The media have yawned.

Media Ignore Shootings in Chicago. My guess is that the media's lack of interest in Chicago's ongoing murder spree has a lot to do with the lack of political upside in reporting on the story. Because what's happening in Chicago can't in any way be blamed on Republicans, conservative ideas, or a lack of left-wing ideas, the media would prefer to pretend the murders aren't happening. You see, the media can't blame the murders on a lack of gun control, because Chicago has the toughest gun control laws in the country.

This Is Awkward. In the America as defined by American media, you know more about Sarah Palin's uterus than you do the Attorney General's criminal background.

How Obama's $60.4 billion Hurricane Sandy aid bill is stuffed with pork for NASA, museums, Alaska fisheries and more. President Obama's proposed $60.4 billion federal aid for victims of Hurricane Sandy has been revealed stuffed with millions in spending for museums and NASA with portions sent as far from the Northeast's destruction as Alaska. Now dubbed the 'Sandy scam' by its critics, only a portion of the federal funding goes directly to states and victims hardest hit by superstorm Sandy in New Jersey, New York and Connecticut.

Virtually Unreported: CCW Holder Likely Prevented Larger Clackamas Mall Death Toll. If certain aspects of stories relating to an incident of gun violence don't fit the template, they usually doesn't get reported at all. But if such things somehow get some local exposure, they rarely escape into the broader national news environment.

New Report: Man-made Global Warming Is a Farce. Extreme Weather Report 2012 was presented at the latest UN Climate Conference in Doha, Qatar, but the only press this landmark study received was when British politician and author Lord Christopher Monckton was kicked out of the conference for presenting it.

Instead of Asking Hillary Clinton About Benghazi, Barbara Walters Pushes Her to Run for President. Add Barbara Walters to the list of journalists pushing for Secretary of State Hillary Clinton to run for President in 2016. For the third time now, Ms. Clinton has been featured on Barbara Walters's annual 10 Most Fascinating People special. Given that Ms. Walters had a one-on-one sit-down interview with Clinton, it would seem logical that the topic of the Benghazi fiasco would come up. It didn't [...]

Not News: Food Stamp Participation Jumped by Over 600,000 in September; Last Pre-Election Number Revised Up. The U.S. Department of Agriculture released its latest report on food stamp program participation through September today [12/7/2012]. I received the email alerting me to the release at 5:17 p.m., so it seems reasonable to believe that USDA and the Barack Obama administration wanted the new data to get as little attention as possible. If so, they have two probable reasons for wishing to minimize its impact.

Gold sales surge after Obama is re-elected. Something appears to have snapped in the American psyche as the last 30 days have seen the largest physical gold sales on record. Between the search volume for 'bulk ammo' and this, we fear something is afoot [...]

Federal Building Bombed, Tea Partier Not Charged, Media Ignores. At 8:24 Friday morning — that's right, four days ago — in the small town of Casa Grande, Arizona, the local Social Security Administration office was rocked by an explosion that charred the back wall and door. [...] As someone who watches the media about as closely as anyone, why am I just learning about this now? My guess is that the name of the suspected bomber might answer that question: Abdullatif Aldosary, an Iraqi refugee.

Massive Anti-Obama Rally Planned for Inauguration Day. Inspired by concerns of unemployment, the economy, Benghazi, and matters of foreign policy; organizers are promoting a "Massive Anti-Obama Rally @ Obama's Inauguration Day." Their goal? 500,000+ protesters armed with signs identifying the reason for their participation in the rally.

Why I'm Enlisting In Andrew Breitbart's War: [Scroll down] So many times over the past several years, I've heard stories about how once-respected journalistic institutions — newspapers, wire services, television networks, even websites — refused to run articles because the reporters or editors were friends with the politicians they were going to write about. The establishment media has become a part of the establishment class.

Iraqi Refugee Bombs AZ Social Security Office, MSM Remains Silent. On Friday morning [11/30/2012], an Iraqi refugee used an improvised explosive device (IED) to bomb a Social Security office in Casa Grande AZ — the mainstream media remains silent. The explosion took place before the office opened for the morning, so one was hurt. But reports indicate the explosion "was heard and felt all over the area."

Rice Has Up to $600K Stake in Keystone Company. Potential secretary of state candidate Susan Rice owns up to $600,000 of stock in the Canadian company pushing to build the Keystone XL Pipeline, according to her financial disclosure reports. OnEarth reports that Rice, Obama's preferred candidate to succeed Hillary Clinton, owns millions of dollars of stock in oil companies, including TransCanada, the company behind the controversial Keystone XL oil pipeline.

Chicago's Sandi and Jesse Jackson Jr. — the perfect "Machine" Democrats. Sandi Jackson is a Chicago alderman, a member of one of the most corrupt criminal groups in the nation. Thirty-two Chicago aldermen have been hauled off to prison over the past four decades. Others have resigned in disgrace. There is always some kind of federal investigation of the Chicago City Council going on. The Chicago City Council is the overworld to the crime syndicate's underworld. [...] Chicago alderman make over one hundred thousand dollars a year. They also have lavish expense accounts, Cadillac pensions, and Rolls Royce medical insurance. There are other perks and pleasures they receive.

Republicans pounce on Obama, CBS News over unaired Libya remarks. Republicans pounced Monday [11/5/2012] after CBS News released portions of a "60 Minutes" interview with President Obama that shows him hedging on whether to call the Sept. 11 attack on the U.S. Consulate in Benghazi, Libya, an act of terrorism.

Media Gave 'Pathetic' Benghazi Coverage To Aid Obama. Last Friday [11/2/2012], Pulitzer Prize-winning former New York Times reporter Judith Miller and Kirsten Powers, a Daily Beast columnist, appeared on Fox News' "Happening Now" program to justifiably bash the mainstream media and its orchestrated suppression of coverage of the terrorist attack in Benghazi. Neither is a charter member of the "vast right-wing conspiracy," but both roundly condemned the shameful and politically motivated actions of their colleagues.

Proof: Obama Refused to Call Benghazi 'Terror,' CBS Covered Up. In an astonishing display of media malpractice, CBS News quietly released proof — two days before the election, far too late to reach the media and the public — that President Barack Obama lied to the public about the Benghazi attack, as well as about his later claim to have called the attack "terrorism" from the beginning.

CBS under fire for withholding Obama's Benghazi remarks. CBS News is continuing to draw fire for withholding footage of a Sept. 12 interview with President Barack Obama in which he said it was "too early to tell" whether or not the previous day's attack in Benghazi, Libya, had been an act of terror. That remark, which was not included in the "60 Minutes" package that first aired on Sept. 23, was also left out of a subsequent package that aired in the days following the second presidential debate [...]

Media Bias 101: Benghazi vs. Watergate and Iran-Contra. What we're witnessing right now is how the media's liberal bias truly works. Liberal journalists can be like men and women possessed when a Republican is in the Oval Office, but for a liberal Democrat, they are as compliant as lambs. Being political partisans first and journalists second, they are now silently complicit when faced with Obama's scandal, one potentially more disturbing than Watergate and Iran-Contra combined. After all, Americans died in Benghazi.

Stories the mainstream media missed. [Scroll down] Some coverage is no doubt there, but is it remotely like the Katrina or Haiti end-to-end saturation reporting? And why not? You could not miss [Anderson] Cooper in the aftermath of those disasters, but it is hard to find him now. [...] The Hill's A.B. Stoddard argued — on Fox, not CNN — that misery in the city and on the shore depresses Americans and thus turnout.

ABC and CBS Ignore Their Own Reporters As Benghazi Blackout Reaches 7 Days. For the seventh night in a row, ABC's World News, CBS Evening News, and NBC Nightly News refused to give one single second of coverage to the Obama administration's deceitful response to the terrorist attack on the US consulate in Benghazi on September 11. According to the Media Research Center, the last time Benghazi was discussed on one of the flagship network evening news casts was the October 25 edition of CBS Evening News.

Fox News's Benghazi bombshell: Why haven't other media followed? [T]he big guns of Beltway journalism have largely treated the Fox report with silence. This non-development hasn't met with silence from the mainstream media's critics. "ABC, CBS, NBC, The Washington Post, and the New York Times are so vested in the re-election of Barack Obama that they are deliberately spiking this huge story. It's sickening," says Media Research Center President Brent Bozell.

The Media's Coverage of the Libya Attacks: From Slanted to Suppressed. Americans of all political stripes were distressed by the September 11 attack on the U.S. consulate in Benghazi, Libya, that killed four Americans, including the U.S. Ambassador. But the reaction of the national broadcast networks has been demonstrably and shamefully partisan from the beginning of this story.

Category 5 Media Bias On Display In Wake Of Sandy. At an event for Hurricane Sandy victims, reporters pummel Mitt Romney to answer questions about FEMA. This is the same press corps that refuses to ask President Obama a single tough question about Benghazi.

IBEW thugs strike again, turn away transformers delivered by non-union truckers. Is your power still off? Blame the IBEW! For the second time since Huricane Sandy their unionista thugs put solidarity above customer service.

'No Red Tape'? New Jersey Turns Away Non-union Relief Crews. How desperate is hurricane-ravaged New Jersey? Not desperate enough to suspend a union monopoly that keeps the state in the bottom ten states for economic competitiveness (and #48 for business friendliness). Relief crews from Alabama who were specifically called to New Jersey found themselves diverted to Long Island, NY after they arrived because they use non-union labor. Alabama is a right-to-work state.

Nonunion Alabama crews turned away from Sandy recovery. Crews from Decatur Utilities headed up there this week, but Derrick Moore, one of the Decatur workers, said they were told by crews in New Jersey that they can't do any work there since they're not union employees. The general manager of Decatur Utilities, Ray Hardin told Fox Business they were presented documents from the International Brotherhood of Electric Workers at a staging area in Virginia. The documents stated they had to affiliate with a union to work, which the crews could not agree to.

More information about the constant strife in and around labor unions.

The mysterious media Benghazi bugout. Where is the Benghazi media feeding frenzy? I don't think there's a conspiracy at work. Rather, I think journalists tend to act on their instincts. And, collectively, the mainstream media's instincts run liberal.

Bozell Statement: Liberal Media Are Accessories to Benghazi Cover-up. For the sixth night in a row, ABC World News, CBS Evening News, and NBC Nightly News refused to give one single second of coverage to a Fox News report that the Obama Administration denied help to those attacked and killed by terrorists at the US consulate in Benghazi on September 11.

American Drones Armed And Ready To Attack Benghazi Terrorists — But Obama Refused To Give Order? Perhaps no more glaring example of today's media blackout is when NBC's David Gregory cut off a guest who attempted to raise the Benghazi issue by promising to "get to that later" and then ignoring the issue for the rest of his Sunday morning [10/28/2012] news show.

Cindy Sheehan Was Cheered, Charles Woods Is Ignored. During the 2004 presidential campaign, a media eager to deny George W. Bush a second term made Cindy Sheehan, who lost a son in Iraq, a national heroine and reported virtually her every word and move. [...] But nobody in a mainstream media eager to see President Obama get a second term is bringing the Benghazi debate to the White House doorstep. On all the Sunday [10/28/2012] talk shows, when Benghazi was brought up, the moderator quickly changed subjects.

Benghazigate: What is being lied about, going unasked? The media aren't just not asking questions about Benghazi; they're not even launching their normal defense of the administration, telling us that the White House did a great job, that all that could have been done, was done, that there was brilliant leadership, maneuvering and diplomacy at work, throughout. No... the press are just trying as hard as they can to talk about anything else.

Media Blackout: Aside from FOX, Sunday News Hosts Fail to Raise Benghazi. The mainstream media's silence on the Benghazi disaster reached deafening levels on Sunday, as hosts of four out of the five major news shows — with the exception of Fox News Sunday — failed to raise the issue. Only Bob Schieffer of CBS gave it serious consideration, and only after it was raised by Sen. John McCain.

Accomplice Media, Three Years Later. [Scroll down] Simply, the Obama administration is interested only in the politics and optics of the situation and is more often than not trying to create a political advantage on the corpses of American lives. So, here we are again and as more information comes out about Obama's direct culpability with the deaths of Americans, the Accomplice Media continues to talk about anything but.

The October Surprise in 2010. To its eternal moral discredit, the MSM are still refusing to connect the dots on the Libya story. Whereas during Watergate or Iran-Contra, the MSM were eager to dig deep, as well as make speculative leaps as to administration culpability, in Benghazi-gate there is no similar interest; the big-gun investigative reporters — Bob Woodward, Seymour Hersh, Brian Ross — all seem to be sitting on the sidelines.

Let Them Hear Your Thunder America. If you are increasingly upset over the Mainstream Media's refusal to honestly cover the Benghazi Massacre and cover-up in order to insulate Barack Obama and his failed administration from rightful blame, for the deaths of four Americans, I urge you now to let your feelings be known by those who control the networks.

Biden's Brother Awarded Lucrative Gov't Contracts: Media Silent Thus Far. The rampant crony capitalism of the federal government simply can't be ignored anymore, but the media has made a habit out of selectively picking and choosing what it wants to report on with this administration. This latest example may ultimately be ignored and denied too however, because it involves the brother of our current vice president.

Obama's Homeless. There are more homeless right now, at this point in Barack Obama's presidency, than there were at this point in Reagan's presidency. That's significant because the homeless, at this point under Reagan, were used by liberals to torpedo Reagan's reelection bid. And yet, today, liberals are completely silent about the homeless under Obama. Liberals have not turned the homeless into a propaganda issue today, as they did in the 1980s.

Media Suddenly Muted on Jobless Claims. This week, jobless claims have soared to 388,000 — a four-month high. NPR explained, correctly, that both changes were largely the result of the fact that California failed to process all of its jobless claims last week and therefore submitted an incomplete report that was rectified this week. But it did not bother to revisit its cheerleading from the week before, nor did it try to imply broader conclusions about the direction of the economy under Obama.

The Media's Law of Silent Protests. If 150 members of the Tea Party protest at an Obama fundraiser and the press fail to report it, was the Tea Party ever really there? [...] As most AT readers know, the press coverage those first few years was scant and slanted. The Tea Party was consistently portrayed as racist, anti-government radicals who were mostly white, militant, gun-toting, Bible-slapping, knuckle-dragging, toothless mental midgets.

Obama Owns Shares in Chinese Company. After Mitt Romney promised to aggressively crackdown against Chinese companies that cheat American businesses, the New York Times, along with other mainstream media organizations, have tried to paint Mitt Romney as a hypocrite by digging up companies in which Bain Capital has a stake. They conveniently ignoring that President Barack Obama also has investments in some of the exact same Chinese companies.

Global warming stopped 16 years ago, reveals Met Office report quietly released. The world stopped getting warmer almost 16 years ago, according to new data released last week. The figures, which have triggered debate among climate scientists, reveal that from the beginning of 1997 until August 2012, there was no discernible rise in aggregate global temperatures. This means that the 'plateau' or 'pause' in global warming has now lasted for about the same time as the previous period when temperatures rose, 1980 to 1996. Before that, temperatures had been stable or declining for about 40 years.

Did you hear about the 1,500 preachers breaking the law? The reason you didn't is that most of the lawbreakers minister to fundamentalist, evangelical or other conservative Protestant congregations and espouse political views supporting traditional notions of marriage, family and patriotism. Think Franklin Graham. Had they instead been devotees of radical liberation theology preaching the anti-war, anti-American nostrums of the far Left — think Jeremiah Wright — their law-breaking sermons would have been front-page news across the country.

The Obama Tapes That Can Bring Romney Victory. [Scroll down] There's also a stunning tape of Rev. Jeremiah Wright, interviewed for Edward Klein's book The Amateur, claiming that the 2008 Obama campaign offered him a bribe to stay quiet. Yet that bombshell from Wright, who feels betrayed by Obama and is clearly eager to damage him, has been disregarded by Romney and his surrogates and allowed to fade into obscurity by the conservative media outlets that reported it. Is everyone asleep?

Did someone mention Jeremiah Wright?

I am furious over this. Where is the American media that have failed in their responsibility to be the watch dog of irresponsible and illegal government activities? They are missing in action and thereby have failed in their responsibility not only to the people of America but also to the Republic that entrusted them with watching over it. Credit surely must be given to Univision for its in-depth and comprehensive reporting on a disastrous, ill-conceived and probably illegal program.

Return of the Weak Horse. Terrorists attacked the U.S. consulate in Libya, killed four Americans, tore down the American flag, and replaced it with an al-Qaeda flag. Will someone finally ask the president what he plans to do about it?

ABC Removes Romney's Opening Speech from Debate Transcript. ABC News, on its website that claims it represents the whole transcript of last Wednesday's debate between Mitt Romney and Barack Obama, decided that they would help Obama out once again. This time, they did it by completely removing Romney's opening statement.

Stand Down Obama and Biden, Stand Down. The latest news coming out about the murder of our ambassador and three other brave Americans in Ben Ghazi is so horrifying and shocking I can take no pleasure in writing about it. It's still largely unreported by the legacy media. Fox News has been a leader and there's been some coverage at CNN by Anderson Cooper, but PBS and the alphabets have been doing their best to keep from you the incompetence, treachery and outrageous behavior of the President, Vice President, Secretaries of State and Defense.

A Scandal Worse Than Watergate Is Being Covered Up By the Media. [Scroll down] There is an ongoing State Department cover-up to excuse the reason why it did not provide ample security for Ambassador Stevens before he was viciously murdered with three other Americans in Libya. His diary was located by CNN who reported that Stevens had viable concerns about Al-Qaeda activity in the area and that he believed he was on its hit-list.

More about the Benghazi terrorist attack.

NBC Dismisses Obama Video as Old News, Edits Out Jeremiah Wright Comments. In a stunning omission on Wednesday's NBC Today, brief coverage of a 2007 video of Barack Obama completely ignored the then-Senator praising his controversial pastor Jeremiah Wright as a "great leader, not just in Chicago, but all across the country."

D'Souza Can't Quite Accept the Real Obama. [Scroll down] The major media have used their power to suppress the truth about Obama. A researcher like [Dinesh] D'Souza has to work around them. [...] More troubling is the willingness of D'Souza and his colleagues in the established conservative media to join in the suppression. For the most part, they will not touch issues like Obama's Social Security number, the birth certificate, his passport and travel inconsistencies, his dubious parentage, his radical affiliations, his school records, or the authorship question. More often than not, they ridicule those who raise these issues, often without knowing what the issues are.

Darrell Issa Does the Work American Reporters Won't Do. Ever since the terrorist attack on the American consulate in Benghazi, the Obama administration has been stalling, obfuscating and outright lying in order to avoid taking responsibility for the deaths of four Americans, including our ambassador. To a considerable degree, they have gotten away with that strategy. But Darrell Issa, Chairman of the House Committee on Oversight and Government Reform, has stepped into the breach. Issa's committee has been approached by whistle-blowers within the State Department, and the stories they tell about the department's malfeasance are shocking.

Mark Levin: Media Racist For Not Reporting Fast & Furious. "It's my contention right now that these white, liberal media outlets are racist based on the priorities of what they cover and what they don't cover." So said conservative talk radio host Mark Levin in Monday's opening monologue about the media's refusal to cover Mexican homicides associated with the Obama administration's failed "Fast and Furious" program as well as countless black murders in Chicago.

A Guide to the Obama Administration's Five Major Scandals for Mainstream Media Dummies. Five big scandals to chew on, any one of which have the potential to bring down a president. A couple of them are easily bigger and juicier than Watergate. A couple even have body counts. A couple could be linked together to show a pattern of lawless behavior. Get to work, intrepid reporter. You don't need Deep Throat, and you don't need to be Woodward or Bernstein. You just need to follow up on any one of these five massive scandals and report them fully in the mainstream media. I should advise you, you won't win any Pulitzers and you'll probably get fired. But you just might save your country.

Muslim Protests At US Embassies Continue, Media Ignores. We know that the mainstream media is in the tank for President Obama. It took them two full weeks to turn their attention to the inconsistencies in the Obama administration's Libya cover story. So it's no surprise to find that they're not covering continuing turmoil in the Muslim world. At all.

Obama Campaign: Birth Control Costs $18,000. If anything as embarrassing as [this] occurred at a Republican presidential contender's website, including the follow-up ridicule by the opposition, the press would never be able to resist covering it.

FBI Directive: Membership in a Known Terrorist Group Is Irrelevant. Since March of this year, FBI agents have been directed not to treat individuals associated with terrorist groups as potential threats to the nation. The fact that a terrorism suspect is associated with a terrorist group means nothing, according to the FBI document, "Guiding Principles: Touchstone Document on Training." The "touchstone" document, dated March of this year, is available online but hasn't been reported on by major media outlets.

'Slander' and free speech are one and the same. Who said the following: "The future must not belong to those who slander the prophet of Islam." Iran's Ahmadinejad? Egypt's Morsi? Some little-known, fatwa-flinging cleric increasing the bounty on Salman Rushdie's head? None of the above. The words are President Obama's, and he spoke them this week to the U.N. General Assembly. No Big Media outlet reported this stunning pronouncement.

Where are all the separation of church and state people now?

Terrorist? Don't Ask, Don't Tell. FBI agents aren't allowed to treat individuals associated with terrorist groups as potential threats to the nation, according to a startling, newly discovered FBI directive. The fact that a terrorism suspect is associated with a terrorist group means nothing, according to the FBI document, "Guiding Principles: Touchstone Document on Training." The "touchstone" document, dated March of this year, is available online but hasn't been reported on by major media outlets.

Why is Joe Scarborough ignoring Obama's Libya scandal? Joe Scarborough is not only a Republican, he's a Republican with an entire cable news morning show named after him; a show I'm repeatedly told influences the mainstream media. And yet, even as the Libya scandal breaks wide open across New Media, even as we discover more and more incontrovertible evidence proving the Obama Administration engaged in an unconscionable cover up that included trotting a UN Ambassador out on all the Sunday shows to tell a fairy tale our government knew wasn't true — on Scarborough's own show Friday morning [9/28/2012], you would never know this happened.

Barack Obama's Terrorist Attack Cover-Up. It is astounding that what really happened in Benghazi, Libya on September 11, 2012 has been so thoroughly buried by the mainstream media.

More about the Benghazi terrorist attack.

Media ignore Obama attack on 'those who slander the Prophet of Islam'. President Obama spoke to the UN Tuesday, but what he had to say depended on the media outlet reporting it. [...] It was a 4,000-word speech. Obama covered a lot of ground. But the ground the major media covered conveniently left out was the most provocative line of the entire speech. The president told the UN that the "future must not belong" to a series of people including "corrupt" leaders and those who "bully women." But one line from that list stood out. "The future must not belong to those who slander the prophet of Islam." That line appeared almost nowhere in the old media where Obama's supposed defense of free speech dominated.

Giuliani Accuses Obama Admin. Of Covering Up Libya Attacks: 'This Is A Major Scandal'. Former New York City Mayor Rudy Giuliani accused the administration of President Barack Obama of covering up the events relating to the attack on a U.S. consulate in Libya which resulted in the death of four Americans, including Ambassador Chris Stevens. Giuliani called the administration's action a "scandal" and said the U.S. media is a "disgrace" for not reporting on it.

CBS Doesn't Air Obama Admitting Mistakes in Campaign Ads. Tonight, CBS aired a 60 Minutes interview with President Obama. But curiously enough, the news magazine show did not air a clip of Obama admitting to interviewer Steve Kroft that some of his campaign ads contain mistakes and that some even "go overboard." 60 Minutes did, however, post the clip online.

Media Blackout on Military Disaster on Obama's Watch. It happened on September 14, 2012, northwest of the city of Lashkar Gah in southern Afghanistan. A team of fewer than two dozen Taliban fighters attacked the USMC's massive Camp Bastion base there, killing VMA-211 squadron commander Lt. Col. Christopher Raible and destroying or permanently disabling eight of the ten top-of-the-line harrier AV-8B attack aircraft stationed under him. Out of production for more than a decade, these aircraft can never be replaced. By the time the smoke cleared, roughly 7% of the total harrier fleet operated by the USMC had been wiped out on a single day by a small force of ground combatants whose most potent weapon was the suicide vest, one of which was used to breach the camp's perimeter fence.

Taliban Attack Destroys Six Harrier Jets at 180 Million Dollar Cost. This is yet another disaster in Obama's failed war in Afghanistan and it also gives the lie to the notion that these worldwide coordinated attacks timed at around September 11 were due to popular outrage because of a movie. The media talking heads still spewing that nonsense in their way on free speech are engaging in criminally irresponsible reporting and are covering up the real scope of events.

Obama in 1998: "I actually believe in redistribution". At an October 19, 1998 conference at Loyola University, Barack Obama spoke against "propaganda" that said government doesn't work and the need to "pool resources and hence facilitate some redistribution because I actually believe in redistribution."

Distinct Visions: Obama, 1998, Espouses 'Redistribution'. In a newly-discovered video, Barack Obama, at a 1998 conference at Loyola University in Chicago, said he believed in "redistribution" to "make sure that everybody's got a shot." Obama said the "notion government action can be effective" needed to be resuscitated and conceded that the failures of the Chicago Housing Authority and the Chicago public school system made people less inclined to have faith in government.

Andrea Mitchell: NBC Hasn't "Authenticated" Obama Redistribution Clip, Won't Air. On her MSNBC program this afternoon [9/19/2012], NBC News' Andrea Mitchell said the network would not air the clip of then-State Senator Barack Obama endorsing redistribution in 1988 because the network could not "authenticate" the clip.

Obama's Late Night Budget Bluster. In an appearance on the Late Show with David Letterman, President Barack Obama suggested that most of the country's debt was accumulated under George W. Bush, pretended that he has offered a solution to these problems, said that he does not know the total U.S. national debt, and claimed that the debt is not a short-term concern for the country. It was one of the most dishonest performances from this president in recent memory, and yet it has generated virtually no attention from a mainstream media.

More Americans now commit suicide than are killed in car crashes as miserable economy takes its toll. Suicide is the cause of more deaths than car crashes, according to an alarming new study. The number of people who commit suicide in the U.S. has drastically increased while deaths from car accidents have dropped, making suicide the leading cause of injury death.

How Obama torched our standing in the Arab world: The reality, which the media shrinks from telling, is that during the past three years regard for our country has dropped precipitously around the world — and it has nothing to do with an anti-Muslim film. The Pew organization tells us that the number of people in Muslim countries who hold favorable views towards the US stood at 15% in June — down from 25% when President Obama took office.

Welfare Reform as We Knew It. It's hard to remember now, but this summer Mitt Romney opened a useful debate about "dependency" — concerning President Obama's regulation to rewrite the 1996 welfare reform. Democrats deny any such intent, but as early as this week the House plans to hold a vote to override the new rule. So it's a good moment to dissect what the Administration is really trying to do, because in this case Mr. Romney is right: The Administration has made welfare's work requirements far weaker, and for ideological reasons that the press corps has failed to report.

The Obama Schedule. According to the Government Accountability Institute, Obama has spent more time golfing than in economic meetings of any kind and Obama has skipped more than half of his intelligence briefings.

Another absurd manufactured controversy. As a huge portion of the world riots against the United States, the President will sit down with David Letterman and party with Jay-Z, Beyonce and other millionaire donors tonight at major fundraisers. And the media will focus on something Mitt Romney said at a fundraiser back in May. Why? Because the alternative would be to report on the aforementioned stories that make the President look bad. And no one in the "objective" media wants that.

Reporters haven't asked about Sebelius breaking law in W.H. briefings. Reporters covering the White House don't seem to have many questions about Health and Human Services Secretary Kathleen Sebelius, who was last week found in violation of federal law against engaging in political activity while on the job.

Germany's new "renewable" energy policy. It is amazing how biased the international media is when it comes to reporting on energy generation, specifically electricity. In mid-August, Germany opened a new 2200 MW coal-fired power station near Cologne, and virtually not a word has been said about it. This dearth of reporting is even more surprising when one considers that Germany has said building new coal plants is necessary because electricity produced by wind and solar has turned out to be unaffordably expensive and unreliable.

The Real Culprits. Some conservative pundits suggest that mainstream journalists are simply a bit on the lazy side. Indeed, sometimes they are lazy — very lazy. For instance, their indolence was prominently on display when Juanita Broaddrick accused Bill Clinton of rape, but the media resolutely refused to bestir itself. The journalistic community was positively comatose faced with Hillary Clinton's mysterious cattle futures winnings. It declared that the deal was so diabolically clever that no human intelligence could be expected to make heads or tails of it, and hence the public would be well-advised to give the first lady the benefit of the doubt and forget about the whole thing.

Mainstream Media Ignoring Disaffected, Disillusioned Obama 2008 Voters. President Barack Obama's approval ratings have plummeted largely because Democrats and independents who fell for his "hope and change" rhetoric in 2008 have now abandoned him and his false promises. But the mainstream media is not covering this, once again protecting their favored candidate through omissions, treating Obama with kid gloves.

Obama in the Buff. [President Obama's] promises to create 5 million green energy jobs have come to nothing, as has his pledge to cut the deficit in half by the end of his first term, but who in the national media is pointing that out?

Strictly a local problem? A candidate for Congress drops out the race because of a scandal and the story goes no further than the local section of the Washington Post. I suppose it's an improvement that the Democrat is labeled as such in both the headline and the lead paragraph but notice this. Her wrongdoing is something the media insists is not a real problem — vote fraud.

Study: Recovery For Burger-Flippers Only. According to new analysis of unemployment data by the National Employment Law Project, while 60 percent of the jobs lost during the 2008-2009 financial crisis were in middle income occupations, the vast majority — 58 percent — of jobs created under President Obama are low-wage. Those jobs include "retail sales, food preparation, home health and customer service."

Media Smothers News of Romney's Commanding Lead With Independents. Even as the most recent polls show Obama's convention bounce fading (as expected), that doesn't mean our dishonest and corrupt media is going to crawl off the bandwagon they crafted over the weekend proclaiming Obama's win as inevitable.

How the Financial Collapse Would Happen in an Obama Second Term. The stakes in the coming election could not be higher. While crystal ball-gazing always is hazardous, the trail America's economy would follow, should President Obama's re-election effort succeed, has already been blazed. Naturally, the media will tell you none of this.

Media Blackout: GAO Says Obama's Welfare Waivers Illegal. On Sept. 4, the Government Accountability Office (GAO) made a startling assertion saying that Obama circumvented the law when he summarily waived the work requirements in the welfare law. Perhaps not as shocking, few news outlets seem interested in the story.

The Audacity of Cronyism. It's hard to know which is worse: the arrogance of the Obama administration in assuming that its White House staffers can get away with anything, or the apathy of the media in not holding those staffers accountable. Actually, let's scratch the word "apathy" and call it what it really is: abjectness. The media have been abject in their willingness, even eagerness, to serve the political interests of this administration and its re-election effort.

Media Madness, and the Reckoning. Last week a line was crossed, and full blown insanity manifested itself in the formerly-mainstream media. [...] Even if Artur Davis weren't black, how is it a non-story, when the guy who seconded Obama's nomination ends up with a prime time spot on the GOP Convention stage?

The Ammo Controversy. Several facets of the government have recently purchased a variety of ammunition in large quantities. In total, more than 1.2 billion rounds of ammunition was ordered between April and August of 2012. This ammunition primarily consisted of .223 ammunition, which is used in military style weapons such as AR-15s or M16s. The largest purchase of ammunition was placed by the Department of Homeland Security. However, the amounts of ammunition were redacted in a later version of the purchase order. Additional purchases were made by the Social Security Administration and the National Weather Service.

Anti-Obama Filmmaker Calls MSNBC 'Cowards'. In a video interview, anti-Obama filmmaker and author Dinesh D'Souza told The Hollywood Reporter that MSNBC and other media outlets were "cowards" because they would not acknowledge his new documentary 2016: Obama's America, despite the film's emergence this last week in the Top Ten.

Taxi Driver 2: Fauxcahontas Boogaloo. Don't worry, national news. You don't have to cover this one. The guy who got assaulted is just a Republican.

Why Is The Press Ignoring The Success Of '2016'? So far, "2016" has taken in more than $9.3 million, which puts it easily within reach of becoming one of the top five highest-grossing political documentaries of all time. And, if anything, the movie is just getting started. Last weekend, it averaged nearly $6,000 per screen, which is higher than when it was showing in just 62 theaters a couple weeks ago. But aside from a few grudging news stories about the weekend box office take and a smattering of predictably critical reviews, the media are largely turning a studied blind eye to the film.

America's Historic Cokehead President. Does it bother you that the most powerful man on the planet was a longtime drug user? Does it bother you that he has attempted to use his drug abuse to gain credibility with young Americans? Does it bother you that his acknowledgment of having been a serious drug user has been given a pass in the news media? [...] Barack Obama is the first U.S. president to admit to cocaine abuse, to describe it in a manner designed to impress the young, and to get away with it. It's historic.

A blogger was dragged off to a mental ward because of his Facebook posts. Exactly what you'd expect in North Korea, China, or Cuba.
'Outraged' judge frees veteran Raub from Virginia psych ward. [Scroll down] His saga began Aug. 16. That's when [Brandon] Raub was taken into custody at his Richmond home by FBI and Secret Service agents and Chesterfield County Police. He was not charged with a crime, yet he was handcuffed and placed in the back of a police vehicle. From there, Mr. Raub was taken to a police station and then to the John Randolph Medical Facility in Hopewell, Va., for a psychiatric evaluation. He was never formally arrested or charged with a crime, Mr. Whitehead said. "He was in his underwear, in his living room, he sees a group of police, FBI agents walking up, he talks with them, he's asked about some Facebook postings, they handcuff him," Mr. Whitehead said.

There is more about Brandon Raub on this page.

Debate Questions Obama Won't Be Asked. If you could submit just one question to be asked of President Obama during a televised presidential debate, what would it be? Once you have formulated your best idea, ask yourself this: do you think any of this year's line-up of debate hosts and moderators would ever actually ask your question, as you framed it? [...] With the most concealed and protected president of modern times, one could literally go on all day with these questions, each one as vital as the last: about drugs, about Fast and Furious, about whispering promises of post-election accommodation to a Russian president, about his hidden university career and transcripts, and on and on.

The Cowardly Media Reporting On Hate Crimes. Isn't it curious that the media (with the exception of ABC and FoxNews) refuses to cover a hate crime shooting of a victim at a conservative pro-life organization in Washington, DC if the perpetrator is a leftwing zealot? [...] This craven media only recognizes hate crimes committed by the right, whether real or imaginary. The left ones will always be given a pass.

Cornyn demands answers from Pentagon about Russian sub in the Gulf. The story about a Russian sub cruising for several weeks undetected in the Gulf of Mexico appeared in the Washington Free Beacon. [...] It was written by respected national security writer Bill Gertz and, for obvious reasons, never made it into the mainstream press.

Who Does The Government Intend To Shoot? The Social Security Administration (SSA) confirms that it is purchasing 174 thousand rounds of hollow point bullets to be delivered to 41 locations in major cities across the U.S. No one has yet said what the purpose of these purchases is, though we are led to believe that they will be used only in an emergency to counteract and control civil unrest. Those against whom the hollow point bullets are to be used — those causing the civil unrest — must be American citizens; since the SSA has never been used overseas to help foreign countries maintain control of their citizens. [...] If this were only a one time order of ammunition, it could easily be dismissed. But there is a pattern here. The National Oceanic and Atmospheric Administration (NOAA) has ordered 46,000 rounds of hollow point ammunition.

See no evil. Our news media, especially as seen and heard during nationally broadcasted news, engages in highly selective story-choosing, story-telling and subsequent indignations and outrages that are first weighed on political scales. Early this month a spectacular story was given tiny attention, and none, as far as I watched, on nightly national newscasts.

The Biggest D.C. Spy Scandal You Haven't Heard About (Part One). Why has the story of a 20-year illegal infiltration of D.C. on behalf of Pakistani intelligence gone unnoticed?

Media blackout on Obama docs baffles Arpaio posse. Detective Michael Zullo is surprised to say the least. He is chief investigator for Sheriff Joe Arpaio's Cold Case Posse looking into the authenticity of President Barack Obama's long-form birth certificate. At a recent press conference, he presented his evidence, which he says points to forgery. He expected the media to follow up with questions about the evidence. What he got was unabashed hostility. [...] Nearly a month has passed since a July 17 press conference where Mr. Zullo presented evidence which he says proves that Mr. Obama's long-form birth certificate is a fraud. "They didn't pick up on anything. They just don't want to know about this," he said.
[Emphasis added.]

More about Barack Obama's demonstrably fraudulent birth certificate.

Most Transparent Administration Hasn't Fielded Question from WH Press in Seven Weeks. Despite giving numerous interviews while overseas, the press complained about limited access to Mitt Romney while he traveled to England, Poland, and Israel. That same media hasn't so much as whispered after President Obama hasn't answered a single question from the White House pool for seven weeks.

A national media that retains its honour. George Obama has been mentioned, in passing, by the U.S. legacy media, but the U.K. Mail displayed 22 photos, several of George Obama that may have never appeared in U.S. outlets. In fact, the U.S. media has paid more attention to Obama's dog, than to his "slumdog" brother, George. Although they're not known as "conservative" news outlets, the U.K. papers have made their presence felt on the American political scene. When addressing the U.S. political scene, they spin less.

More about Barack Obama's half-brother George.

Networks Continue Blackout on Romney-Killed-My-Wife Ad. All three evening newscasts on Wednesday [8/8/2012] continued to ignore a super PAC ad by top Obama supporters that accuses Mitt Romney of, essentially, killing a woman. At the same time, CBS and NBC amplified the Obama administration's "war on women" talking point, playing up attacks from Sandra Fluke, who previously tangled with Rush Limbaugh over contraception.

MSM ignores Soptic ad, the back story of which continues to change. Credit where credit is due. And right now credit is due to the normally unfair and imbalanced CNN, which Matt Hadro of Newsbusters reports has continued its frank coverage of "a nasty and misleading Obama super PAC ad that ABC, CBS, and NBC entirely ignored as of Wednesday night."

More about the left-wing attacks on Mitt Romney.

Mainstream Media Blacks Out Chick-fil-A Story? Wednesday was Chick-fil-A Appreciation Day, and Americans flocked to the fast food restaurant in response to criticism of COO Dan Cathy's opposition to same-sex marriage (as well as threats from the mayors of some major cities). The photos of long lines and traffic jams reveal the extent of the restaurant's support -- for some it's about traditional values and for others it's about freedom of religious exercise and speech in the face of government intimidation.

CBS Evening News Ignores Chick-Fil-A Appreciation Day. On Aug. 1, CBS Evening News ignored the massive crowds that turned out that day at Chick-Fil-A restaurants around the nation in support of traditional marriage, free speech, or simply tasty fast food. ABC and NBC, by contrast, covered "Chick-Fil-A Appreciation Day" with full and surprisingly respectful reports on their evening newscasts. The August 1 episode of CBS Evening News completely failed to mention the massive crowds at Chick-Fil-A restaurants across the country. And it's not as though the network was unaware of it.

More about the left-wing attack on Chick-Fil-A.

Why Obama Thought Going Toxic Was a No-Lose Strategy. Obama may be enamored of false flag operations. In Fast and Furious, the Obama administration allowed Mexican cartel members to buy automatic weapons. The objective was to make it appear, as Hillary Clinton had previously said, that the violence in Mexico was the result of liberal gun policies in America, thereby providing a rationale for restricting the rights of American gun owners. In the latest case, a PAC supporting Obama has run a horrendously evil ad. Obama had every reason to believe that his connection to the ad would be hidden by the media because the media has refused to report on what really happened in Fast and Furious.

More about the Fast and Furious scandal.

Obama's Ultimate Cover-up. It's true that communism is not perceived as being as much of a threat as it used to be, but can you imagine what the reaction might be among the American people, even now, if they were told by the major papers and network news programs that a top Communist Party operative molded their President's views on economic, foreign policy and cultural issues? This is the story that has to be suppressed at any cost, four years later during a critical election year.
[Emphasis added.]

U.S. Temperature trends show a spurious doubling due to NOAA station siting problems and post measurement adjustments. [Scroll down] Using Leroy 2010 methods, the Watts et al 2012 paper, which studies several aspects of USHCN siting issues and data adjustments, concludes that: ["]These factors, combined with station siting issues, have led to a spurious doubling of U.S. mean temperature trends in the 30 year data period covered by the study from 1979 - 2008.["]

The Editor says...
This proves that NOAA has been making inaccurate temperature measurements for years, which is probably the main reason everybody thinks "global warming" has taken place. NASA has already been caught doing the same thing. Did you hear about it on television? Probably not.

More about inaccurate temperature measurements.

Terrorist Invited To White House. Dear Leader invited a known terrorist, Hani Nour Eldin, into the White House this past April, and this story got almost no media attention. It's another reason why Michelle Bachmann is requesting background checks on the people inside our government who may have ties to terrorists. By law, a terrorist cannot get a visa and come into the U.S.A., but Eldin did, and was INVITED. Why isn't the media all over this story?

An interview with Colin Flaherty:
White Girl Bleed a Lot. [Scroll down slowly] I documented hundreds of examples in more than 70 cities. And here is what happens. I hear about a riot or a mob and I check it out and learn that it was a large group of black people creating havoc. So I write the details. In the course of reporting it, or after the story comes out, I almost always hear: "That's been happening here a long time." But reporters are afraid to write about it. City officials are afraid to combat it, or call it by its name. So it goes on.

More about black mobs.

The Artificial Eight Percent Unemployment Rate is Immaterial. Historically a sitting president's chances for reelection are nil when the unemployment rate exceeds the eight percent threshold. More significant to the present situation however is the fact that the ostensible improvement in the nation's employment debacle is clearly contrived. The books are being juggled to a degree that makes Enron accounting look downright virtuous. Yet nowhere among the nightly news anchors is it suggested that such manipulations coming from the highest levels of the federal government might be a breach of the peoples' trust, or more accurately, evidence of a political strategy based on total deceit.

What the Media Won't Say about Frank Marshall Davis. [Scroll down] The reason I mention the poetry at all is to shed light on the young Obama's relationship with Davis, his Hawaiian mentor. In my early writing on Obama's literary talents, I took him at his word that he wrote some "very bad poetry" and largely ignored the two radically different poems he submitted as an Occidental College undergraduate, the cringe-worthy "Underground" and the more complex "Pop." It was my co-conspirator Don Wilkie who prompted me to take another look at the latter poem. "I have read 'Pop' now maybe 20 or 30 times," Wilkie wrote me a few years back, "and I think it is about Obama telling us that 'Pop' really is, his pop." At the time, all serious critics were insisting that the subject of "Pop" was Obama's grandfather Stan Dunham, a man whom Obama called "Gramps." On the name alone, this interpretation made no sense.

The Commie's Commie. [Scroll down] [Paul] Kengor isn't an investigative reporter, so he steers clear of those radioactive issues about whether Frank is really Obama's father, or about where the president was actually born and what citizenship he holds, or may have held, throughout his chaotic childhood. But — happily for the reader — Kengor devotes a few pages to utterly destroying the reputations of those liberal journalists and fawning Obama biographers who do claim to be investigative journalists, and who twisted themselves into pretzels to avoid noticing that Obama's mentor was a Communist.

More about Frank Marshall Davis -- one of the news media's best kept secrets.

Ten Pieces of Bad Economic News the Media's Covering Up. Except for number ten, all the bad economic news below came out this week — much of it today [7/19/2012]. And this explains why the corrupt media is making all of our eyes glaze over as they enter day 11,485 of demanding Romney release his tax returns and Bain-Bain-Bain. By focusing on nonsense and on Romney, the media can protect Obama from what you see below — which is an economy and Americans in very real trouble.

Top Ten Things Obama Has Not Released. [#5] The Khalidi tape. In 2003, Obama attended a party for his good friend, the radical Palestinian academic Rashid Khalidi. The event featured incendiary anti-Israel rhetoric. The LA Times broke the story, but has refused to release the tape — and so has Obama.

Reward: $100,000 for Khalidi Tape. Breitbart News is doubling its reward — to $100,000 — for one of the missing pieces of Barack Obama's past, which may be the key to understanding his collapsing Middle East policy: the "Khalidi tape," a video kept under wraps by the Los Angeles Times since April 2008. The Khalidi tape shows Obama at a 2003 farewell party for radical Palestinian academic and activist Rashid Khalidi, and reportedly features vitriolic anti-Israel rhetoric.

Khalidi Tape Cover Up: Media 'Selectively Edits' Its Ethical Standards. [W]hen it comes to protecting Barack Obama, the corrupt media doesn't get all that wrapped up in the details of what is and isn't legal or ethical. The Romney video is news; it's a revealing moment from The Man Who Might Be President, and as a result we're entering day four of the super-loop the media's put the video on across every news outlet in America.

The truth behind the 'Khalidi video' and why it's not for sale. [Scroll down] In the case of the Khalidi video, the unnamed source agreed to share the illuminating bit of video evidence with [Peter] Wallsten, but only with the understanding that the reporter could not reproduce or rebroadcast the images. The journalist had to make a decision: Do I agree to that condition and get to see evidence that no other reporter has seen of Obama meeting with Palestinian Americans?

Bias alert:
After smearing all MSM-bypassing conservatives as "the political fringe", the LA Times offers the anemic rationalization that it will not release this damaging video, not because it would end Barack H. Obama's political career, but because the LA Times would lose at least one source of timely tips for one of its reporters. Obviously, the needs of the newspaper come first.

LA Times: Why We Won't Release The Khalidi Video. This week, Breitbart News offered a $100,000 reward to anyone who produced the infamous 2003 tapes of Barack Obama at an event honoring Palestinian anti-Israel radical Rashid Khalidi. And today, James Rainey of the Los Angeles Times took to his keyboard today to write a diatribe defending the Times' refusal to make public those tapes. While Rainey gives several justifications for not releasing the tape itself — guarding the source of the tape being the most prevalent — he offers no justification for why the Times refuses to offer even a complete transcript of that evening's events.

Your Guide to Sleazy Democratic Party-Backed Banks. The fat-cat narrative attacks on Republicans won't go away by making nice with the White House — or by relying on Beltway journalists to drop their double standards and vet the president's own bad bank entanglements. Indeed, The New York Times admitted this week that their staff and other political journalists from every major media outlet submit their work to the White House for unprecedented review, editing and "veto power."

Are Race Riots News? Ignoring racial violence only guarantees that it will get worse. The Chicago Tribune has publicly rationalized its filtering out of any racial identification of attackers and their victims, even though the media do not hesitate to mention race when decrying statistical disparities in arrest or imprisonment rates. Such mob attacks have become so frequent in Chicago that officials promoting conventions there have recently complained to the mayor that the city is going to lose business if such widespread violence is not brought under control.

Media Fail: Chevy Volt Makes NO Money, Costs Taxpayers Hundreds of Thousands of Dollars Per Car. The President is running in large part on the bailout's $30+ billion loss, uber-failed "success." And the Press is acting as his stenographers. An epitome of this bailout nightmare mess is the electric absurdity that is the Chevrolet Volt. The Press is at every turn covering up — rather than covering — the serial failures of President Obama's signature vehicle. The Press has failed to mention at least five Volt fires, myopically focusing on the one the Obama Administration hand-selected for attention. The Press has failed to mention that the Volt fire problem remains unsolved.

The price of gold has been manipulated. The ball of half-truths and downright lies which have surrounded the issue for a long time is beginning to unspool in an issue internet activists kept alive long before it was acknowledged by the mainstream media. People ask why the issue is important at a time of naked market manipulation of the Libor rate. The answer is simple: the Libor manipulation scandal can be seen as the thin end of the wedge in terms of government market manipulation. Although Libor manipulation affects the interest rates we pay on all number of credit products, gold market manipulation is more serious still.

Time to Storm Obama and Washington D.C.? The final assault on non-Sunni Islam will be against Iran ... and the Obama campaign against this terrorist country (to replace it with another terrorist group ... the one to which Obama belongs) is well underway. Then, the traitor and dictator-in-chief will have nothing to stop him from moving on Israel. The Final World War may be no more than a few weeks or months away. As if they won't be affected, the wholly-owned media reports virtually nothing on this.

Google Shopping Site Bans Guns, Ammo as Unsafe for Families. Google has announced a ban on firearms, ammunition, and other items its censors deem to be unsafe from its new Google Shopping site, initiated in early June. While most major U.S. news organs appeared to have missed or ignored the announcement, which Google made in late May, foreign newspapers were all over it.

The biggest financial fraud in history receives scant media attention. We are now finding out that the entire system has been rigged, enriching the "elect" and financially looting the rest. If you are reading this, you have been robbed, although the corporate media remains silent about who robbed you, how it was done, and which government and non-government officials were complicit and benefited. Why? Perhaps the most compelling reason is that when the "average" person learns the depths at which corruption exists between the various banks, governments and government officials, there will be a revolution like the world has never seen.

Worst TB outbreak in 20 years kept secret. The CDC officer had a serious warning for Florida health officials in April: A tuberculosis outbreak in Jacksonville was one of the worst his group had investigated in 20 years. Linked to 13 deaths and 99 illnesses, including six children, it would require concerted action to stop. That report had been penned on April 5, exactly nine days after Florida Gov. Rick Scott signed the bill that shrank the Department of Health and required the closure of the A.G. Holley State Hospital in Lantana, where tough tuberculosis cases have been treated for more than 60 years.

100 Maj. Hasans Inside Military? The FBI is investigating more than 100 Muslim soldiers and military contractors with the potential to carry out Fort Hood-style attacks. The administration has kept a lid on the growing threat. It's covering up the truth about an alarmingly widespread Islamist penetration of the military. The dangerous fifth column was discovered more than two years after Army Maj. Nidal Hasan opened fire on fellow soldiers at Fort Hood, Texas, killing 13 and wounding 29.

Obama's subsidies: Private profit, public risk. President Obama, picking up where President Bush left off, is quietly expanding the federal government's role as the financier of America's economy. A top Obama export official told reporters recently that the administration is preparing "a paper" to lay out when the U.S. government can use export-subsidy programs to promote even domestic sales. Obama plans to use the Export-Import Bank — a federal agency that gives taxpayer-backed loans and loan guarantees to foreign buyers who buy American goods — to subsidize U.S. manufacturers even when they are selling to other American companies.

ABC Skips Its Own Footage of the Supreme Court Contradicting Obama on Tax Increase. In the wake of the Supreme Court ruling that ObamCare is constitutional as a tax, a number of media outlets played the now-embarrassing clip of Barack Obama insisting the law isn't a tax. Despite the footage coming from a 2009 nterview on This Week, ABC's journalists studiously avoided highlighting their own footage. CBS, however, played it.

Voters Disapprove of Obama Blocking Release of Fast & Furious Docs. After the President invoked executive privilege, the media was forced to cover a story it had strenuously covered up for a year. In response, the media attempted to paint the President's move as a fight against a renegade Republican Congress playing political games during an election year. Not only does this poll prove that tactic failed, my guess is that these numbers will get worse as people start to ask, "What the heck is Fast and Furious?"

Chicago's unreported race war. According to a statement in the Chicago Tribune, reporting on the race of individuals involved in news events, such as mobs attacking, robbing and vandalizing, is irrelevant. A news anchor at the ABC affiliate in Chicago goes even further: Anyone who reads or writes about the epidemic of racial violence in Chicago is an "idiot" who engages in "meaningless ... race baiting," says Ravi Baichwal. City officials and the media might be the only two places left where people still deny Chicago is under assault from more than 50 episodes of black mobs attacking, beating, robbing and vandalizing over the last three years in and around downtown. [...] And according to the award-winning police blog Second City Cop, there may be 25 more incidents of mob violence and lawlessness in that weekend alone that were never reported.

More about black mobs and black violence.

That's odd. I don't recall reading about this in the U.S. news media.
Six Democratic superdelegates boycott convention and refuse to nominate Obama. More Democratic superdelegates are boycotting their party's convention in North Carolina amid fears that any association with President Barack Obama will doom them to defeat in November. Representatives Kathy Hochul and Bill Owens of New York, who both won special elections in seats previously held by Republicans, have joined four Democrats from the Rust Belt in skipping the Democratic convention in Charlotte at the start of September.

Unlike the 2,000-Death Count in Iraq, ABC, NBC, PBS, MSNBC Skip 2,000 Marker in Afghanistan. On June 13, the CBS Evening News devoted a story by David Martin to the Afghanistan death count reaching 2,000, as Martin interviewed a mother of a fallen Marine. CBS was alone. There was no story last week on the Afghanistan death "milestone" on ABC, NBC, the PBS NewsHour [...] But the networks were all more aggressive when the 2,000 mark arrived in Iraq on October 25, 2005. The Big Three networks devoted 14 morning and evening news stories to the death toll from October 24 through the end of October, and another 24 anchor briefs or mentions. They used the number to spell "disaster for this White House."

Birth Control Patch Claims 23 Lives — and Counting. Federal drug safety reports obtained by The Associated Press under a Freedom of Information Act request, "indicate that in 2004 — when 800,000 women were on the patch — the risk of dying or suffering a survivable blood clot while using the device was about three times higher than while using birth control pills."

'Occupy Unmasked' Earns Standing Ovation at RightOnline. Director Stephen K. Bannon's "Occupy Unmasked" debuted Friday to a standing ovation at the annual RightOnline conference in Las Vegas. The upcoming documentary revealed the true story behind the violent nature of the Occupy Wall Street movement, an inconvenient truth the media has done all it could to hide.

Media Ignores Islamic Khilafah Conference in Illinois Suburbs. You may have heard about the Islamic Khilafah Conference in Illinois that took place on Sunday [6/17/2012]. Although, it's not likely you have heard much if anything about it from the mainstream media. [...] According to David Horowitz's Discover the Networks, Hizb ut-Tahrir (Arabic for "The Party of Liberation") is a political party, more than a religious one, and works within the Ummah (community of believers)... to restore the Khilafah (Caliphate, or Islamic Kingdom) with the long term objective to replace existing governments and bring about a worldwide Islamic state under the Shari'ah (Islamic Law).

Sinister Sites: The Georgia Guidestones. Also known as the American Stonehedge, the gigantic structure is almost 20 feet high and is made of six granite slabs, weighing in total 240,000 pounds. The most astonishing detail of the monument is however not its size but the message engraved into it: Ten rules for an "Age of Reason". These guides touch upon subjects that are associated with the "New World Order", including massive depopulation, a single world government, the introduction of a new type of spirituality, etc. [...] The Guidestones describe the ideal world, as envisioned by occult Secret Societies. The monument is therefore proof of an existing link between secret societies, the world elite and the push for a New World Order.

TPP Secret Trade Agreement Puts International Tribunal Above U.S. Law. Wednesday morning [6/13/2012] a document was leaked that reveals President Obama's plans to surrender American sovereignty to international tribunals. This is one of several frightening provisions of the Trans-Pacific Strategic Economic Partnership (also known as the Trans-Pacific Partnership, or TPP) being negotiated in secret by American trade representatives.

ABC Shills for Poor Eric Holder: 'Demonized' and 'Victimized' By the GOP. According to ABC News' Matt Negrin, Republicans are "victimizing" and "demonizing" Attorney General Eric Holder. The ABC network has almost completely ignored the growing Fast and Furious scandal, but an online article written by Mr. Negrin put the blame on the GOP.

More about the Fast and Furious scandal.

NBC Nightly News Devotes Mere Seconds to First-Ever Mention of Fast and Furious. In the eighteen months since the Operation Fast & Furious investigation began, Brian Williams and NBC Nightly News have never mentioned the Department of Justice's gunwalking controversy. Every single time Mr. Holder has testified or a major development happened, NBC Nightly News ignored it. Tonight [6/12/2012], in their first mention of the scandal — ever — NBC Nightly News and Brian Williams distorted Attorney General Eric Holder's testimony.

The media's little bubble of ignorance. I have just learned that Ed Klein's The Amateur is going to be the number one book on the New York Times Best Sellers List for the fourth consecutive week. [...] You would think that a book on top of the best sellers list for four consecutive weeks would get a lot of media attention. [...] After four consecutive weeks at the top of the best sellers list, the major media in the United States has flat out ignored Ed Klein and his book.

TV blackballs anti-Obama book. It's heading for a fourth consecutive No. 1 spot on the New York Times non-fiction best-seller list, but the mainstream media — including the NYT — is ignoring the anti-Obama book "The Amateur," by former New York Times Magazine editor Ed Klein. The publicist for Regnery Publishing charged to Secrets that the media is blackballing the author and book to protect the president. "Klein's got the hottest book in America and is getting blackballed by the networks and other national news outlets," said Keith Appell. "This is beyond bias. This is an in-kind contribution to the Obama campaign."

ABC and NBC Ignore Holder Hearings, CBS's Fast and Furious Coverage Slows to a Crawl. The news that the House Oversight Committee will vote next week on whether to hold Attorney General Eric Holder in contempt of Congress, for refusing to turn over subpoenaed documents in the Fast and Furious investigation, was met with silence from the Big Three (ABC, NBC, CBS) network news shows. There was no mention of the Holder hearings on Monday's evening news shows or Tuesday's morning shows.

Lord of the Skeptics. Lord Christopher Monckton was the guest speaker at a recent meeting of California's Ventura County Tea Party. He addressed, in great detail, his opinion on the validity of Obama's long-form birth certificate presented by the White House. Monckton conducted a similar discussion a few days earlier at an Arizona Tea Party rally. Except for a few Tea Party and conservative websites, and the tenacious WND, there was no mainstream coverage of either event.

Mainstream Media Ignore Major ObamaCare Protest. On June 8, 2012 many thousands of people took to the nation's streets to protest the Obamacare contraceptive mandates and to support religious freedom in the United States. The mainstream media hardly covered the protest. The turnout in Chicago was in a conservative estimation about 1,500, although others estimates make the turnout to be about 3,500.

Networks Ignore Obama's War on Coal, But Papers Find Him Unpopular In 'Coal Country'. During the past year ABC, CBS, and NBC have sporadically mentioned coal industry in their newscasts, but have outright ignored Obama's war on coal. Much like in the past, the majority of the reports focused either on the danger of coal mining or climate change. Out of 13 news reports mentioning the coal industry this past year, only one sentence on CBS "Morning News" even connected Obama's regulation to the industry.

Media Hail GM 'Record' Profits, Forget to Mention GM Doesn't Pay Any Taxes. One thing I've learned in the year I have spent tracking General Motors cum Government Motors (GM) — and all its Crony Socialist, green non-energy "energy", flammable absurdities — is the fact that the car media are every bit the Leftist open-channel steno pool as are the political media. And with President Barack Obama running for reelection in large part on the utterly failed "success" of the $85 billion auto bailout, the car and political media have by now achieved fully melded fusion. The examples are myriad.

'New Party' Literature Suggests Obama Paid Dues to Join. In the ongoing discussion of Barack Obama's involvement with Chicago's extremist "New Party," online literature from the Party likely reveals that the young state senator not only was a member but had to commit financially to membership.

Obama Joined Third Party in 1990s. President Barack Obama was a member of the far left New Party and also signed a "contract" promising to publicly support and associate himself with the New Party while in office, according to a published report. Citing recently obtained evidence from the updated records of Illinois ACORN at the Wisconsin Historical Society, an article appearing in the National Review Online pointed to a document trail that "definitively establishes" Obama's membership in the organization.

Obama's Third-Party History. On the evening of January 11, 1996, while Mitt Romney was in the final years of his run as the head of Bain Capital, Barack Obama formally joined the New Party, which was deeply hostile to the mainstream of the Democratic party and even to American capitalism. In 2008, candidate Obama deceived the American public about his potentially damaging tie to this third party. The issue remains as fresh as today's headlines, as Romney argues that Obama is trying to move the United States toward European-style social democracy, which was precisely the New Party's goal.

Barack Obama — still a "social democrat" after all these years. As I discussed yesterday, Stanley Kurtz has found conclusive new evidence that, in 1996, Barack Obama joined the New Party, the political arm of the radical group ACORN. The Obama campaign had denied this fact when Kurtz raised the matter during the last presidential campaign. The Obama campaign lied.

So just who was 'smearing' whom? What if Barack Obama gave a "party," and nobody came? No, I am not talking about the noticeably small crowds when President Obama officially kicked off his re-election bid a few weeks ago, though that was certainly interesting. I am actually talking about the fact that President Obama was a member of the socialist "New Party" in 1996, lied about it in 2008, and got caught in the lie about it just last week. It seems like news. But for some reason the mainstream media, then and now, doesn't care.

What the Media Choose Not to Know about Trayvon Martin. Unnerved by an unspoken mix of political bias and racial queasiness, the major media have chosen to know as little about Trayvon Martin as they know about Barack Obama.

Is Al Qaeda Setting Forest Fires in U.S.? [Scroll down] Like most people, the thought that the fires might be terrorist attacks never entered my mother's mind. However, it's at least ironic that just before these various fires began, Al Qaeda's Inspire magazine called for operatives to set forest fires in the United States. The 9th issue of the magazine "contains information about how to construct remote-controlled explosives [and to] set off an ember bomb in a U.S. forest."

Spineless officials choose to ignore Obama fraud. [Scroll down] As I've previously noted, some media outlets that subscribe to this column have informed me they won't run anything I write on the eligibility subject. No doubt other writers are similarly censored — sometimes even after publication. For example, on March 5, 2012, Floyd and Mary Beth Brown's syndicated column, "Sheriff Joe Exposes Forgery of Obama's Selective Service Registration," appeared at Townhall.com. Then it was taken down. On March 24, 2012, John Mariotti published a piece at Forbes.com called "Is There an Impostor in the White House?" That was taken down, too. As World Net Daily noted, Geraldo Rivera's May 24, 2012, WABC radio interview with "birther Lord Christopher Monckton" is still listed in the WABC archive, but the audio file of the show is no longer there. Why isn't it?

The Morphing Obama Biography and the Skeptics. An odd taboo has been created on noticing that the president of the United States has a biography that can adapt itself to the needs of the moment. Go too far in raising an alarm, and be labeled "birther" and shunned in polite society. The credit for creating the "birther" label was claimed in 2008 by columnist David Weigel. [...] Weigel was also the most notorious "JournoLister." In case you've forgotten about that left-wing media cabal, this Daily Caller article described the JournoList's coordinated efforts to bury the Jeremiah Wright story during the 2008 campaign. (Although JournoList was disbanded in 2010, the mainstream media, in remarkable unison, have covered up the recent revelation that Wright was bribed $150,000 to keep quiet.)

First Lady Requires Photo ID for Her Book Signings; Voter ID Law-hating Media Fail to Note Obama Hypocrisy. The Obama administration has done its best to oppose states from instituting new, stricter voter ID laws, complaining that many minority voters lack photo identification. But those same folks it wants voting in November are apparently not welcome anywhere near the First Lady's book signings. Something tells me that the same media outlets comparing voter ID laws to the Jim Crow Laws, however, won't see any hint of hypocrisy here, if they even report the story at all.

Allen West: Let's Talk About President Obama Doing Blow. Rep. Allen West is never short on words and this time is no exception.

The Real Unemployment Rate. The nominal unemployment rate is still high, but the real jaw-dropping fact is the number of working-age Americans who are not working. Today that is 100,000,000 Americans out of a total population of about 310,000,000. Demographically, about 80,000,000 Americans are minors and about 40,000,000 are age 65 or older. That leaves approximately 190,000,000 Americans who are adults of working age. About half of those do not have a full-time job. The situation, according to the very statistics of the Bureau of Labor Statistics, show an increasingly dismal picture, when the number of people who could be working but are not is counted.

Four-term Former Congressman and Obama 2008 Co-Chair Artur Davis Announces That He's a Republican. You might think that the news of an African-American former Congressman switching his publicly declared party loyalty from Democrat to Republican would a national story. Well, it isn't at the Associated Press...

Networks Censor News of Massive Democratic Protest Vote Against Obama. During the month of May, Obama suffered through a series of humiliating protest votes in Democratic primaries. On May 8th, the incumbent President nearly lost the West Virginia primary to a convicted felon. Yet, except for a single mention at 4 am on May 9th, the networks have buried Obama's bad news.

I didn't see this anywhere in the American press.
US eases airport screening for elderly. The US Government is easing the airport screening process for travelers 75 and older, beginning to roll out new rules just in time for the long Memorial Day holiday weekend, an official said yesterday [5/25/2012]. From this weekend the elderly will no longer have to doff shoes, belts and jackets as they pass through security checkpoints at New York's three major airports: John F. Kennedy International, La Guardia, and Newark Liberty.

Let Us Count the Ways the MSM Has Failed in Recent Weeks — Starting With Brett Kimberlin. It's two days after perhaps the largest blogburst in internet history, and there is still media silence on the Brett Kimberlin scandal. In case you're not up to speed, here's a brief rundown of what should be a blockbuster story, brought to you via The Blaze.

Is President Obama trying to fill in some missing pieces of his biography?. What kind of brain freeze or derangement leads someone to refer to my sons, when two daughters are the only fruit of conception one has created? If George W. Bush has spoken of his sons in public twice, can you even begin to imagine the ridicule the likes of David Letterman, Bill Maher, and Jon Steward would heap on him? But with BHO, all one hears is the sound of crickets chirping.

A User's Guide To Smoking Pot With Barack Obama. Barry was quite the accomplished marijuana enthusiast back in high school and college. Excerpts from David Maraniss' Barack Obama: The Story dealing with the elaborate drug culture surrounding the president when he attended Punahou School in Honolulu and Occidental College in Los Angeles. He inhaled. A lot.

Outrage Over 72 Hours Of Network Silence On Catholic Lawsuit Spreads To Other Christian Leaders. Fury over the ABC, CBS and NBC evening newscasts' continued refusal to report the lawsuits Catholic entities have filed against the Obama administration has spread beyond the Media Research Center watchdog group and Catholic leaders to 11 additional Christian leaders equally concerned about this decision to deliberately not report national news.

PepsiCo Says It Will Halt Use of Aborted Fetal Cells in Flavor Research. A pro-life leader has won a victory in her efforts to convince soft-drink manufacturer PepsiCo to stop the use of aborted fetal cells in its research for enhancing the flavors of its products. Debi Vinnedge, executive director of Children of God for Life (COGFL), announced that in late April she had received a letter from Paul Boykas, PepsiCo's vice president for Global Public Policy, confirming that the company will not allow the use of HEK-293 — a cell line derived from human embryonic kidney — in its partnership with Senomyx, the company with which it had inked a four-year, $30 million contract for flavor research.

Bring back stigma. Desmond Hatchett, of Knoxville, Tenn., has petitioned the state of Tennessee for relief of his child-support obligations. It seems that the 33-year-old minimum-wage earner has to divide 50 percent of his earnings with the 11 women with whom he has fathered 30 children. While some of his children receive as little as $1.49 per month, according to media reports, the sheer number of offspring add up to an oppressive burden. You will never hear about the able-bodied Hatchett and his many progeny when liberals and progressives wail about the increasing poverty and disparity of incomes in the United States.

Fuel spill may be 24 million gallons. One new estimate suggests that 24 million gallons of jet fuel has leaked from Kirtland Air Force Base. The latest estimate is three times larger than previous estimates, and was the talk at a heated water authority meeting on Wednesday [5/23/2012]. The state's environmental department now said that the fuel leak seeping out of Kirland Air Force Base may be twice the size of the Exxon Valdez oil spill.

Was Rev. Wright Offered Hush Money? Nobody In The Media Cares. In Ed Klein's new book "The Amateur," he interviewed Rev. Wright on tape for three hours. The most shocking revelation: suggestions that Friends of Barack were trying to suggest Wright take some "hush money" to shut up for the rest of the 2008 campaign. Media interest? Pretty much zero. Let's imagine for two seconds what would happen if a friend of George W. Bush — even a disgruntled ex-friend of Bush — gave an interview to an author charging that Team Bush offered him money to shut up and go away during the 2000 campaign. Who would not expect that would have been screaming-siren top news?

"The so-called 'news' media have sunk to a new low."
Biggest Religious Lawsuit in U.S. History Launched, Liberal Evening News Shows Ignore It. This is the worst bias by omission I have seen in the quarter century history of the Media Research Center. Every American knows about the Chinese communists withholding for 20 years the news that the US had landed on the moon, because it reflected poorly on the government. Our US media today are no different. They are now withholding news from the American people if it is harmful to the re-election of Barack Obama. This is not a mistake, nor is it an editorial oversight by the broadcast networks. This is a deliberate and insidious withholding of national news to protect the 'Chosen One' who ABC, CBS and NBC have worked so hard to elect and are now abusing their journalistic influence to reelect Obama.

Dearborn Arab shoots black customer in back, kills, media ignores. The killing happened on March 9 but curiously national media attention has been nil as have been the typical race-baiting mouthpieces. Neither would dare question the Muslim or Arab community they've protected for so long.

A presidential chameleon re-writes White House history. Ahhhh, the remarkable life of Barack Obama. As told by — Barack Obama. Who can forget the moment when he first ate a dog? His startling confession that he had pushed a girl? Or his confession of how he would get through the day: "Pot had helped, and booze; maybe a little blow when you could afford it..." America's first drug-abusing president. What a memory.

How Our "Gay President" Learned About Sex. [Paul] Kengor calls the [David] Maraniss rationale for ignoring [Frank Marshall] Davis "strange," adding, "Apparently, even Obama's own words (many of them) on Davis's influence can be dismissed by reporters who do not want to touch this subject." It is apparent that they do not want to touch the subject because, now that "Frank" has been identified as a communist and sex pervert, the information will be perceived as hurtful to Obama. Davis's influence over Obama is a taboo subject and remains so to this day.

More about Frank Marshall Davis.

Book: Rev. Wright offered $150 grand in 2008 to shut up until after election. Looks like the "Wright distraction" has risen from the grave to haunt the Obama re-election campaign. [...] In case you haven't noticed, the press is ignoring both this story and the book.

Washington Post silent on bribe to silence Obama's Rev. Wright. We have a right to be righteously indignant over the carelessness with which the media have skimmed over Barack Obama's past and current affiliations. As the Washington Post concocts ways to vet Romney, perhaps they'd be better off doing some catch-up work on the one who has the keys to the ignition.

The 'bribe' to silence Wright. Edward Klein interviewed [Obama's Chicago pastor, Jeremiah] Wright, who told him Obama's team tried to buy his silence.

Book says U. of Chicago Medical Center VP bribed Jeremiah Wright. On an appearance on Sean Hannity's radio show on Monday, "The Amateur" author Edward Klein revealed the name of a close ally of President Barack Obama that his book alleges offered a $150,000 bribe to Rev. Jeremiah Wright to be quiet until after the 2008 election. [...] Klein also said Wright told him he "made it comfortable" for Obama to accept Christianity without having renounce his "Islamic background," which Klein said he has on tape.

New allegation from Rev. Wright deserves answer. [Scroll down] So the allegation is there: Wright says he was offered money by a close Obama friend to disappear at a key moment in the 2008 campaign. In what way is that not newsworthy? A top Obama re-election official says the campaign will not comment on Wright's allegations, saying Klein's book is simply not credible. But listening to the recording, Wright said what he said. It is news.

Did someone mention Jeremiah Wright again?

Ugly Truths About Prejudice. A number of commentators have pointed out the enormous focus that civil rights leaders have put on the death of Trayvon Martin at the hands of a white man, while essentially ignoring the vastly more common situation of black on black murder. On an average day in 2010, there were eighteen blacks murdered in the U.S., and sixteen of those black victims were murdered by other blacks — and yet those crimes seem to be of no real interest to the mainstream media or the race hustlers like Al Sharpton.

Two Broadcast Networks Ignore Soft Recall of Chevy Volts. In November 2011 it became public knowledge that the Chevy Volt could possibly catch fire weeks after a serious accident. The National Highway Traffic Safety Administration (NHTSA) opened its investigation into the matter on Nov. 25. Now General Motors is trying to recall all of the Volts for "enhancements," all while attempting to avoid the word recall. ABC and NBC are also avoiding the topic.

Flashback: Obama's Sordid High School Past. Obama, by all accounts, was a habitual drug user in high school. He tried cocaine, he admits in Dreams From My Father; he "tried drugs enthusiastically." The Chicago Tribune reported back in 2007 that Obama thanked the "Choom Gang" in his high school yearbook; "chooming" was Hawaiian slang for smoking pot. The Honolulu Advertiser reported that Obama's senior portrait "prominently displayed ... A package of 'Zig-Zag' rolling papers and a matchbook."

The One Thing The Media Isn't Telling You About The Blind Chinese Activist. [I]n a nearly 1,900 word article about Guangcheng, the Washington Post reporters never tell readers exactly what Guangcheng protests about the Chinese state. In another enormous article from the New York Times, the crux of his opposition to the Chinese government isn't mentioned until paragraph 19. In the Washington Post's first major article about Guangcheng this year, he was described simply as a "blind activist lawyer." But what is his activism all about? These articles constantly use terms like "human rights dissident" or "advocate for the disabled" to describe him. But that doesn't really tell you anything. The truth is: Guangcheng is an anti-abortion activist. His main opposition to the Chinese government is its "one-child policy" and its forced sterilizations.
Emphasis in original.

America's Historic Cokehead President. Does it bother you that the most powerful man on the planet was a longtime drug user? Does it bother you that he has attempted to use his drug abuse to gain credibility with young Americans? Does it bother you that his acknowledgment of having been a serious drug user has been given a pass in the news media? If any of these facts do bother you, then you obviously fail to recognize their significance.

Walker Gains in Wisconsin: NYT Shields Readers From Distressing News. The New York Times has a long piece on the political situation in Wisconsin this morning, and in some ways it is reasonably balanced. [...] Even so, it is a journalistic disaster: it tells you everything you need to know except the one thing you really need to know, and it reveals the soft pale underbelly of establishment journalism in America today.

Norfolk, Virginia: Violent Black Flash Mob Assault White Journos — Their Newspaper Buries News For Weeks. The feral wilding mob was 100 strong, at least 30 participated in the attack.

Attack on Pilot reporters was a crime — but not the only one. Pilot reporters Dave Forster and Marjon Rostami were pummeled by a pack of punks last month in Norfolk. It was two weeks before any mention of that vicious attack appeared in the paper. As a result, The Virginian-Pilot is now taking a beating. The reporters didn't deserve this act of aggression. But what about The Pilot?

A problem with the truth? As WND reported Tuesday [5/1/2012], dozens of black teenagers attacked two white reporters for the local Norfolk, Va., newspaper, the Virginia-Pilot. Dave Forster and Marjon Rostami were stopped at a traffic light two weeks ago as a crowd of at least 100 black youths congregated nearby. Someone threw a rock at the window of the car and Forster got out to confront the perpetrator. That's when the beating started. When Rostami tried to pull Forster back into the vehicle, the crowd of dozens began pulling her hair, punching her head and scratching her eyes. Both were out of work for a week due to their injuries. Amazingly, though the victims were staffers for the only newspaper in town, the story was not reported.

O'Reilly Producer Confronts Editor Of Virginia Paper About Covering Up 'Racially Motivated' Assault. On his show Monday [5/7/2012], Bill O'Reilly started off by following up on the assault case in Norfolk, Virginia — in which two Virginian-Pilot reporters, Dave Forster and Marjon Rostami, were attacked by a group of black men. The story went unreported in the paper for two weeks, and O'Reilly has been following the case since last week. In this update, we heard from the paper's editor himself.

Bill O'Reilly: 'Inconceivable That Had a White Mob Set Upon Two Black Americans Media Would Sit it Out'. "It is inconceivable that had a white mob set upon two black Americans the media would sit it out." So said Fox News's Bill O'Reilly Monday about the media's almost total silence about a white couple that was attacked by a crowd of young African-Americans three weeks ago in Norfolk, Virginia.

A Censored Race War? When two white newspaper reporters for the Virginian-Pilot were driving through Norfolk, and were set upon and beaten by a mob of young blacks — beaten so badly that they had to take a week off from work — that might seem to have been news that should have been reported, at least by their own newspaper. But it wasn't. "The O'Reilly Factor" on Fox News Channel was the first major television program to report this incident. Yet this story is not just a Norfolk story, either in what happened or in how the media and the authorities have tried to sweep it under the rug.

The incredible shrinking labor force. If the same percentage of adults were in the workforce today as when Barack Obama took office, the unemployment rate would be 11.1 percent. If the percentage was where it was when George W. Bush took office, the unemployment rate would be 13.1 percent.

Sickly Job Growth Sets Up Unhappy Choice for Obama. The U.S. economy added a sickly 115,000 jobs in April, but as discouraged workers continued to leave the labor force, the benchmark unemployment rate nudged down from 8.2 percent to 8.1 percent. The more important number, the size of the potential labor force that is not employed, remained at a crushing 14.5 percent. Economists are alarmed not only at the puny jobs number in April but at the fact that the difference between the two figures, 6.4 percent, stands near an all-time high.

A Surprising Statistic About The Long-Term Unemployed. Pew is out with a new study about the long-term unemployed in America. The long-tern unemployed are people who have been unemployed at least a year, and as you can see (and as you should know by know), the scale of the problem these days is way bigger than it has been during any other period over the last half a century.

Sitting Out Obama. We recently saw lots of sit-down strikes and demonstrations — the various efforts in Wisconsin, the Occupy movements, and student efforts to oppose tuition hikes. None of them mattered much or changed anything. There is a sit-down strike, however, that has paralyzed the country and has been largely ignored by the media. Most economists since 2009 have been completely wrong in their forecasts, reminding us that their supposedly data-driven discipline is more an art than a science.

Obama DOJ Wants Greater Power to Access Cellphone Records. Barack Obama's Justice Department is requesting that access to cellphone records be made more available to the government. [...] This move by the Obama administration may go unremarked upon in the media; they routinely cover for Obama's antics. But when the Bush Administration headed down the same path, there were howls of indignation from the Left.

Where Are the Rolling Heads from NOAA? NOAA law enforcement collected close to $100,000,000 in fines and seized goods from fishermen over the past several years. The Department of Commerce IG investigated and found that only about $60M could be accounted for, while some $40M is just plain gone. This is not taxpayer money, but money taken in huge chunks from fishermen for infractions, some very minor. Claims by the fishermen of coercion and extortion were validated by the IG.

President Obama's Video Message Booed At Boston's Fenway Park. During Friday's [4/20/2012] Red Sox game, President Obama delivered a video message recognizing the 100th of Fenway Park, in Boston. Several people are reporting that his message was met with booing.

So Far, Media Mum on Obama's Defense Secretary: A Million Dollars for Commuting Costs?. The big three networks have, thus far, shown little interest in investigating the nearly one million dollars in commuting costs spent by Barack Obama's Defense Secretary. According to the Washington Times, Leon Panetta's weekend flights home cost $32,000 and have totaled $860,000 as of early April.

White House denies 'deal' on Panetta's commute. Contradicting an account by a Pentagon official, the White House is denying that President Obama struck a "deal" with Defense Secretary Leon E. Panetta to allow him to commute home to California most weekends on a military aircraft at a cost of $32,000 per round-trip flight and a total of $860,000 as of early April.

Washington Post: We Tried To Bury That Story About ObamaCare Blowing Up The Deficit. Washington Post columnist Patrick Pexton made a rather startling admission in the paper's Sunday edition: The Post never meant for their recent story about how President Obama's health care law expands the budget deficit to become a viral Internet sensation. In fact, they deliberately tried to bury the story.

How The MSM Covered Up Fast and Furious. In Katie Pavlich's devastating new expose of the Eric Holder Justice Department-approved Fast and Furious operation, Pavlich doesn't just expose the Obama administration. She exposes the mainstream media for what they are: tools of the Democratic Party, and of the White House.

Also posted under pro-Obama media bias and Fast and Furious.

Another NYC shooting death that doesn't fit the MSM Narrative. A 48-year old retired NYC police lieutenant is being heralded as a hero for shooting down a would-be armed robber, but you won't hear much about this story from the MSM because it doesn't fit the "Trayvon Martin" narrative. The New York Post reported Friday [4/13/2012] that two men attempted to rob a drug store at gun point looking for cash and expensive prescription drugs. What they got was more than they bargained for.

Media Dishonesty and Race Hustlers. Let's look at some non-news cases. On March 14 in Tulsa, Okla., a white couple suffered a home invasion by Tyrone Woodfork, a 20-year-old black man. [...] On March 4, two black Kansas City, Mo., youths doused a 13-year-old boy in gasoline and set him on fire, telling him, "You get what you deserve, white boy." Last summer, Chicago Mayor Rahm Emanuel ordered an emergency shutdown of the beaches in Chicago because mobs of blacks were terrorizing white families. Several years ago, in Knoxville, Tenn., a young white couple was kidnapped by four blacks. [...] None of those black-on-white atrocities made anywhere near the news that the Trayvon Martin case made, and it's deliberate.

Birmingham News Drops the Ball on Black-on-white Crime. Yesterday I reported on the stabbing of white truck driver Nick Stokes by members of a black motorcycle gang called the Outcasts of Alabama. It's not merely a scary story but also an unusual one, mostly because of the behavior of law enforcement. The Adamsville, AL police department not only failed to question or detain any of the gangsters, but, outrageously, also told Stokes that they "don't mess" with the Outcasts. What isn't at all unusual about the story is the mainstream media's reluctance to cover a case of black-on-white crime. In particular, I cited the Birmingham News (BN), whose crime-beat reporter, Carol Robinson, had brusquely dismissed the incident as not newsworthy.

No Attention for Daylight Highway Stabbing in Alabama. A frightening event happened March 28 on an Alabama highway. The event has received no national attention apart from a lone story in the Macon Beacon in Macon, Mississippi. Not only was the event frightening, but the response — or lack thereof — by Alabama law enforcement authorities was almost as frightening. The local media, including the Birmingham News, failed to cover the shocking attack. With the flurry of national media attention the Trayvon Martin killing has received, why hasn't the daylight stabbing of Nick Stokes received any attention?

Record 87,897,000 Americans Not in the Labor Force. This figure explains why overall unemployment dropped from 8.3% to 8.2%, as the Department of Labor's unemployment figure does not include people who have given up hope and are not actively seeking employment. When the number of individuals who have stopped looking for a job and/or who are working part-time but desire full-time employment is included — a figure known as the "underemployment rate" — real unemployment stands at 19.1%.

Police Gave George Zimmerman Voice Stress Test. Did you know that, on the night of Trayvon Martin's death, Sanford police gave George Zimmerman a voice stress test? They did, and the results probably contributed to his release.

The Crucial Trayvon Martin Evidence the Media Won't Repeat. Fighters that prefer to take their opponents down to the ground to fight and hope to obtain this dominant mounted position are said to favor a style of fighting called "ground and pound."

What Zimmerman, Martin medical reports tell us and the media didn't: The new medical reports on the George Zimmerman/Trayvon Martin case tell us a lot. And it is not just for what they find, but also what they don't find. First, the reports provide striking evidence that Zimmerman did not start the fight with Martin, and that Zimmerman shot Martin in self-defense.

CNN's Media Watchdog Kurtz Virtually Ignores Editgate. After devoting his entire show to such burning issues as "Was it good for the Today Show to have Sarah Palin on?" and "Should the media pay attention to Ron Paul?" CNN's Howard Kurtz devoted only one minute to covering the biggest news scandal of the year — NBC News' atrocious edit of the George Zimmerman 911 call that has ignited and the stoked the flames of racial tensions in America.

Blacks Can Murder Whites, and It Won't Make National News. If you're a 20-year-old black male, you can beat an 85-year-old white woman to death and pummel her 90-year-old white husband straight into ICU, and it won't make the national news. Yep. Tyrone Woodfork, a black male who — much like Trayvon Martin — looks like Obama's son, allegedly killed Nancy Strait and broke her husband Bob's jaw, several ribs and shot him in the face with a BB gun last month in Tulsa. 20-year-old Tyrone also raped the nearly blind 97-pound Mrs. Strait, a great-great-grandmother, before he murdered her. Did the above monstrous crime make the national news? [No!]

Obama's Legal Humiliation. Today there is no American news outlet factually covering the illegal actions of the sitting President of the United States in context. Nor is there one consistently exposing the laws his administration has flagrantly broken, though this corruption now demonstrably permeates every level of the federal system.

The Media Downplay Murder When It's Black-on-White and Black-on-Black. If violent black-white crime generates headlines, where were the media after the sickening racially motivated assault that occurred in Long Beach, Calif., on Halloween night, 2006? Three young white women were brutally kicked, punched and beaten by a mostly black mob of 30 to 40 teens and adults. According to witnesses, during the rampage the mob yelled: "We hate white people. F--- whites!" Yet only two local papers reported the story, and one — the Los Angeles Times — published its article a full week after the attack!

Obama's Alinsky Strategy: Who's Next? The death of Trayvon Martin is a tragedy — as was the death of a 6-year-old girl named Aliyah Shell, caught in the crossfire of gang violence over St. Patrick's Day weekend in Chicago. But Aliyah's story received very little coverage, despite the event being more recent than the Martin tragedy, and despite the fact that it happened in President Barack Obama's very own Chicago on a weekend when 49 people were shot and 10 others were killed.

Can Justice Survive Media Lynch Mob? The first week or 10 days of national coverage turned out to be more of a lynch mob than a sober take on an unfolding story. It had all the makings of "First the hanging, then the trial." And then more facts began to emerge. ... But here's the problem with that rush to judgment. According to The Miami Herald, "One black neighbor recently interviewed said she knew everything in the media was untrue and that she would trust George with her life. Another black neighbor said that George was the only one, black or white, who came and welcomed her to the community, offering any assistance he could provide. ..."

Barack Obama Foreign Student — American Media Threatened into Silence. [Scroll down] Talk radio show host Rodger Hedgecock recently had Sheriff Joe Arpaio on his show. "This is probably the biggest censorship blackout in the history of the United States..." said Arpaio, "Why?" he continued, "Because it has to do with the White House? The President?". How can the American media possibly pass on a story so huge, and so important — fraud committed by a sitting president? — Simple, it has quite simply been threatened into silence, and law enforcement is now well aware of it.

Ex-communist nations expose Obama 'fraud'. Media from former communist nations are once again breaking through the veil of silence surrounding President Obama's eligibility for office — even when the U.S. media refuse to investigate what is being called the "largest scandal in American history." First, it was the Russian news website Pravda. Then, it was The Voice of Russia — successor of Radio Moscow, the official station of the Soviet Union. And now it's the Czech Republic's Neviditelný pes (The Invisible Dog), a popular news website from Prague, that's sounding the alarm.

Meet The Real Trayvon Martin. There has been a lot of analysis about the character of George Zimmerman in the media, and surprisingly little about Trayvon Martin. For instance, a few days before he was killed, Trayvon was suspended from school for ten days.

Registered Dem Killed Trayvon. The individual at the center of the controversial Trayvon Martin shooting is a registered Democrat.

Zimmerman and Ketman. The way in which the story has been spun by the media should not surprise anyone who remembers earlier National Hate campaigns: the Tawana Brawley, Duke lacrosse team, Jena 6, and Jared Loughner cases. Five-year-old pictures of Martin were repeatedly shown. Photos of the 6'2" or 3" seventeen-year-old wearing gold teeth, sporting two prominent tattoos, and making gang signs, readily available on the internet, were suppressed, as were other images from his Myspace and Twitter accounts, where he called himself "No_Limit_Nigga." Also missing was any background on the teenager. He happened to be in Sanford because he'd been suspended from his high school in Miami for ten days on suspicion of selling marijuana. (His brother seemed to believe that he had punched a bus driver.) This was Martin's third suspension. Last October, he was caught with twelve pieces of woman's jewelry, a man's watch, and a flat-head screwdriver.

Silence of the Lapdogs. I ask you: Have you read in your local paper about the technical evidence that led the posse's three retired criminal investigators and two attorneys to conclude that the birth certificate image White House officials uploaded at the White House website on April 27, 2011, did not originate in a paper format, but rather was created (forged) as an electronic file on a computer? ... I know the answer. You have read, seen and heard nothing — and certainly not a peep from any representatives in Congress.

Sheriff Joe: 'Tons' More Shocking Obama Info. "America's toughest sheriff" says there is "tons" more potentially shocking information on Barack Obama in connection with his probe into the president's eligibility, and he calls the media's suppression of his findings of a likely forged presidential birth certificate and Selective Service Card "probably the biggest censorship blackout in the history of the United States."

Birthermania! Now that Sheriff Joe Arpaio has released his ten-page report on President Obama's purported birth certificate, we are witnessing the predicted response of the establishment national news media: yawns, sighs, and laughter — but little reporting. ... The blackout by the establishment conservative press is likely also fear-based. The cowards of the conservative media fear the Saul Alinsky tactic of isolation and humiliation.

Media Conceal True Nature of "Flash Mob" Racial Violence. Relying on documents made available exclusively through a Freedom of Information Act request, we can add another face to the growing picture of racial "flash mob" violence in America. It is a face that the media have concealed from public view. This writer was forced to use the local Freedom of Information Act (FOIA) to ascertain the facts about the racial identity of one of the victims of these attacks. The media concealed the identity of the white victim apparently because of misguided racial sensitivity.

Destroy all churches. If the pope called for the destruction of all the mosques in Europe, the uproar would be cataclysmic. Pundits would lambaste the church, the White House would rush out a statement of deep concern, and rioters in the Middle East would kill each other in their grief. But when the most influential leader in the Muslim world issues a fatwa to destroy Christian churches, the silence is deafening.

Media's Deadly Bias. Writing articles on terrorism in a post 9/11 world becomes more difficult each day. It's certainly not due to the lack of terror or terror arrests; that, unfortunately, is never ending. Since 9/11 there have been 18,598 deadly terror attacks all in the name of Islam. The writing on the subject of terror for myself and others has become a 'cat and mouse game' with the media and the current administration. I cannot even count the amount of times arrests have been made in a terror plot here in the U.S. and there is absolutely no further information available. When I say no further information, I am referring to the suspect's gender, age and of course, the name.

NYT Buries Obama's Tanking Poll Numbers. Did you know that this debate we've been having around abortion, contraception and other health care issues is hurting the GOP? You may not know it, unless you read the New York Times. ... They buried Obama's falling poll numbers, while insisting the debate must be hurting the GOP, because that's what they wanted and thought it would do.

Why Obama's Birth Certificate Matters, Especially Now. You don't present a forged a document for no reason. ... We're not talking here about some kid who forged an ID so he could drink at 18 in a bar. This is the most powerful man in the world, who, it appears, is passing off a forgery for some mysterious — or not so mysterious — reason. This mystery needs to be solved.

The Harvard Hug: What Else Are Media Hiding? We were wrong. The media elite did in fact vet this president, but they covered up what they found. And now that citizen journalists are digging it up, they're trying to rebury it. Exhibit A is the controversial video of Barack Obama praising and hugging radical Harvard law professor Derrick Bell. The media knew it existed four years ago and conspired with academia to hide it to get Obama elected.

German media totally ignore the brutal rape and mutilation of a 16-year-old German girl by Muslim savages. 'Gates of Vienna' blog has asked the blogosphere to do the job that the pro-Muslim biased left wing media refuse to do. AGAIN!

Why No Coverage of This Odd Obama Remark about Religion? Did you miss the widespread news coverage these past days in which that really odd comment that Obama made about religion came back to embarrass him and embroil him in great controversy? Yes, you missed it — such coverage never occurred. It should have — and the fact that it didn't tells yet another distressing story about the double-standard of media bias.

Tale of Two Enemies Lists. Fully tax-exempt, like ACORN, Media Matters (MM) put together a list of President Obama's presumed enemies and furthermore, suggested ways to smear or harass them. The organization was in regular communication with the Obama White House, suggesting it was acting as a proxy for the Obama machine. ... What has been the response of mainstream news media to MM's skulduggery? Only silence. Only the targeted Fox News rips MM's wretched excesses; it is joined by no one else. The silence of the mainstream media is, once again, deafening. Is it conspiratorial, too?

Gasoline Prices and Dollar Prices. It's not that gasoline is more expensive; it's just that your dollars are worth less. But neither the media nor the political establishment wants you to realize the real reason Americans are experiencing pain at the pump.

Report: Mainstream media ignores stories about Hollywood ties to Obama administration. President Obama hit the hills of Hollywood for two $36,000-a-plate fundraisers that featured Grammy-winning rock band The Foo Fighters and A-list celebrities like George Clooney and Will Ferrell a few days ago. The events reportedly bought in over $3 million for Obama's 2012 campaign, yet coverage of the events were ignored by some networks, or referred to merely as an "eight-stop West Coast fundraising tour" by others, according to a new report.

Georgia and Birthright Citizenship. Some interesting events have been transpiring in Georgia over the last few weeks. At least, that is, in the right wing blogosphere's view — the mainstream media orchestrated a complete blackout. And it wasn't because big media missed the show, since I personally saw them holding the spotlights and cameras. The footage was simply left on the cutting room floor. ... As a witness to the hearings, I fully expected the mainstream media to report on the events with the usual "birther" ridicule, but I was astonished to find virtually no coverage at all.

Michelle Obama jets off to Aspen for ski weekend. Taking a break from her strenuous official duties, Michelle Obama jetted to Aspen, Colorado for a President's Day Skiiing weekend with her daughters. ... Nancy Reagan was pilloried in the press for buying new White House china during a recession — even though all the money for the dishware was donated. Mrs. Obama can jet out to Aspen with the only word in the press coming from a bare bones report in the local paper.

Media Silent As Mexico Arrests Key Figure In Fast and Furious. I think late January and February have been the busiest time for Operation Fast & Furious. The media still doesn't give it proper coverage, especially this news: On February 4th, Mexico arrests a key figure in Fast & Furious. Not only is he a key person in Fast & Furious, but he was also a top lieutenant to El Chapo.

Delousing of a movement. As the tents were coming down at McPherson Square, the dead rats and mice being retrieved, the urine and feces and filthy bedding disposed of by D.C. employees dressed in hazardous-materials suits like their contemporaries at Fukushima, Japan, I thought of the left-wing press. ... Now, for the most part, the Occupiers are no more. Yet the left-wing press raves on, and I suppose the mainstream media are complicit. This movement was more degenerate than they reported.

Interference Seen in Philadelphia Papers. Last week, Gregory J. Osberg, chief executive and publisher of the Philadelphia Media Network, which publishes The Inquirer, The Daily News and Philly.com, summoned the news organization's three most senior editors to his office. Over three hours, he told them he would be overseeing all articles related to the newspapers' impending sale. If any articles ran without his approval, the editors would be fired, according to several editors and reporters briefed on the meeting who did not want to be identified criticizing the company's leadership.

ABC and NBC Anything But Fast and Furious On Gunwalking Scandal. Deaths, guns, whistle-blowers and the highest law officer in the land stonewalling a congressional investigation are the juicy ingredients of a story network news reporters would love to cover — if a Republican were in office. However, when Attorney General Eric Holder testified on Thursday (February 2) before a House oversight committee investigating Operation Fast and Furious, the news was completely ignored by NBC and ABC (there was one full story on Friday's CBS This Morning). The virtual blackout of Holder's testimony continues an overall trend of ABC and NBC burying one of the Obama administration's biggest scandals, despite continual coverage by their competitors at CBS, CNN and Fox News.

Media Defends Planned Parenthood, Not Catholic Church. When the Obama administration announced on Jan. 20 that it was giving religious institutions one year to comply with a mandate for coverage of sterilization, abortion-inducing drugs and contraception in their health plans without a co-pay, it took CBS 10 days to air one news brief on the controversy while NBC and ABC said nothing for two weeks.

The Secular Media Vs. Religious Liberty. The Obama administration is waging war on Christianity. Somehow, the networks haven't seen this as newsworthy.

Chronicling MSM's Coverage Of Holder's Fast and Furious Testimony. Right off the bat C-SPAN should have aired this hearing. There is absolutely no excuse not to air it on TV. Since I had to stream it online I kept my TV on DirecTV News Mix to keep an eye on the news. The only network that had consistent coverage of the testimony was FOX News. I'm not shocked at all. I didn't see anything about the testimony on the other channels. Jeff Poor from The Daily Caller helped me keep an eye on MSNBC and he didn't see anything.

NBC's 'inexcusable' offense. Nearly 400 protestors were recently arrested for vandalizing Oakland City Hall. In examining the network coverage of the incident, Gainor — vice president of business and culture at the Media Research Center (MRC) — tells OneNewsNow that NBC dedicated a total of 34 seconds to the riot and refused to mention that the protestors burned an American flag, which they stole from City Hall.

We're All Nonprofit Now. [Scroll down] The corruption in the Department of Justice under Holder is not being reported by the mainstream media, which barely covered the hearings. But online you might learn that Department of Justice Prosecutors took bribes to forestall prosecution of indicted crime suspects; the Department knows of it and has as of yet refused to prosecute these people or discipline them.

More about Eric Holder and the politicized Justice Department.

Are Big Media Covering Up Fast and Furious? Not since Lenin gathered his fellow Bolsheviks together in 1912 at the Prague conference to plan the publication of Pravda has there been such an all-out effort to quash facts that out in the open might bring down Attorney General Eric Holder and the whole Obama administration. An amoral herd of left-wing journalists acting like "bootlicking propagandists," as Orwell once called members of his own British press in 1944, might find it difficult in the long run to get away with suppressing a scandal involving mass murder.

Media to Americans: 'Nothing to see here'. The mainstream media appears to have been put under a "cone of silence" about the first court proceeding to enter into the record evidence that Barack Obama is ineligible to be president based on the Constitution's requirement that that office be occupied only by a "natural-born citizen." Georgia administrative law judge Michael Malihi on Thursday heard evidence from a variety of witnesses on why the president's name should not appear on the Georgia state ballot for the 2012 election.

Media Blackout in Obama Georgia Ballot Eligibility Case. [Last week, I] witnessed an historic hearing that actually discussed the eligibility of the sitting president of the United States to run for a second term. The president had been subpoenaed to appear, and instead of his attorney respectfully following protocol to have that subpoena recalled, both Obama and his attorney, Michael Jablonski, simply failed to show up at all or offer any defense whatsoever. Isn't there a headline in there somewhere?

More about Obama's long-overdue eligibility hearing.

White Middle-Schooler Beaten Unconscious by Group of Black Students. The story is shocking enough, even without bringing race into it: on the way to school in Ocala, FA, a thirteen-year-old girl was beaten unconscious and reportedly went into a seizure after being attacked on the school bus by a group of fellow students. The girl reportedly was riding the bus for the first time. ... Aside from the brutality, there was another troubling fact about this crime — a fact that predictably did not make it into the news: the attackers were black, and the victim was white.

Associated Press coverage of the same story, with no mention of the word "black":
7 teens charged with beating classmate unconscious. Seven central Florida teenagers were arrested after authorities said they punched and kicked a 13-year-old until she was unconscious while on a school bus.

Another Crazy Tea Partier Arrested for Death Threat Against a Public Official. Wait, it wasn't a Tea Partier who was arrested, and the threat was made by an Obama supporter against a public official on the right side of the aisle... but I'm sure the Tea Party drove him to it. In any case, if the tables were turned, this would be the lead story on all the nightly newscasts.

Georgia judge orders President Obama to appear at hearing. A Georgia judge has ordered President Barack Obama to appear in court in Atlanta Thursday [1/26/2012] for a hearing on a complaint that says Obama isn't a natural-born citizen and can't be president. Orly Taitz, the California attorney who brought the legal challenge to Obama's name on the March Georgia presidential primary ballot, says this is what she has been working for over the last three years. "This will be 100 times bigger than Watergate," she said Saturday morning, referring to the scandal that brought down President Richard Nixon in 1974. "There are high ranking judges and federal officials who are involved in this cover up."

Barely News: North Korea's Reported Punishment of Those Not Sufficiently Mourning Kim's Death. Yet another episode being reported from the totalitarian nightmare that is North Korea is getting short shrift in most of the world's press, namely "criticism sessions" (i.e., rat out your neighbor, coworker, etc.) identifying North Koreans who allegedly weren't sufficiently grief-stricken over the December death of Kim Jong Il, weren't sufficiently demonstrative about it, or didn't attend enough mourning events, as well as the punishments for such transgressions which have reportedly followed.

Nine Michigan car dealerships in Hizbollah scheme, laundered money in US banks. Another update on All-American Muslim life in Michigan... that won't be seen on TLC.

Racial Violence. When I told my friends I was working on a magazine article, then a book, about a tsunami of racial violence in America over the last two years, they said, "I haven't heard about that." When my Tennessee friend told me about a horrific racial crime in Knoxville, Tennessee, I told him: "I haven't heard about that." Outside of Tennessee, most did not. Locals may remember the story: In 2008 and 2009, five black people were convicted of the carjacking, torture, rape and murder of University of Tennessee graduates Channon Christian and Christopher Newsom. To the extent the case attracted attention outside Knoxville, it was mostly about how this case was not attracting attention.

Hawker-Beechcraft Denied Big Air Force Contract in Favor of Brazilian Company With Soros Connections. It seems after investing around $100 million in this project, Hawker-Beechcraft has been excluded from a contract, worth almost $1 billion, to build a new light air support plane. What intrigues me is the Brazilian company Embraer, the likely contract winner, is currently under investigation by the U.S. Securities and Exchange Commission, and the Justice Department, for possible violations of the US Foreign Corrupt Practices Act.

The coming war inside America. While the corporate media remain lapdogs for the banking and global elite and report recovery on the horizon, the real story has yet to be told by our media and elected officials. There is a controlled demolition of not only our national economy, but the entire world economy. Look at the financial death throes of the European Union, which cannot survive, despite the best fiction from cable news economists hired to hide the truth from the masses.

AP 'Top 10' List Confirms Media Still Ignoring Fast And Furious Story. David Crary of the Associated Press [presented] the news agency's top 10 stories for the year. Fair enough. They were huge stories. The other stories selected were all noteworthy in their own ways as well, but there is one more that is remarkable in its absence from inclusion: Fast and Furious.

The No News Stories of 2011. In short, every time we promised the Pakistanis more money, each time the president promised more unemployment insurance and food stamps, at every evocation of a new element of the Dream Act, at all the fury over the number of F-22s to be built, no one said, "Hmm, all on borrowed money." The media simply did not tell the public that we have collectively taken out a huge adjustable rate mortgage to pay for our daily consumption, and that each day we are going to have to eliminate more expenditures to service the interest. Why the silence?

Throw 'Em All Out... And Good Riddance! Crony capitalism is the most serious current danger to the American community, a threat not simply to government or the economy, but to our very way of life. It is the worst such threat since the trusts and monopolies of the early 20th century, and in much the same way. Cronyism is one of the major forces behind the establishment of the corrupt pseudo-aristocracy that has been taking shape in this country over the past two decades, a synthetic privileged class made up in large part of politicians, hustlers, and hangers-on who have become expert in exploiting the rest of us. The legacy media, for some obscure reason, tends to bury discussions about this group.

Moving melee causes chaos at packed Mall of America. A noisy, racing crowd of more than 200 young people created a chaotic scene at the packed Mall of America Monday evening [12/26/2011], sending frightened shoppers scrambling for safety and causing some stores to close early, eyewitnesses and officials said. It took more than an hour to quell the disturbance, which began about 4:20 p.m. as a single fight involving a large group in a food court and quickly spread through the nation's largest mall...

The Editor says...
This story is accompanied by video, which shows all the violent actors were black, but the word black is nowhere to be found in the article.

60 Minutes Broadcast Edits Out Laughable Obama Claim as 4th Best President. George Washington was the father of our country. Eh! No big deal. Barack Obama is better... at least in his own mind. Such was the laughably absurd claim of President Obama on 60 Minutes last Sunday. What? You didn't see it? That was because 60 Minutes conveniently left it out of its broadcast.

Old Media Continues To Ignore And Bury Any Fast And Furious Developments. I need to start off all my posts about Operation Fast and Furious with this statement: Thank goodness we have Sharyl Attkisson, Katie Pavlich, Matthew Boyle, and Cam Edwards. Seriously, without them Operation Fast and Furious would stay hidden. ... Still nothing from the media about all the people calling for Holder to resign.

Obama Crony-Run LightSquared's Network Now Shown to Disrupt Plane Safety Gear. Late Friday afternoon [12/9/2011], Todd Shields at Bloomberg News broke a story about some guy, who happens to be an Obama and Democratic Party donor (but not disclosed), against whom the Securities and Exchange Commission is formally considering an enforcement action (also not disclosed ...), whose "wireless service caused interference to 75 percent of global-positioning system receivers examined in a U.S. government test." Though it generated a fair amount of center-right blog discussion over the weekend, the establishment press largely ignored the stunning result.

The Case for Ron Paul. [Scroll down] The media tries to pretend that Ron Paul does not exist, claiming that he is "extreme" or "crazy." The reason for this is very simple — to acknowledge the legitimacy of Paul's ideas is to openly acknowledge how dangerous our national economic problems have actually become. ... Ron Paul has proposed cutting one trillion dollars from the federal budget during his first year in office because it is mathematically unavoidable. If we do not make these cuts voluntarily now, we will be forced to make them later.

Hollywood Jihad. What is most disturbing about this story, apart from the obvious horror, is that not one news account reported what one witness said the shooter was screaming: "allahu akbar." Not one news account. The media is the enemy.

GM Non-Story: Dealer Inventory Build-up Continues. Contrary to the drawdown or at least level-off I expected after the IPO, GM, with of course virtually no establishment media coverage, has continued to push vehicles out to its dealers to what would appear to be potentially dangerous levels.

Weather's Too Nice For Global Warming Alarmists. Sunday will be the 2,232nd consecutive day that the U.S. has gone without being hit by a major hurricane. This is a big enough deal to be covered by the mainstream media. But of course it won't be.

Rezko Sentenced to 10½ Years, Media Ignore It And/Or His Ties to Obama. Depending on which news outlet you rely on for current events, you may not have heard that convicted Chicago real estate developer Tony Rezko was sentenced to 10½ years in prison Tuesday [11/22/2011]. On top of this, unless you read [a] report from Reuters, you mightn't have known just how connected he was to a junior senator from Illinois who just so happens to be the President of the United States.

More about Tony Rezko.

This is a collection of several suppressed news items, past and present.
Media Malpractice: Tom Brokaw's World Implodes. [Scroll down slowly] Americans have learned the hard way that there was and is a serious effort by some of the most powerful figures in American journalism to quite deliberately keep Americans from making "informed decisions" by denying them accurate information. By ignoring major news stories. By not reporting stories that were or are at variance with liberal politics, as if, like Mary Meyer's diary or John Edwards' affair with Rielle Hunter or Van Jones' speeches or ACORN's scandals or Mark Levin's book they simply didn't exist.

Another list:
The Left's Blind Eye to the Obvious. These stories were too big for a responsible media to miss. They became mine as a result of what I call the "ABETTO Syndrome." For at least the last generation, the left in general, and the media in particular, have been turning A Blind Eye To The Obvious — ABETTO. Here are some nuggets the media chose not to notice. These are all thoroughly and inarguably documented.

All Three Network Morning "News' Shows Embargo Gosnell Story. They don't want you deriving the wrong conclusions from the facts so they'll just have to keep the facts from you, too. They have become rather open about being Stalinist in this fashion. They used to slant stories; now, when they realize a story would be too difficult to slant, they simply refuse to cover it at all.

ABC Parrots White House Spin for Booing of Michelle Obama. Good Morning America's Josh Elliott on Monday [11/21/2011] repeated White House talking points in regard to the booing of Michelle Obama at a NASCAR event on Sunday. ... The Today show didn't cover the event at all.

Happy Halal Thanksgiving. Did you know that the turkey you're going to enjoy on Thanksgiving Day this Thursday is probably halal? If it's a Butterball turkey, then it certainly is — whether you like it or not. ... In a little-known strike against freedom, yet again, we are being forced into consuming meat slaughtered by means of a torturous method: Islamic slaughter. Halal slaughter involves cutting the trachea, the esophagus, and the jugular vein, and letting the blood drain out while saying "Bismillah allahu akbar" — in the name of Allah the greatest. Many people refuse to eat it on religious grounds.

Panicked AP Attempts to Memory-Hole Democrats' #Occupy Endorsements. Democrats like Barack Obama and Nancy Pelosi are way out on a limb and have been caught in bed encouraging, endorsing, and attempting to legitimize a wildly unpopular movement most voters now find repulsive. So what's a shameless left-wing media to do? What they always do. Rewrite history. And it looks as thought the Associated Press has decided to start the memory-holing with the following...

American astronaut hitches a ride on Russian rocket to space station. Not suprisingly, news that an American astronaut lifted off from Russian-leased Baikonur cosmodrome in a Soyuz rocket along with two Russian cosmonauts was not given much publicity by our government.

ABC and NBC Spike Eric Holder's Fast and Furious Testimony. NBC and ABC in their evening and morning newscasts completely ignored the grilling Eric Holder received on Capitol Hill on Tuesday [11/8/2011], over his role in the Fast and Furious scandal. Senate Republicans forced Holder to admit his initial statements to Congress about his department's role in gunwalking were "inaccurate," and that he never apologized to the family of a Border Agent killed by a Mexican drug cartel that used guns from the Fast and Furious operation. Only Sharyl Attkisson, in two full reports aired on Tuesday's Evening News and Wednesday's The Early Show, relayed the testimony that ABC and NBC blacked out on their broadcasts.

Shredding Kathleen Sebelius. If a private health insurer had engaged in the kind of criminal obstruction that Health and Human Services Secretary Kathleen Sebelius has been tied to in her home state of Kansas, it would be a federal case. Instead, it's a non-story in the Washington press.

The Democrat 'Deadbeat State,' Gets Little Media Attention. The state of Illinois defers billions of dollars of payments to vendors by four or more months because, despite 67% and 46% increases in personal and business income taxes, respectively, it still doesn't have the money to come even close to staying current. Yet virtually all we've seen from the national press on the problem is one Associated Press story conveniently filed on a Saturday.

Racial Violence. In 2008 and 2009, five black people were convicted of the carjacking, torture, rape and murder of University of Tennessee graduates Channon Christian and Christopher Newsom. To the extent the case attracted attention outside Knoxville, it was mostly about how this case was not attracting attention.

Hypocrisy and hope, credit and blame in the Gunwalker Scandal. [Scroll down] As evidence, ladies and gentlemen of the jury of history, I present the undisputed fact that on the evening news shows of NBC, ABC and CBS this week not one — NOT ONE — mentioned the unprecedented subpoena by a Congressional committee of information regarding the entire top echelon of the Justice Department in the Gunwalker Scandal. Had this scandal involved John Ashcroft and the Bush Administration, does anyone doubt that the story would have led the nightly half-hour "puppet theater"?

Issa's Gunwalker Subpoena a Virtual Non-Story. On October 9, an unbylined Associated Press story reported that Congressmen Darrell Issa "could send subpoenas to the Obama administration as soon as this week over weapons lost amid the Mexican drug war." On Wednesday, October 12, Issa did just that. ... It appears that only Fox News did cover the subpoena's issuance the day it occurred.

Did someone mention the Fast and Furious scandal?

Occupiers' little helpers. Did you happen to catch the photos of an Occupy Wall Street protester exercising his First Amendment rights by defecating on an NYPD patrol car? Probably not — unless you follow a British newspaper online. How about the bizarre chanting ritual by the demonstrators of Occupy Atlanta — who then refused to let John Lewis, an icon of the civil-rights era, address them? Again, probably not — if you watch the three major broadcast TV networks or read papers like The New York Times.

Back in the USSR? Headlines tell us that Russian Premier Vladimir Putin will once again "run" for President of the Russian Republic. Now, this is being reported as if he really has to run for the office. And it seems that the current "president," Dmitri Medvedev, is only too willing to step aside to allow for Mr. Putin to make his run. That's like saying the monkey is willing to give way for the organ grinder. ... Russian journalists are not likely to question this arrangement of things too much. A number of inquiring minds in the Russian press have turned up dead in the past few years. Foreign journalists are unlikely to probe too deeply, either.

That's odd... I saw nothing about this in the U.S. news media.
Top court rejects bid to disqualify US President Barack Obama. The US Supreme Court has slapped down a new bid seeking to show that Barack Obama was ineligible to be elected president of the United States in the 2008 White House race. The nation's highest court refused to take up a case brought by three people "who claim President Barack Obama is not a natural born citizen of the United States of America and, hence, is ineligible to be the president," court documents said.

More about Barack Obama's fraudulent birth certificate.

Spiking Solyndra: Big Three Networks Barely Mention Burgeoning Scandal. Energy Secretary Steven Chu's admission, on Thursday, that he approved more taxpayer money to the financially strapped solar panel company Solyndra, after it defaulted on a $535 million loan from that agency. Big Three network coverage? Zero. This is just a continuing pattern of ABC, CBS and NBC barely touching the bourgeoning scandal for the Obama administration.

More about Solyndra.

Media Silence Is Deafening About Important Gun News. Murder and violent crime rates were supposed to soar after the Supreme Court struck down gun control laws in Chicago and Washington, D.C. ... But Armageddon never happened. Newly released data for Chicago shows that, as in Washington, murder and gun crime rates didn't rise after the bans were eliminated — they plummeted. They have fallen much more than the national crime rate.

Sharia Vigilante Street Justice in America. [Scroll down] After I learned of the attack on Mr. Alsaegh, I did not want to rush to judgment and waited until he told me that the FBI concluded that this was a hate crime. I believe that my article on this incident is the first to be reported in the media. This incident has been totally ignored by the mainstream media. Why is it that attacks perpetrated by Muslims against Muslim infidels or honor crimes are ignored?

Inspector general: Bush-era Pentagon officials cleared of wrongdoing. A three-year government investigation has found no wrongdoing by Bush-era Pentagon officials when they gave war briefings to retired military analysts who served as TV and radio commentators.

Deep Corruption at the Obama Justice Department. [Scroll down] Buried in Christian Adams' latest story on this scandal comes what should be an incredibly explosive allegation: "Worse, Loretta King, while serving as the acting assistant attorney general for civil rights at the outset of the Obama administration, ordered the resumes of highly qualified applicants to be rejected only because they didn't have political or left-wing civil rights experience. Multiple DOJ sources with direct knowledge of hiring committee practices have confirmed this to me." Where, oh where are the New York Times and the Washington Post? This is a direct violation of the law that these "news" organizations are deliberately ignoring.

ABC Breaks, Then Ignores News on Obama White House Ties to Solyndra. On Tuesday and Wednesday's World News, reporter Brian Ross exposed e-mails indicating that the Obama administration gave a $535 million loan to the green company Solyndra, despite deep misgivings inside the government about its viability. Yet, Good Morning America has declined to follow-up on the ABC scoop.

Activist says ...
Disney CEO buries inconvenient facts about 9/11. "The Path to 9/11," first aired on ABC in 2006, portrayed President Bill Clinton's administration as ignoring warnings and signs that Osama bin Laden and al Qaida were planning a major attack on the United States — a finding supported by The 9/11 Commission Report. But since 2006 Disney CEO Bob Iger has repeatedly refused to rebroadcast it, or to sell the rights to other broadcasters.

NBC Offers Scant Coverage of Big Dem Loss in NY Special Election. The Today show, which is a four hour program, on Wednesday [9/14/2011] devoted a scant 43 seconds of air time to a surprising loss by Democrats in a New York special congressional election. Both CBS and ABC offered more expansive coverage.

Networks Ignore Religion Ban at Ground Zero Ceremony. The major news networks love 9/11 stories. But there's one 9/11 story they won't touch: the exclusion of any religious participation from the Ground Zero memorial service during the 10th anniversary of the September 11 attacks.

NYT burying latest Fast and Furious stories shows paper's 'biased approach'. House Oversight Committee officials aren't happy with The New York Times. Committee staff are accusing the paper of burying its story on how acting ATF director Ken Melson lost his job amid the Operation Fast and Furious scandal. Times readers would have to dig down to page A13 of Wednesday's Gray Lady to find out that Attorney General Eric Holder reassigned Melson to a different job inside the Justice Department.

Did someone mention the Fast and Furious scandal again?

Ron Paul supporters decry media neglect. Ron Paul finished just 152 votes behind Michele Bachmann in the Ames Straw Poll, but from the headlines and TV news coverage, it's hard to tell he even showed up.

Media Stifling Racial Violence Coverage. Race matters if we want to understand the current wave of racial mob violence. Flash mobs have a lot of people talking, no thanks to PC journalists who have refused all along to help us understand this emerging social problem. For those who care about language and the truth, Mary Schmich of the Chicago Tribune has done a great service. She openly admits that her newspaper refuses to report the race of violent criminals responsible for an outbreak of racial mob violence in Chicago, which mirrors similar violence around the country.

More about black mobs and black violence.

Secrecy Surrounds Silver Star Medal Revocation. Except for a few intrepid news and opinion outlets, plus Navy Times, a respected military newspaper, a cone of liberal silence descended around shocking news that a Silver Star medal for gallantry was yanked from a high-ranking Navy officer back in August 2010. No why is given; it is shrouded in the mist of military bureaucracy.

Time to Fire Eric Holder. It has been strange to watch the mainstream media ignore the most incredible scandal of the modern era — the "Gunwalker" program used by the Bureau of Alcohol, Tobacco, Firearms and Explosives to pump American guns into Mexico — while lavishing obsessive coverage on the News of the World phone-hacking debacle in England.

NBC's Investigative Unit Ignores Obama's ATF Debacle. The NBC News Investigative Unit has devoted considerable resources to uncovering "scandals" ranging from Marcus Bachmann's health clinic to Newt Gingrich's credit line at Tiffany to the Sarah Palin document dump, but continues to ignore a botched Justice Department operation that contributed to the death of a U.S. border agent.

Racial Violence and the Conspicuous Silence of the Media. By now, almost everyone has seen one of the semi-amusing videos of black teen mobs rampaging through a store. Maybe we've even seen the non-amusing pictures of the victims, or heard their stories. Most Americans have heard of recent violent "flash mobs," which are the bands of black teens that attack mostly white victims and white businesses, as even the New York Times once noted. But the flash mobs, which are more accurately called "race riots" or "racial mob violence," are not the only interesting topic to cover in our national conversation about race. There is also the "knockout game," which is stunning in its brutal simplicity and stark racial significance.

MSM Ignoring Criminal Wrongdoing by ACORN, Planned Parenthood. How can we rely on these networks to bring us actual news when they cannot even function as proper investigative journalists, instead opting to highlight stupid attacks on conservative Presidential candidates?

White Mob Terrorizes Black Milwaukeeans. I'm sorry. I got that header wrong. It was a black mob that ransacked convenience stores and hammered a group of white people in Milwaukee this past July 4th weekend. ... The fact that it was a black on white assault would explain why we didn't hear about it via the national news.

Media's Blind Eye. Have you heard the story about Rep. Dennis Kucinich praising Syrian President Bashar al-Assad? Why would you? After all, Kucinich is a Democrat, the one party the mainstream press is happy to cover for.

What's Missing from this Story? Nature magazine — not exactly on the top of the sales rack even at Barnes & Noble — last week reported a bizarre story that is receiving no attention in the U.S. media that I've seen: The Eurocrats in Brussels have uncovered a massive organized crime effort that secured $72 million in fraudulent scientific research grants.

Racism, Injustice, and the Left. Every 45 seconds in Africa, a child dies from malaria, yet we continue to ban DDT, the single most effective weapon against the cause of the disease, because we worry about its effect on birds. You would think the needless death of 700,000 black children every year, because of rabid environmentalism, would make the papers, but it doesn't.

More about DDT.

Chicago's Violent Flash Mobs. Most of these flash mob incidents involved African-American youths who use social websites and cell phones to coordinate their activity. According to Jack Marshall, "The Chicago media has adopted an odd policy in reporting the incidents: it has not reported the fact that the mobs were made up of African-American youths." Flash mobs of African-American youths are not the only reporting about race that is ignored in the Chicago media. For too long the media has ignored the hypersegregation in the city, as well.

Airbrushing history at The New York Times. 'As someone who spent time in the Soviet Union while it still existed, the notion of airbrushing kind of gives me the creeps," New York Times Executive Editor Bill Keller said in 2003. Keller was speaking in favor of the idea that the Pulitzer board should not rescind the prize it awarded the Times' Walter Duranty for reporting pro-Stalinist lies in the 1930s. This week the Times appeared to many to have airbrushed its own history.

Racial Violence Has Not Made It Into the Conversation about Race. If mobs of white youths were going about chanting the phrase "white boys," beating mostly on blacks and attacking black-owned businesses, then the nation would pay attention. Academic, media, political, and legal elites would be calling for symposia, expanded reporting, legislation, and lawsuits. In fact, a mob of black youths in Philadelphia went about chanting the phrase "black boys," beating mostly on whites, and attacking businesses.

MSM Ignores Trifecta of Sex, Politics, and a Rising Political Star. With the exception of Jonathan Allen and Ben Smith of Politico, who both deserve credit for covering the Rep. Anthony Weiner (D-NY) story we broke here at the Bigs on Friday night [5/27/2011], the mainstream media's silence on this objectively important story has been deafening. And now that 24 hours have passed since the story originally broke, there's simply no way to blame the MSM's lack of interest on the holiday weekend.

Liberal Media Skip Study That Found Stimulus 'Forestalled or Destroyed' Jobs. On the front page of Wednesday's Investor's Business Daily, reporter David Hogberg reported that a new study found President Obama's "stimulus" plan "may have destroyed or forestalled employment, including more than 1 million private-sector jobs." Destroyed or forestalled? Our media only cites studies which estimate the number of jobs Team Obama "saved or created."

The Nearly Aborted President. According to recently secured documents from the Immigration and Naturalization Services, evidence has emerged that President Obama's father, Barack Obama, Sr., apparently paid to send a young Kenyan girl he had impregnated in Massachusetts to London to have an abortion. Doing the work that investigative journalists of the mainstream media used to do, author Jack Cashill reveals that the foreign press, unlike their American counterparts, are all over the story.

Media Malpractice: The Mississippi. In a record year for natural disasters, the Mississippi's worst flooding since 1927 may be the year's most consequential. It ought to lead the news. But the Beltway media-political complex is more interested in press games. ... The flooding provides the White House with no political advantage. If anything, it shows that despite $787 billion in federal stimulus, the U.S. flood control system remains archaic. During Hurricane Katrina, that was a big issue. During this Mississippi crisis, it's not.

The national disaster which isn't being reported: Virtually unreported by the national media — because it might detract from President Obama's victory lap over the U.S.'s successful targeted assassination of Osama bin Laden — is the greatest flood on the Mississippi River and lower parts of the Ohio River since 1937. ... Is CNN going wall-to-wall? Nope. Is it because the people mostly affected by the Great Mississippi Flood of 2011 are Republican? Is it because George W. Bush is no longer President?

34,448 Illegal Immigrants Spared Deportation. In a perplexing development ignored by the mainstream media, the Obama Administration suspended tens of thousands of deportations last year and Homeland Security Secretary Janet Napolitano lied to a Senate committee to cover up the astounding figure.

Warning: This article is replete with vulgarity and profanity — all of it written or spoken by leftist Democrats.
The news you'll never see. With the advent of the internet the liberal/leftie hold on the media has some gaps; the unpleasant truths they formerly suppressed, glossed over or reworked now often comes through in all its ugliness.

See also Which party promotes hate speech and violence?

A War Gone Missing. I'm hoping someone can help me. I left on vacation last week, and when I got back, an entire war was missing. I've looked for it on all the major networks and cable outlets (excepting Fox News), as well as all the major newspapers. Although I've found hints that it still exists somewhere, President Obama's Libyan War is officially missing in action.

Non-Breaking News. What with all the budget talk, I was just wondering whether that third war — or kinetic scope-limited whachamacallit — was still going. You remember, it was in all the papers for a couple of days. So I guess things have gone quiet because it's all wrapped up now? Apparently not.

Obama's Fort Hood Jihadist: We have been hearing for years that the White House is withholding evidence on the Fort Hood jihadi, Major Nidal Malik Hasan. Now comes direct confirmation of this from Hasan's own lawyer. Major Hasan, also known as Soldier of Allah, according to his business card, mowed down thirteen U.S. soldiers while screaming Allahu akbar on the Fort Hood military base in Texas a year and a half ago, in November 2009. Yet his trial keeps on being postponed. On March 30, Lt. Gen. Robert Cone, the outgoing commanding general at Fort Hood, granted a request from John Galligan, Hasan's lawyer, to delay the trial until late April. Galligan, however, disclaims responsibility for all the delays, blaming them on none other than Barack Hussein Obama.

Media Ignore Wisconsin Teacher Charged With Sending Death Threats to Republicans. According to the criminal complaint, [Katherine R.] Windels allegedly sent an email threat to State Sen. Robert Cowles (R-Green Bay) March 9. Later that evening, she allegedly sent another email to 15 Republican legislators, including Senate Majority Leader Scott Fitzgerald (R-Juneau). The subject line of the second email was: "Atten: Death Threat!!!! Bomb!!!" In that email, she purportedly wrote, "Please put your things in order because you will be killed and your families will also be killed due to your actions in the last 8 weeks."

Media Ignore Stephen Lerner's Revolutionary Plan to Bring Down US Economy. If you google "Stephen Lerner" — the former SEIU employee who made some rather inflammatory remarks at a liberal conference held this past weekend at Pace University, as we have reported — would it surprise you that only a handful of opinion blogs (most of them conservative) are covering the jaw-dropping speech...

Only ABC Mentions Obama Flip-Flop on Presidential War Powers, CBS and NBC Ignore. While a report on ABC's Good Morning America on Tuesday referenced 2007 comments from then-Senator Barack Obama against a president taking military action without congressional approval, CBS and NBC both failed to point out President Obama contradicting those earlier statements by failing to seek congressional approval before committing U.S. forces in Libya.

Brazil's Anti-Obama Riots Ignored by Media. A U.S. President beset by angry mobs screaming "Yankee Imperialist Go Home", exploding Molotov cocktails, rubber bullets, tear gas, riot police. In 2007 the MSNBC headline screamed "Protests greet Bush upon arrival in Brazil" and The Guardian one-upped it with "Angry crowds hunt Bush as protests mark start of Latin America tour". Fast forward to 2011 as another U.S. President faces identical protests and riots. Funny thing, though, this time there is absolute stone cold silence on these protests and riots...

The Big Obama Defeat the Media Ignored. Lost amid all the excitement over the Rio trip, the anti-obesity campaign, and the March Madness picks was the revelation that Senate Democrats had given up any attempt to confirm Donald Berwick as chief of Centers for Medicare and Medicaid Services (CMS). It seems that 42 Republicans had informed the Democratic majority by letter that they would vote for Berwick's confirmation when Hell froze over.

A family is butchered in their beds and the world neither knows nor cares. Today, five members of one family lie buried. There is no good reason why the story of their deaths should be similarly entombed.

Global Warming, R.I.P. Have you noticed that you rarely hear "global warming" mentioned on radio or television and the term rarely occurs any more in the print media?

CBS, NBC Newscasts Give Scant Coverage to Muslim Terror Attack at German Airport. Two US airmen were killed by a Muslim terrorist in Germany yesterday [3/2/2011], but neither CBS nor NBC thought it worthy of more than 30 seconds of coverage on their evening newscasts Wednesday night. While ABC devoted a full segment of the March 2 "World News" to the issue, the CBS "Evening News" and the NBC "Nightly News" offered only scant news briefs and buried the story deep into their broadcasts.

A secret Obama doesn't want you to know. No doubt by now you've heard the story on the nightly news that the Obama economy grew at a weaker pace in the fourth quarter of last year than was expected. What's that you say? You didn't hear that on the evening news? I wonder why.

The media protects a Democrat with silence. You would think something like this would be a pretty big story, especially since the union troops Hintz supports are becoming increasingly aggressive in their occupation of the state capitol. After millions of BTUs worth of hot air were unleashed about "tone" and "civility" in the wake of the Tucson shootings, an actual death threat from an elected representative is a significant event. No "heat of the moment" defense would be accepted from a Republican under similar circumstances, especially if a male Republican cited for sexual misconduct were threatening a female Democrat.

Wisconsin Dem Assemblyman Curses GOP Assemblywoman, Media Mum. A Wisconsin Democrat Assemblyman turned to a Republican Assemblywoman in the middle of a legislative session Friday and said, "You are f---ing dead." Despite the following report from the Northwestern at 12:53 PM Monday [2/28/2011], no major media outlet other than Fox News has covered this disgusting story.

The Teachers' Unions are on the Ropes. [Scroll down] It was real news to the residents of New Jersey, how the teachers' unions had rigged the system. Because for decades, the story went untold by the Newark Star Ledger and Bergen Record, the state's two largest dailies. The editors either didn't think the corrupt collective bargaining process was an issue worthy of a series, or didn't have a problem with the process. I suspect that many of the editors liked being for what their ideological opponents were against. Because both of those papers are liberal by any objective standard, and those that challenged the teachers' unions tended to be Republicans.

CBS complicit in news coverup. Dateline — Egypt: "[60 Minutes] correspondent Lara Logan was repeatedly sexually assaulted by thugs yelling, 'Jew! Jew!' as she covered the chaotic fall of Egyptian President Hosni Mubarak in Cairo's main square Friday." Powerful reporting on an important story. Two problems: It didn't run until yesterday, and CBS didn't run it. The quote is from the New York Post. And it was The Wall Street Journal that reported "the separation and assault lasted roughly 20 to 30 minutes."

News reporters — or Narrative Shapers? CBS reporter Lara Logan, "covering the jubilation" as CBS put it, was surrounded by a mob of men screaming, "Jew, Jew!" who beat and sexually assaulted her. She is currently recovering in a U.S. hospital from injuries described as "serious." Despite the fact that the incident occurred last Friday, CBS sat on the story until it became apparent that other members of the media had gotten wind of it. Why? The bet here is that this incident interferes with the mainstream media-established narrative regarding the true nature of some "freedom-loving" Egyptians. People yearning for democracy aren't supposed to be anti-Semitic thugs or sexual predators as well. Thus, a genuine news item became an "un-story."

We Are Not All Egyptians. The brutal attack on television reporter Lara Logan is the most powerful evidence yet that the Western media's portrayal of the Egyptian revolution has been too optimistic at best, and deceptive at worst.

NY Times letters to the editor can't say the paper is 'wrong'. The New York Times editorial board is never wrong. Or at least, they won't print anything that says they are.

Networks Still AWOL as Now Fox News Covers Planned Parenthood Sting. On Wednesday's [2/2/2011] O'Reilly Factor, guest host Laura Ingraham devoted two segments to Lila Rose's latest undercover video showing how Planned Parenthood aiding and abetting the covering up of sex crimes. ... On the other hand, the Big Three networks' prominent morning and evening news programs have yet to cover the secret videos.

ABC's Sawyer Spikes Federal Judge's Ruling Against ObamaCare. ABC, CBS and NBC on Monday night [1/31/2011] devoted more than half of their evening newscasts to the turmoil in Egypt, but while CBS and NBC squeezed in brief mentions of how a federal judge agreed with 26 states that the entire ObamaCare law is unconstitutional, ABC's World News didn't utter a syllable about the major setback for the Obama administration. Anchor Diane Sawyer, however, made room for a full story on an impending snowstorm and four minutes for a new series, "Families on the Brink: What to Do About Mom and Dad?"

Judge John Roll Was a Hero: Why Didn't We Know This? The Tucson shootings are a huge story. Everyday we hear the updates of Congressman Giffords' recovery, but hardly a word of this profound development.

Brown-Out on Browner Testimony. Controversial 'energy and environment czar' Carol Browner, a former commissioner of the Socialist International who was appointed to a non-existent position to avoid Senate confirmation testimony, is stepping down from her post. Rumors that this move is calculated to avoid testifying under oath to a House oversight committee are of course being circulated by people who know precisely what they are talking about.

Labor Dept: If You Let Girl Scouts Sell Cookies, You Have to Let Unions Come in Too. Obama's NLRB is trying to push a new rule that would force any business that allows Girl Scouts or any other local groups like baseball or football teams, school bands, charity groups etc. to sell their fundraiser items or solicit donations in front of or inside of their businesses to also allow unions into their businesses to cajole employees to organize. Even when the purpose of many union actions are meant to drive customers away from the business in order to force the employer to accede to union demands, this rule would prevent a business owner from turning disruptive union activists away from their businesses.

Obama's Justice Department visual acceleration to global governance. Some might recall the Internet controversy that took place last July when the U.S. Department of Justice removed the American flag header from its website, replacing "Old Glory" with a solid black background. In conjunction with the stripping of the stars and stripes, controversy increased with the inclusion of a quote placed on nearly every page of the DOJ web site that reads "The common law is the will of Mankind issuing from the Life of the People." Based on the number of e-mails I've received over the last few days, it is apparent that many seem to be just now learning of the USDOJ web site makeover.

Top Ten Examples of Media Bias in 2010. [#10] Shirley Sherrod. No review of 2010 media "Smithing" can be complete without mentioning Sherrod, the USDA employee who was fired after Andrew Breitbart showed a video of a speech she made to an NAACP chapter. Sherrod and her husband Charles received the free press ride of the year. The $13 million the pair received in a farming racial discrimination lawsuit settlement just before she took her USDA job in July 2009 was almost never reported. The documented proof from a longtime leftist that the pair's New Communities "cooperative" exploited child labor, paid less than minimum wage, illegally resisted union organizing efforts, and employed scab labor never made it into the mainstream media.

The 10 Biggest 'Non-Story' Stories of 2010. [#10] The Resurgence of State's Rights — Somewhat supported by the Tea Party movement, and certainly related to ObamaCare and Arizona's immigration battles, the broad issue of state rights in the context of constitutional government is garnering interest among Americans perhaps like never before. The 10th Amendment is being championed on an increasing number of fronts and even the concept of "nullification" has returned to our modern dialog. Big Media really isn't into the whole Constitution thing. It would never occur to them that Washington is less than omnipotent.

Iran Just Shipped Missiles to Venezuela. A massive security threat just blossomed, and you'd be hard-pressed to find an MSM or administration official who cares.

Obama Doesn't Know the Price of an Apple. President Obama today tried to pay for four apples with one dollar. Now, if Bush did this, can you imagine the uproar?? ... Recognizing the error, Obama personal aide Reggie Love quickly stepped in with some more money for the fruit seller, who had just been ripped off by the leader of the free world.

Crucible of a Hero. This case is of shatteringly great significance, and if you don't know about it, well, you can thank the cowards, commies, and crooks at your favorite mainstream media Bureau of Disinformation, National Desk. Lt. Col. Lakin has been abandoned by the establishment press, dastards and lackeys almost to a one.

More about Lt. Col. Lakin.

WaPo Fails to Publish Own Poll on ObamaCare's Lowest Popularity Ever. A new ABC-Washington Post poll found ObamaCare sunk to its lowest popularity yet: 52 percent opposed, and only 43 percent in favor. ABC mentioned the poll without fanfare at the end of a Jake Tapper report on Monday's World News [12/13/2010], and Tapper added this was the health law's "lowest level of popularity ever." But Tuesday's Washington Post reported not one sentence on the poll in the paper — even as they reported in the paper that the same survey found Obama's tax-and-unemployment-compensation deal has "broad bipartisan support."

What is the media thinking by ignoring the Medal of Honor? "If it bleeds, it leads" is a canon of today's mass media, so bad news usually trumps good news for editors and producers. But this week proves there is an even more powerful maxim: "Trivial celebrity news beats all." The carefully choreographed royal pronouncement pushed at least two other events — far more important to Americans — well into the background of U.S. print and broadcast media.

War, Hell, and a Democratic President. The last time I checked, war was still hell, and American soldiers were still risking their lives at the orders of our commander-in-chief. But the day a Democrat became president, daily body counts suddenly went MIA, Code Pink protesters went AWOL, and D.C.'s playground politics took over the MSM's daily propaganda bubble. As if on cue from some hunch-backed news controller for the party, gruesome stories from the front lines disappeared.

All The News That Is Unfit to Print. Here are a few important developments that remain strangely ignored. I say strangely, but most readers understand why some news becomes news and some does not.

The Climate Cash Cow. A high-ranking member of the U.N.'s Panel on Climate Change admits the group's primary goal is the redistribution of wealth and not environmental protection or saving the Earth.

Al Gore's Climate Exchange Utterly Fails — Media Ignores It All. One would think that if such an effort from the right had failed so miserably to succeed the Old Media would be pushing this news by leading every news cast, every TV report, and filling up the front page of every news paper with the tale. Yet this magnificent failure of the leftest of left-wing causes leaves the Old Media utterly silent.

The Biofuels Scam. Since 2007 the price of food around the world has just about doubled. Bad harvests, inflation, or George Bush didn't cause this price increase. According to a secret report from the World Bank, reported in the UK's Guardian, 75% of the increase in price has one source: "Biofuels." This contrasts with US claims of only a 3% biofuels-caused increase. The World Bank also says that rising food prices have pushed 100 million people worldwide below the poverty line. Riots have been sparked from Bangladesh to Egypt. Where is the outrage? Where are the MSNBC stories on food riots?

If Al Gore's CCX Suffers Total Failure, Does the MSM Make a Sound? Global warming-inspired cap and trade has been one of the most stridently debated public policy controversies of the past 15 years. But it is dying a quiet death. In a little reported move, the Chicago Climate Exchange (CCX) announced on Oct. 21 that it will be ending carbon trading — the only purpose for which it was founded — this year. ... Al Capone tried to use Prohibition to muscle in on a piece of all the action in Chicago. The CCX's backers wanted to use a new prohibition on carbon emissions to muscle in on a piece of, quite literally, all the action in the world.

More about Al Gore and carbon credits.

Media won't cover Boxer's scandals. Barbara Boxer maintains a small lead over Carly Fiorina, in spite of the blogosphere reporting on two scandals involving the incumbent Democrat.

The Democrats' Final Recourse: Massive Vote Fraud. Boulder City, NV resident Joyce Ferrara says that when she and several others went to vote for Sharon Angle, they found that Senator Harry Reid's name was already checked off. In Dallas County, TX's congressional district 30, Democrat Eddie Bernice Johnson's name was the only one on the ballot in a few locations (no, she isn't running unopposed). And some states have been late in mailing out military absentee ballots, whose recipients, interestingly, are known for their Republican leanings. These happenings are generally referred to as "mistakes" and "glitches," but if that's all they are, then we're witnessing a truly historic anomaly. Because either the mainstream media is now suppressing stories of mistakes and glitches benefiting Republicans, or the laws of probability have suddenly been rescinded and tossed coins are coming up donkey tails every time.

More about leftist voter fraud.

There's Nothing Mainstream About Old Media. If nearly 1,000 people gather at a hotel in downtown Chicago to hear 72 speakers from 23 countries explain why global warming is not a crisis, and not a single mainstream print outlet or network news station reports it, was the meeting any less important or successful? Nope. But it does speak volumes about what's wrong with the old media.

Vivian Schiller and the Party Line at NPR. [Nina] Totenberg's hate speech doesn't qualify as hate speech in the liberal lexicon. Totenberg toes the party line at NPR. She's a good apparatchik, safe among the party hierarchy. Speaking of that hierarchy, the leader is Vivian Schiller, the NPR official responsible for exiling the dissident Williams to Fox News for the crime of bucking party orthodoxy. And amid all the hoopla about Schiller and this episode, there was something reported last week which, expectedly, has eluded media attention: namely, that Schiller once worked as a tour guide in the Soviet Union. ... As usual, the mainstream press will not touch this and will not even ask any questions.

More about NPR and the firing of Juan Williams.

Team Obama's Media Helpers Hide Bad News for Democrats. [Scroll down] The House ethics committee conveniently decided to delay the trials for black liberal Reps. Charlie Rangel and Maxine Waters until after the election. Republicans on the ethics committee issued an unprecedented statement accusing committee chairman Zoe Lofgren of purposely stalling the trials. Network coverage? Zero.

How the Old Media Deliberately Censored New Media Scoops in 2009. [Scroll down] After White House communications director Anita Dunn slammed Fox News Channel as either "the research arm or the communications arm of the Republican Party" in October, Glenn Beck's FNC show unearthed video of her speaking at a 2009 graduation where she lightly declared that mass-murdering Chinese communist dictator Mao Zedong was "one of my favorite philosophers." This speech clip was completely ignored by ABC, CBS, NBC, NPR, Time, Newsweek, USA Today, and the New York Times.

Media Ignore Questionable Activities by Unions. A number of media liberals are up in arms over a far-left blog's inconclusive investigation — replete with innuendo and assumption — purporting to show that the U.S. Chamber of Commerce has illegally spent funds obtained from foreign entities on political campaigns in the United States. Of course near-identical efforts by a handful of the most powerful labor unions have not been mentioned.

Bigoted White Tea Party Woman Beats Petite Black Female Reporter. I'm sorry, I got that wrong. Stupid me. I'm never going to make it in this business. It was actually a big black liberal woman who whaled on a petite white conservative female reporter last weekend. ... In case you missed it (and I'm sure you did) this past weekend it appears that liberal F-bomb droppin' black women at "Unity" gatherings can beat [up] Caucasian girls without it making the evening news or hitting the blogosphere.

What The Mainstream Press Neglected To Tell You About The UN Summit. The mainstream media was very selective in covering the events surrounding the United Nations Millennium Development Goals (MDG) summit and the opening of the new General Assembly session, which over 100 heads of state including President Obama attended.

15 Photos From the OneNation Rally You'll Never See In Legacy Media.

Compare and Contrast Crowd Shots. OneNation vs. Glenn Beck rally on August28.

More about the One Nation rally.

Department of Justice ditches red, white and blue stars and stripes. Well, how interesting! It seems the U.S. Department of Justice has changed its website. Gone are the colorful red, white and blue U.S. flag decorations on the page, replaced by stark black and white. And at the top of the page, is a rather interesting quote...

Michelle Obama made dusk visit to Great Mosque of Granada during Spanish trip. While President Barack Obama was "forcefully" endorsing the Ground Zero Mosque, Michelle Obama was paying homage with her presence to the Great Mosque at Granada, which overlooks what was once Islam's most important outpost in Europe, the Alhambra palace in Granada.

Turning the lights on in media blackout Arizona. Earth to Arizona mainstream media: patriots are already piercing sparks of bright light through your media blackout. "Media censorship in Arizona has now become quite blatant. Can Canada Free Press help," patriot Annette McHugh writes CFP this morning.

A Tale of the Two Mezvinskys. The "wedding of the century," as some of the press has called the Chelsea Clinton-Marc Mezvinsky event, has finally taken place. ... It is quite amazing that with all the press attention the wedding received, there was a blackout where the groom's family was concerned.

Not with a bang but a whimper. Did anyone in Washington (or anywhere outside the beltway for that matter) notice that the United States Senate confirmed Elena Kagan as an Associate Justice for the United States Supreme Court last week? Not to mistrust the intelligence of the American citizenry, but this is, as Anchorman Ron Burgundy would say "kind of a big deal." One sure wouldn't be able to glean very much about the proceedings however, from the cavernous dearth of media coverage of Kagan's confirmation.

Disoriented Judge. Funny how practically no one knew that Judge Vaughn Walker was openly homosexual before his seismic ruling Wednesday [8/4/2010]. Why was such an obvious predisposition worth so little media attention?

Franken most foul. When there is a local angle to a national story, the local press usually has a field day with it. That hasn't proved to be the case with the story regarding Minnesota Senator Al Franken's outrageous behavior in the Senate during Senate Minority Leader Mitch McConnell's speech opposing the confirmation of Elena Kagan on Thursday [8/5/2010]. The Star Tribune ran one perfunctory story by reporter Kevin Diaz and let it go at that.

More about Senator Al Franken.

Joe Biden update: He's fined $219,000 for campaign violations. Due to an unfortunate (and no doubt accidental) error of timing, the news of a nearly quarter-million-dollar federal fine levied against the vice president of the United States, Joe "What Checks?" Biden, was announced Friday — a hot summer day when hardly anyone was paying attention to anything but the tempting weekend at the next exit. ... A Biden spokeswoman, who apparently uses a different money-measuring gauge than the 9.5% of Americans currently unemployed, called the $219,000 penalty as "relatively small." It is equal to about 96% of a vice president's annual salary.

How Politico & WaPo Memory-Hole a Story They Wish Would Go Away. Because search engines are imperfect and I spend most of my waking hours in Hollywoodland, I'm uncomfortable stating outright that Politico has declared a complete news blackout on the DOJ discrimination story. But I am comfortable stating that a good faith search would lead any reasonable person to come to that conclusion. Regardless, what is quite obvious is that Politico doesn't consider the DOJ story anywhere near as important as a private citizen's tax records and their standing as a licensed plumber.

The most important story in American history, you'll never hear on network TV. On April 7th of this year Obama authored the Presidential Assassination Program. It allows for American citizens to be targeted for killing far away from any battlefield. So be clear, we are not talking about enemy combatants like the so called American Taliban. No, what we are talking about here is targeting Americans off the battlefield, who in the opinion of the President alone, that is an unchecked accusation by the Executive branch can call for the assassination of an American citizen that the President deems to be a terrorist.

Documents show media plotting to kill stories about Rev. Jeremiah Wright. It was the moment of greatest peril for then-Sen. Barack Obama's political career. In the heat of the presidential campaign, videos surfaced of Obama's pastor, the Rev. Jeremiah Wright, angrily denouncing whites, the U.S. government and America itself. Obama had once bragged of his closeness to Wright. Now the black nationalist preacher's rhetoric was threatening to torpedo Obama's campaign.

Did someone mention Jeremiah Wright again?

Obama the Titan, or the Cipher? [Scroll down] And what has Obama published on constitutional law or any other legal topic? Although he was president of the Harvard Law Review as a student, in which capacity he no doubt wrote some unsigned notes, a search of the HeinOnline database of law journals turns up exactly nothing credited to Obama in any law review anywhere at any time. This is yet more indication that his status as "lecturer" at Chicago was not a regular faculty appointment, since regular full-time faculty are expected to produce scholarship. Let me say that again. There appears to be not one single article, published talk, book review, or comment of any kind, anywhere in the professional legal literature, under Barack Obama's name, notwithstanding an apparent eleven-year teaching career in constitutional law at a top-flight law school.

More about Obama's pattern of secrecy and obfuscation.

Franken's Felony Vote News Blackout. Maybe I'm deaf and blind, but two weeks after a voting records examination report showed Minnesota Senator Al Franken was probably elected by felons who were illegally voting in that state's 2008 general election, I've yet to come across even one mention of that story in the agenda-setting media.

Did someone mention Al Franken?

Why Won't the Media Cover the Black Panther Scandal? [Scroll down] Blacks, you see, cannot be racist or deny the civil rights of whites — or presumably those of any other race — because of their history of oppression in America, according to the politically correct dictum Marxist political science professor Herbert Marcuse embedded in the minds of our liberal intelligentsia during the '60s. That's important because the agenda-setting media is controlled by those politically correct elite. "Agenda-setting media," by the way, is Marxist MIT linguistics professor Noam Chomsky's term for that portion of media that have a large influence on public opinion and public policy by their choice of stories, the language and images used to tell those stories.

The Voter Intimidation Case and the Blind Eye. There is much more to the case — and it would have doubtless triggered breathless investigations from the New York Times and other mainstream media outlets had similar things occurred under a Republican administration.

Don't Give Me the Facts, I've Got My Story. I'm amazed how Politico can run a story trying to debunk the New Black Panther scandal without interviewing trial team member Christian Adams or any other former or current Justice Department attorney, without relating any of Adams's testimony, without referencing the voluminous research and evidence unearthed by other news outlets, without contacting the offices of congressmen (Reps. Lamar Smith and Frank Wolf) who have been pressing for answers from the administration, and without even mentioning the allegations that the Justice Department won't file civil rights cases against minorities. For over a year, Politico — as well as every other mainstream outlet — ignored the story, so the name of the game, I suppose, is to explain that they didn't miss anything.

Mainstream Media Coverage Slim on NASA, Black Panther Stories. Last year, it was Van Jones and ACORN that slipped under much of the media's radar. But despite pledges to pay closer attention to the "polemic world of talk radio, cable television and partisan blogs," two new stories have taken their place in the annals of things not much reported.

Blackout: MSM Continue to Bash Tea Party, Ignore New Black Panthers. Stunning that the MSM still fosters the impression that the Tea Partiers are a hotbed of armed, racist resentment, when a group that actually is a hotbed of armed, racist resentment sails blithely beneath the mainstream radar.

The NASA-Muslim Outreach Story 'Has Not Made the Cut'.
Total words about the NASA Muslim outreach program in the New York Times: 0.
• Total words about the NASA Muslim outreach program in the Washington Post: 0.
• Total words about the NASA Muslim outreach program on NBC Nightly News: 0.
• Total words about the NASA Muslim outreach program on ABC World News: 0.
• Total words about the NASA Muslim outreach program on CBS Evening News: 0.

Reaction to the article immediately above:
Clarice's Pieces. [Scroll down] In the case of the Washington Post, this failure was particularly noteworthy because during the Bush administration, any change, no matter how minor, in policies and priorities in the Civil Rights Division made it to the front page with hints that a return to slavery was just around the corner.

More about the latest NASA scandal.

Meet J. Christian Adams. [Scroll down] All in all, it is the kind of scandal that, if committed by a Republican administration, would be an endless source of interest among the mainstream media. As it is, to take one example, a Google News search for "New York Times New Black Panther Party Philadelphia" turns up my own post and nothing else on point. ... If this were a Republican administration, [J. Christian] Adams would be celebrated as a heroic whistleblower who put his career on the line over a matter of principle. In the Age of Obama, the crickets are chirping.

Leftist Media Attempts to 'Swiftboat' DOJ Discrimination Scandal. Today, there's the potential for a real scandal brewing in President Obama's Department of Justice regarding the charges Attorney General Eric Holder dropped against the New Black Panther Party for what might be the most obvious case of voter intimidation we've seen in the last 20 years. We also have a whistle-blower from the DOJ, a man named J. Christian Adams, who says that word came down from above to "Never bring another lawsuit against a black or other national minority, apparently no matter what they do." Obviously this is a very serious charge of outrageous discrimination that could do great damage to an already embattled and increasingly unpopular Obama Administration. So naturally the MSM has not and does not want to go anywhere near it — just like they didn't the ACORN story or Van Jones.

They apparently held off as long as they could.
Washington Post had time for Michelle Obama, none for the New Black Panthers case. On July 6, J. Christian Adams testified before the U.S. Civil Rights Commission. The [Washington] Post published its first story in the 2010 calendar year ("2008 voter-intimidation case against New Black Panthers riles the right") about the case on July 15.

More about the Black Panthers incident.

Post mortem:
Sen. Robert Byrd not only was a KKK member but led his local Klan chapter. A quick check of this morning's obituaries reveal that in the eyes of the traditional media, Byrd the Progressive Porker is much more important than Bob the Exalted Cyclops. Byrd joined the Klan at the ripe young age of 24 — hardly a young'un by today's standards, much less those of 1944, when Byrd refused to join the military because he might have to serve alongside "race mongrels, a throwback to the blackest specimen from the wilds," according to a letter Byrd wrote to Sen. Theodore Bilbo at the height of World War II.

Crimes of the NY Times. [Scroll down] Further investigation brought to light the fact that New York Times reporter Walter Duranty knew of Stalin's murder of ten million people and refused to report it. To add insult to injury, Walter Duranty won a Pulitzer Prize in the early 1930s for his reporting from the Soviet Union. But it gets worse. A British reporter, Gareth Jones, discovered the truth and started writing stories about the [Ukrainian] famine. The New York Times published Walter Duranty's rebuttals, admitting that times were tough in the Soviet Union, but there was no Holodomor, or "murder by famine" killing millions of Ukrainians, even though the Ukrainians themselves knew the truth.

Will Media Report Professional Misconduct? Did you know that President Obama has nominated for a federal judgeship someone who believes a serial killer and rapist's "sexual sadism" should be a cause to give him a less serious punishment? Probably not, since the media have given it almost no coverage.

EPA classifies milk as oil, forcing costly rules on farmers. Having watched the oil gushing in the Gulf of Mexico, dairy farmer Frank Konkel has a hard time seeing how spilled milk can be labeled the same kind of environmental hazard. But the Environmental Protection Agency (EPA) is classifying milk as oil because it contains a percentage of animal fat, which is a non-petroleum oil.

More about the EPA.

Another Trust Fund to Rob? In 1986 Congress created the Oil Spill Liability Trust Fund for events exactly like the Deepwater Horizon and the Exxon Valdez oil spills. Since that law's enactment, we have been paying into that fund with each gallon of gasoline, kerosene, Diesel oil and home heating oil we purchase. Why wasn't that fund tapped on "Day One" of this spill? Where is it?

Air Force Prepares for Homeland Defense. For the first time ever, the Air Force is preparing to fight an enemy on American soil. ... What "enemy" could they be preparing to fight against on U.S. soil?

What the MSM Didn't Tell You About Holder and the Police Chiefs. [Scroll down] At first glance this all seems like a perfectly normal news story, but there was a very important piece of information left out: the meeting was arraigned by the Police Executive Research Forum (PERF) and the police chiefs attending the meeting were members of PERF. (Holder is an "old friend of PERF, he addressed their convention in April). ... If the reporters had done some legwork they would have found the group is not just against the Arizona law, it is against any enforcement of immigration laws.

Hypocrisy in the Liberal Establishment. [Kenneth] Gladney is African American. And the SEIU thugs reminded him of his color as they beat him to a pulp, using the N word repeatedly. Two members of the SEIU are under indictment and 4 others are under investigation. Why didn't the main stream media bother to tell this story?

"Soft" Censorship: Honor Killings That You Won't Read About. The mainstream media rarely covers them. More often, local media does, but even local media does so walking on eggshells, careful to quote from at least one apologist and one know-nothing. Usually, the (hardcopy) mainstream media covers such events weeks later, only briefly, or as a way to "spin" any possible prejudice against the perpetrators involved. Sometimes they are mentioned, but only in passing. Rarely do follow-ups appear. Usually, a wire service piece is used, and no original reporting is done. Sometimes, the newspaper's blog might refer to a piece which first appeared in another newspaper which, in turn, has mentioned the subject only in passing. I am talking about how rarely the American mainstream media covers honor killings committed in North America.

As D.C. Cops Fine-Tune Their Story...
Where's the Washington Post On the SEIU Protest? Why is the Washington Post ignoring the SEIU protest at the homes of two bank executives, one being an employee of the Bank of America? Aside from a brief mention in a larger story on May 17 about SEIU protests, the paper of record in the nation's capital has been strangely silent.

CBS Skips Any Mention of Dem Senate Candidate's Military Scandal. CBS's Early Show on Tuesday [5/18/2010] completely ignored the front page New York Times story on Democratic senatorial candidate Richard Blumenthal and his claims to have "served in Vietnam," despite having never done so.

Here's Another $23 Billion Bailout That You May Have Missed. It didn't get much attention, but this week The White House announced its support for a bailout of one of the President's most important constituent groups: public school teachers (teachers unions, basically). A post on The White House blog (via ABC News) late Wednesday evening [5/12/2010] announced that it was time for "bold action" to save teachers' jobs.

A Hidden History of Evil. Pavel Stroilov, a Russian exile in London, has on his computer 50,000 unpublished, untranslated, top-secret Kremlin documents, mostly dating from the close of the Cold War. He stole them in 2003 and fled Russia. Within living memory, they would have been worth millions to the CIA; they surely tell a story about Communism and its collapse that the world needs to know. Yet he can't get anyone to house them in a reputable library, publish them, or fund their translation. In fact, he can't get anyone to take much interest in them at all.

Google clamps down on Obama's Social Security story. Internet behemoth Google apparently is clamping down further on consumers' access to a report about President Obama's Social Security number, which points out the number was designated for a Connecticut applicant, by warning that some sites carrying information on the situation "may harm your computer."

The Editor says...
For those of you who get all your information from television, and have just recently discovered the news media bypass known as the internet, here's the story: Barack H. Obama is a man with a remarkably murky past. His own grandmother says she witnessed his birth -- in Kenya! He's the only American president who has had his name legally changed. His name used to be Barry Soetoro -- that's why columnists sometimes refer to him mockingly as "Barry." When he was a kid, he was registered in school as a Muslim. He says he attended Occidental College, but nobody remembers him being there. The people who call themselves "journalists" haven't really cared about any of this, but a handful of investigators and attorneys have been digging, and one of the most remarkable discoveries is that Mr. Obama has apparently used multiple social security numbers in the past, including one that was issued to somebody else in Connecticut, where Mr. Obama has never lived. If Obama were a Republican, would this not be a front-page scandal?

More about Obama's Social Security Number(s).

Media Ignore La Raza Immigration Protester Fomenting Violent Revolution. Which is more newsworthy: hearsay accounts of racial slurs unsupported by video evidence of the alleged incident, or video of a protester calling for violent revolution against the federal government, the imposition of socialism, and the annexation of the Southwestern states for Mexico? If you chose the latter, you're probably not a journalist of the self-proclaimed "mainstream" variety.

Misperceptions and Media Bungles. Most media underplayed the fact that the man who tried to bomb Times Square has ties to Islamic terrorists. This shouldn't just be a part of the story, it should be THE story. ... Few want to face the truth — most Americans resent that they have to undergo the third degree when boarding airplanes, even though they don't remotely resemble the profile of successful modern-day terrorists. That, while those who do fit the profile seem to get waived past security. This is not my opinion, but a well-researched fact that also is underreported.

American Fossil Fuels: The New Alternative Energy Source. [Scroll down] While Americans obsess about the latest spill in the gulf, Nigeria announces casually the 14,000 tons of oil lost in its ecosystems this past year due to accidents and sabotage. That number has increased dramatically in the last few years, and there is little indication that any sort of public outcry will reduce or even modify energy extraction in a major producer such as the country of Nigeria.

Nashville flood: The South's self-help disaster. The deadly flood that soaked Nashville, including iconic music dives like the Grand Ole Opry, may become the worst disaster to hit the state since the Civil War, and one of the worst non-hurricane disasters in US history. So where was the 24-hour blitzkrieg news coverage of a major US city under water?

'Barack Obama Doesn't Care About White People!' [Scroll down] Consider some alternate explanations for the media's comparative lack of interest: [#1] The media's beloved Obama failed to carry Tennessee, Kentucky and Mississippi. Those states, alien (if not enemy) territory, are simply of minor importance. It's just hard to feel those folks' pain. [#2] One Bush critic argued that the president didn't care about New Orleans because it is "black" and "sexy." Perhaps the media's indifference to Nashville is because that city is "only" 25 percent black, and therefore "white and redneck." [#3] Non-Obama voting, self-reliant "Hee-Haw'ers" who aren't blaming somebody for their troubles just don't make for big news.

Angry Journalists Refuse to Review Anti-Obama Book. Journalists do the public a service by rebutting absurd conspiracy theories and wacko charges. In recent memory, though, they have taken a much greater zeal toward stamping out allegations against Democrats, particularly President Obama, a stark contrast to the kidglove or even promotional attitude they took toward books by liberal authors alleging all sorts of anti-Bush absurdities.

Manipulation, Not Error, Behind Market Plunge. The major media say the chaos on Wall Street was the result of a "trader error, possibly a typo," as the Washington Post put it. Some reports claim the culprit was a "fat finger" on a computer somewhere that pressed the wrong key. But Zubi Diamond, author of the Wizards of Wall Street, says these claims are all lies. "What happened in the market on Thursday [5/6/2010] is a typical example of pure market manipulation" by unregulated hedge fund short sellers.

Catholic Church Facilitates Foreign Invasion. The controversy over Arizona's immigration law should be used to highlight the shameful role of the Roman Catholic Church in facilitating the foreign invasion of the U.S. This scandal deserves as much attention as the seemingly never-ending cases of sexual child abuse involving priests.

Vote for the Crook. It's Important. [Scroll down] Another thing the media would rather not concern voters with is the fact that a lot of the missing Broadway Bank money was lent to Chicago Mob figures. Locally, these are termed "juice loans". Believe it or not, Giannoulias lent some $20 Million to felons who were already convicted and were awaiting sentencing at the time the loans were made. This kind of banking is straight out of The Sopranos. Yet, to CBS news Mob connections are not a disqualifier for public office. Today's Democratic Party is a big tent.

Why Is the L.A. Times Burying the Obama/Khalidi Tape? Given the extraordinary sudden turnabout in US policy toward Israel under the Obama Administration, I have become obsessed by the repressed 2003 videotape of Rashid Khalidi and Barack Obama. That tape — or so we are told — is ensconced in a safe at the Los Angeles Times building. In the current situation, its release by the paper is more important and newsworthy than ever. The Khalidi tape could be of tremendous significance in revealing the provenance of Obama's views on the Middle East and the degree to which the public was misled on those views during the presidential campaign.

The "Collapse" of Communism. The great political upheaval of the late 20th century — the fall of communism in Eastern Europe and the collapse of the Soviet Union — is generally regarded as the spontaneous product of long-accumulating social and economic pressures. That is the official story, which was hammered into our heads by the western media. If you try suggesting that this is not the case, the media will not take you seriously and even refuse to discuss what you are trying to say. It is a taboo topic. But the ample of evidence suggests otherwise.

Bertha Lewis' Lunacy. Performing in its usual anti-American fashion the mainstream media is refusing to report on what is perhaps the most telling revelation by an Obama cohort yet. Bertha Lewis, the current head of ACORN, Obama's initial path to power and the tool he used to destroy the US economy, gave a speech to the Young Democratic Socialists, an arm of the Democratic Socialists of America.

Not News: Brick Thrown Through Marion, OH GOP HQ Window. Tuesday [3/30/2010], a brick was thrown though a window at the Republican Party's headquarters in Marion, Ohio, 50 miles north of Columbus. It would appear fans of Gateway Pundit would be about the only ones outside the local area who would know this.

Should Obama Step Down? On page 31 in the transcribed text of the March 25, 2010 session of the Kenyan Parliament, there is a brief statement by the Kenyan Minister for Lands (Mr. Orengo). What Mr. Orengo says is nothing short of a bombshell, and yet not a mention has been made anywhere in the mainstream media. I think, for obvious reasons.

Media Still Uninterested In Blatant Voter Intimidation. Voter intimidation is a serious threat to our democracy — a parasitic anomaly that many Americans have sacrificed a great deal to prevent. It is unconscionable that we live in a modern society in which such overt thuggery coexists with rational thought and practice. Even more perplexing and disturbing is a federal government, led by an incompetent Justice Department, which appears more than willing to tolerate such antics.

Hmmm... Sounds like he's talking about the Black Panthers incident in Philadelphia.

AP Silent on Motive of Killer Who 'Needed to Take His Family Back to Allah'. Why is the legacy media so reluctant to note the possibility of a radical Muslim faith leading to violence? On numerous occasions, the mainstream press has refused to note even a potential connection. The latest such example concerns a recent quadruple homicide in Chicago.

Sounds like pro-Islam media bias to me.

Debt disaster dead ahead. When the credit rating agency Moody's announced recently that the United States had moved "substantially" closer to losing its AAA bond rating, it largely ran as a wire brief, buried in newspaper business sections. But this obscure announcement may one day be regarded as the beginning of the end of American prosperity.

More Thoughts On Liberal Political Violence. [Recall] the 2008 Republican convention in St. Paul. I attended the convention and remember the terrorist acts that were carried out by anti-Republican protesters very well. They threw bricks through the windows of buses, sending elderly convention delegates to the hospital. They dropped bags of sand off highway overpasses onto vehicles below. ... Yet, hardly anyone seems to be aware of the violence that took place in 2008. At most, the story was treated with a ho-hum attitude in the press.

Ignoring ELF Violence. Al Gore and his green allies never had to spend a week distancing themselves from the violent acts of the Earth Liberation Front. If the major media had covered ELF's firebombing of resort homes and SUVs as they've covered the last week's fringe-nut spitting and brick tossing, the environmental movement's credibility — not to mention its heated rhetoric about "holocausts" and a "war on carbon" — might be different.

Have You Heard? Clinton Appointed Judge Is Impeached. Judge G. Thomas Porteous, Jr. was appointed to the federal bench by Bill Clinton in 1994. In March of 2010 he was impeached by the House of Representatives for bribe taking and corruption. I'm just curious, but have you heard this story about this Democrat judge being impeached?

Stupak's Startling Statement to Catholic News Agency Ignored Elsewhere. This item may not surprise those of us who have watched politicians take the safe way out at any opportunity, but it will give any voters who come across it reason to doubt any Democratic congressman who says that he or she voted no on principle against Obamacare on Sunday, March 21. This explains why it hasn't been covered much — and maybe not at all — in any establishment media outlet.

Rep. Hank Johnson: Guam could 'tip over and capsize'. Rep. Hank Johnson (D-Ga.) is afraid that the U.S. Territory of Guam is going to "tip over and capsize" due to overpopulation. Johnson expressed his worries during a House Armed Services Committee hearing on the defense budget Friday [3/26/2010].

Democrat Rep. wonders if additional Navy personnel will make Guam 'tip over and capsize'. Rep. Hank Johnson, D-Ga., was questioning Admiral Robert Willard about the Navy's plans to relocate 8,000 personnel and their families to Guam. After noting at some length that the island is narrow, Johnson says "My fear is that the whole island will become so overly populated it will tip over and capsize." ... Remember, this guy voted for Obamacare! He knows what's best for you.

The Editor says...
If a Republican had demonstrated such monumental ignorance, does anyone believe this would not be front-page news?

There's no IQ test for serving in Congress. Q: How many Marines does it take to capsize the island of Guam? The correct answer is, "You are asking the wrong question." The correct question is how many congressmen are stupid enough to think you can capsize an island? A: So far as we know (praise God!) just one...

Hank Johnson warns Guam might capsize.

How AP Helped Cover for a Female "Captain Bligh": It was big news when Capt. Holly Graf was fired as skipper of the USS Cowpens. But the story behind the story is how www.MilitaryCorruption.com unearthed a dramatic photo of Graf's cruiser nearly hitting the destroyer the USS John S. McCain while drag racing at sea and coming within 300 feet of collision. Many media outlets in this country wanted to quote us and publish the photo. But some — like the AP — wanted to avoid the truth.

Caught on Camera — Crazed Captain of Cruiser Cowpens. It's been said a picture is worth a thousand words. We can only hope the one [in this article] is worth a court martial, even if it makes the Navy blanch to punish an incompetent and unstable "politically correct" poster girl for all the super feminists at the Pentagon and the U.S. Naval Academy.

Living Legends. This month in Chicago, an event will honor three men as "living legends." The men are Minister Louis Farrakhan, head of the Nation of Islam, the Rev. Jeremiah Wright, the former pastor of Barack Obama's church, and Father Michael Pfleger, a radical-left Catholic priest. ... There are many interesting things about this exposition. First, it has received almost no media coverage, even though Farrakhan, speaking before a crowd of 20,000 a few days ago, accused the "white right" of planning the assassination of President Obama.

The Pill and Breast Cancer: Bad news for women who have been using birth control pills, although you won't learn about it from the mainstream media. An International Agency for Research on Cancer (IARC) Monographs Working Group has concluded that combined estrogen-progestogen oral contraceptives and combined estrogen-progestogen menopausal therapy are carcinogenic to humans, after a thorough review of the published scientific evidence.

Brokaw Touts Corrupt Obama Friend/Mayor Kevin Johnson, Skips Misuse of AmeriCorps Funds. Even though at one point Brokaw recounted that Johnson founded the St. Hope foundation to help provide education, the former NBC anchor did not bring up Johnson's history of corruption, specifically the finding that he misused $800,000 in AmeriCorps funding at St. Hope.

You see, that's what the Walpin scandal is all about. That's why this was a glaring omission.

NBC: Obama Made Dalai Lama Sneak Out of White House Past Trash Bags. Uniquely among Friday's broadcast network evening newscasts, NBC Nightly News anchor Brian Williams gave his viewers a glimpse into the undignified exit endured by the Dalai Lama, who was made to walk past a number of trash bags as President Obama sought to keep the Chinese government from noticing the meeting. A photograph of the Tibetan spiritual leader walking past the bags was shown as Williams read the piece.

Global Warming in Last 15 Years Insignificant, U.K.'s Top Climate Scientist Admits. The embattled ex-head of the research center at the heart of the Climate-gate scandal dropped a bombshell over the weekend, admitting in an interview with the BBC that there has been no global warming over the past 15 years.

Evidence of Climate Fraud Grows, Media Coverage Doesn't. Newsbusters' Noel Sheppard lets the mainstream media have it for completely ignoring this weekend's game-changing revelations from Climategate conspirator Phil Jones while jumping all over the ejection of director Kevin Smith from a Southwest Airlines plane for being too fat.

Amy Bishop a 'bitter clinger' to Obama. [Scroll down] Apparently an Obama fan, living in a small town who was bitter and angry at losing her job, who felt the proper folks weren't paying attention to all her wonderful work, took the words of her idol to heart and skillfully — and tragically — once again using a gun shot and killed three colleagues at the University of Alabama.

Spray-Shoot Politics. A gun-toting Obama extremist shoots six at the University of Alabama, killing three. But the media are curiously silent about the politics. Think it would be the same if the shooter were right-wing?

Largest Union Theft in History Goes Largely Unreported. While the mainstream media swarmed all over Bernie Madoff, AIG and corporate billionaires, the gentlemen of the press, who are so proud of fighting for the Little Guy, were mostly out to an expense account lunch when Melissa King allegedly made off with $42 million rightfully belonging to members of the Laborers International Union of North America.

Global warming science implodes overseas: American media silent. The revelations have been nothing short of jaw dropping. Dozens — yes dozens — of claims made in the IPCC 2007 report on climate change that was supposed to represent the "consensus" of 2500 of the world's climate scientists have been shown to be bogus, or faulty, or not properly vetted, or simply pulled out of thin air. We know this because newspapers in Great Britain are doing their job...

The Great Unraveling. Compounding the headaches for warm-mongers is a probe being launched by the British Parliament into the Climate Research Unit e-mail scandal. ... This isn't terribly fresh news, having been announced on Jan. 22 by Parliament. But news that casts doubt on global warming tends to move slowly, if at all, in the U.S. media. If not for the foreign press, the inquiry would be virtually unknown in this country.

Convicted Dem Mayor of Baltimore Resigning; BaltSun Leaves Out Party Affiliation. Criminally-challenged Baltimore Mayor Sheila Dixon (D) today announced her resignation from office effective February 4. Nowhere in their 9-paragraph breaking news article filed at 3:44 p.m. EST today did Baltimore Sun reporters Liz F. Kay and Liz Bowie note Dixon is a Democrat, even though her party has a monopoly on the city's elected officials and has for decades.

President Obama Names Transgender Appointee to Commerce Department. President Obama recently named Amanda Simpson to be a Senior Technical Advisor to the Commerce Department. ... While Simpson is clearly one of the first transgender presidential appointees, Democratic officials say they're unsure if she is the very first one. The White House had no comment on her appointment.

Meet Obama's transgender appointee. The Obama administration's appointment of Amanda Simpson to a relatively low-profile spot as advisor to the Commerce Department felt intentionally buried over the New Year's news cycle. Why? Simpson, who will be working in the Bureau of Industry and Security, used to be a man.

Taxpayers Fund Abortions But Not School Vouchers. If you didn't hear about this until now, don't be surprised. Over 300,000 pro-lifers marched in Washington last month without notice by the mainstream media. So, I'd like to take a moment to explain what happened.

Tests Find Emissions of Fort Worth Drilling Sites Don't Exceed Standards. State officials say preliminary tests showed no evidence that natural gas drilling is releasing hazardous chemicals in Fort Worth, after three days of sampling in December. "Based on this study, the air's safe and we will continue to monitor," said John Sadlier, deputy director of the Texas Commission on Environmental Quality.

The Editor says...
You can be sure that if the results had gone the other way, this would have been headline news.

Why Won't the MSM Cover Islam? What Are They Afraid Of? There are many things on the World Wide Web that are not suitable for public viewing but that should be required viewing for journalists and political figures to alert them to the horrors that exist in some parts of the world. This should not be to incite but rather to rinse away their naïvité in dealing with a hostile culture and our potential enemies. It is apparent that the mainstream media has no interest in covering stories that shed an unfavorable side of Islam and, frankly, this smacks of cowardice.

So, was this a language misunderstanding or terrorist dry run? Look up the date. Flight 297, Atlanta to Houston. If this wasn't a dry run, I don't know what one is. They wanted to see how TSA would handle it, how the crew would handle it, and how the passengers would handle it. I'm telling this to you because I want you to know. The threat is real. I saw it with my own eyes.

Security Incident Aboard AirTran 297 Suggests Terror "Dry Run". On November 17, an incident took place aboard AirTran Flight 297 scheduled to fly from Atlanta Hartsfield Airport to Houston that the media does not want to cover and everyone from the airline to the TSA and other government agencies want to keep very quiet.

Labor Unions and the News Media. Over the years, commentators have given much thought to the news media's "liberal bias." But one issue has been overlooked — press criticism of labor unions. That is because it is hard to spot something that doesn't appear in print. The media just don't publish criticism of unions. The main reason, I believe, is that newspaper reporters are themselves largely unionized. Their operating principle is solidarity: unionized workers don't criticize other unionized workers. Which means they don't criticize labor unions.

'Welcome to Obamaville' Sign At Homeless Tent City, Media Mum. A sign reading "Welcome to Obamaville Colorado's Fastest Growing Community" appeared at a homeless tent city in Colorado Springs this week. You probably didn't hear about it because outside of two Colorado television stations nobody found this newsworthy.

ACORN Throws Out Republican Voter Registrations. ACORN wants people to register to vote — as long as they're Democrats. Republican registrations go into the trash. Here is a first-hand account of how it happens.

12 Days, 3 Networks and No Mention of ClimateGate Scandal. Even as Copenhagen looms, broadcast news ignores e-mails suggesting warming alarmists 'manipulated' data, conspired to destroy information and thwarted peer reviews.

Climategate: How the MSM reported the greatest scandal in modern science. [Scroll down] But in the case of "Climate Change", the MSM has been caught with its trousers down. The reason it has been so ill-equipped to report on this scandal is because almost all of its Environmental Correspondents and Environmental Editors are parti pris members of the Climate-Fear Promotion lobby. Most of their contacts (and information sources) work for biased lobby groups like Greenpeace and the WWF, or conspicuously pro-AGW government departments and Quangos such as the Carbon Trust. How can they bring themselves to report on skullduggery at Hadley Centre when the scientists involved are the very ones whose work they have done most to champion and whose pro-AGW views they share?

More examples of media bias related to environmental issues.

Signs of a scandal brewing?
Anita Dunn's Husband Becomes White House Counsel. [Scroll down slowly] A highly placed Washington attorney ...[says] "I'm surprised not only that the press seems to be ignoring the fact that two presidential lawyers have left at about the same time, [...] "but that no one seems to care that for the first time, I think ever, we have a President's personal attorney also serving as White House counsel.

Media Ignore Climate Science Scandal. Media bias is one thing. But we have just witnessed one of the greatest scandals of modern science, and it barely made the front page of the New York Times.

Climategate: how they all squirmed. Among the many great amusements of the Climategate scandal are the myriad imaginative excuses being offered by the implicated scientists and their friends in the MSM as to why this isn't a significant story.

Hot air under radar. It should be known as "climategate" and should be a front-page story in every newspaper worth the name and the lead item on television and radio news throughout the world. Instead it has generally been ignored and often deliberately covered up.

What Story? If you rely on the lavishly remunerated "climate correspondents" of the big newspapers and networks, you'll know nothing about the Climate Research Unit scandals — just the business-as-usual drivel about Boston being underwater by 2011.

'Science Is Dying': What Media Are Really Missing About ClimateGate. While most global warming-obsessed media have either ignored or downplayed the significance of the growing ClimateGate scandal, the Wall Street Journal has been on top of this story since it first broke two weeks ago. On Thursday [12/3/2009], Journal editorial page deputy editor Daniel Henninger penned a piece that should be an absolute must-read for all the so-called journalists in America that have either intentionally boycotted this controversy or have participated in hiding its seriousness from the public.

Seeing No Evil On Climate-Gate. The shameless denial with which major newspapers and networks have treated "Climategate" layers even more scandal on top of the original one: Mainstream media now co-conspirators with scientific hacks and big government. The evolution of America's dominant media from guardians of our freedoms to enablers of government growth has been a decades-long story, their biases copiously chronicled. But their response to the scientific scandal of the century, since it broke a week and a half ago, bids to become known as history's great unmasking of these supposedly independent journalists.

Did someone mention ClimateGate?

Hit and Run. Some recyclers still need months to strip thousands of clunkers before they send the last of the steel carcasses to the crusher. Other than the recycling story, there has been little journalistic follow-up of Cash for Clunkers (C4C). The business media has written about the economic lunacy of the C4C program, but the Obama media seems suspiciously quiet about its final results.

Did someone mention Cash for Clunkers?

Obama Gives Shout Out to 'Congressional Medal of Honor Winner' Who Isn't. Obama, often described as "cerebral" by the mainstream media, should know the difference between the Medal of Honor and the Medal of Freedom, especially since he personally awarded the latter to Crow. Don't expect his blunder to receive wide coverage.

Obama Effect already working to embargo Fox News story. Yesterday [10/21/2009], Fox News reported the hearings held by Senator Joe Lieberman with cabinet officials concerning a shortage of flu vaccine. I'm sitting in Afghanistan not getting much broadcast TV news. I wanted to find out more, so I searched Google News for related articles. It turns out that as of this writing, the rest of the media is not reporting this event, at least in print.

If you can't get a flu shot, maybe you're the lucky one...
Over 1000 Adverse Reactions to H1N1 Vaccine Since October. In recent months, H1N1, or swine flu, has been spreading all over the globe, raising concern and alarm. ... But while the vaccine may help protect against swine flu, reports from the Centers for Disease Control suggest that the vaccine has problems of its own. Since the vaccine began being administered in early October, there have been almost two thousand adverse events reported to the Centers for Disease Control vaccine reporting system, VAERS.

Mainstream media blackout on Dick Cheney speech. American opposition to the Obama Administration and/or its policies are 'silenced.' Former Vice President Dick Cheney gave an important speech today [10/22/2009] and it was not televised on any American "news' or "quasi-news" network. Recently this administration has boasted about 'controlling' all American news networks. Indeed, they apparently do. Not even Fox news televised this speech. They have, however, posted the speech on their website.

The lack of coverage over horrific black-on-white killings in America's Deep South. It was the kind of crime that strikes terror into the hearts of parents everywhere. A bright young couple were carjacked after a Saturday night date and murdered in the most brutal way imaginable. Christopher Newsom, 23, was tied up and raped, shot in the back of the head and then dragged to a railway track and set on fire. His girlfriend, 21-year-old University of Tennessee student Channon Christian's fate was even more horrific.

Obama's Pedophilia Czar. Here we have the President of our country through one of his Czars telling our schoolchildren to not only to expect to be molested but that they should enjoy the experience. You will never see a single story in any of the mainstream alphabet news organizations that could be considered detrimental to Obama's political career, especially not one this damaging. You have noticed that this story has no legs whatsoever? If this had happened under a Republican administration it would be page one in every news outlet there is and it would run for weeks with Congress calling for not only impeachment but jail time.

Barack Obama's Anti-Semitic Website. [Scroll down] The site was and is closely policed. The site moderators remove material that they consider to be "disrespectful to our other users" and to "detract from a welcoming community where all people can engage in positive discourse." What they find disrespectful can be interesting ... But the most disgusting anti-semitic ravings remained on the site, along with blogs advocating anarchy and the overthrow of the United States Congress.

How The VRWC Really Works: The more accurate the reporting on a story that unnerves the Democrats, the more likely the major media are to block it. There is no more stunning example of this than the reporting on Christopher Andersen's new best-seller, Barack and Michelle: The Portrait of an American Marriage.

Jobless rate hits 17 percent. America's jobless crisis is much worse than the 9.8 percent unemployment rate reported Friday [10/2/2009]. To understand how there are many more unemployed than the government reports, it's necessary to look at the numbers used by the Bureau of Labor Statistics to calculate the unemployment rate. The Household Survey numbers paint a bleak picture that no one is discussing.

At the president's pleasure. A teacher was told by a 15-year-old high school sophomore that he was having homosexual sex with an "older man." At the very least, statutory rape occurred. Fox News reported that the teacher violated a state law requiring that he report the abuse. That former teacher, Kevin Jennings, is President Obama's "safe school czar."

Capital Hill Switchboard Illegally Being Used to Push Obamacare? If you call one of the numbers that leads you to the switchboard for Congress, the number you'd call to be put through to your Congressman or Senator's office, you get a short message selling Obama's healthcare policies before being transferred to the switchboard operator. This should be the sort of story the Old Media would investigate fully. But will it?

The Media Genius Of Andrew Breitbart. Breitbart, who first made a splash on the new media scene at The Drudge Report, released the first video shot by "the pimp and the prostitute" (James O'Keefe and Hannah Giles) on Sept. 10, the day Breitbart launched his new Web site, BigGovernment.com. ... O'Keefe previously helped expose racism at Planned Parenthood — phone operators for the pro-abortion group willingly accepted donations explicitly intended for killing black babies — but the liberal media wouldn't touch that story. Live Action Films since has revealed criminal behavior at Planned Parenthood, but not only have journalists ignored that news, YouTube has banned the videos to help suppress the story.

ACORN Story Grows But Mainstream Media Refuse to Cover It. This story has everything you could ever want -- corruption, sleazy actions at tax-funded organizations, firings, government ties, sex, hookers. It is a network news director's dream. Imagine the ratings. But almost no one is covering it.

Media Ignore ACORN Giving Business Advice to Pimp and Prostitute. You would think videos exposing representatives of the controversial organization ACORN giving advice on how a couple can get a loan to set up a brothel would be BIG NEWS. Such would seem especially the case if the proposed house of ill repute would be employing minors illegally smuggled across the border from Central America. Yet, when Andrew Breitbart's new website Big Government published such videos Thursday morning, media normally fascinated with sex stories almost completely ignored it.

More about ACORN.

T'was Accountability That Led the Mainstream Media to Suicide. Mainstream news outlets have been caught off guard before, but they used to play catch up. Today they play "hide the ball." For as long as I've been politically aware the media's been biased, but willfully ignoring a major national news story at great cost to their credibility and relevance is a new low. So what changed? Ironically enough, scrutiny and accountability is the cause of much of the media's increasingly disgraceful behavior.

Charles Gibson Claims to be Unaware of Five Day-Old ACORN Controversy. This morning, co-host Don Wade of 890 WLS radio's Wade and Roma show in Chicago threw a question at ABC World News Tonight anchor Charles Gibson that I suspect was on many listeners' minds...

A "Sting"-ing Indictment of Media Hypocrisy. Undercover journalism is only acceptable when it fits a liberal agenda. That is the message from "professional" reporters and left-wing activists outraged about three successful video stings targeting President Obama's old friends at the left-wing tax-subsidized outfit ACORN. ... Head-in-the-sand ABC News anchor Charles Gibson claimed he "didn't know" about the ACORN scandal this week and snarked that "maybe this is just one you leave to the cables."

Mainstream Media Fears Where Stories They Ignore May Lead. Yesterday the anchor of a major network (ABC) consciously chose to try and look like an imbecile rather than have to answer why he wasn't covering what so far ranks as the biggest story/scandal of the year. And I say "try and look like an imbecile" because the ruse didn't work. You, me and anyone with an IQ above room temperature knows he wasn't telling the truth about not knowing anything about the ACORN scandal.


---

The New York Times attempts to ignore the ACORN scandal

A deliberate omission of a major story from a leading newspaper could have worked ten years ago, but there are hundreds of news sources on the internet, and the editors of the New York Times cannot credibly pretend that they weren't aware of the ACORN scandal as soon as anyone else. Even so, the newspaper kept the story out of print until it became embarrassing to hide it any longer.

Finally: An ACORN Story Sprouts Into Print at the NY Times. On Wednesday morning [9/16/2009], the ACORN scandal finally blossomed into an actual print story from an actual New York Times reporter. Previously the Times had almost totally ignored the blossoming scandal, even as the Census Bureau cut ties with the controversial left-wing housing activist group and the Senate voted overwhelmingly to withdraw the group's funding.

NYT assigns editor to monitor opinion media. After being late on Van Jones and ACORN — two stories pushed aggressively by Fox, talk radio and conservative blogs — NY Times public editor Clark Hoyt describes the paper's "slow reflexes" when covering both stories in today's column: "Tuning In Too Late."

The Blind Spot At The New York Times. Surprise, surprise. Clark Hoyt, the ombudsman of The New York Times, has an ounce of objectivity in his bones — but only an ounce. Hoyt's latest column, "Tuning In Too Late," took the newspaper to task both for ignoring the fall of ACORN and then dismissing the community organization's demise as the work of evil conservatives out to "draw blood."

NYT Tries to Deflect Charges of Bias, Announces 'Opinion Media' Editor. The New York Times announced today [9/27/2009] that it would appoint an editor to monitor 'opinion media'. In an attempt to respond to criticism that it has been too slow to pick up on stories first reported by conservative blogs and talk show hosts, the Times acknowledged poor coverage, but denied a political agenda. The self-proclaimed 'paper of record' was extremely slow in picking up on two recent stories.

Out-Foxing The Times. The New York Times, still smarting after losing scoops to Fox News, has thrown in the towel, vowing to avoid future embarrassment by monitoring the cable channel. We have a better idea — it's called reporting.

More examples of bias at The New York Times.



This is an original compilation, Copyright © 2013 by Andrew K. Dart
---

54 Percent Say the More They Learn About ObamaCare, the Less They Like It.
Washington Post Ignores its Own Poll Finding. A Washington Post-ABC News poll conducted in the three days following President Barack Obama's speech to Congress about his health care plan discovered that 54% say the more the hear about the plan the less they like it. This particular poll result was not mentioned anywhere in the story about the poll that was posted by the Washington Post on its Web site on Monday [9/14/2009]. The result did appear in the data sheet from the poll that was linked to the story.

Chicago Tribune Ignores Thousands at Tea Party Express Protest. You might think a major metropolitan newspaper that boasts "The Midwest's largest reporting team" on its front page would report on a suburban demonstration attracting thousands of people. In the case of the Chicago Tribune, you'd be wrong. Today's Tribune print edition makes no mention of yesterday's Tea Party Express protest in New Lenox, Illinois, located only 36 miles from Chicago's Loop.

More about the tea parties and town hall meetings which have received very little favorable coverage by the national news media.

All Three Morning Shows Skip Any Reference to Radical Obama Czar. All three morning shows on Friday [9/4/2009] skipped any reference to the developing controversy over Obama administration Green Jobs Czar Van Jones and his connection to the 9/11 Truther movement. CBS's Early Show, NBC's Today and ABC's Good Morning America totally ignored the story, although ABC's Jake Tapper did file an online report over the subject.

The Van Jones (non) feeding frenzy. From a Nexis search a few moments ago:
Total words about the Van Jones controversy in the New York Times: 0.
Total words about the Van Jones controversy in the Washington Post: 0.
Total words about the Van Jones controversy on NBC Nightly News: 0.
Total words about the Van Jones controversy on ABC World News: 0.
Total words about the Van Jones controversy on CBS Evening News: 0.
If you were to receive all your news from any one of these outlets...

NYT Editor Offers Tepid Excuses for Lack of Van Jones Coverage. A top editor at the New York Times this week owned up to the paper's lack of coverage of the controversy surrounding former Green Jobs Czar Van Jones. Rather than leaving it there, however, the editor noted the paper's minimal online coverage, insisted that the Washington bureau was short-staffed, and suggested that Jones and his contentious positions really were not important enough to cover at length.

NHS 'Liverpool Care Pathway' Looks an Awful Lot Like a Death Panel. There's a reason Matt Drudge just got done celebrating an all-time record August traffic count. His visitors know that he constantly links to newsworthy stories they likely won't find reported prominently in establishment U.S. media outlets, if they're reported at all.

ABC Buries Harsh Kennedy Obit in the Middle of the Night. In the early hours of Wednesday [8/26/2009], reporter John Donvan narrated a tough, comprehensive look at the life of Ted Kennedy, one that went so far as to assert that the Senator was sometimes "a let down, an embarrassment to his family, to his party, to himself." However, this eight and a half minute segment, which looked into Chappaquiddick, Kennedy's cheating at Harvard and other scandals, aired at 2:30 in the morning, during a special, late night edition of Nightline.

White House Press Corps Happy to Attend Barack Obama's Off-the-Record BBQ. Reporters from roughly 30 television networks, newspapers, magazines, and web sites celebrated the Fourth of July with Barack Obama at the White House last weekend. Why didn't you know that? Because they were sworn to secrecy.

It's official: Obamanomics has failed. With the sycophants in the Obama press corps distracted while rubbing elbows with the Obamas and other rich folk on the Vineyard, the O Team threw their sucker punch: officially announcing that the federal budget deficit next year will be nearly 20% more than in their first forecast made just last May, and over the next ten years will be two trillion dollars more than they had predicted.

'Apostate' Girl's Father: The Unreported Story. Rifqa's parents, Mohamad and Aysha Bary, signed affidavits declaring themselves indigent. That's why the Florida court appointed a lawyer for the father and a lawyer for the mother. Both their lawyers are being paid by the taxpayers of Florida. ... Yet in a Dunn and Bradstreet report filed by Mohammad Bary himself for his business, Bary Gems, he states his business does $237,561 per annum. The wife, Aysha Bary, makes high-end bridal gowns (that income may be off the books, but she works every day).

Did someone mention Rifqa Bary?

Media Blackout on Obama eligibility dates back to November. The Northeast Intelligence Network and Canada Free Press are in possession of extremely sensitive investigative documents, including a stunning written admission by a nationally known talk show host stating that he was threatened with his career — or worse — should he talk about the issue of Barack Hussein Obama's birth records to a national audience. This document was obtained on December 10, 2008, and provides explicit detail of a "gag order" imposed on this host before and immediately following the national election last November.

Did someone mention President Obama's birth certificate?

GE/NBCU Trying to Stifle Other Media's Coverage of Company. It's a very dangerous situation when any huge multinational corporation wages war against media companies. Especially when that huge multinational corporation is General Electric, which itself owns a media company, NBC Universal, and it's using all its power and influence and money to try to harm another media company, Nielsen, and Nielsen Business Media, and its trade publication The Hollywood Reporter.

Part of Gates Gate Not Getting Much Media Attention. Apparently, [Professor Henry Louis] Gates has since the arrest announced he is in the early stages of involvement in a PBS TV series on civil rights in America. It is odd that this single fact has not been a focus of much discussion. After all, if Gates is about to start a TV show about civil rights, what better way to punch up that participation than to "suddenly" get mixed up in a national civil rights "abuse" case? What better way to highlight America's civil rights problem than to become a nationally known victim of so-called racism?

CNN Fails to Report Woman Comparing Obama to Hitler is a Lyndon LaRouche Democrat. CNN's Larry King showed [a] video of Barney Frank laying the smack down on a woman at a townhall meeting who compared Obama to Hitler. CNN left out the fact that this woman is a Lyndon LaRouche Democrat.

White House War On Science. Inspectors general are apparently not the only ones to pay for annoying the White House by doing their job. The 18-member council existed to provide the president with advice on the moral and ethical implications of the rapid advances in science and medical research. It exists no more. The council existed to ponder whether we should do something just because we can. Apparently President Obama wanted not advice but agreement on such matters, particularly with regard to one of the panel's areas of interest, embryonic stem cell research. So he has fired them.

How to write a NYT article on an Obama controversy. The New York Times finally got around to reporting that the White House fired Inspector General Gerald Walpin, a week after it happened, when the Associated Press — to which the Times belongs — first put in on the wires.

The Editor says...
Rest assured that the New York Times would never have mentioned this incident were it not for the internet acting as the "media bypass."

Update:
Examiner's York gets goods on Americorps. On Friday, The Washington Examiner's chief political correspondent, Byron York, had another stunning report on the scandal involving the firing of Americorps Inspector General Gerald Walpin. ... York's latest blockbuster is his reporting of a congressional report prepared by Sen. Charles Grassley, R-Iowa, and Rep. Darrell Issa, R-Calif. While probing the misuse of funds allegations, congressional investigators were told that Johnson made improper advances toward three young women at St. Hope. ... To the extent the Walpin story has gotten any attention, the coverage has been appallingly slanted.

He won't attend the National Day of Prayer, but...
Obama Sends "Best Wishes" to Muslims Before the Start of Ramadan. In a video message posted on the White House website President Obama extends his "best wishes" to Muslim communities in the US and around the world for Ramadan.

The U.S. Department of Injustice. Let's examine the uproar over Attorney General Eric Holder's decision to protect hate-mongering thugs who harassed and bullied precinct workers and voters on Election Day in Philadelphia. Oh, wait. There's been no uproar. Let me tell you why.

Our Dangerous Media. What would happen if America won a war and no one reported it? Is it still news? What if a credible argument were made pretty much demolishing Darwin's theory of evolution? If no media outlet conveyed this information to the American public, does that mean it's not a valid argument? Does that mean it's not news? The liberal media would have you believe so.

Judge Sotomayor and The New York Times: A Strange Omission. [Scroll down] But there is a very strange and troubling omission in the online version of [Sherl Gay] Stolberg's article, when compared with what was in some of the actual print editions, and was removed from the version published online by the Times. ... Here is the missing sentence from Stolberg's article: "In the footnotes, Ms. Sotomayor wrote that she relied on books that used 'Marxist-Leninist analysis' — not an uncommon tool for historians — to study the impact of colonialism on the island."

Why the suddenly shy press corps? The May employment figures are out. The new jobs data blatantly, unambiguously contradict the claims made by the President earlier in the year when he was justifying the stimulus bill. But the silence from the mainstream media over the difference between President's promises and his results has been nothing short of deafening.

Global Cooling Report: The Weather News You Didn't See. A list of 100 recent news items about global cooling.

Did someone mention global cooling?

Obama Quietly Issues Statement on Terrorist Attack in Arkansas. After two days of silence, President Obama issued a statement Wednesday on the shooting of two U.S. soldiers by a Muslim militant in Arkansas — but the White House didn't even email the statement to its list of national reporters. Rather, the White House appears to have quietly released this statement to a local AP bureau in Arkansas...

Bidding farewell to the country's 'war on terror'. The liberal media are now actively downplaying Muslim terrorism, and that was vividly demonstrated last week when two soldiers were shot by an American-Muslim in Arkansas. One of them, 24-year-old Private William Long, was killed. There is no doubt the cold-blooded murder of Pvt. Long by Carlos Bledsoe, aka Abdulhakim Muhammad, was a shocking story. But if you were watching Katie Couric on the "CBS Evening News," you missed it, as Couric did not mention the murder. On ABC, Charles Gibson ignored the story as well. On NBC, Brian Williams spent less than two minutes on the situation.

Cops and Teachers vs. Chrysler and Obama. The list of victims for Obama's government squeeze of auto maker bondholders is longer than anyone thinks. Not only is the story of pension funds who were stiffed when Obama wiped Chrysler's slate clean not being widely reported, but the victims of those funds — in one case, Indiana cops and teachers — remain unidentified by the media. It is a calamity for tens of thousands of Americans as reported in Business Week by Esme Deprez.

News Media Blackout: Iraqi Muslims Slaughtering Christians. Either intentionally or unintentionally, United States news media outlets are ignoring the violence perpetrated by Muslims against Christians in Iraq. While some believe this stems from the fact that reporters have moved on to stories other than US operations in Iraq, others believe this lack of coverage has more to do with the anti-Christian bias that exists within the media.

Heterosexual Pride Month. Obama came through on his campaign theme of 'equality' Monday [6/1/2009] by proclaiming June as "Lesbian, Gay, Bisexual, and Transgender Pride Month".

Gold and silver Yes, "Amero" No! If you can't see where the U.S. dollar and gold are headed, I'll be crystal clear! The dollar is going in the exact same direction as the Zimbabwe dollar and Mexican peso. Between the last devaluations of the peso, it's lost 99.9%. If you want to know the price of gold in old pesos; you just have to multiply gold by 100,000. With everything that has taken place, many "main-stream" TV commentators believe or want us to believe, that the U.S. dollar is now the currency of choice; a safe haven or flight to quality. Nothing can be further from the truth.

Obama Lifts Ban on Lobbyists! Back to Business as Usual. Roll Call is reporting that during the typical Friday afternoon document dump — a practice used to hide actions that might prove somewhat embarrassing to the White House — the administration quietly announced that some of the former restrictions on lobbying ballyhooed about during the late campaign have been lifted. And now, we have to wonder: will the media notice this sudden change? I mean, a whole day has gone by and so far only Roll Call has mentioned it.

Frivolous complaints. The ethics complaints against Gov. Sarah Palin are dropping left and right — as in dropping dead. That's an appropriate fate for most of them. The Alaska Personnel Board has dismissed 11 complaints against the governor as of Tuesday's [5/12/2009] count.

Palin ethics complaint dismissed. [Scroll down] The board, following the recommendation of an independent counsel, threw out the complaint for lack of merit. The governor's office said it was the 13th ethics complaint filed against the governor or her staff that has been resolved with no finding of a violation of the state ethics law.

What if George W. Bush had said this — before or after Hurricane Katrina?
Obama: Hurricane readiness is residents' responsibility. Ahead of Monday's official start of the hurricane season, President Barack Obama urged Americans in vulnerable areas to take responsibility for their own safety and to get ready now.

'We Are Out of Money'. President Barack Obama handed his political opponents a bludgeon the size of Thor's hammer Saturday [5/23/2009]. In a story played up by the Drudge Report but virtually ignored by the New York Times and Washington Post, C-SPAN's Steve Scully pointed to the massive financial obligations taken on by his administration and to America's generally lousy financial forecast. He asked Obama, "At what point do we run out of money?" "Well?" the U.S. president began with his practiced nod to the unhurried, unflappable style of Ronald Reagan. Then he said it: "We are out of money now."

Media Love Ignoring Bad News About Al Sharpton. Al Sharpton has certainly become one of the media's sacred cows of late, so much so that when bad news crosses his path, America is unlikely to hear about it. Take for example a rather embarrassing incident that happened to the former Democrat presidential candidate on Friday [5/15/2009] which went almost completely ignored by journalists from coast to coast.

Still the Biggest Missing Story in Politics. In August of last year I wrote an article, "The Biggest Missing Story in Politics," which reviewed the single most important datum in the last thirteen Battleground Polls over a period stretching from early 2002 to late 2008. The critical fact, completely ignored by almost everyone, was that in answering Question D3, which asked the respondent what he considered his ideology to be, sixty percent of the American people described themselves as "conservative" or "very conservative."

Obama: 'We're out of money'. I wish he would have realized that about $11 trillion ago. In a Memorial Day weekend interview with C-SPAN's Steve Scully, the President of the United States told the people of America that their government was flat broke. ... This is a man who hasn't a clue.

'I Bond' Payments Get Wiped Out. Rates on government securities, certificates of deposit and savings accounts all have plummeted in recent months. Now, yields on another safe haven — Series I Savings Bonds, or I bonds — are dropping to nothing. Friday [5/1/2009], the Treasury Department said these inflation-linked bonds that are purchased between May and October will earn 0% for their first six months, the first time rates have hit 0% since the bonds were issued in 1998.

CNN Invents the News, Again. Yesterday's top news story was the very public debate between President Barack Obama and former Vice-President Dick Cheney regarding the interrogation of captured terrorists. ... [But] CNN chose as its top news item something that happened over five years ago, not even providing its readers with a single sentence explaining how this particular story was remotely newsworthy.

Media Malfeasance. The majority of Americans realize the liberal bent of the old media. Most can identify opinion pieces that are increasingly presented as news, but they have to resort to the net or talk radio in order to be made aware of all the good news which is deliberately relegated to the back burner in the (remaining) newspapers and nightly news broadcasts.

Tea Parties? What Tea Parties? Coverage of "tea party" protests in various cities around the country ... has been sparse to non-existent, especially at major establishment media outlets. ... As if you didn't know already: With the exception of a one-paragraph blog post at the New York Times, searches at the Washington Post and the Times on "tea party" (not in quotes) indicate that there was no coverage of the protest events. Maybe the tea partiers should have told the press that they were holding Iraq War protests.

Tax Day, 2009: The day the mainstream media died? In the past, major media outlets have given antigovernment 'tea party' protests — like the ones held today — short shrift. Critics say it is because they are out of touch with America.

Note to the Media — Just Do Your Job and Cover the Tea Parties. If you do something of note and the media choose not to cover it — the issue might just as well not exist. Such is the fate of Wednesday's national Tax Day Tea Party. This mega-gathering of tax protesters is scheduled for every single Congressional district in the country. More than 500 events are planned. And the national news media have either been silent or shown contempt for the effort.

CNN Versus the Tea Parties. When thousands of people in all 50 states assemble to protest government policy, you might suppose that this is news. Not according to the coverage on the front pages of the Washington Post, New York Times, or the Wall Street Journal. The "tea party" rallies went unmentioned.

The Tax Story Media Invariably Bury One of the assertions that the media make most often about the U.S. economy is that President Bush's tax cuts didn't do what he promised. But the data clearly show nothing could be farther from the truth.

Poppin-Jay. Now that [Jay Rockefeller] and his lying cohort Nancy Pelosi have been exposed, watch the "torture" headlines turn into "enhanced interrogation techniques" and then — poof — vanish.

Hawaii Lawmakers Pass Bill to Create 'Islam Day'. Hawaii's state Senate overwhelmingly approved a bill Wednesday to celebrate "Islam Day" — over the objections of a few lawmakers who said they didn't want to honor a religion connected to Sept. 11, 2001. The Senate's two Republicans argued that a minority of Islamic extremists have killed many innocents in terrorist attacks.

"Islam Day" in Hawaii By: Lloyd Billingsley. Hawaii's state senate has approved "Islam Day" for September 24, 2009. The measure, already been approved by the state's house, passed the senate 22-3 on May 6, with two Republicans and one Democrat in opposition. According to news reports, "Islam Day" seeks to recognize the religious, scientific, cultural and artistic contributions that Islam and the Islamic world have made.

The Editor says...
Some of the Muslims' cultural "contributions" can be seen on this page.

With bowed head and bended knee. Has anyone ever seen Barack Obama publicly bow and bend his knee when meeting someone prior to yesterday? I don't recall any photos of such a gesture of greeting, but I would be very happy if some of the President's defenders on the left could provide such evidence that his striking body language yesterday before the monarch of Saudi Arabia and custodian of the holy cities of Mecca and Medina was simply a habitual gesture of warmth.

President Obama, King Abdullah, and the end of Israel. During the G-20 summit in London, Barack Obama took time out for a brief meeting with King Abdullah of Saudi Arabia caught on video by two cameras, and by a still photographer, where the U.S. president bowed deeply in greeting the Saudi monarch. No major American media paid any attention to the startling, unreciprocated bow, gesture of subservience.

Obama Bows To No One, Unless You're a Saudi King. Chances are good you haven't heard this one: that, while in Buckingham Palace last week, milling about with G-20 leaders, the current president of the United States bowed deeply at the waist, one knee bent, on meeting the current King, so-called, of Saudi Arabia, who did not bow back. Chances are even better you haven't seen the video. That's because Big Media, from viewer-deprived networks to newspapers considering bailouts, have neither aired the video of the incident nor reported on it.

ACORN Linked to Illegal Aid for Obama Campaign. Watching the increasingly rapacious conduct of ACORN (Association of Community Organizations) over the past few years and the considerable power and funds being gifted to it by this administration — while the press and Congress largely remain silent — I fear we are most surely heading into a government run by wolves. ACORN's role in the past two presidential elections has hardly received the kind of coverage a press concerned about protecting the right to free elections would have accorded it.

'New York Times' Spiked Obama Donor Story. A lawyer involved with legal action against Association of Community Organizations for Reform Now (ACORN) told a House Judiciary subcommittee on March 19 The New York Times had killed a story in October that would have shown a close link between ACORN, Project Vote and the Obama campaign because it would have been a "a game changer."

NYTimes Killed Story on Crooked Obama Donor. According to election fraud lawyer Heather Heidelbaugh, The New York Times decided suddenly to drop all efforts last October to publish stories about the Association for Community Organizations for Reform Now (ACORN) because it came to light that ACORN was a big donor to then presidential candidate Barack Obama's campaign.

Update:
New York Times Finally Admits It Spiked Obama/ACORN Corruption Story. Acknowledging what the blogosphere has known for weeks, the New York Times finally went on record to admit that just before last Election Day it killed a politically sensitive news story involving corruption allegations that might have made the Obama campaign look bad.

Killing A Story: How It's Done. In today's New York Times, Public Editor Clark Hoyt reveals the result of his investigation into the charge that the paper killed a story during the 2008 Presidential campaign in order to help Barack Obama. Hoyt concludes that the claim is "nonsense." ... But the facts as related by Hoyt don't rebut the charge; they support it.

All the News That's Fit to Suppress: I've often said that it's the journalistic sins of omission that are more damning than the industry's sins of commission. Right on cue, the Times acknowledged this weekend that it had spiked a story on possible illegal coordination between left-wing activist groups ACORN and Project Vote and the Obama campaign just before Election Day. The charges involved Team Obama sharing top campaign donor lists with ACORN's supposedly nonpartisan canvassing arm, Project Vote (the same group Obama worked for as a Chicago community organizer).

Obama Sells U.S. to China Inc.. The truth is starting to seep out. Because of the need for more money to finance the latest bailout — the Obama economic stimulus plan — America is going further in debt to the Chinese Communists. Our country is officially being sold to the highest bidder. And we have striking confirmation of this fact from Secretary of State Hillary Clinton.

Obama's $500,000 book bonanza. As he empathized with recession-weary Americans, President Obama arranged in the days just before he took office to secure a $500,000 advance for a children's book project, a disclosure report shows. The terms of the book deal were disclosed in a Senate financial disclosure report filed Tuesday [3/17/2009]. Analysts say there don't appear to be any rules that would bar such transactions after a president takes office, but it's unclear whether an incoming or sitting president has ever signed a book deal upon entering the White House.

The Editor says...
Is Mr. Obama capable of writing a book? Has he ever written anything? I suspect he has not.

Michelle Obama serves food to D.C. poor and homeless, but... First Lady Michelle Obama showed up Thursday as a surprise and welcome volunteer at Miriam's Kitchen, a soup kitchen for homeless poor people not far from the White House. She brought with her some food donated by White House staff. ... [But] If this unidentified meal recipient is too poor to buy his own food, how does he afford a cellphone? And if he is homeless, where do they send the cellphone bills?

Obama's Nominee to Justice Dept. Was a Terrorist's Lawyer. On March 9, the U.S. Senate Judiciary Committee held a hearing on one of Barack Obama's latest nominees. This time it was to assess the suitability of Tony West, Obama's nominee for the assistant attorney general in charge of the U.S. Justice Department's Civil Division. ... Curiously enough, though, not one of these brief reports mention that Tony West was "American Taliban" terrorist John Walker Lindh's defense lawyer. Another key bit of info left out of these announcements was that Tony West raised $65 million for Obama's presidential campaign.

Obama secretly ends program that let pilots carry guns. After the September 11 attacks, commercial airline pilots were allowed to carry guns if they completed a federal-safety program. No longer would unarmed pilots be defenseless as remorseless hijackers seized control of aircraft and rammed them into buildings. Now President Obama is quietly ending the federal firearms program, risking public safety on airlines in the name of an anti-gun ideology.

Obama Blasted for Diverting Money From Armed Pilots Program. A Second Amendment group is blasting the Obama administration for quietly seeking to end the program that allows pilots — after special training — to carry guns in the cockpit. The move will make air travel more vulnerable to terrorist attacks, something that should outrage travelers, said the Citizens Committee for the Right to Keep and Bear Arms (CCRKBA) said.

Tea parties are flash crowds Obama should fear. Thousands of Americans in dozens of cities large and small, coast to coast, have assembled recently to protest President Barack Obama's economic stimulus spending, proposed budget deficits and tax hikes on small-business owners and other entrepreneurs. But odds are that the vast majority of people who depend solely on the mainstream media's print and broadcast giants for their news know little or nothing about the protests.

Silencing the Opposition. House Speaker Nancy Pelosi, at a June breakfast for reporters sponsored by the Christian Science Monitor, took a bold position on whether government should resume regulating political speech on the radio. "Do you personally support revival of the Fairness Doctrine," asked John Gizzi, political editor for Human Events. "Yes," said Pelosi. While this declaration was little noted in the mainstream media, it sent shock waves through the conservative blogosphere.

Aspects of Sebelius' record apparently taboo. A conservative media watchdog organization says the mainstream media is going out of its way to cover up the radical abortion record of Kansas Governor Kathleen Sebelius as she vies to become President Barack Obama's HHS secretary. Dan Gainor is vice president for business and culture at the Culture and Media Institute (CMI). He notes that during the 2001 confirmation hearings for Tommy Thompson to become George W. Bush's Health and Human Services secretary, CBS anchor Dan Rather reminded Evening News viewers of Thompson's "hardline anti-abortion stand."

How Long? How long can the rest of the mainstream media hold out without reporting on an embarrassing debacle for the Obama administration? This is the John Edwards story on steroids — a virtual conspiracy of silence with little if any journalistic justification. And here the issue is really important — the appointment of a key intelligence official who is alleged to harbor serious conflicts of interest and extreme views.

Why the Cover Up Matters. The mainstream media, with the exception of ABC's Jake Tapper, utterly ignored the Chas Freeman story. A large number of mainstream outlets simply wouldn't report on it at all.

The Orwellian Presidential Bully Pulpit. The president brazenly sermonizes against scientifically challenged conservatives while triggering federal funding of research that is scientifically controversial and preparing to impose cap and trade penalties on corporate America in deference to global warming junk science. While you won't hear much about this in the mainstream media, there is a meeting currently taking place in New York City that serves as an ironic backdrop for Obama's embryonic stem cell order.

Soldier questions eligibility, doubts president's authority. A U.S. soldier on active duty in Iraq has called President Obama an "impostor" in a statement in which he affirmed plans to join as plaintiff in a challenge to Obama's eligibility to be commander in chief.

2nd U.S. soldier in Iraq challenges eligibility. Another U.S. soldier on active duty in Iraq is joining a challenge to President Obama's eligibility to be commander-in-chief, citing WND's report on 1st Lt. Scott Easterling, who has agreed to be a plaintiff in a lawsuit over the issue, as his inspiration.

Michelle Obama's Patient-Dumping Scheme: The First Lady helped create a notorious program that dumped poor patients on community hospitals, yet the national media ignore the story. Imagine if her husband were a Republican. The University of Chicago Medical Center has received a good deal of justly opprobrious press over its policy of "redirecting" low-income patients to community hospitals while reserving its own beds for well-heeled patients requiring highly profitable procedures.

Rep. Grace Napolitano Pays Herself $200,000 In Interest On 1998 Loan. The Democrats campaigned to take over the reins of the majority in Congress by promising to "drain the swamp" of a "culture of corruption" by the Republican Party. Examples of Democratic corruption or self-dealing go largely unnoticed. For two weeks now, the national media has ignored a Los Angeles Times report that Rep. Grace Napolitano has paid herself more than $150,000 in interest on $150,000 she loaned herself in her initial 1998 House campaign.

The Heat Is On True Believers. A Sunday New York Times story described an expected sea change in international global warming policy. ... Prominently missing from the 1,584-word story was any mention of President Bill Clinton and Vice President Al Gore. That's a surprising omission considering that Gore negotiated the treaty for Clinton in 1997, and that Clinton never asked the Senate to ratify the pact, which mandated that the United States reduce its greenhouse gas emissions by 7 percent below 1990 levels by 2012.

More Gun Control Introduced in Congress. The liberals are at it again. In a new bill introduced the first day of present session of Congress, and with zero coverage from the MSM, H.R. 45 (Blair Holt's Firearm Licensing and Record of Sale Act of 2009) targets all gun owners in the U.S.A. This nefarious bill seeks to strip us all of our Constitutional Rights to possess and bear firearms of any distinction. It requires, within the first two years, that all new guns be registered. The bill goes retroactive after two years. Meaning that two years after the passage of the bill, ALL FIREARMS in a citizen's possession must be registered, not just those purchased after the bill passes, and this apparently applies to antique firearms as well.

FBI Director Warns of Terror Attacks on U.S. Cities. FBI Director Robert S. Mueller III today warned that extremists "with large agendas and little money can use rudimentary weapons" to sow terror, raising the specter that recent attacks in Mumbai that killed 170 people last year could embolden terrorists seeking to attack U.S. cities. At a speech to the Council on Foreign Relations in Washington, Mueller said that the bureau is expanding its focus beyond al-Qaeda and into splinter groups, radicals who try to enter the country through the visa waiver program and "home-grown terrorists."

The Editor says...
The words "muslim" and "Islam" are nowhere to be found in this Washington Post story.

Who Attacked Our Economy? Why Does No One Care? [Scroll down] Writing at Portfolio.com this week, Felix Salmon quite decisively dismissed the whole story as "fiction." Is it? If what Kanjorski says is "fiction," Americans, particularly Americans in Kanjorski's 11th district of Pennsylvania, need to know. After all, this isn't a story that just goes away on its own, particularly not when Paul Kanjorski is chairman of the Capital Markets Subcommittee of the House Financial Services Committee. Of course, incredible as Kanjorski's revelations were, almost equally incredible was the interviewer's failure to ask the next obvious question of national interest: Who or what was responsible for that electronic run on the banks "to the tune of $550 billion"?

The electronic run on banks nobody seemed to notice. Sixteen months after the 11 a.m. simultaneous withdrawal of billions of dollars out of money market accounts in the aftermath of Lehman's demise a few days earlier, no one seems to care about the dimensions of this event.

2008 Market Crash Should be Investigated. "On Thursday [9/18/2008] at about 11 o'clock in the morning the Federal Reserve noticed a tremendous drawdown of money market accounts in the United States, to the tune of $550 billion was being drawn out in a matter of an hour or two. The Treasury opened up its window to help. It pumped $105 billion in the system and quickly realized that they could not stem the tide; we were having an electronic run on the banks."

Plundering "for the children": When corporate moguls get nabbed for ripping off shareholders, the media go ape-wild. Last year's front-page headlines were filled with Big Business scandals and barrels of op-ed indignation about capitalist greed. But when teachers' union officials plunder their members' coffers in Enronic proportions, the media go ... AWOL.

In Gregg Stories, Short Shrift to White House's Census Grab. ABC, CBS and NBC centered their Thursday night stories, on Senator Judd Gregg's decision to withdraw as Commerce Secretary-nominee, around his disagreement with the Obama administration's "stimulus" plan — with only passing mention, if any, of the administration's wish to move the 2010 census count from Commerce to the White House.

UPI 'Conveniently' Neglects Party Label Mention of Indicted Puerto Rico Governor. Once again we have a politician who is indicted on corruption charges and once again we have a news organization who "conveniently" neglects to mention his party label.

Deleting the 'D': Rep. Lamar Smith, Texas Republican, thinks he's on to something — scandals minus the "D," you might call it. "Two weeks ago the governor of Illinois was removed from office," the congressman notes, referring to the embattled Rod R. Blagojevich. "All three television networks ran full reports on the story the same night and again the following morning. Not one report mentioned that he is a Democrat."

Did The Philadelphia Inquirer tell you they were Democrats? To which political party do the two judges belong? Naturally, upon reading this, I had to wonder: were these crooks Republicans, or were they Democrats? The information wasn't easy to find, but it did exist.

He's a Mayor Accused of Soliciting Sex From Child... But is he a Democrat? The AP spends several paragraphs detailing the world of Mayor Becker. It describes his election, his marriage and kids. It describes his accused crime and where and how he was snapped up by the police. But there is one little thing the AP can't seem to find any information on... his party. That's right, once again the Old Media gives us an alleged criminal sexual pervert politician and somehow forgets to mention the accused is a Democrat.

Cuban Stalinism at 50 — and the Media Lies Continue. The Castro regime oppresses and kills while issuing a smokescreen of lies not merely devious but downright psychopathic. The worldwide media abandons all pretense as "investigators" or "watchdogs" and adopts a role, not merely as sycophants, but as advertising agency.

How Obama Stimulates Feminists. [Scroll down] "Could it possibly be that women have lost only 20 percent of the jobs that have vanished in the last, devastating year?" Yes. Women (generally) favor public-sector jobs that are not contingent on high rates of productivity and involve little personal risk. Being a teacher, an academic, a social worker, and/or a bureaucrat are not careers wherein one is exposed to physical danger or the elements. Therefore, it is no surprise that they are largely immune to economic downturns because government never cuts programs. Living on a budget is something only the taxpayers need do.

World events fall through the cracks in U.S. media. The U.S. media virtually ignored the slide toward anarchy and civil war in the most populous nation in Africa — Nigeria. Yet Nigeria is the major force for stability throughout West Africa and one of the world's major oil exporters. Soaring oil prices in the first months of 2008 were largely a result of tribal conflicts and guerrilla violence in the Niger Delta. The Bush administration bet heavily over the past eight years that Nigeria would prove a far more stable and reliable source of oil for the United States than the traditional major producers in the Middle East. It lost.

Dems Target Private Retirement Accounts. Democrats in the U.S. House have been conducting hearings on proposals to confiscate workers' personal retirement accounts — including 401(k)s and IRAs — and convert them to accounts managed by the Social Security Administration. Triggered by the financial crisis the past two months, the hearings reportedly were meant to stem losses incurred by many workers and retirees whose 401(k) and IRA balances have been shrinking rapidly.

Obama Questioned by FBI for Two Hours. Two hours is a long time to talk to the FBI when you claim you've had no contact with Blagojevich. Obama is the first black President-Elect but he's also the first President-Elect to be questioned by the FBI about a major criminal investigation. Did the FBI ask Obama about this subject or was it just about Blagojevich?

Barack Obama questioned by FBI agents over Blagojevich scandal. President-elect Barack Obama has been interviewed for two hours by four federal investigators about the scandal surrounding the alleged sale of his Senate seat by Governor Rod Blagojevich of Illinois. Mr Obama has broken new ground by becoming the first US leader to face questioning by federal agents between election day and inauguration.

Winning Isn't News. What would happen if the U.S. won a war but the media didn't tell the American public? Apparently, we have to rely on a British newspaper for the news that we've defeated the last remnants of al-Qaida in Iraq.

Obama Speechwriter Switches to McCain; Ignored by MSM. Imagine if a speechwriter for John McCain had switched sides and announced she was going to vote for Barack Obama. Would she not be featured bigtime in the mainstream media complete with new thrills running up Chris Matthews leg? Well, this did happen except that it was an Obama speechwriter, Wendy Button, who became disillusioned with The One and switched to supporting McCain.

Factcheck and the Brady Campaign Share the Same Sugar Daddy. Just last year, FactCheck's primary funding source, the Annenberg Foundation, ... gave $50,000 to the Brady Center to Prevent Gun Violence for "efforts to reduce gun violence by educating the public and by enacting and enforcing regulations governing the gun industry." Annenberg made a similar grant for $100,000 in 2005.

Bias by Story Selection: By selecting the story the liberals want reported, and ignoring the stories conservatives want reported, it's clear that the media elite aren't in the "news" business. They're in the liberal publicity business.

Obama's Fishy $200 Million: An auditor for the Federal Election Commission is attempting to have his bosses seek a formal investigation into the collection by the Obama for President campaign of more than $200 million in potentially illegal political donations, including millions of dollars of illegal, foreign donations, and has sought a request for assistance from the Department of Justice or Federal Bureau of Investigation. But the analyst's requests have largely been ignored.

Obama's Foreign Donors: The media averts its eyes. I have been researching, documenting and studying thousands upon thousands of Obama's campaign donations for the past month. Egregious abuse was immediately evident and I published the results of my ongoing investigation. Each subsequent post built a more damning case against Obama's illegal contribution activity. The media took little notice of what I was substantiating. … Despite dropping the groundbreaking bombshell story of "Palestinian" brothers from the Rafah refugee camp in Gaza who donated $33,000 to Obama's campaign, no big media picked up the story.

Sex sting to keep Wisconsin mayor from inauguration. Racine Mayor Gary Becker's plans to attend Tuesday's inauguration have been canceled after he was charged in an Internet sex sting. Becker had planned to attend a U.S. Conference of Mayors event in Washington over the weekend and then stay for the inauguration of President-elect Barack Obama.

The Editor says...
There's one little detail missing from this story: He's a Democrat. The same detail is also missing from these articles covering the same story: [1] [2] [3]

Democrat Governor Arrested! [Scroll down] Let's do a little survey of where in their stories certain well-known press outlets mentioned that Gov. [Blagojevich] is a DEMOCRAT:
— Home Town Paper Chicago Tribune — 5th graf.
— Associated Press — 4th graf.
— New York Times — 2nd graf.
— Washington Post — never. Not once. In a 2,500 word story the Washington Post never thought it might be important, interesting, or even amusing to note that Gov. B is a Democrat. If Govenor Blutarsky had been a Republican that fact would have appeared in the headline.

Berg v. Obama continues to be ignored in the "media". There continues to be little coverage of Berg v. Obama in the media. (For the purpose of this article, we define "media" as those venues available to the general public other than those exclusively available on the Internet.)

In case you haven't heard, there are many who doubt that Senator Obama is a natural born citizen.

Pro-Obama, Muslim-led voter registration in mosques. A leading critic of Islam isn't surprised there has been virtually no coverage or action taken against a Muslim group that has been running an illegal "get out the vote" campaign in swing-state mosques.

Obama and the Daley Machine. It is quite telling that both Rahm Emanuel and Barack Obama know their places in the sphere of Chicago politics. Obama's first appointment was Emanuel as his "minder" from the Boss. ... Barack Obama has a shorter leash than you might assume a president-elect could wear, and Mayor Daley holds the other end.

In the Tank for Kyoto, Inc. Pay no attention to the ceramic facilities in Spain shutting down because it was more profitable to go into the business of making nothing -- and just selling their CO2 ration coupons. Nothing to see here; move along. Those EU politicians and executives pleading for a carbon-cap cessation -- or, at a minimum, that Europe stop digging? You don't hear that, either.

Chicago Cops Dodge Blagojevich/Sears Tower Investigation. We should remember just how dangerous government can be. Every great American since the Founding Fathers has agreed on that point. No one should be surprised that 'Blago' and company are part of a conspiracy. It wasn't so long ago that Illinois officials conspired with Al Capone. The Chicago cops stood by and played dumb then, too.

Media haven't deigned to cover bailout dissent. In my 18 years as a journalist — nine of them in Washington — I've rarely seen my profession behaving as badly on a hard news story as it has during coverage of the financial bailout bill. The level of condescension has been breathtaking. Particularly on network and cable television, journalists and supposed financial experts have been wagging their fingers at the voting public for pressuring Congress to vote against the bill.

Democratic Double-speak on bailout bill. Senate leaders have changed history — literally and retroactively. Senators Levin and Dodd inserted language into the Congressional Record to make it appear that the intent of the Bailout Bill was to aid automakers. This occurred after the Bailout Bill was passed. If Republicnas had engaged in such deception, the media would have been publicized this far and wide. As far as I can tell, only Wall Street Journal columnist Kimberly Strassel has revealed this "feat".

Retail sales jump by largest amount in 6 months. The stimulus checks are working. A big increase in retail sales signaled that people are spending their rebate payments, helping to ward off a serious economic slump, at least for now.

Pelosi Supports Return of Fairness Doctrine. The mainstream media have remained virtually silent about Pelosi's support for the Fairness Doctrine. Talk radio's suspicions of a movement to reinstate the Fairness Doctrine were confirmed by House Speaker Nancy Pelosi (D-CA) on Tuesday June 24 during her comments at a Christian Science Monitor breakfast.

Did someone mention the Fairness Doctrine and/or Nancy Pelosi?

Missing headlines: leftwing voter fraud guilty plea. Readers may recall that the state of Washington was in the news in 2004 for the closeness of the election for Governor (won by Christine Democrat Gregoire by all of 133 votes; her Republican opponent, Dino Rossi, has since announced plans to run again next year). That race was subject to claims of voter fraud. While the defendants who worked for ACORN did not plead guilty for acts that led to actual voting... where there is smoke there is usually fire.

Media Mum on Barney Frank's Fannie Mae Love Connection. Prominent Democrats ran Fannie Mae, the same government-sponsored enterprise GSE) that donated campaign cash to top Democrats. And one of Fannie Mae's main defenders in the House — Rep. Barney Frank, D-Mass., a recipient of more than $40,000 in campaign donations from Fannie since 1989 — was once romantically involved with a Fannie Mae executive. The media coverage of Frank's coziness with Fannie Mae and his pro-Fannie Mae stances has been lacking.

Before he was famous: the truth behind Obama's meteoric ascent. Three decades after abandoning his life as a fugitive, Bill Ayers has gone underground again. The co-founder of the Weathermen, the anti-Vietnam War group that bombed the Pentagon and US Capitol in the 1970s, has vanished as John McCain seeks to make his links to Barack Obama a central issue in the last weeks of the presidential campaign.

The word "black" is completely absent from this article.
Attacks by Teen Groups Rising in D.C. and Nation. In an eight-hour period last week, five people were attacked by juveniles in separate incidents, including an armed carjacking, in the Southwest waterfront neighborhood. And in the past month, there have been between seven and 11 "pack robberies" in or near Adams Morgan in Northwest Washington, Police Chief Cathy L. Lanier said.

New Evidence of Nancy Pelosi Associate Supporting Chavez, Marxists, & Terrorists. A Colombian associate of House Speaker Nancy Pelosi (D-Calif.) is once again linked to FARC terrorists and Marxist Dictator Hugo Chavez with the revelation of damning new messages concerning Colombian Senator Piedad Córdoba that are currently being investigated by Colombian military officials. Once again we have a powerful American politician, this one the Speaker of the House of Representatives, linked to those attempting to institute Marxist regimes to our South.

How reliable is DNA in identifying suspects? A discovery leads to questions about whether the odds of people sharing genetic profiles are sometimes higher than portrayed. Calling the finding meaningless, the FBI has sought to block such inquiry.

Unrelated people with similar DNA. "State crime lab analyst Kathryn Troyer was running tests on Arizona's DNA database when she stumbled across two felons with remarkably similar genetic profiles."

Obama might pursue criminal charges against Bush. Democratic vice-presidential nominee Joe Biden said yesterday [9/2/2008] that he and running mate Barack Obama could pursue criminal charges against the Bush administration if they are elected in November. Biden's comments, first reported by ABC news, attracted little notice on a day dominated by the drama surrounding his Republican counterpart, Alaska governor Sarah Palin.

Tasting GOP Blood. Democratic vice presidential candidate Joe Biden says that, if elected, an Obama administration might pursue criminal charges against the Bush White House. This is how he plans to unite the country?

Joe Biden: The incredible shrinking candidate. The only time since his nomination that Biden has generated any interest whatsoever was when he said in a typically rambling monologue that Sen. Hillary Clinton, D-N.Y., would have made a better and more qualified vice president than himself. Conservative Web sites and radio talk shows were all over that one, wondering if Obama, D-Ill., had told Biden to say it as part of an orchestrated process to ease the poor old fellow off the ticket and replace him with Clinton after all.

Cyber Attack Shuts Down Website. It was [Jill] Metzger's claim, not backed up by any evidence, that she had been abducted and then heroically escaped her captors. Many media organizations in the U.S. trumpeted this claim. ... If that tale turns out to be false, and there is a lot of reason to doubt it, the military top brass who have been protecting her — and the mainstream media which have refused to investigate the matter — will end up looking like fools or worse.

Help Obama's Half-Brother Move Out of His Hut. The biggest scandal of the election campaign is going unreported, for the most part, by the mainstream newspapers and TV shows. Imagine if John McCain or Sarah Palin had a half-brother who was living in a hut. Imagine if McCain, a multimillionaire, did nothing to help the guy. Imagine if McCain came to the convention and spoke incessantly about compassion and how he was inspired by the biblical mandate: we are our brothers' keepers! This would be the lead story on the evening news.

Thy brother's keeper? [Scroll down] The European press has now introduced us to a new character in this morality play. Someone you are apparently not going to meet in the American press. The Italian edition of Vanity Fair (no right wing journal) tracked down Obama's half brother, George Obama, living in penury in the kind of third world slum that only the smallest fraction of Americans have ever experienced.

Did someone mention George Obama?

The Continuing Censorship of 'The Path to 9/11': We now know (thanks to the book, "Clinton in Exile") that it was Bill Clinton himself, among others, who called [Robert] Iger and demanded that movie be edited or pulled. With the specter of a then nearly certain Hillary Clinton presidency staring them in the face (and with Iger and many others in the film's management hierarchy already financial contributors to the Clintons), Disney caved and committed perhaps the most blatant, under-reported, and significant act of censorship in modern American history.



---

Charlie Gibson grills Sarah Palin

Charlie Gibson Goes From Most Respected Anchor to Foolish Disgrace. It's well known and well documented that Charlie Gibson is liberal. But he generally seems to be a well meaning, likeable liberal. He has only a cursory view of the economy, of geopolitics, in truth, of any significant issue, and a disinterest in all things military. … But his interview with vice presidential nominee Sarah Palin was way over the top. In fact, it was downright hypocritical.

The Gibson Doctrine: It wasn't even subtle. Virtually everything Gibson did and virtually every question he posed was designed to trap, or trick, or demean Gov. Palin. There are views of his face that so reek of contempt that anyone shown photos of his look would immediately identify it as contemptuous. But one series of questions, in particular, blew any cover of impartiality and revealed Gibson's aim to humiliate Palin.

ABC News Edited Out Key Parts of Sarah Palin Interview. A transcript of the unedited interview of Sarah Palin by Charles Gibson clearly shows that ABC News edited out crucial portions of the interview that showed Palin as knowledgeable or presented her answers out of context. This unedited transcript of the first of the Gibson interviews with Palin is available on radio host Mark Levin's website.

Who is the Pontius Pilate here? (Charlie Gibson is). Gibson, to his all reputation as a courteous and mild-mannered journalist, couldn't have been more hostile and demeaning to Sarah Palin, the elected Governor of Alaska and Republican nominee for the Vice President of the United States, than he was during the "interview" (interrogation would have been more appropriate descriptor here) of her, the excerpts of which ABC has already posted on their website.

Bring Your Own Camera: How Sarah can Fight Back. Charlie Gibson's ABC interview with Republican veep candidate Sarah Palin produced a lot of complaints from Palin fans. There's not much anyone in the campaign can do about journalists like Gibson misstating candidates' "exact words," but there is something that candidates -- and anyone else interviewed by a possibly hostile media -- can do to make sure that things get played straight in the editing process. You just have to break the camera monopoly. Luckily, that's become easy.


---

The Real Census Story. Every August, the Census Bureau's release of the latest income and health insurance figures results in a political uproar, but this year the political class seems almost embarrassed by the good news. Median household income rose slightly in 2007, the poverty rate held steady and the number of uninsured even dropped slightly.

The Frank Marshall Davis Cover-Up Is Over. [Scroll down] [Frank Marshall] Davis was identified as a member of the Communist Party USA (CPUSA), controlled and subsidized by the Soviet Communist Party and the KGB. As late as 1956, when he was called before the Senate Internal Security Subcommittee, Davis was still refusing to deny that he was a communist. Wouldn't it be helpful if [Jon] Meacham, the editor of Newsweek, would make an elementary effort to get the facts right? But that is too much to ask when the presidency is at stake and the media-backed candidate is trying to cover up his controversial background.

Environmentalists Mum on Poisoned Streams. When EPA-funded scientists at the University of Colorado studied fish in a pristine mountain stream known as Boulder Creek two years ago, they were shocked. Randomly netting 123 trout and other fish downstream from the city's sewer plant, they found that 101 were female, 12 were male, and 10 were strange "intersex" fish with male and female features. It's "the first thing that I've seen as a scientist that really scared me," said then 59-year-old University of Colorado biologist John Woodling, speaking to the Denver Post in 2005.

Birth control: The new pollutant. In his book "The Really Inconvenient Truths: Seven Environmental Catastrophes Liberals Don't Want You to Know About — Because They Helped Cause Them" (Regnery, 2008), Iain Murray writes: "Why don't we have more outcries about hormones, and campaigns to save the fish populations? Why aren't environmentalists lobbying on Capitol Hill to keep these chemicals from being dumped into our rivers?" He answers his own question: "Maybe because the source of these chemicals is not some corporate polluter, but something a little more dear to the Left: human birth-control pills, morning-after pills, and abortion pills."

The Pill as Pollutant: A really inconvenient truth. The cause of intersexuality among fish, scientists speculate, is pollution in the water, particularly hormones. Why don't we have more outcries about hormones, and campaigns to save the fish populations? Why aren't environmentalists lobbying on Capitol Hill to keep these chemicals from being dumped into our rivers? Maybe because the source of these chemicals is not some corporate polluter, but something a little more dear to the Left: human birth-control pills, morning-after pills, and abortion pills.

Inquiry Turns to Humans On Pollutant, Hormone Tie. Treated sewage, which carries human estrogen and birth-control pill components excreted in waste, has been linked to "feminized" male fish in waters around the world. In the St. Lawrence River in Canada, a recent study found that a third of male minnows had female characteristics. Another example might be the Potomac, though the cause of its problems has not been officially pinpointed.

The Editor says...
I scan through the headlines almost every day of the year, and I first heard of this issue only a few weeks ago. But apparently there has been some concern about it for at least eight years. That is why the topic is now being discussed on this page.

GOP House Revolt Over Oil Drilling Gets Ignored or Buried. It turns out that if you rely on the evening news programs of the three broadcast networks, you didn't hear about this extraordinary event at all. And, if you're one of the few people that still reads newspapers, the one thrown on your driveway Saturday morning likely also ignored this story, or buried it well off the front page.

Kansas Planned Parenthood Scandal Rolls On. The scandal in Kansas involving a Planned Parenthood clinic and official government corruption is probably one of the most unreported stories in recent history. The Kansas media has been dutifully misreporting the scandal and its implications, while the so-called mainstream media (MSM) outside of Kansas appears committed to ignoring it altogether.

Ousting Jack: Seven Marines have been cleared or won case dismissals in the Iraq war incident Murtha recklessly adjudicated in the court of public opinion — with willing mainstream journalists swinging their nooses. Perhaps that complicity explains the great media wall of silence around [Bill] Russell's upstart campaign.

Unmasked: Chinese guardians of Olympic torch. China's blue-clad flame attendants, whose aggressive methods of safeguarding the Olympic torch have provoked international outcry, are paramilitary police from a force spun off from the country's army. The squad of 30 young men from the police academy that turns out the cream of the paramilitary security force has the job at home of ensuring riot control, domestic stability and the protection of diplomats.

Rudd says 'no' to China torch guards. Chinese paramilitary police will not be allowed to run alongside the Olympic torch in Australia, the country's prime minister said Thursday [4/10/2008], after their heavy-handed tactics drew criticism in earlier legs of the relay. The men in bright blue tracksuits were dispatched by Beijing to guard the Olympic flame on its journey around the world. They sparked concern in London and Paris, with the top official for the 2012 London Olympics calling them "thugs."

Did someone mention the Olympics?

UN-Believable. When the so-called mainstream media don't want you to know something, they simply spike the story — meaning they just don't cover it. … First there's the strange case of Doudou Diene, the United Nations "Special Rapporteur" on "contemporary forms of racism, racial discrimination, xenophobia and related intolerance." He's really a lawyer from Senegal, traveling first-class on a U.N. ticket, and he arrived in the U.S. May 19 for a three-week "fact-finding trip."

Another inconvenient truth down the Obama Memory Hole. The staggering implications of another embarrassing Obama statement would remain unexplored, with the public record obscured, were it not for a video clip of one of his speeches posted to the web and alert internet journalists.

The Mainstream Media Smears 'Obama Nation'. Like it or not, we have a mainstream media that closely resembles the Russian Kremlin-controlled one-party media that basically reports only the Putin party line. Our mainstream media, instead of supporting only Vladimir Putin, supports only Sen. Barack Obama. That's a dangerous way to elect a president, only hearing about what the mainstream media thinks will help elect Mr. Obama.

A Cog in the Chicago Machine? While the convention will be held in Denver it will give off the greatest Chicago cast since 1996, when Mayor Daley hosted the convention that nominated President Clinton for his second term. The June decision to place operations of the Democratic National Committee in Chicago together with Mr. Obama's headquarters reinforces the Windy City's dominance of Democratic politics. The big question is whether American voters will notice.

Six Degrees of Barack Obama: Barack Obama Senior had multiple children by a variety of women and died as the result of one of his many drunk driving episodes. It is messy and sordid tale that has been reported upon in Europe while being largely ignored in the United States.

WaPo Addresses Obama's Faith — With NO Wright? The Washington Post published a front page story on Sunday headlined "Obama Addresses His Faith: Senator Describes Spiritual Journey." But it completely ignored Rev. Jeremiah Wright and the Trinity United Church of Christ. Obama was allowed to declare to audiences how he "let Jesus Christ into his life" on the south side of Chicago, but the Post utterly left out the fact that it was Rev. Wright who was his spiritual mentor.

Obama's Other Radical Friends: Apparently, back when he was running for state senate, Barack Obama had fund-raising events at the home of Bill Ayers and Bernardine Dohrn, and there's been some press about the senator's friendship with this controversial Weathercouple. Many reporters are well aware, even though Mr. Obama has described his connection to Ayers and Dohrn as "flimsy," that the senator's relationship with his radical Hyde Park neighbors is actually quite warm, even close. … But mostly, the press doesn't want to touch this story — and no one else does either, as if it actually were TNT.

Our Own Oil Cartel. Last month, with almost no attention from the liberal media, the Bureau of Land Management released the report estimating the other part of America's undiscovered oil riches, the onshore resources. This added another 53 billion barrels to the national petroleum pot.

Obama's Stealth Pro-Abortion Stance: In response to a Pennsylvania voter's question about elementary school sex education, Obama said: "Look, I got two daughters — nine years old and six years old. I am going to teach them first about values and morals, but if they make a mistake, I don't want them punished with a baby." This makes two things clear. First, Senator Obama supports abortion on demand — even "convenience" abortions — for minors, including his own daughters; and second, Obama considers babies a "punishment" he'd rather spare his daughters, even if those daughters have to abort Obama's own unborn grandchildren to avoid that particular "punishment." That unguardedly candid public statement is political dynamite — or it would be, if the media had reported on it.

NASA measures global temperatures. NASA is spending around 20 million dollars a year to deploy and monitor 3000 robot buoys around the worlds oceans and the data coming in doesn't support their theory on global warming, in fact it turns out the world has cooled slightly in the last five years. It's surprising the mainstream media hasn't picked up on this, you would think the fact that the earth is cooling would be front page news.

The Editor says...
News stories about NASA projects — especially the expensive robots on Mars — always seem to include marvelous details without ever mentioning the number of millions (or billions) of dollars spent on them. Am I the only one who notices these omissions?

Weather Stations Giving Bad Global Warming Data, A Problem Ignored. A few months ago, the blogosphere and talk radio were abuzz with the story of how the nation's various weather stations and temperature reading devices have been improperly located or badly constructed and how the data received from these improper devices must be suspected as inaccurate. … Still, even as the blogosphere and talk radio blasted the news, the MSM ignores this explosive story.

Mainstream Media Try to Burn a Book. "Let's predict a couple of things about this very important book. First, it will seldom be reviewed. It will be set up for target practice; that is, second, if it is not altogether ignored, becoming a non-book by the dictates of the heirs of the people who swept its subject into the dustbins of history, viciously spitting on his grave."

Only His Hair Dresser Knows For Sure! The mainstream media's reaction to the National Enquirer's reports on John Edwards' "love child" scandal has been reminiscent of the Soviet press. Edwards' name has simply been completely whitewashed out of the news. Say, why isn't anyone talking about John Edwards for vice president anymore? No, seriously — hey! Why are we going to a commercial break?

Clueless in Obama Nation. What if a presidential candidate claimed that his view on an issue drew its power from the Sermon on the Mount, which was delivered by no less an authority than Jesus Christ? What if that view contradicted 2,000 years of church moral teaching? Wouldn't this be a major news story? It would if it involved a Republican. Or even another Democrat. But when it comes to Barack Obama, the media continue to ignore newsworthy topics and refuse to give the public substantive details about the senator's views on many key issues.

Hothouse Flower. Somehow those scandals — involving high-profile Chicago figures — were broken by national news organizations like ABC News and the Politico. In fact, when Obama's connection to Ayers received real scrutiny from the national press, local columnists offered "so what?" reactions, insisting the relationship was "no big deal."

How crypto-Marxism won the Cold War. Today, for the first time in American history we have two — count 'em, two — hard-core Leftists running for the Democrat Party nomination. The Left hasn't had this kind of chance for power since Truman defeated Henry Wallace in 1948. Hillary and Obama are Marx twins who only differ in race and gender. All the media tell us is how great it is to have a woman and a black man running for president.

The Audacity of Silence About Tony Rezko: Jury selection began today in Chicago in the trial of Syrian-born businessman Antoin "Tony" Rezko, a major supporter of Barack Obama. Two days before the 2006 elections in which Democrats won by running against a "culture of corruption," Chicago newspapers revealed that Obama purchased a home that summer for $1.6 million, but only because Rezko's wife bought an adjoining parcel for $625,000 to complete the deal. Rezko was already under federal investigation for kickback schemes.

ABC Spikes Michelle Obama's Gaffe, Then Declares It Unimportant. ABC's World News, which on Tuesday [2/19/2008] skipped Michelle Obama's comment that "for the first time in my adult life, I am proud of my country," on Wednesday finally got to it, but only minimally as George Stephanopoulos praised her "good damage control" and declared: "I don't think it's going to be a huge deal." Hard for it to become "a huge deal" when a broadcast network's most-watched news program doesn't bother to report it.

Media's Double Standard on Race-based Voting: It is not really relevant, frankly, to point out that most black voters are going to vote in droves for Barack Obama. Regardless of his race, black voters would vote for the Democrat. But when you read about Congressman Steve Cohen's race in Tennessee's Ninth Congressional District, you really are confronted by both racism and anti-Semitism in a way we rarely think about in this country. And the media is silent. Barack Obama is silent.

Michelle Obama: America is 'Just Downright Mean'. As NewsBusters previously reported, the wife of Democrat presidential candidate Barack Obama isn't very proud of her country. Two weeks after making her disdain for the nation clear during a campaign speech for her husband in Wisconsin, Michelle further debased America by saying that we're a country that is "just downright mean."

Obama's Imperilled Candidacy: I found it very interesting to hear [Rev. Jeremiah] Wright explicitly endorse Obama over Hillary in church. Normally when evangelical preachers cross the political line they get hammered for violating the separation of church and state. One pastor I know invited a local Republican official to give his personal testimony in church and had to answer to the IRS for it. How come black churches engage in blatant electioneering, even to the point of busing members to the voting booth, and nobody from the ACLU or the media raises an eyebrow?

Obama's Clintonesque Speech. Barack Obama came to Philadelphia on March 18 not so much to address his poisonous pastor, Jeremiah Wright, but to talk vaguely of race relations. The news media swooned. … Newspapers and news networks tried to insist that Obama's speech drew praise "across the political spectrum," but this was nonsense. Many outlets utterly excluded conservatives and Republicans from their stories. They were hermetically sealing Obama from criticism.

The Obamas are Just the Ghosts of Clintons Past. It's amazing how much the Obamas are like the Clintons — who are now attacked by the same people who used to kiss the ground they stepped on. Carl Bernstein talks about Hillary's "dark side." Bill, says an MSNBC blogger, is a serial liar. Well, thanks for performing your journalistic duty to the American people. It only took sixteen years for our media to tell us what was clear to the rest of the world before the Clintons ever got elected in 1992.

McCain Wrong to Support Media Shield Law. President Bush has threatened a veto but the media are counting on Congress to override it. The bill puts in the hands of federal politicians and judges the ability to define a "legitimate" journalist or blogger who is deserving of federal protection. As such, it restricts First Amendment rights to a certain group of people currently in favor with federal authorities.

Morning Shows Hit Snooze Button on Court Overturning San Fran Gun Ban. None of the April 11 editions of the network morning shows: ABC's "Good Morning America," CBS's "The Early Show," and NBC's "Today," noted the April 10 unanimous ruling of the California Supreme Court striking down a San Francisco handgun ban.

Will the media ever report on the upcoming Clinton vs. Paul trial? A status conference hearing is scheduled for April 25, 2008 in Los Angeles to set a trial date in Paul vs. Clinton. The court delayed setting a trial date back in February, but a new trial date is expected to be announced three days after the all important Pennsylvania primary. ... How much longer will the media continue to ignore this case?

Everything but the News! CNN is famous for having a scoop on a breaking story, then, very oddly, the next hour it is discontinued. This happens on other news sources also. For example, the first announcement of Ron Brown's plane crash was said to have happened in the Adriatic Sea and that divers were preparing to go down to search for bodies. The next announcement, an hour or so later, was that the plane had crashed into the mountains! There was one survivor, a female flight attendant. She walked to a rescue helicopter but was pronounced dead on arrival at the hospital. Was that in the news?

LOST Runs Silent, Runs Deep. According to Senator Jon Kyl, the entire Senate Republican leadership is now opposed to a controversial treaty supported by the President and an implausible alliance of special interests — from the U.S. Navy to Greenpeace. At a joint press conference last Wednesday, he was one of several Senators to declare that, as a result, supporters would be unable to muster the necessary 67 votes for ratification of the Law of the Sea Treaty (LOST). Yet, it seems not one of the "establishment" media organs felt moved to report these momentous political developments.

Bush's Ranch House 'Far More Eco-Friendly' Than Gore's. George Bush may be a nemesis of the global green movement and Al Gore its hero, but the president's home is arguably far more environmentally-friendly than the home of the man he defeated in the 2000 election.

Crouching Gore, Hidden Oil Stocks?. Al Gore's long, former relationship with Occidental Petroleum is well-documented, and all but ignored in the mainstream media.

Al Gore, the Oilman Who Hates Oil. The mainstream media has relentlessly hailed Al Gore as a visionary for urging America to get off oil but has essentially ignored the fact that Gore is personally invested in the most cutting edge oil extraction technologies.

NY Climate Conference: Journey to the Center of Warming Sanity. If you rely solely on the mainstream media to keep informed, you may not have heard that the 2008 International Conference on Climate Change concluded in New York City on Tuesday [3/4/2008]. And if you have heard anything — this being primarily a forum of skeptics — it was likely of a last gasp effort by "flat-Earthers" sponsored by right-wingers in the pockets of big-oil to breathe life into their dying warming denial agenda. Well, having just returned from the 3 day event, I'm happy to report that the struggle against the ravages of warming alarmism is not only alive, but healthier than ever.

Bias by Omission: Media Silent on Nationwide Pro-Life Protest. If a coordinated protest took place across the country on a single day you'd think major media outlets would cover it, right? Thousands of people lining roads in communities from California to Florida should generate national headlines. Such an event would generate headlines if the protest was against something the liberal media hated — like the war in Iraq. But because it was a protest against abortion, there was nothing but silence from the national media.

First Amendment Rights for Abortion Protestors? On December 22nd a 69-year-old pro-life activist who was standing atop his automobile and protesting in front of the Hillcrest Abortion Clinic in Harrisburg, Pennsylvania, was physically attacked by an abortion supporter and thrown to the ground with enough force to knock him unconscious. Doctors even worried for a time that the elderly man might perish from the attack. Over a week after the attack, there aren't any accounts of the attack in the mainstream media. As I searched for the story, I found only two Internet hits for it. Why the silence from the MSM? Can you imagine the MSM swarm that would have occurred if it had been a pro-lifer who attacked an abortion supporter? The cacophony would have been deafening if a pro-lifer had been the one to get violent.

Make English Official. One of the most unreported stories of the past month is Democrats in Congress refusing to protect the Salvation Army and other similar organizations from lawsuits for requiring their employees to be able to speak English on the job. This policy issue is also important politically, and Republicans will benefit politically by doing the right thing.

When Peaceniks Attack, Journalists Snooze. Have you heard about the plight of 22-year-old McGuire Air Force Base loadmaster Jonathan Schrieken? Probably not. The shooting got no mention in The New York Times — not even a squib in a back section.

Hiding Black Interracial Crimes: I don't know about you, but it was just recently that I heard about a gruesome murder in Knoxville, Tenn., that is far worse than the false charges in the Duke rape case and is at least as horrible, if not more so, than the dragging death of James Byrd. Unlike the Duke rape case and the Jasper lynching, the national news media's coverage of the interracial Knoxville murders paled in comparison.

Jury delivers death sentence to Davidson in torture slayings of couple in Knoxville. A Tennessee man convicted of kidnapping, raping and murdering a couple on a date has been sentenced to death. The defendant, 28-year-old Lemaricus Davidson, showed no reaction Friday [10/30/2009] as jurors announced the death sentences for the murders of 21-year-old college student Channon Christian and her 23-year-old boyfriend, Christopher Newsom.

The Bad News Is The Good News Is Ignored. More than a decade ago Ben Wattenberg wrote a book with the marvelous title, The Good News Is The Bad News Is Wrong. If that book were republished today I would change the title to The Bad News Is The Good News Is Ignored. It isn't surprising that in the world of media reportage only bad news counts. The problem with this condition is that it feeds a generally one dimensional view of politics, a misperception of the world that promotes weltschmerz and despair.

Buried news: Former Soros top aide faces fraud sentence. I take the fact that Soros was reportedly closely involved with such a crook as another data point on a man who operates in financial secrecy offshore, who has broken the British pound and made billions, and who is spending unlimited sums of money on building propaganda and other political organs in the United States with the apparent intent of swaying elections. Maybe it is just me, but I think our media ought to be looking into him just a bit.

The Untold Story of Delta Flight 1824: The passengers aboard Delta Airlines Flight 1824 flying out of Orlando International Airport ... heard the following statement over the intercom as they were preparing to taxi onto the runway on their way to Atlanta, Georgia: "Ladies and gentlemen, we have been informed that there is a credible security risk with this aircraft and we are returning to the terminal." ... If you rely on official government statements and the major media, the entire incident involving Flight 1824 was benign and was never a security risk.

An Islamist Connection to OKC Bombing. Ignoring a huge story like this is bad enough. But at least two establishment outlets — the New York Times and CBS — affirmatively squelched it, albeit in different ways. The Times shut down an investigation that was hot on the trail of the story. CBS did not follow up on clear evidence of Middle East involvement. Why?

The Alchemy of Democrat Cover-ups: [Scroll down] Soon after the formation of 9-11 commission was officially announced the Clinton administrations National Security Advisor, Sandy Berger, went to National Archives over a period of weeks to steal and destroy highly classified records of the Clinton administration decision-making process in handling Al-Qaeda and terrorism. He stuck them in his pants and socks and later burned and shredded them. You can bet they held incriminating evidence, evidence that would have tanked the Democrats on security issues and ripped away the "Clinton Legacy." It was a very successful cover-up, about which the press is remarkably silent.

Hillary's 'Low Profile' National Security Adviser: Sandy Berger. It's gotten very little mainstream media coverage (surprise!) but Hillary Clinton's national security adviser is none other than Sandy "Docs In My Socks" Berger, who pleaded guilty to stealing and destroying classified documents related to the Clinton administration's anti-terror efforts, immediately before Bill Clinton's testimony to the 9/11 commission.

It's the James Byrd case with the colors reversed -- so it's not news.
Murder in black and white. This appalling attack is more than a case study in sociopathic evil. It is also a case study in journalistic malpractice. Unless you tune in to the local Knoxville news, you are most likely hearing about this heinous crime for the first time — even though it took place last January. True, there are some 17,000 murders committed in the U.S. each year, but this double murder was clearly far more barbaric, far more monstrous than most.

Knoxville Horror: Trial Dates Set; MSM "Discovers" the Case. For months the mainstream media has ignored the kidnapping, gang-rape, and murder of Channon Christian and Christopher Newsom. The MSM is finally starting, ever so modestly, to report on Tennessee's Knoxville Horror, even as far from the crime scene as Denver!

What is a hate crime? What happened to Channon Christian and Christopher Newsom, a young Knoxville couple out on an ordinary Saturday night date, was undeniably brutal. The two were carjacked, kidnapped, raped and finally murdered during an ordeal of unimaginable terror in January.

SPJ Suggests 'Omitting Race' in Crime Reporting. Society of Professional Journalists has decided that it is best to leave a suspect's race out of crime reporting except for "extraordinary" reasons. Of course, to the SPJ, "good reporting" means race info in a story about crime isn't "useful to people in the community" even if the race of a suspect is part of a police report apparently. Despite their claim that they aren't toeing the PC line, their explanation is filled with just the sort of reasoning based on PC thinking — one of which is that all whites are racists.

'Hardball' Promotes Ted Kennedy HBO History, But Completely Leaves Out Death at Chappaquiddick. On Friday night's [7/10/2009] Hardball, guest host Lawrence O'Donnell enthusiastically promoted HBO's new, glowing Ted Kennedy documentary. ... It's not like the HBO film leaves Chappaquiddick out, which it shouldn't, because it was a continuing obstacle to Kennedy's White House dreams. But MSNBC feels comfortable airbrushing it out of their warm, fuzzy historical memories.

The Race for the American Mind: Forty-three years ago it was a different world. Ted Kennedy had co-authored the "Immigration Reform Act of 1965," which created a situation wherein 85 percent of our immigrants hail from the Third World and Asia. He took to the Senate floor, claimed his brainchild wouldn't change the demographic composition of the nation and passed the culture-rending bill under the cover of darkness. This darkness was not absence of light but that of truth; it was a media blackout. With no Internet and little talk radio, mainstream journalists had a monopoly over the hearts and minds of America. And they knew best.

Unfavorable drug studies don't get into print: report. Nearly a third of antidepressant drug studies are never published in the medical literature and nearly all happen to show that the drug being tested did not work, researchers reported on Wednesday [1/16/2008]. In some of the studies that are published, unfavorable results have been recast to make the medicine appear more effective than it really is, said the research team led by Erick Turner of the Oregon Health & Science University.

U.S. media lags in covering Latin America. If you think that Latin America is getting a short shrift in the U.S. media, you are right: a new study shows that the percentage of news from the region in mainstream U.S. media is pathetic.

The Clintons' Chop Suey Connection. I hope you followed the news with the utmost care last week. A stupendous story peeked into the media, grew to adulthood in no time, and vanished. The news story began with the Wall Street Journal's report that a major donor to the Clinton presidential campaign, Hong Kong-born Norman Hsu, appeared to have "bundled" vast amounts of money into donations to Democrats. Particularly blessed was the Clinton presidential campaign.

Did someone mention Norman Hsu?

Crowd attacks, kills man at Juneteenth festival. An angry crowd beat a man to death after a vehicle he was riding in struck and injured a young girl, police said Wednesday. Police believe 2,000 to 3,000 people were in the area for a Juneteenth celebration when the attack occurred Tuesday night.

The Editor says...
Do you notice anything missing from this report? Juneteenth celebrations are attended almost exclusively by blacks. I wasn't there, but I'm guessing this is the story of a black lynch mob, with that one little detail omitted.

Crowd kills passenger of car that struck child. A crowd of Juneteenth partyers outside an East Austin housing project turned violent with several beating a man to death after the car he was riding in apparently struck a small child. … "It's sad for the city," said Commander Harold Piatt, who leads the Austin Police Department's homicide division. … "It's not a hate crime," he said. "It's not racially motivated in any way. The assault has nothing to do with the (city-sponsored) Juneteenth celebration."

The Editor continues...
The reporter describes a crowd of Juneteenth partyers at the beginning of the story, but the police say it had nothing to do with Juneteenth. There is a new ingredient here that was missing from other news stories about this case — it was a crowd "outside an East Austin housing project", which further guarantees that the perpetrators were black, yet the word "black" is not in the text of the story. I'm just saying that if the colors were reversed, the news media would still be talking about a lynch mob and a hate crime. As it is, the story disappeared within two weeks.

Reid labels military leader 'incompetent'. Senate Majority Leader Harry Reid called Marine Gen. Peter Pace, the outgoing chairman of the Joint Chiefs of Staff, "incompetent" during an interview Tuesday with a group of liberal bloggers, a comment that was never reported. Reid made similar disparaging remarks about Army Gen. David Petraeus, the top U.S. commander in Iraq, said several sources familiar with the interview.

The Liberal Media has Voted Early … Again!. The secular press has largely been silent on this controversial bill. The media's silence and the unprecedented speed of this legislation are not accidental. Congress has put this bill on a fast track to be passed just one month after its proposal.

Will Obama go up in smoke? In case you haven't heard — and many apparently still haven't — Barack Obama smokes. Despite the crush of media attention enveloping him, few have spent much time discussing his nicotine habit, much less asking the obvious question: In an era of unprecedented hostility toward tobacco users, can a cigarette smoker win a presidential election?

[Wait a minute... Aren't Obama's supporters the very same left-wing Democrats who have campaigned to outlaw smoking in public places?]

Now they tell us? Raymond Hernandez of the New York Times informs the world that Hillary Clinton has long enjoyed the services of a chief aide, someone who plays an absolutely key role on her life, whose existence has received approximately zero media attention until now. … If anyone ever doubted that Hillary's public persona is a completely manufactured product, bearing only tangential relationship to the reality of the woman, the public oblivion of Patti Solis Doyle should provide evidence of the divergence between image and reality in the case of Hillary.

KGB Letter Outlines Sen. Kennedy's Overtures to Soviets, Prof Says. In his book, which came out this week, [Paul] Kengor focuses on a KGB letter written at the height of the Cold War that shows that Sen. Edward Kennedy (D-Mass.) offered to assist Soviet leaders in formulating a public relations strategy to counter President Reagan's foreign policy and to complicate his re-election efforts.

Networks Spike Revelations About Berger's Pilfering of Secret Papers. Despite the colorful details about how Sandy Berger cut the documents, about the Clinton administration's reaction to terrorist threats in 1999, into small pieces, the broadcast networks weren't interested Thursday morning or evening [12/21/2006] even though the report discredits Berger's claims he simply accidentally mishandled the documents.

Why Does Trousergate Go Ignored? A House Oversight Committee report details the real and potential damage to national security of Sandy Berger's theft and destruction of classified documents. And we may never know what was in them. The report released this week by the House Oversight and Government Reform Committee shows, as ranking Republican member Rep. Tom Davis of Virginia put it, how former Clinton National Security Adviser Berger "compromised national security much more than originally disclosed."

The Secret Sandy Risked His All For: If not the most skillful of embezzlers, Samuel 'Sandy' Berger is a far more formidable character than the media would have us believe. When he made his now storied sorties into the National Archives, he risked his career and his reputation in so doing, and he knew it. Rest assured, he would not have done so were the secrets to be preserved not worth the risk of pilfering them. True to form, the major media refuse to even ask the most fundamental question: just what secrets would justify so much personal exposure.

It's about time Americans found out what Sandy Berger stuffed in his pants. The theft and destruction of classified national security documents by former National Security Advisor Samuel "Sandy" Berger is a topic that never received the attention it should have. ... My outrage, though, comes from the actual theft of the documents, rather than the way the media largely ignored it.

Media Silence Surrounding Building 7: The total collapse of the third huge skyscraper late in the afternoon of September 11th was reported as if it were an insignificant footnote. The television networks played video of the jets impacting the Twin Towers hundreds of times. But most people never saw video of Building 7's collapse.

For Illegal Aliens, Crime Pays — and So Do We. Except for when an illegal alien does something horrific … we rarely hear that these crimes are committed specifically by illegals. This is due to two factors: first, illegal aliens are often silent on family violence and afraid to report crime within their communities. And second, the mainstream media seem to go out of their way not to inform us, as they rarely make any distinction between crimes committed by US citizen perpetrators or those committed by illegal alien perpetrators, and this is an egregious violation of the press's mandate.

Levy suspect's illegal status stirs media debate. It has become the dreaded "I-word" at many news organizations. Much of the press has shunned the terms "illegal alien" or "illegal immigrant" to describe Ingmar Guandique, recently charged by police and federal prosecutors in the 2001 slaying of Washington intern Chandra Levy.

Why won't feds come clean about Chandra Levy's killer? Ingmar Guandique, the 29-year-old illegal immigrant from El Salvador sentenced to 60 years in prison earlier this month for the murder of former congressional intern Chandra Levy, had a history of violent attacks on women pre-dating his unlawful entry into the United States via the Texas border — as thousands like him continue to do every year. It's a one-way ticket to America with no questions asked.

Kidnap gangs target 'white gold'. In Nigeria's oil-rich south, foreign workers are known as "white gold" among the gangs who kidnap them for ransom. "Ah, the whites are coming," chuckled one young gang member as a heavily-guarded oil company convoy sped through Port Harcourt, sirens blaring. "It's like ice cream vans in your country." Nigeria is Africa's largest producer of crude oil, or "black gold". But the country is in the grip of a kidnapping epidemic….

The Editor says...
If the colors were reversed, this would be front-page news.

Dreadful Democratic manners. I wonder how the national press would have responded to a Republican being publicly ugly to, say, Bill Clinton, at a White House Christmas reception. I don't wonder about that at all. He would have been held up as an example of everything which is wrong with the spiteful GOP.

Women in the Clinton era: Abuse, intimidation and smears. Here is Bill Clinton's legacy of mistreatment of women. The common threads are that, almost to a woman: (1) they had some vulnerability that he could exploit. (2) they were victims of a smear campaign, and (3) there is an eerie similarity to the stories they tell of intimidation, threats, and burglaries of odd items, such as photographs and tapes.

Black Gangs Terrorize D.C.. Because the Washington Post wants to obscure the basic reality of the situation, we believe that visitors to the nation's capital should be warned that there is a crime emergency in effect, sparked by a sharp increase in homicides, and they are potential victims. The fact is that white tourists are being injured and killed by roving black male gangs, who are even showing up in exclusive areas such as Georgetown where some rich reporters live behind iron gates. The Post, however, has a policy of deliberately keeping the public in the dark about the real nature of the problem.

Panel: Leaked Gingrich call broke rules. Rep. Jim McDermott, D-Wash., violated ethics standards by giving reporters access to an illegally taped telephone call involving Republican leaders a decade ago, the House ethics committee said Monday [12/11/2006]. McDermott, who at the time was the panel's senior Democrat, failed to meet his obligations as a committee leader, said a report released two days after Congress adjourned for the year. The panel took no action other than the report.

Crime Cover-Up in D.C.: There is terrorism in Baghdad but a criminal gang problem has also been plaguing our nation's capital. In an officially declared "crime emergency," black criminals had been robbing, assaulting, and even raping tourists in the National Mall area, where the Washington Monument and the World War II and Lincoln Memorials stand. This is an area that had been considered safe and "tourist-friendly." Three young black men were arrested for these crimes, but you could search in vain in the local media for any reference to their skin color. Instead, they were described as "D.C. youths" or just "five people."

The arrogance of (Democrat) power. Carole Migden is one of the most powerful people in California, and she knows it. The lesbian activist (author of the state's original domestic partners act, "married" in a faux ceremony conducted by SF mayor Gavin Newsom) is chair of the majority Democrat caucus in the State Senate, and has held a series of extremely powerful posts in a state government that spends $100 billion a year with little press scrutiny.

Trashing privacy: Thanks to the U.S. Senate's remarkable but well-known lack of backbone, nations such as Albania, Croatia, Uganda and many others now will be able to call up the U.S. Justice Department and find out as much as they would like about anything you do with your computer. At this point, you probably wonder why you haven't read about this. Frankly, there's not much reason you would have, unless you read some relatively obscure publications that focus mostly on technology issues. Another reason you wouldn't likely have heard of it is, of course, that most major media outlets ignored the issue entirely….

Intense chill of coming week threatens to eclipse Feb. 3-9 cold spell 112 years ago. Chicago is headed into a deep freeze likely to take on, if not surpass, a series of long-time late-winter cold weather benchmarks. An average of each day's temperatures over the coming 7 days may well finish colder than any Feb. 3-9 period on record since 1871 here.

Pension Looters for the Left? Imagine the following scenario: during the height of election season, a high-placed Republican donor is discovered to have looted millions of dollars from the retirement funds of individuals and companies he manages, and then contributes more than $70,000 to his state GOP party.

Beijing secretly fires lasers to disable US satellites. China has secretly fired powerful laser weapons designed to disable American spy satellites by "blinding" their sensitive surveillance devices, it was reported yesterday [9/25/2006]. … Sources told the military affairs publication Defense News that there had been a fierce internal battle within Washington over whether to make the attacks public.

The Princeton Hate Crime That Wasn't : The Jena 6 case exploded overnight when the Media imagined they had a "race hate" issue on their hands. They did the same with the Duke Rape case. Both cases were later proven not to be a case of a "hate crime" at all and, in the end, weren't even real crimes. … Contrast that coverage with a reported crime that occurred near Princeton University that perfectly fits the definition of a "hate crime" and we found a media that stayed mum not reporting a thing about it. The reason, of course, is because this victim was a conservative, Christian attacked because he was a conservative Christian — the news media obviously didn't feel there was anything to talk about.

The Democrats' Culture of Corruption: Did you notice the stories about Illinois Democratic Rep. Jan Schakowsky's husband being sentenced to prison for a check-kiting scheme involving millions of dollars? Probably not. It got little attention.

Most Jews ever set to enter Congress. A record number of Jewish members will enter Congress Thursday, but more remarkable are the unparalleled positions of power they will hold on committees related to Israel, many local Jewish activists say. Six new Jewish legislators will be joining 37 familiar faces as the 110th Congress convenes, making the total the highest-ever, according to Doug Bloomfield, a former legislative director for AIPAC.

The Editor says...
The posting of the article above has been perceived by some people as evidence that this web site is run by "flaming nutballs." But this article appeared in the Jerusalem Post, and the author was bragging, not complaining. The article does not denigrate the members of Congress who happen to be Jewish, nor was that the intent of posting it here. It is just another example of a story that the U.S. media omit -- in this case for the sake of political correctness. The media, by and large, have also ignored the record number of Muslims in Congress: two.

A $40 billion scandal: As reporter Lester Holt of NBC's "Today" put it in a Jan. 1 story, "Enron has been the poster child, if you will, of corporate scandals." It isn't the only one, though. There's $40 billion scandal with most of the same elements — even connection to prominent politicians. Just don't expect to see much about it on TV. After all, the top people involved here are Democrats.

Bin Laden family gave $1 million to Carter. Former President Jimmy Carter's center in Atlanta received more than $1 million from the family of Osama bin Laden, according to an investigative report.

The Homeland Security Rackets: On April 10th an American-registered DC9 was caught carrying 5.5 tons of cocaine destined for the U.S., the Mexican military announced, at an airport in Ciudad del Carmen. In the more than two months since, the incident has slipped into a black hole.

Carnival puts the bite on Hillary's brother. A bankruptcy trustee for a carnival company whose owners received a pardon from President Clinton is seeking to garnish the bank accounts of Mr. Clinton's brother-in-law to recoup more than $100,000 in loans. Anthony D. Rodham, one of Sen. Hillary Rodham Clinton's two brothers, got the loans from United Shows of America Inc. after its owners obtained the presidential pardon in March 2000 over the objections of the Justice Department.

Hillary's brother barred from bank account. Sen. Hillary Rodham Clinton's brother Anthony D. Rodham has been barred from accessing his bank account while a bankruptcy trustee demands that he repay more than $100,000 in loans from a carnival company whose founder was pardoned by President Clinton, filings in federal bankruptcy court in Alexandria show.

Why isn't this newsworthy? Are American and European reporters in Iran covering today's protests at all? If not, why not? Thanks to Banafsheh Zand-Bonazzi for sending these photos of protesting Iranian workers and students.

Safe at Any Speed. It's another summer weekend, when millions of families pack up the minivan or SUV and hit the road. So this is also an apt moment to trumpet some good, and underreported, news: Driving on the highways is safer today than ever before.

55 Guardsmen Decrease Mexican Border Infiltration 21% in 10 Days. That pretty much summarizes what was undoubtedly the most important news story of the last week, a report that was all but buried by the mainstream media. … The shocking drop-off in human smuggling is attributed to one factor: the arrival of the National Guard on the border.

The census has grown beyond its bounds. While the Patriot Act and National Security Agency wiretapping have received enormous attention and criticism from the mainstream media, another federal agency has been quietly gathering far more personal information about U.S. residents than those laws ever can. And this unreported project affects thousands more people. Our inquisitive federal government has been demanding that selected U.S. residents answer 73 nosy questions. They are threatened with a fine of $5,000 for failure to respond.

[The invasive and unreasonably nosy questions on the census started under President Clinton. So that's why we voted for a guy who said he would "bring strong conservative leadership to the White House." Sounds like the census is getting more intrusive, not less.]

Clinton cover-ups: Lost in the tumult over Islamic port deals and Katrina video capers is the recently released — and willfully ignored — Barrett Report. David Barrett, you'll recall, is the independent counsel appointed in 1995 to investigate allegations of impropriety against President Clinton's Department of Housing and Urban Development Secretary Henry Cisneros.

More information about the Barrett Report can be found here.

Hillary Clinton and the sweatshop tycoon of Saipan. It turns out that Sen. Clinton has some big fans in Saipan. And most of them are in the family of one Willie Tan. … You might not have heard of Willie Tan, but he is quite well-known in the Northern Marianas as a garment-industry tycoon. Sometimes he's also described as a sweatshop operator.

Top Stars Donated to Sen. Hillary Clinton. Clinton has spent millions on direct mailings to prospective donors. In the most recent three-month period, she spent more than $200,000 on postage alone. The campaign paid nearly $650,000 to a company that handles direct mail business.

Reid Accepted Free Boxing Tickets While a Related Bill Was Pending. Senate Democratic Leader Harry M. Reid (Nev.) accepted free ringside tickets from the Nevada Athletic Commission to three professional boxing matches while that state agency was trying to influence him on federal regulation of boxing. … In an interview Thursday [5/25/2006] in his Capitol office, Reid defended his decisions to accept the tickets and to take several actions benefiting former lobbyist Jack Abramoff's clients and partners as they donated to him.

Update:
Reid says he won't accept free tickets. Senate Democratic leader Harry Reid learned that what happens in Vegas doesn't always stay in Vegas after all.

Oklahoma bomber had jihad material. An Oklahoma University student who killed himself by detonating a bomb strapped to his body outside a packed stadium over the weekend was a "suicide bomber" in possession of "Islamic jihad" materials, according to a new report.

Media Myths of Katrina: It turns out that much of what we know to be true isn't exactly true. Popular Mechanics magazine has published a much overlooked story, The Lessons of Katrina, in its March issue. It got some attention at the time in the blogs and on certain online publications. But very little, if any, attention has been devoted to it in the mainstream media.

Did someone mention Hurricane Katrina?

Forcibly Disarming Law-Abiding Americans during Disaster: It Can Happen to You. This exact scenario unfolded in the aftermath of Hurricane Katrina, unbeknownst to most people across the country. New Orleans and other government officials literally ordered reluctant law enforcement officers to confiscate firearms from law-abiding citizens at gunpoint. In other words, at the very moment when Second Amendment rights mattered most, when innocent civilians needed firearms for self-protection, government forcibly confiscated them.

AP's Betty Friedan Obituary Whitewashes Her Known Communist Roots. The trouble is, the still widely-accepted accounts of Betty Friedan's early years have been shown to be totally, if you excuse the term, divorced from reality. The only hint that Italie gives of Friedan's true past is the description of her as a "labor reporter" during roughly the mid-1940s. There's much more to Betty Friedan's early years than Ms. Italie lets on.

Calling Jimmy Carter: Does a woman who accepts America's money to build democracy deserve 16 years in prison? Only to a brutal dictator. But that doesn't excuse Congress, NOW and Jimmy Carter for having nothing to say. Right under the news radar, a politicized court is about to throw Venezuelan democracy campaigner Maria Corina Machado into prison for "treason." Her so-called crime: Accepting a $54,000 grant from U.S. Congress' National Endowment for Democracy.

Appeals Court: Rep. McDermott Violated the Law in Leaking Taped Call. A federal appeals court ruled Tuesday [3/28/2006] that Rep. Jim McDermott violated federal law by turning over an illegally taped telephone call to reporters nearly a decade ago.

NAACP chairman compares GOP to Nazis. Civil rights activist and NAACP Chairman Julian Bond delivered a blistering partisan speech at Fayetteville State University in North Carolina last night [2/1/2006], equating the Republican Party with the Nazi Party and characterizing Secretary of State Condoleezza Rice and her predecessor, Colin Powell, as "tokens."

Whitewashing a Black Leader: Isn't it newsworthy when the leader of a venerable organization like the NAACP engages in such over-the-top, crackpot rhetoric?

Subordinating the truth: As I was watching President Bush's latest news conference, I was again struck by the thought of how different the news climate and public mood would be if the mainstream media (MSM) were truly as unbiased as they pretend to be.

All quiet on Hillary's plantation. If you think the networks were asleep at the switch, consider how the print media covered this brazen appeal to racial tensions. Quite simply, they just didn't want to mention the "plantation" or "worst president in history" remarks. USA Today skipped it. The Los Angeles Times skipped it for three days before allowing one article, despite mentioning Pat Robertson's remarks on Ariel Sharon's stroke in stories on three different days. … Time and Newsweek just printed the quote, and U.S. News didn't even do that.

Walter Cronkite — world federalist. The man once described as the "most trusted in America" has come out firmly, boldly, explicitly — and stupidly — for the formulation of a global government at the expense of U.S. national sovereignty. And, somehow, Walter Cronkite did this at the United Nations [in October, 1999] in near total media blackout.

The Left's privacy hypocrites. According to the McCurtain Daily Gazette, in the days after the 1995 Oklahoma City bombing, the U.S. government used a spy satellite to gather intelligence on a white separatist compound in Oklahoma. … Investigators zeroed in on the compound in nearby Elohim City. … Photoreconnaissance satellites that gather intelligence from space usually target hostile governments and foreign terrorists. "The domestic use of a military satellite for domestic spying is a violation of DoD and CIA regulations regarding the proper use of top-secret national security satellites," the Gazette reported. But with the exception of a brief Associated Press recap, the story received absolutely no mainstream-media attention.

If you're interested, I have assembled a whole page about the Oklahoma City Bombing.

The Globalization Of Freedom. With the media diet of genocide, civil war and terrorist chaos, you might be surprised to learn the world is freer than ever — and that the trend isn't new. Indeed, since Ronald Reagan entered office in 1980, the world has gone from being a place largely hostile to political, personal and economic freedom to one now overwhelmingly free or at least "partly" free.

Jesse Jackson to Face Civil Trial on January 17 for Assault and Civil Rights Violations. Judicial Watch, the public interest group that investigates and prosecutes corruption, today [1/13/2006] announced it has received confirmation from the Los Angeles County Superior Court that Jesse Lee Peterson, et al., v. Jesse Jackson, et al. (BC 266505) will go to trial as scheduled on January 17, 2006.

The mainstream media discover illegal immigration. The other evening, … my husband made a rather astute observation: "Why is it that all the news shows are suddenly doing 24/7 analysis of the immigration problem? You think they're trying to help the Democrats?" He had a point. Problems stemming from illegal immigration have provoked strong feelings among voters for years without sparking much more than an NPR/La Raza lovefest.

Fence fiasco: Or Feliz año nuevo. The decline of American sovereignty would typically be a big story in any year, but with all the news coming out of Hollywood this year, maybe it was a bit overshadowed by more significant events. I mean, how can the virtual surrender of a 231-year-old nation to the Pollyanna-ish forces of political correctness possibly compete with the dramatic real-life struggles of Britney Spears, Angelina Jolie, Tom Cruise, and the nation's hot new nymphet, Britney's baby sister, Jamie Lynn Spears?

The Scandal that Could Sink Hillary: Virtually every detail of alleged [Tom] DeLay transgressions gets reported and in very great detail. But scant coverage has been given to equally serious allegations against the junior senator from New York.

Hillary gets a pass while DeLay is assailed. What's that? You say you weren't aware that Mrs. Clinton was at the center of a significant controversy? No surprise there. Like I said, she's a Democrat. So her story has been buried or ignored by the big media bosses.

Press Ignores Vigil for Grandmother Murdered by Homosexual Man. The national and local press ignored a pro-family vigil … in Chicago on behalf of Mary Stachowicz, the grandmother who was murdered three years ago after sharing her faith with a homosexual tenant.

Media Ignore Homosexual Murder-Rape Trial: Family groups have complained that the news media have demonstrated a pro-homosexual bias in their reluctance to cover the case.

Horrible coverage of a horrible murder: The horrible torture-murder of a 13-year old boy by a pair of gays has been suppressed by the major media, partly because many people fear the power of the homosexual movement. The murder of a gay in Wyoming three years ago, in contrast, was widely covered. A New York Times reporter says that most of those deciding what the Times will cover are themselves gays. The public isn't getting the news it deserves.

When scientific fraud kills millions. Scientific fraud often ends up killing people. ... The medical truth about the AIDS epidemic, that it was communicated by anal intercourse, especially among men, was suppressed for decades, causing thousands of more young men to die. And now it seems that the global warming fraud, just one aspect of broader EcoFraud, is killing people in the Third World. The proximate cause? A doubling of food prices. Why? Because of the diversion of food crops to biofuels.

Selective reporting and the state of the nation.

Fox anchor goes unpunished: After he was arrested for hitting a woman with a car, the charges were dropped. The story, while reported briefly by local publications and wire reports, quickly fell off the media's radar.

Jewish plot to kill Bevin in London. Jewish terrorists plotted to assassinate Ernest Bevin, the foreign secretary, in 1946, as part of their campaign to establish the state of Israel, newly declassified intelligence files have shown. The plan was devised by Irgun, the insurgent group led by Menachem Begin, who went on to become a Nobel peace prize winner and prime minister of Israel. Begin, whom MI6 believed was backed by the Soviet Union, planned to send five terrorist cells to Britain to carry out bombings and assassinations that would "beat the dog in his own kennel".

The Democrats go dumpster diving. Have you heard about what New York Sen. Charles Schumer's meddling minions tried to do here in my home state of Maryland to embarrass a Republican opponent? Don't bother with The New York Times if you want details. Since revelations of the scandal first broke a week ago on the national wires and in the rest of the New York media, the Times has failed to print a single word about the Dems' invasive — and obviously illegal — dumpster diving.

The news from Iraq that's not fit to print: What was the most important news out of Iraq last week? That depends on what you consider "important."

All the news that's fit to omit: When you read The New York Times (if you still bother to read it), always ask: What is the Times NOT telling me? The answers are invariably more compelling — and newsworthy — than what the paper actually deems "fit to print."

Terri's grave: "I kept my promise". Michael Schiavo had a grave marker placed yesterday [6/20/2005] on the cremated remains of his wife Terri Schiavo that lists her death as Feb. 25, 1990 — more than 15 years before she died of court-ordered dehydration.

The worst bill you have never heard of. [Hawaii's two senators apparently intend to create] a race-based and racially separate government for Native Hawaiians. Under S. 147 Native Hawaiians would be under the federal Indian law system and would be designated as a "tribe." This new race-based government would have jurisdiction over 20 percent of Hawaii's citizens as well as 400,000 citizens nationwide. This would be the first time in our nation's history that we have created an extra-constitutional race-based government out of a group of American citizens.

Mailboxes Vanish: If you've noticed that mailboxes seem harder to find than ever, it's true: The government has removed almost 7,000 of them since September 11.

The Reporters Who Didn't Bark. There's a reason that the media hasn't asked national Democrats what they think about California's same-sex marriage bill. The media knows this is an issue of intense interest across the political spectrum. The mainstream media also knows that every single time the question of same-sex marriage has been submitted directly to the voters, it has been overwhelming rejected.

Under the radar: Our beloved mainstream media are complaining that President Bush is spending too much time at the "Western White House" in Crawford, Texas. Their stories about his "vacation" make it seem as if he's not doing a whole lot. But a closer look reveals that the president is working hard — the Fourth Estate just doesn't bother to cover what he's really doing.

Beware of Strange Men With Rocket Launchers. Many readers have e-mailed me about a recent report floating on the Internet that reveals military concerns about a suspicious trio of Middle Eastern men who apparently pointed a rocket launcher at low-flying aircraft near Tinker Air Force Base in Oklahoma earlier this month. It's authentic.

Media Agrees with Wilson: 2+2=5. The [mainstream news media] are leaving out relevant facts, relevant information, ignoring other things — like the Senate intelligence committee testimony and report on Joe Wilson — the fact that they're leaving out the fact that the CIA unveiled Valerie Plame's identity a year or two before Robert Novak ever did.

Bush Made Better Grades in College than Kerry. Why didn't Kerry release his records during the campaign? After all, his refusal seemed like a cover-up. Now we know. Kerry's military records also include his college grades. (The New Yorker printed Bush's grades in 1999, but Kerry consistently refused to release his.) It turns out that "dummy" and fellow Yalie George W. Bush made better grades than did brainy, intellectual John Kerry.

The Howard Dean blackout: If Howard Dean thought it would be a great idea to heighten his profile by becoming chairman of the Democratic National Committee, he was making a big mistake. Since he was elected to the top party spot on Feb. 12, Democrats have been hiding him like the Clinton staff hid mistresses. They've had big help from a national media blackout.

First no more air maps, next no more road maps? The U.S. National Geospatial-Intelligence Agency (NGA) has proposed to withdraw all aeronautical data and products from public distribution.

FEC Rules Against DNC/Jesse Jackson. The Federal Election Commission announced [May 26, 2005] that the Rev. Jesse Jackson and the Democratic National Committee have been found guilty of violating federal election law.

Networks Were Silent On FCC Story. A Nexis news database search showed that as of May 20, less than two weeks prior to the vote, neither Viacom-owned CBS or GE-owned NBC had said anything in their respective evening newscasts about the rules changes, changes for which both companies had been vigorously and expensively lobbying Congress and the FCC.

Oiling the Green Political Machine. Did taxpayers unknowingly help fund the 2004 election campaign to unseat President Bush? Ignored by the media, a Senate probe has found grants from the Environmental Protection Agency financing a host of anti-Bush political lobbies and activist groups.

Omaha stakes: Last Thursday [5/12/2005], a federal judge in Omaha overturned Nebraska's constitutional amendment that banned same-sex "marriage." And the press reaction to the story was muted. Why? Because this decision proves that we and other critics of the courts and advocates for a constitutional amendment banning same-sex "marriage" have been right all along.

Fannie Mae's bailout tab: Fannie Mae, the government-sponsored mortgage association, has been battling a mounting scandal since last year. It has accounting errors of about $11 billion. [That's Enron × 19.] This is news — $30 billion worth of news — but only print reporters are out there covering it regularly. TV news is out to lunch.

George Soros and the Press: "The media consistently ignore the fact that this so-called 'philanthropist' has had several brushes with the law," including a conviction in France for insider trading. On March 24, that insider trading conviction was upheld. … This is the perfect opportunity for our media to finally start examining this billionaire's business and financial connections. Remember this is the man who tried to buy the White House for John Kerry.

Whistleblower on FBI vindicated. Accusations by an FBI contract linguist fired after complaining about suspected security breaches and misconduct in the bureau's post-September 11 foreign language translation program "had some basis in fact" and are supported by documents and other witnesses, a report said yesterday [1/14/2005]. The Justice Department's Office of the Inspector General, in an unclassified summary of a secret, 100-page report issued in July, said the FBI should have "more thoroughly" investigated accusations by the linguist, Sibel Edmonds.

ACLU supports Sibel Edmonds in FBI case. As a language specialist for the FBI, Edmonds was responsible for translating potential terrorist documents from Turkish to English. She reported two categories of problems within the FBI, including what she said was incompetence and the more serious problem of intentional mistranslations.

FBI Whistleblower Sibel Edmonds Defies Gag Order. Sibel Edmonds has spent the past five years trying to tell her story — one where corrupt U.S. government officials allowed Pakistan and other states to steal nuclear weapons secrets — but wasn't able to because the Department of Justice has a gag order against her. When Edmonds brought her case to court, the DOJ again interfered, allowing only officials with top-secret security clearances to attend hearings.

Where was Kofi? Our media have wanted to know why President Bush was allegedly too slow in publicly responding to the tidal wave disaster. But where was Kofi? James Langton of the London Telegraph reports, "UN officials went to great lengths to conceal the whereabouts of Kofi Annan, the organisation's general secretary, who was on holiday when the tsunami struck and did not surface in New York until Thursday [1/27/2005]. In fact, it was revealed that, Mr Annan spent Christmas at the holiday home of James Wolfensohn, the president of the World Bank and a critic of the Bush administration, who owns a 160-acre ranch in the resort of Jackson Hole, Wyoming. Only a handful of Mr Annan's most trusted advisers were allowed to know his location.

School Violence Is Under-Reported. School violence, although generally decreasing in the United States, is under-reported in many schools, according to a new report from the Reason Foundation. School crime data are largely unavailable and incidences of violence often downplayed.

GI Jane at War: The True Story of Women in Combat. Women soldiers are being wounded and dying in record-breaking numbers. Practically no one is talking about it — not the media and not even Congress.

Unilateral self-flagellation: Upon arrival at Camp Delta [Guantanamo Bay], detainees are issued a blanket, a sheet, two orange jump suits, flip-flops, a foam sleeping pad, two bath towels, a washcloth, toothpaste, soap, shampoo, a prayer rug and a Koran. They are allowed two 15-minute showers per week; they get recreation time and three culturally sensitive meals per day. Schedules are respectful of Islamic traditions, prayer calls are broadcast five times a day, and arrows painted on the floors point to Mecca. Their regular quarters include a flushing toilet, running water and an off-the-floor bed. Detainees who ask for them are provided with soccer balls, playing cards, chessboards and paperback books. All of this courtesy of the American taxpayers the detainees have sworn to kill.

Air Pollution Cut in Half, EPA Announces. The U.S. Environmental Protection Agency has achieved a major milestone in its 34-year battle against air pollution. As Administrator Michael Leavitt announced on September 22 [2004], "emissions have been cut by more than half (51 percent) since the Clean Air Act was passed in 1970." Unfortunately, recent polls show the public is unaware that things have improved at all.

A 55-point chasm in military support for Kerry and Bush. October 11 [2004] editions of Military Times publications (Navy Times, Army Times, Marine Corps Times, Air Force Times) carried an astounding story not likely to get much coverage in the establishment press. Bush leads Democratic Sen. John Kerry 73 percent to 18 percent in the voluntary survey of 4,165 active-duty, National Guard, and reserve subscribers.

Kerry's Korea-gate mess: On the one hand we have a major television network racing to broadcast news about 30-year-old "documents" — now proven to be fraudulent — all in an effort to discredit President Bush. On the other hand we virtually have all of the networks ignoring a real, fresh-as-today, scandal involving the Kerry campaign's fund-raising. The Associated Press reported this past week that a South Korean national who met with John Kerry's fund-raisers and discussed setting up a new political group for Korean-Americans was actually an intelligence agent for South Korea.

A Free Pass for "21st Century Lenin". The major media are desperate to avoid scrutiny of how or where leftist billionaire George Soros is getting the tens of millions of dollars that he is using to finance anti-Bush advertising campaigns and pro-Democratic Party political efforts before the November 2 election.

Reporter Reflects on Leftist Hopes of Newspaper Publisher. You might think media bias is a new thing, but a 40 year confession of a newspaper reporter gives us a peek behind the curtain as to how horribly biased newspapers have been for nearly a half century. Martin Dyckman, a former reporter for the leftist St. Petersburg Times, reminisces about the day he read over the wire that John F. Kennedy had been killed in Dallas.

Free Pass. Amid the uproar over the ads run by the "Section 527" political committee known as Swift Boat Veterans for Truth, the Establishment media have remained eerily silent about the massive union-funded 527s that are spending exponentially more resources.

A Very Kerry Christmas: Some people wondered how long the major media would be willing to ignore the Christmas-in-Cambodia story. Well, the answer is in: at least 10 or 11 days. I first noticed the story August 6... Soon it was all over the Internet, the conservative press, talk radio, and some cable shows. But the networks, the New York Times, the Washington Post, the Los Angeles Times, and other major media didn't run the story. Some papers, like the Kansas City Star, got protests from readers on what appeared to be a news blackout.

How Arafat's gunmen suppress the news: On Sept. 11, 2001, Americans were shocked by footage of Palestinians dancing in the streets to celebrate the terrorist attacks on the United States. But those scenes disappeared from the airwaves soon after — not because they weren't newsworthy, but because the Palestinian Authority gave orders to suppress them.

Editor's Note: You have to wonder... what else is not being reported?

Hazel O'Leary, Clinton's Energy Secretary, Removed From Plane. Nine days after being named president of Fisk University, Hazel O'Leary found herself being questioned by the FBI after being escorted off a commercial airplane. O'Leary disputes a report that she was loud and abusive.

The Long Trail of Sibel Edmonds at the FBI: Sibel Edmonds [was an] FBI translator who was fired for reporting on Bureau corruption in the area of handling investigations into terrorism. Edmonds had run into some very dark situations where FBI terror probes had been shelved, scuttled, erased, and put into the freezer. There were major indications that Edmonds, in her FBI job, had come up against a pervasive culture of CYA practices, aimed at shielding and protecting FBI employees after very serious screw-ups had occurred.

Just what we need...
US Offers Citizenship To 7000 Ahiska Muslims. The United States has agreed to grant citizenship to 7,000 Ahiska Muslims who will be settled in Pennsylvania, according to a Russian newspaper, Novie Izvestia. It added that the Muslims would be housed near the grand mosque in Philadelphia.

Second Muslim Elected To Congress. Democrat Andre Carson won't have much time to bask in his special election victory. In just eight weeks, he faces another vote for the same congressional seat. Carson, who on Tuesday [3/11/2008] won the office formerly held by his late grandmother and became the second Muslim ever elected to Congress, will face seven challengers in the May 6 Democratic primary for a full two-year term.

PATRIOT Act Sneak Attack II: As a result of many protests from US citizens, the Judiciary Committee postponed a vote on the bill, HR 3179, the Anti-Terrorism Intelligence Tools Improvement Act of 2003, and instead a subcommittee held a public hearing on May 18. But you would never know that the hearing occurred if you read the American press or watch or listen to US electronic news media. A major expansion of one of the most controversial laws ever adopted in the US was ignored by most of the media.

Up in smoke stacks: The much-maligned factory sector is booming. Not rising. Not improving. Booming. The industrial sector is so strong that the speed of supplier deliveries has hit its highest level since April, 1979.

Liberal media? I'm shocked! A new survey by the Pew Research Center says that just 7 percent of journalists and news executives call themselves conservative, compared with 33 percent of the general public. The self-identified liberals (34 percent) are five times more common as conservatives in the news business. As you might imagine, this got very little play in the mainstream media.

Deliver us from Democrats: Sean Hannity's latest book, "Deliver Us From Evil," is even better than his last. It hit No. 1 on the New York Times best-seller list the week it came out and stayed there for at least five weeks. [Yet] not a single major mainstream newspaper has reviewed it.

The Ugly Truth: Exsanguination or draining of blood? A federal judge is demanding that abortion-industry witnesses speak in plain English as he considers one of three challenges to a federal law banning partial-birth abortions. But despite all the sensational testimony and courtroom drama, the major news media are paying no attention.

A Coverup That Won't Stay Covered: CNN recently reported that "the Justice Department is re-examining its investigation into the 1995 death of a federal prisoner that the victim's family alleges was murdered at the hands of the government."

Editor's Note: After doing a little searching on the internet for the name of the victim in this case, it appears that he might have been the elusive John Doe #2 in the Oklahoma City bombing investigation.

Thirty Oklahoma City Bombing Questions That Demand an Answer: Why has the media consistently suppressed and refused to report any information or evidence which indicates that, at the very least and regardless of who was responsible, there was Federal foreknowledge that the [Oklahoma City] bombing would take place?


---

USS Liberty subsection:

The USS Liberty: America's Most Shameful Secret. The US government's long, disgraceful cover-up of the premeditated attack on Liberty has now burst into the open and demands full-scale investigation. After 34 years, the voices of Liberty's dead and wounded seamen must finally be heard.

USS Liberty Court of Inquiry: The USS Liberty, a neutral ship in international waters, was attacked without warning by air and naval forces of the state of Israel on June 8, 1967. USS Liberty had not engaged in any provocative conduct, nor was she any kind of obvious threat to other ships or aircraft in the area.

Declaration of Ward Boston, Jr., Captain, JAGC, USN (Ret.). It was our shared belief, based on the documentary evidence and testimony we received first hand, that the Israeli attack was planned and deliberate, and could not possibly have been an accident. I am certain that the Israeli pilots that undertook the attack, as well as their superiors, who had ordered the attack, were well aware that the ship was American.

Why did Israel attack USS Liberty? For former US seaman Gary Brummett, the 40th anniversary of the 1967 Middle East war has stirred painful memories. As a 21-year-old third class petty officer, Mr Brummett was serving on board the USS Liberty off the coast of Egypt on 8 June, when, without warning, the vessel came under fire, first from fighter planes, then torpedo boats. The attack, which lasted at least 40 minutes, resulted in the deaths of 34 of Mr Brummett's fellow crewmen, at least 170 injured and catastrophic damage to the ship.

New revelations in attack on American spy ship. For [Bryce] Lockwood and many other survivors, the anger is mixed with incredulity: that Israel would attack an important ally, then attribute the attack to a case of mistaken identity by Israeli pilots who had confused the U.S. Navy's most distinctive ship with an Egyptian horse-cavalry transport that was half its size and had a dissimilar profile. And they're also incredulous that, for years, their own government would reject their calls for a thorough investigation.

NSA's USS Liberty Page. "The attack on the USS Liberty, like others in our nation's history, has become the center of considerable controversy and debate. It is not NSA's intention to prove or disprove any one set of conclusions, many of which can be drawn from a thorough review of this material. Instead, through these public releases, we intend to make as much information as possible available for the many scholars, historians, academia, and members of the general public who find interest in analyzing the information and forming their own conclusions."


---

Do Orwell-ocrats Own 9-11? The media has largely succeeded into putting America to sleep with hypnosis and by blacking out information that would shock the nation out of lethargy. The Left is yet again trying to steal our political show by misdirecting our attention and by controlling what Americans are permitted to see.

CNN Has Two Black Eyes. CNN twice scheduled a program to examine evidence that TWA flight 800 was shot down by missiles. Twice they cancelled their guest, once giving his spot to one of the government's chiefs of the cover-up. Thanks to the Internet, many people knew of the evidence and wanted to see the CNN program. They now know that CNN is not concerned to provide hard-hitting news.

Islam and Slavery: The Concealed Truth. To this day the only places in the world where one can buy a slave for ready cash are Moslem countries. The slaves in question are almost invariably black, and the countries in question are primarily Mauritania and Sudan.

Sudan On The Brink: It just shows what is wrong with our media. The front pages of most newspapers last week carried a story about a horrific plane crash in the Sudan that cost 100 lives. While this tragedy was certainly newsworthy, hardly a single media outlet has been covering the real story in Africa's largest country that could turn into a human catastrophe for millions of its non-Muslim citizens.

Under-covered stories of the week: Now that I'm blogging many times during the day (www.worldmagblog.com), I run across lots of provocative and evocative stories that have received some news coverage, but — often for ideological reasons — not what they deserve.

Oil for Hussein. As front pages report every bit of bad news on the Iraqi war front in bold type, newspapers are giving precious little ink to what could be the biggest kickback scheme in world history. Call it: How Saddam Hussein siphoned $10.1 billion for his regime — thanks to the United Nations.

Self-Proclaimed "Scourge of the Liberal Media" to Speak in Chicago: "As a crusading reporter, he chased snake-oil peddlers, rip-off artists, and corporate thieves, winning the applause of his peers. But along the way, he noticed that there was something far more troublesome going on: While the networks screamed about the dangers of exploding BIC lighters and coffeepots, worse risks were ignored. And while reporters were teaming up with lawyers and legislators to stick it to big business, they seldom reported the ways the free market made life better."

Report Accused Davis of Battery. While the Los Angeles Times wallows in slime about Arnold Schwarzenegger's alleged groping and Gray Davis suggests that Arnold has committed "crimes," the paper has been strangely silent about charges that Davis himself had a nasty habit of physically abusing his staff.

Bagram GI says Troops Waited While Hillary Chowed Down. U.S. Sen. Hillary Clinton forced U.S. troops stationed at Bagram Air Base in Afghanistan to wait for their Thanksgiving dinner last Thursday while she and her entourage arrived late, then cut in line and were served first.

Motorist Guilty in Windshield Murder: A fact that many media are refusing to report about the case: Mallard, who is black, giggled as she told friends several months later, "I hit this white man." She has never, however, been charged with a "hate crime."


---

The Jessica Lynch Subsection:

Jessica Lynch: Modern Myth. Is this really the way we want to fight our wars, with young mothers coming home in wheelchairs? (By the way, has anyone noticed how many of our women warriors seem to be single mothers?)

The truth about Jessica Lynch: Her Iraqi guards had long fled, she was being well cared for - and doctors had already tried to free her.

Spin behind Jessica Lynch story? Discrepancies in reports of POW's capture and rescue raise questions.

Jessica Lynch family under gag order? Parents withhold details of ambush and POW experience.

The "Rescue" of Jessica Lynch: Colonel Sam Gardiner (USAF, Ret.) has identified 50 false news stories created and leaked by a secretive White House propaganda apparatus. The Pentagon's control over the news surrounding the capture and rescue of Pfc. Jessica Lynch receives a good deal of attention in Gardiner's report. … Lynch's family confused the issue by telling the press that their daughter had not sustained any bullet wounds. Lynch's parents subsequently refused to talk to the press, explaining that they had been "told not to talk about it." (Weeks later, the truth emerged. Lynch was neither stabbed nor shot. She was apparently injured while falling from her vehicle.)


---

The looters liberals ignore: Peter Jennings and the New York Times couldn't get enough of the looting stories out of Iraq. But they couldn't care less about a massive, systematic looting scheme here at home that is robbing America's schoolchildren and rank-and-file teachers blind.

CNN Charged with "Disinformation Campaign" from Iraq. A media watchdog group is calling CNN to task for withholding information about the brutal nature of the Saddam Hussein regime in order to keep a bureau open in Baghdad.

CNN Exec Admits Covering Up "Maniac" Saddam's Atrocities: Here's another fascinating item we'll dedicate to Jacques Chirac, Nancy Pelosi and the other humiliated appeasement activists: A CNN big is admitting his network covered up the atrocities of Saddam Hussein.

Pinocchios of the Left: [Scroll down] In order to keep its Baghdad bureau open, CNN never uttered a negative word about Saddam Hussein's regime. … What does a so-called news organization gain from having a bureau for 25 years if it hasn't the slightest intention of reporting the news? The fact that those on the left lie isn't so surprising. What boggles the mind is how badly they do it.

CNN's Disgusting Sins of Omission: Those of us who did not live through the Nazi Holocaust find it hard to understand why so many who knew what was happening stayed silent for so long. CNN provides the answer by its own example.

The National Debt, Down To the Penny. Does anyone care that it is rapidly approaching seven trillion dollars?

"Reporting some of what we know": Reporters want to be anywhere news is happening. Sometimes, they face great danger. In Iraq, for example, at least ten journalists have been killed so far. But it doesn't do much good to have a reporter somewhere if he/she can't actually report what's happening.

CNN -- the Most Untrusted Name in News

Tom Daschle may no longer call himself a Catholic: The Senate minority leader and the highest ranking Democrat in Washington has been sent a letter by his home diocese of Sioux Falls, sources in South Dakota have told The Weekly Standard, directing him to remove from his congressional biography and campaign documents all references to his standing as a member of the Catholic Church.

Mrs. Daschle's lucrative lobbying: Mrs. Daschle's lobbying activities as senior public policy director of the law firm Baker, Donelson, Bearman and Caldwell have received only a small amount of press scrutiny, save for an account in the Washington Monthly earlier this year. Her lobbying activities surfaced again recently because of a controversial proposal before the Senate to lease military aircraft from Boeing - a client of Mrs. Daschle since 1998, according to federal records.

The year's 10 most underreported stories: WorldNetDaily's "Operation Spike" pinpoints major events the media ignored.

10 most "spiked" stories of 2001: WorldNetDaily.com has compiled its annual list of the most "spiked" stories — unreported or underreported major news events of the last year — after polling its readers and editors. While most news organizations present year-end retrospective replays of what they consider to have been the top news stories of the previous 12 months, WND's editors have always found it more newsworthy to publish a year-end compilation of the important stories most ignored by the establishment press.

Most "spiked" stories of 2003: Although it's attracted little media attention, the "ramp" or "back side" of an airport, where unscreened workers and vendors have access to baggage, air cargo, food supplies, mechanics' equipment and the aircraft itself, represents the gateway to the next terrorist attack on U.S. airliners, predicts a former airline security consultant.

Most under-reported stories of 1997.

Shenanigans at Greenpeace — And the Media Yawns. After a year in which financial improprieties gobbled up headlines like never before, it would stand to reason that a brewing scandal involving a major international organization, millions of dollars, and alleged tax evasion would receive similar treatment. But if that major international organization is famed environmental group Greenpeace, the media goes mute.

The $600 Million Blacks Only Lottery: The U.S. Department of Agriculture has paid $600 million to black farmers, admitting it discriminated. Of course, this has had very little coverage in the news media. As with so many other scandals in the Clinton administration, they have chosen not to report it.

Media Keep Ignoring Interracial Mass Murder in Wichita: Because the suspects are black and their victims white, many observers in Wichita expected the brothers to be charged with "hate crimes," which presumably would have sparked national news coverage. It didn't happen, and some are raising the specter of a racial double standard by the national media, based on the lack of news coverage of this mass murder.

Democratic political guru in sex extortion: There is growing concern that the failure of most big media to report this case concerning a nationally known media figure may be evidence of media protecting its own.

Media Ignore Black Farmer Fraud: The news media have recently discovered a big story that has been around since January 1999, when the Washington Post reported that the government had agreed to a consent decree in a class-action lawsuit filed against the Department of Agriculture by black farmers seeking compensation for discrimination they allegedly suffered when they applied for government farm loans.

The Biggest Story They Won't Report: The most important breaking news story that has been suppressed in recent times is the murder of Deputy White House Counsel Vincent W. Foster Jr. in 1993. A leading Republican senator said seven years ago that the reason they were not investigating Foster's death is that if he did not kill himself, the president was somehow involved and the democratic process could not survive such a disclosure. The media seem to share that view, because no major news organization has ever investigated or reported the flaws in the official investigations.

Attack at LAX: The Clock Struck 13: Tell us the truth. And if you don't have people who can tell the truth, or even recognize the truth, get some who can before it's too late and we lose all confidence in our government and our media.

Promoting All the History That Is Fit … to Support Media Biases: One way to detect liberal bias in the media is to monitor coverage of new scholarship on early American history or the founding fathers.

Over 180 Witnesses Saw Midair Fire Before Flight 587 Crashed: Most of the eyewitnesses to last November's crash of American Airlines Flight 587 have told investigators they saw fire and/or smoke aboard the doomed plane before it plummeted into a residential neighborhood in Rockaway, N.Y., the National Transportation Safety Board announced on Tuesday [6/4/2002].

Alaskans Hopeful Democrats Permit ANWR Vote: The media fail to report about what Alaskans think about oil exploration in the Arctic.

Hillary Gets Media Pass on Cop Incident, J.C. Watts Not So Lucky: After Oklahoma Rep. J.C. Watts had a run-in with an airport security police officer late last month, media outlets, both in Oklahoma and around the country, amply covered the story. But a more egregious altercation in mid-October involving New York Senator Hillary Clinton has received almost no coverage, despite the fact that the police officer involved was injured so badly by Clinton's car that he has yet to return to duty.

America's wake-up call: We have to wonder if the Clinton administration's cover-up of the cause of the crash of TWA Flight 800 emboldened the perpetrators of these attacks to carry out their kamikaze missions. The evidence that TWA 800 was downed by missiles is overwhelming. Hundreds of eyewitnesses either saw a missile rise from the surface of the ocean or spotted a missile in the sky heading for TWA 800. Radar picked up a missile track. But all of this ended up being disregarded by the FBI, the CIA and the National Transportation Safety Board.

(See TWA Flight 800.)

China Funded Secret Plan to Sway U.S. Elections: Most major news media ignored the bombshell development.

The Media Must Expose The Lies: July 20th will be the eighth anniversary of the death of Deputy White House Counsel Vincent W. Foster, Jr. For eight years nearly all our media have refused to examine the evidence in this case.

Publisher Spikes Whitewater Tell-all by Key Witness: A planned book by key Whitewater witness David Hale, who may be set to reveal new information about the death of Clinton lawyer Vincent Foster, has reportedly been spiked by publishers.

Cooking the Books at Education: The sad truth, which has escaped the attention of most of the major media, is that there is no real guarantee that any of this money will actually get to the students that may need it. This is because the Department of Education has been so mismanaged that it can't account for the money it is spending.

Embarrassing Chelsea Photo Hushed Up by Press

The Last Radio Network: The Emergency Alert System failed miserably at the FCC's ceremonial public unveiling of the system, though this fact was underreported. No actual EAS messages were successfully transmitted and received at the event. Instead, exhibiting vendors merely activated a cacophony of sirens and lights by manually switching them on.

Editor's Note: (I have been able to find no additional information about this incident.)

Abortion Foe Stabbed; Media Silent: The investigation of a little-known stabbing of a pro-life activist outside a Little Rock, Ark., abortion clinic remains open, leaving many pro-life advocates alleging official indifference to the case. With information about the investigation being withheld from the public, Laura Echevarria of National Right to Life Committee believes the incident, which received little media coverage, highlights an inherent media bias against abortion opponents.

The last case of Louis Freeh: Cynthia Grenier covers a story the mainstream media ignores.

Jenna Nabbed for Alcohol Possession, Chelsea Gets a Pass.

Foster Case Bombshell Tests the Media



---

The Department of Unemployment

Examples of media bias related to news about the economy have been moved to this page.



---

The Secret Superhighway and the Homogenization of North America

There was so much to say, all the material was moved to this page.


---

Back to the Media Bias page
Back to the Home page