—
Barack Obama
,
at a campaign fundraiser, March 30, 2007.
---
Obama's naked thuggery
. After all these years it took a great constitutional scholar who had spent a life cloistered in academia and street work to utterly rape our most cherished Constitution. This business of bypassing the Senate to pick "recess" appointments to positions most Americans have never heard of may seem trivial. It is anything but. What Barack Obama has done has been to disembowel the U.S. Senate and shred the most carefully worded document in the history of civilized society.
Obama and his Syndicate
. [Scroll down] Now the extremely bad news for US citizens. First, on 19 January 2012, multiple videos were made of a shipment — via rail — of hundreds of Bradley armored vehicles and related equipment moving from Northern California Southward. ... The US military, Department of Homeland Security and LOCAL Police are conducting "urban warfare exercises" in recent and unprecedented "showings of force" under the now undeniable (by any intelligent beings) Dictator-in-Chief Barack Hussein Obama. These military forces are inhabiting the streets and air of and over Los Angeles, Boston, Little Rock, Miami and Colorado amongst others.
Democrats and Executive Overreach
. One reason so many Americans entrusted Barack Obama with the presidency was his pledge to correct the prior administration's tendency to push unilateral executive power beyond constitutional and customary limits. ... The president has power to make recess appointments only when the Senate is in recess. Several years ago — under the leadership of Harry Reid and with the vote of then-Sen. Obama — the Senate adopted a practice of holding pro forma sessions every three days during its holidays with the expressed purpose of preventing President George W. Bush from making recess appointments during intrasession adjournments. This administration must think the rules made to hamstring President Bush do not apply to President Obama.
What Are You Prepared to Do?
President Obama has made clear his path to re-election. He plans to run against Congress and — by seizing unconstitutional powers — go about governing this year with or without the legislative action required by the Constitution. He'll issue executive orders, have his bureaucracy regulate as may please his ideology, and generally do whatever else he can get away with. Obama apparently thinks he can get away with a lot, and judging by the response of the Republican congressional leaders to his actions last week, he's probably right.
Obama's Fascist America in 10 Easy Steps
. [#6] Engage in arbitrary detention and release. Obama just signed the National Defense Authorization Act into law, a bill granting him the power to detain for an unlimited time anyone he deems engaged in terrorism. Given the DHS definition of terrorism, that could be anybody. American citizens are not exempt, although Obama promises not to use these new powers against them.
The Editor says...
We all know how good Obama's
promises
are.
Obama Breeds Mistrust By Skirting The Constitution
. At first glance, this might appear to be an "inside the Beltway" story, except for two points that make them worthy of comment: These appointments, which ignored the Senate's power to advise and consent, were the first of their kind by any president. Their exercise places under a cloud of unconstitutionality each and every decision made by the CFPB and the NLRB in which these officials participate.
Obama recess appointments face legal challenge
. Two pro-business advocacy groups on Friday filed the first legal challenge to President Barack Obama's recent recess appointments, asking a federal judge to find them unconstitutional.
Obama to Congress: I'll decide what's constitutional
. Election season is here, and you might think President Obama would be going out of his way to show voters that he can be trusted with the powers of the presidency. But you would be wrong. Just a few days before Christmas, Obama served notice to all Americans that he will continue to abuse executive privilege by seeking new ways to vilify gun owners and further his anti-gun agenda.
Ted Kennedy court brief: He wouldn't support Obama's 'recess' appointments
. A newly resurfaced court briefing filed by the late Massachusetts Democratic Sen. Ted Kennedy in 2004 shows he would have opposed the logic President Barack Obama used to make four recess appointments last week. In the amicus briefing, Kennedy argued that President George W. Bush's recess appointment of Judge William Pryor to the 11th Circuit Court of Appeals was unconstitutional. Kennedy thought the appointment was unconstitutional because the Senate was not officially on a recess. The Senate had been adjourned for 10 days before Bush exercised his recess appointment power.
Obama's inoperable Constitution
. Back in 1973, when the Nixon administration was under fire for Watergate, Press Secretary Ron Ziegler uttered an unforgettable response when caught in a lie during a news conference: "This is the operative statement. The other statements are now inoperable." Well, the Obama administration just topped that by essentially declaring the U.S. Constitution "inoperable." President Obama did not use that term when making an illegal recess appointment of Richard Cordray to the new post of consumer czar on Wednesday [1/4/2012], but he might as well have.
Obama's Subversive Appointments
. Behavioral modification by red tape has especially become the imprimatur of the Obama administration — i.e., bypass congress and rule by regulatory edicts. It has become increasingly evident that the original Clintonista appointments were just a smokescreen regarding what was to be Obama's stealth agenda. Subsequent appointments have revealed two persistent themes that that would be a hard sell outside the Beltway. To wit: Transnationalism and Postconstitutionalism.
Acting Like A King Isn't Among The President's Duties
. A spokesman says the president "can't wait for Congress to act" and promised that he's "going to take action." This is the president who was "ready to rule" in 2008. Is he an elected chief executive or an emperor?
Obama on Flouting Article 2, Section 2 of Constitution: 'I Refuse to Take No for an Answer'
. The Senate is not currently in recess, and the Congress did not give Obama the power to name the head of CFPB without Senate approval. Nonetheless, Obama has appointed Cordray without the constitutionally mandated Senate approval. Last year, Obama nominated former Ohio Attorney General Richard Cordray to run the CFPB, which was established by the controversial Dodd-Frank financial reform law in 2010. The Senate did not confirm Cordray.
Santorum says Senate should sue over Obama appointments
. Rick Santorum said the Senate should sue over President Obama's decision Wednesday to appoint Richard Cordray to head the Consumer Financial Protection Bureau and name three members to vacancies on the National Labor Relations Board. "What the president did was wrong — pretty scary stuff," Santorum said.
Dem NLRB 'recess' appointments rushed, don't appear on White House nominee list
. Obama referred his two Democratic nominees, Sharon Block and Richard Griffin, to the Senate on Dec. 15. The Senate adjourned for the year — but did not go into an official recess — on the following day. WhiteHouse.gov tracks the status of all of Obama's appointments and nominations. Block and Griffin do not appear on that list — a sign that the administration rushed the recess appointments through too quickly for the Senate to even consider them.
Cordray's Recess Appointment Sure Doesn't Look Constitutional To Me
. The trouble is that the Senate isn't in recess. For complicated reasons the Republicans have the ability to prevent the Senate from going into recess, and they have done so in order to maximize the difficulty of Obama making recess appointments. The White House maintains that keeping the Senate in pro forma session is a stupid gimmick, which is certainly true. It further maintains that because it is a stupid gimmick, that gives the president the right to act as though the Senate were in recess. That's the part I have trouble following.
King Barack's power grab
. Presidents have the right to make temporary appointments when Congress is away from Washington, of course, and both parties have used that power. But Obama is the first president to declare that he, and he alone, can decide whether the Senate — which must confirm his appointments — is actually meeting.
Obama's Cordray Appointment Mocks the Constitution
. In 2008 candidate Sen. Barack Obama famously said: "This is part of the whole theory of George Bush that he can make laws as he is going along. I disagree with that. I taught the Constitution for 10 years. I believe in the Constitution and I will obey the Constitution of the United States. We are not going to use signing statements as a way of doing and end run around Congress." Now, we find that not only was he kidding about signing statements — he recently used one to ignore about 20 provisions of the omnibus spending bill — but Obama also believes he can decide for himself that the Senate is in recess when it is not, overturn at least a hundred years of precedent, and bypass the Constitution's advice and consent requirement.
Obama's deadly secret
: [Scroll down] But to the White House, the battlefield means anywhere in the world, and the threat could refer to anything. This expansive, pre-emptive self-defense logic may be justifiable for taking out foreign terrorists, but it fails miserably as a rationale for executive assassination of American citizens.
The NDAA's historic assault on American liberty
. President Barack Obama rang in the New Year by signing the NDAA law with its provision allowing him to indefinitely detain citizens. It was a symbolic moment, to say the least. With Americans distracted with drinking and celebrating, Obama signed one of the greatest rollbacks of civil liberties in the history of our country ... and citizens partied in unwitting bliss into the New Year.
The NDAA and Suspension of Habeas Corpus: Not Just for "Enemy Combatants" Anymore
. Remember all those neocons and Republicans who cheered George W. Bush's "indefinite detainment" of "enemy combatants"? Many of them — though, amazingly, not all — have lost their enthusiasm for trampling the Constitution now that Obama's administration has suspended habeas corpus for American citizens, too, with the National Defense Authorization Act of 2012 (NDAA).
This Is The Section Of The NDAA That Is Causing People To Freak Out
. [Scroll down] After signing the NDAA, Obama released a statement saying "the [NDAA] does nothing more than confirm authorities that the Federal courts have recognized as lawful under the 2001 AUMF. I want to clarify that my Administration will not authorize the indefinite military detention without trial of American citizens." This appears to be untrue.
Prepaing for martial law
. While many readers have contended that nothing in this bill applies to U.S. citizens, Senator Carl Levin, the bill's sponsor, explicitly disagrees. Even more alarming, it was Senator Levin who announced in Senate chambers that it was Barack Obama himself who demanded the verbiage that includes U.S. citizens as fair game by our own military on U.S. soil. This followed Senator Lindsey Graham's gleeful announcement that through the passage of this draconian legislation, the whole of America is now a battlefield and a venue in which the U.S. military may operate against its own.
Obama Announces he can imprison anyone he chooses... IF he chooses to do so
. It has finally arrived, folks. I'd hoped I was wrong about it but, tragically and chillingly I was not. Obama has just announced — in his own words — that he can detain (imprison) anyone he wants with the new unconstitutional NDAA bill passed by Congress and signed by the now self-proclaimed Dictator-in-Chief Barack Hussein Obama.
'Disappearing' dissenters in Obama's new Amerika
. Patriots, who long clung to the hope that in the end the US military would be on the side of the people, will now live in the real fear of being nabbed off their streets by the military and packed off to Gitmo. The effects of this bill on American society are truly monstrous and were birthed by someone with a never-ending evil hatred of America and its people.
Connecting the dots on the National Defense Authorization Act
. While much of the bill deals with the mundane, sections 1031 and 1032 are raising the concerns of many, including some unlikely allies. In plain speak, those sections of the bill broadly classifies certain U.S. citizens as terrorists, and allow for military intervention against such citizens on U.S. soil. The language of the bill is cumbersome and difficult to assess, thus creating some plausible deniability for those who support this piece of draconian legislation. Representative Justin Amash (D-MI) apparently agrees. According to Rep. Amash, the language of the bill is "carefully crafted to mislead the public."
Obama's Anti-gun Agenda Remains Alive and Well
. Thanks to the efforts of freedom advocates such as John Lott, Obama's efforts to stay under the radar are now glistening in the sunlight. Lott reviewed an unsettling and lengthy list of Obama's "processes," starting with the President's intention to ignore at least 20 parts of the 2012 omnibus spending bill that he signed into law last week. Using the controversial and likely unconstitutional "signing statements," Obama said, "I have advised Congress that I will not construe these provisions as preventing me from fulfilling my constitutional responsibility ... such measures as I shall judge necessary and expedient." ... In plain English, the President just told Congress to go jump — he was going to do what he wanted to do, regardless.
President Obama Signs National Defense Authorization Act into Law
. President Barack Obama signed a law on New Year's Eve granting himself absolute power to indefinitely detain American citizens suspected (by him) of being "belligerents." He promises he won't use it, however. On December 31, 2011, with the President's signing of the National Defense Authorization Act (NDAA), the writ of habeas corpus — a civil right so fundamental to Anglo-American common law history that it predates the Magna Carta — is voidable upon the command of the President of the United States. The Sixth Amendment right to counsel is also revocable at his will.
New Nationwide FEMA Camps Should Raise Eyebrows
. In a nutshell, there seems to be a solicitation of bids occurring for the staffing of FEMA camps within 72 hours of implementation by an order from either Homeland Security or the president. This situation begs to be investigated, with special consideration paid to the motives of the present administration. ... Perimeter fencing or barricades is required to be six feet high, enclosing the camp, with all traffic in or out to be recorded on a daily log and with security restricting all traffic and access. The contractor shall also provide fencing and barricades around areas which are "
off limits
" to occupants.
In Obama he trusts
. The sum total of Mr. Obama's political philosophy, the unifying theme of his presidency, amounts to this: You cannot be trusted to live as a free American. President Obama's first major legislative action, the failed $787 [sic] stimulus, revealed his fundamental distrust of free Americans. A president who actually trusts his people would stand aside as they freely chose how to invest their capital and their labor. Mr. Obama, on the other hand, simply doesn't believe you are smart enough to know what's best for you.
NDAA Would "Quash Dissent" on Internet
. Critics of the National Defense Authorization Act (NDAA) have pointed to its provisions that permit the indefinite detention of American citizens, without charges and without trial. Additionally, the measure violates individual liberties in another way: by waging war on the Internet. A major component of the criticism against the NDAA is that it labels all of the United States as a "battlefield" in the "War on Terror," thereby treating virtually all American citizens as potential terrorists. But in addition to that, buried deep in the massive paperwork of the bill is a provision that would allow the Pentagon to treat the Internet as a "battlefield" as well, in order to "defend our Nation, Allies and interests."
Who needs the Congress when you have "executive power"?
Rep. Jackson Lee: Obama should use executive power to extend payroll tax cut
. Rep. Sheila Jackson Lee (D-Texas) said Tuesday [12/20/2011] that President Obama "absolutely" should use his executive power to continue the unemployment benefits and payroll tax cut extension and said she hoped to discuss the option with the White House later in the day.
Senate Democrats Introduce Bill to Prohibit Voter Suppression
. Democratic Senators Chuck Schumer (D-N.Y.) and Ben Cardin (D-Md.) unveiled legislation Wednesday [12/14/2011] to enforce civil and criminal penalties for those who publish or in some way communicate false or misleading election material with the intent to dissuade or prevent certain people from voting.
The Editor asks...
Does that include civil and criminal penalties for TV networks that declare the winner in Florida before the polls close in the Florida panhandle? But really, almost every politician in history has "in some way communicate[d] false or misleading election material" to some degree. It's up to the voters to sort it out. And in regard to "the intent to dissuade or prevent certain people from voting", I'll say right now, while I still have the right of free speech, that
not everyone should vote
.
The Hitman Cometh
. Put simply, Obama sides with the enemies of freedom in Congress, and will allow the indefinite detention of American citizens to proceed. This is indeed a predictable response, considering Obama's abhorrent constitutional record, e.g. unconfirmed czars, undeclared wars, illegal drilling bans, private sector nationalization, rule by executive fiat, and more recently, execution of citizens without due process.
Obama's spiteful week-before-Christmas message
. Obama's Christmas messages this year not only ring out with insincerity and offer goodwill to none, but are more vile than ever. ... The week-before-Christmas message followed on the heels of the nebulous National defense Authorization Act, which some say opens the door for the military — led by the most anti-American president in history as their commander in chief — to 'disappear' dissidents. Dissidents, Obama regime style, are Tea Party members, war vets and citizens with more than seven days worth of food stockpiled in modest homes.
The imperial Presidency of Barack Hussein Obama
. For eight years, liberals howled that George W. Bush was acting like a dictator — an imperial President who did what he wanted, when he wanted. But something odd happened in 2008 — America really did elect an imperial President. Oddly enough, the thought of an Obama dictatorship is just fine with some on the left. In May 2010, Hollywood director Woody Allen said it would be "cool" for Obama to have dictatorial powers "for a few years."
The cult of Barack Obama
. Followers of Barack Hussein Obama act as though the President is something not quite mortal. A 2010 Newsweek magazine cover dubbed him "God of All Things" using an image of the President with seven arms balancing on one leg — a pose reminiscent of depictions of the Hindu deity, Shiva. ... The cult also has a Sunday school of sorts, where children can sing songs of praise and worship to Dear Leader. But this 'Sunday school' is generally funded with taxpayer dollars, and is better known as the public school system.
Obama: "Where Congress Is Not Willing To Act, We're Going To Go Ahead And Do It Ourselves"
. In an interview with KOAA-TV, a local news channel from Colorado Springs, Colorado, President Obama says if Congress is not willing to pass legislation he wants, he will do it himself in order to win another term.
Dreams From My President
. While others try to divine what really goes on in the mind of Barack Obama, all I know is what he says and what he does. Thanks to The Daily Caller, we now have one of the best summaries of Obama's philosophy ever caught on tape, uttered by the man himself, and without a teleprompter. He wants to quash our dreams and replace them with his.
Secret Bill To Be Voted On Today Would Allow The Military To Sweep Up US Citizens At Home Or Abroad
. Either Monday or Tuesday [November 28/29, 2011] the Senate will vote on a bill that allows the US military to imprison civilians with no formal charges and hold them with no trial. The ACLU reports even US citizens wouldn't be immune as the legislation aims to declare national territory part of the "battlefield" in the War on Terror.
Tweeting the word 'drill' could mean your Twitter account is read by U.S. government spies
. The Department of Homeland Security makes fake Twitter and Facebook profiles for the specific purpose of scanning the networks for 'sensitive' words — and tracking people who use them. Simply using a word or phrase from the DHS's 'watch' list could mean that spies from the government read your posts, investigate your account, and attempt to identify you from it, acccording to an online privacy group.
Could the U.S. Government Start Reading Your Emails?
Cherie Anderson runs a travel company in southern California, and she's convinced the federal government is reading her emails. But she's all right with that. "I assume it's part of the Patriot Act and I really don't mind," she says. "I figure I'm probably boring them to death."
The Editor says...
Spice up your email with
drug slang
, and you can be
sure
they're reading your email.
Justice Dept. Targets Freedom of Information Act
. With the U.S. Justice Department and Attorney General Eric Holder continually under fire these days, it was something of a surprise, even to Capitol Hill insiders, that the Freedom of Information Act, or FOIA, is now in the crosshairs, and that new rules are being advanced not only to deny the public access to documents, but to lie outright, telling requesters that either the documents never existed or don't exist now.
The Abuser in Chief
. Calling America "lazy" last weekend was only the latest and broadest insult from President Obama. America has become accustomed to Obama's lashing out at entire groups of people. What has been all too little appreciated is his seeming delight in bullying, if not demeaning, individuals face-to-face. ... What does it say about Barack Obama that he indulges in personal insults? What does this mean for America?
Ron Paul: Obama 'Brings The Modern Presidency Dangerously Close To An Elective Dictatorship'
. When pressed by Asman on the comments, Dr. Paul, who, according to Real Clear Politics, is currently polling at around 8.3% but won the latest Iowa straw poll, didn't shy away. "[President Obama] was very bold about it," he said, of Obama circumventing Congress. "That is arrogant. It is flaunting the Constitution and the whole principle of how we're supposed to operate. The idea they can just do this and take over the legislative function and brag about it — and Congress does nothing and the courts do nothing — [it's] very, very bad."
Levin: U.S. Has Become A 'Post-Constitutional Gov't' Heading For 'Utopian Tyranny'
. Speaking at the Americans For Prosperity (AFP) event at the DC Convention Center on Nov. 5, [Mark] Levin said the U.S. has become "a Post-Constitutional government transitioning into an increasingly Utopian tyranny."
3 Reasons We Shouldn't Bail Out Student Loan Borrowers
. Forgiving student loan debt is a very bad idea for at least three reasons. [#1] These loans are voluntary. All borrowers are excrutiatingly well-informed of how much they're borrowing and how much they're going to have to pay back. About half of all college students take out loans and when they do, every lender clearly spells out exactly how much you're on the hook for and what your monthly payments are going to be after you leave school.
Boehner: 'Great concerns' Obama is exceeding Constitution
. House Speaker John Boehner (R-Ohio) said that he has "great concerns" that President Obama might be exceeding his constitutional authority in ordering his administration to adjust regulations surrounding "underwater" mortgages and student loans, saying, "this idea that you are just going to go around the Congress is ... almost laughable." "I thought we were a nation of laws and that our country was governed by our Constitution," Boehner said Thursday [10/27/2011] on the "Laura Ingraham Show."
Obama Creates Another Set of Serfs
. While Wall Street certainly had some culpability in the mortgage mess — and I would argue very little culpability compared to Washington — the student loan mess is all Obama's own. Who gave loans to students that they would never be able to repay? Not Wall Street. Not greedy millionaires and billionaires. The millionaire and billionaire Democrats, led by Obama, did of course.
Is Student-Loan Forgiveness Obama's Next Crisis?
Making a loan of hundreds of thousands of dollars to someone is serious business, but the government for years systematically pressured mortgage lenders with accusations of racism. Many feared the Department of Justice more than the default risk of their debtors. Now President Obama proposes applying the same mortgage mistakes to student loans. On a day on which the College Board reported the cost of public colleges rose 8% — about twice the inflation rate — Obama unveiled a student loan forgiveness plan.
And another thing...
How do you owe $100,000 in student loans?
I keep reading about young adults who owe, $60,000, $90,000, even $200,000 in student loans. How did you rack up that kind of debt? Where did you go to school and why that school? What was your major?
Obama Tightens Screw on America's Coal Supply
. On October 26, 2011, Secretary Salazar signed Secretarial Order 3315 that will consolidate the Office of Surface Mining Reclamation and Enforcement (OSM) within the Bureau of Land Management (BLM). The Order states that "fee collections" and "regulation, inspection and enforcement, and state program oversight" will now be integrated — the very tasks split out within the MMS reorganization. Because this new order seems in direct contradiction to the 2010 SO 3299, it raises suspicion as to the true purpose of the agency reorganization — especially since the impacted industry is the administration's favorite villain — coal.
Obama 'Can't Wait' for the Rule of Law
. President Obama's proclamation on Monday [10/24/2011] that he "can't wait" for congressional action to help underwater homeowners raises two questions. If he already had the legal authority to take action, then why did he wait? Some may frame the second question this way: does Obama's plan exceed his constitutional authority? Perhaps the better way to ask the second question is whether the Obama plan is unlawful.
The Congress-optional president
. On Oct. 11, after Senate Majority Leader Harry Reid had taken extraordinary measures to stall an embarrassing vote as long as possible, the Senate decisively rejected President Obama's "jobs" plan. The same day, in Pittsburgh, Mr. Obama explained to his union allies that he would move forward regardless. "We're not gonna wait for Congress," Mr. Obama explained. "We can act administratively without additional congressional authorization and just get it done." ... This remarkable disregard for the rule of law and proper constitutional procedures fit a familiar pattern in this administration: What it cannot achieve legislatively it will attempt to do by regulatory fiat.
November 9th's USA Nationwide Communication Blackout
. In its wisdom, the Federal Communications Commission (FCC) issued a Public Notice on June 9, 2011 that its first ever nationwide diagnostic test of the Emergency Alert System (EAS) would occur on November 9. Reasons sketched out by FCC for the Nov. 9 test date include not wanting to test in the traditional hurricane season and to complete the task before severe winter storm set in. The 2 p.m. test time will minimize disruption during rush hours while ensuring the test occurs during working hours.
Final Implementation Phase of Obama Formal Dictatorship has Begun
. [Scroll down] Now, in a secondary move to seize all power in the country for himself and his syndicate, Obama has decided that he will confiscate ALL television and Radio broadcasts for a supposed "test" of the EAS (Emergency Alert System). Communication for both US television and Radio will be cut off on 9 November 2011 for at least 3-4 minutes. This is both unprecedented in our history and constitutes the final phase of Obama's testing of his ability to seize communications in the USA at will. In the past, real Presidents of the USA have asked for time from the various broadcast networks when there was an emergency and they needed to speak. No more. We are now firmly in the bowels of the Obama dictatorship and said tyrant is violating each and every principle and law contained with the US Constitution.
Did You Know Feds Will Temporarily Cut Off All TV and Radio Broadcasts on Nov. 9?
If you have ever wondered about the government's ability to control the civilian airwaves, you will have your answer on November 9th. On that day, federal authorities are going to shut off all television and radio communications simultaneously at 2:00PM EST to complete the first ever test of the national Emergency Alert System (EAS). This isn't a wild conspiracy theory. The upcoming test is posted on the Public Safety and Homeland Security Bureau website.
First-ever national test of emergency alert system set for Nov. 9
. Next week, at 2 p.m. ET on Nov. 9, every American radio and TV provider will participate in the first-ever simultaneous nationwide test of the Emergency Alert System. The three-minute alert — the traditional beeps and tones — will run on all channels.
More about the
Emergency Alert System
and its history.
Democrat Strategies Right Out Of V.I. Lenin Playbook
. Vladimir Lenin, leader of the socialist revolution in Russia, published multiple tutorials for like-minded revolutionaries around the world. Someone in the Obama administration must be familiar with his writings. Socialist minds think alike. ... According to Lenin's rule, it is strategically appropriate for President Obama to halt all policies that are inconvenient to his election. That's why regulations like the EPA ozone plan, which would impose tremendous regulatory burdens on manufacturing in the USA, and the full-blown implementation of ObamaCare, will wait until after the presidential election of 2012.
Obama launches cultural warfare
. Obama's reelection strategy is about more than the haves and have-nots. It appears he is seeking to stir up full-blown cultural warfare against a large and diverse segment of society known as Republicans. ... But in waging this battle, Obama is saying nasty and dangerous things. He is promoting his own principles — not just by touting their goodness, but by suggesting that Republicans hold to an offensive, even un-American, philosophy.
Jackson, Jr: Obama should 'declare a national emergency,' add jobs with 'extra-constitutional' action
. Illinois Democratic Rep. Jesse Jackson, Jr. told The Daily Caller on Wednesday that congressional opposition to the American Jobs Act is akin to the Confederate "states in rebellion." Jackson called for full government employment of the 15 million unemployed and said that Obama should "declare a national emergency" and take "extra-constitutional" action "administratively" — without the approval of Congress — to tackle unemployment. "I hope the president continues to exercise extraordinary constitutional means, based on the history of Congresses that have been in rebellion in the past," Jackson said.
Rivals from both sides slam Jackson's call to bypass the Constitution
. Political firebrands hit Rep. Jesse Jackson, Jr. from both his left and his right Thursday afternoon [10/13/2011], reacting to the Illinois congressman's call for the president to bypass the Constitution to deal with the jobs crisis. During a Wednesday interview with The Daily Caller, Jackson said President Obama should "declare a national emergency" and use "extra-constitutional" measures to create jobs.
Warning: The threat of suspended elections is real
. With absolutely no proof of any kind of who he really is, Barack Obama made it to the Oval Office in 2008. ... Only suspended elections would guarantee his re-election. North Carolina Gov. Bev Perdue was not joking when she spoke about suspending elections. Nor did she pick the idea out of thin air. Perdue was giving the suspend-congressional-elections idea its first oxygen for her hell-bent-for-leather boss. It is crucial to not let this day go down without remembering what Perdue said.
More about Governor Perdue's outrageous suggestion
here
.
The most intentionally divisive president
. It's not unusual, of course, for the policies of presidents to divide the nation. And politicians running for re-election often highlight differences. But Obama now belongs in a separate category. Each day, it seems, he and/or his supporters are seeking to divide us. The rhetoric employed by the president and his allies is meant to fan the flames of resentment, to turn Americans against one another, and to stoke up feelings of envy, grievances, and rage.
Obama Will Not Be Deterred
. We saw it over and over with Obamacare. By now, it's part of our national lore that he delivered some 54 speeches to sell the public on his scheme yet never made a dent in the public approval numbers. Truth be told, in the end he gave far more than 54. But that didn't stop him from pressing forward anyway, and his underhanded methods at cramming his bill through Congress will also be enshrined in our national history. Correct me if I'm wrong, but hasn't he done the same thing with automobile emission standards and other environmental causes?
Obama's Behavior Is Getting Worse
. Obama's Thursday [10/6/2011] news conference was a sober reminder of the nature of the man in the Oval Office. I infer that even many of his supporters in the liberal media are finally catching on to the magnitude of his personality disorders. How could a man in his important position continue to act so childishly, accepting no responsibility for his policies and behavior and demonizing everyone who dares to disagree with or oppose him? It's worse than embarrassing; it's unsettling.
How much is too much profit? Ask Obama
. Barack Obama believes he should decide how much we should earn. ... Only in a government-controlled economy does the leader get to decide how much someone can earn. We are not there yet despite our President's seeming agenda to take us there. But this is not the first time he expressed his belief that he can decide how much someone should earn.
---
Obama's Secret Kill List
This subsection has moved to a page of its own, located
here
.
---
Obama's Contempt Bordering on Treachery
. The United States, faced with its worst crisis in sixty-five years, has at the helm a radical political class, as personified by Barack Obama, who have chosen a path trod by so many despots in mankind's recent history. Barack Obama and his fellow-travelers are exploiting the fear and desperation of a growing number of citizens amid gaping fissures in American society in order to retain and expand their control over the populace.
Nice car company you got, Ford
. In a single day this week, the Obama administration managed to chill the free market, stomp all over the First Amendment and — once again — bend Detroit's auto industry to its political will. Not bad for a day's work.
Lighting The Fuse To Begin A Bloodbath
. [The Sword At-The-Ready] blog has been warning since 2008, that the regime being put into power at the White House was going to wage a Marxist revolution. Since Obama took office, the patterns and efforts of this regime were an amalgamation of the programs and efforts by last century's most notorious madmen and despots with a twist; instead of capitalizing on woe and misery to pit one group against another in order to achieve power — this time, they would create the misery first by collapsing our system, while stoking hatred for their political adversaries to foment the
Real Change
they seek to impose.
Obama takes control of the power grid:
Feds Plan to Consolidate Power Over Nation's Power Highway
. The Obama administration is looking to consolidate control over the nation's power highway, pushing a proposal that would put one federal agency in the driver's seat when it comes to reviewing and approving power-line projects across the country. The proposal has triggered a rush of complaints, pitting power companies and the federal government against concerned citizens and local lawmakers.
Obama's Fascist Economy
. Barack Obama and his minions in the administration as well as many Democrats in the Congress are often described as Socialists, or in the extreme as Marxists. However, their actions and strategy are straight out of the fascist economic playbook. ... Socialism/Marxism seeks the total control of a society's economy through complete state control of the means of production and income. Fascism seeks that same control, indirectly by the state domination of private ownership, as well as controlling individual income and wealth through taxation and regulation.
Our White House Bully Problem
. Since Day One, Obama has been the Chicago bully in victim's clothing. The mask is wearing thin.
Obama tears up the Constitution
. In his two years and nine months in office, President Obama has compiled a spectacular record of noncompliance with the Constitution. Here are just some of the ways his administration has failed to execute the laws while using raw, unauthorized power...
Obama and the Meaning of Life
. Just to clarify things: it's Obama who's putting a sledgehammer to the economy; it's Obama who is aiding and abetting the uprisings in the Middle East; it's Obama who is sending out the signal that it's open season on Whitey.
Obama Nation: The Power of Panic
. President Obama and the Democratic Party effectively turned every controversial issue they faced over the past three years into a potential crisis, and convinced the American people to support their solutions without question to avert presumed dire consequences. Important works of legislation capable of changing the American way of life were passed on the basis of "we have to pass this now — or else!"
Obama Is Dangerous for Peace
. The president of the United States has just destroyed the longest-lasting peace treaty in the Middle East. That Nobel Prize-winning treaty between Egypt and Israel was destroyed by Obama in broad daylight, right in front of God and everybody, with stunning audacity. The White House kept repeating the message that Mubarak must resign, and "now means now." This is simply unprecedented, even during the height of the Cold War.
Obama Says He's Exempting States from Education Law Without Congressional Authorization
. President Barack Obama said Friday [9/23/2011] he is not going to wait any longer for Congress to change the No Child Left Behind education law, he is doing it on his own without congressional authorization. "I've urged Congress for a while now, let's get a bipartisan effort, let's fix this," Obama said. "Congress hasn't been able to do it. So I will."
When Community Organizers Attack
. [Scroll down] Most curious, the donation link at Attack Watch — where "folks like you" can donate to support the truth, or volunteer to share the facts — redirects supporters to the barackobama.com site where, speaking of fact, contributions go directly to the Obama campaign. ... It reeks of juvenile insecurity and utter desperation — just stop picking on me! Far worse, it is behavior endorsed and propagated by the sitting President of the United States. It's a disgrace to the office.
Big Brother Obama is watching
. Be careful, if you dare to criticize Citizen Obama, comrade. The Web is watching. This week, President Obama's re-election team launched "Attack Watch," an interactive website that allows the president's registered supporters to report instances of "attacks" against the commander in chief or his record. Citizen snitches are asked to detail who the attacker is, the type of attack, and whether the offending words were actually heard or passed along as second-hand rumors.
Richard E. Coyote
. The [AttackWatch] site features ominous red-white-and-black graphics and a form called "Report an attack." There's also a Facebook page, which we're told is a parody, but who can tell? The whole thing is both creepily paranoid and bumblingly buffoonish, as if produced by a chimera of Richard M. Nixon and Wile E. Coyote. And the site's substance is no less marvelously mockable than its style.
Groucho Marx Saves America
. A hilarious barrage of catcalls and insults has greeted Obama's latest debacle, a Soviet-style website called Attack Watch. With its terrifying design of red and black cellblocks, and scary photos of Obama's critics looking like Mafia hoodlums, Attack Watch openly solicits Americans to turn in their friends and neighbors for thoughtcrimes against the president. ... Within nanoseconds of Attack Watch's debut, a parody video by Ezra Dulis and Misfit Politics had blasted through the web. Then came the howls of Hurricane Twitter, a Category 5 of one-liners, as Americans competed to turn themselves in and report anti-Obama crimes.
Despotism Breeds Federal Paranoia
. During the summer of 2009, we saw this with the White House healthcare "snitch site" (flag@whitehouse.gov) where citizens were encouraged to turn in information — or people — who were reporting "lies" about ObamaCare. Eventually — largely due to public outcry and immense amount of deliberately false and frankly riotous commentary rammed into the site — it was pulled down. To date there is not a general feeling of comfort about what the government has done with the data that was presented to them. Not learning from their earlier mistake, recently Team Obama launched attackwatch.com. If you follow the link, you will notice the address is "my.barackobama.com." How touching, how personal, and how very, very creepy.
Democrat Thanks Obama for Bypassing Congress on Immigration Reform
. Rep. Luis Gutierrez (D-Ill.) thanked President Obama for circumventing the Legislative branch when it comes to immigration law. Title 8 Section 1325 of the U.S. Code makes it a federal crime to be in the United States illegally. Nevertheless, the Obama administration in August directed federal immigration officials to use "prosecutorial discretion" in deciding which illegal aliens to detain and deport.
A New Chorus for the Mob
. We don't know whether the brave, new and fundamentally transformed America of Obama's dreams would install him as "dictator," but his physical demeanor doesn't exactly emit an air of humble servitude, his community organizing has been firmly grounded on the "arousal of passions," and his speeches certainly include lots of "catchwords." "
Hope
." "
Yes we can
." "
Winning the Future
." "
Pass this bill
." Don't read it first, analyze it, or think about it. Just pass it with "
the fierce urgency of now
." Then we can find out what's in it. "
Pass this bill!
" ... If he could, Obama would bypass Congress to pass it himself, but he's held back by the "rigid idea" of what's left of the Constitution.
President Obama Acting Like King George III
. The specific problem here is that the President has no constitutional authority within the houses of Congress. He can not order their performance according to his druthers. Yet, it is clear that Mr. Obama believes he should have such authority, and he is determined to exercise it even if he does not. ... This "minor" incident has all the indicia of gravity that would suggest the need for wakefulness to a looming threat of tyranny, such that thoughtful citizens will need to wonder whether they can decently wait the interval of fourteen months for the chance to remove the pretender in an election.
Even Republicans Rejected Info About Obama's Past
. What would you do if you knew that the top Democrat running for president was lying about his past? That is the question I was faced with in 2008. I had met the young Barack Obama while he was a sophomore at Occidental College, and I knew that his commitment to socialism was deep, genuine, and longstanding.
Meeting Young Obama
. [Scroll down] Whatever impact our encounter might have had on him, I know something about what Barack Obama believed in 1980. At that time, the future president was a doctrinaire Marxist revolutionary, although perhaps — for the first time — considering conventional politics as a more practical road to socialism. Knowing this, I think I have a responsibility to place on the public record my account of this incident from our president's past.
The "yes I can" executive mentality
. It now appears that the drunk Obama family, 'Uncle Omar' Obama, is a benefactor of the president's new Executive Amnesty for Illegal Aliens program," communications director John Kennedy stated in a press release last week. This confirms that Congressman King's suspicions were on target; the Obama administration seemingly used the new rules to grant amnesty to the president's uncle.
Did someone mention
Uncle Omar
?
Obama's 2012 Campaign Strategy: War?
Obama has a secret weapon and it's being unleashed on the American public with increasing frequency, ferocity, and vulgarity. Carefully implied calls for lawlessness and threats of violence are raining in from Obama's radical leftist buddies. Whether it's the Congressional Black Caucus, Big Labor, or the increasingly incoherent Rev. Jesse Jackson, the anger is palpable and the rage is rising.
Obama: "If You Love Me, You Got to Help Me Pass This Bill"
. Flashbacks from 2008 ought to be in full swing, as President Obama attempts to champion legislative support by resorting to the cult of personality — claiming that, to love him, we must implement his political agenda.
Obama: Love me!
President Obama now sports the lowest approval numbers in California since becoming president, where less than half — only 46 percent — approve — an eight-point drop since June, according to a new Field poll. Fifty-four percent disapprove of Obama's handling of the economy. He's starting to lose seniors and African-Americans, along with Democrats and Independents. Unemployment in California is at 12 percent, three points higher than the rest of the nation. When a lefty president is on shaky ground in California, you know he's in trouble.
Muslim-leftist radical in the White House
. Barack Hussein Obama is the most successful enemy penetration of the US Government in American history. During his lifetime, he was nurtured, mentored and supported by radical leftist and fundamentalist Islamic elements both of which hate the United States and seek its demise by whatever means necessary. Obama's immediate family were close to the Communist Party or sympathetic to its aims. His mother Stanley Ann Dunham has been described by former classmates as a "fellow traveler." His grandfather Stanley Armour Dunham arranged Obama's mentorship by Communist Party member Frank Marshall Davis, originally from Chicago and the former editor of the Chicago Communist paper, the Star.
Obama intent — Destroy America
. While the bloodletting continues, we have a usurper in the White House who has committed a federal crime on April 27th by showing a forged birth certificate. Obama has revealed his original intent in his own books and well before he was elected President. He is a redistribution of wealth, Marxist/communist. Obama's intent is quite clear by his words, actions, history and associations. He wants two classes of people, the international ruling class, headed by him, and the worker bee surfs who obey.
EPA: Fundamental Transformation through Regulation
. What happens when the information our government's "specialists" provide becomes driven by agenda rather than fact? ... The EPA, finding organized resistance to its regulating machine, has turned to offering "guidance," which it then enforces as if said "guidance" were the product of regulatory channels. The big difference, of course, is that "guidance" is not subject to the same rigors of accountability and oversight that regulations must meet. These crone-tended kettles at the EPA are really just an end-run around the law.
The Cult of Obama
. The moment Obama became president, he upped the signals. At the Grant Park rally celebrating his victory, the entire family eerily chose to wear black and red, colors associated with communism and black nationalism. Obama's first radio address was broadcast in the Arab world. Obama returned Britain's gift of a Winston Churchill bust while embracing dictators. He gave a white police officer a dressing down for doing his job, in effect calling the officer a racist. Obama's greatest magic trick? Brainwashing the masses to believe that racism is a greater danger than radical Islam, and that Obama himself is in constant peril. Opposing health care means you oppose Obama. Oppose Obama and you are the enemy.
Obama: I'm Done Working with Congress
. Pundits decrying the level of rancor between the Obama White House and Congress should hold onto their hats — it's about to get worse, if the
New York Times
is right about the president's planned jobs speech to a Joint Session of Congress. ... Buried late in the article is a window into the two-part strategy the president will deploy at the speech: blame his captive audience, then announce he will be enacting policies that don't require congressional approval.
Growing Proof of Obama's Imperial Presidency
. An imperial presidency is one in which the executive branch usurps Congress' role, which is the only branch with authority to make laws, and asserts power not granted to it by the Constitution. President Obama is now claiming powers far beyond what any president has before, remaking America's economy even when Congress refuses to go along with him. For the sake of restoring our constitutional order, each of these issues must be taken to court as soon as possible.
Rule by decree
. The Obama administration announced last week that it would suspend deportation proceedings against many illegal immigrants who pose no threat to national security or public safety. ... Lynn Sweet's more detailed Chicago Sun-Times post includes quotes and primary materials that make it clear the policy applies to all illegals whose presence cannot be determined to raise a threat to public safety. The new policy is something like amnesty by executive decree.
Tossing aside "hope" and "change"
. Like a dictator currying favor by releasing political prisoners just before an "election," Mr. Obama decided to reject the repeatedly expressed wishes of Congress and halt deportations of illegal immigrants. If you doubt whether this is a shocking and unconstitutional overreach by the president, just ask the great constitutional law scholar himself, Barack Obama. "The idea of doing things on my own is very tempting, I promise you, not just on immigration reform," he said earlier this month in an address to a militant pro-amnesty group.
Obama's immigration shake-up
. President Obama is using his executive authority to grant backdoor amnesty to millions of illegal aliens. In a letter sent to Senate Majority Leader Harry Reid on Thursday, Homeland Security Secretary Janet Napolitano announced that the administration's immigration-enforcement efforts would ignore "low-priority cases." That means most criminal aliens can stay, and only convicted felons will get the boot.
Beware: Obama's executive fiat
. Mr. Obama has a profound resistance to the Constitution's separation of powers, whereby the legislature is the lawmaking body and the executive branch implements the laws passed on the other side of Pennsylvania Ave. He's overstepped his bounds on numerous issues already, ignoring the law to further his liberal agenda through federal agencies. Oppressive environmental regulations against businesses and property owners jump to mind.
These are words you would expect from a cult leader.
Obama: If you love me, ask Congress to pass my jobs bill
. President Obama continued pushing his jobs bill in battleground states on Wednesday [9/14/2011], telling a fired-up crowd of students at North Carolina State University that, "If you love me, you've got to help me pass this bill!"
NPR Blogger: Obama Like Jesus with Call to 'Pass This Bill'
. We couldn't make this stuff up if we wanted to. Yesterday [9/14/2011] NPR blogger Frank James saw a parallel between President Obama's rally cry to a supporter to help him pass his "jobs bill" with Jesus's charge to the apostle Peter to "feed my sheep".
For the Love of Obama, Pass This Bill
. In a North Carolina appearance ignored by everyone who wasn't there, President Obama pushed his "jobs bill" to a group of students by saying, "If you love me, you've got to help me pass this bill!" This is one of the strangest and most disturbing moments in this failed presidency. "If you love me?" That's so very "Il Duce" of him. I wonder if the Founding Fathers ever thought the American presidency would be reduced to a pathetic and desperate man begging for power by exhorting his followers to express their personal affection for him.
The Gibson Guitar Saga Gets Steadily Curiouser
. It has come out that [Gibson CEO] Juszkiewicz is a Republican donor, while the CEO of one of his principal competitors, C.F. Martin & Company, is a Democratic donor. Martin reportedly uses the same wood, but DOJ hasn't raided them, leading to speculation that the Obama administration is sending a warning to Republican businessmen that they had better not oppose his re-election, lest they face criminal investigations. Normally such speculation would not be credible, but Eric Holder has politicized the Department of Justice to a point where such questions must be taken seriously.
Gibson Guitar CEO: Feds Are Out to Get Us
. Juszkiewicz says that 20 heavily armed officers from the Fish and Wildlife Service and Homeland Security stormed his factories. Since when do we heavily arm officers from the Fish and Wildlife Service? Juszkiewicz also explains how Gibson guitar owners must fill out multiple forms of paperwork to prove the material used to build the guitar is legal. Yes, the federal government is now worried about unregistered guitars floating around in the market place.
More about
Obama vs Gibson Guitar
.
The War is On
. Just as America has failed to acknowledge that we are at war with radical Islam, too many conservatives have failed to come to grips with the fact that we are at war here at home with the Marxism of Barack Obama, the Congressional Black Caucus and labor unions. It has nothing to do with race — at least not for conservatives — and everything to do with ideology and power. Obama has declared war on the traditions of the United States of America. In his most revealing, unguarded moments he tells us who he really is.
Obama's downgraded America
. The Obama administration has made history by presiding over the first-ever downgrade in the U.S. credit rating. President Obama has outdone all his predecessors in wrecking America's good name. His answer to this problem: Spend even more.
Where did Obama's grand landlord plan come from?
Conn just noted this new Obama Treasury Department proposal to convert the federal government into the nation's largest landlord. This follows on earlier Obama administration actions turning America into the world's largest private equity firm, employee benefits manager, union organizer, and automaker.
Fascist Fairy Tales
. Even if he wanted to, Barack Obama could not be a strongman, in part because he is a weak man and in part because America's constitution is a strong charter of liberty. But if Obama had the means and inclination to impose a dictatorship, is there any doubt that Drew Westen and Joe Klein, at least at the outset, would goose-step with gusto?
Obama's unhelpful advice
. At Wednesday's town hall in Atkinson, Ill., a local farmer who said he grows corn and soybeans expressed his concerns to President Barack Obama about "more rules and regulations" — including those concerning dust, noise and water runoff — that he heard would negatively affect his business. The president, on day three of his Midwest bus tour, replied: "If you hear something is happening, but it hasn't happened, don't always believe what you hear." When the room broke into soft laughter, the president added, "No — and I'm serious about that."
The Editor says...
In other words, Obama wants you to believe that every action the government takes will be kept secret until one day it just happens without warning, and if you hear rumors of impending government restrictions, they must be right-wing lies.
Obama Is the Obstacle
. This is a willfully obstinate president, ideologically committed to intrusive regulations, higher taxes, and bigger government no matter how much evidence shows that his policies don't work. When he continues with the same stale talking points, the same arrogant disdain for all who disagree with him, and the same dyspeptic disposition, markets have no reason for confidence — and neither do consumers, ratings agencies, or foreign bondholders.
Obama: Still the Alinskyite
. Obama is still every inch the Alinskyite organizer. He talks about uniting, even as he deliberately polarizes. He moves incrementally toward radical left goals, but never owns up to his ideology. Instead, he tries to work indirectly, by way of the constituencies he seeks to manipulate. "Leading from behind" is classic Alinskyite strategy. The idea is for the organizer to find out what the people he's organizing want, give them enough of that to gain authority and control, then slowly and quietly push the group in his ideological direction, all the while making it seem as though the plan is what the people themselves have asked for.
Unprecedented Obama
.
• Never, in the entire history of America, have the people been so transparently lied to by their government, every day, at every level, and on every issue, as they have been under Obama-Soetoro and the neo-fascist Democrats.
• Never, in the entire history of America, has a Congress and/or an administration so willfully ignored and by-passed the Constitution.
• Never, in the entire history of America, has a Congress and a president so knowingly ignored the wishes of the citizens, repeatedly passing laws that are unequivocally opposed by large, clear majorities.
• Never, in the entire history of America, has a "Justice" Department refused to enforce the laws of the United States, based on racism and political agendas.
• Never, in the entire history of America, has fraud and corruption been so widespread in government, and so totally ignored and/or covered up.
Obama, the Tyrant King
. Americans hate tyrants. Tyrants are ruthless villains, hostile to the basic freedoms granted to humanity by God. Enshrined in the Declaration of Independence, the unalienable rights of life, liberty, and the pursuit of happiness have spoken hope to Americans and to freedom-loving people around the world for 235 years. But, these basic, God-given rights are under assault. Not by international forces, but from within. From within America. From within the U.S. government itself and directly from the Office of the President.
White House to Monitor Social Networks for "Extremist Propaganda"
. A White House terrorism strategy released today says Facebook, Twitter, and other social networks aid in "advancing violent extremist narratives" and should be monitored by the government. The 12-page strategy, which outlines ways to respond to violent extremism, promises that: "We will continue to closely monitor the important role the Internet and social-networking sites play in advancing violent extremist narratives."
The 70-Million-Check Constituency
. In a population of 309 million,
almost 23%
of the population is receiving some kind of check from the federal government. I have bad news for conservatives who think Obama is leading the nation down the path to socialism: the barn door is open and the cows are long gone. Obama is not leading the nation to socialism; we
are
a socialist nation and have been for some time. Conservatives who think Obama is a Marxist and an anti-capitalist radical are surely correct, but what is also surely correct is that he represents an actual constituency of tens of millions who care about nothing other than the fact that the government check is in the mail.
You asked for it!
I keep hearing this nonsense from the deceivers: "We are all Americans and we are in this together, and we need to work together to fix this." [Nonsense!] ... We will fix this only when get a spine and recall, impeach and try, or defeat every subversive working against our Constitution. These adversaries of Constitutional Government are ignoring the People. Did you hear Obama yesterday? For him, nothing has changed. After all of his Potemkin machinations he still intends to erect a rubber-stamp Super-Congress and a "fundamentally transformed " Super-Welfare State.
Proof that Obama has contemplated becoming a dictator:
Obama: Idea of Changing Immigration Laws on My Own 'Is Very Tempting'
. President Barack Obama told a Hispanic civil rights group on Monday [7/25/2011] that the idea of reforming the U.S. immigration system on his own "is very tempting," but under the U.S. Constitution, he is unable to do so without Congress. ... [Obama told the National Council of La Raza,] "Now, I know some people want me to bypass Congress and change the laws on my own — and believe me, right now, dealing with Congress--" The audience interrupted him with chants of "Yes you can! Yes you can!"
Victoria Jackson says Obama is basically Hitler
. "Saturday Night Live" alum Victoria Jackson wants you to know that President Obama is just like Hitler. In a column written for WorldNetDaily called "The 3 scariest things about Obama," Jackson writes that Obama is a socialist "(like Hitler)," controls the media "(like Hitler)" and has the right to form a private army "(like Hitler)" according to a provision in the health care reform bill.
The 3 scariest things about Obama
. A clause hidden in the Obamacare bill, which is now law, gives Obama the right to form a private army. Why isn't anyone freaking out?
President is flexing his executive powers
. President Obama increasingly is using his executive authority to move his policies forward when confronted with congressional opposition. The administration chose not to defend the federal Defense of Marriage Act banning gay marriage, and Obama bypassed military tribunals and the Guantánamo Bay prison in Cuba to send an accused terrorist from Somalia to a U.S. civilian court.
The Soft Dictatorship
. [Scroll down] The final piece to the puzzle of the soft dictatorship is the completely unconstitutional creation of executive orders. Not only is there no basis in the Constitution for executive orders, but executive orders are often used to outright violate the Constitution. Franklin D. Roosevelt used executive orders to demand the seizure of all gold owned by Americans and imprison all Americans of Japanese ancestry. ... George W. Bush signed executive orders that, among other things, established an alternative government in the case of a presidentially declared emergency. Barack Obama has continued the tradition of unconstitutional executive orders by granting wide powers to Interpol in America and sealing his own records from inspection, and he is now looking for means to impose gun control through executive orders.

Obama's Final Solution
. President Barack Obama is the most dogmatic and dangerous leftist we have ever seen in this country. He is not hard to understand. Obama is very simple. All his ideas were frozen in concrete a hundred years ago by Marxist-Leninism around 1920. In
Dreams from My Father
, Obama celebrates third-world Socialism, but that's just Marxist-Leninism with a racial overlay.
Obama's culture of death
. Mr. Obama is a Leninist — a committed revolutionary, who is embarked upon an ambitious project to transform America. He worships statism and secularism — the very antithesis of our Founding Fathers. He has put the United States on the path of civilizational decline and moral ruin. And Obamacare is his Trojan horse.
Net Neutrality is the Future of Censorship
. [Scroll down] The Executive Branch panoply of departments, agencies and commissions was during that time frame in overdrive to execute as many power grabs via regulatory fiat as possible. To briefly discuss but a few... The Democrat Congress couldn't pass the energy sector-killing Cap & Trade? No problem, President Obama's Environmental Protection Agency (EPA) just began to implement it as if it did. The Democrat Congress couldn't pass the union-payoff, anti-free choice Employee Free Choice Act? No problem, President Obama's National Labor Relations Board (NLRB) just began to implement it as if it did. Then there is President Obama's Federal Communications Commission (FCC) — and its December 21 illegal Internet power grab executed so as to then impose the absurd Network Neutrality.
Top 10 Obama Attacks on Capitalism
: [#1] Spread wealth around: This famous utterance — "I think when you spread the wealth around, it's good for everybody" — to Joe the Plumber during the 2008 presidential race, remains the saying that most succinctly sums up Obama's worldview, that of a community organizer, which is that accumulated wealth is to be reviled and rectified through redistribution. Nothing could be more antagonistic to entrepreneurship, free markets or business investment than to have the government seize the rewards of sound economic decisions in order to try and engineer social equality.
Our Lawless President?
Is President Obama completely heedless about straining all the constitutional joints of our political system, or is it deliberate? He's clearly pushing the constitutional envelope more aggressively than any president since FDR, so it may be deliberate since he admires and wishes to emulate the example of FDR.
Obama, the new Caesar
. President Obama has crossed the Rubicon. He now believes -- and acts -- as if he is above the law; the Constitution no longer applies to him. This is the real meaning behind the U.S. military intervention in Libya. Mr. Obama is abrogating the linchpin of our democracy: the rule of law.
Rule of Lawlessness
. When it came to the best way to achieve revolution, [Saul] Alinsky explictly argued for moral relativism in fighting the establishment: "In war the end justifies almost any means." Specifically, "the practical revolutionary will understand... [that] in action, one does not always enjoy the luxury of a decision that is consistent both with one's individual conscience and the good of mankind." It appears that the left has decided to throw conscience aside and put the raw exercise of political power first.
White House Executive Order on Rural Council
. On June 9, 2011, few people paid attention to the Executive Order establishing the White House Rural Council. ... This piece of legislation from the Oval Office establishes unchecked federal control into rural America in education, food supply, land use, water use, recreation, property, energy, and the lives of 16% of the U.S. population.
American Stalin, Obama, Seizes Control of Food and Energy Production
. With the issuance of the unconstitutional White House Executive Order #13575, Obama is taking control of all aspects of food, energy and fiber in rural America — the areas that did not vote for Obama.
Property Rights at Risk with Executive Order 13575
. This may all amount to nothing, but if this administration is true to itself, Executive Order 13575 is another power grabbing over-extension of federal power.
White House to cut access to half of federal websites
. As part of the Obama administration's campaign to promote transparency, the White House announced today it intends to eliminate the public's access to half of the federal government's websites within the next year. The White House said there are nearly 2,000 websites operated by the federal government, which it said confuses people. ... White House officials didn't say how the administration will determine which web sites to cut. But the president is creating an 11-member "government oversight and accountability board," comprised of current executive branch officials, "to help federal agencies improve their performance."
I'm not confused. Are you confused? If there are 100,000 names in the phone book, is that confusing? No, the real motive here is concealment.
Time to Curb the NLRB's Mission Creep
. Like so many federal programs, the National Labor Relations Board (NLRB) has expanded its mission far beyond its original purpose in order to wage ideological battles on the taxpayers' dime. The NLRB was never meant to micromanage where companies can locate or how many products they can manufacture, as the NLRB under the Obama administration is currently seeking to do. To stop it, Congress should exercise its power of the purse to return the board to its original mission.
More about
the NLRB vs Boeing
.
Libya: A War Fit for a King
. Remember back in your high school civics class, when you were taught about the constitutional division of authority in matters of war? When you learned that the president has all the powers of an emperor, and Congress has all the powers of a potted plant? Neither do I. But the people occupying high office in Washington went to a different school. They have done their best to prove that when it comes to using military force, neither the law nor the Constitution means a thing.
More about
Obama's war in Libya
.
Truth beware: The Internet "Obamanator" is here
. Internet web sites, pundits, bloggers, commentators and denizens of the "alternative media" who are critical of Barack Hussein Obama beware, as you will now be "officially" in the crosshairs of the Obama White House. As part of his 2012 re-election campaign, the Obama administration this week created an "online rapid response team" tasked specifically with quashing any Internet articles and news critical of Obama.
Your president is calling
. "The system — called PLAN or Personal Localized Alerting Network — uses cell phone towers to send messages to everyone currently in a certain area, regardless of whether they're visiting from out of town or have a phone registered elsewhere. People won't have to register in advance to receive the alerts. "
The messages
, including urgent blasts from the President, information on imminent threats and Amber Alerts about missing children,
will supercede all other phone traffic
so they won't be stalled or delayed."
[Emphasis added.]
Barack Obama's Arrogant Marxist Rhetoric
. So far, the analysis of President Obama's deficit speech has focused largely on its vagaries, obfuscations, and outright lies. ... But the true heart of Obama's speech wasn't the faulty budgetary analysis or the demagoguery of attacking Paul Ryan personally. It was Obama's soaring rhetoric. ... And the soaring rhetoric is unvaryingly drawn directly from Saul Alinsky. ... Obama was raised in the Alinsky tradition, and he speaks with Alinsky's forked tongue.
Black Chamber of Commerce President Blasts "Marxist," "Brownshirt" Obama
. Today [4/29/2011] on The Laura Ingraham Show, Harry Alford, president and CEO of the National Black Chamber of Commerce, blasted President Obama's anti-business administration in an explosive interview. Alford, a 2008 Obama supporter, labeled the administration "Marxist" and "fanatical." "They might as well put on the brown shirts and swastikas," he said.
Rewarding his friends and punishing his enemies:
Texas Twisted
. The month-long cold shoulder that the White House gave Texas' plea for a disaster declaration was bad enough. Now the wildfire-scorched state has been turned down flat. Don't think this isn't about punishment.
Richard Milhous Obama?
In a television interview last October, President Obama accidentally let slip a key element of his political philosophy: "We're gonna punish our enemies, and we're gonna reward our friends who stand with us on issues that are important to us." ... This incident is worth remembering as the president prepares to issue a far-reaching executive order that would require the government to collect detailed information about the political activities of anyone applying for a federal contract.
'Responsibility to Protect'.... Everyone except Texans
. Over 2.2 million acres of Texas land have been lost to wildfires due to severe dry conditions caused by drought. Across the state, hundreds of homes and countless livestock have been lost. As a result, Texas Governor Rick Perry requested federal emergency funds to assist in fighting the ongoing fires.
Texas Burning
. The governor is asking for a federal emergency declaration that will make additional firefighting resources available. The Obama administration is not budging. Never mind that the Federal Emergency Management Agency has seen fit to declare a snowstorm -- in Connecticut, in the winter -- a federal disaster this year, along with "severe winter storms" in Oklahoma and Missouri. ... I am fairly confident that if 3,400 square miles of Northern Virginia or New Jersey went up in flames, a federal emergency would be proclaimed.
NLRB vs. Boeing — Tyranny vs. Freedom
. One of the shameful hallmarks of a dictatorship is the restriction of movement — telling citizens or groups they cannot travel or relocate freely. We are now witnessing a shocking example of that dictatorial practice at the hands of the National Labor Relations Board (NLRB), which is insisting that a major U.S. employer may not move some of its operations from one state to another because to do so might somehow violate workers' rights.
Obama's 'Gangster Politics'
. The president is expected any day now to sign an executive order that routs 70 years of efforts to get politics out of official federal business. Under the order, all companies (and their officers) would be required to list their political donations as a condition to bidding for government contracts. Companies can bid and lose out for the sin of donating to Republicans. Or they can protect their livelihoods by halting donations to the GOP altogether — which is the White House's real aim.
Gangster government attack on oil companies
. The main feature of the Democrats' bill, which was defeated in the Senate but which we probably have not heard the last of, was to deny five major oil companies the domestic production tax credit that is available to all manufacturers and mining companies, including oil companies. The justification? Well, big oil companies get lousy ratings in polls. So stick 'em with a higher tax bill. Sounds a lot like gangster government to me.
Mr. Magoo Goes to Washington
. [Scroll down]
Obama actually believes he is doing a good job
. That thought struck me like a thunderclap. It seems improbable, I know. And I don't discount for a second the thuggishness and habit of calculation ingrained by his Chicago background and cronies. But watching Obama perform these last weeks, I suspect that there is something more than political calculation behind his brittle contempt for his GOP opponents, his Marie-Antoinette disdain for ordinary Americans, his tone-deaf self-absorption and sense of entitlement. What is it? The delusion of competence. Listen to those off-the-cuff remarks, ... to some of his high-rolling donors: Obama actually seems to believe that his disastrous policies have made things
better
.
WH Working on Executive Order That Critics Say Will Stifle Political Speech
. In what the White House calls a push for transparency, a pending executive order would require companies doing business with the federal government to disclose political contributions to independent groups, but would not place the same requirement on public employee unions or federal grant recipients that typically donate to Democrats.
President Obama Issues "Signing Statement" Indicating He Won't Abide by Provision in Budget Bill
. In a statement issued Friday night [4/15/2011], President Obama took issue with some provisions in the budget bill — and in one case simply says he will not abide by it. Last week the White House and congressional Democrats and Republicans were involved in intense negotiations over not only the size of the budget for the remainder of the FY2011 budget, and spending cuts within that budget, but also several GOP "riders," or policy provisions attached to the bill. One rider — Section 2262 — de-funds certain White House adviser positions — or "czars." The president in his signing statement declares that he will not abide by it.
Obama proves once again that he can't be trusted.
Obama Keeps 'Czars' Despite Budget Deal That Eliminated Them
. President Obama may have never met a "czar" he didn't like and he's not about to bid farewell to any of them now, despite a budget deal he struck with Republican leaders last week that eliminated four of these positions.
Obama signing statement: despite law, I can do what I want on czars
. In marked contrast to vows as a candidate not to use presidential signing statements as "an end run around Congress," President Obama released a statement on the just-signed spending bill saying despite the law's restrictions on "czars," he will "construe" the law not to interfere with "presidential prerogatives." The move is an aggressive power play by Obama to gain an added advantage from the deal struck a week ago between the president, Republican House Speaker John Boehner and Democratic Senate Majority Leader Harry Reid to narrowly avert government shutdown.
Scalise says Obama violates Constitution over 'czars'
. Rep. Steve Scalise (R-La.), the chief sponsor of the effort to defund administration-appointed advisers known as "czars," reacted angrily Saturday [4/16/2011] to a signing statement from Obama saying he plans to keep them. In a statement emailed to The Hill, Scalise accused Obama of acting like a "dictator." "President Obama should know that it is the courts, not the executive branch, that has the authority to determine the constitutionality of laws passed by Congress, especially considering that he agreed to this provision and signed the law himself," Scalise said in an emailed statement.
Mean streak: Obama is not as nice as he looks
. Obama [has so far] retained a reserve of public good will reflected in consistently strong personal favorability ratings. People who didn't like his policies generally still saw Obama as a likeable guy, somebody they would enjoy having over for dinner with the family. But that may be changing.
Baracknaphobia
: Each time the man who leads what used to be the most powerful nation in the world goes on television, my stomach turns. When he speaks, I convulse at the sound of his conceited, self motivated, lies. When he travels abroad, I cower in embarrassment. When his arrogant, condescending tone reverberates in the halls where true leaders like Regan stood, I cringe. Baracknaphobia is the inescapable fear that this country will be subjected to another four years of ideological, radical, in-your-face narcissistic control.
Your president is calling
. "The system — called PLAN or Personal Localized Alerting Network — uses cell phone towers to send messages to everyone currently in a certain area, regardless of whether they're visiting from out of town or have a phone registered elsewhere. People won't have to register in advance to receive the alerts. "
The messages
, including urgent blasts from the President, information on imminent threats and Amber Alerts about missing children,
will supercede all other phone traffic
so they won't be stalled or delayed."
[Emphasis added.]
The first five Presidential Emergency Text Messages
. The nation's top cell phone carriers (Verizon and AT&T) are already signed on for the system, but users can opt out of receiving the local alerts and Amber alerts. However,
no one will be able to opt out of the Presidential Alerts
, which as a result will eventually become compulsory for all cell phone users nationwide.
[Emphasis in original.]
Another Obama Constitutional Grab in the Works
. President Barack Obama, the confiscator-in-chief of your constitutional rights is at it again. As we've come to expect, when President Obama tramples on the Constitution it's usually under the guise of some noble cause. He embraced new rules for broadcasters designed to silence conservative talk show hosts under the guise of localism and diversity. This year, he's pushing for so-called "common-sense" legislation that ultimately deprives citizens of their Second Amendment rights.
Pushing Back against a Decree
. Since taking office, Pres. Barack Obama has shown a remarkable penchant for changing the law by fiat. From Citizenship and Immigration Services' debating how best to let the maximum number of illegal aliens off the hook to the EPA's declaring it would treat carbon-dioxide emissions as a pollutant, the administration has taken the stance that votes in Congress aren't really necessary, even for dramatically contentious subjects. Who needs a debate and a vote when you can rule by regulatory decree?
Obama Attacks Libya, and Where's Congress?
On the eighth anniversary of the day President George W. Bush ordered U.S. troops into Iraq in 2003, with the full support of the U.S. Congress and majority support from the U.N. Security Council, Barack Obama launched a Tomahawk missile assault on the sovereign nation of Libya with no majority support in the U.N. and without even consulting Congress. Acting alone while Congress was away on recess, solely at the command of the United Nations and without constitutional authority, Barack Obama dropped over $70 million worth of Tomahawk missiles on Libya — a dictatorial maneuver to force a regime change in a foreign land. Under what authority did Obama green-light this dictatorial assault? To be certain, Qadaffi is no prize, but what Obama just did is nevertheless unacceptable.
The coming meltdown of Barack Obama
. Politics has recently replaced the Constitution as the basis for the rule of law in the United States. It is a recipe for chaos, if permitted to continue. More and more Americans are beginning to realize that Barack Obama is an illegal President and/or has a potentially damaging personal history.
Welcome to Obamageddon
. From the day of Mr. Obama's election, many concerned patriots have warned about his goals. Mr. Obama is a follower of radical Marxist strategy, like Saul Alinsky's "Rules for Radicals" and Richard Cloward and Frances Fox Piven's strategy of overwhelming the system to create economic crisis and chaos. Based on those strategies, one would be foolish not at least to wonder whether Mr. Obama's goal from the start was to wreck capitalism; redistribute wealth by punishing, penalizing and demonizing the wealthy; force Americans to their knees to beg for help from big government; and then in response to those pleas, put government in control over every aspect of our lives. Examine the state of the union and the world under Mr. Obama. Judge for yourselves whether we are in a state of Obamageddon.
None of the Above on Energy
. [Scroll down] There are some Americans who are born communists — those who fancy the Mao suit, the masochistic fall-into-line mentality, the fondness for self-abasement and diminishment. These natural-born comrades, eager to hand over their liberties to some vicious and inscrutable dictator, must like what they see in Obama. The rest of us will continue fighting to preserve our liberties.
The Powers of This President
. Not all the powers President Obama has wielded or claimed seem clearly identifiable in the U.S. Constitution. Whether that is tolerable or even desirable appears to require consideration since the entire point of
having
a constitution is to limit government in the hope of fending off tyranny.
Disregard for Constitution harms the nation
. Barack Obama took [the] presidential oath of office two years ago, but he has repeatedly violated it. The more his time in office goes along, the more instances we see of his disregard of the Constitution as it applies to his presidency and the future of the United States. Even before his Inauguration, Obama claimed for himself the nonexistent post of Office of the President Elect. That made-up title seemed almost comic in its grasping for power and position.
Obama recruits an army of community organizers
. The community organizer who became president has launched a massive pre-reelection year campaign to assemble and train an army of new community organizers to carry Obama's "movement forward for years to come." Strengthening "our democracy" presumably has something to do with reelecting the revered leader in 2012. However, the Organizing for America recruiting message says nothing about politics or election campaigns and strangely talks in military terms of "a grassroots program that aims to put boots on the ground and help foster a new generation of leaders — not just to help win elections but to strengthen our democracy in communities across the country."
Meeting Young Obama
. [Scroll down] As I recall, Obama repeatedly used the phrase "When the revolution comes...." In my mind, I remember thinking that Obama was blindly sticking to the simple Marxist theory that had characterized my own views while I was an undergraduate at Occidental College. "There's going to be a revolution," Obama said, "we need to be organized and grow the movement." In Obama's view, our role must be to educate others so that we might usher in more quickly this inevitable revolution.
Feed Me, Obama, Feed Me: The Plan for Food Dependency
. What does any would-be tyrant need in order to gain control over the lives of citizens? Three things come to mind: martial law, socialized medicine, and food dependency. In at least two of these categories, President Obama has already succeeded. By way of executive proclamation, President Obama has secured for himself the power to declare martial law in the event of a national "emergency," real or contrived, and without the accountability typically required by the Posse Comitatus Act and the National Emergencies Act of 1976. This is the legacy of the "conservative" Bush administration. National emergencies have now been transformed into power-grabbing devices thanks to the virtually unnoticed National Security Presidential Directive (NSPD) 51.
Manmade famine in America
. It seems inconceivable, but people in America are going hungry en masse due to a famine caused by political authorities. Fresno, California is not yet a sister city of Kiev, Ukraine, but the two cities, capitals of rich agricultural regions, share a history of mass hunger caused by central governments indifferent to the suffering of their people, in the pursuit of ideological goals.
The Rise of Unchecked Presidential Power
. In order to achieve a dictatorship in a country, you have to go one of two ways. Either you have to foment a violent revolution, using the power of the military to seize the government, or you have to be voted into the position and seize the power slowly. In the USA, it is all but impossible to achieve the takeover via violent overthrow, and the separation of powers makes it difficult to take over via slow seizure of power. However, the plans of the progressives have been working steadily since the Woodrow Wilson administration, and the task is almost complete. ... All of this has been accomplished slowly and cautiously to avoid raising the alarm, because the powers involved definitely do not want to raise that alarm.
Obama's Malice Aforethought
: [Scroll down] Even a "temporary" or "emergency" lock-up of this kind of speech is intolerable. Under a statist regime, "temporary" means permanently. The regime also decrees what is an "emergency." Nazi Germany existed in a state of permanent emergency, from the day Hitler came to power in 1933 to its collapse in 1945. Obama and his allies in government are pining for a Nazi-style "Ministry of Public Enlightenment and Propaganda" that would filter, interpret, suppress, and outlaw news and information they deem harmful to and critical of the government's policies, powers, and actions. The Obama administration, at first defensive of its powers, policies and actions, has conducted an offensive against any and all who question the motive and wisdom of that administration.
The Missing Link in the Evolution of Barack Obama
. Obama's childhood mentor was chosen by his guardians, his grandparents, and was avowed communist Frank Marshall Davis. Obama did in fact gravitate toward communist professors in college; moreover, we now know about ex-communist John Drew, a contemporary of Obama's at Occidental College who verifies that Obama was "in 100-percent total agreement" with his communist professors and was a flat-out "Marxist-Leninist" who believed in
old-style communist revolution
. We also know that upon graduating, Obama spent twenty years in a black-power church, Trinity United of Reverend Jeremiah Wright fame, and had an alliance with self-proclaimed communist and ex-terrorist Bill Ayers. It also appears — and I have yet to see anyone address and disprove this association — that Obama was a member of the socialist New Party in Chicago in the 1990s. Then, upon being elected, Obama appointed avowed communist Van Jones to his administration and also Anita Dunn, who cited mass-murderer Mao Tse-tung as one of her two favorite philosophers. There's more, too, but greater detail is hardly necessary. It also shouldn't be necessary to ask the question, but I will: What is nuttier: to claim that this man is a communist or to claim that such an assertion is out-of-bounds?
Obama, As Red As It Gets
. Isn't it about time that the mainstream media and all others begin to examine the record and conclude that a Communist holds the reins of power in the White House? ... While others have written how obvious it is that Obama is a "Socialist", I think this is a matter of caution in a society that has not seriously used the word "Communist" since the 1950s, when entities like the House Un-American Activities Committee actively investigated and exposed how many existed in the government, the unions, and Hollywood. It's not like Barack Hussein Obama has come out and said, "Yes, I'm a Communist", but you don't have to have a PhD in Political Science to connect the dots. The process is made murky by the way Obama has deliberately covered his tracks wherever he could, while dropping broad hints.
Well-Meaning or Not, Obama Threatens America
. [Scroll down] Let us also keep in mind that socialism, like Marxism, is fundamentally incompatible with freedom, democracy, and capitalism as embodied in America's founding documents and as practiced in America. If Mr. Obama is indeed a socialist — and he is — then his belief system, his way of thinking, is innately hostile to America. Socialism and American democracy cannot coexist, so if Mr. Obama is pursuing socialist policies, American democracy must, of necessity, be weakened or destroyed. But if this is true, how did Mr. Obama become president? It boils down to this: He lied. He lied about who he is, about his background, his fundamental beliefs, his intentions, and his methods. He employed standard Marxist/socialist tactics and concealed his true nature so as to seize power and impose his will, and for two years, he pretty much got away with it.
Obama's Discriminatory Application of Laws Abounds
. Is there anything about the Obama administration that doesn't reek of discriminatory application and enforcement of laws and the arbitrary and capricious abuse of power? Obama's best defense against the charge that he's doing outrageous things is that to correctly accuse him of committing these actions makes one look like a kook. Viewed alone, they are quite disconcerting. Taken together, especially with levels of audacity and arrogance that would impress any tyrant, they are immensely troubling.
Throwing in the Towel on the Constitution
. Article 2 of the U.S. Constitution requires that each new president take the following oath:
I do solemnly swear (or affirm) that I will faithfully execute the Office of President of the United States, and will to the best of my ability, preserve, protect and defend the Constitution of the United States.
President Obama announced this week that he will violate that oath.
Obama Not Just Above the Law — He Is the Law
. During his presidential campaign, Obama stated that he did not support same-sex marriage but that he did believe that DOMA should be repealed. He gave no hint that he would take it upon himself to issue a presidential edict, without a congressional bill placed before him, forbidding the executive branch from enforcing the law. But that is precisely what he did this week.
The Law Is For Presidents Too
. A federal judge has told the government it can't implement ObamaCare because it's unconstitutional. Has the White House complied? No, it's knowingly breaking the law.
Obama Wants Control Over Each State AND the Country
. This country is becoming one big pot for our usurper president and imminent dictator. He shows his ignorance and unfamiliarity with the United States Constitution when he starts telling state Governors how to run their provinces which THEY were duly elected to govern. This man who stole his way into the highest office in this land is either the most brazen, or the most stupid, or perhaps equal parts of each, iconoclast or rule breaker.
Obama's war on democracy
. The political unrest in Wisconsin, billed as some kind of grass-roots uprising, is being organized and directed by Barack Obama's Organizing for America and the Democratic National Committee. This development is consistent with Mr. Obama's instructions for supporters to "get in the face" of those who oppose them, but in this case, they are seeking to derail a lawful legislative process.
Obama And The Unions: A Lawless Alliance?
Last month the president called for civility in politics. Yet now he supports the Democratic lawmakers in Wisconsin who unlawfully refuse to do their elected jobs — and the union mobs backing them.
More about the
teachers' unions
and the Wisconsin protests.
Obama: I will 'paint the nation purple with SEIU'
. We can now say with certainty which side President Obama is on concerning the Wisconsin public union protests. Mr. Obama is not a public union supporter, he is their national leader. This is rapidly becoming a nationwide manufactured "crisis", as orchestrated by SEIU and Obama's Organizing for America.
Who's Polarizing America?
American politics just keeps getting more polarized. Be assured that Obama wants it that way. ... Obama's attack on the Supreme Court at his 2010 State of the Union address, his offensive against the Chamber of Commerce, his exhortation to Hispanics to punish their enemies, and several similar moves were all efforts to jump-start a populist movement of the left. Like his socialist organizing mentors, Obama believes that a country polarized along class lines will eventually realign American politics sharply to the left.
Obama wants to put himself on TV during an "emergency" -- just like Hugo Chavez.
FCC: Presidential emergency alerts to be tested
. Everybody has heard the national Emergency Alert System (EAS). Those familiar "duck calls" that reassure listeners "THIS is a test..." The FCC is planning an upgrade to the tests by including presidential announcements in the system. ... "The primary goal is to provide the President with a mechanism to communicate with the American public during times of national emergency," said [Lisa] Fowlkes. The change, she said, is that prior to last week's order there was no rule in place to call for or allow a test from top to bottom.
Obama Launches Total Takeover of Media System
. Even the Washington Post describes it like something out of Orwell's 1984. The FCC has approved a presidential alert system. Obama may soon appear on your television or call your cell phone to warn you about the next specious al-Qaeda underwear bombing event. Commissioners voted last week to require television and radio stations, cable systems and satellite TV providers to participate in a test that would have them receive and transmit a live code that includes an alert message issued by the president. No date has been set for the test, according to the Post.
---
"You do not examine legislation in the light of the benefits it will convey if properly administered, but in the light of the wrongs it would do and the harms it would cause if improperly administered."

- Lyndon B. Johnson
---
Power and the Law
. The Obama Administration has been held in contempt by a New Orleans judge, for extending its offshore drilling moratorium in defiance of a court order. The Administration has also declared its intention to continue implementing ObamaCare, in defiance of a federal court judgment that the inseparable "individual mandate" is unconstitutional. These incidents highlight the difference between
power
and the
law
.
Obama and FDR Power Grabs
. Franklin Delano Roosevelt had certain progressive individuals from academia surrounding him that acted as the driving force of his New Deal. These advisors became known as the Brain Trust. Likewise, our current president is considered by many, and certainly by himself, as an advanced academic. Mr. Obama has surrounded himself with like-minded progressives from academia, as did FDR.
Executive Orders and Presidential Prerogatives
. Some conservatives, including [American Thinker] news editor Ed Lasky, are worried that despite the election of a Republican-dominated House and six new GOP senators, Obama will continue to advance his extremely liberal agenda — but this time, by executive fiat rather than by congressional law. ... Executive orders and regulations issued by the president are law for no one except federal executive agencies. Only the Congress can make law for anyone else. So any executive orders or regulations are not law for you unless you work for one of these institutions. The same applies to any executive regulations imposed by executive agencies such as the EPA.
The Progressive Disdain for the Rule of Law
. Earlier last week, federal judge Roger Vinson effectively struck down the ObamaCare health care law on the unconstitutionality of the individual mandate. The Obama administration is already sending out signals that it intends to ignore the decision and continue implementation. The issue is inevitably headed to the Supreme Court. If the Court rules ObamaCare unconstitutional, will Mr. Obama abide by this decision?
Is Obama Resurrecting Nazi Fascist Economics?
Comparison between Nazi economics and the Obama Administration are inevitable given Barack's policies. It's stunning how Barack apes leftist maneuvers of past failed liberal regimes. Why so, given their disastrous results? One can speculate Barack is either wholly ignorant of history and economics; or he seeks power. The current collapse of US state budgets will deform American Federal structure, if national government bails them out. If Obama is indeed a socialist, will he not secretly rejoice?
There's No Abe Lincoln in the Muslim Hood
. [Scroll down] Barack Hussein Obama believes in enlightened despotism, and in the Muslim world he knows that there is only despotism without enlightenment. That's why he bowed to the king of Saudi Arabia and Hu Jintao, the colonialist killer of Tibet and president of China. And for good measure, Obama bowed to the figurehead emperor of Japan as well. How's that for a big signal? Obama has a Napoleonic personality, as we have seen in his first two years. He does not thrive on the give-and-take of electoral democracy.
Obama's Education Power Grab
. The President is in the process of creating a top-down strategy to "prepare" (translated to mean indoctrinate) teachers to literally transform education as we know it, from an American system to a full-fledged corporatist regime where big business backs the socialist programs. No wonder Obama devoted 11 paragraphs in his SOTU to the topic of education. Helping him to implement these goals are co-conspirators Michelle Rhee, former DC schools chancellor and founder of StudentsFirst.org, and Anita Dunn, former WH communications director.
Obama Admin Ignores Ruling Against ObamaCare
. Less than a day after federal Judge Roger Vinson's sweeping ruling striking down the entirety of ObamaCare as unconstitutional, the federal government has announced its intentions to move ahead with implementation of the law anyway.
Dictatorship by Executive Order Could Be Headed Our Way
. [Scroll down] This man is such an arrogant, narcissistic self-adoring tyrant I do believe that he already thinks he is a divine ruler of the people; and the really and truly sad part of it is that, in spite of what he has shown and what we know about his faults and power-hungry plans, almost half of the country's voters STILL believe he is doing a good job of running the country. That is proof unto itself that the man is wickedly distractful and able to make horrible decisions like ObamaCare, START treaty and egregiously misdirected spending and piling our national debt into the massive trillions of dollars and yet to keep fooling the voters into thinking these things are of no problem to the people.
The Hypocrisy Underlying Obama's Speech
: Says Obama: "We recognize our own mortality. And we are reminded that, in the fleeting time we have on this Earth, what matters is not wealth, or status, or power, or fame, but rather how well we have loved and what small part we have played in making the lives of other people better." Would Obama give up even one ounce of
his
power for the sake of people who still want to live lives of liberty, without the nationalization of medicine, for example? Not a chance. Wealth and power matter a great deal to people like the Obamas.
More Confirmation of Obama's Socialism
. Make no mistake, President Obama's "Socialist Realignment Strategy" has the stuff of a coup — a coup using legislative and executive authority to ram through radical changes that empower Washington politicians and bureaucrats as never before. Americans have witnessed this strategy in action since Mr. Obama assumed power in January of 2009. Stopping ObamaCare would be a critical practical and symbolic victory in the war for freedom.
TSA, Youth Corps Now Officially part of Obama Gestapo
. Has the African Marxist Oligarchy now fully arrived and settled down in the USA? One thing that is certain is that we are now living under the dictatorial Obama Police State and each and every day it becomes worse, more pronounced and more suppressive. The American Stalin is alive and well, living in Washington D.C.
Barry's Angry Words
. President Obama is a tumultuary. He governs by inflating or inventing crises which he insists must be acted upon as he prescribes with an immediacy that tolerates no delay or debate. His signature remark — repeated again and again — is that "The time for talk is over. The time for action is now." Obama derides debate, and refuses to answer critics, choosing instead to end the discussion.
Follow the Rule of Law
. The 2010 midterm elections represent a resounding referendum on the Obama Administration. Voters turned out to repudiate policies with which they disagreed. At the forefront of voter displeasure were the new administration's massive spending and the ever-burgeoning national debt. However, many voters also expressed concern that the Obama Administration was taking actions that were at odds with fundamental principles of law.
Obama and security team to spy on Internet users
. For most of his time in the White House, Obama has been critical of information about him and his administration posted on the Internet. He's frequently denigrated bloggers and Internet conservative news and commentary web sites for their efforts to cover stories the so-called mainstream news media refuse to cover, according to critics of his plans to control the "Information Highway."
TSA, under the direction of Napolitano, consent of Obama, collecting names, personal information, labeling them as potential "domestic extremists."
Taking names, Napolitano style
. [Scroll down] As I stated in my original report, the new DHS procedures have everything to do with control and conditioning and nothing to do with actual security. The TSA enhancements and the DHS databases are noticeably on the uptick, taking aim at law abiding American citizens who threaten the globalist agenda or the allegedly non-existent, once conspiratorial "New World Order" under global governance doctrine.
Obama Prepares to Impose Price Controls
. Thin-skinned, vain, prone to seeing conspiracies — Barack Obama now broadens his Richard Nixon impersonation with the imposition of price controls. Obamacare is the gift that keeps on giving — giving us higher real taxes, a bigger deficit, a bloated federal state, and now, if past is prologue, significantly lower quality and less innovation in the field of health care. As some of the smarter critics predicted, Obamacare, [ugly] as it was in legislative form, is turning into a real beast in the hands of the executive-branch geniuses charged with implementing it and dreaming up the new regulations to make that possible.
TSA New Enemies List
. The Department of Homeland Security and the TSA are not satisfied with treating Americans like pieces of meat, or like printer cartridges, or prison inmates. It is compiling a database of everyone who opposes the new procedures, that is, anyone who has written anything whatsoever critical of the DHS and TSA, and whose words may cause others to oppose or "disrupt" the assembly line.
The Editor says...
I must be on that list by now!
FCC's "Public Value Test": An Essential Step To Dictatorship
. And so it begins. Michael Copps, of the Federal Communications Commission (FCC), has suggested a "public value test" to determine who should, and should not, hold licenses for television and radio. ... Which segment of the "public" is to decide the nature of the "value" being tested? It doesn't matter. A few officials at the FCC will take care of that for you. If this doesn't sound like Soviet Russia, Nazi Germany or any other totalitarian state, I don't know what does.
The Confiscation Con
. If you've spent enough time in the gold community, you might be under the impression that the most imminent threat to the average American isn't terrorism or unemployment, but rather gold confiscation. Starting with the fact that FDR confiscated gold during the last Great Depression, and continuing to the quite accurate forecast that we are headed into an even Greater Depression, unscrupulous coin dealers have been pushing investors to buy expensive "numismatic" or "collectible" coins that they claim would be protected from government seizure. ... If the situation really gets this bad, you aren't going to trust some government agent with the intelligence of your average TSA officer to judge whether your coins are "numismatic" enough to be exempt from confiscation.
Another Victory for Islamic Jihad Courtesy of the TSA
. Reading several articles about how the Transportation Security Administration's (TSA's) full-body scans and pat-down "enhanced" security procedures violate the Fourth Amendment, I was struck by the utter irrelevancy of the argument. Citing that Amendment against unreasonable searches and seizures would indeed present an unarguable efficacy if we lived in a political environment in which the rule of law otherwise prevailed. No court could contradict the argument and still retain any credibility. But we do not live in such an environment. We are living in a political era of fiat law.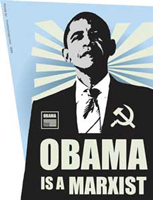 By Any Means Possible — The American Civil War of 2010
. Barack Hussein Obama has been labeled by numerous organizations, factions and individuals — left, center AND right — as a Marxist. In his book, "Dreams from My Father" — authorship of which [is questionable] — it is written that Obama would seek out, and preferred to hang out with, Marxists and other such radicals. In the book, Obama is seemingly self-described as a follower of Marxism; students following such wildly leftist theories knowing full well what Communist monsters were born from Marxism. Obama, in fact, is described by people who have spent a great deal of time in private with the man, as a Marxist-Leninist. Obama firmly grasps the theory of a working class revolution to redistribute wealth and property. He was, in college, 100% in agreement with his Marxist college professors. He is beyond a Socialist,
he is a Marxist; self-described
.
Emphasis added.
Illustration courtesy of
Frost My Chaps
.
Obama & Soros America's Clearest and Present Danger
. The Obama creature, having served his purpose, is now left dangling by the group in the hapless position of a lame duck 'power', an international joke, but insane enough to create the pretext for a national emergency with imposition of 'marshal law', and as Lincoln, a suspension of constitutional rights. Such a circumstance defies imagination as to its effect on the entire world. The danger of such an occurrence is not mere conjecture. Obama has openly stated he will 'rule' by executive order. He has in place a cadre of operational czars regularly demonstrating and imposing multiple unconstitutional edicts, all having pronounced negative economic and other effects. He controls a Justice Department operating as a gangster organization. He has elevated seriously questionable former and present members of the military to the highest levels of command in matters of critical national security.
President Obama and the Radical Socialist Agenda
. [Scroll down] More troubling than any of the obvious, open, and/or stealth associations are the instances where [Stanley] Kurtz details the ways that President Obama "distorted" and "obfuscated" the record of his involvement with ACORN and his relationships with his pastor, Jeremiah Wright, and his mentor, Bill Ayers. Kurtz notes that the deceptions include accounts in the president's memoir, Dreams of My Father. These deceptions, according to Kurtz, are dangerous because "we will be irreversibly down the path toward social transformation before we recognize as a nation what's at stake. The strategy of achieving socialism through a series of 'non-reformist reforms,' so popular among American's community organizing elite, is premised on precisely that deception."
Obama and ruling by edict as a direct challenge to the authority of the congress
. I believe Obama will carry out ruling by edict as a direct challenge to the authority of the congress. Congress will push back by de-funding the czars' departments. This will result in a massive disruption of the governmental process, as well as the salaries of public employees at the national, state, and local levels. Enter the media and corrupt public and private employee unions who will demand that the President and Commander-in-Chief do something. The clamor will create panic and chaos. He will declare a national emergency. This action will accomplish nothing more than and designed to inflame the matter to a higher pitch, whereat he will declare marshal law, suspend the constitution, and order in federal forces to quell the insurrection by whatever means necessary to restore peace.
The Midterm Elections and the Communist Manifesto
. [Scroll down] The Communist Manifesto dictates, among other things:
• The abolition of private property...
• A heavy progressive or graduated income tax...
• Abolition of all rights of inheritance...
• Centralization of credit in the hands of the state, by means of a national bank...
• Centralization of the means of communications...
• Extension of factories and instruments of production owned by the state...
• Free education for all children in public schools.
And now, among other egregious power grabs, Obama wants to federalize America's waterways, including oceans, rivers, bays, estuaries, and the Great Lakes!
Obama believes your paycheck is not your own
. This is an extreme concept and one that is best understood by analyzing it personally. Everyone understands that when I "spend" money on a charity or at the grocery, the implication is that I am using my money to make a contribution or to buy chips and beer. The President clearly believes differently, that my paycheck does not begin its life as mine, from which taxes are taken. Rather, he believes that my paycheck begins life as his, from which residual amounts are beneficently granted to me for living expenses.
A Soulless White House
. The American people can't take their eyes off Obama for a moment because they know he will try to pull another trick to take away their rights or freedoms any day. And those trillion-dollar deficits now look like they'll be repeating every year.
Obama Power Grabs Threaten Our Democracy
. What Soros, Pelosi, Reid, and the rest of the progressive crowd understood better than anyone prior to Obama's arrival in Washington, was the mechanisms for the direct control over most American enterprises already existed within the federal framework. It was present in the cabinet level departments and other federal agencies that answer to the President, giving an immoral leader unchecked authority should they be so bold to exercise it, influence the framers of the Constitution had never intended when this nation was established.
A Shrink Asks: What's Wrong with Obama?
[Scroll down slowly] Obama will not change. He will not learn from his mistakes. He will not grow and mature from on-the-job experience. In fact, over time, Obama will likely become a more ferocious version of who he is today. Why? Because this is a damaged person. Obama's fate was sealed years ago growing up in his strange and poisonous family. Later on, his empty vessel was filled with the hateful bile of men like Rev. Wright and Bill Ayers. Obama will not evolve; he will not rise to the occasion; he will not become the man he was meant to be. This is for one reason and one reason alone: He is not capable of it.
Just what is Barack Obama?
[Scroll down] There is real danger here. This is the behavior of tyrants. This is Nero, Napolean, Hitler, Mussolini, Ahmadinejad — all those would-be self-annointed deities. Self-worship is the religion of tyrants. When you believe yourself superior to your fellow man, you believe yourself entitled to absolute power over all those fallible fellow humans under your authority.
More about
Obama's narcissism
.
Letting Leftists Limit Language
. Make no mistake: Obama, Pelosi, Reid, et al. believe in nothing but power. They are not "socialists." There are no socialists in the world except those in mental institutions or very young children who have never seen modern political debate in action. The façade of socialism has always been the same — a phony banner for the acquisition of power. Every brutal thug, every Hitler or Stalin wannabe, first champions the masses against the despised few who exploit them.
Busted! — Obama's Revolution
. On page 29 of the [David] Horowitz book, the Obama revolution is so clearly exposed that it should send chills up every American's spine.
Echoes of 1930s Germany?
Time and again in these troubled and troubling times people make reference to Germany in the 1930s, the rise of the Third Reich, and to Hitler as they express their fears regarding the Obama administration. ... I think what is at the heart of the comparison is the way, in just under two years, Americans witnessed the government takeover of the healthcare sector, one sixth of the economy, the takeover of General Motors and Chrysler to the benefit of the United Auto Workers and the loss of their creditors and bondholders, and a so-called stimulus package that by most accounts has wasted billions.
Propaganda Efforts by the Obama Administration May Be Criminal
. The Obama Administration has some explaining to do. Politico reports in a Friday story that 2011 could be a tough year for an Administration facing numerous oversight hearings on issues ranging from the controversy over the Justice Department's handling of the New Black Panther Party investigation to the numerous bailouts administered by Obama Administration officials. Specific allegations from Congressman Darrell Issa (R-CA) regarding the use of government sponsored propaganda should raise ethical flags, if not legal ones, for Americans who don't want tax dollars used to promote the big government ideas of President Barack Obama.
Obama's backdoor amnesty follows a pattern of disrespect for our laws
. President Obama lets people break laws that he doesn't like. The latest example is his backdoor amnesty for thousands of illegal immigrants, as a still-fuzzy but insidious picture is emerging. Obama shows a pattern of refusing to enforce laws (or refusing to permit states like Arizona to enforce them). When he dislikes our laws, Obama forces change by dictate rather than seeking legal change through the political process. Congress gets bypassed.
How Vindictive Is This Administration?
I'm not usually the conspiratorial type, but watch Gov. Chris Christie explain how the Obama administration disqualified the state of New Jersey from hundreds of millions in education funds because some clerk in Trenton turned in the wrong excel spreadsheet. Democrats in Washington have already shown a willingness to withhold federal education dollars from states that don't follow their preferred tactic for navigating the recession: giving teachers raises like it's the Gay '90s.
Obama Okays Victory Mosque
. Americans are aghast that the president approves of the construction of a Victory Mosque by a pro-terrorism imam six hundred feet from Ground Zero. Revolting, yes. Shocking, no. One thing we know about Barack Obama is that he is committed to ruling in direct opposition to three-fourths of the American people on all core issues.
More about the proposed
Ground Zero mosque
.
Obama's Imperial Presidency
. President Obama's actions are unlike anything the American people have seen before. Indeed, they are in an entirely different category than the actions of previous presidents, which were undertaken largely in wartime and prompted by grave challenges posed by foreign enemies. ... He is disregarding a clear set of statutory requirements contained in federal immigration law, and he is greatly expanding presidential power — all without tackling a genuine national-security threat.
Obama admin plotting to seize Western lands without congressional approval
. Back in February, a leaked memo from the Department of the Interior showed that the Obama administration was considering designating as many as 17 new national monuments throughout the West, effectively closing off huge swaths of land to development. That this was being done without the input of Congress or local authorities angered many. Now Rep. Rob Bishop, R-Utah, Chairman of the Congressional Western Caucus and Ranking Member on the House Natural Resources Subcommittee on National Parks, Forests and Public Lands has uncovered 14 more pages from the document that were previously unavailable.
Obama reminds us it's all about the motive
. Go through the list [of US presidents] — all 44 — and you'll have a handful of what you consider to be morons and malcontents. But with the exception of a few, Barack Hussein Obama is the top-ranked of POTUS who intentionally try to destroy their country in order to make the USA the Socialist Capital of the world. Other anti-Constitutional Socialist presidents were League of Nations lover and ironically white supremacist Woodrow Wilson and new dealer, Supreme Court manipulator and dictator wannabe, FDR.
How Obama Is Locking Up Our Land
. Have you heard of the "Great Outdoors Initiative"? Chances are, you haven't. But across the country, White House officials have been meeting quietly with environmental groups to map out government plans for acquiring untold millions of acres of both public and private land. It's another stealthy power grab through executive order that promises to radically transform the American way of life.
Dismantling America: Part III
. One of the few campaign promises that Barack Obama has kept was this: "We are going to change the United States of America!" As in many other cases, those who were thrilled by the thought of "change" seldom seemed to consider whether it would be a change for the better or for the worse. True believers in the Obama cult assumed that it had to be a change for the better.
Rule by Decree
. America's economic strength has always depended upon a healthy legal climate for business activity — an environment in which rights and obligations are legally enforceable. Obama has discovered that, using federal regulatory action to create uncertainty and prohibitive risk for private commerce, he has almost unchecked power to advance his green-energy agenda by shutting down entire sectors of the U.S. economy. And there isn't anything that any court or any legislature can do about it — at least, not fast enough to make a difference.
Malfeasance
. Since the birth of the Progressive Movement, America's been sliding toward its own form of Socialism. I know, Mr. Obama says he's not a Socialist, a Marxist or a Communist. I also know he's a liar as are so many politicians today. Anybody espousing the redistribution of another's wealth is following Socialist, Marxist and Communistic ideology.
The Editor asks...
Has Obama ever actually denied that he is a Communist? I don't think anyone has publicly asked him if he is a Marxist, or a Communist, or a Muslim. Reporters don't ask, because Obama lets his web site do the talking.
Barack Obama, America's First Elected Traitor President
. America will never regain her national standing in the world until and unless Americans stop being politically correct and start becoming straightforward about the dangers this nation is confronted with. There is a traitor in the White House Oval Office and he is surrounded by co-conspirators who are also actors in his destructive scenario.
'Administrative alternatives' = stealth amnesty
. Obama administration officials are now busy distancing themselves from a controversial draft memorandum outlining various ways to bypass Congress and administratively grant amnesty to tens of thousands of illegal immigrants. But the leaked internal memo has struck a nerve in the body politic precisely because it is only the latest of a growing list of examples of the Obama White House seeking to circumvent the popular will.
White House proposal would ease FBI access to records of Internet activity
. The Obama administration is seeking to make it easier for the FBI to compel companies to turn over records of an individual's Internet activity without a court order if agents deem the information relevant to a terrorism or intelligence investigation.
We the Serfs
. The Constitution of the United States of America under President Barak Obama is being transformed from a nation of "We the People" to "We the Serfs." ... Under this administration, we have seen government takeover of large companies, the implementation of a pay czar to determine compensation in private companies, a health care insurance mandate where you will be forced to purchase insurance or have the IRS withholding your refund or garnishing your wages, cap-and-trade legislation, and the EPA regulation of carbon, which will determine where we can set our thermostats in our own homes.
The Perpetual Campaign Continues
. Here's the problem for Obama: even though he thinks we're a nation of morons, we're not. We're onto his act.
Administration considers going around Congress to let illegal immigrants stay
. The Obama administration, unable to push an immigration overhaul through Congress, is considering ways it could go around lawmakers to let undocumented immigrants stay in the United States, according to an agency memo.
Our Patrick Henry Moment Is Here
. Obama's election was supposed to transform America, at least in his mind. This country's first socialist president strode into office confident that he would remake this country. Fortunately for the country, the timing of his election was twenty, if not fifty, years too late. Socialism has failed in its pure form wherever it has been tried. Now it has failed in its modified form. While much of the world realizes this, President Obama is either ignorant or has more sinister plans for the country.
The Threat to Personal Liberty
. The Tea Party defines itself as in favor of more limited government, but the progressives are slandering it as a racist movement. Given the media's acquiescence in the budding collective tyranny of the progressives' New Regime, the opposition message is distorted, muffled, and too often unclear. The challenge for those of us who want America to continue as a nation of free people, with a free and robust economy, is to get across to people in the progressives' targeted constituencies the idea that they are being and will continue to be exploited.
The First Special Interest
. [Scroll down] If you are a special interest, Obama is your guy. The only thing he asks for in return is unqualified power. It doesn't matter what is best for America. It is not about duty and devotion to principles that protect and serve all men equally. It is about using the power of the presidency to serve the special interests of a group and exacting a price for the help. The interests of the group trump the rights and liberties of the ordinary man, and the power of the president becomes greater than both. This is the path to tyranny.
Administration's Arrogance Abounds
. When you're arrogant, you haven't a clue about what matters to your subjects, only that you keep subjecting them to what matters to you.
Of Course Obama's a Socialist
. Thomas Frank, the Wall Street Journal's quota liberal, is shocked that people are calling President Obama a socialist. Last week, a poll announced that 55 percent of people think he's just that. ... You can call Obama a socialist, a progressive, a liberal, a black liberationist. The choice of words doesn't matter. What matters is that President Obama is a card-carrying member of the ruling class, and every act of this president aims to concentrate more power in the government or distribute favors to his supporters. America was not founded for this. The 600,000 did not die in the Civil War for this. The GIs did not crush Nazism and Communism for this.
Obama & the Eighty-One Percent True Believers
. American philosopher Eric Hoffer wrote on zealotry, explaining why fanatics join irrational mass movements such as the Communists and Nazis. His works are seminally important for understanding crazed leftist hysteria. ... Hoffer seems to have an Obama in mind when discussing what drives certain aggrieved men to fanaticism: However much the protesting man of words sees himself as the champion of the downtrodden and injured, the grievance which animates him is, with very few exceptions, private and personal. His pity is usually hatched out of his hatred for the powers that be. All of America is now paying for the anger Barack felt years ago, imagined or not.
The Scapegoating of Michael Savage
. Radio host Michael Savage was my first conservative friend — although I've never met the man. ... At first, I agreed with nothing Savage said — except about Obama. There, he was spot on. Savage was one of the first to peg Obama as a socialist. He dubbed Obama "The Little Professor," à la Pol Pot. Savage predicted, quite presciently, that Obama, like his Cambodian brethren, would turn on his own people.
Obama's Backwardness
. Barack Obama is leading our nation backwards into chaos parallel to the early years of 20th-century Russia. In the early 20th century, Bolshevik revolutionaries led by Vladimir Lenin pieced together a bureaucratic authority that quickly developed into a totalitarian government. Barack Obama is laying the foundation step by step for a superstructure not unlike the apparatus by which the Soviet Union functioned. The bureaucratization of America is an attack on capitalism, the free market, the private sector, and ultimately private property ownership.
Obama creates more crises to manipulate and control
. President Obama is on a 'Rules for Radicals' roll, creating environmental crises with the calculated sham of the Gulf oil spill, while fueling race wars with the NAACP against the Tea Party groups. Remember, Obama needs crises and enemies to be the messiah and dictator he fantasizes being.
Mr. President, Karl Marx is Dead
. If you were President of the United States and determined to change our system of government from one that promotes and protects our cherished free enterprise system to one of a Marxist-based coercive regime you would recognize the need to do so without seeming to do so. That's what is happening now under Barack Obama, who is fully cognizant of the fact that any overt tinkering with our liberties would be met with the stiffest opposition from the American people who have an instinctive distrust of anything that smacks of big brotherism — the very essence of Marxist socialism.
Castro, Obama and the Rule of Law
. [Scroll down] We began with a simple discussion about our country and the direction it has taken since Barack Obama came to power. We shared the usual complaints about the sour economy and liberal social engineering emanating from the rulers in Washington. But then he said it. The sentence came naturally. I assume it was unplanned. But it carried the weight of a freight train. "You know when Castro took power, none of us knew he was a Communist." We sat stunned. He continued, "Yes, we all thought he was a patriot, a nationalist. Before the revolution he didn't sound like a radical." The comparison at this point was easy, and I interjected, "You mean just like Barack Obama?" He responded, "Yes, just like Barack Obama."
Free Market Obama
. There was a time when "free market" meant the functioning of the private sector without the intrusion of government. Now Obama tells us that capitalism really means government control of the private sector. What Obama has espoused in Las Vegas is nothing less than state capitalism — the same relationship between government and business that exists in every totalitarian society.
Barack Obama and His Glory Days Are Past
. Never in all my years have I witnessed such a blatant attack by any President of the United States of America to come down on the American people themselves. It is as if voters had brought in an outsider and handed him the reins while they tried to settle on a real candidate. And, that is just what has been done. That is, by those who had fallen for his spiel. There can be no other excuse, except that this black man was better at speaking than Americans were at listening.
States Fight Back Against Federal Tyranny and Abuse
. Arizona state Sen. Russell Pearce is incensed over the Obama administration's "outrageous" and bogus lawsuit against the state of Arizona over its perfectly legitimate effort to protect its border and citizens. Pearce does not mince words, saying this lawsuit is a matter of the Obama administration's abusing its power to advance its "nonenforcement mentality and agenda. ... It's outrageous, what (the administration is) doing. This is about an agenda. This is a president that is acting like a dictator. This is a president who is ignoring the rule of law and siding with lawbreakers over the citizens of this country and the citizens of this state while damage is being conducted every single day. Every single day!"
Obama's Destruction Of Capitalism
. Obama's administration is rapidly replacing capitalism, markets and free enterprise with socialism and total government control. In Marxist theory socialism is a stage on the way to the overthrow of capitalism and establishment of communism. It's doing this by finding examples of capitalist 'failures' and using them to justify government regulation and takeover.
Stopping Obama's Plan to Subvert the Constitution
. President Obama wants to transform our free-market economy into a government-controlled economy. He wants to transform our family-centered society to a government-centered society. He wants to transform our national philosophy founded upon the primacy of the individual and the supremacy of God to one founded upon the primacy of the "collective good" of society and the supremacy of the central government. Mr. Obama's problem is that the Constitution of the United States stands in his way.
Our shameful, dangerous commander-in-chief
. Our President is thought, by many elite liberals, and other ignorant residents of these United States of America to be a man of unusual intellect and high education. I see him as a typical lawyer (that's hardly a compliment), whose early life was shaped by friends, family and forces not particularly friendly to what this nation was conceived to be, nor to what it has become. In my view, Mr. Obama is first and foremost concerned with himself, then with promoting his deeply believed destructive social policies. I can think of a no more dangerous man that has ever been in his position of unparalleled power.
Alinskys in Action
. As Congress considers the Democrats' unprecedented legislative assault on Wall Street, radical leftists say the bad economy gives them new opportunities to push America even farther down the road to socialism. "The banking crisis is the next big thing," said George Goehl, executive director of the Chicago-based group National People's Action.
America's House of Cards
: The Cloward-Piven strategy, the bible for liberal progressives, teaches that to undermine the system one need only do one thing: Overwhelm the system. The radicals who occupy the White House, students of Alinsky, are all-too-familiar with the methods that will bring this country to its knees and allow for a remake or "transformation" to an ideal society that will finally be acceptable to their brethren. Using each and every "crisis" to add another control disguised as government benevolence, the Obama administration is packing regulation upon regulation on the American people.
Obama Strategy
. Richard Andrew Cloward and Frances Fox Piven are professors of sociology at Columbia University. Together, they published a plan in 1966 known as the Cloward-Pivan Strategy calling for the destruction of capitalism in America by collapsing the economy, creating social chaos and nationalizing many private institutions. According to many sources, including Wayne Allyn Root, a classmate of Barack Obama at Columbia University in 1983, President Obama is using the Cloward-Pivan strategy to destroy capitalism and replace it with authoritarian socialism, whereby a majority of citizens would need government on order to survive, thereby ensuring their continued vote for bigger government.
Democrats at Ramming Speed
. Washington has never been held in lower esteem by Americans than it is today. Yet those in control of Washington — President Obama and congressional Democrats — are bent on enacting a series of sweeping domestic policy changes this year that have one thing in common: They are unpopular, in whole or in part. This is unprecedented and a bit weird too.
Arrogance in the Executive
. [Scroll down slowly] Obama apparently believes that government should be able to stop all man-made disasters before they happen. "As we continue our response effort," he said, "we're also moving quickly on steps to ensure that a catastrophe like this never happens again." In fact, neither he nor anyone else can "ensure" any such outcome, unless he proposes to call an end to all of the progress that has been made since the beginning of the industrial revolution, if not before.
Does Obama need Congress for anything?
Evidently, our president is too impatient, too dissatisfied with the pace of our nation's representatives when it comes to fuel standards and has decided to issue an executive order that requires tough new requirements for our country's auto industry.
The Socialist Judge: Elena Kagan and the Teachable Moment
. Why focus on an undergraduate college paper written almost thirty years ago? Because we are in the middle of a massively controversial presidency led by a man who has exhibited every intention of "transforming" America in the socialist image — leading the country away from its capitalist heritage. This Supreme Court nomination does not, after all, come in a vacuum. Since taking office, the Obama administration has taken control of everything from car companies to financial institutions to banks to your health care.
Did someone mention
Elena Kagan
?
Barack Obama has awakened a sleeping nation
. Barack Obama has plunged the country into levels of debt that we could not have previously imagined; his efforts to nationalize health care have been met with fierce resistance nationwide; TARP bailouts and stimulus spending have shown little positive effect on the national economy; unemployment is unacceptably high and looks to remain that way for most of a decade; legacy entitlement programs have ballooned to unsustainable levels, and there is a seething anger in the populace. That's why Barack Obama is such a good thing for America.
Why Conservatives Love the Founders
. History is full of Obamas, and the people who idolized such power-hungry self-glorifying narcissists. The Founders understood human history in their very bones, because they read history from the Bible to the Roman Empire, Europe's bloody and tyrannical history, and the Americas. If you want to understand Obama, just look at any idolized hero in Latin America: Chavez, Fidel, Bolivar, Juan Peron. Look at European monarchs. Look at Napoleon.
The President Says You've Got Enough Money
. In a recent speech, President Obama declared, "at some point, I think you've got enough money." And it's what he thinks, not what you think, that matters. That goes double for what he thanks about your money. There lies — bare as can be — the irrefutable evidence of the president's true ideology (socialism or worse) and of just how serious a threat he is to this nation.
"Enough Money"
. One of the many shallow statements that sound good — if you don't stop and think about it — is that "at some point, you have made enough money." The key word in this statement, made by President Barack Obama recently, is "you." There is nothing wrong with my deciding how much money is enough for me or your deciding how much money is enough for you, but when politicians think that they should be deciding how much money is enough for other people, that is starting down a very slippery slope.
Woody Allen thinks Obama would get much more done as dictator
. "It would be good...if (Obama) could be dictator for a few years because he could do a lot of good things quickly," Allen is quoted as saying.
Woody Allen says President Obama should be granted dictatorial powers (seriously)
. Woody Allen has a strange take on the democracy that allowed him to become rich and famous. The "Scoop" director said it would be a cool idea for President Barack Obama to be dictator for for a few years. Why? So he could get things done without all the hassle of opposing views getting in the way.
An Obama Dictatorship: Hollywood's Dream Come True
. In 2008, when Woody Allen last spoke of Barack Obama to a group of Spanish journalists, he declared that it would be a "
disgrace
" if the then-U.S. Senator failed in his quest to become the 44th President of the United States. Now, 16th [sic] months into Obama's first term, Allen has apparently mistaken
La Vanguardia
, a Spanish newspaper, for the Make-A-Wish Foundation.
Is President Obama Using Executive Powers To Organize Protests?
Earlier, we posted about the links between Andy Stern's SEIU and a group called National People's Action (NPA). NPA, together with SEIU and the AFL-CIO, is organizing a series of angry marches against Wall Street and capitalism. NPA is a very dangerous and radical group that isn't shy about its radical philosophy. ... President Obama is very close with NPA board member, John McKnight. Mr. McKnight also sits on the board of the Gamaliel foundation where President Obama worked as a community organizer.
Obama after ObamaCare
. What's next for Obama? We can expect to see more of Obama the tyrant and more of Obama the know-it-all. Now that he has "succeeded" with ObamaCare, his pride will be even more puffed up and he will be that much more insufferable and difficult to constrain.
Court-Packing, Chicago-Style
. President Obama, Senator Reid, and Speaker Pelosi showed their ability to ruthlessly ram through their legislative agenda with a combination of procedural tricks, sleight-of-hand, and painful arm-twisting, all of which could happen again. They also hope to have a Supreme Court which will rubber-stamp their legislative agenda and thus guarantee its long-term survival.
The Party of American Slavery in Full Abhorrent Power Again
. It is no secret that The Obama is taking over, dismantling and/or destroying every aspect of that which the Founding Fathers of the USA brought to bear; freedom and liberty being the two things that Obama needed to eliminate first. ... The current US government is moving quickly and forcefully against the American people. Obama & Co has already announced that it will now force Amnesty for illegals (to make up for the American voters who will not vote for him again), Cap & Trade (aka Cap & Tax), National ID ("your papers, please — now!") and will resurrect legislation to remove the union's secret ballot (power is an aphrodisiac and drunken power is the worst). And Obama has the fire power of the strongest military in the world, today, to back him up.
Amnesty By Executive Fiat
. The Obama administration cannot legalize the entire illegal immigrant population this way, much less put them on a path to citizenship. But it is a democratically unaccountable start.
Pulling the Plug on the "Living" Constitution
. Barack Obama has long seen the U.S. Constitution as an obstacle to what he considers progress. In a 2001 interview that surfaced during the presidential campaign, he made this very clear: the Supreme Court under Justice Earl Warren had failed to break "free from the essential constraints that were placed by the Founding Fathers in the Constitution," Obama mused on a radio show. ... The founders had set up a form of government to protect liberty; he clearly wished they had formed a government to enact equality.
President Obama Being Held To A Different Standard?
When President Harry Truman was told by the Supreme Court of the United States of America that his attempts to seize the coal and steel industries were Unconstitutional, why is Barack Hussein Obama being held to a different standard? Does he believe he is above the law? Is he betting that the current leadership, under Nancy Pelosi would never begin Impeachment Proceedings?
Obamacare parallels Hitlercare:
Origin and Rise of Compulsory Medicine
. It is a fact, and a very remarkable one, that the great demagogues of our age appear to be greatly worried about the health of their subjects. No one was more so than Adolf Hitler. ... As a committee report on health insurance of the Canadian House of Commons put it (March 16, 1943): "During the early years of Hitler's regime, the government's medical program was looked upon by many observers as one of the greatest props of the totalitarian state."
Global gun control, shredding of capitalism and Supreme Court compromise
. First of all, as I have said many times in the last few months on air and in print, if you want to have a real clue about where Obama and his staff are going and where they will take us, review the history of Hitler's rise to power and the seduction, promises and terror that sucked in most of the German people in 1938. Obama is following the playbook perfectly. We have already seen the false promises of creating endless jobs from Obama — NOT. Hitler did the same thing to German Parliament to manipulate enough votes to get the power with 'Hitler's enabling act.'
Instituting law... the Obama way
. A new graphic that surfaced today does a great job showing how the Obama administration manages to create law without going through the usual legislative process. President Obama just made 15 recess appointments which means the candidates for the government positions skip the usual Senate confirmation process.
Hope and Change ... the Constitution
. [Scroll down slowly] President Obama, like many members of Congress, has little experience in or understanding of the private free-market economy. Obama never started a business, ran one or struggled to meet a payroll. He shows little respect for the hard, long hours people put in to build successful businesses that compete to provide goods and services to customers and that hire people. He believes that unequal outcomes are unjust and that government exists to right this wrong by "spreading the wealth."
Responding to question, Cantor says 'no one thinks' Obama is a domestic 'enemy'
. A person from the audience asked [House Minority Whip Eric] Cantor, "In light of what Obama has done to leave us vulnerable, to cut defense spending to make us vulnerable to our outside enemies, to slight our allies ... what would he have to do differently to be defined as a domestic enemy?" After pausing for several moments to let the crowd's laughter and head nodding dissipate, Cantor was received with low-level boos when he responded, "No one thinks that the president is a domestic enemy," Cantor said.
A Malice That Dares Not Show Its Face
. Trying to shame a flippant Obama over his lies, posturing, and political subterfuge is as futile as throwing spitballs at a charging rhino, or shooting rubber bands at a provoked bull. He isn't going to be stopped. He intends to knock you down and gore you until you move no more, and for extra measure, toss you into the air a few times to make sure you're no longer a threat or a provocation. His collectivist soul and commitment to subduing America requires that he be deaf to public opposition to his agenda and heedless of the consequences of bringing it to implementation. This requires the habitual and ultimately ingrained psychological insulation adopted by all power-lusters and dictators. They don't like being contradicted, questioned, or doubted.
How Obama's Green Policies Will Bankrupt America
. Obama's policies prop up energy production that's inefficient and costly while shutting down other energy resources, like nuclear power, that could be both effective and affordable. It's all about creating scarcity — and a heightened dependence on the government. The optimistic news is that the public is increasingly skeptical of Obama's illogical promises, but that only means the administration is ratcheting up the fear-mongering to squeeze in as much changed as possible within the next three years.
The Progressives' Perfect Trojan Horse
. Democrats say that their mission is to give all Americans health care. The Democrats are lying. Signing ObamaCare into law against our will and the Constitution is tyranny and step one of their hideous goal of having as many Americans as possible dependent on government, thus controlling our lives and fulfilling Obama's promise to fundamentally transform America.
Obama's Ideology Threatens America
. Only an administration with a totalitarian inclination would go to the lengths we've seen to pass a law that 75% of the people reject. Obama is driven entirely by ideology and it's the same one that motivated Lenin, Stalin, Mao, Castro, and the other dictators of the last century. Ideologically, Obama is a communist whose views were shaped by a communist mentor in his youth. He is a true believer in the economic and social views of communism that government must control all aspects of the individual's life and owns the fruits of his labors and earnings.
The Obama doctrine: govern by decree
. When a supposedly democratic government rules by decree with little or no direct accountability to its citizens, the effects are much broader than those generated by any particular decree. This process of issuing decrees enhances that lust for power among the political class while creating a corresponding attitude of subservience in the citizenry.
Destroying America from Within
: [Scroll down] The current American president is arguably the gravest mistake the American electorate has ever made and one it may not survive intact. It will inevitably come to regret its decision. This is not the place to run through the chronicle of Obama's blunders, backslidings, broken promises, outright lying, despotic tendencies, shallow education, historical falsifications, ludicrous policies, betrayal of allies, and economic bungling (assuming this is not deliberate) — the record is accessible in all its details to anyone who wishes to consult it. ... This is a president who is foisting a radical, far-left agenda on a center-right country and who will not be deterred from ramming his project into existence.
Obama's Communists Now Ruling the USA
. Obama is so bent upon getting his way and destroying the USA that he is now openly — and in full view of all — threatening to place the country in even more jeopardy. The Communist Obama Government now has a stranglehold on the United States of America, its legislators and its people and he will NOT willingly let go. In fact, as his smile beams even more broadly he is squeezing ever tighter to end our lives and the life of our country.
Impeach the president?
The Slaughter Solution is a dagger aimed at the heart of our system of checks and balances. It would enable the Democrats to establish an ominous precedent: The lawmaking process can be rigged to ensure the passage of any legislation without democratic accountability or even a congressional majority. It is the road to a soft tyranny. James Madison must be turning in his grave. Mr. Obama is imposing a leftist revolution. Since coming to office, he has behaved without any constitutional restraints.
Water for Votes and Other Atrocities
. Obama has now joined the likes of all other despots who have ever walked and practiced their tyrannies upon planet Earth. ... Obama turned off the spigots in California's Central Valley in order to destroy crops, fruit trees, farmers' livelihoods etc. in that once extremely fertile and productive area and to give him a large hammer to use against all of us who eat food and drink water. Obama affected this by design and on purpose first and foremost to observe whether or not he could get away with it...
Five Reasons Why FEMA Should Stay at DHS
. The FEMA Independence Act of 2009 is currently in the U.S. House of Representatives. This bill would move the Federal Emergency Management Agency (FEMA) out of the Department of Homeland Security (DHS) and elevate the agency to cabinet-level status.
The Editor says...
Why make FEMA a cabinet-level agency? So FEMA could be under the direct control of the executive branch, not the Congress. FEMA is dangerous enough already without the ability to hide behind executive privilege.
More about
FEMA
.
Obama And His Appointees Dismantling US
. President Barack Hussein Obama is proceeding to destroy America and has opened up a six-front war to do so. ... Mr. Obama has immense executive authority, which he has already used to damage the country. One notable example is his decision to try terrorists in New York City, thereby giving the terrorists the premier platform to broadcast their propaganda and recruit Islamic radicals to their cause. Another example is cap and trade by fiat of the Environmental Protection Agency (EPA), rather than Congressional action.
Dreading our future
. The grace notes and charm have vanished, with peevishness and petty spite his default emotions. His rhetorical gifts now serve his loathsome habit of fear-mongering. "Time is running out," he says, over and again. He said it on health care, on the stimulus, in Copenhagen, on Iran. Instead of provoking thought and inspiring ideas, the man hailed for his Ivy League nuance insists we stop thinking and do what he says. Now.
America Under Barack Obama
. [Scroll down slowly] I try to avoid hyperbole, but I think Obama is possibly the most dangerous and destructive president we have ever had. ... So in answer to your question, I am beginning to think that this guy is a phony. Obama seems to have no firm principles that I can discern that he will adhere to. His only principle is his own aggrandizement. This is a very dangerous mindset for a president to have.
Hope & Change, Gangsta Style
. Voices from the center, left and right have barraged their Senators offices indicating their displeasure with the lack of transparency on the process (meeting in closed room sessions) and substance (the bill has not yet even been fully written and the Senators know "enough" to vote on it) of the Health Care legislation. Yet it was Obama's iron fist, his nasty scowl, and his hard-core Chicago bullying that was most interestingly revealed this week.
Enviro-Marxists discover the real scourge of the planet: human beings
. The Founders understood that a government that "must do" things for you eventually degenerates into a government that does things to you. Barack Obama and his merry band of Marxists know that as well. They just hope that the rest of us won't figure it out any time soon.
Obama the Red Avenger
. Obama's early life indicates that young Barry may have been brought up as a Red Avenger against America. We know that he talks like an anti-capitalist and an anti-Constitutionalist, and that he compulsively apologizes for American actions
during the Cold War
. The Cold War was not something we started — it was started by Lenin, Stalin, Mao, and other totalitarian mass murderers long before the Korean War and the Vietnam War, our two hot proxies in the Cold War. What we haven't understood is how deeply Obama was indoctrinated from childhood onward in the war against America.
The Obama 4 year plan to re-make America
. Amongst the primary objectives the Obama administration has set out to accomplish are: a complete restructuring of our economy in accordance with the President's socialist construct; the establishment of a federally run Health Care System; the reshaping of our military prowess into an obsolete commodity; A gradual consolidation, under the Executive branch, of authority commonly delegated to the Judicial and the Legislative branches; and finally, the legal prohibition of aired dissent from any assembly or media outlet which happens to disagree with the President or seeks to divulge the potentially deleterious effects of his policies.
Obama for World President?
[Scroll down slowly] Just four years ago [Obama] was a backbencher in the Illinois legislature, but since then he has served a partial term in the U.S. Senate, where he spent most of his tenure campaigning for the next giant step in his upward mobility, to the Oval Office. He has never in any office run for re-election, but has instead used any current position as a boost platform for his next installation. Observers of his presidency have been puzzled by the continuing pattern: Obama is still in campaign mode, spending a good deal of time giving major policy speeches, not only in the states, but around the globe. "What office is he running for now?" One can ask.
They're ALL Communists
. Back when people were tippy-toeing around the "s" word ("socialist"), and before he was elected, I called out Obama's basic political inclinations for what they are — communist. Though plenty pooh-poohed this, and called it extreme or unsubstantiated, there was ample proof in Obama's own writings, his interviews, and the political leanings of his mentors (Saul Alinsky, Frank Marshall Davis), his pastor (Jeremiah Wright) and his friends. It's absurd to hear people say now that Obama is governing differently than he campaigned. If you think that, you weren't listening. But those who still harbor any doubts need only look at his team of "advisors."
The Coming Climate Dictatorship
. The House and Senate climate bills contain a provision giving the president extraordinary powers in the event of a "climate emergency." As chief of staff Rahm Emanuel says, a crisis is a terrible thing to waste. If you thought the House health care bill that nobody read has hidden passages that threaten our freedoms and liberty, take a peak at the "trigger" placed in the byzantine innards of both the House-passed Waxman-Markey bill and the Kerry-Boxer bill just passed by Democrats out of Sen. Barbara Boxer's Environment and Public Works Committee.
Obamerika
. [Scroll down slowly] Obama and his cohorts eschew all authority, from the Bible to the U.S. Constitution, that they themselves do not generate. This translates to "any moral or legal principle that does not support the Obama administration's political agenda or the idea that its leaders should have power over every area of our lives." Through sweeping stimulus, health care, cap-and-trade, and net neutrality legislation, the current administration is attempting to commandeer the authority to dictate everything from executive pay to what end-of-life treatments are available to its citizens, from what we listen to on our radios and watch on our television sets to what opinions we can share on the internet and what cars we can drive.
Without A Shot Being Fired, A Dictator Has Taken Over the United States
. Obama appears to have no particular loyalties to anyone or anything save for himself. He has proclaimed that in the case of adversity he would stand with the Muslims, which many took to mean that he was ruled by that faith. But in truth, his position was to solidify his hopes of being the modern day leader of that faith in order to use their willingness to kill without conscience when ordered to do so in the name of that religion. With an army of religious terrorists, now spread world-wide, his dreams of being the ultimate leader of the entire world is advanced with more certainty.
Can America Survive its Sharp Left Turn?
In November of 2008, with the assistance of a compliant media, a poorly educated electorate, and widespread dissatisfaction with the Republican Party's abandonment of its conservative base, the Democrats swept to power in 2009. In less than one year, President Obama, with the help of Nancy Pelosi, Harry Reid, and a gaggle of radical czars, has steered our Country into a sharp turn to the left. Many conservative commentators and bloggers have commented that this sharp left turn is dangerous, a threat to America's survival.
If Obama were a Marxist, what would he believe?
This article offers the basic teachings of Karl Marx, so readers may judge themselves whether these might be at work influencing current Administration decisions. In the present chaotic political atmosphere, the phrase "Marxist" is tossed around without explanation. But what exactly does Marxism represent? Marx's universe was simplistic. It presents a godless, sinister world where the powerful prey upon the weak, which can only be healed through revolution. In the resulting apocalypse, wealth is confiscated by revolutionaries so all may benefit. Private property is outlawed as enlightened leaders build a paradise of communism. But before utopia arrives, a principled assault must destroy capitalism.
Ship of Fools: Obama's Intimates and Advisors
. The Obama Administration is plainly subverting democracy in America, wildly careening our previous 230-year history of democracy so dangerously Leftward that after a mere nine months we are in terrible danger of sinking. ... Three dominant themes of the Obama Administration emerge — fanatically uncompromising anti-capitalism, dangerous and blatant anti-Semitism, and the societal inculcation of dogmatic Leftist, Socialist "faith" through indoctrination of American school children beginning with the earliest ages — a practice instituted by Lenin in Communist Russia and now pounding its way into the American academic mainstream through the prolific efforts and influence of self-proclaimed Communist, Obama friend, and likely "autobiography" ghost writer, William Ayers, as well as Obama appointees like Charles Freeman and Kevin Jennings.
What is Marxism?
Marxists claim that Marxism is a science. It is not. It is a sort of pagan religious cult. It is a theology. It is a form of superstition. Marxists claim that Karl Marx understood capitalism and economics. He did not. They also claim that the entire validity of Marx's set of theories on all subjects rests ultimately on how valid Marxist economic thought is. Marxist economic thought was completely wrong. Marx claimed that all products contain value that is directly proportional to the amount of labor embodied within them. He was wrong. All the rest of Marxism is based entirely on this mistaken and falsifiable premise.
Acting President Obama Wants Communism In America
. This disastrous pile of socialist fly paper called a "Stimulus Bill" does little or nothing to stimulate the free market economy. It does everything possible to stimulate the growth of socialist government and the Democrat party. The communistic policies that Obozo is putting into place through Congress and by use of executive orders are no different from what we saw in the Soviet Union before it imploded.
Elites and Tyrants
. Today's leftists, socialists and progressives would bristle at the suggestion that their agenda differs little from Nazism. However, there's little or no distinction between Nazism and socialism. Even the word Nazi is short for National Socialist German Workers Party. The origins of the unspeakable horrors of Nazism, Stalinism and Maoism did not begin in the '20s, '30s and '40s. Those horrors were simply the end result of long evolution of ideas leading to consolidation of power in central government in the quest for "social justice."
Ministry of Truth, Obama-style
. President Obama has been agitating for the authority to criminalize political opponents since he took office. First there was the raft of DHS reports profiling conservatives as terrorists. Then came the push for a new fairness doctrine, subsequently refined to be achieved in diversity regulations to be imposed on local radio stations. Following these attacks on free speech was the much debated hate crimes legislation, considered by many to be a back-door path to silencing critics of the administration. But, while dangerous to free speech, none of these draconian policies could do as much damage as new regulatory czar Cass Sunstein's shocking proposal to ban "falsehoods" — a term left up to the Obama administration to define. If Sunstein succeeds, free speech will be truly dead in America.
Barack and Michelle Obama Are Despot Wannabe's
. Just because Obama is full of himself and has believed his own press releases too much does not mean that we have to humor him in his folly. ... He's only 47 years old — a year younger than my own oldest daughter, and Obama is nowhere near where he needs to be to run this nation without running it in the ground. For one thing, Obama is too much in to himself. He believes he is the Messiah — Savior — only salvation of the world. That, in itself, denotes danger.
Obama's Revenge
: [Scroll down slowly] And Obama has done all this with the predictable double-speak that characterizes malevolent intention, i.e., touting transparency while concealing everything, speaking of integrity while appointing crooks and incompetents riddled with conflicts-of-interest, supporting energy independence while killing off-shore and domestic oil-drilling and nuclear power, and feigning optimism while he speaks of impending "catastrophe" in order to push through a pork-laden, trillion-dollar-plus Stimulus plan that rewards the corrupt voter-fraud organization Acorn with billions and unions with discriminatory union-only labor agreements, paves the way for socialized medicine, and threatens to take away the most cherished rights of We The People.
The RAT hiding deep inside the stimulus bill
: The provision, which attracted virtually no attention in the debate over the 1,073-page stimulus bill, creates something called the Recovery Accountability and Transparency Board — the RAT Board, as it's known by the few insiders who are aware of it. The board would oversee the in-house watchdogs, known as inspectors general, whose job is to independently investigate allegations of wrongdoing at various federal agencies, without fear of interference by political appointees or the White House.
Obama Admin. Credited with Gun Industry Boom
. According to the National Shooting Sports Federation (NSSF), the trade association that represents nearly 7,000 manufacturers, distributors, firearms retailers, and others involved in the gun industry, the economic impact of that industry has grown by 66 percent since the start of the Great Recession. In 2008 the total impact (direct and indirect) was $19 billion. Last year it exceeded $31 billion. Jobs and taxes it generated also jumped a similar amount. Jobs directly connected with the industry increased from 75,000 to nearly 100,000 last year, while federal, state, and excise taxes (which support wildlife conservation) increased from $3.1 billion to $5 billion.
Stop This Man
. One sector of the American economy that is booming is the absolute orgy of guns and ammunition sales. I am pretty certain President Obama will not say anything positive about this economic news. I have read more than one report that shows how the surge of civilian firepower sales began back when it appeared that Obama was likely to be elected. The already-brisk guns and ammo market blew up another 25% once he was elected. Reason: freedom lovers do not trust liberal President Obama. His nomination for Attorney General, Mr. Eric Holder, proves that distrust is justified.
Even before the election, people were saying things like this...
Barack Obama and the End of the Republic
. For the first time in history, US voters are being asked to choose between continuing the Republic or bending to the will of a totalitarian Communist candidate. It would seem to be a "no-brainer" but, with the greatest voter fraud in US history being perpetrated it just might happen. We must all vote and vote en masse for John McCain if we are to save the country from a self-proclaimed dictatorship. If we don't, Venezuela's Hugo Chavez will have a new ally.
Obama is a disaster
. President Obama has been in office for about 30 days and the outlines of his policies, personnel choices and general approach are now quite clear. If the first 30 days are a precursor of the balance of the term America is at grave risk. The economy is in shambles. Just as when President Bush took power, we are in a severe recession. President Bush was wildly criticized by the liberal media for "talking down the economy." When Obama does the same, he is praised for his candor.
Fifteen Reasons I'm Already Tired of the Obama Era
: [#11] Barack Obama has already broken more campaign promises in a month than George Bush did in eight years. He's a living, breathing example of everything people hate about politics. He's habitually dishonest, will say anything if it benefits him politically, and he has already doled out more taxpayer money to his supporters via the stimulus bill than any politician in history.
Americans Fighting Back Against Obama's Socialism
. It's interesting to note that the market started this latest fall as soon as the so called Stimulus package was passed in Congress. The market understands that this was not going to stimulate anything, rather it was a massive tool to create bigger government than ever before dreamed of in this country. In addition, the bailout money is being used to literally nationalize industry and there is a move on to nationalize banks. If government owns and controls the market place then there is no free market and nothing to invest in.
Where's the Beef?
Obama is deliberately attempting to create an economic system where more people live off the government than by their own efforts, thus creating a permanent underclass utterly dependent upon the largesse of the government and therefore ever-beholden to it.
Divining Obama's meaning is a word-by-word exercise
. "We've all seen how quickly good intentions can turn into broken promises and wasteful spending," Obama said. Yes, we have. We've seen a record amount of both in just his first month in office. We're going to put all of the bills up online five days before they're signed, except when we don't. We're not going to hire lobbyists to work in the White House, except when we do. We're not going to nationalize the banks, except that "we will act with the full force of the federal government to ensure" that they "have enough confidence" to lend money. (Yes, we will
force
you to have confidence.)
Is Obama the Most Famous Living Person Ever?
Whether you measure fame in terms of saturation or sheer numbers, it seems indisputable to me that more people know at least something about the new American president than anyone alive, at this point — or any — in the planet's existence.
Obama has magnetic appeal on TV viewers, finds study
. The US inauguration may have been a visual feast but, according to research published yesterday [1/30/2009], viewers could not take their eyes off Barack Obama. The appeal of the new president was demonstrated in a University of Edinburgh study that tracked the eye movements of viewers. Despite potential distractions, such as the Obama family and the rows of distinguished guests, viewers' eyes remained fixed on the president for almost the entire time he was on screen.
Poll: Obama More Popular Than Jesus, Gandhi and Martin Luther King Jr.
John Lennon once claimed the Beatles were more popular than Jesus. Now President Obama has evidence that he's more popular than both. Obama topped a new Harris interactive poll that asked 2,634 Americans who they admire enough to call a hero. Jesus came in second on a list that includes God, Mahtma Gandhi and George Washington. Other historic or notable figures making the top 10 were Martin Luther King Jr., Ronald Reagan, George W. Bush, Abraham Lincoln, John McCain, John F. Kennedy, U.S. Airways pilot Chesley Sullenberger and Mother Teresa.
It Just Keeps Getting Worse
. As Barack Obama feverishly presses forward with his socialist agenda, one wonders whether any act of executive overreaching might cause the compliant, nay, conspiratorial Democratic congressional majorities to pause or, better yet, to resist. I think not. ... I realize liberals take umbrage at the pejorative terms "Marxist" and "socialist," but in invoking them, my purpose is neither to exaggerate nor to provoke. If the terms bother you, could you please tell me how Obama would be behaving differently if he were a socialist or Marxist just elected in this country?
Keeping Hate Alive
. When the New York Post went ape in a cartoon, the enemies of freedom and equality showed their colors. Apparently the time has come to silence all critics of President Obama! He is the leader of our country and must not be questioned! Therefore, anyone who dares to make a critical reference to him or any of his policies is an enemy of the United States and should be destroyed. Furthermore, every word or phrase used to challenge his authority will be meticulously parsed to discover hidden meanings.
The Power Of Life And Death Is In Our Words
. Do not for one moment think that we are either intellectually or morally superior to those Germans who put Hitler in power. We have been saved by our institutions and our traditions — the very institutions and traditions that so many are so busy eroding or dismantling, whether in classrooms or courtrooms or in the halls of Congress and the White House.
What About the Other 78%?
[Scroll down] My quibble, of course, is that [Obama] is not out to "save" capitalism, but to disable it and replace it with a statist arrangement wherein the government owns banks and car companies, directs employers on how to pay and treat their employees, limits industrial output, and runs the healthcare system. But all this raises an interesting political question: who's in favor of this other than "millions of liberals"? (And some of them might be having second thoughts.)
Obama lied; the economy died
. If President Obama were to try to misrepresent his positions for the next four years, there would be nothing he could say that would approach the inaccuracy of his claim last week that he is not for big government. It is the essence of the man and his presidency. He doesn't like America the way it has been since its founding — and it will take an abusively big government to realize his dreams of converting America into something quite different. If you don't know that, you don't yet know Barack Obama.
Bingo! Call It Communism
. I once wrote that we could play "Communist Manifesto Bingo": once President Obama enacts or strengthens five planks from the Communist Manifesto, yell "bingo" and you win. One month into President Obama's first term, BINGO! I did change my own game rules just a tad. Instead of using the exact planks from Marx, which can be ambiguous for some people, I'm using a more detailed list from the current Communist Party USA.
Global Television For Our Global Leader
. Elite members of the World Economic Forum (WEF) meeting in Davos, Switzerland, at the end of January were considering a proposal for a new global television network to usher in a state of "global governance." It sounds authoritarian, even totalitarian, to some. ... The WEF also envisions cooperation and collaboration in global media ventures. It asks, "How can we save journalism to help it save the world?" Clearly, this is advocacy journalism on a global scale. Indeed, the list of "Recommendations" says it is imperative to start "Communicating a global agenda, and motivating and mobilizing people to support it..." Is this journalism? Or is it brainwashing and propaganda?
What if Obama Turns America into Europe?
America's system, based fundamentally on individual risk and responsibility, has been the great incubator of innovations that have become the staples of the modern age — from medical advances, to computers, to the internet and beyond. Around the world, people have benefited in ways beyond measure. All that energy poured into progress is likely to fade, as America devolves into a nation of carbon-capped civil servants, tending to a much-shrunken private sector, and a growing line of people on the dole.
Waging War on Prosperity
. President Lyndon Johnson's administration was known for his War on Poverty. President Obama's will become notable for his War on Prosperity. We're speaking, of course, of Obama's plans to hike income taxes on the most wealthy 2 or 3 percent of the nation. He's not just raising the top rate to 39.6 percent; he's also disallowing about one-third of top earner's deductions, whether for state and local taxes, charitable contributions or mortgage interest. This is an effective hike in their taxes by an average of about 20 percent.
Barack Obama bets the farm in $4 trillion poker game
. A keen poker player, Mr Obama is gambling not only his own presidency, but the future wellbeing of the country. If he pulls it off, they might find room for him on Mount Rushmore. If he fails, he could bankrupt the world's largest economy. There have been only a few watershed moments in US history, and this is one.
Obama and the Disunited States
. President Obama's rise caps forty years of building new 'nations' from one America, as America's left adapted to the rise of civil rights, and built a power base from fanning discontent. Newsweek cheers, "We are all socialists now!" MSNBC's Jim Cramer calls Barack Obama's budget a "radical agenda" and points out "This is the greatest wealth destruction I've seen by a President." None of this should be a surprise to anybody who was paying attention to Obama's Hawaii links to the Communist Party, USA or his years of Chicago work with the Democratic Socialists of America. But many voters — and most of the media — aggressively avoided paying attention. Now they are literally paying the price.
Obama: Fear and the Security Force
. [Scroll down] For example, I was surprised recently when a woman I know — someone who could easily abide by the injunction, "Never discuss religion or politics" — said in a most sober fashion that she was thinking of
leaving the country
. Then there is an elderly Jewish gentleman of my acquaintance who lived through WWII; this man could be described as almost apolitical, was probably more apt to vote Democrat than Republican and isn't given to issuing political opinion, let alone hyperbole. Yet when someone else broached the subject of Obama's legions of fawning admirers, he broke his pattern and interjected, "This is like what happened with Hitler... ."
Worshippers in Lansing, MI assaulted by liberal activists
. Suppose you were sitting in church one Sunday peacefully minding your own business, praying that God grant our new president the wisdom to do what is right when suddenly, the sanctity of the church is violated in the most horrific way by vandals, thugs, and screaming lunatics. This is what happened at a small church in Lansing, MI called Mount Hope.
Georgia congressman warns of Obama dictatorship
. A Republican congressman from Georgia said Monday he fears that President-elect Obama will establish a Gestapo-like security force to impose a Marxist or fascist dictatorship. "It may sound a bit crazy and off base, but the thing is, he's the one who proposed this national security force," Rep. Paul Broun said of Obama in an interview Monday with The Associated Press. "I'm just trying to bring attention to the fact that we may — may not, I hope not — but we may have a problem with that type of philosophy of radical socialism or Marxism."
Georgia Congressman Stands By Remarks On Obama
. A Republican congressman from Georgia is standing by comments that he fears President-elect Barack Obama could be planning to rule as a Marxist dictator with his own domestic security force.
Obama's Henchmen and the Rise of Commufascism
. The secret to selling bad ideas is to make sure they are the only ones available. This is how totalitarian regimes take power. Whether it was Adolf Hitler in Nazi Germany or Vladimir Lenin in Communist Russia, the pattern is largely the same — totalitarian dictators come to power by enshrining themselves as cults of personality and then creating political monopolies through often less than delicate campaigns of indoctrination and censorship — especially censorship enshrouded in the intimidating aura of state power.
Criticizing Obama has been made off limits
. Let me give you a few helpful survival tips for the next four years. The most important rule in this coming age is to remember that one must take great caution when criticizing Barack Obama. Remember, even Democratic hero Bill Clinton was accused of being a bigot for calling Obama's political biography a "fairy tale." Former Democratic vice presidential nominee Geraldine Ferraro was compared to David Duke for suggesting that Barack Obama gained some advantages from being black.
Now for the real Shock Doctrine
. As is now well known, Barack Obama's new Chief of Staff, Rahm Emanuel, told a
Wall Street Journal
conference last week that, "You never want a serious crisis to go to waste." He added, his eye on the worsening financial environment, that "This crisis provides the opportunity for us to do things that you could not do before." President-elect Obama appears to be taking the crisis strategy to heart.
The Unspoken Campaign Message of Obama
: Obama, like [Saul] Alinsky, is not so much an ideologue as a power fanatic. ... In college, it seems, Obama heard and spoke the word "power" as normal people would speak or hear the words "soul" or "honor" or "God." Power, alone, counts to him. He will do anything to win power, and men who will do anything to win power will do anything at all.
How the Great Depression brought Adolf Hitler to power
: The Great Depression certainly empowered FDR to make big changes in America over his four terms. In spite of all the hoo-hah the country didn't get out of the long, long slump until 1940 or so, with the huge mobilization of men and industrial resources for World War II. But FDR did get to play to his heart's content, through the NRA, the WPA, the AAA, the CCC, the TVA, the NLRB, the FDIC and the SEC. By comparison all we've got is a measly TARP. So far.
Obama's Ideological Father
: [Scroll down] But whether he realizes it or not, he has an ideological forebearer who has set the stage for this administration's agenda: Antonio Gramsci. Gramsci, while still in his twenties, organized the Italian Communist party in 1921 with his colleague Togliotti. ... The progeny of Gramsci are alive and well and now reside in the White House. They believe in big government, one worldism, distrust of religion, and a denial of American exceptionalism. Our leaders may not identify themselves as Gramscians and may even mock the designation, but make no mistake: Gramsci's DNA is in their bloodstream.
The Community Organizer-in-Chief
. I finally figured this out. Barack Obama is the Community Organizer-in-Chief. He is taking the inequities, the slights, the unfairness, the spread between wealth and poverty, the choices the rich have but which the poor do not ... and he wants to fix that. For everyone.
'Manchurian Candidate' Starts War on Business
. Back in the 1960s, Lyndon Johnson gave us the War on Poverty. In the 1970s, Richard Nixon launched the War on Drugs. Now that we have seen President Barack Obama's first-year legislative agenda, we know what kind of a war he intends to wage. It is no wonder that markets are imploding around us. Obama is giving us the War on Business.
Why The Founding Fathers Would Want Obama's Plans to Fail
. James Madison was not specifically contemplating Barack Obama, or Nancy Pelosi, when he wrote Federalist No. 63. But reading the document — one of the seminal arguments in favor of adopting the U.S. Constitution — it's clear Madison knew their type. And he knew they would come along again and again in American history, if Americans were lucky enough to have a long history.
Obama, the Unconstitutional Scholar
. During last year's campaign, much was made about Barack Obama being a constitutional law professor. ... I am not a lawyer, but I do know that in this president's first one hundred days in office, there have been numerous examples of Obama's willful ignorance of the precepts laid down in our central founding documents.
Thou Shall Not Question Barack Obama
. Perhaps they just don't want to think through the details. Then again —maybe some of them don't have the capacity to think through the details. I'm referring to the apparent plethora of partisan, passionate, "see-no-evil" Obama minions, who become outraged should any of the rest of us ask questions about the forty-fourth President.
Why Does Obama Smile at Dictators?
In spite of a presidential term limit of six years, Chávez has suggested that he would like to remain in power for 25 years. Hmmm. An autocratic dictator who abuses human rights and undermines democracy being warmly embraced by the American president. There's something wrong with that picture. ... Obama is also pursuing a renewed relationship with Cuba, a country which engages in systemic human rights abuses, including torture, arbitrary imprisonment, unfair trials and extrajudicial executions.
Something To Fear
. This administration continues to express its desire to take advantage of the economy's downturn. It's now clearer than ever what President Obama meant when he talked about "change" on the campaign trail.
Democrats loose the dogs
. Samuel Joseph Wurzelbacher, Rick Santelli, and Jim Cramer owe much of their 15 minutes of fame to Saul Alinsky, a Chicago Marxist who died in 1972. Mr. Alinsky is considered to be the father of "community organizing" as the path to social revolution. A year before his death he published a book, Rules for Radicals, which distilled what he had learned from his experiences, his reading of Marx and Lenin, and from his associations with crime boss Al Capone and labor leader John Lewis.
The Editor says...
You may be sick of hearing about Joe the Plumber, but he serves as an example of what can happen to someone who throws a wrench in Obama's plans. All that is discussed in a section called
Prepare for an Obama Thugocracy
.
Obama's Tactic: Shock and Awe
. The president knows that he doesn't have the luxury of making radical change over a protracted period. A little bit at a time won't work. Opposition will coalesce; that opposition will marshal its resources and train its fire on each piece of legislation the president proposes. He knows that in our system of checks and balances, it is easier to thwart legislation than it is to pass it. So the president is using Shock and Awe to mislead and baffle natural conservatives, cow critics and overwhelm opposition with a broad agenda pressed ahead simultaneously. He's betting that deception, speed and force will win the day.
Republicans Can't Afford to Default to Obama
. Republicans are still awestruck at how Barack Obama was able to get every Democrat in the House and Senate to vote for his stimulus package despite opinion polls showing impressive public opposition. The answer is Obama's use of his years of training in Saul Alinsky-style community organizing combined with 21st-century technology. This converted his successful campaign tools and technology into a political tsunami to pass tremendous spending bills that will saddle us, our children and our grandchildren with incredibly enormous debts.
President Barack Obama: A Fraud You Can Believe In
. Even as Barack Obama demonstrates he is a fraud, phony and hypocrite par excellence — who also happens to be in way over his head — the American people still believe in him. Yes, love is grand and his approval rating is still miraculously high. If the truth were known, that approval rating would be sinking lower than the stock market, home prices or the economy. I doubted he was the Messiah, but now I'm not sure. When a president can be the greatest wealth destroyer in history and still maintain high approval ratings, maybe he does have supernatural powers.
The Obama pledge
: Another polarizing move from Barack Obama. His permanent campaign is organizing a political organization loyal to him, bound by a pledge, outside the government and existing party apparatus. The historical precedents are ominous.
Obama's (Highly Creepy) 'Pledge Project'
: Anyone who is a student of totalitarian regimes, especially Nazi Germany, should recognize this tactic. Mr. Obama has organized his own cadre of Brown Shirts (or, if you prefer, Red Shirts) to agitate for his agenda. Mr. Alinsky would be proud. And rightly so. For this is simply the continuation of Mr. Obama's perpetual campaign. A campaign, as we noted at the time, that was modeled on Saul Alinsky's organizing principles.
Obama's essence
: The commentariat still doesn't understand that Obama is the worst control freak to occupy high office in the history of the United States. Obama is the Nanny to end all Nannies. Socialism is not a political philosophy for him. It's the other way around. Control freakery is Obama's basic personality. Socialism is just his way of making it look good to his buds on the Left. It's called obsessive-compulsive personality, and if he can get himself a good doctor he might be able to get a pill for it.
The Knock on the Door
. there is a new organization on the political scene — "Organizing for America," announced by President Barack Obama in late January but officially unfurled last weekend. Obama describes OFA as a "grass-roots movement" but OFA is a "project" of the Democratic National Committee. As Politico reported, OFA will take the 10 million person database built up by the Obama campaign "to mobilize support for the president's legislative agenda." A visit to the OFA website reveals that supporters are not simply asked to sign up, they are asked to take a pledge. A pledge to support — not the flag, not the constitution, not the country, not even the Democratic Party, but Obama and his "bold plan."
Obama's Radical Agenda Revealed
. Organizing for America (formerly known as Obama for America) is the new organized group that President Obama is using to push his agenda on America. ... This group has two functions: First is to push and promote Obama's political agendas and bills from DC by delivering talking points through various mediums (My Barack Obama, Fight The Smears, and twitter.com/barackobama). The second is to create a pool of volunteers for the DNC to use to influence local and national elections in November.
Obama wants you to pledge loyalty to him tomorrow
. They have taken a pledge of loyalty to Obama, and they say they are coming your way tomorrow for yours. Organizing for America, the Obama-for-President campaign morphed into Obama-for-Maximum-Leader army, will hit the streets for their "Pledge Project Canvass," knocking on doors and accosting folks in parking lots and sidewalks to ask them to sign a pledge to support Obama's policies for health care, energy and education reform.
When America becomes Obamaland
. There is one certainty about the shape of things to come if President Barack Obama wins approval of his extraordinarily ambitious proposals to remake America: We won't recognize our country when he's finished. Perhaps the most prominent feature of Obamaland will be long lines, starting with the unemployment offices, thanks to coercive new powers to force unions on unwilling workplaces, and the skyrocketing prices for gas and electricity that his anti-global warming energy program will produce.
Is this the end of America?
[Scroll down] Reform of health care, environmental policy, education, energy, banking, regulation — every nook and cranny of the U. S. economy has been put on alert for major change. Expansion of government spending, plunging the U. S. into unprecedented deficits, is without parallel. In economic policy, through regulation and control of energy output, financial services and monetary expansion, the U. S. government has embarked on a fundamental reshaping of America. It is designed, in short, to bring on the end of America.
The Obama depression
: [Scroll down] At least, though, FDR famously said, "The only thing we have to fear is fear itself." He tried to raise the nation's spirits. Obama, though, has repeatedly dampened them with his self-fulfilling prophecies of gloom. Why? Well, look at what the Bush recession did for Obama: It got him elected president, and it has now given him hundreds of billions to spend pretty much as he and his appointees see fit. If a recession offers such privileges, what about a depression? Imagine an Obama Corps with millions of workers. Imagine, if much of the nation's wealth dissolves, the opportunity to educate children in the virtue of government requiring everyone to "share."
Barack Obama and Alinsky's Rules for Psychopaths
. A psychopath is a person without conscience; someone who constantly breaks the moral rules of the community. Saul Alinsky was a "community organizer" who found a career that fit that personality disorder. In the Orwellian upside-down world of the Left, community organizers disorganize communities. That is the meaning of revolution, to overturn whatever exists today in the raw pursuit of one's own power. ... Alinsky's disciples — including Hillary Clinton and Barack Obama — have a warlike political style. They learned politics as war from the Master. Obama is so well-trained in Alinsky tactics that he used to teach workshops on it.
Outside The Law
: The Obama White House has the look of an administration willing to resort to legislative bullying to get its agenda passed in Congress. Last Wednesday [3/18/2009], Bloomberg news reported that the president "may try to push through Congress a health care overhaul, energy proposals and tax increases by using a partisan tactic that would thwart Republican efforts to block the measures." In other words, this administration is considering marginalizing the opposition and ruling by decree. It leaves the Americans who voted for the Republicans in Congress with no representation.
Altruism at the point of a gun
. The House has passed the Generations Invigorating Volunteerism and Education Act, known as the GIVE Act (where do they come up with these Orwellian acronyms?). The bill fulfills an Obama campaign promise to create a "civilian national security force." This legislation will not mandate or force our young people into national service — not yet anyway. But there is little doubt that we are being set up for just such an eventuality.
Obligatory Charity — There Is No Such Thing
. The importance of public service has provided the impetus that led to the passage this week of two bills: the Serve America Act in the Senate and the Generations Invigorating Volunteering and Education Act, or GIVE, in the House. Their stated goal: more public service. But their outcome will be — more government intrusion and more government jobs.
Are Congress and Obama Deliberately Inciting a New US Civil War?
As early as 1995, the US Marines were being trained to quell in-country "domestic unrest" and US Military training to contain and stop domestic disturbances — brought on by a thoroughly corrupt government — are continuing today. And, as I've previously reported, recently passed H.R. 645 provides for 'internment camps' for US Citizens. Another trial balloon appears to have been floated with the unconstitutional deployment of US troops to an Alabama town. Why and by whom were they deployed? There has still been no answer. Could it be they were sent to gauge citizens' acceptance and/or rejection? Please do not make the mistake in thinking that this is some cosmic coincidence. It is too well planned.
Why I am depressed
: I feel utterly powerless to do anything about the fellow in the Oval Office who combines infantile leftism and adolescent grandiosity in roughly equal measures. It seems to me that every day he is responsible for assaults on the freedom and well being of the American people. I can't keep up and I can't stand to pay attention. His aim seems to be to reduce us to government dependents.
Obama Continues To Set Records For Incompetence
. Perhaps the most frightening aspect of the Obama administration is its willingness to pass any law and utilize any procedure even if it seems to violate our most important Democratic values and our usual governmental processes. ... Beware when an apparent incompetent radical, both inexperienced and untested, starts to implement the greatest governmental transformation in history within his first two months in office. But you need not wait for the results. Just observe what is going on now.
Where Are the Lawyers When You Need Them?
So how's Obama doing? Not great. Signing statements are back in fashion — a bad development for those who contend the Constitution provides just two options (veto or sign/enforce the law). ... And where is the Justice Department in all this? The rule of law is its specialty, right? Well, Eric Holder seems entirely unwilling to restrain or even question the political operatives in the executive branch.
Don't Get Angry, Get Even
. When the members of the National Socialist German Workers Party (Nazis) wanted to use anger as a political weapon they burned the Reichstag and blamed it on the Communists. It's an old tactic — when you are in trouble, create a crisis and then create a straw man to blame for the crisis. We are now seeing it played out as a giant insurance company, AIG, is given the role of straw man.
Who's 'Hitler' now?
President Obama's crack about his bowling acumen being worthy of the Special Olympics has raised a few hackles. Normally I'd say "lighten up," but this time some examination is in order. George W. Bush was called "Hitler" virtually every day, with no real basis for the accusation other than that liberals said so — and liberals are like, really smart, so it must have been true. But Obama's comment, for me anyway, means that we're just a few weeks into the new administration and the new president is already more worthy of a Hitler comparison than Bush ever was.
Obama's Enforcer
: In Obama's entire circle of advisers, one man rises above the pack, gaining the reputation as the most ruthless political figure in America today. This man is Rahm Emanuel, Obama's chief of staff. Instead of being an impassioned ideologue, he instead enjoys utilizing Machiavellian tactics to achieve more traditional political ends. A classic Chicago-style machine politician, Rahm will do whatever is necessary to get things done his way.
Please excuse the lengthy excerpt...
Is Obama a Prince Among Men?
In short order, Obama has plunged the nation into record debt, after a cynical campaign in which he (and the suddenly-uninquisitive media) ignored his own lack of credentials while criticizing the sitting president for excessive spending and debt. After taking office, Obama swiftly assumed control of the census and has involved his activist community-organizing chums at ACORN in the process. That is likely to lead to sudden population gains in liberal Rust Belt states with declining populations, thus building an enduring political structure for liberal Democrats. In addition, he is rushing toward socialized medicine, trade protectionism and nationalized businesses. Rather than being bold new initiatives, these are merely steps toward the socialist Utopia anti-capitalist liberals have pursued for nearly a century.
Not Like We Didn't See this Coming
. Yes, there is an element of managerial incompetence, but the real issue is that the Right was correct about Obama: he's an ultra-liberal at least on domestic policy, not a pragmatic centrist either on policy or in style. His mode of governance — denigrate the opposition, engage in
ad hominem
attacks, refuse to compromise on substantive policy, disguise radical policy intentions with a haze of meaningless rhetoric — bespeaks someone supremely confident in his ideological views and undaunted by fears (which are slowly creeping up on his Red state colleagues) of having overshot his mandate.
What is socialism?
Milton Friedman was once asked in a television interview what his ideological convictions were. "Libertarian" he replied. When then asked what those of then-President Bill Clinton were, he unhesitatingly said, "Socialist." The exchange comes to mind because of the growing debate over whether his desire to dramatically expand the size of the federal government makes President Obama a socialist. The answer: Of course it does.
---
"Where an excess of power prevails, property of no sort is duly respected. No man is safe in his opinions, his person, his faculties, or his possessions."
---
President Obama's First 70 Days
: Not only is Obama simply drawing on his past 30 years of education, writing, work, and associations, but he is also properly reflecting the worldview of many of those working for him. ... If you believed that average Americans are not well educated, do not think in sophisticated and rational ways, and cannot be trusted to make good decisions, whether for themselves or for their nation, then you would expand the power of better-educated and wiser government overseers.
Legal Services Unleashed
. The Obama Administration and the Democratic Congress may soon gain another valuable ally in their effort to radically expand government. On March 26, Senator Tom Harkin (D-IA) introduced legislation that ends the restrictions on the ability of legal services organizations, funded by the Legal Services Corporation (LSC), to file ideologically motivated lawsuits. In addition, Harkin's bill, "The Civil Access to Justice Act of 2009," nearly doubles the LSC budget from $390 million to $750 million. If Harkin's bill is enacted, thousands of legal services lawyers will unleash a barrage of lawsuits in the nation's federal and state courts to advance a liberal political agenda.
Et Tu, Barack?
In the space of 48 hours, the president of the United States seized control of one of the world's largest manufacturing companies and fired its CEO. He followed up by congratulating our representatives for creating the 14th-largest paid entity on the planet — a quarter-million government-paid "volunteers." And then he departed the capital to receive the cheers of adoring crowds — in Europe. If Adolf Hitler or Josef Stalin had done any of this, Americans would have gone crazy.
The Master of Misdirection
. President Obama is the master of misdirection. His skill in using this tactic is a key to his success as a candidate and to his popularity as president. He is a great salesman, marketing his product — the liberal agenda, plus a few add-ons — in a manner that disguises what he's really up to. Misdirection isn't the same as exaggeration. Everyone understands that politicians inflate their accomplishments. So their self-puffery is discounted. Misdirection is different. It is meant to deceive.
Nothing to Fear but O Himself
. Obama and his economics team decided [Rick] Wagoner had to go because, one source told the Wall Street Journal, "This is Obama, and symbols of change are important." So even the government isn't saying Wagoner was a poor manager but that his dismissal had symbolic, i.e. political, value. What symbol was it Obama was thinking of? Maybe it's the thunderbolt. A president who can fire the head of one of America's most storied companies has a lot of power. Obama wants businesses to get the message that they should fear him.
Geithner's Goons Plan to Grease More CEOs
. Either your brains or your signature will be on this resignation letter. That's what Treasury Secretary Timothy Geithner might as well be saying to the next corporate CEOs he intends to muscle out of their posts. Bloomberg reports Treasury's highest-ranking tax evader said he is gearing up to turn senior management and boards of directors at banks that require "exceptional" assistance from the U.S. government into roadkill.
In a self-destruct mode?
"Civilizations die from suicide, not by murder," said historian Arnold J. Toynbee. President Obama is placing America on the path of civilizational suicide. Following the Group of 20 summit of world leaders in London, Washington is poised to swallow the lethal pill of global socialism.
Obama Is the 'Arrogant, Dismissive, and Derisive' One
. The imagery behind Obama's threat couldn't be more obvious: comply with my demands or I will make sure you are harassed, intimidated, and run out of town on a rail. He made them an offer they couldn't refuse. Don Corleone couldn't have said it better. We cannot forget, however, that it was Barack Obama himself along with his fellow Democrats who agitated this mob-like frenzy about the banks, the CEOs, and the bonuses. It was Obama who said the bonuses were an "outrage" and a "violation of our fundamental values."
Obama administration 'anti religious,' Gingrich says
. In an interview with FOX News, Gingrich said he strongly disagreed with Obama's choice of Harry Knox — an outspoken activist for gay rights — to the White House advisory council on faith-based initiatives. "I think their goal is to have a very secular America in which government dominates everything," he said. "Why wouldn't you put an anti-religious, left-wing zealot on a faith-based group? It's a perfect pattern for this administration."
The Greatest Economic Disaster in Recorded History
. Not only is the administration planning on enormous deficit spending this year, but the current plan calls for increasing deficit spending for the next decade — spending that will more than double our entire national debt during his presidency. At the same time, Obama plans to extend federal control over vast and critical sections of our economy, promulgating new and extensive rules and taxes over both the power industry and the health care business.
The Price of Extremism
. [Scroll down] One school of thought suggests that Obama is deep down a far-left ideologue and would rather achieve his agenda than build a lasting coalition. He has to hurry to beat the clock to the 2010 election and wants to do everything he can to tick off the items on the liberal wish list. In this scenario, his moderate language and bipartisan themes, as central as they were to his campaign, were essentially deceptive. He's not a centrist and has no interest in governing as one.
ObaMob Rule
. Obama is using the mob-incitement tactics of his mentor, Chicago organizer Saul Alinsky. The flash point he used was justified citizen outrage over AIG bonuses. Now he has claimed for himself the right to fire people in private businesses. Using his new-media outreach program and his e-mail database of 13 million people, Obama is further attempting to influence policy changes through protests outside AIG offices. He has even organized targeted doorbelling activities in support of his plans.
Replacing God
. President Obama is asking for your blind faith, the faith usually reserved for God. Without any record of achievement, he asks that you believe in him, that you follow his dictates. That you allow him to lead us from the wilderness. What Obama is doing has been done before. Successfully. In the former Soviet Union, churches operated only with permission of the state. In China, the crackdown continues on underground churches. The 'state' knows it must have supremacy over God in order to effectively rule (subjugate) its citizens. Pol Pot knew this. Lenin knew this. Mao Zedong knew this. Any dictator who conquers a country through force knows this. And Obama knows this.
Boss Obama
. In his still young presidency, Barack Obama already has revealed himself as a reveler in the exercise of a certain type of power. Not on the international stage, where his apology tour of Europe was just the latest example of the abasement of America that he sees as part of his mission in life. Nor in dealing with the threat of terrorism (or "overseas contingency operations" and "man-made disasters" as a way to define away the future of his office) or looming dangers from a nuclear Iran. But he
has
demonstrated a desire to act forcefully in one particular way: vanquishing his domestic political opponents.
A trip down Jimmy Carter's memory lane
. As a candidate, Obama ran on a platform of "change." It didn't worry me because I didn't think he meant it. ... The new White House has been crying havoc and unleashing the dogs of war on free enterprise, using a big bump in the economic road for a casus belli. The changes President Obama is contemplating domestically include a shift from private to public enterprise and from a market to a command economy. Not exactly piffle, but they're dwarfed by changes in foreign policy.
America the Apologetic
. The major issue facing Latin America is a fundamental choice between competing social models — a socialist/authoritarian model on the one hand, and a free market/open society on the other. Obama not only isn't championing the latter; he did not even speak up effectively on its behalf.
America's 'November Revolution'
. In our recent election, many Americans voted for a Savior, not a president. Americans were enamored with the idea of making history in this election, and in that sense we have gotten what we wanted. Unfortunately, Barack Obama is the wrong man, and this is definitely the wrong time. In fact, the timing couldn't be worse. We have in recent years vastly expanded the powers and autonomy of the Executive Branch, removing checks and balances along the way. Owing in part to well-intentioned conservative attempts to more effectively fight Islamic terrorism, the machinery of US dictatorship is already in place.
The EPA is choking democracy
. One of the most important events of our lifetimes may have just transpired. A federal agency has decided that it has the power to regulate everything, including the air you breathe.
Will Obama Seize the Radio Stations Next?
The standard playbook for revolutionaries is to seize all the television and radio stations first, and announce the rebels are the new government. The Left has already done this in America. Except for a couple of holdouts — conservative talk radio and Christian broadcasts. Obama has already taken over GM, firing and replacing its CEO and Board of Directors. Now he is angling to take over the banks by transforming TARP loans into common stock. Will he find some way to take over the radio stations next, or at least the remaining talk radio and Christian broadcasting stations?
Obama's leap to socialism
: President Obama showed his hand this week when
The New York Times
wrote that he is considering converting the stock the government owns in our country's banks from preferred stock, which it now holds, to common stock. This seemingly insignificant change is momentous. It means that the federal government will control all of the major banks and financial institutions in the nation. It means socialism.
Obama, Alinsky, and Scapegoats
. With mature adults scapegoating doesn't work very well — not unless you can make them into insecure wrecks by destroying their incomes, for example. That's what happened to the German middle class in the Weimar Republic. It's what will happen in this country if the economy fails to recover. That is why it is so vital to keep the administration from its most extreme spending plans, which could harm the economy if the Democrats in Congress are foolish enough.
The 2009 De-Stimulus Program Risks "A Lost Decade"
. Throughout his first 100 days President Obama has amply demonstrated his fundamental belief that government knows best. ... President Obama spent more time pondering who should be the "first dog" than how $2 trillion of taxpayers' money should be spent; he fired the head of GM; and, he suggested to the BCS how the national college football champion should be determined.
The Reason the Left Must Destroy the USA
. Thus far, with very few exceptions, not one of the 'loyal opposition' has truly tried to stop Obama. Instead, they seem to dutifully accept his programs that are tearing America apart — in favor of the global secular New World Order.
Tyranny Watch: Obama Begins Process to Remove US Citizens' Rights
. While Barack Obama continues to protect and expand the rights of detained terrorist Islamist enemies of the USA, he has quickly begun the legalistic process of eliminating the rights of law-abiding US citizens. Note: This is but another phase of Obama turning the once US Republic into his own totalitarian state.
President of Everything
. In just three months, we have seen what Obama means when he talks about "reach." He doesn't mean "our reach" but his own. His sense of that reach, and the abrupt and scary speed with which he's used it, marks him as an executive with a tentacled grip — multiple, crushing, inescapable. No longer the cautious critic of presidential power of the campaign trail, he now sees nothing as beyond his grasp.
This is Not Working
. We have discovered that Barack Obama can in fact successfully hide who he is and his vision for our country. Prior to the election, any person of good judgment could readily understand who this man was and where he would likely take this country. The signs were all there. Now in power, he enacts his socialist policies in plain sight with little concern that the American public will strenuously object. So why is it that so many people fail to see who Barack Obama really is and recognize the danger he represents to our republic? In short, the average person may know some things about Barack Obama, but many don't know the most important things, and most don't understand what he really seeks to achieve.
To Seem, Rather Than To Be
. To the conspiracy-minded, it could all be deliberate — an endless series of dumb stunts and public flubs and embarrassing incidents serving as bright, shiny diversions from the real work of the Obama administration. While we all point and laugh (or point and howl) at these moves, they quietly go forward with their agenda — bringing the banks under direct federal control, bringing the auto industry under direct federal control, "reforming" healthcare insurance to bring that under direct federal control, going after the credit card companies...
Obama and ACORN GPS Marking EVERY Front Door in America?
The same week that Americans learned that they were "domestic terrorists" — at least according to Obama's new DHS (Department of Homeland Security), — if they own a Bible, a pocket Constitution or guns, and still believe in Life, Liberty and Freedom, — they also learned that Obama's Census Bureau had hired thousands of new temporary employees, equipped each with a handheld GPS computer and sent them out to mark GPS coordinates for every residential front door in America.
Squeezing Out the Faithful to Make Way for ACORN
. Should the federal government tempt people to cease volunteering at churches and instead be paid to "volunteer" at government-subsidized projects? That's the essence of the "Edward M. Kennedy Serve America Act" which President Obama signed into law on April 21.
Obama's Utopia for Liberals
. Led by Speaker Nancy Pelosi, liberal Democrats have demonstrated an arrogance of power that uses the fear and concerns Americans have about the economic recession as justification to enact their policies designed to unravel the very fabric of our way of life. In addition to their irresponsible spending and dangerous borrowing, the Democrats have already taken steps to nationalize our banking and automotive industries and have their sights set on America's health care system and energy industry.
When the Obama Backlash Comes
. If anyone else were president and deceptively trying to enact his programs, a full-scale revolt would already be underway. But for now, Obama is still a curiosity to whom many are willing to give a chance. Political correctness still holds sway...
Democratic Efforts to Criminalize Blogs
. I hope I have this story all wrong, I really do. But it seems that Representative Mark Kirk has signed onto an effort that could criminalize the free political speech of bloggers or anyone else that uses the Internet to communicate.
Liberty and Tyranny II
. The year after the 1929 stock market crash, unemployment was less than nine percent. It would not fall below that level until our nation was involved in World War II. In fact, unemployment would peak at 24.9 percent during FDR's first year in office. Now that unemployment is rising to levels approaching those of the early days of the Great Depression, we are in grave danger. The statist welcomes each oncoming crisis as an excuse to grow the state at the expense of individual liberty.
Suckers United for Change
. The handwriting is on the wall regarding our new leader's game plan for America. Spend other people's money like a drunken sailor. Let every enemy on the planet know there's a wimp in the White House. Let every ally know the wimp in the White House will do nothing to help them when push comes to shove. Let the 50 states know there's a power coup in play that strips them of constitutionally guaranteed liberties. Let every company know that neither they nor their non-union employees are safe from Chicago-Way thugs and their mouthpieces in the media.
Can Obama Be Called an Economic Fascist?
It is dangerous in this day and age to use the word "fascism" lightly. Liberals sling around the term "fascism" without regard to its meeting — for the left, "fascism" applies to everything from religious social perspectives to conservative tax cut prescriptions. But economic fascism has a precise, defined meaning. And Barack Obama's economic policy fulfills that meaning in every conceivable way.
Standards of decency lacking in Obama administration
. It becomes more evident with each passing day that the leftist movement to socialistic communism in the United States will stop at nothing to gain total control of our lives. This movement, fathered by billionaire George Soros, the anti-American, Christian hating, United Nations loving bankroller for Obama, will not stop until ALL American citizens are firmly under his thumb.
The Lawless President
. Never before have we seen such untrammeled disregard both for property rights and existing legal mechanisms. Congress has the power of the purse, but the bailouts are now funded largely through the Fed. Bankruptcy courts are the means of voluntarily liquidating or reorganizing faltering firms, but Obama wants the government to unilaterally make those decisions. And on it goes. All of this is justified in the name of addressing the economic crisis, but the implication is clear and long-reaching. Property owners, investors, contracting parties, and anyone relying on the impartial operation of the rule of law are at risk.
Bye-bye sanctity of contracts
. IMHO this is just about the most egregious abuse of government power of all time. How long before the Obamachine just takes dissidents out back and threatens to shoot them? Nah, they'll never dispense with all the legal formalities, will they?
The Birth of American Socialism
. [At first] we were told by the Media and other Liberal institutions; there will be no ownership of stock from the government. This is just a way to float loans to the banks. That changed almost immediately, and now the government holds "preferred" stocks meaning they get paid first, but do not hold a voting interest in the company. Now that`s going to change as Our Savior, the Most Merciful Barack Hussein Obama has quietly announced that he`s changing the stock from "preferred" to "common", making the United States Government the majority shareholder of over 500 financial institutions in America. In short, with the stroke of a pen we have become a socialist entity.
The socialist steamroller continues
. Obama is on a roll to transform the U.S. into a highly controlled, socialist, communist regime. He already through the guise and game plan of "bailout" rescue packages, seized control of the banking industry, much of the auto industry, has drastically changed and manipulated the health care industry and plans to force all kinds of abortion in all states, hospitals and with all Doctors regardless as to their beliefs or state laws against it.
Reclaim the Constitution or else it's adios to the republic
. In Detroit, it came to light that the White House had threatened to harm creditors of Chrysler if they did not buckle under and accept a pennies-on-the-dollar settlement from the troubled automaker. Columnist Michael Barone called this the "first episode of Gangster Government," and pointed out that the shakedown worked.
That's the Obama I Knew
. Is it surprising that someone who entered into a business relationship with a former and unrepentant terrorist would be so friendly with an America-hater like Hugo Chavez? That a man who heard from his spiritual mentor time and again about the evils of his own country would bow before the king of another? That a man who openly praised and promised government thuggery would move to criminalize his political opponents? And this, clearly, is only the beginning. For many, President Barack Obama is just now coming into focus. For some of us, he was clear all along.
The Alinsky Administration
. Barack Obama never met Saul Alinsky, but the radical organizer's thought helps explain a great deal about how the president operates. Alinsky died in 1972, when Obama was 11 years old. But three of Obama's mentors from his Chicago days studied at a school Alinsky founded, and they taught their students the philosophy and methods of one of the first "community organizers."
If You Disagree With Obama, Are You Anti-American?
If you attack President Barack Obama's policies, are you attacking America? According to today's left, the answer is yes: Barack Obama is America. And opposition to Barack Obama or any of his policies is therefore, by definition, anti-American. ... Every tyranny begins with a few simple steps. First, the budding tyranny takes far-reaching control of the economy in the name of the people ... Second, the budding tyrant identifies personal insults as insults to the country.
Barack Obama, the Quintessential Liberal Fascist
. When Saul Alinsky began building his community-organization movement in 1930s Chicago, observers were watching Alinsky with one eye, while with the other eye observing the building of communist and fascist movements in Europe. It wasn't hard then to see in Alinsky's programs at home, elements of the people's revolution from Russia, as well as some of the same "in your face" tactics being employed by Hitler's Brownshirts.
Chrysler and the Rule of Law
: While the rest of the world in 1787 was governed by the whims of kings and dukes, the U.S. Constitution was established to circumscribe arbitrary government power. It would do so by establishing clear rules, equally applied to the powerful and the weak. Fleecing lenders to pay off politically powerful interests, or governmental threats to reputation and business from a failure to toe a political line? We might expect this behavior from a Hugo Chávez. But it would never happen here, right?
More about
Nationalizing GM and Chrysler
.
Cracks in the Facade
: What separates the U.S. from Mexico, Cuba, or Haiti is the rule of law, the protection of capital and property, the evenhanded treatment of investment, and the faith in a fair media to uncover abuse. I think that is now all in question, as the Utopian ends justify the tawdry means.
Obama The Fascist: Leading Us Down the Road to Serfdom
. Obama is a socialist. Look at his career, his past political and social affiliations, and those of most of his cabinet and department appointees. Karl Marx couldn't have assembled a better team. Of course, no one today is going to advertise himself as a socialist. The new euphemism for it is "progressive." The original Progressives were socialists. [Alan] Blinder denies that Obama wants to nationalize the banks. Yes, he does. Buying a controlling or even minimal share in any private entity by the government, for the purpose of steering its purpose to serve "social" or government ends, is fascism. This is usually called a "government-business partnership." Also, it is known as "national socialism." It means working as a slave or a serf for the government, and the government determining one's rewards and compensation.
If Bailout Plan Is Too Socialistic, Just Wait For Obama Leviathan
. Have Americans been so lulled by Barack Obama's smooth talk that they don't realize his plans would expand government into a massive socialist behemoth? His is a soft-spoken, hard-left agenda.
He Who Must Not Be Laughed At — a Poem
.
But Save Our Souls
In Detroit City
With Supreme Justices
Ruled by Pity
No Rule of Law
For Us No Mo'
For Those in Need
Who Rob a Sto'
Alice In Obamaland
. One of the "lies" Barack Obama says are being told about him is quite true. It involves a staunch admirer of the Soviet Union and its communist society who helped launch Obama's political career.
Impatience drives Obama to expand his powers
. Perhaps President Barack Obama spent so little time in the Senate because he has little tolerance for the glacial pace at which Congress was designed to move. ... Obama has wildly overestimated the ability of Congress to achieve his massive first-year agenda. As a result of his frustrations, Obama is embarking on a breathtaking expansion of executive power.
The Editor says...
The most dangerous politicians are the ones who are in a hurry to accomplish their lofty goals.
Haley Barbour: Obama is a snake charmer
. Gov. Haley Barbour (R-Miss.) predicted Wednesday that despite his current popularity in the polls, President Barack Obama will eventually suffer the same reversal of political fortune that befell President Bill Clinton in 1994. "What they have in common is that everything for them is political. They wage a perpetual campaign. They are both extraordinary politicians. Either one of them could charm the skin off a snake," Barbour told reporters at a Christian Science Monitor breakfast.
Anti-American Party in Power vs. Whom?
At this point, every American knows that today's Democrat Party is the anti-American political party in the United States. Run by the Democratic Socialists of America and their Progressive Caucus, funded by the anti-free market international proletariat cabal, DNC
collectivism for the greater communal good
rules the day.
President Obama: Neo-Marxist
. Obama's anti-capitalist, Big Government, command-and-control economic vision exceeds mere "childishness." It is dangerous. After 100-plus days, the jury reached its verdict. Obama is a neo-Marxist.
A Whiff of Fascism from Obama's White House
. There is a whiff of Fascism emanating from the Obama White House. Reports say that the head of GM is quitting under duress from the Obama administration ... Although there have been some incidents of government exercising minor control over industry during wartime, this aggressive assault on American capitalism is unprecedented and should give all Americans who care about freedom pause.
Euroamericans?
What worries me about Obama is not the specifics of the nationalization of GM and Chrysler, the government rescue of the United Auto Workers, the effort to take over college financing, proposed universal health care, massive deficits and tax increases, although they are worrisome and only the beginning, but the attendant culture of 'inflate your tires' and 'wash your hands' paternalism. I think we are entering an age in which the federal government will increasingly guide our thoughts into what is deemed correct — the sort of car we must drive, the type of salary we should make, the sort of job we should have, even the type of thoughts we are to express, and all in the name of collective brotherhood.
Obama: Not The First Head Of State To Design Cars
. This week, Obama imposed on American car manufacturers strict fuel efficiency and emissions standards, to be introduced in 2012. Manufacturers will reportedly get extra pats on the head for cranking out electric cars like General Motors' Chevy Volt — which will soak American consumers for about $40,000. In other words, they're going to make cars only hippies want, at prices only CEOs can afford. Don't like it? Then ride a bike or take the bus.
The Making of a Fuehrer
: It is surreal to see the level of hysteria in his admirers. This phenomenon is unprecedented in American politics. Women scream and swoon during his speeches. They yell and shout to Obama, "I love you." ... When you fall for someone to the extent that Obama's followers have fallen for him, you surrender your reason and individuality to him willingly. When millions of people surrender their hearts and their minds to one person the result can be catastrophic. This is what happened in Germany with Hitler, in China with Mao, in the Soviet Union with Stalin, in Cuba with Castro, in Iran with Khomeini, and so on and so forth. Today, we think these men were monsters, but that was not what millions of their worshipers thought. Those people loved them.
Obama and the Birth of Mobocracy in America
. What we are witnessing is the death of democracy in America and the birth of ochlocracy, the end of America's representative government and the beginning of mob rule. Such mobocracies under the sway of charismatic leaders lead to de facto dictatorships and one-man rule. Democracy has never been in a greater danger than it is today. America, the world's first and most robust democracy has been hijacked by an impostor and the mobs of his supporters that have placed their emotions ahead of reason. Many of these supporters do not/will not shy away from acting like thugs to defend their Fuehrer.
Georgia Rep. Paul Broun Calls Obama a Potential Marxist Dictator
. If you thought the claims of Obama being the biggest Marxist since Lenin were going to go away after the election, think again. A Georgia congressman, Paul Broun, gave an interview to the AP, claiming that Obama is potentially establishing a paramilitary force within the US answerable only to him. Pointing towards a speech Obama gave in July advocating for a new civilian force to take over some duties of the military — primarily infrastructure rebuilding. To Broun, however, this raises alarms.
The rise of another democratically elected dictator
. Big Brother seems to be upon us already. Government computers used to access information on a private citizen. Newspapers with editorial boards who do not endorse a candidate gets kicked off that candidate's plane. A candidate promising a new Civilian Security Services separate from the military and police. This is starting to get really scary.
Barack Obama: Dictator, Socialist and the next Hitler
. Barack Obama is a dictator in the making... he has convinced his followers that what his right hand is doing doesn't matter and that they should just look at his left. It doesn't matter about all of his past and current associates... he's just being friendly. It doesn't matter about his voting record... it was for a higher purpose. His purpose.
One Nation Under Obama
. Barack Obama has long been known for his socialistic convictions and messianic tendencies. That he therefore wants to rule rather than represent and to dictate rather than debate is not hard to understand. And while he may not come right out and say it, he expects us to pledge allegiance to him. ... The scary news is that our president is a self-aggrandizing anti-capitalist with or without the support of Farrakhan and the Latin communists, and therefore has no problem overseeing a federal government eager to take over more aspects of our everyday lives.
Suppressing dissent:
Obama seeks to stifle criticism of stim bill
. To a liberal, their axiom on free speech is, "You're free to speak your mind ... as long as you agree with me." Not surprisingly the Obama administration is seeking to cut off lobbying from everyone when it comes to the stim bill.
White House moves to restrict criticism of stimulus projects
. A new White House policy on permissible lobbying on economic recovery and stimulus projects has taken a decidedly anti-First Amendment turn. It's a classic illustration of Big Government trying to control every aspect of a particular activity and in the process running up against civil liberty.
Don't call it 'socialism'!
The government effectively owns General Motors and controls Chrysler, and the president is deciding what kind of cars they can make. Uncle Sam owns majority stakes in American International Group, Fannie Mae, Freddie Mac and controls large chunks of the banking industry. Also, President Obama wants government to take over the business of student loans. And he's pushing for nationalized health care. Meanwhile, his Environmental Protection Agency has ruled that it reserves the right to regulate any economic activity that has a "carbon footprint." Just last week, House Speaker Nancy Pelosi said climate change requires that "every aspect of our lives must be subjected to an inventory." Rep. Barney Frank, chair of the Financial Services Committee, has his eye on regulating executive pay.
Obama's Red Chorus
. Rest assured, Venezuela's self-described Communist commandante does not wish us well. But Obama's administration has managed to awe him with its takeover of General Motors. "Hey, Obama has just nationalized nothing more and nothing less than General Motors. Comrade Obama!" Chavez cheered on Venezuelan TV Tuesday [6/2/2009]. He gushingly added that he and Cuba's Fidel Castro would now have to work harder just to keep up. It underlines two things: just how closely the Venezuelan strongman watches what's happening in the U.S and just how badly it resembles his own war on private property.
Corporatism comes to America
. Some members of the Republican National Committee have recently wondered aloud what others of us wonder privately. What name do we give to the direction in which Democrats and the Obama administration are taking America? In 20th Century Italy and Germany, particularly during 1933-1945,
fascism
merged the self-interests of despotic, single-party rulers with large corporations for whom big war offered big profits. Mussolini called it
Corporatism
. ... Obama is borrowing the worst elements from the two greatest economic catastrophes of the 20th Century: fascism and socialism.
---
"Fascism should rightly be called Corporatism, as it is the merger of corporate and government power."
---
This is an original compilation, Copyright © 2013 by Andrew K. Dart
Obama's man called shots on bankruptcy
. Not since President Harry S. Truman seized the American steel industry in 1952 has America seen such a bold exercise of federal power over a vital organ of the U.S. economy. More than 30 hours of testimony and dozens of e-mails in the court of U.S. Bankruptcy Judge Arthur Gonzalez lift the curtain on how forcefully President Barack Obama's automotive task force pushed Chrysler LLC into bankruptcy and into the arms of Fiat SpA of Italy.
Obama's Enemies List Grows
. A de facto Obama enemies list and dirty political machine have been expanding since last year. Obama has established several embarrassing presidential firsts including targeting private individuals by names, assigning a well-known "partisan dirt-digger" and non-lawyer to the White House Counsel's Office to likely gain access to Bush Administration documents protected under attorney-client privilege, and moving the senior political advisor into the West Wing. These are heretofore unseen partisan practices.
No. 2 House Republican compares Obama to Putin
. The No. 2 Republican in the House on Thursday [6/11/2009] compared President Barack Obama's plans for the auto industry to the policies of Russian Prime Minister Vladimir Putin, saying the White House has stripped credit holders of rights and given them to Democratic allies. "They said, 'Set aside the rule of law, let's strip secured creditors, bondholders, of their rights. Take them away outside of the bankruptcy process and give them to the political cronies and the auto workers' unions," Rep. Eric Cantor, R-Va., said in an interview with The Associated Press.
62 Million Voiceless Americans
. Under the guise of saving us from those nasty capitalists, Obama has appointed a new Pay Czar to make sure no-one is paid more than the politicians deem they are worth. At least those who are unfortunate to work for companies that have received bailout funds. And in one case, the formerly sovereign state of South Carolina has actually been forced to take bailout funds, and accept all the strings that come with it. Consent of the governed is being ignored as the Obama administration hijacks ever more power to the federal government, in direct contravention of the 10th Amendment and the Constitution. And 62 million Americans can do nothing except marvel at the audacity.
Nationalizing Public Education Comes After Health Care
. Though not yet in great numbers, some who voted for Obama are now being heard to say that they didn't vote for what's happening. Those confessions illustrate their failure to do due diligence on the candidate of their choice. His intentions were clearly laid out in his campaign documents and in many of his non-primetime speeches. ... But few voters had time for that. And the old liberal media had no interest. So we come to the point where the financial markets, the auto industry and eventually the health care industry will function under the aegis of the federal government. It's clear from his campaign rhetoric what will come next — America's public education system.
Our New Paymasters
. Not content with controlling the pay of those who took bailout money, the White House now wants a say in executive pay across America. Is there no end to what this administration wants to control?
For what it's worth...
Politicians share personality traits with serial killers: Study
. Using his law enforcement experience and data drawn from the FBI's behavioral analysis unit, Jim Kouri has collected a series of personality traits common to a couple of professions. Kouri, who's a vice president of the National Assn. of Chiefs of Police, has assembled traits such as superficial charm, an exaggerated sense of self-worth, glibness, lying, lack of remorse and manipulation of others. These traits, Kouri points out in his analysis, are common to psychopathic serial killers.
Can the US Constitution Survive Dictator Obama?
In light of the now almost daily bombardment of the US Constitution by the sitting US Commander in Chief, the question 'is our Constitution still the law of the land?' is increasingly being asked by We-the-People. The problem of Barack Hussein Obama seeming not to be a natural-born citizen is still an extremely salient issue — an issue that has led Obama to hire a team of lawyers to keep all information on his actual country of birth and all of his college records hidden. The latest estimate on the fees charged to do so is over $1 Million.
Dear Leader Obama Wants to Seize More Companies
. President Obama is demanding dangerous, sweeping new powers to seize financial services companies. According to the Los Angeles Times, the proposal expected to be unveiled tomorrow will be "the most significant new regulation of the financial industry since the Great Depression, including a new watchdog agency to look out for consumers' interests." The plan would give the government "new powers to seize key companies — such as insurance giant American International Group Inc. — whose failure jeopardizes the financial system." The news report notes that "[c]urrently, the government's authority to seize companies is mostly limited to banks."
Obama to offer broad market overhaul
. President Obama will release details on Wednesday [6/17/2009] of his proposed overhaul of how the government oversees banks and financial companies. The aim is to patch holes in the country's complex system of financial regulation.
The Editor says...
Patching holes = tightening his grip.
Regulation Nation
. The White House wants to impose sweeping new rules for the financial industry to prevent another meltdown. Unfortunately, it was government — not the private sector — that was to blame.
Obama's new financial regs — worse than we imagined
. Hey kids! Let's create a brand, spanking, new federal bureaucracy to protect consumers of mortgages, credit cards, and other financial instruments from their own stupidity! That's just one of the nanny state goodie being proposed by the Obama administration to address what they say were the causes of the financial meltdown. ... Surely some loans were made by criminals. The laws are already in place to deal with them. But how can you close a "gap" in the stupidity of the borrower? Never fear, the government is here!
Dodge facts, skip details, govern Chicago-style
. [Obama] does business Chicago-style. His first political ambition was to be mayor of Chicago, the boss of all he surveyed; he has had to settle for the broader but less complete hegemony of the presidency. ... While promising a politics of mutual respect, he peppers both his speeches and impromptu responses with jabs at his predecessor. Basking in the adulation of nearly the entire press corps, he whines about his coverage on Fox News. Those who stand in the way, like the Chrysler secured creditors, are told that their reputations will be destroyed; those who expose wrongdoing by political allies, like the AmeriCorps inspector general, are fired.
Give me, give me!
We as a nation have been moving closer and closer to this moment, baby step-by-baby step, stride-by-stride, and now we are at the leaping stage. Government has just taken over GM; ABC will present little more than an Obama infomercial from the White House itself on the administration's health care "plan" and the president is even seeking authority to take over other companies. All the steps along the way, an income tax, Social Security, government hiring quotas, Medicare, Medicaid, Welfare, government bailouts, government subsidies, government housing and more.
White House War On Science
. Inspectors general are apparently not the only ones to pay for annoying the White House by doing their job. The 18-member council existed to provide the president with advice on the moral and ethical implications of the rapid advances in science and medical research. It exists no more. The council existed to ponder whether we should do something just because we can. Apparently President Obama wanted not advice but agreement on such matters, particularly with regard to one of the panel's areas of interest, embryonic stem cell research. So he has fired them.
Obama, the African Colonial
. Had Americans been able to stop obsessing over the color of Barack Obama's skin and instead paid more attention to his
cultural
identity, maybe he would not be in the White House today. The key to understanding him lies with his identification with his father, and his adoption of a cultural and political mindset rooted in postcolonial Africa. ... The African colonial politician (ACP) feigns repulsion towards the hegemonic paradigms of Western civilization. But at the same time, he is completely enamored of the trappings of its aristocracy or elite culture. The ACP blames and caricatures whitey to no end for all that has gone wrong in the world. He convinces the masses that various forms of African socialism are the best way for redressing the problems that European colonialism motivated in Africa. ... Barack Obama is all of the above.
Standing Athwart Nationalization
. [Scroll down] And the Obama proposal definitely deserves more scrutiny. As I noted previously in the Spectator, the administration's white paper puts no limits on the type of firm the government could seize. On page 19, the paper defines a "Tier I financial holding company" that would be subject to seizure as "any firm whose combination of size, leverage, and interconnectedness could pose a threat to financial stability if it failed." This is eminent domain on steroids. It would be the arbitrary decision of politicians as to what businesses pose a "threat to financial stability."
Creepy, revealing quote from White House staffer
. This has become an emerging theme among both the White House and House leadership: that progressive members of Congress have an obligation to carry out "the wishes of the President" even when they disagree (now, apparently, it's "stunning" when they defy his dictates). That was the same subservient mentality that led House Democrats who admitted they opposed the war supplemental spending and/or the foreign bank bailout to nonetheless vote for the bill: because they President favored it. The duty of Congress is not to obey the wishes of the President.
None Dare Call It Marxism
. Capitalists don't view profits as evil or the product of greed. Their opponents — call them Marxists, fascists, socialists, radical liberals or whatever — do. Which brings us back to Barack Obama. Both his father, Barack Obama Sr., and his mentor, Frank Marshall Davis, were communists. His church of choice was one of black liberation theology, whose Marxist roots are inarguable. He associated with far leftists on the "organizing" streets of Chicago, including Bill Ayers and Bernardine Dohrn. Mentorship and associations are one thing, but what have Obama's words and actions revealed about his attitudes toward labor, capital, profits and government control of business and industry? Well, he said that he would raise capital gains tax rates, even if it reduced revenues, as a matter of fairness. It's only fair to make everyone poorer if you believe profits are inherently evil.
King Obama's race to a socialist monarchy
. In a mere 130 days into his reign, President Obama has pushed us down the slippery slope of socialism. Here in the good ole' USA, what we grew up knowing as the land of the free and the home of the brave has abruptly become the mortification of the meek and the manipulated.
If you bypass the Senate, it's not a treaty.
Obama WH; we don't need no stinking Senate!
Everything Obama does is hasty, rushed and performed under a big, flashing red sign that screams, "emergency; no time to discuss, no time to read, no time for bothersome procedure... just do what I want, and trust me, we'll be fine... three minutes to critical mass..." I can only imagine the guttural sounds of outrage that would be coming from the press and the left if Dubya had tried this.
Left for Life
. Obama's stance here also speaks volumes about his constitutional philosophy. In the past, he has spoken of his frustration with our constitution's historical restrictions on government power. He seems — at least in this case — to believe that a president's power should have priority over the rule of law as embodied in a country's constitution. This means he has sided with an ambitious leftist president who wants to subvert his country's constitution and prolong his rule. That isn't a reassuring prospect.
President Obama and the "C" Word
. It's probably a compliment to the President since he likes to quote his Marxist professors, and by his own words and actions is trying his very best to "change" our country from Capitalist to Communist. I kept repeating, "but Karl Marx wrote the Communist Manifesto, so what's the difference between Marxist and Communist?" No one had an answer.
Certain fascist affinities
. Both Hitler and Mussolini were national socialists. They were militant pagans hostile to Christianity, religious orthodoxy and tradition. They believed in the cult of personality, mass propaganda and the pseudo-spiritual transformational nature of politics: charismatic leadership as a means of fulfilling people's deepest aspirations. ... They created a corporatist economy that combined big business, big labor and big government. They emphasized the nationalization of key industries, redistribution of wealth, massive public works projects and trade protectionism. ... Fascism's leftist heritage cannot be denied. It explains Mr. Obama's relentless consolidation of power. He is America's most radical president. At his core, Mr. Obama is a liberal fascist, fusing statism with postmodern multiculturalism.
The Threat of Totalitarianism
. It may sound like I am exaggerating or over-dramatizing the situation, but I think that we have a repetition of Hitler's policy to get total power developing in the United States. Obama's massive expansion of the federal government will destroy the United States as a world power, make us even more dependent on our enemies, and will ruin a great part of the present population and their descendants. I believe his real purpose is not to get the United States out of the financial mess but to set the stage for a total takeover. The liberals controlling Congress are helping him in that task.
Obama's War for Socialism. Yes, For Socialism
. At some point of embittering clarity, Americans will open their eyes to the glaring significance of the Obama era and see the Power Grab Years for what they are. Whether this realization comes in time to stave off the eradication of the United States as we thought we knew it, or whether it comes too late, I predict it will surely come.
Obama: The Presidential Orchid
. Thinking they were dealing with a liberal democrat, few observers envisioned the sharp and careening leftward veer in which Obama has taken the country, steering it toward a socialist destination resembling not only that of the European Union but even, in some respects, of Venezuela as well. His move toward the effective nationalization of banks, health care, and the auto industry, not to mention his growing share in the mortgage game and the climate racket, is extremely worrisome.
Tincture of Lawlessness
. The Obama administration's agenda of maximizing dependency involves political favoritism cloaked in the raiment of "economic planning" and "social justice" that somehow produce results superior to what markets produce when freedom allows merit to manifest itself, and incompetence to fail. The administration's central activity — the political allocation of wealth and opportunity — is not merely susceptible to corruption, it is corruption.
Anger ahead when the fog clears on Obama's power grabs
. As the administration expands its control over the private sector, as it formulates foreign policy in harmony with that of Castro's Cuba, Chavez's Venezuela, and Ortega's Nicaragua, it's no stretch to say that Obama is reshaping the USA in a distinctly socialist mold, something closer to a dictatorial workers' paradise than to cowboy-friendly Reagan Country.
Obama and the CPUSA
: [Scroll down] (1) Obama's policy agenda and that of the CPUSA are in
perfect alignment
: more stimuli; green jobs; global warming; public sector jobs; more regulation and, in fact, restructuring of the entire economy; eventual single-payer health care, with the public option being critical to any immediate plan; union-friendly legislation; cutting defense spending; engaging and normalizing relations with the US's mortal enemies like Hugo Chavez, the Castro brothers and the reigning mullah's of Iran; claiming victory in Iraq as their own. (2) Obama's political approach is also in
perfect harmony
with that of the CPUSA's. The method is gradualism. Overall, Obama is doing pretty well at achieving CPUSA's goals under the current political circumstances.
The Obama dream turns into nightmare
. As recent Gallup surveys have shown, the United States remains a largely conservative nation, and Obama's brand of high spending, high taxing neo-socialism is increasingly rejected by the American public. While much of Europe, including Britain, is moving rightwards, America is the only major country in the Western world whose leadership is dramatically moving to the left. Although he ran for the presidency largely as a centrist, Obama's government is without doubt the most left-wing administration in American history.
Obama-Care, Euthanasia, and The Boiled Frog Syndrome
. Fascists like to use war as a means of implementing their social agendas, but if a war isn't handy, they'll use whatever's available — any ol' crisis will do. ... Such societal upheavals are called "the moral equivalent of war" — first coined by the American philosopher William James. It is a phrase near and dear to the liberal elite. Our current "moral equivalent of war" is the economic crisis. The Obamaites are using the economic crisis for cover, as they attempt to push through legislation that will fundamentally change the nature of the United States. The Obama-care package that they are trying to railroad through Congress is all about gaining control.
Obama, the remaking of America, the reverie for a police state
. Nationalized health care is only the latest page in the ongoing saga of U.S. president Barak (sic) Obama's attempt to remake/reinvent America into a socialist utopia.
Liberalism and the Dumbing Down of America
. From socializing the country's infrastructure to gutting the Constitution, from cozying up to the world's tyrants to abandoning proven allies, many on the left simply cannot, or will not, open their eyes to the frightening direction in which Obama is taking our country. There are only so many times that one can use the phrase "drinking the kool aid" or "brainwashed by his rhetoric." At some point, liberals must be held accountable for their willful ignorance.
The End Game of the Left
. [Scroll down slowly] But after all, nothing like this could happen in America, right? Obama's building up of ACORN community organizers and the AmeriCorps civilian army with billions of dollars from the Stimulus couldn't be used against its own citizens, could it? His statement that "We've got to have a civilian national security force that's just as powerful, just as strong, just as well-funded (as the military)" doesn't scare you, does it?
Obama Tells Economic Critics to 'Get Out of the Way'
. A fired up President Obama said Thursday [8/6/2009] that he wants his critics to just "get out of the way" so his administration can clean up the economic "mess" that Republicans left for him. Obama spoke Thursday night at a rally in Virginia for state Sen. Creigh Deeds, the Democratic candidate for governor.
WH sought to weaken law on whistleblowing
. Despite its pledge to better protect federal employees who expose wrongdoing, the Obama administration privately sought to weaken protections for national security whistleblowers under legislation making its way through Congress, according to correspondence obtained by The Washington Times. E-mails that documented the White House's intervention show the White House counsel's office provided its own drafts of the proposed legislation in late June and mid-July.
Issa tells Rahmbo "this isn't Chicago"
. Rep. Darrell Issa, R-CA, has a message for White House Chief of Staff Rahm Emanuel: "While this type of scare tactic may work In Chicago, it will not work to intimidate me or other Members of the United States Congress." It's not quite a young Ellot Ness glowering at Al Capone on the steps of a ritzy Chicago hotel, but it may be the next best thing and it could mark a turning point in President Obama's relations with the Congress that is dominated by members of his own party.
Something Fishy
. On Tuesday, August 4, the White House posted a blog entry enjoining Americans to spy on one another, and to report any "disinformation" which might undermine the administration's health-care reform. ... How can an American president think to embrace such open Orwellian thuggishness? The answer is a noxious combination of (1) liberal moral obtuseness, and (2) the naked lust for power which has characterized the political left since Robespierre.
Obama's Authoritarian Style
. Now, it is perfectly acceptable, if not presidential, for Obama to keep disparaging the Republicans and the previous administration. But "don't do a lot of talking" crosses a line. This is America, and they have a constitutional right to talk all they want. "Get out of the way" is problematic as well. The Republicans whose terms ended after the last election are out of the way, having left office to make way for Obama, his men and his allies in Congress. What can the president possibly mean here other than that he demands that they stop participating in politics — again, something that, in America, they have a perfect right to do?
Suppressing dissent:
White House crackdown on dissent means honeymoon is over
. Americans are finally getting a good look at the man in the White House. They've been thrilled by his speeches, love his kids, and almost desperately want to believe he was who they hoped he was when they elected him. It turns out, however, that he simply can't tolerate disagreement. In his view, those who disagree with him really ought to just shut up. His critics, after all, are the people responsible for the problems he was elected to solve, dupes and hirelings of those responsible, or dangerous kooks.
Obama and the Politics of Personal Destruction
: Each day brings a new batch of bad polling news for the president. ... Under such circumstances, the only reasonable thing to do is attack the voters and the Republican Party. That at least seems to be the conclusion reached by the Obama White House, which now is convinced that smearing citizens who bother to come to town hall meetings and painting their opponents as intransigent critics of all reform — or as fruitcakes — are the keys to success. And from Obama himself, the once presidential candidate who wanted to have civil discourse and get beyond name calling, the message to his critics is: "get out of the way." Anyone who disagrees with ObamaCare is now a crank, a stooge, or an obstructionist.
Obama's Nazi Straw man: An Old Alinsky Trick
. Saul Alinsky, crusader for the downtrodden, darling of the Auxiliary Archbishop of Chicago, was just an underachieving nobody with neither guts nor moral code, who flummoxed a whole lot of willing-to-be-deceived power seekers. Saul Alinsky didn't invent a single new thing. His whole methodology, so widely-hailed by whole generations of leftists, could have been devised by any 12 year-old gang-style bully with half a brain and an ounce of charisma. It's quite disheartening, now, to see the top echelons of the Democratic Party using Alinsky tactics in an attempt to freeze political dialogue, most especially when that dialogue is about the most intimate service we Americans procure for ourselves and our families: our medical care.
Race-Baiting Group Was Founded By Obama's Communist Green Jobs Czar
. President Obama's controversial green jobs czar — a self-described "rowdy black nationalist" and "communist" — is a co-founder of the same unsavory left-wing pressure group that is urging an advertiser boycott of Glenn Beck's TV show after Beck did several unflattering news packages on the czar. Not surprisingly, Big Media haven't noticed the connection.
Obama: American Demagogue
. There's a reason Obama's performance approval ratings are heading south in the polls. He's displaying all the attributes of a bully or an infant who needs a diaper change. Americans of all political persuasions are uniting in their opposition. ... Neither Obama nor the people with whom he has surrounded himself want the robust economy that made this nation a superpower. They think wealth should be "redistributed."
U.S. Web-Tracking Plan Stirs Privacy Fears
. The Obama administration is proposing to scale back a long-standing ban on tracking how people use government Internet sites with "cookies" and other technologies, raising alarms among privacy groups.
President of Some of the People
. The president's antics are an affront to the office and reduce him to nothing more than a bellicose, sleazy union boss who works only to advance the interests of his select members. And, sadly, just as Democraticbacked unions bankrupted Chrysler and GM, Obama and his union minions will, with their health care plan, end up bankrupting the nation.
Will America's bucking bronco finally be broken?
You don't break a young bronco just by beating it. You break it by making it feel helpless — confining it in a small corral, isolating it from the herd, running it around and around on a short rope... That's the real motivation behind "Universal Healthcare" Obama is trying to sell us Euro-socialism, which means bribing and intimidating people with their own tax money and corralling everyone with an endless sea of laws and regulations, until they know they can never fight City Hall.
Government thuggishness
: Government coercion is becoming standard operating procedure in the nation's capital. The White House threatened financial institutions with ruin by selectively enforcing regulations unless they agreed to take government bailout money. Similar threats were used to force financial institutions to let the government own part of their stock. Those same institutions were forced to take losses on the bonds they held in General Motors and Chrysler. It was only a matter of time until similar intimidating behavior was employed in the health care debate.
The Tin Ears of the Bully-in-Chief and his Comrades in Arms
. Americans need to make it very clear to the Democrats running this country that Obama's rise to become the leader of the free world was not the equivalent of a mandate to retract individual choice on personal matters such as what car to drive, food to eat, or healthcare to purchase. The litany of offensive measures pouring out of the Obama administration is so lengthy that it is difficult to know where to begin.
Voight: Is Obama creating a civil war in America?
"We are witnessing a slow, steady takeover of our true freedoms. We are becoming a socialist nation, and whoever can't see this is probably hoping it isn't true. If we permit Mr. Obama to take over all our industries, if we permit him to raise our taxes to support unconstitutional causes, then we will be in default. This great America will become a paralyzed nation."
A vulgar Marxist twice over
. We've written about Obama administration green jobs commissar Van Jones as a Communist in the White House. ... Now courtesy of Breitbart.tv and Naked Emperor News we have Jones explaining the deep meaning of the Obama administration's devotion to "green jobs." The goal of green jobs is complete revolution step by step away from gray capitalism until the forces of oppression are overcome.
No Compromise, No Retreat, No Surrender
. The key to stopping Obama's far-left agenda is to understand where his heart is. If politicians let their guard down and compromise, the Obama steamroller will regain its momentum and forge ahead to gobble up our individual liberties. Obama's heart is and always has been on the farthest reaches of the left wing of politics. His driving ambition is to force fundamental change on America. That should go without saying, but it must be repeated...
Broun warns of dictatorship
. U.S. Rep. Paul Broun is again raising the specter of Democrats turning the United States into a totalitarian state. Broun, R-Athens, apparently has not changed his belief that President Obama may be a fascist since he made similar remarks in Augusta in November and then in an Associated Press interview.
Democrats' despicable duplicity
: Democrats went berserk over what they called President Bush's "power grab," but are silent in the face of President Obama's massive consolidation of power. The duplicity here is despicable. No president has ever abused the power of the presidency as has Barack Obama.
Obama's UN Gambit: King of the Universe and the Polls
. Looking for a quick and easy boost in the polls, President Obama has decided to go to the one place where merit bears no relationship to adulation: the United Nations. On September 24, the president will take the unprecedented step of presiding over a meeting of the UN Security Council. No American president has ever attempted to acquire the image of King of the Universe by officiating at a meeting of the UN's highest body.
Is Obama's "Czar System" grounds for impeachment?
Barack Obama's Czar System ... is directly an affair of state and seemingly an end run around the Separation of Powers. According to an article recently published at Examiner.com by Patrick McMahon, there are now thirty-one of these czars, covering areas from terrorism to domestic violence. Congress has not vetted a single one of them, as far as I know. Indeed, with only a couple of exceptions (Dennis Ross, etc.), we know who few of them are.
Obama's Punk Presidency Kicks Into High Gear
. It's clear that our punk president and his gangster government are bent on deciding, on their own and in as many areas as possible, who gets rewarded and who gets punished. Whatever you want to call it, this behavior is not characteristic of a representative government.
Obama Heeds Dictator Handbook With School Speech
. President Barack Obama cannot possibly intend to resemble an aspiring dictator. Somehow, he keeps doing so. ... If you pursue a radical left-wing agenda, you will inevitably arouse fear of fascism. Obama's big mistake has been to ignore this dynamic and the fears that his own powerful charisma will inflame in his opponents.
Brainwashing you can believe in
. History shows that dictators, despots and rulers have been using brainwashing techniques for thousands of years. They used brainwashing techniques to try and maintain power, control populations, and ultimately, change and transform the behaviors and beliefs of select groups of people and even entire societies.
Why Obama Could Not Stage a Coup
: [Scroll down] If Obama attempted an effective seizure of power and provoked a real national revolution, the repercussions for Democrats and the left in a successful counter-revolution could lead to a second American revolution in which vast amounts of political power could be explicitly returned to the states, the role of government in our lives precisely defined, the semi-divine status of judges overthrown, and power returned to the people. Could the leftist choke hold on the media prevent a new revolution? Well, the left has tried to stop the Tea Party movement and the Town Hall protests with no success at all.
Obama's Titanic arrogance and the folly of ignoring the masses on 9/12
. Obama said on his personal website that any opponents to his Healthcare Plan were "Right Wing Domestic Terrorists." That is dangerous language speaking to his chilling mindset when a Obama views all peaceful opposition as criminal behavior. If that isn't evidence of the man's terrible totalitarian worldview, I don't know what is.
The Perestroika Deception
. The Cold War is over and Communism is a non-issue for most Americans. Communism is such a non-issue that Communist plans to undermine American society have proceeded for years virtually undetected and unhindered. Recent events have aided this process, with President Obama's aggressive drive toward Socialism fitting neatly into decades of Communist strategy.
Czar wants parallel government broadcasting system
. President Obama's diversity Czar at the Federal Communications Commission proposes adding a vast public broadcasting system to the growing list of Obama's parallel institutions. Mark Lloyd ... proposes what would become a huge federal broadcasting system and yet another Obama parallel institution. It would join the "civilian national security force that's just as powerful, just as strong, just as well-funded" as the U.S. military that candidate Obama proposed, and the cadre of Czar advisors that parallels the Cabinet Secretaries.
Sympathy for the Devil
. How concerned should we be about Obama? Is he a potential dictator with a weird cult following who could destroy this country? To put it more bluntly, does Obama have the potential for inflicting evil on us? Or, if he's a puppet, are the ones holding the strings malevolent?
The Thin, Grey Line
. Over half of the commercial banks doing business in 1984 have either been absorbed by bigger banks, or are otherwise out of business. Who — or, what — might want the number of independent American commercial banks to be reduced by such a substantial number? ... Before nationalized health care can be successfully implemented, the financial sector must first be compact and easy to control.
Compulsory Education is Overrated, Yet Obama Wants to Make the Compulsion Complete
. A look at the White House education web page indicates Obama plans to continue the leftist obsession with precisely equal educational outcomes, and create cradle-to-grave educational entitlements and increased pre-school conditioning.
Read this:
How to take down a great power
. No longer do we consider our leaders to be gods among men. No longer do we hand them unearned and meretricious awards and prizes. We don't turn on and destroy members of previous administrations. We don't tolerate incompetent and corrupt sycophants in high office. We've learned to recognize disorders such as pathological narcissism and assure that the victims do not gain high office.
Will Obama bypass Congress on climate rules?
If Congress won't get the job done on climate change, President Obama has a way to do it himself. But is he strong-arming the legislative branch? It certainly looks that way as a series of new environmental regulations, released over the past two weeks by the EPA, are putting legislators on notice and executives on edge.
Barack's Enemies List
. Obama's perceived enemies are all those who have the temerity not to roll over for his extreme agenda. They all must be demonized, marginalized and silenced by a president who has turned the Oval Office into a glorified street organizing headquarters to attack his opponents. Indeed, this self-described uniter is the most divisive president in memory, and his uncontrollable ego can't countenance legitimate dissent.
This Isn't Change, It's Treason
. Some, including myself, have described what Obama and his Socialists are up to as a bloodless coup. But, after further evaluation of what's really going on behind the scenes in Washington, I have come to an even more alarming conclusion: What they are doing is committing legislative jihad.
Dictator Obama and Reaching the Point of No Return
. As very few of our Congressional elected officials — Democrats AND Republicans — are taking any actions or exhibiting any desire to stop the Obama Dictatorship and We-the-People are now being completely left out of any and all legislation that directly affects us, I can only surmise that we as the Nation of the United states of America may have reached the point of no return in our rapidly forced descent into totalitarianism.
Obama abuses faith office to promote his radical agenda
. It seems that for Obama every ally of America is expendable, and every government agency and office is a political tool to be manipulated to radicalize Americans. ... We should all be concerned that Barack Obama sees every agency (whether the census board, the National Endowment of the Arts, the Federal Communications Commission, The Federal Election Commission) as a tool to promote his radical agenda. We have not seen anything yet.
Subscription required to read the entire article. Highly recommended.
Stem cell freeze
. [Scroll down] The lawsuit alleges that NIH violated administrative rules this year as it rushed to fulfill President Obama's executive order to write new guidelines for ESC funding. The agency allowed only 34 days for the public to offer input on its proposed guidelines, and it appears to have ignored comments (about 30,000 out of 49,000) that questioned the usefulness of the research on ethical or scientific grounds. "They had no interest in listening to the public," said Casey. Federal attorneys in their initial response to the plaintiffs' claims said that NIH didn't have to follow administrative law to the letter because it was acting on orders from the president. "That is a startling claim of executive power. Simply amazing," said Thomas Hungar, Casey's colleague at Gibson, Dunn & Crutcher.
The Editor says...
Read that again. Attorneys for the NIH say it's okay to circumvent the law, because Obama gives his permission. That is a sure sign of dictatorship.
Grassley Warns HHS Web Site May Be 'Propaganda'
. Senate Finance ranking member Chuck Grassley (R-Iowa) is raising concerns that a Department of Health and Human Services Web site that urges visitors to send an e-mail to President Barack Obama praising his health care reform plan may violate rules against government-funded propaganda.
Mass media and private liberty
. [Scroll down] Two separate issues should catch our attention. First, of course, nearly all of the institutions of information, education, and entertainment are aligned like lockstep little soldiers in the legions of Obama. Young children in public schools sing the praises of Obama. College professors enforce the party line of the left in far too many classrooms.
Dangerous Zanies
. Allow me a prediction. This administration is going to turn out more zanies than the past two Democratic administrations combined. Yet — and here is the ominous part — they are going to present a real threat to liberties that Americans take for granted, particularly freedom of speech.
An Obama government? Congress do your job!
People are talking about "Wait until 2010!" But do they realize that it is not until the end of that year and that by then America won't even be recognizable. Who said the President has authority to run our lives as if we were the children?
White House: Policy 'czars' won't testify
. The White House has told Congress it will reject calls for many of President Obama's policy czars to testify before Congress — a decision senators said goes against the president's promises of transparency and openness and treads on Congress' constitutional mandate to investigate the administration's actions.
Our New Paymasters
. In the annals of what used to be known as American capitalism, yesterday [10/22/2009] will go down as a sorry day: The Treasury and Federal Reserve announced wage controls on private American companies. So once again our politicians are blaming bankers, rather than addressing the incentives the politicians themselves created for bankers to take excessive risks.
Obama's Enemies List
. The Obama White House is showing a fondness for intimidation tactics that might work well in the wards of Chicago but that don't have a place in the most important and revered political institution in America. To see these impulses manifest themselves so early in Obama's presidency, and given all that he has said to the contrary, is rather startling.
America's Obama Obsession
. [Scroll down slowly] In just nine months the phrase "Chicago style" has gone from something old-time that evokes Al Capone or Mayor Daley to something very real, contemporary, and scary — as David Axelrod, Rahm Emanuel, Valerie Jarrett, and others try to strong-arm the opposition, demonize the media, and manipulate government largesse to either penalize or reward recipients on the basis of their degree of support for Obama.
Not socialism; Gangsterism
. Arguments go back and forth about whether or not the Obama administration is really "socialist" in the sense that they wish to control the means of production, takeover all businesses, and put the "people" (unions) in charge. Wherever you come down on this issue, there is no denying the straight line from Obama's Chicago roots and ways of getting things done to the White House. ... The Obama Mob has come down like a ton of bricks on numerous other targets, using tactics not seen since the Nixon administration — and some that Nixon would never have dared to try.
Disaster in the Making
. The desire of many Americans for a "post-racial" society is well-founded, though the belief that Barack Obama would move in that direction was extremely ill-advised, given the history of his actions and associations. This is a president on a mission to remake American society in every aspect, by whatever means are necessary and available. That requires taking all kinds of decisions out of the hands of ordinary Americans and transferring them to Washington elites — and ultimately the number one elite, Barack Obama himself.
Obama's Real Enemies List
. Much has been made by the political left of Richard Nixon's infamous enemies list. The reality is most of those named were people who did not receive presidential Christmas cards or White House reception invitations. In contrast, Barack Obama has a real enemies list the peace prize-winner and his proxies have attacked during the past year, including the minority of news outlets that do not worship the media's latest false idol.
Dismantling America
. President Obama has already floated the idea of a national police force, something we have done without for more than two centuries. We already have local police forces all across the country and military forces for national defense, as well as the FBI for federal crimes and the National Guard for local emergencies. What would be the role of a national police force created by Barack Obama, with all its leaders appointed by him? It would seem more like the brown shirts of dictators than like anything American.
Dismantling America: Part II
. The memory of that long-ago episode has come back more than once while observing both the actions of the Obama administration and the fierce reactions of its supporters to any questioning or criticism. Almost never do these reactions include factual or logical arguments against the administration's critics. Instead, there is indignation, accusations of bad faith and even charges of racism. Here too, it seems as if so many people have invested so much hope and trust in Barack Obama that it is intolerable that anyone should come along and stir up any doubts that could threaten their house of cards.
Silencing Voices for School Choice
. President Obama isn't taking kindly to a television ad that criticizes his opposition to a popular scholarship program for poor children, and his administration wants the ad pulled. Former D.C. Councilmember Kevin Chavous of D.C. Children First said October 16 that U.S. Attorney General Eric Holder had recently approached him and told him to kill the ad.
Which part of judge's decision does Obama White House not understand?
Last year, federal Judge Royce Lambert ruled that the Executive Office of the President (EOP) is covered under the Privacy Act. ... So this year, the Obama White House comes back in the same case and asks Lambert to grant a motion for summary dismissal, arguing that "the White House is not an agency under the Freedom of Information Act (FOIA), and it necessarily follows that it is not an agency subject to the Privacy Act." Amazing, but true.
Obama Administration Tells Federal Court Privacy Act Does Not Apply to White House
. "What the Obama administration is effectively saying here is that if the White House decides to illegally compile FBI files and violate your privacy rights, tough luck," said Judicial Watch President Tom Fitton. "It is disturbing that the Obama administration has taken the legal position that the Privacy Act does not apply to the White House and the Clinton FBI files scandal was not a scandal.
Will We Lose It All?
[Scroll down] This is how I feel: we are facing a busybody and tyrant in one, with the mighty machine of government at his command. Think of this article as a gentle slap on the back of the head to those of you who still say
it can't happen here
. We have been lied to continuously, with great eloquence. The gatekeepers have abandoned their posts and taken sides. The traditional means by which we have held our leaders to account have been overturned and replaced with a politburo-style stamp. It's not enough for them to tell us what to do; they want to decide our thoughts for us, too.
Hello, My Name Is...
When millions of people surrender their hearts and minds to one person, the result can be catastrophic. This is what happened in Germany with Hitler, in China with Mao, in the Soviet Union with Stalin, in Cuba with Castro, in Iran with Khomeini, and so on and so forth. Today, we think these men were monsters, but that was not what their millions of worshipers thought. Those people loved them. Dictators can't dictate unless people are willing to submit.
Video:
Camp FEMA — The Obama Youth Army!
Justice Dept. Asked For News Site's Visitor Lists
. In a case that raises questions about online journalism and privacy rights, the U.S. Department of Justice sent a formal request to an independent news site ordering it to provide details of all reader visits on a certain day. The grand jury subpoena also required the Philadelphia-based Indymedia.us Web site "not to disclose the existence of this request" unless authorized by the Justice Department, a gag order that presents an unusual quandary for any news organization.
A Curious Subpoena
. The Justice Department wants an online news site to hand over its visitor list. Why? No one's quite sure yet. But if this is just a fishing expedition by the government, it's a troubling precedent. The unusual request for information, delivered via a grand jury subpoena to Philadelphia-based Indymedia.us, also demanded that the Web site "not ... disclose the existence of this request," unless the Justice Department approves it.
Don't buy those carbon credits just yet
. Democrats' cap-and-trade climate change bill contains a provision that could suddenly render useless the carbon credits it creates, says Sen. David Vitter, R-La. Vitter will speak at a press conference later today [11/10/2009] on how the bill establishes emergency conditions requiring the president to step in and use all of his authority over relevant agencies to stop global warming.
The Editor says...
Global warming stopped ten years ago.
*
Even when the earth was warming, it was doing so at the rate of one or two degrees per century.
There is no emergency!
It is a shameless power grab.
Obama's Mind Game
. The moment Obama became president, he upped the signals. At the swearing in, the entire family eerily chose to wear black and red, colors associated with communism and black nationalism. Obama's first radio address was broadcast in the Arab world. Obama returned Britain's gift of a Winston Churchill statue while embracing dictators. ... Obama's greatest magic trick? Brainwashing the masses to believe that racism is a greater danger than radical Islam, and that Obama himself is in constant peril. Opposing health care means you oppose Obama. Oppose Obama and you're part of a vast right-wing racist conspiracy.
Which America Do Americans Want?
[Scroll down] Change was half of [Obama's] campaign mantra, offered as a virtue in itself. "I am someone who is no doubt progressive," he proudly proclaimed. He is also an elitist, as evident from the fact that he never denounced the messianic laurels that were so lovingly placed at his feet. Moreover, since the election, the president and his ever-expanding court of czars have, through their never-ending quest to takeover private industry, shown no regard for the limitations of power the Constitution has drawn. It is clear that their highest regard is for themselves as America's neo-monarchy.
Obama and the Cult of Youth
. [Scroll down slowly] The Roman state degenerated from liberty to tyranny as it came to value youth over age and wisdom. I think about all of this often when I hear of the "youth vote," so prized and pursued in contemporary American politics. ... Last November ... the "youth vote" turned out in record numbers for Barack Obama. ... These young people will not know the ruin they have brought until they are older and wiser and it is too late.
The Great Newspaper Bailout
. The pattern repeats itself — an industry in chaos, companies going bankrupt, thousands of workers losing jobs. It's time for government intervention. That's been the Obama administration's model for Wall Street, insurance giant AIG and the auto industry. Now it could be the same for the American media. Congress, the Federal Trade Commission and the FCC are all looking at ways to "help" journalism.
The Editor says...
It's pretty obvious that if the newspapers are eating out of Obama's hand, they aren't going to be critical of anything he does.
Potential Dictator!?
There is a three pronged approach that Obama is taking. First: Cap and Trade [which is an] Attack on Capitalism. If successful, it creates a permanent unemployed class. Second: Healthcare [which is an] Attack on Liberty. If successful, it controls the citizens of this country. Third: Creation of an Army Answerable only to Obama. If successful, it gives Obama personal power to take care of people who won't obey.
An Inconvenient Democracy
. President Obama isn't about to let a trifle like democratic consent impede his climate agenda. With cap and trade blown apart in the Senate, the White House has chosen to impose taxes and regulation across the entire economy under clean-air laws that were written decades ago and were never meant to apply to carbon. With this doomsday machine activated, Mr. Obama hopes to accomplish what persuasion and debate among his own party manifestly cannot.
A White House Power Grab that Congress and America Doesn't See
. To achieve the goal of a universal, single-payer health system, the White House must secure the power it needs by amending the Social Security Act to transfer pivotal controls from Congress to the executive branch. This transfer of power would ultimately give the President and the majority party, in this case the radical left Obama White House and Pelosi-Reid led progressive Democrats, the authority to frame and manipulate new policy, coverage options, and reimbursements, ultimately reshaping the future US health care system into a something unrecognizable in this country.
Czar Obama takes aim at Congress
. There are so many deep flaws in the "Endangerment Ruling" announced Monday [12/7/2009] by President Obama's Environmental Protection Agency that it is quite possible the worst of them will escape notice. ... [That is,] the terrible damage this ruling will inflict upon one of the most basic of American constitutional pillars, the separation of powers among co-equal branches, in this case the president and Congress. Obama has launched a thermonuclear warhead aimed directly at the very heart of congressional authority.
Another Federal Bludgeon
. Buried in the House financial reform is a provision that would muscle up the FTC and radically expand its mission. Pushed by liberal barons Henry Waxman and Barney Frank, the language would empower the FTC to impose civil penalties on companies that are first-time offenders and make it easier for the agency to concoct new rules. ... Imaginative lawmakers will have all sorts of ideas for how to use the new powers.
The Surprise at Copenhagen
. Anyone no longer believing Obama's campaign language of "fundamentally changing the United States" underestimates this man. This is a massive power grab of historical and possibly unconstitutional breadth at a breakneck pace. Card check, health care reform, TARP fund misallocations, the stimulus bill pork-barrel spending, cash for clunkers, the $3.4 billion settlement with the Indian tribes, the financial reform bill, additions to the federal work force amidst the hemorrhaging of jobs in the private sector, and now this... we had better wake up and smell what this team is shoveling. And fast.
Newspeak and Cultural Marxism
. It is now clear, even to most scoffers, just what Barack Obama meant when he boasted in the now famous video clip from October 30, 2008, "We are five days away from fundamentally transforming the United States of America!" The fundamental transformation of the United States of America is the deliberate societal overlay of Multicultural Political Correctness and Progressive Socialism. I use the term "overlay" to depict an exoskeleton. But, call it what it is: Cultural Marxism.
It's Not Socialism, It's Communism
. We know that he [Barack Obama] was greatly influenced by Marxists or people who viewed Communism sympathetically, not the least of which were his grandparents who introduced him to a mentor, Frank Marshall Davis, a member of the Communist Party USA. Obama wrote that he was drawn to Marxists among his teachers in college. He began his political career in the home of former Weatherman Bill Ayers. These days he is praised by Communists in Cuba and Venezuela. He sided with a Leftist former president of Honduras who tried to illegally alter its constitution.
Who is more likely to do something like this: A loyal American or a Communist?
Mao and the Christmas Tree: The President's Yuletide Jeer
. It isn't often that matters of art enter the political news cycle. The Obama administration is determined to change that. Over the holiday week, Andrew Breitbart's Big Government drew its readers' attention to the ornamentation on the White House Christmas tree — in particular, an ornament featuring a picture of the Chinese dictator Mao Zedong.
Judicial Watch Announces List of Washington's "Ten Most Wanted Corrupt Politicians" for 2009
. [Including] President Barack Obama: Even before President Obama was sworn into office, he was interviewed by the FBI for a criminal investigation of former Illinois Governor Rod Blagojevich's scheme to sell the President's former Senate seat to the highest bidder. (Obama's Chief of Staff Rahm Emanuel and slumlord Valerie Jarrett, both from Chicago, are also tangled up in the Blagojevich scandal.) Moreover, the Obama administration made the startling claim that the Privacy Act does not apply to the White House.
The Obama White House believes it can violate the privacy rights of American citizens without any legal consequences or accountability.
Obama and the White House Chicago Boys
. Barack Obama has a problem. His polls numbers are dropping and his policies are fueling an angry backlash across America. The Democratic party is held in disrepute, and congressional Democrats are dropping like flies. This imperils Obama's radical agenda and his own 2012 prospects. What to do? Game the system and rig the future elections. That is how things are done in the streets of Chicago.
The Great Dictator
. Like so many dictators, Obama has gone on leaning on his media crutch, certain that a constant stream of propaganda is all that's really needed to keep the public in line. And when it failed to work, his only response was bafflement.
Obama's war on Inspectors General
. The Chicago Boys play rough. They do not want the media keeping an eye on them (see Fox News) and they do not want federal officials monitoring them, either. So they manipulate the budget to cut one area where an oversight is desperately needed as trillions of tax-payer dollars are spent. They also could care less about pledges of honesty and openness that were made in 2008, 2009, 2010.
Obama and Reality
: [Scroll down] What is at play here is that Obama is a man for whom all other issues are marginal when compared to his own agenda. Thus he has not yet learned how to respond to crises other than the ones theatrically crafted by him and his minions as vehicles to accomplish this agenda.
How would you vote now?
[Scroll down] Obama has been trying to manipulate more controls, hiding behind the usual, Saul Alinsky madness, with the Counsel on Governors executive order and giving Interpol a free hand and total neutrality to do whatever they want in and throughout our country. While hiding behind potential and contrived crises, is this not really the preparation for shredding and attacking state rights and sovereignty, while setting the dictatorial stage for marshal law?
The Content of Obama's Character
. [Scroll down slowly] Another disquieting note is the overarching theme of Obama's first year of governance: the determination to govern against the preamble of the Declaration of Independence, which states that government gains its just powers from the consent of the governed. The American people do not consent to the $787-billion stimulus. They do not consent to the cap-and-trade bill. They do not consent to the federalization of health care.
The First Year: A Near Total Disaster
. [The] Cap and Trade bill that would give the federal government near-complete control of the American economy passed the House by the slimmest of majorities. It has been stalled in the Senate, but that hasn't deterred the Obama Administration's attempt to use the environment as an excuse to control all aspects of our activities.
Obama to California 'Water, Its Not a Right its a Privilege'
. On the list of insane public policy moves we have come to expect from the current administration, Cap and Tax, Obamacare and Union Card Check, a fourth has garnered relatively little attention, although the implications for all Americans may be among the most far-reaching. The recurring theme is centralized control.
Obama to Establish New Financial Regulatory Agency with Broad Powers
. President Barack Obama plans to make a detailed announcement on Wednesday [1/27/2010] about a plan for a new federal regulatory agency that would oversee credit cards and banking transactions but also reportedly give the federal government power to intervene quickly into myriad areas of the economy.
A Really Mediocre President
. Obama's view that he can and should compel the country to accept his radical views entails a great deal of arrogance. It also rests upon an imperial view of government and of the presidency in particular. This is the view that government decides what is best for the people and imposes its will by every means of trickery, deal-making, and intimidation. It is the opposite of the transparency and openness that Obama promised in his campaign.
America: Are we being 'transformed' and, if so, into what?
The week before he was elected president, President Obama made the bold statement that, "We are five days away from fundamentally transforming the United States of America." No doubt, at the time, most of us would have written this off as the usual overblown rhetoric of a politician pumped up on his own favorable poll numbers. Instead, it turned out to be a warning.
Obama Recruiting Radicals in High Schools
. Barack Obama is using our public school system to recruit for his Alinsky-inspired private army. Organizing for America (OFA), formerly Obama For America, is recruiting in our high schools to "build on the movement that elected President Obama by empowering students across the country to help us bring about our agenda" — that is, his agenda of socialism for the United States of America.
Obama Using Public Schools To Recruit Agenda Advancing Interns
. A rather disturbing document surfaced on the Internet Saturday with grave implications concerning how the Obama administration is recruiting interns from public schools to assist in advancing the President's agenda along with his desire to get Democrats including himself elected. Even scarier, the internship application recommends participants read Saul Alinsky's "Rules for Radicals."
Ohio High School Accused of Promoting Political Agenda in Classroom
. An Ohio high school teacher's giving students job applications for a Democratic organization that included suggested radical reading material has raising concerns of indoctrination in the classroom. The government teacher at Perry High School in Massillon, Ohio, handed out forms recruiting students to intern for Organizing for America, a grassroots organization with direct ties to the Democratic National Committee and the successor organization for Obama for America.
Organizing Kids for Obama
. [Scroll down] A reader of my website ... has a daughter in the eleventh grade in a public high school, Perry Local in Massillon, Ohio. The teacher in her government class passed out a propaganda recruiting paper — headed with Obama's distinctive "O" logo — asking students to sign up as interns for Organizing for America. ... The form indicates yet again that Barack Obama is using our public school system to recruit for his Alinsky-inspired private army.
Camp OFA
. Organizing for America, Barack Obama's political organization that's run by the Democratic National Committee, wants to recruit and train a cadre of activists, and is holding camps all over America.
Dissing America
: Unlike "global warming," "patriotism cooling" is real and extremely dangerous. In our schools, national pride is considered biased, ignorant, and rude. How dare we think of America as exceptional?! Our kids are no longer taught the incredible sacrifice our boys at Normandy made for freedom. I recently read that educators are pushing a new curriculum which would eliminate much of America's early history. The more ignorant our kids are of the value, the struggle, the uniqueness, and the price of freedom, the more passive they are when freedoms are systematically taken away. And yet, our schools are teaching songs about Barack Hussein Obama, mmm...mmm...mmm.
The Obama Problem: It's the People, Stupid!
In order to bring about his "social change" (AKA "destruction of We-the-People"), Obama must destroy every aspect of the American way of life. Since Obama took office he, his mentors and followers have been making tremendous headway. Via a series of multi-billion-dollar faux 'stimulus' packages and other anti-America bills, Obama and his Democrat-run Congress have virtually bankrupted the USA. They have also placed our country firmly on the road to ending free enterprise, destroyed millions and millions of middle-class jobs (the annihilation of the middle-class in its entirety is essential to every Communist takeover plan) and...
Supreme Arrogance
: Obama has signaled his disdain for the constitutional separation of powers. We don't know what he may try next, but we do know that he has vowed never to quit.
The Cloward/Piven Strategy of Economic Recovery
. Using borrowed money for a band-aid bailout of the economy should seem backwards to most people. However, it likely is a planned strategy to promote radical change. Those naively believing that President Obama is simply rewarding his far-left base, and will then move to the political center, must wise up. The assumption that Obama will need the nation to prosper in order to protect the 2010 mid-term election incorrectly assumes that he esteems free market capitalism. He does not. Rather than win through superior ideas and policies, the Democrat plan for success in the mid-term elections is to win by destroying political opposition.
Privacy
. In a hearing at the Third Circuit Court of Appeals, in an effort to overturn a lower court ruling, the Administration argued that a cell phone user has no expectation of privacy therefore the government can subpoena any and all cell phone records at any time for virtually any reason without the need for search warrant issued by a judge. ... Is the real motive to spy on US citizens? On the surface it certainly appears so.
I have a dream, too
. Obama's government intrusion into the private sector is unprecedented. He fired GM's CEO and restructured the company to give UAW, a Democrat ally, a significant ownership stake. Banks were to be government-owned through a plan to convert TARP money into common stock ownership. Now, Obama plans to tax the 50 largest banks to recoup losses anticipated from the bank bailouts. But his ardor for Universal Healthcare is most disturbing.
Obama's Socialism
: [Scroll down] When people on the right start being "concerned" about describing Obama as what he clearly is, in part due to the hysteria that both sides of the political spectrum exhibit when the word "socialist" is used, then it damages the effectiveness of opposition to him. ... To call someone a socialist is not conspiratorial, and it is not fear-mongering; it is simply the truth, and it is time for some in the conservative media to take a deep breath and admit it — America has a socialist leading the country. Welcome to the club: It stinks!
Obama and Democrats' Unprecedented Attack against American People
: Despite increasingly overwhelming opposition from the American people to Obama's and the Democrats' Orwellian plans for us, they are moving even faster and harder to oppress us and shut us up. This is how tyrannies are formed, folks. And we are now firmly smack-dab-in-the-middle of our own.
Obama, the Chicago Boys, and their 30 Billion Dollar Slush Fund
: [Scroll down slowly] Recall, Barack Obama's statement, "If they bring a knife to the fight, we bring a gun." That is the modus operandi of a criminal. Evidently that is also the governing philosophy of our President.
Some say Obama should expand the Supreme Court
. This may come as a surprise to some people, but the U.S. Constitution does not specify the size of the Supreme Court. The original Judiciary Act of 1789 set the number of justices at six. It shrank to five in 1801. It expanded to seven in 1807. It grew to nine in 1837 and 10 in 1863. It fell back to seven in 1866. It returned to nine in 1869 and has remained at that number since.
Obama's Perverse Priorities
. As the indispensable Brent Bozell pointed out last week, Democrats and the media only complain of broken government when the liberals can't get their agenda enacted. The problem isn't that our government isn't working: it's that President Obama's agenda is entirely perverse. It reverses the essential order of priorities, devoting the energy of government exclusively to his plans to revolutionize our country.
Salazar: No 'secret agenda' at Interior Department on land protection
. Interior Secretary Ken Salazar on Wednesday [3/3/2010] vowed to work with Congress on conservation, denying accusations by western Republicans of a "secret" Interior plan to designate vast tracts of land as national monuments through executive branch power.
White House Land Grab
. You'd think the Obama administration is busy enough controlling the banks, insurance companies and automakers, but thanks to whistleblowers at the Department of the Interior, we now learn they're planning to increase their control over energy-rich land in the West.
Obama Grabs More Land With Conservation Corps
. While the nation wrestles with an unfathomable deficit, the Obama administration announced the formation of a new entity designed to instruct young people about "climate change" and empowering Native American reservations. The program is called the 21st Century Conservation Corps, which would be implemented through Obama's Youth in the Great Outdoors initiative. If you've never heard of Youth in the Great Outdoors, it's a federal outfit within the Department of the Interior that was allocated nearly $40 million last year alone and is seeking $47 million for 2012.
The United Socialist States of America
The president intends to overthrow American capitalism
. President Obama is close to completing his socialist revolution. Since coming to power last year, he has sought relentlessly to transform America. From his days as a student radical, Mr. Obama has been obsessed with smashing the traditional free-market system. Like most leftists, he thinks capitalism is the enemy. "He was a Marxist-socialist in college," said John C. Drew, who knew Mr. Obama as a university student, in an interview. "He kept talking about the need to overthrow capitalism in favor of a working-class revolution."
Obama thinks you're stupid.
Ungovernable Savages?
The average American clearly does not understand the magnitude of the crisis. In the most recent Rasmussen poll, 76% rate their own health coverage as good or excellent. A vast majority of Americans fail to appreciate what their wise leaders are trying to do for them, as only 25% believe that the proposed comprehensive reform will improve their own health care. Obama seems to have finally accepted the bitter reality that the simplemindedness of the electorate is simply impenetrable.
Obama Stimulating a Marxist Revolution Using Taxpayer Money
. A Marxist group that has demanded the "destruction" of the U.S. and issued a call "to bring this government down" is the recipient of stimulus funds from the Obama American Recovery and Reinvestment Act of 2009 (ARRA). This same group, the Brecht Forum, has also called for the complete takeover of insurance companies and farms in America.
America's Political Crisis
: The American people instinctively sense that there is something terrible happening, something that is antithetical to the indomitable spirit of benevolence, self-reliance, independence, and freedom that has characterized our nation from its beginning. Our government has been hijacked by collectivist radicals whose every act is designed to expand their power and chip away at our freedom. One never knows what new government fiat may emerge on any given day, what its effects will be, and whose lives will be damaged for the benefit of what purportedly needy segment of the population. This is the nature of the real crisis.
Marxism: A Study In Slacker Mentality
. Generalissimo Obama is the prototypical slacker. He hung out, smoked dope and did little or nothing in college, or so we are led to believe, as he won't release his transcripts and no one remembers him. He managed to do little or nothing as a United States Senator, voting present more than yea or nay on legislation. As president, B. Hussein Obama has managed to get a dog, go on a "date" with his wife and destroy the fabric of America (that not taking much, as Congress did the work and he just had to sign some papers) in between basketball games and trashing Israel. Generalissimo Obama is in slacker heaven with his Marxist regime.
The Beginning of USA Disarmament
. US Marxist Party Representative from Michigan John Dingell said recently: "The harsh fact of the matter is when you're passing legislation that will cover 300 million American people in different ways, it takes a long time to do the necessary administrative steps that have to be taken to put the legislation together to control the people." Page 1312 of the now signed-into-law Senate version of ObamaCare provides for funding of Obama's private militia referred to as "Establishing a Ready Reserve Corps" Sec. 5210. This "Corps" is given broad powers to control the US citizenry.
Thugocracy Whipsaws Capitalism
. If we are now under a system where disclosure gets you a public whipping and other threats by the Powers That Be while nondisclosure promises the ruinous expenses of defending against criminal investigations and civil enforcement, this is no longer anything but a thugocracy.
Hitler's and Obama's health enabling acts
. First of all, understand Hitler was a brilliant, charismatic speaker who said things in style, lied through his teeth and manipulated whatever he had to, to get a vote and power. His big dagger in the heart of the German people and constitution was to somehow get the vote by Parliament to pass his Enabling Act, which, due to contrived crises and manipulated need would give him total power, full power without the need of any more votes or Parliament. Obama also seduced 60% of the nation, congress and most the media into not asking real questions and just believing his countless lies.
More
Comparisons of Obama to previous leaders and political figures
.
Obama's Desperate Push for Socialized Health Care
. I have written this post to explain why President Obama is so desperate to pass health care legislation, seemingly regardless of the cost to the Democratic Party. The reality is that President Obama owes his success and his hold on power more to three Marxist groups than he does to the Democrats. The three organizations, Communist Party USA, Committees of Correspondence for Democracy and Socialism and Democratic Socialists of America, all worked with Barack Obama for years and helped get him elected. Now they want payback.
Barack Obama and the Committees of Correspondence
: The process of forming Committees of Correspondence (CoC) began in late 1991 when approximately one third of the Communist Party USA membership split from the party to form a new organization. The former communists joined with former Maoists, Trotsyites, socialists and anarchists to launch CoC at Berkeley, California in 1992 and to convene the official founding conference in Chicago in 1994. In 2000, Committees of Correspondence became Committees of Correspondence for Democracy and Socialism.
Big Brother Becomes Big Bully
. The government in the Age of Obama has gone beyond the big brother that watches out and cares for us. Instead, it has becomes the big brother that torments and bullies us and then takes what is rightfully ours: our savings, our freedom, and our futures. Liberals are often labeled as wanting to bring out the nanny state (the feminine version of a big brother). This is wrong. A nanny cares for her wards so that they can mature into responsible adults able to take care of themselves. But a bully has other desires.
Obama rewards the SEIU
. Once again Mr. Obama has thumbed his nose at the American people. Emboldened by his big win in passing ObamaCare, the future former president placed both of his thumbs squarely on the American worker's windpipe and squeezed. With the U.S. Senate in recess Mr. Obama moved quickly to wield his executive sword to fill a number of federal positions including the appointment of Craig Becker to the NLRB.
With Every Intervention, Concerns Build Over Size of Federal Government
. Health care. The auto industry. Real estate. Wall Street. As the Obama administration increases regulation and pumps up taxpayer aid in these sectors and beyond, critics say the president is expanding the federal government to unprecedented levels.
Obamacare is just the beginning of a total take over of America
. Tyrants and Dictators are predictably similar in how they take over. They ride in as the savior of change and hope. They offer health care, jobs for all, a refreshed national identity and protection from danger and harm... that is danger and harm they usually create to blame on enemies... you know those groups who didn't vote for them. The rope circles around the seduced neck of the people only after the dictator bribes his way in or gets voted in. One thing is for sure looking at recent history. Once a socialist/communist dictator gets into power, like terminal cancer, he and his administration smother and take control of every aspect of the economy, educational system, health care system and military. They shred and control media, entertainment and religion.
Is this Kristallnacht or the Reichstag Fire?
The hysteria over the "violent" right wing is just that — hysteria. The true danger here comes not from the grassroots right, but from the Astroturfed left, which is being orchestrated and trained by the Obama administration and its media minions to attack Americans who still believe in America's founding principles.
The Shock of Barack
. When I see what Obama is doing to this country, how he is treating its citizens, I'm reminded of the man who mugged me. I think that both are constitutionally incapable of seeing our humanity. And each day that Obama is in office, he communicates this same deadly message to the masses -- that opponents are not human. This would explain the burgeoning of hate and even violence towards those who deign to disagree.
Obama will now have his private army
. Of course, SEC. 430, Establishing a Ready Reserve Corps, lists in detail the commissioned Regular Corps and Ready Reserve Corps that will be trained up, fired up, lined up and controlled by Obama himself. Naturally the purpose for this army is to stand by in case they are needed at short notice for a national health emergency or emergency response missions. ... In the history of our country, have we ever had such a massive, national health emergency that we needed a militia/military reserve ready to pepper the country and control things?
Obama's Greatest Crime
: Obama and the leftwing of the Democratic Party intend to turn ten to eleven million illegal immigrants into voters as expeditiously as possible, giving them a permanent national electoral majority based upon a beholden
Lumpenproletariat
. If they succeed, our country will face mob rule. No individual who broke the law to enter this country should ever be allowed to decide who becomes our president, governor, senator — or town council member. If there is one message patriotic Americans must act upon during the remainder of Obama's reign, it's this:
No voting rights for illegals
.
Love, Fear, and Tyranny
. We the people must remove the tyrants and preserve the Constitution. But we must take care. We find ourselves taunted by holier-than-thou Democrats and soulless media puppets. "Violent right-wing extremism" would be the perfect excuse for banning the voice of liberty from the airwaves with an emergency "fairness doctrine." So what can freedom-loving, traditional Americans do?
Obama Plots Assault on Non-Union Businesses
. The Obama Administration, in one of its most sweeping socio-economic reforms to date, now plans to use the federal contracting system to reward higher-paying unionized firms that give workers bigger healthcare and pension benefits. If this scheme is put into effect, very possibly through an executive order signed by President Obama, it would shatter decades-old, competitive contract rules that seek the best quality work at the lowest price.
Barack Hussein Obama: Marxist Ideologue or Evolving Madman?
[Scroll down] Obama is now daily passing (via fiat) new rules and regulations — if not laws — that will destroy the USA and get rid of its pesky people who oppose the dictator. Those who are too indoctrinated, too stupid or too brain dead will never see that which is in front of them. But, those of us who are awake, sober, intelligent and/or finally waking up can see and hear it loudly and clearly. Our country is being murdered in front of our eyes.
Obama's private army?
[Scroll down slowly] It's hard to see how such a civilian security force under the direct control of the President might be justified, in view of the Posse Comitatus Act of 1878. This law prohibits the federal government from using federal troops for law enforcement purposes within the United States. ... Language in Obamacare seems to remove this prohibition. ... Obama has already expressed his contempt for the idea that the Constitution limits the power of the federal government.
Behavioral economics — the governing theory of Obama's nanny state
. Among the many transformative experiences President Obama says he has planned for us, one in particular has gone relatively unnoticed. He has vowed to remake the methods by which the federal government regulates our homes, our offices, our roads and brooms and thimbles, our roller skates and garden tools and tortilla chips and sunglasses — nearly everything. The federal government regulates nearly everything already, of course, but now the new administration wants to regulate by different lights.
Most transparent White House ever...
Police chased reporters away from the White House and closed Lafayette Park today in response to a gay rights protest in which several service members in full uniform handcuffed themselves to the White House gate to protest "Don't Ask, Don't Tell." People who have covered the White House for years tell me that's an extremely unusual thing to do in an area that regularly features protests.
From 'The Front Page' To a Flock Of Sheep: Reporters, Then and Now
. Petty tyrants love to shove other people around, but when those hired to "protect and serve" start acting like they're armed bureaucrats who don't have to answer questions from the rabble, then we're in trouble. Especially when it was not an emergency, and lives were not in danger. There had better be a pretty darn good reason from barring citizens, and their representatives in the media, from a public park, and this sure doesn't seem like it.
Media Kept Well Away as Obama Clashes With Gays and Lesbians in Washington, L.A.
. President Obama has had two run-ins already this week with gay and lesbian activists — and judging by his and his staff's reaction — he doesn't like the challenge coming from his left flank. So, naturally, he responded by excluding the media.
What Kind of Socialist Is Barack Obama?
The Obama administration may not have planned on seizing the means of automobile production or asserting managerial control over Wall Street. But when faced with the choice, it did both. Obama did explicitly plan on imposing a massive restructuring of one-sixth of the U.S. economy through the use of state fiat — and he is beginning to do precisely that.
Can a president make it legal?
President Richard Nixon uttered one of the most infamous quotes in U.S. political history on April 6, 1977, defiantly declaring, "When the president does it, that means that it is not illegal." This sentiment embodies all that is wrong with politics. It explains why, more than 30 years later, the political establishment struggles with the image that Nixon's misguided statement creates.
Obama's Secret Power Grabs
. President Obama seems to believe that most of his sweeping agenda to transform the country can be accomplished without even a vote of Congress.
Obama's executive orders
: The complete collection.
The Obama Syndrome
. Conservatives are bravely exposing the scam of progressivism, how it manipulates people to act against their own best interests. The real meaning of PC is not Political Correctness — it's Political Control.
'Sedition' Is Constitutional
. For the past year, the Obama administration, unable to win arguments based on facts and merit, has been moving to criminalize the political opposition in an effort to artificially control the debate. First, the DHS published reports classifying conservative viewpoints as terroristic. Then hate crimes legislation was introduced to squash religious speech regarding sexual deviancy. And finally, Regulatory Czar Cass Sunstein claimed the power to ban "falsehoods," an infraction Sunstein in his infinite nonpartisan wisdom would define and determine. And now, the ultimate political A-bomb has been introduced into the public discourse: the charge of sedition.
Barack Obama has awakened a sleeping nation
. Barack Obama is the best thing that has happened to America in the last 100 years. ... Barack Obama has plunged the country into levels of debt that we could not have previously imagined; his efforts to nationalize health care have been met with fierce resistance nationwide; TARP bailouts and stimulus spending have shown little positive effect on the national economy; unemployment is unacceptably high and looks to remain that way for most of a decade; legacy entitlement programs have ballooned to unsustainable levels, and there is a seething anger in the populace. That's why Barack Obama is such a good thing for America.
Revenge of the Coffee House Marxists
. When I was a political science graduate student in the 1980s, the Cold War was still raging, and my university was filled with leftists who were pulling for the Sandinistas, the Nicaraguan Marxists, and other various and sundry Communists around the globe to defeat Ronald Reagan and the United States. These folk used to meet in the local coffee house and practice talking Marxist gibberish to one another. After the Cold War ended, I often wondered what happened to my "Coffee House Marxists." Where did they go? What are they doing now? It turns out that a substantial chunk of them have gone to work for the Obama Administration.
Obama and Pelosi Hijack Christianity
. In the end, perhaps President Obama and Speaker Pelosi read the Bible the same way they read the Constitution. They believe in rights to abortion and government-run healthcare, despite the fact that the Constitution nowhere mentions such rights, but they oppose the idea that the Second Amendment and Fourteenth Amendment make gun bans like the D.C. gun ban or the Chicago gun unconstitutional, despite the fact that the Constitution plainly declares it. Obama and Pelosi likewise do not take at face value the Bible's words on countless moral issues or divine truths. They claim biblical imperatives that are not found in the text, and ignore words that are spelled out in black and white.
To Save the Constitution, Liberals Must First Destroy It
. Although Ray Bradbury's dystopic world of Fahrenheit 451 book banning has not yet become reality, that day may arrive sooner rather than later in view of the Obama administration's rush to control not only physical property such as banks, auto manufacturers, hospitals, drug companies and the like, but also intellectual real estate such as thoughts and ideas.
Obama's Assaults on Liberty Proceed Unabated
. The socialized medicine nightmare is already beginning. Many of us warned that Obamacare would serve as an all-purpose justification for government intervention in every aspect of our lives. Have we become so far removed from our founding principles that we don't grasp the perniciousness of such government encroachments into our private lives and personal liberties? You must read the executive order
*
. Then you'll understand that the council and "Advisory Group" it establishes will not be merely advisory. The provisions of this "order" underscore the disturbing extent to which Obama and his band of authoritarians intend to control our lives.
Obama has an unholy 'Samson' policy for the U.S.
. Inspired by a vision of total control over the American people, Obama has continuously ignored the will of the people, poll after poll and our Constitution. Many Americans caught in cycles of boredom, laziness and anger about a long and expensive fight in the Middle East with Islamic radicals, allowed themselves to be seduced by Obama. He promised change, hope and real priorities again. He played on much of the nation's weariness regarding anything to do with Bush and the Republicans. Obama was handsome, had a pretty wife and attractive girls and said he was a Christian. He had to be a great guy who really would get things right. Instead America has walked right into a constitutional gas chamber.
The Reason for Constitutional Rights
. The story is becoming an old one with the Obama Administration. AIG executives receive a lawful bonus, and Democrat leaders in Congress snarl and warn that a special income tax surcharge awaits them, if they do not return the bonuses. Businessmen are treated like criminals, even when their actions are wholly legal. What these Democrats are doing, although they are loath to admit it, is grossly violate the constitutional rights of executives at BP or at AIG or some other "fat cats" routinely excoriated by the left.
The Democrats' Sinister Plan to Retain Power
. This Administration has been shredding the Constitution since day one, and has accumulated more power to the Executive branch than any time in the history of our Country.
The relentless effort to control the news
. This administration and Congressional majority have already demonstrated their commitment to expand government control over the market, and over the lives of the people. Control over the flow of information is essential, if they are to be successful. Control over the flow of information is a critical step in the construction of a dictatorial regime.
The Novel Presidency
. Beginning with his petulant attacks on Rush Limbaugh and Fox News, his assault on middle-class Americans and tea party protesters, and his rejection of any input on his health care legislation, Obama has acted more like a bully than a president. Obama promised to reach across the aisle as the first post-partisan president, yet he has shown complete intolerance and total contempt for dissenting opinions. In just eighteen months, he has divided the country in a way not seen since the Civil War.
Obama's Straws And Our Tired Back
. Some of the more naïve who voted for Obama were taken back by his sudden rush to take over insurance companies, banks, student loans, and the auto industry. ... But then soon, others wondered how a truther and racial demagogue like Van Jones or a Mao aficionado like Anita Dunn ever got into the White House.
The Obama Slippery Slope is Gone and it's Day 563 of Our Captivity
. For those of you who are still unaware, we are already living in and under the Obama Tyranny. You may have missed it but, you and we were forced over the cliff's edge with ObamaCare; which was passed by Dictator-in-Chief Obama with the full knowledge and gleeful demeanor that he was forcing it against the will of the American people. After the first poison pill was shoved down our throats, there was nothing to stop The Obama.
Presidents and public panics
. Isn't this a perfect example of liberal political manipulation? Obama has stopped all oil drilling also on erroneous pretenses. A federal judge has just ruled that the drilling moratorium was based on false pretenses. Since when does it make sense to punish an entire industry for the problems of one company?
Will Obama listen to anybody?
Large and growing majorities opposed Obamacare in public opinion survey after survey, yet Obama and his congressional allies wrote the bill behind closed doors, made multiple corrupt bargains to gain votes, and passed it anyway. When General Motors bondholders opposed Obama's takeover, he flouted age-old bankruptcy law while effectively nationalizing the automaker and handing it over to the United Auto Workers union.
'What Would Saul Alinsky Do?'
Politico reports that the drilling companies who secured the court order blocking the moratorium say the administration indeed is going to defy the court order. I'm quite sure that Alinsky would applaud this move: If at first you don't succeed through proper legal channels, proceed anyway, because nothing is more important than the radical ends you seek, including the means that must be trampled in the process.
Obama's "Regime Change" of Socialist Control
. With all the solutions available from the private sector and from around the world since day one, to deal with the oil spill, President Obama has stalled on allowing any of these going forward for the following reasons: [#1] To increase the power of government over the private sector. To allow the private sector to solve the problem would defeat and undermine Obama's assertion that only government and government-owned companies, bureaucracies and labor unions can provide the solution. Obama sees the private sector as inherently evil, as reflected in the fact that he refused to meet with BP to establish a working relationship with the company to cut through all the bureaucratic red tape.
We must now enact a Declaration of Independence from Obama Tyranny
. Until recently, most people in the United States of America did not believe that Marxist Obama's mission was actually to destroy our country. The majority of US citizens believed that — before all else — like other presidents of the United States, Obama would eventually place this country before his and his masters' debauched and perverted desires. But, Obama is not like other presidents of this country and, it strongly appears, legally he may not be POTUS at all.
Dictator Obama reaches Day 70 of his Gulf Destruction
. Through his actions involving apparent criminal mischief leading to the destruction of entire ecosystems and their attendant wildlife — including but, not limited to human life and livelihoods — Obama has placed himself firmly in the position of the most destructive and vicious leader of the USA that America has ever witnessed.
Censors In, Liberty Out
. [Scroll down] Thus, as Anthony G. Martin has opined, it is clear that the nomination of Elena Kagan to the U.S. Supreme Court is intended to bolster the Obama's intention to censor anything he chooses. Obama, the dictator would come full circle. Why aren't the journalists up in arms about this? Don't they see that this is yet another of Obama's serial double-crossing strategy? He smooth talks a group, invites them into his lair, and then tears them apart when they are no longer useful to him.
Obama's "Fundamental Transformation" means Total Annihilation
. Defined as "betrayal of country — violation of the allegiance owed by somebody to his or her own country, e.g. by aiding an enemy," virtually everything The Obama has done and is doing is called treason. And, as Obama still maintains he is a natural-born US citizen, what he has effected is also High Treason — defined as "treason perpetrated by somebody against his or her own country."
Yes, We Can't!
The Republicans cannot afford to lose both houses again, even by a nose. If Obama has Pelosi and Reid (or Schumer) as partners for 2011 and 2012, he can bury this country under layers of leftist legislation which no subsequent President could unravel. Anytime you must win at all costs, you are not likely to coast.
55 Percent of Likely Voters Find 'Socialist' an Accurate Label of Obama?
The latest poll by Democracy Corps, the firm of James Carville and Stan Greenberg, has Republicans leading on the generic ballot among likely voters, 48 percent to 42 percent. Deep in the poll, they ask, "Now, I am going to read you a list of words and phrases which people use to describe political figures. For each word or phrase, please tell me whether it describes Barack Obama very well, well, not too well, or not well at all."
Majority of Likely Voters Agree 'Socialist' Accurately Describes Obama
. A majority of likely voters think "socialist" is a fair description for President Obama, according to a new poll that looks at how well Obama's critics have been able to tag him with that buzzword and its often negative connotations.
New Documentary Alleges That Obama Stole The Primary Election From Hillary
. Amidst recent charges that the New Black Panther Party intimidated voters outside a Philadelphia polling place in 2008, a new documentary called
We Will Not Be Silenced
charges that this was not an isolated incident. The film's director Gigi Gaston appeared on Fox and Friends this weekend and was introduced by host Alyson Camerota who claimed that "the 2008 primary race between Barack Obama and Hillary Clinton was rife with stories of voter intimidation and voting violations."
The film's promotional web site:
We Will Not Be Silenced
. This documentary is about the disenfranchising of American citizens by the Democratic Party and the Obama Campaign. We the People have made this film. Democrats have sent in their stories from all parts of America. We want to be heard and let the country know how our party has sanctioned the actions of what we feel are Obama Campaign "Chicago Machine" dirty politics. We believe this infamous campaign of "change" from Chicago encouraged and created an army to steal caucus packets, falsify documents, change results, allow unregistered people to vote, scare and intimidate Hillary supporters, stalk them, threaten them, lock them out of their polling places, silence their voices and stop their right to vote, which is, of course, all documented in "We Will Not Be Silenced."
Democrat Voter Fraud is Far More Widespread Than You Think
. [Scroll down] As explained on the
We Will Not Be Silenced
website, "'Change' from Chicago encouraged and created an army to steal caucus packets, falsify documents, change results, allow unregistered people to vote, scare and intimidate Hillary supporters, stalk them, threaten them, lock them out of their polling places, silence their voices and stop their right to vote." ... [P]eople around the country are finally waking up to the fact that Democrat voter fraud is a far, far bigger problem than anyone had ever realized.
American Jeopardy: What is Fascism?
Over the years, words lose meaning and often take on new forms that in no way represent their original usage. This can be observed in the now taboo word "fascism." ... At its core, fascism is really no more than a system where government, through agreements with the private sector, controls virtually all property and income indirectly. Prosperity and economic growth become the domain of government.
Above The Law
. Progressives don't appear able to comprehend that conservatives and a growing number of independents aren't just upset about what is being done, it's the
how
it's being done part that has the nation in such an uproar. Interior Secretary Ken Salazar's decision to go back to the well, or rather to turn his back on the wells, by trying to impose a new version of an offshore drilling ban is just the latest example of an administration that has decided it can ignore the will of the people and rule of law.
Obama's pattern of rigging the rules
. Barack Obama learned from Saul Alinsky's manual that the most essential tactic for expanding power is to make opponents abide by the rules while never enforcing the rules against one's allies. That's exactly what his Justice Department and other executive departments are doing in case after case, all aimed at rigging the deck in favor of the political left.
On Bullying: It Takes One To Know One
. President Obama was apparently moved enough by a letter from a Philadelphia fifth-grader about bullying that he wrote back and encouraged his correspondent to continue her quest to end bullying. Oh, how rich the irony! Barack Obama is nothing if not a bully. There, I said it, and I believe it's true, no matter how politically incorrect and inconsistent with the mainstream media's narrative it is.
Another Day, Another Federal Assault on Liberty
. We've seen that Obama will exercise any power he can get away with, from strong-arming secured creditors and favoring unions as he gobbled up automakers to making a mockery of due process with his Oval Office shakedown of BP. But he might have reached a new low with his assaults on the sovereignty of the people of Arizona.
Obama may resort to wholesale vote buying:
A Mortgage Rescue In Every Pot
. It appears that Democrats will receive a severe beating in the fall elections. What can save them? How about the administration wiping out large swaths of debt for underwater mortgage holders?
Is Obama going to tell Fannie to write off billions in mortgage debt?
James Pethokoukis at Reuters marshals a great deal of evidence to show that a mortgage bailout might be on the way.
An August Surprise from Obama?
Main Street may be about to get its own gigantic bailout. Rumors are running wild from Washington to Wall Street that the Obama administration is about to order government-controlled lenders Fannie Mae and Freddie Mac to forgive a portion of the mortgage debt of millions of Americans who owe more than what their homes are worth. An estimated 15 million U.S. mortgages — one in five — are underwater with negative equity of some $800 billion.
Benign Dictatorship and the Progressive Mind
. Recently, I received a rare visit from my brother-in-law. ... As we talked about the weather and other neutral subjects, he stared into my library. Among my compilation of Holy Bibles and Vince Flynn novels, he noticed my Glenn Beck book collection. "Do you believe in that stuff?" he asked, giving me a repulsed look as though they espoused the philosophy of satanic pedophilia. "I do," I replied resolutely, upon which he began a long diatribe on his vehement hatred of George Bush and the fascist dictatorship he created. President Obama, he declared, although he has his flaws, "means well." I won't go into my rebuttal of that statement, but his final thought on the matter was: "Of course, the perfect form of government is the benign dictatorship."
The Obama presidency: extravagant and out of touch with the American people
. What the great French historian Alexis de Tocqueville would make of today's Obama administration were he alive today is anyone's guess. But I would wager that the author of
L'Ancien Régime
and
Democracy in America
would be less than impressed with the extravagance and arrogance on display among the White House elites that rule America as though they had been handed some divine right to govern with impunity.
And Now: The Stealth Obama Ocean Grab
. Democrats have tried and failed to pass "comprehensive" federal oceans management legislation five years in a row. The so-called "Oceans 21" bill, sponsored by Democratic Rep. Sam Farr of California, went nowhere fast. Among the top reasons: bipartisan concerns about the economic impact of closing off widespread access to recreational fishing. The bill also would have handed environmentalists another punitive litigation weapon under the guise of "ecosystem management." Instead of accepting defeat, the green lobby simply circumvented the legislative process altogether.
Seventy percent of Americans know they've been conned
. [Scroll down] The 70 percent is appalled by the placebo economics practiced by the president and the Congress over the past two years, shocked by its profligacy with the wealth of the republic, and sickened by the looting of the next generation's opportunities. The 70 percent did not want Obamacare, but it has been thrust upon them. The 70 percent did not want federal judges to declare "game over" in the complex discussion of what marriage is and means.
Dead in Ohio, but still voting
. The Obama administration and liberal bureaucrats are working to help everybody vote, whether or not they are eligible (or even alive). This undermines the rights of legal Americans whose votes are improperly diluted of value by fraud. The scandals are an affront to civic order.
The Bankruptcy of Barack
. The Obama Administration hopelessly blurred the lines between Reality television and politics, giving us a self-indulgent child in the Oval Office, who is always eager to pose for photos and be fawned upon, but does not understand that he has responsibilities, rather than unchecked powers. ... And after over a year and a half in office, Obama has learned no wisdom and gained no perspective. He is still the same arrogant, touchy and insecure celebrity that he was in 2008. He has not become ennobled, but embittered. His controlling tendencies have grown out of control. His irritation and paranoia bubble to the surface under strain. Where he promised transparency, he has instead delivered layer upon layer of barriers and secrets, laws that cannot be read, hearings that cannot be attended, and press conferences that never seem to happen.
Obama's Burden of Being So Bright
. Sorry, but I can't allow Health and Human Services Secretary Kathleen Sebelius' statement that "we have a lot of re-education to do" slip by without comment. It's amusing when avowed leftists don't even recognize the Marxist buzzwords they're sputtering. ... The most remarkable thing is that Sebelius didn't actually use the term "re-education" accidentally or out of school. Perhaps unwittingly, she's quite comfortable using a term long associated with tyrannical regimes. As one of Obama's chief lieutenants, she obviously believes this administration knows better than the public what is good for them.
The administration is trying to intimidate Arizonans
. Arizona is in the politically correct bulls-eye. What started out as a Democratic diversion to bolster the party's base and intimidate other states from following suit in the fight to control the borders has escalated into an all-out legal battle between justice and Chicago-style arm-twisting.
Silencing the Opposition
. The Obama administration has been itching for a way to control the flow of information for almost a year, and multiple approaches have been tried. But all of these approaches have run into the same snag: the First Amendment. President Obama began by creating his own Ministry of Truth, headed up by Cass Sunstein...
Tea Party Protesters Put on Terror List
. An activist who believes he was improperly included on a state terror threat list said this morning he is preparing a federal lawsuit. "When people's civil rights are trampled it's a federal issue," said Gene Stilp of Harrisburg, who holds a Virginia law license but does not practice as an attorney.
Is Obama a socialist? No, he's worse than that
. Americans are waking up to the fact that they have elected a man as president who is every inch an exotic creature. Which was rather fun at first. The problem is, America is discovering that Mr Obama has brought more than just a foreign name and an interesting racial mix to the White House. He has brought a whole foreign way of thinking. And Americans don't like it.
Obama, Warren and The Imperial Presidency
. President Obama's appointment of Elizabeth Warren late last week is another milestone down the path toward an imperial presidency. During America's first 150 years, Ms. Warren's appointment as a special adviser to the White House would have been unthinkable. Today, it's par for the course.
FBI agents seek the right to tap texts, emails and websites
. US intelligence services would be allowed to tap text messages, emails and networking websites under new powers being considered by Barack Obama's administration.
If You Are Not a Leftist, Why Are You Voting Democrat?
The Democratic president and Democratic Party have expanded the American government to an unprecedented extent. Moreover, they have done so in unprecedented ways: Never before has such extensive society-changing legislation been passed without a single vote of the other political party; and unprecedentedly vast powers have been given to "czars" and their new federal agencies — with no congressional oversight.
Beware the Cyberscare
. The same people who brought you the global warming and Y2K scares have dreamed up a scheme to assert greater federal control over the Internet in the name of cybersecurity. According to Reuters news agency, Senate Majority Leader Harry Reid, Nevada Democrat, intends to pass legislation on the subject authored by Sen. Joe Lieberman, Connecticut independent, and Sen. John D. Rockefeller IV, West Virginia Democrat. The forthcoming effort will trade the freedom of an important communications medium for the illusion of safety.
Obama's Core Supporters and the Corruption of Idealism
. Unable to engage in rational argument, they fall back on slogans that mirror the protests of forty years ago. One can only wonder if their youthful identification has blinded them to the fact that they are following not a heroic young leader to a new tomorrow, but a pied piper who leads them to their own destruction.
Obamechanic tinkers with colleges
. The Obama administration seems determined to bring academia under the government's heavy hand. You'd think President Obama would leave it alone, because most college professors probably voted for him. But wait. The real aim seems to be to politicize the academy even more. Education Secretary Arne Duncan wants all schools that accept federal student aid to have a license from a state agency that would list "authorized" institutions. Anyone else would be out of luck. The state agencies would follow federal guidelines, of course.
Seven Reasons Barack Obama Should Apologize to America
. [#5] For the abuse of power: Obama appointed a staggering number of czars to get around the congressional confirmation process. He spent tens of billions in taxpayer dollars and broke legally binding contracts to give his union pals a fat pay-off from the auto industry. He issued a creepy, dictatorial ultimatum to BP demanding that it give the government 20 billion dollars just because he said so. Obama took over the census process so it could be twisted to help the Democrats. Barack Obama is not a man who respects democracy, the Constitution, the American people, or the rule of law and he should be trusted even less than you should trust most politicians, which is to say, not at all.
Vote for Restoring the Rule of Law in November
. One of the most important elections in the history of the country is coming up in three weeks. Americans will be asked to decide many things regarding the direction this country will take in the next two years. First and foremost, Americans must decide whether they will continue to empower a party and a president for whom the rule of law remains a secondary consideration to the implementation of the progressive agenda. Such an agenda is antithetical to everything for which this nation stands.
Got student loans? Feds make an offer you can't refuse
. Worried about how to pay off that student debt? Head on over to the closest government agency, and you too can score loan forgiveness after ten years of "public service." Does that sound too good to be true? Well, Paul Winfree tells us that politicians voted to make these dreams (or nightmares) a reality.
Remember When Dems Fretted About Privacy?
Was it just a few years ago when our progressive friends waxed hysterical about the invasions of privacy implicit in the Patriot Act? Well, now those invasions are explicit, and they are coming to you courtesy of Barack Obama's Organizing for America (OFA).
Socialism and Reality
. President Obama and his minions represent the greatest threat to the United States since its founding. The images of failure from around the globe must not be lost on the American citizens. They must understand that the country's destiny rests in utilizing the governmental structure bequeathed to them by the founders to strip away, as quickly as possible, the power expropriated by today's ruling class.
The Mudslinger-In-Chief
. Obama's attacks on campaign spending by pro-Republican groups are a transparent attempt to distract voters from his failed legislative agenda. They also highlight Obama's increasing tendency to pick fights with political opponents, to demonize and smear his critics and generally to exhibit some of the most unpresidential behavior this side of Watergate.
Obama Battles Reagan
. One suspects that Ronald Reagan would not be surprised by the rise of Barack Obama. Nor would he ever believe that the fight is over, regardless of who wins and who loses on Election Day of 2010. The human urge to grimly control others, to force, to dominate, to suppress personal freedom and individual excellence in the name of the common good has always been and will always be among us. He would surely not be surprised to know that the American people in 2010 — now understanding the Obama agenda for exactly what it means — are in open rebellion against that agenda.
Liberals at War With Liberty
. It's not for shock value that conservatives accuse Obama's band of being socialists. It's because there appears to be no limit to their appetite for gobbling up power and swallowing our individual liberties. It's not just about power, either. They are imbued with a disturbing degree of moral superiority. They believe they have the right — even the duty — to tell us how we ought to live our lives because they know better than we do what is good for us.
A Crossroads Election
. Some members of Congress who voted for ObamaCare, and who are now telling us that they realize this legislation has flaws which they intend to correct, are missing the point. ... Rushing ObamaCare into law too fast for anyone to have read it served no other purpose than to prevent this very process from taking place. The rush to pass this law that would not take effect until after the next two elections simply cut the voters out of the loop — and that is painfully close to ruling by decree.
Is The President Learning Economics By Trial-And-Error?
During his campaign for the presidency and now nearly two years in the White House, Barack Obama's disdain for America's free market economy has been abundantly clear. As a candidate, Senator Obama traversed the country preaching his economic doctrines, and the recurrent themes from these messages were quite specific...
A Staggeringly Empty Suit
. His carefully choreographed messianic mystique, coupled with his lack of an executive record, nicely accommodated his platitudinous promises of hope and change. But now we have his record — confirming his unambiguously liberal background, associations and legislative record (all of which his useful enablers refused to acknowledge) — and it violently contradicts his platitudes. We have watched him in action, and he's no conciliator; he's a petty partisan bully. He brought not Utopia, but misery; he displayed not "bipartisanship," but hyper-partisanship; he did not end racial discord, but exacerbated it.
Hannity: Insiders say Obama is unhinged
. "There are some Democrats that cue me into things. I got to tell you that the feeling among some people in the White House is that this president is unhinged, that he's detached, that he's losing it, he's obsessed with critics, very specifically obsessed with Fox News, he can't stand Biden, he hates the Clintons, the Clintons hate him. That the only thing he is passionate about seems to be ESPN and playing golf and and playing some basketball, the only thing that gets his interest. Infighting apparently, and finger pointing is at an all-time high, if the President is brought bad news on the economy he has a meltdown every time he hears it."
Obama's Dissociative Disorder Ploy
. There is a term in psychiatry for what Mr. Obama is attempting to pull off: dissociative disorder. It's considered to be a coping mechanism, when the person literally dissociates himself from a situation or experience too traumatic to integrate with his conscious self.
Opposing Obama
. Gird up for battle. The next two years will be a rocky road. Barack Obama is no Bill Clinton. He's far more leftist. He's at least equally as ruthless (which is really saying something, because both Clintons are among the most ruthless American politicians of our lifetimes). ... His goal isn't personal "connection" with voters; it's long-term adulation or adoration, verging on worshipfulness — an adulation that recognizes him as a world-transformational figure, a virtual gift to mankind.
Virginia Attorney General says...
Obama is Claiming More Power Over Americans Than King George III
. Virginia Atty. Gen. Ken Cuccinelli, who has filed a federal lawsuit seeking to overturn the health-care law signed by President Barack Obama last March, says Obama and the Congress that enacted that law — which mandates that individuals must buy government-approved health insurance plans — are seeking a power over the lives of Americans that even King George III did not claim to possess.
Obama signs order clarifying church-state relationship
. President Barack Obama signed an executive order Wednesday [11/17/2010] clarifying the ground rules for religious groups partnering with the federal government through the White House's controversial faith office. The order says that religious organizations receiving federal funds must conduct explicitly religious activities in a time and place that are different from when and where they do government-financed work.
Obama's police state
. President Obama is engaging in a relentless assault on our freedoms and constitutional government. ... If anyone else did what TSA agents do regularly, they rightly would be charged with sexual assault. Mr. Obama has done the unthinkable: He has extended the federal government's reach into our most private, intimate body parts. Big Brother not only watches us in the nude, he can routinely molest us at will. The administration is not restricting its unprecedented power grab to airports. Homeland Security Secretary Janet Napolitano recently said that trains, boats and subways also may implement the same screening procedures. If the White House has its way, Americans will be getting felt up on the Metro and Amtrak every day — morning, afternoon and night.
More about the TSA's
abusive and invasive searches
.
Obama Using Executive Orders to Implement Radical Agenda
. Does President Obama plan to move to the center in response to his overwhelming rejection at the polls on Nov. 2? No way! Instead, he is moving to implement, through executive action, two of the most controversial items in his 2010 agenda — a carbon tax and pollution permit system and a ban on the use of secret ballots in union elections. Through executive action by the Environmental Protection Administration (EPA) and the National Labor Relations Board (NLRB), the Obama administration is planning to effectuate both policies without asking Congress.
Government By Executive Order
. Because President Obama will now have a tough time getting his liberal agenda through a more Republican Congress, many Democrats are urging him to ram it through using the executive branch's unilateral power. John Podesta, head of the Center for American Progress, even issued a list of executive orders and rule-makings last month that Mr. Obama can use to "push the country to a better place." If the Department of Labor is representative, his advice is in sync with moves already under way.
FCC proposal to regulate news draws fire
. Rep. Joe Barton (R-Texas) pushed back on Monday [12/6/2010] against a contention by a Democratic FCC commissioner that the government should create new regulations to promote diversity in news programming. Barton was reacting to a proposal made last week by FCC Commissioner Michael Copps, who in a speech suggested that broadcasters be subject to a new "public values test" every four years.
Base Drama for Obama
. From the beginning of his term, Obama's idea of bipartisanship more closely resembled a mob racket than any kind of nuanced balancing of political and public interests. From the stimulus through government bailouts, from health care through trials for terrorists, the administration's message has been unmistakably clear: we'll all get along fine, so long as you do exactly as Nancy, Harry and I say.
A Stunning Look at White House Radicals
. Just updated,
Radical Rulers
is a shocking exposŽ of the most radical administration in American history. In the explosive book, author and journalist Robert Knight presents the amazing truth about White House elites (including President Obama) who are working to push our nation toward socialism.
Would Your Government Do These Things?
The Romans started out as a Republic (508 BC) and did fairly well until a consummate bureaucrat came along (Octavian Augustus) and managed to "
fundamentally transform
" the Republic of Rome into Imperial Rome. (circa 27 BC) Octavian assumed dictatorial powers when the Roman Senate granted extraordinary powers to him. Let's see. The Roman Senate granted extraordinary powers to one man and the country ended up as a dictatorship.
Behind the broccoli: Liberalism's war on liberty
. ObamaCare and the Healthy, Hunger-Free Kids Act of 2010 are the things that expose modern liberalism for the iron fist in the velvet glove. Can't feed yourself? Dinner's on us. Out of work? We'll pay you to stay unemployed. After all, you're too stupid to make your own best decisions in what used to be personal matters. All we ask in exchange for your freedom is your vote.
The Net Neutrality Coup
. President Obama, long an ardent backer of net neutrality, is ignoring both Congress and adverse court rulings, especially by a federal appeals court in April that the agency doesn't have the power to enforce net neutrality. He is seeking to impose his will on the Internet through the executive branch. FCC Chairman Julius Genachowski, a former law school friend of Mr. Obama, has worked closely with the White House on the issue. Official visitor logs show he's had at least 11 personal meetings with the president.
Nullification in 2011!
In the past two years since the advent of the Obama administration, the federal government has seized control of one sixth of the nation's economy, asserting control over the provision of healthcare. It seized control of General Motors and Chrysler auto manufacturers, arbitrarily casting aside the rightful expectations of their bondholders and other creditors. It has imposed absurd and invasive demands on air travelers. It is considering a United Nations treaty that would render the Second Amendment null and void. It has sued Arizona for enacting an immigration law that mirrors its own. It is attempting through the FCC to assert control over the Internet.
Using the Backdoor
: The White House is already monitoring Facebook, twitter, Skype, and a variety of blogs — they just want even more power to get in deeper so when somebody is putting the White House down or exposing their lies, they can shut them down due to "terrorism". The White House is watching you in your house, your city, where you drive and so much more. ... You could be deemed a terrorist because you "tweeted" that the White House needs to be "cleaned out". You could be deemed a terrorist for exposing the White House for the liars they really are. You could be deemed a terrorist if you wrote on a conservative blog/website. You could be deemed a terrorist for owning more than one firearm. You could be deemed a terrorist for just emailing or texting how much you a dislike Muslim or any religion/belief.
What if Obama isn't an Ideologue?
Many conservatives have noted Barack Obama's Marxist roots. They fear that our president may be a radical ideologue, a loather of American values, a false Christian more likely to follow the Koran than the Bible, a slavish disciple of the odious Alinsky. They may be right. But there is another possibility: Barack Obama may be nothing more than a purely political animal, committed to nothing at all except his own fame, his own pleasure, and his own power.
The Editor says...
Or he could be both.
Misrule by the Unelected
. Save us from reformers so fervent to do good that they seek to right us from wrongs that do not exist. Moreover, even if there are problems, it is not appropriate for these busybodies to impose themselves on us. Worse yet are those reformers who would rule by federal regulation. That, however, seems to be where we are headed, this year in particular, with an arrogant bureaucracy and overweening executive branch trying to impose its agenda through edicts.
Note To Republicans: Don't Just Rein in the EPA, Abolish It
. The EPA is a tyrant's best friend, because it provides a completely unchecked avenue whereby a President like Obama can bypass both the House and Senate to have freedom-robbing pet projects like Cap and Trade instituted without giving the people any recourse.
Imagine the reaction in the press if President Bush had said this.
Obama assertion: FBI can get phone records without oversight
. The Obama administration's Justice Department has asserted that the FBI can obtain telephone records of international calls made from the U.S. without any formal legal process or court oversight, according to a document obtained by McClatchy. That assertion was revealed — perhaps inadvertently — by the department in its response to a McClatchy request for a copy of a secret Justice Department memo.
B.H. Obama: Shameless Imperialist
. What Obama just did was encourage a twittered revolt against Mubarak, and then publicly, brutally, in the most humiliating way, order him to resign. Joe Stalin would have been proud. So would Mao Zedong. This is what the Soviets tried to do all around the world. Obama has now turned the United States into a Leftist Imperialist power. What's his purpose? It can only be one. Obama believes the nonsense that all the problems of the Middle East would be solved if only Israel compromises enough with its deadliest enemies.
Obama Assaults Democracy by Rejecting Popular Consent
. Does the "Will of the People" matter when government is run by a cadre of demigods? After all, is it really immoral to force Americans to do the good and avoid the bad? Contra, one can argue the very cornerstone of US constitutional theory is summed up in the doctrine of Consent of the Governed, since without acknowledging the popular will, every other act by government is tyranny. Yet, former constitutional instructor Barack Obama constantly ignores and even flouts this principle in action.
Barack Hussein Alinsky
. As a large and furious demonstration was under way outside and inside the Capitol in Madison last week, Barack Obama invited in a TV camera crew from Milwaukee and proceeded to fan the flames. Dropping the mask of The Great Compromiser, Obama reverted to his role as South Chicago community organizer, charging Gov. Scott Walker and the Wisconsin legislature with an "assault on unions." ... After Obama goaded the demonstrators, the protests swelled. All 14 Democratic state senators fled to Illinois to paralyze the upper chamber by denying it a quorum. Teachers went on strike, left kids in the classroom and came to Madison. Schools shut down. Jesse Jackson arrived.
Obama Completes His Trifecta
. [Scroll down] On the judiciary side, we witness the executive ignoring a Federal Court ruling on ObamaCare's unconstitutionality, the refusal — to the point where an order of compliance had to be issued from the bench — to refrain from imposing an illegal moratorium on oil drilling; and, now the clearest and most blatant power grab of all. Obama has arrogated to himself, in the matter of DOMA, the power to declare that law unconstitutional and order his Justice Department not to contest lawsuits challenging it.
Is the President Above the Law?
This is the uncomfortable question many Americans are asking after President Obama's lawless decision to stop defending in federal court the law of the land on the institution of marriage.
Justice Department Only Selectively Complies with FOIA
. According to documents PJM has obtained, FOIA requests from liberals or politically connected civil rights groups are often given same day turn-around by the DOJ. But requests from conservatives or Republicans face long delays, if fulfilled at all.
On Wisconsin, Obama Appeals to Fear
. It was only last Tuesday that senior White House advisor Valerie Jarrett cautioned Fox News against making a "Wisconsin issue... [into] a Washington issue," signaling that the administration was distancing itself from the ongoing public sector union battle in the Dairy State. Monday, however, as Wisconsin Governor Scott Walker was putting the final touches on his two year budget plan, President Obama appeared to reverse himself on this decision in remarks made to the nation's governors. Once again, the president has turned to manipulative community organizing tactics to divert attention from the real issues as stake.
An up-close look at the enemy
. The goal of wartime propaganda is to demoralize the masses: You're worried about the peanut butter jar running out before you can replace it for your hungry kids. Michelle Obama, on a self-assigned mission to eliminate childhood obesity, is forcing you to count calories. While you walk blocks to save bus fare in one of the most brutal winters in decades, the Obamas have a personal trainer flown in several times a week, she to be able to keep her photo-op arms in sleeveless dresses, he for the energy it takes to toss basketball hoops.
Students: Score Credit for Re-Electing President Obama!
The unemployment rate lingers near ten percent. But for college kids in their early 20s, things are even worse. The unemployment rate for 20 to 24-year-olds is a staggering 16.3 percent. Those economic "green shoots" of a couple years ago have long since withered and died. Okay, so you can't get a job. But that doesn't mean you have to spend your summer moping around your parents' house! President Obama's "Organizing for America" is already at work to secure his re-election, and they need your help!
Obama: Lost in Translation
. On February 2, 2011, his administration was found to be in contempt of court, for knowingly and intentionally defying the court's injunction of its enforcement of a ban on oil and gas drilling in the Gulf of Mexico. And just weeks before the issuance of that contempt citation, a Federal court judge in Florida ruled ObamaCare is unconstitutional in its entirety. In his order the judge held that his ruling was tantamount to an injunction, and he was proceeding on the well-established presumption that government officials will conform their conduct to rulings. The President, whose oath of office requires him to "preserve, protect and defend" the Constitution, nevertheless appears to have accorded the Florida judge's ruling the same level of respect and compliance as he did the order enjoining his "moratorium" on oil and gas drilling in the Gulf.
To Save America, We Must Dethrone King Obama
. Incredibly, Obama continues to boldly go where no other president has gone before. Apparently, none of the rules apply to him. Without consequence, at will, Obama ignores laws and the Constitution to implement his progressive/socialist agenda. merica's first black president has morphed into America's first king. ... King Obama has put together his royal court of an unprecedented 32 czars who only answer to him. His czars consist of people who have socialist and communist leanings, many simply do not like America. King Obama's czars, without congressional oversight, set new rules and regulations for our lives; boldly ignoring laws and the U.S. Constitution.
Earmark Ban a Huge Victory for Obama
. The current ban on congressional earmarks gives the Obama administration and federal bureaucrats even greater power and authority over the expenditure of taxpayer funds. It's no surprise then, that President Obama was quick to endorse the ban on congressional earmarks — it grants his administration more power to pursue its agenda by exercising a power that properly resides with Congress.
Hooray for the U.S. House For Standing Up to Regulatory Tyranny
. With the Republican House putting the brakes on Obama's continued pursuit of a "fundamental transformation" of America through the legitimate legislative process, action has shifted to the regulatory realm, where this administration is aggressively pursuing its agenda. Unelected regulators are usurping the legislative power that the people, in the Constitution, granted to Congress. Just as judicial tyranny (judges usurping legislative power) has been a major and well-founded concern of activists for decades, Congress must step in and stop this regulatory tyranny.
Andrew Breitbart: Courts an Instrument of Leftist Thuggery
. Politicians and their supporters use interesting tactics to intimidate and silence their critics, from rumor-mongering to editorial cartoons, even dueling pistols. But the target of a high-profile lawsuit who is also a relentless investigator of the Obama administration says the judicial system is being used to retaliate against him. "The President of the United States has an unprecedented and uncanny desire to silence those who report the truth about him," says media mogul Andrew Breitbart.
Revenge of the Deficit Commission?
By rights, Obama's deficit commission should be dead and gone. Next month will mark the one-year anniversary of the first meeting of the National Commission on Fiscal Responsibility and Reform, chaired by former Clinton chief of staff Erskine Bowles and former senator Alan Simpson (R., Wyo.). The deficit commission released a final report in December of last year, but failed to garner the 14-of-18 supermajority vote needed to mandate congressional action. Since then, President Obama, who created the commission by executive order, has been content to proceed as if it never existed...
Obama's impeachable war
. President Obama has lost his legitimacy to remain in office. The Libyan war has exposed the administration's lawlessness and rampant criminality. If Republicans and conservatives are serious about restoring constitutional government, they will demand that Mr. Obama be impeached. ... Unless American territory has been invaded or U.S. citizens have been directly attacked, the president must first ask for congressional approval before ordering any kind of military action. To do otherwise is to behave like a despot. That is why the Founding Fathers insisted that going to war could be sanctioned only by the people's representatives.
More about
Obama's Half-Hearted War in Libya
.
Obama: The Absent-Minded President
. Obama can't seem to remember that on January 18, 2011, he said his priority was going to be regulatory reform or that he promised to review and to rollback regulations that were handcuffing small businesses. Yet, with multiple Executive orders issued from EPA, FDA and a host of other government agencies, Obama will likely oversee more rule-making than any previous year in our nation's history.
Baracknaphobia
: Each time the man who leads what used to be the most powerful nation in the world goes on television, my stomach turns. When he speaks, I convulse at the sound of his conceited, self motivated, lies. When he travels abroad, I cower in embarrassment. When his arrogant, condescending tone reverberates in the halls where true leaders like Regan stood, I cringe. Baracknaphobia is the inescapable fear that this country will be subjected to another four years of ideological, radical, in-your-face narcissistic control.
Obama's Likability Gap
. The Barack Obama we've been seeing lately is a different personality than the one that made a miracle run to the White House in 2008. Obama.2008 was engaging, patient, open, optimistic and a self-identified conciliator. Obama.2011 has been something else — testy, petulant, impatient, arrogant and increasingly a divider. Never forget: That historic 2008 victory came with 52.9% of the total vote and 52% of independent voters.
Obama's Executive Order coming to cut off funding to his political opponents?
From the man who said he would bring a gun to a knife fight, the latest ploy to cut his opponents off at their knees. This one is not based on arguments or facts, but on sheer abuse of the powers he has as President.
Republican: Obama's defiance on 'czars' should fuel skepticism of future deals
. President Obama's signing statement defying legislation limiting his ability to employ "czars" should give Republicans pause before striking an agreement with him again, a senior GOP lawmaker said Tuesday evening [4/19/2011]. Rep. Tom Cole (R-Okla.), a member of the House Appropriations Committee, urged Republicans to take strong action to defend provisions in their agreement to fund the government for the rest of the 2011 fiscal year that would have denied Obama the ability to use funds to pay for the informal advisers, or "czars," he's used in his administration.
Obama's DISCLOSE Act end run
. He lost in Congress. He lost in the Supreme Court. He lost at the FEC. Now he is attempting to rewrite the campaign laws by fiat. ... The important thing to remember is that the DISCLOSE Act never had anything to do with increasing "transparency" or "accountability." It was always about raising the cost of speech for the left's political adversaries.
The DISCLOSE executive order's threat to free speech
. Judicial Watch head Tom Fitton testified recently before the House Energy and Commerce Committee concerning President Obama's looming DISCLOSE executive order mandating disclosure of political contributions to individual candidates and causes by owners, directors and managers of companies seeking federal contracts. Fitton, who has probably filed more Freedom of Information Act (FOIA) requests with federal departments and agencies than any other single individual in the nation's capitol, views the order as a direct threat to First Amendment freedom of political speech.
Obama vs. Free Speech, Again
. In its
Citizens United
ruling, the Supreme Court held that Americans do not forfeit their First Amendment rights when they join together to form businesses. This hardly remarkable conclusion produced howls of indignation among Democrats, who summarily denounced both the justices and the "corporations," about which they are inclined to whisper darkly. Now the president is contemplating the imposition of free-speech restrictions through executive fiat. Democrats' main response to
Citizens United
was the DISCLOSE Act...
The President's Maturity Problem
. After less than two months in office, President Obama made a decision that many at the time saw as un-presidential. In the midst of what even he was calling the most serious economic crisis since the Great Depression, Obama became the first sitting U.S. President to go on a late night comedy show. ... Just a little over two years later, it has become clear that whatever you think of his policies, the current occupant of the White House harbors an irrepressible juvenility that undermines the dignity of the office he holds. ... Far from being a post-partisan healer, President Obama has proven himself to be petty, juvenile, and someone totally lacking the temperament and class we should expect from an Oval Office executive.
Obama's Pen: The Most Powerful Branch of Government?
According to a release by House Committee on Oversight and Government Reform Chairman Rep. Darrell Issa (R-CA), the draft executive order would require companies doing business with the federal government to disclose contributions to some issue advocacy groups while exempting labor unions and special interest groups that support the president's agenda.
Rep. Allen West: Obama's Deficit Speech Displayed "Third World Dictator-Like Arrogance"
. With suggestions that Obama resembles both a third world dictator and a low-level socialist agitator, the comparisons themselves might leave one scratching their head, but there's little doubt that West is fired up and rhetorically ready to take on Obama's policies moving forward.
Rep. Allen West Likens Barack Obama To A Dictator And 'Low- Level Socialist Agitator'
. Earlier this week Rep. Allen West (R-FL) got some attention for comparing President Obama to a "third world dictator" because of his alleged arrogance over the budget deficit. During an appearance last night with a skeptical Greta Van Susteren, West doubled-down on his criticism calling the president a low-level socialist agitator.
This is what I would call
chicanery
.
Obama to Ignore Ban on Czars
. Would it surprise you to learn that Obama believes it is his "prerogative" to ignore the U.S. Constitution and the rule of law when it comes to appointing czars? That's essentially what he said recently. The president added that the ban on czars would undermine "the President's ability to exercise his constitutional responsibilities and take care that the laws be faithfully executed." (Did you catch that? Obama is telling us he must ignore the Constitution to protect the Constitution.)
Obama Versus the Constitution
: Obama is our first Marxist-Leninist president. He never quite uses those words, but in words and deeds he makes it clear beyond doubt. His two autobiographies all but say it. ["]I chose my friends carefully. The more politically active black students. ... The Marxist Professors and the structural feminists ... we discussed neocolonialism, Franz Fanon, Eurocentrism, and patriarchy.["]
Obama's Regulatory Tsunami More Destructive than Taxes
. As Obama travels about the country, speaking of the need for "shared sacrifice" and the need to increase taxes, he doesn't say a word about the tsunami of new Obama regulations ranging from light bulbs to ozone pollution to painkillers to foreign travel to vending machines that is about to hit America. Their impact will be huge and do serious damage to our economy. Obama's regulatory tsunami began during his first month in office and has continued relentlessly since.
Justice Dept. to Congress: Don't Saddle 4th Amendment on Us
. The Obama administration is urging Congress not to adopt legislation that would impose constitutional safeguards on Americans' e-mail stored in the cloud. As the law stands now, the authorities may obtain cloud e-mail without a warrant if it is older than 180 days, thanks to the Electronic Communications Privacy Act adopted in 1986.
Out-of-control government, unaccountable president
. Rejection of dictatorships and corrupt governments by citizens across the globe is the signature news story of the year. People are rising up, roaring to demand their rights, defying decades of iron-fisted leadership in Libya, Syria, Egypt and beyond. By sad contrast, here in the United States — "land of the free" — a huge segment of citizens go about their daily business oblivious to, or apathetic about, the assault on our Constitutional freedoms by the Obama Administration and its congressional supporters. Unless more Americans wake up, our steady slide will continue into a soft tyranny of unconstitutional, intrusive laws such has Obamacare health reform.
Boorish Obama Repeatedly Attacks Trump at Media Dinner
. It took Obama about 10 seconds before he attacked Donald Trump at the White House Correspondents' Dinner Saturday night [4/30/2011]. Of course, Donald Trump was sitting in the room
and
did not have an opportunity to respond.
Obama's plan for America is President-assisted suicide
: Having no allegiance to those traditional values and articles of faith upon which America was founded; Barack Hussein Obama is in the process of dismantling our Constitution to create his new "Amerika". Obama is a disciple of Chicago-native, Saul Alinsky, a neo-Marxist and community organizer, who wrote, "Rules for Radicals", a guide which provides Obama's operational model.
Obama off the deep end
. We all know Obama has an aversion to tough questions. During the campaign, he would refuse to engage with most local media, and reporters who camped out at the rope line got a stern talking-to from a campaign staffer. But using the White House press pool to possibly punish or reward media based on what the White House considers "fair" coverage? This is taking the control freak thing to new levels.
Excited by power, Obama ignores legal restraints
. President Obama launched a U.S. war in Libya two months ago with no congressional approval. Under the Constitution and under the War Powers Act, which allows the president to wage defensive wars for up to 60 days without prior approval, Obama probably broke the law. Now that 60 days have passed since the United States joined the hostilities, Obama's war is more clearly illegal. But nobody should expect this to matter to a president with a long record of disregarding legal and constitutional limits on presidential and federal power.
More about Obama's war in
Lybia
.
Senate debates president's power during cyber-attack
. Senators squared off with Obama administration officials Monday [5/23/2011] about plans to give the president emergency powers to protect vital U.S. electronic networks from attacks by hackers, cyberterrorists and foreign governments. ... "I must say this baffles me," said Sen. Susan Collins, Maine Republican, of the administration's plan to rely on the 1934 statute. Ms. Collins accused administration officials of relying on "outmoded yet potentially sweeping authorities granted in the Communications Act of 1934" that gave the president the power to take over radio stations in a time of national emergency.
President Obama's Abuse Of Power
. There is ample reason to believe that the president has decided to use the full power of the federal government to further his effort to win re-election and transform American society. As Friedrich Hayek warned in his classic book,
The Road to Serfdom
, the unscrupulous have a natural advantage when it comes to using the power of government to keep themselves in power.
US Police State Begins Exponential Expansion
. The recent Indiana Supreme Court ruling against the US Constitution, rendering the Fourth Amendment null and void in that State by patently leftist activist judges, is only the latest unconscionable step in a series of actions designed to unravel each and every portion of the Bill of Rights. It is also one of the latest actions designed to compliment and enhance the already jack-booted Obama police State march into our States, our cities and homes.
Block Big Brother's Internet snoops
. Americans are moving more and more of our personal data onto the Internet. ... What most Americans don't realize is that if the government wants to read your emails, look at your pictures or gain access to any data that you have stored online for more than 180 days on sites including Yahoo! Google Docs and online backup sites, it can do so without a search warrant.
This is the way dictators act:
Obama's assault on conservative speech
. The party president is at it again. In Ireland, he belted back some Guinness. In Britain, he savored $1,000 wine and toasted the queen. In Poland, he is sure to feast on pirogi and vodka. Yet President Obama's European trip is more than a waste of taxpayer dollars on celebrity diplomacy. It is a cultural watershed — a key moment when the leader of the free world stood by and did nothing while the free-speech rights of an American citizen were violated by the very government he was praising.
Hope and Change, the Communist Way
. Ardent Democrats and some Republicans believe the rhetoric that a socialist/communist state will bring Shangri La because it will be delivered by a community organizer who has a sonorous voice and reads speeches well. Is it futile to remind them that many countries who have tried the communist model have failed miserably? Millions have lost their lives in re-education camps due to famine, persecution, or refusal to comply with the daily communist indoctrination.
Commies on parade
. Blogging at Ringo's Pictures, the blogger Ringo provides scores of remarkable photographs detailing the events at the annual May Day parade held in downtown Los Angeles on May 1, 2011. The images are frightening and illustrate the latitude we have allowed serious hate-groups and espousers of virulent anti-Americanism to move about freely and publicly call for the overthrow of the American political system. Right smack in the middle of the reds we find a passel of disheveled, seriously overweight thugs from Barack Obama's favorite labor union, the SEIU.
Activists cry foul over FBI probe
. FBI agents took box after box of address books, family calendars, artwork and personal letters in their 10-hour raid in September of the century-old house shared by Stephanie Weiner and her husband. ... The apparent targets are concentrated in the Midwest, including Chicagoans who crossed paths with Obama when he was a young state senator and some who have been active in labor unions that supported his political rise.
Obama routinely bypasses Congress, conservatives say
. "It is outrageous," said Dan Kish, vice president at the Washington, D.C.-based Institute for Energy Research and a former Capitol Hill staffer. "Like it or not, Congress has the power to write laws." But these critics also say little can be done about it before November 2012, especially because they're getting no support from the liberal critics who once lambasted George W. Bush for ignoring domestic and international laws, and for releasing "signing statements" when he signed bills into law.
President Obama's gun law diversion. Television's History channel is running an outstanding series about each and every one of our presidents. Nowhere in that has there been evidence of a Chief Executive with less character, lower standards, fewer morals, greater incompetence, a more dangerous socio-political agenda, and yet with increasingly arrogant, personal ambition and ego than those of President Barrack Hussein Obama.
The use of a temporary government shutdown as a weapon:
New Head of HHS Was Responsible for Making Outrageous Government Shutdown Decisions. President Obama's pick to head the Department of Health and Human Services led the federal government's response during last year's "shutdown" — which included officials erecting barricades around open-air monuments. Sylvia Mathews Burwell — who was deputy chief of staff to President Bill Clinton, among other roles — currently serves as Obama's director of the Office of Management and Budget. Obama formally announced today that he will nominate Burwell to replace outgoing HHS Secretary Kathleen Sebelius, whose resignation went public yesterday.
Park Service Knew World War II Veterans Would Be Locked Out. The Department of the Interior knew beforehand that two groups of aging veterans would be visiting the World War II Memorial as the partial government shutdown began on Oct. 1 but decided to barricade the site anyway, according to e-mails obtained by National Review Online. The newly released public records also show National Park Service employees busily monitoring the news for any bad publicity and making shutdown exceptions for their co-workers.
State Department defends $1 million sculpture for London embassy. The State Department on Friday [12/6/2013] defended its decision to commission a $1 million sculpture for the American embassy in London just days before the partial government shutdown in October.
State Dept. bought $180,000 in liquor before shutdown. While the rest of the government prepared to shut down this fall, the State Department was busy stocking up on embassy liquor supplies. In September, the final month of the fiscal year, the State Department spent about $180,000 — and racked up a total of more than $400,000 for the whole year, three times the entire liquor tab for all of 2008.
National Park Service balks at shutdown planning. The National Park Service is not interested in coming up with plans to let states pay to keep parks open should another government shutdown occur, a service official testified late last week to a House subcommittee. Park Service Comptroller Bruce Sheaffer said a bill to require such planning for all 401 national parks could take too much time and money — a position that was blasted as "atrocious" by the subcommittee chairman.
Intentionally punishing Americans. The attempt to barricade the World War II memorial revealed the intentional harm that was visited upon Americans. The limited shutdown did not need to affect the memorial because it is open 24 hours, without gates and often without guards. In an effort to turn public opinion in his favor, the administration brought in barricades at an estimated cost of more than $100,000. This same punish-the-people attitude led to the closing of other parks and historic places that do not even receive federal funding. One park ranger told the Washington Times, "We've been told to make life as difficult for people as we can."
Shutdown Police State Tactics. [Scroll down] To understand how lies drive the administration's policies and agenda, consider the coverage of the recent government "shutdown." From what you probably heard in the media, Republicans forced the government shutdown. Actually, Republicans provided funding for most government activities except the problematic Obamacare. Obama orchestrated the shutdown to pin blame on Republicans and improve chances for Democrats to retake the House of Representatives in 2014. With media help, the strategy worked perfectly. Unlike previous shutdowns, agencies got specific orders to "make life as difficult for people as we can." In many cases this actually cost the government more than if they left things running.
WashPost Poll: 78% Didn't Miss Government During Shutdown. The survey conducted Oct. 17-20 asked 1,002 adults: "Were you personally inconvenienced by the partial shutdown of the federal government or not?" If the person said they were inconvenienced, the survey asked this followup: "Was it a major inconvenience or a minor inconvenience?" 78 percent said that they were not inconvenienced by the partial shutdown of the government. Of the 22 percent who said they were inconvenienced, 11 percent said it was a major inconvenience and 11 percent said it was a minor inconvenience.
Potemkin Parliament. The least dispiriting moment of another grim week in Washington was the sight of ornery veterans tearing down the Barrycades around the war memorials on the National Mall, dragging them up the street, and dumping them outside the White House. This was, as Kevin Williamson wrote at National Review, "as excellent a gesture of the American spirit as our increasingly docile nation has seen in years." Indeed.
Do not read this post, by order of King Barry the First. The only guy angrier than a leftist who just lost is a leftist who just won. It's not enough that he got what he wanted. He's seething that anybody has the gall to oppose his decrees. [...] Barack Obama is either completely insane and doesn't realize he does exactly what he accuses his opponents of doing, or he's the biggest troll in the history of the world. I guess it could be both?
The Tea Party's coming vindication. The mainstream media — and their parrots in the Republican establishment — are claiming that President Obama decisively won the government shutdown battle. In fact, the narrative being peddled is that the GOP brand has been badly damaged, paving the way for a possible Democratic Party takeover of the House of Representatives in the 2014 elections. This is puerile nonsense. Tea Party Republicans, led by Texas Sen. Ted Cruz, may have lost the battle, but they are poised for a major victory in the larger Obamacare war.
A Criminal Enterprise Called the Democratic Party. For the ordinary citizen, Obama's actions during the shutdown have been instructive if they were paying attention. He threatened not to pay Social Security retirees, Military retirees, disability recipients, and federal retirees. The elderly and the military were the prime targets for his threats and, despite the fact that more than eighty percent of the government was still functioning, he directed that national parks be closed; most dramatically in Washington, D.C. where veterans of World War II and the Vietnam War were denied access to the memorials to their service.
Grilling the Park Service Bullies. Wednesday's [10/16/2013] House Oversight Committee hearing about the closures of national parks and monuments during the government shutdown, proved one thing: Under President Obama, The traditional "Washington Monument Strategy" of closing popular services first has become the "Washington Bully Strategy." Representative Trey Gowdy of South Carolina, a former prosecutor, almost drove National Park Service Director Jonathan Jarvis into incoherence with his relentless questioning.
Park Service director blames threat of terrorism for closing Mall during shutdown. The National Park Service director told Congress on Wednesday [10/16/2013] that he had to shut down the open-air memorials on the Mall during the government shutdown because of terrorism, saying that closing them was the only way to protect them "in a post-9/11 world." Director Jonathan B. Jarvis also said his agency had received intelligence showing an increased threat of danger since the shutdown began — though he would not tell two House committees what those warnings were. In a contentious hearing, Republicans accused Mr. Jarvis of making the shutdown as painful as possible for Americans.
President Obama's Attack On The First Amendment. Imagine, during a government "shutdown," Obama spends money to erect barriers and pay police to keep people away from their national monuments — a twisted sense of priorities to say the least. That the president would treat those who have served, and continue to serve, in the military with such contempt and vindictiveness is a great disgrace.
Union Asks for Shutdown to Be Deemed an Emergency. A federal workers union is demanding that President Barack Obama declare the shutdown a national emergency and force businesses, hospitals, and schools to forgive workers' bill payments until a deal is reached. American Federation of Government Employees President J. David Cox sent a letter to Obama on Friday lamenting that the lengthy shutdown would hurt government workers. He proposed that the White House intervene to declare the shutdown a federal emergency, which would allow workers to collect zero-interest loans from FEMA and force businesses to extend lines of credit to employees.
Valerie Jarrett is 'architect' of Obama's shutdown strategy: author Ed Klein. A new theory from author Ed Klein — who previously penned "The Amateur," about President Obama's White House leadership — suggests that senior adviser Valerie B. Jarrett orchestrated the chief executive's strategies in the government shutdown. The New York Post reported that Ms. Jarrett held several late-night sessions with Mr. Obama at his residence and from there came the strategy of "no negotiation," Mr. Klein believes.
Park Service Director: I Discussed Closing Monuments With White House. National Park Service director Jarvis said he discussed closing the open-air monuments and memorials with the White House, as well as the secretary of the Interior Department: [Video clip]
Civil Disobedience: Citizens Pushing Back. There is a finely calibrated bargain at the heart of a republic: Citizens have a duty to obey the lawful and legitimate mandates of the government, including those with which they disagree, and the government has a duty to see to it that its actions are lawful and legitimate. The people have an obligation to be prudent and circumspect about engaging in civil disobedience, and the government has a responsibility to be scrupulous with its powers. That contract has been violated by the White House.
Obama's Intransigence Closed America's Natural Wonders. Thousands of tourists are unexpectedly finding parks closed, nobody there to help, and hotel and campsite reservations useless at Yosemite, Sequoia, Yellowstone, Grand Canyon, Great Smoky Mountains, Big Bend, Acacia, Denali, and 394 other NPS destinations. They're being told to stay in their hotels, until they are evicted from them too, and aren't even allowed to walk or drive to view the geysers, mountains or gorges from a distance.
Feds Blocking Road to Open-Air Flight 93 Memorial. Americans who want to honor and reflect upon the memory of the crew and passengers who perished aboard United Flight 93 on Sept. 11, 2001 will find that the federal government has blocked the road four miles down from the open-air memorial near Shanksville, Pa. CNSNews.com photographed the spot of the road closure this past weekend. The steel barrier blocking vehicles from passing says: "Because of the federal government shutdown, this National Park Service facility is closed."
Feds Blocking Road to Open-Air Flight 93 Memorial. Americans who want to honor and reflect upon the memory of the crew and passengers who perished aboard United Flight 93 on Sept. 11, 2001 will find that the federal government has blocked the road four miles down from the open-air memorial near Shanksville, Pa.
Bidens Vacation at Camp David. Despite the government shutdown, Vice President Joe Biden is vacationing at Camp David this long weekend. He's joined at the Maryland retreat by his family, including his wife (Jill Biden), children, and grandchildren. The vice president is also there with "essential" government workers, who must work despite the government shutdown. That includes his Secret Service detail, as well as the Secret Service details assigned to the rest of his family, and other support staff. They are protecting the Bidens as they vacation — but aren't getting paid because of the federal shutdown.
Feds Removed Handles From 40 Public Water Pumps Along C&O Canal. National Park Service (NPS) rangers removed the handles from some 40 public water pumps and closed restrooms in the 184.5 mile C&O Canal National Historical Park, but they haven't been able to keep hikers and bikers off the popular trail known as a "cyclist's dream."
The Shutdown Shows Us That Government Treats People Like Garbage. Government equals centralization, and centralization means that bad ideas harm far more people than would be harmed under decentralized governance. At its heart, the state — more precisely, the pretenders who call themselves "leaders" — is capable of the most horrendous acts. The U.S. government stands out in this regard. From the micro level to the macro, we can trace the trail of blood, misery, and poverty. I'll cite just two examples. [...]
Privatize the National Park Service. The behavior of the National Park Service during President Obama's shutdown campaign has been shocking. As has been widely reported, Park Service employees have been told to make life as uncomfortable as possible for people, and have flourished in that endeavor. They have acted crudely and unprofessionally as a partisan and ideological arm of the White House and its propaganda campaign.
Big Government Has Damaged Its Brand. [Scroll down] First, we don't need all the government we have. We've now been through two entire cycles of doomsaying, first over the sequester and next over the so-called shutdown, and twice now the doomsaying has proven to be almost comically overblown. Even as Republican approval ratings tank, let's not forget that 80 percent of Americans have felt "no personal effect" from this latest alleged cataclysm. As for the sequester, well I daresay that most Americans barely even know what it is, much less have felt the slightest effect.
SpiteHouse: Not just NPS, closures by U.S. Forest Service too. While the closures and the Barrycades at facilities at parks managed by the National Park Service have garnered much attention, the U.S. Forest Service, which is a part of the Agriculture Department, has been active for the all the wrong reasons during the partial government shutdown too. For instance, the Arizona Daily Sun, in an op-ed, noted that private campgrounds on national forests — which receive no federal funding — have been forced to closed. This is what happens when there are spiteful people working at the White House.
"Million" vets are in DC to demand their monuments be opened. Senators Mike Lee (R-Utah) and Ted Cruz (R-Texas) as well as former Alaska governor and vice presidential candidate Sarah Palin were among the crowd that chanted "Tear down these walls" and sang patriotic songs as the barriers were removed according to local news coverage from WTOP.
'Million Vet March' Descends on Washington, Barricades Torn Down. On Sunday, protesting the barricades placed at memorials around Washington D.C. by the vindictive Obama administration, veterans removed the barricades and proceeded to take them to the White House.
How the Media are Shaping Obama's Government Shutdown. President Barack Obama remains in an intense public relations war with the Republican-led House of Representatives. He believes that the compliant media will back up his most outrageous actions, even as he tries to magnify the crisis for the average American. [...] The reason President Obama believes he is winning, and can continue to win the current showdown with Republicans over the partial government shutdown and the debt-ceiling hike, is his confidence that the media will continue to support him — no matter how irresponsibly he acts.
The Soup Nazi Administration. For the Obama administration, the shutdown is just one more political crisis it won't let go to waste. Take the park rangers who last week locked under armed guard a group of senior citizens that included visitors from Japan, Australia, Canada and the U.S. inside Old Faithful Inn in Yellowstone National Park. Gordon Hodgson, the guide of the 41-person tour group, told the Livingston, Montana Enterprise that officials told him they could stay at the hotel but could not do anything. "All we could do was eat dinner in the dining room. It was like a ghost town," he said.
Here's One Thing the Shutdown Has Not Shut Down. The president's personal videographer is still at work at the White House, apparently classified as essential staff. [...] In the old days, there would be some outrage about the White House's releasing heavily edited in-house video of events to which the real press corps has been denied access. But those were the old days.
The Park Police, Part Deux: Hot Cops. To the extent that there's any argument for the Park Service denying the public access to public lands, it's generally predicated on the notion that citizens are savages who loot, vandalize, and litter and that without the Park Service protecting them from the public, the lands will be desecrated. But there hasn't been any evidence of bad behavior on the part of the public yet. In fact, just the opposite.
Park Service Paramilitaries. The NPS has spent the last two weeks behaving as the paramilitary wing of the DNC, expending more resources in trying to close down open-air, unfenced areas than it would normally do in keeping them open. It began with the war memorials on the National Mall — that's to say, stone monuments on pieces of grass under blue sky.
Grand Canyon, Statue of Liberty and Mt. Rushmore to reopen. The iconic parklands — and crucial drivers of state tourism revenue — will reopen with operating funds "donated" by state coffers.
Is Obama's Shutdown War on Private Business Illegal Racketeering? Has President Barack Obama violated the Racketeer Influence and Corrupt Organizations ("RICO") Act with his hardball tactics over the government shutdown, to extort taxpayer funds? "We've been told to make life as difficult for people as we can," an angry National Park Service ranger told Washington Times columnist Wesley Pruden. "It's disgusting[.]" The park ranger indicated that there is a political motive behind the closure of the open-air memorials.
Obama Evicts Senior Citizens, Barrycades Their Home Of 40 Years. One thing is for sure, the National Park Service is going to need a complete shakeup and house cleanning [sic] when this Shutdown Theater is over. And the head of NPS should be brought up on numerous charges.
Obama's Goat. Will someone please ask Interior Department Secretary Sally Jewell, the former private executive from Seattle, why she is allowing her department's most popular agency to play the shutdown goat? Surely the deployment of rangers as scolds and punishers — for the infraction of trying to use a park! — hurts the Park Service image. In its nearly 100 year existence, has the National Park System ever been exploited — day upon day — for such negative propaganda?
Congressmen Demand Answers from National Park Service. Rep. Bill Huizenga (R., Mich.) sent a letter to the National Park Service (NPS) on Wednesday [10/9/2013] demanding answers to the agency's "dubious" handling of the government shutdown. Ninety-three additional members of Congress have signed onto the letter sent to NPS Director Jonathan B. Jarvis questioning if politics is involved in the closings of the World War II Memorial, privately owned parks, and other sites across the nation.
Obama To Catholic Troops During Shutdown: No Mass! Federal closure threatens to bar priests not on active duty from conducting services on military installations or from ministering on base, and they risk being arrested if they attempt to do so. [...] Catholic soldiers killed in battle might not even have a priest available to give the last rites of their church as even the religious freedoms they fought to protect are sacrificed by a petulant president who has the power to set priorities with the stroke of an executive order pen but refuses to do so.
President Obama's shameful death-benefit theater. President Barack Obama has used an expansive — and some legal scholars believe extreme — interpretation of his powers to unilaterally rewrite key provisions of the No Child Left Behind law, the sweeping 2002 measure that drastically reshaped federal education policies. In similar fashion, the president has unilaterally rewritten key provisions of the Affordable Care Act, his sweeping 2010 measure that is drastically reshaping federal public health policies. His administration has also essentially rewritten federal laws governing illegal immigration and penalties for drug possession.
Obama's furlough exception for union workers draws scrutiny. Taxpayer-funded union activity is drawing new scrutiny after the Obama administration carved out a furlough exemption for government workers who serve as labor representatives. The Office of Personnel Management, the agency managing federal employee issues, last Friday opened the door for some workers who serve as union representatives across the federal government to return to work and receive regular paychecks while most of their colleagues remain furloughed.
Utah Pays $1.6 Million to Reopen its National Parks. Zion, Bryce Canyon, Arches, Capitol Reef and Canyonlands are the five national parks that bring millions of tourists from around the world to Utah's soil. Zion National Park alone boasts 3 million visitors annually. Many Utah residents are pleased with the reopening, especially due to the fact that October tends to be a particularly busy month for Utah's national parks, generating an estimated $100 million.
Obama the hostage-taker. For the first time in US history, a president confessed to deliberately hurting his country to score points against his enemies. Which brings us to the national disgrace this week in which the Defense Department denied death benefits to the families of fallen service members. White House Press Secretary Jay Carney insists, with operatic righteousness, that Obama never intended for the 26 families of the fallen to be denied this aid or to be hindered from retrieving their beloveds' remains from Dover Air Force Base. But Carney is surely lying.
Congressman Calls for Defense Secretary's Resignation. Rep. Duncan Hunter (R-Calif.) says Defense Secretary Chuck Hagel should resign for failing to ensure that the families of fallen American soldiers received the death benefits to which they are entitled. "I think Chuck Hagel needs it to think about offering his resignation over this," Hunter told Fox News's Megyn Kelly Thursday night [10/10/2013].
Obama's Attack on Families of Fallen Solders. Until a charitable foundation stepped in to fill the gap, the Department of Defense (DoD) was more than willing to deny death benefits to the families of fallen soldiers. The Pentagon claimed that a law passed just prior to the government shutdown allowing the military to be paid did not cover the benefits. In truth, an Obama administration, whose hallmark is selective law enforcement, has relied on the flimsiest of technicalities to inflict unnecessary pain on families already shattered by the deaths of their sons and daughters.
National Park Service: Wolves in Service Dog Harness. When people look back on the past week, I suspect the key images they remember will be the various shots of barricades, traffic cones and police tape around national monuments and across the entrances to national parks, national scenic parkways and even preventing access to private property. Of all the events this was both the most visual and the most unexpected. A government agency they had always thought as benevolent, the National Park Service (NPS), unexpectedly turned into something that seemed alien and even frightening. Before last week the NPS had one of the most favorable images among federal agencies. [...] After what they saw the NPS do over the last week a great many people may never going to look at government in the same trusting way again.
The Obama Blockade. The barricades around the Lincoln Memorial and the WW2 Memorial, the traffic cones blocking the view of Mt. Rushmore and the sawhorses around Old Faithful are no Berlin Blockade, but they come out of the same meanness of spirit and the same motives. The petty harassment extended to a 24-hour blockade of an inn that had tried to stay open and rangers arriving to block Old Faithful every time it erupted. There are few moments that sum up the meanness of spirit of the Obama Blockade as well as a park ranger angrily telling senior citizens to get back on the bus and stop taking photos because they are engaging in forbidden "recreating". The Obama Blockade has no valid justification. Like the Berlin Blockade, it is about power and control.
93 House members charge NPS is 'making up rules' to shut memorials. The National Park Service's closure of the World War II and other memorials violates rules requiring them to stay open, 94 House members charge in a letter to the agency. Led by Michigan Republican Rep. Bill Huizenga, they claim that Park Service Director Jonathan Jarvis is simply making up closure rules to punish the public during the government shutdown and they question the costs of the random closures in Washington where not all memorials are being closed.
Obama's Thuggish Behavior, Part II. I knew a second Obama term would bring out the very worst of this man's radical ideology; but the breathtakingly blatant actions of this administration during this phony government "shutdown" has convinced me that we have more to fear from this administration than any of us could have imagined. American citizens are now being ticketed and fined for jogging on the roads in our national parks. Barricades have again been set up at the WW II Memorial, as well as the Iwo Jima and Vietnam Memorials, thereby preventing those who served in these conflicts — and everyone else — from visiting them.
America, Your Vacation Wonderland! On his radio show yesterday [10/8/2013], our pal Michael Graham spoke to one of the tourists held under house arrest (or hotel arrest) by the National Park Service geyser stasi at Yellowstone Park. [...] These Australians, Europeans and Asians paid huge amounts of money to fly thousands of miles to see America's natural wonders. What do you think they'll be telling their friends back home about "the land of the free"?
Rent-a-cops hired to ring Philly's Independence Hall, threaten arrests. Armed private security guards are on the job to keep the public away from Philadelphia's Independence Hall, and one even threatened to arrest a political activist if he stepped on the sidewalk beside the iconic building where the Declaration of Independence and Constitution were debated and adopted. "You will be arrested," said one of the hired guards to activist Craig Bergman as a video team filmed his stop at the downtown historical center.
Americans use 1st Amendment to storm shutdown barriers. Taking their lead from the veterans who first pushed through the barricades to visit the World War II Memorial, Americans nationwide are defying the federal government shutdown, tossing aside traffic cones and toppling wooden fences to get to national parks and other federal lands that the administration has deemed out of bounds.
The siren call of the BlackBerry for furloughed federal workers. Some are pondering ways to cheat, losing their will to stay away and risking a $5,000 fine and a trip to federal prison as the shutdown stretched into its second week. [...] One federal IT worker misses his servers badly but knows logging in remotely will leave a digital footprint and could get him in trouble. His coping mechanism: manage personal servers for his home — a form of faux work. "I've always said I'd do my job for free, so that's what I'm doing," said the IT worker, who works for the International Trade Commission and requested that his name be withheld.
Obama Inc. Sends 5 Rangers to Mount 24 Hour Blockade of Restaurant. The Pisgah Inn can't stay open, because, in the words of an NPS spokesman, so that "people don't utilize a business that, according to the federal government, is closed." The Federal government lacks the resources during a shutdown to keep open a restaurant that they don't run. But they do have the resources to conduct a 24/7 hour blockade of the place using 5 rangers and 3 cars.
Shutdown Theater Requires that the Public Suspend Their Disbelief. While Obama will have the option to golf during the shutdown because his favorite golf course has been spared, American troops around the world can't even watch sports or entertainment on TV because the American Forces Network has gone dark. [...] If Congress would only pass a "clean CR" all this would stop[,] a White House spokesman suggested earlier this week.
When The Bleeding Heart Becomes The Iron Fist. The Spartans may have had their shields, Native Americans their tomahawks and arrows, the Samurai may have wielded his sword with all the deadly grace of a tiger in mid-attack, but pound for pound, nothing comes close to the audacious stupidity of "Barrycades" and people in pointy little Smokey the Bear hats, poised to protect America's monuments from law-abiding citizens. Welcome to liberal utopia, where barriers are not erected against terrorists or illegal aliens on our nation's borders, but rather against citizens, and where wheelchair-bound veterans enroute to honor their comrades face tighter security than terrorists enroute to murder a US Ambassador.
Our Peevish President. To deny that the executive branch is going out of its way unnecessarily to make life difficult for people — as many still are — is to pretend that the hundreds of such stories, reported daily across the country, are falsehoods manufactured to hurt the president. Yes, government shutdowns have consequences — even shutdowns that leave 83 percent of the government operating as usual. But, consequences or not, there really is no good reason for the federal government to send barricades and wire-ties to unguarded open-air parks, to close off unmanned scenic overlooks, to evict homeowners from their private property on public land, or to threaten the livelihoods of hoteliers whose sole crime is to own a business on an unsecured public route.
Vindictive Shutdown Theater. 'I just don't know what they're trying to accomplish." So says Jim Hagen, South Dakota's secretary of tourism, about the federal government's blocking off not only the entrance to the Mount Rushmore monument but also roadside viewing areas outside the park. "They won't even let you pull off on the side of the road," he says, noting that this particular act of shutdown theater is damaging his state's tourism economy and ruining the plans of countless travelers. [...] It is an act of political theater, a gross and possibly illegal abuse of political power, an assault on private property, and a wanton subjugation of responsible governance to the political interests of President Obama and his party.
Politicization Of Shutdown Is Yet Another Obama Scandal. The politicians' gym stays open, but the Washington Mall closes — except for an immigration rally. National parks close, but presidential golf courses stay open. This is one politicized government shutdown. [...] Elderly tourists at Yellowstone National Park were threatened with trespassing charges by park rangers just for stopping their bus to photograph bison, the Washington Times reports, then were ordered to stop "recreating" and "return to your hotel and stay there." Of course, their $300 fee hasn't been returned.
Military chapel closed in Georgia: 'Shutdown: No Catholic service till further notice'. Father Ray Leonard, a Catholic priest who serves a Georgia military base, was not allowed to celebrate mass at the Naval Submarine Base Kings Bay this weekend. "Shutdown: No Catholic service till further notice," a sign posted on the chapel said.
"Gestapo" tactics meet senior citizens at Yellowstone. Pat Vaillancourt went on a trip last week that was intended to showcase some of America's greatest treasures. Instead, the Salisbury resident said she and others on her tour bus witnessed an ugly spectacle that made her embarrassed, angry and heartbroken for her country.
The 2013 Battle of Yorktown — restaurant owner defies feds. "I am now occupying the building at this time." And with that one decision — restaurant owner Glenn Helseth joined the ranks of Americans who've decided to defy the strong-arm tactics of the National Park Service. [...] "I don't wish to take a stand against my government," he said. "I've always been very proud of my country. [But] I don't agree with what's happening. I can no longer abide by what's happening."
Military commissaries begin to reopen despite shutdown. The military's grocery stores that were forced to close when employees were furloughed last week are re-opening beginning Monday [10/7/2013] after the defense secretary's decision that civilian employees could return to work. A total of 171 stores, all stateside, re-opened either Monday or Tuesday.
Armed Guards Kick Senior Citizens Out of Yellowstone Park. Thousands of people found themselves inside a national park when the government shutdown went into effect. Pat Vaillancourt and her tour group "which included senior citizen visitors from Japan, Australia, Canada and the United States, were locked in Yellowstone National Park hotel under armed guard." The seniors were treated harshly by armed park employees until they were able to leave according to Vaillancourt.
A million vets are coming to DC to demand their monuments be opened. The protest has been organized by individuals with various connections to the military, either as children of veterans, spouses of veterans or those who have served themselves, who are outraged and deeply disappointed that individuals who have served in the military have been blocked from the memorials honoring their service across the country.
Obama vs. the Veterans. This incident demonstrates that the government shutdown is no longer about issues, but is just about politics. The Obama administration is trying to maximize the pain for Americans. It has become evident that this president is all about ego and spitefulness, not concern.
The Black Swan in the Perfect Storm. The literal point of default doesn't have to be reached to have a major negative impact on the economy. If you're driving with the red light on your fuel gauge indicating you're low on gas, you slow down. Same for the economy.
Dr. Ben's Prescription for Shutdown Pain. In order to cope with a federal debt close to $17 trillion, why is the government furloughing TSA and customs agents, preventing children from taking White House tours and generally doing everything it can to inflict pain and discomfort on the American people when it could have simply trimmed nonessential personnel and services from the budget with little or no inconvenience?
Sorry! Your National Parks Do Not Belong To You. Apparently, our national parks, monuments and treasures no longer belong to the people of the United States. They belong to a capricious federal establishment that is intent on punishing the American public for its temerity to elect representatives who think there should be a limit to the resources and power the government can take from its citizens. At the root of this vindictiveness is contempt for the very democratic processes that the Constitution prescribes.
The Park Police. The conduct of the National Park Service over the last week might be the biggest scandal of the Obama administration. [...] People first noticed what the NPS was up to when the World War II Memorial on the National Mall was "closed." Just to be clear, the memorial is an open plaza. There is nothing to operate. Sometimes there might be a ranger standing around. But he's not collecting tickets or opening gates. Putting up barricades and posting guards to "close" the World War II Memorial takes more resources and manpower than "keeping it open."
Occupy America! Park Visitors Storm the Barrycades. Across the country, ordinary Americans are rising up in revolt against the old Washington tactic of closing public parks and memorials during selective government "shutdowns" to score political points. Tax-paying tourists are tossing off the orange traffic cones and "Barrycades." Enough is enough. The movement started with waves of World War II veterans who flew to D.C. last week as part of the Honor Flight Network. The vets and volunteers breached the fences last week, exposing the tone-deaf tactics of President Obama's Spite House.
Tear Down Those Barricades! On Tuesday I watched 20,000 protestors for immigration reform exercising their First Amendment rights on the National Mall. Support the Obama agenda and the barriers are lifted! House Minority Leader Nancy Pelosi thanked the President for the special treatment.
Ignoring the Constitution. There are only 234 active-duty commissioned military chaplains to care for 275,000 soldiers, sailors, airmen and Marines who profess the Catholic faith. It's not nearly enough, so the military services employ priests on contract to perform Sunday services, weddings and baptisms on base. No federal funds are used, and these priests would gladly perform these duties voluntarily during the government shutdown, but they are prohibited from doing so.
How the State Department Escaped the Shutdown. From the CIA to Treasury, the shutdown has crippled key national-security functions. But John Kerry's State Department barely has a scratch.
Community Organizer Runs Amok. Clearly, for this administration: It's my way or the highway. Amber Alerts have been shut down; Leader Reid doesn't worry about children dying from cancer, and the dog therapy program that brings dogs to visit terminally ill children has been suspended. Then, in the lowest blow of all, news comes that families of military personnel killed in Afghanistan during the shutdown will not receive funeral benefits — typically around $100,000 to cover airfare to D.C. for the arrival of the body and other costs associated with the loss of a loved one. There appears to be no low to which this Administration will not stoop to show who "won." For the community organizer, winning is all that counts.
Shutdown leaves kin of dead soldiers without money for funerals. Five military servicemembers paid the ultimate sacrifice but their families cannot receive the money they need to bury them or support the children left behind because of government shutdown.
Even when the US government is shutdown, it's still too big. The government has decided that open air war memorials need to be protected from the people who paid for their construction or fought in the conflicts that they commemorate. As soon as the shutdown began, memorials everywhere were blockaded from the public by huge iron fences. [...] By the way, it's estimated that it costs more money to barricade the monuments than it does to keep them open.
The Face of Tyranny. It is beginning to dawn on a lot of people that Barack Obama is the face of tryanny, a man for whom the Constitution, the democratic process and its need for compromise, exist only to be spurned. Any President who is happy to preside over closing the White House to public tours, who authorizes placing barricades around Washington War Memorial that is normally open 24 hours a day as well as the Normandy, France D-Day cemetery where our soldiers are buried, is more than merely heartless, but represents a level of evil intent never before seen in anyone who has held that office.
Are these the people you want running your health care? [Scroll down] The federal government is using its police power to punish the public! Has this ever happened before? Not to my knowledge. We all understand the police blocking a road when there has been an accident or a washout or some other event. Ditto for closing public spaces for good reason, perhaps unsafe construction or a terrorist threat. But to close them simply to inconvenience the public or damage it in some other way? Never! Think of that! Never before!
Now [the government is] trying to block people from looking at Mt. Rushmore. Not satisfied shutting the monument even though the State offered to pay to keep it open, the feds placed cones to block viewing areas in the distance. As bad as the Battle of the Barrycades is in Washington, D.C., forcing WWII Vets to have to push their way past barricades at the WWII Memorial, Lincoln Memorial, Vietnam Memorial, and Iwo Jima Memorial, what the feds did at Mount Rushmore has to be the most petty and insane of them all.
Move over Jimmy Carter, Obama has my vote for worst president — ever. America has had some great presidents, many mediocre ones and a few bad ones. But we've never had one like Barack Obama. He's the first who thinks the job is beneath him. [...] He's the first who thinks the way to more power is to inflict pain on ordinary people. The move to barricade the World War II memorial reveals the mentality of a tin-pot dictator. The limited government shutdown did not need to affect the memorial because it is open 24 hours, without gates and often without guards. But to turn public opinion in his favor, Obama's goons trucked in barricades to keep out World War II vets and other visitors. By one estimate, the barricades and workers cost $100,000.
'All about power and leverage' — feds shut down major roadway, block access to graveyard. Nearly a third of Blount County is inside the Great Smoky Mountains National Park. So when the federal government shut down the park, it also shut down one of the area's chief sources of revenue. The National Park Service also closed the Foothills Parkway, a major thoroughfare in the county. The closure came without warning and left the local school district scrambling to get children back to their homes.
Challenging the Bully. The federal government has declared war on the customers at many of our places of public amusement, closing some of them and blocking access to some it can't close. One of them is a popular boat launch on the Mississippi River in Wisconsin. Agents of the U.S. Fish and Wildlife Service put up barriers at an outdoor, unmanned concrete structure solely to deny the public the use of a ramp that it had long since paid for.
Amber Alert website has been taken offline during the shutdown but Michelle Obama's Let's Move site is up and running. The website dedicated to helping find kidnapped children has been turned off during the government shutdown but the First Lady's healthy living initiative has not received the same treatment. Amber Alerts advertise national and local cases where children have been abducted, and since it is not considered an essential service like national defense, it has not been funded during the shutdown. One website that apparently is too important to unplug? First Lady Michelle Obama's 'Let's Move' campaign, as that is one of the few government websites still operational.
Update:
Obama Responds to Negative Publicity, Brings Amber Alert Website Back Online. Over the weekend, the FBI took its Amber Alert missing child website offline, blaming the shutdown. At the same time, First Lady Michelle Obama's "Let's Move" web site stayed up and running. Amber Alert is back online today, after the closure of the site generated negative publicity. So it seems that Lord Obama can pick and choose what is and isn't getting shut down. And it seems that he is in fact picking and choosing what gets shut down, in real time.
Selective enforcement is never a good thing.
Park Service OKs immigration reform rally on 'closed' National Mall. A planned immigration reform rally will take place on the National Mall on Tuesday even though the site is closed due to the government shutdown. Organizers for the "Camino Americano: March for Immigration Reform" were spotted Monday setting up a stage and equipment on the National Mall for the rally which will take place on Tuesday [10/8/2013].
Obama: Shutdown for thee, but not for me. It is now quite clear that President Obama is managing the shutdown of 17% of the government to inflict pain, while sparing himself and his family any discomfort. Although his media lickspittles will not publicize the worst abuses, social media offers us the chance to spread the word of his peculiar priorities.
Obama's Golf Course Has Been Spared from the Shutdown. One of Obama's preferred golf courses, the course on Andrews Airforce Base remains open during the government shutdown. The grocery stores on the base, where troops get discounted groceries for their families are, however, closed.
Obama Admin Will Allow Amnesty Rally on National Mall During Gov't Shutdown. The Obama administration will allow a massive rally for comprehensive immigration reform on Tuesday in Washington, D.C. on the National Mall, even though it is supposed to be closed due to the federal government shutdown. Open-air spaces like the World War II Memorial have been barricaded since the federal government shut down last week, but an organizer for the rally told the Washington Examiner that the National Park Service will allow the rally and march.
The Lawless Administration, Episode 27. Despite my exhortation yesterday, the House of Representatives unanimously passed a bill authorizing back pay for furloughed federal workers. In my view, this is a big mistake, and a typical unforced error by Republicans. Less than 24 hours later, with no apparently authority, Secretary of Defense Chuck Hagel called most furloughed civilian DoD workers back to work. The Wall Street Journal says that Hagel claims he can determine almost his entire work force to be essential. But of course most of them are not essential.
Amber alert website down due to government shutdown. The Amber alert website, the national missing-child warning program, has been shut off due to the government shutdown, according to the Department of Justice. "Due to the lapse in federal funding, this Office of Justice Programs website is unavailable," it says on amberalert.gov.
Feds to Furloughed Employees: Checking Gov't Email During Shutdown a 'Criminal Offense'. A notice posted on the website of the Small Business Administration (SBA) warns furloughed employees that it is a "criminal offense" to use federal resources during the furlough period, including accessing government email accounts. Although the notice is directed to SBA employees, presumably the directive is applicable to furloughed employees of all government agencies.
The Editor says...
See? That's why you need to have a Richard Windsor email account ready.
Obama admin allows government union reps to work during shutdown. The Obama administration quietly changed its furlough guidance Friday to allow government employees who are also union representatives to return to work and receive a regular paycheck during the government shutdown.
Obama's Shutdown Campaign. [Scroll down] But the performance has reached a higher, uglier decibel level under the Obama administration. This is hardly a surprise, given Barack Obama's upbringing, mentors, radical associates, and the crucial fact that he was a community organizer who studied and taught Saul Alinsky's Rules for Radicals. That was Obama's formative experience for his job today, and it has equipped him for the task at hand. As accomplices, add in an army of ever-increasing unionized government employees, prodded by their ringleaders, and who burn with the tenacity and partisanship of IRS employees, and watch out.
Evict Obama's Mother-in-Law from White House. The news is full of stories of private residences on public land being shut down because of the government shutdown. [There is], for example, is a story regarding an elderly couple temporarily evicted from a cabin they own on federal land. And it is also turning people away from privately-run inns on federal land. And yet, at the height of hypocrisy, Marian Robinson, President Obama's mother-in-law, apparently continues to reside in the White House, a federally-owned business on federal land.
Government Shuts Down 22 Privately Operated Campsites in N.H.. According to the Union Leader, while the campsites are situated on federally owned land, they are entirely run by a private company, which has a contract to operate the sites and which pays the federal government a cut of the fees it collects. That means the closure will not only prevent thousands of campers from using the facilities, it will actually cost the federal government money it would have collected if it had simply done nothing.
An inn has operated on this land since 1919.
Blue Ridge inn's act of defiance lasts about 2 hours. A handful of guests had lunch before Park Service patrol cars blocked the driveways, turning on their orange flashing lights. Rangers turned customers away, saying the government was closed. [...] Communities with national parks see about $76 million a day in tourism-related sales that is lost during a government shutdown, according to a National Park Service press release.
The Editor says...
This event and similar recent events can be taken as evidence of several things: (1) The national parks should be privatized or turned over to the states, (2) Barack H. Obama a/k/a Barry Soetoro hates America, and (3) The park police are a little too eager to act as legalistic goons, whenever the President decides to throw a tantrum, which means they will probably be Obama's witless enforcers if Obama goes off the deep end and declares himself President For Life.
The Audacity of Bureaucrats. To wit, to be a successful government bureaucrat this past week, you would have had to play your part in closing down parks, lakes, monuments and sporting events that are frankly none of your [...] business. Whether your job was ordering Barry-Cades, procuring orange warning paint, police tape, or stapling notices to fences, trees and so on, you had to choose between being a good bureaucrat or a good citizen. This is not an exaggeration. [...] On a positive note, these turbo charged Barney Fifes are finding out that their Park Service badges and yellow tape garnered absolutely no respect.
Lawmaker says barricade of WWII memorial is 'Chicago thuggery'. A group of Texas congressmen armed with wire cutters made their way to the World War II Memorial in Washington after they learned the National Park Service had reinforced the barriers blocking the site with wire. "This is Chicago thuggery," Rep. Louie Gohmert (R-TX) told me. "The president is trying to inflict the most amount of pain and suffering. This is not some bureaucratic mistake. This is Chicago thuggery. You try to make people hurt so they don't resist what you tell them to do in the future."
Obama Sends in Police to Remove Vets from Vietnam Memorial. The Vietnam Memorial is an outdoor memorial. It is now taking more guards to protect the outdoor memorials, not from terrorists, but from the American people. [...] We have had 17 shutdowns in the last 20 or so years and NEVER has a president stooped so low as to shut down open memorials and private parks. Obama wants to make it hurt.
Chuck Hagel admits most Pentagon furloughs were unnecessary. Most of the furloughed Department of Defense civilian employees will be recalled, according to Secretary of Defense Chuck Hagel, who acknowledged that government lawyers interpreted a Pentagon funding law passed on the eve of the shutdown too narrowly. "Today I am announcing that most DOD civilians placed on emergency furlough during the government shutdown will be asked to return to work beginning next week," Hagel said Saturday [10/5/2013].
6 Things We've Learned About Democrats From The Government Shutdown. [#5] Democrats don't care about veterans: The way Democrats have treated our WWII veterans during the shutdown has been absolutely shamef