Note: You might want to start at the Obamacare Index Page, especially if you arrived here by using a search engine.

Obamacare — the latest attempt to nationalize the medical profession in America — is simply not feasible. Anyone who puts ten minutes of effort into researching the facts can come to the same conclusion.

Subsections:

Anecdotes and Obamacare horror stories

Billing errors / fraud

Enrolling in Obamacare is not user-friendly

Miscommunication and data errors

Unpleasant surprises await, if and when you sign up

Surprise! You have just signed up for Medicaid-plus

Your private information is in a big leaky bucket

Navigators

Unexpected insurance cancellations

The VA Hospitals paint a clear picture of what's ahead.

Other VA scandals

The VA death panel

Related pages:

Obamacare does not work as promised.

Obamacare will never work as promised.

The implementation of Obamacare is delayed until after the 2014 election.

Obamacare depends on the "honor system" — in this country?

Obamacare won't work as advertised. The promised benefits will never come to pass.

Doctors won't work under these conditions!

Obamacare solves problems that don't exist and doesn't address problems we already have.

Obamacare opens the door to tyranny Obama magically "fixes" Obamacare by making a speech.

Obamacare is tremendously expensive.

Obamacare is political poison.

Obamacare is based on a pack of lies.

Obama and his team are incompetent.



---
Obamacare anecdotes and horror stories
The unpleasant experiences of Obamacare clients
My kid has cancer and ObamaCare is making everything worse. 'Before ObamaCare went into effect, the private marketplace offered us a wide range of relatively inexpensive plans.' Joe Biden has been running an ad in which he says he can't imagine what it would be like to have a child with cancer and no health coverage. I don't have to imagine. Under the health "reform" championed by Biden when he served as President Barack Obama's vice president, I live that reality every day. Twice over the past three years, ObamaCare has had no plans to sell us that covers little girls ravaged by cancer or recovering from that ordeal — and it might leave us floundering again.
Medicaid study: Thousands die on waiting lists as Obamacare saps resources from disabled. The expansion of Medicaid under Obamacare that began in 2014 has siphoned state resources away from caring for the severely disabled, hundreds of thousands of whom have been languishing for years on Medicaid waiting lists, a new study found. In the 30 states that have opted to expand health care coverage to able-bodied adults through Medicaid, 250,000 disabled individuals continue to wait for openings to receive home and community-based care, according to a study by the Foundation for Government Accountability (FGA).
Obamacare's Massacre of the Innocents. A new study reveals that 21,904 Americans have died while withering away on Medicaid waiting lists in states that expanded the program under Obamacare. The victims were poor and disabled applicants herded to the back of the line to make room for able-bodied adults with incomes above the federal poverty level (FPL). Why would any state pursue such a cruel and unjust policy? Obamacare incentivizes expansion states to shift Medicaid's focus to able-bodied adults by paying over 90 percent of their coverage costs, while paying less than 60 percent of the costs for covering the truly poor and disabled. The study, conducted by the Foundation for Government Accountability (FGA), also shows that the Medicaid expansion states still have nearly 250,000 poor and disabled individuals languishing on waiting lists. The financial incentive to favor able-bodied adults has doubled Medicaid spending on them in just three years. They now exceed the number of disabled enrollees by 17.4 million, and the expansion states now spend more on Medicaid for able-bodied adults with incomes over FPL than for low-income children and seniors. Meanwhile the latter are left to die.
ObamaCare Is Fueling The Nation's Opioid Epidemic? Sure Looks Like It. We recently speculated that ObamaCare might have contributed to the nation's opioid epidemic, which has in turn driven down life expectancy in this country for the past two years. A new Senate report adds further support to this connection.
Report: Medicaid And Obamacare May Be Incentivizing Opioid Trafficking And Abuse. One of the largest entitlement programs in the country is incentivizing prescription drug trafficking and exacerbating the national opioid epidemic, according to a Senate report. The Senate Committee on Homeland Security and Governmental Affairs released a Major Staff report Wednesday, which details how Medicaid policies governing prescription drug prices, expanded at the state level through the Affordable Care Act (ACA) in 2014, "perversely" incentivize opioid abuse and illicit sales, as well as larger scale trafficking operations involving both criminal drug lords and respected doctors. The report, commissioned by committee Chairman Sen. Ron Johnson of Wisconsin, notes the causes of the opioid epidemic are wide ranging and multifaceted, and says the committee does not, "deny the benefits that federal spending on healthcare provides to millions of Americans," or claim Medicaid is the primary force behind the addiction crisis.
Did ObamaCare Contribute To The Shocking Drop In Life Expectancy? The latest report on death rates from the National Center for Health Statistics shows that life expectancy at birth dropped to 78.6 years, a decline of 0.3 years over the past two years. That is virtually unprecedented in modern times. But there's more. Life expectancy is almost exactly where it was in 2009, which means that the country has made almost no progress in seven years. That, too, is highly unusual. In the seven years before 2009, for example, life expectancy at birth climbed by 1½ years. The current decline is said to be due to the opioid epidemic, which has produced a rapid increase in overdose deaths. But what's driving the opioid epidemic? This is where things get interesting.
Churn, confusion and disruption: The dark side of Obamacare coverage. Cyndee Weston can barely remember the last time she didn't have to switch health plans during an Affordable Care Act sign-up season. By her count, she has been on five plans in five years. Every fall, after she has spent months figuring out her insurance plan's deductibles, doctor networks, list of covered drugs and other fine print, she receives notice that the policy will be canceled as of Dec. 31. Because her job doesn't come with insurance, "it's agonizing going through all the plans and trying to compare," said Weston, 55, who has diabetes and a history of melanoma. "Every year it's the same scenario: 'We're not going to renew your policy.'"
ObamaCare Punishes Readmissions, Driving Up Mortality Rate. Where you have ham-fisted, one-size-fits-all, centralized coercion, you have unintended consequences. ObamaCare is no exception. One goal of ObamaCare is to reduce costs by punishing hospitals that have above-average readmissions for Medicare patients. The result: ["]Researchers found that the 30-day readmission rate (adjusted for patient risk) declined to 18.4% from 20% after the penalties were introduced. Yet the 30-day mortality rate increased to 8.6% from 7.2% — about 5,400 additional deaths per year.["]
Hidden Camera Video Captures Black Nurses LAUGHING as Veterans Dies. This story should incense every true American, and it showcases the America Leftists built. Further, this story of an 89-year old veteran dying as nurses laugh shows why anybody, repeat ANYBODY who wants to be on Obamacare should know the kind of care they will receive.
Hits keep on coming: Obamacare premiums rising by $1K per month. Here's the number: $2,171. No, that is not the annual cost of a medical insurance policy, although it should be if we lived in a constitutional free market. That is the monthly cost of the medical insurance premiums as announced by Blue Cross in a letter to my friend Mike from Houston County, Georgia, who has a computer programming business and is ineligible for a subsidy. He also sent me the letter received by his friend Dr. Janet, who is an oral surgeon with six employees in Glynn County, Georgia. Who in Washington is willing to speak for the forgotten men and women who want to live their lives and run their small businesses without being forced to pay the steep price of socialism?
In 47 of 50 Cities, Obamacare Coverage Will Be 'Unaffordable' in 2018 By Law's Own Definition. In 47 of 50 cities in 2018, the cost of Obamacare's lowest-priced plan would be deemed "unaffordable" by the Affordable Care Act's own definition, according to a study from eHealth, Inc. Under the Affordable Care Act, health insurance becomes unaffordable when the lowest-cost plan costs more than 8.16 percent of a household's gross income. Usually people who fall in this category can get an exemption from paying Obamacare's individual mandate. "Government subsidies are available to people earning up to 400 percent of the federal poverty level, but middle-income households earning 401 percent or more of the federal poverty level are not eligible for subsidy assistance," eHealth explains.
I Always Knew Obamacare Was A Nightmare. Now, I'm One Of The Millions Living It. Since its enactment, I've always acknowledged the fundamental flaws in Obamacare. However, because of the law, I was able to stay on my parent's health insurance until I was 26. By then, I had a full-time job with excellent health benefits, including medical, dental and vision coverage. Frankly, my health coverage was better than that of my parent. As millions of Americans grappled with skyrocketing health insurance costs as Obamacare was being implemented, I never really had to worry about it. My employer covered 100 percent of my premium, I had a relatively minuscule deductible, and my co-pays were a non issue. That was then. This is now.
Waiting Longer for an Ambulance When Seconds Count? Blame Obamacare. If you're waiting for the administration to replace the Affordable Care Act, you should pray that you won't need an ambulance. If you do call the 911 emergency services, then you'll be waiting longer than you would have before President Obama's signature healthcare reform was implemented. How much longer? On average, close to 20 percent more, according to new research from the National Bureau of Economic Research.
Obamacare Appears To Be Making The Opioid Crisis Much Worse. [Scroll down] Boiled down even further, the primary problem with Obamacare, and pretty much every social policy that comes from the federal government, is a one-size-fits-all mentality forced upon a country filled with nearly 350 million people, each of them unique in good ways and bad, each of them needing access to the kind of health care and coverage that best suits their own personal needs. A free market can and will find a way to service everyone at a reasonable price. That is the genius of free markets, which can be fluid and flexible. That is why even poor people today own air conditioners, flat screen televisions and a growing obesity problem. The federal government is the exact opposite of dynamic, which is tolerable when it comes to some things, but deadly when it comes to your personal health. How absurd is it that a 45-year-old man is forced by his government to pay for pre-natal care but cannot get the painkillers he so desperately needs?
ObamaCare's Victims Are Very Real, So Stop Ignoring Them. For months, ObamaCare defenders have dominated the debate by trotting out people who would supposedly be harmed by the GOP replacement plan. President Trump turned the tables on Monday by highlighting the very real pain ObamaCare is causing millions of middle class families.
This nonprofit is asking people to tell them why Obamacare hurts. A nonprofit group founded in part by Home Depot co-founder Bernie Marcus on Thursday ]6/30/2017] kicked off a new nationwide campaign aimed at collecting stories from Americans about how the Affordable Care Act hurt them. "There's a lot of talk in Washington D.C. about the solutions, there's a lot of debate about what the right solution is on health care," said Elaine Parker, President, Job Creators Network Foundation. "What we need to do is take a step back and look at the problem, and the problem is that Obamacare has hurt a lot of people along the way." JCN's website says their mission is to "involve employees in the fight to defend free enterprise."
Scenes From the Collapse: Another ObamaCare Crisis Erupts In Rural Nevada. If the clock is ticking on the Senate Republican effort to pass an ObamaCare repeal-and-replace bill, then time is also running out on Americans outside of urban cores stuck in the ObamaCare system. Anthem, which had previously been bullish on ObamaCare, announced that it will pull out of exchanges in most of Nevada — leaving thousands there with no access to health insurance within the mandatory system.
3 Tips for Talking to a Liberal About Healthcare. [#2] Once you've established common ground, it's now about telling the story of those harmed by Obamacare. Perhaps you can share your own story. I'm a small business owner, I buy my own health insurance, and my premiums have tripled. But sadly I'm not the only one. When you take a look at healthcare cost across the country and realize that on average they've increased by twenty-five percent — and in some regions by a hundred percent — there are many stories that you can tell.
My husband would've died with Obamacare. Had Obamacare been the law of the land in early 2008, my husband probably would've died. And even if he didn't, we probably would've had thousands and thousands of more dollars in medical expenses than we did. We do now, for crying out loud: post-Obamacare, the ongoing health needs of my husband cost thousands of dollars more in deductibles and copays than we ever paid in the freer market. Thanks Obamacare.
How many Americans does Obamacare kill each day? The Affordable Care Act came into legislative existence in 2010 and has increased its influence over health care delivery in the United States every year since. At the heart are mandates that every American purchase health insurance. Defenders of the ACA proudly boast that at least an additional 10 million Americans have gained health insurance with the addition of the law. Some have gone as far as extrapolating how this has saved life. If this is true, why has life expectancy declined so dramatically? The problem is significant.
You May Like Obamacare, But Don't Forget About the People It's Hurt. You may know me as a political pundit and writer who has spoken publicly about how the Affordable Care Act negatively affected my family. What you might not know is two years ago, I was a seven-month-pregnant widow with one toddler who got a letter two weeks after my husband died, informing me I'd lost my third or fourth health insurance plan since the Affordable Care Act passed. If you'll remember, the promise was that I could keep my plan if I liked it. I could not. I predicted what would happen to my family's insurance, and to much less fortunate people subjected to the exchanges with us, many of whom have seen doubled premiums and tripled deductibles. If you'll remember, the promise was everyone's premiums would go down. They did not.
ObamaCare's Popularity Is A Myth — Enrollee Satisfaction Craters To 22% As Exchanges Collapse. The new coverage of ObamaCare these days has been all about protests against repeal and the alleged increase in public support for the law. But a survey of actual ObamaCare customers released this week paints an entirely different picture. It found that just 22% of the 44,200 ObamaCare enrollees polled rate their health plan as good to excellent. That's down from 77% who gave their ObamaCare plans high marks last year. The reason for the sharp decline was higher premiums, worse service and lack of choice.
Dear Congress: Please Take My ObamaCare Coverage, Because It's Horrible. Last week, Vox ran a story featuring individuals covered by Obamacare, who live in fear about what the future holds for them. They included people who opened small businesses because of Obamacare's coverage portability, and worry that the "career freedom" provided by the law will soon disappear. Unfortunately, but perhaps unsurprisingly, Vox didn't ask this small business owner — who also happens to be an Obamacare enrollee — for his opinions on the matter. Like the enrollees in the Vox profile, I'm also incredibly worried about what the future holds, but for a slightly different reason: I'm worried for our nation about what will happen if Obamacare ISN'T repealed.
Vox Asks Twitter How Obamacare Impacted Their Lives, Gets Flood of Negative Responses. Vox asked Twitter users on Wednesday [2/15/2017] for stories on how the Affordable Care Act affected their lives, appearing to expect positive responses about former President Obama's chief legislative achievement. What the liberal publication got instead was a flood of stories highlighting skyrocketing premium costs and health care insurance loss, among other things. "The ACA essentially saved my life," said a Vox reader in a quote posted to the publication's Twitter timeline. Vox tweeted, "Tell us how the Affordable Care Act has impacted your life," above that quote.
Can I Be The Poster Child Against Obamacare? Like millions of Americans who are paying thousands of dollars a year for health insurance no doctors will take, I would love to be flying to Washington this week, pleading with members of Congress, spearheading letter-writing campaigns and appearing as a witness, to tell everyone about my experiences with Obamacare. But none of us can, because we're too busy working so we can afford to pay for the health care of 22 million poor, entitled or irresponsible people under Obamacare.
I Meet my First Obamacare Commissar. Like most of you, I assumed that all those HIPAA forms they made me sign over the years actually meant what they said they meant. About medical privacy and such. So, it came as a surprise to me when I called another doc's office and a lisping Valley Girl who answered the phone demanded to know my private information. What were her qualifications, I asked? Didn't I sign that darned HIPAA thing to protect my private medical info? Valley Girl said nothing about any medical qualification, and she sounded like a fresh new graduate of the local high school or community college. But she insisted politely that I had no HIPAA protection in my medical phone call. Then I called her manager, who agreed that I have no HIPAA protections in Obama's Brave New World. I called my doc, who agreed I have no privacy protections left. Then I called a medical friend, who tells me she's been complaining about that for six months. But nobody told you or me.
Obamacare Is Killing Rural Hospitals and Their Patients. mong the talking points deployed by Obamacare apologists in their effort to save "reform" is the claim that repeal will cause thousands to die due to the loss of health insurance. This nonsense is based on the fiction that repeal will cause tens of millions to instantly lose health coverage and on debunked studies showing that the lack of insurance causes premature death. Strangely, the compassionate champions of the potentially uninsured seem unmoved by the very real carnage wrought by Obamacare's destruction of rural hospitals. Since 2010, 80 such facilities have closed, a trend that is killing patients right now.
For Me, Obamacare Means Paying All Your Own Bills And Never Getting The Doctor You Need. It's Obamacare enrollment time — that is, if you're unfortunate enough to not have employer-sponsored health insurance. There's been a lot of media coverage lately about rising premiums. But the headache isn't just financial, although that's certainly part of it. With more insurance providers fleeing the individual market and coverage becoming worse and worse, getting the care you need can feel almost impossible. To illustrate, I'd like to share my own experience buying insurance on the Obamacare exchange and trying to get treated for a chronic health problem.
Obamacare is the same as no insurance at all.
These Patients Are Covered by Obamacare But Can't Afford Treatment. While Obamacare has brought health insurance to millions of people in the U.S., some in the program are finding that the medical care they need is too expensive to actually use. Michelle Harris, a 61-year-old retired waitress in northwest Montana, has arthritis in both shoulders. She gets a tax subsidy to help buy coverage under Obamacare, though she still pays $338 a month for the BlueCross BlueShield plan. Yet with its $4,500 deductible, she says she's doing everything she can to avoid seeing a doctor.
My Defective Obamacare Health Insurance Product Just Blew Up. Like many other Americans, I got a letter last week. This letter is becoming an annual tradition, arriving on my doorstep in October to inform me of my Obamacare insurance premium hike. Last year, the letter said my Bronze plan, purchased on the marketplace formed by the, ahem, Affordable Care Act, would increase by almost 60 percent. This year, my premium is going up 96 percent. Ninety-six percent. My monthly payment, which was the amount of a decent car payment, is now the size of a moderate mortgage.
Some Californians see health premiums rise sharply as Obamacare enrollment nears. Paula Schwartz of West Los Angeles says Obamacare has helped her afford medical coverage while she cares for her aging mother. But next year, her payments will jump $92 a month, or 57%. Schwartz, 56, said her new monthly cost of $254 is still about half of what she was paying for coverage before Obamacare. But she worries that those premiums will only continue to rise. Already, she said, the bill has doubled in the program's first three years.
Obamacare's Open Enrollment Season Is a Healthcare Horror Show. Obamacare's fourth open enrollment period begins tomorrow — and what a fitting epilogue to Halloween. After all, when Americans log on to either their state or the federal health insurance exchanges, they'll be in for a fright. What they'll discover is a witch's brew of double-digit premium hikes, restrictive provider networks, and fewer coverage choices. Many exchange customers will have only a single insurance provider to pick from. And more than a million enrollees will find that their current plans have vanished from the exchanges. Even the rosiest projections expect the online coverage markets to be veritable ghost towns.
Frustration runs deep for customers forced to change Obamacare plans routinely. Andrea Schankman's three-year relationship with her insurer, Coventry Health Care of Missouri, has been contentious, with disputes over what treatments it would pay for. Nonetheless, like other Missourians, Schankman was unnerved to receive a notice from Coventry last month informing her that her policy was not being offered in 2017.
ObamaCare Enrollees Face A Rude Awakening In Two Weeks. Although the mainstream press has largely ignored it during this election in favor of wall-to-wall coverage of Donald Trump's alleged misdeeds, ObamaCare is absolutely coming unglued. When the exchanges open for business in two weeks, people looking for insurance there will find far fewer choices, sky-high premiums and lower-quality plans. A recent analysis by Bloomberg found that because insurance companies have bailed out of so many ObamaCare markets, more than 1.4 million people will be forced to switch plans during open enrollment. In most cases, that will mean finding new doctors and other providers as well.
Over 250,000 to Lose Health Insurance in Battleground North Carolina Due to Obamacare. More than 250,000 people in North Carolina are set to lose their healthcare plans under Obamacare due to two of the state's three insurers dropping out of the exchange. The insurers' departure from the exchange means that only one insurer will be available for people to purchase plans from, Blue Cross Blue Shield of North Carolina, and they are raising their rates by nearly 25 percent, the Washington Post reported.
Obama Lied. My Third Health Plan Just Died. Once was a shock. Twice was an outrage. Thrice is a nightmare that won't end. Over the past three years, my family's private, individual health insurance plan — a high-deductible Preferred Provider Organization — has been canceled three times. Our first death notice, from Anthem Blue Cross Blue Shield, arrived in the fall of 2013. Our second, from Rocky Mountain Health Plans, came last August. Three weeks ago, we received another ominous "notice of plan discontinuation" from Anthem informing us that the insurer "will no longer offer your current health plan in the State of Colorado."
Rising Premiums Rankle People Paying Full Price For Health Insurance. About 10 million Americans buy individual insurance coverage without cost-reducing federal subsidies on the marketplaces on the open market, according to the Congressional Budget Office. In Georgia, consumers who don't get insurance through their employers or don't qualify for tax credits to help pay for policies they purchase are facing double-digit premium increases.
ObamaCare problems making coverage harder to afford, find. When Health Republic Insurance of New Jersey announced recently that it's $46 million in debt and shutting down, it became the 17th failed ObamaCare co-op since the Affordable Care Act launched three years ago. Those failures — just six of the original 23 co-ops remain — have left hundreds of thousands of people scrambling for coverage. Meanwhile, insurers claiming big losses are leaving some state exchanges — including Indiana University Health Plans, whose exit is expected to result in 27,000 Indiana residents losing ObamaCare plans in 2017. And companies still operating in the federal and state exchanges are raising premiums for next year.
Think Obamacare Is Broken Now? Wait Till Hillary 'Fixes' It. Hillary Clinton frequently says that, as president, she will "build on the successes of the Affordable Care Act." If you are among the 54 percent of Obamacare enrollees who hate their coverage, or belong to the majority of Americans who want the law repealed, or are merely one of the millions whose out-of-pocket health care costs have skyrocketed, you might wonder, "What successes?"
ObamaCare Gets Personal. ObamaCare [is] the nightmare that hangs over us all. Promises made, promises not kept... escalating premiums and services not rendered. And we all have heard stories of people losing insurance they were happy with while men are now covered for pregnancy and women can get prostrate exams at no cost. Now add in the fact that cancer patients are being denied much needed chemo and radiation treatment, heart attack patients are mired down in paperwork as they sit in waiting rooms overrun with illegals who get better and faster treatment than they do, and you just know that America's health care system has been dealt a devastating blow.
Nearly 100,000 Coloradans to lose Obamacare coverage as insurers drop out, cut back, raise rates. More than 92,000 Coloradans will lose their Obamacare health care coverage in 2017 as four leading insurance companies scale back or eliminate their plans while others propose rate hikes of as much as 40 percent. Insurance holders with individual plans through Anthem, UnitedHealthCare, Humana and Rocky Mountain Health Plans will need to find new coverage for the 2017 coverage year, according to a Monday statement from the Colorado Division of Insurance. Insurance commissioner Marguerite Salazar described the upheaval as part of the "stabilization phase" as the state exchange, Connect for Health Colorado, enters its fourth enrollment year.
Under Obamacare, Small Business Owner Forced to Get Rid of Health Care Benefits or Face Fine Up to $500K. "It was actually allowing me to offer a medical insurance benefit to my employees without having to go through all of the challenges of a group plan," he said of the Health Reimbursement Agreement. But in September 2013, the IRS and Treasury Department issued guidance prohibiting businesses from using Health Reimbursement Agreements, which help workers pay for health insurance plans purchased on the individual market and other medical expenses. Businesses that integrate Health Reimbursement Agreements with group plans can still offer the benefit. The Treasury Department said Health Reimbursement Agreements failed to satisfy specific provisions of Obamacare, such as the prohibition on annual limits for health benefits and the requirement that plans must include preventive care.
ObamaCare's latest victims: 100,000 New Yorkers and taxpayers everywhere. Bad news for New Yorkers, thanks to ObamaCare: More than 100,000 policyholders just learned that their Health Republic insurance plans will be canceled on Dec. 31. The start-up insurer (spun off from the Freelancers' Union) is hemorrhaging red ink and has to close down. That's unfortunate for the policyholders, who now have to scramble to find other coverage and try to keep their doctors. But even worse is the abuse of taxpayers across the country: Congress loaned a whopping $2.5 billion of taxpayers' money to Health Republic of New York and 22 other boondoggle insurance co-ops, even after being warned by its own budget experts that many co-ops would fail and not repay the loans.
Obamacare Poll: Most Enrollees Hate Their Plans. The White House and the legacy media continue to claim that Obamacare is a "historic" success. Its actual enrollees, oddly enough, failed to get that memo. A new survey conducted by the Kaiser Family Foundation shows that a majority are dissatisfied with their plans: "Just over half (54 percent) now rate the value of their coverage as 'only fair' or 'poor.'" Moreover, the percentage of Obamacare enrollees unhappy with their premiums and deductibles has been going up: "Nearly half now say they are dissatisfied with their plan's annual deductible... and four in ten are dissatisfied with their monthly premium."
Sorry, We Don't Take Obamacare. Amy Moses and her circle of self-employed small-business owners were supporters of President Obama and the Affordable Care Act. They bought policies on the newly created New York State exchange. But when they called doctors and hospitals in Manhattan to schedule appointments, they were dismayed to be turned away again and again with a common refrain: "We don't take Obamacare," the umbrella epithet for the hundreds of plans offered through the president's signature health legislation. "Anyone who is on these plans knows it's a two-tiered system," said Ms. Moses, describing the emotional sting of those words to a successful entrepreneur. "Anytime one of us needs a doctor," she continued, "we send out an alert: 'Does anyone have anyone on an exchange plan that does mammography or colonoscopy? Who takes our insurance?' It's really a problem."
Clinton Dumbfounded by Rising Cost of Obamacare. Hillary Clinton was stunned Monday [5/9/2016] when a small business owner told her that the cost of her health insurance had increased nearly two fold. "A $400 increase, assuming you didn't have some terrible healthcare event, which it doesn't sound like you did," Clinton said at a campaign event in Virginia. "I don't understand." The voter told Clinton that her health insurance plan had a rigid income cut-off that was preventing her from qualifying for subsidies. "I have seen our health insurance for my own family go up $500 a month in the last two years," the voter said. "We went from $400-something to $900-something ... we're just fighting to keep benefits for ourselves." [...] Clinton offered numerous solutions but avoided addressing the source of the problem.
ObamaCare Is Fueling America's Opioid Epidemic?! Critics of ObamaCare have lodged many complaints against the law — about spiraling premiums, unstable insurance markets, high deductibles, burdensome taxes waste, and so on. But here's an interesting new complaint — ObamaCare is fueling the nation's opioid epidemic. Even more eye-opening is the source: Time Magazine, the same magazine that heralded ObamaCare when Democrats managed to get it through Congress without a single Republican vote as "the most sweeping piece of social legislation since the 1960s Great Society initiatives."
Krugman: All of These 'Imaginary' Obamacare Horror Stories Are 'Invented'. Here we go again. One of the High Priests of the so-called "reality-based community" has for the umpteenth time pronounced Obamacare a great success, asserting that people who believe otherwise (like, for example, the majority of the American people) have either been deceived, or are liars. Paint-by-numbers acerbic Leftist, reactionary smear artist, and New York Times columnist Paul Krugman calls Obamacare horror stories "imaginary disasters," made up from whole cloth to scare people and undermine a law that's working and helping people.
Obamacare "Fail" Stories. [Scroll down] Stories about the ACA providing insurance for people with pre-existing conditions fail to mention other options were already available. In Texas there was a high-risk pool which made insurance available at reduced prices (supported by state funding). As insurance is regulated by the state, all insurers operating in Texas were required to participate. Individuals were not required to participate. Employers were not required to participate. With ACA, the Texas program was discontinued.
Top ObamaCare Horror Stories. [Scroll down to #2] Just minutes before chemo, a pastor diagnosed with stage three cancer of the esophagus was told that his treatment would not be covered. [Video clip] He says: there's "no compassion in the Affordable Care Act." A local WHO-IA reporter says: "Over the past two months, the Angrans have emptied their savings account and racked up $50,000 in debt. They signed up for the Affordable Care Act but found it to be anything but affordable. It will cost the couple more than $800 per month, money they just don't have."
Obamacare Is a Horror Story for Young Americans. [Scroll down] Tommy had no choice but to grudgingly visit D.C. Health Link and attempt to sign up for an insurance plan on the ACA exchange. He did not get very far. Besides the embarrassing computer difficulties that became infamous on the state and federal exchanges, massive technological problems with "back-end functionality" also plagued the site. D.C. Health Link was unable to verify Tommy's identity, and after hours of back-and-forth on the phone with an ACA help center, he was told to send in a paper application. After many phone calls and countless hours on hold over a period of weeks, and despite multiple assurances to the contrary, Tommy was informed that his paper application had been lost. Finally he was directed to a place where he could sign up in person. This attempt, too, did not succeed, as the "navigators" there had been instructed not to accept paper applications any longer.
There are about 26 testimonials on this web site, and only four are favorable responses:
Real Life Stories on ObamaCare. The following are true ObamaCare Stories from real people Across America. We post the good, the bad, and the ugly, so you won't simply find ObamaCare horror stories or ObamaCare success stories.
Obamacare Horror Stories. We asked Texans to share their ObamaCare horror stories with us. Here are just 20 examples of the ways Texans have been shortchanged by ObamaCare: [...]
ObamaCare Horror Stories from Ohio. Representative Brad Wenstrup (OH-2) joined other members of the Ohio delegation and released the following statement reacting to their constituents' experiences with open enrollment and the Department of Health and Human Services' (HHS) downgrade of projected enrollees. [...] "All across Ohio, the harmful effects of the president's health care law continue to be widespread. Premiums and deductibles are rising, plans are being cancelled, people are losing access to their doctors, and small businesses have been forced to reduce employee hours in order to comply with the law's mandates — turning full-time work into part-time work for too many.
Harry Reid Denies All Obamacare 'Horror Stories'; 'All Are Untrue'. Harry Reid spoke about the Obamacare "horror stories" on the Senate floor this morning [2/26/2014]. He said that "all are untrue." [Video clip]
27 anecdotes:
Obamacare Horror Stories. One month after Senate Majority Leader Harry Reid (D-Nev.) declared that all of the Affordable Care Act (ObamaCare) horror stories were lies, he claimed that he never said such a thing. But Citizens Against Government Waste always knew the stories were true, and we asked our members to provide their own ObamaCare horror stories. Hundreds have responded. They include individuals, entrepreneurs and small business owners, those who will most acutely experience the ObamaCare morass. But the negative effects of President Obama's healthcare reform law will not end with them. If ObamaCare becomes more embedded in the healthcare sector, all Americans will get to experience its harmful consequences.
Top Ten ObamaCare Horror Stories the Media Is Covering Up. Because the mainstream media lobbied every bit as hard as Obama to win passage of ObamaCare, they are every bit as invested in doing whatever is necessary to see that it is perceived as a success. Unfortunately for Americans who expect truth from their media, this means the media are having to manufacture a false reality that says ObamaCare is, to steal a phrase, "doing fine." [...] Usually when a government policy hits the working class, the media will fall all over themselves to "tell their personal stories." But not these people. The media perceive these poor souls as sacrifices to a bigger cause known as The State.
The ObamaCare Wolf, Scratching at Your Door. "It's awful," the stressed-sounding voice on the phone declared. "It's just awful." The voice belonged to my primary care doctor's office manager. She had just told me that my doc would not accept my health insurance in 2016, and that the nearest physician who would accept it is in a town a thirty-minute drive away. She was describing the dilemma that many of the doctor's patients now face. For our health insurance — which we are now required by law to purchase, of course — to be of any value, we will have to make an hour-long round trip just to see a doctor.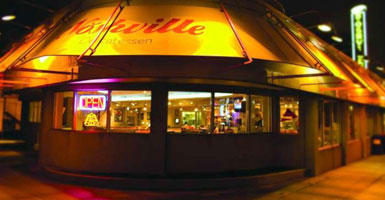 This Nashville Deli Is Closing in Part Because of Obamacare. If you ask Tom Loventhal, a deli is no more than a place to provide customers with comfort food. Whether it's breakfast — served all day — soup or a sandwich, Loventhal's motto has always been that at his Nashville, Tenn.,-based deli, "anyone is welcome here from ages 0 to 99, because you'll find something on the menu." [...] But come Dec. 27, the midtown Nashville location of the restaurant, one of two Loventhal owns, will be closing its doors in part because of Obamacare, he said. "Having more than 50 full-time employees means you have to comply with the Affordable Care Act, and it was an unknown risk of how much it was going to cost," he told The Daily Signal. "But it was going to be significant, and take a lot of time and labor to take care of the transition and the reporting and the forms."
Franny's blames Obamacare for rise in pizza price. President Obama is being blamed for the rising price of Brooklyn pizza. The owner of the beloved Park Slope pie and pasta joint Franny's says the President's signature health care law is forcing her to tack on 3% to all checks to offset the $200,000 cost of federally mandated insurance for her 50-plus employees. "This is a cost that we cannot absorb without going out of business," owner Francine Stephens tells the [New York] Daily News.
UnitedHealth CEO regrets entering ObamaCare. The CEO of UnitedHealthcare on Tuesday [12/2/2015] said he regretted the decision to enter the ObamaCare marketplace last year, which the company says has resulted in millions of dollars in losses. [...] UnitedHealth, the country's largest insurer, announced last month that it would no longer advertise its ObamaCare plans over the next year and may pull out completely in 2016 — a move that sent shockwaves across the healthcare industry.
New York cancer patients are ObamaCare's latest victims. Add 250 New York cancer patients to the long list of victims of ObamaCare's lies — just one more snapshot of the program's ongoing death spiral. These New Yokers are getting treatment at world-renowned Memorial Sloan-Kettering Cancer Center — but their ObamaCare policies are about to vanish, as Health Republic, one of the largest health insurers on New York state's exchange, and the only one to cover Sloan-Kettering treatment, is shutting down at month's end after losing $130 million.
Woes of the Affordable Care Act Continue. Rate increases. Penalty hikes. Adjustment to the enrollment period. More bureaucratic red tape. That's what's coming from the affordable care act in 2016.
Insurance premium increase of 85 percent a stunner. The owners of the Sockshop & Shoe Co. face a stunning 85 percent increase in the cost of their group health insurance plan for their employees. "When you're doubling the cost, it's threatening," said Eric Gil, co-owner with his wife Ellen of the longtime downtown business. Ellen, with 2016 quotes from the insurance agent in hand, said, "One choice is the nuclear option — don't offer insurance."
Obamacare forces Tennessee school district to shut down. A school district in Tennessee is blaming Obamacare for its decision to shut its doors. In an AP report, Clay County Director of Schools Jerry Strong said the school board made its decision to cancel classes because of budget issues that are related to government mandates that the district can't afford. He said the Affordable Care Act was the "straw that broke the camel's back" and that "it has made it very difficult for us to have our employees properly covered and meet the mandates of the law."
Two more Obamacare co-ops fail: Tennessee and Kentucky both announce closures. Approximately 27,000 Tennesseans who had coverage through the Tennessee Community Health Alliance will be receiving cancelation notices soon. Just yesterday [10/14/2015], the CHA announced that it had entered a voluntary state-approved runoff and will no longer offer insurance plans in 2016. This decision comes just weeks away from the next Obamacare Open Enrollment period beginning on November 1, 2015. Policyholders who continue to pay their premiums will keep their coverage through December 31, 2015, but will be forced to choose a new plan from the four remaining carriers participating in the state's Exchange.
Obama Lied, My Health Plan Died — Twice! In the fall of 2013, our family received notice from Anthem Blue Cross Blue Shield of Colorado that we could no longer keep our private health insurance plan because of "changes from health care reform (also called the Affordable Care Act or ACA)." [...] Thanks to "reform," our two kids' dental care was no longer covered, and we had our post-Obamacare insurance turned down at an urgent care clinic — something that had never happened before. This summer came another bombshell.
ObamaCare Survey: Just 30% Like Their Plans. The latest evidence of consumer dissatisfaction with ObamaCare's "high quality" product comes from a Deloitte survey, which finds that only 30% of ObamaCare enrollees are satisfied with their current plan, compared with 42% of those with employer plans, and 46% overall. Industry analyst Robert Laszewski also points out that enrollment as a share of the eligible market is dismally low in every income group except those at the bottom — who get coverage almost for free. "The proportion of the population that is signing up for ObamaCare is concentrated in the very lowest income categories while ObamaCare is obviously unattractive to everyone else," he noted.
The IRS, Obamacare, and the English Language. [Scroll down] One thing the disaster stories leave out is the fact that, for millions of Americans, Obamacare itself has been a disaster. These victims of Obamacare — yes, victims — include people who [...] can no longer buy low-priced catastrophic insurance, or who find that the cost of their current policies have increased steeply, or who can't keep their doctors. They include workers pushed into part-time status by companies trying to avoid Obamacare's dictates, and companies that shelve their expansion plans due to its regulatory burdens. They include the taxpayers who foot the bill.
Hospitals Are the Latest Victims Of ObamaCare's False Promises. President Obama recently claimed that ObamaCare is working even better than anticipated. That would be a tough sell to all those hospitals that thought the law would help them make ends meet.
'ObamaCare is penalizing me for pursuing my dreams!'. ObamaCare has hit people like me the hardest. I left a desk job at The [New York] Post to dedicate my time to teaching yoga and developing a career in health and wellness (the irony of sacrificing my health insurance for this is not lost on me). I'm teaching on a freelance basis. My husband is also a full-time freelancer, or a "perma-lance," if you will. Our household income puts us just barely in the lower-middle-class bracket. And we will end up paying top dollar to have any type of insurance.
The Brutality of Obama and the Left. [Scroll down] Telling the truth about ObamaCare is risky. We see bullied government officials. Bullied health insurers and providers. Even a stage-four cancer patient, Edie Sunby, who had the nerve to recount in an op-ed that the ACA cost her insurance coverage, was bullied by the White House. Sunby was one of millions of Americans forced out of insurance policies.
Obamacare's Tax Nightmare. Obamacare is making the least popular day — April 15 — even worse. For about one in four tax filers, it's turning out to be a nightmare, with extra paperwork and penalties. And for high earners or anyone selling a piece of property or business, Obamacare means higher taxes.
ObamaCare Causes A Descent Into Madness Familiar To Many. Franz Kafka lives. Except even this spinner of tales of helpless victims of faceless bureaucracies might not have imagined a situation where a law-abiding citizen faces a fine for failing to take an action his government prohibits him from performing. Which is the descent into madness I am now experiencing, thanks to the Affordable Care Act.
This Longtime IHOP Owner Sold His 16 Restaurants Because of Obamacare. It was a brisk March morning, nearly a year after President Obama signed the Affordable Care Act, and I had trekked to the Midwest with a camera crew to meet Scott Womack, owner of about a dozen IHOP restaurants in Indiana and Ohio. Womack's testimony before Congress earlier in 2011 caught my attention and I wanted to visit him at one of his restaurants to see firsthand how Washington's policymaking had impacted his work.
ObamaCare stinks even with subsidies. Down here in the medical trenches, the harsh reality of the Affordable Care Act continues to play out. My patients continue to report delays in signing up for ObamaCare policies and are rarely happy with what they end up with. They all have high deductibles and a narrow network of doctors to choose from. This isn't their fault — it's all they can afford. Of course, without the subsidies, my blue-collar patients, many of whom work part-time jobs, wouldn't be able to afford ObamaCare insurance at all.
Glitch: 'I Have to Pay Back My Obamacare Subsidy'. We've been warning about the millions of Americans who are likely to experience a turbulent tax season because of Obamacare, thanks in large part to the federal website's still-unfinished "back end" — which has resulted in inaccurate subsidies being paid out.
I have to pay back my Obamacare subsidy. Between 4.5 million and 7.5 million taxpayers received subsidies for insurance premiums when they signed up for coverage on Obamacare exchanges, federal officials said. These folks had to forecast their 2014 income when they applied. Those who underestimated their earnings either will receive smaller tax refunds or will owe the IRS money.
Insured, but Not Covered. [Karen Pineman] accepted that she'd have to pay out of pocket to see her primary care physician, who didn't participate. She even accepted having co-pays of nearly $1,800 to have a cast put on her ankle in an emergency room after she broke it while playing tennis. But her frustration bubbled over when she tried to arrange a follow-up visit with an orthopedist in her Empire Blue Cross/Blue Shield network: The nearest doctor available who treated ankle problems was in Stamford, Conn. When she called to protest, her insurer said that Stamford was 14 miles from her home and 15 was considered a reasonable travel distance. "It was ridiculous — didn't they notice it was in another state?" said Ms. Pineman, 46, who was on crutches. She instead paid $350 to see a nearby orthopedist and bought a boot on Amazon as he suggested. She has since forked over hundreds of dollars more for a physical therapist that insurance didn't cover, even though that provider was in-network.
Obamacare cost me my health insurance. I have no health insurance today, due entirely to Obamacare. Being self-employed I have had an individual health insurance policy through the same major, health insurance company for approximately twenty years. Facing significant rate increases — which the company said was due to the (Orwellian-named) Affordable Care Act — I signed up for coverage, with that same company, last spring through the federal marketplace. [...] Enrolling in Obamacare was a major nightmare. Escaping Obamacare is even worse. My premium, under the "your rates won't go up" Obamacare plan, was to be jacked up 23.9% as of January 1.
CBO Now Says 10 Mil Will Lose Employer Health Plans Under ObamaCare. The Congressional Budget Office now says ObamaCare will push 10 million off employer-based coverage, a tenfold increase from its initial projection. The "keep your plan" lie just gets bigger and bigger.
Endlessly slapped by ObamaCare. "I'm sorry sir," the polite Healthcare.gov customer-service agent said. "There's nothing I can do. You're either going to have to enroll in Medicaid or you're going to have to pay the full health-insurance rate." "The rate you quoted earlier?" I asked. "That's nearly 30 percent higher than my current insurance bill, I just can't afford it." "You'll have to pay the full rate, yes," the agent replied. "I don't understand," I explained. "I have plenty of money to pay you a reasonable rate, but I can't afford to pay the same rate a millionaire would be asked to pay. Why can't I just receive a partial subsidy? I'm willing to pay more than what Medicaid offers." "Sir, that's just not how the system works."
Obamacare Enrollees May be Without Coverage by July. There was once a time when a citizen who had a serious pre-existing condition, had no access to employer health care, and was unable to obtain individual coverage from a traditional insurance company, could join a "high-risk pool" in nearly three-quarters of U.S. states and have his or her medical needs met. Then, once the Affordable Care Act (ACA) came along, all that changed, and the law said that these high-risk pools were not Obamacare-compliant. But the Obama Administration has changed its tune, and has issued a new proposed rule saying these high-risk pools are, indeed, Obamacare-compliant.
Harvard's Obamacare revolt. A deliciously ironic New York Times story recounts the uproar at Harvard when profs learned that the school is forcing them to pay more for their insurance, including higher deductibles and co-pays. Members of the Faculty of Arts and Sciences voted overwhelmingly against the changes in November. But too late. Harvard officials say costs are rising for an obvious reason: all those expensive Obamacare mandates, extending coverage to children up to age 26 and offering free preventive services like mammograms and colonoscopies.
You Are The 'World'. [Scroll down] Take for example the case of New York City resident Nicolas Karlson. The Affordable Care Act gave him the shaft. In the pre-Obamacare days Karlson paid only $1,805 every three months to medically insure himself and his wife. Obamacare canceled his plan and the cheapest thing he can get costs "$1,221.60 per month, or more than 100 percent more than his old plan cost." Not only that, his network of doctors excludes everyone.
Obama's Christmas Gift to my Daughter. My youngest daughter just joined the ever-increasing number of Americans who have lost their health coverage due to Obamacare. She received a letter from her insurance carrier indicating that the individual policy with which she was eminently satisfied, and that she could more or less afford, would no longer be available after the end of the year. In its place, the insurer offered a plan whose premiums will be nearly double what she has been paying for the cancelled policy.
Patients outraged after losing doctors under Obamacare. Kevin McCarthy of Thousand Oaks, California, was surprised last spring, when he learned his family doctor of 14 years could not accept the Blue Shield insurance he'd purchased under Obamacare. He said he was "outraged" because when he was shopping for his policy, Blue Shield confirmed his doctor was covered. "We were duped," McCarthy said. "Hoodwinked is another good term."
'Get Over Your D--- Glibness:' Lawmaker Relates Husband's Death Due to Obamacare Glitch. Republican Wyoming representative Cynthia Lummis was nearly overcome with emotion while relating Obamacare's failure to provide adequate medical testing for her husband before a fatal October heart attack, angrily telling the government witnesses to "get over [their] damn glibness" about the law's impact on real people. [...] The congresswoman explained how a series of Obamacare foul-ups repeatedly led to insurers informing the couple they were not covered under Obamacare. As a result, her husband failed to undergo a medical test that his doctor felt could have detected the risk of, and possibility prevented, a massive heart attack that killed him in late October.
Unable to Meet the Deductible or the Doctor. Patricia Wanderlich got insurance through the Affordable Care Act this year, and with good reason: She suffered a brain hemorrhage in 2011, spending weeks in a hospital intensive care unit, and has a second, smaller aneurysm that needs monitoring. But her new plan has a $6,000 annual deductible, meaning that Ms. Wanderlich, who works part time at a landscaping company outside Chicago, has to pay for most of her medical services up to that amount. She is skipping this year's brain scan and hoping for the best.
Wal-Mart to end healthcare coverage for 30,000 part-timers. Retail giant Wal-Mart Stores Inc. is cutting healthcare benefits for roughly 30,000 part-time employees, citing rising costs. Wal-Mart said Tuesday [10/7/2014] that it will end coverage for employees who work fewer than 30 hours a week. The decision affects 2% of the retailer's U.S. workforce of 1.4 million.
ObamaCare, that most callous of 'reforms'. The next wave of ObamaCare insurance cancellations is under way, flying largely under the national media radar... until Wal-Mart announced it would be dropping coverage for all its part-time employees.
If faulty shopping is a problem, it is not one that Obamacare can solve.
Obama: Healthcare Costs Rising Because Americans Not 'Shopping Effectively Enough'. President Obama has found a new scapegoat in the ongoing debate over his healthcare law: The American people. During a townhall meeting in Indiana Friday [10/3/2014], the plant manager of the steel manufacturer hosting the event asked the president a pointed question about healthcare costs: [Video clip]
The Editor says...
This is the central theme of the Obama administration: Nothing is Obama's fault.
Steel Plant Manager to Obama: Why Are Health Care Costs Rising? President Obama held a town hall yesterday [10/3/2014] in Indiana, and faced a question from a steel plant manager about rising health care costs. [...] The man said, "One of the questions I had is about the health care costs. We are seeing almost a double-digit increase in health care costs every year. So do you think that trends will go down and what can we do to control that trend?" Obama answered, "The question is whether you guys are shopping effectively enough, because it turns out that this year, and in fact over the course of the last four years, premiums have gone up at the slowest rate in 50 years."
Obamacare doctor networks to stay limited in 2015. Even as California's enrollment grows, many patients continue to complain about being offered fewer choices of doctors and having no easy way to find the ones that are available. Some consumers have been saddled with huge medical bills after insurers refused to pay for care deemed out of network.
"Obamacare has destroyed my family". [Video clip]
Nevada family reportedly faces $1.2M in medical bills over ObamaCare typo, confusion. A Nevada family reportedly is grappling with more than $1 million in medical bills, after the insurance they bought on the ObamaCare exchange refused to pay claims over a typo and other issues. The Las Vegas Review-Journal reports that Kynell and Amber Smith are dealing with a six-month nightmare. It all started when Amber Smith in February delivered her daughter five weeks early. Her 40-day hospital stay reportedly included two surgeries. But the Review-Journal reports that the Anthem Blue Cross insurance they got through the Nevada Health Link — an ObamaCare exchange — is not paying claims. The payments are being denied, reportedly because the mother's birth year is incorrectly listed on the insurance card. It should be 1979, but is listed as 1978.
From HIV to cancer to Crone's, ObamaCare fails the sick. It turns out ObamaCare didn't solve the problem of "pre-existing conditions" after all. It made premiums more affordable for people with chronic health conditions that are expensive to treat — but at the price of sticking them with unaffordable co-payments for their medications. The nonprofit AIDS Institute is suing four Florida health insurers for discriminating against HIV/AIDS patients. The complaint says these patients now face prohibitive out-of-pocket drug costs. Sadly, most of the plans sold via ObamaCare all across the country have similar problems — leaving those with chronic diseases without affordable access to the specialty drugs they need.
Oracle sues Oregon over botched Obamacare exchange. The legal battle over Oregon's dysfunctional health insurance exchange officially began this week when Oracle Corp. sued the state agency operating the exchange, alleging breach of contract and accusing Gov. John Kitzhaber of attempting to systematically "vilify the company in the media." In a 21-page complaint filed Friday [8/8/2014] in federal court for the District of Oregon, Portland Division, Oracle charges that during the early months of this year, state officials privately continued to request Oracle's help to fix their system while engaging in a campaign of "constant public slander" against the tech company.
North Carolina mayor walks to Washington to bring focus to ObamaCare's effect on rural hospitals. A North Carolina mayor on Sunday [7/27/2014] was just a few miles away from finishing his 273-mile walk to Washington to draw attention to the closing of his small town's local hospital and the plights of other rural facilities caught in financial bind created largely by ObamaCare, a changing economy and less federal funding. [...] The mayor and others argue that an increasing number of small, rural hospitals have been shuttered since ObamaCare was signed into law in 2012.
Surprise! New health plans' limitations anger enrollees. Nancy Pippenger and Marcia Perez live thousands of miles apart but have the same complaint: Doctors who treated them last year won't take their insurance now, even though they haven't changed insurers. "They said, 'We take the old plan, but not the new one,'" says Perez, an attorney in Palo Alto, Calif. In Plymouth, Ind., Pippenger got similar news from her longtime orthopedic surgeon, so she shelled out $300 from her own pocket to see him.
Oklahoma Man Struggles for Three Months to Cancel Obamacare Enrollment. The Obamacare woes continue as an Oklahoma man spent three agonizing months trying to cancel his health insurance plan. David Emanuel's 65th birthday last April, when he became eligible for Medicare, spurred him to cancel his private health insurance plan. He called BlueCross BlueShield to terminate the plan and was met with resistance. "They said, 'You can't do anything until healthcare.gov tells us that you can drop it,'" he said.
Sticker Shock: NY Family Hammered With 22% Obamacare Rate Hike. In a series called New York Exposed, WHEC-NY in Rochester demonstrates the possibilities of skyrocketing rate hikes being ushered in under Obamacare. One family profiled in their report experienced a 22% Obamacare rate hike from their insurance company. The reporter initiated the report by saying, "Most of our viewers could understand some increases year-to-year, but 22%?" But that's exactly what happened to Michelle Vergilia, an MVP Health Care customer who according to the investigation, is experiencing the 22% Obamacare rate hike on a monthly basis, less than a year after she purchased her new plan.
Powerhouse Las Vegas law firm joins lawsuit against Nevada's Silver State Exchange. Attorney Matthew Callister first filed the lawsuit in May after Las Vegas resident Larry Basich said he paid for an insurance plan scheduled to start Jan. 1 but was uncovered when he had a heart attack and underwent triple bypass surgery in early January. The case now has 150 plaintiffs alleging they paid for insurance without receiving it.
Woman dies after waiting months for operation through Nevada's Silver State Exchange. A 64-year-old Las Vegas woman died Monday after waiting more than two months for insurance coverage and brain surgery because of problems with Nevada's health care exchange. Linda Rolain died from complications following brain surgery in mid-May, according to her husband, Robert. Since April, her family has joined two lawsuits against the State of Nevada and the company that built its flawed online software, Xerox.
Cancer patient, 64, who was suing over Obamacare enrollment mixup dies of her brain tumor. A grandmother with an aggressive brain tumor has died after waiting more than two months for insurance coverage because of mixups with Nevada's health care exchange. The family of Linda Rolain, 64, who passed away on Monday, had joined two lawsuits against the State of Nevada and the company that built its troubled online software, Xerox, since April.
Californians gripe about Obamacare enrollment snags, lack of doctors. Nearly 1,500 Californians have complained to state regulators in the last four months about their Obamacare coverage purchased through California's insurance exchange. New data reveal the biggest category of complaints centers on getting confirmation of health plan enrollment and basic issues such as getting an identification card to obtain care. Many consumers have also encountered difficulty finding a doctor who accepts their new coverage, as well as frustration with inaccurate provider lists, according to the California Department of Managed Health Care.
A lot more people are about to learn they can't keep their plans if they like them. It's almost time for Stage Two of the great ObamaCare dump, as the truly breathtaking depths of Barack Obama's Big Lie are exposed... and America is shoved closer to the howling abyss of single-payer health care, the transformation nobody voted for. Kaiser Health News explains something that ObamaCare critics predicted, with typical accuracy, years ago: employers have strong incentives to chuck their employees into those hideous ObamaCare exchanges, rather than continuing to provide the sort of health insurance we're all accustomed to.
Dems mistake 8 million sign-ups as happiness with Obamacare. The fact is, Obamacare not only remains unpopular but also that its unpopularity may be changing — and not in a way that will benefit Democrats at the polls. [...] Millions of Americans have now had an opportunity to experience Obamacare, and if the polls are correct, more of them have had negative experiences than positive.
Going to Mexico for anything is a horror story.
CA Obamacare Patients Driving to Tijuana, Mexico for Cheaper, Faster Care. California Obamacare patients are finding it more affordable to drive to Tijuana, Mexico for health care treatment than to use their high-deductible Obamacare plans. Irma Montalvo tells USA Today seeing a Tijuana doctor only costs $15 and that she likes her Mexican doctor better.
Iraq Vet Continues Battle Against Obamacare. A year ago I compared decorated veteran Matt Sissel to Horatius, a Roman soldier said to have single-handedly defended a bridgehead against an invasion force intent on imposing a tyrannical regime on the free republic. Sissel is the plaintiff in a constitutional challenge to Obamacare due to be heard this Thursday by the D.C Circuit Court of Appeals. And, as the Horatius analogy suggests, he may be the last man standing between us and the legions of Beltway politicians who wish to subject us to the soft despotism of the bureaucratic state.
A Typical ObamaCare Nightmare. The damage caused by the ObamaCare catastrophe — arguably the worst federal public policy initiative of the past 40 years — are usually discussed in terms of politics and macroeconomic statistics: X-number of jobs lost, an X-percent decline in President Obama's poll numbers. [...] The very worst has been suffered by small businesses (both owners and employees) and by self-employed independent contractors. Statistics cannot adequately express what at an unprecedented nightmare many people have gone through. One of these ObamaCare victms, blogger Rich Vail, describes his frightening ordeal:
5 Lives Wrecked By Obamacare. How do you live with yourself when you watch people's lives being wrecked by a bill sold to the American people almost entirely based on lies? [...] Have these people no shame about all the good people they've hurt with their lies?
Some generic drugs have had eye-popping price spikes. Pharmacist Larry Cowan can flip through his records and spot the generic drugs that have taken big price jumps in the past year or so. There's digoxin, a heart medicine that he used to buy for pennies a pill. "Now the price is close to 10 times that," said Cowan, owner of Glenview Professional Pharmacy in Richland Hills.
Brain Surgery Patient's Obamacare Plan Denies Meds, Drops Doctors. A New York woman suffering from a neurological disease that has required four brain surgeries has been dropped by all of her doctors and denied medications due to her Obamacare plan. [...] Figueroa suffers from a disease known as Arnold Chiari Malformation and Syringomyelia. Even though the Obamacare plan she purchased assured her that she was covered, her insurance card was denied when she went to fill her prescriptions.
Dozens of Widows Dropped from Health Care Due to Obamacare in Alabama. Over two dozen widows in Alabama were dropped from their health care plans due to Obamacare, WHNT reports: [Video clip] "More than two dozen widows who were married to retired Madison county employees, lost their health insurance coverage earlier this year. And now one commissioner says it's time to give it back to them. The change was sparked by the new federal health care law, but whether or not coverage can actually be restored really isn't clear," said the anchor.
The Charts Obama Doesn't Want You to See. Talking about Obamacare's effects is one thing; seeing hard data is another. Heritage's newly updated Obamacare in Pictures has 15 charts that show the law's effects on Americans — from canceled insurance policies to new taxes, Medicare cuts, reduced choice for plans, and more. Here's a quick look at just three of these charts and how Obamacare is hitting three groups.
Computer glitches hamper healthcare delivery to California's poor. Thousands have been unable to get Medi-Cal coverage because state and county computers don't communicate. Some patients are left paying full price for care and drugs.
Is Obamacare killing small business? On Oct. 1, 2013, the Affordable Care Act (ACA) rolled out and it was a virtual nightmare. As an insurance broker, my phone rang off the hook with clients complaining about not being able to get onto the federal government website. Then I started to receive phone calls from clients who had received "notice of cancellation" letters about their then-current policies.
Obamacare eclipses low-cost NJ health plan for middle-class kids. While the federal government was trumpeting the benefits of Obamacare to boost enrollment earlier this year, about 1,800 families in New Jersey were receiving letters telling them their children would be losing their health coverage last week. The Affordable Care Act — the federal law that mandates everyone have insurance — effectively killed FamilyCare Advantage, a low-cost option for kids in New Jersey created six years ago for parents who earned too much to qualify for Medicaid and other subsidized programs but too little to buy on a policy on their own. The state program was the first of its kind in the nation.
Shock Jocks Opie & Anthony Rip ObamaCare After They Lose Their Health Plans. The irreverent hosts of the Opie & Anthony Show absolutely torched ObamaCare on their SiriusXM Radio program Thursday after both of their healthcare plans were cancelled. After Greg "Opie" Hughes, who has a wife and 2 kids, said that like his co-host Anthony Cumia, he too had lost his plan, it was game on.
Mother of Five: Obamacare Jeopardizing My Family's Financial Future. A Michigan mother of five says that the crushing new costs associated with Obamacare have imperiled her family's financial future and will burden the household with thousands of dollars in unexpected expenses. The uptick in costs that Shannon Wendt and her family will face in the coming years under President Barack Obama's Affordable Care Act will strain the family's finances and force both Shannon and her husband to work harder to bridge the fiscal gap.
Plenty of ammo for anti-Obamacare ads in New York Times. [Eric] Wee supported Obamacare when it was passed, he explained, but said: "What I didn't count on was that it would make things harder for me and my wife." First, the couple's $263-a-month coverage was canceled because it didn't conform to Obamacare requirements. When Wee went shopping on the California exchange, he found the cheapest replacement would be about $620 a month. That included paying for coverage for pediatric vision care, although Wee and his wife do not have children. And since the couple makes more than the $62,040 household limit for adjusted gross income, there will be no Obamacare subsidies for them. Then Wee needed a new asthma inhaler and a prescription for antibiotics. He "tried frantically to find a medical facility that would take our new Covered California Anthem Blue Cross bronze plan." No luck; he was told it would be three weeks before he could see a doctor.
Obamacare Takes a Life. Yesterday [3/31/2014] the Obama Administration boasted that six million people had signed up for Obamacare. There was not a word about Frank Alfisi. Frank Alfisi was killed by Obamacare. His daughter, Amy DiFrancesca, is furious. And yes, she quite specifically blames the President of the United States for her father's death. As did the doctor who told Amy: "You can thank Mr. Obama for this."
5 Ways Obamacare Is Ruining Lives. As the Obamacare enrollment period draws to a tentative close — and you never know when the period will close, given President Obama's apparent willingness to manipulate the calendar repeatedly — horror stories about the Affordable Care Act mount. Senate Majority Leader Harry Reid (D-NV) originally maintained, "All of [the horror stories] are untrue, but they're being told all over America"; he now says that he never called such horror stories lies. It's a smart backtrack, given the wide variety of Obamacare horror stories that continue to pile up day after day.
Is George Orwell Working in the White House? There is an old adage in business that goes: "Give a person good service, they will tell two or three of their friends. Give them poor service, and they will make sure to tell ten people." The Obamacare debacle has provided at least the five to six million unhappy customers who lost their existing coverage when insurers were forced to cancel non-Obamacare compliant policies. That means that those, call it 5½ million disgruntled policy holders will express their opinion of the PPACA to at least 55 MILLION of their fellow citizens. Not one outlet of the Ministry of Truth has that kind circulation or viewership. As more and more people hear these stories from their friends and acquaintances, the number of Obama supporters will begin to dwindle.
The "No Obamacare Horror Stories" Fairy Tale. "There are plenty of [Obamacare] horror stories being told. All of them are untrue," said Senate Majority Leader Harry Reid not long ago on the floor of the Senate. Four years after the president signed the measure into law, there are, of course, many real stories of hardship under Obamacare. An extensive list of which is included at the end of this article. But when Reid made those remarks, he wasn't repeating words carelessly dashed off by some 20-something staffer. Rather, he was repeating a meme that has become common among those who economist Thomas Sowell dubs "the Anointed,"" intellectuals whose belief in their own superior knowledge and virtue leads to their misperception that they are an anointed elite more qualified to make decisions for the rest of us in order to lead humanity to a better life.
Harry Reid: I don't recall accusing Republicans of lying about ObamaCare horror stories. Maybe, from moment to moment, this guy just ... doesn't realize what's coming out of his mouth. Hard to believe he could forget saying on the Senate floor that all ObamaCare horror stories — all of them — are a GOP/Koch brothers fairy tale designed to besmirch the stellar reputation of the Affordable Care Act.
Prescription drugs: Harder to get in O-Care? ObamaCare participants are twice as likely to face administrative barriers to using certain prescription drugs as people who receive health coverage through an employer, according to a new analysis.
Fourth anniversary of Obamacare brings stories of pain, confusion, anger to light. Sunday marks the fourth anniversary of Obamacare's signing on March 23, 2010. Democratic Connecticut Sen. Chris Murphy said that at this point Democrats "have a really good story to tell." But Americans outside of Washington, D.C. are also telling their own stories about the health care law. To commemorate the anniversary, Republican Ohio Rep. Bob Gibbs this week asked people on his Facebook page to share how "this law has impacted your life." A few of the answers to Gibbs' question are presented [in this article]. [...] The president might not see them, and the mainstream media sure won't report on them, but we will.
Obamacare: people who think they have coverage hit with massive bills. Correct me if I'm wrong, but wasn't our new, glorious, designed by unicorns healthcare system supposed to prevent things like this? If you signed up for coverage and made your payments, you weren't supposed to get crushed by the ensuing medical bills, right? All those horror stories from the dark days before Obamacare the Affordable Affordable Affordable Affordable Affordable Care Act of people with unbearable financial burdens? Gone. Banished forever. Not gonna happen ever again in our new progressive paradise.
Another 'Glitch'. The story in today's Philadelphia Inquirer begins reassuringly: "Nearly six months after the disastrous launch of Healthcare.gov, with the website running smoothly and more than five million people signed up as open enrollment heads to a close ..." But it turns out that's just disclamatory throat-clearing. Here's the rest of the paragraph: "... a new glitch has come to light: Incorrect poverty-level guidelines are automatically telling what could be tens of thousands of eligible people they do not qualify for subsidized insurance."
Obamacare has left a Nevada man with $407,000 in hospital bills. A man in Las Vegas who signed up for a state-approved health insurance plan in November has now been told that he didn't have coverage for the first two months of this year even though he was paying premiums for that time. Larry Basich's ordeal that has landed him with $407,000 in hospital bills is the latest example of the problems facing Nevada residents due to the state's problem-riddled exchange system.
Half of callers to Covered California give up as deadline looms. Nearly half of callers to California's health insurance exchange in February and March couldn't get through and abandoned their call, state figures show. Those service woes could worsen as more people try to beat the March 31 deadline to get Obamacare coverage under the Affordable Care Act.
Think It's Hard Applying For ObamaCare? Try Cancelling It. A Florida woman, who has an autistic son, says enrolling in ObamaCare was a nightmare. Little did she know. After she got a full-time job with healthcare benefits, she tried cancelling her coverage. That's when the real nightmare began. Melissa Battles says her ObamaCare experience was a disaster from start to finish.
President to Visit Ellen DeGeneres' Show to Sell ObamaCare (Again). President Barack Obama has had years to promote his signature health care reform. Now, with a near daily barrage of bad news tied to ObamaCare, from skyrocketing premiums to bald-face lies about its true nature, the president is reduced to working the talk show circuit like a B-lister promoting a cable pilot.
Vegas man stuck with $407,000 medical bill after ObamaCare breakdown. The Las Vegas Review-Journal reported that Larry Basich, a 62-year-old Vegas resident, has been stuck with the massive medical bill despite signing up for an insurance plan via the state exchange last fall. Basich, according to the article, selected a UnitedHealthcare plan in November, and even paid his first premium. But he never received confirmation that he was enrolled, despite being assured that he was by Nevada Health Link.
52 People in Wisconsin Are Un-Enrolled in Obamacare Due to Glitch. Fifty-two people in Wisconsin were un-enrolled in Obamacare due to a glitch. They all must now re-enroll in order to be covered by Obamacare.
Kingstree couple struggles to find in-network doctor under 'Obamacare' plan. [Scroll down] "It's a real good deal on the surface," said John Hudson, 58, a pastor. But then, his experience with Consumer's Choice Health Plan turned south. "They sent us a package in the mail — a thick, brown envelope," he said. "We had to choose a medical doctor and so we started doing that." But Hudson couldn't find a primary care doctor within 45 miles of Kingstree that would accept the new insurance, despite the fact that the company lists several local in-network providers on its website. In fact, most providers he spoke to had never heard of Consumer's Choice Health Plan before.
My Wife's Last Days — And the Coming ObamaCare Death Panel. We have been so absorbed by the cavalcade of government incompetence and individual hurt produced by the rollout of ObamaCare that it is easy to forget the tragedy-in-waiting should this federal healthcare takeover stay in place: the death panel, also known as the Independent Payment Advisory Board (IPAB). This is the group of political appointees designed to allow the federal government to use a combination of medical and social criteria to determine the healthcare an individual receives. Or, to put it as bluntly as Sarah Palin did, to determine who lives and who dies.
ObamaCare Meets Kafka. Daily we learn of cancer patients who are losing their medical coverage, their doctors, their access to oncology centers only to be met with the derision of Harry Reid who calls them "liars." Gary Weiss writes of his experience as he signed up for his 2014 health insurance on the New York exchange. He was puzzled by the fact that the Gold plan cost more than the Silver plan although the Silver plan was substantially better and he "thought it odd that this peculiarity was nowhere noted in any of the news media accounts of the New York debut of Obamacare."
My Family's Misadventures With Obamacare, Continued. Back in September, our family received an Obamacare-induced health insurance death notice. We joined millions of other Americans whose individual market health plans died after Democrats lied about our ability to keep the plans and doctors we liked. President Obama tried to "fix" the mess he created. But as usual, the federal government's solutions have made things even worse. Confusion and chaos reign not just in our household, but across the country.
Man Signs Up for Obamacare, Unknowingly Signed for Worthless Child Plan. A Utah man signed himself and his adult children up for a dental plan through Obamacare, but was unknowingly enrolled in a worthless child's plan: [Video clip] "Imagine signing up and paying for health insurance and then being told you can't use it," say the local anchors. "that's [sic] the situation facing an Ogden man." Says the reporter, "This is one of those medical insurance nightmares that all starts with a guy who was simply trying to sign up for health insurance through the federal health care exchange. More specifically, he wanted a dental plan. He got it, and he's been paying on for several months. But now that it's time to use that plan, he's being told it's worthless."
Hey, Harry Reid, is this Baptist preacher a liar, too? Matthew Morgan was crumpled on the pavement lying in a pool of blood. Bones had torn through his flesh. His left foot was nearly severed. As he lapsed into and out of consciousness, a jarring thought crossed the Baptist preacher's mind: he no longer had health insurance. "That was one of the first thoughts I had after I got hit," Matthew told me in a telephone interview from his home in Indianola, Miss.
The Real Story Behind What Harry Reid Calls 'Lies'. "Lies" are what Senate Majority Leader Harry Reid calls the television ads complaining about Obamacare. But the people in those ads are not liars. They have pre-existing conditions and can't see the specialists or get the medications they need. They're the people President Barack Obama claimed he would help, but instead they're getting hurt. They had insurance, but their plans got canceled because of the Affordable Care Act, forcing them into Obamacare. Now they're discovering that Obamacare plans are not for sick people.
Mother-of-two tries for 3 months to enroll in health exchanges as. For those trying to enroll through online health exchanges, help has long been advertised as just a phone call away. Yet the challenge in some states has been trying to get a call through at all, never mind the multiple transfers once contact has been made. Long wait times of an hour or more have been commonplace in some states, primarily those running their own health care exchanges.
Obamacare Enrollees 'Finding it Impossible to Cancel Their Plans'. A Florida TV station reports that a man has spent 50-60 hours trying to cancel his Obamacare plan, and he still can't get off it: [Video clip] "We are hearing about a new problem that involves the Affordable Care Act," said the anchor. "People who signed up for coverage are finding it impossible to cancel their plans. Channel 9's Lori Brown spoke with an Orlando man who has been trying unsuccessfully to cancel for more than six weeks now."
Obamacare Victims Are "Liars" Says Top Democrat. Democrats find themselves hammered by an avalanche of data and personal anecdotes that demonstrate the damage done by Obamacare. Instead of addressing those — which granted, would take most of the time between now and the midterm elections — the Senate Majority Leader angrily dismissed all such information as "untrue."
Media should fact-check Obama, not Obamacare victims. Leukemia patient Julie Boonstra is the latest American to get caught up in the media fact-checking frenzy. Her offense: Appearing in an anti-Obamacare ad for Americans for Prosperity, in which she said her out-of-pocket costs had become "unaffordable" since her insurance was canceled because of President Obama's health care law. She also said Rep. Gary Peters, D-Mich., who is running for Senate, "jeopardized my health" by voting for it.
Reid hammered by GOP after claiming all ObamaCare 'horror stories' untrue. Senate Majority Leader Harry Reid is being hammered by Republican lawmakers after he claimed on the Senate floor that all the ObamaCare "horror stories" being circulated are untrue. Reid tried to clarify his remarks late Wednesday [2/26/2014] by saying he was only referring to the "vast majority" of stories featured in ads funded by Americans for Prosperity, a conservative group, and not the complaints of everyday Americans.
Harry Reid on Obamacare Horror Stories: "All of Them Are Untrue". Not a tiny handful. Not even an imagined majority. No, every last person who says they've been harmed by Obamacare is lying, according to the Majority Leader of the United States Senate: [Video clip] He specifically cites the story of a woman we wrote about earlier in the week, whose story... hasn't been debunked.
[Superfluous ellipsis in original.]
Harry Reid's blanket denial comes into question. Allahpundit described my reaction to Harry Reid's latest broadsides against truth and decency rather accurately, writing that I was "virtually shaking with rage and disbelief that this tool could say this with a straight face." I eventually channeled that anger — and it was genuine anger — into a rapid fire Twitter fact-check of the US Senate's dishonorable leader. Reid asserted that "all of" the personal accounts from people who have been harmed by Obamacare "are untrue." In short, this known liar unironically and casually smeared millions of Americans, including a number of cancer patients, as liars for daring to notice that Democrats' unpopular healthcare law was actively hurting them.
ObamaCare's headaches: Are all of these untrue, too? The implementation of this law has broken down at every single level. Harry Reid has chosen to defame those who speak out about their giant, life-threatening problems with Obamacare, but what of the thousand daily headaches the law is causing due to bad design, unintended but entirely predictable consequences, and the error cascade that followed the exchanges' disastrous launch? Sen. Harry Reid would call these mere trifles since he's willing to dismiss women with cancer losing their coverage. But I don't think it's politically wise to argue that that the people living this stuff every day are not really living it.
Who is Un-American? Harry Reid Violates All Standards of Decency. The "dishonest ads" Reid referred to are the ones in which victims of Obamacare truthfully relate their experiences of losing their health insurance, contrary to the Democrats' promises. This was the same speech in which Reid said that all such accounts are lies. Harry Reid is a low, corrupt politician. He has become a wealthy man while serving his entire adult life as a public employee. How does that happen?
The Real ObamaCare Horror Story. Recently, Senator Harry Reid addressed the American people from the Senate floor and solemnly claimed that "there's plenty of horror stories being told," about ObamaCare. "All of them are untrue, but they're being told all over America." In essence, the senator called me and numerous other Americans being impacted by ObamaCare liars. I have been called many names before, but liar was not one of them.
Real people with real problems refute Reid's claim ObamaCare 'horror stories' untrue. Despite Senate Majority Leader Harry Reid's claim earlier this week that ObamaCare "horror stories" weren't true, there are plenty of real people out there with real problems. Reid managed to ignite a firestorm when he accused those who complain about canceled policies and higher rates under ObamaCare of flat-out lying. "There's plenty of horror stories being told," he said. "All of them are untrue, but they're being told all over America." Tell that to Linda Deright, who told Fox News' Neil Cavuto, "There must be six million of us, then. I think we should just call ourselves the liars' club."
The Human Face of Obamacare. We've all heard stories — but not as frequently as we ought to hear them from sources like the New York Times and other Obama enablers — about people whose insurance was was suddenly cancelled because it was deemed to be "illegal" or otherwise inadequate according to our masters in Washington (who by the way do not have to worry about the same thing happening to them, since Obamacare doesn't apply to the political elite, only to us peasants).
Cancer, Obamacare Victim at Center of Political Storm. Julie Boonstra, a cancer patient who was kicked of off her health plan due to Obamacare, lashed out at Rep. Gary Peters (D., Mich.) on Saturday after lawyers for his campaign demanded that Michigan broadcasters cease airing ads featuring her story. Boonstra, a Michigan resident, was diagnosed with leukemia five years ago. She was recently kicked off of her healthcare plan due to regulations passed as part of President Barack Obama's Patient Protection and Affordable Care Act, which Peters voted in favor of.
Vulnerable Dem In MI Using Lawfare To Silence Cancer Stricken ObamaCare Critic. A vulnerable MI Congressman is using lawfare in an attempt to intimidate and silence Julie Boonstra, a Michigan mother battling leukemia who spoke out against ObamaCare after the insurance plan she liked was cancelled. [...] Taking a page out of the Organizer in Chief Barack Obama's campaign playbook, Rep Gary Peters (@RepGaryPeters) took legal steps to bully Michigan television stations into pulling "Julie's Story" from the airwaves.
ObamaCare and My Mother's Cancer Medicine. [Scroll down] She'd had a Blue Cross/Blue Shield plan for nearly 20 years. It was expensive, but given that it covered her very expensive treatment, it was a terrific plan. It gave her access to any specialist or surgeon, and to the Sandostatin and other medications that were keeping her alive. And then, because our lawmakers and president thought they could do better, she had nothing. Her old plan, now considered illegal under the new health law, had been canceled. Because the exchange website in her state (Virginia) was not working, she went directly to insurers' websites and telephoned them, one by one, over dozens of hours.
Fourth Georgia hospital closes due to Obamacare payment cuts. The fourth Georgia hospital in two years is closing its doors due to severe financial difficulties caused by Obamacare's payment cuts for emergency services. The Lower Oconee Community Hospital is, for now, a critical access hospital in southeastern Georgia that holds 25 beds. The hospital is suffering from serious cash-flow problems, largely due to the area's 23 percent uninsured population, and hopes to reopen as "some kind of urgent care center," CEO Karen O'Neal said.
Senior citizens forced into pediatric plans. One of the state's leading advocates of small government claims she's the latest victim of a big government nightmare — Obamacare — saying it is forcing her to switch her workers to a more costly health plan that covers pediatric dental care — even though all the employees are senior citizens.
Gym memberships add Obamacare tax. Some people who are members of the health club Planet Fitness are finding their membership costs have gone up because of the Affordable Health Care Act.
I've Been Trying Since November — But I Still Can't Sign Up for Obamacare. Despite my earnest intentions, my family and I are still not covered on the Washington, D.C. Obamacare exchange. I am beginning to despair that I will ever obtain insurance from the exchange.
Betrayed by the President and ObamaCare. ObamaCare was supposed to help me. That's all I could think as I sat in the House of Representatives last Tuesday night as the guest of my congresswoman, only a few hundred feet away from President Obama as he gave his State of the Union address. Four years ago, I'd have been there cheering for ObamaCare's passage. But the real ObamaCare has made my life a nightmare.
Kentucky clinic offers early glimpse at realities of health-care law. This is the world that many critics of the new health-care law have worried about, one in which the sick and the poor expand the ranks of Medicaid while other Americans see premiums rise, policies canceled or favorite doctors booted out of networks.
The Jobless Care Act. There are 7.8 million Americans working part-time who want full-time work, including a fry cook whose restaurant cut his hours to avoid Affordable Care Act mandates and confronted President Obama in an online Google Q&A last week: "We can't survive. It's not a living." Mr. Obama changed the subject to raising the minimum wage. But he can't dodge reality forever as the evidence piles up that ObamaCare is harming the labor market.
ObamaCare Casts White Working Class Out in the Cold. Probably everyone to the right of President Obama's liberal billionaire contributors has seen the pathetic local news video from WTAE Pittsburgh, the one showing the white working class getting the bad news on ObamaCare. Yep, ordinary blue-collar workers are getting hammered by ObamaCare, because the small manufacturing and service businesses they work for are not the favored special interests of the modern Democratic Party and the bicoastal elite. There they were, all sitting down in the break room at a small auto-repair shop, getting the bad news from their employer's insurance broker. Premiums up, big time. Deductibles and co-pays up, big time. The workers were clearly pole-axed. Their "benefits" had become a yoke around their necks. They had no idea what they were going to do. Here's some friendly advice: Get a clue, white working class.
Fry Cook Shifted to Part-Time Work Confronts Obama. During a Google Hangout session on Friday [1/31/2014], fry cook Darnell Summers told President Obama that his hours were cut due to the Affordable Care Act. "We were broken down to part time to avoid paying health insurance," he said. Summers explained that he makes $7.25 an hour and has been on strike four times seeking a wage increase. "We can't survive, it's not livin'," he said. The president responded by urging states to increase the minimum wage.
5 Scandalous Obamacare Horror Stories. Obamacare is hurting people. A lot of people — and not just the ones who are wasting all day trying and failing to sign up for the dysfunctional 600 million dollar website. Millions of Americans are losing their insurance, losing their doctors, and taking huge hits to their wallets because of Obamacare.
HealthCare.gov can't handle appeals of enrollment errors. Roughly 22,000 Americans have filed appeals with the government to try to get mistakes corrected, according to internal government data obtained by The Washington Post. They contend that the computer system for the new federal online marketplace charged them too much for health insurance, steered them into the wrong insurance program or denied them coverage entirely.
Carney: ObamaCare enrollment errors 'a very small percentage'. On Sunday, The Washington Post reported that approximately 22,000 Americans had filed appeals with the government to correct errors with their enrollment data. The complaints charge that the ObamaCare marketplace had charged them too much for insurance, incorrectly enrolled them or didn't enroll them at all. According to the report, the administration has not been able to address the complaints yet because of persisting issues with the enrollment system.
Another Obamacare Horror Story Which Won't Get Further Than Local News. I suspect that more than a few readers have noticed, with likely little surprise, that there hasn't been a lot of national establishment press attention paid to how Obamacare has been working out in the real world since it officially went into effect on January 1. [...] You might find coverage of that in the British wing of the Washington press corps, and that's about it.
Watch these workers' faces as they realize what ObamaCare does to them. [Scroll down] To millions of Americans, however, ObamaCare has been just a word. Now, however, every single day thousands of Americans learn the details of ObamaCare's impact on their family, lives and wallets. It's not pretty. At Pittsburgh's WTAE-TV, the ABC Hearst outlet, an enterprising anchor, Wendy Bell, made arrangements to film the benefits information session at a McKeesport small business, an auto body shop. The video [in this article] has all the figures. They are devastating. But just watch the workers' faces as the financial impact sinks in. Very sad.
President ignores ObamaCare horror stories as human, financial costs pile up. As predicted, the Obama administration and many in the Democratic Party are trying to peddle the story that ObamaCare is now working because the healthcare.gov website is functioning better. But despite the questionable claims of easier access and more people enrolling in the ObamaCare exchanges, the ugly truth is the horror stories are piling up and, sooner or later, ObamaCare's cheerleaders will have to confront the overwhelming evidence indicting them for repeatedly lying to the American people.
President ignores ObamaCare horror stories as human, financial costs pile up. As expected, President Obama used his State of the Union speech Tuesday to extol the virtues of ObamaCare, and also as expected, retold the story of one person positively affected by the program. But for each success there are countless failures.
Snake Bite Costs North Carolina Couple $89,000 Hospital Bill. A couple in North Carolina is speaking out against hospital pricing after receiving a bill for an 18-hour emergency-room stay which they say cost them a whopping $89,000. The Charlotte Observer reports that Eric Ferguson visited a hospital near his home in Mooresville, N.C. over the summer after being bitten by a snake. The four vials of anti-venom medication Ferguson received reportedly cost about $20,000 each.
When is a fee not a fee? When it is an ObamaCare tax. A reader who requests anonymity sent in this account of her investigation into a curious asterisk on her health care insurance bill.
Woman spends 6 weeks trying to disenroll from ObamaCare. Think it's hard to enroll in ObamaCare? Try getting out of it. Missouri resident Lesli Hill learned the hard way that terminating an Affordable Care Act plan can be far more difficult than navigating the website to buy one. She spent six weeks being bounced from operator to operator, calling the help line, using the online chat, blasting out emails to anyone who would listen, before ultimately driving to Kansas City last week to enlist her insurance company's help. Only then was she able to break through the bureaucratic logjam, and cancel her policy.
Obamacare: Tom Coburn loses cancer doctor. Cancer-stricken Sen. Tom Coburn revealed Tuesday [1/28/2014] that his health insurance under Obamacare doesn't cover his oncologist, but said he still is receiving excellent care.
Alabama Mom's ObamaCare Horror Story Gives America a Glimpse of Government-Run Healthcare. Many of us can identify with the frustrating experience that Karri Kinder, a mother of two from Auburn, Alabama, has had with Obamacare. She penned this open letter to share her story.
'It's a Mess': Rand Paul's Son Erroneously Enrolled in Medicaid. Senator Rand Paul's health-care coverage under the Affordable Care Act was supposed to begin January 1, but on Sunday [1/5/2013] he said he remains unsure if he and his family are covered. At least one member of the Paul family is, though, albeit erroneously. The Kentucky senator held up the Medicaid card his son received through the Kentucky exchange. "We didn't try to get him Medicaid, I'm trying to pay for his insurance," Paul said, "but they automatically enrolled him in Medicaid. For a month they wouldn't talk to him because they said they weren't sure he existed. [...]"
Doctor's Office Spends 2 Hours On Hold With Health Insurer For Patient's Surgery Authorization. Paperwork problems almost delayed suburban Chicago resident Sheri Zajcew's scheduled surgery Thursday [1/2/2014], but Dr. John Venetos decided to operate without a routine go-ahead from the insurance company.
Obamacare confusion reigns as frustrated patients walk out of hospitals without treatment. Hospital staff in Northern Virginia are turning away sick people on a frigid Thursday morning [1/2/2014] because they can't determine whether their Obamacare insurance plans are in effect. Patients in a close-in DC suburb who think they've signed up for new insurance plans are struggling to show their December enrollments are in force, and health care administrators aren't taking their word for it. In place of quick service and painless billing, these Virginians are now facing the threat of sticker-shock that comes with bills they can't afford.
CBS: Horror Story Discredits Obama's 'Reassuring Phrase' About Keeping Health Plans. Thursday's [10/24/2013] CBS Evening News poured cold water on President Obama's now-infamous "if you like your insurance plan, you will keep it" promise. Scott Pelley noted how the President has "repeated one reassuring phrase" about the American people being able to hold onto their health insurance, and bluntly pointed out that, contrary to the Democrat's vow, "hundreds of thousands of Americans ... are being told that their health plans are being cancelled."
Obamacare installs new scrutiny, fines for charitable hospitals that treat uninsured people. Charitable hospitals that treat uninsured Americans will be subjected to new levels of scrutiny of their nonprofit status and could face sizable new fines under Obamacare. A new provision in Section 501 of the Internal Revenue Code, which takes effect under Obamacare, sets new standards of review and installs new financial penalties for tax-exempt charitable hospitals, which devote a minimum amount of their expenses to treat uninsured poor people. Approximately 60 percent of American hospitals are currently nonprofit.
The Next Threat to Your Privacy. Who has access to your Social Security number, your bank information, and your tax records? When Obamacare's health insurance exchanges open, your data could be exposed to shysters and hackers, thanks to serious vulnerabilities in the system. The exchanges are scheduled to open on October 1. But the list of implementation failures keeps growing, and the security of Americans' data is threatened.
This is an original compilation, Copyright © 2020 by Andrew K. Dart
Billing errors / fraud
Federal Auditors Successfully Scam Obamacare 11 Out Of 12 Times. The results of an undercover investigation conducted by the Government Accountability Office were presented Thursday at Senate hearing, the GAO report showed that federal auditors 11 out of 12 times were able to gain subsidized coverage with fictitious applications, three of the successful applications never provided citizenship or immigration documentation. The investigators in each case were able to obtain $2,500 or around $30,000 annually in advance premium tax credits. The GAO also purposely had seven of the 11 applicants not submit all required verification to the federal Health Insurance Marketplace, "but the Marketplace did not cancel subsidized coverage for these applicants."
Obamacare website may be riddled with fraud. With billions in taxpayer dollars at stake, the Obama administration has taken a "passive" approach to identifying potential fraud involving the president's health care law, nonpartisan congressional investigators say in a report released Wednesday [2/24/2016]. While the Government Accountability Office stopped short of alleging widespread cheating in President Barack Obama's signature program, investigators found that the administration has struggled to resolve eligibility questions affecting millions of initial applications and hundreds of thousands of consumers who were actually approved for benefits.
Obamacare Is Wide Open to Fraud — and They're Not Going to Fix It. As mysteries go, the responsibility for the failure of the Department of Health and Human Services' rollout of the Affordable Care Act exchanges doesn't exactly have the same inscrutability of an Ellery Queen novel. In fact, it doesn't even reach the range and wit of an Encyclopedia Brown short-story whodunit for young readers. Despite having three and a half years to implement the central core of Obamacare, along with $400 million in funding to develop its web portal for consumers, the massive bureaucracy at the Centers for Medicare and Medicaid Services (CMS) laid an egg on October 1, 2013. A whopping six people managed to navigate their site to enroll for insurance that day, as millions of Americans struggled to comply with a new federal mandate to purchase health insurance.
ObamaCare Still Can't Catch Fraudulent Enrollees — Audit. The Government Accountability Office sent 10 auditors with fictitious enrollment information to the federal healthcare.gov site as well as two state-run ObamaCare exchanges, to sign up for subsidized insurance. While eight didn't make it through the initial identity-checking process, all 10 eventually obtained coverage, even though four obviously had made up Social Security numbers that started with "000." They all were able to keep their coverage despite filing fake follow-up documentation. In addition, the GAO tried to sign eight more up for Medicaid coverage. Three made it through the process, and four ended up getting subsidized private coverage instead.
Easy To Cheat Obamacare, Medicaid? GAO Says No Sweat. How easy is it to cheat Obamacare or Medicaid to receive highly subsidized federal health insurance? Very, it turns out, according to a U.S. General Accountability Office (GAO) and its undercover operation. All 10 fictitious Obamacare applicants who worked for GAO were approved for federal government subsidies and issued health insurance coverage, many using phony Social Security and a fictitious employer. Seven out of eight other applicants to Medicaid insurance were also approved.
Democrats criticize government audit of Healthcare.gov. Ordinarily you would think that members of Congress would be happy when the federal auditor, the General Accounting Office, reveals that a program is vulnerable to fraud of Biblical proportions. [...] If the program we're talking about is ObamaCare, you would be wrong. It is the signature program of The LightWorker, their Precious, and therefore, it is beyond criticism.
ObamaCare Exchange Is Wide Open To Fraud, Feds Find. A dozen undercover auditors tried to enroll in ObamaCare using fake Social Security numbers, phony IDs and bogus citizenship papers. The auditors should have been an easy catch, since ObamaCare had promised to build a "data hub" that would instantly check such information against records at the IRS, INS, Social Security and Homeland Security. Instead, 11 of the 12 got their coverage, along with hundreds of thousands of dollars in improper subsidies. This tragic comedy of errors went on for 16 months.
Bogus enrollees kept getting 'Obamacare'. Phony applicants that investigators signed up last year under President Barack Obama's health care law got automatically re-enrolled for 2015.
The Cover Oregon Cover-Up. The key measure for an effective ad campaign is an affirmative response to a simple question: "Do viewers remember the ad?" In the case of Oregon and their effort to drive people to the state's Obamacare exchange, officials are doing everything in their power to make people forget the awful campaign, including, allegedly, deleting emails and documents pertaining to what has become an every-growing story of corruption and criminality.
If you ran a business this way, you'd probably go to prison.
Feds Can't Verify $2.8 Billion in Obamacare Subsidies. The federal government cannot verify nearly $3 billion in subsidies distributed through Obamacare, putting significant taxpayer funding "at risk," according to a new audit report. The Department of Health and Human Services (HHS) Office of Inspector General (OIG) released an audit Tuesday [6/16/2015] finding that the agency did not have an internal system to ensure that subsidies went to the right enrollees, or in the correct amounts.
GOP outraged Obamacare investigators able to get coverage with fake IDs. Republican lawmakers said Wednesday [7/23/2014] their suspicions about Obamacare's anti-fraud measures have been validated and it is "egregious" that 11 out of 12 government investigators were able to get subsidized Obamacare over the phone. Seth J. Bagdoyan, an acting director for forensic audits at the Government Accountability Office, told the House Ways and Means Committee the government is shelling out $2,500 a month, or $30,000 per year, for the false applicants.
Undercover investigators find backdoors into Obamacare. Congressional investigators using fake identities were able to obtain taxpayer-subsidized health insurance under President Barack Obama's law, according to testimony to be delivered Wednesday [7/23/2014].
GAO "Secret Shopper" Investigation Finds Fraud in Obamacare Exchanges. Using fake information during an undercover "secret shopper" investigation, the GAO created 18 fictitious identities through the federal exchange by telephone, online, and in-person. In 17 of 18 attempts the GAO was able to obtain premium subsidies and health insurance with fake information through telephone and online applications. According to the report, 11 out of 12 fake applications for the federal exchanges were approved, with credits totaling $2500 per month ($30,000 per year).
Reports of erroneous WA health exchange debits. For the second week in a row, the Washington Healthplanfinder website is down, and it's causing problems for people who are dealing with billing issues. Some of them say the website is mistakenly debiting their accounts. Shannon Bruner of Indianola logged on to her checking account Monday morning [12/9/2013], and found she was almost 800 dollars in the negative.
Washington Obamacare Taking Customers' Money Earlier than Authorized. The government stealing your money is now even more real. The Washington Healthplanfinder website is down for the second week in a row, and some people have had money taken from their accounts earlier than they had authorized. Shannon Bruner of Indianola, examining her checking account Monday morning, saw she was almost 800 dollars in the red.
If You Like Your Checking Account, You Can Keep Your Checking Account. By the way, just to make certain your Obamacare application will be fully processed by January 1st, the government is thoughtfully garnishing your first month's premium twice: One viewer emailed KING 5 saying, "They drafted my account this morning for a second time." When Obama has your PIN, it's Christmas all year round. For him.
Enrolling in Obamacare is not user-friendly
Obamacare 'Deductible' Shock — Just 14% Understand Insurance Lingo. [E]xperts worry that first-time health insurance buyers may be in for a rude awakening once they understand the conditions and terminology contained in their policies. A recent academic study published in the Journal of Health Economics found that just 14% of individuals who have health coverage could correctly answer all four of four basic questions about health insurance, including understanding what a "deductible" and "copay" are.
A Race to the Insurance Company To Secure Coverage After Obamacare Fails. This column needs to be finished quickly so I can drive over to the headquarters of a local health insurance company with a premium check and copies of three proofs of state residency. I tried to use the ObamaCare exchange in my state, I really did. I probably spent about seven hours on the site in four or five sessions over the past few months.
Massachusetts' Obamacare website crashes — hours before deadline. On the eve of a key Obamacare enrollment deadline, portions of the state's health insurance web site were down for maintenance today and call centers were so overwhelmed that recordings told callers the lines were too busy to process calls — before disconnecting them. This afternoon [12/23/2013], the state announced it will extend its own deadline for users to select plans and to enroll — from Dec. 23 to Dec. 31. That buys both applicants and the state an extra eight days to enroll for coverage that would begin Jan. 1, as users scramble to meet the deadline.
Republican Senator Explains His Wife's 'Fiasco' at Healthcare.gov. When it comes to Obamacare, "many members of Congress are feeling the very same pain that the rest of America is feeling," Sen. Pat Toomey (R-Pa.) told Americans in a radio address on Saturday. Toomey said he, his wife, and three children are among those "forced" to buy government-mandated health insurance on one of the new exchanges, and last week, his wife tried to sign up the family on an Obamacare exchange website.
Pat Toomey on the fiasco of his attempted ObamaCare enrollment. Now, I don't think anyone should be forced onto ObamaCare. But as a Senator, ObamaCare forced me and my family onto an exchange for health coverage. Just last week, my wife, Kris, tried to sign up on the health exchange website that's available to us. [...] When Kris went onto the website, she typed in all our personal information and that of all our three children. And then, when she tried to browse the various plans, the website denied her.
Obamacare's biggest losers. After three months and more than 50 phone calls, John Gisler gave up on buying coverage through HealthCare.gov. Gisler wanted to purchase a plan for his 45-year-old son, who has a rare degenerative condition affecting his coordination and speech. His current coverage through Utah's high-risk insurance pool plan ends Dec. 31. [...] But so far, Gisler hasn't succeeded in purchasing coverage — but not for a lack of effort.
Alaskan Misled about Her O'care Premiums Now Can't Cancel Plan. Could the only thing more difficult than signing up for Obamacare be canceling it? Lara Imler, an Anchorage-based hairstylist, managed to enroll in Obamacare, but problems with her application — her new insurer didn't have it and nobody she reached on the HealthCare.gov hotline could help her figure out why; she also discovered that the exchange under-calculated the subsidy she was supposed to receive by $50 — made her want to cancel her enrollment. [...] She recently attempted to cancel her new plan but HealthCare.gov was having none of it. Despite clicking on an option to terminate coverage, then confirming that she wanted to cancel her plan, nothing changed.
Obamacare May Be Dangerous to Your Health. One man's experience navigating the online nightmare of the Affordable Care Act left him frustrated, disillusioned, and angry.
HealthCare.Gov Confusion Continues: Wisconsin State Agency Distributes Paper Applications. For privacy reasons, the college-educated Milwaukee African American mother of four wishes to remain unnamed. However, in her remarks to the Wisconsin Free, she was quite open in venting her frustrations. "It is confusing in some areas and lengthy with many pages back to back. If it is difficult for me, I wonder what a homeless person will do?" "And it is such a joke," she laughed. "At the bottom of each page it says, 'Need Help With Your Application? Visit Healthcare.gov.' If the website worked in the first place I wouldn't need a paper application!"
Sickness plagues health website. Yesterday, at 4:08 p.m., I tried to open an account through the Massachusetts Health Connector's Obamacare website. The password must contain six characters, two letters, one lowercase, one uppercase, one special character and one number, the website said. I did all that once, twice, three times, four. Rejected. I called the help number, 1-877-623-6765, and got a ringing blast in my ear. I called another help number, 1-877-623-7773. I heard, "The service center is closed for the holiday." I retried the password. Once, twice, three times, four.
Mass. Crash. The review of angry posts from scores of frustrated applicants on the Massachusetts Health Connector website and Facebook page found a wide range of complaints, from frequent computer crashes, to long waits on the phone, to absurd glitches. [...] "It's a nightmare. It's a total frustration," [Adam] Romanow said. "With something like health care and when it's something the state is running, when you release it to the public, it's got to be perfect, or at least 99.9 percent. Right now it's running at 60 percent, and that's being optimistic." The Health Connector yesterday [11/7/2013] refused to answer even basic questions about the raft of complaints, and instead issued a statement.
Former MSNBC Host Gets Insurance Cancelled Due To ObamaCare: 'Thnx Mr. President!'. Oh the delicious irony. Dylan Ratigan, the former host of the MSNBC program bearing his name, just had his health insurance cancelled due to ObamaCare.
The great Obamacare con. President Obama has largely dismissed the disastrous launch of healthcare.gov by insisting that consumers can also apply for health insurance on the telephone or via paper applications, but internal notes revealed today [11/4/2013] show the Dept. of Health and Human Services knew paper applications would be 'stuck in the same queue.'
Obamacare Paper, Phone, Web Apps 'Stuck in the Same Queue,' Memos Note. While President Obama and other top aides have publicly reassured frustrated consumers that they can bypass the troubled website and apply by phone in as little as 25 minutes, those working most closely with the rollout acknowledged privately that even the nonelectronic avenues would be no more efficient or guaranteed, the documents show. "The same portal is used to determine eligibility no matter how the application is submitted (paper, online)," reads a Center for Consumer Information and Insurance Oversight memo from Oct. 11.
ObamaCare method #4: The paper application doesn't work, either. And here's the funny part: Even though you can begin the process now via mail, you won't be able to actually sign up for a plan without a working website or 1-800 number.
Obamacare enrollment so difficult it gets its own grad course. Enrolling in Obamacare may be more difficult than anybody thought. The University of Texas at Austin's spring 2014 course offerings include a graduate course on navigating Obamacare exchange enrollment. The university's LBJ School of Public Affairs will give aspiring PhD students academic credit for examining the Obamacare enrollment process.
'Glitches' hit Obamacare paper, phone applications too. With the supposedly state-of-the-art $600 million HealthCare.gov portal malfunctioning, President Barack Obama is urging Americans to go ahead and try to get health coverage by mailing in a paper application, calling the helpline or seeking help from one of the trained "assisters." But the truth is those applications — on paper or by phone — have to get entered into the same lousy website that is causing the problems in the first place.
Computer says no. The exchanges are supposed to make shopping for health insurance cheap and easy. So far, they have not. Visitors to healthcare.gov, the federal website that is shoppers' only option in 36 states, have struggled to create accounts, let alone browse for plans. In the first week, less than 1% of those who visited the website completed an application, according to Complete, a research firm.
What makes HealthCare.gov so complicated? Building a website in 2013 should be as easy as U-R-L, so what's the deal with HealthCare.gov? The White House billed the Obamacare portal as the Kayak.com of health coverage — only instead of plane rides, it was selling health insurance. It was supposed to be a one-stop click and shop place to compare and buy health plans in the 36 states not running their own insurance exchanges — and for the millions who are eligible, get federal subsidies. Hundreds of millions of dollars later, it's fundamentally broken and a frantic fix is underway.
HHS Finds Two Enrollees for Pro-Obamacare Ads. [One] woman was identified online as Deborah Lielasus, 54, a self-employed grant writer, who has written grants for HHS and other government agencies. Her process for enrolling was not as smooth as the ad suggests. According to the Associated Press, Lielasus was only able to create an account before the website crashed on Oct. 2. [...] Lielasus appears to be one of the few who have successfully enrolled in New Hampshire. An Obamacare Navigator tried to sign up 45 people during the first week, "but she wasn't able to enroll anyone online because of the glitches," according to the Concord Monitor.
Kathleen Sebelius tells CNN some people don't like using websites. Health and Human Services Secretary Kathleen Sebelius told CNN's Sanjay Gupta Tuesday [10/22/2013] that, although the Obamacare website still had problems, it was merely a tool for "tech-savvy" Americans shopping for health insurance. Gupta suggested that perhaps the Obama administration should delay the individual health insurance mandate due to the difficulties for people trying to sign up.
The Editor says...
Even the most "tech-savvy" visitor to a poorly engineered web site can't overcome dead ends and "404" pages.
Health Website Security Questions Leave Some Flummoxed. Signing up for insurance on the new health-care marketplaces can be challenging enough without having to remember your high-school mascot. Or your favorite childhood superhero, the manager at your first job or the street you lived on in third grade. Those are just some of the security questions being offered to shoppers on the state and federal exchange sites as a way to verify their identities — and they are leaving some would-be customers flummoxed.
Obamacare Website for Spanish Speakers Has Problems, Too. Lost in the hubbub surrounding the malfunctioning HealthCare.gov is another missed deadline and closed door for millions of Americans seeking health insurance: Cuidado-DeSalud.gov. The Spanish-language site still does not allow consumers to enroll for exchange coverage, a delay that was previously estimated by administration officials to last until mid-October.
Obama Tells Americans to Enroll via Phone, Phone Number Crashes. "Nobody is madder than me about the fact that the website isn't working as well as it should, which means it's going to get fixed," Obama said. He then recommended a toll-free phone number to call. There was only one problem: the Obamcare toll-free phone number was overloaded and immediately crashed.
Less than 1% of HealthCare.gov registrants finish enrollment: report. Fewer than 1% of those trying to register for health insurance under President Obama's health-care overhaul actually were able to complete the enrollment process during the first week of business at HealthCare.gov. That was the finding earlier this week by Millard Brown Digital, a researcher that surveyed visitors to the website, rapidly becoming a thorn in the side of supporters of the Affordable Care Act.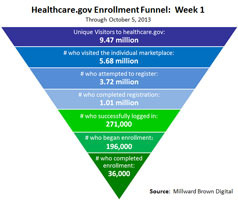 A Bleak First Week: 99.6% of Healthcare.gov Visitors Did NOT Enroll in Obamacare. Since October 1st, Americans living in the 50 states and Washington, D.C. can purchase healthcare through exchanges as part of the Affordable Care Act (also known as Obamacare.) Little information has been made available by the administration on the level of interest these exchanges have received or more importantly the number of consumers who actually enrolled, although the rollout has been plagued with widespread reports of system outages and bugs.

Why Obamacare is a mess. If you've tried to sign up online for health coverage under the problem-plagued Obamacare exchange, our sympathies. Many people have tried to create accounts and shop for insurance under the new law. Few have succeeded. Those that have enrolled have found that the system is prone to mistakes. Some applications have been sent to the wrong insurance company. Wait. It gets worse. Those who have managed to browse the marketplace have often been hit by sticker shock.
Obamacare Needs a Drop-Dead Date. [Scroll down] Neither the consumer side nor the insurer side is working. A New York Times researcher made more than 40 attempts from Oct. 1 to Oct. 12 to log in, with no luck. Meanwhile, the Times confirms Bob Laszewski's report that insurers are getting virtually no usable data from the exchanges. As the Times puts it, "just a trickle of the 14.6 million people who have visited the federal exchange so far have managed to enroll in insurance plans, according to executives of major insurance companies who receive enrollment files from the government. And some of those enrollments are marred by mistakes.
Obamacare: Who will ignore law's requirements? Millions of Americans may be wrestling with computer glitches to try to sign up for Obamacare — but many people eligible just won't bother and will pay a price for it. Some will flout the mandate to buy coverage on ideological grounds, a health insurance version of civil disobedience. Some will opt for the penalty because it's cheaper than paying for insurance, even with subsidies — as long as they don't get sick and have to pay their own medical bills.
How Many People Have Enrolled In Obamacare? An Early Look. In states like Kentucky and Washington, consumers have used the new information technology systems to easily shop for health coverage. But they're the exception. Most states' insurance exchange websites have been creaky and unworkable since they launched on Oct. 1. Hawaii officials even announced plans to relaunch their health exchange and try again. (The exchanges' debut has been a "disaster" overall, Ezra Klein writes at the Washington Post's Wonkblog.) What's driving the difference? At this early stage, it's largely based on one factor: Whether the federal government or the state itself is running the exchange.
What's the fix for Obamacare website woes? John Foley is beyond exasperated about the meltdowns plaguing HealthCare.gov, the federal Obamacare enrollment website that Floridians must use. "I'm stunned — I just don't know what to say," Foley, a supervising attorney for the Legal Aid Society of Palm Beach County, said Friday [10/11/2013]. "It's still not working. And it's just as terrible as it's been from Day One."
Obamacare: 'Working hard to help you get covered'. [Scroll down] There were no links for additional info about this or any of the other plans, so there was no information even about its deductible and coinsurance, never mind any more detailed info about the benefits. So $937.36 gets you what? Then I realized that I was never asked anything at all about our ages. So I wondered how a premium could be estimated without knowing whether we were twenty-somethings or middle aged.
If You Think Enrolling in Obamacare Is Hard. The online marketplaces run by states and the federal government were overloaded with visitors. Websites crashed, impeding signups. Some states have resolved the snags; California announced that 28,699 people have applied for health plans online, while 7,000 Kentuckians have purchased coverage. It's been more difficult to find out how well healthcare.gov, the U.S.-run marketplace that serves 36 states, is doing. The federal government won't disclose enrollment numbers, and insurers reluctant to discuss the rocky Obamacare launch aren't speaking either.
Obamacare's Troubles are Only Beginning. Right now, most of the problems with Obamacare's online insurance exchanges are with the signup process, particularly in the 36 exchanges being run by the federal government. But there are deeper, more fundamental problems looming even if the surface web-accessibility problems are largely fixed. For example: Just because someone has completed the online enrollment process doesn't mean that they've actually gotten coverage. Reports indicate that many of the applications that are making it through the system don't actually have enough data for insurers to process the enrollee.
Once you get into ACA website, it's hard to get out. Once you finally make it into HealthCare.gov, it's not clear how you get out. For those who've busted through glitches on the federal Obamacare insurance website to create an account, there's no clear, obvious way for consumers to delete the accounts if they choose — at least not in the current incarnation.
Many remain locked out of federal health-care Web site. Major insurers, state health-care officials and Democratic allies repeatedly warned the Obama administration in recent months that the new federal health-insurance exchange had significant problems, according to people familiar with the conversations. Despite those warnings and intense criticism from Republicans, the White House proceeded with an Oct. 1 launch.
Obamacare's Exchanges Are A 'Third World Experience'. [Scroll down] One week into the launch of Obamacare, however, it's not a joke: it's literally easier to blog from the Kenyan border than to sign up for insurance on Obamacare's federal exchange. Why is this happening? Politics. The Obama administration was more afraid of delaying the launch of Obamacare, than they were of botching it.
Federal Health Exchange's Stumbles Continue as Second Week Opens. Consumers couldn't access parts of the U.S. government's online health-insurance exchange today [10/7/2013], after a weekend of technical upgrades failed to eliminate delays in the system at the heart of the Affordable Care Act. The federal website, meant to serve people in 36 states, was still delivering error messages to users trying to create accounts. While most of the 14 states running their own health exchanges, including California, ran better, New York's website had problems registering some consumers.
Exchange launch turns into inexcusable mess. Over the first four days the new online health insurance exchanges were open last week, more than 8 million people visited them, according to the Obama administration. [...] Alas, the administration managed to turn the experience for most of those visitors into a nightmare. Websites crashed, refused to load, or offered bizarre and incomprehensible choices. Even though the system was shut down for repairs over the weekend, Monday's early reports continued to suggest an epic screw-up.
Comments from some people who are getting really frustrated with HealthCare.gov. The Facebook comments are not just entertaining — they also demonstrate that there are multiple, persistent problems with the site that have continued throughout its first week in existence.
A private business run this poorly would be belly-up by now.
Obamacare Website Closed for Repairs This Weekend. Like a flaming Chevy Volt brought back to the shop for repairs, the Obamacare federal health insurance exchange website has now been recalled. The application part of the site, healthcare.gov, will be taken down during off-hours over the weekend, and will be unavailable for public use — which does not truly differentiate it from its current status.
First-day batting average for online Obamacare applications: .000. President Barack Obama was right when he said there would be a few glitches when signups for the Affordable Care Act began on Tuesday — there were at least 51 of them. A quick check of all the state Web sites where exchanges have been set up — plus the HealthCare.gov site that will service three-fourths of the country — shows that it was virtually impossible to sign up on the first day.
ObamaCare rollout riddled with glitches. Frustration reigned Tuesday as widespread computer problems kept millions of Americans from accessing online marketplaces where the uninsured were supposed to buy mandatory medical coverage under President Obama's signature health-care program. On the first day to sign up, the "NY State of Health" Web site wouldn't let New Yorkers connect for hours, and then asked everyone to give it a rest.
The Editor says...
It sounds to me like a self-inflicted denial-of-service attack.
The glitchy error-filled misadventures of creating an account on healthcare.gov. A friend and I spent the morning trying unsuccessfully to create an account on healthcare.gov and shop for cheaper health insurance. We both live in Virginia, but it appears that we won't be shopping and comparing healthcare plans anytime soon. Here is a description and some screenshots of what we found: [...]
GOP Congressman tries, fails to sign up with Obamacare. Kansas Republican Rep. Tim Huelskamp says he faced a lot of problems when he tried to sign up for an Obamacare exchange early Tuesday morning [10/1/2013]. According to Huelskamp's office, the Kansas Republican attempted to sign up at midnight on Tuesday, the day the exchanges open. "We have been warned time and time again that ObamaCare is not ready for prime time. Well, it turns out that is right," Huelskamp said in a statement.
Miscommunication and data errors
Obamacare's 'Orphans' and 'Ghosts' May Have Trouble Getting Care in January. Health insurance companies are spending the last week of the year searching for orphans and ghosts — the people who tried to buy health plans through healthcare.gov but have had their files mixed up or lost en route from the government website to the insurance company's database. The insurance companies dub "orphans" the people who selected a health plan on healthcare.gov but whose enrollment never got transmitted. "Ghosts" are the opposite: Customers whom insurers have counted as enrolled but aren't on the government's list of people who chose that plan — perhaps because they cancelled their plans or switched to a different company.
Forget Enrollment, There's Another Major Piece Missing from ObamaCare. Much emphasis has been placed on enrollment stats as the Affordable Care Act's inaugural open enrollment period comes to an end. But there's a key function on the federal exchange that remains inactive: the mechanism to reconcile payments between the government and insurance companies. This "back-end mechanism" has been missing for the entirety of open enrollment period, which launched Oct. 1, meaning insurance companies have had to manually bill the government for subsidies and cost-sharing plans, a procedure that's being dubbed an administrative nightmare.
Healthcare.gov Can't Report Address, Email, Phone Number Changes to Insurance Companies. For now, the "one-stop shopping" experience at Healthcare.gov repeatedly promised by President Obama is still at least one stop short of the goal. In early January, news reports revealed a glaring shortcoming at Healthcare.gov: no function existed to report "life events," such as the birth of a child or a divorce, which could alter coverage needs or eligibility for tax credits. Although this feature was subsequently added, the site still lacks the ability to report changes to basic contact information to a consumer's insurance company: a new address, email, or phone number.
Some find health insurers have no record of them. Record-keeping snags could complicate the start of insurance coverage this month as people begin using policies they purchased under President Barack Obama's health care overhaul.
Obamacare: insurers have no idea who you are. Just a glitch, ya know. A glitch that, so far, has left 13,000 people without the coverage they paid for.
12 questions the White House press corps could have asked Obama about Obamacare. [#9] Many insurance companies have reported getting bad data and duplicative data from HealthCare.gov about enrollees. They also fear they are missing some data entirely. Is there a possibility that some of the Americans who were able to get through HealthCare.gov's enrollment process might think they're enrolled but they're not? How can those people protect themselves from this possibility?
Oops: Officials Urge 30,000 Illinoisans to 'Start Over' on Obamacare Application Process. The deadline to have selected a plan in order to guarantee coverage in January is this coming Monday. The AP asserts that Healthcare.gov is "mostly fixed," but that isn't true of the back end of the site — elements of which are still under construction — nor is it accurate for various private exchanges and the routinely delayed small business exchanges. The extent of the dysfunction and chaos won't be known until early 2014.
ObamaCare: 5 Land Mines Dead Ahead For Health Law. Recent reports indicate that while the front end of the exchange website is working better, the back end continues to be error-prone, meaning insurers will have a hard time processing applications by Jan. 1. The Washington Post reported this week that thousands of enrollment forms didn't make it to their insurers, and there's still a huge backlog of paper applications waiting to be processed.
Insurers: Obamacare Enrollment Data Filled with Errors. Yesterday, the Obama administration claimed that it had reduced the data errors being sent to health insurance companies. Originally, approximately 15,000 enrollment forms were not transmitted correctly to the companies but now the Administration claims the erroneous transmissions have been greatly diminished. The insurance companies disagree.
So You Think You're Enrolled In ObamaCare. An urgent mass email to all Senate staff warns not to trust any confirmation from the D.C. health exchange and they may not have insurance come January. Why aren't the rest of us being warned?
Thousands of HealthCare.gov sign-ups didn't make it to insurers. Enrollment records for close to 15,000 HealthCare.gov shoppers were not initially transmitted to the insurance plans they selected, according to a preliminary federal estimate released Saturday [12/14/2013]. While these cases pose a challenge for the Obama administration, officials say they believe the situation is improving. Since early December, fewer than 1 percent of HealthCare.gov enrollments did not make their way to health insurance plans.
'Vast Majority' of Exchange's Paper-Application Responses Still Not Mailed. Every time you read a news story, column, or commentary about Obamacare that begins, "Now that the web site is fixed" or "Now that the site is working," laugh a bit. They're using "not crashing for users" as a synonym for "fixed" or "working," but there's a lot more that the site has to do — and it still isn't. Today's Washington Post features Julie Bataille of the Department of Health and Human Services' Centers on Medicare and Medicaid Services, explaining that the computer system is still not working correctly for administrators who need to process paper applications.
Enrollment Errors Put Medical Coverage at Risk. The Obama administration said Friday [12/6/2013] that the enrollment records for roughly a quarter of all the people who signed up for health insurance on its website in October and November could contain errors, raising questions about whether those consumers would get coverage in time to pay for their medical care next month.
HealthCare.gov transactions fail 10 percent of time: official. As millions of people shop online for new insurance plans under President Barack Obama's healthcare reform law, about 10 percent of applications to the main website are not being accurately transmitted, a government spokeswoman said on Friday [12/6/2013].
Obamacare Fixes Hide a Big Mess on the Back End. This week, President Obama and his deputies kicked off a campaign to convince Americans to give Obamacare a second try now that the website is operating. But according to health care policy experts, most of the fixes made to the site are purely cosmetic and hide a back end that remains broken.
3 questions the Obama administration won't answer about Obamacare. [#3] How broken is the back end? If the front end of the website is the part seen by people who want to get insurance, the back end is the part seen by insurance companies who want to sell it to them. There are increasing reports that the back end of the system is just as glitchy now as the front end was back in October. Insurance company executives and industry spokespeople have raised increasingly frantic alarm bells that the information they are receiving from the website is at times faulty and duplicative.
Cybersecurity experts warn that using Obamacare's website exposes Americans to computer hacking, privacy breaches. The Obama administration says its healthcare.gov website is much improved and far less crash-prone, but cybersecurity experts warn that using it is an invitation to hackers and identity thieves. David Kennedy, a former NSA analyst whose company TrustedSec is hired by big companies to test the security of their computer systems, told CNBC that the Obamacare website is a worst-case online scenario. 'It's really hard to go back and fix the security around it because security wasn't built into it,' Kennedy said.
IRS Needs Changes to Avoid Health Law Fraud, Audit Says. The U.S. Internal Revenue Service needs to make changes to prevent fraud and improve security in systems it is building to deliver health insurance subsidies, according to an audit by the tax agency's inspector general. The audit, released today by the Treasury Inspector General for Tax Administration, finds that the IRS successfully completed development and testing for the systems that compute the subsidies under the Affordable Care Act. The audit found that "critical" pieces in security controls failed during testing and anti-fraud programs are still being developed.
Great news: IRS hasn't got sufficient anti-fraud protection on ObamaCare systems. If you liked the security holes in the basic Healthcare.gov system that has experts warning consumers to stay away from the web portal, you'll love what the IRS will have when their ObamaCare system goes on line. Politico reports that the Inspector General warned in July the IRS that its tax-credit disbursement system was at risk for fraud, and that the agency hadn't even completed a fraud-mitigation plan.
Expert: Healthcare.gov Security Risks Even Worse After 'Fix'. The Obamacare insurance marketplace is even more vulnerable to security breaches since the administration "fixed" Healthcare.gov, according to a cyber security expert. Health and Human Services (HHS) released a progress report on Sunday [12/1/2013] following its self-imposed Nov. 30 deadline to repair the website, saying that the "team has knocked more than 400 bug fixes and software improvements off the punch list." The administration said that the "site capacity is stable at its intended level," though the site continued to crash on Monday [12/2/2013].
One-Third of HealthCare.gov Enrollments Contain Errors. One-third of the people who've chosen health-care plans on the federal health-insurance exchange have, unbeknownst to them, had something gone wrong with their enrollment, according to the Washington Post. Their errors with these "834 reports," the information transmitted to insurers once people pick plans, "include failure to notify insurers about new customers, duplicate enrollments or cancellation notices for the same person, incorrect information about family members, and mistakes involving federal subsidies."
CMS won't reveal error rate for sharing data with insurers. The White House is trumpeting fixes to the healthcare.gov website, saying it met a self-imposed Nov. 30 deadline to deliver a smooth user experience to the "vast majority" of consumers. Insurers, however, say the federal website is nowhere near fixed, citing back-end issues with the online marketplaces. Insurance companies say they have been unable to receive data on many users who have successfully enrolled in Obamacare exchanges, preventing them from registering those consumers for the correct insurance plans.
Health-care enrollment on Web plagued by bugs. The enrollment records for a significant portion of the Americans who have chosen health plans through the online federal insurance marketplace contain errors — generated by the computer system — that mean they might not get the coverage they're expecting next month. The errors cumulatively have affected roughly one-third of the people who have signed up for health plans since Oct. 1, according to two government and health-care industry officials. The White House disputed the figure but declined to provide its own.
Din of Spin: Obama's Dangerous Balance. [Scroll down] About 125,000 people signed up for health insurance through the online federal exchange in the program's first two months, far below the original Dec. 1 goal of 800,000. Those numbers raise serious questions about the White House's ability to meet the goal of 7 million enrollees early next year, the volume necessary to make the economics of the insurance markets work. Ominously, the Washington Post reported that roughly one third of the people who have signed up since Oct. 1 might not get the coverage they're expecting because of an accumulation of errors.
Glitch: Some Obamacare Enrollees Not Really Enrolled. Some people who have managed to complete the burdensome and glitch-filled process of signing up for Obamacare are learning they are not really enrolled at all. "Obama administration officials acknowledged today that some of the roughly 126,000 Americans who completed the torturous online enrollment process in October and November might not be officially signed up with their selected issuer, even if the website has told them they are."
Obamacare Website Still Hampered By Bugs and Glitches. Peter Doocy of Fox News reports that Healthcare.gov has not been working properly today [12/1/2013]: "Federal officials promised that healthcare.gov would work smoothly for a vast majority of users starting today. But that has not been the case so far because this morning the critical verification system is unavailable. That's the system that confirms identities and makes sure people are receiving proper coverage information. [...]"
Massachusetts site performs worse than feds' in expert's test. There's a health insurance website that performs worse than even the notoriously disastrous federal Obamacare site, a top software expert tells the Herald — it's Massachusetts' own $69 million Health Connector site, which is bogged down with unnecessarily large files, operates at slower speeds, and has other major flaws that are keeping Bay State users from getting the policies the law requires. "It's even less optimized than the federal website. It was slow. It was clunky," said Bill Curtis, chief scientist for CAST Software, a nationally recognized expert who examined the site at the Herald's request along with his own technician.
Document Suggests Obamacare Website Has Serious Back-End Problems. Breitbart News has obtained a document from a technology vendor working on Obamacare's HealthCare.gov website that suggests there may be serious back-end problems with the malfunctioning website.
ObamaCare Website Troubles Are Just The Beginning. The problems with the federal exchange site — which covers 36 states — don't just involve too many people trying to sign on, or glitches in the sign-up process. Insurance companies report that many of the relatively small number of applications they've received so far had serious flaws — missing or incomplete information, duplicate enrollments, unreadable files, etc. Tech experts say serious design flaws in the site could take weeks or months to resolve, according to the New York Times. Some experts told USA Today last week that the site used 10-year-old technology and that it might require a complete overhaul before it works right.
Insurers reportedly receiving faulty data from ObamaCare exchanges. Insurers say faulty data from ObamaCare marketplaces is straining their ability to handle even the first wave of consumers who were able to sign up for health insurance using federally run exchanges during the glitch-ridden rollout of the new law. Executives at more than a dozen health insurance companies say they have received data from online marketplaces that is riddled with errors, including duplicate enrollments, missing data fields and spouses reported as children, The Wall Street Journal reported Thursday [10/17/2013].
Experts say the Obamacare website is built on ten-year-old technology will need to be constantly fixed. After weeks of a dysfunctioning website and mass derision, the Obamacare exchange woes are only starting as some are now giving insurers the wrong date [sic] on patients. And the trouble isn't over. One technology expert claims the faulty sites, which cost nearly $400 million to build, were made on ten-year-old technology that will require constant fixes and eventually the entire system will have to be overhauled. A technology expert said the flaws could do lasting damage to the law if customers are deterred from signing up or mistakenly believe they have obtained coverage.
Federal health exchange sending confusing enrollment information to insurers. The federal health-care exchange that opened a dozen days ago is marred by snags beyond the widely publicized computer gridlock that has thwarted Americans trying to buy a health plan. Even when consumers have been able to sign up, insurers sometimes can't tell who their new customers are because of a separate set of computer defects.
Obamacare's Troubles are Only Beginning. Right now, most of the problems with Obamacare's online insurance exchanges are with the signup process, particularly in the 36 exchanges being run by the federal government. But there are deeper, more fundamental problems looming even if the surface web-accessibility problems are largely fixed. For example: Just because someone has completed the online enrollment process doesn't mean that they've actually gotten coverage. Reports indicate that many of the applications that are making it through the system don't actually have enough data for insurers to process the enrollee.
Insurers Getting Faulty Data From U.S. Health Exchanges. Insurers are getting faulty and incomplete data from the new U.S.-run health exchange, which may mean some Americans won't be covered even after they sign up for an insurance plan. While it's not clear how widespread the problem is, the reports from industry consultants are the first hint that the technical troubles faced by consumers trying to enroll in health plans under the Affordable Care Act may also be hitting the insurers.
99% of Obamacare applications hit a wall. As few as 1 in 100 applications on the federal exchange contains enough information to enroll the applicant in a plan, several insurance industry sources told CNBC on Friday [10/4/2013]. Some of the problems involve how the exchange's software collects and verifies an applicant's data. "It is extraordinary that these systems weren't ready," said Sumit Nijhawan, CEO of Infogix, which handles data integrity issues for major insurers including WellPoint and Cigna, as well as multiple Blue Cross Blue Shield affiliates.
Dead people can sign up for health care in Kentucky. Obamacare can help dead people, too. This is apparent in Kentucky, where application forms for the state's new Obamacare benefit exchange asks if the application is for someone who has recently died. Question 39 on the kynect: Kentucky's Healthcare Connection printable application form for a single person health seeking either coverage or help paying costs, states: "If you are filling out this application on behalf of a person who recently passed away, enter the deceased person's date of death."
Unpleasant surprises await, if and when you sign up
The lost generation: Young people have been had. [Scroll down] Among these unanswered questions, the most disturbing pertains to the demand that millions of so-called millennials under 30 must purchase health insurance — estimated at about $1,700 a year — that they will hardly use. Their premiums supposedly will subsidize older, in-need Americans who cannot pay the full costs of coverage that they will draw on frequently. We forget that young people are already targeted for a number of government redistribution plans. Of America's age cohorts, the under-30 bunch is the least likely to be employed, and the most likely to work at low-wage or part-time jobs. Millennials already pay high payroll taxes for Social Security and Medicare coverage for the elderly.
The Obamacare 'Shotgun Wedding' — Marry or Lose Your Home. The problem with solutions is that few of them tend to be perfect, even if they act in a mostly benign manner. Actions produce reactions, a principle as true in politics as it is in physics, and those tend to multiply when solutions increase in complexity. The nature of these unintended consequences changes dramatically when complex "solutions" turn out to be poorly designed and incompetently administered. The rollout of the Affordable Care Act has provided many real-world examples of this, [...]
Obamacare's expanded Medicaid asset seizure bonanza. Basically, the problem is that the Democrats, in their infinite wisdom, decided to drastically expand the Medicaid rolls without considering the consequences — one of which being, state governments have been long in the habit of trying to get at the remnants of Medicaid recipients' estates in order to cut costs. [...] You see, in order to get a subsidy for an Obamacare plan people have to be making neither too much, nor too little. People who make too little are expected to go onto Medicaid by the federal government; they certainly aren't going to get any kind of subsidy for their new health care plan.
Surprise! Obamacare Includes A Medicaid Death Tax. Before Obamacare there was a Medicaid provision allowing the state to recuperate funds spent on a Medicaid patient over 55 years old from his/her estate. The end result of that policy, for those on Medicaid dying with assets, would see the government seizing the assets of an estate forcing family members to purchase back any items they'd want to keep. It's called estate recovery, and it's not exactly advertised as one of the terms for Medicaid enrollment. But pre-Obamacare there weren't many people who were a) on Medicaid and b) had many assets of value for seizing.
ObamaCare Found To Restrict Where You Live And Travel. A prominent New York insurance broker pointed out that most of the policies offered on the ObamaCare exchanges are not national networks, so "if you need routine medical services, they will not be covered when you leave your local area," as they were before. Travel health insurance, unfortunately, only covers emergencies. So, the broker told Paul, "a large portion of the population will have their insurance as a consideration for their mobility, which they never had before." Imagine having to take all this into account in making decisions about where in America you want to live.
ObamaCare May Devastate the Real Estate and Travel Industries. Americans are among the most mobile people on earth, but ObamaCare may soon start freezing them in place. Millions are losing their health insurance policies and being forced onto the ObamaCare exchanges, where most plans only provide local medical coverage. As Americans realize they must pay for all non-emergency medical care when they leave their home county, their decisions may have a profound impact on the real-estate market, particularly the second home sector, and on the travel business.
ObamaCare's Troubles Are Only Beginning. The White House is claiming that the Healthcare.gov website is mostly fixed, that the millions of Americans whose health plans were canceled thanks to government rules may be able to keep them for another year, and that in any event these people will get better plans through ObamaCare exchanges. Whatever the truth of these assertions, those who expect better days ahead for the Affordable Care Act are in for a rude awakening. The shocks — economic and political — will get much worse next year and beyond.
5 million fall into Obamacare coverage gap. The Kaiser Family Foundation said Tuesday that roughly 5 million Americans will earn too much money to qualify for a government health-insurance program and too little to qualify for subsidized coverage under Obamacare next year. These Americans are in this "coverage gap" because they live in states that opted not to expand Medicaid under President Obama's overhaul.
New report shows poor minorities in the South are disproportionately shut out of insurance options under Obamacare. Nearly 5 million poor, uninsured adults will have no subsidized coverage options under the Affordable Care Act next year. Three-quarters of them live in the South and more than half are minorities, according a new report by the nonprofit Kaiser Family Foundation.
Minorities disproportionately represented in health care 'coverage gap'. New data from the Kaiser Family Foundation shows that minorities will make up 53 percent of the estimated 4.8 million low-income Americans who will fall into the "coverage gap," leaving them without viable options to obtain health insurance next year. In the 25 states that won't expand eligibility for the Medicaid program, many adults earn too much to qualify for Medicaid, but not enough to qualify for tax credits that would help them purchase marketplace insurance. That puts them into the bureaucratic no-man's land known as the "coverage gap."
"I'm For It. But What Is The Reality Of It?". Professional and culture elites have long supported President Obama's health care plan. But that was before thousands of New York writers, opera singers, photographers, doctors and lawyers found out they were having their health insurance plans canceled. The new plans cost more and have far fewer options. You can read all about it in the New York Times article, "With Affordable Care Act, Canceled Policies for New York Professionals." One of the subjects of the piece goes so far as to say that had she known what was in store for her, she would have voted for Mitt Romney.
No, You Can't Keep Your Drugs Either Under Obamacare. The President famously promised that you could keep your health plan and doctor. For many people, both of those pledges are turning out to be false. And now, you might not be able to keep your medicine, either. There are two reasons why.
Obamacare could force thousands of volunteer fire departments to close. Volunteer fire departments all across the U.S. could find themselves out of money and unable to operate unless Congress or the Obama Administration exempts them from the Affordable Care Act.
Obama's Democrat enemies. The unfolding disaster of Obamacare is on track to explode in 2014, as tens of millions of Americans will lose their coverage when the employer mandate kicks in. Starting on January first, there will be stories of people showing up for emergency care, only to discover they have been "enrolled" according to the administration, but their insurance company was never paid so they are uninsured. There will be people on chemotherapy who are cut off despite being told they were "enrolled." Watch for it: enrolled is going to become a dirty word, an ironic reference to the incompetence of the Obama regime.
Boy, 7, born with rare cancer loses his insurance because of Obamacare. Little Hunter Alford needs chemotherapy to treat the rare and deadly cancer he was born with but has lost his health insurance under an administrative blunder seemingly caused by Obamacare. While the president's signature policy promised that no one with a pre-existing condition would not be covered, the Affordable Care Act has seemingly caused the seven-year-old Gainesville, Texas, boy to face an agonizing wait for treatment as his parents battle to get him back on his insurance plan.
Another ObamaCare Anecdote With Cancer Loses Coverage. Dismissed as anecdotal exceptions, as many as 80 million people with employer health plans, like a Virginia cancer patient, now find their coverage being canceled because it doesn't comply with ObamaCare.
Obamacare Victim: 'It's Scary — It Makes Me Want To Cry'. Americans are expressing outrage and sticker shock over the cancellation of their health insurance plans due to Obamacare and the increased costs of the plans being offered to replace them. In a WAAY-Alabama report, Casey Heaps said she was shocked to learn her health insurance policy was canceled and that her rates under Obamacare were increasing. "This is not affordable at all. This is the unaffordable care act. I don't know what this world is coming to. It's scary," said Heaps.
Almost 80 million with employer health care plans could have coverage canceled, experts predict. Almost 80 million people with employer health plans could find their coverage canceled because they are not compliant with ObamaCare, several experts predicted. Their losses would be in addition to the millions who found their individual coverage cancelled for the same reason.
Young Americans Not Receiving Promised Obamacare Subsidies. Though the Obama administration said that individuals making under $45,960 would get Obamacare subsidies, low-income young people in most of America's big cities who relied on that promise are discovering they will be ineligible for them.
Liberalism Without a Cause. Since the official roll-out of the new law on Oct. 1, millions of people have lost their existing health care plans — and many or even most of those people are stumbling around in a state of shock, having discovered the sky-high replacement costs on the new insurance exchanges. The worst is yet to come. As the so-called employer mandates goes into effect in 2014, it will force employers (providing coverage to no fewer than 156 million Americans) to choose between two poisons: [...]
My Obamacare Cancellation. Old monthly premium: $578 for a family of four (non-smoking, helmet-wearing, and paternally snipped). New premium: $1,123. A 94% increase.
Woman Who Got Shout-Out From President Can't Afford Obamacare Policy After All. Jessica Sanford, the Federal Way woman who got a shout-out from President Obama last month with her fan letter for the Affordable Care Act, got a rather rude awakening last week. Turns out she doesn't qualify for a tax credit after all. At least that's what the letter said that she got from the state. Now she says her dream of affordable health insurance has gone poof.
Feds blame spam, consumer computers for new Obamacare glitches. Spam filters, overflowing browser histories and web caches on the computers of Americans trying to sign up for Obamacare are now being cited for why consumers can't complete their applications for federally-sanctioned health insurance. In an [sic] new blog post and webpage, the Obamacare fix-it team said that they are tracking down those who tried but failed to sign up over the past six weeks to urge them to try again. In some cases, however, the team said that account confirmations are getting caught in spam filters.
Obamacare options grim for young people. My lack of enthusiasm for signing up has to do with the unappealing options health care reform has presented my generation. Sure, for adults under 26, Obamacare offers a key perk: They can stay on their parents' plans. But for anyone 26 or older — a category I've just joined — the options are grim: You can forgo health insurance and fork over 1% of your income to Uncle Sam as a penalty. You can choose catastrophic-only coverage (if you're under 30), and be left in the lurch for most medical expenses below a certain high deductible — likely around $6,400. Or you can buy health insurance, but there's one catch. Instead of getting a good deal on insurance (because young adults are less likely to need health care treatment), expect to pony up more now — because you're subsidizing senior citizens.
Daring to Complain About Obamacare. The Anthem Blue Cross representative who answered my call told me that there was a silver lining in the cancellation of my individual P.P.O. policy and the $5,400 annual increase that I would have to pay for the Affordable Care Act-compliant option. [...] The Anthem rep cheerily explained that despite the company's — I paraphrase — draconian rates and limited network, my benefits, which also include maternity coverage (handy for a 46-year-old), would "be actually much richer." I, of course, would be actually much poorer. And it was this aspect of the bum deal that, to my surprise, turned out to be a very unpopular thing to gripe about.
No love for NY Times op-ed writer whose insurance was cancelled. Perhaps the most entertaining facet of watching the scales fall from liberals' eyes about Obamacare is the absolute shock they experience when their liberal friends chastise them for complaining.
Obama Voters Shocked by Obamacare Cancellations, Skyrocketing Rates. With millions of Americans receiving Obamacare-induced health insurance cancellation letters, several of President Barack Obama's supporters are experiencing sticker shock and expressing regret. [...] According to the Colorado Division of Insurance, 250,000 people in Colorado have already lost their health plans in the last few months.
Obama Hawks His Edsel Of The 21st Century. President Obama has been selling ObamaCare with the zeal of a TV pitchman. But if his product is so great, why are his own people terrified about the reaction when people actually see what he's peddling? [...] The cheapest ObamaCare plan offered in 36 states, for example, will cost an average of three times the cheapest plans offered today. A Manhattan Institute study found that ObamaCare will nearly double the average premium for men. Worse, many of these "low-cost" ObamaCare plans come with huge deductibles — up to $12,000 for families — exposing families to huge medical bills.
Rhetoric vs. reality. The Obamacare Web site doesn't work. Hundreds of thousands of insured Americans are seeing their plans summarily terminated. Millions more face the same prospect next year. Confronted with a crisis of governance, how does President Obama respond? He campaigns. [...] Campaigning to make something work? How does that work? Presidential sweet-talk persuades the nonfunctional Web portal to function?
Obama Supporters Upset over Losing Health Insurance. The chickens are coming home to roost for supporters of Barack Obama in classic fashion: one San Francisco couple that donated to Organizing for America and worked the phone banks to ensure Barack Obama's reelection has found that they are far worse off because of ObamaCare than they were before.
Health Care Fukushima: 129 Million To Lose Their Plan. The never-ending and ever-changing story line emanating from the damage control room at the White House has morphed from you can keep your plan, period, to we said you could keep the plan you liked at the rates agreed upon only if we decide it's not substandard. That, we were told, would only apply to some 5% of Americans. They would get a better plan whether they liked it or not. It's as if the government decided the car you drove to work was "substandard" and forced you to drive a "better" car like the government-subsidized Chevy Volt.
You Also Can't Keep Your Doctor. For almost seven years I have fought and survived stage-4 gallbladder cancer, with a five-year survival rate of less than 2% after diagnosis. I am a determined fighter and extremely lucky. But this luck may have just run out: My affordable, lifesaving medical insurance policy has been canceled effective Dec. 31.
White House aide sparks outrage by 'smearing' cancer patient who spoke out against Obamacare. President Obama's top communications strategist sparked outrage on Monday after tweeting a blog entry that belittled a cancer sufferer's concerns about losing her doctor and insurance because of Obamacare. Edie Littlefield Sundby, a California woman with stage-4 gallbladder cancer, wrote a powerful Wall Street Journal op-ed that she will soon lose her medical insurance — and access to her life-saving oncologists — as a direct result of the Affordable Care Act.
Obamacare makes Republicans look like sages. During the public debate over health care, no matter how tightly you may have shut your door, there was one piece of information it was impossible to avoid: the president's promise that if you liked your doctor and your health care plan you would be able to keep both. So it was a surprise to many people to get a letter like the one Independence Blue Cross sent its customers weeks ago. It said that as a result of the Affordable Care Act, "your current plan will be discontinued effective January 1, 2014, and you will need to select a new plan by the end of December to avoid any interruption in coverage." That wasn't what the president promised.
Americans with own their health plans shocked over Obamacare prices. Dean Griffin liked the health insurance he purchased for himself and his wife three years ago and thought he'd be able to keep the plan even after the federal Affordable Care Act took effect. But the 64-year-old recently received a letter notifying him the plan was being canceled because it didn't cover certain benefits required under the law.
ObamaCare KO's 100,000 policies in NY. Insurers are canceling the medical policies of about 100,000 New Yorkers enrolled in individual health plans because of ObamaCare, state health officials said. But the figure is actually much higher because it doesn't take into account hundreds of thousands covered under small business group policies that are being scrapped or rewritten to conform to the requirements of the Affordable Care Act. In New Jersey, the policies of 800,000 residents are affected by the insurance overhaul, officials in the Garden State said.
Maryland Exchange Informs Man He is Not a Citizen (though his ancestors arrived on the Mayflower). Brian Shaffer lives in Maryland. He is one of hundreds of thousands who has lost insurance because of the Affordable Care Act. But when Shaffer tried to buy replacement insurance on the Maryland exchange he got a surprise, one which he described as "sheer stupidity." "I went to the Maryland Exchange, filled out the application, and at the end it told me I wasn't eligible because I was not a U.S. citizen" Shaffer told WJLA-TV.
Obamacare woes move beyond website. Tuesday's [10/29/2013] hearing about the fumbled Obamacare roll-out was all the proof we needed that the Republicans are serious about their talking point that the law's problems go beyond the website. They've moved on to other things — cancelled individual insurance policies, privacy concerns, and possible nasty surprises for young adults who may not know they can't get subsidies.
ObamaCare: More policy cancellations in 3 states than enrollees in all 50. Despite hundreds of millions of taxpayers dollars invested, the website still does not work for most. At a time when we can do everything from ordering a pizza, flowers, or airline tickets, or banking and paying bills, they expect the same reliable service from healthcare.gov — and it's still not ready for primetime. Over the months leading up to the October 1 launch, top administration officials and lead contractors appeared before this committee, looked us in the eye, and assured us repeatedly that everything was "on track." Except that it wasn't, as we now know all too well.
Now Democrats know what's in Obamacare. Obamacare is faltering under its own bureaucratic weight. Massive computer problems are preventing people from signing up for coverage in the new online marketplaces. Worse, many people who finally manage to log in suffer sticker shock at high insurance premium or deductible prices. Democrats are breaking ranks. And, predictably, there's a rising cry to fire people who are responsible for the mess, including Health and Human Services Secretary Kathleen Sebelius.
The Hidden Heartlessness of the Obamacare Rollout. Today [10/15/2013], during our daily ACLJ radio show, Jay Sekulow Live, we asked listeners to call and tell us about their experiences with the exchanges. Of course we heard stories of repeated failures and frustrations, but also truly distressing stories of families dropped from their catastrophic care plans because of Obamacare (insurers were no longer offering plans that weren't compliant with ACA minimal standards) only to find out they not only can't yet replace their lost insurance, the new coverage (if they could get it) offers less real coverage for far more money.
Awww! Daily Kos Scribe Whines That Obamacare Sent His Premiums Soaring. On the bright side, we could be witnessing the painful emergence of a future conservative, his tentative stirring accompanied by a rude awakening of how the world actually works. Can't wait to see him at the polls next year.
The Kos Kids Learn About Obamacare. A Daily Kos regular gets his Obamacare premium notice and is shocked to learn that as young, healthy people, he and his wife will pay twice as much!
The cost of Obamacare varies wildly by state. The feds will spend just about $10,000 subsidizing health insurance costs for a poor, middle-aged man who lives in Georgia — and just $3,000 buying the same guy in nearby Tennessee a near-identical plan.
If you think the ObamaCare exchanges and premiums were bad... ... then Barack Obama's hometown newspaper has news for you. The initial shock of the premium increases and the incompetent use of $94 million [see update] to create the world's biggest 404 exchange are just the starting shocks of ObamaCare. Wait until people have to actually start using their new insurance, and perhaps the biggest surprise of all will be waiting. [...]
The ObamaCare treatment: Hold on to your wallets. Under the Affordable Care Act, health care providers must offer a "basic level of coverage," which the Obama administration acknowledges will raise premiums for some patients, according to The Hill. But ObamaCare's proponents say higher premiums "alone" don't tell the whole story. Why, there are savings to be realized on plan deductibles and out-of-pocket maximums. Tell that to the fella whose premium for a family of five jumped from $789 per month to $1,700. Or the woman who said her premium shot up from $289 to $855.
Report: Credit Score to 'Have a Big Impact' on How Much People Pay for Obamacare. A Florida TV station reports that people's credit score's will "have a big impact" on how much they pay for Obamacare: [Video clip] "As more and for families are looking for insurance options for the new Affordable Care Act, they're finding out their credit score will have a big impact on how much they pay," reports an anchor. "A lot of people want to know why credit scores are determining how much they pay."
I didn't know I was the one who going to pay for it! Most people don't understand this simple fact. When you want people to have something, you have to pay for it. It's not going to be some imaginary 1 percent footing the bill. There aren't enough of them. The costs always end up hitting the middle class.
I Signed Up for Obamacare and All I Got Was Screwed. ObamaCare is a ginormous disaster zone that has not one little bit of a chance of working. 29 states have not even set up ObamaCare exchanges, ObamaCare websites that don't work, and promised savings on healthcare insurance is nothing but a big, fat lie.
Health insurance shoppers suffer sticker shock. [N]ow that she's seen her options, [Shelly] Ross is disappointed. Turns out she earns slightly too much money to qualify for federal financial aid to help her buy coverage in the state's exchange, called Covered California. And because policies have to be upgraded to comply with the new law, her rates are going up nearly 10 percent.
Obamacare Facebook Erupts with Citizen Sticker Shock. On Thursday, the government's official Obamacare Facebook page was riddled with people expressing sticker shock over the government's high cost premiums after struggling for hours to wade through the technical failures vexing Obamacare exchanges all across the country. "I am so disappointed," wrote one woman. "These prices are outrageous and there are huge deductibles. No one can afford this!" The comment received 169 "likes."
As ObamaCare launches, people in all age groups report problems. Tom Gialanella of Seattle, who is self-employed, told Fox News, "my premiums would increase approximately 61 percent. I went from $891 a month to $1437 dollars a month. And also my deductibles all doubled." The letter from his insurer said his current deductible for his family of five would double from $4,000 a year to $8,000. Even though that's for the Bronze Plan, the least expensive option under ObamaCare, he says his additional payment of $550 a month will give him a plan that is no better than what he already has.
$175 premium for a young, healthy student? Thanks, Obamacare! American media outlets were finally able to track down a mythical creature — a person who actually signed up for the Obamacare exchanges online. But that person, Chad Henderson, admitted to the Washington Post that the premium for the plan he enrolled in was $175. Ouch! Wasn't Obamacare supposed to lower premiums?
Obamacare — one size fleeces all. Most of the Obamacare horror stories I've heard fall under the category "amazing, but not surprising." But I confess that this one, from a friend, surprised me.
100 Unintended Consequences of ObamaCare. Ever since its passage, supporters of the law have made countless attempts to convince the American people of its viability, dismissing predictions of lost jobs, decreased hours, and rising costs, among others. Yet from major corporations to local mom-and-pop shops, from entire states to tiny school districts, a wide range of companies and institutions have seen Obamacare's negative impact on their workers, budgets, and production. Here are 100 examples of how Obamacare is falling short of what was promised.
The government decides that non-fatal cancer isn't really cancer.
Why The Federal Government Wants To Redefine The Word 'Cancer'. By redefining the term "cancer," the National Cancer Institute hopes to reduce patient anxiety and reduce the risks and expenses associated with supposedly unnecessary medical procedures. In technical terms, the government hopes to reduce "overdiagnosis" and "overtreatment" of cancer. [...] Given the increasing government control over US health care, how the government defines medical terms can have serious economic and policy implications.
The Editor says...
This is what you get when you put medical decisions into the hands of pencil-pushing bureaucrats whose primary goal is to make their programs look good on paper.
Surprise! You have just signed up for Medicaid-plus
'Stunning': 80% using Obamacare's Medicaid expansion are ineligible, Louisiana report finds. Louisiana's legislative auditor wanted to know how the state's expansion of Medicaid under Obamacare was doing, so he picked 100 people who were deemed eligible under the rules. He found that 82 of them made so much money that they shouldn't have qualified for the benefits they received. Auditor Daryl G. Purpera, who issued his findings last month to little fanfare outside of Louisiana, figured if those statistics hold true for the rest of the expanded Medicaid population in his state, then the losses to ineligible beneficiaries could be as high as $85 million.
The Next Democrat Attack on Your Health Care. Visualize a national health care system that includes the following: "Newborns and individuals turning age 65 would be automatically enrolled." Feeling a little uneasy, a little uncomfortable with that word "automatically"? Then you probably won't like the latest progressive plan to tamper with our medical delivery system. Even as President Trump and congressional Republicans work to dismantle the last attempt to deprive you of your health care autonomy, the people from whom the Democrats get many of their worst policy ideas have concocted another scheme to lift the burden of freedom from your shoulders. It's called, "Medicare Extra for All."
Liberals Have A New Plan To Take Over The Health Care System. The Center for American Progress proposed a plan for government-run health care Thursday, which the liberal think tank calls "Medicare Extra." Unlike Bernie Sanders' single-payer system, which would abolish virtually all other forms of insurance, the plan would not ban employer coverage outright — at least not yet. In broad strokes, CAP would combine Medicaid and the individual insurance market into Medicare Extra, and allow individuals with other coverage, such as employer plans, traditional Medicare or VA coverage, to enroll in Medicare Extra instead.
Get Off the Couch, If You Want Medicaid. Last week the Trump administration announced it will allow states to impose a "community engagement" requirement on healthy adults getting Medicaid, the public health insurance program for lower income people. So far, ten states intend to do it, though not welfare-haven New York. To get Medicaid, adults in these states will have to work or look for a job, study for a high school diploma, learn English as a second language, volunteer, get addiction treatment, or take care of a family member. In short, do something. Democrats and the liberal media call the requirement "cruel" and "pathological." Baloney. There's no reason taxpayers should pick up the tab for able-bodied people who won't get off the couch. Medicaid was created in 1965 as a safety net health program for pregnant women, children and the disabled. Then Obamacare distorted it into permanent insurance, raising the allowable income level and opening it up to healthy adults who refuse to work. The Medicaid rolls now top 74 million, and are projected to reach 87 million within a decade. As Medicaid dependence soars, the left brags that more people are "covered." Technically true, but misleading. Medicaid's ballooning enrollment is creating a national crisis.
Maine, Medicaid, and the Gruber Principle. Maine experimented with Medicaid expansion 15 years ago, and it took the state a decade to recover from the hangover. Nonetheless, a majority of Maine's voters approved another Medicaid expansion last Tuesday. And it is no exaggeration to say that it took Maine 10 years to recover from its last Medicaid expansion. That debacle, initiated in 2002 by former Governor Angus King — who has since fled to D.C. where he now "serves" as a U.S. Senator — damaged Maine's finances so badly that there was no money to pay hospitals for services rendered to Medicaid patients. It wasn't until 2013 that the state was able to pay off that debt, whereupon Obamacare advocates began pimping expansion again.
Republicans Are Now Medicaid's Biggest Boosters. There are few federal programs as poorly designed as Medicaid. Its open-ended funding mechanism — where the federal government matches spending by the states — encourages waste. Since 2000, Medicaid spending climbed 172%, and the Government Accountability Office has listed Medicaid as a "high risk" for fraud and abuse. At the same time, Medicaid's low reimbursement rates — it pays doctors about half what private insurance pays — and heavy paperwork burdens have created shortages of doctors willing to see Medicaid patients. Instead of reforming Medicaid, ObamaCare simply added millions to its rolls, aggravating its inherent flaws. ObamaCare promised states that it would cover almost all the costs of newly eligible enrollees, if they agreed to expand eligibility to 138% of the poverty line. So far, 31 states have taken the bait.
Did ObamaCare Add 20 Million To The Insurance Rolls? Not Even Close. [Scroll down] The actual gain in coverage between 2013 and 2015 was 14 million, Heritage found. That's close to the Census Bureau's estimate that the number of uninsured declined by 12.8 million over these years. And of that, only 2.2 million gained private coverage, Heritage figures. The other 11.8 million went on Medicaid. (
Cost of Obamacare Medicaid Expansion 49% Higher Than Previously Estimated. A government report finds that the cost of expanding Medicaid to millions more low-income people is increasing faster than expected, raising questions about a vital part of President Barack Obama's health care law.
The Uninsured Rate Falls, But Does ObamaCare Deserve The Credit? Health and Human Services Secretary Sylvia Burwell called it "further proof that our country has made undeniable and historic strides thanks to the Affordable Care Act." There's no doubt that the uninsured rate dropped after 2013, which is when ObamaCare went into full effect. But a closer look at the data show that the drop in the ranks of the uninsured had little to do with ObamaCare's subsidies for private insurance, and almost everything to do with skyrocketing enrollment in Medicaid, the government program for the poor.
71,777,758 Enrolled in Medicaid and CHIP; Up 14,478,342 Since Obamacare Exchanges Opened; 1 for Every 2 Americans With a Job. As of the end of 2015, there were 71,777,758 individual in the United States enrolled in Medicaid or the Children's Health Insurance Program (CHIP), according to data published by the federal Centers for Medicare and Medicaid Services. The 71,777,758 people enrolled in Medicaid and CHIP as of December, according to CMS, was an increase of 14,478,342 from the average monthly enrollment of 56,274,369 in the period of July through September 2013, just before the "State-Based Marketplaces" opened in October 2013 under the terms of the Affordable Care Act (AKA Obamacare). That means overall Medicaid and CHIP enrollment has increased 25.7 percent since the Obamacare marketplaces opened.
The Obama Republican: John Kasich's Medicaid expansion is a $7 billion disaster. Ohio Gov. John Kasich's expansion of Medicaid under the 2010 federal health law has cost taxpayers $7 billion in a little more than two years. The federal government — which is $19 trillion in debt — paid $390 million for Ohio Medicaid expansion benefits in February, bringing the program's total cost since January 2014 to $7.1 billion. Kasich frames his Obamacare expansion as a fiscally responsible way to keep drug addicts and the mentally ill out of prison, even as costs zoom past his projections. The expansion was $1.5 billion over budget after 18 months.
Under Obamacare, Medi-Cal ballooned to cover 1 in 3 Californians. California officials never anticipated how many people would sign up for state-run health insurance under Obamacare. The state's health plan for the poor, known as Medi-Cal, now covers 12.7 million people, 1 of every 3 Californians.
The Obamacare calamity can't be swept under the rug. It is clear nothing will keep President Obama from declaring victory on every front, but the fact is, Obamacare is a bust. As a result, the next president will be confronted with the reality that at the end of the day, all Obamacare amounts to is a convoluted expansion of Medicaid that we can't afford.
Rick Perry criticizes John Kasich's decision to expand Medicaid. Texas Gov. Rick Perry criticized Republican governors who expanded Medicaid, the state- and federally-funded health insurance program for poor and disabled Americans, targeting Ohio's decision to accept federal funding to allow more people to qualify for the program. In explaining his decision to expand Medicaid, Gov. John Kasich has said the more than $13 billion federal dollars Ohio receives for the program belong to Ohioans and would be spent in other states if Ohio did not accept them. Perry, without mentioning Kasich's name, said that argument was "just nonsense."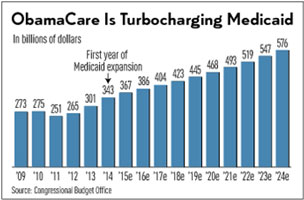 ObamaCare's Medicaid Expansion Is Blowing Up. Two dozen states immediately took the bait, lured by the promise the federal government would pay 100% of costs in the first three years and 90% for the newly eligible on into the future. Several more have joined since. An analysis by the Associated Press finds that this was short-sighted folly. At least 14 of these states have seen enrollment surge unexpectedly, forcing at least half to increase their cost estimates. And we're not talking about a few percentage points.
Medicaid enrollment surges, stirs worry about state budgets. More than a dozen states that opted to expand Medicaid under the Affordable Care Act have seen enrollments surge way beyond projections, raising concerns that the added costs will strain their budgets when federal aid is scaled back starting in two years.
Medicare's Victims. Despite the Supreme Court's repeated attempts to prop it up, Obamacare is collapsing. This is obvious not merely to the majority of Americans who have always disapproved of the law, but also to an increasing number of progressives. Consequently, we are once again hearing calls for single-payer health care. Most advocates of this system, including Hillary Clinton's main competitor for the 2016 Democrat presidential nomination, favor Medicare-for-All. They want, in other words, to put all Americans on the government program that covers the elderly and disabled.
The Party of the Head vs. the Party of the Heart. When Republicans tried to cut back on entitlement spending, they were always attacked as heartless and cruel. A few years ago, there was the infamous commercial the Democrats put out depicting Paul Ryan pushing an old woman over a cliff when trying to balance the federal budget by writing cuts in Medicare. The irony is that Obamacare pulled out $700 million out of Medicare in order to help fund the new healthcare law.
Obama aims to change conversation around health care law. [President] Obama was headed to the Nashville, Tennessee-area on Wednesday [7/1/2015] to discuss ways to improve the Affordable Care Act, including by extending Medicaid coverage to more low-income people.
SCOTUS Rewrites ObamaCare to Save It. [Scroll down] Obama also insists the rate of uninsured Americans is at "its lowest level ever." Yet his Council of Economic Advisers examined data compiled by the National Health Interview Survey. The most recent information available from the first nine months of 2014 reveals the number of uninsured Americans is higher than it was a few years in decades past. And what Obama didn't say is equally important: 71 percent of the newly insured have signed up for Medicaid, which will ultimately strain state budgets when they are forced to share the costs currently covered by the federal government.
Medicaid enrollment under ObamaCare soars, raising cost concerns. Several states that chose to expand Medicaid eligibility under ObamaCare now are facing deadline pressure to pay for it, the result of more signups than anticipated — and, a looming reduction in how much of the bill the federal government will cover. At least seven of the 29 states (and the District of Columbia) that expanded coverage have experienced significantly higher-than-expected enrollment. The expansion of Medicaid, the government health care program for low-income people, now allows most low-income adults making up to 138 percent of the federal poverty level to qualify. An estimated 1.4 million more people than expected have signed up in those seven states since enrollment opened in October 2013 — with Illinois, Kentucky and Washington state more than doubling their projected numbers.
Obama Sued for Attempted Blackmail, Other States Join In. The state of Florida has now filed a lawsuit against Barack Obama who attempted to force Florida to bend to his will using blackmail. Florida had refused to accept Obama's demand to expand their Medicaid program to include able bodied adults with no children. [...] Florida's program is called LIP and Obama has informed Florida that contrary to the ruling by SCOTUS, that he will be cutting them off. That would force Florida to either fund LIP exclusively by themselves or end the program for millions who depend on it for their healthcare coverage. The expansion of Medicaid in Florida comes at a steep price. The leftwing Urban Institute in 2012 estimated that the expansion of Medicaid would cost Florida 82 billion dollars over the next 10 years, but Lip will only cost them 22 billion over the same period. All this so shiftless bums can get free medical from the government.
Ohio Gov. Kasich on Medicaid Expansion: 'It's my money'. Anytime Gov. Kasich opens his mouth to talk about Medicaid expansions, you can be sure either an absurd canard or an outright falsehood will spew forth. Ohio's governor, who is positioning himself to run for president, brags incessantly about his history as a budget hawk during his time in Congress in the '90s, but apparently sees no contradiction between claiming to be a fiscal conservative and expanding Medicaid to hundreds of thousands of able-bodied working, childless adults. Nevermind that he did so by circumventing the state legislature, adding to the federal debt and imperiling the benefits of the most vulnerable Ohioans — because it's his money.
Jindal blasts Obama's 'Mafia-style' tactics to expand Medicaid. Louisiana Gov. Bobby Jindal has joined the fray of Republicans siding with Florida Gov. Rick Scott in his battle with Obama over Medicaid spending. Scott filed a lawsuit against the Obama administration this week for allegedly threatening to withhold more than $2 billion in hospital money if Florida refuses to expand Medicaid under ObamaCare.
Ohio Obamacare expansion costs $3 billion in first 15 months. Americans' tax burden is already $3 billion heavier because of Ohio Gov. John Kasich's expansion of Medicaid under Obamacare. By putting more able-bodied, working-age childless adults on Medicaid than Kasich projected, Obamacare expansion is reducing incentives to work and threatening traditional Medicaid recipients' access to care faster and at greater cost than anticipated.
Vermonter earning $300,000 put on Medicaid and can't get off. Steve Cairns has had enough. The Stowe, Vt., tax preparer has worked 14 years to help clients dutifully pay taxes. In the past year, however, Cairns learned two of his clients — through no fault of their own — are on Medicaid despite earning $300,000 and $90,000, respectively. The clients, who allowed Cairns to go public with their story but asked not to be identified, didn't seek to be put on Medicaid. Nevertheless, both were told they were eligible, and both were placed on the plan, despite serious reservations. Moreover, both clients have contacted Vermont Health Connect to get off Medicaid but remain on the plan to this day.
More than two-thirds of Ohio's "Obamacare enrollees" are actually on Medicaid. More than two thirds of the Ohioans insured under Obamacare are covered by the law's optional Medicaid expansion. A total of 234,507 Ohioans have selected a private insurance policy through the federally run Obamacare exchange at HealthCare.gov, the U.S. Department of Health and Human Services reported Wednesday [2/18/2015]. As of January, enrollment in Ohio Gov. John Kasich's Obamacare Medicaid expansion was 492,121. For every Ohioan choosing an Obamacare exchange plan, two have enrolled in the Obamacare Medicaid expansion.
Obama Thanks Republican Governors for Caving to Obamacare Medicaid Expansion. Speaking to governors at the White House, President Obama pointedly praised Republican governors that caved to his Obamacare plan of expanding Medicaid. "I want to thank all the governors, Democrats and Republicans, supporters and some opponents of the ACA who have expanded Medicaid to millions of people over the past two years," he said. "I think that there's recognition that it makes sense, and it's bigger than politics."
Federal Spending by the Numbers, 2014. Medicaid is the fastest-growing entitlement program and will grow by 87 percent over the decade, in no small part due to Obamacare's Medicaid expansion. Medicaid needs reform, not expansion. This program provides health care to more than 60 million Americans and consumes a growing portion of state and federal budgets. Forty-four percent of the projected growth in major entitlement spending over the next decade is due to Obamacare's subsidies and Medicaid expansion.
Obamacare Dumping Patients Into Medicaid. Obamacare is robbing patients of their private plans and dumping them into Medicaid, forcing them to accept not only subpar treatment but less access to care. According to an article in the Wall Street Journal today by Jeffrey A. Singer MD, a general surgeon who is also an adjunct scholar at the conservative CATO Institute, Obamacare is resulting in a involuntary shift of patients onto government-run care, establishing at least a beachhead for the long-held liberal dream of fully socialized medicine.
The Real Story on How Much Obamacare Increased Coverage. We now have the Medicaid and private-market health insurance enrollment data for the second quarter of 2014 needed to complete the picture of how Obamacare's rollout affected coverage. What we've learned is that the Obamacare gains in coverage were largely a result of the Medicaid expansion and that most of the gain in private coverage through the government exchanges was offset by a decline in employer-based coverage. In other words, it is likely that most of the people who got coverage through the exchanges were already insured.
As Obamacare Pays Medical Bills, Red States Pressured On Medicaid. A new report showing the continued pileup of unpaid medical bills in states that didn't expand Medicaid under the Affordable Care Act is escalating criticism on these Republican-led areas of the country to expand the health insurance program for the poor. The report out last week from the Obama administration shows the costs of uncompensated care are projected to fall by $5.7 billion this year largely because millions of Americans are eligible for expanded Medicaid insurance for the poor under the Affordable Care Act and they are taking advantage.
ER visits skyrocket under Obamacare. More people newly insured by Medicaid under ObamaCare are seeking treatment in hospital emergency rooms — one of the most expensive medical settings, a study released Monday [9/8/2014] concludes. The analysis by the Colorado Hospital Association found that the average number of ER visits in states that expanded Medicaid increased by 5.6 percent, when the second quarter of this year was compared with the same period in 2013. The increase was more than three times larger than experienced by hospitals in states that did not expand.
U.S. Medicaid enrollment nears 7 million since Obamacare rollout. New enrollments in Obamacare's Medicaid expansion and other healthcare programs for the poor have reached 6.7 million people since the launch of President Barack Obama's healthcare reforms last year, the administration said on Friday [7/11/2014].
Surge in Medicaid patients swamps state, puts UMC in a bind. Nevada's largest public hospital has borrowed $45 million in emergency loans in recent months just to make payroll for its 3,500 employees. University Medical Center, which serves Clark County's poor and uninsured, always has been subsidized by taxpayers, at a cost of $40 million or more annually. But this year's financial challenges were far worse than normal. The cause: A surge in Medicaid patients newly covered through the Affordable Care Act.
This is why they're putting so many people on Medicaid:
Surprise! Medicaid isn't free — it's a poorly advertised predatory loan. It's called "estate recovery" and although it's been around for 20 years, most Americans have never heard of it. Sadly, this arcane bit of Medicaid fine print is about to become much more familiar. Basically, what it says is this: If you're over 55 and are on Medicaid, when you die the state can seize your assets in an effort to repay the cost of your care.
ObamaCare's Phony Medicaid Promise Exposed. ObamaCare is driving millions of people into Medicaid, a program we now know does nothing to improve health and actually drives emergency-room use higher.
Obamacare's Medicaid Fraud. A couple of weeks ago I visited my internist for the annual physical to which she subjects me in order to confirm that my various organs are still operating according to specifications. As she poked and prodded, I asked how her practice was going. This question elicited a resigned sigh and a brief but poignant discourse on the necessity of "firing" her Medicaid patients. Medicaid, the government program that ostensibly provides health coverage for the poor, imposes so much red tape and pays so parsimoniously that she simply cannot afford to treat these patients if she wishes to avoid bankruptcy.
Administration says 2.1 million enrolled in Obamacare but won't say how many paid. According to the administration, more than two million people have enrolled in health insurance plans through the federal and state exchanges, and 3.9 million Americans have "learned they're eligible for coverage through Medicaid and the Children's Health Insurance Program in October and November."
Analysts warn ObamaCare plans could resemble Medicaid. Those signing up for private health care coverage on the ObamaCare exchanges may be in for an unpleasant surprise — they'll have insurance, but they might have trouble getting the doctor to see them. As hundreds of thousands enroll for coverage beginning Jan. 1, analysts are warning that the plans are likely to give them access to fewer doctors and hospitals. So much so, they warn, that the system could begin to resemble Medicaid, the health care program for low-income Americans. "Indeed, I think this will eventually be like Medicaid," said Merrill Matthews, director of the Council for Affordable Health Insurance.
Federal exchange sends unqualified people to Medicaid. The federal health care exchange is incorrectly determining that some people are eligible for Medicaid when they clearly are not, leaving them with little chance to get the subsidized insurance they are entitled to as the Dec. 23 deadline for enrollment approaches.
ObamaCare Forced Mom Into Medicaid. Countless individually insured Americans have received such letters; many are seeing more radical increases in premiums and deductibles.
In [its] first month, the vast majority of Obamacare sign-ups are in Medicaid. The first month of the new health law's rollout reveals an unexpected pattern in several states: a crush of people applying for an expansion of Medicaid and a trickle of sign-ups for private insurance. This early imbalance — in some places, nine out of 10 enrollees are in Medicaid — has taken some experts by surprise. [...] The yawning gap between public and private enrollment is handing Republicans yet another line of criticism against President Obama's health overhaul — that the law is primarily becoming an expansion of a costly entitlement program.
All the Wrong People Are Getting Obamacare. In almost half the states with exchanges, the overwhelming majority of enrollments are coming from Medicaid, not the new insurance markets — 87 percent in Washington, 82 percent in Kentucky and, last time I looked, 100 percent in Oregon (which delayed opening its insurance exchange in order to work out technical bugs). The Medicaid expansion side of the bill seems to be working fine in the states that opted for the expansion. But the private insurance side doesn't seem to be getting a lot of pickup.
The hidden truth behind early Obamacare numbers. Officials announced Thursday [10/24/2013] that 700,000 people have applied for insurance plans in both the 36 states that are using a federally run health care exchange and the 14 states running their own exchanges. But don't apply that 700,000 application figure to the 7 million enrollment goal. For starters, there's no guarantee that all 700,000 will ultimately enroll in a health insurance plan. And those 700,000 applications include Medicaid enrollments.
Obamcare Takes Away Woman's Health Care Choices. Is it possible to characterize the president's promise as anything other than intentionally misleading?
Obamacare (As Seen On TV). President Obama was forced into the White House Rose Garden appearance by the deluge of news stories — a deluge that would have started two weeks earlier but for the government shutdown — about the utter failure of the Obamacare website, healthcare.gov. Americans can't log in, can't set up accounts, can't get through the security questions, can't get basic information without giving the government personal information, and most of the time, if they get that far, can't find a good product at a good price. Instead, the few plans that have nominally small monthly premiums come with enormous deductibles and cost-sharing.
Obamacare seeks to segregate patients, doctors by race. If you like your doctor, you can keep your doctor under Obamacare — if you both belong to the same race. Obamacare's spectacular flop of a rollout distracts from its crude calculus that encourages the allocation of healthcare resources along racial lines and a doctor-patient system splintered into ethnicities.
1-800-PANIC. The New York Times reports that weeks of work — and 5 million lines of code — may be needed to get the federal Obamacare exchanges running "smoothly." Meanwhile, columnist-of-the-hour Megan McArdle notes once again that the administration has fewer weeks to spare than many say: It's true that "open enrollment" ends on March 31, but you will need to get a policy by February 15 to avoid the law's penalty (1% of your income!).
Are they signing up for Obamacare, or for Medicaid? How many people have tried to sign up for Obamacare? How many have completed the process? Those numbers are important, but let's keep something else in mind here — there's another important number that a lot of publications are failing to separate out. That is, how many people are enrolling in the private insurance plans within the Obamacare exchanges — as opposed to those applying who report very low incomes and get steered into the Medicaid program?
He's Just Not That Clever. Private health insurance is collapsing, along with your choice of doctors, as prices explode. Physicians are retiring early, cutting back hours, and refusing to take new Medicaid patients — just as Obamacare aims to turn millions of Americans into little more than glorified Medicaid enrollees.
Obamacare is a turkey ready for slaughter. The president has been none too shy about his preference for a single payer system. (You might recognize this as the wonderful system that encourages so many Canadians to seek quality health care in the U.S.) Indeed, some believe Congressional Democrats will utilize Obamacare's notable shortcomings to seek this ultimate mechanism of federal control. This notion is bolstered by the one aspect of Obamacare that is functional: rapid Medicaid enrollment. This costliest of entitlement programs is proving to be an attractive alternative to the new exchange plans; nearly 90 percent of Obamacare enrollees are new Medicaid sign-ups. And nobody can claim surprise. After all, something for nothing has been Obamacare's (and the whole of the Obama administration's) core attribute from Day One.
Edie Sundby's Choice. The truth is that ObamaCare's insurance is by and large the inferior coverage, which is why insurers are calling it "Medicaid Plus." To keep costs low, ObamaCare has to stuff patients into policies with narrow doctor networks and fewer treatment choices. Liberals then fall back on the claim that everyone's coverage is guaranteed — unless, of course, you live in San Diego and want to get care at M.D. Anderson.
Medicaid enrollment surges ahead of ACA sign-ups. HealthCare.gov may be limping along to full viability, but Medicaid is flying off the shelves. New Medicaid enrollment is far outpacing new insurance customers under Obamacare so far, a subtle sign that the program could play a greater role in the law's coverage expansion than first anticipated. Some people are signing up for the Medicaid expansion created by the president's health law. Others were already eligible for their state's current Medicaid program, but until this outreach campaign about health coverage, they had never signed up.
ObamaCare Unraveling And It Only Gets Worse In 2014. With ObamaCare's health insurance exchanges unraveling — especially HealthCare.gov, the federally run portal for the 36 states that decided not to set up their own exchanges — it's safe to say that the president's effort to expand coverage isn't going well. It's about to get worse. Once the calendar flips to 2014, ObamaCare intends to expand Medicaid — the joint federal-state health insurance program for low-income Americans — to an additional 8.7 million people. But Medicaid isn't working for the 62 million Americans it currently covers.
CBS News: Obamacare's Entire Financial Model is In Danger of Collapsing. With so much of the media's attention fixated on Obamacare's technological meltdown, some important storylines have gone under-explored. CBS news, to its credit delved into one of them today [10/25/2013], noting that of the people who have successfully obtained coverage under the new law, it appears that the vast majority of them are new Medicaid enrollees. And that poses a mortal threat to the entire structure of the law.
Many Obamacare Shoppers Aren't Actually Buying. It's not clear how many Americans have secured new health insurance through Obamacare — the federal government won't disclose initial figures until November. But some states have released preliminary numbers and a look at the early statistics shows that the vast majority of people who have managed to navigate the sign-up process in some states have enrolled in Medicaid, not private health plans. The Affordable Care Act allowed states to expand eligibility for Medicaid, and about half have done so, meaning millions more Americans now qualify for the public insurance program.
Why It Matters How Many Early Signups Are From Medicaid. According to the Census Bureau, 48.6 million people are covered by Medicaid. In fiscal 2011, the federal government spent $275 billion and the states paid $157 billion. Obamacare expands Medicaid to households earning 133 percent of the poverty line, but not all states have agreed to the expansion. The states that are reluctant argue that they'll be on the hook for higher health care costs down the line. Under Obamacare, the federal government is supposed to cover costs for the new enrollees until 2020, when states are to begin paying 10 percent of the cost.
Your private information is in a big leaky bucket
HealthCare.gov breach compromised applicants' financial, immigration data. The Centers for Medicare and Medicaid Services (CMS), the division of HHS responsible for running HealthCare.gov's online application portal — designated the Marketplace — has begun notifying approximately 75,000 people affected by the previously disclosed data breach, officials announced in an update about the incident. Names, birthdates, addresses and partial Social Security numbers were compromised in the breach, as well as a various other personal, employment and immigration information, CMS wrote in a letter sent to individuals listed on affected applications.
ObamaCare enrollment portal breached, data of 75,000 compromised, officials say. The sensitive personal information of around 75,000 people was compromised last month after a government portal used to help people enroll in health plans through the Affordable Care Act's insurance marketplace was hacked, officials said Friday [10/19/2018]. The breach of HealthCare.gov comes two weeks before that start of the annual six-week enrollment period for health coverage, the Washington Post reported. Seema Verma, the administrator for the Centers for Medicare and Medicaid Services, said "open enrollment will not be negatively impacted." The agency first noticed problems Oct. 13 in the online enrollment portal available to agents and brokers. The breach was detected Thursday and federal authorities are conducting an investigation.
Personal Data At Risk In ObamaCare Exchanges, Audit Finds. A government audit found what it called "significant weaknesses" in state-run exchanges in California, Kentucky and Vermont that could compromise the security of personal information they've collected on the 1.7 million who've signed up for ObamaCare plans there. The GAO said that the security lapses included "insufficient encryption and inadequately configured firewalls, among others." In total, the audit found 90 flaws that these states needed to address to improve the security of their data.
Just Like OPM, Healthcare.gov Is Blowing Off Cyber Security Warnings. In the case of OPM, they had been repeatedly warned that their networks were vulnerable to cyberattacks, yet did little to improve security. As a result, private data on more than 21 million people, some of whom were applying for federal security clearances, are in the hands of hackers believed to be from China. At least all of these people were current or former employees of the federal government. Healthcare.gov, on the other hand, now collects information on millions of private citizens who apply for ObamaCare coverage at this federal exchange, and operates a data hub that connects a multitude of other government databases. It, too, appears to suffer from the same indifference to cybersecurity as OPM.
Obamacare Database Keeps Personal Info "Forever". In the wake of a security breach last month that resulted in the theft of personal taxpayer data, experts are now raising concerns over a government data warehouse that keeps the information of Obamacare enrollees forever. The system, known as the Multidimensional Insurance Data Analytics System, or MIDAS is vaguely described on the federal healthcare.gov as a "perpetual central repository." When asked by the Associated Press how many people have direct access to the database, officials refused to say.
Critics Blast Obamacare Privacy Practices. Critics blasted the White House for perceived privacy gaps in the Affordable Care Act on Monday [6/15/2015]. Representative Diane Black (R., Tenn.) is concerned about the possible breaches of privacy caused by Multidimensional Insurance Data Analytics System (MIDAS), a storage system for Obamacare participant's personal information. "We repeatedly warned of privacy concerns under the data hub only to be told by the Administration that this hub would not collect personally identifiable information — instead it would only be used to pass information between the appropriate agencies to verify an Obamacare applicant's eligibility status. Clearly, the Obama administration did not deliver the whole truth," Black said in a release.
Get the Federal Government Out of the Electronic Health Records Business. In 2009, the federal government decided that doctors and hospitals were slow to take up electronic health records (EHR). Isn't everyone fed up with filling out forms and having his or her medical records filed in manila folders? So the feds decided to dish out $30 billion to pay doctors and hospitals to install EHRs credentialed by a new government agency, the Office of the National Coordinator of Health Information Technology (ONC). By July 2014, $25 billion of these payments had gone out the door. Unfortunately, results indicate that this federal spending has perverted the natural adoption of EHRs, and may have even lowered the quality of care.
Obama's Demand For Online Privacy Ends At ObamaCare. President Obama says he wants to improve cybersecurity and privacy. If he actually cared about them, he'd shut down healthcare.gov, which lets dozens of companies collect data on unwitting users.
New Privacy Concerns Over Government's Health Care Website. The government's health insurance website is quietly passing along consumers' personal data to outside websites, just as President Barack Obama is calling for stronger cybersecurity protections.
Feds Looking for Company to Run 'National Data Warehouse' for Obamacare, Medicare. The Department of Health and Human Services (HHS) is looking for vendors to run its "National Data Warehouse," a database for "capturing, aggregating, and analyzing information" related to beneficiary and customer experiences with Medicare and the federal Obamacare marketplaces.
Another Obamacare blow to personal privacy. Last week, the Health and Human Services Department announced a plan to share your medical records with over 35 federal agencies — all in the name of "health care," of course. All in the name of "efficiency," the favorite excuse used by fascists wherever they appear. Of Obamacare's many assaults on our quality of life, financial security and personal privacy, there was a pre-Obamacare signal from the federal government that any expectation of medical privacy was quickly becoming a quaint, and dead, notion.
HHS Documents Detail "High Risk" Security Problems with Obamacare Internet Site. Judicial Watch today [9/15/2014] released 94 pages of documents obtained from the U.S. Department of Health and Human Services (HHS) revealing that in the days leading up to the rollout of Obamacare, top Centers for Medicare and Medicaid Services (CMS) officials knew of massive security risks with Healthcare.gov and chose to roll out the website without resolving the problems. Detailed information regarding the security flaws, previously withheld from public disclosure, was released to Judicial Watch.
Judicial Watch Uncovers HHS Documents Detailing "High Risk" Security Problems with Obamacare Internet Site. Judicial Watch today [9/15/2014] released 94 pages of documents obtained from the U.S. Department of Health and Human Services (HHS) revealing that in the days leading up to the rollout of Obamacare, top Centers for Medicare and Medicaid Services (CMS) officials knew of massive security risks with Healthcare.gov and chose to roll out the website without resolving the problems.
Foreigners hacked Obamacare website on July 8 — but HHS only discovered it 10 days ago. A computer server hosting information for Healthcare.gov, the flagship Obamacare website that millions of Americans have trusted with their social security numbers, income totals and other sensitive personal information, was the subject of a hacker attack earlier this summer, officials said Thursday [9/4/2014]. The federal government wasn't aware it had been hacked on July 8 until just ten days ago. The admission is fueling fires on Capitol Hill.
Issa says HHS official 'must testify' after ObamaCare website hacked. Issa, R-Calif., said in a statement that Marilyn Tavenner, the administrator for the Centers for Medicare and Medicaid Services, "must testify" before his committee on Sept. 18 to discuss "transparency, accountability, and information security" regarding the federal ObamaCare website.
Hacker breached HealthCare.gov insurance site. Investigators found no evidence that consumers' personal data was taken in the breach, federal officials said. The hacker appears only to have accessed a server used to test code for HealthCare.gov. The Department of Health and Human Services discovered the attack last week. An HHS official said the attack appears to mark the first successful intrusion into the website, where millions of Americans bought insurance starting last year under the Affordable Care Act.
FBI: Malicious Actors Targeting Protected Healthcare Information. The FBI Liaison Alert System released a flash almost two weeks ago describing an investigation at the agency that uncovered "malicious actors targeting healthcare related systems, perhaps for the purpose of obtaining Protected Healthcare Information (PHI) and/or Personally Identifiable Information (PII)," PublicIntelligence.Net posted. According to the FBI, "These actors have also been seen targeting multiple companies in the healthcare and medical device industry typically targeting valuable intellectual property, such as medical device and equipment development data."
Connecticut Obamacare exchange suspends worker in data breach. A Connecticut Obamacare exchange worker has admitted to taking personal information about enrollees out of the office, information that was found in a backpack left on a Hartford street last week, officials said. The worker, an employee of the exchange's call center vendor Maximus, has been suspended as officials continue investigating the breach related to about 400 insurance plan enrollees.
So Much For HIPAA — Government Now Mining Health Records. Hey, does anyone remember how liberals screech about how abortion rights are all about "privacy" and we need to keep the government away from our bodies? I wonder why they all aren't protesting how the government is mining our health data. Maybe because they say it's for our own good.
The IRS Will Raid Your Tax Data Through Obamacare. The Internal Revenue Service this week will publish a final rule requiring Obamacare health insurance exchanges to hand over key personal data to the IRS, which will use the information to implement the tax aspects of the controversial health care law. The IRS rule covers health exchanges that sell insurance to individuals, and it takes effect this year. That means people enrolled in an Obamacare exchange this year will have their information given to the IRS as soon as it's needed for tax purposes.
Is the Obamacare Website Secretly Violating your Privacy Rights? There are plenty of reasons to not like Obamacare. There are plenty of reasons to be dubious of the federal government when it comes to obeying our laws. If you put the two of those things together, there is a lot of reason for us to be worried about what Obamacare will do to our privacy. Imagine a government clearinghouse that gives outside groups (insurance companies) unfettered access to all of our private information.
Expert Hacks Healthcare.gov in 4 Minutes. In what sense is a broken website "fixed" when it's completely insecure? Security consultant David Kennedy, who has testified before Congress about the flaws in Healthcare.gov that have made people's information unsafe, revealed Monday he was able to gain access to the personal records of 70,000 Obamacare enrollees in four minutes. "It looks like it's continuing to get worse," Kennedy said of the website's security fiasco. What's more, it appears he used methods that are available to anyone.
NY O-Care Exchange Accidentally Reveals Applicants' Email Addresses. The New York Department of Health tried to downplay things by saying that the email addresses were the only things revealed, which really just compounds the egregiousness of the error and reinforces that it probably wasn't an accident because they really are that stupid. Let it soak in-the people who can't master the art of the blind carbon copy in email want to make health decisions for you and your loved ones.
Health law cybersecurity challenges. As the Obama administration raced to meet its self-imposed deadline for online health insurance markets, security experts working for the government worried that state computer systems could become a back door for hackers.
Government's insane hallucinations. Obamacare results in less privacy. If anyone is foolish enough to input their medical history into the poorly written ACA website, hackers are able to steal the information almost immediately. To make things more exciting, the government plans to collect and aggregate confidential patient records for every one of us. Since the feds don't exactly have the best track record of keeping data confidential, how long before such data are stolen, hacked, or freely shared with whoever donates the most campaign contributions?
Suspect Software. Security concerns about foreign software and possibly malicious code from Belarus were raised inside the U.S. government last month. The Minsk government is viewed as an anti-U.S. dictatorship and a close ally of Russia. In February 2013, a security-monitoring firm detected the diversion of large amounts of U.S. Internet traffic to Belarus, compounding cyber attack worries from that country.
HHS Cannot Find Belarus Malware in Obamacare Networks. The Department of Health and Human Services says it has been unable to locate malicious software from Belarus inside Obamacare computer networks, according to a department spokeswoman. Joanne Peters, the spokeswoman, told the Washington Free Beacon that HHS Secretary Kathleen Sebelius received a letter sent last week from Rep. Michele Bachmann (R., Minn.) that urged HHS to shut down the network until the security of Americans' private data can be assured.
HHS urged to close down Obamacare site until security issues resolved. President Barack Obama and two senior aides are being urged to suspend all use of the Obamacare computer network until recent U.S. intelligence warnings of potential cyber attacks from Belarus are resolved. Michele Bachmann (R., Minn.), a member of the House Permanent Select Committee on Intelligence, called for the suspension in letters to the president, Director of National Intelligence James Clapper, and Health and Human Services Secretary Kathleen Sebelius. She warned that "the American people's personal information submitted to Healthcare.gov could be at risk from cyber attacks across the globe."
Medical Identity Theft and Obamacare. In 2012 alone, medical identity theft increased by nearly 25 percent, affecting 1.85 million Americans, according to another recent report from the Ponemon Institute, which researches privacy issues. Michael Ollove, a reporter for Stateline, noted that 43 percent of identity-theft incidents in the United States are medical-related, "a far greater chunk than identity thefts involving banking and finance, the government and the military, or education. The U.S. Department of Health and Human Services says that since it started keeping records in 2009, the medical records of between 27.8 million and 6.7 million people have been breached."
Obamacare Security Risks Abound. Is there any secure way to sign up for Obamacare? It's becoming an increasingly valid question. Hacker-turned-security-expert Kevin Mitnick told Congress last week that HealthCare.gov had only "shameful" and "minimal" protections. And David Kennedy, a leading computer-security expert, said: "I don't understand how we're still discussing whether the website is insecure or not. It is insecure — 100 percent."
Hacking expert David Kennedy says he cracked HealthCare.gov in 4 minutes. The man who appeared before Congress last week to explain the security pitfalls of HealthCare.gov took to Fox News on Sunday [1/19/2014] to explain just how easy it is to penetrate the website. Hacking expert David Kennedy told Fox's Chris Wallace that he determined he could gain access to 70,000 personal records of Obamacare enrollees via HealthCare.gov within about 4 minutes — and it required nothing more than a standard browser, the Daily Caller reported.
Mitnick blasts 'shameful' Healthcare.gov for its 'minimal, if any' security protections. A man who was once the FBI's most wanted hacker says Healthcare.gov is a cybercriminal's dream. Kevin Mitnick has been a legend in the hacking world since his 1990s heydays, but he's now playing for the good guys and sent a dire message to a congressional security panel on the ObamaCare website on Thursday [1/16/2014]. 'It's shameful the team that built the Healthcare.gov site implemented minimal, if any, security best practices,' he wrote in a letter submitted to panel chairman Lamar Smith, a Texas Republican.
House Republicans take aim at Obamacare this week with two transparency bills. The House this week will debate two Republican bills intended to highlight problems with the Obamacare website, including one measure that would require the government to notify users of security breaches and another that would require the administration to regularly report to Congress on the website's operations. Republican leaders plan a vote Friday [1/10/2014] on the Health Care Security and Transparency Act, which would require the Department of Health and Human Services to inform the users of state and federal health care exchanges within 48 hours of any security breach that "endangers personal data and information."
Health Care Law Threatens Individual Rights & Privacy. [Scroll down] We also learned this year that the upcoming health care law will include a considerable amount of privacy concerns. With the creation of the "Federal Data Services Hub," a trove of personal information will be collected on all customers and shared among several agencies. The information "includes, but may not be limited to": Social Security numbers, income, family size, citizenship and immigration status, gender, ethnicity, email addresses, incarceration records, enrollment status in other health plans, tax information, employment information, patient medical records, pregnancy status, list of disabilities, welfare information, and demographic data (e.g. address, birthdate, physical description...). All this personal information will be accessible by bureaucrats ranging from the Social Security Administration, the IRS, the Department of Homeland Security, the Veterans Administration, Office of Personnel Management, the Department of Defense and the Peace Corps. And that is in addition to the Medicaid databases linked to the Hub. To be forced into a system such as this by is indeed a great detriment to personal freedom.
GOP Targets Obamacare Security Risks. House Republicans will begin the new year by teeing up another shot at Obamacare — this time taking aim at the risks the online enrollment process poses to Americans' personal privacy. House Majority Leader Eric Cantor, R-Va., sent a memo to colleagues Thursday [1/2/2014] informing them of his plans to schedule a vote when Congress returns next week on a bill that would require the government to notify individuals if their personal information has been compromised on healthcare.gov or in the process of sharing it with other government agencies or insurance companies.
Hiding the Hacking at HealthCare.gov. Christmas shoppers were stunned to learn last Thursday [12/19/2013] that computer hackers had made off with the names and other personal info of some 40 million Target customers. [...] But at least Target informed its customers of the security breach, as it is required by federal law to do. HealthCare.gov faces no such requirement; it need never notify customers that their personal information has been hacked or possibly compromised.
12 questions the White House press corps could have asked Obama about Obamacare. [#5] A report today reveals that Teresa Fryer, chief information security officer for the Centers for Medicare and Medicaid Services (CMS), thought HealthCare.gov was so full of security holes it should be denied its "Authority to Operate" certification but was overridden. Your HHS Secretary Kathleen Sebelius has said she had no knowledge of security concerns yet Fryer has reportedly told Congress members she briefed Sebelius and others. Were you aware of any security concerns before the launch?
Administration official points to new security issues with healthcare.gov. A top official working on healthcare.gov told lawmakers this week about two major security vulnerabilities, issues not disclosed publicly by the Obama administration as it pushes to convince Americans to sign up for Obamacare. Teresa Fryer, the chief information security officer for the Centers for Medicare & Medicaid Services, told lawmakers of "two high findings" of risk — one of which was discovered just this week — according to interview transcripts released by the House Oversight Committee. According to industry standards, a high finding represents a "significant political, financial and legal damage."
Security Risks at Obamacare Site Ahead of Sign-Up Deadline. Nearly three months after its launch and as millions of Americans log on to shop for health plans, HealthCare.gov has still had serious security vulnerabilities, according to documents and testimony obtained by ABC News.
High security risk found after HealthCare.gov launch. A top HealthCare.gov security officer told Congress there have been two, serious high-risk findings since the website's launch, including one on Monday [12/16/2013] of this week, CBS News has learned. Teresa Fryer, the chief information security officer for the Centers for Medicare and Medicaid Services (CMS), revealed the findings when she was interviewed Tuesday behind closed doors by House Oversight Committee officials. The security risks were not previously disclosed to members of Congress or the public. Obama administration officials have firmly insisted there's no reason for any concern regarding the website's security.
Obama Administration Knew of Healthcare.gov Security Risks Before Launch. Documents provided to the House Committee on Government Oversight and Reform reveal that the Obama administration knew of security vulnerabilities within Healthcare.gov prior to Oct. 1, but launched the website anyway. Chairman Darrell Issa (R., Calif.) said Health and Human Services (HHS) officials showed a "disturbing lack of judgment" by going ahead with the site's launch and putting Americans' personal information at risk.
California's ObamaCare exchange hands out consumer contact info without permission. There are going to be some epic data theft and hacking stories to come from the sad history of ObamaCare. They're probably already happening. There has been a repeated history of both state and federal authorities concealing security breaches until forced to discuss them by freedom-of-information requests.
GOP bill requires prison term for ObamaCare ID theft. Rep. George Holding (R-N.C.) has proposed legislation that would require federal officials and others who use ObamaCare data to commit identify theft to serve a five-year prison term.
ObamaCare website might have to be rebuilt. The chairman of the House Intelligence Committee said ObamaCare's Web site, already a tangled mess, might need to be rebuilt from scratch to to protect against cyber-thieves because he fears it's not a safe place right now for health-care consumers to deposit their personal information.
Congressman to Constituents: Proceed on Healthcare.gov At Your Own Risk. Rep. Mo Brooks (R., Ala.) is warning his constituents to not go on healthcare.gov, the Obamacare website, unless they're "willing to accept the risk that their identities will be stolen." The online health care exchange has been beset with glitches since its launch, with one particularly alarming issue being users having their personal information compromised. The Washington Free Beacon reported Tuesday [12/3/2013] that the marketplace is even more vulnerable to security breaches since the administration "fixed" Healthcare.gov, according to a cyber security expert.
Rogers: WH wouldn't brief us on Healthcare.gov security gaps — even in closed session. Rep. Mike Rogers provides a cheery thought on personal security as the White House gears up to sell ObamaCare all over again. Last night, he told Greta van Susteren that data security on Healthcare.gov didn't even meet "minimal standards" for the industry. In terms of the "private-sector velocity and efficiency" claimed by the Obama administration over the last couple of days, Rogers says that experts warned him that they would be sued out of business if they rolled out a website with this many security gaps.
ID Verification Lagging on Health Care Website. Just days before the Obama administration's self-imposed deadline to fix the troubled federal health insurance website, officials said Monday [11/25/2013] that they were aware of another problem that has prevented thousands of people who were unable to verify their identity from shopping for health plans. Many users of the website have had their applications cast into limbo after they uploaded copies of documents like driver's licenses, Social Security cards and voter registration cards, or sent them to the office of the federal insurance marketplace in London, Ky.
ObamaCare Website Is Like 'IdentityTheft.Gov'. Computer security experts testify that the unfinished health care marketplace portal places the personal information of millions at risk on a poorly designed and built site that is a hacker's dream. Not only is the poorly designed and still only partially built ObamaCare website, Healthcare.gov, vulnerable to attack by computer hackers, it already may have been comprised, cybersecurity expert David Kennedy told a House Science, Space, & Technology Committee hearing on Tuesday. "Hackers are definitely after it," said Kennedy, CEO of data security firm Trusted SEC. "And if I had to guess, based on what I can see ... I would say the website is either hacked already or will be soon."
The Editor says...
If you think a national ID card is a good idea, let the Obamacare rollout be a lesson to you. The national ID card system would require the ingest of all your personally identifying information into a government sytem — almost certainly including a connection to the internet along the way. Just like Obamacare, that system won't work as advertised, and the details of your identity will be exposed to con artists and thieves. This is inevitable, because it will be a massive bureaucracy run by the same incompetent government that is trying to build the Obamacare on-line registration system on the fly.
Obamacare website is not safe or secure and should be shut down, say security experts. President Barack Obama's HealthCare.gov site is riddled with security flaws that put user data of millions of people at risk and it should be shut down until fixed, several technology experts warned lawmakers on Tuesday [11/19/2013].
Top official for ObamaCare exchanges calls withheld security concerns 'disturbing'. The top operational officer for the problem-plagued ObamaCare exchanges said in testimony before a House committee he found it "disturbing" that he was never made aware of significant security issues with the exchanges before they launched.
Memo warned of "limitless" security risks for HealthCare.gov. CBS News has learned that the project manager in charge of building the federal health care website was apparently kept in the dark about serious failures in the website's security. Those failures could lead to identity theft among buying insurance.
Tech experts: Administration downplaying threat of cyberattacks on healthcare.gov. The Obama administration on Wednesday acknowledged for the first time that cyberattacks have targeted the healthcare.gov website, but technology security experts say officials are downplaying the number of attacks and minimizing the privacy threat to Obamacare enrollees' personal information. A top Department of Homeland Security official testified Wednesday [11/13/2013] that Health and Human Services had reported to her office approximately 16 "cyber-related" incidents on the website, which registers consumers in new health plans, and one "denial of service" that didn't result in any type of breach.
Obamacare exchange: Hackers welcome, no experience necessary. The Obamacare insurance exchange is making it incredibly easy for identity thieves to gain access to your information. You only have to ask. The exchange reportedly gave a St. Louis woman's personal information, including home address and Social Security number, to three different people. Lisa Martinson registered in the exchange and later forgot her password. When she called customer service, she was informed that her account information was given to three different people, according to News 4 St. Louis. Now she just wants her personal data offline. The exchange told her that could take up to five days.
Chief IT Officer Fired By Obama Might Have Been Terminated For Refusing to Sign False Certification. I thought the Chief IT officer was being scapegoated because the system was a catastrophic failure. Silly me — Obama doesn't fire people for failure. He promotes them.
Update: CMS, Tavener Seem to Have Violated Federal Rules in Falsely Certifying Healthcare.gov As "Secure". It appears that CMS violated federal guidelines regarding security certification. Federal rules require that website be certified as secure before being permitted to go live. For reasons that I trust are obvious. But Healthcare.gov was never tested, and the White House and CMS were being warned by IT people that it was insecure.
Midlands man has personal information compromised on healthcare.gov. About a month ago, attorney Tom Dougall logged on to healthcare.gov to browse for cheaper insurance for him and his wife. On Friday, the last thing he expected to hear on his voicemail was a man from North Carolina who says he can access all of Tom's personal information. Dougall says he thought it was a scam until he realized his privacy had been breached.
Claim: Obamacare User Sent Other People's 'Eligibility Letters'. Justin Hadley was using the Obamacare website when he was accidentally sent "eligibility letters" addressed to other people — in other states. "Justin Hadley logged on to HealthCare.gov to evaluate his insurance options after his health plan was canceled. What he discovered was an apparent security flaw that disclosed eligibility letters addressed to individuals from another state," the Heritage Foundation reports.
Tech experts warn security issues remain on Obamacare website. Technology experts are disputing the Obama administration's assurances that the government is safeguarding the personal information Americans provide when signing up for the federal health insurance exchanges online. Health and Human Services Secretary Kathleen Sebelius and other White House officials have said consumers can trust that their information is protected when applying for insurance on healthcare.gov. Experts, though, say that serious security vulnerabilities are among the many problems continuing to plague the website, which did not undergo proper testing before its Oct. 1 launch.
WH: No security risks on HealthCare.gov. The White House insisted Thursday that consumer information is safe on HealthCare.gov, despite a warning the site was at "high risk" for a security breach because of inadequate testing. White House press secretary Jay Carney said that "consumers can trust that their information is protected by stringent security standards." But a memo, obtained by Reuters, warned that sensitive data — like social security numbers and birth dates — could be compromised by security flaws that had not been discovered because the website had not undergone sufficient testing before it was launched.
Rogers Rips Sebelius for Launching Healthcare.gov Without Testing Its Security. Rep. Mike Rogers (R-MI) tore into HHS Secretary Kathleen Sebelius for putting millions of Americans' personal data at risk via Healthcare.gov's lack of end-to-end security testing prior to its launch. Rogers detailed Healthcare.gov's security problems: "So let me tell you what you did. You allowed the system to go forward with no encryption on back-up systems. They had no encryption on certain boundary crossings. You accepted a risk on behalf of every user of this computer that put their personal financial information at risk because you did not even have the most basic end-to-end test on security of this system. Amazon would never do this. Proflowers would never do this. Kayak would never do this.
Govt Document: Health Site Posed Security Risk. An internal government memo obtained by The Associated Press shows administration officials were concerned that a lack of testing posed a "high" security risk for President Barack Obama's new health insurance website.
Healthcare.gov appears to violate White House guidance on web security. During her testimony Wednesday before the House Energy and Commerce Committee, Secretary of Health and Human Services Kathleen Sebelius said that healthcare.gov is operating under a "temporary" order certifying that it met stringent security standards even as testing continues. But that would appear to contradict guidance issued by the White House Office of Management and Budget last year by none other than Jeff Zients — the former acting director of OMB, who more recently was brought in to oversee the "tech surge" to fix problems facing Obamacare's implementation.
Intel chairman slams ObamaCare site's cybersecurity plan. Rep. Mike Rogers (R-Mich.) says he's more concerned about HealthCare.gov's problems today than he was last week. [...] Rogers, who's chairman of the House Intelligence Committee, is also a member of the House Energy and Commerce Committee and sat in on the Thursday [10/24/2013] hearing in which the ObamaCare website contractors testified. "I'm even more concerned today than I was last week," he said.
Another ObamaCare 'Glitch': $30B blown on non-operational medical record system. The rollout of ObamaCare has been plagued by problems these past two weeks, as thousands complained they couldn't sign up for coverage due to a deeply defective website. But this process could have been easier if a nine-year, government-backed effort to set up a system of electronic medical records had gotten off the ground. Instead of setting up their medical ID for the first time, would-be customers would have their records already on file. Unfortunately for patients — and taxpayers — the long-running project has produced tangibly few results despite costing the government, so far, at least $30 billion.
Obamacare Exchange Confirms: 'We Are Required to Respond to Certain Requests from Law Enforcement'. An email had been sent to the MHC on October 3 requesting clarification of the policy, and included these inquires: Does that include both federal and state authorities? What type of information from the application might be of interest to law enforcement and/or state/federal auditors? However, no response was received before the story was published.
Report: Credit Score to 'Have a Big Impact' on How Much People Pay for Obamacare. A Florida TV station reports that people's credit score's will "have a big impact" on how much they pay for Obamacare: [Video clip] "As more and for families are looking for insurance options for the new Affordable Care Act, they're finding out their credit score will have a big impact on how much they pay," reports an anchor. "A lot of people want to know why credit scores are determining how much they pay."
Your Personal Data Can Be Used For 'Law Enforcement, Audit Activities'. Maryland's Health Connection, the state's Obamacare marketplace, has been plagued by delays in the first days of open enrollment. If users are able to endure long page-loading delays, they are presented with the website's privacy policy, a ubiquitous fine-print feature on websites that often go unread. Nevertheless, users are asked to check off a box that they agree to the terms.
Obamacare Marketplace: Personal Data Can Be Used For 'Law Enforcement and Audit Activities'. Maryland's Health Connection, the state's Obamacare marketplace, has been plagued by delays in the first days of open enrollment. If users are able to endure long page-loading delays, they are presented with the website's privacy policy, a ubiquitous fine-print feature on websites that often go unread. Nevertheless, users are asked to check off a box that they agree to the terms.
The Editor says...
What would you expect? You're getting your medical insurance from Big Brother, and Big Brother is a busybody and a snitch.
Kentucky Marketplace: 'No Explicit or Implicit Expectation of Privacy'. When clicking "let's get started" on the state-run health insurance marketplace "kynect," the user is quickly prompted to a "WARNING NOTICE." "This is a government computer system and is the property of the Commonwealth of Kentucky," it states. "It is for authorized use only regardless of time of day, location or method of access." "Users (authorized or unauthorized) have no explicit or implicit expectation of privacy," the disclaimer reads.
John McAfee on Obamacare: 'This is a hacker's [...] dream'. On Fox Business Network's "Cavuto" on Wednesday, computer programmer and founder of McAfee, Inc. John McAfee said the online component of Obamacare "is a hacker's [...] dream" that will cause "the loss of income for the millions of Americans who are going to lose their identities." For starters, McAfee said the way it is set up makes it possible for fake websites be set up to fool people to think they're signing up for Obamacare.
If you sign up for Obamacare before they get the security issues fixed, you are making a serious mistake.
Obamacare exchanges just opened, and already fake websites, scammers are ripping people off. Obamacare's health exchanges opened to a world of glitches Tuesday, but even that's not as bad as the scammers looking to steal individuals' personal information by posing as exchange sign-up websites, according to UPI. Christopher Budd, threat communications manager at Trend Micro, an internet security company, said that a lack of a single website to sign up for the exchanges opens Americans up to scams.
Navigators
Obama hired ACORN as Obamacare navigators. So Obama-Jarrett regime hired Acorn to be ObamaCARE navigators, even though Congress banned all federal funding to Acorn. Unless Obama is paying Acorn out of his own pocket (which we know [he] would never do), that means federal funds are going to Acorn. So what do Republicans do? Nothing.
HHS Violates ACORN Funding Ban to Pay for Obamacare Navigators. Despite a 5-year-old congressional ban on federal funding for the notably corrupt Association of Community Organizations for Reform Now (ACORN), Judicial Watch has obtained documents that show a chunk of taxpayer money went to an affiliate serving as an Obamacare "navigator." The Department of Health and Human Services (HHS) violated the ACORN funding ban by awarding a Louisiana nonprofit called Southern United Neighborhoods (SUN) a $1.3 million Obamacare navigator grant to recruit customers for the president's disastrous healthcare law and help them "navigate" the complicated insurance exchanges.
More about ACORN.
Watchdog claims union's legal fight reveals ObamaCare fraud. Non-profit group Southern United Neighborhoods got a $1.3 million federal grant in 2013 to serve as a "navigator," enrolling people in Affordable Care Act coverage. The group subcontracted with United Labor Unions Local 100, which, according to Cause of Action, paid members less than it billed the government and, in some cases, paid them to recruit union members. The watchdog group discovered the alleged discrepancy in court papers filed by union workers suing the labor organization for unpaid overtime.
Watchdog claims union's legal fight reveals ObamaCare fraud. Non-profit group Southern United Neighborhoods got a $1.3 million federal grant in 2013 to serve as a "navigator," enrolling people in Affordable Care Act coverage. The group subcontracted with United Labor Unions Local 100, which, according to Cause of Action, paid members less than it billed the government and, in some cases, paid them to recruit union members. The watchdog group discovered the alleged discrepancy in court papers filed by union workers suing the labor organization for unpaid overtime. "Southern United Neighborhoods and ULU Local 100, both rebranded ACORN entities, present a risk of violating the law — this time by potentially misusing over $1.3 million of taxpayer dollars for union activities instead of enrolling individuals in the Affordable Care Act," Daniel Epstein, executive director for Cause of Action said to FoxNews.com.
ObamaCare insurance navigator with rocky history gets even more taxpayer money. The federal government is giving an ObamaCare insurance navigator Seedco, which has a reported history of fraud, $1.4 million to operate in Tennessee this fiscal year. Last year, Seedco received $1.2 million for the same services in Tennessee. As reported, the federal government sued Seedco on the grounds it faked at least 1,400 of 6,500 job placements under a $22.2 million federally funded contract with New York City.
Obamacare Helpers Get Another $6.8 Million. Round two of Obamacare open enrollment is eight weeks away, and the Obama administration is once again spending millions on "navigator" outreach programs. The U.S. Department of Health and Human Services announced last week it's handing out $60 million in new funding for 90 organizations. Florida was among the top states, garnering nearly $6.8 million — only Texas received more.
HHS Announces Another $60 Million for Obamacare Navigators. The Department of Health and Human Services announces another $60 million for Obamacare navigators, a press release from that federal bureaucracy states. "The Affordable Care Act is working for millions of Americans who are able to access quality health coverage at a price they can afford, in large part because of the efforts of in-person assisters in local communities across the nation. People shopping for and enrolling in coverage through the Health Insurance Marketplace can get local help in a number of ways, including through Navigators," reads the release.
An Ex-Navigator's Story. Since the beginning of Obamacare enrollment, critics have expressed concerns that some of the nearly 50,000 navigators, who are supposed to provide a nonpartisan service by helping people sign up for health coverage, would actually use their position to advance political agendas or to organize voters. As John Fund wrote last year, many of the organizations that received navigator grants have close ties to the Democratic party. Recently, the Connecticut health exchange decertified one of its Obamacare navigators on the grounds that she had done just that. She had been repeatedly warned about "using [her] position ... to promote [her] political agenda on numerous occasions," according to records obtained by National Review Online.
Obamacare Navigators, 'Assisters' Helped Fewer Than Two People Per Day. During the open enrollment period for the state and federal health care exchanges, each staff member and volunteer worked with an average of 1.8 people per day, according to a survey of assister programs released by the Kaiser Family Foundation. [...] If you do the math, 28,000 individuals assisting 10.6 million people over 210 days breaks down to 1.8 people per day per service representative. While the individualized guidance was time consuming, the study revealed that the assister programs should have been able to help more people in the span of a full workday.
The Editor says...
It sounds like 28,000 people have do-nothing government jobs, from which they probably cannot be fired.
Former Obamacare Navigator, Who Was A Convicted PLF Terrorist, May Now Plead Guilty To Lying To Immigration. Of course, a terrorist is the perfect person to be a navigator and get the private information about thousands of Americans.
Convicted Terrorist Might Plead Guilty to Immigration Fraud. Rasmieh Yousef Odeh was sentenced to life in prison by an Israeli court in 1970 after she and her accomplices with the Popular Front for the Liberation of Palestine, a terrorist group, placed multiple bombs in Jerusalem on Feb. 21, 1969 which killed two college students doing their grocery shopping. [...] The National Review in February reported that the Illinois Department of Insurance last November "quietly revoked" Odeh's certification as an in-person navigator to help people sign up for insurance under President Barack Obama's signature health care law.
Judicial Watch Sues HHS for Obamacare Navigator Records. According to Health and Human Services 50,000 people have been hired as navigators to help Americans enroll in Obamacare through federal or state exchanges. Since navigators were hired, HHS has failed to provide a concrete record of what processes navigators must go through before being qualified to handle sensitive information of potential Obamacare enrollees. Judicial Watch is suing for information about navigator qualifications, background checks and records about the navigator program.
Interpreter Snores On Phone After Being On Hold With Obamacare Counselor. [Scroll down] The healthcare.gov website worked sporadically, an 800 number was slower than usual, and it took hours to get an interpreter and a counselor on the phone simultaneously at a center in Houston that helps refugees.
The Editor says...
The article immediately above reads like an infomercial for Big Government. The writer celebrates the teeming masses lining up for Cuban-grade socialist medical care, while referring to illegal aliens as "refugees."
Obamacare Navigators Helping People Enroll At Mexican Consulates. Health Care insurance navigator groups hosted an Obamacare enrollment fair on Tuesday [3/25/2014] in the Mexican Consulate's Brownsville office, The Rio Grande Guardian reported last Friday [3/21/2014], where Mexican nationals among others were counseled about enrolling in the ACA. "The Mexican consulate is a very reliable source of information to the Latino community. And therefore when they host their events, yesterday being the health fair, there are several hundred people that show up," [Enroll America Field Organizer Jose] Medrano said. Under the Affordable Care Act (ACA), undocumented immigrants aren't supposed to be receiving government-run health benefits or subsidized coverage.
Convicted Terrorist Worked as Obamacare Navigator in Illinois. A terrorist from Jordan briefly worked as an Obamacare navigator in Illinois while authorities remained unaware of her conviction for involvement in a deadly grocery store bombing and two other attacks. Rasmieh Yousef Odeh was convicted in Israel for her role in several bombings, including the 1969 attack on an upscale Shufersol grocery store, which killed two Hebrew University students who had stopped in to buy groceries for a hiking trip in the Jerusalem hills.
Meet Some Obamacare Navigators at Jackson Lee Event in Houston. Houston residents will have an opportunity to meet some of Obamacare's mysterious navigators at a "Rock-Enroll" party tomorrow in Rep. Sheila Jackson Lee's (D-Texas) district. The navigators have been a key point of Republican criticism against the healthcare law's rollout. "This is reported, interestingly enough, that in California with the so-called navigators, the people who are the certified navigators, over 40 of them are convicted criminals," Sen. John Barrasso (R-Wyo.) said on the floor this week. "Forty convicted criminals were hired and certified, certified, to be navigators in California in spite of the fact that people are being asked to give personal information, health information, financial information, to these navigators." Sen. John Cornyn (R-Texas) said those reports "confirm my worst fears."
Medical Identity Theft and Obamacare: [A]s many as 31 states do not conduct background checks on Obamacare navigators, who have access to enrollees' names, Social Security numbers, financial records, and health information. A recent NR report found that in California, at least 43 navigators approved by the state health exchange had prior convictions, including for forgery and welfare fraud. Clearly, there's enormous risk that consumers' confidential information could fall into the wrong hands.
The Accidental Navigator. [I]f [Lorita] Waltz's experience is typical — if large numbers of consumers are still unable to buy insurance without the intervention of their congressman's and governor's office — it suggests ObamaCare is deeply troubled if not failing. One advantage to calling your congressman for help is that he's probably not a felon. National Review's Jillian Melchior has been looking into the criminal records of ObamaCare "navigators." Her latest report finds that California's exchange employs "at least 43 convicted criminals" as navigators, "including three individuals with records of significant financial crimes": [...]
Surprise: California Hires Convicted Felons to Administer Obamacare. National Review notes that ex-convicts securing jobs and providing for themselves is generally an unequivocally positive development — but given the sensitive nature of this particular line of work, shouldn't former felons be excluded from the applicant pool?
Obamacare Security Risks Abound. One could certainly be forgiven for hesitating to sign up online — but it looks like enrolling through an official navigator might be a risky process, too. I write today that in as many as 31 states, there are no background-check requirements for navigators. Other states have only partial requirements, creating a criminal-history screening for some types of navigators and not others. Only six states have comprehensive requirements. I confirmed earlier this week that at least one convicted felon is working as a navigator in Connecticut.
Community Organizations: Obama's Corrupt Power Grab. Obamacare outsources the important job of enrolling the uninsured in health plans, taking it from government and entrusting it to community organizations. Why outsource? Because it eliminates public scrutiny, accountability and the necessity to be nonpartisan. Community activists can say and do things that government employees can't, such as urging people to register as Democrats.
Obamacare Navigators tell applicants to lie about their income and smoking habits to get a better deal, report reveals. Two documents released Monday about the Obamacare 'Navigators' couldn't be more different: A congressional report slammed the health insurance helpers for encouraging fraud, while the organization's own training manual encouraged workers to 'be candid, open, and honest' and 'build trust' with Americans seeking health care policies. The House Committee on Oversight and Government Reform released its scathing indictment of the Navigator program in conjunction with a Texas field hearing. Investigators found that volunteers tasked with enrolling Obamacare customers were encouraging applicants to lie in order to get government subsidies and favorable premiums.
Rep. Darrell Issa Warns Obamacare Navigators Are "ACORN Revisited". House Oversight and Government Reform Committee Chairman Darrell Issa warned Monday on Fox News that there are no checks in place for Obamacare navigators, the individuals tasked with helping Americans sign up for health insurance. They don't have to follow any of the rules that every state in the country has for insurance people, he said. In other words, navigators are not bonded, finger printed, or identified in any way that would help prevent felons or identity theft perpetrators from having access to consumers' personal information. "This is basically just another form of community organizing paid for with your tax dollars," Issa said.
The Truth about Navigators. [James O'Keefe's] undercover investigators focused on Obamacare's "navigators," the nearly 50,000 people who, in the words of the Department of Health and Human Services, "will serve as an in-person resource for Americans who want additional assistance in shopping for and enrolling in plans" on the Obamacare exchanges (at least when they're finally working). The total value of grants doled out for nonprofits and community organizations to hire navigators has topped $67 million nationwide, and some of the money is going to a group run by ACORN's highly controversial founder.
Undercover Cameras Claim to Catch Obamacare Navigators in Fraud. A local program aimed to help North Texans sign up for the new government healthcare created by the Affordable Care Act — often referred to as Obamacare — is under fire after undercover cameras recorded employees telling an applicant to lie on their health care applications.
House Report: Ill-Trained Obamacare Navigators Encouraging Fraud, Jeopardizing Private Info. The Obama administration decided that Obamacare Navigators, tasked with helping Americans enroll in a health insurance plan, would not undergo mandatory background checks. Now, in the ten weeks since the launch of Healthcare.gov, the ill-trained Navigators have put Americans' sensitive health and tax information at risk.
WV Attorney General: ObamaCare navigators a real identity-theft risk. [Scroll down] Well, one bell (or is it a whistle?) will be income verification on claims for calculating subsidies. This part should have been easy; the IRS runs this part of the ACA, and they have had three years to integrate its systems into a national interface with state exchanges. Instead of having a good way to ensure against fraudulent subsidy payouts, we'll all just be on the honor system next year. What could go wrong?
WV Attorney General: ObamaCare navigators a real identity-theft risk. HHS will hire an army of "navigators" who will assist consumers in selecting a health insurance plan that meets their needs — and who will have access to all of the private identity data that government usually insists we keep private. West Virginia Attorney General Patrick Morrisey raises a big red flag on the potential for massive identity theft.
How Obamacare Makes Theft Of Your Identity More Likely. Stealing a medical identity is more lucrative than other kinds of identity theft. It's been reported that a social security number sells for $1 on the black market. But a person's address, Social Security number, Medicare number, and medical history may bring in $50 up front, plus thousands more for the con men who use the information to buy prescription drugs and scam the consumer's insurance company out of payments. Consumers are left facing bogus charges and ruined credit scores.
Terrific: Former ACORN Workers Are Back as Obamacare 'Navigators'. Obamacare "navigators" have been hired throughout the country to help people get enrolled in exchanges and landing a job as a navigator is easy considering passing a background check isn't necessary or required (as a reminder, navigators have access to detailed personal information and health information).
Oversight And Reform To Hold Field Committee Hearing in Texas on ObamaCare Navigators. The Obama administration has spent millions of taxpayer dollars to create a navigator program to help people wade through the onerous requirements of signing up for Obamacare. Today [12/16/2013] at 1:30 PM CT, the Committee on Oversight and Government Reform will be holding a field hearing at the Charles Eisemann Center in Richardson, Texas to answer the question — who are these navigators and what is their role in Obamacare?
House Report: Ill-Trained Obamacare Navigators Encouraging Fraud, Jeopardizing Private Info. The Obama administration decided that Obamacare Navigators, tasked with helping Americans enroll in a health insurance plan, would not undergo mandatory background checks. Now, in the ten weeks since the launch of Healthcare.gov, the ill-trained Navigators have put Americans' sensitive health and tax information at risk.
It's not just the web site that's messed up...
Obamacare website passwords reset? If you contacted the federal Obamacare call center early Thursday morning, you may have been told that your password for Healthcare.gov needed to be reset. But that is not the case, officials from the U.S. Department of Health and Human Services say. Consumer passwords for the Obamacare website have not been reset, HHS officials say, but call center representatives were mistakenly given that incorrect information. "A wrong script was provided to call center representatives," one HHS official told CNN. "It's been corrected. The wrong script was read for only a short time — just this morning."
Who are these Obamacare navigators? Funded by grants of taxpayer dollars to nongovernment groups, navigators are allowed to ask Americans for confidential financial and personally identifiable information. This is concerning for a number of reasons. First, the law does not bar — or even require screening for — convicted felons, including individuals convicted of identity theft or fraud. This is particularly dangerous because navigators may have access to applicants' personally identifiable information, including Social Security number, date of birth, address, phone number and annual income. This poorly conceived program endangers families and individuals across the country by heightening the risk of identity theft or financial loss.
Navigators Tell Applicants To Lie Like Administration. That ObamaCare navigators, who receive a minimum of training and escape the background checks common in the private sector for those handling sensitive consumer information, are encouraging ObamaCare enrollees to lie was confirmed Monday [12/16/2013] by a congressional field hearing held in Dallas and a subsequent scathing report. The hearing by members of the House Oversight and Government Reform Committee, chaired by Rep. Darrell Issa, R-Calif., found that navigators tasked with helping applicants enroll actively encouraged them to lie to obtain favorable premiums and government subsidies.
Sebelius: Issa, GOP impugning Obamacare "navigators". After reports of foul play by navigators in the area — one trainee at the Urban League of Greater Dallas allegedly encouraged an applicant to lie about his income on the application — the House Oversight and Government Reform Committee scheduled a hearing in Richardson, Texas to investigate the program.
WH dismisses 'navigator' concerns. The White House on Monday dismissed documents provided by the House Oversight Committee that suggested so-called "navigators" assisting consumers with signing up for the new healthcare law had put consumer information at risk. [...] The panel charges that some ObamaCare navigators "encouraged consumers to commit tax fraud by underreporting income in order to qualify for ObamaCare's health insurance subsidies." It also says that navigators broke rules by mailing paper applications on behalf of consumers, rather than telling consumers to do so themselves.
Sebelius Lashes Out at Issa for Investigating Obamacare Navigators. Kathleen Sebelius went to bat for Obamacare navigators in an op-ed prior to a hearing led by Darrell Issa investigating the people designated to promote the health-care law as "navigators." She accused the House Oversight Committee chairman of holding a field hearing in Dallas "designed to stifle, intimidate and impugn the reputation of people who have been working hard to help their fellow Texans get covered."
Top Secret Obamacare Navigator Training Manual Made Public Online. Tammy Duffy is a radiation health physicist from New Jersey. She had a question about Obamacare, which a navigator couldn't answer. So, she googled it and found more than she bargained for. Joe Schoffstall at the Capitol City Project reported yesterday that Duffy "was talking with Obamacare Navigators one day and asked a question regarding people who are self-employed, in which they could not provide an answer. She then asked for a copy of the manual, which they would not give her since it's not meant to be available to the public." Well, when she decided to harness the power of the internet to find her answers she found a copy of the manual in question [...]
S.C. has more than 100 Affordable Care Act navigators, but just try to find one. Even if HealthCare.gov was working perfectly — which, of course, it isn't — open enrollment through the Affordable Care Act's insurance marketplace still would be tricky for many people. [...] More than 100 navigators have been hired in South Carolina this fall, but depending on where you're located, they can be difficult to find. The navigators are unevenly distributed throughout the state, and the federal government isn't tracking where there are too many or too few.
Chat Roulette. Say what you will about the long wait times, rampant errors, and frozen screens, the human face of Healthcare.gov is committed to serving its constituency. [...] I'm talking about Liliana, Summer, Patricia, and Erain — some of the customer service reps who handle Healthcare.gov inquiries. I spent four hours chatting with these lovely ladies and other faceless navigators on Wednesday [10/23/2013] to address common concerns about the decidedly user-un-friendly website. I don't have any concerns, so I made them up. Here's what I found.
Worth it or wasted: Obamacare navigators. What will the fallout be in the end? It's too early to know, but we do know the federal government awarded the University of South Florida a $4.2-million grant to help educate and enroll consumers in the marketplace. During a recent visit by U.S. Secretary of Health and Human Services Kathleen Sebelius, it was revealed to reporters in Tampa that over the first eight days, only 15 people had enrolled.
Report: Illegal immigrant hired as Obamacare 'navigator'. An illegal immigrant in New York is serving as an Obamacare navigator, according to the Center for Immigration Studies, a non-profit limited immigration group. [...] Monday [10/14/2013], Michael Volpe — writing for TheDC — highlighted another Obamacare outreach worker in Lawrence, Kansas with an outstanding arrest warrant. Rosilyn Wells was certified to assist Obamacare signups as well — thanks to an HHS grant — despite a 2003 bankruptcy, a 2007 civil charge from Midwest Checkrite, and the aforementioned outstanding arrest warrant. As Volpe pointed out, the House Oversight Committee recently issued a report highlighting the personal security risks involved with handing over sensitive consumer information to such workers — who are not required to undergo background checks.
My "Chat" With An Obamacare Navigator. My current insurance ends on December 31st and I'm not sure what insurance program I can or will be on. October 1st I went on to the Health Care Exchange site to "see what was in it". Like the majority of Americans I ran into the "Please Be Patient", and "We are experiencing a lot of Traffic" page. I couldn't even get to the site to create a profile for my Log In.
The Editor says...
After looking at the "chat" conversation depicted in the article immediately above, it appears to me that the writer had a conversation with a machine that spat out pre-scripted responses to (what it perceived to be) her questions.
The system as a whole doesn't work, but at least the multicultural part does.
HHS opens new Obamacare hotline available in over 150 languages. The Obama administration Monday launched a 24-hour call center and new website to help assist consumers preparing and eventually sign up for health insurance under Obamacare. The call center will provide assistance in English, Spanish and more than 150 languages through and interpretation and translation service.
Identity Theft Russian Roulette: Healthcare.gov Refers Users to Uncertified Navigators and Assisters. Obamacare includes a requirement that all marketplaces prepare "Navigators," "In-Person Assisters," or "Certified Application Counselors." These organizations and individuals are supposed to be trained to help Americans — should they desire assistance with the process — apply for and purchase insurance plans through the Obamacare marketplaces. However — and inexplicably, as the cause of this situation is not being made available to the public — people seeking assistance will be presented with search results from a database that includes individuals and organizations which are simply not certified to help.
Obamacare's Huckster 'Navigators'. There is good news and bad news regarding Healthcare.gov. The good news is that despite the systemic failure infecting much of the site, there is one essential component — the federal data hub — that is working as it was designed. The data hub links federal-agency records together to determine whether an applicant for health insurance is eligible for subsidies. The bad news is that because the data hub is the largest consolidation of personal data in our nation's history, it will become a magnet for identity thieves.
Administration names 'navigators' to spread word about ObamaCare. The Health and Human Services (HHS) Department released $67 million in grants Wednesday [8/14/2013] for "navigators" who will help people make sense of new coverage options under ObamaCare. The department said 105 organizations received the grants to help explain coverage options in states where the federal government is running all or part of newly created insurance exchanges.
Colorado: Our exchange won't calculate subsidies online for at least a month, either. Even customers working with in-person navigators in Colorado (the ones with 20 hours of training and no background checks) will have to call into a customer service line, where another bureaucrat will walk them through an application on the phone.
The Obamacare Scams Are Already Starting. Heritage warned that the new Obamacare insurance exchanges could threaten your privacy — and it's already happening, before the exchanges are even open. [...] Even when it's not malicious, the new Obamacare system — employing "navigators" who aren't run through background checks or adequately trained — opens up a host of opportunities for identity theft. Last week, an employee of Minnesota's insurance exchange (MNsure) emailed out the names and Social Security numbers of 2,400 insurance agents.
Attorneys general raise privacy concerns over ObamaCare navigators. Florida Attorney General Pam Bondi argued late Friday [8/16/2013] that new hires under ObamaCare could threaten the private information of people trying to get health insurance. Bondi said that the Department of Health and Human Services (HHS) is making it easier for someone to be hired as a so-called navigator, cutting back on background checks and eliminating a fingerprinting requirement, which could make it easier for a person's private information to fall into the wrong hands.
Role of Health-Law 'Navigators' Under Fire. Lawmakers across the country are tussling over the Obama administration's plans to create a small army of assistants to guide millions of Americans as they sign up for new health-insurance options available this fall. Backers of the health-care overhaul face an uphill battle to spread the word about the law, in the face of consumer research that suggests most uninsured people know little about it and are skeptical about the value of health insurance generally. Some Democrats have openly worried that the administration is doing too little to make sure the enrollment process goes smoothly.
Rep. Diane Black Speaks Out Against Obamacare Navigator Guide. Rep. Diane Black (R., Tenn.) criticized the Obama administration's "navigator" manual Wednesday, saying the regulations do not adequately protect people buying insurance on the new exchanges. The administration is hiring thousands of new "navigators" who will help people buy health insurance on the new exchanges being set up in the states. The Center for Medicare and Medicaid Services is circulating a "Health Insurance Marketplace Navigator Standard Operating Procedures Manual" right now.
Unexpected insurance cancellations
ObamaCare Going Forward. The 2013 Obamacare website was constructed to stop people from having an early capacity to see what financial impact it was (and is) going to have on their family or themselves. That is also why could not identify your 2015 enrollment premium price until after the November 2014 election. They knew in the architecture of the regulation itself that millions of people would lose their health insurance policies. As Kathleen Sebelius stated before congress, even a $5 increase in any private insurance annual premium leads to ANY policy having to conform to the new regulations. This was by design. The architects, including Gruber, wanted private insurance cancellations. They designed private insurance cancellations.
Fight to keep canceled health plans continues in Virginia. It isn't the first push from state-level Republicans to curb the effects of some of the more unsavory parts of the law on Virginians. Still, news earlier this fall that a quarter of a million Virginia policy holders — more than a quarter of a million Virginians — would get cancelation [sic] notices by the end of the year has renewed their efforts.
Obamacare Prompts Firm To Consider Dropping Its Health Plan. AmeriMark's human resources director, Greg Lyons, says the Affordable Care Act is adding to the company's costs. "It probably affects our premiums in the neighborhood of 8 percent," he says. Among the things that go into that 8 percent are a handful of fees and taxes that help pay for the health law. In exchange, consumers gain benefits like certain guaranteed benefits and improved coverage.
HHS Moves to Cancel More Insurance Plans. The Department of Health and Human Services is proposing a rule that would, if implemented, guarantee that even more Americans who like their health insurance plans cannot keep them. Fixed indemnity plans, which pay insured customers a set amount towards medical expenses and are often cost-effective relative to more comprehensive health insurance, are popular forms of coverage, and potentially becoming more popular in the wake of Obamacare.
Down in the dumps: Target pushes workers into ObamaCare. The next wave of ObamaCare cancellations is underway and it's going to be pretty massive by all estimates. Large employers liked the idea of the law because it gave them the chance to shuck expensive coverage and get taxpayers to underwrite their health costs — individual welfare as corporate welfare. But as they move to take advantage of the ObamaCare cost shift (and avoid looming penalties and expansive regulations) the companies are also discomfiting voters. As the administration discovered with the individual insurance market, cancellations don't go over well in real life.
Target to stop healthcare coverage for part-time workers. Target Corp said it will stop offering health coverage to part-time workers, citing new public insurance exchanges floated by the U.S. government.
12 questions the White House press corps could have asked Obama about Obamacare. [#7] Given the high number of cancellation notices that have gone out — estimates are rough, but some think it may be in the millions if you add up data available to us state by state — combined with the persistent problems with the website, isn't it possible that the net number of insured will actually go up in the new year?
More than 2 million people getting booted from existing health insurance plans. CBS News has learned more than two million Americans have been told they cannot renew their current insurance policies — more than triple the number of people said to be buying insurance under the new Affordable Care Act, commonly known as Obamacare.
Mad About ObamaCare? At least 146,000 Michigan residents are losing their plans, according to the Detroit News.
• More than 800,000 New Jersey residents will learn the same thing, according to the New Jersey Association of Health Plans.
• Kaiser Permanente canceled 160,000 — about 60% — of its policies in California.
• Florida Blue terminated 300,000 policies — about 80% — because they didn't comply with ObamaCare.
• In the Philadelphia region, 24,000 Independence Blue Cross members are getting cancellation notices.
Gerry Kominski, UCLA's director of public health policy, calculates that about 7 million people who buy insurance on their own won't be able to keep their plans, thanks to ObamaCare. And many, if not most, will end up paying more, sometimes a lot more, for ObamaCare-approved policies.
White House pushes new Obamacare cost figures for young Americans. The White House tried to woo young Americans into the new health exchanges Monday night [10/28/2013], releasing a study suggesting nearly half of eligible Americans between 18 and 34 can purchase coverage for less than $50 per month. The study also helps to push back against consumer tales of Obamacare sticker shock and frustration of some Americans that their current health plans can't continue under the new law. But one insurance industry source told CNN the vast majority of Americans on the individual insurance market will see modifications to their existing plans, or even cancellations.
We Told You So: Obamacare Is a Disaster. President Obama promised that his health insurance exchanges would make all of our lives better. In exchange for forcing us to buy insurance, Obama promised that his new government-run markets would be simple, one-stop-shops for quality, affordable coverage. He was wrong. Instead, Americans are stuck with websites that don't work and health plans they can't possibly afford. Those who do have insurance are getting cancellation notices, and those that don't can't find affordable coverage.
CBS: Insurers Canceling Coverage for Hundreds of Thousands of Americans Because of Obamacare. Insurers are canceling coverage for hundreds of thousands of Americans because of Obamacare, forcing them to buy new policies despite President Obama's promises to the contrary, CBS This Morning reported Friday [10/25/2013]. Obama tried to reassure Americans who already had health insurance, promising they could keep their insurance plan if they liked it.
WashPost's Milbank: 'Couldn't Be the Case' That Some Lost Insurance Because of ObamaCare. On Monday's PoliticsNation, Washington Post columnist Dana Milbank claimed that it "couldn't be the case at this time" that ObamaCare is already causing people to lose their current health insurance plans, in spite of all the documented cases insurance companies canceling plans as they struggle to comply with ObamaCare regulations.
300,000 Floridians Just Had Their Health Insurance Cancelled. It's happening to millions of people all over the United States. Health insurance companies, no longer allowed to offer certain kinds of plans due to new regulations in Obamacare, are sending out cancelation notices.
For thousands, keeping your old health insurance policy isn't an option. Health insurance companies are sending notices of cancellation to hundreds of thousands of people who buy their own coverage, frustrating some consumers who want to keep what they have and forcing others to buy more expensive policies. Insurers say the cancellations are necessary because the policies fall short of what the Affordable Care Act requires starting Jan. 1. Most are ending policies sold after the law passed in March 2010. At least a few are canceling plans sold to people with pre-existing medical conditions.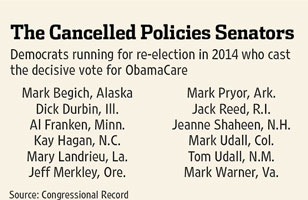 The ObamaCare Dozen. The torrents of Affordable Care Act monsoon season aren't letting up, so Democrats are scrambling to help the victims: namely, their own careers. The Senators up for re-election in competitive states in 2014 are starting to panic, though they still aren't offering solutions for anything other than their own growing political jeopardy.


146,000 Michiganders, at least, face loss of cheap policies under new health care reform rules. At least 146,000 Michiganders — and possibly thousands more — with health coverage purchased directly from insurers now are learning their polices will end Dec. 31 because they don't meet the minimum requirements of the federal health care act.

Beyond Obamacare glitches, some consumers face dramatically higher rates. As Obamacare begins to roll out, some people who already buy insurance on the individual market are getting cancellation notices — and offers for coverage at double and triple their old rates.




The VA Hospitals
paint a clear picture of what's ahead.

This subsection has moved to a page of its own, located here.


---

Jump to the Obamacare index page
Jump to Other socialized medicine issues
Back to the Home page