Woman Dies After Falling Into Hidden 48-Foot Well Under House Floor. A woman died Sunday after falling through rotting floorboards into an unknown hidden well shaft in a century-old house in Salem, South Carolina, WSPA reported. The incident occurred as Dorothy Louise Downey, 83, was helping her daughter move and stepped onto a weakened floor structure in the residence, the Oconee County Coroner's Office told WSPA. The house, which property records show was built in 1920, concealed the 48-foot deep well, unbeknownst to the family. Downey was reportedly walking across the kitchen floor when it collapsed beneath her, the report stated.
Malaysia Airlines Flight 370 Captured by Unknown Forces. Malaysia Airlines Flight 370 disappeared on March 8th 2014. On May 19, about nine weeks later, a leaked video was published to YouTube by a third party who claimed to have received it on March 12th. The video shows what appears to be a jet airliner on fire being trailed by three spiraling orbs. Eventually, the three orbs change to a vertical pattern and disappear in a flash with the airliner, leaving a dead-end trail of smoke in the sky. A month later on June 12th, a second video was published to the same channel that showed the exact same event taken from a different viewpoint. These videos have been deleted from YouTube but can still be found on archive-dot-org. Ashton Forbes and his team have been researching these videos extensively, and have provided exhaustive evidence that these videos are legitimate. [Video clip]
China Is Testing Lasers To Prevent Drivers From Falling Asleep On The Highway. [Video clip only.]
Three Missouri men broke into an abandoned jail, accidentally locked themselves in a cell, called 911 for help, then went to a real jail.. Three St. Louis trespassers broke into a recently shuttered prison affectionately known as "The Workhouse" to loot the place. The Workhouse closed down in 2022 amid allegations of inhumane conditions and has sat empty ever since. Since the building was recently closed, however, there was a lot of valuable stuff that hadn't been moved out. You can see in this exploration video that there are computers and TVs still ripe for the taking, which is probably what attracted the three guys in question: However, as the three men explored and looted the building, they accidentally locked themselves inside one of the cells. Luckily, the trio had smuggled in their cellphones, most likely baked into a cake by one of the boys' sweethearts on the outside, which weren't really practical for getting out of the cell.
Robot Kills Factory Worker In Terrible Mistaken Identity Accident. An industrial robot brutally slaughtered a South Korean robotics technician Tuesday, allegedly mistaking him for just another container of organic material in need of stacking[.] The victim, a man in his 40s, was attempting to diagnose an issue with a pick-and-place robot's sensor at the Donggoseong Export Agricultural Complex in the southern county of Goseong, as there was an equipment test planned for later in the week, reported the Register. The paprika-sorting robot, reportedly created and installed by the victim's employer, spotted the man with its sensor, figured him for a box of vegetables, then seized him using its arms and tongs.
Florida man cited for driving "Booty Patrol" truck that looked like [a] Border Patrol truck. If you're out driving around in a "Booty Patrol" truck that looks just like Border Patrol, with the berries and cherries on the dash, I will totally be your friend. But apparently the police, well, they will not. [Tweet]
In the Mouth of Marxist Madness. As if recognizing that Europe's embrace of censorship, surveillance, and social control inconveniently mirrors Orwell's condemnation of Big Brother and Big Government to perfection, the British "ruling class" attempted this month to "cancel" Orwell by using an article in The Telegraph to accuse the prophetic genius of being "sadistic, misogynistic, homophobic, and sometimes violent" — in other words, someone who should not be "tolerated" and no longer "deserves" to be read. If "cancelling" the author who warned the world about such forms of slithery government tyranny is not "peak Orwell," then the crazy train still barreling down the tracks promises to be a doozy. Americans, of course, are similarly under siege from an Orwellian deep state that manipulates the public by distorting history and undermining the meaning of words.
This is what lawsuits are for:
Company Mistakenly Demolishes Woman's Atlanta Home. A woman from Atlanta, Susan Hodgson, said her family's home was accidentally demolished. Hodgson revealed that her house, which she had owned for over four decades, was mistakenly demolished. The company responsible for the demolition has yet to make any contact with her, as reported by Associated Press Saturday. It came to light when Hodgson received a call from a neighbor while she was away on vacation. The neighbor asked her if she hired someone to tear their house down. Hodgson understandably responded with a resounding "no." It was at that moment that she learned of what just happened while she was away. The entire house had been demolished, razed to the ground without any warning or prior notice, AP further reported.
You could be circulating classified documents and not even know it.
Globalists Fear Spartacus and His Slave Rebellion. Something intriguing is happening with bitcoin. What started as a series of perplexing data "inscriptions" containing classified files from the U.S. government has now been confirmed by Bitcoin Magazine as an ongoing effort to cement information in the public record beyond the reach of government censorship. An anonymous guardian of free speech has begun using bitcoin to republish all of the information originally published by Julian Assange's WikiLeaks back in 2010. Codenamed "Project Spartacus," the operation seeks to take advantage of several inherent bitcoin attributes:
[#1] It utilizes bitcoin's Ordinals protocol that allows users to add personalized data to units of the cryptocurrency's blockchain.
[#2] Because data within integrated parts of the blockchain cannot be subsequently removed, it forms a part of the cryptocurrency's permanent record.
[#3] Because the blockchain of transactions operates on a decentralized, global network of sovereign nodes, there is no tech CEO or other middleman who can intervene to do governments' censorship bidding.
Decentralized blockchain technology, in other words, is about much more than cryptocurrencies. It is a powerful tool that will continue to allow ordinary people to evade government authority.
California's Lottery Dominance Raises Eyebrows. California claimed the top four spots among the ten biggest jackpots in US history. This unexpected dominance has sparked a wave of skepticism among lottery players across the nation, with many accusing the Powerball of being 'rigged'. A social media post recently highlighted this unusual pattern, showing that California had won not just the top spot, but the top four tickets among the ten largest jackpots ever. The user, known as @atensnut, questioned whether California had some type of unfair advantage in the Powerball lottery. The post quickly gained traction, with many users echoing the sentiment and expressing their doubts about the fairness of the system.
Thousands Of Dead Bodies Lie Under San Francisco. The city of San Francisco is apparently built atop countless forgotten cemeteries, according to an article published Wednesday. San Francisco's city leaders banned burials back in the early 20th century, but that doesn't mean the city is teeming with forgotten graves from long before the ban came into play, according to the San Francisco Chronicle. Locals might think the only cemeteries within the city are the military site in Presidio and the Mission Dolores cemetery, but they'd be wrong. Apparently, there were cemeteries throughout the Bay Area, many of which were overtaken during the development of downtown's residential neighborhoods that started to sprawl. While many grave sites were moved in the building of the once beautiful city, plenty of corpses were never actually transferred to their new resting places.
Americans can't stop tipping despite 'emotional blackmail' at self-checkout — tips are up over 10%-15% nationally. American consumers are reporting "tipping fatigue" and feelings of "emotional blackmail" at checkouts; however, tips are steadily inclining across the board. Stress amid high inflation rates and cost-of-living increases among consumers has been echoed throughout reports showcasing "tipping fatigue," but this hasn't stopped the frequency at which customers are tipping. According to point-of-sale platform Toast, 48% of transactions at quick-service restaurants on their platform included a tip in the form of a card or digital payment in the fourth quarter of 2022, an increase of approximately 11% since Q1 2020. Additionally, Business Insider spoke to payment platform Block (formerly Square), which revealed that tips in full-service restaurants were up 16.5%, while gratuities increased by 15.86% in quick-service restaurants in Q4 2022. This was in comparison to the same time frame in 2021. The data represented all tips received, not just self-service kiosks. It is at those self-service locations that customers are most confused. Wall Street Journal spoke to several patrons who were completely unsure where their tips were going but decided to throw in a few bucks to their robotic servers anyway.
Report: 90% of Online Content May Be AI-Generated Garbage by 2026. A recent report from Europol warns that by 2026, as much as 90 percent of online content could be generated by artificial intelligence, raising concerns that the web might be even more jammed with useless garbage in a few short years than it is today. Futurism reports that a recent study by Europol suggests that by 2026, up to 90 percent of online content could be artificially generated. This staggering figure has sent ripples through various sectors, from journalism and art to technology and law enforcement. Synthetic media, which refers to content generated or manipulated using artificial intelligence, is not a new phenomenon. However, its rapid proliferation has raised eyebrows and concerns alike.
Four weird U.S. drinking laws. [#3] Alaska Requires Sobriety on Election Day: Alaska bans the sale of alcohol on election day until the polls close. It's one way to encourage as many people as possible to vote. In addition to prohibiting alcohol sales on election day, it's illegal in the state to be inebriated at any establishment that sells alcohol. It's also against the law for bars to sell alcohol at a reduced rate unless it is applicable all week.
To paraphrase Winston Churchill, if she were my wife, I'd drink it.
Arizona woman charged for allegedly poisoning husband's coffee for months. A woman in Arizona is charged with attempting to kill her husband by poisoning his coffee. Melody Felicano Johnson, 39, was arraigned on Friday on charges of attempt to commit first-degree murder, attempt to commit aggravated assault-serious injury and adding poison or a harmful substance to food or drink, KVOA in Tucson reported.
Woman fired after company uses keystroke technology to monitor her work from home. A major insurance company used keystroke technology on an employee's work laptop to test whether she was working her designated hours — and it ended terribly for her. The Fair Work Commission (FWC) has rejected an unfair dismissal application brought by former Insurance Australia Group (IAG) consultant Suzie Cheikho, finding she was fired for a "valid reason of misconduct." According to the commission's published finding, Cheikho was responsible for creating insurance documents, meeting regulatory timelines, and monitoring "work from home compliance," among other significant roles. Ironically, her own work-from-home performance marked the end of her 18-year career with the company. [...] She was subject to a detailed review of cyber activity, which analyzed the number of times she physically pressed her keyboard on 49 working days from October to December. The review found she did not work her rostered hours for 44 days, started late on 47 days, finished early on 29 days, and performed zero hours of work on 4 days.
The Editor says...
Yep, if the company owns the laptop, and she was supposed to have been working, I see nothing wrong with this level of "surveillance."
Joe Biden's government of empty buildings. We often ask who's running the government with a White House led by doddering Joe Biden. But with a new audit out, maybe the real question is what is the government. [...] Turns out the government buildings Joe Biden presides over in his expensive, bloated government are about as empty as the old dotard's head. It's like we have a pretend president, presiding over a pretend government. Practically every agency headquarters is something like 80% empty. But the empty buildings still stand, as if to suggest that something had been there. Mainly, it's the illusion of power and importance.
Illinois' biggest consumer bankruptcy firm DebtStoppers files for Chapter 11 bankruptcy. The largest consumer bankruptcy law firm in Illinois and one of the biggest in the country has filed for bankruptcy after taking millions in taxpayer-backed loans meant to help struggling businesses survive the pandemic. The Semrad Law Firm LLC, which markets itself as DebtStoppers, filed for Chapter 11 bankruptcy on April 26 in Delaware, blaming the COVID-19 pandemic. A Chapter 11 bankruptcy allows a company to reorganize under a judge's supervision and keep operating while paying creditors at least part of what they're owed.
Who is Erica Marsh? A Twitter account under the name of Erica Marsh has captured Twitter users' attention. The account which seems to be run by a liberal person shared their opinion on the Supreme Court supposedly attacking Black people. Many believe that the account is fake as the name was taken from a television show. The account's profile picture also seems peculiar.
The Editor says...
This issue was also noticed here.
This Woman Was a Popular Liberal Account on Twitter. She Also Never Existed. In April, there was something was off with "Erica Marsh." She seemed too stupid to be taken seriously, even though "she" had a viral series of tweets. Marsh established herself as a liberal account that got eyes, though many were undoubtedly hate clicks. If progressive America had to pick one account to be their voice on this platform, "Ms. March" would be the winner.
Donald Trump Wins Election in Oregon After Being Written In By Voters. Former President Donald Trump has won an election in Oregon after being written in by voters. There was a tie for a position on the Hubbard Rural Fire Protection District board after votes on May 16, in which Trump and four other people received two write-in votes each. There were three positions up for grabs on the board of five people. Incumbents Michelle Luna and Michael Willis were the only registered candidates and both won another term. The tie for "Hubbard Fire District Board Director Position No. 3" was broken on June 23 with a dice roll — and Trump won.
India official drains entire dam to retrieve phone. A government official in India has been suspended after he ordered a reservoir to be drained to retrieve his phone. It took three days to pump millions of litres of water out of the dam, after Rajesh Vishwas dropped the device while taking a selfie. By the time it was found, the phone was too water-logged to work. Mr Vishwas claimed it contained sensitive government data and needed retrieving, but he has been accused of misusing his position.
Straight out of The Far Side:
Annoyed janitor turns off super-cold freezer, destroying decades of scientific work. It could be the plot of a dark comedy if it weren't a science tragedy. A janitor working in a laboratory who was annoyed by an incessant beep reportedly flipped a switch that killed the noise — but also shut off a storage freezer, destroying decades of scientific work, according to the Rensselaer Polytechnic Institute lab in Troy. The cleaner's alleged carelessness cost the lab at least $1 million in damages, a lawsuit the university filed against its third-party cleaning service charges. "People's behavior and negligence caused all this," Michael Ginsberg, RPI's attorney, told the Times Union in Albany. "Unfortunately, they wiped out 25 years of research." The super-cold freezer the custodial worker allegedly shut down held cell cultures, samples, and other elements stored at minus-112 degrees Fahrenheit, the Times Union said.
When the wife is on the jury. My guess is that this is the first time that a wife has been a part of the jury in her husband's trial. One would think that the prosecution would immediately strike a juror married to the accused. Of course, this is no ordinary defendant and she is no ordinary juror. He is Ken Paxton, recently impeached as Attorney General of Texas. She is Angela Paxton, a Texas State senator who will vote yes or no on his charges.
Due to Schedule Impasse, RFK Jr. Appears Poised to Win New Hampshire Primary. In what some Republican leaders are calling a classic case of cutting off your nose to spite your face, President Joe Biden could lose his own party nomination to Robert F. Kennedy Jr. in New Hampshire's historically important primary in the race for the presidency. Biden's successful push to re-calendar New Hampshire's long-standing First in the Nation primary, making it second to South Carolina, means the president's name will likely not appear on the state's Democrat primary ballot. Both Republican and Democrat leaders in New Hampshire have meanwhile vowed not to yield to the schedule change and have cited a state law that prohibits the move anyway.
California family finds 1 million copper pennies in old home. Find a penny, pick it up. Find a million more, and what are you supposed to do with them all? That is the coinundrum facing John Reyes, a realtor from southern California. While helping his wife clean out her father's Los Angeles home, the family found more than 1 million copper pennies stowed away in a cramped crawlspace. The pennies were stashed in dozens of bank bags and are worth anywhere from $10,000 at face value to potentially much more, according to KTLA News.
Pentagon UFO whistleblower says US government will do anything to protect the secret. The Pentagon whistleblower who claims the US has run a top secret UFO retrieval program for decades says some of the 'non-human intelligences' discovered are malevolent and have even killed humans. David Grusch served 14 years in the Air Force, where he says he was told about the program by others who were involved. Grusch, 36, is a decorated Afghanistan combat officer who went on to work for the National Geospatial-Intelligence Agency (NGA) and the National Reconnaissance Office (NRO).
IC whistleblower claims US has retrieved craft of "non-human origin". According to reporting by veteran journalists Leslie Kean and Ralph Blumenthal, the reporters who broke the original AATIP UFO program story for the New York Times in 2017, along with Australian investigative journalist Ross Coulthart, a whistleblower from deep inside the government has come forward with some remarkable claims. He has records of a deep, black-budget program where the American military is in possession of multiple "craft," both partial and intact, that have been determined to be of "non-human origin." And that's not all. He claims we've had them for a long time and the Pentagon never told Congress about it or submitted the program to congressional oversight.
Pentagon is experimenting on UFO parts from crashed alien aircraft to make weapons, claims whistleblower. The US has a trove of parts and equipment from 'non-human origin' UFOs which have crash landed on earth, a whistleblower claims. Former intelligence officer David Charles Grusch said the US and other nations are also engaged in top-secret operations that attempt to 'reverse-engineer' the pieces to create weapons. But Grusch also claims that the information has been illegally withheld from Congress as the government tried to hide the finds, which are involved in an '80-year arms race' to take advantage of the technology.
Self-checkout machines now ask customers to tip: 'emotional blackmail'. Self-checkout machines want you to tip them for all that they do. Businesses are starting to introduce new options for tipping at self-checkout machines, putting even more pressure on customers amid rising inflation costs. Despite having zero interaction with employees during transactions, self-checkout machines at places such as coffee shops, bakeries, airports and sports stadiums are giving customers the option to leave the typical 20% tip, according to a report from the Wall Street Journal. Business owners believe that the prompt for a tip can boost staff pay and increase gratuities — but customers are questioning where and to whom the extra cash is going, considering self-checkout is done, well, by yourself.
The Editor says...
If you use a self-checkout terminal, you are providing free labor to the store. You're doing the work of a checker. The store should pay you about fifty cents a minute for doing this job. If the machine asks you for a gratuity, and you give the machine more money, that's a stupidity tax. The machine only says what the store manager wants it to say, and most likely the tips go into the manager's pocket.
Man Challenges NASA At Brevard County Commission Meeting, Shows Evidence No One Is Inside The Internation Space Station. Possibly the greatest short compilation clip complete with commentary exposing NASA's Lies on the internet. [Video clip]
A girl with a metal detector in Denmark just found a bunch of 1,000-year-old Viking coins. The buried treasure is dated to be from 980-990 A.D. Some of the coins depict a cross, which are believed to be from the time of King Harald Bluetooth who is credited with bringing Christianity to Denmark. The coins were found near the site of Bluetooth's Fyrkat castle. The artifacts will be put on display at the North Jutland Museum.
Meta paid people to literally do nothing. As you've likely already heard, Facebook's parent company Meta is laying off large numbers of people in an effort to remain financially viable. This stressful situation has been exacerbated by the absence of much of its management who are working remotely, some from other countries. How could things have possibly gone so far downhill so quickly? Do you suppose there might have been something less than ideal about their business practices and how they managed their workforce? Perhaps that idea will resonate a bit more after you hear from Madelyn Machado, who was a recruiter for Meta earning an eye-popping $190,000 per year. And what did she do for Meta while she was there? Nothing. She wasn't even asked to do anything. So she was obviously quite sad when they let her go.
Thieves stole 2 million dimes from a tractor-trailer in a Walmart parking lot, police say. Police are looking for a group of thieves they say stole two million dimes from a tractor-trailer in Philadelphia early Thursday morning, KOAT reported. "Overnight, a carrier parked his tractor-trailer [with $750,000 worth of dimes inside]," Philadelphia Police Department Captain John Ryan told reporters. [...] In this case, the tractor trailer was stuffed with dimes from the U.S. Mint in Philadelphia. It was parked in the Walmart parking lot of Philadelphia Mills, a shopping center in the northeastern part of the city. The driver, who lives nearby, parked the coin-filled trailer in the lot and went home to get some sleep before a long drive to a mint in Miami, CBS News reported.
The Editor says...
I wonder if Coinstar machines have built-in cameras, so if a guy walks up to cash in a 30-pound bucket of new uncirculated dimes, and no other denominations of coins are involved, the fellow might get his picture taken. No, probably not. That would make too much sense.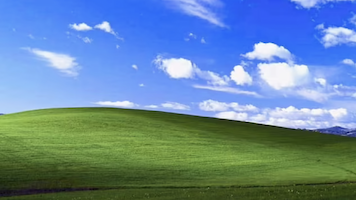 World's 'most viewed' image and desktop background favorite was taken in 1996 just north of San Francisco. The location of one of the most recognizable photos in the world has been found. The iconic Windows XP 'Bliss' background, which features a green hill overlooked by a sunny blue sky was a staple of office and computer room décor in the 2000s. It was the default background for PCs running Windows XP for its run from 2001 to 2007. While many may have instinctively believed it was fake — almost to serene to be from our chaotic world — it is actually just outside of Sonoma, north of San Francisco, California.
Satoshi's Original Bitcoin White Paper Is Hidden In Every Copy Of Mac OS. In yet another way Bitcoin is being tethered to modern day infrastructure, it was reported yesterday that the original Bitcoin whitepaper — authored by Satoshi Nakamoto and laying out the fundamentals of the world's most well known cryptocurrency — has been included in every copy of Mac OS since 2018. The revelation was made by blogger Andy Baio, who wrote yesterday that he had "discovered" the hidden gem while attempting to fix his printer. He then asked "over a dozen Mac-using friends to confirm" what he had found, and they did. He wrote that the white paper was "found in every version of macOS from Mojave (10.14.0) to the current version, Ventura (13.3), but isn't in High Sierra (10.13) or earlier."
Coca-Cola produces as much as $2BN of pure COCAINE every year in a secretive New Jersey factory. A small chemical processing plant hidden in a quiet neighborhood of New Jersey has an exclusive license to import coca leaves into the US on behalf of The Coca-Cola Company and manufactures as much as $2 billion of pure cocaine every year. The leaves are used to produce a 'decocainized' ingredient for the iconic soda and the cocaine byproduct is sold to the nation's largest opioid manufacturer, which markets the powder as a numbing agent and topical anesthetic for dentists. The unassuming facility in Maywood has been processing coca leaves for Coca-Cola for over 100 years and is now run by a chemical manufacturer called Stepan Company.
When Satire Becomes Reality: Nearly 100 Babylon Bee Pieces Have Become Fulfilled Prophecies. Satire is the most difficult kind of comedy to perfect; the closer to the truth and the more prophetic, the funnier, and smarter, satire becomes. This is precisely why The [Babylon] Bee stands alone at the top. The Bee was launched on March 1, 2016, and over the last two years, nearly 100 of its "articles" have become reality — veritable fulfilled prophecies, as I said in the headline. Founder and CEO Seth Dillon explained the Bee's success to Fox News: ["]The problem isn't that our satire is too close to reality, It's that reality is too close to satire, so our jokes keep coming true.["] The Bee maintains a regularly updated list of its pieces that have come true, or at least partially true, some of which appear to have been written by a clairvoyant, due to their uncanny closeness to the real insanity out there — on both the left and the right.
This 3D-printed cheesecake demonstrates how future kitchens will rely on lasers for cooking. Watch out Cheesecake Factory: 3D-printed cheesecakes could mark the future of food, according to a new study out of Columbia university. Scientists predict software, lasers and printers will soon replace ovens, stoves and microwaves. Cheesecakes were the perfect test. Study authors claim printing precise layers for multi-tiered food could allow users to customize items, control their nutritional content, and improve food safety.
The price of your Big Mac: State-by-state breakdown reveals the staggering difference in cost. How far would you travel to get a 25 percent discount on your Big Mac? Prices vary significantly state by state, and if you're looking to get a bargain on your burger, you'd have to make your way to Mississippi, which officially serves the cheapest Big Mac out of all 13,000 McDonald's restaurants in the US[,] at $3.91. [...] But Big Mac fans can expect to fork out as much as $5.31 for the same burger in Hawaii, as the state is the most expensive place in America to buy one[,] making it a whopping 25 percent more pricey than the same meal in the Magnolia State[,] according to data sourced by CashNetUSA.
The Editor says...
Fake news alert! Everything is expensive in Hawaii. A 25 percent difference between Mississippi and Hawaii isn't that much. Not enough to make a news article about it. Other retail products that are widely available have similar (or much larger) regional variations in price. The entire article sounds like an infomercial for McDonald's.
Convenient Fire in the Guo Penthouse While the FBI Was There. Guo Wengui, also known as Ho Wan Kwok, an exiled Chinese billionaire with business ties to Steve Bannon, has been arrested on federal fraud charges out of New York. His penthouse suite went on fire within hours of the arrest. Initially, the media was vague, with some suggesting it raises suspicions about Guo. Conveniently and surprisingly, the fire broke out while the FBI was there!
Taking false alarms to the next level:
Terrified Russians are ordered to take anti-radiation pills and rush to nuclear bomb shelters as TV station servers are hacked. Russians were warned today to take anti-radiation pills and rush to their nearest nuclear bomb shelters after hackers compromised state television servers to broadcast chilling messages. TV and radio programmes in Moscow and the Sverdlovsk region, including Yekaterinburg city, were interrupted with an alarming message telling citizens a missile strike had been conducted on Russian soil. The population was urged to take potassium iodide pills, don gas masks to protect themselves and to seek shelter.
Ford patents car that can repossess itself and drive back to showroom. Ford has been granted a patent for a system that allows a car to repossess itself if its owner fails to keep up with payments. The firm envisions the car driving itself back to the showroom — or to a scrapyard if the value of the car is low. But a security expert warns that the proposed system could instead be used to steal cars remotely. The patent, which was filed in 2021 but granted only last week, describes how the system would kick in if the car owner failed to respond to messages informing them they were falling behind with payments. At that point, a series of measures would first be used to make the car unpleasant to drive, then impossible. Finally, as a last resort, the car would return itself to the showroom. The system could begin by disabling features such as GPS navigation, the music system or the air conditioning, in order to create what the patent describes as a "certain level of discomfort" for the owner.
The Editor says...
I could do better than that. Turn the seat warmers on in the summer and disable the air conditioning. Honk the horn repeatedly and roll down the windows whenever there's a cop car nearby. Make the engine sputter and the Check Engine lights flash when driving through a bad neighborhood.
We Have a Real UFO Problem. And It's Not Balloons. Advanced objects demonstrating cutting-edge technology that we cannot explain are routinely flying over our military bases or entering restricted airspace. "UAP events continue to occur in restricted or sensitive airspace, highlighting possible concerns for safety of flight or adversary collection activity," the Director of National Intelligence reported last month, citing 247 new reports over the last 17 months. "Some UAP appeared to remain stationary in winds aloft, move against the wind, maneuver abruptly, or move at considerable speed, without discernible means of propulsion." The Navy has also officially acknowledged 11 near misses with UAP that required evasive action and triggered mandatory safety reports between 2004 and 2021. Advanced UAP also pose a growing safety hazard to commercial airliners. Last May, the Federal Aviation Administration issued an alert after a passenger aircraft flying over West Virginia experienced a rare failure of two major systems while passing underneath what appeared to be a UAP.
For what it's worth:
UFO Being Transported By Truck For Analysis? [Video clip only.]
Nvidia Broadcast can now deepfake your eyes to make you look at the camera. Nvidia's streaming software now has an option to make it appear like you're making eye contact with the camera, even if you're looking somewhere else in real life. Using AI, the "Eye Contact" feature added to Nvidia Broadcast 1.4 will replace your eyes with "simulated" ones that are aligned with your camera — an effect that worked really well when we tested it ourselves, except for all the times it didn't. In an announcement post, the company writes the feature is meant for "content creators seeking to record themselves while reading their notes or a script" without having to look directly at a camera. Pitching it as something you'd use during a public performance, instead of something you'd use socially, does kind of sidestep the dilemmas that come with this sort of tech. Is it rude to use AI to trick my mom into thinking I'm engaged in our video call when I'm actually looking at my phone? Or, to make my boss think I'm not writing an article on my other monitor during a meeting? (I'm going to say yes, given that getting caught in either scenario would land me in hot water.)
The next time scammers call your grandparents asking for money, it will be with your voice. VALL-E is a transformer-based TTS model that can generate speech in any voice after hearing only a three-second sample of that voice. This could routinely enable participation in hearings & trials, bad actors might replace an unfriendly witness with a live deepfake of that same person, testifying against the interest of the person being faked.
Is it April 1st already?
Biden State Dept Bars Use of Times New Roman Font, Citing 'Disability Inclusion'. Secretary of State Antony Blinken on Tuesday instructed employees to ditch Times New Roman in official communications, saying the popular font undermines the department's commitment to "disability inclusion." In a department-wide memo titled "The Times (New Roman) are a-Changin," Blinken instructed employees to instead use Calibri font, which the secretary said is more legible to those with reading disabilities, the Washington Post reported. Serif fonts such as Times New Roman — which has decorative tails and feet — can cause "visual recognition issues for individuals with learning disabilities," according to Blinken. The secretary's Office of Diversity and Inclusion recommended Calibri, the default font on Microsoft products, as an "accessibility best practice," according to the memo.
The Editor says...
If it's that tough to read, you can use Times New Roman as a secret code! It's too bad that nobody at the State Department knows how to cut and paste a block of text into a word processor and make it any size or font they like. But if they have such profound reading disabilities, the font isn't really their biggest problem, is it?
Melbourne Lord Mayor says vandalism of QR codes for reporting graffiti [is] so frustrating. The City of Melbourne is investigating how much of a system for reporting graffiti, using QR codes, has been vandalised. ... QR codes posted around the Melbourne CBD have been overlaid with alternative codes. These codes, which the ABC has seen, lead to a documentary about hip hop culture on YouTube that explores graffiti as part of hip hop culture.
Elon Musk Becomes First Person Ever to Lose $200 Billion. Elon Musk, the CEO of Tesla and new owner of Twitter, started 2022 as the world's richest man but has since become the first person in history to lose $200 billion in personal wealth. Bloomberg reports that Elon Musk has become the first person to lose $200 billion in total wealth. Despite this, Musk still remains the world's second-richest person even as his investments have drastically decreased in value. Elon Musk's net worth reached a record high in 2021, as Tesla stock experienced significant growth. Much of Musk's personal fortune is tied to his ownership and founding of various businesses, including Tesla and SpaceX.
I bought a $15 router at Goodwill — and found a millionaire's dirty secrets. Here's some free advice for 2023: Delete all your personal information — and sexual content — from your electronic devices before donating them to Goodwill. A German TikToker, who goes by the name @dankeunextgay on the platform, is going viral for detailing the juicy documents and photos he claims to have found on a $15 Apple Time Capsule he allegedly purchased from the thrift retailer. In his Dec. 14 video, the TikToker showed viewers his MacBook being backed up by the previous owner's files that dated back to 2010, when the wireless router was reportedly last used. [Video clip]
I'm a Girl Scout mom who got kicked out of Rockettes show because of my job. She came to see the Rockettes' world-famous kick-line — but got kicked out of line instead. Kelly Conlon, 44, was chaperoning her 9-year-old daughter's Girl Scout troop to see the Radio City Christmas Spectacular last month when she was flagged by the event space's facial recognition system and refused entry despite holding a ticket. What landed the New Jersey-based attorney on the naughty no-entry list? Her job. "They said my firm was on the attorney exclusion list and escorted me out," Conlon told The [New York] Post. She said she was forced to spend 90 minutes wandering around outside in the rain while her daughter caught the show with the rest of her troop inside.
Germany arrests 25 accused of plotting coup. Twenty-five people have been arrested in raids across Germany on suspicion of plotting to overthrow the government. The group of far-right and ex-military figures are said to have prepared for a "Day X" to storm the Reichstag parliament building and seize power. A man named as Heinrich XIII, from an old aristocratic family, is alleged to have been central to their plans.
Military Horses Are Mysteriously Dying. A total of four US military horses in the Army's Old Guard, have mysteriously died since February of this year. The string of deaths of horses belonging to the Army's 3rd regiment, commonly known as the Army's Old Guard, has now garnered an internal investigation regarding the horses' death. Per the Military, the first deaths came in February when two horses died within 96 hours of each other.
Two minerals never before been seen on Earth found inside 17-ton meteorite. Two minerals that have never been seen before on Earth have been discovered inside a massive meteorite in Somalia. They could hold important clues to how asteroids form. The two brand new minerals were found inside a single 2.5 ounce (70 gram) slice taken from the 16.5 ton (15 metric tons) El Ali meteorite, which was found in 2020. [...] The researchers plan to investigate the meteorites further in order to understand the conditions under which their parent asteroid formed. "That's my expertise — how you tease out the geologic processes and the geologic history of the asteroid this rock was once part of," Herd said. "I never thought I'd be involved in describing brand new minerals just by virtue of working on a meteorite." The team is also looking into material science applications of the minerals. However, future scientific insights from the El Ali meteorite could be in peril. The meteorite has now been moved to China in search of a potential buyer, which could limit researchers' access to the space rock for investigation.
The Editor says...
When a buyer is found, who do you think will benefit — Somalia or China? When a meteorite lands on your property, it is yours, or does it become the property of the country in which you live? Or does China own it by default?
Man Who Lived In Paris Airport for 18 Years Dies In Paris Airport. An Iranian man who lived for 18 years in Paris' Charles de Gaulle Airport and whose saga loosely inspired the Steven Spielberg film "The Terminal" died Saturday in the airport that he long called home, officials said. Mehran Karimi Nasseri died after a heart attack in the airport's Terminal 2F around midday, according an official with the Paris airport authority. Police and a medical team treated him but were not able to save him, the official said. The official was not authorized to be publicly named. Nasseri lived in the airport's Terminal 1 from 1988 until 2006, first in legal limbo because he lacked residency papers and later by apparent choice. Year in and year out, he slept on a red plastic bench, making friends with airport workers, showering in staff facilities, writing in his diary, reading magazines and surveying passing travelers.
California man says meteor destroyed his home after he 'heard a big bang'. Northern California officials are looking into the possibility that a meteorite destroyed a home in Nevada County Friday night. The house caught fire after several witnesses described a bright ball of light falling from the sky. It's quiet in the secluded area of Nevada County where there are rolling hills where cattle graze. Where nothing happens. "People around here are multigenerational cattle farmers or ranchers," said Dustin Procita, whose home was struck by a meteor.
Rumors Swirl in Georgia After Elderly Congressman Disappears from Public Eye. "Weekend at Bernie's" rumors are swirling in Georgia as an elderly Democrat congressman runs for reelection without debating his Republican rival, or campaigning. Rep. David Scott, 77, has made no public appearance in the past month, and some Republicans are now wondering if he's even alive. Scott was last seen in public at a Financial Services Committee hearing in Washington D.C. on September 21. Two videos featuring the congressman were posted on his YouTube channel in October, but it's not clear when they were recorded.
Homie Buys A TV Off Someone On The Street Just To Learn It Only Shows Taco Bell Menus When Plugged In. This is why you should never trust buying a TV set from a dude selling it out of the trunk of his car. Homie thought he would surprise his lady with a sweet new flatscreen only to have to show the menu from Taco Bell when he plugged it in. Now that this video has gone viral, this couple better be ready to answer some questions from the police who will come to bring the TV back to the Taco Bell wall it was stolen from. [Video clip]
New 'R' plates are now available for Australian drivers who require empathy and need more space on the road. Australian drivers who have experienced road trauma can order an 'R' plate to signal to other drivers that they need more empathy and space. The plates are designed for motorists who have had a traumatic experience on the road but are ready to ease back into driving. The light blue plate signals to others drivers that the person inside the car will need a little more patience and space on the road.
The Editor says...
How about "S" for snowflake? How about "G" for get over yourself? No empathy is forthcoming, so get out of the way.
MSNBC depicts CDC director Rochelle Walensky as black, using bizarre skin color alteration on live TV. The U.S. Centers for Disease Control and Prevention's (CDC) Rochelle Walensky is back in the news, this time as a "black" woman. Walensky appeared on MSNBC this week in blackface (and black chest) to push Americans to drag their children in for the all-new two-in-one "vaccine" for the Fauci Flu (covid) and seasonal influenza. "There's no way to know how bad a flu season is going to be, um, but we are, um, hearing potential for it to be a severe season," a really dark Walensky stated to the host. "And we would encourage vaccines." The Rachel Dolezal wannabe went on to urge people over the age of 65 to get the "high-dose" vaccine. She then urged parents to vaccinate children as young as six. "You can get your flu vaccine and, uh, your covid vaccine at the same time," she added.
The Editor says...
I'm a little surprised that such a thing hasn't been tried before. Here's how it works, or at least how it could be done: You're probably familiar with the idea of a green screen chroma-key. This technique has been used (and over-used) since about 1970, most commonly to make a TV weather man appear to be standing in front of a giant map. Earliest use of the chroma-key in local TV stations featured a large blue wall. About 1980, everybody switched to bright green, because back then, the green channel in a color TV camera had the best signal-to-noise ratio. Sometime around 2010, the manufacturers of high-end TV studio cameras began to include a skin detail feature which is essentially a skin-tone chroma-key: Wherever the camera sees flesh, especially in the middle of the raster, it turns the "detail" sharpness way down, to make everyone's skin look flawlessly smooth. (Without this feature, High-Definition cameras are brutally honest about skin texture.) Anyway, the detail-killer could be used to lower the black level, i.e., to make all skin darker. I've never heard of that being done before, but the technology exists. When MSNBC is called out on the incident described in the article above, they'll probably blame it on a technical malfunction — unless they brag about it. As developers say, it's either a bug or a new feature.
How Malware Hides in Images and What You Can Do About It. There are plenty of dangers to watch out for when it comes to keeping your devices and your data safe, including viruses, phishing attempts, compromised wifi networks, and rogue USB sticks. Here, we're going to talk about one of the lesser-known threats: Compromised images. You might not have realized it, but malware can be injected into digital photos that appear to be perfectly normal. The technique for doing so is known as steganography, or the practice of hiding one file in another, and it's not always done maliciously. The method takes advantage of the hidden data that comes along with an image, data which isn't necessarily translated into pixels on your screen.
Tech workers [are] getting leg-lengthening surgery that costs up to $150K: report. Self-conscious tech workers are reportedly taking extreme measures to add a few inches to their height by forking over six-figure payments for painful leg-lengthening operations. Kevin Debiparshad, the head of the Nevada-based LimbplastX Institute, said workers from the tech sector comprise a significant chunk of his patients for the cosmetic surgical procedure. The operation reportedly costs $70,000 to $150,000, depending on how many inches the patient wants to "grow," as well as thousands of dollars more in follow-up costs, GQ reported.
Insanity on Stilts: Now Short Guys Are Becoming Trans Tall. It really shouldn't come as any surprise in a world in which men not only become women, but become the first female admirals and champion female swimmers, but it is just another step down the road of discarding our humanity altogether and becoming artificial beings of our own design, with consequences no one can foresee. Short men are now getting their legs artificially lengthened so that they magically grow several inches taller and get all the girls who didn't look at them until they had to look up to them. GQ ran a lavish 4,500-word piece on this nauseating phenomenon Thursday.
Digital Clones Of Deceased Loved Ones Chat With Mourners At Own Funerals. A startup company called StoryFile has pioneered a new product that allows deceased people to address mourners at their funerals through the power of artificial intelligence. Known as the 'digital afterlife' industry, StoryFile uses 20 cameras while asking a person 250 questions before death. This data is then fed into software that creates a so-called digital clone of that person. Marina Smith, an 87-year-old woman who passed in June, was given a chance to use StoryFile. Smith's Los Angeles-based son Stephen is the company's founder and shocked funeralgoers by creating an interactive illusion of her on a screen during the memorial service: [...]
The same eight people have won the Maryland lottery 2,305 times (!!) in two years. A state legislative audit of the Maryland lottery found that the same eight people are winning over and over, and since 2020, these individuals have won the lottery 2,305 times with winnings totaling $4.5 million. And these numbers are only from prizes over $600 because the state does not collect personal information on prizes under this amount. And these numbers are only from prizes over $600 because the state does not collect personal information on prizes under this amount. Of course, we're talking about the state-level games here, not national games like Powerball, but it's definitely suspicious.
Top scientist admits 'space telescope image' was actually a slice of chorizo. A French scientist has apologized after tweeting a photo of a slice of chorizo, claiming it was an image of a distant star taken by the James Webb Space Telescope. Étienne Klein, a celebrated physicist and director at France's Alternative Energies and Atomic Energy Commission, shared the image of the spicy Spanish sausage on Twitter last week, praising the "level of detail" it provided. "Picture of Proxima Centauri, the nearest star to the Sun, located 4.2 light years away from us. It was taken by the James Webb Space Telescope. This level of detail... A new world is unveiled everyday," he told his more than 91,000 followers on Sunday.
BMW starts selling heated seat subscriptions for $18 a month. BMW is now selling subscriptions for heated seats in a number of countries — the latest example of the company's adoption of microtransactions for high-end car features. [...] It's not clear exactly when BMW started offering this feature as a subscription, or in which countries, but a number of outlets this week reported spotted its launch in South Korea. BMW has slowly been putting features behind subscriptions since 2020, and heated seats subs are now available in BMW's digital stores in countries including the UK, Germany, New Zealand, and South Africa. It doesn't, however, seem to be an option in the US — yet.
New York denies permit renewal for bitcoin mining company, calling it threat to state's climate goals. New York officials denied required air permit renewals Thursday to a bitcoin-mining power plant on the grounds that it was a threat to the state's climate goals. The permitting decision was another example of New York putting the brakes on a crypto-currency bonanza that has alarmed environmentalists. It also comes at a time when crypto-currency prices have plunged, wiping out fortunes, fueling skepticism and sparking calls for tighter scrutiny. The state's permitting decision involved Greenidge Generation, an old coal-fired plant by the shore of Seneca Lake that had once been shut down, but was converted from coal to natural gas several years ago and began bitcoin mining in earnest in 2020.
Amazon demonstrates Alexa mimicking the voice of a deceased relative. Amazon is devising a way for users to speak to their family members through its Alexa voice assistant, even after they've died. At Amazon's Re:Mars conference in Las Vegas on Wednesday, Rohit Prasad, senior vice president and head scientist for the Alexa team, detailed a feature that allows the voice assistant to replicate a specific human voice. In a demonstration video, a child said, "Alexa, can Grandma finish reading me the Wizard of Oz?" Alexa confirmed the request with the default, robotic voice, then immediately switched to a softer, more humanlike tone, seemingly mimicking the child's family member.
Alexa to add voices of your deceased loved ones. Amazon announced a new feature Wednesday that will allow Alexa to speak in the voices of deceased relatives, friends and other loved ones. Speaking at the day two keynote during the company's annual MARS conference in Las Vegas, Alexa head scientist Rohit Prasad showed a video of Alexa, ostensibly sounding like a boy's deceased grandmother reading him a book.
Largest Ever Florida Python Discovered. Field biologists discovered an 18-foot invasive Burmese python weighing 215 pounds in the Florida Everglades. Researchers from the Conservancy of Southwest Florida believed their scale was broken when they weighed the beast, as none of them could comprehend a Burmese python would ever grow so huge, National Geographic reported Tuesday. The snake, the largest ever discovered in Florida, was captured using a male scout snake with a GPS tracker attached to it, the outlet continued. Burmese pythons are effectively impossible to spot without scout snakes, according to BroBible.
Local VA Judge Pulls a Move That Most Legal Observers Say Never Happens. I've been told by legal experts and lawyers, this never happens. This move made by a local Virginia judge never happens. The prosecutor's office has [been] removed and disqualified from a burglary case. Is this the nuclear option in the legal world? Maybe. It appears as if a Loudoun County judge had it up to here with the local prosecutor's antics in trying to get a plea deal hashed out for Kevin Enrique Valle, who is facing a slew of charges including two felony burglaries. The prosecutor's office, which is led by Buta Biberaj, seems to have misled the court, omitting key details about the suspect including past criminal history. Valle appears to have gone on a burglary spree lasting ten days and spanned over four different Virginia counties. Yeah, you can't hide that from the court.
Inside A Secret Government Warehouse Prepping For Societal Collapse. It sounds like something out of a Cold War era movie. Boxes of medical supplies stacked high in government warehouses to help citizens in the event of a public health emergency. However, this huge stockpile is very real. It is called the Strategic National Stockpile, and "Once Federal and local authorities agree that the SNS is needed, medicines will be delivered to any state in the U.S. in time for them to be effective. Each state has plans to receive and distribute SNS medicine and medical supplies to local communities as quickly as possible." For security reasons, the location and the number of warehouses that comprise the SNS are classified information — as is much of what is in them.
Bad News! The Plants Grown in Moon Soil Turned Out Wretched. Remember when scientists grew seedlings in actual Moon soil, collected by Apollo astronauts? Well, don't get too psyched for delicious lunar salad just yet. In a new interview with Astronomy Magazine, University of Florida horticultural scientist Rob Ferl — the author of a recent Communications Biology study detailing the experiment — brought us down to Earth with a description of just how wretched the miraculous plants turned out. "Plants grown in lunar soil tended to be smaller," Ferl told the magazine, "and they contained purplish pigments that were indications of stress."
The quantum menace: Quantum computing and cryptography. No one knows when, but crypto-menacing quantum machines are coming. Here's how researchers use quantum mechanics to crack large integers in asymmetric cryptography.
Why Are Watches Usually Set To 10:10 In Advertisements? It seems a tad odd, but it's also true: Take a look at advertisements for traditional watches (you know, the ones with the rotating 'hands'), and you'll quickly notice that the time on the watches is almost always set to 10:10. This has actually been the norm since the 1950s, but why?
Mainstream media focus on "hero passenger" Darren Harrison landing plane in Florida, while completely whitewashing the suddenly incapacitated pilot. Everyone loves feel-good stories with a happy endings, especially in these times of universal deceit and subterfuge. Now mainstream media are using said feel-good stories to coordinate and deflect attention from a very disturbing and well-established trend in the aviation industry. Captain Bob Snow was an American Airlines pilot with over 30 years experience. He was landing an Airbus A321 with 200 passengers at Dallas-Fort Worth International Airport via Denver on April 9. Just six minutes after touching down and taxiing the aircraft to Gate 6, Captain Snow suffered a sudden cardiac arrest. In what can only be called a miraculous coincidence, the plane left Denver exactly six minutes earlier than it was supposed to leave. Had the flight departed right on time, this story would have been international news. It's also hard to look past the numerical anomaly herein — left Denver 6 minutes early, landed at Gate 6, cardiac arrest 6 minutes later. Captain Snow posted a video that originally appeared on Rumble on April 19. He said American Airlines forced all pilots to receive mRNA injections or be fired. He received his on November 9.
Passenger pulls off miraculous feat, being talked into landing private plane after pilot passes out. In a miraculous feat right off the pages of a Hollywood script, a passenger with no flying experience successfully landed a private plane on Tuesday after his pilot had fallen unconscious. The unnamed passenger was flying aboard a Cessna 208 Caravan on his way home from the Bahamas to see his pregnant wife in Florida when the emergency situation unfolded. While flying over the Florida coastline about 70 miles north of his destination, the passenger can be heard in an audio recording telling Air Traffic Control (ATC) in Fort Pierce, "I've got a situation here."
I Got An AI To Autocomplete Famous Novels. Autocompleting AI is on a roll. It's now sufficiently good enough that plenty of folks are using it in daily business. About 85% of content marketers are using it to crank out online material; students are using it to write essays. There's a "Dead Internet" conspiracy theory that claims all online material is just AI bots talking to other bots; we seem to be creeping towards that territory, yes? Personally, I'm morbidly fascinated by our massive global Turing-Test moment! Though I'm fascinated less for what it says about the awesomeness of AI than what it says about the mediocrity of us humans. For years, people assumed the Turing Test — a bot writing so convincingly that we think it's human — is difficult to pass. But it's not! It's incredibly easy for an AI to appear human-like in written prose, because we humans don't set the bar terribly high, lol.
Jack's Magic Coffee Shop Reports 2nd Quarter Financials, Net Operating Loss of $128 Million. Jack's magic coffee shop posted their latest financial results today [4/28/2022]. As suspected, the social media company Twitter said revenue for the first quarter totaled $1.2 billion (+16%). However, costs and expenses totaled $1.33 billion (+35%), resulting in an operating loss of $128 million. Another unsustainable result for a company that doesn't make a profit yet continues to operate.
Scammers used AI-generated faces to pose as a Boston law firm. Nicole Palmer is a lawyer who graduated from Columbia University. Her profile states that she "specializes in the application and protection of industrial design" and has "been building her career successfully for 30 years." The only problem is that she doesn't exist. And she helped me uncover an online scam operation involved in shady activities, including extorting backlinks from bloggers and website owners. I've spent a good part of the past week investigating Arthur Davidson, the so-called "law firm" Nicole works for. What I found was unsettling, a testament to how advances in technology have made it easy for scammers to set up legitimate-looking outfits to prey on their victims.
Woman Comes Home to Find Her House Was Demolished By a Contractor Who Had the Wrong Address. A woman is set to sue a construction company for accidentally demolishing her house. Jennifer Pulliam from Leaksville, Mississippi, was left devastated when she found out the home that had been in her family since the 1960s had been torn down in January. She told WKRG: "I moved here when I was approximately 10 years old. This is my grandparent's old homeplace. They bought it in 1965 and it's been in our family ever since." After finding out through a family member that the house had been demolished, she said: "I cried for two days, I was devastated." [Video clip]
Two women discover they were switched at birth - more than 55 years later. Two women who learned from an Ancestry.com DNA test that they were switched at birth in 1964 are suing an Oklahoma hospital for the damaging mixup. Tina Ennis and Jill Lopez, now 57, were both born at Duncan Physicians and Surgeons Hospital, on May 18, 1964 — but somehow, they claim, each was handed off to the other's biological parents. According to the Daily Beast, the two women and their families went 55 years without knowing the truth, until Ennis sent her DNA off to Ancestry.com and got some confusing results.
Huge Flock of Birds Suddenly Plummets to the Ground in Chihuahua, Mexico. A massive flock of birds were caught on CCTV cameras suddenly plummeting to the ground for unknown reasons. Some of the birds did fly away after the fall while others simply laid there dead. This has been happening more frequently lately as many are suggesting a UFO using a cloaking device as the culprit, while others are suggesting it could be due to the newly installed 5G towers confusing the birds. [Video clip]
Seattle-area Mazda drivers report radios are stuck on the local NPR station. Seattle-area drivers of Mazda vehicles from 2014-17 have reported an unusual problem — their radios are stuck on the local NPR station. KUOW-FM, the Seattle-area NPR station, confirmed it had been contacted by multiple Mazda drivers in the area who reported the HD Radio in the Mazda infotainment center of their vehicles was stuck on the station.
Stay away from escaped lab monkey, Pennsylvania state police warn. Residents of a Pennsylvania county were warned Saturday [1/22/2022] not to approach a monkey that was missing after a crash involving a pickup that was towing a trailer taking about 100 of the animals to a lab. State troopers urged people not to look for or capture the cynomolgus monkey following the Friday afternoon crash on a state highway near an Interstate 80 exit in Montour County.
CIA Says Most 'Havana Syndrome' Cases Not Caused by a Hostile Foreign Power. The CIA has found that most of the 1,000 cases of "Havana Syndrome'" were not caused by actions taken by a hostile foreign power. The agency said that about two dozen cases remain unexplained and they will continue to investigate what caused them. But the upshot is that no physical evidence has yet been found to validate the theory of a directed energy weapon being used on American diplomats. And other evidence points in an entirely different direction, one involving the mysteries of the brain.
The Editor says...
And you believe the CIA, right? Sure you do.
FDA ends regulation of French dressing after 72 years. The Food and Drug Administration said it will stop regulating French dressing after keeping a tight rein on its key ingredients since 1950. The US agency announced on Wednesday that it would lift guidelines that required manufacturers to sell a product with 35% vegetable oil if it wanted to market it as "French dressing." French dressing also had been required to contain vinegar or lemon or lime juice. Other ingredients like salt, tomato paste, and spices were permitted, but not required. The FDA said that the stringent threshold "no longer promotes honesty and fair dealing" for the benefit of consumers. By removing the standard, the FDA hopes to "provide greater flexibility in the product's manufacture, consistent with comparable, nonstandardized foods available in the marketplace."
The ideal get-away car for your next bank job:
BMW's new colour-changing all-electric iX switches from black to white at the push of a button. Can't decide on the colour of your next car? Well, BMW has you covered with their all-electric iX Flow, which changes from black to white at the push of a button. The German automobile firm unveiled the chameleon-like sports activity vehicle today at the Consumer Electronics Show, which is being held in Las Vegas, Nevada. The colour changing ability uses the same 'E ink' electrophoretic technology built into the screens of e-Book readers, except applied to a special car body wrap. Electrophoresis works by using an applied electric field to separate molecules — in this case, black and white pigments — based on their respective electric charges.
Mom claims Alexa encouraged kid to try deadly TikTok challenge. A mother was shocked and appalled after Amazon's digital assistant Alexa allegedly suggested that her child try a potentially deadly TikTok challenge. A screenshot of the risky recommendation currently boasts over 10,000 likes on Twitter. In the viral tweet posted Sunday, user Kristin Livdahl explained how her 10-year-old daughter had asked the AI helper for a "challenge" to do. The youngster had been doing some indoor physical challenges recommended by a YouTube physical education teacher and "wanted another one," she explained in a subsequent tweet.
10 Illinois firefighters walk off job after man convicted of arson appointed new chief. Ten out of 13 firefighters with a volunteer Illinois department have quit after their chief was replaced by a man once convicted of arson. Fire Chief John Rosenkranz was removed from his post and replaced with Assistant Chief Jerame Simmons, at a fire district board meeting in East Carondelet on Monday, FOX 2 reports. The newly-appointed fire chief pleaded guilty to arson more than 20 years ago when he was just 18. The two can be seen in video seated at the same table when the change was made. Jerame Simmons is reportedly the son of Herb Simmons, who is the long-time director of the St. Clair County Emergency Management Agency. He was accused of setting fire to a vacant home and setting another, smaller fire, at Dupo High School. He served probation, but said Illinois Governor J.B. Pritzker has since pardoned him.
Akron police investigating after 58-foot bridge goes missing. Akron police have investigated the theft of all kinds of valuables over the years, but for the first time in anyone's memory, detectives are trying to find out who stole a bridge. At one time, the pedestrian bridge was along the Little Cuyahoga River in Middlebury Run Park, which sits in the shadow of Goodyear World Headquarters on Akron's East End. However, the complete 58-foot long span was removed from the park as part of a wetlands restoration project and moved to a field along Seiberling Street. The city of Akron had hoped to repurpose the $40,000 bridge, but on Nov. 11, police were notified that the bridge had been stolen.
Pilot Looks out of His Window at 39,000 Ft and Spots Something Wild! A pilot flying tens of thousands of feet noticed a small glowing orb out of his left window, only to quickly realize it was a multitude of glowing orbs flying at an extremely high rate of speed in syncronicity. Within seconds it became obvious this is either a very large craft that is completely invisible, or a series of UFOs flying in a pattern together. [Video clip]
The end product of the public schools:
Gen Z has Gone off the Rails! Now they have the The 'Birds Aren't Real' Movement! It's official, Gen Z has lost their collective, college indocrinated minds. A new movement spreading around the USA that was started by a 23 year old insists that 'birds aren't real'. The movement, founded by Peter McIndoe, insists that all of the birds in the USA have been killed off by the government and have been replaced with a fake bird that is being used to spy on us all. [Video clip]
Celebrity chef who invented the 'world's healthiest meal' and calorie-free cookies dies of a heart attack aged 43. The family of the celebrity chef behind the 'world's healthiest meal' who died of a heart attack at the age of 45 has said they are heartbroken. Gurpareet Bains, whose fans included Hollywood star Gwyneth Paltrow, penned several superfood cookbooks. The co-founder of Vedge Snacks, who lived in Enfield, London, was hospitalised following a heart attack last Thursday, his management have confirmed.
Paging the plagiarism police — AI is getting better at writing students' essays. The dramatic rise of online learning during the COVID-19 pandemic has spotlit concerns about the role of technology in exam surveillance — and also in student cheating. Some universities have reported more cheating during the pandemic, and such concerns are unfolding in a climate where technologies that allow for the automation of writing continue to improve. Over the past two years, the ability of artificial intelligence to generate writing has leaped forward significantly, particularly with the development of what's known as the language generator GPT-3. With this, companies such as Google, Microsoft, and NVIDIA can now produce "human-like" text.
Aluminum shortage puts dent in license plate supply. Montana has become the latest state to stop making license plates because of disruption in the U.S. aluminum supply — another example of supply chain problems caused by the pandemic. Montana Correctional Enterprises, which makes the plates at the state prison, ran out of aluminum last week, said Carolynn Bright, spokesperson for the Montana Department of Corrections. Another shipment of aluminum isn't expected until December, officials said. "We knew this might be a possibility because it's been an issue at other license plate factories throughout the nation," said Gayle Butler, administrator of Montana Correctional Enterprises, a division of the Department of Corrections.
"Digital Boilers" Powered By Bitcoin Mining Rigs To Supply North Vancouver With Heat. Mining cryptocurrency is an energy-intensive industry. The main by-product of high-powered computers verifying Bitcoin, Etherum, and or Ripple transactions on the blockchain is an excessive amount of heat that often goes to waste. However, one company is set to heat buildings in the Canadian city of North Vancouver through mining rigs attached to "digital boilers." Cleantech cryptocurrency miner MintGreen partnered with Lonsdale Energy Corp. to supply heat to buildings in North Vancouver, according to a press release. MintGreen's digital boilers use immersion technology that captures 96% of the heat generated from mining rigs and is fed to water utilities as energy, then distributed to 100 buildings in the downtown district.
Something Shook New Hampshire. What Caused the Boom Is a Mystery. So far, the source of the boom has confounded residents, many of whom speculated that it might have been an earthquake. But an official at the National Earthquake Information Center, which is part of the U.S. Geological Survey, said that none of the agency's stations had found any evidence of an earthquake in all of New England during the past seven days. Some residents wondered if a meteorite or an aircraft might be behind the mystery, one that generated some complaints next door in Massachusetts. Dan Brian said that he was at home in New Boston, N.H., which is about 20 miles northwest of Nashua, N.H., sipping kombucha and playing a video game with his wife when he heard what he thought was a large explosion. "There was a kind of a loud boom that rattled our whole house," Mr. Brian said on Sunday. "It had like an audible boom to it. It was very strange. That's why everyone thought it was like an explosion at first."
This man's refrigerator lectured him for opening the door too much. [Numerous tweets] Great, now we're going to be lectured to by extravagant resource-intensive digitally connected Internet-capable smart refrigerators about the environment.
Garbage Truck Loses Control, Crashes Into Building Revealing Huge Marijuana Growing Operation In Michigan. Sterling Heights police are investigating after a garbage truck crashed into a marijuana grow operation Wednesday morning [9/8/2021]. The truck was traveling south on Mound Road approaching 15 Mile Road around 5:30 a.m. when a vehicle turned south onto Mound from a turnaround just north of 15 Mile while the light was red, cutting off the truck. [Video clip]
A Rebel in Dallas Throws Sand in The Machine. A free-range citizen made it through the filtration process and appeared on livestream before the Dallas City Council. His rigorous advocacy for the totalitarian mandates and forced vaccines was welcome amid the tribe, until he started helping them a little too much. [Video clip]
Nvidia's new voice A.I. sounds just like a real person. The "uncanny valley" is often used to describe artificial intelligence (A.I.) mimicking human behavior. But Nvidia's new voice A.I. is much more realistic than anything we've ever heard before. Using a combination of A.I. and a human reference recording, the fake voice sounds almost identical to a real one.
People are hiring out their faces to become deepfake-style marketing clones. Like many students, Liri has had several part-time jobs. A 23-year-old in Israel, she does waitressing and bartending gigs in Tel Aviv, where she goes to university. She also sells cars, works in retail, and conducts job interviews and onboarding sessions for new employees as a corporate HR rep. In Germany. Liri can juggle so many jobs, in multiple countries, because she has hired out her face to Hour One, a startup that uses people's likenesses to create AI-voiced characters that then appear in marketing and educational videos for organizations around the world. It is part of a wave of companies overhauling the way digital content is produced. And it has big implications for the human workforce. Liri does her waitressing and bar work in person, but she has little idea what her digital clones are up to. "It is definitely a bit strange to think that my face can appear in videos or ads for different companies," she says.
Research which found simple way to curb cheating was based on fake data. A landmark study on how to curb cheating has been retracted after nearly a decade and the prominent professor whose team produced the paper is himself accused of cheating and relying on faked data. Dan Ariely, a professor of psychology and behavioral economist at Duke University, rose to prominence with his 2012 study that found people would be less likely to cheat and lie if they signed an honesty declaration at the top of a form before answering questions.
A Complete Guide to Not Getting Hacked. As safe as you might feel sitting at your laptop, happily typing and posting and scrolling, we all know the truth: the internet is actually a giant hellscape full of spies, criminals, ransomware, and all kinds of other dangerous [stuff]. Indeed, if this year taught us anything, it's that the web is a very scary place and nobody is safe. Thus, if you want to try to keep your online life private, secure and safe (or, at least, safer than it currently is), we'd like to cautiously present you with some very basic, potentially helpful suggestions.
Socialist magazine founder fires staff for socialist organizing, confesses he felt ownership of what he'd made. Seriously this is just one of those moments when a leading proponent of leftist politics reveals himself to be a complete flaming hypocrite. It's not even contested at this point because, as of two hours ago, he has admitted as much. If you're not familiar with Nathan J. Robinson, he has a doctorate in sociology from Harvard but is probably best known as a writer who had a long sting as a socialist columnist for the Guardian. In 2015 he founded his own site called Current Affairs, an online political magazine that promotes his socialist views. I feel like I should provide an example and I swear this was the first thing I came across on his site with Robinson's name on the byline: "Manatees Are Better Than Us." [...] Well, it turns out that manatees are definitely better at utopian socialism than Nathan J. Robinson. We know this for certain because today a group of his former employees announced they had all been fired after they tried to form a worker's co-op. Apparently doing socialism at the socialist magazine was grounds for termination.
The Editor says...
Recently I was astonished to learn the magnitude of the electric power demand for marijuana farming and bitcoin mining. The first few items below are part of what I found.
Bitcoin's Energy Use Compared To Other Major Industries. [Scroll down] It's not a nice thing to acknowledge, but if you're charging your Tesla on the U.S. natural-gas-powered grid, or the slightly-greener world average grid, or basically anything other than your own solar roof panels, you'd be doing 50% less damage to the environment by driving an internal combustion vehicle. We just calculated the carbon intensity of fossil-fuel-driven transport to be 234 g CO2 per kWh based on emissions and energy data from the EIA and IEA.
Cambridge Bitcoin Electricity Consumption Index. Bitcoin network power demand, updated every 24 hours.
The Editor says...
The collection of this data in real time is a mystery to me. Do all the mining operations report back to Cambridge?
Here's how much energy it really takes to mine Bitcoin and why people are concerned. Elon Musk, Tesla CEO and cryptocurrency cheerleader, shook the crypto market when he said his company would no longer accept Bitcoin for vehicle purchases. In a May 13 tweet, Musk referred to an increase in the use of coal and other fossil fuels to generate the power used for mining as the reason behind his decision. The fallout from the tweet: The price of Bitcoin dropped by 14% and it continued to fall after. Bitcoin, Ethereum, Dogecoin and other popular cryptos reached record highs this year, raising concerns about the amount of energy needed to mine the coins. Warehouses of Bitcoin mining rigs run 24 hours a day, consuming more power than the whole of Argentina. As the energy bill for crypto mining rises, so does the amount of carbon and waste, adding to the growing climate crisis.
The Editor says...
[#1] There is no climate crisis. The climate is changing, and always has, but the changes from one decade to the next are imperceptible. [#2] Carbon dioxide in the atmosphere is beneficial. CO2 is not a pollutant. The emission of carbon dioxide is not something to avoid. [#3] Carbon dioxide is not carbon, so please do not say "carbon emissions," when you mean "carbon dioxide emissions." Nobody is emitting elemental carbon into the atmosphere, except perhaps in China!
Electricity Use in Marijuana Production. On a structural level, indoor cultivators must consider special lighting, ventilation and air conditioning systems when designing greenhouses. Each of these systems uses a substantial amount of energy. Many growers, in order to ensure the maximum harvest of their crop, use intensely bright lighting systems paired with powerful air conditioners to shorten a plant's growing cycle. The electricity consumption of growhouses is staggering when compared to business and residential use. In 2015, the average electricity consumption of a 5,000-square-foot indoor facility in Boulder County was 41,808 kilowatt-hours per month, while an average household in the county used about 630 kilowatthours. A 2012 report on the carbon footprint of indoor production found that cannabis production makes up 1 percent of national electricity use, and in California, the top-producing state, that number rises to 3 percent. An indoor facility can have lighting intensities similar to hospital operating rooms, which are 500 times greater than recommended reading light levels. These facilities can also have 30 hourly temperature or fan speed air changes, which is 60 times the rate in a normal home. Put another way, a four-plant lighting module uses as much electricity as 29 refrigerators. On a monetary level, the finished products come in at an energy cost of $2,500 per kilogram.
Marijuana grow houses trigger 7 summer outages for Pacific Power. Pacific Power is urging would-be home growers to consult with the utility before starting up their marijuana operations, same as they should any time a customer intends to significantly increase their power load. "What most people don't realize is that growing marijuana is a very intense power use," Roger Blank, the utility's director of safety, said in a statement. Using older, less-efficient standard lights to grow four plants is akin to running 29 refrigerators, he said. "Hire a licensed electrician," he told TV station KTVZ. "You will probably need a dedicated circuit just as you would for a dryer or a hot tub. Don't use extension cords and be careful about generating excess heat in an enclosed space, which is an extreme fire hazard." Recreational use became legal in Oregon on July 1, and since then, the utility said it has experienced seven outages where grow operations overloaded local equipment. PacificPower said that after an investigation, the utility has billed those responsible an average of $5,000 each for the outsized load which "overburdened and damaged local equipment."
An inconvenient truth (about weed). Marijuana has never been more popular in the U.S. — and its carbon emissions have never posed a bigger threat to the climate. America's patchwork approach to legalizing weed has helped make cannabis cultivation one of the most energy-intensive crops in the nation. Nationally, 80 percent of cannabis is cultivated indoors with sophisticated lighting and environmental controls designed to maximize the plant's yield. It's a setup that can consume up to 2,000 watts of electricity per square meter, 40 times what it takes for leafy greens like lettuce, when grown indoors. "For being such a 'green' industry, there's some skeletons in the closet," said Kaitlin Urso, an environmental consultant with the Colorado Department of Public Health and Environment. Despite piecemeal attempts by states and some growers to reduce their power consumption, at least one expert estimates the industry's footprint already accounts for more than 1 percent of U.S. electricity consumption and continues to rise. [...] One recent model estimated that Massachusetts' nascent cannabis industry represented 10 percent of the state's industrial electricity consumption in 2020.
Pot is power hungry: why the marijuana industry's energy footprint is growing. The $3.5 billion cannabis industry is one of the nation's most energy intensive, often demanding 24-hour indoor lighting rigs, heating, ventilation and air-conditioning systems at multiplying grow sites. [...] A study by scientist Evan Mills, with the Lawrence Berkeley National Laboratory, revealed that legalized indoor marijuana-growing operations account for 1% of total electricity use in the US, at a cost of $6 bilion per year. Annually, such consumption produces 15 million tons of greenhouse gas emissions (CO2), equal to that of three million average cars. In 2012, Colorado became the first state to legalize recreational marijuana. Two years later, Denver's 362 marijuana grow facilities consumed more than 2% of the city's electricity usage. Statewide facilities are behind roughly half of Colorado's new power demands.
Baby born with twin inside her stomach in extremely rare pregnancy. A newborn baby shocked doctors after an X-ray revealed she carried a twin fetus inside her stomach. The case, known as a fetus in fetu, occurs once in every 500,000 births, according to The Times of Israel. Doctors first noticed the baby girl had an enlarged stomach when they performed a late-stage ultrasound on the mother, The New York Post reports. When the baby was born, doctors performed an X-ray and other tests, discovering that she harbored a partially developed embryo with some bones and a heart.
Newlyweds Almost Become The Shortest Marriage Ever As Confetti Blast Hits Powerlines, Nearly Electrocuting Them. Watch as this viral video shows how close this newly married couple almost became unfortunate statistics at their own wedding reception. An attendee brought out the big guns with a giant confetti blaster but didn't take into account the power[ ]lines above the newlyweds. When the confetti went airborne, several streams strike the powerlines, sending a bolt of electricty into the lawn, just feet from the couple. [Video clip]
Scientists discover more than 30 viruses frozen in ice, most never seen before. A group of scientists discovered ancient viruses frozen in two ice samples taken from the Tibetan Plateau in China, and most of them are unlike anything ever seen before. The findings, published Wednesday in the journal Microbiome, came from ice cores taken in 2015 that scientists said began to freeze at least 14,400 years ago. "These glaciers were formed gradually, and along with dust and gases, many, many viruses were also deposited in that ice," Zhi-Ping Zhong, lead author and researcher at the Ohio State University Byrd Polar and Climate Research Center, said in a statement. "The glaciers in western China are not well-studied, and our goal is to use this information to reflect past environments. And viruses are a part of those environments."
Parents of children called Alexa challenge Amazon. Parents of children called Alexa say their daughters are being bullied because it is the same name that Amazon uses for its virtual assistant. Some have even changed their child's name because they say the barrage of Alexa jokes is "relentless". [...] The word Alexa has become increasingly common in recent years as more households use voice-activated smart speakers. Amazon's Echo and Echo Dot use Alexa as the command you say before giving it instructions or asking a question. However, this is causing problems for people named Alexa, who are frequently on the receiving end of repeated jokes, where people shout their name and issue a command.
New York Hydro Power Plant Mines Bitcoin Because [it is] More Profitable Than Selling Electricity To [the] Grid. This year, some of the hottest trends in the crypto industry have been bitcoin adoption and environmental, social, and governance factors into crypto mining. Tesla CEO Elon Musk pushed bitcoin's environmental concerns into the forefront, calling for "renewable energy" to be used for mining instead of fossil fuels. It's no secret that bitcoin mining takes a massive amount of electricity. It's estimated that energy consumption exceeds the power consumption of countries like the Netherlands and the UAE. With the push towards ESG-Friendly bitcoin mining operations, there's one historic hydroelectric plant near Albany, New York, using power generated from its massive water turbines to mine crypto.
Is HAARP Firing Up? FAA Issues Warning About "Electromagnetic Radiation". A longstanding topic of great speculation among curious minds is HAARP, a controversial Alaska-based research facility that studies the outermost layer of Earth's atmosphere: the ionosphere. HAARP (short for High-Frequency Active Auroral Research Program) has been at the center of wild speculation that its high-power radio frequency transmitter facility can control the weather. Though those claims have yet to be confirmed, conspiracy theorists say otherwise.
Deter Prying Eyes by Locking Your Own Letters. A how-to for those who want to use folds, tucks, slits, and more to turn letters into little works of art.
Don't End Up on This Artificial Intelligence Hall of Shame. When a person dies in a car crash in the US, data on the incident is typically reported to the National Highway Traffic Safety Administration. Federal law requires that civilian airplane pilots notify the National Transportation Safety Board of in-flight fires and some other incidents. The grim registries are intended to give authorities and manufacturers better insights on ways to improve safety. They helped inspire a crowdsourced repository of artificial intelligence incidents aimed at improving safety in much less regulated areas, such as autonomous vehicles and robotics. The AI Incident Database launched late in 2020 and now contains 100 incidents, including #68, the security robot that flopped into a fountain, and #16, in which Google's photo organizing service tagged Black people as "gorillas." Think of it as the AI Hall of Shame.
I feel better about my investments now.
Italian Artist Sells Invisible Sculpture For $18,000 — That's Right, It's Air. Meet Italian artist Salvatore Garau. He is the absolute genius who has figured out a way to finesse $18,000 out of an art collector who paid for an invisible sculpture. That's right, the art collector gets a proof of purchase, but there's absolutely no physical sculpture or even some digital work of art like those selling on the NFT marketplace. I'm talking a big ol' poof of air. There's no sculpture, and yet someone paid $18,000 for the concept that Garau put out there for some moron to buy. This isn't some Onion story. NPR reported on the invisible sculpture purchase. Other outlets around the world are doing the same.
The Editor says...
He's ten percent sculptor, ninety percent salesman.
How to Tell a Job Offer from an ID Theft Trap. One of the oldest scams around — the fake job interview that seeks only to harvest your personal and financial data — is on the rise, the FBI warns. Here's the story of a recent LinkedIn impersonation scam that led to more than 100 people getting duped, and one almost-victim who decided the job offer was too-good-to-be-true.
Spain's postal service receives backlash for unequal pricing of 'equality stamps' that highlight racial inequality. Spain's postal service is feeling a backlash from its attempt to highlight racial inequality. State-owned Correos España this week issued a set of four stamps in different skin-colored tones. The darker the stamp, the lower the price. The lightest color costs 1.60 euros ($1.95). The darkest one costs 0.70 euros ($0.85). The postal service calls them "Equality Stamps" and introduced them on the anniversary of George Floyd being killed by a police officer in Minneapolis. It said the stamps "reflect an unfair and painful reality that shouldn't be allowed" and that every letter or parcel sent with them would "send a message against racial inequality."
Threats by menacing clowns led DC police to surveil online accounts. Vague threats from social media users dressed as menacing clowns in 2016 led to intense police monitoring of their accounts and an effort to "identify those who may be responsible", according to records from Washington DC's Metropolitan police department (MPD). The threats, which came in the lead-up to Halloween from accounts billing themselves as "killer clowns" under user names like "snappytheclown_" and "dmvclownns", led to intensive surveillance of those participating in the clown craze which triggered a wave of clown-themed media coverage. Clown sightings were eventually recorded all over the US in 2016, having apparently begun in Greenville, South Carolina, before spreading across the south and then the rest of the nation. They also came to the attention of the police.
Physicists Have Broken The Speed of Light With Pulses Inside Hot Plasma. Sailing through the smooth waters of vacuum, a photon of light moves at around 300 thousand kilometers (186 thousand miles) a second. This sets a firm limit on how quickly a whisper of information can travel anywhere in the Universe. While this law isn't likely to ever be broken, there are features of light which don't play by the same rules. Manipulating them won't hasten our ability to travel to the stars, but they could help us clear the way to a whole new class of laser technology. Physicists have been playing hard and fast with the speed limit of light pulses for a while, speeding them up and even slowing them to a virtual stand-still using various materials like cold atomic gases, refractive crystals, and optical fibers.
Nikola Tesla invention from 100 years ago suddenly makes more sense today. The eccentric inventor is known for dabbling with electricity, but his Tesla valve is impressing scientists anew.
The Bee, or Not The Bee? That is the question.
The problem when a comedy site goes from satire to predictions. Instead of being in the satire business, The Babylon Bee has suddenly found itself predicting (with amazing accuracy) future headlines. My own experience is that the headlines in The Bee and its companion real news site, Not the Bee, are indistinguishable.
Belgian Farmer Accidentally Shifts French Border by Moving Ancient Stone. A Belgian farmer in the town of Erquelinnes almost caused an international incident when he moved an innocuous-looking stone around 7 feet, according to local news reports. The farmer likely had no idea that this piece of yard work had just expanded Belgium by about 1,000 square meters. The stone is actually part of a series of similar markers, placed there in 1819 to mark the border between France and what was then called the United Kingdom of the Netherlands. The stones are still used to demarcate the line between France and Belgium. "We know exactly where the stone was before, right next to a tree," Erquelinnes Mayor David Lavaux said on Tuesday. "It should be resolved tomorrow, we are about to find the person that moved the stone, so we can avoid any troubles."
The Editor says...
Pardon my perpetual skepticism: One would think that a farmer would be well aware that his property was on an international boundary, and would know the exact location of that boundary, and would probably know the purpose of that big rock. Wouldn't the previous owner of the property have mentioned it? Wouldn't something like that be mentioned specifically in the deed?
Navy confirms the best UFO clip the "world has ever seen". A Pentagon spokeswoman confirmed that images and videos showing unidentified flying objects following Navy warships in 2019 near the coast of California were definitely taken by members of the Navy. "I can confirm that the referenced photos and videos were taken by Navy personnel," Department of Defense spokesperson Susan Gough told Fox News. "The UAPTF [Unidentified Aerial Phenomena Task Force] has included these incidents in their ongoing examinations." [Video clip]
Daunte Wright rally protester: This can in my hand? Oh, it's just "soup for my family". What do we think about this clip? Do we think the guy brought the soup to the protest (a) because he had a joke planned and was hoping to seek out a camera crew to make it happen or (b) for the other reason? I didn't pause to watch it when tweets about it were circulating last night but the lefties high-fiving over it led me to assume the answer was (b). Maybe CNN had stumbled into an interview with a rioter before he unloaded his "ammo" and he decided to be cheeky about it. Having now watched it, I think the answer is clearly (a). He had a gag in mind and he executed it. Pretty deadpan too.
Undersea Kingdoms. One of the shortcomings of maps showing the potential area of naval confrontation between China, on the one hand, and the U.S., Japan, and Australia on the other, is that they commonly depict the surface of the sea. But underneath the waves lies an unseen world of communications cables through which the information economy flows and to which conflict will naturally come. "People think that data is in the cloud, but it's not," said Jayne Stowell, who oversees construction of Google's undersea cable projects. "It's in the ocean." ... Content providers like Microsoft, Google, Facebook and Amazon now own or lease more than half of the undersea bandwidth. ... Countries view the undersea cables as critical infrastructure and the projects have been flash points in geopolitical disputes. Last year, Australia stepped in to block the Chinese technology giant Huawei from building a cable connecting Australia to the Solomon Islands, for fear it would give the Chinese government an entry point into its networks.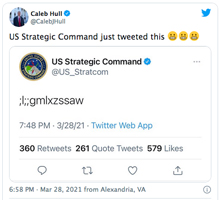 I've heard of "pocket dialing," but how does an accidental tweet happen?
Bizarre tweet From U.S. Strategic Command spawns panic about nuclear codes. Everywhere the president of the United States goes, so goes the "nuclear football." In his book "Breaking Cover," Bill Gulley, a former director of the White House Military Office, wrote: "There are four things in the Football. The Black Book containing the retaliatory options, a book listing classified site locations, a manila folder with eight or ten pages stapled together giving a description of procedures for the Emergency Broadcast System, and a three-by-five-inch card with authentication codes." Those codes need to match up with the one held by the U.S. Strategic Command (STRATCOM), headquartered at Offutt Air Force Base, Neb., which is responsible for strategic deterrence and reaction to a global strike. So it raised eyebrows — and fears — when STRATCOM tweeted this: ";l;;gmlxzssaw."
'Drunk' robot vacuums spark complaints from owners. Owners of Roomba robot vacuums have complained the devices appear "drunk" following a software update. Problems include the machines "spinning around", constantly recharging or not charging at all, and moving in strange directions. The devices' maker iRobot has acknowledged its update had caused problems for "a limited number" of its i7 and s9 Roomba models. However, it added a fix would take "several weeks" to roll out worldwide. In the meantime, the firm is asking those affected to share the serial numbers of their devices so it can remove the most recent update.
New York father-to-be killed by exploding gender reveal device. A father-to-be was killed when a gender reveal prop he was working on exploded, according to police. The blast occurred on Sunday in Liberty, New York, a town of 4,200 people located about 100 miles north of New York City. State police said in a Monday statement that Christopher Pekny, 28, died when a gender reveal device he was constructing exploded. His brother, 27-year-old Michael Pekny, was injured. Trooper Steven Nevel told NBC News that the device being constructed was just a prototype and not the final product, although details about the nature of the explosion and what the device was intended to do during the gender reveal are still unclear.
Wanna see some Japanese bullet trains blasting through snow at 200 MPH? Of course you do. The Japanese Shinkansen, or what we call bullet trains are insanely fast, running at around 200 miles per hour(!). Here's a supercut of the trains blasting through snow covered tracks at the Kurikoma-Kŏgen Station, and the sound they make is amazing. [Video clip]
Bitcoin Mining Uses More Electricity Than All of Argentina. Scientists from the University of Cambridge Judge Business School have built an interactive analysis tool to calculate the real energy cost of bitcoin cryptocurrency. Using their energy use model, the researchers found that bitcoin mining uses more energy each year than the entire country of Argentina. That sounds like a wild stat, but energy use has always been a key part of bitcoin's story. [...] Is it possible to make a more efficient bitcoin mining algorithm? That would go against the spirit of bitcoin mining, so it's hard to imagine. The whole point of mining is that it is slow and that it does involve tons of computation.

Bitcoin consumes 'more electricity than Argentina'. Bitcoin uses more electricity annually than the whole of Argentina, analysis by Cambridge University suggests. "Mining" for the cryptocurrency is power-hungry, involving heavy computer calculations to verify transactions. Cambridge researchers say it consumes around 121.36 terawatt-hours (TWh) a year, and is unlikely to fall unless the value of the currency slumps.
Citibank can't get back $500 million it wired by mistake, judge rules. After committing one of the "biggest blunders in banking history," a US District Court judge ruled that Citibank cannot recover the almost half a billion dollars it accidentally wired to Revlon's lenders. Citibank, which was acting as Revlon's loan agent, meant to send about $8 million in interest payments to the cosmetic company's lenders. Instead, Citibank accidentally wired almost 100 times that amount, including $175 million to a hedge fund. In all, Citi accidentally sent $900 million to Revlon's lenders. Citibank filed a lawsuit in August seeking the return of its funds, but it still has not received $500 million from 10 investment advisory firms after the accidental transfer.
Who Is the Worst Internet Provider in America? It can be hard to quantify what the best and worst Internet providers, largely because Internet speeds and reliability differ so much by region and other factors. And the very fastest and slowest providers, overall, are often small companies that are only available regionally. But J.D. Power and Associates last September put out its latest version of a survey called the J.D. Power 2020 U.S. Residential Internet Service Provider Satisfaction Study, which showed how the main Internet Service Providers stack up by region. The survey was based on a sample of 26,554 customers. In each region, providers were given a total score out of 1,000. The criteria for that survey is satisfaction and is not a direct measure of the highest and lowest speeds.
Secret Chat in Telegram Left Self-Destructing Media Files On Devices. Popular messaging app Telegram fixed a privacy-defeating bug in its macOS app that made it possible to access self-destructing audio and video messages long after they disappeared from secret chats. The vulnerability was discovered by security researcher Dhiraj Mishra in version 7.3 of the app, who disclosed his findings to Telegram on December 26, 2020. The issue has since been resolved in version 7.4, released on January 29. Unlike Signal or WhatsApp, conversations on Telegram by default are not end-to-end encrypted, unless users explicitly opt to enable a device-specific feature called "secret chat," which keeps data encrypted even on Telegram servers. Also available as part of secret chats is the option to send self-destructing messages.
Colombia's 'cocaine hippos' must be stopped, scientists warn. Pablo Escobar's hippos are taking over the marshlands of Colombia — and need to face the same fate as their late owner before they become impossible to control, scientists have warned. The so-called "cocaine hippos" were illegally imported to the country by the notorious drug lord, who was shot dead by authorities in 1993, the Telegraph reported. But the rapidly breeding beasts have grown to become the largest invasive species on the planet — and could reach dangerous numbers in the next two decades.
Some people are inadvertently throwing away stimulus check debit cards: Couple says the mailing looked like a scam. As if waiting for a stimulus check to arrive wasn't frustrating enough, now it turns out some people are throwing their $600 away. Jim Wallace almost tossed a letter he received in the mail the other day. "I received a white envelope, with clear plastic on the top left corner and in the middle," Wallace said. Nowhere was a U.S. Treasury or IRS return address in Washington, D.C. that would have indicated a stimulus payment.
We are all like this bear. The bear, released after 20 years in a cramped cage in a Romanian zoo, continues to live as if in captivity. That what happening now to people. [Video clip]
Lost Passwords Lock Millionaires Out of Their Bitcoin Fortunes. Stefan Thomas, a German-born programmer living in San Francisco, has two guesses left to figure out a password that is worth, as of this week, about $220 million. The password will let him unlock a small hard drive, known as an IronKey, which contains the private keys to a digital wallet that holds 7,002 Bitcoin. While the price of Bitcoin dropped sharply on Monday, it is still up more than 50 percent from just a month ago when it passed its previous all-time high around $20,000. The problem is that Mr. Thomas years ago lost the paper where he wrote down the password for his IronKey, which gives users 10 guesses before it seizes up and encrypts its contents forever. He has since tried eight of his most commonly used password formulations — to no avail.
The 100 greatest innovations of 2020. Every year since 1988, the PopSci staff has crammed into conference rooms to debate the year's most important innovations. As we'd weigh the merits of glitzy gadgets and record-breaking rockets, our hands would snag slices from a stack of pizzas, reach for one-too-many diet soda refills, and fling fun-size candies across the room. In 2020, the chatter was the same, but we were different. Amid an ongoing COVID-19 threat, editors and researchers put on their best pajama pants, logged onto Google Hangouts (BYO peanut butter cups), and evaluated thousands of products and projects from afar to select the Best of What's New: 100 breakthroughs that are windows onto what we know can be a healthier, happier, more-hopeful future.
Last known Civil War widow has died. Helen Viola Jackson, the last known surviving widow of a Civil War veteran, has died at the age of 101. Her death was confirmed by the Sons of Union Veterans of the Civil War on Monday. Jackson died last month at Webco Manor Nursing Home in Marshfield, Missouri, according to the Missouri Cherry Blossom Festival. A play about Jackson's life was performed at the 2019 Missouri Cherry Blossom Festival. Jackson was age 17 when she married James Bolin, who was 93 years old at the time of the marriage. Bolin and Jackson were married for three years before his passing in 1939. Bolin reportedly fought on the Union side of the war.
Birdwatcher stumbles across $ million in ancient Celtic gold coins. Have you ever stumbled across what you thought might be a coin of some kind only to find it was just an old washer? This was the opposite of that.
Just in time for Christmas: Porch pirates vs. Glitterbomb 3.0. This is the third year that engineer turned YouTube creator Mark Rober has sought smelly revenge on porch pirates using a custom built glitterbomb which also includes copious amounts of [malodorous] spray. As he did last year, Rober once again did some fine tuning to his creation. One change was a custom welcome mat which doubles as a charger to keep the batteries at full power until the moment the thief walks off with the package. This helps to ensure that the batteries are working when the box is opened and the 4 phones inside have enough charge left to capture the entire encounter.
Automated Drywall Robot Works Faster Than Humans in Construction. A robotics company called Canvas has announced its public launch with partnerships and $19M in financing this month. Founded in 2017, the robotics startup designed a robotic arm with sensors that automates the process of drywall installation. [...] Canvas' founders claim that its robots operate faster than a human without a machine. While most robotics companies sell or rent their machines, Canvas' robots are operated by trained workers from the International Union of Painters and Allied Trades.
Company forced to change name that could be used to hack websites. Companies House has forced a company to change its name after it belatedly realised it could pose a security risk. The company now legally known as "THAT COMPANY WHOSE NAME USED TO CONTAIN HTML SCRIPT TAGS LTD" was set up by a British software engineer, who says he did it purely because he thought it would be "a fun playful name" for his consulting business. He now says he didn't realise that Companies House was actually vulnerable to the extremely simple technique he used, known as "cross-site scripting", which allows an attacker to run code from one website on another.
The dark art of playing world-class Scrabble. When the top players gathered in Torquay, England, last year for the World Scrabble Tournament (this year's contest should have been this week, but has been cancelled thanks to you-know-what), it was to use 'words' like these in their games: dzo, ch, foyned, ghi... Yep, that's right; a whole lot of words that, let's be frank about this, are not words. That's why my spell-checker underlines them in red. The top players, you see, don't win tournaments by being cleverer than the rest of us. They do it by memorizing a long list of non-words so they can avoid the problems ordinary players encounter.
Computer Scientists Achieve 'Crown Jewel' of Cryptography. In 2018, Aayush Jain, a graduate student at the University of California, Los Angeles, traveled to Japan to give a talk about a powerful cryptographic tool he and his colleagues were developing. As he detailed the team's approach to indistinguishability obfuscation (iO for short), one audience member raised his hand in bewilderment. "But I thought iO doesn't exist?" he said. At the time, such skepticism was widespread. Indistinguishability obfuscation, if it could be built, would be able to hide not just collections of data but the inner workings of a computer program itself, creating a sort of cryptographic master tool from which nearly every other cryptographic protocol could be built. It is "one cryptographic primitive to rule them all," said Boaz Barak of Harvard University. But to many computer scientists, this very power made iO seem too good to be true.
This Ferrari got bricked because someone tried to upgrade it underground, where there's no cell reception. Dude comes straight from the dealership for a car-seat installation, but halfway through the car disables itself (I'm guessing some anti-tamper safeguard). Hilariously, the boys at Ferrari can't remotely fix it because there's no reception undergound.
The Bizarre History of St. Matthew, America's Most Remote Island. Hakai Magazine, an online publication started by the Hakai Institute — an ecological observatory based in British Columbia — recently published an enchanting longform essay about Alaska's St. Matthew Island. The island is the single most remote place in Alaska, a 138-square-mile formation of lichen-studded volcanic rocks located about halfway across the Bering Sea between the U.S. and Russia.
This Hacked Coffee Maker Demands Ransom and Demonstrates a Terrifying Implication About the IoT. It's no secret that the Internet of Things is full of insecure gadgets. All you need is one high profile incident to be flooded with terrifying headlines about how everything from robotic vacuum cleaners to smart sex toys can be hacked to spy on you. However, apparently some devices like Smarter's IoT coffee machine can also be reprogrammed to go haywire and demand ransom from unsuspecting users. This week, Martin Hron, a researcher with the security firm Avast, reverse engineered a $250 Smarter coffee maker as part of a thought experiment to potentially uncover an important flaw in the infrastructure of smart devices.
Oxford Museum Removes Controversial Shrunken Heads Display Which 'Reinforced Racist Thinking'. The University of Oxford's Pitt Rivers Museum has removed a collection of shrunken heads on display over concerns that they "reinforced racist and stereotypical thinking." On Monday [9/14/2020], the acclaimed museum shared in a statement that visitors will see a number of "contentious displays" removed from its exhibits when its doors reopen to the public on Sept. 22.
Oxford Museum Permanently Removes Controversial Display of Shrunken Heads. At the height of the British Empire's power in the 19th and 20th centuries, officials employed unethical tactics such as violence and looting to gather millions of artifacts from colonies around the world. Some of these questionably acquired objects ended up in glass display cases at the Pitt Rivers, which houses more than 500,000 items — including some 2,800 human remains — in its collections. One particular group of items has attracted much attention over the years: 12 tsantsa, or shrunken human and animal heads, created by the Shuar and Achuar people of Ecuador and South America and acquired by the museum between 1884 and 1936. Of the seven human heads in its holdings, the Pitt Rivers believes that three are "authentic." The other four are probably forgeries crafted out of bodies stolen from morgues or hospitals, reports David Batty for the Guardian.
What Happens When You Don't Shower For Five Years. [Scroll down] Even though I wasn't spending a lot of money on soap and shampoo, I did think about the net amount of time that went into using them. Behavioral economists and productivity experts will sometimes quantify the additive effects of small things to help people break habits. For example, If you smoke a pack a day in New York, you spend almost $5,000 a year. Over the next 20 years, quitting could save $174,547.63. If you stopped getting so much Starbucks, as I understand it, you could have a second home in Bermuda. If you spent 30 minutes per day showering and applying products, over the course of a long life — 100 years, for ease of math — you would spend 18,250 hours washing. At that rate, not showering frees up about three years of your life.
The Editor says...
Those 18,250 hours of washing are not wasted. Those hours do not need to be freed up. That's time well spent.
Young people don't trust anyone who uses this punctuation mark. Periods may be coming to a full stop. While older texters may consider the period an innocent symbol that a sentence has ended, digital natives consider it a triggering form of aggression. The punctuation problem ignited over social media recently, with Gen Z and millennials agreeing that ending a sentence with a period is overly hostile and, worse yet, extremely uncool. "Only old people or troubled souls put periods at the end of every sentence," wrote digital culture journalist Victoria Turk in her book on digital etiquette, "Kill Reply All." The younger generations consider the act of sending a text a sufficient signifier of a complete thought, Turk wrote, making periods feel unnecessary and overly final.
Mystery radio signal from space that's on 157-day cycle just woke up right on schedule. A mysterious radio signal beamed to Earth from a distant galaxy has been detected again by astronomers. The so-called Fast Radio Burst repeats every 157 days with the power of millions of suns and its latest barrage arrived right on time last week. Known as FRB 121102, scientists hope that studying the strange blinkering signal could unlock the secret to what FRBs are and where they come from. Fast Radio Bursts are intense pulses of radio waves that last no longer than the blink of an eye and come from far beyond our Milky Way galaxy.
Dutch Hackers Found a Simple Way to Mess With Traffic Lights. By reverse engineering apps intended for cyclists, security researchers found they could cause delays in at least 10 cities from anywhere in the world.
UK and German Researchers Create Aluminum-ceramic Material That Can't Be Cut. A team of engineers from the U.K. and Germany says a newly developed material could be a breakthrough for a wide range of industries requiring safety or protective equipment. Proteus — named for the shape-shifting aquatic deity of Greek mythology — is the first manufactured material that cannot be cut, researchers from Durham University and the Fraunhofer Institute write in the journal Scientific Reports. The lightweight substance consists of ceramic spheres surrounded by a cellular aluminum structure, which combine to render cutting tools — including angle grinders, drills, and high-pressure water jets — ineffective. Although video footage released by the team shows a blade narrowly penetrating the material, researchers say the ceramic components resist it indefinitely, gradually wear down the edge, and fill in the material as its particles fragment.
Virginia, Utah residents report receiving unsolicited packets of seeds in the mail reportedly from China. Virginia residents have been advised not to plant any unsolicited seeds they may have received in the mail, the state's Department of Agriculture and Consumer Services (VADACS) has advised. Residents reported to the VDACS that they received packets of seeds in the mail with writing on the outside that appears to be Chinese. The seeds have yet to be identified, but officials speculate that the seeds may be of an invasive plant species and are advising residents not to use them. "Taking steps to prevent their introduction is the most effective method of reducing both the risk of invasive species infestations and the cost to control and mitigate those infestations," VDACS officials said in a release.
Pentagon Consultant Briefed Senators on Discovery of 'Off-World Vehicles Not Made on This Earth'. Eric W. Davis, an astrophysicist who worked as a subcontractor and then a consultant for the Pentagon U.F.O. program since 2007 told the New York Times he gave a classified briefing to a Defense Department agency as recently as March about the alleged "off-world" vehicles. He also gave classified briefings on retrievals of unexplained objects to staff members of the Senate Armed Services Committee and the Senate Intelligence Committee last October.
A Most Personal Threat: Implantable Devices in Secure Spaces. Do implantable medical devices pose a threat to secure communication facilities? A Virginia Tech researcher says they do, and the problem is growing.
Are We Entering The "UFO Summer Of Disclosure 2020" Now? For all of you UFO fans out there, something interesting popped up at Medium over the weekend from Bryce Zabel. He's been reading the various tea leaves in the news recently, both mainstream and among the ufology subculture, and finding that there is once again a growing air of excitement over the possibility that some serious "big D" Disclosure on the subject of government secrecy regarding unidentified aerial phenomenon may be on the horizon as we sweat out the sweltering summer heat in the midst of a pandemic and civil unrest. Of course, as Bryce notes, this "moment" has come many, many times before, and it's never panned out. Could this time be different?
Cambodia craftsman builds impressive underground tunnel house. This Cambodian craftsman managed to build an impressive underground tunnel house with a pool from scratch. [Video clip]
Uncovered: 1,000 phrases that incorrectly trigger Alexa, Siri, and Google Assistant. As Alexa, Google Home, Siri, and other voice assistants have become fixtures in millions of homes, privacy advocates have grown concerned that their near-constant listening to nearby conversations could pose more risk than benefit to users. New research suggests the privacy threat may be greater than previously thought.
Weird: Out of Nowhere, Something Just Rocked Earth's Magnetic Field. On June 23rd, Earth's quiet magnetic field was unexpectedly disturbed by a wave of magnetism that rippled around much of the globe. There was no solar storm or geomagnetic storm to cause the disturbance. So what was it?
Plane landed perfectly in dense Jungle. Somewhere in South America. [Good luck getting the airplane out of there. [Video clip]
New Pandemic-Related Disorder: 'Zoom Fatigue'. Looks like working from home turns out to be not so 'perfect' after all.
Why Does Zoom Exhaust You? Tammy Sun, the quintessential Silicon Valley tech entrepreneur, fired off an uncharacteristically low-tech Tweet recently. "Zoom fatigue has me wanting a landline and a rotary phone," wrote the founder and CEO of Carrot, a startup that provides fertility benefit plans for companies. Ms. Sun likes Zoom a lot. In fact, she says she's a "power user," spending nine out of 10 conversations on it, six days a week. The hours aren't the problem, she says, it's the real-time image of herself on the Zoom grid, [...] [Paywall]
The 50 Fastest Speeding Tickets in Texas in 2018. Credit where credit is due: this list of the 50 fastest speeding tickets in Texas in 2018 was inspired by the work of the Houston Chronicle, which usually publishes one in January looking back at the preceding 365 days. But the paper opted not to do one this year, for whatever reason, leaving The Drive to carry on the mission. Scrounging up the raw data involved filing a public information request with the Texas Department of Public Safety for every single speeding ticket issued by Texas Highway Patrol troopers in excess of 120 mph from January 1 to December 31 last year. We fully expected to never hear back. A couple weeks later, a lawyer for the department responded with a huge spreadsheet showing the date, location, vehicle, and speed for all 228 tickets fitting that description — plus extras like officer notes and the stop's exact GPS coordinates when available.
Western Digital admits 2TB-6TB WD Red NAS drives use shingled magnetic recording. Some users are experiencing problems adding the latest WD Red NAS drives to RAID arrays and suspect it is because they are actually shingled magnetic recording drives submarined into the channel.
The Editor says...
Just as I suspected!
Gerbils Museum Opening. Somebody went to a lot of trouble.
Siri and Alexa Fails: Frustrations With Voice Search. Voice search capabilities change the way people can look for things online, but this technology is far from perfect. Most people experience frustrations when conducting search by voice and have accidentally summoned their voice assistants, known as "false positives," resulting in funny, embarrassing, and awkward situations. Experts, however, are hopeful voice search technology will improve in 2020, especially as technology gets better at understanding search queries. [...] 64% of voice search users have accidentally accessed a voice assistant in the last month. Nearly half of people who accessed a voice assistant accidentally (49%) did so by pressing the wrong button.
Venezuelan navy launches attack on tourist cruise ship, cruise ship wins. Late stage socialism has some pretty clownishly weird stuff on offer but can't say I've ever seen anything like this: According to the BBC: ["]A Venezuelan navy coastal patrol boat sank in the Caribbean after allegedly ramming a cruise ship that it had ordered to change direction. The owners of the Portuguese-flagged RCGS Resolute said the naval vessel Naiguata also fired shots in an 'act of aggression in international waters'. The collision left the cruise ship, which has a reinforced hull for sailing in icy waters, with only minor damage.["]
Farmers dump 40 containers of milk after COVID-19 lockdown restricts sales. Dairy farmers dumped a huge quantity of milk after failing to sell their produce due to the lockdown triggered by coronavirus. [...] As India observes a 21-day lockdown many farmers are opting to destroy their produce unable to move them to markets. Many fear that the lockdown, which has disrupted supply chains and shut down businesses, may create severe economic distress. [Video clip]
14,000 Rare Alligators Dumped Back Into National Park. This footage shows a lorry dumping some of 14,000 critically endangered alligators back into a national park in China as they end four months of hibernation indoors. [Video clip]
Hundreds of starving wild monkeys fight over a single piece of food in Thailand. This is the astonishing moment hundreds of starving wild monkeys scramble for a single piece of food because of the coronavirus outbreak. The primates are normally well fed by tourists in the city of Lopburi, central Thailand, but visitors have plummeted because of the virus sweeping the world. So when one of the primates had a juicy banana, the entire pack roaming around the streets surrounded the creature this morning (March 11) and tried to grab it.
Researchers build a working dictionary of 1,500 dance moves that bees use to communicate. A team of scientists from the University of Minnesota have created a working dictionary of more than 1,500 unique dance moves used by bees to communicate with each other. The list was compiled as part of a larger study into how land managers might prepare natural habitats to be more accommodating to bees, whose populations have been in rapid decline in recent years.
You Should Know About This Chernobyl Fungus That Eats Radiation. Scientists have discovered that a longtime fungal resident of the Chernobyl complex could actually "eat" radiation. In an upcoming paper, scientists will share the results of growing the fungus on the International Space Station. Scientists have known about this fungus, and similar extremophile organisms that can thrive on radiation, since at least 2007.
Ohio dad got 55,000 identical letters about his daughter's student loan. An Ohio dad didn't need more than one reminder about his daughter's student loans — but he got about 55,000. Dan Cain, of Twinsburg, recently received a delivery of 79 plastic bins of mail — each packed with about 700 identical statements from the College Avenue Student Loan Company for the loan he and his wife, Dee, had taken out for their daughter's college tuition, WOIO reported. He told the outlet he knew something was wrong when the clerk at the local post office told him his mail wouldn't fit through their front door. So he made two trips in his truck to pick up the pounds of letters that he's now keeping in his garage — for lack of other options.
The punishing signal Mumbai Police' new rule to stop honking. [Drivers in India apparently honk their horns at red lights, in protest (?), but now the police have initiated countermeasures.] [Video clip]
Scientists bewildered after monster galaxy 'dies' without warning. Scientists are left scratching their heads after a hugely productive galaxy went dark without warning, according to a new study. The monstrous star system, known as XMM-2599, reportedly existed 12 billion years ago when the universe was a ripe young 1.8 billion years old, reports SciTech Daily. But researchers at the University Of California in Riverside are bewildered over how the "ultramassive galaxy" could suddenly die. The study was published in the Astrophysical Journal Letters. Despite its comparatively short life span, the star system was immensely productive and churned out "a mass of more than 300 billion suns" before it was 2 billion years old, according to the study's lead author, Ben Forrest. To put it in perspective, our own Milky Way produces about one star a year.
Rooster kills man on way to cockfight. An Indian man has died after his cockfighting rooster slashed his throat with a blade tied to its claw. Saripalli Chanavenkateshwaram Rao, 50, was traveling to a cockfight with his rooster in tow when the animal attacked him, according to CNN. After the rooster sliced Rao's throat, he was transported to a hospital where he died of a stroke.
Electricity Mysteriously Surged Through Norway's Soil On Monday. About 15 minutes before the disturbance in Norway, the interplanetary magnetic field (IMF) near Earth abruptly swung around 180 degrees, and the solar wind density jumped more than 5-fold. Earth may have crossed through a fold in the heliospheric current sheet — a giant, wavy membrane of electrical current rippling through the solar system. Such crossings can cause these kind of effects. While currents flowed through the ground, auroras filled the sky.
Dentist The Menace. [A blog] primarily focused [on] informing dental professionals, consumers, lawmakers, investigators, and news media about the vast amount and various types of illegal business practices, waste, fraud and patient abuse taking place in the dental healthcare industry.
A band of mercenaries!
Ex-Nissan honcho Carlos Ghosn fled Japan by hiding in musical instrument case. Millionaire fugitive Carlos Ghosn escaped from house arrest in Japan this week with the help of a paramilitary group from Lebanon posing as a Gregorian orchestra, it emerged on Tuesday [12/31/2019]. While awaiting trial for financial crimes in Japan, the 65-year-old former Nissan CEO was loaded into an empty musical instrument case after receiving a visit at his home in Tokyo from a musical band whose members turned out to be mercenaries, Lebanese TV news channel MTV said Tuesday.
Scientists find a place on Earth where there is no life. Living beings, especially microorganisms, have a surprising ability to adapt to the most extreme environments on our planet, but there are still places where they cannot live. European researchers have confirmed the absence of microbial life in hot, saline, hyperacid ponds in the Dallol geothermal field in Ethiopia.
New Type Of GPS Spoofing Attack In China Creates "Crop Circles" Of False Location Data. A new type of GPS spoofing technology, which may belong to the Chinese government, appears to have been impacting shipping in and around China's Port of Shanghai for more than a year. Unlike previous examples of spoofing attacks, which have typically caused GPS receivers in a certain area to show their locations as being at a limited number of fixed false positions, the incidents in Shanghai caused the transponders on multiple ships at once to show various erroneous positions that forms odd ring-like patterns that some experts have dubbed "crop circles."
'Cool Hand Luke' Eating Challenge Kills Man After 42nd Egg. Gulf News reports that Subhash Yadav, 42, died after attempting to eat 50 eggs in the Jaunpur district of Uttar Pradesh, India on Monday [11/4/2019]. According to police, Yadav and a friend were at the Bibiganj market getting a bite to eat when the two began to argue. The subject of their conflict is unknown, but it somehow escalated into Yadav betting his companion 2,000 rupees (a little over $28) that he could down 50 eggs there and then. The duo purchased 50 hard-boiled eggs from a vendor and Yadav set to it. He was making good time up until his 41st egg.
My Dog Found Where I Worked in 1972. I have been writing about Hunter, the Border Collie I got six weeks ago from Border Collies in Need. Hunter finds things, according to me, telepathically. He has never even been to Malibu let alone to any of the following locations: My House the night I brought him home and parked 3 houses away (September 14). My cousin's house on September 27: I took him to hidden hills where my cousin lives and parked over a mile away from the house. Note that I have never walked to my cousins house.
Painting cows with zebra stripes could save the cattle industry millions, study says. No, scientists are not unveiling a new cow-zebra crossbreed, but they are painting cattle with stripes. According to a new study published in peer-review journal PLOS ONE, painting cows with zebra-like stripes drastically reduces the number of biting flies unleashing their fury on livestock.
In 1981, Apple's Steve Jobs said computers would free us from drudgery. Big Tech is under relentless assault from federal regulators, privacy advocates, its own employees and other critics over a host of issues related to privacy and content. But back in 1981, when Apple was just a few years old, a bearded 26-year-old Steve Jobs extolled the virtues of the computer and brushed aside concerns about privacy during an interview with Ted Koppel on ABC News' "Nightline."
This Woman Found a Rare $250,000 Rolex Beneath the Cushions of Her Couch. As a watch collector, and the founder and CEO of Bob's Watches, I often get inquiries from people stumbling upon timepieces that once belonged to a family member. A few months back, I received a call from a woman in Canada about a watch she wanted to sell. As she tells it, she was sitting on the couch one day when she dropped her phone. She stuck her hands in between the cushions to retrieve it, but instead of her phone, she pulled out a watch.
Basketball Player Uses Girlfriend's Urine to Fake Drug Test, Finds Out He's Pregnant. Well, this is both awkward and a solid entry for a Darwin Award. A basketball player attempting to return to the game after a hiatus found a way to spectacularly fail his drug test and get some family news at the same time.
Apple spent $10,000 repairing his MacBook Pro. There was nothing wrong with it. [Scroll down] He went to yet another Apple Genius and this one proved to be true to his moniker. Or, perhaps, he just stopped and thought a little longer than his fellow experts. You see, he diagnosed there was nothing wrong with Benz's MacBook Pro. The issue, if you want to call it that, was that the screen brightness was turned all the way off.
How to: Reset C by GE Light Bulbs. Your bulbs are running on firmware version 2.8 or later (you can find your bulb firmware version by tapping on the device in your C by GE app).
UK man hears Alexa address him with curse word after he cancels Amazon Prime. Amazon disclaims all knowledge but one has to suspect an employee processing the cancellation of causing Alexa to do this. It would in any case be a bit unnerving. Apparently he had no playlists set up either, and it was a surprise to hear Alexa reference one.
Genius Claims Google Stole Lyrics Embedded With Secret Morse Code. Lyrics website Genius has accused Google of stealing lyrics from its site and reposting them in search results without permission, with Genius claiming they caught the search engine "red handed" thanks to Morse code embedded in their lyrics. [...] Starting in 2016, Genius positioned both "straight" and "curly" apostrophes in their lyrics which, when converted into dots and dashes like Morse code, spelled out the words "Red Handed." Genius added that, using these apostrophes, they found over 100 instances of Google using Genius' own lyrics in the Google search results.
Engineering the world's largest digital camera. The 3.2-billion-pixel LSST camera will be the largest digital camera ever constructed.
Study finds men are cooler, women hotter at work. Another front is opening these days in the eternal battle of the sexes. Only this one in the workplace is not about equal pay or equal job opportunities. It's about the thermostat.
Scientists Are Mapping the Industrial Hums That Travel Through the Earth. Across the U.S., industrial machinery creates a constant underground hum that sends vibrations through the surface of the Earth. Scientists are now mapping that subterranean humming. [...] The industrial "hum" is much like a hum you hear when you walk into a room where a fan is running — a persistent signal, but much lower in frequency. Wind turbines and turbines in hydroelectric systems can produce these hums, which can get in the way when you're trying to study earthquakes, scientist Omar Marcillo from Los Alamos National Laboratory said in a press statement. Indeed, the researchers first noticed the hum when it showed up in data about ocean storms.
Oregon Man Called Police About A Burglar. Armed Officers Found A Rogue Roomba. [Scroll down] "The man had just gone for a walk with his nephew's dog and when he came back, he could see shadows moving back and forth under the bathroom door," [Sgt. Danny] DiPietro says. Resources were immediately deployed: three seasoned deputies — one with at least 20 years on the force — a detective who happened to be in the area, and two canine officers from Beaverton Police Department, about 7 miles outside Portland. They surrounded the Cedar Hills house, then made their way inside, guns unholstered.
Mathematicians Just Discovered an 'Astonishing' New Way to Multiply Large Numbers. According to the researchers, multiplying two numbers together with a billion digits each by the process of long multiplication would take a computer months to calculate. Using the Schönhage-Strassen algorithm, it would take under 30 seconds, and with their new theoretical proof, it would be even quicker — theoretically — and may even represent the fastest multiplication algorithm that's mathematically possible. "In this sense, our work is expected to be the end of the road for this problem, although we don't know yet how to prove this rigorously," [David] Harvey says.
Japan's Famous Aquarium Toilet. If you love exotic fish and don't mind hundreds of them eyeballing you while you answer nature's call, you'll probably love using this unique aquarium toilet in Akashi, Japan.
Suspected rhino poacher trampled by elephant, eaten by lions, South Africa park officials say. A suspected rhino poacher was trampled to death by an elephant, and then his body was ravaged by lions, according to officials with South African National Parks. The incident occurred Tuesday [4/2/2019] at Kruger National Park and the remains of the man were recovered two days later, park officials said.
A $450 Million Da Vinci Painting Vanishes Into Thin Air. Back in November 2017, "Salvator Mundi," a painting of Jesus that was controversially attributed to Leonardo da Vinci, was driving the art world crazy. Aside from its sky high price of $450 million and its sale to a bidder that many thought represented Saudi Arabia's Crown Prince Mohammed bin Salman, the painting's authenticity was also called into question. Which is why when the Louvre Abu Dhabi cancelled a planned showing of the work this week, it caught the eye of art world yet again. Not only that, but the museum's culture department has deflected questions about the work and other museum workers have said that they "do not know where the painting is," according to Inquisitr.
A Leonardo Made a $450 Million Splash. Now There's No Sign of It. The Louvre Abu Dhabi might seem to have all you could ask for in a world-class museum. Its acclaimed design shades its galleries under a vast dome that appears to hover over the waters of the Persian Gulf. Inside are works by Rembrandt and Vermeer, Monet and van Gogh, Mondrian and Basquiat. Yet the work that the Louvre Abu Dhabi once promised would anchor its collection is conspicuously absent: "Salvator Mundi," a painting of Jesus Christ attributed to Leonardo da Vinci. Few works have evoked as much intrigue, either in the world of art or among the courts of Persian Gulf royals. First, its authenticity as the product of Leonardo's own hand was the subject of intense debate. Then, in November 2017, it became the most expensive work ever sold at auction, fetching $450.3 million from an anonymous bidder who turned out to be a close ally and possible stand-in for the ruler of Saudi Arabia, Crown Prince Mohammed bin Salman.
'Cow toilets' in the Netherlands. Teaching cows to use the toilet is not the easiest task, but a Dutch inventor is banking on a new bovine urinal to help cut emissions that cause environmental damage. Tests have started on a farm in the Netherlands on the device which collects some of the 15 to 20 litres of urine that the average cow produces a day. That produces huge amounts of ammonia in a country like the Netherlands, which is the world's second-biggest agricultural exporter after the United States.
Airport valet caught speeding at 145 mph. An airport valet has lost the license his job depends on after being caught driving more than double the speed limit on a road near Heathrow Airport. At least he was in his own car.
Scientologists consider Tom Cruise to be a 'deity'. Tom Cruise and his daughter Isabella Cruise continue to move up in Scientology, both taking more powerful positions in the secretive church — where the lower ranks are apparently ordered to see the actor's movies multiple times. Cruise is said to be "considered a deity within Scientology." Former church member Leah Remini has said, "He is second to David Miscavige — the savior of the free world." Cruise was seen March 9 at the front of a celebration of the holiest day of the Scientology calendar — L. Ron Hubbard's March 13 birthday — at the church's spiritual mecca in Clearwater, Fla., according to journalist Tony Ortega's blog the Underground Bunker.
Noise-weary New York ponders a gentler, European-style siren. If two New York City lawmakers get their way, the long, droning siren from police cars, fire trucks and ambulances that has been part of the city's soundtrack for generations — WAAAAAhhhhhhh — would be replaced by a high-low wail similar to what's heard on the streets of London and Paris — WEE-oww-WEE-oww-WEE-oww. Their reasons for the switch: The European-style siren is less shrill and annoying and contributes less to noise pollution. "I've been hearing from constituents complaining that the current sirens in New York are a high-pitched, continuous noise — a nuisance," says Helen Rosenthal, an Upper West Side Democrat and one of the sponsors of the proposal.
Jamaican man sent to prison for trying to scam former CIA boss: report. A Jamaican man was sent to federal prison last week for a botched attempt to scam a 94-year-old who — unbeknownst to him — was a former FBI chief and CIA boss under the Carter and Reagan administration. Keniel Thomas, 29, was convicted last year of trying to scam, and later, extort William Webster and his wife Lynda.
Florida woman bitten by stray kitten billed by hospital for $48G: 'My funeral would have been cheaper'. A wildlife biologist in Florida was slammed with a nearly $50,000 medical bill after she was bitten by a stray kitten. Jeannette Parker, 44, told Kaiser Health News (KHN) she noticed an emaciated black kitten on a road just outside Florida's Everglades National Park in September. Feeling sorry for the sickly-looking feline, Parker offered it some tuna she had in her car. But the kitten didn't take kindly to Parker, literally biting the hand that fed it.
Note to phone scammers: Don't call the former head of the FBI. Phone scammers have had a lot of success cheating Americans out of billions of dollars, and they might have even more luck this year, with experts estimating at least half of all cellphone calls in 2019 will be from scammers. Senior citizens have been especially vulnerable, but in the case of William Webster and Lynda Webster, the scammer couldn't have picked a worse target. In 2014, William got a call from a man who told him he'd won a grand prize, but he'd have to pay a tax up front to claim the money. Lynda also took a call from the scammer that got very heated: When she said she was onto him, he came back with threats, saying he knew where she lived and could set the house "ablaze" and kill her.
Crypto CEO dies holding the only passwords that can unlock millions in customer coins. Digital-asset exchange Quadriga CX has a $200 million problem with no obvious solution — just the latest cautionary tale in the unregulated world of cryptocurrencies. The online startup can't retrieve about C$190 million ($145 million) in Bitcoin, Litecoin, Ether and other digital tokens held for its customers, according to court documents filed Jan. 31 in Halifax, Nova Scotia. Nor can Vancouver-based Quadriga CX pay the C$70 million in cash they're owed. Access to Quadriga CX's digital "wallets" — an application that stores the keys to send and receive cryptocurrencies — appears to have been lost with the passing of Quadriga CX Chief Executive Officer Gerald Cotten, who died Dec. 9 in India from complications of Crohn's disease. He was 30.
HP's ink DRM instructs your printer to ignore the ink in your cartridge when you cancel your subscription. Inkjet printer manufacturers continue to pioneer imaginative ways to create real-world, desktop dystopias that make Black Mirror look optimistic by comparison: one such nightmare is HP's "subscription" printers where a small amount of money buys you ink cartridges that continuously communicate with HP's servers to validate that you're still paying for your subscription, and if you cancel, the ink stops working. [...] HP has been running the service since at least 2016; you choose a plan that puts a cap on the number of pages you can print in a month. You pay for that many pages no matter how many you print — and if you run out of available pages, your printer refuses to print anymore, even if you have plenty of ink to print with.
An Elon Musk-backed AI firm is keeping a text generating tool under wraps amid fears it's too dangerous. AI research nonprofit OpenAI has created a system that can generate fake text from a single line — and it's not open-sourcing the code for fear of misuse. OpenAI was cofounded by tech mogul Elon Musk, and its sponsors include Silicon Valley heavy-hitters such as Peter Thiel and Amazon Web Services. Last year it gained the praise of Bill Gates after it built a team of five neural networks capable of beating human players in the computer game "Dota 2."
Police: Stolen rare coins ended up in change machines. Authorities say a Florida man stole collectible coins worth tens of thousands of dollars, then ran them through grocery store change machines that returned just a fraction of their value.
Chinese student uses handwriting robot to complete homework faster. A Chinese student sparked debate earlier this week after her mother discovered the teenage girl bought a robot and trained it to imitate her handwriting so she can finish her homework. The teen spent 800 yuan, about $120, on the robot that mimicked her handwriting, Qianjiang Evening News reported. She then used the robot to copy Chinese phrases dozens of times for an assignment that required students to repeatedly write Chinese characters to help them learn how to read and write. She finished her Chinese writing assignment in two days. Her mother, sensing something was off, discovered the robot in her daughter's room and reportedly smashed the machine.
Police: Stolen rare coins ended up in change machines. Authorities say a Florida man stole collectible coins worth tens of thousands of dollars, then ran them through grocery store change machines that returned just a fraction of their value.
Chinese student uses handwriting robot to complete homework faster. A Chinese student sparked debate earlier this week after her mother discovered the teenage girl bought a robot and trained it to imitate her handwriting so she can finish her homework. The teen spent 800 yuan, about $120, on the robot that mimicked her handwriting, Qianjiang Evening News reported. She then used the robot to copy Chinese phrases dozens of times for an assignment that required students to repeatedly write Chinese characters to help them learn how to read and write. She finished her Chinese writing assignment in two days. Her mother, sensing something was off, discovered the robot in her daughter's room and reportedly smashed the machine.
Earth's Magnetic North Pole keeps moving about and it could be a problem. Earth's North Magnetic Pole has been drifting so fast in the last few decades that scientists say past estimates are no longer accurate enough for precise navigation. On Monday [2/4/2019], they released an update of where magnetic north really is, nearly a year ahead of schedule. The North Magnetic Pole is wandering about 34 miles a year. It crossed the international dateline in 2017 and is leaving the Canadian Arctic on its way to Siberia.
A practical application of the classic word 'antidisestablishmentarianism'. When we were teenagers, a smart childhood friend taught me how to spell antidisestablishmentarianism. I did not understand at the time what this word meant, other than it was just anti-something, and that generally worked for a teenager. Fast-forward to 2010, when Geoffrey P. Hunt wrote a learned article explaining this confusing word: "Obama's Antidisestablishmentarianism and the Tea Partiers." It seems establishmentarianism comprised those supporting the old Anglican Church, and disestablishmentarianism was those against the old Anglican Church. By extension, the antidisestablishmentarians were those against those who were against the church. This sounds like our current political system in this country; everyone has to be against someone else or something else, without always clearly defining what he is for.
Perfect for the hypochondriac on your gift list. Not so great if you value your privacy.
Toilet seat sensor tracks blood pressure, stroke volume, blood oxygenation. Newly published data from a team of Rochester, New York researchers give credence to a cardiovascular health monitoring system built into a home toilet seat. Examined over an eight-week period, the system demonstrated clinical grade accuracy for measurements of blood pressure, stroke volume and blood oxygenation when compared with their respective gold standards.
They thought they were buying a family dog. Turns out they were leasing it. Maria Rodriguez never owned the puppy she thought she purchased from the pet store. She leased it, like an appliance from a Rent-A-Center. Yes, she took home the fuzzy black poodle her daughter picked out at Puppies Tampa. She got the food bowls, the leash. The toys, the treats. But the purebred dog came at a premium cost. One, she said, a pet store employee assured her could be managed through a finance plan for which Rodriguez would certainly be approved. Rodriguez signed the paperwork on an iPad screen. She doesn't remember anyone using the word "lease."
Why Are Hershey's Kisses Suddenly Missing Their Tips? Bad kisses sound like a problem you haven't dealt with since your teenage years, but they're a serious concern right now for bakers who are accusing candy maker Hershey of selling its signature chocolate Kisses with broken off tips. The issue apparently initially came to light thanks to members of the Facebook group The Wedding Cookie Table Community.
Frustrated commuter dances outside his car in Baltimore traffic. One commuter decided to turn his frustrating commute into a dance party in North Baltimore. Erin Konheim Mandras posted the dancing driver on her Facebook page Tuesday morning [12/18/2018] saying, "I couldn't make this up if I tried." She says construction on Falls Road caused the backup.
Parrot uses owner's Amazon Alexa to order shopping, play music. A parrot has fallen in love with his owner's Amazon Alexa[,] but keeps using it to order shopping. So far Rocco the African Grey, from Didcot, Oxfordshire, U.K., has demanded treats such as strawberries, watermelon, raisins, broccoli and ice cream.
The Trouble With Tuna: 'A Lot of Millennials Don't Even Own Can Openers'. The big three tuna companies together still command 80% of sales, but the overall industry has shrunk significantly. Per capita consumption of canned tuna has dropped 42% in the three decades through 2016, according to the latest data available from the U.S. Department of Agriculture. And the downturn has continued, with sales of the fish slumping 4% by volume from 2013 to October 2018, data from market-research firm IRI show. In a country focused on convenience, canned tuna isn't cutting it with consumers. Many can't be bothered to open and drain the cans, or fetch utensils and dishes to eat the tuna.
Be Warned: Customer Service Agents Can See What You're Typing in Real Time. Next time you're chatting with a customer service agent online, be warned that the person on the other side of your conversation might see what you're typing in real time. A reader sent us the following transcript from a conversation he had with a mattress company after the agent responded to a message he hadn't sent yet.
This New Atomic Clock Is So Precise Our Ability to Measure Gravity Constrains Its Accuracy. "The level of clock performance being reported is such that we don't actually know how to account for it well enough to support the level of performance the clock achieves," Andrew Ludlow, a physicist at NIST and the project lead on the organization's new atomic clock, told me on the phone. "Right now the state of the art techniques aren't quite good enough so we're limited by how well we understand gravity on different parts of the Earth." Before diving into the nitty gritty of what Ludlow and his colleagues at NIST have accomplished, however, it will help to have some background on the nature of time and atomic clocks.
Fake fingerprints can imitate real ones in biometric systems (The Guardian). Researchers have used a neural network to generate artificial fingerprints that work as a "master key" for biometric identification systems and prove fake fingerprints can be created. According to a paper presented at a security conference in Los Angeles, the artificially generated fingerprints, dubbed "DeepMasterPrints" by the researchers from New York University, were able to imitate more than one in five fingerprints in a biometric system that should only have an error rate of one in a thousand.
A Long Wait to Vote? Odds Are, You Were in the A-to-M Line. In the U.S., surnames are not evenly distributed, and in most places, it's not even close. Nationally, the last names of 64% of registered voters begin with letters in the first half of the alphabet, according to a Journal analysis of voting data from L2, a nonpartisan voter file vendor. That trend is echoed in nearly every county in the country, and in some cases, it's even more extreme. In Louisiana's Avoyelles Parish, 74% of registered voters have names that begin with letters A to M. In Rolette, N.D., 73% do. And in Robeson County, N.C., it's 70%. The disparities mean it's more likely that voters in the N-to-Z line will breeze through, while those in the A-to-M line get stuck.
Thousands still watch TV in black and white. More than 7,000 people [in England] still watch TV in black and white more than half a century after colour broadcasts began. London has the most TV licences for black and white sets at 1,768, followed by 431 in the West Midlands and 390 in Greater Manchester. [...] The figures were released by TV Licensing in what appears to be a reminder that anyone watching television must by law have a TV licence.
Drunk baggage handler falls asleep in cargo hold, flies to Chicago. Police say a baggage handler told them he was drunk when he fell asleep in a cargo hold and flew from Kansas City to Chicago. American Airlines says the Piedmont Airlines employee was working American Flight 363 on Saturday [10/27/2018] when the Boeing 737 left Kansas City International Airport with the handler in a heated and pressurized cargo hold.
What is it with Windows updates? The story, Microsoft now admits, is that the 1809 release erases, for some people, all files in the \Documents, \Pictures, \Music, and \Videos folders. The folders are still there, but nothing's left in them. It's sort of the neutron bomb of Windows updates. How could this happen? Seriously, how can you have a release that does this to users? Where was the quality assurance team? Where were all those Windows 10 Insider Preview users? Oh, wait. The brave beta users had seen this problem! ZDNet's Ed Bott reported last week that he'd found a report from three months ago from a tester who said that "my Documents folder had been overwritten with a new Documents folder, complete with custom icon. All contents were gone."
Don't microwave urine samples, Florida convenience store owner warns customers. A Florida gas station owner has placed a sign in her store, asking customers not to warm their urine samples in the microwave — specifying that the oven is only for warming food. Owner Parul Patel said she's become "sick and tired" of people walking into her BP gas station and On the Fly convenience store in Jacksonville to warm their containers of urine. [...] Warming urine from someone who hasn't taken drugs is seen by some as a way to help pass a drug test.
Connecticut woman seriously injured after she lit dynamite she thought was a candle. A Bridgeport, Connecticut woman was seriously hurt after lighting a stick of dynamite she thought was a candle, police said. According to Fox 61 in Connecticut, the family planned to visit Home Depot to buy emergency lighting after a thunderstorm knocked out power in their home, police said. The family later recalled when they purchased their house two years ago, the previous owners left what they thought were candles in the basement.
World's Top Empathy Researcher Accused of Widespread Abuse. Tania Singer is internationally renowned for her research into human empathy, but her colleagues say her actions speak louder than words. The preeminent voice in empathy research is Max Planck Institute for Human Cognitive and Brain Sciences Director and neuroscientist Tania Singer. Foremost among her research is a project which seeks to prove that meditation can produce kinder, more caring human beings. Unfortunately, it allegedly does not seem to have done very much for Singer herself.
Want to See Karl Marx's Grave? It'll Cost You Six Bucks. If you're an avowed communist, or leftist, or Democrat (but I repeat myself), and you're making a trip across the pond to England, you might want to pay a tribute to your ideological hero: Karl Marx. [...] The only problem is that if you want to pay a tribute to the man who ultimately believed in altruistic collectivism — the communal ownership of all property, you're going to have to pay.
Boston woman temporarily becomes a millionaire after an account mix-up. Ellen Fleming says she received a voicemail from a TD Ameritrade financial consultant Wednesday afternoon [7/18/2018] that a deposit had been made into her account.
Kids these days have never heard of Lil' Abner.
Mattress retailer hiring intern to sleep at Houston headquarters for $200 per week. Sleeping on the job will bear no repercussions for one mattress retailer's newest recruit: one lucky "snoozetern," who can rest and recharge from bed, part-time, for $200 a week. Applications will close next week for Mattress Firm's inaugural in-house bed testing intern, and the company is eager to find someone over 18 who is ready to professionally "put their rest to the test."
How an Ex-Cop Rigged McDonald's Monopoly Game and Stole Millions. On August 3, 2001, a McDonald's film crew arrived in the bustling beach town of Westerly, Rhode Island. They carried their cameras and a giant cashier's check to a row of townhouses, and knocked on the door of Michael Hoover. The 56-year-old bachelor had called a McDonald's hotline to say he'd won their Monopoly competition. Since 1987, McDonald's customers had feverishly collected Monopoly game pieces attached to drink cups, french fry packets and advertising inserts in magazines. By completing groups of properties like Baltic and Mediterranean Avenues, players won cash or a Sega Game Gear, while "Instant Win" game pieces scored a free Filet-O-Fish or a Jamaican vacation. [...] Just like the Monopoly board game, which was invented as a warning about the destructive nature of greed, players traded game pieces to win, or outbid each other on eBay. Armed robbers even held up restaurants demanding Monopoly tickets.
PayPal Apologizes for Letter Demanding Payment From Woman Who Died of Cancer. Three weeks after a British man told PayPal that his wife had died at 37 and that her credit account should be closed, he opened a letter from the company: Her death, it seemed, was in violation of the company's contract rules. "You are in breach of condition 15.4(c) of your agreement with PayPal Credit as we have received notice that you are deceased," said the July 10 letter to the woman, Lindsay Durdle, who had died of breast cancer on May 31.
Micro SD cards silently switching to read-only when they're "too old". The 64G Patriot micro SD I had been using in my cell phone from mid 2014 just decided to turn itself into a read-only memory card. From what I read, it most likely reached its maximum number of uses, as it happens at least with some Samsung cards too. It would be to protect the card from losing all its data, after its cells were erased "too many times" (limit number depending on the card, and appearing to be in the order of 10-100k). And according to Internet forums, and card reviews on Amazon, it looks like it's getting more and more common! A very bad point is that there were no error messages at all.
Sony Blunders By Uploading Full Movie to YouTube Instead of Trailer (TorrentFreak). Sony Pictures Entertainment's movie 'Khali the Killer' is on release in the United States and, as is customary, a trailer has been uploaded to YouTube. However, on closer inspection, it appears that Sony uploaded the entire movie in error. Oops.
Finders keepers: losers reefers.
Florida fisherman reels in bale of marijuana. A fisherman made a "high" catch while celebrating his birthday on the water off Pompano Beach. Jorge Bustamante said he hooked in a bale of marijuana, Monday morning [7/2/2018]. The fisherman notified the Coast Guard. A crew came to pick up the bale, nicknamed "square grouper" by officials.
The Guy Who Robbed Someone at Gunpoint for a Domain Name Is Getting 20 Years in Jail. On Thursday [6/14/2018], 43 year-old Iowa man Sherman Hopkins Jr. was sentenced to 20 years in prison for attempting to forcibly steal a domain name from another man at gunpoint in 2017. Domain hijacking, when someone illegally gains control of another person's website, is quite common, but this may be the first time someone has attempted to steal a domain name at gunpoint.
Thermostats, Locks and Lights: Digital Tools of Domestic Abuse. The people who called into the help hotlines and domestic violence shelters said they felt as if they were going crazy. One woman had turned on her air-conditioner, but said it then switched off without her touching it. Another said the code numbers of the digital lock at her front door changed every day and she could not figure out why. Still another told an abuse help line that she kept hearing the doorbell ring, but no one was there. Their stories are part of a new pattern of behavior in domestic abuse cases tied to the rise of smart home technology. Internet-connected locks, speakers, thermostats, lights and cameras that have been marketed as the newest conveniences are now also being used as a means for harassment, monitoring, revenge and control.
The NSA Just Released 136 Historical Propaganda Posters. In the 1950s and 1960s, the NSA was very worried about employees spilling secrets. Here's some of the best internal propaganda posters that taught them to keep their mouths shut.
Man serving as pallbearer crushed to death by mother's falling coffin. An Indonesian man died on Friday [6/15/2018] after a coffin carrying the body of his mother fell from a stilt tower and crushed him to death, police said. Samen Kondorura, 40, was killed after the coffin fell off the funeral tower during the service for his mother Berta Kondurara on the island of Sulawesi, The Guardian reported. Kondorura was serving as a pallbearer for his mother's funeral when the other pallbearers carried it up a ladder to place on to a lakkian, "an ornately carved tower where the deceased is placed before elaborate traditional funeral rites."
Here Are The Places Where People Eat Human Flesh. Cannibalism might seem like the stuff of folklore and the primeval days of our ancestors, but in this strange world there are still people who regularly consume human flesh. The practice has faded as more and more of the world has modernized and previously isolated people groups have established contact with surrounding communities, but cannibalism remains a staple among certain groups even in highly populated and trafficked regions.
Land O'Lakes teen recovering after brush with venomous caterpillar. A day of doing volunteer yard work on June 16 turned ugly when Logan Pergola's arm brushed by an oak tree. "It just hurt like a small scratch," Logan told us. "Then all of the sudden, my arm went numb and I felt a burning pain." He looked down and saw a unlikely culprit: a small, furry caterpillar, later identified as a southern flannel moth. It's also commonly called a puss caterpillar. His arm had simply brushed it when the venom went into effect.
23-foot python swallows woman whole in Indonesia. A massive python killed a woman in Indonesia, the second time in just over a year one of the giant constrictors swallowed a human in adjacent provinces in that country. The woman, 54-year-old Wa Tiba, went missing while checking her vegetable garden near her village on Muna island in Southeast Sulawesi province on Thursday evening, said the chief of the village of Persiapan Lawela, Faris, who uses a single name. Wa Tiba was concerned about wild boars getting into her corn, planted about a half-mile from her house. When she hadn't returned by sunrise Friday [6/15/2018], her sister went to look for her.
Severed rattlesnake head bites Texas man, nearly kills him. A Texas man is recovering after he claims the head of a rattlesnake bit him — moments after he had just cut it off. Jennifer Sutcliffe's husband was reportedly bitten by the beheaded snake on May 27 at his home near Lake Corpus Christi. Sutcliffe told KIII-TV the two were doing yard work when she came across the four-foot rattlesnake. She said her husband used a shovel to behead the snake, but when he went to dispose of it, it bit him.
Texas man almost dies after he is bitten by the severed head of a rattlesnake. A South Texas man almost died after he was bitten by the head of a rattlesnake he'd just decapitated.
The Editor says...
Attention city folks: The head of the rattlesnake is where the poison is.
This woman has an unusual set of priorities:
Mother changes son's name after botched tattoo spells it wrong. A mother's effort to honor her young children went terribly wrong when the tattoo she got of her son's name was spelled incorrectly — so she took what some might call an unusual approach and named her son after the tattoo. "Kevin," the two-year-old son of Johanna Sandstrom, of Sweden, was renamed "Kelvin" after a tattoo artist inked the wrong name on her arm.
Bobcats mistaken for domestic kittens brought into Texas home. Three people in Texas were bitten when the kittens they thought they were handling turned out to be bobcats. "Hey listen," wrote the city's Animal Care Services on Facebook. "Wildlife really should remain IN THE WILD and it's up to us to help make that happen! These bobcat kittens are now orphaned and under quarantine with our partners at Wildlife Rescue & Rehabilitation because someone thought they looked like house cats. Several people were bitten."
Cooking with FOIA: The CIA's declassified desserts. A considerable chunk of the CIA's declassified archives consists of newspaper and magazine clippings. Some are stories relevant to Agency interests, others — typically critical — concern the CIA directly, and then there's the ones that don't immediately make sense.
Self-Driving Car Ticketed; Company Disputes Violation. A self-driving car was slapped with a ticket after police said it got too close to a pedestrian on a San Francisco street. The self-driving car owned by San Francisco-based Cruise was pulled over for not yielding to a pedestrian in a crosswalk. Cruise says its data shows the person was far away enough from the vehicle and the car did nothing wrong. A witness, Kevin O'Connor, snapped a photo after seeing the motorcycle officer pull over the self-driving car as O'Connor drove through the South of Market area last week. "There was another car stopped alongside and he looked a little befuddled," said O'Connor. "The cop was just writing a regular ticket like they always do."
Kansas woman reportedly sued by bank after ATM dished out $100 bills instead of $5s. A Kansas woman is facing a pricey lawsuit after a bank accused her of making dozens of withdrawals from a faulty ATM that was dispensing $100 bills instead of $5 bills, a local report said Tuesday [2/27/2018]. The Central National Bank in Wichita claimed in a Jan. 22 lawsuit that Christina C. Ochoa knew the ATM wasn't functioning properly and used it to receive as much money as possible, The Wichita Eagle said. Ochoa reportedly made more than 50 withdrawals over five days in mid-January, several of which were done in the middle of the night, according to documents obtained by The Eagle. The bank wants her to pay back $11,607.36 plus interest, the outlet said.
Massachusetts couple accidentally donates soup can with hidden savings. A Massachusetts couple's donation to a local soup kitchen may end up costing them thousands of dollars, after they ended up giving away a fake can of soup used to hide their cash. Amanda Mattuchio told Boston 25 News on Friday her parents cleared out their soup cabinet a few weeks ago, and only realized several weeks later they gave away the fake Campbell's Tomato Soup can. "When they went to put some more money into the can, they realized it had been put in with the donations. It was kind of devastating," Mattuchio said.
Mac and iOS bug crashes apps with a single character. Apple only recently fixed a bug called "chaiOS" that would cause iMessage on iOS devices and Macs to crash with a simple link, and now it's got another, more widespread issue on its hands. As explained by Mobile World and replicated by The Verge, a lone Indian-language character is capable of crashing a number of messaging apps on iOS. The problem also extends to the Apple Watch and even Macs, all of which struggle to process the character specific to the Telugu language spoken in India.
Top-secret government files left in cabinets sold at secondhand shop. Filing cabinets containing thousands of classified documents from the Australian government ended up being sold at a secondhand shop, prompting government officials Wednesday [1/31/2018] to launch an investigation into how the highly sensitive documents were disposed of. The cache of documents was obtained by the Australian Broadcasting Corporation, which reported the two cabinets were sold by a Canberra furniture shop at a discount price because they were locked and no one could find keys.
White noise video on YouTube hit by five copyright claims. A musician who made a 10-hour long video of continuous white noise — indistinct electronic hissing — has said five copyright infringement claims have been made against him. Sebastian Tomczak, who is based in Australia, said he made the video in 2015 and uploaded it to YouTube. The claimants accusing him of infringement include publishers of white noise intended for sleep therapy.
Desperate Bitcoin Investors Who Forget Their Passwords Are Resorting to Hypnotherapy. Help is in sight for that batch of early-Bitcoin-adopters who are sitting on untapped bounties because they've forgotten the passwords needed to get into their 'wallets'. A hypnotist in South Carolina has recently begun offering to help people recall forgotten passwords or find misplaced storage devices. Jason Miller charges one bitcoin plus 5% of the amount recovered — though he claims that rate is flexible. [...] A number of investors who bet on Bitcoin years ago are now in a painful limbo. In the way that bank accounts are protected by passwords, Bitcoin wallets that use 'keys' to transact are also typically guarded by complex security codes. However, unlike a bank, Bitcoin has no central hotline to call for a reset.
Redwood City man shoots and kills his own dog after surprise attack. A Redwood City man shot and killed his own dog when it attacked him on a walk Wednesday [12/27/2017], police said. The 76-year-old man was walking his dog, a large mastiff, in the 1300 block of Elmer Street in unincorporated Belmont when the dog turned and bit him in the lower leg. The attack continued, police said, until the man pulled out a handgun and fatally shot the dog. The man was taken to the hospital for treatment but police said he is expected to recover. The gun was recovered and secured as evidence. Police said the man did not have a permit for a concealed weapon.
Pennsylvania woman stunned by $284 billion electric bill. A Pennsylvania utility customer got the shock of her life after checking on her monthly electric bill and seeing that she owed $284 billion. "My eyes just about popped out of my head," Erie homeowner Mary Horomanski, 58, told the Erie Times-News. "We had put up Christmas lights and I wondered if we had put them up wrong."
The Editor says...
In this case, the electric company probably won't demand payment. But you can rest assured that if an obvious computer error resulted in a 284 thousand-dollar bill, they'd insist on immediate payment in full.
Theory Circulating That Disney Made Trump Animatronic Look Like Hillary. Earlier this week, Disneyworld unveiled their new Trump animatronic for their "Hall of Presidents" attraction. [...] Upon closer look, the Trumptron has some uncanny similarities with his former opponent Hillary Clinton. Some are now even speculating if Disneyworld, in their presumption, created a Hillary Clinton robot and then put a wig on it after Trump's historic upset. A sort of rolling out the champagne before the game is called moment, a la Disney.
This is obviously just click bait — OR IS IT?
The Occult Symbolism of the Los Angeles Central Library. Throughout the history of Western Civilization, libraries have been the repositories of nations' accumulated knowledge and the epicenters of their culture. Central libraries, more than being big buildings containing books, are important landmarks designed with impressive architecture and filled with symbolic art. The Los Angeles Central Library is certainly no exception. An in-depth look at the art found at the Library is quite a revealing one: It describes the occult philosophy of those in power.
I've Seen The Future of Fake News and It's Terrifying. [Scroll down] The first bit of technology that Radiolab features is a piece of audio software still under development by Adobe. For those of you who don't play around with digital imagery, Adobe is the market leader for audio and video editing software. They are the creators of Photoshop and a handful of other complimentary programs. Recently, they've built a program that can replicate your speech patterns and tone almost precisely so long as they're able to capture at least 40 minutes of your speech (20 minutes for sub-optimal results). According to Adobe, within these 40 minutes you will produce every phonetic combination that their algorithm needs to reproduce the entire English language in your voice. The program accomplishes this by slicing, dicing and reassembling the speech that they've capture from you. Recently, Adobe presented this technology at a tradeshow. The results are hair raising. With the required 40 minutes of recorded speech, they can literally type whatever they want into the program and reproduce it in the speaker's own words.
A Texas Couple Saved Their Home From Harvey Flooding With Aqua Dam. Randy and Jennifer Socha told local media that they had dealt with $150,000 in flood damage in 2016, and didn't want Hurricane Harvey to destroy their home. When they saw that they were about to be in the path of damage, they acted. The couple paid an amazing $18,000 for the Aqua Dam, which was delivered from Louisiana within hours.
Scientists are about to change what a kilogram is. Here's the problem with the current standard kilogram: It's losing weight. It now is ever-so-slightly lighter than the once-identical "witness" cylinders stored in labs around the world. Scientists don't know whether the BIPM prototype is losing mass, perhaps because of loss of impurities in the metals, or if the witnesses are gaining mass by accumulating contaminants.
Sologamy: The Saddest Trend You've Ever Heard Of. In the new, sad trend called "sologamy," women are committing themselves to themselves with their own wedding ceremony. These women, such as self-styled "sologamist" Erika Anderson, throw on a white gown, invite their close friends and family and marry themselves in a legally nonbinding way. "I would describe it as women saying yes to themselves," Anderson, 37, told WUSA9. "It means that we are enough, even if we are not partnered with someone else.
Hackers Are Emptying ATMs With a Single Drilled Hole and $15 Worth of Gear. [Scroll down] In their tests, the researchers found their finished tool could trigger the cash dispenser within seconds of connecting, and then spew as many bills as they wanted. The only limit to the attack's speed came when the ATM's computer "noticed" the dispenser acting independently and rebooted. But the researchers say that they could extract thousands of dollars before the reboot kicked in, and afterward they could simply repeat their attack, pulling more cash out of the machine until it was empty.
The CIA fired "three or four" employees over a cafeteria food fight. We've written about the CIA's frustrations with its cafeteria before, with grievances both petty and the stuff of nightmares. But as internal records unearthed in CREST reveal, at least once that frustration exploded into a full-on mealtime melee.
$600,000 of Gold Found Inside Piano That Was Given Away. A hoard of valuable gold coins worth more than half a million dollars has been found inside a piano which was given away for nothing by its previous owners. Graham and Meg Hemmings, from Shropshire, England, donated their old instrument to a local school with no idea it was full of gold. Its new owners, Bishop's Castle Community College, only discovered the hidden stash after they paid a piano tuner to fix the instrument. Inside, he found 913 gold coins that are more than a century old.
Whatever you do, don't say yes when this chatbot asks, 'Can you hear me?'. I've gotten this call a number of times in recent weeks, at home and at work, and each time I've been suckered by the lifelike opening to stay on the line longer than I normally would for a robocall or a telemarketing pitch. It's only when I realize I've heard the exact same thing before that I realize I'm hearing a recording.
Lack of Oxford Comma Could Cost Maine Company Millions in Overtime Dispute. A class-action lawsuit about overtime pay for truck drivers hinged entirely on a debate that has bitterly divided friends, families and foes: The dreaded — or totally necessary — Oxford comma, perhaps the most polarizing of punctuation marks. What ensued in the United States Court of Appeals for the First Circuit, and in a 29-page court decision handed down on Monday [3/13/2017], was an exercise in high-stakes grammar pedantry that could cost a dairy company in Portland, Me., an estimated $10 million.
Toxic wild boars reportedly stalk Fukushima residents. Hundreds of boars carrying highly radioactive material are reportedly stalking residents hoping the Japanese town of Fukushima six years after the meltdown of the nuclear plant. [...] The report said video footage shows these Japanese towns overtaken by wild animals. There is a large population of rat colonies, unkempt dogs and boars.
Canadian recycling plant workers find more than $100G stashed in TV set. The workers found money wrapped in $50 bills. The newspaper reported that the man who stashed the money in the back of the set more than 30 years ago was hiding the money from his parents. The man, who forgot about the money, had given it to a friend and that person gave it to the recycling center. "It's surprising how compact $100,000 is in fifties," GEEP vice president of operations Lew Coffin told the National Post.
The Editor says...
Why would a young man who lives with his parents have $100,000 in cash? Why would he hide the money from his parents? Why would someone forget that he had $100,000 hidden away? There is only one plausible answer to these questions, and I'll leave that to the reader as an exercise.
Nebraska flag flew upside down at Capitol for 10 days and 'nobody noticed,' says senator who wants design change. How unremarkable is Nebraska's state flag? For 10 days, the state flag, which is hoisted over the State Capitol's west side when lawmakers are in session, flew upside down. "Nobody noticed it," State Sen. Burke Harr told members of the Legislature's Executive Board. "It took someone drawing it to my attention before it was changed."
Physicists have found a metal that conducts electricity but not heat. Researchers have identified a metal that conducts electricity without conducting heat — an incredibly useful property that defies our current understanding of how conductors work. The metal contradicts something called the Wiedemann-Franz Law, which basically states that good conductors of electricity will also be proportionally good conductors of heat, which is why things like motors and appliances get so hot when you use them regularly.
Rumor: Trump's Secret Service bodyguard 'wore prosthetic hands during inauguration parade so he could hold a gun beneath his coat'. Social media is awash with claims one of the Secret Service agents protecting President Donald Trump had prosthetic arms, with his real hands on the trigger of a gun under his coat.
100 trees felled for solar project in office park. A company that manages an office park on Garret Mountain plans to build a large array of solar panel canopies over its parking lots that will generate enough energy to power two buildings on the site. To make way for the canopies, the company recently cut down more than 100 trees in the grassy medians between rows of parking spaces on the property, near Garret Mountain Reservation in Woodland Park. Putting a solar array on commercial property is part of a larger trend in New Jersey, one that is greatly encouraged by environmental groups wherever there is room to harness the sun's energy. But the environmental irony in this case is hard to miss.
Car-stealing 'mystery device' uncovered. The National Insurance Crime Bureau (NICB) has gotten hold of a "mystery device" that thieves have been spotted on security cameras using to electronically open and start cars. The organization says that it obtained it through an outside security expert who purchased it overseas. It describes it as a "relay attack" unit that was originally designed for manufacturers to test the security of their wireless systems, but it and others like it have made their way into criminal hands, and handmade versions have also been discovered.
Retired Air Force officer claims he saw infamous UFO sighting. A retired US Air Force officer claims he had a close encounter in a British forest nearly four decades ago. Steve Longero revealed Monday that he was a witness to the infamous 1980 Rendlesham Forest incident in Suffolk, England — dubbed "Britain's Roswell" — where military personnel claimed they saw a UFO during a stretch of three spacey December nights.
Weapons From the Future That Are Actually Here Now. It may sound like the kind of science fiction contraptions that would show up in a James Bond film or some other futuristic Hollywood spectacle... but these weapons are now making their way to the battlefield. The technology that is understood by the general public is seriously outdated. There has been a revolution of new advances in technology, and much of it draws heavily from the use of electromagnetic energy, lasers and A.I. robots. The future is downright deadly — that is, if you wind up in the crosshairs.
Megaphone Translator in Japan Makes It Easy to Shout in Different Languages. Japan's obsession with keeping order and tech prowess has reached its natural conclusion with an intelligent megaphone that can issue commands in Chinese, English and Korean. Panasonic Corp. recently unveiled the device — essentially a smartphone paired with a handheld loudspeaker — betting that police, event organizers and transport staff seeking to control crowds will be eager to get their hands on something that lets them bark orders to a large group of people at once.
Restaurant requires costumers to solve complex math equation to get Wi-Fi. A San Antonio Thai restaurant, Yaya, will let you use its Wi-Fi for free — but only if you can solve this insanely complex math equation. Reddit user "Joshua_Glock" posted a picture of the restaurant's handwritten Wi-Fi equation this past weekend, but no one has been able to connect to the network yet, First We Feast reported.
4 Common Buttons That Probably Don't Even Work. There's no more satisfying way to signal intent than to firmly press a button. But you should know that not every button or dial you see actually works. Some are placebo buttons, buttons that do nothing. A psychological paper written in 1975 by Ellen Langer suggests a compelling argument for these sorts of buttons. People are calmer when they feel they have control, and buttons help them do that whether those buttons work or not. But more often than not, these non functional buttons used to do something; they have just been turned off in favor of an automated solution and it's simpler to leave them there than it is to remove them.
How A Few Words To Siri Unlocked A Man's Front Door And Exposed A Major Security Flaw In Apple's HomeKit. [Scroll down] He then shouted, "Hey Siri, unlock the front door." The door unlocked. The iPad Pro sitting in the living room was able to hear Mike through the front door and issued the unlock command. Marcus was stunned. The two laughed it off. Marcus then tried to repeat the unlocking trick several more times and was surprised by how easy it was. He didn't even have to yell that loud.
How to tell if your co-worker is a psychopath. Groundbreaking research presented at the Australian Psychology Society Congress in Melbourne this week reveals that one in five corporate workers may have the disorder — as many as in the prison population. Forensic psychologist Nathan Brooks found that psychopathic traits are common in the upper echelons of the corporate world, with a prevalence of between 3 and 21 percent (the latter in a study of supply chain professionals). The term "successful psychopath" describes high flyers with psychopathic traits such as insincerity, a lack of empathy or remorse, egocentricity, charm and superficiality.
Police: Pennsylvania man stole 300,000 pennies from employer. He's accused of taking a steel drum filled with $3,000 worth of pennies from Pyne Freight Lines, where he worked as a mechanic.
Facebook fires human editors, algorithm immediately posts fake news. Earlier this year, Facebook denied criticisms that its Trending feature was surfacing news stories that were biased against conservatives. But in an abrupt reversal, the company fired all the human editors for Trending on Friday afternoon [8/26/2016], replacing them with an algorithm that promotes stories based entirely on what Facebook users are talking about. Within 72 hours, according to the Washington Post, the top story on Trending was about how Fox News icon Megyn Kelly was a pro-Clinton "traitor" who had been fired (she wasn't).
Kansas couple sues over hellish IP address quirk. James and Theresa Arnold rented a farmhouse in Potwin [Kansas] in 2011. That's when the problems started. [...] The Arnolds filed a lawsuit against MaxMind on Monday [8/8/2016], seeking more than $75,000 in damages, KMBC reports. The lawsuit claims the tech company made the Arnolds' farmhouse the default physical address of any website for which it couldn't locate an IP address. (The home's front yard happens to be the center of the US, per the Eagle.) Over 14 years, the farmhouse became the default location for 600 million IP addresses.
Man Shares Horrifying Tale After Roomba Vacuum Tracks Poop Across Home. An Arkansas family went to bed expecting to get a restful night's sleep — but what they got was anything but restful. In a Facebook post, Jesse Newton explains that his puppy, Evie defecated in the living room at some point after the family went to bed for the night. As if that wasn't bad enough, the family's Roomba vacuum cleaner (which was programmed to start vacuuming the house at 1:30 am) then proceeded to track Evie's surprise all over the house as it attempted to clean overnight.
The Future Of Crime: The Drone Era, Part I. Drone tech has been driven by a strange confluence of improvements in miniaturization (nano-technology), increased transistor density, and materials science. While the majority of drone applications appear to be in more traditional ventures such as aerial photography and exploration, a little-discussed aspect relates to how drones could be leveraged for criminal activities. Likewise, for firms focused on security, there will be a growing need to create drone countermeasures.
Study: 98% Of Us Will Sign Away Our Firstborn Because We Don't Read The Terms Of Service. A new study from researchers at two universities has confirmed what most of us already anecdotally know: nobody's actually reading the fine print, even if they should. And how did the researchers find this, you may ask? By creating a fictitious social networking site that research participants signed up for. The privacy policy and terms of service for this fictitious site were modeled on existing documents on another social network (LinkedIn), and checked in at roughly 8000 and 4000 words respectively. But this fake site's policies included a few extra clauses that should have raised eyebrows.
How Subarus Came to Be Seen as Cars for Lesbians. In the 1990s, Subaru's unique selling point was that the company increasingly made all-wheel drive standard on all its cars. When the company's marketers went searching for people willing to pay a premium for all-wheel drive, they identified four core groups who were responsible for half of the company's American sales: teachers and educators, health-care professionals, IT professionals, and outdoorsy types. Then they discovered a fifth: lesbians. "When we did the research, we found pockets of the country like Northampton, Massachusetts, and Portland, Oregon, where the head of the household would be a single person — and often a woman," says Tim Bennett, who was the company's director of advertising at the time. When marketers talked to these customers, they realized these women buying Subarus were lesbian.
Watch the world's biggest plane land in Australia. Tens of thousands of Australians turned out to gawk as the world's largest plane descended into Perth's airport on Sunday. The hulking Antonov An-225 cargo plane, which boasts six engines and wings that measure almost 300 feet long, was delivering a 100-plus-ton generator for a refinery. It landed smoothly with puffs of smoke from its many wheels. [Video clip]
Chinese woman trapped for a month in an elevator starves to death. Elevator maintenance men returning to work after a month-long break for Chinese New Year made a horrific discovery last week when they opened the cab of a broken lift and found the body of a woman who had been trapped inside since late January and starved to death.
The Editor says...
Apparently the elevators in China do not have ALARM buttons.
This fake swimming pool messes with your mind. Argentinian artist Leandro Erlich created a mind-bending exhibit at the 21st Century Museum of Contemporary Art in Kanazawa, Japan that gives visitors the illusion that people are submerged in nine feet of water. [...] Erlich's work tries to "undermine the human senses," and "enter into relationships with spaces, and grasp reality."
Man walks into unlocked, empty Arizona Wells Fargo bank on Veterans Day. An Arizona man walked into his local Wells Fargo Bank on Wednesday [11/11/2015], which was also Veterans Day, only to find no one working in the building. Rey Lopez told KTVK he didn't even realize it was holiday, but when he walked around the Mesa bank he knew something was off as no one was around. Lopez said he called out to see if anyone was in the back and then he checked the office. Nobody was there.
Somehow, a Gitmo Detainee Was on Match.com. [A]ccording to reports, a Guantanamo Bay prisoner was looking for love on Match.com, declaring himself "detained but ready to mingle." Muhammad Rahim al-Afghani, who was believed at one time to have close ties to Usama bin Laden, maintained the dating profile for three years, according to his attorney, Carlos Warner. The prisoner's location is set to Guantanamo Bay, and his tagline reads, "Detained but ready to mingle." Still, he reportedly gets matched with other users daily.
How Alcohol Made America Great (Most of the Time). Much like her late father, [Susan] Cheever is a terrific writer as well as a recovering alcoholic. "I haven't had a drink in more than 20 years," she maintains. But there's another pattern here. She points out that "all five of our twentieth-century Nobel laureates were alcoholics — Sinclair Lewis, Eugene O'Neill, William Faulkner, Ernest Hemingway, and John Steinbeck." And, of course, there's F. Scott Fitzgerald and Edgar Allan Poe. American writers like to drink. A lot.
Guy Named Vince Creates 'Reply All' Chaos at Reuters. Ever done something you wished you could take back? Like accidentally sent an email to 33,000 Thomson Reuters employees? That's what some guy named Vince apparently did yesterday [8/26/2015], flooding inboxes and setting off a "reply all" chain that some say slowed down Reuters email and provided the Internet with Twitter gold, the Wall Street Journal reports.
Study: Playing Tetris can help ease cravings. Playing the block-stacking video game Tetris can ease cravings for food and drugs by about one-fifth, researchers found in a study of people in natural settings outside a laboratory.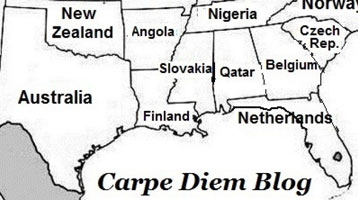 A map of what every state would be if it were a country. The American economy is really big. That's the takeaway of this fascinating map of the United States from Mark Perry, an economist who runs the Carpe Diem blog at the American Enterprise Institute. The map, which has been around for a while, has a lot of explanatory power when it comes to America's position in the global economy. For each state, Perry finds a country that had a roughly similarly sized economy in 2013.




Tweeting Fridges and Web Controlled Rice Cookers: 9 of the Stupidest Smart Home Appliances. There are a lot of incredible smart home devices out there that are worthy of your time and money. [...] But then there are the WiFi enabled, smartphone-powered appliances that aren't quite as useful. The kinds that should never see the light of day. Here are 9 of the worst.

Highlands woman held hostage asks for help in online pizza order. A quick-thinking Highlands County woman saved herself and her children from possible harm when she ordered an online pizza with a secret message saying she was being held hostage.

IG Audit: 6.5 Million People With Active Social Security Numbers Are 112 or Older. Many people are living longer, but not to age 112 or beyond — except in the records of the Social Security Administration. The SSA's inspector general has identified 6.5 million number-holders age 112 — or older — for whom no death date has been entered in the main electronic file, called Numident. The audit, dated March 4, 2015, concluded that SSA lacks the controls necessary to annote death information on the records of number-holders who exceed "maximum reasonable life expectancies."

LA Health Officials Take Action After Local Supermarket Sells Raccoons As Food. The Health Department has taken action after a local supermarket's frozen foods section featured an unusual item. Inspectors from the LA County Health Department visited the Metro Supermarket in Temple City on Tuesday [2/10/2015], after being informed that the market was selling raccoons as food. Employees at the market declined to appear on camera, but did show entire raccoons, frozen, bagged, and selling for $9.99 per pound. The employees say raccoon is considered a delicacy in China.

The secret railway under the Waldorf Astoria. These rusted and decaying railway tracks may seem like any of the thousands of feet of disused track that snake under midtown Manhattan. But this discreet siding, Grand Central Terminal's 'Track 61' was once a vital tool in the arsenal of wartime President Franklin D Roosevelt and could yet spring into action again.

The Town Without Wi-Fi. The residents of Green Bank, West Virginia, can't use cell phones, wi-fi, or other kinds of modern technology due to a high-tech government telescope. Recently, this ban has made the town a magnet for technophobes, and the locals aren't thrilled to have them.

Man From Fruitvale Arrested For Pointing Banana at Officer Bunch. Nathen Channing, a 27-year-old resident of Fruitvale, Colorado, was taken into custody on Sunday night for pointing a banana at a pair of Mesa County Sheriff's deputies, both of whom initially believed the piece of fruit was a handgun. The two involved Mesa County deputies were identified as Joshua Bunch and Donald Love, both of whom were identified as victims in the case against Channing, who was arrested on two counts of felony menacing.

The Secret Life of Passwords. Many of our passwords are suffused with pathos, mischief, sometimes even poetry. Often they have rich back stories. A motivational mantra, a swipe at the boss, a hidden shrine to a lost love, an inside joke with ourselves, a defining emotional scar — these keepsake passwords, as I came to call them, are like tchotchkes of our inner lives. They derive from anything: Scripture, horoscopes, nicknames, lyrics, book passages. Like a tattoo on a private part of the body, they tend to be intimate, compact and expressive.

Dead California candidate leads in race. A candidate for a seat on a Central California board may win his race, despite having died last month in a small plane crash.

Rocket-Propelled Bicycle Breaks World Record At 207 MPH. François Gissy of France attached rockets to a bicycle that was reportedly 90% homemade and featured hydrogen peroxide-powered rockets attached to the rear of the two-wheeler. Gissy reached a blistering 333 km/h in just 4.8 seconds and set a new record while on the famous Circuit Paul Ricard located at Le Castellet in South of France.

Anti-violence activists charged in vicious attack. Two "Stop the Violence" organizers allegedly beat one of their colleagues so severely that he vomited blood and was left unconscious in critical condition.

A lot of the celebrities who appeared in the midterm Rock The Vote PSA didn't actually vote in the last midterm. Rock The Vote released a public service announcement last month with a parody of Lil Jon's "Turn Down For What" that featured public figures who explained why they planned to vote in the midterm elections, but according to public records, a number of them didn't vote in the last midterm election.

Camel maker Reynolds halts workplace smoking. The nation's second-biggest tobacco company informed employees Wednesday [10/22/2014] that beginning next year, the use of traditional cigarettes, cigars or pipes will no longer be permitted at employee desks or offices, conference rooms, hallways and elevators.

Burger King in Japan introduces an all-black cheese burger. The cheese looks like slices of processed American cheese singles — but dark as night — and reportedly made with smoked charcoal. The cheese is layered on a beef patty, which contains black pepper and topped with a black sauce made with onion, garlic, and squid ink. All of this is placed between two buns, also made of charcoal.

Why One West Virginia Town Has Banned Cell Phones. Only four hours west of Washington, there is a town where cell phones and wireless Internet are outlawed. Commercial radios are banned, and microwaves aren't welcome either. Green Bank might sound like a Luddite's dreamscape, but the West Virginia hamlet's self-imposed blackout is being done all in the name of science: Green Bank is home to the world's largest radio telescope, a 100-meters-in-diameter dish that is the crown jewel of the National Radio Astronomy Observatory.

Why car thieves love to steal Honda Accords. Ever get a sinking feeling when you're looking for your car in a parking lot and can't find it? If you drive a Honda Accord, you are more likely than those who drive other cars to find an empty spot where your car used to be.

Owl enters 10th story apartment, kills canary. An owl flew into a 10th story apartment in Coeur d'Alene, apparently opened a bird cage and killed one of two canaries inside, the residents said.

New York's smallest piece of private land. The Hess Triangle is a tiny piece of private property in Greenwich Village. Manhattan historian Joyce Gold explained the origins of the property: After World War I, New York City seized a beautiful residence and tore it down so it could extend Seventh Avenue and the west side subway below it. The city left the building's owner, David Hess, only a tiny scrap of property so small it requested he donate the triangle to make way for a sidewalk. Hess refused, took the city to court, and won.

Why Criminals Are Afraid of Classical Music. Many young people, especially the anti-social, dislike classical music so much that it can be played to discourage them from intimidating, harassing and robbing. This experiment has been successful over many years in countless locations. [...] In the UK, the first to do so was the Tyne-and-Wear Metro system in 1997, following Montreal's underground system in Canada. Other British transport providers, including the much bigger London Underground, imitated the scheme. The most effective deterrents were anything sung by Pavarotti or written by Mozart.

Paper or Power: Nothing Cut and Dried About Hand Washing in Restrooms. Over the past decade, dryers have become faster and cheaper. But despite technological advances, hand dryers leave millions of Americans unsatisfied. In [Stacy] Hafeman's opinion, dryers circulate bathroom bacteria and dump germs onto her hands. For her, the old-fashioned paper towel is the way to go. But manufacturers think they will soon gain an upper hand in this soap opera, with a new generation of machines they say will make the drying process more efficient, cleaner and downright pleasurable.

Felon killed the same day a jury accidentally set him free. Just hours after he was released from prison because of a California jury's error, an accused burglar was killed in a violent fight. "Thirty-seven-year-old Bobby Lee Pearson was accidentally released when a jury in Fresno, California, filled out a not guilty form instead of telling a judge they were deadlocked." "Police say that Willie Gray, the boyfriend of Pearson's sister, killed him during a dispute when he returned home."

Germans have a really hard time saying 'squirrel'. A few years ago, Top Gear host Jeremy Clarkson pointed out that the best way to expose a German spy would be to ask them to say the word "squirrel," because "no German, no matter how well they speak English, can say 'squirrel.'" So naturally, someone tested the premise and made a video of it.

Meal Sickens People at Food Safety Summit. Maryland health officials are investigating possible cases of food poisoning at what may be the worst-ever venue — a gathering of government and industry leaders attending a national Food Safety Summit. At least four people called the Baltimore City Health Department this week to report that they developed diarrhea, nausea and other symptoms about 12 hours after eating a meal April 9 during the conference at the Baltimore Convention Center.

Why UPS Trucks Don't Turn Left. When better tracking systems emerged in 2001, the package delivery service took a closer look at how trucks performed when delivering packages. [...] UPS engineers found that left-hand turns were a major drag on efficiency. Turning against traffic resulted in long waits in left-hand turn lanes that wasted time and fuel, and it also led to a disproportionate number of accidents. By mapping out routes that involved "a series of right-hand loops," UPS improved profits and safety while touting their catchy, environmentally friendly policy.

Court stenographer endlessly types 'I hate my job,' puts cases in jeopardy: report. A New York City court stenographer may have botched dozens of transcripts in an apparent meltdown, leaving legal teams scrambling to repair the damage. Daniel Kochanski, 43, typed gibberish on some 30 Manhattan court cases and may have jeopardized hard-won convictions, the New York Post said. "It should have been questions and answers — instead it was gibberish," a source said. "He hit random keys or wrote, 'I hate my job. I hate my job. I hate my job,' over and over," another source said.

Ridgewood inspector admits to stealing $460,000 in quarters from village. There are coin collectors, and then there's Thomas Rica. While the true hobbyist seeks quality coinage, Rica was more interested in quantity — amassing 1.8 million individual quarters. Unfortunately, he acquired them illegally.

Update:
Ridgewood officials: Probe finds another $340,000 in meter quarters stolen. The great quarter heist from Ridgewood Village Hall was even greater — $377,526 more than originally thought, according to the results of a forensic audit into the theft of parking meter revenue by one employee. Auditors found that nearly $850,000 was stolen from the now-infamous coin room where collected parking meter quarters were stored. Thomas Rica, the village's former public works inspector, admitted in March that he had pilfered fistfuls of quarters from the room, to the tune of $460,000. The audit found that he may have actually taken $471,815, but that still leaves more than $377,000 unaccounted for.

The Editor says...
$100 in quarters weighs five pounds.* $377,000 in quarters would weigh 9.4 tons, so they're probably not in somebody's attic.

Intruder scared away by Big Mouth Billy Bass. The crime scene of a break-in at a Rochester's Hooked on Fishing shop showed evidence that a burglar got scared off by a motion-activated, singing bass, authorities said.

Smart refrigerators and TVs hacked to send out spam, according to a new report. A new report shows cyberattacks aren't relegated to laptops anymore: Now, even a fridge or a TV can send malicious emails. Security firm Proofpoint has uncovered a cyberattack that involved the hacking of "smart" home appliances connected to the Internet. Hackers broke into more than 100,000 gadgets — including TVs, multimedia centers, routers, and at least one fridge — and used the appliances to send out more than 750,000 malicious emails between December 23 and January 6.

Cyber criminals hack a Refrigerator. Home automation, once relegated to the timing of porch lights, can now be used to control almost anything in the house. From the kettle in your kitchen to the lock on your front door, nearly every item in the home can be connected to the internet. Now, California-based security group, Proofpoint, has uncovered the first wide-scale hack involving television sets and at least one fridge.

FDA Seeking Gum Chewing Tester. The Food and Drug Administration is seeking a small business to potentially supply the federal agency with a chewing gum tester. Despite the frivolous sounding nature of the announcement, the search is a serious one, and apparently a growing need. Chewing gum-based pharmaceuticals (such as nicotine gum) are already in use in the United States, and the FDA is looking for a way to measure the dosage and delivery (dissolution) of the medication in such products.

The most famous nameless person in America:
Who is that girl? The mysterious face of Healthcare.gov. She smiles back at countless frustrated Americans as they tried to log on to the ObamaCare website, the picture of youthful health and wholesome trust in her government. Her long brown locks are pulled back behind her face, as she flashes an alluring grin that some say makes her the "Mona Lisa of health care." She could be the girl next door, someone you might see in the supermarket.

The Case of the Vanishing Obamacare Girl. The smiling young woman whose visage for more than three weeks greeted visitors to Healthcare.gov has vanished from the site. [...] The identity of the woman who became the face of Obamacare had become a subject of much speculation since the site launched October 1.

Obamacare girl vanishes! Ever since the shaky launch of the Obamacare website, people have been wondering about the identity of the woman whose picture was used on HealthCare.gov's homepage. Now we may never know who she is since her picture was taken down from the site this weekend. In her place is a new graphic that explains the four ways people can sign up to get coverage.

Pakistan quake island off Gwadar 'emits flammable gas'. Barely half an hour after they were jolted by a major earthquake on Tuesday, people of the Pakistani coastal town of Gwadar had another shock when they saw a new island emerge in the sea, just over a kilometre from the shore. A local journalist, Bahram Baloch, received the news via a text message from a friend. "It said a hill has appeared outside my house," Mr Baloch said.

World's First Virtual Store Opens in Korea. A major South Korean retailer has opened what it appears to be the world's first virtual store geared to smartphone users, with shoppers scanning barcodes of products displayed in a Seoul subway station. [...] Seven pillars and six platform screen doors have been plastered with images of life-size store shelves filled with goods — such as milk, apples, a bag of rice or school backpacks — which each carry a small barcode. Shoppers download a related application on their smartphone and make purchases by taking photos of the barcodes.

Judge appoints $600/hour attorney to monitor excessive fees in Detroit bankruptcy. The legal bills are quickly adding up in Detroit's bankruptcy — and the person assigned to monitor the legal spending is charging some big fees of his own.

47-story skyscraper would be more user-friendly if it had an elevator. If you're building a 47-story building, you're going to need an elevator. Unfortunately, that was a point overlooked by the architectural brain trust who designed the Intempo skyscraper in Benidorm, Spain.

Pitch Drop in Australia Attracts Global Attention. For more than 50 years, Professor John Mainstone has stared at a shiny dark blob dangling from a glass funnel hoping to see it drip. The substance — a form of pitch — hovers at the border of liquid and solid. It has dripped only eight times since the experiment was launched in 1927. No one has ever seen it happen.

Head Of Chicago Anti-Violence Group Arrested For Allegedly Hitting Wife. The head of a publicly funded anti-violence group is now facing charges after allegedly attacking his wife inside their suburban home.

S.C. unemployment agency to lay off 100. South Carolina's unemployment agency will lay off 100 employees in June as part of a statewide reorganization that directs anyone seeking jobless benefits to use its upgraded online system, the agency's interim director announced.

Can you believe these are actually apartments? Thousands of tiny high-rise apartments in Hong Kong.

Broadcasters worry about 'Zero TV' homes. There are 5 million of these residences in the U.S., up from 2 million in 2007.

Employees use social media to identify shoplifters who complained. Two shoplifting suspects were so upset with how they were treated in one store, they called another location to complain. The store manager did a little investigative work of his own and was able to identify the criminals using social media.

Intrusion embarrasses 'Fort Knox of uranium'. Officials like to refer to the Y-12 National Security Complex as the Fort Knox for highly enriched uranium, which is why an unprecedented incursion by an 82-year-old nun and two fellow protesters has critics mocking the notion that the weapons plant is secure.

Inside Scrabble's Cheating Scandal. Yesterday [8/14/2012], those outside the inner echelons of the competitive Scrabble-playing world were shocked to hear of a scandal beyond anything we could have imagined: Cheating at Scrabble Nationals, resulting in the eviction of a player from the tournament, and all manner of unfortunate, if amusing, media attention.

The Case of the Stolen Blanks. [T]he mood after the revelation was less shock that someone had cheated — cheating is rare in Scrabble, but as in any competitive endeavor, it happens — than relief that the fraud had been unmasked. And beneath that, sadness — for the adolescent boy, who would no doubt be facing shame and scorn in and out of the Scrabble world, and for the game, which I knew would be taking another turn in the media dunk tank.

Navy radio might be crippling Connecticut garage doors. A radio signal being transmitted out of a submarine base is likely behind reports of garage doors failing to open and close in southeastern Connecticut, the U.S. Navy said Monday [7/23/2012].

At Clifton's Cafeteria, someone left a light on. For 77 years. During renovations of the Broadway eatery, a neon lamp that was switched on during the Great Depression is found behind a partition. The owner estimates it's generated more than $17,000 in electric bills.

The couch potato's hero. Eugene Polley invented the world's first wireless television remote. He died of natural causes on Sunday [5/20/2012] at the age of 96 at the Advocate Good Samaritan Hospital in Downers Grove, Illinois. Mr Polley started his 47-year career at Zenith, earning the company some of its greatest achievements, with the invention of two wireless remotes in 1955 and 1956.

Cursing Is Legal (at least, for now, in Texas). On April 6, 2012, Religion News Service carried a story originally reported in the Dallas Morning News. Judge Martin Hoffman, of the Dallas district court, dismissed a lawsuit brought by Mikey Weinstein against Gordon Klingenstein. Weinstein, a former Air Force lawyer, is an avowed atheist and founder of the Military Religious Freedom Foundation, which opposes what it claims to be unconstitutional religious activities in the armed forces. Klingenstein is a former Navy chaplain and an ordained minister of the Dallas-based Full Gospel Church, a very conservative Protestant congregation. What led to the lawsuit was the fact that Klingenstein had made public a so-called "imprecatory prayer" directed against Weinstein — that is, a prayer that asks God to harm somebody.

Physicist Writes Mathematical Study to Avoid Traffic Ticket. A physicist faced with a fine for running a stop sign has proved his innocence by publishing a mathematical paper, and has even won a prize for his efforts.

12 Mysterious Google Maps Sightings

10 Places You're Not Allowed to See on Google Maps

Surge in Obesity Sparks Crematorium Blazes. As the number of obese Germans rises, the funeral industry is scrambling to make adjustments in how larger bodies with more fat can be safely incinerated. A number of crematoriums have suffered severe damage when burning fat overwhelmed their emergency measures.

Tungsten-Filled 1 Kilo Gold Bar Found In The UK. The last time a story of Tungsten-filled gold appeared on the scene was just two years ago, and involved a 500 gram bar of gold full of tungsten, at the W.C. Heraeus foundry, the world's largest metal refiner and fabricator. It also became known that said "gold" bar originated from an unnamed bank.

Exxon Valdez sold for scrap. Oriental Nicety, the vessel formally named Exxon Valdez, was sold for around $16 million for scrap to Global Marketing Systems Inc., a company in Maryland. Exxon Valdez ran aground in Alaska's Prince William Sound in 1989, resulting in the worst oil spill in U.S. waters until the Deepwater Horizon spill in the Gulf of Mexico in 2010.

FBI Can't Crack Android Pattern-Screen Lock. Pattern-screen locks on Android phones are secure, apparently so much so that they have stumped the Federal Bureau of Investigation. The bureau claims in federal court documents that forensics experts performed "multiple attempts" to access the contents of a Samsung Exhibit II handset, but failed to unlock the phone.

New winged roller coaster 'the Swarm' rips the arms off crash test dummies. A theme park in London is set to debut a powerful new winged roller coaster this month, but only after first figuring out how not to dismember its riders. Time reports that Thorpe Park has been conducting test runs of its new coaster, the Swarm, even enlisting fighter pilots who described the ride as "gut-wrenching."

Mass. school quickly fixes racist typo on menu. Superintendent Judith Scannell tells The Eagle-Tribune the menu was supposed to list KK Chicken Tenders, with the KK standing for a creatively spelled "Krispy, Krunchy," but an employee mistakenly hit the "K" key one too many times.

174 names for dust bunnies.

The strangest packaged foods of all time. A multitude of bizarre packaged foods and beverages exist for those who are willing to look hard enough and experiment.

Man says 9-foot tapeworm came from undercooked salmon salad. Anthony Franz had started to eat healthy, but the salmon salad he ordered for lunch from Shaw's Crab House in August 2006 wasn't the best choice, according to a lawsuit filed Monday. Franz says he became violently ill for several days after eating that salad and later "passed a 9-foot tapeworm." A pathologist determined the giant tapeworm only has one source — "undercooked fish, such as salmon," according to court papers.

Run on safe deposit boxes. It might be a good idea to get yourself a safe deposit box while they are still available. Some countries are running out of them.

Pitched directly at dogs, the advert that whistles. A television advert with a soundtrack only dogs can hear will be broadcast in the UK for the first time today [2/12/2012]. The pet food commercial features a high-pitched sound, similar to a dog whistle, which is inaudible to humans.

Legally Indelible Graffiti. [Creative designer Sean Click's] seed bomb ad for the fast-food chain uses California poppy to "spell out" McDonald's iconic golden arches. That's all well and fine except for one small thing: California poppy is a state flower protected from being picked, destroyed, or dug up under penalty of law.

State Department boosts passport fees, sets cost of citizenship. Under new consular fees published Thursday [2/2/2012] in the Federal Register, the cost of processing a formal renunciation of U.S. citizenship skyrocketed from $0 to $450.

Microsoft Patents 'Avoid Ghetto' Feature For GPS Devices. Microsoft has been granted a patent for its "avoid ghetto" feature for GPS devices. A GPS device is used to find shortcuts and avoid traffic, but Microsoft's patent states that a route can be plotted for pedestrians to avoid an "unsafe neighborhood or being in an open area that is subject to harsh temperatures."

The Editor says...
If the locations of America's ghettos are well documented, I should be able to sell several copies of The Atlas of American Ghettos. Coming soon to a bookstore near you.

Hospital splashes cash on 'electro-allergy' room. Falköping hospital in southern Sweden recently spent just under a million kronor ($146,130) to have a room adapted to suit the needs of the "electro-oversensitive", despite the fact that the allergy hasn't been scientifically proven to exist.

Cheetah the chimp from 1930s Tarzan flicks dies. A Florida animal sanctuary says Cheetah the chimpanzee sidekick in the Tarzan movies of the early 1930s has died at age 80.

Man leaves $1.28 million dollars at Sydney restaurant. Australian police are looking for a good explanation of why someone would walk into a Sydney eatery, exit in a seeming panic — and leave a suitcase containing more than a million dollars behind.

The Coca-Cola drinks you won't find in U.S. stores. While "Mexican Coke" continues to surge in popularity across the United States, there are some 3,500 other products produced by Coca-Cola in more than 200 counties, most of which you'll never have the chance to see or taste.

Virtuoso's trip destroys priceless Stradivarius. David Garrett, 26, one of the nation's foremost young concert performers, had an accident that every world-class musician must dread: at the end of a concert at the Barbican he tripped and landed on his violin. The instrument is a 290-year-old Stradivarius, so rare that it would be almost impossible to estimate its value.

Gas pump handles top study of filthy surfaces. Just when you thought filling up your car could not hurt any more, researchers may have found another reason to avoid touching the gas pump: germs. ... A team of hygienists swabbed hundreds of surfaces around six U.S. cities to see what everyday objects are breeding grounds for the worst bacteria and viruses. The top offenders, following gas pumps, were handles on public mailboxes, escalator rails and ATM buttons.

The Fed Has a $110 Billion Problem with New Benjamins. A significant production problem with new high-tech $100 bills has caused government printers to shut down production of the new notes and to quarantine more than one billion of the bills in huge vaults in Fort Worth, Texas and Washington, DC, CNBC has learned. ... The total face value of the unusable bills, $110 billion, represents more than ten percent of the entire supply of US currency on the planet, which a government source said is $930 billion in banknotes.

Why have 165 people gone missing from cruise ships in recent years? According to the U.S.-based International Cruise Victims Association, 165 people have gone missing at sea since 1995, with at least 13 this year alone — many of them from vessels popular with British holidaymakers.

George Ballas dies at 85; inventor of the Weed Eater. While driving through an automatic carwash in 1971, George Ballas watched the whirling nylon bristles glide around the contour of his vehicle and wondered if he could adapt the technology to remove the weeds around trees in his yard. At home, he punched holes in a tin can, threaded it with wire and fishing line and bolted it to a rotating lawn edger. He called it the Weed Eater, and when he couldn't sell the concept, he founded his own company and built it into a $40-million-a-year business.

Last Typewriter Factory in the World Shuts Its Doors. I've owned at least two typewriters over the years. They were passed down to me from other family members; I think one I discovered in my grandmother's basement and begged her to let me take it home with me. She obliged and I used the thing, banging out random nonsense, until I ran out of tape. There's something about the large, clunky, medieval device that appeals to the aspiring writers among us; they make you feel more connected to your work. When a story is done and has been pulled off the roller, you can still feel it in your fingers.

The Editor says...
It's called a typewriter ribbon, not tape.

Exams in Turkey were all coded! It turns out the majority of the entrance exams recently conducted (the last several years), anything from entrance to the police academy to entrance to universities have been coded. That is, the multiple choice answers were not random, but used some simple patterns that have no doubt been whispered into the ears of the selected few that were meant to be admitted. ... The state-appointed directors that created these exams have denied any wrongdoing and that the "computer" must be at fault, as usual.

The Most Expensive Town in America. The lowest-priced single-family home on the market in Aspen is listed for $559,000. It's located in a trailer park.

Are U.S. government microwave mind-control tests causing TV presenters' brains to melt down? Judith Sheindlin, the fast-talking judge on Judge Judy, was taken to hospital on Wednesday after she began speaking a nonsensical string of words during a live recording of her courtroom TV show. ... Her verbal breakdown is the fourth such recent case and the odd coincidence has prompted feverish speculation over the cause. No video has been released of the Judge Judy incident but footage of the other three has rapidly gone viral on the internet. The first victim was Serene Branson, a Los Angeles reporter for CBS, who delivered a completely incoherent piece to camera on the Grammy music awards last month.

Second Chance for "Golden-Voiced" Homeless Man? Get ready to start hearing about Ted Williams — not the baseball player but the "golden voiced" homeless man about to get a second chance in Columbus, Ohio. Williams, a panhandler near Interstate 71, solicits donations with a sign saying that he's an ex-radio announcer with a "god-given gift" who has fallen on hard times.

Coded American Civil War message in bottle deciphered. A message in a bottle delivered to a Confederate general during the American Civil War has been deciphered, 147 years after it was written. In the encrypted message, a commander tells Gen John Pemberton that no reinforcements are available to help him defend Vicksburg, Mississippi. "You can expect no help from this side of the river," says the message, which was deciphered by codebreakers.

How 'Jingle Bells' by the Singing Dogs Changed Music Forever. The late '40s and early '50s were a heady time for music recording, thanks largely to the defeat of the Nazis. Germans had perfected magnetic tape recording and they kept it under tight wraps. Live-sounding broadcasts of Hitler's speeches confounded the Allies: How could der Fuhrer be in so many locations at once? Besides having the capability to run for longer stretches of time than the phonograph (allowing for uninterrupted stretches of propaganda), the new tape technology had much higher fidelity.

Dead woman wins election in California. Jenny Oropeza trounced her opponent on Tuesday in a race for California's state Senate, but she won't be reaping the rewards of her win. That's because she died two weeks before the election.

Doctors treat Thomas The Tank-obsessed boy. A child obsessed with watching Thomas The Tank Engine has alarmed doctors after failing to make friends at school, instead wandering around in a daze mumbling lines from the show. Specialists are so concerned about the three-year-old American, known only as 'Max', that a report has been published in the Journal of Developmental and Behavioral Pediatrics.

Man says cocaine cops found in his buttocks isn't his. A search of a 25-year-old man following a traffic stop Wednesday morning [9/29/2010] revealed one bag of marijuana and one bag of cocaine in the driver's buttocks, according to the Manatee County Sheriff's Office. The driver said only the marijuana belonged to him.

The Commission to Study Deficits is Broke. As reported by The Fiscal Times, President Obama's commission to study the problem of what to do about the government running short of money is running short of money.

Lightning strike kills woman before her boyfriend could propose. A Tennessee man says he planned to propose to his girlfriend along a North Carolina hiking trail when she was struck and killed by lightning.

Hilarious web addresses revealed in new book. A list of the internet's most inadvertently amusing web addresses — such as the home page for celebrity agent database Who Represents, or www.whorepresents.com — have been compiled in a new book.

Volvo Crashes During Crash-Avoidance Demo. A great reputation for safety doesn't count for much if your car crashes during a demonstration of its crash-avoidance technology. That's exactly what happened to Volvo this week as it showed off the collision-avoidance system in the new S60 sedan.

Caller ID Spoofing Puts Innocent Man In Jail. [Scroll down] At the time he was living on the second floor of an apartment building in Quincy. On the first floor lived a single woman. Court documents and audio recordings obtained by the I-Team show one night she started getting threatening sexually explicit voice messages one after another. ... The only problem was he didn't make any of them. Someone else did using a "caller ID" spoofing service.

Liberal Fascism: The Font. [Scroll down] In a way, Helvetica is the font of liberal fascism; it's certainly the font of corporatism. To this day, it's on the side of every one of the airplanes owned by American Airlines, a private corporation. But it's also the font of the New York Subway system, both the work of Italian designer Massimo Vignelli, now in his late '70s, and interviewed in the Helvetica film. And since Amtrak's inception via Congress and President Nixon in 1971, the typeface on sides of its cars and locomotives is Helvetica as well. Helvetica symbolizes order and authority... And it's the font of IRS's tax forms.

Some Indian call centres resorting to trickery. [Scroll down] It's standard practice in so-called "accent neutralization" classes to teach new employees how to sound North American. In a chilly office two floors below Rungsung's cubicle, an instructor gives nine new employees tips for pronouncing words like "turtle" and "bucket" as westerners do.

Nuclear Waste Leaves Workers Near Death in India. At least seven people are battling for their lives in India after being exposed to the deadly radioactive element Cobalt-60. In critical condition and near death is Deepak Jain, an Indian scrap metal dealer, in whose shop "eight bags" of radioactive wires and metal scraps were found. In late March, after cutting into a "mysterious shining object" that began to ooze white liquid, Jain was exposed to potentially lethal doses of Cobalt-60.

Excessive cleanliness may boost allergies. Put away the hand sanitizer. It's not necessarily the grime, dust bunnies, cat dander or pollen causing those miserable springtime allergies. The culprit actually may be too much cleanliness. "Allergies have become widespread in developed countries: hay fever, eczema, hives and asthma are all increasingly prevalent. The reason? Excessive cleanliness is to blame," said Dr. Guy Delespesse, an immunologist and director of the Allergy Research Laboratory at the University of Montreal.

Woman charged with killing husband is lobbyist. A 45-year-old woman, charged with ending a domestic dispute by killing her 26-year-old husband of five days, is a registered lobbyist for a group fighting domestic violence.

Global Warmists' Mouths Frozen Shut. [Scroll down] British senior citizens are burning books to keep warm. As one bookstore worker in Wales said, "Book burning seems terribly wrong but we have to get rid of unsold stock for pennies and some of the pensioners say the books make ideal slow-burning fuel for fires and stoves. A lot of them buy up large hardback volumes so they can stick them in the fire to last all night." Apparently, it's cheaper to burn an encyclopedia than coal.

Floor collapses at Swedish Weight Watchers clinic. The floor of a Weight Watchers clinic in Växjö in south central Sweden collapsed on Wednesday night [1/13/2010] beneath a group of about 20 participants in the weight-loss programme.

Judge sworn in with hand on dictionary. A judge in New York state took the oath of office with his hand placed on a dictionary rather than a book of scripture because officials could find no Bible.

A fool and his money:
Man 'buys' $3 billion CD-ROM on Amazon — just to see what would happen. A man in the U.S. has 'bought' an item on Amazon with a price tag of nearly three billion dollars — just to see what would happen. Brian Klug spotted the copy of the Discovery Channel's 'Cells' CD-ROM for sale at $2,904,980,000. Out of sheer curiosity, convinced the price tag was a mistake, he put in his credit card details to buy it and stepped back to see what would happen next.

Lottery numbers the same in consecutive draws in Bulgaria. Bulgaria's Sports Minister Svilen Neykov has ordered a special review of the national lottery after the same numbers were picked in straight draws. The numbers 4, 15, 23, 24, 35, and 42 were drawn on September 6 and again on September 10 in consecutive lottery rounds.

The Day the Muzak Died. Throughout the mid-20th century Muzak oozed into America's airports, grocery stores, dentist offices and bank lobbies, reaching at its peak 100 million listeners a day. But by the late 1960s, rival companies appeared on the scene, most delivering original rock tunes instead of square old Mantovani covers. By the 1980s, background music was no longer simply a strategy to boost productivity; it was ingrained in the culture. People grew anxious and edgy in its absence, not unlike junkies in need of a fix.

Naming cows isn't udder nonsense. Cows that are given names produce more milk than those that are not, says a new study out of England. The study, conducted by Catherine Douglas and Peter Rowlinson at Newcastle University in Newcastle upon Tyne, discovered that more affectionate treatment of cattle — including giving cows names — can increase milk production by more than 68 gallons annually. An average cow produces about 2,000 gallons of milk a year. Douglas says the positive effect of naming cows has always been a belief among farmers, but until now, there was no scientific evidence.

Japan's sewers paved with gold. A sewage treatment facility in Nagano prefecture, north-west of Tokyo, has reported a yield of gold extracted from sludge to rival production levels at some of the best mines in the world. Tens of thousands of pounds worth of gold has been found at the Suwa treatment facility in the past year, with more than 1,890 grammes of gold per tonne of ash recorded from incinerated sludge.

Scientists exploit nature to cut mosquitoes' life short. Old mosquitoes usually spread disease, so Australian researchers figured out a way to make the pests die younger — naturally, not poisoned. Scientists have been racing to genetically engineer mosquitoes to become resistant to diseases like malaria and dengue fever that plague millions around the world, as an alternative to mass spraying of insecticides.

Material slicker than Teflon discovered by accident. A superhard substance that is more slippery than Teflon could protect mechanical parts from wear and tear, and boost energy efficiency by reducing friction. The "ceramic alloy" is created by combining a metal alloy of boron, aluminium and magnesium (AlMgB14) with titanium boride (TiB2). It is the hardest material after diamond and cubic boron nitride.

Bailiff's mistake leads to mistrial in Harris murder. The Harris County jury returned a guilty verdict after deliberating 45 minutes in a murder case, but the judge realized he had a real problem. Sitting in the jury box were 13 citizens. Instead of sentencing Charles Mapps to prison in the shooting death of his girlfriend, state District Judge Mark Kent Ellis on Tuesday declared a mistrial.

Darlington will have Australia's first vertical cemetery. Up to 100 Victorians have registered their interest in being buried standing up at Australia's first vertical cemetery, due to open in January. ... People who choose a vertical burial will be placed in biodegradable shrouds and buried in cylindrical holes feet first.

Cows have magnetic attraction to lying north to south. With the help of Google Earth images, Sabine Begall, of Germany's University of Duisburg-Essen, led a research team that looked at satellite images of 8,510 cattle in more than 300 pastures around the world. Their findings, published in a paper in the Proceedings of the National Academy of Sciences, claimed that the earth's magnetic field is "the only common and most likely factor responsible for the observed alignment".

Fifty-two cows are killed after lightning hits a wire fence. The Hereford and Normandy breed cows were discovered by the ranch manager in the field. A veterinary expert who examined the carcases said they had been killed by lightning hitting the wire fence bordering the field where the animals were stood.

Man calls 911 after Subway left sauce off sandwich. Jacksonville police say Reginald Peterson needs to learn that 911 is not the appropriate place to complain that Subway left the sauce off a spicy Italian sandwich.

Fort Pierce woman calls 911 when McNuggets run out. Told McDonald's was out of Chicken McNuggets after paying for a 10-piece, a local woman called 911. Three times. "This is an emergency, If I would have known they didn't have McNuggets, I wouldn't have given my money, and now she wants to give me a McDouble, but I don't want one," Latreasa L. Goodman later told police. "This is an emergency."

Spam Turns Serious and Hormel Turns Out More. The economy is in tatters and, for millions of people, the future is uncertain. But for some employees at the Hormel Foods Corporation plant here, times have never been better. They are working at a furious pace and piling up all the overtime they want. The workers make Spam, perhaps the emblematic hard-times food in the American pantry.

Grandmother had the only cake in the contest — and still came second. When her Victoria sponge earned second place in a cake competition, Jenny Brown was naturally delighted. That is, until she found out she was the only entry. Officials at her village fete apparently felt her baking just wasn't worthy of a first-class ribbon.



This is an original compilation, Copyright © 2013 by Andrew K. Dart

Law exam a breeze for 8-year-old. An 8-year-old boy with dreams of becoming a judge has passed a law school entrance exam — shocking Brazil's legal profession and prompting a federal investigation. The Universidade Paulista, a multi-campus private university, issued a statement acknowledging that Joao Victor Portellinha de Oliveira had passed the entrance exam and that it initially enrolled him. But he was turned away from classes when he showed up on Thursday [3/6/2008] with his father.

One in Nine Berliners Wants the Wall Back, Study Shows. Every ninth Berliner would prefer the barrier which used to divide and encircle the city was still in place, according to a survey carried out on behalf of Berlin's Free University.

Gifted but dumb.
Gifted Student Hospitalized After Drinking Liquid Nitrogen. A gifted 15-year-old student from India had to be rushed to the hospital after drinking liquid nitrogen during a science class at Princeton University.

Date palm seed from Masada is the oldest to germinate. Scientists using radiocarbon dating have confirmed that an ancient Judean date palm seed among those found in the ruins of Masada in present-day Israel and planted three years ago is 2,000 years old — the oldest seed ever to germinate.

Firefighters fined for speeding to blazes. Firefighters are being issued speeding tickets by the NSW Government for rushing to life-threatening emergencies in fire engines. In an astounding case of bureaucracy gone mad, the Government is sending infringement notices to the homes of individual fire truck drivers.

Texas man tries to cash $360bn cheque. Forth Worth police earlier this week slapped the cuffs on a 21-year-old music biz wannabe who decided the best way to raise some venture capital was to cash a dodgy cheque for $360 billion, NBC 5 reports. … [The police] arrested Fuller on suspicion of fraud, as well as unlawfully carrying a weapon and marijuana possession since he'd decided to make his play while packing a pistol and a small amount of weed.

The Editor says...
Unless he got the money in billion-dollar bills, he would have a hard time leaving the bank with that much money. In $20 bills, that quantity of cash would be almost as big as the bank itself. My guess is that he probably is a product of the public schools, where hardly any student knows the importance of correctly placing a decimal point.

Father of LSD takes final trip. The father of LSD and the first person to experience an "acid trip", Albert Hoffman, has died aged 102. Swiss-born Hoffman was renowned by chemists, pharmacists and hippies the world over for stumbling across the world's first synthesised hallucinogen, lysergic acid diethylamide (LSD), in 1938.

His brick of dried noodles fed countless. We can hope that Momofuku Ando, the inventor of instant ramen noodles who died last week at age 96, had a fulfilling life. We know we'll always be full thanks to his ingenious cheap eats. After its introduction in the States in 1972, ramen noodles quickly became a food staple for dorm and apartment dwellers on limited budgets.

Colin Murdoch: The disposable syringe, the silent burglar alarm, the childproof medical bottle and the animal tranquilliser dart — all were invented by Colin Murdoch. His inventions have had a beneficial impact on the lives of millions of people, though did little to enrich Murdoch himself.

Inventor of Gatorade Dies at 80. Dr. Robert Cade, who invented the sports drink Gatorade and launched a multibillion-dollar industry that the beverage continues to dominate, died Tuesday [11/27/2007] of kidney failure. He was 80.

Richard Knerr, co-founder of Wham-O Inc., which unleashed the granddaddy of American fads, the Hula Hoop, on the world half a century ago along with another enduring leisure icon, the Frisbee, has died. He was 82.

Chemical plant accident creates laughing gas cloud. An accident in a chemical plant Friday [6/6/2008] created a frightening-looking cloud of "laughing gas," government and emergency officials said. Nobody was reported to be injured — or to be giggling uncontrollably.

A dark discovery — no, really, this stuff is dark. A scientist at Rice University has created the darkest material known to man, a carpet of carbon nanotubes that reflects only 0.045 percent of all light shined upon it. That's four times darker than the previously darkest known substance, and more than 100 times darker than the paint on a black Corvette.

Unexplained beer injuries. Doctors have always used a tribal vocabulary to communicate between themselves, but now their secret lingo is been enriched by the electronic media and urban slang. … [For example,] CTD means "Circling The Drain", GPO signifies "Good for Parts Only" and Rule of Five means that if more than five of the patient's orifices are obscured by tubing, he has no chance.

AK-47 Inventor Doesn't Lose Sleep Over Havoc Wrought With His Invention. Sixty years after the AK-47 went into production, Mikhail Kalashnikov says he does not stay awake at night worrying about the bloodshed wrought by the world's most popular assault rifle.

Anti-swimmer system bad news for frogmen. The system is designed to protect commercial piers, government and military vessels, cruise ships, terminals, and other high-value assets, but it'll work just as well for your hideaway surf break. You know it's good if the oil sheiks buy it. Kongsberg installed an integrated system at a "High-Value Seaside resort" in the United Arab Emirates; the exact location is classified.

Sudoku-playing Jurors Make Judge Stop Drug Trial. A judge aborted a drug conspiracy trial Tuesday [6/10/2008] after some jurors were found to have been playing the puzzle game Sudoku while evidence was being given. … The judge was alerted after it was observed the jurors were writing vertically, rather than horizontally. It had been assumed they were taking notes.

MADD warns off foe of illegal aliens. Michelle Dallacroce was hopping mad when she received a letter from Mothers Against Drunk Driving demanding she change the name of her organization, Mothers Against Illegal Aliens. "I couldn't believe it," Mrs. Dallacroce said. "I don't know who would be confused by this. We don't even have the same acronym." Mrs. Dallacroce, … received a certified letter Oct. 10 stating that MADD owns the rights to the name "Mothers Against" and giving her 10 days to stop using it.

'I never saw Taylor eat people'. In March, a witness told the Special Court for Sierra Leone that Taylor ordered fighters in his National Patriotic Front of Liberia to eat their enemies as a way of striking terror into his opponents. Joseph "Zigzag" Marzah, who described himself as Taylor's chief of operations and head of a death squad before Taylor became president, said African peacekeepers and even United Nations personnel were killed and eaten on the battlefield by Taylor's militiamen. He also said he had sat with Taylor as he ate a human liver.

Biodegradable coffins rise up. Biodegradable coffins are part of a larger trend toward "natural" burials, which require no formaldehyde embalming, cement vaults, chemical lawn treatments or laminated caskets. Advocates say such burials are less damaging to the environment. Biodegradable containers cost from around $100 for a basic cardboard box up to more than $3,000 for a handcrafted, hand-painted model.

Oops!
Scientists Find Oldest Living Animal, Then Kill It. The team from Bangor University in Wales was dredging the waters north of Iceland as part of routine research when the unfortunate specimen, belonging to the clam species Arctica islandica, commonly known as the ocean quahog, was hauled up from waters 250 feet deep. Only after researchers cut through its shell … and counted its growth rings did they realize how old it had been — between 405 and 410 years old.

Smiling can seriously damage your health. Real emotions, Makoto Natsume says, are being dangerously suppressed by the "smile masks" that [Japanese] women wear all day at work and the psychological effects he sees among patients are devastating. Depression, mental illness and other disorders are spreading fast, he cautions, and smile-mask syndrome could soon become a serious national health issue.

Bagpipes a threat to the environment (and we're not talking noise pollution). Traditionally the chanter on the bottom of Highland pipes, which is used to create the melody, was made from native woods such as bog oak. But Scottish mariners who travelled to Africa in the 18th century returned with supplies of African Blackwood, which proved to be far more resilient and produced a sweeter sound. Since then the species, known as Mpingo in Swahili, has been a staple component of most quality pipes.

Disco-dancing dentist sued for drilling disaster. A dentist was dancing to a song on the radio while drilling on a woman's tooth, and she wound up in the hospital when the drill bit snapped off and lodged near her eye, a lawsuit alleges. Brandy Fanning, 31, said she had to undergo emergency surgery and spent three days in the hospital because of the October 2004 mishap.

Once in a while, justice is swift.
Fleeing Robbery Suspect Eaten By Alligator. A Florida man police said was breaking into cars at Miccosukee Resort and Gaming was attacked and killed by a 9-foot alligator while trying to run from police. … One of the men was quickly captured by officers during the incident last week but the other robbery suspect tried to elude officer by jumping into a large pond behind the facility, according to a WJXT-TV report.

Photo Experts Say 'Stop Deleting!' Look through any old photo album and you'll find them: terrible family photos — the crying baby, the poorly lighted shot, the out-of-focus family, the off-center portrait. But the new digital ritual is changing all that. Some call it the lost art of bad photography.

Cards for inmates say it all for you: The cards displayed on the bookstore rack stopped me in my tracks. They shared a simple cover drawing — a delicate yellow rose with a barbed-wire stem — but their greetings suggested an unconventional audience: "Sorry to Hear About Your Arrest."

Sigbritt, 75, has world's fastest broadband. A 75 year old woman from Karlstad in central Sweden has been thrust into the IT history books — with the world's fastest internet connection. Sigbritt Löthberg's home has been supplied with a blistering 40 Gigabits per second connection, many thousands of times faster than the average residential link and the first time ever that a home user has experienced such a high speed.

Roswell aliens theory revived by deathbed confession. Last week came an astonishing new twist to the Roswell mystery. Lieutenant Walter Haut was the public relations officer at the base in 1947 and was the man who issued the original and subsequent press releases after the crash on the orders of the base commander, Colonel William Blanchard. Haut died last year but left a sworn affidavit to be opened only after his death.

Nissan warns U.S. cellphones can disable car keys. Nissan North America has a warning for customers: placing your electronic key too close to your cellphone could leave you stranded. The automaker is asking customers driving new models of two of its flagship sedans to keep their car keys and cellphones at least an inch apart to avoid disabling the "intelligent keys."

No such thing as a free lunch? They eat food they find in bins and are driven by conscience, not financial need. Meet the freegans. According to the saying there's no such thing as a free lunch, but freegans beg to differ. They only eat food they can scavenge for free from supermarket dustbins. Most is only just past its sell-by date, some is still within it but the packaging has been damaged. The freegan philosophy of "ethical eating" is a reaction against a wasteful society and a way of highlighting how supermarkets dump tonnes of food every year that is still edible.

Mice move in to new New York Times building. The New York Times just moved into a new $600 million, 52-story building and all people want to talk about is the mice. Or the leaks. Or the screwy elevators.

Is the Vatican a Rogue State? The top crime neighborhood in the world isn't in Sao Paulo or Lagos. It's not the Bronx in New York, or even Wedding in Berlin. It's the small city ruled by Pope Benedict XVI, which apparently sees more criminal cases per capita than any other part of the world.

Italian woman finds live grenade in potato bag. A 74-year-old Italian grandmother who bought a sack of potatoes at the her local market found a live grenade among the spuds. ... Police said the pine cone-shaped grenade, which had no pin and was still active, was the same type used by U.S. soldiers in Europe in World War Two.

No More Monster Bunnies for North Korea. The fate of 12 German giant rabbits delivered to North Korea is in doubt. The breeder who sent them suspects they have been eaten by top officials rather than used to set up a bunny farm.

Cooking spray: Prevents TV outages? Consumers can purchase a variety of products, such as heaters and covers, to prevent snow build-up on their dishes. Heaters can cost upwards of $100 to $200 depending on the size of the dish. A can of Pam cooking oil spray can also do the job.

Your car will talk to other cars — soon. Researchers from the Network Research Lab at the University of California, Los Angeles (UCLA) and car manufacturer BMW are working on an autonomous, self-organising communication network that connects cars to each other, allowing them to collect data from their immediate surroundings, process it and exchange it with other cars.

Plastic duck armada is heading for Britain after 15-year global voyage. A flotilla of plastic ducks is heading for Britain's beaches, according to an American oceanographer. For the past 15 years Curtis Ebbesmeyer has been tracking nearly 30,000 plastic bath toys that were released into the Pacific Ocean when a container was washed off a cargo ship.

Male gators attracted to tuba's B flat. Mating Florida alligators respond to the note of B flat — at least when played on a tuba through the wood of a boardwalk. At least that's what a Tampa Tribune reporter discovered in an attempt to replicate a 1944 experiment, "Response of Captive Alligators to Auditory Stimulation," conducted at the Museum of Natural History in New York.

Oven door passed off as flat-screen TV in scam. An unsuspecting woman purchased a "flat-screen television set" at a bargain price, the package even bubble-wrapped and complete with cord and controller. … Despite the bizarre fraud, police say oven doors are an increasingly hot item in area burglaries.

ATMs blown up with gas. Dutch banks said on Monday [2/27/2006] they are to take urgent measures to end a spate of thefts from automatic telling machines (ATMs) by criminals blowing them up with gas. … Thieves drill a hole into the machine, pump gas in, retire to a safe distance and then detonate the gas, blowing the notes inside onto the street for gathering up.

Stay calm everyone, there's Prozac in the drinking water. Prozac, the anti-depression drug, is being taken in such large quantities that it can now be found in Britain's drinking water.

Kodak to Discontinue Black-And-White Paper. Ending a century-old tradition, Eastman Kodak Co. will soon stop making black-and-white photographic paper, a niche product for fine-art photographers and hobbyists that is rapidly being supplanted by digital-imaging systems.

Microchip Pioneer Jack Kilby Dies at 81.

What are you laughing at? In 1953, Charles Douglass invented a machine called the "laff box," which we commonly refer to today as the "laugh track," ushering in a new era of comedy on television. Counterculturalist Paul Krassner once called the laugh track "the epitome of televised hypnotic suggestion."

Britain Moves Against Windfall for Rapist. Home Secretary David Blunkett said Thursday [8/12/2004] he planned to bar convicted felons from benefiting from financial windfalls while behind bars after a jailed rapist won 7 million pounds (12.6 million) on the national lottery.

Doctor abandoned surgery patient to cash a check: A Cambridge orthopedic surgeon had his license suspended by the state medical board yesterday for leaving the operating room during spinal surgery - to go to the bank to cash a check. Dr. David C. Arndt of Mount Auburn Hospital was found to pose an "immediate threat to the public health" after he allegedly abandoned a patient already under anesthesia with an incision on his back to go to a Harvard Square bank.

Einstein's theory may be relatively wrong: The crux of Einstein's theory of relativity -- that E = mc² — is under challenge, following evidence that the speed of light might be slowing down. The discovery, made by a team of Australian scientists, undermines Einstein's key formula which maintains that the speed of light must remain constant.

Have You Ever Tried To Sell A Diamond? The diamond invention -- the creation of the idea that diamonds are rare and valuable, and are essential signs of esteem -- is a relatively recent development in the history of the diamond trade.

The Army's Best Invention: It was developed in just 30 days in the summer of 1942 by the Subsistence Research Laboratory in Chicago. And never in its 52-year history has it been known to break, rust, need sharpening or polishing. Perhaps that is why many soldiers, past and present, regard the P-38 C-ration can opener as the Army's best invention.

Intentional:
NY Restaurant Charging $41 for Burger: The Old Homestead restaurant in New York bills it as "The World's Most Decadent Hamburger."

Unintentional:
Man is charged $4,334.33 for four burgers. An AP item datelined Palmdale, California notes that George Beane was charged $4,334.33 for four burgers at Burger King. To make a long story short, the cashier entered $4.33 and then forgetfully reentered the same amount again, resulting in a debit-card charge that instantly was paid out of his Bank of America account, wiping out his balance.

Sonygate, Part 2: Fake "Patriots": Maybe they should change the name from Sony to phony. Just a week after the studio grudgingly admitted its advertising executives faked a film critic in print ads for several of its movies, Sony's facing another in-house case of fakery. Daily Variety reports the studio passed off two of its employees as faux fans in commercials hyping last year's The Patriot.

Bank chief mugged at cash machine: Multi-millionaire Sir George Mathewson was robbed by two muggers who distracted him by saying he had dropped a £5 note. Mathewson, chairman of the Royal Bank of Scotland, was withdrawing cash from a central London automated teller machine when two con men approached him.

Smart People Live Longer. British scientists say their research suggests that the smarter you are, the longer you live — but they don't know why.

Air Force Colonel Jailed for Sexual Harassment: He is believed to be the highest-ranking Air Force officer ever convicted on sexual harassment charges.

Parking lot saliva brings murder arrest: Police wanted to find a DNA sample ...and they got it when the suspect spat.

Cop Killings Hit 35-Year Low: Forty-two law enforcement officers were feloniously killed by others in the line of duty across the nation in 1999, the lowest number in 35 years, according to new statistics released by the FBI on March 15, 2001.

Man Gets $218 Trillion Phone Bill. A Malaysian man said he nearly fainted when he received a $218 trillion phone bill and was ordered to pay up within 10 days or face prosecution. … The guy is actually lucky because at least this amount is obviously stupid. It could just as well have been an erroneous number which was vaguely reasonable but expensive and because the computer says it, it must as we all know, be right.

Electricity shut off in Flint home over a penny. Jacqueline Williams, 41, of Flint had an electricity bill of $1,662.08 and paid all of it, except for one cent. That wasn't enough for the power company, which blacked her out for seven hours Wednesday [5/10/2006].

Politicians share personality traits with serial killers: Study. Using his law enforcement experience and data drawn from the FBI's behavioral analysis unit, Jim Kouri has collected a series of personality traits common to a couple of professions. Kouri, who's a vice president of the National Assn. of Chiefs of Police, has assembled traits such as superficial charm, an exaggerated sense of self-worth, glibness, lying, lack of remorse and manipulation of others. These traits, Kouri points out in his analysis, are common to psychopathic serial killers.


---

Superstition in the news

This sounds like a story out of a thousand-year-old newspaper.
Nigerian police detain goat over armed robbery. Police in Nigeria are holding a goat on suspicion of attempted armed robbery. Vigilantes took the black and white beast to the police saying it was an armed robber who had used black magic to transform himself into a goat to escape arrest after trying to steal a Mazda 323.

This phone number will NOT kill. Nigeria's government is assuring people in Africa's most populous nation that a phone call can't kill you. A text message has spread across the country in recent days, warning that people will die if they answer mobile phone calls from 09141.

Mysterious 'Dog-Headed Pig Monster' Terrorizes Africa. One Namibian official, regional councilor Andreas Mundjindi, was quoted in Informante newspaper as saying, "This is an alien animal that the people have not seen before. We don't have a forest here, only bushes. So, this must be black magic at play."

Indian villagers hold frog wedding to bring rain. With five priests chanting scriptures, a frog groom named Punarvasu and his amphibian bride Pushala were joined in holy Hindu matrimony by villagers hoping the ancient custom will bring monsoon rains to their drought-stricken district.

Indian police arrest 2 men for sacrificing child. Two men have been arrested in central India for allegedly killing a 7-year-old girl and cutting out her liver in a ritual sacrifice to ensure a better harvest, police said Monday [1/2/2012].

45 people lynched amid Haiti cholera fears. Angry Haitian mobs have lynched at least 45 people in recent weeks, accusing them of spreading a cholera outbreak that has killed over 2500 people across the country, officials said. The number included at least 14 suspected sorcerers previously known to have been lynched in the far southwestern region of Grand'Anse as local people feared they were spreading cholera with a magical substance. The area has been largely spared by the outbreak.


---

Back to the Home page