---
Offshore oil drilling
---

Democrats and environmentalists are keeping the price of gasoline high for a number of reasons. Democrats seem to enjoy having a crisis to solve, but unfortunately their solutions are usually worse than the problems. In addition, the environmentalists hate to see capitalism and industry succeed. Many of them are, quite literally, earth-worshiping hippies. Rational arguments are lost on people who believe that they can "save Mother Earth" from the evil oil companies. If these people would stand aside, offshore oil production could expand, domestic oil supplies would go up, and prices at the gas pump would steadily decrease.

Note: As you might imagine, there is a great deal of discussion about the recent oil spill in the Gulf of Mexico. In particular, the event is being used for political leverage, by the people who oppose oil production anywhere, as "proof" that offshore oil drilling will inevitably result in massive spills. All the discussion about the Deepwater Horizon oil spill has been moved to this page.


---



Rubio looks to defense bill to block offshore drilling, but some fear it creates a loophole. Sen. Marco Rubio (R-Fla.) is turning to a must-pass defense bill as a way to block offshore drilling off the coast of Florida, but fellow drilling opponents worry his amendment opens the door for the Department of Defense to speed extraction in the sensitive area. Rubio is making multiple efforts to block any drilling off the state's Gulf Coast, home to multiple military installments that use the waters for training. One amendment to the National Defense Authorization Act (NDAA) would extend the current moratorium on offshore drilling in the area through 2032. The other would require the secretary of Defense to sign off on all future lease sales in Florida's Gulf to assure the drilling wouldn't interfere with military operations.

Biden offshore drilling ban would kill 200,000 jobs, oil lobby says. Joe Biden's proposal to ban new offshore oil and gas drilling in federal waters would cost nearly 200,000 jobs, strip the U.S. government of billions in dollars of revenue, and potentially push production to other countries, according to a new study commissioned by the industry's trade group. The study, released Tuesday [5/26/2020] by the National Ocean Industries Association, does not name Biden. But its release is intended to underscore the potential consequences of Biden's proposal to prevent the U.S. government from issuing new oil and gas drilling permits in federal waters, which had experienced record oil production before the coronavirus halted demand.

45M acres in Gulf of Mexico up for auction March 23. The federal government is offering about 45 million acres for oil and gas leases in the central and eastern Gulf of Mexico at sales on March 23.

U.S. halts Alaskan oil drilling for two years. The Obama administration canceled offshore drilling in Alaska's Arctic Ocean for the coming two years after scrapping current and future drilling plans in the Chukchi and Beaufort seas.

Interior Department quietly suspends Arctic drilling leases. As part of the Friday night [10/16/2015] news dump, the Obama administration did a complete about face on the subject of Arctic oil exploration. After years of supporting research and efforts to keep our options open for future energy development, Interior Department boss Sally Jewell sent out word that extensions or expansion of permits for drilling off of Alaska's coast would essentially be extinguished.

Federal regulators pull back Arctic offshore lease sales. Three weeks after Royal Dutch Shell announced it was walking away from exploratory drilling in U.S. Arctic waters, the Obama administration has taken steps to keep drill rigs out of Alaska's northern ocean for a decade or more.

Environmental groups raise concerns over Florida's new hunt for oil. Renewed hunts for oil in sensitive Florida ecosystems have environmental groups raising questions about the state's regulation of the oil and gas industry.

Offshore Fracking In Gulf Of Mexico Is On The Rise As Companies Seek Out Deep-Sea Riches. Global oil and gas firms are increasingly turning to offshore fracking to extract more fossil-fuel riches from the bottom of the ocean. The Gulf of Mexico in particular could see fracking activity grow by more than 10 percent over this year and next, according to Baker Hughes Inc., which operates about a third of the world's offshore fracking fleet, Bloomberg News reported Thursday [8/7/2014].

Deep Water Fracking Next Frontier for Offshore Drilling. Energy companies are taking their controversial fracking operations from the land to the sea — to deep waters off the U.S., South American and African coasts. Cracking rocks underground to allow oil and gas to flow more freely into wells has grown into one of the most lucrative industry practices of the past century. The technique is also widely condemned as a source of groundwater contamination. The question now is how will that debate play out as the equipment moves out into the deep blue. For now, caution from all sides is the operative word.

Offshore Hydraulic Fracturing. Offshore, a form of hydraulic fracturing has been in commercial use since the early 1990's. Similar to hydraulic fracturing that is being used to develop unconventional resources onshore (shale and tight sand), hydraulic fracturing offshore has combined two mature oil and gas technologies — hydraulic fracturing and gravel pack completions. The result has been a significant improvement in well life and reliability, productivity, and oil and gas recovery.

No Drilling or Fishing: Obama Vastly Expanding Pacific Ocean Marine Preserve. The revamped expanded Pacific Remote Islands Marine National Monument will cover 490,000 square miles — an area roughly three times the size of California — and will become the largest marine preserve in the world.

Obama to create the world's largest protected marine territory. President Obama will expand a protected marine habitat to six times its current size, making it the largest aquatic area off limits to development in the world, the White House said Wednesday [9/24/2014]. Obama will officially sign a proclamation increasing the Pacific Remote Islands Marine National Monument in the south-central Pacific Ocean on Thursday to 490,000 square miles. The White House said it would help revive overfished populations, such as tuna, and preserve coral reefs that support marine life. "Expanding the Monument will more fully protect the deep coral reefs, seamounts, and marine ecosystems unique to this part of the world, which are also among the most vulnerable areas to the impacts of climate change and ocean acidification," the White House said.

The Editor says...
This action has nothing to do with fishing or marine habitat or coral reefs. It is all about the prevention of offshore oil exploration and production.

Of course, development will have to wait until the Democrats are out of the White House.
Shell announces new Gulf of Mexico discovery. Shell Oil Co. on Tuesday [7/15/2014] announced an offshore discovery in the Gulf of Mexico it believes contains 100 million barrels of oil equivalent. The discovery was made about 75 miles offshore in the eastern portion of the Gulf in water that's nearly 7,500 feet deep.

Obamanomics: Tax The Rich, Punish The Working Poor. The great entrepreneur Harold Hamm [...] has turned North Dakota into Saudi Arabia. Energy independence is in sight. Now, the energy sector is responsible for roughly 10% of our growth. And tens of thousands of energy jobs are now being created at very high wages, all while our trade deficit is evaporating and our entire Middle East foreign policy may be changing. Of course, the Obama administration is taking credit for the oil-and-gas revolution. But they initially opposed it and in fact had nothing to do with it. And if they opened up federal lands and offshore drilling, the energy success would be even greater.

Obama repeatedly defied federal court with Gulf oil policies. Jacking up oil prices by ending energy production on federal lands has long been a top priority for liberal Democrats and their Big Green environmental movement backers. So when the Deepwater Horizon offshore oil drilling rig exploded on April 20, 2010, President Obama wasted little time before shutting down all drilling in the Gulf of Mexico. On April 30, 2010, Obama ordered a temporary ban on all new oil and gas leases in the region and asked Interior Secretary Ken Salazar to produce a report with further recommendations.

Tim Scott, Mark Sanford wade into offshore drilling debate in South Carolina. Five years after "Drill, baby, drill!" entered the United States' political lexicon, there's a new push for offshore exploring and drilling, led in part by U.S. Sen. Tim Scott. The South Carolina Republican is working on legislation to give companies a green light to survey the South Atlantic coast for oil and gas deposits — and to tap into them.

What happened to the "all of the above" energy strategy?
Biden: Offshore oil drilling threatens national security. The nation's need for oil and the changing environment are enduring dangers, Vice President Joe Biden told graduates of the United States Coast Guard Academy Wednesday [5/22/2013]. Speaking at the New London, Conn., commencement, Biden said offshore drilling and the need to protect high-seas oil tankers threaten both the nation's shorelines and environmental security. [...] The vice president also said global warming will force the cadets to focus more on the heretofore frozen Arctic north than did their predecessors.

The Editor says...
I hope the regular visitors to this web site don't pay much attention to the opinions embedded in the news reports on Politico. If you do, here is the opposing viewpoint: The Arctic north is still frozen. It was "heretofore" frozen, indeed, and it still is. Also, while Mr. Biden says oil drilling threatens our national security, exactly the opposite is true. Buying oil from unfriendly Muslim countries instead of drilling for it at home is a direct threat to our national security. As for our "environmental security," there is no such problem. There is no environmental problem in the United States today that compares to the multiple pollution problems we faced in the 1960's — all of which have been remedied.

Barack Obama's America. Barack Obama's America is a place where Americans can't drill for oil in American waters but where American taxes can be used to subsidize Brazilian oil exploration and development.

An Alaskan Challenge for 'All of the Above' Energy. An accident with no environmental impact is being exploited for political purposes in an effort to halt offshore exploration in Alaska.

President Obama steals credit for energy success he opposed. President Obama may be the first chief executive to take credit for the results of things he has opposed throughout his time in the Oval Office. The latest example came last week, when the Department of the Interior announced it had approved 21 million acres in the Gulf of Mexico for energy resource exploration and development.

Obama Administration Mandates Oil Firms Hire Sea Turtle Observers. The Department of Interior (DOI) is requiring private oil companies to hire marine mammal and sea turtle monitors if the companies are granted a lease to drill offshore. A marine mammal observer's job is to watch for whales, dolphins, and similar sea creatures and to advise on minimizing the underwater noise created by offshore drilling, which can affect the sea mammals.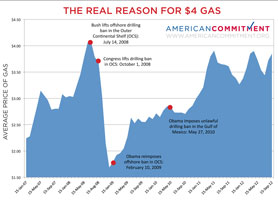 Gas Prices Are Up Because of Obama's Offshore Ban. In the Hofstra presidential debate, President Obama said: "when I took office, the price of gasoline was $1.80. Why is that? Because the economy was on the verge of collapse." Wrong. Prices collapsed because we signaled to the world that we were finally moving forward with developing America's massive offshore oil and gas resources — and they shot back up when Obama reimposed the offshore ban.

Why gas is nearly $4 a gallon. So it was Bush's bad policies that drove the economy down, and with it the gas prices. Let's ignore the obvious, and not even point out that if what Obama said were true, gas would be [almost] free by now, if not for the taxes.

Feds give Shell green light to launch Arctic drilling. The Obama administration on Thursday [8/30/2012] agreed to immediately allow Shell to launch initial drilling in Arctic waters, even though a critical oil spill containment barge is still a two-week trek away. Administration officials stressed that the company would only be allowed to begin initial site work and drill 1,400 feet below the surface of the Chukchi Sea without penetrating underground oil reservoirs until that emergency equipment has won Coast Guard certification and is on site.

Survey says voters back offshore drilling. Roughly seven out of 10 voters support changing U.S. policy to allow more oil and natural gas development along the nation's coastline, according to a new Harris Interactive poll released today [8/14/2012]. That matches the level of support for offshore drilling that was documented by other polls conducted before the Deepwater Horizon disaster two years ago briefly turned some Americans off to the idea.

Coastal governors decry limited role in offshore drilling plan. The Obama administration ignored the wishes of coastal leaders when assembling a plan for offshore drilling near their shores, says a group of Republican governors from Texas, Louisiana and other states. In a letter to President Barack Obama late Wednesday [8/8/2012] and obtained exclusively by Hearst Newspapers, the pro-drilling governors say they are "concerned about the lack of communication from the federal government on critical matters that affect our coastal development." In particular, the group complains that the Interior Department did not consult properly with coastal states on its a plan for selling offshore oil and gas drilling leases from 2012-2017 before finalizing the plan in June.

Committee to Issue Subpoenas for Five Interior Dept. Officials in Drilling Moratorium. The House Natural Resources Committee voted 26-17 today [8/1/2012] to let Chairman Doc Hastings (R-Wash.) proceed with issuing subpoenas for five Obama administration officials involved in the disputed report that led to the Gulf drilling moratorium. The officials — who never confirmed an invitation to appear at a hearing last week, thus leading to its postponement until September — are believed to have direct knowledge or involvement in the drafting, editing or review of the Department of the Interior report that was edited to appear as though the moratorium was supported by a panel of engineering experts when it was not.

Interior Department sneaks offshore moratorium past public. While the Obama administration was taking a victory lap last week after the 5-4 Supreme Court decision to uphold the president's signature legislative accomplishment, Obamacare, the Interior Department was using the media black hole to release a much-awaited five-year plan for offshore drilling. That plan reinstitutes a 30-year moratorium on offshore energy exploration that will keep our most promising resources locked away until long after President Obama begins plans for his presidential library. Given the timing, it is clear that the self-described "all of the above" energy president didn't want the American people to discover that he was denying access to nearly 98 percent of America's vast energy potential on the Outer Continental Shelf (OCS).

Is Salazar the New Holder? Ken Salazar, a former Democratic senator and attorney general of Colorado, was brought into the fold early by Obama's transition team. Since then, his department has been held in civil contempt for refusing to comply with an injunction against the offshore drilling moratorium and has spun the administration line about domestic energy production being up while simultaneously cutting back on oil and gas exploration on federal lands — with leasing falling to the lowest amount of acreage in 20 years.

Obama Sets Drilling Limits, Continues War On Oil. President Obama has said that his administration has an all-of-the-above energy plan. Apparently "all" doesn't include offshore drilling. No president has ever offered fewer offshore leases.

Sierra Club Sues to Stop Offshore Drilling, and Guess Who Is Funding the Defense. [Scroll down] A little known US law called the Equal Access to Justice Act, signed by President Jimmy Carter in 1980, allows the groups to use lawsuits against government as revenue sources. When they sue, the government has to incur the costs of defending itself against the lawsuits, and also picks up the expenses for the groups suing the government. No one even keeps track of how much money the government has ended up spending on such lawsuits.

Obama's Interior Department Still Going Rogue. The Obama administration's loathsome cowboy, Interior Secretary Ken Salazar, won't take no for an answer. He's been smacked down repeatedly by federal courts for imposing a draconian, junk science-based moratorium on the oil and gas industry. Yet, the job-killing zealot and his boss just introduced another ruinous offshore drilling ban two weeks ago. The White House rationale for the renewed crackdown? Because we said so.

Senators Aim to Repeal and Replace Obama's 5-Year Offshore Drilling Plan. Two of the senators who pushed an investigation into a suspected Interior Department cover-up of the White House fudging scientific conclusions to justify the gulf drilling moratorium are now fighting the administration's plan to stymie exploration and production on the outer continental shelf. On the same day that the nation's attention was turned toward the ObamaCare ruling at the Supreme Court, the Obama administration was quietly issuing a five-year energy proposal that would place a virtual moratorium over 85 percent of the nation's offshore areas.

Offshore drilling under fire from latest energy plan. A new plan by the Interior Department that critics say would lock up more than 85 percent of America's offshore areas to energy production is drawing negative reviews from congressional Republicans. The restrictive five-year proposal only allows for 15 new offshore leases in the Gulf region and Alaska, but blocks new drilling on the Atlantic and Pacific coasts, including the much sought after Virginia and South Carolina region.

Don't Drill, Baby, Don't. The Obama administration's recently released five-year plan for offshore drilling leases has been met with sharp criticism from the oil and gas industry and Republicans, who say it continues a crippling moratorium on potential energy reserves on the West and East Coasts. The administration's 2012-2017 offshore lease plan, released June 28, expands available leasing areas for drilling slightly in the Gulf of Mexico and opens new areas in the Arctic Ocean, but also keeps both the West and East Coasts completely off-limits for offshore oil exploration.

Senior GOP lawmaker: Interior is stonewalling on deepwater drilling probe. A senior Republican says the Interior Department is stymieing a House committee probe into the deepwater drilling freeze imposed after the 2010 BP oil spill by refusing to make several officials available for interviews. House Natural Resources Committee Chairman Doc Hastings (R-Wash.), in a letter to Interior Secretary Ken Salazar on Friday [7/6/2012], says he's providing a "final opportunity" to establish a schedule for interviews with Interior officials to occur the week of July 16.

Interior Dept. IG to be Investigated in Alleged White House Drilling Moratorium Cover-Up. A trio of senators have won their request for an investigation into Interior Secretary Ken Salazar's inspector general regarding a potential cover-up of documents that led to the drilling moratorium in the Gulf of Mexico following the BP oil spill. Sens. David Vitter (R-La.), Jeff Sessions (R-Ala.) and John Cornyn (R-Texas) asked the Integrity Committee of the Council of the Inspectors General on Integrity and Efficiency in a May 24 letter to investigate the Interior Department's Acting Inspector General Mary Kendall, whom they say "failed to ensure an independent, impartial and complete investigation into the Administration's offshore drilling moratorium and related activities."

Record-setting Gulf drilling auction nets $1.7 billion. The Interior Department on Wednesday [6/20/2012] held a record-setting sale of oil and gas drilling rights in the central Gulf of Mexico, with companies submitting $1.7 billion in winning bids for 454 offshore tracts and Statoil establishing a new high-water mark with its $157 million offering for a single lease.

Obama Stonewalling Gulf Oil Spill Disclosure. The Obama administration is desperately trying to avoid coming clean about its role in delaying capping the Gulf Oil Spill. [...] We can reasonably infer that the authors of those 21 documents may include President Barack Obama, his then-chief of Staff Rahm "Never Let a Crisis Go to Waste" Emanuel, and Energy and Climate Change Czarina Carol "Midnight Moratorium" Browner from the White House, not to mention Energy Secretary Steven "Solyndra" Chu, Interior Secretary Ken "Boot on Their Neck" Salazar, and Admiral Thad "An Overabundance of Caution" Allen of Homeland Security's United States Coast Guard. All of them had a lot to say and or do publicly during the oil spill containment operations.

Time for LOST to Get Lost. Secretary of State Hillary Clinton says that by failing to ratify LOST, the U.S. could fail to develop offshore oil and gas deposits under the ocean bed. Funny, that's what we're failing to do now. Signing the treaty would not change the Obama Administration's fierce determination to prevent offshore drilling.

Inspector General under investigation in drilling ban. Lawmakers are investigating whether a top government investigator was involved in producing a report that erroneously suggested certain scientists approved a drilling moratorium in the Gulf of Mexico after the Deepwater Horizon disaster. The moratorium cost thousands of jobs throughout the region and created a decline in energy production. Seven members of the National Academy of Engineers later rebuffed the action.

Senators Demand Probe of Potential Cover-Up in Gulf Drilling Moratorium. Three senators have called for an investigation into a potential cover-up of documents that led to the drilling moratorium in the Gulf of Mexico following the BP oil spill. Sens. David Vitter (R-La.), Jeff Sessions (R-Ala.) and John Cornyn (R-Texas) today wrote Kevin L. Perkins, chairman of the Integrity Committee of the Council of the Inspectors General on Integrity and Efficiency, stressing that they believe the Interior Department's Acting Inspector General Mary Kendall "failed to ensure an independent, impartial and complete investigation into the Administration's offshore drilling moratorium and related activities."

Cabinets gone wild. [Scroll down] Secretary of the Interior Ken Salazar has pulled off the near impossible: At a time when the known gas and oil reserves of the United States on public lands have soared, he has cut back on federal leasing of them to just about 2 percent of available offshore lands and 6 percent of onshore. Meanwhile, huge new amounts of oil are now found on private lands despite, not because of, the Interior Department. When he was a U.S. senator, Salazar claimed that even $10-a-gallon gas would not change his mind about voting to increase offshore drilling.

Obama administration rebuffs subpoena. The Obama administration has snubbed a congressional subpoena in the investigation of a White House "drafting error" that suggested certain experts supported their decision to temporarily ban oil drilling in the Gulf of Mexico. The Interior Department says it will not turnover all of the requested documents and accused the House Resources Committee conducting oversight of the incident of violating the administration's good faith effort to work with the panel.

House committee says Obama administration may have edited 2010 report to favor Gulf oil drilling moratorium. The Obama administration was subpoenaed Tuesday [4/3/2012] for documents that congressional investigators hope would shed light on how a government report was edited to indicate experts endorsed a moratorium on oil drilling in the Gulf following the Deepwater Horizon tragedy. Interior Department officials have refused to comply with repeated requests from the House Resources Committee to provide documents that lawmakers say would show if political appointees at the agency or White House were involved in the editing decision and whether it was intentional.

Obama Kills Atlantic Offshore Drilling For Five Years. Yesterday [3/29/2012] the Obama administration announced a delaying tactic which will put off the possibility of new offshore oil drilling on the Atlantic coast for at least five years.

House Panel Says Obama 'Hides Ball' On Energy Truth. House panel votes to issue subpoenas to administration officials involved in doctoring a report on the Gulf oil spill to justify a moratorium and in squelching another that concludes EPA regulations will kill jobs.

Republicans vote to subpoena oil moratorium documents. House Republicans voted Wednesday [3/28/2012] to authorize congressional subpoenas demanding that the Obama administration turn over documents it has refused to provide in two investigations, including one looking at the post-Gulf of Mexico drilling moratorium. The 23-17 vote in the Natural Resources Committee escalated yet another showdown between the administration and House Republicans, who have flexed their investigative powers on everything ranging from immigration to gunrunning to land use.

President's Budget Projects 72% Drop in Off-shore Drilling Lease Revenue. With gasoline prices at historic highs, and threatening to go even higher, Department of Energy Secretary Steven Chu, who recently revealed he does not even own an automobile, was reported as saying back in September of 2008 (prior to the Obama Administration and his appointment as Secretary of the Department of Energy), that American gasoline prices should be gradually raised over a fifteen year period to encourage energy efficiency. He was quoted in a Wall Street Journal interview back then as stating "Somehow we have to figure out how to boost the price of gasoline to the levels in Europe."

Top 10 Obama energy blunders. After the 2010 oil spill in the Gulf of Mexico, President Obama imposed a moratorium on deep-water drilling. The action prompted oil rigs to relocate to Brazil, costing jobs in America. Obama then offered technology and support for Brazil to develop its offshore oil production, creating jobs in Brazil. Does this make sense to anyone?

The Editor says...
It makes sense if Obama's goal is the systematic destruction of capitalism.

Tell America the whole truth about gas prices, Mr. President. According to government data, a mere 3.7 deep-water permits in the Gulf of Mexico have been approved per month since last August, compared with seven per month during the previous three years. More than 80 percent of the oil produced in the Gulf comes from deep-water rigs. Similarly, the average approval time for mandatory environmental impact studies that must be made for drilling in the gulf has doubled under Obama, going from an average of 61 days to 118.

Shell losing $1 billion a year on U.S. Gulf drilling delays. Royal Dutch Shell Plc, Europe's largest oil company, is losing about $1 billion a year from drilling delays in the Gulf of Mexico since the 2010 Macondo disaster. Shell's production in the region will be curbed by about 50,000 barrels of oil equivalent this year, similar to 2011, Chief Financial Officer Simon Henry said. The company expects to return to planned operations off the Gulf coast by 2014.

Obama's dishonest energy promise. President Obama's ambiguous call to "open" 75 percent of the country's potential offshore oil and natural gas resources to exploration may sound generous, but the truth is, the areas containing those resources are technically already included in the upcoming 2012 to 2017 offshore leasing plan, and they are virtually the same areas where exploration and production have been allowed for decades.

Gulf Deepwater Drilling Ban's Hidden Victims. Small- and medium-size businesses serving Louisiana's energy industry are shedding employees, dipping into personal savings or moving elsewhere to stay afloat. The administration's war on fossil fuels is taking its toll.

Obama loves oil! Not! Without his nose growing visibly, the President claimed the government was behind the technological advances that led to the current shale gas boom, and even suggested that he might take credit for the rise in domestic oil production. In fact, Mr. Obama's administration has hampered and castigated oil companies at every turn. In the light of the hysterical grandstanding over the BP Gulf spill (whose impact proved to be greatly exaggerated), it was ironic indeed to hear the President now declare a great opening up of offshore exploration.

Deep Gulf drilling thrives 18 mos. after BP spill. Two hundred miles off the coast of Texas, ribbons of pipe are reaching for oil and natural gas deeper below the ocean's surface than ever before.

The Year in Obama Scandals — and Scandal Deniers. [Scroll down] In February, federal judge Martin Feldman in Louisiana excoriated the Obama Interior Department for defying his May 2010 order to lift its fraudulent ban on offshore oil and gas drilling in the Gulf. He called out the administration's culture of contempt and "determined disregard" for the law.

President Obama's top 10 constitutional violations. [#6] The deep-water drilling ban: Following the Deepwater Horizon oil spill, the Interior Department issued a blanket six-month moratorium on new oil and gas drilling in the Gulf of Mexico. A federal judge struck down that moratorium as arbitrary and capricious, but the government issued a new order to replace the one that was struck down. That order was subsequently withdrawn, but the judge was so shocked by the administration's conduct that he found the government in civil contempt of court.

Obama's Energy Plan: Chevy Volt. We hear much these days about all the jobs "saved or created" but hear little about jobs slashed or destroyed. In many ways, the Obama administration has become a job-wrecking machine. According to Forbes in the same Politico op-ed piece, the six-month gulf drilling moratorium alone cost 8,169 jobs and $487 million in wages, not to mention the sweeping effects on the trucking and agriculture industries.

Shell Ready to Move on Alaska Wells — If Alphabet Soup of Challenges Would End. An estimated 27 billion barrels of oil are sitting just off the northern coast of Alaska in waters controlled by the United States, but despite spending more than five years and $4 billion, Shell Oil Company still can't get to it. The company was planning to announce this week plans to move ahead with drilling three test wells in the Beaufort and Chukchi Seas next summer, but it's still lacking several permits and a roadmap of how to get them. Shell doesn't blame strict environmental protections. The company's beef is with a seemingly endless web of legal appeals and challenges available to drilling opponents.

Obama Stalls Deepwater Drilling Despite Lifting of Moratorium. This week marks one year since the Obama administration lifted its formal moratorium on deepwater drilling, but thanks to the Interior Department's frustrating approach to energy development, much of the Gulf of Mexico is still suffering the effects of a permitting logjam. ... We were hoping for a productive discussion about how we can work together to remove the Interior Department's bureaucratic roadblocks and allow our Gulf Coast energy industry to get back to work. Unfortunately, we just got the same old company line: They're working on extending leases and granting permits on a 'case-by-case' basis.

Once in a while, it doesn't hurt to state the obvious:
Deep-water drilling lags behind pre-spill levels. A year after the Obama administration lifted a deep-water drilling ban imposed in response the Gulf oil spill, the offshore energy industry is still struggling to rebound, coastal and business leaders said Wednesday [10/12/2011]. A parade of executives from companies whose fortunes are tied to offshore drilling told the House Natural Resources Committee it is taking too much time and effort to win the Interior Department's approval to drill new wells and plug old ones.

'Drill, Castro, Drill!' says Obama and the Environmental Defense Fund. In half a heartbeat the Obama team could put the kibosh to the most dangerous offshore oil drilling ever proposed near U.S. shores, scheduled to begin in December by a Spanish/Cuban corporation. By fighting this drilling his "Environmentalist" allies could get the biggest bang for their lobbying buck in their history. But all bets are off. This drilling, you see, won't be by tacky/villainous U.S. oil companies. Instead a Spanish-Cuban oil company will be the outfit drilling in Cuban waters 60 miles from Key West. U.S. companies are banned from exploring anywhere within 125 of the Florida Coast, by the way.

Obama's Interior Chokehold on America. How could a bureaucratic bottleneck in the Gulf of Mexico cost the U.S. economy nearly $20 billion and wipe out hundreds of thousands of jobs as far away as Ohio, Pennsylvania and California? Unfortunately, with this White House administration, anything is possible. President Obama recently announced yet another jobs initiative — knowing all the while that one very simple action on his part would indeed create new jobs, infuse federal and state budgets with billions of dollars, and make us less reliant on imports. But that didn't happen.

Drill, Cuba, Drill. Deep-water drilling will resume in the Florida Strait when a giant, semi-submersible oil rig en route from Singapore arrives later this fall. The bad news is it will not be American.

Shell Gets Alaska Drilling Go-Ahead from EPA. Shell Oil is set to tap Alaska's vast oil reserves now that the U.S. Environmental Protection Agency (EPA) has issued a final air quality permit to allow exploration development north of the Arctic Circle. The permit allows Shell to set up its Noble Discoverer drillship in the Chukchi Sea along with a fleet of support vessels including icebreakers and oil-spill response crafts.

The Editor says...
The population density in Alaska (north of the Arctic Circle) is practically zero, and there is no shortage of wind. How bad could the air quality possibly be?

The Obama energy crisis as you've never before seen it. It's been eclipsed somewhat in recent months by the continued stagnation of the economy and the increasingly loud Republican presidential nomination battle, but the energy crisis caused by President Obama's Permatorium on drilling in the Gulf of Mexico is just as serious as it ever was. And it's going to get worse if something isn't done soon to lift the bureaucratic strangulation being applied to the oil and natural gas industries by Obama's Secretary of the Interior Ken Salazar.

Rigged For Failure. A year ago, three oil rigs fled the Gulf of Mexico for better opportunities abroad. Now, it's 10. Make no mistake, the toll is rising on a business environment marked by the Obama administration's uncertainty.

Collateral Damage: Lost Gulf Rigs from Obama Obstructionism. Ten oil rigs have left the Gulf of Mexico since the Obama Administration imposed a moratorium on deepwater oil and gas drilling in May 2010 and others could follow soon, a detailed July 2011 report from Sen. David Vitter's (R-La.) office shows. ... It gets worse. Several of the remaining rigs could be relocating soon, according to the report.

Obama's "Industrial Sabotage" Devastates the Gulf. Kevin Mooney tabulates the damage that the Obama administration is doing to the Gulf economy, and to the energy industry generally. ... If a hostile nation drove our drilling rigs out of the Gulf of Mexico, it would be an act of war.

Obama's Real Energy Policy. [Scroll down] The oil companies drilling in the Gulf of Mexico are still reporting incredible delays in re-opening even the inshore oil rigs. Offshore fields have become almost impossible to develop despite the incredible size of some of these discoveries. The government shut down even the inshore oil fields in the Gulf after the Deepwater Horizon disaster last year. The Department of the Interior just announced the first auction of oil leases since the Deepwater Horizon tragedy in April of last year, to be held in December. The Gulf provides 29% of America's oil and 13% of our natural gas.

Ten Oil Rigs Have Exited the Gulf of Mexico. Ten oil rigs have left the Gulf of Mexico since the Obama Administration imposed a moratorium on deepwater oil and gas drilling in May 2010, according to documentation the Pelican Institute obtained from Sen. David Vitter's (R-La.) office.

Who Controls the Price of Oil? OPEC should not be able to burden consumers to the same extent now [as they did in the 1970's] because large oil reserves were discovered in Alaska, North Sea, Canada, and the Gulf of Mexico. However our business-killing EPA regulations and Obama's seven-year moratorium on drilling in the Gulf do.

Top 10 Scariest Economic Developments. [#5] Price of oil skyrocketing: When Obama took office, the price of oil was $1.61 a gallon. With the Middle East turmoil, the decline of the dollar and the administration's lack of an energy policy, oil has soared to $4 a gallon. How about letting oil companies drill in America instead of subsidizing Brazilian offshore drilling?

No Energy in the Executive. "At some point this must end. With a permit, or without." With those words, an exasperated federal judge punctuated his latest decision ordering the Obama administration to process applications to drill for oil and gas offshore. More than a year after the BP Deepwater Horizon oil spill caused the administration temporarily to halt the federal permitting process, Judge Martin Feldman of the Eastern District of Louisiana was prepared to accept no further bureaucratic delay by the federal regulators who continue to bottle up almost all drilling applications.

Top 10 Examples Proving Obama Wants High Energy Prices. The BP oil spill prompted the President to impose a drilling moratorium in the Gulf making deepwater drilling permits impossible to obtain. So when oil companies moved their rigs to areas off the coast of Brazil where they were welcomed, Obama offered billions in U.S. taxpayer money to aid the venture, creating new jobs in South America. By refusing to allow U.S. energy sources to be developed, the President is ensuring increased reliance on expensive and volatile foreign oil.

Too Little, Way Too Late. Why has the Democratic Party done everything in its power for more than 30 years to suppress domestic production of oil? Let's consider some sources of petroleum that the Democrats have blocked. ANWR is estimated to have the capacity to produce 1,000,000 barrels per day. Currently, around 1.5 million barrels per day are produced in the Gulf of Mexico; if the Obama administration would stop blocking permits and allow that production to increase by only 20 percent, that would be 300,000 barrels per day. Then there is the Keystone pipeline. The administration would like to block its construction, which would prevent 900,000 barrels per day from entering the U.S.

Obama's Environmentalists Destroy Marine Environment. The most prolific marine ecosystem on earth is being systematically destroyed on orders of the U.S. Department of the Interior. ... The most prolific and "diverse marine ecosystem" ever recorded by marine scientists was created by the "facilities" the U.S. Dept. of the Interior is hell-bent on dismantling (offshore oil platforms). Acting as artificial reefs over the past half century, the natural beauty, teeming fish life, coral colonies, and "bio-diversity," created by these structures is amply documented in several studies commissioned by none other than the U.S. Dept. of the Interior.

Environmentalists push to keep U.S., others from oil drilling in Arctic. Environmentalists are toiling to stop a modern-day gold rush at the top of the world, as the U.S. and four other countries scramble to stake claims to potentially vast oil riches under the frozen waters of the Arctic Sea. Environmental activists such as Greenpeace are opposed to any resource extraction in the region.

House passes bill to speed Arctic drilling. The House on Wednesday [6/22/2011] passed legislation that would accelerate offshore drilling in the Arctic by curtailing environmental reviews of coastal oil exploration projects. The measure, sponsored by Rep. Cory Gardner, R-Colo., and Rep. Gene Green, D-Texas, aims to remove legal and regulatory barriers that have stalled Shell Oil Co.'s bid to drill in Arctic waters near Alaska.

Witnesses say Gulf drilling ban was a harsh blow. The Obama administration's reactions to last year's BP oil spill did more damage than the crude itself, Mississippi Gov. Haley Barbour and Gulf Coast employers told a House committee Thursday [6/2/2011]. Barbour said little oil reached Mississippi's shores, but the administration's May 2010 decision to impose a five-month ban on most deep-water drilling has left a lasting impact.

Running on empty: The drilling ban one year later. It was one year ago when the Obama administration imposed a deep-water drilling moratorium on new oil and gas wells in response to the Deepwater Horizon tragedy in the Gulf of Mexico. For all practical purposes, the ban continues today — despite the administration's pre-election announcement in October that it had lifted the moratorium.

"The Worst Environmental Disaster in U.S. History!" (One Year Later). "There's just no data to suggest this is an environmental disaster, "said Marine Scientist and former LSU professor Ivor Van Heerden who also works as a BP spill-response contractor. "I have no interest in making BP look good — I think they lied about the size of the spill — but we're not seeing catastrophic impacts. There's a lot of hype, but no evidence to justify it." In fact these observations came — not a year after the Deepwater Horizon blew-up — but a mere three months afterwards, making them all the more blasphemous at the time. By now they've been amply vindicated, making the Obama team's "moratorium" and more recent stonewalling on Gulf of Mexico drilling permits all the more preposterous.

House Measure Lifts Gulf Drilling Moratorium. House Republicans on Thursday [5/12/2011] passed legislation to reverse President Obama's moratorium on drilling in the Gulf of Mexico over the objections of many Democrats who insisted that gas prices would go down if oil company taxes were increased.

Gas Prices Are High Because the Liberals Want It that Way. [Scroll down] President Obama overreacted to the British Petroleum Deep Horizon oil spill in the Gulf of Mexico last year by issuing a crippling moratorium on offshore deepwater drilling. The spill was a result of a lack of sufficient oversight during the transition of the rig from exploration to commercial production, a particularly low-probability event. The moratorium did nothing to address the root cause of the accident. The 5th Circuit Court of Appeals agreed with this line of reasoning, yet White House officials falsely represented to the public last year and more recently to a court that scientists had approved the blanket drilling moratorium. The administration then defied a federal court by replacing its original moratorium, which had been struck down, with a substantively identical second moratorium — for no good reason.

House to Vote on Lifting Offshore Oil Moratorium. With almost 98 percent of America's offshore oil off-limits to drilling, and sustained gas prices nearing $4 a gallon, congressional Republicans say only one thing is keeping America from tapping into its offshore resources — President Obama. On Wednesday [5/11/2011], Congress considered a bill to void that. The House debated H.R. 1231, a bill titled, "Reversing President Obama's Offshore Moratorium Act," and it is expected to pass Thursday [5/12/2011].

House Bucks Obama: Bill Jump-Starts Gulf Oil Production. Republicans are banking on a measure approved by the House on Thursday [5/5/2011] to lower gasoline prices by accelerating offshore lease sales in the Gulf of Mexico. "The situation we find ourselves in today is detrimental to everyone who goes to the pump to fill their cars," said Rep. Rob Bishop (R.-Utah). "The cost of gas increases, and continues to increase because of the inaction of this administration."

Interior Department auctions off shore oil leases, EPA says you can't drill. If the Justice Department weren't in on this scam, they'd be investigating the bait and switch tactics the Obama administration uses on the oil industry. First you take billions of dollars from an oil company for an offshore lease, then you come up with an absurd excuse to stop them from drilling.

The Gulf Is Still Waiting for More Drilling Permits. On the first anniversary of the Deepwater Horizon oil spill, the administration's de facto moratorium, or "permitorium," on offshore drilling has resulted in higher prices for gas and heating fuel in addition to costing thousands of Americans jobs and making the country more dependent on foreign oil. Indeed, it appears that the administration has found in the Gulf disaster the justification for its political bias against domestic oil and gas production.

How we will end up paying $6 a gallon for gas: Someday, you will be pumping gas, staring at the digital numbers racing by, and you'll wonder: "How could I possibly be paying $6 a gallon for gasoline?" You also will be wondering why so many of your friends and relatives are still looking for work. Or why America is more dependent on foreign oil than ever before. If you look back to today, you'll remember why: President Obama's de facto moratorium on deepwater drilling in the Gulf of Mexico.

Wrecking a Nation. In 1985, the U.S. imported 25 percent of its oil usage. Today, it's 61 percent. And still we are placing restrictions on increases in domestic production, both for oil and other sources of energy. A few days back, President Obama, rather than sticking around a couple hours to explain to the American people or to the U.S. Congress why we were going to war in Libya, flew off to Brazil to hand out a permit to allow deep sea oil drilling in the Gulf of Mexico to Brazil's state-run oil company, Petrobras. Capitalist companies in America need not apply.

Drill, Drill, Drill (but only in Brazil). President Obama making the case for offshore oil development in Brazil while the Gulf of Mexico remains in limbo. ... In the Gulf of Mexico and off the coast of Alaska, oil production remains at a virtual standstill while an Administration "permitorium" on drilling continues unabated, save for three Gulf permits granted to operations which previously had permits and one allowing for new exploration (we'll see how far that one gets before the green lawsuits commence). Meanwhile, American rig operators continue to go without jobs while the network of small businesses that support oil production have been dealt blows from which they may never recover.

Drill, Brazil, drill, says the U.S. When was the last time an American president stood before an audience in a foreign country and announced that he looked forward to importing more of its oil? Answer: Just over a week ago, when President Obama joined political and business leaders in Brasilia in hailing the fact that their newly discovered offshore petroleum reserves might be twice as large as those in the United States.

Obama's Domestic Energy Doublespeak. The gap continues to widen between what President Obama claims to be true about domestic energy production and what Louisianians know is true. With prices at the pump climbing toward $4 a gallon, the President is asking us to believe that his administration supports expanded drilling off the Gulf Coast. Those of us who live there know that nothing could be further from the truth.

19,000 Jobs Lost Nationally Since Offshore Drilling Moratorium Imposed. At least 13,000 jobs have been lost since last summer's moratorium on offshore oil production, surpassing projected job losses in a 2010 study by thousands, according to the Louisiana State University professor who authored the study. Joseph Mason, author of "The Economic Cost of a Moratorium on Offshore Oil and Gas Exploration to the Gulf Region," estimated that the new regional job losses due to the moratorium on offshore oil production in the Gulf region is now 13,000 — up from his original estimate of 8,000.

Senator Questions $2-Billion Loan to Brazil for Offshore Drilling. Sen. David Vitter (R-La.) is questioning how the United States has benefited from a $2-billion loan the Export Import Bank of the United States made to a Brazilian oil company for its offshore drilling operations. ... The Obama administration has approved only three permits for drilling new deepwater wells in the Gulf of Mexico since it lifted its moratorium on issuing permits last October — seven months after the BP rig explosion and oil spill.

Obama: Drill, Brazil, Drill! While leaving U.S. oil and jobs in the ground, our itinerant president tells a South American neighbor that we'll help it develop its offshore resources so we can one day import its oil.

Drill, Bebê, Drill. Let's see if I have this straight: America shouldn't drill for oil and gas in the Gulf of Mexico because our evil oil corporations surely will cause another accident like the BP spill and pollute all the oceans of the world; but it's no problema apparently for the obviously technologically superior Brazil to drill in the open Atlantic and sell their production to us? At least that is what I gleaned from the encouraging words delivered by our president to Brazilian leaders in a speech to local businessmen in Brasilia last week.

Is Obama's Interior Secretary lying about drilling permits, or his Justice Department? President Obama's Interior Secretary Ken Salazar told Congress recently that his department has received only seven deepwater drilling permit applications and 47 for shallow water drilling in the past nine months. That caught Sen. David Vitter's attention because he recalled that the Department of Justice told a federal judge last week that there are actually 270 shallow water drilling permit applications pending and 57 deepwater applications. Which is it? The 54 applications Salazar claims or the 327 claimed by the Justice Department? Does the Obama administration's left hand know what it's far-left hand is doing?

Thanks for Small Favors, President Obama. On Feb. 28, just after Interior Secretary Salazar declared that he was not satisfied with Gulf drilling safety standards, President Obama's drilling czar, Michael Bromwich, announced that a permit had been approved to resume deep-water drilling 70 miles off the Louisiana coast. Not a new permit, mind you, but one for a project that had already begun drilling before the Deepwater Horizon accident in April 2010. In the months ahead, Bromwich hinted, there might be more approvals, even approval for a new deep-water well. Maybe so, maybe not.

Americans Back Offshore, ANWR Drilling. With the price of gas up 39 cents at the pump in a month and heading higher amid turmoil in much of the Middle East, Americans wonder why the U.S. isn't doing more to exploit its own oil resources. They favor drilling in territorial waters, 67%-29%, according to a new IBD/TIPP poll. That is up from 61%-30% from last May and 64%-25% when Republicans touted drilling in the 2008 election as oil topped $147 a barrel.

Obama's Fuzzy Oil Production Math. He doesn't want to admit it, but President Obama is taking credit for something George W. Bush did. The White House is touting federal data that shows domestic oil production is at its highest level since 2003. In a blog post last week, Obama's top climate and energy aide, Heather Zichal, points to Energy Information Administration data that shows oil production from the Outer Continental Shelf (which basically means the Gulf of Mexico) has increased by more than a third between 2008 and 2010.

Time Is Money, Oil Is Time. Writing at the Politico, Steve Forbes adds up the damage: "The Interior Department's six-month moratorium on offshore oil production has cost 8,169 jobs, according to a study by one Louisiana State University professor, along with more than $487 million in wages and nearly $98 million in forfeited state tax revenues in the Gulf states alone..."

Feds give first green light for deep-water project since drill ban. The federal government just gave the green light for Noble Energy to resume a deep-water drilling project that was halted by the Obama administration's moratorium last year — the first of its kind to be approved since the ban was lifted in October. Until today [2/28/2011], federal regulators had yet to allow offshore drilling that was off limits under a five-month ban on some deep-water exploration.

Vitter: One drilling permit is not enough. One down, 14 to go. That's the message Sen. David Vitter (R-La.) sent to the Obama administration on Monday [2/28/2011] when the Interior Department announced it had approved the first Gulf of Mexico deepwater drilling permit since last year's massive oil spill. Vitter has placed a hold on a key Interior nominee until the department's offshore drilling arm — the Bureau of Ocean Energy Management, Regulation and Enforcement — issues at least 15 deepwater permits.

Obama Nixes Safe Drilling. Interior Secretary Ken Salazar was in Houston this weekend talking with oil executives who are eager to start drilling again in the Gulf of Mexico. That may sound like progress, but after the meeting Salazar said that nothing had changed. He was not ready to approve any new drilling.

No date yet for deepwater Gulf permits - US officials. U.S. officials on Friday [2/25/2011] could not offer a firm date when deepwater permits to drill for oil in the Gulf of Mexico will be issued, as crude posted its highest weekly close in more than two years. "We are carefully and rigorously reviewing drilling plans," Michael Bromwich, director of the Bureau of Ocean Energy Management, the offshore drilling regulator, said at a news conference.

The Oil Spill Crisis That Didn't Go To Waste. The extent of the Obama Administration's political opportunism in the Gulf oil spill is being revealed as the investigation into the Deepwater Horizon accident continues to plod along. A spate of new developments on the political front highlights the bending of facts to fit a political agenda.

A Shale Of A Difference. We've been here before. After the Deepwater Horizon disaster in the Gulf of Mexico, which was caused by a single drilling rig explosion, all deepwater rigs were shut down while the administration took a fresh look at safety rules and procedures. A de facto moratorium remains in the form of a snails-pace permitting process.

Oil ban means more debt. The Obama administration's policy against oil drilling kills American jobs, undermines the economy and violates a judge's direct order. The full-court press against the oil industry amounts to what Rep. Stephen J. Scalise, Louisiana Republican, calls a "permitorium" on offshore drilling. The permitorium is what remains after the formal moratorium against deep-water drilling was lifted in October.

Vitter: Drilling regulator sticks to 'talking points'. Sen. David Vitter said today [2/16/2011] he was unsatisfied after a meeting with the nation's top offshore drilling regulator, Michael Bromwich, to discuss delays in the government's approval of deep-water exploration projects. Vitter, R-La., said Bromwich "said some things that would make most Louisianians' heads spin." "I wish my meeting with Director Bromwich was more fruitful," Vitter said. "Unfortunately, pretty much all he did was repeat the administration's talking point that there is no de facto drilling moratorium in the Gulf."

White House seeks new fees on offshore drillers. The fiscal year 2012 White House budget proposal calls for new fees on oil-and-gas companies to help fund drilling oversight, which the Interior Department has expanded in the wake of the BP oil spill. But calls for digging deeper into the industry's pockets — along with the White House plan to end billions of dollars in industry tax incentives — will face a cool reception among oil-and-gas companies and many Republicans.

New Containment System Shreds Last Excuse for Permitorium. No more excuses, Mr. President. Let the drilling resume. A consortium of oil companies, led by Exxon, today unveiled a dedicated underwater containment system, including the vessels needed to deploy it, for runaway oil wells in the Gulf. The system borrows heavily from the innovative method BP used to cap the Deepwater well before pessimists said it would be possible via the standard "bottom kill." Since it is all ready to go, this new device could stop a blowout in weeks, rather than the 85 days it took BP to design, build, and emplace a similar structure.

National Commission Spill Report: Too Anti-Drilling Instead of Anti-Spilling. The BP Deepwater Horizon Spill Commission report is out and its recommendations would spell bad news both for energy industry jobs and the future price at the pump. The administration-selected panel, dominated by anti-drilling activists but devoid of anyone with actual experience producing energy, proposes to pile new layers of red tape onto a process that already leaves much domestic energy off-limits and creates years of delays for rest. It even includes measures that would virtually shut down new oil drilling in Alaska, though the spill occurred thousands of miles away and under very different conditions in the Gulf of Mexico.



This is an original compilation, Copyright © 2013 by Andrew K. Dart

The Interior Department's Culture of Contempt. Federal judge Martin Feldman in Louisiana excoriated the Obama Interior Department Wednesday [2/2/2011] for defying his May 2010 order to lift its groundless ban on offshore oil and gas drilling in the Gulf. Nine months later, not a single permit has been issued. Several deepwater platforms have moved out of the area to take their businesses — and an estimated 5,000 jobs — overseas. Billions of dollars in potential oil revenue and Gulf lease sales-related rent have also dried up.

Judge holds Interior in contempt over drilling ban. A Louisiana federal judge on Wednesday held the Interior Department in contempt for re-imposing a deepwater oil-drilling ban last year after the judge had struck down an earlier version of the moratorium. The contempt finding provides political ammunition for Republicans and pro-drilling Democrats who say Interior is blocking offshore development.

A contemptuous administration. The case, Hornbeck Offshore Services v. Salazar, centers on a company challenging the moratorium on deep-water drilling imposed after the BP oil spill. On June 22, U.S. District Judge Martin L.C. Feldman ordered Interior Secretary Kenneth L. Salazar not to enforce the moratorium because it appeared "arbitrary and capricious and, therefore, unlawful."

White House's Contemptible Drilling Ban. The Obama administration's trouble with the courts has continued with a judge's ruling last week that the Interior Department's reinstating of a drilling moratorium followed by a de facto moratorium via an overly restrictive permitting process constituted contempt. The administration had issued a drilling moratorium in May in waters deeper than 500 feet after the explosion and sinking of the Deepwater Horizon drilling rig off Louisiana that resulted in the spill of more than 4.1 million barrels of oil into the Gulf of Mexico.

Spill report could delay Arctic drilling. The presidential commission that probed the oil spill in the Gulf of Mexico also delivered a setback to Shell Oil Co. and others that hope to drill in Arctic waters near Alaska. The seven-member panel, which issued a report Tuesday [1/11/2011] on government and industry deficiencies it said led to the Gulf spill, also identified too many "serious concerns" about cleaning up and containing oil spills in the remote Arctic to green-light those projects now.

Oil Heads For $100 A Barrel, As Industry Pushes For More Drilling Offshore. The price of oil has hit its highest level in over two years — $95 a barrel for Brent crude. Rising prices are part of the ongoing recovery in the world economy, but energy economists are saying there's a danger they could hold back growth. And just in time for the new Congress, and promises of easy regulation on business for the next few years, a big U.S. industry group has started a push to increase drilling off the U.S. coasts.

More Hurdles for Drilling. Even as other nations press ahead with plans for deep-water drilling, Obama continues to block offshore oil and gas projects in the U.S. Despite the symbolic lifting of the deep-water drilling ban back in October, no new projects have been approved. Even those already approved have been halted by the president's interior secretary, Ken Salazar. ... It's good politics to appear conciliatory at a moment when gas prices are rising. But Obama never seems to follow through.

Drilling Is Stalled Even After Ban Is Lifted. More than two months after the Obama administration lifted its ban on drilling in the deep-water Gulf of Mexico, oil companies are still waiting for approval to drill the first new oil well there. Experts now expect the wait to continue until the second half of 2011, and perhaps into 2012.

Finding Reverse Gear in the New Year. [Scroll down] Obama's panicked and senseless drilling moratorium is costing us "75,000 jobs, $91 billion in government revenue, and 900,000 barrels of oil per day," according to the Republican House Natural Resources Committee. It's locked us into a death spiral toward five-dollar-per-gallon gasoline, which will be a hammer blow to an already weak economy. Polls show a substantial majority opposed to the ban, with a December Rasmussen poll revealing 54% of voters feel it will be bad for the economy.

The 10 Biggest 'Non-Story' Stories of 2010. [#9] Feds shutdown Gulf drilling industry — Though the 6-month moratorium in response to the BP oil spill was lifted in November, a de-facto ban remains in place. Also unreported is the work stoppage in shallow-water due to ever evolving regulations and bureaucracy. Tens of thousands of jobs are on the line but even in this economy the press cares not.

Repeal 'Don't Ask, Don't Drill'. Tax cuts? Omnibus spending? Jobless benefits? Don't ask, don't tell? How about repealing the drilling ban that has slashed oil and gas production and cost us trillions in revenue and tens of thousands of jobs?

Making plans for post-Obama America:
Chevron again will go deep in the Gulf. Chevron Corp. on Thursday [12/16/2010] gave another multibillion-dollar vote of confidence to the future of oil and gas activity in the deep-water Gulf of Mexico. Despite lingering regulatory uncertainty in the U.S. offshore region created by the BP oil spill, the nation's second-largest oil company after Exxon Mobil said it will spend $4 billion over the next several years to develop its Big Foot field, 225 miles south of New Orleans.

New environmental rule expected to delay offshore drilling. The Obama administration will require environmental studies before approving any deep-water wells — a new regulatory hurdle that virtually assures the government will not green-light any of those projects soon. In outlining the plan Wednesday [12/8/2010], the nation's top offshore drilling regulator said he hopes the environmental reviews will add "weeks, not months" to the deep-water permitting process critics say is already too slow.

Obama's 200lbs of Gulf Coast Seafood Stinks of Hypocrisy. President Obama announced Wednesday [12/1/2010] that he will serve 200 pounds of Gulf Coast seafood to guests at White House parties this holiday season, symbolic of his support for gulf coast fishermen. It is unlikely, however, that 200 pounds of seafood will make Gulf Coast citizens forget that just two days earlier, the Obama administration reimposed an embargo on US oil against America by reinstating the offshore moratorium.

Obama's Offshore Flip-Flop. The Department of the Interior this week announced that its 2012-17 five-year plan for leasing tracts for offshore oil and gas exploration would place the Pacific, Atlantic, and eastern Gulf coasts off limits. In addition, Interior announced that the go-slow policy for Alaska offshore leasing would continue. Secretary of the Interior Ken Salazar used BP's Gulf oil leak as justification for reversing the policy that President Obama announced in March.

Rising Oil Prices Fuels Debate Over Offshore Drilling. With oil prices climbing near highs for the year above $88 a barrel Friday [12/3/2010], energy analysts predicted that oil could rise to $120 a barrel before the end of 2012, adding more fuel to the debate over offshore drilling. It's hard to say exactly what that would mean for motorists buying gasoline since the price of gas depends upon a number of different variables, including the region, retail prices and local and state taxes, AAA told FoxNews.com.

Today's Prohibition. The White House has reversed its March decision and will now impose a drilling moratorium in the Gulf and off the Atlantic coast. It blames the BP spill, but that's just a convenient cover for the real reason.

Offshore Drilling Curbed Again. The Obama administration reversed course Wednesday [12/1/2010] and said it wouldn't allow drilling off the Atlantic coast and in the eastern Gulf of Mexico near Florida, citing safety concerns after the worst offshore oil spill in U.S. history.

Oil Drilling Moratorium is an Act of Treason. If you had any doubt that Barack Obama's agenda is to destroy the United States of America, but still want more proof, I offer you the announcement that his administration will not provide any offshore oil leases in the eastern Gulf of Mexico, Pacific, or Atlantic coasts — for at least seven years!

Once Again, Feldman Explodes Administration Offshore Drilling Policy. Last week, when the Department of the Interior announced to great fanfare that they had lifted their ruinous deepwater drilling moratorium — despite concerns that behind the facade of doing away with a formal drilling ban there would be a de-facto moratorium on drilling thanks to onerous new rules and a slow permitting process.

Feds' lease sale may be pushed back. The future of a planned March sale of offshore drilling leases in the Gulf of Mexico is in doubt because of the federal government's plans to first conduct a lengthy environmental study of the region. The environmental analysis — formally announced this week — is expected to take about six months to complete, a timeline that means it is unlikely to be concluded before March.

Gangster government and the Gulf oil spill. In his new book, Louisiana Gov. Bobby Jindal claims President Obama was more concerned about his standing in the polls than Gulf Coast residents' welfare. ... When Jindal later expressed worries that a White House-imposed moratorium on oil and gas drilling in the Gulf of Mexico would drive up joblessness in his state, Jindal claims Obama was more concerned about standing in the polls.

Report: White House edited to favor drilling ban. The White House rewrote crucial sections of an Interior Department report to suggest an independent group of scientists and engineers supported a six-month ban on offshore oil drilling, the Interior inspector general says in a new report. In the wee hours of the morning of May 27, a staff member to White House energy adviser Carol Browner sent two edited versions of the department report's executive summary back to Interior.

BP Horizon Spill Still a Nightmare for Gulf Residents. To small companies like mine that rely heavily on oil and gas industry demand to fill work orders, which allows job growth here in Louisiana, there are only two relevant periods of business: pre-moratorium and post-moratorium. Pre-moratorium represents a period of growth, potential, and optimism. Post-moratorium is a much darker period of lay-offs, stress, and sleepless nights for my wife and me.

Offshore Oil Drilling in Shallow Water: Good Safety Record, Less Risky. Offshore oil drilling in shallow waters (depths of less than 500 feet) has been in existence since World War II. While oil spills in shallow water have occurred in the past, only 15 barrels of oil have been spilled in over 11,000 shallow water wells drilled in the past 15 years — a remarkable record.

The Gulf... Between Obama and the American People. As Charles Krauthammer noted on FNC last night, it's about the Obama White House's mantra of never letting a good crisis go unexploited. This is their agenda — shut down domestic production of energy sources that work, force you onto those that do not work so well yet are spectacularly more expensive when they do — and place energy production and therefore, ever more of the economy's fate in the state's hands. It's not complicated. All one need to do is listen to their admissions and vows. Then the American people will with no doubt also understand what's going on. And that can't come too soon.

President Obama ends deep-water-drilling ban. The Obama administration Tuesday [10/12/2010] lifted its ban on deepwater oil and gas drilling a month ahead of schedule, but it isn't enough to get its top budget nominee past Sen. Mary Landrieu, a Louisiana Democrat who said the move doesn't go far enough.

Salazar's sleight of hand on Gulf drilling. Sen. Mary Landrieu was either being diplomatic or disingenuous when she used "good start" to describe Interior Secretary Ken Salazar's lifting of the federal government's drilling moratorium in the Gulf of Mexico. More to the point was her insistence that lifting the ban means nothing in the absence of "an action plan to get the entire industry in the Gulf of Mexico back to work.

Inspectors Rarely Surprised Oil Rigs. Surprise inspections of deepwater drilling rigs in the Gulf of Mexico dwindled to about three a year over the past decade, even as exploratory drilling far from shore increased, according to federal data analyzed by The Wall Street Journal. And since 2004 federal authorities haven't made a single surprise inspection on any of the 50 or so deepwater natural gas and oil production platforms in the Gulf, despite a law requiring periodic unannounced inspections.

Slowdown in Shallow-Water Drilling Could Cost Gulf Economy $4.3 Billion. The reduced number of shallow-water oil drilling permits issued by the government after the BP oil spill could place as many as 40,000 jobs at risk and cost the region $4.3 billion in lost wages and revenues, according to a study by the Maguire Energy Institute at Southern Methodist University.

U.S. Imposes Offshore Drilling Moratorium, but Other Countries Fail to Follow. The Gulf Coast oil spill of April 20, 2010 caused the Obama administration to take some drastic measures, ... [including] a 6-month moratorium on offshore drilling (set to end November 30, 2010), a panel of "experts" to determine the cause of the spill, and new rules from the Department of Interior to minimize the harm of a future oil spill. But how are other countries responding to the U.S. disaster?

Ocean Energy Chief: No Idea When Gulf Drilling to Resume. Michael Bromwich, the director of the Bureau of Ocean Energy, Management, Regulation, and Enforcement (BOEMRE), told the commission investigating the BP oil spill that the federal government had no idea when deep-water oil drilling would resume in the Gulf of Mexico, even though the federal moratorium on such drilling expires on Nov. 30.

Landrieu Blocks Obama OMB Pick over Drilling Ban. Sen. Mary Landrieu, D-La., is officially playing hardball with the Obama administration over the six-month ban on drilling in the Gulf of Mexico. Landrieu announced Thursday afternoon [9/23/2010] she will block Obama's nominee for the Office of Management and Budget, Jack Lew, until the president lifts the moratorium on deepwater oil and gas drilling is lifted "or significantly modified."

Fossil Fuel is Nuclear Waste. California is blessed with interesting place names from its multicultural heritage. Pismo Beach is named after the Chumah Indian word for 'globs of tar' due to natural Hydrocarbon outflow found on this beach. The Spanish Portola Expedition in 1769 discovered "molten geysers of tar" at the present day La Brea tar pits in downtown Los Angeles. La Brea is Spanish for tar. Tar still oozes from the ground at La Brea, down now to about 10 gallons per day. Globs of tar still wash up at Pismo Beach, but are now blamed on man's failed drilling or shipping efforts.

Transocean pulls another rig out of the Gulf of Mexico. Transocean Ltd. is sending another rig out of the Gulf of Mexico — this time to Egypt — as a result of the federal moratorium on deepwater drilling.

Senate Interior Dept. spending bill to block West Coast drilling. The Interior Department spending bill slated for markup Thursday in the Senate Appropriations Committee will re-impose oil-and-gas drilling bans off the Pacific Coast that lapsed after decades in 2008, Sen. Dianne Feinstein (D-Calif.) said. Obama administration offshore leasing plans do not contemplate oil-and-gas development off the coasts of California, Oregon or Washington. But Feinstein — who chairs the subcommittee that crafts Interior spending bills — said in the Capitol Tuesday [9/14/2010] that the measure would re-instate the bans to provide extra protection.

Alaska sues over oil drilling. Alaska's governor says the state is suing to overturn the federal suspension of offshore drilling in Arctic Ocean waters.

Second Gulf Oil Facility Fire Reignites Offshore Drilling Debate. Fires in the Gulf of Mexico at two offshore oil facilities in less than five months has spurred environmental groups and some lawmakers to pressure the Obama administration to extend its six-month ban on deepwater drilling.

Jobs Knowingly Killed And Destroyed. There's a law known as the law of unintended consequences. It's invoked when you try to do the right thing but overlook other events and occurrences set in motion by your actions. In the case of the drilling moratorium, the consequences were intended.

Obama knew Gulf drilling ban would cost at least 23,000 jobs. Interior Department officials knew beforehand that President Obama's six-month moratorium on drilling in the Gulf of Mexico would cost more than 23,000 jobs and inflict devastating economic damage throughout the region. Even so, the administration was not deferred from defying a federal judge and doing it anyway.

More about Obama's self-inflicted economic collapse.

Support for Drilling Ban Drops in Florida. Now that the runaway well in the Gulf of Mexico is no longer gushing oil, public opinion in Florida — including the North Florida/Panhandle region that was most at risk — has turned against the idea of banning offshore drilling in the state's waters, according to a poll conducted Aug. 6-10...

Interior halts deepwater environmental exemptions. The Obama administration announced Monday it is requiring environmental reviews for all new deepwater oil drilling.

Texas sues feds over offshore drilling ban. The Texas attorney general sued the Obama administration Wendesday [8/11/2010] over its new deep-water offshore drilling moratorium, claiming it is unjustified and federal officials did not contact the state before issuing the ban.

Moratorium Mischief. While the President's legal team mounts their appeal and drafts a new explanation for why we need a "pause" in drilling across the gulf, they should include a chapter about Brazil. Specifically, why the "pause" excludes a multi-billion dollar, U.S. taxpayer-funded loan program designed to assist Brazil's state-owned oil company, Petrobras, in drilling off the coast of Brazil in waters deeper than the Gulf of Mexico. As you might expect, Brazil and Petrobras will benefit substantially from the U.S.-government loans, but the real boondoggle lies within President Obama's gulf drilling moratorium.

Covering up for George Soros. [Scroll down] For example, Soros has made a boatload of money off his huge investment in the Brazilian oil company, Petrobras, a company that has benefited mightily from its deep offshore oil reserves. Barack Obama had the U.S. Export-Import bank extend billions of dollars of loans to underwrite Petrobras's offshore oil development. Soros positioned himself to reap big gains just days before his pal in the White House pushed for billions in loans to Petrobras — a company from a country that can certainly tap the financial markets on its own to raise funds to tap oil off its shores.

70% in Texas Favor Offshore Oil Drilling; 66% Support Deepwater Drilling. Voters in Texas continue to show strong support for offshore oil drilling, and in contrast to findings in other states around the country, show nearly the same level of support for deepwater drilling. A new Rasmussen Reports telephone survey of Likely Voters in the state finds that 70% favor offshore oil drilling, 10 points higher than the national level. Nineteen percent (19%) oppose offshore oil drilling, while 11% more are not sure.

The Spill Is Gone, So End Drilling Ban. Now that the nation's newspaper of record has told us there is "little additional risk" from the Gulf oil spill, maybe the government can give us our offshore oil industry back. We could sure use it.

War Vs. Big Oil Goes Beyond Drilling Ban. The White House, along with certain members of Congress, has declared war on Big Oil. This animosity is evidenced not only by the current ban on offshore drilling, which may well force the industry to relocate to other parts of the world, it is also reflected in the myriad of proposals to hike the industry's taxes and use the additional revenues to pursue the administration's green agenda.

Beyond Politics? Oil firms have been lumped into one big, bad group by the U.S. drilling moratorium. But they're not all alike. BP's green politics played a big role in the Gulf spill. That's what should be repudiated, not drilling.

First rig sails away over drilling ban. Diamond Offshore announced Friday that its Ocean Endeavor drilling rig will leave the Gulf of Mexico and move to Egyptian waters immediately — making it the first to abandon the United States in the wake of the BP oil spill and a ban on deep-water drilling.

Guess who's coming to drill. As the Administration's stunts cause drilling rigs to leave the Gulf for Africa and elsewhere, Russia moves in.

Obama To Louisiana: Drop Dead. Numerous speakers appeared before the President's oil spill commission to plead for the resumption of drilling in the Gulf of Mexico. Even the commission, which did not contain one representative from the oil and gas industry, was inclined to support the lifting of the moratorium. ... To prevent future mishaps, more vigorous oversight is needed, but drilling in the Gulf does not need to be stopped.

IG investigating Interior Dept. report falsely claiming experts endorsed offshore drilling ban. In response to a request from Republicans on the House Natural Resources Committee, the Department of Interior's acting Inspector General, Mary Kendall, announced she is opening an investigation into whether a Department of Interior report recommending an offshore drilling ban was manipulated to appear as if the ban was endorsed by seven experts from the National Academy of Engineers.

Keep Offshore Drilling in the U.S. Afloat. As the unemployment rate sits at 9.5%, American jobs are literally floating away. Two oil drilling rigs from the Gulf of Mexico recently embarked on a two month journey overseas. Diamond Offshore announced one rig is going to the Nile River delta of Egypt and the other is heading to the Republic of Congo; and their job opportunities went with them. These rigs were sitting idle due to President Obama's deep water drilling ban and his administration's subsequent new moratorium, even though a federal judge struck down the first ban.

Ken Salazar Needs Another Behind-Kicking. When President Obama picked former Democratic Sen. Ken Salazar as his Interior Secretary last year, the Coloradan donned a 10-gallon hat and dubbed himself "the new sheriff in town." But Cowboy Ken is the one who needs to be run out on a rail. In his continued quest to shut down offshore drilling, Salazar has run roughshod over scientific integrity, transparency and the Gulf Coast economy.

Obama Ban Kneecaps Gulf Coast Economy. The crisis in the Gulf of Mexico intensified Friday [7/9/2010] as one of the largest drilling companies in the world announced movement of its deepwater drilling rig Ocean Endeavor from the Gulf of Mexico to Egypt. "With new contracting severely restricted in the Gulf of Mexico as a result of the uncertainties surrounding the offshore drilling moratorium, we are actively seeking international opportunities to keep our rigs fully employed," said Diamond Offshore President and CEO, Larry Dickerson. "We greatly regret the loss of U.S. jobs that will result from this rig relocation."

The Editor says...
Yes, and the rest of us will regret paying $6.00 a gallon for gasoline if this trend continues.

Obama outlaws drilling in water at any depth.
Revised deep drilling moratorium is unveiled. After two court rulings against its six-month moratorium on new deepwater oil and gas drilling, the Obama administration on Monday [7/12/2010] announced a revised ban, saying it would end by Nov. 30 or sooner and it would no longer be based on water depths.

New Ban Hits Oil Drillers. The Obama administration on Monday issued a new order banning most new deepwater-drilling activities until Nov. 30, setting up a fresh round of conflict with the oil industry over when it will be safe to drill again offshore.

Idled Gulf Rigs Head For Africa What does it say about America's investment climate when the Republic of Congo now attract oil rigs that once drilled the Gulf of Mexico? That's the effect of the Obamaadministration's nonstop bid to halt production here.

Obama throws out baby + bathwater:
Drilling ban is Louisiana's third calamity. It will be years before Louisiana totes up all of the terrible effects of Hurricane Katrina and the Deepwater Horizon oil spill. But the damage Louisianans suffer if a federal court approves President Obama's six-month offshore drilling moratorium could well be much worse. Sen. Mary Landrieu, D-La., estimates that as many as 38,000 jobs will be lost in the first four months alone, with more than 12,000 of those disappearing in just two parishes, Lafayette and St. Martin.

Drilling delay to boost oil imports. President Obama's moratorium on deep-water drilling could have the unintended effect of increasing U.S. dependence on oil imports — thus raising the risk of a more common type of oil spill from tankers, energy analysts say. The six-month moratorium already has thrown thousands of oil workers in the Gulf region out of work and jeopardized the outlook for tapping the most promising prospects for oil discoveries in the U.S. since the 1970s.

Ecological Disaster Is No Excuse for Creating an Economic Disaster. Americans are horrified by the damage being done to the Gulf Coast region's environment and local economies by the oil spill. Clearly, every measure needs to be taken to mitigate that damage and figure out what went wrong so that such accidents can be prevented in the future. Yet the disaster in the Gulf shouldn't be an excuse to create a new economic disaster, by raising energy prices for millions of Americans and by ceasing responsible exploration for oil and natural gas.

Unanimous: Fifth Circuit Court Rejects Obama Drilling Moratorium. A three-judge panel of the U.S. 5th Circuit Court of Appeals in a unanimous decision has rejected the Obama moratorium on drilling in the Gulf of Mexico, upholding U.S. District Judge Martin Feldman's June 22 injunction. At a hearing on Thursday [7/8/2010], the Department of the Interior argued that the court should reinstate the drilling ban while they wait for the full court to hear the appeal.

Obama Underwrites Offshore Drilling. You read that headline correctly. Unfortunately, the Obama Administration is financing oil exploration off Brazil. The U.S. is going to lend billions of dollars to Brazil's state-owned oil company, Petrobras, to finance exploration of the huge offshore discovery in Brazil's Tupi oil field in the Santos Basin near Rio de Janeiro.

Here's the explanation...
The War On Coal. [Scroll down] Apparently, drilling off Brazil in 14,000 feet of water has no such impact. This is the same Export-Import Bank that has made similar loan guarantees for the Brazilian state-owned oil company, Petrobras, to drill in deep water off Rio de Janeiro's pristine beaches. Billionaire and major Democratic party supporter George Soros is heavily invested in Petrobras.

Judge halts Obama's oil-drilling ban. A federal judge in New Orleans halted President Obama's deepwater drilling moratorium on Tuesday [6/22/2010], saying the government never justified the ban and appeared to mislead the public in the wake of the Gulf of Mexico oil spill.

Judge Smacks Down Obama Oil Ban as "Misleading," "Confused," "Capricious." Federal Judge Martin Feldman issued an injunction on June 22 ordering Interior Secretary Ken Salazar and the Obama administration not to enforce a federal moratorium on all drilling on the Outer Continental Shelf in water at depths greater than 500 feet.

'What Would Saul Alinsky Do?' Politico reports that the drilling companies who secured the court order blocking the moratorium say the administration indeed is going to defy the court order. I'm quite sure that Alinsky would applaud this move: If at first you don't succeed through proper legal channels, proceed anyway, because nothing is more important than the radical ends you seek, including the means that must be trampled in the process.

Presidents and public panics. Isn't this a perfect example of liberal political manipulation? Obama has stopped all oil drilling also on erroneous pretenses. A federal judge has just ruled that the drilling moratorium was based on false pretenses. Since when does it make sense to punish an entire industry for the problems of one company?

Gulf Drilling Season Reopens. Citing serious flaws, a federal judge overturned President Obama's six-month moratorium on new deep-water drilling projects. It's a good decision, one that puts reason and the law before populist politics. In rejecting the moratorium, New Orleans federal judge Martin Feldman said "the Interior Department failed to provide adequate reasoning for the moratorium" and suggested it intentionally misled the public.

Ruling mocks offshore ban. After enjoying a brief reprieve from the barrage of criticism over his response to the oil spill in the Gulf of Mexico, President Barack Obama was dealt a significant blow Tuesday [6/22/2010] that may refresh perceptions that his administration's handling of the crisis has been improvised and haphazard.

Ken Salazar Gets a Kick in the You-Know-What. In a scathing ruling issued Tuesday afternoon [6/22/2010], New Orleans-based Feldman overturned the administration's radical six-month moratorium on deepwater drilling — and he singled out Salazar's central role in jury-rigging a federal panel's scientific report to bolster flagrantly politicized conclusions. In a sane world, Salazar's head would roll. In Obama's world, he gets immunity.

The Audacity of Nope. Today [6/22/2010] in New Orleans, U.S. District Judge Martin Feldman lifted President Obama's six-month ban on deepwater drilling. ... The U.S. will appeal. In response to the ruling, drilling companies' shares jumped; Obama's slumped.

Louisianans Support Off-Shore Drilling. Louisianan liberals and conservatives alike strongly support drilling off the shore of the state: 77 to 12 percent. The oil spill has done little to sway Louisianans' opinions, 42% of voters say the spill hasn't changed their mind.

Jindal steps up battle against Obama's 6-month deepwater drilling moratorium. Louisiana Gov. Bobby Jindal (R) has spent weeks throwing political punches at the Obama administration's six-month freeze on deepwater oil-and-gas drilling, alleging it will wreak havoc on the region's already battered economy. Now, Jindal is battling the moratorium in the courtroom, too.

Oil: The Real Green Fuel. [Scroll down] If we stop drilling offshore, we could lose up to $1 trillion in economic benefits, according to economist Peter Passell. And, absent the utopian dream of oil-free living, every barrel we don't produce at home, we buy overseas. That sends dollars to bad regimes (though more to Canada and Mexico). It may also increase the chances of disaster, because tanker accidents are more common than rig accidents.

Will oil drilling become a pipe dream? If President Obama's Oval Office speech made one thing clear, it is that his administration and the activists who back it view the Gulf oil spill as simply an opportunity to advance their pre-existing agenda — which has nothing to do with cleaning up the Gulf, protecting the fragile coastal environment or fostering the region's economy.

Obama's oil crackdown may hike energy prices. President Obama is expected to highlight his get-tough strategy for offshore oil drilling in an Oval Office address Tuesday night [6/15/2010]. But while the policy may be politically popular, it could contribute to higher gas prices in the future, analysts are warning. The current six-month ban on drilling, part of the White House response to the BP oil spill, is just one factor affecting oil prices. Others include global demand, the strength of the dollar and hurricane season.

Deep-water drilling ban will face House test. U.S. Rep. Pete Olson, R-Sugar Land, announced Saturday [6/12/2010] that he would file legislation early this week that would rescind the Obama administration's six-month ban on deep-water offshore oil drilling. The moratorium "is turning a tragedy into a nightmare," Olson said, flanked by Republican House colleagues Kevin Brady of The Woodlands, Mike McCaul of Austin and Joe Barton of Ennis, at a news conference at the state Republican convention in Dallas.

Obama to Call for Broad Energy Action. President Barack Obama will use an Oval Office address Tuesday night to outline his plans for cleaning up the Gulf oil spill, compensating victims, getting tough on the offshore oil industry and enacting new policies to reduce U.S. oil dependence. He'll also tout his new leader, named Tuesday, to overhaul the agency that regulates oil drilling.

Obama Picks New Leader for Agency Overseeing Offshore Drilling. President Barack Obama has selected a new leader for the troubled federal agency that oversees oil and gas development and has been accused of lax oversight and conflicts of interest.

Obama under pressure on oil drilling ban. Warning of job losses and economic peril, critics of President Obama's six month moratorium on offshore oil drilling are intensifying pressure on him to rescind it. The administration is at work on new regulations for offshore drilling, following Obama's decision to halt oil exploration off Alaska and cancel 33 deepwater projects in the Gulf of Mexico.

Another Stumble in the Gulf. The administration has decreed a six-month moratorium on exploratory drilling in the Gulf, based on a report that Interior Secretary Ken Salazar wrote for President Obama. Salazar claimed that a panel of seven experts selected by the National Academy of Engineering had peer reviewed his report. It turns out, though, that the seven experts never saw the recommendation for a moratorium, and in fact oppose it.

Arrogance in the Executive. [Scroll down slowly] The blowout in the Gulf occurred in "ultra deep water." Drilling for oil at a depth of a mile or so below the surface became economically feasible about a decade ago, when the price of oil shot up above $20 a barrel. Still, it was a considerable technical challenge to go from deepwater drilling (depths of about 1,000 feet) to ultra deep (5,000 feet). Until the explosion on April 20 that destroyed the Deepwater Horizon rig, oil companies had experienced only one significant spill in drilling hundreds of wells in the Gulf over a period of more than 60 years, including many in ultra deep water. It has taken just one disaster to call an exceptionally good safety record into question. After the eventual postmortem, we may decide that wisdom dictates a long moratorium on ultra deep water drilling. Or not. It may be possible to learn quickly from whatever mistakes were made in this instance and move on.

America can't afford not to drill in Gulf. Those who disparage offshore drilling — and seem eager to ban it — ignore that the Gulf of Mexico accounts for one-third of U.S. oil production. Without domestic production, we would be spending even more on imported oil — which already is running $1.5 billion a day. Any sensible response to the explosion on the Deepwater Horizon oil rig — and the huge oil spill that's fouling Gulf waters — needs to recognize two facts: First, the demand for oil is expected to increase. Second, America cannot suddenly stop offshore drilling.

Drilling Bits of Fiction. The Obama Administration is under political pressure to reverse its ill-considered deep water drilling moratorium, and the latest blowback comes from seven angry experts from the National Academy of Engineering who say their views were distorted to justify the ban.

Obama's drilling plans hurt more than help. President Obama's recent announcement ordering the suspension of work on 33 exploratory wells currently being drilled in the Gulf of Mexico was no surprise. The moratorium on new permits for deepwater wells was expected, as was the cancellation of a lease sale in the western Gulf of Mexico. Even the revocation of a proposed lease sale off the coast of Virginia and the halt to planned exploration off the coast of Alaska weren't unexpected in the wake of the disaster.

Killing The Drilling. As if the latest measly numbers on our jobless recovery weren't bad enough, along comes the administration to pile disaster upon disaster by slapping a six-month ban on deep-water drilling.

America can't afford not to drill in the Gulf. Those who disparage offshore drilling — and seem eager to ban it — ignore that the Gulf of Mexico accounts for one-third of U.S. oil production. Without domestic production, we would be spending even more on imported oil — which is already running $1.5 billion a day.

Obama Spares Us From Energy Independence; Ignorant MSM Cheers. [Scroll down] The drilling would not be permitted any closer than 125 miles from any shoreline, which is well into international waters. In fact, nobody would ever see the drilling platforms. A person of average height can only see about three miles into the horizon and even folks in the tallest luxury hotels have a vista that extends maybe 25 or 30 miles tops. No, wrecking the view isn't something that folks are being spared from.

Obama's Aggravated Buggery. [Scroll down] With this power grab, the EPA now has the power and the intent to kill the entire coal industry, which supplies half of our electricity, a supply which will not, contrary to the remarkably dangerous assertions of at least two administration officials, be replaced just by plopping some windmills offshore. So, as you think about the Obama administration's head-fakes on energy in the run-up to trying to cram through another anti-energy bill, know this: Media slavishness/ignorance notwithstanding, Obama "opened for drilling" not one offshore area; it was all already opened, and he simply imposed an embargo on U.S. resources from the North Atlantic, West Coast, and parts of Alaska.

72% Support Offshore Drilling, 59% Favor It Off California and New England. Voters support offshore oil drilling more than ever, and most don't agree with President Obama's decision to limit where that drilling can be done. A new Rasmussen Reports national telephone survey finds that 72% of U.S. voters believe offshore oil drilling should be allowed. Just 12% disagree and oppose such drilling, with another 16% who aren't sure. This is the highest level of support for drilling found in nearly three years of surveying.

Poll: Majority want more expansion of offshore drilling. A new poll released Friday [4/2/2010] shows that a majority of people surveyed believe oil and gas drilling should be allowed off the coasts of California and New England. Those areas weren't included in President Obama's announcement on Wednesday [3/31/2010] that offshore exploration would be expanded to include the mid and south Atlantic coast, the Gulf of Mexico and the north coast of Alaska.

Drill, Maybe, Drill. The Obama administration opened up some of the nation's shores to offshore drilling on Wednesday [3/31/2010], a move that seemed more political than practical. Ironically, environmentalists and conservatives inadvertently found common ground when criticizing the plan: it won't do all that much to create true energy independence.

Environmentalists with Oil on Their Hands. BP now drills in 5,000 feet of ocean because these better alternatives have been foreclosed to the oil industry. Environmental groups have effectively stymied this safe and relatively easy production of oil in the name of some higher but more nebulous good. Where they once rationalized their campaign against oil companies based upon the threat of environmental degradation, environmental groups now use the increasingly dubious claims of global warming to justify their obstruction.

Obama's Drilling Deception: If this were a sincere change of heart and an honest, stand-alone effort to wean America off foreign oil, it would be worth heralding. But as always with this administration, there's a catch...

Pence calls president's drilling announcement a 'smokescreen'. Congressman Mike Pence, an Indiana Republican, said in a statement today [3/31/2010]: ..."As usual the devil is in the details. Only in Washington, D.C., can you ban more areas to oil and gas exploration than you open up, delay the date of your new leases and claim you're going to increase production." "The President's announcement today is a smokescreen. It will almost certainly delay any new offshore exploration until at least 2012 and include only a fraction of the offshore resources that the previous Administration included in its plan.

Stall, Baby, Stall. The administration's sudden interest in offshore drilling is little more than political posturing designed to gain support for job-killing energy legislation soon to come down the pike. I'm confident that GOP senators will not take the bait.

Obama To Open Up Offshore Drilling, But Not That Much. It wasn't exactly "Drill, baby, drill" but President Obama still surprised friends and critics alike by announcing Wednesday [3/31/2010] the administration would allow some off-shore drilling. The operative word here is "some." Industry experts and key congressional staffers told IBD that the policy change really creates only the possibility of drilling off Virginia's coast. In most other cases, huge procedural, legal and legislative hurdles remain.

New Obama plan will NOT increase U.S. energy supplies. On the last day of March, President Obama traveled to Andrews Air Force Base to announce his new program for exploring for energy on America's Outer Continental Shelf (OCS). Then he returned to the White House to announce his support for a holiday for the late Cesar Chavez, the famous head of the United Farm Workers Union. His "energy plan" will not increase U.S. energy supplies... it will reduce them. His actions on energy will not help the hard working supporters of Cesar Chavez, but they will do wonders for Hugo Chavez...

The Same Old Drill. Obama justified his decision to allow drilling in the eastern Gulf of Mexico, the southern Atlantic and some coastal regions of northern Alaska on the grounds that it would create jobs and serve as a "bridge" to the carbon-free Brigadoon we've long been promised. The reality is that his decision was entirely political. Aiming to win vital Republican support in the Senate for some kind of bipartisan cap-and-trade legislation, he lifted the ban where the polling was in favor of doing so. Sound science, energy policy and economics were the last things on his mind.

How Offshore Oil and Gas Production Benefits the Economy and the Environment. Conventional wisdom holds that offshore oil and gas production harms the surrounding environment. This blanket "wisdom" ignores the fact that the largest source of marine hydrocarbon pollution is offshore natural oil seepage. It also ignores the fact that offshore oil production has lowered the amount of oil released into the ocean by reducing natural oil seepage, especially in areas with active offshore oil seeps, such as California's Santa Barbara coast.

10 Dems warn Kerry: Don't expand offshore drilling in climate change bill. Ten coastal state Senate Democrats say they'll oppose a climate bill if it greatly expands offshore oil and gas drilling. The warning was issued to Sen. John Kerry (D-Mass.) and the two other architects of upcoming energy and climate legislation.

The Editor says...
Why is there a "climate change bill" at all? Hasn't everyone heard? Global warming was just a big hoax!

Obama surrenders gulf oil to Moscow. The Obama administration is poised to ban offshore oil drilling on the outer continental shelf until 2012 or beyond. Meanwhile, Russia is making a bold strategic leap to begin drilling for oil in the Gulf of Mexico. While the United States attempts to shift gears to alternative fuels to battle the purported evils of carbon emissions, Russia will erect oil derricks off the Cuban coast.

Why Is Obama Ignoring the Will of the People On Offshore Drilling? Apparently there is no need for "tough decisions" on offshore drilling, as President Obama has claimed. The administration can simply delay the decision, ignoring a clear majority of Americans who support offshore drilling in the process.

The Obama Moratorium: No offshore drilling while he's in office. The Obama administration's six-month delay in approving new offshore drilling leases in federal waters will become a new three-year ban, Interior Secretary Ken Salazar quietly told reporters last Friday [3/5/2010]. Which means that no new oil and gas leases will be approved during President Obama's term even though two-thirds of the American public supports such activity, according to a December 2009 Rasmussen poll.

Chortling At Chu. Our secretary of energy pushes bio-refineries and windmills to oil executives at an energy conference as the administration announces a three-year offshore drilling ban. This is a policy for economic suicide.

Now is the time for Alaskan offshore oil drilling to begin. Over more than three decades, 84 oil and gas wells have been drilled in Alaska's Outer Continental Shelf without incident. Moreover, without increased domestic production, we will continue to import oil and gas from countries that have far weaker environmental laws than we do.

Shhh: Public Comments Favor Drilling. An email last fall from a top Interior Department official indicates public comments ran two-to-one in favor of a Bush administration plan to expand offshore drilling.

Drilling Down Into Obama's Energy Promises. During his State of the Union address, President Obama tossed a couple of sops to popular opinion, promising to support: A) nuclear power, and B) offshore drilling. James Hudnall did a brilliant job of dismantling Obama's atomic promises, pointing out that even if the President happened to be uncharacteristically sincere in this case, no new nuclear plant will be built in a dog's lifetime, even if the pooch happens to one of those little yip-dogs that seem to live forever. Based on what we have seen of his administration so far, the same is true of Obama's newfound commitment to offshore drilling.

Drillgate: Cover Up at Interior, Internal Emails Show. American Solutions has been working the last several months with the help of the Freedom of Information Act to get to the bottom of "Drillgate," the continuing saga of trying to find out from the Department of the Interior (DOI) what were the results of the six month long public comment period on the five year plan for new offshore oil and gas development.

Interior Department bureaucrats bury 2-1 public support for more off-shore drilling. [Scroll down] Interior Department emails obtained by Americans for Solutions via a Freedom of Information Act (FOIA) request turned up an Oct. 27, 2009, email from Liz Birnbaum, who directs Interior's Minerals Management Service, in which she explains to Salazar's chief of staff and other senior Interior officials that she had told the Interior head that the public comments favor increased OCS energy production by a 2-1 margin.

Drillgate: Secretary Salazar's Cover-Up. The administration asked for public comments on a plan to expand offshore drilling. When they came in 2-to-1 in favor, the Interior Department sat on the news.

How About Some Transparency on Offshore Drilling? If Energy Freedom Day seems like a long time ago, it was. It's been since September of 2008 since the Congressional restrictions on energy leasing in 85 percent of America's territorial waters, which have been renewed annually since 1982, were allowed to lapse. Along with the White House restrictions rescinded by President Bush, it opened nearly all of our federally controlled waters for energy leasing. A lot has happened since, but there's been no real movement forward on drilling.

Federal scientists: Limit offshore drilling plans. Citing danger to marine life, the National Oceanic and Atmospheric Administration opposes opening large tracts of coast to drilling and recommends buffer zones off Santa Barbara.

Gaia's Oil Spills. According to the U.S. Minerals Management Service, between 1985 and 2001, spills from offshore platforms and pipelines accounted for only 2% of the oil released in U.S. waters. ... Nature, not man, is by far the largest contributor of oil into the marine environment. In the Gulf of Mexico, natural oil seeps account for 95% of offshore oil, the National Academy of Sciences reports. In Southern California, they contribute 98% of the crude in the offshore zone. Those same natural seeps are responsible for 60% of the oil found in the North American marine environment.

California Assembly Expunges Santa Barbara Drilling Vote. The California State Assembly is refusing to provide the names of assemblymen who voted to ban oil recovery off the coast of Santa Barbara. Twenty-eight members supported the ban, but their votes cannot be found in the official state database. Assembly leaders expunged the votes in order to spare lawmakers running for re-election an official record of their controversial decision.

The Editor says...
How can we have a representative government if the legislators conduct secret ballots?

Cubans and Russians May Drill Near Florida Shore. The Russian and Cuban governments have contracted for Russian energy companies to search for oil and natural gas deposits in the North Cuba Basin within 45 miles of the Florida Keys. Should Russian energy companies find and recover oil and natural gas in the basin, they would be drilling closer to Florida shores than U.S. companies are allowed to drill.

Obama Underwrites Offshore Drilling. You read that headline correctly. Unfortunately, the Obama Administration is financing oil exploration off Brazil. The U.S. is going to lend billions of dollars to Brazil's state-owned oil company, Petrobras, to finance exploration of the huge offshore discovery in Brazil's Tupi oil field in the Santos Basin near Rio de Janeiro.

This would explain it...
Passing the Smell Test. Earlier this week, AT's Rick Moran highlighted the Obama Administration's decision to invest $2 billion to finance offshore drilling in Brazil. Many good questions there, including the pertinent question of why offshore drilling is okay for Brazil, but not for the U.S. Since the initial story broke late last week, Bloomberg has reported that billionaire Democratic donor George Soros acquired over $800 million in Petrobas stock during the second quarter of 2008...

Deep oil: a giant discovery. BP has announced a "giant" oil discovery in the Gulf of Mexico, drilled to a total depth of 35,055 feet. Drilling began at a depth of 4,132 feet below the surface of the water. No further details of the magnitude of the discovery are being released. But this is further evidence that deep oil and gas deposits may dwarf the resources discovered at shallower depths.

BP's oil find is big, but miles out and down. A major new oil discovery by BP in the Gulf of Mexico underscores the potential of a highly touted deep-water area where other oil companies also scored big in recent years, but the task of producing the crude has just begun.

BP Finds 'Giant' Oil Source Deep Under Gulf of Mexico. BP said Wednesday [9/2/2009] that it made a "giant" oil discovery in the Gulf of Mexico, and analysts said that the find deep below the sea floor raised hopes that further exploration in the region could help sustain U.S. offshore oil production. The discovery, known as Tiber, was made 250 miles southeast of Houston and was "in the same league" as other big fields BP has discovered in the Gulf of Mexico, BP spokesman Daren Beaudo said.

Forget 'Peak Oil' — Drill, BP, Drill. Ignoring peak-oil Cassandras, BP has made another giant oil find in the Gulf of Mexico. We're not running out of oil. Our government just doesn't want us to look for it.

Gov. Schwarzenegger Calls for Drilling off Santa Barbara Coast. Facing a widening budget deficit in the midst of a deepening recession, California Gov. Arnold Schwarzenegger (R) has proposed tapping into a rich source of oil and natural gas near Santa Barbara to help alleviate the Golden State?s growing economic woes. Long an opponent of offshore drilling, Schwarzenegger now supports a plan that would allow Texas-based Plains Exploration & Production Co. to bore as many as 30 wells from existing oil platforms near Vandenberg Air Force Base.

Offshore Oil Drilling Ban Will Be Restored 'By Any Means Necessary,' Democratic Congressman Says. The ban on offshore oil drilling that expired last September will be restored by "any means necessary," Rep. Jay Inslee (D-Wash.), who serves on both the House Committee on Natural Resources and the House Committee on Energy and Commerce, told CNSNews.com on Friday [5/8/2009].

Offshore Oil Suffers From Obama Restrictions on New Drilling. Congress lifted its 27-year moratorium on drilling off Florida and the East and West Coast last year, but billions of barrels of that oil remains untouched and off-limits because the Obama administration has postponed development there. The Obama administration favors green energy and provides generous tax subsidies to wind and solar.

Activists Push for Offshore Energy Drilling Ban. A day after Interior Secretary Ken Salazar ordered a review of offshore oil and gas development, Congress is set to hear from environmental activists and officials from coastal communities who want to continue the ban on offshore drilling.

Obama's Will to Drill. Gas and oil producers are getting a case of indigestion that no anti-acid can cure. They fear that President Obama will break his campaign promise to allow drilling in the Gulf of Mexico and the outer continental shelf, arguably jeopardizing U.S. energy security. ... On his way out the door, George Bush accelerated the process for getting drilling started by two years, meaning that the paperwork part of the process would have ended sometime in 2010, rather than 2012. Energy companies applauded this because "green tape" prevents offshore explorers from actually putting a drill-bit to ocean floor for at least five years, and often longer. But on Feb. 10, Obama's Interior Secretary, Ken Salazar, announced that he is de-accelerating the process by 180 days, to Sept. 23, to allow more public input and to give his department more time to review the latest data on U.S. offshore reserves.

Administration delays move toward more offshore drilling. Calling it a "headlong rush of the worst kind," Interior Secretary Ken Salazar today put the brakes on a Bush administration proposal to expand offshore oil and gas drilling. Salazar said President Barack Obama's administration will wait until September to decide whether to expand offshore drilling and invited public comments on the Bush administration's plan to open up as much as 300 million acres of coastal waters for oil and gas leases.

Obama: I won't move quickly on offshore drilling. A day after his Interior secretary signaled plans for a cautious approach to oil and natural gas exploration on the Outer Continental Shelf, President Barack Obama said Wednesday that he's "holding out for a more comprehensive strategy" for U.S. energy development before approving offshore drilling along the East Coast. ... The president's stand on drilling is a sharp departure from that of former President George W. Bush, whose aides unveiled plans last fall to sell leases for oil and gas development off the Virginia coast.

Barney Frank Opposes Offshore Drilling For Fishing Industry. "Well, my main focus on that is on the fishing industry," Frank said. "I represent the port of New Bedford and Fairhaven — the single most prosperous fishing port in America and the fishing industry has always been very worried about this." But one fisheries group expressed a completely different view. Bob Jones, executive director of the Southeast Fisheries Association, explained to the Northwest Florida Daily News on June 22 that oil rigs actually help fish populations.

A Change in Climate for Climate Change Policy. At least a dozen recent polls show that three-fourths of likely voters put far more importance on the U.S. oil supply than global warming. This prevalent public opinion dissolved the U.S. Congress' long and intransigent opposition to increased domestic oil production. In late September, the 30-year bans on offshore oil production expired. The rapid decline in the price of oil, as a result of economic slowdown, has not yet squelched broad support for more domestic oil production.

Offshore Drilling Ban: An important event occurred this week, though it went largely unnoticed because of the economic turmoil on Wall Street. On September 30 Congress allowed the 27-year-old ban on offshore oil drilling to expire. This is very good news for Americans and for our energy independence. Conversely, it should be bad news for the world's tyrants who profit enormously from our dependence upon their vast oil resources. One can hope that the expiration of this ban permanently ends the unnecessary and impractical Congressional regulation of our natural resources under the disingenuous guise of environmental protection.

Leftists have blocked U.S. drilling for too long. In 1993, our Congress passed a bill to drill offshore and the Southern U.S. for oil. This bill was vetoed by President Bill Clinton and was not overridden. He set a moratorium of 20 years for drilling, which was a very bad decision against America. If we were drilling in the U.S. and in the Arctic National Wildlife Refuge and building refineries and pipelines along with atomic plants, we could have been employing over one million workers in the process and in operation of the refineries and plants.

Energy in the Balance. Obama and Pelosi have no answer to a few simple questions: If they are now convinced that it is a good idea to develop our own resources of oil, why do they oppose a bill that would do that, and only that? Instead of making this now-agreed measure one ornament on a Christmas tree to subsidies, why not pass it on its own, and asap? And if it is now good policy to give some states the power to approve drilling off their coasts, why not off Pelosi's California?

Another reason to drill: Interior Department studies estimate at least 19 billion barrels of oil and 84 trillion cubic feet of natural gas lie untapped beneath the 85 percent of our territorial waters currently off-limits. That many barrels would nearly double the nation's proven oil reserves. And 84 trillion cubic feet is enough natural gas to supply America's homes for 16 years. And, it should be noted, these initial government estimates of energy in restricted areas tend to be on the low side. These amounts, if brought online, would be more than enough to make a difference in heating oil and natural gas prices for many years to come.

Bush Urges Congress to Expand Oil Drilling After August Recess. President George W. Bush criticized Democrats in Congress for not acting on his proposal to open more domestic land to oil drilling, saying lawmakers should revisit the issue when they return from their August recess. "Democratic leaders are leaving town without taking any action to ease the burden of high gas prices," Bush said in his weekly radio broadcast. "If Congress does not act, they will owe families across America an explanation for why they're ignoring their concerns."

Democrats Reluctantly Embrace Offshore Drilling. For decades, opposition to new offshore oil drilling has been a core principle of Congressional Democrats, ranking in the party pantheon somewhere just below protecting Social Security and increasing the minimum wage. But a concerted Republican assault over domestic oil production and the threat of political backlash from financially pressed motorists have Democrats poised to embrace a fundamental shift in energy policy.

Offshore oil drilling: cleaner than Mother Nature. Democrats and other environmental naysayers cite the 80,000 barrels that spilled six miles off of Santa Barbara, Calif., inundating beaches and aquatic life. This hydrocarbon Hindenburg haunts the memories of those who witnessed it. But this genuine catastrophe occurred in January 1969 — nearly 40 years ago. That era's drilling technology has gone the way of Flower Power and black-and-white TV. Innovation has boosted the safety and environmental reliability of offshore drilling.

Let go of the past and allow offshore oil drilling. California produces only 39% of the crude oil it uses. An additional 16% comes from Alaska and the remaining 45% is bought from foreign sources, according to the California Energy Commission. So there's a gusher of hypocrisy here: The state that is the biggest consumer of gasoline in the nation — but produces less than 40% of what it uses — is opposed to drilling for more oil off its shores. We're slackers not pulling our weight.

Energy Policy End Game. In 41 days, the long-imposed moratorium on offshore oil drilling and domestic oil shale production is set to expire — gone. This happens automatically and can be stopped only if Congress votes to re-establish the ban. Lifting the moratorium might free up as much as 100 years' worth of oil and gas for domestic consumption. But keeping domestic energy supplies off limits is something Democratic leaders Nancy Pelosi and Harry Reid and their environmentalist allies desperately want to do.

Democrats and Drilling. It took a few months, and more than a few polls, but Democrats have concluded that they've lost the debate against more oil-and-gas drilling. The surrender became official on Saturday [8/16/2008], when House Speaker Nancy Pelosi announced that even she was ready to "consider opening portions" of the Outer Continental Shelf to oil exploration. That's great news, assuming she and her fellow Democrats really mean it.

Debunking Democrats on Drilling: The mere prospect that the U.S. might get serious about increasing the supply of oil has sent speculators scurrying for cover. Imagine what would happen if we actually explored, drilled and produced some of that offshore oil — which, by the way, could be way more than 18 billion barrels. The U.S. Minerals Management Service estimated in 2006 that the quantity of undiscovered technically recoverable oil in the outer continental shelf is between 66.6 to 115.3 billion barrels of oil.

Poll: Majority of Floridians back offshore drilling. With gas prices hovering at $4 a gallon, a majority of Floridians now support drilling for oil in protected areas offshore, according to a new poll. The survey finds support for drilling at 60 percent….

Reid plan splits Democrats on oil drilling. "I am unalterably opposed to drilling," said Sen. Frank Lautenberg, D-N.J., a member of the Environment and Public Works Committee, citing the recent Mississippi River oil spill. House Speaker Nancy Pelosi, D-Calif., is also reportedly against the plan and may not allow it to be brought to the floor of that body.

The Editor says...
The Mississippi River oil spill on July 24 happened when a barge and a tanker collided.* It wouldn't have mattered if the oil came from offshore or elsewhere. The oil spills to which Democrats frequently point are accidents in transportation, not production.

Drill, Drill, Drill Is Working. As Sen. John McCain and the GOP leadership nationalize the drill, drill, drill message, the Republican party might conceivably be riding a summer political rally. The question of offshore drilling, along with expanded domestic energy production, has suddenly become the biggest political and economic wedge issue of this election. Is there a Republican tsunami in the making?

This oil is worth its salt. More stands between the world's oil producers and the bounty of oil and gas beneath the Gulf of Mexico's seafloor than sediment and sea life. It's salt. But it's nothing like the granules in the shaker on the dinner table. It's a massive, undulating series of thick canopies, sheets and tongue-shaped chunks that stretch across the deepwater Gulf far off the coastlines of Texas and Louisiana.

Offshore drilling draws support. Dave Mica is one who believes it's time to start drilling in the Gulf for oil and natural gas. … "Oil seeps naturally," Mica said. "You know, think of the 'Beverly Hillbillies' and Jed Clampett and the bubbling crude. More oil seeps naturally than is spilled by man. It does not minimize situations that occur and the necessity for cleaning them up, but I think it's irresponsible not to look at the track record of the energy industry as a whole."

Bush lifts executive ban on offshore drilling. Putting pressure on congressional Democrats to back more exploration for oil, President Bush on Monday [7/14/2008] lifted an executive ban on offshore drilling that has stood since his father was president. But the move, by itself, will do nothing unless Congress acts as well.

GOP eyes temporary funding bill to lift drilling ban. President Bush removed an executive order Monday imposed by his father that prevented drilling along the coast. But in order to give oil companies access to new offshore areas, Congress must remove its three-decade-old ban that prevents drilling along the Outer Continental Shelf.

Offshore Drilling a Potent Issue for McCain, GOP. When Democratic leaders shut down Congress last week for the rest of the summer to avoid dealing with record oil and gas prices, they may have committed the biggest political blunder of the 2008 elections. What they didn't expect was that many Republican House members would not leave town without addressing the hottest national issue in this year's presidential and congressional campaigns.

U.S. and Canada split over Lake Erie drilling. Offshore drilling has become one of the hot political issues in a new era of $4-a-gallon gasoline. But no one is pushing for drilling off the north shore of the United States — except the Canadians. As it has for many years, a Canadian oil and gas company is pumping natural gas out of 480 wells in Lake Erie, most of them toward the eastern end of the lake.

More Offshore Oil Drilling. For fear of oil spills, as of 2008, the U.S. Federal government and various states ban drilling in thousands upon thousands of square miles off the U.S. Coast. These areas, primarily on the Outer Continental Shelf, hold an estimated 115 billion barrels of oil and 633 trillion cubic feet of natural gas. This leaves America's energy needs increasingly at the mercy of foreign autocrats, despots and maniacs. All the while worldwide demand for oil ratchets ever and ever upward.

The Environmental Benefits of Offshore Drilling: Louisiana produces almost 30 percent of America's commercial fisheries. Only Alaska (ten times the size of the Bayou state) produces slightly more. So obviously, Louisiana's coastal waters are immensely rich and prolific in seafood. These same coastal waters contain 3,200 of the roughly 3,700 offshore production platforms in the Gulf of Mexico. From these, Louisiana also produces 25 percent of America's domestic oil, and no major oil spill has ever soiled its coast. So for those interested in evidence over hysterics, by simply looking bayou-ward, a lesson in the "environmental perils" of offshore oil drilling presents itself very clearly.

Offshore Drilling in the Gulf of Mexico: The Mineral Management Services (MMS), an agency of the Department of Interior, estimates that the OCS (Outer Continental Shelf) contains enough natural gas to heat 100 million homes for 60 years or enough oil to replace current Persian Gulf imports for 59 years. … But despite these findings, there are those from radical environmental groups that oppose critical access to domestic oil and natural gas, claiming they are protecting the environment.

Environmentalists Say Yes to Offshore Drilling. When an environmental group formed for the sole purpose of opposing offshore oil drilling warmly embraces a plan to drill off its own coast, you know something important has changed in our culture: Americans have recognized that offshore oil drilling is largely safe. Since 1975, drilling in the Exclusive Economic Zone (within 200 miles of the U.S. coast) has had a 99.999% safety record, according to the Energy Information Administration, which reports that "only .001 percent of the oil produced has been spilled."

House Majority Leader Refuses to Take Position on Drilling. At his weekly pen and pad briefing for reporters, House Majority Leader Steny Hoyer refused to answer a Capitol Hill reporter's repeated question about whether he would vote to support expanded offshore drilling.

Hollywood Once Hailed Offshore Drilling. In energy production, Louisiana has been well ahead of the learning curve for decades, and offers ready proof regarding its much-hyped "perils." The first offshore oil production platforms went up off the Louisiana coast in 1947. By 1953 Hollywood (no less!) was already hailing the pioneering wildcatters who moved major mountains — technological, logistical, psychological, cultural — to tap and reap this source that today provides a quarter of America's domestic petroleum, without causing a single major oil spill in the process.

Well Oiled Fear Tactics: The Outer Continental Shelf has been off-limits to oil exploration and development for a quarter of a century thanks to Executive Orders and Congressional votes. We are told that there well could be 18 billion barrels within reach of our shores. No wonder the Saudis are considering stepping up their oil production — they had better sell to us while they still have a customer. Once we tap our offshore reserves, in 10 years we will not need their oil. By tapping ANWR and other domestic sources, we could actually wean ourselves off of OPEC altogether.

Our Own Oil Cartel: Contemplate this the next time you spend $60 or more filling up your tinny little car with gasoline made from imported oil: The U.S. government knows where it can get its hands on more untapped petroleum than exists in the proven reserves of Iran or Iraq, which have 136 billion barrels and 115 billion barrels, respectively.

The Truth About Gas Prices: [Scroll down] The Destin Dome lies 25 miles south of Pensacola, Florida. It contains more than three trillion cubic feet of much needed dry natural gas. Chevron acquired leases at Destin Dome in 1984 during the Reagan administration. But Reagan was out of office before the field could be developed and Bush the Elder came to power. Bush the Elder imposed an ill-conceived moratorium on leasing oil and gas fields off most of the Florida coast. … The truth is, the United States is awash in domestic oil and natural gas.

House Subcommittee Rejects Plan to Open U.S. Waters to More Oil Exploration. A House subcommittee on Wednesday [6/11/2008] rejected a Republican-led effort to open up more U.S. coastal waters to oil exploration. Rep. John Peterson, R-Pa., spearheaded the effort. His proposal would open up U.S. waters between 50 and 200 miles off shore for drilling. The first 50 miles off shore would be left alone.

China's Drilling for Oil in America's Backyard, Republicans Say. House Republicans want the American people to know that right now — around 60 miles off the coast of Key West, Fla. — China is drilling for oil, thanks to a lease issued by Cuba. But 1,200 miles north of Key West, Democrats in Washington are blocking the United States from conducting its own environmentally-safe oil and gas exploration in similar U.S. coastal areas….

Opening America's Waters to Energy Production: Washington, D.C., must do something about the increasing price of gasoline, now topping $4.00 per gallon. One important step would be to tap our own supplies of oil. Yet for decades, overlapping congressional and presidential restrictions on drilling for energy in the Outer Continental Shelf (OCS) have stood in the way of lower prices for oil and natural gas. The President took a positive step yesterday [6/18/2008] by urging Congress to rescind the ban on drilling in American-controlled waters.

Green groups bolster lobby against offshore drilling. Environmental groups are scrambling to shore up opposition in the Democrat-led Congress to more offshore oil drilling, countering the push for added domestic production by President Bush and voters pinched by rising gasoline prices. "There are plenty of us on the other side creating pressure, too," said Nick Berning, spokesman for Friends of the Earth, which is unleashing a campaign targeting select congressional districts to fend off calls for Congress to let the offshore drilling ban expire Sept. 30.

67% Support Offshore Drilling, 64% Expect it Will Lower Prices. Most voters favor the resumption of offshore drilling in the United States and expect it to lower prices at the pump, even as John McCain has announced his support for states that want to explore for oil and gas off their coasts.

McCain urges end to ban on offshore drilling. Sen. John McCain said Monday the federal moratorium on offshore oil and gas drilling should be lifted, and individual states given the right to pursue energy exploration in waters near their own coasts.

The Editor says...
Wow — Let the 50 states decide for themselves. That's a great idea, but that law is already on the books, Senator. It's called "The 10th Amendment."

Border battle brews over Mexico's undersea oil. Eight miles north of the maritime border with Mexico, in waters a mile and a half deep, Shell Oil Co. is constructing the most ambitious offshore oil platform ever attempted in the Gulf of Mexico. As tall as the Eiffel Tower, the floating production facility will be anchored to the ocean floor by moorings spanning an area the size of downtown Houston. Slated to begin operating late next year, this leviathan known as Perdido (or Lost) will cost billions and be capable of pumping 100,000 barrels of crude a day.

Drill now, drill here, pay less. According to the federal Minerals Management Service, about 86 billion barrels of oil and 420 trillion cubic feet of natural gas are locked up and untouchable just off our shores. "Locked up"? By whom? Who could be so stupid? So diabolical? So un-American? Big Oil? The U.N? … Close. It's our cracked-up Congress — mainly liberal Democrats who are beholden beyond reason to the religious left's most dangerous fundamentalist sect, wacko environmentalism.

Drilling Off Florida Coast Offers Benefits, Risks. Exactly how much untapped oil could be found along the country's coastline is unclear. The National Petroleum Council estimates that 5 billion barrels lie off Florida's coast alone, while the Energy Information Administration suggests the number is closer to 16 billion barrels. Other estimates go as high as 21 billion barrels.

McCain's View on Expanded Oil Drilling Uncertain. Republican presidential candidate Sen. John McCain is "open to the possibility" of tapping America's domestic oil and gas reserves, but it is not clear from his voting record whether he would actively push to expand offshore oil recovery efforts.

Tax Deal Opens Way For Gulf Oil Drilling. An agreement on a tax package Thursday [12/7/2006] moved Congress closer to opening a vast area in the Gulf of Mexico, 125 miles south of Florida's Panhandle, to oil and gas drilling. … The drilling legislation also revamps revenue sharing from Gulf oil and gas production, sending hundreds of millions of dollars to four Gulf states for restoring coastal wetlands and repairing hurricane damage.

A first: Shell plans to produce at 8,000 feet in Gulf. The European oil giant, whose U.S. arm is based in Houston, said it will take the lead on the so-called Perdido project, which it will co-develop with Chevron and BP, and expects to begin tapping three fields near the site "around the turn of the decade."

It's Time to End Restrictions on Offshore Oil Drilling. The United States is the only nation in the world that has placed a substantial amount of its oil and natural gas potential off-limits. This includes restrictions on drilling in most of the nation's offshore areas. Despite current high oil and natural gas prices, these longstanding offshore drilling bans remain in place. Congress should revise this policy, for the benefit of the American consumer and American economy.

Is the Gulf of Mexico saturated with oil? Chevron's announcement this week that the Jack Field located in the Gulf of Mexico 270 miles southwest of New Orleans may have as much as 15 billion barrels of oil was not the only recent find of oil in the Gulf.

Promising New Oil Find in Gulf of Mexico. Tests of a deep-water well in the Gulf of Mexico could indicate a significant oil discovery, three companies announced Tuesday [9/5/2006], in the first project to tap into a region that reportedly could boost U.S. oil and gas reserves by as much as 50 percent.

Exaggeration alert! 50 percent sounds a bit optimistic at this stage.

Or maybe not...
Deepwater Drilling May Open New Oil Frontiers. Oil companies are buzzing after Chevron, Devon Energy, and Norway-based Statoil ASA last week announced the successful discovery of oil at a staggering depth beneath the surface of the Gulf of Mexico (map of region). Jack 2, as the new test well is called, extends downward for more than five miles.

Businesses urge offshore gas, oil drilling. Strangers from the heartland, two businessmen share the hope that the energy resting beneath the deep blue waters of the central Gulf of Mexico might bring relief from high natural gas prices. So, they wonder, why isn't it being pumped?

Senate moves forward on oil drilling in Gulf. The Senate today [7/31/2006] narrowly agreed to shut off debate on a bill to allow oil and gas producers to drill in the eastern Gulf of Mexico, all but ensuring senators will approve the legislation as early as Tuesday.

House Votes to Continue Offshore Drill Ban. Despite talk of an energy crisis and the need for independence from foreign oil, Congress seems to be in no mood to open more of the country's coastal waters to energy development.

Will We 'Die of Thirst'? The House of Representatives slammed its boot down last week, for the second time this year, right in the face of the American economy that will certainly "die of thirst" for the want of oil. This time it was renewal of the 25-year ban on drilling in offshore areas from New England to Alaska. It seemed strange to many Americans, since a caribou hadn't been sighted off Jeb Bush's Florida in a million years.

Drive less, pay more. Paraphrasing, here's how the exchange went between congressional Democrats and the president over lifting their respective bans on offshore drilling: President Bush: "We need to lift the bans. Americans are being hammered by high gasoline prices." Democrats in Congress: "You go first." President Bush: "OK, I hereby lift the presidential ban on offshore drilling. Your turn." Democrats in Congress: "Forget that. Gasoline prices are too low. Let's raise the gasoline tax 56 percent instead."

States Seek to Tap Offshore Oil, Natural Gas. The federal moratorium on new offshore oil and natural gas development, imposed by former President Bill Clinton in a 1998 executive order and currently scheduled to expire in 2012, is coming under fire from state officials who see a silver lining in rising natural gas and oil prices.

[Hmmm… I wonder why President Clinton did that. If I didn't know better — and I don't — I'd say the Democrats thrive on crises and want energy problems to get worse so the government can ride to the rescue.]

Local Off-Shore Drilling Supporters Rally. Tourism is Florida's biggest business, and the state's 850 miles of beaches are some of its prime attractions, but they are also highly sought after for off-shore drilling. On Thursday, supporters of the cause took to the streets in Palm Beach Gardens to spread their message. Many people said they feel that, with gas prices and supply as volatile as they have been recently, off-shore oil drilling should be considered.

Drill Like Brazil. Brazil, a leader in the use of biofuels such as ethanol and in the face of falling oil prices, still plans to spend huge sums to expand its offshore oil resources. Drilling rigs are infrastructure too.

Above The Law. Progressives don't appear able to comprehend that conservatives and a growing number of independents aren't just upset about what is being done, it's the how it's being done part that has the nation in such an uproar. Interior Secretary Ken Salazar's decision to go back to the well, or rather to turn his back on the wells, by trying to impose a new version of an offshore drilling ban is just the latest example of an administration that has decided it can ignore the will of the people and rule of law.


---

Back to The Causes and Effects of High Oil Prices
Jump to The Causes and Effects of High Gas Prices
Jump to Environmentalists Oppose Every Practical Source of Energy
Jump to Environmental False Alarms about Oil and Gas
Back to the Home page


Document location http://akdart.com/oil2.html
Updated July 2, 2020.

©2020 by Andrew K. Dart