Introduction by The Editor (added 12/11/2018):
Yesterday I went online to buy some Forever Stamps. The U.S. Postal Service is happy to sell stamps commemorating Hanukkah (two varieties), Kwanzaa (two varieties), the Lunar New Year, Santa Claus and secular humanist wintertime (five varieties), Catholic Madonna artwork (two varieties), Diwali, Eid, cartoon characters, lesbians, big government (eight varieties), sports (two varieties), black history (two varieties), civil rights activists (three varieties), war (five varieties), and the Special Olympics. The closest I could get to a plain American Flag stamp was one with an artistic zig-zag rendering of a flag, but it was close enough. American postage stamps now commemorate everything in the world except Protestant Christianity, the Founding Fathers, the Constitution, the Bible, deceased Presidents, and able-bodied straight white people — in other words, everything stamps used to commemorate before political correctness took over. One or two varieties of postage stamps should always be available that just indicate the price paid (now 55¢) and something to indicate the country of origin.
Overview:
Forced Diversity Is Actively Harming America. The meaning of the term "affirmative action" has changed dramatically over the last six decades. Although it first showed up in the Wagner Act in 1935, it was John F. Kennedy who started it on its modern trajectory in 1961 when he issued an executive order holding that the federal government had an affirmative duty to treat its employees "without regard to their race, creed, color or national origin." With the Civil Rights Act of 1964, these protected characteristics were extended to cover sex, religion and, thanks to the Supreme Court, gender identity. Once in place, these protections were expanded to state governments and the private sector. They gradually evolved from ensuring that people in the protected categories were not discriminated against on the job to becoming a vehicle for engineered diversity through hiring and promotion preferences towards individuals exhibiting the protected characteristics, which led to so-called "reverse discrimination" against those who did not exhibit them.
The latest assault in the war on whites. A racial inquisition is underway against white people, who are falsely accused of oppressing everyone else. Whites are being demonized, marginalized, stereotyped, denigrated, and suppressed at every turn. The left, says author Ben Shapiro, wants to portray America as "an incurable mass of bigoted whites." President Biden bought in to this lie when he declared that white supremacy is the number-one threat to the nation. The war on whites is being waged by government, private industry, the media, and academia. The City of Seattle, for example, requires all white employees to "undo their whiteness." The Coca-Cola Company has demanded that its white employees should be "less white." Instead of regarding these actions as racist, the culture has made them acceptable.
Maine's Department of Agriculture, Conservation, and Forestry Offered Free Park Passes Based on Race. Maine's Department of Agriculture, Conservation, and Forestry (DACF) was, until November 10th, offering free state park passes based exclusively on race. The initiative was made by Maine's Nature Based Education Consortium (NBEC). Despite desiring "to ensure that every Maine youth has access to powerful outdoor learning experiences," as the NEBC says on its website, they focus their efforts on minority youth, rather than helping the poor regardless of race. (The webpage for this program was deleted after reporters began asking questions.) The NBEC and DACF partnered to raffle off state park passes to minorities as part of the Thrive Outside initiative.
The Catastrophic Death of Fairness. It is only at this absurd juncture in history — when legions of the indoctrinated and insane have swelled beyond the constraints of reason, rationality, and moderation — that it is possible for the U.S. government to take the official position that it must brazenly discriminate against white people generally (and white males, specifically) simply because of their demographic strength. White men are passed over for scholarships, awards, and career advancements — not because they fail to compete, but rather because their successes have been judged "unfair." Jokes are made at their expense because they are the only category of person whose mockery and derision are permitted. When white men engage in political protest, prosecutors target and harass them for alleged crimes that would never be pursued if not for their race. Even as fewer white men attend college and more continue to exit the labor market permanently, they are preposterously blamed for sustaining the dreaded twin-demons of "patriarchy" and "white supremacy."
Theater hosting performances 'exclusively for black audiences' says white people have 'no standing' to claim racism. A theater that hosted a performance "exclusively for black audiences" argued that white people do not have a legal standing when it comes to claiming racial discrimination. Theatre Passe Muraille in Toronto, Canada, has hosted "Black Out Nights" which it has described as "performances for Black audiences" that are for "Black theatre-goers to experience theatre in a space made for them." The theater even has a protocol for excluding non-black people from the venue through on-site re-education. The site is currently battling a human rights complaint filed by former political candidate Robert Stewart, who claimed that the theater restricts attendees based on race. Stewart cited Section 13 and Section 1 of the Ontario Human Rights Code, according to True North, which he alleged caused him a "serious level of discomfort and discouragement." The theater sees racial discrimination differently however, and argued through lawyer Morgan Sim that white people are not entitled to complaints of racial discrimination, due to being white.
'He Sees All White People as Racist': Military Assessment Criticizes Air Force Colonel's Leadership. Col. Ben Jonsson, an Air Force officer who accused his fellow "white colonels" of being "blind to institutional racism," is the subject of blistering criticism from subordinates at MacDill Air Force Base, where he served as commander from 2020 to 2022. Jonsson is among the more than 300 military officers awaiting Senate approval for a promotion. Sen. Tommy Tuberville, R-Ala., has blocked Democrats — and now some Republicans — from rubber-stamping these promotions in a dispute over the Pentagon's taxpayer-funded abortion policy. This week, Democrats introduced a resolution that would change Senate rules for military promotions, bypassing Tuberville's blockade. If successful, military officers such as Jonsson, whom Defense Secretary Lloyd Austin recommended for a promotion to brigadier general in January, would advance without further delay. The Daily Signal's previous reporting on Jonsson's views on diversity, equity, and inclusion — and his endorsement of a book on critical race theory — sparked concerns among conservatives.
Why a student with a 1590 SAT score was rejected by 16 colleges. Stanley Zhong did everything right. A 4.42 weighted GPA (3.98 unweighted). A 1590 SAT score (1600 is perfect). He'd even launched his own startup (RabbitSign). Yet the 18-year-old Palo Alto-area graduate was stunned when he found himself rejected by 16 of the 18 schools he'd applied to, including multiple state schools. "Some of the state schools, I really thought, you know, I had a good chance," Zhong told ABC7 News. "I didn't get in." Zhong's story has begun to gather some media attention, which was the subject of discussion at a recent House Committee on Education and the Workforce hearing. Yet almost all of the stories failed to mention the likely reason Zhong was rejected: He's Asian. For years, colleges have been quietly discriminating against Asians in the admission process, admitting white, black, and Latino students with lower SAT scores and lower GPAs in the name of inclusivity. The problem for Asians is that, as a group, they tend to score really well.
IBM Hosts Internships That Bar Whites, Asians, And Men — With Exception For Men Who Identify As Women. International Business Machines (IBM) sponsors at least two discriminatory paid internship opportunities, one that bars white and Asian applicants, and another that is only for women, with an exception for men who identify as women. The two paid internships are held in conjunction with the American Physical Society (APS), a nonprofit organization that says it is "working to advance and diffuse the knowledge of physics through its outstanding research journals, scientific meetings, and education, outreach, advocacy, and international activities." "Applicants must be female, including all students who present or identify as women and/or trans women," the eligibility requirements for the "Internship for Undergraduate Women" reads. A description of the "Internship for Underrepresented Minorities" asserts that "applicants must be underrepresented minorities" before listing off the approved racial backgrounds of "African American, Hispanic, or Indigenous."
California to institute missing child alert system specifically for black youth. NBC News has reported that California Gov. Gavin Newsom recently signed Senate Bill 673 into law, thus making the erstwhile Golden State the first to create a missing child alert system specifically for black children. According to NBC: ["] [...] The Ebony Alert will be used for missing Black people aged 12 to 25.["] Fantastic. But what about missing black people under 12 or over 25? Perhaps there needs to be a separate alert for each of those groups. Twenty-one to twenty-five-year-olds don't seem like "youth" to me, yet those under 12 certainly are.
University of Wisconsin Women's Basketball Coach Bemoans "Run-of-the-Mill White Kids" on Her Team. University of Wisconsin Women's basketball coach Marisa Moseley bemoaned "run-of-the-mill" white kids on her team. "If you look at my team, you know, we're pretty much the United Nations. I have the first Indian woman to ever play at the Power 5. I have kids who are Nigerian and kids who are Dominican and kids who are Mexican and kids who are run of the mill white because they're still there too," Moseley said. As soon as she realized she [said], "My mom is white just so nobody is offended. My mom is a white woman from the Berkshires. Very white."
Ending Anti-White Discrimination — the Asheville Case. Over the past few decades, two extreme ideas have unfortunately gained wide acceptance: that racism is systemic in America; and that if you are white, you are by default privileged and racist. As a result, many young whites are ridden with guilt. Meanwhile, leftists and radical blacks are advancing reverse racism — active discrimination against those who happen to be white. No wonder a 2021 Gallup poll found white-black relations at a 20-year low: 57% of the respondents said relations were "somewhat" or "very" bad.
Former MLB broadcaster claims he was blacklisted for being a 'white, male Republican'. Being a white, male conservative today is equivalent to putting a giant "kick me" sign on your back, or at least that's been Ryan Spaeder's experience. Spaeder has a long list of career achievements. Perhaps most notable are his contributions to Major League Baseball, specifically as a broadcaster and as a writer. However, despite his dedication to the sport, he claims he's "been blackballed by Major League Baseball" due to his gender, race, and political views. "I am not welcome any more," he tells Stu Burguiere. Despite his ousting, Spaeder refuses to conform for the sake of acceptance. "I'm not going to bend the knee; it's not me," he says. But his courage has not been without cost.
British Intelligence Agencies Ban White Hires. Several of the British government's intelligence organizations — MI5, MI6, and Government Communications Headquarters (GCHQ) — have banned white people from applying to prized internships, preferring to receive applications from ethnic minorities who grew up poor instead. The MI5 website states that to be eligible for either a 10- or 11-week scholarship at one of the organizations, "you'll need to be in your penultimate or final year of university, from a Black, Asian or ethnic minority background, and from a socially or economically disadvantaged background."
This is a real video used for HR training that compares white people to mosquitoes to explain why black violence is justified. A school in New Prague, Minnesota used this video as HR training for their teachers. See if you notice anything weird about it. [Video clip]
West Point Sued After Director of Admissions Brags About What Happens to White Applicants. When Ibram X. Kendi's preposterous thesis that "the only remedy to past discrimination is present discrimination" becomes mainstream practice, you know things are upside down. Kendi is the author of the poorly reasoned 2019 leftist propaganda book, "How to Be an Antiracist," which became not only a bestseller, but a clarion call for progressives. In a speech at the Aspen Ideas Festival, Kendi put his anti-reasoning skills on display, according to the New York Post. "When I see racial disparities, I see racism," Kendi said. If that isn't a blanket generalization, the logical fallacy of that name has no meaning. And yet Kendi's obtuse theories have burrowed deep into some of America's most beloved institutions [...].
Are We Preparing For A Coup? "Domestic violent extremism poses the most lethal and persistent terrorism-related threat to our country today," says Secretary of Homeland Security Alejandro N. Mayorkas. "As we work to safeguard our Nation, we must be vigilant in our efforts to identify and combat domestic violent extremism within both the broader community and our own organization. Hateful acts and violent extremism will not be tolerated within our Department." That may strike you as odd. You likely could not name a single domestic violent extremist attack carried out by white supremacists on our soil in recent memory. Neither could Mayorkas. It does not matter. It is now the official position of the U.S. Government that we are facing a massive threat from angry white people and therefore in the face of this "unprecedented" threat presumably unprecedented action is required.
The New "Unity" of Excluding White Kids. Sarah Cain's analysis. [Video clip]
Discrimination, Excommunication, and Indoctrination. DEI, the acronym for so-called Diversity, Equity and Inclusion that has infiltrated and infected American society, is like so many things in Biden's America, the exact opposite of what it claims to be. Diversity as practiced in contemporary America has been corrupted to mean "exclusionary": "You are diverse as long as you are non-White, non-religious, unpatriotic, LGBTQ+ and ascribe to our politics and belief system." Otherwise, you will be shut down and shunned in education, employment, expression, the judicial system... everywhere. You will be cancelled. There is a word for this and it's not "diversity." It's discrimination. It is open season on White people, especially White males.
Oakland D.A.: White victims "harm" her office. [Scroll down] That's the lesson being taught in Oakland to the people charged with helping crime victims trying to navigate the frustrating world of being a crime victim. It's the next step in the ideological movement that classifies everybody except White people as victims. As we all have heard by now, if you are White you are privileged, so quit whining about that assault you suffered.
'How to Serve White Victims'. Oakland, Calif., is plagued by crime — and by a district attorney, Pamela Price, determined to divide people by race. After "antiracist" consultant Karen Fleshman finished a training in Oakland, Calif., she took to Facebook to express pride in her work: "Great afternoon training Alameda County District Attorney Pamela Price's Victim Services team in 'How to Serve White Victims.' Madam DA Pamela Price is my shero [sic] and mentor. She is a lifelong warrior for justice with compassion." A few days later, Ms. Price thanked Ms. Fleshman for her "wisdom and support." But when I started asking questions about the June 26 training, suddenly trainer and trainee didn't want to talk about it.
MLB's discriminatory diversity fellowship program must end. A few years ago, I was unaware that race and gender-exclusive programs such as "diversity fellowships" even existed until I happened to see a bulletin board posting at a local college advertising the Major League Baseball (MLB) Diversity Fellowship. The requirements specified the following:
["]Eligibility
Open to people of color and female candidates.
In other words, white males need not apply. When I first learned about this blatantly discriminatory program, I alerted several conservative-leaning civil rights organizations about the situation. The ones who replied assured me that they would have their legal team review it and take appropriate action. The pandemic and subsequent lockdown hit a short time later, and this issue was placed on the back burner by these organizations. Fast forward to 2023, and there is a renewed interest in a legal pushback against racially exclusive "diversity fellowships" and similar programs in the wake of the recent U.S. Supreme Court decision striking down the use of racial preferences in college admissions policies.
Former Morgan Stanley exec sues company claiming he was fired because he was white. A former Morgan Stanley executive named Kevin Meyersburg is suing the company claiming reverse discrimination, i.e. that he was discriminated against for being white. [...] The basic background is that he was a rising executive at E-Trade when it was bought out by Morgan Stanley. He then began moving up at Morgan Stanley thanks to a new program he had introduced. [...] The guy who built the most successful team to win new clients was being replaced by a woman whose team was being let go for poor performance. That does seem odd.
'Blatantly Illegal:' NASCAR Bans White Applicants From 'Diversity Internship'. NASCAR offers a paid "diversity internship" that excludes white people from applying on the basis of their race, a stipulation a constitutional lawyer tells The Daily Wire is "blatantly illegal." The race car giant's "diversity internship program" states that there are racial requirements that applicants must meet in order to be accepted. The first bullet point listed under the heading "Program Requirements" reads "Be a member of one or more of the following races/ethnic minority classifications: Black or African American, American Indian or Alaska Native, Asian, Latino or Hispanic, Native Hawaiian or Other Pacific Islander."
How America Becomes Zimbabwe. Virulent black racists used to be confined to the Third World, where they would defund police protection and lead national referenda to eradicate white men from their country. Zimbabwe extirpated their white farmers with great haste. Presumably, South Africa is next. Here in the First World, black racists are embracing the Zimbabwe model and are openly advocating for white genocide, that it's time to kill everything white in sight. Others find themselves in front of cameras openly wondering: how are they going to exterminate white people?
Media Giant Sued for Allegedly Discriminating Against White Employees. The largest newspaper publisher in the U.S., Gannett, was hit with a class action lawsuit Friday that alleges its diversity efforts discriminated against non-minority employees. Current, former and prospective Gannett employees filed the lawsuit in the U.S. District Court for the Eastern District of Virginia, alleging the company's "Reverse Race Discrimination Policy" discriminated against "non-minorities" on the basis of race. The policy, announced in 2020, sought to ensure its newsrooms' demographics reflected the communities they covered by 2025. "Gannett executed their Reverse Race Discrimination Policy with a callous indifference towards civil rights laws or the welfare of the workers, and prospective workers, whose lives would be upended by it," the complaint states. Leadership was incentivized to comply with the new policy through bonuses, awards and promotions, according to the complaint.
California College Professors Sue Over State DEI Requirements. Six California college professors are suing the state over diversity, equity, inclusion, and accessibility (DEIA) requirements they say force them to take the government's view on "politically charged" topics. The professors, from three Fresno-area community colleges, are being represented by the Foundation for Individual Rights and Expression (FIRE), which filed the lawsuit in federal court last week. The professors say the requirements are unconstitutional under the First and Fourteenth Amendments. "I'm a professor of chemistry. How am I supposed to incorporate DEI into my classroom instruction?" said Reedley College professor Bill Blanken. "What's the 'anti-racist' perspective on the atomic mass of boron?" The lawsuit says that Blanken does not believe that DEIA principles should be incorporated into his chemistry classes, saying he believes that it would be "pedagogically unsound and disruptive" to do so.
White People [Bad] Again, This Time From Biden's White Air Force Nominee. There are currently almost 300 military officers awaiting promotion by the U.S. Senate. Rather than give a look-see to each individual up for promotion, busy senators typically give what's called "unanimous consent" to an entire group of officers at the same time. Not so fast. Rob Bluey of The Daily Signal reported Thursday that things are changing. Sen. Tommy Tuberville (R-Ala.) has been hitting the bat-chute on that for a while. [...] Also important, Tuberville is not a fan of wokeness in the military. Enter USAF Col. Benjamin Jonsson. He was nominated by *President Biden to be promoted to brigadier general. Col. Jonsson is white. And "woke." Col. Jonsson believes the "problem" with the Air Force is "white colonels" like himself — but not really him, just all the other white colonels. After the death of Saintly George Floyd, Jonsson penned an article for Air Force Times "calling out" his fellow Caucasian USAF colonels.
Professor Offers a Summer Writing Program — but Not if You're White, and Only if You 'Honor' Trans People. Is it preferable to instruct people who hype homoeroticism and tout transgenderism? It seems to be for a New York professor — at least in the case of a season-long writing extravaganza. And the teacher has a no-exceptions rule: All students must be black. Syracuse University Assistant Professor of Political Science Jenn M. Jackson is teaching a writing workshop this summer. It comes courtesy of Colored Convos Media, an LLC of which she's co-founder.
Kentucky Board of Nursing retracts 'implicit bias' training requirement after media coverage. A report from the Washington Examiner on July 28 revealed that the Kentucky Board of Nursing had issued a requirement for licensed nurses to complete an "implicit bias" training, based on a capture of the Board's website in August 2022. The training included "highly racialized content" that sources told the Examiner had "very little to do with nursing." In another report, authorities at the Kentucky Nurses Association told the Examiner that "best intentions will not solve implicit bias in healthcare." Technically, it didn't threaten anyone, the KBN said. However, Kentucky can revoke medical licenses since, as the Examiner gathered, "Kentucky law refers to the training 'as a prerequisite for license renewal.'"
Brave University of Chicago student speaks out against the leftist war on whites. An anti-white racial inquisition is poisoning America. If you don't believe it, read my new book, The War on Whites: How Hating White People Became the New National Sport. The inquisition received support from the prestigious University of Chicago when it decided to offer a new course entitled "The Problem of Whiteness." This is not surprising when you realize that the left has taken complete charge of academia and can get away with overt anti-white racism. By a margin of more than ten to one, left-leaning professors outnumber conservatives at our colleges and universities. New professors are required to sign a diversity pledge, a ruse that guarantees leftist control on campus well into the future. A friend of mine who is a professor at a prominent university told me that he is forced to keep his conservative views to himself or risk being ostracized by his peers. Ironically, campus commitment to diversity excludes the all-important diversity of ideas.
Disney Whistleblower Reveals How the Woke Company "Systemically Persecuted" Conservatives. It should not come as a surprise that the House of Mouse has been bullying conservatives inside the company. But the individual who laid the groundwork for harassing these patriots employed methods that should send a chill down your spine. Bounding into Comics dropped an explosive report Tuesday revealing that a whistleblower has come forward describing how Disney is "systemically persecuting" conservatives. Moreover, the woke company has mandated that employees keep Diversity, Equity and Inclusion (DEI) diaries which determine whether employees would receive promotions, raises, or even keep their job. Disney is essentially running their company precisely how Communist China rules over its citizens. If you are a good soldier you remain in good standing and get social credit points. But if you dare cross Mickey Mouse you can lose your livelihood.
Ex-employee sues foodservices giant over firing after objecting to anti-white male DEI program. A former employee of a multinational foodservices corporation is suing for wrongful termination after she requested an accommodation from participation in a diversity program that allegedly forbade white male participants and was promptly removed from her post. In March 2022, Compass group launched "Operation Equity," a diversity program that allegedly forbade white male participants, the suit alleges. It further describes the effort as a "'white-men-need-not-apply' program" and "a discrimination program against white males and intended to deny white males employment opportunities and benefits made available by COMPASS to women and people of color." The suit attributes the program to "racial animus" held by senior leaders at Compass. The firm is a multinational foodservices group that manages brands such as Eurest, Levy, FLIK, Chartwells, Restaurant Associates, Canteen, Morrison, Crothall, Bon Appetit, TouchPoint, and FoodBuy.
New York plans to give $200 million to cannabis entrepreneurs of color. In an ambitious move to make its new marijuana industry equitable, New York is proposing a $200 million fund to help entrepreneurs of color and some other groups get into the business. But officials haven't yet nailed down some components that experts say are crucial to making the investment effective. Gov. Kathy Hochul's proposal, unveiled last month, would be among the largest sums any state has committed to try to ensure diversity and social equity in the fast-growing legal pot business. The plan also is somewhat unusual for relying on money from private sources.
The Editor says...
Nobody has been forced into the retail marijuana market. It's bad enough that marijuana is legal in some areas, but there's no need to subsidize drug dealers just because they're black.
California Bill Would Let Judges 'Rectify Racial Bias' in Sentencing, for 'Reparations'. The California state legislature is considering a bill that would allow judges to use sentencing in criminal cases to "rectify racial bias" in the criminal justice system as a whole. The bill, AB 852, passed the State Assembly in May and is currently going through the committee process in the State Senate. It notes that existing law already allows defendants to challenge their sentences as racially biased, but it would add that judges can consider race in sentencing.
Biden's Joint Chiefs chairman nominee accused of 'race-based' hiring in military by conservative group. A conservative watchdog group is accusing Air Force Gen. Charles Q. Brown Jr. of embracing race-based hiring and promotions in the military for the sake of "diversity." The American Accountability Foundation (AAF), an opposition research group that has claimed credit for dismantling several Biden nominations, is now targeting Brown, who is the president's nominee to serve as the next chairman of the Joint Chiefs of Staff. At issue for the group are various public statements Brown has made in which he offered full-throated support for the military's diversity, equity and inclusion, or DEI, programs. Brown, the first Black man to lead any branch of the U.S. military, has been outspoken in his belief that the military should be proactive in elevating diverse candidates to key positions. His previous public statements that articulated his views provide ample ammunition for critics like AAF and Republican opponents of DEI policies to attack his nomination.
I Had to Watch 'White Teachers Are a Problem' Video. Now I'm Suing My Employer. I'm a white writing professor, and apparently, that's a problem. That was the unmistakable message sent to me at Pennsylvania State University — and that's why I'm suing the school. In November 2020, nearly half a year after George Floyd's murder in Minneapolis, I was subjected to a video titled "White Teachers Are a Problem" for a monthly professional development meeting for writing faculty. The video's featured speaker, Asao Inoue, is a self-described practitioner of anti-racism. Not an obscure one, either: About a year prior, Inoue gave the Chair's Address at a prestigious writing studies research conference — the same field in which I earned my Ph.D. — and declared, "White people can perpetuate white supremacy by being present. ... Your body perpetuates racism." At the heart of Inoue's appalling comments is the baseless attribution of negative characteristics to a particular race.
Fighting back against anti-white racism. The people who are behind the current anti-white racial inquisition are counting on the reluctance of their intended victims to fight back. [...] There is open season on whites and, strange as it may seem, large segments of the white population are all for it. "Where is the evidence of anti-white hate?" the deniers will ask. The evidence abounds in broad daylight:
• The legion of corporate and government diversity trainings demanding that intimidated white employees "undo their whiteness."
• The children at public schools across the country who are being coerced to confess they are flawed if they happen to be white.
• Indoctrination training forced by many universities on white college freshmen designed to make them feel badly about their skin color.
• The president of the United States telling the graduating class at Howard University that the number one obstacle they will face is "the poison of white supremacy — the most dangerous terrorist threat to our homeland."
How Government is Fanning and Subsidizing Anti-White Racism. When the current occupant of the White House openly asserts that white supremacy is the greatest threat to America, it shows that demonizing whites is now an acceptable part of American life. Conservative writer Ed Brodow dubs this phenomenon the "new national sport" in the subtitle of his book The War on Whites. In a Townhall article, he says hating whites is a disease of epidemic proportions that must be called out for what it is — racism. He explains how, in the woke-perverted world of diversity, equity, and inclusion (DEI), white people — by dint of pigment alone — are the default oppressors, obliged to feel guilty and do penance for imagined crimes of "systemic racism." This reversal has its roots in critical race theory (CRT) and Marxist ideology, which are working overtime to replace the American ideal of equality (of opportunity, not outcome) with a distorted version of equity. The word itself means fairness or impartiality. But the new discourse interprets it to mean providing special opportunities to minorities and groups perceived as disadvantaged and denying them to the majority and those perceived as advantaged.
Catholic employee fired after putting 'assigned by God' as his 'pronouns' in company profile. A Catholic software engineer was fired by his former employer for putting "Assigned by God" as his "preferred pronouns," an act which was precedented by pressure from the company to display "gender identity" in the name of "inclusion." Chad Scharf, who used to work as the Vice President for Software Engineering at the password management company Bitwarden, lost his job for refusing to violate his religious beliefs by endorsing gender ideology, according to a lawsuit filed at the end of May.
Missing Sub CEO Explains Why It Was Important for Him Not to Hire "50-Year-Old White Guys From Military". The CEO of OceanGate, the company that has created a tourism industry around underwater exploration, is a man named Stockton Rush. Two years ago, Mr. Rush was interviewed about his company and how they operate; his outlook on the personnel he hired might explain the crisis. According to Mr. Rush, he intentionally did not want to hire a certain kind of submariner expert for his corporate endeavor, because that would only bring ex-military submariners into the company. In his own words he explains how he did not want to hire "50-year-old white guys", and instead preferred a more diverse and younger workforce to represent the operational face of the company. Diversity, equity and inclusion was the priority.
Titanic tour CEO Stockton Rush said he didn't hire '50-year-old white guys' because they were NOT 'inspirational'. The now-missing CEO of a company that takes passengers onboard a submersible to see the site of the Titanic wreckage once told how he refused to hire '50-year-old white guys' with military expertise because they are not 'inspirational.' Stockton Rush added in that interview with Teledyne Marine that expertise is not necessary because 'anybody can drive the sub' with just a $30 video game controller. In another interview, Rush insisted the Cyclops vessel he designed before the doomed Titan was 'invulnerable,' saying he was willing to 'put my money where my mouth is.'
Federal court delivers major blow to Biden's radical equity agenda. In a lawsuit challenging the Minority Business Development Agency (MBDA) — a new federal agency dedicated to helping only certain preferred racial groups — a federal judge ruled that the Biden administration cannot discriminate based on race. Judge Mark Pittman, a Trump-appointee based in Fort Worth, Texas, delivered a remedial lesson in civics to the administration: "The Constitution demands equal treatment under law." While such a statement should be obvious to any American, this was quite a painful blow to the administration. On his first day in office, President Biden declared a "whole of government" approach to racial equity, requiring all his agencies to "affirmatively advance[e] equity." In practice, the equity agenda resulted in a bevy of programs open to some races, but not others. Farmers, restaurant owners, homeowners, small business owners and federal contractors all got billions in federal tax dollars, so long as they belonged to certain racial groups. The MBDA is the cornerstone of this equity agenda.
DEI training isn't working. Diversity, Equity and Inclusion (DEI) training has become a lucrative industry. A Harvard Business Review states that "U.S. companies spend roughly $8 billion a year on DEI training." No wonder a survey by The Economist suggests the number of people hired for jobs with "diversity" or "inclusion" in the title has more than quadrupled since 2010. The intent of DEI programs can be debated. But regardless of intent, it's clear the DEI agenda being pushed onto American employees is simply not working. A growing number of studies — in prominent publications like Psychology Today, Harvard Business Review and The Economist — are questioning whether DEI training has a positive effect. Employees of companies that deploy DEI programs convey similar attitudes, with 62 percent saying they're "not working as intended."
San Francisco Teacher Suspended For Singling Out White Male Students In Class. A San Francisco teacher has been suspended for singling out and discriminating against her white male students. Lowell High School teacher Nicole Noel Henares allegedly made the white male students in her English class stand "as a group" and answer whether they "felt like a minority" last fall, according to a letter from the San Francisco Unified School District to the California Commission on Teacher Credentialing, which was obtained by Fox News.
Former Starbucks manager awarded $25.6M in anti-white race discrimination lawsuit. After determining that Starbucks had infringed upon Shannon Phillips' federal civil rights and violated New Jersey's laws against racial discrimination, the jury ruled in favor of the former manager. They awarded Phillips $25 million in punitive damages and an additional $600,000 in compensatory damages.
Starbucks manager wins $25.6 million lawsuit after arguing she was fired for being White. A Starbucks regional manager won a $25.6 million verdict Friday after she accused the corporation of firing her for being White in response to a national backlash over the arrest of two Black men at one of its Philadelphia cafes. A New Jersey federal jury decided in favor of Shannon Phillips, who sued Starbucks in 2019 over allegations of racial bias and discrimination, according to court filings. It took the eight-member panel nearly five hours to award $25 million in punitive damages and $600,000 in compensatory damages to Phillips, determining that her skin color played a decisive role in her termination.
Biden State Dept Demands $76 Million to Push Diversity and Inclusion, Citing 'National Security'. The Biden State Department is requesting an additional $76 million budget allocation from Congress to fund its initiatives related to diversity, equity, and inclusion, describing the matter as a priority for national security. In her role as chief officer for diversity and inclusion at the State Department, Gina Abercrombie-Winstanley testified before Congress on Tuesday morning, arguing the funds would allow her to hire new employees, monitor the racial and gender composition within the department and maintain records of employee reports concerning discrimination, harassment, and bullying.
The Editor says...
That sounds like a lot of money to "monitor the racial and gender composition within the department." Is the ethnic balance something that changes from one hour to the next? Does it really affect national security if the racial and gender composition gets out of balance — i.e., too white?
Straight white man can't even apply for COVID relief. A legal foundation that has won numerous times as the U.S. Supreme Court now is taking on the state of Massachusetts over its programs that discriminate against individuals based on their sex and race. It is the Pacific Legal Foundation that has gone to court against Yvonne Hao and Lawrence Andrews, officials of the Massachusetts Growth Capital Corporation, for allowing "only individuals of certain races, sex, or sexual orientation" to apply for a COVID-relief program. "Opportunity — including eligibility for government programs — should not depend on skin color, sex, or sexual orientation," explained Andrew Quinio, a lawyer at the foundation.
Is America's collapse inevitable? [Harold] Robertson gives it heft and dimension by discussing how America began to shift from a meritocracy to a diversity system in the 1960s, with the passage of the Civil Rights Act. He then explains how it became embedded in American employment culture. Of course, moving away from a system that discriminated against people based on race is a good thing. The problem is that, thanks to how "diversity" has been interpreted, we've embraced a whole new style of discrimination. Now, the most important characteristic a person can bring to a job is skin color, sex, and sexual orientation or "identity." This metric, when applied across American culture, especially within the government, but with increased aggression in education and the workplace, practically ensures that the people responsible for America's public and private systems won't be the "best"; they'll just be the most "diverse."
Complex Systems Won't Survive the Competence Crisis. At a casual glance, the recent cascades of American disasters might seem unrelated. In a span of fewer than six months in 2017, three U.S. Naval warships experienced three separate collisions resulting in 17 deaths. A year later, powerlines owned by PG&E started a wildfire that killed 85 people. The pipeline carrying almost half of the East Coast's gasoline shut down due to a ransomware attack. Almost half a million intermodal containers sat on cargo ships unable to dock at Los Angeles ports. A train carrying thousands of tons of hazardous and flammable chemicals derailed near East Palestine, Ohio. Air Traffic Control cleared a FedEx plane to land on a runway occupied by a Southwest plane preparing to take off. Eye drops contaminated with antibiotic-resistant bacteria killed four and blinded fourteen. While disasters like these are often front-page news, the broader connection between the disasters barely elicits any mention.
The Strange Pandemic of 'White' Disparagement. One of the tenets of the early civil rights movement some 65 years ago was ending racial stereotyping. When Martin Luther King, Jr. called for emphasizing the "content of our character" over "the color of our skin," the subtext was "stop judging people as a faceless collective on the basis of their superficial appearance and instead look to them as individuals with unique characters." It is tragic that King's plea for an integrated, assimilated society, in which race became incidental, not essential to our personas, has mostly been abandoned by the Left in favor of racial stereotyping, collective guilting, and scapegoating by race and gender. Indeed, many of the old Confederate pathologies — fixation on racial essence, obsession with genealogy, nullification of federal laws, states' rights, and segregated spaces and ceremonies — are now rehabilitated by woke activists.
They're Conditioning Americans to Hate White People. Under the guise of good social medicine, liberals and leftists have poisoned the culture with the colossal lie that "whiteness" is the culprit behind a "400-year pandemic of foundational racism" that's keeping America sick. It's being perpetrated by whites through "antiquated systems of oppression." Whiteness, the creation of white people of European descent, they say, is a lopsided "system of privileges and advantages" that favors whites at the expense of people of color "through government policies, media portrayal, decision-making power with our corporations, schools, judicial systems, etc." To cure the country, people with big mouths, big money, and big plans are wildly swinging sledge hammers at America's load-bearing walls to destroy what they see as a "white system," to replace it with [something else]. With the most dehumanizing epithets against white people, they're pushing anti-white government policies, anti-white media portrayals, anti-white corporate decision-making, anti-white curriculums in schools, and an anti-white oppression narrative onto the judicial systems.
Hanoi Jane Fonda Has a Novel Way to Solve the 'Climate Crisis'. It's more obvious by the day that Leftists have a taste for authoritarianism, but Hanoi Jane Fonda makes it even more obvious than others do. Fresh from calling for the murder of pro-lifers, Jane has now blamed the mythical crisis of climate change on the Left's all-purpose bogeymen, white males. And what does the star of Barbarella think ought to be done with these villains? Why, they must be imprisoned, of course. Then, while the world's white guys are rattling their tin cups against the bars, women and "people of color" can pool their efforts and save the world. Just like in the movies. Yes, it sounds like a joke, but the photo-op girl for the North Vietnamese, now no longer the ingenue she was in those heady days, insisted Saturday that "this is serious." The noted scientist added: "We've got about seven, eight years to cut ourselves in half of what we use of fossil fuels." Oh, brother, here we go again with the climate apocalypse hysteria.
Rise of the War on White People. We are accustomed to defining racism as discrimination aimed exclusively at black people and other minorities. The definition must be expanded to include discrimination against whites, which is just as bad as discrimination against blacks or anyone else. What the political left calls "anti-racism" is really code language for racism against white people. An anti-white racial inquisition is poisoning America by contributing to an already divided nation. According to Gallup, the percentage of Americans who agree that black-white relations are good is at a 20-year low.
What do search engines want to show you? Pictures are worth a thousand words. If you want a visual of what Big Tech thinks of white people, black people, or any people, do an image search on your preferred engine of the following terms. You will be unsurprised at the results. I don't like to promote companies that hate me, so I will just say that the search engine I used rhymes with "luck, luck, no." First, I typed "shoplifter." The image search shows white people stealing — white hands stuffing things into purses, a white thug in a hoodie looking shady in a store aisle, old white people stealing medicine, young white people stealing makeup. It took quite a bit of scrolling to find a non-white person shoplifting... then it was an Asian woman. Next I typed "rioter." Apparently there has been only one riot ever in all of human history. You know which one.
Are 'White People Committed to Being Villains'? Many people in the West, above and beyond the woke crowd, subscribe to this version of history that juxtaposes evil, oppressive, conquering whites with noble, peaceful, and egalitarian nonwhites — a carefully manufactured lie that feeds a deep and abiding hatred for whites, including, and as a testament to its pervasive influence, among whites themselves.
The University of Minnesota is offering a summer internship program to students, but only if they're not white. I couldn't care less that a woke university is being openly racist by excluding white students from their Multicultural Summer Research Opportunities Program. It's what we've come to expect from the left, and I'm just here to show it to you. [Tweet] Yup, just openly excluding an entire race from the summer internship program. [...] They think this exclusion of whites somehow makes it more fair for the other races. They actually think that. It's dumb, but I'm smart enough to sit here and try to understand these people instead of getting upset. They honestly think excluding whites is progressive.
Anheuser-Busch, Bud Light's Parent Company Pledged to Purge Its White Male Employees in This Promo Video. Anheuser-Busch, the parent company of Bud Light, has pledged to purge its white, male employees in an effort to have a "more diverse and inclusive environment," according to footage found on the company's website. The company has seen its sales collapse since the disastrous Dylan Mulvaney advertisement campaign which wiped billions off the firm's value, and chased millions of customers away. In the video, one employee of Anheuser-Busch explains, "we're still 40 percent women, and 60 percent men, still predominantly white: so there's still work to be done." The "work" to be "done" is apparently replacing white male workers with alternatives. [Video clip]
White People Told They Are Not Welcome at Performance of BLM-Inspired Play. White theatregoers in London were urged to stay away from a play about African American history so that black audience members could enjoy the performance "free from the white gaze". The Theatre Royal Stratford East, in east London, has caused uproar after it told white people to stay away from a "Black Out" performance of the Tambo & Bones play on July 5. Although the theatre claimed that "no one is excluded", it went on to make it abundantly clear that white people would not be welcome at the performance that tells the story of a pair of African Americans on a journey from mistrels to rappers, who ultimately join the Marxist Black Lives Matter movement.
NFL Accelerator Program Returns Next Week and Continues to Apply Brakes on Advancing White Men. The NFL on Wednesday proudly announced the return of its Accelerator Program, and with it returns the fact NFL owners have a diversity divide issue and the league is trying to address that issue of inclusivity with a program that embraces exclusion. The Coach Accelerator program will run during the NFL's spring meeting starting Sunday to Tuesday in Minneapolis. Per the NFL, the program "aims to increase exposure between owners, executives, and diverse coaching talent, providing ample opportunity to develop and build upon their relationships." The program is designed to change the dynamics of past coach hiring cycles in which white candidates were hired more often than minority candidates.
It's the Bud Light of churches.
193 Parishes Ditch the United Methodist Church. I've told this story before, but it bears repeating here. Once upon a time, I wanted to be an Episcopal priest. The diocese in which I was living rejected me. In retrospect, I probably would have made a rotten minister, so that choice in and of itself was probably not the worst decision anyone has ever made. But as it turned out that my spiritual fitness was not in question. For a few weeks after being rejected, I was depressed. Ordination had been something I had wanted since college. But one Sunday, an older "supply," or substitute priest, took me aside and told me not to take it personally. I found that to be a little glib. After all, I had been told I was unworthy to serve God, and that's the kind of thing someone takes personally. But he continued, "Right now, the diocese is not accepting straight, white men for the ordination process. But if you hang in there, you might have a chance in a few years or so."
Denver Councilwoman CdeBaca suggests tax on white-owned businesses. Denver City Councilwoman Candi CdeBaca is suggesting a new tax on white-owned businesses to fund racial reparations to minority-owned businesses. CdeBaca advocated for race-based taxation, which would almost certainly prompt constitutional challenges, at a Thursday forum before the Greater Metro Denver Ministerial Alliance. CdeBaca faces a June 6 runoff to represent District 9. Her challenger, Darrel Watson, said he also supports racial reparations in the form of private business investment in underserved communities.
The Editor says...
Please show me a map of the communities in Denver that are "underserved." What does that mean? One might easily suspect that the residents of those communities are the recipients of multiple welfare programs, yet they insist the politicians call them "underserved."
LOW IQ Denver Councilwoman Thinks The Best Way To End Racism Is To Tax White People More. Denver City Council member Candi CdeBaca, who is reportedly running for re-election, has suggested that white-owned businesses should be taxed at a higher rate than black-owned businesses, and that this revenue should then be given directly to black-owned businesses. Her apparent justification for this is that white people have built what they have on "stolen land, stolen labor, and stolen resources." [Video clip]
America's Transgender Craze. [Scroll down] Women now dominate the presidencies in the Ivy League and, more generally, women make up about 30% of college presidents. No doubt, the feminization of higher education administration will only continue as women increasingly dominate the campus. Today college women outnumber men by 14%, and while college enrollment is dropping in general, this decline is sharpest among men. Indeed, men are now merely 41% of those enrolled in higher education, and if one subtracts international students who are disproportionately male, the American male college student faces extinction. Women are now even a majority of students in medical school, long a bastion of maleness.
US Military Instruction: Racism Is "Oppression of People of Color"-Whites Can't Experience It. In the Army's Intermediate Level Education (ILA), the US Army defines racism as the "oppression of people of color." ILA is necessary for promotion. According to the US Army at the Command and General Staff College at Ft. Leavenworth, white people cannot experience racism. They define racism as "a complex system of beliefs and behaviors that result in the oppression of people of color and benefit the dominant group." This definition is taught in an elective course, "Race and Gender in U.S. Military History." The course description states that "an effective military only functions under the principles of equality and inclusion."
The Best Students Are Not Going On To The Best Universities — Because Of Their Race And Gender. Yes it's called reverse discrimination. Just as bad as the original. [Video clip]
NYC teacher's union to hold seminar on the 'harmful effects of whiteness'. The union that represents New York City's public school teachers is holding a workshop on how to reduce the "harmful effects of whiteness in our lives" for educators who wish to advance their credentials, a shocking New York Post report revealed Saturday. According to the outlet, the United Federation of Teachers (UFT) has scheduled the online seminar, titled "Holding the Weight on Whiteness," for Monday, March 27, for 4-6 pm. The event's landing page says the course "is about cultural humility and inclusion," and "will allow us to discuss how whiteness relates to privilege and identity, and how both become normalized and invisible."
University Of Chicago Student was Called a Terrorist for Calling Out the 'Problems With White People' Course At His School. Danial Schmidt, who is a sophomore at the University of Chicago, calls out his school for having a 'the problem with whiteness' course at the school. Danial made a post about the course and it went viral which ended up in a news article in which the professor of this racist class calls him a terrorist. The professor is now calling for Danial to be expelled. [Video clip]
Eight Startling and Uncomfortable Ways the Democrat Party Emulates the Nazi Party. First, racial and ethnic division was a central component of Nazi political strategy and philosophy. The Nazi Party was the most racially obsessed political party in human history. Today's Democrat party is second only to the Nazi Party in their racial obsession. Every piece of legislation, every accusation against their opponents, every aspect of American society, even weather and climate are framed in imaginary racism. The Nazi Party's obsession focused on their perverted belief in the inferiority and superiority of the races or ethnicities. This opened the door for blaming a specific ethnic group for all the problems facing their country. The Democrat party is claiming the root cause of virtually all problems facing this nation is "systemic racism" as theoretically instigated by one particular race.
I Left My Hate in San Francisco. With the gatekeepers a non-factor and near complete institutional infiltration, the Left may now dispose of any pretense of principle. As it turns out, the Left has always favored racial hierarchies, as long as White males are on the bottom. The Left has always desired censorship and the repression of civil liberties, the police state, and even war and environmental degradation. It was simply that the Left wanted to be the one in charge of the levers of inhumanity, able to exempt itself from its own brutal policies while applying draconian tactics to weaken and abuse political opponents for their own pleasure and political gain. The Left was never interested in tolerance and compassion, only towards those who resemble them, checking all the ever-multiplying boxes, their own tribe as they whimsically and arbitrarily define it. There is nothing admirable in this kind of tribal compassion.
Lawyers Battle Diversity Equity and Inclusion Mandates. A Cornell Law School professor has launched the Equal Protection Project, a network of attorneys battling discrimination against whites occurring under so-called Diversity, Equity, and Inclusion (DEI) mandates. Professor William A. Jacobson, founder of the Legal Insurrection Foundation and Criticalrace.org, started his latest project, EqualProtect.org, in response to a disturbing trend that ditches the American idea that people should be treated equally, without regard to race or ethnicity. "We reject the idea that the society we live in is systemically racist and that therefore racism is the default explanation for everything that happens," Jacobson told The Epoch Times. "In fact, our system is systemically against racism, from the 14th Amendment to federal law, state law, local law, ordinances, corporate policies, and programs at virtually every corporation," he said.
Biden's Star Trek Diversity Ambassador Getting 'Pale' 'Males' Out of Diplomacy. Diversity bosses are essentially Soviet-style political commissars with authority over senior leadership because dogma matters more than competence. At least Ambassador Gina Abercrombie-Winstanley is eminently qualified to destroy the planet. ["]She also is co-author of two papers published in the New York Review of Science Fiction on "Diplomacy in Star Trek" and "The Representation of Disability in Star Trek," and says she continues to follow those issues "with all the new iterations of Star Trek."["] No wonder the world thinks we're a joke.
People Are Asked What Are Straight White Men Good For, The Answers Are Disgusting. This is what 24/7 white bashing by the media gets you. The racism pendulum has swung in the complete opposite direction. [Video clip]
School that's part of notoriously woke Virginia district bans white and Asian students from college prep program. A Virginia school district is under fire once again for its 'equality' programs — this time for sending a letter offering college preparation classes only to black and Hispanic students. Fairfax County Public Schools has since the beginning of this year been under investigation by the state Attorney General for withholding merit awards from students at Thomas Jefferson High School. TJs, as locals call it, is the United States' top-performing public school, and woke teachers there claimed they'd held back the awards to boost 'equity.'
Is It Still OK to Be White? Scott Adams' viral rant advising whites to "get [...] away" from black people has received lots of media attention. Adams compared blacks to a radicalized "hate group," citing a poll that showed nearly half do not agree with the anodyne statement, "It's ok to be white." Adams, of course, was summarily purged with the usual performative outrage. No one bothered to ask the obvious question: Why should blacks believe otherwise, when they are told that America is all about them? At work, school, and in the media, the overbearing cult of black idolatry and white guilt is the closest thing to religion that many Americans still encounter in everyday life. It has become an almost inescapable presence, so pervasive indeed that it often passes unnoticed.
Systemic Racism in East Palestine. Two years ago, Transportation Secretary Buttigieg announced that he was making the fight against "systemic racism" into the core of his job. The failed South Bend mayor came out of the gate claiming that highways were racist. Last year, he went to Birmingham to announce the launch of a $1 billion plan to tear down racist highways and implement transportation equity. Taxpayer money would be directed to "economically disadvantaged communities, especially those with projects that are focused on equity and environmental justice." East Palestine was not one of them. On Feb 3, a train filled with hazardous materials derailed in East Palestine. That same day, an interview with Buttigieg about "infrastructure, safety and equity" appeared in Forbes Magazine. Buttigieg did not mention the disaster in East Palestine, instead he talked about how "communities of color" were being "destroyed" by infrastructure investment and how under Biden, they'd have the opportunity to "reconnect across highways or railways that divide them."
Woke Florida Teacher Made White Students Become Slaves To Black Students For Black History Month. A woke teacher has sparked fury after mocking Florida's CRT rules by forcing his white students to act as slaves for black pupils. The Florida educator also hit out at the state's recent push to ban certain books from classrooms by sarcastically screaming at the children while throwing their books around his classroom. Footage of his antics, first posted on TikTok, led to a wave of backlash, [...] [Video clip]
Really? Does this include reverse discrimination and "affirmative action?" Of course not.
Biden Signs Executive Order to Root Out Systemic Racism from Federal Government. President Joe Biden signed an executive order Thursday aimed at rooting out systemic racism from the federal government and doing more to achieve racial equity. The order, made in the middle of Black History month, extends an order Biden made on his first day in office requiring federal agencies to investigate inequities within their departments and to proactively address shortcomings. That is now an annual requirement. The aim is to deliver "equitable outcomes" for all Americans, including underserved communities, through government policies, programs, and services. The order also requires federal agencies to establish "equity teams," with a designated senior leader charged with implementing the administration's equity goals and "delivering equitable outcomes, to the extent consistent with applicable law." And it requires the establishment of a new White House steering committee on equity to "coordinate Government-wide efforts to advance equity."
Joe Rogan Rips Buttigieg For Fretting Over Too Many White People Working At Construction Sites. Podcast host Joe Rogan blasted Transportation Secretary Pete Buttigieg over his remarks about the race of construction workers in lower income communities. Buttigieg said too many construction crews have workers who "don't look like" the communities they work in at a Monday panel at the National Association of Counties Conference. Rogan said the secretary displayed a lack of awareness on the effective work of construction workers during a discussion about the Feb. 3 train derailment in East Palestine, Ohio. "Do you know that he gave a speech the other day about how there's too many white people working in construction sites, where these construction sites are set up in these communities, where the people in the community could benefit from it, which shows a profound lack of understanding of skilled labor," Rogan said.
The Editor says...
A man who claims to be married to another man "shows a profound lack of understanding" about a lot of things.
'Conservatives Need Not Apply' Under Biden Administration's Proposed Hiring Rules. In a move that has gotten little notice in the press, the Biden administration is proposing federal hiring rules that easily could be abused to deny employment to anyone who questions liberal, woke policies, criticizes the government, or belongs to a politically incorrect organization. The vague, nebulous language of the proposed changes in existing government hiring regulations could be exploited and allow biased government managers to put up a virtual "Conservatives Need Not Apply" sign when it comes to the federal civil service, leaving rejected applicants with little recourse.
Conservatives must wake up to the threat of government-endorsed racial categorization. Conservatives haven't been as interested as progressives are in capturing the federal bureaucracy, or at least have been much less successful. That goes double for the Census Bureau, whose committee on race has long been the play-thing of sociology professors and affinity groups. For this reason, rank-and-file conservatives may not grasp the importance of the racial changes the Census Bureau is currently proposing. That would be a mistake. The Left really cares about the Census, which means conservatives should pay attention. The balkanization of the United States, often along government-fabricated racial and ethnic lines, is one of the building blocks of the cultural Marxist threats in this country. The Census Bureau's new proposal expands and deepens this racial dispensation.
Putting down white people — The new national sport. A racial inquisition aimed at whites is underway based on the erroneous notion that the number one threat to America is ingrained intolerance by white people. The Left, says author Ben Shapiro, wants to portray America as "an incurable mass of bigoted whites." Under the guise of ending alleged racial oppression, an attempt is being made to remake whites into the new underclass. Signs of the inquisition are popping up everywhere. Dr. Donald Moss, a psychoanalyst who teaches at the New York Psychoanalytic Institute, calls "whiteness" a "malignant, parasitic-like condition to which white people have a particular susceptibility." [...] "We have to exterminate white people off the face of the planet," said an African-American professor at North Carolina State. [...] Government agencies have bought in. The City of Seattle inaugurated a training session for white city employees to "undo their whiteness" and affirm their "complicity in racism." Can you imagine if Seattle required all black employees to undo their blackness? The US Treasury Department held a training session telling employees that "all white people contribute to racism." Sandia National Labs — which produces our nuclear arsenal — held a three-day reeducation camp for white males, teaching them how to deconstruct their "white male culture" and forcing them to write letters of apology to women and people of color.
Tucker calls out Biden's 'provable' race-based hiring of judges — only 5 out of 97 are white men. No presidential administration in the nation's history appears to have been more openly obsessed with race than the Biden regime and that is especially the case when it comes to the nation's courts where identity has been prioritized over constitutional knowledge and mastery of jurisprudence. Tucker Carlson addressed the proverbial elephant in the living room of President Joe Biden's brazen discrimination against white males in his judicial appointments, suggesting that diversity is merely another word for racism, using numbers to back it up. On Monday's edition of his popular Fox News show "Tucker Carlson Tonight," the host expressed the now-controversial viewpoint that hiring should be based on merit rather than race. "So the point of diversity, equity and inclusion as you've often heard is to wind up at the leadership class that 'looks like America,'" he began. "Now we think you should hire on the basis of merit, but that's kind of an appealing idea, the people who run the country should look like the country." "That's not what it's about at all, because no administration has ever looked less like America just by the numbers than the Biden Administration," he said. "It's not about making the administration look like America, it's about discriminating against certain classes of people who don't vote for them. Period."
'Equity' or Fighting Crime: You Can Pick Just One. Who could have predicted that, a mere half-century after the Civil Rights Movement, equality would be replaced with a new form of racism known as equity? What is equity? The objective of equity is not equality of opportunity, but rather equality of outcome. Everyone should have the same income, job success, house, neighborhood, etc. In an equitable world, equal justice under the law is anathema. The law must treat people differently based on their skin color. "Equity is based on the false premise of equal outcomes — not equality of opportunity or equality under the law," writes Elizabeth Economou in a Fox opinion piece, "whereby resources are seized from one group and given to marginalized or preferred groups." Equity means we must give minorities, especially blacks, special treatment in order to even up the scales and compensate for past injustices. For equity to be reached, skin color must determine everything. The right kind of skin color is black or brown. White is the wrong color.
Georgia Police Officer Put on Leave Over Social Media Post Defending Natural Marriage. I have a friend who is interested in being a police officer, and in a blue state. I have a real concern about working in blue states, especially for a union, and especially when your boss is not going to be some STEM engineer, but just some government worker. [...] He has already applied for a few positions and has run into problems with left-wing police departments. My suspicion is that people just do a web search on his social media, and then blacklist him. (And this is what he's found when he's got access to the hiring records, he's on a black list.) Nevertheless, he persists in applying. It's all well and good to think that you can sue people in order to get justice. But a lot of these decisions about hiring are made behind closed doors, so that you can't sue. It's just something to think about when you are deciding what to study and where to work.
Texas Medical School Removes Pictures Of White Graduating Students. On the heels of a lawsuit brought against Texas medical schools for violating civil rights law through Diversity, Equity, and Inclusion (DEI) policies, another Texas medical school reportedly targeted white medical students by taking down their graduation photos. Texas A&M Medical School removed a picture that was 'prominently displayed' at the entrance of the school that had white males graduating from the institution. Texas A&M's medical school ranks 80th in the nation, according to U.S News & World Report. The decision to take down pictures of white male students follows other concerning developments at America's medical schools.
NHL Backs Down After Gov. Ron DeSantis's Office Calls Out 'Discriminatory' Job Fair. The National Hockey League (NHL) has backtracked on the participation requirements of a job fair it is hosting in Florida after Gov. Ron DeSantis's office slammed the event as "discriminatory." The league is set to host the "Pathway to Hockey Summit" job fair event on February 2 in Fort Lauderdale, Florida, where the NHL All-Star Game will take place two days later in nearby Sunrise, Florida. However, one week ago, the league shared a now-deleted LinkedIn post promoting the event but specified participation was only open to certain groups of people.
State University Hosts DEI Seminar, Consigns Caucasians to the 'White' Table. Not long ago, America was headed for unprecedented unity. But the tables have turned — into segregated ones. Case in point: Portland State University's recent symposium on diversity, equity and inclusion. Per a slideshow posted online by the school, everyone was welcome — at their correspondent, color-coded tables.
Exiting Arkansas Governor Sued Over Enforcing Race-Based Quota in State Appointments. An Arkansas man has filed a federal civil rights lawsuit against the state because state law prevents him from serving on a state board because of the color of his skin. The legal complaint in the case, Haile v. Hutchinson, which was filed on Jan. 4 in the U.S. District Court for the Eastern District of Arkansas, claims that a state law establishing race-based quotas on the Arkansas Social Work Licensing Board violates the equal protection clause of the Fourteenth Amendment to the U.S. Constitution. Gov. Asa Hutchinson, a Republican who leaves office on Jan. 10, is being sued in his official capacity as governor. He's being succeeded by Gov.-elect Sarah Huckabee Sanders, also a Republican.
America's Systemic Racism Problem Is Mostly In Woke, Anti-Asian Education Bureaucracies. Virginia Gov. Glenn Youngkin began 2023 by asking the state's Attorney General Jason Miyares to investigate the allegation that officials at Thomas Jefferson High School (TJ) intentionally withheld notifications of National Merit awards from the school's students and families (most of them are Asians) in the name of "equity" and "inclusion." Asra Q. Nomani, a human rights activist and a proud mom of a TJ graduate, broke the latest scandal at the school right before Christmas. According to Nomani, the scandal was initially uncovered by another TJ mom, Shawna Yashar, whose son took the PSAT test. He was recognized by the National Merit Scholarship Corporation "as a Commended Student in the top 3 percent nationwide — one of about 50,000 students earning that distinction." It was the kind of honor that would have helped his applications for colleges and scholarships last fall had the TJ officials not withheld his award announcement. When the TJ officials eventually notified him of his award, the deadline for his college applications had already passed, which rendered the award useless. Nomani learned that her son, a graduate of TJ's class of 2021, was never told by school officials that he was a "Commended Student" in 2020. Even more infuriating is that these two young men's experiences were not the result of some honest one-time mistake.
White Students Are Prohibited From Applying to This UNC Fellowship. The University of North Carolina at Chapel Hill — whose affirmative action program, along with that of Harvard University, is under review by the Supreme Court — sponsors the Fellowship for Exploring Research in Nutrition, which accepts applications exclusively from students who are "Black, Indigenous, or People of Color (BIPOC)," according to the program's website. Fellows earn thousands of dollars, live in on-campus apartments paid for by the university, and receive generous mentorship opportunities, including letters of recommendation. "The field of nutrition is overwhelmingly comprised of white researchers," an ad for the fellowship states. "Increased BIPOC representation in food policy research is critical for developing effective, equitable, comprehensive, and culturally competent policies that address nutrition-related health disparities."
Pennsylvania School Border Member Says She Doesn't Support Nominee For President Because He Is White. A Pennsylvania school board member who refused to vote for "the only cis White male" on the board to serve as president has decided to resign from her position at the start of 2023. Upper Moreland School District board member Jennifer Solot made the comments during an open school board meeting on Dec. 6, just before a vote was held to appoint a new board president. [Video clip]
Universal Basic Income Hits the Bay Area — If You're Black. At least three guaranteed income initiatives in the San Francisco Bay Area openly discriminate against white residents, limiting or entirely preventing their participation in programs that dole out no-strings-attached cash. The programs — all of which are publicly funded — violate both the United States and the California state constitution, lawyers say, as well as civil rights laws that ban race discrimination in contracting and by the recipients of government funds. The initiatives include the Black Economic Equity Movement, which provides $500 a month exclusively to "Black young adults," the Abundant Birth Project, which provides $1,000 a month to "Black and Pacific Islander mothers," and the Guaranteed Income for Transgender People program, which will dole out $1,200 a month and "prioritize enrollment" of transgender "Black, Indigenous, or People of Color (BIPOC)." They are financed by the National Institutes of Health, the California Department of Social Services, and the city of San Francisco, respectively.
Systemic Racism: Students Downplay Stereotypically Asian Hobbies To Boost College Admissions Odds. Asian-American college applicants are going to extraordinary lengths to conceal their race, the New York Times reported on Friday, stripping their applications of activities and accomplishments that might seem stereotypically Asian. Students interviewed by the Times said they had downplayed their interests in chess, violin, and piano in an effort to avoid being rejected on racial grounds. "It is a little sad now that I think about it," Marissa Li, a student at Harvard University, told the Times. "I wasn't really able to talk about the activities that meant the most to me." Other students said they chose not to declare their race for fear of incurring an admissions penalty, a practice that has been going on for years.
This is what lawyers are for:
San Francisco Considers Axing Elections Director for Being a White Man. The San Francisco Elections Commission is considering terminating its contract with its elections director John Arntz — one of the city's most highly esteemed civil servants — citing concerns about "racial equity." Arntz, who is white, will need to reapply next year if he wants to keep his job. The commission voted 4-2 last week to "open a competitive search" for Arntz's position, which he has held for two decades, rather than to renew his contract automatically, Cynthia Dai, a member of the commission, told the Washington Free Beacon. That decision, Dai said, was "driven in large part by the city's plan for racial equity," which requires all departments and commissions to address internal racial disparities. "It's hard to achieve diversity targets if senior roles never open up," said Dai, who voted in favor of the search process. "This has nothing to do with his performance."
Woke Sports — Why Do We Still Watch? [Scroll down] The NHL named Kim Davis (black) their new Executive Vice President of Social Impact — love the Orwellian title — and she came out of the gate strong: "The NHL's first internal demographic study found its workforce to be overwhelmingly white." Obviously, this is terrible. "We know we have a lot of work to do," she added. For comparison, let's check NBA numbers. What's that you say? Nearly 80% black? Whoa! With such astonishing overrepresentation, there must be frequent calls for diversity, right? Uh, no. On the contrary, any team that accidentally gets too white (like the Mavs) is accused of racism. Blacks' dominance in the NFL is similarly cheered. The only possible conclusion is that diversity in sport means fewer whites. But, but, but... basketball's a black game. Blacks are better at basketball than whites. Okay, can that argument be used in hockey? Or any other facet of life? Of course not. And what of the few white NBA players? Does anyone doubt they're mocked and bullied?
Campus 'diversity' is a scam used to promote reverse racism. Democratic politicians and their media toadies are warning that the US Supreme Court is poised to rule against the use of racial preferences in college admissions, putting diversity on college campuses at risk. Don't buy their alarmist rhetoric. Campus diversity is being used as a phony excuse to operate a nasty system of reverse racism. On Oct. 31, the court will hear oral arguments in Students for Fair Admissions v. President and Fellows of Harvard College. That case will show that Harvard and other colleges that discriminate against white and Asian applicants in favor of less-qualified black applicants — under the pretext of promoting student body diversity — offer black students segregated college life. They have separate dorms, separate student activities and dining halls, courses of study geared to their own ethnicity and even segregated graduation ceremonies. Black students who benefit from relaxed admissions standards are virtually guaranteed their contact with students of other races at college will be minimal. There's Harvard and Black Harvard. The same is true at Yale, which provides an entire parallel campus life for black students, a brief submitted to the court shows.
Department of Energy to require diversity-equity plan in all science research grants. All researchers seeking grants through the U.S. Department of Energy's Office of Science will soon be required to submit a diversity, equity and inclusion plan to receive funding, the agency recently announced. The Promoting Inclusive and Equitable Research Plan, or PIER plan, must describe activities and strategies researchers will incorporate to promote diversity, equity and inclusion in their research projects to be granted funding by the DOE's Office of Science, the largest federal sponsor of basic research in the physical sciences in the nation. The office operates 28 facilities and annually funds over 28,000 researchers working on projects with the potential to "transform our understanding of nature," as well as "advance U.S. energy, economic, and national security [interests]."
Another Racist Biden Program Looks To Help Anyone But Whites. Just before leaving town for the August recess, the United States Senate quietly — and unanimously — confirmed the head of the Minority Business Development Agency (MBDA). The agency's vision is "economic prosperity for all American business enterprises." The MBDA will build regional centers, run grant programs, offer training programs, and assist businesses in obtaining financing, among other things. Make no mistake: This federal agency is not an equal opportunity provider. Congress limited the MBDA, part of the Department of Commerce, to assisting only "disadvantaged businesses," which federal law presumes to be only businesses owned by African Americans, Hispanics, American Indians, Asians, or Pacific Islanders. All white-owned businesses are presumed to be "not disadvantaged." MBDA's website is crystal clear that the agency is "solely dedicated to the growth and global competitiveness of minority business enterprises."
Whitmer to Hire Sexual Orientation and Gender Identity Consultant for Children. Michigan Gov. Gretchen Whitmer's (D) office issued a contract proposal for a "Sexual Orientation, Gender Identity and Expression (SOGIE) Consultant" to assist the administration's Diversity, Equity and Inclusion (DEI) unit with "awareness, education and opportunities" for LGBTQIA+ and "two-spirit" youth and their families. Documents obtained by the Washington Free Beacon show that on Sept. 12, Whitmer's Children's Services Agency issued the proposal to hire a "culturally competent" individual for the consultant position to work with the DEI. The consultant will distribute surveys to the LGBTQIA+ community and submit monthly reports on the results.
The Editor says...
Obviously, if you're a straight white male, you're not "culturally competent," so you need not apply for this job. Not that you'd ever want to. Eccch!
Air Force Academy promotes fellowship that bans 'cisgender' men: 'This program isn't for you'. The United States Air Force Academy (USAFA) in Colorado is encouraging cadets to apply for a fellowship program for "gender minorities" that specifies "cisgender" men need not apply. The academy sent an email on Sept. 14 informing cadets that the 2023 application for the Brooke Owens Fellowship for "undergraduate women and gender minorities interested in aerospace" is due by Oct. 10. The application on the fellowship's website says, "If you are a cisgender man, this program isn't for you."
Pfizer sued for excluding White, Asian candidates from fellowship. A health care advocacy group has sued Pfizer in federal court, alleging the pharmaceutical giant violated the Civil Rights Act by excluding Whites and Asians from a racial equity fellowship. Do No Harm filed the lawsuit Thursday in the U.S. District Court for the Southern District of New York. It claims the New York-based company's Breakthrough Fellowship Program defies the law's color-blind definition of racial discrimination under Title VI because it accepts reimbursements from federal healthcare programs. The complaint cites Section 1557 of the Affordable Care Act, which extended the race neutrality requirement of the 1964 law to private entities that accept federal funds as a matter of "simple justice."
Twilio announces 11% of employees will lose jobs in 'Anti-Racist' layoffs. Twilio CEO Jeff Lawson announced in a message to all employees that 11% of its workforce would be laid off, stating that they made the layoffs through an "Anti-Racist" and "Anti-Oppression" lens. The San Francisco-based corporate communications company CEO said in the message to employees that the layoffs are "wise and necessary." "I'm not going to sugarcoat things. A layoff is the last thing we want to do, but I believe it's wise and necessary. Twilio has grown at an astonishing rate over the past couple years. It was too fast, and without enough focus on our most important company priorities. I take responsibility for those decisions, as well as the difficult decision to do this layoff," Lawson said. In determining which roles would be impacted in the layoffs, Lawson said that company officials examined which roles were most aligned with its four priorities, but said that the layoffs were carried out through an anti-racism lens.
The 'Big Guy' Resurrects Big Brother NewSpeak. According to Democrat NewSpeak, racism goes in only one direction: Whites are racist, but Blacks or Browns are not. Such illogic ignores the BLM riots during Summer 2020 and the "White oppression" taught to school children, medical students, and the military through mandatory critical race theory indoctrination. It ignores a Minnesota teachers' union contract that favors "people of color" over White teachers when layoffs become necessary.
Biden Reportedly Pressuring FBI to 'Cook Up' White Supremacy Cases. The Biden administration has asserted one of the top security threats facing the nation comes from domestic extremists. Supporting such a claim, however, requires cases, but rank-and-file FBI agents are saying the threat is way overblown. According to The Washington Times, current and former FBI agents say the bureau is getting pressured to come up with domestic terror cases and find white supremacists in order to meet internal quotas. "The demand for White supremacy" coming from FBI headquarters "vastly outstrips the supply of White supremacy," said one agent, who spoke on the condition of anonymity. "We have more people assigned to investigate White supremacists than we can actually find." The claim comes as President Biden hosted a United We Stand summit at the White House on Thursday where he announced a new initiative on "hate-motivated violence."
Explicit, unapologetic racism in the California courts? The State Bar of California is the "regulatory arm of the California Supreme Court responsible for licensing and disciplining attorneys." The State Bar's mission is "to protect the public and includes the primary functions of licensing, regulation and discipline of attorneys; the advancement of the ethical and competent practice of law; and support of efforts for greater access to, and inclusion in, the legal system." In accomplishing its mission, the State Bar should follow the law. Therefore, the State Bar should explain why its encouragement of employers to match the racial composition of their attorney workforce with the racial composition of California is not encouraging employers to violate the 1964 Federal Civil Rights Act. On September 9, 2022, the State Bar issued "a special update for all California licensees on diversity, equity, and inclusion (DEI) initiatives at the State Bar."
America Delira. [Scroll down] Every agency available — government, popular culture, science, history, literature, the arts, the university, the media, big tech, the corporate boardroom, and Wall Street — must be subordinated and recalibrated to spot supposed inequality so that they can fix it through reparatory discrimination. All being equal and poorer is preferable to all being richer, but with some richer than others. Sometimes the effort manifests in reparatory commercials where 40 to 50 percent of the actors are black. Is that corporate America's way of helping stop the carnage in Chicago — from a safe distance? Sometimes the effort is media-based and designed to ignore self-confessed racial motives in violent crime when the black perpetrators deliberately target white or Asian victims. And sometimes, there is a general exclusionary rule that media grandees can openly generalize and stereotype all whites as toxic — in language that would earn their firings if applied to any other groups. Is the theory that a white assembly-line worker without a college degree born in 1990 properly owes society for the purported sins of the long dead?
72% of America's Top Medical Schools Use Racial Politics to Eliminate Applicants. Seventy-two percent of America's top medical schools use racial politics to weed out applicants, according to a review conducted by medical advocacy group Do No Harm. [...] The number 14-ranked school — the University of Pittsburgh School of Medicine — prompts applicants to answer the following: ["]We are interested in combating all forms of systemic barriers, and would like to hear your thoughts on opposing specifically: systemic racism, anti-LGBTQ+ discrimination, and misogyny. How will you contribute?["] In addition, the number 43-ranked medical school in the country at the University of Minnesota asks applicants whether they have "personally experienced or acted with implicit or explicit bias," and then goes on to prompt a response to the following: ["]Our country is reckoning with its history, racism, racial injustice, and especially anti-black racism. Please share your reflections on, experiences with, and greatest lessons learned about systemic racism.["] As Breitbart News previously reported, the Association of American Medical Colleges released new standards for teaching medicine that require students to achieve "competencies" in "white privilege," "anti-colonialism," and "race as a social construct," among other race-essentialist ideas.
Bank of America Won't Require Down Payments from Certain Black and Hispanic Borrowers. The Bank of America announced it will not require down payments on loans in certain primarily Black and Hispanic neighborhoods in five U.S. cities. The new program from Bank of America is "aimed at helping first-time homebuyers in Black and Hispanic neighborhoods by offering mortgages that don't require down payments, closing costs or minimum credit scores," according to Bloomberg. The loans will also not require mortgage insurance. The trial program is being rolled out "in certain Black/African American and/or Hispanic-Latino neighborhoods" in five U.S. cities: Detroit; Miami; Los Angeles; Dallas; and Charlotte, North Carolina.
Google scholarship sets racist quotas favoring minorities. Tech giant Google has established a discriminatory fellowship program that major universities can participate in that specifically favors some races while barring others. [...] As noted by numerous lawyers quoted at the first link, this program is flagrantly illegal, violating numerous anti-discrimination laws, both federal and state. Since the program is being offered in partnership with many major universities, those universities are also in direct violation of those anti-discrimination laws, and if those laws were enforced properly, these schools should immediately lose all federal funding. The article at the link lists Harvard, Yale, Stanford, Princeton, the Massachusetts Institute of Technology, Columbia, Cornell, Duke, Johns Hopkins, the University of Pennsylvania, the University of Michigan, the University of North Carolina Chapel Hill, the University of California Berkeley, and New York University as participating universities. All of these colleges also have their own internal anti-discriminatory policies, which this fellowship program also violates. Because the federal government is run by Democrats who favor such racism, we can expect it to do nothing against these schools or Google.
Pfizer proudly promotes racist policies. Pfizer Inc. is a multinational pharmaceutical and biotechnology corporation that was established in 1849 and headquartered on 42nd Street in Manhattan, New York City. Pfizer's current net worth is $262.77B. Pfizer recently launched a Breakthrough Fellowship Program [...] But before you think of applying yourself or asking promising young individuals you know to apply, you must know that there is a condition that must be satisfied. This particular program is only applicable to individuals of Black/African-American, Latino/Hispanic, and Native American descent. So if you happen to be Caucasian or Asian, Pfizer doesn't want you for the program. This is contrary to Pfizer's claim in its Frequently Asked Questions brochure about the nine-year program that it is an "equal opportunity employer."
Biden's Racism. Unless you're a person of color or a favored minority, brace yourself to be treated unfairly by the Biden administration. President Joe Biden is pushing racial equity. That's very different from equal treatment regardless of race. Racial equity means government can treat people unequally, discriminating against white people, to equalize outcomes. For the Biden administration, it means closing the wealth gap between the white and Black populations — by whatever means. You may think it's "unfair" to be forced to pay off other people's student loans after you've already paid back your own. But Biden's White House actually defends debt cancellation as a way to close the "wealth gap" between races, citing data showing that 20 years after starting college, the average Black borrower still owes 95% of the loan, while the average white borrower has paid off all but 6%. At the other end of life's spectrum, older people who are white will find it harder to get an appointment with a doctor who takes Medicare. The Biden administration is forcing physicians to categorize their patients by race and demonstrate they have an "anti-racism" plan to combat health disparities.
Pfizer fellowship that bars white people to foster diversity sparks outrage. Pfizer is offering a fellowship exclusively to students of black, Latino and Native American descent — prompting attorneys to blast the company for discrimination while predicting that it would not survive any legal challenges. The Pfizer "Breakthrough Fellowship" is described by the pharmaceutical giant as a "first of its kind" program that will work to "advance students and early career colleagues of Black/African, Latino / Hispanic, and Native American descent." The company fellowship is aiming to "develop" 100 fellows by 2025 as part of its mission to "increase diversity by fostering a more inclusive workplace" while "cultivat[ing] a pipeline of diverse talent."
Meet the new racism, same as the old racism. The past few weeks have offered us an excellent snapshot of what the Left's idea of "equity" looks like in practice. The Minneapolis public school district reached an agreement with the local teachers union to fire white teachers first, regardless of their seniority or how long they've worked for the district, to protect the jobs of nonwhite educators. A private housing co-op near the University of California, Berkeley banned white visitors and tenants unless other residents in the home grant them permission to be there. And Harvard University is preparing to make the case before the Supreme Court that it has the right and responsibility to deny admission to Asian American applicants simply because they are Asian American. Meet the new racism, same as the old racism — except with a new outgroup and a set of outward characteristics by which to pass judgment. The Left defends blatantly discriminatory practices, including the ones mentioned above, as necessary measures to make right the wrongs of the past. Leftists deny the very concept of equality — rather, they judge and assign personal worth based on skin color and nothing more. We've been down that road before, and our nation suffered as a result.
Racism to Achieve Diversity Harms All Americans. If you've navigated the thicket of microinstructions, hectoring, guilt-tripping, institutionalized resentment, establishment-generated misinformation, double standards, and bizarre new terminology, then welcome to the world of woke antiracism in America today. One of the biggest absurdities spread by the woke antiracists is that white people must practice "allyship" and refrain from sharing their opinions on race relations with "people of color." There is nothing wrong with listening as well as talking, but for white people to remain silent in the face of one of the most destructive movements in American history is negligent and cowardly. As it is, progressive elites in America, almost all of them white, are indoctrinating nonwhites in America to believe that they live in an oppressive, racist nation. They are falsely told that unjustified police violence disproportionately targets blacks. They are falsely told the biggest threat to the nation is white supremacists. Worse still, they are told that every disparity in achievement between races is a product of white racism, and that white racists are to blame for any failures in their individual lives or within their communities.
The Editor says...
Apparently, "allyship" is the word used by public school students when they mean "alliance."
Google Partners With Top Universities For This Prestigious Fellowship. Lawyers Say the Racial and Gender Quotas It's Imposing Are Illegal. Google is setting strict caps on the number of white and Asian students that universities can nominate for a prestigious fellowship program, a policy legal experts say likely violates civil rights law and could threaten the federal funding of nearly every elite university in the United States. The Google Ph.D. Fellowship, which gives promising computer scientists nearly $100,000, allows each participating university — a group that includes most elite schools — to nominate four Ph.D. students annually. "If a university chooses to nominate more than two students," Google says, "the third and fourth nominees must self-identify as a woman, Black / African descent, Hispanic / Latino / Latinx, Indigenous, and/or a person with a disability." That criterion, which an archived webpage shows has been in place since at least April 2020, is almost certainly illegal, civil rights lawyers told the Washington Free Beacon — both for Google and the universities.
Google Goof? Raced-Based Scholarships From Tech Giant Are Likely Unconstitutional. For our friends on the left, attitudes toward race have apparently come full circle. It wasn't that long ago, less than a decade perhaps, that the mere suggestion of a major corporation openly discriminating against prospective candidates for scholarships and fellowships based on their race would have been denounced from every angle of the political spectrum. If those being excluded from consideration were to have been limited to only white folks, there would have certainly been sympathizers with the idea from various leftists, but they wouldn't have been brazen enough to put forth the notion publicly. And if it wasn't only white folks whose candidacies were being barred, if non-white scholars were also being eliminated from the pool of candidates, then we would have expected to hear screams of objection from all sides. But times have changed, and it now appears to be perfectly acceptable for not only corporations but for academic institutions as well, to exclude any race they feel like, provided such exclusions align with their hierarchy of victimhood and electoral strategies. Now Google and many of the top colleges and universities in the country may have a serious problem on their hands as a result.
Minnesota teachers unions defend "fire whites first" policy. Back in March, an ongoing strike by teachers in the Minneapolis school district was settled and one of the concessions made to the union was new language in their contract. The new provision ensured that merit, performance and seniority would take a back seat to race when layoffs are required. Teachers of color would be exempt from layoffs if there were any white teachers available to be eliminated. The resultant uproar drew attention around the nation. Former Wisconsin Governor Scott Walker weighed in, saying that this was another example of why "government unions should be eliminated." But the unions are firing back this week, describing the complaints as a "right wing" plot against the unions. They offer a couple of different reasons why this blatantly racist policy should be seen as no big deal and how it's actually intended to combat racism.
A UC Berkeley housing co-op goes full Jim Crow, only it's banning Whites. Standing under the portico of the Alabama state Capitol, Democrat governor George Wallace famously promised, "Segregation today... segregation tomorrow... segregation forever." For a brief, shining moment in the last decades of the 20th century and the first decade of the 21st, Democrats managed to abandon their racial obsessions. However, beginning with Barack Obama, accelerating under Donald Trump, and coming into full bloom under Joe Biden, Democrats have returned to their roots. The latest florescence comes from Berkeley, California, where a housing cooperative for low-income students from the leftist victim classes has announced that no Whites may enter the house's common areas.
Teachers Union Officials 'Extremely Proud' About Agreement to Layoff White Teachers First. Following a decision by the Minnesota Public Schools, a new policy has been enacted that will lay off white teachers first — if the district needs to downsize, white teachers will be fired first. [...] Despite the backlash this blatantly racist policy has received, it was recently defended by the president and vice president of the Minneapolis Federation of Teachers.
UK Air Force chief of recruitment quits over exclusion of white males. With constant worries about new wars breaking out around the world, military recruitment is back in the spotlight in many countries, particularly in the western alliance. This is particularly true in Great Britain, where the ranks of the army and air force have been depleted through attrition. The Royal Air Force is having more trouble than the other branches, however. New "diversity" mandates for the Air Force put in place by Air Chief Marshal Sir Mike Wigston have made it almost impossible for the RAF to reach its recruiting goals. The alleged policy in question states that job offers will not be made to white males. This has led the RAF's head of recruitment to resign, claiming that the targets are "impossible" and the policy is endangering national security. But RAF spokesmen are refuting the claim.
Minneapolis teachers' union negotiates clause requiring white educators to be laid off first regardless of seniority. A new contract between public schools and the teachers' union in the city of Minneapolis is causing outrage because it may see white teachers laid off at the expense of teachers of color. The stipulation is part of a new agreement starting in spring 2023 between the Minneapolis Federation of Teachers and Minneapolis Public Schools ending a two-week long teachers' strike. Part of the agreement was an attempt to re-format how the school district hires and keeps teachers of color.
Minneapolis teachers union contract calls for layoffs of white teachers first. A Minneapolis teachers union contract stipulates that white teachers will be laid off or reassigned before "educators of color" in the event Minneapolis Public Schools (MPS) needs to reduce staff. After the Minneapolis Federation of Teachers (MFT) and MPS struck a deal on March 25 to end a 14-day teacher strike, the two sides drew up and ratified a new collective bargaining agreement complete with various proposals. One of the proposals dealt with "educators of color protections." The agreement states that if a non-white teacher is subject to excess, MPS must excess a white teacher with the "next least" seniority.
Minneapolis schools will lay off white teachers first, violating the Constitution and Title VII. The Minneapolis Public Schools have adopted a race-based layoff provision that violates the Constitution and Title VII of the Civil Rights Act. [...] This violates a well-known Supreme Court decision overturning the race-based layoff of a white teacher, and contradicts a well-known federal appeals court decision, which ruled that race-based layoffs of white teachers violate Title VII of the Civil Rights Act. It is illegal under Title VII of the Civil Rights Act. When it comes to termination (as opposed to hiring or promotion under an affirmative-action plan), an employer can't racially discriminate even against whites.
Skin color supersedes all else! Isn't that illegal?
Report: NYC Mayor Eric Adams Requests Photos of City Job Applicants to Ensure Diversity. New York City's Democrat Mayor Eric Adams is reportedly requesting photos of city job applicants, as he wants to ensure that new members of the workforce are diverse — a move that seems to show the value of race and ethnicity over qualifications. According to a report from Politico, most of the individuals — past and current city officials — the outlet spoke to are unsettled by the mayor's request, although it seems the mayor's office is presenting the request as a way Adams can simply "begin to recognize folks [sic] faces."
'Angry White Male Studies' course comes to campus this fall. For the Fall 2022 semester, the history department at the University of Kansasis offering Angry White Male Studies as a course that will explore the "prominent figure" that is "the angry white male." "This course charts the rise of the 'angry white male' in America and Britain since the 1950s, exploring the deeper sources of this emotional state while evaluating recent manifestations of male anger," the course description reads. "Employing interdisciplinary perspectives this course examines how both dominant and subordinate masculinities are represented and experienced in cultures undergoing periods of rapid change connected to modernity as well as to rights-based movements of women, people of color, homosexuals and trans individuals," it continues.
'Brazen Discrimination': Cruz Grills Biden Official Over State Dept Email Allegedly Excluding 'Straight White Men'. Republican Texas Sen. Ted Cruz pressed the State Department's chief Diversity and Inclusion officer Gina Abercrombie-Winstanley over an email allegedly excluding "straight, white men" and people of the wrong religion from being hired. The senator argued Tuesday [7/26/2022] that the department's Equity Action Plan, which changed hiring practices at the agency, is "nothing more than brazen discrimination." An email from a senior department official described reports from candidates claiming to be denied a position for having a disability or for classifying as "white men, straight white men, [or] not [being] of the right religion." "Did you clear this guidance?" Cruz asked during the Senate Judiciary Committee hearing on 'diversity, equity and inclusion.' "I've never seen that before," Abercrombie-Winstanley said. [Video clip]
Dance School Boots Ballet Because It's Wickedly White. Have you ever writhed in a racist dance — have you engaged in the bigotry known as ballet? If the activity isn't fully nefarious, it's at least a sinister sign of whiteness. That, per a high-class conservatory. The Northern School of Contemporary Dance (NSCD) — a self-identified "progressive institution" — has decided to banish ballet.
Oh No, How Awful. Thoughts on the BBC lamenting the English women's football team having too many white players. [Video clip]
Principal accused of wanting to oust white teachers created school of 'insanity': petition. A Washington Heights principal, accused by staffers of trying to divide the school by race, made good on a vow to ax white staffers and has let the school devolve into "insanity," insiders said. Paula Lev, the principal of High School for Law and Public Service faced a Department of Education probe last year after allegedly telling a teacher she was "going to get rid of all these white teachers that aren't doing anything for the kids of our community," according to a complaint. The complaint, first filed with the DOE, is now before the state Division of Human Rights. Lev, who is Dominican, gave excess notices to four white staffers at the 450-student school in the last year, and made other unpopular changes, insiders said.
The Real Systemic Racism In Policing. Police in Washington state must now take a suspect's race into account before doing their job. The state Supreme Court unanimously ruled earlier this month that a suspect deserves special treatment should he happen to be nonwhite. [...] In effect, minorities can now claim they were unlawfully detained by police simply by pointing to their race — even if a cop had a legitimate reason for stopping them. If the new standard had been applied to the Sum case, the police would have to hesitate to approach any vehicle in a spot known for stolen cars if the occupants happen to be nonwhite.
Biden's Treasury: Race Must Be Considered in Crafting All Fiscal Policies. In a document that flew under the radar, the Joe Biden Department of Treasury has issued a plan that doubles down on the racial justice movement by declaring the agency in charge of the nation's fiscal infrastructure must now consider race when crafting federal policies. The declaration came in the form of response to Executive Order 13985, issued on January 20, 2021, titled "Advancing Racial Equity and Support for Underserved Communities Through the Federal Government."
Five Reasons to Impeach Joe Biden. [#5] Biden is violating the equal protection clause. Biden is presiding over an inquisition against white Americans. He has expressed his support for Critical Race Theory, which argues that the U.S. is inherently racist, that minorities are oppressed by whites and especially white men, and that white people achieve their economic and political objectives at the expense of people of color. CRT is in direct opposition to the aims of the Civil Rights movement and Martin Luther King's emphasis on judging people based on the quality of their character rather than the color of their skin. Blaming white supremacy has become the new national sport. Under the guise of ending oppression, Biden and the Democratic Party want to remake whites into the new underclass. Giving special treatment to any one group is in violation of the equal protection clause. It is also the worst kind of racism. Blaming current social problems on alleged white oppression heightens racial tensions and keeps the country divided. Division seems to be Biden's objective. For that reason alone, he should be impeached.
Biden State Department Racial Equity Rep Says White Diplomats Like America Too Much. The Biden State Department this month named its first ever special representative for racial equity and justice. The newly minted envoy, Desirée Cormier Smith, once slammed white diplomats for being overly "protective" of the United States and lacking the "empathy" of their minority counterparts. Smith, a self-described "Black activist," made the comments in an October 2020 interview. At the time, Smith served as senior policy adviser for Open Society Foundations, the think tank funded by Democratic billionaire donor George Soros. The State Department on Friday announced Smith's appointment to the post, which was created to "confront systemic racism and injustice around the world." The State Department described Smith as a "racial justice expert with a deep and steadfast commitment to equity and justice for all."
The Editor says...
Right. Justice for all who aren't white.
James Patterson says white writers aren't getting work due to 'racism'. Writers who look like James Patterson are having a tough go of it, the 75-year-old author has claimed. Speaking to the Sunday Times this weekend, the crime novelist said that "white older male writers" aren't getting hired for "writing gigs in film, theatre, TV or publishing" right now — claiming the phenomenon is "just another form of racism." "What's that all about? Can you get a job? Yes. Is it harder? Yes. It's even harder for older writers. You don't meet many 52-year-old white males," he insisted.
Seaside towns offer free beach passes to Native Americans. Seaside communities in New England are providing free beach access to Native Americans as the summer season kicks off this Memorial Day weekend. Officials in Narragansett, Rhode Island, earlier this month approved free seasonal beach passes for anyone with a valid identification card from the Narragansett Indian tribe.
Actor Files Discrimination Suit Against Talent Agency for Rejecting Him Because He's White. A white entertainer is suing for racial prejudice. For many years, aspiring black actors and actresses had the deck substantially stacked against them. [...] These days, TV and film are sticking it to the man. Performers who may have once found it difficult to get jobs now find themselves in the right place and time. A quick perusal of commercials reveals a departure from ways of yore: If four couples are presented, each might be bi-racial, and one may be gay. You might well glimpse a lone Caucasian, and don't doubt the chance of transgenderism entering the frame. Thanks to our evolution, there's a statistical switcheroo: If you're a Person of the Pale, your chance of snagging a role pales in comparison to 1986. Anecdotally, I've heard it from Tinsletown tenants: The production breakdown indicates a search for "anything not white" to fill a given role.
California law requiring women on corporate boards is unconstitutional, judge says. A Los Angeles judge has ruled that California's landmark law requiring women on corporate boards is unconstitutional. Superior Court Judge Maureen Duffy-Lewis said the law that would have required boards to have up to three female directors by this year violated the right to equal treatment. The ruling was dated Friday [5/13/2022]. The conservative legal group Judicial Watch had challenged the law, claiming it was illegal to use taxpayer funds to enforce a law that violates the equal protection clause of the California Constitution by mandating a gender-based quota. The law was on shaky ground from the get-go with a legislative analysis saying it could be difficult to defend and then-Gov. Jerry Brown saying he was signing it despite the potential for it to be overturned by a court.
Whites need not apply.
Hennepin Healthcare program aims to get more girls of color into medical careers. More than 100 students attended a career summit Sunday [5/15/2022] designed to encourage women of color to enter the medical field. The inaugural Black Women With Stethoscopes event hosted by Hennepin Healthcare offered young women ages 12-18 hands-on classes on work like dentistry and surgery. Some learned how to draw IVs or put in a breathing tube. Dr. Nneka Sederstrom, chief health equity officer at Hennepin Healthcare, said her goal is to address the lack of diversity in hospital staff.
UK Train Worker Sues After Being Fired For Questioning "White Privilege" Training. 60-year-old Simon Isherwood, who works as a train conductor, was fired by West Midlands Trains for gross misconduct. "After the diversity training held in March 2021, Isherwood forgot his microphone was still on and, speaking to his wife, some colleagues heard him questioning white privilege," reports Reclaim the Net. "He was then reported by colleagues who were "angered" by the comments."
After Race-Based Admissions To Nation's Top High School, Students Drop Out And Underperform At Record Rates. In summer 2017, when Ann Bonitatibus walked through the front doors of Thomas Jefferson High School for Science and Technology as its new principal, she came with a mission to turn the top-rated school upside down. For her, that meant flipping the school's racial demographics. At the time, 7 of 10 students came from Asian immigrant families, two of 10 from white families, and one of 10 students came from black, Hispanic, and multiracial families. On June 7, 2020, after George Floyd's killing, Bonitatibus emailed our mostly minority, immigrant families, telling us to check our "privileges," expressing her shame at our "Colonials" mascot, and outlining her vision for a new racial makeup at the school. Soon Bonitatibus will be able to say "mission accomplished" — courtesy of an unfortunate 6-3 decision by the U.S. Supreme Court on Monday [4/25/2022].
Whites trashed. Alright, let's talk about Racism. Microaggressions, too. I say a study is needed to determine why movie-villains have almost always been portrayed as white people. Whether it be The Joker, The Penguin, The Riddler, Poison Ivy, Egghead from the Batman series, Max Zorin (Arayan superman), Dr. No, Auric Goldfinger, Alec Trevelyan, or Francisco Scaramanga in the James Bond flicks, it's always the same: the bad dude — or dudette in the case of Poison Ivy — is white. What's up with that? The Master, Rassilon, and other unsavory characters in Britain's Dr. Who series are also Caucasian. [...] As for television... well, almost every evil character is a white man, often a businessman. And pretty much all the dumb ones, too. Even on television commercials men are continually made to look like incompetent, bumbling, ignorant fools, people who couldn't possibly figure out how to properly scrub a toilet even if they could be made to do so.
Canadian university advertises for tenure track research chair in its Faculty of Environment. The University of Waterloo has an opening for a tenure track assistant professor specializing in science and engineering — but white men need not apply. According to a listing from the Canadian university last month, the position is available only to women, or 'qualified individuals who self-identify as women, transgender, non-binary, or two-spirit' — a gender-variant derived from Native American culture. Men, meanwhile, will not be considered, the school says — especially if they are white.
Democrats who claim white supremacy is top problem ignore black racist killers. Top Democrats claim that nothing in America is more dangerous than white racism. As President Joe Biden said Oct. 21, "According to the United States intelligence community, domestic terrorism from white supremacists is the most lethal terrorist threat in the homeland." "In the FBI's view," Attorney General Merrick Garland said June 15, "the top domestic violent-extremist threat comes from . . . those who advocate for the superiority of the white race." House Armed Services Committee member Jackie Speier (D-Calif.) complained that the federal government insufficiently screens "servicemembers and other individuals with sensitive roles for white-supremacist and violent-extremist ties." So where is all the damage from this white-nationalist army? Where are the wounds of those they have maimed and the cadavers of those they have killed? [...] As Team Biden searches furiously for those touched by this supposedly ubiquitous white threat, black racists scream hatred and inflict dozens of casualties, some fatal.
NFL sets meetings between owners and diversity coach, GM talent (white guys not invited). Pete Carroll said NFL owners should "stop living in their own universe" and get more comfortable with minority coaches that don't look like them during a session at the league's annual meeting in Palm Beach last month and that's exactly what the NFL has mandated will happen. The league last week sent out a memo to all clubs announcing that 32 "diverse, prospective club-nominated head coach and general manager prospects will have networking opportunities with club and league office executives" at the NFL's spring meeting on May 23 and 24.
Public Library Hosts a Dance Class for the Elderly — No Whites Allowed. Where racial issues are concerned, if from the '50s to the '90s, it can be said that America progressed, regression is now the fashion of the day.
Yes, the Media Bury the Race of Murderers — If They're Not White. Frank James, the man arrested for Tuesday's New York City subway shooting, is a black nationalist and outspoken racist who railed against whites, Jews, and Hispanics. A careful reader of the New York Times could be forgiven for overlooking that. In a nearly 2,000-word article on the attack, James's race is not mentioned. The same is true for the coverage offered up by Reuters; the Washington Post only mentioned James's race in relation to his condemnation of training programs for "low-income Black youths." Media critics on the right say that the conspicuous omission of James's race from these news reports illustrates a trend among prestige papers, which deemphasize or omit the race of non-white criminals while playing up the race of white offenders. But is it a real pattern? Yes. A Washington Free Beacon review of hundreds of articles published by major papers over a span of two years finds that papers downplay the race of non-white offenders, mentioning their race much later in articles than they do for white offenders. These papers are also three to four times more likely to mention an offender's race at all if he is white, a disparity that grew in the wake of George Floyd's death in 2020 and the protests that followed.
America's unhealthy obsession with diversity. America is losing its head over diversity. The dictionary definition of diversity is the political and social policy of encouraging tolerance for people of different backgrounds. Unfortunately, the Left has distorted its meaning. To progressives, diversity means that we must give special privileges to certain protected classes of people ... and they never let us forget it. "Sometimes," said black economist Thomas Sowell, "it seems as if 'diversity' is going to replace 'the' as the most often used word in the English language." The Left's version of diversity goes far beyond tolerance. It attempts to divide Americans between alleged oppressors — heterosexual, white, Christian males — and "victimized" minorities and women. Its purpose is to create division and hatred. Instead of making everyone feel they are part of a unified American social structure, diversity plays into the leftist strategy of "divide and conquer." Diversity, says Mark Levin in Ameritopia, is bringing about the "balkanization" of society.
Rhode Island High School Cancels Honors Classes Because Only Whites Qualified To Take Them. In the highest-performing school district in Rhode Island, parents are in a tizzy over eliminating honors classes, arguing that it hurts students who are exceptional as well as those struggling to master the material. Embedded in the controversy is a deeper complaint that school officials have not done a good job explaining their rationale for combining three levels of instruction into one in core subjects and, as of Friday, eliminating the honors designation in English and social studies. [Video clip]
Chicago-area church announces it is 'fasting from whiteness' during Lent. A church in suburban Chicago said it is "fasting from whiteness" during Lent, the 40-day period preceding Easter — by abstaining from performing hymns composed or written by white musicians. First United Church of Oak Park announced on its website that it "is doing a mix of 'giving something up' and 'taking something on.' "In our worship services throughout Lent, we will not be using any music or liturgy written or composed by white people. Our music will be drawn from the African American spirituals tradition, from South African freedom songs, from Native American traditions, and many, many more," it said.
California's "corporate diversity" law ruled unconstitutional. Between 2018 and 2020, California passed two so-called "corporate diversity" bills intended to put more women and minorities on the boards of directors for corporations having headquarters in the state. AB 826 required corporations to have an increasing number of women on their boards, up to as many as three if the board had six or more members. Then came AB 979, which mandated that boards have at least one member of an "underrepresented community" by the end of 2021. Companies found to not be in compliance would be fined hundreds of thousands of dollars. The latter bill ran into a major setback on Friday when Judge Terry Green of the Los Angeles County Superior Court ruled that Ab 979 was unconstitutional, violating the state constitution's equal protection clause.
Whites need not apply.
New pop-up storefronts for Black-owned businesses are opening on the Beltline. A new pilot program will offer pop-up storefront space for local, Black-owned businesses in refurbished shipping containers along the Atlanta Beltline, officials announced Friday [4/1/2022]. The "BeltLine MarketPlace" will feature up to six businesses given commercial space at affordable rates in two locations along the Westside and Eastside trails, according to an announcement from the Beltline and The Village Market, an organization that promotes Black businesses and is partnering with the agency on the program. The vendors, which could include retail, food or art, will be located in "architecturally-designed, artistic shipping containers" or food trucks.
Universities give a pass to racial slurs, death wishes, defamation against conservatives. In California public universities, professors who refused to grade on a racial curve or censor racial slurs from a germane class discussion got removed from the classroom. A student got punished twice for the same set of private racist comments. By contrast, a diversity official who used a racial slur against Clarence Thomas and wished for the death of the hospitalized Supreme Court justice, and a dean who called justices "sexual predators" and "racists," received mild administrative criticism. A Federal Reserve slot likely awaits a Michigan State University economist who tried to cancel a University of Chicago peer for criticizing the Black Lives Matter organization over its support for the "defund the police" movement. The incidents throw a spotlight on the differential treatment of race-related speech in higher education, in which even redacted slurs can provoke official sanctions.
Race-based favoritism is back in style:
Washington state school district will encourage teachers to consider a student's race when dishing out punishments. A school district in Washington state has passed a new policy that critics say encourages administrators to factor in race when disciplining students. The Clover Park School District board approved the new policy on a 3-2 vote on March 14, over the objections of board members who expressed concerns that it was ill-conceived. The district in the suburbs of Tacoma will now use 'culturally responsive discipline' that encourages school staff to impose disciplinary policies that 'may be adapted to individual student needs in a culturally responsive manner.'
Resistance is rising to woke colleges' race and sex discrimination. People used to talk about "resistance" to President Donald Trump. That's old hat. Now it's resistance to the woke. And we're seeing more and more of that resistance. University of Michigan economics professor Mark J. Perry is working with numerous folks across the nation to file equal-opportunity complaints with the federal Department of Education when colleges and universities discriminate on the basis of race and sex. Perry recounts that in three years of research, he's found more than 1,200 Title IX and Title VI violations — and continues to uncover more. "The significant and troubling frequency of violations of federal civil rights laws in higher education demonstrates unaddressed systemic sexism and racism that needs greater awareness, exposure and legal challenges," he writes.
Washington School System Adopts A Discipline Plan That Punishes White More Than Blacks For The Same Offenses. A Washington school board butted heads over a new student discipline policy that considers a student's race before deciding on a punishment. The Clover Park School District debated its new "culturally responsive" student discipline policy. It means student discipline would not be consistent based on conduct. Instead, a school considers a student's race and background. It would likely offer harsher punishments to white students, even if the conduct is identical to that of a black or Hispanic student. The disparate treatment is championed in the name of inclusion. But it's not just a Clover Park School District controversy. [Video clip]
House hearing erases existence of missing Indian men. Recently, the House Committee on Oversight and Reform held a hearing on "The Neglected Epidemic of Missing BIPOC" — BIPOC meaning Black, Indian, and Persons of Color. The focus on missing minority persons seemed justified, since they are more likely to go missing than White persons. [...] But there was something missing. The hearing addressed only absent females, not missing males. [...] Under the tutelage of these groups, a new movement sprang into existence: MMIW, an acronym that stands for "Murdered and Missing Indian Women." There is no movement called MMIM, Murdered and Missing Indian Men. This is ironic, considering that a Centers for Disease Control study, "Homicides of American Indians/Alaska Natives," found that males represented 75.5% of all Indian victims of homicide. So in terms of Indians who are murdered or missing, men are at substantially higher risk. But the MMIW movement isn't rooted in scientific fact or basic notions of fairness.
'This Seat is Reserved': Quotas and the Supreme Court. Just over a week ago, President Joe Biden nominated Ketanji Brown Jackson to fill the Supreme Court seat being vacated by retiring Justice Stephen Breyer. Jackson is a black woman, as were the other two leading contenders — J. Michelle Childs and Leondra Kruger. Nobody except black women were seriously considered, which was intentional. Two years ago, during the South Carolina presidential primary in 2020, Biden had pledged to nominate a "black woman" to the Court. Though such a justice had never served before — making it, on paper, an unprecedented nomination — Biden's pledge was a clear attempt to shore up black votes in South Carolina at a time when his campaign was flailing. However, Biden was hardly the first candidate to consider Supreme Court nominees based on their gender or race. Later that year, then-president Donald Trump nominated Amy Coney Barrett to the Supreme Court, to fill the seat vacated by Ruth Bader Ginsburg upon her death. Though Ginsburg was a woman, she was neither the first woman nor the only woman serving on the Court at the time. Two others, Sonia Sotomayor and Elena Kagan, were already on the bench, and Trump had made no prior pledge to keep the seat female. Yet, when Ginsburg died at the height of the 2020 election, Trump vowed that only a woman would take her place. Similarly, all the leading contenders — Barbara Lagoa, Joan Larsen, and Barrett herself — were women, and no judges except women were seriously considered at all. Both nominations demonstrate that America's long-running politicization of its Supreme Court has finally met identity politics — the result being quotas on the Court. In 'filling the shoes' of the previous occupant, nominees are now expected to match not only their qualifications but also their race and gender.
Straight People Excluded from West Hollywood Guaranteed Income Program. The City of West Hollywood is launching a guaranteed income program that excludes straight people. [...] This is a government program; this is the government openly discriminating in favor of the alphabet people. So no matter how old or destitute you are, you are excluded from this program solely based on your sexual orientation. Imagine living in a city where people — based only on their sexual lifestyle — make more money than you, enjoy a better standard of living than you, and qualify for this additional income when you don't.
Florida police chief Larry Scirotto fired for favoring non-white officers. A Florida police chief has been given the boot after an investigation found he engaged in discriminatory promotion practices, and remarked "that wall is too white" when looking at pictures of the department's command staff. Larry Scirotto — who took over the Fort Lauderdale Police Department in August — was fired by the city manager on Thursday, according to a press release. The report followed several discrimination complaints that alleged Scirotto, 48, made hiring and promotion decisions with an illegal race-based approach. Scirotto, a former assistant chief in Pittsburgh, became the first openly gay chief hired in Fort Lauderdale last year. He is of mixed race. A 12-page investigation into the bias complaints concluded that Scirotto created a "divisive atmosphere" in the department, and that he once pointed to a conference room wall of photos of the department's command staff and declared, "that wall is too white," and "I'm gonna change that," according to CNN.
[The] Kellogg Foundation [is] now paying illegal aliens $500 per month for being non-white, non-American. With funding from the Kellogg Foundation, which controls the Kellogg's cereal empire, the New Mexico Economic Relief Working Group has partnered up with the national nonprofit UpTogether to offer monthly payments of $500 to qualifying illegal alien families beginning in March. According to the coalition, the NM Immigrant GBI Project will be the first one statewide to offer guaranteed basic income to illegal invaders. So far, 330 families from 13 New Mexico counties, including in Doña Ana County, will start receiving $500 monthly payments for 12 months starting in just a few weeks. "The payments will be delivered through direct deposit or prepaid cards, and there are no conditions on what the money can be used for," reports explain.
Progressive SUNY Binghamton professor rebuked for race, gender policy. SUNY Binghamton officials have rebuked a professor who said white students should clam up in class and let others lead academic discussions. A syllabus for Ana Maria Candela's sociology class alerted students that she would be calling on non-white coeds first. Candela wrote that "if you are white, male, or someone privileged by the racial and gender structures of our society to have your voice easily voiced and heard, we will often ask you to hold off on your questions or comments to give others priority and will come back to you a bit later or at another time." Student Sean Harrigan shone a light on the pigment-specific pedagogy after he filed a Title IX discrimination complaint to the school.
Anti-White Racism at NYU Law. In the United States, "if you're white, leave; it's really that simple," announced Regan de Loggans, an activist with New York City's Indigenous Kinship Collective, a "community of Indigenous womxn, femmes, and gender non conforming folx" who "denounce colonial power structures of leadership and blood quantum."
Supreme Court Vacancy: No White nor Male Folk Need Apply. Our current president has promised (or was strongarmed by James Clyburn into promising, you might correctly say) that he would nominate a black woman as Supreme Court Justice before the formal selection process ever began. As the Babylon Bee points out, Biden's desire for black representation in the Court should come as quite a shock to the esteemed Justice Clarence Thomas, against whom Biden attempted to carry out a "high-tech lynching" in order to prevent his selection just thirty years ago. But, in general and in principle, there is so much wrong with this promise having been made that it's hard to imagine it ever occurred in the same country I was raised in. Race doesn't matter in the slightest when it comes to the value one is able to provide in a free market of labor and ideas, after all. If there was one central premise around the idea of race during most of my lifetime, that was it.
Safety First: Computer Engineering Course Offers to Group Students by Gender Identity. [A] computer course at the University of California San Diego is carefully treading where our savage ancestors once stomped. A Google Form survey for Winter 2022's Software Tools and Techniques Laboratory class asks future leaders to select their "identity." Via the document, Computer Science and Engineering Professor Joe Gibbs Politz explains: ["]Sometimes people like to form groups with others that share an aspect of their identity. If you would like us to try to form your lab group with others that share a similar characteristic, please select all of the attributes of your identity or interests that you might like to have in common with others in your group.["] Among the options:
• Woman
• Black
• Hispanic/Latinx
• Native American
Not listed: "White," "Male."
Christian College Hosts 'People of Color' Appreciation Lunch. As relayed by The College Fix, Gustavus Adolphus College is hosting a People of Color International Faculty and Staff Appreciation Lunch. University of Michigan Flint Professor Mark Perry sent a screenshot of the registration form to the Fix. Mark's unimpressed — he's filed a complaint with the Department of Education's Office for Civil Rights (OCR). The professor notes the event violates the Civil Rights Act. Courtesy of his complaint, "[Gustavus Adolphus College] is legally required to enforce Title VI as a condition of receiving federal financial assistance..." The lunch is an interesting choice, perhaps particularly during February — otherwise known as Black History Month.
Biden narrows Supreme Court nominees shortlist to four Black female candidates. President Biden on Thursday said his search for a nominee to replace retiring Supreme Court Justice Stephen G. Breyer is focused on four Black women. He started the search with at least a dozen Black women on his list. [...] "I'm not looking to make an ideological choice here," Mr. Biden said. "I'm looking for someone to replace Justice Breyer with the same kind of capacity Judge Breyer had, with an open mind who understands the Constitution and interprets it in a way that is consistent with the mainstream interpretation of the Constitution."
White students excluded from Arizona State theatre performance. The theatre department at Arizona State University recently hosted a cabaret show that explicitly barred white students from performing in it. "The Color Cabaret" is "an opportunity for BIPOC (Black, Indigenous and people of color) students in the School of Music, Dance and Theatre to create performances that speak to their own experience," according to a description for the performance held the last weekend in January. "The cabaret, held Jan. 29 and 30, was made up entirely of students of color, and the songs performed told a story with heart, grace and a cultural flair representing the diverse community at ASU," The State Press reported.
State University Hosts a Cabaret Showcase for All Students but White Ones. Can you sing, dance, or act? If so — and if you're the right sort of major — you can take partake in Arizona State University's cabaret extravaganza. Excepted from the opportunity: any students who are white. Such was the message recently, as the college put together its "The Color of Cabaret" show.
BIPOC only charter school to open in Portland. Out in Portland, families in minority communities have been struggling with educational challenges for their children the same as has been seen in most large cities. These problems have been further exacerbated by school shutdowns and remote learning, though families of all races have been hit in that fashion. But one group in Portland has now taken action in a questionable way to address these issues. In the fall of this year, they will open HOLLA Public Charter School. It will be a quasi-private but somewhat public school operating in conjunction with one of the local school districts. But here's the twist. They will only be accepting BIPOC students (Black, Indigenous, people of color). No children from Asian, white or Jewish families need apply.
Aspen Skiing Company instructs its employees to discriminate in favor of blacks. Aspen is hosting the National Brotherhood of Skiers, which is advertised to be "the largest black ski group in the United States." That's nice. Welcome to Aspen, my friends. A hearty welcome was not enough, however, for Mike Kaplan, the liberal white CEO of Aspen Skiing Company. He found it necessary to issue a memo to all employees instructing them how to behave around black people. Kaplan instructed employees to greet the black guests "lovingly and intentionally." He says employees ordinarily treat all guests this way but instructed them "to make an even greater effort" with the black ones. He goes on to tell employees the reason for this special effort for blacks. It's because "standard or even slightly bad service can easily be interpreted as bias." And so, employees should avoid saying to customers who are black things that might be interpreted as racist, such as "that parking spot is just for hotel guests" or "you can't park there" or "my restaurant isn't open now, come back at 5." I'm not making this up — these are quotes from Kaplan's memo.
DeSantis Shocker: It's Not OK to Hate Whites. Gov. Ron DeSantis is pushing a bill through the Florida legislature to put a stop to the modern pedagogy of making little girls cry because they're white. The bill, called "Stop the Wrongs to Our Kids and Employees Act (WOKE)," prohibits classroom instruction that contradicts these concepts: "No race is inherently superior to another race"; "An individual, by virtue of his or her race or sex, does not bear responsibility for actions committed in the past by other members of the same race or sex"; "An individual should not be made to feel discomfort, guilt, anguish, or any other form of psychological distress on account of his or her race." The left has been having a sneer-fest over the proposed law, howling that it protects "white people" from feeling "uncomfortable." SNOWFLAKES! [...] A bill prohibiting the teaching of race hatred will primarily prevent the teaching of white hatred for the simple reason that it's the only race we're allowed to hate. Not merely allowed to hate, but taught to hate, encouraged to hate, paid to hate. We're now entering the sixth decade of open, widespread, official discrimination against white people on the basis of their race. Even the Asians suing Harvard dare not stress the humungous advantage given to blacks and Hispanics. No, their beef is about white applicants getting preferential treatment over Asians.
Student Leaders Petition University to Evict 'Wealthy and White' Attendees, Give Their Houses to LGBT and Others. For an idea of the societal distance we've since traveled, take a look at St. Louis's Washington University. As posted via an op-ed in independent school newspaper Student Life, a group of prominent attendees is ready to take housing equilibrium to the next level. Ranen Miao — president of WU's student body — lays out the feelings of nearly 50 co-signed enrolees. Per the piece, nine houses on campus are occupied by "fraternity men, who are disproportionately wealthy and white." Meanwhile, "Marginalized communities have little to no space to build community." Therefore, the bunch is "calling on WashU to terminate their housing contracts with fraternities and designate current fraternity houses as affinity houses instead." The "affinity" concept has really caught on as of late.
Legal group demands states end racist COVID-19 treatment policy, threatens lawsuit. The health departments of New York state, Minnesota and Utah face potential lawsuits alleging they discriminate against White people by giving priority to select minorities for scarce COVID-19 treatments, part of a growing backlash nationwide against the race-based policy. America First Legal, a conservative law group founded by former Trump adviser Stephen Miller, is demanding the states rescind their policies or face legal action for "blatant discrimination." "What we are seeing popping up across the country is antithetical to everything we stand for as Americans," said Gene Hamilton, the group's general counsel. "And while the allocation of medical treatment based on skin color is not something any American would expect to see in 2022, the American people should understand that this is just another example of the application of 'equity' by the woke and radical left."
Minnesota removes race as factor in rationing COVID-19 antibody treatment. Minnesota has removed race as a preferential factor for determining which COVID-19 patients should receive scarce monoclonal antibodies, which are outpatient infusions that reduce the risk of severe illness and hospitalization. Updated rationing guidance on Wednesday prioritizes infusions when they are in short supply for people who are immunocompromised or pregnant. It also gives preference to people who are older or have underlying conditions that increase their risk for severe COVID-19, but it switched to a scoring system that no longer considers race. State leaders had been planning revisions because of the scarcity of monoclonal antibodies that was exacerbated last month when providers stopped using two of three versions because they weren't effective against the omicron variant. The policy switch occurred on the same day a conservative advocacy group, America First Legal, threatened to sue Minnesota and Utah, arguing that the states' racial preference policies were unfair.
Facebook's 'Race Blind' Algorithm Backfires In Their Face: Finds 90% Of 'Hate Speech' Was Directed Toward White People And Men. We now know why Facebook decided to change its "race-blind" hate speech detection algorithm last year to allow more anti-white hatred. The Washington Post reported last week that an "April 2020 document said roughly 90 percent of 'hate speech' subject to content takedowns were statements of contempt, inferiority and disgust directed at White people and men."
Facebook 'Hate Speech' Algorithm Found 90% of Hate Speech Directed at White People. Last week, the Washington Post reported that an April 2020 examination of Facebook's anti-racism algorithm found that roughly 90 percent of the 'hate speech' subject to content takedowns were statements of contempt and disgust directed at White people and men. Facebook spokesman Andy Stone defended the company's hate speech policies saying, "The Worst of the Worst project helped show us what kinds of hate speech our technology was and was not effectively detecting and understand what forms of it people believe to be the most insidious." The software was supposed to detect and automatically delete "hate speech" before users saw it. The company said its algorithms proactively caught more than 80 percent of what they deemed hate speech. But that statistic hid an undiscussed and serious problem that was obvious to researchers. The algorithm was aggressively detecting comments denigrating White people more than attacks on any other group. One April 2020 document said roughly 90 percent of "hate speech" subject to content takedowns were statements of contempt, inferiority and disgust directed at White people and men.
It's Illegal, Immoral, and Unconstitutional to Ration COVID-19 Treatments Based on Race. William F. Buckley Jr. famously described the role of conservatives as standing athwart history yelling, "Stop." Usually, we stand in front of what liberals claim is "progress," such as allowing sex changes for minor children and abolishing the Constitution. But sometimes we have to stand in front of liberals to stop them from reinstituting sordid practices that we have successfully ended. In New York and Minnesota, liberals have put the train in full reverse by prioritizing limited COVID-19 treatments on the basis of race. And the federal agency that is supposed to base its work on rational, proven science, the Food and Drug Administration, has issued guidelines approving this noxious behavior. In New York, officials have made drugs automatically available only to people who meet one of several eligibility criteria, which include being "nonwhite." In Minnesota, the Department of Health is "deprioritizing access" to treatment for Americans who happen to be Caucasian.
Hollywood's New Rules. A few years ago, the editor-in-chief of The Hollywood Reporter pitched a story to the newsroom. He had just come back from lunch with a well-known agent, who had suggested the paper take a look at the unintended consequences of Hollywood's efforts to diversify. Those white men who had spent decades writing scripts — which had been turned into blockbuster movies and hit television shows — were no longer getting hired. The newsroom blew up. The reporters, especially the younger ones, mocked the idea that white men were on the outs. The editor-in-chief, normally self-assured, immediately backtracked. He looked rattled. It was a missed opportunity. The story wasn't just about white guys not getting jobs. Nor was it really about the economics of Hollywood. It was about the stories Hollywood told and distributed and streamed on screens around the globe every day.
Race Isn't a "Risk Factor". As the country continues to battle a surge of COVID-19 cases, many authorities are turning to new antiviral treatments, which can aid people diagnosed with the virus who are at high risk of falling seriously ill. The problem is, there's a shortage of these medicines, forcing governments to ration them. Authorities are understandably trying to direct their limited supply of these life-saving treatments to those who need them most. But in New York, those authorities have decided that the color of one's skin is one way to define that need. [...] Their justification for listing race and ethnicity is "longstanding systemic health and social inequities that have contributed to an increased risk of severe illness and death from COVID-19." New York isn't the first governing authority to try to use race as a proxy for need when it comes to battling COVID-19. Earlier this year, Vermont, one of the whitest states in the country, opened up vaccine eligibility to racial minorities before white people (though it's important to note that the state did authorize the vaccines for people over 50 and the immunocompromised first). The problem with using race as an approximation for need is that there isn't any evidence that race itself has any impact on COVID-19 severity. The virus doesn't care about the color of one's skin.
Biden administration guidance prioritizes race in administering COVID drugs. Guidance issued by the Biden administration states certain individuals may be considered "high risk" and more quickly qualify for monoclonal antibodies and oral antivirals used to treat COVID-19 based on their "race or ethnicity." In a fact sheet issued for healthcare providers by the Food and Drug Administration, the federal agency approved emergency use authorizations of sotrovimab — a monoclonal antibody proven to be effective against the Omicron variant — only to patients considered "high risk." The guidance, updated in December 2021, says "medical conditions or factors" such as "race or ethnicity" have the potential to "place individual patients at high risk for progression to severe COVID-19," adding that the "authorization of sotrovimab under the EUA is not limited to" other factors outlined by the agency.
Why are Caucasians Vanisihing in TV Commercials? Commercials take up 27% of commercial television screen time and are the main source of income for TV and radio stations. In most cases, advertisements on all channels appear simultaneously, so don't try to change the channel, there will be commercials elsewhere, too. [...] In the United States today, the White population (not including Hispanics) is 57.8%. In real life Caucasians are still in the majority, but now on TV and the Internet they are swept under the rug like trash. Blacks compose 14% of the U.S. population but appear in 50% of commercials. White actors now appear for promotion of health insurance, gold, loans and some medicines. Moreover, if a White person appears in a commercial, he/she is usually old, sick, a freak, or at the very least, an appendage to a Black partner. If there's a doctor on the screen, he's usually Black, while the patient is usually White. Caucasian young men appear in only 4% of the commercials!
Race-Rationing in a Pandemic. century ago, the Soviet dissident writer Yevgeny Zamyatin novelized a future dystopia in which equality was taken so seriously that peculiarly athletic people might have one of their limbs lopped off by the state, to even things up. New York State is now trying something similar: In the cause of racial equality, it advises doctors to deny white people life-saving medicine for Covid-19. To do so, it insultingly treats non-whiteness as a serious medical malady. A memo from the state Health Department, approved by Governor Kathy Hochul, stated that, along with considerations of age, weight, and severity of symptoms, race should be a factor in the rationing of Pfizer's Paxlovid pill and monoclonal antibody treatments.
Race-Based COVID-19 Treatment Violates Federal Law — and the Biden DOJ is silent. New York City has issued its latest guidance for the distribution of monoclonal antibodies (and other COVID-19 therapeutics) for the treatment of COVID-19. And it looks to your color, not your condition. For the uninitiated, monoclonal antibodies are recommended by the National Institutes of Health (NIH), and have been authorized by the FDA, for the treatment of COVID-19. According to the latest New York City guidelines, monoclonal antibodies are authorized as COVID-19 treatment "for people who have a medical condition or other factors that increase their risk for severe illness." "Other factors" that increase the risk for serious illness. What could those be? New York City has the answer: "Consider race and ethnicity when assessing individual risk, as longstanding systemic health and social inequities may contribute to an increased risk of getting sick and dying from COVID-19."
Six Basic Concepts Liberals Don't Get. [#4] Racism cannot be eliminated with racism. Martin Luther King, Jr. dreamed of a world in which his children "will not be judged by the color of their skin but by the content of their character." He gave us the key to eliminate racism — strive for a colorblind society — and we have ignored it. We've chosen the path of valuing diversity and perpetuating racism instead. With our "valuing diversity" programs, we are placing value on our differences in lieu of our similarities. We are making skin color a thing of value. In such a society, everyone will want his color to be the highest value. Just like that, we've triggered competition among the races for social standing based on the color of their skin. This has all led to the victim games, with each tribe competing for most oppressed status. The title comes with the greatest amount of preferential treatment that society can dole out. We used the period from the 1940s to the 1960s to desegregate. Then we got on the "valuing diversity" train in the 1980s, when Lewis Griggs coined the term. Now we're segregating again. "Valuing diversity" hasn't corrected racism; it has perpetuated it — and made a lot of its proponents rich along the way.
Nasdaq's diversity rule rankles GOP states. A group of Republican-led states slammed Nasdaq's implementation of a diversity disclosure rule for corporate boards this week, arguing in a court filing that the requirement is illegal and unconstitutional. The states outlined their position in a legal brief supporting a lawsuit in the Fifth Circuit Court of Appeals, which seeks to block the rule. In the filing, the GOP administrations argued that Nasdaq rule "violates both the Constitution and exceeds the SEC and Nasdaq's statutory authority." "It is unconscionable to see discrimination so blatantly put on display by requiring these companies to hire employees based solely on race, sex, and sexuality," Texas Attorney General Ken Paxton said in a statement. "The SEC's quotas violate the Constitution and federal civil rights laws by requiring that companies overlook a person's relevant qualifications under the guise of promoting diversity," he added.
New York to discriminate on basis of race in covid therapeutics access. The state of New York has decided to distribute anti-covid treatments in part on the basis of race and ethnicity. It will discriminate against Whites in providing access to therapeutics in short supply, which monoclonal antibody treatment and antiviral pills currently are. The policy sets forth a list of eligibility criteria for oral antiviral treatment, all of which must be satisfied to receive treatment. They include factors of age, weight, covid test result, and mildness of symptoms. So far, so good. But the last criterion, medical condition and other risk factors, includes this: ["]Non-white race or Hispanic/Latino ethnicity should be considered a risk factor, as longstanding systemic health and social inequities have contributed to an increased risk of severe illness and death from COVID-19.["] Thus, the last criterion can be satisfied by virtue of being Black or Hispanic/Latino, but not by being White.
White people in NY are told not to attempt to get monoclonal antibody treatment from doctors because Gov. Hochul has prioritized it for non-whites. White people infected with COVID in New York State — the hardest hit state in the country — are in jeopardy of being turned away from potential lifesaving treatments in favor of other more at-risk races because of a national shortage of two promising types of medical treatments. In a shocking memo sent out by the state's Health Department and approved by Gov. Kathy Hochul on Monday, white residents were told not to bother trying to get Pfizer's Paxlovid pill or monoclonal antibody treatments. 'Non-white race or Hispanic/Latino ethnicity should be considered a risk factor as longstanding systemic health and social inequities have contributed to an increased risk of severe illness and death from COVID-19,' the document reads.
Non-whites to receive priority for limited Covid pill. In a document dated December 27, the [New York State] Department of Health announced that two antiviral oral therapies — Paxlovid and molnupiravir — had received emergency use authorization and would "reduce the risk of hospitalization and death by 88% and 30% respectively." The department said supplies would be "extremely limited initially" and would therefore have to be distributed based on its "guidance on prioritization." That guidance currently prioritizes those who are either moderately or severely immunocompromised or have at least one risk factor for severe illness. Though these risk factors include suffering from cancer, dementia, or diabetes, among other diseases, the department stated that being non-white "should be considered a risk factor, as long-standing systemic health and social inequities have contributed to an increased risk of severe illness and death from Covid-19."
Minn school board unanimously votes to pay non-white teachers more, segregate staff. The Mankato School Board in Minnesota in a blatantly racist move has unanimously voted to pay non-white teachers "additional stipends," not on their merit or content of character, but solely based on the color of their skin, and for teaching staff to be segregated by race. Board members hotly defended the policy vote earlier this month claiming it wasn't "segregation," according to AlphaNews on Tuesday. "When you're one [minority] of a [white] majority it can be very isolating and lonely," declared board member Erin Roberts. "To have a support system in place for them is not to segregate them, it is absolutely to support them ... It's not about trying to throw the few [BIPOC] individuals we have into one building. It's about showing them they aren't alone."
The Editor says...
Wow! Why didn't they come up with this rhetoric in 1964, to justify segregation? (Answer: Because they would have been laughed out of town.)
Minnesota School Board Just Voted To Pay White Teachers Less Than Non-White. The Mankato School Board voted unanimously earlier this month for a policy that may grant additional pay exclusively to non-white teachers. The board is chaired by Jodi Sapp, who previously came under fire for requiring concerned parents to dox themselves in order to comment on school matters. Under her leadership, the board voted to amend district policy so that non-white teachers only may receive "additional stipends" to become mentors to other non-white colleagues. The new policy will also have the district "placing American Indian educators at sites with other American Indian educators and educators of color at sites with other educators of color." [Video clip]
64-Year-Old Man Denied Life Saving Medical Care Because He's White. This morning we've received really bad news, a 64-year-old patent with asthma who recently recovered from prostate cancer was denied treatment with monoclonal antibodies because he is white. [...] [If] the roles reversed, there's no scientific justification that would stop the media from portraying the story 24/7 as an example of "white privilege" and "systemic racism." In reality, though, there appears no scientific justification for this race-based policy.
Too many whites attend campus concerts, says Oberlin College newspaper columnist. The student newspaper at an Ohio college known for its left-leaning politics published a column addressing the number of white students attending campus concerts. "When there are so few resources for non-white students on campus, it can be upsetting when concerts headlined by artists of color are dominated by white students," wrote Kayla Kim, a first-year student at Oberlin College. In the Dec. 10 column titled "Concerts Need to Be Better for Students of Color," Kim claimed that whites, who comprise the majority of the student population, take over events by displacing black students in the front rows. "It's hurtful when white students do not hold themselves accountable for their actions in such a space," she wrote.
Woke Salvation Army surrendered without a fight. Over the years, I've embraced the opportunity to volunteer for the Salvation Army by serving meals to the poor and needy and by gleefully ringing the Christmas bell for Red Kettle donations. I loved the many acts of broad and nonstop charity and goodwill the Salvation Army extended to all of humanity, as it was a reminder of the Gospel mission. The Salvation Army had honorable principles and stood reliably strong as an institution in my mind. Until now. Salvation Army documents reveal that the organization has gone woke. Instead of appreciating all people groups and continuing on an unbiased and uncompromising mission to serve all people compassionately, the Salvation Army now thinks it's somehow okay to view people through the lens of "race." Somewhere deep in its leadership, the Army saw the enemy and embraced it. Race consideration and connotations are an obvious outcome of Critical Race Theory (CRT), or adjunct theology (Liberation Theology, for instance). Viewing people by race or class is wholly antithetical to any organization committed to providing compassionate and unbiased services to any and all people or groups in need. Woke schemes see everything about human culture in one paradigm: "oppressors vs. oppressed" or "victimizers vs. victims." Without exception, the oppressors and victimizers are "White" by definition.
California Sued Over Law Forcing Appointment of Minorities and LGBT to Corporate Boards. A conservative think tank filed a federal civil rights lawsuit against California to halt a law that will force quotas on publicly held corporations headquartered in the state, requiring them to appoint board members based solely on their race and sexual orientation. The legislation at issue is the fruit of last year's race riots that caused more than $2 billion in property damage and were organized nationwide by Black Lives Matter and Antifa. The lawsuit, National Center for Public Policy Research (NCPPR) v. Weber, was filed on Nov. 22 in U.S. District Court for the Eastern District of California. Defendant Shirley Weber, a radical left-wing academic before entering politics, is being sued in her official capacity as California secretary of state. Until January of this year, the San Diego-area Democrat was a member of the California State Assembly, where she championed AB 3121, a law creating a task force to develop proposals to pay reparations to blacks to compensate them for having ancestors a century and a half ago who were enslaved.
Former executive accuses American Express of firing him for being White. A former American Express executive has entered mediation with the financial services company over his federal complaint alleging he was fired for being White and opposing the firm's diversity agenda. Brian Netzel, a 62-year-old former client manager in Arizona, filed the complaint late last month with the Equal Employment Opportunity Commission. He entered mediation with American Express on Thursday. "On October 30, 2020 AmEx unceremoniously terminated my employment as part of a 'diversity' policy that rewarded company executives for making their departments less 'white,'" his EEOC complaint states. "My termination was the direct result of me being an older white male, a demographic the company specifically sought to reduce in managerial positions like my own, and in direct retaliation for my stated opposition to AmEx's racially discriminatory and hostile policies."
Teachers Union Changes Rules So White Votes Count Less Than No-White Votes. The Ontario Secondary School Teachers' Federation for district 20 announced on Monday a change in their rules so that non-white union members would have their vote weighted more than white members. In the slides that this union used to justify this decision, they argued that this did not constitute reverse racism. "Those that do not identify as" non-white "have direct power over the outcome of representation within the committees, maintaining the status quo." [Video clip]
Teachers' union in Canada introduces 'weighted voting' for minority members. In the name of promoting racial equity in that hotbed of racism known as Canada, a labor union representing 60,000 teachers and other educational employees there has restructured its voting system to weight the votes of minority members at the expense of others, in order to ensure a particular outcome in voting on the claim of racial equity.
Diversity Is Our Strength. On Monday, [the] Ont Sec School Teachers' Fed, District 20 announced that their rules would be changed so that each non-white union member would have his/her vote weighted more than white members. Here are the slides they used to justify the decision to rank & file.
Who's three-fifths of a man now, whitey?
Teachers' union in Canada introduces 'weighted voting' for minority members. In the name of promoting racial equity in that hotbed of racism known as Canada, a labor union representing 60,000 teachers and other educational employees there has restructured its voting system to weight the votes of minority members at the expense of others, in order to ensure a particular outcome in voting on the claim of racial equity. [...] Frankly, it's none of anyone's business what someone's color is, and many people don't actually know their entire racial story. But here we are, with the fanatics in charge, demanding a right to place people in racial boxes the same way the plantation owners did in the old days, on the disgusting presumption that they are all cogs in a machine who only vote their own racial interests.
Suit claims NYC principal purged white staffers and retaliated against Hispanic whistleblower. A Brooklyn principal purged her staff of white teachers and retaliated against a Hispanic whistleblower who flagged grade fraud and other misconduct, according to a federal lawsuit filed this month. Plaintiff David Rivera claims World Academy of Total Community Health High School Principal Claudette Christie — who took the reins in 2013 and retired this past August — exiled him to a rubber room and crippled his career. Rivera, who served as an athletic director at WATCH and three other schools at the Thomas Jefferson Campus in New Lots, said Christie began excising white employees several years after her arrival. "Starting in the 2017-2018 school year, Principal Christie instituted a pattern of disparate treatment towards non African-American staff members," he asserted in the suit. Those efforts, Rivera alleged, led to a demographic makeover of the school's staff.
CBS Whistleblower Reveals Local Stations [are] Being Instructed to Not be Objective by Diversity Officers. That the media wasn't objective is something we already knew, but thanks to Project Veritas we now can see proof that objectivity is actually being pushed out by the companies who bring you the news. A whistleblower named Brett Mauser came to Project Veritas from the CBS affiliate in San Antonio (KENS 5) and delivered shocking footage of training and instruction efforts from the station's parent company Tegna, a company that owns CBS affiliates in San Antonio, Houston, and 62 other news stations across the country. Within the footage, you can see diversity and training officers instructing, pressuring, and even intimidating employees to leave behind objectivity in journalism and embrace racial issues as the core concern of their work. Tegna's Chief Diversity Officer, Grady Tripp, told employees that they were would be judged based on how much their work revolves around political ideology rather than actual journalism.
Texas COVID Patient Denied Monoclonal Antibodies By Black Health Care Worker Because He's White. A Texas man has been denied monoclonal antibody treatment for covid because he is white. Earlier this year, the Texas Health and Human Services department (HHS) made monoclonal antibody treatments available to COVID patients following its Emergency Use Authorization by the Food and Drug Administration (FDA) in February. The state has issued tens of thousands of monoclonal antibody treatments over the past several months, but recently, thanks to a supply shortage spurred by the Biden administration, the agency has begun segregating who can receive the treatment based solely on the color of their skin. Now, the state is only providing the treatments to "high-risk ethnicity groups," while actively refusing to provide the same care to whites who have been diagnosed with Covid. In one shocking example of this state-sponsored racism that was caught on video, Infowars host Harrison Smith visited a Texas HHS clinic on Saturday where he was denied monoclonal antibody treatment simply because he is white.
Texas HHS Denies Monoclonal Antibody Treatment For Whites, Says Only Available for 'High-Risk Ethnicity Groups'. Infowars' American Journal host Harrison Smith, who recently tested positive for COVID, reported Saturday that he was denied monoclonal antibody treatment during a medical visit because he was white. [Video clip] His reporting was corroborated by independent journalist Dave Reilly, who recorded a phone conversation with a State Infusion Hotline representative confirming only "high-risk ethnicities" are qualified to receive treatment, as well as those with underlying medical issues or who are above 65 years old. "There's eligibility criterias [sic] that we go by, and, uh, African American and Hispanic are high-risk ethnicity groups, so that would be a qualifier," the rep said.
White male exec awarded $10 million in reverse discrimination suit. A former top marketing executive with Novant Health Inc. has been awarded a $10 million discrimination payout in a lawsuit arguing that he was fired because he is a white male. David Duvall served as Novant's Senior Vice President of Marketing and Communication for five years before being terminated without warning or explanation not long before reaching a milestone that would have entitled him to a greater amount of severance pay. He claimed in his lawsuit that he was replaced as part of Novant's "diversity and inclusion program" by two women. One was a white woman who had been working with him at the company; she was given the Chief PR and Communications Officer position. A black woman was given the Chief Marketing Officer role. Duvall claims that when he was fired on July 30, 2018, and ordered off the premises immediately, a superior told him the termination had "nothing to do" with his performance at work and he had "done everything asked of him and more".
Bosses at one of the world's biggest investment firms State Street will need to get special permission to hire white men as part of new diversity drive. Bosses at one of the world's biggest investment firms will need to get special approval to hire white men as part of a new diversity drive. State Street Global Advisors aims to triple the number of black, Asian and other minority staff in senior roles by 2023 as part of a drive to improve diversity within its middle and senior management. Failure to meet the target will result in a drop in executives' bonuses, reports The Times.
Democrat governor candidate Terry McAuliffe says Virginia has too many white teachers. Terry McAuliffe canceled a Virginia Beach campaign event on Monday [11/1/2021], less than 24 hours before the gubernatorial Election Day, with polls showing his GOP challenger Glenn Youngkin edging ahead in a race that could be catastrophic for the Biden White House. A spokesperson for Democrat McAuliffe said, according to 13 News Now, that he will campaign in a different part of the state in a bizarre move on the eve of the election seen as the first indicator of the administration's performance ahead of the 2022 midterms. On Monday, a new poll said that 44 percent of Democrat supporters want Biden to be replaced as the candidate on the 2024 ticket, and a loss in Virginia could cause a panic in his party, sway voters across the country and create more chaos in his spending packages negotiations.
AT&T tells white staff they are racist, asks them to confess their 'white privilege' as part of re-education program. White employees of AT&T have been told to read an article saying that they are racist, are told to confess to their 'white privilege' and acknowledge 'systemic racism,' and must engage with set texts or else they will be penalized in their performance reviews. AT&T, in the aftermath of the George Floyd murder, introduced an internal program called Listen Understand Act. John Stankey, the CEO of AT&T, wrote to the company's 230,000 employees in an April 2021 email, obtained by journalist Christopher Rufo and published on his website. Stankey, who took over as CEO in July 2020, urged his workers to make the most of the resources provided by AT&T's anti-racism portal.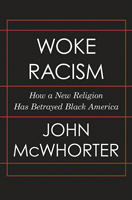 Book review:
The false religion of wokeness. It's become commonplace to argue that wokeness has all the trappings, if not the makings, of a new religion. The argument is persuasive. In its language and practices, wokeness imitates some of the common aspects of religions. It has myths (that America's true founding was in 1619) and beliefs (that systemic racism permeates every aspect of America's institutions) that believers take on faith. It has clerics — Ibram X. Kendi, Robin DiAngelo, Ta-Nehisi Coates — who speak ex cathedra. And it promises transcendence: In taking up arms against white supremacy and its effects, the righteous may participate in the defining struggle of our time. Thus argues John McWhorter — a professor of linguistics at Columbia, and himself a black man — in his new book, Woke Racism: How a New Religion Has Betrayed Black America. The zeal of the "Elect," as McWhorter calls the adherents of this new creed, has made wokeness one of the most powerful forms of religious observance in America today.
Charlotte Man Wins Major Lawsuit Claiming Wrongful Termination Over 'Diversity' Push. Every time I hear about efforts to "diversitize" this or that institution or place, whether it be the public school system, universities, the workplace, etc., my first thoughts (after rolling my eyes) are to wonder three things:
[#1] What hardworking person is going to get passed over for that promotion in the name of "diversity"?
[#2] What hardworking person who has worked [hard] to earn the position they hold is going to lose their job?
[#3] What would the person who "won" said position as the result of either scenario one or two above think if they knew they'd been awarded that position based either in part or solely on the color of their skin, their lady parts, sexual orientation, etc.?
Now, the very "coexist" leftists who champion such diversity pushes via quota requirements but who at the same time also say there's no place anywhere in America for discrimination on any basis will tell you that scenarios one and two above never happen.
No prize awarded because the nominees were white men. Woke is too kind a word for this story because Scientific American now approves of discrimination based on race and sex. A great story fell into the publication's lap. The American Geophysical Union refused to award a prize for excellence in science because all five candidates were white males. What kind of nonsense is that? Do the members of the prize committee eschew flight because the Wright Brothers were white males? Do they walk rather than drive a car, ride a bicycle, or ride a motorcycle because all of them were invented by white males? Ditto trains. Ditto telegraph. Ditto radio. Ditto TV. Rather than take this committee to task, Scientific American praised the daffy decision to deny these men an honor they earned simply because of the color of their skin and their maleness.
Chicago's Art Institute Fires All of Its Docents: Too Many Wealthy White Ladies. The Art Institute of Chicago fired all of its roughly 100 volunteer museum guides, or docents, in September because too many of them were wealthy, white women. The news of the mass firing has only trickled out slowly, partly because the institute asked docents not to speak to the media, and because the left-leaning Chicago media showed little interest in covering the issue.
Woke Walmart trains staffers in critical race theory: US a 'white-supremacy system'. Woke Walmart has trained more than 1,000 employees in critical race theory, denouncing the US as a "white-supremacy system" — and telling staffers to accept their "guilt and shame" and stop thinking "white is right," according to leaked documents. The retail giant confirmed to The Post on Friday that it has been working with the Racial Equity Institute, a North Carolina company devoted to "creating racially equitable organizations." Walmart said it has "used the well-known REI program for a number of training sessions" since 2018 and "found these sessions to be thought-provoking and constructive."
Walmart CRT Training Encourages Employees to Accept That 'White Is Not Right'. Walmart has put more than 1,000 employees through a critical race theory training that teaches that the U.S. is a "white supremacy system" and that white trainees are guilty of "white supremacy thinking" and "internalized racial superiority," according to a new report. Whistleblower documents obtained by City Journal's Christopher Rufo reveal that Walmart first launched the program, which is based on the core principles of critical race theory, in 2018 in partnership with the Racial Equity Institute.
No whites allowed at anti-racist Elizabethtown College event. Elizabethtown College hosted an event October 12 about white supremacy and racism, but the alleged perpetrators of hatred were not allowed to themselves attend. The event at the private Pennsylvania University is part of a three-part series called "Mediocre + Multimedia Content." "The programming for this event is for participants who identify as individuals of color," the event description said. "Following the first and third sessions, participants will come together with participants representing different racial affinity groups for a shared reception at the Bowers Writers House featuring its signature chocolate fondue."
Volunteers at the Art Institute of Chicago fired for being mostly white. The Art Institute of Chicago (AIC) has fired all 122 of its unpaid volunteer docents because they happen to be mostly white. [...] Note that the institute had made a sincere effort in recent years to encourage minorities to volunteer, all to no avail. The racial make-up of its docent volunteers was thus entirely voluntarily and natural. No discrimination was occurring. No one was excluding anyone, especially minorities. Minorities were either just not interested or did not have the spare time to volunteer. No matter! The equal rights of whites no longer count.
Never mind the cost — just look at the absurd things Build Back Better would buy. Democrats are quarreling over the price tag of their Build Back Better bill. But the real problem is what's in it. The bill coerces workers to join unions, imposes racial preferences on every facet of life and redistributes money from workers to takers. [... For example,] Home-efficiency rebates: The bill offers up to $14,000 to homeowners who lower energy use by installing new heat pumps, air conditioning systems, insulation and energy-efficient appliances. It's a pot of gold for homeowners who qualify and tens of billions of dollars in new business for contractors. The catch: Only unionized electrical contractors qualify. This bill is designed to twist arms and unionize the workforce. Why? Unions bankroll the Democratic Party. Racial and ethnic minorities also get preferential treatment. The bill promises contractors a $200 bonus for each customer served from a "community of racial or minority ethnic concentration." Whites go to the back of the line and have to hope the money holds out.
Dallas public schools will no longer suspend students because too few white students are suspended. Dallas Independent School District is making some changes in how it addresses student disciplinary issues across middle and high school campuses. The school district is doing away with in-school and out-of-school suspensions as disciplinary practices. The district, instead, will address student behavior issues by incorporating "reset centers" in its 52 middle and high schools. "We're just trying to address something that has been going on for a long time," said Pierre Fleurinor, a reset coordinator for Dallas ISD. Fleurinor, or Coach Flo, as the students call him, works at Stockard Middle School. He said the reset center gives the students a place to refocus, cool down, connect and form relationships.
Does Biden Believe That Laws Should Only Be Observed Selectively? In clear cases of illegal racial discrimination, Biden administration officials have been implementing programs only open to Black, Hispanic, or female Americans. The Small Business Administration (SBA) has been accepting applications for grants from the $28.6 billion Restaurant Revitalization Fund, designed to help those adversely affected by Covid. White males have been excluded from applying. In a similar move, Biden's Department of Agriculture began forgiving loans to farmers affected by the Covid crisis. You won't be surprised to learn White farmers and ranchers were excluded.
Triggered, Racist Snowflakes Tell White Students With Police Lives Matter Sticker To Leave 'Multicultural Space. This was the infuriating situation yesterday at Arizona State University when a couple of triggered, leftist students confronted two white students in a 'multicultural space.' The confrontation started over a Police Lives Matter sticker on one of the student's computers. The triggered woman, whose voice can be heard throughout the video, called the sticker offensive and asked the young men to leave. The woman said the men were 'making the space uncomfortable apparently because they are white. [Video clip]
Man Attacked and Accused of Being 'White' in 'Multicultural Space'. The absurdity that transpires daily on college campuses around the nation would shock most people, and the introduction of racial politics into nearly everything has only made things worse. Another perfect example of that happened recently at Arizona State University. Per a now-viral video, a student was attacked and accused of being "white" in a "multicultural space." At another point, he's accused of "violence" for having a sticker on his laptop that offers support to the police. [Tweet with video clip]
Anti-white bias in the classroom is real, and it's toxic. The Pennsylvania State Education Association, the state's largest teaching union, is providing its members with a seminar focused on the New York Times podcast, Nice White Parents, Todd Shepherd of Broad and Liberty reported. This podcast describes itself as a series dedicated to "building a better school system, and what gets in the way." And, as this advertisement shows, "what gets in the way" is merely a trope for "blame white people." The seminar will happen through Zoom over three weekends between Oct. 4 and November. It is union-funded indoctrination at its worst. It is propaganda seeking to indoctrinate teachers across the state that, essentially, white parents are the root of all evil when it comes to education problems in our country. Teachers will then pass on this indoctrination to students.
Google Employee Education Program Teaches That America is a 'System of White Supremacy'. Chris Rufo has been a leader in the fight to expose Critical Race Theory in education and corporate America. He recently published a report about tech giant Google and an anti-racist training program for its employees. It sounds like something straight off a left-wing college campus. [Numerous tweets] This is a company that, in many ways, has more power and influence than the United States government. Their enthusiastic embrace of this blatantly radical, left-wing political ideology should alarm every American.
Tennessee University Segregates Students for 'Antiracism' Training, Hails the Absence of White People as 'Magical'. Sometimes, things are magical. And in Tennessee, a school's come upon a recipe for just such a thing. The University of Tennessee-Knoxville's College of Social Work is offering "antiracism" workshops this month, and officials have made clear just how some may find an Abracadabra kind of wondrous state: the absence of white people. The college is employing a 1940s-inspired separation: Participants will be split according to white and nonwhite. Caucasians are assigned to the "White Accountability Group."
White NHS staff are told to study their 'privilege' and that they should feel 'uncomfortable'. New 'anti-racism' guidance has been shared 'for white people' working within the national health service in a blog post on an official NHS website. The NHS Leadership Academy, which prepares staff to take steps into more senior roles within the organisation, shared guidance for employees including recommendations to read up on 'white privilege' and ready themselves for political discussions at work. In five new tips published by Aishnine Benjamin, the head of equality, diversity and inclusion at the Nursing and Midwifery Council, white members of staff are told they should not be defensive and that 'ignorance isn't an excuse.'
Verizon Endorses Anti-Police Speakers, Critical Race Theorists In Employee Training: Report. Telecommunications company Verizon has implemented a so-called "anti-racism" training for employees to help them decide whether they are "oppressed" or "oppressors" as they work to understand how racist the U.S. is, according to a whistleblower. The company has also been pushing employees to endorse a number of left-wing ideals, to include defunding law enforcement, according to investigative reporter Christopher Rufo. Rufo said a Verizon whistleblower handed him a slew of documents regarding the "Race & Social Justice" initiative the company established last year. Among the programs created through the initiative is the "Conscious Inclusion & Anti-Racism" race reeducation program for employees, which is laden with critical race theory concepts such as "white fragility" and "systemic racism," Rufo noted.
In Mandatory Training, CA Faculty Union Leader Says There's Nothing Good About 'White' Culture. During last week's two-day mandatory "antiracism" training for members of the California Faculty Association leaders went just a bit further than many Critical Race Theory sessions — including laughing over the Taliban takeover of Afghanistan. The union, also known as CALFAC, is the exclusive collective bargaining agent for all faculty in the 23-campus California State University system, including lecturers, professors, counselors, librarians, and coaches.
University's Required Training Labels Straight White Males 'Oppressors' — in the Name of Being 'Inclusive'. At James Madison University, they're trying to make sure everyone's included. [...] As for "privilege" oppressors, the school listed them thusly:
• Male
• Cisgender
• Christian
• Heterosexual
• Western European
• Upper-to-middle class
• Thin/Athletic build
• Able-bodied
• Age 30s to 50s
• White
Bank of Amerika. Bank of America Corporation has implemented a racial reeducation program that claims the United States is a system of "white supremacy" and encourages employees to become "woke at work," instructing white employees in particular to "decolonize [their] mind[s]" and "cede power to people of color." [...] On the program's first day, Bank of America teaches employees that the United States is a "racialized society" that "use[s] race to establish and justify systems of power, privilege, disenfranchisement, and oppression," which "give[s] privileges to white people resulting in disadvantages to people of color." According to the training program, all whites — "regardless of one's socioeconomic class background or other disadvantages" — are "living a life with white skin privileges." Even children are implicated in the system of white supremacy: according to the program materials, white toddlers "develop racial biases by ages three to five" and "should be actively taught to recognize and reject the 'smog' of white privilege."
Teaching assistant docks point on conservative student's Black Panther essay: 'White people cannot experience racism'. A student at Virginia Tech University was told by a teaching assistant that "White people cannot experience racism" when asked why she received a low grade on her final paper. Students in the Nations and Nationalities class at Virginia Tech were asked to complete a paper describing a hate group from the Southern Poverty Law Center's list, and analyze how that group justifies its worldview, according to Alyssa Jones, a student in the class. Jones is also the president of the Virginia Tech University Turning Point USA chapter and a campus ambassador for The Leadership Institute, the parent organization of Campus Reform. Jones told Campus Reform that she decided to pick "the New Black Panther Party with the focus of the essay being on separatism."
Biden's infrastructure bill is chock-full of anti-white racism. The infrastructure bill the Senate passed Tuesday discriminates against white people at every turn. Americans are enthusiastic about spending money on physical infrastructure — bridges, roads, broadband. But this racist bill hands out jobs and contracts and locates projects based on race, not merit. Minority businesses and neighborhoods hold the inside track. If you're white, you're low-priority. The bill includes grants to install solar or wind technologies and generate jobs in areas decimated by closing coal mines or coal-fired electric plants. Here's the catch: When contractors bid, the bill says minority-owned businesses will get selected first. Bad news for small-time white contractors in depressed areas. The same is true for the bill's proposals to improve traffic patterns in cities. Contractors and subcontractors get priority only if they're owned by minorities or women. White male business owners can take a hike.
Loudoun County teacher Quits at school meeting in protest over CRT lessons. A Virginia teacher has dramatically resigned during a meeting of her scandal-hit school board after blasting its obsession with lessons on critical race theory. Laura Morris spoke before Loudoun County School Board in an emotional address, explaining why the 'equity trainings' and political dogma forced her to resign. She said she could no longer be part of an organization that told her 'white, Christian, able-bodied females' needed to be reined in.
Whites need not apply.
Best Buy commits up to $10M investment towards BIPOC startups. Best Buy is continuing to build its investments towards supporting Black, Indigenous and people of color (BIPOC) entrepreneurs, as the company announced on Thursday an investment up to $10 million with Brown Venture Group. The venture capital firm focuses exclusively on Black, Latinx and Indigenous technology startups in emerging technologies. The Minnesota-based company notes that BIPOC entrepreneurs can face barriers as well as a lack of access to funding, and stated this move will help "empower the next generation within the tech industry."
Peter Kirsanow blasts Portland's 'discriminatory' plan to give $2 million to 'artists of color'. U.S. Civil Rights Commissioner Peter Kirsanow on Tuesday [8/3/2021] urged Portland to reconsider its decision to funnel millions in stimulus funding to "artists of color," warning that distributing federal dollars based on race violates civil-rights laws. In a letter to Portland Mayor Ted Wheeler, Mr. Kirsanow asked why a city determined to eradicate "systemic racism" would designate $2 million of $63.8 million received under American Rescue Plan Act to "Relief and Recovery for Artists of Color." "The City's planned distribution of federal monies in a racially discriminatory manner raises serious concerns about Portland's ability to remain compliant with federal and state civil rights law," said Mr. Kirsanow in his letter. "Accordingly, I urge you to reconsider the implementation of the City Council's incipient plan."
White spite: NYC principal 'conspired to oust Caucasian teachers'. The faculty of a Washington Heights high school is rebelling against their principal, charging in a vote of no confidence that she has "flagrantly but unsuccessfully attempted to divide our school by race." Paula Lev, principal of the High School for Law and Public Service, is now under investigation by the city Department of Education for allegedly telling a faculty member she "was going to get rid of all these white teachers that aren't doing anything for the kids of our community," a complaint states. Lev, a Dominican, also asked the faculty member to "conspire with her" to try to oust a white colleague, according to the complaint filed last week with the DOE's Office of Equal Opportunity. "She definitely has something against white people," says the complaint, obtained by The [New York] Post.
Biden administration loses again on loan relief for non-White farmers only. The Biden administration was slammed Thursday with another court ruling against its pandemic-relief program to pay off the federal loans of all non-White farmers. U.S. District Court Judge S. Thomas Anderson of the Western District of Tennessee issued a preliminary injunction to stop the Agriculture Department from delivering race-based loan payments under Section 1005 of the $1.9 trillion American Rescue Plan. "The Court finds that Plaintiff has shown a substantial likelihood that he will prevail on his claim that Section 1005 violates his right to equal protection under the law," said the 25-page decision. "Absent action by the Court, socially disadvantaged farmers will obtain debt relief, while Plaintiff will suffer the irreparable harm of being excluded from that program solely on the basis of his race."
The Comedy World Discriminates Against Straight White Men. Joe Rogan drew snickers from the media when he warned "straight white men" may be silenced by the woke police. "It keeps going further and further down the line and if you get to the point where you capitulate and you agree to all these demands it'll eventually get to where straight white men are not allowed to talk because it's your privilege to express yourself when other people of color have been silenced throughout history," Rogan said on a May edition of his "Joe Rogan Experience" Spotify show. Comedian Tyler Fischer didn't find the warning funny. [Video clip]
The Biden Administration Banned Me From COVID Relief Because I'm A White Man. When my wife and I opened Jake's Bar and Grill three years ago in small-town Harriman, Tennessee, we had no idea we would face discrimination from the federal government, let alone sue the government and receive an injunction in our favor. But on May 27, a 2-1 ruling from the 6th Circuit Court of Appeals granted us a preliminary injunction halting a federal program that used people's race and sex to determine their eligibility for $29 billion in COVID-19 relief for restaurants. My name is Antonio Vitolo. My wife Danielle and I operate our restaurant full time as our main means of income. Our sales were great in January and February of 2020, but by the end of March we saw a significant decline due to COVID-19 lockdowns.
The Truth about Critical Race Theory. Moderator Chris Wallace asked President Trump during Tuesday's debate why he "directed federal agencies to end racial sensitivity training that addresses white privilege or critical race theory." Mr. Trump answered: "I ended it because it's racist." Participants "were asked to do things that were absolutely insane," he explained. "They were teaching people to hate our country." "Nobody's doing that," Joe Biden replied. He's wrong. [...] The examples are instructive. At a series of events at the Treasury Department and federal financial agencies, diversity trainer Howard Ross taught employees that America was "built on the backs of people who were enslaved" and that all white Americans are complicit in the system of white supremacy "by automatic response to the ways [they're] taught." In accompanying documents, Ross argues that white employees can be reduced to the quality of "whiteness," which is a form of inborn oppression, and must "struggle to own their racism." He instructs "white managers" to conduct "listening sessions" in which black employees can explain "what it means to be Black" and be "seen in their pain," with white employees instructed to "sit in their discomfort" and not "fill the silence" with their "own thoughts and feelings." Black employees, Mr. Ross says, are not "obligated to like you, thank you, feel sorry for you, or forgive you." For trainings like this, Mr. Ross and his firm have been paid $5 million over 15 years, according to federal disclosures.
Top 10 Examples of Leftist and Democratic Racism. [#4] COVID Relief Bill provides debt relief for Farmers, but only farmers "of color" — In President Biden's so-called "COVID Relief Bill" which was signed into law earlier this year, a provision of the bill offered debt relief to farmers struggling due to the COVID pandemic. But there was a hitch: white farmers need not apply. This is a natural progression from Affirmative Action, which is another slippery slope. If it's OK to discriminate against people based on skin color with one government program, it should be OK to discriminate against them with all government programs, right? Fortunately, the law is losing in various court battles.
Penn State's Professor of Sociology Is Teaching Your White Kids They Are Oppressive, Arrogant And Ignorant. Meet Dr. Sam Richards. He is Penn State's Professor of Sociology and he is making sure the tens of thousands of dollars you spend on yearly tuition goes towards making your white kids feel as bad about themselves as possible. Professor Richards believes if you don't acknowledge your privilege as a white person, you are dumb, arrogant and ignorant. The foundation of Critial Race Theory. [Video clip]
Taking the Racism Test.
[#8] Black Lives Matter (BLM) uses violence to make White people uncomfortable. Is this racist?
[#9] Is it racist to teach schoolchildren that Whites are oppressors?
[#10] Is it racist for schools to teach ethnic studies but exclude White ethnicities?
[#11] Is it racist to have laws and policies that charge/convict Whites and Asians for crimes when Blacks and Latinos go free for the same crimes?
[#12] Is it racist for private and public sector institutions to have programs that make White people seek redemption for the 1.25% of Americans that had slaves in 1860?
[#13] Is a government racist when it gives preferences to BIPOC, a group that includes everyone but White people?
[#14] Is it racist for private and public sector institutions to pejoratively label White people as privileged because they are White?
Harvard Will Host a Free Music Business Course, Open to All Races but White. Harvard University's set to host an August music business course. Per the advertisement, it'll "cover topics that include financial literacy, mental health, and personal branding in the music industry." On the official website, "No Label Academy at Harvard" announces thusly: ["]Partnering with universities, brands, and a unique set of speakers, No Label and [rapper IDK] are constructing a comprehensive 10-day music business course at Harvard University. This free course focuses on building a pipeline for BIPOC talent to kickstart their music careers, democratizing and reframing what is attainable in the industry.["]
White farmer wins court relief from race-based Biden farm-aid program. The racially biased relief programs buried in the American Rescue Plan continue to fall like dominos. The latest challenge to the $4B farm relief fund arose in Florida, where a white farmer named Scott Wynn went to court after learning he had been disqualified from the program based solely on his race. A federal judge has now ordered the Department of Agriculture to put a freeze on any distribution of the funds while the court reviews the details. The injunction, ordered by Judge Marcia Morales Howard, was once again based on the likelihood that the program violates the 14th Amendment rights of farmers who were excluded from the program. This news leads us to the question we should be considering today. Did anyone actually read this bill before they voted for it?
Washington Post is condemned for video urging Americans to set up 'white accountability groups'. The Washington Post has been branded 'neoracist' and accused of promoting a 'pseudoreligious movement' after the airing of a controversial video declaring people should feel 'shame for being white' and urging readers to form 'white accountability groups'. The latest episode of the series, hosted by Nicole Ellis and called the New Normal, was released on Friday and discussed how white people can combat white supremacy. 'An antiracist culture does not exist among white people,' trauma specialist and author Resmaa Menakem says when introducing the concept. 'White people need to start getting together specifically around race.'
A disturbing look at corporate Critical Race Theory brainwashing. [Scroll down] My bet is that there is a substantial number of American Thinker readers who are also unfamiliar with modern-day Human Resources training. Nowadays, it's no longer about avoiding illegal activity that could get you or your employer in trouble. Instead, this is extremely targeted material aimed directly at White people. It's condescending, hate-filled, and does to Whites exactly what it instructs Whites not to do to minorities. We've written before at American Thinker about CRT training at places such as the City of Seattle, Lockheed-Martin, and Coca-Cola. However, we've always presented the handouts, which are pretty shocking. Somehow, though, it's even more shocking to see a training video and appreciate that this illegal, indoctrinating effluvia is being forced upon employees at companies as diverse as Pepsi, Medieval Times, and Krispy Kreme.
BBC bans white people from applying for £18,000 trainee job. The BBC has sparked a discrimination row after only allowing people from ethnic minorities to apply for a trainee position. The broadcaster is advertising a one-year, £17,810 trainee production management assistant role with its Science Unit in Glasgow, but the position is 'only open to black, Asian and ethnically diverse candidates'. Positive discrimination is unlawful under the Equality Act 2010, but 'positive action' is allowed for trainee and internship roles in areas where there is under-representation.
Standards of Color-Blind Merit Tumble Across American Society. A broad revolution is underway in the United States as traditional standards used to measure achievement and provide opportunity are being rejected by schools, corporations, and governments in favor of quotas based on race and gender. [...] Over the last few months, many Ivy League and flagship state universities have moved away from a seemingly neutral measure long used to assess applicants — standardized test scores — to give minorities a better shot at admissions. In May, Hewlett-Packard, the technology company with 50,000 employees worldwide, decreed that by 2030 half of its leadership positions and more than 30% of its technicians and engineers have to be women and that the number of minorities should "meet or exceed" their representation in the tech industry workforce. That same month, United Airlines announced that half of the 5,000 pilots it would train at its proprietary flight school between now and 2030 will be women or people of color, with scholarships provided by United and JPMorgan Chase helping with tuition. There was nothing in the United announcement showing that there were enough qualified blacks and women in the pipeline so that a black/female quota of 2,500 new pilots could be filled, and nothing about what the company would do if there weren't enough qualified candidates.
Judge halts Biden's 'unconstitutional' $4BN program to pay up to 120% of black, Hispanic, Asian or Native American farmers' debt after 12 white farmers sued. A federal judge has halted Joe Biden's 'unconstitutional' $4 billion program to pay up to 120 percent of black, Hispanic, Asian or Native American farmers' debt, after 12 white farmers sued claiming it discriminated against them. Wisconsin Judge William Griesbach issued a temporary restraining order Thursday blocking the loan forgiveness program Biden put in place after saying he wanted to tackle longstanding inequalities for farmers of color. Judge Griesbach said the plan failed to provide adequate examples of recent hardships imposed on farmers from minority backgrounds. He also claimed that in trying to end one type of discrimination, the program ended up creating another.
Federal Judge Suspends Biden's Racist, Anti-White Farmer Debt Relief Program. A federal judge in Wisconsin halted Joe Biden's anti-white farmer debt relief program. Judge William Griesbach of Wisconsin's Eastern District, a George W. Bush appointee, issued the temporary stay this week in response to a lawsuit filed by the Wisconsin Institute for Law and Liberty. In March Joe Biden signed a gargantuan $1.9 trillion 'Covid' stimulus package that had nothing to do with Covid — the Democrats buried the racist, anti-white farmer relief program in the massive spending bill. The racist program was only available to producers who are Black, American Indian or Alaskan native, Hispanic or Latino, and Asian American or Pacific Islander.
Media Giant iHeart: 'We Are Looking at Only Diverse Hires at This Time'. An executive producer at America's largest owner of radio stations, iHeartMedia, advertised a job Thursday [6/10/2021] by stating "we are looking at only diverse hires at this time." Molly Socha, executive producer of custom podcasts at iHeartMedia, made the statement in an email sent to a listserv interested in the New York City radio industry and obtained by CNSNews. "Diversity is incredibly important to our team and our company so we are looking at only diverse hires at this time," Socha said while describing the podcast editor/engineer position to members of the listserv.
iHeartMedia backpedals after discriminatory email: 'We are looking at only diverse hires at this time'. iHeartMedia, a mass media conglomerate that owns the majority of America's radio stations, has been accused of racist hiring practices because of an email sent by one of its executive producers. Last week, the company posted a standard job opening for a "podcast editor/engineer" based out of New York City, New York. Days later on Thursday, Molly Socha, the executive producer of custom podcasts at iHeartMedia, submitted a related email to an email mailing list (known as a listserv) dedicated to news about the New York City radio industry, according to CNS News. In that email, Socha said that iHeartMedia was looking for "a full-time, experienced editor/engineer to join our team" but stressed that there's a stipulation. "Diversity is incredibly important to our team and our company so we are looking at only diverse hires at this time," she wrote.
The Racial 'Crisis' in Wisconsin. The accusation that America is deeply, irredeemably stained by systemic racism is not up for debate. No white person can be innocent. Your individual conscience is irrelevant. Each one of us is a white supremacist benefitting from a white supremacist structure. We must confess our "white privilege." So, if we're so overwhelmingly dominant, why can't we disagree? [...] The city of La Crosse is 89% white and 2.4% black. The [La Crosse] Tribune obviously sees itself as the aggressive guardian of the 2.4% in shaming the 89%. In these lengthy articles, there is no spokesman for an opposing view. Oh, there are apologetic school administrators on the defensive. There are shadowy local student villains making videos where they repeat hip-hop lyrics with racial slurs on the internet. But no one is allowed to debate the American Civil Liberties Union or the black students at La Crosse Logan High School that are the central victims of the story.
College endorses segregation against whites, turning former coffee shop into blacks-only haven. The new bigotry on American campuses: Beliot College in Wisconsin has decided to turn a former campus coffee shop into blacks-only haven, thus re-introducing Jim Crow segregation by treating blacks as a privileged race and all other ethnic groups and races as inferior and thus deserving of discrimination and second-class facilities. [...] The school's black population is about 7% of the total. Thus, Beliot's administration has decided to give those students a privileged status, something that is exactly the opposite of creating "anti-racism and equity on campus." It also does nothing to give its black students "a sense of belonging." Instead, it isolates them and makes them a target of resentment and anger because they are being treated better than everyone else, merely because of their race. It also helps teach them the horrible lesson that they cannot mix with other races, that anyone who is not black is their enemy who must be hated and feared. That's the rational argument. Then there is the legal one. This policy is blatantly illegal under numerous federal, state, and local laws. All it will take is one lawsuit and the school will not only be forced to cease and desist, it will likely have to pay out significant fines.
Battalion Commander Reportedly Tells Troops 'White People Are Part of the Problem'. Lieutenant Colonel Andrew Rhodes, commander of the 1-8 Infantry — "Fighting Eagles", has a message for all serving in the military: if you're white, you're the problem. It was recently discovered that Rhodes, who holds a position of authority and responsibility, runs a private, "woke," left-wing Twitter account under the name "Dru." If the Twitter account wasn't enough to convince you of his radical beliefs, his comment at a military function should do the job. "If you're a white male, you are part of the problem," Rhodes reportedly said.
Healthcare Journal: 'Whiteness' Is a 'Malignant, Parasitic-Like Condition' Creating 'Perverse Appetites'. A research article published last month in the Journal of the American Psychoanalytic Association describes "whiteness" as a "malignant, parasitic-like condition" that makes the host person "voracious, insatiable, and perverse," warning that there is "not yet a permanent cure." "On Having Whiteness," the apparently peer-reviewed article written by Dr. Donald Moss, a white male and a current faculty member of both the New York Psychoanalytic Institute and the San Francisco Center for Psychoanalysis discussed, went viral on social media this week once it was discovered.
New paper published by healthcare journal calls whiteness 'a malignant, parasitic-like condition'. In May, the Journal of the American Psychoanalytic Association published research that asserts that being white is "a malignant, parasitic-like condition," as well as a deranged and dangerous mental condition. The abstract for the paper states: "Whiteness is a condition one first acquires and then one has — a malignant, parasitic-like condition to which 'white' people have a particular susceptibility. The condition is foundational, generating characteristic ways of being in one's body, in one's mind, and in one's world. Parasitic Whiteness renders its hosts' appetites voracious, insatiable, and perverse. These deformed appetites particularly target nonwhite peoples. Once established, these appetites are nearly impossible to eliminate. Effective treatment consists of a combination of psychic and social-historical interventions. Such interventions can reasonably aim only to reshape Whiteness's infiltrated appetites — to reduce their intensity, redistribute their aims, and occasionally turn those aims toward the work of reparation. [...] There is not yet a permanent cure."
America First Legal Scores Victory, Biden Administration Cancels Race-Based COVID Relief Fund. Stephen Miller organized the America-First Legal group to challenge unconstitutional rules and laws initiated by Democrats in congress and the JoeBama administration. Yesterday [6/4/2021] they scored a major victory after the DOJ told a federal court it would drop the race-based rules for COVID relief funding.
The New Secession Crisis: The Democrats have already left the Union. The Democrats have already seceded from America's historic conception of nationhood in many respects: THEY have attacked, on a relentless and increasingly hysterical basis, white Americans, who as the overwhelming majority population, were the primary developers of America's cultural, intellectual, and political heritage, with all its successes as well as its shortcomings. In doing so, they attack the traditions, history, and values developed by those generations of Americans that historically bound together Americans of all races, religions, and backgrounds.
I Am Not Colored White. [Scroll down] Now I am embarking on a multidimensional project to cancel back the word "white," because today it is a term of racist abuse. It dehumanizes by obviating the historic religio-cultural diversity and connections to ancestral homelands of people who are reduced to the color label "white." Henceforth, on my canceling back adventure, I insist on being called Anglo-European American, in those instances when I am being boxed into a racial typology, as in this questionnaire by an insurance company: [...] Human beings should not be classified by color. It is unnatural, ignorant, and divisive. American Indians are not red, Asian-Americans are not yellow, African-Americans are not black, and European-Americans are not white. The last group is the only one that corporate America is gratified to degrade in such a way.
Biden will announce bid to 'root out systemic racism' by pouring $100 billion into minority-owned business. President Joe Biden on Tuesday [6/1/2021] announced plans to build black wealth and narrow the racial income gap ahead of a trip to Oklahoma to mark the 100th anniversary of the Tulsa Race Massacre. Biden's plan focuses on two key creators of wealth: homeownership and small business ownership. Under his proposal, the Department of Housing and Urban Development will propose new regulations 'to root out discrimination in the appraisal and homebuying process,' according to a White House fact sheet, in a bid to boost black home ownership. The administration also is seeking to address disparities that result in black-owned homes being appraised at tens of thousands of dollars less than comparable homes owned by whites.
The Editor says...
Pouring taxpayers' money exclusively into minority-owned businesses IS systemic racism.
Breaking: 6th Circuit Issues Stinging Rejection of Biden's Race-Based 'American Rescue Plan'. The Biden administration has sought to racialize the COVID-19 pandemic response, including a restaurant aid program within the American Rescue Plan. A judge just ruled that isn't going to fly. The ruling comes by way of the Sixth Circuit Court of Appeals in the case Antonio Vittolo vs. Isabella Casillas Guzman. Guzman's lawsuit argued that white men are being 'pushed to the back of the line' for aid in the coronavirus relief program. The lawsuit was directed at U.S. Small Business Association Administrator Isabella Casillas Guzman by Antonio Vitolo, who is the owner of Jake's Bar and Grill in Harriman, Tennessee. A majority 2-1 decision found that Biden's race-based litmus test for aid is not legal. "This case is about whether the government can allocate limited coronavirus relief funds based on the race and sex of the applicants," Judge Thapar ruled. "We hold that it cannot."
Biden's overtly anti-white COVID rescue plan won't survive in court. Team Biden is poised to hand out billions of dollars to what it misleadingly labels "socially disadvantaged" farmers, restaurateurs and other business owners hurt by the lockdowns. The money will start flowing to them in early June — provided they don't have white skin. Biden's American Rescue Plan defines "socially disadvantaged" based on skin color and ancestry, not the hardships faced by an individual. Blacks, American Indians, Alaskan Natives, Hispanics and Pacific Islanders are included. One group is excluded: whites. Fortunately, the new law's anti-white provisions are facing a challenge in court, and the challengers are likely to win. The US Constitution forbids discrimination based on race — period.
Brandeis University assistant dean: 'All White people are racist,' 'I hate Whiteness'. An administrator at Brandeis University declared "all White people are racist" and that she "hates Whiteness" in a defense of critical race theory on Saturday [5/22/2021]. Kate Slater, an assistant dean of graduate student affairs at the private Massachusetts university and a self-described "White anti-racist educator," faced criticism on social media after she posted a message on Instagram defending critical race theory, which teaches that America's institutions are inherently racist. "'Debates' about critical race theory are often straw men for debates about whether or not systemic racism is real," she wrote. "And no number of statistics or facts that I could offer up are going to convince people to 'see' systemic racism if they don't want to."
Critical Race Theory or Crazy Radical Tantrums? On May 7, the incomparable Christopher Rufo reported that "The Wokest Place on Earth" now includes employee trainings on systemic racism, white privilege, white fragility, and white saviors, and also launched racially segregated "affinity groups" at the company's headquarters. But just five days later, Rufo disclosed that Disney "has removed its entire antiracism program from the company's internal portal, effectively scrubbing it out of existence." Rufo added, "This is a major victory in the war against 'woke capital,'" and noted that a "significant backlash from the public" was responsible for the shift. While some skeptics suggested that the policy was being "tweaked or rebranded, not scrubbed," Rufo responded, "Possibly, but small victories start to add up. We've set the precedent — and forced a $329 billion company to back down."
The War Machine Gets Woke: Largest US Defense Contractor Reportedly Held 'Privilege' Training For White Men. The nation's largest defense contractor allegedly held a three-day training program for white male executives so they could deconstruct their "privilege" and understand how white male behavior is "devastating" to racial minorities and women, journalist Christopher Rufo reported Wednesday [5/26/2021]. Lockheed Martin hosted "White Men As Full Diversity Partners," a diversity-consulting firm, in 2020 to help 13 of its senior employees understand white male privilege, according to Rufo's report.
Lockheed Martin Put Executives Through Training to Unlearn 'White Male Privilege': Report. Lockheed Martin, the nation's largest defense contractor, put top executives through a three-day training to deconstruct their "white male culture" and unlearn their "white male privilege," according to a new report. Thirteen employees, including a former three-star general and the vice president of production for the $1.7 trillion F-35 fighter jet program, attended a program on Zoom last year led by the consulting firm White Men As Full Diversity Partners, according to City Journal's Christopher Rufo. The firm works to help white men "awaken together."
'Equity' is just racial discrimination by another name. Since entering the White House, Joe Biden and his fellow Democrats have talked incessantly about racial 'equity'. On his first day in office, in fact, Biden signed an Executive Order on 'Advancing Racial Equity'. For those not paying close attention, it is possible to think that this notion of equity is synonymous with equality. But it is becoming clearer by the day that equity means the opposite of equal treatment and opportunity — it's a new form of racial discrimination.
Unconscious Reprogramming: The Deepest Form of War. The whole premise of anti-unconscious-bias training is that large numbers of Americans are already brainwashed by a flawed culture; they're unconscious bigots who need to be deprogrammed. "Many organizations have considered adopting unconscious-bias training to address their roles in perpetuating racism and inequality. This kind of training seeks to make participants aware of their biases, in a blame-free manner." People are already brainwashed; it just needs to be turned left-side up. Since a disease of the unconscious must be cured at the same level. Attitude training is a battle for the subliminal mind of a civilization.
Texas Court Blocks Biden's Restaurant Aid Program That Prioritized Applicants Based on Race and Gender. Late on Tuesday night, federal judge Reed O'Connor, of the United States District Court for the Southern District of Texas, Fort Worth Division, issued a Temporary Restraining Order blocking distribution by the Small Business Administration of $28.6 billion dollars in grants to businesses in the restaurant industry. On May 13, 2021, Greer's Ranch Cafe and owner Phillip Greer filed a class-action lawsuit against the Small Business Administration claiming that the aid program was being administered in an unconstitutional manner because the program was designed by the Biden Administration to give priority to restaurant businesses owned by racial minorities and women.
Parents' group alleges Massachusetts school district held no-Whites-allowed event. A parents-rights group has filed a federal complaint accusing a Massachusetts school district of engaging in racial discrimination by banning White students from an event on hate crimes against Asian Americans. Parents Defending Education asked the Department of Education Office for Civil Rights to investigate the Wellesley Public Schools for an alleged Zoom session described as a "Healing Space for Asian and Asian American students (grades 6-12), faculty/staff, and others in the BIPOC (Black, Indigenous, People of Color) community who wish to process recent events." The invitation shown in a screenshot attached to the complaint went on to say: "* Note: This is a safe space for our Asian/Asian-American and Students of Color, *not* for students who identify only as White."
Chicago Tribune Cancels Lori Lightfoot Interview over Anti-white Policy. The Chicago Tribune canceled an interview with Mayor Lori Lightfoot on Wednesday [5/19/2021] in protest at her decision to exclude white reporters from one-on-one interviews on the occasion of her second anniversary in office, reporter Gregory Pratt noted. Pratt, who is Latino, noted that he had been granted an interview under Lightfoot's racially exclusionary policy, which was revealed Tuesday, but had used that opportunity to ask her to end that policy. When she refused, the Tribune canceled the interview.
Chicago Mayor Lori Lightfoot Defends Excluding White Journalists: 'Systemic Racism' in Media. Chicago Mayor Lori Lightfoot attempted to defend her racist interview policy on Wednesday, explaining why she would only give interviews to "journalists of color" and exclude white journalists on the occasion of her two-year anniversary in office. In a letter to news organizations, and in a series of tweets, Lightfoot claimed there was a racial "imbalance" in the news media, especially in the City Hall press corps, and that she wanted to use her position to force journalism to become more diverse.
The Editor says...
How is it possible "to force journalism to become more diverse," other than to actively exclude (and fire) white males?
Chicago's Mayor Lightfoot proclaims open discrimination against white journalists. Lori Lightfoot is even stupider than I had thought. She has sparked a well deserved uproar by letting local reporters know she will grant one-on-one interviews only to "Black and Brown journalists." [Tweets] Other local reporters quickly confirmed they had been told the same thing: [More tweets] [...] Apparently, she realized that the usage "Black and Brown" excludes Asians and Native Americans, and so she tightened her focus to exclude only Caucasian reporters. [...] The fact that Lightfoot believes she can openly discriminate against Caucasians is a troubling sign of how far the racism that calls itself "anti-racist" has influenced public opinion away from the views of Martin Luther King and actual anti-racists.
Chicago Mayor Lori Lightfoot will grant interviews only to 'Black or Brown journalists,' local reporters say. Reporters out of Chicago are alleging that Democratic Mayor Lori Lightfoot is now granting interviews only to journalists of color. NBC 5 Chicago political reporter Mary Ann Ahern took to Twitter on Tuesday to mark the "midway point" of Lightfoot's first term in office and apparently acknowledged her failed effort to land an interview. "As @chicagosmayor reaches her two year midway point as mayor, her spokeswoman says Lightfoot is granting 1 on 1 interviews — only to Black or Brown journalists," Ahern tweeted.
Latino reporter to Lightfoot: We're canceling our interview until you stop discriminating. Well, this is quite the story twist. Lori Lightfoot must have thought that "Black and Brown journalists" would toss hosannas at her feet for excluding all others from interviewing her. Chicago Tribune reporter and Latino journalist Gregory Pratt flipped the script on Lightfoot, however, canceling his already-approved one-on-one interview to show solidarity with his fellow reporters: [Tweet]
Also posted under black racism.
Heterosexual white males, like Jim Henson himself, need not apply:
Jim Henson Company issues woke puppeteer casting call for 'LGBTQ+, people of color, women'. The Jim Henson Company is looking for a few good (but gay) men. The creative powerhouse behind "The Muppets" has put out an exclusive casting call to up its "woke" credentials in the entertainment industry. A recent audition announcement tweeted to potential recruits reads: "The Jim Henson Company, headquartered in Los Angeles, CA, is seeking top talent and new creative voices from diverse communities and backgrounds to train as puppeteers in the Jim Henson technique. Please see posted images for complete submission guidelines."
University Professor on 'Diversity and Inclusion' Panel Announces She Keeps Away From White People. At Iowa State, a professor's stated her preference. We're living in a strange time. America's seemingly swimming toward Segregation V2. It's a modernized rendition, to be sure, but a curious point remains the same: Society looks to be resurrecting an idea it only decades ago concluded should be interred. [...] Unity, generally, is considered virtuous. Yet, so far as I can tell, the Powers That Be are increasingly interested in emphasizing our differences.
Disney reportedly scrubs woke anti-racism training after backlash. Disney has reportedly deleted its "diversity and inclusion" anti-racism training program following a backlash about it becoming the "wokest place on Earth." The webpage that previously carried the much-maligned internal training documents was down this week, replaced with a "pardon our Pixie dust" message, according to Christopher Rufo, who first reported on the training forcing staff to recognize their "white privilege." "WINNING," wrote Rufo, director of the initiative on critical race theory at the Manhattan Institute, as he shared a screenshot of the seemingly off-line page. Disney "has removed its entire antiracism program from the company's internal portal," he wrote, "effectively scrubbing it out of existence."
The Bias of Disney's 'Woke' Job Training. Last week, City Journal reporter Christopher Rufio, shared leaked documents from a Disney Parks employee which display critical race theory to the extreme. Employees of Disney are now being trained on topics such as, "systematic racism," "white privilege," and a slew of other racially charged ideologies. Disney's "diversity and inclusion" program, titled, "Reimagine Tomorrow," displays a clear bias against "whiteness." It has implemented a series of "antiracist" training modules which host a number of political materials that specifically stereotype individuals based on the color of their skin. [...] Decolonizing a bookshelf encourages people like me to get rid of classic works of literature and forget my history and my heritage to replace it with modern progressive lies. Asking someone like myself — who was born and raised in poverty and never owned slaves — to pay reparations to people who have never been slaves is the most problematic issue on this list.
Disney tries to run away from the evidence of its racist push. For those conservatives already put off by Disney's using its forum with children to indoctrinate them into alternative sexualities, the company had a further fall from grace this past weekend[.] Christopher Rufo, who is now the godfather of the fight against the racist Critical Race Theory used internal documents from the Disney Corporation to reveal that it has gone all-in on this theory, a cross between Marxism and the vilest eugenics Democrats produced in the early 20th century — only this time, the target is Whites, not Blacks. It turns out Disney had the capacity to fall still further because its response was to deny what the documents clearly said. The materials that Disney foisted on its White employees were blatantly eugenic in nature — that is, they imputed negative behavioral and intelligence characteristics to people based upon the color of their skin. In this case, that color was White. In addition to insisting that America is a racist country, it said that present-day Whites continue to be responsible for the continued systemic racism in America. [...] White employees were also given behavioral instructions. Most importantly, they were told that Whites may "not question or debate Black colleagues' lived experience."
Biden's restaurant rescue plan blatantly discriminates against White males. White males go to the back of the line in applying for funds to rescue their bars, restaurants and other venues eligible for federal relief for the impact of the coronavirus lockdown. This violates the equal protection under the law requirements of the United States Constitution, but is nonetheless ongoing right now. [...] This ought to, and probably will be, challenged in court. But unless the plaintiffs are able to find a judge willing to issue a restraining order, their businesses may well fold and vanish before the case is finally adjudicated. And if victory is obtained, what then? The advantaged-disadvantaged minority owners who got preference will not be forced to pay back their funds. The White males who lost their businesses will not be able to keep them alive — too late for that. So, what is the goal of Biden's plan?
No whites welcome at this university's 'Racial Trauma Yoga' session. Yoga is a topic that The College Fix has covered a lot over the years. There was the trend a few years ago to allow students a chance to destress with goat yoga. There was the time a university canceled a free yoga class after it was accused of cultural appropriation. We were also there for the professor who accused white people who do yoga of "power, privilege and oppression." And let us not forget Brown University's infamous naked yoga. Today, in this hyper-racialized time in America (thanks to the progressive left), we bring you people-of-color-only yoga. That's right, no whites welcome in this yoga healing space hosted by the University of North Carolina Asheville. It's called "Racial Trauma Yoga," and it was advertised in a campus-wide email as "for BIPOC students." BIPOC stands for black, indigenous and people of color.
Cornell defends BIPOC-only rock-climbing class after online uproar. Cornell University is defending a new rock-climbing class offered to minority groups. Among the Ivy League school's Outdoor Education offerings for the spring 2021 semester was a course called "BIPOC Rock Climbing". The course description, according to The Cornell Daily Sun, specified that the class was "for people who identify as Black, Indigenous, Latinx, Asian, or other people of color." That prompted an uproar from across the internet. The university was accused of violating federal and state civil rights law while one Reddit user decried what they described as a "horrifically and monstrously racist practice that has no place in the modern world" and "literally evil".
'Woke' Coke Pauses Diversity Plan After 'Intense Backlash,' Plan Author Suddenly Resigns. Coca-Cola has pressed pause on a controversial "diversity plan" after what Fox News described as an "intense backlash," and the company's general counsel, Bradley Gayton, who authored the plan, has now abruptly resigned. As The Daily Wire reported back in February, "Coca-Cola debuted a new policy this year implementing a diversity quota for the outside counsel it retains, saying it will only hire law firms that commit to providing 15 percent of billed time from black attorneys, higher than the percentage of African Americans in the U.S. population." Law firms working with the soft drink giant, were also required, under the new policy, to "commit that at least 30% of each of billed associate and partner time will be from diverse attorneys, and of such amounts at least half will be from Black attorneys." The soft drink titan also passed the "diversity" on to its employees. In a series of slides leaked to media, a company working with Coca-Cola to provide corporate training encouraged Coke employees to "be less white" in an effort to create a more welcoming and racially diverse workplace.
Coca-Cola pauses aggressive diversity plan after chief lawyer resigns. Coca-Cola has paused its controversial diversity plan — that included penalties on outside law firms if they failed to meet racial diversity quotas — after intense backlash. The pause comes after the orchestrator of the plan, Coke's former general counsel Bradley Gayton, abruptly resigned last month after less than a year on the job and as criticism of the quotas mounted. Some questioned whether Gayton's policies violated Title VII of the Civil Rights Act of 1964, which says employers can't treat people differently based on their race. Scott Leith, a spokesman for Coke, said Gayton's replacement, Monica Howard Douglas, is now reviewing the plan.
The Editor says...
Please note that "aggressive diversity" is a polite way of saying they're actively eliminating the employment of white people.
Biden Farmer Loan Program Sued for Alleged 'Unconstitutional Race Discrimination'. A conservative law group from Wisconsin has filed a lawsuit in federal court alleging that the Biden administration's loan forgiveness program for farmers is "unconstitutional race discrimination" and should be suspended. The Wisconsin Institute for Law & Liberty represents farmers in multiple states who believe the Biden administration farmer loan forgiveness program is race discrimination because it is only open to people of some racial backgrounds. The New York Times has described the Biden loan forgiveness program as being "at the center of the White House's racial equity agenda." The Biden administration's stance is that the program is needed to redress decades of racial discrimination that harmed Black farmers and reduced the number of Black-owned farms in the United States, such as lack of equal access to capital.
White Farmers Sue Biden Admin Over USDA Loan Forgiveness Program Aimed Only at Minorities. Our country's racial past is checkered, to say the least, but because our founders were wise men, if not perfect men, they bequeathed us a form of government we the people, through our representatives, could alter. Over the course of our history, through laws, constitutional amendments, and, sadly, a civil war, our predecessors got us as close to "a more perfect union" than when our country was founded. But in recent years, the American left, using the Democratic Party as its vehicle, has been working overtime to tear down all of the progress we've made. In many respects, the left, through its policies, is working to re-segregate our country in ways that are not only unconstitutional but extremely dangerous for a multiethnic society.
Under 'Critical Race Theory,' Racist Medicine. Imagine a proposal for an overhaul of medical practice to treat patients not on the basis of their individual health needs, but on the basis of their race. Imagine further that the proposal is predicated on a deep sense of racial grievance, including the expressed conviction that the Trump administration actively refrained from helping people of color dying from Covid-19 (deliberately perpetrating "incremental genocide") and that most white doctors have practiced de facto apartheid for decades. Then imagine that this proposal is not a malign fantasy by race bigots (or not simply that), but an actual pilot project being implemented this spring at one of America's top cardiology hospitals. You heard that right. Boston's Brigham and Women's Hospital is hosting an "anti-racist" medical initiative, to be replicated at other hospitals, in which medical decisions will be made in an explicitly race-conscious manner. Care providers will be directed to admit black and "Latinx" heart-failure patients on a "preferential" basis to the specialty cardiology service, where the level of care is higher than in the general medical ward, as a way of "correcting" years of what the pilot project authors claim to be structural racism, in which black and Latino patients were "more likely than white patients to end up on our general medicine service."
Medical Racism — Preferential Treatments for Blacks over Whites — is Here. [Scroll down] Less than two weeks ago, it was reported that this policy of giving preferential medical treatment to individuals with the preferred racial or ethnic background — Blacks and "Latinx" patients — over Whites is going into practice, at Brigham and Women's Hospital in Boston. That institution, affiliated with the Harvard University Medical School, is considered one of the best teaching hospitals in the country. It's part of Mass General Brigham, a network that operates a dozen hospitals in Massachusetts. Its "sweeping system-wide approach outlining broad social justice and equity goals and strategies" was announced last November right after the election. The plan is part of Mass General Brigham's multi-million dollar United Against Racism campaign.
Whites Aren't Hated for Slavery But for Making America and the West. Whites made the country and the greatest civilization — not because they were white, but because of the values they held. Hatred of whites is ultimately hatred of those values.
Today's blacklisted American: Anyone who is white, Christian, or male at Cigna. They're coming for you next: Company documents as well as interviews have confirmed that the health insurance company Cigna actively discriminates against whites in its hiring practices, as well as runs training sessions using Critical Race Theory that aims at making all whites, males, and Christians ashamed of what they are, because by definition such people are automatically racist bigots.
Woke Medicine Comes to New York City. A pair of doctors at Brigham and Women's Hospital last month outlined a pilot program that, they said, would offer "preferential care" to patients of color. The proposal, published in Boston Review, accuses hospitals across the country of practicing "medical apartheid" — something they said must be addressed through "race-explicit interventions." Those interventions may violate civil rights laws, and Brigham and Women's Hospital assured the Washington Free Beacon that they are "not currently underway at the hospital." That hasn't stopped one of its authors, Dr. Michelle Morse, from moving on up: She is now the chief medical officer of New York City. In her new post, Morse will wield enormous influence over New York's hospital system, and she has promised to use it to "advance health equity." Part of her job will be serving as a liaison between the health department and local medical centers, including three she singled out as examples of "apartheid": Montefiore, New York-Presbyterian, and Mount Sinai.
Minnesota Gats. [Scroll down] The blacker you are, in appearance and behavior, the more valuable you are as a victim in the racial politics being waged on white America by the ruling class. This is the reality of Jim Snow America. Whites, especially white males, will get the harshest treatment from the law. The usual suspects flood the zone with phony studies on racial differences in sentencing, but they never hold up under scrutiny. When adjusted for criminal history, whites get longer sentences than other races. Males, of course, will always get harsher sentences than females for the same crimes. Of course, the Jim Snow rules apply to victims as well. Ashli Babbitt was a right-wing white woman murdered by a black cop inside the Capitol, but he is black, and she is a bad white, so it is okay. Cannon Hinnant was a 5-year-old white boy executed by a black man, but the media could not be bothered to notice. On the other hand, Adam Toledo, a 13-year-old gangbanger shot by cops, is national news. This will only get worse.
Woke-a-Cola: How To Destroy A World-Leading Brand In 60 Seconds. I'm sure you've heard the phrase, "Get Woke, Go Broke." In the curious case of Coca-Cola, going woke may be the single biggest branding mistake in the history of marketing. In late February a whistleblower came forth with screenshots, posted on YouTube, of slides from Coke's internal 'diversity training' course urging its employees to quote, "Be less white." And by 'less white' they mean subservient. They don't mean be more sensitive. When this happened, I immediately said to myself, "Scratch ever buying another Coke product off my list." Not a moment's angst or energy went into it.
When leftists celebrate medical abuse of white people. Recently, [...] Drs. Bram Wispelwey, a 2014 Ben-Gurion University medical school graduate, and Michelle Morse, a 2008 University of Pennsylvania medical school graduate, both on the faculty at Harvard's Brigham and Women's Hospital, published "An Antiracist Agenda for Medicine" in the March 17, 2021 Boston Review. In this article, they go beyond standard calls for reparations in the direction of what they term "redress." They describe their algorithm for their hospital's electronic medical record, which, in their own words, provides "a preferential admission option for Black and Latinx heart failure patients to our specialty cardiology service" by specifically flagging for specialty cardiology care the medical records of patients with specific adverse cardiovascular risk factors, but only if they are non-white. Here, they advocate intentionally withholding medical care from white patients in favor of non-white patients — never mind the violence that this does to medical ethics, to the trust essential to the doctor-patient relationship, and to the principles of equal protection and non-discrimination enshrined in the Fourteenth Amendment and subsequent legislation.
Fixing Racism by Being Racist? Racism is, by one definition, "A belief that race is a fundamental determinant of human traits and capacities and that racial differences produce an inherent superiority of a particular race." History is replete with societies and cultures signing on to such thinking. [...] Here are several recent examples. Brigham and Women's Hospital in Boston, one of America's most prominent teaching hospitals, plans on offering "preferential care based on race" and "race explicit interventions" as part of its new "antiracist agenda for medicine." Such a program uses a "reparations framework" to allocate medical resources. Reparations means that those who were never slaveholders are paying money to those who were never slaves, over injustices a century and a half ago, committed by people who may have no connection to the current reparation's participants. In other words, using racism to combat racism. How ironic that the vision of the Mass General Brigham health system is dedication to delivering medical care that is, among other things, "equitable." Nothing promotes equity like a racist concept of "preferential care based on race."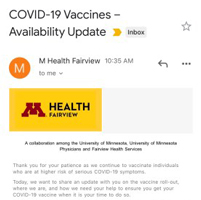 Is Race Discrimination Legal, Or Not? We live in a world in which race discrimination is ubiquitous. Universities, government agencies and all major employers systematically discriminate in favor of some races, and against others, under the banner of "affirmative action." This has been going on for 50 years. And yet, the 14th Amendment's guarantee of equal protection has been applied to ban race discrimination by public entities in a number of contexts. Similarly, the Civil Rights Act purports to bar race discrimination in employment and public accommodations. Such discrimination in employment is nevertheless pretty much universal; see, e.g., United Airlines' recent declaration of its intent to discriminate for just one of many thousands of instances. I have no idea what the operative legal principles are. Here is an example from contemporary America: race discrimination in the dissemination of covid vaccines. This email was sent out by the University of Minnesota Health Services in collaboration with the Fairview health care system. For legal purposes, I take it this is a public enterprise to which the 14th Amendment applies.
Harvard Medical School doctors advocate race-based discrimination to favor minorities, calling it 'medical restitution'. Ruling class members are starting to state out loud the heretofore tacit punitive anti-White discrimination they seek in order to atone for 'structural racism. Two professors at Harvard Medical School, Drs. Bram Wispelwey and Michelle Morse, have published an open call for racial discrimination in the delivery of medical services in the name of remedying "structural racism." The article, titled "An Antiracist Agenda for Medicine," has attracted criticism from conservatives, but so far no rebuke from Harvard Medical School or Brigham and Women's Hospital, the Harvard-affiliated hospital, where they practice. [...] In my view, openly racist views like this are appearing among members of the ruling class because they secretly hate ordinary Americans that are not claiming victim status. They have a need to see themselves as better than everyone else — except the victims, whom they plan to rescue, thereby justifying their high status. Their own personal goodness makes them very different from the irretrievably corrupted (systemically racist) masses of their own race.
Boston hospital set to offer 'preferential care based on race'. A Boston hospital says it will offer "preferential care based on race" and "race-explicit interventions" in an attempt to engage in an "antiracist agenda for medicine" based on critical race theory. A Boston Review article titled "An Antiracist Agenda for Medicine" lays out a plan from Brigham and Women's Hospital that implements a "reparations framework" for distributing medical resources in order to "comprehensively confront structural racism." "Together with a coalition of fellow practitioners and hospital leaders, we have developed what we hope will be a replicable pilot program for direct redress of many racial health care inequities," Harvard Medical School instructors Bram Wispelwey and Michelle Morse wrote in the article.
Boston doctors call for racially discriminating against patients in order to promote social justice. Two doctors in Boston have called for the allocation of medical resources to be done on the basis of race. Writing in the the Boston Review, they call for the implementation of standards that would show racial preference to patients. This would be in addition to federal reparations. Dr. Bram Wispelwey, and Dr. Michelle Morse, both of whom teach at Harvard Medical School, wrote that their mission was to "comprehensively confront structural racism." To go about this, they plan to enlist the tools of critical race theory (CRT). They slam what they call "colorblind policies," or the concept of equality for individuals of all races and ethnicities under the law, saying that it is not achieving their desired ends with enough speed.
Target pledges to spend $2B on products, services from Black-owned businesses. As part of its racial equity efforts, Target Corp. is pledging to sell products from more than 500 Black-owned brands by the end of 2025. That goal is part of a new $2 billion commitment the Minneapolis-based retailer is making to spend with Black-owned businesses over five years. The company did not provide specifics on how much it currently spends with these companies, but said the commitment represents a significant increase. Target currently carries 65-plus Black-owned brands, including several in its beauty department. In addition to diversifying its suppliers, Target said it will step up partnerships with other Black-owned companies in areas such as marketing, construction and facilities management. It also will launch a new program called Forward Founders to help Black entrepreneurs grow and scale their businesses for mass retail.
White males need not apply.
United Airlines roasted on social media for plan to choose pilots by race instead of ability. United Airlines joined other corporations and the US government in making identity characteristics a qualifier for employment. On Tuesday [4/6/2021], the company announced that: "Our flight deck should reflect the diverse group of people on board our planes every day. That's why we plan for 50% of the 5,000 pilots we train in the next decade to be women or people of color." And they invited those who are women or specifically not white to apply to train for work with United Airlines.
United Airlines seeks to train 5,000 pilots by 2030, and wants half of them to be women and people of color. After halting hiring during the coronavirus pandemic, United Airlines is planning to bring on hundreds of pilots and launching a flight school to prepare the next generation for the cockpit. Chicago-based United isn't alone: Frontier Airlines expects to hire 100 pilots this year, and several regional carriers have posted openings. Help wanted ads are an unusual sight after a year that saw airlines, faced with travel restrictions and empty airports, urge employees to take early retirement deals and voluntary leaves of absence. Thousands of workers faced furloughs until the federal government delivered additional aid to airlines keep them on the payroll. But as vaccination rates increase and travelers return to the skies, a pre-pandemic problem is coming back too: a potential shortage of pilots.
The Editor says...
When you travel by air, do you want the best available pilot to fly the plane, or the blackest available pilot?
Maybe Coke Should Be Cancelled for Its Nazi Past. Woke Coke seems less concerned with selling sugar water these days than selling Americans on the idea that whites are not worthy of respect or equal protection under the law. A few weeks ago, a whistleblower revealed Coca-Cola's discriminatory employee training program equating racism with "whiteness." In a series of online work assignments, Coke goes so far as to instruct its white employees to, "try to be less white." How does one "be less white"? Coke answers that explicitly: by being less "oppressive," "arrogant," "certain," "defensive," and "ignorant," and being more "humble" and "break[ing] with white solidarity." For Coke, judging people based on the color of their skin is not only tolerated but also company policy. If the company's "de-whitening" efforts weren't sufficient proof that Coca-Cola prioritizes a person's skin color over a person's talents and individual character, it drove the point home with a letter sent to its outside legal counsel demanding that law firms assign attorneys representing the Coca-Cola Company based, not upon the quality of lawyers' work, but rather upon lawyers' racial classification. Going forward, Coke will penalize and reduce its fees to law firms unable to hit certain racial quotas.
Michelle Malkin Rebukes 'The Left's War on Whites' in Scathing Exposé. Michelle Malkin exposed "the Left's war on whites" during her weekly Newsmax program, Sovereign Nation, which aired on Saturday [4/3/2021]. Malkin issued a scathing monologue where she laid out the truth that most conservative commentators are too frightened to admit. "In America 2021, our children are being indoctrinated from kindergarten through college to hate the historic American nation, its founders, and the majority race in this country," she said. [Video clip]
Vermont accused of discrimination for moving minorities to head of vaccine line. Vermont Gov. Phil Scott has come under fire for a newly announced statewide vaccination protocol moving minorities to the head of the line based solely on their race. The Republican governor announced Thursday that Black, Indigenous and people of color, known as BIPOC, may now sign up to be vaccinated against COVID-19, two weeks before the state plans to make available vaccines to anyone over the age of 16. "If you or anyone in your household identifies as Black, Indigenous, or a person of color (BIPOC), including anyone with Abenaki or other First Nations heritage, all household members who are 16 years or older can sign up to get a vaccine!" Mr. Scott tweeted.
A lifetime position on the Supreme Court is far too important to trivialize with race and gender quotas.
Psaki Reveals That Biden 'Absolutely Committed' To Installing A Black Woman On Supreme Court. During a press briefing, White House Press Secretary Jen Psaki revealed that Joe Biden is "absolutely" committed to nominating a Black woman to the Supreme Court. During his campaign, Biden promised to put a Black woman on the nation's highest court in order to appeal to the critical race theorists of the Democrat Party. The campaign promise was put in the spotlight as a reporter asked Psaki if the Biden team was considering giving favorable chances to political nominees of certain skin color. Biden's campaign pandering came back to the spotlight after he released his first federal judicial picks, a group of 11 attorneys that included multiple Black women.
The Editor says...
If the nominee must be black and must be female (how is that legal?) I'm rooting for either Sheila Jackson Lee or Maxine Waters. Imagine all the lively discussions that would ensue behind closed doors at the Scotus with either of those two clowns in the room.
Professor rips new discrimination on campus against 'whiteness'. Once upon a time, Aaron Kindsvatter relished the scholarly world, which he found to be a fascinating marketplace of ideas with liberal leanings. Those days are gone. Now, a tenured professor of counselor education at the University of Vermont, he finds himself in a surreal, totalitarian environment. Faculty and administrators want him exiled because he has taken a stand against what he saw as pigeonholing of people according to skin color. "Please stop reducing my personhood to a racial category in your teach-ins," he asked in the first of three videos he made this month that embroiled him in a campus fury. "Please stop telling me my views are harmful just because they are more moderate than yours."
California county funds welfare program that excludes whites and males. Something strange is going on out in Marin County, California. The elected officials there have instituted a pilot program offering a universal basic income in the form of a monthly stipend to a limited number of participants. That in and of itself isn't unique, as programs such as this have been tested in other places, such as Stockton, California. A couple of aspects of this program, however, really are unique. The most glaring among these is the fact that in order to qualify, participants have to be women. No males need apply. On top of that, the program is not available to white women, but only to women of color.
Oakland California Begins $500/Month Payments to Low Income Residents, White People Not Allowed. Oakland California is beginning a pilot for giving low income families $500/month with no strings attached for up to 600 families. The goal is to bridge the income disparity gap; however, poor white residents are not permitted to apply for the program.
Oakland to offer guaranteed income, but only for minority families. Officials in Oakland, California, announced the launch of a guaranteed income pilot program this week that will provide direct monthly payments to low-income minority families in the city. The initiative, which is one of the largest guaranteed income experiments to be conducted in the United States to date, aims to find out if providing regular payments low-income families will lift them from their economic plight. The program, called Oakland Resilient Families, will send 600 families in the city $500-a-month payments over the next 18 months as part of an effort to eliminate racial wealth inequalities in the city, which the program argues is the result of "ongoing systemic racism."
The Editor says...
[#1] Yes, widespread poverty could be the result of systemic racism. But it's more likely the result of drug use, illegitimate children, incompetent education, and a lifetime of bad decisions. [#2] Notice the misuse of the word family: It apparently means unmarried women and their illegitimate children, with no men in the picture. [#3] If white people are excluded from this program, that's "ongoing systemic racism" right there!
Theater Cancels Production Of 'Cinderella' Because Cast Was '98 Percent White'. The production of Rodgers and Hammerstein's "Cinderella" was canceled by the Chanhassen Dinner Theater due to the overwhelmingly white cast, according to a statement from the theater published Monday [3/22/2021]. Michael Brindisi, the artistic director, said that the reason for spiking the production was not due to the play itself — the cast was the issue. "It was 98 percent white. That doesn't work with what we're saying we're going to do," Brindisi said in an interview with Twin Cities Pioneer Press. The "Cinderella" cast said that despite their disappointments, they understand and respect the "very hard decision" the production team had to make, according to the Press.
Minnesota theater cancels production of Cinderella because the cast is 'too white'. A local Minnesota theater has cancelled a production of Roger & Hammerstein's Cinderella because its cast was 'too white'. Chanhassen Dinner Theatres was scheduled to stage the show later this year before its artistic director stepped in to slam its lack of diversity. 'It was 98 percent white,' the artistic director, Michael Brindisi, told the Pioneer Press on Wednesday after looking at who had been cast.
Whites need not apply.
Oakland launches guaranteed pay plan for low-income people of color. The mayor of Oakland, California, on Tuesday [3/23/2021] announced a privately funded program that will give low-income families of color $500 per month with no rules on how they can spend it. The program is the latest experiment with a "guaranteed income," an idea that giving poor people a set amount of money each month helps ease the stresses of poverty that often lead to poor health while hindering their ability to find full-time work.
What's the difference between this and racism?
Democrat Sens. Duckworth and Hirono Ready to Withhold Support for Biden Nominees Until Asian Picks Put Forward. Sen. Tammy Duckworth (D-IL) said she will vote "no" to confirm nominee Colin Kahl for the Pentagon's top policy chief until President Joe Biden appoints Asian Americans and Pacific Islanders (AAPI) as "nominees to vacant positions." When Duckworth asked White House staff about AAPI representation, she was told, "We're very proud of Vice President Harris," which Duckworth found "incredibly insulting." She said until AAPI nominees are appointed to vacant positions, the Office of Budget and Management (OMB), Federal Communications Commission (FCC), or other various cabinet positions, she will remain a "no" vote.
Duckworth, Hirono won't vote on 'non-diversity' Biden nominees over lack of Asian American representation. Sen. Tammy Duckworth, D-Ill., reversed course on vowing to object to President Joe Biden's nominees because of a lack of Asian American and Pacific Islander representation Tuesday evening after a spokesperson from her office said she had received assurances from the Biden administration. "Senator Duckworth appreciates the Biden administration's assurances that it will do much more to elevate AAPI voices and perspectives at the highest levels of government, including appointing an AAPI senior White House official to represent the community, secure the confirmation of AAPI appointments and advance policy proposals that are relevant and important to the community," said Ben Garmisa, a spokesperson for Duckworth. "Accordingly, she will not stand in the way of President Biden's qualified nominees — which will include more AAPI leaders," Garmisa said.
Report: Top Health Insurance Provider Tells Employees Not To Hire White Men. Cigna, one of the nation's largest health insurance providers, has allegedly told employees not to hire white men as part of the company's broader critical race theory campaign. According to an internal chat log obtained by the Washington Examiner, a hiring manager at Cigna dismissed a white candidate because he did not fulfill the company's diversity standards. In the chat, an employee suggested the company interview a man with extensive experience for an open position. The hiring manager allegedly told the employee that the man could not be interviewed because he is white. In a separate chat log, a hiring manager dismissed another candidate who he assumed to be white. The candidate was a racial minority. After learning of the candidate's accurate skin color — and little else — the hiring manager allegedly reversed course and hired the candidate. Employees were also forced to undergo training wherein they were taught that white people have "white privilege," straight men have "gender privilege," and Christians have "religious privilege."
Update:
Cigna Responds to Claims That It Excludes White Men in the Hiring Process. According to an explosive report from The Washington Examiner, one of the nation's largest health insurance providers actively discriminates against white males in hiring and pushes Marxist critical race theory on its staff. Cigna reportedly urges staff to check various kinds of "privilege," to avoid using terms like "Wives/husband," and to read books that claim America is systemically racist. In a statement to PJ Media, Cigna condemned racism and discrimination and insisted its positions were open to qualified applicants, regardless of race. The company did not explicitly deny using racial quotas or address claims about its training materials.
The mainstream media's anti-White racism is escalating. [Scroll down] The media's racial obsession is a way to maintain the Democrats' political power, by silencing the opposition, and to drive ratings. Eventually, though, the real-world consequences are going to be disastrous. If our children are consistently told that Whites are not just racist, but akin to the KKK or even Nazis, the means that waging war against them is within the pale of moral behavior. I am deeply concerned that the media will incite someone — or a group of someones — to take up arms in the imaginary war against "White supremacists" and start targeting people based upon their skin color.
Farmers react to billions in COVID-19 relief bill for Black farmers: 'Where did common sense go?'. The $1.9 trillion coronavirus relief package that President Biden is set to sign includes billions of dollars in debt relief and other assistance for farmers of color. But the incorporation of race-based criteria for that relief is leaving other farmers scratching their heads. "Just because you're a certain color you don't have to pay back money? I don't care if you're purple, black, yellow, white, gray, if you borrow money you have to pay it back," Kelly Griggs, who runs her 1,800-acre farm with her husband in Humboldt, Tennessee, told Fox News in an interview.
Law School Deans Chastise Student Body as Too White. The deans of an Ohio law school chastised their students for being too white after the release of a study ranking "the whitest law schools in America," emails obtained by the Washington Free Beacon show. Two deans at Case Western Reserve University Law School emailed students Tuesday to alert them of "The Whitest Law Schools in America 2021," a study that rates schools based on how "inappropriately white" their student bodies are. Although Case Western's law school ranked 144 out of 200, making it the second least-white law school in the state of Ohio, deans Jessica Berg and Michael Scharf told students they should not be satisfied. "First, we should not be satisfied with the diversity of our student body, even on the measures used in this study," Berg and Scharf said. "It does not mean we have an equitable number of students who identify as Black, Native American, Latinx, Asian American, Pacific Islander, or other under-represented groups."
The Editor says...
The next time I'm arrested, I'll sit there and rot in the county jail until I can find a lawyer who's an LGBTQWERTY+ Native American, Latinx, Asian American, and/or Pacific Islander.
White Cincinnati police sergeant sues city, accuses department of hiring 'discrimination'. A Cincinnati police sergeant is suing the city, alleging discrimination against a white officer seeking a promotion. In response, the federal government may reopen a consent decree that has informed the department's hiring policy for roughly 40 years. But Cincinnati Mayor John Cranley is fighting the potential change to that hiring policy, saying that, without the decree, Cincinnati Police Chief Eliot Isaac may have never been hired in the first place. Tom Burns, an attorney representing Erik Kohler, says his client was initially passed over for a promotion to sergeant in July because of his race. "He was bypassed for promotion by a racial minority simply because Erik Kohler is white," Burns said. Kohler was later promoted to sergeant in September.
Have You Tried Not Being White? Are you now, or have you ever been, a white person? I ask this not out of personal curiosity but for the betterment of American society. Everyone with a sense of justice knows that the greatest threat our country faces comes from its own white population. This message now saturates our culture. We hear it from the president's bully pulpit. It is everywhere in the media and it is an increasingly inescapable feature of school and workplace life. Coca-Cola gave a useful and concise formulation to this plague in their now required "sensitivity" training for employees. The snappy message: "try to be less white." Now, what is a white person supposed to do with this information? How can one be other than what one is? Coca-Cola suggests being "less oppressive," "less arrogant," "less certain," "less ignorant." Whites should, instead, "listen" and "believe." But this does little to clarify the situation. Listen to what? Believe what? Arrogant how? Oppressive how? "Be less certain" of what?
Pentagon's 'anti-extremism' cull risks converting U.S. military 'into a left-wing Praetorian Guard'. The Pentagon is trying to root out political "extremism" in the ranks, but its definition is so broad and blurry that some retired officers and military analysts fear it could inadvertently sweep up traditional Catholics, Republicans and others who aren't racist or violent but simply embrace conservative, pro-life politics. The potential unintended consequences of the Defense Department's anti-extremism push, critics say, could be far-reaching and in a worst-case scenario could hurt military recruiting in the long run if religious Americans or those on the political right feel unwelcome in the ranks. The Biden administration has been doing a full court press to root out extremists in the security forces, spurred largely by the number of active-service members, veteran soldiers and members of law enforcement in the clashes at the U.S. Capitol on Jan. 6.
America Has Opted for the Same Lie Sold by Stalin, Mao and Hitler. Consider how we are now being told that all white people are, by definition, racial bigots solely by virtue of their skin color. And we are also now informed that all white people as a group are to be considered white supremacists who are committed to the perpetuation of an only recently discovered systemic racism that, in turn, was cleverly institutionalized by a Constitution drafted by white slave owners. No longer is it defensible to assert that those men sought to create a unique nation where all men and women should be treated as equally under our laws as the God who created us all views them to be. Instead, we are told that if we ever hope to arrive at the utopian society the "enlightened" elites claim to be achievable, white people just need to apologize for the "privileges" they have "usurped," make reparations for the damages they have inflicted and then just get out of the way ... or else.
Michigan professor says he's been 'systematically discriminated against for 40 years for being a white man'. A Michigan professor claims he has been 'systematically discriminated against for 40 years for being a white man', in a letter demanding an apology from his university over their new anti-racism policies. Jeffrey Burl wrote to his employers, Michigan Technological University, after they passed a resolution criticizing 'anti-Blackness and systemic racism' in both the college and society. In his letter Burl, who is an associate professor of electrical and computer engineering, writes: 'I find this resolution particularly offensive because I, as a white male, have been systematically discriminated against for 40 years.
Boston Public Schools Cancel Advanced Courses: Too Many Students Are White. The Boston Public School System is suspending enrollment in their Advanced Work Classes for one year due to concerns over racial inequity. The advanced program provides high-achieving students in grades 4-6 a more rigorous academic program, with additional coursework and a deeper analysis of study topics. According to Boston's school district, "more than 70 percent of students enrolled in the program were white and Asian, even though nearly 80 percent of all Boston public school students are Hispanic and Black," GBH News reports. In an effort to be "anti-racist," Superintendent Brenda Cassellius decided to discontinue enrollment in the program to take a closer look at the racial makeup of its participants.
Big Business Caters to a New Generation of Racist Customers. There shouldn't be any confusion about what big businesses everywhere mean when they tout "diversity and inclusion." But to clear up any potential misunderstanding that may exist, consider the following incident, recounted by Stephen R. Soukup in his new book, The Dictatorship of Woke Capital. In 2019, as Rupert Darwell writes at The Epoch Times, the general counsel for the National Center for Public Policy Research, Justin Danhof, "tabled a shareholder proposal at Amazon's annual meeting." It read, "Diversity in board composition is best achieved through highly qualified candidates with a wide range of skills, experience, beliefs, and board independence from management." For his trouble, he was "booed and heckled throughout his presentation" and later accused by a representative for Arjuna Capital of "trying to protect white males." That's what "diversity and inclusion" really means in the business world today. The phrase is little more than a euphemism to justify the exclusion of white men.
Cornell charges students $1,800 for racially-segregated rock climbing class, frantically scrubs website when confronted. Cornell University altered the course description of a racially-segregated physical education course offered to students during the Spring 2021 academic semester after Campus Reform reached out for comment. The class, entitled "BIPOC Rock Climbing," was originally restricted to "people who identify as Black, Indigenous, Latinx, Asian, or other people of color," before its description was edited to state that the class is "designed to enable Black, Indigenous, Latinx, Asian, or other people of color underrepresented in the sport of rock climbing to learn the sport and to feel included and supported." The course's original description, noting the class's race-based enrollment restriction, is still visible, courtesy of an internet archive.
LinkedIn Removes Racist 'Be Less White' Diversity Training, Releases Statement Following Backlash. Social media firm LinkedIn has removed a racist diversity training program that encouraged participants to "be less white." The controversial training program, called "Confronting Racism, with Robin DiAngelo," was first highlighted in the media after Coca-Cola employee whistleblowers leaked some of the slides. While the company has contended that the program was not mandatory for employees, political YouTuber Karlyn Borysenko, who broke the story, says at least one employee has released an email backing up the claim that the training was required. "The Confronting Racism course featuring Robin DiAngelo is no longer available in our course library, at the request of the 3rd party content provider we licensed this content from," said LinkedIn vice president of corporate communications Nicole Leverich, reported Newsweek on Tuesday [2/23/2021].
The Resurrection of the Third Reich in Amerika. Yes, the Third Reich is undergoing resurrection, but not by white supremacists. It is the white liberals in the Democrat Party and their presstitute propaganda machine — New York Times, CNN, NPR, Twitter, Facebook, YouTube, and the rest of the presstitute whores — that comprise the new Nazi movement. The only difference is that this time the target is white gentiles. The United States Holocaust Memorial Museum says that "the goal of Nazi propaganda was to demonize Jews and to create a climate of hostility and indifference toward their plight." In actual fact, the purpose was more severe. The purpose was to deprive Jews of their dignity and the protection of law. This has now happened to white gentiles in the United States. For example, as I reported earlier today, Jodi Shaw, a white female staff member of Smith College, in former times a prestigeous women's college, now an anti-white propaganda institution, resigned, accusing the college of creating a "racially hostile environment" for white people.
Biden's COVID relief bill is chock full of anti-white reverse racism. Polls show most Americans support the federal COVID-19 relief bill. But if they knew what's in it, they might feel differently. The bill is an affront to the American ideal of equal treatment under law — and a slap in the face for people who want everyone helped fairly. Section 1005 of the bill offers "socially disadvantaged" farm owners total debt forgiveness of up to hundreds of thousands of no-strings dollars per farmer. But white men needn't apply. The bill's definition of "socially disadvantaged," drawn from elsewhere in federal law, limits aid to racial groups who faced historic discrimination. Newly elected Sen. Raphael Warnock (D-Ga.), who proposed the measure, says it will make up for years of discrimination. Sorry, senator, but this is discrimination.
The Imaginary Menace Behind Everything Wrong In America. Attorney general nominee Merrick Garland announced his chief priority to the Senate Monday. "If confirmed," he said, "I will supervise the prosecution of white supremacists and others who stormed the Capitol on 6 January — a heinous attack that sought to disrupt a cornerstone of our democracy." He also insisted America faces a "more dangerous period than we faced in Oklahoma City" due to the "white supremacist" threat. [...] You would think that Klansmen are roaming American streets and terrorizing ordinary citizens on a daily basis. You have to worry about a skinhead gang beating you to a bloody pulp every time you go to the supermarket. That's how this problem is portrayed. According to liberals, terrorism, violence, and crime stem from this pasty-faced menace. This is the only problem that warrants law enforcement's attention. Anyone with a shred of common sense can see that this is plainly ridiculous. There are, of course, some nutty right-wing extremists out there, but they weren't the ones burning down cities or laying siege to the entire Pacific Northwest. That was Antifa and Black Lives Matter.
'Divisive and offensive' race theory training [is being] forced on San Diego County healthcare workers. Government employees in San Diego County are being forced to undergo lectures that claim only white people can be racist, according to an employee who says the training is taking away from their efforts to battle COVID-19 and a homelessness epidemic. The Health & Human Services Agency required employees to spend six hours watching the online racism course, a training participant told the Washington Examiner. Critical Race Theory classes taught participants "Racism is a WHITE" problem, and, "Only white people can be racist." The title of the course is 'Power and Privilege.' "This training is lumping people into groups, and it has not explained how some (minority) individuals have succeeded in this systemically racist country — like Barack Obama, NBA/NFL players who make millions, Dr. Ben Carson, Oprah, and Whoopi Goldberg, to name a few," the employee said. The Washington Examiner is not identifying the employee, who asked to remain anonymous over fears of retaliation.
Equality Act Expected to Advance in Congress This Week: 'It Treats People of Faith as Second-Class Citizens'. The Equality Act is expected to advance in Congress this week. It's a controversial bill designed to overhaul the nation's civil rights laws to include LGBT Americans, but many worry it will trample on the rights of women and people of faith. Under the Equality Act, disagreement is considered discrimination. It includes gay marriage, biological males competing in women's sports, and doctors performing procedures — like gender reassignments — that go against their conscience.
Whistleblower: Coca-Cola Forces Employees to Complete Online Training Telling Them to "Try to be Less White". A whistleblower leaked shocking images of Coca-Cola's online training modules instructing employees to "try to be less white."
NYC government's 'Black Lives Matter' pavement paint job doesn't give pro-Trump group right to paint its own message, says judge. Mayor de Blasio's decision to paint "Black Lives Matter" on public streets doesn't mean a pro-Donald Trump group can post its own message on the pavement, a judge ruled Thursday [2/18/2021]. Manhattan Federal Judge Lorna Schofield ruled that "Black Lives Matter" painted on Fifth Ave. outside Trump Tower and other streets over the summer constituted speech by government — and that the city's decision to paint those words did not give others the right to paint messages of their own.
Whites need not apply.
URI establishes scholarship for Black pharmacy students. The University of Rhode Island has received a $50,000 gift from an alumnus to establish a scholarship for qualified Black students or for students from other underrepresented populations to study to become pharmacists. Fewer than 5% of all pharmacists are Black, the university said in a statement this week, citing information from Pharmacy Times.
Biden Justice Department Pick Opposed Enforcing Civil Rights Laws Against Blacks. The incoming Justice Department civil rights chief has a history of opposing civil rights prosecutions of black defendants, opposing a complaint against an African-American Democratic leader who discriminated against white voters. As an NAACP lawyer, Kristen Clarke lambasted the Justice Department for bringing a complaint against an African-American party boss in Mississippi who worked to suppress white votes, according to a federal probe. On a separate occasion, a federal oversight commission investigated claims that Clarke worked with allies at the Justice Department to quash the prosecution of the Black Panthers who menaced voters outside a Philadelphia precinct in 2008. Clarke's nomination to an influential Justice Department post will test the Biden administration's commitment to "equity-based" policy making, which purportedly promotes racial justice by giving special attention to marginalized groups. Clarke's professional history suggests a staunchly ideological approach to civil rights enforcement where touchstone civil rights laws are applied to advantage some demographic groups but not others.
We Need Civil Rights for All, Not Just a Select Few. The Civil Rights Act of 1964 and the Voting Rights Act of 1965 are probably two of the most important — and successful — pieces of legislation ever passed by Congress. They outlawed racial discrimination in all aspects of our society, from education and employment to housing and voting, and have been very successful in achieving that objective with only rare exceptions. And they were written — and intended — to protect all Americans, not just a select few, from being discriminated against based on the color of their skin. Unfortunately, President Joe Biden's pick to be the new head of the U.S. Justice Department's Civil Rights Division, Kristen Clarke, has made troubling comments suggesting she does not believe these laws should be enforced on behalf of all Americans.
Southern Poverty Law Center Stops Monitoring Black Hate Groups Because of 'Equity'. The Southern Poverty Law Center claims it's dedicated to fighting hate. But some things are more important than fighting hate. Like "equity". In the name of equity, the SPLC announced that it's shutting down its black nationalist hate groups category like the Nation of Islam. After "doing the internal work of anti-racism", the SPLC will no longer list black racist hate groups because "the hate is not equal". Even racism requires its own equity. The SPLC's move dismantles the last remaining shred of credibility of the organization, but it also comes after Democrat politicians and activists, including Senator Cory Booker and Kamala Harris pressured the FBI to stop monitoring black nationalist hate groups before several murderous antisemitic attacks by members of the Black Hebrew Israelite hate group.
Coca Cola Abandons American Ideas. Now that we have entered the new world of diversity, inclusion and equity, the acronym DIE aptly applies. While schools have long been involved in these activities, businesses have now voluntarily adopted or been forced to accept this left-wing ideology as well. Consequently, Coca-Cola has sent out notices to law firms demanding that the company will "require diversity among law firms who bill it for work in the United States and reduce payments if they do not comply." Because of pressure from the Marxist, anti-American Black Lives Matter, many Fortune 500 companies have pledged to address alleged racial inequality more aggressively. In fact, there is almost a competition among firms to see who gets the highest score of diversity and inclusion.
A Tsunami of Hate. [Scroll down] The claim that "systemic racism touches every facet of American life" is itself a racist lie, whose evident target is white people, since according to the woke, "people of color" can't be racist. Not surprisingly, one of Biden's first week initiatives was a systemically racist plan to provide financial assistance to small businesses whose owners were black, Asian, Hispanic, and Native American. Only whites were excluded. But Asian Americans as an ethnic group have higher incomes than white Americans. So what rationale for this policy is there but anti-white racism?
In push for woke 'equity,' Biden abandons equality. President Biden's embrace of utter nonsense pushed by the "woke" continued with last week's executive orders to "advance racial equity" and "root out systemic racism in housing and criminal justice." The "equity" approach assumes that any outcome that doesn't meet inane racial quotas is the result of bias. It is, in fact, systematically racist. The four executive orders Biden signed Tuesday don't seem that earth-shattering. He directed the Department of Housing and Urban Development "to take steps necessary to redress racially discriminatory federal housing policies," told the Justice Department to stop using private prisons, recommitted the feds to honoring tribal sovereignty and vowed to combat "racism, xenophobia and intolerance against Asian Americans and Pacific Islanders." But, as the White House put it, his many "equity" orders set up "a whole-of-government initiative to address racial equity and support underserved communities, and redress systemic racism in federal policies, laws and programs." He'll also require "all agencies to take affirmative steps to promote diversity, equity and inclusion."
The Editor says...
If you're a heterosexual white male, you know who "inclusion" includes — and it isn't you!
Seattle Councilmember Still Working On A Plan To Layoff Police Officers By Race. Back in July, Seattle City Councilmember Lisa Herbold got into an argument with now-former Police Chief Carmen Best about defunding the police. Chief Best was pointing out, correctly it turns out, that cutting staff would also result in firing much of the most diverse crop of new officers the city had ever hired. That's because under union rules layoffs happen on a last in, first out basis. At the time, Councilmember Herbold suggested a novel solution to that problem: Lay people off based on race rather than time on the job.
Biden Pushes Idea of Discriminating Based on Race, Sex in Stimulus Plan. In detailing his plan for a multitrillion-dollar relief package to address the COVID-19 pandemic and keep the economy afloat, President-elect Joe Biden said he would prioritize everyone except for white, male-owned businesses. "Our focus will be on the small businesses on Main Street that aren't wealthy and well-connected and that are facing real economic hardships through no fault of their own," he said during a news conference in Wilmington, Delaware. "Our priority will be on Black, Latino, Asian, and Native American-owned small businesses, and women-owned businesses, finally having equal access to the resources needed to reopen and rebuild," he continued. "We will make a concerted effort to help small businesses in low-income communities, in big cities, small towns, and rural communities that have faced systemic barriers to relief.
Something missing? Biden's priorities to re-open 'Black, Latino, Asian, Native American, women-owned businesses'. Joe Biden plans to help small businesses hard-hit by COVID with federal funds, but apparently only if those establishments fit within the parameters of identity politics, a philosophy which itself is a priority for Democrats. Reading off a teleprompter, Biden explained that "Our focus will be on small businesses on Main Street that aren't wealthy and well connected that are facing real economic hardships through no fault of their own. Our priority will be Black, Latino, Asian, and Native American-owned small businesses, women-owned businesses, and finally having equal access to resources needed to reopen and rebuild. "But we're gonna make a concerted effort to help small businesses in low-income communities, in big cities, small towns, rural communities that have faced systemic barriers to relief," he added in a video clip on the Biden-Harris Presidential Transition Twitter feed.
CDC: White Lives Matter Less. I've been pointing out for some time now that the acronym for the fashionable keywords Diversity-Inclusion-Equity is DIE. But I didn't mean for the federal Centers for Disease Control to take DIE seriously when drawing up their Covid vaccine prioritization philosophy. Yet when the CDC's panel got together last month, they recommended that while it would save more lives to make the 53 million Americans of age 65 and over the second-highest priority for inoculation after health-care workers, "equity" instead demands that 87 million "essential workers" go ahead of the old, because they aren't as white.
San Francisco will give $5,000 to help your small business, unless you're a white guy. No check for the privileged. At least that's the plan in San Francisco where they're passing out $5k grants to small businesses, but making sure only the right kind of people get the relief. They say they are using this as an opportunity to advance the city's "equity goals." In a press release from the mayor, she says they are prioritizing "minority-owned businesses including women-owned, immigrant-owned, people of color-owned businesses," with the money. For those unfamiliar with history, this is a practice formerly known as "discrimination." Maybe after these white male business owners watch their livelihoods crumble to nothing around them, they can take some time to examine their privilege.
San Francisco Proves It's In Full Societal Regression by Embracing Pre-Civil Rights Era Methods. San Francisco apparently forgot that we in America judge people by the content of their character, not by the color of their skin, but the radical left that has taken over the city has long abandoned the idea that virtues we've learned over the past decades mean anything. According to a press release by San Francisco Mayor London Breed, money is to be distributed to struggling businesses across the city. The catch? Priority will be given to businesses according to race and sex.
He isn't kidding. This isn't satire.
The Votes of Black Americans Should Count Twice. Black votes in this country are worth less than white votes. Joe Biden won the Electoral College because Black voters in Atlanta, Detroit, Milwaukee, and Philadelphia turned out in significant numbers. But even with overwhelming Black support — 94 percent of Detroit voted for Biden! — the outcomes in Georgia, Michigan, Wisconsin, and Pennsylvania were worryingly close. One core problem is the Electoral College. Wyoming, which has just 580,000 residents and is 93 percent white, gets three electors because of its two senators and one representative in the House. By comparison, Georgia's Fifth Congressional District — which includes Atlanta, has 710,000 residents, and is 58 percent Black — has no dedicated electors or senators and can only occasionally overcome the mostly white and conservative votes from elsewhere in the state. This devaluation of Black votes allows our political system to ignore Black lives, and the consequences are devastating.
The Editor says...
Incremental changes made by the left can only go in one direction. If black voters are allowed to vote twice next year, they will never be restricted to a single vote ever again. And as soon as the rest of the country gets used to the idea, the black voters will be allowed to vote three times each. Then four. Then, why not ten? After that, why not allow only blacks to vote?
25 States Pledge To De-Prioritize White People For Vaccine Treatment. States have considered an important component to their vaccine plans "racial equity" but equity isn't exactly what is being rolled out. [...] Equity as defined by Oxford is "the quality of being fair and impartial." Prioritizing certain groups over others on the basis of race is not exactly fair or impartial. Perhaps some racial minorities contract the virus at a higher rate. However the common denominator is likely not their race, but their economic stance. As we know blacks and Hispanics are disproportionately in poverty as compared to whites and this likely contributes a higher likelihood of becoming sick unfortunately. So rather than prioritize people based on their skin color, would it not make more sense to prioritize those in poverty regardless of their race?
Every single US state is being advised to consider ethnic minorities as critical groups for vaccination. Every US state has been advised to consider ethnic minorities as a critical and vulnerable group in their vaccine distribution plans, according to Centers for Disease Control guidance. As a result, half of the nation's states have outlined plans that now prioritize black, Hispanic and indigenous residents over white people in some way, as the vaccine rollout begins. According to our analysis, 25 states have committed to a focus on racial and ethnic communities as they decided which groups should be prioritized in receiving a coronavirus vaccine dose.
Systemic discrimination? In the U.S.? There is systemic discrimination, racism and bigotry in this country today. It is directed against small business owners, conservatives, straight, white "cis-males," Christians, the middle class, firearm owners, traditionalists, those inhabiting flyover country, and Trump supporters. (Reverse intersectionality ensures that those who are members of more than one of these groups face increasing vitriol.) In fact, the only ones not targeted by structural, systemic discrimination and hate speech are leftist elites, certain of their favored identity groups, Antifa, and members of the Black Lives Matter movement (BLM). Don't believe it? Think of Affirmative Action, race-based admissions policies, IRS harassment of conservative groups and individuals, Hollywood's near ubiquitous portrayal of white businessmen and Christians as deeply flawed or downright evil, and late-night "comedians" ceaseless (and humorless) attacks on all things Trumpian/Republican. For starters.
White males are no longer considered. Isn't that racial discrimination?
LA Times editor to Feinstein: Be "selfless" so Newsom doesn't have to choose between a Black or Latino replacement for Harris. "Selfless," in this case, means "get out of our way so we can indulge our identity-politics wishes." This plea from LA Times editor Erika Smith coincidentally comes at the same time as today's big New Yorker piece about Dianne Feinstein's alleged mental-acuity decline. One has to wonder whether this might be motivating the Capitol Hill sources who talked with Jane Mayer, too. [...] The problem, as Smith sees it, is that Gavin Newsom has to pick someone to fill out Kamala Harris' remaining Senate term. The opening has created a food fight between the two key ethnic demographics of the Democratic Party in California. Black party leaders see the Harris seat as theirs, while Latino leaders have grown tired of waiting for their turn at California's Senate representation.
Cornell Requires Its White Students to Get Vaccinated. If you're a student at Cornell, you'll have to take a vaccine. Unless you're black. Or Asian. Or Hispanic. Or American Indian. Or have any other kind of skin that isn't white.
Cornell vaccine mandate only applies to white students. One of the amazing things we learned in 2020 is that the novel coronavirus can't infect people who attend Black Lives Matter protests. Science! Apparently the seasonal influenza is even more considerate, at least at Cornell University. The Ivy League school offers a race-based exemption from its new mandatory flu shot, requiring only white students to get immunized before returning to the area.
Facebook 'de-prioritizes' removing slurs against white people, men and Americans and will police them less aggressively than anti-black hate speech. Facebook has de-prioritized removing hateful slurs against white people, men and Americans, instead focusing on blocking slurs against black people, gays, Jews and other groups. The change on Thursday [12/3/2020] in Facebook's algorithm is a shift from the social network's 'race-blind' system that previously removed anti-white insults as well posts such as 'men are dumb' or 'Americans are stupid.' The changes are to the social network's automated systems, meaning hateful posts about whites, men or Americans that are reported by users can still be deleted if they violate Facebook policies.
California Secedes from Black America. [Scroll down] Proposition 16, which would have allowed for favoritism of nonwhites in public employment, education, and contracting, lost by a wide margin. Yet the backers of Prop. 16 outspent the opposition $30 million to $2 million. And what a list of backers it was! The California Democrat Party and every Democrat officeholder in the state championed Prop. 16, as did every major newspaper. Every leftist "social justice" organization — the ACLU, NAACP, NOW, the ADL, BLM, even the Sierra Club and the PTA — backed Prop. 16. So did the Chamber of Commerce, Twitter, Facebook, Netflix, Microsoft, Uber, Dropbox, Reddit, Lyft, Yelp, AirBnB, Instacart, Gap, Levi's, United Airlines, Wells Fargo, the 49ers, the Giants, and the Oakland A's. Soros backed it. The Chan/Zuckerberg Initiative backed it. Ava DuVernay backed it. Kaiser, Blue Shield, and PG&E backed it. All those heavy hitters. All that money, and in a "blue state" no less. And yet... it wasn't even close. The big bucks, the big endorsements, the push from big business and big tech, came to nothing.
Nasdaq Requirements Erase Women, Requires Companies to Hire Director Who 'Self-Identifies as Female'. Nasdaq has moved to erase the reality of biological women in its quest to increase diversity in its thousands of listed companies, requiring them to include a director who only "self-identifies as female." In a Monday [12/1/2020] press release, Nasdaq announced that it had "filed a proposal with the U.S. Securities and Exchange Commission (SEC) to adopt new listing rules related to board diversity and disclosure."
Nasdaq Seeks Mandatory Board Diversity for Listed Companies. Nasdaq is pushing for the more than 3,000 companies listed on its U.S. stock exchange to make their boardrooms less overwhelmingly male and white by hiring directors that better reflect the country's diverse population. The company filed a proposal Tuesday with the Securities and Exchange Commission that, if approved, would require all companies on the exchange to disclose the breakdowns of their boards by race, gender and sexual orientation. Companies that do not comply could be delisted, or kicked off the exchange.
Why Your Organization Should Not Do Diversity Training. If employers, college presidents, government administrators, military commanders, and other institutional and organizational officials want to conduct diversity training, including diversity training rooted in Critical Race Theory and other aspects of Critical Social Justice Theory, that's their business. We live in a free country (for now), and as such, they should be free to choose the kind of training that they want to subject their employees and members to — at least so long as they're not doing so on a publicly accountable dime or engaging in illegal acts like discrimination (best of luck implementing Critical Race Theory or Critical Social Justice without discriminating, but anyway). My stance on Critical Social Justice and its specific Theories has always been the same: like any ideology or system of faith, people are welcome to implement it if they want, within the usual limits, but they should know what they're getting into if they choose to do so. I don't think these Theories or the "diversity" training that's based upon them represent themselves honestly, so here's a brief warning to those who wish to implement it, to let them know what they're getting into and can step off into the abyss with their eyes open, rather than going in blind.
Trump has Reshaped American Politics Forever. [Scroll down] Incredibly, progressive Democrats clearly regard certain individual demographic groups as evil and undeserving, rather than viewing us all as equal citizens. Example: Upper middle-class straight white males of European descent fall into their persona non grata category. President Trump had no such "unacceptable" categories of Americans. He intended to help everyone. And he did. His accomplishments were both obvious and humiliating to progressives. President Trump succeeded in helping the country in virtually every way, in stark contrast to the stagnation and limited progress we had to endure under Obama. Therefore, the progressive media invented racist meanings where there were none, such as saying MAGA was code-speak for "Make America White Again." The liberal media knew that wasn't true, but they had no other tools to use against him to blunt his public success and popularity.
Small business owner challenges Oregon's race-based Covid relief program. Earlier this year, in the response to the coronavirus pandemic, the Oregon Legislature established a $62 million relief fund that's only available to individuals and business owners who "self-identify as Black." These public funds are not available to Hispanic, Asian-American, Native American, or White business owners or individuals. This blatant racially discriminatory scheme cried out to be challenged as unconstitutional. Sure enough, it is now being challenged. The plaintiff is Great Northern Resources, Inc., a small family-owned logging business that has suffered financially because of the pandemic. Its owner is white, and thus the business is ineligible to receive any of the public funds granted by the Oregon Legislature.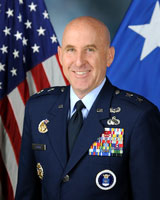 USAF Recruiting Service Commander Declares Reducing the Number of White Male Pilots A "War-Fighting Imperative". Russia and China deploying next generation technology in their armed forces (hypersonic flight and fighter jets flown via artificial intelligence) is of no concern to our top brass in the U.S. Air Force, because we have a secret ingredient we've barely begun to tap into and utilize for undeniably advantageous military superiority. Do you know what it is? Maj. Gen. Ed Thomas, [left], the commander of Air Force Recruiting Service, will now tell you. But, spoiler alert, it's diversity and embracing the goal of replacing white men — who constitute nearly 9 of every 10 of our Air Force Pilots — with non-whites.
Blind Horse. Bret Weinstein had his life threatened at Evergreen College for refusing to declare his inherent racism, his Unity 2020 Twitter account was suspended without explanation — and now this.
Visiting professor claims Oberlin wouldn't hire her fulltime because she's white: lawsuit. Oberlin College is facing another lawsuit. This time, a former dance professor alleges the private, Ohio-based institution would not hire her for a tenure-track position because she is a white heterosexual, according to several news reports on the lawsuit. Alice Blumenfeld, a visiting assistant professor of dance between 2018 and 2020, was denied a fair opportunity for a tenured position over her race and sexual orientation, alleges the lawsuit, filed in September.
University of Minnesota lecture features 12 step recovery program for whiteness. The University of Minnesota's School of Social Work hosted a virtual lecture recently that aimed to teach white people about their white supremacy and how to counteract it by using a "12 step" program mirrored after the one used by people in Alcoholics Anonymous. The two-hour "Recovery from White Conditioning" lecture, hosted through the school's Center for Practice Transformation, featured therapist Cristina Combs. Combs is a University of Minnesota alumnus who created the white supremacy 12 step program "after years of struggling to navigate the role and presence of whiteness in her personal, academic, and professional journeys," according to the university's website. The university's website indicates the lecture can earn viewers continuing education units.
Man fired for being 'too American,' old, wearing khakis: EEOC complaint. A former marketing executive was chastised by his bosses for being "too American," wearing khaki pants to work and being too old, according to an Equal Employment Opportunity Commission complaint. Gray Hollett, the former chief marketing officer at Boyden World Corporation, a high-profile consulting and talent acquisition firm, claims he was unlawfully canned in January after he complained about the discriminatory remarks, states the complaint, filed Thursday [10/1/2020]. "It was very upsetting and the kind of the way it happened was quite disconcerting," Hollett, 61, told The [New York] Post of his termination.
Forced Denunciations And 'Sensitivity Training' Mimic Communist Brainwashing Tactics. Agitators for critical race theory have fanned out of academia into mind-hacking workaday Americans, trying to convince them the nation is unredeemably evil. They doggedly attempted to do this to federal employees as well as all big corporations. Christopher Rufo, a research fellow with the Discovery Institute, has described how trainers for critical race theory (CRT) in the federal government are defying President Trump's executive order to cancel their race-baiting training. In the State Department, for example, they are pushing a "'21-Day Racial Equity Habit Building Challenge,' in which staff are asked to recite a racial equity 'pledge,' 'select a different minority group daily,' and engage in a '10-15 minute challenge' in 'pursuit of racial equity.'"
California governor signs corporate boardroom diversity law. Hundreds of California-based corporations must have directors from racial or sexual minorities on their boards under a first-in-the-nation bill signed Wednesday by Gov. Gavin Newsom. The diversity legislation is similar to a 2018 measure that required boardrooms to have at least one female director by 2019. Like that measure, it could face court challenges from conservative groups who view it as a discriminatory quota. Supporters evoked both the coronavirus pandemic that is disproportionately affecting minorities and weeks of unrest and calls for inclusion that followed the slaying of George Floyd in May in the custody of Minneapolis police.
Trump's ban on diversity training sends tech companies scrambling. The country's top tech companies are mobilizing against President Trump's executive order barring federal contractors from offering diversity and inclusion training to their employees. The executive order could force tech companies with large federal government contracts — including Google, Amazon and Microsoft — to decide between continuing to take hundreds of millions of dollars or pursuing efforts to educate their workforce on issues such as systemic racism and unconscious bias.
Trump Expands Ban on Federal Funding of 'Critical Race Theory'. On Tuesday, September 22, President Donald Trump signed a second executive order tackling the spread of 'Critical Race Theory' ideology within federal institutions. The first of the two EOs, signed on September 4, takes aim at federal employee sensitivity trainings using a 'Critical Race Theory' curriculum; the President issued the initial EO forbidding federal funding of such trainings after journalist Christopher Rufo exposed the role of CRT in workshops at federal nuclear labs — wherein White male employees were reportedly taught that "virtually all White people contribute to racism" simply by dint of their whiteness.
Joe Biden's Supreme Court shortlist: White people need not apply. The United States is a diverse nation, and there's nothing wrong with wanting our government to include people from all walks of life and perspectives. But in fashion sadly typical for today's Democratic Party, Joe Biden just responded to the death of Supreme Court Justice Ruth Bader Ginsburg with an extreme invocation of identity politics. His regressive approach to filling her seat sabotages true diversity and progress. Biden has explicitly made it clear that white women and men of all races need not apply for his Supreme Court shortlist. "I'm looking forward to making sure there's a black woman on the Supreme Court," he said on the Democratic debate stage in February. "I'd push very hard for that."
Trump cancels CDC 'critical race theory' training after leak. After it was exposed Monday [9/14/2020], President Trump ordered the immediate cancellation of a "critical race theory" training program planned by the Centers for Disease Control that violated his executive order. Christopher Rufo, the director of the Discovery Institute's Center on Wealth and Poverty in Seattle, obtained leaked documents that outlined the plan to have employees "examine the mechanisms of systemic racism" and address "White supremacist ideology." The final session was to teach the CDC employee how to become activists, Rufo said in a thread Monday on Twitter. On Tuesday, however, Russell Vought, the director of the Office of Management and Budget, announced on Twitter that Trump ordered that the program be canceled "immediately."
The Democrats' War on Blacks. When President Trump early this month ordered an end to mandatory "Critical Race Theory" (CRT) training in the federal bureaucracy — which sometimes involved compelling white male employees to write letters of apology to "marginalized" people — he was, predictably, called a "racist." But if ending this destructive program is "racism," well, then whatever racism is, we need more of it. The CRT "training's" anti-white nature is obvious. As Heritage Foundation fellow Christopher Rufo wrote last month, reporting on the CRT indoctrination at Sandia National Laboratories, the trainers insisted "that white males must 'work hard to understand' their 'white privilege,' 'male privilege,' and 'heterosexual privilege.'" Of course, such privilege exists like unicorns do. But insofar as blacks and other non-whites will believe it does and that they're (perhaps fatally) disadvantaged, we should ask: How does making people more hopeless and bitter improve their prospects for success?
The CDC blatantly violates a Trump order regarding Critical Race Theory. At the beginning of September, the director of the Office of Management and Budget announced that, at President Trump's direction, all federal agencies would be banned from imposing Critical Race Theory (CRT) on their employees. This was the right thing to do. CRT is pure racism. While the KKK was obsessed with blacks and the Nazis were obsessed with Jews, CRT is obsessed with white people. Teaching it at federal agencies is a shocking violation of the Constitution and the Civil Rights Act of 1964. Despite its unconstitutionality and the president's order, though, the CDC is planning to continue CRT training. Christopher Rufo, who has become the point man for all of these stories about CRT training in the federal government, discovered what he aptly called a "Bombshell." The CDC is going ahead with its plan — paid for with your money — to impose a thirteen-week-long CRT training program on its employees. This an important story because it is a nexus of the issues that brought Trump into the White House in 2016. It's the story of an out-of-control federal agency that feels that no one — and certainly not the constitutional executive of the United States — has any authority over it.
You Will Be Re-Educated. On September 4, 2020, Russell Vought, the Director of the Office of Management and Budget, sent a brief memo to the heads of the executive departments and agencies of the federal government. Its purpose was straightforward: to end the practice by any federal government agency of using training materials that promote "critical race theory" or "white privilege" or that "teaches or suggests either (1) that the United States is either an inherently evil or racist country or (2) that any race or ethnicity is inherently racist or evil." The memo advised that further guidance would be forthcoming but for the time being, agencies should cease spending taxpayer dollars on such "propaganda training sessions." They have a difficult challenge ahead of them. Critical race theory, often under the guise of bland "diversity training," has led to such taxpayer-sponsored efforts as the U.S. Treasury Department's June 2020 training seminar "Difficult Conversations About Race in Troubling Times." Attendees learned that "virtually all White people contribute to racism," and those who were white were told they needed to acknowledge their "unconscious bias, White privilege, and White fragility." At Sandia National Laboratories, one of the nation's premier nuclear-research facilities, the federal government paid a company called White Men as Full Diversity Partners to "train" white male employees at Sandia in the damaging effects of "white male culture."
In the name of anti-racism, we've declared white people racist on the basis of their race. Racism, I'm glad to say, has joined murder and stealing as societally impermissible. Think what you want about people of other races — we don't criminalize thought yet — but don't bring racism to the public square. Or even to my house. Though not perfect, this has worked reasonably well. Until now. Now it's not only permissible but fashionable and even compulsory to judge people on the basis of their race. We're told to stereotype black people as hapless victims, notwithstanding a twice-elected black president, wildly rich and idolized black entertainers and athletes, and prosperous black businessmen and women. On the flip side, we're told the white race is a racist race. White people who try not to be racist, and think they've succeeded, are the most racist of all for failing to recognize that they've failed. White people are required to confess that they're racist even as they try not to be, and further confess that they always will be no matter how hard they try.
University's Center for Social Justice and Inclusion Hosts Race-Segregated Virtual Events. The University of Michigan-Dearborn's Center for Social Justice and Inclusion states that its mission is to "celebrate the uniqueness" of each student and "remove barriers" to full participation in campus life. But this laudable goal would appear to be at odds with the actual practices of the center, which include hosting race-segregated virtual events. This week, the center advertised an online discussion session for "students that do not identify as people of color" — white students, in other words. A separate event — for students who are black, indigenous, or people of color (BIPOC) — is also on the calendar. The non-POC event is billed as "a space for students that do not identify as persons of color to gather and to discuss their experience as students on campus and as non-POC in the world."
Trump Deserves Re-Election For This Alone. Yesterday [9/4/2020], OMB Director Russell Vought issued on behalf of the Executive Office of the President a memorandum to the heads of all federal departments and agencies. The memorandum bans all agencies from "training" their employees in critical race theory or white privilege. It is a thing of beauty. Here is the memo, in its entirety. [...]
Trump lays a trap for Dems with a first move against abusive, anti-White 'systemic racism' brainwashing sessions in federal bureaucracy. A memorandum from Russell Vought, the director of the Office of Management and Budget, has opened a new strategic front in President Trump's re-election battle. In 461 words, the recently confirmed OMB director virtually invites pushback from the Democrats' ticket and their media allies, and that's a battle they can't win. [...] The only people who like the "anti-racism" training are the consultants who make out like bandits and the executives who order them foisted on their helpless employees, thereby proactively defending against charges of racism and potential litigation. The obnoxious anti-white struggle sessions are right out of China's Great Proletarian Cultural Revolution and, when exposed to the light of day, are indefensible.
White House will cancel racial sensitivity training because it is 'anti-American propaganda'. President Trump is moving to end racial sensitivity training for federal government employees, claiming it is 'divisive, anti-American propaganda'. The Commander-in-chief took to Twitter on Saturday morning confirming he wants to cancel taxpayer funded seminars on 'critical race theory', describing them as 'a sickness that cannot be allowed to continue'. His tweet followed the release of a two-page memo sent out by the White House Office of Management and Budget on Friday, which asked federal agencies to identify such programs so that they can be purged.
Summary of Critical Race Theory Investigations. The Treasury Department held a training session telling employees that "virtually all White people contribute to racism" and demanding that white staff members "struggle to own their racism" and accept their "unconscious bias, White privilege, and White fragility." The man who led the seminar, Howard Ross, has billed the federal government more than $5 million for diversity training over the past 15 years. [...] Last year, Sandia National Labs — which produces our nuclear arsenal — held a three-day reeducation camp for white males, teaching them how to deconstruct their "white male culture" and forcing them to write letters of apology to women and people of color. Whistleblowers from inside the labs tell me that critical race theory is now endangering our national security.
The Enemy Within Our Nuclear Weapon Labs. President Trump needs to "drain the swamp" at national laboratories responsible for maintaining the safety and reliability of U.S. nuclear weapons — starting with Sandia National Laboratory. Christopher Rufo and Tyler Durden are among the few journalists who are spotlighting Sandia's treasonous program to brainwash white male employees that America is inherently racist and evil. The Left-stream national media are burying this story.
Trump orders stop to 'White privilege' diversity training in federal government. President Trump has ordered his administration to stop paying for so-called "critical race theory" diversity training in federal agencies, with a top official calling the sessions "un-American propaganda," The Washington Times has learned. In a memo issued to federal agencies on Friday, Office of Management and Budget Director Russell Vought said it has come to the president's attention that the executive branch has "spent millions of taxpayer dollars to date 'training' government workers to believe divisive, anti-American propaganda." Citing press reports, Mr. Vought said employees across the executive branch have been required to attend training sessions where they are told that "virtually all White people contribute to racism" or where they are required to say that they "benefit from racism."
Loyola University Chicago explores blacks-only freshman housing plan. Loyola University Chicago recently said it continues to contemplate a proposal for a residential community for black students only. The Catholic university on the north side of Chicago released an update on August 28 on a series of initiatives meant to address racial issues on campus. The initiatives stem from 15 demands lodged in June by several student groups, led by the Black Cultural Center, and called "In Support of Black Students."
Whites need not apply:
Boeing CEO pledges a 20 percent increase in black employees. Boeing is seeking to increase black US employees throughout the company by 20 percent and mandate benchmarks for hiring people of color, Chief Executive Dave Calhoun told employees in a memo on Friday reviewed by Reuters. US corporations have become more responsive to complaints related to racial equality following a summer of sweeping anti-racism protests over the slaying of black people by police. The changes at Boeing, a stalwart defense contractor with its corporate headquarters in Chicago and largest factories in Washington state and South Carolina, appeared to mark the first concrete steps by the planemaker to address the issue.
The Editor says...
Will this change in percentage be accomplished by hiring black people because they're black, or by firing white people because they're white?
There is a civil war erupting at Sandia Labs. [Thread reader] Following my investigation, a dissident electrical engineer named Casey Peterson emailed all 16,000 employees denouncing critical race theory in the lab and hoping to spark a rebellion against Sandia executives. Here's the story. On Tuesday, Peterson made a YouTube video "pushing back back on the narrative of modern systemic racism and white privilege." The video quickly hit 10,000 views within the labs and dozens of Sandia employees contacted Peterson to express support. Within hours, Sandia executives dispatched a counterintelligence team to lock Peterson out of the network and scrub his communications from internal servers — which, via the Streisand Effect, made the video even more viral and sparked widespread unrest against Sandia executives. [...] Peterson — who took a stand at grave risk to his career — says he is speaking on behalf of all of Sandia employees who are "scared to speak out" because of the lab's repressive culture. "If I get fired because of this," Peterson says, "the fight does not end, it only intensifies."
Portland mayor promotes $62 million black-only fund amid race riots. While Black Lives Matter rioters have been destroying local businesses and causing public mayhem for over two months, Portland Mayor Ted Wheeler promoted a coronavirus relief fund exclusively for "Black relief and resiliency." "The Oregon Cares Fund [TOCF] is now accepting applications," Wheeler tweeted today [8/25/2020]. "Black families and business owners experiencing housing insecurity, emergency needs, or a loss in revenue due to COVID-19 pandemic are eligible for cash grants."
DOE Orders Investigation into Race Workshops for White Men at Nuclear Lab. The Secretary of the U.S. Department of Energy (DOE) announced on Thursday that he has asked the National Nuclear Security Administration and the agency's Inspector General to look into "social workshops" white men were required to participate in to allegedly cure them of "racism, sexism, and homophobia." A spokesperson from Sec. Dan Brouillette issued a statement after author, writer, and researcher Christopher F. Rufo exposed the practice on social media and Sen. Josh Hawley (R-MO) called for a probe into the allegations. "The Department of Energy (DOE) leadership did not have knowledge of or authorize the use of taxpayer dollars for the reported social workshops at the Sandia National Laboratories, or elsewhere," the spokesperson's statement said.
CNN panels' thrilled so few "white men" were at the DNC Wednesday. A CNN panel last night was thrilled that so few "white men" appeared during the Democratic National Convention (DNC) on Wednesday night [8/19/2020]. The following is an example of vicious racism and sexism now promoted by the left. Talking head Ana Navarro was pleased to see so few white speakers during Wednesday's broadcast of the DNC. "Actually, today with David [Axelrod] and John [Berman] is the first time I see a white man like in eight hours. You know? Other than Joe Biden last night and that's okay. They have had 240 years of representation. They're going to be okay. Last night was about telling people who have felt unseen, we see you. You are here. You are part of this table. And I thought it was inclusive," she said.
Justice Department Finds Yale Admissions Illegally Discriminated Against Asian American and White Applicants. A two-year long Justice Department investigation has found that Yale University illegally discriminated against Asian American and white applicants in violation of federal civil rights law. In a letter to the college's attorneys Thursday, the department said that Yale "rejects scores of Asian American and white applicants each year based on their race, whom it otherwise would admit." "Yale's race discrimination imposes undue and unlawful penalties on racially-disfavored applicants, including in particular Asian American and White applicants," Assistant Attorney General Eric Dreiband, the head of the department's civil rights division, wrote.
'Systemic Racism' or Systemic Rubbish? [Scroll down] High among corporate America's priorities is acting as a race leveler — voluntarily sniffing out deviationists and generally proceeding against and "reeducating" pay-dependent prey. Corporate America's human resource departments are in the habit of deluging employees with the piss-poor racial agitprop of illiterate, if degreed, pamphleteers. The woman who wrote White Fragility comes to mind. In a workplace so shot through with hatred of whites, quite foreseeable is a form of intellectual reparations, where the designated white "oppressors" labor behind the scenes, while the officially "oppressed" manage them and take credit for their intellectual output.
Google Launches New Badge For Black-Owned Businesses. Google has introduced a new feature that will allow businesses to label themselves as "black-owned" through the company's Maps and Search listings. The new feature is part of Google's promise to support the Black community with "initiatives and product ideas that support long-term solutions." The badge that represents Black-owned businesses is a black heart over a three-striped orange background. It will not only indicate that a business is "black-owned" but also help filter results and make it easier to find them online.
Seattle's Office of Civil Rights has developed a "race and social justice" curriculum for all 10,000 city employees. [Thread reader] I've obtained new documents from the city's segregated "whites-only" trainings, which induct white employees into the cult of critical race theory. The training is called "Internalized Racial Superiority for White People." After attendees arrive, they must announce their pronouns and tell the trainers when they first became race-conscious — in other words, when they began their journey of internalized racism. According to the Office of Civil Rights, white employees must process their "white feelings" of "sadness, shame, paralysis, confusion, [and] denial." Then, they must take action to "redistribute resources, change who's in power, [and] alter institutions." Next, white employees must examine their "relationships with white supremacy, racism, and whiteness." They must explain how their "[families] benefit economically from the system of white supremacy even as it directly and violently harms Black people."
FDNY: White Firefighter From Iconic 9/11 Photo Is Kicked Off Of Color Guard, Sues For Racial Bias. They pulled a firefighter in that famous 9/11 photo from that role because they wanted an 'all-black' color guard. Lt. Daniel McWilliams, who is white, was bumped from the color guard precisely because of the color of his skin. How surprised would you really be to learn that the 'diversity officer' has no problem with McWilliams getting bumped in favor of someone who would make the color guard entirely comprised of black firefighters?
Where Are the New Heroes of the Revolution? [Scroll down] The iconic center of the Civil Rights movement might be the Smithsonian's National Museum of African American History and Culture on the Washington Mall. Alas, it just took down a display that by any standard was utterly vile and racist. It claimed "whites" (that is all 240 million apparently herd-like whites) typically demand toxic values like being on time, the Protestant work ethic and good grammar — as if millions of blacks do not find such values key to their success, without considering them "white" at all, but innate to their own history and values.
Democrats' Draft 2020 Platform: White People Are the Root of All Evil. In 2020, it's definitely not "OK to be White" at the Democratic National Convention. A draft of the DNC's 2020 Democratic Party Platform obtained by Politico shows a frequent focus on racial issues, with language that repeatedly accuses whites in America of benefiting unfairly from society at the expense of minorities. The preamble to the platform reads: "We will give hate no safe harbor. We will never amplify or legitimize the voices of bigotry, racism, misogyny, anti-Semitism, Islamophobia, or white supremacy." Curiously, in the 15 times the document mentioned "whites," it doesn't capitalize the word the way it does Blacks, Latinos, Asian Americans, and Native Americans. Every time "whites" are brought up, it's in a critical way. Often, the platform vows to "close the gap" between white Americans and all other Americans — without providing solutions.
Democratic National Committee platform mentions 'whites' 15 times, all [condemnatory]. The draft 2020 Democratic National Committee platform being circulated in Washington aims to reinforce the view that liberals are best situated to battle for minorities seeking higher wages, better housing and jobs, and more money for schools. With the August convention coming on the heels of the Black Lives Matter protests, it features support for the movement and an expanded pledge to root out racism. The preamble says, "We will give hate no safe harbor. We will never amplify or legitimize the voices of bigotry, racism, misogyny, anti-Semitism, Islamophobia, or white supremacy." In promising change, it sets up one group that has it too good and is holding minorities back: whites. In more than 80 pages in the draft platform published by Politico, whites are mentioned 15 times, all critical, including three references to white supremacy or supremacists and one to white nationalists. The document doesn't capitalize white as it does Black, Latinos, Asian Americans, and Native Americans.
Draft DNC Platform Declares White Americans Too Rich, Too Privileged, and Too Evil. The Democrat National Committee draft platform for its 2020 convention mentions "whites" a total of 15 times, each of them within a "damning" context — a detail first noticed by the Washington Examiner's Paul Bedard. "In more than 80 pages in the draft platform published by Politico, whites are mentioned 15 times, all critical, including three references to white supremacy or supremacists and one to white nationalists," Bedard writes. He adds, "In most mentions, the reference is to how whites are better off at the expense of others. And the promise often is to 'close the gap' between minorities and whites, though no solutions are offered." If this is a legitimate draft, the fact that it's a merely a draft means nothing. It still reveals how ugly the Democrat Party has become and how ugly and divisive the future will be, should this approach to national politics ever prevail.
This 'anti-racism education' sure looks awfully ... racist. We often hear that what this country needs is an honest conversation about race. Here's a whole lot of "honesty" for you, from an unexpected place: Black people are less likely than white people to be self-reliant. Black people are less likely to emphasize "rational linear" and "quantitative" thinking. They are less likely to think that "hard work is the key to success." They believe in punctuality less, and instant gratification more, than whites do. Black people aren't as likely to believe in a Christian God and more inclined to be tolerant of pagan or polytheistic religions. Given that we are living in the age of cancel culture, I'd better explain what I'm doing lest anyone think I believe this nonsense. All of this stuff — the bigotry, the stereotypes and the outright falsehoods — isn't my view. Nor did I get it from some white supremacist Web site. Nope, it comes from a graphic sourced and linked to by the National Museum of African-American History and Culture.
Gov Employees Can Use Black Lives Matter, Not Make America Great Again. Can any slogan be more non-partisan than an explicitly racist appeal by Marxists that's accompanied by attacks on American history and the destruction of statues and monuments to the nation's founders, which has been embraced by the Democrat Party? Just ask the Office of Special Counsel. "As further described below, using BLM terminology is not inherently political activity and BLMGN is not currently a partisan political group." Uh-huh. A Marxist organization funded by leftists whose slogan has been embraced by Democrats is non-partisan.
B At Last, B At Last.... George Floyd did not die in vain. Oh sure, in the wake of his death there have been hundreds of businesses burned to the ground, dozens of monuments defaced, tens of millions of dollars in property damage, multiple murders, a skyrocketing increase in crime, and greater racial animosity dividing the nation than we've seen in half a century. But it's all been worth it, because the Associated Press has announced that they have changed their internal style guide and will now always capitalize the word "Black" when used in the context of race and culture. The AP did not comment on whether capitalization will apply when "black" is used in the context of historic plagues. Interestingly, the AP has also announced that they won't be doing the same for the word "white," [...]
AP says it will capitalize Black but not white. After changing its usage rules last month to capitalize the word "Black" when used in the context of race and culture, The Associated Press on Monday [7/20/2020] said it would not do the same for "white." The AP said white people, in general, have much less shared history and culture and don't have the experience of being discriminated against because of skin color. Protests following the death of George Floyd, which led to discussions of policing and Confederate symbols, also prompted many news organizations to examine their own practices and staffing. The Associated Press, whose Stylebook is widely influential in the industry, announced June 19 it would make Black uppercase.
Cisco fires employees criticizing Black Lives Matter. Tech giant Cisco has reportedly fired a number of its employees for making comments critical of Black Lives Matter, including the statement "all lives matter" in response to the popular refrain. ReclaimTheNet reports that the employees were fired for commenting on a video conference by the company's CEO and other top executives, who expressed vocal support for the Black Lives Matter organization. The publication reports that an internal company survey found that only 3.8% of Cisco employees were black, and that the executives at the top committed itself to changing this number by hiring more black employees.
Seattle City Council Member Suggests Firing White Officers In Massive Reduction Of Police Department. The Seattle City Council is facing something of a dilemma in its popular pledge to cut the police budget by 50 percent. To do so would require firing a significant number of police officers, which is also popular. The problem is that the firing would be done by seniority and many of the less senior officers are black. The solution according to City Council member Lisa Herbold is simple: fire officers based on their race. While that would be the definition of racial discrimination, Herbold clearly believes that it is discrimination for a good cause. The federal courts are likely to disagree. Most notably, Herbold's call for racial discrimination against white officers would seek to undue the work of Justice Thurgood Marshall who insisted that racial discrimination unlawful and evil regardless of the race you want to disenfranchise or discriminate against.
Cisco Fires Employees for Criticizing Black Lives Matter During Online Diversity Forum. Another example of criticism of Black Lives Matter movement falsely being equated with racism: "the world's largest networking company, said it fired "a handful" of workers for inappropriate conduct because it "will not tolerate" racism.
Your light skin is now your yellow star. It is amazing how closely the Antifa movement is tracking Nazi practices in Hitler Europe. Antifa's colors come from its German parent organization, called Antifaschistishe Aktion. Street fighting for bloody headlines was part and parcel of the Nazi campaign for power (just as it was for Lenin, Stalin and Mao). Spreading public fear and ethnic hatreds looks like 1930s all over again. At least one famous funder of Antifa experienced the pre-Nazi era in Hungary in the 30s and 40s, namely György Soros (formerly, Schwartz), who might or might not be pulling the strings. Street theater is a major ingredient in today's nihilist-totalitarian gangs, and political polarization is coming along nicely.
Smithsonian's Anti-White Propaganda. Look at this stunning exhibition from the website of the Smithsonian's National Museum of African American History and Culture. This is from its web page about the menace of "Whiteness". Aside from the anti-white stereotypes here, notice the inadvertently anti-black insanity: things like hard work, being on time, cause and effect, "rational thinking," respect for authority, politeness — all these things, according to the museum, are manifestations of "whiteness." Did David Duke write this stuff? It's crazy! If a white man said that black people are lazy, can't keep to a schedule, have no respect for authority, can't think straight, are rude, etc. — he would be rightly criticized as racist. But there it is, at the taxpayer-funded National Museum of African American History and Culture.
Systemic racism explained. The National Museum of African American History and Culture — a creation of Congress that opened on September 24, 2016 — has given white people a definition of systemic racism in America. It is a hoot. [...] But this is not about race. This is about destroying the best society the world has ever known, and replacing it with some form of totalitarianism.
We're all white supremacists now. One of the most disturbing things about our already unsettling times is the way the left is forcing ugly binary choices on Americans. The most obvious example is how the phrase "all lives matter" is being twisted to mean "I hate blacks" or "I'm a white supremacist." The latest manifestation of the charge that refusing to recognize black supremacy is proof that someone is a white supremacist comes from San Francisco. The San Francisco Museum of Modern Art ("SFMOMA") has forced out its senior curator for the crime of refusing to ban white artists entirely from the museum's collection. [...] It turns out, though, that "diversity, equity, and inclusion" do not extend to white people. Instead, whites are to be the victims of systemic discrimination, whether as artists or employees. Reason details how Gary Garrels, a senior curator, was forced out of the museum because he has said that deliberately excluding white artists is itself be a form of wrongful discrimination.
African American History Museum removes 'whiteness' chart. The National Museum of African American History and Culture, part of the federal government's Smithsonian Institution system, has removed from its website a chart listing "the ways white people and their traditions, attitudes and ways of life have been normalized over time and are now considered standard practices in the United States." The chart listed individualism, hard work, objectivity, the nuclear family, a belief in progress, a written tradition, politeness, the justice system, respect for authority, delayed gratification, and planning for the future, among others, as "aspects and assumptions of whiteness" that have been "internalized" by people of color in the U.S. Critics suggested those attributes and qualities, rather than being the product of "whiteness," are universal values that can help anyone lead a more satisfying and successful life.
The Editor says...
The Whiteness Chart is still available for your inspection here.
Seattle City Council Member Suggests Layoffs By Race If Police Budget Is Slashed, Chief Best Says No. Last week Ed wrote about the push to cut Seattle's police budget by 50 percent. In response to that, Police Chief Carmen Best released a video to her department warning that some budget cuts were probably coming. "I will fiercly advocate that we focus on realistic, responsible solutions not political gestures or pandering or political posturing," Best said. She continued, "I do not believe we should ask the people of Seattle to test out a theory that crime goes away if police go away. That is completely reckless." That phrase made news and was even tweeted out by the White House.
Teaching hate under the guise of 'inclusion' — in the US Army. Members of the military, uniformed and civilian, are strictly prohibited from engaging in overt political activities. Those rules exist to keep them focused on their mission — defending the nation. But apparently, someone in the US Army's Equity and Inclusion Agency has forgotten the rules. With a course titled "Operation Inclusion," the agency is promoting the line that if you support enforcing immigration law, or say things like "all lives matter," then you're a white supremacist. GOP Rep. Mo Brooks blew the lid when he learned the agency had organized two seminars to re-educate all of the uniformed and civilian personnel at Redstone Arsenal, Ala. Brooks demanded an immediate investigation into "Army personnel illegally using federal government resources to distribute racist and partisan political propaganda in direct violation" of federal law and military regulations.
'Conservatism is racism' claim promoted by George Washington University's diversity office. Students attending George Washington University are being encouraged to read an anti-racism syllabus that casts conservatism as "incompatible" with Black Americans who seek freedom. The university pulled a Google document containing the syllabus this week and its Office of Diversity ignored inquiries when contacted by The Washington Free Beacon. Writer Chrissy Clark detailed the office's "Solidarity Resource Syllabus," which includes "Conservatism and Racism, and Why in America They Are the Same," by San Francisco State University Robert Smith.
African-American museum removes controversial chart linking 'whiteness' to self-reliance, decision-making. The National Museum for African American History and Culture (NMAAHC) has removed its controversial chart on whiteness from one of its webpages, telling people on Thursday that it didn't contribute to a "productive conversation" about racial issues. "Since yesterday, certain content in the 'Talking About Race' portal has been the subject of questions that we have taken seriously. We have listened to public sentiment and have removed a chart that does not contribute to the productive discussion we had intended," the museum said in a statement. Fox News reported yesterday [7/15/2020] that some described the chart as racist since it categorized things like "decision-making" and "delayed gratification" as part of whiteness.
African American museum accused of 'racism' over whiteness chart linking hard work and nuclear family to white culture. The National Museum of African American History and Culture has been accused of "racism" after releasing a whiteness chart that links hard work and a nuclear family unit to white culture. The graphic, titled Aspects and Assumptions of Whiteness and white culture in the US, also mentions a focus on the scientific method and self-reliance are intrinsic to the "dominant" white culture.
The Smithsonian Attacks White Culture and Western Civilization. [Scroll down] When I saw that the Smithsonian was putting this stuff out, it is intended as an attack on white culture. It is intended as an attack — 'cause all it is, really, it's not white culture, it's Western civilization values that Marxists and communists despise. But for this stuff to appear at the Smithsonian as evidence of what's wrong in America is outrageous. They're pushing this stuff out as the Marxist, African-American agenda that whites are bad, that whites are threatening, that whites are dangerous because they believe in self-reliance. They believe in family. They believe in the rule of law. This is unacceptable. These things are examples of white supremacy. As I say, these are not white values. They are normal human values. They are the values of Western civilization. They are the values of time-honored decades and millennia of human behavior, the result of the attempt to find a way to live harmoniously, productively, successfully, and happily. That's what these values are. They are not exclusive to any race. They are exclusive to Western civilization and anti-communism. They are exclusive to societies who wish to be free.
The lunatic drive for racial quotas for COVID-19 vaccines. At least two COVID-19 vaccines are scoring major successes in trials. That means a vaccine might be ready by year's end, but not in sufficient quantity to vaccinate more than 300 million Americans. Frontline health workers and national-security personnel will be top priority, but after that, who comes next? A federal committee is considering pushing blacks, Hispanics and Native Americans to the front of the line, ahead of whites. Dr. José Romero, who chairs the CDC's Advisory Committee on Immunization Practices, wants minority groups to get favored treatment. Billionaire donor Melinda Gates likewise is pushing for blacks to get vaccinated right behind health workers but ahead of "people with underlying health conditions, and then people who are older." Americans need to speak up, before such a plan is adopted.
The National Museum of African American History promotes racist claptrap. The National Museum of African-American History is a part of the vast Smithsonian Institution, a group of museums and research centers that taxpayers fund. That's why it was especially shocking to learn that the museum is promoting the worst kind of racial claptrap at its website. The museum's website simultaneously encourages the pernicious notion that there's systemic racism in America, accuses all whites of being racists, and argues that behaviors that are a predicate to American prosperity are inherently white — implying both that blacks lack these laudable behaviors and that blacks are betraying their race if they embrace them. The deeply offensive, taxpayer-supported web page is entitled "Whiteness: Since white people in America hold most of the political, institutional, and economic power, they receive advantages that nonwhite groups do not."
SFMOMA curator resigns after reportedly invoking 'reverse discrimination'. Gary Garrels, the longtime senior curator of painting and sculpture at the San Francisco Museum of Modern Art, has resigned after coming under fire for saying the museum will still collect work from white artists. Artnet.com first reported on the controversy, which stemmed from Garrels reportedly saying, "Don't worry, we will definitely still continue to collect white artists" at the end of a meeting centered around new acquisitions from artists of color in the wake of the death of George Floyd and a renewed reckoning over race in America. Garrels reportedly stated that no longer collecting white artists would be a form of "reverse discrimination," which in turn prompted calls for his removal. A group of former employees started a petition demanding Garrels resign or be removed from his position, with the petitioners alleging that the terms "reverse discrimination" and "reverse racism" are "white supremacist and racist language."
Seattle to White Employees: 'Your Skin Color Is a Crime'. The city of Seattle recently summoned its white employees (white employees only) and essentially told them, "Your skin color is a crime," according to a report by Tucker Carlson. In a truly extremist (and Orwellian) perversion of anti-racism training, the meeting was officially called "Interrupting Internalized Racial Superiority and Whiteness." According to a public records request filed by City Journal reporter Chris Rufo and detailed in the video below by Fox News commentator Tucker Carlson, "White employees were told that their white qualities were offensive and unacceptable. Those qualities included perfectionism, objectivity and individualism." They were further told to drop those qualities and undertake "the work of undoing your own whiteness." [Video clip]
Actors, writers and producers warn of 'reverse racism' in the film industry. [Scroll down] A revolution is under way. White actors are being fired. Edicts from studio bosses make it clear that only minorities — racial and sexual — can be given jobs. A new wave of what has been termed by some as anti-white prejudice is causing writers, directors and producers to fear they will never work again. One described the current atmosphere as 'more toxic than Chernobyl', with leading actors afraid to speak out amid concern they will be labelled racist. The first sign came with one of the most powerful black directors in Hollywood, Oscar-winning Jordan Peele [...] stated in public that he did not want to hire a leading man who was white. 'I don't see myself casting a white dude as the lead in my movie,' Peele said. 'Not that I don't like white dudes. But I've seen that movie before.'
Tucker Carlson slams Seattle employee training on 'undoing whiteness'. Fox News host Tucker Carlson urged people to stand up to racial hatred, which he views in the Seattle's new training session held for white employees to "undo" their whiteness as it relates to certain privileges. The training session, dubbed "Interrupting Internalized Racial Superiority and Whiteness," encourages white employees to let go of comforts such as "guaranteed physical safety," "control over the land," "social status," and "relationships with some other white people." The training also goes through a flow chart on how white people "cause harm to POC" and how they're unable to see opportunities to be allies to minorities. "Prepare to be unemployed, pale employees of Seattle, your color disgusts us," Carlson said Thursday of what he believes the agenda entails. "All that actually happened in Seattle." Carlson accused people who support this type of program of being hypocritical in their views, comparing it to a type of conversion therapy that's been done on gay and transgender people.
Nothing for you, white man!
Wells Fargo donates $400M to assist struggling minority businesses. To help small businesses survive the pandemic, Wells Fargo announced Thursday that it is donating the $400 million in fees it earned off the federal Paycheck Protection Program to nonprofit organizations that primarily assist Black and other minority owners. Wells Fargo, which lost many business customers after bungling their PPP applications, wound up processing more than 185,000 PPP loans worth a total of $10.4 billion, the fifth highest loan total in the banking industry, according to the U.S. Small Business Administration.
Cult Programming in Seattle. Last month, the City of Seattle's Office of Civil Rights sent an email inviting "white City employees" to attend a training session on "Interrupting Internalized Racial Superiority and Whiteness," a program designed to help white workers examine their "complicity in the system of white supremacy" and "interrupt racism in ways that are accountable to Black, Indigenous and People of Color." Hoping to learn more, I submitted a public records request for all documentation related to the training. The results are disturbing. At the beginning of the session, the trainers explain that white people have internalized a sense of racial superiority, which has made them unable to access their "humanity" and caused "harm and violence" to people of color. The trainers claim that "individualism," "perfectionism," "intellectualization," and "objectivity" are all vestiges of this internalized racial oppression and must be abandoned in favor of social-justice principles. In conceptual terms, the city frames the discussion around the idea that black Americans are reducible to the essential quality of "blackness" and white Americans are reducible to the essential quality of "whiteness" — that is, the new metaphysics of good and evil.
Houston Mayor Cancels Texas G.O.P. Convention, Calling It 'Public Health Risk'. Local outcry had grown for weeks over plans by the Texas Republican Party to hold its convention in Houston in the middle of one of the nation's worst coronavirus outbreaks. Sponsors, including the Texas Medical Association, dropped out. Gov. Greg Abbott said he would appear only by video. The city's top public health official called it a "clear and present danger." Yet party activists held firm. Then on Wednesday [7/8/20202], Mayor Sylvester Turner of Houston put an end to the standoff, effectively canceling the gathering a week before it was scheduled by pulling out of a contract to host the event in a city-run convention center. The decision by a Democratic mayor to cancel the state's largest gathering of Republicans set the state up for rancorous finger pointing and potential legal action. Even before the announcement, Republican Party officials suggested that Mr. Turner did not have the authority to do so.
San Francisco lawmaker pitches CAREN Act to outlaw 'race-based and racially-charged' 911 calls. San Francisco supervisor Shamann Walton joined "The Story" Wednesday [7/8/2020] to discuss the CAREN Act, Walton's proposed legislation that would punish so-called "false racially biased emergency reports." "If you look at what's been happening across the country, you see people making these frivolous and these arbitrary 911 calls," Walton told host Trace Gallagher. "And so what happens? You put people of color in contact with law enforcement. And in some cases, there's some very dire consequences that can lead to harm to human beings. "But in some cases, they've also led to death," Walton went on. "So no one should be calling 911 to weaponize 911 against people of color, black people or any other protected class."
The Editor says...
This slippery slope is almost completely vertical. [#1] Apparently, if this proposal becomes law, it will be okay to use 9-1-1 as a weapon against white males. And [#2] this appears to be an attempt to make it illegal for a white person to report the actions of black criminals.
Washington State suggests schools give priority to nonwhite students during reopening. Washington state is considering a plan that would give priority to minority and disadvantaged students when schools reopen in the fall following months of closure during the coronavirus pandemic. [...] A "district planning guide" released last month by Washington Superintendent of Public Instruction Chris Reykdal, makes similar suggestions, but it also suggests granting priority to non-white students during proposed reopening phases. The guide cited a theoretical reopening plan that would "serve students furthest from educational justice first," among which it cited "students of color."
Seattle held 'segregated' training session on 'undoing whiteness,' encouraged staffers to forfeit 'guaranteed physical safety'. The City of Seattle held a racially segregated employee training session aimed at White staffers and instructing them on "undoing your own whiteness" in order to be held accountable by people of color, according to documents obtained by a public records request. The session took place on June 12, as protesters took part in the so-called "Capitol Hill Organized Protest" in the Capitol Hill district. One handout distributed in the session declared how "racism is not our fault but we are responsible." Another said White staffers must give up "the land" and their "guaranteed physical safety" in order to be an "accomplice" for racial justice.
New head of news at NBC-Universal openly promises to discriminate against Caucasians. After just over a month in his new job as head of the newly formed NBC-Universal News Group, combining NBC News, MSNBC, CNBC, and all streaming operations, Cesar Conde is making news himself. In a video and memo to the approximately 3000 employees he supervises, Conde announced a goal of 50% of employees being female, and 50% "people of color," an expression commonly taken to mean non-Caucasians.
City of Seattle Holds Segregated Racial Sensitivity Training Session; Here Are the Disturbing Handouts. On June 12, as six square blocks of Seattle's Capitol Hill area were occupied by anarchist thugs, the City was busy holding an important employee training session on "Internalized Racial Superiority," at which they expected "to learn, reflect, challenge [them]selves, build skills and relationships" to help them become allies in combating racism, and at which they would "examine" their "complicity in the system of white supremacy" and find out how to become "accountable to Black, Indigenous, and People of Color." This training session was only for White employees, or for employees who identify as white. In other words, it was racially segregated. Christopher F. Rufo, who writes for City Journal and is director of Discovery Institute's Center on Wealth and Poverty, filed a public records request regarding the training session and materials given to employees and posted them on Twitter Tuesday. Every bit of it is disturbing, leads to a massive waste of time and energy, and places a massive burdens and expectations on employees of only one race — which is kind of discriminatory, no?
What does protesting the past get us? America, in order to make up for the past suffering of slaves, has bestowed on blacks many privileges and entitlements that are not available to all other Americans, affirmative action and protection from so-called disparate impact being examples. American whites have become — as a racial group — the most aracial people on Earth. In predominantly white America, both implicit and explicit discrimination against blacks in admissions, hiring, retention, and promotion has been made illegal. Even vague expressions of perceived anti-black racism, like displaying a rope that some may consider a noose, are being vigorously investigated by law enforcement and — if the evidence warrants it — punished. A privately made statement that could be interpreted by some as racially disparaging or critical of blacks can easily end the professional career of the speaker, particularly if the speaker is white.
UMass Lowell Nursing Dean Reportedly Fired After Saying 'Everyone's Life Matters' in Email. The cancel culture that is rampant on American college campuses right now has just claimed another victim. A nursing dean at the University of Massachusetts, Lowell, has reportedly been fired after saying in an email that "everyone's life matters." Where does this end? [...] In one of the most disturbing aspects of this case, as noted by Professor Turley, if you go to the university's web page about Dean Leslie Neal Boylan, it is blank. She has already been erased.
White men need not apply.
Biden compiling list of potential Black women nominees for the Supreme Court. Presumptive Democratic nominee Joe Biden said Tuesday that he's compiling a list of Black women who could be nominees to the Supreme Court. "We are putting together a list of a group of African American women who are qualified and have the experience to be in the court," Biden said during a press conference in Delaware. "I am not going to release that until we go further down the line of vetting them." President Trump and Republicans have been pressuring Biden to release a list of judges he's considering as Supreme Court nominees.
Blatant official racial discrimination: County orders white people to wear masks in public, exempts 'persons of color'. Madness is in the air, with mobs terrifying guilt-ridden government officials, corporate leaders, educators, and the heads of all our significant institutions into violating previously sacred principles in an effort to prove their wokeness. The Constitution and basic concepts of justice are out the window, and we face a grim new normal in which "getting whitey" becomes acceptable behavior from governments. How else to explain this "Face Covering Directive" from the "Health & Human Services" mandarins of Lincoln County, Oregon, signed by Rebecca Austen, Lincoln County Public Health Administrator and Dr. David Long, Lincoln County Health Officer. [...]
Oregon county issues face mask order that exempts non-white people. Lincoln County, Oregon, has exempted non-white people from a new order requiring that face coverings be worn in public — to prevent racial profiling. Health officials announced last week residents must wear face coverings in public settings where they may come within six feet of another individual who is not from the same household. But people of color do not have to follow the new rule if they have "heightened concerns about racial profiling and harassment" over wearing the masks, officials said. "No person shall intimidate or harass people who do not comply," health officials said.
There's a reason racial tension is rising in America - it's by design. In California, Democrats are moving to repeal Proposition 209. Proposition 209 explicitly bans racial discrimination in hiring and education. In other words, Democrats in California are now fighting for discrimination. This is not considered strange in 2020. No one even mentions it. A couple of weeks ago, Gov. Andy Beshear of Kentucky announced plans to bring universal health insurance to his state, but not for all citizens, just for people with the right skin color. Everyone else would pay, but only certain ethnic groups would benefit. Andy Beshear is still in office. No one has tried to impeach him for suggesting this because ideas like this are everywhere now. They're totally unchallenged. This is the most divisive possible way to run a country. If you wanted to make certain that your children would hate each other, you would hold them to different standards, and they certainly would. There is a reason that racial tension is rising in this country — it's by design.
Black Lives Matter forces whites to march in back of line: 'Systemic racism' lives. Black Lives Matter wants white people to know their place — which is in the back of the line. This holds even when whites are fighting to advance black causes. The Seattle branch of Black Lives Matter held a protest march on Friday [6/12/2020], but specifically stated that white people must walk in the back like chattel. Keep in mind that BLM comically claims to protest "systemic racism" and fight for racial equality while overtly segregating and marginalizing an entire race. Black Lives Matter Seattle wrote on its website: "Anti-Blackness is a greater threat to our survival. It's killing us, and we are fighting to survive and thrive."
Uber racially discriminates in restaurant deliveries. Uber and Postmates are waiving delivery fees for black restaurants, reports the Free Beacon. This is an obvious violation of the federal law banning racial discrimination in contracts, 42 U.S.C. 1981. Uber and Postmates are discriminating against restaurants based on the race of their owners. Restaurants that are not black-owned could easily bring a class action lawsuit against Uber under Section 1981, seeking many millions of dollars in damages. The Supreme Court has ruled that excluding whites from a benefit based on their race violates this law, even when the exclusion is not total, but rather just gives minorities a quota, or awards them a substantial bonus for being black. For example, it ruled that racial discrimination in college admissions violated Section 1981, as well as Title VI of the Civil Rights Act and the Constitution, when it was committed by a university that automatically awarded black and Hispanic applicants a large number of bonus points for being minorities.
Merriam-Webster To Change Dictionary Definition of "Racism" to Show Only White People are Racist. The root of the issue here is how to define racism. Racism, obviously, means disliking another race, viewing it as 'bad'. That's a definition that black nationalists and their leftist allies really hate because it raises the possibility that Farrakhan, Sharpton, or Tamika Mallory can be racist. Instead they define racism as a system of oppression so that only people with power can be racist and only white people have power. Therefore Farrakhan can't possibly be racist. This wasn't a fringe idea. Obama was one of the more prominent figures who implicitly championed it The usual tell for someone who is pushing this is their use of "reverse racism" to refer to racism by minorities, all the while insisting that reverse racism doesn't exist. Now in the dumpster fire of 2020, Merriam-Webster will be redefining racism.
UCLA Professor Under Police Protection Following Threats. A college professor is living under police protection after rebuffing a request to exempt minority students from taking final exams in the wake of George Floyd's death. University of California Los Angeles accounting professor Gordon Klein faced threats of violence after he declined a student's request that he delay a final exam in light of national unrest. The university suspended the professor for three weeks beginning on June 25 and launched a discrimination investigation into the incident. Klein declined a request for comment, but a Malibu Police Department spokesman said the department increased police presence near the educator's home after Klein received multiple threats.
Whites need not apply.
Kentucky governor vows to provide healthcare coverage for all black residents. Kentucky Gov. Andy Beshear announced that the state will begin working on a policy to provide healthcare coverage to every black resident. Beshear, a Democrat, said the policy would be vital in ending healthcare disparities between the state's black and white residents during a press conference on Monday [6/8/2020]. "Today, I'm going to make a commitment on coverage," he said. "I believe that healthcare is a basic human right, and I talked, even when I was running, about how I wanted everybody to have some form of healthcare coverage ... It's time for prioritization in black and African American communities, so we are going to do that."
The Editor says...
Racial discrimination is making a comeback!
Gates-Honored, Obama Admin-Appointed Doctor Wants to 'Get Rid of All The Whites'. Dr. Carol Baker of Houston is caught on tape proposing that society "get rid of all the whites in the United States" to reduce the number of "vaccine refusers." Baker has recently served as the executive director of the Center for Vaccine Awareness and Research at Texas Children's Hospital. Baker was honored in Washington, D.C. with the Sabin Vaccine Institute's 2019 Albert B. Sabin Gold Medal at a ceremony "made possible in part by the Bill & Melinda Gates Foundation and Pfizer." In 2009, Obama administration Health and Human Services Secretary Kathleen Sebelius appointed Baker to chair the Advisory Committee on Immunization Practices Centers for Disease Control and Prevention (CDC). Baker chaired through committee until 2012 and she served as a liaison representative of that committee as recently as 2019.
Black mobs terrorizing whites nationwide. The media is constantly pounding the not so subliminal message that whites are evil and stupid. Politicians are doing the same. Actually, politicians are worse. Obama laughingly agreed with Lula, the former Brazillian president (and prior to that former Brazilian communist agitator) when the latter said that the global financial crisis was caused by "blond hair blue eyed devils". It doesn't stop there. "Educators" are also stuffing the brains of students with the notions that whites are evil and thieves and stupid and helpless. Madison Avenue also pushes the agenda that whites are either evil or stupid or both. In one Pepsi commercial, a black couple happily throw a can of Pepsi at the head of a white woman with a velocity that would indicate a fatal blow to the woman's temple. That perhaps is the most obvious of the anti-white commercials. However, it is by no means the only one. Just turn on your TV and I challenge you to find a single commercial or TV show where whites are not portrayed as evil or crooks or stupid or inept.
On the Phenomenon of White Shaming. In his new book, White Shaming: Bullying Based on Prejudice, Virtue-Signaling, And Ignorance, Dr. Charles Negy, Clinical Psychologist and Professor of Psychology at the University of Central Florida, claims that in a country that proclaims to value diversity and multiculturalism, white Americans and white culture are under siege. They are attacked for transgressions, he claims, ranging from micro-aggression, colonialism, and Jim Crow laws to white privilege. Whites are expected to "shut up" and own their presumed racism, and feel guilty for the wrongdoing of others who simply belong to their racial group. Dr. Negy calls these attacks white shaming, and identifies them as a form of bullying. The bullying reflects shamers' unacknowledged hostility and prejudice towards Whites, as well as shamers' need to feel morally superior.
Stacey Abrams signals 'concern' if Biden's VP pick isn't a woman of color. Stacey Abrams said Wednesday [4/22/2020] that former Vice President Joe Biden should pick a woman of color to be his running mate in November. Last month during the final Democratic primary debate with Sen. Bernie Sanders, Biden committed to selecting a female running mate. The former vice president and presumptive Democratic nominee has further indicated he might seek out a woman of color to join his ticket.
Graduation canceled...except for 'students of color' and 'LGBTQIA+' students. St. Olaf College in Minnesota plans to host three virtual graduation ceremonies for different groups of minority students, while others must wait until next year to celebrate their completion of college. "Self-identified domestic students of color, international students and LGBTQIA+ students" at the Minnesota school will receive their own virtual graduation ceremonies at the conclusion of this year amid the COVID-19 pandemic, per an administrative email. Meanwhile, graduation for the rest of the class of 2020 has been "rescheduled for a date in late May/early June of 2021," according to the school's website. The three virtual graduation ceremonies for students in minority groups were announced by and will be hosted through the Taylor Center for Equity and Inclusion.
College plans virtual graduation, but only for minorities. A liberal arts college in Northfield, Minnesota, will conduct a virtual graduation ceremony this year because of the coronavirus pandemic lockdown. But not for all students. Only if they are "students of color, international students and LGBTQIA+."
POLL: White Liberals Most Bothered by Joe Biden's Whiteness. The only Democratic voters significantly bothered by Joe Biden's race and gender are white liberals with graduate degrees, according to a Pew survey published this week. According to the poll, a majority of Democratic voters are not concerned that their party's presumptive nominee for president is an elderly white man. Nearly 60 percent of respondents said Biden's age and race do not bother them. Among black voters, 72 percent said they weren't bothered by Biden's race and gender, while 70 percent of Hispanic voters said the same. Concern over Biden's whiteness was considerably higher among white Democrats, nearly half of whom said they were bothered that their party's nominee was not a minority.
Thoughts on the Current Crisis. As I write, I am not confident that I know whether all of the current economic shutdowns in the United States are necessary to stop the virus. Every hour I read some authoritative person saying yes, and the next hour I read some authoritative person saying no. [...] There is no doubt that there are many people at fault, but above all the blame lies with the bureaucratic form of government that has developed in our country since the 1960s. To take just one example, the CDC was created in 1942 as the Office of National Defense Malaria Control Activities, and in 1946 was renamed the Communicable Disease Center. For many decades it focused its full efforts on its original mission: viruses and communicable diseases. But by the 2000s, the CDC, like most executive agencies, had become largely independent of political control and lost its focus. It had widened its work to include chronic diseases and addictions, nutrition, school health, injuries, and — a telltale sign of ideological corruption and mission creep — racial and ethnic approaches to community health. It is a logical fact that if you favor some people you must disfavor others.
New Emergency Covid-19 Shelters Prioritized For Homeless LGBTQ and Communities Of Color. Three new emergency homeless shelters could open as soon as next week around Portland to help protect the homeless from Covid-19. Each site will host up to 45 tents, and adults have to register ahead of time to get access, you can't just walk-in. But officials with the Multnomah County Joint Office of Homeless Services say in a news release, some of the new sites will be prioritized for homeless residents who identify as LGBTQ, and for Communities of Color. Which has some asking if that's legal or could be considered discrimination[.]
Did Biden realize his discriminatory pledge for his Supreme Court pick? In his debate with Bernie Sanders, Joe Biden made two pledges to voters and asked his opponent to do the same to nominate only a black woman for the next open Supreme Court seat and to choose a woman as his vice president. Even with identity politics, the pledge to impose a gender and race requirement for the next Supreme Court nominee is as ironic as it is troubling. What Biden was declaring, and what Sanders wisely avoided, would effectively constitute discrimination in admission to the Supreme Court. Indeed, the Supreme Court has declared that such race or gender conditions are strictly unconstitutional for admission to public colleges. The pledges that Biden has made amount to this. No matter how qualified men or, in the case of the Supreme Court, women who are not black may be, he will not consider them as candidates.
Racial preferences in Virginia energy law are unconstitutional. Virginia's new Democratic legislature is passing an energy law that contains racial preferences. But to try to get around constitutional restrictions on racial discrimination, it is primarily targeting such preferences to "predominantly-minority areas," rather than to minority individuals. This doesn't immunize this legislation against a constitutional challenge, but it does complicate things for challengers. Both houses of the Virginia legislature have passed passed [sic] the "Virginia Clean Economy Act" (VCEA). It will increase residents' utility bills a lot in the years to come. It also provides jobs and job training reserved for areas that are predominantly minority or predominantly lower income (HB 1526 and SB 851). The VCEA requires a utility, in constructing an offshore wind generation facility, to "give priority to the hiring of local workers, including workers" from "a community in which a majority of the population are people of color." Such facilities are likely to cost billions to construct, paid for by higher utility bills.
Student about Multicultural building: 'Frankly there is just too many white people in here'. A college student at the University of Virginia says there are too many white people in their new multicultural building. She wants white people to know there are other places on campus they can go and to be mindful that the MSC, Multicultural Student Center, is for people of color and that people of color might feel uncomfortable around too many white folks.
Univ student announces 'too many white people' in Multicultural center, calm heads call for 'teachable moment'. Racism is alive and well at the University of Virginia. But because it's anti-white racism in particular that's apparently been breeding at the increasingly far-left university, you ought to expect to hear zero about it from the mainstream establishment press. It turns out that the university contains a Multicultural Student Center that's designed to serve as "a student-centered, collaborative space that supports underrepresented and marginalized communities, while cultivating the holistic empowerment of all students." And apparently, underrepresented and marginalized communities don't include white people, as the following stunning video footage clearly demonstrates: [Video clip]
Climate Activist Leaves Environmentalist Movement Because it's Too "White". "The climate movement is overwhelmingly white. So I walked away," explains Karin Louise Hermes, accusing her fellow tree huggers of exploiting her for 'woke' token diversity points. "After a while I realized I would only be called upon when climate organizations needed an inspiring story or a "diverse" voice, contacts for a campaign, or to participate in a workshop for "fun" when everyone else on the (all-white) project was getting paid," she complains.
Apparently all white males are just mindless automatons. Recently the prominent investment bank Goldman Sachs announced that they would no longer work with companies whose Boards of Directors consisted exclusively of white males. Specifically the bank will immediately require prospective clients to have at least one female or one non-white individual, on the Board of Directors. And by 2021, a company would need at least two 'diverse' directors, otherwise Goldman Sachs will refuse to underwrite that company's Initial Public Offering. [...] But Goldman is just the latest bank to make this announcement. BlackRock and State Street Global Advisors, two of the largest asset managers in the world, also recently stated that they would vote against directors at the companies in which they are shareholders, unless those Boards have at least one female member.
Columbia University continues to deny students accused of sexual assault their due process rights. The latest example is Ben Feibleman, who is using his real name to fight the allegations against him, made by a woman who, as usual, gets to keep her anonymity and is only referred to as Jane Doe in court documents.
Yale Kills Popular Art History Course over Study of White, Male Artists. Yale University announced this week that it is killing off a popular art history course after students claimed that they were "uneasy" over the course's focus on white male artists. According to a report from Yale Daily News, Yale University announced this week that the popular course, "Introduction to Art History: Renaissance to the Present," will no longer be offered.
Hey, AT&T, Flagrant Racism and Sexism Are 'Not OK'. In a new series of AT&T commercials, the format changes a little, but the racism endures. In the first of these ads, the viewer sees an elevator stuck between floors. In the car are ten people, three black males, four women of various ethnicities, two men either white or Hispanic, and a tall, goofy, very white guy in the center of car. Yes, you guessed it. It is the goofy white guy who says inappropriate things until the elevator starts moving again.
Director Terry Gilliam: I'm Tired of White Men Being Blamed for Everything Wrong with the World. In an interview that breaks every rule of the Hollywood PR handbook, iconoclastic filmmaker Terry Gilliam said that white men are unfairly blamed for everything that is wrong in the world and that the #MeToo movement has become a witch hunt as well as an excuse for some women to avoid taking responsibility for poor decisions.
Michael Moore: Pro-Trump White People 'Are Not Good People,' 'Be Afraid of Them'. Michael Moore can't keep his trap shut about President Donald Trump. The documentary director who's better known as an obnoxious lefty these days provided more insane TDS soundbites just after Christmas. He told Rolling Stone's progressive audience to be "afraid of white people" because the majority of them voted for Trump.
Seattle Times updates style guide to capitalize 'Black'; keeps 'white' lowercase. The Seattle Times has issued a new style guideline instructing staff to capitalize the word "Black" when referring to a culture, ethnicity or group of people, the newspaper announced Thursday evening [12/19/2019]. The word "white," however, will remain lowercase when referring to people with "light-colored skin, especially those of European descent," the newspaper said.
Wall Street Journal Demands National Hockey League (NHL) Increase Non-White Players or Die. The National Basketball Association (NBA) is 80.7 percent black. The National Football League (NFL) is 70.1 percent People of Color — 26.8 percent white. The National Hockey League (NHL) is roughly 90 percent white and under assault by the elite corporate press for being too white, a charge never leveled at the NBA or the NFL for their paucity of white athletes.
The Anti-White Party. An outtake in an article in the November 14 New York Times about the Iowa caucuses caused me to do a double take: "Democrats question the status of a state that's 90% white." Imagine that the Times had instead said, "Republicans question the status of a state that's heavily black," or "GOP questions the status of a state that's largely Hispanic." The crises of outrage would reach to the heavens. Every Establishment organ would demand the Republicans [...] grovel in the dust, and kiss the feet of so-called black and Hispanic "leaders", most of whom are con artists. But when the Democrats dismiss a state because it's largely white? Not a murmur of protest arose from any quarter.
UW-Madison employee on leave after telling students, 'Don't bring too many white students around'. A student working for a multicultural community center at the University of Wisconsin-Madison is on paid leave after reportedly making white students feel unwelcome. Chuefeng Yang, who works as a house fellow for Witte Residence Hall at the university's Multicultural Learning Center, is on leave pending an investigation after telling other students not to bring too many white people to the dorm, Yang told a local NBC affiliate. "I say things like, 'Don't bring too many white students around,'" Yang told the station. "It's not to say white students are not allowed here. But it's just to say, 'Let's make sure we're protecting the intentionality of this space.'"
Why Our Politicians Do Not 'Look like America'. To the perennially triggered political left, everything is just "too white" when it comes to men in positions of power — or anything that involves them having a high net worth or salary. Gripes and fashionable hashtags about Hollywood so white, sports team owners so white, and Fortune 500 CEOs so white are some of the most prominent examples. But most of all, leftists really despise that the clear majority of state and federal level politicians are white. Seeking some unattainable Utopian fantasy world, some of them believe the occupiers of such jobs should start to look "more like America" as a 2018 article from the Washington Post lamented.
Montgomery County CROWN Act bans discrimination based on hairstyle. The CROWN Act — which has been passed in California and New York — gives residents a legal recourse if their hairstyle impacts their employment status, or if they're denied service because of it. Montgomery County Council President Nancy Navarro said the CROWN Act "seeks to advance racial equity" by defining Protected Hairstyles.
The Editor says...
This law is ostensibly to eliminate discrimination; however, it is a law that benefits blacks exclusively and is most likely to be enforced only against white business owners.
It's official: 'White man' is now an insult in the English language. The crusade against people of pallor is nothing new. For years now, we've been witnessing the rise of anti-white sentiment on the Left, a group that ironically professes to champion "inclusion" and "diversity." In September, Williams College, a prestigious liberal arts college, held a symposium celebrating "New Voices in Science and Technology." In case the title was too subtle for ignorant white academics to grasp, the organizers made it clear that only "historically underrepresented groups" were welcome. Maybe if whites were confused about the message, it's because progressives never come out and say in plain language what they mean.
The Derangement Syndromes of Our Time. Back when nations were ethnographically homogeneous, or very nearly so, it didn't matter if you allocated every job, every promotion, every college admission, and every government contract based on proportional representation by race. But America's non-Hispanic white working population is on the cusp of becoming a minority, which means that more than 50 percent of all working-age Americans will now belong to protected status groups. Add women to that equation, of course, and you have roughly 75 percent of working-age Americans belonging to protected status groups. [...] But there's a deeper problem — all identifiable groups do not have, on average and as groups, equal abilities, and skills. It's not even close.
Progressive Official and Obama Donor Snaps At Diversity Meeting — 'You Stop It, You Are a White Male!' A self-described 'progressive' city official and donor to Barack Obama's presidential campaign snapped during a Board of Trustees meeting in Oak Park, Illinois, hurling racist taunts at her colleagues. The topic of the meeting? Racial equality. Susan Buchanan, who touts her "progressive values" and "sound judgment" on her village trustee campaign website, exercised unsound judgment and a distinct inability to control her emotions while the board discussed a resolution in support of diversity. A rewrite of the village's diversity statement got heated when participants debated on the phrase, "We work to break down systems of oppression."
Federal Judge To Harvard: Racial Discrimination Is Bad, Except Against Whites And Asians. Federal Judge Allison Burroughs ruled this week that Harvard University's affirmative action approach to college admissions does not discriminate against Asian American applicants. The nonprofit Students for Fair Admissions (SFFA) brought this case, which alleged the president and fellows of Harvard College violated Title VI of the Civil Rights Act of 1964 by limiting the number of Asian American applicants accepted. Harvard acknowledges that its undergraduate admissions policies consider race as one factor among many, but insists that its use of race is consistent with the law. Judge Burroughs sided with Harvard. After a close review of her opinion, I found it problematic in several areas.
Rashida Tlaib, in contentious tour, tells Detroit police chief to hire only black analysts for facial recognition program. Democratic Rep. Rashida Tlaib told Detroit's chief of police that he should hire only black people as analysts to run their facial recognition software because, she claimed, non-black people think they all look alike. The suggestion came Monday as Chief James Craig gave Tlaib a tour of the Real Time Crime Center, where the department uses facial recognition technology to find suspects. Craig was showing Tlaib how the software works, and how analysts use it to identify and locate individuals. But the tour quickly turned contentious as the freshman Michigan congresswoman made repeated requests that were shot down by the chief.
City employees claim black officials fired them for being white. Two former employees of a southwest Mississippi city are pursuing legal action, claiming black officials fired them because they were white. Former McComb city prosecutor David Brewer sued the city Aug. 22 in federal court, The Enterprise-Journal reported. Former public works director Chuck Lambert is pursuing a racial discrimination complaint he filed earlier this year with the U.S. Equal Employment Opportunity Commission. That complaint could be followed by a lawsuit.
How being a white person became a crime. At the very moment when the issue of race might at long last have been put to rest, it is now becoming the most important issue of all. The decades since the 1960s saw the growth of "black studies" in American universities. The courses started out in part as a way of de-stigmatizing the group and educating people about a crucial aspect of their history. But, just as a popular strand of feminism turned from celebrating women to vilifying men, a portion of black studies started attacking people who were not black. A discipline intended to de-stigmatize began to re-stigmatize. This has led to the growth of "whiteness studies" — a discipline that is now taught at all of the Ivy League universities in the US. Oxford University's Research Encyclopedia describes whiteness studies as: "A growing field of scholarship whose aim is to reveal the invisible structures that produce white supremacy and privilege."
Okay White People, Break It Up. How many times do we see the media slam a movie, a TV show, an editorial board, a slate of candidates, or a roomful of people merely for being "too white"? It's simply taken for granted that anything deemed "too white" is bad and in need of dispersal. It's not that the actions of the whites who gather are necessarily wrong; the people are wrong.
Multicultural Frauds. [Scroll down] Take Robin DiAngelo, for example. A leading "scholar" of whiteness studies, DiAngelo may be the biggest fraud in all of academia. In February, in an interview with The Guardian, DiAngelo declared: "The problem with white people... is that they just don't listen. In my experience, day in and day out, most white people are absolutely not receptive to finding out their impact on other people. There is a refusal to know or see, or to listen or hear, or to validate." Going along with this refusal by whites to "listen," according to DiAngelo, is what she calls "white fragility." [...] DiAngelo, a white woman, is not only willing to allow only people of color to determine whether she is sufficiently woke; she is prepared to get rid of due process altogether.
New NYC teachers given book with essay titled 'Dear White Teacher'. A cadre of newly hired teachers will report to city schools this week following orientation sessions where they were given a book that includes an essay titled "Dear White Teacher," The [New York] Post has learned. But unlike the Department of Education's controversial "implicit bias" training — which, among other lessons, tells teachers that "racial equity" requires favoring black students over whites — the essay's message is that white instructors should stop being afraid to discipline black students. Essay author Chrysanthius Lathan blasts white teachers who she says routinely send minority students to "teachers of color" for discipline — because they're scared of being called racist.
Taxpayers Fund Screening Of Movie "Why Don't We Murder More White People?". The video assumes that white people are a kind of plague; the only question is what to do about them. Some of the speakers do not call for violence, but they never say killing whites would be immoral.
Joe Biden says he'd prefer a running mate who is 'of color and/or a different gender'. Former vice president Joe Biden has been leading the Democratic field in most polls since he entered the race, but even he acknowledges that he's a long way from winning the nomination. If he does, Biden said it would be ideal for his ticket to reflect the diversity of the American population. The presidential hopeful told a small group of black journalists Tuesday [8/27/2019] that if he wins the nomination, he'd prefer that his vice presidential candidate not be a white male.
The Editor says...
That sounds like race-based discrimination to me.
Anti-White Privilege: The only socially acceptable racism today is racism against whites. If you criticize Islam and jihad, you get death threats and you're smeared as a "racist Islamophobe". If you rabidly criticize "white nationalist terrorism", and talk it up as a "Major Threat", you get a pat on the back from leftists. So it's not surprising how many criticize "white nationalism", and how few criticize Islam and jihad. The left's need to make terrorism outside of Islam appear to be far greater than it is, is in exact proportion to how great a threat Islamic terrorism is. It gets to the embarrassing point where leftists, after being presented with massive lists of Islamic terrorist attacks and Islamic terrorist groups, invoke an individual terrorist, Timothy McVeigh, as if he represents a vast terrorist group.
Workplace bias: 1-in-5 managers won't hire pro-Trump workers. American workers who like President Trump face sweeping bias against them, with some managers refusing to hire his supporters and those already employed facing discrimination and mockery, according to a new study. In a survey of hiring managers and workers shared with Secrets, the marketing firm Airtasker found that left-leaning firms are especially anti-Trump, with 20% vowing to reject a job candidate who backs the president.
Reaction to the article above:
Who says China's social credit system isn't practiced here? Check out what 20% of hiring managers are doing. This is precisely what drove voters to elect President Trump in 2016. It's why they surprised pollsters as a 'silent majority,' declining to put Trump bumper stickers on their cars out of fear of leftist intolerance. Now this news may propel them to elect him again in 2020 because conservatives have known for years that leftist intolerance in every area of the American establishment is quite real, including kin its routes to opportunity and paths to success, such as in hiring. The perpetrators now are so comfortable doing it they're admitting they're doing it to pollsters. It signals that this cancel-culture among the establishment elites is out of control, and in effect is becoming a China-style social credit system.
Skeptical of the government? You're a potential terrorist.
The White Supremacy Hoax. The Wall Street Journal on Saturday [8/10/2019] featured an essay by one Clint Watts, formerly of the FBI and West Point's Counter Terrorism Center. Watts makes those proposals using the word "white" 16 times in 18 paragraphs. The sociopolitical ideas rife among white people are the main matrix of terrorism in America, Watts contends. Racial profiling, anyone? [...] Watts proposes legislation that would permit designating persons associated with what the government may identify as "white supremacist ideology" as subject to surveillance to "preemptively assess whether these white supremacists are taking a radical turn toward violence." Watts also proposes "red flag" laws, that would allow the government to take away weapons from someone so designated. Loss of weapons would be the least of burdens imposed on anyone so "red-flagged." Career, reputation, possibly family, would be gone because someone in the notoriously impartial FBI so decided, perhaps with the agreement of the highly scrupulous FISA court, subsequent to ex parte, secret proceedings.
MSNBC Panelist On Most White People: 'Destroy Them'. In a feisty segment on Sunday's [8/11/2019] "A.M. Joy," Elie Mystal of Above the Law made an inflammatory comment in which he said white people who voted for Donald Trump should be destroyed. This came after a segment in which he argued there is no moral difference between avowed white supremacists and any white person who votes for Trump.
MSNBC Guest Advises: 'Destroy' Most Whites for Supporting Trump. On Sunday's [8/11/2019] AM Joy on MSNBC, frequent guest Elie Mystal of AboveTheLaw.com made the kind of statement about a "majority of white people" that would be considered blatantly bigoted or racist if aimed at any other group, as he stated that it is necessary for Democrats to "destroy" whites who support President Donald Trump. Mystal — who has had a reputation for making incendiary comments in his MSNBC appearances over the past year — made his comments during a segment in which panel members got to rail against whites who support President Trump.
White supremacy paranoia is a massive HOAX perpetrated by the toxic media that pushes hatred, bigotry and lawlessness. Though the Left has been seething with animosity over what it perceives as America's 'white-dominated' society for years, in the lead-up to the 2020 election they have come out and made hating white people an official platform of the Democratic Party. And shame on the party's officials and leaders for allowing it to happen. In particular, the hatred is manifested in the establishment media-created and driven lie that a) "white supremacy" and "white nationalism" are one in the same; b) both are a major problem; and c) white supremacists are everywhere (especially at rallies held by POTUS Donald Trump). It's all a fabrication, mind you. The fact is we probably couldn't fill a college football stadium with the number of actual, avowed "white supremacists" in America, and in a nation of nearly 330 million people that's saying something.
Democrats just purged white party staffers, and it's a bigger deal than anyone wants to admit. There are two possible interpretations of this mass-purge at the DCCC. Either a few Democrats are making a racial issue out of a patronage question, once again knifing each other under the cover of intersectionality, or Democrats are genuinely angry that half the staff at the DCCC are white. As often happens with the Democratic Left, it is difficult to tell just where the insincerity ends and the fanaticism begins. But either interpretation implies that this is not a party fit to govern. Nobody wants to see whites take up identity politics or demand a certain quota of jobs anywhere. But that isn't what this was about. This is about an organization that fires people from their current jobs because of their skin color.
In Defense of Penn Law Professor Amy Wax. Defending diversity — taking the position that things would be better off with more nonwhites and fewer whites — is at the very core of the social justice mentality plaguing America. The hard left doesn't want to nominate another white male for president in 2020, or in the words of Politico, "a candidate that looks like Bernie or Joe." [...] Whether this is ultimately true is debatable. What's not is the fact that it's perfectly okay to call for more diversity in America — to publicly state things would be better off with more nonwhites and less whites. Yet when Penn law professor Amy Wax mentioned the same premise only in reverse — that our country would be better off with more whites and fewer nonwhites — liberals had a complete meltdown; the media vilified her as an intolerant racist, and after hundreds of Penn students signed a petition calling for Wax to be relieved of all teaching duties, Penn Law School issued a statement condemning her words.
Of Progressive Carnivores and Cannibals. The old affirmative action protocols designed to accommodate the historical grievances of blacks and Mexican-Americans have been reinvented with revolutionary speed as "diversity" — loosely defined as anyone "not white." Thus, the vast new rubric is inclusive of wealthy Chinese-Americans, recent South American middle-class immigrants, well-off Punjabi arrivals, upscale Middle Easterners and almost anyone else, including those who fake a nonwhite identity in the manner of Elizabeth Warren or Ward Churchill. Suddenly the "woke" nonwhite were no longer 15-20 percent of the population, but comprised a supposed 30-40 percent powerful "constituency," all united by their loathing of supposed "white privilege" and victimization from "white supremacy."
On Being Half-White in America. [Scroll down] We say we're for immigration — unless the immigrants are Americans. I have already mentioned the most difficult thing about being white, and that thing is the treachery. The outright disrespect white people show for their ethnicities, and their constant unwillingness to support or praise them over brown ones, is a constant nuisance and, at the bottom of the matter, a danger. Jokes are constantly made at white expense, and we openly complain about an influx of Amazon employees while inviting the underclasses of the third world — not only to move here, but to commit crimes without fear of deportation and to live off our welfare. We can call people "white trash" but banned the words for black trash.
Detroit Music Festival Reverses Course, Won't Charge White People More for Tickets. After facing a serious backlash, a popular Detroit music festival has dropped its controversial plan to charge white concertgoers twice as much as people of color. [...] Additionally, the ticketing website EventBrite made it clear the festival would not be able to continue using its website if this race-based pricing policy remained. The revisions provided white people the choice of opting-in to pay more.
Music festival will no longer charge white people more for tickets. A Detroit music festival has dropped its controversial plan to charge white concertgoers twice as much as people of color — saying it was for the "safety of the community" following a furious backlash. The AfroFuture Fest sparked outrage with its ticketing model for the Aug. 3 event that saw people of color paying a maximum of $20 compared to $40 for "Non-POC" tickets.
Whites need not apply.
Kamala Harris proposes $100 billion plan for black homeownership. Kamala Harris, calling on the nation to "deal with the racial wealth gap," on Saturday [7/6/2019] proposed a $100 billion federal program to help black people buy homes. The California senator said the plan, which would provide down payment and closing cost assistance of up to $25,000 to people renting or living in historically red-lined communities, would help some 4 million home-buyers.
National Guard Bans Christian Scouts Because of Religious Beliefs. The Fort Indiantown Gap National Guard facility regularly hosts tours for Boy Scout troops and other organizations, but Trail Life boys were told they could not participate because they belonged to a Christian scouting organization. The National Guard tells me they had concerns about whether the Christian group was supportive of the LGBT community. "After researching the organization online, it was quickly discovered that the organization restricted membership to certain persons," the National Guard told me. "Army values and policy prevent discrimination against gender or sexual orientation within our ranks, which in turn led to the first-level reviewer denying the request."
Multiculturalism Is a Nation Killer. In the name of multiculturalism, schools have segregated dormitories, student unions, and even graduations. But imagine if whites wanted to segregate the student union, to have white-only dormitories and graduations? The virtue signalers would descend on the campus in outrage.
San Francisco is not a 'sanctuary city' for 13 white male cops. San Francisco, California, might provide a safe harbor for illegal aliens looking to evade the law, but it is doing little to safeguard the right of 13 white male cops to move up the career ladder based on merit — with less-qualified minority and female candidates receiving promotions over them.
New York City trying to "liberate" teachers from their "whiteness". A new mandatory, $23 million "anti-bias" program is training New York City school teachers to discriminate against white children, no matter what. The New York Post recently published remarks from one training session, in which the instructor defined 'racial equality' as favoring non-white students over white students, regardless of any other circumstances.
It Is the Left That Believes in White Male Supremacy. On May 10 The Chronicle Review published an article by Andrew Kay called "Academe's Extinction Event." A thoughtful, charming, and funny writer, Kay reflects on the 2019 Modern Language Association meeting, which seems to him rather frivolous amid the collapse of literary study and the humanities generally. [...] Cue four predictably middling women academics — Devin M. Garofalo, Anna Hinton, Kari Nixon, and Jessie Reeder — who decided to use Kay's article as an occasion for punishing him for the crime of being a white man. [...] Here is the utterly pathological and malevolent perspective of Kay's critics. Kay must not only be sacrificed; he had better keep quiet about it, because "to speak of his own predicament" is to affirm the very whiteness and maleness that are so dangerous to "women and scholars of color." The irony is that not only do white men not get jobs today in academe just because they are white men; it is because they are white men that they don't get such jobs, even as "women and scholars of color" are hired because of their identity.
Linda Sarsour livid at 'white women,' says they 'uphold the patriarchy'. Women's March leader Linda Sarsour is not happy with Georgia's "heartbeat bill" — or the percentage of "white women" who made it possible. The activist who describes herself as "every Islamophobe's worst nightmare" told her nearly 300,000 Twitter followers this week that white women are to blame for the election of Georgia Republican Gov. Brian Kemp, the pro-life legislation he signed into law May 7, and feminists' ongoing struggle with "the patriarchy."
Sanctuary for Illegal Aliens and Persecution for Male Students in Our Universities. Universities, to be virtuous, to seek "social justice," must side with victims: illegal aliens and females. Conversely, universities must do all they can to sideline the oppressive people of white and toxic males, evil people who have abused their power and deserve no consideration, care, or protection. Males, ipso facto, are guilty. Protecting illegal aliens and vilifying people of white helps to redress the global injustice, and favoring females and persecuting males advances feminist "equality," in which females replace men in power and status. The seemingly contrary university behavior toward beloved illegal alien students and reviled accused male students is determined by "social justice" ideology.
The Fight Against Politically Correct Literature. According to Sofia Leung, a librarian who works at MIT, ["]Library collections continue to promote and proliferate whiteness with their very existence [..."] It is not worth refuting all of Leung's ignorant assertions, the voguish cant being self-evidently false. I will focus only on the most important one — namely, the silly claim that "Libraries filled with mostly white collections indicates that we don't care about what POC [people of color] think," and so forth. All it takes is a little knowledge of history and common sense to know how wrong this is. Nobody would take the fact that a Chinese library consists mostly of books by Chinese as evidence of racism and all the rest. Nor should we make such a mistake when it comes to our own country. For America was founded by British men, and it remains a majority white country. So, it's grossly innumerate to think that American library collections (or anything else, for that matter) should be like a pizza pie, with each ethnic group's books and literature representing an equal slice of the whole. As is usually the case with leftist resentment-pipers, Leung's opinions betray who the real racist is: Leung herself. Thus, the hypocrite reads racism into a context where there's no evidence of it, and all because she hates white people.
Reverse Racism: Does It Really Exist? When it comes to the bashing of white people, the "trend" is as prevalent as it is undeniably racist. As you've probably noticed, criticizing white people, especially straight white men, is very much in style. It's impossible to escape — from the Daily Beast to the HuffPost, largely because of Trump's rise to power, it's now acceptable to casually attack white people, especially white men. The gratuitous inclusion of race even when it isn't applicable, as during the Brett Kavanaugh hearings, has become more frequent. Vox, just a few months ago, published an article titled "Lindsey Graham, Brett Kavanaugh, and the unleashing of white male backlash." These weren't normal angry men... oh no, these were angry white men.
'Racism and sexism': Women of color slam white male tilt of Dem primary. The women of color who packed into a university auditorium here Wednesday for a first-of-its-kind presidential forum delighted in the rhetoric of candidates who vowed to make Donald Trump a one-term president. But their frustration was just as palpable — over the heavy media attention being paid to white male candidates in the early days of the Democratic primary, and over polling they contended is feeding a misleading narrative that only a white man can defeat Trump.
Monty Python's Terry Gilliam: 'I'm tired of being, as a white male, blamed for everything'. Former director and Monty Python member Terry Gilliam lamented the change in comedy culture in a new interview, saying he's tired of being "blamed for everything" because he's a white male. In an interview published Monday by The Wall Street Journal, Mr. Gillam spoke about Monty Python's 1979 comedy film "Life of Brian" and how "it would be a fight" to get some of those jokes onscreen today.
Discrimination Against White People: It's Real. Racial discrimination against white people today is as real as the discrimination against black people was under segregation. [...] Affirmative action is an inescapably real and racist as segregated water fountains. Affirmative action is racial discrimination, not as a matter of opinion, but as a hard objective fact. Racial preferences reward and punish people based on their race. These preferences, no matter how they are disguised, pervade not just one region, the way that segregation did, but much of the country. Diversity is a mandate on campuses and in corporations across the country. And it's the very definition of racism.
Parenting Magazine Warns 'Blond, Cheerful' Families [are] Dangerous, Likely Right Wing. Parenting magazine Baby & Family has told readers to beware of families who are "inconspicuous" and "cheerful", as these warning signs indicate they are right wing and thus "dangerous". Depicted with illustrations featuring solely blonde women and children, the report says ordinary parents must take action against right-wing families and make clear that their ideology has no place in the world.
Public university to offer course in 'Angry White Male Studies'. The University of Kansas is offering a course on the study of "angry white men" for the fall 2019 semester. Students will explore the role of "dominant and subordinate masculinities" as they connect to "rights-based movements of women, people of color, homosexuals and trans individuals." "Angry White Male Studies" (HUM 365) is cross-listed under both the Humanities department and the Women's, Gender and Sexuality Studies department at KU. It is an option to satisfy a Humanities course requirement. The humanities are the study of how people process and document the human experience. In other words, the course falls under the umbrella of English literature, modern languages, history, and philosophy.
Take a Torch to the Faux Shaming. If you've got any relationship to any of the intersectional oppression classes (male, white, heterosexual, Christian, Jewish, employer, investor), then it is very clear that any reasoned defense of your positions will not be tolerated. Dare to make the ghastly mistake of getting "uppity" (i.e., being so sure of your position that you laugh at those who mock you), you will be labeled unclean and outside the camp — a social and economic leper. Expect the relationship killing epithets to be applied: racist, bigot, hatemonger, along with the various shades of phobia to imply you are mentally unstable to boot. [...] You can enjoy free speech all you like, but if you express an unapproved opinion, don't be surprised if you lose your banking and social media privileges. You could lose your job or your contracts.
White Men Really Are The Worst. Former Vice President Joe Biden is the latest Democratic Party candidate for president to make a very important point — white men and our culture are the worst. The whole field has, in one way or another, said pretty much the same thing. And you know what? They're right, we're awful. Especially those of us who are straight. It's time to reject white male culture! When you think about it, what have we ever done for humanity anyway? [...] Well, not much if you don't count the concept of liberty, democracy, ending slavery, liberating the world from fascism and communism, modern medicine, air travel, computers, cell phones, and just about everything good in life. Other than that, nothing!
Only black reporters allowed in Georgia mayoral race event. Race was front and center on Wednesday night during a meeting coordinated to garner support for just one black candidate in Savannah's mayoral election. With signs stating "Black press only" on the doors of the church where the meeting was held, white reporters were barred from entry, while black reporters for at least two television stations were permitted inside. The event was coordinated by the Rev. Clarence Teddy Williams, owner of the consulting firm, The Trigon Group, who declined to discuss the entry policy.
White Reporters Excluded from Georgia Mayoral Event for Black Politicians. White members of the press were barred from entering the Bolton Street Baptist Church for a community event highlighting black mayoral candidates in Savannah, Georgia. The sign on the church door was anything but subtle: "No media (T.V. Radio, etc.) Black Press Only!" All white reporters were prevented from entering the premises, while black reporters from two television stations, as well as the publisher of the Savannah Tribune newspaper, were permitted.
Higher education has a gender problem. With a surplus of women and a shortage of male students, colleges are becoming more and more gender unbalanced. The more farsighted among university administrators are starting to worry that this will turn universities into a pink-collar ghetto, places that the public thinks of as finishing schools for girls rather than gateways to middle-class stability. Part of the problem, of course, is that our K-12 system, staffed overwhelmingly by women whom research shows tend to favor girls, leaves a lot of boys demoralized and uninterested in further education. But another big part of the problem is that college has become an anti-male space.
Dartmouth Offers Free Ski Trip for Students of Color Only. Why do so many people in higher education seem to think they can improve racial relations in this way?
Police Unlawfully Rejected 'Exceptional' Recruit for Being Straight White Male, Tribunal Finds. Cheshire Police abused "positive action" legislation to unlawfully discriminate against an "exceptional" candidate for being a straight white male, an employment tribunal has ruled. Matthew Furlong, 25, applied to Cheshire Police in order to follow in the footsteps of his father, who is a serving detective inspector on the force — but was ultimately turned down for a role, despite being told "it was refreshing to meet someone as well-prepared as yourself" and that he "could not have done any more" after passing the interview stage of the recruitment process, ITV news reports.
How Does a Straight White Male Democrat Run for President? Of the nine candidates officially running in the Democratic presidential primary, only one is a heterosexual white man. And that guy, former Rep. John Delaney, generally polls somewhere between zero and 1 percent. But of the 17 Democrats reportedly still pondering a presidential bid, all but one is a straight white man. It's hard to chalk that up to coincidence. Clearly, the women and minority candidates sensed that the water is warm for them, and the straight white men appear to be worried that this is just not their year.
Dickinson Student Newspaper: 'The Idea of the White Man Has Become Obsolete'. Dickinson College in Pennsylvania published an op-ed in its student newspaper claiming that the world needs to be saved from "the white man," arguing that white men have "become obsolete" and "have yet to demonstrate any collective competence in treating people as human beings." An op-ed entitled, "How Do We Save the World From the White Man?" was published Thursday in the student newspaper for Dickinson College, The Dickinsonian. In the piece, the author argues that "the idea of the white man" should be dismantled "wherever it tries to manifest itself."
Esquire criticized for white 'American Boy' cover during Black History Month. Esquire magazine has sparked a social media backlash with a cover featuring a white, middle-class teenager from Wisconsin. The magazine's March issue profiles Ryan Morgan, a 17-year-old growing up in West Bend who is pictured on the cover with the headline: "An American Boy: What it's like to grow up white, middle class and male in the era of social media, school shootings, toxic masculinity and a divided country."
Yale editor chillingly urges fellow Yalies to act as a 'Stasi' to monitor white males. At the Yale Daily News, East Germany had nothing on the paper's opinion editor, Isis Davis-Marks. [...] She's urging her fellow students to follow white males around, monitor them, spy on them, screenshot them, and document everything they do, in the hopes of ruining their careers at some point 30 years down the line. If she knew anything about the history of socialism or communism, which, to make charitable assumptions, she doesn't, she's in fact calling for a Stasi-like atmosphere, as seen in The Lives of Others, all because she was so inspired by the Brett Kavanaugh hearings, with the Senate Democrats' last desperate tactic of bringing up false stories dating from college as a means of sinking Kavanaugh's Supreme Court nomination.
College Newspaper Says 'White Boys' Should Not Be 'Allowed To Talk'. A blatantly racist opinion piece penned by a Pennsylvania college student says "white boys" should not "be allowed to talk." Leda Fisher, a senior and self-identified "black girl" at Dickinson College, whines about "white boys" in her higher education years "incessantly" speaking about issues and sharing their opinions, in a piece titled, "Should White Boys Still Be Allowed to Talk?" The piece was published on Thursday [2/7/2019] in the student newspaper, The Dickinsonian. School administration addressed the severe backlash to the openly racist piece on Friday in an email underscoring their position to uphold free speech and condemned prejudice.
Woke Evangelicals: Cultivating Victimhood, Vanquishing Conscience. With astonishing speed, the evangelical world has been invaded by social justice ideology. In a recent podcast, the current president of the Southern Baptist Convention (until now a theologically conservative body), J.D. Greear, highlighted "white privilege" as a serious moral issue for Christians. Likewise, David Platt, former president of the SBC's International Mission Board, browbeat evangelicals for having too much of the same skin color: "Why are so many of our churches so white?"
Demonizing white men. Don Lemon, a CNN anchorman, said, "We have to stop demonizing people and realize the biggest terror threat in this country is white men, most of them radicalized to the right, and we have to start doing something about them." Steven Clifford, former King Broadcasting CEO, said, "I will be leading a great movement to prohibit straight white males, who I believe supported Donald Trump by about 85 percent, from exercising the franchise [to vote], and I think that will save our democracy." Teen Vogue, a magazine targeting teenage girls, wrote, "Not only is white male terrorism as dangerous as Islamic extremism, but our collective safety rests in rooting out the source of their radicalization." Economist Paul Krugman, a New York Times columnist, wrote a column titled "The Angry White Male Caucus," in which he explained, "Trumpism is all about the fear of losing traditional privilege." There have been similar despicable statements made by academics. [...]
Nonwhite Privilege. [Scroll down] In the big picture, Popov lost because he's white, and Hayashi won because he's Asian. This is a privilege that nonwhites have. If you're an attorney who isn't white, you can totally declare that your practice exists to benefit people because of the color of their skin or the shape of their face. But if you're white and you try to be a "pro-white" lawyer, you can literally be denied a license to practice law on the basis of "character and fitness." I'm not advocating pro-white or pro-Asian or pro-anything. I'm just pointing out the double standard. One group of Americans gets to have attorneys who can unashamedly claim, "I'm here to advance the interests of people of my race," and another group of Americans doesn't.
The Left's War against White Males. Just as community organizer Saul Alinsky, in his textbook for Marxist street thugs, Rules for Radicals, advised his minions, constant drumbeats have the potential to wear down resolve and win social and cultural wars. For years now, the object of leftwing pressure has been to undermine the status and reputation of straight white conservative males. To eradicate the white guy problem in America, Caucasians with XY chromosomes, who self-identify as the sex they were at birth, are being portrayed by the left as misogynist, bigoted, homophobic, violent troublemakers in need of exposure; chastisement; and, in the case of Donald Trump, ousting from power.
To some people, facts matter less than the color of the person reporting them.
AOC Says Lack of Media Diversity 'Unacceptable in 2019'. Rep. Alexandria Ocasio-Cortez was embroiled in a Twitter spat this weekend after criticizing CBS News for an apparent lack of black journalists covering the 2020 election. The democrat, who represents New York's 14th congressional district, spoke out yesterday in response to a tweet from CBS producer Ben Mitchell which announced the team covering the upcoming election. In the Friday [1/11/2019] post, Mitchell published the headshots of the staffers.
Dems' Diversity Push May Block White Males in 2020. In the age of identity politics and increasing demands for diversity, especially on the left side of the political spectrum, can the Democrats nominate a male Caucasian for president in 2020? In a recent CNN poll of registered Democrats, the top three choices were all white men: Joe Biden, Bernie Sanders, and Beto O'Rourke. If the 2018 midterms are a guide to Democratic voter sentiment, however, this may not cut it. Rep. Alexandria Ocasio-Cortez put it bluntly in her primary campaign slogan against former Rep. Joe Crowley. "It's time," she said, "for one of us."
The Editor says...
I am not aware of any schedule on which there are specific moments when it will be "time for" Joe Biden, Michelle Obama, or Oprah winfrey to be elected President. Nor is there a deadline by which a black female, a transvestite, a Muslim, another incompetent black man, or a homosexual has to be President. May the best-qualified candidate win.
California Women's March Organizers Nix 2019 Event for Being 'Overwhelmingly White'. Organizers who had been planning to hold a California Women's March in January have now canceled the event, claiming the attendees would have been "overwhelmingly white." The Humboldt County organizers had planned to host the rally in Eureka, California on Jan. 19th to honor the third anniversary of the original Women's March in Washington, D.C., in 2017 after President Trump was inaugurated. After it was revealed that the event would not be as diverse as the Eureka Women's March organizers would like, they decided to pull the plug on Friday [12/28/2018].
Government Pays Nation of Islam to Proselytize in Prisons. It would be nice if the federal government would pile up our money in a giant mountain and set it on fire. Or at least, it would be an improvement over using it to pay Nation of Islam goons to radicalized prison inmates with their vociferously hostile ideology. [...] Even regular Muslims are less antagonistic than the Nation of Islam variety. Farrakhan et al. hate us not only for being infidels, but explicitly also for being white. Nation of Islamaniac Verbon Muhammad of Monroe, Louisiana, whom our government gave over $60,000 to provide "religious services," confirms, "We don't allow white people in our meetings, period."
May I embrace my white identity? Former Republican congressional aide Kurt Bardella switched parties last year. He now writes Former Republican columns for HuffPost, NBC, and the like. On the anniversary of his switch, USA Today ran a column he wrote, "I became a Democrat a year ago and found my own voice. It changed everything. "I wrote my truth, held my breath and waited. I now care about lots more things than I used to, and I've finally embraced my Asian-American identity." Good for him. My question for him and USA Today is simply this: May I embrace my white identity? I mean without being branded racist.
Poll: 6-in-7 GOP Voters Say Minorities Favored over White Americans. Polling analysis from the Pew Research Center reveals that the overwhelming majority of Republican voters in the recent midterm elections, 85 percent, say the U.S. today favors minorities over white Americans. Only 11 percent of GOP voters said white Americans are favored over minority groups. On the opposite end of the political spectrum, 87 percent of Democrat voters in the midterm elections say white Americans are favored in the U.S. over minorities.
Tucker's Treatise. I have no idea how [Tucker] Carlson creates five hours of television per week and writes a book at the same time, but Ship of Fools is quite good. It's currently No. 3 on the nonfiction best-seller list, behind Michelle Obama and Bill O'Reilly. His prose style is simple and clear, which is helpful because the density of his ideas is rather high. It's not a large book at 244 pages, but it might take longer to read than you expect. Interestingly, despite his clarity of expression, almost nobody has noticed Carlson's growing ideological centrism. But that's because what matters most to contemporary intellectuals is not policy but keeping the alliance of the margins together by blaming straight white males. And Carlson is the exemplification of straight white maleness.
Jay-Z wins arbitration delay after arguing panel was 'too white'. Lawyers for Jay-Z have persuaded a Manhattan judge to press pause on an arbitration case involving the rapper after his camp argued that the American Arbitration Association was too white to handle the matter fairly. Manhattan Supreme Court Judge Saliann Scarpulla halted the Brooklyn impresario's battle with Iconix Brand Group until a hearing on the arbitration issue next month. The rhymer's legal crew contended that there weren't enough blacks in the AAA's pool and that the dearth would pose a "discriminatory disadvantage" to their client.
MSNBC: White People Can't Save America. Does MSNBC know anything about history? Aside from fighting against the tyranny of Britain and forming the United States of America, what have white people accomplished? Stupid question asked by far too many Leftists; but I will answer. For starters, 386,000 white Republican men died to free black people from 284,000 white Democrat men who wanted to keep black people as slaves. I suggest MSNBC figure out how many degrees of separation they are from the white people who saved America from the scourge of Democrat-sanctioned slavery. And when the world came under threat, white American men saved the world.
Rutgers prof who said **** white people cleared of wrongdoing: report. Rutgers University on Wednesday [11/14/2018] reversed its previous finding that a professor violated the school's discrimination and harassment policy after he said he "hates white people" in a social media post.
A Cold Winter for White Women. [Scroll down] Enter Jada Pinkett Smith, the outspoken racial critic who, just days ago, freely admitted that she just doesn't like white women in general. [...] Smith boycotted the Oscars because it was too white for her. Chris Rock said at the 2016 Academy Awards, "I'm here at the Academy Awards, otherwise known as the White People's Choice Awards," in a nod to Smith's angst over the lack of diversity in Hollywood. Another minority heavy hitter is Oprah, who only endorses political candidates who are black, such as former President Obama and her recent bid to get Stacey Abrams elected as Georgia's next governor. Oprah has also said that old white people just need to die and that she was a victim of racism when a store clerk wouldn't show her an expensive handbag.
Fembot Tool Warns Journalists if They Quote Too Many Men. It probably wasn't inspired by U.S. Senator Mazie Hirono, who not long ago told men to "shut up." But that's in a way what a new Financial Times tool will do: warn writers if they're quoting too many men and force them to purge male voices.
Standing Up to Leftist Racism. Consider the Left's current view on immigration and their overtures to the Latino community. They indiscriminately lump Latinos whose families sacrificed time and money to immigrate legally with Latinos who skipped the line and broke the law. These two groups have very divergent views on immigration — but in the mind of the Left, all Latinos think alike. The Left is obsessed with identity politics and shamelessly divides the country over the immutable characteristics of different groups of people — this is the very definition of racism. Think about how many times the Left has made reckless generalizations about "white people." But more Americans increasingly are aware of the open mental warfare of the Left. They have started growing spines and standing up to the bullying tactics of the real identitarians. And the country has started noticing.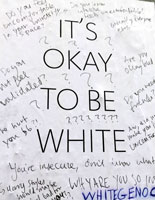 It's NOT Okay to Be White in Canada's Universities. I am the student who put up the 'It's Okay To Be White' flyers at the University of Manitoba. [...] They were posted in protest of racially discriminatory ideology that is taught at the University of Manitoba that targets white individuals. The absurd over-reaction, including by Harjit Sajjan, the Minister of National Defence, to a statement indicating it is "Okay" (i.e. acceptable) to be genetically European (white) is proof that many people do in fact believe it is not acceptable for an individual to be white. Simply stating that it is acceptable for an individual to have certain DNA has sparked outrage, accusations of "racism", "white supremacy", and "hatred", and has even been condemned as "offensive" and a "scare tactic".
Media freakout when 'It's OKAY to be white' signs pop up — around the world. In light of the left's relentless, and increasingly vocal campaign against Caucasian Americans, particularly of the male persuasion, someone in Fort Wort [sic], Texas, posted post signs to reassure white people. Or did they? Posted on lamp posts and other fixtures, the signs read: "It's Okay To Be White." The signs were described by the local CBS affiliate as "unsettling," and "concerning," as they questioned why the signs would be posted. Of course, the news crew never mentioned a troubling remark from CNN anchor Don Lemon this week, coming in response to the shooting at a Pittsburgh synagogue. "We have to realize the biggest terror threat in this country is white men, most of them radicalized to the right," Lemon declared. "We have to start doing something about them."
Resort employees were fired for being white, tribunal finds. A Canadian resort owner was ordered to pay a group of ex-employees who got discriminated against for being white, according to reports. The Human Rights Tribunal of British Columbia awarded over $173,000 to the former workers after discovering that they were all fired or forced to leave on account of their skin color. Kin Wa Chan, of the Spruce Hill Resort and Spa in British Columbia, didn't want them to work there because they were not Chinese, the tribunal said.
Don Lemon: 'Biggest Terror Threat Is White Men' 'Radicalized to the Right'. The true threat to this country's stability is not one ethnicity or people group, CNN host Don Lemon lectured at the end of Chris Cuomo's show Monday night [10/29/2018], before contradicting himself by stating that white conservative men are actually the biggest terror threat America faces.
CNN's Don Lemon: 'Biggest terror threat in this country is white men'. CNN anchor Don Lemon said Tuesday [10/30/2018] that the biggest threat in America is far-right radicalized white men. Lemon made the comment during the hand-off to his evening show, discussing the impending arrival of thousands of migrants at the U.S.-Mexico border. "We have to stop demonizing people and realize the biggest terror threat in this country is white men, most of them radicalized to the right, and we have to start doing something about them," Lemon said. "There is no travel ban on them... there is no white guy ban."
Michael Moore cheers 'last days of the dying dinosaur': Old white men. Left-wing filmmaker Michael Moore on Saturday cheered the "last days of the dying dinosaur" in which old white men are starting to give way to a younger, more diverse U.S. electorate. Mr. Moore, a 64-year-old white man, spoke in front of a crowd at the Rome Film Festival after the Italian debut of his anti-President Trump film "Fahrenheit 11/9." He argued that Mr. Trump "won the white vote" but demographics are changing in Democrats' favor. "What you need to understand about the U.S. now, is that it is changing very quickly," he said, according to The Hollywood Reporter. "Right now a little over two-thirds of the country who are eligible to vote are either women, people of color, or young adults between 18-35. That's the majority of America right now.
No Boys Allowed: Mom Wants 'Girls-Only Time' At Public Playground. Some of the worst examples of humanity can be found in questions to advice columnists. Thankfully, The Washington Post's Carolyn Hax didn't support the outrageous and oppressing feminism of the mother who asked how she could keep a little boy off a public playground. You know, to destroy the patriarchy or whatever. "Playground Drama," as the anonymous advice-seeker was described, told Hax about a group of moms with daughters who gather at a local playground at the same time each week. There's no designated "girl time" or "boy time" at the playground and apparently no way to rent the park for any specific park. Yet this mom decided this was her time and that no boys should be allowed. The anonymous mom said she asked the mother of the little boy (nicely, she thought) if she would take her future Patriarchal Oppressor and get the heck out of there. Naturally, the other mom did not agree, and "seemed angry" at the woman's request.
Kent State University cancels production of West Side Story after complaints that too many white students were cast in lead roles. A student production of West Side Story at Kent State University has been cancelled after uproar that white students had been cast to play Latino characters. Latino students who auditioned for roles playing members of the 'Sharks', a Puerto Rican street gang in the musical, were outraged after the three leading roles all went to non-Latino students. Kent State musical theater major Bridgett Martinez, whose parents are from Puerto Rico, auditioned for her dream role as the romantic lead Maria, and was devastated when a white student landed the part.
The Editor says...
Oh, yeah. So many white people! That must be tough. Get a life.
Brett Kavanaugh Is a White Man. Judging from their leap to judgment, Brett Kavanaugh is a white male rapist who rapes because white men are rapists who feel it's their God-given right to rape, and their God is white in case you were wondering.
No country for white men. On a clear day, years from now, this time in America will likely be recognized as our Golden Age, certainly for women. Men... not so much. Old white men? Not a chance... and no place to hide, either, from the finger pointing, whether you did it or you didn't.
Taco Bell employee fired for refusing to serve English-speaking customer. A Spanish-speaking Taco Bell employee in Florida was let go by the fast food chain after a video circulating on social media this week showed her refusing to serve an English-speaking customer. The video shows the employee at the restaurant's Hialeah location appearing to become annoyed when customer Alexandria Montgomery tried placing her order in English, the Miami Herald reported.
California moves toward corporate gender quotas, ignoring Norway's failure. Supporters of California's move toward the nation's first-ever corporate gender quotas have insisted the bill will be good for business, but that's not what happened in Norway. After the Norwegian Parliament required that women make up 40 percent of publicly traded corporate boards in 2006, stock prices plunged and firm values dropped as boards added less experienced female directors, while the numbers of public firms decreased and private companies increased. "The quota led to younger and less experienced boards, increases in leverage and acquisitions, and deterioration in operating performance, consistent with less capable boards," said the 2012 paper by USC professor Kenneth R. Ahern and University of Michigan professor Amy K. Dittmar.
NYC schools to give priority to predominantly black and Hispanic kids. A diversity drive is spreading across the city as 78 schools in 14 of the city's 32 community districts now boast plans that will give admission priority to predominantly black and Hispanic kids — and more schools will soon follow, a [New York] Post analysis found. The patchwork of plans, while still limited in scope — the city has 1,800 schools — amounts to the biggest de-segregation movement in Big Apple schools since the late-1950s Civil Rights era, when there was an abortive program to bus black kids from Bedford-Stuyvesant and East Harlem to white areas in Queens, a top scholar said.
The Genocidal Elite, Part III: The Trail of 'White Tears'. For the New York Times, a paper with a global reach, to normalize such rhetoric by placing someone who spews it on their editorial board at the same time they blacklist people for much tamer statements about other races is cavalier and uninformed at best. Further, it suggests that our elite are already prepared to make excuses in case of third world style interracial violence against white citizens.
She refused to sell her house to Trump supporters, now it's $100,000 lower. A coastal elitist who used her complaints about President Donald Trump's alleged "deep" lack of morals to justify discriminating against his supporters just suffered a "deep" hit to her wallet. The trouble for the unnamed California woman started when she put her Sacramento home for sale back in the spring. At the time the woman requested that her real estate agent not sell the home to anyone who supports the president. "When you're talking about principals, morals, and ethics, it's very, very deep," she had said to the media in defense of her clear-cut discrimination.
The New York Times has an advice column about how to 'cure' white skin privilege. Oh, the crazy, crawly things you can find on the 'style' pages of the New York Times where they apparently think no one is looking. Kid you not, they've got a 'Style' column with some woman writing as 'Whitey' into a Dear Abby-style personal problem-solving column asking a panel of leftists (of color) what she can do about all her 'white-skin privilege.'
Liberal college professor: Whites should die. Another college professor has been outed for being an anti-white racist after he went on a tirade on social media Sunday [8/5/2018], saying that all whites are inhumane and demanding should die. John Eric Williams, a sociology professor at Trinity College in Hartford, Connecticut, said that it was time for racially oppressed minorities to do what white people won't do, "put (an) end to the vectors of their destructive mythology of whiteness and white supremacy. [...]"
Dems promise to subordinate men if they retake the House. Democrats are promising that women will be the ones wearing the pants in the House if they get a majority in the November elections. That's because not only would Nancy Pelosi become speaker, but 35 women would head major committees and subcommittees.
Get Whitey. When it emerged yesterday [8/2/2018] that the Twitter feed of the New York Times editorial board's latest appointee, Sarah Jeong, crackled with nasty and puerile racial invective, it was generally assumed by many — including her defenders — that she would be let go before the day was over. Jeong's Twitter remarks were so over-the-top — calling white people "groveling goblins" whose pale skin should force them to live underground, like Morlocks; saying "#CancelWhitePeople"; and exulting in being "cruel" to old white people — that it seemed absurd that the venerable Times editorial board, of all places, would welcome the thumbs that tapped out such jejeune trash. But it turns out that Jeong is keeping her job, and that the Times knew about her comments when they hired her.
The Racism of New York Times Reporter Sarah Jeong. Racism — hatred of racial groups rather than of individuals for their actions — is pernicious. Since humans are so group-oriented, racism appears to be tempting, but that means that social norms need to condemn it strongly and consistently. The most recent, high visible toleration of left wing racism is by the New York Times, which hired Sarah Jeong. Jeong has a first-rate left-wing resume, but her Twitter feed is filled with outrageously racist tweets, such as "Oh man it's kind of sick how much joy I get out of being cruel to old white men" and [other stuff]. If these were tweets of a white person or a right winger, the New York Times would never, ever hire that person. Why would they hire Jeong?
Some Racism Is More Equal Than Others. The New York Times named anti-white racist Sarah Jeong to its editorial board earlier this week. The new hire's social media history reads like something David Duke might write, if only the reader substitutes "white" for all mentions of his disfavored groups. Her posts featured the hashtag "#CancelWhitePeople," proclaimed Caucasians "only fit to live underground like groveling goblins," and fantasized of the coming extinction of the race she seeks to erase. "Oh man," she tweeted, "it's kind of sick how much joy I get out of being cruel to old white men."
It Wasn't Just a Few Tweets. In the uproar over Sarah Jeong's hiring by the New York Times, the focus on her history of hateful rhetoric against white people overlooked her many other expressions of hatred — toward males, Christians, and police officers, among others. While her new employers have apparently accepted Ms. Jeong's disingenuous excuse that she was "engaged in what I thought of at the time as counter-trolling... intended as satire," this cannot explain away her demonstrable habit of deliberately insulting entire groups of people. It is not true, as she claimed, that she merely "mimicked the language of my harassers." Consider, for example, Ms. Jeong's oft-expressed contempt for Christians, including her own parents. She "grew up in a conservative evangelical Christian bubble," but "became an annoying atheist" as a teenager, when she was "trapped in a fundamentalist Christian school." After attending the University of California-Berkeley and graduating from Harvard Law, Ms. Jeong pronounced herself a member of the "educated left wing elite." She says she has now "mostly cut myself off from the conservative evangelical community," and condemns Christians who "indoctrinate children" with "reality-denying belief systems." Ms. Jeong's spiteful denunciation of her parents' faith was not "counter-trolling," nor was it "intended as satire." These anti-Christian remarks appear to express her sincere beliefs, no different from her many similar expressions of contempt for other groups.
Let's all thank Sarah Jeong for showing us what liberals think of white people. Anti-white racism is endemic among liberals. For liberals, it is permissible to show disdain for white people in a way that would be totally, totally unacceptable to show for blacks, Hispanics, or people of other "colors" of the liberal rainbow. This is clearer than ever now that we have been exposed to the ravings of The New York Times' latest hire, editorial writer Sarah Jeong. [...] I think Jeong was hired not in spite her racist rants, but rather because of them. Because I think Jeong says exactly what liberals feel.
New York Times defends double standard in hiring writer with a history of explicit, hateful racism directed at whites. The New York Times has provoked a firestorm with its hiring of Sarah Jeong as a member of its editorial board, despite apparently having checked her social media history and found explicitly hateful anti-white tweets in abundance. Following criticism of the hire, a tweet from "Communications," presumably its corporate communications department, headed by Senior Vice President Eileen Murphy, tweeted out a justification that indicated they had reviewed her tweets and other social media messages.
Yes, Anti-White Racism Exists. Earlier today [8/2/2018], the New York Times announced that it had hired Sarah Jeong to join its editorial board, and — like clockwork — controversial old tweets promptly surfaced. In them, Jeong expressed some rather interesting views [...]." For good measure she also compared white people to "groveling goblins" and questioned why they're "genetically predisposed to burn faster in the sun." In a statement, Jeong expressed her regret and explained that she was engaging in "counter-trolling" designed to mimic the language of racists who harassed her online. The Times is standing by its hire. Good. It's time to end termination-by-Twitter and debate bad ideas head-on.
New York Times stands by new tech writer Sarah Jeong after racist tweets surface. The New York Times is standing by its hiring of tech writer Sarah Jeong despite several derogatory tweets of hers aimed at white people, which were recently unearthed on her Twitter account. "Oh man it's kind of sick how much joy I get out of being cruel to old white men," Jeong wrote in July 2014 in one of several old messages that have gone viral. Social media reactions first flared on Wednesday with images of incendiary tweets from an unverified Twitter account that looked to belong to Jeong. They surfaced shortly after The Times announced she was joining the paper. The Times issued a statement on Thursday [8/2/2018] declaring that it had reviewed her social media history during the hiring process and was standing by the decision to bring her aboard.
New Hampshire working hard to make state less white. New Hampshire has a problem. A big one. The state is 94% white. Business leaders claim they have trouble filling jobs, so they are trying to attract people to the state — blacks, Hispanics, and other minorities. Just not white people. They claim that Hispanics don't feel welcome because most people in New Hampshire speak English.
Professor: I 'DEMAND That White Editors Resign'. A controversial English professor at California State University-Fresno is demanding that all white editors resign from their positions immediately. [...] [Randa] Jarrar has previously made headlines for celebrating the death of former first lady Barbara Bush. In Tuesday's tweet, Jarrar was apparently responding to a recent controversy surrounding the publication of a poem in The Nation — "How-To" by Anders Carlson-Wee — which was deemed racist and ableist.
The Editor says...
Please show me a dictionary that includes ableist. Apparently able-bodied people are supposed to feel guilty for being normal, and white people are supposed to regret being white.
California university works to reduce number of white people on campus. In keeping with the diversity and inclusion movement sweeping campuses across the country, Cal Poly San Luis Obispo recently released a 30-page report outlining plans to "improve diversity" via a series of initiatives. One goal is to increase the number of people of color on campus beyond the increases that have already occurred over the past few years, as "applications from underrepresented minority students doubled between 2008 and 2018." "In 2011, the campus was 63 percent Caucasian," the May 2 report informs readers, "in fall of 2017, it was less than 55 percent ... but there is still much work to do."
The progressive push to alienate white men. It's a sign of health in a publication when it dares sustain disagreement. And so it speaks well of New York magazine that it is willing to publish two points of view on what seems to be that most pressing of questions, which is, "Are Men Beasts?" On the "yes" side, Rebecca Traister weighed in on June 29, describing herself and her friends as "Panicking. Nauseated. Heads and hearts pounding" at the coming retirement of Justice Anthony Kennedy and the thought of his replacement by our own homegrown class of despotic oppressors: white men. But does she mean men, or white men, or Republicans? The latter are the ones with the chokehold on power that makes her so anxious — the House, the Senate, the state houses, the White House, and perhaps soon the High Court as well.
The Left's Trump Card On Kavanaugh: He's A White Male! According to the Left, Brett Kavanaugh is unqualified for the Supreme Court not because he lacks the credentials or even because he's conservative, but rather for the intersectional crime of being straight, white, and male. Even though the Left fervently opposed the nomination of Justice Clarence Thomas to the point of slandering his good name and would have raged against whomever President Trump nominated no matter their color or sex, leftists from late-night to the NY Daily News are all saying that Brett Kavanaugh is just 50 shades too white for the SCOTUS job.
Is this all they've got?
Liberals attack Brett Kavanaugh for 'frat boy' name. The latest line of attack from liberals against Brett Kavanaugh, President Trump's nominee for the Supreme Court, is knocking the judge for his 'frat boy'-sounding first name.
NBC/Amazon Writer Wants "Extinction" of Whites to Happen "Faster". Taylor Cox is an actress and, currently, a TV writer for Amazon and NBC, as well as movies, but she had to protect her tweets after she was outed as advocating the extinction of whites. She is white herself. One of the goals of the far-left is to eliminate whites, not by murder necessarily, but by overwhelming the country with foreigners who are brown or black. They see them as more malleable and they hate whites. Whites are responsible for all the things wrong with the USA in their view.
Prof criticizes green movement for being too white, male. In a recent interview with Yale University, a sociology professor argued that the green movement needs to "become more inclusive and effective" because white males occupy too many positions at environmental organizations. Dr. Dorceta Taylor discussed the "troubling lack of diversity" in the green movement, complaining about the lack of progress since she first identified the preponderance of white men as a problem in a 2014 study.
Harvard Medical School: White doctors not welcomed here anymore; school to focus on "putting people of color in power". The thing about being a "progressive" is that sooner or later, you discover you're never quite radical enough to keep up with the "diversity" demands that dictate Leftist policies. Harvard Medical School, for example, has just announced it is ashamed of its white graduates who become doctors, and the school is in the process of removing photos of white doctors solely because they are people with white skin. "Dr. Betsy Nabel, the hospital's president, told The Boston Globe last week that the portraits do not reflect the diversity of students at the medical school," reports Campus Reform. "[she] suggested that so many portraits of white males may make medical students uncomfortable." The solution? Eliminate white doctors from the halls of the school.
Harvard teaching hospital to take down portraits of prestigious white male doctors. Of the 31 various doctors and department heads that have their paintings hung in the Louis Bornstein Family Amphitheater at Brigham and Women's Hospital, all are men, 30 are white, and one is Chinese. They've been described as "pioneers of medicine," and getting a portrait hung there is something great to aspire to, according to the white male doctor who most recently had his image installed, Dr. Ron Walls, founding chair of the Department of Emergency Medicine. But apparently having a cluster of white male doctors' portraits — great as they may be — sends a message to employees and students that "white men are in charge," Dr. Jeroan Allison, a professor at the University of Massachusetts Medical School who researches health disparities, told the Boston Globe, which first reported the news.
Harvard med school removes portraits of prominent white, male doctors. The president of Harvard's teaching hospital got to thinking one day and decided there were too many portraits of white male doctors hung in a popular amphitheater. She bemoaned the horrible situation that people walking into the amphitheater didn't feel like they "belonged." The problem cried out for a solution. So she moved several portraits of prominent white doctors in order to be more diverse and inclusive.
Prof exposes $11 million payroll for 'diversicrats' at UMich. The University of Michigan spends more than $11 million per year on salaries for 93 full-time diversity employees, according to one of its own professors. Mark Perry, an economics and finance professor who is also an American Enterprise Institute (AEI) scholar, recently convinced UM to conduct an internal investigation of 11 programs that benefit female students while excluding men. While the university recently closed that investigation without offering an explanation, Perry argues in a recent post on AEI's blog that UM has more than enough diversity-related resources to conduct regular audits of its programs without prompting from a formal complaint.
Melinda Gates Bashes 'White Guys,' Says She'll Discriminate Against Them. Melinda Gates has decided to enter the venture capital world by sending her money to people based at least partly on their sex and skin color, she said in a recent Fortune interview. "It's been incredibly disappointing to watch how few women-led businesses are getting funded," Gates said. "Ultimately, if we want more innovation and better products, we've got to put more money behind women and minorities. That wasn't happening, so I decided to step in and see what I could do to help a little bit."
The P. C. Police Invade Portland. It's not just Starbucks that has succumbed to P.C. bullying. America's junior Red Guards have escaped from their campus cages and are running wild in American cities. [...] It takes very little in a progressive city to produce paroxysms of guilt in white people who have done nothing wrong. And then, of course, there was Reparations Happy Hour: ["]Last week the Backyard Social tavern hosted a 'Reparations Happy Hour,' during which 'Black, Brown, and Indigenous people' were each given $10 and a drink paid for by white donors — who were asked not to attend.["] Don't worry. They're coming for you next.
Prof gets university to investigate programs that exclude men. The University of Michigan has launched an unprecedented internal Title IX probe into allegations that 11 of its programs exclude males from educational opportunities and scholarships. The review was launched in response to a complaint filed by UM-Flint Professor Mark Perry, who contends that such initiatives have contributed to "a huge gender imbalance in favor of women" in higher education.
Professor Tried to Boost Female Students Grades Based Only on Their Gender. A STEM professor at the University of Akron in Ohio was trying to boost his female students' grades — just because those students are women. On Monday [5/21/2018], the professor, Liping Liu, sent an email to students letting them know that three groups of students may see their grades raised a "level or two," according to a screenshot of the email that was posted on Reddit. The screenshot has since been removed because it contained recipients' email addresses, however, a redacted copy of it was provided by a student to Campus Reform.
Texas State University students: You can't be racist to white people. One freshman student's seemingly innocuous tweet about racism has ignited a firestorm at Texas State University. Now other students are shaming her and asking her not to attend the university in the fall. [...] Backlash from other Texas State students and Twitter users was almost immediate, with some individuals suggesting that it's impossible to be racist to white people.
Evergreen State College students host 'No Whites Allowed' event for second year in a row, but at what cost? One year ago, members of the Evergreen State College community asked white people to leave the campus in a "day of absence." Those who refused to give into such demands sparked uncontrollable outrage from event planners and a chain of events led to mass chaos, national media coverage, and the exit of a few faculty and staff. You'll remember students stormed a faculty meeting, disrupted classes, roamed the campus with baseball bats, blocked students and staff from leaving the library, and successfully demanded that campus police give up their guns. Eventually, the chief of police resigned, explaining that she had been given all of the responsibility, but none of the authority to keep people safe on campus. Professors Bret Weinstein and Heather Heying, who were endlessly stalked and harassed, resigned from their tenured positions and sued the school. At least four others followed.
Liberal Writers Say Democrats Should Give Up On White Republicans. Democrats should stop trying to win over white Republican voters, according to several prominent liberal writers. That was the point of a column Washington Post writer Paul Waldman wrote on Tuesday, which liberal journalists approvingly circulated on social media, adding their agreement. Waldman, who previously worked for left-wing group Media Matters, blamed Fox News and conservative media for the fact blue-collar Trump voters don't vote Democrat.
Reed Students Say Humanities 110 Should Not Include White or European Authors. Reedies Against Racism, a student group at Reed College, is demanding that the school's Humanities 110 course remove all European texts and replace them with non-European reading materials as "reparations for Humanities 110's history of erasing the histories of people of color, especially black people." Whitewashed curricula are worth fighting. But the Oregon college will repeat the error in the opposite direction if it decides that European and Mediterranean authors have nothing to contribute by virtue of their whiteness. The activists already lobbied successfully for the Hum 110 (as it is called) curriculum to be altered, through a series of protests in early April. These entailed interruptions of classes and thus clashes with other students and professors, at least one of whom understandably disagreed with the idea that the course represented "white supremacy."
Art Museum Sells White Art to Buy Black Art. I'm putting "art" in quotation marks as none of this is art. (Your tastes may vary.) But it is the inevitable next step in cultural racial virtue signaling.
Indian Tribe Won't Let National Guard Into "Most Notorious Area for Drugs Entering the County" — Border Patrol: "They Told Us They Don't Want White Man on Their Land". An Indian reservation along one of the most perilous sections of the Mexican border won't allow National Guard troops to enter its land, which is a notorious smuggling corridor determined by the U.S. government to be a "High Intensity Drug Trafficking Area (HIDTA)." Sources inside the U.S. Border Patrol and other law enforcement agencies working along the Arizona-Mexico border tell Judicial Watch that the tribe, Tohono O'odham Nation, has banned National Guard troops deployed by President Donald Trump to help crack down on a crisis of drug smuggling and illegal crossings along the 2,000-mile southern border. "They told us they don't want white man on their land," said a high-level federal official working in the region. "The agency, of course, is going to cater to that."
A black-only pool party:
Scripps College Pool Party Desegregated. In a previous version of the Facebook event description, the organizers made it clear that the pool party was open only to students who identified as persons of color (POC): "This event is only to 5C [Claremont Colleges] students identifying as POC." However, after the Independent's article about the POC-only event reached a national audience, the organizers changed their events description to be more inclusive, and allow all students, including those who identify as white, to attend the pool party.
Women might get raped if they debate men, so this college debate tournament banned men. It's unfair. It's sexist. And women might get raped. That's why a "special [debate] tournament" held at the University of Vermont this past weekend banned men from competing, organizers and participants in the North American Women's and Gender Minorities Debate Championship told the Associated Press.
A Letter To White America. The country that you founded and built into the greatest country in the world is in the process of being destroyed. And, the minorities in the country are, for the most part, the ones who are responsible for the destruction. Over the past 50 years minorities have been elevated, not just to equality, but to a privileged position. With the help of the Politically Correct (PC) System, which provides protection from any criticism, they are now in a dominate position. You white people, particularly you males, are painted as racist simply because you are white, and you have been forced to sit on the sidelines by the PC System.
Museum slammed after hiring white curator for African art exhibit. The Brooklyn Museum has sparked outrage in the black community after tapping a white woman to curate its vast African art collection. On Monday [3/26/2018] the museum appointed Kristen Windmuller-Luna, 31, who has a Ph.D. in African art history from Princeton University, lectures in Columbia University's department of art history and archaeology, and once worked as an educator for the Metropolitan Museum of Art, where she was "responsible for adult and college gallery tours in the African galleries." Despite the stellar résumé, her hiring left some wondering why a qualified person of color did not get the post.
Sacramento Home Seller Refuses to Sell to Trump Supporters. A homeowner in Sacramento, California, who has put her family home on the local real estate market is refusing to sell it to anyone who supports President Donald Trump. Experts disagree over whether her approach is illegal. Some say that her stance, while obnoxious, may not be illegal because political preference is not one of the categories protected by anti-discrimination laws.
Ga. parents furious after 7-year-old, 'the only white girl in her class,' cast to play supremacist. A Georgia school district is investigating after a 7-year-old student, "the only white girl in her class," according to her father, was cast to play a segregationist in a school play. In a video of the play, 7-year-old Anastasia Bertram, playing the part of a segregationist, yelled at a group of black children to "go away, you don't belong here!" She then marched with a sign that read, "Go home," on one side and "Cursed is the man who integrates" on the other, ABC-affiliated WSB-TV reported.
Restaurant charges white customers £13 more than people of colour to challenge racial wealth disparity. SAARTJ is the brainchild of New Orleans-based chef Tunde Wey. Anyone can dine there but white customers will face an $18 increase in their bill, compared to others. Tunde is originally from Lagos, Nigeria, and he's previously organised a nation-wide dinner series called 'Blackness in America'.
Real Inclusion Means Everyone Feels Included. Up in Canada, some lefties are holding an "It's Okay to Be (against) White(ness)" event, and they seemed shocked that anyone should find this problematic. [...] Speaking for myself, I'd say I don't get to have access to "white privilege" because that's available only to white liberals: conservatives need not apply. Conversations? In a year when all across the world, lefties are de-platforming anyone who disagrees with them? Hey, lefties! Sometimes you should listen to people who disagree with you. You might learn something!
Racist South African Political Leader Julius Malema: "Go After the White Man... We Are Cutting the Throat of Whiteness". In 2011 South Africa youth leader Julius Malema told his supporters that the white farmer's land must be shared by all black Africans. He was arrested for playing "Kill the Boer (white man)" song at his rallies. Julius Malema later founded the Economic Freedom Fighters, a South African political party. Malema recently called for new law to confiscate land from white farmers. The South African Parliament voted to confiscate land from white farmers without payment last week. On Sunday night [3/4/2018] Julius Malema called on his followers to go after the white man and cut the throat of whiteness.
'We are cutting the throat of whiteness': South Africa politician. A firebrand South African politician has vowed to unseat a white mayor after praising plans to hand land to black people. Julius Malema, 37, who leads the country's Economic Freedom Fighters opposition party, said he wanted to 'remove' Nelson Mandela Bay mayor Athol Trollip specifically because he 'is a white man'. He told a packed arena in Johannesburg that 'we are starting with this whiteness. We are cutting the throat of whiteness'. During the speech Malema said he wanted to unseat the mayor — a member of the Democratic Alliance — and accused the political group of being a racist party that promotes the interests of whites.
Chuck Schumer Votes No On Judicial Nominee Because He's White. There's nothing shocking about Senate Minority Leader Chuck Schumer trying to squash a judicial nominee of President Trump. In fact, it's not shocking at all for the 'party of no' to simply reject any of the President's nominees simply because they were nominated by a man they're still in a rage over for being in the White House. What may be surprising — maybe — is that Schumer would flat-out admit that he was voting no on a judicial nominee for the sole transgression of being white.
Schumer Will Vote 'No' On Judicial Nominee Because He Is White. Senate Minority Leader Chuck Schumer attacked one of President Donald Trump's judicial nominees on Wednesday because the nominee is not a racial minority. The Democrat from New York said on the Senate floor that he could not vote to approve Marvin Quattlebaum for a vacancy on the U.S. District Court for the District of South Carolina because he is a white man replacing two black Obama nominees. "The nomination of Marvin Quattlebaum speaks to the overall lack of diversity in President Trump's selections for the federal judiciary," Schumer complained. "Quattlebaum replaces not one, but two scuttled Obama nominees who were African American."
Establishment Press Ignoring Schumer's Race-Based Objection to Trump Judicial Nominee. Wednesday, Democratic Senate Minority Leader Chuck Schumer opposed the nomination of A. Marvin Quattlebaum Jr. as a South Carolina federal district judge. The nominee was confirmed by a 69-28 vote. Schumer's objection, cloaked as complaining about "the overall lack of diversity in President Trump's (judicial) selections": Quattlebaum is white. Any senator opposing a non-white nominee based on skin color would have received saturation media coverage within minutes, but the establishment press is virtually ignoring Schumer's remarks.
Lawsuit: YouTube Stopped Hiring White And Asian Males To Improve Corporate Diversity. According to claims made in a lawsuit filed by a former recruiter for Google's YouTube video site, the company instructed staff to stop hiring white and Asian men last year in an attempt to improve corporate diversity. The Wall Street Journal reports that the freeze on hiring whites and Asians was confirmed by others familiar with the company's hiring practices.
YouTube Embroiled In Lawsuit Over Refusing To Hire White Or Asian Men. Google's adherence to its social justice creed has led it down a dark path. One where they fire employees for stating biological facts, and practice censorship based on how right-wing your ideological stances are. But according to one lawsuit, Google's hiring practices are replete with racism and sexism against white or Asian men. According to the Wall Street Journal, former Google employee Arne Wilberg claims that the company set a diversity quota in terms of hires, and was told to reject males based on their skin color.
The Coming Controversy Over Admitting White Refugees from South Africa. The news that South Africa is moving decisively in the disastrous direction of Zimbabwe — confiscating the land of white farmers, which is by definition ethnic cleansing and almost certainly will involve mass murder (as it did in Zimbabwe) — has already sparked a petition to allow the resulting refugees into the United States: [...] Similar petitions have been created in the E.U. and Australia. Stand by for the inevitable backlash. President Trump is putting a lid on refugee flows, and the left is dead certain that this is because of racism. Asking to make an exception for white people is going to be called every nasty name under the sun, with special emphasis on those starting with R.
Segregation at Comic Con: No Straight, White Males Allowed at Parties. The comics industry seems to be doubling down on their policy of completely excluding anyone who is straight, white, male, or conservative. This year's Emerald City Comic Con released its schedule of events on its app recently. Anyone who is male, white and identifies as heterosexual found himself excluded from all events.
Proposed 'Domestic Terrorism' Law Targets White Advocates. Virginia House Bill No. 1601 calls for the state of Virginia to create an official list of "domestic terrorist organizations," defined as any "group of three or more persons, whether formal or informal, which has an identifiable name or identifying sign of symbol" and which either has as one of its "primary objectives" the commission of an act of domestic terrorism or "whose members individually or collectively have engaged in the commission of, attempt to commit, conspiracy to commit, or solicitation of two or more acts domestic terrorism...." It defines domestic terrorism as a violent act that aims to intimidate or instill fear in someone because of their race, religion, national origin, gender, sexual orientation or disability, or to stop a person from pursuing their constitutional rights. It goes further to provide that giving aid to such groups or simply meeting with members to further certain objectives could meet with stiff prison sentences — true guilt by association.
The Editor says...
A huge red flag is readily apparent, and I hope you saw it: "a violent act that aims to intimidate or instill fear in someone [...] to stop a person from pursuing their constitutional rights." The trap here is that the alleged constitutional rights don't have to be in the Constitution at all. Thus a law of this sort can be used to incarcerate protesters at abortion clinics. Laws like this aren't aimed at the anti-Trump "Resistance" movement or Antifa mobs. They are formulated to act upon the political right.
WABC bosses out after 'reverse racism' scandal. WABC/Channel 7 bosses Dave Davis and Camille Edwards are out amid two discrimination lawsuits from employees. Last fall, WABC sports reporter Laura Behnke filed a discrimination lawsuit against Davis and Edwards, claiming she wasn't promoted to the main sports reporter position because she is a white woman.
Planned Parenthood Attacks Trump's Judicial Nominee For Being White. On Tuesday, Planned Parenthood, referring to a judicial nominee of President Trump, attacked him for being white. The tweet referred to nominee Kyle Duncan, whom Trump nominated for the Fifth Circuit Court of Appeals. [...] Notably, Duncan represented Hobby Lobby at the U.S. Supreme Court when the Obama administration targeted the Christian company for being unwilling to cover employees for drugs that could cause abortions.
Labour is rebuked by the equalities commission AGAIN after banning heterosexual white men from a conference amid complaints it could break the law. Labour has been rebuked by the equalities commission again after banning heterosexual white men from a conference. An advert for the Young Labour event said a person had to be under 27, and 'self identify' as from an ethnic minority background, be LGBT or a woman to go.
Male student accused of misogyny for criticizing campus program that rarely hires men. Dartmouth College student Ryan Spector is currently facing campuswide scrutiny for an op-ed he wrote complaining about how a popular program on campus hires far more women than men. He's been accused of misogyny — and even violence — for pointing out the program's gender bias favoring females.
Michael Savage: Pelosi and Democrats Are Saying 'Whiteness Is a Crime'. Democrats and the broader left have "targeted the white male ... for extinction," said Michael Savage on Thursday's edition of his eponymous radio show, pointing to Rep. Nancy Pelosi's (D-CA) recent use of an anecdote involving her grandson to push racial politics. On Wednesday [2/7/2018], Pelosi described her six-year-old white grandson's birthday wish to have brown skin as "beautiful" during a speech on the House floor: [...]
Kenyon College Cancels Play About Immigration; Starts 'Whiteness Group'. [Scroll down] The Good Samaritan's retraction comes serendipitously at the same moment as the creation of a new student group at Kenyon: "the whiteness group." The group was founded by a student, Juniper Cruz, and is notable not just for its name, but for its rules, which state that "no white person can ask a person of color questions; white people must try to answer their questions for themselves. And no spreading rumors about what people say during the meetings." If you were going to set out to create a more illiberal student group possible at a college, you would be hard-pressed to do so.
White Privilege: An Article of Left-Wing Faith. Until thinking Americans who vote for much needed school budgets or fork over thousands of dollars of college tuition money start demanding an end to "this imposition of white guilt and universal black innocence," the left will continue to pit "various groups of people against one another simply because of the melanin level of their skin."
Pelosi's 'White' America. We make fun of Nancy Pelosi for good reason because of her nonsensical rants. [...] Nancy does not like the ethnic makeup of the electorate that elected President Trump. Nancy is saying these are "white voters," not necessarily white or Caucasian, but "white" in the sense that they reject the Democratic Party/Leftist agenda of open borders, abortion on demand, sanctuary cities and states, crony capitalism, amnesty for all illegals, high tax rates, increased regulations on business, and a cradle-to-grave nanny welfare state administered by the Annointed Ruling Class of Leftist Democrats and RINO Republicans. To oppose this means acting "white" to Nancy.
Liberal Prof Declares Meritocracy a Sign of White Supremacy. Let's be honest. The Democrat Party is now openly pushing Communism on US campuses. English professor Reshmi Dutt-Ballerstadt put together a checklist for white supremacy. Dutt-Ballerstadt tells students that if you believe in meritocracy — or awarding people according to their accomplishments or excellence — is a sign of white supremacy. Of course, this is an openly Communist idea that Democrats are pushing on college campuses.
Our Kids Are Being Taught They're Flawed if They're White. The American Left has morphed into our newest religion. With frightening similarities to Islam, the religion of the Left "is an authoritarian movement that wants total compliance with its dictates," says Daniel Greenfield, journalism fellow at the Freedom Center, "with severe punishments for those who disobey." In my new book, "Tyranny of the Minority," I warn that "a Hillary Clinton victory might have placed us closer to a political inquisition in which conservatives would be given the chance to confess and recant. In that scenario, unrepentant conservatives would be deported." Is that so far-fetched? I don't think so. Why? Because an inquisition aimed at white people is already underway.
First day of 'White Racism' class at Florida university brings police presence. The class, according to its course description, will confront "white racism and white supremacy." It will examine "racist ideologies, laws, policies and practices" that "maintain white racial domination." Its title is short but provocative and, to some, problematic. As word spread that Florida Gulf Coast University will offer a course called "White Racism," controversy inevitably followed and homed in on the professor who designed the course and came up with the title. Messages such as "What about black racism?" "You're the problem in this country," and "If this was a racist country, you wouldn't have a job" bombarded his inbox and voice mail, said Ted Thornhill, an assistant professor in the university's sociology department.
The Ugly Racism of 'Whiteness Studies' Programs. [Scroll down] Out of this mindset grew the academic field of Whiteness Studies — a.k.a. Critical Whiteness Studies — which first made its way onto college campuses in the early 1990s. And from its inception, this discipline bore no resemblance whatsoever to other group-identity-based curricula like Black Studies, Chicano Studies, and Women's Studies. Whereas those fields steadfastly celebrated their respective groups and emphasized their status as innocent victims of societal oppression, Whiteness Studies depicted whites uniformly as malevolent oppressors of people with darker complexions. They weren't Italians, or Brits, or Poles, or Germans — they were just depraved white miscreants, best known for their many crimes against humanity. As Jeff Hitchcock, the co-founder and executive director of the Center for the Study of White American Culture, said in 1998 at the Third National Conference on Whiteness: "There is plenty to blame whiteness for. There is no crime that whiteness has not committed against people of color. There is no crime that we have not committed even against ourselves.... We must blame whiteness for the continuing patterns today that deny the rights of those outside of whiteness and which damage and pervert the humanity of those of us within it." And absolutely nothing has changed in the field of Whiteness Studies in the years since then.
Russia probe grand jury looks like 'a Black Lives Matter rally,' says witness. The federal grand jury handing down indictments for special counsel Robert Mueller doesn't appear to include any supporters of President Donald Trump, according to one witness who recently testified before the panel. "The grand jury room looks like a Bernie Sanders rally," my source said. "Maybe they found these jurors in central casting, or at a Black Lives Matter rally in Berkeley [Calif.]" Of the 20 jurors, 11 are African-Americans and two were wearing "peace T-shirts," the witness said. "There was only one white male in the room, and he was a prosecutor." Mueller was not present.
Academic: Teachers must prevent 'assimilation' of 'whiteness'. An academic paper published by the SIT Graduate Institute calls on educators to "promote racial identity exploration" so that students of color do not "assimilate" into the dominant culture. The author, Hadiel Mohamed, says her research "aims to answer how educators can incorporate ethnic/racial identity development in the classroom for youth of color who are driven to pursue Whiteness," making clear as she goes along that she views "assimilation" as an unambiguously negative outcome. "Historically, our education system has been used as an oppressive tool for people of color," she contends, attributing the condition to "the lack of representation within adults, distance caused by one-sided material, denial of racial tensions or experiences, and implicit bias from educators, classmates, and administration."
Prof Calls for Overthrow of 'White Democracy,' Violate Laws of 'White Man's Constitution'. he video above features Diablo Valley College Professor Albert Ponce telling his class they "must destroy" the foundation's of the United States because it was built on laws created by white men. The footage was published last week by The Red Elephants after a student sent in the video taken during a lecture called "White Supremacy in the USA." [...] The laws written by Jefferson and the other Founding Fathers in the Constitution should be violated, Ponce argues, simply because they were written by white men. The professor believes our founding document "should be called a white man's constitution." This from a man who considers Karl Marx "one of the most profound thinkers in the history of Western philosophy."
Professors claim farmers' markets cultivate racism: 'Habits of white people are normalized'. Two professors from San Diego State University claim in a new book that farmers' markets in urban areas are weed-like "white spaces" responsible for oppression. Pascale Joassart-Marcelli and Fernando J Bosco are part of an anthology released this month titled "Just Green Enough." The work, published by Routledge, claims there is a correlation between the "whiteness of farmers' markets" and gentrification. "Farmers' markets are often white spaces where the food consumption habits of white people are normalized," the SDSU professors write, the education watchdog Campus Reform reported Wednesday [12/27/2017].
Liberals Celebrate Christmas with 'I Am So Sick of White Guys' Coloring Book. A Seattle man has published a coloring book attacking white men to soothe the soul of left-wingers, Democrats, and Black Lives Matter acolytes — just in time for Christmas. "I Am So Sick of White Guys," the new coloring book by author Jim Corbett, is, among other things, aimed at attacking "white privilege" and accusing President Donald Trump of being a puppet for Russian strongman Vladimir Putin. Along with the Trump/Putin theme, Corbett included Ku Klux Klan rallies, attacks on white men for criticizing the NFL's anti-American protests during the national anthem, and scenes celebrating the left's attacks on free speech on college campuses.
University teaches white employees how to overcome the 'discomfort' of being white. A two-day professional development conference held recently at the University of Michigan included a training session that aimed to help white employees deal with their "whiteness" so they could become better equipped to fight for social justice causes, according to organizers. Participants who took part in the "Conversations on Whiteness" session, held December 5 during the university's Student Life Professional Development Conference, were taught to "recognize the difficulties they face when talking about social justice issues related to their White identity, explore this discomfort, and devise ways to work through it," the university's website states.
Female police captain suspended after saying a fellow officer benefited from 'white male privilege'. A female police captain in Indiana was suspended after telling an officer he benefitted from "white male privilege." Capt. Carri Weber of the Plainfield Police Department was placed on administrative leave on Nov. 16 after a complaint was filed about the incident, according to Indiana's Channel 6. At a Police Supervisors Transgender Awareness Training session on Nov. 1, police officers were receiving training on issues relating to transgender people.
Plainfield police captain on leave after 'white male privilege' comment at training session. A captain with the Plainfield Police Department was placed on administrative leave after making a statement about white male privilege during a transgender awareness session for police. The comment came on Nov. 1, at the Police Supervisors Transgender Awareness Training session. A representative from the U.S. Department of Justice and a United States attorney were instructing police on issues relating to transgender people, and how police should best interact with transgender people in the community.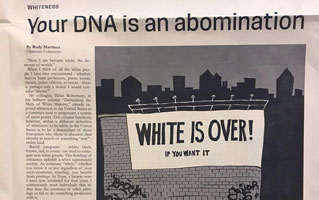 Texas State newspaper fires anti-white column's author as backlash escalates. A Texas college student newspaper says it has fired the author of an anti-white "Your DNA is an abomination" column that has sparked an all-out backlash on campus, including a threat of defunding from the student body's president and calls for editors to resign. The column, which ran in Tuesday's edition of "The University Star" at Texas State University, called white people "an aberration" and accused them of being oppressors who "shouldn't exist."
Campus newspaper editorial: 'Your [white] DNA is an abomination'. A new opinion piece in a Texas State University student newspaper tells white students, "Your DNA is an Abomination." "When I think of all the white people I have ever encountered — whether they've been professors, peers, lovers, friend, police officers, et cetera — there is perhaps only a dozen I would consider 'decent,'" student author Rudy Martinez writes in the University Star. Without much biological explanation, Martinez informs white readers, "You were not born white. You became white... You don't [care]." Later in his rant, he calls the police "fascist foot soldiers" and says a "white supremacist inhabits the White House."
Leaked Democrat Donor and Activist Conference Agenda Shows White Men No Longer Welcome in Party. A copy of the conference agenda was leaked to the Washington Free Beacon who reported on it today [11/17/2017]. Pelosi will headline the event along with George Soros. But if you skim through the weekend agenda two things are clear: [#1] Democrats want to spread their far left California values of open borders, Socialism and identity politics across the US[.] And [#2] white men are no longer valued or welcome in today's Democrat Party.
Apple Diversity Chief RESIGNS for Saying White People Can Be Diverse Too. Oh the controversy. A woman admits that white people are humans too. Why would anybody spill the beans that white people should be included when diversity is discussed. After all, white people are not the majority people on earth. They only happen to be the majority people where most civilized cultures exists.
School nixes prestigious scholarship because winners must be born in America. For more than 20 years the Lake Mason Lions Club has been providing a $500 scholarship to young men and young women attending a trade school or community college. But not this year. The Wisconsin Dell School District rejected the service organization's scholarship over a requirement that the recipient be a citizen of the United States.
Public school teachers now routinely discriminating against white people based on the color of their skin. While at one time we were all taught that racism is an evil that has no place in American society, it has quietly become acceptable especially in certain political, entertainment and academic circles — as long as the racism is directed at white people. That is essentially the norm in Left-wing academia today, as reported by The College Fix, which notes that an increasing number of college and university professors not only purposely discriminate against whites (and males in particular) but justify it as necessary and proper.
Singer Asks White Audience Members To Go To The Back Of the Audience. Then This Happens. As she has done before, last month, Lido Pimienta, a Colombian-Canadian singer, asked audience members of color to move to the front and white members to move to the back. Unlike other times she has made that request, some white members refused to act in accordance with her request, including a white female volunteer who was reportedly there to photograph the show.
Liberals Outraged at Whites Who Resisted Demands That They Give Up Their Seats Because of Their Race. What do you call a white person who does not passively give up what is theirs and acquiesce to subservient status? A racist — as we learned at the Halifax Pop Explosion music festival: [...] That is, whites were asked to give up their seats, regardless of how much more they might have paid for them, and move to the back in a gesture of submission to persons of politically preferred pigmentation. That some people, including a photographer, had enough self-respect to resist has been denounced with hysterical vigor by liberals, who are seizing eagerly on this evidence that more brainwashing is in order.
Democrats to White Males: You're Not Wanted Here. The Daily Wire has obtained an internal Democratic National Committee email listing several open IT positions that openly says that it does not want white males.
DNC staffer under fire over job ad. A Democratic National Committee (DNC) staffer is under fire for voicing a hiring preference for nonwhite, male candidates in an email about job openings. "I personally would prefer that you not forward to cisgender straight white males, since they're already in the majority," Data Services manager Madeleine Leader said in an email that urged colleagues to forward open job positions to interested parties, The Daily Wire reported Wednesday [11/1/2017].
Discrimination Against White People: It's Real. The release of an NPR poll in which a majority of white people (55%) answered that they face racial discrimination was treated with the media's usual cocktail of condescension, disbelief and contempt. But it's not up for debate. Racial discrimination against white people today is as real as the discrimination against black people was under segregation. We can talk about subjective experiences and do statistical correlations about differential outcomes until the cows come home. And that's what most talk about racism is these days.
DNC Email: Straight White Men Need Not Apply. The Democratic National Committee is hiring for some new positions in their Technology Team, including Chief Security Officer, IT Systems Administrator, and Product Manager. In the email soliciting job applications, it says that the DNC is looking for a "staff of diverse voices and life experiences." Unfortunately, according to the DNC's Data Service Manager Madeleine Leader, this desire for "diverse voices and life experiences" apparently doesn't extend to "cisgender straight white males." In the closing paragraph of the email, Leader said "I personally would prefer that you not forward to cisgender straight white males, as they are already in the majority."
Ivy League Teaching Assistant Says She Calls On Black Women First, White Men Last. An Ivy League teaching assistant tweeted Monday [10/16/2017] that she calls on black female students first and white male students last. [...] [Stephanie] McKellop is a marriage and family historian "with interests intersecting in areas of gender, sexuality, the body, and race." She examines how marriage intersects with prostitution and human trafficking, and is currently focusing on folk and popular marriage and divorce conflicted with state and church powers in colonial Carolina.
"White Privilege" Is A Racist Concept. I, and many other black Americans, have spent a lifetime hoping I would be judged by who I am rather than assumptions made solely based upon the color of my skin. I am disgusted when I hear people on cable news channels and other news platforms use the label of "white privilege" when referring to an individual they have most likely never met. Even worse, when it is used in reference to a group of people that are undoubtedly uniquely diverse in nearly every way beyond the color of their skin. Just as with the other well-known reprehensible titans in the world of derogatory terms that we can all agree are soaking in racist intention, the label of "white privilege" is used to strip away all the intricacies that make up an individual's character and delegitimize their accomplishments. In a broader sense, terms like these are used to even question an individual's right to exist in a given space because of the color of their skin. I cannot understand why there is not more push back when the label "white privilege" is used.
Democratic Gubernatorial Candidate Says 'Maine's Whiteness Is Bad News'. Democratic gubernatorial candidate Mark Eves believes "Maine's whiteness is bad news" according to remarks he delivered during a Maine People's Alliance event this week. According to Maine First Media and Big League Politics, the former Speaker of the Maine House of Representatives delivered the remarks while addressing a group of nearly one hundred activists and grassroots supporters Wednesday evening [8/30/2017] at the "Resistance Rising" forum event put on by the Maine People's Alliance in Lewiston.
Berkeley holds early orientations for 'special populations'. The University of California, Berkeley invited certain "special populations" of new students to move in a day early to attend racially-exclusive orientation sessions. Hispanic students, black students, Native American students, and Asian American/Pacific Islander students were all invited to the events, which addressed concerns such as mapping classes and financial aid.
Writing Conference Canceled Because Of Too Many White People. A Minnesota writing conference was canceled Wednesday [8/9/2017] after people complained about the lack of diversity in the line-up of writers that were going to attend. The organizers of the Loft Literary Center's conference, aimed at teaching people how to write young adult novels, scrapped their plans when they learned that all the speakers but one were white, reports the Star Tribune.
School: AP and Honors classes will be decided by skin color, not intelligence. A Virginia high sent a disturbing letter to parents and students announcing they would be selecting students for Advanced Placement and honors classes at least partly based on skin color, a concerned parent told Fox News. [...] "Through our collective work, advanced classes such as AP and Honors will have proportional representation," read the letter. "Proportional representation is 40% White, 35% Hispanic, 12% African American, 10% mixed race." The letter went on to explain that public schools across the country "continue to see outcomes that are disproportionate by race and social class."
Trump, Justice to tackle affirmative action against whites. President Donald Trump's Department of Justice is reportedly poised to launch some civil rights investigations, and perhaps lawsuits, against those colleges and universities that discriminate against applicants based on skin color — and hold on, it's not what you think. White people, get ready to be shocked. Justice is turning critical eyes at schools that wrongfully keep out whites. That's what a read-between-the-lines look at an internal Justice Department memo suggests, anyway, at least to The New York Times. And if true, hold the phone. It'll be hard to gauge whose scream is louder, Barack Obama's or Eric Holder's. Either way, Black Lives Matter and George Soros just found a new fundraiser.
Prof: 'ALL white people are racist,' 'ALL men are sexist'. A Georgetown University law professor recently declared on social media that "all white people are racist" and "all men are sexist." Preston Mitchum even told Campus Reform that simply being a part of "any dominant group when it comes to race, gender, sexuality, etc. contributes to the oppression of other groups."
Prominent UK College Will Replace Portraits of School's Founders Because They're Bearded White Men. King's College London, a prominent university in the UK, announced it will be replacing some of the portraits of the school's founders in the main entryway because they are white, which, apparently, is "intimidating" to minority students. The entryway will instead feature a "wall of diversity" of black and ethnic minority scholars. The changes are being implemented by the Institute of Psychiatry, Psychology and Neuroscience, whose dean of education, Patrick Leman, explained that the reason for the change was because the entrance was full of "busts of 1920s bearded men." The inclusion of more diverse modern scholars will make the entrance feel less "alienating," he said.
Feminist geographers encourage colleagues not to cite research of white men. Two feminist geographers are encouraging their colleagues to be more mindful about citing the research of white males because doing so contributes to "the reproduction of white heteromasculinity of geographical thought and scholarship." Writing in "Gender, Place & Culture: A Journal of Feminist Geography," Carrie Mott and Daniel Cockayne argue that considering an author's gender, race or sexuality prior to citation can be an effective "feminist and anti-racist technology of resistance that demonstrates engagement with those authors and voices we want to carry forward." The authors point out that whether an academic's research is cited by his peers has significant implications for promotion, tenure and influence. Therefore, to cite only white men "does a disservice to researchers and writers who are othered by white heteromasculinism."
Colleges: Islands of Intolerance. Is there no limit to the level of disgusting behavior on college campuses that parents, taxpayers, donors and legislators will accept? Colleges have become islands of intolerance, and as with fish, the rot begins at the head. Let's examine some recent episodes representative of a general trend and ask ourselves why we should tolerate it plus pay for it. Students at Evergreen State College harassed biology professor Bret Weinstein because he refused to leave campus, challenging the school's decision to ask white people to leave campus for a day of diversity programming. The profanity-laced threats against the faculty and president can be seen on a YouTube video titled "Student takeover of Evergreen State College."
The Culture Police. Recently at Evergreen College in Washington state, students demanded that white people leave the campus on a "Day of Absence." One liberal white professor protested. His classroom was stormed as he was teaching. He was shouted down with "F" bombs and accusations of racism by the mob that invaded his lecture. [...] What we are witnessing is not state dictatorship but a new phenomenon — the rise of a totalitarian culture which seeks to control everything and everybody.
Petition With 175,000 Signers Threatens 'Backlash' If MSNBC Hires More White Conservatives. Progressives aren't happy with MSNBC's recent programming changes — and they're not afraid to speak out. In the midst of a number of new hires and an apparent shift to the center right, some of MSNBC's most diehard liberal fans are circulating petitions demanding the cable news network go back to its progressive roots. The latest petition, hosted on Credo Action, urges network executives "Stop the white conservative hiring spree at MSNBC."
College melts down over plan for white people-free day on campus. After protesters at a Washington state college called for a day without white people, a biology professor says he no longer feels safe on campus — and student activists complain they're being vilified by conservative media. Evergreen State College students said racial tensions have been simmering in recent weeks, but reached a boiling point when a faculty member disagreed with their plans to protest what they say is institutional racism at the Olympia campus, according to The Olympian.
"Blackalaureate". The National Association of Scholars (NAS) presents a photo essay on a "black only" commencement exercise at Brown University. Known as "blackalaureate," the event was held at a Providence hotel the day before actual commencement. Graduating African-American students were inducted into something called Onyx, an organization that celebrates the "transition from Black student to Black Alumni." During the real commencement, all the black and other "students of color" (except Asians) marched at the front of the processional, with the white students behind. According to NAS's reporter, since 1979 Brown's black students have been showcased at the front of the procession. Now, however, the lead group has expanded to include Native Americans and other students of color. This apparently does not include Asian or Asian American students, who were dispersed throughout the procession.
Mayor of Paris condemns 'non-mixed' festival for black women only. An Afro-feminist collective planned to hold a festival in Paris in July but has been condemned by the city's mayor for seeking to limit 80% of the festival space to black women only. [...] After people on the right reacted to word of the conference online, Mayor Anne Hidalgo, who is a socialist, threatened to sue the collective to prevent them from holding the event. She was joined in her opposition by civil rights and anti-racist groups.
University to host a public workshop on how to 'reduce the impact of white privilege'. A public university in Washington state is hosting a workshop Friday [5/26/2017] to 'reduce the impact of white privilege'. The seminar at Western Washington University, in Bellingham, is a part of the school's Campus Equity and Inclusion Forums, and will be led by a history professor, who is white, Randall Jimerson. It is designed for faculty, staff and students, and will incorporate presentations, interactive exercises, and facilitated discussions in order to learn 'how to reduce expressions and effects of white privilege', according to the university's website.
Student Mob Shrieks at Professor Who Objected to Event That Kicks White People Off Campus for a Day. Evergreen State College students have berated a professor and called for his resignation after he objected to an event where white students were asked to leave the campus for a day. Bret Weinstein, a biology professor at the university, sent out an email criticizing the purpose of this year's "Day Of Absence" event where, unlike in the past, white students and faculty members were asked to leave campus to give space to people of color. Traditionally, the annual event is characterized by people of color leaving the campus to show their contribution to the campus, while white students and faculty members are attending anti-racism workshops.
'Abolition of Whiteness' course offered at Hunter College. Hunter College will offer students an "Abolition of Whiteness" course this fall to discuss how "white supremacy and violence" influence individual identity. The course fulfills one of four graduation requirements in political science, and its instructor has requested that it be added to the list of courses that satisfy a diversity requirement.
Students harass white prof for questioning diversity event. Hundreds of students marched through campus at Evergreen State College to protest what they consider rampant racism at the school. The protesters demanded that Professor Bret Weinstein resign over an email he sent questioning the decision to ask white people to leave campus for diversity programming, which he distinguished from a group voluntarily absenting itself. They were also upset over a social media post in which a self-described liberal student pointed out the absurdity of a demand for classes specifically for "black/brown people" by inserting "white people" into the original post.
American University blocks whites from cafe designated as 'sanctuary' for nonwhites. After black student activists issued a demand list to American University in response to the racist-banana incident two weeks ago, the administration agreed to three demands. One of them is a ban on whites using a new "student lounge" for the rest of the spring semester. The Bridge Cafe only opened six weeks ago, and it won't be serving coffee and food until the fall semester, The Eagle reported April 3.
Senator wants 'mandated diversity' for Congressional staff. One of the U.S. Senate's newest members is proposing to shake up the chamber by mandating "diversity" quotas for everything from staffs to committees. A proposal by Nevada's freshman Democratic senator, Catherine Cortez Masto, could mimic efforts in corporate America. Large companies across the country, particularly those in Silicon Valley, have been under intense pressure to hire more minorities. Cortez Masto thinks it should be a Congressional priority, too.
State Champion Football Coach May Be Fired for Being White. Football coach Todd Peterman won a state championship for DeSoto High School in 2016, the school's first. For a Texas high school, a state championship tends to ensure a coach will keep his job for a while. However, Peterman is facing a job hunt on the horizon. Apparently because he's white.
Black students at Pomona College demand hiring of sociologist be rescinded because she is white. According to the ethos of black students at Pomona College, one of the nation's most competitive (and expensive) small liberal arts colleges, white people cannot legitimately study and write about black criminals.
Students Say College Hiring A White Professor Is An 'Egregious' Offense. Students at Pomona College don't want sociology professor Alice Goffman to work on their campus because of her race, Campus Reform reports. Goffman is white. The students at the Claremont, California academic institution wrote a letter to the school's administrators demanding that an offer of employment extended to Goffman be rescinded on the basis of the professor's race. The students argue that hiring Goffman is a repudiation of the college's commitment to promote diversity and advance women of color.
Notes for a White Kid in University: An Introduction to the Blindingly Obvious. If you are a white student in college, you doubtless hear daily that white people are evil, the principal cause of everything wrong with the world. Whiteness is bad, white people are bad. We are to blame for everything. If you believe this, you are being gamed. What you are being told is nonsense. If you have the intelligence and self-respect to think for yourself, ask: "What have other races and ethnic groups accomplished in the world compared to what we white people have?" This question will be shocking to you because you have been carefully programmed not to think such things. But ask. I think you will find that the groups who complain the most have accomplished the least.
Los Angeles Middle School Faces Budget Cut For Having Too Many White People. Los Angeles parents are outraged after their middle school announced budget cuts because there are too many white students, according to Sunday [3/26/2017] reports. Walter Reed Middle School announced there would be layoffs and larger classes because the school's white student body is too big, reports ABC 7. The Los Angeles Unified School District gives schools money only if white students make up no more than thirty percent of the student population.
Caution: Offensive language throughout.
NC State Sponsors Event to Let Students Know that White People are Racist. As part of "Diversity Education Week," NC State's Union Activities Board hosted an event today called "Dear White People," in which white students are told directly that they are racist.
Diddy's Revolt TV sued for reverse discrimination. A production team for Sean "Diddy" Combs' Revolt TV is suing the cable and radio network, claiming reverse discrimination — saying they were fired for being old white men. [...] The team produced its popular urban talk radio program "The Breakfast Club" that airs mornings on Power 105.1 FM. But the producers, who are all white and over age 39, say they were "treated worse than other employees who were younger and African American."
10 Things I Like About White Guys. White men have been getting a bad rap lately. We're complete idiots in commercials and on TV in general. Other races and genders roll their eyes at us and say things such as "Dear white people" in a tone that implies they're going to explain this to us one last time. I never really thought of myself as a white male until everyone said it's a terrible thing to be. After looking it up, turns out we're pretty great — maybe not "supreme," but definitely a combination of race and gender you should peep. Here are my 10 favorite things about us.
Chuck Schumer Desperate To Make Dem Hill Staff Less White. Senate Minority Leader Chuck Schumer is pushing a package of new rules to promote diversity Tuesday [2/28/2017], as some minority outside groups and lobbyists threaten to cut off funds to the Democrat Party if they see real change on this front. Schumer will ask Senate Democrats to adopt "extensive" rules that include a requirement to interview at least one minority applicant for future senior job openings in Senate offices, Politico reports. He's also vowed to start publishing statistics on a Senate website dedicated to diversity that hosts a resume bank for potential minority staffers.
School: No More Music Composed by White Guys. The Spring Lake Park High School in Minnesota has decided to stop purchasing music composed by white guys — at least for the time being. "We made a commitment this year to only buy music from composers of color," marching band director Brian Lukkasson told National Public Radio. [...] The marching band also pledges to toot their horns to at least one musical selection composed by a lady.
University of Michigan Student Group Demands White-Free Space for Plotting Social Justice. Imagine a student KKK group demanding a special space on campus where no blacks are allowed, so it could scheme against blacks without them learning what it is up to. Outrageous, right? Yet we barely bat an eye at this: ["]A student activist group at the University of Michigan is demanding campus officials provide them with 'a permanent designated space on central campus for Black students and students of color to organize and do social justice work.'["] In this context, "social justice" means "racial revenge."
No Republicans Need Apply. One of the less understood criticisms of progressivism is that it is totalitarian, not in the sense that kale-eating Brooklynites want to build prison camps for political nonconformists (except for the ones who want to lock up global-warming skeptics) but in the sense that it assumes that there is no life outside of politics, that there is no separate sphere of private life, and that church, family, art, and much else properly resides within that sphere.
White Candidate For DNC Chair Says Her Job Will Be 'To Shut Other White People Down'. Sally Boynton Brown, a white woman running for chair of the Democratic National Committee, said Monday that if she is chosen to lead the party her job will be to "shut other white people down." "My job is to shut other white people down when they want to interrupt," Brown said during a DNC candidate forum.
Idaho Dems Exec Director: DNC Should Train People In 'How to Shut Their Mouths If They're White'. During Monday's Democracy in Color DNC debate, Idaho Democratic Party Executive Director and DNC Chair candidate Sally Boynton Brown stated that "my job is to shut other white people down when they want to interrupt. My job is to shut other white people down when they want to say, oh, no, I'm not prejudiced. I'm a Democrat. I'm accepting.' My job is to make sure that they get that they have privilege." And argued the DNC should have training for people in "how to shut their mouths if they're white."
Trump and Obama's Legacy of Racism. [Scroll down] At the military academies, students learn white privilege. At the EPA, they preach the gospel of environmental racism. At public universities, professors gin up phony tests to prove anyone who does not like racial quotas is a racist. At the CIA, director James Brennan told the Wall Street Journal his greatest accomplishment as our nation's spymaster was fighting for "more diversity," despite all the handicaps he had to overcome as a "white male from New Jersey." Racial quotas and affirmative action is an essential part of every cubicle in every office in every department. Top to bottom. At the Department of Labor, every bureaucrat knows that white racism causes black unemployment.
MTV Video '2017 Resolutions for White Guys' Airs Laundry List of Grievances. Late Monday afternoon [12/19/2016], MTV News underlined its reputation of being a haven for far-left millennials as it released a video on Twitter, dubbed "2017 Resolutions for White Guys," that offered advice such as stop "mansplaining" and stop saying All Lives Matter and Blue Lives Matter. Lasting one minute and 21 seconds, the video provides ample reason for older generations to despise millennials and goes hand-in-hand with the litany of meltdowns by liberal snowflakes since the election of Donald Trump as the next President of the United States.
UC-Denver offers course on 'Problematizing Whiteness'. The University of Colorado at Denver is offering a course called "Problematizing Whiteness: Educating for Racial Justice" during the 2017 spring semester. The three-credit course fulfills the cultural diversity requirement for students in the School of Education and Human Development, which is advertising the offering by posting flyers around campus and making the syllabus available online for students to view.
How the Left Strangled Itself With Identity Politics. Listen up, dimwits: When you encourage racial pride in all groups except whites, you aren't exactly making a case against "racism."
Student protesters campaigning for safe spaces 'block white students' at Berkeley university. Protesters demonstrating for "safe spaces" for people of colour and LGBT students formed a human chain at a US campus, reportedly designed to stop white people getting to their classes. In a video of the demonstration at the University of California, Berkeley, protesters are heard shouting "Go around!" at white students while they are seen allowing BAME people through the blockade. One demonstrator tells a student who is trying to make his way through: "This is bigger than you. This is about whiteness."
Berkeley students barricade bridge, force whites to cross creek. Students at the University of California, Berkeley held a violent protest on campus Friday [10/21/2016] to demand additional segregated "spaces of color" for non-white students. The demonstration began at a key bridge on campus, where the protesters made a human chain to prevent white people from crossing, instead directing them to "go around" by trudging across the stream.
Left-Wing Berkeley Protesters Demand 'Spaces of Color', Harass White Students Trying to Pass. Left-wing students at the University of California, Berkeley are protesting again. This time, however, these students are calling for "safe spaces" for transgendered people, as well as "spaces of color" at the University (which they already have). The protesters are also harassing white students trying to study, barring their path across a key bridge while allowing students of color safe passage.
Columbia University to host no-whites-allowed student leadership retreat. Students of color at Columbia University can apply to attend an upcoming racially segregated retreat hosted by the school that promises to embolden and empower participants, according to organizers.
NAACP Lawsuit: Judges in Alabama Courts are All White. A civil rights group is challenging Alabama's practice of electing appellate judges by statewide vote, saying it has resulted in all-white courts in a state where one of every four people is African-American.
'How To Be a White Ally' posters say all white people are racist. New students at Pomona College were welcomed to campus with posters in their dorms giving instructions on "How to be a (Better) White Ally" and stating that all white people are racist. The signs state white people should "acknowledge your privilege" and "apologize if you've offended someone," adding that offensive language includes words like "sassy" and "riot," which are "racially coded."
Proof That Angry White Males Have Every Right to be Angry. The destruction, the annihilation, the conspiracy to destroy the middle class is real. The murder of the middle class is not a theory. It's not an opinion. It's not a figgment of my imagination. It's a proven fact. Three studies were published backing up what I'm saying.
State University of New York at Binghamton offers 'Stop White People' course to resident advisors. The State University of New York at Binghamton is under fire over a new course it's offering to resident advisors. The session titled 'StopWhitePeople2K16' is taught by three RAs and describes itself as a tool to 'understanding diversity, privilege and the society we function within'.
Taxpayer-Backed School Holds Lesson On How To 'Stop White People'. The State University of New York at Binghamton (SUNY-Binghamton) is offering a training class titled "StopWhitePeople2k16," to instruct residential assistants (RAs) on how to deal with "uneducated" people who don't believe in ideas like white privilege. The class is just one of several available to RAs at the school, and was discovered by the Binghamton Review, a student newspaper. Residential assistants are students who agree to assist with overseeing and monitoring residential life in return for receiving a free room from the school. Apparently, though, Binghamton RAs also have the responsibility of "stopping" white people.
University Hosts "Stop White People" Workshop. Nothing screams tolerance and diversity like a university workshop designed to target white people. The State University of New York in Binghamton has a bit of explaining to do after they held a workshop titled, "#StopWhitePeople2K16." The workshop was an official part of the residential assistant training program at the taxpayer-funded university.
State University of New York at Binghamton offers 'Stop White People' course to resident advisors. The State University of New York at Binghamton is under fire over a new course it's offering to resident advisors. The session titled 'StopWhitePeople2K16' is taught by three RAs and describes itself as a tool to 'understanding diversity, privilege and the society we function within'. 'Learning about these topics is a good first step, but when encountered with 'good' arguments from uneducated people, how do you respond? 'This open discussion will give attendees the tools to do so, and hopefully expand upon what they may already know,' the course description reads.
'White People' Are the Enemy at New York University. The State University of New York at Binghamton (SUNY-Binghamton) is offering a training class titled "StopWhitePeople2k16," to instruct residential assistants (RAs) on how to deal with "uneducated" people who don't believe in ideas like white privilege. The class is just one of several available to RAs at the school, and was discovered by the Binghamton Review, a student newspaper. Residential assistants are students who agree to assist with overseeing and monitoring residential life in return for receiving a free room from the school. Apparently, though, Binghamton RAs also have the responsibility of "stopping" white people.
Public university hosts blacks-only student retreat — to promote inclusion. California State University Fresno recently held a three-day student retreat for black students that aimed to foster inclusion and help incoming African American students adjust to college life and get involved in the campus community. The inaugural "Harambee Student Retreat," which took place Aug. 14 through Aug 17, was free to participating students, who enjoyed housing, meals, workshops and activities meant to help aid in the "successful transition of incoming African American/Black students to Fresno State," the university's website states.
Segregation was outlawed in the '60's! Liberals want to bring it back! Nothing says "pulling together" like one-race-only leftist seminars. The Democrats are back at it, in the 1960's they supported segregation and today they are at their same racist antics, just a different victim to target. Public university hosts blacks-only student retreat — to promote 'inclusion'.
College president denounces black student's non-white roommate request. A small liberal arts college near Los Angeles is denouncing a Facebook post made by a black student who was seeking out a non-white roommate. The Claremont Independent reports Pitzer College student Kare Urena asked in the post that only people of color apply to live in her off-campus residence, adding that she didn't "want to live with any white folks."
Pitzer College Leaders Can't Agree If It's OK for Students to Advertise for Non-White Roommates. So is it OK for college students to take out ads seeking non-white roommates for their off-campus house? Well, at Pitzer College in California, it depends which senior administrator you ask. Students at Claremont Colleges (of which Pitzer is one) advertised an opening in their off-campus home on Facebook that listed "POC" (or "person of color") as one of the requirements to apply. The students are also resident advisors at the school. Although other students immediately pointed out that the policy was discriminatory, the RAs countered that the segregated housing "protected" students of color and created a "safe space" for members of their community.
Chicago-area community college to reserve course exclusively for black students. Race isn't a typical prerequisite to taking a college course, but it will be this fall at a community college near Chicago. For the first time in its history, Moraine Valley Community College is earmarking two sections of its College 101 course exclusively for black students, spokeswoman Jessica Crotty told the Chicago Tribune.
Dem Congressman Wants Anyone But Straight White Men To Apply For Internships. Minnesota Democrat Rep. Keith Ellison's office is hiring interns for the fall and strongly encourages anyone who isn't a straight, white able-bodied male to send in an application. "The Office of Congressman Keith Ellison is looking for enthusiastic interns for our Washington and Minneapolis offices. We seek interns who are curious, hardworking, and passionate about serving Minnesota's 5th district," Ellison's Congressional website states. "While Congressman Ellison encourages all individuals to apply, applicants with strong ties to the Fifth District or Minnesota are preferred," the page states before adding one final note: "People of color, LGBTQ individuals, women, and people with disabilities are strongly encouraged to apply."
No Whites Allowed, Clinton Speaks To Press For First Time In 260 Days. Democratic nominee Hillary Clinton will finally speak in front of members of the press Friday [8/5/2016], but only to black and latino journalists. Clinton is set to speak Friday in front of the a conference between the National Association of Black Journalists and the National Association of Hispanic Journalists at the Washington Marriott in Washington, DC.
Trump's Answer to Black-on-Cop Murder. In schools, children learn about evil white people early on. New teachers learn if they want to be successful with black students, they must have a "Courageous Conversation" that begins with the white teacher admitting that white racism is responsible for the enormous gap between white and black students in performance and discipline. It is the official policy of the government of the United States of America that gap is the result of one thing and one thing only: white racism. The Departments of Justice and Education send teams of bureaucrats to school districts all over the country to enforce it. At the EPA, they talk about "environmental racism". At the Defense Department, students at the military academies are taught that white privilege is hurting our military preparedness. At the FCC, hundreds of employees make sure that TV and radio stations are hiring and telling the right stories about black people in proper amounts — or risk losing their licenses. This is a very long list and it has been going on for a very long time.
Dartmouth to spend $145M promoting diversity, inclusion. As part of the decade-long overhaul, Dartmouth has set a goal of increasing the percentage of minority tenure-track professors from 16 to 25 percent by 2020, which will require hiring 50 new "underrepresented" professors in the next four years. Employees, of course, come with a price tag, and in this case the school estimates that salaries and start-up costs will be somewhere in the ballpark of $100 million over the next 10 years.
The Editor says...
Call it what you will, this is nothing more or less than race-based discrimination.
When Did White Men Become The Bad Guys in America? White people (men included) are the only group in the country that is discriminated against via Affirmative Action by official government policy. In all fairness, Asians are also discriminated against by universities that often wave them off in favor of less qualified applicants from different racial groups, but there's no widespread cultural assault against Asian Americans. To the contrary, when it comes to white men, outright hatred based on our skin color is commonplace.
Mayor's office racially profiles at Chicago gun buyback: White folks need not apply. That was the message Guns Save Life took away from a foray up to the Windy City Saturday morning, May 14th, to trade unwanted firearms in for $100 pre-paid credit cards. Our experience felt surreal to say the least in this era when profiling — especially racial profiling — is a big no-no, especially in government service. It all began this morning as five Caucasian members of Guns Save Life waited surreptitiously in line at a Chicago gun buyback location. Out of the blue, my wife and I were told by a surly, middle-aged woman from the Mayor's office that "we won't be taking those today" in reference to a dozen plus long guns my wife and I brought.
BBC blasted for rejecting work applicants because they are white. The BBC has been blasted for rejecting work applicants because they are white. It advertised two $36,000 junior scriptwriting roles for shows like Holby City, but said they were only for people from "ethnic minority backgrounds". One outraged job-hunter said: "It's racial discrimination and just wrong. "If you applied for a position and got a reply saying it was only open to white applicants you'd quite rightly not be happy. "This is exactly the same."
How Anti-White Rhetoric Is Fueling White Nationalism. Progressive rhetoric on race has turned an ugly corner and the existence of "anti-white" attitudes can no longer be ignored. [...] What started as irony turned into an actual belief that white people, specifically white men, are more dangerous and immoral than any other people. Loosely backed up by historical inequities and disparities in mass shootings, this position has begun to take a serious foothold.
Teaching While White. Teaching While White is becoming an occupational hazard these days. So is being a white student, for that matter. At the "Unofficial Scripps College Survival Guide," students learn that "white peers and faculty — portray Claremont Consortium as a haven for liberal ideology and acceptance. It's a rhetoric that has led many white students to believe that racism does not exist on campus." Thus, "as white students, [they] must identify the ways that [they] are engaging in the perpetuation of white supremacy and work to unlearn [their] racism." Of course, "reverse racism does not exist because there are no institutions that were founded with the intention of discriminating against white people on the basis of their skin. Many white people claim to be victims of reverse racism when people of color associate negative characteristics with white people or have a general dislike for them as a group. This is not reverse racism because racism is privilege plus power and people of color do not have racial privilege. Moreover, distrust or anger at white people is a legitimate response to a repetitive history and current state of racist violence."
White Men Should Stop Running For Office, Colorado Group Says. Long term, they hope to tackle what they call a "crisis of overconfidence" among straight white men. A 2004 study found that among professions that most generally produce candidates for elected office, more men than women feel they are qualified.
The Editor says...
If I said only white men should run for office, would you call me a bigot? If so, why is it not bigotry to exclude white men from politics?
Anti-White Racism: The Hate That Dares Not Speak Its Name. It is a strange election cycle when Republicans go to war with each other with a ferocity rarely manifest when they are confronting Democrats and their progressive agendas. It is especially puzzling because a general consensus has formed on the right that the Democratic Party is moving so far left that its agendas threaten the very foundations of America's social contract. These include a frontal assault on the system of individual rights that the Founders set in place. The left envisions a fundamentally transformed America where individual rights are secondary to the collective rights of races, ethnicities, genders and classes. That is why the particular circumstances of individual acts, such as the ones that led to the death of Michael Brown in Ferguson, for example, don't matter to progressive mobs. It's the races of the actors that do.
Hit Broadway show celebrates diversity by excluding whites. The producers of "Hamilton" — a rap musical that offers a fresh take on the Founding Fathers — really did put out a casting call. "Seeking NON-WHITE men and women, ages 20s to 30s, for Broadway and upcoming Tours!" their casting notice read. The NON-WHITE part was in all caps.
Court tells TUSD to improve teachers' racial diversity. The Tucson Unified School District has been ordered to improve racial diversity among its teachers. In a district that has spent years under federal oversight for desegregation efforts, U.S. District Judge David Bury has told it to reduce by half the number of schools where racial disparities exist among the teaching staff — affecting more than one-third of TUSD schools.
Air Force Thunderbirds too male, too white, top general warns. The Air Force's vaunted Thunderbirds jet fighter aerobatics team is not diverse enough inside the cockpit. Brig. Gen. Christopher M. Short, commander of the 57th Wing at Nellis Air Force Base, Nevada, said in an email last month that of 15 pilot applicants for three openings, 14 are white. He asked fighter wing commanders to stir up more candidates who "don't necessarily look like each of you."
The Editor says...
General Short apparently wants to hire (or exclude) pilots on the basis of their skin color. If I were the pilot in the next plane over, with our wingtips almost touching, I would hope the general had hired the best pilot he could find, instead of the blackest pilot he could find.
White students undergo weekly 'deconstructing whiteness' program at Northwestern University. White college students are undergoing a weekly "deconstructing whiteness" program at Northwestern University. The "6-part workshop series for undergraduate students who self-identify as white" launched in January and runs through March, according to the university's website. Students enrolled chose to do so — it is voluntary. A spokesman for the prestigious private university located outside Chicago declined to give The College Fix details on the program, such as how many students enrolled and how it's been received so far.
Casting Nancy Drew: No Whiteys, Please! CBS Entertainment has announced plans to remake the classic television series Nancy Drew. What young actress wouldn't want to audition for the opportunity to reprise the role of this iconic detective? Unfortunately, there's just one problem: White women need not apply. "I'd be open to any ethnicity," but "[She will] not [be] Caucasian," said CBS President Glenn Geller. Imagine if Geller had said he was open to casting Nancy Drew as any ethnicity, but that she would not be black or Hispanic. He would be inundated with hate mail for being a racist.
The Editor says...
If whites are excluded from the beginning, then Mr. Geller is not "open to any ethnicity," unless it is his belief that "white" is not an ethnicity.
Harry Reid Defends Superdelegate System: Iowa, New Hampshire Too White To Decide Future Of Country. Sen. Harry Reid (D-NV) defended the superdelegate system in the Democratic party nominating process in an interview with NBC's Andrea Mitchell on Thursday [2/11/2016]. Reid said Iowa and New Hampshire have "no diversity." Reid said he asked himself, "how in the world could we have the future of this country be dependent" on these two states?
DOD Diversity Chief Violates Rules, Gives Leftist Groups $300k to Promote Agenda. To meet the Obama administration's goal of "implementing a robust diversity strategy" at the Department of Defense (DOD), the agency's director of diversity violated government rules by distributing hundreds of thousands of dollars to controversial leftist groups. [...] Among the recipients is the notorious open borders group League of United Latin American Citizens (LULAC), Minority Access Inc., a Maryland-based nonprofit committed to decreasing disparities and reducing incidences of environmental injustices, and the renowned National Association for the Advancement of Colored People (NAACP). Others include the Society of American Indian Government Employees and the Asian American Government Executive Network. In all, the Pentagon's Office of Diversity Management and Equal Opportunity (ODME) gave these and other groups north of $300,000, according to a DOD Inspector General report released this month. These are considered "affinity" groups involved with networking or professional associations that are often race, ethnic background or gender based, according to the report.
Obama's 'diversity' diktat is a giant gift to lawyers. If you're a white male looking for a job, your search just got harder. Claiming women aren't getting paid enough, President Obama wants to make it easier to accuse employers of gender discrimination and hit them with class-action lawsuits. A new regulation proposed on Friday [1/29/2016] will require all employers with 100 or more workers to report how much their workforce is paid, broken down by race and gender. The rule, slated to go into effect in September 2017, will cause headaches for employers and anyone — man or woman — who works hard and expects to get ahead based on merit. The winners are federal bean counters, class-action lawyers and the Democratic Party, which is playing up the gender "wage gap" as usual during this election year. Never mind that the gap is largely fiction.
Playwright Cancels Production Because Student Cast is Too White. Clarion University of Pennsylvania students have been rehearsing six days a week since October for their upcoming premier of the play Jesus in India. But last week, the production was suddenly halted at the request of the playwright because too many white people had been cast. Three of the five characters in the play are Indian, but because of the very rural location of the university, they don't have much diversity showing up to the auditions.
White Manager Fired After Black Employees Refuse to Work for a Honkey. Christopher Lyons, a former Department of Public Works (DPW) supervisor, is suing the city of Washington, D.C. for racial discrimination after being fired because black employees didn't want to work for a white man. [...] Lyons was referred to as "white boy," "honkey," and "cracker" during meetings. Matters only got worse when he reported fraud and waste within the department. After nine months of employment, he was fired without reason, even after receiving stellar reviews for his work.
School District Excludes All White Students From Third-Grade Field Trips To Local College. Public school officials in South Bend, Ind. are segregating elementary schools students by race and ferrying black students — and only black students — on visits to local colleges. The students facing racial segregation in America in the year 2015 are third graders at seven elementary schools, reports local ABC affiliate WBND. School district officials say they do not intend for the taxpayer-funded reenactment of Jim Crow-era race segregation to be discriminatory. Instead, they say, the intent is to inform black students about college because low numbers of black students attend college.
White America Asks: Where Is the Animus? White Americans feel like prisoners stuck under a microscope, where everything they do and say is judged through the prism of color. If a white person looks askance at a black person, it is automatically assumed to be racially motivated; if white police pull over a car driven by a black person, it is because he has been racially profiled as "DWB" — driving while black; if a white person commits a crime against a black person, there will likely be a rush to judgment based on skin color alone. Is every deprivation suffered by a black person at the hands of a white person racially motivated — be it the loss of a job, the denial of a mortgage, rejection from a school play or sport, termination of a friendship, denial of entrance into a university or graduate school program, loss of a bid, refusal to rent, etc.?
De Blasio's security sergeant 'must be black'. Mayor Bill de Blasio has an opening on his personal security detail — and the candidate has to be black, The [New York] Post has learned. The head of Hizzoner's protection unit — staffed by a racially diverse group — has been calling other commanders asking for recommendations, law enforcement sources said. "A boss on his security detail is looking to recruit a new sergeant but they have to be the right racial makeup. He is looking for a sergeant but the sergeant has to be black," a source told The Post.
School workers say they were fired because they weren't Hispanic. Two former school district employees, including the one who oversaw its affirmative action policies, filed race discrimination suits in September, saying they were fired because they're not Hispanic. Bernice Marshall, the former human resources manager, and Edmund Treadway, the former transportation manager, argue in Superior Court filings that the Perth Amboy School District is favoring Hispanic job candidates and employees.
White teacher wins $350K in racial discrimination lawsuit. Maryland teacher won a $350,000 jury award after accusing a black principal of forcing him out of his job because he is white. Jon Everhart sued the Prince George's County school board, alleging that he faced years of racial discrimination by Principal Angelique Simpson-Marcus at Largo High School, The Washington Post reported. [...] Mr. Everhart, who was fired in 2010, said the principal told students that the "only reason a white teacher teaches in P.G. County is that they can't get a job elsewhere."
White teacher wins $350,000 in Prince George's schools bias lawsuit. A former Prince George's County teacher won a $350,000 jury award after accusing the school system of discriminating against him because he is white. Jon Everhart alleged in his lawsuit against the Prince George's County school board that a black principal forced him out of his job because of his race.
White is not right: Campus admins ask for help weeding out white people. Western Washington University sent a questionnaire to students asking them for advice on how the administration could succeed at making sure that in future years, "we are not as white as we are today." The question notes that WWU's racial make up does not perfectly reflect the nation at large, and asks students to consider strategies that other universities have used to focus on skin color as the paramount indicator of a student-applicant's worth. The president of WWU has stated that his explicit goal is to reduce the white population on campus, according to Campus Reform.
The Editor says...
Substitute "black" for "white" and imagine the uproar that would ensue.
TSA Wants to Hire 'Economically Disadvantaged Woman Owned Small Business'. The Transportation Security Administration (TSA) is looking exclusively for an "economically disadvantaged woman owned small business" when it awards its next $30 million contract for security training. The agency announced a solicitation for a company to conduct training for its Inter-Modal Security and Training Exercise Program (I-Step) last week. [...] An economically disadvantaged woman is one who earns less than $350,000 a year, with a net worth not greater than $750,000.
The Editor asks...
What happened to "equal employment opportunity without regard to race or gender"?
Lesbian boss 'fired me for being straight'. A married, heterosexual gym teacher at a tony Upper West Side private school was fired because his lesbian supervisor disapproved of his "traditional family status," the canned teacher claims in a new Manhattan lawsuit. Gregory Kenney, 50, taught gym at the Trinity School on W. 91st St. for 16 years before he was let go in June 2012.
Pentagon training manual: white males have unfair advantages. A controversial 600-plus page manual used by the military to train its Equal Opportunity officers teaches that "healthy, white, heterosexual, Christian" men hold an unfair advantage over other races, and warns in great detail about a so-called "White Male Club." "Simply put, a healthy, white, heterosexual, Christian male receives many unearned advantages of social privilege, whereas a black, homosexual, atheist female in poor health receives many unearned disadvantages of social privilege," reads a statement in the manual created by the Defense Equal Opportunity Management Institute (DEOMI).
The Editor asks...
What does "social privilege" have to do with the Army?
College Kicks Out Afrobeat Band for Being "Too White". Apparently bands now have to be the same race as the music they're playing. That's going to be a problem. So no more white rappers or black classical musicians are allowed. [...] America may be ready for a black man in the White House, but apparently it's not ready for a white Afrofunk band.
Band loses college gig because [they are] 'too white'. A popular jazz band named Shokaboza that "blends jazz and old school funk, with a West African beat" has just been told by Hampshire College in Massachusetts that it is "too white" to be allowed to perform a scheduled Halloween party gig on campus.
HUD's Power Grab. [Scroll down] Bear with me as I report the basics of the new policy, beginning with the purpose of AFFH, which the rule says is "to improve fair housing choice for all." People possess improved choice when they "have the information, options, and protection to live where they choose without unlawful discrimination and other barriers related to race, color, religion, sex, familial status, national origin, or handicap." And while "all" people should have such choice, the focus of the rule is on accomplishing better choice for blacks and Hispanics in particular.
Campus Roundup. Amherst College in Massachusetts, long known as one of the most left-leaning liberal arts campuses in the nation, added several "diversity seats" to their Student Senate, which are reserved for groups that have been "historically silenced." But when conservative student Ted Hertzberg applied for one of the seats citing the fact that only 2 out of 160 professors at the school are registered Republicans, he was rejected. The other four applicants for the seats — an international student, a gay student, a Latino student and an Asian student — were all accepted.
More diverse = less white.
New Hispanic Chief Judge Calls For More Jury Diversity. Born in Chicago to immigrant parents, Ruben Castillo became the first Hispanic Judge to lead the busy federal court district that includes his hometown and proclaimed on Tuesday [7/2/2013] that one of his priorities will be helping ensure that juries are more diverse.
An Uncontrollable Ego. Perhaps the most damaging Leftist assault ever was reverse discrimination to make up for white racial sins going back to the slave trade that ended in 1865; that racialist revenge narrative still drives reverse discrimination, forty years after the start of "affirmative" action. It will never end, as long as there is a penny to be made on racial blackmail.
'Whites need not apply' at D.C. labor board? Ondray Harris, the African-American executive director of the Public Employee Relations Board of the District of Columbia, stepped down last week. [...] Harris claimed in his letter that two members of the board, Don Wasserman and Ann Hoffman, complained over his hiring of a white female, Erin Wilcox, because they perceived her "as being conservative or politically right-of-center." According to Harris, at a meeting on Nov. 8, 2012, Hoffman declared that "somebody with a resume like hers doesn't belong here" and "should never work here."
'Any race except Caucasian'. A casting call for a new host of a children's program on the Canadian Broadcasting Corporation, the taxpayer supported, government-owned television and radio network of Canada, accidentally told the truth, when it specified "any race except Caucasian."
Parents Upset Over Tutoring Program That Excluded Whites. A Colorado school principal is apologizing after he mailed parents a letter informing them that an after-school tutoring program was for non-whites only. Andre Pearson, the principal at Mission Viejo Elementary School in Aurora, also left a voice mail message confirming that the program excluded whites.
Elementary school bans white kids from tutoring. An elementary school principal in the Denver suburbs told parents that white children would be excluded from an after-school tutoring initiative. Andre C. Pearson, the principal at Mission Viejo Elementary in Aurora, Colorado sent letters home to parents informing them that only students of color are eligible for the program, KJCT, the local ABC affiliate, reports.
Black principal bans white children from after school tutoring program. This is an amazing story. In short, Andrea Pearson, Mission Viejo Elementary school principal in Colorado sent a letter home with students that informed the parents of an after school tutoring program for students of color only — no white kids allowed.
Racial Favoritism and the Atlanta Symphony Orchestra. Earlier this year, the Atlanta Symphony Orchestra (ASO) decided to disinvite two predominantly white high school choral groups from performance in the ASO's holiday concert. The ASO's decision was reportedly motivated by the high schools' lack of diversity, which caused a stir among people who believe in racial justice as opposed to racial favoritism.
'Stop Being So Anglo'. "Allegations of racism and other discrimination against San Francisco Housing Authority Executive Director Henry Alvarez are flying in lawsuits filed by his subordinates," the San Francisco Examiner reports. It's a man-bites-dog story inasmuch as Alvarez is black and his accusers are white — the reverse of the usual race-discrimination stereotype.
Suit calls S.F. housing head bully, racist. The San Francisco Housing Authority, which runs more than 6,000 units of public housing for the city's poor, is headed by an executive director who discriminates against white employees in favor of African Americans and regularly employs offensive, outlandish language and behavior in the workplace, according to a lawsuit filed by the agency's own lawyer.
11 Chicago Cops Sue City, Accusing Rahm Emanuel of Discrimination. Chicago Mayor Rahm Emanuel is named in a federal lawsuit from 11 of the city's police officers, alleging that the mayor unlawfully removed them from his security detail when he took office in 2011. The officers, all of white or Hispanic descent, claim Emanuel, who was elected mayor in 2011, replaced senior members of his security detail with volunteers who contributed to the mayor's campaign. They also allege that African American officers with less seniority were given preferential treatment by being kept on Emanuel's team.
Paterson Aides Said to Have Sought Race-Based Changes to Security Detail in '08. Aides to New York's first African-American governor wanted a police entourage that looked more like their boss, so they made an unusual request to the State Police: Replace at least 10 white troopers assigned to protect Gov. David A. Paterson with black or Latino officers.
White firefighters are awarded $2.7 million in bias case. Twelve white Buffalo firefighters will get an average of $230,430 each in back pay, pension benefits and damages — a total of almost $2.77 million — for emotional distress because the City of Buffalo illegally passed them over for promotions, a state judge has ruled. The 12 men sued the city in 2007, contending that the city illegally allowed two promotional lists to expire because minority firefighters had fared poorly on civil service exams.
Obama: Whites need not apply. The White House issued an executive order on Thursday [8/18/2011] titled "Establishing a Coordinated Government-wide Initiative to Promote Diversity and Inclusion in the Federal Workforce." The purpose of the order is "to promote the federal workplace as a model of equal opportunity, diversity and inclusion." In other words, it would be better for the government if public-spirited white workers sought employment elsewhere. Lost amid all the politically correct box-checking is the principle that the most qualified person should be hired for a job.
"Promote diversity and inclusion" means, "Don't hire white males."
Obama orders federal agencies to focus on diversity. President Obama issued an executive order Thursday intended to coordinate a "government-wide initiative to promote diversity and inclusion in the federal workforce." The order creates a council of deputy agency chiefs and federal workers tasked with developing a government-wide plan to improve diversity in recruitment, training and promotion of federal workers.
The Myth of White Privilege. Because of the fashionable discrimination known as affirmative action, whites (males especially) are often untouchables in the job market. And examples are legion. Talk-show host Michael Savage has often mentioned that after he earned his Ph.D., he had trouble finding a job in his chosen field and was told in so many words that "white men need not apply."
Is the NCAA Anti-Male? In 1972, Congresswoman Patsy Mink authored an amendment to the Civil Rights Act of 1964. ... The law was called Title IX. The question now is whether this admirable idea has evolved into a law that is anti-male, and particularly anti-black male.
Federal Jury Finds...
East St. Louis Discriminated In Not Hiring White Officers. Two black residents of East St. Louis won a civil rights lawsuit this week in southern Illinois complaining that they were harassed and discriminated against when they recommended that the predominately black city hire a white police chief and white police officers.
At Justice, It Just Keeps Getting Worse. The Civil Rights Division has blocked a much-needed reform of a local school board in S.C., once again showing it has no interest in protecting minority voters if they are white.
DOJ to white male bullying victims: Tough luck. The administration's anti-bullying campaign has been ongoing since the beginning of Mr. Obama's term. ... Here is the catch. DOJ will only investigate bullying cases if the victim is considered protected under the 1964 Civil Rights legislation. In essence, only discrimination of the victim's race, color, religion, sex or will be considered by DOJ. The overweight straight white male who is verbally and/or physically harassed because of his size can consider himself invisible to the Justice Department.
Fired white worker files discrimination suit against E.C. health center. Taunts of "snowflake" and "honky" and KKK references peppered Lois Sinder's days working in an all-black department at an East Chicago health center between 2005 and 2009, according to court records. Sinder was the only white employee in the Lake County Nursing and Rehabilitation Center's dietitian department, states a federal civil suit filed last week, and her black co-workers did not let her forget it.
'Post-Racial' Racialism. In the New Black Panthers case, Justice refused to protect the rights of white voters. Two career prosecutors have now sworn that high-level Obama appointees running the Civil Rights Division scuttled an open-and-shut case of voter intimidation against nightstick-wielding black thugs at a Philly poll in 2008. They also testified that the division has a do-not-prosecute policy if victims are white and offenders black. If that bias weren't bad enough, check out what's going on in the division's housing and civil enforcement section.
More about the Black Panthers scandal.
Lawsuit alleges discrimination against white officers by L.A. Airport Police. One current and two former Los Angeles Airport Police officers have filed a lawsuit accusing department officials of discriminating against white officers and giving black officers preferential treatment in promotions and disciplinary action. The suit, filed last week in Los Angeles County Superior Court, alleges that black officers were promoted over whites despite receiving lower scores on promotional exams and that white officers were disciplined more harshly for misconduct compared with black officers facing similar accusations.
Diversity and the Myth of White Privilege. Forty years ago, as the United States experienced the civil rights movement, the supposed monolith of White Anglo-Saxon Protestant dominance served as the whipping post for almost every debate about power and status in America. After a full generation of such debate, WASP elites have fallen by the wayside and a plethora of government-enforced diversity policies have marginalized many white workers. The time has come to cease the false arguments and allow every American the benefit of a fair chance at the future.
Reverse Discrimination at Boeing: Boeing's employment policies specifically favor minorities in hiring and promotions. Boeing suppliers and subcontractors must be the "correct" race, gender and ethnicity in order to do business with the aerospace giant.
City Hall hears accusations of DART racial hiring. Allegations of hiring discrimination at the DART transit agency have now spilled over to Dallas City Hall. Community leaders, frustrated over the lack of action by DART officials are now asking Dallas City council members to investigate. Former DART employee Rebecca Williams is among at least five people who have filed federal discrimination complaints against their old bosses. Williams says she was fired after complaining about being ordered to hire Hispanics underqualified for the job.
Reverse Discrimination at Kodak: The photo and imaging giant aggressively excludes non-minorities. Kodak's aggressive, forced-diversity policies and procedures actively exclude non-minority employees, suppliers and subcontractors.
Former state employee wins $150,000 in reverse discrimination case. Mark Pasternak said he lost his state job helping troubled youths because he couldn't stand working under a black boss who called him racist names like "cracker," "polack" and "stupid white boy." Pasternak was dismissed from his position as a youth worker with the state Office of Children and Family Services in 1999. But today, he feels some relief and vindication.
Is A New Civil Rights Movement on the Horizon? In Clayton County, Georgia, the predominately black population recently elected a new sheriff. On his first day, he fired 27 white employees … They were told that their replacements would be black. In New Orleans, Louisiana, the predominately black population recently elected its first black District Attorney, Eddie Jordan. He immediately fired 53 of the 77 white employees in the office, and replaced them with black employees who were less experienced and who scored lower on performance evaluations.
New Orleans DA loses race-firing appeal. The New Orleans district attorney lost his fight Wednesday [8/15/2007] against a ruling that said he violated the civil rights of dozens of white employees when he fired them after taking office in 2003 and replaced them with black workers.
Race and Crime in New Orleans: For many critics, the disarray in the DA's office can be traced to a decision [District Attorney Eddie] Jordan made shortly after being elected to a six-year term in 2002. During the campaign, Mr. Jordan pledged to make the DA's office look "more like New Orleans," code words, many assumed, for hiring more black staffers and attorneys. Using a "cultural-diversity report" compiled by his transition team, Mr. Jordan proceeded to systematically fire veteran white staffers and replace them with African Americans with little or no experience.
White Male Denied Contracts with U.S. Dept. of Transportation. DOT was enthusiastic about hiring Fay Communications until they found out the owner is white.
Whites need not apply for this college class. Republicans are fighting what they see as "registration discrimination" at the University of Colorado after learning about a class that's only for minority or first-generation students. "It's purely and blatantly segregationist," said Brad Jones, chairman of CU's College Republicans.
Update:
University of Colorado Drops Diversity Class Limited to "Students of Color". The threat of a civil rights lawsuit has prompted the University of Colorado to drop a segregated class restricted to minorities and first-generation college students. The change of heart comes after three students vowed to sue the university for racial discrimination.
White man wins race discrimination suit against city. A white man who claimed he was the victim of racial discrimination by the city of San Francisco when he was denied a promotion at the airport has been awarded $30,600 in damages by a San Mateo County jury.
"Too many white faces". After publicly complaining about a "white dominated administration," a board member with the public library system for Atlanta and Fulton County in Georgia demoted seven white librarians "because of the color of their skin," and then tried to call it a "reorganization."
The New Segregation: Racism in America, Then and Now. Both segregation and neo-segregation are opposed to the idea of a colorblind society and to individual rights. Both segregation and neo-segregation see a person as primarily a member of a racial unit, not as an individual to be evaluated on his or her merits.
Black-focused school gains ground. Some called it segregation, "the very thing Martin Luther King marched against," said retired teacher Winston Clement. Others hailed African-centred schools as the best hope for black teens — "that would give our kids a vision of their own history, it should have happened a long time ago," said mother Aldyth Frater. "Everyone says it would be segregation, but our schools are segregated anyway," said parent Andrew Murphy.
Attorney says admissions and hiring policies perpetuate racial segregation: A conservative attorney says the outcome of two University of Michigan affirmative action cases may have a substantial impact on pre-collegiate schools.
Black Racism: The Hate Crime That Dare Not Speak Its Name. While the federal government rushes to Los Angeles to investigate an incident in which a handcuffed youth was slammed into the hood of a car and punched by an officer, a pall of silence still blankets the horrendous racial murder of four young people whose murderers are now on trial. The difference in the responses to these two stories can hardly be attributed to anything other than the skin color of the perpetrators and the victims involved. Apparently the sexual torture and brutal executions of four promising youngsters is of no interest to the nation's moral guardians, because the victims happen to be white.
Whites File Bias Suit Against Black College: Five white professors in Salisbury, N.C., have filed a lawsuit against Livingstone College, claiming the private college discriminated against them because of the color of their skin.
Why Elitists Dump on the South: To preserve its illusion of national innocence, the United States projects its "dark" side onto the South, a Penn State geographer says. He found that people indulged in one of the last forms of bigotry acceptable in polite society. Those who wouldn't dream of mocking other groups were comfortable making jokes about white Southerners.
"Diversity" as Doublespeak for Ideological Conformity: What's called for and practiced by college administrators, courts and administrative agencies is anything but a defense of individual rights, freedom from conformity and a doctrine of live-and-let-live. Instead, diversity is an increasingly popular catchword for all kinds of conformity — conformity in ideas, actions and speech.
Rocky Mountain Bigot? The John Rocker zero-tolerance-for-bigotry standard only applies to white people.
Denny's victory may show the way for other companies: One of the biggest victims of anti-white racism is the restaurant chain Denny's, which since 1994 has had to shell out more than $50 million in settlement costs and legal fees to assuage the alleged heartbreak various non-white patrons experienced when they supposedly found themselves denied service because of their race. Now, after years of groveling before the idols of Afro-racism, Denny's is fighting back — and winning. There may be a lesson here for much of corporate America.
Federal death penalty biased against whites: A study shows whites are likelier to face the federal death penalty, Attorney General John Ashcroft told a House committee Wednesday — and he made the startling claim that that anti-white bias is not racial bias.
The $600 Million Blacks Only Lottery: The U.S. Department of Agriculture has paid $600 million to black farmers, admitting it discriminated. Of course, this has had very little coverage in the news media. As with so many other scandals in the Clinton administration, they have chosen not to report it.