---
Archive of Uncategorized News Items
---
This is the overflow from the Uncategorized News page, which is located here.
---
Brains behind the 1970s Pet Rock fad and 'Advertising for Dummies' Gary Dahl dies aged 78. Gary Ross Dahl, the creator of the wildly popular and bizarre 1970s fad the Pet Rock, has died aged 78 in southern Oregon.
Obama commutes sentences of 22 people serving time in federal prison, mostly for drug crimes. President Barack Obama on Tuesday [3/31/2015] shortened the prison sentences of nearly two dozen drug convicts, including some given life in prison for their crimes.
The 2 states Obama hasn't visited. When President Barack Obama speaks at the Hill Air Force Base in Utah on Friday [4/3/2015], he'll have traveled to 49 states as president, nearly reaching his goal of stopping in every single one during his eight years in office.
Arizona Governor Vetoes Bill To Delay Identifying Police Officers Who Shoot People. A controversial bill that aimed to prohibit law enforcement in Arizona from releasing the names of officers involved in shootings until 60 days after the incident was vetoed Monday [3/30/2015] by Gov. Doug Ducey. Ducey said his No. 1 goal was to protect officers and their families, and the "arbitrary" 60-day timeframe didn't help police. In a letter explaining his decision, the governor also noted that Arizona law already allows local police departments to weigh officer safety as they decide when to release names.
Military planning to spend billions on new Air Force One. The Pentagon is considering spending billions of dollars on three new Boeing 747s to use as Air Force One, the aircraft that shuttles the United States president. According to CBS News, the current Air Force One fleet is getting old, and the U.S. military says it's time for a new generation to carry future commanders in chief. "We've got a pretty good size team working on it," said Air Force Col. Amy McCain, who is in charge of ordering the new Air Force One, according to the station.
BLS: Bartenders in U.S. Outnumber Clergy 12 to 1. According to annual employment data released by the Bureau of Labor Statistics (BLS) on Wednesday, bartenders in the United States outnumber clergy 12 to 1. According to the report, there were 46,510 individuals working as members of the clergy as of May 2014, compared to 579,700 working as bartenders. Clergy made an average salary of $47,730.
33 Strange Facts About America That Most Americans Would Be Shocked To Learn. [#2] In more than half of all U.S. states, the highest paid public employee in the state is a football coach.
Republicans pass budgets in both House and Senate, trim $5.1 trillion in spending. Remember when a disagreement between Republicans on the budget was "cataclysmic" for GOP claims to governance? Democrats last passed a normal budget resolution six years ago, but Republicans went all of seven days before both chambers finally passed budget resolutions.
Firm Founded By David Axelrod Worked In Nigerian Election As Recently As December. The political consulting firm founded by former Obama message guru David Axelrod was working for the challenger to the Nigerian president as recently as this winter, a spokesman for the firm confirmed on Friday [3/27/2015]. AKPD Message and Media said in August that it had stopped working with All Progressives Congress (APC) — the party of former military dictator Muhammadu Buhari who is challenging current president Goodluck Jonathan in elections next week — in March. AKPD partner Isaac Baker confirmed to BuzzFeed News on Friday that the firm worked for APC again for a period beginning in December 2014.
Will California's drought affect hydroelectric power? For California, now in its fourth year of drought, the record low snowfall, in addition to the lack of rain, is beginning to hamper the state's supply of hydroelectric energy. This winter California received only 12 percent of its average snowpack, meaning that there will be dramatically less runoff into the rivers and dams across the Sierra Nevada this spring.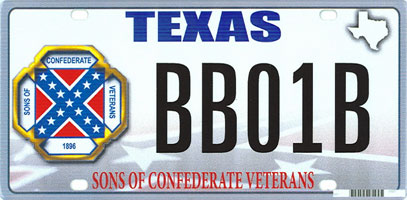 A Test of Free Speech and Bias, Served on a Plate From Texas. Nine states let drivers choose specialty license plates featuring the flag and honoring the Sons of Confederate Veterans, which says it seeks to celebrate Southern heritage. But Texas refused to allow the group's plates, saying the flag was offensive. On Monday [3/23/2015], the Supreme Court will hear a challenge to that decision in Walker v. Sons of Confederate Veterans, No. 14-144, a case that considers the limits of free expression and the meaning of a charged symbol that many associate with secession and slavery.
House Republican Budget Overhauls Medicare and Repeals the Health Law. House Republicans on Tuesday [3/17/2015] will unveil a proposed budget for 2016 that partly privatizes Medicare, turns Medicaid into block grants to the states, repeals the Affordable Care Act and reaches balance in 10 years, challenging Republicans in Congress to make good on their promises to deeply cut federal spending.
GOP Shows What A Responsible Budget Looks Like. President Obama's budget, summed up: More taxes ($1.8 trillion), more spending ($547 billion), more debt (about $6 trillion), and no hard choices. Nothing on entitlement reform, tax reform, regulatory reform or anything else that Washington ought to be addressing. The House budget, in contrast, eliminates annual deficits in less than a decade — without higher taxes — and does so by targeting the real problem: out-of-control entitlement spending. It would turn Medicare into a premium support program and Medicaid into block grants to states. It would kill ObamaCare, which alone saves about $2 trillion over the next decade. And it keeps control on overall discretionary spending while adding needed funds to the Defense Department.
House GOP Budget Axes Obamacare, Boosts Defense. Republicans in the House of Representatives released their $3.8 trillion budget proposal for fiscal year 2016 Tuesday — a plan that would balance the budget within a decade by slashing $5.5 trillion in spending over that span while increasing military outlays and fully repealing Obamacare, among other policy initiatives.
House Republicans seek ObamaCare repeal, more defense $$ in new budget plan. House Republicans, unveiling their first budget blueprint since the party took control of Congress, issued a sweeping spending plan Tuesday [3/17/2015] that calls for complete repeal of ObamaCare, major changes to Medicare and controversial moves to boost defense spending despite tight budget limits. GOP leaders say their budget would balance in less than 10 years, and in that time cut spending by $5.5 trillion compared with current projections.
Lawyers say Canadian-born Cruz eligible to run for president. While questions about Canadian-born Sen. Ted Cruz's eligibility to be president haven't drawn much attention, two former Justice Department lawyers have weighed in with a bipartisan verdict: Cruz, they say, is eligible to run for the White House. Neal Katyal, acting solicitor general in the Obama administration, and Paul Clemente, solicitor general in President George W. Bush's administration, got out in front of the issue in a Harvard Law Review article. "There is no question that Senator Cruz has been a citizen from birth and is thus a 'natural born Citizen' within the meaning of the Constitution," they wrote.
Media Matters pushes hard for Hillary 2016, putting its nonprofit status in question. By retaining longtime Clinton loyalist James Carville as a regular columnist, the liberal watchdog Media Matters for America has increased its influence as a player in the 2016 presidential election. But Media Matters may be edging toward violating the tax rules that govern nonprofit organizations. Carville's new role at Media Matters was announced Thursday [3/12/2015], following two weeks of controversy surrounding Hillary Clinton, a likely Democratic presidential candidate and former secretary of state. Media Matters was founded by another Clinton friend, David Brock, one of the rare Clinton acolytes willing to defend her amid reports that she violated federal law by exclusively using a personal email address during her tenure as secretary of state.
Why does Media Matters deserve tax exempt status when they're cheerleaders for Hillary? Last week, the Democratic party website Media Matters hired long time Clinton family friend and advisor James Carville to write for the site. This is just the latest in a series of moves made by the Democratic party organ to boost the candidacy of Hillary Clinton. But, as the Washington Examiner points out, Media Matters is a tax exempt organization, prohibited by law from engaging in political activity.
Ex-energy official's $1.7 million gig draws fire. For five years, Dan Poneman was the Energy Department's No. 2 administrator during a time when the agency steered hundreds of millions of dollars to a struggling nuclear company that has won the backing of both the Obama administration and top Republicans and Democrats in Congress. This month, he's set to become the company's president and CEO — a post that will bring him as much as $1.7 million a year.
Jesus Wants Me to Have This Jet. God wants Pastor Creflo Dollar to have a $65 million private jet, according to paid spokesman for God, Pastor Creflo Dollar. On Friday [3/13/2015], Dollar's website unveiled Project G650, an "airplane project" that he claims has something to do with "Understanding Grace" and "Empowering Change." You may be wondering, What could this mysterious, holy airplane project be? Probably something related to charity, you must think, like air-dropping food into famine-ravaged countries, or flying sick children to doctors, or lifting two of every animal out of a flood. Not quite.
Reagan Was Right, Government Is The Problem. The latest Gallup poll finds that more people list the government as a bigger problem in the U.S. than anything else — including the economy, jobs, health care, terrorism and race relations. Global warming doesn't make the list at all. Gallup notes that this is the fourth month in a row that government has topped the list.
Oil tankers Idle for Months off Delaware Waters, Puzzling Some. Late last November, the tanker Olympic Flag carrying 650,000 barrels of Angolan crude dropped anchor about 7 miles off the coast in Delaware Bay, a seemingly routine shipment destined for a nearby Philadelphia refinery. What happened next was anything but routine. Instead of discharging its cargo within days and heading off for the next port, the ship idled offshore for nearly 11 weeks, discharging the oil at an unaccountably slow rate, according to shipping sources as well as vessel tracking data on ThomsonReuters Eikon.
Environmental trouble brewing for the K-Cup? Keurig was sold to Green Mountain Coffee of Vermont in 2006, and last year sales of the coffee pods made up most of the company's $4.7 billion revenue, which was five times the amount from just five years earlier, according to the Atlantic. Last year, the company sold more than nine billion K-Cups. Almost one in three American households has a pod-based coffee machine. As of last spring, only five percent of K-Cups sold by Keurig were recyclable, according to Mother Jones. The remaining 95 percent are made with composite plastics and have the recycling number "7 blend" distinction, which cannot be processed in most recycling plants.
In a first, senators plan to introduce federal medical marijuana bill. The bill, to be introduced by Senators Rand Paul (R-Ky.), Cory Booker (D-N.J.), and Kirsten Gillibrand (D-N.Y.), would end the federal ban on medical marijuana and implement a series of reforms long sought by advocates. They include downgrading its status with the Drug Enforcement Agency from Schedule 1 to Schedule 2, allowing doctors to recommend its use in some cases to veterans, expanding access to researchers and making it easier for banks to provide services to the industry.
FBI email warns whistleblower of retaliation if surveillance program concerns reported. The FBI bluntly told a potential whistleblower that he could face retaliation by coming forward with concerns about political meddling inside a secret terrorism and counterintelligence surveillance program. The warning came in an email from a bureau attorney that raises questions in Congress about the bureau's ability to properly handle accusations of wrongdoing and protect those who come forward.
Feds crack down on Chinese 'birth tourism'. In the largest operation of its kind, early Tuesday morning federal officials in Southern California served warrants at "Chinese birthing houses" or "maternity hotels," where wealthy Chinese nationals paid up to $80,000 for the sole purpose of giving birth in the U.S. to obtain citizenship for their children, earning in-state tuition to U.S. universities for them and permanent U.S. residency for the parents.
Fraudsters in Department of Education are caught stealing students' personal information to apply for loans and cellphones. Government employees have been caught stealing students' personal information to apply for loans, credit cards and set up new cell phone accounts, Daily Mail Online has learned. Reports on breaches of staff conduct inside the Department of Education shows how workers stole social security numbers from a database while a man was fired for trying to look up President Barack Obama's student loan records. Cyber security campaigners warned that the failure to protect sensitive information because of 'bureaucratic incompetence' is just the 'tip of the iceberg'.
Bernanke: No to Fed audit, yes to emergency powers for president. Many Republican lawmakers favor legislation introduced by Sen. Rand Paul, R-Ky., that would subject the Fed's monetary policy decisions to policy audits by the Government Accountability Office. Current Fed Chairwoman Janet Yellen and other officials have criticized the audit idea in recent weeks on the grounds that it would politicize monetary policy decisions made by the independent central bank. Bernanke, who was appointed by Republican George W. Bush, pushed back against Paul's bill and other proposals to ramp up congressional oversight of the Fed. "I don't think that Congress has failed to make the Fed accountable," the former Princeton professor said.
Dumping subway trains into the ocean ... in a good way. Usually, dumping metal into the ocean is a bad thing, but for once throwing disused items into the sea is working out for the greater good. Over 2,500 New York subway cars have been used to create an underwater reef for crustaceans and fish in the Atlantic.
How Does PolitiFact Fact Check? By Tweeting People. The Pulitzer Prize winning website PolitiFact has made quite a name for itself in the fact-checking business. Operated by the Tampa Bay Times, the website is cited regularly by media outlets across the country as an authority on what is and is not true. But how do they go about fact-checking claims they investigate? PolitiFact routinely embeds links in its stories to supporting materials, but how does it reach out to an author of a column it is fact-checking? Turns out it's not by phone or email, it's Twitter.
I strongly oppose 'Audit the Fed,' Yellen says. Fed Chair Janet Yellen testified before Congress on Tuesday [2/24/2015] after presenting her semiannual monetary policy report. The Federal Reserve will not hike rates for the next few Federal Open Market Committee meetings, according to Yellen's prepared remarks. During the question-and-answer session, Yellen addressed a range of questions from the committee about the Fed's structure, its inflation measurement and the movement to "Audit the Fed."
U.S. Homeownership Rate Hits 20-Year Low. The homeownership rate in the United States dropped to a 20-year low of 64.5 percent in 2014, according to new data released by the Census Bureau. The homeownership rate is the percentage of households that own the home in which they live. "It is computed," says the Census Bureau, "by dividing the number of households that are owners by the total number of occupied households."
Obama embraces natural gas exports to drive job growth despite likely domestic price hike. The Obama administration is warming up increasingly to U.S. exports of natural gas after years of blocking greater access by domestic producers to the international market. Tucked inside the White House's latest economic report to Congress is a section on energy production, with President Obama's top economic advisers embracing the concept of boosting natural gas exports as a driver of job growth, even as it would likely drive up prices paid by U.S. consumers and businesses.
Marine who vanished in Iraq in 2004 found guilty of desertion, sentenced to 2 years in prison. A U.S. Marine who vanished in Iraq in 2004 has been sentenced to two years in prison for leaving his post and then fleeing to Lebanon after a brief return to the U.S. As part of the sentence handed down Monday, Cpl. Wassef Hassoun will have a reduction in rank, loss of pay and a dishonorable discharge. He was given two years and five days' confinement.
Big Pharma Is America's New Mafia. Even our most prestigious journals publish research based on falsified studies, according to Charles Seife, a journalism professor whose class spent a semester trying to figure out why the data don't get corrected once research fraud comes to light. "As a result," Seife writes, "nobody ever finds out which data is bogus, which experiments are tainted, and which drugs might be on the market under false pretenses." If no one knows which data is bogus, we obviously have a big problem in conventional medicine.
Somehow the building didn't collapse, like both of the World Trade Center buildings did (in less than two hours).
Dubai Fire: Massive Blaze Strikes One of World's Largest Residential Towers. One of the world's tallest residential towers caught fire early Saturday [2/21/2015] in Dubai's Marina district, sending bright yellow flames several stories high, but there were no reports of casualties, civil defense officials said.
Will Obama's New Regulations Wreak Havoc Upon The Elderly? Financial Advisers Say Yes. If you're over 65 and you like your financial adviser, there's a good chance you won't be able to keep your adviser. President Obama is set to speak at AARP headquarters in Washington, D.C. Monday afternoon [2/23/2015] alongside Sen. Elizabeth Warren and consumer protection chief Richard Cordray. Obama will announce new regulations from his Department of Labor, which will set new rules governing financial managers and advisers.
The Fall of MSNBC. Rarely has a prince so keenly disappointed his trumpeters. It was announced yesterday [2/19/2015] that MSNBC's Ronan Farrow, once the sparkle-eyed wunderkind who would lead the network into broad, sunlit uplands, will be stripped of his show. His time there, it turns out, was a waste of everyone's time. In 2013, MSNBC chief Phil Griffin had enthused breathlessly that "Ronan has established himself as a provocative, independent journalist, capable of challenging people's assumptions and empowering audiences. His show will be a game changer for MSNBC." By February of 2015, he was forced to acknowledge that Farrow had "empowered," to judge from the ratings, almost nobody at all.
Federal Court Blocks Dem's Attempt to Out Conservative Donors. A federal court on Tuesday [2/17/2015] blocked efforts by officials in California to force a conservative group to hand over the names of its donors, saying the order could violate those donors' First Amendment rights. Kamala Harris, California's attorney general and a Democratic candidate for the U.S. Senate, demanded last year that the Americans for Prosperity Foundation (AFPF) turn over its donor rolls. The court enjoined that demand pending the outcome of AFPF's suit attempting to invalidate the order.
New York Compels 20 School Districts to Lower Barriers to Immigrants. Twenty New York school districts found to be blocking access for undocumented immigrant children will be forced to modify their enrollment policies to break down illegal barriers to education, the state attorney general's office said on Wednesday [2/18/2015].
Going on the offensive against robocalls. The group said Americans' frustration with being bombarded by auto-dialed calls, many of which are scams, has reached a breaking point. Consumers Union said the campaign seeks to take advantage of that frustration by getting consumers to put their names on a petition at www.endrobocalls.org intended to get Verizon (VZ), CenturyLink (CTL) and AT&T (T) to provide free call-blocking technology.
Russian Cyber-thieves Steal $1 Billion From Russian Banks? The first public exposure of the plot to steal millions at first appeared in late 2013 to be a simple mistake: an ATM in Kiev, Ukraine, started dispensing cash while no one was around. Within seconds, security cameras showed participants in the theft arriving and scooping up the loot and escaping before anyone at the bank could be alerted. The losses extended far beyond that single ATM, and, according to Kaspersky, represent a quantum jump for the hackers, who stole as much as $18 million in 2014. As Forbes noted in December, this is the same group that stole vast amounts of data from Staples, Sheplers, and Bebe, and is now considered to be "one of the most sophisticated cybercriminal groups ever seen."
Tattoos, prescription drugs, obesity hinder Army Reserves recruitment effort. The majority of potential Army reservists are either hooked on prescription drugs, have too many tattoos, are overweight or have mental conditions that prohibit them from joining the military, recruiters say. Seven out of 10 applicants — who return to their civilian lives after training, but can be called into active service at any time — fail to meet Army Reserve standards on "mental, moral and physical reasons," said Capt. Eric Connor, U.S. Army Reserve Command spokesman.
Israel prepares for 'mass immigration from Europe'. The cabinet approved a 180 million Shekel immigration plan aimed at French, Belgian and Ukrainian Jews on Sunday, only hours after a Jewish guard was shot outside a synagogue in the Danish capital of Copenhagen. Though less than the nearly half a billion Shekels initially requested by Immigration and Absorption Minister Sofa Landver, the new allocation would still mark a significant increase in Israel's efforts to promote immigration abroad.
Secret tapes reveal JFK's duplicity in Cold War, civil rights. When buses carrying black and white passengers hoping to protest segregated facilities in Alabama were attacked, and their passengers beaten, in May 1961, Attorney General Robert Kennedy sent US marshals to protect the protestors, who came to be known as the Freedom Riders. But [Patrick] Sloyan writes that neither Kennedy brother was genuinely sympathetic to their cause, concerned as they were with losing the support of white southern Democrats in '64.
FAA proposes drone pilots should get certificates, not fly over people. The U.S. aviation regulator proposed rules on Sunday for commercial drone flights that would lift some restrictions but would still bar activities such as the delivery of packages and inspection of pipelines that have been eyed by companies as a potentially breakthrough use of the technology.
Chicago Little League whistle-blower getting death threats. The man who blew the whistle on the Jackie Robinson West Little League team claims he's been receiving death threats for spoiling the youngsters' glory. The team from Chicago's South Side was stripped of its US Little League Championship on Wednesday [2/11/2015] for using suburban players from outside its geographic boundaries. Chris Janes — the vice president of the Evergreen Park Athletic Association and coach of a team that lost 43-2 to Jackie Robinson in four innings — had emailed Little League International in October to alert officials that he and others thought the all-star squad had been "manipulating, bending and blatantly breaking the rules for the sole purpose of winning at all costs."
New High-Tech Farm Equipment Is a Nightmare for Farmers. The cost and hassle of repairing modern tractors has soured a lot of farmers on computerized systems altogether. [...] "There's an increasing number of farmers placing greater value on acquiring older simpler machines that don't require a computer to fix." The problem is that farmers are essentially driving around a giant black box outfitted with harvesting blades. Only manufacturers have the keys to those boxes.
Thieves use explosive gas to rob ATMs. The strongbox inside an ATM has two essential holes: a small slot in front that spits out bills to customers and a big door in back through which employees load reams of cash in large cassettes. Criminals have learned to see this simple enclosure as a physics problem. Gas is pumped in, and when it's detonated, the weakest part — the large hinged door — is forced open. After an ATM blast, thieves force their way into the bank itself, where the now gaping rear of the cash machine is either exposed in the lobby or inside a trivially secured room. Set off with skill, the shock wave leaves the money neatly stacked, sometimes with a whiff of the distinctive acetylene odor of garlic.
Want to Stop Drones from Flying Over Your House and Snooping in your Window? Here's How! If you're concerned about the growing cultural propensity for voyeurism, some help is on the way. Now that drones are widely available for public purchase and use, noflyzone.org lets you establish a no-snoop area over your property.
David Axelrod's Political Consulting Firm Far More Involved in Nigeria Election than Previously Disclosed. A political consulting firm founded by Obama administration confidante David Axelrod has been far more involved in backing controversial Nigerian presidential candidate Gen. Muhammadu Buhari than previously disclosed, according to a series of emails obtained by the Washington Free Beacon and interviews with sources on the ground. Axelrod's firm, the Chicago-based AKPD, has admitted to doing work on behalf of Buhari's All Progressives Congress (APC) party in the past, but claimed to have ceased its ties in March 2014 after the Islamist terror group Boko Haram kidnapped hundreds of Nigerian schoolgirls.
Obama reportedly considered appointing Hillary Clinton to the Supreme Court. President Barack Obama once mulled whether to make Hillary Clinton a Supreme Court justice, according to his top former adviser. The Daily News reported Tuesday [2/3/2015] that former White House official David Axelrod said Obama considered offering Clinton the job after defeating her in the presidential primary six years ago.
US Navy's new 'Star Wars'-style railgun hits Mach 6. The weapon was on display to the public for the first time at the Naval Future Force Science and Technology EXPO at the Walter E. Washington Convention Center in Washington, D.C. Wednesday and Thursday. The biennial event showcases the latest advances in power projection and force protection, including this year's star — the EM Railgun. To defend ships, conduct surface warfare against enemy vessels and support U.S. Marines and ground forces, EM Railgun-armed ships will be able to fire hypervelocity projectiles giving US forces even greater reach and lethality.
In a surprise, Texas says it will stop collecting fingerprints of driver's license applicants. Texas will stop capturing full sets of fingerprints of Texas driver's license applicants on Monday. In a surprise move late Friday afternoon [2/6/2015], the Texas Department of Public Safety reversed its position and promised to stop the practice it quietly began a year ago. The fingerprinting ends as quietly as it began. DPS rolled out the program in January 2014 without any public announcement.
Some doctors won't see patients with anti-vaccine views. With California gripped by a measles outbreak, Dr. Charles Goodman posted a clear notice in his waiting room and on Facebook: His practice will no longer see children whose parents won't get them vaccinated.
Massachusetts Supreme Court Rules All Juror Names Will Now Be Made Public. In a decision made Tuesday [1/27/2015], the Massachusetts Supreme Judicial Court ruled that the names of jurors who serve in criminal cases are to be available to the public. The new ruling means that if you serve on a jury, your name will become public record by the end of the trial at the latest, but the decision that isn't sitting well with everyone. Those opposed to the ruling argue it will create harassment and other risks for those jurors.
NYC Gives Machete-Wielding Thug $5K For Menacing Cops. He menaced cops with a machete — and the city paid him for it. A Brooklyn thug who was shot by officers while waving an 18-inch blade at them and later sued the department for $3 million got a $5,000 settlement from the city — even though his own attorney said the shooting was probably justified. Ruhim Ullah, 24, had pleaded guilty to menacing a police officer after the 2010 confrontation, in which he was shot once in the leg by a cop trying to stop him from attacking officers with the machete, according to his lawyer.
The Latest from West Virginia. Currently, 40 states are in the process of initiating an Article V convention to propose three specific amendments. One would impose fiscal restraint on the federal government through a balanced budget amendment, the second would limit the government's power and jurisdiction, and the third would impose term limits on Congress. Should these amendments become ratified, they become law. Congress can't change or amend (add pork to) them, the president can't veto them; the Supreme Court can't overturn them.
Grassley to hospitals: Explain why you're suing low-income patients. Sen. Charles Grassley is calling out nonprofit hospitals who are suing poor patients over unpaid bills and says they could be breaking the law, according to a report by ProPublica and NPR. Grassley, R-Iowa, sent a letter, dated January 16, 2015, to Heartland Regional Medical Center, a nonprofit hospital in St. Joseph, Mo., that has garnished the wages of low-income patients who were unable to pay their medical bills.
State Department Official Wants Disney's 'Frozen' to Teach Kids About Climate Change. A high-ranking State Department official wants to enlist Princess Elsa and a talking snowman to teach the American public about the Arctic. Adm. Robert Papp, the U.S. special representative for the Arctic, told an audience at the Arctic Frontiers conference in Norway this week that he met with a Disney executive to discuss raising awareness about the polar region using characters from the wildly popular movie Frozen.
The Editor says...
In normal times (prior to January, 2009), the State Department wouldn't have anything to do with environmentalism or elementary education.
CIA's Top Spy Steps Down. The director of the CIA's National Clandestine Service, the storied home of the agency's most secretive intelligence operations, has announced that he plans to retire, The Daily Beast has learned. CIA spokesman Dean Boyd confirmed that the director announced his retirement "after a long and distinguished career at CIA. We thank him for this profound and lasting contributions to both CIA and to our nation's security."
Cruz Files Bill to Ban American Islamic State Fighters from Returning to U.S.. Sen. Ted Cruz (R., Texas) will file legislation on Friday to ban American citizens who fight alongside the Islamic State (IS) and other terror groups from returning to the United States, where they pose a significant terror threat, according to sources in the senator's office. Cruz, who first proposed the legislation last year, seeks to strip those Americans who travel abroad to fight with IS (also known as ISIL or ISIS) of their U.S. citizenship rights and stop them from coming back stateside. The bill, known as the Expatriate Terrorist Act (E.T.A.), tightens and updates existing regulations by which a U.S. citizen effectively renounces his or her citizenship.
Republicans outfox Democrats on climate votes. Senate Republicans head-faked Democrats on climate change Wednesday, agreeing in a floor vote that the planet's climate was changing, but blocking language that would have blamed human activity. In a complicated maneuver that was the first politically perilous test for Senate Republicans, the new majority party split up the votes that Democrats had hoped would force the GOP into an awkward roll call on whether they believed in the science behind climate change — just hours after President Barack Obama slammed Republicans in his State of the Union address for dodging the issue.
Obama assails Supreme Court. A day after snubbing liberal activists who were pushing for tougher campaign-finance regulations, President Obama took a swipe at the Supreme Court Wednesday [1/21/2015] for its "wrong" ruling five years ago on the issue. "Five years ago, a Supreme Court ruling allowed big companies — including foreign corporations — to spend unlimited amounts of money to influence our elections," Mr. Obama said in a statement. "The Citizens United decision was wrong, and it has caused real harm to our democracy."
Mad Dad Tells Off Kids For Yapping During National Anthem, Gets Year-long Ban From Games. [Justin Schill] was attempting to enjoy a Brookside High basketball game when he saw some of these kids today chatting and laughing and generally having too swell of a time during the customary presentation of the national anthem. Schiller was "absolutely infuriated" by what he perceived as disrespect for the song expressing America's very patriotic soul, he wrote on his Facebook page. He decided to approach the kids and give them his version of the what-for. The confrontation got Schiller kicked out of the game. A few days later, he received a letter from the Brookside High principal informing him that he would be banned from school athletic events for all of 2015.
Saudi Arabia Gives the PA $60 Million. Saudi Arabia has provided $60 million in direct support for the Palestinian Authority's (PA) budget, Saudi Arabia's ambassador to Egypt Ahmad Abdulaziz Qattan said Tuesday [1/13/2015], according to the WAFA news agency. Qattan reportedly said that the Saudi Fund for Development had transferred $60 million to the PA Finance Ministry's bank account. The Saudi diplomat noted in a press release that amount covers Saudi Arabia's financial contribution to the PA's budget for October, November and December 2014.
Yemen not 'exporter of terror': president. Yemen's president said Tuesday [1/13/2015] his country was a victim not an exporter of "terrorism" after it emerged one of the Paris gunmen received training from Al-Qaeda in the violence-torn country. Said Kouachi, one of the two brothers behind the attack on French satirical weekly Charlie Hebdo, travelled to Yemen in 2011 and received weapons and training from Al-Qaeda in the Arabian Peninsula (AQAP), security sources said.
Dish Network Head Has Strong Ties to Democrats. Dish Network claims that they dropped the nation's number one cable news network [Fox News Channel] because of a contract dispute. Fox News disagrees, claiming that the move is an effort by Dish Network to censor their content. While it's not entirely clear who's in the right in this matter, digging into the background of Dish Network's founder and chairman Charles Ergen may help to illuminate why animosity between Dish and FNC has reached such epic proportions. As it turns out, Charles Ergen is a big-time donor to the Democratic Party.
President Obama just made a big privacy announcement. Here's what you need to know. Here's what the president is announcing, in plain English. [#1] An expansion in the number of Americans benefiting from free credit scores. [...] [#2] A federal bill requiring companies to reveal when they've been hacked. [...] [#4] A bid to safeguard data about your energy habits.
Tiny Cokes: Less guilt means more money for makers. As people cut back on soda, the two beverage giants [Coke and Pepsi] are pushing smaller cans and bottles they say contain fewer calories and induce less guilt.
Pelosi to name first Muslim lawmaker to House intelligence committee. Minority Leader Nancy Pelosi announced in a closed-door meeting Tuesday [1/13/2015] she would name the first Muslim lawmaker to the House's Permanent Select Committee on Intelligence. A senior Democratic aide said Rep. André Carson of Indiana would be named in the "coming days" to the key national security-focused panel.
Protesters Gather at Clinton Foundation to Complain of 'Missing Money' from Haiti Recovery. Protesters gathered outside the Clinton Foundation in New York City to complain about "missing money" from the Haiti recovery effort from the 2010 earthquake: [Video clip] "New Yorkers with roots in Haiti say the picture [of the Haiti recovery] isn't so rosy," said the NY1 anchor. The protesters claimed that the $10 billion meant to help rebuild Haiti did little to help the country after the devastating quake. And that much of the money went to non-Haitian companies.
Former Haiti official: We have no idea where all that recovery money went. Nearly five years after a 7.0 magnitude quake killed hundreds of thousands of its citizens, Haiti's recovery efforts remain muddled and confused, with the whereabouts of the billions of dollars pledged by the international community an apparent mystery to the country's leaders. "We don't know where the money has gone," Raymond Joseph, former ambassador of Haiti to the U.S., said Friday [1/9/2015] in an interview on Bloomberg's "Market Makers."
A Statue of Muhammad on a New York Courthouse, Taken Down Years Ago. It would have given great offense, had anyone known it was there. For the first half of the 20th century, an eight-foot-tall marble statue of the Prophet Muhammad overlooked Madison Square Park from the rooftop of the Appellate Division Courthouse at Madison Avenue and 25th Street. Sixty years ago, the statue was quietly removed, in an episode that now looks, in light of recent events in Paris, like the model of tact, restraint and diplomacy.
Islamic State Hacks CENTCOM Twitter Feed as Obama Talks Cybersecurity. "ISIS is already here, we are in your PCs, in each military base. With Allah's permission we are in CENTCOM now," said one tweet sent from CENTCOM's account. The apparent hack came as President Obama addressed the nation regarding cyber security. He is expected to propose two pieces of cyber security legislation and to address the effort in his upcoming State of the Union address. The hackers subsequently tweeted images of spreadsheets containing the home addresses, phone numbers, and email addresses of dozens of current and former senior U.S. military officers.
China's $20 Billion Bailout For Venezuela Gives It A Caribbean Beachhead. With crude at $47 a barrel and Venezuela's budget premised on oil at $120, the country is broke and looking for a bailout. Surprisingly, it got one — from China, which happens to need a strategic beachhead.
Poll: For first time ever voters say "the government" is the biggest problem in America. America is not Europe. We are a country founded by individualists, scoundrels, dreamers, and doers. We do not have the aristocratic legacy of the Old World with its stifling worldview and distinct class system within an ever present welfare state. We are a free people. This country was an escape from Europe. This country is a free land. [...] This unique American nature is reflected in [a] recent poll. As the state has encroached more and more into our lives in recent years, and as Americans have educated themselves on the Constitution and liberty generally over the last few years, the ignorance which simply allowed the state to expand without check has diminished. People (at least some people) are waking up.
Piano Stores [are] Closing as Fewer Children [are] Taking Up [the] Instrument. Stores dedicated to selling pianos like [Jim] Foster's are dwindling across the country as fewer people take up the instrument and those who do often opt for a less expensive electronic keyboard or a used piano.
Federal Debt Increased $7,458 Per Full-Time Worker in 2014. The federal government drove $789,473,350,613.20 deeper into debt in calendar year 2014, an increase that equaled $6,875 per household, $7,458 per full-time year-round worker, and $8,853 per full-time year-round private-sector worker. [...] When Obama took office on Jan. 20, 2009, the debt was $10,626,877,048,913.08. Since then, it has increased $7,514,567,086,650.22 — which is $65,443 per household, $70,985 per full-time worker and $84,266 per full-time private-sector worker.
Congress poised in 2015 to order audit of Federal Reserve long sought by Ron Paul. After years of being blocked by Democratic leader Harry Reid, the Senate will finally get a chance next year to vote on legislation to force a broad audit of the Federal Reserve's decision-making. Once championed in Congress by former Rep. Ron Paul, the push to force the country's central bank to undergo a full audit has been picked up by his son, Sen. Rand Paul, and others, and has the backing of the leader of the new Republican majority, Sen. Mitch McConnell, Kentucky Republican, whose office says the legislation will earn a floor vote.
Cosby hires investigators to smear rape accusers. Bill Cosby has hired a battalion of private investigators to dig up dirt on his many accusers, The [New York] Post has learned. The comedian, fighting an onslaught of accusations that he sexually assaulted more than two dozen women over many years, is paying six-figure fees to private investigators for information that might discredit his alleged victims. Multiple sources confirmed that Cosby, through his Hollywood attorney Martin Singer, is implementing a scorched-earth strategy in which anything negative in his accusers' pasts is fair game.
FBI rejects alternate Sony hack theory. U.S. law enforcement officials say an alternate theory of the Sony hack doesn't stand up. After FBI agents were briefed yesterday, they concluded the security company offering the alternate theory did not have an accurate understanding of all the evidence, a U.S. official familiar with the matter told POLITICO today.
Norm Macdonald Was Right: Sony Hack Was an Inside Job. Early in December, when little was known about the SONY hack, comedian and actor Norm Macdonald wrote the following tweets... [...]
FBI briefed on theory Sony hack was inside job. A security firm has brought new evidence to the FBI that it claims points to a laid-off employee and others as the hackers behind the massive cyber-breach at Sony, even as the bureau publicly stands by its explanation that North Korea executed the attack. Kurt Stammberger, senior vice president for market development at cyber intelligence firm Norse, told FoxNews.com that his company was turning over "raw data" to the FBI on Tuesday [12/30/2014]. He said the company also briefed the FBI for "two or three hours" on Monday during a meeting in St. Louis. "They were very open" to the new information, Stammberger said.
No, North Korea Didn't Hack Sony. The FBI and the President may claim that the Hermit Kingdom is to blame for the most high-profile network breach in forever. But almost all signs point in another direction.
A Lot of Smart People Think North Korea Didn't Hack Sony. The evidence linking agents of the Democratic People's Republic of Korea to the recent digital implosion of Sony remains vague. And even though the feds are squarely blaming North Korea, many security experts aren't buying it.
Malaysia premier under fire for golfing with Obama. Malaysian Prime Minister Najib Abdul Razak was under fire at home on Thursday [12/25/2014] for spending his holiday golfing with US President Barack Obama in Hawaii while the country faces one of its worst floods.
Real-world doctors fact-check Dr. Oz, and the results aren't pretty. What do real-world doctors have to say about the advice dispensed on "The Dr. Oz Show"? Less than one-third of it can be backed up by even modest medical evidence. If that sounds alarming, consider this: Nearly 4 in 10 of the assertions made on the hit show appear to be made on the basis of no evidence at all. The researchers who took it upon themselves to fact-check Dr. Oz and his on-air guests were able to find legitimate studies related to another 11% of the recommendations made on the show. However, in these cases, the recommendations ran counter to the medical literature.
Half of Dr. Oz's medical advice is baseless or wrong, study says. It's not hard to understand what makes Dr. Oz so popular. Called "America's doctor," syndicated talk-show host Mehmet Oz speaks in a way anyone can understand. Medicine may be complex. But with Dr. Oz, clad in scrubs and crooning to millions of viewers about "miracles" and "revolutionary" breakthroughs, it's often not. He somehow makes it fun. And people can't get enough. "I haven't seen a doctor in eight years," the New Yorker quoted one viewer telling Oz. "I'm scared. You're the only one I trust." But is that trust misplaced? Or has Oz, who often peddles miracle cures for weight loss and other maladies, mortgaged medical veracity for entertainment value?
The Editor says...
The Doctor Oz show is apparently targeted toward hypochondriac women between the ages of 18 and 49. The show is an endless parade of insipid oversized models of human organs and an array of pointless props and gimmicks, padded to 58½ minutes by an overabundance of self-promotion, "coming up next" teases, and animated graphics.
China Tests Ballistic Missile That Uses Guidance Technology Traded by Bill Clinton for Campaign Donations. China has just tested a new intercontinental ballistic missile that can deliver up to 10 independently targeted nuclear warheads, using technology given to them on President Clinton's watch to launch communications satellites. The Dec. 13 test of the DF-41 was the third for the new weapon. But it marked the first test of a multiple independently targetable re-entry vehicle, or MIRV, technology and raises by an order of magnitude the nuclear threat to the U.S. as China continues its massive arms buildup. And disturbingly, the threat is in large part of our own making.
$100 million wilding. Is the cost of a brutal rape in Central Park 25 years ago heading toward $100 million? Word broke last week that the Central Park Five, who have already won an unprecedented $40 million settlement from the city, are now making a second wrongful-imprisonment claim — this time against the state. Possible payout: $52 million! It gets worse. A spokesman for Attorney General Eric Schneiderman says the AG is likely to settle, because "he's committed to protecting the rights of the wrongfully convicted, and to helping individuals obtain justice and put their lives back together again."
States Move Forward With Plan To Alter Constitution. A very important meeting is being held in Washington this week, but career politicians, lobbyists and most in the media don't want you to know about it. More than 100 state legislators from around the country are meeting at the Naval Heritage Center. The Assembly of State Legislatures (ASL) will discuss the rules for the first-ever Article V Constitutional amendment convention. This is their third meeting. They're preparing to take on Washington, and Congress doesn't like it.
The Gruber-Garner Connection. Obamacare Architect Jonathan Gruber testifies before Congress to try and explain his comments about relying upon the "stupidity of the American voter" to pass the Affordable Care Act, it seems that Gruber's fingerprints can be found on another policy that has been in the news recently. It turns out that Gruber was also helped Former New York Mayor Michael Bloomberg sell his plan to tax cigarettes at extraordinary levels.
Why Is This One Campus Assault Statistic Being Ignored? Given all the attention paid to sexual assault on college campuses in recent months, you'd think a Justice Department report showing that the campus rape and assault rate had dropped 52% since 1997 would attract a lot of attention. That is, after all, what the data contained in its 20-page report, released on Thursday [12/11/2014], show. In 1997, the number of rapes or sexual assaults per 1,000 students ages 18-24 was 9.2. By 2013, that had fallen to 4.4. The same trend occurred for young women who weren't attending college. Justice data show that the rate peaked in 2000 at 12.2, but was down to 4.3 last year.
Average Federal Spending Per Household Nearly $30K. Did you know that the National Institutes of Health spent $374,000 to find out if a puppet show would convince preschoolers to eat more vegetables? Or that the Department of Agriculture gave $50,000 to a business that packs and sells alpaca manure? Your tax dollars paid for it — and much more. In 2014, federal spending per household was $28,826.
Yes, Dems did funnel money to 'independent' in Kansas Senate race. [Scroll down] What voters did not know was at that very moment, Democratic Majority Leader Harry Reid's political action committee, the Senate Majority PAC, was preparing to pour more than a million dollars into the pro-Orman effort in Kansas. Reid was just waiting to make sure the donations came so late in the campaign that the public wouldn't find out about them until after the election.
Watchdog scolds State Department over security lapses, using warehouses for office space. The top watchdog for the State Department warned Wednesday [12/10/2014] that U.S. personnel overseas remain at "increased risk" due to security shortcomings at diplomatic posts, including the "egregious" use of warehouses that don't meet security standards for office space.
Walgreens Pulls Gift Wrap Over Swastika Pattern. A Southern California was shopping at a Walgreens in the Northridge neighborhood of Los Angeles when she saw what appeared to be a swastika pattern on blue and white gift wrap.
Stolen Valor "Ranger" meets actual Ranger. Does not fare well. There are far too many of these stories each year and they really cause me to grind my teeth. People going around claiming the status of heroes, wearing the uniforms and badges of honor granted only to those who served our nation with distinction, while having either never served or not having been awarded those honors are among the lowest types of cretins.
Keywords: rigged, cahoots, scam, fishy.
Report: Half of N.J's most frequent Lottery winners are lottery retailers, family members. Half of the 20 most frequent New Jersey Lottery prizewinners since 2009 are reportedly either licensed lottery retailers or family members of store operators. An investigation by the Asbury Park Press found that as a group, those 10 people collected 840 prizes totalling nearly $1.8 million and that about 70 percent of those payouts were for Pick 4 tickets, where the odds of winning are 1 in 10,000. The New Jersey Lottery told the newspaper that it is investigating some of the people on the list to see if they're actually illegally cashing in other players' winning tickets for a percentage of the winnings.
UC students protest tuition hikes while Napolitano is showered with pay and benefit. University of California students are revolting over a significant tuition increase and the compensation for the college system's president likely won't soothe them. Students across the state — most notably in Berkeley — are protesting a vote of the Board of Regents that approved "hikes of up to 5 percent a year, for the next five years, unless state funding is increased," according to NPR. Contending "education is a universal human right," a group called "The Open UC" is staging walkouts and protests.
Electronic Election Fraud Apparent In Brazil; Done In America Today? It would be a sure bet to think that a presidential candidate who bankrupted a country, brought growth to a standstill and inflation back to 6,5% would be summarily defeated in the coming elections. That was the situation of the Marxist President of Brazil, the former terrorist Dilma Rousseff of the Workers' Party, the woman booed by 60,000 fans in the last World Cup games. [...] However, she won. How can that be? The leader of the Party, former president Lula, said they would do "the devil's work" in order to win. The answer is worrisome and may be the greatest example of a perfect crime.
Drone pilots keep nearly crashing into real pilots. Pilots of consumer are flying dangerously close to passenger aeroplanes, according to new information, and have been within feet or seconds of bringing down planes in New York and Washington. Since June 1, airlines, pilots and air-traffic controllers told the FAA that drones have been within a few seconds or a few feet of crashing into aircraft, the Washington Post reported. The near-misses mostly happened as planes took off and landed from some of the US's biggest airports, including those in New York, Washington and a US Air Force base in Oklahoma.
The Editor says...
Commercial and military pilots are trained to deal with bird strikes, and there are plenty of large birds that outweigh battery-powered low-level hobby-grade drones. This appears to be an attempt on the part of the government to justify the regulation and licensing -- if not the prohibition -- of camera-bearing drones.
Ted Cruz: The Senate must block all presidential nominees until Obama rescinds his amnesty. It's not so much that he wants the Senate to block O's nominees as he wants Mitch McConnell to refuse to bring those nominations to the floor in the first place. That's a clever way of killing two birds with one stone. If McConnell follows Cruz's plan, Cruz can take credit among conservative voters for having been the motive force in bottling up O's nominees. If McConnell doesn't follow Cruz's plan, Cruz can point to it as proof that the establishment squishes refuse to fight the White House with everything they've got,
Stelter: News Anchors Have Secretly Met with Darren Wilson. Reliable Sources host Brian Stelter broke news Sunday morning [11/23/2014]: according to his sources, multiple major news anchors have spoken to Officer Darren Wilson in hopes of securing a televised interview. The meetings were secret and off-the-record, and the news organizations would not even confirm that they had happened.
If you really try, it is possible to get yourself killed by brandishing a fake gun.
Angry father speaks out after his 12-year-old son was shot dead by cops. A concerned man, who was sitting nearby, called 911 and told the dispatcher: 'I'm sitting in the park... there's a guy here with a pistol, and it's probably a fake one, but he's pointing it at everybody. 'The guy keeps pulling it in and out... it's probably fake, but he's scaring the s*** out of people.' [...] Despite the 911 caller's prior warning that the gun was likely fake, the officer then fired two shots at Tamir, at least one of which hit him in the stomach, according to Cleveland.com. [...] Police later told Fox 8 the weapon Tamir was carrying was 'an airsoft type replica gun resembling a semi-automatic pistol.' They added that the gun's orange safety indicator had been removed.
Cleveland Boy with fake gun killed by police. A 12-year-old boy shot by police after grabbing what turned out to be a replica gun died from his wounds on Sunday, one day after officers responded to a 911 call about someone waving what the caller described as a "probably fake" gun at a playground.
Judicial Watch To Congress: Boycott Obama's State of the Union Speech Over Executive Amnesty. Judicial Watch president Tom Fitton tells Breitbart News that Congress should boycott President Barack Obama's next State of the Union speech as part of its response to Obama's executive amnesty for five million or more illegal aliens. "That seems to be one appropriate response," Fitton said in an email. "Imagine if half of the chamber is empty."
Even the liberal media say Mary Landrieu is toast. Had the Republicans been slightly less successful in the midterms, legions of expense-account reporters would now be in New Orleans, chronicling Mary Landrieu's effort to save her seat. With Democratic control of the Senate at stake, there would be an avalanche of stories about how the underdog from one of Louisiana's most storied political families was fighting for her life in next month's runoff. Instead, she's got this: "Mary Landrieu: Dead Woman Walking?" That's not a right-wing attack. It's a headline on the liberal site Talking Points Memo.
Democrats fleeing Landrieu in Louisiana runoff. National Democratic campaign groups have abandoned Sen. Mary L. Landrieu in Louisiana, leaving her massively outspent as she tries to hang onto her seat in a Dec. 6 runoff election to determine the last Senate seat. And analysts say even if she wins a vote in the Senate tomorrow on approving the Keystone XL pipeline, she'll still face an uphill climb against Rep. Bill Cassidy, a Republican who is favored because of the state's increasingly conservative bent and the growing antipathy toward President Obama's agenda.
Chinese hack U.S. weather systems, satellite network. The intrusion occurred in late September but officials gave no indication that they had a problem until Oct. 20, said three people familiar with the hack and the subsequent reaction by the National Oceanic and Atmospheric Administration, which includes the National Weather Service. Even then, NOAA did not say its systems were compromised. Officials also said that the agency did not notify the proper authorities when it learned of the attack.
Democrats Leave a Body on the Campaign Trail. Democratic Senator Mary Landrieu's re-election race is truly running out of air: She's responsible for a mere 4 percent of all TV spots in the week-old Louisiana runoff. Republican challenger Bill Cassidy and his friends paid for 96 percent of the spots that have run so far. That's a spending disparity unthinkable just two weeks ago when top Democratic strategist Guy Cecil estimated a runoff could cost $35 million on each side.
Abandon ship: No outside groups donating to Landrieu runoff yet. Granted, it's still early, but speed is of the essence in the short time of a special election. Capitol City finds a notable lack of urgency on the part of Democratic outside groups to get involved in Louisiana.
64 percent say Obama is a 'liberal'. President Obama's losses in the 2014 election come as an increasing number of Americans view him as a "liberal," according to a new post-election survey from the Public Religion Research Institute. The poll shows 64 percent of Americans view Obama as a "liberal" — up from 57 percent after Obama's reelection two years ago and from 53 percent during the 2008 campaign. Another 19 percent say Obama is a "moderate," while 12 percent label him "conservative" or "very conservative."
The Editor says...
We now know that 12 percent of Americans don't know how to use a dictionary.
GOP adds another Senate seat as Sullivan wins Alaska. Republican candidate Dan Sullivan defeated Democratic incumbent Sen. Mark Begich in Alaska's U.S. Senate race Wednesday [11/12/2014]. The win gives the GOP eight Senate pickups in the midterm elections. The party is also seeking a ninth seat in Louisiana's runoff in December. Sullivan ran a confident campaign, ignoring the debate schedule Begich established and setting his own terms.
As War Heats Up, Obama Dismantles War Approach to Counterterrorism. Lost amid Shellacking 2.0 — and between the sudden dump of over 60,000 previously withheld Fast & Furious documents and the president's reaffirmation of his executive illegal-alien amnesty vow — was the administration's further dismantling of the post-9/11 counterterrorism paradigm. With nearly no one noticing, the administration transferred a long-held terrorist detainee out of Guantanamo Bay.
Now that the election is over...
Obama more than doubles number of troops authorized for Iraq. President Obama authorized Defense Secretary Chuck Hagel on Friday [11/7/2014] to send up to 1,500 additional U.S. troops to Iraq, roughly doubling the force the United States has built up since June to fight the Islamic State militants who control much of Iraq and Syria. The announcement of a major increase in the U.S. force in Iraq deepens U.S. involvement in a messy regional conflict that officials are warning may last for years. The White House said it would request $5.6 billion for the military campaign against the Islamic State, including $1.6 billion to train and equip Iraqi troops.
Days after election, Obama sends another 1,500 troops to Iraq to battle ISIS. President Barack Obama told Secretary of Defense Chuck Hagel on Friday that the Pentagon can send as many as 1,500 additional ground troops to Iraq as part of the U.S. mission to fight ISIS. That deployment would approximately double the American military personnel in place there. The Defense Department had until Friday a mandate to send no more than 1,600 troops, and had put 1,400 in the field already. The White House also asked Congress for $5.6 billion in new war funding, all while insisting that the U.S. military is not using ground forces in a combat role.
More Non-White Voters for the GOP. [B]lack voter participation this year actually went up from the last midterm election, rising to 12 percent of the electorate, compared with 11 percent in 2010. The new GOP strength among non-black minorities was to some extent the product of aggressive outreach in minority communities by the Republican National Committee and various state parties. In Texas, GOP senator John Cornyn carried the Latino vote by a single percentage point, while Greg Abbott, who is married to a Latina, lost it by only ten points in the race for governor. Abbott carried the Asian-American vote 52 to 48 percent.
US sends long-held Guantanamo prisoner to Kuwait. One of the longest-held prisoners at the U.S. detention center at Guantanamo Bay was sent home to Kuwait on Wednesday, the first release based on the determination of a review panel that has been re-evaluating some men previously classified as too dangerous to release.
Curiouser and Curiouser — Eric Frein Had Laptop and WiFi While Eluding Capture. On the night he was "captured" there were many, well, observations that just didn't align with the previous narrative as delivered. Frein was clean shaven, well kept, and did not appear to present post-capture in a manner consistent with media reports.
New details revealed about accused cop killer's actions while on the run. The former fugitive charged with ambushing a Pennsylvania state police barracks had a laptop computer and used the Internet while evading hundreds of law enforcement officials, according to court documents released Tuesday [11/4/2014]. State police found the laptop and two storage drives inside an abandoned airplane hangar near the spot where Eric Frein was captured Thursday night [10/30/2014], according to a search warrant inventory. Frein told authorities he used unprotected Wi-Fi hotspots to connect to the Internet during his 48-day flight, documents said, raising the possibility he knew where police were focusing their search efforts each day.
92% of Marine Casualties in Afghan War Occurred Under Obama. As U.S. Marines withdraw from Operation Enduring Freedom (the Afghanistan war), CNSNews.com's database on casualties shows that 418 Marines have given their lives in the conflict and that 92% of those casualties, 385 deaths, have occurred since President Barack Obama took office in January 2009.
Mormon church admits founder Joseph Smith was a polygamist who married a 14-year-old. The Mormon church has admitted that its founder was a polygamist who married a 14-year-old girl, breaking a lengthy silence about its history. Joseph Smith, who wrote the Book of Mormon and established the Church of Jesus Christ of Latter-day Saints, is thought to have married as many as 50 women, but for years the senior church officials did not address the subject.
Muslims increasingly moving away from GOP. Two-thirds of Muslim voters plan to visit the polls on Election Day, and more than half of them are Democratic Party supporters, according to a new survey. Of 1,500 Muslim registered voters surveyed, 69 percent plan to cast ballots in the Nov. 4 midterm elections and 16 percent do not plan to vote, according to the poll conducted Wednesday [10/22/2014] by the Council on American-Islamic Relations (CAIR). Fourteen percent declined to answer.
Socialist Utopia: Venezuela is Rationing Food And Importing Oil. Venezuela's economic woes just won't quit. Its currency recently hit an all-time low with black market traders. Now the South American country has to ration food — and, believe it or not, import oil. Venezuela has the world's largest oil reserves. But it produces mostly thick, heavy crude that has to be mixed with lighter oil to make it usable. Problem is, Venezuela's seriously mismanaged state-run oil industry isn't pumping enough light crude. So this weekend the country will receive its first ever shipment of foreign oil: two million barrels from Algeria.
Despite Riches, Venezuela Starts Food Rationing. Amid worsening shortages, Venezuela recently reached a milestone of dubious distinction: It has joined the ranks of North Korea and Cuba in rationing food for its citizens.
Jeanne Shaheen Campaign Kicks Breitbart News Reporter out of New Hampshire Event. The campaign of Democratic incumbent Sen. Jeanne Shaheen (D-NH) kicked this reporter out of an event at ReVision Energy on Wednesday afternoon [10/22/2014]. Shaheen's campaign asked the owner of the business — who refused to identify himself — to say to this reporter that "this was a private event and you're not welcome here."
Texas Ranked As Having Best Business Climate, Sixth Year In Row. For the sixth year in a row, Texas is the highest-ranked state in the Development Counsellors International's (DCI) "Winning Strategies in Economic Development Marketing" survey. The survey of U.S. corporate executives has tracked economic trends each year since 1996. Of the 356 who were interviewed, about 50 percent said that Texas is the best state in which to conduct business. Florida came in a distant second, followed by Georgia and North Carolina.
Texas led national job creation in September, marking 12th straight month on top. Last week, we learned that Texas added 36,400 jobs in September and set a state record for adding 413,700 jobs in the last 12 months. Today [10/21/2014], we know Texas led the nation in job creation for September and the last 12 months, according to data released by the U.S. Bureau of Labor Statistics.
Secret Service agents were sent to their boss's house to deal with his 'troublesome' neighbor. More bad news for the Secret Service today as a government investigation has found more conduct they deem 'problematic.' Operation Moonlight, which happened three years ago, had agents removed from their posts in Washington D.C. and heading almost an hour outside the city to settle a dispute between an agency employee and her neighbor.
Bush Didn't Lie. New media accounts — including coverage by NRO's Patrick Brennan — confirm what I repeatedly have written since the depths of Operation Iraqi Freedom: The late dictator Saddam Hussein did have weapons of mass death, and the United States of America was correct to invade Iraq, find these toxins, and destroy them.
Government Case Implodes as Its Former Lawyers Allege Fraud Against Holder's DOJ. The New York Observer reports that two former Assistant United States Attorneys say the Holder Justice Department engaged in deceit and corruption of justice in connection with the DOJ's litigation against Sierra Pacific Industries, a California lumber company. As a result of the allegations, a federal district judge has ordered the recusal from the case of every judge in the Eastern District of California. He reasons that the court may have been defrauded by the government, thus requiring the appointment of an outside judge to handle the matter going forward.
Space plane lands after record 674-day secret mission. An unpiloted Air Force space plane glided back to Earth Friday after a record 674-day stay in orbit, closing out a clandestine military mission with a computer-controlled landing at Vandenberg Air Force Base, Calif. The Boeing-built X-37B Orbital Test Vehicle, wrapping up its second long-duration mission and the secretive program's third flight overall, touched down at 12:24 p.m. EDT (9:24 a.m. local time) [10/17/2014], rolling to a stop a few moments later.
The wobbling of Saturn's moon might mean there's an ocean sloshing inside of it. Planets aren't always filled with molten rock, and guessing the composition of distant planets can be a tricky business. But scientists now believe that Saturn's moon Mimas has one of two things under its icy, rocky surface: a core shaped like a football or a liquid ocean. In a study published Friday [10/17/2014] in Science, researchers analyzed Mimas's movements as it orbited Saturn. By looking at images from NASA's Cassini satellite, they determined how much Mimas was wobbling. The wobble was a lot wonkier than expected, leaving the research team puzzled.
The Editor says...
That's all very amusing, and it must be nice to make a living by engaging in idle speculation about such immaterial concerns. (That's a problem if they are government scientists whose paychecks come from tax dollars.) But the maximum temperature of Mimas is something like 80 or 85 degrees Kelvin, and there aren't many materials that "slosh" at those temperatures.
Do Reports of WMD Found in Iraq Vindicate George W. Bush? The New York Times published an article this week that has re-ignited a 12-year-old debate: Was then-President George W. Bush right about Iraq? The report examined U.S. service personnel's encounters with abandoned chemical weapons in Iraq — and some conservatives were quick to pounce on the story as evidence that claims by Bush in the lead-up to the war that Iraq possessed weapons of mass destruction were true and that the United States' 2003 invasion was justified.
Rev. Billy Graham: 'America is Just as Wicked as Sodom and Gomorrah Ever Were'. Reverend Billy Graham, arguably the most well-known and respected evangelical preacher of the last 50 years, said in a recently published commentary that America was "founded by men who believed in prayer" and that prayer can turn "the tide of history," adding that while "America is just as wicked as Sodom and Gomorrah" and deserves "the judgment of God," this judgment can be lessened through prayer.
Man Stabbed in Store, Customers Keep Shopping. A Philadelphia supermarket stabbing that left a man with wounds in his face and neck didn't deter some customers, who continued to shop.
Clinton Aide Peddled Stories Against Conservatives Exposing Lewinsky Affair. Emails sent by Sidney Blumenthal, a former aide to President Bill Clinton, to a prominent liberal journalist during the Monica Lewinsky scandal provide a rare look at the Clinton White House directly attempting to influence the journalistic process to target the Clinton's conservative critics. Blumenthal, who is considered one of Clinton's staunchest defenders, did so by attempting to convince David Corn, then a reporter with The Nation, a progressive magazine, to look into Lucianne Goldberg and Bill Kristol. Emails sent from Blumenthal to Corn are contained among thousands of documents released by the Clinton Presidential Library on Friday [10/10/2014].
Why Is CNN Laying People Off When It's Forecasting a $1 Billion Profit? Yesterday afternoon [10/6/2014], Turner Broadcasting CEO John Martin announced that the company will reduce its headcount by 10 percent, eliminating 1,475 positions in the coming weeks. At CNN, that means 300 positions will be cut through a mixture of buyouts and layoffs.
Tom DeLay Found Not Guilty by State's Highest Court. Former House Majority Leader Tom DeLay was found not guilty today by the Texas Court of Criminal Appeals. This is the highest appellate court in Texas for criminal cases and thus brings DeLay's political persecution to an end.
Evidence of the Islamic terror threat within our borders. From shortly after 9/11 through 2006, I was busily conducting covert surveillance of certain Islamic centers in urban and rural locations inside the U.S. I secured photographic and videotape documentation of what could be best and most accurately described as paramilitary type training at two locations, and turned over significant amounts of data, witness statements, videos, and photographs to a Washington, DC location. I felt like I was doing my part to make the U.S. safer for my children and future generations. That is, until I realized that nothing was as it appeared to be. As time progressed, I noticed, as did others in our group that nothing was seemingly being done with the evidence we collected, assembled and submitted.
U.S. to pay Navajo Nation $554 million in largest settlement with single Indian tribe. In the largest settlement with a single American Indian tribe, the Obama administration will pay the Navajo Nation $554 million to settle claims that the U.S. government has mismanaged funds and natural resources on the Navajo reservation for decades. The settlement, to be signed in Window Rock, Ariz., on Friday [9/26/2014], resolves a long-standing dispute between the Navajo Nation and the U.S. government, with some of the claims dating back more than 50 years.
Harvard Gives Student Full Ride After He Tells Them He's Illegal Immigrant. When Dario Guerrero, an illegal immigrant who found out about his status in high school, told Harvard that he was in the country illegally, the school encouraged him to apply — and gave him a full scholarship after he was accepted.
Coverup after New York mayor killed groundhog. We already knew that this Groundhog Day, New York City Mayor Bill de Blasio accidentally dropped a woodchuck named "Staten Island Chuck" before a crowd of spectators. What went unreported until Thursday [9/25/2014] is the fact that the groundhog died of internal injuries one week after being dropped. Moreover, the woodchuck was not actually the infamous "Staten Island Chuck," and Staten Island Zoo officials covered up the death.
D'Souza Speaks Out on Sentencing: There Was 'All-Out Attempt to Put Me Away'. Conservative filmmaker Dinesh D'Souza spoke out tonight about his five-year probation and eight-month sentence to a community confinement center on Fox News. D'Souza told Megyn Kelly, "My faith in an independent judiciary is affirmed." D'Souza was indicted in January for campaign finance, and pled guilty in May. D'Souza had suggested on multiple occasions that he was targeted for his criticisms of President Obama, a charge prosecutors strongly denied.
Today is the First Time Obama Has Said the Word 'Khorasan' in Public. Today [9/23/2014] is the first time President Obama has uttered the word "Khorasan" in public. Indeed, we can find no example of any White House official ever mentioning this al Qaeda cell by name in public. The group has never even been mentioned in any of the White House background briefings on the terrorist threat emanating from Syria (and there have been several such briefings). It's quite extraordinary to see military action against a group the White House has never talked about.
Chelsea Clinton Fears Her Baby Could Live on a 'Planet Without Elephants'. If there is one thing Chelsea Clinton is most worried about, it may be that her soon-to-be child will grow up in a world without elephants.
The Editor says...
That's the way "survival of the fittest" goes sometimes, Chelsea. You're going to teach your daughter about Darwin, aren't you?
Student loan debt curbs housing market by $83 billion, study says. There's been lots of debate lately in housing circles about the impact of student debt on home ownership. Now there's a new study out that attempts to put a number on that impact: 414,000. That's how many home sales will not happen this year because of high levels of student loan debt, according to a report from John Burns Consulting, an Irvine-based firm that advises home builders. That's equal to about 8% of all home sales, and enough to dent the housing industry by $83 billion a year.
Shape Shifter. J. Christian Adams discussion of the Obama political machine's CATALIST database provides a peek into "Big Data" as applied to politics. Mr. Adams gives an example of how CATALIST, which collects, collates and analyzes data on a vast scale can be used as a political marketing tool. He tells the story of voters who should have been "safe" Republican voters being lured away by this new tool.
Top-level turnover makes it harder for DHS to stay on top of evolving threats. An exodus of top-level officials from the Department of Homeland Security is undercutting the agency's ability to stay ahead of a range of emerging threats, including potential terrorist strikes and cyberattacks, according to interviews with current and former officials. Over the past four years, employees have left DHS at a rate nearly twice as fast as in the federal government overall, and the trend is accelerating, according to a review of a federal database.
HHS Spending Millions to Stockpile Ventilators in Case of 'Public Health Emergency'. The Department of Health and Human Services announced Wednesday it is spending almost $14 million over three years to develop "low-cost, user-friendly ventilators" that can be stockpiled in case of a "pandemic or other public health emergency." "In pandemics and other emergencies, doctors must have medicines, vaccines, diagnostics, and critical equipment such as mechanical ventilators at the ready in order to save lives," said Robin Robinson, director of the Biomedical Advanced Research and Development Authority (BARDA), which is part of HHS.
'CATALIST': Obama's Database for Fundamentally Transforming America. The Democrats and the institutional left have a new political tool that allows them virtually to ignore moderates yet still win elections. This tool, the Catalist database, was employed in the 2012 election. That election defied conventional wisdom: Mitt Romney sought and won independent voters overwhelmingly, but still lost. If you wondered why the conventional wisdom about independents and moderates didn't seem so wise in 2012, the answer is Catalist.
House passes bill to audit Federal Reserve. The House on Wednesday [9/17/2014] passed legislation to audit the Federal Reserve System. Passed 333-92, the bill would require the comptroller general to conduct an audit of the Federal Reserve's board of governors and banks within one year and submit a report to Congress on the findings. A total of 106 Democrats joined all but one Republican in support of the measure. A version of the bill sponsored by then-Rep. Ron Paul (R-Texas) passed in 2012 by a vote of 327-98. Paul's son, Sen. Rand Paul (R-Ky.), has introduced companion legislation in the Senate.
Comcast's open Wi-Fi hotspots inject ads into your browser. Comcast is giving users a very good reason to demand an HTTPS connection on every site they visit. The Internet service provider has started injecting ads for its services on websites where you wouldn't normally see them when you're using an Xfinity public Wi-Fi hotspot.
AT&T and Verizon say 10Mbps is too fast for "broadband," 4Mbps is enough. AT&T and Verizon have asked the Federal Communications Commission not to change its definition of broadband from 4Mbps to 10Mbps, saying many Internet users get by just fine at the lower speeds.
More seniors are carrying student loan debt into retirement. Student loan debt doesn't only hurt the young. More seniors are carrying their college debt into retirement. The total outstanding debt load held by seniors grew to $18.2 billion in 2013, up from $2.8 billion in 2005, according to a report released by the Government Accountability Office on Wednesday [9/10/2014]. The share of households headed by people between the ages of 65 and 74 who have student loan debt also grew, reaching 4 percent in 2010 from 1 percent in 2004.
Senator Cruz Walks Out. Congratulations are in order to Senator Ted Cruz who, when he found himself facing an audience that was hostile to Israel, turned around and walked out. The Texas Republican was speaking at a sold-out dinner gala for Middle East Christians, according to the report on the Daily Caller, when he asserted, "Christians have no greater ally than Israel." [...] It was when Senator Cruz said "Christians have no greater ally than Israel" that at least some members of the audience began to boo him and yell "stop it."
Ted Cruz Bids Mid-East Christian Audience Goodnight When They Boo'd His Defense of Israel and Christianity. Kudos to Ted Cruz who stood on principle and boldly walked off stage when the audience openly reflected their anti-Semitism. Cruz was the Key Note speaker.
Ted Cruz Stands Up to 'Hatred and Bigotry' at Conference of Middle Eastern Christians. Sen. Ted Cruz (R., Texas) said in an interview with the Washington Free Beacon that the "hatred and bigotry" he encountered when he was booed off the stage at a Middle Eastern Christian conference for defending Israel on Wednesday night was like nothing he has previously seen in his political career. "I've certainly encountered audiences that disagreed with a particular point of view. But this virulent display of hatred and bigotry was remarkable, and considerably different from anything I've previously encountered," Cruz said, just a few hours after his pro-Israel speech to the In Defense of Christians conference was drowned out by shouts and jeers from the audience.
Ted Cruz Booed for Supporting Israel at Christian Conference. Leading Republican Senator and Christian supporter of Israel Ted Cruz (R-Tx) was booed off stage at a gala dinner in support of the Middle East's embattled Christian minority, after voicing support for Israel. Cruz was the keynote speaker at the event, hosted by the recently-founded In Defense of Christians (IDC) organization. In his speech, he declared that Christians "have no greater ally than Israel" — the only state in the region whose Christian population is growing as opposed to shrinking.
Ted Cruz Booed Off Stage At Middle East Christian Conference. Sen. Ted Cruz was booed offstage at a conference for Middle Eastern Christians Wednesday night [9/10/2014] after saying that "Christians have no greater ally than Israel." Cruz, the keynote speaker at the sold-out D.C. dinner gala for the recently-founded non-profit In Defense of Christians, began by saying that "tonight, we are all united in defense of Christians. Tonight, we are all united in defense of Jews. Tonight, we are all united in defense of people of good faith, who are standing together against those who would persecute and murder those who dare disagree with their religious teachings." Cruz was not reading from a teleprompter, nor did he appear to be reading from notes.
The Editor says...
Ted Cruz never uses a teleprompter to deliver speeches. A man of sound mind who knows what he believes and has the intellectual capacity can speak extemporaneously for as long as necessary. In this regard, Senator Cruz presents a sharp contrast between himself and Barack H. Obama.
Gallup: By 6 to 1, Americans Think Our Gov't More Important Problem than Situation in Iraq. By a margin of around 6 to 1, Americans says their own government is a more important problem than terrorism, war, or the situation in Iraq, according to a new Gallup Poll. Asked, "What do you think is the most important problem facing this country today," 18 percent of Americans said "dissatisfaction with government," while 4 percent said terrorism, and 3 percent said the situation in Iraq. In fact, dissatisfaction with government topped the list of problems; terrorism was number 9 on the list, just above "poverty/hunger/homelessness."
Obama Admin Finally Has A Major Border Security Plan — For Nigeria. Last Thursday [9/4/2014] the State Department announced that it is launching a border security plan in cooperation with officials from Nigeria and several other nearby African nations such as Cameroon. The problem Obama's regime hopes to correct with this border security program is that of the constant raids and attacks by the Islamic terror group Boko Haram.
NBC pays for Matt Lauer's helicopter rides to work: report. In an effort to keep Matt Lauer happy, NBC is reportedly footing the bill for the "Today" host to take a helicopter to and from work so he can spend more time with his family. In June, Mr. Lauer extended his $20 million salary with NBC News through 2016, following speculation that he would leave the show over the brutal departure of Ann Curry in 2012, the New York Post reported. As part of the deal, the network reportedly agreed to pay for Mr. Lauer to take a helicopter to work in Manhattan from his home in the Hamptons. Mr. Lauer also has an apartment in Manhattan.
Foreign Ownership of U.S. Government Debt Passes $6 Trillion. For the first time in the nation's history, foreign interests now own more than $6 trillion in U.S. government debt, according to the most recent Treasury Department report on major foreign holders of the debt, which includes the numbers through the end of June. As of the end of June, foreign owners held $6,013,200,000,000 in U.S. Treasury securities, up from $5,976,500,000,000 as of the end of May.
This is how wars get (re)started:
Obama Sending 350 Troops to Protect Baghdad Embassy. The White House just announced that President Obama authorized hundreds of extra troops on the ground to protect the U.S. Embassy in Baghdad. Press secretary Josh Earnest said in a statement that that the Defense Department authorization stemmed from a State Department request for "approximately 350 additional U.S. military personnel to protect our diplomatic facilities and personnel."
Obama Orders 350 More Troops to Be Sent into Iraq to Bolster Security. President Obama tonight [9/2/2014] ordered sending 350 additional troops into Iraq to bolster security at the United States embassy in Baghdad. This is in addition to the 300 military advisors the president sent into Iraq back in June that he maintained would not mean a "return to combat."
The 10 Most Vulnerable Senators. Montana's appointed Sen. John Walsh was by far the most endangered incumbent in the chamber at the time of the previous installment in early August, but his decision last month to not seek a full term opened the top slot to a couple other worthy contenders. Sen. Mark Pryor, D-Ark., is still in a perilous political position, but Louisiana Sen. Mary L. Landrieu has leapfrogged him on the list to become the Senate's most vulnerable incumbent.
Missing Libyan Jetliners Raise Fears of Suicide Airliner Attacks on 9/11. Islamist militias in Libya took control of nearly a dozen commercial jetliners last month, and western intelligence agencies recently issued a warning that the jets could be used in terrorist attacks across North Africa. Intelligence reports of the stolen jetliners were distributed within the U.S. government over the past two weeks and included a warning that one or more of the aircraft could be used in an attack later this month on the date marking the anniversary of the Sept. 11, 2001, terrorist attacks against New York and Washington, said U.S. officials familiar with the reports.
Lawsuit details the chilling of conservative speech in Wisconsin. Wisconsin prosecutors have selectively targeted conservative groups to effectively chill their speech, lawyers for a conservative activist detailed in a Tuesday [9/2/2014] filing with a federal appeals court. Eric O'Keefe, director of the limited government advocacy group the Wisconsin Club for Growth, in February sued prosecutors over a secret investigation into potential campaign finance violations by conservative groups during recall elections. Two judges have already rejected the legal theory offered by prosecutors and the probe has been halted, but prosecutors have asked the U.S. Court of Appeals for the 7th Circuit to reopen the case.
St. Louis cop suspended for old YouTube video; officer critical of Obama. A 35-year veteran of the St. Louis Police Department who'd been assigned to duty in Ferguson suddenly retired this week over a YouTube video, it was reported Saturday [8/30/2014] as activists conducted another march through the strife-torn town pleading for God "to even the score." Officer Dan Page's video, titled "The End of American Sovereignty & Constitutional Rights," is harshly critical of President Obama, liberal judges, affirmative action, and notes that the Declaration of Independence gives the people the right to overthrow the government.
Uh Oh: Mary Landrieu Doesn't Own a Home in Louisiana. This is not what embattled "Louisiana" Democrat Sen. Mary Landrieu wanted to read in the Washington Post — which, as it turns out, is her hometown paper: [...] Landrieu has gone 'full Beltway.' She lives in her multimillion-dollar DC mansion, not in the state she ostensibly serves. The Senator claims that she lives at her parents' house when she's in town, but neighbors, including some of her supporters, aren't so sure.
Grimes bus lacks permit to carry passengers. The company owned by Jerry Lundergan that is leasing a tour bus to the U.S. Senate campaign of his daughter, Alison Lundergan Grimes, does not appear to have the proper permits required to operate the charter bus. Grimes' campaign tour bus has come under scrutiny in the last two weeks since Politico ran a story suggesting that the campaign paid less than the market rate to charter the bus, which if true would violate federal campaign finance law.
'Retaliation': Docs show state prosecutors' launched mini-NSA probe of state conservatives. Conservative targets of a Democrat-launched John Doe investigation have described the secret probe as a witch hunt. That might not be a big enough descriptor, based on records released Friday [8/22/2014] by a federal appeals court as part of a massive document dump. Attorneys for conservative activist Eric O'Keefe and the Wisconsin Club for Growth point to subpoenas requested by John Doe prosecutors that sought records from "at least eight phone companies" believed to serve the targets of the investigation. O'Keefe and the club have filed a civil rights lawsuit against John Doe prosecutors, alleging they violated conservatives' First Amendment rights.
Cops cleared more than 400 times each year for justified homicides. More than 400 fatal police killings a year are sanctioned by local, state and federal authorities as justified homicides, but the FBI doesn't specifically track how many times officers are prosecuted for improperly causing a person's death. The FBI said Tuesday [8/19/2014] that it doesn't keep statistics on specific prosecutions of law enforcement officers because it doesn't track crimes by profession, though it does track justified homicide rulings. [...] The FBI defines justifiable homicide as "the killing of a felon by a law enforcement officer in the line of duty."
Perry Grand Juror Was An Active Democratic Party Delegate During Jury Proceedings. Rho Chalmers, who disclosed to the Houston Chronicle yesterday [8/19/2014] that she was a member of the grand jury that indicted Texas Gov. Rick Perry, was an active delegate to the Texas Democratic Party convention during grand jury proceedings. Chalmers' active participation in Democratic state politics is important because she claimed yesterday to the Houston Chronicle that her decision to indict Perry, a Republican, was not based on politics.
Surprise! Perry Grand Juror Is Also a Partisan Democrat Activist. Tuesday night [8/19/2014] the Houston Chronicle published a story about the grand jury that indicted Texas Gov. Rick Perry. Those grand jurors who spoke with the Chronicle broke the law to do so, and they knew that they were breaking the law. They claimed that they were speaking to the newspaper to counter Gov. Perry's "spin" on the case. That's not the job of a grand jury, by the way. One of them is a woman named Rho Chalmers. Chalmers tried to get around her lawbreaking by attempting to build this wall of implausible deniability. [...]
Several Perry Grand Jurors Broke the Law to Explain Why They Think Perry Broke the Law. By Texas law, grand jurors are not supposed to talk to the media about their cases. That did not stop several of the Gov. Perry grand jurors from breaking the law, specifically, talking to the Houston Chronicle.
New Site Recovers Files Locked by CryptoLocker Ransomware. First spotted in September 2013, CryptoLocker is a prolific and very damaging strain of malware that uses strong encryption to lock files that are likely to be the most valued by victim users, including Microsoft Office documents, photos, and MP3 files. Infected machines typically display a warning that the victim's files have been locked and can only be decrypted by sending a certain fraction or number of Bitcoins to a decryption service run by the perpetrators. Victims are given 72 hours to pay the ransom — typically a few hundred dollars worth of Bitcoins — after which time the ransom demand increases fivefold or more.
Top websites crash as web 'starts to run out of space'. Major technical problems could become a regular occurrence for website users because the internet is running out of space, experts have warned. An online breakdown caused chaos on Tuesday [8/12/2014], costing the economy millions of pounds in lost trade and effectively closing access to a number of huge websites. Online auctioneer eBay was out of action for most of the day, with buyers and sellers inundating the site with complaints about lost business after being unable to log onto their accounts.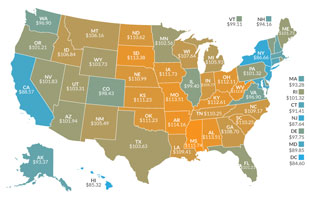 Map: How much $100 is really worth in every state. For the first time ever, the federal government this year introduced a data series that compares price differences among states and metropolitan areas. Those estimates — regional price parities and real personal income — offer something simple and immensely useful for anyone considering making a move: They allow you to compare how far your money goes in each state.


Here's why your Internet might have been slow on Tuesday. Much of the network depends on trust: Servers publicly announce their routes, which are then rebroadcast to help networks know the best path for their data. Because of that variation, the total number of routes changes depending on the time they're accessed and other factors. But some older hardware has trouble handling things when the number of routes reaches above 512,000 because of restrictions in the hardware's specific type of memory. And on Tuesday [8/12/2014], researchers say, it appears some servers vulnerable to that issue crossed that threshold.

State Department hires company to prep officials for congressional grillings. The State Department has reportedly approved a contract worth up to $545,000 to help train department officials to effectively testify at congressional hearings after a series of poor performances. The Washington Times reports that the department has hired a company called AMTIS, Inc. to train staffers to effectively speak with lawmakers and testify at congressional hearings. According to the Washington Times, the contract included classes, such as "Communicating with Congress: Briefing and Testifying," which will be taught by instructors with Capitol Hill experience.

Canadian Green Party President Resigns After Backlash over Pro-Israel Blog Post. The president of the Green Party in Canada is stepping down from his position after a controversy over the fact that he expressed support for Israel in a blog post. On Tuesday [8/5/2014], Paul Estrin issued a statement announcing his immediate resignation. [...] The post, which was later removed, marked a departure from the party's leftist and pro-Palestine stance, and as a result it angered many party members.

SketchFactor app racistly helps users avoid 'sketchy' black neighbourhoods. A new app from smiling young white people in suits has come under fire for crowdsourcing tips on "sketchy " neighbourhoods in order to help pedestrians avoid trouble. Creators Daniel Herrington and Allison McGuire, who previously provoked anger over their GhettoTracker website, insist on their website they are not "racists, bigots, sexists" but are simply trying to help people "take the guesswork out of city nagivation". A press release for SketchFactor is very careful not to link "sketchy" areas with race or poverty, joking that unwanted encounters might include a man wearing no pants or an R Kelly cover artist and ironically suggesting that bad experiences users might report includes "racial profiling".

California couple struggling after being forced to pay deceased daughter's student loans. A California couple is speaking out after they say their finances have been devastated over their daughter's student loan debt, which they are being forced to repay after the woman died unexpectedly four years ago. Steve and Darnelle Mason's 27-year-old daughter Lisa died suddenly from a liver disease, leaving behind three children. Darnelle Mason, who is now raising her grandchildren along with her husband, told Fox Business the "excruciating" pain of losing her daughter has only been compounded by the crushing debt.

The Editor asks...
Don't student loans have credit life insurance?

Scrabblers Rejoice: 5,000 New Words Are On the Way. The word "te" as a variant of "ti," the seventh tone on the musical scale, is a hardworking little gem among 5,000 words added to "The Official Scrabble Players Dictionary," out Aug. 11 from Merriam-Webster.

Dr. Ben Carson: Mistake to Bring Ebola Patients to US. Monday [8/4/2014] on Newsmax TV's "America Forum," Dr. Ben Carson said we should not have brought the Ebola infected missionaries back to the United States. Carson criticized the Centers for Disease Control and Prevention (CDC) pointed out we could send a hospital equipped plane or set up a properly equipped hospital on location in Africa.

Congressman calls for release of redacted 9/11 papers. A U.S. congressman calling for the release of classified material from a report into 9/11 has warned there would be 'anger, frustration, and embarrassment' if the redacted pages were made public. Representative Thomas Massie has joined a call for the government to declassify 28 pages redacted from the Joint Inquiry into Intelligence Community Activities Before and After the Terrorist Attacks of September 11, 2001. Earlier this year, the lawmaker described how he had to 'try to rearrange my understanding of history' after he read the classified pages of the joint investigation by the House and Senate intelligence committees.

The Editor says...
Maybe now we can find out what really happened to World Trade Center Building 7.

Afghan Teen Murders 3 U.S. Marines, Gets 7½ Year Sentence. Amid the continuing imprisonment in Mexico of a U.S. Marine, another apparent miscarriage of justice is being called out by the families of three Marines who were killed in an insider attack in Afghanistan. The attacker has been sentenced to just 7½ years in prison by an Afghan court.

Verily I say unto you, They have their reward. (Matthew 6:5)
N.C. restaurant surprises customers who give prayer of thanks with 15% discount. A North Carolina restaurant is offering a 15 percent discount to customers who publicly give thanks for their meal with prayer. Mary's Gourmet Diner in Winston-Salem has been offering the discount for four years, but a recent Facebook post showing a receipt with the discount has gone viral, drawing special attention to the restaurant, Fox News reported Friday [8/1/2014]. One customer told the news agency that she visited the restaurant during a business trip. Jordan Smith said she and her colleagues, "prayed over our meal and the waitress came over at the end of the meal and said," Just so you know, we gave you a 15 percent discount for praying."

Italian Reporter Reveals Hamas Cover-Up Over Misfired Rockets. An Italian journalist who until Tuesday [7/29/2014] was embedded in Gaza has backed the IDF's account of a rocket strike on a school playground in central Gaza's Shati refugee camp on Monday. At least 10 people were killed in the attack — most of them children — and some sources claimed the death toll was as high as 30. Palestinian sources were quick to blame Israel, claiming that an Israeli fighter jet fired missiles directly at the playground and nearby hospital. Israel denied the accusations, saying that Hamas rockets aimed at Israel from the area misfired, and struck both the school and the hospital.

Embarrassing leaked campaign memo spells out Nunn's strategies, vulnerabilities. To the degree voters think about the internal workings of a political campaign, they probably assume some version of this exists for every candidate. And they're probably right. But there's a difference between assuming campaign operatives think and talk this way, and seeing it all laid out in black and white.

1 in 3 U.S. adults have 'debt in collections'. An estimated 1 in 3 adults with a credit history — or 77 million people — are so far behind on some of their debt payments that their account has been put "in collections." That's a key finding from a new Urban Institute study. It examined non-mortgage debt, including credit card bills, car loans, medical bills, child support payments and even parking tickets. The debt in collections ranged from as little as $25 to a whopping $125,000. But the average amount owed was $5,200.

State Dept. Respects Religious Liberty In Countries Overseas, But Not In The US. Sen. John Kerry spent more than 20 minutes discussing the religious crises overseas during the 2013 Annual Report on International Religious Freedom, advocating religious freedom for all and declaring religious liberty to be "a universal value... ingrained in every human heart... a birthright of every human being." "That's what we believe," Kerry said. But Kerry's speech has some ironic timing. He's speaking on behalf of the State Dept. — that is, the federal government — the same federal government that tried to force a business to provide contraceptives contrary to the employers' religious beliefs.

Hillary Team Calls for Media Blackout of Anti-Clinton Books. [Scroll down] The interview doesn't detail any specific behavior that drew Team Hillary's ire beyond the simple act of writing a book. Without the benefit of full context, it appears as though Hillary's flack is suggesting the books be banned. At a minimum he is imploring the overwhelmingly pro-Clinton mainstream press to freeze out these authors and prevent their ideas and findings from being discussed on the media stage. This is blatently hypocritical coming from the folks surrounding the former first lady, who famously defended "the right to debate and disagree" on the campaign trail in 2008.

Dallas County confirms first chikungunya case in local traveler. Given the heavy travel patterns to Caribbean countries where the new mosquito-born virus is spreading widely, it was inevitable that someone would bring it back to Dallas County. Dallas County Health and Human Services confirmed Tuesday [7/22/2014] the first case of imported Chikungunya virus in Dallas County this year. The patient was infected with the virus during recent travel to the Caribbean, and was diagnosed after returning home, the health department said.

Working-Class Whites Lose Voting Dominance in Ohio. For the first time, working-class whites make up less than half of Ohio's eligible voters, part of a demographic shift in a key Midwestern swing state that is pushing political parties to widen their appeal beyond the once-dominant bloc.

FBI warns driverless cars could be used as 'lethal weapons'. In an unclassified but restricted report obtained by the Guardian under a public records request, the FBI predicts that autonomous cars "will have a high impact on transforming what both law enforcement and its adversaries can operationally do with a car." In a section called Multitasking, the report notes that "bad actors will be able to conduct tasks that require use of both hands or taking one's eyes off the road which would be impossible today." One nightmare scenario could be suspects shooting at pursuers from getaway cars that are driving themselves.

Dozens of Disney World workers arrested in child sex stings. Almost three dozen Disney theme park workers have been arrested for alleged kiddie-sex crimes since 2006, according to a broadcast report. The 35 busts have been for possession of child porn or trying to meet a minor for sex, CNN found after combing through law enforcement and court records. So far, 32 of those busted have been convicted and the other cases are pending.

Obama administration fights to seize Microsoft emails held in Ireland in landmark legal battle. The U.S. Justice Department is claiming that Microsoft must hand over emails that the company stores in databases in Dublin, Ireland, in a case that is being watched closely by tech companies legal scholars. The U.S. federal government is claiming that it can force any company that conducts business operations within its borders to comply with warrants for data stored on its databases, even if those databases aren't physically located within the United States.

Comic books as propaganda:
Comic Character Archie to Die Taking Bullet for Gay Friend Pushing Gun Control. On July 16, comic character Archie Andrews, of Life With Archie, will die after being shot while protecting gay friend Kevin Keller. Keller is "Archie Comics' first openly gay character." According to the Associated Press, Keller is "a married military veteran and newly elected senator who's pushing for more gun control in Riverdale after his husband was involved in a shooting."

Costco's Removal Of Dinesh D'Souza's 'America' Proves To Be A Massive Backfire. Costco, a discount chain co-founded by a major Democratic donor, faced the wrath of the almighty dollar after stripping its shelves of Dinesh D'Souza's bestselling book America: Imagine The World Without Her. According to Newsbusters, after Costco announced that it was dropping D'Souza's work, the book soared to #1 on Amazon.com. Book reviewers on the website made clear their opinion of the retail giant.

Uniguest Needs a Better Explanation for Why Conservative Sites Are Being Blocked. James Varney of the Times-Picayune in New Orleans, stayed at the Hyatt Place hotel in Riverhead, NY. He tried to look at the Drudge Report, but was blocked from doing so by his hotel's internet connection. In fact, he tried looking at a number of conservative websites, including Powerline and Instapundit. They too were blocked. He then tried a number of liberal websites from Talking Points Memo to DailyKos. None of them had access problems. His hotel, Hyatt Place, uses Uniguest to connect its guests to the internet.

Congress Quietly Deletes a Key Disclosure of Free Trips Lawmakers Take. It's going to be a little more difficult to ferret out which members of Congress are lavished with all-expenses-paid trips around the world after the House has quietly stripped away the requirement that such privately sponsored travel be included on lawmakers' annual financial-disclosure forms. The move, made behind closed doors and without a public announcement by the House Ethics Committee, reverses more than three decades of precedent. Gifts of free travel to lawmakers have appeared on the yearly financial form dating back its creation in the late 1970s, after the Watergate scandal. National Journal uncovered the deleted disclosure requirement when analyzing the most recent batch of yearly filings.

Progressive Watchdog Media Matters Employees Finally Get Their Own Union. Progressive watchdog group Media Matters for America lost the fight to keep its workers from unionizing Monday, the Huffington Post reports. Staff had been agitating moving to unionize since March, with Media Matters executives "fighting it every step of the way," according to a Service Employees International Union statement. They filed a petition to the National Labor Relations board in April after executives rejected an attempt to unionize through a card check — an open method of unionizing that avoids secret-ballot elections.

DHS Flunks Citizenship Test Question: '15 Stars and Stripes' on U.S. Flag. A DHS press release, dated June 20, commemorated the June 17th naturalization of 15 new US citizens, noting the "15 stars and stripes" on the U.S. flag. The problem is that the American Flag doesn't have 15 stars and stripes; it has had 13 stripes since the Act of April 4, 1818, was signed by President James Monroe, and 50 stars since 1960, after Hawaii became a state the year before. "These 15 candidates, symbolically representing the 15 stars and stripes on our Nation's flag, hailed from Australia, Canada, El Salvador, Greece, Guatemala, India, Iraq, Italy, Kenya, Lithuania, Mexico, the Philippines, Romania, Sierra Leone and South Korea," the press release said.

Scientist who faked AIDS research indicted. A former Iowa State University scientist who admitted faking lab results to obtain millions in grant money for AIDS research has been charged with four felony counts of making false statements, an indictment filed in federal court shows. Dr. Dong Pyou Han left his job as an assistant professor and a laboratory manager at the university last year after admitting that he spiked rabbit blood with human antibodies that made it appear the animals' immune systems were reacting to an AIDS vaccine being tested. In reality, the vaccine was having little effect, according to Han's indictment. Before the fraud was detected, the research was hailed as groundbreaking, according to the federal indictment.

Transgender priest gives sermon at Washington National Cathedral. The first openly transgender priest to preach at the Washington National Cathedral urged the gay community Sunday to be brave and open-minded as it works to eliminate oppression. The Rev. Cameron Partridge told the audience at the landmark Episcopal church that people need to be unashamed of who they are and embrace "the blessing of collaborating visions."

The Pacific's Salmon Are Back — Thank Human Ingenuity. In 2012, the British Columbia — based Native American Haida tribe launched an effort to restore the salmon fishery that has provided much of their livelihood for centuries. Acting collectively, the Haida voted to form the Haida Salmon Restoration Corporation, financed it with $2.5 million of their own savings, and used it to support the efforts of American scientist-entrepreneur Russ George to demonstrate the feasibility of open-sea mariculture — in this case, the distribution of 120 tons of iron sulfate into the northeast Pacific to stimulate a phytoplankton bloom which in turn would provide ample food for baby salmon. The verdict is now in on this highly controversial experiment: It worked.

The people who sold Obamacare on the basis of several undeniable lies are now pushing a "Truth in Advertising Act."
New Bill Would Let FTC Regulate Photoshop. Looking too good could literally become a crime under newly proposed federal legislation, which would give the Federal Trade Commission power to regulate Photoshop image editing software use in advertising and other media. The Truth in Advertising Act of 2014 or "Anti-Photoshop Act" was introduced in the U.S. House of Representatives earlier this year by Florida Republican Rep. Ileana Ros-Lehtinen along with Democrats Lois Capps of California and Theodore Deutch of Florida. If enacted, the bill will empower the FTC to regulate and reduce the use of Photoshopped images in media.

Mom of Marine held in Mexico says she hasn't heard from Obama administration. The mother of U.S. Marine Sgt. Andrew Tahmooressi, who has been jailed in Mexico since March 31, says she has not heard from the Obama administration since her son's imprisonment. Pressure continues to mount for the president to take action in securing the release of Mr. Tahmooressi, who says he got lost and took a wrong turn into Mexico while carrying three firearms in his truck. Jill Tahmooressi, the veteran's mother, said she hasn't heard from the White House or the State Department, despite the nearly 125,000 signatures she's received on her "We the People" petition, which should entitle her to an official response, the Washington Free Beacon reported.

The NSA now owns Bitcoin. Here's the flaw they exploited. When a single entity ("a single miner" or "a mining pool") controls over 50% of the transaction processing it can control the entire system. This means they can "see" every transaction, spend the same coins more than once, and deny transactions they don't approve of. That's finally happened.

US marshals leak list of possible Bitcoin buyers. The U.S. Marshals Service's auction for the for 29,656.51306529 Bitcoin it seized from online recreational pharmaceuticals purveyor Silk Road has gone off the rails after the Service accidentally spilled a list of interested parties. Coindesk reports that an email sent to those asking for information about the auction listed those who have asked it more detailed questions about the event.

Rats outnumber NYC's human population. City officials have declared war on rats in their latest effort to attack a population that experts estimate could be double that of the Big Apple's 8.4 million people. Starting next month, the city's 45 inspectors will be bolstered by nine new employees of a pilot program to tackle the vermin in neighborhoods where rats have resisted repeated efforts to eradicate them — such as Washington Heights, West Harlem, Chinatown, the Lower East Side and the South Bronx.

'Pork' spending may curb invasive wild hogs. The feds are offering big money to anyone who can hunt and kill wild pigs on federal lands in South Carolina — the latest move in the government's battle against an invasive species causing an estimated $1.5 billion in damage to farmland and property each year. In a contract solicitation last week, an arm of the U.S. Department of Agriculture offered up to $150,000 for bidders of a one-year feral hog control contract in federal forests about 30 miles northwest of Charleston, South Carolina.

Chelsea: The Poorest Clinton. Today, we learned that Chelsea Clinton has been taking home an annual salary of $600,000 for her work as a "special correspondent" for NBC News. In case you had no idea NBC News was employing the Clinton scion, here is an example of her "work": [Video clip]

Why did NBC pay Chelsea Clinton $600,000 a year? NBC's hiring of Chelsea Clinton as a "special correspondent" in its news division was widely recognized as an exercise in corporate cynicism when it was announced in November 2011. Now a price tag has been hung on that scandal, with Politico's reporting that Clinton has been paid a salary of $600,000.

Obama's Balloon: Federal Student Loan Debt Up 517% in 5 Years. Since President Barack Obama took office in January 2009, the cumulative outstanding balance on federal direct student loans has jumped 517.4 percent. The balance owed as of the end of May was $739,641,000,000.00. That is an increase of $619,838,000,000.00 from the balance that was owed as of the end of January 2009, when it was $119,803,000,000.00, according to the Monthly Treasury Statement. Earlier this month, Obama announced new executive actions to allow five million student-loan borrowers to cap their monthly payments at 10% of their income, according to the White House.

Protesters to Obama: Grant Jailed Christian Sudanese Woman U.S. Citizenship, Secure Her Release. A coalition of Christian groups held at protest in front of the White House on Thursday [6/12/2014] to raise awareness about a Christian woman who is imprisoned in Sudan with her infant daughter and toddler son for apostasy. "In the case of Meriam Ibriham, she needs to be released from the prison in north Sudan," Ed Lyons of the Persecution Project told CNSNews.com. "She needs to be granted American citizenship."

Get Paid To Pull Over For "Voluntary" DUI Stops? A private company is hoping drivers would voluntarily pull over to perform a roadside drug and alcohol test on Washington roads for some extra money. Pacific Research Institute (PIRE), along with several other federal and non-profit agencies, is looking for approval from the Washington Traffic Safety Commission to begin work on a voluntary research study that would allegedly give a snapshot of how many impaired drivers are on the road at all times of the day.

Hillary and Obama and the Present Idiocracy. Going by the evidence, Hillary Clinton may not have finished high school. Or maybe she slept through history class. She thinks that Abe Lincoln was a "senator from Illinois." Abe Lincoln was never a US senator. He was never a state senator, either. He was never a senator at all. Hillary, or her speechwriters, could have Googled that.

Hillary Fails History: Calls Lincoln a 'Senator from Illinois'. President Abraham Lincoln was never a Senator. Ever. From Illinois or anywhere else. Other than a single, two-year term as an Illinois Congressman, Lincoln held no national elective office other than that of our 16th president. Lincoln did run for the United States Senate in 1858, but lost to Stephen Douglas.

Ted Cruz renounces Canadian citizenship. Canada-born U.S. Sen. Ted Cruz has given up his citizenship from his birth country, making good on a promise from last summer.

It's official: Ted Cruz a citizen of the U.S. - and the U.S. only. If you remember, the Texas Republican was born in Canada to an American mother and a Cuban father. As such, he was a dual citizen — an American because of his mother, and Canadian because the country, like America, grants automatic citizenship to anyone born there.

23 Republicans and 55 Democrats Confirm HHS Secretary Who Will Force Christians to Act Against Their Faith. Twenty-three Senate Republicans joined 55 Democrats last Thursday to confirm Sylvia Mathews Burwell to replace Kathleen Sebelius as secretary of Health and Human Services. Burwell was sworn-in today [6/9/2014]. During her confirmation process, no senator on the two committees that took her testimony asked her any questions about the Obamacare contraception-sterilization-abortion-inducing drug mandate that Sebelius issued in 2012. That regulation is now the target of 100 lawsuits arguing that it violates the First Amendment right to free exercise of religion by forcing Christian to act against their faith. Burwell will now succeed Sebelius not only as HHS secretary but as defendant in these lawsuits.

Islamic Prayers at Vatican for First Time As Pope Hosts Interfaith Prayer. On Sunday, Islamic Prayers and readings from the Quran were heard from the Vatican for the first time in history. The prayers came as a result of Pope Francis's request that Israeli President Shimon Peres and Palestinian Authority President Mahmoud Abbas meet him at the Vatican City to pray amongst each other for peace. Pope Francis hoped that inter-faith dialogue would promote peace between the Israeli and Palestinian people.

The Editor says...
If you are a Catholic, this should be enough to make you shop around for another denomination. One cannot be a Christian and participate in Islamic prayers in one's church.

Marine Jailed in Mexico as US Welcomes Illegal Immigrants. Since March 31, 25-year-old Marine Sgt. Andrew Tahmooressi has been jailed in Mexico after making a wrong turn and inadvertently crossing the international border. Tahmooressi's vehicle carried several guns and the ammunition for them which led Mexico to charge him with possession of unregistered (in Mexico) firearms. Americans are outraged that a U.S. Marine spent Memorial Day behind bars in Mexico with little meaningful attempt by the White House, Congress or the State Department to free him.

USDA's Wildlife Services killed 4 million animals in 2013; seen as an overstep by some. The more than 4 million animals shot, poisoned, snared or trapped by the Department of Agriculture's Wildlife Services in fiscal year 2013 included 75,326 coyotes, 866 bobcats, 528 river otters, 3,700 foxes, 12,186 prairie dogs, 973 red-tailed hawks, 419 black bears and at least three eagles, golden and bald. [...] At least two members of Congress have called Wildlife Services secret and opaque for failing to provide more information, and there are mounting calls for an investigation into how it operates.

Harvard grad Chuck Schumer fails history, credits Jefferson for Bill of Rights. Sen. Charles E. Schumer, New York Democrat, stumbled Tuesday over basic American history, crediting Thomas Jefferson for authorship of the Bill of Rights during a debate over the First Amendment and campaign finance. "I think if Thomas Jefferson were looking down, the author of the Bill of Rights, on what's being proposed here, he'd agree with it. He would agree that the First Amendment cannot be absolute," Mr. Schumer said. While Jefferson is deemed the principal author of the Declaration of Independence, he was not intimately involved in the writing of the Constitution or the Bill of Rights, which is the first 10 amendments to that founding document.

Vacationing Air Force bomber pilot helped land United Boeing 737 with 160 aboard. United Flight 1637 was returning off-duty Air Force Captain Mike Gongol, his family and 157 other souls from their Christmas vacation when disaster struck. The Boeing 737's pilot suffered a devastating heart attack at 30,000 feet on the way from Des Moines to Denver, forcing Gongol to rush to the cockpit and help guide the plane to an emergency landing. His heroic actions have gone unheralded until now, as Gongol recalls the dramatic moment he answered the chilling announcement on the December 30 flight, 'Does anyone know how to fly a plane?'

A Group of Amateur Programmers Just Took Over an Abandoned NASA Satellite. The ISEE-3 is a 36-year-old satellite that has been floating through space all willy nilly, ever since NASA left it for dead almost 17 years ago. That was until a group of engineers and computer programs decided to take over the satellite and set it off on a new mission. Now, two-way contact has been made via the Arecibo Radio Observatory in Puerto Rico and the amateurs are "in command" of the satellite.

Cabinet politics: Federal officials, grants are sent to help vulnerable Democrats. If you were looking for Energy Secretary Ernest Moniz this week, you might want to consult the 2014 electoral map of endangered Democrats as a guide. Mr. Moniz toured Louisiana's Gulf Coast oil and gas operations to assure the industry the administration supported its growth even as the president rolls out his climate change agenda. At his side was Sen. Mary Landrieu, Louisiana Democrat, one of the most vulnerable incumbents in this fall's election. [...] Mr. Moniz's schedule is just one sign of the Obama administration's concerted effort to use the levers of government to prop up its chances of keeping a Democrat-controlled Senate in November.

Don't Change the Channel: Leave Channel 37 alone. That was the chorus that came from a WMTS Coalition of healthcare organizations and manufacturers in late January, as they addressed the Federal Communications Commission (FCC) about their concerns. Those organizations, along with healthcare facilities across the country, want the FCC to leave the 608-614 MHz spectrum band alone and maintain it for the Wireless Medical Telemetry Service (WMTS). Better known as channel 37, the FCC is considering relocating the existing WMTS and allowing unlicensed devices to share it.

McAdams on Channel 37. Fortunately for the FCC, it can bend time, because, as Flick notes, the incentive auction notice is a doozy. It covers — in some detail — the auction, who's eligible; what to do with low-power TV stations, broadcast auxiliary operations, wireless microphones, white spaces, Canada, Mexico, pesky TV stations that stay on the air, extraterrestrial communications and annoying people visiting emergency rooms with heart attack symptoms. Any one of these things alone typically would be addressed in a separate ruling, possibly to flounder indefinitely, but the FCC has to pry the spectrum away from broadcasters before the public discovers that its "public" airwaves are being completely privateered by the progeny of Ma Bell.

More about Channel 37.

Hollywood biggies caught on tape agreeing to hide Middle East funding for anti-fracking film. James O'Keefe of Project Veritas has struck gold with his latest sting operation. The Hollywood Reporter explains how the guerilla warrior is publicizing his latest achievement in unmasking the left.

James O'Keefe Punks Hollywood Greens. O'Keefe's crew pose as a Middle Eastern potentate named "Muhammad" and his American ad executive. They approach the Tickells with an offer of $9 million to finance an anti-fracking film. "Muhammad's" motives are clearly expressed: he wants to keep the U.S. dependent on Middle Eastern oil, and to that end he wants to stamp out fracking. The Tickells have no problem with this at all. They discuss the need to keep the film's source of funding secret, and talk about how they can create a false impression as to who paid for it.

The Editor says...
James O'Keefe has done some important work in the past, but if this is the best he can do, I think he's about halfway over the shark.

Scientists Are Creating New, Incurable Diseases in Labs. Swine flu, or H1N1, had been dead for 20 years when it suddenly re-emerged in 1977 with a curious twist. The new strain was genetically similar to one from the 1950s, almost as though it had been sitting frozen in a lab since then. Indeed, it eventually became clear that the late-70s flu outbreak was likely the result of a lowly lab worker's snafu. Lab accidents like that are extremely rare. Still, two scientists are now arguing that it's not worth continuing to create new, transmissible versions of deadly viruses in labs because the risk that the diseases will escape and infect the public is too great.

No more get-out-of-jail-free cards for Minnesota legislators. Minnesota Secretary of State Mark Ritchie (D) is robbing state lawmakers of a cherished perk long used to get them out of sticky situations: A card that allows legislators to avoid arrest while the state House or Senate are in session. Under the state constitution, lawmakers cannot be detained except in cases of treason, felony or breach of the peace. The wallet-sized card has been used to get lawmakers out of drunken driving charges and other arrests, the Star-Tribune said.

The Robot Car of Tomorrow May Just Be Programmed to Hit You. Suppose that an autonomous car is faced with a terrible decision to crash into one of two objects. It could swerve to the left and hit a Volvo sport utility vehicle (SUV), or it could swerve to the right and hit a Mini Cooper. If you were programming the car to minimize harm to others — a sensible goal — which way would you instruct it go in this scenario? As a matter of physics, you should choose a collision with a heavier vehicle that can better absorb the impact of a crash, which means programming the car to crash into the Volvo. Further, it makes sense to choose a collision with a vehicle that's known for passenger safety, which again means crashing into the Volvo.

Arizona College Student Bounces Back From the Dead After Nearly Giving Organs. Two years ago, Sam Schmid's close encounter with death was called a "Christmas miracle." As he lay in a coma after sustaining massive brain injuries in a car crash, doctors were discussing organ donation with his parents and ready to take him off life support. Schmid astounded those at his hospital bedside who thought he was brain dead, raising two fingers to signal he still had life left in him. But at the time, no one knew if the Tucson, Ariz., college student would ever return to his studies — or even walk or talk again.

Governor signs bill allowing 'Dreamer' to get law license. Gov. Rick Scott signed 58 bills into law Monday [5/12/2014], including one that will allow a Pinellas County law school graduate to qualify for a Bar license even though he's not a citizen.

Ben Carson Moves Toward Presidential Run. Ben Carson is warming to the idea of running for president. Since the famous brain surgeon retired last year from Johns Hopkins Hospital, he's been speaking around the country to enthusiastic audiences. And they've affected his thinking about seeking national office. [...] Carson writes that he suspects many others interested in high office would be better candidates. But in his book he has a caveat: "If I felt called by God to officially enter the world of politics, I would certainly not hesitate to do so."

ICE data: 36,000 illegals with criminal convictions were released during deportation proceedings. A preemptive strike on DHS from the Center for Immigration Studies, designed to make Obama's upcoming "relaxation" of U.S. deportation procedures as politically painful as possible. He's desperate to pander to his base, which is impatient after waiting more than five years for amnesty and has now convinced itself based on cooked numbers that he's some sort of crazed border hawk. That's where the "relaxation" comes in — and that's the beauty of CIS's otherwise grim data, which shows just how relaxed the system already is.

Lamar Smith Calls Ice Release of 36,000 Criminal Immigrants a President-Sanctioned Prison Break. Texas Republican Rep. Lamar Smith reacted harshly to a new report detailing the crimes committed by 36,007 criminal immigrants that Immigration and Customs Enforcement released last year. "This would be considered the worst prison break in American history, except it was sanctioned by the President and perpetrated by our own immigration officials. These criminal immigrants should have been deported to ensure that they could never commit crimes on U.S. soil. But instead, ICE officials chose not to detain them and instead released them back onto American streets," Smith said in a statement Monday.

Feds released hundreds of immigrant murderers, drunk drivers, sex-crimes convicts. Immigration officials knowingly released dozens of murderers and thousands of drunken drivers back into the U.S. in 2013, according to Obama administration statistics that could undercut the president's argument that he is trying to focus on the most serious criminals in his immigration enforcement. Among the 36,000 immigrants whom U.S. Immigration and Customs Enforcement released from custody last year there were 116 with convictions for homicide, 43 for negligent manslaughter, 14 for voluntary manslaughter and one with a conviction classified by ICE as "homicide-willful kill-public official-gun."

The Editor says...
Fidel Castro did the same thing 20 years ago.

Military now turns down 80% of applicants. The U.S. Army hopes to hit 57,000 recruits for active duty this year. It's on pace to do just that, even while applying a stricter set of standards as it pertains to physical fitness, appearance (i.e., tattoos), intelligence test results and an applicant's criminal history. The Navy is no different.

When Driverless Cars Break the Law. There is little doubt that the technology behind driverless cars is nearly advanced enough for mainstream use. Google plans to make its biggest public display yet of its cars on Tuesday [5/13/2014], when it takes reporters on spins around Mountain View, Calif. Carmakers like BMW and Toyota are also preparing to sell cars that drive themselves. Instead, the bigger question about driverless cars is a legal one. Who is responsible when something goes wrong?

Bad Ideas in Oligarchy: Biden's Son Joins Board of Ukrainian Energy Company. Today, Burisma Holdings, a company that describes itself as "Ukraine's largest private gas producer," announced the newest member of its Board of Directors: R. Hunter Biden, a seasoned lawyer with extensive international business experience, will be in charge of the company's legal unit, as well as "provide support for the Company among international organizations." His end goal: to guide the company in a manner that will "contribute to the economy and benefit the people of Ukraine." Biden also has a prominent dad who's part of an administration currently embroiled in a conflict with Russia over the Ukraine, so, that's cool too. And it's not just that Joe Biden is his father, it's that Joe Biden has openly pledged to help Ukraine gain "energy independence" from Russia while condemning the latter's recent annexation of the Crimean peninsula. Really, this is an awkward situation.

9 Questions To Ask About Biden's Work With A Gas Company In Ukraine. Twitter is abuzz with questions about the involvement of Vice President Joe Biden's son Hunter with a gas company in Ukraine. The company, Burisma, allegedly appointed Hunter Biden to its board of directors. In late April, around the time the vice president made an official trip to Ukraine, Burisma allegedly appointed Devon Archer, one of Hunter Biden's business partners, to its board as well.

Urban Texans Lead Nation in Not Biking to Work. Among large cities with 200,000 or more people, according to a report released this week by the Census Bureau, five communities in Texas led the nation in having the smallest percentage of workers commuting by bicycle. In the border city of Laredo, Texas, in the five year period from 2008 through 2012, 0.0 percent of workers rode bikes to work. That topped all large cities for the smallest percentage of workers commuting by bike. In Garland, Plano, Fort Worth and Dallas, only 0.1 percent biked to work. These Texas cities tied for next to last. In four other Texas cities, only 0.2 percent rode bikes to work. These included Arlington, Irving, San Antonio and El Paso.

Pope Francis Demands 'Legitimate Redistribution' of Wealth. In Rome, during a speech to UN Secretary General Ban Ki-moon and other UN agency heads, Pope Francis called for a "legitimate redistribution of economic benefits" using government and the private sector. The AP reports that Francis asked the United Nations to promote "a worldwide ethical mobilization" through the "legitimate redistribution of economic benefits by the state, as well as indispensable cooperation between the private sector and civil society."

Pope Francis should stick to doctrine, stay away from economic 'redistribution'. Until this week, his statements have called for voluntary action by wealthier countries and individuals as the right way to relieve economic inequality. He appealed to our better selves, and in so doing, made us all ask if we could be kinder and more generous. The answer, of course, is yes. On Friday [5/9/2014], however, Francis chose a meeting with — of all people — officials of the United Nations to endorse what he called "the legitimate redistribution of economic benefits by the state, as well as indispensable cooperation between the private sector and civil society."

EMP Attack On Power Grid Could Kill 9-In-10. Expert testimony before Congress on Thursday [5/8/2014] warned that an electromagnetic pulse attack on our power grid and electronic infrastructure could leave most Americans dead and the U.S. in another century. That dire warning came from Peter Vincent Pry, a member of the Congressional EMP Commission and executive director of the Task Force on National and Homeland Security.

The Editor says...
One big problem with government forecasts of doom is the government's track record on pronouncements about global warming and various other potential threats, like SARS and acid rain and swine flu and holes in the ozone layer. I'd rather take my chances with EMP than with Big Brother.

When the lights go out forever. It would come with almost no warning. Without any immediate signs as to why, the lights go out, cars stop dead, telephones cease to function, everything with a microchip in it fails, and most of it all never works again. In the wake of an electromagnetic pulse (EMP) attack on the United States, part or all of the country is thrust back into the 1860s but with 10 times the population. The threat is real, it is pressing, and the United States is doing little to address it. It strikes many Americans as a fanciful prospect, almost cheesy apocalypse porn, to suggest that something as simple as the destruction of the nation's power grid could thrust the United States into the dark ages. But those who have investigated this prospect are not rolling their eyes to the threat as are so many of the country's sophisticates.

Mayor de Blasio unveils $41B proposal to develop 200,000 units of affordable housing. Plan envisions 80,000 new apartments and says housing 'central pillar' of fight against inequality.

The Editor says...
That's $205,000 per unit to build apartments — in a housing project.

Judge halts secret probe of Wisconsin conservative groups, in win for Walker. In a monumental victory for targeted conservatives in the secret Wisconsin investigation, Judge Rudolph Randa on Tuesday granted a preliminary injunction to stop the politically charged probe, ruling in favor of conservative activist Eric O'Keefe, his Wisconsin Club for Growth and "others." The probe had been looking into possible illegal coordination between conservative groups and Republican Gov. Scott Walker's recall election campaign, but came under fire for the opaque way it was conducted.

Libertarians Trail Meter Readers, Telling Town: Live Free or Else. Keene's two parking officers, both women, are often videotaped by young adults known as "Robin Hooders." They track the whereabouts of the officers by two-way radio, feed expired meters before $5 tickets can be written, and leave a business card saying that "we saved you from the king's tariff." Welcome to Sherwood Forest, N.H., where these acts of charity have led to some donations and gratitude, but also to sidewalk tensions, harassment allegations and litigation.

Arms Cache Most Likely Kept in Texas by the C.I.A. In passing references scattered through once-classified documents and cryptic public comments by former intelligence officials, it is referred to as "Midwest Depot," but the bland code name belies the role it has played in some of the C.I.A.'s most storied operations. From the facility, located somewhere in the United States, the C.I.A. has stockpiled and distributed untraceable weapons linked to preparations for the Bay of Pigs invasion and the arming of rebels and resistance fighters from Angola to Nicaragua to Afghanistan.

Indiana to host meeting for planning Constitutional Convention. The movement toward calling a state-led Constitutional Convention for the purpose of altering the Constitution bypassing Congress, as specified by Article V of the Constitution, has taken a step forward.

Lawsuit: Iowa's do-not-hire list is illegal. Iowa's state government has illegally used a so-called "do-not-hire" list for decades, a lawsuit filed Monday [4/28/2014] claims. The lawsuit argues that the state has created "blacklists" despite multiple rulings by administrative law judges warning against the practice.

Keywords: Necessarily skyrocket.
Energy Future Holdings files for bankruptcy, power business will continue operating. Energy Future Holdings filed for Chapter 11 bankruptcy reorganization Tuesday after agreeing with key financial stakeholders to keep its power-producing businesses operating in Texas while it reduces roughly $40 billion in debt. The company owns TXU Energy, a retail electricity provider, and Luminant, the state's largest power generator. State agencies, including the manager of Texas' electricity grid, have been closely watching the company in the run-up to its filing to ensure that power production is not impacted. In the short term, it appears power distribution and production will continue normally.

Clinton Library's Doc Dump Reveals CRA Fueled Subprime Bubble. During the 1990s, former Clinton aides bragged that more aggressive enforcement of the Community Reinvestment Act pressured banks to issue riskier mortgages, lending more proof the anti-redlining law fueled the crisis. A 2012 National Bureau of Economic Research study found "that adherence to that act led to riskier lending by banks," with "a clear pattern of increased defaults for loans made by these banks in quarters around the (CRA) exam, (and) the effects are larger for loans made within CRA tracts," or low-income and minority areas. To satisfy CRA examiners, Clinton mandated "flexible" lending by large banks. As a result, CRA-approved loans defaulted about 15% more often, the NBER found.

VA hospital backs down after slapping man with $525 fine over soda refill. The VA hospital that slapped a $525 federal fine on a man after he refilled his 89-cent drink without paying has backed down, choosing to issue a warning instead of a citation, a spokesperson for the facility said Thursday [4/17/2014]. Christopher T. Lewis, of North Charleston, was issued the $525 citation on Wednesday after he ignored signage indicating that there's no such thing as a free lunch — or complimentary drink refills — at the Ralph H. Johnson VA Medical Center in Charleston. Lewis, who is not a federal employee, told responding officers he had done the same thing "multiple times" before and never had any problems, hospital spokeswoman Tonya Lobbestael told FoxNews.com.

Texan, 23, Headed To State Prison For Urinating On The Alamo. A Texas man was sentenced yesterday to 18 months in state prison for urinating on the Alamo. Daniel Athens, a 23-year-old El Paso resident, pleaded guilty earlier this year to a criminal mischief charge in connection with the April 2012 incident at the Texas shrine. While Athens could have faced a maximum of two years in custody, a plea deal saved him up to six months in custody.

Police: Ohio Man's Drone Hindered Medical Chopper. A man is facing charges after deputies say he was flying a video camera-equipped drone that hindered the landing of a medical helicopter at an accident scene.

The Editor says...
I find this story hard to believe. A medical helicopter would blow a toy "drone" out of its way, and in the event of a collision, the helicopter would win. Sounds to me like a fabricated problem designed to build up public consensus in opposition to privately-owned and remotely-controlled aircraft.

U.S. Export-Import Bank: Corporate Welfare on the Backs of Taxpayers. Congress will soon debate the fate of the U.S. Export-Import Bank (Ex-Im), which doles out financing to favored corporations and credit to foreign governments. Proponents claim that such taxpayer bankrolling creates jobs and fills "gaps" in private financing. In fact, the bank is a conduit for corporate welfare beset by unreliable risk management, inefficiency, and cronyism. Terminating the bank's charter should be an easy call for lawmakers. Even Barack Obama, as a presidential candidate, endorsed its end. With strong growth in privately financed exports, there is no justification for maintaining this Depression-era relic.

This reader mocked Heartbleed, posted his passwords online. Guess what happened next. Here's a lesson in online security: Passwords are important. They keep your information safe. Crucially, they also prevent other people from impersonating you. Unfortunately, one of The Switch's readers learned that the hard way.

UNICEF launches 'Mr. Poo' mascot in India to curb public defecation. UNICEF's new campaign, "Poo2Loo," targets India's public defecation problem with a series of music videos, pranks and advertisements featuring a giant feces mascot. According to the campaign, 620 million Indians are defecating in public every day. "That's half the population dumping over 65 million kilos of poo out there every day. If this poo continues to be let loose on us, there will be no escaping the stench of life threatening infections, diseases and epidemics," the Poo2Loo website says, while asking visitors to sign a pledge to ending public defecation.

Facebook Exec to Headline Muslim Advocates' 'Countering Hate on the Internet' Dinner. Increasingly, the war in the information battlespace is being waged outside the hallowed halls of the enemedia. [...] The key to winning this war for freedom is in the war of ideas. So the apparatuses that truth-tellers and voices of freedom including my colleagues and me use, tools such as Facebook, Twitter, and Linkedin, are of cardinal importance. When news from my website AtlasShrugs.com goes viral, invariably it is Facebook that drives it.

Is One of the Most Famous Exonerations in U.S. History About to Fall Apart? One of the guidelines of liberal propaganda is that if you are going to lie, lie big. Global warming, Obamacare, Romney's a heartless guy. It might be time to add to the list the famous Anthony Porter exoneration in Chicago in 1999. Not only is Porter likely guilty of the double murder he was initially charged with, an innocent man therefore sits in an east central Illinois prison serving a 37-year sentence. His probable framing was largely orchestrated by a since-discredited "journalism" professor and his students at Northwestern University, a cowed prosecutor's office in Cook County, and a Chicago media that enabled the whole charade.

Carson for president backers report $4 million raised, campaign apparatus into place. Conservatives frustrated with the direction of the country think Dr. Ben Carson can change the course by winning the 2016 presidential race. Now they just have to convince him. The group, RunBenRun.org, a super PAC, has already raised $4 million toward a Carson bid for the Republican nomination and has collected 200,000 signatures for a petition to get him to join the race.

After 25 years in prison, man exonerated of NYC murder committed while he was at Disney World. Despite having documents to back him up, he was convicted of murder.

Men Average $11,505 Higher Salary than Women in Dick Durbin's Senate Office. [Sen. Dick] Durbin took to the Senate floor on Tuesday to preach on the importance of passing legislation aimed at solving the gender pay gap. "How serious is equal pay for equal work to working people across America?" said Durbin, "I think it's critical." The average female salary is $11,505 lower than the average male salary in Durbin's office, according to an analysis of Senate salary data from fiscal year 2013 that showed that more than two-thirds of Democratic Senate offices pay men more than women.

UPS Fires 250 Union Workers for Refusing to Work. The liberal pro-union agenda has been taking a toll on the American workforce for years. Our society has been eaten up by the entitlement mindset, training all of us to believe that we deserve certain things from our government and from our jobs. A prime example of this is how unionized workers have been trained to believe that if they don't get what they want, the best option is to just stop working until they get it.

House kills Obama budget 2-413. The House on Wednesday handily rejected a GOP budget alternative based on President Obama's 2015 spending blueprint. It was defeated 2-413, following a pattern seen in recent years in House votes to overwhelmingly reject Obama's budget proposals. Today's vote is just slightly better than the unanimous vote against Obama's budget in 2012. The two "yes" votes came from Reps. Marcy Kaptur (D-Ohio) and Jim Moran (D-Va.), who is retiring.

Obama dangles student-loan freebie for midterm 2014 voters. President Barack Obama today suggested that's he'll pressure Congress to to reduce voters' student-loan payments before the November elections. "We've got to make it easier to repay student loans," he told a subdued and unresponsive audience at Bladensburg High School, in Prince George's County, Md. He used the same student-loan pitch in the run-up to the 2012 election, which helped him improve his support among younger voters, many of whom are having difficulty earning enough in the Obama economy to pay off their college debts.

Rangel didn't pay rent but state bailed him out. New York City's longest-serving congressman won't pay his rent. State taxpayers were stiffed out of at least $87,000 when Rep. Charles Rangel stopped paying for the district office he rents in Harlem's Adam Clayton Powell Jr. State Office Building, records obtained by The [New York] Post show.

Canadian troops told to zip it on leadership complaints if they want medical care. Canada's wounded warriors are now being told they cannot criticize military leadership if they want to receive medical treatment, a top Canadian newspaper reported Wednesday. Injured troops are first being told they must sign a form that requires they do not discuss "your views on any military subject" and should not "write anything that might discourage others or make them dissatisfied with their conditions or their employment," The National Post reported.

Insult And Injury: How Doctors Are Losing The War Against Trolls. In the untamed world of online comment sections, no one is more vulnerable to criticism than doctors, who are restricted by confidentiality laws from defending themselves against even the most outlandish of claims. With patients increasingly dependent on internet marketplaces to find care — and increasingly prone to frustration — it's the caregivers who get hurt.

UPS fires 250 drivers in New York over walk out, report says. The shipping giant Monday [3/31/2014] fired these employees because they walked off the job in February in protest over the dismissal of a fellow Queens employee who worked for the company for 24 years, The [New York] Daily News reported. The report said 20 workers were fired after their shifts and 230 were told they will be fired once replacements are in place.

UPS dismisses 250 Queens drivers after they protested against long-time employee's dismissal. UPS has delivered a special message to 250 of its Queens drivers: You're fired! The Atlanta-based company is booting 250 of its unionized drivers from its Maspeth facility because they walked off the job for 90 minutes Feb. 26 to protest the dismissal of a long-time employee, UPS told the [New York] Daily News. Twenty employees were terminated Monday after their shifts — and the remaining 230 notified that they'll be canned as soon as replacements are trained, a company spokesman said.

Did Michigan just trigger 'constitutional convention'? Bid gains steam. At issue is what's known as a "constitutional convention," a scenario tucked into Article V of the U.S. Constitution. At its core, Article V provides two ways for amendments to be proposed. [...] The idea has gained popularity among constitutional scholars in recent years — but got a big boost last week when Michigan lawmakers endorsed it.

Study: Civil servant system outdated. The federal government is headed for a crisis, a new report warns, and without reforms, a homegrown problem threatens to derail everything from foreign policy, to entitlements, to food safety. The problem is the way the government manages its more than 2 million civil servants, according to a report from the nonprofit Partnership for Public Service and government consulting firm Booz Allen Hamilton.

U.N. Court Orders Japan to Halt Whaling Off Antarctica. The decision to ban Japan's annual whaling drive off Antarctica, handed down by the United Nations' highest court on Monday, was a hard-won victory for conservationists who long argued that Tokyo's whaling research was a cover for commercial whaling. The ruling by the International Court of Justice in The Hague halts a Japanese program that has captured more than 10,000 minke and other whales in the Southern Ocean each year since 1988 in the name of biological research.

U.S. to require rear cameras in all vehicles by 2018. The new rules set rear visibility standards that automakers will initially be able to meet only by installing cameras. [...] Since it was first proposed, the cost of hardware has come down as more cameras have been added to certain models. Honda Motor Co. and Subaru Motor Co. both announced they are making the cameras standard in all vehicles.

Iowa expands its 'do not rehire' list. Iowa continues to maintain an internal "do not rehire" list of fired employees who are barred from returning to state employment, even though judges have raised questions about its legality, according to a review by The Associated Press.

Anti-hate group blamed for inspiring Family Research Council gun attack dumped by FBI. The Southern Poverty Law Center, which has labeled several Washington, D.C.-based family organizations as "hate groups" for favoring traditional marriage, has been dumped as a "resource" on the FBI's Hate Crime Web page, a significant rejection of the influential legal group. The Web page scrubbing, which also included eliminating the Anti-Defamation League, was not announced and came in the last month after 15 family groups pressed Attorney General Eric Holder and FBI Director James Comey to stop endorsing a group — SPLC — that inspired a recent case of domestic terrorism at the Family Research Council.

Update:
The FBI isn't breaking up with the SPLC — it's just not keeping the relationship "official". Last week, the FBI received a lot of attention and praise from conservative sources for finally eliminating the Southern Poverty Law Center (SPLC) from its website's list of "hate crimes" resources. However, while a headline at Breitbart says the FBI "dumps [SPLC] as hate crimes resource," and an article at The Daily Caller said the FBI was "breaking ties" with the SPLC, a public statement from the FBI and the agency's own website indicate the removal may mean just that — removal from the site, not a diminishing of the relationship between the two organizations.

More than half of top posts in key Obamacare agency are vacant or held by 'acting' caretakers. Eighteen of the 32 top management jobs in the federal agency that is "ground zero" for running Obamacare are either vacant or filled on an acting basis. The agency is the Center for Consumer Information and Insurance Oversight. Its problems start at the top. Gary Cohen's last day as CCIIO's deputy administrator after less than two years on the job will be March 31, the latest departure from the agency. Including Cohen's position, more than half of the most important jobs in CCIIO are either vacant or held by caretaking "acting directors."

Half-blind guard caught sleeping at WTC site. Only days before President Obama revealed that his worst fear was a nuclear terror attack on Manhattan, a nearly blind guard was caught sleeping on the job at the Freedom Tower — where he was the building's first line of defense. In this cellphone photo obtained exclusively by The [New York] Post, Abdul Basher, 65, is wearing shades and lying almost completely horizontal in a chair in the No. 1 terror target's south lobby, where he was the only guard stationed, sources said. Even when awake, Basher admittedly can't open his left eye and has "hazy" vision out of his right due to a nerve condition.

Half-blind guard caught sleeping at WTC says he was just 'exercising his eyes'. An alarming photograph taken in the lobby of One World Trade Center shows a half-blind security guard sleeping on the job — but the security guard swears he was in fact 'exercising' his bad eyes. Instead of acting as the first line of defense for the world's number one terror target, Abdul Basher, 65, is laid out almost horizontal in a chair. The intensely embarrassing image was taken at around 2.45 am on Saturday — six days after a New Jersey teen made it past another guard on the 104th floor.

Security Boss at 1 World Trade Center Resigns. A spokesman for the New York City company that manages 1 World Trade Center says the building's head of security has resigned. The Durst Organization's Jordan Barowitz confirms David Velazquez resigned Friday [3/28/2014]. The departure comes just days after the arrests of three skydiving enthusiasts who in September parachuted off the building, the nation's tallest skyscraper. It comes about two weeks after authorities say a New Jersey teenager sneaked onto the site and climbed to the top of the 1,776-foot tower to take pictures.

DOJ: Free Exercise Clause Does Not Protect Kosher Meat Companies. U.S. Solicitor General Donald Verrilli told the Supreme Court on Tuesday [3/25/2014] that the First Amendment right to the free exercise of religion and the Religious Freedom Restoration Act (RFRA) — which Congress enacted to guide the Executive Branch and courts in defending that right — would not directly protect kosher or halal meat-processing corporations from a hypothetical federal rule that by generally banning certain meat-processing practices effectively banned kosher and halal meat processing by incorporated businesses.

Nabisco Ad: Homosexuality 'Wholesome'. Nabisco added its voice to the current trend of forcing liberal social agendas by producing a commercial for their Honey Maid graham crackers and Teddy Grahams snacks showing a homosexual couple raising two children with a voiceover stating "this is wholesome." The ad begins with a father bottle feeding his baby as another father slips in to kiss the baby's forehead. The commercial then meanders through a montage of families: mixed race, single dad, tattooed dad, military dad, and two dads.

NJ police: After finishing 15-year term for robbing shoe store, man returns and does it again. Police say a man who just completed a 15-year prison term for robbing a New Jersey shoe store went back there the day after his release and committed the same crime.

Sinkhole of bureaucracy. Here, inside the caverns of an old Pennsylvania limestone mine, there are 600 employees of the Office of Personnel Management. Their task is nothing top-secret. It is to process the retirement papers of the government's own workers. But that system has a spectacular flaw. It still must be done entirely by hand, and almost entirely on paper. [...] During the past 30 years, administrations have spent more than $100 million trying to automate the old-fashioned process in the mine and make it run at the speed of computers. They couldn't. So now the mine continues to run at the speed of human fingers and feet.

ORI Director's Resignation Demonstrates Corruption in Science. Science is rife with corruption, incompetence, dishonesty and fabrication — and now, thanks to a frank resignation letter by the US's top scientific misconduct official we have a better idea why. David E. Wright, a respected science historian, has just quit his job as director of the Office of Research Integrity (ORI; part of the Department of Health and Human Services) and is scathing about his experiences there. In his resignation letter, he accuses his boss HHS Assistant Secretary for Health Howard Koh of running an organization which is "secretive, autocratic and unaccountable."

Daredevil stunt reveals there are no working cameras in WTC tower. The Freedom Tower, America's top terror target, doesn't have a single working surveillance camera inside — a stunning security lapse that let a New Jersey teen roam the top floors undetected for two hours, The [New York] Post has learned. The video system for 1 World Trade Center "won't be operational until the building opens later this year," said a source familiar with the security plan. That means there is no footage of Justin Casquejo, 16, as he slipped by a sleeping guard to the antenna of the 1,776-foot-tall building Sunday morning.

Charges unlikely for Houston dad accused of shooting daughter's boyfriend, prosecutor says. The Houston father who police say fatally shot a 17-year-old boy who was inside his daughter's bedroom early Thursday morning [3/13/2014] will likely not be charged, an area prosecutor told MyFoxHouston.com. Although a grand jury will review the case, prosecutor Warren Diepraam said it is unlikely that the father will be charged.

Top HHS Official Resigns, Rips Sebelius On His Way Out. Calling working for the Obama/Sebelius Department of Health and Human Services the "worst job ever," David Wright has resigned as HHS director of the Office of Research Integrity. That office monitors potential research misconduct, a job that must have kept it quite busy before, during and after the Obamacare rollout.

HHS official resigns, pens a must-read rebuke of federal bureaucracy. A Health and Human Services official has resigned after dealing with the frustration of the "profoundly dysfunctional" federal bureaucracy, which left him "offended as an American taxpayer." In a resignation letter obtained by ScienceInsider, David Wright, director of the Office of Research Integrity (ORI) — which oversees and monitors possible research misconduct — offers a scathing rebuke of the unwieldy and inefficient bureaucracy that he dealt with for the two years he served in the position.

Official resigns over "remarkably dysfunctional HHS bureaucracy". The former Director of the Office of Research Integrity (OIR), David Wright, recently resigned in powerful fashion, penning a scathing letter to his boss in the Department of Health and Human Services (HHS) about the "remarkably dysfunctional HHS bureaucracy." The letter, written on February 25th and recently published at sciencemag.org, details the "intensely political environment" that is HHS, the department charged with crafting and implementing Obamacare policy and regulations. Apart from being famous for drafting 20,000 pages of onerous regulations inspired by the nearly 2,000 page Obamacare statute, HHS also made headlines for it's [sic] spectacularly disastrous rollout of healthcare.gov, the website responsible for ensuring the American people are actually able to comply with the new healthcare law.

Earth has a secret reservoir of water, say scientists. Writing in the journal Nature, scientists on Wednesday [3/12/2014] said they had found an elusive mineral pointing to the existence of a vast reservoir deep in Earth's mantle, 400-600 kilometres (250-375 miles) beneath our feet. It may hold as much water as all the planet's oceans combined, they believe. The evidence comes from a water-loving mineral called ringwoodite that came from the so-called transition zone sandwiched between the upper and lower layers of Earth's mantle, they said.

Senate chaos: Democrat says cabinet secretaries can ignore GOP questions. The Democratic chairman of the Senate Health, Education, Labor, and Pensions Committee declared Wednesday that cabinet secretaries do not have to answer questions at hearings if they don't feel like it, the latest breakdown in collegiality. In a politically-charged atmosphere during a hearing on increasing the minimum wage, HELP Committee Chairman Tom Harkin brushed aside ranking Sen. Lamar Alexander's request for a "yes or no" answer from Labor Secretary Thomas Perez.

Koch Brother Donates Money to Hospital, Liberals Protest (Not a Parody). In fact, it was the New York State Nurses' Association, the NAACP New York State Conference, and SEIU Local 1199, among others, who marched on the soon-to-be-built David H. Koch Center at New York-Presbyterian Hospital, which was funded in part by a $100 million donation from the man one prominent liberal recently predicted would go down in history as a "famously evil person." The donation was the largest in the hospital's history, and will presumably create a fair number of new nursing jobs. So why are the usual suspects up in arms?

First state passes Article V Convention of States resolution. Hey libs, it's happening. The first state has passed a resolution to convene a constitutional convention and right the balance between the federal and state governments.

Court decision invites widespread public school violence. A three-judge panel of the Ninth U.S. Circuit Court of Appeals may have been on solid legal ground when they agreed that school officials in Morgan Hill, Calif., could bar students from wearing U.S. flag T-shirts on Cinco de Mayo to prevent ethnic violence from students of Mexican ancestry, but their decision raises troubling concerns about threatening such violence as a means of suppressing free expression.

Discipline reform' is in Obama program to help young men. What's that mean? When President Obama announced "My Brother's Keeper" Thursday [2/27/2014], he identified school discipline reform as one key to supporting the success of young men of color. School suspensions and expulsions, which occur more often among black and Latino boys, make dropping out of school — and the host of risk factors that come with that — more likely. "My administration has been working with schools on alternatives to the so-called zero-tolerance guidelines — not because teachers or administrators or fellow students should have to put up with bad behavior, but because there are ways to modify bad behavior that lead to good behavior," Mr. Obama said in announcing My Brother's Keeper.

Farrow, After Three Days on the Air, Receives Cronkite Award. His first television show has only been on the air for three days, but Ronan Farrow is already winning awards for his journalistic work. Reach the World, a global education group, will honor the 26-year-old Farrow with its annual Cronkite Award for Excellence in Exploration and Journalism.

Feds unveil plan to save honey bees — and $15 billion in crops they pollinate. Claiming that the future of American food production depends on a revived honey bee population, the Agriculture Department on Tuesday [2/25/2014] announced it will spend $3 million to help ranchers and farmers improve the health of the bugs, key to pollinating $15 billion worth of food. [...] The money will be in the form of financial assistance and technical help targeted to five Midwestern states: Michigan, Minnesota, North Dakota, South Dakota and Wisconsin.

Here Come The Democratic Birthers. What? You thought only Republicans could be birthers? In a fundraising email sent out Monday [2/24/2014], the bombastic, bombthrowing Florida Democrat Alan Grayson included a transcript of remarks from an interview with MSNBC where he claimed that Ted Cruz was ineligible to be president. [...] Although the Constitution says that the President must be a "natural born citizen," the term is not defined. However, most legal scholars believe that anyone who is a citizen at birth is "natural born."

Another "Successful Banker" Found Dead. The dismal trail of dead bankers continues. As The Journal Star reports, a successful Lincoln businessman and member of a prominent local family died last week. [...] This brings the total of banker deaths in recent weeks to 9 as Stuart is sadly survived by three sons and four daughters.

Group tries to slow federal government's move away from paper to the Web. As the Obama administration pushes to do more business over the Internet, finally seeking to close the technology gap with the private sector, the digital makeover is running into a dogged opponent called Consumers for Paper Options. The group is working the halls of Congress in closed-door meetings, underwriting research favorable to its position and mounting a news media campaign in an effort to preserve Washington as the capital of paper — and slow the move away from printed checks, forms and other paper communication.

Closing Arguments in ATF Agent's Case Against The Government Begin and End Today. The closing arguments in Dobyns v. USA are set to take place this morning at the U.S. Federal Courthouse in Tucson, Arizona. Former ATF Special Agent Jay Dobyns has been suing the Bureau of Alcohol Tobacco and Firearms for more than a year after the agency failed to properly provide protection for himself and his family. His battle with the government has spanned over the course of a decade.

Most troubled PAC in history flies under radar, squanders Democratic donors' cash. A PAC called 21st Century Democrats has raised $5.3 million since 2009, but not a penny of it has gone to candidates' campaigns or independent expenditures on their behalf, according to Federal Election Commission records. That makes 21st Century Democrats one of the largest, yet least effective, independent political action committees in the country.

Medical Center won't let patients watch Fox News. I imagine the only thing worse than being forced to watch CNN inside an airport terminal is being forced to watch it in a doctor's office. So you can imagine my surprise when I discovered a Michigan health care facility, funded by federal tax dollars, blocked Fox News Channel from its waiting room television sets. The president of Family Health Care directed staff to block Fox News after a board member complained about our network's coverage of the Affordable Care Act, an employee told me.

Judicial Watch: Top Pentagon Leader Ordered Destruction of bin Laden Death Photos. Judicial Watch announced Monday [2/10/2014] that it received documents through a Freedom of Information Act lawsuit showing that Admiral William McRaven ordered the immediate destruction of any photos of Osama bin Laden's death within hours of a Judicial Watch FOIA request.

Making butane hash a lethal mix in home drug labs. The "chef" hunkered over a batch of hash oil he was making in a kitchen in Redondo Beach, using a common but extremely dangerous method known as "open blasting." The 26-year-old meticulously stirred and heated the marijuana extract into the highest clarity, slowly producing "butane honey oil" that would be as clear and pure as amber. This potent type of hash, also called "wax," has taken off in the marijuana market with the rise of electronic cigarettes and other vaporizing devices.

Michelle Obama Pitches Student Aid: 'Almost Everyone Is Eligible'. [Scroll down] The latest data show that the national two-year student loan default rate rose from 9.1 percent for FY 2010 to 10 percent for FY 2011. The three-year default rate rose from 13.4 percent for FY 2009 to 14.7 percent for FY 2010. The Financial Stability Oversight Council, a division of the U.S. Treasury, reported in April 2013 that "large and growing student debt burdens and a poor job market have pushed many borrowers into delinquency."

Study: Fatal Car Crashes Involving Marijuana Have Tripled. According to a recent study, fatal car crashes involving pot use have tripled in the U.S. "Currently, one of nine drivers involved in fatal crashes would test positive for marijuana," Dr. Guohua Li, director of the Center for Injury Epidemiology and Prevention at Columbia, and co-author of the study told HealthDay News.

Half the nation's uninsured live in just 116 counties. A new study conducted for The Associated Press shows the administration is best off focusing on a relatively narrow geographic area: Half of those under 65 without insurance live in just 116 of the nation's 3,143 counties. And half of all 19-39 year olds without insurance — the most coveted demographic as health-care providers look to expand their risk pools — live in 108 counties.

Bernanke Leaves Fed with Record Balance Sheet of $4,102,138,000,000. Retiring Federal Reserve Chairman Ben Bernanke, who was replaced by Janet Yellen as of today, is leaving the Federal Reserve with an unprecedented $4,102,138,000,000 in total assets on its balance sheet, up 391 percent from the $834,663,000,000 in total assets the Fed showed on its balance sheet when Bernanke took over as chairman in February 2006. Much of the increase in the Fed's assets has come in the form of U.S. Treasury securities and Freddie Mac and Fannie Mae mortgage-backed securities that the Fed purchased over the last five years in its attempts to stimulate the economy.

There's Something About MyRA. By now, you may have heard about MyRA. The acronym, which President Barack Obama stumbled over in his State of the Union speech Tuesday night, stands for My Retirement Account. Obama introduced the new plan like this: "MyRA guarantees a decent return with no risk of losing what you put in." On Wednesday, the administration said it will launch a pilot program of the "new, simple, safe and affordable 'starter' retirement savings account" by the end of the year.

Western residents face threat of water rationing as feds reduce water flow. For years, experts have been warning people in the American West they will have to make do with less water in the future. That dryer future already may have arrived. This year, for the first time in history, lower flows in the Colorado River have prompted the federal government to reduce the amount of water flowing into Lake Mead reservoir outside Las Vegas. Bureau of Reclamation officials say if the river's level doesn't increase soon, there's a 50 percent chance that by next year, residents in Arizona, southern Nevada and California will have to start rationing water.

Most Americans Are Unaware Of [Insert Issue Here].
• Fewer than 25% of Californians knew "much at all" about the massive healthcare overhaul, the Affordable Care Act, that impacts every single American.
• Fewer than half of parents with children in public schools knew anything about the Common Core Standards, arguably one of the most radical overhauls of education in at least 50 years.
• A measly 39% of Republicans who think the 2012 attacks on an embassy in Benghazi was the "biggest political scandal in American history" could identify that event took place in a country called Libya.
• For kicks, 41% of Americans cannot ID their folksy deputy commander-in-chief, Vice President Joe Biden.

Feds charge Bitcoin start-up founder with money laundering. Less than a year after raising $1.5 million for his Bitcoin exchange start-up BitInstant, CEO Charlie Shrem has been charged with money laundering. A news release from U.S. prosecutors in Manhattan said that Shrem knowingly facilitated illegal purchases on the now-shuttered underground drug marketplace Silk Road. Silk Road was a Web site that allowed users to buy everything from heroin to fake IDs. To help preserve users' anonymity, the site required all transactions to be conducted in bitcoins. According to the government, a man named Robert Faiella worked with Shrem to sell bitcoins to Silk Road users.

Fed's Dirty Little Secret: "The Gold Isn't There... Exists as Paper IOU's". The assumption by global depositors who have entrusted their national savings with the Federal Reserve and US Government has always been that when they request to repatriate their holdings the Fed would simply open the vault, access said assets and ship them back to where they belong. That's exactly what Germany expected would happen last year when the country requested that the Federal Reserve return about one-fifth of their gold reserves. But that's when things got really dicey.

An Allen West comeback? Allen West may have lost his seat in Congress, but the Florida Republican is not done with elected politics. West told radio host Jesse Lee Peterson Thursday [1/23/2014] that another Allen West candidacy would likely be coming in 2016. "I will definitely come back," said West, who lost his seat in 2012 to now-Congressman Patrick Murphy by fewer than 3,000 votes.

The 25 most common passwords of 2013. According to password management company SplashData, the top three passwords of the year are "123456," "password" and "12345678." The top three passwords haven't changed, but "123456" and "password" swapped places from last year. The company's list of the "25 worst passwords of the year" was compiled using data that hackers have posted online, which are said to be stolen passwords.

Bombshell sworn allegation against Tim Geithner. If anyone thinks "Bridgegate" is an example of political bullying and abuse of power, then the sworn (under penalty of perjury) allegation of a corporate heavy hitter against Secretary of the Treasury Timothy Geithner is off the charts.

Pro-death Insanity Envelops Belgium. [T]here's an insidious creeping horror that is progressively challenging our inherent notions of compassion and decency: the Culture of Death, which, over the last 30 years, has steadily been pushing the limits of acceptable medical behavior. Europe has been ground zero for the pro-deathers' ultimate goal: Death on demand at any time, anywhere, for any reason, for anyone, and by any means necessary — usually by assisted suicide and euthanasia. Even within the European pro-death context, Belgium has gone stark raving mad.

Judge allows subpoena for records from Times-Picayune. A federal magistrate has allowed a defense attorney to subpoena records from a New Orleans news organization about comments anonymously posted on its website.

National Cathedral goes off the deep end. The cathedral's website promised that "written prayers, yoga mats, zafu meditation cushions, poetry, and mandalas to draw and color" would be "available as reflection tools." For those unfamiliar with Eastern religions, you use a zafu during a zazen (sitting) meditation session. Mandalas are geometric patterns representing the cosmos, and are used in Hinduism, which has thousands of gods, or in Buddhism, which is godless.

Ukrainians rally against new protest law. Demonstrators packed Kiev's Independence Square in freezing temperatures on Sunday, rallying in defiance of new laws that set limitations on the right to protest. Protesters and police accused each other of attacks during the large demonstration, which stretched into the early morning hours.

Court: Bloggers Have Same First Amendment Protections as Traditional Journalists. A blogger — and, really, the public at large — has the same protections for free speech in the United State as a traditional journalist and can only lose a defamation lawsuit on an issue of public concern if plaintiffs manage to prove negligence. In a ruling that may come as a surprise to many bloggers who probably didn't even realize this was even a question, the 9th U.S. Circuit Court of Appeals ordered a new trial for Crystal Cox, a blogger who had lost a defamation lawsuit in 2011 over a blog post that accused an Oregon bankruptcy trustee and Obsidian Finance Group of fraud, reports the Associated Press.

Change for a Nickel? U.S. Mint Is Weighing It. Industry groups are particularly wary of tweaks to U.S. coinage, which could force companies to update the equipment they use to accept change. Machinery is now calibrated for a nickel that has been 75% copper and 25% nickel since 1866, except for a brief stint during World War II. Dimes and quarters have been made out of the same nickel-copper sandwich since 1965.

Daunting Mathematical Puzzle Solved, Enables Unlimited Analysis of Encrypted Data. The patented breakthrough, called "fully homomorphic encryption," could enable deep and unrestricted analysis of encrypted information — intentionally scrambled data — without surrendering confidentiality. IBM's solution has the potential to advance cloud computing privacy and security by enabling vendors to perform computations on client data, such as analyzing sales patterns, without exposing or revealing the original data.

Exclusive: U.S. waived laws to keep F-35 on track with China-made parts. The Pentagon repeatedly waived laws banning Chinese-built components on U.S. weapons in order to keep the $392 billion Lockheed Martin Corp F-35 fighter program on track in 2012 and 2013, even as U.S. officials were voicing concern about China's espionage and military buildup.

FBI quietly drops 'law enforcement' as its primary mission. Without any fanfare, "law enforcement" has been dropped from its status as the FBI's primary mission.

Obama's War Against the Elderly. To begin with, you are probably aware that the nest-egg you saved is being undermined by inflation and lowered interest rates. But let's consider how much and why this has happened, by doing some arithmetic.

Study names Virginia 'Worst state to be a burglar'. Virginia is the worst state in the U.S. for burglars, according to a new nationwide study by a security systems company. According to statistics compiled by SimpliSafe Home Security Systems, Virginia homeowners are 46 percent less likely to be burgled than the national average. The study compares the legislative codes of all 50 states as well as the District of Columbia, and contrasts maximum and minimum burglary sentences, as well as maximum fines, as well as other factors.

Cops can use radio waves to bring your car to a halt. Finding a safe way to stop fleeing cars has been a difficult problem for law enforcement for a long time. Police have tried everything from spike strips to PIT maneuvers to bring fleeing villains to a halt. Now, however, a British company has a slightly more high tech idea: radio waves. The company, known as E2V is working on a system called RF-Safe Stop that projects radio pulses which overwhelm and shutdown engine electronics.

The Editor says...
I would not want to be in the vicinity when that weapon was used. Will the police pay for knocked-out engines on nearby cars? Probably not. If the radio signal is powerful enough to kill an automobile engine, wouldn't it also kill all the electronics in the are, and wouldn't it be a severe health hazard? At the very least, this would almost certainly violate the FCC's RF exposure standards for "uncontrolled exposure areas."

State Dept Whistleblower's Emailed Hacked, Deleted. The personal e-mail account of a State Department whistle-blower was hacked, and four years worth of messages — some detailing alleged wrongdoing at the agency — were deleted, The [New York] Post has learned. The computer attack targeted the Gmail account of Diplomatic Security Service criminal investigator Richard Higbie, his lawyer, Cary Schulman, confirmed. "They took all of his e-mails and then they deleted them all," said Schulman. He said that he could not prove who was responsible for the hack job, but said the attack was "sophisticated" and called the targeting of Higbie "alarming."

19% of Americans Trust Government. According to this new Pew Research poll, very few people trust government. Let's hope it drops even lower so we can have a better shot at returning our society to a more rational, free, and productive state. The more people believe in individual liberty and taking personal responsibility for their actions the better off we all will be.

Cryptolocker ransomware has 'infected about 250,000 PCs'. A virulent form of ransomware has now infected about quarter of a million Windows computers, according to a report by security researchers. Cryptolocker scrambles users' data and then demands a fee to unencrypt it alongside a countdown clock. Dell Secureworks said that the US and UK had been worst affected.

Twitter Reportedly Blocking Links to Phil Robertson Petition Site. Plenty of Phil Robertson and Duck Dynasty fans have flocked to Twitter to voice their support for the Duck Commander, but it appears that Twitter is now blocking users from posting links to the site IStandWithPhil.com.

Update:
Twitter Apologizes for 'Mistakenly' Blocking Pro-'Duck Dynasty' Site. On Tuesday, Twitter apologized for "mistakenly" blocking the iStandWithPhil.com website, which meant users who supported the Duck Dynasty patriarch who was suspended from A&E for supposedly "anti-gay" remarks could not link to the site in their tweets. The petition demands the reinstatement of Phil Robertson and has nearly 250,000 signatures.

Ethnicity And Race Designations Required? As usual, the girl behind the front desk handed me a sheet with insurance information to verify. I did so by comparing all the numbers on the sheet with the health insurance card that I carry in my wallet, then handed the sheet back to her. She said: "You haven't completed the form. See the top right." There were two more lines to fill in. One said "ethnicity," the other "race." Never before has any insurance form in any doctor's office I have visited required such designations!

X-37B Marks One Year On Orbit. The X-37B offers a unique opportunity to not only launch things into space but get them back intact. Combine the goals of the USAF and the NRO, and there's enough justification for the cost of operating the X-37B program. So the X-37B sits calmly in orbit, quietly testing its mettle against the harsh environment of space. Amateur satellite watchers who track the spacecraft have sometimes observed orbital changes, but no really strange behaviour. The Air Force says almost nothing. The NRO says nothing at all. And X-37B normally remains out of the news headlines.

28 Pages Later: Shrouding an Act of War. American blood spilled in wars that do not attack those who attacked us on 9-11. To put this in perspective, fewer died in Pearl Harbor and we nuked the Japanese. We were told after 9-11, that it was al Qaeda, with no other state sponsors. If the allegations prove accurate, 9-11 was nothing less than an act of war by Saudi Arabia.

TSA Wants to Hire 'Economically Disadvantaged Woman Owned Small Business'. The Transportation Security Administration (TSA) is looking exclusively for an "economically disadvantaged woman owned small business" when it awards its next $30 million contract for security training. The agency announced a solicitation for a company to conduct training for its Inter-Modal Security and Training Exercise Program (I-Step) last week. [...] An economically disadvantaged woman is one who earns less than $350,000 a year, with a net worth not greater than $750,000.

The Editor asks...
What happened to "equal employment opportunity without regard to race or gender"?

City to dealership: Take military flags down. The City of Idaho Falls told an auto sales company to take down its flags honoring the military. "We're just here supporting the troops," said Autos 4 Less owner Jonathon Long. "We're even doing a Christmas donation box for veterans." Long was told to take these flags down after the city apparently received complaints.

The Editor says...
Car dealerships routinely use ridiculously large flags to attract attention. In west Dallas, it is often the Mexican flag. Sometimes it is an exercise in bad taste, but even the most despicable used car dealer is entitled to freedom of expression, is he not?

Homeland Security inspector general who was under probe steps down. An acting inspector general who was himself under investigation for allegations he misused his office and softened reports to keep from embarrassing the Obama administration stepped down from his job late Monday [12/16/2013]. Charles K. Edwards, who was charged with overseeing the vast Department of Homeland Security and its many bureaus and agencies since the retirement of the former inspector general, had faced a broadening Senate probe this year that focused on whether he had altered and delayed investigations to please the agency and the White House.

Convicted Terror Supporter Attends Congressional Briefing. A convicted terrorist supporter who is currently under house arrest attended a Capitol Hill briefing hosted by a pro-Muslim Brotherhood group in a congressional office building earlier this month, according to reports. Sami Al-Arian, a former engineering professor at the University of South Florida, pleaded guilty to conspiracy to aid the Palestinian Islamic Jihad (PIJ) in 2006. He has been under house detention in Northern Virginia since 2008 for refusing to testify in a subsequent terror financing trial. Al-Arian admitted in the plea agreement to having worked with the PIJ and other groups from the 1980s to the 1990s.

Ex-Scientology leader sues Church for harassment. Scientology members allegedly set up high-tech surveillance cameras to spy on the family of a disillusioned former leader, a bombshell harassment lawsuit against the church claims. Monique Rathbun, wife of former church bigwig turned critic Marty Rathbun, filed a suit in Comal County, Texas, saying she has been "harassed, insulted, surveilled, photographed, videotaped, defamed and humiliated" by church members, including a group called the "squirrel busters" who allegedly rented a home near the couple to spy on them.

Journalists Place Near Bottom in Poll Ranking Public Respect for Professions. Continuing a decades-long trend, members of the media placed near the bottom in a poll which asked respondents their opinions of various professions. In the Gallup survey, TV reporters were barely more popular than advertising salespeople, state-level politicians, car salesmen, members of Congress, and lobbyists with just 20 percent of respondents saying they had a favorable opinion. They were tied with lawyers. Print newspaper reporters fared slightly better at 21 points.

Report: W.H. delayed Obamacare, EPA rules till after 2012 election. In an effort to ease President Obama's reelection bid, the White House delayed the imposition of a series of regulations affecting Obamacare and environmental protection ahead of the 2012 election, according to a new report in the Washington Post.

White House delayed enacting rules ahead of 2012 election to avoid controversy. The White House systematically delayed enacting a series of rules on the environment, worker safety and health care to prevent them from becoming points of contention before the 2012 election, according to documents and interviews with current and former administration officials. Some agency officials were instructed to hold off submitting proposals to the White House for up to a year to ensure that they would not be issued before voters went to the polls, the current and former officials said.

Kermit Gosnell Gets 30 Years In Drug Sentencing. Dr. Kermit Gosnell was sentenced Monday [12/16/2013] in federal court for distribution of drugs from his West Philadelphia doctor's office. This is almost a footnote to the three consecutive life terms he is already serving for murder and other crimes.

Inside the Saudi 9/11 coverup. After the 9/11 attacks, the public was told al Qaeda acted alone, with no state sponsors. But the White House never let it see an entire section of Congress' investigative report on 9/11 dealing with "specific sources of foreign support" for the 19 hijackers, 15 of whom were Saudi nationals. It was kept secret and remains so today. President Bush inexplicably censored 28 full pages of the 800-page report. Text isn't just blacked-out here and there in this critical-yet-missing middle section. The pages are completely blank, except for dotted lines where an estimated 7,200 words once stood.

The Editor says...
In general, those of us who question the official government narrative about 9-11-2001 are mocked as "truthers" by the political left and (if you will pardon the redundancy) the news media. Eventually the truth will be fully exposed, and those of us who seek to uncover it will be vindicated. Please note that the article immediately above was published in the New York Post, not just on a web site that caters to dubious conspiracy theories.

Act of War: CIA Leak Gives "Incontrovertible Evidence" That 9/11 Was State Sponsored. If you have ever questioned the official narrative for the September 11th attacks then you have, without a doubt, been dubbed a conspiracy nut by the establishment media and those who hang on their every word. Like the Warren Commission report on the JFK assassination, the 9/11 Report assembled by a Congressional investigation is unraveling and being revealed for what it really is — nothing more than a cover story. This is no longer a conspiracy theory... it's conspiracy fact.

Obama Becomes First President to Acknowledge Existence of Area 51. According to NPR's Adam Wollner, the closest any other U.S. president has come to discussing Area 51 was when President Bill Clinton issued a presidential determination exempting the site from environmental disclosure laws. But that document only referred to the base as "the Air Force's operating location near Groom Lake, Nevada." The CIA did not acknowledge its existence until last year.

Lockheed Martin Contracted to Colonize Mars in Mars One Project. Lockheed Martin has landed a contract to build a lander to colonize Mars as a part of the Mars One Project. The bid proposed by a Dutch company says they have received over 20,000 applications to be one of the first people to not only ever set foot on Mars, but set up a permanent human colony on the red planet. The plan involves sending four people in the year 2025, funded by the Mars One foundation, with absolutely no chance of returning back to Earth once dispatched.

Meet the Robot Telemarketer Who Denies She's A Robot. The phone call came from a charming woman with a bright, engaging voice to the cell phone of a TIME Washington Bureau Chief Michael Scherer. She wanted to offer a deal on health insurance, but something was fishy. When Scherer asked point blank if she was a real person, or a computer-operated robot voice, she replied enthusiastically that she was real, with a charming laugh. But then she failed several other tests. When asked "What vegetable is found in tomato soup?" she said she did not understand the question. When asked multiple times what day of the week it was yesterday, she complained repeatedly of a bad connection.

Comrade Mandela's Secret Life. The South African Communist Party is admitting Nelson Mandela was a high-ranking member. Will the media report these facts? Or will the "myth" continue to prevail?

Private company plans US's first controlled moon landing in 40 years. A U.S. spacecraft hasn't made a controlled landing on the moon since Apollo 17 left the lunar surface on Dec. 14, 1972. That's about to change.

The Coming Global Wealth Tax. Between ObamaCare, Iran and last quarter's uptick in U.S. economic growth, taxpayers these days may be distracted from several dangers to come. But households from the United States to Europe and Japan may soon face fiscal shocks worse than any market crash. The White House and New York Mayor-elect Bill de Blasio aren't the only ones calling for higher taxes (especially on the wealthy), as voices from the International Monetary Fund to billionaire investor Bill Gross increasingly make the case too.

Drones [are the] secret weapon in [the] hunt for feral pigs. Feral pigs in America's deep South are a major problem for farmers and civilians alike, with the porcine predators causing an estimated $1.5 billion annually in damage to crops and wildlife. Enter the Louisiana Hog Control, an extermination company launched in 2011 by a couple of engineers determined to make a dent in the thriving pig population.

Republican doctors running for Congress amid ObamaCare rollout fiasco. Eleven Republican doctors are running for the Senate, hoping that voters will see their medical expertise as an asset amid the administration's botched rollout of ObamaCare [...] A 2012 Gallup survey rated medical doctors as the third most-trustworthy profession, below only nurses and pharmacists. In contrast, members of Congress were second from the bottom, considered more trustworthy than only care salespeople.

US's top secret launch nuclear launch code was frighteningly simple. For nearly 20 years, the secret code to authorize launching U.S. nuclear missiles, and starting World War III, was terrifyingly simple and even noted down on a checklist. From 1962, when John F Kennedy instituted PAL encoding on nuclear weapons, until 1977, the combination to fire the devastating missiles at the height of the Cold War was just 00000000. This was chosen by Strategic Air Command in an effort to make the weapons as quick and as easy to launch as possible, as reported by Today I Found Out.

Detroit bankruptcy moves forward as judge rules city can shed debt. Detroit's historic bankruptcy will move forward after a judge ruled Tuesday [12/3/2013] that the financially crumbling city is eligible to shed billions in debt.

Obama Admin Drafted Memos on Trillion-Dollar Coin During Debt Ceiling Showdown. Fans of economic policy may recall that during one of the many recent debt ceiling showdowns, the idea to mint a trillion-dollar platinum coin came to the fore. It turns out that the Obama administration took the idea seriously enough to have the Justice Department's Office of Legal Counsel draft memos pertaining to its legality, a fact belied by the White House's out-of-hand dismissal of the option in January.

U-M Paul DeWolf murder case: How stolen laptop's 'Find my Mac' app led to arrests. It had been more than two months since a popular University of Michigan medical student was shot to death, and police seemingly had few leads. But on Oct. 3 — 45 miles from where student Paul DeWolf was killed in his Ann Arbor fraternity — a man in Detroit attempted to log onto a computer he'd just purchased through Craigslist. The man didn't know it, but the Mac laptop had been stolen from DeWolf's next-door neighbor around the time he was killed. That computer had an app that would lead police directly to it, and to the two suspects now charged in DeWolf's killing.

DeKalb County juror form lists "slave" as occupation. A new online juror questionnaire offered by the DeKalb County Court listed "slave" as an occupational option. Court Administrator Cathy McCumber told 11Alive, the questionnaire went online a month ago, but is based off an internal list that's been used for 13 years.

Inside a Twitter Robot Factory. One day earlier this month, Jim Vidmar bought 1,000 fake Twitter accounts for $58 from an online vendor in Pakistan. He then programmed the accounts to "follow" the Twitter account of rapper Dave Murrell, who calls himself Fyrare and pays Mr. Vidmar to boost his standing on the social network. Mr. Vidmar's fake accounts also rebroadcast Mr. Murrell's tweets, amplifying his Twitter voice.

Mother claims flu shot is responsible for death of teenage son. A Utah mother is claiming that a flu shot is responsible for the recent death of her 19-year-old son. Chandler Webb received the shot on October 15 during a routine physical, after he had decided to go on a mission for The Church of Jesus Christ of Latter-day Saints. The day after the exam, Chandler became extremely ill — suffering from vomiting and headaches. A little more than a week later, Chandler slipped into a coma and spent nearly a month on life support at Intermountain Medical Center in Murray, Utah. While at the hospital, Chandler underwent a variety tests, but his doctors couldn't confirm what had caused his illness.

The Editor says...
Here in Dallas, the County government has been aggressively promoting and marketing flu shots for several years. As for me, I'd rather take my chances with the germs than the government, because the people who are lining up for flu shots don't really know what's in it! After making flu shots a matter of routine for several years, the government may someday add some extra ingredients.

Lefties fabricate a new reason to hate online college courses. The ability of people to enroll in online college course is a grave threat to the power of professors. First and most obviously, it is low cost, high quality competition. If students can listen to lectures by superstar professors from elite schools like Harvard or Stanford for free or nearly free, they might not be so anxious to fork over tuition for the local talent at a second or third tier institution. The faculty at San Jose State University understands this very well, and have revolted against their institution participating in Massive Open Online Courses (MOOCs).

Don't trust anything on Wikipedia. Based on Wikipedia's comical ignorance of a subject I know well — New York City real estate — I'd take it a step further for the entire "people's encyclopedia" site: Believe nothing it says about anything. It's no secret Wikipedia's often bonkers. Teachers warn students, and editors warn reporters. Even so, the myth endures that it's a viable research tool that "usually" gets it right, even if a touch of skepticism occasionally comes in handy.

A Russian GPS Using U.S. Soil Stirs Spy Fears. In recent months, the Central Intelligence Agency and the Pentagon have been quietly waging a campaign to stop the State Department from allowing Roscosmos, the Russian space agency, to build about half a dozen of these structures, known as monitor stations, on United States soil, several American officials said. They fear that these structures could help Russia spy on the United States and improve the precision of Russian weaponry, the officials said.

Ex-Fed official: 'I'm sorry for QE'. There's a real question as to whether the massive bond-buying program known as quantitative easing was worth the cost, former Federal Reserve official Andrew Huszar said Tuesday [11/12/2013]. "My argument is not that QE was not at all useful," he said on CNBC's "Fast Money." "I believe that at the time, it was just one more tool that the Fed introduced to try to help the economy," he said. "My point, ultimately, is the idea that very quickly into QE, it started becoming obvious that it wasn't working in the way that it was supposed to."

The secret world of cargo ships. [Scroll down] A system to scan 100 percent of all U.S.-bound cargo was to be in place by July 2012. Six foreign ports signed on to the 100 percent requirement, but by February 2012 five had dropped out. The process was too expensive and too difficult. In reality, scanning every single U.S.-bound container is an outlandish idea: Customs officials attempting to scan all U.S.-bound containers leaving one Hong Kong terminal managed only 5 percent. The authors of a study commissioned by the EU thought the 100 percent target akin to a trade barrier and undiplomatically said so. The technology to do the scanning isn't yet good enough; the blockages would choke ports.

Obama's Portable Zone of Secrecy (Some Assembly Required). When President Obama travels abroad, his staff packs briefing books, gifts for foreign leaders and something more closely associated with camping than diplomacy: a tent. Even when Mr. Obama travels to allied nations, aides quickly set up the security tent — which has opaque sides and noise-making devices inside — in a room near his hotel suite. When the president needs to read a classified document or have a sensitive conversation, he ducks into the tent to shield himself from secret video cameras and listening devices.

HHS to issue sweeping mental health rules. The Obama administration will issue long awaited regulations Friday [11/8/2013] that require insurers to treat mental illness and addiction the same as physical illnesses, current and former lawmakers said. In testimony Thursday before a Senate Judiciary subcommittee, mental health advocate and former Rep. Patrick Kennedy (D-R.I.) said Health and Human Services Secretary Kathleen Sebelius would announce the action during a speech in Atlanta. Members of the panel familiar with the rule-making also said the regulations would be issued Friday.

Marvel Comics Introduces Muslim Superhero. Marvel Comics latest minority superhero is a teenaged Muslim-American girl of Pakistani descent who will take on the currently unused Ms. Marvel persona. The teen will be named Kamala Kahn, a Muslim girl going to high school and growing up in Jersey City, New Jersey. For the last few years the comics giant has been engaged in an effort to introduce "diversity" into a comics universe historically dominated by white, male superhero characters.

Obamacare Woes Put Shutdown Rationale in New Light. For three years Republicans warned that this contraption was so bulky and poorly built that it would have trouble getting off the ground — and that Americans would hate it. Ignored or marginalized by the media, these critics are now having their say.

Vets group halts donations after official refuses to stand for Pledge. A north suburban parks official says he's standing up for the U.S. Constitution by sitting down during the Pledge of Allegiance. But Morton Grove Park District Commissioner Dan Ashta's symbolic actions have spurred an ideological tug of war with a local veterans group, which recently halted cash donations to the Park District until its entire board stands for the pledge at park board meetings.

8,400 Security Clearance Holders Owe IRS $85 Million in Unpaid Taxes. More than 8,000 federal workers and contractors with security clearances owe $85 million in unpaid taxes to the IRS, according to the Government Accountability Office (GAO). The GAO warned that individuals who have significant debt and access to classified documents pose potential security risks.

Every state's richest person: America's wealthiest people from sea to shining sea. A new list out Tuesday [10/29/2013] reveals that America's wealth isn't just for the coastal elite by showing just how rich each state's most monied top dog really is. From Hawaii, where real estate mogul Jay Shidler reigns supreme to Maine, where L.L. Bean chairman Leon Gorman looks out onto his outerwear empire, these are the richest in each.

Obamacare launch spawns 700+ cyber-squatters capitalizing on Healthcare.gov, state exchanges. More than 700 websites have been created with names playing off of Obamacare or Healthcare.gov, making it likely that some Americans will mistakenly hand over private information to unknown third-parties.

USS Forrestal, the Navy's first supercarrier, sold for 1 cent. It's an inauspicious fate for a ship with a colorful — and tragic — history. It's perhaps best known for a 1967 incident in which stray voltage triggered an accidental explosion that struck a plane on the flight deck whose cockpit was occupied by a young John McCain. A chain reaction of blasts and fires ultimately killed 134 men and injured more than 300. But its rich past and nearly four decades of service are not enough to spare it.

Broke U.S. Resumes Spending. What would you think of a person who earned $24,000 a year but spent $35,000? Suppose on top of that, he was already $170,000 in debt. You'd tell him to get his act together — stop spending so much or he'd destroy his family, impoverish his kids and wreck their future. Of course, no individual could live so irresponsibly for long. But tack on eight more zeroes to that budget and you have the checkbook for our out-of-control, big-spending federal government.

There's no actual debt ceiling right now. The fiscal deal passed by Congress on Wednesday evening to re-open the government and get around the $16.4 trillion limit on borrowing doesn't actually increase the debt limit. It just temporarily suspends enforcement of it. That means Americans have no idea how much debt their government is going to rack up between now and Feb. 7, when the limits are supposed to go back into place and will have to be raised. There is no dollar amount set for how much debt the government can accumulate between now and then.

Loophole will allow government to spend without limit until February.
Surprise! Debt-ceiling deal gives Obama a blank check. It's the ultimate sweetheart deal for a free-spending federal government: Wednesday night's [10/16/2013] debt deal didn't actually raise the limit on America's credit card, but instead removed it entirely until February 7, 2014. Whether through legislative sleight-of-hand or something less sinister, the law of the land now permits the U.S. to run up new debts for 16 weeks without consequences, and forbids the Treasury Department from enforcing the debt limit that ordinarily keeps spending from spiraling out of control.

The International Monetary Fund Lays The Groundwork For Global Wealth Confiscation. The International Monetary Fund (IMF) quietly dropped a bomb in its October Fiscal Monitor Report. Titled "Taxing Times," the report paints a dire picture for advanced economies with high debts that fail to aggressively "mobilize domestic revenue." It goes on to build a case for drastic measures and recommends a series of escalating income and consumption tax increases culminating in the direct confiscation of assets.

Nobel Peace Prize Again Goes To Group That Has Done ... What, Exactly? Alfred Nobel would be rolling over in his grave to see some of the absurd choices his beloved peace prize is now drawing. No, it wasn't just the award to global terror pioneer Yasser Arafat in 1994. Or the one that went to the bureaucrat-filled, bankrupt European Union in 2012. There also was the premature award to just-elected President Obama in 2009, who had done literally nothing but get elected president of the U.S. on a make-America-smaller platform.

Air Force fires general in charge of ICBMs. The Air Force is firing the two-star general in charge of all of its nuclear missiles in response to an investigation into alleged personal misbehavior, officials told The Associated Press on Friday [10/11/2013].

Air Force Fires Two Star General in Charge of Nuke Missile. The Air Force's two star general in charge of the units responsible for its 450 nuclear missiles has been fired "due to a loss of trust and confidence in his leadership and judgment." Maj. Gen. Michael Carey has been removed from command of the 20th Air Force, according to an Air Force statement. That command is responsible for the three wings that maintain control of the 450 intercontinental ballistic missiles scattered in missile silos across the northern plains.

NBC/WSJ poll: 60 percent say fire every member of Congress. Throw the bums out. That's the message 60 percent of Americans are sending to Washington in a new NBC News/Wall Street Journal poll, saying if they had the chance to vote to defeat and replace every single member of Congress, including their own representative, they would. Just 35 percent say they would not.

Liberal heckling sparks stream of one-liners from Ted Cruz. [Scroll down] To another heckler, Cruz responded: "Ma'am, thank you for being here. I wish you would participate in the democratic process through speaking respectfully. ... It seems that President Obama's paid political operatives are out in force today. And you know why? Because the men and women in this room scare the living daylights out of them."

Hard truths: Obama's report card 1,724 days in. Six out of ten Americans now believe their federal government has become too powerful. That's the largest percentage this century and one point higher than the previous top, 21 months into the Obama administration.

We Are All Tea Partiers Now: Americans Say No to Debt Ceiling Increase. A new Fox News poll shows that a majority of American voters — 58 percent — would vote "no" on raising the debt ceiling. Only 37 percent of American voters would vote to raise the debt ceiling. An even bigger majority — 62 percent — would only vote to raise the debt ceiling after "major cuts in government spending."

Ford lets cars find parking spots. Ford Motor Co. says it has developed a car that can sniff out open parking spaces ahead — and then park itself in that space, even without a driver behind the wheel. [...] Ultrasonic sensors can detect an open parallel, diagonal or perpendicular parking space ahead while a vehicle is traveling up to 18 miles per hour, with enough lead time that the driver doesn't overshoot the space. The driver can then brake, shift to neutral, and press and hold the Fully Assisted Parking Aid button in the car.

The Editor says...
This might have been an amusing college-level programming project, but it is a solution for which there is no problem. If you can't put your car into a parking space without making contact with the surrounding cars, and if you need a computer to take over that task, you should not be driving a car. Press releases about technological "breakthroughs" of this sort serve only as free advertising, because the perception of cutting-edge technology will get mentioned on the air every time.

FBI raids on homes in Texas, Michigan remain a mystery. Federal officials on Monday remained silent on why they raided homes in Texas and Michigan this weekend that property records indicate are owned in part by a Houston art appraiser.

The Editor says...
I find it hard to believe there's a valid reason for all the secrecy about what they were looking for, or what they found. My guess, based on the treatment of Gibson Guitar, is that the "art appraiser" said or did something Barack H. Obama didn't like.

Mugged by a Mug Shot Online. Mug shots are merely artifacts of an arrest, not proof of a conviction, and many people whose images are now on display were never found guilty, or the charges against them were dropped. But these pictures can cause serious reputational damage, [...]

Who's Afraid of Peer Review? [Scroll down] The goal was to create a credible but mundane scientific paper, one with such grave errors that a competent peer reviewer should easily identify it as flawed and unpublishable. Submitting identical papers to hundreds of journals would be asking for trouble. But the papers had to be similar enough that the outcomes between journals could be comparable. So I created a scientific version of Mad Libs.

How Soviet Intelligence Promoted Christian Marxism. When you can't beat them, join them. That's what the Soviet Union did to curtail Christianity's anti-communist influence. In a new book titled Disinformation, a covert campaign to discredit Pope Piux XII is revealed. In addition, the Soviets tried to influence the church with a Marxist-friendly version of Christianity.

No astroturf here.
Tea Party Patriots Have Record Turnout for Cruz on Tele-Townhall. The Tea Party Patriots blew away expectations at last night's tele-townhall on the Continuing Resolution with 104,000 participants for Senator Ted Cruz (R-TX) and Rep. Jim Bridenstine (R-OK). The previous record for an event was three weeks ago when 67,000 participants attended. TPP Co-founder Jenny Beth Martin stated, "no special measures were taken to draw the crowd — only the standard Facebook post for two hours and a robocall earlier in the day."

U.S. Federal Housing Administration to tap $1.7 billion in taxpayer funds. The U.S. Federal Housing Administration said on Friday [9/27/2013] it will draw $1.7 billion in cash from the U.S. Treasury to help cover losses from troubled loans, marking the first time in its 79-year history that it has needed aid.

The Pentagon's biggest, baddest — and costliest — piece of hardware ever. When the USS Gerald R. Ford is finally christened, the massive aircraft carrier will be the biggest and baddest piece of Pentagon hardware ever built — and, critics note, the most expensive. The 1,106-foot ship, under construction in Newport News, Va., has seen cost overruns push its expected price tag up some 22 percent to nearly $13 billion, with new technology dictating changes since work began in 2007.

Craig James accuses FOX Sports of religious discrimination. Former Patriots running back Craig James, who lost his job commentating on college football for FOX Sports after just one week, now says he was the victim of religious discrimination, and he has hired a lawyer to do something about it. James spent one week working for FOX Sports Southwest before FOX announced that he would not be back, citing anti-gay comments James had made. James now says those comments were expressions of his religious beliefs, and he says FOX's statement about his termination was tantamount to a ban on religious people working at the network.

Broadcaster Fired for Opposing Same-Sex Marriage Blasts Fox Sports for Religious Discrimination. This is not just a blatant case of religious discrimination in violation of law. It is not merely an example of yet another step in the media's attempt to silence those of a traditional perspective on same-sex marriage. It is a story that traces up much higher in the national FOX Sports organization than the regional network.

Bank of America ordered to pay $2.2 million to black Charlotte job seekers. Bank of America has been ordered to pay $2.2 million to more than 1,000 black job applicants turned down for positions in Charlotte after a federal judge ruled that the bank racially discriminated against them, the U.S. Department of Labor announced Monday [9/23/2013].

The Editor says...
It sounds like a trap was set for the bank. Do you really believe that in a city with a population of 750,000, a thousand people — all of them black — applied for work at the same bank, and they were all turned down, and then they all got together and hired a lawyer? Isn't that a little far-fetched?

A River of American Money Flows to D.C.. To be sure, Americans' money is flowing to the nation's capital. But it's not flowing back. Indeed, the metropolitan area of Washington, D.C., a city with little identifiable industrial output, dominates the Census Bureau's newly updated list of America's wealthiest counties. [...] Based on the median family income in 2012, the wealthiest county in America — by far — is Arlington Co., Va., located just across the Potomac River from D.C. In fact, Arlington's median family income ($137,216) is more than $10,000 higher than that of any other county in the United States.

Atomic bomb nearly exploded over North Carolina in 1961, report says. The U.S. Air Force nearly detonated an atomic bomb over North Carolina in 1961 that would have been 260 times more powerful than the device that destroyed Hiroshima, according to a declassified report published Friday [9/20/2013] in The Guardian. The 1969 document, obtained by investigative journalist Eric Schlosser under the Freedom of Information Act, details the Jan. 23, 1961, B-52 crash near Goldsboro, North Carolina, that saw two Mark 39 hydrogen bombs break up in mid-air. The report said that one of the two bombs behaved exactly as nuclear weapon is designed to function in wartime and that only a single low-voltage switch prevented detonation.

US nearly detonated atomic bomb over North Carolina. The document, obtained by the investigative journalist Eric Schlosser under the Freedom of Information Act, gives the first conclusive evidence that the US was narrowly spared a disaster of monumental proportions when two Mark 39 hydrogen bombs were accidentally dropped over Goldsboro, North Carolina on 23 January 1961. The bombs fell to earth after a B-52 bomber broke up in mid-air, and one of the devices behaved precisely as a nuclear weapon was designed to behave in warfare: its parachute opened, its trigger mechanisms engaged, and only one low-voltage switch prevented untold carnage.

Acquittal: Tom DeLay's Conviction Overturned. Ronnie Earle's ridiculous, political case against former Rep. Tom DeLay has finally collapsed. An appeals court has not only overturned DeLay's conviction, but has ordered him acquitted of all charges.

Appeals court overturns DeLay conviction, acquits him. For the second time in the last few years, a high-profile corruption prosecution against a Republican member of Congress has collapsed. This time, it's Tom DeLay that gets to celebrate, as an appeals court not only overturned his conviction but ordered an acquittal.

Tom DeLay money laundering verdict overturned. For Tom DeLay, it was a day of triumph in the arena where he once held sway. Walking through the halls of the U.S. Capitol, the once powerful Republican was greeted by cheers, hugs and slaps on the back from friends and former colleagues. The images are a stark contrast to DeLay's darker days in the not so distant past.

DeLay: 'I can get my concealed weapons license back'. Mr. DeLay had been convicted by a Texas jury of laundering money through several political groups in order to help federal candidates win elections in Texas, but an appeals court said the money-shifting was legal and tossed the conviction and officially acquitted him of the charges.

Tom Delay conviction overturned. The wheels of justice have finally ground into dust the conviction of former Majority Leader Tom Delay, whose brilliant political career was ruined by a politicized indictment undertaken by a left wing district attorney named Ronny Earle.

DeLay conviction overturned. An Austin appeals court on Thursday [9/19/2013] overturned the conviction of former U.S. House Majority Leader Tom DeLay on charges related to a scheme to influence Texas elections. The vote by the 3rd Court of Appeals in Austin was 2-1. DeLay's three-year prison sentence has been on hold as his case has made its way through the appellate process.

DeLay's Vindication, Texas's Shame. It is a scandal that there has been and will be no serious jail time in the matter of former Republican majority leader Tom DeLay — Ronnie Earle, the hyperpartisan Democratic prosecutor whose risible case against DeLay has just been finally thrown out by the Third District Texas Court of Appeals, richly deserves to be measured for an all-orange wardrobe. After eleven years, the matter of Mr. DeLay's fund-raising in the 2002 election cycle has been finally put to rest, with Mr. Earle's case having been vivisected by Justice Melissa Goodwin, [...]

Washington Sees Incomes Soar as Most of U.S. Declines. American incomes have tumbled over the last decade. But for many people in Washington, D.C., it's been something of a party. [...] [The D.C.] economy is expanding faster than the broader nation, and its property market is soaring, thanks in part to increased federal-government spending and an influx of federal contractors, lawyers and consultants.

Germany Could Face Electricity Customer Revolt. Der Spiegel, Germany's leading weekly news magazine, reports this week that Germany's aggressive renewables program "has come with a hefty price tag for consumers," especially the poor. Though no immediate action is expected before national elections in two weeks, there may be new initiatives soon after, as "government advisors are calling for a completely new start."

U.S. soldiers accepting cash, drugs for Mexican drug cartel contract hits. Mexican drug syndicates have been offering cash to American military members to act as contract killers in murder-for-hire plots in the United States. Experts worry this line of work will only become more enticing for vets who struggle to find civilian jobs after serving in combat zones and wary military recruits look for gang connections to potentially use their skills unlawfully.

Quran-Burning Pastor Terry Jones' Arrest Could Be Unconstitutional, Experts Say. Terry Jones, the Quran-burning pastor based in Gainesville, Fla., says his Wednesday [9/11/2013] arrest by Polk County police was pre-planned to prevent his First Amendment-protected book bonfire. Free speech experts say if that's true, his arrest was unconstitutional. Jones was arrested after traveling in a truck that police say was towing 2,998 kerosene-soaked Qurans inside a large grill. He said he intended to burn one Quran for each of the victims of the 9/11 terrorist attacks.

'Eco-school' that opened just three years ago is already leaking. When it opened its timber doors three years ago, this £7million 'eco primary school' was applauded for its environmentally friendly credentials. It was heated by solar power and its plumbing system relied on rain collected from the roof, which was made of locally grown sweet chestnut. Sadly, the zero-carbon building is not quite as sustainable as the designers had hoped.

Venezuelan Gov't launches mandatory news broadcast. Venezuelan President, Nicolás Maduro announced on Tuesday [9/10/2013] at a public event that the Government would launch a "Truth News Broadcast" via mandatory radio and television broadcasts to air his Administration performance.

A Million Muslims and Two Million Bikers. With an additional three million people descending on Washington, DC, for two separate rallies, one would've thought the National Mall would've been difficult to navigate yesterday afternoon. It wasn't. The Million American March Against Fear, sponsored by American Muslim Political action Committee, was only sparsely attended. With about two dozen people present, planners' estimates fell short by about 999,976 attendees.

Dozens Attend 9/11 Million Muslim March. As of 12:35 PM EST on Wednesday, September 11, the much-ballyhooed Million Muslim March on the National Mall had a grand total of 25 attendees — including Professor Cornel West. The rally has thus far included some "prayers, speeches, and a moment of silence" for victims of the September 11, 2001 Islamist terror attacks.

Will US Media Take Note of Growing Values-Driven Spanish-Latin American Coca-Cola Boycott? Catholic News Agency is ahead of the curve on a likely major development affecting a U.S. household name. The Coca-Cola Company's sponsorship of a "controversial Spanish reality (TV) show" ("disgusting" would appear to be a better word) in Spain is blowing up in its face, and not only because of the content of the program itself. The caustic reaction of a Coke executive to those who have criticized his company's support of the program has sparked calls for a boycott of the company's products which seems to have the potential to cut into the company's sales volume.

California judge rules on the side of sound science — no warning labels required. In the culmination of a five-week trial, California's Judge Brick ruled that health warnings would not be necessary on various fruit and vegetable products, 100% juices and baby foods, from companies including Del Monte, Dole, Gerber, Hain-Çelestial, J.M. Smucker, Seneca Foods and Welch's. The demand for such labeling was sparked by an environmental advocacy group, the Environmental Law Foundation, [...]

Shooting breaks out — at anti-violence vigil. Charlotte's recent spate of violence took a new twist Thursday night when gunfire broke out at an anti-violence vigil in the city's Villa Heights neighborhood.

Marines retreat on court-martial charges in Taliban urination case. The Marine Corps has suddenly dropped criminal charges against an officer in the infamous Taliban urination video case, heading off what promised to be an embarrassing pre-trial hearing for the commandant on Wednesday [9/4/2013]. Defense attorneys for Capt. James V. Clement had won a judge's order, over objections from Marine prosecutors, for two staff attorneys to testify in open court about how senior commanders had interfered in the case to get a guilty verdict.

Congressmen Intentionally Remain 'Low Information Voters' on Obamacare. On 9/10 Tea Party Patriots will descend on Washington to provide their federal representatives with something they apparently don't have — a clue. That clue is that the citizens want Congress to exempt America from Obamacare, just like they've exempted big special interest groups.

Tea Party Groups Nationwide Unite Against American Attack on Syria. Tea Party activists appear to be virtually unanimous in their support for the position taken by Senator Ted Cruz (R-TX), who said on Tuesday [9/3/2013] the United States "should not serve as Al-Qaeda's Air Force."

What's the worst that could happen in your state? An interactive map.

Russia releases 100-page report blaming Syrian rebels for a chemical weapons attack. Russia says it has compiled a 100-page report detailing what it says is evidence that Syrian rebels, not forces loyal to President Bashar Assad, were behind a deadly sarin gas attack in an Aleppo suburb earlier this year.

Hackers find weaknesses in car computer systems. In recent demonstrations, hackers have shown they can slam a car's brakes at freeway speeds, jerk the steering wheel and even shut down the engine — all from their laptop computers.

220,000 pounds of fish poisoned in Chinese river in latest pollution scandal. Authorities in China have scooped up around 220,000 pounds of dead fish today that they say were poisoned by ammonia from a chemical plant. Locals said dead fish covered the surface of the Fuhe River in central China and stretched for about 25 miles.

The Editor asks...
Where are the environmental activists and the animal rights people now? They are all completely silent, because the offense took place in a Communist country.

This sounds like satire, but maybe it isn't.
Ex-squaddie changes sex and converts to Islam. A former soldier has gone from downing pints with the lads — to having a sex change and converting to Islam. Lucy Vallender, 28, said she is finally being "true to herself" after becoming Britain's first transgender Muslim. Defiant Lucy — who used to be a TA private called Laurens — has become the second wife of a devout Muslim. Lucy, who used to live in Cirencester, wed her online sweetheart without telling him she used to be a man. Now she prays five times a day and wears a full burkha [...]

The Editor says...
This story is a liberal tabloid newspaper's dream come true: It includes polygamy, a transsexual freak, a Muslim man-woman in a burkha, long-distance courting over the internet, and a subtle slap at the military. Any bets on how soon he/she will be stoned, doused with acid, or shot, when his/her new husband finds out he/she used to be a man?

Alleged chemical weapons sites can't be bombed safely: experts. Bombing stockpiles of chemical weapons — purposely or accidentally — will likely kill nearby civilians in an accidental nerve agent release, create a long-lasting environmental catastrophe or both, experts said.

Pentagon knew in 2012 that it would take 75,000 ground troops to secure Syria's chemical weapons facilities. Securing Syria's chemical weapons stockpiles and the facilities that produced them would likely require the U.S. to send more than 75,000 ground troops into the Middle Eastern country, MailOnline learned Wednesday [9/4/2013]. That estimate comes from a secret memorandum the U.S. Department of Defense prepared for President Obama in early 2012.

The More Participants Used Facebook in a Michigan Study, the Worse They Felt. For $20 and the chance to win an iPad, participants agreed to answer five survey questions texted to them five times a day over two weeks and a more broad survey at the beginning and end of the study. After two weeks, the team tabulated the data and found some fairly unambiguous results. Participants who logged into Facebook more often tended to suffer a diminished sense of well-being ("how do you feel right now") moment to moment and lower overall life satisfaction at the end of the period.

Tea Party Leader Who Endorsed McConnell Opponent Is Registered Democrat. A prominent Kentucky Tea Party leader who endorsed the Republican primary challenger to Senate Minority Leader Mitch McConnell is a registered Democrat who signed a pledge to support Democratic policies and principles while running for state representative in 2012.

NY case puts N-word use among blacks on trial. A federal jury has rejected the argument that use of the N-word among blacks can be a culturally acceptable term of love and endearment, deciding its use in the workplace is hostile and discriminatory no matter what.

The problem with commercial drones: Sometimes they crash. Small drones are regulated like radio-controlled airplanes, in that they aren't really subject to much regulation at all, beyond guidelines that say they should be kept under 400 feet and stay clear of populated areas. While drones are technically banned from commercial use, the Federal Aviation Administration rarely punishes companies that use them.

These guys are definitely not law school material.
Gun-carrying criminals taunting NYPD cops after stop-frisk ruling. "You can't stop me! You can't do that no more! There are new rules!" suspect Steven Sidbury, 21, allegedly yelled at officers as they approached him in crime-riddled East New York last week. The cops walked over to Sidbury when they spotted a suspiciously heavy object in the pocket of his hoodie outside 225 Wortman Ave. in Brooklyn just before midnight Thursday. He taunted them over stop-and-frisk, then ran and tripped — and a loaded .38-caliber revolver dropped out of his jacket, law-enforcement sources told The [New York] Post.

The VA's Backlog of Unprocessed Claims Swells Under Obama-Shinseki. [Scroll down] Meanwhile, albeit largely ignored by the mainstream media, Obama's own veterans affairs "scandal" was unfolding — an enormous backlog of veterans claims. In 2011, the claims backlog ballooned by 155 percent. To its credit, the Washington Post is now covering this matter. And the more it probes, the worse the matter looks.

Despite backlogs, VA disability claims processors get bonuses. While veterans waited longer than ever in recent years for their wartime disability compensation, the Department of Veterans Affairs gave its workers millions of dollars in bonuses for "excellent" performances that effectively encouraged them to avoid claims that needed extra work to document veterans' injuries, a News21 investigation has found.

New Obama Scandal Erupts: Trump Targeted. [Scroll down] Then on Thursday [8/22/2013], Obama himself meets "privately" with his buddy the Attorney General of New York, Eric Schneiderman. Two days later? This headline in Politico: ["]N.Y. sues 'Trump University'["] Coincidence?

Houston Could Add 80,000 Jobs in 2013. So many jobs are coming to Houston top oil companies from around the world are building new office spaces to accommodate their new employees. In fact, banks are loaning money to companies even if the developers do not have a tenant. Texas's economy is growing and grew 4.8% last year. They added 100,000 jobs and Houston alone could add 80,000 this year.

U.S. agency says Michael Jackson estate owes $702 million in taxes. The estate of pop music legend Michael Jackson owes $702 million in federal taxes and penalties, the Internal Revenue Service charged in U.S. Tax Court, accusing the estate of undervaluing some of the star's assets by hundreds of millions of dollars.

CIA Authors "Secret Key" Unlocks CIA Redactions. "I was in the belly of the beast. I began to see the lengths to which the CIA will go to conceal unconstitutional operations, hide information from Congress and silence anyone inside who challenges it." Those are the words of Kevin M. Shipp, a former category 1, highly decorated CIA agent [...]

Woman Settles With Chicago Over $100,000 Parking Fine. A Chicago woman has settled with the city of Chicago after she was left with more than $100,000 in parking fines when her ex-boyfriend abandoned her car in an inaccessible airport parking lot for nearly three years.

The Editor says...
Common sense would suggest a ceiling on parking fines, perhaps equal to the auction value of the offending vehicle. But most traffic fines and parking fines have only a thin connection to common sense or public safety — they are all about raising money.

Nonprofits Take to the Air. From October 15 to October 29, the Federal Communications Commission will be accepting applications for low-power FM radio licenses — community radio stations that broadcast at 100 watts or less, typically listenable within a roughly 5-mile radius. Organizations must be locally owned, not-for-profit and be able to identify an unused frequency in their area.

The Editor says...
I could easily identify unused frequencies in my area, except that the big-money broadcasters own several stations apiece, which used to be illegal. This action by the FCC will put the finishing touches on total bedlam on the FM broadcast band, which is exactly the kind of situation that the FCC was created to prevent.

Suspect in Huntington Beach riots arrested after "liking" his photo on police dept's Facebook page. When the Huntington Beach Police Department posted a series of photos to its Facebook page on August 7th, asking for assistance in identifying some of the suspects involved in some of that day's activities, Luis Rodriguez was the feature in photo #15. Apparently the temptation was too much for Rodriguez to resist. He "liked" the photo of himself, a mock-worthy move that wasn't lost on viewers of the post.

What a tough life they have!
White House Press Corps: We're Prisoners of Obama's Vacation. Members of the White House press corps went on record Sunday [8/18/2013] complaining about what it's like to follow the President around on vacations such as his present one in Martha's Vineyard. Some even said they're prisoners of Obama's vacation.

The Editor says...
Years ago, many members of the press complained about having to spend so much time in Crawford, Texas. It's hard to imagine that Martha's Vineyard is such a rough place to spend a week.

Feds lose another case against employers using credit, criminal reports to screen applicants. A Maryland court has dismissed a lawsuit against an events-services company accused by the Equal Employment Opportunity Commission of discriminatory hiring practices, a setback for a federal agency that increasingly argues the use of credit reports and criminal background checks can disproportionately impact minorities. The judge stated that using such checks can in some cases be discriminatory. However, the EEOC "bears the burden of applying reliable expert testimony and statistical analysis that demonstrates disparate impact stemming from a specific employment practice before such a violation can be found. ... The EEOC has failed to do so in this case."

The press is suddenly interested in the citizenship of presidential candidates.
Ted Cruz releases birth certificate. [Senator Ted] Cruz was born in Canada in 1970, to an American mother and Cuban father. By virtue of his mother's status, Cruz instantly became a U.S. citizen. He released his birth certificate to the Dallas Morning News, verifying what he has previously asserted. [...] As the Dallas Morning News points out, some legal experts say that Cruz also became a Canadian citizen by virtue of being born there, and must renounce his citizenship there, lest he remain a citizen of both countries. But Cruz's office says that so far as it knows, the senator has no Canadian citizenship.

Ted Cruz Releases Birth Certificate, Is Eligible to Run for President, Canadian Parliament. Texas Senator and potential 2016 candidate for the Republican nomination Ted Cruz released his birth certificate to the Dallas Morning News on Sunday, in an attempt to quell a minor birther movement that has questioned Cruz's American citizenship and eligibility to be president.

This is reason enough to leave Facebook, if you didn't have plenty of reasons already:
Facebook Group Says 'Virgin Mary Should've Aborted'. Bible-believing Facebook users who are members of the group, "Catholics & Protestants Against FB Religious Discrimination" led the online fight to have the page taken down — and succeeded. But, they didn't have long to celebrate. As the religious group reports, Facebook just reversed its decision. Now, the newly republished "Virgin Mary Should've Aborted" page has over 8,000 likes.

Defended murderers and pedophiles? New ICE boss' background called into question. The acting director of Immigration and Customs Enforcement is a former criminal defense attorney who represented accused and convicted murderers, sex offenders and pedophiles and fought for the release of violent convicted offenders — a background some critics say makes him a less than ideal choice to lead the nation's second-largest law enforcement agency.

CVS is now requiring ID to buy nail polish remover. Nail polish remover has become an age restricted, controlled substance. A week ago, CVS has instituted a policy in the Washington D.C. region that anyone who purchases nail polish remover from one of their stores will have their ID scanned and their purchases tracked. Nail polish is removed by acetone, a colorless, flammable liquid which is also used as paint thinner and it would seem, as an ingredient necessary for making methamphetamine.

FCC approves rate cuts for inmates' interstate phone calls. Over the objections of groups such as the Idaho Sheriffs' Association, the FCC set a top rate of 25 cents a minute for collect calls and 21 cents a minute for prepaid calls. Current rates can be roughly four times higher. The commission also directed that rates be "cost-based," which rules out certain considerations that have increased contract costs."

'Sliders' steal from cars as you pump gas. Thieves now brazenly steal while you're pumping gas. It's been happening across the country, from Florida to Texas to Kentucky to Washington, D.C., according to reports on NBC's Today and ABC's Good Morning America. Women seem to be primary targets in what are usually drive-by purse-snatchings.

Man Accused of Blowing Up Dog Not Charged With Animal Cruelty. A man accused of blowing up his daughter's dog because he was mad at her is being held on $500,000 bail, but not for harming the pet pooch. "In the animal cruelty statute in the state of Washington it talks about animal suffering," Undersherriff Dave Cox told ABC News. Since the dog died instantaneously and didn't suffer before it died, "the prosecutor was concerned about that verbiage," Cox said.

Exclusive: FBI allowed informants to commit 5,600 crimes. The FBI gave its informants permission to break the law at least 5,658 times in a single year, according to newly disclosed documents that show just how often the nation's top law enforcement agency enlists criminals to help it battle crime.

Extreme irony — EPA rules shut down the mother of all weather conspiracy theories. The High Frequency Active Auroral Research Program (HAARP) — a subject of fascination for many hams and the target of conspiracy theorists and anti-government activists — has closed down. [... ] The proximate cause of HAARP's early May shutdown was less fiscal than environmental, Keeney said. As he explained it, the diesel generators on site no longer pass Clean Air Act muster. Repairing them to meet EPA standards will run $800,000.

Homeland Security's Future Home: A Former Mental Hospital. In the months after Sept. 11, the Bush administration and the U.S. Congress decided that Americans would be safer from terrorists if they combined 22 federal agencies into a single unit — including the Coast Guard, the Customs Service, the Secret Service, the Immigration and Naturalization Service, the Transportation Security Administration, the Federal Emergency Management Agency, the National Infrastructure Protection Center, the Federal Computer Incident Response Center, and the Animal and Plant Health Inspection Service, to name just a few.

Angela Corey's team reportedly destroyed evidence in Zimmerman trial. During George Zimmerman's trial for second-degree murder, and later manslaughter, computer analyst Richard Connor was called to testify for the defense. His testimony was eventually stricken from the record by Judge Debra Nelson, but has nonetheless allowed for some startling discoveries. Chief among these is that Trayvon Martin's cellular phone belonged to an account owned by his mother, Sybrina Fulton.

The great Beanie Baby bubble. In 1998, so-called "investment-grade" rare Beanie Babies were projected to be worth vastly, vastly more than their $5 purchase price. [...] The Beanie Baby phenomenon taught some tough lessons about speculative bubbles and value in economics to a young audience. Beanie Babies demonstrate that scarcity or a fixed supply is no guarantee of future price gains.

Math Behind Leak Crackdown: 153 Cases, 4 Years, 0 Indictments. Soon after President Obama appointed him director of national intelligence in 2009, Dennis C. Blair called for a tally of the number of government officials or employees who had been prosecuted for leaking national security secrets. He was dismayed by what he found. In the previous four years, the record showed, 153 cases had been referred to the Justice Department. Not one had led to an indictment.

Hamas Mourns Helen Thomas. It might not be the way most high-profile journalists would like to be remembered. Not long after the passing of veteran American journalist Helen Thomas yesterday, aged 92, Hamas' very own "military wing", the Izzedeene al-Qassam Brigades, posted on its website a heartfelt eulogy.

Kindle fired: 75% want printed books, not ebooks. A stunning 75 percent of adults told Rasmussen Reports that they prefer a printed book on actual paper to an electronic version displayed on devices like the Kindle Fire, Nook or iPad. Just 15 percent prefer ebooks.

Rand Paul: Obama Will Bail Out Detroit 'Over My Dead Body'. Sen. Rand Paul (R-KY) said he will use every resource he has at his disposal to stop President Barack Obama from bailing out newly-bankrupt Detroit because he believes the city can and must save itself and learn from its fiscal mistakes.

The foolish man built his house upon the sand.
Some Mormons Search the Web and Find Doubt. Around the world and in the United States, where the faith was founded, the Mormon Church is grappling with a wave of doubt and disillusionment among members who encountered information on the Internet that sabotaged what they were taught about their faith, according to interviews with dozens of Mormons and those who study the church.

Homeland insecurity. Consistently, DHS is at the bottom of the list of Best Places to Work in the Federal Government, hardly a testament to its leader. If you know anybody who works for DHS, you know morale is terrible. DHS employees were warned in an internal memo recently that any one of them opening a Washington Post article on the Internet containing a classified slide showing how the National Security Agency eavesdrops on international communications was subject to being penalized.

Bill Cosby Agrees with the Zimmerman Verdict. Joining former NBC player turned sports commentator Charles Barkley, actor and comedian Bill Cosby says that he agrees with the verdict in the Zimmerman trial. Cosby also questions the media's handling of the shooting and the trial.

Selective silencing: Was Michael Hastings murdered? [Scroll down] According to most recent investigative findings, it appears that Mr. Hastings made multiple contacts with sources directly associated with the illegal NSA domestic spying program, and either recently acquired materials and/or information about the extent of, the targets of, and the recipients of the information of domestic spying program. [...] Additionally and relevant to the circumstances surrounding his death, I believe that Michael Hastings knew, or had reason to know, that he was under both investigation and surveillance of the FBI as well as the NSA at the time of his death.

Panama Canal Missile Seizure Shows Cuba Remains A Threat. As the vessel lumbered into the Atlantic side of the Panama Canal from Cuba, Panamanian authorities cornered the 450-foot rust-bucket, battled a maniacally violent crew who slashed ship lines to make it hard to unload the ship, and then watched as the ship's captain tried to kill himself before having a heart attack. After subduing the crew, the Panamanians found no drugs buried beneath sloppily packed brown sugar, but did find defensive RSN-75 "Fan Song" fire-control radar equipment for SA-2 surface-to-air missiles.

Missiles and MiG fighter jets found hidden in sugar aboard North Korean ship. Cuba has said missiles and fighter jets found buried under sacks of sugar on a ship bound for North Korea were being sent to the secretive state to be repaired. The Caribbean nation admitted last night that it owned the military equipment and said it was due to be returned to the island once repairs had been completed.

The Editor says...
In order to return the airplanes for repairs, it was apparently necessary to hide them in a shipment of sugar.

Black Caucus preparing legislation to address racial profiling. Congressional Black Caucus members are preparing racial-profiling legislation in response to the fatal shooting of an unarmed black Florida teen, aides say. CBC lawmakers are drafting proposals meant to curb racial profiling; end state stand-your-ground laws and promote better training for the nation's neighborhood watch volunteers, among other anti-violence measures, The Hill reported.

I hope he boycotts Texas, too.
Stevie Wonder Boycotting Florida Following Zimmerman Verdict. Stevie Wonder won't be performing in Florida anytime soon. In the wake of the George Zimmerman acquittal, the singer said he would not be performing in the Sunshine State until its Stand Your Ground law is "abolished." He also said he would not be performing in any other state that recognizes the law, which some say contributed to Zimmerman's acquittal in the shooting death of Florida teen Trayvon Martin on Feb. 26, 2012.

Kentucky Censors N.C.-Based Syndicated Columnist. North Carolina psychologist John Rosemond's popular parenting advice column has been syndicated in more than 200 newspapers across the country since 1976, but soon it may disappear from all newspapers in the state of Kentucky. In May, Kentucky's attorney general sent Rosemond a letter asking that he "cease and desist" publishing his Dear-Abby-style advice column in the state, saying that doing so constituted the unlicensed "practice of psychology," a crime punishable by $500 per offense and up to 6 months in jail.

Telemarketers call in reinforcements as they ignore do-not-call list. Regardless of having registered a phone line with the Federal Trade Commission as a telemarketer-free zone, a growing number of consumers are saying that some businesses are ignoring their stated preference and calling anyway.

In Honor of Bill Clinton, EPA Pushes ATF Hero Off Building. This Wednesday [7/17/2013], the Environmental Protection Agency will officially dedicate its office building at 1200 Pennsylvania Avenue as the William Jefferson Clinton Federal Building. [...] There's just one slight problem — the building already has a name.

The Editor says...
This is an obvious effort to put a positive light on the Clinton name, in preparation for Hillary's presidential run.

19 Years, 7 Months for Biggest Municipal Theft in US History. Rita Crundwell of the small town of Dixon, Ill., has been sentenced to nearly 20 years in prison for stealing almost $54 million from the city to finance a lavish lifestyle that included ownership of farms with hundreds of show horses. In a Rockford, Ill., courtroom on Feb. 14, U.S. District Court Judge Philip Reinhard handed down a sentence of 19 years, seven months in prison. Last November Crundwell, 60, pleaded guilty to wire fraud and admitted stealing $53.7 million. Authorities believe it could be the largest theft from municipal government in U.S. history.

Judicial Watch sues National Archives over sealed Robert Kennedy records at JFK Library. The contents of the requested boxes include subjects ranging from the Central Intelligence Agency to the minutes from meetings of the so-called "special group" that RFK chaired, and his personal notes on Cuba. Robert Kennedy, as President Kennedy's closest aide and confidant, was given unusual responsibility for overseeing covert operations against Communist Cuba and other sensitive national security and foreign policy matters.

Entire government of Luxembourg resigns after spying and corruption scandal. The government was forced to resign after junior coalition partners withdrew their support in protest at Juncker's apparent failure to rein in a secret service spiralling out of control.

Ex-Sanford police chief: Zimmerman probe 'taken away from us'. The George Zimmerman investigation was hijacked "in a number of ways" by outside forces, said the former police chief of Sanford, Florida. Bill Lee, who testified Monday in Zimmerman's second-degree murder trial, told CNN's George Howell in an exclusive interview that he felt pressure from city officials to arrest Zimmerman to placate the public rather than as a matter of justice.

Britain set to privatize its Royal Mail postal service. Britain is privatizing its Royal Mail postal service through a public stock offering within the next nine months. The step was expected as the British government has been giving the Royal Mail a big overhaul in preparation for going public, including paying its whopping $6.9 billion pension fund deficit and bolstering its profit.

Russia convicts dead whistleblower. A Russian court wrapped up the trial of a dead man Thursday, finding whistleblower Sergei Magnitsky guilty of fraud but waiving a sentence. Magnitsky was a lawyer who unearthed a $230 million fraud by police and tax officials, but he was arrested and charged with perpetrating the fraud himself. He died in a Moscow prison in 2009, apparently after a severe beating.

In Rapidly Aging Japan, Adult Diaper Sales Are About to Surpass Baby Diapers. Japan's rapidly aging population is producing some interesting new business opportunities, including a booming market for adult diapers. The Nikkei newspaper (subscription only) reported on Thursday that three Japanese paper companies — Daio, and Nippon Paper — are expanding their manufacturing facilities for what are politely called "incontinence products" due to an expected surge in demand.

With Political Ad Profits, Swing-State TV Stations Are Hot Properties. When Allbritton, the media company that owns Politico, put its seven television stations up for sale this spring, analysts quickly singled out one as the most attractive: WJLA, the company's ABC-affiliated station in Washington. It is the biggest of the bunch, the best known and, perhaps most important, a magnet for political spending. WJLA banked $33 million in election-related advertising last year.

NSA recruitment drive goes horribly wrong. On Tuesday, the National Security Agency called at the University of Wisconsin on a recruitment drive. Attending the session was Madiha R Tahir, a journalist studying a language course at the university. She asked the squirming recruiters a few uncomfortable questions about the activities of NSA: which countries the agency considers to be "adversaries", and if being a good liar is a qualification for getting a job at the NSA.

Cameras Catch Mystery Break-In at Whistleblower's Law Firm . The offices of a Dallas law firm representing a high-profile State Department whistleblower were broken into last weekend. Burglars stole three computers and broke into the firm's file cabinets. But silver bars, video equipment and other valuables were left untouched, according to local Fox affiliate KDFW, which aired security camera footage of the suspected burglars entering and leaving the offices around the time of the incident.

Watergate-style burglary hits State Dept. whisteblower's law firm. Remember Aurelia Fedensin? She's the former investigator for the State Department Inspector General who blew the whistle on Hillary Clinton's State Department covering up scandals and squashing investigations around the world. Fedensin and her family have already been hassled with intimidating displays of force by the same State Department that seemed relatively untroubled by an ambassador allegedly chasing underage prostitutes through the streets of Belgium. Knowing that her allegations would be explosive, Fedensin wisely retained the services of a law firm called Schulman & Mathias of Dallas, Texas. Which just got robbed in a Watergate-style break-in.

Security Cameras Catch Break-In at Whistleblower's Law Firm. The Dallas law firm representing the State Department whistleblower's had file cabinets and computers stolen but the thieves left behind valuables like silver bars.

Obama Scandal Machine's Own Amateurish Break-In? [Scroll down] [Aurelia] Fedensin's allegations touch former Secretary of State Hillary Clinton more directly than anyone else currently in the Obama administration. Clinton was SecState when the eight investigations that Fedensin alleges were scuttled by senior department members, were scuttled. The scandals even touch Clinton's own security detail as well as her long-time fixer, Cheryl Mills.

What Went Wrong with Asiana Flight 214. The jury is still out on the official cause of the Asiana crash but most experienced airline pilots have heard enough to know this is most likely a case of gross pilot error. [...] The underlying reason of their error is one that is both simple and frightening and one that we see occurring more and more frequently. Airline pilots are losing their ability to fly their aircraft. Overreliance on automation has degraded airline pilots' basic flying skills to the point that many seem unable to cope when they are forced by circumstances to hand fly the aircraft.

Doug Engelbart obituary. Doug Engelbart, who has died aged 88, will be remembered as the man who in 1963 invented the computer mouse, but that was incidental to his vision of computers augmenting the human intellect and increasing our "collective IQ".

'Freedom From Facebook' Wants Conservatives to Boycott This July 4. A group of conservative activists and bloggers is urging right-wingers to defriend Facebook this Independence Day. The 24-hour "Freedom From Facebook" boycott is necessary, they say, because the social-media giant has been systemically targeting and discriminating against conservatives, blocking content, and suspending or outright banning users.

Funny business in Jesse Jackson Jr. sentencing? Sentencing for disgraced former Rep. Jesse Jackson Jr. and his wife Sandi has been delayed, but the question is, why? Is there a legitimate reason for the delay, or is something else going on behind-the-scenes? U.S. District Judge Amy Berman-Jackson posted a note on the court's docket stating that Wednesday's [7/3/2013] hearing for the Jacksons would be delayed to "accommodate the court." She said it was not requested by the couple's attorneys. [...] Judge Amy Berman-Jackson was nominated to the bench by President Obama on June 17, 2010.

For Starters, It's Not a Coin. What is a bitcoin? As a virtual currency, it is hardly an easy or intuitive concept. The securities filing for the Winklevoss Bitcoin Trust defines a bitcoin as "one type of a digital math-based asset that is issued by, and transmitted through, an open source, cryptographic protocol platform known as the bitcoin network." In plainer terms, a bitcoin is digital money that you cannot hold, but can be bought and sold online in exchange for traditional currencies like dollars and yen. The value of a bitcoin is set by transactions on online exchanges.

Anonymous Jihad. The Tor network has become a go-to means for jihadists and criminals to communicate, raise money, and buy and sell illicit goods and services without fear of being identified or traced by intelligence or law enforcement officials. The network uses technology called "onion routing" (Tor is an acronym for The Onion Router), which refers to layers of encryption that prevent governments or other users from obtaining information about users or websites hosted on the network.

Lose an Anti-Robocall Contest? One Solution: Annoy the Government. Commercial robocalls, prerecorded sales pitches known to interrupt family dinners and playoff football games, are illegal unless a person has given written permission to get calls from the company. At the FTC, they are one of the top consumer complaints, accounting for some 200,000 a month. For a time, the advent of caller-ID in the 1990s allowed people to screen the intrusions. But robocallers soon learned how to trick the devices so they would appear listed as someone else, such as a "card services" company.

Justice Department freezes funds to Big Brothers Big Sisters following audit. Big Brothers Big Sisters of America, the national charity that has been championed by President Obama for its work with at-risk kids, overpaid consultants, failed to track taxpayer funds it passed on to affiliates and kept such sloppy financial records that the Department of Justice has cut off millions of dollars in federal grants, officials said.

The Other Court-Packing Scandal. The United States Court of Federal Claims is a specialty court located just across the street from the White House. The Court serves an important function: it adjudicates claims for monetary damages, including takings claims, brought against the United States government. [...] This court's mission is more critical than ever in light of the rapid growth in the size and intrusiveness of government power under President Obama — and unless Senate Republicans object, its character is going to move far to the left in a few weeks.

Leftus Ignoramus. Mary Landrieu last Thursday showed what would be, for many of us, appalling ignorance. [...] Consider just how profoundly ignorant that was for any grownup, to say nothing of a senator who chairs the Homeland Security Appropriations Subcommittee. South Dakota has no border with Canada. Perhaps a state which was north of South Dakota might have such a border. Let's see. What state might that be?

Memo To G-8: Problem Isn't Tax Dodging; It's Spending. The world economy is a shambles due in large part to governments in Europe, Japan and the U.S. continuing to spend beyond their means. So what was topic No. 1 at the just-concluded G-8 summit? Corporate tax avoidance!

McD's worker sues: Don't pay by debit card. All Natalie Gunshannon wanted was to be paid a fair wage for her work, she said. [...] When she received her first paycheck, enclosed was a Chase Bank debit card with instructions on how to use it and the fees attached. Her future earnings would be deposited into the debit card account and she could access her money from there. Gunshannon never signed the card and when she returned to work she asked her supervisor if she could be paid by check or by direct deposit. She was told the card was the only option.

The $9,000,000,000,000 Missing From The Federal Reserve. Rep. Alan Grayson questions the FED inspector General where $9 Trillion dollars went... and Inspector General Elizabeth Coleman hasn't a clue. [Video clip]

Class action suit filed against record label's ownership of 'Happy Birthday'. Good Morning to You Productions has filed the lawsuit aimed at striking down Warner/Chappell Music's copyright claim to the iconic century-old birthday song. Other parties include those over the past four years who have had to pay to use the song on stage, TV or in film.

Free Beacon Targeted In Hack Attack. The Washington Free Beacon yesterday [6/10/2013] became the latest victim in a wave of cyber attacks targeting conservative news outlets. The Beacon, in what appears to be a coordinated assault, joined National Journal and radio station WTOP as a target after certain articles were featured on the Drudge Report, one of the most heavily trafficked and influential sites in the world. The Drudge Report itself has not been infiltrated.

FEMA Denies Aid to Texas for Blast. The Federal Emergency Management Agency is refusing to provide additional money to help rebuild the small Texas town where a deadly fertilizer plant explosion leveled numerous homes and a school, and killed 15 people.

Monica Lewinsky was unavailable for comment.
Bill Clinton Wins Father of the Year. Former President Bill Clinton was awarded "Father of the Year" this morning at a reception at the Grand Hyatt Hotel in New York City. Clinton received the award from the National Father's Day/Mother's Day Council. According to the nonprofit's website, the award is presented to fathers who have achieved professional success while serving as role models to their children. Clinton's daughter, Chelsea, was on hand to present her father with the award and had this to say [...]

Benghazi II? Beirut Embassy 'Fails to Meet Security Protocols'. Three decades after 63 people were killed in a bombing there, the U.S. embassy in Beirut is not classified as "high threat," even though Lebanon as a whole is listed as "critical," Hezbollah has a strong presence near it, and the embassy itself "fails to meet security protocols."

MSNBC Chief Phil Griffin: Our Network Is 'Not The Place' For Breaking News. Over the last several months, it has become pretty clear that when it comes to ratings, MSNBC struggles during breaking news events, while CNN and Fox both receive boosts. In an interview with the New York Times this morning, MSNBC chief Phil Griffin essentially conceded the "breaking news" mantle to the other networks, telling viewers that his network is not focused on that sort of coverage.

Furloughed feds can tap jobless benefits, raising questions about sequester savings. Though sequester-tied furloughs have forced federal employees to cut their hours and their pay, it turns out some of them are eligible for unemployment benefits. That means that while individual agencies are trimming their own budgets with furloughs, the cost to taxpayers of unemployment benefits could simultaneously rise — in turn, undermining lawmakers' goal of using the sequester to cut costs.

Staples Disqualifies Gun Stores, Lumps Firearms Together With Illegal Drugs. Staples is currently conducting a "PUSH It Forward Contest," which awards a $50,000 marketing campaign to the small business that wins it. However, as Maple Creek Gunsmithing in Fremont, Neb. learned — small businesses that sell guns are not allowed to take part in the contest.

Due to the emissions control system...
DC ambulance breaks down while transporting shooting victim to hospital. The D.C. fire department is trying to determine why one of its newer diesel ambulances broke down as crews were transporting a patient in cardiac arrest. [...] The driver of Ambulance 19 is telling investigators the indicator lights on the emission control system suddenly and unexpectedly jumped from a warning to shut down in a matter of seconds, and as the engine died, she was able to pull the rig to the side of the road.

Gov. O'Malley's inaction on Baltimore jail scandal. Tavon White, the imprisoned gang leader who allegedly treated Baltimore's main jail as his fief, its guards as his concubines and his fellow inmates as enforcers, has been transferred to federal custody; for now, he is no longer Maryland's problem. But the revelations (and an indictment) related to Mr. White's alleged jailhouse criminal enterprise continue to embarrass the administration of Gov. Martin O'Malley (D) and the state's Department of Public Safety and Correctional Services.

China Is Our Number One National Security Threat. Chinese hackers have obtained the designs for more than two dozen major U.S. weapon systems, including the Navy's missile defense system and our latest fighter. Our very national survival may soon be at risk.

IRS: Women Filed $1.4 Million in False Returns. Clinton [North Carolina] residents Angela Christina Lainez-Flores and her daughter Karen Mejia filed fraudulent federal tax returns for refunds totaling $1.4 million from tax years 2006 through 2012, IRS special agent Bennett Strickland stated Thursday [5/30/2013] at a probable cause hearing in a Raleigh federal courtroom. Lainez-Flores and Mejia had been charged with conspiracy to defraud the federal government by filing fraudulent income tax returns.

Western Civilization Dumber Than 100 Years Ago. A new study may stimulate the old adage of respecting your elders; it says the general level of intelligence in the Western Hemisphere has declined since the Victorian Era. The study claims the IQ numbers are 14 points lower than from the 19th century. One of the authors of the study, Dr. Jan te Nijenhuis, professor of work and organizational psychology at the University of Amsterdam, says the cause of the movement toward stupidity is that smarter women have fewer children while those of lower intelligence have more children.

Heresy:
Pope Francis suggests atheists' good deeds gets them to heaven. Pope Francis has sparked a religious debate with comments made earlier this week confirming atheists can indeed go to heaven. Christian teaching generally holds that belief in Jesus, and not good deeds, grants eternal life. But the pope, in a morning Mass on Wednesday [5/22/2013], suggested that belief and faith weren't the biggest factors.

Pope Francis says atheists can be good. Atheists should be seen as good people if they do good, Pope Francis has said in his latest urging that people of all religions, and none, work together.

Spain spent $680 million on submarine that 'can't resurface'. Spanish engineers, who already spent some $680 million on designing the new generation S-80 class submarine, say it is a major "technical innovation." There is just one problem the calculations show — if submerged into water, it may never come up again.

NY man admits to filing tax returns for dead. A western New York man has pleaded guilty to filing more than 100 tax returns under the names of people who had recently died.

Mt. Everest's filthy secret: It's a dump. The world this week is celebrating the 60th anniversary of the first successful effort to reach the top of the world's highest peak. But environmental activists are using the occasion to call attention to the tons and tons of garbage — and human excrement — that have been left on Mt. Everest's slopes in the decades since Sir Edmund Hillary and his Nepalese Sherpa guide, Tenzing Norgay, made their historic climb. And the picture they are painting isn't pretty.

Mount Everest Crowded, Littered with Corpses. Edmund Hillary made history when he scaled Mount Everest fifty years ago. Now, it's crowded with guided tours and littered with the corpses of inexperienced climbers.

MSNBC ratings hit 7-Year low with Obama scandals. I guess liberals don't want to cringe and watch their pitiful 'news network' while the spin doctors at the propaganda station spin for Obama.

Report Says Poor Are Moving to Nation's Suburbs. More poor people live in the nation's suburbs than in urban cities because of affordable housing, service-sector jobs and the increased use of housing vouchers, according to a study released Monday [5/20/2013].

The states with the most native-born residents. In some states, more than three-quarters of residents were born in that state. In others, fewer than 40 percent of residents are native-born.

There[']s a Question Mark Hanging Over the Apostrophe[']s Future. The U.S., in fact, is the only country with an apostrophe-eradication policy. The program took off when President Benjamin Harrison set up the Board on Geographic Names in 1890. By one board estimate, it has scrubbed 250,000 apostrophes from federal maps.

The Looming Student Loan Crisis. Failure to scrutinize employment income contributed to the housing crisis and now threatens student loans, which total more than $1 trillion.

Excluded by the Inclusion Cops. I'm tired of being told what I'm allowed to read and hear by statist hacks like Inspector Veerappan. John O'Sullivan likes to call the politically correct British police "the paramilitary wing of The Guardian". Unfortunately, the "Diversity, Equity and Inclusion Bureau" would take that as a compliment.

Roger Stone: LBJ had Kennedy killed. Legendary Republican operative Roger Stone claims in his new book that Lyndon Johnson arranged John F. Kennedy's assassination, and that Richard Nixon and Johnson had a documented relationship with Lee Harvey Oswald's killer, Jack Ruby, years before Ruby shot Oswald in the basement of Dallas police headquarters in 1963.

University of Georgia stops plant photosynthesis to generate solar power. Researchers at the University of Georgia have [...] discovered a way to generate electricity from plants through hijacking the photosynthesis process. By altering the proteins inside a plant cell's thylakoids, which store solar energy, scientists can intercept electrons through a carbon nanotube backing that draws them away before they're used to make sugar. While the resulting power isn't phenomenal, it's still two orders of magnitude better than previous methods, according to the university.

New Wyoming lithium deposit could meet all US demand. Last year virtually all of the major brine and mineral-based lithium producers increased their prices, which in turn has spurred prospecting. In the US exploration has been largely centred in Nevada, but the growing worldwide market for lithium has also spurred exploration in Argentina, Australia, Bolivia and Canada. And now, the good news. University of Wyoming researchers found the lithium while studying the idea of storing carbon dioxide under-ground in the Rock Springs Uplift, a geologic formation in southwest Wyoming.

Unsustainable and Unconstitutional General Welfare Spending. Obviously, there is a spending problem in Washington, D.C., and the reason for it is no mystery. The largest expenditure in Obama's budget — and the largest federal outlay in every budget since 1970 — is an expense item labeled "payments for individuals," which includes spending on Social Security, Medicare, Medicaid, unemployment benefits, disability payments, and other federal welfare subsidies. These payments constituted 65 percent of all federal spending in 2012 and are expected to grow to 70 percent in 2016. (By contrast, national defense spending was 19 percent of the federal budget in 2012 and will decrease to only 14 percent in 2016.)

FBI Hunts Cop Killer Domestic Terrorist. This one is hiding out in Cuba, where she is being treated like a celebrity. Which is pretty much how Columbia University treats domestic terrorists.

The 'pay to grieve' 9/11 museum is a national disgrace. 9/11 family members never wanted a billion-dollar money pit. All we hoped for was a simple, uplifting, honorable and patriotic memorial for all who were lost that terrible September day. Instead, those who want to pay their respects will have to pay Bloomberg & Co.

New Poll Finds CNN Far Less Believable Cable Channel Than Fox News. It used to be that whenever an important news story broke, cable television viewers would quickly turn to CNN for must-see coverage of what was happening. However, according to a poll conducted regarding the five-day coverage of the Boston Marathon bombing, that is definitely no longer the case. The survey, which was conducted by the liberal Huffington Post website and the international marketing agency YouGov, determined that former titan CNN came in as far less trustworthy than Fox News over which was the most believable cable news channel.

Thirteen correctional officers indicted in Maryland. More than a dozen Maryland state prison guards helped a dangerous national gang operate a drug-trafficking and money-laundering scheme from behind bars that involved cash payments, sex and access to fancy cars, federal prosecutors said Tuesday. Thirteen female corrections officers essentially handed over control of a Baltimore jail to gang leaders, prosecutors said. The officers were charged Tuesday [4/23/2013] in a federal racketeering indictment.

Police buried Trayvon's criminal history. Sanford Police Department (SPD) investigator Chris Serino, for instance, said publicly of Martin, "This child has no criminal record whatsoever." He called Martin "a good kid, a mild-mannered kid." The media almost universally sustained this tragically false narrative. [...] For a variety of reasons, none of them good, elements within the SPD and the Miami-Dade School District Police Department, or M-DSPD, conspired to keep Martin's criminal history buried.

A 'Rag Tag Bunch' Strikes Gold. It seems that "Trayvon" should have been on trial in Miami rather than enjoying his "suspension" in Sanford the night George Zimmerman killed him in self-defense. Do read the whole thing to understand the deception with which liberalism has distorted this fiasco and the greater fiasco of crime in the Miami-Dade School System.

A Criminologist Questions Sandy Hook. A statistical analysis of 30 years' worth of mass public shooting hard data shows that the odds are 2,000 to 1 against the processes underlying that data accounting for the kill/wound figures of the Sandy Hook shooting. Therefore, very meaningful and very serious questions arise as to precisely what transpired in Newtown — questions that are very unlikely to receive a hearing in the MSM.

9/11 death 'toll'. The 9/11 Memorial foundation, funded to the tune of $830 million, has begun nickel-and-diming visitors for ticket reservations. Even though the nonprofit has long vowed admission to the sacred site would be free, it is now demanding $2 per ticket for all advance reservations made online or by phone. Officials quietly rolled out the fee on March 1 [...]

The Gosnell Grand Jury Report. Having now read the Gosnell grand-jury report, I must say I'm extremely impressed with how well-written it is. Yes, the underlying facts are horrifying and disgusting. But it reads like some of the best journalism. Is that typical?

HHS Sebelius: America is a violent country. Health and Human Services Secretary Kathleen Sebelius Friday declared America a violent country, and she blamed the media, Hollywood and street crime for the Wild West culture. In a House budget hearing, Sebelius also said that violence in American culture has a "desensitization" effect that can push the mentally ill over the edge.

The Editor says...
Hollywood is the first place President Obama goes when he wants to raise money for Democrats. If his administration genuinely feels that Hollywood is one of the country's biggest problems, perhaps he shouldn't fraternize with the Hollywood kingpins.

Democrat Robin Kelly wins special Illinois House election, but what about prison? Despite the endorsement of President Obama, Robin Kelly easily won election Tuesday night [4/9/2013] in a special House election to represent Illinois' troubled Second Congressional District. The sprawling urban-suburban district, containing Chicago's ugly South Side, was formerly represented by Jesse Jackson Jr., who like a number of Illinois politicians will be residing in a federal penitentiary for a while.

When a car salesman tells you keyless entry is safe, ask about this:
High-Tech Thieves Use New Gadget To Gain Keyless Access To Vehicles In Long Beach. Police are asking for the public's help in identifying three tech-savvy criminals wanted for a series of car burglaries in which they used an unknown device to gain keyless entry to vehicles.

Conservatives Shouldn't Own Newspapers? The Los Angeles Times is up for sale, and there are super-wealthy conservative bidders. Get the popcorn out and watch the liberals squeal.

Give me two fish filets and help me with my homework.
McDonald's want ad demands bachelor's degree, two years experience for cashier. With colleges producing more graduates, and youth unemployment at a sky-high 11.5 percent, even landing a job selling Big Macs is getting competitive. Consider: A job opening at a Massachusetts McDonald's restaurant for a full-time cashier requires one to two years experience and a bachelor's degree.

Associated Press bans the phrase 'illegal immigrant'. "It's 'illegal immigrant' no more" says the Associated Press, which banished the phrase from its usage guide on Tuesday — the latest stylistic edict for journalists who have for years juggled such terms as "undocumented worker" or "illegal alien," its politically incorrect variant. "The Stylebook no longer sanctions the term 'illegal immigrant' or the use of 'illegal' to describe a person. Instead, it tells users that 'illegal' should describe only an action, such as living in or immigrating to a country illegally," said the senior vice president and executive editor Kathleen Carroll.

Clear Data: More Federal Dollars Push Up Unemployment. How do we know when government spending is too high or too low, or if fiscal policies are stimulative or restrictive? As President Obama and Congress work to shrink the $1 trillion federal budget deficit, it is important that they understand the fundamental inverse relationship between the size of government and jobs. Since 1970, all six instances when our government got larger as a percent of GDP, the unemployment rate went higher. All six times when government got smaller as a percent of GDP, our unemployment rate went lower.

Pedro is reluctant to "give back to the community."
Pedro Quezada, $338M Powerball winner, owes $29K in child support. The New Jersey man who won the $338 million Powerball jackpot owes approximately $29,000 in child support. Authorities stopped by Pedro Quezada's Passaic apartment on Wednesday [3/27/2013], one day after the 44-year-old claimed a lump-sum payment worth $221 million, or about $152 million after taxes. No one answered the door.

Three Egyptian divers 'tried to hack through internet ocean-floor cables [...]'. It is believed they were trying to cut through an SEA-ME-WE 4 undersea cable — one of the main connections between Asia and Europe, running from France to Malaysia and linking Italy, north Africa, the middle east and south Asia.

Paul's Budget Kills Departments of Commerce, Education, Housing, and Energy. "Washington has a serious and reckless spending problem that must be re-evaluated. American families across the country are required to live by a budget and Congress should be no different — every taxpayer dollar needs to be spent more wisely. Therefore, I am offering a plan that will address this country's looming debt crisis in a truly timely manner — balancing the budget in just five years," Paul said.

Pope Francis: 'I Am Thinking Particularly of Dialogue With Islam'. Speaking on Friday [3/22/2013] at an audience held for diplomats accredited to the Vatican, Pope Francis said that he hoped to "intensify dialogue" with other religion, particularly Islam. He noted the pope is also known as the "pontiff" — or "a builder of bridges" — and that St. Francis was a peacemaker.

The Editor says...
The Pope needs to go back and read Exodus 20:3-4. Then he should compare those verses in the Catholic Bible to the Authorized King James Version.

Despite abortion views, Biden, Pelosi receive Communion in Vatican Mass. Vice President Joseph R. Biden and House Democratic leader Nancy Pelosi both received Communion during the Mass to celebrate the installation of Pope Francis in spite of their pro-choice position on abortion. The vice president's office confirmed Tuesday night [3/19/2013] that both he and Mrs. Pelosi took Communion during the Mass at St. Peter's Square in Rome.

Dem Senators Vote to Keep WH Tours Closed. While President Obama's administration has suggested that the Secret Service is to blame for the closure of White House tours, the onus now falls on the Democrat-controlled Senate. On Wednesday [3/20/2013], Democrats rejected a Republican attempt to reopen the White House tours in a straight party-line vote. 54 Democrats voted against reopening the tours. None have voted to defund President Obama's golf trips.

White and Wrong in Philly. [Robert] Huber's article contains mostly tepid examples of whites' negative experiences with blacks and primarily black neighborhoods, such as a Philadelphia resident whose grill was stolen from her backyard but "blames herself" for not fencing it in. Its tone is basically apologetic, absolving a drug dealer of responsibility because he was just "trying to get by" and describing the US' racial history as "horrible and daunting." Yet this wasn't good enough for Mayor Michael Nutter and his comrades. They still want Huber silenced.

Mayor Nutter Threatens Magazine with Criminal Charges for "White in Philly" Story. Philly's Mayor Nutter is living up to his name. And more troublingly his language quite clearly summons up the censorship used in countries such as Canada and the UK to suppress freedom of speech. This isn't about the content of the article. That's not even the point now. It's about the mayor of a major city threatening a magazine without the usual Freedom of the Press types having much to say about it.

Despite Cuts, Schumer Gets Marine Corps Band to Play at St. Patrick's Day Parade. Forget the sequester. If you're Chuck Schumer, there are ways around it. Consider the recent example of a U.S. Marine Corps band cancelling its scheduled performance at a St. Patrick's Day parade due to the "sequester" — and Chuck Schumer's successful "push" for the band to come anyway.

Government Steering Americans Toward a Tele-Work, Tele-Shop, Mass-Transit Future. The Obama administration envisions a "low-carbon, low-petroleum" future where Americans tele-work, tele-shop, walk, bike and use carpools or mass transit if they must leave the neighborhood at all. A study released Friday [3/15/2013] says the U.S. has the potential to reduce petroleum use and pollution in the transportation sector by more than 80 percent by 2050. In other words, gasoline-powered cars may go the way of the dinosaur, and many Americans may end up living in planned, mixed-use, "walkable" neighborhoods, built along mass transit lines.

Poll: Government dissatisfaction highest since Watergate. More Americans cite dissatisfaction with government as the biggest problem facing the country than at any other time since the months leading up to the Watergate scandal, a new poll finds. Twenty percent of those surveyed call dissatisfaction with government the country's biggest problem, according to a Gallup survey on Thursday [3/14/2013] — up from 16 percent the month before.

Hundreds of family pets, protected species killed by little known federal agency. Over the years, Wildlife Services has killed thousands of non-target animals in several states — from pet dogs to protected species — caught in body-gripping conibear traps and leg hold snares, or poisoned by lethal M-44 devices that explode sodium cyanide capsules when triggered by a wild animal — or the snout of a curious family pet.

No matter what you do, you can't be fired from a government job.
GSA ordered to give job back to executive fired after Las Vegas conference scandal. The General Services Administration was ordered this week to reinstate a senior executive who lost his job last year amid revelations of lavish spending at a Las Vegas conference. GSA officials had told Paul Prouty that he "knew or should have known about the questionable and excessive expenditures" that embarrassed the Obama administration when they were revealed last year. But the agency failed to prove that the career civil servant in charge of federal buildings in the Rocky Mountain region was guilty of misconduct, the Merit Systems Protection Board ruled.

3,000 More Dead Pigs Won't Make the Huangpu River Any Worse. The Huangpu River, a source of drinking water to Shanghai's 23 million residents, should basically be called rotting swine soup. Some 3,000 more decomposing pigs have been found in the river near Shanghai since Monday [3/11/2013], bringing the number to about 6,000 dead hogs, but authorities claim that water is just fine.

Update:
Shanghai dead pig toll nears 12,600. The number of dead pigs retrieved from waters in and near China's financial hub of Shanghai has reached 12,566 after local authorities plucked 611 pig carcasses Saturday [3/16/2013] from the Huangpu River, which provides drinking water to the city's 23 million residents.

Pew: For Every 10 Americans, Only 3 Trust The Government. The Pew Research Center in Washington, D.C. has found that fewer Americans than ever trust the decisions made by the government. Data collected from a survey taken in January of this year indicates that all demographics and partisan groups experienced an increasing lack of faith in government leadership, according to a release posted on the Pew Research website late last week.

Ryan Shows How To Balance The Budget Without Tax Hikes. Rep. Paul Ryan's latest budget plan shows that we can balance the budget in just a decade without any new taxes and still increase spending if we get rid of the massive cost of ObamaCare./p>

Yes, Ted Cruz Likely Eligible to be President. On Mar. 8, reporter Carl Cameron on Special Report on Fox News Channel was surveying potential GOP 2016 presidential candidates. Then he raised Ted Cruz — one of the most brilliant constitutional lawyers ever to serve in the Senate — the new 41-year old Hispanic senator from Texas. Cameron added, "But Cruz was born in Canada and is constitutionally ineligible" to run for president. While many people assume that, it's probably not true.

Forget Transgender, Get Ready for Transpecies. Species dysphoria is the equivalent of Gender dysphoria. Mentally ill persons with gender dysphoria are fashionably diagnosed with Gender Identity Disorder. There is as of yet no Species Identity Disorder, but that is no doubt coming. Like Trannies, Transpecies Americans create special pronouns for themselves and insist that refusing to pretend that they're cats or wolves is a hate crime.

Elderly Woman Dies After Nurse Refuses to Give Her CPR. A 911 dispatcher pleaded with a nurse at a Bakersfield, Calif., senior living facility to save the life of an elderly woman by giving her CPR, but the nurse said policy did not allow her to, according to a newly released audiotape of the call.

The Editor says...
Two questions come to mind immediately: Why did she call 9-1-1, and why did she go to school to become a nurse? It appears that she is not a nurse, but a janitor or perhaps a zookeeper. There's nothing wrong with being a janitor or a zookeeper, unless you were hired to be a nurse. If she didn't want to resuscitate the dying patient, she should have waited until she could say, "There is someone here who has died," rather than, "There is someone here who is dying."

Projected Growth in Unpaid Bills Shows Illinois on Path to Total Breakdown. On Monday [2/25/2013], the Insitute for Illinois' Fiscal Sustainability (IIFS), an outfit associated with the Civic Federation, a "nonpartisan" organization which appears to have leftist instincts and funding, warned that the state government's $8 billion stack of unpaid bills will grow to $22 billion in five years. IIFS correctly blames out of control pension costs, and recommends several reforms which don't seem to match the urgency of the situation.

GOP Leaders Break 72-Hr Pledge. The House Republican leaders today [3/6/2013] rushed through a vote on a 269-page $982-billion continuing resolution (CR) to fund the federal government for the remainder of fiscal 2013 in direct violation of a pledge they made to the American people to post bills online for at least 72 hours before voting on them.

American Conservative Union Chairman: Legalize Illegal Aliens. American Conservative Union Chairman Al Cardenas said he supported a bipartisan Senate effort at immigration reform, stressing that the proposal must include a way for an estimated 11 million illegal aliens to "come out of the shadows" and be given "a legal status where they can be secure in this country for their future and that of their children."

Border Patrol Union Local 2544: What They Think of Homeland Security. The Arizona Local 2544 Union members website, which they make clear is not an official Border Patrol Website, also makes it clear exactly how they feel about the Department of Homeland Security. After you read [this article], read Idol Worship vs Reality, a Local 2544 dissertation on the administration.

Now they tell us: AP kills word 'sequestration'. It hasn't even happened yet, but the Associated Press style gurus are killing the word "sequestration."

Clearing Away the Rubble...with Black Hawks, Tanks, and Loads of Ammo. I've lived in this country my entire life and never heard of government agencies stockpiling millions of rounds of the hollow-point "training ammo" listed in its solicitations or shooting blanks from military aircraft over our neighborhoods and cities. Not until now. None of this makes sense if things are as peachy as the president claims, and I think these circumstances raise enough questions to warrant a congressional hearing.

The Feds Want Your Retirement Accounts. Quietly, behind the scenes, the groundwork is being laid for federal government confiscation of tax-deferred retirement accounts such as IRAs. Slowly, the cat is being let out of the bag.

Senate Hearings Already Held: National Retirement Accounts. The Senate held RECESS hearings in October 2010 — only Senators Harkin (D-IA) and Socialist Bernie Sanders (D-VT) were in attendance, representing the Senate Committee on Health, Education, Labor, and Pensions. First up to testify before Harkin and Sanders was a Ross Eisenbrey, the Vice President of the Economic Policy Institute (EPI), which "is housed on the third floor of the building occupied by the George Soros-funded Center for American Progress." [...] As I discussed earlier this month, part of this is about bailing out union pensions with your retirement.

What John Adams Foretold Has Come True. [Scroll down] What's next? Confiscation! "The Obama administration is reportedly moving on plans to nationalize private 401k and IRA retirement accounts, and replace them with government sponsored annuities (aka Treasury bonds that the Treasury currently can't sell to anyone but the Fed)." Obama has begun a plan to nationalize (aka confiscate) private pensions and to eliminate private retirement accounts, including IRAs and 401k plans. Think it can't happen here? Think again!

Mosquito repellent Deet 'losing its effectiveness'. The mosquito repellent Deet, which is widely used by holidaymakers and residents in warm climates, is losing its effectiveness, scientists say.

The Editor says...
Nobody makes such claims about DDT. DDT kills mosquitoes, whereas Deet just diverts them to someone else.

Insolvency, U.S.A.. There are fiscal cliffs at every level of government, and it doesn't help that states and many municipalities cannot legally go bankrupt.

Saving the Fish to Kill the Fish. Saving the fish isn't about saving the fish. It's about preventing fishermen from making a living selling the fish.

'Trillions of carats' of diamonds found under Russian asteroid crater. The Russian government has revealed that a vast quantity of high-quality diamonds rests beneath a Siberian impact crater, numbering in the "trillions of carats".

Virginia moves closer to creating state's own currency. Lawmakers in Virginia say they want to keep their options open in case the value of the U.S. dollar ever collapses — so they're considering minting state coinage. The Washington Post reported Tuesday [2/5/2013] that a proposal to study the effectiveness of such a plan "sailed through" the state's lower house this week.

Here's a sure way to drive small businesses out of business:
Democrats: Stop banning job candidates with criminal records. New Jersey Democrats today introduced legislation meant to give convicted criminals a better shot at finding work and, sponsors hope, avoid returning to a life of crime. The measure, known as "ban the box," would require employers to consider the qualifications of job candidates before asking about criminal histories. Only after a person is offered a position would a company be allowed to inquire about past convictions under the bill, according to a draft copy.

Is your 401K about to be nationalized? The $19.4 trillion sitting in personal retirement accounts like the 401K may be too tempting an apple for a government that is quite broke, both monetarily and morally. The U.S. Consumer Financial Protection Bureau director Richard Cordray recently mentioned these accounts in a recent interview, stating "That's one of the things we've been exploring and are interested in, in terms of whether and what authority we have."

Obama misses budget deadline. President Obama missed the Monday [2/4/2013] deadline for submitting a budget to Congress, marking the fourth time in five years he has been late — and in a town where missing deadlines is routine, this one is beginning to get noticed. The Budget Act requires that he submit a blueprint for taxes and spending by the first Monday in February, but only once, in 2010, has he met that deadline. This year, the White House hasn't yet said when it will have a plan.

Gitmo Detainees Return to Field of Battle. Former terrorists held at the U.S. prison in Guantanamo, Cuba were detected by U.S. intelligence agencies recently working with Islamist rebels in Syria, according to U.S. officials. The al Qaeda-linked terrorists in Syria are part of a group called the Al Nusrah Front that is fighting alongside the Free Syrian Army (FSA), the rebels opposing the Bashar al-Assad regime in the civil war. The number and names of the former Guantanamo inmates were not disclosed.

Guess which giant special interest is really polluting Alaska? I wonder who was responsible for this mess? BP? Chevron? But wait... if you read back to the first paragraph of that article, it almost sounds as if the US BLM (Bureau of Land Management) is in charge here. How could that be? An what's a "legacy well?"

Rep. Gohmert Calls On Obama's Former Constitutional Law Students To File Class-Action Lawsuit. Republican Rep. Louie Gohmert of Texas appeared on Fox News' Hannity to discuss the court ruling against Obama on his National Labor Relations Board appointee.

LSU instructor sues university. An LSU faculty member is suing the university, alleging that she was fired after reporting what she called the School of Art's theft of more than $75,000 from students. In Margaret Herster's lawsuit filed this month, the digital art instructor says the art program illegally charged students course fees that hadn't first been approved by the Legislature as required by law.

The EEOC's New Rule on Background Checks. [Scroll down] The reasoning is as follows: Blacks and Hispanics are more likely to be incarcerated than whites. Therefore, even a facially neutral policy against hiring ex-offenders will screen out more blacks and Hispanics than whites. Consequently, the agency argues, this may constitute evidence of unlawful racial discrimination in violation of Title VII, giving the EEOC the authority to investigate and sue offending employers.

Big Brother's pencil-pushing bureaucrats guarantee high prices will stay high.
Louisiana stops sale of cheap milk at market. A Louisiana supermarket was forced to yank its low-cost milk special after state auditors objected to the price. Fresh Markets in Perkins Rowe was selling milk for $2.99 a gallon as part of a weekly promotion deal, but Louisiana requires that retailer markups be at least 6 percent above invoice and shipping costs, The Advocate reports. State Agriculture and Forestry Commissioner Mike Strain said Fresh Market violated state regulations by selling milk below cost as part of a promotion.

State stops sale of cheap milk. For Lafayette stockbroker Kenneth Daigle, buying a gallon of milk is no longer the bargain it used to be on Tuesdays at Fresh Market. The upscale supermarket chain yanked milk from its $2.99 once-a-week promotion after a state auditor objected to the low price.

Walid Shoebat to America: You have been infiltrated, your president is a Muslim. Walid Shoebat spoke a few days ago on Bible Prophecy talking mainly about Islam and the Antichrist. But he focused part of his message on America and why he believes she will be one of the major countries fighting against the Islamic Antichrist in the end. He acknowledges, though, that America has been infiltrated by the enemy, that even our own president is a Muslim who is supporting the Muslim Brotherhood in different parts of the world whether it be in Egypt or Syria. Most of us here know that already but it's great to hear Walid speak the truth.

What's that? Obama is a Muslim? Yes, he is.

New Hampshire has most machine guns per capita in the country. The number of automatic weapons in New Hampshire increased dramatically after 2010, according to federal firearms records, although it remains unclear whether the growth is being driven by civilians, law enforcement or the military. The number of registered machine guns in New Hampshire spiked 80 percent between the end of 2010 and March 2012, according to the most current data available from the Bureau of Alcohol, Tobacco, Firearms and Explosives (ATF).

A real leader doesn't need a teleprompter.
Sen. Ted Cruz says the GOP should focus on opportunity for lower classes. Freshman Senator Ted Cruz challenged the Republican Party to return to championing growth and opportunity for the lower and working classes during a lunchtime address at the National Review Institute Conference Saturday afternoon [1/26/2013]. Speaking without a lectern or notes, Cruz moved easily around the stage as he presented his vision for the Republican Party's future to the audience at the conference. "The policies of the Obama administration have fundamentally failed the communities struggling to climb the economic ladder," Cruz said.

President Obama's Cat-Food Future For Retirees. Americans are drawing down their 401(k)s for nonretirement needs in record numbers, just as Social Security goes bust. This portends poverty for millions as the White House fiddles.

Coulter: Guns Don't Kill People, Mentally Ill Do. Seung-Hui Cho, who committed the Virginia Tech massacre in 2007, had been diagnosed with severe anxiety disorder as a child and placed under treatment. But Virginia Tech was prohibited from being told about Cho's mental health problems because of federal privacy laws. [...] He was involuntarily committed to a mental institution for one night and then unaccountably unleashed on the public, whereupon he proceeded to engage in the deadliest mass shooting by an individual in U.S. history.

Mark Levin: Background Check Needed For Barack Obama. Mark Levin is calling for background checks for all politicians, including one Barack Hussein Obama. [Video clip]

Woman drives 900 miles out of her way after GPS error. Put too much faith in technology and you may wind up in Croatia. [...] The woman only wanted to go about 90 miles from her hometown of Hainault Erquelinnes, Belgium, to pick up a friend at the Brussels train station. Her GPS device sent her about 900 miles to the south before (during the second day of driving) she realized that something was amiss.

Leahy: Abolish mandatory minimum sentences. The longest-serving Democrat in the Senate on Wednesday called for scrapping mandatory minimum sentences at both the federal and state levels, and said he wants Congress to take a critical look at the way U.S. law enforcement agencies use drones. [...] "This fast-emerging technology is cheap, but I think just because it's available doesn't mean it helps. I think there could be a significant threat to the privacy and civil liberties," he said.

White House now requires 'We the People' petitions to have 100,000 signatures for official response. President Barack Obama's deputies have quadrupled the number of signatures that petitioners on the administration's "We the People" website must collect to get an official response from the White House, following a series of popular, provocative and disrespectful signature drives by his critics.

The Editor says...
So you get a White House response. Big deal. What have you gained?

Civil servant working two full time public jobs, 70 miles apart. A Michigan civil servant is in hot water after being exposed as holding down two six-figure public posts at the same time — earning him more than the Vice President. Barnett Jones, has been paid $273,750 since May as Flint's administrator of public safety and head of security for the Detroit Water and Sewerage Department, despite the fact the posts are both full-time and based 70 miles apart, according to the Free Press.

RFK Jr. says lone gunman not solely responsible for assassination of President Kennedy. Robert F. Kennedy Jr. is convinced that a lone gunman wasn't solely responsible for the assassination of his uncle, President John F. Kennedy, and said his father believed the Warren Commission report was a "shoddy piece of craftsmanship."

The Vast Left-Wing Conspiracy. Matthew Continetti writes at the Washington Free Beacon about the formation of an incredibly powerful lobbying group, composed of organizations that boast millions of political foot soldiers, with a total income measured in the billions of dollars. It plans to spend tens of millions of dollars pushing a rigid ideological agenda. It's a textbook example of everything we are constantly told is "wrong" with Washington, a combination of big money, political self-interest, political influence, and secrecy.

The Trillion-Dollar Platinum Coin. Of course, there is one small problem: Platinum is currently selling for about $1,590 a troy ounce. So a $1 trillion coin would weigh 26,221 "troy tons," which might present a bit of a transportation problem getting from the mint to the Federal Reserve. There is also the problem that nowhere near that much platinum has ever been mined since the metal first came to the attention of chemists in the 1740s.

Two years in the slammer if your dog bites a burglar. The United Kingdom seems to have a lot of concern for protecting the rights of burglars as they commit crimes against law abiding citizens. The case of Tony Martin, convicted of murder (later reduced to manslaughter after an international outcry) in 1999 for killing a burglar in his house with a shotgun was only the beginning.

Next Big Gov't Housing Bailout: Federal Housing Administration. The Federal Housing Administration (FHA)'s 2012 audit confirmed what has been obvious for some time: The FHA is deeply underwater, with a negative economic value of $34 billion. With over $1 trillion in mortgages backed by the FHA, even minor changes in the housing market could add tens of billions to that total. A taxpayer bailout is inevitable.

Fiscal Cliff Deal: $1 In Spending Cuts For Every $41 In Tax Increases. When Presidents Ronald Reagan and George H.W. Bush increased taxes in return for spending cuts — cuts that never ultimately came — they did so at ratios of 1:3 and 1:2.

The Real Country-Killer in 2013. Every week, the U.S. Treasury borrows money to keep operating, by holding auctions of "T-Bills." Institutional investors, foreign and domestic, show up to bid on these government bonds (Treasury Bills). What if investors decide that it just isn't worth risking any more of their money? There won't be any money. Even when the country still looks strong, investors could sit on the sidelines, worrying: "Let someone else take the risk." If the lending stops, can the country survive when the Ponzi scheme collapses? What if there is no money to cut social security or Medicare checks, or operate the government?

Obama Orders Raise for Biden, Members of Congress, Federal Workers. President Barack Obama issued an executive order to end the pay freeze on federal employees, in effect giving some federal workers a raise. One federal worker now to receive a pay increase is Vice President Joe Biden.

Any Raise is Too Much; Congress Approval Rating is 18%. Congress has done such a beautiful job handling the fiscal cliff and debt ceiling that president Obama felt it mandatory to issue an Executive Order giving [Vice President] Biden [and] Congress pay raises.

Home Depot Promotes Mexican-Made Coca-Cola Products. Did Home Depot get a good deal from the bottler which enables them to "pander" to Hispanic labor force at-large? Is "Made in America" branding simply not cool in the Era of Obama, and will it be diminished by similar promotions in the future? I can only wonder what the local union employees that work for Coca Coca think about Home Depot promoting and selling the same non-American labor force products.

Biofuel credits behind mystery cross-border train shipments. The mystery of the trainload of biodiesel that crossed back and forth across the Sarnia-Port Huron border without ever unloading its cargo, as reported by CBC News, has been solved. CBC News received several tips after a recent story about a company shipping the same load of biodiesel back and forth by CN Rail at a cost of $2.6 million in the summer of 2010. It turns out the shipments were part of a deal by a Toronto-based company, which made several million dollars importing and exporting the fuel to exploit a loophole in a U.S. green energy program.

Chinese prison factories revealed. A Chinese prisoner's note, found in a box of Kmart Halloween decorations by an unsuspecting Oregonian, described the horrors of China's prison-factories. Despite that sort of thing not supposed to be happening, it is happening because China remains a communist tyranny.

Has Obama's Big Spending Also Bought American Silence On Chinese Prison Camps? Despite a slew of laws to the contrary, it looks as though America's vaunted trade relationship with China — the one hailed by the Obama administration and praised by CEOs from Siemens, Bayer, Coca-Cola, Citibank, and General Electric — remains what it always has been: a great slave empire.

EEOC Protected Classes. On September 19, 2012, the Newark, New Jersey Municipal Council passed Ordinance 12-1630, "which limits employers' ability to conduct criminal background checks." The ordinance went into effect November 18, 2012 and "prevents employers with five or more employees who do business, employ persons or take applications for employment in the City of Newark, from asking applicants about their criminal history." The employer "can only perform the background check after a conditional offer has been made and the employer makes a 'good faith determination' that the job position is of a sensitive nature." Sensitive nature is, however, not defined.

Egypt: Nobody Gets Out With More Than $10K. The tyranny is in full swing in Egypt, where the government has now banned anyone wanting to leave the country from taking more than $10,000 with them. This is the same measure used by the government of Iran to prevent emigration, or to confiscate the cash of those who do wish to emigrate.

Alaska legislative aide's anti-Islam activism forces resignation. A legislative aide who joined an anti-Islam group and became obsessed with its mission crossed the line and illegally used state resources to promote its interests, a state ethics panel concluded in a ruling released Friday [12/14/2012]. [...] [Karen] Sawyer's activism on behalf of Stop Islamization of America became an issue when she was chief of staff to Palmer Rep. Carl Gatto before his death this year.

Nelson Mandela 'proven' to be a member of the Communist Party after decades of denial. Now, nearly half a century after the court case that made him the world's best-known prisoner of conscience, a new book claims that whatever the wider injustice perpetrated, the apartheid-era prosecutors were indeed right on one question: Mr Mandela was a Communist party member after all.

NASA is completely unnecessary. The Air Force has its own space program.
U.S. military sends mystery space drone back into orbit. The U.S. military launched its highly secretive unmanned $1 billion X-37B space plane into orbit today from Cape Canaveral on top of an Atlas V rocket. The U.S. Air Force which operates the small, top-secret version of the space shuttle still will not say how long the third X-37B mission will last, nor what the vehicle will be doing in orbit.

Many so-called comedians are political propagandists.
Comedian: Liberal comics 'don't want to make fun of Obama because they feel that it will weaken him'. Conservative stand-up comedian Evan Sayet says there is "no doubt" his fellow comics have taken it easy on President Barack Obama. "They've even admitted it themselves," he told The Daily Caller. "Liberals don't want to make fun of Obama because they feel that it will weaken him if they honestly point out his foibles and his shortcomings. The narrative is that Obama is sort of a god (in fact, Evan Thomas of Newsweek said exactly that.)

That's just crazy!
Congress strikes word 'lunatic' from US laws. Americans may be forgiven for calling their lawmakers "lunatics" given the partisanship that has consumed Washington, but that term will no longer be allowed in laws promulgated by Congress. The House of Representatives voted 398-1 on Wednesday [12/5/2012] to strike the word "lunatic" from all federal legislation.

The Editor says...
The word lunatic is archaic, but it is still well-known. Everybody knows what the word means, and it isn't particularly defamatory if the shoe fits. Doesn't the Congress have more important things to work on?

Massive Anti-Obama Rally Planned for Inauguration Day. Inspired by concerns of unemployment, the economy, Benghazi, and matters of foreign policy; organizers are promoting a "Massive Anti-Obama Rally @ Obama's Inauguration Day." Their goal? 500,000+ protesters armed with signs identifying the reason for their participation in the rally.

Oak Ridge and NVIDIA unveil Titan supercomputer. Titan, according to Oak Ridge's announcement, is 10 times more powerful than its predecessor, Jaguar, with a theoretical peak performance of 20 petaflops, or 20,000 trillion calculations per second.

Does Government Want To Drain Americans' 401(k) Plan? As Washington debates what to do about the fiscal cliff that it foolishly created, many potential sources of new revenue will be thrown on the table. One of them is likely to be 401(k) plans.

Cornyn labels 'outrageous' Obama's 'crazy idea' to unilaterally raise debt ceiling. John Cornyn is known for being a politician who carefully chooses his words. He is, by choice, deliberate and judicious. Today [11/30/2012], he was just plain mad. In an interview on Fox News, the San Antonio Republican condemned a proposal floated by the White House to unilaterally raise the nation's debt ceiling if Congress fails to act before the spring 2013 deadline. "It's profoundly irresponsible," Cornyn said. "So that's a crazy idea and I'm amazed that [Treasury] Secretary [Tim] Geithner had the courage to float that yesterday."

Treasury Borrowed $211.69 Per U.S. Household on Black Friday. The U.S. Treasury increased the net debt of the United States $24,327,048,384.38 on the day after Thanksgiving, which equals approximately $211.69 for each of the nation's 114,916,000 households.

$6800 per capita in redistributed wealth.
$3.4 billion Indian settlement finalized. Finalization of a $3.4 billion settlement between the United States and nearly 500,000 American Indians was lauded Monday [11/26/2012] by the Obama administration.

Tulsans against Chloramine. The Tulsa Metropolitan Utility Authority (TMUA) recently switched Tulsa's water system from the use of chlorine as a secondary disinfectant to chloramine — a combination of chlorine and ammonia — despite concerns about the effects of the chemical when ingested, used in cooking, or used in bathing. The conversion was complete at the end of July 2012. Chloramine-treated water can't be used directly in fish ponds and can't be used in dialysis. It is documented to cause deterioration of materials commonly used in plumbing.

Sandy Island 'Undiscovered' After Appearing on Maps. Sandy Island was nowhere to be found when Australian scientists reached the South Pacific location where it appeared on Google Earth, nautical charts and world maps. "It raises all kinds of conspiracy theories," expedition member Steven Micklethwaite said, adding that the CIA is among the sources of the world coastline database.

States Choose Own Paths With One-party Governments. Starting next month, Americans in 25 states will have Republican governors and Republicans in control of both houses of the state legislatures. They aren't all small states, either. They include about 53 percent of the nation's population. At the same time, Americans in 15 states will have Democratic governors and Democrats in control of both houses of the state legislatures. They include about 37 percent of the nation's population. That leaves only 10 percent in states in which neither party is in control.

WWII code 'may never be cracked'. Experts at intelligence agency GCHQ have asked for help in de-coding a message found attached to a pigeon leg, thought to date back to WWII. The dead bird was found in a chimney in Surrey a few weeks ago.

Report: French officials accuse US of hacking Sarkozy's computers. [Scroll down] According to the l'Express report, Homeland Security Secretary Janet Napolitano reportedly did not deny the allegations when asked point-blank about them. "We have no greater partner than France, we have no greater ally than France," Napolitano reportedly answered, at the opening of an interview with l'Express. "We cooperate in many security-related areas. I am here to further reinforce those ties and create new ones."

Obama administration declares: 'we have no greater ally than France'. In an interview with L'Express, Homeland Security chief Janet Napolitano told her French audience that "we have no greater partner than France, we have no greater ally than France," in an effort to convince them that Washington had not been hacking into Nicolas Sarkozy's office ahead of the French presidential election, as some French sources are suggesting.

FBI raids Detroit Public Library; $1,000 trash cans, possible shady deals raise eyebrows. "There may be an individual who awarded contracts for personal gain. And if that is the case, it is a total violation of the public trust," Jonathan Kinloch, president of the Detroit Library Commission, told the [Detroit] Free Press. According to Kinloch, the contracts involve two technology firms that were hired for at least $2 million to update the library's computer systems. A library official allegedly had ties to at least one of the contractors, and benefited personally from the million-dollar deals, he said.

The CIA Has Closed Its Climate Change Research Office. EEnews.net's Greenwire reports the CIA has shut down its Center on Climate Change and National Security due to budget constraints. The closure evidently took place earlier this year.

FHA Faces $13.5B Fiscal '12 Deficit, Audit Says. The Federal Housing Administration faced a deficit of $13.5 billion for the fiscal year ending in September, according to an audit released late Thursday. The report says the FHA will not have the capital resources available to handle the estimated losses on the roughly $1.1 trillion in mortgage debt that it backstops. In total, the FHA has $25.6 billion in resources, but is forecast to see future cash flows of negative $39.1 billion, creating the deficit. Analysts have said the FHA could require a bailout from taxpayers in order to bridge the gap.

White House website deluged with secession petitions from 20 states. How would Old Glory look with 30 stars instead of 50? As far-fetched as it may sound, the White House might soon be forced by its own rules to examine the question. On Nov. 7, the day after President Barack Obama was re-elected, the White House's website received a petition asking the administration to allow Louisiana to secede.

Rep. Allen West demands recount. Florida Rep. Allen West on Wednesday demanded a recount as his bid for reelection remained too close to call, with the tea party Republican trailing his Democratic opponent by fewer than 3,000 votes. [...] West, who warned before the election of "nefarious actions" by Democrats, suggested a county election supervisor was trying to rig the election.

Business Owners Warn Of 4,100 New Regs And The Administration's Secrecy About Them. Every administration is legally required to publish a report each April and October in the Federal Register to inform Congress and the public of the administration's regulatory agenda and its potential economic impact. The requirement is part of the Regulatory Flexibility Act of 1980. The Obama administration has missed its second straight legal deadline for disclosing its regulatory plans and their economic impact to Congress and the American public. No previous administration has ever failed to produce the report even once.

NV newspaper: Obama a "narcissistic amateur," "embarrassment," "incompetent". And those are the kinder thoughts that the editors of the Las Vegas Review-Journal had for Barack Obama in their lead editorial yesterday. Those conclusions refer to Obama's overall performance on the economy and foreign policy. When they get down to specifics on Benghazi, the anger pulses through every sentence.

Las Vegas Review-Journal lets Obama have it. This is the most incendiary indictment of a politcian I've ever read in the mainstream media.

The Saudis are bulldozing Islam's heritage. Why the silence from the Muslim world? The long-cherished ambition of Saudi Arabia's ruling Wahhabi sect to smash up the ancient buildings of Mecca and Medina is nearing fruition. In Mecca, the house of one of Mohammed's wives has been demolished to make space for public lavatories.

Facebook admits error in censoring anti-Obama message. Mistakes happen, for sure, yet Facebook made three or four in quick succession, evidence that this wasn't just a goof. "They warned us once. They censored it twice and then they suspended our account," says [Larry] Ward.

3.5 Years: Zero Budgets. Senate Dems haven't approved a budget resolution since April 29, 2009.

The wealthiest person in each of the 50 states. Bill Gates, who is America's wealthiest person worth $64.5 billion, still lives in Seattle, Washington near to the headquarters of Microsoft which he founded, while Wal-Mart heir, Jim Walton, worth $33.6 billion lives in Bentonville, Arkansas, where the retail giant is headquartered.

Historical treasures missing from National Archives. Precious historical artifacts like the Wright Brothers airplane patent, the bombing maps for the nuclear attack on Japan, the original eyewitness radio report of the Hindenburg disaster and photos taken by the astronauts on the moon are just some of the items stolen from our National Archives. So much of our past has been pocketed by thieves that the National Archives has formed a recovery team to get them back.

Government: Violent crimes rose 18 percent in 2011. The U.S. Bureau of Justice Statistics reported Wednesday [10/17/2012] that the increase in the number of violent crimes was the result of an upward swing in simple assaults, which rose 22 percent, from 4 million in 2010 to 5 million last year.

DOE delays decision on natural-gas export license. The Obama administration punted a decision on whether to prevent a liquefied natural gas (LNG) export license, saying it needs more time to review a complaint that an environmental assessment for the plan did not go far enough. The Department of Energy (DOE) said it needs to review a complaint regarding a conditional permit granted to Cheniere Energy. That permit would let the firm export LNG to countries without free-trade agreements from its Sabine Pass terminal in Louisiana.

The Editor says...
What does the Department of Energy do to facilitate the production of energy? The DOE doesn't produce energy — it reluctantly issues permits to energy producing companies. In other words, the United State would have far more energy available if the DOE were abolished.

Obama White House Lists Prisoner Re-Entry Programs as Budget Priority for Black Families Only. The White House's fiscal year 2013 budget includes $831 million for Department of Justice prisoner re-entry programs, which are designed to help inmates who have been released from prison find a job and to reduce recidivism rate. Take a look at the Obama White House's Office of Management and Budget, and you'll find the program is mentioned under the fact sheet on key issues titled, "An Economy Built to Last and Security for African American Families."

Some States Not Sending Absentee Ballots to Military. Jurisdictions in Vermont, Michigan, Mississippi and Wisconsin have failed to mail absentee ballots to military members by the Sept. 22, 2012, deadline established by the MOVE Act. That was 45 days before the November 6 elections, which was what was required.

U.S. to End Pro-Democracy Broadcasts in Russia. America's broadcast voice in Russia will soon be silenced following Moscow's ratification of a new law that will force a legendary broadcasting company to abandon the Russian airwaves. Radio Liberty (RL), a division of the U.S.-funded Radio Free Europe (RFE), recently fired a large portion of its staff after the passage of a Russian law prohibiting foreign-owned media outlets from broadcasting on AM frequencies.

The Editor says...
During the Cold War, the Voice of America and Radio Free Europe didn't wait for Russia's permission to use specific radio frequencies. Things in the White House are different now, and not in a good way.

Fox News Contributor Can't Accept New Heart for Wife Due to Government Regulations. [Charles Payne's] friend recently lost his daughter. Payne's wife needs a heart transplant. His friend offered them his daughter's heart. Overwhelmed, they accepted. Then the government got involved.

Disorder and Corruption in a New World Order. Sixty years of communism, theft, and abuse of power are hard to overcome even though a strange form of capitalism has taken strong roots in Romania. The shadow communism never went away and is re-emerging with a vengeance in public life with empty promises of free food, easy money, and free housing.

Just five per cent of takings from NFL's pink kit for breast cancer campaign goes to charities. The proceeds ostensibly go to help support the fight against breast cancer, but critics now allege that most of the cash ends up in the pockets of NFL owners. [...] However, Business Week discovered that only 5 percent of the sales are being donated to the American Cancer Society.

Nebraska town with only 11 residents sells more than Four Million cans of beer every year. The Oglala Sioux Tribe governs the Pine Ridge Indian Reservation, South Dakota, just over the state line from Whiteclay [Nebraska]. Last year the four beer stores named in the suit sold the equivalent of 4.3 million 12-ounce beer cans even though according to the latest census, Whiteclay has only 11 residents.

The Editor says...
I'll bet they sell a lot of this stuff, too, in addition to Aqua Velva, Woolite, and Listerine.

Military absentee ballots remain drastically low. As of today [10/11/2012], voting registration deadlines in 18 states and territories have passed, and military absentee ballot requests remain at a worryingly low level compared with past election years. According to the most recent data, released Sept. 22, Florida has sent 65,173, compared to the just over 95,000 it counted four years ago. Virginia has sent out 12,292 military and overseas absentee ballots, less than 43 percent of the 28,816 it counted in 2008.

Cash-strapped farmers feed candy to cows. Cattle farmers struggling with record corn prices are feeding their cows candy instead. [...] While corn goes for about $315 a ton, ice-cream sprinkles can be had for as little as $160 a ton.

Did someone mention ethanol?

Members of Congress Financially Benefit from Legislation They Support. A Washington Post investigation found that 73 members of Congress have "sponsored or co-sponsored legislation in recent years that could benefit businesses or industries in which either they or their family members are involved or invested."

The Collapse of Communism: The Untold Story. [Scroll down] Should we really believe that millions of communists just became overnight capitalists and good citizens? Surprise! They turned out to become leaders of the new system. It doesn't matter what political party in the former Soviet satellite countries you are looking at, left or right, they all were created and are run by former communists. So communism didn't really disappear, it didn't go away. It just adapted, morphed into the new system in order to survive and to continue on its mission.

Reid Attacks Romney in Apparent Violation of Senate Ethics Rules. The personal political attack from [Senate Majority Leader Harry] Reid appears to violate the Senate's ethics rules. According to the Senate Select Committee on Ethics, "Senate resources may only be used for official purposes. The General Appropriations statute, 31 U.S.C § 1301, provides that official funds are to be used only for the purposes for which they were appropriated. No official resources may be used to conduct campaign activities." Reid's bold attack could attract the attention of the Senate Ethics Committee.

U.S. Investigating White House Cyber Attack. Law enforcement and national security agencies are investigating the hacking of a White House computer last month that penetrated a network inside the White House Military Office that handles top-secret data, U.S. officials said. On Capitol Hill, House Republicans this week asked the White House to provide details of the attack on the White House Communications Agency, which runs the Situation Room and classified communications and teleconferences.

October Surprise: Obama Plans Major Airstrike on Libyan Targets. Today [10/3/2012], a Defense Department official confirmed to Breitbart News that there is advance planning for a "substantial air package" against targets in Libya. Military sources suggest that this means that flight missions against Libyan targets will include manned flights, not merely drones.

Obama to designate Chavez home as nat'l monument. President Barack Obama is designating the California home of labor leader Cesar Chavez as a national monument, a move likely to shore up support from Hispanic and progressive voters just five weeks before the election.

White House confirms cyberattack. The White House confirmed but sought to downplay a report by a conservative website on Sunday [9/30/2012] that it had been the victim of a cyberattack, volunteering to POLITICO that no harm had been done. The Washington Free Beacon reported that Chinese hackers had attacked a computer system in the White House Military Office.

Is QE 3 Really Just Another Bailout? At a time when mortgage rates are at historic lows, home prices have fallen, and previous overbuilding leaves little room for growth in employment in the housing industry, why would the Federal Reserve suddenly decide to purchase $40 billion worth of mortgage securities a month supposedly in order to stimulate the housing market and thereby create more jobs?

Explosive Update: The Smolensk Crash. The shocking news this week is that a snapped rivet was found during an autopsy of one of the recently exhumed victims of the crash. This evidence bolsters growing evidence for an alternative explanation of the crash, which the new Polish government and Russian authorities insist was a matter of pilot error and heavy fog. The alternate theory, increasingly borne out by evidence and testing, is that there was an explosion on board.

'Slander' and free speech are one and the same. Who said the following: "The future must not belong to those who slander the prophet of Islam." Iran's Ahmadinejad? Egypt's Morsi? Some little-known, fatwa-flinging cleric increasing the bounty on Salman Rushdie's head? None of the above. The words are President Obama's, and he spoke them this week to the U.N. General Assembly. No Big Media outlet reported this stunning pronouncement.

Where are all the separation of church and state people now?

Trump: Obama is a "Teflon" president. Donald Trump, the real estate mogul and reality television personality, attacked President Obama Monday [9/24/2012] as a "Teflon" president, arguing that Mr. Obama benefits from a journalistic bias in his favor. "You know, he gets the greatest press of anybody that I think I've ever seen," Trump said of the president, speaking at the convocation at Liberty University, a Christian college founded by Jerry Falwell.

How to Stop Hospitals From Killing Us. Medical mistakes kill enough people each week to fill four jumbo jets. But these mistakes go largely unnoticed by the world at large, and the medical community rarely learns from them. The same preventable mistakes are made over and over again, and patients are left in the dark about which hospitals have significantly better (or worse) safety records than their peers.

Apparently, if you are a white male farmer, you do not have civil rights.
Obama USDA offering women, Hispanic farmers over $1.3 billion in discrimination payouts. As part of "a new era of civil rights" at the Department of Agriculture, Secretary of Agriculture Tom Vilsack announced Monday that Hispanic and women farmers and ranchers who believe USDA discriminated against them can file claims to get a piece of at least $1.33 billion in cash awards and tax relief payments and up to $160 million in farm debt relief, beginning this week. Women and Hispanic ranchers and farmers who feel the agency denied their loan or loan servicing applications because of their race or gender at various periods from 1981 to 2000 can file claims alleging discrimination from Sept. 24, 2012, to March 25, 2013, for a slice of the payout.

Hard Unemployment Truths About 'Soft' Skills. "What exactly are the skills you can't find?" I asked, imagining that openings for high-tech positions went begging because, as we hear so often, the training of the U.S. workforce doesn't match up well with current corporate needs. One of the representatives looked sheepishly around the room and responded: "To be perfectly honest ... we have a hard time finding people who can pass the drug test."

Translation: "Historically black college" means "all-black college."
Historically black colleges get $228 million in federal funds, including 15 schools in Alabama. The U.S. Department of Education announced today [9/18/2012] that 97 historically black colleges will receive $227.9 million in federal funds as part of its annual Strengthening Historically Black Colleges and Universities grants. Miles College President George French said there's a sense of relief after efforts to decrease federal funding across the board in the Department of Education. "We're happy the funding levels were restored," said French. "This is the second year we had to fight for funding. It's still lower."

Three lawmakers, FEMA aide help open Scientology national office. Three House members this week helped to open the first-ever Church of Scientology National Affairs Office in Washington, drawing politics into the controversial movement just as a new movie inspired by church founder L. Ron Hubbard opens. Reps. Dan Burton, R-Ind., Sheila Jackson Lee, D-Texas, and Danny Davis, D-Ill., spoke at the Wednesday [9/12/2012] opening on Dupont Circle.

Kansas considers removing Obama from ballot. A GOP-controlled board in Kansas is trying to decide whether to remove President Obama from the state ballot over objections about his birth certificate. The State Objections Board — consisting of three of the state's top Republican elected officials — ruled Thursday [9/13/2012] it did not yet have enough information and postponed a decision until Monday. "I don't think it's a frivolous objection," Kansas Secretary of State Kris Kobach told the Topeka Capital-Journal. "I do think the factual record could be supplemented."

The Editor says...
In case this is your first day on the internet, let me explain. You see, President Obama (a/k/a Barry Soetoro) released an image of a document on April 27, 2011, which he claimed to be his birth certificate. Subsequent examination of the image quickly revealed it to be a Photoshopped fake. This act of fraud is one of many reasons that I believe President Obama/Soetoro should be impeached in the U.S. Senate and removed from office.

Obama Admin Transferred 3,000 Detainees to Afghan Gov't Control Day Before 9/11. The U.S. formally transferred control of its largest prison to the Afghans in a ceremony Monday at Bagram airbase north of Kabul.

Strange Railroad Traffic Being Re-Routed Through Ft. Leavenworth Military Base. The Northern line out of Kansas City has been closed since yesterday [9/10/2012], and all rail traffic is detoured through Lawrence since then. The Northern line runs through the Leavenworth Military Base, and around the prisons. [...] These trains have been running non stop both directions all day long. We know this because the trains blow whistles at every intersection, and every time they pass each other.

Chicago Under RahmCare: Do as We Say or Pay Up. Chicago Mayor Rahm Emanuel has announced a new "wellness program" for all city employees and their spouses (or domestic partners or civil-union spouses). "Our program will change lives, make our workforce healthier, and save taxpayers money," Emanuel said. The program, called Chicago Lives Healthy, is technically voluntary; but those refusing to participate in it will be penalized $50 a month per covered adult. In other words, it's only voluntary if a couple wants to forego $1,200 a year.

'New York Post' Runs Boldest Anti-Obama Ad Yet. Even casual readers of the New York Post will find it hard to miss the full-page ad immediately following the paper's must-read gossip section, Page Six, that claims President Obama's biological father is not Barack Hussein Obama Sr., but rather poet and labor activist Frank Marshall Davis. Or as the ad puts it, "Communist Party Propagandist Frank Marshall Davis." The ad, headlined "Obama's Big Lie Revealed," is a promotion for a DVD titled Dreams from My Real Father, which is billed as "Amazon's #1 documentary."

Students say they are forced to work on new iPhone 5. Thousands of students in an east China city are being forced to work at a Foxconn plant after classes were suspended at the beginning of the new semester, it has been revealed. Students from Huai'an in Jiangsu Province were driven to a factory in the city run by Taiwan's Foxconn Technology Company after the plant couldn't find sufficient workers for the production of Apple's much-anticipated iPhone 5, they said in online posts. A student majoring in computing at the Huaiyin Institute of Technology said 200 students from her school had been driven to the factory.

Alinskyite Super PAC's Crusade to Take Down Michele Bachmann. Congresswoman Michele Bachmann (R-Minn.) is now in the crosshairs of the radical left-wing Credo Super PAC which jettisoned an earlier pledge not to target any female congressional candidate in the upcoming election. [...] Bachmann is the "Queen of Crazy," according to Credo's website. The PAC is attacking Bachmann because, among other things, she believes the U.S. Constitution limits the powers of the federal government, is an outspoken Christian, opposes same-sex marriage, believes manmade global warming is a myth, and wants to reform Medicare and Medicaid.

Television Stations Could Start Using Drones To Cover News Stories. A drone originally developed for military use could soon be used by television stations and journalists as a news-gathering device. The Schiebel Corporation's Camcopter, which is used by the United Arab Emirates Army and the Germany Navy, could soon be used for broadcasting purposes, according to TV News Check.

GOP platform proposes Tenth Amendment test for all federal spending. All federal spending should be reviewed to ensure powers reserved for the states are not given to the federal government, according to the GOP platform approved Tuesday [8/28/2012]. The platform language is meant to ensure all federal spending meets the requirements of the 10th amendment, which prohibits state powers from being given to the feds.

One of most dangerous cities in US plans to ditch police force. Amid what they call a "public safety crisis," officials in Camden, N.J., plan to disband the city's 141-year-old police department and replace it with a non-union division of the Camden County Police. Camden city officials have touted the move as necessary to combat the city's growing financial and safety problems. The entire 267-member police department will be laid off and replaced with a newly reformatted metro division, which is projected to have some 400 members.

Anti-Obama doc '2016' doing well in Ohio, Texas. Here are the five strongest U.S. theater markets in terms of ticket sales for "2016: Obama's America," based on box office data from Rentrak, a media measurement and research company.

What Is the Natural Political Home of Indian-Americans? One group whose support President Obama can apparently take for granted is Indian-Americans. But why? As we enter the home stretch of the presidential election, one group whose support President Barack Obama can apparently take for granted is Indian-Americans. According to a recent Pew Research Center survey, 65 percent of the 2.85 million-strong community self-identifies as Democratic or Democratic-leaning. Fewer than one in five see themselves as Republicans. In 2008, a whopping 84 percent of Indian-Americans voted for Obama, one of the highest proportion of any ethnic group in America.

Feds shut down criminal probe of Arizona Sheriff Joe Arpaio. Federal prosecutors closed an exhaustive four-year FBI criminal investigation and grand-jury probe targeting Maricopa County Sheriff Joe Arpaio, former County Attorney Andrew Thomas and their top deputies, saying there will be no indictments.

Fed Primes the Pump to Re-Elect Obama. [Scroll down] "We will act in an apolitical, non-partisan manner to do what is necessary for the economy," Bernanke quickly responded. "We have said we are willing to take further action." As the election grows close, the Fed is acting to inflate the dollar — just in time to try to save President Obama. According to the Fed, a third round of "quantitative easing" may be on its way so long as the economy doesn't ratchet up.

Box Office: Obama Doc '2016' Stuns Hollywood. Gerald R. Molen, the Oscar-winning producer behind "Schindler's List" and "2016," and Dinesh D'Souza, upon who's book the film is based, should send the corrupt media a fruit basket today. The corrupt media will likely tell you "2016" is a success because of racism and hate, but the real reason people are flocking is to try and grasp a better understanding of this awful, divisive, inept, and anti-American failure currently sitting in the Oval Office. Nothing we've seen over the last four years and especially during this campaign in any way matches the carefully crafted image Obama and his media punks have crafted and bitterly clung to.

Exposing the Real Barack Obama. Every seat in the theater was filled, even though there had been an earlier showing that day, and more showings were scheduled for the rest of the afternoon and evening. I had to sit on a staircase in the balcony, but it was worth it. The audience was riveted. You could barely hear a sound from them, or detect a movement, and certainly not smell popcorn. Yet the movie had no bombast, no violence, no sex and no spectacular visual effects.

Anti-Obama Documentary a Box Office Hit. A documentary highly critical of President Obama's past became the second highest-grossing documentary of the year last weekend, grossing $1.2 million last weekend. "2016: Obama's America," based on conservative author Dines D'Souza's book "The Roots of Obama's Rage," expanded to 169 theaters nationwide on Friday [8/24/2012], following the success of its limited release to 61 theaters over the past month, the Hollywood Reporter first reported.

Box Office Report: Anti-Obama Doc Drawing Big Crowds, Even in New York City. An anti-Barack Obama documentary based on conservative author Dinesh D'Souza's book The Roots of Obama's Rage will expand nationwide this weekend after doing notable business in select markets across the country — including in liberal-minded New York City.

Wash Post Gushed Over 'Emotional Power' of 'Fahrenheit 9/11,' Slams 'Fear-Mongering' '2016'. Apparently, one-sided documentaries are only a problem if they're conservative.

Why Is The Press Ignoring The Success Of '2016'? So far, "2016" has taken in more than $9.3 million, which puts it easily within reach of becoming one of the top five highest-grossing political documentaries of all time. And, if anything, the movie is just getting started. Last weekend, it averaged nearly $6,000 per screen, which is higher than when it was showing in just 62 theaters a couple weeks ago. But aside from a few grudging news stories about the weekend box office take and a smattering of predictably critical reviews, the media are largely turning a studied blind eye to the film.

Holder Justice Department Recruits Dwarfs, Schizophrenics, and the 'Intellectually Disabled'. The PJ Tatler has obtained documents from the Justice Department detailing efforts to recruit attorneys and staff who are dwarfs or who have "psychiatric disabilities" or "severe intellectual disabilities." On May 31, 2012, Assistant Attorney General Tom Perez issued a directive to affirmatively recruit people with these "targeted disabilities." This DOJ policy does not merely involve prohibitions against discrimination, but rather the documents reveal deliberate recruitment efforts to hire as attorneys and staff for the Department of Justice people suffering from psychiatric disorders and intellectual disabilities.

The Editor says...
Why would the leadership of the Justice Department do something like this? Because the Justice Department is politicized from top to bottom, and the next President will find it impossible to fire these people. It's like pouring sugar in the gas tank of a car right before it is repossessed, just to be spiteful. By loading the Justice Department with half-wits and psychotics, the next (non-Democrat) administration will have a hard time prosecuting any voter fraud that takes place in the November 2012 election. On the other hand, how many people with "severe intellectual disabilities" make it through law school?

Federal Auditor: 2,527 DHS Employees and Co-Conspirators Convicted of Crimes. There have been 2,527 Department of Homeland Security (DHS) employees and co-conspirators convicted of corruption and other criminal misconduct since 2004, according to a federal auditor. [...] Some cases date back to fiscal year 2004 (Oct. 1, 2003 thru Sept. 30, 2004) although the majority of the open investigations were initiated in the last three fiscal years. The DHS started operating in March 2003.

The Editor says...
That sounds bad, but it also sounds like a meaningless one-dimensional statistic that gives no indication of the seriousness of those crimes or the percentage of the DHS workforce involved. The details are laid out in the remainder of the article.

Oklahoma police captain sues department over mosque assignment. A Tulsa police officer and devout Christian is suing his department after being punished for refusing to go to a mosque for a mandatory cultural event. Police Capt. Paul Campbell Fields, a 17-year veteran, was docked two weeks' pay, transferred, reduced to the graveyard shift and made ineligible for promotions for at least a year, after he told his chief his faith made it impossible for him to attend a "Law Enforcement Appreciation Day" at the Islamic Cultural Society of Tulsa, according to the lawsuit.

'2016: Obama's America' Movie Is Disturbingly Necessary. [Scroll down] To watch this movie and realize — or simply be reminded of — all that is unknown about President Obama is of concern. Much of the information has been ignored by the American media totally. When appropriately reminded as to what is still unknown about Obama to date, one has to ask: How can any logical-thinking person [care] about Romney's taxes while not asking any questions regarding our current president's past? The man influences the entire globe, but liberal Americans want to know how much Mitt Romney paid in taxes in the past rather than learn about the man who they have entrusted with the country. Unbelievable.

Is America becoming a 'socialist state'? 40 percent say yes. Two of every five Americans today say their country is evolving into a socialist state. That finding, contained in a new nationwide poll, highlights a central debate in the 2012 election campaign and a major challenge for President Obama.

New Evidence of Corruption Involving Sale of Farmington Public Schools Property to the Islamic Cultural Association. A stunning new development has come to light surrounding allegations of public corruption over the sale of Farmington Public Schools (FPS) property to the Islamic Cultural Association (ICA). On Wednesday, August 8th, Reverend Bruce D. Burwell, Senior Pastor of Light of the World Christian Center in West Bloomfield, read aloud a prepared statement on how the person in charge of FPS properties told him the property was not for sale when he expressed an interest in purchasing it for his church. FPS subsequently sold the vacant Eagle Elementary school property to the Islamic Cultural Association.

National Review's Rich Lowry Destroys MSNBC's Rachel Maddow on Meet the Press. She's touted by the liberal media as one of the brightest commentators on television, yet MSNBC's Rachel Maddow got thoroughly demolished by National Review editor Rich Lowry on Sunday's Meet the Press.

Report: Rep. Steve King mulling bill to repeal everything Obama has signed. Rep. Steve King (R-Iowa), an outspoken critic of just about everything President Obama supports, is considering introducing a bill that would repeal everything Obama has signed into law. King put forward this suggestion to an Iowa audience on Tuesday [8/7/2012], when he also reiterated his threat to sue the Obama administration for its June decision not to deport younger illegal immigrants.

Zimmerman Prosecutors In Huge Screw-Up. In an embarrassing screw-up, Florida prosecutors today [8/9/2012] accidentally distributed a post-mortem photo of Trayvon Martin as well as copies of George Zimmerman's college records, material that Florida law considers confidential and exempt from disclosure. The documents were inadvertently included in supplemental discovery records distributed this morning by prosecutor Angela Corey's office.

Zambian miners crush a Chinese manager to death. Suppose a manager of a British mining company picked up a gun and opened fire on his African workforce? What if the company concerned paid its Zambian miners less than the legal minimum wage? Suppose relations on the shop floor became so poisonous that furious workers chose to crush a manager to death? [...] Yet all of the above has happened at a Chinese-owned mine in Zambia.

You drop fifteen tons an' whaddaya get? In a move surely designed to give Iran's militant mullahs pause for thought, the Obama Administration has released information that America's biggest bunker-busting bomb is ready to use. Last week, Air Force Secretary, Michael Donley, told Defense News that the massive ordnance penetrator, MOP, a 30,000 pound behemoth designed to penetrate the earth to an alleged depth of 200 feet, is ready to be employed against Iranian nuclear weapons production sites. It is almost a certainty that the weapon's announced capabilities are short of actual performance. You don't announce your limitations to your enemies so they can simply dig deeper redoubts for their bomb building program. So actual penetration capabilities remain unknown.

Congressman's Anti-Big Government Rant Gets Standing Ovation On House Floor. Rep. Mike Kelly just gained a lot of new fans.

The Editor says...
The Mike Kelly video is well worth your time.

The Communists Killed Kennedy. Former CIA officer Brian Latell's new book, Castro's Secrets, includes the revelation that Fidel Castro knew Lee Harvey Oswald was going to kill President Kennedy. The book deserves far more attention that it has received and adds to an existing body of evidence that Castro not only had foreknowledge of the plot to kill JFK but was actually behind it, most likely with Soviet backing.

Bill Nye the Obama Guy. Bill Nye, that quirky science guy of 1990s TV fame, is taking his colorful bow ties and sweet science tricks on the road as another famous face of the Obama campaign. Nye made a three-stop tour through New Hampshire this week touting the president's education policies and pushing for science and engineering programs.

Vast aquifer found in Namibia could last for centuries. A newly discovered water source in Namibia could have a major impact on development in the driest country in sub-Saharan Africa. Estimates suggest the aquifer could supply the north of the country for 400 years at current rates of consumption. Scientists say the water is up to 10,000 years old but is cleaner to drink than many modern sources. However, there are concerns that unauthorised drilling could threaten the new supply.

Unintentionally Hilarious Trailer for Pro-Obama Movie. Judging by the 2:30-long trailer for The Obama Effect, the movie, set in 2008, is the fictional account of a man named John (played by Charles S. Dutton) who suffers a heart attack and discovers he's spared death because he has a mission from God: campaigning for Barack Obama. No, I'm serious. The promoters of the film cast it as a comedy, but it's NOT a satire. It really does appear to be a serious movie.

The biggest financial fraud in history receives scant media attention. We are now finding out that the entire system has been rigged, enriching the "elect" and financially looting the rest. If you are reading this, you have been robbed, although the corporate media remains silent about who robbed you, how it was done, and which government and non-government officials were complicit and benefited. Why? Perhaps the most compelling reason is that when the "average" person learns the depths at which corruption exists between the various banks, governments and government officials, there will be a revolution like the world has never seen.

All GOP Governors Elected in 2010 Reduced Unemployment. Meanwhile, our president touts stagnation at 8.2% as "a step in the right direction." Clearly, the solutions put forth in these 17 states are working, and the ones offered by the White House aren't.

Unemployment Rate Dropped In Every State That Elected A Republican Gov. In 2010. In 2010, influenced by the Tea Party and its focus on fiscal issues, 17 states elected Republican governors. And, according to an Examiner.com analysis, every one of those states saw a drop in their unemployment rates since January of 2011. Furthermore, the average drop in the unemployment rate in these states was 1.35%, compared to the national decline of .9%, which means, according to the analysis, that the job market in these Republican states is improving 50% faster than the national rate.

The soft sexism of low expectations:
Mayor designates parking spaces for men. Calling himself a proponent of equal rights, the mayor of a small town in the Black Forest has designated special parking spaces in the municipal garage for men — because they're harder to get into.

Restaurant Faces Investigation For Offering Church Discount. A family-owned restaurant in Pennsylvania is under a state discrimination investigation for offering a ten percent discount for diners who present a church bulletin on Sundays. [...] According to the Pennsylvania Human Relations Act, a restaurant classified as a public accomodation. As such, restaurants are not allowed to discriminate based on religion — among other things.

Why More And More Americans Are Abandoning Their US Citizenship. In November, millions of Americans will trudge to their local polling places to cast votes in the hope of improving their lives here in the USA. Between now and then, a few hundred Americans will vote with their feet in the hope of improving their lives outside the USA. Last year, nearly 1,800 Americans surrendered their citizenship. In a nation of 300 million folks, 1,800 émigrés is hardly a rush for the exits. But the recent trend is, nevertheless, intriguing.

Justice Department files complaint seeking revamp of Corpus Christi police hiring practices. The Department of Justice filed a federal complaint Tuesday [7/3/2012] against the city of Corpus Christi claiming its human resources department practiced a pattern of discrimination against prospective female police officers. The complaint states the city violated Title VII of the Civil Rights Act of 1964, and challenges the department's use of a physical ability test for new officers.

DOJ lawsuit: Physical test for police officers discriminates against women. The Corpus Christi, Texas Police Department has found itself on the business end of a civil rights lawsuit after the Justice Department concluded that a physical ability test used when considering job applications discriminates against women.

Marylanders move in droves to Virginia. Maryland lost the most residents in the mid-Atlantic between 2007 and 2010 — and many of them moved to Virginia, according to a study released Tuesday [7/3/2012]. Almost 40,000 Marylanders crossed the Potomac River for new homes in Virginia, taking $2.17 billion with them, according to the Internal Revenue Service data used in the study conducted by Change Maryland, a nonpartisan group advocating for less state spending and lower taxes.

Lifeguard in Florida fired after saving drowning man. A young lifeguard in Florida has lost his job after rescuing a drowning man in a section of beach he was not assigned to patrol, local news media reported Wednesday. Tomas Lopez, 21, was manning his post on Hallandale Beach, north of Miami, on Monday afternoon [7/2/2012] when a beach-goer alerted him to a swimmer struggling in an "unprotected" part of the beach.

Florida lifeguard fired for rescue outside beach zone. A South Florida lifeguard who rushed to save a drowning man has been fired for leaving the section of the beach his company is paid to patrol.

Symptoms of a sick culture. Two days before the Fourth of July, [Thomas] Lopez was fired for helping rescue a man drowning 1,500 feet outside of his designated zone. "It was a long run, but someone needed my help. I wasn't going to say no," Lopez told the South Florida Sun-Sentinel and other media outlets. When Lopez filed his incident report, he was canned on the spot.

Florida lifeguard says he's been offered his job back. The south Florida lifeguard fired for leaving his post so he could save a swimmer outside his coverage zone said Thursday he has been offered his job back. But Tomas Lopez told CNN he does not plan to return to work.

Consumers Prefer to Get More Rather than Pay Less — Because They're Bad at Math. When offered the possibility of 33% off a product or the same product with 33% more quantity, which would you choose? The Economist sums up the results of a new study published in the Journal of Marketing, which reveals that most consumers view these options as essentially the same proposition. But they're not.

Con Ed locks out 8,000 employees, managers take over system as talks with union break down. Negotiations broke down early Sunday [7/1/2012] between Consolidated Edison and its unionized workers, prompting the lock out of about 8,000 employees, utility officials said. "We remain far apart," said Michael Clendenin, a Con Edison spokesman.

Rand Paul puts forward measure that would force the Senate to read bills. After blasting the Senate last week for passing a 600-page bill no one had time to read, Sen. Rand Paul (R-Ky.) introduced legislation that would force the Senate to give its members one day to read bills for every 20 pages they contain. "For goodness sakes, this is a 600-page bill. I got it this morning," Paul said Friday [6/29/2012], just before the Senate approved a massive bill extending highway funding, federal flood insurance and low student loans rates.

Report: FBI Investigates More Than 100 Suspected Islamic Extremists Within U.S. Military. More than 100 investigations into suspected Islamic extremists within the military have been carried out by the FBI, including 12 cases considered serious, NPR is reporting. Investigators believe the main target to be military bases.

FBI Tracking 100 Suspected Extremists In Military. The FBI has conducted more than 100 investigations into suspected Islamic extremists within the military, NPR has learned. About a dozen of those cases are considered serious. Officials define that as a case requiring a formal investigation to gather information against suspects who appear to have demonstrated a strong intent to attack military targets. This is the first time the figures have been publicly disclosed.

Investigate Radical Christianity! According to the esteemed Bible scholar Rosie O'Donnell, it's "just as dangerous as radical Islam."

Obama's red ink problem spreads to his campaign. Deficit spending has become such a habit with President Obama that now his campaign is doing it.

This sounds like an idea you'd expect to hear in a communist dictatorship.
Desperation: Obama Surrogate Calls to Make Voting Mandatory. Peter Orszag, former head of the Obama Office of Management and Budget, is desperate. With even Roll Call recognizing that President Obama is fighting an uphill battle for re-election, Orszag is floating a trial balloon: mandatory voting.

Voter Apathy Isn't a Crime. It's a sure sign someone is losing when he demands that the rules be changed. That might explain the renewed interest in forcing people to vote against their will. Peter Orszag, President Obama's former budget director and now a vice chairman at Citigroup, recently wrote a column for Bloomberg View arguing for making voting mandatory.

Gary Kreep clinches win for judge. Ramona lawyer and conservative legal advocate Gary Kreep, nationally know for challenging the legitimacy of President Barack Obama's birth certificate, has clinched a seat on the San Diego Superior Court. Kreep led Deputy District Attorney Garland Peed by 1,569 votes Tuesday [6/19/2012], with 1,000 ballots left to count from the June 5 election.

Man Goes On Casino Bender After An ATM Let Him Take Out Unlimited Cash. Ronald Page thought he'd hit the jackpot when a glitchy ATM at a Detroit casino allowed him to make unlimited withdrawals, reports Detroit's Local 10 News. With unlimited funds at his fingertips, police say Page went on a gambling bender, hitting up at least three casinos, including the MGM Grand and Motor City. By the time his bank, Bank of America, figured out what was happening, he had reportedly withdrawn and gambled away $1.5 million.

Tax-exempt Media Matters ramps up support for Obama during election year. President Obama has received a steady drumbeat of support from Media Matters for America as he shifts into campaigner-in-chief mode. A content analysis by The Daily Caller shows that the tax-exempt liberal messaging organization has steadily committed more of its resources to defending Obama from critical media coverage during 2012.

Government Thumb-Breakers. When President Obama signed the controversial overhaul of the federal student loan program into law in 2010, he declared victory over "bankers and middlemen." To this day, however, the federal government continues to engage in some of the same deceptive lending policies private firms are frequently accused of practicing. Most glaring, experts say, is an extraordinarily high collection penalty — up to 25 percent — imposed on students who default on their federal loans.

NJ housing authority says old glory must go. A 75-year-old Phillipsburg, New Jersey woman faces the possibility of eviction for hanging three American flags from her balcony. The stars and stripes hang in front of the municipal building, on private homes and commercial businesses. There's a big one outside the government run senior housing complex where Dawn Paulus lives, but it's the three little ones hanging from her sixth floor balcony that have stirred a huge controversy.

Wis. Leftist Group's Mailing Tries to Shame Non-Voters by Revealing Their Names to Neighbors. Friday evening [6/1/2012], Madison, Wisconsin blogger Ann Althouse reported receiving (HT Instapundit) an "Incredibly creepy mail today from the Greater Wisconsin Political Fund." She has a put up an image of what she received with names and addresses redacted (except for her name). It's a list which includes Althouse and many of her neighbors indicating who has and hasn't voted in the last two elections.

FEMA chief refuses to attribute recent tornado activity to global warming. Although the official line of the Obama White House is that global warming is a serious issue that needs to be dealt with, the president's point man on disaster relief refused Wednesday [5/30/2012] to attribute the recent increased tornado activity to the alleged climate threat.

Attendees of Eric Holder event think Operation Fast and Furious is a movie. Attorney General Eric Holder gave the keynote address at a meeting of the Congressional Black Caucus and the Conference of National Black Churches on Wednesday morning. Following the speech, The Daily Caller asked attendees what they thought of Operation Fast and Furious...

Top weather forecaster retires amid controversy. The head of the National Weather Service has retired unexpectedly after an internal investigation found that agency employees improperly shifted millions of dollars in budget resources to weather service offices around the country.

Why would Obama's campaign strategist attend Obama's Kill List Meetings? David Axelrod evidently attended the highest level national security meetings that decided who would be subjected to targeted assasination from above via drone strikes. [...] Wonder if Axelrod has security clearance? Recall that Axelrod also attended meetings with Netanyahu -- why was he there then?

766,000 More Women Unemployed Today Than When Obama Took Office. The number of American women who are unemployed was 766,000 individuals greater in May 2012 than in January 2009, when President Barack Obama took office, according to data released today by the Bureau of Labor Statistics. In January 2009, there were approximately 5,005,000 unemployed women in the United States, according to BLS. In May 2012, there were 5,771,000.

Target Corp. Announces T-Shirt Campaign for Homosexual Marriage. Pro-family groups are taking major U.S. merchandiser Target Corporation to task for its recently announced initiative to raise money for homosexual activism. Two years after getting into hot water with homosexual groups for backing Republican Minnesota gubernatorial candidate Tom Emmer, who supported a state amendment to define marriage as only between a man and a woman, the Minnesota-based Target Corp. is now "inching into the gay-pride market," reported the St. Paul Pioneer Press, "offering 10 rainbow-themed T-shirts for sale online and promising to donate 100 percent of the proceeds to the Family Equality Council [FEC], a group for gay and lesbian families."

Meet Soros-Funded Domestic Terrorist Brett Kimberlin Whose 'Job' Is Terrorizing Bloggers Into Silence. Drug dealer, alleged child molester, and convicted perjurer, forger and Indiana Speedway Bomber (who is also believed to have played a role in the assassination of a grandmother), Brett Kimberlin, spent 17 years in prison before his ultimate re-absorption into American society. He started a non-profit dubbed "Justice Through Music (JTM)" that has, since at least 2005, been funded by George Soros' Tides Foundation and Barbara Streisand among other leftists. Along with his associate, Kimberlin also started an organization called "Velvet Revolution" that supports the Occupy movement.

30 North Korean officials involved in South talks die 'in traffic accidents'. Thirty officials of the North Korean regime who were involved in talks with South Korea have been executed or died in "staged traffic accidents," according to a human rights report.

Ohio has one of lowest rates of injury-related deaths in U.S.. Ohio has one of the lowest injury-related death rates in the country even though it has fewer injury prevention laws and programs than most other states, according to a national report released Tuesday [5/22/2012].

Tony Blair wanted to end speech with: "God bless Britain". Tony Blair has disclosed that he once wanted to end an address to the nation with the words "God bless Britain". However, the former Prime Minister said his suggestion provoked such strong concern from civil servants that he was forced to drop the idea.

Those who live to impose regulations on others aren't always as eager to obey regulations themselves.
What Stimulus? [I]t's not only in formal speeches that the Obama administration is steering clear of publicizing the stimulus. It has now been five months since the administration last put out a report card on the so-called American Recovery and Reinvestment Act (ARRA — aka the "stimulus"), which the act itself requires the administration to do. In fact, the administration is now three economic quarters behind schedule in chronicling the effects of Obama's second-most prominent piece of legislation — again, in defiance of the very law it's supposed to be reviewing.

Critics Blast Big Psychiatry for Invented and Redefined Mental Illnesses. [Scroll down] Depending on the outcome of the ongoing conflict, millions of people may suddenly find out that they are afflicted with newly created "diseases," while others — especially certain individuals diagnosed with forms of autism — may no longer qualify under the new definitions. Tens of millions more may soon be officially considered "addicts" under the revised definition for addiction, too.

Taxpayers On Hook For $850 Billion In Student Loans. With a possible higher-education bubble looming, taxpayers are on the hook for about $850 billion in student loan debt. Exactly how much of that the federal government would have to bail out if the bubble bursts is unknown, but with delinquency and default rates rising, it could be substantial. Yet Congress may exacerbate the problem with current efforts to maintain lower interest rates on student loans.

Why France Has So Many 49-Employee Companies. Here's a curious fact about the French economy: The country has 2.4 times as many companies with 49 employees as with 50. What difference does one employee make? Plenty, according to the French labor code. Once a company has at least 50 employees inside France, management must create three worker councils, introduce profit sharing, and submit restructuring plans to the councils if the company decides to fire workers for economic reasons. French businesspeople often skirt these restraints by creating new companies rather than expanding existing ones.

Missing: $400 purse holding $800 cash, plus food stamp cards. It bears repeating, as both a critique and a warning of things to come, that the great project of the American Left involves teaching the middle class to think of itself as "poor." That way, they'll vote themselves into servitude.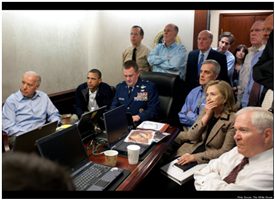 Strange Anomalies in the Famous Situation Room Photo. The concept of a composite presidency certainly comes as no shock as someone who participated as a contributor and authored evidence presented at Sheriff Joe Arpaio's press conference on Obama's long-form birth certificate report. On the heels of these events — and taking advantage of an anniversary of the bin Laden raid — are recent campaign tactics to politicize the killing of Osama bin Laden. With the re-emergence of another round of gutsy call faux heroism regarding Obama's decision, it may also be a good time to revisit the famous "Situation Room" photo released by the White House. Is it Photoshopped? Like everything else Obama does to make a political point, is the photo a composite as well?

May 8, 2012: The Night the Primaries Got a Lot of Fun. In Wisconsin, Scott Walker received more votes running against no one in the Republican primary than the two major Democratic candidates got combined. In North Carolina, "No Preference" garnered 21 percent in the Democratic Party presidential primary against Barack Obama. In West Virginia, "A felon incarcerated in Texas took one in three votes away from President Obama in West Virginia's Democratic presidential primary on Tuesday. Keith Judd, who is serving time in a federal prison in Texarkana, Texas, for extortion, took 37 percent of the vote, with 50 percent of precincts reporting. Obama captured the remaining 63 percent."

Family Matters. President Obama's brother-in-law Konrad Ng may have been involved in a federal Hatch Act violation, Buzzfeed reported Thursday [5/3/2012]: ["]The Maryland Democratic Party appears to have skirted federal law on political activities by government employees, identifying President Barack Obama's brother-in-law Konrad Ng as the Director of the Smithsonian Asian Pacific American Program in an email on the party's Asian American and Pacific Leadership Council.["]

Secret files missing at National Archives. The National Archives and Records Administration has lost track of dozens of boxes of confidential and secret government files at its records center just outside of Washington, the latest in a series of such incidents spanning more than a decade.

'Boycott Best Buy' Movement Takes Off. A former Marine who served in Beirut in 1982-1983 and Iraq in 2003 looks into the camera and declares, "On behalf of myself and my family, we will no longer conduct business at Best Buy." He cuts his card in half. The Marine joined over 8,000 others who have signed a petition to boycott Best Buy over the company's financial support for the Council on American-Islamic Relations (CAIR), a group tied to the Muslim Brotherhood and Hamas.

Twitter used to silence conservatives? Conservative Chris Loesch, music producer and husband of radio host and CNN contributor Dana Loesch, had his Twitter account suspended on Sunday [4/29/2012]. He was apparently targeted by leftist users who utilized the "Block & Report Spam" function to trigger the social media account's automatic spam algorithm. He was notified of his suspension via an email from Twitter claiming it was due to multiple unsolicited mentions to other users. "You will need to change your behavior to continue using Twitter," the email admonished.

Are you on a "Block-List?" As of late, conservatives have been dominating social media platforms including Twitter. In 140 characters or less, conservatives have managed to get deep under the skin of the progressives using the site and in retaliation, it seems, some Twitter users from the left are creating "blocklists" to automatically get conservatives' accounts suspended. If you are conservative and using Twitter, you may be on a "blocklist."

Senators want to rid federal law of word 'lunatic'. Sens. Kent Conrad (D-N.D.) and Mike Crapo (R-Idaho) on Wednesday [4/25/2012] introduced legislation that would remove all references to the word "lunatic" from federal law, a step they said is needed to reflect the country's modern understanding of mental-health conditions. Conrad said that by eliminating "lunatic" from federal law, the 21st Century Language Act, S. 2367, would help reduce the stigmatization of such conditions.

Lights, Camera, Crazy! According to Richard Vedder, an Ohio University economist and the foremost national expert on college tuition, the fees at his alma mater, Northwestern University, consumed 15 percent of the annual median family income in 1958. By 2003, tuition at Northwestern chewed up a gaudy 53 percent of median family income. Other schools exhibit similar explosions. Much of this obscene acceleration in prices can be laid at the feet of the federal government, which, in a vicious cycle, subsidizes loans, makes direct grants, and offers loan forgiveness, all of which in turn spur higher education institutions to hike tuition further, which in turn necessitates further government aid.

Five Devastating Numbers That Show Obama's Incompetence. The average unemployment rate during George Bush's time in office was roughly 5.3% as compared to 8.2% today, which is part of the longest streak of over 8% unemployment since the Great Depression. [...] There are 5 million Americans who not only lost their jobs, but who became so discouraged trying to find a job that they just gave up.

America's false autism epidemic. We have a strong urge to find labels for disturbing behaviors; naming things gives us an (often false) feeling that we control them. So, time and again, an obscure diagnosis suddenly comes out of nowhere to achieve great popularity. It seems temporarily to explain a lot of previously confusing behavior — but then suddenly and mysteriously returns to obscurity. Not so long ago, autism was the rarest of diagnoses, occurring in fewer than one in 2,000 people. Now the rate has skyrocketed to 1 in 88 in America (and to a remarkable 1 in 38 in Korea). And there is no end in sight.

Obama Woos Young Voters with Cheap Student Loans. Obama is calling on Congress to extend a law that cut interest rates on a popular federal loan program for low- and middle-income undergraduates.

GOP senators sue Obama over sham labor board nominees. In a double-barrelled blast at President Obama, Senate Republicans today moved to join a lawsuit challenging the White House's Christmas "recess appointment" of National Labor Relations Board members even though the Senate was technically in session. To handle their case, they hired Miguel Estrada, who in 2002 became the first-ever judicial nominee to be torpedoed by a Democratic filibuster.

Total Recall: Our Future Hangs on Wisconsin Vote. Most Governors can slip in and out of other states with almost no notice, but Gov. Walker has been criss-crossing the country speaking on government reform and eliciting both ardent support and fervent opposition. Such scenes go a long way to explaining why the upcoming recall vote in Wisconsin is so critical. In fact, the upcoming vote is the most important election taking place in 2012.

She was for it before she was against it.
Retreat. The congresswoman who has stood next to Trayvon Martin's parents at rallies and emerged as one of the most vocal critics of the Sanford Police Department supported the "Stand Your Ground" law at the center of the case.

Allen West speaks with Soledad O'Brien. CNN's Soledad O'Brien got a much-needed education about political ideologies from Rep. Allen West (R-Fla.) Thursday [4/19/2012]. When she brought up a quote from the Vice Chairman of the National Communist Party refuting the Congressman's claim there are 78 to 81 Communists in Congress, West simply replied, "I don't care what he says".

Obama Administration Discontinues Transparency Tool. Since 1993, the Census Bureau has made available detailed data about federal government expenditures in its Consolidated Federal Funds Report (CFFR). The 2012 report will be the last one. Through the CFFR website, the public had access to such data as federal expenditures made at the county level for programs such as Medicaid, Social Security, and Medicare as well as for more obscure federal spending programs. How much did the federal government send to Autauga County in Alabama for a hazardous materials training program? That data was available, but now it is concealed.

'No trace' left after extreme executions in North Korea. [Scroll down] "When Kim Jong-un became North Korean leader following the mourning period for his father in late December, high-ranking military officers started disappearing," the South Korean government source told Chosun Ilbo. "From information compiled over the last month, we have concluded that dozens of military officers were purged." Mr. Kim also ordered loyal officials to "get rid of" anyone caught misbehaving during the mourning period for his father, the source added.

Strength of case against Zimmerman questioned. Now that George Zimmerman is behind bars facing murder charges for shooting Trayvon Martin in Sanford, Fla. on Feb. 26, there are questions about just how strong a case prosecutors have against him.

Evidence against Zimmerman lacking on key issue. Records released last week show little evidence that George Zimmerman acted with malice when he shot Trayvon Martin. That could pose a problem for prosecutors.

George Zimmerman Case: Should Charges Be Dropped? Two prominent U.S. lawyers are among the skeptics questioning whether evidence in the shooting death of Trayvon Martin supports the second-degree murder charge against George Zimmerman, given the confessed shooter's apparent injuries and freshly released eyewitness accounts. "There is no second-degree murder evidence in this case," Harvard law professor Alan Dershowitz said. "It's a very close case."

Several George Zimmerman witnesses change their accounts. Evidence released last week in the second-degree-murder case against George Zimmerman shows four key witnesses made major changes in what they say they saw and heard the night he fatally shot 17-year-old Trayvon Martin in Sanford. Three changed their stories in ways that may damage Zimmerman. A fourth abandoned her initial story, that she saw one person chasing another. Now, she says, she saw a single figure running.

Maryland becomes the first state to ban employers from asking for social media passwords. Moving to the forefront of social media privacy law nationwide, the Maryland General Assembly has passed legislation prohibiting employers in the state from asking current and prospective employees for their user names and passwords to websites such as Facebook and Twitter. If Gov. Martin O'Malley signs the bill — his office said it was one of hundreds of bills it has yet to review — the bill would make Maryland the first state in the nation to set such a restriction into law. Other states are considering similar legislation, including Illinois and California.

Bunkers, Food, Armor: Disaster Prep Hits Mainstream. Preppers are folks who detect the possibility of calamity and decide to increase their odds of surviving it by putting aside supplies. "Putting things by" — essential throughout most of humanity's existence — was common in the United States up until advances in transportation logistics brought about the "just in time" shipping model.

Remember: Always get a second opinion.
'Stillborn' Argentine baby found alive in morgue — 12 hours after being pronounced dead. A newborn in Argentina declared dead shortly after her birth was reportedly discovered 12 hours later alive and well in her coffin. When six-months pregnant Analia Bouter gave birth at a hospital in Resistencia, staff told her the baby was stillborn and showed no signs of life, the BBC reported, citing local media.

Congressman Questions Labor Dept 'Propaganda'. Rep. Joe Walsh (R., Ill.) is calling on Secretary of Labor Hilda Solis to explain why the department posted a series of overtly political posters throughout the building. Walsh is responding to a Free Beacon report revealing that signs posted in at least 20 DOL elevators depict Secretary Hilda Solis carrying a bullhorn and rallying alongside the Rev. Al Sharpton. Next to the pictures is a quote from Solis that reads in part: "We all march in our own way."

British writer John Derbyshire sacked by The National Review for racist article. Derbyshire wrote that parents of white and Asian children should teach them not to "attend events likely to draw a lot of blacks", who he said were generally less intelligent and more dangerous. "A small cohort of blacks — in my experience, around five per cent — is ferociously hostile to whites and will go to great lengths to inconvenience or harm us," Derbyshire wrote.

Huckabee Show Opens With Staged Caller. The thought is now out there that Mike Huckabee himself knew exactly who was on the other end of his phone line — a Cumulus programming executive with whom, presumably, he had spent a small eternity in the weeks leading up to the show's launch — and quite deliberately played possum. Going along with a game to fool his listeners into thinking he was getting a real call when in fact he was not. Was Mike Huckabee a participant in this charade? Whose idea was it if not Mike Huckabee's?

Carpetbagger Joe K3 sweeps query under rug. If you are Joe Kennedy 3.0 running for Congress as a member of the most politically connected family in the nation and you make an appearance at the University of Massachusetts at Boston, what questions should your handlers have primed you to expect? I'll give you a hint — the JFK library is next door. Here's another hint — Uncle Teddy's shrine is going up next to that. Located between UMass-Boston and the presidential library is the under-construction Edward Kennedy Institute, more commonly referred to as the Ted Kennedy Shrine.

Woo-woo-woo! Ding-ding! Woo-woo-woo!
New tornado warnings to pinpoint storm's severity. In a test that starts Monday [4/2/2012], five weather service offices in Kansas and Missouri will use words such as "mass devastation," "unsurvivable" and "catastrophic" in a new kind of warning that's based on the severity of a storm's expected impact.

The Editor says...
Since there are so many weather warnings on radio and TV, usually about storms in another county, the public has become annoyed and desensitized by the alerts. So the government will now incorporate more shocking rhetoric in their warnings, so people will pay attention — for a few years. After a while, the general public will blow off these warnings, too. It is a lot like the government wanting to put graphic pictures on cigarette packages because nobody pays attention to the verbal warnings any more. Bureaucrats hate to be ignored.

Ex-wife could be jailed for baptizing kids. A Tennessee woman could do some time in jail for getting her two children baptized without consulting her ex-husband. A state appeals court ruled this week that Lauren Jarrell could be charged with criminal contempt for violating a parenting agreement, WREG-TV, Memphis, reported. She could face 10 days in jail if convicted.

Elderly Florida couple lawyers up after Spike Lee address tweet. It was bound to happen. The elderly Sanford, Florida couple whose address was misidentified by a tweet from a Los Angeles man and later retweeted by filmmaker and actor Spike Lee, has hired the Morgan & Morgan law firm to represent them, reports the Orlando Sentinel. "At this point, they have retained us to protect their interests" and their safety, attorney Matt Morgan said of Elaine and David McClain, an elderly Sanford couple in their 70s.

Elderly couple forced out of home after tweet claims killer of Trayvon Martin lives there. An elderly Florida couple have been forced to move into a hotel after their home address was wrongly tweeted as belonging to the man who shot teen Trayvon Martin. The tweets were traced back to a man in California and the address was also reportedly retweeted by director Spike Lee to his almost 250,000 followers.

Couple who fled home after Spike Lee tweet hires Morgan firm. A couple who say they were forced to leave their home after director Spike Lee retweeted their address to his Twitter followers has hired the Morgan & Morgan law firm to represent them. "At this point, they have retained us to protect their interests" and their safety, attorney Matt Morgan said of Elaine and David McClain, an elderly Sanford couple in their 70s.

Elderly couple targeted by Spike Lee lawyers up; Lee promptly apologizes. Alas for Spike, the law has no love for slow-witted hate-mongering celebrities who recklessly endanger people without even bothering to spend 30 seconds Googling the address they were given, and learning whether or not it falls within a certain famed gated community. The elderly couple who live at the address Lee targeted have been forced into hiding, and are currently living in a motel.

GOP Rep. introduces Obama budget, measure gets 0-414 drubbing. By a stunning 0-414 tally Wednesday night, the House of Representatives voted down a budget proposal based on President Barack Obama's 2013 recommendations. Congress hadn't seen a budget vote that lopsided since last May, when the Senate voted down an Obama budget plan by a 0-97 margin. That 2011 Senate slaughter came after minority leader Sen. Mitch McConnell insisted on a vote to demonstrate that Democrats would not endorse a budget with specific, targeted cuts.

Whose Movie Is Propaganda? It's more than a little shocking when someone makes a movie that deals harshly with abortion. This is Hollywood after all. Abortion is a feminist sacrament. The movie "October Baby" just debuted on 390 screens and registered in eighth place for the weekend, with an estimated $1.7 million gross. [...] Naturally, the critics just couldn't judge this movie by artistic standards. It had to be savaged because it is so politically incorrect.

Georgia ranked as The Most Corrupt of the 50 States. Georgia law books are chock-full of statutes written to curtail undue influence on political activity and public policy. So utilities and insurance companies can't give to a candidate seeking an office that regulates them. Legislators can't take political donations while in session. Politicians can't use campaign money for personal benefit. State workers can't accept gifts from vendors or lobbyists. Except when they can. Time and again, Georgia journalists and watchdog groups have found that money finds a way to flow around those laws.

Pentagon: Trillion-Dollar Jet on Brink of Budgetary Disaster. At an estimated $1 trillion to develop, purchase and support through 2050, the Lockheed Martin-built F-35 was already the most expensive conventional weapons program ever even before Tuesday's [3/20/2012] bulletins. The Air Force, Navy and Marine Corps are counting on buying as many as 2,500 F-35s to replace almost every tactical jet in their current inventories. More than a dozen foreign countries are lined up to acquire the stealthy, single-engine fighter as well.

ObamaCare, the Comic Book. The case for the health care law is just as annoying in cartoon form.

Federal government discards 10,000 computers a week, EPA says. The U.S. Government Accountability Office is trying to put an end to one wasteful federal habit: The 10,000 computers the Environmental Protection Agency estimates the government discards each week. The U.S. government is the world's largest purchaser of information technology, yet doesn't always dispose of its technology in responsible ways.

Largest Missouri Caucus Adjourns Without Conducting Business. No business was conducted. No delegates were selected. Attendees were threatened with arrest for trespassing if they did not immediately vacate the premises. The entire affair was a comedy of mismanagement. [...] If establishment Republicans wonder why the support from the grassroots is waning, the blatent disregard for those who vote them into office and to whom they should be answerable, as exhibited in this circus of a "caucus", should be ample answer for them!

GOP Presidential Caucus in St. Charles, Missouri. GOP voters began showing up at the high school two hours before the caucus was set to begin at 10 a.m. Though the meeting didn't start on time as organizers worked to accommodate the near-overflow crowd, attendees would get more than they bargained for before the day ended.

'Birthers' sue to force state to verify candidates' eligibility. Politicians and others file a lawsuit that seeks to make California Secretary of State Debra Bowen verify candidates' eligibility before allowing them onto a ballot.

Minnesota to vote on rescinding immunity for lawmakers facing drunken driving arrest. The Minnesota Legislature is expected to vote this week to rescind a get-out-of-jail-free card for state lawmakers who are arrested for drunken driving. The provision, found in the state constitution, allows lawmakers "privilege from arrest" when they are pulled over by police.

Utah State Legislature Unanimously Passes Anti-NDAA Resolution. Earlier this week, lawmakers in Utah stood together and expressed their opposition to the indefinite detention provisions of the National Defense Authorization Act (NDAA).

Pat Robertson: Pot should be legal like alcohol. Religious broadcaster Pat Robertson says marijuana should be legalized and treated like alcohol because the government's war on drugs has failed.

End the Drug War, Mr. President. The War on Drugs has been a massive failure by any serious estimation. Sixty-seven percent of our nations' [sic] police chiefs consider it so.

Here is what's wrong with that:
Top 10 Obama energy blunders. Of course energy prices are exploding. That's what the President wanted all along. Remember his famous utterance, saying that under his policies, "electricity prices will necessarily skyrocket." Also telling was his selection of Steven Chu as energy secretary. Chu once said that it was important for U.S. gas prices to mirror Europe's sky-high petrol costs. It looks like he may be getting his wish.

More about high gas prices.
More about Steven Chu.

Democratic megadonors like Soros to benefit from Nat Gas act. Congress could pass what is dubbed the Nat Gas act as early as March 31, which will polish the fortunes of Westport Innovations of Vancouver, British Columbia, Canada and the Democratic donors who own it. This lucrative connection has gone unnoticed and unexamined in Senate debate this week. More alarming, the House has indicated it is ready to move forward on the Senate version with little evaluation.

Parents realize they left toddler at Chuck E. Cheese after seeing her on news. A three-year-old girl was left alone at a Maryland Chuck E. Cheese after her parents — who are separated and share custody — both left, assuming she was with the other. The pair didn't know their daughter, named Harmony, was all alone at the restaurant until they saw an appeal for help on the 11:00 p.m. news, ABC News reported.

Mich. 'Drive-Off' Plan: Swipe Drivers' Licenses. A Saginaw, Michigan business owner says requiring customers to swipe their drivers' licenses when topping off their tanks could stop drive-offs — clients leaving gas stations without paying. Privacy advocates, however, say the new "Post-Pay" method subjects innocent customers to potential identity theft. Bob Hohn, president of Paxson Oil Company, invented Post-Pay because he was fed up with costly drive-offs. Post-Pay makes it easier for police to catch people who pump-and-run without paying.

Leaked E-mails Suggest bin Laden Not Buried at Sea. According to the official version of events promulgated by the Obama administration, after U.S. forces killed Osama bin Laden, his body was flown to Afghanistan for identification and then buried in the Arabian Sea about 12 hours after his death, supposedly in keeping with Islamic ritual. However, internal e-mails from intelligence service Stratfor, obtained by the hacker group Anonymous and posted to the Internet by WikiLeaks, cast doubt on that story.

Anyone Caught Defecting From North Korea Will See Three Generations Of Their Family Executed. While all defectors sent back from China are believed to face harsh punishment upon their return to North Korea, the group now in China is particularly at risk: the North Korean government has said that anyone caught defecting during the period of mourning for Kim Jong Il's death would have three generations of family members executed.

Trashing Tricare. The Obama administration's proposed defense budget calls for military families and retirees to pay sharply more for their healthcare, while leaving unionized civilian defense workers' benefits untouched. The proposal is causing a major rift within the Pentagon, according to U.S. officials. Several congressional aides suggested the move is designed to increase the enrollment in Obamacare's state-run insurance exchanges.

The Ticking Time Bomb in Your Dashboard. Air bags don't go off in fender-benders, but it's not necessary to have a catastrophic wreck for them to deploy, either. The threshold is about 20-25 MPH, which isn't insignificant but also not enough (in many cases) to cause major structural damage to the car — the kind of damage that in the past would have resulted (reasonably) in a decision to throw the car away. But today, it is routine to find otherwise repairable cars — some that can still even be driven — consigned to the junkyard because of the cost of replacing the air bags.

It is remarkable that the states are making plans of this sort.
Wyoming House advances doomsday bill. State representatives on Friday [2/24/2012] advanced legislation to launch a study into what Wyoming should do in the event of a complete economic or political collapse in the United States. House Bill 85 passed on first reading by a voice vote. It would create a state-run government continuity task force, which would study and prepare Wyoming for potential catastrophes, from disruptions in food and energy supplies to a complete meltdown of the federal government.

Fearing A National Collapse, The State Of Wyoming Is Putting Together A 'Doomsday Bill'. Wyoming state representatives have taken a cold hard look at the state of America and it seems they do not like what they see. Jeremy Pelzer at The Casper Star-Tribune reports that legislators approved Friday [2/24/2012], a study looking at what the state of Wyoming should do if the U.S. suffers a total political and economic collapse. House Bill 85 would create a state-run "government continuity task force," to prepare Wyoming for possible disruptions in energy and food, to a total breakdown of the federal government.

Reduced for Quick Sale: Mary Kay's Mansion. The 11,874 sq ft property, which was built in 1984, has been put on the market at $3.3 million. It is a significantly lower figure than the $5.7 million price tag it failed to sell at in 2007.

Transistor Made Using a Single Atom May Help Beat Moore's Law. Scientists have taken a first early step toward escaping the limits of a technological principle called Moore's Law by creating a working transistor using a single phosphorus atom.

Feds Debunk Food Pyramid They Pushed for Two Decades. President Obama says we should allow the federal government to take charge of our healthcare; as usual, the "experts" are best positioned to instruct us how to live our lives. Except they're not.

Air Force trains flight attendants for VIP trips. As attendants on Air Force One and other VIP planes flying as many as 1,000 missions a year, they perform all the safety and comfort functions of their commercial airline counterparts and more.

Do You Like Online Privacy? You May Be a Terrorist. A flyer designed by the FBI and the Department of Justice to promote suspicious activity reporting in internet cafes lists basic tools used for online privacy as potential signs of terrorist activity. The document, part of a program called "Communities Against Terrorism", lists the use of "anonymizers, portals, or other means to shield IP address" as a sign that a person could be engaged in or supporting terrorist activity. The use of encryption is also listed as a suspicious activity along with steganography, the practice of using "software to hide encrypted data in digital photos" or other media. In fact, the flyer recommends that anyone "overly concerned about privacy" or attempting to "shield the screen from view of others" should be considered suspicious and potentially engaged in terrorist activities.

Family of murdered Border Patrol agent files $25M suit against ATF. The family of murdered Border Patrol agent Brian Terry has filed a $25 million wrongful death suit against the Bureau of Alcohol, Tobacco, Firearms and Explosives claiming Terry was killed with AK-47s that were knowingly sold under the Fast and Furious gunrunning probe to a straw purchaser for drug cartels. In a 65-page complaint, filed in Arizona state court on Wednesday [2/1/2012], attorneys for the family claim ATF "wrongdoing" in Operation Fast and Furious.

More about the Fast and Furious scandal.

Gallup state numbers predict huge Obama loss. Gallup released their annual state-by-state presidential approval numbers yesterday [1/31/2012], and the results should have 1600 Pennsylvania Avenue very worried.

Northwest Indiana power plant to shut on March 31. After electrifying Northwest Indiana for more than 80 years, one of Indiana's oldest coal-burning power plants will be switched off by March 31, and 109 workers will lose their jobs. The State Line Energy Station in Hammond, a hulking red landmark between Chicago and Indiana, is closing due to economics, lawsuits and new federal clean-air regulations.

The Editor says...
Free advice for the owners of that plant: Put it in moth balls. Surround the building with fences and guards, and keep the place ready to restart when common sense prevails in this country once again.

The $1.2 Tril Gap: Obama's Subpar Recovery Continues. Real GDP climbed a less-than-expected 2.8% in final quarter of 2011, and just 1.7% for the entire year, down from 3% in 2010. The trend of subpar growth under Obama continues. To get a better sense of how bad Obama's recovery is, consider this: Under Obama, real GDP has climbed a total of just 6% in the two-and-a-half years since the recession ended in June 2009. By comparison, real GDP had grown 16% by this point in the Reagan recovery, after the very deep and painful 1981-82 recession.

Romney Family Had Ann Romney's Atheist Father Posthumously Baptized Into The Mormon Church. After wondering aloud yesterday [1/26/2012] whether the Romneys converted Mitt's dead father-in-law to Mormonism, Gawker's John Cook has confirmed it: Yes. They did. Edward Davies, Ann Romney's father, was an atheist who was also strongly anti-religion. By the time he died, he was the only member of Ann Romney's immediate family to not convert to Mormonism. Fourteen months later, in 1993, he was baptized in a special ceremony at a Salt Lake City church. This practice requires a living person who has already been baptized to undergo the immersion in water again on behalf of the dead. No word on who this person might have been in Davies' case.

Buffett's Burlington Northern Among Winners From Keystone Denial. Warren Buffett's Burlington Northern Santa Fe LLC is among U.S. and Canadian railroads that stand to benefit from the Obama administration's decision to reject TransCanada Corp.'s Keystone XL oil pipeline permit. With modest expansion, railroads can handle all new oil produced in western Canada through 2030, according to an analysis of the Keystone proposal by the U.S. State Department.

The Editor has two questions:
Do railroads present less danger to the environment than pipes? And why is the State Department involved in this anyway?

Why is it necessary to conduct military exercises in a big city?
LA Military Exercises. The training, which a department official said would involve helicopters, has been coordinated with local authorities and owners of the training sites, police said. Police said safety precautions have been taken to prevent risk to the general public and military personnel involved. The exercises are closed to the public, police said.

11 stunning revelations from Larry Summers's secret economics memo to Barack Obama. A lengthy piece in The New Yorker looks at policymaking in the Obama White House. A key source for writer Ryan Lizza is a 57-page, "Sensitive & Confidential" memo written by economist Larry Summers — eventually to be head of Obama's National Economic Council — to Obama in December 2008.

This 30,000 Pound Bomb Works So Well Its Design Team Just Won A Rare Honor. At over 20 feet in length and weighing 30,000 pounds, the MOP is a precision guided bomb whose first successful test in 2007 led to an Air Force order for eight more worth $28 million in April 2011. One of the requirements of Boeing and Lockheed Martin's next generation bomber is to accommodate the MOP as the B-52 does now.

School Fears "Cougars" Mascot Will Offend Women. A Utah school district decided not to select a cougar as the mascot of a new high school partly because school officials and some parents believed the word is disrespectful to women.

The Editor says...
One by one, legitimate and harmless words are being hijacked by the amoral dregs of society.

Top 10 Obama revelations. New York Times reporter Jodi Kantor's new book, The Obamas, is chock-full of revelations about the First Couple. To save you the time of reading (and the cost of buying) Kantor's account, we have compiled the Top 10 Obama Revelations that are contained in the book.

Harsh Punishments for Poor Mourning. The North Korean authorities have completed the criticism sessions which began after the mourning period for Kim Jong Il and begun to punish those who transgressed during the highly orchestrated mourning events. Daily NK learned from a source from North Hamkyung Province on January 10th, "The authorities are handing down at least six months in a labor-training camp to anybody who didn't participate in the organized gatherings during the mourning period, or who did participate but didn't cry and didn't seem genuine."

Oh, wait! It was all just a misunderstanding.
North Korea denies punishing citizens for not mourning enough. North Korea has angrily denied allegations that it punished some of its citizens for inadequately mourning the death of its late leader Kim Jong Il. Kim died last month after 17 years of repressive rule over the secretive state, setting off deep uncertainty about North Korea's future. The North Korean regime commemorated his death with elaborately choreographed ceremonies broadcast on state-run media that showed crowds of mourners beating their chests and wailing with grief in the snow-covered streets of Pyongyang.

U.S. Drops to 10th Place in Economic Freedom. Well-defined, well-enforced property rights; a stable rule of law that prevents corruption and encourages equal justice; free trade; responsible government spending; ease of doing business; well-reasoned, certainty-inducing regulation: these are the types of factors that energize a society toward productivity and prosperity, and have made the United States the world's leader in liberty and living standards for going on two centuries. Unfortunately, the sort of big-government, top-down-virtue policies that adulterate such righteous merits have been infiltrating our beautiful country at an exponential rate, and subsequently, we've already lost our foothold among the freest of nations.

Pepsi Beverages pays $3.1M in racial bias case. The Equal Employment Opportunity Commission says the company's policy of not hiring workers with arrest records disproportionately excluded more than 300 black applicants.

Pepsi suffers $3.1 million shakedown for 'discriminatory' hiring policies. Pepsi Beverages Co. has agreed to a $3.1 million settlement to end federal charges of racial discrimination over its hiring practices — but this wasn't the sort of discrimination that once existed in the Jim Crow South. Pepsi was guilty of racial discrimination as defined by government bullies at the Equal Employment Opportunity Commission. Increasingly, the EEOC has used the battering ram of discrimination, as it loosely defines it, to promote "diversity" at all cost.

Iran building missile base in Venezuela. Iran and Venezuela are feverishly building ICBM bases on the Paraguana Peninsula, a thumbnail shaped spit of arid land around a thousand square miles in size, 250 miles northwest of Caracas. These bases are designed to house missiles with nuclear tipped warheads capable of reaching large portions of the United States.

The Editor says...
Stand by for the Venezuelan Missile Crisis. Many of the people who don't care if Iran nukes Israel will sing a different tune if Iran nukes Houston.

Hotel Room Key Failure Causes Chaos. At midnight on New Year's Eve, key software at the Denver Marriott Tech Center failed, locking guests out of their rooms and causing chaos on hotel grounds. According to a letter given to guests by hotel management, the building's "room key software crashed" at midnight on Dec. 31 [2011].

The Editor says...
Let this be a lesson to us all: Y2K can happen at the end of any year!

Grandparents kicked out of mall after taking picture of grandson. Two grandparents were kicked out of the University Park Mall Tuesday [12/20/2011] after they took a picture of their visiting grandson in the Food Court. "We were going to take our grandson, he's five and visiting from California, to see Santa and we were just sitting around the table having something to drink, talking about what we were planning and that's when my husband took the picture," said Grandmother Debbie Cassella. Cassella said immediately a mall employee instructed them to stop taking pictures or they would be thrown out of the mall.

The Curious Lack of Indonesians at Gitmo. [Scroll down] Sure enough, zero Muslims from the world's largest Muslim society were lured by the siren call of 72 virgins to the battlefields of Afghanistan and Iraq to wage glorious jihad against invading infidels. That is, unless they were either extraordinarily cunning or extraordinarily easy targets. Coincidentally, that's the same number of Indonesians caught trying to hijack our planes or blow them up with bombs in their Reeboks or underwear.

A $2.5 Million Libel Judgment Brings the Question: Are Bloggers Journalists? 'Bloggers Beware' That was the headline on a conservative blog following a $2.5 million judgment this month against blogger Crystal Cox in a defamation case tried in federal court in Oregon.

Gary Johnson to leave GOP race, run as Libertarian. Former New Mexico Gov. Gary Johnson will drop out of the race for the Republican presidential nomination and instead seek to run as a Libertarian, according to the Independent Political Report. The switch, which has been rumored for weeks, is set to be announced Tuesday [12/20/2011].

Occupying Churches. The Episcopal cathedral in Boston seems to resemble what comedian Flip Wilson once spoofed in the early 1970s as the "Church of What's Happening Now." Rev. Strait boasts on his cathedral website that this church named for the Apostle Paul resembles a "United Nations gathering" and holds weekly Muslim prayer meetings. One canon priest, he notes, is quite "disciplined" in yoga practice. And "ancient church traditions" mix with "urban grooves" at the cathedral's "emerging church worship community."

Romney in 2002: 'My Views Are Progressive'. Another old Mitt Romney video is making the blog rounds. In this one, from 2002, Romney says that he is "not a partisan Republican," but "someone that is moderate, and my views are progressive".

Mitt: 'progressive' to 'conservative' in 27 months. A devastating video has emerged this morning showing Mitt Romney declaring himself as a non-partisan "moderate" and "progressive" candidate as he was courting the liberal Massachusetts electorate in 2002. Yet just over two years after the statement was made, as he geared up toward a presidential run, he started describing himself as a "conservative Republican." In the video segment that aired on New England Cable News, Romney can be seen making a late campaign push before his November 2002 election as governor of Massachusetts.

Americans' Fear Of Big Government Has Risen Under Obama. The percentage of Americans who fear big government is close to an all-time high. It's no coincidence that in recent history this alarm has tended to peak toward the end of Democratic terms in the White House.

Texas Approves Controversial License Plate Featuring Crosses. Texas license plates are again drawing national scrutiny. Last week, the board of the state's Department of Motor Vehicles voted to approve the "Calvary Hill" specialty license plate that reads "One State Under God" and features three crosses. Motorists who choose to buy the plate pay a surcharge, which is divided between the state and the sponsoring group — in the case of Calvary Hill, a Christian-based youth anti-gang ministry in the east Texas city of Nacogdoches.

Hurricane predictors admit they can't predict hurricanes. Two top U.S. hurricane forecasters, revered like rock stars in Deep South hurricane country, are quitting the practice because it doesn't work. William Gray and Phil Klotzbach say a look back shows their past 20 years of forecasts had no value.

Federal judge: Montana blogger is not journalist. A federal judge in Oregon has ruled that a Montana woman sued for defamation was not a journalist when she posted online that an Oregon lawyer acted criminally during a bankruptcy case, a decision with implications for bloggers around the country.

Crystal Cox, Oregon Blogger, Isn't a Journalist, Concludes U.S. Court. Representing herself in court, Cox had argued that her writing was a mixture of facts, commentary and opinion (like a million other blogs on the web) and moved to have the case dismissed. Dismissed it wasn't, however...

Dodge Dart is coming back. Chrysler Group is tapping its history, resurrecting the Dodge Dart name for a new small car being unveiled at next month's Detroit Auto Show. The Dodge Dart name was last used on a small car sold in the mid-1970s.

Connecticut Residents Left Without Electricity Spark Power Line Debate. As electricity crews in Connecticut work around the clock to restore power to frustrated and fed up residents left in the cold after a rare October snowstorm took out trees and utility lines, many are wondering if burying all the power lines underground might solve the problem of power outages. As of Wednesday afternoon [11/30/2011], more than 4,800 Connecticut Light & Power customers were still without power, which forced many into hotels and the homes of family members and friends to wait it out.

New Regs Make it Easier to be 'Hired Into the Federal Family'. John Berry, director of the Office of Personnel Management (OPM), praised new government programs where students and recent graduates can be "hired into the federal family," during a speech on Tuesday [11/29/2011] entitled, "Why It's Cool to Work for the Federal Government," at a NASA educational summit in Chantilly, Va. Berry also said that working for the government is "cool" because "the scale of your impact is greater than anywhere else you can be engaged and involved."

Obama, Congress restore U.S. horse-slaughter industry. President Obama last month quietly signed into law a spending bill that restores the American horse-slaughter industry, just a few months after a government investigation said the ban on slaughtering was backfiring. The domestic ban didn't end horse slaughter but instead shifted the site of butchery to Mexico and Canada — which meant increased abuse or neglect as the horses were shipped out of the country and beyond the reach of U.S. law.

Comedy of Errors Led to False 'Water-Pump Hack' Report. It was the broken water pump heard 'round the world. [...] Within a week of the report's release, DHS bluntly contradicted the memo, saying that it could find no evidence that a hack occurred. In truth, the water pump simply burned out, as pumps are wont to do, and a government-funded intelligence center incorrectly linked the failure to an internet connection from a Russian IP address months earlier.

15 Facts About McDonald's That Will Blow Your Mind. In 1992 when Rutgers professor Benjamin Barber coined the term "McWorld," there were 12,700 McDonald's worldwide. Today there are over 33,000. The relentless spread of McDonald's over the past 61 years is an incredible business success story. In some markets the burger chain is just getting started, with plans to open 200 stores in China this year.

"Living documents" are nothing but trouble.
Revision of psychiatric manual under fire. The "bible" of American psychiatry — a manual of mental health used around the world by doctors, consumers and insurance providers — has come under fire from a growing group of psychologists who worry that proposed revisions will feed into a culture of overdiagnosing, and overtreating, otherwise healthy people.

Seniors scammed into buying 70 years' worth of toilet paper. Florida scam artists told elderly victims the government had changed the laws regulating toilet paper and that their septic tanks would be ruined unless they bought specially formulated rolls, court documents said. "Through this scheme, some elderly customers were defrauded into purchasing more than 70 years' worth of toilet paper," federal prosecutors in Miami said in a news release.

The Editor says...
Who is the real culprit in this case? The U.S. government! This sort of scheme only works because it is easy to believe that the government is about to outlaw something that everybody uses. People who live in tyranny are never surprised by ridiculous and draconian changes imposed by their governments.

Couple forced to exchange Facebook passwords during divorce. Breaking up just got harder to do — thanks to a Connecticut judge who ordered a soon-to-be divorced couple to exchange their Facebook passwords.

EU bans claim that water can prevent dehydration. Brussels bureaucrats were ridiculed yesterday [11/17/2011] after banning drink manufacturers from claiming that water can prevent dehydration. EU officials concluded that, following a three-year investigation, there was no evidence to prove the previously undisputed fact. Producers of bottled water are now forbidden by law from making the claim and will face a two-year jail sentence if they defy the edict, which comes into force in the UK next month.

Water Water Everywhere, But Not a Drop to Think. On November 17th, the European Union revealed what ought to be considered a "watershed" moment of philosophical bankruptcy: Brussels bureaucrats banned all advertising which claims water can prevent... dehydration. But wait, it gets better. Producers of bottled water are now forbidden by law from making that claim. If they do? They'll be facing a two-year jail sentence for violating the law, which will be enforced in the UK beginning next month.


---
"In the end the Party would announce that two and two made five, and you would have to believe it. It was inevitable that they should make that claim sooner or later: the logic of their position demanded it. Not merely the validity of experience, but the very existence of external reality, was tacitly denied by their philosophy. The heresy of heresies was common sense."
---

Cain Supports Collective Bargaining for Public Unions? In an interview with the Milwaukee Journal Sentinel, Herman Cain said he supports the "right" for public employees to bargain collectively. In other words, he is in favor of unions on the taxpayer dime. Cain also said federal workers have unions, meaning the right to collectively bargain, but they do not.

Investigator: Herman Cain innocent of sexual advances. Private investigator TJ Ward said presidential hopeful Herman Cain was not lying at a news conference on Tuesday [11/8/2011] in Phoenix. Cain denied making any sexual actions towards Sharon Bialek and vowed to take a polygraph test if necessary to prove his innocence. Cain has not taken a polygraph but Ward said he does have software that does something better. Ward said the $15,000 software can detect lies in people's voices.

One woman who accused Cain of sexual harassment now works for Obama. GOP presidential hopeful Herman Cain argues that he's no sexual harasser — but friends and family members of one accuser were only trying to right a wrong no woman should suffer in the workplace. Karen Kraushaar, a 55-year-old former journalist who currently works for the Obama administration, was outed today [11/8/2011] as one of the three women who had filed sexual harassment complaints against Cain.

Murky past of Herman Cain accuser starts to emerge. A 'gold digger' embroiled in legal and financial difficulties who has always lived above her station and will do anything to never have to work again. This is the portrait that has started to emerge of the fourth woman to accuse Herman Cain of sexual harassment — the first to come out publicly.

Why not five terms? Why not ten?
Bill Clinton thinks presidents should get 3 terms. Former President Bill Clinton criticized the two-term limit on the presidency during an appearance on Morning Joe, noting that leaders of states with parliamentary governments have benefited from a lack of term limits.

Congress Uses Chimps To Monkey Around With Budget. While Congress has talked a good game about reducing the deficit, it still uses a variety of gimmicks to hide how much it is spending. One such trick is known as "changes in mandatory spending programs." These "Chimps" are inserted into appropriations bills to produce phony budget savings.

2.6-tonne church bell stolen. Brazen thieves have stolen a 2.6-tonne church bell from an iconic church in San Francisco. The 122-year-old relic, which sat in front of St Mary's Cathedral after being replaced by an electronic chime in the 1970s, had survived the devastating 1906 San Francisco earthquake and a 1962 arson attack that gutted the building, the San Francisco Chronicle reports. But it was unable to withstand the determination of metal thieves who would have used heavy lifting equipment in the brazen heist.

The Editor says...
The big news here is that there is a church in San Francisco. Who would have believed it?

Replacing $1 bill with coin could save $5.6 billion. A proposal to phase out the $1 bill and replace it with a $1 coin could be gaining currency as the "supercommittee" looks to find ways to save the government money. [...] Moving to a coin could save $5.6 billion over 30 years, according to the Government Accountability Office.

The Editor says...
Saving 5.6 billion dollars over the next 30 years is only a drop in the bucket. The supercommittee is supposed to come up with a trillion dollars in immediate spending cuts. They need to chop about 5.6 billion per week, starting immediately.

Hill Super Committee To Return To Public Session. Some Republican members of the panel, such as Sen. Jon Kyl, has said the panel should focus on achieving the $1.2 trillion to $1.5 trillion deficit cutting goal. Some lawmakers and outside groups have urged the panel to come up with a $4 trillion deficit reduction plan over 10 years.

Super Committee Health Goals Need Sound Policy. If the goal is producing $1.2 trillion to $1.5 trillion in 10-year savings, the Joint Select Committee on Deficit Reduction must think big and produce recommendations with real substance.

A New Spending Record. Maybe it's a sign of the tumultuous times, but the federal government recently wrapped up its biggest spending year, and its second biggest annual budget deficit, and almost nobody noticed. [...] What happened to all of those horrifying spending cuts? Good question. CBO says that overall outlays rose 4.2% from 2010 (1.8% adjusted for timing shifts), when spending fell slightly from 2009. Defense spending rose only 1.2% on a calendar-adjusted basis, and Medicaid only 0.9%, but Medicare spending rose 3.9% and interest payments by 16.7%. The bigger point: Government austerity is a myth.

Not a Single Christian Church Left in Afghanistan, Says State Department. There is not a single, public Christian church left in Afghanistan, according to the U.S. State Department. This reflects the state of religious freedom in that country ten years after the United States first invaded it and overthrew its Islamist Taliban regime.

Algore Akbar! The cultist EU is about to impose cap-and-trade on U.S. airlines. [...] This is, to state the obvious, an invasion of U.S. sovereignty and a limitation of our freedom of navigation in the air and at sea.

An EMP Attack on America? For most of this week, the Department of Energy and the states of Maryland and Florida will be holding emergency response exercises to determine their readiness in the event of a major failure of the national electric power grid. The scenarios to be tested vary from a low-level event that would take out a handful of the transformers that control the grid that conceivably could be repaired within a matter of days, to a "worst case" scenario to simulate a total take-down of the grid, an event many experts believe could take four to six years to recover from.

Freedom of speech is dead in Australia. For my money probably the best political blogger in the world is Australia's Andrew Bolt. [...] His war, like mine, is against those who would constrain our liberty by imposing on us more tax, more regulation, more control. He's firm but fair: one of the good guys. This is why we should all worry greatly about the latest bizarre ruling from the Australian federal court, which has found Bolt in breach of the Racial Discrimination Act.

Chinese Ballet at Kennedy Center Extols Violent Revolution. Audiences at the prestigious Kennedy Center are being asked to applaud a ballet that celebrates a movement that went on to murder hundreds of thousands. The Chinese National Ballet is performing on Sept. 22-24 "The Red Detachment of Women," which glorifies the history of the communist land reform campaign in China, while concealing the reality of the violence that suffused it.

Conservatives Stop New Boehner CR. The Republican leadership tried to pass a continuing resolution through the House of Representatives on Wednesday afternoon [9/21/2011] that would have permitted funding for Obamacare implementation, Planned Parenthood, the United Nations Population Fund, and the Palestinian Authority to continue in the new federal fiscal year that begins on Oct. 1.

Over 500 at Defiant Freedom Rally Near Ground Zero. In a tone of defiance AFDI Executive Director Pamela Geller declared, "While White House guidelines forbid official 9/11 ceremonies from mentioning who attacked the U.S. on that day or why, our 9/11 Freedom Rally features more honest speakers. We are here today to honor our war dead and stand for freedom and against the deception and lies being used to subdue us. We must show the jihadists we are unbowed in the defense of freedom."

Oops! How did THAT get in there?
Long-Lost Moon Rock Turns Up In Clinton Papers. A long-lost, highly valuable Moon rock brought back from the Apollo 17 mission has turned up in the files of Bill Clinton. The rock was one of 50 presented to each state, and was given to Arkansas while the ex-president was governor. The rock, worth millions of dollars, had been missing since at least 1980 until an archivist found it in old gubernatorial papers. Bobby Roberts, director of the Central Arkansas Library System, told Reuters the archivist opened a box previously archived as "Arkansas flag plaque."

September 11 SIOA Freedom Rally at Ground Zero. While clergy, 9/11 first responders, and 9/11 family members are barred and/or not invited to the official ceremonies, both are welcome at the 9/11 Freedom Rally. And while White House guidelines forbid official 9/11 ceremonies from mentioning who attacked the U.S. on that day or why, the 9/11 Freedom Rally features more honest speakers.

Feinstein: 'Wiped out' by scandal. Sen. Dianne Feinstein (D-Calif.) said she was "wiped out" by Kinde Durkee, a well-connected California Democratic political operative who served as treasurer for hundreds of state, local and federal campaign committees.

Rick Perry's governing style: Secrecy over straight talk? Gov. Rick Perry's straight talk may have made him an instant star of the Republican presidential field, but even some of his supporters say his frank one-liners don't reflect his governing style in Texas, where Perry has been criticized as one of the most secretive governors in the country. At home, Perry has fought for years to keep even mundane details of his schedule, spending and decision-making away from reporters and the public.

Prominent scientist pleads guilty to attempted espionage. Stewart Nozette, once a prominent scientist for NASA who served on the Space Council under President George H.W. Bush, pleaded guilty Wednesday [9/7/2011] to attempted espionage, a case that attracted widespread notice but began as a seemingly routine fraud investigation.

Does Obama have something against Texas? Is President Obama's failure to sign a disaster declaration for the Texas wildfires due to an anti-Texas bias? On Mark Levin's radio program Wednesday night [8/31/2011], Texas governor and Republican presidential candidate Rick Perry speculated that one of the reasons federal assistance for the rampant wildfires has not been forthcoming might just be because the state in question is Texas.

MLK's Daughter: 'Lincoln Remembered for Signing the Declaration of Independence'. At a ceremony to honor the opening of the new Martin Luther King Jr. Memorial in our nation's capital Friday [8/26/2011], the late civil rights leader's daughter Bernice made an historical error that would evoke tremendous ridicule and derision if she were a conservative.

Martha's Vineyard is the president's fantasy island. In Obama's halcyon days, right after the campaign but before that governing part, three-fourths of Vineyard voters cast ballots for the Hope-Change ticket. They overwhelmingly passed a nonbinding resolution on that same Election Day declaring health care a right. The bluest town in the bluest state just happens to be on the island where the president passes the dog days of summer. In Aquinnah, a stunning nine out of ten voters cast ballots for Barack Obama in 2008.

After guns are outlawed, what happens?
Baseball Bat Sales Up 6,000% as London Riots Continue. With riots spreading from London to other cities in the UK, sales of aluminum baseball bats on Amazon.com's UK website have risen an astonishing 6,000%. And no, the British haven't suddenly developed a love for America's national pastime.

Debt deal: $32.4 billion per page. The debt framework President Obama and congressional leaders reached Sunday night [8/7/2011] runs 74 pages long, and could authorize as much as $2.4 trillion in new debt — or $32.4 billion per page. That debt increase will get the country through the 2012 election, both sides said, but it does not bring to an end the sea of red ink that will continue to wash over the federal government for the foreseeable future.

Fertilizer Control: Another liberty lost.
DHS Creates 'Ammonium Nitrate Security Program'. The Homeland Security Department on Tuesday [8/2/2011] announced the creation of an Ammonium Nitrate Security Program, which is intended to prevent terror attacks like the ones perpetrated by Timothy McVeigh in Oklahoma City in 1995; and more recently, by a Norwegian man in Oslo.

The Editor says...
First of all, the actions of a single psycho in Norway should not affect U.S. laws or diminish our freedom. Secondly, there is considerable doubt that a fertilizer bomb in a truck could have done the damage inflicted in the Oklahoma City bombing.

Uniformed Mexican Soldiers Cross Into South Texas. Almost three dozen uniformed Mexican soldiers in four military vehicles crossed the Rio Grande [7/26/2011] into South Texas near McAllen without authorization.

U.S. returns 33 Mexican troops who strayed into Texas. U.S. Customs and Border Protection inspectors returned 33 Mexican soldiers on Tuesday [7/26/2011] who inadvertently crossed over the Rio Grande river into Texas, authorities said. The soldiers, packed into four Humvees, crossed over the Donna-Rio Bravo International Bridge into south Texas at around 2 p.m., said Felix Garza, a spokesman for CBP in Pharr, Texas.

The Editor says...
I find it impossible to believe that the soldiers did not know exactly where they were. International bridges are clearly marked.

Crews Need Police Escort To Shut Off Fire Hydrants. City crews scrambling to turn off nearly 2,000 fire hydrants opened by residents seeking relief from the heat required a police escort to protect them from gang members and others upset with the shutdowns.

Norway suspect Anders Behring Breivik was a member of Nazi web forum. The suspect in the twin attacks that killed at least 92 people in Norway was a member of a Swedish neo-Nazi Internet forum, a group monitoring far-right activity says.

The Editor says...
The Nazis are not on the "far right." Nazi is a contraction of the German name of National Socialism. Regardless of what you read in the press or hear from the Democrats, the Nazis are (and always have been) on the far left.

5 American Economic Statistics That Will Blow Your Mind. Remember the Judgment Day style theatrics that surrounded the threat of a government shutdown back in April? That sliced $350 million from this year's budget. That's about as much as we borrow in two hours.

Cracking the Scratch Lottery Code. [Scroll down] That night, however, he realized that the voice was right: The tic-tac-toe lottery was seriously flawed. It took a few hours of studying his tickets and some statistical sleuthing, but he discovered a defect in the game: The visible numbers turned out to reveal essential information about the digits hidden under the latex coating. Nothing needed to be scratched off — the ticket could be cracked if you knew the secret code.

What do the states know about budgeting that Obama doesn't? According to [an] article in the Washington Times, at least a dozen states ended the fiscal year with a budgetary surprlus. Some of the states accomplished that feat even while cutting taxes, while others bit the bullet and cut popular programs.

Ron Paul worries Fort Knox gold is gone. With the price of gold at record highs, presidential candidate Rep. Ron Paul wants to make sure the U.S. gold bars at Fort Knox are really there. Paul called a congressional hearing Thursday [6/23/2011] to grill federal officials about his bill to audit and inventory all of the gold reserves at Fort Knox, Ky., West Point, N.Y., and Denver, even though Treasury officials insist that the gold is audited annually and is all there.

The Editor says...
Well, of course, whether the gold is really there or not, the Treasury officials are gonna claim that everything is fine, and this whole question has no merit. That's the way our government works. And who among us could ever go to Fort Knox and verify what's there?

American Cancer Society Declares Poverty A Carcinogen. A report released Friday [6/17/2011] by the American Cancer Society echoes a 1989 statement by Dr. Samuel A. Broder, then director of the National Cancer Institute, who said that poverty is a carcinogen. The society's report said that the lower a person's socioeconomic status, the greater the risk of cancer. That's especially true for lung cancer, the report said, "for which death rates are 4 to 5 times higher in the least educated than in the most educated individuals."

The Editor says...
Nonsense. Poverty and lung cancer are both symptoms of a lifetime of bad decisions and foolish choices. With only a few exceptions, people who have lung cancer have brought it upon themselves.

Landry slams OSHA for excessive regulations. Rep. Jeff Landry took on regulations implemented by the Occupational Health and Safety Administration (OHSA) during hearings Wednesday [6/15/2011]. It's regulations administered by bureaucratic agencies that are making job growth weak and the work environment unsafe, Landry said during the hearings. Landry said a constituent business owner was forced to pack-up and transport his upstart drilling barge because of costly regulations.

Dalai Lama: 'I am a Marxist'. There is no better way to proclaim your lack of spiritual and philosophical depth than by, two decades after the fall of communism, disclosing that you're a Marxist. Yet this is precisely what Buddhist spiritual leader the Dalai Lama did during a speech before 150 Chinese students at the University of Minnesota this month. Journalist Tsering Namgyal reports on the story at Religion Dispatches, writing, "'as far as socio-political beliefs are concerned, I consider myself a Marxist.'

China Has Divested 97 Percent of Its Holdings in U.S. Treasury Bills. China has dropped 97 percent of its holdings in U.S. Treasury bills, decreasing its ownership of the short-term U.S. government securities from a peak of $210.4 billion in May 2009 to $5.69 billion in March 2011, the most recent month reported by the U.S. Treasury. Treasury bills are securities that mature in one year or less that are sold by the U.S. Treasury Department to fund the nation's debt.

Leader of Blue Angels Quits After Jets Flew Too Low at Recent Air Show. The commander of the famed flight squadron the Blue Angels stepped down Friday [5/27/2011] after part of the team of six jets flew below a minimum altitude at a recent air show.

The $1 Trillion Fighter-Jet Fleet. A new Pentagon forecast showing the total cost of owning and operating a fleet of F-35 Joint Strike Fighters topping $1 trillion over more than 50 years has caused a case of sticker shock in Washington. And that price tag doesn't even include the $385 billion the Defense Department will spend to purchase 2,500 of the stealthy planes through 2035.

Court throws out Dearborn leaflet ban. A federal appeals court Thursday [5/26/2011] invalidated a leafleting ban in Dearborn, ruling the city violated a man's free-speech rights when he was blocked from trying to convert Muslims to Christianity.

Congressman Prefers Fallen Marine as Name on Navy Cargo Vessel. The Navy's decision to name a cargo ship now under construction after labor activist Cesar Chavez has drawn sharp criticism from one veteran lawmaker who says that a military war hero should receive the honor instead.

Sounds like a headline from 2011 B.C.
Afrigan [sic] refugees trying to escape to Europe are facing threats of human sacrifice. Human sacrifice has been added to the dangers facing desperate African boat people trying to escape to Europe, with Italian authorities investigating the testimony of a Ghanaian teenager who said that he narrowly avoided being tossed overboard by a group of Nigerians in a ritual to appease the angry seas.

Should Homeland Security Control the GPS Network? Americans have become accustomed to the presence of Global Positioning System (or GPS) technology embedded in everything from the GPS on their dash to their cell phones and iPads. In fact, GPS is nearly taken for granted for everything from locating a restaurant to navigating a fishing boat through the fog. But now it appears that GPS, which was developed primarily for its military applications, is rather overtly returning to its "national security" roots, as NASA plans to turn the security of the GPS system over to the Department of Homeland Security.

University of Texas Takes Possession of $1 Billion in Gold. The University of Texas decided this week to take physical possession of some 664,000 ounces of gold it has bought over the past year, a quantity valued at nearly $1 billion as gold passed $1,500 per ounce Wednesday. The increased demand for gold and other metals in the investment sector with a limited quantity has not only driven the bull market for metals such as silver, gold, palladium, and platinum, it has also led to concern that ETF dealers on the commodity exchange (Comex) may not be able to fulfill all orders for gold.

NOAA Fisheries Management — Masters of Mendacity. The 2011 Annual Catch Limits (ACLs) for the New England fisheries go into effect on 1 May 2011. They are essentially unchanged from the extremely low ACLs that virtually crippled the fleet in 2010. [...] The catch limits for haddock, a major contributor to fishing revenues, are decreasing 25%.

Even in Delaware, 'Obama 2012' bumper stickers don't mention Biden. For those who are seeking signs and portents for the 2012 presidential matchup, may I suggest a trip to Delaware? Here's what you won't be seeing: Joe Biden's name on the "Obama 2012" bumper stickers.

Debt Beyond Belief. Have you noticed the many television advertisements urging you to buy gold, to refinance your home, to get a reverse mortgage, or to fix your personal credit score? There's a reason for this, not just individuals are financially stressed, but the entire nation is broke.

Playing with Fire? The debt limit is the federal government's legal authority to borrow. It currently stands at $14.3 trillion dollars. If we raise it by another trillion dollars, we will be in the exact same situation we are today in less than a year. If, as many political consultants argue, we raise it by more than $2 trillion, we would get past the 2012 elections. None of this matters. If we raised the debt limit by $10 trillion, we would still eventually find ourselves in the same situation we are today.

U.S. Census Bureau request alarms Tulsa County Assessor. Buried deep in the bowels of the Patient Protection and Affordable Care Act is a provision to impose a 3.8% tax on real estate transactions. Proceeding without regard to Federal Judge Roger Vinson's ruling that the health care law is unconstitutional the Obama administration appears to be pushing ahead with implementation of the real estate tax scheme. The Tulsa World reports that County Assessor Ken Yazel has come under fire for comments made last month during the Tulsa County Republican Convention. Mr. Yazel told the convention that the U.S. Census Bureau had asked his office for information that he believed could be used to help create a data base for collection of a 3.8% real estate sales tax. The steadfast assessor isn't backing down from his statement.

Government Has $1 Trillion In Untapped 'Piggy Bank'. At the end of the first quarter of fiscal 2011, the federal government had over $1 trillion in unspent funds that could be used to reduce future deficits. Yet Congress seldom uses these "unobligated funds" for deficit reduction, preferring instead to spend the money. That may be changing with the government running trillion-dollar shortfalls and a GOP House brimming with fiscal hawks.

Yes, Violence Can be the Answer. It was the body slam heard around the world. When some Australian schoolboys decided to videotape themselves bullying 15-year old Casey Heynes, one of them got more than he bargained for. Casey, who had been pushed around and humiliated for years, responded to a punch in his face and other attempted blows by hoisting his tormentor WWE style and introducing him to the pavement.

Crossroads GPS launches collaborative FOIA site. Crossroads GPS, the cash-flush Republican advocacy group, is launching a new initiative and website Thursday [3/24/2011], Wikicountability.org, which is designed to crowdsource FOIA files from organizations, individuals and journalists who have sought, and who have received, public information from the Obama administration.

U.S. Debt Jumped $72 Billion Same Day U.S. House Voted to Cut Spending $6 Billion. The national debt jumped by $72 billion on Tuesday [3/15/2011] even as the Republican-led U.S. House of Representatives passed a continuing resolution to fund the government for just three weeks that will cut $6 billion from government spending.

$61 Billion in Cuts — Vs. $223 Billion in One Month of Spending. In Washington, D.C., America is witnessing one of the grossest spectacles of fiscal incompetency, coupled with denial, ever perpetrated by a political party. And that's the Republicans. Democrats have made it clear that they will accept nothing less than the destruction of the republic, if that's what it take to prove progressivism is "successful." Over the top? Consider this: the highest cut in the federal budget proposed by the Irresponsible Republicans is $61 billion. The Democrat Destroyers say such a cut is way over the top. Last month, in 28 days, our government spent $223 billion of money we don't have. That's nearly four times more than the cuts proposed by the Irresponsibles, every one of which will be fought tooth and nail by the Destroyers.

Texas Nationalists rally for secession at Capitol in Austin. The Texas Nationalist Movement marked Texas Independence Day with a rally Saturday [3/5/2011] at the Capitol urging Texans to save the state by seceding from the United States.

Uncle Sam Finds 14,000 Facilities to Sell. The White House said Wednesday [3/2/2011] it wants to raise as much as $15 billion for selling off unused buildings, from warehouses and supply sheds to outdated Federal Aviation Administration towers. The federal government has already identified 14,000 buildings and structures to sell.

Utah Considers Return to Gold, Silver Coins. It's been nearly 80 years since the U.S. stopped using gold coins as legal currency, and nearly 40 since the world abandoned the gold standard, but the precious metal could be making a comeback in the United States — beginning in Utah.

Gov't That Governs The Least Is One Americans Want Most. Overall, nearly six in 10 (59%) Americans surveyed in February think the federal government has too much power, 31% believe it has the right amount of power and 7% say it has too little power. Not surprisingly, 83% of Republicans and 72% of conservatives believe the government is too powerful. But 64% of independents and 62% of moderates feel the same way. Majorities of Democrats (52%) and liberals (54%) think the government has the right amount of power.

Sen. Rand Paul Prevails in Economic Debate With David Letterman. This is two days in a row where a glib, lefty comedian has taken off his clown nose, engaged in a serious debate with someone from our side they disagree with politically and found themselves caught off guard by a prepared presentation of facts and logic. Wednesday [2/23/2011] it was Jon Stewart being schooled by Donald Rumsfeld on the Iraq War and last night a calm, cool, and educated Senator Rand Paul gave David Letterman a terrific lesson on the basics of economics...

All Providence, R.I., teachers to get termination letters. The school board of Rhode Island's financially troubled capital city has voted to send termination letters to all of its nearly 2,000 teachers after city officials said the move would give them "maximum flexibility" to make budget cuts. State law requires school departments to notify teachers by March 1 if they'll be laid off the following school year.

The Teddy Files: Even Worse Than You Thought! After repeated attempts, Judicial Watch has managed to pry loose certain documents relating to Teddy Kennedy from the FBI. The FBI's original redactions plainly had nothing to do with national security, so the agency apparently was trying to protect Kennedy's reputation. The most entertaining documents relate to a trip Kennedy took to Latin America in 1961. He visited a number of countries, accompanied by his "political counselor." In each country, Kennedy met with prominent Communists or other left-wing leaders.

Judicial Watch Obtains Material from the FBI File of Senator Ted Kennedy. "The FBI's reluctance to follow the law and release this material shows that it, too, is not above politics. Our tough fight with the Obama administration shows that it was not keen on letting the American people know that Ted Kennedy, one of Obama's leftist politician heroes, liked to hang out with communists and prostitutes," said Judicial Watch President Tom Fitton. "We will continue to investigate why the FBI improperly chose to keep this information secret."

Mary Jo Kopechne was unavailable for comment.
The Polecat of the Senate. The latest releases, while not pretty, are certainly not surprising to those familiar with the long career of the man the left hailed as "The Lion of Senate." The facts suggests that the late Senator, well-known as a heavy drinker and the terror of young female campaign workers, was more of a cross between Alger Hiss and Charlie Sheen. The newly released files report that Kennedy arranged to rent an entire Chilean brothel to satisfy his outsized libido, and invited one of the American Embassy's chauffeurs to participate in the festivities.

Oklahoma Police Captain Faces Disciplinary Action for Refusing to Attend Islamic Event. The Tulsa Police Deptartment is investigating a captain who refused an order to assign officers to attend an upcoming Islamic event because he said it would violate his religious beliefs. Capt. Paul Fields was reassigned after he refused to order officers under his command to attend the Islamic Center of Tulsa's Law Enforcement Appreciation Day, a spokesman for the department said.

Churches Open Doors to Muslim Worship. Two Protestant churches are taking some heat from critics for opening their church buildings to Muslims needing places to worship because their own facilities were either too small, or under construction. Heartsong Church in Cordova, Tenn., let members of the Memphis Islamic Center hold Ramadan prayers there last September. And Aldersgate United Methodist Church in Alexandria, Va., allows the Islamic Circle of North America to hold regular Friday prayers in their building while their new mosque is being built.

Stop opening churches to Muslims. Last week, Fox News posted a report that Heartsong Church in Cordova, Tenn., and Aldersgate United Methodist Church near Alexandria, Va., have made their church buildings available to Muslims to use as places of worship. Critics of these outreach initiatives, such as Mike Huckabee, have been accused of ignorance. However, the contents of Muslim prayers and teachings about Isa, the Islamic Jesus, give reasonable grounds for churches to reject such arrangements.

Ex-pilots shoot down timeline of Navy. A foundation set up to celebrate Navy aviation's 100th birthday has disavowed an official history on its website, after former combat pilots complained of inaccuracies and political correctness. [...] The foundation's official history slide show featured four "firsts" for women, such as the first female operations officer in 1992. It also accentuated humanitarian missions. But it devoted only two slides to World War II and barely mentioned Vietnam, during which the Navy orchestrated a decade of multiple aircraft carrier operations.

The Federal Government's Unspent Billions. An arcane budgetary category called "unobligated funds" includes money that Congress has appropriated for agencies and programs in every corner of the federal government. When that money goes unspent, it just sits there — like an ancient wooden chest on a Caribbean island, just waiting to be pried open. Senator Tom Coburn (R., Okla.) holds the treasure map.

Don't put wire on your windows — it might hurt burglars! Residents in Surrey and Kent villages have been ordered by police to remove wire mesh from their windows as burglars could be injured. Home owners in the villages of Tandridge and Tatsfield in Surrey and in Westerham, Brasted and Sundridge in Kent have said they are furious that they are being branded 'criminals' for protecting their property.

The Editor says...
Boo hoo. The would-be burglar might hurt his fingers. Just wait til someone imports razor wire to England.

Outbreak at Playboy Mansion. Can the Playboy Mansion make you ill? Hugh Hefner's iconic bachelor pad is under investigation after more than 80 guests at a conference and party there became sick with a suspected strain of Legionnaires' disease.

Walmart fires Layton guards for disarming shoplifter. The whole incident happened in matter of seconds, Lori Poulsen said. She and the other security employees at the Layton Walmart Supercenter had stopped a man who had unwrapped a laptop and hidden it under his clothes. Trent Allen Longton was taken into an office, where he handed over the merchandise. When Longton was asked to sit down, he said he needed to leave. He told the group he had something on him that he couldn't get caught with.

Sweetheart deal for billionaire could cut off GPS service. In the past decade, millions have come to depend on the seeming magic of the global positioning system (GPS) to guide them to their destination. The navigational gadgets in cars, cell phones and other hand-held devices can even be a lifesaver. Now the system may be undermined by a Federal Communications Commission (FCC) decision last month to allow a well-connected company to exploit a slice of the airwaves in a way that potentially blocks GPS signals.

Party elite executed to clear path for Kim Jong-un. A reign of terror has descended on the Communist Party in Pyongyang. There have been reports of purges and executions to secure the succession of Kim Jong-un as North Korea's new dictator. South Korean newspapers say more than 200 officials have been executed or detained by the state security bureau and one official jumped to his death. North Korean guards are reported to have shot dead five would-be escapees along the frozen river on the border with China, and notices have appeared threatening the death penalty for anyone caught using a Chinese mobile phone or trading in US dollars.

Government OK's Comcast purchase of NBC. The federal government on Tuesday [1/18/2011] gave Comcast Corp., the country's largest cable company, the green light to take over NBC Universal, home of the NBC television network.

A secret $6 billion bailout for Puerto Rico? The Obama administration is eying a secretive tax deal critics charge is an indirect bailout for Puerto Rico to the tune of billions of taxpayer dollars. The U.S. territory, desperate for revenues in the midst of the recession, surprised industry with a $6 billion tax on foreign firms — including a significant bloc of U.S. pharmaceutical firms — Oct. 22 in a rare weekend legislative session without any public debate in advance. But now U.S. taxpayers, not the firms, could end up footing at least a significant chunk of the bill.

Did someone mention Puerto Rico?

It'll cost a lot more if they DON'T.
Democrat: Citing Constitution will cost taxpayers $570K. Democratic Rep. Corrine Brown said a GOP requirement that lawmakers cite the Constitution in each bill they introduce will cost $570,000 in additional printing costs. The Florida Democrat, who is in her ninth term in Congress, said the extra costs are attributed to "supplies, labor and delivery."

America needs a new national debate on the Constitution. It might seem unlikely that a lone law professor could spark a national discussion about the kind of government Americans want in the 21st century, but that's exactly what Georgetown Law School's Randy E. Barnett hopes to do with his modest proposal known as the Repeal Amendment.

Who is afraid of the Repeal Amendment? Arising from those who are distressed at the seemingly limitless power of the federal government — taking over everything from car companies, banks, student loans, and even the practice of medicine — the Repeal Amendment seems to have touched a nerve on the left. First, the Washington Post's Dana Milbank played the race card.

Nazis in America. After a lawsuit and pressure from private interest groups, the Justice Department finally released a 617-page report detailing how the American government not only welcomed but employed Nazis after World War II. Although this might appear to be ancient history, this report is perhaps more relevant to our age than it might seem.

Former Treasury Secretary Paulson loses $1 million selling D.C. home. Former Treasury Secretary Henry Paulson, who spent his final years in George W. Bush's administration trying to stave off the housing crisis gripping the nation, has lost over $1 million selling his own Washington, D.C., home.

Ivory Coast president refuses phone call from Barack Obama. The incumbent president of Ivory Coast is hardening his resistance to international pressure to stand down, even refusing to take a phone call from Barack Obama. Laurent Gbagbo, who is widely viewed as having lost a recent election, is refusing to leave office despite attempts to persuade him from West African leaders and others in the broader international community.

Ohio Election Panel Unanimously Throws Out Dems' Complaint Against FNC. Ohio election officials have unanimously dismissed a complaint by the Democratic Governors Association, alleging that the Fox News Channel made an illegal in-kind contribution of nearly $170,000 to then-gubernatorial candidate Republican John Kasich. The DGA had alleged that the 90 seconds Kasich's campaign web address appeared at the bottom of the screen during an interview on Fox amounted to a political advertisement. The Ohio Elections Commission ruled 5-0 that it did not.

Sixth Circuit Rules that Emails Protected from Warrantless Searches. To what extent can the police secretly root through email? It's a core question about the limits of police surveillance that the Sixth Circuit yesterday [12/14/2010] tackled in [a] lengthy opinion. In short, privacy advocates are pleased as punch with the opinion, which holds that the government must obtain a search warrant based on probable cause before it can search emails stored by Internet Service Providers.

Expose the Public Pension Mess. It seems that many members of the incoming Congress are mindful of the looming tsunami of unfunded state and municipal worker pension liabilities, not to mention the impending insolvency of cities and even states (such as California, Illinois, and New York). A recent estimate put these unfunded public employee pension liabilities at as much as $3.574 trillion. As frightening as that estimate is, it is probably unrealistically low.

Man guilty of duping Harvard, taking financial aid. A Delaware man has admitted faking his way into Harvard University and has been ordered to repay more than $45,000 in financial aid he received.

The Editor says...
I wonder if anyone has ever faked his way into Harvard Law School...

The Municipal Debt Bubble: When state and local governments want to spend more than they collect in revenues, they issue bonds. Such bonds are a longstanding feature of the American landscape, going back at least as far as 1812, but during the last decade they have spun out of control, as states and cities have increased their borrowing to indulge in more and more spending on new stadiums, schools, bridges, and museums. They have even started borrowing to cover their basic operational expenses. Since 2000 the total outstanding state and municipal bond debt, adjusted for inflation, has soared from $1.5 trillion to $2.8 trillion. The recession didn't slow the spending.

Duck And Cover, Obama-Style. During the long Cold War, liberals said atomic bombs were non-survivable and so we had to negotiate disarmament. Today, the Obama administration says cheer up, you might survive.

U.S. Rethinks Strategy for the Unthinkable. Suppose the unthinkable happened, and terrorists struck New York or another big city with an atom bomb. What should people there do? The government has a surprising new message: Do not flee. Get inside any stable building and don't come out till officials say it's safe. [...] Administration officials argue that the cold war created an unrealistic sense of fatalism about a terrorist nuclear attack. "It's more survivable than most people think," said an official deeply involved in the planning, who spoke on the condition of anonymity. "The key is avoiding nuclear fallout."

Sunbathing can be good for you, say health charities. Experts have overturned decades of advice by urging people to go out in the midday sun without sunblock — because the dangers of missing out on Vitamin D can outweigh the risk of cancer.

Stunning new Gallup Poll finds 13% of Americans still approve of Congress. A fresh Gallup Poll released this morning reveals that somehow 13% of Americans still approve of the job being done by Congress. The new Gallup survey did not identify those people, understandably. However, even though it is a surprisingly high number given the work not done there in recent years, the 13% is a record low job approval for Congress since Gallup began compiling such data in 1974.

Whoopi Goldberg Doesn't Believe Japanese Attacked Pearl Harbor. Whoopi Goldberg on Tuesday [11/23/2010] demonstrated an absolutely staggering ignorance concerning a variety of subjects. Appearing on Fox News's "O'Reilly Factor," Goldberg admitted not knowing what a madrasa is, said it wasn't the Japanese that attacked America at Pearl Harbor, and claimed Muslims in America are more persecuted than Jews.

Can the U.S. Rare-Earth Industry Rebound? Rare-earth elements were obscure until the past year, when China, their primary producer, tightened export quotas on the materials. Rare-earth elements are used in a multitude of technologies, including magnets for wind turbines, hybrid-car batteries, fluorescent lightbulbs, and hard drives. China is not the only country with significant reserves of these valuable materials; in fact, the U.S. was their primary producer until the 1990s, when the Chinese began undercutting the Americans on cost. Now companies in the U.S. and Australia are ramping up production at two rich sites for rare earths, but the process will take years.

Sears to be open Thanksgiving for first time. Sears will open on Thanksgiving Day for the first time in its 124-year history. The Hoffman Estates-based retailer will open stores from 7 a.m. to noon on Thanksgiving Day.

Ponzi promises and priceless gold. In August, Boston University Professor Laurence Kotlikoff wrote an article in the Finance and Development Journal of the International Monetary Fund titled "U.S. Is Bankrupt and We Don't Even Know It." In it he warned: "Let's get real. The U.S. is bankrupt.["] He estimated that "Based on the Congressional Budget Office's data [...] a fiscal gap of $202 trillion (exists already), which is 15 times the official Treasury debt." Last week, the Federal Reserve announced its intention to print another $600 billion plus to subsidize further the greatest Ponzi scheme in history called the U.S. Treasury market. What does it mean for ordinary Americans?

Fox News Turned Off At Local Gym. A member of a Southside gym is complaining the owners of the gym are being unfair, saying that Fox News has been banned from TVs where she works out.

U.S. phasing out paper savings bond. The venerable U.S. savings bond, which has been issued in paper form since 1935, will soon become yet another casualty of the computer age. As of Jan. 1, the U.S. Department of Treasury will no longer issue printed savings bonds through the traditional payroll savings bond purchase program.

Photographer Sues Texas For Using Image On Auto Inspection Stickers. Jon Snow points us to the story of a photographer who discovered that a photograph he took of a cowboy hoisting a saddle is being used as the background image on approximately 4.5 million inspection stickers. [...] I could see the state claiming "sovereign immunity," which has become popular for state governments when they're accused of patent and copyright infringement claims. You see kids, when governments infringe, it's no big deal.

October surprise!
Delay's Trial Begins Five years after Indictment. Former House Majority Leader Tom DeLay, one of the most polarizing politicians of the Bush years, is finally getting his day in court, five years after being charged with illegally funneling corporate money to help elect Republicans to the Texas Legislature.

The new hierarchy in news. Fox is now the reference standard for news, and not just in the cable universe. CNN's former status as the breaking news source has been lost, while MSNBC merely manages to retain its viewers, a sure sign that it is a niche ideological player, while Fox is perceived as fair and balanced by viewers — mainstream, in other words, despite years of demonization by the left. It is the go-to source for hard news, not an ideological outlet. That label belongs towhat used to be called "mainstream" media.

Newly Dead Now Oppose Obama. As a Chicago pol, President Barack Obama must be familiar with rumors that the cemeteries vote. If so, he'd probably be worried to find out that in this campaign year, he's even lost the dead. In death notices from around the nation, the recently deceased are reaching back to canvass the living. "In lieu of flowers, Hal has requested that donations be made to your local animal shelter or to any candidate running against Barack Obama in 2012," reads the death notice of Harold Groves, a retired Air Force fighter pilot who died at age 77 on Aug. 26 in Myrtle Beach, Fla.

Debt, Depression, Default. America is in Deep Trouble. Consumers are spending less. Small retailers are closing shop — even cable television subscriptions are seeing a loss in revenue.

One Trillion Attend One Nation Rally. The One Nation rally had empty streets and by all reports parking spaces aplenty. As also shown in the fenced-in photo linked [in this article], the side overflow areas lacked any crowds whatsoever. Photo after photo from Twitter throughout the day showed gaping holes in the "crowd" shots.

'One Nation Working Together' Rally Claims Bigger Numbers Than 'Restoring Honor'. Organizers of today's [10/2/2010] "One Nation Together Rally" are claiming that, based on a "satellite image," there are definitively more people on the Washington Mall today than there were on the 29th of August. Congratulations, liberals! Except "Restoring Honor" was on the 28th.

More about the One Nation rally.

Communism dries Cuba's coffee crop. With suspicious haste, Cuba's communist government abruptly announced it would let private farmers cultivate their crops on government land. Now we have an inkling why: The government wanted to get out while the getting was good.

A Cuban time bomb? [Scroll down] Remembering how suddenly other seemingly iron-clad communist regimes fell, the possibility of a Cuban implosion is real. That, of course, would be a nightmare for the U.S. The memory of Fidel Castro dumping 125,000 political opponents and jailbirds he called "worms" on Miami in the summer of 1980 is all too vivid in Florida, now the fourth-largest state. A sudden refugee flood would tax U.S. facilities already inadequately handling illegal Mexican immigration.

Conservative group banned from holding rally where Obama announced presidential run. A conservative group has been banned from holding a rally at Illinois's Old State Capitol because the site prohibits political demonstrations — yet it's the same place where President Obama announced his run for president and later, his choice of Joe Biden for vice president.

Venezuela is the world's worst socialist hellhole. It's a hallmark of authoritarian socialism that even as it wreaks economic havoc it issues grandiose claims and promises.

Clinton Administration's Chickens Come Home to Roost. On August 16, 2010 the U.S. Department of Defense released a congressionally mandated report entitled "Military and Security Developments Involving the People's Republic of China 2010." The release of the report created worldwide headlines and has been taken seriously by serious military analysts.

No time for Islam. In a severe case of clock envy, Saudi Arabia has erected a nearly 2,000-foot-high timepiece intended to stake a symbolic claim for Mecca as the world's center. Islamic scholars have proposed that the Royal Mecca Clock Tower supplant the observatory in Greenwich, England, to set the new global standard time. It is the latest form of Muslim global outreach — taking control of time itself. The Mecca clock is as much propaganda as it is a timepiece.

Price: The Lame-Duck Threat. Rep. Tom Price (R., Ga.), the chairman of the Republican Study Committee, tells National Review Online that he wants to prevent the House from having a lame-duck session in order to stop Democrats from passing "crazy legislation." [...] Price's reasoning is simple: House Democrats, he predicts, "won't be honest with the American people," and may attempt to "shove through" a "national-energy tax," an "amnesty bill," and card-check for labor unions — even if they lose their majority in November.

Political Revenge. If the majority party loses one or both chambers this fall, what could beaten and embittered Democrats do to the nation before the next Congress is seated? They could actually make things worse.

Dropouts, underworked push U.S. rate to 16.5%. Included in the national jobs report out Friday was an important — and uglier — number that often gets lost in the noise around the official unemployment rate. Officially, the U.S. jobless rate is 9.5 percent, but by a broader measure the rate is well into double digits — at 16.5 percent. The larger number — called the U-6 unemployment rate — counts jobless people actively seeking work but also includes those who have stopped actively looking for a job and part-time workers who want more hours.

WH Official Pushes Cap and Trade for Lame Duck Session. Obama Energy Czar Carol Browner appeared on NBC's "Meet the Press" Sunday with host David Gregory touting a lame duck session of Congress after the November elections as a means to pass elements of the unpopular Obama agenda. The new Congress would not be sworn in until January.

You Vote, They Don't Listen. It's official. There will be a lame duck session of Congress even after voters have rendered their verdict on the work of the current incumbents in November. This week, the House voted down a resolution opposing a lame-duck session to tackle hot button issues such as new taxes and climate change.

Good luck taming this corporation. No corporation on the planet comes close to the United States government in sheer magnitude, or unimaginable, unprecedented power. The nation's top 100 corporations combined still fall far short of the behemoth in Washington, D.C., which conducts extensive operations in agriculture, weapons production, medical care, housing, real estate, education, mail delivery, policing, resource development, banking, the arts, security services, food provision, transportation and much, much more. Within five years, federal spending will consume 25% of every dollar generated by the private economy.

The Lame Duck Session Could Get Lamer. There has been much concern about the Obama administration attempting to ram through various bills, such as Cap and Trade, after the November elections when Democrats will have no fear of influencing voters against them — especially if they have just lost their election bid.

FinReg's Crucial Congo Codicil. What's the Congo have to do with financial overhaul? Absolutely nothing. But Democrats have sneaked it into the final bill, along with a host of other race-related oddities.

America's Fast Track to the Third World. The Department of Defense has sounded an alarm about our access to a strategically vital group of metals called the rare earth elements. A report on the problem prepared by the GAO is not pretty. It concludes that the Chinese now control the production, processing, and manufacture of final products of these vital metals and now own the patents for many of these processes. The worries of the DoD are well-justified; missile guidance systems, smart bombs, night vision gear, unmanned aircraft, and much more are dependent on the rare earth elements in some way.

Charges That Obama Stole the Nomination From Hillary Clinton. Maybe the New Black Panther intimidation case is not an isolated event. This could be the tip of a very large iceberg.

Parents deliver US citizenship. Wang Rong, who is six-months pregnant, is about to leave Beijing for California so she can give birth to her baby in the United States and give the child its first gift — US citizenship. The special delivery will cost Wang and her husband, both white-collar workers in the capital, 100,000 yuan ($15,000), but they say it is money well spent.

U.S. Plans Cyber Shield for Utilities, Companies. The federal government is launching an expansive program dubbed "Perfect Citizen" to detect cyber assaults on private companies and government agencies running such critical infrastructure as the electricity grid and nuclear-power plants, according to people familiar with the program.

Unwelcome truths. The White House, Democrats and the media have been having a collective cow over Gen. Stanley McChrystal's remarks, as reported in Rolling Stone, expressing disappointment in our commander-in-chief and critical of the president's team's handling of the war in Afghanistan. [...] Anyone who actually reads the article will wonder what the flap is about. The fact is, the general may have done a great service for us all, including our troops in Afghanistan.

Gallup: Majority of Americans Don't Know What "Progressive" Means. Today [7/12/2010], Gallup released the results of a recent poll which quantifies why so many on the left have eschewed the liberal label in favor of progressive. It finds that while just 12 percent of Americans say they would describe themselves as "progressive" and 31 percent say they would not, a majority of 54 percent are unsure about the meaning of the term.

The Editor says...
Until the American public finds out what "progressive" means, it's a great place for socialists to hide.

Kingdom of Lies. In past elections for North Korea's Supreme People's Assembly, authorities have reported 100 percent voter participation and a 100 percent approval rate for all the candidates. During the last election, however, the government admitted a 99.98 percent voter turnout — though public approval held steady at 100 percent. Such are the increments of North Korean concessions to reality. The regime's constitution is deception. Everything, starting with the birthplace of its leader, is a lie.

California License Plates May Go Digital. California drivers may soon come bumper to bumper with the latest product of the digital age: ad-blaring license plates. State lawmakers are considering a bill allowing the state to begin researching the use of electronic license plates for vehicles. The device would mimic a standard license plate when the vehicle is moving but would switch to digital messages when it is stopped for more than four seconds in traffic or at a red light.

The Editor says...
Isn't California where all those "urban blight" activists live, who hate to see advertising all over the landscape? The people who hate to see others stoop to the level of "anything for a buck"? Apparently it's okay for big government to be so mercenary. It sounds as if the advertising is going to be on every license plate, and the products or services thus promoted will be chosen by the state. What if the state decides to advertise something the driver finds repugnant? How will the driver know?

Obama Administration to Start Direct Deposit. Americans receiving payments for Social Security, unemployment insurance, veterans benefits, IRS tax refunds, railroad retirement, and government benefits will now find the money automatically deposited into their personal bank accounts.

Air Force Prepares for Homeland Defense. For the first time ever, the Air Force is preparing to fight an enemy on American soil. [...] What "enemy" could they be preparing to fight against on U.S. soil?

Rasmussen Reports: Three of Ten Americans are Nuts. Well, that's not exactly what Rasmussen Reports said. Technically, the poll showed that seven of ten Americans don't believe Congress knows what it is doing when it legislates on economic issues.

Testosterone Makes People Suspicious of One Another. A dose of testosterone might be enough to save gullible types from being ripped off, a new study reveals. Testosterone is linked to aggression, competition and social status. Now scientists have found that the hormone also reduces naive individuals' confidence in others.

MSM Cowers, ABC News Execs Hunker In Bunker As Whistleblowers Attack. ABC News is being publicly slaughtered by its own staff at the The New York Observer website, giving specific accusations of an ABC executive's illegally hiring and firing without just cause, promoting based on whims, discriminating against homosexuals, blacks and sexually harassing of employees.

Movie Tickets Reach the $20 Mark. For the first time, a major Hollywood film will hit the $20 threshold at the box office, as movie-theater owners test the public's ability to absorb ever higher ticket prices. Several theaters will charge $20 per adult ticket to IMAX showings of the animated 3-D family film "Shrek Forever After," the fourth "Shrek" installment from DreamWorks Animation.

WWII Vet Ordered to Remove American Flag From Outside New Hampshire Home. Joe LeVangie, 88, is a World War II veteran who didn't think twice about flying an American flag outside his New Hampshire home. At least until last week, when the Hillsborough housing complex where he lives told LeVangie and his neighbors that flying the flag was forbidden.

Coburn wants to certify bills are read. Sen. Tom Coburn wants his colleagues to prove that reading is fundamental — at least when it comes to the dozens of bills that pass over their desks, often with nary a glance from lawmakers. The Oklahoma Republican wants senators to certify they've read and understood the hundreds of bills that pass each year without any floor debate in the Senate. The effort comes a year after last summer's "read the bill" campaign highlighted lawmakers who acknowledged they hadn't read the entire House health care bill, even as they tried to explain its intricacies to constituents.

The Dollar's Inevitable Demise. To put it bluntly, the dollar's days are numbered and its demise is inevitable. Anyone who still hopes there may be a way around it, must answer that ultimate money question: Where in the world is the American federal government going to get $117 trillion?

On the other hand...
The Dollar's Demise is not Inevitable. Look up the debt for the years 1997 through 2002. What you'll find is that the debt went up from 1998 through 2001. Yet, these are the very years frequently cited as having produced record budget surpluses. How odd. We have a surplus but the debt goes up.

GOP to insist on 10th Amendment. Republicans are so determined to stop what they say is abusive and unlawful expansion of the federal government under President Obama that they are willing to abdicate power to the states to do it. Taking its cue from the Bill of Rights, the Republican Study Committee, a group of conservative House Republicans, says that the 10th Amendment dictates that initiatives such as the health care reform law and other massive government programs are the business of state governments, not Washington.

Fox Rolls Along #1 For 100th Consecutive Month. Fox News Channel which evokes the ire of liberals across the country has just finished first among cable news channels for the 100th consecutive month.

Obama's Granny is now a 'Doctor'. Joining the ranks of her famous grandson, President Barack Obama's 88-year-old step grandmother Sarah Hussein Obama was awarded an honorary doctorate degree from a university in Kenya yesterday [5/3/2010].

The Editor says...
You remember Sarah, don't you? She's the woman who says she witnessed President Obama's birth — in Kenya.* If you haven't heard all about that story, it's because you've been watching television instead of visiting this page.

Proposal: All New Yorkers Become Organ Donors. "We have 10,000 New Yorkers on the list today waiting for organs. We import half the organs we transplant. It is an unacceptable failed system," [New York State Assemblyman Richard] Brodsky said. To fix that, Brodsky introduced a new bill in Albany that would enroll all New Yorkers as an organ donor, unless they actually opt out of organ donation. It would be the first law of its kind in the United States.

Troubling Precedent: NJ Court Says Bloggers Are Not Journalists. In the words of New Jersey Superior Court Appellate Judge Anthony J. Parrillo: ["]Simply put, new media should not be confused with news media.["] This backward-looking, snobbish decision is troubling for many reasons. Before we get into the upcoming righteous outrage from someone who was a regular member of the "news media" for nearly 20 years — but is now a "new media" journalist — here's some background on the case.

Sniper kills Qaeda-from 1½ mi. away. It was silent but deadly. A British sniper set a world sharpshooting record by taking out two Taliban soldiers in Afghanistan from more than a mile and a half away — a distance so great, experts say the terrorists wouldn't have even heard the shots. Craig Harrison killed the two insurgents from an astounding distance of 8,120 feet — or 1.54 miles — in Helmand Province last November firing an Accuracy International L11583 long-range rifle.

Barry and the Pirates. The government of Kenya is no longer accepting pirates captured by the international task force operating in the Red Sea and approaches. Kenya claims that its justice system is overloaded with Somali pirates and that it just can't handle any more of them. [...] Which raises the question: what world leader happens to have close relatives serving in the government of Kenya? That's right — none other than the Obamessiah himself. His father, Barack Sr., was an economist in the first post-colonial government. One of his half-brothers, Malik Obongo Obama, is a rising political star, and I'm sure you wouldn't have to throw many stones to hit a cousin or two employed by various ministries. Obama has more personal pull in Kenya than in any other country in the world.

Protesters Disrupt Congressional Hearing. The 111th Congress hit a new low last week — one that should make us all wonder exactly where the federal government is headed. Four coal industry CEOs voluntarily showed up to testify before Rep. Ed Markey's House Select Committee on Energy Independence and Global Warming. [...] As one CEO testified from his seat at the witness table, several protesters wearing masks suddenly appeared at the table. They placed chunks of coal on the table where the CEOs sat and then stood in the area between the CEOs and Chairman Markey chanting "Coal is dirty." You might think that Chairman Markey moved quickly and forcibly to protect the witnesses and reassert control over the hearing. But again you'd be wrong. This scene went on for 9 minutes.

Has Noah's Ark Been Found on Turkish Mountaintop? The remains of Noah's Ark have been discovered 13,000 feet up a Turkish mountain — according to a sensational claim by evangelical explorers. [...] Mt. Ararat has long been suspected as the final resting place of the craft by evangelicals and literalists hoping to validate biblical stories.

The Editor jumps in...
Suspected? The reason "Mt. Ararat has long been suspected as the final resting place" is because the Bible flatly states that's where it landed.*

New conservative 527 group has raised $30 million. If you are unhappy with the Republican National Committee and still wish to find a way to support Republican candidates, there is a new organization to which you might contribute: American Crossroads. Like New Ledger's Pejman Yousefzadeh I supported Michael Steele's candidacy for head of the RNC and now regret it as he has consistently failed to meet my expectations. If the Republicans are to take back the federal government it must be by proving their willingness to be fiscally responsible and the wasteful spending of the RNC under Steele is no way to send that message.

Judge: Lejeune can't ban car decals linking Islam, terrorism. After his son was killed in the attack on the USS Cole, Jesse Nieto put decals on his car that included "Islam=Terrorism" and "We Died, They Rejoiced." But the Marine Corps deemed the decals offensive and told them he had to remove them or he could not park on federal installations. So he went to court, and won.

Inhofe Ranked Most Conservative Senator, Sherrod Brown Most Liberal. Sen. James Inhofe (R-Okla.) is the "most conservative" member of the Senate, and Sen. Sherrod Brown (D-Ohio) is the "most liberal," according to National Journal magazine.

Unfortunate Coincidence. There is no denying that flying from Poland to Russia in a Russian-maintained airplane and then crashing into the woods where Soviet secret police murdered 22,000 Poles can be described only as an "unfortunate coincidence," especially after being warned that something you did "could not go unpunished."

The Obama Bubble. Why is there a remarkable stock market rally in the midst of the worst recession (depression) since 1930? While we hear explanations of every day's rise and fall of the indices (e.g., the "whatever" numbers were not as bad as expected, or they were better than anticipated), the obvious answer is that a few serious investors have studied their (arcane) National Income and Product Accounting. The stock market is rising because extraordinarily high corporate profits are just around the corner.

The Database That Ate American Business. By this time next year American business will be reeling from the launch of what will become a government sponsored virtual bulletin board for the serial slandering of American manufacturing. Reputations will be ruined and brands deeply damaged once the Congressionally-mandated internet bulletin board becomes operational.

Fee to Overthrow the Government: Five Dollars. Since 1951, South Carolina has had a law on its books requiring anyone looking to overthrow the government to, well, register with the government. No one had actually registered until February, when news of the law's existence spread on the internet and talk radio.

Rep. Hank Johnson: Guam could 'tip over and capsize'. Rep. Hank Johnson (D-Ga.) is afraid that the U.S. Territory of Guam is going to "tip over and capsize" due to overpopulation. Johnson expressed his worries during a House Armed Services Committee hearing on the defense budget Friday [3/26/2010].

Democrat Rep. wonders if additional Navy personnel will make Guam 'tip over and capsize'. Rep. Hank Johnson, D-Ga., was questioning Admiral Robert Willard about the Navy's plans to relocate 8,000 personnel and their families to Guam. After noting at some length that the island is narrow, Johnson says "My fear is that the whole island will become so overly populated it will tip over and capsize."

The Editor says...
If a Republican had demonstrated such monumental ignorance, does anyone believe this would not be front-page news?

The curious disappearance of Lachlan Cranswick. Lachlan Cranswick, a 41 year-old nuclear scientist working in Ontario vanished last month without a trace. The circumstances surrounding his disappearance are indeed curious and the case merits more than a casual mention, especially in light of numerous other instances of nuclear scientists and microbiologists turning up missing or dead within the last few years, many under mysterious circumstances.

Obama's exclusionary Easter Egg Roll. The Obama administration announced on Tuesday it has reserved 3,000 free tickets to the annual White House Easter Egg Roll for students in D.C.-area public and charter schools, but not for children who attend private or parochial schools.

The Editor says...
Remember, Obama's daughters go to a private school. Are they unwelcome, too?

Read the bill. More than two dozen states have enacted legislation mandating the creation of searchable online databases detailing comprehensive information on government spending, and several governors have taken executive steps to create such Web sites.

Sometimes "conspiracy theories" have merit.
Did the CIA test LSD in the New York City subway system? [Frank] Olson's ignominious end was written off as an unremarkable suicide of a depressed government bureaucrat who came to New York City seeking psychiatric treatment, so it attracted scant attention at the time. But 22 years later, the Rockefeller Commission report was released, detailing a litany of domestic abuses committed by the CIA. The ugly truth emerged: Olson's death was the result of his having been surreptitiously dosed with LSD days earlier by his colleagues.

Who's Behind the Financial Crisis? The New York Times is quoting a spokesman for George Soros as saying that the well-known hedge fund operator is guilty of no wrong-doing in connection with the financial upheaval currently affecting Greece and Europe as a whole. But Zubi Diamond, author of the powerful new book, Wizards of Wall Street, says the agenda of Soros and other short sellers is clear. Their purpose, he says, is "to loot America and any foreign country which invested in America. Greece was one of them. Iceland was ravaged and annihilated."

Is Greece Our Future? Greece's financial collapse is turning into theater of the absurd. Today [3/6/2010], public employees in Athens staged an occupation of a government building to dramatize their demand that they be maintained at taxpayer expense, in the style to which they have become accustomed, forever.

Five of the Royal Family demoted as BBC changes its protocol on broadcast death list. The BBC has downgraded five senior members of the Royal Family by ordering that their deaths should no longer trigger an automatic interruption of normal broadcasts. [They] had formerly belonged to a special BBC list known as Category 2, which has now been abolished.

6 Pieces of Advice for Hotel Guests from an Ex Housekeeper. Everyone has seen the black light specials they roll out on the nightly news programs. Oh [...] the filth! The horror! It's come to be expected, really. Hotel blankets are teeming with bodily fluids. So are the floors and walls. We've seen the less than shocking exposes.

The burger and beverage recession. Want more proof that the U.S. economy is still in a fragile state? Consider this. People are still holding back on buying burgers, soda and beer. So much for fast food, soft drinks and booze being recession-proof.

World Wide Web May Split Up Into Several Separate Networks. Google's threat to exit China is igniting worries that the Web, a linchpin of globalization, may fracture into regional fiefdoms.

Chowing down on the Haiti run. The Guardian reports that the cruise line, Royal Caribbean International, which leases a private peninsula from the Haitian government for a luxury resort, elected to continue sending in the Independence of the Seas as scheduled despite appreciating the poor optics of fatcat westerners partying while bodies were being stacked up a few miles away.

World air passenger traffic plunges. World airline passenger traffic fell 3.1 percent in 2009, the biggest drop in aviation industry history, fuelled by the global financial downturn, the International Civil Aviation Organisation said. Preliminary figures for airline travel this year showed that international traffic declined by about 3.9 percent and domestic traffic by 1.8 percent, despite sharp growth in some regions.

The Editor says...
Three percent is a "plunge"?

What Every American Should Know About the National Debt. [Scroll down] Spending last year was about $3.5 trillion. The deficit was $1.42 trillion, which means that revenues were about $2.1 trillion. So $2.1 trillion is equal to their annual income. The total national debt right now is $12.3 trillion. So we owe five to six times more than we make every year. But that's not the big deal. In addition to that, there is another $45 trillion to $50 trillion in unfunded obligations that are off the balance sheet, which I think you ought to count. Medicare is the biggest part of it by far, and Social Security is a large part, too. So in reality, we owe between 25 and 30 times what we make every year.

President Byrd? Yet as president pro tempore of the Senate, the nonagenarian former Ku Klux Klansman is third in line for the presidency. If a ceiling were to drop on Barack Obama, Joe Biden and Nancy Pelosi — a scenario at the heart of the political thriller "The Man" — Byrd would be plotting the U.S. response to terrorism and the burgeoning federal debt.

It's Barbie in a burkha. One of the world's most famous children's toys, Barbie, has been given a makeover — wearing a burkha.

Technology Predictions Are Mostly Bunk. "Inventions have long since reached their limit, and I see no hope for further developments," said Roman engineer Julius Sextus Frontinus in 10 A.D. This end-of-progress view has been echoed many times, including by Charles Duell, commissioner for the U.S. Patent Office, who in 1899 said, "Everything that can be invented has already been invented."

Man with "XXXXXXX" number plate receives lots of parking fines. Traffic wardens in Birmingham, Alabama, enter seven letter Xs onto their forms when they issue tickets to cars without plates. Unfortunately the default code matches the vanity plate of a motorist from the nearby town of Huntsville, who has received hundreds of incorrect payment notices over the past year.

'Little Buddy' GPS device keeps tabs on your kid. Best Buy is selling a transmitting device that lets parents keep track of their children. Parents can place the device in a child's backpack or lunch box, for example.

The Editor says...
GPS signals are very weak. A GPS receiver will not work inside a metal lunchbox. (Neither will a cell phone, which is the other half of this gadget.) But even if the product works as advertised, if a kid with one of these devices is abducted, the "Little Buddy" will be the first thing tossed out the window.

Framed for Child Porn — by a PC Virus. Of all the sinister things that Internet viruses do, this might be the worst: They can make you an unsuspecting collector of child pornography.

Visiting the White House. The day before Halloween, the White House released a partial list of visitors since Jan. 20 of this year. The list is fascinating and highlights exactly what kind of house the Obamas are running. Topping the visitor chart is Andy Stern, president of the far-left Service Employees International Union. [...] Kim Gandy, president of the National Organization for Women, clocks in with 14 visits.

$400 per gallon gas to drive debate over cost of war in Afghanistan. Pentagon officials have told the House Appropriations Defense Subcommittee a gallon of fuel costs the military about $400 by the time it arrives in the remote locations in Afghanistan where U.S. troops operate.

Did Flu Shot Cause Cheerleader's Rare Nerve Damage? A sad story out of Virginia, where a 25-year-old woman, who was training to be a Washington Redskins cheerleader, has come down with a rare neurological disorder days after receiving a seasonal flu vaccination. Now she can hardly walk forward without severe contortions or speak normally. But amazingly, she can walk backwards, run forward and speak just fine as long as she's running.

C.I.A. Is Still Cagey About Oswald Mystery. For six years, the agency has fought in federal court to keep secret hundreds of documents from 1963, when an anti-Castro Cuban group it paid clashed publicly with the soon-to-be assassin, Lee Harvey Oswald. The C.I.A. says it is only protecting legitimate secrets. But because of the agency's history of stonewalling assassination inquiries, even researchers with no use for conspiracy thinking question its stance.

The Editor says...
How many "legitimate secrets" are 45 years old? For example, the secret of the Navajo code talkers was declassified after only 25 years.

Fannie Mae, Freddie Mac, Now FHA. A huge, government-run housing agency shows massive losses and needs a bailout. Fannie Mae? Freddie Mac? No. It's the Federal Housing Administration, in a bad case of financial-meltdown deja vu. The FHA, which insures mortgages made by first-time buyers with low down payments, says it may need a bailout because it will have losses of — get this — $54 billion. And how did it lose all that? By backing home loans made to people who couldn't pay them off. Where have we heard this before?

Still think this Country isn't going Socialist? Eight years after our country was attacked by those who seek to destroy us someone decides to honor the anniversary of another group of people that have been less than cooperative with America. Wednesday night, September 30, 2009, the Empire State building was lit up in with the colors of red and yellow commemorating the anniversary of socialism in China. Since when do Americans celebrate the birth of a regime that is guilty of atrocities towards human liberties? Don't we have government agencies to keep these people in China under watch in order to protect America from them?

Kellogg's will use laser to burn logo on to individual corn flakes. According to the advertising slogan, if you see Kellogg's on the box then you know it's Kellogg's in the box. But now the company has become so concerned about similarly packaged supermarket cereals, it has developed a laser to burn its logo on to individual Corn Flakes. The concentrated beam of light creates a toasted appearance without changing the taste.

The Editor says...
Don't stop there! How about etching lottery numbers on Kix? How about Mona Lisa on Melba Toast? How about a checkerboard on Chex?

Tidal wave of patriots washing over D.C.. Rep. John Shadegg has been trying to get a bill enacted for 15 years that would simply require legislators to cite the constitutional authority for any legislation that is proposed. His bill is called the Enumerated Powers Act (HR450). It now has 52 co-sponsors, but there is very little chance that it will ever get to the floor for a vote. Why? Because the Democrats in Congress will not allow it.

The Public Takes a News Quiz [...] and Doesn't Do So Well. The quiz included 12 multiple-choice questions and those who took it answered an average of 5.3 questions correctly. Here are some of the results: Seventy-five percent answered correctly when asked which party controlled the House, (the Democrats). [...] Twenty-three percent knew that "cap & trade" had to do with energy and climate legislation.

Did Bubba's Tapes Break the Law? Recall that President Clinton didn't have an exemplary record for veracity when responding to legal discovery. His impeachment, suspension from the Arkansas bar and resignation from bar of the U.S. Supreme Court each arose from false testimony he offered in the Paula Jones case. And now comes the question of whether he again failed to fulfill an obligation to produce information.

Is the US Government bankrupt? Before we continue to debate the merits of any Obama health care plan, we need to consider a few important facts. By any rational means, we must consider the present condition of our Government's financial situation. An honest look at those finances would have a prudent person conclude that our government is tacitly bankrupt. Our unfunded liabilities far exceed our assets.

Federal Reserve Scandal Bigger than ACORN. For the first time, a hearing is being held on Rep. Ron Paul's Federal Reserve Transparency Act of 2009 (H.R. 1207) by the House Committee on Financial Services. Grass-roots pressure has been credited with forcing the hearing into what has happened to trillions of dollars supposedly spent by the Federal Reserve on the stabilization of the financial system. In prepared testimony, Thomas E. Woods, Jr. of the Ludwig von Mises Institute offers his strong support for the bill and declares, "...if our monetary system were really as strong, robust, and beyond criticism as its cheerleaders claim, why does it need to rely so heavily on public ignorance?"

Did someone mention ACORN?

The Coming Flood of Government Jobs. As the job news grows ever darker — according to the Labor Department unemployment has now hit a 26-year high of 9.7% — a ray of light is shining from one unexpected quarter: the federal government.

Win one by being like the Gipper. Rasmussen reports that all political labels are trending negative except one. "'Liberal' is still the worst and remains the only political description that is viewed more negatively than positively. Being like Reagan is still the most positive thing you can say about a candidate."

Red Flag To Fly Over White House. Lest anyone doubt the communist leanings of President Barack Obama, look no further than to his decision to hoist the Red Chinese flag (for the first time in history) over the South Lawn of the White House in Washington, D.C., on Sunday, September 20. [...] Why is the mainstream press not all over this story? Where is the outrage by veterans' organizations (especially Korean War veterans)? Where is the national VFW? Where is the American Legion?

Editor's note:
This story was also reported here: [1] [2] [3] [4]

Update:
White House Debunks Reports It Will Fly China's Flag on South Lawn. A ceremony, indeed, will take place. But it won't happen on the White House grounds — rather, on the Ellipse, on the other side of E Street from the presidential residence.

Reid On The Rocks. As [Harry] Reid pursues cap-and-trade, a medical overhaul and the rest of the leftist agenda, Nevadans are increasingly asking: What about Nevada? Reid is a high-profile incumbent in a state that's becoming an economic basket case. Nevada has the third highest jobless rate in the country at 12.5%. For 31 months, it's had the highest foreclosure rate of any state, and Las Vegas has the highest foreclosure rate of any major U.S. city.

ACLU questions Obama cookie plan. A proposal to loosen restrictions on the use of tracking cookies by federal government websites should be carefully scrutinized so they don't jeopardize the privacy of people who visit them, groups advocating civil liberties warned Monday [8/10/2009].



Some E-Books Are More Equal Than Others. This morning [7/17/2009], hundreds of Amazon Kindle owners awoke to discover that books by a certain famous author had mysteriously disappeared from their e-book readers. These were books that they had bought and paid for — thought they owned. But no, apparently the publisher changed its mind about offering an electronic edition, and apparently Amazon, whose business lives and dies by publisher happiness, caved. It electronically deleted all books by this author from people's Kindles and credited their accounts for the price. This is ugly for all kinds of reasons.

51% Say Congress is Too Liberal, 22% Say It's Too Conservative. Fifty-one percent (51%) of voters nationwide believe that Congress is too liberal while 22% hold the opposite view and say it is too conservative. A Rasmussen Reports national telephone survey found that 14% say the ideological balance of Congress is about right and 12% are not sure.

The Editor says...
Those who believe the Congress is too conservative are probably those who get all their information from late-night TV comedians.

Military helicopters land in Rolesville field. Three Chinook military helicopters set down in a Rolesville field Monday afternoon, witnesses said. People reported seeing the helicopters flying low and slow over Holly Springs, downtown Raleigh and elsewhere in Wake County. A viewer told WRAL News they came to rest off Rogers Road about half a mile from U.S. Highway 401.

The Editor asks...
Isn't that what Fort Hood is for? Why must this be done in a small town?

Repeating History. Investors are worried about what they see in the U.S. and are parking their money in non-dollar foreign assets and gold. When nonproductive assets are more valuable than land, factories and labor, something's amiss.

Voters Turn Negative On All Political Labels Except Reagan. "Progressive" is becoming more of a dirty word, but all political labels — except "being like Ronald Reagan" — are falling into disfavor with many U.S. voters, according to a new Rasmussen Reports national telephone survey. "Liberal" is still the worst and remains the only political description that is viewed more negatively than positively. Being like Reagan is still the most positive thing you can say about a candidate.

How End-Users Suffer Under Socialism: Central planners announced this week that they were fresh out of money to buy toilet paper — yes, toilet paper — for the island's 9 million citizens. But not to worry. A nameless official for state-run monopoly Cimex and quoted by Reuters assured that "the corporation has taken all the steps so that at the end of the year there will be an important importation of toilet paper." The predicament would be funny if it wasn't so pathetic. But toilet tissue is hardly the only item Cuba is lacking.

Shifting the Right of Way. Sometime in the early morning hours of Sept. 7, residents of this small Pacific island nation will stop their cars, take a deep breath, and do something most people would think is suicidal: Start driving on the other side of the road.

Governors oppose DoD emergency powers. A bipartisan pair of governors is opposing a new Defense Department proposal to handle natural and terrorism-related disasters, contending that a murky chain of command could lead to more problems than solutions. Vermont Gov. Jim Douglas (R), chairman of the National Governors Association, and Vice Chairman Gov. Joe Manchin (D) of West Virginia penned a letter opposing the Pentagon proposal, which they said would hinder a state's effort to respond to a disaster.

The Editor says...
Until you can find the word emergency in the Constitution, I'd say the federal government should leave local disaster plans to the local officials.

GOP Not Allowed to Say 'Government-Run Healthcare'. Rep. John Carter (R-Texas), the secretary of the House Republican Conference and a former District Court Judge, is having his messages to constituents censored by Democrats on the Franking Commission. Republicans are no longer allowed to use the words "government run health care" in the communications to their constituents. Carter received an email from the Franking Commission informing him of the censorship.

Democrats Censor Mailing of Health Care Bill Chart. Republican Rep. Kevin Brady (R-Texas) also found himself being censored yesterday [7/23/2009] by Democrats who refused to allow mailings that included a chart he asked his Republican staff at the Joint Economic Committee to create. [...] There are three Republicans and three Democrats on the Franking Commission tasked with approval of franked mail pieces to ensure there is no abuse of the system. The Democrats are refusing to let newsletters that include the chart be mailed.

The Franking Sign Monster. [Scroll down] Leaving aside for a moment the disturbing implications, the issue at the center of this dispute is a congressional rule which bars franked mail from being "partisan, politicized, or personalized." This is, as they say, one of those ideas that sounds great on paper but quickly becomes problematic in practice and delivery. Since these rules were last revised in 1997, the bar for judgments regarding the "partisan" nature of franked communications between House members and their constituents has been set quite low out of necessity.

Republicans Say Democrats Are Censoring More GOP Mail. House Republicans this week accused Democrats of censoring GOP mailings to constituents on a variety of subjects and of imposing uneven requirements on the minority party's mail. Democrats on the franking commission — which must approve all official mail — have blocked Republicans from using politically weighted descriptions of climate change legislation, the stimulus bill and other issues, according to e-mails obtained by Roll Call.

The Associated Press Declares War on the Online World. My beloved, eternally bumbling Chicago Cubs swept the even lowlier Washington Nationals in a three-game mid-July series. I read that in an Associated Press report headlined "Big 4th inning gives Cubs sweep of Nationals." Will reporting this result to readers get me in trouble someday soon? That result isn't as far-fetched as you might think.

Napolitano Lets the Word 'Terror' Come Out of the Closet at Homeland Security. It's OK to call them terrorists again. Homeland Security Secretary Janet Napolitano, who drew criticism for not mentioning the word "terror" during her first appearance before Congress in February, has reinserted the term into her lexicon. The former Arizona governor used the term or its variants 23 times Wednesday [7/29/2009] during a 30-minute speech before the Council of Foreign Relations in New York.

48% Say Obama Is Very Liberal. Seventy-six percent (76%) of U.S. voters now think President Obama is at least somewhat liberal. Forty-eight percent (48%) say he is very liberal, according to a new Rasmussen Reports national telephone survey.

About that charity you run, Professor Gates. Dan Riehl explores a charity headed by Professor "Skip" Gates which takes in a lot of money, pays out very little, mostly to his colleagues and assistants at Harvard, was late filing the necessary papers and lists as its office the house Gates rents from Harvard. Perhaps as Ann Althouse suggested yesterday [7/24/2009] on her blog there was something in his home that Gates did not want the police to see.

Amazon Removes E-Books From Kindle Store, Revokes Ownership. Today, Amazon removed George Orwell's 1984 and Animal Farm from its Kindle e-book store. The company also went ahead and removed any digital trace of the books, too — striking them from both users' digital lockers and from Kindle devices. This disturbing, Orwellian move underscores how, in spite of comments otherwise, a purchase in the digital realm can't be compared to physical ownership of content.

Amazon Erases Orwell Books From Kindle. In George Orwell's "1984," government censors erase all traces of news articles embarrassing to Big Brother by sending them down an incineration chute called the "memory hole." On Friday [7/17/2009], it was "1984" and another Orwell book, "Animal Farm," that were dropped down the memory hole — by Amazon.com.

Update:
Amazon CEO apologizes for deleting Orwell books. Amazon founder Jeff Bezos has issued an apology to Kindle customers after "1984" and other books by British novelist George Orwell were remotely deleted from their electronic readers. "This is an apology for the way we previously handled illegally sold copies of '1984' and other novels on Kindle," the Amazon chief executive said in a post on Thursday [7/23/2009] on the Kindle Community discussion forum. "Our 'solution' to the problem was stupid, thoughtless, and painfully out of line with our principles," Bezos wrote.

The Editor says...
Who in his right mind would buy an e-book device now that we all know how easily those books can be erased and/or removed?

Another update:
Amazon sued over Kindle deletion of Orwell books. A high school student is suing Amazon.com Inc. for deleting an e-book he purchased for the Kindle reader, saying his electronic notes were bollixed, too. Amazon CEO Jeffrey P. Bezos has apologized to Kindle customers for remotely removing copies of the George Orwell novels "1984" and "Animal Farm" from their e-reader devices.

OAS kicks out Honduras, welcomes Cuba. The Organization of American States embraces tyranny while rejecting a state for following its constitution. Not that the MSM notices.

Honduras quits Organization of American States. The newly installed Honduran government withdrew from the Organization of American States Friday night [7/3/2009], after a tense visit from the hemisphere's top diplomat who urged the return of the nation's deposed leader. OAS Secretary General José Miguel Insulza visited Honduras Friday on a mission to convince members of the Supreme Court and other civic leaders to allow the return of President Manuel Zelaya, who was overthrown in a pre-dawn raid Sunday.

Prisoners on run cannot be named 'due to privacy rights'. Prisoners on the run from Holleseley Bay prison cannot be identified because it would breach their rights to privacy, the Ministry of Justice has said.

The Editor says...
That's quite a contrast to the U.S., where the courts have ruled that no one on a public highway has a right to privacy.

R.I.P.: Budget Woes Spell Doom for Roadside Rest Stops. As millions of Americans take to the road for the holiday weekend, a humble highway fixture is under attack. Later this month, cash-strapped Virginia plans to barricade entrances and switch off the plumbing and electricity at nearly half its highway rest areas. Other states also are lowering budgetary axes on the public pit stops that have lined the interstate highway system since its creation in 1956.

The Editor says...
The states would have plenty of money for the maintenance of roadside rest stops if they were not giving away money to people who are too lazy to work.

EPA Holds First-Ever Bedbug Summit as Infestations Rise. The bedbug, an obnoxious pest long thought confined to the sleepless nights of a bygone era, is back. From college dormitories and homeless shelters to hospital maternity wards, high-end condos, and swanky hotels, bedbugs are embarked on one of the most remarkable entomological comebacks in recent memory.

Nagin's Phone Calls Screened 'to Keep Him Safe' While Quarantined in China. They take their quarantines very, very seriously in China. They don't even allow phone calls. The mayor of New Orleans, Ray Nagin, is under lockdown in a suburban Shanghai hotel after a passenger on his flight from the U.S. exhibited symptoms of swine flu — and now his Chinese hosts are screening his calls "to keep him safe."

China Requires Censoring on New PCs. China has issued a sweeping directive requiring all personal computers sold in the country to include sophisticated software that can filter out pornography and other "unhealthy information" from the Internet. The software, which manufacturers must install on all new PCs starting July 1, would allow the government to regularly update computers with an ever-changing list of banned Web sites.

Bank of America reports threat by Federal Reserve. Bank of America's chief executive Thursday for the first time said publicly that officials in the Bush administration and the Federal Reserve threatened to remove top executives of the bank unless the financial giant merged with the troubled Merrill Lynch for the good of the foundering economy. Bank of America's Kenneth Lewis told the House Oversight and Government Reform Committee that the threat was not the deciding factor in the bank's acquisition of the nation's largest investment banking firm. But he added: "What gave me concern was that they would make that threat to a bank in good standing."

Anti-President Obama message removed from business. "I'm not going to stop what I believe," Iron Block Harley Davidson Owner Erik Dunk said. Wednesday [6/10/2009], the electronic sign out in front of the Iron Block Harley Davidson in Adams Center read this: "Obama are you kidding? We're not Muslim. You are not Christian." [...] Shop owner Erik Dunk says Harley Davidson got involved after a motorist complaint and told him they wanted him to remove it.

What's Keeping Obama Up? The Rasmussen Poll conducted over the weekend of May 30-31 asks the key question, designed to give us perspective on Barack Obama's current popularity. The question asked was whether the current problems "are due to the recession that began under the Bush administration or to the policies Obama has put in place since taking office." In other words, who's to blame, George W. Bush or Obama? By 62 percent to 27 percent, voters say Bush is still the culprit. As long as this opinion remains prevalent, Obama will continue his high popularity.

Obama Dismisses Alleged Snub of the Sarkozys. In the days leading up to president's stop in France, rumors swirled that the Obamas had declined a dinner invite from the French first couple, leading some to suggest that it was a reflection of frosty U.S.-French relations.

Robocall case sheds light on a secretive industry. The despised robocall companies that send out illegal recorded calls nationwide to try and get people to buy car warranties or apply for credit cards are among the most secretive operations outside the CIA. Employees are told they can be fired merely for mentioning the name of their employer.

Crisis spurs spike in 'suburban survivalists'. Emergency supply retailers and military surplus stores nationwide have seen business boom in the past few months as an increasing number of Americans spooked by the economy rush to stock up on gear that was once the domain of hardcore survivalists.

Psychiatrists rewriting the mental health bible. Is the compulsion to hoard things a mental disorder? How about the practice of eating excessively at night? And what of Internet addiction: Should it be diagnosed and treated? The Diagnostic and Statistical Manual of Mental Disorders, commonly called DSM, is getting an update. Now experts must decide what is a disorder and what falls in the range of normal human behavior.

Broadway's No-Hitter. When the nominees for this year's Tony Awards were announced, I was struck by the fact that I hadn't cared for any of the musicals that turned up on the list. Then I looked through my columns for the year and saw, much to my surprise, that I'd panned every musical that opened on Broadway in the 2008-09 season. Some of my verdicts were mixed, others brutally dismissive. But the bottom line was clear: I didn't review a single Broadway musical that I would have paid to see.

Hugo's big purge. The purge of foes and friends by Venezuela's socialist strongman Hugo Chavez — a kinder, gentler version (so far) of Stalin's Great Purge shortly before World War II — shouldn't surprise anyone familiar with a paranoid personality. Mr. Chavez, who now prefers "Comandante-Presidente," is cleansing the nation, including his United Socialist Party, of people he judges to be disagreeable.

Waxman to push global warming bill without allowing subcommittee vote. House leaders struggling to pass a major energy bill appear ready to bypass the subcommittee system because powerful carbon state Democrats aren't willing to go along with the proposal for hundreds of billions in new global warming fees. With little hope of passing the measure out of the global warming subcommittee, Energy and Commerce Committee Chairman Henry Waxman, D-Calif., signaled he will move the bill to the full committee, where the legislation would likely pass.

Dubious but interesting...
H1N1 Government Manufactured? There has been a lot of speculation, of late, that has come to my attention regarding the possibility that the H1N1 Virus, also known as the Swine Flu, is not a product of nature. After all, the virus is made up of components from the human flu virus, avian flu virus, and swine flu virus — a combination not possible, according to some scientists, in the natural world. There are no cases of swine being infected with this particular virus, either. The origin, in essence, is a complete mystery.

The limits of terrorism: With terror attacks having become a routine and nearly daily occurrence, especially in Iraq, Afghanistan and Pakistan, the conventional wisdom holds that terrorism works very well. [...] But Max Abrahms, a fellow at Stanford University, disputes this conclusion, noting that they focus narrowly on the well-known but rare terrorist victories — while ignoring the much broader, if more obscure, pattern of terrorism's failures.

An Inconvenient Truth: Your Prius Is Making You Fat. According to the report in the current issue of the International Journal of Epidemiology, obese people are responsible for more greenhouse gas emissions than their slimmer neighbors partly because they are more prone to driving instead of walking. But the authors have the cause-and effect all wrong. It's not that obesity causes driving — it's that driving, in part, causes obesity.

Americans still fear big government more than big business. With unemployment and economic uncertainty rising, the stock market stubbornly stumbling and President Obama promising an immense federal spending program and deficits to match even before his first 100 days are over, Americans remain convinced the larger threat to the nation's future remains Big Government, not Big Business.

Ex-assemblyman pushes plan to split California into two states. The revolution will begin in Visalia — and it will be led by a man named Maze. As in Bill Maze, a termed-out Assembly member turned rebel who is pushing for California to split in two: the conservative interior as one state and the liberal coast as another. He's serious.

A 'Copper Standard' for the world's currency system? Hard money enthusiasts have long watched for signs that China is switching its foreign reserves from US Treasury bonds into gold bullion. They may have been eyeing the wrong metal.

Canada Issues a Wake-Up Call: You May Be a Citizen. Thanks to a new law, Canada will bestow citizenship Friday on what its government believes could be hundreds of thousands of unsuspecting foreigners, most of them Americans. The April 17 amendment to Canada's Citizenship Act automatically restores Canadian nationality to many people forced to renounce it when they became citizens of another country. It also grants citizenship to their children.

Creeping Narcostate. Venezuela is the weakest link in this hemisphere's war on drugs. It's a leading transshipment point between the cocaine producers of Colombia and the drug lords of Mexico, one of whom just "earned" himself a spot on the 2009 Forbes billionaire's list. About half of the 600 tons of cocaine produced in Colombia each year rolls through Venezuela undisturbed before it heads north to consumers.

Pirates of Puntland. The United States and other countries have been cutting back on the ships needed to stem the piracy threat. In 1989, the United States had 164 destroyers and frigates; today we have about 73. In the same period, the British went from 48 such craft to 25. This mirrors trends in other Western states. The pirates in Puntland and elsewhere are exploiting a vacuum created by the withdrawal of Western navies from the sea.

If Congress Shall Make Any Law? Congresswoman Michele Bachmann is rocketing up the Obama Administration's enemies list because she is asking questions no liberal wants asked and making points they certainly do not want made. [...] What is this thing she did? Why, she cited the Constitution of these United States. And for yet another brief moment in a growing long line of brief moments it became clear once again that Timothy Geithner was indeed not the smartest man in the room. You could hear the uneasiness in Geithner's voice as he was forced to attempt to answer an actual question of substance.

Miles of Idled Boxcars Leave Towns Singing the Freight-Train Blues. Folks here figured the mile-long stretch of a hundred-plus yellow rail cars, which divides this small town like a graffiti-covered wall, would leave soon after it arrived. That was a year ago. [...] Tens of thousands of boxcars are sitting idle all over the country, parked indefinitely by railroads whose freight volumes have plummeted along with the economy. And residents of the communities stuck with these newly immobile objects, like the people of New Castle, are hopping mad about it.

Just 53% Say Capitalism Better Than Socialism. Only 53% of American adults believe capitalism is better than socialism. The latest Rasmussen Reports national telephone survey found that 20% disagree and say socialism is better. Twenty-seven percent (27%) are not sure which is better.

Gitmo in Conformity with Geneva Convention, Obama-Ordered Report Confirms. The Guantanamo Bay prison where terror suspects are held was examined by a special task force ordered by President Barack Obama. In its 81-page report, released Monday, the task force concluded: "After considerable deliberation and a comprehensive review, it is our judgment that the conditions of confinement in Guantanamo are in conformity with Common Article 3 of the Geneva Convention."

Study: Fire a major killer of Indian women. More than 100,000 young women were killed in fires in India in a single year, and many of the deaths were tied to domestic abuse, according to a new study published Monday. Young Indian women are more than three times as likely to be killed by fire as their male compatriots, according to an article published on the Web site of the British medical journal.

Is there any gold inside Fort Knox, the world's most secure vault? For several prominent investors and at least one senior US congressman it is not the security of the facility in Kentucky that is a cause of concern: it is the matter of how much gold remains stored there — and who owns it. "It has been several decades since the gold in Fort Knox was independently audited or properly accounted for," said Ron Paul, the Texas Congressman and former Republican presidential candidate, in an e-mail interview with The Times. "The American people deserve to know the truth."

Village mob thwarts Google Street View car. A spate of burglaries in a Buckinghamshire village had already put residents on the alert for any suspicious vehicles. So when the Google Street View car trundled towards Broughton with a 360-degree camera on its roof, villagers sprang into action. Forming a human chain to stop it, they harangued the driver about the "invasion of privacy", adding that the images that Google planned to put online could be used by burglars.

FBI database links long-haul truckers, serial killings. The growing database includes more than 500 female victims, most of whom were killed and their bodies dumped at truck stops, motels and other spots along popular trucking routes crisscrossing the U.S.

88% Say It's Important To Keep The Dollar As America's Currency. Eighty-eight percent (88%) of Americans say it is important for the dollar to remain the currency of the United States, including 70% who say it is Very Important. Only three percent (3%) say it is not at all important if the dollar remains America's currency, according to a new Rasmussen Reports national telephone survey. China's top government banker and a United Nations panel have both proposed that the dollar be replaced with a new global currency. However, only 21% of American adults believe the proposal is intended primarily to help the global economy.

A life thrown into turmoil by $100 donation for Prop. 8. [Margie] Christoffersen was a manager at El Coyote, the Beverly Boulevard landmark restaurant that's always had throngs of customers waiting to get inside. Many of them were gay, and Christoffersen, a devout Mormon, donated $100 in support of Proposition 8, the successful November ballot initiative that banned gay marriage. She never advertised her politics or religion in the restaurant, but last month her donation showed up on lists of "for" and "against" donors. And El Coyote became a target.

Oil Companies Voting With Their Feet. Much political hay has been made in Congress about "unpatriotic" corporations that move operations abroad. Weatherford International is the latest, taking its headquarters from Houston to Switzerland. The oil services company said that it wants to be closer to its markets. But what it really meant was that it no longer saw the future in the U.S. In a political atmosphere of blaming corporations, it's no wonder. Halliburton fled to Dubai in 2007. Tyco International, Foster Wheeler and Transocean International all went to Switzerland.

Versace hotel's cool beach bugs greenies. The Versace fashion house is to create the first refrigerated beach so that hotel guests can walk comfortably across the sand on scorching days. The beach will be next to the Palazzo Versace hotel being built in Dubai, where summer temperatures average 40°C and can reach 50°C. The beach will have a network of pipes beneath the sand containing a coolant that will absorb heat from the surface. The swimming pool will be refrigerated and there are also proposals to install giant blowers to waft a gentle breeze over the beach. The scheme has infuriated environmentalists.

China tells rich nations to pay up on climate change. Wealthy nations should divert as much as 1% of their GDP to help developing nations tackle climate change, say Chinese officials. This would mean a total $284 billion a year if members of the Organisation for Cooperation and Economic Development (OECD) paid a sum based on the size of their economies in 2007.

Lawmakers being forced to give up gas-guzzling cars. Congress has been bearing down to do more about global warming. But a little-noticed amendment to last year's energy bill has hit especially close to home. It requires House members who lease vehicles through their office budgets to drive cars that emit low levels of greenhouse gases. Among the victims: Texas Republican Joe L. Barton, who will probably have to give up his Chevy Tahoe, despite his protests that it is made in his district. "I guarantee you my district is not upset that I'm driving a Chevy Tahoe," he said.

Milk Prices Rise to Record Highs. It's cheaper than oil and, barring a global mad cow crisis, we'll probably never run out of it. But milk has one thing in common with oil: It's trading at record highs.

Baskin-Robbins co-founder dies. Irvine Robbins, who delighted ice cream afficionados by conjuring up ever more inventive flavours as co-founder of the Baskin-Robbins empire, has died aged 90. Mr Robbins, who started the Baskin-Robbins ice-cream chain with late brother-in-law Burt Baskin in 1945, died on Monday at the Eisenhower Medical Centre in Rancho Mirage, California, company officials said.

Sir Isaac and the Airbus: What the GAO is saying, in its lawyerly language, is that the facts show that the Airbus 330 cannot reach a sufficient speed to pull away from one or more aircraft it's supposed to refuel. And if it can't, there could be a mid-air collision.

Are the Polls Accurate? Harry Truman was trailing Thomas E. Dewey by 5% in the last Gallup poll in 1948, conducted between Oct. 15 and 25 — the same margin by which Mr. Obama seems to be leading now. But on Nov. 2, 18 days after Gallup's first interviews and eight days after its last, Truman ended up winning 50% to 45%. Gallup may well have gotten it right when in the field; opinion could just have changed.

UN says Iceland is the best place to live, Africa the worst. Iceland has overtaken Norway as the world's most desirable country to live in, according to an annual U.N. table published on Tuesday [11/27/2007] that again puts AIDS-afflicted sub-Saharan African states at the bottom.

Airlines Are Safer Than Ever. Flights on U.S. airlines have never been more crowded — nor have they ever been safer. The last crash of a commercial jet occurred in November 2001, although the number of flights has increased substantially in the past six and one-half years.

Editor's note:
The last crash was that of American 587.

Argentina lays new claim to Falklands. Argentina's claim to the Falkland Islands, which remain in British hands after a 1982 war, is "inalienable", President Cristina Kirchner says. "The sovereign claim to the Malvinas Islands (Argentina's name for them) is inalienable," she said in a speech marking the 26th anniversary of Argentina's ill-fated invasion of the two islands 480km offshore.

Judge Denies McDougal Bid To Unseal Whitewater Testimony. A federal judge has denied an attempt by Whitewater figure Susan McDougal to unseal her grand jury testimony from the case. Lawyers for McDougal, who served 18 months in jail for civil contempt for refusing to answer grand jury questions, argued the reasons for sealing the case had "grown stale and disappeared" in the time since.

Post-9/11 Dragnet Turns Up Surprises. In the six-and-a-half years that the U.S. government has been fingerprinting insurgents, detainees and ordinary people in Afghanistan, Iraq and the Horn of Africa, hundreds have turned out to share an unexpected background, FBI and military officials said. They have criminal arrest records in the United States.

Sonny Bono 'assassinated' by hitmen. Sonny Bono, former husband and singing partner of superstar Cher, was clubbed to death by hitmen on the orders of drug and weapons dealers who feared he was going to expose them, a former FBI agent claims. Ted Gunderson, now a private investigator, has told the US Globe tabloid that Bono, who served as mayor of Palm Springs for four years, did not die after hitting a tree on a Nevada ski slope in January 1998 as everyone believed.

Climate change will boost farm output. Australian agricultural output will double over the next 40 years, with climate change predicted to increase, rather than hinder, the level of production. A recent spate of reports forecasting the decline of Australian agriculture because of climate change have greatly exaggerated, and even completely misreported the threat of global warming, according to senior rural industry figures.

Presidential Candidates Find 51st State Overseas. The number of Americans living overseas is commonly estimated at about 6 million — twice the population of Chicago and greater than that of 33 U.S. states. Britain is home to about 300,000 Americans, nearly the population of Pittsburgh.

The OPEC of Vitamin C: Most U.S. consumers are aware that Chinese products dominate the shelves of most retail stores, but few realize the dominance extends to vitamins and drugs. Fully 90 percent of all the vitamin C sold in America comes from the communist trade giant. This near-monopoly control of the vitamin-C market caused the Wall Street Journal to dub China the "OPEC of vitamin C," and like the oil cartel it has been accused of price fixing.

Plane flies five passengers from US to London. A major airline is under fire from environmentalists for flying an aircraft across the Atlantic with only five passengers on board. The flight from Chicago to London meant that the plane, a Boeing 777, used 22,000 gallons of fuel.

The Editor says...
There's nothing wrong with flying a plane with only five passengers aboard. The error was in the use of such a large jet. Was that the only available jet?

Shock horror for would-be power cable thief. Police in central England are hunting for a badly scorched would-be copper power cable thief after finding a hacksaw embedded in an 11,000 volt power cable Saturday night [2/9/2008]. [...] Copper prices have more than doubled in the last four years as China has gobbled up huge quantities of it, sparking a wave of copper thefts across the globe from South Africa and the United States to Italy and Britain.

Fake fears over Ethiopia's gold. Ethiopia's national bank has been told to inspect all the gold in its vaults to determine its authenticity. It follows the discovery that some of the "gold" it had bought for millions of dollars was gold-plated steel.

Canon is using Iris watermarking. While visible watermarks are common among a variety of photographers, invisible watermarks, which are embedded in the image file, are somewhat less prevalent — but gaining ground and acceptance among photographers.

IBM to shove ads onto DVDs. IBM hopes to slip commercials onto your DVDs. Big Blue has asked the US Patent Office for the exclusive rights to a "system and method of providing advertisements during DVD playback." If this thing ever shows up in your DVD player, your discs won't be ad-free — unless you shell out some cash for some sort of digital certificate.

The Editor says...
The only difference between that and a virus is the size of the organization that produced it.

Capital has severe HIV epidemic, report finds. Washington, D.C., has the highest rate of AIDS in the United States, and more babies are born with the AIDS virus in Washington than in other U.S. cities, according to a report released on Monday [11/26/2007].

NYC traffic fees closer to fruition. A panel in charge of solving the chronic gridlock plaguing New York City made its final recommendations Thursday [1/31/2008], offering a scaled-back version of the original plan but still proposing an $8 charge on cars entering the most traffic-choked parts of Manhattan.

Do As Dems Say, Not As They Dine. According to auditors, the chain of restaurants run by the Senate food service, including the snooty Senate Dining Room, has almost never been in the black. It's lost more than $18 million since 1993 and dropped about $2 million this year alone. If the food service doesn't get an emergency bridge loan of a quarter-million dollars, it won't be able to make payroll. So how will the Senate fix the problem? Well, with California Sen. Dianne Feinstein taking the lead, the Democrats — that's right, the Democrats — have called a classic Republican play: Privatize it.

Code Talkers' reunion shows their numbers are dwindling. They were an elite group, assisting in the development of an unbreakable code that helped to win World War II. And only 11 are still surviving.

Titanic search was cover for secret Cold War subs mission. The man who located the wreck of the Titanic has revealed that the discovery was a cover story to camouflage the real mission of inspecting the wrecks of two Cold War nuclear submarines. When Bob Ballard led a team that pinpointed the wreckage of the liner in 1985 he had already completed his main task of finding out what happened to USS Thresher and USS Scorpion. Both of the United States Navy vessels sank during the 1960s, killing more than 200 men and giving rise to fears that at least one of them, Scorpion, had been sunk by the USSR.

Barr forms exploratory committee. Former Republican Rep. Bob Barr said Saturday he has formed a presidential exploratory committee and may seek the Libertarian party nomination. [...] He currently runs a lobbying and public affairs firm with offices in Atlanta and outside Washington. His clients have included the American Civil Liberties Union and the Marijuana Policy Project, a group pushing Congress to allow medical marijuana use and to cut spending for what it says are failed anti-drug media campaigns aimed at young people.

Barr Fight: Libertarians are not necessarily looking for the same things as anti-McCain Republicans. Barr's 98 percent American Conservative Union rating, pro-life voting record, and hard line on immigration might help him in the general election. But these positions aren't necessarily assets in a party that is officially pro-choice, supports open borders, and prefers the Nolan Chart to the left-right political spectrum.

Judge blocks Clinton deposition over FBI files. A federal judge has rejected an effort to force Hillary Rodham Clinton to testify in a decade-old lawsuit over White House acquisition of FBI background files. The court ruling spares Clinton a politically sensitive deposition at a time when she is fighting to overtake Barack Obama in the race for the Democratic presidential nomination.

Jihadists' useful idiots: Given that hard evidence is often scarce in trials of unsuccessful terrorists, prosecutors in Miami no doubt felt fortunate to be trying defendants who participated in a ceremony pledging allegiance to al Qaeda — and it was captured on video. [...] Narseal Batiste stated — on tape — that it was for creating an "Islamic army" to wage a "full ground war" and commit an attack that would be "as good or greater than 9/11," such as blowing up the Sears Tower. It wasn't enough. He wasn't convicted.

Alan Keyes Leaving Republican Party. After 20 or so years of working within the GOP to try and reform it into a more Christian/conservative Party, Dr. Alan Keyes is leaving the Republican Party. He will soon make this announcement and explain why he can no longer, in good conscience, remain a Republican.

Army begins using $150,000 artillery shells in Afghanistan. Canadian army gunners in Afghanistan are now cleared to fire GPS-guided artillery shells at Taliban militants — at the cost of $150,000 a round. The Excalibur shell could very well be the most expensive conventional ammunition ever fired by the military. Supporters argue that the weapon, which has the ability to correct itself in flight, has pinpoint accuracy.

Pressing Need for Blue-Collar Labor. I am going to be politically incorrect. The fact is not everyone should go to college. Yet we have pushed the notion that the only way to get a useful education is to obtain a college degree. Recently I spoke with an official of the New York Metropolitan Transportation Authority (MTA). He supervizes an important part of the subway system. He told me there are hundreds of vacant jobs. The result is that the infrastructure is deteriorating. [...] Another downside is that many people who go to college are out of place — they simply don't belong there.

Police concerned about order to stop weapons screening at Obama rally. Security details at Barack Obama's rally Wednesday [2/20/2008] stopped screening people for weapons at the front gates more than an hour before the Democratic presidential candidate took the stage at Reunion Arena. The order to put down the metal detectors and stop checking purses and laptop bags came as a surprise to several Dallas police officers who said they believed it was a lapse in security.

Big Brother is a liar.
Badda Bing Badda Boom. Even though the satellite's orbit was over populated areas, the risk to humans was low according to research scientists at the Massachusetts Institute of Technology (MIT). "It certainly would seem that protecting people against a hazardous fuel was not what this was really about," said Geoffrey Forden, a (sic) MIT researcher. Forden and his colleagues calculated there was a 3-in-100 chance that the fuel tank would land within 100 yards of someone and there was virtually no chance it would remain intact. So why did the president go ahead with the estimated $40 million operation if the risk was so low? Apparently, the unspoken advantages tipped the scales on the disadvantages.

Pastors in China Imprisoned to String Christmas Lights. Their fingers bleed. If they don't see through their day's quota — 5,000 bulbs, they are beaten. The next day they report to duty under guards' eyes. They thread the fine wire through plastic frames for Christmas lights to be strung for selling around the world. But their Christmas celebration is confined to being imprisoned. Their crime? Preaching the gospel of Jesus Christ. This past year, 600 pastors alone were put behind Chinese bars.

Read All About It. Papers remained quite profitable, for the most part. But as the future began to look increasingly troubled, one publisher's stock after another got hammered, starting around the turn of the century. Especially hard hit were publishers of prestigious newspapers. Dow Jones stock was at less than half its high before News Corp. made its successful bid for the Wall Street Journal publisher last spring. Times-Mirror fell more than 50% before being acquired by Tribune Co., which in turn has fallen around 45% from its high.

No Safe Harbor. China's closing of its ports to the U.S. Navy is another action by a hostile power. So why are we turning the other cheek to a dictatorship that threatens us? Apparently the phrase "any port in a storm" does not translate well into Chinese. Two U.S. minesweepers, the USS Patriot and the USS Guardian, found that out when they requested refuge in Hong Kong from an approaching storm and were refused by Chinese authorities in clear violation of long-standing naval tradition.

A very mysterious foundation. Some 3,000 scientists, including more than 100 Nobel laureates, have apparently accepted membership of a body called the World Innovation Foundation (WIF), which claims to be a powerful world-changing network to provide "the technological tools and miracle technologies that we shall all need to solve the world's impending global problems". [...] [Robert] Huber, described as vice-president, claims that he has no recollection of joining the organization. "I am not aware what this organization is," he says.

Proposal raises bones of contention. Alarm is growing among anthropologists in the United States over a plan that could empty institutions of about 120,000 human skeletons currently stored for research purposes. Under a new proposal, the bones at museums, universities and federal facilities across the nation could be given to Native American tribes now living in the area from which the remains were excavated, even if the skeletons are not culturally identifiable to the tribes.

None dare call it 'conspiracy'. On Tuesday [11/6/2007], the U.S. national debt topped $9 trillion for the first time in history, according to the U.S. Treasury Department's daily accounting of the national debt. Nine trillion dollars! The number is so staggeringly high that it exceeds our ability to comprehend it in monetary units. Million, billion, trillion — in financial terms, for most of us, it means a lot of money, really a lot of money, but that is about as specific a picture as most ordinary people can grasp.

The Olympic Bible: The organizers of the 2008 Olympic Games in China have put the Bible on the list of items that athletes are banned from bringing with them to Beijing ... This would seem to undermine claims by a Chinese government official, Ye Xiaowen, who told Reuters last month that China would accommodate the religious needs of visiting athletes.

Did someone mention the Olympics?

Police tell woman who had bag snatched 'sorry, that's not a crime'. A mother who had her bag snatched was told by police it was not a crime — because she chased after the thief and won her property back.

Last pineapple cannery in the U.S. is gone. The Ginaca machine is as Hawaiian as — well, as pineapple — maybe even more. Pineapple was introduced, but the Ginaca was invented in Hawaii. It cores and peels pineapples with little human labor. It made possible the Hawaii pine industry, which at one time produced 82 percent of the world's canned pineapple.

Pilot of plane that bombed Hiroshima dies. Paul Tibbets, who piloted the B-29 bomber Enola Gay that dropped the atomic bomb on Hiroshima, died Thursday [11/1/2007]. He was 92 and insisted almost to his dying day that he had no regrets about the mission and slept just fine at night.

On the Death of 'Hiroshima Bomb' Pilot Paul Tibbets. A bulletin topping many news sites this afternoon announced the passing of Paul W. Tibbets, pilot of the plane, the "Enola Gay" (named for his mother), which dropped the atomic bomb over Hiroshima on August 6, 1945. Tibbets was 92, and defended the bombing to the end of his life. Some of the obits noted that he had requested no funeral or headstone for his grave, not wishing to create an opportunity for protestors to gather.

Nitrite, Nitrate-Rich Foods Boost Heart Attack Outcomes. Eating nitrite/nitrate-rich foods such as vegetables and cured meats may help improve the chances of surviving a heart attack and of recovering more quickly.

Robbery Suspect Charged With Murder After Alleged Accomplices Killed by Homeowner. Three young black men break into a white man's home in rural Northern California. The homeowner shoots two of them to death — but it's the surviving black man who is charged with murder. In a case that has brought cries of racism from civil rights groups, Renato Hughes Jr., 22, was charged by prosecutors in this overwhelmingly white county under a rarely invoked legal doctrine that could make him responsible for the bloodshed.

Shooting of theft suspects may test self-defense law. In a case legal experts say may "stretch the limits" of the state's self-defense laws, a Pasadena [TX] man shot and killed two suspected burglars during a confrontation as they attempted to flee his neighbor's property Wednesday afternoon [11/14/2007].

Battling Ghost Calls, That Telemarketing Annoyance. The culprit behind what is becoming a common occurrence in some households may have a less than otherworldly explanation. More often than not it is a telemarketer — and one that complies with federal regulation. Indeed, adherence to the rules may be one reason for the ghost calls.

Twenty percent of Republicans vote 'present' on Ramadan resolution. Forty-one Republicans, more than 20 percent of the caucus, and one Democrat voted "present" on a resolution recognizing the commencement of Ramadan on Tuesday. The 42 lawmakers make up more than 10 percent of the members voting on the resolution. There were zero "no" votes, and 14 members did not vote. [...] Rep. Mike Pence (R-Ind.) said, "I voted 'present' because I read somewhere that Congress shall make no law respecting the establishment of religion."

The Editor says...
If Congressman Pence really thought Congress was about to establish Islam as a national religion, he should have voted "no" instead of "present".

Headline translated from British to American English.
War Hero Dies As Paramedics Have Their Tea. An 82-year-old war hero choked to death in front of his daughter — while a nearby ambulance crew were having their tea. Paramedics were just 500 yards from stricken Ernie Rutkiewicz. But a crew took 22 MINUTES to reach him because of a Government rule which says crews can't be disturbed during their meal breaks.

Congress considers Concord hazardous? NASCAR fans might seem rabid, but are they actually contagious? Getting a hepatitis shot is standard procedure for travelers to parts of Africa and Asia, but some congressional aides were instructed to get immunized before going to Lowe's Motor Speedway in Concord and the racetrack in Talladega, Ala.

NASCAR cooties: House Homeland Security Committee staffers are on a peculiar mission to study "public health issues at events involving mass gatherings," which has personally insulted Rep. Robin Hayes of Concord, North Carolina. The event: NASCAR. The rub: the requirement that the Democrat and Republican staffers attending first be immunized against Hepatitis A, Hepatitis B, tetanus, diphtheria, and influenza.

'USAF struck Syrian nuclear site'. The September 6 raid over Syria was carried out by the US Air Force, the Al-Jazeera Web site reported Friday [11/02/2007]. The Web site quoted Israeli and Arab sources as saying that two strategic US jets armed with tactical nuclear weapons carried out an attack on a nuclear site under construction. The sources were quoted as saying that Israeli F-15 and F-16 jets provided cover for the US planes. The sources added that each US plane carried one tactical nuclear weapon and that the site was hit by one bomb and was totally destroyed.

The Editor says...
The story above comes from Al-Jazeera, so there's at least a 99 percent chance that it's a pack of lies. But just suppose that this is really true — what a story! The first hostile use of nukes in 60 years! And I can't think of more deserving recipients.

How Many Site Hits? Depends Who's Counting. The growth of online advertising is being stunted, industry executives say, because nobody can get the basic visitor counts straight.

Threats aren't confined to the war zone. Tainted toothpaste is only the latest in a series of Chinese import disasters. As the New York Times reported last month, all 24 of the toys recalled for safety reasons this year were made in China. Chinese exports have inspired a massive recall of pet food, a recall of 450,000 tires, and a ban on China's farm-raised shrimp, catfish and eel, prompting this shot from Sen. Dick Durbin, D-Ill.: "'Made in China' is rapidly becoming a warning label for American consumers."

Fire ants may have met their match. Imported red fire ants have plagued farmers, ranchers and others for decades. Now the reviled pests are facing a bug of their own. Researchers have pinpointed a naturally occurring virus that kills the ants, which arrived in the U.S. in the 1930s and now cause $6 billion in damage annually nationwide, including about $1.2 billion in Texas.

Surging debate surrounds the use of 'smart' meters. As early as next year, some electricity customers in western New York may be able to save money, thanks to new "smart" meters, by doing their laundry and dishes at night or programming their air conditioner to raise the temperature in their homes if power becomes too expensive. Advocates see the new meters as a tool that will help New Yorkers cut their utility bills, reduce the demand for power and help the environment. But critics see a darker side to this idea.

Scientists hail 'frozen smoke' as material that will change world. A miracle material for the 21st century could protect your home against bomb blasts, mop up oil spillages and even help man to fly to Mars. Aerogel, one of the world's lightest solids, can withstand a direct blast of 1kg of dynamite and protect against heat from a blowtorch at more than 1,300C.

Drought? HOA requires grass be green. Amid record drought and heat that have pushed cities across the state to severe water conservation measures, residents of the Margot's Pond community outside Raleigh have been ordered by their homeowners association to keep the grass green.

Chavez puts Venezuela's clock ahead 30 minutes. President Hugo Chavez has announced that Venezuela's official time will be put ahead by half an hour starting January 1, and its first-ever offshore oil rig will start pumping before the year is out.

Kathleen Willey Reports Stolen Manuscript, Suspects "Clinton Operative". Kathleen Willey had planned to spend the Labor Day weekend proofing pages of her forthcoming book, "Target: In the Crosshairs of Bill and Hillary Clinton." Instead, she says, someone broke into her Powhatan County home Friday, Aug. 31, and stole a copy of her unpublished 230-page manuscript. Her publishers are "aghast," she says. "I think it's a Clinton operative," Willey says. "It sounds like Watergate. It's amateurish, but I know they're not amateurs."

The poorest countries in the world are the ones with the worst pollution.
Oxygen supplies for India police. Police stations across the Indian city of Calcutta have been equipped with oxygen devices to enable police to offset the effects of pollution. The extra air is for the benefit of hundreds of traffic policemen in the city who have to brave some of the worst pollution in the world.

Al Gore's son busted for drugs in hybrid car. The 24-year-old son of former Vice President Al Gore was arrested for drug possession on Wednesday after he was stopped for speeding in his hybrid Toyota Prius, a sheriff's official said.

Al Gore's Son Arrested on Drug Suspicion. Al Gore's son was pulled over for speeding on a California freeway early Wednesday and arrested on suspicion of possessing marijuana and prescription drugs, authorities said. Al Gore III, 24, was driving a blue Toyota Prius about 100 mph south on the San Diego Freeway when he was pulled over by sheriff's deputies who said they smelled marijuana, said Sheriff's Department spokesman Jim Amormino.

The Editor says...
So... if you stand on the gas pedal long enough a Toyota Prius will go 100 mph. That's the real news here. But can you even imagine the media frenzy that would surround this story if it had been one of President Bush's kids arrested for the same thing?

Condo rule waived so U.S. flag can wave. Although his condo complex has strict rules against decorations, Brendan Davis figured he could put up a small American flag outside his unit door. After all, who would object to a flag on Memorial Day? Apparently, a condominium security guard. Albert Gonzalez, a guard at the ParkCrest Harbour Island condominiums, found the small flag stuck in a light fixture and warned, then later fined, Davis for violating the rules.

Official caught off-roading in preserve. In this 11-hour battle between mud and man, the mud won. It beat Chris Sharek, the director of Venice's utilities department, whose job is to ensure that the city obeys environmental regulations, though he apparently failed to do so himself. A judge slapped Sharek with 25 hours of community service and probation last month for off-roading through a protected wilderness preserve with his wife and father-in-law.

Another target for terrorists...
Spain and Morocco to link by tunnel. Spain and Morocco are planning a joint effort to link their countries by undersea train tunnel, Spanish news agency EFE reported Wednesday [3/7/2007].

Family film audience shown glimpse of horror flick in New York. A family film audience was stunned to get an unintended glimpse of a horror movie, which left some parents and their children shaken and the theatre chain apologizing for the movie mix-up.

All noise banned on thrill ride. No screaming on the Screamer! A suburban amusement park has gotten so many complaints from neighbours about blood-curdling screams that it has instituted a no-shrieking rule for its scary new thrill ride, the Scandia Screamer. [...] Riders who let out a screech — or just about any other noise — are pulled off and sent to the back of the line.

The Editor says...
What kind of an amusement park demands total silence from people riding on roller coasters and other machines that are designed to be frightening? Only in a place like California would this kind of prohibition be considered reasonable.



---

Habitat for Humanity

This subsection has moved here.



---

A few words about pennies

U.S.'s dilemma: It costs 1.7 cents to make a penny. The U.S. penny is not what it appears to be, and some in Congress would like to see it change further, if not disappear entirely. Because of a surge in the price of copper, the U.S. Mint decided 25 years ago to manufacture the coins almost entirely with zinc, save for the coating on which Abraham Lincoln's profile is engraved.

Lawmakers Consider Elimination of Pennies. The rising cost of metals isn't just hurting jewelry makers and aluminum consumers. The price of copper and nickel, the very materials used to make U.S. currency, is on the minds of House lawmakers trying to find a way to cut production expenses.

Ditch The Penny. Giving money away for free is not behavior one expects from ordinary, rational Americans. But it's something they do every day in massive numbers — that is if you consider the penny to be money. At store counters around the country, people will leave pennies for the next customer, something they'd never do with a dime or quarter or any piece of currency they actually value.

Coin shortage could turn pennies to nickels. Sharply rising prices of metals such as copper and nickel have meant the face value of pennies and nickels are worth less than the material that they are made of, increasing the risk that speculators could melt the coins and sell them for a profit. [...] The best solution, [Francois] Velde said, would be to 'rebase' the penny by making it worth five cents rather than one cent. Doing so would increase the amount of five-cent coins in circulation and do away with the almost worthless one cent coin.

[A penny very clearly has "ONE CENT" printed on it. That's an iron-clad (or at least copper-clad) guarantee that it is never going to be worth five cents.]

Congress looking at steel pennies and nickels. Further evidence that times are tough: It now costs more than a penny to make a penny. And the cost of a nickel is more than 7½ cents. Surging prices for copper, zinc and nickel have some in Congress trying to bring back the steel-made pennies of World War II, and maybe using steel for nickels, as well.

House passes bill to make coin-making cheaper. The House voted for cheaper change Thursday [5/8/2008], the kind that would make pennies and nickels worth more than they cost to make and save the country $100 million a year. [...] The bill would require the U.S. Mint to switch from a zinc and copper penny, which costs 1.26 cents each to make, to a copper-plated steel penny, which would cost 0.7 cents to make, according to statistics from the Mint and Rep. Zack Space, D-Ohio, one of the measure's sponsors. It also would require nickels, now made of copper and nickel and costing 7.7 cents to make, to be made primarily of steel, which would drop the cost to make the five-cent coin below its face value.

Do pennies still make sense?&nbsp Penny haters [...] love Lincoln. It's the zinc lobby they're after. As an "act of civil disobedience" among the scones, Concord Teacakes became the first retailer in the nation Thursday [2/12/2009] to refuse to accept pennies as payment, rounding down all transactions to bypass small change.

Will Nickel-Free Nickels Make a Dime's Worth of Difference? It costs the federal government up to nine cents to mint a nickel and almost two cents to make a penny. So, in addition to overhauling Big Finance, President Barack Obama wants to tinker with America's small change. The president's plan to save money by making coins from cheaper stuff seems simple on its face. But history shows it would rekindle an emotional debate among Americans who fear changing the composition of their currency will hurt its value.

Speaking of coins...
Keep the change. The American people have never loved the Susan B. Anthony, nor the Sacagawea. Even the presidential $1 coin has been a total flop. Yet Capitol Hill commands the production of five new dollar-coin designs every year, with a 20 percent quota for Sacagawea, an Indian guide on the Lewis and Clark Expedition. Aside from a handful of numismatists who enjoy adding new specimens to their collections, the coins simply aren't used.

Kill the dollar bill, some lawmakers say. Some House Republicans have introduced legislation to phase out the paper bill we all know and crumple in our pockets and replace it with coins that'll likely wear a hole in our pockets instead, The Hill reports.

It's time to eliminate the penny. Increasingly, Americans have stopped using the penny, as we turn toward electronic payments and away from cash. Sadly, inevitably, like so many other beautiful, venerated historical objects, it appears that the penny now belongs in a museum.

The Editor says...
If Americans are using plastic cards and turning away from cash, it's not just pennies that will be eliminated. In a cashless society, you'll have real convenience, but no privacy. And even the convenience will vanish the first time a "computer error" at the bank puts all your money in someone else's account. If you drop a $100 bill in Wal-Mart, you've only lost $100; but if you lose your electronic wallet card with all your digital cash, you've lost everything.

If Laws Change, 'Penny Hoarders' Could Cash in on Thousands of Dollars. Joe Henry is on a first name basis with bank tellers across his hometown of Medford, Ore., scouring 15 banks a week with one thing on his mind: pennies. Henry is often seen toting around bags of pennies, some he buys, others he changes back in for cash, which seems a little strange at first. He's not a collector, he is what's known as a "penny hoarder" and he is not alone.

Canada to Stop Making Pennies. Say goodbye to the Canadian penny. Lawmakers in Canada have decided it makes little sense — or cents — to continue making the 1-cent coin. Canada's Minister of Finance, Jim Flaherty, announced the penny's demise during his 2012 budget speech Thursday [3/29/2012]. "Pennies take up too much space on our dressers at home. They take up far too much time for small businesses trying to grow and create jobs," Flaherty said. He said each penny costs Canadian tax payers one and a half cents to make.

Canada ditching the penny; is US next? It costs the Canadians 1.6 cents to produce a penny — about what it costs the US mint. Now Canada has decided to stop minting pennies as a means to save money.

Canada penniless as it marks coin's end. Canada's last penny was struck Friday [5/4/2012] at The Royal Canadian Mint's manufacturing facility and will become a museum piece as the one-cent coins are withdrawn from circulation. "For over a hundred years, the penny played an important role in Canada's coinage system," said Finance Minister Jim Flaherty. [...] The last penny struck for Canadian circulation will be entrusted to the Currency Museum of the Bank of Canada in Ottawa, he said.

Penny-wise, pound-for-pound foolish? The cost of zinc, one of its main current component elements, is rising. A penny was worth just under a cent (.97 to be exact) in metal last year; each one is worth 1.4 cents now.

One dollar coins



Lawmakers (again) propose replacing $1 bills with coins. Eliminating the dollar bill in favor of the coin would save $13.8 billion over 30 years, says the consumer group Council for Citizens Against Government Waste (CCAGW). At a Capitol Hill briefing on Monday [7/22/2013], the group said printing dollar bills may be cheaper than minting coins, but they last only about four years compared with 30 years for a coin.

Only 18 months earlier...
Treasury to stop producing unneeded dollar coins. Vice President Joe Biden and several cabinet secretaries announced today the administration's efforts to identify and eliminate misspent tax dollars. My favorite — the savings of $50 million annually by no longer minting unneeded and unwanted dollar coins. Deputy Secretary of the Treasury Neal Wolin says they currently have a decade worth of excess coins on the shelves!


---

Metal thieves knock Vancouver radio station off air. A Vancouver radio station was knocked off the air for several hours Thursday after thieves raided its transmitter, stealing copper and other metal. CFUN program director Stu Ferguson said the station went off the air around noon.

Scientists cast doubt on Kennedy bullet analysis. In a collision of 21st-century science and decades-old conspiracy theories, a research team that includes a former top FBI scientist is challenging the bullet analysis used by the government to conclude that Lee Harvey Oswald acted alone in assassinating President John F. Kennedy in 1963.

JFK single-bullet theory in question. More than four decades after his death, John F. Kennedy's assassination remains the hottest cold case in U.S. history, and the clues continue to trickle in. Now Lawrence Livermore Laboratory scientists say a key piece of evidence supporting the lone-gunman theory should be thrown out.

The Editor says...
The single-bullet theory has been in question since the day it was announced.

Pot linked strongly to mental illness. The report, released today by former Australian Federal Police commissioner Mick Palmer, analysed the growing body of evidence of the long-suspected link between marijuana use and mental disorders.

Jermaine Jackson wants Michael to convert to Islam. Jermaine Jackson said on Monday [1/29/2007] he wants his brother Michael to convert to Islam; and he believes the reclusive superstar has given it serious thought.

["Convert" from what?]

Dinner with Louisiana Governor Goes for $1 at Auction. Call it a sign of the times for Louisiana's embattled governor: A chance to dine with Gov. Kathleen Blanco fetched a winning bid of $1 at a recent fundraising auction hosted by a group of business leaders.

Web chief warns of domain name chaos. Plans to fast-track the introduction of non-English characters in website domain names could "break the whole internet", warns ICANN chief executive Paul Twomey. At present there are 37 possible characters that can be used in domain names, but if non-English letters are allowed, this number would rise to 50,000 or more, said Twomey.

California court says bloggers can't be sued. The California Supreme Court ruled Monday [11/20/2006] that bloggers and participants in Internet bulletin board groups cannot be sued for posting defamatory statements made by others.

Getting help to remember passwords. In 2005, RSA Security Inc. surveyed 1,700 business computer users. It found that almost 60 percent had to manage at least six passwords, while 28 percent had to manage more than 13. And that doesn't count personal passwords for who-knows-how-many e-mail accounts, voice mail boxes and Web sites. Some are important, such as bank, credit card and stock brokerages, and some aren't. But they require passwords all the same.

Poverty Reduction or Pork? One likely reason for the World Bank's dearth of profits is its penchant for granting zero interest loans — grants by any other name — to middle-income countries such as China and India. The World Bank sends 80% of its loans to 12 middle-income countries, including Turkey, Mexico, Brazil, and China. It sends only 10% of its loans to Africa.

Solved: the mystery of the crumbling €50 notes. Thousands of Germans have been stuffing euro notes up their noses — and destroying not only their health but also the currency, police believe. They say that the mystery of why euro notes have been falling apart since the summer — many look moth-eaten after only a day in the pocket — is down to an increasing use of crystal methamphetamine. In Germany this drug is fast replacing cocaine as the illegal party substance of choice.

High metal prices drive coin smuggling. Smugglers have tried to ship out millions of older one-peso coins from the Philippines, not for their face value of less than 2¢ each but for the copper and nickel content as metals prices soar. The central bank said customs authorities seized a 40-foot container at the weekend that was loaded with 2 to 3 million coins, weighing 12.2-18.3 tonnes, bound for Japan.

Speaking of money, the following article is lengthy but very interesting.
No Ordinary Counterfeit. After the indictments were released, U.S. government and law-enforcement officials began to say in public something that they had long said in private: the counterfeits were being manufactured not by small-time crooks or even sophisticated criminal cartels but by the government of North Korea.

Speaking of North Korea...
Elk Grove man remembers the Pueblo. The USS Pueblo still stands prisoner 40 years after its capture. Tethered on the Taedong River in Pyongyang, the only commissioned U.S. Navy ship in foreign hands is promoted as a trophy celebrating the communist nation's Cold War conquest.

Army to switch from green to blue uniforms. The U.S. Army plans to eliminate the green uniform worn by its soldiers for more than 100 years and switch back to traditional blue worn by those fighting the Revolutionary War. Everyday-wear uniforms will include a dark blue jacket, light blue trousers and gray shirt, the Army said.

Is 60 too old to be a pilot? Robert "Hoot" Gibson was not the happiest camper Friday, despite a party in his honor. Not only was the longtime astronaut piloting his last commercial airline flight because of a forced retirement, but the flight was five minutes late, to boot. Gibson, a colorful member of NASA's elite astronaut corps who commanded four of the five space shuttle missions he flew, is ending a 10-year run with Southwest Airlines because he turns 60 on Monday, the mandatory retirement age for pilots in the U.S. Gibson calls it blatant age discrimination.

[How many former astronauts are now airline pilots?]

Deal With Wen Ho Lee Begets Warning of Yet More Claims. A decision by five major news organizations to pay $750,000 to a nuclear scientist named in news stories as the target of an espionage investigation is prompting warnings that the unusual payment could embolden others aggrieved by government leaks and lead to more litigation involving the press.

Many drivers are on the road illegally. About 5 percent of South Carolina's drivers — more than 156,000 — have suspended or revoked licenses, according to South Carolina Department of Motor Vehicles records. Officials say many of those people continue to drive, causing crashes and financial strain because many people with suspended licenses also are uninsured.

FOX News Steps in the PC Puddle. It's official. FOX News has joined the rest of the politically correct and liberal news outlets. Like CBS and NBC, FOX has given a $10,000 donation to the pro-homosexual journalism organization National Lesbian & Gay Journalists Association (NLGJA). FOX News is listed as a "Feature Level" sponsor of the NLGJA annual convention which runs through this weekend in Miami.

FBI says Violent crime was on the rise in 2005. FBI statistics Monday [6/12/2006] confirmed what big cities like Philadelphia, Houston, Cleveland and Las Vegas have seen on the streets: Violent crime in the U.S. is on the rise, posting its biggest one-year increase since 1991.

As DVD sales slow, Hollywood seeks a new cash cow. After more than half a decade as Hollywood's savior, the DVD is looking a little tired — and the movie studios, for once, are having trouble coming up with a sequel. DVD sales represent more than half of the revenue studios generate from most of their movies. But those sales are expected to grow just 2 percent this year, a far cry from the double-digit growth the industry enjoyed just two years ago.

New spyware program blackmails computer users. A new spyware program that lures computer users by claiming to give free access to pornographic Internet content ends up "blackmailing" them into purchasing a program to clean the infection.

The Wrath of Grapes: In today's remarkable economy, with just a few minutes online, you can buy almost any product imaginable from almost anywhere in the world and have it delivered to your front door. Except wine.

Truth About Castro: The Lost City not only is a loving tribute to Havana and Cuban art and music, it is also a loving tribute to liberty, democracy and capitalism. Castro's regime is clearly portrayed as an evil dictatorship.

Moussaoui Sentenced To Life In Prison. A federal jury rejected the death penalty for al-Qaida conspirator Zacarias Moussaoui on Wednesday [5/3/2006] and decided he must spend life in prison for his role in the deadliest terrorist attack in U.S. history.

Castro says he will resign if the US proves him wealthy. Cuban President Fidel Castro has said that he would offer his resignation if his arch-rival, the United States, can prove that he has a huge personal fortune as claimed by Forbes magazine.

Does Rupert Murdoch Own your MySpace Content? Originally, the MySpace terms of service granted the website a limited license that give it non-exclusive rights to use the material users display there, but only while they keep it there. If a user deletes the data, MySpace no longer has any rights to it (if they happened to keep an archived copy). But soon after MySpace was bought by Rupert Murdoch's media empire News Corporation last year, the terms were changed to indicate that "Content posted by you may remain on the MySpace.com servers after you have removed the content from the services, and MySpace.com retains the rights to those copies."

Murdoch could endorse Obama. Rupert Murdoch, CEO of News Corp, says he could endorse Democratic Sen. Barack Obama for president in several of his newspapers, including the New York Post and The Wall Street Journal, according to an interview published in Silicon Alley Insider, a business blog.

10 years after Ron Brown: Only weeks earlier, Brown had been Clinton's bag man in a trip to New York where he collected about $1.2 million from Loral for the Democratic Party to use as "soft money." [...] America's security was traded for Clinton's re-election campaign. Following the Clinton meeting and the money delivery, a close friend of Ron Brown told a Justice Department presentencing conference that he only had one option — to report the president's possible treasonous dealings with China. Soon thereafter Ron Brown died in an air crash.

Did someone mention Ron Brown?

NJ Bill Would Prohibit Anonymous Posts on Forums. Too much important opinion, including that leading to the founding of the country, was published anonymously to permit the government to ban anonymous opinion. Even unto this day, anonymous pamphleteering is an honorable activity at the core of the First Amendment. [...] I would expect that such a statute, were it to be enacted, would be quickly challenged and almost as quickly overturned.

[Yeah, but that's what they said about Campaign Finance Reform.]

Curt Weldon: Bin Laden Is Dead. Rep. Curt Weldon, who broke the Able Danger story last year revealing that military intelligence had identified lead hijacker Mohammed Atta as a terrorist threat before the 9/11 attacks, now says that Osama bin Laden has died.

Massive fraud hits tsunami aid. Of the 170,000 homes promised to the people of Aceh, only about 15,000 have been built, one year and four months after the tsunami.

Tsunami aid 'spent on politics'. Three years after Australians donated $400 million to rebuild Asian lives devastated by the 2004 tsunami, aid groups are under attack for spending much of the money on social and political engineering. A survey by The Australian of the contributions by non-government organisations to the relief effort found the donations had been spent on politically correct projects promoting left-wing Western values over traditional Asian culture.

California gang members to be tracked by GPS. California prison officials have begun using Global Positioning System anklets to track known gang members.

[GPS receivers are not infallible. They do not work deep inside buildings, in underground parking garages, or when wrapped in cement shoes at the bottom of a river.]

Neither King nor abortion foes are racketeers. The Supreme Court's unanimous 8–0 decision this week rejecting claims by the National Organization for Women that demonstrations at abortion clinics are extortion and therefore punishable under the Racketeer Influenced and Corrupt Organization Act was an important vote for freedom and free speech.

Bottled water, a natural resource taxing the world's ecosystem. Bottled water consumption, which has more than doubled globally in the last six years, is a natural resource that is heavily taxing the world's ecosystem, according to a new US study. [...] "Making bottles to meet Americans' demand for bottled water requires more than 1.5 million barrels of oil annually, enough to fuel some 100,000 US cars for a year," according to the study. "Worldwide, some 2.7 million tons of plastic are used to bottle water each year."

This is what "swift and sure" means...
Prosecutor says Guilty Saddam would hang quickly. The Iraqi High Tribunal's chief prosecutor says Saddam Hussein will hang immediately if he is found guilty on charges relating to deaths of 148 Shiites. [...] "If the court passes a death sentence on any of the defendants in the Dujail case, the law is clear, the sentence must be carried out within 30 days following the appeal," Mr Mussawi said.

ACLU opposes creation of 'Catholic town'. The founder of Dominos Pizza, Tom Monaghan, plans to create a town in Florida named Ave Maria. No condoms, birth control pills or porn would be sold there. The ACLU of Florida's executive director, Howard Simon, opposes it.

Invasion of the Computer Snatchers. Hackers are hijacking thousands of PCs to spy on users, shake down online businesses, steal identities and send millions of pieces of spam. If you think your computer is safe, think again.


---

Special Subsection about Patrick Kennedy's brush with the law:

Another Kennedy Cover-up? If this driver is you then you can get ready for your field sobriety test. Time to blow into the little tube! Ohhhh [...] but not Patrick Kennedy! He's Ted Kennedy's son! According to one of the Capitol Hill police officers on the scene superior officers did not permit them to perform a field sobriety test. Patrick Kennedy was put into a supervisor's car and driven home.

The Kennedy Tradition: After his second smash-up in three weeks — and a lot of unanswered questions about an alleged police cover-up — Rep. Patrick Kennedy yesterday declared that he's entering rehab to deal with an addiction to painkillers. Those questions need to be answered. Because not even a Kennedy should be above the law.

Riding With Kennedy Worse than Hunting With Cheney, Group Says. "I'd rather go quail hunting with Dick Cheney than get in a car being driven by a Kennedy," said Second Amendment Foundation founder Alan M. Gottlieb. "As it stands right now, I think Congress should consider mandating drug testing of its members before they vote on legislation that would take away any of our civil rights.

Read Rep. Patrick Kennedy's Traffic Accident Report for Yourself. In a statement to the press, Kennedy said that he "do[es] not remember getting out of bed, being pulled over by the police, or being cited for three driving infractions."

The Editor says...
Nonsense! Who among us has ever had such a reaction to prescription medicine (...while driving at 3:00 a.m.)? And who, after having such a complete loss of consciousness, would be able to drive a car at all? And how many of us ordinary citizens, under the same circumstances, would escape DUI charges?

Sleepwalking Into History, Kennedy Style. Police officers involved in the incident complained through their labor union about the special treatment afforded Rep. Kennedy, whose "eyes were red and watery," according to the police report, which added that his "speech was slightly slurred and, upon exiting his vehicle, his balance was unsure." Rather than cop to drinking, Kennedy claimed he had no memory of the incident because of an interaction between "the prescribed amount of Phenergan and Ambien."
Yeah, right.

The Sleeping Pill Ate My Homework. A couple of months back, US Congressman Patrick Kennedy drove his car into a security barricade near the Capitol building early one Thursday morning, leading many observers to think this scion of Camelot had been throwing back a few too many at the Hawk 'n' Dove, a Capitol Hill bar where, according to the Boston Herald, he'd been seen drinking earlier that evening. But, "no," said Paddy. "I consumed no alcohol prior to the incident." In an excuse reminiscent of 'the dog ate my homework,' Kennedy said it was his sleeping pills that did it.


---

Special Subsection about the Sony Copy Protection Scandal of 2005:

Sony's anti-file-sharing CD causes a firestorm of anger. On Halloween, a developer with an Austin-based software company posted on his blog a detailed report on a troubling discovery — a CD from Sony BMG had installed software on his PC that uses the same technique for hiding itself as the most pernicious type of spyware.

Sony halts production of music CDs with copy-protection scheme. Stung by continuing criticism, the world's second-largest music label, Sony BMG Music Entertainment, promised Friday [11/11/2005] to temporarily suspend making music CDs with antipiracy technology that can leave computers vulnerable to hackers.



The Editor says...
If an individual had done what Sony did, peddling a product with a built-in rootkit, he could have been sent to prison as an evil, pernicious hacker. But the courts seem to look favorably on music companies that are trying to protect their intellectual property, no matter how they do it.

Sony CD DRM Blow-Up Continues — Recalls Ordered, Lawsuits Possible.

Sony's DRM Rootkit: The Real Story. On Oct. 31, Mark Russinovich broke the story in his blog: Sony BMG Music Entertainment distributed a copy-protection scheme with music CDs that secretly installed a rootkit on computers. This software tool is run without your knowledge or consent — if it's loaded on your computer with a CD, a hacker can gain and maintain access to your system and you wouldn't know it.

Texas sues Sony BMG over alleged spyware. Texas Attorney General Greg Abbott filed a civil lawsuit on Monday [11/21/2005] against Sony BMG Music Entertainment for allegedly including spyware on its media player designed to thwart music copying.

Update:
Sony BMG Settles Suit Over CDs. Sony BMG Music Entertainment will pay $1.5 million and kick in thousands more in customer refunds to settle lawsuits brought by California and Texas over music CDs that installed a hidden anti-piracy program on consumers' computers. Not only did the program itself open up a security hole on computers, but attempts to remove the software by some customers also damaged the PCs. The settlements, announced Tuesday [12/19/2006], cover lawsuits over CDs loaded with one of two types of copy-protection software — known as MediaMax or XCP.


---

Tantrums: [Al] Gore is bidding fair to become the Muqtada al-Sadr of America's Angry Left. Savor his recent vituperations. He has called our suave president a "moral coward" who is in alliance with "digital brown shirts." He refers to Abu Ghraib prison as "the Bush Gulag;" and, forgetting the discrepancies of his former boss, he calls President George W. Bush "the most dishonest president since Richard Nixon."

Pentagon anti-male room? Sex scandals at the Air Force Academy in 2003 sparked several investigations and constructive reforms. Recent surveys indicate harassment has diminished at the military academies. You would never know it, however, because bad news is good news for civilian "victim advocates" seeking more government contracts and jobs.

The four-year scandal of the 9/11 billions. Hundreds of millions of dollars were spent on projects that seemingly had nothing to do with 9/11 and lower Manhattan. [...] Millions went to help projects already in the works before 9/11 or on the drawing board with no prior funding source. [...] Substantial sums were given to companies to stay in lower Manhattan even though they had no intention of leaving. In many cases, original eligibility rules were expanded, and deadlines extended, so that virtually no one was ineligible.

Louis Freeh On Clinton's Skeletons. In his upcoming book, My FBI, Freeh writes, "The problem was with Bill Clinton — the scandals and the rumored scandals, the incubating ones and the dying ones never ended. Whatever moral compass the president was consulting was leading him in the wrong direction. His closets were full of skeletons just waiting to burst out."

Freeh at last. In his book, Freeh says [...] "There was always some new investigation brewing, some new calamity bubbling just below the headlines." Freeh continued: "The problem was with Bill Clinton, the scandals and rumored scandals, the incubating ones and the dying ones never ended. Whatever moral compass the president was consulting was leading him in the wrong direction. His closets were full of skeletons just waiting to burst out."

Bored readers cutting off Globe's circulation. Circulation is melting away at the Boston Globe, on top of vanishing ad revenue, and the need for deep cuts is forcing closure of its national news desk and two sections within the broadsheet.

Seceding seldom succeeds, but Vermonters try. "If we had a right to join the Union, we certainly have a right to disband from it," SVR founder Thomas Naylor told the assembly. In his view, Vermonters should join the cause if they say the US has lost moral authority and is unsustainable, ungovernable, and unfixable. [And if they] want to help take back Vermont from big business, big markets, and big government — and do so peacefully.

The Mother of All Connections. We know from these IIS documents that beginning in 1992 the former Iraqi regime regarded bin Laden as an Iraqi Intelligence asset. We know from IIS documents that the former Iraqi regime provided safe haven and financial support to an Iraqi who has admitted to mixing the chemicals for the 1993 attack on the World Trade Center. We know from IIS documents that Saddam Hussein agreed to Osama bin Laden's request to broadcast anti-Saudi propaganda on Iraqi state-run television. We know from IIS documents that a "trusted confidante" of bin Laden stayed for more than two weeks at a posh Baghdad hotel as the guest of the Iraqi Intelligence Service.

Republicans Introduce Bill That Unions Won't Like. Labor unions and their Democrat allies have been howling ever since President Bush suspended the Davis-Bacon Act in the aftermath of Hurricane Katrina. The suspension allows federal contractors to hire employees at less than the prevailing wage in hurricane-devastated Gulf states.

Sustainable Earth and UN Delusions: The bureaucratic international boondoggle hilariously misnamed the United Nations came together in 1992, without a great deal of fanfare that I recollect, to build a new Tower of Babel called "sustainable earth." Very simply, all they want to do is to manage the world [...] not a very new or very creative idea.

BRAC Wars, Episode Three. One of the most important issues in military transformation today is Base Realignment and Closure (BRAC). [...] President George W. Bush has initiated a new round of BRAC designed to eliminate excess basing infrastructure and free up resources that can be reinvested into the Pentagon's critical transformation initiatives.

Shortsighted tall tales: Mr. Rove has testified before the grand jury several times. So has Mr. Libby and many others. E-mails and memos have been produced. Phone logs have been examined. There is no hint of complaint from Mr. Fitzgerald that the White House has been anything less than cooperative. But top Democratic leaders, desperately looking for an issue in the absence of a real agenda, are crying "stonewalling" and some people apparently believe that's happening here.

I agree, let's not let the Rove story die just yet. Before President Bush's Supreme Court nomination of Judge John Roberts completely overshadows the misidentified Karl Rove scandal, I think we better take a second look at the twisted direction this sad story has taken. As far as Karl Rove's conduct in the Plame/Wilson affair, there is no scandal. He didn't come close to committing a crime, nor even an ethical infraction.

How the Media Created Rovegate: It's clear, based on the notes of his discussion with Matt Cooper of Time, that Rove wasn't aware of the facts and didn't have access to classified information about Valerie Plame's service or status in the CIA. He said she "apparently" worked at the agency. In any case, it turns out she isn't covered under a law designed to protect the identities of secret CIA agents.

A role model he is not. The American Heart Association believes you can trust President Bill Clinton to mentor your daughter. But try getting the nonprofit organization to admit that Mr. Clinton is a good role model for children.

Terri's grave: "I kept my promise". Michael Schiavo had a grave marker placed yesterday [6/20/2005] on the cremated remains of his wife Terri Schiavo that lists her death as Feb. 25, 1990 — more than 15 years before she died of court-ordered dehydration.

Terri Schiavo's Autopsy Report Leaves Unanswered Questions. What is a surprise is that Dr. Thogmartin found no evidence of bulimia or of a potassium imbalance that would have caused Terri to collapse on February 25, 1990. There is no evidence she had a heart condition before that date, either. Michael Schiavo made the talk show rounds, asserting that Terri's profound disability resulted from undiagnosed bulimia. That means Michael Schiavo lied.

Schiavo Autopsy Shows She Died of Severe Dehydration. Media coverage of the autopsy results have centered on the lack of evidence for abuse and Terri's brain being "severely atrophied."

Vegetative Woman Awakens After Six Years. A woman who went into a vegetative state more than six years ago awoke this week for three days and spoke with her family and a local television station before slipping back. [...] Her neurologist, Dr. Randall Bjork, said he couldn't explain how or why she awoke. "I'm just not able to explain this on the basis of what we know about persistent vegetative states," he said.

Schiavo-like woman speaks after 2½ years. A Kansas woman severely brain-injured after an accident in 2002 has begun speaking — to the amazement of her doctor.

In Canada, the Schiavo case with an outrageous twist. An elderly Orthodox Jew is on life support. His children have adamantly opposed his removal from the ventilator and feeding tube, on the grounds that Jewish law expressly forbids any action designed to shorten life.

Funeral called off after dying mom wakes from coma. As Raleane (Rae) Kupferschmidt lay motionless in her hospital bed, family and friends said their final goodbyes and the funeral home was called. But just as the grieving began in her Lake Elmo home, Kupferschmidt woke up from her coma.

First no more air maps, next no more road maps? The U.S. National Geospatial-Intelligence Agency (NGA) has proposed to withdraw all aeronautical data and products from public distribution.

Information about political junkets paid by lobbyists:
Rahall slips in the freebie poll. The list of travel paid by lobbyists and other friends of Congress has an interesting pattern. Democrats dominate the list, holding the top 12 positions. The way Democrats have been demonizing Tom DeLay of late, I figured DeLay would be one of the biggest mooches in Congress. But he is way down at 119th in travel paid for by lobbyists and the like.

Here is the list: the ranking of Members of Congress taking privately-funded trips, from 2000 to winter 2005.

Also of interest: Members Receiving the Most Gifts of Travel during the last five and a quarter years the ranking of Members of Congresss receiving privately-funded trips.

2001 Clinton logging plan challenged. The Wyoming attorney general and an environmental lawyer challenged the legitimacy of a 2001 Clinton administration logging plan Wednesday [5/4/2005] before the 10th Circuit Court of Appeals. The plan set aside 58 million acres nationwide as roadless areas in which logging is prohibited. It also barred the U.S. Forest Service from maintaining roads in those areas.

Less speech, and no more car ads. In 1965 Russ Darrow founded the business — Russ Darrow Group Inc. — that now includes 22 new and used vehicle dealerships. Because of [the McCain-Feingold legislation], the company felt compelled to ask the Federal Election Commission whether it can continue to advertise when its founder is running for federal office.

Hazel O'Leary, Clinton's Energy Secretary, Removed From Plane. Nine days after being named president of Fisk University, Hazel O'Leary found herself being questioned by the FBI after being escorted off a commercial airplane. O'Leary disputes a report that she was loud and abusive.

United Flight 93 crashed without cockpit struggle. Passengers aboard United Airlines Flight 93 fought back against the hijackers but never actually made it into the cockpit, the Sept. 11 commission concluded.




The Flight 93 Memorial is a Mosque, Celebrating the Crash. The original Crescent of Embrace design for the Flight 93 memorial (left) was laid out in the configuration of an Islamic crescent and star flag (right). The crash site sits between the tips of the giant crescent, in the position of the star on an Islamic flag.

Crescent of Betrayal: A book by Alec Rawls, about the terrorist memorial mosque now being built in Pennsylvania.

Subway's Anti-American Tray-Liners. Subway's advertising strategy is a new low in corporate behavior — exploiting cultural tensions and inflaming anti-American sentiment abroad just to sell more sandwiches. It is appalling that Subway, a U.S. company, would attack Americans and the Statue of Liberty in a time of war [...] just to gain market share.

58 Million Wage Earners Pay No Federal Income Tax. According to the Washington, DC-based Tax Foundation, "a record 44 million tax returns filed in 2005 will be correctly demanding the return of every dollar (or more) that is being withheld from their paychecks during 2004."



Automatic registration for the draft: The Texas DPS is going to automatically register 18 to 26 year old males with the US Selective Service (military draft) when they apply for or renew a Texas driver's license.

The Editor says...
This raises some important questions. How many state agencies use their leverage to gather information for federal agencies? And what other agencies will begin using this technique?

Charges Dropped Against Yee. Citing national security concerns, the Army on Friday [3/19/2004] dropped all charges against a Muslim chaplain accused of mishandling classified documents at Guantanamo Bay, which houses suspected terrorists.

The Editor says...
The charges were dropped because of "national security concerns"? That's why he was arrested!

Cheney: War Could Last Generations. Vice President Dick Cheney warned that the battle against terrorism — like the Cold War — could last generations, according to a report in the San Francisco Chronicle.

Review of death sentences "ordered". The International Court of Justice ruled [3/31/2004] that the United States "must" review the convictions and death sentences of 51 Mexicans in U.S. jails, saying local authorities had failed to consult Mexican consulates in violation of international law.

The Editor says...
Obviously the International Court has no leverage with which to enforce this order.

Dean urged unilateral action in Bosnia. In a letter to President Clinton, Howard Dean appears to contradict his core complaint that President Bush has followed a unilateral foreign policy, instead of a multilateral approach that relies on consultation and joint action with allies. He has repeatedly attacked Bush's decision to invade Iraq.

Supreme Court Upholds Political Money Law. A sharply divided Supreme Court upheld key features of the nation's new law intended to lessen the influence of money in politics, ruling Wednesday [12/10/2003] that the government may ban unlimited donations to political parties.

Is Haiti Facing a Voodoo-Christian Showdown? In late April, Haiti's President Jean-Bertrand Aristide, a former Catholic priest, declared voodoo an officially recognized religion. The decision means, among other things, that marriage ceremonies conducted by voodoo priests now have equal standing with Catholic ones.

Hi-tech hunt for music downloaders: Using a surprisingly astute technical procedure, the RIAA examined song files on a woman's computer and traced their digital fingerprints back to Napster.

Clinton Whitewater costs won't be paid by taxpayers. An appeals court in Washington, D.C., [has] rejected a request by former President Bill Clinton and Sen. Hillary Clinton that the federal government reimburse them for legal fees incurred during the Whitewater independent counsel investigation.

Juanita Broaddrick Dares Hillary: Clinton rape accuser Juanita Broaddrick took to the radio airwaves on Friday [06/06/2003] to challenge Hillary Clinton's claim that she didn't know about her husband's philandering.

Carter Silent On Castro's Crackdown: Jimmy Carter is the self-appointed globetrotter on behalf of human rights. But when Carter friend Fidel Castro unleashed a brutal wave of repression recently, that included extradjudicial executions, Carter's reaction was silence, followed by muted criticism, and finalized with a stinging criticism of — the United States!

Fidel Castro's Dupes: In Castro's Cuba, it is a crime to meet to discuss the economy, to write letters to the government, to report on political developments, to speak to international reporters, to advocate human rights, to visit friends or relatives outside your local area of residence without government permission.

Chicago Uses Storm-Troop Tactics to Trash Meigs. The City of Chicago used surprise and shock tactics to start demolishing Meigs Field, the world-renowned airport serving downtown, ripping up runway without notice in the dark of night under police guard.

Why not just outlaw the potatoes? Homemade potato cannons have become popular in Germany, and "prosecutors in the republic's 16 states are passing emergency rulings to try to outlaw them."

Nation's Most-Dangerous Cities Ranked: Rankings Based On FBI Crime-Figures Analysis.

The list: America's safest — and the most dangerous - cities: St. Louis, Missouri is the Most Dangerous.

Was United Flight 93 shot down on September 11? Report revisits nagging question of what really happened to the doomed jet.

To protect and serve: Chances are the 42-year-old mother of two who was allegedly gang-raped in New York City by five illegal aliens did not know that Article Four, Section Four of the Constitution says that the federal government will protect each state against "invasion" and "domestic violence."

Smithsonian Museum Blasted for Stressing America's Failures. A tour of America's premier federal historical museum in Washington D.C., reveals an unflattering historical portrait of America oppressing minorities. Some tourists and cultural critics say the Smithsonian curators have "washed out" the nation's European ancestry in favor of "diversity" history.

U.S. won't support Net "hate speech" ban: The Bush administration said on Friday [11/15/2002] that it will not support a proposed treaty to restrict "hate speech" on the Internet.

Political history – and the future: Not since Ronald Reagan has a man who was supposed to be so dumb kept beating people who were supposed to be so smart.

Crying Wolf — The Genuine Dilemma of False Alarms: It's absolutely astonishing that up to 98 percent — yes, 98 percent! — of all alarms are false. Millions upon millions of dollars' worth of precious law enforcement time and resources are squandered annually responding to erroneous alarm calls. And, even more tragic, over the years numerous police officers have been severely injured, and indeed killed, answering false alarms.

A New "Standard" For Customer "No-Service": We have taken a giant step backwards with regard to the use of the telephone based customer service. More and more companies are making it absolutely impossible for customers to reach them by telephone.

Painting Depicting Police Shooting Not a Threat, Court Rules: A California high school student's painting, which depicted him shooting a female police officer in the head, does not constitute a threat, according to a recent ruling by a state appeals court in Sacramento.

Four Attacks on the Rule of Law: The Rule of Law is of profound value to all of us. Yet most of us fail to raise a finger against those who are waging flat-out war against its very foundations. The assault comes from four directions.

Mailboxes Vanish: If you've noticed that mailboxes seem harder to find than ever, it's true: The government has removed almost 7,000 of them since September 11.

Neighborhood mailboxes being stamped out. If you're suddenly having trouble finding a neighborhood mailbox, you've got lots of company. In recent weeks, one-quarter of the 3,700 collection boxes in the Los Angeles area have been removed, said Joseph L. Harrison, a spokesman for the U.S. Postal Service's Los Angeles district.

"Metric Martyrs" Appeal To Go To UK's Highest Appeals Court: Five small businessmen who were prosecuted for selling goods in imperial measures plan to take their case to Britain's highest appeals court, arguing that a series of lower court rulings have resulted in a constitutional crisis and may even jeopardize the U.K.'s sovereignty. The five "metric martyrs" are battling against European Union regulations requiring loose goods to be sold in metric units only.

Eight years later, All food must be weighed and sold by the kilo.
EU to ban selling eggs by the dozen. British shoppers are to be banned from buying eggs by the dozen under new regulations approved by the European Parliament. For the first time, eggs and other products such as oranges and bread rolls will be sold by weight instead of by the number contained in a packet.

White House vandalism report delayed: The investigation into last year's White House vandalism has stalled because staffers have not been available for interviews for three months, a General Accounting Office investigator told WorldNetDaily.

NOW got federal tax dollars: Feminist group received anti-tobacco money during Clinton years.

Survey: 1 in 5 Teenagers Ignorant About U.S. Independence: As America celebrated its 225th birthday, a recent poll shows that almost a quarter of America's teenagers have trouble passing a fourth-grade level U.S. history test. In fact, 22 percent could not name the country from which the United States declared its independence.


---

Document location http://akdart.com/tempint.html
Updated April 1, 2016.

©2016 by Andrew K. Dart