Voter ID Laws
Notice:
You might want to start at the page about voting in general, especially if you were sent to this page by a search engine.
Overview:
Voter Photo ID and Privacy. In the US, voting civil rights advocates are locked in a struggle with federal, state and local authorities over more restrictive voter identification and authentication requirements. This clash over poll place practices and voter ID requirements was initially triggered by the passage of the Help America Vote Act of 2002, which increased federal election requirements for first-time voters who register to vote by mail. These requirements include that voters provide a form of identification prior to voting in person for the first time. According to the Act, acceptable forms of identification could include a photo ID, "utility bill, bank statement, government check, paycheck, or other government document that shows the name and address of the voter." While new ID requirements might appear minor to most voters, they threaten both privacy for all US voters and civil rights for marginalized voter populations. Similarly, while the states raise barriers to in-person voter participation through the new requirements, they leave the gate wide open to actual voter fraud threats posed by absentee voting.
North Carolina Supreme Court Makes Major Ruling On Election Integrity Law, Reversing Previous Decision. The North Carolina Supreme Court made several key election decisions on Friday, ruling to reinstate a voter ID law and keep the Republican-led redistricting maps in place. The rulings were made possible after the court was swung in November from 4-3 Democrat-controlled to 5-2 Republican. The voter ID law, enacted in 2018, had previously been thrown out over claims it unfairly targeted minorities. "The people of North Carolina overwhelmingly support voter identification and other efforts to promote greater integrity and confidence in our elections. Subjective tests and judicial sleight of hand have systematically thwarted the will of the people and the intent of the legislature," wrote the court's Republican majority on the voter ID case.
Another Study Refutes Left's False Claims Against Voter ID and Secure Elections. Trust the science, we've all been told. Well, the science has spoken again: Voter ID laws aren't discriminatory and don't suppress anyone's vote. For years, liberals have peddled fabricated claims about voter ID requirements, asserting that they give an advantage to the Republican Party by "discriminating against African Americans" and suppressing their vote. They pooh-pooh the notion that such laws protect the integrity and security of elections. Not only do black Americans not believe that voter laws discourage or prevent them from voting, but in 2019 a study by the National Bureau of Economic Research — based on turnout data from 2008 to 2018 — concluded that voter ID laws "have no negative effect on registration or turnout, overall or for any group defined by race, gender, age, or party affiliation." Now another study, published in the Proceedings of the National Academy of Sciences, once again has categorically refuted the myth propagated by the Left that voter ID laws, as the study says, place a "disproportionate burden" on "historically disadvantaged groups such as the poor and people of color" and therefore hurt candidates of the Democratic Party.
Another Study Refutes Left's False Claims Against Voter ID and Secure Elections. Trust the science, we've all been told. Well, the science has spoken again: Voter ID laws aren't discriminatory and don't suppress anyone's vote. For years, liberals have peddled fabricated claims about voter ID requirements, asserting that they give an advantage to the Republican Party by "discriminating against African Americans" and suppressing their vote. They pooh-pooh the notion that such laws protect the integrity and security of elections. Not only do black Americans not believe that voter laws discourage or prevent them from voting, but in 2019 a study by the National Bureau of Economic Research — based on turnout data from 2008 to 2018 — concluded that voter ID laws "have no negative effect on registration or turnout, overall or for any group defined by race, gender, age, or party affiliation."
North Carolina supreme court strikes down voter ID law in absurd decision. In 2018, the North Carolina legislature passed a law that would create a new amendment to the state constitution requiring voter ID at all polling places. The law (Senate Bill 824) passed with significant support, primarily from Republicans who held a supermajority in the legislature and successfully overrode a veto by the governor. But this week, in one of the most self-contradictory rulings I've seen in quite a while, the state supreme court struck down the law, claiming that it was unconstitutional. Reading through the ruling is an exercise in confusion and nonsensical assumptions by the justices of the court.
NC Supreme Court Rejects Voter ID Law, Claims It's Discriminatory. The North Carolina Supreme Court struck down a voter ID law, claiming a "racially motivated purpose." The 2018 law required residents to present identification before being able to vote. The Supreme Court's ruling affirmed that the policy was "motivated by a racially discriminatory purpose." It was passed along party lines in a 4-3 vote, with Democrats for the measure and Republicans against it. Meanwhile, Nebraska passed a voter ID measure for upcoming elections. The state was one of the states that did require its residents to show an ID to vote.
NBC News: Strict Voter ID Laws Disproportionately Impact Trans Voters. Wednesday, NBC reporters Joe Fryer, Savannah Sellers and Jo Yurcaba discussed the impact of voter ID laws on transgender people on NBC News' free streaming service show "Morning News Now." Fryer said, "As Gen Z gears up to hit the polls, transgender voters are concerned they might be blocked from casting their ballots." Sellers said, "That is because a growing number of states are enforcing stricter voter identification laws that disproportionally impact the community."
The Editor says...
If you habitually pretend to be something you're not, you should not be surprised if your identification is challenged. If you live your life as a transvestite, you shouldn't be surprised if you encounter self-imposed obstacles that normal people don't encounter.
What Would the Devil Have to Do Today to Destroy America? If I were trying to destroy America, I would insist it were racist and bigoted to require any type of identification to vote. Never mind that photo identification is required for everything from drinking a beer to driving a car. I would argue that voting ID discriminates against minorities and poor individuals. Of course, extensive identification is required to apply for Medicaid and almost any type of government assistance. But I wouldn't let pesky facts like that dissuade me. Without required identification, the voting process would eventually become chaotic and untrustworthy, and ultimately undermine our entire democratic process.
Democracy Depends on Voter ID. As the federal government under President Biden continues its attempts to undermine the authority of the states to regulate their own elections — unconstitutional and unprecedented federal actions — states are reasserting their power by passing reforms that will protect the integrity of the electoral process. Louisiana is a national leader on this and should continue its work of making it easy to vote and hard to cheat. Election integrity is vital to a healthy democracy because Americans need to have confidence that their votes are protected. A breakdown in any part of ballot protection can weaken this confidence, lead to questions regarding the legitimacy of election outcomes, and create a deeper distrust of government and the men and women who serve in it. Protecting the vote includes ensuring that ballots are cast securely, privately, and legally. It means making sure that every legally cast ballot is counted — and counted only once. It also means providing for the transparent and timely reporting of election results as well as a meaningful post-election audit system to ferret out any irregularities.
Justice Department sues Arizona over new election law requiring proof of citizenship. The Justice Department sued the state of Arizona Tuesday to block a law that would require proof of citizenship to register to vote in the state. The law, which Arizona Gov. Doug Ducey signed in March, is set to take effect in January. According to the lawsuit, the Supreme Court rejected Arizona's previous attempt to require proof of citizenship in 2013, and the Justice Department argues this new law violates the National Voter Registration Act because it requires documented proof of citizenship in federal elections. Arizona Attorney General Mark Brnovich released a statement Tuesday afternoon [7/5/2022] reacting to the DOJ's lawsuit, saying he'll yet again see the administration in court.
Sotomayor Pens Lone Dissent as 8-1 Gorsuch Majority Opinion Allows State GOP Leaders to Defend N.C.'s Voter ID Law. The U.S. Supreme Court on Thursday ruled in favor of state Republican Party leaders in a case nominally about a voter identification law that a lower North Carolina court previously found was passed with "racial discrimination" as a "motivating factor." Stylized as Berger v. NC Conference of NAACP, the case was decided in favor of GOP state legislators who argued the Tarheel State's Democratic Attorney General was not "adequately" defending North Carolina Senate Bill 824, which requires a photo ID to vote. "At the heart of this lawsuit lies a challenge to the constitutionality of a North Carolina election law," Justice Neil Gorsuch notes at the outset of the 8-1 majority opinion. "But the merits of that dispute are not before us, only an antecedent question of civil procedure: Are two leaders of North Carolina's state legislature entitled to participate in the case under the terms of Federal Rule of Civil Procedure 24(a)(2)?" The answer to that question, the majority held, is "Yes."
This state is an object lesson in how to have fraudulent elections. In New Mexico it's almost impossible to prove voter fraud — and that's exactly what the Democrat controlled state legislature wants. I've previously written about what a joke American voter ID and absentee ballot laws are compared to those in Europe, Canada and Mexico. In brief, Canada, Mexico and 46 of the 47 countries in Europe require a government issued photo ID for in-person voting. Mexico goes a step farther by having a thumbprint on the back of its photo ID. For absentee voting, Mexico and 32 of the 47 countries in Europe only permit absentee voting for citizens who reside out of country. The overwhelming majority of the 49 countries require a government issued photo ID to even obtain an absentee ballot. And New Mexico? No ID of any kind is required to vote in-person. The voter goes to a polling place and tells the poll worker his name. The poll worker then asks for the voter's year of birth and street address. If everything matches up, that's it and a ballot is given to the voter. Although the voter signs his signature on an electronic screen, there is no signature verification.
Britain Makes Voter ID Compulsory — But Mail-In Voting Still a Weakness. Britain's new Elections Act, which has just received Royal Assent, has finally made voter ID compulsory at polling stations — but questions remain about mail-in voting fraud. The new legislation was widely opposed by left-wing political parties, including the Labour opposition, and activists, with allegations that the poor, ethnic minorities, and "trans and non-binary people" would be disenfranchised being widespread. However, the government produced research showing that, in fact, "98 per cent of electors already own a photographic document that is on the broad list of acceptable types of identification" allowed under the Act, and the remaining two percent will be entitled to Voter Cards which local government officials will provide free of charge.
Rhode Island GOP concerned over election bill eliminating ID for mail-in ballots. Rhode Island Republican Party members are concerned about elections legislation facing a vote in the state Senate on Tuesday [4/26/2022] that eliminates an identification requirement for mail-in ballots. The state currently requires that either two witnesses or a notary attest to the identity of a voter casting their ballot by mail. However, state Republican Party Chairwoman Sue Cienki and Republican Sen. Jessica de la Cruz expressed concern over a bill from the General Assembly that eliminates that requirement without replacing it with any other ID requirement, such as a driver's license or state identification card number, The Providence Journal reported. "There has to be a system where every eligible voter knows that their vote will be cast by them ... [and] it is not an undue burden to provide an ID ... [which proves] you exist," Cienki said.
Poland Shows How to Run Honest Elections. It's not hard to run honest elections, even without fancy 21st century e-technology. I actually live in such a country now. I moved to Poland in 2007, and I can tell everybody that Poland runs honest elections. Actually, I think this is also true of France, Germany and most countries of Western Europe, but I'll talk here of Poland, since this is the case I'm most familiar with. Poland assures honest elections by doing two things that the United States does not do. Poland has a) national ID cards, and b) residential reporting laws. All residents of Poland, whether they are citizens or not, are required to apply for and receive national ID cards.
Arizona Governor Signs Election Integrity Legislation As Activists Lament 'Disenfranchisement'. On Wednesday, Arizona Governor Doug Ducey signed voter identification legislation that will require residents to show proof of citizenship and residency before they register to vote. "Voting rights advocates" are lamenting that it could result in thousands of ineligible registrations. [...] "We've never had to do this before!" seems like a weak argument against voter id; and people who go to government services without the correct documentation do what people have done since the beginning of government: they go home and get what they need and come back. The angst over "potentially" cancelling thousands of voter registrations seems misplaced. There's an easy fix to having your legitimate voting registration cancelled. Just provide the right documents. If you don't have them, that means you're not eligible to vote and should not be attempting to vote in the first place.
Dealing with Cognitive Dissonance. [Scroll down] Take the case of a pro-abortion advocate whose main argument is "it's my body and I have the right to make my own medical decisions," who also believes in mandatory vaccines, even against someone's personal will. How can this be resolved? Looking at the coping behaviors listed above, someone might feel very uncomfortable learning that the vaccines are not as effective as promised, or the side effects are more dangerous than the disease. [...] Another example is the view that people should be required to carry a vaccine passport, while simultaneously thinking that voter ID is racist. If people must be identified to ensure they've been vaccinated and boosted to protect others, why is it a bad idea for people to be properly identified in order to vote? What about people who might cheat by purchasing a fake vax passport? Isn't that just as bad as people who might vote using someone else's name?
It's OK to Be Racist If You're the Left Pushing COVID-19 Mandates. Following the lead of other leftist-run cities, the District of Columbia just instituted a new COVID-19 mandate that requires anyone who wants to dine at a restaurant, go to a movie, or workout at a gym to show proof of vaccination. But a big part of the story that many in the media seem to ignore is that in this majority-black city, run by a black mayor, the D.C. government is also requiring people to show a photo ID to prove that they are the actual owner of the vaccination card they present. Hold on a minute! Wasn't it just a few short months ago — as the battles over election reform raged in the states — that we were told requiring photo ID to vote was racist and discriminatory because black folks couldn't get IDs? In fact, it was considered so racist that businesses, sports teams, and celebrities boycotted entire states. Now, by the left's own definition, the District of Columbia just instituted a whole new level of systemic racism. And it's certainly affecting the black population — the District's largest racial group — disproportionately.
The U.S. has banana republic-like voter ID laws. Most Americans are simply unaware of how weak and haphazard our voter ID and absentee ballot laws are compared to those in other countries. [...] According to Ballotpedia, 15 states do not require voter ID for in-person voting. Republicans control the state legislatures in 3 of the states (NE, NC & PA), there is split legislative control in Minnesota, and the remaining 11 states (OR, CA, NV, NM, IL, MD, NJ, NY, MA, VT & ME) all have Democrat control. [...] Our democracy will be imperiled if we lose confidence that our elections, and we will lose confidence in our elections if we believe that vote counts are fraudulent.
Voters Disagree With Democrat Lawmakers About Voter ID - Democrats Don't Care. In the nation's capital, every citizen must carry their papers in public. No vax, no photo ID, no mask? No soup for you! But requiring an ID to vote? Nope. According to D.C. Mayor Bowser and every harpy Democrat on Capitol Hill, that's racist voter suppression. Never mind that a vast majority of normal voters and Democrats think an ID to vote makes perfect sense, Democrat mayors and their Capitol Hill counterparts disagree.
Joe Biden's Jim Crow 2.0 tour collides with reality: Blacks strongly support voter ID. With drama and fury, President Joe Biden declared to the nation on Martin Luther King Jr. Day that state laws requiring voter ID or banning mass mailing of absentee ballots amounted to an "assault on our freedom to vote," especially for minority Americans. Four days earlier, a poll in Michigan told a different story: Three-quarters of the battleground state voters supported ballot ID requirements, with black voters expressing the highest support at 79%. Those findings have been confirmed in national polls as well, exposing a dilemma for Democrats in Washington who are making a last-ditch effort to pass legislation gutting many state and local controls of elections in favor of federal standards. Those standards — like banning voter IDs, imposing no excuse absentee voting and making it harder to clean outdated voter rolls — are not what the majority of Americans are seeking.
Scalise: In the Midst of Inflation, Border Crises, Biden's Biggest Concern Is Attacking Voter ID. On Wednesday's broadcast of the Fox News Channel's "America Reports," House Minority Whip Rep. Steve Scalise (R-LA) said that in the middle of crises on inflation and the border, "Joe Biden's top priority is getting rid of picture ID" in order to placate "party bosses amongst the Democrats in Washington." Scalise stated, "In the midst of all these crises, inflation, high gas prices, a border crisis, go down the list that families are facing, Joe Biden's top priority is getting rid of picture ID and mandating same-day voter registration in every state in America, which opens the door, by everybody's account, to massive voter fraud. Why would he want to do that? Why is that his top priority? His top priority should be helping families who are struggling because of the failures of the Biden presidency."
Voter ID Requirements Make Sense. Last March, 220 of the 221 Democrats in the House — but not one Republican — voted to pass the "For the People Act." The introduction to the bill claimed it had the following purpose: "To expand Americans' access to the ballot box, reduce the influence of big money in politics, strengthen ethics rules for public servants, and implement other anti-corruption measures for the purpose of fortifying our democracy, and for other purposes." [...] So, if this bill were to become law, a person could simply sign a pre-printed government form and drop a ballot in a mailbox without presenting anyone with an identification. Sen. Amy Klobuchar (D-Minnesota) has offered a slightly stricter bill in the Senate. It is called the "Freedom to Vote Act." One part of this bill is headlined: "Voter Identification and Allowable Alternatives." It says in part: "If a State or local jurisdiction has a voter identification requirement, the State or local jurisdiction — (A) shall treat any applicable identifying document as meeting such voter identification requirement." "The term 'applicable identifying document' means, with respect to any individual, any document issued to such individual containing the individual's name," it says. [...] Some of the "applicable identifying documents" then listed in the bill are completely reasonable: [...] Some are more dubious: "A bank card or debit card." So, if this bill became law, a debit card that expired in 2021 would be valid identification for someone voting in 2024.
The Editor says...
When has there ever been an eligible voter who carried an expired debit card with his name on it, but not a government-issued ID such as a driver's license? What are the names of the so-called "disenfranchised" voters? Please name one U.S. citizen who was eligible to vote and was prevented from doing so, with or without identification.
Poll: Majority of Democrats Support Voter ID Laws Despite Race-Baiting Propaganda. Despite an all-out campaign against voter integrity laws from the far-left, a majority of Democrats support voter ID laws, a Rasmussen poll released on Friday [12/10/2021] found. According to the poll, 63 percent of Democrats "believe that requiring photo ID to vote is a reasonable measure to protect the integrity of elections." Most Republicans — 88 percent — and unaffiliated voters — 74 percent — are also supportive of voter ID laws, and 75 percent of voters overall back the measure. Nineteen percent of voters disagree.
In 'Deep Blue' New York, Voters Reject Democrats' Push for Election Changes. In one of the bluest states in the nation, voters soundly rejected proposed changes to election law that congressional Democrats are trying to impose nationally. New York state voters voted "no" on Democrat-supported amendments to the state Constitution, pitched as "voting rights" measures, that would have expanded absentee voting, allowed same-day voter registration, and changed the rules on drawing legislative districts. Democrats in the U.S. House of Representatives this year have passed four bills that were variations of their initial bill, HR 1, dubbed the "For the People Act." The measures would ban most state voter ID laws, allow same-day voter registration, expand ballot harvesting, and require unelected commissions instead of elected legislators to draw congressional districts. Already, New York is among 15 states that don't have laws requiring voters to show identification at the polls.
Justice Department sues Texas over voting law. The Justice Department has sued Texas over a Republican-backed voting bill signed into law earlier this year. The law, signed in September by Gov. Greg Abbott, was one of the two bills 60 Democratic lawmakers, who are in the minority in the Texas Legislature, sought to stonewall by fleeing the state to prevent the quorum needed for passage. [...] The law effectively rolled back pandemic-era expansions on voting capabilities such as 24-hour and drive-thru voting, gave more authority to partisan poll watchers, and implemented new hurdles to mail voting. The lawsuit focuses on two key parts of the new law: The rejection of mail-in ballots for clerical errors or omission of certain paperwork and new limits on the assistance in voting booths. The law requires that mail-in ballots either contain a voter's driver's license number or Social Security number. If the SSN is chosen, a voter has to place it on the paper twice. According to the DOJ, requiring someone to remember their ID number "will curtail fundamental voting rights without advancing any legitimate state interest."
Whitmer Vetoes Voter ID, Election Reform Bills, Says They Would Hurt Minority Voters. Michigan Gov. Gretchen Whitmer on Friday [10/29/2021] vetoed several bills aimed at tightening election security in the state, telling lawmakers the Republican-backed legislation would disenfranchise voters and disproportionally impact minority voters. The bills — Senate Bills 303 and 304, and House Bill 5007 — would have prohibited election officials from accepting donations, toughened in-person voter identification rules, required people to provide additional information on absentee ballot applications such as their driver's license number or state ID number, instead of only a signature. The measures would have also banned the Secretary of State's Office and township or city clerks from providing absentee ballot applications unless specifically requested by a voter, and removed a $10 fee to obtain or renew a state ID card. "These bills would disproportionately harm communities of color. ... Non-white voters were about five times more likely to lack access to ID on election day than white voters," the Democratic governor wrote in a letter to lawmakers on Friday. "Voter restrictions that produce such a racially disparate impact must never become law in this state."
Vaccine IDs expose Democrats' lies about voter IDs. As the Biden administration pushes to mandate vaccines for every worker, vaccine ID cards will become an integral part of the rest of the pandemic, however long it lasts. Workers will need one to remain employed or allowed to work. Yet previously, Democrats argued asking for IDs was racist because many minorities were somehow unable to obtain a government-issued ID. But all these hurdles seem to vanish miraculously when it comes to getting vaccination IDs. Keep in mind, the notion that somehow people were not able to obtain a government-issued ID was always complete hogwash. Moreover, it was even more ridiculous to assume that it was much harder for people of color to get valid IDs. The only people who do not have IDs are those who choose not to get them, just as those who have not been vaccinated are those who have chosen not to be. That said, even if this were a legitimate barrier, the methodology used to distribute vaccine IDs could be replicated for voter IDs.
Ted Cruz Asks Richard Blumenthal a Question About Black Voter Participation That Blows up Dem Narrative. Democrats have created this completely false narrative about election security laws. Doing things like requiring ID is somehow "racist," even though most of the world requires it for voting and most Americans want it to ensure the safety of the elections. They created this fiction over the past few months, over laws in states like Texas and Georgia, creating a mania against the Georgia law which prompted Major League Baseball to pull the All Star game from the state. Crazy Democrats from Texas fled the state to prevent a quorum to stop voting on an election security bill. Both efforts only served to show how radical the Democrats were on this issue and how out of step with most Americans there are. But what they're really saying with their objections is that they don't want checks on fraud. I'll leave that to your great sense as to why Democrats wouldn't want checks on elections to make sure they're secure. But they've wanted to shift the narrative to characterize the laws as "racist."
North Carolina Judges Strike Down Voter ID Law, Claiming It's Racist. Two North Carolina judges on Sept. 17 struck down a law that required photo identification to vote, saying the measure "was enacted with the unconstitutional intent to discriminate against African American voters." The law was enacted in violation of the equal protection clause in North Carolina's Constitution, the majority of the panel said. The clause says that "no person shall be denied the equal protection of the laws; nor shall any person be subjected to discrimination by the State because of race, color, religion, or national origin." Defendants in a lawsuit, including North Carolina House Speaker Timothy Moore, failed to show that racial discrimination wasn't a substantial or motivating factor behind the enactment of the law, Superior Court Judges Michael O'Foghludha and Vince Rozier Jr., both Democrats, wrote in a 102-page ruling permanently blocking the measure.
North Carolina judges strike down state's voter ID law. North Carolina judges struck down the state's latest photo voter identification law on Friday [9/17/2021], agreeing with minority voters that Republicans rammed through rules tainted by racial bias as a way to remain in power. Two of the three trial judges at Wake County Superior Court in Raleigh declared the December 2018 law is unconstitutional, even though it was designed to implement a photo voter ID mandate added to the North Carolina Constitution in a referendum just weeks earlier. They said the law was rushed and intentionally discriminates against black voters, violating their equal protections.
If vax passports are OK, then so is requiring voter ID. Amusingly enough, liberals, the people most likely to support vaccine passports, have long made contradictory arguments. For years, we have heard Democrats insist that asking voters to present identification is a fundamental violation of civil rights, tantamount to Jim Crow. Who exactly belongs in this vast class of persons being denied the franchise has always been a mystery. Apparently, they are also people who have never had a job, driven a car, opened a bank account, flown on an airplane, received government benefits, ordered a beer, bought a pack of cigarettes or played the lottery. According to progressives, we need ID for everything in this country except the apparently sacred exercise of our voting rights. Liberals pretend that asking people to get the same ID they need to do almost anything else is an undue burden to vote, even though non-drivers can get a government-issued picture ID in all 50 states. Yet now they pretend that using some cockamamie smartphone app dreamed up by bureaucrats in Albany or City Hall can be a requirement for participating in civilized life.
Texas Democrats Fail To Block Voter ID Bill. The Texas legislature on Tuesday passed a hard-fought voter ID bill that Democrats fled the state to block. The Republican-sponsored bill establishes ID requirements for mail-in voting, allows voters to correct mail-in ballots that have technical errors, bans the controversial practice of drive-thru voting, and requires the secretary of state to make sure non-citizens are not voting, among other changes. Texas governor Greg Abbott (R.) said in a statement that the bill "will solidify trust and confidence in the outcome of our elections by making it easier to vote and harder to cheat." Texas Democrats have called the bill "racist," with failed presidential candidate Beto O'Rourke saying it will lead to "voter suppression" of blacks and Hispanics.
If Voter ID Laws Are Racist, Vaccine Mandates Are Literally The New Jim Crow. The political left has for a long time attempted to portray laws that require one to show an ID to vote as disenfranchising to the African American community. Democrats in the last few months have been up in arms about Republican-led voter integrity laws in states such as Georgia and Texas. President Joe Biden routinely claimed these measures are worse than 20th century Jim Crow laws of the American south. Texas Democrats even fled their state in order to deny the legislature a quorum on the election security bill. But if requiring an ID at the polls suppresses minority voters, one would have to then conclude that vaccine mandates are "Jim Crow on steroids," as Biden once said about Georgia's law. In New York City, a mandate officially went into effect on Tuesday requiring proof of having received at least one dose of the COVID-19 vaccine in order to participate in a host of in-person activities. Restaurants, gyms, performance venues, movie theaters, museums, bowling alleys and sports arenas are just some of the places New Yorkers are officially not allowed to visit unless they have been vaccinated.
Photo ID and vaccine passport required by Mayor de Blasio to move freely in New York City. New Yorkers will now have to show photo IDs in order to engage in public life. Along with proof of vaccination, the mayor said "Whatever works, all you have to do is show that proof and have ID as well." "And it's easy, all you have to do is show proof of vaccination — that could be a CDC paper card, that could be an Excelsior Pass, an NYC COVID Safe app, whatever works," de Blasio said. "All you got to do is show that proof and have ID as well, and it's straightforward." Mayor Bill de Blasio's new "Key to NYC" vaccine passport is now be required for entry into everything from gyms to museums to restaurants, but the passes are also required to be accompanied by a photo ID.
The Editor says...
That's right, a photo ID is required for every activity — except voting.
New Survey Destroys the Left's Narrative About Voter ID. An explosive new survey has delivered bad news to Democrats who have claimed for many years that voter ID laws are racist and a form of voter suppression. According to a new poll from Rasmussen Reports, a whopping 74 percent of voters support voter ID requirements. The poll also found that 90 percent of American voters are concerned with election cheating.
Rep. Nancy Mace cleverly gets fleeing TX Dem to recognize ID necessity in daily life. During a congressional hearing on voting rights, U.S. Rep. Nancy Mace (R-S.C.) got a Texas Democrat to acknowledge that adults need a government-issued photo ID to operate in day-to-day life. State Rep. Senfronia Thompson is one of a large group of Texas Democrats who fled to Washington, D.C., on private jets, thereby creating an absence of a procedurally necessary quorum in the lower chamber, to prevent the GOP-majority legislature from passing an election reform measure. The bill has already passed the Texas senate. [Video clip]
Sen. John Barrasso: Democrats' No. 1 Goal Is Passing S1 where You Don't Need to Have a Voter ID Anymore. Senator John Barrasso (R-WY) joined Maria Bartiromo Sunday on Sunday Morning Futures [8/1/2021]. During his interview, Barrasso exposed the true intentions to pass their S1 legislation so they can cheat. [Quoting Senator John Barrasso:] "[...] And then there is this second trek which is to undermine elections and integrity of elections in this country making it easier for Democrats to cheat. What they want to do, that is there number one priority bill is S1 which says OK, you don't need to have voter ID anymore. Oh, and let's have ballot harvesting where they have their paid operatives go door-to-door and pick up ballots. And then, of course, they want the government to fund the elections. All of these things undermine the elections. And on top of that they want to make the District of Columbia a state with two more Democrat senators making it much harder for Republicans to take the senate. And finally they're talking about stacking the Supreme Court..."
Fleebagger Texas Democrat Get Destroyed by Simple Questions On Voter ID and Voting Rates. State Rep. Senfronia Thompson is among the Democrat legislators who abandoned their jobs in Texas to block election integrity bills in the ongoing special session. They are holed up in a posh hotel, spreading COVID and asking for care packages despite the fact that all of them are wealthy and powerful legislators. [...] After her encounter Thursday with Rep. Nancy Mace of South Carolina, Thompson may wish she'd stayed in Texas. The South Carolina Republican asked Thompson a series of straightforward questions about what you need an ID to do in Texas and elsewhere — board a chartered plane as the Democrats did and get inside the U.S. House chamber where that hearing took place are among them — and how many people of various backgrounds support voter ID. [Video clip]
GOP Launches TV Ad In Texas Hyping Voter ID. Republicans have launched a television ad in Austin, Texas, hyping voter ID, featuring a black man explaining how he can get an ID, no problem. In a straight-to-camera appeal, Melvin Everson — the black man in the new Republican National Committee (RNC) television ad — explains to viewers that he has no problems getting an ID. "I'm Melvin Everson, says it right here," Everyone says in the ad. "I use my ID to drive, fly, even pick up tickets to a ball game. It proves I am who I say I am. But Democrats say Black folks like me don't know how to get one of these. The truth is they think this stops them from winning an election. That is what Democrats really care about." [Video clip]
Texas Dem Celebrated Volunteer Event With ID Requirements. One of the Texas Democrats who fled the state to protest a GOP-backed voter ID bill promoted an event that required park cleanup volunteers to provide multiple proofs of identification — standards the lawmakers have declared onerous and racist. When state representative Erin Zwiener helped organize a neighborhood cleanup in Kyle, Texas, on September 19, 2020, she asked all those who wanted to participate to bring a photo ID, a utility bill, and a face mask. [...] That strikes a different note from a statement Zwiener put out on the voter ID bill. "I want my daughter to grow up in a world where the US is still a democracy, where every single vote counts and is valued, and every American has the ability to cast that vote," she said. Zwiener remains at an undisclosed location in Washington, D.C., as she and more than 50 other Texas Democrats try to block a GOP-backed election reform bill, which includes voter identification provisions.
Biden's and the renegade Texas Democrats' Orwellian posturing. [Scroll down] Now, though, the same people who contend that requiring photo ID to vote is as damaging to civil rights as slavery and a war that killed over 600,000 Americans don't even bother to know the lyrics to the Civil Rights anthem. These people are evil clowns. Sure, they're fighting, but it's not for civil rights. Instead, they're fighting for absolute power. They understand that all this civil rights talk is a means to a completely different end and, therefore, a joke. There is good news, though, about those renegade Texas Dems. Before I get to it, though, because Biden has figured in this story, I want to note that there is no good news about Biden. He is the most disgraceful excuse for a human being ever to step foot in the White House, let alone lay claim to the Oval Office.
Greg Abbott Skewers the Lies of the Runaway Texas Dems and Decimates Joe Biden In the Process. Texas Governor Greg Abbott has had enough of the runaway Texas Democrats throwing their little tantrum political stunt. As we reported earlier, he said that he was going to make them do their job and have them arrested if they return to the state. Abbott eviscerated the Democrats' false claims about the election security bill, saying that it isn't denying anyone the right to vote and, in fact, the bill provides for increased voting hours. [Tweet] Abbott also brought up another area of Democratic hypocrisy — the number of days of early voting. Texas has 12, and guess what state has none? Delaware, Joe Biden's home state. Yet Biden's the one accusing Republicans of somehow being restrictive with bills like the one at issue in Texas when his state's voting isn't even as liberal.
Kamala Harris: The last Democrat holdout arguing against voter I.D.. Democrats, even the crazy ones such as Stacey Abrams, have backed away from their call for zero photo I.D. in order to vote. Their argument that black people are incapable of getting I.D. is essentially racist. More important, from their point of view, the voters are squarely are not in their tree. Voter I.D. is a common sense measure practiced in all civilized countries and voter polls support it. They still want to win in 2022, so they've moved away from that stance like a bad smell from a backed up sewer. But Kamala Harris is still swimming in it, and gave an amazingly stupid defense of zero-I.D. to vote in an interview with BET: [...]
Democrats are just making stuff up to justify opposition to voter ID. Democrats know that their opposition to voter identification requirements is unpopular and unnecessary, which is why they have to make things up to justify their opposition to it. Take, for example, a recent interview with Vice President Kamala Harris, who claimed voter ID makes it "almost impossible" for rural voters at the ballot box. "I don't think that we should underestimate what that could mean because, in some people's mind, that means, well, you're going to have to Xerox or photocopy your ID to send it in to prove that you are who you are," she claimed. "There are a whole lot of people, especially people who live in rural communities, who don't — there's no Kinko's, there's no Office Max near them," Harris continued. "
Desperate Dems Deny Their Agenda Three Times. Up until just days ago, Democrats were united in decrying voter ID laws as racist attempts to suppress minority voters. Biden compared a Georgia law that included a voter ID requirement as "Jim Crow in the 21st Century." Back in 2014, when he was vice president, Biden called voter ID laws "an attempt to repress minority voting masquerading as an attempt to end corruption." Then-Sen. Kamala Harris claimed that voter ID laws "targeted African-Americans with almost surgical precision." Now, suddenly, they are all more accepting of the idea, if not openly endorsing it. But instead of admitting that their past opposition to this common-sense reform was a wrongheaded attempt at race-baiting, Democrats are pretending that they never opposed voter ID laws.
Former Dem Rep Accidentally Tells the Truth: Election Integrity "Could Really Cost Democrats Seats". All Democrats know — If they can't cheat, they can't win. Former Democrat Representative Donna Edwards from Maryland joined an MSNBC panel on Thursday to discuss voter integrity legislation. Donna accidentally let the cat out of the bag. If election integrity legislation is passed in the states, if Voter ID is implemented, if illegal ballot harvesting is banned, then Democrats cannot win. It's that simple.
Harris: Voter ID Could Mean People Have to Copy ID and Send It In and People Live in Areas Where There Isn't a Kinko's or OfficeMax. During a portion of an interview with BET set to air on Friday that was broadcast on Thursday's "CBS This Morning," Vice President Kamala Harris responded to a question on whether she'd compromise by agreeing to voter ID provisions to pass voting legislation by stating that we shouldn't downplay the impact voter ID laws could have. Because to some, voter ID means, "you're going to have to Xerox or photocopy your ID to send it in to prove that you are who you are." And many people live where "there's no Kinko's, there's no OfficeMax near them."
Also posted under Liberals think you're stupid.
Clyburn states he is 'always for voter ID' after previously calling it 'suppression'. House Majority Whip Rep. Jim Clyburn, D-S.C., has expressed strong opposition to voter identification requirements in the past, but now that Sen. Joe Manchin, D-W.Va., is pushing for it in an effort to reach a voting reform compromise, he claims he has "always" been a fan. In an interview on CNN's "State of the Union" on Sunday, Clyburn asserted that he "absolutely" could back Manchin's ID proposal. "When I first registered to vote as a 21-year-old — back then, 18-year-olds could not vote — I got a voter registration card and I always present that voter registration card to vote. And that's voter ID," Clyburn said. "We are always for voter ID. We are never for disproportionate voter ID."
Rep. James Clyburn outright lies about Voter I.D.. The centerpiece of the Democrats' grossly misnamed "For The People" Act was that it would do away with photo I.D. requirements to vote because, Democrats' claim, they're racist. As far as Democrats are concerned, while Blacks and other non-Whites are capable of getting photo ID for flying, attending Democrat conventions, buying alcohol, and generally living life in the modern world, these same minorities cannot get photo I.D. to vote. In this regard, of course, America is out of step with the rest of the world. For example, every country in continental Europe requires photo I.D. to vote. Mexico, too, requires photo I.D. to vote. In Africa, a continent with a fragile infrastructure that makes photo I.D. truly difficult to obtain, the current trend (more than 60% of countries) is to digitize people's identities to improve election integrity. And yet Democrats assure us that American Blacks just can't get that I.D. The problem for Democrats is that, even as they denigrate minorities' ability to get photo identification, most Americans think that photo I.D. is a good idea for election integrity.
Pennsylvania Senate Passes Constitutional Amendment to Require Voter ID For All Ballots. The Pennsylvania Senate on Wednesday [6/23/2021] passed a bill that would amend the state constitution to require that voters present identification each time they cast a ballot. The measure, SB735, passed in a 30-20 vote, mostly along partisan lines. The proposal was backed by all Republicans and a single Democrat. Currently, state voters are only required to present identification the first time they vote at a polling station. The measure would require some form of verification every time a ballot is cast, including when voting by mail. It also proposes amending the voting age in the Pennsylvania Constitution from 21 to 18, making it consistent the U.S. Constitution. Constitutional amendments can be made if two-thirds of both chambers of Congress agree on a proposal and it is ratified by three-fourths of states, or if a convention is called by two-thirds of state legislatures backing the proposed amendments.
Stacey Abrams Now Claims She Was Never Against Voter ID. Democrats have been trying to pass their 'voter reform' bill, but Senator Joe Manchin (D-WV) has been a thorn in their side. Now Manchin has proposed a compromise which includes voter ID provisions, and some Democrats like Stacey Abrams who previously called voter IDs racist, are suddenly changing their tune.
Top Democrats flip-flop on 'racist' voter ID laws. As Democrats try to push the For the People Act through the Senate, some of the party's top figures are changing their tune on voter ID rules they previously called "racist." In an effort to garner bipartisan support for the act, Sen. Joe Manchin, D-W.Va., has proposed a set of compromises. One would expand voter ID laws, long a legislative objective for the GOP. The line from the Manchin memo: "Require voter ID with allowable alternatives (utility bill, etc.) to prove identity to vote". When asked about the compromise on Thursday, Stacey Abrams, the former gubernatorial candidate for Georgia and Fair Fight Action founder, who has long railed against voter ID laws, said she "absolutely" could support Manchin's proposal even if voter ID was a part of it. "That's one of the fallacies of Republican talking points that have been deeply disturbing. No one has ever objected to having to prove who you are to vote. It's been part of our nation's history since the inception of voting," Abrams told CNN.
Atlantic Magazine Writer Admits Voter ID Does Not Suppress the Vote. For years it has been a key part of liberal dogma that requiring voter ID really means voter suppression. However, magically in the last few days, liberals including Stacey Abrams and many media outlets have "discovered" that, hey, voter ID does not suppress the vote in any significant way. Of course, there is an ulterior motive in this "discovery" as we shall see. Among those who have somehow found out very conveniently that voter ID requirements does not suppress the vote is someone who until recently was vehemently against such a requirement to the extent that he railed against in in June 2020 in a Time magazine column, "The Racist History of Voter Registration." His name is David Litt, a former Obama speech writer. However, Litt's objections to voter ID miraculously vanished this week as you can see in his Atlantic magazine column, "Democrats Should Take the Deal on Voter ID."
Michigan Senate Passes Election Bills Strengthening Voter ID Requirements. Michigan's Republican-led state Senate on Wednesday [6/16/2021] passed three election integrity bills on a 19-16 vote that would require voters to present photo ID at polling places. It would also strengthen identity requirements for those who vote by mail. Michigan's state legislature approved Senate Bills 0303, 0285, and 0304, on a party-line vote with full support from Republicans while every Democrat opposed the legislation, The Epoch Times reported. Under SB 0303, voters without a photo ID would be required to cast a provisional ballot after which they must verify their identity and residence within six days in order for their ballot to be counted. To enforce this proposed legislation, SB 0304 stipulates that voters who received a provisional ballot must be notified of the six-day identity verification rule.
America the Outlier: Voter Photo IDs Are the Rule in Europe and Elsewhere. Democrats and much of the media are pushing to make permanent the extraordinary, pandemic-driven measures to relax voting rules during the 2020 elections — warning anew of racist voter "suppression" otherwise. Yet democracies in Europe and elsewhere tell a different story — of the benefits of stricter voter ID requirements after hard lessons learned. A database on voting rules worldwide compiled by the Crime Prevention Research Center, which I run, shows that election integrity measures are widely accepted globally, and have often been adopted by countries after they've experienced fraud under looser voting regimes. Of 47 nations surveyed in Europe — a place where, on other matters, American progressives often look to with envy — all but one country requires a government-issued photo voter ID to vote. The exception is the U.K., and even there voter IDs are mandatory in Northern Ireland for all elections and in parts of England for local elections. Moreover, Boris Johnson's government recently introduced legislation to have the rest of the country follow suit.
Texas AG Paxton: 'Only Reason' Anyone Would Be Against Voter ID Is to Allow Cheating. Sunday on New York City WABC 770 AM radio's "The Cats Roundtable," Texas Attorney General Ken Paxton (R) discussed the efforts his state and others are making to ensure voter integrity in elections after the 2020 election cycle. Paxton warned if states like Arizona, Wisconsin and Pennsylvania "don't get their act together" when it comes to signature verification for mail-in voting, "we'll never know if we have secure elections."
The government requires platforms like Coinbase to verify your identity through multiple sources. [Thread reader] Yet not to vote for President. Apparently the only time the government trusts citizens to be honest about their identity is to vote. How come we never hear the left complaining about how racist trading cryptocurrency is considering you are required to show a photo ID to do so? Under the left's logic, platforms like Coinbase are racist.
British government poised to require voter ID in future elections to combat fraud. British voters will likely soon have to provide a valid photo ID to vote in future elections as a way to combat voter fraud. [...] British lawmakers are expected to unveil the new plan to require voter IDs during the Queen's Speech, an annual event in which the government shares its priorities for the coming year to citizens in a speech delivered by the queen. The plan comes at a time when similar laws are being debated in the United States, with former President Donald Trump's election defeat last year sparking questions about potential fraud around the country.
CNN Poll: 64% Say Voter ID Requirements Make Elections 'More Fair'. A majority of Americans believe basic voter ID requirements, such as requiring a valid photo ID prior to casting a ballot, would make elections "more fair," despite the steady stream of mischaracterizations from top Democrats, who contend that such requirements are oppressive and akin to the Jim Crow era. The survey provided a series of potential rules a state could implement regarding voting and asked respondents to rate if the suggested rule would make elections "more fair," "less fair," or the same. Notably, 64 percent of respondents said requiring voters to provide photo identification before casting a ballot would make elections "more fair," compared to 17 percent who said "less fair," and 17 percent who said it "would not make much difference."
Blacks are smarter than Democrats believe. A classic example of Democrats deigning to aid those they consider uneducated and needy is their opposition to Georgia's recently enacted election law. The law, passed by the Republican-controlled Legislature and signed by GOP governor Brian Kemp, attempts to ensure election integrity by enforcing certain rules that would essentially make certain that those who vote are doing so without the use of deceitful tactics. One would think all Americans would want to keep fraudulent voters from hijacking the election process. Think again! Democrats have cried foul, saying the changes will make it more difficult for some minorities and poorer voters to cast a ballot. What is the basis for their opposition? Well, the loudest objection to the bill seems to be the part that requires that those who vote by mail have a valid ID. Georgia always required proper ID for in-person voting, but not for voting absentee by mail. However, because of so many irregularities with absentee ballots in the 2020 election, this law was needed to keep plebiscites honest. Therefore, going forward, Georgians must submit a driver's license number or state ID number when requesting or returning ballots by mail. Those voters who don't have said ID can send in a photocopy of a different form of ID. Then the Georgia Department of Driver Services can issue free state ID cards. In addition, when a voter returns an absentee ballot, he may also use the last four digits of his Social Security number instead of an ID number.
Growing number of black leaders embrace voter ID, reject Biden's Jim Crow claims. Mark Robinson knows a thing or two about the political appeal of voter ID. After all, he became North Carolina's first ever African-American lieutenant governor last November running as a Republican who vowed to restore voter identification for the state's elections. And he won, even as the GOP's top of the ticket fell to Democratic Gov. Roy Cooper. So Robinson chafes when he hears national Democrats like Joe Biden and Stacey Abrams claim that asking for an ID to vote is as disenfranchising as the voter suppression tactics of the Jim Crow era.
Fox News Poll: 77% support requiring photo ID for voting. There is widespread agreement on requiring identification before being allowed to cast a ballot. A new Fox News poll, released Monday [4/26/2021], finds 77 percent of voters nationally think "a valid form of state or federally issued photo identification to prove U.S. citizenship" should be needed for voting. That's down from a high of 85 percent who felt that way when Fox first asked the same survey question 10 years ago.
Rep. Burgess Owens: Comparing Voter ID Laws To Jim Crow Is 'Disgusting' And 'True Racism'. Republican Rep. Burgess Owens slammed Democrats and President Joe Biden for comparing Georgia's newest election law mandating voter ID to Jim Crow laws. Not only does Owens believe the Democrats' attempts to mischaracterize voting restrictions are "true racism," but he also said the "soft bigotry" used by the left downplays his experience "as someone who's actually experienced Jim Crow laws." "President Biden said of the Georgia law, 'This is Jim Crow on steroids,'" Owens explained in a Senate Judiciary Committee hearing titled "Jim Crow 2021: The Latest Assault on the Right to Vote" on Tuesday. "With all due respect, Mr. President, you know better. It is disgusting and offensive to compare the actual voter suppression and violence of that era that we grew up in with a state law that only asks that people show their ID. This is the type of fearmongering I expected in 1960s, not today."
Major black leaders come out in support of voter ID, slam 'totally oblivious' white liberals. A coalition of black leaders on Friday [4/16/2021] came out strongly in support of voter ID laws, arguing that most black voters feel the same way and rebuking what they said was the "oblivious" and "opportunistic" denial of those opinions by progressive leaders. The coalition — which includes U.S. Rep. Burgess Owens, former Florida Lt. Gov. Jennifer Carroll, former Texas state Rep. James Earl Wright, and former mayor of Cincinnati and U.S. Ambassador to the U.N. Commission on Human Rights Ken Blackwell — declares at RealClearPolitics that "liberal orthodoxy" dictates that "all Blacks think alike, and all Blacks support Black Lives Matter, and all Blacks oppose the recently enacted Georgia Election Integrity Act," one that in part mandates voter ID at the polls. Yet the writers note that a recent Rasmussen Reports poll "found that 69% of Blacks and 82% of nonwhite minorities support voter ID," while another recent poll "found that a full two-thirds of Blacks in Georgia support voter ID."
Election Integrity: 62% Don't Think Voter ID Laws Discriminate. The latest Rasmussen Reports national telephone and online survey finds that just 29% of Likely U.S. Voters say laws requiring photo identification at the polls discriminate against some voters. Sixty-two percent (62%) say voter ID laws don't discriminate. A majority (51%) of voters believe it is likely that cheating affected the outcome of the 2020 presidential election, including 35% who say it's Very Likely cheating affected the election.
Jim Crow is busy, busy, busy. When Democrats took charge of the South after Reconstruction, they made racial discrimination the law of their part of the land. They passed Jim Crow laws to keep the black man down. Jim Crow died in 1964. LBJ killed him with the help of 27 of the 33 Republican senators who voted to end a filibuster by 22 Democrat senators from the South and Bob Byrd. 30 years after passage of the Civil Rights Act of 1964 — after the last white supremacist died — Republicans began the long slog to political dominance. The South prospered. Unable to win an election on merit in the South, Democrats used the covid 19 crisis to replace the ballot box with the mailbox and stole Georgia's election. Republicans got smart and reformed the election law. Democrats denounced it as JIM CROW because somehow black people who have a photo ID to drive a car, buy a beer, or get a pack of smokes do not have such identification when it comes to voting.
Corporations and voter ID critics should help minorities obtain photo IDs to vote. Football legend Herschel Walker says large corporations and activists who oppose the new Georgia election law should help minorities obtain photo IDs for voting instead of "complaining" about the issue "time in and time out." Major League Baseball moved its annual All Star game from Georgia in response to the new law, which in part requires a photo ID to obtain an absentee ballot. "My grandfather today, if he was alive, would be 117 years old. He had a drivers license," Walker said Wednesday evening in a virtual discussion organized by Delaware's Wilmington Public Library. "We're in modern time today, and people don't have an ID. And then I say, you know, what's so strange about it is I have all these companies that are coming out, putting it down, 'they don't have ID. People don't have an ID.' "
Survey: 73% of Black Voters Say Voter ID Is Necessary to 'a Fair and Secure Election Process'. Nearly three-quarters of black voters believe voter ID is necessary to ensure a "fair and secure election process," a Rasmussen Reports survey released Tuesday found. The survey, taken April 1 and 4 among 1,000 likely U.S. voters, asked respondents, "Are laws requiring voters to show photo identification such as a driver's license before being allowed to vote necessary to 'a fair and secure election process'?" [...] While Democrat politicians routinely liken basic election integrity measures to voter suppression and a means to suppress the minority vote, a majority of black voters, 73 percent, believe voter ID is necessary to ensure a fair and secure election process. What is more, 81 percent of other minority voters also believe voter ID is necessary.
(Censored) Major League Baseball. [Scroll down] Contrary to the leftist talking points — aka, their blatant lies — there is nothing in this law that is particularly egregious or that suppresses any legitimate votes. It's no stricter than the voting laws in many other states, and less stringent than some(including in President Asterisk's home state of Delaware). All it really does, or attempts to do, is make sure voters are who they say they are, whether they vote in person or by mail, while preventing various types of bribery and fraud. The only people who could be opposed to such a law are those whose campaign strategy relies heavily on bribery and fraud. Moreover, even if our fascist elites find Georgia's measures extreme, who cares? The constitution clearly leaves it up to the states to set their own election laws and processes. As long as those laws don't actually discriminate against any legally eligible voters — and this one does not — then it's nobody's business in other states what the laws are.
MLB requires photo ID to pick up tickets from Will Call, but boycotts Georgia for voter ID law. Major League Baseball responded to calls to boycott the state of Georgia over a controversial new voter-ID law by moving the All-Star game out of the Peach State. But teams still requires fans to show photo ID to pick up their tickets from the Will Call booth. South Carolina Republican Rep. Nancy Mace called the league out on Twitter.
Coca-Cola Requires a Valid ID to Attend Its Annual Shareholders Meeting But Disparages Georgia for Mandating an ID When Voting. Coca-Cola came out strong against Georgia's new law which helps ensure free and fair elections in the state: [...] But like most liberals, rules are only good for themselves but not for others. Per a quick review of the requirements to attend CocaCola's Annual meeting, an individual can only participate after providing an ID: [...] In addition, Coca-Cola should have studied up and seen that a material majority of Americans believe Americans should have to provide an ID in order to vote.
Democrats demand I.D.s for everything but voting. Democrats and their fellow oligarchs in Corporate America demand a bachelor's degree before granting an interview for any worthwhile job. We live in a hyper-credentialed society. Little girls need a government-granted license to sell lemonade at their sidewalk stands. One must provide a valid photo I.D. and be vetted by the FBI's National Instant Criminal Background Check System (NICS) — and possibly be subject to a several-day waiting period — to purchase a firearm. One must present a current, valid photo I.D. to cash a check, or buy a loaf of bread, a six-pack of beer, or pack of smokes at a grocery store. Want to board a plane? I.D. please. And probably soon, a vaccine I.D. But one should never have to be troubled to identify oneself to vote for the most powerful person on earth, say Democrats. That would be racist!
Poll: 72% In Favor of Requiring Photo ID to Vote. An AP-NORC poll released Friday morning [4/2/2021] shows an overwhelming majority of Americans favor requiring a photo ID in order to vote. The poll shows public support for voter reform on both sides of the aisle. Seventy-two percent of those polled supported some sort of voter identification requirements. Ninety-one percent of Republicans backed requiring all voters to provide photo ID in order to vote. Fifty-six percent of Democrats said the same.
Voter ID rules popular among public: Polls. Voter ID, a major component of Georgia's new election law, is popular among people despite criticism about the measure from Democratic leaders, according to recent polls. According to an Associated Press poll, 72% of respondents support showing a photo identification in order to vote. Between the parties, 91% of Republicans and 56% of Democrats support the policy. A similar result was found in the latest Economist/YouGov poll. People favored requiring a photo ID as a means to vote by absentee ballot, 53% to 28%.
NYT: Say, It Sure Looks Like Democrats Are Starting To "Quietly" Splinter On "Voting Rights" Bill. It's been mighty quiet lately on the so-called For The People Act, the massive bill that would federalize election jurisdiction and end voter-ID requirements. Until now, Joe Manchin and the filibuster appeared to be the Democrats' only obstacles, but the New York Times reports that other Senate Democrats might also be peeling away.
Delta CEO caves to far-left boycott threat, loudly condemns Georgia fair elections law. After leftists intent on making election fraud permanent threatened Georgia's big companies with a boycott if they didn't condemn Georgia's election integrity law, Delta was one of the first to cave. [...] The content of [Delta Air Lines CEO Ed] Bastian's statement is appalling. He's telling us, as a guy whose airline rides require I.D. to get onto, that voters should not be required to show any identification to vote? Or that the word of that Democrat sleazebag operative with 99 people residing in a single residence is sufficient for handing him 99 ballots? Or that Black people are incapable of getting I.D. even though every last government service, every last airline ride, every last entry to buy a sports-event ticket, every last hospital admission, every last drive of the car somehow requires I.D. to partake? What planet does this soft-bigotry-of-low-expectations guy live on? His claim is flamin' hot dishonest.
Jim Crow and the Georgia Voting Law. Democrats should display some humility when it comes to African Americans and voting since it was members of their party who opposed civil rights legislation, defended slavery in the 19th century, and promoted "black codes" in Southern state legislatures that denied many rights to former slaves. Those were elected Democrats who stood in schoolhouse doors, denying access to black children. Democrat sheriffs clubbed people in the streets during demonstrations and sicced dogs on them, among other indignities. It was also the party that required "poll taxes" and "literacy tests" for blacks, violating their right to vote. The Georgia law leaves in place many voting options, in addition to showing up on Election Day. It eliminates signature matching, which should appeal to both parties. Vote tabulators will no longer have to subjectively decide the authenticity of two signatures.
GOP congressman: It's racist to suggest voter ID requirements hinder African-Americans. Rep. Mo Brooks, the Alabama Republican now running for U.S. Senate, says the "socialist Democrats" who argue that requiring a photo ID to cast ballots would hinder African-Americans voters are actually racist. Brooks, an ardent supporter of former President Donald Trump, said that everyone, regardless of race, has an equal ability to obtain photo identification in America. "They, the socialist Democrats, are arguing that Asian Americans, Hispanic Americans, Caucasian Americans, somehow have the ability to vote, have the ability to get photo ID, but the socialist Democrats are in effect arguing that somehow or another African Americans are inferior and unable to do what other races are doing, therefore, African Americans need to be protected in some fashion and should not be subject to voter identification," Brooks told the John Solomon Reports podcast on Monday [3/29/2021].
Also posted under Liberals think you're stupid.
Election Integrity and Its Discontents. Public opinion surveys consistently show that a majority of the electorate favors robust election integrity laws. The most recent Rasmussen poll of likely voters, for example, found that 75 percent — including 69 percent of black voters and 82 percent of other nonwhite voters — favor voter ID laws. Yet the Democrats and the news media insist that efforts by GOP state legislatures to bolster election integrity statutes amount to a sinister conspiracy to suppress the minority vote.
Georgia Gov. Brian Kemp signs sweeping election rule changes into law. Georgia Gov. Brian Kemp on Thursday [3/25/2021] signed sweeping changes to the state's election rules into law. The package approved by the Senate earlier this month imposes voter ID requirements, limits ballot drop boxes and allows the state to take over local elections.
Poll: Majority of Black and Hispanic Voters Support Voter ID. A majority of Americans, including a majority of black and Hispanic voters, overwhelmingly support voter ID, a key election integrity measure, a HEP and HEP Action survey — which comes as Democrats continue to advance H.R. 1 — revealed. Jason Snead, the Executive Director of the Honest Elections Project, sent a memo to members of Congress ahead of Wednesday's Senate Rules Committee hearing on House-passed H.R. 1, or the "For the People Act," which would essentially federalize U.S. elections, stripping states of their ability to implement basic election integrity measures, such as voter ID, by micromanaging the election process administered by each individual state.
Voter ID Protects Your Vote. Thirty-five states currently have photo ID requirements for a voter to prove their identity before they are handed a ballot at a polling place. If Nancy Pelosi's "HR 1" bill makes it past the Senate and to President Biden's desk, those laws will be nullified. Supporters of this abomination will call that assertion a lie or partial truth or whatever other euphemism "fact-checkers" wish to utilize. But that's only because they ignore the English language. HR 1 nullifies existing state photo ID requirements.
Photo ID and voting: Where the real focus should be. There can be no logical argument that requiring a government-issued photo ID to verify identity when voting reduces the opportunity for voting fraud. None. The left screams that it is somehow voter suppression to require such, since, according to leftists, if you are poor, black, or Latino, there is some magic wall that makes it too difficult or expensive for you to get a photo ID. They cite such things as the cost of the ID, obtaining a birth certificate, getting to a location for the ID, etc. These issues are the same for everyone, regardless of race.
It's time for Red States to start nullifying federal law. Here are some of the issues that could be affected by the concept of nullification: [...] [#5] Nullify all federal efforts to preserve fraudulent voting procedures. Conservative states need to immediately take action on election fraud and pass comprehensive voter ID laws, which, of course, will be attacked by Biden's DoJ as a "civil rights" violation. States also need to remove the estimated 2-3 million illegal aliens from its voting rolls. Indeed, a fact check site has documented that the millions of illegal aliens are currently voting and may have thrown the election to Biden. States need to stop disenfranchising its legal citizens and also purge from its voter rolls dead people, repeat registrations, and those who moved out of state.
'Tell Me Again, Why Is Showing A Voter I.D. Voter Suppression': Burgess Owens Slams Critics Of Voter I.D. Laws. On Thursday, Rep. Burgess Owens (R-UT) directly confronted a critic who accused him of "bias" because he opposed two gun-control bills while approving of requiring voters to show an I.D. in order to vote. Owens fired back, "You know what's racist? Assuming because I'm black that 'I just don't have the capability of getting an I-D.' Disclaimer: We are capable of getting and I-D (and even using the internet!)" [Tweet] Ownes [sic] added,"I used my I.D. to drive a car, to get a job, to board a plane, pick up prescriptions, and virtually everything else in life ... So tell me again, why is showing an I.D. 'Voter suppression'?"
Voting Rights Are Enhanced — Not Destroyed — by Laws That Make Elections More Secure. Voting rights are restricted to citizens over the age of 18 who are not otherwise prohibited from voting by state law. After many years of legislation at the federal level, every citizen who is 18 or older and registers to vote is allowed to do so without impediment. The only common exception at the state level is convicted felons and those who are currently incarcerated. Some states require a valid ID, but the dirty little secret is, so does the Democratic National Convention. However, no one accuses the DNC of trying to exclude minorities from their convention. But when any state requires a valid state ID to vote, especially one below the Mason-Dixon line, we are told that it's an attempt to suppress minority voters. That is really weird since voter ID is one issue that Americans agree on at a rate of approximately 70%. Voter ID pulls majority support from Democrats, Republicans, and unaffiliated voters, so it seems most Americans don't see this as a barrier to voting rights. Yet, Democrat-affiliated lawyers still fight these laws.
Georgia Senators Pass Bill to Require ID for Absentee Voting. The Georgia Senate on Tuesday pushed through the first batch of what could be a raft of restrictive voting measures Republican lawmakers say will safeguard voting but Democrats decry as based on a lie and aimed at overturning their party's recent electoral success in Georgia.
The Left Finds Time for One More Big Lie Against Trump. Once the system of voting breaks, the entire democratic enterprise is bankrupted. America's democratic republic already has become deeply damaged by a refusal to require in-person voter identification even when voting is done at the ballot box. This refusal has only one purpose: to shield and suborn voter fraud. Younger Americans who want to buy cigarettes or alcohol are carded. Older Americans likewise are carded at museums and movie theaters when they seek seniors' discounts. Americans are asked for identification at the airport, at the doctor's office and hospital, at the bank. It is natural in every society on the planet to be asked for identification. Thus the Left's insistence on uniquely not allowing voter identification at the polling site belies corrupt intent.
Republicans say thousands in Wisconsin may have circumvented voter ID requirement. Republicans in Wisconsin are raising questions about the large number of people, particularly new voters, who avoided having to show a photo ID to vote by listing themselves as "indefinitely confined." When requesting an absentee ballot, Wisconsin law allows voters to self-certify if they are "indefinitely confined" to their residence because of age, physical illness, or disability for an indefinite period of time. Doing so allows them to submit an absentee ballot without having to show any form of photo ID, although they must have a ballot witness sign off. This year, the number of indefinitely confined voters soared amid the coronavirus pandemic, leaving Republicans saying they are concerned about potential fraud. In 2019, about 72,000 voters said they were indefinitely confined. That number reportedly ballooned to 243,000 this year.
No ID? No Problem! Poll Workers Told Voters Do Not Have to Prove Their Identity. An instructor of poll voters in Detroit has confirmed that voters can show up to polling locations and vote in elections without showing identification or otherwise proving their identity. The instructor explained that voters without an identification would merely have to sign an affidavit, and then they would be given a ballot and allowed to vote. "The affidavit is only used if someone does not have ID at all. No ID at all. I stress over not turning voters away," she explained.
Expect Democrat Shenanigans, But Don't Panic. Now, they will cheat. That's baked in, and they are fully committed to it. That's why they hate hate hate voter ID — it's harder to cheat when you have to prove who you are. Voting-by-mail gets around that and offers all sorts of opportunities for mischief. They fully intend to try to leverage voting by mail to 1) get China virus paranoids and their usual lay-about voters to vote instead of just sitting home watching "Judge Judy," and 2) manufacture the necessary votes to swing the election. The turnout issue is important to them because all the numbskulls driving their cars alone with masks on are all liberal.
Do Voter ID Laws Actually Result in Disenfranchisement? Last Thursday [7/30/2020], President Trump whipped up another firestorm by suggesting that November's general election should be delayed, citing potential voter fraud due to extensive mail-in balloting as his rationale. With this latest controversy, we should expect to see not only pushback on Trump's idea, but a revitalization of the promotion of new — and the criticism of existing — various voter ID laws around the country. According to our friends on the Left, such laws are unfair, unconstitutional, and even racist. [...] If we are to believe the Left, voter ID laws are an existential threat to our democracy, but a closer look at the issue reveals a much different reality. To understand the Left's assertion, we must first understand what that perceived disenfranchisement looks like.
Democrats Project their own Character Flaws onto Republicans. Recently Democrats have begun screaming about voter suppression and screeching that every (illegal or fraudulent) vote must be counted. However, we should all remember that in the "hanging chad" vote count during the 2000 election it was none other than Al Gore who actively worked to suppress the vote of military personnel from Florida serving overseas, probably because he knew the military didn't support his politics. Democrats want people to be able to vote without a photo ID, even though you can't walk into a government building without showing a security guard your photo ID. Democrats have started using COVID-19 as an excuse to promote a campaign to implement wide scale mail-in voting, ignoring all the problems involving missing ballots, easy voter fraud, and delayed vote results.
How is this connected to fighting disease?
Democrats' coronavirus bill would eliminate states' voter ID requirement. Tucked inside House Democrats' new coronavirus bill is language that would create a loophole in states' voter ID requirements, allowing people to cast ballots without having to prove who they are. While the crux of the bill, revealed Tuesday, is a massive injection of taxpayer aid for states, localities and federal agencies dealing with the virus, Democrats also tackled some of their long-standing political goals. One section of the bill would require states to allow at least 15 days of in-person early voting before Election Day this year, and to also allow voting by mail for any reason, overriding states that have more limited policies.
Kentucky GOP overrides governor's veto of voter ID law. Whenever you hear a Democrat claim they are 'concerned' about 'election integrity' and are 'working to ensure' that our 'democracy is protected,' dismiss that the same way you would if someone told you they had the inside line on a winning horse at the racetrack. Because it's patently false. The party demonstrated that again in recent days when Democratic Gov. Andy Beshear of Kentucky vetoed a voter ID law for the usual talking points: Such laws are 'racist,' they 'stifle voting,' they 'harm our democracy,' and so forth. None of these things is true, mind you, but Democrats are not a party built on truth, justice, and the American way. Today's Democratic Party is built to win elections at any cost, no matter what has to be done up to and including massive vote fraud, as we've seen many times in the past.
Virginia Governor Signs Legislation Repealing Voter ID Law. Virginia will no longer require voters to present a photo ID in order to cast a ballot, Governor Ralph Northam announced Sunday [4/12/2020] as he signed several pieces of voter access legislation. [...] The governor also signed legislation to make Election Day a state holiday, repealing and replacing Lee-Jackson Day, which honored Confederate generals Robert E. Lee and Stonewall Jackson. Additionally, Virginia will implement automatic voter registration for people who access services at the DMV and expand polling station hours as well as early and absentee voting. Polling stations will be open until 8 p.m. instead of 7 p.m. Voters will be able to vote up to 45 days before to an election without providing the state with an approved excuse.
Democrat Kentucky Governor Vetoes Mandatory Voter ID for 2020 Election. Kentucky Governor Andy Beshear (D) has vetoed legislation that would mandate state voters to show a photo ID before they vote in the 2020 presidential election, and every election after. Last week, Beshear announced his veto of mandatory voter ID legislation that ensures all registered voters must prove their identity before they cast a ballot, starting in November.
'Voter Suppression' Is a Myth, but It's an Article of Faith to Liberals. I received a strong dose of the misinformation warping the minds of young people this past weekend when I spoke on a panel on the subject of election integrity at the Washington conference of Junior State of America. Conference attendees were high school students from the northeast and southeast parts of the country. I was on a five-member panel — and the only conservative on the panel — in a standing room-only crowd. As you might imagine, the focus of the liberals on the panel was the "voter suppression" meme that the left has been pushing for years to scare voters and their constituencies. It's a false narrative belied by the facts, such as the relatively high levels of turnout in a non-presidential year in 2018 in many states, including in Georgia, or the numerous studies that have concluded that voter ID laws are a commonsense reform that does not keep voters out of the voting booth.
No Citizenship Proof Required for Voter ID at DMV? The Wisconsin Department of Transportation wants everyone to know that getting a free ID for voting is easy. Maybe too easy. The DOT page detailing the Wisconsin ID card petition process advises individuals seeking a voter ID card to provide the Division of Motor Vehicles with the usual identifying information — a birth certificate, Social Security card, proof of Wisconsin residency (utility bill, government mail, etc.), and proof of U.S. citizenship. "If you don't have all or any of these, you can still get an ID for voting," the web page assures.
Obama judge nixes ID law, erases will of voters. A constitutional amendment mandating voter ID in the Tar Heel State was struck down on the last day of 2019. Even though North Carolina voters approved the measure by a ten-point margin in 2018, Federal District Judge Loretta Copeland Biggs unilaterally struck it down, ruling that it constitutes voter suppression and reflects the state's "sordid history of racial discrimination."
Over 2 Million Voters Approved North Carolina's Voter ID Amendment — One Unelected Democratic Judge Just Threw it Out. It's a cornerstone of our democracy: Government is to be of the people, by the people, and for the people, deriving its authority from the consent of the governed. These fundamental principles are at stake in North Carolina, due to a ruling from an activist federal judge on voter ID.
Oh, the lies they tell about voter ID. Screaming opponents of voter ID laws, who argue that such a commonsense measure suppresses the vote or is even racist, are terrible liars. The best lies, after all, have to be remotely credible, and theirs are not. This is the most important conclusion to draw from a new and illuminating study from the National Bureau of Economic Research. Researchers Mark Hoekstra and Vijetha Koppa looked at more than 2,000 election races in Florida and Michigan. In those two states, where voters are asked for an ID at the polls but can still vote without it, the study found what common sense would suggest: that nearly everyone has and brings an ID when they go to vote, even in places where it isn't strictly necessary.
AOC Doesn't Know Student IDs Don't List Citizenship or Legal Status. [T]his tweet is going around Twitter today: "Your reminder that in Texas, you can vote with a gun permit but not a student ID." The tweet included pictures of a Texas concealed carry ID and and a Texas University student ID. Democrats think this is a clever tweet. Even Squad leader Alexandria Ocasio-Cortez retweeted it. To secure a concealed carry permit in the state of Texas you must be a "legal resident" in the state of Texas. To secure a school ID you can be any yahoo from any other state or country. Obviously, this was too difficult a subject for Democrat Ocasio-Cortez.
8th U.S. Circuit Court of Appeals reinstates North Dakota voter ID requirement. Democrats vehemently oppose voter identification (ID), claiming that requiring voter ID is a form of "voter suppression" because, for some inexplicable reason, requiring them to show their IDs especially would discourage and prevent people-of-color from voting. But as The Daily Signal points out, voter ID laws are rooted in a desire to promote election integrity because election fraud has been and continues to plague U.S. elections, as can be seen in The Heritage Foundation's election fraud database. Moreover, a recent study by the National Bureau of Economic Research shows that voter ID laws have no discernible effect on reducing the turnout of voters. Over the period 2008 to 2016, the researchers found that voter ID "laws have no negative effect on registration or turnout, overall or for any group defined by race, gender, age, or party affiliation."
Voter ID Opponents Lose Again. This Time in North Dakota. Opponents of election integrity lost the latest in a long string of cases recently when a three-judge panel of the 8th U.S. Circuit Court of Appeals reinstated North Dakota's voter ID requirement and tossed out an injunction that had been issued by a lower court. In Brakebill v. Jaeger, Judge Steven Colloton, writing for the 2-to-1 majority, concluded that the supposed burden of obtaining an ID by the less than 0.5% of all eligible voters who do not already have one did not justify a statewide injunction that prevented the state from implementing the ID requirement. North Dakota is the only state in the Union that does not require citizens to register to vote. You can show up on Election Day and vote in North Dakota — as long you show identification.
The Myths of Voter ID. The evidence that voter ID laws meaningfully suppress minority votes has always been shaky; a literature review in 2017 that filtered out studies with obvious design flaws reported "modest, if any, turnout effects of voter identification laws" in the best research on the subject. So a voter ID requirement might possibly affect the closest of close races, based on what we've learned up till now — but if the Cantoni and Pons results hold up, the real effect is basically nil. But before conservatives claim vindication, the new paper also casts doubt on the argument for voter ID laws, finding no effect on fraud itself, nor even any effect on public confidence in the integrity of the ballot.
Preparing for 2020 in Our So-called 'Democracy'. Whenever election officials have doubt about the eligibility of a voter, that voter can request a provisional ballot, regardless of whether he's on the registry or not. But that fact doesn't deter Democrats from squawking about voter suppression. Complaints about voter suppression shouldn't be taken seriously when voters haven't demanded provisional ballots. [...] The safeguards the states use to ensure election integrity are on the "front end." These include voter registration, showing ID, signing in at the polls, etc. Such devices are meant to keep ineligibles out of elections.
Nancy Pelosi is trying to federalize California's bad election laws. H.R. 1 would be incomplete without the latest attempt to resuscitate the preclearance portion of the Voting Rights Act of 1965, which forced some states to ask federal permission to make any change at all to their election procedures. Sponsors want you to believe voting discrimination is as pervasive as it was in 1965. But it's 2019, not 1965, and times have changed. Taken together, this package will be a bridge too far for Senate Majority Leader Mitch McConnell, R-Ky. The Democrats' strategy is to push key components such as the preclearance renewal on a spin-off basis. However, it is not 1965 anymore, and not many Senate Republicans are gullible enough to believe that voter ID or citizenship verification of voters is the second coming of Jim Crow.
'Reasonable' Conservatives. A few weeks ago, New York Times columnist Ross Douthat urged Republicans to give up their push for stricter voter ID laws. In making this argument Douthat cites a study suggesting that while stricter voter ID laws have no effect on voter turnout, let alone disproportionate effects on certain racial groups as Democrats have often suggested, they also had no effect on fraud or the perception of election integrity. In view of this, Douthat argues, Republicans should stand down on stricter laws so as to make it easier to make inroads with minority groups convinced that voter ID laws are about curtailing their franchise.
You can vote all you want, but a single activist judge may decide he has better ideas.
NC judge strikes down voter ID amendment. A controversial voter ID amendment in North Carolina is no more. The measure was one of two constitutional amendments passed in the last election that a superior court judge in North Carolina threw out on Friday [2/22/2019]. Wake County Judge Bryan Collins ruled that a new voter ID amendment and a cap on state income tax, both passed by North Carolina residents in the 2018 midterm elections, violated the state constitution.
Study: Voter ID Laws Don't Stop People Voting. Requiring photo ID to vote is a hotly contested subject in American political discourse. Proponents argue that it is necessary to insure against fraud and preserve the integrity of the American electoral system. Opponents argue that it will disenfranchise otherwise eligible voters — many of whom would be poor and of color — who are unable to easily obtain ID. In total, 10 states, ranging from Georgia to Wisconsin, require voters to show ID in order to vote. Seven of those states require a photo ID, and three do not. An additional 25 states "request" that voters display ID, but may still permit them to vote on a provision ballot if they cannot. The remaining states "use other methods to verify the identity of voters," according to the National Conference of State Legislatures.
Hardcore Leftists Challenge No. Carolina Law Requiring Photo ID to Vote. North Carolina voters [leftist voters] are challenging a new state law that requires photo identification at polling places, the Charlotte News and Observer reported Thursday [12/20/2018]. [...] The lawsuit claims voter ID creates an undue burden on the right to vote for African-American and American Indian residents. They claim it adds a financial cost to voting. There are the lost work hours and the need to find transportation to obtain an ID.
North Carolina voter ID law faces court challenge — immediately after GOP overrides Dem governor's veto. Republican lawmakers in North Carolina completed an override of Democratic Gov. Roy Cooper's veto of a new voter ID law this week — and immediately faced a challenge in court. Six voters described as either black or biracial residents filed the lawsuit Wednesday, mere minutes after the state House voted to override the veto 72-40. The state Senate had voted to override Tuesday [12/18/2018], the News & Observer of Raleigh reported. Republicans have blasted Cooper, who last week had said no to the legislation even though more than 55 percent of the state's voters had approved it in a recent referendum.
Ending Election Fraud. Just what is so hard about requiring a voter to physically show up on election day with an ID that proves they are alive, an American citizen, and who they say they are? Photo IDs are required to board an airplane, an Amtrak train, open a bank account, buy liquor, cash checks, enter a federal building, and for a multitude of daily activities. Consider this bit of irony: when Eric Holder went to Texas to denounce the voter ID laws of that and other states, each person entering the LBJ Library where he spoke was required to present his photo IDs in order to be allowed in to hear the speech. The empirical evidence shows that voter ID laws do not suppress minority voting. In Georgia, black voter turnout for the 2006 midterm elections was 42.9 percent. After Georgia passed its photo ID, black turnout in the 2010 midterm rose to 50.4 percent. Black voter turnout also rose in Indiana and Mississippi after they enacted their voter ID laws.
Look who's behind 'Voter ID is racist' campaign. A radical group funded by billionaire George Soros that has a history of biased research is primarily behind a national campaign to paint voter ID laws as racist. The voter ID data collected by the group, the Brennan Center for Justice, has been called into question by experts and has been contradicted by other credible studies. Yet the center's information is cited widely by news media and even members of the Obama administration.
What you need to know about the WV Voter ID law. In January 2018, a new law began in West Virginia requiring voters to provide identification when they go to their polling place. While there are a few exceptions, voters should be prepared before heading out to cast their ballots. There are a number of eligible documents that can be used for identification, both with and without photos. Either way, any ID shown for voting purposes must be valid and not expired.
Tennessee's Election Boss Pushes Back On Vice Contributor Who Claimed The State's Voter Id Law Silenced Him. Davis Winkie, a resident of Georgia who was attending college in Nashville in 2016, detailed in a story Thursday that he had registered to vote in Tennessee via the state's online voter registration system. He was unable to cast a ballot on Election Day because he didn't have a valid Tennessee ID, despite arriving at the polls with his voter registration card, Georgia driver's license, school ID, his lease and birth certificate. But Tennessee's coordinator of elections, Mark Goins, said Winkie was eligible to receive a free photo ID from the state for the purpose of voting using the exact documents Winkie claimed the state wouldn't accept.
The Biannual 'Voter Suppression' Scam. The only thing more certain than death and taxes is that, every election cycle, the Democrats will accuse Republicans of "voter suppression." They inevitably insist that requiring individuals to possess photo identification in order to cast a ballot is a sinister right-wing conspiracy to prevent minorities from exercising the franchise. For black conservatives like Candace Owens, this claim is incredibly patronizing. It implies that, as she recently put it, "Black people are too stupid to figure out how to get identification." She is right, of course, but the Democrats dislike voter ID laws for another reason: They depend on fraud to remain viable.
The 'Voter ID Is Racist' Con. [Scroll down] Despite these alleged racist roadblocks to the ballot box, in 2008 blacks voted at a higher percentage than whites. That same year, liberal Supreme Court Justice John Paul Stevens wrote one of the majority opinions in a 6-3 case that upheld Indiana's voter ID law, which required voters to show a photo ID — such as a driver's license or passport — before casting their votes. Stevens recognized "flagrant examples of (voter) fraud" throughout America's history and wrote that "not only is the risk of voter fraud real" but "it could affect the outcome of a close election." The additional burden on voters, Stevens argued, is more than offset by "the state's interest in counting only the votes of eligible voters." Blacks also support voter ID. A 2016 Gallup poll found that 77 percent of non-whites support voter ID, nearly as high as the 81 percent of whites who support it. The fact that voter ID is legal and popular does not, of course, affect the view that it "suppresses" the minority vote. The George Soros-supported website ThinkProgress ran a story last year with this menacing headline: "New Study Confirms that Voter ID Laws Are Very Racist."
Supremes Clear Way For Voter ID Requirement In Key Senate Race. The U.S. Supreme Court will allow a North Dakota law requiring voters to produce government ID with a current residential street address when casting ballots to take effect. The decision, which came Tuesday [10/9/2018] and drew a brief dissent, will effect one November's most critical Senate races. A group of American Indians challenged the residential street address requirement, arguing that it imposes "impossible and severe burdens on the franchise for Native American voters," as many live on reservations or otherwise lack ordinary street addresses. A federal judge agreed and prohibited the law.
Most Minorities Support Voter ID Laws. It's a truth universally acknowledged that laws requiring voters to show some form of identification have only one purpose: to suppress minority turnout and help the Republican party. [...] Of course, that argument is specious in the extreme. In the absence of laws designed to protect the electoral process — like voter ID requirements — it would be extraordinarily difficult to prove voter fraud. And anyone who lives in a jurisdiction without voter ID provisions can see how easy it would be to commit fraud. I was taken aback the first time I voted in the District of Columbia. At my precinct, all I had to do was claim my name was Ethan Epstein, and I was off to the races. Literally anybody who knew I lived in Washington could have voted under my name.
25 Reasons I'm Not a Democrat. [#11] Asking people to show a government ID when they vote is just common sense if you really care about stopping election fraud.
Texas Declares 'Final Victory' in Voter ID Lawsuit. A United States District Court judge dismissed the lawsuit which challenged the Texas voter ID law, announced Attorney General Ken Paxton late Monday [9/17/2018]. The 2017 Texas voter ID law (SB 5) cleared its final hurdle when the Fifth Circuit honored a request made last month by the opponents of the state's voter ID law to dismiss any remaining claims since the matter was settled and there was nothing left to pursue in this case. This marked the end of seven years of litigation over the state's attempts to enact a voter ID law.
The AP's War on Donald Trump, Voter ID Edition. Tonight [7/31/2018] President Trump addressed a raucous rally in Florida. His speech featured a call for voter ID, a popular issue with most Americans but one the Democratic Party press opposes, since pretty much all voter fraud favors the Democrats. The Associated Press, perhaps Trump's most bitter enemy other than CNN and MSNBC, headlined just one "fact" about Trump's speech: "Trump at rally makes false claim on photo IDs for groceries."
Trump in Florida: 'The Time Has Come for Photo ID' for Voting. PJM's Roger Simon wrote last week that he was pleasantly surprised to learn that his new home state of Tennessee requires voters to present a photo ID at the polls — unlike his former home state of California, where he wasn't asked to show any identification. In fact, Tennesee is one of only a handful of states that require a photo ID to vote.
We could learn a thing or two from Mexico's voting system. Down in Mexico, elections are on Sunday, and everyone is supposed to vote. [...] Mexico can teach us a thing or two about voting. The Mexicans have a wonderful voter ID system, [...] and everyone south of the border speaks highly of it.
Appeals Court Upholds Texas Voter ID Law. The U.S. Court of Appeals for the Fifth Circuit overturned a lower court on Friday [4/27/2018] to allow a Texas voter ID law to remain in place in a case that could be a major breakthrough for conservative anti-voter fraud efforts. Judge Edith Jones's 17-page opinion for the court reverses a district court injunction that blocked the law, known as SB 5, from gong into effect. The law at issue, SB 5, was written last year specifically to address Voting Rights Act concerns with its 2011 predecessor, SB 14. It will now go into effect as planned.
Court upholds Texas' law in another big voter ID ruling. Texas' voter ID law that was twice blocked over findings of discrimination can stay in effect for the 2018 elections, a U.S. appeals court ruled Friday [4/27/2018].
Chicago ID card would be valid voter identification. Municipal ID cards that Mayor Rahm Emanuel is launching for undocumented immigrants and others will be a valid form of identification for people both registering to vote and voting in Chicago, according to a letter aldermen received Friday [2/16/2018]. Clerk Anna Valencia, who's heading up the CityKey program, cited state election rules to explain why the Chicago Board of Election Commissioners will accept the card.
Trump backs voter ID laws and goes after 'Democrat States' who thwarted his controversial voter fraud commission. In Thursday morning tweets, President Trump revealed that he still believes there was widespread voter fraud despite disbanding his controversial voter fraud commission on Wednesday. 'Many mostly Democrat States refused to hand over data from the 2016 Election to the Commission on Voter Fraud,' Trump tweeted. 'They fought hard that the Commission not see their records or methods because they know that many people are voting illegally. System is rigged, must go to Voter I.D.'
Dear Democrats: Does Trump do anything that's not racist? [Scroll down] John Lewis and others continually protest that photo ID laws to vote suppress and oppress minorities and the poor, so why don't they protest all the other laws that require photo IDs, including to open bank accounts, get medical care, get prescriptions, drink, smoke, get some over-the-counter drugs, ride on planes and trains, and so many other things people need to do in order to live a normal life? The other day, I had to show a valid photo ID to get an Amtrak ticket. The government at all levels frequently requires photo IDs to walk into government buildings. It is clear from the fact that Lewis, journalists, other Democrats, and the ACLU don't protest other photo ID laws because they know that virtually all Americans over 18 have the ability to get a photo ID. The only reason to protest photo ID laws for voters is to allow ineligible people an easier opportunity to vote. No citizen is being suppressed.
Federal Courts Have Ruled that Texas Can Implement Previously Blocked Voter ID Law. Showing an ID to vote should not be a controversial thing. You show your ID all the time for different things. But the left has turned it into a political controversy because they want illegal aliens and refugees to vote and vote for them. Texas has been trying for a long time to implement a voter ID law and they have been continuously shot down in the courts by leftist judges. The left hysterically claims that forcing minorities to show voter ID is racist, which is just sheer insanity.
Clinton's former top campaign lawyer behind New Hampshire voter ID lawsuit. The former top campaign lawyer for failed Democratic presidential candidate Hillary Clinton is behind yet another lawsuit against a state's voter identification laws, the latest in a series of challenges that stem back to 2015. Previous efforts launched against voter ID laws were backed by millions from liberal billionaire George Soros, who has a personal goal of enlarging the electorate by 10 million people by 2018, as documents leaked last year show.
Appeals court, 2-1, gives Texas OK to use new voter ID law. A divided federal appeals court has stayed a lower judge's ruling barring Texas from implementing a revised version of its voter identification law. A panel of the New Orleans-based 5th Circuit Court of Appeals voted, 2-1, to allow Texas to use the revised voter ID measure known as SB 5 for this November's elections.
Clinton's Former Top Campaign Lawyer Behind New Hampshire Voter ID Lawsuit. The former top campaign lawyer for failed Democratic presidential candidate Hillary Clinton is behind yet another lawsuit against a state's voter identification laws, the latest in a series of challenges that stem back to 2015. Previous efforts launched against voter ID laws were backed by millions from liberal billionaire George Soros, who has a personal goal of enlarging the electorate by 10 million people by 2018, as documents leaked last year show.
Federal judge blocks further implementation of Texas' voter ID law. A federal judge in Corpus Christi blocked further implementation of Texas' controversial voter identification law, after finding for a second time that it intentionally discriminates against minorities. In a court order Wednesday [8/23/2017], U.S. District Judge Nelva Gonzales Ramos blocked Texas from implementing portions of the 2011 voter ID law, which was considered to be one of the strictest in the country. And in a striking blow to the state, she blocked entirely a revamp to the law that the Texas Legislature passed earlier this year as Senate Bill 5. The legislation was an effort to appease Ramos and do away with the finding of discriminatory intent.
Mr. President, Meet Avner Shapiro, Saboteur From the DOJ Swamp. President Trump is reportedly frustrated with Deep State leakers trying to sabotage his agenda. President Trump, meet Justice Department lawyer Avner Shapiro. President Trump is a supporter of voter identification laws. Avner Shapiro is not. From his perch at the Voting Section of the Department of Justice's Civil Rights Division, Avner Shapiro has exerted more will over DOJ's approach to voter ID — particularly against Texas — than has the president. That's not how a democratic republic is designed to work. A story built entirely on leaks and designed to attack Trump priorities appeared in the Soros-funded Pro Publica. It was packed with confidential insider information about the Trump Justice Department's litigation decisions about state voter ID laws and the internal views of lawyers at the Justice Department.
Why kids can't think. [Scroll down] Kids are also indoctrinated to believe that anyone who wants to require photo IDs to vote is trying to oppress the vote and is a racist. I wonder why the kids won't question the professor as to why those same people who can't get photo IDs are required to have them for so many other things by the government.
California Democrats Claim Their Party's Chair Election Corrupted Because Of Lack Of VOTER IDs. [Kimberly] Ellis, the former director of Emerge America, a women's political organization, lost the election by a narrow margin of 62 votes out of 3,000 cast. Her loss immediately set off protests from hundreds of her backers, many of whom charged that there were irregularities that included allowing voters to cast proxy ballots without proper ID.
Supreme Court Deals Blow to North Carolina Over Voting Rights. The U.S. Supreme Court declined Monday [5/15/2017] to hear North Carolina's appeal of a court ruling that found its legislature intended to discriminate against minorities in enacting one of the toughest voter ID laws in the nation. The action leaves in place a federal appellate court ruling which previously struck down portions of the law and blocked enforcement.
The AP Attacks Voter ID. The Associated Press is generally a mouthpiece for Democratic Party talking points. That is the case as to voter ID, as this rather pathetic piece shows: "In Wisconsin, ID law proved insurmountable for many voters." [...] The obvious question is: how many? The reporter now tells us that the number of people who didn't vote because they lacked proper ID is "unknown." The article identifies exactly four.
Iowa Adopts Voter-ID Law. Iowa on Friday [5/5/2017] became the latest state to enact a voter-ID law to protect the integrity of its election process, and the state's elected leaders are already bracing for a legal challenge seeking to invalidate that law before it can go into effect next year. Gov. Terry Branstad, a Republican who is the longest-serving governor in the nation, signed the legislation into law on May 5. The bill, House File 516, specifies voter-identification requirements to cast a ballot in elections, shortens the time period for early voting, and updates the state's absentee-voting procedures.
New Study Says Voter ID Laws Are NOT Racist. The mainstream media and American Left would have you believe that Republican-backed voter ID laws are racist because they disproportionately affect minorities. [...] In new research studying the accuracy of [Professor Zoltan L.] Hanjal's claim, researchers from Stanford, Yale, and the University of Pennsylvania find that the claims are simply not true.
Texas Democrats Will have to Find a New Way to Fix Elections. In a surprise move, President Trump acting through the DOJ has withdrawn opposition to the Texas voter ID law. This means that it is likely the state of Texas will be bringing in laws to enforce the presentation of ID when voting. Not surprisingly, Democrats are furious. The MSM are calling it an assault on minority voters, while those on social media are pointing out that getting an ID is not difficult and that ID is required for almost every service in modern America.
Irony: DNC Required Voter ID and Paper Ballots for Chair Vote. "We have to make sure that we can not just count the ballots but verify every name and signature," Brazile said as party members began applauding. "And I want to make sure that at the conclusion of all of our votes, that you, the members of this party, will be able to review those ballots."
Washington Post demonstrates importance of voter ID laws. Little agitates Democrats more than claims of voter fraud. Such fraud is a hardy perennial of American politics. Our history is full of examples, such as Mayor Daley's Chicago. Yet, Democrats want us to believe that, notwithstanding solid evidence to the contrary, it's not a problem in modern American politics. The reason is obvious. Democrats don't want laws and procedures to protect against voter fraud because they want to preserve their ability to engage in it.
Justice Ginsburg: Yeah, I Would Support Changing The Electoral College. Hillary Clinton ran for president — and she lost. But the Left still can't let it go. [...] There was a huge outcry to abolish or tweak the Electoral College because liberals think that whoever gets the most popular votes should be president, which also exposed that they also failed civics class. The popular vote means nothing. Whoever wins the majority of the Electoral College is elected president of the United States. Trump won the majority of the states (30) and 304 electoral votes. He won. No one disputes that, not even Clinton's campaign team. Yet, we saw endless thought pieces about how the Electoral College was antiquated (wrong) and had racist roots (even more wrong).
Democrats Quickly Build Massive Network to Combat Voter ID Laws. Democrats are moving swiftly to build a large network to push back against voter identification laws after President Donald Trump claimed illegal immigrants gave Hillary Clinton the edge in the popular vote and called for a "major investigation" into potential voter fraud. Democratic-aligned groups have since rolled out what amounts to a large infrastructure to oppose any potential Republican efforts to enact further voter ID laws. Let America Vote, a nonprofit that filed paperwork with the Federal Election Commission Monday, has been established by former Democratic Missouri Secretary of State and failed Senate candidate Jason Kander. The group says they are dedicated to "winning the public debate over voter suppression in the United States."
Trump's Got a Big Job Reining In Voter Fraud. It is no coincidence the 18 states plus the District of Columbia that demand no form of identification are those that normally support Democratic Party candidates. California, Illinois, New York, and New Mexico have disproportionately large numbers of immigrants and little effort is made to ensure which are legally entitled to vote. State officials in these jurisdictions actively avoid finding out what is going on. Officials in these states advance the predictably patronizing notion that members of minority groups are somehow less capable than Caucasians of securing any of the many legitimate forms of identification, and therefore are disproportionately turned away from the polls. Despite the fact that study after study prove this to be untrue and minority voter turnout essentially is unaffected by ID requirements, the left plods on with these foolish assertions.
Election Integrity Can't Wait. Every invalid ballot dilutes the votes of the rest of us. A democracy that does not secure the polls represents rule by the crooked rather than by the people. Nevertheless, Democratic politicians have fought to make fraud simple. They don't put it that way, waxing eloquent about battling against voter "suppression" and the like. But the only person who suffers when an ID is required is someone seeking to cast a ballot in another person's name.
Supreme Court rejects Texas voter ID appeal. The Supreme Court said Monday it will not hear an appeal of a lower court's ruling striking down a Texas law requiring voters to show photo identification at the polls, effectively killing one of the strictest such laws in the nation.
Supreme Court won't rescue Texas voter ID law. The Supreme Court on Monday let stand a lower court's decision striking down Texas' tough voter ID law, handing voting rights advocates a victory that could prove fleeting. Chief Justice John Roberts warned that the case could come back to the high court after further skirmishes at the federal district court level are completed. The Trump administration received a 30-day delay in the lower court case Friday amid speculation it may switch sides and defend the law.
Obama's Final Whopper as President. President Obama is known for telling some whoppers — "If you like your health-care plan, you can keep it" is perhaps the most infamous — so it shouldn't surprise anyone that he told a final one as president right before leaving office last week. At his final press conference, Obama promised that he would continue to fight voter-ID laws and other measures designed to improve voting integrity. The U.S. is "the only country among advanced democracies that makes it harder to vote," he claimed. [...] But Obama's first statement, that the U.S. is unique in trying to enforce ballot integrity, is demonstrably false. All industrialized democracies — and most that are not — require voters to prove their identity before voting.
No, Voter ID Laws Didn't Cost Clinton The Election Either. For starters, voter ID laws are very popular, even among nonwhites. In fact, it's one of the most popular policy initiatives out there, garnering 80 percent support with voters. Richard Hasen wrote in the liberal Talking Points Memo last month how the Left shouldn't get all wrapped up blaming voter suppression for killing Clinton's presidential hopes.
Smug, Racist Elitists Get Annihilated By "Voter ID" Myth. African American talk show host Wayne Dupree has had it with liberals telling him that voter ID laws are racist, because somehow black people aren't capable of getting identification? I don't really understand their "logic" there. So, he sent Ami Horowitz out to the streets to expose how liberals really feel about black people and boy did he turn up some interesting footage. Almost every response in the video contained the word "racism," claiming the laws prevent a significant portion of minorities from voting. This might make sense to insulated white liberals with no knowledge of life as a black person, but when actual African Americans hear their thoughts, the story is quite different. [Video clip] I laughed through the entire last half of that video, because it's just so funny how disconnected these people are from reality. They have this perception of black people as being poor and unable to provide themselves with the basics. Second only to my bank card, my driver's license is the most used card in my wallet. You need your ID for just about everything these days and without it, you wouldn't be able to receive most of the goods and services we take for granted.
Jill Stein's Agitations About Possible Vote Fraud Prompts Michigan Legislature to Pass Voter-ID Requirements Bill. The current law, Sexton says, allows you to sign an affidavit affirming your identity in lieu of providing an ID. Note to Michigan: You can't catch someone defrauding the vote here because they're signing a name and address that isn't their own. How you gonna track them down? The new law would allow them to cast a provisional vote without an ID, but they'd have to show up within ten days after the election to present their ID to officials before their provisional vote would be treated as an actual vote and counted.
Fake ID's: Threat to Elections. The use of fake drivers licenses isn't just limited to teenagers drinking beer, but can be used by terrorists, illegal immigrants and fraudulent voters to go around barriers set up by law enforcement. The trend also poses a threat to this presidential election in states where voter ID laws are in place.
N.J.'s 4th largest city may soon offer IDs to unauthorized immigrants. Elizabeth could soon become the latest New Jersey municipality to offer local identification cards to unauthorized immigrants, homeless people and others. An ordinance to make photo ID cards available to people who may not have any other form of identification was approved on first reading Tuesday [10/25/2016], and a final vote is expected next month.
Recordings show Wisconsin DMV workers giving wrong info on voter ID cards. A federal judge has ordered the Wisconsin Division of Motor Vehicles to investigate undercover recordings that show DMV workers giving misinformation to a prospective voter who was seeking a photo ID to vote. Under the state's strict new voter identification law, all voters must present a state-issued photo identification at the polls, or attach a copy of one to an early voting ballot. State and federal courts have ruled the state must make the photo IDs readily available in no more than six days of an individual's application.
Dead voters and other horror stories. There is nothing more aggravating in the entire liberal canon than the myth of voter suppression. What exactly is meant by voter suppression? According to most sources, it is the effort to prevent eligible voters from exercising their right to vote. So what are some examples of that? Best known is the use of photo ID, requiring voters to demonstrate positively that they are the person they claim to be when they vote. But there are many other allegations of how voting is suppressed, such as requiring proof of citizenship. Both of these common-sense requirements are widely characterized by liberals as targeting minorities and immigrants, and we are told repeatedly that minorities don't have access to photo ID or to citizenship papers such as a birth certificate.
Appeals court blocks proof-of-citizenship voting requirement. A federal appeals court on Friday [9/9/2016] blocked Kansas, Georgia and Alabama from requiring residents to prove they are U.S. citizens when registering to vote using a national form.
Appeals Court blocks Kansas, Alabama, Georgia on voter ID rule. A U.S. Court of Appeals on Friday [9/9/2016] blocked an effort by Alabama, Georgia and Kansas for voters to furnish proof of citizenship when registering at the polls, which opponents say disenfranchises voters, especially minorities. The decision effectively strikes down a rule that requires voters in the three states to provide proof they are United States citizens. Elsewhere, voters only need swear that they are citizens in order to cast a ballot. "With just weeks to go before a critical presidential election, we are grateful to the court of appeals for stopping this thinly veiled discrimination in its tracks," Chris Carson, president of the League of Women Voters, which had sued to block the new requirements, said in a statement.
US high court refuses to reinstate North Carolina voter ID. A divided U.S. Supreme Court refused Wednesday [8/31/2016] to reinstate North Carolina's voter identification requirement and keep just 10 days of early in-person voting.
If Voter IDs Are Racist, Everything Requiring IDs Should Be Considered Racist. By law, one has to present a valid form of identification in order to purchase restricted items. If progressive sensitivities (aka their liberal agenda) say that voting is a right that should not be taken from someone just because they don't have proper identification, shouldn't the same be said about buying beer? Cigarettes? If someone is a U.S. citizen who has chosen to not get valid identification, why should their right to purchase items be removed based upon racial discrimination? They should just be able to go in and say that they're of a valid age just as a voter can in North Carolina today. If that doesn't make any sense to you, it's because you can't warp your brain to the way that a liberal is required to think.
Supreme Court splits, leaving North Carolina voter ID law overturned. After issuing a split 4-4 vote Wednesday [8/31/2016], the U.S. Supreme Court has left in place a lower court's ruling overturning a restrictive voter identification law in North Carolina. The vote came after North Carolina Gov. Pat McCrory's administration filed a request for an emergency stay to stay the Fourth Circuit's decision overturning the law.
Amid Voter ID Battles, Here Are 7 Things the Government Requires IDs For. As federal courts wrestle with voter ID laws in several states just months before a national election, there is considerably less attention being brought to other constitutional rights that require ID. Proponents of voter ID have argued that retailers require ID to buy liquor, M-rated video games, prescriptions, or even nail polish. But these arguments aren't really applicable to voter ID, said J. Christian Adams, general counsel for the Public Interest Legal Foundation, and a former Justice Department attorney, who supports voter ID and other election integrity laws.
Americans Affirm Voter ID Laws. While waiting in line to vote in 2014, in one of the most conservative counties in Texas, I observed a diverse group of adults of all ages and various income brackets, including whites, blacks, Latinos, and Asians, some disabled, produce a photo ID and proceed to vote without the slightest hitch. [...] Contrary to claims of opponents, minority voter participation has increased in states with photo ID laws. Nonetheless, President Obama's Department of Justice, the ACLU, and a host of leftist organizations continue their crusade against photo ID laws, which they liken to images of KKK thugs with billy clubs menacing a polling place in Dixie, circa 1960. But when it came to billy-club-armed New Black Panthers menacing a Philadelphia precinct in 2008, not to worry. Obama's DOJ dismissed the voter-intimidation case against the Panthers in 2009, as recounted by J. Christian Adams, one of the DOJ attorneys who prosecuted the case and resigned in protest when it was dismissed. As an aside, catch the irony when the Panther with a billy club asks a reporter for his ID.
Judges Put Election Reforms in Wisconsin on Hold, Except for Voter ID. On Monday [8/22/2016], a three-judge panel of the 7th U.S. Circuit Court of Appeals refused without comment to stay a Wisconsin district court opinion in One Wisconsin Institute v. Thomsen that threw out changes the state legislature had made in early voting rules as well as other changes such as the residency requirement for new voters. However, the state's voter ID law will remain in place for the November election because the district court judge, James D. Peterson, a President Barack Obama appointee, stayed his earlier ruling against the ID law on Aug. 11.
To ID or not to ID? Every election cycle we must endure challenges and allegations about fraud (conservatives) and discrimination (liberals) when it comes to voter ID laws. This year is no different. A federal court ruled that the Texas Voter ID law passed in 2011, requiring voters to present official photo identification, discriminated again poor, minority and disabled voters and ordered a judge to approve new interim rules for the Nov. 8 election. The new rules will broaden the list of acceptable forms of ID. Voters will now be able to present, among other things, an expired ID, a government check or a current utility bill. "Supporting documents don't have to have a photo, reports The Austin Chronicle, "but if they happen to, then voters will need to present the original. Otherwise, they can present a copy."
Light turnout eases fix for Madison absentee ballots; voter ID confusion minimal after court rulings. While not a ringing endorsement of democracy, the light turnout in Tuesday's primary had one upside: It provided poll workers some relief in dealing with a major problem involving absentee ballots sent to Madison voters. As in-person voters trickled in, poll workers were busily remaking faulty ballots that had been sent to voters before a problem with the printing margin was discovered. The mistake caused voting machines to reject some ballots during tests, forcing poll workers across the city to meticulously duplicate faulty ballots while conducting their normal Election Day responsibilities. "I haven't heard of any troubles getting through the absentee ballots, probably because of the lower turnout," City Clerk Maribeth Witzel-Behl said. "If this had been November it would likely have delayed the results."
Despite recent rulings, voter ID laws could still scramble calculus in November. Last week, Texas agreed to substantially soften its new voter ID law ahead of November's election, allowing voters there to cast ballots this fall even if they do not have one of the required photo IDs. The Texas agreement was the latest in a string of victories for voting rights groups — but there are still more than a dozen states with new voting restrictions in place since 2012. And what's more, the high level of legal churn with mere months to go until Election Day creates the possibility for confusion at the polls, including in a handful of key battleground states.
Soros-funded DNC 'superlawyer' challenges voter ID laws to 'protect the Obama coalition'. The Democratic Party is fighting to protect what it calls the "Obama coalition" of African-Americans, Latinos, and young people by trying to overturn certain voter legislation, with the help of billionaire George Soros. Marc Elias, described by the Washington Post as a "Democratic superlawyer," has been bringing a number of cases to battleground states where Republicans have tweaked laws to supposedly work in their favor.
Tom Fitton Warns of Massive Voter Fraud Danger in Current Presidential Election. A soon-to-be-released book by New York Times bestselling author Judicial Watch President Tom Fitton warns that America may now be facing the greatest voter fraud danger in recent history. And it lays the blame for the crisis directly at the feet of President Barack Obama and his Justice Department. The book — Clean House — cites examples nationwide of attempts by the Obama Justice Department to thwart efforts to clean up voter rolls, require voter ID at the polls, and prevent voter intimidation.
Texas reaches deal on weaker voter ID rules for November. Texas agreed Wednesday [8/2/2016] to weaken its voter ID law as courts across the U.S., with only months before the November election, are blocking Republican-controlled states from imposing polling place restrictions that critics say target minorities and the poor.
Texas Voter ID Law Will Be Enforced in November. An agreement between the State of Texas and groups that attempted to strike down the state's photo voter identification law came to an agreement Wednesday that will keep the election integrity policy largely in place for the November elections and thereafter. Under the deal, voters with valid forms of photo ID or ones "expired by no more than four years" will be allowed to vote a regular ballot, according to court documents obtained by Breitbart Texas. In trade, individuals presenting a valid "voter registration certificate, certified birth certificate, a current utility bill, a bank statement, a government check, a paycheck, or any other government document that displays the voter's name and an address and complete and sign a reasonable impediment declaration shall be permitted" to vote a regular ballot as well.
As November Approaches, Courts Deal Series Of Blows To Voter ID Laws. All summer long, the clock has been ticking on voting rights cases. Judges don't like to change voting rules too near an election, and November is creeping ever closer. And the last two weeks, in particular, have been eventful: Five courts in five states ruled against voter ID and proof-of-citizenship laws. There's still time for appeals and stays. But for now, advocates for voting access are celebrating. "It's been like Christmas Day," one activist told CNN on Monday [8/1/2016].
Court strikes down North Carolina voter ID law. A federal appeals court has struck down North Carolina's voter identification law, holding that it was "passed with racially discriminatory intent." The ruling also invalidated limits the same state law placed in 2013 on early voting, same-day registration, out-of-precinct voting, and preregistration. The three judges assigned to the case — all Democratic appointees — were unanimous that the Republican-controlled North Carolina legislature violated the U.S. Constitution and the Voting Rights Act three years ago by enacting the measure requiring voters to show certain types of photo ID at the polls.
Courts derail voting limits pushed by GOP in 3 states. Courts have dealt setbacks in three states to Republican efforts that critics contend restrict voting rights — blocking a North Carolina law requiring photo identification, loosening a similar measure in Wisconsin and halting strict citizenship requirements in Kansas.
Federal judge strikes down Wisconsin's voter ID law. A federal judge in Milwaukee struck down Wisconsin's voter identification law Tuesday [7/26/2016], declaring that a requirement that voters show a state-issued photo ID at the polls imposes an unfair burden on poor and minority voters.
Are Voter ID Laws Racist? The issue of the constitutionality of photo IDs arose in 2008 in Crawford v. Marion County Election Board, where the Supreme Court, by a 6-3 vote, upheld an Indiana ID law that required voters to show either state or federal picture ID by denying that such a requirement unduly infringed on anyone's right to vote. The Court only looked at the constitutional challenge and did not consider the 1982 Voting Rights Amendments, presumably because none of the parties thought it could support a claim. Instead, Justice Stevens wrote that the law was neutral on its face, and had a permissible justification of preventing voter fraud that could upset the results of individual elections and undermine public confidence in the electoral process. One way to look at Crawford is that preventing voter fraud is important enough to justify the small burden on individual citizens of showing photo ID — a burden no greater than that faced for getting on an airplane.
Federal appeals court rules Texas voter ID law has a 'discriminatory effect'. The U.S. 5th Circuit Court of Appeals handed a significant victory to voting rights Wednesday when it ruled a controversial Texas voter ID law has a "discriminatory effect" that violated the U.S. Voting Rights Act. The law requires voters to show a government-issued form of ID before voting and places strict parameters on which types of identification are acceptable; the court found these restrictions to disproportionately affect minority voters.
Fifth Circuit Strikes Down Texas Voter ID Law. Texas' voter ID law discriminates against minorities and must be revised before Election Day, the en banc Fifth Circuit affirmed Wednesday [7/20/2016]. The ruling came in under the wire of a July 20 deadline that the U.S. Supreme Court set with the Nov. 8 presidential election in mind, allowing time for a lower court to propose changes to the voter ID law. "We conclude that the district court did not clearly err in determining that SB 14 has a discriminatory effect on minorities' voting rights in violation of Section 2 of the Voting Rights Act. As discussed below, we remand for a consideration of the appropriate remedy in light of the impending general election," Judge Catharina Haynes wrote for the majority.
A Texas-Sized Voter ID Problem. Yesterday, the Fifth Circuit Court of Appeals ruled that Texas's voter ID law discriminates against minority voters. The court didn't strike down the law entirely, however, instead sending it back to a lower court, ordering changes before the coming November elections. Currently 33 states have some form of voter ID laws. Of these states, nine have a strict photo ID requirement. Not surprisingly, many of the states with no form of voter ID laws — like California, New York and Massachusetts — are not only Democrat controlled but are some of the most liberal in the nation. The concern that Texas and many other states have is the very real problem of voter fraud, which has grown in part as a result of the unabated flow of illegal immigrants over America's porous borders. Since the current administration has refused to enforce our nation's immigration laws, many state governments have responded by enacting voter ID laws as a means of protecting their citizens.
Federal judge: Voters without ID may vote in November by signing affidavit. People without photo identification will be able to vote in November's general election by signing an affidavit stating they could not obtain identification, a federal judge ruled on Tuesday [7/19/2016]. U.S. District Judge Lynn Adelman issued a preliminary injunction order Tuesday in a case challenging the state's law requiring voters to have photo identification, granting a request from the American Civil Liberties Union. The ACLU's request called for an affidavit option for voters who face a "reasonable impediment" to obtain a valid photo ID.
Judge upholds voter citizenship checks. Kansas, Alabama and Georgia can demand their residents submit proof of citizenship before signing up to vote even if they're using the federal government's registration forms, a judge said Wednesday, delivering a win to states concerned about voter fraud. The League of Women Voters and the Obama administration had tried to halt the practice, arguing that federal law doesn't require an extensive citizenship check when people register to vote, and saying the three states were imposing an extra burden on voters. But Judge Richard J. Leon said that while it may be an inconvenience to require proof of citizenship, and voter registration drives may have to do more work to get folks signed up, it's not an insurmountable burden — and certainly less so than trying to explain Obamacare.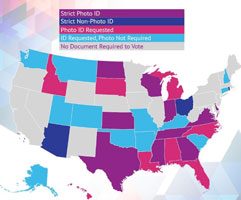 When will GOP Do Something About Vote Fraud in States They Control? Reince Priebus is at the head of nothing. The GOP is no longer a real party, and it shows when they can brag that they have control of 31 state legislatures and 31 governorships can't and won't enact real voter ID laws. Somebody on twitter put up this graphic and I was floored, look at all the states that are Republican-led and have extremely loose voter laws.




Soros, Top Clinton Lawyer Lose Lawsuit Against Virginia's Voter ID Law. Hillary Clinton's top campaign lawyer lost a challenge against Virginia's voter identification laws that was fueled by money from liberal billionaire George Soros. The lawsuit, filed early last year on behalf of the Democratic Party of Virginia, sought to end Virginia's voter identification law, known as SB 1256. The lawsuit was dismissed by a federal court Thursday [5/19/2016] after a lengthy trial that saw numerous witnesses testify, dealing a blow to an organized effort by the left to take on voter ID laws in numerous states leading up to the 2016 election. The plaintiffs challenged the constitutionality of the law throughout the case by alleging it violates Section 2 of the Voting Rights Act and said that it has an adverse impact on minority groups.

Voter ID Horror Stories Aren't About Voter ID. [Scroll down] A witness in the trial is Todd Allbaugh, a one-time Republican staffer for ex-GOP state Sen. Dale Schultz. [...] Allbaugh has been featured on MSNBC with host Chris Hayes telling the story of an employee of his who was prohibited from voting in Wisconsin's April presidential primary because he couldn't get a Wisconsin drivers license in time. After leaving the Capitol when his boss retired, Allbaugh started a coffee shop where his hapless non-voting employee now works. Here's the kicker: the unnamed employee moved to Wisconsin from California and waited until the day before the election to go to the Department of Motor Vehicles to get his California license changed to a Wisconsin license.

Liberals make 'torturous' old arguments about voter ID in court. As expected, the left laid it on thick Monday at a federal trial on Wisconsin's voter identification law. Contrary to actual experiences on the ground during last month's full-scale rollout of the law, an attorney for two liberal groups described voter ID as "torturous" for college students and minorities. [...] The law itself and Wisconsin taxpayers have been tortured by a spate of left-wing lawsuits that go on and on despite the U.S. Supreme Court's rejection last year of a challenge to the 2011 law requiring voters show photo ID in order to cast election ballots.

Stricter Rules for Voter IDs Reshape Races. Since their inception a decade ago, voter identification laws have been the focus of fierce political and social debate. Proponents, largely Republican, argue that the regulations are essential tools to combat election fraud, while critics contend that they are mainly intended to suppress turnout of Democratic-leaning constituencies like minorities and students.

Supreme Court denies bid to block Texas voter ID law. Texas' controversial voter identification law will remain in effect, possibly through November's elections, after the Supreme Court on Friday denied an emergency request from a coalition of Latino advocacy groups and Democratic lawmakers who say the measure is discriminatory. The unsigned order from the justices did not explain their reasoning, or whether there was any opposition. While it is a temporary decision, it could affect enforcement of similar laws in other states during a hotly contested presidential election year. [...] One of the strictest such laws in the country, it requires voters to provide certain government-issued photo ID in order to cast a ballot. Texas officials and the U.S. Justice Department agree more than 600,000 eligible voters in the second-largest state lack one of the required IDs.

Supreme Court won't block Texas photo ID law — yet. The Supreme Court refused Friday to block Texas' photo ID law, the strictest in the nation, from remaining in effect for now, but it left open the possibility of doing so this summer if a lower court challenge remains unresolved. Civil rights groups who say the law discriminates against black and Hispanic voters had argued that it should be blocked because it was struck down by a federal court in 2014 and a three-judge appeals court panel last year. The full U.S. Court of Appeals for the 5th Circuit will hear the case next month. The justices said they would reconsider their decision on or after July 20 if the appeals court has not decided the case by then. That would give state election officials more than three months to prepare voters for the November elections.

Federal judge delivers huge win for voter ID laws. A federal judge has put a smack down on the Obama Justice Department by upholding sweeping North Carolina voter ID laws in a decision handed down late Monday night [4/25/2016]. The Justice Department and the North Carolina NAACP argued that the law was designed to suppress minority votes but Judge Thomas D. Schroeder rejected those claims and said the law served a "legitimate state interest" in its effort to "detect and deter fraud."

Voter ID law upheld in North Carolina. You would think that eventually the Left would stop trying to get Voter ID declared unconstitutional — but they don't, bless their hearts. [...] In this particular case, the federal judge was pretty comprehensive about smacking down the plaintiffs; Thomas Schroeder ruled that opponents of Voter ID failed to demonstrate any kind of harm from the North Carolina law.

Federal judge upholds North Carolina photo ID mandate. A federal judge Monday [4/25/2016] upheld North Carolina's controversial new voting law, dealing a blow to critics who said the state's rules will discourage minorities from casting ballots during this fall's presidential election. The voting law, passed by North Carolina's legislature in 2013, is among the strictest in the country. It reduces the number of days of early voting, prohibits people from registering and voting on the same day, stops ballots cast in the wrong precinct from being counted, ends the practice of preregistering teenagers before they turned 18 and requires a photo ID to vote.

The left lashes out with voter ID melodrama. Wisconsin's Republican governor on Wednesday tweeted: "Huge turnout yesterday shows that photo Id works just fine. Easy to vote hard to cheat. HuffPost drove its sky-is-falling narrative with the story of a legally blind Milwaukee man who was "unable to obtain a piece of photo identification that would comply with the state's strict new voter ID law to cast a regular ballot in Tuesday's [4/5/2016] primary." Buried in the story of a 67-year-old man who did not bring the proper documents to obtain a voter identification card through the state Division of Motor Vehicles, is a critical fact: The man, still got to cast a provisional ballot, just like everyone in Wisconsin who could not present an acceptable ID.

Bernie Sanders Declares Voter ID Laws the New Jim Crow, Actual Black People Disagree. [Scroll down] "You would have thought that after all we have gone through as a country to make sure that people have the right to vote, regardless of the color of their skin, that these Republican governors would show some mercy and not try to bring us back to Jim Crow days," he argued. The intended effect of his remarks were just to tar Republicans as racists, but in the process he managed to smear eight out of ten Americans, including a majority of Democrats. Polls have consistently found that voter ID laws are very popular with general population. Whites and Republicans are most likely to support them, but these polls also find a majority of blacks and Hispanics also support voter ID laws.

Slouching Toward Washington. [#10] The voter ID issue — we don't even know who's voting, whether they are alive or dead, Americans or illegals, informed or dismally ignorant. We don't know how often each person votes. This issue alone throws the whole thing off.

Record Wisconsin Turnout Destroys Liberal Argument Voter ID Laws Disenfranchise Voters. Senators Ted Cruz and Bernie Sanders were able to net big victories this week when they won the Wisconsin presidential primaries for their respective parties, but there was also another big winner of Tuesday night's contests: Voter Identification laws. Based on reports from the ground in Wisconsin, Tuesday's [4/5/2016] primary elections pulled in record turnout and the most voter participation since the 1970s.

ID laws do not suppress voters. Polls consistently show that Americans — regardless of race or ethnicity — agree that requiring identification to vote is a common-sense way to ensure the integrity of our elections. The repeated narrative pushed by critics that this "suppresses" votes is a myth. That claim has been disproven by the turnout results in states such as Georgia and Indiana, whose voter ID laws have been in place for years. In fact, these states experienced almost no problems despite apocalyptic predictions of opponents. The number of Americans who don't already have an ID is minuscule — and every state with a voter ID law gives a free ID to anyone who can't afford one.

How Easy Do We Have To Make It? Thirty-five percent of states have no requirement voters show ID to vote, another 25 percent accept secondary "proof" such as a utility bill to prove residency and who you are. Only 20 percent of states have a strict photo ID requirement to vote. Beyond not protecting the sanctity of a person's vote through requiring them to prove they are themselves — hardly a barrier in the 21st century — absentee voting and early voting have made it easier than ever to vote. Too easy, in fact. To vote absentee used to require providing a verifiable reason you couldn't vote on Election Day. No more. In 1978, California instituted a "no excuses" absentee ballot process.

Is Democrat voting a vast criminal conspiracy? If the Democrat voter turnout trend continues through the general election to be significantly lower only in those states where voter ID laws have been recently enacted, you can bet the farm the Democrat leadership will be tap-dancing all over the place to find whatever other possible explanation they can. That may be easier for them if their presidential candidate loses, for they can then blame lack of voter interest due to poor candidate performance. However, that still won't explain away the differential in voter turnout between states with no voter ID laws, where turnout remains relatively unchanged, and those states where voter ID was recently enacted and the vote declined significantly.

Dem turnout and voter ID: The dirty little secret. The numbers tell a story, and you can draw the obvious conclusions. Because the mainstream media certainly won't. Keep this statistic in mind the next time some progressive tries to claim voter fraud is not a serious problem.

For Democrats, Immigration Is About Winning Elections. At the national level, the Obama administration is also doing its part to unravel the very fabric of America. Rather than defending one of its own agencies, Obama's Department of Justice recently joined a lawsuit against the U.S. Elections Assistance Commission in an effort to stop Alabama, Georgia and Kansas from requiring individuals to provide proof of U.S. citizenship as a qualification to vote. [...] Americans for Limited Government president Rick Manning was on-target in his response to this unconscionable power play: "Americans expect that only those eligible to exercise the right to vote will be participating in our 2016 national elections, yet the Obama Administration's lackeys at Attorney General Loretta Lynch's Justice Department are doing everything in their power to allow their new illegal alien power base to vote."

MSNBC Coordinates With Dems to Attack GOP Voter ID Law. Filling in for host Andrea Mitchell during MSNBC's 12 p.m. ET hour, anchor Kate Snow freely admitted that her report attacking a new Republican voter I.D. in Texas was orchestrated by the Democratic Party: "A Republican-led legislature here passed a new voter I.D. law five years ago.... The Democratic Party here has been worried about what those requirements might mean for turnout on Tuesday, but they then put us in touch with Cassandra Enoch Brown, who's been trying to get a new I.D. for her mother." In the interview that followed, Snow teed up Brown to blast the law: [...]

Activists Ask Judge to Block States From Requiring Proof of US Citizenship to Vote. A group of voting rights activists is up in arms after the executive director of the U.S. Election Assistance Commission (EAC) told elections officials in three states that they could require residents to provide documented proof of U.S. citizenship when using federal forms to register to vote. On Wednesday [2/17/2016], the coalition filed a complaint in U.S. District Court for the District of Columbia asking a federal judge for a temporary restraining order blocking the changes in Alabama, Georgia and Kansas. "Voters have been using the Federal Form to register without having to comply with a documentary proof of citizenship requirement for over two decades, but the Executive Director's sudden unilateral changes to the Federal Form — implemented without public notice — ratchet up the requirements for registering to vote at the last-minute, mere weeks before primary elections and a presidential caucus in the affected states," according to the complaint.

Voter Fraud: We See Dead People. South Carolina's attorney general found evidence that at least 900 dead people voted in an election. Philadelphia flagged 50,000 duplicate registrations. Voting machines are changing peoples' votes. A voter was caught registering six times. Meanwhile, Democrats act outraged and seek to shackle and flog Republicans in the public square for suggesting that all Americans must show a photo ID to vote, claiming it is an evil racist Republican plot to disenfranchise black voters. Fearlessly, along with fighting voter fraud, Sharron has a Voter ID initiative.

Hillary Clinton Donor at Firm With Eric Holder Among Lawyers Behind Voter ID Suit. The lawsuit, filed on Dec. 2, 2015 in the U.S. District Court for the Northern District of Alabama, was submitted on behalf of the Greater Birmingham Ministries and the Alabama State Conference of the National Association for the Advancement of Colored People (NAACP). The suit argues that the state's voter identification laws are discriminatory in nature against minorities and have "immediately disenfranchised" 280,000 voters within the state. "For five decades, Alabama's use of discriminatory voting schemes has necessitated repeated federal intervention," the lawsuit states. "Now, Alabama again seeks to disfranchise thousands of African-American and Latino voters — all in the name of 'curing' a voter fraud problem that does not exist."

Destroying Your Vote. Voter ID laws have been challenged because liberal Democrats deem them racist. I guess that's because they see blacks as being incapable of acquiring some kind of government-issued identification. Interesting enough is the fact that I've never heard of a challenge to other ID requirements as racist, such as those: to board a plane, open a charge account, have lab work done or cash a welfare check. Since liberal Democrats only challenge legal procedures to promote ballot-box integrity, the conclusion one reaches is that they are for vote fraud prevalent in many Democrat-controlled cities.

Top Clinton Lawyer Filed Voter Suppression Suit for Group Now Under Investigation for Voter Fraud. A group that had been represented by the top lawyer for Hillary Clinton's presidential campaign earlier this year is now being investigated by Ohio authorities for fraudulent voter registrations, including the registration of deceased individuals. Marc Elias, an attorney at Perkins Coie who has become the go-to fixer for Democrats and is now general counsel for Clinton's presidential campaign, became involved with the Ohio Organizing Collaborative this May when he filed a lawsuit on its behalf to challenge the state's voter identification laws.

Amish Man With No Photo ID Suing Over Denial Of Gun Permit. There are a couple things at play here. First, the 2nd Amendment says the Right shall not be infringed. I personally do not have any problem in requiring a photo ID for purchase of any gun, be it a handgun or a long rifle. For 99.9%, there is no infringement. [...] But, let's think about this: in order to exercise a Constitutional Right, one must, no exceptions, have a proper government issued photo ID. Liberals pitch a hissy fit over photo ID requirements to vote. Why no complaints about the requirement for gun purchases?

Clinton goes on the attack over voting rights in Alabama. Democratic presidential front-runner Hillary Rodham Clinton came to Alabama on Saturday [10/16/2015] and waded into the national debate over voter rights, criticizing Republican leaders in this state and others for ID laws that she said have made voting harder for people of color and young people, two groups critical to her chances of winning the presidency. Clinton slammed Alabama Gov. Robert Bentley (R) for closing 31 driver-licensing offices in rural, mostly black areas, eliminating a source for the — government-issued photo ID that is now required to vote in Alabama.

A Liberal's Ten Commandments. For liberals, driver's license IDs are unnecessary for registration or even showing up at the polls to vote. Why, then, not cement that pledge by sanctifying the uselessness of such IDs in everyday life? "As proof of solidarity, I pledge that I will not use my own driver's license ID either during any commercial purchase or at the airport security line — both being far more important than mere voting."

Obama Will Stop at Nothing to Rig Elections. The administration pushed a novel legal argument. In its telling, if a change in election rules might statistically affect blacks more than whites, it constitutes illegal discrimination. For example, if 98 percent of whites have a voter ID but only 97.5 percent of blacks have one, then requiring voters to present ID violates federal law. Never mind the fact that getting an ID is free, easy, and open to everyone without regard to race. And never mind if a policy change is in line with the rules of many other states, or if it's explicitly sanctioned by federal law. The mere act of changing the law in the wrong direction is discriminatory. In other words, the Obama administration would turn the Voting Rights Act into a one-way ratchet to help Democrats. The court refused to go along.

Moonbat Liberal Activist Compares U.S. Voter Identification Laws To 'Rise Of Hitler'. This woman and her husband moved to Europe for twenty years in protest of Ronald Reagan's election. Here's hoping they have to pack their bags again in November 2016.

Voter ID Works in Mexico ... It Could Also Work In LA and the US. In Mexico, illegal aliens are not given free health care, education and a driver's license. Instead, when found, they are detained, jailed and deported, in a matter of weeks. No chance for them to go back on the streets, no amnesty — deportation. Mexico also, wants honest elections. They demand Voter ID. If it is good enough for Mexico why does the President demand dishonest elections? Simply answer: Barack Obama is a Chicago Democrat. That explains it all.

Obama: Requiring Photo-ID to Vote is Wrong. Speaking at the White House Thursday [8/6/2015], on the 50th anniversary of the Voting Rights Act, President Barack Obama said that people do not take advantage of the lack of voter ID laws to cast fraudulent votes in other peoples' names. The president based his conclusion on government data on the number of people the government prosecutes for this crime. "Sadly, too many states are making it harder for folks to vote — instituting photo ID laws that on the surface sound good," said Obama.

As Predicted, Texas Voter ID Swirls the Drain. Today [8/5/2015] the Fifth Circuit Court of Appeals struck a potentially fatal blow to Texas voter ID. The Appeals Court upheld the lower federal court's ruling that Texas Voter ID violated Section 2 of the Voting Rights Act. Writing for the court, Judge Catharina Haynes (W appointee) upheld the lower court and adopted a version of the Voting Rights Act that incorporates a statistical disparate impact analysis. Simply, if minorities are disproportionately affected statistically by a state election law, it likely violates federal law.

Fifth Circuit Court of Appeals says Texas voter ID law violates Voting Rights Act. The Fifth Circuit Court of Appeals ruled Wednesday [8/5/2015] that Texas' voter ID law violates the Voting Rights Act — but it also said the law is not a "poll tax." In an unanimous decision, a three-judge panel ruled that the controversial and Republican-backed measure violated Section 2 of the landmark civil rights law. The law has been part of a complicated legal battle for years.

You can vote all you want, but in the end, judges will decide what you get.
Federal court strikes down 'discriminatory' Texas voter ID. A federal appeals court ruled Wednesday [8/5/2015] that Texas' voter ID law has a "discriminatory" effect on minorities in a victory for President Barack Obama, whose administration took the unusual step of bringing the weight of the U.S. Justice Department to fight a wave of new ballot-box restrictions passed in conservative statehouses.

The World Requires Voter ID, but George Soros and Hillary Clinton Are Determined the U.S. Won't. It's been over seven years since the Supreme Court, in a 6-3 decision that was written by liberal favorite John Paul Stevens, declared that voter-ID laws don't constitute an undue burden on people attempting to vote. But that hasn't stopped liberals from fighting in legislatures and courts against those laws and other efforts to promote voter integrity. The lawsuits are often brought by Marc Elias, who doubles as the attorney for Hillary Clinton's campaign. And their efforts have paid off: Only about 18 states currently require a photo ID to vote.

Clinton Lawyer, Soros Back Anti-Voter ID Lawsuits. Hillary Clinton's top campaign lawyer is behind a multi-state push challenging voter identification laws implemented in recent years, efforts that are expected to reach numerous other states ahead of the 2016 elections. Marc Elias, a top campaign lawyer for Hillary Clinton and a partner at the Washington, D.C., law firm Perkins Coie, has filed lawsuits in three states thus far. The nationwide campaign is being fueled with money from the liberal billionaire George Soros. Elias first began exploring the possible challenges back in January 2014. Soros then became involved, vowing to throw his weight behind the effort in collaboration with Elias.

Poll: 8-in-10 back voter ID. Despite Democratic charges that conservative states and politicians are engaging in discrimination by demanding that voters show identification, more than three-quarters of likely voters believe photo ID laws are needed. A new Rasmussen Reports poll out Wednesday [6/4/2015] found support for photo ID laws at 76 percent, nearly exactly the 78 percent support registered in 2006 when the latest movement to scrap the laws kicked off.

The Swing State of Ohio Might Finally Be Getting a Photo Voter ID Law. A group of Republican lawmakers in Ohio will introduce a bill in the Ohio House next week that will require a driver's license, state ID card, passport, or military ID in order to cast a ballot in person in the state. "This is a bill which I believe is very important for the state of Ohio for the sanctity of our election system, for the sanctity of making sure that it is one person, one vote and they are in fact residents and citizens of the United States," said Andrew Brenner (R-Powell), the primary sponsor of the bill, in a press conference this week.

Supreme Court turns away challenge to Wisconsin voter ID law. The Supreme Court on Monday [3/23/2015] turned away a challenge to Wisconsin's voter identification law, after having blocked the state from requiring photo IDs in November's general election.

Wisconsin Is Finally Free to Implement Voter ID Law. Great news for those interested in election integrity and common sense reforms like voter ID: the Supreme Court today [3/23/2015] removed the final legal obstacle to implementing Wisconsin's voter ID law. The Court refused to hear the American Civil Liberties Union's appeal of a Seventh Circuit Court of Appeals decision that threw out the injunction issued against the state's ID law by federal district court Judge Lynn Adelman.

Supreme Court rejects challenge Wisconsin voter ID law. The Supreme Court on Monday [3/23/2-15] rejected an appeal to overturn Wisconsin's voter identification law, upsetting civil rights activists concerned the law discourages minorities from casting their ballot. The high court said it wouldn't hear an appeal filed to overturn the voter ID law, which was signed into law in 2011 by Republican governor and potential 2016 presidential contender Scott Walker. The American Civil Liberties Union immediately filed a motion to stop the law from going into effect. The ACLU said in a statement that it is challenging the law on behalf of numerous Wisconsin voters because it violates the 14th Amendment's equal protection clause.

Obama Blasts Voter ID Laws in Selma Speech. I defy President Obama to name me one person who has been denied the right to vote as a result of the passage of any state voter ID law. The states that require a photo ID have gone to great lengths to ensure its citizens receive their IDs free of charge. For President Obama to compare contemporary voter ID laws to the laws of the Jim Crow South trivializes the what those who crossed the Edmund Pettus Bridge 50 years ago achieved and is yet another example of the President's dishonesty, disingenuousness and demagoguery.

U.S. Supreme Court asked to consider Wisconsin voter ID challenge. Civil rights advocates asked the U.S. Supreme Court on Wednesday to reverse a decision upholding Wisconsin's voter photo identification law, arguing the case raises questions of national importance about limits on a state's ability to restrict voting. The American Civil Liberties Union and allied groups argued in their filing that the Wisconsin case offers an "ideal vehicle" to settle the legal debate over voter ID laws.

Two Pennsylvania Democrat Politicians Indicted for Taking Bribes to Oppose Voter ID Laws. Two Pennsylvania Democrat state lawmakers have been indicted for taking bribes to oppose the state's voter ID laws, a report says. The Philadelphia district attorney issued the charges after Obama's Department of "Justice" refused to prosecute the lawmakers for their lawbreaking actions. Acting in a purely political manner — as they always do — Obama and Holder cared more that an indictment would hurt their case for voter ID laws than they did about prosecuting real lawbreakers.

CBS: Voter ID Laws Are Like Violent Attacks on Blacks at Selma. The journalists at CBS This Morning on Monday [12/15/2014] compared the violent, bloody attacks on African Americans during civil rights marches in 1965 to voter ID laws passed by various states in the last few years.

Voter ID: The Ultimate Faux Controversy. If you've ever tried to board a plane, cash a check or rent a car, you've almost surely had to show some form of identification with your picture on it. For most people, that takes the form of a driver's license, but there are other forms of photo ID. Millions of Americans produce them every day to do dozens of everyday tasks and think nothing of it. Why should it be any different when we vote? Anyone can show up and claim to be you. Imagine if all someone had to do was state your name and address. I don't know about you, but producing a form of ID when I vote gives me some peace of mind that no one else is voting in my name.

The Poll Tax That Wasn't. When the Supreme Court over the weekend rejected a petition to stop a Texas voter ID law from going into effect for the midterms, the left commenced its wailing and gnashing of teeth. In her dissent, Justice Ruth Bader Ginsburg called the law "purposely discriminatory," and everyone piled in behind her with denunciations of the Lone Star State's blatant racism. For the left, voter ID is tantamount to a poll tax.

Jaw-Dropping Level of 'Progressive' Voter Fraud Already Everywhere You Look. For all those — like myself — who figured Obama was only flooding us with illegals so as to later register them as lifelong Democrats, SURPRISE: it's here now, as illegal immigrants present on nation's soil for dubious reasons have been already automatically added to voter registration lists in North Carolina through Obama's 'Deferred Action for Childhood Arrivals' program. You know, same North Carolina where skeevy Team Obama conspired to sign-up 11,000+ illegally-registered voters last time round... and not coincidentally, where no voter ID law exists.

Rare correction made in Justice Ginsburg's dissent on Texas voter ID law. The U.S. Supreme Court made a rare correction on Wednesday [10/22/2014] to an error in Justice Ruth Bader Ginsburg's scathing dissent of the majority opinion on Texas' controversial voter ID law — a dissent that had been highly touted by critics of the law. The dissent attracted widespread attention, in part because Ginsburg and fellow dissenting justices were up all night Friday, into Saturday morning [10/18/2014], writing their statement skewering the law. They came down hard on the majority opinion by the Supreme Court to allow Texas to enforce the voter ID law in the upcoming November elections.

Why Do Democrats Oppose Voter ID? Lots of folks think Democrats oppose voter ID laws because they want to cheat and such laws interfere with their plans. That's an attractive explanation, but it ignores the far more complex architecture of voter ID opposition. Here's the real reasons Democrats oppose voter ID. Understanding these three reasons will help you decode the whole narrative behind voter ID. [...] [Reason #3] They Need Money. Groups like the NAACP and ACLU are looking to justify their continued existence, decades after they won the fight. Opposition to voter ID helps them fundraise, and pay salaries.

Supreme Court says Texas can use Voter ID law in November elections. The Supreme Court said Saturday [10/18/2014] that Texas can use its voter identification law in November's election. A federal judge struck down the law earlier in October, saying it created "an unconstitutional burden on the right to vote." That same judge later issued an injunction blocking the law's implementation. That decision was put on hold by a federal appeals court, citing issues with changing voting rules so close to an election, according to the New York Times.

Supreme Court allows Texas voter ID law for now. Texas election officials can go ahead and enforce a controversial voter identification law opposed by the Obama administration and civil rights groups, the U.S. Supreme Court said early Saturday [10/18/2014]. The decision comes just two days before early voting begins in the state. U.S. Attorney General Eric Holder said it was "a major step backward to let stand a law... (that was) designed to discriminate."

Texas voter ID law reinstated. A federal appeals court on Tuesday reinstated Texas's voter-identification law for the November election, which the Justice Department had condemned as the state's latest means of suppressing minority voter turnout. The ruling by the New Orleans-based U.S. Court of Appeals for the 5th Circuit temporarily blocks last week's ruling by U.S. District Judge Nelva Gonzales Ramos in Corpus Christi, who said the law was unconstitutional and similar to a poll tax designed to dissuade minorities from voting.

Appeals court reinstates Texas voter ID law. The ruling by the New Orleans-based 5th Circuit Court of Appeals temporarily blocks last week's ruling by U.S. District Judge Nelva Gonzales Ramos in Corpus Christi, who determined the law unconstitutional and similar to a poll tax designed to dissuade minorities from voting.

Wisconsin, Texas voter ID laws blocked by courts. The U.S. Supreme Court late Thursday blocked Wisconsin from enforcing its strict voter identification law in November's election. By a 6-3 vote, the justices granted an emergency appeal from civil rights lawyers, who argued it was too late to put the rule into effect this year. Lawyers for the ACLU noted that the state had already sent out thousands of absentee ballots without mentioning the need for voters to return a copy of their photo identification.

Judge strikes down Texas voter ID law. A federal judge on Thursday likened Texas' tough voter ID law to a poll tax meant to suppress minority voters and blocked Texas from enforcing it just weeks ahead of next month's election, knocking down a measure the U.S. Justice Department condemned in court as deliberately discriminatory.

Courts block voter ID laws in Texas, Wisconsin. A federal judge likened Texas' strict voter ID requirement to a poll tax deliberately meant to suppress minority voter turnout and struck it down less than a month before Election Day — and mere hours after the U.S. Supreme Court blocked a similar measure in Wisconsin.

Kris Kobach disputes study showing Kansas voter ID law likely reduced voter turnout. Voter turnout between 2008 and 2012 took a bigger hit in Kansas than other states, and that's likely due to voter ID requirements, a study released by U.S. Government Accountability Office Wednesday [10/8/2014] argues. Kansas Secretary of State Kris Kobach disagrees with the methodology of the report, which was requested by four Democratic and one independent U.S. Senate leaders. There were no statewide political campaigns in Kansas in 2012, Kobach noted in a rebuttal letter to the GAO.

Democrats losing long war against voter ID. You would not know it if you read only the New York Times or watched only MSNBC, but the Left and President Obama are losing their fight to block the widespread introduction of voter ID cards. In courts of law and the court of public opinion, the issue is gaining traction. With few exceptions, liberal pressure groups have lost lawsuits in state after state, with courts tossing out their faux claims that ID laws are discriminatory, unconstitutional or suppress minority voting.

Federal appeals court orders Wisconsin's voter ID law to be reinstated. U.S. District Judge Lynn Adelman struck the law down as unconstitutional in April, saying it unfairly burdens poor and minority voters who may lack such identification. Republican Attorney General J.B. Van Hollen asked the 7th Circuit Court of Appeals in Chicago to overturn that ruling.

Texas voter ID trial opens in U.S. court. A U.S. court in Texas heard arguments on Tuesday [9/2/2014] in a case over a law requiring voters to present photo identification, a move the state's Republican leaders say will prevent fraud while plaintiffs call it an attempt at suppressing minority turnout.

Voter ID Laws Winning, Obama and Holder Losing. The left claims that voter ID laws are the second coming of racist Jim Crow laws. They say it is onerous for people to have to get a valid photo ID in order to vote. They say having to get a photo ID is somehow "just like" the expensive poll taxes forced on blacks between the end of the Civil War and the 1964 Civil Rights Act. But, since photo IDs can be gotten for less than $10 — and in many cases, free of charge — in every state in the union, this claim of left-wing liars is hard to make Americans believe. And the polls show it.

Just Moseying Around in BHO Land. Last week when I went to peruse the shelves at Barnes & Noble and used my educator card for a purchase, I was asked to show a photo ID. The next day, when I went for a planned medical procedure, I was required to display a photo ID. And finally, when I cashed a check at the local A&P, the cashier requested to see some identification. Even at a local Goodwill store, I had to show a photo ID in order to buy an item. In addition, I needed to show my driver's license to get a new library card.

50 Things Barack Obama Has Done Wrong: [#35] The Department of Justice has worked overtime to help increase voter fraud by fighting against voter ID. This is despite the fact that you need ID to buy alcohol, drive a car, fly on a plane or even to use Obamacare.

Federal Court Smacks Down Eric Holder's Attack on NC Voter ID. The left trumpeted a voter ID decision in Wisconsin as if it were the end of the issue. Let's see what they do with this one. A federal court today [8/8/2014] smacked down the Holder Justice Department and refused to enjoin (block) North Carolina's voter ID law, curtailment of costly early voting and end of fraud-infested same day registration. This means the state's voter ID law will be in place for the midterm congressional (and Senate) elections in November. The Justice Department had actually argued that even if black voters turned out at higher rates under voter ID (which they do), because blacks have to take the bus more and their life is generally harder, then voter ID and curtailing early voting violates the Voting Rights Act.

Biden decries voting restrictions in NAACP address. Civil rights groups complain the measures make it harder for minorities to vote because they have less access to identification and depend more on early voting.

Mississippi's voter ID law could be [an] example for [the] nation. Mississippi might be an example to the rest of the nation on voter identification. The Mississippi voter ID law received its shakedown cruise in the June 3 primary elections and passed muster with only a few issues. Of the 397,822 ballots cast, 513 voters did not have a photo ID compliant with the law and 177 returned with ID later to have their votes counted. Missing the Tuesday deadline were 298 voters whose ballots were rejected because the voter never returned with an acceptable ID. Thirteen more were rejected for other reasons. Secretary of State Delbert Hosemann said the success of the new law is proof the state doesn't need federal oversight of its elections and redistricting.

Mississippi Voter ID [was] Implemented With No Problems. It wasn't the biggest story following Tuesday's elections in various states, but it was the biggest and most-ignored non-story. [...] Aside from being able to use any form of government-issued photo ID, like every other state with ID requirements, Mississippi provides a free ID for anyone who does not already have a government-issued photo ID. Contrary to the claims of those who say large numbers of Americans don't have an ID, Mississippi estimated that only 0.8 percent of Mississippians lacked an ID. In fact, even that may have been an overestimate since the state had to issue only about 1,000 voter ID cards. All those who forgot their ID on Tuesday also could vote by an affidavit as long as they returned and showed an ID within five days.

Changes for Mississippi Voters. Tuesday [6/3/2014] is the first time Mississippi voters will be required to show a photo ID when they vote. Lauderdale County election commissioner, Wallace Heggie, says you must have your photo ID ready to show when you check in to vote. This is required even if a poll worker knows who you are.

Poll: 70 percent support voter ID laws. Seven in 10 registered voters are in favor of identification laws in order to root out fraud at the ballot box, according to a Fox News poll released this week. The survey found majority support in every major demographic, including black voters and Democrats. The 70 percent who support voter ID laws remains largely unchanged in the past few years. Another 27 percent believe the laws are unnecessary.

Rand Paul's PAC clarifies: He never said he opposed voter ID laws, did he? The full quote reported by the [New York] Times (which itself noted that Paul said nothing about opposing voter ID laws) was, "Everybody's gone completely crazy on this voter ID thing. I think it's wrong for Republicans to go too crazy on this issue because it's offending people." Obvious question: How much effort on voter ID is too much, before it crosses into what Paul would regard as Crazytown?

Sen. Paul's Office Responds to my Voter ID Critique. [Scroll down] I don't see any evidence to support Paul's contention that voter ID is "a defining issue of the Republican Party" much less something the GOP has "gone completely crazy" about. It's certainly not a defining issue for the Republican Party in the way something like Obamacare has been. To the extent voter ID has been an issue for Republicans, it has been on the state level which is the forum where Paul believes it should be sorted out.

Paul Diverges From His Party Over Voter ID. Senator Rand Paul of Kentucky broke Friday [5/9/2014] with fellow Republicans who have pushed for stricter voting laws as a way to crack down on fraud at the polls, saying that the focus on such measures alienates and insults African-Americans and hurts the party. "Everybody's gone completely crazy on this voter ID thing," Mr. Paul said in an interview. "I think it's wrong for Republicans to go too crazy on this issue because it's offending people."

Pennsylvania Democrats Walk Out of Hearing on Members Accused of Taking Bribes. This morning, the Pennsylvania House State Government Committee held a hearing on the case of the Democrats caught accepting bribes in exchange for voting against voter ID in the state. The case against the Democrats is well-documented, yet Pennsylvania Attorney General Kathleen Kane, a Democrat, scuttled it shortly after she took office. Kane also accused the career investigators who built the case of racism. That charge doesn't stand up to any level of scrutiny. The investigation targeted Republicans and Democrats, male and female, black and white. As it so happens, only Democrats chose to accept the bribes, and those members who did happen to be black.

Federal judge strikes down Wisconsin voter ID law. A federal judge struck down Wisconsin's voter identification law Tuesday, declaring that a requirement that voters show a state-issued photo ID at the polls imposes an unfair burden on poor and minority voters.

The Editor says...
You can vote on this issue all you want, but the activist judges will decide what you get.

Coalition of the Disappointed. Some 34 states now require voters to show some form of government-issued photo identification, according to the National Conference of State Legislatures, up from zero in 2006. The states say such rules uphold public confidence in the integrity of the ballot. And if the states are secretly trying to suppress minority turnout, they're doing a lousy job. The Census reports that the black voting rate rose 13 percentage points from 1996 to 2012. At 66.2% black participation in 2012 surpassed the rate for non-Hispanic whites (64.1%).

Voter fraud is no myth. Opponents of voter identification legislation consistently contend that it proposes a solution to a non-problem. [...] But the folks at the North Carolina State Board of Elections have offered fresh evidence that a significant amount of voter fraud does exist. On April 2, The Raleigh News & Observer reported that officials from that agency told state lawmakers "they have identified hundreds, and potentially thousands, of voters who may have cast ballots in two states in the 2012 general election." That conclusion was the result of cross-checking voting records from 28 states, including North Carolina. The process found that 765 voters whose first and last names, birth dates of birth and final four digits of their Social Security numbers matched exactly with a voter registered in another state and who voted in both states in 2012.

Bill O'Reilly to Conservative Guest: 'That's Right-Wing Paranoia'. "I am all for combating voter fraud by using voter I.D.," [Monica] Crowley told O'Reilly. "My issue with the social security card in particular is that that is is the federal government doing it. I think it would be better left to the states." When O'Reilly protested, she said it was as if the federal government were trying to tell people, "Show me your papers." "That's right-wing paranoia," O'Reilly told Crowley.

The Atlantic Calls Out Obama for Race-Baiting in Voter ID Debate. The Atlantic criticized Barack Obama Monday for "racializing" the issue of voter suppression. Friday, Obama delivered a speech on the evils of voter suppression efforts at Al Sharpton's National Action Network, giving what The Atlantic calls "the right speech in the wrong place."

Obama at Sharpton Event: Voter ID Supporters Are 'the Real Frauds'. Obama, who hails from a city known for the Daley Machine and its "vote early and vote often" slogan, ripped Republicans for trying to preserve the integrity of the ballot by reducing voter fraud and requiring voter IDs. He made the accusation that there is a "well-organized effort" to undo gains the Civil Rights Movement has made in the last 50 years, and he said voting rights are "under particular assault." "Voters who want to vote should be able to vote," Obama said. "Period."

Obama decries 'bogus' voter fraud complaints. President Obama labeled complaints about voter fraud "bogus" and accused Republicans of cynically trying to prevent Americans from accessing the polls in a fiery speech Friday at a civil rights forum hosted by Al Sharpton. Obama argued that attempts in some states to impose new voter identification restrictions were actually efforts by Republicans to make "it harder, not easier to vote." And the president said that while voter fraud should be prevented, it rarely occurred. "So let's be clear, the real voter fraud is the people who try to deny our rights by making bogus arguments about voter fraud," Obama said.

Former ACORN CEO at Sharpton Convention: Amnesty Opponents, Voter ID Supporters Want USA Apartheid. Bertha Lewis, the former CEO of ACORN, claimed at Al Sharpton's National Action Network convention on Wednesday that opponents of amnesty and supporters of voter identification laws want to institute in America something similar to South Africa's apartheid. President Barack Obama will address the convention on Friday and discuss voting rights issues and voter ID laws. Speaking on a panel about immigration reform, Bertha Lewis, who is now the president and founder of The Black Institute, noted that America will soon "have a new majority, and that majority will be darker — black, and brown, and Asian."

Rep. Fudge Says Changes in Ohio Voting Are 'Racist'. Rep. Marcia Fudge (D-Ohio) says the recent changes in voting in Ohio are "racist." "I believe, personally, that a lot of this really is racist. I believe that. They cannot make me believe that they do not understand how important the right to vote is to me and people like me," Fudge told WKYC-TV last week. "Ohio has become the butt of jokes — even in Washington. Because our governor and our legislature are doing everything they can to prevent certain constituencies from voting. Poor people, minorities, the elderly, the disabled — and they are doing it knowingly," Fudge said.

The Editor says...
Yes, it's true that the legislature is trying "to prevent certain constituencies from voting." They're trying to prevent dead people from voting, and trying to prevent certain individuals from voting multiple times. Those actions are already illegal, but the requirement of photo identification at the polls is the mechanism needed to put teeth into those laws.

Vote fraud as 'payback time'. Melowese Richardson is the poster girl for vote fraud. The Ohio poll worker was sentenced last July to five years in prison after being convicted of voting twice in the 2012 election and voting three times — in 2008, 2011 and 2012 — in the name of her sister, in a coma since 2003, according to USA Today. This might be below Chicago graveyard standards, but it's still impressive. Ms. Richardson has become a heroine to the left, which is working with its legal arm — the U.S. Justice Department — to kill voter photo-ID laws in order to ensure that creative voting continues.

Prove it: Court rules states can require ID to vote. A U.S. District Court judge ruled Wednesday that Arizona and Kansas can require anyone registering to vote to prove their citizenship and the federal Election Assistance Commission cannot block them. The ruling is a boost for states' rights and marks a setback for President Obama and other liberals who fought stiffer voter ID checks with an argument that they reduce voter turnout. "This is a huge victory for me, personally, for the states of Kansas and Arizona, and for the whole cause of states' rights," said Kansas Secretary of State Kris W. Kobach, who led the challenge.

PA Democrats Took Bribes to Oppose Voter ID: Where is Holder? Pennsylvania Democrats were caught on surveillance tape reportedly accepting cash bribes in return for opposing voter ID in the Pennsylvania legislature. Gifts of Tiffany's jewelry were also given to Democrat legislators from Philadelphia, reportedly in exchange for "NO" votes on a Pennsylvania voter ID bill that passed in 2012. Despite this evidence, Pennsylvania Attorney General Kathleen Kane has not charged any officials. Kane is a Democrat. Kane's excuse for her inaction? Racism: some of the legislators caught on tape accepting bribes were black Democrats from Philadelphia.

Report: Pennsylvania Dem took bribe to oppose voter ID law, but never got charged. Pennsylvania Democrats reportedly were caught on tape accepting cash bribes, including one lawmaker who was paid to vote against a state voter identification law, but Democratic Attorney General Kathleen Kane shut down the investigation. "Before Kane ended the investigation, sources familiar with the inquiry said, prosecutors amassed 400 hours of audio and videotape that documented at least four city Democrats taking payments in cash or money orders, and in one case a $2,000 Tiffany bracelet," the Philadelphia Inquirer reports.

New PAC offers 'private' access to Va. Gov. McAuliffe for as little as $50K. Got $50,000? Then you, too, can attend a "private evening reception" with Virginia Gov. Terry McAuliffe, who wasted little time after Virginia's General Assembly session gaveled to a close to launch a political action committee that offers such meetings with the governor in exchange for high-end donations. Such arrangements are commonplace, and the practice of Virginia governors creating their own fundraising PACs dates back 20 years. But the move was made after a legislative session in which reducing the influence of money in politics was one of the top priorities for a governor who drew up plans to rent out the Lincoln Bedroom during the Clinton administration.

78% Favor Proof of Citizenship Before Being Allowed to Vote. A federal judge last week upheld the right of states to require proof of citizenship before allowing someone to register to vote. Voters continue to overwhelmingly support such a requirement. A new Rasmussen Reports national telephone survey finds that 78% of Likely U.S. Voters believe everyone should be required to prove his or her citizenship before being allowed to register to vote. That's up from 71% a year ago. Just 19% oppose that requirement.

Bill Clinton says Republicans want fewer people to vote. Former President Bill Clinton has signed on to promote a new Democratic voter project, claiming that the GOP is trying with voter identification laws to block divorced women, college students, blacks, the disabled and younger Americans from voting. "There is no greater assault on our core values than the rampant efforts to restrict the right to vote," Clinton said in a YouTube video distributed as part of the Democratic Party's new Voter Expansion Project unveiled Thursday [2/27/2014].

The Editor says...
Republicans want fewer dead people to vote. Dead and fictitious people are an important component of the Democrats' base, but they do not have the right to vote. As for the other groups, how many women have been married and divorced and do not have any identification with a photo on it? (Nobody.) How many college students do not have a photo ID issued by the college? (Zero.) How many "younger Americans" — who are old enough to vote legally — do not have a driver's license, which is a major goal at that age? You no longer have to be a land owner to vote, but you should be engaged in our society to the extent that you carry some sort of identification.

VP Biden Claims 'Hatred' Is Force Behind Voter Id Laws. On Tuesday [2/25/2014], Vice President Joe Biden blamed "hatred" as the motivating force behind voter identification laws in states such as North Carolina, Alabama, and Texas. Biden wants new laws to block "former slave holding states in the south" from discrimination against blacks and other minorities.

NAACP requires marchers protesting North Carolina voter ID law To Show Photo ID. North Carolinians marching to protest voter-ID laws must present a valid photo ID to participate in an NAACP-hosted protest against voter-ID laws in Raleigh on Saturday [2/8/2014]. The central claim among the protesters is that the voter-ID laws disenfranchise certain segments of the voting population, particularly minority voters and poor voters. According to official NAACP flyers passed out at the rally, protesters must carry the precise kind of ID that they would be expected to present at the voting booth.

ID's required to attend NAACP rally to protest voter ID requirements. The North Carolina State Conference of the NAACP is holding a rally to protest that state's new voter identification law, but participants are being advised to bring photo identification.

Black America: Stop The Insanity! Why do you continue sleeping with the enemy, voting for liberal Democrats whose policies imply that you are inferior, stupid, and culturally immoral? When the NAACP and Democrats claim that requiring a photo ID disenfranchises blacks, such implies we are stupid. For the life of me, I do not understand why millions of blacks are not highly insulted by this absurd claim. Do blacks fly? Do blacks drive cars? Do blacks cash checks?

Speaking of photographic identification...
Bill Would Make Food Stamp Recipients Show Photo ID. A group of House conservatives have introduced legislation to require that people using food stamps show a photo ID whenever using them. The bill, introduced by Rep. Matt Salmon (R-Ariz.), would "amend the Food and Nutrition Act of 2008 to require households that receive supplemental nutrition assistance benefits to present photographic verification at the time food is purchased with such benefits."

AG Eric Holder Tells MSNBC: Feds Must Intervene to Stop Voter Photo ID Laws. In an interview that has gotten little notice so far, US Attorney General Eric Holder told MSNBC's Ari Melber that the federal government should intervene and stop states from enforcing voter ID. Holder tells Melber, "Photo ID efforts are done inappropriately and for improper reasons. I think that ought to be the basis for federal intervention."

Eric Holder: Voter ID [is] Used to 'Depress the Vote' of People Who Don't Support GOP. Speaking exclusively to MSNBC host Ari Melber, Attorney General Eric Holder sharply criticized state-level voter identification policies and said that he believes those policies are a "remedy in search of a problem." He added that, while some may be arguing for voter ID in good faith, he believes that most are advocating for this policy in order to "depress the vote" of those who do not support the "party that is advancing" voter ID measures. "I think many are using it for partisan advantage," Holder said of voter ID.

Pennsylvania voter ID law struck down. Pennsylvania's voter ID law, among the nation's most stringent, was struck down Friday morning [1/17/2014] by a state judge. Commonwealth Court Judge Bernard L. McGinley ruled that the law, requiring almost all voters to present photo identification prior to voting, was an unreasonable burden on voters.

Judicial Watch Announces List of Washington's "Ten Most Wanted Corrupt Politicians" for 2013. [Scroll down] The DOJ is similarly assaulting Texas in federal court as part of this ideological effort to suppress efforts to protect election integrity. More than a dozen states — including Kansas, Indiana, Tennessee and Wisconsin — have similar laws that require voters to show government-issued photo identification at the polls, and Obama's attorney general has launched a campaign to challenge them all. The Holder DOJ is clearly hostile to the idea of one person, one vote, one time.

This Factual Evidence of Voter Fraud in Ohio Should Change Democrats' Minds About Voter ID. I am struggling to come up with a good way to defend Democrats' behavior on the Voter ID debate when there were 257,000 dead people still listed as active voters and and at least 17 factual cases of voter fraud in Ohio. It is painfully obvious that the system needs a makeover if it is that awful at staying up to date with who is and isn't alive.

Obama: 'You Can't Say You Take Pride in American Democracy' and Be in Favor of Voter ID Laws. Yes, several states are mounting efforts to hinder the ability of certain people to vote; these "certain" people are ineligible voters. Call it "extreme," but openly facilitating voter fraud to alter elections is hardly an affirmation of democracy, but a detriment to our election process. On a side note, perhaps we could take President Obama more seriously when he speaks about voter fraud or voter intimidation if his Justice Department had not dropped the case against Black Panthers who intimidated voters in Philadelphia in 2008.

Attorneys General Join Forces to Call Into Account Illegal Obama Administration Violations. In Arizona, voters passed a referendum requiring that individuals registering to vote show evidence that they are citizens. Over 90 percent of the population can satisfy this simply by writing down a driver's license number or naturalization number. The less than 10 percent of those who do not have these numbers are able to register by mailing a copy of a birth certificate, passport, Indian registration number or similar documentation. The Obama Administration argued against Arizona in the Ninth Circuit and a decision is yet to be made.

Texas Voting Rate Increased in Its First Voter ID Test. The Economist is just the second mainstream outlet to notice that voter ID had no negative impact on the voting rate in Texas, and may have contributed to the increase. [...] The November result totally destroys the Obama administration's stated rationale for going to court to stop the law.

Texas voter ID law didn't suppress vote. If voter ID was intended to suppress votes, it is failing as spectacularly as HealthCare.gov.

Virginia Duo Hooked Up 300 Illegal Immigrants with Photo ID; WashPost Buries Story on B8. A former DMV clerk, Maria Cavallaro, and her accomplice, Jose Calderon, pleaded guilty in federal court yesterday to helping roughly 300 individuals "most of them illegal immigrants" to obtain Virginia-issued "driver's licenses, learner's permits and identification cards for those... [who] were not eligible for them," Washington Post staffer Matt Zapotosky reported in the November 7 paper. Suffice it to say, such a pervasive criminal conspiracy merits prime real estate in a major metropolitan newspaper, but Post editors seem to disagree, placing the 14-paragraph story on page B8 of Thursday's [11/7/2013] paper, the very back page of the Metro section.

Victims or Perpetrators? How Democrats Are Waging Guerilla War Against Popular Voter ID Laws. [T]he Democrats relentlessly attack voter ID laws that have been enacted in several states over the past few years. The Obama administration is even waging courtroom war against those laws, suing states including Texas that have passed voter ID to get the laws gutted. Texas is key to Democrats' hopes to build a permanent presidency and congressional majority, so whatever happens in Texas won't stay in Texas. Voter ID seems to fill Democrats with dread that they cannot win the state.

Justice Department to sue North Carolina over voter law. The Justice Department announced Monday [9/30/2013] that it is suing the state of North Carolina for alleged racial discrimination over tough new voter ID rules. The suit claims that the North Carolina statute violated Section 2 of the Voting Rights Act and would seek to have the state subject to federal pre-clearance before making "future voting-related changes." The suit was filed Monday in U.S. District Court in Nashville, Tenn. Attorney General Eric Holder said "by restricting access and ease of voter participation, this new law would shrink, rather than expand, access" to voting.

Justice Dept. to sue North Carolina over GOP-backed voting rules. The Justice Department filed suit Monday to block North Carolina's new voter-ID law, with Attorney General Eric H. Holder Jr. accusing state Republicans of engaging in a deliberate effort to suppress black voter turnout. [...] "This concern about vote fraud is something that is made up in order to justify these restrictive and I think, at a minimum, partisan actions," Mr. Holder said in a news conference at the Justice Department.

Holder's Texas Vendetta: He Suppresses Voter ID Truth. [Eric] Holder's problem is that the Supreme Court has already ruled that requiring photo IDs to vote — as required, for example, at the 2012 Democratic National Convention — does not constitute an undue burden on minorities since the requirement and any fees are applied to all voters equally. "There is no question about the legitimacy or importance of a state's interest in counting only eligible voters' votes," wrote liberal Justice John Paul Stevens for the 6-3 majority in the high court's 2008 decision upholding Indiana's ID law, the toughest in the nation. "We cannot conclude that the statute imposes 'excessively burdensome requirements' on any class of voters," the justices said.

Why the Left Really is against Voter ID Laws. For the far left, elections are a means to an end. So long as elections lead to liberal Democrats implementing a leftist agenda, they are desirable. But if Americans elect conservatives who implement an agenda antithetical to the Left's world view, then elections are impediments to utopia. In other words, the Left does not place intrinsic value on elections. Above all, the Left values an intrusive federal government equipped with the power to manage (or micromanage) all sectors of society for the supposed betterment of humanity. This is in stark contrast to conservatives and libertarians, who do place intrinsic value on elections.

Are You Sure There's No Voter Fraud? The assumption that voter fraud is nonexistent requires us to not only ignore most of American political history; it also obligates us to forget everything we know about human nature. Given that photo ID is now required for virtually every sort of transaction or service, most Americans rightly see it as a common[ ]sense measure. But discussions about shady elections don't require us to explore the distant past.

Department of Justice Sues Texas Over Voter ID Law. The Obama administration will sue Texas to block its voter ID law, the Justice Department said on Thursday [8/22/2013]. The lawsuit will challenge the law under Section 2 of the Voting Rights Act, which prohibits discrimination on the basis of race, color or language.

The Left's Faux Martyr. The Left has a new martyr. Rosanell Eaton is a 92-year-old black woman with a compelling story about the harm done to vulnerable people, especially members of minority groups, by North Carolina's new voter-ID law. But none of it holds up. Rosanell Eaton isn't a martyr at all, in fact.

The Good Sense of Voter ID. It is either the case that African Americans, young people, old people, and poor people labor under some onerous yet curiously undetectable burden that keeps them from obtaining free, government-issued photo IDs, or it is the case that Hillary Clinton, the NAACP, et al. are full of bunk when they claim that voter-ID laws such as the one just adopted in North Carolina amount to "disenfranchisement."

Lawsuits filed after Gov. Pat McCrory signs voter ID bill. Gov. Pat McCrory on Monday signed into law a bill requiring voters to produce a photo ID when they go to the polls, and it was immediately met with legal challenges in federal court questioning its constitutionality. The new law brings sweeping changes to the state's election process by reducing the early-voting period by a week, abolishing same-day voter registration and ending straight-party voting.

North Carolina lawmakers approve sweeping voter ID bill. A voter ID law passed during the final hours of the state's legislative session Thursday night [7/25/2013] would require voters to show government-issued ID cards. It also would shorten early voting by a week, eliminate same-day voter registration during early voting, allow any registered voter to challenge another voter's eligibility and eliminate popular pre-registration initiatives for high school students.

Did you vote on this issue? It doesn't matter. Judges know what's best for you.
Voter ID's fate now in judge's hands. The fate of Pennsylvania's 16-month-old voter identification law is in the hands of a Commonwealth Court judge after closing arguments in the landmark voting-rights case Thursday [8/1/2013]. The state argued that it had done its part to ensure that all registered voters had access to mandatory ID, while petitioners countered that those efforts were not enough. Jennifer Clarke, executive director of the Public Interest Law Center of Philadelphia, said the law placed a "fundamental burden" on a right "enshrined in the Constitution."

Poll: Media Out of Touch on Voter ID Laws, 83% Approve. Remember how, during the media's failed months-long crusade to push for gun control, the GOP was under siege 24/7 from left-wingers like Chuck Todd, Joe Scarborough, and Wolf Blitzer armed with polls that showed 80% wanted background checks tightened, including a majority of Republicans? [...] Well, guess what else is an 80-20 issue? Voter ID.

Justice Dept. to press Texas on voting rights, despite ruling by Supreme Court. The Obama administration said Thursday that it will ask a federal court to require that Texas receive federal approval before it makes changes to its voting laws, opening up another battle front in the wake of the Supreme Court ruling last month that struck down a key part of the 1965 Voting Rights Act.

Honoring the right of the ballot. I have had the opportunity to visit many countries, and I have taken it upon myself to inquire how people in other nations prevent voter fraud. Even those from Third World countries tell me that everyone has some type of official voting credential that is nationally recognized. It seems only logical that you would want to ensure that only legitimate constituents of a region would be able to vote on issues relevant to that region. Nevertheless, certain groups and individuals in America have begun to agitate the populace about the unfairness of a system that requires voter identification.

Trial on Pennsylvania voter-ID law gets underway. The 2012 law "does not guarantee every voter can obtain ID needed to vote," lawyer Michael Rubin argued to Commonwealth Court Judge Bernard McGinley before a packed courtroom. "It will make it harder to vote, not for one or two people but hundreds of thousands."

The Editor says...
Really? There are "hundreds of thousands" of people who never drive a car, who never buy adult beverages or cigarettes, and who never travel by air? Do those people keep their money in a mattress and pay cash for everything? The Unabomber was that far off the grid, but are there "hundreds of thousands" like him in Pennsylvania? And if there are people who are so completely disconnected from our society, should they vote?

After Ruling, States Rush to Enact Voting Laws. State officials across the South are aggressively moving ahead with new laws requiring voters to show photo identification at the polls after the Supreme Court decision striking down a portion of the Voting Rights Act.

The Editor says...
The New York Times article above reeks with bias, even in the headline. When a traffic signal turns green, drivers immediately rush away. The rush means nothing, except that the light is green and the impediment is removed. The rest of the article is worded in such a way as to show support for the Democratic party — which is what one would expect from the NYT — including a claim that voter fraud "is extremely rare" and a derogatory emphasis on the state of Texas.

Left Lives in the Past on Voting Rights. Under the status quo, enforcement of the Voting Rights Act isn't about reversing discrimination so much as it is in applying the political agenda of the left to hamper the ability of some states to enact common sense laws, such as the requirement for photo ID when voting or to create districts that are not gerrymandered to the advantage of liberals. By ending pre-clearance until Congress puts forward a new scheme rooted in evidence of systematic discrimination going on today, it has placed all states on an equal footing and made it harder for the Obama Justice Department to play politics with the law.

SCOTUS ruling sets stage for voter ID battle. The Supreme Court decision Tuesday striking down a key plank of the Voting Rights Act dramatically eases the way for states to push through stricter voting laws — and the flurry of action could reverberate into 2014 and beyond. Some states such as Texas moved within hours of the landmark ruling to implement so-called voter ID laws — requiring voters to show valid identification before they can cast ballots — that had been on hold. Others, such as swing state North Carolina, are expected to pass legislation this year that could complicate Democrats' chances in 2014 midterm elections.

Al Sharpton goes into meltdown mode over voting rights SCOTUS decision. Immediately upon the announcement of the Supreme Court's 5-4 decision on Tuesday [6/25/2013] in which the [sic] Section 4 of the 1965 Voting Rights Act was declared unconstitutional in the Shelby County v. Holder case, MSNBC's Al Sharpton took to the airwaves to express his frustrations. Sharpton, the host of "PoliticsNation," called on the president and others to speak out against the decision, but noted despite all the "voter suppression," there was a record turnout.

That Was Quick: Texas Moves Forward With Voter ID Law After Supreme Court Ruling. Just hours after the Supreme Court handed down a ruling that guts parts of the Voting Rights Act, Texas is moving forward with a controversial voter ID law that state Attorney General Greg Abbott hopes to implement right away. "With today's [6/25/2013] decision, the state's voter ID law will take effect immediately," Abbott said in a statement to the Dallas Morning News. "Redistricting maps passed by the Legislature may also take effect without approval from the federal government."

Supreme Court Buries Section 5 of Voting Rights Act. The Supreme Court has decided Shelby v. Holder. It is one of the most important decisions in decades. Now, federal preclearance of state election procedures seems to be forever dead and buried. While some congressional Republicans had vowed to enact new legislation to "fix" any coverage formula deemed unconstitutional, the opinion today offers almost no room to do so. They would have to decide what's more important: the Republican Party, or the Constitution? [...] Now, voter ID laws in Texas, Alabama, and Mississippi are in effect after a delay of years.

If you embarrass the bureaucrats, they will get even.
Revealed: U.S. Justice Department and New Hampshire's Criminal Investigation of James O'Keefe's Voter ID Video. PJ Media has obtained documents demonstrating that the New Hampshire attorney general was in discussions with Eric Holder's Department of Justice regarding filing criminal charges against journalist James O'Keefe after he exposed vulnerabilities in New Hampshire's electoral system in the January 10, 2012, presidential primary. [...] As a direct result of O'Keefe's expose, the New Hampshire legislature passed a photo voter-identification law. State and federal officials, however, targeted O'Keefe after his expose.

Cruz to introduce voter ID amendment to counteract Supreme Court ruling. Sen. Ted Cruz (R-Texas) on Monday [6/17/2013] said he would offer an amendment to the Senate immigration bill to counteract a Supreme Court decision striking down state laws requiring voters to prove their citizenship. Cruz's amendment, which he plans to attach to the bipartisan Gang of Eight bill being debated this week in the Senate, would allow states to require IDs before voters register under the federal "Motor Vehicle" voter registration law.

Appeals Court Win for Wisconsin Voter ID Law. In a blow to the Obama administration's effort to block voter identification laws, a state appellate court has ruled that Wisconsin's voter ID measure is constitutional and therefore can be used as a tool to eliminate election fraud. The decision, from the 4th District Court of Appeals, reverses a lower court's injunction banning implementation of the measure during the 2012 presidential election. That means voters could not be forced to show a government-issued ID to cast a ballot in federal, state and local elections in Wisconsin, even though the state had passed legislation requiring it in 2011.

Barack Obama's America. Barack Obama's America is where citizens must show a valid ID to get a job, but cannot be required to produce ID to vote.

Voter ID didn't reduce turnout, but the IRS may have.
The Real Voter Suppression of 2012. The 2012 election season was filled with angry cries of "voter suppression," almost all of them regarding attempts by states to require voter ID and otherwise improve ballot integrity. Bill Clinton warned that "there has never been — in my lifetime, since we got rid of the poll tax and all the other Jim Crow burdens on voting — the determined effort to limit the franchise that we see today." Democratic-party chairwoman Debbie Wasserman Schultz said "photo-ID laws, we think, are very similar to a poll tax." All of this proved to be twaddle.

Virginia and Arkansas latest to require photo ID. Nothing is quite so implausible as a Democrat claiming he's against something because it's "too expensive." Arkansas Gov. Mike Beebe says he vetoed a prospective law requiring voters to show identification before casting a ballot because it would cost $300,000. Nearly three dozen other states are still solvent after adopting similar voter-ID laws. On Tuesday [3/26/2013], Virginia became the latest, with Republican Gov. Bob McDonnell's signature on a voter-ID bill that takes effect in November 2014. Would-be voters currently lacking a photo ID will have a year-and-a-half to get one.

Virginia governor signs bill requiring photo ID to vote. The legislation provides for a free valid ID with the bearer's photo to any registered voter who lacks one.

Voter ID — fraud prevention or voter suppression? The U.S. Supreme Court may be holding the political future of the United States in its hand as it tries to decide how far the states may go in requiring identification from those who attempt to vote.

First Spartanburg election requiring photo IDs goes smoothly. There were few complaints at the Woodruff polls as South Carolina's new voter photo ID requirement was enforced for the first time in Spartanburg County. The re-do election for mayor in Woodruff is the first Spartanburg County election since the photo ID requirement went into effect Jan. 1. The law requires voters to show a S.C. driver's license, Department of Motor Vehicles ID card, voter registration card with photo, federal military ID or a United States passport to cast a ballot.

National voter ID battle set to rage again. This year promises a flurry of new voter ID legislation across the country as well as reignited court battles in states where the laws were blocked last year and a Supreme Court ruling on part of the Voting Rights Act. [...] States with voter ID legislation to be debated this year include Alaska, Arkansas, New York, North Carolina, Missouri, Montana, Virginia, West Virginia and Wisconsin. All of the bills would require voters to present some kind of government-issued photo ID in order to vote.

Federal Court: DOJ Must Reimburse South Carolina for Voter ID Folly. A federal court has ruled that South Carolina was the prevailing party in the unnecessary Voter ID litigation, and therefore the Justice Department is liable for paying the state's costs. South Carolina spent $3,500,000 to obtain federal court approval of the state's Voter ID law as non-discriminatory under the Voting Rights Act. The lawsuit was made necessary only because of the political and ideological radicalism of Assistant Attorney General Tom Perez and his deputy Matthew Colangelo.

If You Don't Vote, There Is No Fraud. The press has been great at finding examples of poor, elderly people to get a photo ID. It makes for great television and podium speaking. But these articles never get to the crux of the issue. Why can't they vote? Because of a lack of paperwork. Because they are 80 or 90 years old and were born in the country via midwife and have no documents. Because they lost their purse or their possessions were burned when their house caught on fire. I get that. But these are the exceptions, not the norm. There are always going to be examples of people lacking paperwork due to their age or life situations.

Voter ID and the Bigotry of Low Expectations. In September of 2005, the Commission on Federal Election Reform, co-chaired by former president Jimmy Carter, issued a report titled "Building Confidence in U.S. Elections." In order to prevent voter fraud and rebuild American confidence in our electoral system, the commission made five recommendations, one of which was to require voters to show ID to vote. [...] The Supreme Court of the United States agreed. In 2008, the court upheld Indiana's photo ID requirement, ruling that it was a non-discriminatory means of protecting the integrity of elections.

Secretaries of State Criticize Michelle Obama for Voter Suppression Claims. Seven Secretaries of State have released a statement criticizing First Lady Michelle Obama for her false claim that Republicans engaged in voter suppression in the November election: "Unfortunately the First Lady's comments continue the baseless attacks that have been made upon those leaders who are simply taking reasonable steps to protect the security and integrity of elections. This past election speaks for itself. In Arizona, a state that has a photo ID requirement, Hispanic voter turnout was the highest in the state's history. [... "]

That Funny Leftist Equation about Voter I.D. Those who cry about this the most on the left don't seem to realize that they come perilously close to racism by making the blanket assumption that all people they believe that would be affected by voter I.D., namely people of color and people on the lower ends of the socioeconomic scale, are completely unable to find the smallish amounts of money and time it takes to get some form of valid identification.

Report: Kellogg Foundation, SEIU funded attacks on voter ID laws. A progressive foundation and a labor union have combined to pour millions of dollars into a "racial justice" group that was hostile to voter ID laws during the 2012 campaign season, according to a conservative watchdog group in Wisconsin. While True the Vote and other right-leaning campaigns were promoting ID requirements for voters and monitoring the implementation of ID laws at the state level, the Applied Research Center (ARC) was pushing back with claims that photo ID requirements at polling places were thinly veiled expressions of racism.

Obama Lost in Every State with a Voter Photo-ID Law. Was the election stolen? Remember all those lawsuits by Democrats demanding that any voter identification laws be repealed? Well, now we know why they filed them. They needed to steal the vote in certain key states so that Obama could be reelected. Curiously, Obama lost in every state that requires a photo ID to be produced before voting.

Did this dirty trick get Obama re-elected? Did the suppression or lack of voter ID laws aid President Obama's victory over Mitt Romney? Obama did not win a single state that fully requires photo IDs to vote, although he was victorious in four states that accept non-photo identification — Washington, Colorado, Ohio and Virginia. Those states accept as legitimate identification current utility bills, bank statements and paychecks.

Texas voter ID ruling based on 'faked' data. A radical group that has a history of biased research provided data utilized in a federal case in which the court yesterday [8/29/2012] blocked a new voter ID law in Texas, ruling the state failed to show that the law would not harm the voting rights of minorities, WND has learned. The voter ID data collected by the group, the Brennan Center for Justice, has been called into question by experts and has been contradicted by other credible studies.

Barack Obama votes early in Chicago, is asked to show ID. President Barack Obama was asked for photo identification before he could cast his ballot Thursday [10/25/2012] in Chicago. Obama voted at 4:20 p.m. local time, "punching his choices into a touch-screen machine after signing forms and showing his driver's license," according to the White House press pool report.

The Editor goes slightly off-topic to ask...
Does Mr. Obama not reside in the District of Columbia? Can a voter travel around the country to vote where it makes the biggest difference?

Dem Caught Red-Handed Promoting Election Fraud. A high-ranking official with Congressman Jim Moran's re-election campaign was recently caught on video encouraging an undercover reporter to forge documents in order to cast phony ballots in the upcoming Virginia election. The incident is particularly compromising for Congressman Moran, as he has been a vocal opponent of the state's voter ID law, which is designed to protect against voter fraud. More hypocritically, Moran had been previously caught on film demanding that constituents show their IDs at a local town hall meeting.

Voter ID and the Bigotry of Low Expectations. With the presidential election right around the corner, the liberal propaganda machine is churning on all cylinders. A particularly disturbing article was recently published in the Philadelphia Inquirer by columnist Annette John-Hall titled "A retired CEO can't top voter ID hurdles." It is a deceptive and misleading piece that rails against Pennsylvania's new voter ID law. [... She] uses a propaganda technique known as a "red herring" to convince the public that voter ID laws are harsh and suppressive.

Mississippi AG: DOJ Won't Clear Voter ID Law Until After Election. The U.S. Supreme Court upheld Indiana's voter ID law in 2008, and Georgia's top court upheld that state's voter ID law.

Pennsylvania court rules voters can cast regular ballots without ID. Pennsylvania voters who go to the polls without photo identification will be able to vote in next month's presidential election after all. They won't even have to fill out provisional ballots. So ruled a Commonwealth Court judge Tuesday [10/2/2012] in the closely-watched legal battle over Pennsylvania's controversial voter ID law.

I Thought Voter Fraud Didn't Exist. Some on the political left have been rambling about how voter fraud isn't an issue for months. They say it's a new poll tax. It'll disenfranchise voting, especially amongst those in the minority community who cannot obtain a government issued ID.

Left Turns Voting Rights Into a Farce. Last week, First Lady Michelle Obama sounded a battle cry at a Congressional Black Caucus awards dinner when she said protecting the right to vote is the nation's most important civil rights issue. If that were true, that would mean there no credible civil rights concerns in the country. What Obama was talking about was the effort by Democrats to prevent the implementation of laws requiring voters to present a photo ID when casting their ballots. The common sense measure has the support of the overwhelming majority of Americans.

Pennsylvania Court Reconsiders Voter ID Availability. The Pennsylvania judge who last month upheld a law requiring voters to show photo identification heard testimony today [9/25/2012] from officials on whether the state's process for implementing the statute will allow people to comply before the general election in November. The Pennsylvania Supreme Court on Sept. 18 ordered Commonwealth Judge Robert E. Simpson to consider whether all eligible voters will be able to obtain acceptable ID if the law is upheld.

Republicans Losing Election Law War as Campaign Ramps Up. Republicans are losing most of the court fights with Democrats over whether GOP-backed state voter regulations will illegally suppress turnout among the poor and minorities in the Nov. 6 presidential contest. As the general election begins in earnest following the conclusion of the Democratic national convention, legal battles continue in a half dozen swing-states where court challenges await decisions by state and federal judges.

Justice Dep't approves New Hampshire voter ID law. The Justice Department approved New Hampshire's new voter ID, a version that is stricter than existing rules in the Granite State, but not as restrictive as other voters ID laws that the DOJ has rejected.'

The Editor says...
How is the Justice Department, or any other federal agency, in a position to approve or disapprove of state laws? Have we really arrived at that point, or does the Justice Departement merely presume to have powers it was never given?

Why Democrats Fear Voter I.D. Laws. Several states have developed voter registration laws in order to clean up the voter fraud that has been plaguing our elections. Most all have been some of the lawsuits against individual states AG Eric Holder's DOJ has filed in the last nearly four years. Recently Florida was one of these states, even though the majority of Americans, and Floridians, want such a law.

Sen. Boxer To Tea Party: "Intimidating Voters Is A Federal Offense". "I know everyone's paying attention, I know the Obama campaign is ready to act on this. But I realized that there are two important federal laws, the Voting Rights Act, passed in the 60s, and Voter Registration Act passed in the 90s, that have criminal and civil penalties for people who try to intimidate a voter. And I wanted to make sure that the Justice Department is moving on these cases. [...]" Sen. Barbara Boxer (D-California) told MSNBC's Ed Schultz on Friday [9/28/2012].

The Editor says...
Tell it to the Black Panthers, Senator.

Cain: Opponents of Voter ID Laws 'Just Looking for Easier Ways to Cheat'. Former GOP presidential candidate Herman Cain voiced his support for voter ID laws and expressed skepticism about anyone who opposes them. "I believe in voter ID laws. Those that are against voter ID laws are just looking for easier ways to cheat at the voting booth," Cain told CNSNews.com Thursday [8/30/2012] near the site of the Republican National Convention.

Court Blocks Texas Voter ID Law. The seeds of today's decision were planted in 2006 when Congress reauthorized the Voting Rights Act. Not only did Congress extend the law, but it changed the substantive requirements to a virtually insurmountable standard for any election integrity measure such as voter ID. In other words, some blame for today's decision lies more with the Voting Rights Act itself. In 2006, the statute was amended to impose unconstitutional and unrealistic burdens on the states. The revised standard required covered states to prove the absence of "any" discriminatory effect or purpose. Any, of course, means greater than zero.

Federal court rejects Texas voter ID law. A federal court in Washington on Thursday blocked a Texas law that would require voters to present photo IDs to election officials before being allowed to cast ballots in November, saying it would place an unfair burden on minorities and the poor.

Voter ID: A Good Idea. Do you honestly know any grannies who can't prove who they are with an ID anyway? If you do, I bet they don't have the right to vote in this country either. Of course, there's a study being mentioned via the media which claims that fraudulent voting isn't a problem in this country anyway. What they aren't broadcasting is the obvious: if a fraudulent vote is cast illegally-well, it doesn't get caught! Or maybe people are supposed to believe that the survey-takers ask people as an exit poll: "Excuse me. Did you vote honestly?" Give me a break! There is no study that can positively detect the amount of voter fraud in this country. And another thing, anyone who believes voter fraud doesn't exist has never been to Chicago on Election Day.

DOJ Backs Down, Approves Virginia Voter ID Law. The Department of Justice decided not to challenge Virginia's voter ID law Monday [8/20/2012], approving the law signed by Gov. Bob McDonnell.

Help is plentiful for obtaining voter ID. With Pennsylvania's controversial new voter-ID law in the headlines for the last few months, older residents of Philadelphia are finding no shortage of help in getting the documents they need to vote. Volunteers and organizations are shuttling the elderly to Department of Transportation licensing offices. Groups like the Committee of Seventy are issuing pamphlets to clarify the law's requirements. And PennDot has relaxed its rules to make the process easier for seniors who lack some necessary documents.

Justice Department upholds Va. voter ID law, governor says. The Justice Department has signed off on Virginia's new voter ID law, Gov. Robert F. McDonnell (R) said Monday night [8/20/2012], in a decision that clears the way for the bitterly contested measure to take effect in time for Election Day. Justice officials found that the law, which closes a provision that had allowed Virginians to vote without identification but also expands the types of ID accepted at the polls, does not violate the Voting Rights Act, McDonnell said in a statement.

Voter Identification and Stupidity. Attorney General Eric Holder, testifying on August 15, 2012, before a Senate Judiciary Committee, may have made the most racist statement ever. Holder said that minorities are "biologically incapable" (meaning too stupid) of obtaining voter identification."

Lawyers stunned after lead plaintiff in voter ID case gets her ID anyway. Viviette Applewhite, 93, is the lead plaintiff in a Voter ID case against the state of Pennsylvania. But after a judge denied lawyers in the case a request for a temporary injunction of the law, Jessica Parks from the Philidelphia Inquirer decided to travel with Applewhite to the Pennsylvania DMV, as part of a report behind how difficult it would be for her to get the proper ID in order to vote. [...] According the report the DMV employees, did not recognize Applewhite, but agreed to issue her an ID as part of the department's instruction to work with individuals on a "case-by-case basis."

Where there's a will, there's a way.
The "star witness" against Pennsylvania Voter ID just got herself an ID card. Vote-fraud defenders have been using Viviette Applewhite, a 93-year old Pennsylvania woman whose birth certificate copies were destroyed in two separate house fires, as the "star witness" against Pennsylvania's new Voter ID law. Her Social Security card was stolen a while ago, and she doesn't have a drivers' license. Without either birth certificate or SS card, this sweet old lady would be ruthlessly "disenfranchised," because she couldn't get one of the new photographic voter ID cards the state is handing out. Except... the day after a judge refused to issue a temporary injunction against the voter ID law, Applewhite hopped on a bus, went to the PennDOT center, and got herself an ID card.

93 Year-Old Wheelchair-Bound Woman Gets Photo ID In One Day After Losing Initial PA Voter ID Lawsuit. For the first time, Philadelphia resident Viviette Applewhite actually got a state-issued photo ID from the Pennsylvania Department of Transportation. [...] Applewhite is more than just an elderly woman who had marched with Dr. Martin Luther King, Jr. — she was actually the lead plaintiff in the American Civil Liberties Union's (ACLU) original lawsuit against Pennsylvania's voter ID law. What's more, she got her ID just one day after Pennsylvania Judge Robert Simpson initially upheld Pennsylvania's voter ID law — the same law that Simpson put on hold Tuesday [10/2/2012].

Judge rejects bid to block Pennsylvania voter ID law. A Commonwealth Court judge denied a bid by civil rights groups to block the new voter identification law from taking effect, delivering a first-round victory to Gov. Corbett and legislative Republicans who pushed the measure through this spring saying it was needed to prevent voter fraud. In a 70-page decision deloibvered [sic] Wednesday morning [8/15/2012], Judge Robert E. Simpson said the plaintiffs did not establish that "disenfranchisement was immediate or inevitable."

Pennsylvania voter ID law should go forward, court rules. A Commonwealth Court judge has ruled in favor of the state's new law requiring photo identification at the polls, declaring that acquiring and presenting the ID cards is not an unconstitutional burden on voters. In his 70-page opinion, Judge Robert Simpson, who presided over a week-long hearing that sought to overturn the five-month-old law, decided against granting an injunction that would have prevented the law from going into effect for the Nov. 6 general election.

A Voter ID Victory. On Wednesday [8/15/2012], a Pennsylvania judge refused to block a new Keystone State ID law from going into effect, handing a defeat to the ACLU and Attorney General Eric Holder's campaign to demonize such laws as racist. Judge Robert Simpson didn't rule on the state constitutional merits, which he will hear later. But he sensibly refused to overturn a law duly passed by an elected legislature and signed by the Governor that applies equally to all Pennsylvania residents. He said the state government will carry out the law in a "non-partisan, even-handed manner" and so deserves to be put into effect until the larger issues can be decided.

Eric Holder's uphill battle: Huge public support for voter ID. While the Obama Justice Department, led by Attorney General Eric Holder, uses its authority to block some state voter ID laws (Texas), and investigate others (Pennsylvania), a newly-released poll shows overwhelming public support for laws requiring voters to present identification before casting a ballot. That support crosses party lines, racial lines, economic lines, educational lines, and just about every other line in the electorate at large.

74% of Americans Support Voter ID Laws. One of the left's sillier temper tantrums is the fight against Voter ID laws. The law simply requires that a voter present a photo ID at the polling place, as a means to verify they are who they say they are. It is almost impossible to navigate daily life without a photo ID, yet the left argues that this burden is uniquely onerous.

Obama campaign working to counter new voter ID laws. President Obama's reelection campaign launched a national drive Friday [5/18/2012] to counter new restrictive voter-access laws, which advisers said threaten his electoral chances in November.

Bias alert!
The Washington Post complains about what they call "voter access laws." The laws are not intended to prevent living American adult citizens from casting one vote per election. Anyone who drives to the polling place should already have the necessary identification. Anyone over 18 who does not carry identification is probably either a criminal or one of a handful of extreme libertarians, but even the libertarians would produce a photo ID if necessary on election day. "Access" is not at stake. Fraud is the issue.

The Unfounded Case Against Pennsylvania's Voter ID Law. Like many states concerned over election integrity, Pennsylvania passed a common-sense election reform: voter ID. As a result, it has been targeted in a lawsuit by the ACLU and threatened with litigation by the politically driven Eric Holder Justice Department.

Voter ID rules protect seniors, minorities from fraudsters, says new study. Criminal justice data shows that blacks and poor people are the most common victims of voter fraud and are the greatest beneficiaries of voter identification rules, according to a new study. The courtroom evidence "completely contradicts the [progressive claim] that blacks, seniors, college students and other disadvantages groups are being victimized," said Horace Cooper, an adjunct fellow at the National Center for Public Policy Research.

Reverend Al's Laugh Line: My Work Against Voter ID Laws Is 'Non-Partisan'. Al Sharpton, uttering one of the more absurd laugh lines of this political season, actually claimed on his MSNBC show this evening that his campaign in Florida against voter ID laws is "non-partisan." Debbie Wasserman-Schultz apparently hadn't gotten the memo about pretending Sharpton was non-partisan. The Chair of the DNC, also a Dem Florida congresswoman, after delivering a super-partisan diatribe on the issue, giddily thanked Sharpton for his work — before the Reverend hastened to remind viewers that his campaign was "non-partisan."

Getting it Wrong on Voter ID. Among the many poorly researched articles that have written about voter-ID laws, one piece that appeared recently in Politico holds a special place. Reporter Emily Schultheis opens with the claim that "at least 5 million voters, predominantly young and from minority groups sympathetic to President Barack Obama, could be affected by an unprecedented flurry of new legislation by Republican governors and GOP-led legislatures to change or restrict voting rights by Election Day 2012." Schultheis doesn't say where she got the estimate of 5 million until well into the article — it's from a Brennan Center report. And she fails to disclose the radical, left-wing nature of the Brennan Center or the fact that it is an advocacy organization that is litigating against voter ID.

Republicans slam Justice Department on voter ID moves. Congressional Republicans told a top Justice official Thursday [7/26/2012] his department is wrong to fight state voter ID laws and that the government needs to do more to ensure people serving abroad in the military are able to vote. Rep. Trent Franks, R-Arizona, said the Justice Department "is seeking headlines opposing voter ID laws that an overwhelming majority of Americans support."

Republicans hit Justice Department on voter ID. House Republicans on Thursday [7/26/2012] criticized the Justice Department's decision to challenge new voter ID laws in several states, saying it shows the Obama Administration is more concerned with Democrats winning in November than protecting against election fraud.

Eric Holder's Keystone State Voter ID Shakedown. The Eric Holder Justice Department has done it again, this time in Pennsylvania. Not content to use Section 5 of the Voting Rights Act to shake down Texas and South Carolina, the DOJ yesterday [7/23/2012] sent a demand to the Keystone State for stacks of documents regarding Pennsylvania voter ID. This letter was a highly irregular and purely partisan exercise designed to stoke Obama's electoral base in Philadelphia. It is also designed to placate the civil rights industry, which has quietly simmered about the lack of enforcement of the Voting Rights Act to help minorities over the last three years.

Requiring Voter ID. Because fair and clean elections are in the best interest of every citizen, protecting the integrity of voting should not be a partisan issue. Unfortunately, that is not the case when it comes to voter ID at the polls. Republicans are generally for it, while most Democrats oppose it. Nearly 30 states require voters to identify themselves, and several states strengthened the rules over the past two years, largely at the urging of Republicans who want to prevent fraud.

Is Stealing the November Election Eric Holder's End Game? Amazingly, Holder can apparently remain totally oblivious to flagrant crime if it serves his interests, while summoning an uncanny ability to concoct misdeeds where none have occurred. For just as resolutely as he refused to concede perpetration of crimes by the New Black Panthers, he fiercely pursues the ostensible possibility of "voter intimidation" elsewhere in the nation, absent any credible accusations from disenfranchised voters, but instead based on the premise that merely requiring legitimate identification might result in such.

Justice Dept. opens probe of Pennsylvania's voter-ID law. The Civil Rights Division of the U.S. Justice Department has opened an investigation of Pennsylvania's new voter-ID law, asking the Corbett administration to document its repeated claims that 99 percent of the state's voters have the photo identification they will need to vote in November.

Justice Department opens investigation into Pennsylvania voter ID law. The Department of Justice is investigating whether Pennsylvania's new voter ID law is discriminatory, according to a letter released Monday [7/23/2012].

Will voter ID cost Obama the election? With polls showing President Obama and Mitt Romney locked in a desperately close race for the presidency, will voter identification laws suppress the Democratic vote and cost Obama the election, or will they simply cut down on voter fraud as Republicans contend?

Judicial Watch Files Amicus Curiae Brief for State Legislators in Support of Pennsylvania Voter ID Law. Pennsylvania House Bill 934 requires voters to produce a Pennsylvania driver's license or another government-issued photo ID, such as a U.S. passport, military ID, or county/municipal employee ID when voting. The law requires the Pennsylvania Department of Transportation to provide valid identification at no cost. The law further allows an individual without identification to cast a "provisional" ballot that will be counted if the identity of the voter can be indisputably ascertained within six business days of the election.

Florida Poll: Four Out of Five Support Photo ID Laws. A new Mason-Dixon poll of Florida voters found an overwhelming majority (82%) of Floridians support laws that require voters to present Photo IDs at the polls and a majority (54%), including 60% of Hispanics, favor Florida Gov. Rick Scott's plans to purge non-citizens from the Sunshine State's voter rolls.

In Support of Voter ID. America desperately needs voter ID in all fifty states. When you have sat, as I have, in smoke filled rooms all night and well into the day after Election Day waiting on precincts to report in because they are waiting to determine how many votes are necessary for their candidate to win the election and somehow, those ballots just seem to appear in the wee hours of the next day; when you have seen entire ballot boxes disappear from polling places at the close of the election day to be found days later in a farmer's barn; when you have sat in hearing after hearing on voter irregularities, as I have; when you have sat in rooms with board of election officials on one side of the table and members of the US Justice Department with 357 Magnums on one hip and IBM belt recorders on the other hip sitting on the opposite side of the table carefully counting the ballots all over again; when you have witnessed paper ballots already filled out being exchanged for blank ballots to voters near a polling place; when you have seen altercations between precinct officials in which heated language, threats of bodily harm, and a knife are involved; when your county becomes known by the Feds as "Little Chicago" — then maybe you can understand why I support such a simple unassuming safeguard as a state issued identification card that proves you are, in fact, the registered voter on the voter rolls of your precinct.

Texas Demolishes USDOJ's Case Against Voter I.D.. Testimony has concluded in the trial of Texas 'Voter I.D.' law, after attorneys for the state demolished the main arguments raised against the law by the Obama Administration, and got the key witness for the Justice Department to admit he got his information from Wikipedia, 1200 WOAI news reports. The Justice Department presented what it said was evidence that as many as 1.5 million Texans don't have the government issued photo i.d. required to vote, but Attorney General Greg Abbott says of the people on that roll, 50,000 are dead, 330,000 are over the age of 65 and can vote by mail, where a photo i.d. is not required, and more than 800,000 are on the list improperly.

Texas Voter ID Clown Show Ends Today. The Texas voter ID trial wraps up today [7/12/2012] with closing arguments in a D.C. federal courtroom. The trial featured bizarre and absurd testimony. I believe Texas is bound to lose this case because the statutory language is stacked against the state. But celebrations at the DOJ and in civil rights groups may be short-lived. Texas voter ID might die, but after the clown show this week put on by the DOJ's witnesses, the short-term victory over Texas might take the life of Section 5 when it gets to the Supreme Court.

Texas' attorney faces tough questions from judges on final day of voter ID case. The attorney defending Texas over its controversial voter ID law faced a tough room during closing arguments Friday [7/13/2012], as federal judges grilled him and one claimed the record shows the law puts a "disproportionate" burden on minorities.

Texas Voter ID on Life Support. Numerous knowledgeable courtroom observers sitting in on the Voter ID trial in Washington tell me that Texas Voter ID appears to be doomed. Four things are working against Texas. First, it appears that each side has rushed their cases, and both sides seem ill-prepared. This hurts Texas more than it hurts DOJ because Section 5 contains a burden shift. The burden shift requires Texas to prove by a preponderance of the evidence that it has a clean soul — that there was absolutely zero discriminatory intent, and zero discriminatory statistical effect, in passing voter ID. That is really tough to do on an accelerated schedule.

DOJ Witness Can Fly to Washington, But Can't Get Voter ID. The Justice Department actually called a witness in the Texas Voter ID trial today [7/11/2012] in Washington, D.C. The witness complained she couldn't find the time to get her parents to drive her to get the free photo ID, but she obviously had time to fly to Washington, D.C., from Texas to testify at trial!

The Left's False Claim of Suppression From Voter ID Laws. On Monday [7/9/2012], Benjamin Jealous, president of the NAACP, decided to confront the issue of Voter ID. Unfortunately, he embraced the left's absurd ideology that it is voter suppression and an assault on the rights of minorities. He likened the movement of opposition to Voter ID laws to the Civil Right Movements with his reference to "Salem and Montgomery times". This rhetoric is nothing but divisive.

Holder's Jim Crow Politics. Some of our liberal friends were a tad upset when we wrote last month that Attorney General Eric Holder was using the voter ID issue to stir up racial incitement. But maybe they should complain to Mr. Holder, who can't seem to liberate himself from a Jim Crow-era political mindset. Speaking to the NAACP in Houston on Tuesday [7/10/2012], Mr. Holder assailed the Texas law that requires voters to show some identification, using terms redolent of Deep South racism before the passage of the Voting Rights Act of 1965. "Many of those without IDs would have to travel great distances to get them — and some would struggle to pay for the documents they might need to obtain them," he said. "We call those poll taxes."

Holder compares Texas voter ID law to post slavery poll taxes. In a speech at the annual NAACP conference, in Houston, Holder said many voters would have to travel "great distances" to get a government-issued photo ID and that some would "struggle" to pay for the requisite paperwork. "We call these poll taxes," Holder said. He also said the Texas law hurts minorities and that politics is the driving force behind the issue. Holder called Texas the "center of our national debate" on voting rights issues and vowed the Justice Department would "aggressively" fight to enforce those rights.

Holder to NAACP: Photo ID Laws Will Reverse Civil Rights Gains. One day after a three-judge panel heard arguments about the legality of Texas's photo ID voting law, Attorney General Eric Holder went to Houston to speak at the NAACP Convention. Holder denounced Texas's photo ID law as a political stunt used to disenfranchise minorities during his speech. Attendees and journalists were asked for photo IDs to verify their identities at the conference.

CNN Asks La Raza If New Voter ID Laws Are 'War on Minority Voters'. CNN's Carol Costello teed up a La Raza chairman on Monday by asking him if some new voter ID laws are tantamount to a "war on minority voters." A CNN headline later blared "Voting Rights on Trial," as if the laws were going after people's rights.

NAACP Requires Photo I.D. to See Holder Speak. Earlier today [7/10/2012], Attorney General Eric Holder addressed the NAACP Nation Convention at the George R. Brown Convention Center in Houston, Texas. What did media need in order to attend? That's right, government issued photo identification (and a second form of identification too!), something both Holder and the NAACP stand firmly against when it comes to voting. Holder's DOJ is currently suing Texas for "discriminatory" voter ID laws.

AG Holder says Texas ID law would harm minorities. U.S. Attorney General Eric Holder added a timely Texas flavor to his address to the NAACP Convention in Houston Tuesday morning, explaining why the Justice Department refused to approve the Lone Star State's proposed voter ID law.

Stringent voter ID law in Pennsylvania could prevent 750,000 from voting. According to the survey, 758,939 voters — 9.2 percent — could not be matched in state databases as having Pennsylvania driver's licenses, the most common form of photo ID in the state. Of those 9.2 percent, about 22 percent — or 167,566 people — are categorized as "inactive" voters, according to the data. A person can be characterized as an "inactive" voter if he or she has not voted in five years and has not responded to a state inquiry about his or her current address.

The Editor asks...
Why should we worry about accomodating people who haven't bothered to vote in five years?

Civic groups urge delay in Pennsylvania's voter-ID law. The new law will require every voter going to the polls in November to provide a specified form of photo identification: either a Pennsylvania driver's license, a nondriver photo ID issued by PennDot, a U.S. passport, a photo ID from an accredited Pennsylvania college, U.S. military ID, ID from a Pennsylvania care facility, or photo ID issued to government employees. While PennDot ID would be valid for voting up to 12 months after expiration, the other forms of ID would have to be current, with specified expiration dates.

Justice used research by Dem 'agent' to build case against Texas voter law, rep claims. The chairman of the House Judiciary Committee on Thursday [7/5/2012] accused the Justice Department of using data from an "agent of the Democratic Party" to bolster its case for blocking Texas' controversial voter ID law. Republican Rep. Lamar Smith, who represents Texas, said he's "disappointed" and concerned by the "unacceptable" move, demanding an explanation in a letter sent to Attorney General Eric Holder. The letter notes that the Justice Department is using data compiled by a company whose client list has included President Obama's own election campaign.

Al Sharpton Wins 'Humanitarian' Award, Immediately Drags 'Yo Momma' Into the Election. Sharpton is referring to voter ID laws that several states have passed in recent years. About 70 percent of Americans across all ethnic backgrounds support such laws, and studies have shown that minority voting rates increase following the passage of voter ID laws.

Fmr. Democratic Rep. Davis: Voter ID Laws Do Not Disenfranchise Minorities . [Video clip]

Poll: Pennsylvania voters favor new photo ID law by 2-1 margin. The Quinnipiac University poll results released Tuesday [6/12/2012] showed the law, which is being challenged in state court, is supported by 66 percent and opposed by 32 percent.

Obama Demands ID for Rally Entrances. At a recent Obama rally in Ohio, prospective attendees were told to brandish their photo IDs if they expected admittance to the rally. No word yet on whether Attorney General Eric Holder plans to file suit against the Obama campaign for infringing upon Ohioans' right of peaceful assembly by way of a racist photo ID rule.

Obama Campaign Checks IDs At The Door. President Barack Obama's presidential campaign checked the identification of the supporters attending Obama's "framing" event at Cuyahoga Community College today [6/14/2012]. The 1,500 supporters in attendance picked up tickets at campaign offices in Northeast Ohio beginning on Monday, though tickets to the event made no mention of an ID requirement. Jessica Kershaw, the Obama campaign's Ohio Press Secretary, confirmed in a statement to BuzzFeed that the campaign checked every supporter's identification at the door.

Eric Holder unaware that court visitors must show ID. Due to a recent work assignment, I had the opportunity to enter a federal courthouse about 200 times in the past six weeks or so. Each and every time, I was asked for a photo ID, which the court security officer looked at and then allowed me to put away in my wallet. This procedure, which takes place tens of thousands if not hundreds of thousands of times each day in federal courthouses across the country, is apparently entirely unknown to the nation's top law enforcement officer, Attorney General Eric Holder.

First Lady Requires Photo ID for Her Book Signings; Voter ID Law-hating Media Fail to Note Obama Hypocrisy. The Obama administration has done its best to oppose states from instituting new, stricter voter ID laws, complaining that many minority voters lack photo identification. But those same folks it wants voting in November are apparently not welcome anywhere near the First Lady's book signings. Something tells me that the same media outlets comparing voter ID laws to the Jim Crow Laws, however, won't see any hint of hypocrisy here, if they even report the story at all.

The Anti-Democratic Party. Democrats want the votes of everyone to count, from U.S. citizens to illegal aliens and lawfully disenfranchised felons. Corrupt Democratic election officials routinely expand the electorate, accepting votes from the under-aged and the dead. That's why they collectively freak out when the topic of voter photo ID comes up, advancing the most ridiculous arguments against ID requirements. The poor, minorities, and the old are too dumb and frail to acquire voter ID — even though getting by without it is impossible in modern society.

Stunning Democrat Hypocrisy. Once again the hypocrisy of the Democratic Party is stunning in its display. Over at Breitbart, Mike Flynn is reporting that the party that is horrified at the prospect of American voters being required to show photo identification has included this little gem of a requirement in the program for the Massachusetts Democratic Convention which convenes today.

MA Democrats: No Entry to Convention Without Photo ID. In recent years, Democrats have argued that requiring voters to show photo IDs prior to voting is an egregious act of voter suppression. Ben Jealous, of the NAACP, has gone so far as to argue that such requirements are tantamount to modern-day Jim Crow laws. In the world they inhabit, lots of voters don't have access to photo IDs, so requiring voters to provide this will "disenfranchise" them and leave them out of the democratic process. Funny they don't feel that way for their own party conventions.

NPR Spreads False Claim About Black Voters 'Targeted' by Voter ID Laws. National Public Radio, a reliable mirror of left-wing prejudice, has outdone itself with its latest report on voter ID laws, repeating the outright lie that such laws are aimed at discouraging or preventing black people from voting.

Holder's Chutzpah. Attorney General Eric Holder recently told a group of black clergymen that the right to vote was being threatened by people who are seeking to block access to the ballot box by blacks and other minorities. This is truly world-class chutzpah, by an Attorney General who stopped attorneys in his own Department of Justice from completing the prosecution of black thugs who stationed themselves outside a Philadelphia voting site to harass and intimidate white voters.

Holder to black leaders: 'Sacred' right to vote under attack. Attorney General Eric Holder told a council of African American church leaders Wednesday that the "sacred" right to vote is under assault nationwide, with federal lawsuits and at least a dozen state laws that could hinder — or block — minorities' access to the ballot box this fall.

Rep. Keith Ellison: requiring voters to show IDs is malicious. Democratic Rep. Keith Ellison from Minnesota tweeted a string of statistics May 30 in an attempt to stifle a non-profit's push to require voters to show a government-issued ID before entering a voting booth.

DOJ Not Even Pretending to be Nonpartisan Anymore. Eric Holder is doing his best to scare black pastors into encouraging their congregations to vote for Obama using the Voter ID ruse. Our "sacred" right to vote is in danger of being taken away thanks to evil Voter ID laws and other trumped up charges.

Holder's Racial Incitement. The United States of America has a black President whose chief law enforcement officer, Attorney General Eric Holder, is also black. They have a lot of political power. So how are they using it? Well, one way is to assert to black audiences that voter ID laws are really attempts to disenfranchise black Americans.

Voter identity cards, what's the big deal? I guess I am one of those citizens who doesn't understand what all the fuss is regarding voter identification cards. For as long as I can remember, I have always had such a card and cannot imagine voting without it. I certainly do not want someone else to vote on my behalf and I would hope election officials would verify all of the voters are eligible to do so.

5 Ways Obama Is A Dictator. Obama's Department of Justice has actively prevented South Carolina, Arizona, Texas, and other states from implementing voter ID laws designed to prevent the widespread incidents of fraud so instrumental to the success of the Democrat Party in elections for the past 50 years. The Department has filed suit in federal court to prevent implementation of those state laws in spite of a 2008 Supreme Court ruling which found Constitutional an Indiana voter ID law whose various requirements were mirrored in the Texas and Arizona legislation.

If You're Too Incompetent or Lazy to Get ID, We're Better Off If You Don't Vote. Liberals have dug up some 93-year-old codger in Pennsylvania who's too lazy or incompetent to get ID so she can vote and they're demanding we leave the election in that state wide open to fraud in order to cater to her.

DOJ Defends Employee Comment that Mississippi Is 'Disgusting and Shameful'. The United States Department of Justice has defended comments by an employee who called Mississippi "disgusting and shameful." This same employee reviews photo voter identification laws throughout the south for approval from her position in the DOJ Voting Section. PJ Media first reported on comments made by Voting Section employee Stephanie Gyamfi toward the citizens of Mississippi.

The Holder Justice Department: 'Disgusting and Shameful' Indeed. Why have Texas, South Carolina, and other states that have passed common-sense voter-ID laws run into such dogged opposition from the Justice Department? One huge factor is the radical ideology and bias of the staff who work in the Voting Section of the Civil Rights Division, as revealed in a new report from Christian Adams, a former Voting Section lawyer.

Voters show off their IDs, or don't. Defiantly, begrudgingly or compliantly, Pennsylvania voters took the test run of the state's new voter ID requirement in stride Tuesday [4/24/2012], generally producing photo identification as requested but occasionally registering protests. Whether they offered identification or not, registered voters who showed up at their old polling places were ushered to voting machines and permitted to start punching buttons — an option they'll be denied in November's general election unless they can show election officials a Pennsylvania driver's license or other specified ID.

Holder's corrupt opposition to voter ID laws. Can anyone think of an innocuous reason that President Obama and Attorney General Eric Holder oppose state voter ID laws? Republicans have been pushing for state voter ID laws throughout the nation as an effort to enhance fair and lawful elections and prevent voter fraud. These laws are simple and transparent; they would require voters to present a government-issued form of identification as a condition of voting. Predictably, Democrats — led by Obama and Holder — claim that the move is a GOP ruse to suppress minority voting.

Ninth Circuit Largely Upholds Arizona Voter ID Law. While the Obama Justice Department continues to pretend that voter ID is racially discriminatory and a violation of voting rights, courts keep on ruling against them. Today [4/17/2012], the Ninth Circuit Court of Appeals — an incredibly liberal appeals court — ruled that Arizona's voter ID law was largely constitutional. Opponents of the law had argued that the fee to obtain an ID amounted to an impermissible "poll tax"; the Court thought otherwise.

Project Veritas Proves How Easy Voter Fraud Is Without ID. There are a lot of liberals who think, probably correctly, that the Democratic Party benefits from voter fraud. They figure it pads their totals across the country on election day by tens of thousands of votes and probably swings a handful of close races their way. Undoubtedly, they're right about that. So, in an effort to keep legitimate votes from being cancelled out by fraud, Republicans have started making a concerted push to put voter ID laws in place.

Wisconsin Supreme Court refuses to take up voter ID appeals. The Wisconsin Supreme Court today [4/16/2012] refused to take up two appeals of rulings blocking a new state law requiring voters to present photo identification at the polls.

Why the Left Doesn't Care About Voter Fraud. [Scroll down] There are two forms of photo-issued ID in Texas: driver's licenses and simple identification cards. Both are available through simple applications. Voters must register to vote. Why shouldn't they also have to register to receive an ID beforehand? And it isn't expensive to get an ID, either. An original driver's license in Texas costs $16; a six-year extension costs $25. A photo ID costs $6.

GOP lawyers' group chief: 'Desperate' Holder distorted our study to fit anti-voter ID agenda. Republican National Lawyers Association (RNLA) Chairman David Norcross told The Daily Caller that a "desperate" Attorney General Eric Holder distorted a study his group conducted about voter fraud to fit President Barack Obama's anti-voter identification agenda. [...] Republican National Lawyers Association (RNLA) Chairman David Norcross told The Daily Caller that a "desperate" Attorney General Eric Holder distorted a study his group conducted about voter fraud to fit President Barack Obama's anti-voter identification agenda.

Justice Dept.: S.C. voter ID law violates Voting Rights Act. South Carolina's voter ID law violates the Voting Rights Act and discriminates against minorities despite the state's assertions to the contrary, the Obama administration says in new court papers. [...] Because of a history of minority-voter discrimination, South Carolina must get approval from the Justice Department or federal courts before changing election laws. All or some counties in 15 other states require such prior approval.

Why We Need Voter-ID Laws Now. According to opinion polls, over 75 percent of Americans — including majorities of Hispanics and African-Americans — routinely support such laws. One reason is that people know you can't function in the modern world without showing ID — you can't cash a check, travel by plane or even train, or rent a video without being asked for one. In fact, PJ Media recently proved that you can't even enter the Justice Department in Washington without showing a photo ID. Average voters understand that it's only common sense to require ID because of how easy it is for people to pretend they are someone else.

Will the Left's Love of Foreign Law Extend to Voter ID? At first glance, Eric Holder, the U.S. attorney general, is the star of James O'Keefe's latest sting, but listen a little closer for pop diva Rihanna in the background. Why the artistic choice? Both Holder and Rihanna have roots in Barbados, a far off Caribbean island nation once governed by the British empire where the two vacationed in 2011, and Barbados, like most countries, requires an I.D. to vote. And while the central argument of Holder's Justice Department is that voter ID is suppressing black and minority turnout, that argument doesn't work in Barbados, where over 80% of the country is black. The Barbadians take voting seriously.

Voter ID Laws Are Wonderfully Just. It's time to get to the root of all the consternation about states requiring photo IDs to vote: The progressives, it seems to me, want to cheat. They hope to have illegal aliens and other ineligible sorts hasten to the polls to help elect Democrats come November.

Democrats boycott Coke, Walmart over voter ID laws. Democratic officials Wednesday [4/4/2012] launched a two-pronged attack on states with new laws requiring identification before voting, the highlight being a call to boycott Coke, Walmart and others that back a leading organization pushing for voter ID laws. Coke was quick to react to the political boycott threat, pulling support from the targeted group just five hours after it was called. Walmart said that support for a group does not mean it backs every decision by those groups.

Clyburn: Voter ID Laws Just Like Jim Crow. U.S. House Assistant Democratic Leader Jim Clyburn said voter ID laws in South Carolina and elsewhere are reminiscent of post-Reconstruction Jim Crow laws. Clyburn, D-S.C., and other voting rights advocates warn that laws requiring voters to present photo identification when they go to the polls could disenfranchise millions of Americans in the November elections.

Voter-ID Laws Protect the Integrity of the Ballot Box. Protecting the integrity of the ballot box is essential to our democracy. Laws requiring voters to show identification at the polls are commonsense measures to prevent fraud and corruption, and ensure that each year's election returns accurately reflect the will of the people. Yet President Barack Obama's administration and political allies are pursuing a dual-track approach to vilify such tools, in a crass political ploy to aid the president's reelection.

Proof of life. Republicans across the country are pushing for voter I.D. laws. They want to limit the frequency and opportunities for voter fraud. Democrats claim, reasonably perhaps, that Republicans are making a bigger deal out of voter fraud than the evidence supports. Attorney General Eric Holder, who recently blocked Texas' voter I.D. reforms, calls the movement a "solution to a problem that doesn't exist." Right or wrong, that's a claim worth investigating and debating. But unfortunately, for whatever reason, that argument isn't working as a political tool. So he and others ascribe racism to those who want to add voting to the long list of things that require a photo I.D.

Is The New Photo ID Requirement For College Entrance Exams A Form Of Student Suppression? The companies that administer two key college entrance exams have adopted new measures arguably designed to decrease participation in the tests — and, ultimately, enrollment in colleges in university — by minority and elderly students. The two companies that administer the tests, the College Board and ACT Inc., which administer the SAT and ACT tests, have announced that students taking the tests will be required to present photo IDs.

The Left's Internal Battle Against Voter ID. In a soon to be released book, Professor Rick Hasen of Election Law Blog continues the left's war against voter ID. What makes his effort different is Professor Hasen claims to be taking on both the right and the left. While Professor Hasen gets some credit for admitting that the Brennan Center and others on the far left are wildly exaggerating their claims regarding voter ID, his book is still extremely one-sided. The chapter available does not discuss any argument on the left, center, or right for voter ID.

Screening out fake voters: A perfectly sensible idea. Everyone should have to show a photo ID before they are allowed to vote. People already have to do so to board a plane. And don't some banks ask for a photo ID before they will cash your check? So what's wrong with the government also ensuring that you are who you say you are? The only people complaining are those who are probably committing voter fraud. Why else would they be upset?

Voter ID law was Texas' choice. On Monday [3/12/2012], the president's appointees in Justice Department blocked Texas's new Voter ID bill, which requires most people to show a photo identification card, such as a driver's license, when voting. A vast majority of Texans want this bill and I look forward to fighting for its implementation. ... Despite Texans' enthusiastic support for this bill, the Obama administration has aligned itself with left wing fringe groups that oppose it.

Voter-ID Insanity at DOJ Going to the United Nations. The Far Left is making an unprecedented two-track move to derail states' efforts to protect the integrity of the ballot box for this November's elections. While the Department of Justice (DOJ) is blocking state efforts, liberal activists are taking this issue to the United Nations as a human rights violation. Attorney General Eric Holder is invoking Section 5 of the Voting Rights Act (VRA) as giving him the power to block Texas' voter-ID law, which simply requires that voters show that they are who they say they are before they cast a vote to influence an election outcome. This is the same argument Holder made to block South Carolina's voter-ID law, a move that has landed him in federal court.

Pennsylvania lawmakers pass voter ID bill. State lawmakers gave their final approval today [3/14/2012] to a measure requiring voters to show photo identification at the polls, sending the bill for Republican Gov. Tom Corbett's signature. The bill was approved on a vote of 104-88 after three days of often-contentious debate. Gov. Corbett has said he supports the measure and intends to sign it immediately.

NAACP Brings U.S. Election Law Before United Nations. The United Nations Human Rights Council, comprised of human rights violators like Saudi Arabia, China, and Cuba, has turned its attention to American election laws. Ironically, the council is investigating the impact of American election laws on minorities in the United States, even as some of the Council's member nations have only just recently permitted women the right to vote, and Saudi Arabia still bars women from voting completely. Fox News reports, "Officials from the NAACP are presenting their case against U.S. voter ID laws, arguing to the international diplomats that the requirements disenfranchise voters and suppress the minority vote."

UN rights council delves into US voter I.D. laws. The United Nations Human Rights Council is investigating the issue of American election laws at its gathering on minority rights in Geneva, Switzerland. This, despite the fact that some members of the council have only in the past several years allowed women to vote, and one member, Saudi Arabia, still bars women from the voting booth completely.

Justice Dept opposes Texas voter ID law. The Justice Department's civil rights division on Monday [3/12/2012] objected to a new photo ID requirement for voters in Texas because many Hispanic voters lack state-issued identification.

Justice Department bars Texas voter ID law. The Justice Department has blocked a new law in Texas requiring voters to show a photo ID, saying that it disproportionately harms Hispanic residents. The action is the second time in three months that the Obama administration has blocked a state voter ID law.

Holder's Identity Problem. The tyranny of the photo ID is so all-encompassing that people can't enter Holder's own Justice Department without showing one. Holder is outraged that in a nation where requests for photo ID are ubiquitous, more and more states are requiring that people show them when they vote. ... His Justice Department is now blocking a new voter-ID law in Texas, after doing the same to a South Carolina law. It argues that the Texas statute will disproportionally affect poor Latinos and therefore violate the 1965 Voting Rights Act.

The Real Photo-ID Civil-Rights Issue. Those really concerned about minorities and the poor should help them get photo IDs.

Feds challenge Texas voter ID. The U.S. Justice Department has rejected Texas' new Voter ID law. The department on Monday [3/12/2012] said Texas did not meet its burden under Section 5 of the Voting Rights Act and failed to show that the law will not discriminate against minority voters.

NAACP Asking U.N. Human Rights Council to Condemn American Voter ID Laws. Riled by state-level voting law changes that it alleges are designed to suppress "the political participation of people of color, the poor, the elderly, and the young," the NAACP is turning to the U.N. Human Rights Council for support.

NH Senate passes voter ID bill after O'Keefe video. The New Hampshire state Senate passed a bill requiring residents to show identification before voting after a well-publicized video showed how easy it is to obtain a ballot in the name of a dead person in the state. The Union-Leader reports that the legislation passed on Wednesday [3/7/2012] and now heads to the House. Conservative filmmaker James O'Keefe produced the bombshell video earlier this year.

Questions after Wisconsin judge stops new voter ID law. A Wisconsin judge has granted a temporary injunction to stop the state's controversial new voter identification law, but Republicans immediately questioned it after records showed the judge signed a petition to recall GOP Gov. Scott Walker.

Texas' contested voter ID law could shave voter rolls. Texas secretary of state officials did not find matching 2012 driver's licenses or state-issued photo IDs for 2.4 million of the state's 12.8 million registered voters, though all but about 800,000 of those voters supplied a valid identification number when they first registered to vote. The findings come from documents submitted by the state to the U.S. Department of Justice as part of an ongoing review of the new voter ID law.

Attorney General to Appeal Judge's Injunction on Voter ID. State Attorney General J.B. Van Hollen says his office will appeal a Dane County judge's ruling granting a temporary injunction against Wisconsin's voter photo ID requirement. Judge David Flanagan granted the injunction until a full hearing is held in mid-April — after the spring elections and presidential primary.

Holder: Voter ID Laws Harmful to Minorities, Seniors, Young. Attorney General Eric Holder defended the Justice Department's litigation against states to stop voter ID laws, while testifying Tuesday [2/28/2012] to a House subcommittee. The Supreme Court upheld the states' right to require photo ID to vote in a 2008 case involving an Indiana statute. Nevertheless, the Justice Department has found other legal grounds to challenge the statutes passed by more than a dozen states.

Dismantling the Phony Case Against Voter ID. Here in Minnesota, an overwhelming majority of voters are disgusted with the state's lax voting laws. Polls indicate that a large majority support a voter identification requirement. Our legislature — in Republican hands after the 2010 election — passed a voter ID law, but it was vetoed by Democratic Governor Mark Dayton. So the legislature is now working on a proposed amendment to the Minnesota Constitution that in all likelihood will be on the ballot in November.

Voter ID law takes effect with no major problems. Normally, the spring primary elections this year would be considered low-profile. However, they did receive some extra attention, more for how people voted and not who the were voting for. Wisconsin's new voter ID law went into effect, with no major incidents in La Crosse County.

Dismantling the phony case against voter ID. Here in Minnesota, an overwhelming majority of voters are disgusted with the state's lax voting laws. Polls indicate that a large majority support a voter identification requirement. Our legislature — in Republican hands after the 2010 election — passed a voter ID law, but it was vetoed by Democratic Governor Mark Dayton. So the legislature is now working on a proposed amendment to the Minnesota Constitution that in all likelihood will be on the ballot in November.

Eric Holder's Protection of Voter Fraud. Seeking to overturn a DOJ judgment that its voter photo identification law, passed in May 2011, violates the National Voting Rights Act (NVRA), the state of South Carolina recently announced that it is suing the Justice Department and Attorney General Eric Holder in federal court. The decision by South Carolina comes as the DOJ is vigorously working to stop the spread of states enacting or implementing voter photo ID laws, prompting fears that the Obama administration is undermining the integrity of the upcoming 2012 elections.

Texas AG Sues Feds Over Voter ID Law. On January 23, Texas Attorney General Greg Abbott asked a federal court to clear the way for his state's voter ID law while he awaits to hear what will happen with his demands that the Department of Justice drop its objections to the Texas law.

Holder vs. Racist Photo-ID Cards. A bunch of racists in South Carolina are trying to hold down blacks by forcing them, and everybody else, to show photo identification before they can vote. Astonishing! Luckily, Attorney General Eric Holder is on it.

Americans Want Voter ID 'Because There Is a Brother in the White House'. Polls show that about 80% of Americans support photo voter identification laws. A majority of whites, blacks, Hispanics, Democrats, and Republicans support voter ID. Why do so many people want voter ID laws? According to Richmond, Virginia, Mayor Dwight Jones, "because there is a brother in the White House." Here's a secret. I've been following the voter ID debate for seven years. In fact, I've even been involved in some legislative plotting in various states to pass voter ID. And I can say with one hand on a Bible, and one hand in the air, that I've never once heard any voter ID proponent suggest that a "brother in the White House" has anything to do with it. This is pure, simple, racialist nonsense from the mayor of Richmond.

Federal Election Reform Commission Advocated Voter Photo ID. Critics of requiring voters to present a photo ID at the polls say the practice would disenfranchise minority voters, and some even accuse proponents of being motivated by racism. They don't mention, however, that a 21-member bipartisan Commission on Federal Election Reform, co-chaired by former President Jimmy Carter, advocated just such a policy in 2005. The commission, also co-chaired by former Secretary of State James Baker, called voter identification one of "five pillars" that would "build confidence" in the integrity of federal elections. Only three of the 21 commission members voted against requiring photo identification of voters.

Dead voters prove the need for photo ID at the polls. One probe caught on tape how easily anybody can vote on behalf of dead Americans. Elsewhere, the total ballots cast by the dead exceeded the winning margins in several high-profile elections. These cases confirm the urgent need for all voters to prove that they are alive and correctly identify themselves via photo ID — just as Americans do on non-election days.

Black Caucus charges voter ID laws aimed at Obama supporters. The Congressional Black Caucus on Monday night [1/23/2012] took to the House floor to charge that voter ID laws popping up around the country are aimed at dissuading minority voters from voting, and making it harder for President Obama to win re-election. "It is clear to me that whether racially based or not, this is a direct attempt, not only to undermine the election process, but a specific attempt to derail what surely would be and ought to be the re-election of Barack Obama," Rep. Donna Christensen (D-VI) said on the floor.

Texas sues feds over voter ID law. Texas Attorney General Greg Abbott filed suit against the U.S. Department of Justice on Monday [1/23/2012] in an effort to speed enforcement of the state's new voter ID law. Justice officials, who must determine whether the law unfairly puts minority voters at a disadvantage, have been reviewing the law for the past six months and twice have asked state officials to supply additional information on the racial breakdown of Texas voters with state-issued identification.

Texas AG asks court to clear way for voter ID law. Texas Attorney General Greg Abbott asked a federal court on Monday [1/23/2012] to clear the way for the state's voter ID law as it waits to hear from the Department of Justice.

In Catawba County voter fraud case, attorney says voter ID law could help. Catawba County was set to try its first felony election fraud case Wednesday morning. The case ended in a misdemeanor plea, but the defense attorney argued the situation may not have happened if North Carolina had a voter identification law. Horatio Johnson was charged with felony election fraud for voting in the Nov. 4, 2008, presidential election. Although Johnson was previously convicted of felonies, he was eligible to vote in March 2008 and registered to do so, said his attorney Scott Reilly.

The Left's War on Voter Fraud Reform. [Scroll down] Seven states passed laws in 2011 requiring photo IDs, and others shortened early voting timeframes and tightened requirements for absentee ballots. All but 13 states had legislation introduced in 2011 dealing with the critical issue of voter integrity. Five states (Minnesota, Missouri, Montana, New Hampshire, and North Carolina) enacted photo ID laws that were vetoed by Democratic governors. Speaking of such, North Carolina Gov. Bev Perdue was caught on tape last September wishing that elections could be suspended so that lawmakers wouldn't have to worry about what voters thought. If you can't fix the election, why not just cancel it?

Voter I.D. law kicks in without a hitch in Cimarron. Morning voting in a special sales tax election in Cimarron — the first election since a Kansas voter identification law took effect — proceeded without a hitch. Pollworkers inside the Gray County Extension Service office building asked each voter to show a photo identification in order to receive a ballot. As of 10:30 a.m., all 106 voters had produced a photo I.D., without problem.

The Editor says...
Doodad Pro was unavailable for comment.

South Carolina AG to fight feds over voter ID law. Three of South Carolina's top political leaders announced Tuesday [1/10/2012] their plans to file a lawsuit against the U.S. Department of Justice's decision to block the state's controversial voter ID law. Attorney General Alan Wilson said he will file a lawsuit within the next two weeks against the Justice Department in Washington D.C. district court. It's necessary, Wilson said, to protect the integrity of South Carolina elections.

Eyes turn to Virginia as state weighs voter ID law. Virginia legislators are preparing to take on the thorny subject of voter identification laws during the upcoming General Assembly session amid national controversy that includes the Justice Department's rejection of a state law on the matter for the first time in almost 20 years. More than 30 states have introduced such legislation, but the issue is likely to receive heightened scrutiny in Virginia because the Old Dominion is certain to play a crucial role in the calculus for President Obama's re-election efforts.

If GOP Goes Easy on Obama, It'll Be a Fatal Mistake. There are also signs that Democrats may be willing to cheat as they look for ways to rally their disillusioned base. Scandal-plagued ACORN has reemerged, and according to investigative reporter Matthew Vadum, at least five ACORN officials have visited the White House for meetings in 2011. Vadum reports that "one of these officials has been involved in vetting Department of Justice hires who may help to enforce the voter fraud-enabling National Voting Rights Act, also known as the Motor-Voter Law." The DOJ has been accused of refusing to enforce parts of the law that prohibit ineligible felons, dead people and nonresidents from voting, while vigorously enforcing parts of the law that require states to register voters at welfare offices, the vast majority of whom vote Democratic.

The truth behind Holder's push for 'electoral equality'. Despite the presence of a black man in the White House and his own position as the nation's chief law enforcement officer, Holder insists that the era of Jim Crow in the U.S. is alive and kicking. It is rearing its ugly head, he asserts, in the efforts by states to legitimize elections through the passage of laws that require voters to present a valid form of photo identification. Holder maintains that these laws disproportionately discriminate against poor blacks and Hispanics, many of whom he notes lack a driver's license, passport, or other acceptable form of photo ID.

Aren't these the same Democrats who are pushing for a National ID Card?

Will Obama steal the 2012 election? Racism has nothing to do with states implementing voter ID laws. Rather, it is about protecting the integrity of our electoral system. Voter fraud is rampant; abuses regularly take place. In Chicago, local elections are often marred by ballot stuffing and multiple voting — including by false voters who use the names of deceased individuals.

Voter ID terrifies Democrats. The state Department of Motor Vehicles audited a state Election Commission report that said 239,333 people were registered to vote but had no photo ID. The DMV found that 37,000 were deceased, more than 90,000 had moved to other states, and others had names not matched to IDs. That left only 27,000 people registered without a photo ID but who could vote by signing an affidavit as to their identity.

Voter ID and The Diluted Franchise. Last Friday, the Justice Department shot down South Carolina's voter ID law. ... This decision was not based on the slightest hint of discriminatory intent, but rather the sheer number of minority voters who would presumably be affected by the new law, measured against what Assistant U.S. Attorney General Thomas Perez deemed an insufficiently urgent need to prevent voter fraud. South Carolina must now either take the matter to court, or persuade the Justice Department to reconsider. South Carolina's law, duly passed by the legislature and signed by Governor Nikki Haley, was extremely lenient — even more so than voter-ID laws already on the books in some other states.

Holder Looks Through Race-Colored Glasses. Fresh from using his race as a defense in the Fast and Furious scandal, the attorney general blocks South Carolina's voter photo ID law as discriminatory. Tell that to the Department of Motor Vehicles.

Texas ready to sue to defend voter ID law. The Texas attorney general's office says it likely would go to federal court to defend its voter identification law if the U.S. Justice Department blocks it. The announcement comes after the Justice Department last week rejected South Carolina's voter ID law, saying it would make it more difficult for minorities to vote.

Holder's Voter ID Fraud. The Obama Administration's re-election mobilization continues: Witness Eric Holder's attempt to play the race card and perhaps twist the law in a campaign against voter identification laws. In the Attorney General's telling, the movement in the states to require voters to show some ID is a revival of minority disenfranchisement a la Jim Crow.

Eric Holder Blocks SC Voter ID, Texas Next. Eric Holder has blocked South Carolina's voter ID law. Hans von Spakovsky and I have been predicting this was going to happen for over eight months here at PJ Media. The only surprising thing is that no halftime adjustments were made after it became even clearer an objection was on the way. Texas now faces the same dilemma.

Yes, Virginia, There Really Is Voter Fraud. Eric Shawn at FOX News reports that two Troy city officials, the city clerk and a councilman, along with two Democratic political operatives, have pled guilty to forging absentee-ballot signatures and casting fraudulent ballots in the 2009 Working Families Party primary. The WFP is the political party associated with ACORN. One of the citizens whose votes were stolen was stunned at what happened. She said that she was "sure this goes on a lot in politics, but it's very rare that they do get caught."

Cue the Voter ID Scaremongering. You know it's election season when the political left starts attacking voter identification laws as racist measures that have nothing to do with ballot integrity. Last week the Obama administration and civil rights leaders once again were sounding this theme.

Playing the race card before Election Day. Is it racist to require people to show a photo ID when they vote? You need a photo ID for nearly any meaningful transaction, such as cashing checks, including government checks. If this simple requirement "suppresses" the vote, maybe we need to ask why it's such a great idea to push for universal suffrage for every adult who is merely breathing. Of course, even this latter requirement would suppress the vote in Chicago and New Orleans, where dead people get to vote all the time — and do so cheerfully.

Holder Ignores Voter Intimidation But Will Go After Voter ID Requirements. Our Attorney General, the same one who wouldn't prosecute obvious voter intimidation, now leads the "it's racism!" charge this election season with a speech signaling his department will be wasting resources by looking into State Voter ID laws. ... I find it quite humorous when people give the argument that forcing someone to have ID to vote will somehow suppress minorities. Is it not racist to believe that they aren't capable of get an ID? Even the very poor must have ID when spending their welfare money.

Eric Holder Is in Denial. The truth is that vote fraud is real, has occurred across the country in recent years and election reforms are necessary. The left claims no one ever gets convicted or persecuted for vote fraud. RNLA did a survey to find examples in a wide variety of states just by looking on the Internet. Predictably, the left has attacked the RNLA survey while missing the point, vote fraud is everywhere if you look for it. Of course, some of the leading deniers have committed vote fraud themselves in the past.

Vote Fraud Is All Over the Map. 46 states have had vote fraud convictions or prosecutions in the last decade.

A Full Nelson on Voting Rights. Those who don't believe it's going to be a long and nasty 11 months before Election Day should just look at how Attorney General Eric Holder and Democrats across the country are accusing Republicans of attempting to keep Democratic core constituents — minorities, young people, the poor, the disabled, etc. — away from the polls. These charges are a symptom and preview of that party's campaign, which promises to be built on little more than attempting to gin up racial and social class resentments.

No Shirt, No Shoes, No ID, No Service. I've listened to my friends on the left's arguments — that there is no electoral fraud, and even if there is so what, what we need are more people voting, not fewer, and besides registration fraud (which they grudgingly admit exists) isn't the same thing as election fraud, so there — and must say they make no sense whatsoever. The history of the Democratic party is one long ode to electoral fraud and systemic corruption, and until recently it was a badge they wore proudly.

Voter ID Is Not Jim Crow. In a speech at the LBJ Library at the University of Texas-Austin, Attorney General Eric Holder attacked efforts by state legislators to ensure the integrity of the ballot box. In a setting obviously designed to evoke Lyndon Johnson's historic signing of the Voting Rights Act in 1965, Holder railed against voter-ID laws and other election-reform measures. While minimizing the danger of fraud, Holder seemed oblivious to the irony of doing so at the LBJ Library: It was, after all, the infamous Ballot Box 13 and the stolen 1948 election that launched LBJ's political career.

Behind Holder's war on voter-ID laws. If you want to buy over-the-counter cold medicine at your local drugstore, chances are you have to show a photo ID to do it. Same if you want to get on a plane, rent a car or open a bank account. So why not to vote? But to Attorney General Eric Holder, the idea is an outrage. In the name of "civil rights," he's declared war on a nationwide movement to ensure the integrity of the electoral process.

ACLU files federal lawsuit over Wisconsin's voter ID law. The American Civil Liberties Union filed a federal lawsuit Tuesday [12/13/2011], claiming Wisconsin's new voter identification law imposes a severe burden on the right to vote — the second lawsuit filed in the last two months.

Democrat says GOP trying to deny blacks the right to vote. A Democratic lawmaker said Wednesday [12/7/2011] on the House floor that Republican legislators around the country are purposefully trying to deny blacks the right to vote by pushing for voter identification laws. "It's no coincidence that a disproportionate number of these affected voters come from communities of color as well as the poor, the elderly and students," said Rep. Barbara Lee (D-Calif.), a former chairwoman of the Congressional Black Caucus.

Democrats hope that the masses respond to emotional outbursts rather than rational thought.

NAACP targets tougher voter qualifications. Voter ID laws are at the heart of the debate, according to the report. The authors maintain that such laws disproportionately target minorities. The report says about 25% of black Americans and about 16% of Latinos do not possess government-issued photo identification, compared with 8% of whites.

Ex-Dem Congressman: Voter Fraud Is Commonplace, Voter ID Is The Cure. Voter fraud is not a figment of your imagination, says former Congressman Artur Davis (D-Alabama). The use of absentee ballots makes massive electoral fraud possible, Davis told the Daily Caller's Neil Munro in a startling interview. Davis's comments came months after a Tunica County, Miss., jury convicted local NAACP official Lessadolla Sowers on 10 counts of fraudulently casting absentee ballots. Sowers received a five-year prison term.

Feds: Not enough information to clear voter ID law. A new Texas law that would require more identification from voters has hit a road bump.

Jimmy Carter an Ally on the Left in Voter ID Crusade. In every state that has enacted voter ID, most of the proponents are Republican and most opponents are Democrats. "And it really got ugly when the [Republican-controlled Pennsylvania] House of Representatives took up the issue earlier this year," GOP State Rep. Curt Schroder recalled for Human Events. "Supporters were called hatemongers and racist, and comparisons were made between us and Mississippians in the 1960s who tried to keep blacks from voting." The Pennsylvania voter ID measure passed on a party line vote and is now awaiting action in the state senate.

Wasserman Schultz accuses GOP of rigging elections with 'suppression laws'. Democratic National Committee Chairwoman Debbie Wasserman Schultz on Wednesday night [11/16/2011] said Republican governors and legislatures are purposefully pressing for the enactment of voter-identification laws to suppress Democratic voter turnout in the 2012 election. "State legislatures are attempting to impose voting restrictions that are the modern-day equivalent of poll taxes and literacy tests," the Florida congresswoman said on the House floor.

Democrats For Election Fraud. This week, Maryland's Rep. Steny Hoyer, the No. 2 Democrat in the House, claimed that "we are witnessing a concerted effort to place new obstacles in front of minorities, low-income families and young people who seek to exercise their right to vote." Earlier in the month, NAACP president Benjamin Jealous declared that "this is the greatest assault on voting rights, happening right now, that we have seen since the dawn of Jim Crow." It all sounds so menacing. Except that these liberals are excoriating Republicans for supporting what the vast majority of Americans agree is a perfectly reasonable requirement for voters — that they show a photo ID before casting a ballot.

Nadler: Voter ID laws a 'deliberate plot by conservatives' to suppress votes. New York Democratic Rep. Jerrold Nadler, a member of the House Judiciary Committee, told The Daily Caller that laws requiring voters to present photo identification are part of a "deliberate plot by conservatives and Republicans to suppress votes" that would be cast by minorities, the elderly and young people.

Democrats Equate Voter ID Laws to 'Poll Tax,' 'Jim Crow' Laws. House Democrats, including Minority Whip Steny Hoyer (D-Md.), said that voter ID laws were equivalent to poll taxes and Jim Crow laws, arguing that they were deliberate attempts to keep minorities from voting. "We know [that] voter suppression has been taking place, is being taken place, and is planned," Hoyer said, at a congressional forum on the negative impacts of voter ID laws on Monday [11/14/2011].

Ellison introduces bills to erase photo ID voting requirements. Rep. Keith Ellison introduced two voter ID bills Wednesday [11/2/2011], including one that would undo photo ID voting laws in 14 states and would have stopped legislation vetoed by Gov. Mark Dayton earlier this year. Ellison's bills would prohibit states from requiring photo ID to vote and require states to allow same-day voter registration. They both are unlikely to get any traction in the Republican-led House. Voter ID has been a heated topic in Minnesota and states across the nation this year, as legislatures have strengthened voter ID laws.

Voter ID, other initiatives follow GOP's resurgence. Voters in Maine, Mississippi and Washington will decide election-reform questions this November, joining a wave of 36 states that in 2011 moved to increase identification requirements, limit the early-voting period, or toughen up registration rules.

Should have supported voter ID law. I've changed my mind on voter ID laws — I think Alabama did the right thing in passing one — and I wish I had gotten it right when I was in political office. When I was a congressman, I took the path of least resistance on this subject for an African American politician. Without any evidence to back it up, I lapsed into the rhetoric of various partisans and activists who contend that requiring photo identification to vote is a suppression tactic aimed at thwarting black voter participation.

Former Dem. congressman makes U-turn on voter ID laws, says ballot fraud common. Fraudulent voting by imaginary voters, not racist obstacles to the ballot box, is the most disturbing and common form of voter suppression facing people of all races, says former Alabama congressman Artur Davis, an African-American Democrat. "I've changed my mind on voter ID laws — I think Alabama did the right thing in passing one — and I wish I had gotten it right when I was in political office," Davis wrote in an October 17 op-ed published in the Montgomery Advertiser.

Sharpton: People Favoring Voter IDs Want to 'Revoke the Voting Rights Act'. MSNBC's Al Sharpton lead a jobs rally in Washington, D.C., Saturday, and not surprisingly, he used the event to once again divide the nation along racial lines. As he has disgracefully done on his PoliticsNation program on numerous occasions in recent weeks, Sharpton accused those favoring proper identification at the polls as wanting to "revoke the Voting Rights Act".

Why Voter Photo Identification Is Crucial to Our Republic. The Constitution provides that citizens of the United States 18 years of age or older shall be allowed to vote in federal elections, but the Constitution otherwise leaves the eligibility of voters pretty much up to the states. Some states, for example, provide that convicted felons lose their right to vote. The key constitutional requirement, however, is that a voter must be a citizen of the United States. There is nothing unique about this requirement, as every nation on the planet allows only its own citizens to vote. With 19 million illegal immigrants in this country and an estimated 12 million green card holders, plus those here on non-immigrant visas, it is easy to see why we must safeguard that these 31 million-plus non-citizens do not vote in U.S. elections.

Among Hispanics, strong support for voter ID. In recent months, the Obama Justice Department and Democrats on Capitol Hill have mounted a full-scale assault on state voter identification laws. Accusing Republicans of trying to return to the days of Jim Crow, Democrats allege that the laws, many of which require a photo ID for voting, discriminate against blacks and Hispanics. But an extensive new poll of Hispanic voters in the key electoral states of Florida, Colorado, and New Mexico shows strong support for those very photo ID laws.

Feds Put Hold on S.C. Voter ID Law. The Justice Department has put the brakes on enactment of a proposed election-law overhaul signed by South Carolina's Republican Gov. Nikki Haley, saying it wants more evidence that the changes will comply with Section 5 of the Voting Rights Act. ... South Carolina is one of nine states that must receive preclearance for any changes made to election law.

Not a Race Card. Once you get past the race-baiting, you will find that opponents of voter ID generally rely on two arguments, equally specious: 1) There is no need for photo ID, because there is no voter fraud in the United States; 2) This is a deliberate effort to suppress the turnout of minority voters, who often don't have photo ID. Liberals keep repeating these false claims despite the fact that they have been disproved both in the courtroom and at the polling place. The claim that there is no voter fraud in the U.S. is patently ridiculous, given our rich and unfortunate history of it.

No, Showing Identification is Not a 'Poll Tax'. There's an entirely absurd op-ed by Georgia Congressman John Lewis in today's New York Times about voter ID laws. ... What's odd is that Lewis and others constantly criticize voter ID laws without defining what they think would be sufficient proof of identity. Do Lewis and other Democrats simply think showing up at the polls and taking someone's word that they are who they say they are should be sufficient?

With our borders porous and election fraud rampant, Voter ID is a sensible precaution. Polling shows that a substantial majority of Americans from all racial and ethnic backgrounds agree it's the right thing to do. Voter ID can prevent impersonation fraud, voting under fictitious voter registrations, double-voting by individuals registered in more than one state and voting by illegal aliens.

CREW is a puppet of the Democratic Party. Defending the electoral process from those who would undermine it shouldn't be a partisan issue, but it has somehow become one in recent years, with the Democratic Party seeming to yearn for the days before professional election administration, when ward leaders could manipulate elections.

Town hall meeting attacks S.C. voter ID law. More than 40 people appeared at an NAACP town hall meeting today [7/18/2011] where opponents said they would do everything in their power to see that the state's new voter ID law never gets used.

GOP To Push Stronger Voter I.D. Laws, Says 'Voter Fraud Is Real'. Republican National Committee Chairman Reince Priebus repeated his party's commitment to stronger voter identification laws, saying that the GOP would not give up the fight against voter fraud.

Democrat: Photo-ID Rule Seeks to Keep Poor, Minorities From Voting. Rep. Marcia Fudge (D-Ohio) said that every state governed by a Republican is attempting to prevent the poor, minorities, seniors and students from voting by requiring individuals to present photo identification at the polls.

Democrats continue fight against voter ID laws. Democrats are battling a growing number of states that are preparing to implement tougher voter identification laws.

Democrats Should Know Jim Crow, They Created Him. Likening Republican policies aimed at preserving voter integrity in states from Florida to California to poll taxes and literacy tests of the Jim Crow era proves Democrats are desperate. Obama's tax-and-spend agenda stinks on ice. So his segregation mudslingers — in this case, Clinton — must rely on shopworn clichés that stir racial animus to fire up his left-wing base. Are Clinton and Shultz insinuating that minorities, college students and the elderly are all born Democrats, that they are more likely to vote for Democratic candidates than Republican candidates? Is this what Democratic elites think of their constituents? Do Democrats believe blacks and Latinos, old people and youngsters, are too stupid to acquire a photo I.D. by next November?

Why not prevent vote fraud? True, bona fide cases of voter fraud via identity theft are few and far between in North Carolina. ... I have yet to come across a person who wouldn't be able to meet the identification requirements of HB 351, or a reasonable scenario that would prevent someone from voting. If for some reason a qualified voter doesn't have a photo ID, under HB 351 the county board of elections is required to provide a photo Voter Identification Card at no cost to the applicant.

The Upside of Voter ID Initiatives. For people who do not have ready access to any identification, not being able to vote is the least of their problems. What's more, requiring these folks get a valid government ID may bring them greater benefits than would accrue to them merely by being eligible to vote. Not having valid identification forecloses options that many would deem necessary to engage in commerce of nearly every sort.

North Carolina governor vetoes voter photo ID bill. North Carolina Governor Beverly Perdue on Thursday [6/23/2011] vetoed a bill that would require voters to present photo identification before casting a ballot. "We must always be vigilant in protecting the integrity of our elections," said Perdue, a Democrat. "But requiring every voter to present a government-issued photo ID is not the way to do it."

Voter ID Showcases Democrat McLovins. Missouri Governor Jay "McLovin" Nixon's veto of the Republican-sponsored photo ID bill is another Democrat slap in the face to law-abiding, tax-paying citizens of Missouri. The veto proves that Nixon couldn't care less about protecting the rights of Missouri citizens. The truth is that Nixon is about empowering criminals and getting more illegal votes. ... Besides having a pulse and the ability to fog a mirror, all it takes is to vote in Missouri is a utility bill, a bank statement, or a paycheck stub — all things you can find dumpster-diving.

Voter ID is no Jim Crow — I would know. Having experienced the psychological pain of Jim Crow laws first-hand, I won't allow those who likely only read about Jim Crow in history books to trivialize it. That's why I'm outraged about a recent edition of TV One's "Washington Watch" in which host Roland Martin and Representative Debbie Wasserman Schultz (D-FL) compared state-level voter identification rules to Jim Crow. To the contrary, requiring valid identification in exchange for something as sacred as a ballot is a pragmatic approach to governing.

The 'Jim Crow' Lie. Today railroads and hotels, along with almost all providers of public accommodations in almost all circumstances, are prohibited from discriminating on the basis of race. So what happens when you ride on Amtrak, the government-subsidized railroad? You hear an announcement over the PA system advising you to be prepared to show your identification if the conductor asks to see it. Likewise, these days there is a good chance you will be asked for identification when you check into a hotel. ... If black people have trouble producing identification, how come nobody ever claims that these requirements are discriminatory?

Asking Voters for ID Is Not a Race Issue. I don't get why [E.J.] Dionne thinks some people would have a hard time producing ID because of the color of their skin. I can understand other reasons — homeless people might have a difficult time proving their place of residence, or illiterate people might not be able to fill in the paperwork — but to imply that getting and using an ID is somehow too difficult or onerous for some racial groups seems very condescending to me. What does skin color or ethnic background have to do with it? When we ask people to produce ID to get healthcare, as I had to, or to prove their identity to get an Amtrak ticket, no one says this is a return to segregation.

Jackson blasts voter ID legislation at conference. Civil rights activist Reverend Jesse Jackson, Sr. on Saturday [6/18/2011] called on the Justice Department to reverse recent Republican-led legislative efforts that require voters to present photo identification at polls. Twenty-seven states now require photo identification from voters and 33 have considered adding or strengthening voter identification requirements this year, according to the National Conference of State Legislatures.

More states require ID to vote. State legislatures across the country have passed a record number of laws this year requiring photo identification to vote, a controversial move pushed by Republicans and opposed by Democrats.

Bias alert:
USA Today sees it as "a controversial move" because it was the Republicans' idea. In my opinion, allowing dead people to vote should be where the controversy lies.

Dayton vetoes voter ID. Saying that election reform measures should reflect a broad bipartisan consensus, Gov. Mark Dayton Thursday [5/26/2011] slapped down a GOP bill that would have required voters to present a photo ID at the polls. In addition to new ID requirements, the bill eliminated vouching as a method of Election Day registration and created an entirely new system of provisional balloting for voters without IDs.

Accusation that Voter ID Is Racist Demeans Blacks. Imagine if some Democratic politician had announced that demanding a photo ID at the voting booth was an attempt to keep Jewish Americans from voting. No one would understand what the person was talking about. But why not? Jews vote almost as lopsidedly Democrat as do blacks. So why weren't Jews included in liberal objections to voter ID laws?

The Case for Voter ID. On Thursday [5/19/2011], the Wisconsin legislature sent a bill requiring photographic identification for voting to Gov. Scott Walker's desk. This follows the enactment of an even stricter law in Kansas a few weeks ago.

Texas House passes final version of voter ID bill. The Texas House passed hotly debated legislation Monday [5/16/2011] requiring voters to show photo identification before casting ballots, sending to Gov. Rick Perry's desk a measure he declared an "emergency" item for the legislative session.

Voter ID? Minnesotans say yes. It's pretty hard to find 80 percent who agree on anything nowadays. More so if it's a cause considered "conservative" and the entity doing the survey is the Minneapolis Star-Tribune. But Minnesotans, it turns out, really like the idea of checking voters' identity using widely-issued and easily available forms of state and federal identification.

Minnesota Poll: Big show of support for voter photo ID . Eighty percent of respondents said they favor a photo ID requirement, which Republican majorities at the Legislature have made one of their signature goals of the session. Democrats have almost universally opposed it, arguing that it will prevent members of some groups from voting. That party split was reflected in the poll: A whopping 94 percent of Republicans supported photo ID, compared to 64 percent of Democrats.

RI civil rights groups oppose voter ID bill. The American Civil Liberties Union and the NAACP say a proposal to require voters to show identification is unfair and unnecessary.

Bill critcized as voter suppression tool headed for passage. In a move blasted by critics as a way of suppressing likely Democratic voters, the Republican-dominated Legislature edged closer Wednesday to overhauling voting laws ahead of the 2012 presidential election. Republicans say the Senate bill sponsored by Miguel Diaz de la Portilla, R-Miami is aimed at stopping voter fraud.

Voter ID bill clears Missouri House. A bill that would require voters to provide photo identification before being allowed to cast a ballot passed the Missouri House Wednesday [5/4/2011] on a 99-52 vote. The bill, which was sponsored by state Rep. John Diehl, R-Town and Country, establishes requirements for voter photo identification and early voting.

GOP pushing state voter ID laws. Democrats claim the moves will disenfranchise poor and minority voters — many of whom traditionally vote for their candidates.

The Editor says...
The people who will be most "disenfranchised" by these laws are the dead and fictitious voters.

New Law Requires Photo ID, Proof of Citizenship to Vote in Kansas. Voters in Kansas will need to show a photo ID the next time they go to the polls. In a signing ceremony last week, Republican Gov. Sam Brownback signed a bill to protect the integrity of elections, he said: "We must be able to accurately and fairly discern the will of the people of Kansas." While Gov. Brownback said the new law establishes "reasonable steps" to protect the rights of citizens, the American Civil Liberties Union called it a "giant leap backwards."

Wisconsin's Election Snafu Is a National Wake-Up Call. [Scroll down] The Carter-Baker commission noted that "the electoral system cannot inspire public confidence if no safeguards exist to deter or detect fraud or to confirm the identity of voters." Eighteen of the 21 commission members called for voters to show photo ID at the polls and for more security for absentee ballots. Some states have since adopted photo ID laws. But too many (like Wisconsin) still do not require any ID to vote. In a time of razor-thin election margins, we can no longer afford such insecurity in our election process. Also, though one-third of all votes in 2008 were cast before Election Day, safeguards against absentee ballot fraud are still spotty.

Wisconsin voter photo ID bill gets committee's OK. [Scroll down] Wisconsin voters currently are not required to show any form of ID before casting a ballot. The new requirement would be in effect for the April election, but voters who don't have IDs would still be allowed to cast their ballots and would be given information about the new law that would fully take effect in 2012. The committee voted to expand the number of acceptable IDs to include U.S. passports and tribal IDs. Also allowed is a driver's license, a military identification card or a state identification card or certificate issued by the Wisconsin Department of Transportation.

Tennessee bill would require photo ID to vote. Voters would be required to show photo identification before they can cast ballots under a proposal passed on to the full Senate on Tuesday [2/8/2011]. The measure sponsored by Republican Sen. Bill Ketron of Murfreesboro passed the State and Local Government Committee on a 6-3 vote along party lines and will be scheduled for a vote on the Senate floor.

Texas Senate passes GOP-backed voter ID bill. With a strong push from Republicans and over the vigorous objections of Democrats, the Senate on Wednesday [1/26/2011] approved legislation requiring all but elderly Texans to show a photo ID before voting. Most of the proposed amendments to the bill — offered by Democrats — were rejected during several hours of debate Wednesday, but one change found bipartisan support. That added a state concealed handgun license to the list of photo IDs that would meet the requirement of the legislation.

SC legislators approve voter ID requirements. South Carolina House Republicans today pushed through a measure requiring voters to show photo identification at the polls, as Democrats blasted them for spending money on what they called voter suppression while the state faces a deficit.

Voter ID bills get emergency status from Texas Gov. Perry. The state Senate is expected to take up controversial voter ID legislation next week after Gov. Rick Perry designated it an emergency issue that he wants lawmakers to pass within the first 60 days of the legislative session. Perry, who has already designated property rights and so-called sanctuary cities as emergency items, on Thursday [1/20/2011] added two more items to the list: the voter ID bill and legislation calling for a balanced budget amendment to the U.S. Constitution.

Coalition says proposed voter ID law is costly, unneeded. A newly formed coalition will try to derail Kansas Secretary of State-elect Kris Kobach's attempt to get a voter photo identification law passed in the 2011 legislative session. Kobach, a Republican, made voter photo ID the centerpiece of his campaign, which ended with a decisive victory last month over Democrat incumbent Chris Biggs.

Republicans confident of passing Texas voter ID bill. As politically emboldened Republicans predict almost certain enactment of a voter identification law in the 2011 Legislature, the House point man on the issue is pushing a measure patterned after one of the most stringent voter ID laws in the country.

I Am Who I Say I Am — Now Let's Prove it with Some ID. Perhaps nothing can set up more of a racial firestorm than requiring a voter to show valid government-issued picture ID when casting a ballot for an election. The state of Georgia is battling courts and activists groups in its attempt to tackle voter fraud by eliminating the loose standards currently in place.

Voter ID and Illegal Aliens. The latest Rasmussen poll on voter ID is sure to frustrate liberal advocacy organizations like the NAACP and the League of Women Voters that oppose commonsense proposals to ensure the integrity of our election process. They have been waging a losing litigation battle against states to try to prevent them from implementing photo ID requirements.

Indiana justices uphold voter ID law. The Indiana Supreme Court today [6/30/2010] upheld the state's voter identification law, ruling against a challenge based on whether the 2005 law ran afoul of two provisions of the Indiana Constitution. The League of Women Voters of Indiana and the group's Indianapolis chapter together sought to overturn the law. Oral arguments on the case were held in March, and the court issued its 4-1 opinion today [6/30/2010].

Texas Democrats keep fighting voter IDs despite idea's popularity. Texas Democrats have staked out political ground that trumpets their beliefs and will ignite supporters at the party's state convention this week — protecting the rights of eligible citizens to vote. The only problem — especially for a political party that hasn't won a statewide office in 15 years — is that when it comes to whether voters should have to show a photo ID, 70 percent of Texans disagree with the Democrats.

Voter ID fight appears certain in Texas Legislature. Both major political parties signaled Monday [6/14/2010] that neither side is ready to give an inch on the politically divisive voter ID issue expected to come before Texas legislators again when they reconvene in January. Republicans want to make elections more secure. Democrats, citing the lack of any large-scale fake voter problem, contend the GOP simply wants to make voting harder for Texans most likely to support Democrats — low-income folks, minorities and the elderly.

As usual, the Democrats' argument is based on emotional outbursts rather than rational thought.

From One Hispanic to Others — Arizona, You're Being Had By the Media. If voters had to prove their eligibility the Democrats would lose their base and their power. Every attempt to have voters prove their citizenship has been thwarted by the Democrats and with good reason, from their point of view. They rely on minority and suspect voters whom they can truck to the polls en masse with instructions on how they should vote. Would they be able to do this if these voters had to show their eligibility to vote?

Court knocks out state voter ID law. The Indiana Court of Appeals today declared Indiana's voter ID law unconstitutional because it does not apply uniformly to all voters.

Dem Rep Who Opposes Photo ID To Vote Requiring Photo ID For Town Halls. Congressman Eugene Green, Democrat from Texas, [is] telling the world that if you're not from his District, you're not welcome at his future town hall meetings — oh, and how he'll enforce his new rule... How many dozen other Congressmen who oppose voter ID laws are going to hypocritically enforce voter-ID rules at their town halls — And does that mean that controlling their meetings more important than controlling the voting process?

Rep. Green to require photo ID at town halls. A Texas congressman, worried about disruptions at his town halls, wants to weed out people who want to attend but don't live in his district. Rep. Gene Green (D-Texas) has announced on his website that he will require attendees to show photo identification to get into his town halls to prove that they're his constituents. ... His decision drew derision from Republicans who noted that he voted against a Republican amendment that would have required Medicaid recipients to prove they are citizens by showing photo ID.

Clown Hall Meetings: Rep. Gene Green has voted against bills that require people to present a photo ID before they vote. But don't show up at one of his public gatherings without a driver's license. You won't get in.

Lull before 'Voter ID' storm. Things could get ugly in a hurry when the Texas House debates the super-charged "Voter ID" bill. ... Republicans see voter identification as a way to make sure only eligible Texans cast ballots. Democrats say they don't oppose a voter ID system if voting is made easier — but accuse the state GOP of wanting to make voting harder.

Texas Senate approves bill requiring voter ID at polls. Senate Republicans pushed through a bill Tuesday that would require Texans to show a photo ID or two alternative IDs before voting, while Democrats shifted their efforts to derail the legislation to the House. The measure, commonly referred to as "voter ID," was approved 19-12, with all Senate Republicans voting for the bill and all Democrats voting against it. A final vote will be required Wednesday before the proposal is sent to the House.

Voter ID wins approval. A bill that would require voters to present a photo ID at the polls won key approval from the S.C. House on Thursday, but not before House Democrats — equating the proposal to segregation-era efforts to disenfranchise voters — walked out. About 30 members of the Legislative Black Caucus and other House Democrats staged the walkout as debate moved into its fourth hour and it became clear the bill would pass.

Voter ID Was a Success in November. Remember the storm that arose on the political left after the U.S. Supreme Court upheld the constitutionality of Indiana's voter ID law last April? According to the left, voter ID was a dastardly Republican plot to prevent Democrats from winning elections by suppressing the votes of minorities, particularly African-Americans. Since the election of Barack Obama, we haven't heard a word about such claims.

Florida Officials Push to Enforce Voter ID Law. The intent of the "No Match, No Vote" law is simple: to ensure voters are who they say they are. The verification effort entails double-checking every voter registration form with the Florida Motor Vehicles database, or the Social Security database. If the numbers don't match, the voters can still vote — with a provisional ballot — but that voter then has two days after Election Day to provide their driver's license or Social Security card to their local elections supervisor.

Will This Election Be Stolen? The U.S. is one of the few democracies in the world that doesn't require photo identification to vote. Photo ID protects not only against impersonation fraud, but it can prevent bogus votes from being cast based on fictitious voter registrations, by noncitizens, or by individuals who are registered in multiple states. This spring the Supreme Court upheld the constitutionality of Indiana's photo ID requirement, and courts in Georgia upheld its photo ID law. In all of these cases, despite claims that there are thousands of Americans who lack photo IDs, and after years of litigation, the plaintiffs were unable to produce a single individual — not one — who didn't have an ID and couldn't easily get one.

Supreme Court says states can demand photo ID for voting. States can require voters to produce photo identification, the Supreme Court ruled Monday [4/28/2008], upholding a Republican-inspired law that Democrats say will keep some poor, older and minority voters from casting ballots. Twenty-five states require some form of ID, and the court's 6-3 decision rejecting a challenge to Indiana's strict voter ID law could encourage others to adopt their own measures.

A Victory Against Voter Fraud. In ruling on the constitutionality of Indiana's voter ID law — the toughest in the nation — the Supreme Court had to deal with the claim that such laws demanded the strictest of scrutiny by courts, because they could disenfranchise voters. All nine Justices rejected that argument.

Dewhurst hails Supreme Court ruling, state fight likely. Republican Lt. Gov. David Dewhurst hailed Monday's Supreme Court ruling that approves states' efforts to pass a voter identification law and said he looks forward to passing such a measure when the legislature meets again next year. The ruling galvanizes a Republican-inspired effort that Democrats say will keep some poor, older and minority voters from casting ballots.

Supreme Court gets it right with voter photo ID ruling. Constitutional law degrees aren't necessary when mere common sense is sufficient to conclude, as did the U.S. Supreme Court on Monday [5/5/2008], that an Indiana law requiring a photo ID to vote "is amply justified by the valid interest in protecting 'the integrity and reliability of the electoral voting process.'" The court thus affirmed with a 6-3 vote both common sense and the Constitution in recognizing that states have the right to safeguard ballot integrity.

Indiana's Primary Turnout High, Despite Photo ID Law. Indiana's controversial photo identification rule may not have made a major dent in the state's high turnout, but it did frustrate a small group of voters more accustomed to divine law. About 12 elderly Roman Catholic nuns were turned away Tuesday [5/6/2008] from a polling place because they didn't have state or federal identification bearing a photograph.

Voter-ID Hysteria: New York's Sen. Chuck Schumer was quick to denounce this week's US Supreme Court ruling upholding the nation's strictest voter-ID law as "a blow to what America stands for." His response might have made more sense if those who'd tried to strike down the Indiana law — which requires the state's voters to present valid photo IDs — had actually managed to find a single voter who'd been improperly turned away from the polls because of it.

Voter ID Battle Shifts to Proof of Citizenship. The battle over voting rights will expand this week as lawmakers in Missouri are expected to support a proposed constitutional amendment to enable election officials to require proof of citizenship from anyone registering to vote. The measure would allow far more rigorous demands than the voter ID requirement recently upheld by the Supreme Court, in which voters had to prove their identity with a government-issued card.

Bill requiring citizenship proof to vote fails. A proposal that would require proof of citizenship to register as a Tennessee voter has failed in the House Elections Subcommittee. The measure sponsored by Rep. Curry Todd, a Collierville Republican, failed 3-3 on Wednesday [4/15/2009] and is likely dead this session.

To ID or Not To ID? The answer to a cynic's question "Do elections matter?" may be partially found in the way judges have handled an Indiana voter photo ID law that requires people to prove their identity before they can vote. The Supreme Court will begin 2008 by hearing arguments in one of the most volatile political cases to come before it since Bush vs. Gore in the 2000 presidential election. … Appellate judges named by Republican presidents have mostly favored the ID requirement. Appellate judges named by Democrats have mostly opposed it.

Democrats Predict Voter ID Problems. On Indiana's primary day, Rep. Julia Carson shoved her congressional identification card in a pocket, ran out of her house and raced down the street to be at her polling site when it opened at 6 a.m. The Democrat, seeking to represent Indianapolis for a sixth term, showed the card to a poll worker, who told her it was unacceptable under a new state law that requires every voter to show proof of identity.

Vote fraud: Democrats' meal ticket. Rep. Keith Ellison, D-Minn. ... asserts that "while photo IDs seem harmless, they are in fact the modern-day poll tax." ... The 24th Amendment, ratified in 1964, made such pre-conditions for voting illegal. The 24th Amendment did not prohibit requiring non-forgeable identification as proof that the voter: a) was voting in the right precinct, ward, etc.; b) was in fact who they represented themselves to be; and c) was casting only one vote.

Goddard asks Supreme Court to repeal recent voter ID ruling. The state will ask a justice of the nation's high court to let county election officials require voters to produce identification for next month's general election. Attorney General Terry Goddard said Tuesday [10/10/2006] legal papers will be given to Supreme Court Justice Anthony Kennedy, possibly by the end of the week, asking him to void an order by the Ninth U.S. Circuit Court of Appeals barring the state from enforcing the voter ID provisions of Proposition 200 while a legal challenge to them works its way through federal court.

Partisan Fissures Over Voter ID. The Supreme Court will open the new year with its most politically divisive case since Bush v. Gore decided the 2000 presidential election, and its decision could force a major reinterpretation of the rules of the 2008 contest. The case presents what seems to be a straightforward and even unremarkable question: Does a state requirement that voters show a specific kind of photo identification before casting a ballot violate the Constitution?

Supreme Court upholds Arizona's photo ID law for elections. Arizona voters will have to present identification at the polls on Nov. 7 after all. The U.S. Supreme Court ruled Friday [10/20/2006] that Arizona can go ahead with requiring voters to present a photo ID, starting with next month's general election, as part of the Proposition 200 that voters passed in 2004. The ruling overturns an Oct. 5 decision by the 9th Circuit Court of Appeals, which put the voter ID rules on hold this election cycle.

The liberal assault on voter ID laws. People in the good state of Missouri need photo identification to cash a check, board a plane or apply for food stamps. But the state Supreme Court has ruled that a photo ID requirement to vote is too great a burden on the elderly and the poor. Go figure.

Court OKs photo ID for voting. Michigan voters will be asked to present photo identification at the polling place, after a divided Michigan Supreme Court ruled Wednesday that such a requirement is constitutional. At issue was a decade-old state law requiring voters to show photo identification before voting. The 1996 law never went into effect because then-Attorney General Frank Kelley, a Democrat, ruled it violated the 14th Amendment, which guarantees the right to vote.

Ellison wants to ban photo ID as requirement for voting. Requiring photo IDs to vote in federal elections would be banned under legislation introduced Wednesday [10/31/2007] by Rep. Keith Ellison, who said such requirements disenfranchise minorities, the poor, women, elderly and young people. "While photo IDs seem harmless, they are in fact the modern day poll tax," Ellison, D-Minn., said in a statement.

Judges question criticism of Voter ID. A three-judge panel of the 7th U.S. Circuit Court of Appeals heard 30 minutes of oral arguments this morning [10/18/2006] about Indiana's voter identification requirement, questioning how much of a burden it represented and whether it threatens to disenfranchise voters.

Are Democrats Seeking Voter Fraud? The Democrats in the House of Representatives last week provided a good way to measure just how far left they have drifted, when they managed to maneuver to the port of former President Jimmy Carter by opposing legislation that would require would-be voters to provide a photo ID before voting in federal elections. The most obvious explanation for the Democratic position on this issue is that they hope to benefit in future elections from illegal votes cast by some of the 12 to 20 million illegal aliens in the United States.

This Will Make Voter Fraud Easier. [New York Gov. Eliot Spitzer's plan] stops just short of being an engraved invitation for people to commit voter fraud. The background here is the National Voter Registration Act, commonly known as "Motor Voter," that President Bill Clinton signed into law in 1993. It required all states to offer voter registration to anyone getting a driver's license. One simply fills out a form and checks a box stating he is a citizen; he is then registered and in most states does not have to show any ID to vote. But no one checks if the person registering to vote is indeed a citizen.

Pedestrian Down. [Hillary] Clinton has always had a soft spot for measures that many election officials say compromise the integrity of the ballot box. She sponsored a major bill to strip states of their right to bar felons from voting, a right many legal scholars say is enshrined in the Constitution. Governor Spitzer's plan to grant driver's licenses to illegal aliens is equally controversial, in part because anyone with such a license could probably vote in elections with impunity.

A.C.L.U. Sues Alabama on Ballot Access. The American Civil Liberties Union sued Alabama elections officials Monday [7/21/2008] over what it says is an overly expansive policy disenfranchising felons, amid concern from voting rights groups nationwide that voting lists are being culled with too great alacrity by many states.

Closer look at illegal voting. Holes in law allow some non-citizens to register, but most don't cast ballots, expert says.

Illegal Voting: The non-citizen electorate. Amid all the talk of new voters becoming involved in the election, hopefully one group of voters will not vote in November — non-citizens, many of whom are illegally registered to vote all over the country, particularly in the southwest. Although there is no reliable method to determine the exact number registered aliens, there is evidence that this is a significant and growing problem.

The Threat of Non-Citizen Voting: Non-citizen voting is likely growing at the same rate as the alien population in the United States; but because of deficiencies in state law and the failure of federal agencies to comply with federal law, there are almost no procedures in place that allow election officials to detect, deter, and prevent non-citizens from registering and voting. Instead, officials are largely dependent on an "honor system" that expects aliens to follow the law. There are numerous cases showing the failure of this honor system.

NEA opposes the use of IDs in order to vote. The [NEA] convention approved Legislative Amendment 6 to oppose the use of voter ID in U.S. elections. However, in order to vote in NEA elections held during the convention, delegates were required to show photo ID. Apparently it's more important to prevent voter fraud in an election for the NEA Board of Directors than in an election for U.S. President or Members of Congress.

It's much too easy to vote illegally in Minnesota. Which of the following do you need to register to vote in Minnesota? A driver's license? Some form of government-issued ID that proves your identity and residence? Proof of American citizenship? Wrong on all counts. In Minnesota, you can register on election day without showing poll workers one piece of paper. All you need is a "voucher" — a person registered to vote in that precinct who is willing to sign a sworn statement that you live there.

More states ask voters to show ID. For Rita Glenn, the clerk of St. Joseph County in north central Indiana, the weeks leading up to the 2006 election have seen an unexpected surge in activity from voters looking for absentee ballots. … A hotly contested race in the 2nd Congressional District has contributed to the hike, Glenn said. But a big part of the increase comes from people wanting to avoid what they believe will be hassles on Election Day connected to a new state law requiring voters casting ballots in person to show a government-issued photo ID.

Does your senator support voter fraud? On the Senate floor right now, members just finished voting on an amendment to a student loan bill that would require voters to show photo ID at the polls. You know, so illegal aliens and other ineligible people don't undermine the integrity of the election process. The amendment failed 42-54.

Court revives voter-ID measure. The requirement that voters provide proof of identification to cast an early absentee ballot is back on again. But stay tuned. The 6th U.S. Circuit Court of Appeals issued an order last night staying a lower court ruling from last week that had put the ID provision on hold.

Senate Bill Aimed at Making Absentee Ballots from Overseas Count. Although roughly 6 million U.S. citizens are eligible to vote oversees using absentee ballots — many of whom are serving in the military — only a fraction of their ballots are being counted. The bipartisan Election Assistance Commission found that of the nearly 1 million absentee ballots sent out for the 2006 election, only 300,000 actually were counted.

Georgia Appeals Restraining Order on Voter IDs. Georgia's attorney general filed an emergency appeal Monday [7/10/2006] of a court order that blocks the state from enforcing its new voter photo identification law during next week's primary elections. The new law requires that every voter who casts a ballot in person produce a valid, government-issued photo ID.

Update:
Judge Throws Out Georgia Photo-Voter ID Law. A judge Tuesday [9/19/2006] struck down as unconstitutional the latest version of a new Georgia law requiring voters to show photo ID. State Superior Court Judge T. Jackson Bedford Jr. ruled that the photo ID requirement deprives otherwise qualified voters of the right to cast a ballot and adds a new, unconstitutional condition to voting.

Dead Voters Still Showing Up on Election Records. Jane Drury voted last year in an election in Stonington, Conn. The only problem is, she died eight years ago. … The town clerk's record clearly shows Drury's vote, marked by a horizontal line poll workers put next to her name. And it turns out, Drury isn't the only voter to apparently cast a ballot from the grave. The issue of dead voters showing up on ballot records continues to be a problem for election administrators across the country.

Should Your Vote Still Count if You're Dead? Increasingly popular mail-in ballots mean voters can now choose candidates up to 60 days before an election, raising new questions about an age-old phenomenon normally associated with chicanery in places like Chicago: What should be done with the ballots of the recently dead? Laws in at least a dozen states are evenly split between tallying and dumping the votes. No one keeps records on how often such deaths occur.

Photo IDs could improve image of election process. "Vote early — and often." We hear this quip every time an election rolls around, and with good reason: Electoral fraud is as old as the ballot box itself and still happens in the United States. Just last year a judge in Washington state ruled that some 1,678 illegal votes were cast in its 2004 election — more than enough to change the outcome of the governor's race.

Update:
No evidence of election crime, former U.S. attorney says. Fired U.S. Attorney John McKay said Sunday that the 2004 razor-thin governor's election in Washington "smelled really bad," but that an extensive, little-publicized investigation by FBI agents and federal prosecutors found no evidence of a federal crime.

Voter-ID rules suspended. Arizonans won't have to prove citizenship to register to vote or show identification at the polls in November, a federal appeals court ruled Thursday [10/05/2006]. The 9th U.S. Circuit Court of Appeals blocked the controversial new voting requirements passed in 2004 as part of Proposition 200. Opponents argued the provisions were unconstitutional, amounting to a poll tax that could keep legal voters from casting ballots.

Request to halt ID rules rejected. A federal court on Monday rejected pleas from Latino and voter-advocacy groups for a suspension of requirements that people prove their citizenship when registering to vote. In 2004, Arizona voters approved the requirements through Proposition 200 in an effort to curb voter fraud.

Democrats Will Appeal Ruling on Indiana's Voter ID Law. A federal court has upheld an Indiana law requiring people to show a government-issued photo ID before voting, much to the disappointment of the Democratic Party, which says many of its constituents — minorities, the poor, the elderly and the disabled — will be adversely affected.

[Other Democratic Party blocs, such as deceased and fictitious voters, will also be hit hard.]

Photo IDs Will Clean Up Federal Elections. Before the 108th Congress expires, the Senate should pass, and President Bush should sign, the Federal Election Integrity Act. H.R. 4844, adopted 228 to 196 by the House of Representatives on September 20, would require Americans to present valid, government-issued photo identification to vote in the 2008 presidential election. By the 2010 mid-term congressional elections, voters must show photo ID that demonstrates American citizenship. Liberals have reacted to this common-sense anti-vote-fraud effort as if it were conceived at a Klan rally.

Photo identification needed nationwide to ensure fair elections. In at least six states, the crucial issue in the November 2006 election might turn out to be whether or not voters must present photo identification. Because we have to show government-issued ID in order to board a plane, cash a check, enter a federal building, and for many trivial pursuits such as buying alcohol or renting a video, why not make it a requirement in order to verify that you are a legal voter?

Feds approve Georgia Voter ID law. The state can move forward with its plans to require voters to show photo ID at the polls, the U.S. Department of Justice has decided. Georgia Attorney General Thurbert Baker's office was notified in a letter dated Tuesday [6/27/2006] that the state's detailed plans to implement a photo voter ID law has passed muster by Justice's voting section.

Groups challenge voter ID plan. The Detroit NAACP and several other groups have filed legal briefs with the Michigan Supreme Court urging the justices to not require people to present photo identification in order to vote next month. … Joining in the legal action were the ACLU of Michigan, Latin Americans for Social and Economic Development, the American-Arab Anti Discrimination Committee, the League of Women Voters and Project Vote.

[Ask yourself this question: What do all those groups have in common? And why would they be opposed to having voters produce positive identification?]

ACLU Supports the Right to Vote Even If You're Dead or Foreign. When the House passed the Federal Election Integrity Act of 2006, requiring photo IDs for voters in future federal elections, the ACLU issued a statement [opposing it]. Similar laws have been passed in at least six states, and the ACLU has either led the attack on all such laws, or lawyers well schooled in ACLU arguments have done so.

Night of the Voting Dead: State Superior Court Judge Linda R. Feinberg made the ruling Friday after learning that the official responsible for tracking deaths had failed to do so because he didn't know it was his responsibility. The case stemmed from Republican complaints that an estimated 13,000 people who apparently have died remain on voter registration lists, including 4,755 people who reportedly voted in last November's election.

Democratic officials challenge Missouri voter ID law. Democratic officials from St. Louis and Kansas City sued the state Monday [7/17/2006], trying to block a new Republican-backed law requiring voters to show photo identification from taking effect for the November election. Republican Gov. Matt Blunt signed the law about a month ago, praising it as a way to build public trust in elections. The measure requires voters to show a photo identification issued by Missouri or the federal government, such as a driver's license, to cast a regular ballot.

Activist judge allows illegal aliens, deceased and felons to vote. Best-selling author Ann Coulter once wrote that when liberals pass by a graveyard, they see potential voters. … Superior Court Judge Melvin Westmoreland's ruling, that Georgia's law requiring voters to show identification is unconstitutional, is allowing illegal aliens, felons and dead folks to continue voting in Georgia. The judge struck down a newly enacted law that requires Georgia voters to present government-issued photo identification cards before they are allowed to cast a ballot.

Deal reached with woman who registered dog to vote. "Next stop, the Legislature." That's what Jane Balogh said Wednesday after accepting a deal that will allow her to avoid a criminal conviction for registering her dog to vote. Balogh, a Federal Way grandmother, said she won't give up trying to change state law so prospective voters would have to prove they are citizens.

Maryland's ex-felons register to vote. Ex-convicts who have completed their felony sentences lined up outside the Baltimore City Board of Elections today seeking to register to vote and take advantage of a new Maryland law. ... The new law, which went into effect yesterday, simplifies the rules regarding which former felons can vote.

In a Break From the Past, Florida Will Let Felons Vote. Gov. Charlie Crist persuaded Florida's clemency board Thursday [4/5/2007] to let most felons easily regain their voting rights after prison, saying it was time to leave the "offensive minority" of states that uniformly deny ex-offenders such rights.

Felons gain right to vote. Felons who have completed their sentences will be able to register to vote in Maryland under a new law signed by Gov. Martin O'Malley yesterday [4/24/2007]. The law, which takes effect July 1, was one of 178 measures the governor signed, including legislation to require stricter emissions limits on new cars and protect the diamondback terrapin. Advocates say more than 50,000 Marylanders will be eligible to vote as a result of the legislation.

Groups Push to Restore Virginia Felons' Voting Rights. Civic and social organizations are teaming with Virginia Gov. Timothy M. Kaine to try to add thousands of nonviolent offenders to the voting rolls in time for the November election … The Kaine administration's efforts come as a coalition of groups, including the American Civil Liberties Union and the NAACP, have launched an ambitious drive to get convicted felons information on how they can apply to have their voting rights restored.

Study says votes of ex-felons could have changed outcomes. President Al Gore? U.S. Sen. Buddy MacKay? Did they really lose because ex-felons were not allowed to vote in Florida? Some believe that's exactly what happened in 2000 when Gore lost to George W. Bush and in 1988 when MacKay lost to Connie Mack.

The Editor says...
First of all, there is no such thing as an ex-felon. Secondly, do you want your elected representatives to be chosen by known criminals? Of course the outcome of any election in history "could have" been different if additional votes had been included.

House Passes Bill to Make Voters Show ID. The House voted Wednesday to require Americans to show proof of citizenship in order to vote, and the Senate moved to build a 700-mile fence along the Mexican border as Republicans sharpened attacks on illegal immigration before the midterm elections.

High Court to Hear Case on Voter ID Law. A voter seeking to cast a ballot is first told to produce a photo ID. Is that intimidation or a prudent safeguard against election fraud? The Supreme Court said Tuesday [9/25/2007] it intends to decide, stepping into a controversy that blends race, partisan politics and the Constitution.

High Court to Decide If Voters Must Show Photo ID. With the 2008 elections on the horizon, the Supreme Court has agreed to rule on whether an Indiana law that requires voters to have a government-issued photo ID is a security necessity in the post-9/11 world or some sort of partisan plan to suppress voter turnout.

Voter IDs Aren't An Undue Burden. Earlier this year, the United States Court of Appeals for the Seventh Circuit upheld an Indiana state law that requires voters to present a government-issued photo ID before casting ballots in person. Absentee voters and nursing home residents are exempt. The plaintiffs claim the photo ID requirement is an 'undue burden on the right to vote,' particularly for the elderly and poor who don't drive or can't afford one.

Voter ID case could affect election laws. The League of Women Voters has tried to put names and faces on the people who could be hurt by a strict Indiana voter-identification law that the Supreme Court will take up Wednesday. The league, in a court filing, refers to Mary Wayne Montgomery Eble, 92, who had no driver's license or ready access to the birth certificate she needed to get an alternative ID.

The Editor says...
Yes, for every thousand fraudulent votes prevented by a Voter ID law, there might be one legitimate voter who is shut out due to extraordinary circumstances. That's just too bad. Whenever a major problem is acted upon by a strong solution, there is always some "collateral damage" (e.g., chemotherapy; divorce; Hiroshima, amputation, DDT.) Do not be deceived — political activists on the left are fighting the implementation of Voter ID laws because the laws will prevent dead people from voting for Democrats. It's just that simple.

Who are these people anyway?
League of Women Voters: The League of Women Voters (LWV) describes itself as a "non-partisan" group that encourages citizen participation in the political process. [LWV] Supports taxpayer-funded abortion-on-demand. Supports "motor-voter" registration, which allows anyone with a driver's license to become a voter, regardless of citizenship status. Supports gun control, tax hikes, and socialized medicine. … LWV also supports a national health insurance plan financed by higher taxes; stricter handgun control; increased UN authority over American foreign policy decisions; the elimination of the electoral college; and increased environmental legislation.

Ballot Box Integrity v. Voters without Borders. On January 9, the U.S. Supreme Court will hear arguments for one of the biggest election law cases in years. This case might decide who becomes president of the United States in a close election, and shape the future of the country. The Court will hear arguments in the consolidated cases of Crawford v. Marion County and Indiana Democratic Party v. Rokita. At issue in the case is Indiana's new voter ID law.

Effort To Expose Computer Vote Fraud Leads To Lawsuit. The Constitution Party … points out that since 1988 all but a handful of the 3,142 counties in the US have delegated the "counting" process, done in secret, to several mega companies, Diebold, ES&S, Hart and Sequioa. All 50 secretaries of state have approved these systems. The Clean Elections lawsuit, in the process of expanding to all 50 states, charges that the use of any computer (direct-recording-electronic- or DRE) systems which obscure ballots from the people for any period of time before a count is completed and the results are announced are unconstitutional.

Fighting Vote Fraud With Photo ID: The controversy surrounds Indiana's requirement that voters show photo identification when they cast their ballot. At a time when Americans are asked to show photo ID for routine things such as buying alcohol or getting on an airplane, it hardly seems unreasonable to do the same before voting. There's also overwhelming public support for voter ID requirements; Rasmussen puts the number at 77 percent approval nationally.

Voter ID rule finds support. Two-thirds of Americans, including a majority of racial and ethnic minorities, say the government should make voters show photo identification before voting, according to a new Fox 5/The Washington Times/ Rasmussen Reports survey.

'Affirmative Action' for Voting. Many courts, including the present Supreme Court hearing an Indiana case, have begun seeing the minor inconvenience of getting a free ID card as worth the extra security against voter fraud. At best, such ID requirements provide a deterrent against such manipulation of the voting system. At worst, they enact an inconvenience most rational, sane and responsible adults can handle without sobbing, pointing fingers or throwing themselves on the ground demanding more cookies.

Tighter voting laws urged. Nearly three years after police began a probe into 2004 voting flaws in Milwaukee, investigators issued a report Tuesday that says eliminating same-day registration and requiring voters to show photo IDs would minimize the problems found. Those recommendations immediately became fodder for advocates of both changes — and swiftly condemned by critics.

Somewhat related:
Making the World Safe for Medicaid Fraud. Americans expect to show a photo ID when they board a plane, enter many office buildings, cash a check or even rent a video — but rarely in voting or applying for government benefits such as Medicaid. Many Democrats seem to view asking citizens for proof of identity as an invasion of privacy — though what's really being protected is the right to commit identity fraud. Exhibit A is Tuesday's 13 to 10 party-line vote in the Senate Finance Committee rejecting a proposal to require that immigrants prove their identity when signing up for federal health care programs.
---
Mysteriously Appearing / Disappearing Ballots
A Month After Elections, 200,000 Votes Found. The [New York City] Board of Elections routinely reminds New Yorkers that the election night vote count is unofficial and preliminary. Still, the difference in the results from Nov. 2 and in the returns formally certified by the board on Wednesday seems striking: The board found 195,055 votes, or 17 percent more votes, than were originally reported.
28-Year Democrat Rep. Ortiz Loses, But Keeps 'Finding' Ballots in Recount. [Scroll down] So it would appear Ortiz, Inc. is either trying to drag this out long enough to conjure up enough additional votes to steal the election — or he is an entitlement lifer politician who is dragging out the very end of his very long 28-year Congressional run, unable to fathom that the people of south Texas chose ... SOMEONE ELSE. He is, after all, the only Congressman the district has ever had — it's difficult for these sorts of people to let go. November 2nd, we began showing these types of people the door. Some, like Ortiz, will not go quietly into that great night.
The regularity of voting irregularities. Voting irregularities marred elections last week. This recurring problem will get worse so long as laws governing how Americans register and cast ballots are liberalized instead of tightened. The Connecticut governor's race was especially bollixed up. Vote counts switched back and forth from the same jurisdictions, hundreds of ballots were "found" lying around in unguarded bags, and a local news station ran footage of a poll watcher being escorted from the premises for complaining about such slipshod procedures.
Altschuler leads Bishop after voting machine re-canvass. In the close House race on the East End, Republican Randy Altschuler moved ahead of incumbent Rep. Tim Bishop Friday [11/5/2010] after a re-canvass of voting machines. Altschuler leads Bishop, a Democrat, by about 400 votes, both campaigns said, citing data from the Suffolk County Board of Elections. That represents a swing of almost 4,000 votes because Bishop was ahead by 3,461 earlier this week.
Bag of Uncounted Ballots Found in Bridgeport. In what has become one of the stranger twists in an already bizarre Governor's race, a bag of uncounted ballots was found in Bridgeport Thursday night [11/4/2010]. Republican officials were approached by Democratic operatives and told about the surprise ballot bag, according to Bridgeport GOP Chairman Marc Delmonico. "It adds to the inconsistencies from the Democratic Party in Bridgeport. It just keeps adding to it," said Delmonico. ... Bridgeport has become the focal point of what has turned into a circus of an election.
DC Primary votes don't add up... even with a fudge factor. As District officials continue to investigate errors in the early vote tallies from the Sept. 9 primary, one number stands out: 1,542. That number appeared in the category for "overvotes" in 13 separate races when the D.C. Board of Elections and Ethics released early results on election night. But those votes inexplicably vanished shortly after midnight, when officials posted what they identified as corrected results.
Strange Yahoo! vote count. The original statement from the Yahoo! Annual Meeting suggested strong support for the Yahoo! board. However, reportedly exactly 200 million votes seemed to have vanished from some of the expected totals. ...Once again, who knows what really happened?
As Election Day nears, eyes will be on Florida. After the polls closed on primary-election night in August, workers somehow lost all the ballots cast by voters in Osceola County's Precinct 11. "We questioned the poll workers and have searched the whole building," said Osceola Supervisor of Elections Connie Click. "It was only 98 ballots. My speculation is they got put in the trash."
Hunt for missing ballots widens in Palm Beach County. Another Palm Beach County election mess, including thousands of missing ballots, stumbled toward a new venue today with county officials leaving it to the courts to decide a disputed judicial race.
Texas voting recount halted: On orders from the Texas Secretary of State's office, the recount for the Tom Green County Court-at-Law No. 2 race has been suspended midway through its second day. About 1:30 p.m. today, county Republican Chairman Dennis McKerley stopped the recount after workers found discrepancies of as much as 20 percent between what was counted Monday and what was reported Election Night.
Multiple vulnerabilities in Diebold Optical Scan. A Technical Report published by BlackBoxVoting.org details multiple critical security vulnerabilities in the Diebold Optical Scan voting equipment that was used to tally approximately 25 million votes in the 2004 US election. … According to the report: "Exploits available with this design include, but are not limited to: Paper trail falsification – the ability to modify the election results reports so that they do not match the actual vote data … removal of information about pre-loaded votes, the ability to hide pre-loaded votes, the ability to hide a pre-arranged integer overflow, the ability to program conditional behavior based on time/date, number of votes counted, and many other hidden triggers.
Ohio lunacy. Jesse Jackson has now joined the "Ohio was stolen" team with a rally in Columbus, while civil-rights and left-wing groups are filing lawsuits. They all demand a recount! Get ready for Ohio 2004 to take an honored place in fevered left-wing lore. Speculation about Bush stealing Ohio was fueled by a voting machine in the small city of Gahanna in Franklin County that mistakenly recorded 3,800 votes for the president. It was a software error that was caught and corrected as the normal process of certifying the vote was proceeding.
Detroit votes don't add up. Canvassers find boxes with uncounted ballots, discrepancies in 30% of the precinct tallies.
GOP bashes county clerk over mistakes. The Mercer County Republican party slammed Democratic county clerk Paula Sollami-Covello yesterday [6/12/2006] for what it said were egregious errors affecting elections.
Obion County Tennessee vote counting problems: The county had to revise its preliminary election results after they discovered that early votes weren't counted.
"Ghost vote" spooks the Assembly. Nobody was surprised that state Sen. Carole Migden voted in favor of her own cosmetics bill. The problem was that she did it in the wrong legislative house. Toward the end of Wednesday's floor session, Migden, a San Francisco Democrat, pushed the voting button of a GOP assemblyman who was temporarily away from his desk. Her action violated Assembly rules and drew an angry response from Republicans.
At this time, the Editor would like to ask a rhetorical question:
Why aren't voting systems in state capitols protected with keys or passwords?
Florida 2002: Sluggish Systems, Vanishing Votes. Following the 2000 Presidential election debacle in Florida, government officials promised sweeping reforms that would prevent such chaos from reoccurring. Indeed, the Florida election code was extensively revised, punchcard systems were outlawed, and over $125 million was spent statewide on new voting equipment and training of voters and election administrators. What could possibly go wrong? Apparently enough calamity to cause Governor Jeb Bush to declare a state of emergency, extending the voting session by two hours for the September 10, 2002 primary election. Yet events earlier in the year should have provided sufficient forewarning of difficulties.
Muslim group attempts late Florida vote dump. A pushy Muslim activist demanded a county elections office worker accept a box of 550 applications to vote after the close of business on the last day to register in Palm Beach County, Florida.
Florida election stymies technology: Seven precincts reported Democratic turnouts of more than 100 percent in the 2002 elections.
Back to Voting in general.
Back to the Home page.