Over 97% of all greenhouse gases are natural and there is nothing we can do about them. For example, India's population of one billion people produces more carbon dioxide just by breathing than is produced by all the coal-burning power plants in the United States. Moreover, termites are said to produce more carbon dioxide each year than all other living organisms combined.

Environmentalists would have you believe that the greenhouse effect originated in the 20th century. The greenhouse effect is essential to the survival of life on Earth. If there were no greenhouse gases, the temperature of the air would be about 32°F (18°C) colder than it is. In other words, the world would be frozen most of the time.*

The two predominant greenhouse gases are water vapor and carbon dioxide. You produce both of these gases when you exhale. Between 94½ and 96½ percent of atmospheric carbon dioxide comes from natural sources.* Between 94 and 98 percent of the warming effect is due to ordinary water vapor, which comes from the oceans and lakes.

Please note that volcanos produce more carbon dioxide than all the activities of man. So even if all industrial activity is outlawed (in order to "save the earth"), the volcanos will still keep pumping CO2 into the atmosphere, and the air will remain just as it is.

It is also claimed that cows and termites produce more CO2 than people (and cars and trucks) do.

The subject of unstoppable coal fires is something I have just recently (and briefly) explored. The Centralia, Pennsylvania coal mine fire has been burning since 1962,* and there are 38 of these fires in Pennsylvania alone.* There's another such fire in Jharia, India, that has been burning for almost a century,* one in Glenwood Springs, Colorado, that has been burning since 1910,* and there are hundreds of coal fires buring in China.* Australia's Burning Mountain, the oldest known coal fire, has burned for 6,000 years.* And of course every air-breathing animal in the world emits carbon dioxide, a little at a time, so the idea of curtailing carbon dioxide emissions completely — as some have suggested* — is futile.

Note: A lot of material about carbon offsets and emissions trading can be found on this page.

Methane also has a page of its own.


---

<!- - - - - - - - - - - --> <!- - - - - - - - - - - -->

Getting to the Bottom of EPA Climate Fraud. In December 2009, the Obama Environmental Protection Agency issued its Endangerment Finding (EF) — decreeing that carbon dioxide (CO2) and other "greenhouse gases" (GHGs) endanger the health and welfare of Americans. In the process, EPA ignored the incredible economic, health and welfare benefits of fossil fuels — and the fact that (even at just 0.04% of the atmosphere) carbon dioxide is the miracle molecule that enables plants to grow and makes nearly all live on Earth possible. EPA turned CO2 into a "dangerous pollutant" and ruled that fossil fuels must be eradicated. The agency subsequently used its EF to justify tens of billions of dollars in climate research, anti-fossil fuel regulations, and wind and solar subsidies; President Obama's signing of the Paris climate treaty; and proposals to spend trillions of dollars a year on Green New Deal (GND) programs. And yet, despite multiple demands that this be done, there has never been any formal, public review of the EF conclusion or of the secretive process EPA employed to ensure the result of its "analysis" could only be "endangerment" — and no awkward questions or public hearings would get in the way.

Conservatives Must Stand Up to Climate Change Bullying. [Scroll down] In contrast to carbon, which is a solid, CO2 is an odorless, colorless gas. It is crucial for plant photosynthesis and so required for life. That's why the CO2 concentrations inside commercial greenhouses are often kept up to 1,500 parts per million (ppm), a level at which plants grow far more efficiently than at the 410 ppm in the outside atmosphere. We should not spend a single cent trying to reduce the air's CO2 content. And of course, climate change is real. So is continental drift. But no sensible person would conclude that humans are the master controller of either.

Temperatures fail to respond to highest CO2 levels of past 3 million years. Climate alarmists are pushing a storyline this month that atmospheric carbon dioxide levels are higher now than at any time in the past 3 million years. The last time carbon dioxide levels were this high, "sea levels were as much as 65 feet higher than they are now, Greenland was mostly green and Antarctica had trees," USA Today ominously warns. CNN, The Weather Channel, and many other media sources are making the same claims. In reality, the claims support the mountains of existing evidence that the Earth's climate is not very sensitive to atmospheric Carbon Dioxide.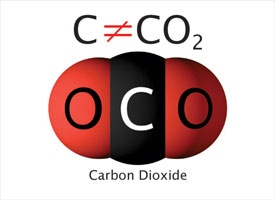 Carbon is not a synonym for carbon dioxide. From the very day that Al Gore signed his name to the well known book, An Inconvenient Truth, the general population was told that carbon emissions were going to destroy our planet. Gore, more or less, coined the term "carbon footprint" (while always hiding the enormity of his own footprint). Gore and his cohorts were never actually talking about carbon. They were talking about carbon dioxide. Initially they understood that most people recognize that they exhale carbon dioxide and plants absorb it in order to live. Not a dark thought. So in a universally evil desire to scare the populace, they seized on using the term carbon as a synonym for carbon dioxide knowing it would conjure up visions of soot, lamp black and coal dust none of which were warm and fuzzy. Carbon is a solid. Carbon dioxide is a colorless, odorless gas, which while containing a single atom of carbon, bears no other resemblance to elemental carbon.




Fake Climate Science and Scientists. Real science — and real scientists — seek to understand natural phenomena and processes. They pose hypotheses that they think best explain what they have witnessed, then test them against actual evidence, observations and experimental data. [...] The last thing fake/alarmist climate scientists want is a full-throated debate with real climate scientists — a debate that forces them to defend their doomsday assertions, methodologies, data manipulation — and claims that solar and other powerful natural forces are minuscule or irrelevant compared to manmade carbon dioxide that constitutes less that 0.02% of Earth's atmosphere (natural CO2 adds another 0.02%).

Green Luddites Are Coming for Your House, Car, and Freedom. Like so much coming from the corporate Left in America, probably the most dangerous aspect of this column is the blithe presumption that its premises are beyond debate. The climate will change catastrophically, and emissions from burning fossil fuel are the culprit. Low-density housing is the reason fossil fuel emissions remain too high. Public transportation is a good thing. Just hold on. Stop right there. Emissions of CO2 may not change the climate very much at all, and the cost of precipitously curtailing them condemns billions of people around the world to prolonged poverty and misery. And in any case, high-density housing is creating more CO2 emissions, because existing roads cannot handle the increased traffic. And no, public transportation is not always a good thing.

Curt Stager, Global Warming, and Political Science. I was rather surprised to see the Adirondack Almanac piece by Curt Stager, for several reasons. [...] It's unfortunate that Curt did not publicly acknowledge that we have HUGE gaps of knowledge in our understanding of climate. For example, the AGW matter appears to rests on a very basic equation: the global CO2 balance. On one side are "CO2 Sources" which are either natural or man-made. On the other side are "CO2 Sinks" which are mostly natural. When the Sources exceed the Sinks, we have a resultant net CO2 increase. One of several problems is that as much as 30% of the Sinks side of the equation is not well understood. How accurate can computer models be when there is such a substantial unknown involved? Traditional Scientists are very clear about exactly what we know and don't know. Political scientists glaze over the unknowns.

Global Cooling: The Real Climate Threat. CO2 is just one of many factors that influence global temperatures. Its role in recent warming is far from dominant. Indeed, there is poor correlation between CO2 emissions and global temperature. Between 2000 and 2018, global temperature showed no significant increase despite a steep increase in carbon dioxide emissions from anthropogenic sources. The same was the case between the years 1940 and 1970. When carbon dioxide concentration increases at a constant and steady rate and temperature doesn't follow the pattern, we can be certain that carbon dioxide is not the primary driver of global temperature.

Why Do Progressives Reject Policies That Would Achieve Their Aims? The solution championed by the warmists comprises various schemes to drastically reduce or eliminate energy derived from carbon. But everyone admits that the reductions, even if achieved, would not be enough to stop the alleged catastrophic warming, but would certainly devastate the economy. Meanwhile, the real solutions for progressives to get what they want lies with the free market that increases global wealth. The scandal of alarmist climate change, of course, is that the policy prescriptions are useless for slowing warming.

The Total Futility Of Trying To Save The Planet By Reducing Greenhouse Gas Emissions. In trendy progressive states here in the U.S., we know how we are going to solve "climate change." We are going to slash our "greenhouse gas" emissions. Here in New York City, we're going to reduce our GHG emissions by 80% by 2050. If you don't believe it, you can just ask Mayor de Blasio. New York State? Same goal, 80% by 2050. California also has a goal of reducing GHG emissions 80% by 2050. Surely, this will solve the problem. New York and California seem to think that they are big stuff in the world. After all, who is more important than we wealthy coastal U.S. elites? But unfortunately, on a global scale, we don't really have enough population to count for much. As usual, when it's time to do the arithmetic, the progressives fall on their faces.

Climate Science, Red in Tooth and Claw. There is usually some real science buried in all the hype. For example, it is reasonable to expect that some global warming might be caused by adding CO2 to the atmosphere. What is probably a modest effect has been twisted and exaggerated into a doomsday scenario that demands that we save the planet. The good effects of CO2 that are well known and that are solid science are ignored. Increasing CO2 in the atmosphere makes plants grow better with less water. Greenhouse-operators use CO2-generators in their greenhouses. CO2 is greening deserts. How often to you hear about these benefits of CO2?

Researchers say Native American genocide changed the climate. Researchers at University College in London have published a paper theorizing that the slaughter of Native Americans by whites in the 15th and 16th centuries led to climate change often referred to as "The Little Ice Age." Temperatures plummeted, the researchers say, after the death of so many indigenous people that the land they were tilling was "reforested," thus leading to an increase in trees and vegetation, which means less CO2 was being pumped into the atmosphere.

The Editor says...
"An increase in trees and vegetation" would not cause any CO2 source to "pump" less CO2 into the atmosphere. In the 16th century, there were no internal combustion engines, but natural sources of CO2 were around, just as they are today: Termites, volcanos, swamps, and animals. An increase in the number of trees might lead to the absorption of more CO2, but in this case, only a relatively small amount. The forests in North America are only a small fraction of the forests worldwide. The fraction of the North American forests cut down by the Indians is insignificant. Nice try. Next!

Don't Join The Media Freak Out Over Recent Jump In CO2 Emissions — It Won't Last. For the first time in years, U.S. carbon dioxide output rose last year, a new report says. The jump has set off alarms in all the predictable media quarters. Relax. It's a great sign for the economy, and will mean nothing long term for the environment.

Climate Change: The Poetry of Dreams and the Prose of Reality. [Scroll down] Moreover, the supporters might be amazed to learn that only 0.04 percent of Earth's atmosphere is carbon dioxide, which is part of the air we breathe. Plants make themselves from it and, as every sixth-grader in China or Russia knows, by way of photosynthesis they produce oxygen. Therefore, if not for CO2 there would not be O2 and subsequently no life on Earth. There is no solid evidence CO2 is having an impact on the Earth's temperature one way or the other and no amount of scientific falsehood can make it so. The inconvenient truth is that the climate change movement has nothing to do with climate and everything with making money, ideology, and degrading America's industrial capabilities.

Disastrous California wildfires emitted as much carbon dioxide as a year's worth of electricity. The calamitous 2018 California wildfire season have already unleashed greenhouse gases equivalent to the amount generated by providing the state with electricity for an entire year, according to newly released federal data. An analysis by the U.S. Geological Survey released Friday [11/30/2018] found that 68 million tons of carbon dioxide were emitted from this year's blazes in the Golden State, the worst wildfire season in recorded state history.

New U.S. Climate Report a 'Scientific Embarrassment'. Earth's climate warmed steeply by about 0.5C from about 1915 to 1945 when human-produced CO2 emissions were minimal. Worldwide CO2 emissions increased quickly after World War II, yet the Earth cooled between 1945 and 1977 by about 0.25 deg C (0.45 F). Supporters of the dangerous man-made climate hypothesis are unable to give an adequate explanation for this temperature drop while emissions were increasing rapidly.

The Left Favors Global Warming. China — one of those "developing world" countries [John] Kerry alluded to — is actually the biggest problem. If man-caused warming is real — a big if, to be sure, to any clear-thinking, logical minded person — it's more China's fault than anyone's, due to their huge economy and unrestricted use of coal-fired power plants without pollution filters or any such modification. They spew an enormous amount of pollution into the atmosphere every day and no one in the Democratic Party, the environmentalist movement, or the liberal mainstream media ever criticizes them. Instead, their criticism is always directed at Republican businessmen. President Obama played right into this — wittingly or unwittingly — when he completed an agreement with China that requires even further American emissions reductions while not requiring China to begin making significant cuts until 2030.

But What Will Take Its Place? [Scroll down] The real debate stems from an earlier controversy, at the beginning of the Obama era, when the EPA declared carbon dioxide a dangerous pollutant. That "endangerment finding" was also widely challenged, because Congress never authorized the EPA to regulate the essential air we breathe as a "greenhouse gas." [...] [President Trump's] new EPA has, so far, made no effort to revisit the "endangerment finding." That is problematic, because EPA probably cannot legally declare something to be a dangerous pollutant, but then decline to regulate it. So the concern was that if EPA did not reverse the "endangerment finding," federal courts would eventually order a new "clean power plan" anyway. That is why the EPA has released this new plan. However, the new plan is nothing like the original, an outright attack on the very existence of the coal industry. Instead, EPA now acknowledges that our most abundant and affordable energy source can be used without destroying anything.

Five cheap ways to remove CO2 from the atmosphere. As well as rapidly reducing the carbon dioxide that we humans are pumping into the atmosphere in huge amounts, recent scientific assessments of climate change have all suggested that cutting emissions alone will not be enough to keep global temperatures from rising more than 1.5 or 2 degrees C. The Intergovernmental Panel on Climate Change and others have all stated that extracting CO2 from the air will be needed if we are to bend the rising temperature curve before the end of this century. These ideas are controversial with some seeing them as a distraction from the pressing business of limiting emissions of CO2.

The Editor says...
I doubt if it is possible to remove CO2 from the atmosphere faster than natural sources replace it. And why would anyone attempt it? CO2 is plant food. The people coming up with ways to sequester CO2 are some of the same people who claim the world is running out of food. They should be looking for ways to make crops grow faster and better, and reducing CO2 in the atmosphere will not help.

Huh? Carbon Dioxide Emissions Raise Risk of Satellite Collisions. [Scroll down] As Martin Mlynczak, a senior scientist at NASA's Langley Research Center in Hampton, Va., recently described it, the buildup of carbon dioxide emissions aloft is gradually cooling a layer of the upper atmosphere where satellites frequently orbit. The good news is that the cooling will make the air there less dense, and that could prolong the life of existing satellites. The bad news is that it will preserve rapidly accumulating space junk that might otherwise sink into the lower atmosphere and burn up.

U.S. CO2 Levels Drop Again — So Why Aren't Green Groups Rejoicing? Once more, science provides bad news for global warming alarmists. U.S. CO2 levels again declined during 2017, despite overall global output again rising. Credit U.S. fracking and the natural gas boom. But don't worry: the hysteria won't end.

An Inconvenient Truth: Greenhouse Gas Emissions Are Falling Under Trump. Environmental data for 2017 are pouring in, and the results might not be what you'd expect. In the United States, where President Trump has promised to unshackle the coal industry and to abandon an international climate change treaty, greenhouse-gas emissions fell last year and are expected to continue falling. In Europe, where political leaders consider climate change an urgent priority, emissions rose last year.

The Editor says...
The volcanos and termites and cows don't care who the politicians are. They will keep producing carbon dioxide day after day, no matter what laws are enacted.

Inventory of U.S. Greenhouse Gas Emissions and Sinks. EPA has prepared the Inventory of U.S. Greenhouse Gas Emissions and Sinks since the early 1990s. This annual report provides a comprehensive accounting of total greenhouse gas emissions for all man-made sources in the United States. The gases covered by the Inventory include carbon dioxide, methane, nitrous oxide, hydrofluorocarbons, perfluorocarbons, sulfur hexafluoride, and nitrogen trifluoride. The Inventory also calculates carbon dioxide emissions that are removed from the atmosphere by "sinks," e.g., through the uptake of carbon and storage in forests, vegetation, and soils.

The Editor says...
The EPA's Inventory appears to include natural CO2 sinks, but ignore natural CO2 sources. It also appears to ignore the role of water vapor as the dominant greenhouse gas. I'm told by a reliable source that the complete report includes natural sources of greenhouse gases, but the long version is spread out over 655 pages.

Two CO2 climate change myths. CO2 does not "trap heat" in the atmosphere and the increase in CO2 is not a buildup of our emissions. In fact these are two pseudoscientific myths that appear frequently in alarmist press reports and teaching materials. Neither one is true. The science is quite different. It is actually pretty complex, which is why the climate change science is so widely debated. CO2 both adds heat to the atmosphere and removes it, so it certainly does not trap it there. CO2 is a secondary greenhouse gas (GHG), with water vapor being the primary GHG.

Does the Greenhouse Gas CO2 cool the climate? Physicists who have examined our counter-intuitive hypothesis, all agree with the science — albeit somewhat reluctantly. Such is the power of group-think that even experts, with some exception, find the idea that CO2 might cool the climate difficult to accept.

On Climate Change, Please Address the Science, Not the Politics. Despite the excited proclamations of climate activists, increasing carbon dioxide levels poses no direct hazard to human health. Carbon dioxide concentrations in submarines can reach levels well above 10,000 ppm, 25 times current atmospheric levels, with no harmful effects on the crew.

Beware EPA 'Social Cost of Carbon' Models. Right at the start we should note an important distinction. Carbon is an element; carbon dioxide a compound. Carbon is a solid; carbon dioxide a gas. Carbon — in the form, e.g., of fly ash, dust, fine particulate matter, can harm health; carbon dioxide is harmless except at very high concentrations (above 10,000 parts per million — versus ordinary atmospheric concentration of 400 ppm) and even then only after long, uninterrupted exposure. Unlike carbon, carbon dioxide is odorless, colorless, and, except under conditions just described, nontoxic — indeed, indispensable to photosynthesis and so to all life. "Carbon" makes people think of black soot, smoke, smoggy skies; "carbon dioxide" doesn't. That's why proponents of reducing carbon dioxide emissions call them carbon emissions instead. The term is deceptive and plays on ignorance and fear. [...] Potential positive effects of increased carbon dioxide emissions are often dismissed out of hand.

The Climate Change Doomsday Just Got Canceled. [A] study, published on Thursday [1/18/2018], finds that if CO2 in the atmosphere doubled, global temperatures would climb at most by 3.4 degrees Celsius. That's far below what the UN has been saying for decades, namely that temperatures would rise as much as 4.5 degrees, and possibly up to 6 degrees. Basically, the scientists involved in the Nature study found that the planet is less sensitive to changes in CO2 levels than had been previously believed. That means projected temperature increases are too high. Of course this is just one study, but it supports the contention climate skeptics have been making for years — that the computer models used to predict future warming were exaggerating the impact of CO2, evidenced in part by the fact that the planet hasn't been warming as much as those models say it should.

Claim: Microwave[ oven]s are as damaging to the environment as cars. Microwaves are as damaging to the environment as cars and users must be taught how to cook more efficiently, scientists say. The ovens are responsible for 7.7 million tons of the carbon dioxide pumped out from the EU each year — the equivalent of 6.8 million cars. Researchers say they are fueling global warming with consumers overcooking food to blame. Microwaves account for the largest percentage of sales of all types of oven in the EU, with numbers set to reach 135 million by 2020. But scientists at the University of Manchester — the first to assess the environmental impact — say efforts to cut energy consumption should focus on manufacturers offering better education on microwave use.

The Editor says...
To be alarmed by this report, as the authors probably intended, one must first concede that carbon dioxide is a pollutant. It is not. If the discussion must continue past this point, first consider how many additional kilowatt-hours would be consumed by the average household in a year if there were no microwave ovens and the only alternative (other than cold food) was a full-size conventional oven. One must also consider the use of 6.8 million cars to be a bad thing. But that would mean there were at least 6.8 million people moving from one place to another without having to wait for a government-funded train or bus to take them somewhere. If freedom comes at a cost, and the only cost is a little more carbon dioxide in the air, that's a win-win situation.

What would happen if atmospheric CO2 concentration dropped by half? Answer: Mass starvation. Through photosynthesis, plants convert CO2 and water into the food that supports all life on earth. The benefits to plants from increased atmospheric CO2 include: increased growth, more flowers and fruit, better water-use efficiency, and better resistance to environmental stressors such as plant pathogens, macro and micronutrient excesses or deficiencies, high soil salinity, high/low air temperature, and high/low air temperature.

The Disastrous Economic Impact Of CO2 Reduction Policies. Global warming uses pseudoscience to achieve a socialist political agenda. It was chosen because it was a global threat that required global governance. It was created through the United Nations Environment Program (UNEP), sponsored and organized by Maurice Strong. It is the originator of what is broadly called the Green Agenda, an economy based on eliminating CO2 and shifting to alternate energies through Agenda 21. It failed everywhere it was tried, with Germany being the largest and latest to scramble for their energy and economic lives.

Trump's First Year vs. Obama's Eight Years. Here are President Obama's main accomplishments over eight years: [#3] The Paris Climate Accord: This transferred a massive amount of money and power from the U.S. private sector to its government and in turn transferred money from the U.S. to other countries. The policy is based on the belief that climate change/global warming exists and is the greatest threat to the world. So does Iran sponsor terrorists because of climate change? Does North Korea build nuclear weapons because of climate change? Does Russia take over more territory because of climate change? Do refugees from Syria and other countries escape because of climate change? CO2 is a clear, innocuous, non-polluting gas that allows plants to thrive and the billions of people to be fed. The reason Obama and other people want to regulate it is to have government control. But this accord certainly did not have its goal to make the U.S. stronger.

Global Warming: Fake News from the Start. President Donald Trump announced the U.S. withdrawal from the Paris Agreement on climate change because it is a bad deal for America. He could have made the decision simply because the science is false, but most of the public have been brainwashed into believing it is correct and wouldn't understand the reason. Canadian Prime Minister Justin Trudeau, and indeed the leaders of many western democracies, though thankfully not the U.S., support the Agreement and are completely unaware of the gross deficiencies in the science. If they did, they wouldn't be forcing a carbon dioxide (CO2) tax, on their citizens. Trudeau and other leaders show how little they know, or how little they assume the public know, by calling it a 'carbon tax.' But CO2 is a gas, while carbon is a solid. By calling the gas carbon, Trudeau and others encourage people to think of it as something 'dirty', like graphite or soot, which really are carbon. Calling CO2 by its proper name would help the public remember that it is actually an invisible, odorless gas essential to plant photosynthesis.

Core of climate science is in the real-world data. The Government continues to flounder with directionless and inconsistent energy policies, inviting much public commentary, but the science these days scarcely gets a mention. As we have seen in social policy, the strategy of the left is first to shut down debate and delegitimise any dissent from the position adopted by the left-leaning elements of the media, academia, bureaucracy, the environmental movement and renewable-energy interests. Lacking the capacity to distinguish science from pseudo-science, the Coalition under Howard effectively acquiesced to the totalitarian-left idea that the science on global warming was settled. It dared not question the assertion that carbon dioxide was causing dangerous global warming for fear that it would be loudly denounced and ridiculed as being in denial about the harmful effects that our emissions of carbon dioxide were supposed to be having on the climate. In doing so, the Coalition allowed the totalitarian left to define the terms of the debate. But, let us do the impermissible and look at the science behind the question of whether carbon dioxide is causing dangerous global warming.

All the News You Are Glad You Missed. [Scroll down] China will not agree to stop the increase in its [CO2] emissions until 2030, until then their emissions will continue to rise. Germany's emissions are also rising due to its increased reliance on coal-fired generating stations — because Merkel shut down its nuclear industry. And Germany gives away 45 percent of its permits to pollute at no charge to industries that threaten to pull up stakes. Macron may be about to follow Germany's path to increased pollution. He has promised to cut France's reliance on nuclear power for its electricity from 70 percent to 50 percent, prompting the group Energy for Humanity to write, "Any reduction in France's nuclear generation will increase fossil fuel generation and pollution, given the low capacity factors and intermittency of solar and wind. Germany is a case in point." And Trudeau has approved expansion of Canada's fossil fuel infrastructure, to the consternation of his nation's environmentalists.

Study: we have the global warming physical process backwards. Upsetting that energy balance are rising levels of greenhouse gases, such as carbon dioxide (CO2), that increasingly absorb some of the outgoing longwave radiation and trap it in the atmosphere. Energy accumulates in the climate system, and warming occurs. But in a paper out this week in the Proceedings of the National Academy of Sciences, MIT researchers show that this canonical view of global warming is only half the story. In computer modeling of Earth's climate under elevating CO2 concentrations, the greenhouse gas effect does indeed lead to global warming. Yet something puzzling happens: While one would expect the longwave radiation that escapes into space to decline with increasing CO2, the amount actually begins to rise. At the same time, the atmosphere absorbs more and more incoming solar radiation; it's this enhanced shortwave absorption that ultimately sustains global warming.

U of Canberra Expert: Doubling Atmospheric CO2 Would Increase "Heating By Less Than 0.01°C". Recently Kenneth Richard posted a flurry of papers showing that the CO2 climate sensitivity estimate has been trending sharply downward over the years, which means CO2's claimed effect on warming has been highly exaggerated. Now another opinion has come to light, further supporting the notion that the recent rise in CO2 in fact is having very little impact on our climate. Software engineer Dr. Dai Davies has experimental and theoretical (quantum mechanics) experience in gas phase, and he believes a doubling of CO2 will have "no significant role" in atmospheric thermodynamics.

NASA satellite spots cause of unprecedented spike in atmospheric CO2. Since the Industrial Revolution in the early 1800s, atmospheric carbon dioxide (CO2) concentrations have been steadily increasing, but 2015 and 2016 saw an unprecedented spike. A NASA study has now analyzed data gathered by the atmosphere-monitoring satellite, the Orbiting Carbon Observatory-2 (OCO-2), over more than two years and pinpointed the cause: the El Nino weather effect caused certain tropical regions to release far more CO2 than they normally would. Although there's been some huge efforts to reduce the amount of CO2 produced through human activity, the amount of the gas pumped into the atmosphere has still increased by an average of 2 parts per million (about 4 gigatons of carbon) annually, in recent years. But 2015 and 2016 broke the trend with the largest spikes on record: up to 3 parts per million, amounting to 6.3 gigatons of carbon [dioxide]. Emissions from human activity stayed roughly the same in those years, so where was it all coming from? The climate cycle El Nino was a prime suspect, but it wasn't clear exactly how.

CO2 is not — and has never been a poison. Each of our exhalations, each of our breaths, emits an astronomical quantity of CO2 proportionate to that in the atmosphere (some >40,000 ppm); and it is very clear that the air we expire does not kill anyone standing in front of us. What must be understood, besides, is that CO2 is the elementary food of plants. Without CO2 there would be no plants, and without plants there would be no oxygen and therefore no humans. [...] Plants need CO2, water, and daylight. These are the mechanisms of photosynthesis, to generate the sugars that will provide them with staple food and building blocks. That fundamental fact of botany is one of the primary reasons why anyone who is sincerely committed to the preservation of the "natural world" should abstain from demonizing CO2. Over the last 30 years, there has been a gradual increase in the CO2 level. But what is also observed is that despite deforestation, the planet's vegetation has grown by about 20 percent. This expansion of vegetation on the planet, nature lovers largely owe it to the increase in the concentration of CO2 in the atmosphere.

Why human CO2 does not change the climate. How can human carbon dioxide, which is only 5 percent of natural carbon dioxide, add 30 percent to the level of atmospheric carbon dioxide? It can't. This paper derives a Model that shows how human and natural carbon dioxide emissions independently change the equilibrium level of atmospheric carbon dioxide. This Model should replace the IPCC's invalid Bern model. The Model shows the ratio of human to natural carbon dioxide in the atmosphere equals the ratio of their inflows, independent of residence time. The model shows, contrary to IPCC claims, that human emissions do not continually add carbon dioxide to the atmosphere, but rather cause a flow of carbon dioxide through the atmosphere. The flow adds a constant equilibrium level, not a continuing increasing level, of carbon dioxide.

The New York Times Embraces Fake Science, Fake Engineering, and Fake Economics. The globe is not warming in the face of rapidly increasing CO2 levels, giving lie to the theory that CO2 will create a catastrophe, or create any problem at all. It is beyond question that increasing the amount of CO2 in the atmosphere enhances agricultural productivity and greens deserts. Plants are hungry for CO2 and don't need as much water if they have more CO2.

The Great Climate Hoax Challenged by 31,000 Scientists. [Scroll down] The reality is that the concept of man-made Climate Change actually opposes the tree-hugger's desires, because the false science of man-made Climate Change aims to reduce the amount of carbon dioxide in the atmosphere, the very gas plant life requires to survive. Carbon dioxide is an essential molecule of life, not a dangerous pollutant that needs to be eradicated from the atmosphere. In short, the Climate Change hoax has nothing to do with saving the planet, and everything to do with the collectivist desire of allowing the global elite leftists to ration energy and redistribute the wealth of more prosperous nations through energy confiscation. Thankfully, President Trump broke the U.S. free from the Paris Climate Accord. Unlike the leftist Democrats, Trump understands that removing greenhouse gases such as carbon dioxide would actually hurt the planet, taking away the compound that plants need to thrive. The above mentioned petition and its accompanying research dispel the myth that projected carbon dioxide levels are going to cause a catastrophic heating of the Earth's atmosphere and the disruption of climate. The evidence is actually in favor of greenhouse gases, which are beneficial to plant and animal environments on Earth.

'Carbon-sucking' devices necessary by 2030 to stop global warming, scientists say. Scientists are warning we need "carbon-sucking" technologies by 2030 in order to prevent global temperature increases. In the fight to curtail global warming, scientists say geoengineering — large-scale manipulation of carbon dioxide and solar radiation to lessen their effect on the planet — is absolutely necessary.

FBI Back In Reno After Burglars Elude Security And Raid Las Vegas Shooters Home. The FBI has beefed up security in Reno, Nevada, after a group of burglars broke into the heavily guarded home of Las Vegas mass shooter, Stephen Paddock over the weekend. According to authorities, a number of unidentified individuals descended on Paddock's home in the Del Webb retirement community just outside Reno, bypassing both state and federal law enforcement who were assigned to protect the property. Local law enforcement says it's not clear how the group got into the home, which is supposed to be under round-the-clock surveillance, and they do not have any suspects — but they also believe nothing was taken from inside the home, as the home was left completely undamaged.

The Editor says...
Sounds like a professional was involved here. In and out without a trace, at one of the hottest crime scenes in America today. There must have been something in the house that was worth the risk. Nothing was taken, they say. Ri-i-i-ight. Why not just deny that the burglary happened at all?

I wonder if any of those "scientists" have names. I saw no mention of anyone's name in the article, but the writer seems absolutely sure that "scientists" are right!

Climate scientists reveal their ignorance about CO2 emissions and mitigation. Climate scientists don't usually propose anything specific to 'tackle climate change' other than, well, doing something. Because according to them nothing is being done, or at least nothing was being done until very recently. (Apparently, in climate scientists' minds the $4 trillion invested in renewable electricity between 2000 and 2016, and hundreds of billions invested in non-electric renewable energy, count as nothing). While some may interpret this lack of detail as a sign that they don't want to politicize the issue, those of us who follow the debate know many climate scientists don't exactly make a big effort to stay apolitical. Thus in this article I put forward another hypothesis: climate scientists are clueless about energy and the economy.

Alarm as study reveals world's tropical forests are huge carbon [dioxide] emission source. The world's tropical forests are so degraded they have become a source rather than a sink of carbon emissions, according to a new study that highlights the urgent need to protect and restore the Amazon and similar regions. Researchers found that forest areas in South America, Africa and Asia — which have until recently played a key role in absorbing greenhouse gases — are now releasing 425 teragrams of carbon annually, which is more than all the traffic in the United States.

Solar Panel Fraud. Beyond all of this solar power promotion, you may have been victimized by the propaganda about the harm being done to the planet because "burning fossil fuels pollutes the atmosphere." The culprit, say the propagandists, is carbon dioxide that causes global warming (or its new label, climate change). But carbon dioxide is food for plants. It isn't bad; it's hugely beneficial. As for it affecting the atmosphere, climate scientist Dr. Willie Soon says the amount of carbon dioxide produced nationally by burning fossil fuels is equivalent to adding two more attendees to the 100,000 fans packed into a football stadium. In other words, carbon dioxide produced by burning coal, oil, or natural gas is of little consequence — good or bad.

Nashville Mayor's Plan to Reduce CO2 Emissions will Increase Energy Costs. [Scroll down] Myron Ebell, director of the Center for Energy and Environment at the Competitive Enterprise Institute, says Livable Nashville will result in higher energy costs and economic decline. "Other states, like New York, California, Ohio, Indiana, and Michigan, that have reduced emissions are now struggling economically with high energy prices," Ebell said. "Energy-intensive industries in Nashville will relocate as the city tries to reduce emissions, driving up electric rates and other prices." Marc Morano, founder of the Committee for a Constructive Tomorrow's Climate Depot website, says the mayor's plan will harm residents based on a superstitious belief the city's actions can control the weather.

Study gives first proof that the Earth has a natural thermostat. New data provides the first proof that the Earth has a natural thermostat which enables the planet to recover from extremes of climate change — but the recovery timescales are significant. This work is presented today at the Goldschmidt conference in Paris, and has just been published in the peer-reviewed journal Geochemical Perspectives Letters. The idea of a natural temperature thermostat was first proposed in 1981, but until now no-one has been able to provide data to show that the recovery from the hot and cold temperature fluctuations were associated with a specific mechanism. Now a group of British scientists has shown that recovery from global cooling events is associated with changes in the rate of weathering of rocks, which is the main mechanism of removing CO2 from the atmosphere. In weathering, rocks are dissolved by rain and river water; the process removes CO2 from the atmosphere, which is then transported to the seas by rivers to be locked up in carbon-rich rocks such as limestone. The more weathering, the more CO2 is removed from the atmosphere.

Green Delusions and the Wind Bully. Adding wind power to the U.S. grids makes no economic sense. It just increases the cost of electricity and gains nothing unless you believe that limiting CO2 added to the atmosphere will prevent catastrophic global warming. Increasing the CO2 in the atmosphere is highly beneficial for plants and agriculture. Plants grow better with less water if there is more CO2. Even if you believe in global warming, cutting back on U.S. emissions of CO2 is a waste of time because the heart of increasing CO2 emissions is in China.

The scoop that wasn't. In this case, reporter Lisa Friedman buys into the Sky-Us-Falling scenario despite more than four decades of predictions of gloom and doom proving false. Billions of people have not died of famine due to overpopulation or global cooling or global warming. The world population has more than doubled over the last 50 years (now topping 7.5 billion) and people are healthier, more prosperous, and freer than ever before. Predictions also proved wrong that we would be overwhelmed by actual pollution (not this fairy tale about carbon dioxide, which is a nutrient for plants). The air is so clear in Poca, West Virginia, that you hardly notice the large coal-fired power plant across the river.

Agenda Behind Global Warming Alarmism. There is plenty of other evidence that CO2 is trivial to climate change. Water vapor is by far the most important greenhouse gas, providing 96 to 98% of any greenhouse effect. CO2 is a weak greenhouse gas and comprises only 0.04% of the atmosphere — and 97% of CO2 is produced by nature, not mankind. Volcanoes, swamps, rice paddies, fallen leaves, even insects and bacteria produce CO2 as well as methane, another greenhouse gas. Termites alone emit far more CO2 than all the factories and automobiles in the world (See Science Nov. 5, 1982.) Natural wetlands emit more greenhouse gases than all human activities combined. If we could eliminate not only all human use of fossil fuels but all natural sources of greenhouse gases as well, 96% of any greenhouse effect would still remain, because of water vapor. Carbon dioxide produces only tiny changes in atmospheric temperature; however, all computer models projecting "runaway" global warming are based on the small warming from CO2 being amplified by water vapor. But such an amplification has never occurred even with much higher levels of CO2. At the time of the dinosaurs, the carbon dioxide content of the atmosphere was 3 to 5 times what it is today, but there was no runaway global warming.

Former NASA Chief Scientist: America is "Under Siege" from Climate Disinformers. The science is NOT unequivocal that we face a climate emergency. Using the IPCC's own climate figures, there is a real possibility anthropogenic CO2 is not a big deal. Calling people who point this out purveyors of "fake news" is pure climate alarmism. As for what happens after the year 2100, frankly that is their problem. By the year 2100 humanity will know whether CO2 is causing climate problems — and will have the energy supply options and advanced engineering capabilities to deal with any eventuality.

If the world follows A K Dart's lead, we can all stop worrying about carbon dioxide.
If the World Follows US' Lead, We Can Reduce Emissions Without the Paris Accords. One of the silliest arguments made by some Paris Accord supporters is that pulling out of the accord would weaken the U.S.' global leadership because more than 140 countries, including North Korea signed on to it. Seriously? I'd like to ask them why the United States wants to follow the lead of North Korea on any matter. Truth be told, we should always do the exact opposite of whatever North Korea is doing.

The case for nixing the Paris Agreement. Each human exhales about two pounds of CO2 a day from simply being alive. Living creatures, humans, animals and plants are largely made of carbon. Carbon dioxide is essential to the growth of plants. By the standards of geological history, plants have been coping with a CO2 famine for several tens of millions of years. Satellites already show dramatic greening of the Earth as CO2 levels begin recovery toward their historical norms. These were measured in thousands of parts per million (ppm), not today's puny 400 ppm. CO2 is indeed a greenhouse gas, but much less important than the major greenhouse gas, water vapor (H2O) and clouds. Observations show that doubling CO2 will warm the Earth's surface by around 1 degree Celsius. At the current rate of increase of CO2, it will take more than a century to double. Twice as much CO2 and a modest 1 degree Celsius warming would benefit the world in many ways, extending growing seasons for agriculture, increasing crop yields, and lessening human mortality, which increases in cold weather. And modest warming means that there will also be no dangerous increase in sea levels.

A path forward after the Paris climate agreement. [Scroll down] So, even if Hillary Clinton had beaten Mr. Trump and had kept the United States in the treaty, and even if every single national leader on the planet (and their successors) had unflinchingly stood by every single treaty promise for year after year, regardless of economic downturn or political crisis, the Paris Treaty would have left 99 percent of the problem in place. Before Mr. Trump axed the treaty, many environmentalists quietly acknowledged this. They praised the agreement regardless, because of the political value of world leaders focusing on climate change and because they believed that much larger carbon-cutting promises would come later. That foolhardy assumption flew in the face of history.

Paris Can Wait — It Was A Bad Deal. Supporters of the Paris climate deal present a false choice. You either (a) believe in the scientific consensus about climate change (in which case, you support Paris), or (b) you are a denier. But they are missing a third option, which is that (c) this is simply a bad deal in terms of the cost-benefit analysis. Why is it a bad deal? There are no consistent standards for participation. Countries unilaterally decided what voluntary and non-binding commitment they wanted to pledge. [...] Here's where the deal really falls apart. According to another study, the Paris deal would shave about 0.2 degrees off warming by 2100. You heard me right. Assuming everything works perfectly according to plan, we could plausibly be trading 6.5 million jobs for a 0.2-degree payoff. But remember, there is no enforcement mechanism.

Dear Mr. President: Please Exit Paris. Exit Paris isn't about the environment. It's about letting us utilize our fossil fuel energy to create jobs, rebuild our economy, and Make America Great Again. It's about avoiding immense transfer payments from the USA to foreign governments, bureaucrats and parties unaccountable to Trump-voting taxpayers. Worse, even if the USA Remains, and the repulsive payments flow, Paris offers no help in removing real air pollutants. Carbon dioxide isn't one of them, by the way: it's plant food, not poison.

Study Confirms That CO2 Is Not a Pollutant. Possibly the most tyrannical ruling ever issued by the Supreme Court was the 2007 declaration that the emission of carbon dioxide can be regulated by the federal government under the Clean Air Act. This decree potentially subjects literally all human and even animal activity — including breathing — to federal micromanagement through the notoriously autocratic EPA. Joseph Stalin could not have asked for more total control. Meanwhile, scientists remind us that the ruling was based on lies; CO2 is not a pollutant, as a new study confirms.

New Study Calls EPA's Labeling Of CO2 A Pollutant 'Totally False'. A new study published by seasoned researchers takes aim at the heart of the Environmental Protection Agency's (EPA) authority to issue regulations to curb carbon dioxide emissions. The study claims to have "proven that it is all but certain that EPA's basic claim that CO2 is a pollutant is totally false," according to a press statement put out by Drs. Jim Wallace, John Christy and Joe D'Aleo. Wallace, Christy and D'Aleo — a statistician, a climatologist and meteorologist, respectively — released a study claiming to invalidate EPA's 2009 endangerment finding, which allowed the agency to regulate CO2 as a pollutant.

On the Existence of a "Tropical Hot Spot" & The Validity of EPA's CO2 Endangerment Finding. A just released peer reviewed Climate Science Research Report has proven that it is all but certain that EPA's basic claim that CO2 is a pollutant is totally false. All research was done pro bono. This research failed to find that the steadily rising Atmospheric CO2 Concentrations have had a statistically significant impact on any of the 14 temperature data sets that were analyzed. The tropospheric and surface temperature data measurements that were analyzed were taken by many different entities using balloons, satellites, buoys and various land based techniques. Needless to say, if regardless of data source, the analysis results are the same, the analysis findings should be considered highly credible.

Scrutinizing the carbon cycle and CO2 residence time in the atmosphere. Climate scientists presume that the carbon cycle has come out of balance due to the increasing anthropogenic emissions from fossil fuel combustion and land use change. This is made responsible for the rapidly increasing atmospheric CO2 concentrations over recent years, and it is estimated that the removal of the additional emissions from the atmosphere will take a few hundred thousand years. Since this goes along with an increasing greenhouse effect and a further global warming, a better understanding of the carbon cycle is of great importance for all future climate change predictions. We have critically scrutinized this cycle and present an alternative concept, for which the uptake of CO2 by natural sinks scales proportional with the CO2 concentration. In addition, we consider temperature dependent natural emission and absorption rates, by which the paleoclimatic CO2 variations and the actual CO2 growth rate can well be explained. The anthropogenic contribution to the actual CO2 concentration is found to be 4.3%, its fraction to the CO2 increase over the Industrial Era is 15% and the average residence time 4 years.

State of the Climate: 10 years after Al Gore declared a 'planetary emergency' — top 10 reasons Gore was wrong. [#3] Despite all the self-congratulatory international conferences and pseudo-agreements, the world has done nothing to "fight global warming." Mr. Gore cannot claim that his deadline has been extended because some governments have forced their citizens to cut carbon dioxide emissions. CO2 levels keep climbing and now exceed 401 parts per million in the atmosphere. It is simply not the dangerous greenhouse gas we've repeatedly been told it is.

Scott Pruitt Is Absolutely Right About Carbon Dioxide. Carbon dioxide is a greenhouse gas, but it is not the most powerful greenhouse gas, by a long shot. Water vapor is far more effective at trapping heat and releasing it back to the atmosphere, primarily because it absorbs a lot more radiation in the infrared spectrum, which is released as heat. That's why all of the climate theories that project runaway global warming use water vapor to juice up the relatively small impact of carbon dioxide itself. They posit a "feedback loop" in which carbon dioxide increases temperatures, which increases the amount of water vapor in the atmosphere, which increases temperatures even more. These models need a more powerful greenhouse gas to magnify the effect of carbon dioxide.

Burn Coal or Die. Atmospheric carbon dioxide is an essential plant food. No CO2 equals no plants equals no life. Period. Even at today's 400 ppm, plants are relatively starved for CO2 and need, [Patrick] Moore says, an optimum level of 2000 ppm.

Democrats' Real Global Warming Fraud Revealed. Fortunately, high-tech research has finally sorted out the "mystery factor" in our recent climate changes — and it's mostly not CO2. Even redoubling carbon dioxide, by itself, would raise earth's temperature only 1.1 degree. That's significant, but not dangerous. CERN, the world's top particle physics laboratory, just found that our big, abrupt climate changes are produced by variations in the sun's activity. That's the same sun the modelers had dismissed as "unchanging."

Demon Coal. The CO2 released by burning coal is wonderful stuff. Plants breathe CO2, and if there is more CO2 in the air, the plants breathe easy, grow faster, and need less water. Greenhouse operators put CO2 generators in their greenhouses because more CO2 helps plants thrive. Worldwide agriculture is going strong, partly because the amount of CO2 in the atmosphere has increased from about 0.03% to 0.04%. The idea that "science" proves that CO2 is a demon is most plausible to people with limited exposure to down and dirty science. Down and dirty science is at its dirtiest when it is seeking money or protecting its money.

China's Global Warming Hoax Exposed. Even as China is busy blasting Donald Trump for not taking global warming seriously it's ramping up coal production and throwing its promised CO2 reductions out the window. [...] The real problem with these agreements isn't that China is cheating. When the choice is between growing one's economy and fighting the phantom menace of "climate change," the answer is easy. The problem is that Obama has been so willing and eager to strap a gigantic "clean energy" millstone around the economy's neck, killing growth, adding to the cost of energy, lowering standards of living — all for nothing.

The Phony War Against CO2. [A] myth persists that is both unscientific and immoral to perpetuate: that the beneficial gas carbon dioxide ranks among hazardous pollutants. It does not. Unlike genuine pollutants, carbon dioxide (CO2) is an odorless, colorless gas. Every human being exhales about two pounds of CO2 a day, along with a similar amount of water vapor. CO2 is nontoxic to people and animals and is a vital nutrient to plants. It is also a greenhouse gas which helps maintain earth at a habitable temperature. Fear of excessive warming from more CO2 in the atmosphere, including that released from human activity, has caused some people to advocate substantial and expensive reductions in CO2 emissions.

2016 State of the Climate Report. Scientists note that geologically speaking, the Earth is currently in a 'CO2 famine' and that the geologic record reveals that ice ages have occurred when CO2 was at 2000 ppm to as high as 8000 ppm. In addition, peer-reviewed studies have documented that there have been temperatures similar to the present day on Earth when carbon dioxide was up to twenty times higher than today's levels.

Skeptics Deliver Consensus Busting 'State of the Climate Report' to UN Summit. CO2 is not the tail that wags the dog. CO2 is a trace essential gas, but without it life on earth would be impossible. Carbon dioxide fertilizes algae, trees, and crops to provide food for humans and animals. We inhale oxygen and exhale CO2. Slightly higher atmospheric CO2 levels cannot possibly supplant the numerous complex and inter-connected forces that have always determined Earth's climate. As University of London professor emeritus Philip Stott has noted: "The fundamental point has always been this. Climate change is governed by hundreds of factors, or variables, and the very idea that we can manage climate change predictably by understanding and manipulating at the margins one politically selected factor (CO2), is as misguided as it gets."

Whoops, turns out concrete is actually a carbon sink. From the "settled science" department and the University or California Irvine, comes this inconvenient fact. For years we've been told by academics that cement is another nasty global warming contributor, because of CO2 released during production. Now, not so much. [...] Cement manufacturing is among the most carbon-intensive industrial processes, but an international team of researchers has found that over time, the widely used building material reabsorbs much of the CO2 emitted when it was made. "It sounds counterintuitive, but it's true," said Steven Davis, associate professor of Earth system science at the University of California, Irvine.

Int'l. Study: IPCC Doesn't Account for 1 Billion Tons of CO2 Absorbed Annually by Cement. Cement, the ubiquitous material used to build roads, buildings and other infrastructure, absorbs about one billion tons of atmospheric carbon dioxide (CO2) annually, according to a new study published Monday [11/21/2016] in the journal Nature Geoscience. But concrete carbonation is "not currently considered in emissions inventories" kept by the U.N. Intergovernmental Panel on Climate Change (IPCC), according to the study's co-authors, an international team of researchers led by Professor Dabo Guan of the U.K.'s University of East Anglia. The study found that cement's natural carbonation process not only offsets the fossil fuel emissions released during its production, it also "represents a large and growing net sink of CO2" that has not been taken into account by the IPCC.

Study: Does the World Need Climate Insurance? No. Many people refer to carbon dioxide (CO2) as a "pollutant;" in reality, CO2 gas is a natural part of the ecosystem — and essential to life on Earth. CO2 levels are currently at record low levels compared with those that prevailed over most of the Earth's history. The modest increases in CO2 levels that have occurred over the past century — thanks, in part, to the combustion of fossil fuels — have led to a pronounced and well-documented greening of the Earth. Plants grow better and are more drought resistant with more CO2. This greening has benefitted — and will continue to benefit — human society, particularly the world's poor, whose lives depend on productive agriculture.

Alarmist Scientists are Trying to Hide the Good News that the Planet is Getting Greener. Alarmist scientists are trying to cover up the good news that rising CO2 levels are making the planet turn greener. And that even includes one of the scientists who made the discovery in the first place. The discovery was first announced in 2012 in a lecture by Professor Ryanga Myneni of the University of Boston.

World Leaders Try to Ban Another Greenhouse Gas. Delegates are likely to take till the meeting's final day on Oct. 14 to hammer out the knotty details of an amendment to the protocol. Ideally, the amendment will set the terms for a rapid phasedown of hydrofluorocarbons (HFCs), the most common of which is the refrigerant HFC-134a, which has 1,430 times more warming potential than carbon dioxide (CO2) over 100 years[.] The amendment would stop the manufacture of HFCs and then reduce their use over time. "An ambitious amendment is the quickest and least expensive way to reduce the effects of climate change," says Durwood Zaelke, president of the Institute for Governance and Sustainable Development, who has been a mainstay at ozone negotiations since almost the beginning of the 1987 treaty. He says a phasedown could prevent the equivalent of 100 to 200 billion tons of CO2 being released into the atmosphere by 2050. That prevention could avert half a degree Celsius of warming by the end of the century.

The Editor says...
Weigh these options: [#1] The elimination of air conditioning and refrigeration, versus [#2] One-half degree of global warming by the end of 2099, which may happen no matter what anybody (or everybody) does. If any further elaboration is needed to help you make up you're mind, then you're wasting your time on this web site.

Global warming milestone as scientists warn Earth has passed carbon tipping point 'for good'. Atmospheric carbon dioxide has reached a historic threshold as levels remain above 400 parts per million through the end of September — the point in which values typically drop to their lowest. Climate scientists now warn that it's 'almost impossible' that these numbers will fall next month, and likely won't dip below 400 ppm in the foreseeable future. While there may be brief, daily events in which the levels fall short of this amount, monthly values are set to keep climbing as the 'rising half of the cycle' begins, when carbon dioxide could even break 410 ppm.

The Energy Absurdity of the Paris Climate Agreement. There was much cheering when representatives of 195 nations agreed a new global climate deal in December last year in Paris. Many environmental politicians had tears in their eyes as the international community agreed they would limit global temperature rise to 1.5 degrees Celsius. Yet many governments had no idea what would be necessary to achieve this objective when the first 170 government ministers, including Federal Environment Minister Barbara Hendricks (SPD), signed the Paris climate agreement at the United Nations headquarters in New York in April. After all, the agreement demands global "decarbonisation" — i.e. the end of all anthropogenic CO2 emissions. This requirement is equivalent to the end of all combustion processes in engines, boilers and power plants — because they emit CO2.

Alaska: A CO2 Sink, Which is Growing Stronger. Perennially frozen northern soils, known as permafrost, contain enormous amounts of carbon because the slow and cold chemistry of the Arctic makes them the repository of thousands of years of frozen plant remains. Warming could cause this plant matter to break down, be decomposed by bacteria and emit ancient carbon to the atmosphere in the form of carbon dioxide and methane. And the amounts of carbon involved are enormous — one common estimate is that there's more than twice as much carbon stored in northern permafrost as there is currently wafting about the planet's atmosphere. Now, though, a major and surprising new report from the U.S. Geological Survey would appear to undercut, significantly, this worry, at least for one key northern region: the U.S. state of Alaska.

Rebutting Climate Alarmism with Simple Facts. CO2 possesses a major limitation as a greenhouse gas, and one that casts doubt on its ability to function as the sole agent of climate change. As demonstrated in laboratory studies, CO2 exponentially loses heat-trapping capacity as its concentration increases. This happens because, even in minuscule quantities, CO2 quickly becomes opaque to a certain spectrum band of infrared radiation. Essentially, CO2 rapidly absorbs all of the infrared radiation it can. [...] Yes, CO2 is a greenhouse gas, and it helps to maintain warmth in the atmosphere. But as noted above, CO2's heat-trapping function is essentially saturated by the current level of 0.04%. Furthermore, climate models actually project that most of the presumed "man-made" warming will come from an increase in atmospheric water vapor. The principal idea of "anthropogenic global warming" (AGW) is that the small amount of additional warming contributed by CO2 (before it becomes saturated) will cause more water vapor to enter the atmosphere. Since water vapor is the primary greenhouse gas of the atmosphere (and is responsible for roughly 80% of the "greenhouse effect"), this water vapor will create "positive feedback" for further warming. Unfortunately, the AGW theory essentially disregards the cooling feedback caused by clouds (since atmospheric water vapor inevitably transitions to cloud cover.) Clouds provide net cooling by reflecting solar radiation back into space, shading ground surfaces, and producing rain (which not only cools surface temperatures but also scrubs atmospheric CO2.)

Peer-Reviewed Study: Positive Impact of Human CO2 Emissions. The combustion of fossil fuels for energy to power human civilization has reversed the downward trend in CO2 and promises to bring it back to levels that are likely to foster a considerable increase in the growth rate and biomass of plants, including food crops and trees. Human emissions of CO2 have restored a balance to the global carbon cycle, thereby ensuring the long-term continuation of life on Earth. This extremely positive aspect of human CO2 emissions must be weighed against the unproven hypothesis that human CO2 emissions will cause a catastrophic warming of the climate in coming years. The one-sided political treatment of CO2 as a pollutant that should be radically reduced must be corrected in light of the indisputable scientific evidence that it is essential to life on Earth.

Carbon Dioxide (CO2) Cools the Earth. [Scroll down] When the ground is heated by the sun, the ground right below the surface is generally cooler than the top, and absorbs part of the surface heat. Water, which makes up most of the Earth's surface, has a higher conductivity than the ground or air. A part of the heat from the Earth's surface is conducted downward and absorbed by the ground and the water. Thermodynamics explains this conduction of heat. Determining the amount of the heat absorbed by the Earth is complicated — particularly with ground surface with all of its differences and things placed on the ground. But this does not excuse scientists from completely ignoring it. The Global Warmers completely ignore this conduction factor, and treat all of the heating of the Earth's surface as being reflected, conducted, and radiated back into the atmosphere.

Carbon Dioxide Feeds the World. [Scroll down] It's hard to condense a 1,110-page document into just a few key points, but foremost among our findings were, first, atmospheric carbon dioxide is not a pollutant. It is a nontoxic natural component of the atmosphere that long-term and short-term studies alike have shown to improve both plant growth and water-use efficiency as its atmospheric concentration rises. Second, consistent with research on the impact of increasing carbon dioxide levels on plant productivity, the ongoing rise in the air's CO2 concentration is causing a great greening of the Earth. Third, a modest warming of the planet will actually result in fewer temperature-related human deaths, in strong contradiction of the opposite claim [made by] the world's climate alarmists.

Peer-Reviewed Study: CO2 Cuts Could Impoverish the World. The world's historic effort to reduce carbon emissions is likely to be a costly if not quixotic endeavor, according to one expert, whose recently published research warns that decarbonizing the globe could have devastating consequences on the world's way of life. In a report published this week, the International Energy Agency issued a call for "concrete action" to match the ambitions of last year's landmark climate change agreement, which was recently ratified by nearly 200 countries. The energy watchdog said the transition to a low-carbon future would require "massive changes in the energy system" to prevent the globe's temperature from rising by more than 2 degrees Celsius. Yet the agency also put a steep price tag on efforts to combat climate change. In order to decarbonize the power sector within the next 40 years, the world would have to invest at least $9 trillion — and an additional $6.4 trillion to make other industries more environmentally friendly.

The Editor says...
Environmentalists see the $15 trillion price tag and say, "We'd better get started right away." Rational taxpayers, on the other hand, say, "Two degrees warmer? Who's going to notice?"

Spot the problem: Man-made emissions flat, but global CO2 hits record high. Take the emissions figures with a pound of salt. Carbon accounting is hopelessly inaccurate, China can't be trusted, and everything else is a guess. How can we run a global market on figures so prone to corruption. Is China artificially elevating figures now so they can make cheap "reductions" in future, or are they underestimating figures to reduce the pressure on them to sign up? Could it be that they just can't account due to the sheer difficulty of it in such a vast and varied economy?

The Nuclear Reaction. In 2015, the United States Environmental Protection Agency (EPA) called for a reduction of 32 percent in the 2005 levels of carbon dioxide emissions. [...] The EPA guidelines were not written with global warming in mind. Nuclear power is already the greatest source of clean electricity in the United States and could largely eliminate fossil fuels by 2030. The guidelines seem designed to increase the use of solar and wind energy in the United States, though they will also increase the use of greenhouse gas (GHG)-emitting natural gas. But wind and solar energy do not provide completely clean electricity. They are variable renewable energy (VRE) sources, both low in concentration and intermittent. It takes resources to collect and concentrate them, and even more resources to make them available on demand.

The return of pseudo-science. [Scroll down] Yes, pumping carbon dioxide into a greenhouse in the sunlight will cause it to warm, but the earth is far more complex than a greenhouse. Remember how the global warming crowd told us we were going to have more tornadoes and Atlantic hurricanes? We have actually had fewer tornadoes and a record low level of Atlantic hurricanes over the last decade. I have been asking a basic question for some time: What is the optimum level of carbon dioxide in the atmosphere? No one talks about it because no one knows.

NASA: Carbon dioxide fertilization greening Earth, study finds. From a quarter to half of Earth's vegetated lands has shown significant greening over the last 35 years largely due to rising levels of atmospheric carbon dioxide, according to a new study published in the journal Nature Climate Change on April 25. An international team of 32 authors from 24 institutions in eight countries led the effort, which involved using satellite data from NASA's Moderate Resolution Imaging Spectrometer and the National Oceanic and Atmospheric Administration's Advanced Very High Resolution Radiometer instruments to help determine the leaf area index, or amount of leaf cover, over the planet's vegetated regions. The greening represents an increase in leaves on plants and trees equivalent in area to two times the continental United States.

Fred Singer Closing in on Fact: CO2 Doesn't Affect Global Temperature. I met [Dr S Fred] Singer at his University of Houston lecture hosted by Prof Larry Bell on February 6, 2012 and his several talks at the latest Heartland Institute ICCC, Las Vegas, July 7-9, 2014. He has played an important role in disputing alarmist global warming claims for decades. He has received many awards. Singer reveals he assumes CO2 warms Earth because it is called a greenhouse gas, which does not make it so. It is also green plant food, which does chemically make it a coolant. Great confusion arises when a radiating gas, which cools the atmosphere, is incorrectly labeled a greenhouse gas and then warming is arbitrarily assigned to it, by virtue of the nomenclature change. I discovered in 2012 introducing radiating gases like H2O and CO2 to the atmosphere actually cools the Earth slightly and had useful direct email exchanges with Singer on the matter. Naturally I am pleased he has reached a similar conclusion, perhaps by another way.

The Model Atmosphere and Global Warming. Water in all its phases — as invisible vapor in the atmosphere, as liquid in the vast oceans and condensed tiny droplets in clouds, as solid sheets of ice and crystals of snow — water is the ultimate regulator of climate on earth. So-called greenhouse gases such as carbon dioxide and methane play a secondary role in climate control. Yet the focus of research funding is on "carbon pollution," and largely only negative aspects of increased atmospheric carbon dioxide are headlined in the popular and scientific press. The actual measured benefits of increased carbon dioxide, with increased greening of the globe for instance, have been summarily dismissed or simply ignored. As I have indicated in the past, most of my nearly 35 years of professional life as an air-pollution meteorologist has been involved with atmospheric modeling in one way or another. And it's clear from experience that the complexity of the earth's climate is incredible. Forecasting the future of such climate in meaningful detail is incredibly challenging.

Fighting Junk Science. Global warming is an example of junk science where there is a kernel of scientific truth that has been abused and beaten into a junk science edifice supporting huge money flows. There are good reasons for supposing that adding CO2 to the atmosphere might warm the Earth. The evidence is that the warming effect of CO2 is slight and not necessarily bad. (The Earth has failed to warm for over 18 years.) It is clear that adding CO2 to the atmosphere has a massive positive effect on agriculture because plants have to work hard to absorb CO2. Increased CO2 concentrations enable plants to grow faster, an incontrovertible scientific fact proved by many experiments. Global warming is promoted by entrenched scientific bureaucracies and by the huge alternative energy industry. Scientific organizations vigorously attack anyone who criticizes global warming junk science and thus threatens their members' paychecks.

Reassessing the Climate Role of Carbon Dioxide. The authors evaluate the United Nations Intergovernmental Panel on Climate Change (IPCC) "consensus" that the increase of carbon dioxide in the earth's atmosphere is of anthropogenic origin and is causing dangerous global warming, climate change, and climate disruption. They conclude that the data do not support that supposition. Most of the currently accepted scientific interpretations are examined and the given impression that increased atmospheric carbon dioxide will increase the earth's surface and/or air temperature is questioned. New insight is offered drawing a conclusion that no additional warming is possible due to the increase of atmospheric carbon dioxide.

Double The Atmospheric CO2? According to the IPCC, there are not enough fossil fuel reserves (oil, gas, and coal) on the planet to double the atmospheric CO2 concentration from its current value.

So much for settled science. Recent testimony by Professor John Christy demonstrated that the "climate theory" has been "falsified." That theory is embodied in models relied on by the Intergovernmental Panel on Climate Change (IPCC). Christy presented a comparison of more than 100 model runs by the IPCC's latest model and temperature data from weather balloons and satellites compiled by three different organizations. The model greatly overestimated atmospheric warming. If the model is wrong, so must be the theory that it represents. There are two primary reasons why. First, the warming potential of CO2 is non-linear, which means that the amount of warming from an increase in atmospheric concentrations is less than increases that preceded it. Second, the actual warming that has taken place since the end of the Little Ice Age in the late 1800s is less than would be predicted by the increase in CO2 concentrations.

Study shows that increased atmospheric CO2 is greening the deserts. A funny thing happened on the way to the warmists' nightmare: the Earth's deserts have started to turn green. The Supreme Court, in its infinite wisdom, may have ruled that carbon dioxide is a pollutant, but the Earth's deserts metaphorically are filing a dissent. On behalf of all carbon-based life forms — which would be every living thing on the planet.

How Green Is Thy Planet? Deciding which is the greatest single blunder of the climatistas is a difficult contest, because you have so much to choose from. Aside from their dreadful leading spokesspecies (Al Gore, Bill McKibben, Robert F. Kennedy Jr., Leo di Caprio — Green Weenies all), perhaps the stupidest move was the decision to call carbon dioxide — the compound that humans exhale to the tune of about 800 lbs per person per year — a "pollutant." Sure, it's a warming agent according to theory, but to call it a "pollutant" comparable to carbon monoxide is ludicrous.

What Do We Know About CO2 and Global Atmospheric Temperatures? How much will the doubling of CO2 in the air warm the global temperature? How do scientists take an accurate measurement of the temperature of the Earth's atmosphere? Why can scientists better measure atmospheric temperatures from satellites than surface temperatures from ground thermometers? Despite large uncertainties and many unknowns in Earth Science, scientists have a reasonable understanding of the answers to these questions.

Paris climate goals mean emissions need to drop below zero. If governments are serious about the global warming targets they adopted in Paris, scientists say they have two options: eliminating fossil fuels immediately or finding ways to undo their damage to the climate system in the future. The first is politically impossible — the world is still hooked on using oil, coal and natural gas — which leaves the option of a major cleanup of the atmosphere later this century.

Bias alert!
If you drive an ordinary car to work, you're "hooked on oil," inasmuch as your car runs on gasoline, which is relatively inexpensive. We are "hooked" on whatever works best, at the lowest cost. That's just common sense.

Carbon Dioxide Reduction Policies Are Destructive And Immoral. Islamic terrorists have maimed and murdered hundreds of people in Paris, dozens in Mali, thousands in Iraq and Syria. The U.S. is next, they promise. Unwelcome in Arab countries, Middle East refugees are streaming to Europe and America, where high tax rates, over-regulation and rising prices for unreliable renewable energy are fueling debt and impacting jobs, industries, economic growth, government revenues and efforts to accommodate the migrants. But still President Obama insists that climate change poses the gravest threat to our planet, national security and future generations. He led a 500-person entourage to Paris, joining 40,000 political leaders, bureaucrats, activists and journalists. The president wants binding emission reductions, far beyond what his Environmental Protection Agency and other factors have already achieved in the U.S.

Is carbon dioxide a pollutant? Article 1, Section 8, of the U.S. Constitution says "The Congress shall have power to lay and collect taxes ..." However, the fastest growing taxes are those imposed by the regulatory agencies under control of the president, especially the Environmental Protection Agency (EPA), aided and abetted by our federal courts. Government regulations add to the cost of business and living expenses. Therefore, they are actually an indirect tax on human activity because they cause more expenditure of money due to the regulation. This regulatory taxing authority is rapidly expanding without congressional consent by various federal agencies using "Social Cost of Carbon" (SCC) calculations to justify new federal regulations, and especially by the EPA.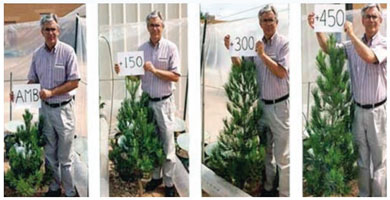 Is carbon dioxide a pollutant? Let's take a look at CO2, since the EPA's Clean Power Plan is designed to regulate the entire U.S. electric industry to reduce CO2 "pollution." CO2 may be legally defined by the U.S. Supreme Court and EPA as a "pollutant," but it is certainly an odd one. CO2 exists in a higher concentration in our lungs than in the air. It is essential to the process of making beer, bread and wine, and as discussed in my [earlier] editorial, it is necessary for plant photosynthesis and is the key to all life on earth. Any complete medical or physiological textbook will discuss that CO2 levels in the blood and lungs controls human respiration. The common treatment for hyperventilation is to have someone breathe into a paper bag to increase CO2 levels in their body. [...] Thousands of experiments have shown that adding CO2 to the air increases the growth rate of nearly all plants and increases their ability to withstand drought due to lower water-loss rates at higher CO2 levels. This is why commercial greenhouses use propane or natural gas CO2 generators to raise CO2 levels as high as 1,500 parts per million (ppm) in their greenhouses to achieve maximum growing potential for their plants, since it is an economic benefit to them.
5 Factual Errors In The NAACP's $5 Billion Demand For 'Climate Justice'. [#1] The United States is responsible for 25 percent of global CO2 emissions. According to a 2014 study by the European Union, the United States is responsible for 15 percent of the world's emissions, not 25 percent. Carbon dioxide emissions have declined by roughly 10.4 percent in the United States in the last 5 years for which data was available, largely because clean burning natural gas is replacing dirtier coal power. China is the largest emitter of carbon dioxide — responsible for 29 percent of carbon dioxide emissions — and India has long been responsible for the largest share of global emissions growth. So CO2 reduction schemes in the United States are futile without global participation.
The Usual Suspect. The idea that something unanticipated was happening to life in the oceans received more support when Johns Hopkins researchers recently discovered that "phytoplankton, micro-organisms that float, as opposed to swim, are rapidly thriving in the North Atlantic, suggesting an environmental shift that defies previous scientific predictions." This is important because phytoplankton are the foundation of the food chain. Like the microbes that created the rusticles, they were doing unexpectedly well. Conventional wisdom held they should be dying. For years the numbers of phytoplankton were thought to be in decline due to Global Warming. "A 2010 study published in Nature reported that marine phytoplankton have declined substantially in the world's oceans over the past century." But the Johns Hopkins study contradicted this claim. Something — perhaps C02 — was revving up the plankton.
Similarities to Jim Jones and the Cult of Climate Change. [Scroll down] Nature generates much more CO2 than humans. In 2014, [NASA] launched a satellite that measures CO2 levels globally. The assumption was that most of the CO2 would come from the over-industrialized northern hemisphere. They were surprised to learn it was coming from the rainforests of South America as well as Africa and China.
Here are five reasons why it is completely reasonable to conclude that man-made climate change is [nonsense]. [#2] CO2 and other so-called "greenhouse gases" aka GHG's are measured in parts per million aka "ppm" — methane is measured in parts per billion! CO2 has steadily doubled since the advent of the industrial age and temperatures have not; in fact they have fluctuated up and down. This is dispositive. In addition, CO2 is a weak conductor of temperature, whereas H2O is a strong conductor and much more plentiful than CO2. Clouds and water vapor [affect] atmospheric temperatures more than CO2 and other so-called GHG's and they are not adequately accounted for in any climate change computer model because their actions are still too complex to be understood.
China's CO2 Charade Shows Who The Real Climate Deniers Are. China apparently has been burning 17% more coal annually than it has claimed over the past 15 years. And as a result, it's been emitting a billion tons more CO2 a year than it had admitted. The New York Times points out that this difference alone is equal to what Germany's entire economy produces each year from burning fossil fuels. In other words, if Germany shut down its entire economy, it wouldn't compensate for China's "error." Anyone who's ever seen photos [...] of Chinese cities choked in smog could have guessed that they are probably not pursuing "clean energy" at the pace they claim. But the fact that this vast undercount went on so long only points to a much larger problem with the entire climate change agenda.
Vladimir Putin Says the Climate Change Scare is a Fraud. The American people, in poll after poll, rank climate at the very bottom of their long list of concerns, but Obama soldiers on. [...] We need more carbon dioxide, not less. Carbon dioxide is not a pollutant, but a necessary building block of life.
Three Cheers for Carbon Dioxide. Carbon dioxide is plant food, one of the basic necessities for almost all life on Earth. That enviros have tried to turn CO2 into a bogeyman verges on the bizarre. In fact, increasing levels of CO2 have already been of great benefit to plants and humans. [...] The alarmists' models actually predict that there will be fewer extreme weather events, since the temperature differential between the poles and the equator will diminish. Global warming shills never mention this, however, preferring to blame every storm, flood or drought on global warming that hasn't actually happened.
Carbon Dioxide: The good news. Indur Goklany has done a careful job, collecting and documenting the evidence that carbon dioxide in the atmosphere does far more good than harm. To any unprejudiced person reading this account, the facts should be obvious: that the non-climatic effects of carbon dioxide as a sustainer of wildlife and crop plants are enormously beneficial, that the possibly harmful climatic effects of carbon dioxide have been greatly exaggerated, and that the benefits clearly outweigh the possible damage.
Climate Fraud Implodes as Slight Order-of-Magnitude-Sized Math Error Discovered. A mathematical discovery by Perth-based electrical engineer Dr David Evans may change everything about the climate debate, on the eve of the UN climate change conference in Paris next month. A former climate modeller for the Government's Australian Greenhouse Office, with six degrees in applied mathematics, Dr Evans has unpacked the architecture of the basic climate model which underpins all climate science. He has found that, while the underlying physics of the model is correct, it had been applied incorrectly. He has fixed two errors and the new corrected model finds the climate's sensitivity to carbon dioxide (CO2) is much lower than was thought.
Carbon Dioxide Feeds the World. [Scroll down] It's hard to condense a 1,110-page document into just a few key points, but foremost among our findings were, first, atmospheric carbon dioxide is not a pollutant. It is a nontoxic natural component of the atmosphere that long-term and short-term studies alike have shown to improve both plant growth and water-use efficiency as its atmospheric concentration rises. Second, consistent with research on the impact of increasing carbon dioxide levels on plant productivity, the ongoing rise in the air's CO2 concentration is causing a great greening of the Earth. Third, a modest warming of the planet will actually result in fewer temperature-related human deaths, in strong contradiction of the opposite claim [made by] the world's climate alarmists.
Doubt and certainty in climate science. The possibility that anthropogenic emissions of carbon dioxide might be accumulating in the atmosphere first attracted serious attention in the 1930s, but it was not until the post-war expansion of science funding in the United States that it became a public issue. Because it was thought that the oceans might hold as much as fifty times more CO2 than the atmosphere, and because the residence time of CO2 there was only a matter of conjecture, it was appropriate for the director of the Scripps Institution of Oceanography in California — Roger Revelle — to suggest that a formal monitoring programme should be mounted without delay. Accordingly, he found funds in 1958 to hire a young postdoc from CalTech — Charles Keeling — to establish CO2 monitoring stations during the upcoming International Geophysical Year, itself another of Revelle's good ideas.
Lies Progressives Tell Us: Climate Change. [T]he Obama administration has issued through the EPA the Clean Power Plan, which will force restrictions on coal-fired electric plants. These onerous regulations will drive up electricity costs and damage the economy, all to reduce over the next 15 years CO2 emissions by 32% from 2005 levels. The greater purpose is to slow down the alleged apocalyptic effects of global warming. Yet even if fully implemented, the EPA's plan would reduce global temperatures by a scant 0.018 degrees Celsius by 2100, a statistical rounding error. But by dint of magical thinking, the EPA assures us that despite the negligible effect on warming, our noble example of damaging our economy for symbolic value will motivate China and India, the current drivers of CO2 increases, to follow our lead and damage their national and economic interests.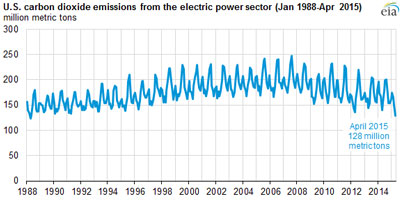 Obama's CO2 Deception. On August 3rd President Obama made a speech detailing his plans to decarbonise the US electrical power generation sector. While the legality of this move has been challenged in certain quarters, in this post I want to focus on the technical details and competence of the President and his advisors at the Environmental Protection Agency (EPA). Let me begin by focussing on what the main target is: to reduce carbon dioxide emissions by 32 percent from 2005 levels by 2030[.]

The Editor says...
It appears that carbon dioxide production in the U.S. hasn't been as low as Obama's target levels since before World War II — which would be easy to check, if you can find charts that go back that far.




Center for Biological Diversity petitions EPA to list CO2 as a 'toxic substance'. From the "everybody breathes out poison" department.

Stop climate change by drinking Coca-Cola says Oz government. Discussing carbon capture and storage, which currently has "failed technology" status nearly the whole world around, the government's Energy White Paper says: "If the CO2 can be captured before it is released to the atmosphere it can either be utilised in other products or permanently stored in deep geological formations. Australia has worked closely with other countries which rely heavily on fossil fuels to investigate opportunities to utilise CO2 in products such as carbonated drinks and plastics or to enhance the growth of oil-rich algae in solar bioreactors to produce biofuel."

The Editor says...
When you drink a carbonated beverage, how long do you think the CO2 gas will remain sequestered in your body? Your gut is not a good place to store gas. Homework question: How many microseconds does it take a 1000-megawatt power plant to generate the amount of CO2 found in a can of the average carbonated beverage?

Let's Worry about a Real Threat. [Scroll down] Ironically, the evidence is overwhelming that adding CO2 to the atmosphere is highly beneficial. CO2 makes crops grow better with less water. A touch of global warming, all that we can possibly expect, is also beneficial, especially compared to global cooling.

The Four Known Scientific Ways Carbon Dioxide Cools Earth's Climate. Here we develop the physics, chemistry and biology to quantify the effect of atmospheric carbon dioxide (CO2) on Earth's temperature. There are five mechanisms and three different temperatures involved. Four show a small cooling effect, one warms surface and cools upper atmosphere with no net bulk effect. I am unaware of a rigorous mathematical description of the greenhouse gas theory that purports to do this and show a warming affect. After decades of research attempts, promoters cannot reduce greenhouse gas theory (GHGT) to mathematics of science and engineering.

Where is All the CO2 Going? It's perfectly reasonable that adding CO2 to the atmosphere could cause some warming, probably minor. This perfectly reasonably supposition was turned into unreasonable dogma by certain scientific disciplines that sensed an opportunity. They realized that if CO2 were inflated into the great Satan, it would be very beneficial for their careers. Backwater scientists in the obscure specialty of atmospheric science became well-traveled celebrities by promoting the doomsday theory of global warming. Radical environmentalists joined the catastrophic global warming chorus. This worked pretty well during the 70's, 80's and 90's when the Earth was warming. But then the warming stopped and now, after 18 years of no warming, the theory of catastrophic global warming is falling apart. To keep the money flowing, the global warming promoters began promoting extreme weather and ocean acidification, two new and bad things that are supposed to happen if we continued burning fossil fuels.

The EPA Myth of "Clean Power". There are many things I do not like about the Environmental Protection Agency, but what angers me most are the lies that stream forth from it to justify programs that have no basis in fact or science, and which threaten the economy. [...] Simply said, there is no need whatever to reduce CO2 emissions. Carbon dioxide is not "a pollutant" as the EPA claims. It is, along with oxygen for all living creatures, vital to the growth of all vegetation. The more CO2 the better crops yields will occur, healthier forests, and greener lawns. From a purely scientific point of view, it is absurd to reduce emissions.

22 Very Inconvenient Climate Truths. [#1] The Mean Global Temperature has been stable since 1997, despite a continuous increase of the CO2 content of the air: how could one say that the increase of the CO2 content of the air is the cause of the increase of the temperature? [#2] 57% of the cumulative anthropic emissions since the beginning of the Industrial revolution have been emitted since 1997, but the temperature has been stable. How to uphold that anthropic CO2 emissions (or anthropic cumulative emissions) cause an increase of the Mean Global Temperature? [#4] The lifetime of CO2 molecules in the atmosphere is about 5 years instead of the 100 years said by IPCC. [#17] The temperatures have always driven the CO2 content of the air, never the reverse. Nowadays the net increment of the CO2 content of the air follows very closely the inter-tropical temperature anomaly.

How High Costs Killed This Clean Coal Power Plant Project. The Department of Energy pulled the plug on [a] $1.1 billion project in Illinois: a "clean coal" power plant that would capture carbon dioxide and store it underground. President George W. Bush proposed the carbon-free power plant in 2003 but shelved the project five years later because of cost overruns. President Obama's Energy Department revived the plant in 2010. Now, five years and $200 million later, the financing is being terminated because the project can't be completed by its September deadline.

The Editor says...
If it must be done at all, the removal of carbon dioxide from the atmosphere can be done anywhere in the world. This operation doesn't have to be performed in the power plant that generated CO2. The idea of a CO2-scrubbing power plant is foolish from the outset. Every blade of grass and every tree in the world is performing the same function at no cost.

Wheat Crops Grow Despite Climate Alarmists' Lies. Environmentalists delivered a dire report this Christmas season: Human-caused global warming is causing wheat harvests to fall. The message was repeated uncritically by much of the mainstream media. Had they bothered to check the facts, the media would have discovered climate alarmists were lying once again. Wheat yields are rising dramatically in the U.S. and internationally — due in part, no doubt, to the fertilizing effect of increasing atmospheric carbon dioxide concentrations.

Fun Facts About Carbon Dioxide. Of the 186 billion tons of carbon from CO2 that enter earth's atmosphere each year from all sources, only 6 billion tons are from human activity. Approximately 90 billion tons come from biologic activity in earth's oceans and another 90 billion tons from such sources as volcanoes and decaying land plants.

What the mainstream media won't tell you about global warming. [#3] Carbon Dioxide (CO2) is not a pollutant it's what you exhale and it is what "feeds" plants. Without CO2 there would not be a single blade of grass or a redwood tree, nor would there be the animal life that depends on vegetation; wheat and rice, for example, as food. Without CO2 mankind would get pretty hungry. Even worse the global warming proponents keep talking about population control because they don't want more people around to exhale, [...] [#4] There is not ONE climate computer model that has accurately connected CO2 to climate change. In fact CO2 is at its highest levels in 13,000 years and the earth hasn't warmed in almost 18 years.

Climate Alarmists Falsely Imply Carbon Dioxide Is Soot. Since the beginning of the global warming scare, the alarmist lobby has proven quite skilled at building scary images. A doubling of carbon dioxide in the atmosphere from 200 to 400 parts per million (ppm) in a century sounds far more serious than going from 0.02 percent to 0.04 percent of the atmosphere, which is what has occurred, so they use ppm. How much more frightening is hundreds of metric tons of carbon emissions? People picture hundreds of tons of soot, dredging up images of 19th century London and choking air. This is irrefutable fact: It is absolutely impossible for carbon dioxide (CO2) in our atmosphere to divide itself naturally into carbon and oxygen. Only plants do this. In fact, they give the atmosphere some of its oxygen. Contra the Supreme Court and the EPA, both of which are apparently scientifically incompetent, carbon dioxide is not a pollutant.

"Why has there been no global warming for the past decade?". The temperature of the Earth's surface has not changed by more than 0.1C since the year 2000, and it may even have cooled slightly. Most computer models predicted that the increase of CO2, from about 370 to 400ppm during that period, should have caused a warming of around 0.3C. There are many possible reasons for the failure of the models, but one may be insufficient careful attention to important and often neglected details of how CO2 molecules really absorb and emit radiation in the Earth's atmosphere.

The Half Life of CO2 in Earth's Atmosphere. Sequestration of CO2 from the atmosphere can be modelled using a single exponential decay constant of 2.5% per annum. There is no modelling need to introduce a multi time constant model such as the Bern Model. The Bern model, favoured by the IPCC, uses four different time constants and combining these produces a decay curve that is not exponential but also matches atmosphere to emissions. The fact that both single exponential decline and multi-time constant models of emissions can be made to fit atmospheric evolution of CO2 means that this approach does not provide proof of process. Either or neither of these models may be correct. But combined, both of these models do provide clues as to the rate of the CO2 sequestration processes.

New Research Finds Earth Even Less Sensitive To CO2 Than Thought. Earlier this year, in a widely discussed report for the Global Warming Policy Foundation, climate researcher Nic Lewis and science writer Marcel Crok put forward a new estimate of the Earth's climate sensitivity based on observational data, finding that it was much less alarming than suggested by computer simulations of the Earth's climate. Now, Lewis and well known American climate science professor Judith Curry have updated the Lewis and Crok report estimates using the latest empirical data, a more sophisticated methodology and an approach to accounting for uncertainties that has been described by one independent reviewer as "state of the art".

CO2 Rise Increases Biodiversity, Crop Yields. According to The Economist, The Heartland Institute is "the world's most prominent think tank promoting skepticism about man-made climate change." On Wednesday [7/9/2014], several scientists gathered at the institute's 9th International Conference on Climate change to address a variety of issues including the biological effects of increased CO2 on the planet due to human activity. Dr. Craig Idso, the founder, former president, and current chairman of the board of the Center for the Study of Carbon Dioxide and Global Change, provided a plethora of information on exactly how CO2 affects the environment. Global warming alarmists should be comforted that they have a lot more to be happy about and should not be fretting that global catastrophe is knocking at the door.

Gore's Latest '24 Hours of Reality' Promotes Tragic Mistake. Scientists have repeatedly explained that carbon dioxide (CO2) emissions, which are [Al] Gore's principal concern, are neither "carbon" nor "pollution." Reporters on both sides of the debate understand this, of course, but give him a pass on the error. They should no longer do this. Carbon is a naturally occurring, non-toxic element found in all living things. Everything from medicines to trees to oil to our own bodies and those of all other creatures are made of carbon compounds. Pure carbon occurs in nature mainly in only two forms: graphite and diamonds. Ignoring the oxygen atoms and calling CO2 merely "carbon" makes about as much sense as ignoring the oxygen in water (H2O) and calling it "hydrogen." This is not just an academic point. This is part of the way in which Gore distorts language to bolster concerns about human-caused climate change.

Termites emit ten times more CO2 than humans. Global temperature has declined since 1998. Meanwhile, atmospheric carbon dioxide has gone in the other direction, increasing 15 [to] 20%. This divergence casts doubt on the validity of the greenhouse hypothesis, but that hasn't discouraged the global warming advocates. They have long been ignoring far greater evidence that the basic assumption of greenhouse warming from increases in carbon dioxide is false. Manmade emissions of carbon dioxide were not significant before worldwide industrialization began in the 1940s. They have increased steadily since. Over 80% of the 20th century's carbon dioxide increase occurred after 1940 -- but most of the century's temperature increase occurred before 1940! From 1940 until the mid-1970s, the climate also failed to behave according to the greenhouse hypothesis, as carbon dioxide was strongly increasing while global temperatures cooled. This cooling led to countless scare stories in the media about a new ice age commencing.

Geoscientist explains why man-made CO2 is not the driver of global warming. Dr. Ole Humlum, Professor of Geosciences at the University of Oslo, has published a summary and reply to comments on his groundbreaking paper demonstrating why man-made CO2 is not the driver of global warming. [...] 1. [Observations show] The temperature rise begins at sea level and spreads gradually to the land and atmosphere several months later. This is contrary to the IPCC CO2 hypothesis that atmospheric CO2 controls land and ocean temperature. 2. The geographical distribution of a CO2 increase doesn't start at 30-50 degrees North latitude, which one would expect if the source were mainly created by the fossil fuel industry and transport in the Northern Hemisphere. Instead, the increase of CO2 starts just south of the equator. This is contrary to the IPCC hypothesis that use of fossil fuels is the primary cause of increased CO2 levels.

Common Sense "Carbon" Reductions Or Something. So, right off the bat Obama discards any notion of science by terming it "carbon" and "carbon pollution", rather than the proper name of carbon dioxide. There is a difference. And CO2 is a trace gas necessary for life on earth. It's cute that he dives right in to the meme of asthma being aggravated by anthropogenic climate change. There is virtually no honest science on that, nor any honest science proving that the current rise in temps since 1850 has been caused by Mankind.

Supreme Court limits greenhouse gas regulations. A divided Supreme Court blocked the Obama administration Monday [6/23/2014] from requiring permits for greenhouse gas emissions from new or modified industrial facilities, but the ruling won't prohibit other means of regulating the pollutant that causes global warming. The court's conservative wing ruled that the Environmental Protection Agency exceeded its authority by changing the emissions threshold for greenhouse gases in the Clean Air Act to regulate more stationary sources. That action can only be taken by Congress, Justice Antonin Scalia's opinion said.

The Editor says...
Carbon dioxide is not "the [only] pollutant that causes global warming." In fact it is not a pollutant at all, and as you can read below, it makes only a very minor contribution to the greenhouse effect.

Simple climate model outperforms IPCC models, demonstrates climate effect of CO2 is miniscule. Geoscience professors Dr. Ole Humlum and Dr. Jan-Erik Solheim have described a simple, empircal harmonic climate model that accurately explains global temperature observations since 1850, without incorporating any forcing from man-made CO2 or aerosols. According to the authors, "What puzzles many is that this model does not have contributions from CO2 and aerosols." "If we'd had a warming due to CO2, this should appear as a deviation from the simple harmonic model since 1950. There are no signs of any additional heating due to CO2 as the IPCC claims in their reports, thus the assumed CO2 effects in IPCC climate models are exaggerated. The net effect of CO2 is thus so modest that it can not be seen in this data."

Obama suggests his upcoming rule on coal plants will avert long-term health crisis. President Obama on Saturday [5/31/2014] tried to bolster public support for new rules his administration will announce next week on coal-firing [sic] power plants, arguing their carbon emissions are a national health crisis — beyond hurting the economy and causing global warming. "We don't have to choose between the health of our economy and the health of our children," Obama said in his weekly address. "As president and as a parent, I refuse to condemn our children to a planet that's beyond fixing." The cost of carbon pollution "can be measured in lost lives" and roughly "100,000 asthma attacks and 2,100 heart attacks will be avoided" in just the first year that the standards go into effect, Obama said in the address [...]

The Editor says...
Name one person who has had a heart attack this year because he or she lives near a coal-fired power plant.

Rising CO2 levels and a warming planet could be beneficial, claims study. Even some of the world's most sceptical climate organisations now concede that humans might be causing the planet to warm. But in a surprising move the Heartland Institute has published a paper claiming that the effects of pumping carbon dioxide into the atmosphere could in fact be beneficial. The new report by the Nongovernmental International Panel on Climate Change (NIPCC) has provided the alternative view on the impacts of manmade climate change.

Paper finds lifetime of CO2 in atmosphere is only 5.4 years. A paper presented at the Seventeenth Symposium On Thermophysical Properties finds that the lifetime and residence time of man-made CO2 in the atmosphere are only about 5.4 years, far less than assumed by the IPCC.

'World doing just fine; Global Warming is Good; CO2 is our friend' say Scientists. The latest verdict is in on 'climate change' — and the news is good. The planet is greening, the oceans are blooming, food production is up, animals are thriving and humans are doing better than ever: and all thanks to CO2 and global warming. So say the authors of the latest Climate Change Reconsidered report by the NIPCC — that's the Non-Governmental International Panel on Climate Change, an independent research body funded by the Heartland Institute.

Climate Change Reconsidered II: Biological Impacts.
• Global climate models are unable to make accurate projections of climate even 10 years ahead, let alone the 100-year period that has been adopted by policy planners. The output of such models should therefore not be used to guide public policy formulation.
• Neither the rate nor the magnitude of the reported late twentieth century surface warming (1979--2000) lay outside the range of normal natural variability, nor were they in any way unusual compared to earlier episodes in Earth's climatic history.
• Solar forcing of temperature change is likely more important than is currently recognized.
• No unambiguous evidence exists of dangerous interference in the global climate caused by human-related CO2 emissions. In particular, the cryosphere is not melting at an enhanced rate; sea-level rise is not accelerating; and no systematic changes have been documented in evaporation or rainfall or in the magnitude or intensity of extreme meteorological events.
• Any human global climate signal is so small as to be nearly indiscernible against the background variability of the natural climate system. Climate change is always occurring.

Nebraska Sues EPA over Power Plant CO2 Restrictions. The State of Nebraska has filed a suit against the U.S. Environmental Protection Agency for overreaching restrictions on carbon emissions from coal-power plants. Nebraska Attorney General Jon Bruning filed the suit January 15 in the U.S. District Court for the District of Nebraska. Bruning and Nebraska state officials are challenging an EPA proposed rule that would cap carbon dioxide emissions at new power plants to 1,100 pounds of carbon dioxide per megawatt-hour of power generation. Coal power plants would have to cut emissions by approximately 50 percent to meet the standards. No current or expected technologies would enable coal power plants to meet such a standard and remain economically viable.

House GOP starts investigation on EPA power plant rules. House Energy and Commerce Committee Republicans initiated a probe Wednesday [3/12/2014] to determine who at the Environmental Protection Agency was responsible for crafting greenhouse gas emission rules for future power plants. The GOP members want to zero in on a provision in the proposed rule that they say violated the Energy Policy Act of 2005, as it cited carbon capture and sequestration projects that received federal funding. They said the act prevents the EPA from requiring new power plants to use that technology, which would be necessary to comply with the rule.

Water is the weather wild card. The climatists claim that atmospheric carbon dioxide drives global warming. But the past seventeen years of rising CO2 without rising global temperatures shows this is untrue. So now they say that carbon dioxide causes wild weather. This too is untrue. Water covers over 70% of the globe, is about 50 times more abundant than CO2 in the atmosphere and it is a far more effective "greenhouse gas".

'Massive Seizure of Power': Climate scientists, economists challenge EPA. A group of climate scientists and economists are challenging the Environmental Protection Agency's authority to regulate greenhouse gas emissions from power plants and other stationary sources. These critics see a "massive seizure of power" by the agency. The scientists and economists, including the former chair of the EPA's Science Advisory Committee, filed an amicus brief with the Supreme Court, arguing that the agency does not have the authority to permit greenhouse gases from stationary sources. According to the group, such a permitting scheme is a "naked power grab of the most cynical sort."

A Few Easy Tests to Debunk Global Warming Hysteria. [Scroll down] Obviously some powerful negative feedback mechanism was moderating the temperature, and still is. That is the bottom line: negative feedback keeps the Earth's climate relatively stable despite large variations in solar flux and atmospheric composition. Man may have some influence over the climate, but the effect is likely to be very small. There is no cause for economy-disrupting control of carbon dioxide. Be very suspicious of those who advocate, and carry out, such a policy. They have something most unpleasant in mind.

'Massive Seizure of Power': Climate scientists, economists challenge EPA. A group of climate scientists and economists are challenging the Environmental Protection Agency's authority to regulate greenhouse gas emissions from power plants and other stationary sources. These critics see a "massive seizure of power" by the agency. The scientists and economists, including the former chair of the EPA's Science Advisory Committee, filed an amicus brief with the Supreme Court, arguing that the agency does not have the authority to permit greenhouse gases from stationary sources. According to the group, such a permitting scheme is a "naked power grab of the most cynical sort."

Global Warming Alarmism Denies Sound Science. The peer-reviewed Geophysical Research Letters reported Earth is undergoing substantial greening as a result of higher carbon dioxide levels and more-favorable weather conditions. Plant life is flourishing, and foliage is becoming more prevalent all across the globe as Earth warms, with the most impressive gains observed in arid regions bordering deserts. The western United States is among the big winners, with many regions in the U.S. West experiencing 30 percent or greater increases in foliage during the past 30 years.

U.S. Carbon Dioxide Emissions Continue Dramatic Decline in 2013. U.S. carbon dioxide emissions declined by 3.7 percent in 2013, the Tyndall Centre for Climate Change Research at the University of East Anglia (UK) reports. The decline in U.S. emissions continues a dramatic drop in U.S. emissions this century, even as global emissions rapidly rise. The new Tyndall Centre report says there is enough data regarding 2013 carbon dioxide emissions to accurately project emissions for the final two months of the year and for 2013 as a whole. Global emissions will rise by 2.1 percent during 2013, powered mainly by a 5.9 percent increase in China and a 7.7 percent increase in India.

Fallacies about Global Warming. The first question to be answered is whether the Earth is warming at all. [...] But even were warming to be demonstrated, and assuming a reasonable correlation between an increase in carbon dioxide and an increase in temperature, that does not mean that the former has driven the latter. Good evidence exists from thousands of years ago that carbon dioxide levels rose only after the temperature increased, so why should we assume that the order is somehow reversed today?

Japan's new CO2 goal dismays U.N. climate conference. China, the EU and environmentalists criticized Japan at U.N. climate talks on Friday [11/15/2013] for slashing its greenhouse gas emissions target after its nuclear power industry was shuttered by the Fukushima disaster.

The EPA Gets High on Greenhouse Gases. The key event in the Environmental Protection Agency's campaign to regulate carbon dioxide as a pollutant came on April 2, 2007. It was the Supreme Court's decision in Massachusetts v. Environmental Protection Agency. Justice John Paul Stevens, writing for a five-member majority, held that the EPA had a duty to decide whether greenhouse gas emissions from new vehicles are contributing to "air pollution which may reasonably be anticipated to endanger public health or welfare." Six years later, the apocalyptic predictions about global warming have not been borne out, notwithstanding the dire rhetoric of Justice Stevens's opinion. The earth's temperature has remained stable in the face of increasing concentrations of carbon dioxide in the atmosphere.

Al Gore Strikes Out Again. [Scroll down] On the science, his project is riddled with mistakes. For example, he says that a rise in carbon dioxide (CO2) causes dangerous global warming. But the geologic record shows the exact opposite: CO2 rises after the planet warms, mainly due to the oceans releasing CO2 held in solution at lower temperatures. Dr. Madhav L. Khandekar, consultant meteorologist and former research scientist with Environment Canada, adds, "The earth's climate has not warmed in 17 years according to the UK Met Office. We may not see warming of the climate by more than 0.5 degrees Celsius in next 50 to 100 years."

Climate of Uncertainty. Between 1998 and 2012 the global economy more than doubled in size — to some $71 trillion in GDP from $30 trillion. That's the good news. Over the same period the world pumped more than 100 billion tons of carbon dioxide into the atmosphere. That is supposedly the bad news. Yet global surface temperatures have remained essentially flat. That's the mystery: If emitting CO2 into the atmosphere causes global warming, why hasn't the globe been warming?

What happens if sequestered CO2 is somehow released in a big cloud into a populated area? Bhopal!
Rules that could 'kill'? Safety, cost concerns over EPA's new coal regs. The EPA, by Friday, is expected to release a new proposal to set the first-ever carbon dioxide limits for new power plants. To meet those emissions caps, power plants would likely have to use what is known as "carbon-capture technology," which involves burying the carbon underground. The technology, which is still under development, remains expensive and not commercially available. But there are lingering safety risks.

The Obama EPA's War on America. Greenhouse gas emissions are primarily carbon dioxide (CO2), a gas vital to all life on Earth, the "food" that vegetation depends upon. It plays no role whatever in a "global warming" that is not occurring. It is emitted by the Earth's many active volcanoes and hot springs. It is exhaled by humans and land animals. It is the product of the combustion of hydrocarbons. As it increased in the atmosphere, the Earth has entered a cooling — not a warming — spell since the late 1990s. Its atmospheric concentration is a very tiny 0.039 percent by volume. It is, however, the justification on which much of the EPA's enforcement activities are based.

An illustration that CO2 won't roast the Earth in a runaway tipping point. ... because the Earth has experienced massive CO2 pulses and recovered before.

Earth's self regulation of Carbon Dioxide is remarkably stable. Rising temperatures, influenced by natural events such as El Niño, have a corresponding increase in the release of carbon dioxide from tropical forest ecosystems, according to a new study out today. The study, published in the journal Proceedings of the National Academy of Sciences, found that a temperature anomaly of just 1°C (in near surface air temperatures in the tropics) leads to a 3.5-Petagram (billion tonnes of carbon) anomaly in the annual CO2 growth rate, on average. This is the equivalent of 1/3 of the annual global emissions from the combustion of fossil fuels and deforestation together.

Each ton of carbon we use creates thousands of dollars of wealth.
The Cost of Carbon Denial. For the past several years, those seeking to strangle the world economy by denying it access to carbon have tried to gain support for their initiatives by inventing a concept called "the social cost of carbon." According to this notion, the use of carbon imposes a cost on society through global warming, and therefore regulations to restrict the use of carbon create benefits that can be measured in dollar terms. Pursuant to this strategy, the Environmental Protection Agency in 2010 hired a crowd of consultants to generate estimates that would be useful for the cause.

The Deeply Secret Science of the EPA. The EPA bolsters their case with drastic claims of all the people who will die if we don't eliminate the particular kind of pollution Ms. McCarthy is pushing on any particular day. The EPA has gotten away with improbable claims about future deaths from whatever pollutant the EPA wants to ban. Their unfounded regulations have been one of the most effective job killers of the past five years. Carbon is not a pollutant, but one of the building blocks of life. We are carbon life forms. If we were to eliminate carbon from out atmosphere, we would eliminate all life.

Reduce U.S. Carbon Emissions To Zero, And The Temperature Decrease By 2100 Will Be Undetectable. A year ago former Republican congressman Bob Inglis famously predicted the facts on global warming will "overwhelm" GOP resistance to climate change action, and alter the party's stance. In response, he proposed a carbon tax. Thanks to this, we provide you with a calculator that may overwhelm the entire notion. It's our handy-dandy temperature savings calculator.

Pipe Dreams. The West has an outdated idea of itself. Europe still thinks it is the center of the universe and the Australian Greens may still conceive of themselves as defenders of the hottentots against the depradations of white imperialists. When Australian Greens insist on the necessity of a cutback in "Greenhouse gases", of which Oz produces about 1%, they actually think they matter. They don't matter [at all].

Court Mandates EPA Crack Down on New Emissions. Should the federal government regulate emissions produced by dead trees? A federal appeals court said yes, striking down the Environmental Protection Agency's attempt to delay regulation of biogenic carbon dioxide emissions from non-fossil fuel sources on Friday [7/12/2013]. The court affirmed the need for such emissions to be regulated under the Clean Air Act, negating the exemption made by the EPA for "biogenic carbon dioxide."

Peer-Reviewed Study Finds CO2 Not Responsible for Recent Global Warming. Carbon dioxide emissions are not the primary factor driving recent global warming, a newly published peer-reviewed paper reports. To the extent humans are enhancing the natural recovery from the Little Ice Age, CFCs (chlorofluorocarbons) are the primary driver, according to University of Waterloo (Ontario) physics professor Qing-Bin Lu.

Mr. President, It's Not "Carbon Pollution" It's the "Elixir of Life!" On June 25th, President Obama unveiled his plan to reduce what he refers to as "carbon pollution" — the emission of gaseous carbon dioxide into the air that primarily results from the burning of fossil fuels. In discussing the rationale for his plan, the President claims that carbon dioxide, or CO2, "causes climate change and threatens public health" and that "cutting carbon pollution will help keep our air and water clean and protect our kids." Unfortunately, President Obama's statements could not be further from the truth.

Beware! Media Will Support Obama's Climate Lies. At the heart of the President's speech is his reference to "carbon pollution." It has no scientific basis. You will not read that in Wednesday's newspapers, nor hear it on radio and television unless you are tuned to conservative media. The claim that carbon dioxide (CO2) is a pollutant is absurd insofar as it is, next to oxygen, the second most vital gas for life on planet Earth. It is responsible for the growth of all vegetation, including crops vital to feeding humanity and the livestock on which they depend as a food source.

War on 'The Way We Live'. First, did you know that our present atmosphere is actually carbon dioxide deficient? Yes, according to the historical record there was only one other time when the planet's CO2 concentration and temperature were as low as they are today? [...] Second, Obama's call, and the [Detroit Free Press]'s endorsement, for reduced carbon dioxide levels is actually more of a threat to life on earth than CO2 increases. That's because CO2 levels at 150 ppm or lower are not enough to support plant life [...]

Is Carbon Dioxide Guilty and Global Warming Settled Science? If the much maligned CO2, a plant nutrient, is so bad for the planet, why do greenhouse growers buy CO2 generators to accelerate the growth and size of their plants? The generators are made in the U.S. and run on propane and natural gas, turning fossil fuels into CO2. A recent study showed that a slight rise in CO2 levels of the atmosphere has actually helped re-green deserts, accelerating the growth of trees, shrubs, and grasses which produce oxygen.

President Obama pivots to climate change. "This Tuesday, I'll lay out my vision for where I believe we need to go — a national plan to reduce carbon pollution, prepare our country for the impacts of climate change, and lead global efforts to fight it," Mr. Obama says. "This is a serious challenge — but it's one uniquely suited to America's strengths."

The Editor says...
For once I would have to agree, since global warming has already been fixed by doing nothing, which is what many Americans do best. Notice that Mr. Obama, like so many others who don't want to alienate the hoi polloi by using techical terms, says "carbon" when he really means "carbon dioxide." Thus, he is calling carbon dioxide a pollutant, which (as shown many times on the remainder of this page) it is not. Mr. Obama is repeating a lie, hoping that it will eventually turn into common knowledge.

The Effect of Elevated CO2 on Tomato Plant Lateral Root Growth . Elevated CO2 increased both the number and length of the roots, and with more and longer lateral roots in a future CO2-enriched atmosphere, tomato plants (and likely other plants as well) should be better equipped to take up both major and micro nutrients from the soils in which they grow, making them both bigger and better and more apt to produce larger and more nutritious fruit ... and more of it.

Carbon Dioxide Does Not Cause Global Warming. [Scroll down] Many have drawn trend lines for the data on global temperature changes from 1998 to 2013, a period of a little over 15 years, that show a slight downward trend in global temperature for the past 15 years. That could well be because the peak for 1998 was so high. In any event, it is quite clear that the data show a definite downward trend during the past ten years, from 2003. And during all of this time the CO2 was steadily increasing. This is the exact opposite of what the global warming alarmists (charlatans masquerading as scientists) were telling us to try to get us to get behind the elimination of hydrocarbons (oil, gas and coal) as fuels for our vehicles and utilities.

Are Climate Scientists Wrong About Man's CO2 Emissions? . The war against carbon dioxide is being waged with such vindictiveness, few have time to ask a material question: Do temperature increases follow elevated CO2 levels or is it the other way around?

Amazon River exhales virtually all carbon taken up by rain forest. The Amazon rain forest, popularly known as the lungs of the planet, inhales carbon dioxide as it exudes oxygen. Plants use carbon dioxide from the air to grow parts that eventually fall to the ground to decompose or get washed away by the region's plentiful rainfall. Until recently people believed much of the rain forest's carbon floated down the Amazon River and ended up deep in the ocean. University of Washington research showed a decade ago that rivers exhale huge amounts of carbon dioxide — though left open the question of how that was possible, since bark and stems were thought to be too tough for river bacteria to digest.

So What, If Carbon Levels Hit 400ppm? Spurred into action, green politicians duly pass green laws and impose green taxes that help impoverish us at a time of genuine economic hardship — all of which do precisely zip to help the environment.

Rising CO2 Levels May Not Make Earth Warmer, But Is Making It Greener. Listening to the global warming alarmists, one would think that man-made CO2 emissions are threatening the globe. But that's speculation. Let's deal in reality. And the reality, according to Australian research, is that in this era of higher carbon concentrations, plant life in dry regions has grown lush. The greening of the deserts is due to the "fertilization effect" — the impact carbon dioxide has on plant life.

Greenhouse gases nearing highly dangerous levels, study finds. Emissions of heat-trapping greenhouse gases are growing at such a rate that the world will probably exceed a safe limit in average global temperatures by the end of the century and veer into a higher temperature zone that would profoundly damage economic growth and most other aspects of life, according to a new report by the International Energy Agency. [...] Average temperatures have risen by about 1 degree Celsius over the last 150 years or so, as mass industrialization spurred the increased combustion of fossil fuels.

The Editor says...
Yes, but most of the temperature increase in the 20th century occurred before 1940, and now that there are more automobiles on the road than ever before, global warming has stopped. Also note that there were no world-wide temperature measurements until the late 20th century. (If you went to your local weather bureau and found they were using a 150-year-old thermometer, would you have confidence in its accuracy? If not, how can you put any confidence in an assertion about the increase in world-wide temperatures over the last 150 years?) Moreover, note that the environmentalists can't point to a specific global average temperature and say it's just right. All they care about is the increase (or decrease) per century.

Report: CO2 not responsible for global warming. Chlorofluorocarbons (CFCs) — not carbon emissions — are the real culprit behind global warming, claims a new study out of the University of Waterloo. "Conventional thinking says that the emission of human-made non-CFC gases such as carbon dioxide has mainly contributed to global warming. But we have observed data going back to the Industrial Revolution that convincingly shows that conventional understanding is wrong," said Qing-Bin Lu, a science professor at the University of Waterloo and author of the study.

Study sees climate upside in greening arid regions. Satellite data since the early 1980s have shown a flourishing of foliage worldwide, and scientists have suspected this change may be due partly to the increase in atmospheric carbon dioxide, a heat-trapping greenhouse gas emitted by the burning of fossil fuels.

Bias alert!
Carbon dioxide is emitted by a lot more than just burning hydrocarbons and firewood.

In Defense of Carbon Dioxide. Of all of the world's chemical compounds, none has a worse reputation than carbon dioxide. Thanks to the single-minded demonization of this natural and essential atmospheric gas by advocates of government control of energy production, the conventional wisdom about carbon dioxide is that it is a dangerous pollutant. That's simply not the case. Contrary to what some would have us believe, increased carbon dioxide in the atmosphere will benefit the increasing population on the planet by increasing agricultural productivity.

Guns Responsible for Global Warming. [Scroll down] But to liberals there's no problem here. These are the same people who can claim that the global warming "problem" can be solved by closing coal-fired electric plants in the U.S. without even mentioning what's going on in China and India. You have to conclude that whether it's gun control or global warming or whatever the left is most fervently pitching, facts don't matter: emotions do. And guns are a deep, emotional cultural issue for Americans.

Report: Carbon Emissions in US Lowest Since 1994. Carbon emissions in the US were at their lowest level in 2012 since 1994, according to figures released by the US Energy Information Administration. We did it without carbon trading scams, the EPA making carbon dioxide a poison, or obeying the dictates of the Kyoto climate Treaty. We did it partly because of decreased economic activity as a result of the Obama recovery-that-isn't, but mostly because of good old fashioned market forces; competition between natural gas and coal.

CO2 Keeps Rising but Temperatures Refuse to Follow. New data from the National Oceanic and Atmospheric Administration show atmospheric carbon dioxide levels continue to rise but global temperatures are not following suit. The new data undercut assertions that atmospheric carbon dioxide is causing a global warming crisis. NOAA data show atmospheric carbon dioxide levels rose 2.67 parts per million in 2012 to 395 ppm. The jump was the second-highest since 1959, when scientists began measuring atmospheric carbon dioxide levels.

Eco madness and how our future is going up in smoke. [Scroll down] Germany, which already has five times as many wind turbines as Britain, is now desperately building 20 new coal-fired stations in the hope of keeping its lights on. The first, opened last September, is already generating 2,200 megawatts; nearly as much as the average output of all of Britain's wind farms combined. China, already the world's largest CO2 emitter, is planning to build 363 more coal-fired power stations, without any heed of the vast amount of emissions they'll produce. India is ready to build 455 new coal-fired power stations to fuel an economy growing so fast that it could soon overtake our own.

The minor significance of CO2: CO2 is simply assumed to be the main climate forcing. This is clearly illogical because at all time scales CO2 changes follow temperature changes. Positive feedback from the other GHGs — notably water vapour and methane [ — ] is then added on to the effects of CO2 and attributed to it. Obviously, in nature, the increase in CO2 and Humidity are both caused by rising temperatures. It is also impossible to have a net positive feedback because systems with total positive feed back are not stable and simply run away to disaster. We wouldn't be here to tell the tale if it were true.

Team of Ex-NASA Scientists Concludes No Imminent Threat from Man-Made CO2. A group of 20 ex-NASA scientists have concluded that the science used to support the man-made climate change hypothesis is not settled and no convincing physical evidence exists to support catastrophic climate change forecasts.

How Should Washington Address Climate Change? Despite all the talk of reducing U.S. greenhouse-gas emissions, they're actually already at a 20-year low thanks in large part to the newly discovered reserves of natural gas, which burns with fewer carbon emissions than coal or oil. Despite that domestic drop, global greenhouse-gas emissions are actually at an all-time high thanks in large part to the growing economics of China and India and their consumption of coal.

There is NO Significant Global Warming. According to Al Gore and the United Nations Intergovernmental Panel on Climate Change Global Warming with all its dire consequences is the result of the increase of Carbon Dioxide (CO2) in the atmosphere from the burning of fossil fuels to power our automobiles and airplanes, our electric power generating plants and our factories. How much do you know about CO2?

More than 1,000 new coal plants planned worldwide, figures show. World Resources Institute identifies 1,200 coal plants in planning across 59 countries, with about three-quarters in China and India.

Fish Feces Sequester Carbon, Rogue Millionaire Poisons Pacific Ocean. Does fish fecal matter fight global warming by carrying organic carbon to the bottom of the ocean where it is sequestered in sediment? A new study claims that fish poo is under appreciated as a part of the natural carbon cycle and that it carries carbon to the ocean bottom much faster than dead zooplankton sink on their own.

Al Gore was Wrong About Carbon Dioxide. Al Gore presented graphs in the movie "An Inconvenient Truth" showing carbon dioxide (CO2) and temperature change from Antarctic Vostok ice core records as evidence that CO2 causes climate change. But he got cause and effect reversed! The record actually shows that the CO2 increase lagged the warming by about 800 years. Temperature increases cause the oceans to expel CO2, increasing the CO2 content of the atmosphere.

CO2 Versus Water. CO2, water vapour and clouds have the most significant contributions to the greenhouse effect. Various sources give conflicting estimates of the contributions of these components to the greenhouse effect. The infrared absorption spectrum of atmospheric greenhouse gases is very complex. In some regions absorption frequencies of various greenhouse gases overlap, so the contributions of each component do not add linearly. Radiation at a particular frequency can be absorbed by either water vapour or CO2.

Myths and Facts about Global Warming. Myth 4: CO2 is the most common greenhouse gas. Fact: Greenhouse gases form about 3% of the atmosphere by volume. They consist of varying amounts, (about 97%) of water vapour and clouds, with the remainder being gases like CO2, CH4, Ozone and N2O, of which carbon dioxide is the largest amount. Hence, CO2 constitutes about 0.039% of the atmosphere. While the minor gases are more effective as "greenhouse agents" than water vapour and clouds, the latter are overwhelming the effect by their sheer volume and — in the end — are thought to be responsible for 75% of the "Greenhouse effect". At current concentrations, a 3% change of water vapour in the atmosphere would have the same effect as a 100% change in CO2. Those attributing climate change to CO2 rarely mention these important facts.

The Coming Environmental Battles. With China, India and other developing countries massively increasing their greenhouse gas emissions, EPA's actions would do nothing to reduce atmospheric CO2 levels. In fact, by 2013, China will emit twice as much carbon dioxide as the United States. The EPA regs would, however, put government in charge of our entire economy, sharply increase energy prices for every business and household, kill millions of jobs, ensure that net tax revenues never materialize, and hurt poor families most.

U.S. Carbon Dioxide Emissions Lowest Since 1992. The decline in U.S. carbon dioxide emissions provides a sharp contrast to global emission trends. In 2000, U.S. emissions totaled 5.9 billion metric tons, while global emissions totaled 23.7 billion metric tons. Accordingly, the United States accounted for 25 percent of global carbon dioxide emissions in 2000. By 2010, the most recent year for which EIA has global data, U.S. emissions fell to 5.6 billion metric tons, while global emissions rose to 31.8 billion metric tons. Accordingly, the United States accounted for just 18 percent of global carbon dioxide emissions in 2010.

Claim: CO2 makes you stupid? Ask a submariner that question. One wonders though what the Navy submarine service has to say about this new research: ["]We try to keep CO2 levels in our U.S. Navy submarines no higher than 8,000 parts per million, about 20 times current atmospheric levels. Few adverse effects are observed at even higher levels.["]

George Osborne's CO2 tax will double UK electricity bills. Fast approaching, if largely unnoticed, is yet another massive shock the Government has in store for us with its weirdly distorted energy policy. It is surprising to see what an abnormally high proportion of the electricity needed to keep our lights on has lately been coming from coal-fired power stations. Last Wednesday evening [9/26/2012], for instance, this was over 50 percent, with only 1.3 percent coming from wind power. Yet by next March, we learn, five of our largest coal-fired plants, capable of supplying a fifth of our average power needs, are to be shut down, much earlier than expected, under an EU anti-pollution directive.

Street lights turned off in their thousands to meet carbon emission targets. Lights are being turned off on motorways and major roads, in town centres and residential streets, and on footpaths and cycle ways, as councils try to save money on energy bills and meet carbon emission targets. The switch-off begins as early as 9 pm. They are making the move despite concerns from safety campaigners and the police that it would lead to an increase in road accidents and crime.

The Editor says...
Carbon dioxide is not carbon, for the same reason that water is not oxygen. Leftist environmentalists are not concerned about "carbon emissions", they are concerned (for no meaningful reason) about carbon dioxide emissions. Newspapers carelessly use the word "carbon" as shorthand for CO2.

The president decides to stick with climatism. The president's use of the term "carbon pollution" is disappointing. Environmentalists inaccurately use this phrase to conjure up images of billowing smoke stacks, and the president has picked this up. The theory of manmade global warming claims that carbon dioxide, not carbon, causes climate change. Carbon dioxide is an invisible gas, while carbon is a black solid. Referring to carbon dioxide as "carbon" is as foolish as calling water "hydrogen" or salt "chlorine." Compounds have totally different properties than their composing elements. Neither is carbon dioxide pollution. It's an odorless, harmless gas that green plants need for photosynthesis. Carbon dioxide is a foundation for life on Earth along with oxygen and water.

Obama doesn't believe in climate science. He believes in climate fantasy. [Tom] Wigley, for the sake of argument, lays out an absurd scenario: What if manmade greenhouse gas emissions were slashed severely, immediately, and then brought down to zero by 2050. Keep in mind, nobody — certainly not Barack Obama — is seriously proposing this. This would require our eliminating all use of natural gas, oil, and coal. Even under this impossibly severe regime, which would probably require totalitarian enforcement of global poverty, CO2 concentrations would continue to increase until 2040.

The Editor says...
With no energy sources other than firewood, the CO2 in the atmosphere would probably increase rapidly, due to all the decomposing human bodies everywhere.

Hopes of slashing greenhouse emissions just blowing in the wind. Alongside the politics of the carbon tax, a floor price, a linking to Europe or whether a direct investment scheme would be better than a market-based scheme, the bottom line surely must be whether any carbon emissions actually are being saved.

Coal, China and tilting at windmills. One thing is certain: Those well-meaning environmentalists who think you can solve global warming by reducing coal emissions haven't been to China recently. I just got back from a two-week visit to the Autonomous Region of Inner Mongolia, and it's no mystery why China has fought to remain exempt from international feel-good treaties such as the Kyoto Protocol that would establish goals for lowering the amount of CO2 in the atmosphere. Those quixotic goals just plain wouldn't work — certainly not in China, and that means not in one-sixth of the populated world.

What global warming? Earth's forests are soaking up CO2 better than ever, claim scientists. The Earth's oceans and forests are soaking up about half the greenhouse gases emitted by people — the same rate as fifty years ago, say scientists. A study of global carbon dioxide measurements since 1960 found the processes by which the planet's ecosystems absorb it are not yet at capacity. The results showed while CO2 emissions had quadrupled natural carbon 'sinks' have kept pace — lessening the warming impacts on Earth's climate.

CO2 may lag temperature just by 400 years or so. Phys.org is among the most science-oriented outlets that inform about the new paper [...] by Pedro, Rasmussen, and Ommen published in Climate of the Past. The content of the paper is simple. They looked at the Antarctic data between 17,000 BC and 9,000 BC. The CO2 concentration increases or decreases after the temperature does the same thing but the newly determined lag is just about 400 years instead of the figure 800 years we loved to repeat.

New Science Endangers EPA's "Endangerment Finding". Strong cases were made that the EPA failed to completely consider new and influential scientific results which have a direct relevance to the impact that climate change as a result of human greenhouse gas emissions may have on the public health and welfare. Overwhelmingly, the "missing" science from the EPA's support documents included evidence that either lessened the certainty that human GHG emissions were behind the observed changes in the climate, or provided examples of positive impacts resulting from climate change on human health and welfare. It is a recipe for pure waste and unintented consequences if EPA continues to propose regulations based upon static, even outdated, science in a field where the scientific knowledge-base is rapidly evolving.

CO2 Reductions are Good for Nothing. The Green Church and has long advised the importance of economic sacrifice to heal the planet, yet — despite seven years of declining U.S. carbon dioxide emissions — its media disciples are still complaining this summer of hot temperatures. "Experts say it's difficult to prove a causal relationship between climate change and last week's wild weather in Michigan, but record temperatures and violent storms appear to fit the widely-accepted scientific model," worried MLive's liberal Jonathan Oosting this July. Clearly the draconian six percent decrease in U.S. CO2 emissions since 2005 has been good for nothing. Despite the most wrenching economic downturn since the Great Depression — costing millions of jobs and destroying thousands of businesses — emissions reductions have had zero effect on the climate.

Dirty but essential — that's coal. The Environmental Protection Agency has proposed a rule that, if enacted, would in effect outlaw the construction of new coal-fired power plants in the United States. The EPA's motives are clear: It wants to shut down coal plants, which emit lots of carbon dioxide. But the EPA and the Obama administration know their attack on coal is little more than a token gesture. The rest of the world will continue to burn coal, and lots of it. Reducing the use of coal in the U.S. may force Americans to pay higher prices for electricity, but it will have nearly no effect on climate change.

More about coal.

Plunge In CO2 Output Due To Natural Gas Fracking. The most underreported recent environmental story has been the dramatic decline in energy-related carbon emissions — nearly back to mid-1990s levels, and falling. Maybe it's because that story just doesn't fit the left's mantra that traditional energy sources are destroying the environment.

More about fracking.

The Other Judicial Decision. The U.S. Court of Appeals for the District of Columbia threw out a pro-industry petition [on 6/27/2012] that challenged the Environmental Protection Agency's assertion that carbon dioxide (CO2) is a "pollutant" that endangers public health and is a factor in global warming. It was an 81-page decision, based in part on a 2007 SCOTUS decision that ruled 5-4 that the 1970 Clean Air Act empowered the EPA to regulate CO2, even though that was never the original intent of the Act. It is a ruling that will permit the EPA to continue to wreak havoc on business and industry, large and small, based entirely on the greatest science hoax in history.

All Hail the EPA. Just five years ago, in Massachusetts v. Environmental Protection Agency, five judges gave the EPA the power to regulate inert, non-toxic, non-particulate carbon dioxide (the gas human beings exhale) as a "pollutant" under the Clean Air Act — a clear violation of the intent of the Congressional legislation. The Obama EPA since has jumped at the chance, ignoring Congressional reluctance to pass cap-and-trade legislation and establishing itself as a rogue agency tasked with fighting phantom global warming by dictating industrial CO2 emissions levels.

Dr. Dwyer has a PhD in Organic Chemistry.
Dr. Sean G. Dwyer's Climate Change Presentation: There has been a rise in the average temperature by just over 0.5 degree Celsius since the mid 19th century. But most of that occurred prior to 1940, and the greatest increase was during the Great Depression of the 1930s when industrial activity was distinctly curtailed, yet there was a distinct drop in temperature during the post war industrial boom until 1975. Ironically at that stage the BBC and the media generally were warning of the catastrophic impact that global cooling was going to have on the world's climate.

An Engineer's Critique of Global Warming "Science". When CO2 is greater in the atmosphere, plants need less water to thrive. [...] If you promote a green healthy planet, then you should lobby for a CO2-fertilized atmosphere, not a CO2-starved atmosphere.

Professor Bob Carter: The scientific consensus on the climate hoax. An excellent presentation disputing man-made global warming using nothing but pure science and statistics by Professor Bob Carter, an Australian geologist. A video presentation in four parts: [1] [2] [3] [4]

If Obama is going to kill coal, he has to hide the body. Of course what the CO2 alarmists call "dirty coal" is perfectly clean. The only difference is that it produces CO2 — that most healthful gas, the beginning of the food chain for all life on earth — which remains alarmingly close to the minimum levels needed to sustain life.

Warming gas levels hit 'troubling milestone'. The world's air has reached what scientists call a troubling new milestone for carbon dioxide, the main global warming pollutant.

Bias alert:
The carbon dioxide level in the atmosphere is not "troubling" to anyone except global warming alarmists. Carbon dioxide is not a pollutant. Most of the greenhouse effect results from water vapor in the atmosphere, not carbon dioxide. And that's just criticism of the first sentence in this heavily-biased article from the Associated Press.

MPs have no idea how to meet the 'carbon' target they voted for. The great global warming scare has long been dying on its feet, but that sad fiasco of a conference in Rio last week saw it finally dead and buried. [...] [T]his leaves Britain as the only country in the world committed by law to cut its emissions of carbon dioxide by 80 percent in less than 40 years. The Climate Change Act, on the Government's own figures, faces us with a bill of up to £18 billion every year until 2050, making it by far the most costly law ever passed by Parliament.

Cap and Trade Moves the Carbon Dioxide (and Workers' Jobs) to China. Cap and trade advocates, along with their accomplices in the United Nations, will nonetheless continue to argue for their agenda under color of environmental protection. This smokescreen breaks down very quickly in the face of economic reality. If carbon taxes or cap-and-trade mandates make American power sufficiently expensive, energy-intensive businesses can deal with the problem by moving their smokestacks, all their carbon emissions, and the jobs underneath the smokestacks to China. Cap and trade will therefore not even make the carbon dioxide go away, and it will make genuine world air pollution even worse.

Destroy the economy, save the planet. By strangling the U.S. economy, President Obama may have single-handedly saved the planet. [...] The study found the Great Recession a boon when it comes to preventing global warming. The scientists hypothesized that the worldwide economic collapse contributed to a drop in atmospheric carbon-dioxide levels in 2009. For devotees of climate change, CO2 isn't the gas that animals exhale and plants convert into energy, preserving life on this planet. They believe instead that carbon dioxide is sometimes an enemy that heats the globe, kills polar bears and provokes disaster on an apocalyptic scale. Alarmists insist only the carbon-dioxide molecules that are the byproduct of capitalism can cause environmental damage.

The Human Consequences of EPA's War on Coal. Nebraska is a coal-intensive state. According to the video [in this article], 71% of the state's power comes from coal. And while the state has the 11th lowest electricity costs in the nation, Tworek says "prices seem to continually go up." If the EPA has its way, those price hikes will only intensify. For the first time ever, the agency has classified carbon dioxide, the chemical compound that sustains vegetative life, as a "pollutant." Using the resulting authority over carbon emission regulations, the EPA now plans restrictions on coal power plants that are so stringent, they will likely herald the demise of coal's role in electricity production.

More fracking red tape. The Environmental Protection Agency (EPA) on Wednesday [4/18/2012] finalized 588 pages of new restrictions on the production of natural gas and oil that take primary aim at hydraulic fracturing, or "fracking," a drilling technique that releases trapped natural gas from underground shale. Gas producers will be required to install equipment on about 13,000 new natural gas wells and around 1,200 old ones to prevent released gas from escaping into the atmosphere, where the agency says it contributes to "greenhouse" gases. Humans and animals release the same vilified gases merely by being alive.

All Cost No Benefit. Today [3/27/2012], the EPA has proposed a carbon dioxide standard for new power plants. The EPA blames carbon dioxide and other human emitted greenhouse gases for an increase in global temperature during the past 100 years. Unfortunately, this action is yet another EPA regulation that is essentially all cost and no benefit. First, the EPA's incessant use of the words "pollutant" and "pollution" in reference to carbon dioxide is deceptive. In the press release announcing this regulation, the agency mentioned the words "carbon pollution" eight times. Yet, as you learn in middle school science, carbon dioxide plays a vital role in the environment and has no direct negative human health effects.

Carbon dioxide just saved Earth. It seems the Sun belched its biggest a coronal mass ejection in 7 years and the thermosphere absorbed 26 billion kWh of energy. The thermosphere is part of that invisible cloud of gases that blankets the Earth. Scientists call it the atmosphere. James Russell of Hampton University used big scientific words to explain it: "The thermosphere lit up like a Christmas tree. It began to glow intensely at infrared wavelengths as the thermostat effect kicked in."

Flowers love CO2. While we typically think of orchids as tropical and subtropical flowers for our enjoyment, there are many varieties that grow in temperate and even cold climates. Did you know that vanilla plants are orchids? The underground tubers of some terrestrial orchids can be ground into powder and used in cooking (ground orchid powder shows up in hot beverages and ice cream). ... Norikane et al. grew orchids in glass bottles with atmospheric CO2 concentrations maintained at ambient levels of CO2 (around 380 ppm), 3,000 ppm, and 10,000 ppm to explore what would happen with "super-elevated" levels of CO2; they used cold cathode fluorescent lamps (CCFL's) to light the plants throughout the experiment. There is a lot of information in the article, but the plantlets absolutely loved the high levels of CO2.

Worldwide CO2 emissions and the futility of any action in the West. EU, Australia, New Zealand committing economic suicide in order to reduce CO2 emissions by an amount that might shave 0.06°C off the average atmospheric temperature of our planet by 2100. Meanwhile, the rest of the world will sit out the stupidity of trying to stop naturally-occurring climate change.

EPA Endangers Human Health and Welfare. The purpose of the original lawsuit, Commonwealth of Mass. vs EPA, was to force the EPA to regulate CO2 as a pollutant from motor-vehicle tailpipe emissions. To overcome the problem of "standing," Massachusetts presented an affidavit written by the chief scientist of the Environmental Defense Fund, claiming that putative future warming caused by the greenhouse gas CO2 would lead to extensive flooding of New England coastal regions. There are three things wrong with this claim: one, there is no evidence that an increase in CO2 would lead to appreciable warming; two, there is no evidence that any warming, should it occur, would accelerate ongoing sea-level rise; and three, it would seem improper for the Supreme Court to accept an affidavit from an obviously biased source. Unfortunately, the Department of Justice refused our technical help and did not adequately argue the case.

Earth Getting Greener, not Browner. A new study in Scienceexpress (Science magazine's pre-paper-publication outlet) by Yude Pan of the U.S. Forest Service and colleagues finds that the net carbon sink in terrestrial forest systems across the globe has been expanding, taking up ever more carbon dioxide from the earth's atmosphere.

Va. AG Cuccinelli: 'The EPA has violated the law here'. The U.S. Court of Appeals for the District of Columbia is considering challenges this week to the Environmental Protection Agency's determination that carbon dioxide and other greenhouse gases are pollutants and subject to federal regulation. In addition to suits on the part of a number of companies and business groups, Virginia and 14 other states charge that the EPA violated its own rules by using data from the United Nations Intergovernmental Panel on Climate Change (IPCC), rather than internal research, in order to make the initial greenhouse gas endangerment findings. The states also charge that the EPA violated the law by failing to reopen hearings in light of new data.

All Hail Obama. [Scroll down] What USEPA originally dished out as a finding to deal with automotive exhaust, is now taking the time and attention of American utilities and manufacturers of all sorts of products, even before the courts have ruled on the original decision over CO2. I personally believe the cost and turmoil of the CO2 scare will likely go down in history as the costliest authoritarian myth since Hitler stirred up Germany with the notion of Aryan Supremacy.

Two more scientist change sides in the AGW debate. The debate among scientists isn't whether CO2 is a greenhouse gas or whether, even, it can cause warming, but instead on what real (if any) total effect it has overall on the climate. In other words, is there a saturation point where additional CO2 has little marginal effect, or does it build to a tipping point where the change is radical? Robust climate or delicate climate? Evidence is building toward the robust climate theory, which would mean that while there may be more CO2 being emitted, it has little to no effect on the overall climate. That, of course, is contrary to the AGW crowd's theory.

Another Green Prophet Defects. One by one, the more honest of the scientists who fell for the anthropogenic global warming hoax are confessing their error. The latest is Germany's Professor Fritz Vahrenholt.

There's no compelling scientific argument for drastic action to 'decarbonize' the world's economy.
No Need to Panic About Global Warming. [Scroll down] The fact is that CO2 is not a pollutant. CO2 is a colorless and odorless gas, exhaled at high concentrations by each of us, and a key component of the biosphere's life cycle. Plants do so much better with more CO2 that greenhouse operators often increase the CO2 concentrations by factors of three or four to get better growth. This is no surprise since plants and animals evolved when CO2 concentrations were about 10 times larger than they are today. Better plant varieties, chemical fertilizers and agricultural management contributed to the great increase in agricultural yields of the past century, but part of the increase almost certainly came from additional CO2 in the atmosphere.

Two more scientist change sides in the AGW debate. Evidence is building toward the robust climate theory, which would mean that while there may be more CO2 being emitted, it has little to no effect on the overall climate. That, of course, is contrary to the AGW crowd's theory.

Destroying America by Denying Access to Energy. The EPA has just released a report of those power plants that top the list of its regulation of carbon dioxide (CO2) emissions. There is no basis in science to justify the reduction of CO2. Indeed, since it is a gas on which all vegetation depends, much as oxygen is vital to all animal life, reducing it would impair great crop yields and healthier forests. These regulations are based on the global warming hoax that blamed CO2 for warming the earth. That is utterly false. The Earth is currently in a perfectly natural cooling cycle and the climate of the Earth is almost entirely based on the Sun — solar radiation — along with the actions of oceans, clouds, and even volcanic activity that spews tons of particulates into the atmosphere.

Response to plant species to CO2 levels. The earth has stopped warming, but the greenhouse gasses continue to accumulate at higher levels in the atmosphere. In fact, it seems certain that the planet will have rising levels of atmospheric CO2 for the foreseeable future. No country has actually produced substantial cuts in its greenhouse emissions, and Asia continues to strongly increase its output of industrial gasses. Nor have any of the "renewable" energy sources been cost-effective enough to survive the coming budget cuts in Europe and the U.S.

New Satellite Data Contradicts Carbon Dioxide Climate Theory. Industrialized nations emit far less carbon dioxide than the Third World, according to latest evidence from Japan's Aerospace Exploration Agency (JAXA).

Texas leads U.S. in greenhouse gas emissions. Texas, as the nation's light switch and gas pump, releases far more greenhouse gases into the air than any other state, according to federal data released Wednesday [1/11/2012]. Texas' coal-fired power plants and oil refineries generated 294 million tons of carbon dioxide and other heat-trapping gases in 2010, more than the next two states — Pennsylvania and Florida — combined, the data show.

The Editor, a native Texan, says...
So what? One-dimensional statistics of this sort are of no value, except to those who are influenced by bumper stickers and emotional outbursts.* If all 50 states were exactly the same size, the headline above might mean something, but Texas almost "leads the nation" in population and land mass. Texas leads the nation in crude oil production, natural gas production, the generation and consumption of electricity, and wind-powered generation capacity.* Texas leads the nation in tort reform and job growth.* Texas had the most jobs added between August 2010 and August 2011.* Texas leads the nation in low energy costs.* There's a lot of productive activity in Texas, which (by itself) has the 14th or 15th largest economy in the world. Texas does not have, as far as I am aware, any unstoppable coal fires* like Colorado or Pennsylvania, or any active volcanos, like Hawaii, Alaska, or Washington — sources which probably would not be taken into account in a report like the one above. Chances are the claim that Texas has the most "greenhouse gas emissions" is based on the number of automobiles and power plants — which are generally good to have in abundance. Whenever a Democrat blurts out a shallow factoid like, "Texas leads the nation in greenhouse gas emissions", the correct response is... so what?

50 years on, fire still burns underneath Pa. town. Fifty years ago on Sunday [5/27/2012], a fire at the town dump ignited an exposed coal seam, setting off a chain of events that eventually led to the demolition of nearly every building in Centralia, a whole community of 1,400 simply gone.

CO2 sensitivity possibly less than most extreme projections. A new study in the journal Science suggests that the global climate may be less sensitive to carbon dioxide fluctuations than predicted by the most extreme projections, and maybe slightly less than the best estimates of the Intergovernmental Panel on Climate Change. Andreas Schmittner, a climate scientist at Oregon State University in Corvallis, Ore., and lead author on the new study, notes that ... the atmosphere may not be as sensitive to carbon dioxide change as has been reported.

CO2 climate sensitivity 'overestimated'. Global temperatures could be less sensitive to changing atmospheric carbon dioxide (CO2) levels than previously thought, a study suggests. The researchers said people should still expect to see "drastic changes" in climate worldwide, but that the risk was a little less imminent.

Carbon dioxide burial experiment commences. Federal, state and academic environmental engineers have announced that injection of a million metric tons of condensed carbon dioxide underground over the next three years has started, in an experiment to check out "carbon sequestration" technology. Some 7000 feet down, the fluidized gas will end up in the Mt. Simon formation underlying most of Illinois, a 1,500-foot thick layer of briny sandstone. The injection effort will be led by the Midwest Geological Sequestration Consortium, one of seven partners with the Energy Department testing sequestration efforts.

The Editor says...
If CO2 is sequestered in a cave, it doesn't matter if it's "fluidized gas" or just gas. But anyway, where are the people who oppose hydraulic "fracking" because it allegedly contaminates ground water? Life in the boonies could get really interesting if water wells start producing carbonated water.



Seismic risk of fracking has been wildly overstated. Hydraulic fracturing to produce oil and gas has become closely associated in the public mind with the risk of triggering man-made earthquakes. But the risk is not high and it is not confined to fracking. There may be greater danger from geothermal energy production and pumping carbon dioxide underground as part of carbon capture and storage projects.

Greenhouse Gases Soar; No Signs Warming Is Slowed. New figures from the U.N. weather agency Monday [11/21/2011] showed that the three biggest greenhouse gases not only reached record levels last year but were increasing at an ever-faster rate, despite efforts by many countries to reduce emissions.

The Editor says...
The article above is a pack of lies and half-truths, beginning with the headline. Global warming stopped about 12 years ago. Carbon dioxide in the atmosphere is slowly increasing, not soaring. The article goes on to say that the three most influential greenhouse gases are carbon dioxide, methane, and nitrous oxide. They completely ignore water vapor, which is by far the predominant greenhouse gas, and is completely beyond anyone's control.

EPA's CO2 endangerment finding is endangered. In a narrow 5-4 decision in 2007, the US Supreme Court authorized the EPA to consider the greenhouse gas CO2 as a 'pollutant' under the terms of the Clean Air Act — provided EPA could demonstrate that CO2 posed a threat to human health and welfare. The EPA then issued an Endangerment Finding (EF) in 2009, which was promptly challenged in the DC Circuit Court of Appeals.

CO2 is good for you. Konstantin Buteyko was a high-level Soviet physician who came up with the novel theory that what he called "Diseases of Civilisation" — by which he meant everything from asthma to depression to emphysema and Crohn's Disease — were the result of an insufficiency in our bodies of CO2. So he developed some simple but astonishingly effective breathing exercises to deal with them. It's deeply counterintuitive. Indeed, I'm quite sure that one of the reasons that the climate alarmists have been so successful in rebranding CO2 as a deadly threat is because of the popular misconception that carbon dioxide, being stuff we exhale, must perforce be a bad thing. But as Buteyko well understood, it's a bit more complicated than that.

EPA Inspector General calls greenhouse-gas regulatory process flawed. In response to a report that could lead to questions about the credibility of the Environmental Protection Agency (EPA), Oklahoma Republican Sen. James Inhofe, ranking member of the Senate Committee on Environment and Public Works, is calling for hearings to investigate. The report — from the Office of the Inspector General of the EPA — reveals that the scientific basis, on which the administration's endangerment finding for greenhouse gases hinged, violated the EPA's own peer review procedure.

Worldwide CO2 emissions and the futility of any action in the West. EU, Australia, New Zealand committing economic suicide in order to reduce CO2 emissions by an amount that might shave 0.06°C off the average atmospheric temperature of our planet by 2100. Meanwhile, the rest of the world will sit out the stupidity of trying to stop naturally-occurring climate change.

Ability of plants, soil to suck in carbon under-estimated, new study says. Like the sea, the land is a carbon "sink", or sponge, helping to absorb heat-trapping CO2 disgorged by the burning of fossil fuels. A conventional estimate is that soil and vegetation take in roughly 120 billion tonnes, or gigatonnes, of carbon each year through the natural process of photosynthesis. The new study, published in the science journal Nature, says the uptake could be 25-45 percent higher, to 150-175 gigatonnes per year.

Australia counts the cost of environmental lunacy. $24.5 billion is ... too much by far, for Australia to pay for the privilege of reducing the world's temperature, by 2020, by 1/4000th of a degree. ... Australian Prime Minister Julia "Toast" Gillard has hit on the ingenious idea of clobbering one of the world's most thriving — and also one of the most carbon-intensive — economies with a tax on one of its main industrial by-products, CO2, which will punish business, hamstring economic growth, boost unemployment and make life for everyone outside the enviro-rent-seeking professions more difficult and expensive.

Top 10 Most Egregious Government Regulations. [#2] EPA's carbon dioxide fixation: Talk about job-killing regulations. The Environmental Protection Agency's decision to regulate carbon dioxide emissions in order to combat "climate change" will raise the cost of energy. Forget about creating jobs. The EPA's regulations will add a new burden on business, increase the cost of material for the construction industry, and hit consumer in the pocketbook, dampening the outlook for economic growth.

Peak renewables. The International Energy Agency recently reported record levels of CO2 emissions in 2010, but climate scientists say global temperatures have not risen in a decade, casting doubt on the assertion of a direct link between so-called greenhouse gases and supposed global warming.

Carbon and carbon dioxide: Clearing up the confusion. We are constantly bombarded with information — much of it inaccurate, misleading, even deliberately so. We are frequently told we must reduce carbon emissions, support "carbon disclosure" and invest in "carbon trusts" — to prevent catastrophic global warming, global climate change or global climate "disruption." News stories, advocacy and lobbying activities, and corporate "ethics" promotions frequently use "carbon" and "carbon dioxide" almost interchangeably; some occasionally talk about "dangerous carbon monoxide emissions." Torn by misplaced hydrocarbon guilt, wanting to do right ecologically, and often scientifically challenged, people are naturally confused. Because so much is at stake — for our energy supplies and prices, jobs, economies, living standards, budget deficits and environment — clearing up that confusion is a high priority.

Adventures in the Climate Trade. [Scroll down] Why the government even bothers trying to reduce CO2 emissions is a mystery. Rising CO2 emissions from China and the rest of Asia make any efforts to reduce CO2 emissions in the U.S. irrelevant. The numbers and trends are very obvious on this point. China currently generates 1/4 as much electricity per capita as the U.S. and China has 4 times the population. This suggests that China could eventually increase its electricity generation by a factor of 16 to match the per capita electricity usage enjoyed in the U.S.

Regulating CO2 Is Based On A Lie That Hides The Real Data. We are going to have a vote this week in the Senate on whether we should throw billions of dollars and millions of jobs down the toilet because of some Green-Eyed liberal fantasy about CO2 causing global warming. It is important for the American people to understand that pulling the EPA's authority to control all energy and businesses through a mythological effort to save the planet is actually going to save the planet — from power hungry fools. The entire argument for regulating CO2 is based on a series of falsehoods, which when exposed make the argument for WHY the EPA needs to be reigned in.

Genocide in Green. The new leadership of the EPA proposed yesterday [3/24/2009] that the White House declare carbon dioxide a health danger. Carbon dioxide, which plants absorb and animals exhale, would be ruled a pollutant. It is a lie and fraud. You can't live without carbon dioxide and you can't live without water. Never mind that almost all greenhouse gas is water vapor. But since the Statists can't measure water vapor and condensation, they attempt to wrestle control of carbon dioxide instead, by claiming it's toxic. But the point is, they want to control you.

Solving US Energy Problems: [Scroll down] Taxpayers subsidize ethanol, starting with a $0.45 per gallon tax credit, amounting to $6 Billion annually. Taxpayer funded grants and studies make ethanol much more expensive to taxpayers. Using ethanol in a vehicle emits more total carbon dioxide into the air than using gasoline. Last year, an additional 4 million tons of carbon dioxide went into the air because ethanol was used instead of gasoline.

Did someone mention ethanol?

Deliberately making Americans poorer. The Obamaites believe carbon dioxide (CO2) is evil because they think more of it will cause global warming. They ignore the facts:
• Earth has been at times in the past both cooler and warmer with higher concentrations of CO2.
• Other factors, such as sunspot activity, are more important than CO2 in determining Earth's temperature.
• Scientists are in the process of finding new commercial uses for CO2 and are experimenting with the use of biological agents to turn CO2 back into a useful fuel. CO2 always has been part of our atmosphere and is necessary for plants to grow.

A Mini-Interview With Dennis Avery. [Scroll down] If this were a human caused warming, it should have started about 1940 and trended strongly upward as global industrialization followed World War 2. That isn't what happened. The warming started about 1850. We had a surge of warming from about 1850 to 1870. We had another surge from 1916 to 1940 and then, when the greenhouse gasses began to spew from the factories, the temperatures went down for 35 years. 1976 to 1998, we had another surge of warming, but we've had no warming in the last 8 years. So, what we have is an erratic warming that started too soon to be blamed on humans and is not following in the footsteps of the CO2 levels in the atmosphere.

Don't treat CO2 as a pollutant. A few days before this year's Earth Day, America's ideological greens received a present they have been desiring for years: The Environmental Protection Agency (EPA) — responding to a 2007 US Supreme Court ruling — officially designated carbon dioxide (CO2) as a pollutant. That spurred Democrats in Congress to push a major climate change bill. In the next 25 years, their massive cap-and-trade scheme would, according to a Heritage Foundation study, inflict gross domestic product losses of $9.4 trillion, raise an average family's energy bill by $1,241, and destroy some 1,145,000 jobs. Democrats want it passed by July 4. Get ready for a veritable Pandora's box of complications.

How Much of Your Money Wasted on 'Climate Change'? Try $10.6 Million a Day. The human component of carbon dioxide that is injected into the air each year is very small, on the order of 3%. Half the carbon dioxide emitted into the air by human activity each year is immediately absorbed into nature. Carbon dioxide is 8% of the greenhouse effect; water in the air is 90% of the greenhouse effect. By volume, carbon dioxide is currently at about 390 parts per million in the atmosphere, increasing at about 2 parts per million annually. In other words, carbon dioxide is increasing at a rate of .5% per year. Since human activity adds 3% of the carbon dioxide that gets into the air each year, the human component of the increase in carbon dioxide into the atmosphere each year is 3% of .5%, or just .015%.

The Utter Futility of Reducing Carbon Emissions. Even with the calculations used by the warmists, virtually nothing would happen if man never produced another CO2 molecule.

Clean Energy: The Nuclear Solution. First, it needs to be made clear that CO2 is not a pollutant. It has a minuscule effect on Earth's temperature, and vegetation of all kinds depends on it. The more the better. Records from 30 of the world's most advanced economies show a positive correlation between CO2 emissions and increases in national income. There's a similar correlation between per-person energy consumption and national income. Of course, CO2 isn't the direct cause; the market economy causes the increase in energy use and emissions. But wealthier economies emit less per unit of production than developing nations, which translates to a cleaner environment and an economy prepared to control pollution.

Cancunhagen. It is widely accepted that doubling carbon dioxide concentrations in the atmosphere would warm the planet by about 1 degree Celsius. Climate computer models project higher levels of warming based on the amplifying effects of various feedbacks. One of the chief positive feedback loops in the models involves clouds. In this is case, warming causes fewer clouds which allows more sunlight to reach the surface warming the planet. But [Roy] Spencer argues that the models have mixed up cause and effect and asks, "What if the warming was caused by fewer clouds, rather than the fewer clouds being caused by warming?"

New NASA model: Doubled CO2 means just 1.64°C warming. As green plants breathe in CO2 in the process of photosynthesis — they also release oxygen, the only reason that there is any in the air for us to breathe — more carbon dioxide has important effects on them. In particular, green plants can be expected to grow as they find it easier to harvest carbon from the air around them using energy from the sun: thus introducing a negative feedback into the warming/carbon process.

Washington Passes Secret Energy Tax. It looks like the climate bill debate has already been decided by Washington and voters didn't even have a chance to say "NO!" A staggering $65 billion dollars has been transferred from the private sector to fund the Regional Greenhouse Gas Initiative (RGGI). RGGI is government created entity that is choking companies in the northeast with huge tax increases in the name of the environment. Our tax dollars are funding this secret climate initiative. Soon RGGI will expand to every state and stick you with astronomical energy prices.

High School Science and Cap and Trade Legislation: For every one ton of coal burned, 2.86 tons of carbon dioxide is produced. Wait a minute. How can one ton of hard coal produce nearly triple that weight of a gas (in this case, CO2)? Those pushing this climate change argument ask us to accept some of the most complex science that very few understand, and to accept that science on faith. Yet this coal-to-CO2 thing is not complex science. It's basic first-year high school science that we all learned.

Don't Look Now, But C02 Output Is Falling. The Environmental Protection Agency's data show that emissions of what are considered the six main greenhouses gases fell 6.1% in 2009 from their 2008 levels. Yes, levels increased by 7.3% from 1990 to 2009. But the average annual rate of increase since 1990 has been a mere 0.4%, a data point that doesn't seem worthy of the high-intensity hysteria that's been spread by the alarmists. In the same year greenhouse emissions fell, the EPA, which should be an acronym for Eternally Panicked and Alarmed, determined "that climate change caused by emissions of greenhouse gases threatens the public's health and the environment." Regarding politics to be more important than science, it has taken it upon itself to regulate carbon dioxide as a "pollutant."


---
"Every time you exhale, you exhale air that has 4 percent carbon dioxide. To say that that's a pollutant just boggles my mind. What used to be science has turned into a cult. ... All the evidence I see is that the current warming of the climate is just like past warmings."


— William Happer, PhD.

Former Chief Scientist, U.S. Department of Energy

Professor of Physics, Princeton University

[

Source

]
---

The Carbon Prayer. It's not been a good year for the followers of 'man-made carbon dioxide as key driver of global temperature' theory. Not least because the seemingly inexorable upward trend of global CO2 emissions (courtesy of the fast-industrializing nations) shows no signs of abating while global temperatures persist in flat-lining, even falling. But hey, let's not let scientific fact interfere with a good computer-generated, speculative global scare story.

There is no global warming and no need to reduce carbon dioxide emissions. The vast bulk of CO2 is natural. The Earth produces 97% of the CO2 in the atmosphere. The atmosphere is essentially and overwhelmingly water vapor. CO2 plays no role in climate change. Cap-and-Trade is a tax on energy use and Americans are constantly told that energy use in any form — coal, oil, natural gas, or nuclear — is bad. That's not just a lie, it is insane.

Carbon Dioxide: The New Weapon of Mass Deception. Surface temperature records from the climate research unit of the University of East Anglia show that global temperature fell from 1875 to 1910. Temperature rose from 1911 to 1943. Temperature fell again from 1944 to 1976. Temperature rose from 1977 to 1998. There has been no warming since 1998. We are now in the 10th year of cooling. While all these changes were happening carbon dioxide levels did nothing but go up.

New Mexico Governor-Elect Set to Battle Bureaucracy on CO2 Restrictions. New Mexico Governor-elect Susana Martinez and the New Mexico Environmental Improvement Board — an unelected part of the state bureaucracy whose members were all appointed by outgoing Governor Bill Richardson (D) — are poised for a monumental battle shortly after Martinez takes office January 1.

Another blow to warmist claims. The theory that the minute amounts of CO2 in the atmosphere have an outsize influence on climate was dealt another serious blow by the publication in a peer-reviewed journal of a study showing that the climate about 460 million years ago was similar to that of today, even though atmospheric carbon dioxide was at least 4 or 5 times the level of today.

Clean Energy: The Nuclear Solution. First, it needs to be made clear that CO2 is not a pollutant. It has a minuscule effect on Earth's temperature, and vegetation of all kinds depends on it. The more the better. Records from 30 of the world's most advanced economies show a positive correlation between CO2 emissions and increases in national income. There's a similar correlation between per-person energy consumption and national income. Of course, CO2 isn't the direct cause; the market economy causes the increase in energy use and emissions. But wealthier economies emit less per unit of production than developing nations, which translates to a cleaner environment and an economy prepared to control pollution.

Climate Change 101: Key Global Warming Facts. [#1] CO2 Increases Lag Temperature Increases. ... [Al Gore's] movie implies that more CO2 in the air produces higher temperatures. But we've recently done more refined ice studies, which show the temperatures changed about 800 years before the CO2 levels. More CO2 did not produce higher temperatures; instead, higher temperatures released more CO2 from the oceans into the atmosphere.

Warming and increased CO2 will be good for mankind. "CO2 is not a pollutant and it is not a poison and we should not corrupt the English language by depriving 'pollutant' and 'poison' of their original meaning."

The Problems with Al Gore: [Scroll down slowly] The Earth's oceans contain more than fifty times the amount of carbon in the atmosphere. Carbon dioxide is more soluble in cold water. As the oceans warm, they release carbon dioxide to the atmosphere. When the oceans cool, they absorb more carbon dioxide from the atmosphere. The science is no more complex than noting that a warm coke has more fizz than a cold one. Temperature controls carbon dioxide, not the other way around.

Smoke and Mirrors in the Climate Science Game. Besides the absurdity of the notion that humanity, at this stage in our development, could hope to "control climate change" of planet Earth, observant readers will ask: how does anyone know that there is a consensus among climate scientists that our CO2 emissions are driving global climate, let alone that they are causing a crisis? After all, climate was changing for billions of years before we arrived on the scene. Are all the ancient natural climate drivers suddenly being eclipsed by human CO2 emissions? No one knows for sure, although much recent research suggests it is highly improbable.

Cap-and-Trade: A Scam Based on a Scam. It is almost beyond comprehension that Sen. John Kerry (D-MA) and Sen. Joseph Lieberman (I-CT) will introduce the Cap-and-Trade Act on Wednesday, May 12th, for consideration by the Senate. It is being passed off as a "climate bill" with provisions for more oil drilling, but it is an assault on reality, on science, on common sense, and on any future economic growth of the nation.

Whoops! CO2 has almost nothing to do with global warming. Dr [Roy] Spencer, formerly senior scientist for climate studies at NASA, now leads the US science team for the Advanced Microwave Scanning Radiometer for EOS (AMSRE) on NASA's Aqua satellite. He co-developed the original satellite method for precise monitoring of global temperatures from Earth-orbiting satellites. He's just the kind of egghead the IPCC claims to represent when it tells us the world is getting dangerously warmer, it's man's fault — the result of CO2 emissions — and it must be urgently addressed. Except Dr Spencer doesn't agree with any of that.

Climate Change Agenda Exploits Incorrect Assumptions. [Scroll down] Exploitation of slow change and slow recoveries was built into claims of the Intergovernmental Panel on Climate Change (IPCC). Most notable was the proposition that human CO2 put into the atmosphere would remain there for over 100 years. It is known as the residency time. ... In reality the residency time is between 5 and 6 years. The idea also depends on the incorrect claim that CO2 increased from pre-industrial levels due solely to humans, but that's another story of deceptive science.

Fearlessly Independent: An Interview with Ian Plimer. The idea that global warming is caused by human emissions of carbon dioxide is always taken for granted as the default assumption, and if you don't agree with it, you have to explain yourself. Let's reverse that presumption and put the burden of proof where it belongs: is there, or has there ever been, any evidence that CO2 drives the climate? Is this a theory that should ever have gotten off the ground?

Carbon storage premise 'totally erroneous'. A research paper from American academics is threatening to blow a hole in growing political support for carbon capture and storage as a weapon against global warming. The paper from Houston University says that governments wanting to use carbon sequestration have overestimated its value and says it would take a reservoir the size of a small US state to hold the carbon dioxide produced by one power station.

GAO Report: Carbon Capture Increases Power Costs up to 80% . A new Government Accountability Office report released today [7/16/2010] found that carbon capture and sequestration schemes favored by Democrats under their proposed cap and trade national energy tax boondoggle would increase electricity costs, reduce electricity output and increase water consumption.

Carbon Capture Projects Imperiled by Worst-Case Scenario: Energy. The cloud of carbon dioxide that burst out of Lake Nyos in Cameroon and asphyxiated 1,700 people haunts the plans of oil and power companies to bury their greenhouse gases underground. "It was shocking," said Minoru Kusakabe, a Japanese geochemist who makes regular trips to the site of the 1986 disaster near the border with Nigeria. "The village was completely devastated, and people were in their homes dying." While the source of the CO2 bubble was natural, originating from volcanic magma deep below the lake, the devastation shows how shifts in the Earth's crust can trigger worst-case scenarios for the energy industry...

The Hidden Flaw in Greenhouse Theory: [Scroll down slowly] NASA is stacking the cards, you see. If they made it clear that every species of atmospheric gas gets heated mainly by conductive transfer, and that all heated bodies radiate light, then even a child could connect the dots: "Oh. So the whole atmosphere radiates heat to the earth and makes it warmer. All of the atmosphere is a greenhouse gas." Crash, boom, there goes the theory. And there goes the abundant funding that this fear-promoting "science" attracts so well. For what CO2 and water vapor emit is miniscule compared to the buzzing multitude of heated nitrogen, oxygen, and even argon, all of it radiating infrared too.

Global warming and the 'settled science' baloney. To appreciate how unsettled global warming science really is, the book Unstoppable Global Warming, Every 1,500 Years, by S. Fred Singer and Dennis T. Avery is an indispensible and relentless handbook. Published in 2007 and stuffed with over 500 references, it shatters almost every common global warming myth. ... In one of many startling conclusions in the book, Singer argues that increases in CO2 levels throughout recent geologic history, are the result of global warming not the cause. Increases in global temperatures (for extraneous reasons) cause CO2 to outgas from the oceans, increasing its concentration in the atmosphere. And there's much, much more debunking.

CO2 increase leads to faster tree growth.
Why are U.S. trees growing faster? Trees in the U.S. are growing 2 to 4 times as fast as their long-term norm. The Smithsonian Environmental Research Center at Edgewood MD says it is because of global warming, according to a recent press release. Don't bet on that.

The CO2 Lie. A major tenet of the global warming religion, straight from the Book of Gore, has been that the ability of the earth to handle increasing CO2 emissions is finite and that once the "tipping point" is reached, the earth will warm uncontrollably. Well, another climate domino has fallen — the myth that man-made CO2 is leading to climate catastrophe.

A few questions for climate alarmists. Even slashing carbon dioxide emissions to 80% below 2005 levels would reduce projected global average temperatures in 2050 by barely 0.2 degrees F, according to a study that used the UN's own climate models. That's because China, India and other developing countries are building new coal-fired power plants every week, even as the United States and Europe shackle their economies and send more jobs overseas. How do you justify such destructive, punitive, meaningless legislation?

The Red Dragon's Carbon Footprint. In the past few days there has been a common theme within the energy conversation: China's carbon dioxide emissions are skyrocketing.

The EPA's Power Grab. [Scroll down] Carbon dioxide emissions are an energy use problem pure and simple, and not a byproduct problem like other forms of air pollution. As Ted Nordhaus and Michael Shellenberger, dissidents in the environmental movement, have written: "Global warming is as different from smog in Los Angeles as nuclear war is from gang violence." The only way to reduce CO2 emissions is to burn a lot less fossil fuel — ultimately almost none if the ambitious target of climate orthodoxy is to be met (an 80 percent reduction by the year 2050).

The Five Obama Fails. Anthropogenic CO2 makes up about 3.2% of greenhouse gases. New Zealand atmospheric scientist Augie Auer wrote that three-quarters of the earth is ocean, and 95 percent of the greenhouse effect is governed by water vapor. "Of that remaining 5 percent, only about 3.6 percent is governed by CO2 and when you break it down even further, studies have shown that the anthropogenic (man-made) contribution to CO2 versus the natural is about 3.2 percent. So if you multiply the total contribution 3.6% by the man-made portion of it, 3.2%, you find out that the anthropogenic contribution of CO2 to the global greenhouse effect is 0.115 percent ... It's minuscule ... it's nothing."

Boxer Says CO2 Leading Cause of Conflict Next 20 Years. On Thursday [6/10/2010], Barbara Boxer (D-Calif.) took to the floor of the Senate and claimed that carbon dioxide — that naturally occurring gas integral to life on this planet! — "will be over the next 20 years the leading cause of conflict, putting our troops in harm's way".

The Editor says...
Get those bumper stickers ready: "No blood for CO2!"

Carbon dioxide NOT causing a climate crisis, say scientists. [Scroll down] "Contrary to the common assumption that only 'outliers' and unqualified researchers disagree with the theory of carbon dioxide-induced climate disaster, The Register demonstrates that many leading experts contest this hypothesis", said Register endorser Dr. Tim Patterson, ICSC Chair and Professor of Earth Sciences at Carleton University (Ottawa, Canada). "Many in the Earth Sciences community in particular have trouble with the concept that today's climate change is in any way unusual or driven by human activity. Climate has always changed, at times far faster than we are witnessing today, and it will continue to change no matter what we do."

The Climate Science Isn't Settled. The main greenhouse substances in the earth's atmosphere are water vapor and high clouds. Let's refer to these as major greenhouse substances to distinguish them from the anthropogenic minor substances. Even a doubling of CO2 would only upset the original balance between incoming and outgoing radiation by about 2%.

December 7, 2009; Another Day of Infamy? Bureaucracies are littered with and often controlled by Environmental Studies graduates with little or no science training. They provide the data politicians use and they dominate the IPCC, especially the Summary for Policymakers. Lisa Jackson, EPA Administrator referred to controlling pollution in her public statement introducing the policy. CO2 is not a pollutant and for the Administrator to call it such is a measure of ignorance of the science. As a chemical engineer Jackson should be no better than most. But this is not about science it is about control, especially of industry.

No Rise of Atmospheric Carbon Dioxide Fraction in Past 160 Years, New Research Finds. Most of the carbon dioxide emitted by human activity does not remain in the atmosphere, but is instead absorbed by the oceans and terrestrial ecosystems. In fact, only about 45 percent of emitted carbon dioxide stays in the atmosphere.

New study finds no rise in atmosphere share of CO2. A study by Wolfgang Knorr of the Department of Earth Sciences at the University of Bristol, published in Geophysical Research Letters, finds that the airborne fraction of carbon dioxide has not increased either during the past 150 years or during the most recent five decades.

Four Colossal Holes in the Theory of Man-Made Global Warming. One of the many revelations from Climategate is that behind-the-scenes, scientists who buy into man-made global warming are admitting what skeptics have been saying publicly for years now: The globe has been cooling since 1998. Again, if global warming has its bootlaces hitched to the amount of man-made greenhouse gasses that are being produced and those numbers are increasing, why hasn't the temperature gone up as well? There's a simple answer: Man-made greenhouse gasses are not a decisive factor in raising or lowering the temperature of the earth.

How Much Longer Before Climategate Explodes? CO2 is a benign (actually beneficial) trace gas, which comprises around 0.03% of the earth's atmosphere. Scientists at Woods Hole Oceanographic Institution (WHOI), recently found that far from harming the world's oceans, elevated levels of CO2 help lobsters, crabs, shrimps, and other shellfish, grow thicker, stronger shells. Plants require CO2 to perform photosynthesis, and would quickly die without it. Far from being some "evil gas from hell," carbon dioxide is a life giving, vital part of the earth's ecology.

How is the government going to tax and regulate this?
Elevated Carbon Dioxide In School Traced To Students' Breath. School officials are taking steps to ventilate Newfound Memorial Middle School after unusually high levels of carbon dioxide were detected. Inspectors testing energy efficiency at the school made the discovery and determined that the source of the carbon dioxide is the students themselves.

Cleaning out the climate science cesspool. [Scroll down] There has been no statistically significant global warming for over a decade, despite steadily increasing CO2 levels — and for several years average annual global temperatures have actually declined. Carbon dioxide plays only a minor role, many scientists say, and our climate is still controlled by periodic variations in the same natural forces that caused previous climate changes: ocean currents and jet streams, water vapor and cloud cover, evaporation and precipitation, planetary alignments and the shape of the Earth's orbit, the tilt and wobble of Earth's axis, cosmic ray levels and especially solar energy output.

Greenhouse Gas Observatories Downwind from Erupting Volcanoes. Problems in the collection of atmospheric CO2 data parallel other absurdities in the global warming fraud. The Climategate scandal is exposing the massive and systematic fraud behind the fabrication of the worldwide temperature record necessary to make the case for global warming. But what about the record of atmospheric CO2?

If no single factor can account for the climate system, why pick on CO2? The answer is that CO2 is the best culprit because it fits in with their anti-industry and anti-capitalism bias and the WWF, and others, are happy to be handmaidens to doom despite the "unfortunate lack of comprehensive and well-resolved data".

Controlling climate? More like controlling humans. The proposed "solutions" to scientifically fading man-made global warming fears are set to alter American lifestyles and sovereignty in ways never before contemplated. MIT climate scientist Dr. Richard Lindzen has warned: "'He who controls carbon controls life. It is a bureaucrat's dream to control carbon dioxide." Washington, D.C., and the U.N. are in a field of dreams right now as they envision one of the most massive expansions of controls on human individual freedom ever contemplated by governments.

Global Warming: A Classic Case of Alarmism. The IPCC blames human emissions of carbon dioxide for the last warming. But by general consensus human emissions of carbon dioxide have only been large enough to be significant since 1940 — yet the warming trend was in place for well over a century before that. And there was a cooling period from 1940 to 1975, despite human emissions of carbon dioxide. And there has been no warming since 2001, despite record human emissions of carbon dioxide.

Global Warming 'Science'. The problem with such seemingly serious assertions regarding CO2 is that, in spite of its increasing presence, it still remains just a trace gas in the atmosphere. As of November 2007, the CO2 concentration in Earth's atmosphere was estimated at 0.0382% by volume, or 382 parts per million by volume. Another problem is that natural production of CO2 from such sources as combustion of organic matter, natural decay of vegetation, volcanic emissions, and the natural respiration of all aerobic organisms dwarfs that produced by fossil fuel burning. The U.S. Department of Energy has released estimates that nearly 97% of total CO2 emissions would occur even if humans were not present on Earth and that, because of the overwhelming presence of water vapor, manmade CO2 causes less than 0.12% of Earth's greenhouse effect. To attribute so much power to affect the earth's climate to a man-made gas so minor in amount would appear to defy common sense.

Alarmism Is Underpinned by Fraud. In the geological past, there have been six major ice ages. During five of these six ice ages, the atmospheric carbon dioxide content was higher than at present. It is clear that the colorless, odorless, non-poisonous gas called carbon dioxide did not drive past climates. Carbon dioxide is plant food, not a pollutant. Humans have adapted to live on ice sheets, deserts, mountains, tropics, and sea level. History shows that humans and other organisms have thrived in warm times and suffered in cold times.

Sources and Sinks of Carbon Dioxide. The constancy of seasonal variations in CO2 and the lack of time delays between the hemispheres suggest that fossil fuel derived CO2 is almost totally absorbed locally in the year it is emitted. This implies that natural variability of the climate is the prime cause of increasing CO2, not the emissions of CO2 from the use of fossil fuels.

EPA Poised to Declare CO2 a Public Danger. The U.S. Environmental Protection Agency will early next week, possibly as soon as Monday, officially declare carbon dioxide a public danger, a trigger that could mean regulation for emitters across the economy, according to several people close to the matter. Such an "endangerment" decision is necessary for the EPA to move ahead early next year with new emission standards for cars.

Climategate: A Willful Ignorance. It is only willful ignorance that would keep a reporter or anyone else from knowing what has been known for years, that CO2 increases over the past 300,000 years have never caused temperature rise. Indeed, the rise of CO2 always follows in the wake of a temperature increase. What is so terribly wrong about the Copenhagen conference and the Intergovernmental Panel on Climate Change sponsoring it is that its own member scientists know that too.

Obama Gives China a Free Pass to Emit CO2. The Copenhagen Conference ended in failure. The "Copenhagen Accord," negotiated by a few of the participants at the end, is worth only the paper it will be printed on. It is a possibly disastrous framework for future negotiations to take place in Bonn, Germany in mid-2010. It suggests that the U.S. will once again pay most of the costs and get few of the benefits, if any.

Church bells to ring out warning on climate change. The World Council of Churches on Thursday [11/12/2009] called on churches around the world to ring their bells 350 times during the Copenhagen climate change summit on December 13 as a call to action on global warming. ... "By sounding their bells or other instruments 350 times, participating churches will symbolise the 350 parts per million that mark the safe upper limit for CO2 (carbon dioxide) in the atmosphere according to many scientists," it added.

The Editor says...
Please refer to the chart immediately below. (Click to enlarge.) The CO2 concentration in the atmosphere has reached 440 ppm on a couple of relatively recent occasions, with no ill effects. The arbitrary standard of 350 ppm has no merit. And another thing — aren't these the same people who howl about the "separation of church and state" when the churches are used to promote conservative politics?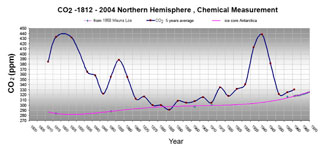 180 Years of Accurate Gas Analysis of Air by Chemical Methods. [Scroll down] It could be shown that between 1800 to 1961 more than 320 technical papers exist on the subject of air gas analysis containing verified data on atmospheric CO2 concentrations. Callendar (engineer), Keeling (chemist) and IPCC do not evaluate these chemical methods though being standard in analytical chemistry, discredited these techniques and data and rejected most as faulty and highly inaccurate because not helpful proving their hypothesis of fuel burning induced rise of carbon dioxide in the atmosphere.

Greenhouse Gases at Highest Level Ever. Greenhouse gases in the Earth's atmosphere reached record highs in 2008, with carbon dioxide levels increasing faster than previously, the U.N. weather agency said Monday [11/23/2009].

The Editor says...
It is the policy of this web site to quote no more than one sentence from any Associated Press story, which is just as well because the story above, in my opinion, is a pack of lies. In the second sentence, the reporter mentions that "detailed records" of greenhouse gas levels have been kept since 1998. That's half true; measurements of carbon dioxide levels go back almost 200 years. During the previous two centuries, atmospheric carbon dioxide levels have been much higher than they are now (see chart above), with no adverse effects. Moreover, the writer doesn't even mention water vapor, which accounts for about 95 percent of the greenhouse effect.

CO2 driven global warming is not supported by the data. CO2 — many seek to regulate it, legislate it, tax it, capture it, sequester it, cap it, trade it or otherwise control it. And they who do would have us risk nothing less than worldwide economic destruction based on the theory that not doing so will inevitably lead to catastrophic global warming. But one need only study the past two centuries of climate history to conclude that CO2 simply does not drive global warming.

NUMBY strikes Ohio. Not Under My Back Yard — the phenomenon of citizens' groups organizing to stop the burial of carbon dioxide under their communities — succeeds again, this time in Ohio's Darke County, where Citizens Against Carbon Sequestration successfully fought off a proposed $92.6-million carbon storage plan. Their 14-month protest effort involved yard signs, public meetings and a prayer rally.

Biomass fuel switch questioned. Ice core samples from which temperature and atmospheric CO2 have been determined for the past 450,000 years refute CO2 causation of increased temperature in two ways. ... First, analysis shows that temperature increase PRECEDED CO2 increase by an average of 800 years. Warming of the world's oceans led to the slow release of some of the huge amount of dissolved CO2, which is less soluble in warmer seawater. Second, the eventual decrease in temperature also occurred first, i.e., cooling started while CO2 was still high!

Who is speaking for the plants? All climate policy is designed to reduce atmospheric CO2, but that is not what the plants would vote for. Plant producers have added CO2 to enclosed growing environments for 100 years to enhance growth. Extensive research shows the beneficial effects including a significant increase in biomass including roots, size of the plant and yields. Another benefit is a reduction in the amount of water used. As CO2 levels increase the stomata (pores on the leaf) partially close thus moisture loss (transpiration) is reduced. The current atmospheric CO2 level is reportedly 380 ppm. Plant growth slows at 220 ppm and stops at 150 ppm. Most plants grow 2 to 3 times faster in 1200 to 1500 ppm, but the optimum range is 800 to 1000 ppm. This means plants are malnourished under current conditions.

Cap and Trade Primer:
Eight reasons why cap and trade harms the economy and reduces jobs. The most popular way to regulate carbon dioxide emissions is through a cap and trade program. President Obama and many policymakers support some form of this regulatory policy. ... These proposals are very, very costly and economically damaging. If enacted, last year's flagship cap and trade proposal, the Lieberman-Warner bill, would increase the cost of gasoline by anywhere from 60 percent to 144 percent and increase the cost of electricity by 77 to 129 percent.

Scientist: Carbon Dioxide Doesn't Cause Global Warming. Leighton Steward is on Capitol Hill this week armed with studies and his book Fire, Ice and Paradise in a bid to show senators working on the energy bill that the carbon dioxide cap-and-trade scheme could actually hurt the environment by reducing CO2 levels. "I'm trying to kill the whole thing," he says. "We are tilting at windmills." He is meeting with several GOP lawmakers and has plans to meet with some Democrats later this week.

Earth in Carbon Dioxide Famine, Says Scientist. Fears of man-made global warming are "mistaken," and far from suffering from too much carbon dioxide, as the daily headlines proclaim, our Earth is actually in the midst of a "CO2 famine." So says Will Happer. ... Np, Dr. Will Happer is not a celebrity. He is merely a physicist of considerable renown who happens to agree with many of the world's other leading scientists that the current panic over climate change is a lot of "hysterics about carbon footprints."

EPA Expected to Declare Carbon Dioxide a Dangerous Pollutant. Don't exhale. That advice may need heeding if the Environmental Protection Agency declares carbon dioxide and five other greenhouse gases dangerous pollutants, a move — expected in the next couple weeks — that would require the federal government to impose new rules limiting emissions. But some skeptics say regulating carbon dioxide, a byproduct of burning fossil fuels, may be a difficult task, especially since people emit carbon dioxide with every breath.



---

Maybe there is no greenhouse effect after all.



Did you know there's no such thing as a greenhouse gas? In a real-world earthbound greenhouse — we all know what they look like even though there aren't many in existence anymore — the sun's short-wave infrared light penetrates through the glass roof, warming up what's inside the greenhouse: air, plants, soil, etc. As the things inside the greenhouse absorb the short-wave infrared, they convert it into heat — long-wave infrared. This long-wave infrared, instead of readily penetrating glass on the way out, is partially blocked; greenhouse glass is said to be opaque to long-wave infrared. Inside heat can escape from a greenhouse more readily if the temperature between inside and outside air increases. However, the mechanism — convection — by which the greenhouse cools under such circumstances is altogether different from what the sun does to heat up the greenhouse. [...] Not so with the so-called "greenhouse" gasses, among them water vapor, methane (CH4) and, most controversially, carbon dioxide (CO2).

Falsification Of The Atmospheric CO Greenhouse Effects Within The Frame Of Physics. The atmospheric greenhouse effect, an idea the authors trace back to the traditional works of Fourier 1824, Tyndall 1861 and Arrhenius 1896, but which is still supported in global climatology, essentially describes a fictitious mechanism by which a planetary atmosphere acts as a heat pump driven by an environment that is radiatively interacting with but radiatively equilibrated to the atmospheric system. According to the second law of thermodynamics such a planetary machine can never exist.

Greenhouse Theory Disproved a Century Ago. The claim that carbon dioxide (CO2) can increase air temperatures by "trapping" infrared radiation (IR) ignores the fact that in 1909 physicist R.W. Wood disproved the popular 19th Century thesis that greenhouses stayed warm by trapping IR. Unfortunately, many people who claim to be scientists are unaware of Wood's experiment which was originally published in the Philosophical magazine, 1909, vol 17, p319-320.

Why Carbon Dioxide is not a pollutant. The importance of this submission lies in the fact that the EPA needs to rapidly come to the conclusion that any and all hype about mankind's carbon dioxide emissions is based on the incorrect application of science. Carbon dioxide has a nil effect on the global climate and does not cause climate change in any way, shape or form. This submission will go against all the established interpretations, including those of many skeptical scientists, yet is based entirely upon the proper application of scientific principles, especially those of observation based evidence...

Rethinking the "greenhouse effect". It is widely believed that without the greenhouse effect our planet's near-surface temperature would be about -18° Celsius, so we have greenhouse gases to thank for an average of +15° instead. Water vapor, carbon dioxide and other such gases all combine to raise the air's temperature 33 degrees. But is this true? Actually, all we're going on is (1) that our atmosphere is much warmer than radiant energy calculations predict, and (2) that the air contains trace gases that react to infrared. So we have assumed that these two things must be related.

Greenhouse Effect Poppycock. What animates global warming concerns more than anything is the imaginary greenhouse effect and an equally imaginary law of physics called "radiative equilibrium". Energy out must equal energy in, this "law" says. Which does sound plausible on the face of it. In this view, however, if the light emitted by a heated object is suppressed in some way, its radiant energy will increase past the level of radiant input until it breaks through the barrier... in obedience to this "law". This notion originates from a long-ago misconception about how glass greenhouses work, thus the family name this "effect" goes by.

Update on the Greenhouse Effect Poppycock — Deception is near-total. If glass lets visible wavelengths of sunlight in but doesn't let invisible long-wavelengths (infrared) out, thus raising the temperature inside, then glass thermometers have been misleading us for centuries. According to the theory, glass thermometers necessarily register an extra "greenhouse effect," not the true temperature. ... Dissenters should have just stuck with the evidence: there is no sign of CO2-caused warming at all.

Carbon Dioxide: The Houdini of Gases. How long does carbon dioxide linger in the air? This is actually an important question, a question of so-called residence time. Studies compiled by geologist Tom Segalstad rather convincingly show that earth's biological and chemical processes recycle CO2 within a decade, meaning that a CO2 molecule you're exhaling at the moment is bound to be captured by a plant or a rock or the ocean just a few years from now. Yet the Intergovernmental Panel on Climate Change and other authorities insist that carbon dioxide generally remains in the air for up to 200 years.

Heat Stored by Greenhouse Gases. When investigating the propagation of energy, we must take into account the science of thermodynamics which allows us to predict the trajectory of the process; and the science of heat transfer to know the modes by which energy is propagated from one system to other systems. We say that heat is not the same as temperature because heat is energy in transit. Heat can exist in rotational, vibrational and translational motions of the particles of a system, whereas temperature is the measurement of the average of the kinetic energy of the particles of a substance. The average of the molecular kinetic energy depends on the translational motion of the particles of a system.

Greenhouse Gas Hypothesis Violates Fundamentals of Physics. The relationship between so-called greenhouse gases and atmospheric temperature is not yet well understood. So far, climatologists have hardly participated in serious scientific discussion of the basic energetic mechanisms of the atmosphere. Some of them, however, appear to be starting to realise that their greenhouse paradigm is fundamentally flawed, and already preparing to withdraw their theories about the climatic effects of CO2 and other trace gases.

On the Phenomenon of Atmospheric Backradiation. The phenomenon of "atmospheric backradiation" is presently advanced as an explanation of thermal conditions on Earth, and as the basis of some statements about climate change. However, scientific evaluation in strict accord with the laws of physics and mathematics suggests that "atmospheric backradiation" is physical nonsense.

The sun heats the earth — period. After all is said and done, it will be found that carbon dioxide does not and can not affect either the global temperature or climate change. Carbon dioxide has no climate forcing effect and is not a greenhouse gas and, for that matter, neither is water vapour.

Politics and Greenhouse Gases. Advocates and sympathetic politicians claiming that man-made global warming from use of carbon-based energy sources mandates international controls on economically prosperous nations were already worried that their victory is slipping. Now another blow has been struck against the basic "science" used to support their case. Following an extensive theoretical analysis, two German physicists have determined that the term greenhouse gas is a misnomer and that the greenhouse effect appears to violate basic laws of physics.

The "Greenhouse Effect" Hypothesis. The "greenhouse effect" hypothesis of CO2 is based on the claim that Oxygen and Nitrogen do not absorb infrared radiation. Only "greenhouse gases" absorb infrared according to this hypothesis. It has been necessary to falsely claim that Oxygen and Nitrogen are transparent to infrared radiation in order to demonise CO2 and other gases and blame them for causing atmospheric warming. All gases absorb and re-emit infrared radiation. The fallacy of CO2 "greenhouse effect" is the keystone of AGW fraud.

Shattering the Greenhouse Effect. A recommended essay by Swedish climatologist Dr. Hans Jelbring offers a high school through advanced level debunking of the so-called 'greenhouse effect.' Dr. Jelbring finds that basic scientific principles demonstrate that global temperatures are not controlled by human emissions of 'greenhouse gases' and the 'greenhouse effect' is explainable using only the physics of pressure, gravity, volume, and the adiabatic lapse rate.

CO2 as a radiation valve contravenes the laws of thermodynamics. "Heat-trapping gases," you hear, and "Radiation goes in but can't get out." Well then, what is every explanation of the greenhouse effect pointing at but a radiation valve? Since heat rays are prevented from exiting to space, it is claimed, they have nowhere else to go but back to the earth which, by absorbing them, becomes warmer. ... Simple as it is, though, no scientist in the world is able to construct a model that exhibits any radiative gain because the theory's tenets (called "the basic science") are not valid. On a theoretical basis alone, conservation of energy (the First Law) forbids a model like this from working.

Fossil Fuel is Nuclear Waste. To prop up claims of the mythical abilities of atmospheric carbon dioxide to determine climate conditions, the warmists fashioned a radiant energy balance sheet. To avoid long term heating or cooling the energy inflows must match the outflows. Just one problem, one heat source is completely ignored. The AGW balance sheet shows ONLY solar input. The 259 trillion cubic miles of molten rock that forms our planet is not melted, or maintained at present temperature by solar electromagnetic radiation. This planet is internally warmed by fission of the 700,000 cubic miles of fissionable material burning in our mantle.

A Greenhouse Effect on the Moon? We've been told that the earth's surface is quite a bit warmer than calculations predict. Theory has it that heat-trapping "greenhouse gases" account for a 33° Celsius disparity. But it turns out that our airless moon is also quite a bit warmer than predicted. Might something be wrong with the prediction method itself, then?



An opposing viewpoint:
Skeptical Arguments that Don't Hold Water: [#1] There Is No Greenhouse Effect. Despite the fact that downwelling IR from the sky can be measured, and amounts to a level (~300 W/m²) that can be scarcely be ignored; the neglect of which would totally screw up weather forecast model runs if it was not included; and would lead to VERY cold nights if it didn't exist; and can be easily measured directly with a handheld IR thermometer pointed at the sky (because an IR thermometer measures the IR-induced temperature change of the surface of a thermopile, QED)... Please stop the "no greenhouse effect" stuff. It's making us skeptics look bad.

This is an original compilation, Copyright © 2019 by Andrew K. Dart


---

Politics of Climate Science: Selective Research, Ignored Facts. [Water] covers much more of the surface than land, makes it unique from the other planets, and without it life as we know it would not exist. Search for water is a constant theme in space exploration. Despite all this what we actually need is more knowledge about water and its functions on Earth, especially with regard to weather and climate. All the emphasis is on temperature, but what happens to precipitation is far more important for plants and agriculture. Precipitation is mentioned in claims of increased droughts with global warming, but it's a scare tactic and illogical. Warmer temperatures mean more moisture in the air with more precipitation potential, not less.

Reducing Vehicle Travel Won't Make Much Dent in Greenhouse Gas Emissions. A highly publicized July report by the Urban Land Institute, titled Moving Cooler, also called for policies reducing the vehicle miles traveled (VMT) by people in their cars. The reductions would be forced by highly intrusive land use policies allowing for only minor expansion of roadway capacity and forcing almost all new development to be within existing urban footprints. It would employ such radical strategies as forcing people to pay $400 per year to park their cars in front of their own homes.

The Editor says...
Allow me to simplify this issue: Leftist politicians want to raise taxes and restrict your freedoms in order to solve a problem that doesn't exist.

Group sues to force greenhouse gas regulation. An environmental group is suing the Texas Commission on Environmental Quality to force the agency to regulate emissions of gases blamed for global warming. Public Citizen's lawsuit, which was filed Tuesday [10/6/2009] in Travis County District Court, accuses the regulatory agency of violating the state's Clean Air Act by refusing to issue standards for controlling the emissions of carbon dioxide from coal-fired power plants.

The Editor says...
The state of Texas has not, as far as I know, declared CO2 to be a pollutant.

Humans and Their CO2 Save the Planet! Carbon dioxide is first and foremost a plant food. In fact, plants take carbon dioxide from the atmosphere and use the energy from sunlight to combine the CO2 with water to yield glucose, the simplest sugar molecule. Carbon dioxide is also the source of all organic — this word just means "contains carbon" — molecules synthesized by plants. Without carbon dioxide in the atmosphere, there would be no organic molecules synthesized by plants. The less carbon dioxide there is in the atmosphere, the fewer organic molecules synthesized by plants. All animals depend on plants to synthesize essential organic molecules. Without the organic molecules synthesized by plants, the animal world could not exist. Without plants, there would be no biosphere.

I like trees, but not tree-huggers. No, I am not a tree-hugger, and I will not become one; it's a dignity thing on both sides. I am nevertheless well-disposed to trees, and have been for as long as I can remember. This is among my motives for opposing environmentalists, currently demanding the reduction of carbon dioxide levels in the atmosphere. Trees live on carbon dioxide, and it is the hypocritical friend who flatters while he plots to choke you.

The Empirical President. China, which has already passed the United States as the world's chief emitter of CO2, is adding 100 gigawatts of coal-fired electricity per year. That amounts to another U.S.A.'s worth of coal consumption every three years. The rest of the developing world is rushing to do the same. Brazil, Indonesia, India, and South Africa are burning coal because it is cheap and plentiful. And no one is even asking them to refrain because to do so is to ask them to remain poor.

Al Gore and Friends Create Climate of McCarthyism. Indeed, nobody emits CO2 for fun. CO2 emissions result from other, generally beneficial acts, such as burning coal to keep warm, burning kerosene to cook, or burning petrol to transport people. The benefits of fossil fuels must be weighed against the costs of global warming. Gore and Hansen want a moratorium on coal-fired power plants, but neglect the fact that the hundreds of new power plants that will be opened in China and India in the coming years could lift a billion people out of poverty.

Higher Carbon Dioxide Levels Benefit Sea Stars. Warmer water and elevated carbon dioxide levels help sea stars grow faster, reports a new study published in the Proceedings of the National Academy of Sciences. The finding adds to a growing number of studies showing higher carbon dioxide levels are beneficial to marine life and do not cause harmful ocean acidification, as claimed by global warming alarmists.

A Primer on Global Warming: Dispelling CO2 Myths. The scientific facts clearly show carbon dioxide is a good thing, not something we should fear. CO2 is not a pollutant. On the contrary, carbon dioxide makes crops and forests grow faster. Satellite mapping shows the Earth has become about 6 percent greener overall in the past two decades, with forests expanding into arid regions. The Amazon rain forest was the biggest gainer, with two tons of additional biomass per acre per year. Certainly climate change does not help every region equally, but careful studies predict overall benefits — fewer storms, more rain, better crop yields, longer growing seasons, milder winters, and lower heating costs in colder climates. The news is certainly not bad and on balance may be rather good.

EPA Rules CO2 a Danger, Prepares to Regulate. EPA Administrator Lisa Jackson said the finding "confirms that greenhouse gas pollution is a serious problem now and for future generations," while EPA's ruling said evidence human activities cause global warming is "compelling and overwhelming," according to an EPA press statement. In addition to carbon dioxide (CO2), the ruling applies to methane (CH4), nitrous oxide (N2O), hydrofluorocarbons (HFCs), perfluorocarbons (PFCs), and sulfur hexafluoride (SF6).

The regulation of essential elements of life. The EPA is now considering designating CO2 a dangerous pollutant. The regulation of essential elements of life by our government scares me. It should scare us all. I am devastated by the notion that our own government founded on freedom would regulate and control the most fundamental aspects of life on earth. ... We generally have too much water where we don't need it and too little where we do. Are you planning to regulate water also? ... Carbon dioxide is just as essential to life as water and oxygen. Carbon dioxide is no more a pollutant than oxygen or water.

Lovely Organic Oil. Let's examine a few things we know about carbon. It is the basic building block of all life (no wonder the EPA wants to control this). It is the byproduct of various processes such as breathing and burning. It is essential for plant growth. The optimal level of carbon in the air is unknown, but its relative amount of the airs composition is very small. So when carbon is emitted it is absorbed by other parts of the environment in a seemingly endless cyclical process.

Climate, Water, Carbon Dioxide, and the Sun. Without our atmosphere the Earth would be a frozen ice ball at about -18°C. Natural greenhouse due to atmospheric blanket raises the temperature by about 33°C and at least 2/3 of this warming is attributed to the greenhouse impact of water vapor. It is the water vapor that is by far the most important greenhouse gas. CO2 and the other greenhouse gases play only a subordinate role in the overall temperature amplification: in nature as well as in the climate models.

Spending billions on a non-existent problem. The term "greenhouse gas emissions" is either deliberately misleading or indicates complete ignorance of the science, or both. What they really mean is CO2, yet it is less than 4% of greenhouse gases and the human portion a fraction of that. Why do they want it reduced? It is not a pollutant and not causing global warming or climate change. Reducing it is completely unnecessary and harmful for the plants and will cost trillions.

All life on planet depends on CO2. The 2007 IPCC Report claimed with over 90% certainty that human produced CO2 is almost the sole cause of global warming. But the evidence shows this can't be true; temperature changes before CO2 in every record of any duration for any time period; CO2 variability does not correlate with temperature at any point in the last 600 million years; atmospheric CO2 levels are currently at the lowest level in that period; in the 20th century most warming occurred before 1940 when human production of CO2 was very small; human production of CO2 increased the most after 1940 but global temperatures declined to 1985; from 2000 global temperatures declined while CO2 levels increased; and any reduction in CO2 threatens plant life, oxygen production and therefore all life on the planet.

The Great Government CO2 Power Grab. The inevitable has happened. The Obama government has declared CO2 — a nutrient required by plants to live, and a gas exhaled with your every breath — a pollutant. Let there be rejoicing in the ranks of activists. Do what we say! Now, when I say that what occurred was "inevitable" it means that there was nothing anybody could have done to stop the government from doing what it lusted to do. No facts would have stopped them, no arguments, no evidence, no sober quantifications of uncertainty. This was going to happen as soon as Obama was elected. Control is what was wanted and control is what was had.

Terms of Endangerment. The White House is currently reviewing the Environmental Protection Agency's (EPA) "endangerment finding" that as a matter of law CO2 is a pollutant that threatens the public's health and must therefore be subject to regulation under the Clean Air Act. Such a rulemaking would let the EPA impose the ossified command-and-control regulatory approach of the 1970s, even if Democrats never get around to passing a cap-and-tax bill, says the Wall Street Journal.

Rep. Barton: Even Democrats Divided on Climate Change. [Scroll down] Under Obama, the EPA has issued an endangerment finding saying that carbon dioxide is a hazard to public health. "Of course, they've not really given any explicit examples of that, because they can't," Barton says. "There's never been anybody who's been treated in an emergency room for CO2 poisoning. It doesn't cause asthma; it doesn't cause your eyes to water; it doesn't cause cancer." Barton says the average healthy adult exhales between four-tenths of a ton and seven-tenths of a ton of CO2 a year.

Truths and Myths About Carbon Dioxide, Scientific Consensus, and Climate Models. Without greenhouse warming, the earth would be much too cold to sustain its current abundance of life. However, at least 90% of greenhouse warming is due to water vapor and clouds. Carbon dioxide is a bit player. There is little argument in the scientific community that a direct effect of doubling the CO2 concentration will be a small increase of the earth's temperature — on the order of one degree. Additional increments of CO2 will cause relatively less direct warming because we already have so much CO2 in the atmosphere that it has blocked most of the infrared radiation that it can.

CO2 And You. While a bill that's intended to cut carbon dioxide emissions wends its way through Congress, an arm of the legislative branch is warning that doing so will have nasty economic consequences.

When Expenses Outweigh Benefits. Should the Environmental Protection Agency place limits on carbon dioxide emissions, the costs to the oil industry, its customers and consumers in general will be stiff. Fighting global warming is not cheap.

Protect us from the EPA. One man's meat may be another man's poison, but the Environmental Protection Agency has taken the idea to an absurdity. EPA has just sent a proposal to the White House that would classify carbon dioxide as a health hazard. But if there wasn't carbon dioxide around, there would be no plants. And, for that matter, neither would there be any people or pets if we weren't allowed to exhale.

Green hysteria shackles our economic growth. I am surprised so many people in Europe, the US and elsewhere have come to support policies underpinned by hysteria over global warming, particularly cap-and-trade legislation to cut greenhouse gas emissions and subsidies for "green" energy sources. I am convinced this is a misguided strategy — not only because of the uncertainty about the dangers that global warming might pose, but also because of the certainty of the damage that policies aimed at mitigation will cause.

In praise of Carbon: There is no scientific theory linking carbon dioxide to the "runaway" global warming that is the basis of the calamitous predictions. The contribution of the gas to the making of a comfortable planet by the greenhouse effect is well understood, modest and self-limiting. It is only turned into a terror by computer models. These are worthless; depending as they do on extensive guesswork about the ill-understood mechanisms and interactions involved in climate, and involving so many tunable parameters and feedback factors that they could produce any desired result by appropriate tweaking. A quarter of a century ago, before science came under firm bureaucratic control, such models would have been laughed out of court.

Negligible Global Effect of Greenhouse-gas Emission Limits in Pennsylvania. In this report, we provide a review of Pennsylvania's climate history and show that there is little observational evidence of unusual long-term climate changes taking place that could be linked to anthropogenic "global warming" — despite the frequent prognostications to the contrary, often accompanied by doom and gloom scenarios. Instead of rising temperatures, the state's annual average temperature has remained relatively unchanged over the past century.

Eight Fallacies about Global Warming: The reality is that there is no clear evidence that human emissions of carbon dioxide have any measurable effect on temperatures. Such a claim rests on climate models of unproven accuracy and on lines of physical argument that expressly exclude consideration of other known important drivers of climate change. ... At its most basic, if scientists cannot be sure that temperatures are today rising, nor establish that the gentle late 20th century warming was caused by CO2 emissions, then it is nonsense to propose that expensive controls are needed on human carbon dioxide emissions.

Clown Cars. In exchange for lower emissions of CO2, which is a pollutant based on politics, not reality, and is such a weak greenhouse gas that man's puny contribution can't possibly have any effect on climate, we'll have more death on the roads. Is this the trade-off that the country should be willing to accept? Do we really want more of these minis and micros being knocked around and crushed by bigger automobiles? Are we willing to see these cars lose deadly battles with utility poles, guard rails and concrete walls?

Cap-and-trade — 'Largest tax increase of all time'. Is the carbon dioxide that humans exhale a public danger? Yes, according to the Environmental Protection Agency (EPA). The EPA has released an endangerment finding on carbon dioxide. The finding will allow the gas to be regulated under the Clean Air Act, something the Act was not intended to do when it was enacted over 30 years ago. Aggressive cap-and-trade measures are being debated on Capitol Hill and, if enacted, are rumored to rake in trillions of dollars for the federal government and raise the cost of living for Americans by thousands of dollars.

Your EPA Mafia At Work. I am increasingly of the opinion that the main goal of the Obama administration through CO2 regulation, exploding deficits, punishing taxation, and any other means at their disposal is the destruction of the economy and the complete control of impoverished Americans. This is an administration that exists to impose an Orwellian socialist utopia when the smoke clears. When it comes to CO2, Obama, all of his so-called science advisors, and the Environmental Protection Agency are all lying. A criminal fraud is being perpetrated.

EPA: Greenhouse gases threat to human health. Declaring that greenhouse gases are a significant threat to human health, the Environmental Protection Agency has proposed listing carbon dioxide and other greenhouse gases as pollutants under the Clean Air Act, a policy the Bush administration rejected. The White House acknowledged that the EPA had transmitted its proposed finding on global warming to the Office of Management and Budget, but provided no details.

An obvious power grab:
EPA: Global Warming Threatens Public Health, Welfare. The Environmental Protection Agency sent a proposal to the White House on Friday [3/20/2009] finding that global warming is endangering the public's health and welfare, according to several sources, a move that could have far-reaching implications for the nation's economy and environment.

EPA moving toward carbon regulation. Taking another step toward regulating emissions of greenhouse gases, the Obama administration's Environmental Protection Agency is declaring that global warming poses a threat to public health.

CO2 Fairytales in Global Warming. Of course we know now that CO2 was rolled out as the "poster child" nemesis against the environment. It was meant to get us hysterical enough to plead with our politicians to exact a tax on our carbon footprints so that we can save the planet earth. But it's turning out that the CO2 "poster child" has significant problems. Despite the fact that Carbon is a part of the CO2 molecule, the atmospheric science of CO2 directly contradicts what the AGW alarmists are trying to sell us. Promoting CO2 as the environmental monkey on our back is absolutely ludicrous. CO2 is friend to all life, not a foe.

EPA Expected to Regulate Carbon Dioxide for First Time. The Environmental Protection Agency is expected to act for the first time to regulate carbon dioxide and other greenhouse gases, The New York Times reported on Wednesday [2/18/2009], citing senior Obama administration officials. EPA Administrator Lisa Jackson has asked her staff to review the latest scientific evidence and prepare documentation for a finding that greenhouse gas pollution endangers public health and welfare, the newspaper said. There is wide expectation that Jackson will act by April 2, the second anniversary of a Supreme Court decision that found that EPA has the authority to regulate greenhouse pollution under the U.S. Clean Air Act.

Stop the CO2 Madness! Carbon dioxide is not a "pollutant" as the Supreme Court has ruled. How can the Earth's second most vital gas, other than oxygen, be a pollutant? Not one single piece of vegetation on Earth could exist without CO2. Without vegetation, no animal life including our own could exist on Earth. The notion that the EPA would regulate it is preposterous. It is absurd. It is criminal. It is immoral. It has no basis whatever in the actual science of the world's climate. It is based on a massive, global hoax masterminded by the United Nations and carried out by charlatans such as Al Gore and NASA's James Hansen. ... The assertion that human beings and/or industrial activity have any effect on [Earth's] atmosphere is an instrument of fascism.

Administration Selling Environmentalist Window Insurance. The greens demanded that EPA classify carbon dioxide — the overwhelming majority of which is produced by Mother Nature — an "endangerment" to human health and the environment, at least when it comes from U.S. automobile tailpipes. The reasoning, of course, was that U.S. cars cause "global warming." It does not matter that, since the Court ruled, planetary cooling has accelerated even as carbon dioxide levels continue to rise steadly. Browner's excuse is also lame because the Court did not order the Agency to regulate GHGs under the Clean Air Act, but rather made clear that EPA can simply ground a reason for not doing so in the statute. One obvious such reason is that even eliminating all U.S. vehicles would have no climatic impact.

Carbon is the World's Best Friend. Carbon dioxide is not the dreaded greenhouse gas that the global warmers crack it up to be. It is in fact the most important airborne fertiliser in the world and without it there would be no green plants at all. In fact, a doubling of the levels of this gas in the atmosphere would bring about a marked rise in plant production — good news for everyone, especially those malnourished millions who can't afford chemical fertilisers.

Climate Fears Distort U.S. Energy Policies. There is no question that the exaggerated concern about global warming is distorting energy policy in the United States, and indeed throughout the world. The United Nations Intergovernmental Panel on Climate Change, most of the media, and almost all politicians have demonized carbon dioxide as a pollutant whose emissions have to be reduced. It is significant that proponents of anthropogenic global warming (AGW) have largely ignored natural climate influences, principally from changes in solar activity. Yet the evidence is overwhelming that such natural factors control the climate and that the greenhouse effect from rising carbon dioxide, while certainly present, is insignificant and as yet undetectable.

Global Warming and the Price of a Gallon of Gas: The internal combustion engine and gasoline were awful polluters when they were first invented. And, both gasoline and automobile engines continued to leave a layer of smog behind right up through the 1960's. Then science and engineering came to the environmental rescue. Better exhaust and ignition systems, catalytic converters, fuel injectors, better engineering throughout the engine and reformulated gasoline have all contributed to a huge reduction in the exhaust emissions from today's cars. Their goal then was to only exhaust carbon dioxide and water vapor, two gases widely accepted as natural and totally harmless. Anyone old enough to remember the pall of smog that used to hang over all our cities knows how much improvement there has been. So the environmentalists, in their battle against fossil fuels and automobiles had a very good point forty years ago, but now they have to focus almost entirely on the once harmless carbon dioxide. And, that is the rub. Carbon dioxide is not an environmental problem; they just want you now to think it is.

Calling Carbon Dioxide A Pollutant Doesn't Make It A Pollutant. It is becoming increasingly fashionable to maintain that carbon dioxide is a pollutant, one that should be regulated under the Clean Air Act.

Warning: Breathing causes global warming. Environmental Protection Agency Administrator Lisa Jackson opened Pandora's box recently by agreeing to reconsider a Bush administration decision that excluded carbon dioxide from the list of pollutants the agency regulates under the Clean Air Act. Human beings and animals exhale the carbon dioxide that plants use in photosynthesis. A byproduct of photosynthesis is normally oxygen breathed by human beings and animals. So to even consider classifying carbon dioxide as a pollutant is, to put it mildly, quite a stretch.

The Saturated Greenhouse Effect: Considering that we are told "the science is settled", one would think that the strength of the greenhouse effect (GHE) on Earth would be calculated based on atmospheric physics. That is, the computer models of the atmosphere would incorporate the physics of how the greenhouse effect works, so that by inputing some measured physical properties, the atmospheric gases, the models would determine the strength of the greenhouse effect and the surface temperatures. Unfortunately, this is not the case.

If greenhouse gases are bad, how come rising CO2 levels increase agricultural productivity? Plenty of evidence from numerous studies indicates that the Earth has far more capacity to absorb greenhouse gases than the IPCC gives it credit for, many times more, and that additional CO2 will actually be beneficial to farming, both in the quantity and the quality of crops that can be raised.

Carbon Dioxide Levels Are a Blessing, Not a Problem. For centuries, bloodletting was an accepted medical procedure administered by physicians to treat patients for most illnesses. In today's world, we find it almost inconceivable that such a practice was condoned by entire populations. Similarly, the claim that increased carbon dioxide (CO2) in the atmosphere is causing "global warming" has been accepted as "fact" in many countries worldwide. This belief has no more scientific foundation than the bloodletting of past generations.

The Plain Truth about Glorious Carbon Dioxide. If any of the nitwits babbling about CO2 and global warming ever went to any of the several dozen excellent websites that provide accurate scientific data and analysis, they would cease from their abusive manipulation of the public and perhaps find honest work. To begin at the beginning; at the heart of the global warming hoax is the United Nations Intergovernmental Panel on Climate Change. While it purports to represent the views of thousands of scientists, it does not.

Satanic Gas: Carbon is the sixth element in the periodic table. It is unique among the elements in the vast number and variety of compounds it can form. With hydrogen, oxygen, nitrogen and other elements, it forms a very large number of compounds. There are close to ten million known carbon compounds, many thousands of which are vital to organic and life processes. Carbon is essential for life. [And yet] carbon is now being demonised by the media and by ministers of the Crown.

The Climate-Change Reformation. Al Gore — outdone only by L. Ron Hubbard in his ability to weave science fiction into a religion — is reforming the climate change faith, and turning it toward the discussion of energy independence and American financial viability. The truth, alas, has proved too inconvenient to ignore. Among non-partisan researchers, there is now little doubt that human-generated carbon dioxide makes only an insignificant contribution to climate change.

EPA Proposes CO2 Regulations, Seeks Comments from Public. The [Supreme] Court ruled the Clean Air Act (CAA) authorizes EPA to regulate automotive greenhouse gas emissions if and only if EPA determines they cause or contribute to air pollution that may reasonably be expected to endanger public health or welfare. While the case specifically addressed automotive greenhouse gas emissions, the Court's reasoning could be extended to stationary sources such as power plants.

Greenhouse Gas Reporting: Frequently Asked Questions. The U.S. Voluntary Reporting of Greenhouse Gases Program was established by Section 1605(b) of the Energy Policy Act of 1992 to provide a means for organizations and individuals who have reduced their emissions to record their accomplishments.

The Great Global Warming Swindle. CO2 is a very small gas in the atmosphere. It is vital of course — without it we wouldn't be here. But it's small. It's not at all the most important greenhouse gas, and greenhouse gases themselves, and the 'greenhouse effect', form only one small part of the earth's climate system (and not a very well understood part either). There is no correlation between CO2 and temperature on any significant timescale, except where you find, in ice core data, CO2 levels being influenced by temperature levels (there's a time lag between the two phenomena). Even global warmers admit that, for CO2 to make any difference, there would need to be some mechanism to amplify its effect in the atmosphere. No such amplifier has been shown to exist.

Carbon Garden: To listen to Gore and the legion of global warming alarmists, carbon dioxide is our greatest enemy. Not extremist Islamic jihadis. Not widespread economic collapse caused by hyperregulation of the world's economic leader, the U.S. Not global protectionism. Not a planet starved of energy. Yet it's carbon dioxide concentrations, not empty gases spewed by self-important busybodies, that are making the Earth bloom. CO2 levels are at their highest since humans began keeping records. The increased CO2 is fertilizing plants with needed carbon, making them grow bigger and faster.

In praise of CO2: Planet Earth is on a roll! GPP is way up. NPP is way up. To the surprise of those who have been bearish on the planet, the data shows global production has been steadily climbing to record levels, ones not seen since these measurements began. GPP is Gross Primary Production, a measure of the daily output of the global biosphere -- the amount of new plant matter on land. NPP is Net Primary Production, an annual tally of the globe's production. Biomass is booming. The planet is the greenest it's been in decades, perhaps in centuries.

'Medieval Environmentalists' attack CO2 in their efforts to derail civilization. Why are carbon dioxide (CO2) emissions, particularly the relatively small amount emitted by human activity, the sole focus of most climate change debates? In scientific circles, CO2 is referred to as a 'trace gas' that, for hundreds of thousands of years, has remained at or below five ten-thousandths of the atmosphere by volume. Even among the so-called 'greenhouse gases' (GHG), CO2 accounts for less that 4%, with water vapour being by far the most significant GHG. CO2 is clearly a miniscule component of the massive mechanisms that create climate and cause climate change.

Truth Stripped Naked. A new study accepted for publication in the peer-reviewed Journal of Geophysical Letters debunks the greenies' climate hysteria and the political pretext for draconian restrictions on our economy that have become so popular with environmentalists and grandstanding politicians. …Climatology pioneer Reid Bryson, founding chairman of the department of meteorology at the University of Wisconsin, said the new study shows "you can go outside and spit and have the same effect as doubling carbon dioxide."

This global-warming fraud is designed to reduce our standard of living. I read with interest Sen. John Kerry's and Teresa Heinz Kerry's "Too much hot air on global warming." … But the Kerrys say nothing about reducing emissions from the number-one source in Washington state. Mount St. Helens, by itself, puts out thousands of times more CO2 than all the autos in the nation combined!

Alleviate world hunger produce more clean carbon dioxide. Far from being a pollutant, man along with every animal on land, fish in the sea, and bird in the air is totally dependent on atmospheric carbon dioxide for his food supply. Some politicians complain that the United States with only 3% of the world population uses 25% of the energy. But the clean carbon dioxide which we produce is increasing food production everywhere on earth.

Global Warming Heresy: Manmade carbon dioxide emissions are roughly 5 percent of the total; the rest are from natural sources such as volcanoes, dying vegetation and animals. Annually, volcanoes alone produce more carbon dioxide than all of mankind's activities. Oceans are responsible for most greenhouse gases. ... The bottom line is, the bulk of scientific evidence shows that what we've been told by environmentalists is pure bunk.

In Science, Ignorance is not Bliss. NASA's Aqua satellite is showing that water vapor, the dominant greenhouse gas, works to offset the effect of carbon dioxide (CO2). This information, contrary to the assumption used in all the warming models, is ignored by global warming alarmists.

"The Sky is Falling ... Again!" That's right, the radical environmentalists with nothing better to do, august representatives of academia and your cozy little fuzz ball politicians, have ginned up a new crisis. This time it is the ocean. … According to the all-wise pundits, man-made CO2 is rising into the upper atmosphere and is causing global warming. That's somewhat interesting in that CO2 is heavier than air and should sink, not rise.

Unbearable Legislation: America's energy infrastructure will be crippled, and for what? China is building two coal-fired power plants a week and plans to build 97 airports in the next 12 years. Even if the United States reduces its carbon emissions to zero, global emissions are still likely to increase. If greenhouse gases are truly causing problems for the polar bear, U.S. legislative action will do nothing to protect it.

San Francisco Regulators Seek Greenhouse Fee. San Francisco-area air quality regulators are proposing to charge a fee to most businesses based on the amount of greenhouse gases they emit. The fee — 4.2 cents per metric ton of carbon dioxide — would affect everything from oil refineries to power plants and would include landfills, factories, and small businesses such as restaurants and bakeries.

The Myth of Vanishing CO2 Emissions: Environmental activists and some politicians are now promoting the goal of reducing greenhouse gas emissions by 60 percent or more by mid-century. CEO William O'Keefe and President Jeff Kueter, both of the George C. Marshall Institute, investigate whether this proposition is achievable and what this would cost Americans.

Zealotry over global warming could damage our Earth far more than climate change. Carbon dioxide, like water vapour and oxygen, is not only completely harmless but is an essential element in our life support system. Not only do we exhale carbon dioxide every time we breathe, but plants need to absorb carbon dioxide in order to survive. Without carbon dioxide, there would be no plant life on the planet. And without plant life, there would be no human life either.

When Your Only Tool is Coercion, Every Problem Looks Like Too Much Freedom. The entire purpose of [North Carolina's Climate Action Plan Advisory Group] was to find ways in which the citizens of the state could be forced to modify their behavior in order to reduce carbon dioxide emissions. … The interesting — and undisputed — fact is that these restrictions will not result in an overall reduction in global temperatures, even if the whole world adopts them. Yet CAPAG refused to take this into consideration during its deliberations.

Earth Day Is a Holiday For Liars. I have followed the apocalyptic claims and the legislated mandates of the environmental movement since the 1970s and their single unifying factor has been the lies told to achieve various elements the Green agenda. … There is no scientific justification for reducing greenhouse gas emissions. Carbon dioxide represents a miniscule 0.038% of the Earth's atmosphere and increases in CO2 always follow climate change. It does not initiate it. The Greens are lying.

Environmentalists Oppose New CO2 Scrubber Idea. Scientists at Columbia University are developing a carbon dioxide (CO2) scrubber device that removes one ton of CO2 from the air every day. While some see the scrubber as an efficient and economical way to reduce atmospheric carbon dioxide, many environmentalists are opposing the technology because it allows people to use fossil fuels and emit carbon in the first place.

The Editor says...
One could easily conclude that the environmentalists don't care about reducing CO2 in the atmosphere as much as they care about suppressing and inhibiting industrial activity.

Water Vapor Rules the Greenhouse System. Water vapor constitutes Earth's most significant greenhouse gas, accounting for about 95% of Earth's greenhouse effect. Interestingly, many "facts and figures' regarding global warming completely ignore the powerful effects of water vapor in the greenhouse system, carelessly (perhaps, deliberately) overstating human impacts as much as 20-fold.

EPA Seeks To Have Water Vapor Classified As A Pollutant. If successful, the push to classify water vapor as a dangerous pollutant would impact virtually everyone. For instance, homeowners could see a wide variety of common activities that cause evaporation being regulated: watering the lawn, or using a hot tub or swimming pool. "Right now, we are not so concerned about the water vapor exhaled by people. That is low on our list of priorities", said Mr. Donaldson. "We'll tackle that manmade source at a later time."

The Editor says...
Evidently he's not kidding. This is just another way the EPA, having outlived its usefulness, is desperately looking for something to fix. How do you suppose Mr. Donaldson is going to keep the lakes and oceans from producing water vapor?

Let the rest of the world make climate errors. Kevin Rudd has an unfortunate proclivity for proclaiming Australia should lead the world in its response to global warming. For a country so richly endowed with carbon-based energy resources, this does not immediately commend itself as the most obvious policy course for us to follow. And the latest discussion paper on emissions trading from the Garnaut review, released last Thursday, should have set political alarm bells ringing on the potential costs of action to curb greenhouse gas emissions.

Are Carbon Cuts Just a Fantasy? What if there's no way to cut greenhouse emissions enough to make a real difference? That's the question raised by a commentary in Nature arguing that the Intergovernmental Panel on Climate Change has been too optimistic in its projections for the technological possibilities of reducing greenhouse emissions. Their calculations are called "a bombshell" in a separate news article in Nature about the paper.

Dangerous assumptions. The United Nations Climate Conference in Bali in 2007 set the world on a two-year path to negotiate a successor to the 1997 Kyoto Protocol. Yet not even the most rosy-eyed delegate could fail to recognize that stabilizing atmospheric carbon-dioxide concentrations is an enormous undertaking. Here we address the magnitude of the technological changes required to meet that challenge. We argue that the size of this technology challenge has been seriously underestimated by the Intergovernmental Panel on Climate Change (IPCC), diverting attention from policies that could directly stimulate technological innovation. [Also available in PDF]

Report: Temperature Changes Precede CO2 Changes. Temperature changes precede changes in atmospheric carbon dioxide. Scientists have found carbon dioxide levels typically rise roughly 200 to 1,000 years after temperatures rise. That is, temperature change is the cause, not the result, of changing atmospheric carbon dioxide levels.

CO2 Regulation Could Crush Building Construction. [Scroll down] If the Environmental Protection Agency (EPA) ever decides to regulate greenhouse gases, it would trigger the very same stationary source controls. As a result, construction on any new or existing source with the potential to emit more than 250 tons of CO2 per year — which includes most large buildings — could come to a screeching halt.

'Green Hanukkia' campaign sparks ire. In a campaign that has spread like wildfire across the Internet, a group of Israeli environmentalists is encouraging Jews around the world to light at least one less candle this Hanukka to help the environment. The founders of the Green Hanukkia campaign found that every candle that burns completely produces 15 grams of carbon dioxide. If an estimated one million Israeli households light for eight days, they said, it would do significant damage to the atmosphere.

The Editor says...
Have the tree-huggers never heard of trees? The world's vegetation depends on this "significant damage to the atmosphere."

The "carbon sink" and global warming: According to this week's Science magazine, the ocean's ability to absorb carbon may be far greater than previously estimated. That means that atmospheric CO2 gets eliminated perhaps twice as much as global warming alarmists thought, before this news came out. Why? Well, it turns out that there is a whole variety of tiny phytoplanktons --- single-celled plants --- that are called picoplanktons because they are so small.

The Virtues of Atmospheric Carbon Dioxide: The annual increase in atmospheric carbon dioxide attributable to human activities — primarily the burning of coal, oil, and natural gas — is about 1 part in 10,000 of that contained in the oceans and biosphere — a contribution of ultimately negligible consequence. Since, however, this human-released carbon must travel through the atmosphere to reach the ocean and biotic reservoirs, human use, while it continues, has caused a transient rise in atmospheric carbon dioxide from about 0.03% to about 0.04% of atmospheric molecules. The primary environmental result of this rise is plant fertilization. We are moving carbon from below ground into the atmosphere, where it is available to produce more plants and animals — a wonderful and unexpected gift from the industrial revolution.

$800 Billion Annual Cost to Capture Carbon. There will be a little more required to stop global warming than making "small changes to your daily routine," as Al Gore's "An Inconvenient Truth" Web site has suggested. One of the authors of the U.N. Intergovernmental Panel on Climate Change (IPCC) Special Report on Carbon Capture and Storage estimated the worldwide cost could run an astonishing $800 billion annually.

California suit on car greenhouse gases dismissed. A U.S. federal judge tossed out a lawsuit by California's attorney general on Monday [9/17/2007] seeking hundreds of millions of dollars from six automakers for damaging the state with climate-changing greenhouse gases. Martin Jenkins, a federal judge in the Northern District of California, said the issue of global warming should be decided in the political rather than legal arena.

Organic beer is CO2 sinner. Organic beer production emits substantially more greenhouse gases than ordinary beer, according to a Copenhagen University thesis. Jakob Majcher, author of the thesis, studied the total carbon dioxide emissions in connection with the brewing of organic and conventional lagers.

The Climate is Less Sensitive to Greenhouse Gases Than Predicted, Study Says. How sensitive is Earth's climate? Sufficient to warm by at least several degrees in response to greenhouse gas pollution but perhaps not as sensitive as some scientists have feared, according to a new study.

[Is it possible that the climate is self-adjusting? Is it possible that God is still in control of the things he created? Is it possible that environmentalists don't know everything?]

The Greenhouse Myth: The notion that our atmosphere acts like a greenhouse — that is, so-called atmospheric "greenhouse gases," like water vapor and CO2, "trap" incoming solar radiation to warm the atmosphere — is wrong. Not only doesn't the atmosphere work that way, greenhouses don't either.

The Right to Breathe: The United States Supreme Court this month heard arguments on the issue of whether carbon dioxide should be identified as a pollutant and be brought into the Environmental Protection Agency enforcement policies of the Clean Air Act. Webster describes a pollutant as a harmful chemical or waste material discharged into water or the atmosphere. Carbon dioxide, as it exists in the earth's atmosphere, has never been proven harmful. It is not a waste material. Carbon dioxide just happens to be the single most important part of the Earth's atmosphere as it relates to life on this planet.

Greenhouse crusade rests on flawed logic. Shut down our coal industry — our children's wellbeing is at stake! This is the message from Greens' leader Bob Brown, who argues that because burning coal emits large amounts of greenhouse gases, the coal industry should be shut down within a matter of years. Australian of the Year Tim Flannery has echoed Brown's position, while Labor's environment spokesman, Peter Garrett, has also singled out coal, effectively calling for the growth of the industry to be frozen.

The Real "Inconvenient Truth": Does the Earth's atmosphere primarily behave like an actual greenhouse? No. … An actual greenhouse works as a physical barrier to convection (the transfer of heat by currents in a fluid) while the atmosphere facilitates convection. So-called "greenhouse gases" in the Earth's atmosphere do not act as a barrier to convection so the impression of actual greenhouse-like activity in the Earth's atmosphere is wrong.

Editor's Note: The article below is loaded with environmental bias and rash presuppositions, as the author describes CO2 as a dangerous gas, and assumes that sequestering CO2 underground will alleviate the greenhouse "problem".

Scientists say buried gases may escape. Carbon dioxide buried underground has dissolved the minerals that help keep the dangerous greenhouse gas from escaping, US scientists have revealed. Researchers testing the viability of injecting CO2 into saline sedimentary aquifers, in a US Government experiment in Texas, found it caused carbonates and other minerals to dissolve rapidly, which could allow CO2 and brine to leak into the water table.

Coal plant to put power of CO2 to test. Alabama Power Co.'s Barry Electric Generating Plant north of Mobile will be the site of the nation's first large-scale attempt to capture carbon dioxide emitted from a coal-fired power plant and to inject the gas deep underground. The four-year, $175 million experiment begins in 2011 and will test the future viability of coal as a source of electrical power, Alabama Power's parent firm, Atlanta-based Southern Co., announced Wednesday.

Carbon capture and storage a pipe dream. Let's review the problems with the idea of carbon capture and storage (CCS), which make it unlikely as an environmental savior. Land-based CCS consists of three primary activities: capturing carbon dioxide out of an emissions stream, compressing it into a liquid, and then piping that liquid over land, and down into the Earth where, in theory, it will be retained in geological formations for hundreds or thousands of years. It sounds quite simple, until you dig into the details.

Carbon's Kindergarten Cop: The Governor's pledge to lower greenhouse gas emissions in California to 80 percent below 1990 levels by 2050 will bring Californians little or no environmental benefit, while costing the citizenry a substantial amount of money. The Governor has long pandered to California's environmental interest groups, but as an earlier (and wiser) Republican Governor named Reagan observed, "Facts are stubborn things."


The Earth's atmosphere is composed of 78% nitrogen, 20.95% oxygen, 0.93% argon, 0.038% carbon dioxide, and trace amounts of other gases, including water vapor. We call this "air" and humans depend on the oxygen content for life. At the same time all six billion of us individually exhale about two pounds of carbon dioxide every day. By contrast, Nature emits about 30 times more CO2 than humans. The oceans of the world absorb and release CO2 all the time. This is Nature's balance that maintains all life, animal and vegetable, on earth.*

Taking a Molecule to Court: The Supreme Court, by agreeing to hear a case on whether the Environmental Protection Agency (EPA) must take steps to reduce carbon dioxide emissions, will finally judge on the alleged threat of global warming. The stakes are huge. Should the Court find in favor of the plaintiffs, it would put the EPA in control of the U.S. economy for the foreseeable future.

States Set to Sue the U.S. Over Greenhouse Gases. New York is one of more than a dozen states, led by California, preparing to sue the Bush administration for holding up efforts to regulate emissions from cars and trucks, several people involved in the lawsuit said on Tuesday [10/23/2007]. The move comes as New York and other Northeastern states are stepping up their push for tougher regulation of greenhouse gases as part of their continuing opposition to President Bush's policies.

The Editor says...
Nothing wastes your money faster than the states filing a lawsuit against the federal government. The lawyers are the only ones who benefit, and no matter which side wins, the verdict will usually result in more regulations and intrusive restrictions on property owners and businesses.

Inhofe Warns of Global Warming Laws. At a hearing on human health effects of global warming, Inhofe implied that [Barbara Boxer] was distracting members with studies of what might happen from global warming rather than focusing on "what will happen if we legislate global warming." Inhofe believes that any mandatory cap on greenhouse gas emissions will bear too great a cost for the economy for too little benefit.

China overtakes US as world's biggest CO2 emitter. China has overtaken the United States as the world's biggest producer of carbon dioxide, the chief greenhouse gas, figures released today show. … China's emissions had not been expected to overtake those from the US, formerly the world's biggest polluter, for several years, although some reports predicted it could happen as early as next year.

High Court Hears Global Warming Hoax. This week the Supreme Court heard arguments in Massachusetts v. Environmental Protection Agency, a lawsuit brought by a coalition of 12 states, the cities of New York, Baltimore, and Washington, D.C., and environmental groups including the Environmental Defense Fund, Greenpeace and the Sierra Club. The case is an attempt to force the U.S. Environmental Protection Agency (EPA) to regulate carbon dioxide as a dangerous air pollutant under the definition of the Clean Air Act.

The Editor says...
As usual, leftist troublemakers head to the courts to accomplish what they can't get done at the ballot box. When the Clean Air Act was written, who knew it would someday be used to regulate carbon dioxide? And of course this won't be the end of it. This kind of incrementalism only goes one direction, and it never stops.

New Jersey's Nutty CO2 Notions: While an army of snowplows was at work on the roads of the Garden State, the little Green gnomes in the Department of Environmental Protection were working to reclassify carbon dioxide (CO2) as a "contaminant." If this becomes law, the DEP might as well arrest everyone living in the Garden State because humans generate CO2 every time they exhale.

Nitrogen pollution drives trees to soak up more CO2. Nitrogen pumped into the environment by human activities such as driving cars and farming is fertilising tree growth and boosting the amount of carbon being stored in forests outside the tropics, say researchers. Their study provides a surprising example of how one type of human pollution is helping to counter another.

"Carbon sinks" drain water. The rush to plant forests to soak up carbon dioxide, which contributes to global warming, could cause as many problems as it solves, with new research showing they can reduce local water supplies by up to 50 percent. An international study on the use of forest plantations as carbon sinks has found that while intensive plantations can help mitigate the effects of global warming, they can also sap streamflows and cause salinity.

Rare Carbon Dioxide "Lake" Found Under the Ocean, Scientists Report. A team of scientists based in Japan and Germany has found an unusual "lake" of liquid carbon dioxide beneath the ocean floor. On Earth's surface carbon dioxide (CO2) is normally a gas, but in the cold, high-pressure ocean depths it cools and becomes a liquid.

From Garden State to Greenhouse State. Carbon dioxide is the second most important "greenhouse gas", after water vapor, that helps keep the Earth habitable by retaining infrared (heat) radiation and warming the Earth. This is a natural process that occurs with or without help from humans. Additionally, life on Earth depends on carbon dioxide, which is used by the biosphere for food.

Who's Afraid of CO2?. Carbon dioxide is not a pollutant. It is tasteless, colorless, nontoxic to humans at concentrations up to 13 times present levels and is essential to life. Plants breathe CO2, and as they grow and reproduce they exhale oxygen, making the earth habitable for humans. Instead of a disaster, the expected doubling of CO2 due to human activities will produce a number of benefits over the next century.

Environmental Effects of Increased Atmospheric Carbon Dioxide: Predictions of global warming are based on computer climate modeling, a branch of science still in its infancy. The empirical evidence actual measurements of Earth's temperature shows no man-made warming trend. Indeed, over the past two decades, when CO2 levels have been at their highest, global average temperatures have actually cooled slightly.

How come greenhouse gases increase agricultural productivity? What about greenhouse gases? Plenty of evidence from numerous studies indicates that the Earth has far more capacity to absorb greenhouse gases than we give it credit for, many times more, and that additional CO2 will actually be beneficial to farming, both in the volume and the quality of crops that can be raised.

Enhanced or Impaired? Human health in a CO2-enriched warmer world.

Global Warming Policy: Some Economic Implications. The link between greenhouse gas emissions and global temperature increases is uncertain, and some scientists believe the net effect of any global warming could be beneficial.

US edges towards cap on greenhouse gases. The US yesterday [11/1/2007] took a first step towards mandatory controls on greenhouse gas emissions, in direct defiance of the Bush administration's policy on climate change. Yesterday's vote in a Senate subcommittee marks the first US move towards European-style policies. Although the caps on emissions approved do not go as far as those in Europe, environmental campaigners said they marked a decisive break with the administration's policies.

How to Cripple an Economy: Well-intentioned schemes to restrict emissions of carbon dioxide could cost the economy half a trillion dollars.

Photosynthesis in Second-Generation Pine Trees Grown in Air of Elevated CO2 Concentration. The study was conducted at Christchurch, New Zealand in open-top chambers, where the trees were irrigated daily and fertilized every three months. Water use efficiency was 49% higher in the foliage of the elevated CO2 treatment, although there was no change in needle stomatal conductance.

The True Agenda? Global Governance! Fully 95% of the carbon dioxide is produced by natural sources such as evaporating seawater, decaying organic matter, and from plant and animal respiration. Each year, 157 billion metric tons is released in the atmosphere. Of this amount, barely 457.2 million tons comes from cars and trucks. According to American Enterprise Institute researcher, James Johnson, "Eliminating all U.S. gasoline powered vehicles would reduce worldwide carbon dioxide emissions by 0.18%." Less than one half of one half of one percent. Despite this minuscule contribution, Albert Gore, Jr., in his book "Earth in the Balance", advocates "eliminating the internal combustion engine" by the year 2018!

Living with the greenhouse effect: A great deal of what you read and hear about the so-called "greenhouse effect" is either exaggerated, or misrepresented, or both. The blanket of our atmosphere keeps the surface of the planet a full 33°C warmer than it would otherwise be, and crucially (as far as life forms like us are concerned) raises the temperature above the freezing point of water.

A Tale of Two Atmospheres

Global warming is a natural geological process. An Ohio State University researcher predicts that the process could begin to reverse itself within 10 to 20 years. The researcher suggests that atmospheric carbon dioxide — often thought of as a key "greenhouse gas" — is not the cause of global warming. The opposite is most likely to be true: It is the rising global temperatures that are naturally increasing the levels of carbon dioxide, not the other way around, he says.

Global Warming vs. Prosperity: Green's attempt to cut carbon dioxide emissions lacks supporting scientific evidence and will harm the country's prosperity.

Orange Juice Vitamin C Concentration: How Is It Linked to the Air's CO2 Content? On the basis of this study, in the words of the authors, "there is reason to believe that an atmospheric CO2 enrichment of the magnitude expected over the current century may induce a large and sustained increase in the number of fruit produced by orange trees, a small increase in the size of the fruit, and a modest increase in the vitamin C concentration of the juice of the fruit, all of which effects bode well for this key agricultural product that plays a vital role in maintaining good health in human populations around the globe."

Carbon Dioxide, the Staff of Life. "I went to the trouble of adding up all the greenhouse gases, as provided in Gregg Easterbrook's excellent book, A Moment on the Earth, and then converted the total volume to a linear scale. That's so you can get a better sense of mankind's total annual contribution. That is, I wondered if there were one mile of greenhouse gas, how much of that would be the result of all of man's doing. I found that out of 5,280 feet, mankind contributes five-eighths of an inch."

New findings indicate today's greenhouse gas levels are not unusual. The most accurate way to determine the atmosphere's average CO2 content is to simply conduct a direct chemical analysis at many different places and times. Fortunately, there are more than 90,000 direct measurements by chemical methods between 1857 and 1957. However, in what appears to be a case of 'cherry-picking' data to fit a pre-determined conclusion, only the lower level CO2 data were included when the pre-industrial average was calculated (see below graph where data used in the averaging is highlighted).


Greenhouse Policy Without Regrets: A Free-Market Approach. Because man's effect on his climate is not yet known, global warming policy should, first of all, do no harm. Elimination of wasteful and waste-promoting government policies can still make greenhouse reduction easier in the long term.

States Sue Federal Government Over "Global Warming". Seven states announced on Thursday [2/20/2003] their intention to sue the federal government over the issue of "global warming." The states are seeking to force the Bush administration to regulate power plant emissions containing carbon dioxide, which they maintain is contributing to a buildup of greenhouse gases and the warming of the planet.

Figures reveal Europe falling far short of climate targets. The European Union, self-styled global champion in the battle against climate change, is falling woefully short of its targets for cutting greenhouse gas emissions and will need to take radical measures to achieve them, new projections have shown.

Climate Change Lemmings Jump Off The Cliff. California Gov. Arnold Schwarzenegger is making his own global warming treaties nowadays. He and Britain's Prime Minister Tony Blair have agreed to set up a scheme modeled on the United Nations' Kyoto Protocol to reduce climate warming carbon dioxide emissions.

California to cap greenhouse gas emissions. California would become the first state to impose a cap on all greenhouse gas emissions, including those from industrial plants, under a landmark deal reached Wednesday [8/30/2006] by Gov. Arnold Schwarzenegger and legislative Democrats.

Bill may stir California business exodus. A measure to limit greenhouse gas emissions in California could foster fresh interest among California companies looking outside the state for a less regulated business environment. The cap, designed to cut greenhouse gas output 25 percent by 2020, evoked stern responses from business advocates such as the California Chamber of Commerce, which said in a statement that the act would drive companies and jobs out of California and jack up power and fuel prices for residents of the Golden State.

Calif. sues 6 carmakers over greenhouse gases. California filed suit against Ford Motor Co., General Motors Corp., Toyota Motor Corp. and three other carmakers on Wednesday, charging that greenhouse gases from their vehicles have cost the state millions of dollars.

The Proper Roles of Reason and Religion in Developing Policies Related to Anthropogenic CO2 Emissions: Global climate change may well be (1) no problem at all, (2) a problem not caused by man, (3) a beneficial phenomenon, or (4) something about which nothing can be done, which could well make extreme – but largely ineffective – ameliorative actions counterproductive to the common good.

Boulder, Colorado Sues Federal Agencies Over Global Warming: The Boulder, Colo. City Council will join environmental activists in taking legal action against the federal government to try to control greenhouse gas emissions which environmentalists say is the cause of "global warming."

Another Global Warming Horror Story Bites the Dust: New evidence from the carbon sequestration front turns an old gloom-and-doom hypothesis on its head. Rather than adding to the atmosphere's burden of carbon dioxide, warming of earth's permafrost regions would likely end up removing carbon from the air, which would tend to stabilize surface air temperatures and not push them higher.

California Votes to Join the Third World. In what could prove a disastrous move for consumers and businesses, Governor Arnold Schwarzenegger is poised to sign legislation imposing statutory limits on greenhouse gas emissions in the state of California.

EPA unveils first rules on carbon dioxide storage. In its first regulations on the burial of carbon dioxide underground, the EPA on Tuesday [7/15/2008] unveiled measures to protect drinking water from the gas behind the bubbles in carbonated beverages. The fledgling technology, known as carbon sequestration, is critical to reducing carbon dioxide released into the air from coal-fired power plants, one of the country's largest sources of the greenhouse gas.

Carbon Capture and Burial — a Stupid Answer to a Silly Question. "There is no evidence that CCB [Carbon Capture and Burial] would provide any climate or environmental benefits whatsoever — just a huge misuse of investment capital and a massive increase in the cost of living for any society silly enough to tread this path. ... "It does not take much engineering, financial or biological knowledge to uncover the logistic, economic and environmental stupidities of CCB.

The dirty truth: During President Barack Obama's visit to Canada this week, he and Prime Minister Stephen Harper pledged to spend billions developing technologies that would capture carbon and then store it underground. Carbon capture and storage, as these schemes are known, is misguided environmentally, economically, and in the long term, politically too. Carbon capture has only one virtue: It solves short-term political problems for both leaders.



Termites emit ten times more CO2 than humans. The overwhelming majority (97%) of carbon dioxide in the earth's atmosphere comes from nature, not from man. Volcanoes, swamps, rice paddies, fallen leaves, and even insects and bacteria produce carbon dioxide, as well as methane. According to the journal Science (Nov. 5, 1982), termites alone emit ten times more carbon dioxide than all the factories and automobiles in the world. Natural wetlands emit more greenhouse gases than all human activities combined. (If greenhouse warming is such a problem, why are we trying to save all the wetlands?) Geothermal activity in Yellowstone National Park emits ten times the carbon dioxide of a midsized coal-burning power plant, and volcanoes emit hundreds of times more. In fact, our atmosphere's composition is primarily the result of volcanic activity.
---

Methane

This subsection has moved to a page of its own, located here.



---

Volcanos

Environmentalists are quick to minimize and dismiss the atmospheric influence of volcanos, because they know volcanos can't be taxed and regulated into submission, no matter how many megatons of "greenhouse gas" they emit.



The Most Dangerous Volcano In North America Just Erupted. A lot of us have been watching Mt. Popocatepetl for a very long time. Could it be possible that we are now on the verge of the most destructive volcanic eruption in the modern history of North America? On Monday night [3/18/2019] at precisely 9:38 PM, a massive explosion at Mt. Popocatepetl sent a column of volcanic ash nearly a mile into the sky. A "yellow alert warning" has been issued by the authorities, and they are ordering everyone to stay at least 12 kilometers away from the crater. They are stressing that the threat has not passed, and as you will see below, an evacuation plan is in place in case an even larger eruption follows. And if a much larger eruption does follow, the devastation could be off the charts.

Our Planet Is Not Fragile. The 1883 eruption of the Krakatoa volcano, in present-day Indonesia, had the force of 200 megatons of TNT. That's the equivalent of 13,300 15-kiloton atomic bombs, the kind that destroyed Hiroshima in World War II. Before that was the 1815 Tambora eruption, the largest known volcanic eruption. It spewed so much debris into the atmosphere that 1816 became known as the "Year Without a Summer." It led to crop failures and livestock death in the Northern Hemisphere, producing the worst famine of the 19th century. The A.D. 535 Krakatoa eruption had such force that it blotted out much of the light and heat of the sun for 18 months and is said to have led to the Dark Ages. Geophysicists estimate that just three volcanic eruptions — Indonesia (1883), Alaska (1912) and Iceland (1947) — spewed more carbon dioxide and sulfur dioxide into the atmosphere than all of mankind's activities during our entire history.

Naples super volcano showing 'signs' of possible 'Vesuvian-style eruption. Italy's Campi Flegrei volcano has, for the first time in nearly 400 years, been "showing a type of unrest" which could indicate it is "getting ready for another eruption", volcano expert Christopher Kilburn has said. The volcano, which is located in the highly-populated Italian city of Naples, could at some point in the "foreseeable future" have a Vesuvian-style eruption, warned Dr Christopher Kilburn, a professor at University College London and expert in volcanic hazard.

Katla volcano is suddenly releasing HUGE amounts of gas. Huge amounts of potentially dangerous methane gas are being released from a glacier connected to Katla volcano — one of Iceland's most active volcanoes. Monster volcano Katla is one of Iceland's largest burning mountains and scientist have now discovered methane from a connected glacier. The study, published in Scientific Reports, showd Sólheimajökull glacier has released 41 tonnes of the greenhouse gas every day over the summer. This is the first time methane released from glaciers at such large scale have been found.

Katla volcano is suddenly releasing HUGE amounts of gas. Huge amounts of potentially dangerous methane gas are being released from a glacier connected to Katla volcano — one of Iceland's most active volcanoes. Monster volcano Katla is one of Iceland's largest burning mountains and scientist have now discovered methane from a connected glacier. The study, published in Scientific Reports, showd Sólheimajökull glacier has released 41 tonnes of the greenhouse gas every day over the summer. This is the first time methane released from glaciers at such large scale have been found.

Why 536 was 'the worst year to be alive'. Historians have long known that the middle of the sixth century was a dark hour in what used to be called the Dark Ages, but the source of the mysterious clouds has long been a puzzle. Now, an ultraprecise analysis of ice from a Swiss glacier by a team led by McCormick and glaciologist Paul Mayewski at the Climate Change Institute of The University of Maine (UM) in Orono has fingered a culprit. At a workshop at Harvard this week, the team reported that a cataclysmic volcanic eruption in Iceland spewed ash across the Northern Hemisphere early in 536. Two other massive eruptions followed, in 540 and 547.

Vanuatu volcano: Entire island to be evacuated as ash blankets villages and blacks out sky. The population of an entire island in Vanuatu is set to be evacuated for the second time in less than a year because of an erupting volcano. Around 11,000 people live on Ambae island in the country's north, where the belching of the Manaro volcano has left homes and crops covered in grey ash. The volcano's alert level was raised this week, after ash clouds reportedly turned day into night when they blocked out the Sun.

Hawaii civil defence issues warning as Kilauea Volcano releases poisonous gas. Hawaii's civil defence in Lower Puna issued a statement as Kilauea Volcano is producing dangerous levels of Sulfur Dioxide gas, leaving people who are close to the vents and lava flow at high risk. [...] Officials issued a statement on Sunday [5/13/2018], saying: "Residents of Halekamahina Road are ordered to evacuate and be on the alert for gas emissions and lava spatter." The Hawaii Department of Health warned against people buying cheap face masks to protect themselves from the fumes. A spokesman said: "No mask sold in stores provides protection from the extremely dangerous volcanic gases that are being released from the current volcanic eruption." Scientists remain on high alert for a major steam explosion which could hurl boulders miles from Kilauea's summit and create a 20,000 ft ash cloud.

Hawaii's Kilauea volcano could be ready to blow, scientists say. Geologists warned Wednesday that Hawaii's Kilauea volcano could soon experience explosive eruptions from its summit and launch large rocks and ash into the air. The threat of explosive activity will rise as lava drains from the summit of Kilauea, one of the most active volcanoes in the world, and explosions will be possible in the coming weeks if the lava dips below the groundwater table, the U.S. Geological Survey (USGS) said.

Philippine volcano rumbles back to life, thousands evacuated. The Philippines' most active volcano rumbled back to life Sunday [1/14/2018] with lava rising to its crater in a gentle eruption that has prompted authorities to evacuate thousands of villagers.

Bali Volcano: Contributing to Global Warming, or Global Cooling? What impact, if any, will the continuing Agung eruption and other volcanic activity have on global warming? That is a matter of much debate, with scientific studies pointing to both a cooling and warming effect from the eruptions of the thousands of volcanoes that dot our planet. Major eruptions of land-based volcanoes that send huge clouds of ash high into the upper atmosphere generally are believed to have a cooling effect. The ash particles and droplets of sulfuric acid (which are formed when volcanic-spewed sulfur dioxide combines with oxygen in the air) may remain suspended for many months, reflecting sunlight away from Earth, thereby lowering temperatures. However, there are other considerations that point to a volcanic warming effect, both from the 1,500 or so active terrestrial volcanoes, as well as the far larger number of active undersea volcanoes that have been poorly monitored, and whose impact is not well understood.

Mexico City volcano erupts. A volcano has erupted near Mexico City sparking fears more explosions could threaten the country's capital. Chilling footage showing the violent eruption emerged online amid fears there could be more. A huge plume of smoke blasted three kilometres in to the air from the summit of Popocatepetl after a series explosions over the course of 24 hours.

Reverse global warming: NASA say Mount Agung could plunge earth into ice age. Bali's volcano eruption could plunge the earth into a prolonged cold spell as scientists warn Mount Agung explosion could slow global climate change for up to five years. Volcanic debris, ash and other particles have continued to spew out of the volcano, leaving a seven-mile high hazardous cloud above the mountain top. Evacuation orders are in place for the 100,000 villagers and citizens living within six miles of the mountain, while thousands of tourists remain stranded after the main airport was closed for more than two days.

The Editor says...
If the volcano is going to "plunge [the] earth into [an] ice age," and that "could slow global climate change for up to five years," then apparently the writer believes that an ice age might only last five years. Moreover, if "global climate change" means "global warming," then why not just say global warming?

California: Proof That Everything The Liberals Run Turns [Bad]. The climate change debate heats up, again because of hurricanes, earthquakes, rain, and more. Trump pulling out of the Paris accord will destroy us even more. Yes, yes, yes, only humans can prevent global warming. Volcanos and cows have nothing to do with it. Well, volcanos release over half a billion tons of carbon emissions a year!

91 volcanoes found under Antarctic ice. Scientists believe they have found the largest volcanic region on earth -- under the ice of Antarctica. A remote survey discovered 91 volcanoes ranging in height from 100m to 3850m in a massive region known as the West Antarctic Rift System. Geologists and ice experts say the range has similarities to east Africa's volcanic ridge, acknowledged to be the densest concentration of volcanoes in the world.

Residents warned as Mount Aso volcano rumbles to life. Mount Aso in Kumamoto Prefecture erupted early Saturday, belching a column of ash 11,000 meters into the air. The explosive eruption occurred around 1:46 a.m. on one of the peaks of the 1,592-meter-high mountain, the Meteorological Agency said. There were no immediate reports of injuries. It was the first explosive eruption at that particular peak since January 1980.

Indonesia's Mount Barujari Volcano Erupts, Trapping Tourists. More than 200 foreign tourists were feared trapped on an Indonesian volcano Wednesday [9/28/2016] after the peak erupted and sent a plume of ash 6,500 feet in the air, officials said.

Mount Barujari: 1,000 tourists evacuated in Indonesia after volcano eruption. Indonesia's Search and Rescue Agency has evacuated approximately 1,000 tourists after a volcano on the Indonesian island of Lombok erupted unexpectedly on Tuesday, shooting a 6,560-foot column of ash into the sky. No injuries have been reported from the eruption that took place on Mount Barujari, a small mountain within Mount Rinjani, one of the most active volcanoes in the region. Approximately 50 climbers are yet to be accounted for, but they are believed to be safe. Located on the famed Pacific Ring of Fire, with more than 130 active volcanoes, Indonesia experiences a great many eruptions, particularly in the past few years.

Tourists evacuated as Indonesian volcano erupts: Official. The threat level of the volcano was upgraded Tuesday as Barujari sent plumes of smoke and hot ash into the atmosphere, but remains two steps from the highest-risk category. There were no flight disturbances recorded on Wednesday due to the ash clouds, transport ministry spokesman Hemi Pramuraharjo told AFP.

40 Volcanoes Are Erupting Right Now As The Crust Of The Earth Becomes Increasingly Unstable. Have you noticed that our planet has begun to shake, rattle and roll? Over the past few days we have seen major volcanic eruptions in Costa Rica and Indonesia, and according to Volcano Discovery 40 volcanoes around the planet are erupting right now as you read this article. [...] The eruption down in Costa Rica took authorities completely by surprise, and a thick layer of dust and ash is coating vehicles and buildings 30 miles away in the capital city of San Jose.

Costa Rica volcano erupts, spewing ash, column of smoke. Featuring thick clouds of ash and smoke rising into the grey sky, spectacular images of the powerful Costa Rica volcano eruption have flooded social media. The 3,340-meter Turrialba Volcano is located in Cartago Province of central Costa Rica, only 30 km from the country's capital, San José. The volcanic activity started Wednesday [5/18/2016] and the first eruptions were recorded Friday [5/20/2016], according to local media.

Costa Rica's Turrialba volcano leaves capital covered in ash. A volcanic eruption in central Costa Rica spewed ash nearly 10,000 feet in the air, covering parts of the country's capital city. [...] The volcano continued to release ash about 9,840 feet into the air after erupting on Thursday afternoon, as wind began to carry the ashes to the west.

Mexico's Popocatépetl volcano spews ash two MILES into the air. A Mexican volcano that has been active on and off since 1994 has erupted over Santiago Xalitzintla village in Puebla, Mexico, blanketing the city in dusty, white ash. The Popocatépetl volcano began erupting around 2.30am on Monday [4/18/2016], sending ash two miles into the air. The eruption sent glowing rock hurling through the air as far as a mile away from the crater.

Alaska Volcano Ash Cloud Covers 400 Miles, Cancels Flights. Pavlof Volcano, one of Alaska's most active volcanoes, is 625 miles southwest of Anchorage on the Alaska Peninsula, the finger of land that sticks out from mainland Alaska toward the Aleutian Islands.

What does the global onset of major seismic and volcanic activity portend? Have you noticed that seismic activity along the Ring of Fire appears to be dramatically increasing? According to Volcano Discovery, 39 volcanoes around the world have recently erupted, and 32 of them are associated with the Ring of Fire. This includes Mt. Popocatepetl which sits only about 50 miles away from Mexico City's 18 million inhabitants. If you are not familiar with the Ring of Fire, it is an area roughly shaped like a horseshoe that runs along the outer perimeter of the Pacific Ocean. Approximately 90 percent of all earthquakes and approximately 75 percent of all volcanic eruptions occur along the Ring of Fire.

Volcano in Ecuador spews huge column of ash. The Geophysics Institute said Cotopaxi is one of the most dangerous volcanoes in the world because of the large amount of snow at its peak and because nearby areas are densely populated. The last time it erupted was in 1877.

America Has a Whole Lot of Potentially Active Volcanoes. Yellowstone and the Cascades do get a lot of the attention when it comes to North American volcanoes, but they are surely not the only places where we might find active volcanoes across the continent. Now, I can't highlight all the "hidden" volcanic areas in the United States, but I will talk about a few gems that most people don't realize are potentially active volcanic areas.

Warning issued as the Kick 'em Jenny volcano in the Caribbean Sea off Grenada threatens to erupt. An underwater volcano off the Caribbean coast is on the verge of erupting — posing a risk to all passing ships. Named Kick 'em Jenny, the volcano — which sits 180m below sea level off the northern coast of Grenada — has produced no less than 200 small earthquakes since it began stirring on July 11. However, experts at the University of the West Indies' Seismic Research Centre have raised its threat level to orange, predicting that it could erupt at any point.

No law or treaty can stop South America's worst polluter:
Chile's Calbuco Volcano Turns Brazil's Skies an Eerie Purple. The Calbuco eruptions aren't just creating a spectacle in southern Chile, with their lightning-streaked mushroom clouds and reverse-terraforming of the land into an ashen, "gray desert." Thousands of miles away they're showboating in Brazil, too, turning sunsets a weird, neon shade of eggplant.

Video shows aerial footage of Chile's Calbuco volcano as it continues to send millions of tonnes of gas into the air. Last Wednesday, the volcano that sits 620 miles south of the Chilean capital Santiago erupted for the first in 42 years, causing thousands to evacuate surrounding areas as the thick ash filled the atmosphere.

Chilean volcano third blast forecasted; ashes reach neighboring Argentine provinces. Chile's Calbuco volcano erupted for the first time in over 42 years on Wednesday [4/22/2015], creating a remarkable scene of smoke plumes and ash shooting into the sky. A second eruption Wednesday night blasted red-hot rocks skyward and produced an extraordinary display of volcanic lightning. Winds are pushing the ashes north and easr to several neighboring Argentine provinces.

Volcanic ash cancels flights to Chile, Argentina, and Uruguay. Calbuco, considered one of the most dangerous along Chile's chain of around 2,000 volcanoes, erupted twice in 24 hours on Wednesday [4/22/2015] and Thursday, sending up a spectacular 17-km-high (11 miles) cloud and coating nearby towns in a thick layer of gray ash.

Scientists find missing link in Yellowstone plumbing: This giant volcano is very much alive. Yellowstone National Park is the home of one of the world's largest volcanoes, one that is quiescent for the moment but is capable of erupting with catastrophic violence at a scale never before witnessed by human beings. In a big eruption, Yellowstone would eject 1,000 times as much material as the 1980 Mount St. Helens eruption. This would be a disaster felt on a global scale, which is why scientists are looking at this thing closely.

One of Chile's most active volcanoes erupts: 3,500 people evacuated. Chile is situated in an area known as the Pacific Rim of Fire and has the second largest chain of volcanoes in the world after Indonesia, including around 500 that are potentially active. Thirty-six are currently active and in the last 20 years, there have been 15 volcanic eruptions.

Underwater volcanoes alter climate, new study finds. Underwater volcanoes, which were long assumed to ooze lava at relatively steady rates, in fact erupt in "strikingly regular cycles" that can range from just a couple of weeks to 100,000 years, the study found. "People have ignored seafloor volcanoes on the idea that their influence is small — but that's because they are assumed to be in a steady state, which they're not," said the study's author, marine geophysicist Maya Tolstoy of Columbia University's Lamont-Doherty Earth Observatory. A related study by a separate team this week in the journal Science bolsters Tolstoy's case by showing similar long-term patterns of submarine volcanism in an Antarctic region Tolstoy did not study.

White House Methane Madness. Contrary to persistent claims by environmentalists, Methane is not an important greenhouse gas (GHG); it has a totally negligible impact on climate. Attempts to control methane emissions make little sense; the just-announced [Jan 14] White House plan to reduce emissions by 40 to 45% by 2025 ignores well-established 'text-book' science. Methane (chemical formula CH4) is the main component of natural gas. It may technically be defined as a greenhouse gas since it absorbs strongly in some portions of the infrared spectrum; but its impact on climate is insignificant. Its atmospheric level has been increasing because about half of the methane is produced by processes related to human activities, such as cattle raising, rice agriculture, landfills, and the production of oil and natural gas; it is also released in coal mining and from leaky natural gas pipelines. The major non-human sources include swamps and bogs.

Meat and You: Partners in Freedom. It's worth noting the U.S. cattle population is actually in decline — it's currently at its lowest level since 1951. Beef, which surpassed pork as America's favorite meat in 1909, is now in second place behind chicken. And according to Nicolette Hahn Niman, author of Defending Beef: The Case for Sustainable Meat Production, the amount of water needed for beef is only slightly more than the amount needed for rice. Two percent of greenhouse gases supposedly come from cattle (in the form of methane emissions, if you will). But as Niman recently pointed out in the Wall Street Journal, "Australian research shows that certain nutritional supplements can cut methane from cattle by half. Things as intuitive as good pasture management and as obscure as robust dung beetle populations have all been shown to reduce methane."

How Icelandic volcano Bardarbunga will plunge Europe into the dark ages. It is on our door step and is a constant threat but for some reason it is almost never mentioned in the media. Yet again, an Icelandic volcano threatens to fracture the political landscape of Europe. An explosion of Bardarbunga could wreak agricultural havoc, shifting weather patterns, and leading to a doubling of grain prices. As the volcano Bardarbunga has been "quietly" erupting for more than 100 days, it could now enter "a far more intense eruption phase", said John Hardy, head of FX strategy at Saxo Bank.

Claim: 'the pause' is caused by small volcanic eruptions. Small volcanic eruptions might eject more of an atmosphere-cooling gas into Earth's upper atmosphere than previously thought, potentially contributing to the recent slowdown in global warming, according to a new study.

University of Texas Research Demolishes Main Rationale for Climate Alarmism. Researchers at the University of Texas Institute for Geophysics have punctured one of the main arguments of global warming activists, that the large scale melting of an Antarctic glacier is caused by man made global warming. 1200 WOAI's Michael Board reports researcher Duncan Young says the Thwaites Glacier is indeed melting, but it is not melting due to global warming, but do to the fact that an active volcano exists directly under the glacier.

Alaska volcano erupts with new intensity, prompting 'red' alert. An Alaska volcano that has been spewing ash and lava for years began erupting with new intensity this week, pushing a plume of smoke and ash as high as 24,000 feet (7,315 meters) and prompting scientists to issue their highest volcanic alert in five years, authorities said on Tuesday [6/3/2014].

Termites emit ten times more CO2 than humans. The overwhelming majority (97%) of carbon dioxide in the earth's atmosphere comes from nature, not from man. Volcanoes, swamps, rice paddies, fallen leaves, and even insects and bacteria produce carbon dioxide, as well as methane. According to the journal Science (Nov. 5, 1982), termites alone emit ten times more carbon dioxide than all the factories and automobiles in the world. Natural wetlands emit more greenhouse gases than all human activities combined. (If greenhouse warming is such a problem, why are we trying to save all the wetlands?) Geothermal activity in Yellowstone National Park emits ten times the carbon dioxide of a midsized coal-burning power plant, and volcanoes emit hundreds of times more. In fact, our atmosphere's composition is primarily the result of volcanic activity.

The Volcano That Rewrote History. Thomas Jefferson went broke, Mary Shelley wrote Frankenstein, and Arctic exploration got a new life, all because a massive volcano erupted in 1815.

2014: The Year Without Summer. For most in America, Europe, and Asia, the winter of 1815-1816 was the coldest in living memory. What followed in the spring and summer of that year was equally disastrous. It was an entire year of cold rains, crop failures, hunger, and economic collapse. There were multiple causes for the extreme weather of 1816, but all of them were natural, not man-made. Chief among them, according to the Klingamans, was the massive eruption of Tamboro in present-day Indonesia.

Ecuador's Tungurahua volcano revives, spews 6-mile ash column. Ecuador's Tungurahua volcano has spewed a 6-mile (10-kilometer) column of ash after a powerful, five-minute explosion that shot pyroclastic material onto its northern and northwestern flanks.

Volcanoes: Nature's ticking time bombs. [O]nly one percent of our Earth is solid rock. Most of the other 99 percent is an oozing, mass, churning beneath our feet like road tar at temperatures between 2,000 and 10,000 degrees. The Earth's crust is only 20 miles thick. When that cracks, one of the greatest forces in nature erupts. There are 1,500 active volcanoes.

Our Fragile Planet: Man is the Fragile Animal That Must Be Must Be Protected. The 1883 eruption of the Krakatoa volcano, in present-day Indonesia, had the force of 200 megatons of TNT. That's the equivalent of 13,300 15-kiloton atomic bombs, the kind that destroyed Hiroshima in 1945. Preceding that eruption was the 1815 Tambora eruption, also in present-day Indonesia, which holds the record as the largest known volcanic eruption. It spewed so much debris into the atmosphere, blocking sunlight, that 1816 became known as the "Year Without a Summer" or "Summer That Never Was." [...] Geophysicists estimate that just three volcanic eruptions, Indonesia (1883), Alaska (1912) and Iceland (1947), spewed more carbon dioxide and sulfur dioxide into the atmosphere than all of mankind's activities in our entire history.

Active Volcanoes, Not CO2, Are Melting West Antarctic Ice Sheet. Researchers have discovered a chain of smoldering active volcanoes under the West Antarctic ice sheet — which happens to be the ice sheet that climate hysterics say is proof of man-caused global warming.

Another known unknown — volcanic outgassing of CO2. In 1992, it was thought that volcanic degassing released something like 100 million tons of CO2 each year. Around the turn of the millennium, this figure was getting closer to 200. The most recent estimate, released this February, comes from a team led by Mike Burton, of the Italian National Institute of Geophysics and Volcanology — and it's just shy of 600 million tons. It caps a staggering trend: A six-fold increase in just two decades. These inflating figures, I hasten to add, don't mean that our planet is suddenly venting more CO2. Humanity certainly is; but any changes to the volcanic background level would occur over generations, not years. The rise we're seeing now, therefore, must have been there all along: As scientific progress is widening our perspective, the daunting outline of how little we really know about volcanoes is beginning to loom large.

Long Invisible, Research Shows Volcanic CO2 Levels Are Staggering. We now know that the CO2 released during volcanic eruptions is almost insignificant compared with what happens after the camera crews get bored. The emissions that really matter are concealed. The silent, silvery plumes which are currently winding their way skyward above the 150 or so active volcanoes on our planet also carry with them the bulk of its carbon dioxide. Their coughing fits might catch the eye — but in between tantrums, the steady breathing of volcanoes quietly sheds upwards of a quarter of a billion tons of CO2 every year.

Opposing (?) viewpoint:
Do volcanoes emit more CO2 than humans? Humans emit 100 times more CO2 than volcanoes. [...] Volcanoes can — and do — influence the global climate over time periods of a few years but this is achieved through the injection of sulfate aerosols into the high reaches of the atmosphere during the very large volcanic eruptions that occur sporadically each century.

Europe's largest and most volatile volcano Mount Etna spews molten lava. Europe's most active volcano Mount Etna has erupted — spewing molten lava thousand of feet above the Sicilian countryside. The eruption, which was captured on camera from Acireale, near Cantania, sent thick plumes of smoke and ash over the Italian island last night ]11/16/2013].

Scientists confirm existence of largest single volcano on Earth. Covering an area roughly equivalent to the British Isles or the State of New Mexico, Tamu Massif is nearly as big as the giant volcanoes of Mars, placing it among the largest in the solar system.

US airlines cancel Mexico flights due to volcano. At least six U.S. airlines canceled 47 flights into and out of the Mexico City and Toluca airports Thursday [7/4/2013] after the Popocatepetl volcano spewed ash, steam and glowing rocks, airport officials said.

Mexican volcano spewing ash and lava threatens town as officials prepare to evacuate thousands. Thousands of people living in the shadow of this looming Mexican volcano have been placed on high alert following a dramatic increase in seismic activity from the Popocatepetl crater. The 17,886 ft active volcano near Mexico City, known as Popo, rumbled and shook during the night on Saturday [5/11/2013], and has been spewing ash, lava and steam in recent days.

The Largest Volcanic Eruptions in the past 250 Years: The size of volcanic eruptions is determined by the amount of lava emitted. The largest eruption over the past two centuries was Tambora in Indonesia in 1815.

New Data, Old Claims About Volcanoes. [Scroll down] So let's look at the volcanoes, one by one:
Laki, 1783: Occurred near the end of the fall in temperature that it is supposed to have caused.
Tambora, 1815: Occurred at the end of the fall in temperature that it is supposed to have caused.
Cosiguina, 1835: Occurred near the middle of the fall in temperature that it is supposed to have caused.
Krakatoa, 1883: Occurred at the end of the fall in temperature that it is supposed to have caused.
Santa Maria, 1902: Occurred in the middle of the fall in temperature that it is supposed to have caused.
Novarupta, 1912: I can see why Muller omitted this eruption, which occurred just before a rise in temperature ...
El Chichon, 1982: Occurred during the fall in temperature that it is supposed to have caused.
Pinatubo, 1991: This is arguably the only one of the eight volcanoes that could legitimately be claimed to cause a detectable fall in temperature ... a whopping fall of 0.15°C or so.

Alaskans mark 100th anniversary of big volcano. Even a century after one of the world's largest volcanic eruptions, a strong wind still whips up the ash that rained down on what became known as Alaska's Valley of Ten Thousand Smokes.

Thousands found in London burial pit were victims of a volcanic eruption thousands of miles away. The remains were found at Spitalfields Market, in east London, during the early 1990s and experts assumed they had died during the Black Death or the Great Famine. However, following radiocarbon dating of the bones and further geological research, scientists have come to the conclusion that they were in fact victims of a 13th century volcanic eruption — one of the largest eruptions of the past 10,000 years.

Supervolcanoes may have shorter fuse than thought. There are quite a few supervolcanoes around the world, from the one in Yellowstone Park to what could be a new supervolcano in Bolivia. While none of them appears primed for an eruption, understanding their behavior illuminates Earth's past and gives a better picture of the danger they pose.

Argo Data Confirms El Niño/La Niña Caused By Underwater Volcanoes. Last week I postulated that the El Niño/La Niña effect was not due to solar or atmospheric conditions, but actually caused by underwater volcanic activity along ocean ridges off the West coast of South America. To see whether my theory held water I decided to look into the Argo Float data to see if there it was showing a warm upwelling of water in this region. I apparently was correct.

America's Energy Future is Bright, if Government Doesn't Shut it Down. There is no scientific evidence that the use of fossil fuels in our country has a negative effect on our climate. Our efforts to reduce carbon dioxide emissions are foolish. A simple volcanic eruption will cancel a decade of effort in this regard.

Is a super-volcano just 390 miles from London about to erupt? A sleeping super-volcano in Germany is showing worrying signs of waking up. It's lurking just 390 miles away underneath the tranquil Laacher See lake near Bonn and is capable of ejecting billions of tons of magma. This monster erupts every 10 to 12,000 years and last went off 12,900 years ago, so it could blow at any time.

Iceland volcano Katla sparks global disaster fears. A huge Icelandic volcano long overdue for an eruption is showing signs of activity that could disrupt air traffic, experts reported. There have been more than 500 tremors at Katla in the south of the country in just the last month. An increase in activity at the site since July has also been causing concern among volcano experts.

Icelandic volcano 'set to erupt'. Geologists detected the high risk of a new eruption after evaluating an increased swarm of earthquakes around the island's second largest volcano. Pall Einarsson, a professor of geophysics at the University of Iceland, says the area around Bárdarbunga is showing signs of increased activity, which provides "good reason to worry".

Ocean Acidification and the CO2-Propaganda. While mankind has undoubtedly added CO2 to the air, most of the CO2 in the air is from natural sources. Before man's arrival, all CO2 was from natural sources, primarily from volcanoes. The CO2 is emitted by thousands of volcanic vents both on land and under water along some 60,000 km of tectonic rifts which criss-cross the earth. For example, the Kilauea volcano on Hawaii alone emits daily some 9,000,000 kg CO2 into the surrounding air, at a concentration of 500,000 parts per million or 50% of the emitted gas.

Volcanic Emissions in Perspective. Agence France-Presse (by way of Drudge/Breitbart) puts the volcanic belch from Eyjafjallajökull in perspective. The Iceland volcano is "emitting between 150,000 and 300,000 tons of carbon dioxide per day, a figure placing it in the same emissions league as a small-to-medium European economy. ... Extrapolated over a year, the emissions (55 million metric tons) would place the volcano 47th to 75th in the world table of emitters on a country-by-country basis." That is, in the neighborhood of Austria, Portugal, and Denmark, according to the World Resources Institute. That perspective is also relevant to the U.S., where spoiled, rich elites pretend CO2 is the greatest challenge that mankind faces.

Volcano CO2 Output Could Be 150-300,000 Tons Daily. Experts said on Monday [4/19/2010] that the volcano in Iceland is emitting 150,000 to 300,000 tons of carbon dioxide (CO2) per day, a figure comparable to emissions released from a small industrial nation.

Volcanic Carbon Dioxide. At continental rift zones, where an entire continent is being pulled apart by divergent mantle convection, magma rising to fill the rift is enriched in CO2 from deep mantle sources. Oldoinyo Lengai is an example of a continental rift zone volcano, which has above average CO2 outgassing at 2.64 megatons of CO2 or 720 KtC per annum.

Mount St. Helens is the state's No. 1 air polluter. Right now, the biggest single source of air pollution in Washington isn't a power plant, pulp mill or anything else created by man. It's a volcano. Since Mount St. Helens started erupting in early October [2004], it has been pumping out between 50 and 250 tons a day of sulfur dioxide, the lung-stinging gas that causes acid rain and contributes to haze. Those emissions are so high that if the volcano was a new factory, it probably couldn't get a permit to operate.

Smashing Environmentalist Myths: I have never believed the earth is fragile. Did you know that your typical volcanic eruption puts more pollutants in the air than all auto emissions in the history of civilization combined? But the earth also has a mechanism for cleaning itself. It doesn't just sit there, get dirty and die. It has its own corrective measures. For us to think that we have the ability, just by virtue of living our lives in a way that enhances our lives, to destroy this planet is the height of folly.

Hawaii's biggest polluter is completely out of control.
Gas from Kilauea forces 2,000 from Hawaiian park. Elevated sulfur dioxide levels from Kilauea volcano and a change in wind direction Tuesday [4/8/2008] forced 2,000 people to leave Hawaii Volcanoes National Park on the Big Island.

Trivia:
Hawaii is the only state that is getting bigger. It is also the only state that has no straight-line borders.

Chile volcano blasts ash 20 miles high, forcing evacuations. [Scroll down] So far, Chaiten has emitted only a few thousand tons of sulfur dioxide, "which is very small," said Simon Carn, a University of Maryland-Baltimore volcanologist who uses satellites to measure volcanic gases. In general, a volcano must spew at least 1 million tons of sulfur dioxide into the stratosphere to have a global effect on climate, said Alan Robock, a Rutgers University professor who co-authored a book on the subject. … The Philippines' Mount Pinatubo produced a brief cooling of the climate after spewing 20 million tons of sulfur dioxide in 1991.

Warming or Cooling? You Be the Judge. In 1991, the volcanic eruption at Mount Pinatubo in the Philippines put more carbon dioxide (CO2) into the atmosphere than did the whole human race during the most recent century of the industrial era. Notwithstanding all the heat and fury released in the neighborhood of the volcano, the event had a cooling effect on the world as a whole.

Volcanoes and climate: [Scroll down] Volcanoes also release large amounts of water and carbon dioxide, the two most important greenhouse gasses. From an isolated point of view, a volcanic eruption might thus be expected to result in atmospheric warming. However, there are large amounts of water and carbon dioxide in the atmosphere already, and even a large eruption will not be able to change the atmospheric composition of these compounds much. In addition, the water generally condenses out of the atmosphere as rain within few days, and the carbon dioxide quickly dissolves in the ocean or is absorbed by plants.

The Editor asks...
If the thousands of tons of CO2 from a volcano are absorbed so "quickly," why is there any concern over industrial production of carbon dioxide, where the CO2 trickles into the atmosphere from thousands of locations all over the world? Why all the fuss over carbon credits? Some "experts" say "carbon dioxide … stays around for more than a century." Which "expert" is right?

Global Warming Heresy: Manmade carbon dioxide emissions are roughly 5 percent of the total; the rest are from natural sources such as volcanoes, dying vegetation and animals. Annually, volcanoes alone produce more carbon dioxide than all of mankind's activities. Oceans are responsible for most greenhouse gases. ... The bottom line is, the bulk of scientific evidence shows that what we've been told by environmentalists is pure bunk.

Ian Plimer argues CO2 is not causing global warming. Professor Ian Plimer, a geologist from Adelaide University, argues that a recent rise in temperature around the world is caused by solar cycles and other "extra terrestrial" forces. He said carbon dioxide in the atmosphere, widely blamed for global warming, is a natural phenomenon caused by volcanoes erupting. "We cannot stop carbon emissions because most of them come from volcanoes," he said.

Supplemental information:
1000 people evacuated after Colombia volcano erupts. A 1993 eruption of Galeras, which rises in the Andes mountain chain to an altitude of 4,270 meters (14,029 feet), killed nine people, including six scientists who had descended its crater to take gas samples. ... Huila, at some 5,363 meters (17,595 feet), last erupted in November 2008, killing 10 people.

Forced evacuations around Philippine volcano. Security forces will forcibly evacuate thousands of residents reluctant to leave their farms near a smoldering volcano in the Philippines despite fears of a major eruption, officials said. Authorities in Albay province on Thursday declared a round-the-clock ban on anyone entering with a five-mile danger zone around the Mayon volcano, which is spewing lava and ash.

The Editor says...
The volcano is spewing a lot of other stuff, too, like carbon dioxide and methane.

Volcanic explosions expected in Chile quake's wake. Besides aftershocks, Chile's magnitude 8.8 earthquake on 27 February may also leave a legacy of volcanic explosions. "We expect to see an upsurge in volcanic activity over the next 12 months," says David Pyle, a volcanologist at the University of Oxford. ... In particular, they found that after a magnitude 8.3 in 1906 and a magnitude 9.5 earthquake in 1960, there were three or four more volcanic eruptions within about 500 kilometres of the epicentre in the following year than would normally be expected.

Volcanoes may help climate. A vast network of under-sea volcanoes pumping out nutrient-rich water in the Southern Ocean plays a key role in soaking up large amounts of carbon dioxide (CO2), acting as a brake on climate change, scientists say.

Volcano erupts in southern Iceland. Authorities evacuated hundreds of people after a volcano erupted beneath a glacier in southern Iceland, Iceland's civil protection agency said Sunday [3/21/2010].

Britain Closes Airspace as Volcanic Ash Spreads. British civil aviation authorities ordered the closing of the country's airspace as of noon on Thursday [4/15/2010] to shield aircraft from a high-altitude cloud of ash drifting south and east from an erupting volcano in Iceland.

Volcanic ash grounds flights worldwide. Hundreds of flights worldwide were cancelled or delayed as volcanic ash from Iceland swept across northern Europe, closing airspace above Britain, Ireland, Scandinavia and other countries.

Iceland Volcano — Weather and Agricultural Implications. [Scroll down] Aircraft are grounded as the very fine dust particles when ingested into the engines cause them to fail. It is a very dangerous situation that occurs whenever eruptions occur. Longer term the very fine material will remain suspended for several years. It will block sunlight causing cooling but because most of it is sulphur it will tend to block more in the yellow portion of the light, a part important for plant growth. We witnessed both the cooling effect and the delayed ripening of the crop following the eruption of Pinatubo in 1991.

Volcanic eruptions caused by global warming!
Volcanoes? All Your Fault According To NPR. The slogan attached to NPR gabber Diane Rehm's show is "one of her guests is always you." Based on Rehm's interview of Elise Labott, senior State Department producer for CNN, reality isn't quite as welcome as you are.

Geothermal Energy: Another Forgotten Or Ignored Climate Factor. [Scroll down] Now we have claims global warming is the cause of the volcanic eruptions in Iceland and more eruptions are to come. Of course, there are more to come because Iceland is splitting apart and lava will continue to come to the surface in flows or eruptions. It's another one to add to the remarkable list of false claims kept at the website Numberwatch. We also have the claim that the eruptions won't stop global warming. Two problems with that, warming is not occurring and they can't determine the effect of the volcanic dust called aerosols.

Icelandic Volcano: An animated map of the ash cloud.

Big Nature and Tiny Us. Iceland's Eyjafjallajokull volcano has forced tens of thousands of airline flights in Europe and the North Atlantic to shut down. The last time this volcano erupted, in 1821, it continued for two years. No one knows when the eruption will stop this time. This uncontrolled and unpredictable explosion of nature's power upon our lives steps across our puny civilizations with frightening ease. Nineteen years ago, Mount Pinatubo in the Philippines coughed up twenty million tons of sulfur dioxide. In Mexico, nine years earlier, the Chichón eruption perceptibly cooled the planet. Recent human history has other examples of globally cooling volcanoes.

What ever Happened To The Erupting Iceland Volcano? The Eyjafjallajokull volcano continues to erupt in Iceland, but the story has fallen off the very small mainstream media tabletop. ... A brief examination of climate history shows how much it changes naturally and how those changes are a great influence on nature and human history. The planes may be flying again but the fallout from the eruption is just beginning. The mainstream media ... quickly lurch on to the next hysteria leaving the outcome and fallout of previous hysterias unreported.

Volcanic Gases and Their Effects. Volcanoes release more than 130 million tonnes of CO2 into the atmosphere every year.

Second Iceland volcano could erupt. An Icelandic volcano neighbouring Eyjafjoell, whose eruptions paralysed Europe's skies last month, could come to life in the near future, experts have warned.

Big volcanic eruptions in Guatemala, Ecuador. Explosive eruptions shook two huge volcanos in Central and South America on Friday [5/28/2010], forcing thousands of people to flee their homes and disrupting air traffic as ash drifted over wide regions.

Volcano erupts for the first time since 1600. Around twelve thousand people have had to be evacuated from their homes in the mainly agricultural area on the slopes. Its (sic) the first time Mount Sinabung in the north of Sumatra has erupted for 410 years. There are no reports of casualties, nor of aviation being affected.

Indonesian Volcano Unleashes Biggest Blast Yet. Clouds of gray ash rumbled down the slopes of Indonesia's most volatile volcano Saturday [10/30/2010] in its most powerful eruption of a deadly week, prompting soldiers to force reluctant villagers to evacuate amid fears of a larger blast.

Iceland volcano flooding - could erupt. Torrents of water are pouring from a glacier that sits atop Iceland's most active volcano, an indication that the mountain is growing hotter and may be about to erupt, scientists said on Monday [11/1/2010].

Indonesians flee after huge volcanic blast. Indonesia ordered thousands more people to evacuate on Thursday [11/4/2010] as the country's most active volcano erupted again, shooting gas and ash into the sky and triggering a new aircraft exclusion zone.

Huge volcanic blast spurs more Indonesians to flee. Indonesia's deadly volcano erupted Wednesday [11/3/2010] with its biggest blast yet, shooting searing ash miles into the sky and forcing hasty new evacuations of panicked people from villages and emergency shelters.

1,400-degree gas chars villages near volcano. Searing gas avalanched down an Indonesian volcano with a thunderous roar, torching houses and trees and incinerating villagers as they fled Mount Merapi's worst eruption in a century. Dozens of bodies found Friday [11/5/2010] raised the death toll to 122.

The Editor asks...
What kind of gas flows downhill when heated to 1400°?

Indonesia is a no-fly zone after Mount Merapi's worst eruption yet. Three airlines have temporarily cancelled flights to Indonesia after another eruption of the Mount Merapi volcano. Malaysia Airlines, Lufthansa and Singapore Airlines have all scrapped flights to Jakarta because of the continued volcanic activity in Indonesia.

Japan on alert after volcano's biggest eruption in 50 years. A one-mile cordon has been established around a volcano on Mount Kirishima after it erupted scattering rocks and ash across southern Japan and sending smoke billowing 5,000 ft into the air.

Thousands flee as Philippine volcano erupts. Thousands of people in the Philippines fled their homes as a volcano erupted on Monday [2/21/2011], sending a spectacular column of ash high into the sky, residents said. The eruption of Bulusan, a 1,559-metre (5,115-foot) volcano, turned mid-morning into night for about 20 minutes across largely farming areas around its slopes, regional army spokesman Major Harold Cabunoc told AFP.

Lava spews 65 feet high after crater collapse. Kilauea has been in constant eruption since Jan. 3, 1983.

Fire in the hole. Puu Oo crater's floor collapses, starting a spectacular fissure eruption at Kilauea Volcano.

Iceland volcanic ash cloud. Flybe called off scheduled flights between London Gatwick and Aberdeen and Inverness airports, while easyJet also cancelled routes between London airports and Scottish destinations. It came as all major operators flying in and out of Scotland cancelled flights on Tuesday morning [5/24/2011] with the ash cloud already drifting across airspace after the eruption of the Gr?msvötn volcano in Iceland.

Chilean volcano erupts, forces mass evacuations. Southern Chile's Puyehue volcano erupted for the first time in half a century Saturday [6/4/2011], prompting evacuation orders for 3,500 people as it sent smoke billowing into the sky, authorities said. The National Service of Geology and Mining said the explosion that sparked the eruption also produced a column of gas 10 kilometers (six miles) high, hours after warning of strong seismic activity in the area.

Bariloche, Southern Chile on red alert after volcano eruption. The volcano, which had remained dormant for decades, began belching ash over 10 km into the sky and prompting the Chiean government to evacuate several thousand residents, authorities said. ... Local media said the smell of sulfur hung in the air and there was constant seismic activity.

Mexico's Popocatepetl volcano blasts tower of ash. The Popocatepetl volcano that towers over Mexico City began rumbling again Friday [6/3/2011], shooting a blast of ash about 2 miles (3 kilometers) above its crater at dawn.

Chile volcano eruption: Alert remains for ash cloud. Authorities in southern Chile and Argentina are continuing to monitor the direction of ash clouds belched out by a chain of volcanoes over the weekend.

Volcano erupts in Eritrea after quakes. A long-dormant volcano has erupted in Eritrea after a series of earthquakes and sent a 13.5 km plume of ash into the air, according to the Volcanic Ash Advisory Centre (VAAC). ... The Dubbi Volcano - which is located 350 km north of the Eritrean capital Asmara and 233 km east of the Ethiopian city of Mekelle - is thought to have last erupted in 1861.

Iceland's 'Gateway to Hell' volcano ready to erupt, experts say. One of Iceland's most feared volcanoes, Hekla, looks ready to erupt, with measurement instruments showing likely magma movement, an Icelandic geophysicist said Wednesday [7/6/2011].

Farmers flee as world's deadliest volcano rumbles. Bold farmers in Indonesia routinely ignore orders to evacuate the slopes of live volcanoes, but those living on Tambora took no chances when history's deadliest mountain rumbled ominously this month.

Mount Etna bursts into life. Mount Etna, Europe's biggest volcano, has erupted, spewing lava down the sides of the mountain on the southern Italian island of Sicily. A huge column of hot ash rose high into the sky on the Mediterranean island yesterday [1/6/2012] as the highest active volcano in the continent rumbled back to life.

A killer cloud of CO2 was released by a volcano -- not by a factory or power plant.
Carbon Capture Projects Imperiled by Worst-Case Scenario: Energy. The cloud of carbon dioxide that burst out of Lake Nyos in Cameroon and asphyxiated 1,700 people haunts the plans of oil and power companies to bury their greenhouse gases underground. "It was shocking," said Minoru Kusakabe, a Japanese geochemist who makes regular trips to the site of the 1986 disaster near the border with Nigeria. "The village was completely devastated, and people were in their homes dying." While the source of the CO2 bubble was natural, originating from volcanic magma deep below the lake, the devastation shows how shifts in the Earth's crust can trigger worst-case scenarios for the energy industry...

Concerns grow over volcanic eruptions. Scientists have known for decades that hidden under those impressive vistas at sites such as Death Valley and Yellowstone National Park are magma pools that under the right conditions can trigger explosive eruptions.

Hawaii Volcano Wipes Out Last Remaining Home. A volcano that erupted in Hawaii has destroyed the last remaining home in the neighborhood that spanned the volcano's side. The Kilauea volcano on Hawaii's Big Island wiped out a subdivision neighborhood on the mountainside Friday [3/2/2012].

Mexico's Popocatépetl sleeping volcano awakens. Popocatépetl, the nearly 18,000 foot volcano that hovers like a sentinel on the southeastern fringe of Mexico's capital, awakened again Sunday, punctuating an especially shaky seismic season.

Mexico raises volcano alert level after rumbling. Authorities in Mexico have raised the alert level for the Popocatepetl volcano southeast of Mexico City due to increasing activity.

Mexican Volcano: Ash and Rock Half-Mile Into the Sky. México's Popocatépetl volcano has spewed super-heated rock fragments into the sky and officials worry that this is a sign of more serious eruptions to come.

Mexico preps shelters as volcano roars, spews ash. A 35 million cubic foot (1 million cubic meter) chamber of magma is seething about six miles (8 to 10 kilometers) beneath Popocatepetl, Roberto Quaas, director of the disaster prevention center, said at a news conference laying out emergency preparations.

Guatemala volcano erupts, forcing 33,000 to evacuate homes. A long-simmering volcano outside one of the Guatemala's most famous tourist attractions exploded into a series of powerful eruptions Thursday [9/13/2012], hurling thick clouds of ash nearly two miles (three kilometers) high, spewing rivers of lava down its flanks and forcing the evacuation of more than 33,000 people from surrounding communities.



Massive volcanic eruption puts past climate and people in perspective. The colossal eruption, which occurred 74,000 years ago, left a crater that is about 50 km wide. Expelled with the eruption was 2,500 cubic kilometers of lava -- equivalent to double the volume of Mount Everest. The eruption was 5,000 times larger than the Mount St. Helens eruption in 1980 in the United States.

When the Ice Melts, the Earth Spews Fire. It has long been known that volcanic activity can cause short-term variations in climate. Now, researchers at the GEOMAR Helmholtz Centre for Ocean Research Kiel (Germany), together with colleagues from Harvard University have found evidence that the reverse process also occurs: Climate affects volcanic activity.

50 Amazing Volcano Facts. [#49] The gas and other particles spewed high into the atmosphere during the 1991 eruption of Mount Pinatubo reduced global temperatures by about 0.9 degrees Fahrenheit (0.5 degrees Celsius) during the following year.

Volcano Location: Greenhouse-Icehouse Key? A new Rice University-led study finds the real estate mantra "location, location, location" may also explain one of Earth's enduring climate mysteries. The study suggests that Earth's repeated flip-flopping between greenhouse and icehouse states over the past 500 million years may have been driven by the episodic flare-up of volcanoes at key locations where enormous amounts of carbon dioxide are poised for release into the atmosphere.

Iceland volcano: Fears of eruption increase as Met Office registers 1,000 small earthquakes in region. Fears of another volcanic eruption in Iceland continued today with reports that weather officials have detected 1,000 small quakes in the Barðarbunga volcano, following an unusually strong earthquake on Monday [8/18/2014]. Hundreds of people have been evacuated from the highlands north of the Vatnajokull glacier by Iceland's civil protection department after the volcano began belching huge plumes of smoke.

Iceland volcano: Bardarbunga eruption sparks red alert. The Icelandic Met Office warned that a small eruption had taken place [8/23/2014] under the Dyngjujokull ice cap. Seismic activity is continuing at the Bardarbunga volcano, about 30 km away. Airspace over the site has been closed, but all Icelandic airports currently remain open, authorities say.

Volcano Erupts; Several Seconds Later, Its Powerful Ensuing Effects Are Felt. Incredible footage posted online captured Papua New Guinea's Tavurvur Volcano eruption — in addition to the ensuing sonic boom. [Video clip]

Over 12,000 evacuated ahead of Philippines volcano eruption. The Philippines has evacuated more than 12,000 people from around the foot of its most active volcano as the crater glows red and authorities warn of a possible eruption.

Hawaii residents told to prepare for possible lava evacuation by Tuesday. Dozens of residents in a rural area of Hawaii were placed on alert as flowing lava from an erupting volcano continued to advance. Authorities on Sunday said lava flow on the Big Island of Hawaii had advanced about 250 yards since Saturday morning [10/25/2014] and was moving at the rate of about 10 to 15 yards an hour, consistent with its advancement in recent days.
---
"[N]ature produces far more greenhouse gases than we do. For example, when the Mount Pinatubo volcano erupted, within just a few hours it had thrown into the atmosphere 30 million tonnes of sulphur dioxide — almost twice as much as all the factories, power plants and cars in the United States do in a whole year. Oceans emit 90 billion tonnes of carbon dioxide, the main greenhouse gas, every year. Decaying plants throw up another 90 billion tonnes, compared to just six billion tonnes a year from humans."



— Against Nature — Part I of III (Broadcast by Channel 4 in the UK, 1997)

[

Source

]

---

Back to the

Environmental Issues Page

Back to the

The Global Warming Page

Back to the

Home page