Once again, the US Congress is being asked to approve an "emergency" law that nobody has read all the way through, just like the Patriot Act, and one which is full of opportunistic spending (i.e., pork). There is a subsection below about pork products in the stimulus bill.

Regular visitors, if any, will notice immediately that I said the same thing about the Wall Street Bailout.

Many of these "stimulus" ideas have been tried before, and they didn't work. Lyndon Johnson's war on poverty has cost trillions of dollars, yet there are more poor people today than ever before. Similarly, FDR's New Deal was not the great success that many Democrats think it was.

Here's the latest twist: Since President Obama was unable to spend his way out of a recession with the first stimulus bill, he can only think of one course of action: more stimulus spending. Mr. Obama appears to be intentionally dismantling the American economy. Why would he do that? Because throughout his life he has surrounded himself with communists and others who hate to see capitalism succeed.


---

Full text of the American Recovery and Reinvestment Act of 2009.



Ben Bernanke Has Betrayed Us All. [Scroll down] That weakening occurred in two stages. The first took place when Pelosi, Reid and Obama decided to ramp up spending from an already far too high $2.98 trillion in fiscal 2008 to a dangerous $3.57 trillion in fiscal 2010 (the "official" 2010 spending figure is lower because Tim Geithner's Treasury Department engaged in TARP-related accounting manipulation which made fiscal 2009 look worse than fiscal 2010, when that wasn't really the case), primarily by passing a "stimulus" program which stimulated nothing but massive levels of waste, fraud and abuse. Then, despite promising that the stimulus would be a temporary two-year operation, and that spending levels would come down after that, Obama and Reid made it clear to Boehner and the rest of the country that their previous pledges meant nothing, and that they would accept no meaningful controls on spending growth.

DOD Green Energy Project to Pay Off in 447 Years. In a mind-boggling example of government waste, it will take the U.S. Navy an astounding 447 years to benefit from a costly green-energy project that's supposed to save money by lowering utility bills. Like many other failed renewable energy experiments, the Navy project was funded with money from President Obama's $787 billion stimulus, the fraud-infested disaster that was supposed to jump start the economy and put Americans back to work. Instead, big chunks of money have gone to wasteful projects [...]

Navy builds solar power farm near Norfolk base. The solar farm contains more than 8,600 panels, each bolted onto steel stilts in a marshy field called Monkey Bottom, just outside the fenceline of Norfolk Naval Station. Together, they can generate up to 2.1 megawatts of electricity — enough to power 200 homes, said Michelle Perry, project manager for the Naval Facilities Engineering Command. That's only about 2 percent of the electricity required to run the Norfolk Navy base [...] The project cost $21 million and was part of President Barack Obama's stimulus package.

It's too late now, but...
40 Reasons Not To Re-Elect Barack Obama. [#2] Barack Obama's stimulus plan cost more than the Marshall Plan, the Louisiana Purchase, and putting a man on the moon — combined[,] and it was a complete and utter failure — more than 800 billion dollars that accomplished nothing of significance.

The Seven Most Disturbing Moments So Far in Barack Obama's Presidency. [#5] Obama shoves through history's single most wasteful spending bill. The very first thing Barack Obama did after he was elected was push through the largest and most wasteful spending bill in human history. Most calculations of the cost of the bill came in somewhere between 800 billion and 1.2 trillion dollars. The whole purpose of the bill was supposed to be to create jobs and the Obama Administration claimed the bill would keep unemployment below 8%.

The Punk President and His 'Gangster Government' Go All In. Once in office, Obama started with an $800 billion stimulus package which turned out to be little more than temporary layoff prevention for certain public employees and the distribution of billions to "green" and "clean" energy firms which could never survive in the marketplace on their own. It was sold to the public largely as a recovery-motivated attempt to bring about "shovel-ready" jobs. We're supposed to believe that Obama only later discovered, thanks largely to barriers imposed by government red tape and organized labor, that there really isn't any such thing as a shovel-ready job. In hindsight, it's reasonable to contend that Team Obama knew this from the start, and didn't care. There were cronies and contributors who needed care and feeding.

CBO: Obama stimulus may have cost as much as $4.1 million a job. The Congressional Budget Office in a new report: ["]When [the American Recovery and Reinvestment Act] was being considered, the Congressional Budget Office (CBO) and the staff of the Joint Committee on Taxation estimated that it would increase budget deficits by $787 billion between fiscal years 2009 and 2019. CBO now estimates that the total impact over the 2009-2019 period will amount to about $831 billion.["]

Romney: Stimulus was wasted. [Mitt] Romney, speaking before about 200 people at the Hotel Des Moines Tuesday [5/15/2012] called the $787 billion economic stimulus package "the biggest, most careless one-time expenditure by the federal government in history." To make things worse, he said, "the stimulus wasn't just wasted — it was borrowed and wasted. We still owe the money. We're still paying interest on it and it will be that way long after this president's out of office."

What Stimulus? Whether the Obama administration intended for the stimulus to be a job-creating measure or an "investment" in pet projects and constituencies, this much is clear: For every $278,000 in taxpayer-funded stimulus money that the administration spent as of the July report, only one job was added or saved. And that's according to an estimate from Obama's own economists. And it has gotten worse from there.

Those who live to impose regulations on others aren't always as eager to obey regulations themselves.
What Stimulus? [I]t's not only in formal speeches that the Obama administration is steering clear of publicizing the stimulus. It has now been five months since the administration last put out a report card on the so-called American Recovery and Reinvestment Act (ARRA — aka the "stimulus"), which the act itself requires the administration to do. In fact, the administration is now three economic quarters behind schedule in chronicling the effects of Obama's second-most prominent piece of legislation — again, in defiance of the very law it's supposed to be reviewing.

Romney, at Abandoned N.H. Bridge, Hits Obama Spending. Mitt Romney ventured to the Granite State today to stand in front of an abandoned 19th century stone bridge to highlight what he considers to be President Obama's "wasteful" spending. "You all know the story of this bridge, this is part of the president's stimulus plan," said Romney. "He went out and borrowed $787 billion and said that if we're allowing him as Congress allowed him to borrow that kind of money, that he would hold unemployment below 8 percent and it hasn't been below 8 percent since."

10 Things That Would Be Happening Today If Obama's Policies Were Working. [#10] The unemployment rate has been mired above 8% for more than 3 years now. However, according to the Obama Administration's own projections, the unemployment rate should be all the way down to 5.5% by now because of the nearly trillion dollar stimulus it pushed through with no Republican votes in the House and only three Republican votes in the Senate.

It's Romney versus Carter. Mr. Obama took over in the throes of a reeling economy. He made it worse. His stimulus plan was taken hostage by Democrats in Congress, who loaded it up with pork and precious few sources of actual economic stimulus. Then, $787 billion later, our deficit reached record heights while our economy listed. Sure, the Obama administration says we are in recovery, but it's the kind of recovery no one can believe in.

Obama Stimulus Dollars Funded Soros Empire, Says New Report. Newly recently released tax documents, examined and analyzed by Tina Trent of sorosfiles.com, reveal how billionaire "philanthropist" George Soros expanded his U.S.-based empire by using funds from the American Recovery and Reinvestment Act of 2009, also known as the Obama stimulus. Soros and Obama worked hand-in-glove through the stimulus, which has been called the largest single partisan wealth transfer in American history.

The Supreme Court Lands in Oz. [Scroll down] It's in one of the grandest moments in "The Wizard of Oz," when the Wizard, fumbling at the controls inside his throne room, shouts to Dorothy and the others: "Pay no attention to that man behind the curtain." Barack Obama, a wizard of another kind, has been trying with fulminations and denunciations to keep anyone from attempting what a law professor might call discovery of what the president actually has done in the past three years. We already know, for instance, that the stimulus's $825 billion went up the chimney. What else?

Justice Department Probing Widespread Stimulus Fraud. In what is shaping up as another troubled chapter in the saga of the Obama Administration's economic stimulus program, the Justice Department is investigating whether billions of dollars worth of federal highway and transportation programs are rife with fraud and abuse.

Where did stimulus money really go? When President Obama signed his economic stimulus plan into law on February 17, 2009, he promised it "includes help for those hardest hit by our economic crisis," and "As a whole, this plan will help poor and working Americans." But the newest data on how the stimulus money was given out across the 50 states and the District of Columbia shows a perverse pattern: The states hardest hit by the recession received the least money. States with higher bankruptcy, foreclosure, and unemployment rates got less money. And lower-income states also received less.

America's missing $800 billion. The missing wage and salary income, $800 billion, is about the same as the cost of the Obama stimulus.

Cost of $10 Billion Stimulus Easier to Tally Than New Jobs. Alfredo Garcia was among the residents of Webb County, Texas, banking on a windfall from federal stimulus money. Mr. Garcia expanded his Mexican restaurant from 80 to 120 seats, anticipating a rush of new patrons springing from the nearby Cedro Hill wind farm, a project built with the help of $108 million from U.S. taxpayers. When construction ended, Cedro Hill had just three employees and Mr. Garcia's restaurant, Aimee's, filed for bankruptcy protection.

Obama Stimulus Turns Three: What Has It Achieved? At the time, Obama claimed that it would "create or save" up to 3.5 million jobs, and that "a new wave of innovation, activity and construction will be unleashed across America." The stimulus, would, he promised "ignite spending by businesses and consumers" and bring "real and lasting change for generations to come." So three years later, how do the stimulus results stack up? Here's where various indicators stood in or around February 2009, and where they stand today.

Trolled by Charlie Rose. The economy is in the toilet. That is all — and I mean all — that Republican presidential candidates should talk about. Friday [2/17/2012] was the third anniversary of President Obama signing the Titanic of economic policies — the $787 billion stimulus which sank the economy.

Failed President to Unveil "Job Training" Program. Is this guy for real? He's spent us into oblivion and now he wants billions more to "train" already high-skilled workers? At what point is there an end to these slush funds of his? What was the $900 billion so-called "stimulus" for three years ago? Where has that money gone?

How the $800B stimulus failed. Officially called the American Recovery and Reinvestment Act, the $800 billion stimulus was the largest economic recovery program in history. Adjusted for inflation, it was nearly five times more expensive than the Works Progress Administration. It was bigger than the Louisiana Purchase, the Manhattan Project, the moon race and the Marshall Plan.

15 Questions The Mainstream Media Would Ask Barack Obama If He Were A Republican: [#14] Your stimulus bill cost more in real dollars than the moon landing and the interstate highway system combined. What do we have to show for all of that money spent? [#15] Members of your administration promised that the trillion dollar stimulus would keep unemployment under 8 percent. Instead, we've had 35+ months of 8% and above unemployment. Doesn't that mean we wasted a trillion dollars on nothing?

Lying About the Stimulus: [James] Pethokoukis lists 11 main points that tell us all we need to know about the economic stimulus package that the Democrat-controlled Congress passed at Obama's behest. Chief among them is this: the nearly trillion-dollar expenditure package was primarily about implementing Obama's political agenda, not fixing a damaged economy. The Summers memo is clear evidence that much of the rhetoric put forward by the administration and allies was patent hogwash.

Obama 101. Before Obama, many Americans still believed in massive deficit spending, whether as an article of fairness, a means to economic growth, or just a lazy fallback position to justify an out-of-control federal government. But after the failure of a nearly $800 billion "stimulus" program — intended to keep unemployment under 8 percent — no one believes any more that an already indebted government will foster economic growth by taking on another $4 trillion in debt. In other words, "stimulus" is mostly a dead concept.

Another Secret Federal Reserve Bailout, $7.7 Trillion This Time. The Federal Reserve Bank committed some $7.77 trillion in funds to major Wall Street banks during the height of the 2008 financial crisis, according to a report published by Bloomberg News November 28 through a Freedom of Information Act request. It's unclear from the methodology explained by Bloomberg's analysis of some 29,000 Federal Reserve documents released how much overlap there is with the Government Accountability Office audit published last July that counted some $16 trillion in Federal Reserve loans to major Wall Street banks. Bloomberg's explanation of its methodology does indicate at least some overlap.

The Stimulus: Jump Starting a Car with No Engine. In order for a "jump-start" to work for a car, the other systems of the car have to be working properly. The engine has to run, and the alternator has to recharge the battery, or the car will simply not start the next time you turn the key. Isn't this is a mirror-image of the stimulus? Without a well-functioning economy with good underpinnings, a jump-start will accomplish nothing — except delay the inevitable, and leave us in a bigger hole.

CBO: Stimulus hurts economy in the long run. The Congressional Budget Office on Tuesday [11/22/2011] downgraded its estimate of the benefits of President Obama's 2009 stimulus package, saying it may have sustained as few as 700,000 jobs at its peak last year and that over the long run it will actually be a net drag on the economy.

AIG posts $4.1 billion loss. American International Group is back in the red. Way in the red. The bailed out insurer posted a net loss of $4.1 billion on Thursday [11/3/2011], a loss per share of $2.16 for the third quarter. While analysts hadn't expected the company to post a profit, the size of the loss exceeded expectations.

A Disastrous Presidency. It didn't have to be this way. Obama let Nancy Pelosi, Harry Reid, and every other crackpot Democrat write his Stimulus Bill. In the end, he spent a trillion dollars insulating union members and government employees from the effects of the economic downturn, while the rest of us suffered. The Stimulus could have consisted of permanent tax cuts for business, allowing capitalist competition to direct funds to its most profitable uses, thereby accelerating economic growth and providing jobs, but Barack Obama does not like profit and its trickle-down wealth.

Progressive Unemployment. The great political philosopher P. J. O'Rourke said, "You can't get rid of poverty by giving people money." If anyone doubted that, the present inhabitant of the White House has proven it by tossing away trillions of dollars on projects that had no lasting effect on eradicating poverty, creating employment, or improving the nation's purse or infrastructure.

The stimulus is now causing the economy to shed jobs.
Obama's Economists: 'Stimulus' Has Cost $278,000 per Job. [Scroll down] The government could simply have cut a $100,000 check to everyone whose employment was allegedly made possible by the "stimulus," and taxpayers would have come out $427 billion ahead. ... Over the past six months, the economy would have added or saved more jobs without the "stimulus" than it has with it.

CBO: Stimulus almost doubled U.S. debt. The 2011 Long-Term Budget Outlook, released Wednesday morning 6/22/2011], reports that the "the combination of automatic budgetary responses" and Obama's stimulus "had a profound impact on the federal budget." According to CBO projections, before Obama's stimulus became law, federal debt equaled 36 percent of GDP and was projected to decline slightly over the next few years. Instead, thanks in large part to the stimulus, debt reached 62 percent of GDP by 2010.

How the Democrats Nearly Destroyed the Economy. [Scroll down] More recently we've witnessed the creation of new historical narrative about the financial crisis of 2008. The perceived history, eagerly peddled by liberals and Democrats, is that the crash of 2008 was the result of Wall Street greed. It was unregulated capitalism that brought us to the brink of financial meltdown, the Democrats insisted. And they codified their manufactured history in a law, the Dodd-Frank Act, that completely avoided the true problem. It's both surprising and gratifying, therefore, to report that a great revisionist history has just been published by none other than a New York Times reporter, Gretchen Morgenson, and a financial analyst, Joshua Rosner.

1.9 Million Fewer Americans Have Jobs Today Than When Obama Signed Stimulus. Twenty-eight months after Congress passed President Obama's signature economic stimulus law, and nearly one year after he declared the summer of 2010 to be "Recovery Summer," 1.9 million fewer people are employed.

Economic Opportunity and Prosperity. High levels of government spending in response to the global economic turmoil have not resulted in higher economic growth. ... Relying on government spending in the form of various stimulus packages not only has failed to promote growth and employment, but also has seemed to prolong the crisis by hampering private-sector investment. Bloated government debt has turned the economic slowdown into a fiscal crisis in many countries, with economic stagnation fueling a long-term employment crisis.

There's No Stimulant In Stimulus. The Democrats' response to the grim jobs data from May is typical. They believe they should spend more taxpayer money. But that's no solution. Government activity can't pull an economy out of a ditch.

Bipartisan Outrage Erupts Over $24 Billion in Stimulus for Tax Cheats. Lawmakers from both parties are calling for a fix to prevent tax cheating companies from getting federal contracts in light of a government investigation that found $24 billion in stimulus act funds went to companies owing $757 million in unpaid taxes.

A Verdict on Obama's "Stimulus" Plan. Economists Timothy Conley and Bill Dupor have studied the effects of the American Recovery and Reinvestment Act (the purported stimulus bill) with great rigor. ... The paper is dense and rather lengthy, and requires considerable study. Here, however, is the bottom line: ["]Our benchmark results suggest that the ARRA created/saved approximately 450 thousand state and local government jobs and destroyed/forestalled roughly one million private sector jobs.["]

Stimulus a Failure By Only Measure That Matters: Jobs. Politicians will promise just about anything to get elected. They might offer a chicken in every pot or even vow to end wars in places like Iraq or Afghanistan. That's just marketing. But once they get elected, we expect them to be honest. Or at least we used to. Not any longer. Not since the $787 billion stimulus bill passed in 2010.

Borrowed jobs: A stimulus update. The Congressional Budget Office reported last week that the Federal Recovery and Reinvestment Act of 2009 (the stimulus bill) "will increase budget deficits over the 2009-2019 period by $821 billion." That's confirmation that a) the stimulus bill was much more costly than we were told it would be, and b) it wasn't paid for. What did the United States get for this credit-card spending spree? The CBO estimates that the stimulus bought us an increase in "full-time equivalent jobs" of between 1.8 million and 5 million. For that kind of money, you'd think we'd be able to know the results with more accuracy than plus or minus 3.2 million.

Government as a Criminal Enterprise. The so-called Stimulus Act was nothing more than Representatives and Senators throwing every state and local project into a huge spending bill and then claiming it would create jobs. As has been the case for decades, the only jobs that get created from such largess are government jobs, while businesses large and small are required to waste thousands of hours and thousands of dollars filling out government forms. There's a word for that. It's called communism.

Blinded By Natural Science. The hypothesis that $787 billion spent to modernize public housing, build roads, hire teachers, fund job-retraining will multiply when it reaches private hands, and, thus, lead to sustained economic growth is a Disneyland-sized fantasy.

Are We Subsidizing Unemployment? The stimulus plan may have actually worsened unemployment. New data suggest a large share of those without jobs remain on the sideline because of increasingly generous jobless benefits.

Where Did the Stimulus Go? During the recent recession, the U.S. Congress passed two large economic stimulus programs. President Bush's February 2008 program totaled $152 billion. President Obama's bill, enacted a year later, was considerably larger at $862 billion. Neither worked. After more than three years since the crisis flared up, unemployment is still very high and economic growth is weak. Why have such large sums of money failed to stimulate the economy? To answer this question, we must look at where the billions of stimulus dollars went and how they were used.

A Crossroads Election. Runaway "stimulus" spending, high unemployment and ObamaCare are all legitimate and important issues. It is just that freedom and survival are more important. For all its sweeping and scary provisions, ObamaCare is not nearly as important as the way it was passed. If legislation can become laws passed without either the public or the Congress knowing what is in those laws, then the fundamental principle of a free, self-governing people is completely undermined.

The Democrat Stimulus: An $814 Billion Flop. In an October 3 ABC News/Washington Post survey, 68 percent of Americans polled believe that "the money the federal government has spent on the economic stimulus has been mostly wasted." Only 29 percent consider it "well spent." Seven out of 10 Americans are correct: The Democrat stimulus is a massive, bank-busting flop. Those who foisted this 12-figure folly on the American people should suffer at the polls.

Explaining 'Lives Touched' to the Mainstream Media. In late July, a Government Accountability Office report circulated which analyzed stimulus funding being spent by the Department of Energy. The main gist of that report involved the cost of each job being generated by the stimulus bill — a staggering $194,000. Tucked away in that report was a phrase that was new to most of us, a way to calculate jobs through a term called 'lives touched'.

Why Does My Share Have to Pay for California's Teachers? This is one of those "I told you so" moments conservatives should really be out publicizing: The $787-billion stimulus passed early 2009 — it's not working. And on CNBC's June 25 broadcast of "The Call," CME Group floor reporter Rick Santelli explained that all government spending is not created equal, and President Obama's so-called stimulus spending was for government payrolls and not the infrastructure improvement it was sold to be.

Has the gargantuan stimulus stimulated anything? [Scroll down] At best, therefore, President Obama and his political advisers have engaged in self-deception; at worst, they have displayed rank cynicism in vastly expanding federal spending and debt merely to subsidize the public employee unions and other allies. Which is it? It is becoming clear that in substantial part the November election will be a referendum on that question, and that the answer will not be one from which the White House will be able to claim vindication.

Free Market Obama. [Scroll down] How about the Smith Electric Vehicles plant in Kansas City, which Obama visited just before coming to Las Vegas? So far, Smith Electric has received $32 million in funding to build electric vehicles. It's so successful that they've hired fifty workers. (That's $640,000 per job created.)

He came, he saw, he insulted. [Scroll down] But the green economy looks like a lot of green for the well-connected. The president handed $150 million in stimulus money over to Korean CEO Peter Bahnsuk Kim of LG Chem. LG Chem is an $11 billion Korean conglomerate that hardly seems a candidate for the American Recovery Act. No wonder the program is so unpopular. ... Obama said his benevolence would create 300 jobs in Holland — but that's $500,000 per job.

Even Obama Is No Longer Pushing Green Jobs. [Scroll down] Whip out your calculators: 82,000 into $20 billion means those green jobs cost about $243,902 each. Let's hope they pay well. The high cost per job should come as no surprise; despite the hype from green groups and the administration, cleantech jobs generally require enormously expensive subsidies. For example, back in January, the administration was touting the $2.3 billion in manufacturing tax credits as creating 17,000 jobs — or about $135,294 per job. Even that tally proved to be overly optimistic, given the fact that many of those jobs went to other countries.

Why Obamanomics Has Failed. The administration's stimulus program has failed. Growth is slow and unemployment remains high. The president, his friends and advisers talk endlessly about the circumstances they inherited as a way of avoiding responsibility for the 18 months for which they are responsible. But they want new stimulus measures — which is convincing evidence that they too recognize that the earlier measures failed.

The CBO Warns the Nation; Is Anybody Listening? The CBO made it clear that ObamaCare — the health reform package that was shoved down the nation's throat — did not "diminish" the problem; plus the economists at the CBO think that the president's pledge of tax cuts for the middle class will make matters worse and that health care costs will continue to "spiral out of control." Indeed, some analysts believe the Obama health care package locked in the unsustainable health care spending path. ... The CBO does not mention the failure of the stimulus bill — the American Recovery and Reinvestment Act — that was supposed to create jobs, but unemployment remains close to double digits, and there has been no impact on either employment or payrolls. In short, the national debt is pushing us toward a fiscal crisis, and ObamaCare is expected to add $10 trillion to that debt over the next decade.

Profit-Making Is Virtue, Not Vice. In the years leading up to 2008-09's financial meltdown, government control over mortgages, interest rates and America's banking system was at an all-time high. And yet when crisis struck, free enterprise took the blame. The cure, therefore, was to give government even wider powers. Washington can now bail out any company, fire CEOs, override contracts and print billions of dollars to "stimulate" the economy — all in the name of the public interest. The result? Our deficits and debt continue to mount, and there's a real possibility of a future like Greece's.

Character and the American Ruling Class. As John Adams wrote: "Our Constitution was made for a moral and religious people. It is wholly inadequate to the government of any other." The potential downfall of the United States is not to be caused solely by the incestuous make-up of the current ruling class, but by its abandonment of morals and religion. Today the Obama administration, the majority of the members of Congress, much of the Judiciary, as well as academia and the media represent the culmination of the degradation of ethics and character within that class.

Obama's Failing Presidency. The stimulus was supposed turn the economy around, limit unemployment to 8%, and prevent a deepening recession. It has accomplished nothing of the sort. The economy is effectively frozen, with business mesmerized by Obama's increasingly frenetic antics. Unemployment is officially above 10% and in truth much higher. Though commentators keep insisting that we're not in for a double-dip recession, it's apparent to anyone with two eyes that the second slump actually kicked in at the end of Spring.

We Only Expected Competence. It somehow has never dawned on the Obama devotees who like to cite the administration's "inherited mess" that this president's failures don't exactly reflect the overcautiousness of a leader constrained by a crisis. Taking over one-sixth of the private sector in an unintelligible health-care scheme is not an indication of tied hands; it's a demonstration of unbridled recklessness. So too is dumping unprecedented billions into a liberal wish-list and calling it a stimulus.

Green Jobs Don't Exist in a Free Market. A large part of Obama's $786 billion stimulus bill was devoted to green or renewable energy projects. Obama and his environmentalist hordes convinced Congress that the money would be used to create an army of home weatherizers, wind-turbine factory jobs and other employment opportunities that would help put to work the nearly 8 million people who have lost their jobs during the recession. "We know the jobs of the 21st century will be created in developing alternative energy," Obama proudly proclaimed. This, of course, from a man who doesn't know the difference between price and earnings or overhead and profit. Well, he doesn't know shineola about the economy and job creation either. Economic lesson number one: Government regulations do not create jobs. Private industry serving the wants and needs of the consumers create jobs. Period.

Democrats' Trillion-Dollar Stimulus Failed. Facts, they say, are stubborn things. And the simple fact is the Obama Administration has been the worst administration on jobs since the Great Depression. That is why they are now engaged in a massive public relations offensive to convince Americans that their stimulus plan has worked and created millions of jobs. As the data [in this article] shows, every prediction the administration made about how its 2009 stimulus plan would create jobs has turned out to be wrong.

States Fight Back Against Federal Tyranny and Abuse. Have you heard about the administration's propaganda campaign to adorn each federal "stimulus" project with taxpayer-funded signs to remind us that these projects have been bestowed on us by the beneficence of the Obama administration? The signs read, "Project funded by the American Recovery and Reinvestment Act." In the first place, they're not funded by any act, but by the American taxpayer. This type of government self-promotion is eerily reminiscent of dictatorial governments in modern history...

Your Tax Dollars at Work — for Obama. Some include the words, "Barack Obama, President." Most say "Putting America to Work." All say "American Recovery and Reinvestment Act." Regardless, if you see another gaudy sign promoting the $862 billion stimulus package, Rep. Darrell Issa wants to know about it. Issa, the ranking member on the House Oversight and Government Reform Committee, has set up an e-mail address, ... asking folks to send pictures of the signs with information.

How much did government agencies spend on stimulus 'propaganda'? They're not sure. Imagine, for a second, you work at the Environmental Protection Agency, and your job is to determine how much money EPA-funded stimulus projects spent on self-congratulatory, "your taxpayer dollars at work" stimulus signs. EPA received more than $7 billion in stimulus funds, and so far that money has been directed to 4,687 projects, many of which purchased signs.

Signs of the Times. If you could spend vast amounts of other people's money just by saying a few magic words, wouldn't you be tempted to do it? Barack Obama has spent hundreds of billions of dollars of the taxpayers' money just by using the magic words "stimulus" and "jobs." It doesn't matter politically that the stimulus is not actually stimulating and that the unemployment rate remains up near double-digit levels, despite all the spending and all the rhetoric about jobs. And of course nothing negative will ever matter to those who are part of the Obama cult, including many in the media.

Are We Stimulated Yet? When the government borrows money to expand, it denies capital to the private sector in the short term and imposes a burden on it in the long term as the taxpayers are called on to repay the loans. So when the government borrows money to create a job, it costs a comparable job plus interest in the private sector. The government is running a huge deficit, so any additional spending must be either borrowed or created through inflation.

$286,000 was awarded per job created.
How Is the Stimulus Money Allocated? Unemployment isn't a factor, but politics is. ... On average, Democratic districts received one-and-a-half times as many awards as Republican ones. Democratic districts also received two-and-a-half times more stimulus dollars than Republican districts ($122,127,186,509 vs. $46,139,592,268). Republican districts also received smaller awards on average.

Another Sham Stimulus Bill. Given the choice between retaining power in the short term or doing what's right for America, which would you choose? Most Americans, I believe, would be willing to sacrifice a great deal for their country, and this willingness to sacrifice has always been the great pillar of American democracy. Unfortunately, there is no fondness for sacrifice in Washington these days, especially among the Democratic leadership and its supporters.

Lucre for lobbyists. The American Reinvestment and Recovery Act (ARRA), or stimulus, has been subject to a great deal of criticism since its enactment in February 2009. ... The stimulus package was supposed to alleviate the Great Recession's burden on struggling Americans. ... Since President Obama placed his signature on the stimulus, 2.16 million Americans have lost their jobs, total unemployment is at 14.9 million, and the Great Debt stands at $12.7 trillion.

An Age of Untruth. Recoil from the word "stimulus" — whether used by a Republican or Democratic administration. There is no such thing as an easy, fuzzy notion of instant money creating economic growth. Instead it is a euphemism not for borrowing, but for massive borrowing and unsustainable debt. Indeed, note that we do not even use words like "borrowing" or "debt," but instead prefer "deficit" (e.g., It's only a year-to-year thing) and "stimulus" (e.g., spending what we don't have somehow makes us richer in the future). "Stimulus" is thus a lie as it is used, or at best a half-truth.

Don't Try This Again. Since the Obama administration took over, Washington has passed two recovery bills costing more than $800 billion. At that price, shouldn't we be experiencing an employment boom? Taxpayers are being fleeced.

Has Obama "Stimulated" the Economy Yet? In the past sixteen months, Mr. Obama's immediate, short-term political need has produced a lot of public policy that positions the President to appear as though he's rescuing people — rescuing them from the economic downturn, from "greedy bankers" and "rich executives," from the threat of home foreclosure, from credit card debt, and so forth. And part of the political calculus involved with this kind of policy is the assumption that as long as the President gives away enough "things" to the American electorate, and appears as though he's doing enough to "protect" them, the electorate will continue to vote for him and his party, regardless of what the economy does.

Stimulus or Sedative? The stimulus spending started back in 2008, during the Bush administration, and has continued under the Obama administration, so it has had plenty of time to show what it can do. After the Bush administration's stimulus spending in 2008, business spending on equipment and software fell — not rose — by 28 percent. Spending on durable goods fell 22 percent.

The Stimulus Bill's Hidden Attack on What We Eat, Drink, and Smoke. One of the more extreme proposals floated early in the national health care debate was the idea of taxing soda and other sugary beverages. That trial balloon was almost immediately shot down by the American public, but the Obama administration is attempting to achieve, by subterfuge, soda taxes and a lot of other ways to micromanage our lives in the name of public health — whether or not ObamaCare passes.

Why Defend The Failed Stimulus? Is the president right when he says the stimulus kept the U.S. from falling into a depression? No. In fact, too much government tinkering and spending, not too little, has given us the jobless recovery we have now.

The 'Stimulus' Actually Raised Unemployment. What was labeled a "stimulus" bill was actually a stimulus to government transfer payments — cash and benefits that are primarily rewards for not working, or at least not working too hard.

Your "Stimulus" Dollars Hard at Work: Social Engineering and Tax Increases. [The "stimulus" package] has clearly failed to meet its stated goals (after all wasn't the unemployment rate not supposed to go above 8 percent with its passage?). Instead, taxpayers have had to watch helplessly as their money is being doled out to prop up government rather than stimulate job creation in the private sector, and is being spent on questionable projects under the even more questionable — and debunked — claim of "saving and creating" hundreds of thousands of jobs.

The Stimulus Bill's Hidden Attack on What We Eat, Drink, and Smoke. One of the more extreme proposals floated early in the national health care debate was the idea of taxing soda and other sugary beverages. That trial balloon was almost immediately shot down by the American public, but the Obama administration is attempting to achieve, by subterfuge, soda taxes and a lot of other ways to micromanage our lives in the name of public health — whether or not ObamaCare passes.

The "Green Jobs" Scam Unmasked: A year after it was passed, it has become painfully obvious to anyone with open eyes that the massive federal "stimulus" — along with several other trillion-dollar government interventions in the free market — has utterly failed to turn around America's economy. In fact, all this massive infusion of taxpayer cash has done is deprive our consumer-driven private sector of much-needed oxygen, while sending our annual deficits and national debt soaring to previously unthinkable heights.

How Can Obama Be Taking A Stimulus Victory Lap,
When We Don't Even Know Where The Money Went? One year ago today, President Obama signed a nearly trillion dollar stimulus package and handed our children the bill. What did we get for that massive price tag? Many promises, but the promises have proven false. On this stimulus anniversary, Washington needs to hear our message that Americans expect, and deserve, better.

White House Defends Stimulus Act Despite Government Audit Questioning the Job Numbers. The White House defended the effectiveness of the economic stimulus act on Monday after a government audit last week called many of the reported job numbers into question. The Government Accountability Office (GAO) reported that $173 billion of the $787 billion stimulus package had been paid out by the federal government as of Sept. 30. That's about 22 percent of the total, and it indicates that 78 percent of the stimulus funds have not been paid out — at a time when unemployment was rising.

The White House's Illegal Piggy Bank. The OMB director is grilled over the misuse of bank bailout funds for purposes other than intended by Congress. This taxpayer money wasn't intended to be the administration's perpetual slush fund. ... Many banks didn't want the money or need it. Some were told to take it or they'd be audited. So they took it. The banks, eager to break free from federal interference, paid the money back with some interest.

Porkulus II: Return of the Phony Jobs Boondoggle. Immutable law of Beltway political physics: The only real jobs that a government stimulus stimulates are government jobs. A year after President Obama signed his first almost trillion-dollar economic stimulus package into law, the federal workforce is at an all-time high. The nation's unemployment rate has swelled to 9.7 percent, but Washington's economy is thriving.

The title is off-topic, but the article is not.
The Precautionary Principle and Global Warming. We saw this last January when many of the same people promoting AGW hysteria also used it to ram through the failed "stimulus" bill without reading it. It is now being used to justify taking over the sixth of the US economy represented by the health care industry. All the while, these people have been lambasting their political opponents who offer more sensible alternatives as proposing that we do "nothing."

Obama's Only Real Accomplishment. Barack Hussein Obama has accomplished only one thing in his first year in office. Obama's only real accomplishment is that he took hundreds of billions of dollars in taxpayer money, and directed them to his donors on Wall Street, in the unions and the insurance industry. Barry Hussein took in nearly 15 million dollars in donations from securities and investments companies, and his first priority was to pay it back with a massive bailout that has exploded the deficit.

Stimulus flop. The ARRA (The American Recovery and Reinvestment Act of 2009) has become one of the spectacular failures of the Obama Administration and the Democratic Congress. ... America's national security is ultimately tied to the health of the American economy. This Democratic Congress and Administration have purposely allowed our economic decline to accelerate.

Stimulating Fraud. It's one thing to fail to create real jobs. It is quite another to fund the jobs of people who would put millions of Americans out of work. This is what the administration has done by awarding $541,184 in economic stimulus funds to Penn State University to save, recovery.gov says, 1.62 jobs so that professor Michael Mann can continue his tree-ring circus fraudulently advancing the myth of man-made global warming.

Ineligible firms got $25M in stimulus work. Six companies received $24.8 million in economic stimulus work under federal programs set aside for disadvantaged businesses even though government investigators had found them ineligible, federal records show.

Ending Corruption in Washington. Even as our government officials claim that the worst of the recession is behind us, their actions hardly indicate that they believe it themselves. The financial reform bill that the House of Representatives passed last month authorizes the Federal Reserve to provide up to $4 trillion in emergency relief to big banks the next time things come crashing down. This flies directly in the face of the oft-heard assurances that the bailout spree is over. Obviously not, as the House is laying the groundwork for the continuation of the money bonanza.

Con jobs: When will Obama stop lying about the stimulus? The administration boasts that it has "created or saved" about 1 million jobs, even as the Bureau of Labor Statistics announced a loss of 558,000 jobs in October. Not only is unemployment still increasing, but the rate of job loss is still accelerating. "The 'created or saved numbers' are meaningless," Joseph Lawler writes on Politico. "Employment is 3 million jobs below what the president's Council of Economic Advisers had predicted it would be." The Associated Press discovered that an outfit called the Southwest Georgia Community Action Council reported that the stimulus had enabled it to save 935 jobs — out of 508.

Jobs 'Saved or Created' in Congressional Districts That Don't Exist. Here's a stimulus success story: In Arizona's 9th Congressional District, 30 jobs have been saved or created with just $761,420 in federal stimulus spending. At least that's what the website set up by the Obama Administration to track the $787 billion stimulus says. There's one problem, though: There is no 9th Congressional District in Arizona; the state has only eight Congressional Districts.

Obama creates 30 new jobs in non-existant congressional district. Chicago politics, where voting is such a revered civic duty that people do it even after they're dead, cold, stiff, stuffed, boxed and buried beneath the permafrost for years, has now come to D.C. with the Obama administration.

Stop lying about those stimulus jobs. Give the mainstream news media some credit: They have diligently dug into President Obama's fanciful boasts of job creation. When Obama claimed earlier this month that his $787 billion economic stimulus package had "saved or created" 640,000 jobs, a dozen news organizations pounced. They soon highlighted some of the most egregious cases of sketchy job creation in about 20 states.

Phantom districts in Texas receive millions in 'stimulus'. According to the Obama administration's latest count, the President's economic stimulus package has created 45 jobs in Texas' 58th congressional district and 30 jobs in the state's 91st district. The White House's recovery.gov web site declares that Texas' 52nd district received exactly $8,937,289 in stimulus funds, while the 68th district has had precisely $310,963 funneled into it. Trouble is, none of these congressional districts exist.

Stimulus Fraud. We knew something was funny when the White House claimed that 640,000 to 1 million jobs had been created from this year's stimulus. What we didn't know was that it would turn into a massive fraud. Not only have 640,000 new jobs not been created from the stimulus — an absurd claim, given the economy's loss of nearly 4 million payroll positions this year — but it now seems that even the jobs themselves are fictional.

$6.4 Billion Stimulus Goes to Phantom Districts. Just how big is the stimulus package? Well for one, it has doubled the size of the House of Representatives, according to recovery.gov, which says that funds were distributed to 440 congressional districts that do not exist.

Imaginary Districts Receive Stimulus Money. There are questions about how the federal government is spending tax dollars. It appears millions of economic stimulus dollars are being spent in Congressional districts that do not exist.

Stimulus Watch: Now it's fake zip codes. Recovery.gov, the Obama administration's supposedly transparent attempt to let citizens know how every dollar of the $787 billion stimulus package was spent, is turning out to be a lot more comic fiction than fact. Not only have fake jobs been reported in phantom congressional districts, Steve Allen Adams of NewMexicoWatchdog.org discovered that some of the $27 million of federal money his state received also went to nonexistent zip codes.

Now stim bill money being sent to fake zip codes. Jim Scarantino of New Mexico Watchdog was the first to uncover the fact that stim bill money was being listed as spent in non-existent congressional districts. Now he's uncovered another tasty tidbit; the money is going to fake zip codes.

Phantom zip codes also found in Virginia. As much as $9.5 million in federal stimulus dollars went to 14 zip codes in Virginia that don't exist or are in other states, Old Dominion Watchdog reports. The fake zip codes were listed on Recovery.gov, the federal Web site that is supposed to track how the stimulus money is being used.

More lies about "stimulus" money.

Where's the $787 Billion? Call it the $787 billion question: Where is all that government stimulus money, and why hasn't it stemmed the heart-stopping slide in U.S. employment?

Despite Obama's Repeated Claims of Urgency, 78 Percent of Money Remained Unspent. After his election last November and until the $787-billion American Recovery and Reinvestment Act was passed in February, President Barack Obama repeatedly insisted that it was urgent for Congress to enact his economic "recovery" bill immediately. Yet, by the end of fiscal 2009 fully 78 percent of the federal spending authorized by that bill had not yet taken place, according to the Government Accountability Office.

Radicals Wrote Failed Stimulus. If the stimulus isn't working, perhaps it's because it was largely written by a collection of leftist interest groups called the Apollo Alliance that counts among its directors a co-founder of the Weather Underground.

Stimulating Our Way to Depression. Government programs create the illusion of improving the economy. People only see the jobs created by government programs, never the jobs that are lost in the private sector to create them. Programs focus on the benefits that will be provided to a particular segment of society, never to who pays for those benefits. Progressive solutions buy votes but not economic prosperity.

Be Prepared for the Worst. Anytime the central bank intervenes to pump trillions of dollars into the financial system, a bubble is created that must eventually deflate. We have seen the results of Alan Greenspan's excessively low interest rates: the housing bubble, the explosion of subprime loans and the subsequent collapse of the bubble, which took down numerous financial institutions. Rather than allow the market to correct itself and clear away the worst excesses of the boom period, the Federal Reserve and the U.S. Treasury colluded to put taxpayers on the hook for trillions of dollars. ... This is nothing less than the creation of another bubble.

Words and Deeds: the Awful Advent of Buyer's Remorse. How do things look seven months into the Hope-and-Change regime? Remember the so-called "Stimulus Package"? It was passed in two days by a Congress whose contempt for the people was so complete that no one who voted for the bill even bothered to read it. But here we are, seven months later. Acknowledged unemployment is edging up to 10 percent (it's more than double that among some groups). Surely we are now entitled to ask, What did the stimulus stimulate?

Stimulus Spending Doesn't Work. The available empirical evidence does not support the idea that spending multipliers typically exceed one, and thus spending stimulus programs will likely raise GDP by less than the increase in government spending. Defense-spending multipliers exceeding one likely apply only at very high unemployment rates, and nondefense multipliers are probably smaller. However, there is empirical support for the proposition that tax rate reductions will increase real GDP.

$72,408 Per Stimulus Job? White House Says No. Five hundred billion dollars in stimulus monies for spending were appropriated last February. Of that, $143 billion in stimulus funds have been spent so far. Just $16 billion of that was directly awarded by the Federal government; most of the money went to states and localities to spend. Of the $16 billion awarded, $2.2 billion has actually gone to these contractors to create jobs. Today [10/15/2009] the White House released data indicating that 30,383 jobs were directly created by these stimulus dollars.

'Barackie Madoff' rescue nothing but a $16B rip-off. The Obama administration boasted yesterday [10/15/2009] that with $16 billion taken from you and given to others, 30,383 working Americans owe a hearty thanks of gratitude for their jobs. Even the Obama-fawning press had to do the math and could not avoid pointing out that at $71,500 per job, it's a very costly stimulus.

$160,000 Per Stimulus Job? White House Calls That 'Calculator Abuse'. Posting its results late this afternoon at Recovery.gov, the White House claimed 640,329 jobs have been created or saved because of the $159 billion in stimulus funds allocated as of Sept. 30. Officials acknowledged the numbers were not exact, saying that states and localities that reported the numbers have made mistakes.

$230,000 per job. The Obama administration is attempting to spin the tepid job creation sparked by the $787 billion federal stimulus program into an economic success. But the numbers don't add up to a good return for taxpayers. In fact, the numbers don't add up at all. ... Even using the administration's more generous projection, it's still $160,000 spent for every job created or saved. In Michigan, the job-to-spending ratio is more skewed. The White House Web site, recovery.org, reports that Michigan has received $5.2 billion and has created or saved 22,500 jobs. That's $231,000 for every job.

Stimulus saves nine out of every five jobs. I've always believed that President Obama will take credit for saving 2 million jobs as long as there are 2 million jobs left in the United States. But his jobs report apparently goes beyong this, the Associated Press reports, taking credit for saving jobs that really don't exist.

Lies, damned lies and stimulus jobs. "If I give you a raise, it is going to save a portion of your job," HHS spokesman Luis Rosero said. Save a portion of a job? That doesn't make sense on any level. How can they justify plundering stimulus funds to preserve already existing government jobs? To do that and claim it's evidence that of the stimulus' success at "creating or saving" jobs is simply deceitful.

You Have to Watch Both of Obama's Hands. It comes down to this: Borrow and spend to create jobs, regulate to destroy them. The original $787 billion stimulus package is due for a supplement that will bring the total to around $1 trillion. Spending so far has created or "saved" between 1.7 million and 2 million jobs says Christina Romer, chairman of the President's Council of Economic Advisers...

The Editor says...
Just a reminder: One trillion dollars divided by two million jobs equals $500,000 per job. That's assuming that two million jobs are actually created, which they probably won't be.

Democratic Payoffs, Er, Stimulus. [Scroll down] Consider the $787 billion stimulus bill. Veronique de Rugy and Jerry Brito of George Mason University report that "a total of 56,399 contracts and grants totaling $157,028,362,536 were awarded in this first quarter for which Recovery.gov reports are available. The number of jobs claimed as created or saved is 638,826.54 — an average of $245,807.51 per job."

Painting a street green hasn't stimulated one new job. In Baltimore, the 300 block of East 23½ Street is getting patched up in time for winter. One economic stimulus program is paying to insulate 11 rental rowhouses, another is paying for furnaces and a third is covering the cost for reflective roofs to be installed by prison inmates in a job-training program. The block is part of one of the biggest initiatives ever undertaken by the federal government, a nationwide push to improve the energy efficiency of buildings. But ... the work on East 23½ — even with all of its activity — has so far not produced a single job.

Stop the Stimulus! In February, the President signed a "fiscal stimulus law" to supposedly "create or save" millions of jobs. If executed according to plan, the bill will cost $789 billion, or about $2,600 for every American, and this does not even count the extra economic harm when our government levies the taxes to pay for it. Fortunately, almost 90% of the government spending planned by the law has not yet occurred — which means that it can, and should, be stopped.

Obama Adviser Concedes "Stimulus" about Out of Gas. A top White House economist says spending from the $787 billion economic stimulus has already had its biggest impact on economic growth and will likely not contribute to significant expansion next year.

Michelle: $373 million in stimulus money for better vending machine food. First Lady Michelle Obama visited the headquarters of the Department of Health and Human Services in Washington Tuesday [10/13/2009]. She devoted much of her talk to "the growing threat of obesity, particularly childhood obesity" in the United States, and she touted HHS's recently-announced plan to spend $373 million from the American Recovery and Reinvestment Act on plans to, among other things, improve the healthfulness of foods in vending machines.

CBO: Obama stimulus harmful over long haul. President Obama's economic recovery package will actually hurt the economy more in the long run than if he were to do nothing, the nonpartisan Congressional Budget Office said Wednesday [7/8/2009]. CBO, the official scorekeepers for legislation, said the House and Senate bills will help in the short term but result in so much government debt that within a few years they would crowd out private investment, actually leading to a lower Gross Domestic Product over the next 10 years than if the government had done nothing.

That Billion Dollar Stimulus Package is Criminal. Imagine that you owed your brother $100 but couldn't pay for it right away. Your mother then pays your brother back; then your brother says you still owe him $100. Basically isn't that what the banks are doing with the bailout money they received from the taxpayers? Did they cancel bad debts or did they simply collect the money and cancel the credit accounts of good customers? If the bailout money had actually freed up accounts, the economy would have boomed. That didn't happen.

'Death panel' is not in the bill... it already exists. H.R. 1 (more commonly known as ... the Stimulus Bill and aptly dubbed the Porkulus Bill) contains a whopping $1.1 billion to fund the Federal Coordinating Council for Comparative Effectiveness Research. ... [The] stated purpose (and therefore President Obama's purpose) for creating the Council is to empower an unelected bureaucracy to make the hard decisions about health care rationing that elected politicians are politically unable to make.

Stimulus funds in California mostly go to routine projects, study says. When President Obama first outlined his stimulus plan to boost the economy, leaders across the country envisioned a burst of federal funding to build high-speed rail lines, modern classrooms and a new national electricity grid. Latrine repair? No one mentioned that. But $500,000 has been set aside to fix the toilets at Ft. Irwin, an Army base south of Death Valley National Park, according to data from the California Recovery Task Force.

Who's Un-American? It was Thursday, Feb. 12, 2009. Congress was planning to vote the next day on a so-called "stimulus" bill anticipated to cost $787 billion. The final text of the bill had not been published, so no one knew exactly what it would authorize the government to do. Ryan Byrnes and Edwin Mora of CNSNews.com went to the Capitol that day to ask representatives and senators a simple question: Would they read the final text of the stimulus bill in its entirety before voting on it? Democratic Sen. Frank Lautenberg of New Jersey answered honestly — on behalf of the entire Congress. "No, I don't think anyone will have the chance to," he said.

Good news reported as bad news:
Stimulus cash for weatherization still unspent. Jackie Harpst expected a busy summer at her nonprofit housing agency, as work crews backed by Nebraska's share of $5 billion in federal stimulus money headed out to seal windows and spread insulation. Months after she thought work would begin, not a single window has been caulked.

Millions in Stimulus Spending Being Doled Out for Questionable Jobs. [Scroll down] The Obama administration is spending $5 billion to weatherize homes. But one Texas county spent $4 million to weatherize just 47 homes. That's $78,000 per house. Each retrofit is supposed to save homeowners $500 a year in energy costs. That means taxpayers will recoup their investment in 156 years, long after the home is probably torn down.

N.J. audit says home weatherization program has been poorly managed. State officials have poorly managed a federally funded weatherization program, spending a fraction of its money and failing to properly inspect projects, a new state audit says. Less than 10 percent of $64 million has been spent, and 22 local agencies working with the Department of Community Affairs have completed fewer than 13 percent of their 8,288-home workload.

Gov't watchdog questions airport stimulus projects. The Obama administration used economic stimulus money to pay for 50 airport projects that didn't meet the grant criteria and approved projects at four airports with a history of mismanaging federal grants, a government watchdog said Monday [8/10/2009].

Pace of stimulus spending plummets. Stimulus bill spending has slowed to a trickle, despite President Obama's June order to his Cabinet to speed it up. The average stimulus spending per week has dropped severely, to just $4.2 billion over the past month from $9.7 billion during the prior four months. The government spent $2.9 billion in the week ending Aug. 7.

The Editor says...
Huh? $4.2 billion in one month is a lot more than $9.7 billion over four months. That's not what I would call a "plummet."

Obama's Pitchforks: [Scroll down] Next, the economic "stimulus" program which was passed by the House and the Senate (1.) without anyone reading the bill, and (2.) without any significant public debate. No input whatsoever from the public. Massive, wasteful pork barrel spending program passed without the consent of the governed. Irritation rises across the country.

Obama's stimulus plan is not working. President Barack Obama's plan to attack the recession through massive deficit spending is not producing the results the president promised in February when he convinced the American people to go deep into hock in the name of creating jobs and boosting economic growth. Obama is well into spending the $787 billion approved by Congress for his stimulus programs, and yet the unemployment rate is still climbing and economic recovery remains elusive.

The Squandered Stimulus. It's not surprising that the much-ballyhooed "economic stimulus" hasn't done much stimulating. ... The program crafted by Obama and the Democratic Congress wasn't engineered to maximize its economic impact. It was mostly a political exercise, designed to claim credit for any recovery, shower benefits on favored constituencies and signal support for fashionable causes.

Defund the stagnant stimulus. Here's how to get the money for health care reform, and it can be done without Congress passing another trillion in spending... To get the cash, all Congress needs to do is repeal the authorization on spending for the remaining sums in President Barack Obama's record-breaking and non-stimulating $787 billion stimulus bill. A half year has passed since the rushed signing of the stimulus bill to solve the jobs "crisis," and less than 10 percent of the money has been spent.

The Editor says...
Or better yet, scrap both the stimulus and the socialized medicine plan, stop the Cash for Clunkers fiasco, and give the money back to the taxpayers.

Obamacare haunted by unkept promises of stimulus. If Barack Obama fails to enact national health care, it will be because he sowed the seeds of his own demise last Feb. 17 — the day the president, surrounded by Democratic leaders, signed the $787 billion economic stimulus bill. In the legislative campaign leading up to that moment, both Obama and congressional Democrats made promises and took actions that are now coming back to haunt them as they pursue their goal of remaking the nation's health care system.

Six Ways Democrats Are Hurting America. [#4] The Democrats have said "yes" to a stimulus package that doesn't stimulate anything: Including the interest, the cost for the stimulus is going to be a colossal 1.2 trillion dollars. However, as of May 22, only 37 billion dollars of that money had been spent. Meanwhile, according to the latest data, which is for April, personal consumption for American consumers dropped 0.1%. So, why are we going 1.2 trillion dollars deeper in debt to the Chinese again...?

States awash in stimulus money to weatherize homes. Ready or not, states are getting a tenfold boost in federal money to weatherize drafty homes, an increase so huge it has raised fears of waste and fraud and set off a scramble to find workers and houses for them to repair. An obscure program that installs insulation in homes and makes them more energy-efficient is distributing $4.7 billion in stimulus funds ... dwarfing the $447 million originally planned by Congress this year and the $227 million spent in 2008.

Dems hope to speed Obama's stimulus. Senate Democrats said Tuesday [7/14/2009] that President Obama's $787 billion stimulus program needs to be fixed to ensure money is spent more quickly and on projects that will provide a faster boost to the economy. They expressed their concern even as Mr. Obama warned that unemployment will continue to rise, and as a Washington Times analysis shows the states that have lost the most jobs this year are receiving less money per capita from the stimulus bill than states that are doing relatively well.

Obama: The Hollow Man. The clearest example of Obama's opportunism is his economic stimulus plan, the American Recovery and Reinvestment Act of 2009. This aggregation of statist graft will hurt the economy more than if the government did nothing; but accomplishing actual economic good is of secondary importance. The principal purpose is to flood state programs and their administrative satrapies with money.

The RAT hiding deep inside the stimulus bill. You probably haven't heard about a provision in the [stimulus] bill that threatens to politicize the way allegations of fraud and corruption are investigated — or not investigated — throughout the federal government. The provision, which attracted virtually no attention in the debate over the 1,073-page stimulus bill, creates something called the Recovery Accountability and Transparency Board — the RAT Board, as it's known by the few insiders who are aware of it.

Obama's Path to a Lost Decade. History shows us quite clearly that a government cannot spend its way out of an economic downturn. It didn't work in Japan in the 1990s, when the ten stimulus packages implemented over an eight year period failed to prevent the "lost decade." Nor did it work during our own Great Depression, when FDR's own Treasury Secretary lamented the fact that massive spending had brought them little in the way of increased employment and much in the way of debt. Yet spending our way out of this situation is precisely what the President is attempting to do, and the nearly $800 billion stimulus package is merely the tip of the iceberg.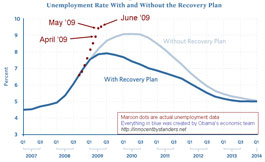 A Miserable Failure. The administration's forecast provides a benchmark against which we can judge the success or failure of the $700 billion porkapalooza. The result is obvious: it was a failure. The best thing Congress could do is to cancel the rest of the program — the large majority that remains unspent — and let the economy recover without being hampered by government-imposed inefficiencies.

Welcome to the 'Hope' Economy. After being asked when the public should begin judging the success of the nearly $800 billion stimulus plan, White House press secretary Robert Gibbs answered, "I think we should begin to judge it now." Let's take his advice. The administration warned that if we failed to support a stimulus package, unemployment would hit a dire 9 percent by 2010. With the stimulus, unemployment, it claimed, would stay in the 8 percent range. This week, the Labor Department announced that the jobless rate jumped to 9.5 percent, higher than it's been anytime since August 1983.

Stimulus: Progress or broken promise? Nearly five months after President Obama signed the American Recovery and Reinvestment Act (ARRA), a still-worsening economy has many wondering if stimulus is a bunch of baloney.

Stimulus Spending Is Making Things Worse Not Better. Did Team Obama really "misread" the economy? If the Obama administration is going to invent history they might start with finding a single example where massive government spending has worked in the past. It isn't that President Obama's policies aren't working. It is just that the economy was so much worse off than anyone realized. Or so the Obama administration claims.

Son of Stimulus. A second stimulus? As risible as it sounds, Pres. Barack Obama entertains the idea. When asked at a press conference Tuesday [6/23/2009] if another stimulus bill might be necessary, Obama replied, "Not yet." How about not ever? People seem to forget that the $787 billion stimulus package enacted last February was the second stimulus — the Bush administration enacted a $168 billion stimulus bill in February of 2008. ... Above all, it is important to remember that Obama's stimulus was not designed to maximize job creation. The administration's primary goal was to give frustrated Democrats an all-purpose vehicle for pent-up spending desires that the Bush administration had repressed. Obama removed the lid and out came $87 billion in additional funds for Medicaid, $15 billion for Pell Grant scholarships, $3 billion for public-housing improvements, and $2 billion for renewable-energy research.

The Anti-Success Presidency. An investor ponders where to put his 401(k) retirement money. Should he invest in robust, growing companies? Firms with a bright future? But, be careful, they could get so big that they get taken over by the government and you lose your entire investment. Don't invest in firms that will fail, but stay away from those that will succeed, too.

Dead Woman Gets Federal Stimulus Check. Millions of Americans on Social Security are receiving $250 checks as part of the president's stimulus plan — including an Anne Arundel woman who died more than 40 years ago. The woman's son, 83-year-old James Hagner, said he got the surprise when he checked his mailbox late last week.

Dead People Get Stimulus Checks. This week, thousands of people are getting stimulus checks in the mail. The problem is that a lot of them are dead. A Long Island woman was shocked when she checked the mail and received a letter from the U.S. Treasury — but it wasn't for her. Antoniette Santopadre of Valley Stream was expecting a $250 stimulus check. But when her son finally opened it, they saw that the check was made out to her father, Romolo Romonini, who died in Italy 34 years ago.

89,000 stimulus checks were sent to dead people. Anyone can make an honest mistake. After all, sometimes it's hard to tell if some people are dead or alive. If they're buried in Chicago cemeteries, it is especially difficult.

Stimulus Checks On Their Way — to Dead People. Millions of people are getting a Social Security check in the mail this week. But there's a slight problem: Thousands of them are dead. Part of the $787 billion stimulus package Congress passed included a $250 payment to Social Security recipients who aren't working.

72,000 stimulus payments went to dead people. A government investigator says 89,000 stimulus payments of $250 each went to people who were either dead or in prison.

Dead People Received $18 Million In Stimulus Checks. More than 89,000 stimulus payments totaling millions of dollars went to people who were either dead or in prison, a government investigator says in a new report. Half the payments, which were of $250 each, were returned. In all, nearly 72,000 dead people received $18 million and more than 17,000 prison inmates got $4.3 million, according to the report by the Social Security Administration's inspector general.

Trickle of stimulus funds enters the economy. Three months after the passage of a much ballyhooed stimulus package aimed at resuscitating the economy and creating jobs, precious little federal money has actually been paid out. Recently, the Congressional Budget Office estimated that only 15% of the $787 billion bill that President Obama signed into law in February would reach the economy this year.

Fed Shrouding $2 Trillion in Bank Loans in 'Secrecy,' Suit Says. U.S. taxpayers need to know the risks behind the Federal Reserve's $2 trillion in lending to financial institutions because the public is now an "involuntary investor" in the nation's banks, according to a court filing by Bloomberg LP. The Fed refuses to name the borrowers, the amounts of loans or assets banks put up as collateral under 11 programs, arguing that doing so might set off a run by depositors and unsettle shareholders.

Glamour Dims as Hecklers Hit the Auto Show. Now that the government has helped General Motors and Chrysler stave off bankruptcy with billions of dollars in loans, these companies are finding somewhat hostile crowds at their exhibits.

Magic Words in Politics. When you call something a "stimulus" package, that does not mean that it actually stimulates. The way individuals, banks and businesses in general are hanging onto their money suggests that "sedative" package might be more accurate.

Stop stalling and show us the bailout books. Unwarranted secrecy regarding the largest disbursement of public funds in U.S. history continues in the executive branch. So Congress should finally exercise its oversight authority and find out where every last bailout dollar has been spent.

Costly Stimulus Bill Unlikely to Work, Analysts Say. The federal economic stimulus bill started with an emphasis on "timely, targeted, and temporary" spending on infrastructure projects, plus sizable tax cuts, but ended as a $787 billion bill emphasizing social and environmental spending and less tax relief than originally proposed.

Bailing Out of the Constitution. It is high time Americans heard an argument that might turn a vague national uneasiness into a vivid awareness of something going very wrong. The argument is that the Emergency Economic Stabilization Act of 2008 (EESA) is unconstitutional.

Stimulating Government, Not the Economy. We're in for a long and bitter haul when the policy planners and lawmakers of the majority party in both the legislative and executive branches think it uproariously ridiculous that there are still Americans who don't believe that we can spend ourselves into affluence. We have too much debt caused by too much government spending and borrowing, so the solution is to borrow more and spend even more, just harder — or so goes the prevalent theory in Washington.

Congress needs Google to find out where stimulus money went. On February 14, with the passage of the American Recovery and Reinvestment Act, Congress shoveled $787 billion of stimulus money out the door. Now they're using Google to find out where it went.

Another shoe drops. There is no doubt that the bank bailout was mismanaged. Now it's time to buckle up for a government run on the insurance industry. That's the signal the White House is sending by nominating Neal S. Wolin, a former senior executive with the Hartford Financial Services Group Inc., as deputy secretary of the Treasury.

The fuzzy logic underlying Obama's stimulus plan: President-elect Barack Obama and his advisors are playing word games on their proposal to "save or create 3 million to 4 million jobs." The promise's very vagueness renders it meaningless and calls into question the credibility of the $825 billion Democratic "economic stimulus" package, which is inextricably linked to the jobs pledge. There is no way to define when an existing job has been "saved." How does anybody measure jobs that aren't lost?

State should reject every bit of stolen federal stimulus. We can all agree that robbing a bank is wrong. We also can agree that accepting money that was robbed from a bank is wrong. Accepting this stimulus money is no different. The stimulus bill takes money away from you, your neighbor and even worse, your kids. If someone robbed your neighbor and let you have some of the spoils, would you accept it?

Obama's Stimulus Creates Useless Jobs. Neither Republicans nor Democrats get it. The problem isn't just the pork barrel social welfare spending. It's not merely the redistributionist scheme disguised as tax cuts. The public relations backbone of this bill — government spending on our nation's crumbling infrastructure — is misguided. While the country's infrastructure may need revamping, this sort of spending will not stimulate the economy. It will not create the kind of jobs Americans need.

Stimulus spending remains ripe for fraud. The many billions shoveled to the Energy Department as part of the $787 billion stimulus package recently signed into law may provide a cautionary tale about potential abuse, judging from a recent Energy Inspector General's warning. As if on cue, FBI Director Robert Mueller told Congress yesterday that he, too, expects a surge in stimulus-related fraud.

The Road to Legalized Plunder. Why is it that Congressman and Senators will vote for a bill, such as the so-called stimulus package, when they are not sure it will accomplish the intended goal? One might go even further and ask why will they vote for a bill that they know will not accomplish the intended goal? The answer to both questions lies in what economists call the rational ignorance of the voters, what Gordon Tullock labeled rent seeking by special interest groups, and the incentives of the political structure.

When Will We Say 'Enough' to the World's Biggest Ponzi Scheme? The $300 billion housing bailout from last year is up in smoke, so President Obama wants another $275 billion, before the ink is even dry on the $800 billion stimulus plan. Next up is another trillion-dollar plus bank bailout. It's all more debt to finance consumption of things we can't really afford. And all it buys is a little bit of time for some folks to stay in homes they can't afford. More time to punish people who prudently sat on the sidelines waiting for the madness to end.

Texas' Perry rejects stimulus for expanded jobless benefits. Gov. Rick Perry announced Thursday that he will block Texas from accepting $550 million for expanded unemployment benefits as part of the federal stimulus package. "Again and again, we hear the purpose of the federal stimulus legislation is to create jobs but this portion will actually slow job creation," Perry said at a news conference in the middle of Bering's Hardware in Houston. Framing his decision as a stand for state sovereignty, Perry said Washington politicians are trying to push their values on the Texas government.

Perry rejects $555 million in federal stimulus money. Perry said the money would come with too many strings attached. Taking the half billion would require the state to assist qualified out-of-work residents seeking part-time jobs, an idea that Perry said the state has rejected before, partly because it could discourage them from seeking full-time employment. The federal money injection would also make Texas extend benefits to more low-paid workers, and Perry said the overall expansion would force business to make higher unemployment insurance payments.

Stimulating Ourselves to Death. The massive cost of the stimulus doubled even before any legislation was written, much less approved. Originally tagged at $400 billion, the proposal quickly jumped to $825 billion, and latest estimates at press time have it costing north of $1 trillion. ... Given the size, will the stimulus work as advertised? Will the goods and services — be they concrete for new highway projects or groceries for hungry families — pump up flagging demand and boost stalled economic activity? If so, it will be the first time in modern recorded history.

Where's Alex? Apparently, a black market for federal "stimulus" funds, complete with bartering and market rates, has arisen among some of California's municipalities. Some local government officials, frustrated by Washington's dictates with respect to how the federal largesse can be spent, have devised innovative ways to redirect those funds.

Mr. President, Don't Mess With Texas. You must never forget that our forefathers courageously sailed across an unknown ocean, to an unknown land to establish a country free of tyranny, kings and emperors. They risked their lives, fortunes and families to create America, a radical experiment in self government. In gaining our freedom, they wrote our Constitution that limited the power and authorities of the federal government. They were smart enough even back then to know that absolute power corrupts absolutely, and that unless government is fenced it, it'll roam all over individual liberty.

The same thing could happen here.
From Riches to Rags: Inflation and Poverty in Zimbabwe. As bad as things were in Germany in the 1920s, the hyperinflation that has plagued Zimbabwe recently makes the Weimar Republic of that era look like a model of fiscal and monetary integrity. The tragedy now unfolding in Zimbabwe provides the latest example that a government cannot create prosperity simply by cranking up the printing presses and creating previously unimaginable sums of money. All that course of action ever does in the long term is destroy the value of the currency.

Did someone mention Zimbabwe?

Foreign aid? The $787 billion stimulus bill is about as long as the Manhattan phone book and as full of surprises. We just found another doozy. Democratic leaders slipped in a provision eliminating a law requiring that workers on federal contracts prove they are citizens or legal residents of the United States. The eliminated provision includes a program called "E-verify" that allows employers to quickly access federal databases to check the legal status of workers — all but avoiding the risk that forged documents will fool an innocent employer into hiring an illegal.

Stimulating Illegals: At least 300,000 of those stimulus jobs will go to illegal aliens who are likely to send that money home to their native countries. Just whose economy are we stimulating?

Obama's Job-Creation Program Flunks Basic Math. There are currently about 10 million unemployed workers in the U.S. "If we write a check for $75,000 to each of the unemployed, we won't have anyone 'unemployed,'" said former Treasury Secretary Paul O'Neill. The recipients may not be working in the traditional sense of going to the office each day, but the government can provide for their needs without anyone having to lift a finger.

Stimulus Watch .org was built to to help the new administration keep its pledge to invest stimulus money smartly, and to hold public officials to account for the taxpayer money they spend. We do this by allowing you, citizens around the country with local knowledge about the proposed "shovel-ready" projects in your city, to find, discuss and rate those projects.

Shovel ready or digging a hole? Some question my decision to accept job-ready stimulus funds, while leaving on the table for discussion other funds that grow government. Washington dollars are tempting, but we must consider whether they create sustainability, help develop our resources, reduce dependency on Washington, and all without mortgaging our kids' futures.

What Is Congress Stimulating? Contrary to conventional Beltway wisdom, the House Republicans' zero votes for the Obama presidency's stimulus "package" is looking like the luckiest thing to happen to the GOP's political fortunes since Ronald Reagan switched parties. If the GOP line holds, the party could win back much of the goodwill it dissipated with its big-government adventures the past eight years.

Obama Era Begins. We have to doubt the efficacy of Obama's plans to revive our economy. He promised that his proposed stimulus legislation will create or save three million jobs. If we use the estimated cost of the House Democrats' bill as a basis — $825 billion — it means that Obama and the Democrats will spend about $275,000 to create or save each job. How can we believe that the government can create or save a job more efficiently than industry? If the cost is $275,000 a job, and the average American family's income is only $50,000, why does the government need to spend more than five times the average income to create or save one job?

First, Do No Harm. John McCain is on to something. No stimulus bill — that is, no "economic recovery" package at all — "is better" than President Obama's bill, McCain says. Sure, he'd prefer his own alternative. At $445 billion, it would cost roughly half Obama's bill. And Republican senators unanimously voted for it. But Democrats shot it down as if it were a trifle. What Obama wants is more spending. "That's the whole point!" the president blurted out last week in a moment of candor.

The Stimulus Tragedy: President Obama has started to play the "catastrophe" card to sell his economic stimulus plan, using yesterday's terrible January jobs report to predict doom unless Congress acts. No doubt he'll get his way, but the tragedy of this first great effort of the Obama Presidency is what a lost opportunity it is.

'Doom' talk scored as 'not presidential'. From crisis to catastrophe. Off a cliff. Dark, darker, darkest. Mortal danger of absolute collapse. Armageddon. President Obama and top Democrats on Capitol Hill are deploying these and other stark predictions of doom and gloom to push through their economic-stimulus package. In terms not heard in Washington since the late 1970s under President Jimmy Carter's watch, the new president has sought to terrify Americans into supporting the $800 billion-plus bailout bill.

Buying off trial lawyers to grease the stimulus. Who knew that plaintiffs' lawyers need to be stimulated? In a "recovery plan" that President Barack Obama said must be passed with "urgency," why does the Senate weigh down its version of the economic stimulus bill with extraneous provisions having nothing remotely to do with invigorating the economy? Several sneaky parts of the bill are designed solely to make it easier and more profitable for class-action plaintiffs attorneys to file lawsuits against more businesses. Not only are the provisions unfair, they also are likely to be job killers in a bill supposedly aimed at job creation.

Real Stimulus Wouldn't Empty Wallets. At roughly $850 billion and 650 pages and counting, the American Recovery and Reinvestment Act of 2009 is a hugely expensive gamble that the Congress and the president are apparently willing to take in a desperate effort to jump-start our economy.

The flawed stimulus bill: [I]t must be one of the great political mysteries of our time that the economist stars of Team Obama outsourced the job to the Democrats in Congress. The stimulus plan that emerged from Speaker Nancy Pelosi and the House, without a single Republican vote in support, is not impressive, whether judged by its ability to create jobs or to invest money widely for the economy of the future. It does not even do a competent job of providing a quick fix for a consumaholic system that finds itself suddenly starved of cash.

The World's Greatest Rubberstamp Body: Will The Senate Fold? Very few people are left in Washington, D.C. who believe the "stimulus" bill is anything like a genuine stimulus bill. People aren't debating whether or not it will work to quickly inject energy into the lethargic economy. They know it won't. People aren't debating the priority of the public works the bill proposes, because there are very, very few public works proposed. And the United States Senate isn't fulfilling its reputation as the "greatest deliberative body in the world," because the Senate isn't deliberating.

How Government Created the Financial Crisis. The classic explanation of financial crises is that they are caused by excesses — frequently monetary excesses — which lead to a boom and an inevitable bust. This crisis was no different: A housing boom followed by a bust led to defaults, the implosion of mortgages and mortgage-related securities at financial institutions, and resulting financial turmoil. Monetary excesses were the main cause of the boom.

Unreal Stimulus. [Obama's] effort is failing. He can't even get his own party to sign on to the plan. So far, at least, Obama doesn't appear willing to recognize this. In a CNN interview on Tuesday, Obama was asked what was nonnegotiable in the stimulus bill. His answer, in short, was pretty much everything.

CBO: Obama stimulus harmful over long haul. President Obama's economic recovery package will actually hurt the economy more in the long run than if he were to do nothing, the nonpartisan Congressional Budget Office said Wednesday. CBO, the official scorekeepers for legislation, said the House and Senate bills will help in the short term but result in so much government debt that within a few years they would crowd out private investment, actually leading to a lower Gross Domestic Product over the next 10 years than if the government had done nothing.

Cooking American Frogs. "We Are All Socialists Now" is a Newsweek article co-authored by Evan Thomas and Jon Meacham. Evan Thomas is the grandson of six-time Socialist Party of America presidential candidate Norman Thomas. Could it be that socialism is taking a premature victory lap?

Clunkers proposal pulled from economic stimulus debate. Backers of a plan to give owners of old vehicles $10,000 toward buying a new, more fuel-efficient model withdrew their plan this evening, in the face of growing concerns about the size of a $900-billion stimulus plan and objections from automakers. The proposal would have required that any new vehicles bought with the money be built in the United States, which foreign automakers said today would violate international trade agreements.

Coburn Highlights Billions of Wasteful Spending. President Obama campaigned on the fact that we ought to live within our means; that every program ought to be reviewed; that those that are not effective, those that have waste, those that have high fraud rates, those that are low priority ought to be eliminated. There is not one penny of effort placed in this bill that will get rid of less important Federal programs today. We know there is at least $300 billion a year that is inefficiently, erroneously, and fraudulently spent by the Federal Government. We ask our children and our grandchildren to choke down $1.1 trillion more of debt when we have not done anything — not one thing — to lessen the waste, fraud, and abuse, the inefficiency, and to make choices on what is more important.

We don't have a moment to spare, but evidently we have $1 trillion. Last October, while campaigning in Toledo, Barack Obama called for "a new ethic of responsibility." The nation's economic troubles, he said, occurred partly because "everyone was living beyond their means," including politicians who "spent money they didn't have." In his inaugural address last month, Obama regretted "our collective failure to make hard choices" and heralded "a new era of responsibility." Now President Obama, as one of his first priorities, is pushing a gargantuan "stimulus" plan that will add around $1 trillion to the national debt and cannot possibly work as advertised. Welcome to the new era of responsibility.

Why 'Stimulus' Will Mean Inflation: As Congress blithely ushers its trillion dollar "stimulus" package toward law and the U.S. Treasury prepares to begin writing checks on this vast new appropriation, it might be wise to ask a simple question: Who's going to finance it?

Stimulus Plan Signals New Welfare State. Already, 40 percent of Americans don't pay taxes. Obama's stimulus gives non-taxpayers up to $1,600 — money they did not pay — in the form of a tax credit. Putting millions more workers on the entitlement roles, either through universal health insurance or the expanded SCHIP health program, will further diminish support for future free-market reforms to make the U.S., economy more competitive, conservative economists warn. Free-market economists point to failed welfare-state experiments in England, France, and Germany, and now openly say America could be headed down the same rocky road.

New Hampshire Leads Next American Revolution! Obama is not uniting the nation. He is igniting a second civil war. American Marxists are trying to capitalize on the financial chaos they have created by their Marxist fiscal policies of the past. They have spent the nation and its people into bankruptcy. To give them more money, more power, would be to commit certain financial suicide. Instead of allowing Washington DC elitists to squander one more taxpayer penny in the name of some false greater communal good, like Obama's ACORN, the people should use the power of their state legislatures to demand a return of money and power to the people and their state governments.

The 'Stimulus' Package — All Economists Agree? "There is no disagreement," said then-President-elect Barack Obama Jan. 9, "that we need action by our government, a recovery plan that will help to jump-start the economy." No disagreement?

The Only Number You Need to Know: The most important number for Americans, according to writer Andrew Dilnot, is $15.6 billion. ... It represents $1 per week for each American for a year.

The 'stimu-less' package. In his inaugural address, President Obama stated, "Our economy is badly weakened, a consequence of ... our collective failure to make hard choices." The stimulus bill approved by the House fails to make the hard choices to reinvigorate the economy, and, instead, sets a course for a massive expansion in federal spending and government authority.

There's No Stimulus Free Lunch. How much will the stimulus package moving in Congress really stimulate the economy? The evaluations to date have been incomplete, so we looked at the likely stimulative effect from the spending parts of the House and Senate bills — over $500 billion — and assessed the quantitative effects of four basic factors ... .

Obama's Scam and Pelosi's Pigs. The gargantuan spending bill now waddling through Congress is a lobbyist's dream. Do not think for a second that Democrats in Congress dreamed this up all by themselves. The principle behind it — enlarging the government, creating more lobbyists and then robbing the taxpayers blind — yes. This is gospel to liberals on Capitol Hill, always decked out in the language of superior morality and compassion. But the details? Please. The Congressional expertise in this area is close to zilch. Members of Congress are dependent on lobbyists for this kind of material.

Pelosi's Indefensible Bill. In the public eye as well as on Capitol Hill, the California Democrat has become the mother of all stimulus packages. Whatever issues Mrs. Pelosi may claim with the Senate version, her leadership has defined the direction. Her intransigence has set the tone. And her penchant for excess helps explain why out of 535 members of Congress, only three Republicans seem willing to go anywhere near the thing. Therein lies a cautionary tale.

Dr. Coburn's amendments to "Stimulus" bill: "When the American people learn what this bill contains they will reject it out of hand. This bill is about spending money we don't have on things we don't need. We got into this mess by spending and investing money that didn't exist. We won't get out of this mess by doing more of the same. Yet, that is precisely what we are doing," Dr. Coburn said.

McCain on Stimulus: Having No Bill Would Be Better Than Having This Bill. Former Republican presidential candidate Sen. John McCain (R-Ariz.) said Wednesday that the president's economic stimulus bill is unacceptable to Senate Republicans. "'No bill' is better than this bill," McCain told CNSNews.com just outside the Senate chamber.

How Congress is harming the economy. By inserting protectionist provisions that require some goods financed by the stimulus bill to be made in America, Congress is risking a trade war with important trading partners in Europe and Asia. A trade war would reduce exports, potentially destroying millions of American jobs.

50 De-Stimulating Facts. Of course, it wouldn't be a liberal wish list if it didn't include something for ACORN, and sure enough, there is $5.2 billion for community-development block grants and "neighborhood stabilization activities," which ACORN is eligible to apply for. Finally, the bill allocates $650 million for activities related to the switch from analog to digital TV, including $90 million to educate "vulnerable populations" that they need to go out and get their converter boxes or lose their TV signals. Obviously, this is stimulative stuff: Any economist will tell you that you can't get higher productivity and economic growth without access to reruns of Family Feud.

Obama Agonistes: [The stimulus bill] is a mountain range of pork, created by wantonly spendthrift Democrats defiant of any economic stimulus theory, Keynesian or otherwise. Even President Obama is backing away from some of it, for instance its "Buy American" provisions. Obviously our presidential novice was had by Washington's special interests.

Buy American, Buy Depression. The new administration watered down a protectionist "Buy American" provision in the Senate stimulus bill and hoped all sides would go away happy. But they won't, as the European Union envoy to the U.S. explains.

Democrats Try Trickle-Down Economics. As a presidential candidate, Barack Obama attacked "trickle down economics" as "bankrupt" and an "old, discredited" philosophy that "didn't work." He was wrong. Even worse, though, is that he and congressional Democrats are embracing a Democratic version of trickle-down economics that won't work. It's embodied in the House-passed "stimulus" bill, H.R. 1, whose deeply flawed assumption is that spending $1 trillion to grow government will trickle down to help people who lost jobs.

"I Won" Isn't Going to Close the Deal. As far as political arguments go, "I won" has its power — provided it's made on behalf of an agenda ratified by the American electorate. But Obama didn't campaign on a sprawling, nearly $1 trillion new spending plan.

Tax Cuts Would Really Stimulate. President Barack Obama's $825 billion-and-growing economic stimulus plan is not going to bring the nation to economic recovery. It is based on outdated Keynesian thinking. Borrowing almost $1 trillion from the private economy to then spend it in the private economy is not going to add anything to the net economy. Moreover, all of that government spending does not change the fundamental incentives that govern the economy.

The Stimulus: 300,000 Jobs for Illegals. If enacted, the Senate stimulus bill would fund over $100 billion in new government construction projects with the goal of providing additional jobs to unemployed Americans. The House-passed stimulus bill contains explicit language to bar employment of illegal immigrants in these construction projects. ... If the Senate version of the bill becomes law, a great number of the workers employed in government construction programs will, in fact, be illegal immigrants.

Graham Says Obama Is 'AWOL' on Stimulus. The South Carolina Republican told FOX News that Obama has not been providing leadership, and he criticized the president for giving TV interviews and writing an editorial touting the package, rather than addressing the complaints of lawmakers. "This process stinks," Graham told FOX News, before repeating a lot of his criticisms on the Senate floor. "We're making this up as we go and it is a waste of money."

To Cut Gov't Purse Strings, Just Say 'No'. President Obama has imposed a $500,000 cap on compensation for executives of companies receiving federal bailout funding. He's pressing the bailed-out auto companies to make "greener" cars that Americans don't show much interest in buying, and some of his supporters want to forbid the companies and their executives from raising questions about global warming and stricter emissions standards. He's also ordering that religious groups which get government funding not discriminate on the basis of religion in hiring. In each case, the government is using its money to impose rules on private organizations, whether businesses or churches or charities.

Hardly the Best and Brightest. Most historians agree that earthquakes, droughts or barbarians did not unravel classical Athens or imperial Rome. More likely the social contract between the elite and the more ordinary citizens finally began breaking apart — and with it the trust necessary for a society's collective investment and the payment of taxes. Then civilization itself begins to unwind. Something like that has been occurring lately because of the actions on Wall Street and in Washington, D.C.

Prescription for medical malpractice. Nasty surprises are always nasty. ... But the nastiest surprises are not likely to be the failure of the bailout legislation to work, but the way some of it will work only too well. The surprises won't be the Bridges to Nowhere, but the bridges to places no one wants to go. Nastiest of all will be the health care catastrophe hidden in the thousands of pages of this legislation, the work of Tom Daschle, who was almost secretary of Health and Human Services before he was sent back to K Street to work on his tax returns.

[Dispensing] with Our Constitution. Stimulus package debate is over how much money should be spent, whether some should given to the National Endowment for the Arts, research sexually transmitted diseases or bail out Amtrak, our failing railroad system. Dr. Higgs says, "Hardly anyone, however, is asking the most important question: Should the federal government be doing any of this?" He adds, "... Search the Constitution as long as you like, and you will find no specific authority conveyed for the government to spend money on global-warming research, urban mass transit, food stamps, unemployment insurance, Medicaid, or countless other items in the stimulus package and, even without it, in the regular federal budget."

Obama 'Stimulates' His Political Buddies. President Obama says the "stimulus" package is designed to save the economy. He says the "stimulus" package contains no earmarks. He says "government is the only entity left with the resources to jolt our economy back into life." He's lying. This "stimulus" package and Tim Geithner's associated bailout scheme aren't aimed at helping private industry recover. They're aimed at putting cash in his friends' pockets and shaping a new big government majority for decades to come.

Mission creep. If you can't keep track of every item stuffed into the competing House and Senate stimulus bills, you have plenty of company. Which one will give you a tax cut? Which one will give Illinois more dough? Which one will create massive federal debt? (Well, we can answer the last question: both.) There are a lot of moving parts, as you'd expect when lawmakers have such urgency to spend more than $800 billion. We've been skeptical about this whole process.

You've Got to Hand It to a Man Who Tells It Like He Sees It. Attacked and derided by the more "acceptable" GOP candidates, it was Ron Paul who warned that America was "going bankrupt" and that our infrastructure was decaying. He also harped the loudest on the need to cut spending. Throughout the 2008 campaign, Paul kept telling anyone who would listen that the nation was literally printing money to pile up massive debts, and that there would be a major price to pay for Congress and the president being asleep at the wheel. Now look where we are.

Barack Obama and Tim Geithner rob Main Street of $3 trillion. It is madness. These lunatics are mugging Main Street of $3 trillion and squandering it on a liberal fantasy. It could be a generation before America recovers — not simply from the loss of these funds, but from the economic mismanagement of which it is a symptom. The fall-out will be very serious for the rest of the world. Hope? Change we need? Vote in haste, repent at leisure.

Shelby: Stimulus 'the socialist way'. "We're going down a road where it's unchartered. (sic) We're going down a road to disaster. We've never seen this kind of spending — ever. And there's a lot more to come," said [Sen. Richard] Shelby. "There's got to be some other way better than what we're doing. Not the socialist way, but to try and get our free market working again."

Knitting the Defeat of Capitalism. Given their almost unanimous support of all things liberal, our media have furnished the socialists in Washington the ability to hide their agenda in plain sight; a heretofore unheard of development in the U.S. of A. From inanities like our president predicting a "catastrophe" if his stimulus bill fails, to insanities like Nancy Pelosi calling abortion and birth control good for the economy, the feeling that we are no longer living in the America we knew grows day by day.

The camel in the tent: The Obama administration announced that no executive salary at any firm that accepts federal bailout funds can exceed $500,000 annually. To many people, this idea seems sound. To me, it seems sadly suggestive of a bleak future for America.

Obama, Reid, Pelosi burn billions behind closed doors. For officials who came into office promising to operate the most honest and transparent White House and Congress ever, President Barack Obama, House Speaker Nancy Pelosi and Senate Majority Leader Harry Reid seem determined to achieve exactly the opposite result. Their actions in securing passage of the $1 trillion economic stimulus bill — the total cost exceeds $1 trillion when interest is added to the $838 billion Senate or $827 billion House versions — would be laughable were not the consequences for the nation so dire.

Socialist Spending Spree: Obama's Chicken Little Stimulus Package won't stimulate anything but more government waste and a left-wing power grab, and almost every American taxpayer knows it! There is absolutely nothing "bi-partisan" about the current legislative process or the so-called "stimulus bill" being produced by that process.

The real price of the stimulus will be individual liberty. Mere pork has never been the problem with this monstrosity. Pork we can digest. The deeper problem is two-fold: This bill will do almost nothing to ease the current financial crisis and, far worse than that, it tightens the federal government's fist on the future of education, energy research, industrial policy and especially health care. And all without so much consideration as a congressional committee hearing. Do we really need Education and Energy departments double their current size? Should it be left to 15 federal employees to pass binding judgment on the usefulness of every medical product and procedure? ... Nor is anything in the power-grab bill temporary. None of it will ever go away, absent the application of political dynamite.

Goodbye, America! It Was Fun While It Lasted. It's bad enough when illiterate jurors issue damages awards in the billions of dollars because they don't grasp the difference between a million and a billion. Now it turns out the Democrats don't know the difference between a million and a trillion. Why not make the "stimulus bill" a kazillion dollars? All Americans who work for a living, or who plan to work for a living sometime in the next century, are about to be stuck with a trillion-dollar bill to fund yet more oppressive government bureaucracies. Or as I call it, a trillion dollars and change.

Democrats Ready to Spend Billions... Yet Ration Health Care. Believe it or not, Congressional Democrats proposed a radical revision of health care policy as part of their economic "stimulus" bill. "Comparative effectiveness," as it is called, not only lays the groundwork for a full-fledged government take-over of Americans' health care system, but seriously limits the choices for patients and doctors in pursuing treatment.

Benedict Arnolds of the GOP. Now the actions of three people who told their voters that they were Republicans have eliminated any hope that the GOP has for influence during the next two years. By making their own deals with the Obama administration and settling for cosmetic improvements in the so-called stimulus package, Sens. Collins, Olympia Snowe (R-Maine) and Arlen Specter (R-Pa.) have sold out their party, their state and their supporters.

House Flippers. The federal government's last go at stimulating the economy produced some nice bonuses and parachutes for CEOs, but not much in the way of real economic relief. The potential for fraud is especially acute for the NSP [Neighborhood Stabilization Program], which essentially gets Uncle Sam into the house-flipping business.

Rahm's fingerprints all over package, tactics. Rahm Emanuel may have moved his office down Pennsylvania Avenue, but to stand in the hallways of the Capitol lately, it seems he never left. And if anyone's fingerprints are on the nearly $800 billion economic stimulus package being sorted out in Congress this week, they belong to Emanuel, the former Illinois House member who is now the White House chief of staff.

The bill was cobbled together in secret.
Surprise! Dems Break Promise. In a press conference Thursday, the House Republican leadership spoke candidly about being kept out of the House-Senate conference on the Obama-Pelosi-Reid so-called "economic stimulus" bill. They confirmed they had not yet seen the text of the bill as of 4 p.m. Minority Leader John Boehner (R-Ohio) said he was unsure how many Democrats would vote with Republicans again on this bill but that he thought Republicans "may get a few" Democrats to side with them. The fact that the Demos have now broken their promise to have the public able to see the bill for 48 hours may drive more Dems into the Republican camp.

Projected jobs numbers don't quite add up. A White House estimate of the number of jobs stimulus legislation will create includes some sharp discrepancies between state and local jobs claims. Those differences — which the document suggests are large rounding errors — was spotted by the office of House Minority Whip Eric Cantor ... It comes as the White House is seeking to define the stimulus package as a jobs bill, and to focus locally on the jobs it will create.

The Audacity of Hope. Many Americans voted for the president — whose actual record of accomplishments was thin at best — on hope alone. It was the basis of his whole presidential campaign, what he called the "Audacity of Hope" after a sermon from his former pastor, the now infamous Rev. Jeremiah Wright. President Obama's hope lies in government. ... But presidents don't create jobs, employers do — mostly in the private sector and primarily in small businesses, not large corporations. Which is why the congressional stimulus package won't do much.

History's Cesspool of Bad Ideas: Socialism and Corporate Social Responsibility. From what I can tell from news reports about the contents of the final ["stimulus"] bill, it is clear that what really got stimulated over the past several weeks were the bowels of the Democratic Party. Seems like every cockamamie socialist program that didn't see the light of day during the past eight years has suddenly been disgorged into this massive trillion-dollar legislative receptacle. ... American voters will now get a whiff of big government socialism and I believe that those who actually pay taxes, and invest their savings, may once again appreciate the attributes inherent in the system envisioned by our founding fathers — limited government, private property, personal freedom and open markets.

You Mean We Have To Pay For It? Like the hangover which inevitably follows the drinking binge, the realization is setting in that now we have to pay for the $787B just spent — which will really grow to more like $3 trillion with interest and a bank bailout thrown in. (Yes, it sure does add up.)

A multilevel disaster. The conventional media wisdom — in the form of The Associated Press — has already weighed in on the $787 billion economic stimulus bill approved Friday [2/13/2009] by Congress. It's a "big win," AP concluded, on the "signature initiative of the fledgling Obama administration." That may be the view now. In time, however, we fear the measure will prove an epic mistake, both for its contents and its handling.

The Stimulus Bill Smells of Turpentine. I suspect that Obama has in mind a definite ulterior plan, for the sake of which he wants the current stimulus bill to fail to revive the economy. The porcinity of the stimulus bill is beyond any question and well documented. But mingled with the bacony aroma that so inflames the appetites of politicians and lobbyists, there lies another odor — the reek of turpentine.

Freedom Is Still the Best Policy. Moving the world away from free choice and restoring the power of Big Brother is not the right answer to our current problems.

Obama's Regulatory Chief Believes in Paternalistic Government. The basic premise of libertarian paternalism is that the government should use its power to "nudge" people into acting in their best interest, while leaving them the choice to "opt out." If the government decides that saving money is good, it would automatically divert a percentage of your paycheck into a savings account in your name unless you explicitly declined. ... Once we concede the legitimacy of "nudging," nudges will inevitably escalate. Over time, libertarian paternalism will become less "libertarian" and more "paternalistic." The government that initially nudges you to save 5% of your income may next nudge you to save 25%. Or buy more vegetables. Or drive fewer miles. And once a default is set, government could make opting out increasingly difficult, then impossible.

What's the Rush? After pushing Congress for weeks to hurry up and pass the massive $787 billion stimulus bill, President Obama promptly took off for a three-day holiday getaway. Obama arrived at his home in Chicago on Friday, and treated wife Michelle to a Valentine's Day dinner downtown ... .

Stimulus package flunked test. The $787 billion economic stimulus package that Congress passed Friday, with the support of no House Republicans and only three GOP senators, is a hideous caricature of what its sponsors promised. It was originally advertised by President Barack Obama as something that would create or save 3.5 million jobs and would be timely, targeted, and temporary. The final package clearly flunked the latter two descriptions — it was 1,073 pages of scattergun spending, with much of it extending for a decade — and it offers a "cure" to the jobs hemorrhaging that may be far worse than the disease.

No, We Are Not All Socialists Now. There could be no better time to review what actually went wrong in America's system in recent years — with profligate budgets, loose money and government poisoning the housing market with forced lending, implied taxpayer guarantees, and hellish knock-on toxic effects. Fannie Mae was not something cooked up by the free market. It was a product of the same state-engineering mindset that now brings us the godzilla "stimulus" bill.

Obama Signs $787 Billion Stimulus Package. President Obama on Tuesday [2/17/2009] signed into law the largest spending bill in U.S. history, a package he pledges will save millions of jobs and bring the country back from the brink of economic catastrophe. ... Obama said the package would not solve all the country's economic problems but would signify the "beginning of the end" of the recession.

Stimulus Bill Too Lengthy to Read — But Not To Sign. We've all been taught never to sign any document we haven't read. But that doesn't apply to the economic stimulus bill President Obama is signing today in Denver. At 1,079 pages, the legislation hardly qualifies as a quick read. Sure, President Obama has a good idea of what's in the bill, but he hasn't read it page for page, which is not unusual. Rarely, if ever, does a president read a lengthy bill in its entirety before signing it into law. So how does Mr. Obama know it's okay to sign?

The Plan: Democrats in Congress have made a $1.14 trillion bet on big government. With less than 48 hours notice, they passed a 1,073-page collection of special interest spending and dared to call it a "plan." With interest, the $787 billion bill will cost us, our children and their children about $1.14 trillion. That works out to about $30,000 in new debt for each American household.

True Cost of Stimulus: $3.27 Trillion. All of the major news outlets are reporting that the stimulus bill voted out of conference committee last night [2/11/2009] has a meager $789 billion price tag. This number is pure fantasy. No one believes that the increased funding for programs the left loves like Head Start, Medicaid, COBRA, and the Earned Income Tax Credit is in any way temporary. No Congress under control of the left will ever cut funding for these programs. So what is the true cost of the stimulus if these spending increases are made permanent?

Obama's 'Hair of the Dog' Stimulus: Keynesian stimulus only ends or softens a recession if most of the money is spent, rather than saved. If suddenly parsimonious Americans save too much of the plan's outlays, it won't work. This, incidentally, is why Democratic economists claim to oppose using income-tax cuts to revive an economy. If one returns money to people in a large lump, as with a tax-rate reduction, they're likely to save rather than spend most of it. In other words, what would be revived is the long-dead American practice known as "thrift." Under current logic, that's bad.

Just A Beginning? Seven-hundred eighty-seven billion dollars apparently doesn't go as far as it used to. Even before the ink was dry on the stimulus bill, the president and his deputies were hinting it may not work as promised. ... Now with the $787 billion on the books — an amount greater than the entire federal budget in 1982 — the administration is suddenly in full expectation-lowering mode, throwing out strong hints that it may have to go back for second helpings in a matter of months.

Escape From D.C.: That President Obama waited until Tuesday [2/17/2009] to sign the $787 billion stimulus bill during a trip to Denver speaks volumes. He wanted to highlight the bill's green provisions, not its "stimulus."

CBO: Obama's Stimulus Will Cause 'Lower Wages' for American Workers. The huge economic stimulus package that President Obama signed into law Tuesday will result in "lower wages" for American workers, according to the Congressional Budget Office (CBO). The CBO analysis, dated Feb. 11 and sent to Sen. Judd Gregg (R-N.H.), says the $787-billion plan will increase employment in the short-term, but will run up deficit spending which will "crowd out" private investment in the economy in the long-term.

The Primary Goals of Obama's Dictatorship:
• Grab grasp and control of all primary economic sectors — banking, health, energy, technology, transportation, communication and food (all of which is addressed in his so-called stimulus bill ... )
• Erase US borders — provide amnesty for all illegal aliens living in the US and their families not yet here. Concede sovereign authority over US constitutional law to the UN. (This too is set up in the leftist stimulus bill)
• Silence the last remaining voice of pro-freedom dissent currently heard only at talk radio (under the Fairness Doctrine ...)
• Eliminate Second Amendment rights for American citizens while setting up a one million member civilian army loyal to Obama rather than to the people and their constitution (Early funding for which is provided in the stimulus package as well).

Subsidize Bad Behavior? President Obama's massive mortgage-bailout plan is nothing more than a thinly disguised entitlement program that redistributes income from the responsible 92 percent of home-owning mortgage holders who pay their bills on time to the irresponsible defaulters who bought more than they could ever afford. This is Obama's spread-the-wealth program in action. Team Obama is rewarding bad behavior. It is enlarging moral hazard. It is expanding its welfarist approach to economic policy.

45% Oppose Government Mortgage Help for Troubled Homeowners. Forty-five percent (45%) of Americans oppose the federal government subsidizing mortgage payments for financially troubled homeowners, according to a new Rasmussen Reports national telephone survey.


---
"When the people find that they can vote themselves money, that will herald the end of the republic."

– Benjamin Franklin
---

A bill that is extraordinarily ordinary. The Associated Press reported that the average worker will see an extra $13 a week from this stimulus. If my math is correct, that will be $676 a year. Said Michelle Obama: "You're getting $600. What can you do with that? Not to be ungrateful or anything. But maybe it pays down a bill, but it doesn't pay down every bill every month." Oh wait, that is not what she said about this stimulus package. That is what Mrs. Obama said about last year's $150 billion stimulus under President Bush. That one passed 81-16 in the Senate and 380-34 in the House as Democrats and Republicans worked to create a truly bipartisan measure.

Obama will have to pay for his stimulus one day. The stimulus package, signed by the president in Denver last Tuesday, is a flawed mixture of tax cuts, spending, pork and the special funding for congressmen's pet projects that Obama had promised to consign to the dustbin of history. The spending-will-save-us Keynesians are overjoyed, and the spending-will-break-us monetarists and conservatives are disconsolate, but neither group really knows what the effects of the package will be.

Anti-Stimulus Protests Sprout Up. As unemployment soars and anger over Wall Street bailouts mounts, public outrage will seek an outlet. Populism could go in many directions — and could easily ebb when the economy revives. But if it takes shape as an anti-spending movement, it could revive conservatives much as the 1970s tax protests did.

Has increase in government power crossed over to socialism? It's a legitimate question in a time when government is increasing welfare payments, spreading entitlements, taking steps toward nationalizing banks and the auto industry, installing the beginning of national health care and slowly transferring wealth from successful citizens to those at the bottom of the income spectrum. You'll never hear Obama, House Speaker Nancy Pelosi or Senate Majority Leader Harry Reid utter the "S" word in relation to their policies, but it's difficult to categorize them any other way.

6 Governors May Reject Portions of Stimulus. Gov. Bobby Jindal of Louisiana announced Friday that he would reject a portion of expanded unemployment benefits that would eventually require the state to raise taxes on businesses. And the governors of Alaska, Idaho, Mississippi, South Carolina and Texas have said their states may not want to meet the conditions that accompany the money or expand programs that will have to be paid for by the state once the stimulus money runs out.

Jindal rejects Louisiana's stimulus share. Louisiana's Bobby Jindal, a Republican, became the first governor Friday to refuse officially a part of his state's share of the $787 billion stimulus bill, while President Obama warned the nation's mayors to spend stimulus money wisely. While some governors were subtly backing off previous statements that they wouldn't take their share of the windfall, Mr. Jindal issued a statement saying Louisiana would not participate in a program aimed at expanding state unemployment insurance coverage.

Fifteen Reasons I'm Already Tired of the Obama Era: [#15] The stimulus bill is the single largest spending bill in the history of humankind and yet, Obama is running around telling everyone how he's going to cut the deficit in a few years. Obama claiming to be a deficit hawk — that's like getting a lecture on honesty from Bill Clinton.

Stimulus Overhype? The Obama administration on Wednesday [5/27/2009] issued a booklet heralding the accomplishments of the $787 billion stimulus act 100 days after it was signed into law. Without question the book lists many projects that are having an impact of one way or another on the economy. But the first one of the projects featured in "100 Days, 100 Projects" doesn't seem to withstand the scrutiny of its description.

Top 10 Obama Administration Investigation Targets: [#2] Stimulus: The American people deserve to know what they got for the $787 billion stimulus package that Obama signed in February 2009, including how much money was spent frivolously to publicize the legislation. And where exactly are all those jobs that the administration claims were "created or saved?"

How the Stimulus Bill Could Kill You. When you read through the nearly seven hundred pages of the House stimulus bill it is easy to begin dozing off after a few hundred billion dollars worth of run-of-the-mill wasteful government spending. One has to keep a keen eye out for the components of the bill that don't just steal your money, but that may actually do you great physical harm, if not kill you outright.

Hope He Can Change. The stimulus is an ungodly disaster — a trillion dollars to foster Democratic constituencies that will leave a generation to come with unsustainable debt. Listening to Reid/Pelosi has proven catastrophic. Necessary loan guarantees to stop meltdowns have morphed into a liberal wish list (cf. Emanuel's 'don't let a crisis go to waste') of a half century. Borrowing trillions to cure an economy that borrowed hundreds of billions and got itself into an abyss of debt makes no sense.

Conservative Groups Declare Obama's Stimulus Bill a War on Prayer. A provision in the House-passed stimulus bill — banning money to be used to renovate schools from being spent on facilities that allow "religious worship" — has ignited fury among those who claim it discriminates on the basis of faith and violates the right to free speech.

Obama responds to GOP critics of stimulus bill. Polite yet pointed, President Barack Obama pushed back against Republican critics of the economic stimulus legislation making its way through Congress on Wednesday [2/4/2009], even as he reached across party lines to consider scaling back spending in the bill. ... He warned that failure to act quickly "will turn crisis into a catastrophe and guarantee a longer recession."

Is Obama Moving Bipartisanship Goalposts? Beneath the surface of the Obama administration's continuing efforts to rally support for the stimulus bill is an important shift that shouldn't be overlooked: President Obama appears to be scaling back his efforts to attract a broad bipartisan consensus for his bill. Where once there was talk of a resounding bipartisan vote in Congress, the goal now is simple passage of the bill — even if that means (as seems very likely) it will pass with almost exclusively Democratic votes.

Support for Stimulus Package Falls to 37%. Support for the economic recovery plan working its way through Congress has fallen again this week. For the first time, a plurality of voters nationwide oppose the $800-billion-plus plan. The latest Rasmussen Reports national telephone survey found that 37% favor the legislation, 43% are opposed, and 20% are not sure.

Stimulunacy. Things aren't going well for President Obama's trillion-dollar economic stimulus package — which is rapidly becoming an albatross around the Democrats' necks. The latest public opinion polls now show a majority of voters want the plan revised or scrapped altogether.

Feel like a chump? You work hard, take care of your family, and pay all the taxes the government says you owe as is typical of honest, upright citizens. But what happens to your tax money? It is now going to "bail out" firms that pay their senior executives millions of dollars a year. Congress also intends to spend your tax dollars on an $825 billion "stimulus program" filled with many dubious projects and plain old-fashioned "pork."

The Case for No Stimulus. Every penny of such a package must be borrowed, because the government is already running a $1.2 trillion deficit this year and faces a $703 billion deficit for next year, according to the non-partisan Congressional Budget Office. The question, then, is whether the government can help the economy by spending money if it can only do so by first sucking that money out of the economy.

Keynesian fallacy. There are very few economists who really buy into Keynesian theory anymore. Instead, the idea of "rational expectations" has taken its place. The difference between the two approaches is essential to understanding why Obama's stimulus package won't work.

Obama's 'bipartisan' bait. President Obama's team is apparently convinced that if we just spend enough money on traditional Democratic pet projects, we can work our way out of our national economic mess — and they seem inordinately focused on getting Republican as well as Democratic fingerprints on their "plan." They tell us we are in a "post-partisan," "trans-partisan" or at least "bipartisan" age in which all good Americans, regardless of party and ideology, act together for the common good. That sounds great, but much of it is hooey.

GOP's Profile In Courage Didn't Last Long. This was a rare smart move by the Republicans. If the GOP had gone along, pursuing the will o' the wisp of "bipartisanship," then if the stimulus had by some miracle succeeded, it would have been a bill for which Democrats would claim credit at the next election. On the other hand, if the stimulus failed — which seems far more likely — then it would be called a "bipartisan" bill, meaning that the Democrats would pay no price at the next election for a colossal failure.

Green Stimulus: Tying Economic Package to Energy and Environment Plan Is Not Workable. There is plenty of reason to believe that Congress's proposed stimulus package will not work. A recent Heritage Foundation analysis noted that such government spending "cannot be stimulative because every dollar that government spending 'injects' into the economy must first be taxed or borrowed out of the economy. Rather than create new purchasing power, these policies merely redistribute existing purchasing power."

Senator Warns White House Will 'Create Crisis' and 'Panic' to Push Stimulus. Is the new Obama administration taking cues from the Bush administration to get Congress to act? It certainly seemed that way to, South Carolina's junior Republican senator, Jim DeMint. DeMint, speaking Jan. 27 at The Heritage Foundation in Washington, D.C., explained the Obama administration will "create crisis and widespread panic" just like its predecessor in order to get Congress to act expeditiously.

Lessons from the Stimulus Fight. What did we learn from the last week's unanimous rejection of the Democratic stimulus package by House Republicans? We learned President Obama, who ardently wooed Republicans, is more charming than he is persuasive. We learned Republicans, though they can't win a vote, can win an argument. We learned the stimulus bill is too big, too porky, and hardly stimulative at all. And we learned Nancy Pelosi, the aggressively partisan House speaker, is by her own admission really and truly "non-partisan."

Obama Ducks Hard Choices. Among the many claims made for the "economic stimulus" package now before Congress is that it will "jump-start" a "bigger, better, smarter" electric grid, enabling Americans to use energy more efficiently. The package commits $4.5 billion to this, which (says the White House) will help finance 3,000 miles of transmission lines and 40 million "smart meters." Sounds great. But it may be mostly hype. For starters, $4.5 billion is a pittance. An industry study in 2004 — surely outdated — put the price tag of modernizing the grid at $165 billion.

When Will the Transparent Obama Administration Put the Stimulus Online? The Obama administration has talked of an intention to put the stimulus bill online for the American people to read before it's voted on, which is commendable. But where is it?

A Dangerous Presidency Begins. I hate to be a contrarian during the coronation of our Great Leader, but the sum of the facts compels the conclusion that we are today entering one of the most dangerous periods in our nation's history. The combination of the hype and propaganda surrounding the man and the hype and propaganda regarding the economic crisis we are in present a unique hazard for an unchecked, unexamined and unopposed expansion of government power and a radical shift in the foundations of our America's political culture.

Republicans Must Turn Down the Kool-Aid. It's going to take real courage the next four years for Republicans to swim against the tide and oppose Barack Obama — in whom so many have placed their hopes, almost to the point of idolatry. But if Obama governs in a way that's consistent with his promises, the country's future security and prosperity will depend on spirited opposition.

1993 All Over Again. Obama's push for imposing an additional trillion dollars in debt will benefit special interests at the expense of working Americans. That translates to many thousands of dollars in new costs for the average worker at a time when we can least afford it.

No Time for Mischief. [Scroll down] Socialism is a menace to freedom and to prosperity. If President Obama nationalizes as extensively as some of his supporters are advocating, I too will be against him. Fortifying the banking system and buying up troubled assets is wise, and, as was seen in the late 1980s rescue of the troubled savings and loan institutions, is effective. The President's proposed giant stimulus program is another matter. We have tried such programs in the past. They are ineffective, breed corruption, and leave in their wake inflation.

Where Stimulus Is Not Necessary: President Bill Clinton announced in 1996 that the era of Big Government was over. Yet 13 years later, more Americans are at work in the public sector than in manufacturing and construction combined.

'Hold My Administration Accountable'. President Barack Obama asked the nation today to "hold my administration accountable" for the results of the economic stimulus package up for a House vote next week. Amid a familiar rundown of arguments for the proposed $825 billion stimulus package — which has yet to receive the vote of a single Republican in the two committees that considered the legislation — Obama inserted new language addressing skeptics.

The Obama Presidency: Here Comes Socialism. [Scroll down] But it is not his spending that will transform our political system; it is his tax and welfare policies. In the name of short-term stimulus, he will give every American family (who makes less than $200,000) a welfare check of $1,000 euphemistically called a refundable tax credit. And he will so sharply cut taxes on the middle class and the poor that the number of Americans who pay no federal income tax will rise from the current one-third of all households to more than half. In the process, he will create a permanent electoral majority that does not pay taxes, but counts on ever expanding welfare checks from the government.

Not a Word About Oil, Coal or Natural Gas! If you visited WhiteHouse.gov on the second day of the new administration, you would find a lengthy document about "The President's American Recovery and Reinvestment Plan." You will not find a single word about oil, coal, or natural gas in it, nor nuclear power.

Obama's campaign pledge is far too costly. America now faces a $1-trillion budget deficit, the highest since World War II. War spending is just a fraction of that amount The main culprit here is irresponsible spending by Congress. The recession has only worsened the budget situation ... and encouraged politicians to promise even more unaffordable spending.

Change for the Worse. Buried deep inside the massive spending orgy that Democrats jammed through the House this week lie five words that could drastically undo two decades of welfare reforms. The very heart of the widely applauded Welfare Reform Act of 1996 is a cap on the amount of federal cash that can be sent to states each year for welfare payments.

White Guilt, Media Bias Soiled the Inaugural. We are told repeatedly by the media that Obama's presidency will be transformative, but the only prospect for transformation I foresee is the abandonment of the free market and America quickly descending into socialism. Yes, yes we can become East Germany!

Why I Want Barack Obama To Fail As President. I do want Obama to be successful on what would be best for this country, absolutely. Unfortunately, there is little that he campaigned on that would be good for this country. ... If Barack Obama is but a Trojan Horse for communism to push its nose under and into the tent, I want him to fail in the attempt. Simply put I want these ideas to fail miserably because success for them would mean the destruction of this country.

The New Dictator In Washington Will Change America. When the government tells us we need to make new laws and spend a lot of money "urgently and without delay," it's usually a lie. That is what they were saying about global warming. We didn't do it and the climate cooled anyway. Now they are giving us the same [nonsense] about the economy. The little dictator in Washington is forcing policy on the country based on another hoax. So what is the big lie? Only that the economy is not collapsing. It is stabilizing itself, but some people in Washington need you to believe that a total economic collapse is inevitable if the government doesn't do something to save it. This is nonsense.

Obama's stimulus bill: All-out effort to pry open your wallet. The shopping list is long and varied: $43 billion for transportation projects, $19 billion in water projects, $21 billion for school modernization projects, $32 billion to fund a so-called smart electricity grid, $6 billion to bring high-speed Internet access to rural America and many, many more items that some call pork, others jobs.

A Dozen Fun Facts About the House Democrats' Massive Spending Bill: [#1.] The House Democrats' bill will cost each and every household $6,700 additional debt, paid for by our children and grandchildren. [#2.] The total cost of this one piece of legislation is almost as much as the annual discretionary budget for the entire federal government. [#3.] President-elect Obama has said that his proposed stimulus legislation will create or save three million jobs. This means that this legislation will spend about $275,000 per job.

Don't Waste a Crisis. Euphemism comes from the Greek word euphemia, which means "using the good word" — usually in place of the accurate bad one. Recently we've become experts at it. Printing trillions more dollars and growing government to cover new debts isn't so bad if we call it "stimulus." That is far smarter than saying something honest like, "I propose a new $1 trillion debt program." The old-fashioned spendthrift policies we used to ridicule as congressional pork and "earmarks" are now justified under that ubiquitous, nice word "stimulus."

No free-ride Claus. The stimulus package being discussed is politically smart but economically stupid. ... Let's say that Congress taxes you $500 to put toward creating construction jobs involved in building our infrastructure. The beneficiaries will be quite visible, namely men employed building a road. The victims of Congress are invisible and are only revealed by asking what you would have done with the $500 if it were not taxed away from you. Whatever you would have spent it on would have contributed to someone's employment. That person is invisible. Politicians love it when the victims of their policies are invisible and the beneficiaries visible. Why? Because the beneficiaries know for whom to vote and the victims do not know whom to blame for their plight.

'Stimulus' Plan Is Really About Enlarging Government. Out of $355 billion newly appropriated, the Congressional Budget Office estimates that only $26 billion will be spent this fiscal year and only $110 billion by the end of 2010. Using long, drawn-out processes to put money into circulation to meet an emergency is like mailing a letter to the fire department to tell it that your house is on fire. If you cut taxes tomorrow, people would have more money in their next paycheck, and it would probably be spent by the time they got that paycheck, through increased credit card purchases beforehand.

There Is No Santa. Here is what my George Mason University colleague Professor Richard Wagner wrote, which was published by Office of the House Republican Leader: "Any so-called stimulus program is a ruse. The government can increase its spending only by reducing private spending equivalently. Whether government finances its added spending by increasing taxes, by borrowing, or by inflating the currency, the added spending will be offset by reduced private spending.

A Bleak Day. I love this. The new kind of politics of hope. Eight hours of debate in the HR to pass a bill spending $820 billion, or roughly $102 billion per hour of debate. Only ten per cent of the "stimulus" to be spent on 2009. Close to half goes to entities that sponsor or employ or both members of the Service Employees International Union, federal, state, and municipal employee unions, or other Democrat-controlled unions. This bill is sent to Congress after Obama has been in office for seven days. It is 680 pages long. According to my calculations, not one member of Congress read the entire bill before this vote.

Obama's Job-Creation Program Flunks Basic Math. There are currently about 10 million unemployed workers in the U.S. "If we write a check for $75,000 to each of the unemployed, we won't have anyone 'unemployed,'" said former Treasury Secretary Paul O'Neill. The recipients may not be working in the traditional sense of going to the office each day, but the government can provide for their needs without anyone having to lift a finger.

Markets and Marxists Don't Mix. Borrowing money for an infrastructure-building stimulus package, as Obama proposes, is a dubious proposition at best. Markets sometimes have an almost prescient ability to sense future troubles, and it is easy now to see that the fall of the DOW corresponds quite closely with the rise of Obama's presidential prospects.

Bailouts, Relativity and Dead Parrots. [Scroll down] But not all the bailout money is even going to lenders. That "stimulus" money will therefore do nothing for a credit crunch, but will simply dish out money to Americans that was borrowed from other Americans, to be paid back by future Americans. Are we supposed to thank the government for forcing us to borrow money from ourselves?

Admit We Don't Know. "In my view it has to be between five and seven hundred billion dollars," proclaimed Senator Charles Schumer Sunday on ABC's "This Week." The "it" is the economic stimulus package the new Congress intends to send to the new president, Barack Obama, in January. The truth is, Schumer hasn't a well-grounded view, or even a well-informed clue, as to how large the stimulus package "has to be." I'd be amazed if he could give a coherent explanation of why it should be $500 billion to $700 billion instead of, say, $300 billion or $900 billion.

Don't Bail Out My State. Washington is short on cash these days and will borrow every dime of the $150 billion to $300 billion for the "stimulus" bill now being worked on. Federal appetites may know no bounds. But the federal government's ability to borrow is not limitless. Already, our nation's unfunded liabilities total $52 trillion — about $450,000 per household. There's something very strange about issuing debt to solve a problem caused by too much debt.

Constitutional Infirmities of the Emergency Economic Stabilization Act of 2008 ("EESA"). This memorandum explains the importance of the "nondelegation" principle to our constitutional system and concludes that EESA unconstitutionally violates that principle by delegating such a broad lawmaking power to the Secretary.

Education is why we need this $835m bail-out, says First Lady. Michelle Obama has made her first solo speech as first lady, choosing education for her first foray into government policy. She stressed the need for more spending on schools and teachers and promoted her husband's $825 billion stimulus package. "Imagine what we can do with millions of dollars more investment in this area," she said. "We can expand opportunities in low-income districts for all students, particularly for students with disabilities," she told 350 staff gathered for a pep talk.

The Editor says...
Mrs. Obama didn't mention that we're already spending billions on education, and the end product is worse than ever. More money is not the answer.

Wall Street Welfare. In one last feeble attempt to save his corruption-tattered legacy, Sen. Chris Dodd is trying to sell his fix for Wall Street. It's too bad that this 'fix' is more like providing cocaine to an addict than a solution to the real systematic problem contaminating our economy. What makes this situation truly ironic is that the Bailout King himself is claiming that this new financial reform bill will get rid of bailouts all together. Does he think the American people are dumb or just oblivious?



---

Pork products in the stimulus bill

This bill is 680 pages long, and appears to be the result of a massive cut-and-paste operation to string together the liberals' pet projects for the last several years.

The wide, weird world of stimulus. [Scroll down] What do Bobber the Water Safety Dog, a reach-in freezer, sliced ham and 115 office chairs have in common? They were all funded with Recovery Act dollars.

DOE Inspector General: Over 100 Criminal Investigations Of Obama Stimulus Spending. The Inspector General of the Energy Department, Gregory Friedman, has been investigating the fate of the $35.2 billion his department received from the Obama "stimulus" disaster in 2009. ... You'll be delighted to know that more than a hundred criminal investigations were launched into Energy's handling of its mere 4% of the Obama stimulus. Friedman says "these involve various schemes, including the submission of false information, claims for unallowable or unauthorized expenses, and other improper uses of Recovery Act funds." Five criminal prosecutions have resulted, and over $2.3 million in stolen "stimulus" loot has been recovered.

Read this:
H.R.1: The House's Pig Pen. The pork-laden American Recovery and Reinvestment Act of 2009 passed by Democrats in the House is a huge pig pen. [Excerpts from the items requested by the Department of Agriculture:] $5,838,000,000 — Rural Development Programs, Rural Community Advancement Program; $22,129,000,000 — Rural Housing Service, Rural Housing Insurance Fund Program Account; $2,825,000,000 — Rural Utilities Service, Distance Learning, Telemedicine, and Broadband Program; ...

Where do the stimulus horror stories end? The Obama administration handed $7.2 million to four Oregon logging companies to hire loggers in a severely depressed industry. But according to a Department of Labor inspector general report, only two of jobs thus funded went to U.S. citizens: "Only two Oregonians were listed on the employer recruitment reports, indicating that workers in Oregon were likely unaware these job opportunities were available. In fact, although 146 U.S. workers were contacted by the three employers regarding possible employment, none were hired. Instead, 254 foreign workers were brought into the country for these jobs."

Obama Stimulus Spending Includes Rental Cars, Outhouses, and 'Sediment Removal'. Among the many things that have been built with stimulus money so far are:
- $971,711.42 to "replace pond liners" at the Garrison Dam National Fish Hatchery in Cole Harbor, N.D.
- $193,077 for a "double-vault toilet building" at the Hoyer Campground in Spokane, Wash.
- $487,944 for "toilet buildings and vaults" in the Pike and San Isabel National Forests
- $254,000 for "pre-fabricated restroom facilities" in Atlanta, Ga.
- $17,110 in hotel bills at a Marriott Hotel in Arlington, Va., for the Employment Standards Administration's annual "Prevailing Wage Conference."

Stimulus Goes to the Dogs. Yep. That's a state-of-the-art dog park, paid for with stimulus money.

Republicans: Stimulus Money Being Wasted. Among the projects singled out for criticism in the report:
· A half million dollars for new windows at the Mt. St. Helens visitors center in Amboy, Washington. The building has been closed since 2007 and there are no immediate plans to reopen it.
· $6.9 million dollars for repairs to an 1846 brick fort marooned on Dry Tortuga at the end the Florida Keys. Few people can visit this remote national park unless they hire a seaplane or take a four-hour round-trip boat ride.
· Creating a museum in an abandoned train station in Glasboro, NJ, at the cost of $1.2 million.
· $2 million dollars to send researchers from the California Academy of Sciences to islands in the Indian Ocean to study exotic ants.

More On The Democrat "Stimulus" Plan: Here are just a few of the programs and projects that have been included in the House Democrats' proposal:
$650 million for digital TV coupons.
$6 billion for colleges/universities — many which have billion dollar endowments.
$166 billion in direct aid to states — many of which have failed to budget wisely.
$50 million in funding for the National Endowment of the Arts.
$44 million for repairs to U.S. Department of Agriculture headquarters.
$200 million for the National Mall, including grass planting.
$400 million for "National Treasures."

$800 billion, and something for everyone. $99,600 for doorbells in Laurel, Miss. This will create two jobs, not to mention making it easier for the Avon Lady. ...
$500,000 for a dog park in Chula Vista, Calif. There are many dog parks on this list. ...
$3,450,000 to "rehabilitate" sidewalks in Alexandria, Va. There's a rehab center for sidewalks? This will create 46 jobs.

Stimulus Plan Is Full Of Pork Projects.
· $600 million to buy hybrid vehicles for federal employees.
· $150 million for Smithsonian museum facilities.
· $75 million for "smoking cessation activities."
· $200 million for public computer centers at community colleges.
· $10 million to inspect canals in urban areas.
· $6 billion to turn federal buildings into "green" buildings.
· $1.2 billion for "youth activities," including youth summer job programs.
· $500 million for building and repairing National Institutes of Health facilities in Bethesda, Maryland.
· $160 million for "paid volunteers" at the Corporation for National and Community Service.
· $850 million for Amtrak.
· $100 million for reducing the hazard of lead-based paint.
· $110 million to the Farm Service Agency to upgrade computer systems.
· $200 million in funding for the lease of alternative energy vehicles for use on military installations.

Obama package focuses mainly on alternative power sources. "There's not a lot of oil and gas" money in the stimulus bill, said Rep. Gene Green, D-Houston. Instead, President Barack Obama's package focuses most of its attention, and an expected $54 billion or more in energy spending, on renewable and alternative power sources, not on the fossil fuel production of Houston's major oil companies.

2.8 Million porkulus dollars down the toilet. At least 2.8 million dollars of porkulus money will be flushed down the drain — literally. In remote areas of one of the nation's least populous states, New Mexico, the Obama administration has decided to spend almost three million of your tax dollars "repairing and replacing aging toilets in three of the state's national forests," some toilets "as old as 20 years." ... Doing the math, that would equate to something like $125,000-$150,000 per restroom.

$300 Million for Golf carts/Hybrids in Stimulus. $300 million has been allocated in the stimulus bill for modern golf carts and other forms of environmentally friendly modes of transportation. The Democrats thought they could fool you by renaming the money earmarked for golf carts in the stimulus bill as paying for "neighborhood electric vehicles" and "low speed motor vehicles."

The Editor says...
I'm already driving a "low speed motor vehicle" — my 14-year-old Saturn. And I'm surely not going to drive a golf cart to work, especially through the kind of neighborhoods I'd have to cross.

The "Tiny" Trillion-Dollar Turbaconducken You Don't Care About. [Scroll down] According to House Speaker Nancy Pelosi's fantasyland "fact sheet" released early Thursday afternoon, [2/12/2009] "there are no earmarks or pet projects" in the final package. Trust her no further than you could throw a pot-bellied pig. Despite the self-delusional declarations of Pelosi and President Obama that no pet projects exist, Hill staffers spilled the beans on several new set-asides tacked onto the bill.

The Buck Always Stops with Taxpayers. Since Obama took office a short three weeks ago, he has proposed a second $1 trillion "stimulus package," which reads like the greatest pork orgy in human history, and makes FDR's New Deal look like a Raw Deal for Americans permanently affixed to the public teat. [It includes]
$150 million for emergency food assistance
$100 million for "Education and Human Resources"
$500 million for repair and replacement of schools, jails, roads, bridges, housing and more for Bureau of Indian Affairs
$8.4 billion in "State and Tribal Assistance Grants"
$550 million for Indian Health facilities
$1.2 billion in grants to states for youth summer jobs programs and other activities
$50 million in grants to fund "arts projects and activities"
$1 billion for Low-Income Home Energy Assistance
$2 billion in Child Care and Development Block Grants for states
$1 billion for Head Start programs
$1.1 billion for Early Head Start programs
$5.5 billion in targeted education grants
$160 million for AmeriCorps grants
$500 million in Native American Housing Block Grants
$1.5 billion in homeless prevention activities

So far, it's been Obamateur Hour. The hideous drooling blob of toxic pustules dignified as the "stimulus" bill is something the incoming Obama had months to prepare for and oodles of bipartisan goodwill and fawning press coverage to waft him along on. Instead, he chose to outsource it to Nancy Pelosi, Harry Reid, Barney Frank and the rest of the congressional pork barons. So that, too, is not an "event" but merely, like his Cabinet picks, a matter of judgment and executive competence.

Obama's pork barrel is open — and it is stinking. Stimulus is one of those neutral, unexceptional words that is suddenly appropriated by politicians and debauched, so that ever after it will have connotations that are sinister, ironic and sleaze-ridden. Barack Obama's "stimulus" plan will be long remembered as the occasion when political euphemism triggered economic disaster. There is no terminology available to express adequately the appalling irresponsibility of this naked political banditry. To have squandered a fraction of the near-$1 trillion cost of Obama's pork barrel in days of prosperity would have been more than reprehensible; to do so at a time of financial crisis is unforgivable.

Newsflash: They don't want a "stimulus". There is a principle called "Occam's Razor," which has been interpreted to mean that the simplest of two competing theories is usually the right one. This comes to mind as President Obama and the flying monkey minions in Congress scramble frantically to ram a trillion dollar "stimulus" bill down American's throats with no debate, no discussion, and almost no understanding of what is in it. And what is in it makes it abundantly clear that this is no "stimulus." It is riddled with hundreds of billions of dollars in pork, payoffs to special interest groups, massive increases in welfare spending, new and more bloated federal bureaucracies. What's worse, we don't actually have the money for any of it. It will have to be taxed, printed, and borrowed, all of which will make our economic situation worse, not better.

Handout sure to stimulate a lot of scams. This so-called economic stimulus act is going to spur more crime than anything Congress has passed since the Volstead Act. ... Take the weatherization plan. ... Low-income homeowners will soon be getting grants of up to $5,000 to weatherize their homes and thus reduce our dependence on foreign oil, wink wink, nudge, nudge. Soon "contractors" will be setting up shop in the inner cities, recruiting marks, doing the paperwork that allows them to apply for a grant. The first $500 will go to the program supervisor, to get him to sign off on a patently fraudulent project. Then the homeowner will get $1,000 cash, to keep his mouth shut when nothing is actually done. And finally, another $500 cash will be duked to the inspector who signs off on the, ahem, work. Profit per job: $3,000. You don't think this will happen? It already does — every time there's a disaster.

States, Nonprofits Jockey for 'Weatherizing' Funds. President Barack Obama wants to make a million houses a year more energy efficient as part of his goal to create thousands of "green" jobs and reduce U.S. carbon emissions. But the administration's push to expand an obscure antipoverty program into a centerpiece of that initiative is stirring debate over the best way to use a flash flood of federal stimulus dollars.

Update:
Energy Dept. weatherization programs rife with waste, fraud. In total, the stimulus program allocated about $5 billion to the cause of home weatherization, outfitting homes with the latest green technology in order to reduce energy prices. It's now three years later, and it appears the weatherization program has gone down a road of waste, fraud and abuse.

No Consensus on "Stimulus" Bill. [Obama] said: "What do you think a stimulus is? It's spending. That's the whole point!" With all due respect, sir, that's not the whole point. Even the "nonpartisan" Congressional Budget Office and your fellow Keynesians concede that not all spending has the same stimulative effect. But we know you know that, sir, and that you are not about to let this "crisis go to waste." You have loaded up this bill with your party's pent-up wish list of pet pork projects and political payoffs: $345 million for Agriculture Department computers, $650 million for TV converter boxes, $15 billion for college scholarships, and untold, obscene amounts for ACORN-like "community organizing".

Pelosi's mouse slated for $30M slice of cheese. A tiny mouse with the longtime backing of a political giant may soon reap the benefits of the economic-stimulus package. Lawmakers and administration officials divulged Wednesday that the $789 billion economic stimulus bill being finalized behind closed doors in Congress includes $30 million for wetlands restoration that the Obama administration intends to spend in the San Francisco Bay Area to protect, among other things, the endangered salt marsh harvest mouse.

Stimulus has $30M to save Pelosi's harvest mouse. Other spending questioned by Republicans, and not considered on the chopping block, are $275 million for flood prevention, $200 million for public computer centers at community colleges and libraries and $650 million for the digital TV converter box coupons. The list goes on: $1 billion for administrative costs and construction of National Oceanic and Atmospheric Administration office buildings, $100 million for constructing U.S. Marshals office buildings, and $1.3 billion for NASA, including $450 million tagged for science. Then there is the $300 million for hybrid and electric cars for the federal government, which include golf carts for federal workers to tool around in.

'Historic' Stimulus Is Egregious Waste. Consider what's in this monster: It overflows with pork — $2 billion to ACORN, an anti-capitalist "community" group that's been accused of voter registration fraud; $30 million to restore wetlands and save the endangered salt marsh harvest mouse in the San Francisco Bay Area (a Nancy Pelosi project); another $1 billion for a Prevention and Wellness Fund for education programs on sexually transmitted diseases. Tens of billions will be spent on high-speed rail lines, which will be of little practical use but of great political service, and projects to expand high-speed Internet access in rural areas.

Stimulus Bill Contains Many Items That May Not Boost Economy. Democratic leaders are hailing the economic stimulus bill as a way to "invest quickly into the economy," but according to a Wall Street Journal estimate, only about 12 cents of every dollar will actually go to "something that can plausibly be considered a growth stimulus."

Congress $hopping Carts. The federal government is preparing to spend millions to purchase a fleet of small electric vehicles that critics compare to golf carts. The $838 billion economic stimulus bill that passed the Senate yesterday contains $300 million for the government to purchase a fleet of "green" cars. But the money won't just go to buy fuel-efficient hybrids such as the Ford Escape or Chevy Volt. The cash also can be used to purchase "neighborhood electric vehicles."

Reid and Pelosi choreograph the stimulus con. [Harry] Reid offered this interesting observation during debate about the content of the bill, saying "the main direction is tax cuts, people are really needful of money. About 58% of it is job creating." So if the purpose of the stimulus bill is to spark economic growth and job creation, why not get rid of the 42 percent the Senate Majority Leader admits isn't about those two goals? The reason, of course, is that the Democratic majorities under Reid and House Speaker Nancy Pelosi are hell-bent to serve up a porkfest of unmatched magnitude for their favored special interests.

Stimulus bill funds ACORN despite its history of corruption. A multi-million dollar liberal non-profit activist conglomerate reportedly under federal investigation may get a big piece of the economic recovery stimulus pie now under consideration by Congress. It's the Association of Community Organizations for Reform Now —the infamous ACORN. That's right. ACORN, the activist group that has been implicated in voter fraud and registration deception in at least 14 states may get the financial bailout it needs to pull off another round of schemes in the next election season.

Stimulus Bill to Help Hollywood. Finally, Democrats have found a tax-cut they can support — one that puts even more money in the pockets of Barbara Streisand, Michael Moore and the rest of their pals in Tinseltown. Big Hollywood opened its hearts — and fat wallets — to get President Obama into the White House and give Democrats both chambers of Congress and now it's time to return the love.

GOP Yells 'Cut!' To Boo$t For H'Wood. Senate Republicans yesterday stripped a special $246 million tax break for Hollywood producers from President Obama's stimulus package. This isn't stimulus. This is a gift," said Sen. Tom Coburn (R-Okla.), who wrote the amendment to strike out the giveaway for some of the Democrats' most generous political supporters.

Senate cuts movie-industry tax break from stimulus bill. The motion picture industry's record-setting month at the box office may have cost it $246 million in tax breaks, as the Senate on Tuesday stripped a provision from the economic stimulus bill that critics derided as an unnecessary Hollywood bailout. In denying the tax breaks on new film projects, senators cited the $1.03-billion haul from movie ticket sales in January, a 19% year-over-year increase, according to industry tracking firm Media by Numbers.

Chicago Mayor Seeking Bailout Money for $15 Billion Airport Albatross. Now that Governor Rod Blagojevich is, politically speaking, pushing up daises, attention in the Land of Lincoln is going to be drawn to efforts by Chicago's Mayor Daley to latch on to a portion of the coming "stimulus package" in order to fund his dream of expanding O'Hare Airport.

Stimulus Brings Out City Wish Lists: Neon for Vegas, Harleys for Shreveport. Las Vegas, which by some accounts already glitters, wants $2 million for neon signs. Boynton Beach, Fla., is looking for $4.5 million for an "eco park" featuring butterfly gardens and gopher tortoises. And Chula Vista, Calif., would like $500,000 to create a place for dogs to run off the leash. These are among 18,750 projects listed in "Ready to Go," the U.S. Conference of Mayors' wish list for funding from the stimulus bill moving through Congress.

A Sham "Stimulus". Every so often Congress gets hold of a bill that simply must pass. A defense spending bill, say, during war time. So lawmakers exploit the situation, tacking on pet projects that have nothing to do with defense. This year's must-pass bill is a "stimulus" measure. True to form, Congress has loaded the American Recovery and Reinvestment Act of 2009 with hundreds of billions in wasteful spending.

STD, no-smoking cash still in bill. Senate Democrats, mocked over trying to stimulate the economy with $475 million to fight smoking and sexually transmitted diseases, removed the programs from the economic recovery package on Tuesday. But the money remains. And, yes, it can still be tapped to help smokers quit and to prevent the spread of STDs.

$825 Billion Stimulus Plan to Pay for New Windows, Day Care, Cable TV. The $825 billion government stimulus package unveiled by congressional Democrats on Friday [1/16/2009] contains billions of dollars in government spending supposedly designed to create jobs and stimulate the economy. However, the package also contains a host of items congressional leaders rarely mention, including hundreds of millions of dollars for cable TV boxes, new windows in government housing, and day care, among numerous other economic stimulus programs.

And Now, Back To Our Regularly Scheduled Spending Orgy. [Scroll down] The other incontrovertible truth about this massive wealth transfer is that Washington cannot stop the inevitable lard-up. The original concept of spending on "roads and bridges" has morphed into spending on anything and everything that moves or can be moved. Every moocher in the marketplace wants his grubby paws on the money. And if his or her provision isn't already written into the Democrats' legislation, it will get slipped in under the cover of night.

Lobbyists skirt Obama's earmark ban. President Barack Obama's ban on earmarks in the $825 billion economic stimulus bill doesn't mean interest groups, lobbyists and lawmakers won't be able to funnel money to pet projects. They're just working around it — and perhaps inadvertently making the process more secretive.

Republicans Object to Stimulus Dollars for ACORN. Republican lawmakers are raising concerns that ACORN, the low-income advocacy group under investigation for voter registration fraud, could be eligible for billions in aid from the economic stimulus proposal working its way through the House. House Republican Leader John Boehner issued a statement over the weekend noting that the stimulus bill wending its way through Congress provides $4.19 billion for "neighborhood stabilization activities."

If it walks like a duck: Remember the group ACORN? These are the good folks who, in the name of community activism, registered dead people to vote, registered the same person multiple times and even registered Mickey Mouse to vote. They have run afoul of the law in multiple states for their "community activities". Put simply, this is an organization that is doing its best to destroy the electoral process with bogus voting — and now they want us to pay for it! The new stimulus plan wants to reward these fine folks and help them grow their activities.

ACORN's Stimulus. With a new president ensconced in the White House, it's time to roll out the goodies for loyal supporters in left-of-center political advocacy groups such as ACORN. The latest economic stimulus bill promises to do just that by providing a huge bailout — up to $5.2 billion in taxpayer funds — for some of the same liberal groups that helped get Barack Obama elected. The three relevant fiscal provisions are buried deep in the $825 billion monstrosity known as the proposed "American Recovery and Reinvestment Act of 2009."

Obama's Bill Hands ACORN $5.2 Billion Bailout. A rising chorus of GOP leaders are protesting that the blockbuster Democratic stimulus package would provide up to a whopping $5.2 billion for ACORN, the left-leaning nonprofit group under federal investigation for massive voter fraud. Most of the money is secreted away under an item in the now $836 billion package titled "Neighborhood Stabilization Programs."

Good Morning, Suckers. Barack Obama and Congressional Democrats are playing the voters for fools with the so-called stimulus package. The massive $825 billion package is not even targeted on programs to stimulate the economy. Instead, it is laced with runaway government spending for increased welfare, overgrown bureaucracy, pork, political payoffs, and other waste.

A 40-Year Wish List: You won't believe what's in that stimulus bill. We've looked it over, and even we can't quite believe it. There's $1 billion for Amtrak, the federal railroad that hasn't turned a profit in 40 years; $2 billion for child-care subsidies; $50 million for that great engine of job creation, the National Endowment for the Arts; $400 million for global-warming research and another $2.4 billion for carbon-capture demonstration projects.

Republicans Won. In a stunning turn of events, House Republicans won a critical symbolic victory yesterday [1/28/2009] in uniting against Obama's $1 trillion phony economic "stimulus" plan. Republicans did the right thing yesterday. Even ABC's Good Morning America, normally a hotbed of support for Democrats and Democrat causes, faithfully reported that the bill seemed little more than a huge serving of pork.

Obama's First Fumble. Last week America blew a raspberry at the House "stimulus" bill. The Wall Street Journal edit page reckoned it out at about 12 percent stimulus. What about the other 88 percent? It was mostly the usual liberal special-interest spending, 40 years of pent-up pet projects.

Dr. Coburn Releases Stimulus Oversight Report. Ten examples of wasteful stimulus projects in the report include:
[#7] $1.15 million for installation of a new guard rail for the non-existent Optima Lake in Oklahoma.
[#8] Nearly $10 million to renovate an abandoned train station that hasn't been used in 30 years.
[#9] 10,000 dead people get stimulus checks, but the Social Security Administration blames a tough deadline.

Good News: Stimulus Money Grounds Flying Turtles! This is the kind of quote we jaded waste warriors wait for. Today's AP has a story about the fact that Sen. Tom Coburn (R-Okla.) released a preliminary report on how states are using stimulus money. In his 45-page report, ... Dr. Coburn mentions $3.4 million that was used by the Florida Department of Transportation to construct an "eco-passage" on I 27, which is really a little tunnel under a road for wildlife trying to cross, especially turtles which, as you can imagine, just don't have the steam to get across the roads without being crushed. It gets so much better, though, because in this "say-anything" culture, it isn't enough to defend this ridiculous use of federal tax dollars by just saying it saves turtles (and by the way, wasn't the goal of the $787 billion "stim" bill to save jobs?).

Flying Turtles, part two. My earlier post on how $3.4 million in "stimulus" money is being used by the Florida State Department of Transportation to build an eco-passage for turtles elicited a humorous response from a "shell-shocked" Florida resident, Russell Price, a self-employed businessman in real estate development and concerned taxpayer.

Is Obama laundering federal money to GE through Michigan? General Electric is getting yet more taxpayer money, possibly laundered federal money, to subsidize its business. A GE press release announced that the state of Michigan will provide GE with $60 million to build a $100 million "technology & software center" — what used to be known as an "office building." While the source of the Michigan subsidy could be Michigan taxpayers, given how strapped the state is from auto industry losses, it's quite possible that the Obama administration is funneling U.S. taxpayer stimulus money through Michigan to GE.

No second stimulus, please. Only $56.3 billion of the $787 billion stimulus has been paid out, yet the push is coming to persuade us to spend more money on top of money that hasn't even been spent yet. By now it's clear that what little of the taxpayer-funded stimulus has been spent has created pork, not jobs. That's why news reports keep coming about things like stimulus projects placing rails around non-existent lakes and redecorating old theaters.

Stimu-loss for words. The feds have spent millions in stimulus cash on "silly" projects, including left-leaning puppet shows, a martini bar, and a study of Viking civic life, according to a devastating new report.

Report says Mark Penn got a $2.8 million stimulus contract. According to its October 2009 quarterly finance report, the Hillary Clinton for President campaign has one outstanding debt: $995,500 owed to Penn, Schoen & Berland Associates, LLC, which is run by Democratic pollster Mark Penn. According to The Hill today, the same firm received a $2.8 million stimulus subcontract "for media services and outreach to help prepare 'unready' households for the DTV transition" — a contract that Republican Senators contend was "pure waste."

Mark Penn's two firms got $6 million from stimulus for PR campaign. Nearly $6 million in stimulus money was paid to two firms run by Mark Penn, Hillary Clinton's pollster in 2008. Federal records show that $5.97 million from the $787 billion stimulus helped preserve three jobs at Burson-Marsteller, the global public-relations and communications firm headed by Penn.

Beltway Christmas: Cash for Corruptocrats. According to a new study by the Mercatus Center at George Mason University, Democratic districts have raked in nearly twice as much porkulus money as GOP districts — without regard to the actual economic suffering and job loss in those districts. ... [including] Barack Obama's home state of Illinois, which reaped the single biggest earmark in the porkulus bill — $1 billion for the dubious FutureGen near-zero emissions "clean coal" plant earmark championed by disgraced Democrat and former Illinois Gov. Rod Blagojevich and Senate Majority Whip Dick Durbin.

Merry Christmas from the IRS: Another Year of Government Dysfunction. The internal watchdogs at the Treasury have just published a report showing that it is almost impossible to verify eligibility for the special interest tax breaks in the so-called stimulus. ... To be fair, even a competent government agency might have trouble making a bad law work, and the $787 [sic] boondoggle was rushed through the legislative process with very little — if any — attention paid to anything other than funneling other people's money to special interest groups.

Your stimulus dollars, not really at work in New Hampshire. At least the Alaska "Bridge to Nowhere" would have crossed a body of water. Not so with this stimulus project.

Recovery Act spent over 600 million dollars on climate change research. The American Recovery and Reinvestment Act of 2009 (ARRA), better known as the stimulus act or stimulus package, was passed with the stated goal of helping our economy. It was meant to create jobs and boost consumer spending. Opponents of the nearly $1 trillion act pointed out that many of the provisions had nothing to do with helping the economy.

Bailout funds being spent in ways Congress never foresaw. In short, what once was disparagingly referred to as bailout for Wall Street now looks like a broader bailout of all sorts of troubled businesses. Some lawmakers and outside analysts question whether that's serving the public interest as intended — or whether it's becoming a taxpayer-financed giveaway to favored firms.

Chicago-to-Detroit high-speed rail 'positioned' to receive stimulus funds. The Obama administration said Friday [3/20/2009] that a Chicago-to-Detroit high-speed rail plan is "well positioned" to receive federal stimulus funding, according to a state lawmaker. Michigan House Speaker Pro Tem Pam Byrnes said the description came from Transportation Secretary Ray LaHood during a day of meetings at the White House on the stimulus plan.

Pay raise for judges tucked into bailout plan. If the $14 billion bailout plan for U.S. automakers passes, it will help more than just Ford, Chrysler and General Motors. Federal judges would get a pay raise, as well. The raise — an annual cost of living adjustment, or COLA — would bring U.S. District court judges up to par with members of Congress, who will receive an almost $5,000 boost on Jan. 1.

Piggy Pols in Hog Heaven with Pork-Packed Pact. Congressional deal-brookers yesterday slopped a mess of pork into the $700 billion financial rescue bill passed by the Senate last night — including a tax break for makers of kids' wooden arrows — in a bid to lure reluctant lawmakers into voting for the package. Stuffed into the 451-page bill are more than $1.7 billion worth of targeted tax breaks to be doled out for a sty full of eyebrow-raising purposes over the next decade. ... Some of the pork-barrel measures buried in the financial rescue package had been contained in a bill that previously passed the Senate, but died in the House.

'I am the Speaker of the House'. To hear her aides and associates tell it, Pelosi entered last week on her best bipartisan behavior, hoping that billions in tax cuts would be enough to lure six to 10 Republican House members to vote for the $819 billion stimulus plan. To Republicans, it was a typical Pelosi pose — and they accused her of ramming one of the biggest spending bills in history down their throats while scaling back President Barack Obama's tax-cut proposal to fund 40 years' worth of liberal wish-list items.

Public Transit Gets Stimulated. Greens are lining up at the stimulus trough to fund a wish list of alternative-energy boondoggles. But an old green favorite — public transit — is also looking to sneak a few million through the back door while the gettin' is good. Sen. Harry Reid's Vegas-to-L.A. train has gotten the headlines, but with a staggering $8 billion in stimulus set aside for public transit, every pol with a pet rail program is looking to bring home the bacon.

Bailout bill gives tax break to NASCAR. A tax break for NASCAR racetracks and other motor-sports facilities is among the "sweeteners" tucked inside a 450-page financial-services bailout bill to make the package more palatable to lawmakers. The Senate-passed bill includes an array of so-called "tax extenders."

Bailout bill loops in green tech, IRS snooping. Last week, the Bush administration proposed a three-page bill to bail out Wall Street to the tune of $700 billion. It died in the U.S. House of Representatives earlier this week. On Friday [10/3/2008], though, the House approved a far bigger, broader, and beefier version of the bill -- which has ballooned to a remarkable 442 pages.

Tax Earmarks, Pork and Other Bailout Bill Horrors.
-- "Wooden arrows designed for use by children" This provision was put into the bill by Oregon Senators Smith and Wyden for the primary benefit of an Oregon arrow manufacturer … estimated to save arrow companies $200,000 annually.
-- "Motorsports racing track facilities" A Bloomberg article notes this "will save NASCAR track builders $109 million this year."
-- Rum producers in Puerto Rico and the Virgin Islands
-- Investors in the District of Columbia or on Indian reservations.
The connection between that pork and freeing the credit market from the burden of sub-prime mortgages isn't quite clear.

Using panic to pass pork: Here are some of the special-interest provisions that are now part of the Wall Street bailout legislation. The bill started at 3 pages, grew to 106 pages, and is now 451 pages.
• Film and Television Productions (Sec. 502)
• Wooden Arrows designed for use by children (Sec. 503)
• 6 page package of earmarks for litigants in the 1989 Exxon Valdez incident, Alaska (Sec. 504)
• Virgin Island and Puerto Rican Rum (Section 308)
• American Samoa (Sec. 309)
• Mine Rescue Teams (Sec. 310)
• Mine Safety Equipment (Sec. 311)
• Domestic Production Activities in Puerto Rico (Sec. 312)
• Indian Tribes (Sec. 314, 315)
• Railroads (Sec. 316)
• Auto Racing Tracks (317)
• District of Columbia (Sec. 322)
• Wool Research (Sec. 325)

Pork spending inside bailout bill: Another measure inserted into the bill appears to be a bald-faced bid aimed at winning the support of Rep. Don Young (R-Alaska), who voted against the original version when it went down in flames in the House on Monday. That provision — a $223 million package of tax benefits for fishermen and others whose livelihoods suffered as a result of the 1989 Exxon Valdez oil spill — has been the subject of fervent lobbying by Alaska's congressional delegation.




Look for this on the 300th page of the bailout bill.

How Wooden Arrows Will Save America: Those of us deep in the American hinterlands may be excused for questioning the wooden arrow excise-tax exemption and all the manifold other bizarre insertions into the federal bailout bill. Of course it seems to us very strange that, for a bill supposed to ward off financial collapse so imminent as to be mere hours away, our congressmen are tripping over themselves to stuff it with all kinds of trivial earmarks, special favors and graft. They don't seem to be acting like people desperate to avert a crisis. They seem to be acting like contestants in a game show trying to grab all the dollars before time runs out.

Top 10 Tax Sweeteners in the Bailout Bill: [For example] Sec. 602. Transfer to abandoned mine reclamation fund: Transfers interest earned on money in the abandoned mine reclamation fund to the United Mine Workers of America Combined Benefit Fund, which helps pay health benefits for retired miners and their dependents who worked under collective bargaining agreements that promised lifetime health-care benefits.

Porking Up the Rescue Bill: But at least one [of the "sweeteners"] was huge — a $3.5 billion measure intended to force health-insurance companies to cover mental illness as they do physical sickness. Now, most of this wasn't spending — but, instead, targeted tax relief (or social policy disguised as such). And many weren't even part of the rescue bill itself. Rather they were included in a tax-relief measure that passed the Senate, 93-2, weeks ago, and which has been attached to the larger measure. Things are getting out of hand.

Read the bailout bill for yourself.

Bailout Bill Is Rife With Tasty Green Pork. Clean technology companies of all sorts are cheering the green pork that legislators added to the $700-billion Wall Street bailout bill that passed Congress last week. Extensions to tax credits for wind and solar power producers finally got their long-awaited passage, but a slate of more obscure provisions could help drive new interest in a diverse array of green businesses, including geothermal, solar thermal, tidal, and wave power, plug-in hybrid cars, and energy efficiency aids.

A Wonderful, Magical Green Bailout. Much has been said and written in recent days about how "The liberal uses crises, real or manufactured, to expand the power of government at the expense of the individual and private property." The current financial situation is surely no different. What is striking is how brazen are the attempts we are seeing to attach pet schemes to the bailout's coattails.

Spoonful of pork may help bitter economic pill go down. The Senate's financial rescue plan may have a better chance of passage because it's padded with pork that may be tasty enough to get reluctant House members to bite. Most of the $110 billion in additions, such as a tax credit for research and development and an increase in insurance for bank accounts, would have broad economic impact. The benefits of others, though, may not be so evident to most taxpayers.

Vegas, Midwest seek the $8 billion for fast trains. The Republicans attacking President Barack Obama's economic stimulus package point to a project they dub the "Sin Express" — a high speed rail link between Anaheim, Calif., site of Disneyland, and Las Vegas.

Democrats party while nation suffers. [Scroll down] At the top of the list have been the so-called green projects that accounted for about one-sixth of the first $814 billion stimulus package. These are the hopelessly unprofitable ventures that companies develop because they know they are just the ticket for a fat check from Uncle Sam, as long as they can be somehow construed as environmentally friendly.

The Visitors Center You Can't Visit. [The U.S. Fish and Wildlife Service] spent $6 million in stimulus money to build a visitors center at the remote North Dakota Audubon National Wildlife Refuge, which is visited by fewer than 80 people each day. The costly, "energy-efficient" visitors center keeps bankers' hours, closing at 4:30 p.m. on weekdays. It is closed on weekends and all federal holidays — the very days when visitors are likely to come.

Feds Spent $800,000 of Economic Stimulus on African Genital-Washing Program. The National Institute of Mental Health (NIMH), a division of the National Institutes of Health (NIH), spent $823,200 of economic stimulus funds in 2009 on a study by a UCLA research team to teach uncircumcised African men how to wash their genitals after having sex.

Detroit Public Schools: 40,000 kids to get laptops from stimulus funds. Detroit Public Schools will spend $49 million in federal money to push technology in the district, including distributing 40,000 new laptop computers to students in grades 6-12 for use in class, as well as more than 5,000 new desktop computers.

Top 10 Green Job Fiascos. [#5] Weatherizing stupidity: The city of Seattle received $20 million in federal stimulus money to help homeowners make their houses more energy-efficient. Some 16 months later, 14 jobs were created and three homes were weatherized. Most of the money went to a company to train workers to weatherize buildings, but the lack of demand for the service meant those trainees had no work to do.

Maybe there is hope after all...
Michigan City Turns Down Millions of Dollars, Saying Federal Money Is Not Free. In what could be a new high water mark of anti-Washington sentiment, the city of Troy, Mich., is rejecting a long-planned transportation center whose construction would have been fully financed with federal stimulus money.



---

Stimulus II

Now that the first so-called stimulus bill has failed to perform as advertised, how about throwing more money down the same hole? Brilliant idea, Mr. President!

Hold The Stimulus And Pass The Tea. President Obama "unveiled" his new "stimulus" plan in Wisconsin today. It was a lot like watching an alcoholic unveil his new plan to get sober by switching to lite beer: We're going to "fire up sluggish economic growth" by plowing another fifty billion deficit dollars into roads, rail, and airports? It's hard to believe even the American media would be lazy enough to write such a headline with a straight face.

Spending $700+ billion hasn't worked, so maybe another $50 billion will. Because the administration's $787-billion economic stimulus package hasn't stimulated much except enthusiasm among voters terrified of deficits and federal spending, President Obama has proposed spending $50 billion more the same way. The Chicagoan's latest plan, coming just eight weeks before the first midterm election verdict on his Democratic Party's complete control of the White House, Senate and House of Representatives the last 20 months, would involve pouring the money into roads, railroads and airport runways.

25 Reasons to Send the Democrats Packing in November. [#1] Remember the stimulus bill? Republicans strongly opposed it and said it wouldn't work. Democrats said it would revive the economy and keep unemployment under 8 percent. So, what happened? Democrats shoved through a bill that cost $1.1 trillion when you add in the interest. It cost more than the Marshall Plan, the Louisiana Purchase, and putting a man on the moon — combined. The result? The economy didn't take off, the unemployment rate is still at 9.6 percent, and Democrats are calling for...you guessed it, another stimulus bill.

Has Obama gone insane? Does he not remember how badly his previous effort at pumping money into the economy went? Nevertheless, here we are, a year and a half later, and creeping unemployment remains undeterred by the federal government's intervention. And yet the president is pitching another stimulus.

Election-Eve Stimulus. Shifting spending forward and adding it to the deficit — robbing Peter to pay Paul — does nothing to spur long-term growth. It is, in fact, merely another species of unfunded stimulus spending, a loan secured against the earnings of future generations. President Obama's recent proposals for $50 billion in new infrastructure spending and $100 billion in business investment write-offs are little more than election-eve theatrics intended to divert attention from his failed economic policies. And like Carter's election-eve spending, they rob Peter to pay Paul.

Obama's cure for malaise: More of the same. The economy will not fully recover until the president moves away from the failed tax-and-spend government stimulus policies of the New Deal era. Entrepreneurs are not going to risk their capital so long as they know that the likes of [Austan D.] Goolsbee will continue to advise the president to tax away any potential reward.

Stimulator-in-Chief Strikes Again! For all of this week's talk about President Obama's "second stimulus," why do so many Americans feel less stimulated than chafed? The parade of stimuli that President G.W. Bush launched and the Stimulator in Chief has accelerated has left America impoverished, indebted, and increasingly jobless. And now, Obama wants more.

Stimulus projects under fire. A University of Michigan scientist is getting $500,000 for a study on people's impact on the environment — in Nepal. In the Upper Peninsula, a professor will get $145,000 to take students to Africa. Both research projects, as well as scores of others across the country, are under fire by conservatives for being funded by federal stimulus money, funds intended to boost the U.S. economy and create jobs.



---

More about Obama's taste for massive spending
Jump to Pork barrel politics
Back to the Barack Obama Index Page
Back to the Home page