Specific examples are hard to find in the mainstream media because biased reporters and editors don't want to spread the idea that armed self-defense in one's home is legal and effective.
Gun Watch gets a big tip of the hat for pointing out a number of the items listed on this page. Gun Watch is an excellent web site addressing this topic.
Rationality Rebooted is another site that carries news stories about defensive use of firearms.
General discussion and overview articles:
Charlotte violence sparks self defense gun buying spree. The explosion of racial violence in Charlotte, N.C. has led to a gun buying spree by locals worried about their safety. At Hyatt Guns, one of the nation's largest, staff arrived Thursday morning after the second night of riots and encountered a line of buyers. "First off, our prayers are with law enforcement this morning. People are afraid. They see lunacy in the streets being perpetrated by criminals and they are gearing up to protect themselves," Justin Anderson, director of marketing for Hyatt Guns told [the Washington Examiner].
Tim Schmidt: Concealed Carry Has 'Powerful Deterrent Effect' Against Crime and Domestic Terror Attacks. Tim Schmidt, president and founder of the U.S. Concealed Carry Association, was a guest on Tuesday's [9/20/2016] Breitbart News Daily to talk about the weekend's terror attacks. As SiriusXM host Alex Marlow noted, they were further examples of the jihadist strategy of hitting "soft targets" or "anti-gun safe spaces" featuring large numbers of unarmed victims. "The bottom line is that gun-free zones, they simply do not work," said Schmidt. "Criminals pay no attention to these gun-free zones. Ultimately, what happens is that only law-abiding citizens pay attention to them, so what you have, in essence, is a whole bunch of soft targets."
A Woman's Self-Defense Guide to Concealed Carry. A stark difference from 20 years ago, women across the country are owning guns and participating in target shooting and hunting more than at any time in the past. According to a 2015 survey by the National Sports Shooting Foundation (NSSF), more than one-third of women gun owners identified as new to gun ownership. But that's not all. Between 2004 and 2011, the report shows there was a 77-percent increase in women who own firearms, a 36-percent increase in women who target shoot, and a 23-percent increase in women who hunt. Yet, even with more women engaging in shooting sports, that's still not the reason so many are purchasing guns. It's not for hunting. It's not for fun. It's for self-defense.
CDC Study Ordered by Obama Contradicts White House Anti-gun Narrative. In January, following the Sandy Hook Elementary School massacre, President Obama issued a "Presidential Memorandum directing the Centers for Disease Control to research the causes and prevention of gun violence," along with 22 other "initiatives." That study, subcontracted out to the Institute of Medicine and National Research Council, was completed in June and contained some surprises for the president. Obama had announced at the beginning of the year his push for three major gun control initiatives — universal background checks, a ban on "assault weapons," and a ban on "high-capacity" magazines — to prevent future mass shootings, no doubt hoping that the CDC study would oblige him by providing evidence that additional gun control measures were justified to reduce gun violence. On the contrary, that study refuted nearly all the standard anti-gun narrative and instead supported many of the positions taken by gun ownership supporters. For example, the majority of gun-related deaths between 2000 and 2010 were due to suicide and not criminal violence.
Gun Ownership, Concealed-Carry Permits Up Among Women and Minorities. Antonia Okafor, a Dallas resident, says she believes a gun can be the great equalizer for women to defend themselves — one reason she is now the southwest regional director for a group called Students for Concealed Carry. State laws allowing residents to carry concealed weapons have been enacted in all 50 states, with varying degrees of regulation — most recently on college campuses.
Nine Myths Of Gun Control. Compared to about 35,000 gun deaths every year, 2.5 million good Americans use guns to protect themselves, their families, and their livelihoods — there are 65 lives protected by guns for every life lost to a gun — five lives are protected per minute — and, of those 2.5 million protective uses of guns, about 1/2 million are believed to have saved lives.
These Gun Owners Are Least Likely Criminals, Report Finds. Concealed-carry permit holders are nearly the most law-abiding demographic of Americans, a new report by the Crime Prevention Research Center says — comparing the permit holders foremost with police. "Indeed, it is impossible to think of any other group in the U.S. that is anywhere near as law-abiding," says the report, titled "Concealed Carry Permit Holders Across the United States 2016." From 2007 through 2015, permits issued by state and local governments increased by 215 percent, to more than 14 million Americans, according to the data.
The Perversion of Science and Medicine, Part II. [Scroll down] In a 1986 NEJM paper, Dr. [Arthur] Kellermann and associates, for example, claimed their "scientific research" proved that defending oneself or one's family with a firearm in the home is dangerous and counter productive, claiming "a gun owner is 43 times more likely to kill a family member than an intruder." This erroneous assertion is what has been accurately termed Kellermann's "43 times fallacy" for gun ownership by Dr. Edgar Suter, Chairman of DIPR. In a critical review article published in the March 1994 issue of the Journal of the Medical Association of Georgia (JMAG), Dr. Suter not only found evidence of "methodologic and conceptual errors," such as prejudicially-truncated data and non-sequitor logic used in their pro-gun control arguments, but also "overt mendacity," including the listing of "the correct methodology which was described but never used by the authors." Moreover, these gun control researchers failed to consider and "deceptively understated" the protective benefits of guns in the hands of law-abiding citizens protecting themselves, their families, and their property. Dr. Suter writes: "The true measure of the protective benefits of guns are the lives saved, the injuries prevented, the medical costs saved, and the property protected — not the burglar or rapist body count. Since only 0.1%-0.2% of defensive gun usage involves the death of the criminal, any study, such as this, that counts criminal deaths as the only measure of the protective benefits of guns will expectedly underestimate the benefits of firearms by a factor of 500 to 1,000." [...] Between 25 [and] 75 lives are saved by a gun for every life lost to a gun. Medical costs saved by guns in the hands of law-abiding citizens are 15 times greater than costs incurred by criminal uses of firearms.
11 times a good guy with a gun stopped a bad guy, saving lives. With tragic events such as the shooting of a bible study group at a church in Charleston, South Carolina, the stories of heroic self defense and lives saved by legal gun owners are often overlooked. Here are just a few stories of law-abiding citizens using guns to defend themselves against criminals.
Survey Of Police Chiefs: '76 Percent' Say Armed Citizens Reduce Violent Crime. An even higher percentage — nearly 88 — stated their conviction that "any vetted citizen" should be able to purchase a gun "for sport or self-defense." According to the survey, nearly "87 percent" of police chiefs support national reciprocity of concealed carry permits. National reciprocity would treat concealed carry permits like a driver's license, making the concealed carry permit of any state valid in every state. This would do away the headaches law-abiding citizens get by trying to remember which states recognize their permit and which do not. It would also make life easier for patrol officers during a traffic stop by giving them a more unified set of permit rules to remember.
Americans urged to 'buy a gun, get trained, carry it always'. Calls for strict gun control following a deadly week in America come despite new statistics that show gun deaths plummeting as sales of firearms soar. According to the industry's trade group, the National Shooting Sports Foundation, homicides by gun have dropped 43 percent since 1991. Other crime with a gun such as robberies have decreased even more, by 70 percent since 1993. In a graphic display of the numbers, NSSF also showed that unintentional deaths with a gun have dropped 82 percent. Along the way, gun sales have soared to 140 million a year.
The One Chart That Destroys the Democrats' Apoplectic Gun-Grabs. Gun murder rates in states where people are heavily armed are much lower than the low gun ownership states. The ten lowest gun ownership states average 3.9 gun murders per 10,000 people. The ten highest gun ownership states average about half that at 2.0 murders per 10,000 people. The evidence is unequivocal that criminals are deterred by guns.
Guns and Self Defense. Gun control proponents want legislation that will restrict access to firearms. The rationale for such legislation is to reduce accidental shootings and the criminal use of guns against people. But if harm reduction is the goal, policymakers should pause to consider how many crimes — murders, rapes, assaults, robberies — are thwarted by ordinary persons who were fortunate enough to have access to a gun. Gun control proponents cannot deny that people use guns successfully against criminals, but they tend to play down how often such events take place.
Defensive Gun Use Is Not a Myth. [Scroll down] In order for a survey respondent to report a typical DGU, she or he must be willing to report all three of the following elements of the event: (1) a crime victimization experience, (2) his or her possession of a gun, and (3) his or her own commission of a crime. The last element is relevant because most DGUs occur away from the user's home, and only about 1 percent of the population in 1993, when we conducted our survey, had a permit that allowed them to legally carry a gun through public spaces. Thus, although survey-reported defensive gun uses themselves rarely involve criminal behavior (that is, the defender did not use the gun to commit a criminal assault or other offense), most (at least back in 1993) involved unlawful possession of a gun in a public place by the defender. So what does research on the flaws in surveys of crime-related behaviors tell us? It consistently indicates that survey respondents underreport (1) crime victimization experiences, (2) gun ownership and (3) their own illegal behavior.
Gun Rights Advocates Have A Devastating New Argument Against Gun Control. The fact is that there is no point in arguing with liberal gun-control advocates because their argument is never in good faith. They slander gun owners as murderers. They lie about their ultimate aim, which is to ban and confiscate all privately owned weapons. And they adopt a pose of reasonability, yet their position is not susceptible to change because of evidence, facts or law. None of those matter — they already have their conclusion. This has to do with power — their power. You can't argue with someone who is lying about his position or whose position is not based upon reason. You can talk all day about how crime has diminished where concealed carry is allowed, while it flourishes in Democrat blue cities where gun control is tightest. You can point to statistics showing that law-abiding citizens who carry legally are exponentially less likely to commit gun crimes than other people. You can cite examples of armed citizens protecting themselves and their communities with guns.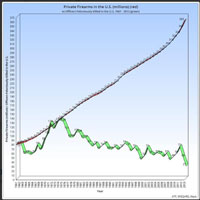 Private Firearms vs. Officers Feloniously Killed in the U.S. 1961 - 2013. In the 1960's, the United States private firearms stock was increasing. The number of police officers feloniously killed was also increasing. At the time, people might be forgiven if they thought there was a causal relationship. Now we have considerable more data. While the private firearms stock has continued to increase, the number of police feloniously killed has fallen from the highs in the early to mid 1970s, and has dropped to about the same level as the middle 1960s. 2013 had the lowest number of police feloniously killed since 1887.




Gun Lies. [Guns are often] used to prevent crime. The homeowner pulls out the gun and the attacker flees. No one knows how often this happens because these prevented crimes don't become news and don't get reported to the government, but an estimate from the Violence Policy Center suggests crimes may be prevented by guns tens of thousands of times per year. Add politics to the mix and the anti-gun statistics get even more misleading.

Private Citizens stop 16% of mass shootings. [Scroll down] Let's accept for the moment that the odds of being involved in an active shooter incident are relatively rare; with that being said we don't carry our guns because we're optimists. But if it happens, citizens, and armed citizens can stop them. Think about that for a moment. We're not talking about some rambo'd up fantasy hero, but average citizens who are in the right place with the courage to act. I want you to do a little exercise. Set a timer on your watch for 180 seconds. Start the timer and stare at the blank wall until it stops. That's how long the average active shooter has to roam free before police even arrive. 180 seconds is a LONG time.

Nothing at all true about gun control. Back in the day, people were not told they could not own guns. Local governments tried to stop gun fights by stopping people from carrying guns. People carried guns in holsters. Only card sharks carried pistols under their coats and they were not drunken gun fighters. No carry ordinances were not to take guns away they were to stop roudy cow pokes from shooting up the town. It was a method to control the peace. Outside of 'town' a gun was a man's only protection. Today, no-carry is a method to control the people into no ownership.

The Attack on Self-Defense. Some years back, a public service TV ad depicted patients being told by a doctor that they had a tobacco-related illness: lung cancer, heart disease, emphysema, etc. It asked, "If you're not planning to quit smoking, then what are you planning?" So let me ask: If you're not planning to use a firearm to defend your home against invasion, what are you planning to do?

Where's the coverage of heroes who stop mass killings? Heroic citizens stopping someone from killing a large number of people don't seem to be considered news worthy. Don't people want to read about a brave soul risking his life by running towards the sound of gunfire while others run away? Yet, such stories never get national news coverage by the national mainstream media. While accidental gunshots get national coverage, few people have any idea how often concealed handgun permit holders stopping mass killings.

Ruidoso man shoots would-be burglar. A Ruidoso homeowner shot one of two alleged would-be burglars Saturday night [2/7/2015], according to the Ruidoso Police Department. The department reports that Saiben R. Gabaldon, who was born in 1992, and another man kicked in the door to a home in the 100 block of Sunny Slope Drive in Ruidoso while the homeowner was there with his young child. The homeowner, who had armed himself with a .45 caliber pistol, confronted the two men inside the home. The homeowner, fearing for the safety of himself and his child, fired one round at Gabaldon, striking Gabaldon in the back of the left leg. The other unknown male fled the scene and was not located.

Woman fatally shoots robber at Homewood hotel. The shooting happened about 3:40 a.m. [2/8/2015] at America's Best Inn and Suites on Summit Parkway, confirmed police spokesman Sgt. Andrew Didcoct. A woman was inside her room, possibly with the door propped open, when a man came in and robbed her at gunpoint. The woman pulled her own gun and shot the man, police said. The man was pronounced dead on the scene. He was not carrying any identification and his identity had not been released this evening.

Man shoots, kills intruder. Sheriff's deputies arrived at the home in the 46100 block of Adams Street around 3:30 a.m. [2/7/2015] after hearing reports of a "prowler" in the area, according to a Riverside County Sheriff's release. They also got a call from a woman who told them that her husband had shot an intruder inside their home. Deputies found the man in the residence suffering from two gunshot wounds. He was taken to the hospital where he later died.

68-year-old East Lake man shoots 2 burglary suspects, [injuring] one of them critically. The incident happened this morning [12/11/2014] at a home in the 7800 block of Second Avenue South. Birmingham police spokesman Lt. Sean Edwards said East Precinct officers were called to the man's home just before 10:30 a.m. on a report of a burglary in progress. The victim told officers he heard noises in the front of his house and went to investigation. He encountered two men, and fired his handgun at them.

Super-Amnesty Will Turn Your City into Detroit. After another bloody weekend in Chicago, Mayor Rahm Emanuel branded the shootings unacceptable and the city's top cop demanded more gun control laws. Chicago's murder rate has actually dropped since concealed carry became legal. Emanuel's lawsuits over his illegal gun control laws have left the already struggling city deep in the hole and forced to cover the NRA's million dollars in legal bills. Concealed carry paid off over that bloody weekend when a vet carrying a gun returned fire stopping a massacre before it happened. The original shooter ended up in the hospital, but nobody ended up in the morgue, which kept the death toll for the weekend down to fourteen. Fourteen isn't pretty, but it's better than twenty or thirty.

When can you legally use a gun against an unarmed person? One of the most common laments to come out of Ferguson these last days has been that surely it was outrageous for Office Darren Wilson to use his service pistol to shoot an "unarmed" Mike Brown. (Earlier iterations of this narrative went further in their misinformation, describing the 18-year-old 6'4" 292 pound Brown as a "kid" or "child," as well as falsely claiming that Wilson shot Brown in the back, but such misinformation falls outside the scope of this post.) Similar arguments were made in the context of the shooting by George Zimmerman of the "unarmed" Trayvon Martin. The notion that a defender may use a firearm in self-defense only if they themselves are faced with a firearm is entertainingly naive, but has no basis in actual law, nor in common sense.

Hard Truth for Gun-Control Advocates: Permit Holders [are] Extremely Law-Abiding. Individuals employing the "more guns more crime" logic are using shoddy research as the basis for their claim. "If you look at information from the Justice Department, they have something called the National Crime Victimization survey. What you find is that guns are used in crime about 250,000 times a year." John R. Lott Jr., economist, Yale professor, and president of Crime Prevention Research Center, told Townhall. "If you look at similar surveys of people who use guns defensively, it's about two million times a year. So basically people are using guns defensively to stop crimes about four to five times more frequently each year than guns are used to commit a crime. Most people don't realize that." The truth is that individuals with gun-permits are extremely law-abiding. Less than one percent of licensed firearm holders have had their permits revoked due to misdemeanors.

Guns empower women more than modern feminism. The confidence from learning to shoot a pistol is far superior to any gender studies course. [Video clip]

Detroit police chief gives credit to armed citizens for drop in crime. Detroit has experienced 37 percent fewer robberies in 2014 than during the same period last year, 22 percent fewer break-ins of businesses and homes, and 30 percent fewer carjackings. [Police Chief James] Craig attributed the drop to better police work and criminals being reluctant to prey on citizens who may be carrying guns. "Criminals are getting the message that good Detroiters are armed and will use that weapon," said Craig, who has repeatedly said he believes armed citizens deter crime.

A confrontation in Urbana, IL. It has been estimated that between 200,000 to 300,000 righteous use of a firearm in the defense or possible defense of innocent life go unreported each year because the firearm is either never discharged or an armed citizen never reported the incident even after discharging their firearm since no deaths were involved. In each case the armed, law-abiding citizen says he or she believes they may have been killed, kidnapped or severely injured if they hadn't pulled their pistol. I am now one of those people.

"Castle" Defense: What Can-May-Should-Must You Do. Home invasion is perhaps the most frightening and dangerous of all violent crimes (it is committed out of public sight usually without fixed time/escape constraints and innocent occupants, often women and children, are rarely able to flee). It is becoming somewhat commonplace during daylight hours and at night in both urban and rural neighborhoods.

Yes, Guns Kill, But How Often Are They Used in Self-Defense? Criminologist Gary Kleck estimates that 2.5 million Americans use guns to defend themselves each year. Out of that number, 400,000 believe that but for their firearms, they would have been dead. Professor Emeritus James Q. Wilson, the UCLA public policy expert, says: "We know from Census Bureau surveys that something beyond 100,000 uses of guns for self-defense occur every year. We know from smaller surveys of a commercial nature that the number may be as high as 2½ or 3 million. We don't know what the right number is, but whatever the right number is, it's not a trivial number."

Criminals avoid armed citizens. Kennesaw, Georgia: In 1982, this suburb of Atlanta passed a law requiring heads of households to keep at least one firearm in the house. The residential burglary rate subsequently dropped 89% in Kennesaw, compared to the modest 10.4% drop in Georgia as a whole. Ten years later (1991), the residential burglary rate in Kennesaw was still 72% lower than it had been in 1981, before the law was passed.

Guns and Self-Defense. Every 13 seconds an American gun owner uses a firearm in defense against a criminal.

CDC Study: Use of Firearms For Self-Defense is 'Important Crime Deterrent'. "Self-defense can be an important crime deterrent,"says a new report by the Centers for Disease Control (CDC). The $10 million study was commissioned by President Barack Obama as part of 23 executive orders he signed in January.

How Often Do We Use Guns in Self-Defense? The gun owners' lobby opposes restrictions on civilian acquisition and possession of firearms because, it contends, law-abiding people need guns to defend themselves. Millions of people also use guns for hunting and target-shooting. But at the core of the NRA's argument is self-defense: the ultimate right to protect one's ability to remain upright and breathing.

Guns and Self Defense. Gun control proponents want legislation that will restrict access to firearms. The rationale for such legislation is to reduce accidental shootings and the criminal use of guns against people. But if harm reduction is the goal, policymakers should pause to consider how many crimes — murders, rapes, assaults, robberies — are thwarted by ordinary persons who were fortunate enough to have access to a gun. Gun control proponents cannot deny that people use guns successfully against criminals, but they tend to play down how often such events take place.

Guns Save Lives. The defensive use of guns is usually either not discussed at all in the media or else is depicted as if it means bullets flying in all directions, like the gunfight at the OK Corral. But most defensive uses of guns do not involve actually pulling the trigger. If someone comes at you with a knife and you point a gun at him, he is very unlikely to keep coming, and far more likely to head in the other direction, perhaps in some haste, if he has a brain in his head. Only if he is an idiot are you likely to have to pull the trigger. And if he is an idiot with a knife coming after you, you had better have a trigger to pull.

10 Stories That Prove Guns Save Lives. There are thousands of good and decent Americans who are alive today precisely because they had guns. Gun control advocates might think the world would be a better place if those people and the ones you're about to read about were dead and the people menacing them had gotten away with their crimes, but those of us who are serious about our Second Amendment rights disagree.

Despite National Tragedy, Truth Is, Guns Save Lives. Leftist anti-gun zealots in D.C., N.Y. and L.A. should admit, once and for all, what they really want: the outlawing of privately-owned firearms by American citizens. Of course they'll never reveal their true motives, so instead tragedies such as the Newtown massacre are exploited to erode our Second Amendment rights. The unspoken secret harbored among these gun-hating movie stars and politicians is that many of them have concealed carry permits, as do their armed bodyguards. Plus, they work in buildings protected by metal detectors and security personnel that brandish weapons. In other words, they'll remain safe, but nobody else will.

"How Many Rapes Are Stopped Each Year By A Gun?" In the early 1990's a study concluded that 650 rapes a day were stopped because the victim was — or may have been — armed. But the number of women who carry, and the number of homes with guns, is much higher now. The latest prisoners surveys estimate that 3,600 rapes a day are never attempted because the victim either showed a gun, said she had a gun, or the rapist though the victim had a gun for some other reason.

When Kids and Guns Mix. The mainstream media won't report stories of children who have successfully used guns in self-defense to save their lives.

Gun control regulations disarm women. In reality, guns make women safer. In a violent confrontation, guns reverse the balance of power. Armed with a gun, a woman may even have the advantage over a violent attacker. More than 90 percent of violent crimes occur without a firearm, according to federal statistics. When a violent criminal threatens or attacks a woman, he rarely uses a gun. Attackers use their size and physical strength, preying on women who are at a severe disadvantage.

Defensive Gun Use Statistics. According to the National Self Defense Survey conducted by Florida State University criminologists in 1994, the rate of Defensive Gun Uses can be projected nationwide to approximately 2.5 million per year — one Defensive Gun Use every 13 seconds. Among 15.7% of gun defenders interviewed nationwide during The National Self Defense Survey, the defender believed that someone "almost certainly" would have died had the gun not been used for protection — a life saved by a privately held gun about once every 1.3 minutes.

Guns save more lives than they take; prevent more injuries than they inflict. Guns [are] used 2.5 million times a year in self-defense. Law-abiding citizens use guns to defend themselves against criminals as many as 2.5 million times every year — or about 6,850 times a day. This means that each year, firearms are used more than 80 times more often to protect the lives of honest citizens than to take lives. Of the 2.5 million times citizens use their guns to defend themselves every year, the overwhelming majority merely brandish their gun or fire a warning shot to scare off their attackers. Less than 8% of the time, a citizen will kill or wound his/her attacker.

Guns Used in Self-defense. According to the authors of Cato's recently released study on how often guns are used by citizens to prevent crime, "tens of thousands of crimes are prevented each year by ordinary citizens with guns." In a study of more than 5,000 news reports over an eight-year period, Clayton Cramer and David Burnett showed that the mere presence of an armed citizen thwarts many crimes, even beyond those that are reported by the police and subsequently printed in the newspaper.

How often do Americans use guns for defensive purposes? Criminologist and researcher Gary Kleck, using his own commissioned phone surveys and number extrapolation, estimates that 2.5 million Americans use guns for defensive purposes each year. He further found that of those who had used guns defensively, one in six believed someone would have been dead if they had not resorted to their defensive use of firearms.

Same story, much older article:
How Often Are Firearms Used in Self-Defense? There are approximately two million defensive gun uses per year by law abiding citizens. That was one of the findings in a national survey conducted by Gary Kleck, a Florida State University criminologist in 1993.

Same story again:
Simple metal propulsion: According to a 1993 survey conducted by Florida State University criminologist Gary Kleck, approximately 2 million law-abiding citizens per year use guns to resist crimes.

Be prepared for evil. Regardless of whether we can fathom the evil and carnage that some rabid monsters do, we must be prepared and ready to respond to evil at a moment's notice. ... [S]adly, another lunatic will commit more mass carnage — maybe not tomorrow, next week or even next year. But it will happen again, just as it did at Luby's cafeteria in Texas, at Virginia Tech, at a McDonald's in San Diego, at Columbine High School in Colorado and at a shopping mall in Omaha.

Colorado Shooting and Gun Control. [Scroll down] As a matter of fact, Gun Owners of America, at gunowners.org, cites statistics indicating guns are used 2.5 million times a year in self-defense, or around 80 times a day (other statistics estimate this number could range as low as 1.5 million, but either number is a lot!). This includes 200,000 women a year using guns to defend themselves against sexual abuse. As a matter of fact, as of 2008, armed citizens killed more violent bad guys than the police (1,527 vs. 606).

The Truth About Guns. [Scroll down] Are Guns Useful for Self-Defense? As it turns out, they are. According to research by renowned Florida State University criminologist Gary Kleck, guns are used between 800,000 and 2.5 million times every year in self-defense. A study by John Lott and David Mustard found that handguns appear to help women more than men. While murder rates drop when either sex carries more guns, the effect is especially pronounced when women carry.



Black Americans March for MLK and a Shotgun. For example, consider Charles Hicks. A black American whose father, Robert Hicks, was "a prominent leader in Deacons for Defense and Justice — an organization of black men in Louisiana who used shotguns and rifles to repel attacks by white vigilantes during the 1960s." Hicks understands that without access to firearms, the Ku Klux Klan and others would have had their way with black citizens.

Meanwhile in the UK... be sure not to injure your rapist. It's a well established fact that, despite our special relationship with our friends in Great Britain, the folks across the pond do not enjoy the same fundamental freedoms as their breakaway former subjects in the colonies. One of the more stark differences is seen is in their lack of a fundamental right to keep and bear arms. The rules in the UK are restrictive to the point where you're probably more likely to find a unicorn than a shotgun on any given block. But as the NRA found in a recent article, the Queen's government takes the issue of not being able to defend yourself even more seriously than you might have imagined.

Shotguns have 'virtually sold out' in Austria amid fears of a massive influx of migrants, dealers claim. Weapon sales are soaring in Austria as citizens of the small Alpine nation become paranoid over the numbers of refugees crowding into their country. In a country of 8.5 million people, there are now an estimated 900,000 firearms in homes. And gun dealers report that it is women driving the sales rush. This year alone, police say 70,000 guns have been sold.

French Ambassador: 'Only in the Movies' Does Someone Use a Gun to Defend Himself. Wednesday [11/25/2015] on Fox News Channel's "Special Report," French Ambassador to the United States Gerard Araud defend a tweet he had posted in response to Republican presidential front-runner Donald Trump immediately following the terror attacks in Paris earlier this month. Araud described Trump as a "vulture" for a tweet Trump had made earlier in the year following the January attack on Charlie Hebdo. Araud acknowledged he deleted the tweet, explaining it was immediately as his home country was reeling from the attacks, but doubled down on the sentiment he originally conveyed, which was using a gun to defend themselves in such a situation is something "only in the movies."

Obama Tells a Rape Victim a Gun Won't Protect Her. Liberals like to talk about women's rights but among those rights is, or should be, the second right enshrined in the Constitution's Bill of Rights — the right to keep and bear arms to protect one's self. A woman's body is her own, liberals tell us, and she has the right to choose to have an abortion. But the same liberals would deny women like Kimberly Corban the right to defend her body, and her children, with a firearm against the predators who lurk among us.





Specific cases:

12 Times Mass Shootings Were Stopped by Good Guys With Guns. [Example #3] Appalachian School of Law, Jan. 16, 2002: A 43-year-old former student armed with a .380 handgun killed Dean Anthony Sutin and Professor Thomas Blackwell with point blank shots and went on to kill fellow student Angela Dales as well as wounding three others before being confronted at gunpoint by law students Tracy Bridges, a county sheriff's deputy, and Mikael Gross, a police officer, after retrieving their personal handguns from their vehicles. The gunman was then apprehended by other students. Gross and Bridges lost valuable response time accessing their handguns because of the law school's standing as a gun-free zone.

Muncie police: Would-be intruder shot dead. City police say a Muncie man was fatally shot early Wednesday [9/21/2016] while he was trying to stage an armed invasion of an eastside apartment. Scott Allen Gilliam, 26, was pronounced dead at the scene of the shooting, in the 1500 block of East Washington Street, Delaware County Coroner Scott Hahn said.

Lubbock couple with gun in car shoots armed robber, couple escapes unharmed. According to the Lubbock Police Department, Kedrick Trotty and Christy Trotty pulled into their driveway and were approached by a robber wearing a black ski mask and wielding a handgun. The robber, identified by police as Jamarcus Johnson, threatened Kedrick, the driver, demanded money, and demanded that Kendrick get out of the vehicle. While Johnson was focused on the driver, the female passenger, Kendrick's wife, got a handgun from their car and was able to hand it to her husband. The driver fired several rounds at the armed suspect, hitting him once in the leg.

One dead in Frayser after resident shoots armed acquaintance. A man shot and killed an armed acquaintance who entered his home Sunday morning, and Memphis police said he will not be charged in the homicide. According to police, officers responded to a shooting call at 5:50 a.m. in the 2900 block of Letrec Cove in Frayser. Officers found a man unresponsive with a gunshot wound. He was pronounced dead on the scene. Police determined the victim entered the shooter's home and was armed, police said, and the resident shot the victim.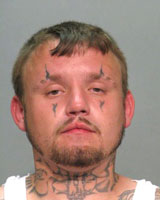 Police: Homeowner shoots man breaking into his home. Columbus police said a man who broke into a Franklinton home early Friday morning was stopped when he was shot by the homeowner. Police were dispatched to Dana Avenue in Franklinton just after 4:30 a.m. on a report of a shooting. When they arrived, they found Fredrick Eisnaugle, 27, suffering from a gunshot wound. Officers learned that Eisnaugle had kicked in the back door of a home two streets away on S. Princeton Avenue.




Woman opens fire on three armed burglars who broke into her home. Incredible footage has been released showing the moment a Georgia woman rushed out of her bed in the middle of the night and opened fire at three armed men who broke into her house, killing one. The surveillance footage, released by the Gwinnett County Police Department, shows the intruders — all of whom are carrying guns — bursting through the front door and rummaging through the house in the September 16 incident in Gwinnett. Seconds after entering the home, the woman is seen coming out of her bedroom in pajamas with a handgun, and fires several shots at the armed suspects, according to WSB TV 2. [Video clip]

Pastor's wife shoots armed man who tried to rob her family. Pastor Robert Cook, his wife and 12-year-old son were returning home when they were approached by a man armed with a rifle Thursday night [9/15/2016].

Security guard shoots, kills man attempting to ram vehicle into crowd in Ensley. Early Saturday morning [9/17/2016], a security guard shot and killed a male driver who tried to ram into a crowd of people gathered near a nightclub. Police say this happened in the 500 block of 19th Street in Ensley around 2:30 a.m. Preliminary investigation revealed the victim collided with a parked vehicle. He subsequently pinned a man between two vehicles with his foot still on the accelerator. The victim then disengaged from that vehicle and attempted to collide with other parked vehicles and potential victims. To try and keep others from getting hurt, police say the security guard opened fire on the driver, killing him.

Woman Shoots Man Trying to Break Into Warner Robins Home. A woman shot a man trying to break into her home in Warner Robins early Friday morning [9/16/2016]. [...] 27-year-old Martiez Holmes is charged with criminal attempt to commit burglary and giving a false name. He was released from the hospital Friday.

Woman shoots, kills home invasion suspect. A suspect in an alleged home invasion is dead after being shot by the owner of the home early Friday morning [9/16/2016]. [...] Gwinnett County Police Corporal Deon Washington tells CBS46 News that the suspect, identified as 28 year-old Antonio Leeks, kicked in the door of the home and awoke the homeowner. After grabbing her handgun, the homeowner went to investigate and saw three males coming through the door.

Hero who Stopped Mass Stabbing in St. Cloud, MN, is Firearms Instructor, Concealed Carry Advocate. Jason Falconer is the armed citizen who stopped the mass stabbing in the Crossroads Center Mall in St. Cloud, Minnesota, on Saturday evening, September 18th, 2016. Falconer is competitive shooter, firearms instructor and CEO of Tactical Advantage.

Hero cop saved mall patrons during stabbing rampage. A hero cop saved bystanders at a Minnesota mall when a knife-wielding terrorist descended on the shoppers Saturday evening, slashing eight of them before he was killed by the off-duty officer. St. Cloud Mayor Dave Kleis described surveillance footage of the attack, which has not yet been released, lauding the officer's response and calling the video akin to a "training video for law enforcement."

Lafayette homeowner shoots, kills naked man in his back yard. A Lafayette homeowner Friday morning [9/16/2016] shot and killed an armed and naked man he found trespassing in his back yard, according to the Lafayette Police Department. The homeowner reported the trespassing call shortly after 8 a.m. in the 100 block of Fanny Street, police said. During the encounter, police said the homeowner shot and killed the man, who died on the scene.

Homeowner shoots, kills would-be burglar. Investigators said the homeowner didn't know the man who broke into his home [9/16/2016]. Police said three people, including an older child were at the home. Neighbors said they're worried about the safety of their families.

Burglary suspect shot by Pleasant Grove resident during break-in. A man who was trying to break into a home in Pleasant Grove was shot by the resident Saturday [9/17/2016], police said. James Nero, 30, broke into a house in the 1000 block of Burlywood Drive around 11:20 a.m., police said. After hearing glass break, the resident found Nero standing inside, according to police. The man, whom police did not name, then shot at Nero.

Home intruder shot and killed. An Augusta man was fatally shot early Monday [9/12/2016] by the resident of an Wrightsboro Road home while attempting to break into the residence, according to the Richmond County Sheriff's Office.

No charges to be filed in shooting of Wrightsboro Rd home invasion suspect. An Augusta homeowner will not be facing charges for shooting and killing a man who broke into his home. At around 2:54 a.m Monday, September 12, the Richmond County Sheriff's Office was called out to 2439½ Wrightsboro Road for a reported home invasion. When they arrived at the scene, deputies found forty-year-old Anthony James Lawson dead with at least one gunshot wound. He was pronounced dead at the scene at 3:38 a.m.

Pastor's wife shoots would-be robber in Northeast Philly. [Scroll down] "Yo, yo, yo," the man said progressively louder to Cook. "I turned around and there was a shotgun in my face," Robert Cook said. His son was in shock, standing side-by-side to the robber. The boy was afraid that if he moved, the man would shoot his father, he later told his parents. Cook, who had been held up at gunpoint once before, realized the assailant was not wearing a mask and thought they might be killed because they would be able to identify him.

Homeowner shoots intruder armed with crochet hook in Mountlake Terrace. The resident of the home called 911 to say he had shot the man, who was dressed in black. The man who was shot is apparently in his mid-20s. He carried no identification. A female companion of the intruder left before police arrived.

Intruder shot after Tampa resident spies him on home surveillance phone app. A burglar was shot and seriously wounded Tuesday [8/30/2016] after the occupant of a home spotted him remotely on her mobile surveillance app and called her father to investigate, police said.

Off-duty officer halts robbery at SW Houston mall. Houston Police said one of their own, an off-duty officer named I. Almasri, was working security [8/27/2016]. As he did his rounds near the Jewelry Dog store, he heard commotion and saw two men with bandanas over their faces walking toward the business. As one robber smashed glass displays with a hammer, the officer pulled his gun and ran toward the robbers. Before he got there, the second masked man pulled a pistol and shot first.

Man shoots a BB gun, second person returns fire with real gun. Tulsa police say a road rage incident happened around 1:43 a.m. [8/28/2016] During this time, an unidentified man fired a BB gun at a second vehicle. It turned out to be a big mistake. "One of the passengers in that vehicle has a license to carry conceal and pulls out his gun and returns fire at the vehicle who was shooting at them with a BB gun," police said.

Men fall from ceiling in robbery attempt at check cashing store. The manager of Discount Check Cashing, 1411 Rocky Creek Road, and an employee reportedly heard noises in the ceiling sometime before 9:15 a.m. [8/27/2016], and as the manager investigated, two men fell from the ceiling, according to a sheriff's office news release. While one of the men tried to rob the business, a man in the store exchanged gunfire with one of the suspects, according to the release. One of the suspects, 22-year-old Rarrekcus Delbridge, of Lawrenceville, was shot in the leg. He was taken to The Medical Center, Navicent Health, where he was later charged with aggravated assault and criminal attempt to commit armed robbery.

Victim injured in gunfire exchange during home invasion. The victim of a home invasion in West Palm Beach was injured after exchanging gunfire with the intruders, deputies said Friday night [8/27/2016].

Store manager describes shootout with robber. Sajjad Chaudry had never fired a gun before. The manager at Ray's Supermarket on Franklin Street said a police officer had once showed him how operate the .380-caliber semi-automatic pistol that was kept at the store. That quick lesson came into play on the night of Nov. 18, 2015, when he found himself in a shootout with an armed robber.

No charges filed against elderly CPL holder in Eastpointe shooting. No criminal charges will be filed against a 91-year-old concealed pistol license holder who shot a suspected robber [8/22/2016] outside of a pharmacy in Eastpointe, according to police and prosecutors. Instead, the Macomb County Prosecutor's Office authorized an arrest warrant charging the man who was shot, Richard Ashford, with assault with a dangerous weapon, Prosecutor Eric Smith said in a news release. "This is a textbook case for why concealed pistol licenses are issued in the first place," Smith said in the release. "American citizens have the right to protect themselves in the face of clear assault."

91-year-old CPL holder shoots attempted robbery suspect at pharmacy. Police said a 91-year-old man shot a man they say was going to try and rob him in the parking lot of an Eastpointe pharmacy. The 91-year-old man pulled into the Rite Aid parking lot around 10:15 am Monday [8/22/2016] and got out of his vehicle. That's when he said the suspect made him feel uneasy. He said the suspect approached him and was acting erattically, even as the victim walked away.

Florida Man Arrested for Shooting Alligator That Threatened His Horses, Attacked His Stepson. A Florida man was arrested on Tuesday for shooting an alligator that was threatening his horses and attacked his stepson. Reginald Blanton of Bushnell, Florida noticed his horses were startled by something in one of his fields. He grabbed his gun and went to investigate. What he found was a nearly ten-foot-long alligator. Since the gator was mere feet from his horses, Blanton said he feared they might be attacked. That's why he pulled out his 9mm pistol and shot at the gator.

Brave KY Homeowner Takes on Four Armed Robbers to Protect Family. Did he do it with hugs? Love? Empathy? Nope — he protected himself and his family with a gun. According to Kentucky State Police, Kevin J. Helton, 48, Cindy Puckett, 41, Jonathan Goodan, 45, and Brittany Crouch, 28, broke into a Carter County residence at 123 Clark Hollow shortly after 8:15 a.m. Saturday. After forcing their way inside, state police said the suspects proceeded to rob the home of an undisclosed amount of cash. But during the armed robbery, an altercation broke out between the homeowner and one of the suspects. According to police, the homeowner was able to secure a weapon and took aim, killing Helton.

Baptist Minister Holds Kidnapper at Gunpoint, Frees 9-Year-Old Girl. Why don't we see these stories in the headlines of newspapers and topping lead stories on news programs across the country? Authorities confirmed 9-year-old Carlie Trent was found yesterday afternoon more than a week after she was kidnapped by her uncle in Tennessee. And wouldn't you know it? A good guy with a gun held her kidnapper at gunpoint, freeing the little girl and alerting authorities to their whereabouts.

Bad Guy With Machete Vs. Armed Citizen: Who Wins? Everyone. A couple went to go pick up their belongings when Concepcion Vega, 33, began yelling at the man. When yelling didn't get the point across, Vega went inside and got a machete. He came out and began swinging it around violently. Well, that's about enough of that. Fearing for his life, the man drew his handgun and shot twice. Neither shot landed but it was enough for Vega to retreat.

Four People, Dog Stabbed During Buffalo Grove Home Invasion. Four people and their family dog were stabbed early Wednesday [8/10/2016], when two masked men broke into their home in north suburban Buffalo Grove. Police said the homeowner grabbed a handgun during the home invasion, and opened fire, chasing off the suspects.

Armed homeowner scares off would-be burglars in Pittsburgh neighborhood. A homeowner armed with a gun scared off two would-be burglars who broke into his home early Tuesday morning [8/9/2016], Pittsburgh police said. Authorities said the men smashed a kitchen window to enter the home on Adelaide Street around 2:30 a.m. The sound of the breaking glass woke up the homeowner. Police said he grabbed his gun and confronted the men in his kitchen.

Would-be robber shot in northwest Charlotte. Early Tuesday morning three people attempted to rob a person on Mellwood Drive, according to Charlotte-Mecklenburg Police. Police said during the attempted robbery the group shot at the victim. The victim had a gun and returned fire and hitting one of the would-be robbers. The injured would-be robber then drove away and told police he was shot during an attempted robbery.

Teen shoots alleged trespasser while family is at funeral. A teen shot an alleged trespasser while house sitting for a family that was out of town for a funeral, Abbeville County Sheriff Ray Watson said. The teen told deputies he confronted the suspect who was going toward a shed full of equipment and property around 3:40 p.m. Friday [8/5/2016]. The teen says the suspect reached behind his back and the teen fired because he was afraid the suspect was armed.

Intruder Shot In Yulee Home Invasion. According to Nassau County Sheriff Bill Leeper, Timothy William Rasbeary, 72, died from a pistol wound early Monday morning [7/4/2016] after Rasbeary allegedly "busted out" the front door of a Yulee house where the homeowner, Christopher E. Kuches, was sleeping on the couch. Kuches pulled out a pistol and shot the intruder.

Police: Homeowner Shoots Would-Be Intruder. An Owsley County homeowner tells LEX 18 that he was left with little choice but to shoot after a group of individuals attempted to break into his home this morning [7/26/2016].

Woman Kills Home Intruder, Now Media Outraged at Her! 54-year-old Gwendolyn Jenrette shot and killed a 17-year-old teen that broke into her Liberty City home on Thursday and now the teen's family members are calling for the state's attorney to file charges against the woman. What's more, The Washington Post is using the incident to criticize Florida's homeowner protection laws. Jenrette raced home last Thursday after she received an alert from a security system company that there was a possible break-in at her home. Police were also alerted and dispatched to the home, however, Janrette arrived and found 17-year-old Trevon Johnson climbing out of a window. According to investigators, there was then a confrontation between Johnson and Jenrette and police officers responding to the scene heard at least one gunshot. They immediately entered the backyard and found Johnson on the ground bleeding from an apparent gunshot wound. He was immediately transported to a local hospital where he was pronounced dead later that evening.

Frederick County, Va. homeowner shoots intruder. A Middletown home owner shot an intruder on Thursday morning [7/21/2016] at the 700 block of Klines Mill Road. [...] The intruder was transported to Winchester Medical Center with gunshot wounds and is currently in critical condition.

SE Portland homeowner fatally shoots intruder. Multiple people — one of whom was shot dead — are suspected in an apparent home invasion robbery early Thursday morning [7/14/2016] in Southeast Portland. The homeowner who fatally shot one of the intruders was treated and released from a Portland hospital, police said. No one has been arrested.

Police: 1 dead after Palos homeowner shoots intruders. One man is dead and another injured after being shot by a Palos Township homeowner when they attempted to enter the home Tuesday night [7/5/2016], police said. "The victim of an attempted home invasion, who had a valid conceal carry license, shot two male intruders fatally killing one and wounding the other," Janet De La Torre, a Cook County Sheriff's Department spokeswoman, said in a statement.

Homeowner shoots and kills intruder during attempted home invasion. A south suburban homeowner shot and killed an intruder who had broken into his home [7/5/2016]. The incident happened in Palos Park — now, the Cook County Sheriff's Office is investigating. The Cook County Sheriff's Department says the homeowner is a legal gun owner. He killed one man, and shot and wounded another when they attempted to break into his house in a quiet upscale neighborhood.

Deputies: Homeowner shoots, kills intruder. A would-be burglar was shot and killed early Monday morning by a homeowner in Yulee, the Nassau County Sheriff's Office said. Deputies said the suspect, later identified as 72-year-old Timothy Rasbeary, kicked in the front door of a home around sunrise on Miner Road, near Buccaneer Trail, between Turk Lane and Shady Oak Drive. The homeowner was asleep on the couch and had a pistol with him, Sheriff Bill Leeper said.

Homeowner Shoots, Kills Armed Intruder. A homeowner confronted, then shot and killed one of two armed men who had "unlawfully" entered his home. The incident occurred in Flagler County, Florida, around 2 a.m. on Wednesday [7/13/2016].

Elderly man shoots, kills would-be intruder. A robbery suspect is dead Thursday after an elderly homeowner shot him while he was attempting to break down the man's front door. The shooting was reported just before 10 a.m. in the 9700 block of Autumn Dew, near Braun Road and Loop 1604. According to San Antonio Police, an elderly couple was inside of their home when the suspect broke the door handle off the front door.

Phoenix homeowner shoots home intrusion suspect overnight. According to police on scene near 83rd Avenue and Osborn Road, a man arrived home [7/14/2016] to find that his arcadia door had been broken, but did not find anything inside his home. Later, he awoke to find a man inside his house with a crowbar. The homeowner chased the suspect outside the home, shot the suspect and held him at gunpoint until police arrived.

Homeowner shoots intruder, second suspect arrested. Deputies say they are is currently investigating an incident where two men armed with handguns entered the home around 2 a.m. on Wednesday morning [7/13/2016]. Once inside, they say the homeowner confronted the intruders, shooting one of them. That suspect died at the scene.

Police: Hoosick homeowner shoots alleged intruder. A North Hoosick homeowner shot and wounded a man who threatened him and tried to enter his home, police said Saturday [6/25/2016].

Police: Homeowner shoots bedroom intruder in western Las Vegas Valley. The homeowner said he woke up to find the male suspect inside his bedroom [7/5/2016]. The suspect was shot in the right thigh and attempted to escape. He was detained in the backyard and arrested.

Intruder was lucky 82-year-old homeowner didn't shoot to kill. An 82-year-old Korean War vet says he didn't shoot to kill the man trying to kick in his front door at 3:30 Sunday morning [6/26/2016]. Erwin D. Cardenas, 32, of Miamisburg, Ohio, should be grateful for that. The Compton Road homeowner told WCPO Monday that the man banging on his door woke him from his sleep. He said he grabbed his .38 Smith & Wesson and gave several warnings before taking aim at the man's left shoulder.

Police: South Elgin resident shot intruder. A late-night home invasion Saturday [7/9/2016] in South Elgin left one intruder hospitalized with a bullet wound suffered when the homeowner wrested a gun away from an accomplice and fired on them, police said. South Elgin police said both men were later captured and now face home invasion and aggravated battery charges in the confrontation that left the homeowner with a fractured eye socket.

Castle Doctrine: Homeowner 'Justified' in Shooting Intruder. The shooting of an intruder who "pushed through the door" of a home on July 2 has been ruled "justified" by the District Attorney in Armstrong County, Pennsylvania. According to 11 News, 21-year-old Brandan Vallies was trying to enter the home in "the early hours," and the homeowner warned him to leave. Vallies did not comply, "pushed through the door," and the homeowner shot him in the stomach.

Portland police identify man shot dead during suspected home invasion. A man who was shot dead after allegedly breaking into a Southeast Portland home early Thursday [7/14/2016] has been identified as 30-year-old Anthony James Lazarides, police announced Friday. The medical examiner found that Lazarides died of gunshot wounds, Sgt. Pete Simpson, a Portland police spokesman, said in a news release. Investigators say the 45-year-old homeowner, who has not been identified, shot and killed Lazarides during a home invasion that included at least one other assailant.

Homeowner shoots man after apparent home invasion. According to investigators, 21-year-old Brandan Vallies was trying to break into a house through a side door during the early hours on Saturday [7/2/2016]. Pennsylvania State Police told Channel 11 that the homeowner told the 21-year-old to leave as he pushed through the door. The homeowner pulled out a gun and shot Vallies in the stomach.

Homeowner shoots, injures man who broke into house, police say. A homeowner shot and injured an intruder early Sunday [7/17/2016] on N. Waterloo Street, Jackson police reported. The man allegedly broke into the house in the 500 block, near E. Ganson Street, Jackson police Sgt. Tom Tinklepaugh said. He was hospitalized, undergoing surgery and expected to survive.

Armed customer stops robbery at Circle K in Dayton. Police said a masked man walked into the store [9/27/2014] and pointed a crhome [sic] handgun at the clerk, demanding money. One of the store's six customers saw what was happening and drew a .45-caliber handgun from his side. He pointed it at the robber and told him to leave, according to the report.

Customer with gun stops armed robbery. Two people with handguns entered the store about 10:40 p.m. [9/21/2015] and demanded money. One of the intruders pointed a gun at a customer, Officer Katie Flood said. The security guard went inside to pay, saw the robbery happening and drew his own gun, Flood said. The robbers ran from the store with an undisclosed amount of money.

Armed Samaritan Stops Suspected Robber At Gunpoint. [Scroll down] That resident grabbed his Smith & Wesson handgun from his car's trunk and took off after the robber. At some point, the suspected robber ditched his gun but found himself facing the resident holding him at gunpoint. "I told him to freeze. I pointed my firearm at him. I told him to drop the wallet and wait for the police," the resident said. The suspect dropped the wallet, but tried to run. The resident put his gun away, tackled the robber and kept him there until police arrived. His robbery weapon, recovered by police turned out to be a replica firearm. The would-be robber had only been out of jail for a week.

Officials: Jewelry store employee fatally shoots robber. Authorities say an employee of a jewelry store in Atlanta shot and killed an armed robber [7/6/2016].

Good Guy with Gun Stops Armed Robber in Texas. The suspect, 25-year-old Matthey Wayne Richardson entered a Metro PCS store on Martin Luther King Blvd. in South Dallas around 6:45 p.m. on Thursday night [4/28/2016] and ordered everyone in the store to get down on the floor, the Dallas Morning News' Matt Peterson reported.

Clerk, customers stop would-be robber. Customers and employees at a local supermarket are being credited for stopping a man who allegedly grabbed fistfuls of money during a robbery and tried to flee. [7/22/2016]

Lumberton store employee thwarts robbery by shooting suspect. An employee at a Lumberton convenience store shot a would-be robber Friday [7/15/2016] as he held a weapon to a second employee's head.

At Aspen Mountain, gondola, restaurant close after employee shoots bear. A young bear's visit to the Sundeck atop Aspen Mountain early Saturday morning [7/16/2016] prompted Aspen Skiing Co. to temporarily shut down the gondola and restaurant after an employee shot the bruin. Authorities with Colorado Parks and Wildlife later that morning found the yearling under the deck of the restaurant, where it was reeling from two gunshot wounds. Parks and Wildlife officials subsequently killed it, authorities said.

Police: Leitchfield man shot and killed after forcing entry into ex-girlfriend's home. Police say one man is dead after forcing his way into the home of his ex-girlfriend on Saturday night [7/16/2016]. According to the Grayson County Sheriff's Department, dispatchers received a call on Saturday around 9:22 p.m. from a woman advising that her ex-boyfriend, 43-year-old Patrick Dewayne Decker of Leitchfield, "had busted in her front door and caused her to fire several shots at him when he entered her home." [...] The sheriff's department said it appeared that Decker was shot in the chest at least one time. Authorities say Decker was pronounced dead at the scene by the Grayson County Deputy Coroner.

Man reports shooting burglar in Great Bend home. According to the chief, officers learned that a 65-year-old male was staying at the residence with an elderly man who lives there. The 65-year-old man claimed that he heard noise outside and walked around the house to investigate. When he came back inside, he allegedly saw the younger man (who was apparently burglarizing the house) wrestling with the elderly resident. He then shot the alleged burglar.

Robber with AK-47 shot by Waffle House customer, DeSoto police say. DeSoto police have identified the suspect in an aggravated robbery at a Waffle House last week. About 2:30 a.m. Thursday [7/14/2016], police were called to the Waffle House in the 1500 block of North Beckley Avenue, where they found a man shot in the parking lot. Customers told police that the man had come into the restaurant, armed with an AK-47, and robbed numerous people as well as the business.

Man who tried to rob Waffle House with an AK-47 is shot by customer. According to the DeSoto Police Department, Antione Cooper, 26, entered the restaurant in the 1500 block of North Beckley Avenue at 2:30 a.m. Thursday [7/14/2016]. Patrons at the Waffle House told police Cooper robbed several customers before leaving the restaurant and entering the parking lot. A handgun-licensed customer, whose wife was on her way to meet him at the restaurant, followed Cooper to the parking lot, fearing for his wife's safety, according to DeSoto police. Police said the customer called to Cooper once they were outside. Cooper pointed the AK-47 in the customer's direction, prompting the customer to shoot Cooper several times, according to police in the southern Dallas suburb.

Phoenix police: Homeowner shoots crowbar-wielding intruder. Phoenix police say a crowbar-wielding intruder shot by a homeowner [7/14/2016] is hospitalized with a non-life-threatening injury.

Homeowner shoots and kills armed intruder; second intruder escapes. The Flagler County Sheriff's Office is currently investigating an incident where two men armed with handguns unlawfully entered a home located at 3 Frank Place, Apt. A, in Palm Coast at approximately 2 a.m. July 13. Once inside, a resident of the home confronted the armed men and shot one of them. That suspect died at the scene. The second suspect fled the scene and was not located after deputies and a K-9 team searched the area.

SE Portland homeowner fatally shoots intruder. Multiple people — one of whom was shot dead — are suspected in an apparent home invasion robbery early Thursday morning [7/14/2016] in Southeast Portland. The homeowner who fatally shot one of the intruders was treated and released from a Portland hospital, police said. No one has been arrested.

Home owner pulls gun on burglary suspect. [Scroll down] He [the resident] then saw a male subject standing near the property and immediately pointed a gun at the suspect and told him not to move. The suspect said he was coming from a friend's house and began to move away from the house towards the street. Court documents say the homeowner then exited house with his shotgun as the suspect ran to his vehicle. The man hit the driver side window with the butt of the shotgun and the suspect fled the scene. The couple then found the TV on the side of the house in the backyard, along with a knife that they claimed did not belong to them.

Intruder shot by off-duty St. Louis County officer after online argument about Black Lives Matter, family says. A former Affton High School football standout forced his way into a South County home and was shot and killed by an off-duty officer inside after a Facebook dispute over Black Lives Matter apparently boiled over late Saturday afternoon [7/9/2016]. That's what can be pieced together from the accounts of police and an uncle of Tyler Gebhard, who said the young man had been struggling with mental health issues.

Off-duty cop shoots dead black football star, 20, who had bipolar disorder after he broke into the officer's home following an online argument about Black Lives Matter. An off-duty police officer shot and killed a young black man after he broke into his St Louis home Saturday evening, following an argument over Black Lives Matter. The family, who were in the house at the time, said the victim was known to them and had recently had an argument with the officer about the growing unrest over police violence, according to CBS. Tyler Gebhard, 20, had rung the doorbell of the Lakeshire home around 5.30 pm Saturday, police say. The officer's wife and infant answered the door and after seeing who it was, immediately ran upstairs to hide with her mother-in-law.

Police say alleged Marathon robber was armed with large bladed object before being shot, killed by customer. East Ridge Police Department Capt. Tim Mullinax said the customer entered the Marathon station at 4011 Ringgold Road [6/30/2016] armed with a large bladed object. He stole money from the register and "a large quantity of cigarettes," then grabbed the clerk and forced her to accompany him out of the store. Outside, Mullinax said, the alleged robber and the clerk encountered a customer who noticed what was happening inside. After grabbing a handgun from his vehicle, the customer fired several shots at the man, hitting him at least once in the torso, Mullinax said.

Home Invasion Suspect Shot in the Chest by Victim. Harris County Sheriff's deputies say Michael Brown tried to rob man on Saturday morning [6/25/2016] at the Copper Ridge apartments on Cypress Station near Hollow Tree. Hours after the fatal shooting and attempted robbery, Brown was found still in the apartment complex. Deputies say they followed a blood trail and found Brown with a gunshot wound to the chest. Detectives say he was wearing a ski mask when they located the suspect.

Roommate shoots, kills home-invasion suspect in Everett. A home-invasion robbery in South Everett turned into a fatal shooting and a police manhunt Saturday morning [6/25/2016], authorities said. [...] The men demanded money from people in the living room, Beaton said. A roommate heard the disturbance from another room, saw what he thought was an armed robbery and starting shooting, Beaton said. One of the intruders was hit and died at the scene, and the other ran away, he said.

Case of mom fatally shooting intruder sparks debate. A mother who returned to her Portland home with her two children early Sunday morning [6/26/2016] shot and killed an intruder who was inside. Tara-Alexis Ford, 33, found a stranger in one of her children's bedrooms inside her home in the 4100 block of Southeast 118th Place at about 1:45 a.m. Armed with a handgun, she shot and killed the man, who has been identified as David Daniel McCrary, 59, from Gresham. The Oregon State Medical Examiner determined that McCrary died of a single gunshot wound.

Purse Snatcher Shoots Woman 4 Times, Witness Shoots Robber. A woman was shot four times by a man who demanded her purse while she was leaving work. It happened Wednesday night [6/29/2016] at 10 p.m. in the 3600 block of Vaughn Blvd. A witness shot the suspect as he was fleeing the scene. [...] Police described the suspect as a black male in his late teens to early 20s, 5'6" with a skinny build. He was wearing jeans without a t-shirt and has braided hair.

Legally armed victim shoots his attackers, leaving one robber in serious condition. A licensed gun carrier that was being robbed shot at his attackers Thursday morning [6/30/2016] on the city's west side, hitting at least one of them. [...] The other three suspects, all in their 20s, took off.

Grandmother with gun confronts intruders in her house. [Scroll down] About 12:45 Tuesday afternoon [6/28/2016] she went to the peephole and saw a man was at her front door, banging on the door, ringing the bell. He left but came back a few minutes later, with a T-shirt over his head, and putting on gloves, so she ran to the bedroom to get a handgun from the dresser beside her bed.

Homeowners Hold Burglar At Gunpoint. This morning [7/1/2016] at 7:45 am, Vigo County Sheriff's Deputies were called to a residence on East Moyer Drive when the homeowner found a man in her garage. The homeowner and her husband, who were both armed, held the burglar at gun point until deputies arrived and took him into custody.

Deputies apprehend Clarkesville burglary suspect who fled homeowner's warning shot. [Scroll down] When deputies spoke with the homeowner, they learned that he saw a white male trying to make entry. The suspect had apparently reached through a broken pane of glass in the kitchen and was attempting to unlock the door. That's when the resident opened fire but did not strike the suspect. He fled the area but was later found at Fay Street Apartments in Cornelia, Ga. and arrested without incident, officials said.

Madison police investigating shot fired at apartment intruder. The 23-year-old resident told police he aimed at the intruder and hoped to wound, but not kill. The bullet missed the intruder and hit drywall in the apartment. The resident immediately called 911, police said. He told the officers that he came out of the bathroom and found the intruder near his desk and laptop computer. He said it looked like the man came in through a sliding door.

Police: Man Shoots Would-Be Robber in Portage Park. A 19-year-old man is in the hospital after he was shot by the person he was allegedly trying to rob late Thursday [6/30/2016].

Spokane Valley bank robbery suspect shot by customer. Detectives with the Spokane Valley Police Department are still searching for the man who robbed Spokane Teachers Credit Union Thursday afternoon [7/1/2016]. Detectives say an armed man walked into the bank, jumped the counter and demanded money. During the robbery, an armed citizen drew a concealed gun he was legally carrying and fired at the robber. The suspect fled the bank and was last seen running north. A perimeter was quickly set up, but the suspect was not found.

Burglar Arrested After Being Held At Gunpoint By Homeowner. The Taylor County [Kentucky] Sheriff's department said they responded to a home on Fairvew Road on reports of a home invasion just before 11 p.m. Friday night. Once they got there they found the suspect, 34-year-old Danny Berry, had been held at gunpoint by the home owner. And off-duty Campbellsville police officer was detaining the subject when deputies got to the scene.

Greeley man stops suspected robber at gunpoint, then tackles and holds him until police arrive. [Kaleb] Caddy said he can't stand it when people steal. He said he didn't waste any time. He grabbed his Smith & Wesson handgun from his car's trunk and took off after the robber. At some point during the foot chase, and before Caddy caught him, Gonzales threw away his gun, which officers found later. Eventually, the suspected robber jumped a fence and found himself at Caddy's gunpoint.

Deputies: CWP holder injures Spartanburg Co. nightclub shooting suspect. Deputies with Spartanburg County said a man faces multiple attempted murder charges after opening fire outside a nightclub early Sunday morning [6/26/2016]. The shooting happened around 3:30 a.m. at Playoffz nightclub on Inman Road in Lyman. Deputies said 32-year-old Jody Ray Thompson pulled out a gun after getting into an argument with another man and fired several rounds toward a crowd that had gathered out in front of the club. "His rounds struck three victims, and almost struck a fourth victim, who in self-defense, pulled his own weapon and fired, striking Thompson in the leg," Lt. Kevin Bobo said.

Hey Media: Another Nightclub Shooting, This Time No Massacre. A man with a concealed carry permit in South Carolina prevented a massacre in a nightclub. But this example of Second Amendment saving lives hasn't garnered media interests. According to a report on The Federalist, "A man with a concealed carry license stopped a shooter after the latter opened fire on a crowd of people at a nightclub in South Carolina early Sunday morning." Writer Bre Payton explained, "After getting into a fight with another person, the 32-year-old suspect pulled out a gun and began to fire at a crowd of people gathered outside of the club, hitting and injuring four, WISTV reports. One of the victims, who holds a concealed-carry permit, shot back in self-defense, hitting the suspect in the leg."

Concealed Carrier Prevents Mass Shooting At SC Nightclub. A man with a concealed carry license stopped a shooter after the latter opened fire on a crowd of people at a nightclub in South Carolina early Sunday morning, according to WISTV.com. After getting into a fight with another person, the 32-year-old suspect pulled out a gun and began to fire at a crowd of people gathered outside of the club, hitting and injuring four, WISTV reports. One of the victims, who holds a concealed-carry permit, shot back in self-defense, hitting the suspect in the leg. The suspect has been charged with four counts of attempted murder. He was also charged for unlawfully carrying a weapon and for carrying one while committing a violent crime.

Customer with concealed carry permit fatally shoots ax-wielding attacker at 7-Eleven. A customer at a 7-Eleven store outside Seattle shot and killed a masked man who attacked a clerk with an ax early Sunday [6/26/2016]. Investigators said the shooting happened at the store in White Center at approximately 5:45 a.m. local time. Witnesses said the man entered the store and swung a hatchet toward the customer before turning his attention to the clerk. As the assailant attacked, the customer pulled out a pistol and fired, hitting the suspect. The clerk suffered minor injuries to his stomach and the suspect was pronounced dead at the scene.

Defense Against Animals: 14 Foot Python in Backyard Oklahoma. One of the most underrated defensive uses of firearms is for defense against animals, either to protect property or people. This 14 foot python was probably turned loose by an irresponsible owner who could no longer take care of it. Perhaps they became frightened by it. A snake this large is a clear and present danger to pets and small children. While most snakes can be dispatched with a shovel or hoe, I would not want to attempt that with this python. It might take offense. A firearm is a stand off weapon that allows you to apply deadly force at a distance. A picture with the article shows the python was shot in the head, killing it quickly and humanely.

Balch Springs homeowner shoots home invasion suspect. A homeowner shot a man who entered his Balch Springs house in an apparent home invasion Monday afternoon [6/20/2016].

NOPD: Armed robber flees when man reveals gun in glove box. A would-be robber fled after the man he was attempting to rob showed he was armed, New Orleans police said. The attempted robbery was reported about 10:24 a.m. Monday [6/20/2016] near the intersection of Franklin Avenue and Acacia Street. Police said a 44-year-old man was in his vehicle when he was approached by a man he didn't know.

SW Portland homeowner shoots man trying to break into home through window, official says. A Southwest Portland homeowner shot a man who was trying to break into his home through a backyard window Wednesday afternoon [6/22/2016], an official said. Responders found the intruder completely naked in a water fountain in the home's backyard, said Capt. Steve Alexander, a Multnomah County Sheriff's Office spokesman. The intruder was taken to a hospital for treatment of a gunshot wound that didn't appear to threaten his life, Alexander said.

Burglar Shot in the Leg by Person He Tried to Burglarize, Rio Dell Police Say. From the Rio Dell [California] Police Department: ["]On June 22nd, 2016 at about 1900 hours officers responded to the area of the 300 block of 1st Avenue in Rio Dell for a report of a subject who had been shot. The gunshot victim was located and medical assistance provided for a non-life-threatening gunshot wound to the subjects leg.["]

Waynesboro business owners 'proud' of pharmacy employee's actions. Shop owners have welcomed the actions of an Antietam Pharmacy employee who used his concealed firearm to shoot a robber [6/20/2016]. Eric Christie, owner of Christie's House of Pipes and Cigars, said it was great to have someone stand up to protect their life and liberty and to defend their property.

Hartford homeowner shoots intruder during attempted home invasion. Hartford [Alabama] police responded to a home invasion late Tuesday night [6/14/2016] during which the homeowner shot an intruder trying to burglarize his home. Hartford Police Chief Annie Ward said police officers responded to a home invasion and shooting between 11:15 and 11:30 p.m. on North Fifth Avenue. "It was an attempted home invasion and the home owner shot the suspect," Ward said.

Naked Florida Man Poops on Himself During Home Invasion, Shot by Female Homeowner. A Floridian woman shot and wounded a naked, poop-covered home invader Sunday night [6/19/2016]. 27-year-old Victor Etherington, who, according to deputies was intoxicated, demanded entry to an Ocala residence. The homeowner (name still unknown), not recognizing him, told him to leave. The poopetrator kicked in the door, prompting the woman to take refuge in her bedroom, grab a .22, and call 911. Etherington chased her upstairs, removed his soiled shorts and forced his way into the closet, and that's when the homeowner shot him once in the gut.

Missouri 11-year-old fatally shoots 16-year-old intruder. An 11-year-old Missouri boy shot and killed a 16-year-old boy during an attempted home invasion Thursday afternoon [9/3/2016], St. Louis County police said. Police said two suspects tried to break into the home north of downtown St. Louis twice before the shooting on Thursday. On the third try, authorities said the unidentified teen went through the home's unlocked front door while the 11-year-old and a 4-year-old girl were home alone. Police said the younger boy shot the teen in the head. The would-be burglar's body was found in the home's front foyer. Investigators said no one else was hurt in the incident. The second suspect fled the scene after the shooting, but was later taken into custody.

Prosecutor: Officer-involved shooting during Cincinnati bank robbery was justified. Hamilton County Prosecutor Joe Deters said the fatal officer-involved shooting at a Fifth Third Bank will not even be taken to a grand jury. Deters said the incident "was as clean a police-involved shooting that I've ever seen." Deters, Cincinnati Police Chief Eliot Isaac and Hamilton County Coroner Lakshmi Sammarco released the May 25 surveillance video from inside the Madisonville bank. Terry Frost, 20, was killed. [Video clip]

Name of suspect killed by Wayne Co. homeowner released. According to the highway patrol, the suspect was shot while trying to burglarize a home near the Chaonia Landing area in southeastern Wayne County. They say the suspect had a gunshot wound to the chest. According to the highway patrol, the suspect was taken to a Poplar Bluff hospital where he died from his injuries [5/24/2016].

Chainsaw vs. Gun: Alleged Road Rage Incident Gets Out of Control. Michael Salafia, 30, turned himself in on a warrant for the May 6 incident, police said. Salafia was allegedly involved in a dispute with another motorist. He exited his vehicle at a red light and approached another operator with a chainsaw in hand, according to police. He started the chainsaw and shouted racist slurs at the driver, a black male. The man pulled out a legally owned handgun in an effort to stop Salafia from advancing, police said.

Robber dead in Easton after store clerk, thieves exchange gunfire. One robber is dead after an Easton store clerk and two thieves exchanged gunfire Tuesday night [5/31/2016], according to the Fresno County Sheriff's Office. The dead robber was identified Wednesday by the sheriff's office as 17-year-old Isaac Garcia of Fresno. His alleged accomplice was still on the loose.

Night prowler shot in face. A man broke into a house in the Weimer neighborhood in the early hours of May 29 and was shot in the face by the homeowner. At about 4:30 a.m., 30-year-old Yvon Juteau — known to police from previous incidents — allegedly entered a house on Juniper Road while people were sleeping, Interim Police Chief Lt. Dave Maggio of the Taos Police Department said. The homeowner told police that he and his wife were asleep when he heard a loud crash. He grabbed his .38 special revolver and a flashlight and walked down the hallway to find a man, allegedly Juteau, holding up a crowbar in his right hand, threatening him with it.

Woman shoots at would-be robber in Little Rock. Little Rock police were called to an attempted robbery at 3608 Asher Ave. Sunday morning after a woman shot at a man trying to rob her. Tiffany Williamson, 34, told police she was sitting in her car playing with her dog when a man approached the front of her vehicle. The man pointed a black semi-automatic handgun and said, "Give me all you got," she told police. Williamson, who works as an armed guard, told police that she grabbed her gun beside her seat and fired one shot through the windshield at the man.

Police identify suspected intruder killed by homeowners. Indianapolis police have identified the apparent intruder they say was fatally shot by the occupants of an east-side home he entered early Tuesday [5/31/2016]. The suspected intruder, identified as 53-year-old James Neal, was shot multiple times inside a house in the 700 block of South Bosart Avenue about 6 a.m., IMPD Capt. Richard Riddle said. Investigators said a family of three was sleeping when the sounds of Neal inside the home woke them. "The husband confronted Neal with a shotgun, and the two struggled over the weapon. The wife got a second weapon from another room and also confronted Neal," said an Indianapolis Metropolitan Police Department statement.

Bucks pharmacist shoots, kills masked gunman during stickup. Kenneth Lee spotted the shotgun-toting man in the frightening Halloween mask in the parking lot of the drug store, via security cameras. "'I am armed. Do not come into the store,'" police said the pharmacist shouted repeatedly at the man as he came through the door and walked the 35 feet toward the counter. Using an umbrella as a shield, the masked man vaulted the counter. Lee then fired several shots from a 9mm handgun, and when police arrived they found the would-be robber dead on the floor.

Armed Robber Ventilated by Citizen While Trying To Hold Up Convenience Store. The Tampa Bay Times reports this week (5/10/2016) in Riverview, a man who tried to rob three other men at a convenience store on Tuesday was killed when one of his intended victims fatally shot him. [...] The deceased robber had a criminal record that includes convictions for grand theft and burglary as well a possible charge of conspiracy to commit murder.

Homeowner kills intruder. At 4:38 a.m. Sunday [5/15/2016], [Odessa, Texas] officers responded to a report of a burglary in progress with shots being fired. When they arrived, they saw a man who had suffered multiple gunshot wounds, a news release indicated. Their preliminary investigation indicated that the homeowner, Raul Munoz, 51, was awakened by his wife after she heard a banging noise coming from the front door, the release stated. Munoz told the officers that he had heard someone banging on the door and that the door frame began to crack, they said.

Police: Phoenix taco shop employee fatally shoots robber. The employee of a Phoenix taco shop told police he shot a man who robbed the restaurant Tuesday night [5/10/2016], according to officials. Police say man who was shot has since died.

Suspected home invader dead after being shot at by victim; 2 cohorts arrested in Pike County. Lt. Troy Johnson of the Pike County Sheriff's Office said they were called to a home in the 100 block of County Road 3016 at about 2:30 a.m. [5/12/2016] He said the 36-year-old resident told them he answered a knock on his door and three men forced their way inside. The victim said one of them pulled a gun on him and told him to "give it up," Johnson said. The victim said he grabbed the gun and got it away from the robber. He said he shot at them as they advanced on him. All three fled on foot after the shot was fired.

Dining Off-Duty Cop Stops Fatal Stabbing Rampage in Massachusetts Mall. A stabbing rampage that left two victims dead and several others injured ended when an off-duty police officer fatally shot the suspect. Plymouth County Sheriff's Deputy Jimmy Creed was off-duty "with his bride, just having dinner," when the chaos unfolded, police sources told ABC News. They were dining at Bertucci's Italian restaurant in the Galleria Mall in Taunton, about 40 miles south of Boston. Suspect Arthur DaRosa had walked into the restaurant and "armed himself with a knife and stabbed two people," District Attorney Thomas Quinn said in a statement released early this morning [5/11/2016].

Armed Citizens Saving Police Officers. This article was originally by Ohioans for Concealed Carry PAC and then by the Kentucky Concealed Carry Coalition. It has ceased to exist on those pages. I found it on learnaboutguns.com, where it was republished. It is a compilation worth keeping. The article was originally published before February 8th, 2009. It has not been updated since then. I know that it is only a partial listing. For example it does not list the case of Rory Vertigan, who shot, then captured one of three drug dealers who ambushed and killed Officer Marc Atkinson of the Phoenix Police Department on March 26, 1999. All three drug dealers were illegal aliens.

Great-granny, 80, got a gun, kills a home intruder who attacked husband. This 80-year-old great-granny got a gun and wasn't afraid to use it. Barb Moles shot and killed a home intruder who beat her husband with a crowbar and stabbed him with a knife. [...] Moles, a grandmother of eight and a great-grandmother of three, pulled the trigger four times. Three bullets hit the mark, KOMO reported.

80-Year Old Woman Saves Her Husband's Life with a GUN! An intruder who appeared to be looking for prescription drugs stabbed a 75-year old man in the abdomen in Western Washington. His 80-year old wife, trained in firearms, went for her gun emptied it into the stranger, saving her husband, herself and her 45-year old son who was in the house at the time. The elderly man is listed in serious condition at Harborview Medical Center in Seattle and is in a lot of pain according to his wife. "It could have been a very bad situation," said neighbor Richard Cross. "It could have been three homicides over there instead of one intruder biting the dust."

Dallas PD: Attempted robber shot by store manager. An attempted robber is in critical condition after police say a Dallas store employee shot him when he tried to rob the store. The shooting happened Thursday [4/28/2016] at a Metro PCS store in the 2600 block of MLK Jr. Boulevard around 6:38 p.m. One witness says he and his son were the only customers in the store when the robber came in with a hand gun and told everyone to get on the ground. He says that's when he heard shots.

Robber 'Cries Like a Baby' After Being Shot by 11-Year-Old. An 11-year-old boy is safe and a robber is in the hospital after an altercation on Wednesday night [4/27/2016] in Alabama. Chris Gaither, the 11-year-old, was home alone when a man broke into his Talladega home. Gaither went and armed himself with a 9mm handgun. That's when the robber threatened his life. "When he was coming down the stairs," he told WVTM, "that's when he told me he was going to kill me, F-you and all that." Gaither then told him he was going to shoot him if he didn't leave the home immediately. "I told him I was gonna kill him and all that, with a gun, if he didn't get out of my house," he said.

Homeowner says husband shot two teenagers breaking into house. A homeowner says her husband shot two teenage intruders on Wednesday afternoon [4/20/2016]. The shooting happened around 12:30 p.m. at a home on Schneiter Avenue, near Taylor Boulevard in south Louisville.

Erie police: Ohio kidnapping suspect beat homeowners before he was shot. Erie police said they believe chance played a big part in the case of a kidnapping suspect from the Cleveland area who was shot Tuesday morning in a quiet neighborhood west of Frontier Park. A male neighbor fired after the suspect broke into the house next door, police said. Police will not file charges against the neighbor, Erie police Lt. Stan Green said.

Fatal shooting in Nebo likely self-defense, deputies say. Officers say it was reported that 71-year-old Allen Causby parked on private property off of Lake Lamar Loop on Thursday afternoon [4/14/2016]. According to authorities, landowner Larry Gilliand smashed Causby's car window with a cane and told him to leave. Deputies say Causby, who lives nearby, returned to the property around 6 p.m. armed with a handgun and began firing shots at the 67-year-old owner. Gilliand returned fire and fatally shot Causby in the head.

Man faces sentencing in home invasion where 11-year-old girl pulled shotgun. A plea deal has been reached in connection with a home invasion where an 11-year-old girl used a shotgun to defend herself inside a Lapeer County home. James Wasson, 54, pleaded no contest on Thursday, April 14 to multiple counts of first-degree and second-degree home invasion among 18 felony offenses connected to nine break-ins, according to the Lapeer County Assistant Prosecutor Emil Joseph.

Armed Victim may have Shot, Killed 2 in Kidnap/Car Crash. Much of a successful defensive gun use (DGU) depends on situational awareness and judgment about picking the time and place to make your play. In Henderson Nevada, it appears that a planned kidnap/robbery was foiled by one of the victims who was armed with a concealed handgun.

Coroner identifies both men shot in vehicle. The Clark County coroner has identified both men who were shot and killed during an altercation inside a vehicle in Henderson. The men are 34-year-old lanard Lafare Wilson Jr. and 25-year-old Selvy Auston. No city of residence was officially listed for either man. Both men were killed by multiple gunshots. [...] Multiple neighbors tell 13 Action News the shooter is a beloved local jeweler. We're told he was defending himself during a botched robbery. Police have not confirmed those details.

Sheriff: Man shot trying to break into home. A man was shot Thursday night [4/7/2016] after he allegedly tried to break into a Jones County residence, according to The Jones County Sheriff's Department. Timothy Jefcoat, 33 of Soso, was trying to visit a woman at the home when police say he became belligerent and refused to leave. According to the news release, the victim, a man at the residence, said Jefcoat then tried to force his way into the home.

Woman shoots, kills man who kicked in front door, police say. Kansas City police are investigating a fatal shooting at a home near 56th Street and Swope Parkway. Police were called to the home just after 11 p.m. Wednesday [4/13/2016] to investigate reports of gunshots in the area. The homeowner told police she heard loud banging and knocking on her front door. A police news release said the woman got her gun because she could not see who it was at the door and was scared for her life. The woman, who was questioned and released from custody, told investigators that she shot the man after he kicked in the front door and came after her.

Homeowner shoots man who set fire to his house, police say. A homeowner shot a masked intruder he found using a blowtorch to start a fire that destroyed his suburban Phoenix home, authorities said Thursday [4/7/2016].

Suspect in home invasion shot dead in Blacklick. A man who police say was trying to break into a home in Blacklick was shot and killed Wednesday night [4/6/2016]. Columbus police were called to a home in Macandrews Way just after 7:00 p.m. on a report of a shooting. When officers arrived, they found 24-year-old Nathaniel Easley lying in the middle of the road, suffering from a gunshot wound. He was taken to an area hospital where he later died.

Self-defense leads to fatal shooting at gas station, say police. [Scroll down] "The video shows the deceased, who his larger than the shooter, physically shoving and pulling the shooter back and forth. The video also shows the deceased attempting to grab for the firearm. The shooter order the deceased back and told him he would shoot him if he did not stop," said a statement from police. "The shooter retreated into a corner of the store while still being attacked. With nowhere left to retreat, the shooter fires one round striking the deceased. The deceased does not stop his attacks and the shooter fires two more rounds, striking the subject, who then falls to the ground," the statement concluded.

HCSO: Drunk Man Searching For Ex-Girlfriend Shot After Attack Attempt. Deputies say a heavily intoxicated man was shot while attempting to get into an apartment in northwest Harris County overnight [4/4/2016]. [...] Investigators with the Harris County Sheriff's Office say the man arrived at the front door of what he thought was his ex-girlfriend's apartment. The man allegedly began banging on the door and attempted to kick the door in. As it turns out, deputies say the man was at the wrong apartment.

Video Shows Clerk Foiling Robbery Ring in Des Plaines. Dramatic surveillance video shows a quick-thinking grocery store clerk who helped bust a robbery ring in suburban Des Plaines [3/26/2016]. [...] Surveillance cameras captured the 16 year old, wearing a hoodie as he approached the counter with an item from the store. When the clerk arrives, the juvenile then pulls out an air soft gun. The clerk then reaches behind the counter and pulls out his own gun. The teen then runs out of the store as did another 16-year old who was with him. The clerk fired shots after them, but no one was hurt.

Family Laments Shooting Death of Teen Burglar By Homeowner. [P]rotecting the lives of innocent victims must be held as the higher priority, while the lives of criminals, while not worthless, are devalued by their decision to commit crimes against society. That's why I have very little sympathy for the lives of violent criminals like Trayvon Martin or Michael Brown, or that of lesser criminals such as recently-deceased burglar Trevon Johnson.

Suspect Shot During Robbery Attempt at Selma ATM. Selma police are investigating an attempted robbery where a man was shot. Lt. Sam Miller says a masked man with a gun walked up to a woman at an ATM at 10 o'clock Monday night [3/7/2016] and demanded money. He says the woman's grandson saw what was happening and pulled out a gun of his own. He says the two men exchanged gunfire and the suspect was shot and ran off.

Relatives of Dead Teen Burglar Defend his Actions. Some have said that people in black urban ghettos see "burglar", "thief", and "armed robber" as viable career options; that they view concealed carry permits as an OSHA safety violation. That seems to be what is being displayed here. It is not a viable option for a civilization. These attitudes have been fostered by leftists for generations. They view private property as illegitimate, and theft as property redistribution. They have assiduously propagandized the black community with these attitudes.

Man Shot To Death After Allegedly Trying To Break Into Canyon Country Apartment. The resident and other witnesses told sheriff's personnel the man who was shot was trying to get into the apartment. The renter reportedly told the man to leave numerous times and that he didn't live there, but the shooting victim apparently ignored the warnings, according to Jansen. When the suspect allegedly broke out a window and started to climb inside the apartment the resident shot him multiple times.

Man Robs Store With Fake Gun, Gets Shot By Clerk's Real One. Convicted felon Jarrell Blackmon pulled a fake gun in his attempt to rob a Pensacola, Florida convenience store. It was real enough that the clerk thought it was a credible threat, and fired a shot through Blackmon's neck.

Customer with concealed carry permit fatally shoots ax-wielding attacker at 7-Eleven. A customer at a 7-Eleven store outside Seattle shot and killed a masked man who attacked a clerk with an ax early Sunday [3/13/2016]. Investigators said the shooting happened at the store in White Center at approximately 5:45 a.m. local time. Witnesses said the man entered the store and swung a hatchet toward the customer before turning his attention to the clerk. As the assailant attacked, the customer pulled out a pistol and fired, hitting the suspect.

Customer with concealed carry permit is hailed a 'hero'. An early morning at a Washington 7-Eleven almost turned tragic when a masked man with an ax came charging through the door and started swinging without a word. But just as he managed to slice the clerk in the stomach, a 60-year-old customer who was having a cup of coffee pulled out his gun and shot the attacker dead at the Burien store. Kuldeep Singh, 58, believes he would have died had it not been for his regular customer, who had a concealed carry permit for his pistol and is being called a hero by police.

Customer shoots masked, hatchet-wielding attacker in Burien 7-Eleven. A customer shot and killed a hatchet-wielding man attacking a clerk at a convenience store in Burien Sunday morning [3/13/2016]. About 5:45 a.m., a masked man about 40 years old walked into a 7-Eleven store near South 110th Street and 8th Avenue South and swung a hatchet at a customer, said King County Sheriff's Sgt. Cindi West. The man then went behind the counter and attacked the 58-year-old clerk, never saying anything. Within seconds, a customer pulled out a handgun and shot and killed the attacker, likely saving the clerk's life, West said.

Mississippi Fugitive Rafael McCloud Fatally Shot After Forcing Way Into Home: Police. A family being held hostage by a suspected murderer fatally shot him Thursday morning — ending the multi-agency manhunt for the armed and dangerous felon, police said. The fugitive, Rafael McCloud, 34, had approached a man in Vicksburg while he was starting his car outside of his home, Vicksburg Police Chief Walter Armstrong told NBC affiliate WLBT. McCloud ordered the man inside, where he tied him and his wife up, Armstrong said. At one point, McCloud stabbed the man in the shoulder and he got loose. The man and his wife managed to grab a gun and one of them shot McCloud during the hours-long struggle, Armstrong told The Associated Press.

Man who was shot during home invasion now behind bars. 23-year-old Danny Lewis of Greenville went before a judge Monday morning [2/22/2016], charged with armed robbery and burglary. The Pitt County Sheriff's Office says Lewis, along with 19 year old Ryan Aytch of La Grange and 23 year old Dashawn Dail of Kinston, invaded a home on Paul's Place in Grimesland last Tuesday.

Homeowner shoots, kills burglary suspect in SW Houston. The shooting happened about 1:30 a.m. [3/1/2016] in the 8500 block of Maplecrest Drive near Elmsworth Drive, said Ken Fregia, a homicide investigator with the Houston Police Department. Fregia said the homeowner, identified as an Asian man, told investigators he was asleep but woke up when he heard the sound of glass breaking at his front door. He grabbed a gun and went to investigate. He saw a man breaking into the door and entering his home. He confronted him and fired several gunshots at him, wounding the suspect.

2 Alleged Intruders Hospitalized, Shot By Detroit Homeowner. Police in Detroit are investigating a shooting Tuesday afternoon [3/1/2016] at a home on Outer Drive. Officer Jennifer Moreno said a homeowner claims he was sitting in a back room of the house, at around 1:30 p.m., when he was confronted by a pair of intruders. "Two unknown suspects broke in through a window," Moreno said. "The victim fired shots at the suspects, striking them both, and he actually held one of the suspects for officers."

Man Shoots 2 Younger Men During Fight in Queen Village: Police. The 65-year-old man was walking with his wife on the 700 block of S. 2nd Street shortly after 8:30 p.m. Tuesday [3/1/2016] when they were approached by a 21-year-old man and a 20-year-old man, police said. Investigators say the two younger men and the 65-year-old man got into an argument which then became physical. The younger men, one of whom is from Cinnaminson, New Jersey, allegedly began to beat the 65-year-old man. The 65-year-old man, who has a license to carry, then pulled out a .45 caliber pistol and opened fire, according to investigators. The 21-year-old was struck once in the neck while the 20-year-old was struck in the stomach.

Resident Shoots And Kills Suspected Burglar In North Columbus. A resident shot and killed a person believed to be breaking into a north Columbus home early Sunday morning [2/21/2016]. Columbus Police said it happened around 3 a.m. on Duxberry Avenue. The resident told police that 26-year-old Tory Jones forced his way into the home. When officers arrived at the home, they found Jones had been shot and had died from a gunshot wound.

Tulsa police: Man killed during suspected home invasion. Tulsa Police Sgt. Dave Walker says a woman called 911 early Friday [2/19/2016] to report that a man came to her door asking to use the phone, then forced himself inside and began gathering items to steal.

Burglary suspect shot, injured in Seabrook. A man was shot early Wednesday morning [2/17/2016] in Seabrook as he attempted to break into a storage trailer, a Beaufort County Sheriff's Office release said. The owner of the property saw the unidentified man enter the trailer and fired a handgun twice in the direction of the trailer, according to the release.

Farmer who shot intruder walks free. A farmer who shot and injured a man he believed to be a burglar walked free from court yesterday [2/22/2016]. Father-of-two Frederick Hemstock, 55, fired at Gary Smith after he discovered him trespassing on his land in the early hours of the morning. As he wept tears of relief yesterday, a judge criticised the lack of police response to a 999 call made by Mr Hemstock's wife, Wendy. She had been told that officers would not turn out unless property had actually been stolen. Minutes later her husband, who had grabbed a shotgun kept under his bed, fired at Smith's car. The shot ripped through the vehicle and hit him in the stomach.

Resident shoots, kills suspected intruder. Columbus police said they were contacted at about 3:13 am Sunday [2/21/2016] from a resident at 1566 Duxberry Ave. about a man attempting to kick in a back door. Police said the attacker, Tory L. Jones, forced his way into the home and attacked resident Darryl A. Francis, 36. Francis then shot Jones. Medics pronounced Jones dead at about 4:07 am.

Police: Tampa liquor store clerk fatally shoots armed robber; second suspect flees. One of two men attempting to rob a Tampa liquor store was shot to death in an exchange of gunfire with the clerk late Sunday [2/21/2016], police said. Cody Bolesta, 20, was found fatally shot on the sidewalk near Cut Rate Liquors, at 3312 N. 15th St., in the V.M. Ybor neighborhood, police said. Detectives are working to track down the other suspect, who fled the scene.

DeKalb County Sheriff's employee shoots home invader. Police say three teenagers kicked in the door to an Ellenwood home on Bosenberry Way Friday [2/5/2016]. The woman, who lives at that house works for the Dekalb County Sheriff's Office and shot one of them. [...] Around 10:30 p.m., the sheriff's employee was sleeping when her sons woke her up and said intruders were in the house. Police say that's when the woman grabbed her gun and shot one of the suspects.

Off-duty MPD officer shoots would-be burglar in Southaven. An off-duty Memphis police officer shot someone in Southaven on Monday [2/8/2016]. Police said the person was shot after he kicked in a door during a burglary. Off-duty officer Brian Falatko saw him and shot him in the shoulder.

Report: Victim overpowers three men, shoots suspect during attack. Police officers responded to Sumner Avenue for a reported shooting shortly before 7 p.m. [2/6/2016] The victim told officers he walked out of his home to go to church and was approached by three young black men. One of the men was holding a gun and demanded money. According to a report released on Tuesday, the 35-year-old victim grabbed for the gun and a struggle ensued.

Dallas Police: Resident Shot And Killed Armed Burglar. An East Dallas resident shot and killed an armed suspect who police say tried to burglarize his house. The shooting happened around 10:15 Friday morning [2/5/2016] at the corner of Freeport Drive and Gross Road. Police say at this point, no charges are being filed against the resident.

Police: Gun owner saved cop from attack by kids. Police are crediting a vigilant gun owner with saving the life of an Upper Darby cop Friday [2/12/2016] after he saw the officer being attacked and surrounded by a large group of teens. "There were 40 kids. If it wasn't for the good Samaritan stepping forward, he'd have been dead meat," Upper Darby Police Superintendent Michael Chitwood said. "There's no doubt they would have attacked him."

Marine Vet With Concealed-Carry Permit Saves Texas Deputy's Life. On January 19, Bastrop County Deputy Dylan Dorris attempted to pull over a motorist who was driving erratically. The driver did not initially comply, but he eventually stopped at a gas station. Once the vehicle was stopped, Dorris attempted to arrest the driver, but he resisted. While Dorris was struggling with the driver, the man allegedly reached for the deputy's weapon. That's when Marine veteran and concealed-carry permit holder Scott Perkins jumped into action.

NJ Man who Shoots Three Problem Bears gets $4,000+ Fines and Fees. In October, 2014, a 76-year-old New Jersey resident shot three problem bears on his property. One was an adult sow that was on his deck and looking in through his sliding glass door. The location of the two juvenile bears when they were shot, is disputed, but was either on the deck or close to it. Bears are more dangerous as they are larding up for the winter hibernation. Bears that display this level of familiarity with humans, who associate humans with food, are a severe problems waiting to happen. It is why the conservation community has come up with a well used phrase: A fed bear is a dead bear. Judge James G. Devine handed down the fines against Robert Ehling on the 28th of January, 2016. I found the judges attitude a bit disturbing in one particular sense. He thought that Robert C. Ehling acted as a "vigilante".

Also posted under Please refrain from defending your own life and property.

Suspect Flees After Attempted Home Invasion In OKC. A suspect is on the loose after police say he attempted to break into a home on S. MacArthur Blvd in Oklahoma City. According to police, the man attempted to enter the home around 3 a.m. [1/28/2016] but the home owner heard him. The suspect took off after the home owner fired one gun shot into the air. No one was injured.

Homeowner shoots suspected burglar outside home. Police say a suspect in a home invasion was shot and killed in a neighborhood west of Iroquois Park early Thursday morning [1/28/2016]. The man was found shot outside of a home on the 6800 block of Manslick Road.

NOPD makes multiple arrests in shooting on Esplanade and Claiborne Avneues [sic]. The NOPD has arrested a 30-year-old man who allegedly opened fire on a group of individuals at a gas station at the intersection of Claiborne and Esplanade Avenues this afternoon (Jan 31). Richard Macklin (DOB: 10-1-85), faces three counts of Aggravated Battery by Shooting and one count of Illegal Discharge of a Weapon for his involvement in the incident. [...] During the course of the investigation, detectives determined that Macklin was the aggressor in the incident. He will be booked once he is released from the hospital. The other individual who returned fire will not be booked in the shooting. At this time, detectives believe it was an act of self-defense.

Same incident as described above:
New Orleans Legal Gun Carrier Stops Mass Shooting. For those who say that armed citizens and especially concealed carry permit holders, never stop mass shootings, this is a counter example that proves them wrong.

Store employee shoots two robbery suspects, killing one. Hampton police say an employee shot two suspects as they attempted to rob a store, killing one and wounding the other. Police got a call to Gift Card ATM store on West Mercury Boulevard near Salem Street at 6:21 p.m. Friday [1/29/2016], according to Sergeant Matt Bond. Officers found Timothy Johnson, 18, suffering from a gunshot wound and pronounced him dead on the scene.

Suspected home intruder shot dead in NW Spokane. A northwest Spokane resident shot and killed what he believed to be a home intruder Saturday night [1/30/2016], Spokane police said. Police responded to a report of shots fired in the 6500 block of North Assembly Street, north of West Francis avenue, just after 10 p.m. A woman had called to say her husband shot an intruder.

Woman fatally shot man who broke into Woodlawn home. A woman fatally shot a man who broke into her home and beat her early Sunday [1/31/2016] in the Woodlawn neighborhood on the South Side. [...] The 28-year-old woman was able to grab a handgun and shot the man to death during the struggle, police said.

NE ABQ Shop owner fights alleged robbers. The owner of Jim Coad Rare Coin Shop shot at a group of alleged robbers trying to steal from him, according to Albuquerque Police Department. [...] KOB has confirmed that at least two suspects tried to steal from the store but their attempt was cut short when the store owner started fighting them back.

71-Year-Old Armed Woman Fights Off Robber. [Scroll down] When the man became distracted by a customer[, Janet] Willis was able to grab her 9mm handgun. "When he turned around I said 'I'll blow your guts all over this store,'" she told the paper. "Then I led him out." She kept her gun pointed at the attempted robber as he ran out and got into a car he had apparently stolen at another point. That car had a flat tire and the sparks created by driving on the rim caused the stolen car to be set ablaze. Shortly thereafter the suspect, 21-year-old Prince William Dennis, was arrested by police. "I admire her for doing what she did to thwart the robbery," Captain Chris Bish of the Morgan County Sheriff's Office said of Willis. "I'm grateful for the outcome." Willis said this was not the first time she had defended herself with a firearm. [1/31/2016]

Colorado homeowner robbed at gunpoint may face charges for killing suspect. A Colorado homeowner who was tied up and robbed at gunpoint Sunday [1/24/2016] may face charges for shooting and killing the suspect who was fleeing in a stolen car, Fox 31 reported. The unidentified homeowner, who managed somehow to untie himself after the robbery, reportedly went outside his home in Littleton and fired shots into the car at the fleeing suspect. The man in the car was reportedly identified as David Martinez, 38, who has a long criminal history of burglary, theft and drugs. Martinez crashed the car about a block later and died. The Denver Channel reported that under the state's Make My Day law, a homeowner is able to shoot an intruder who enters the home, but, according to one legal analyst, the law does not protect a homeowner if the shooting occurs from the porch, yard or driveway.

South Carolina barber, his client fatally shoot armed robber during stickup. A would-be South Carolina robber who tried to stick up a barber shop was killed Friday when the lead stylist and his client pulled out their concealed weapons and opened fire on the intruder. A second suspect is still on the lam following the raid at Next Up Barber Shop in Columbia, officials said. Store surveillance video caught the harrowing invasion — and the resulting shooting. The shop was packed with customers — including young children — when two gunmen stormed into the store and demanded cash, barber Brandon Dreher said.

Armed victim shoots suspected robber. Mobile police have released the name of the robbery suspect who was shot and killed by his intended victim. Police also say the man's actions were justified to protect himself and possible a friend. Mobile Police say the robbery victim was with his girlfriend when he was approached by an armed man in the Twin Oaks parking lot last night [1/18/2016].

Suspected Burglar Shot by Homeowner in Redondo Beach. A suspected burglar was shot and detained by the homeowner in Redondo Beach early Tuesday morning [1/19/2016], according to the Redondo Beach Police Department. At around 2:50 a.m., police received a call of a shooting at the 2000 block of Nelson Avenue, Lt. Todd Heywood said. When officers arrived, they found the homeowner restraining the suspect on the street he said.

Fort Worth homeowner kills teen burglary suspect. A teenager police say was breaking into a home in Fort Worth was shot and killed this morning by someone living in the house. Police said they got a call around 8:30 a.m. from a man who lives in the 4000 block of Miami Springs Drive. He said his son had just fired shots at two men who kicked in their door.

Robbery suspect shot by store owner. Police now believe a robbery Saturday morning at a Fort Gay convenience store is related to an attempt to steal an ATM at the same location on Thursday [1/14/2016]. The Wayne County Sheriff's Department arrested James Daniel Hicks, 39, who has residences in both Logan and Parkersburg. Deputies also believe there may be a second suspect.

Man shot by Ark. homeowner during alleged robbery. A Blytheville homeowner has shot an apparent burglar as the two exchanged gunfire.

Woman scares off home intruder with gun. A Savannah woman says she had a gun in one hand while dialing 911 in the other, after an intruder entered her home Tuesday night [1/12/2016]. "I would have definitely shot him before I let him come up the stairs to my kids," Kim Lyle says. "I have no doubt in my mind I would have shot him."

Senior store owner pulls gun on armed robber. The hunt is on for a robber that started a gun battle in a St. Louis Grocery store [1/4/2016]. Sone Maniphonh is one 63 year old you don't want to mess with.

Cops: Liquor store clerk fatally shoots 2 would-be robbers, 15 and 17. Two would-be robbers who were fatally shot at a liquor store in the Gresham neighborhood Saturday night [1/9/2016] have been identified as a 15-year-old boy and a 17-year-old boy, authorities said. Keshawn Marzette, 15, of the 8300 block of South Throop Street, and William Larson, 17, of the same address, were pronounced dead on the scene, according to the Cook County medical examiner's office.

Business owner shoots robbery suspect threatening customer. Police say a business owner shot one robbery suspect and scared away two others when he saw the men threaten and try to rob a frequent customer. At 5:30 a.m. Monday [1/4/2016], officers responded to a call about a robbery in the 1600 block of S. Beltline Road. According to a DPD news release, the victim, who frequents a standalone car wash on South Beltline Road between Highway 175 and Seagoville Rd., was approached by three men who pointed guns at him and demanded money.

The Editor says...
Having lived in Dallas County most of my life, I can tell you that if you're visiting a car wash on Seagoville Road at 5:00 a.m., it would be headline news if you didn't get robbed.

Police: Man shot trying to rob Detroit CPL holder. A would-be robber ended up in the hospital Tuesday night after trying to mug a concealed pistol license holder in Detroit, police said. The armed suspect approached another man about 8:15 p.m. [1/5/2016] near Ohio and Beechdale on the city's west side then "announced the hold-up," said Sgt. Cassandra Lewis, a spokeswoman for the Detroit Police Department. The other man refused and pulled out his weapon, which he's legally allowed to carry, she said.

Off-duty cop shoots suspect in Jimmy John's robbery. An off-duty Jacksonville Sheriff's Officer shoots a robber near Beach and University. We're told veteran officer Michael Price saw the suspect get a ski mask out of a car Sunday night [1/3/2016], and a few minutes later the Jimmy John's was robbed. Police then tried to stop the car that was involved.

Two fire shots at would-be intruder in Pasadena. An intruder suspected of breaking into a Pasadena home was greeted with a hail of bullets Tuesday morning [12/29/2016]. Although he has not been charged with a crime and remains in the hospital with three to four bullet wounds, Channel 2 has learned the man has a criminal history.

Armed Intruder Killed by Homeowner. A 24-year-old man was shot and killed after he unlawfully entered a Lakeland home Friday morning [1/1/2016], according to the Polk County Sheriff's Office. It happened around 6:30 a.m. at a home on Chestnut Hills Drive.

Same story as above:
Intruder Shot and Killed by Homeowner in Lakeland, Deputies Say. A 24-year-old man was shot and killed after he unlawfully entered a Lakeland home Friday morning [1/1/2016], according to the Polk County Sheriff's Office. It happened around 6:30 a.m. at a home on Chestnut Hills Drive. Deputies said Chevez Antwann Faison entered the home and fired shots at two people inside. He was then shot and killed by the homeowner. No one else was injured.

Concealed Nation Fan Fends Off Three Home Invaders With M&P Shield. A father and son successfully fought off three home invaders in an early morning all-out fight for survival. Columbus police confirm that there was a home invasion in vicinity of 2:30 am where three suspected attackers kicked in the front door and immediately set to assaulting the son who was first to respond. Thankfully, his father was in the other room and able to flush out the attackers — using nothing less than his future everyday carry pistol, the M&P Shield.

Would-be robber shot in chest by woman, 65, after he followed her home. Manchester Police arrested a would-be robber who was shot Jan 4 outside an apartment building on South Porter Street. Police say Michael Bontaites was shot by his intended victim, a 65-year-old woman, who told Bontaites followed her home from a local gas station where she stopped briefly after work. Bontaites, 23, who has no fixed address, was shot in the chest by the woman, whose identity was not released by police. Bontaites sustained a single gunshot wound to the chest.

Nevada Home Owner Uses Semi-Auto Carbine in Self Defense. In the video,the homeowner says that he saw three men stalking the house. One broke in with a mask and a hammer. The homeowner fired two shots; then his rifle jammed, as the intruder ran off.

Grandmother, 65, says she shot man who tried to mug her. A 65-year-old grandmother said she didn't have time to think when she pulled out her .32-caliber handgun and shot a man who tried to mug her outside her south Manchester apartment building late Monday night [1/4/2016].

Texas Store Owner's Son Kills Armed Robber To Save Sister's Life. What's the best way to stop a bad guy with a gun? Why, a good guy with a gun. Everybody knows that but Democrats.

Suspect fatally shot in Trotwood home invasion. Trotwood [Ohio] Police say the homeowner was at home [12/28/2015] with her four children when three armed men wearing ski masks forced their way inside the house. Police say the suspects grabbed the woman, assaulted her, and forced her into a back bedroom, holding her at gunpoint. Officers say the suspects were trying to steal a safe. At one point, the woman was able to get away, and grabbed a gun hidden in a dresser. Police s ay when she fired the gun at the suspects, they ran out of the home.

San Bernardino: Clerks shoot liquor store robber. One of the robbers, armed with a black handgun that was later determined to be a BB gun, demanded money from a clerk. San Bernardino police Lt. Richard Lawhead said the two clerks, "fearing for their lives, armed themselves and shot" the suspect with pistols they had stashed under the counter. Lawhead said it is not against the law for a storekeeper to stow a gun, adding the shooters were "legally permitted" to carry weapons. The suspects fled the scene in a vehicle and were detained by Colton police a short distance away [12/25/2015].

Teenager Shot And Killed While Attempting To Break Into Columbus Home. Columbus police say officers responding to the shooting found 18-year-old Amir Kirby inside the home Monday afternoon [12/28/2015], and he died at the scene. Police say the resident who fired at Kirby was questioned by detectives and faced no charges as of Monday night. They didn't identify that man or release other details about the alleged home invasion.

HPD: Suspect shot during attempted robbery. Police are investigating a shooting that at least one robbery suspect wounded in west Houston overnight [12/13/2015]. It was the end to a night out that a group of people and then men who tried to rob them never expected.

Armed Residents Save Elderly Man's Life After Hearing Cries For Help. Armed Gwinnett County residents packing heat, took action after hearing a man's cries for help. They credit their guns with saving the elderly man's life. "Help, he is trying to kill me, help me, help me." Those are the chilling words Karen Duncan heard as she walked up her friend's driveway in Lawrenceville Monday afternoon [12/7/2015].

Woman shoots man accused of domestic assault. Police were called to the location on report of an unknown trouble at 1:09 p.m. Thursday, the release said. Upon arrival they found a female who told police she had been assaulted. She told authorities her [sic] and Wilson got into a verbal argument that escalated when [Kevin Lamar] Wilson began to allegedly kick, hit and strangle her. The release said the female showed visible signs of an assault. The female, fearing for her life, grabbed a firearm and shot Wilson in the arm, the release said.

Craig County Prosecutor Shoots Burglar Inside Her Home, Police Say. Rogers County Sheriff Scott Walton said, "We don't know if he knew whether that house was occupied or not, but he found out shortly after he entered it." [...] Walton said, "She was a victim in her home, with a very high expectation of safety and privacy, and an intruder comes in and she was ready to deal with it and did so." Walton said Starkey is a serial burglar who, he believes, is linked to many burglaries in the area.

Warren County family believes burglar targeted bedridden mother. Around 6:30 a.m. [12/10/2015], a woman in a home on Zoar Road woke up and found her medication, money and jewelry missing from her bedside. The woman, who is partially paralyzed and confined to bed, alerted the rest of her family. Someone heard a noise coming from the basement. Holly Swader, 23, said she grabbed her father's .22-caliber pistol and went into the basement, where she saw an unknown man[.] Swader said she fired four or five shots at the stranger as he was climbing out a window. She thinks she hit him.

Burglar Shot by Odessa Homeowner. Police say a homeowner shot an armed suspect early Monday morning [12/7/2015] after he tried to force his way into the house. The incident in the 3200 block of Rembrandt started just after 2:00 a.m. when the 35-year-old homeowner, Hector Garcia, saw a man attempting to kick in the front door to his residence while holding a gun. The Odessa Police Department says Garcia fired multiple rounds at the suspect, who immediately fled the scene in a truck.

Jefferson man shoots neighbor's dogs. A Jefferson Walk man who shot his neighbor's two dogs after they entered his house in an aggressive manner toward his children will not face charges, Jackson County Animal Control said Friday. An officer was dispatched to the complainant's house on Liberty Drive address where the incident happened on Wednesday evening [11/17/2015].

Suspect Shot Saturday During Morning Burglary. On Saturday mornning [sic] [11/21/2015], Amarillo Police responded to a homeowner holding two burglary suspects at gunpoint on the 5200 block of Royce. The homeowner said he saw two burglars removing his property from a shed in the back of his house. The homeowner armed himself with a pistol and ran outside to confront the burglars. He ordered them to the ground. One of the burglars aggressively threw down the items he had stolen and violently lunged at the homeowner. The homeowner then shot the burglar.

Police: Dallas homeowner shoots, kills intruder. A Dallas homeowner shot and killed one of two intruders early Tuesday morning [11/24/2015] at his residence, said Dallas police in a statement released later in the morning.

Couple, ages 70 and 66, holds crook at gunpoint. Earlier this week, an area couple was able to get a suspected thief on his knees with his hands behind his back by the time police arrive.

Cheyenne Police: Self-defense likely in double shooting. While detectives continue to investigate a dual homicide that happened here Sunday night [11/15/2015], the Cheyenne Police Department announced Friday [11/20/2015] that at least one of the deaths seems to have involved self-defense.

Cincinnati Police: Gas station owner shot armed suspect in East Price Hill. A gas station owner shot a suspect Friday night [11/20/2015] in East Price Hill, Cincinnati police said. Officers got a report of a robbery at the Marathon station at Warsaw Avenue and Del Monte Place at 7:45 p.m., Lt. Craig Gregoire said. At some point, the owner shot at the armed suspect, Gregoire said. A bullet grazed the man in the stomach, and he flagged down an officer about a block and a half away, on Del Monte, Gregoire said. He added that officers recovered a gun from the suspect. The station owner wasn't harmed.

Woman shoots at robbery suspect outside of Walmart. A shooting was caught on camera outside of a Walmart in McLennan County Friday afternoon [11/20/2015]. Andre Dawson, 27, was in the line of fire after a woman shot at him when he allegedly tried to steal the purse of a different woman. Witnesses recorded the incident from across the street.

Ex-cop not facing charges for shooting teen burglary suspect. The retired police officer who shot a 16-year-old burglary suspect in the Grand Island area will not face charges, the state attorney's office said Friday [11/20/2015]. Emmett Latimer and his wife were taking their daily stroll in their subdivision that sits between Leesburg and Eustis on Aug. 4. The walk took a turn when the 69-year-old retired Detroit officer allegedly spotted a teen burglarizing a home on Cavalier Court and decided to investigate.

Summerville man dies, N. Charleston man arrested after shootout with 13-year-old. A 13-year-old Ladson boy fended off two would-be burglars by using his mother's gun to protect himself while home alone Tuesday [11/10/2015]. He killed one of them in an exchange of gunfire, and the second suspect was later arrested, according to the Charleston County Sheriff's Office.

Denver DA: Homeowner Who Shot, Killed Intruder Won't Be Charged. Denver District Attorney Mitch Morrissey has decided against filing charges against a man after a deadly shooting at a home near the intersection of Winona Court and Floyd Avenue last week. Just before 2 a.m. last Friday [11/6/2015] police responded to a call of what they said was a prowler who forced his way into a home.

Man shoots intruder during home invasion. Louisville police were called out just before 7:30 a.m. [11/8/2015] to the 1400 block of Oakwood Avenue. [...] Police said when a man tried to break into this house he was shot by a man inside. Officers at the scene said the man who was shot took off running, but was later found at the hospital.

Authorities say would-be burglar shot, killed by 13-year-old. The Charleston County Sheriff's Office says a would-be burglar has been shot and killed [11/10/2015] by a 13-year-old who was at home alone and used his mother's gun.

HCPD: Deadly shooting in Green Sea self-defense. Kendale Jermain Herring, 29, of Green Sea was killed in the shooting [11/5/2015]. The shooting suspect is a 22-year-old, of Lumberton, NC. According to an email from the Horry County Police Department, investigators have determined the shooter acted in self-defense.

Intruder killed by homeowner at Lake Carolina residence. Richland County Deputies are investigating an early morning fatal shooting near Lake Carolina. Just after 1 AM [11/10/2015], deputies responded to the 200 block of Baysdale Drive for a shooting. [...] The homeowner then told officers the suspect started a fight and hit him multiple times. The homeowner was able to retrieve a handgun and shot the suspect.

Police: Macon man shot, killed Sunday was trying to rob men. Bibb County deputies are saying that a man who was shot and killed late Sunday [11/8/2015] on Gray Highway was attempting to rob three other men. Bibb County deputies found Migel Diadell, 20, lying on the ground with gunshot wounds behind O'Reilly Auto Parts at about 11 p.m. He was later pronounced dead at the hospital.

Tulsa Police: Homeowner Shoots, Kills Intruder. Tulsa Police are investigating a shooting in a neighborhood near Martin Luther King Boulevard and Apache that left a man dead. Police said a homeowner shot an intruder who kicked in the door of the home in the 300 block of East 27th Court North around 10:30 a.m. Sunday [11/8/2015]. A man who lives at the home shot the intruder in the chest, according to Corporal Phil Snow.

Homeowner Shoots and Kills Burglar: Garland Police. Garland police say a homeowner shot a burglar, sending him to the hospital where he later died. Police said they got a call that a man was breaking in to a home in the 2600 block of Richland Drive Thursday [7/2/2015].

Armed Female Homeowner Shoots and Kills Persistent Intruder. A 22-year-old Detroit man is dead after he failed to stop attempting to break in an Ohio home with metal bars on the windows. He was subsequently shot and killed by the female homeowner [9/9/2015].

Homeowner shoots and kills burglar suspect. About 7 p.m. [8/7/2015], a 63-year-old homeowner saw a 35-year-old man trying to break into one of his cars in the 9000 block of Airline. Carrying his shotgun, he yelled at the burglar to leave. The man started to move toward the homeowner with some object in hand, so the homeowner, fearing for his safety, shot the burglar, killing him, officials said.

Placitas homeowner shoots, kills intruder, sheriff's office says. Lt. Keith Elder said that between 6 and 6:30 a.m. [9/16/2015], the male intruder entered a home located on N.M. 165 in Placitas. As the two men struggled over a handgun, the homeowner "overpowered" and shot the intruder. Elder said investigators believe that the gun involved in the shooting belonged to the intruder. Neighbors reported hearing multiple gunshots.

San Jose homeowner shot, injured by burglary suspects. A man was shot late Thursday morning [10/22/2015] by one of three burglary suspects he confronted in the driveway of his home in South San Jose, according to police. The homeowner, who was identified by ABC7 as 29-year-old Albert Soumountha, was not seriously hurt. Police issued an alert to neighboring law enforcement agencies reporting that firearms were stolen from the victim's home in the 300 block of Greenpark Way near Branham Lane and Vistapark Drive.

Intense Video Shows Man Shooting At Armed Robbers Entering His Garage. A surveillance video clip shows a man driving into his garage when three armed men come in as the garage door is attempting to close. The man, an off-duty police officer, was with his wife in the car. Things turn violent quickly, as one of the armed robbers starts to open the man's car door while he has a gun in his hand. Within a second, both men fire a shot. The victim seems to get his shot off just a split second before the armed robber. [Video clip]

Two more Bear Spray Failures in Montana. Bear spray is a useful tool that can help protect humans and bears in limited circumstances. It seems that if a bear is not serious about mauling, killing, and/or eating the human, the spray can convince a bear to stop investigating the human and leave them alone. But the ability of spray to stop bears bent on attack is far less certain. Here are two more cases where bear spray failed and bullets were necessary. [...]

Would-Be Robbers Shot in the Act. Two would-be robbers get more than they bargain for after a late-night robbery on the Northside. It happened before midnight [no date given] near an apartment complex off of Wurzbach Road. That's where the men approached a woman — and robber her at gunpoint — taking off as she screamed.

Woman, 82, shoots at intruder. "She looked out and saw a male she didn't know," said Decatur Police detective Lt. Shannon Gutierrez Seal [10/27/2015]. "She chose not to answer her door. She called the police as the person continued to knock on her door for about five mintues." As officers were dispatched to her home, she made no indication to the man outside that she was home. "She retrieved her gun, a .38 special, and waited in her dining room so she'd be ready," Seal said. Several minutes later, the man kicked in the back door and entered the house. "So she shot at him," Seal said.

Market employees shoot, kill masked robbers in Reading. When police arrived on scene [10/31/0215], they found two men suffering from gunshot wounds. One of them died at the scene; the other died a short time later at Reading Hospital, police said. Reading police said it looks as though three masked men entered the market. One of them was armed with a pistol, which he fired inside the market, and another man could be seen pointing a stun gun at one of the employees, according to police, who did not know if the third man was armed.

Homeowner and suspect dead after home invasion turns to gun battle. Police say the incident began at a nearby home when [Jesse] Bruner, who was armed with a sawed-off shotgun, banged on the victim's door. The victim answered the door with his gun and a fight between the two ensued, according to police. The fight dragged into the middle of the street where the two men exchanged gunfire. Both were killed, according to police.

Americans aren't giving up their guns. Despite several years of Michael Bloomberg and others spending hundreds of millions of dollars attacking the NRA, a new Gallup poll shows that non-gun owners have a favorable opinion of the NRA (by 7 percentage points). Moderates are even 17 percentage points more likely to have a favorable opinion. Overall, the NRA has a significantly more favorable image than either President Obama or Hillary Clinton.

Witnesses: Security guard shoots, kills would-be robber. Phoenix police are investigating a deadly shooting on Monday afternoon [10/26/2015] that may have been the result of an attempted robbery. [...] According to witnesses at the scene, a man entered the store, waved a gun around and announced a robbery was to take place. They said a security guard then emerged from the back of the store and a struggle ensued.

Gun-Free Zone Hypocrisy. In President Obama's hometown of Chicago on Halloween night Saturday [10/31/2015], a robbery was thwarted when a concealed carry permit holder with a valid firearm owner's ID card under Illinois law shot the thug dead. It showed that even in Obama's Chicago, more guns mean less crime and, in this case, one less career criminal. It also shows that opponents' fears that concealed carry laws will mean carnage in the streets as garden-variety disputes escalate into a proverbial gunfight at the OK Corral are false. Since the U.S. 7th Court of appeals struck down Illinois' ban on concealed carry as unconstitutional in December, 2012, there has been no wave of carnage perpetrated by concealed carry holders in Illinois or anywhere.

Rare as hen's teeth: Concealed carry permit holder thwarts an armed robbery in Chicago, kills assailant. The normal weekend carnage in the president's hometown of Chicago sports a most unusual incident. Despite all its stringent gun laws, a fully-permitted concealed carry armed citizen managed to prevent an armed robbery at a deli/check cashing store in a poor Hispanic neighborhood.

Hazy Hippo Employee Thwarts Robbery By Pointing Gun At Suspect. Authorities have released an image of a person accused of attempting to rob the Hazy Hippo shop in Loveland. The man reportedly threatened an employee with a baton on Tuesday [10/20/2015]. Investigators say the thief took off when the employee pulled out a gun.

Homeowner with gun finds man in his garage. Paul Jerome Wilson, 33, was arrested early Tuesday [10/20/2015] on suspicion of second-degree burglary, trespass of a dwelling and possession of burglary tools after a homeowner said he walked into his garage to smoke a cigarette and found Wilson inside the garage in the 400 block of 29 1/2 Road, according to an arrest affidavit.

JSO: Driver shoots attempted robber during pizza delivery. Police say a Domino's delivery driver was delivering pizzas [10/24/2015] near Timothys Landing off 103rd street when he was approached by two armed man, demanding money. The Jacksonville Sheriff's Office said the deliveryman grabbed his own gun and shot one of the suspects.

Man Shot While Allegedly Breaking Into Home. [Kentucky] State police say a Henderson County man shot someone who was breaking into his home Friday night [10/23/2015].

Woman with gun killed after breaking into home, police say. Police identified the woman shot and killed inside a Nottoway home Wednesday morning [10/21/2015] as 35-year-old Lakisha S. Knight of Crewe. Virginia State Police said Knight was shot and killed after she broke into a home on East Courthouse Road.

Toledo man shoots armed robber outside of home, reports say. Terrance Reid, 21, arrived home from his job as a welder at about 4 a.m. [10/20/2015] when police say he was approached in the front yard by Antonio Hadley, 40, of Toledo, just outside the house, WTVG Channel 13 reports. According to the Toledo Blade, Reid told police that Hadley had a handgun. Reid, who has a concealed-carry permit, pulled out a handgun and fired several shots at Hadley, who ran away, police say. Reid then called 911. "He was a little quicker on the draw and he shot the suspect," Toledo Police Lt. Joe Heffernan tells WTVG.

Armed bar employee shoots robbery suspect. Police said early Sunday morning [10/25/2015] Randy Thomas, 24, and another suspect entered a bar in the 4800 block of Erdman Avenue armed with guns. The pair robbed several bar patrons at gunpoint, according to police. An armed bar employee told Thomas he was calling the police. That's when Thomas reached into the front pocket of his hoodie, possibly for a weapon. The employee fired his gun, hitting Thomas in the abdomen.

Detroit pastor shoots, kills hammer-wielding church intruder. Cops say Deante Smith, 25, attacked the unidentified pastor [10/18/2015] and threatened several parishioners of The City of God church with a brick and hammer, FOX2 reported. Police said the attack was not random; the pastor and Smith knew each other and the two have had problems in the past.

Texarkana resident shoots suspected burglar during home invasion. Police are investigating a possible home invasion and shooting in Texarkana, Texas. The incident happened around 1:15 p.m. Tuesday [10/13/2015] [when] officers responded to a shots fired call in the area of Celeste and King Streets in the Beverly neighborhood. While checking the area, officers located Dakyree Hawkins, 20, of Texarkana, Texas lying in the street in the 600 block of Jerome St. suffering from an apparent gunshot wound to the upper thigh.

Customer shoots and kills armed robber in Charleston Waffle House: cops. A customer at a Waffle House in Charleston, S.C. opened fire on a would-be robber and killed him early Saturday morning [10/10/2015] — and will not be charged for the shooting, police said. "No one was hurt, which is the best part," Waffle House division manager Brandon Rogers told the Post and Courier. "No one was injured — besides the suspect."

Reseda ome invasion fails as 'victim' shoots at robber. An attempted home-invasion robbery in Reseda early Saturday [10/3/2015] didn't go according to plan when the intended victim grabbed a gun and shot at the intruder. The would-be robber fled into the night, and it wasn't known if the individual was was hit by the gunfire.

Trespassing suspect shot, killed in Greeley. Greeley Police confirm they have found the body of a trespassing suspect inside of a Greeley home. They're now trying to determine if the "Make My Day" law applies in this case.

Neighbor shoots aggressive dog involved in fight with another dog. The 60-year-old homeowner was bitten [9/29/2015] when she attempted to separate her fighting dogs, police said. The woman screamed for help as she feared the aggressive dog would kill her other dog. Armed with a gun, the woman's neighbor went to the house to assist her. The neighbor saw that the aggressive dog had the other dog by the threat and shot it twice. The shooting stopped the attack and the dogs were separated.

Homeowner shoots suspect during home invasion. A homeowner here shot a man who claimed he was with a gas company but tried to break into his home, according to the Harris County Sheriff's Office. The suspect was with another man who asked the homeowner where his gas meter was located Tuesday afternoon [9/29/2015]. The homeowner directed the two men to his backyard, but told deputies he was suspicious and grabbed a gun.

Woman, 66, knocked to ground, robbed at gunpoint in Treme. A 66-year-old woman was knocked to the ground and robbed of her purse by an armed man Thursday morning (Oct. 1) in the city's Treme neighborhood, New Orleans police said. The woman told detectives she was walking near the corner of North Villere Street and Ursulines Avenue around 9:40 a.m. when the man came up to her. Armed with a black semi-automatic pistol, the man ordered the woman to give up her property, police said. Her hesitation to follow his command angered the man, police said, and he knocked the woman to the ground. He then took her purse and left in a car of unknown make and model.

SAPD: Homeowner blasts burglar with shotgun. San Antonio Police said the two unnamed suspects broke into a man's home in the 500 block of Cumberland Road. He met his intruders with a shotgun. Investigators said the man hit one of the suspect's over the head with a shotgun, then shot the other suspect after he claimed he had a gun.

Homeowner shoots and kills alleged intruder. [Columbus] Police say a man is dead after he tried to break into a home and the homeowner shot him. William Evans IV 23, is the man who died in this shooting, on South Hampton Road on the northeast side. [...] Police are looking for a gold or light-colored SUV with two black males inside in connection with the crime.

Man Shoots Burglar with "Vintage" Revolver A 67-Year-Old disabled Rockland Maine man was tired of being burglarized and his medications stolen. He described himself as a "walking drugstore". He purchased what the reporter described as a vintage gun. Harvey said "I bought a gun. Best thing I ever did." On August 25, Harvey Lembo was on the phone to police when he shot the burglary suspect. Pistols are handy when one hand is employed on another critical task.

Victim with Concealed Carry Permit and two suspects shot during armed robbery at Detroit bank. Police continue to investigate a shooting that occurred Thursday on Detroit's west side at Warren and Asbury Park. Police say a 50-year-old resident of the neighborhood was going to the ATM at a Citizens' Bank branch when he was approached by two young men that police describe as being around 18 years old. Those young men were armed with a sawed off rifle and a handgun.

Robbery Attempt At Light Rail Station Backfires When Would-Be Victim Gets The Gun. A shooting late Wednesday night [9/2/2015] at a light rail station led to an arrest after the would-be robber had the tables turned on him by his victim. The shooting happened after 10 p.m. at 1250 5th Street on the Auraria Campus. Denver police say James Arellano, 21, from Westminster, had a gun and smacked a victim on the head while attempting to rob a man and woman on the C line after first harassing a pair of teenagers.

Burglary suspect shot in head, arrested. An Oakland man was shot in the head before he was arrested on suspicion of attempting to burglarize a home Wednesday morning [9/2/2015], police said. Officers responded to a report of a residential burglary at 11:13 a.m., according to El Cerrito police. They did not provide an address for where the incident occurred. The 85-year-old resident armed himself and met face-to-face with two alleged burglars after they entered his home by breaking in the back door, police said. The resident shot at the suspects, who immediately fled.

Fayette Homeowner Confronts Suspect With Gun, Thwarts Burglary Attempt. Fayette County deputies said a resident confronted a suspect at gunpoint and thwarted a burglary attempt, and officers are investigating the incident and another similar county burglary. Fayette 911 reported in the early-morning hours of Wednesday [9/2/2015] about a burglary in progress at a residence located at 19958 Midland Trail in Ansted, according to a news release from the Fayette County Sheriff's Department.

Pizza delivery driver shoots teen robbery suspect. Police say a Norfolk pizza delivery driver turned the tables on a teen robbery suspect. Officers were called to the 900 block of Galt Street around 9:30 p.m. Sunday for the report of a shooting. The investigation revealed a 15-year-old tried to rob a Chanello's pizza delivery driver at gunpoint. But, the driver also had a gun and shot the teen.

'No, you're dead,' man tells would-be robbers. A man opened fire on a group of would-be robbers outside his Orlando home. The victim, Eric James, told WESH 2 he noticed someone driving a minivan with the headlights off Sunday morning [8/30/2015]. One of the men in the vehicle then approached him in the driveway and demanded his money and threatened to kill him. James then says he pulled out his gun and fired about four to five rounds at the suspects.

Jonesboro PD: Woman shoots at robbery suspects. According to the incident report from the Jonesboro Police Department, a woman was in bed Thursday night [9/3/2015] at her home in the 2900 block of Willow Road when her dog started barking. She got up and said she saw two men, one on her front porch and another going to the back. The report states she warned the man at the front porch she had a gun. A few seconds later, she says he kicked the door open and she shot at him.

Apartment owner fires shot at burglar. Vancouver police rushed to the Bridge Creek apartments just after 10:15 p.m. Friday night [9/4/2015] on a call of a break-in. Police say the people who live in the apartment came home to find a man inside. One of them fired a shot at the burglar, who then took off out the back door.

Bear Showing No Fear Shot & Killed By Campers Near Winter Park. A bear was shot and killed by campers on U.S. Forest Service land near Winter Park on Sunday [9/6/2015]. According to Mike Porras with Colorado Parks and Wildlife, the bear came into the family's campground while they were present and went after some food that was out. An armed adult attempted to scare the bear by firing two shots but the bear didn't show any fear and wouldn't leave. The camper then shot and killed the bear and immediately reported the shooting to wildlife officers.

Homeowner shoots suspects during home invasion. Hartford police said a home owner shot two suspects who attempted to break into his Tredeau Street home late Saturday night [9/5/2015]. Police said they received calls just before 11 p.m. Saturday [9/5/2015] reporting a home invasion in progress at 109 Tredeau St. and that shots had been fired. When officers arrived they discovered the homeowner was approached by two suspects who pointed a gun at him. The homeowner, who is a legal pistol permit holder, was armed at the time of the incident and used his firearm to shoot the suspects several times.

Police: Home invasion victim fights back against four intruders, shoots and kills one. A home invasion victim fought back against four intruders, shooting and killing one of them, at a Gresham [Oregon] mobile home park Saturday night [9/5/2015], according to police.

11-Year-Old Kid Shoots Person Breaking into Home in Missouri. An 11-year-old child shot and killed an individual breaking into a home in St. Louis Thursday afternoon [9/3/2015]. Police said that the 11-year-old shot a single round from a handgun, killing a 16-year-old intruder who had entered the home in St. Louis County, the local Fox affiliate reported. The 16-year-old was one of two suspects who attempted twice to break into the home Thursday while the 11-year-old and a 4-year-old girl were inside alone. The now-dead suspect entered the residence through the front door after 2 P.M., upon which the 11-year-old shot the suspect. According to authorities, the second intruder fled the scene after shots were fired and has since been taken into custody.

St. Louis boy, 11, left alone with sister shoots and kills persistent teen intruder. An 11-year-old St. Louis-area boy left alone at home with his 4-year-old sister staved off several home invasion attempts before finally shooting and killing a 16-year-old intruder, according to police. At least one neighbor, however, offered a different account of the shooting, telling CNN affiliate KMOV that the boys were arguing on the front porch before the younger child pulled out a gun and shot the teenager. The incident occurred Thursday afternoon [9/3/2015] in north St. Louis County. Police called to the home discovered the teenager's body lying in the front foyer.

11 Year Old Thwarts Home Invasion With A Gun, Cops Criticize Mother. An 11-year-old boy shoots an almost 17-year-old who had broken into his home, saving his 4-year-old sister and scaring away another burglar. The burglars repeatedly tried to break into the home, finally succeeding on their third attempt. The mother apparently purchased the handgun because of several previous attempted break-ins of her home. One can only imagine the relief that the mother had that her children were safe. Yet, the reaction from police and authorities was to question why the gun was so easily accessible.

Also posted under Please refrain from defending your own life and property.

"Good Guy With A Gun" Store Clerk Kills Armed Thug To Defend Self, Customer. Ahmad Samhan was simply trying to make a living at his family's convenience store in Wauconda, Illinois Sunday night when a masked man came in and pointed a gun at him and another customer in the store, and demanded money. Instead of giving up the store's $20s, Mr. Samhan instead opted to give the robber .40s.

Left Freaks Out After Sheriff Says Gun Could Have Saved Woman's Life. Guns are tools. Sometimes, a tool can be used for good and sometimes it can be used for malice. Every day in America, guns save the lives of police officers, of soldiers and of common citizens. When one sheriff highlighted that a woman could have been saved by a gun, the left did not like his candor.

Lantana Homeowner Shoots Intruders; 1 Dead, 1 Injured. A homeowner comes home to find two people in his house. After several shots were fired, one of the intruders is dead and the other is wounded.

2 men attempt to rob, rape elderly woman in her Monterey County home. Two men armed with knives entered the home and made their way into a bedroom, where they tried to rob and rape an elderly woman, according to sheriff's officials. The woman was able to defend herself with a firearm, sheriff's officials said.

No charges to be filed in South Bend home invasion shooting. The investigation revealed that the homeowner returned to his home and found a person had entered his dwelling unlawfully, and was still in the home. When the homeowner confronted the uninvited trespasser (identified as Curtis Trent), a physical confrontation ensued. During the course of the encounter, a shot was fired. Mr. Trent subsequently died from his injuries.

Texas Pastor Shoots Intruder. Some people are under the impression to that to be a Christian, one must be a pacifist. That isn't the wisest of assertions, as a serial criminal breaking into The Church of New Beginnings in Baytown, Texas, learned the hard way.

"Because They Take The Money, I Shoot Them.". One of these days criminals are going to learn that armed robbery is not a smart career in a nation where citizens are increasingly obtaining firearms and quality training in defensive gun use. Wednesday [6/17/2015] was not that day.

Houston Store Clerk Kills Two Of Three Armed Robbers. A family-owned convenience store was the target of a trio of armed robbers Monday [7/13/2015] in Houston for the second time in two weeks. The violent thugs stormed into the store and began pistol-whipping the men behind the counter. They didn't apparently see the clerk on the floor, who drew his concealed weapon and started dispensing instant justice.

Female Concealed Carrier Shoots Knife-Wielding Robber In Houston. The robber clearly thought that he had the upper hand, and the woman appears to have played the situation she was presented about as well as anyone could. She feigned compliance before putting a bullet into the bad guy, forcing him to flee for his life. She appears to have escaped injury entirely. The bad guy had to be life-flighted to Texas Medical Center due to blood loss, but they were able to stabilize him and he will be facing charges of aggravated robbery.

No charges after Morgan man wounds two intruders. No charges are expected to be filed against an elderly man who shot two people who were trying to break into his home. Morgan County Chief Deputy Steve Cochran said the shooting happened early Tuesday [7/28/2015] in the Petros community. The man's neighbors are supporting his act of self defense.

Victim returns gunfire with suspects in home invasion. According to the CPD [Conyers, Georgia], the brother awoke just before 3 a.m. to a loud bang and saw his bedroom door had been forced open. "He advised he immediately shut the door and went to look for his gun, thinking someone was in the house," the incident report states.

Boulder police: Armed witness rescued woman from attempted murder outside church. Police describe Heriberto Haro-Luna, drunk and incensed, confronting his recently estranged wife in a Boulder church parking lot, trapping her by the neck and threatening to slit her throat as she uttered final prayers. It was just before 6 p.m. Thursday [7/30/2015], and an employee of Sacred Heart of Jesus, at 14th Street and Mapleton Avenue, happened to be walking to his car — with his concealed handgun — as the confrontation simmered.

Armed senior 'Santa' thwarts home invasion in Redford Township. Ron Henrick is 79 and in his retirement likes to work as a clown and as Santa Claus every Christmas. When one of his neighbors busted into his house, Santa grabbed his 12-gauge shotgun. "I was going to shoot his a**," said Henrick.

Cincinnati man shoots at 1-year-old boy, is shot by man with concealed carry permit. A 62-year-old man with a gun in each hand fired at four people — including a 1-year-old boy — before a civilian with a concealed carry permit returned fire and wounded the shooter, cops told FOX19. Thomas McCary is being held without bond on four counts of felonious assault.

Woman who shot alleged attacker may have slain a serial killer, police say. A woman in Charleston, W.Va., may have saved her own life and the lives of many other women, as well, when she shot and killed an alleged attacker in her home last week. Neal Falls showed up at the woman's home on July 18 after answering an escort ad she had placed on Backpage.com, according to police. He showed up with a "kill list," multiple pairs of handcuffs and a Subaru full of weapons and tools, including a shovel, knives, a bulletproof vest, a machete, bleach, trash bags, sledgehammers and axes, according to Fox affiliate KPTV.

Store Clerk Shoots and Kills Robbers But The Police Are Saying He Shouldn't Have. A convenience store getting robbed in a bad neighborhood isn't really newsy or Earth shattering. But in this case, two happened on the same day in different states... and with different results.

Lynne Russell, former CNN anchor: Second Amendment saved our lives. Former CNN anchor Lynne Russell is giving credit to the Second Amendment after her husband fatally shot an armed felon who opened fire on them in their New Mexico motel room last week. "The discussion over the debate to own a gun is just ridiculous," she told Fox News. "As Americans we have the right to bear arms and as humans the right to protect ourselves. I'm sure that the man who shot my husband did not have a gun permit. Criminals will always have guns. The rest of us legally obtain our gun permits," she added,

Lynne Russell, ex-CNN anchor, and her husband are alive thanks to a gun. Lynne Russell and her husband, Chuck de Caro, believe they would be dead if she hadn't been carrying a gun. Late Wednesday night [7/1/2015], Russell was forced at gunpoint from a motel parking lot into her room. The robber, not satisfied with merely taking her husband's briefcase, started shooting at him. Fortunately, Russell had handed de Caro her purse, with her handgun inside it. De Caro shot the attacker, who later died at the hospital.

Police identify motel intruder shot by ex-CNN reporter. Tomorio Walton had absconded from parole out of Memphis, and it wasn't clear how long he had been in New Mexico, Albuquerque Police Department spokesman Tanner Tixier said late Thursday [7/2/2015].

Police Identify Armed Gunman Who Attacked Former CNN Host and Husband. Former CNN anchor Lynne Russell was also a deputy sheriff, private investigator and martial artist. Her husband, Chuck de Carlo, who also reported for CNN, is an ex-special forces man with a biography well versed in defending himself. Together they had his and hers guns with them in their hotel room. Perp picked the wrong couple to mess with.

Restaurant Cook Shoots Armed Robber, Protecting 20+ Lives In Detroit. Customers at a Detroit restaurant are calling an employee a hero for shooting an armed robber that pointed a gun at customers during a Sunday morning [6/21/2015] holdup: [...] It isn't clear at this time whether the cook who shot the robber was carrying a concealed weapon, or whether he had the firearm placed somewhere in the building. What is clear is that Detroit homicide detectives investigating the scene are looking at this as a presumed case of justified self-defense.

Two Suspects Shot In Reported Armed Burglary Attempt. In talking to the victim, Investigators say only one individual actually tried to enter the home. That intruder was hit multiple times when the resident shot at him. However a second man waiting outside in the car that took the intruder from the scene was also hit by a bullet from the gunfire.

Off-Duty Corrections Officer Fatally Shoots Robbery Suspect in Queens. Police say the suspect walked up to a group of men standing with their motorcycles in Ozone Park [6/13/2015] and pointed a gun, demanding they turn over the keys to the motorcycles. When officers arrived, they found the suspect lying on the ground with a gunshot wound to the head.

Report: SW Atlanta homeowner shoots, kills suspected robber. A man was at his home on the 200 block of Howell Terrace [in Atlanta 6/14/2015]] when two men tried to break in, according to Channel 2. Police told Channel 2 he fought back, overpowering one of the suspects and shooting him multiple times.

Teen With Fake Gun Shot Trying To Mug Concealed Carrier With Real Gun. Note to bad guys: You never know who is legally carrying in Florida. Best be quick about your business or pick another line of work. But, if you're not going to heed either, please DO keep bringing plastic guns to a gun fight.

KPD: Bystander shoots, kills robber at East Knoxville convenience store. [Knoxville] Officers responded to the Breadbox located on the 6200 block of Asheville Highway around 2:35 a.m [6/15/2015] after receiving a call that shots had been fired. When officials arrived, they found Tamon J. Stapleton, 18, dead with a gunshot wound. Police say Stapleton, armed with a 9mm handgun, had entered the store and was forcing the female clerk behind the counter at gunpoint.

Man shot during break-in at Winston-Salem home. The homeowner was woken up [6/15/2015] by an alarm activation on his property and responded outside to check. While investigating the alarm activation, the homeowner told FOX8 he saw at least one person inside his shed. He then discharged a firearm.

Man shot, killed during alleged robbery on east side. A man was shot and killed [6/13/2015] during an alleged robbery on the city's east side, according to Indianapolis Metropolitan Police Department. [...] A man told police that he shot someone who was robbing him, IMPD said.

Police: Man shoots burglar who used doggie door. A man who officers say broke into a home through a doggie door was shot by the homeowner Thursday morning [6/11/2015]. [...] Preliminary information at the scene indicated the suspect got into the home through the doggie door before they were spotted by the homeowner inside the house.

Woman fires at home burglars: 'I let loose on them'. Five men who broke into Dietta Gueye's east side home early Tuesday morning [6/9/2015] got more than they bargained for when the 34-year-old woman opened fire at them with the 9 mm Glock she keeps by her bedside. "They weren't ready for that 9 I had," she chuckled from a lawn chair in front of her house hours after the home invasion.

Shooting victim pulls gun on attackers. According to the Orange County Sheriff's Office, a 25-year-old victim told deputies he was walking home [6/14/2015] when several people got out of a silver-colored car and began shooting at him. Deputies say the victim pulled out his own gun and returned fire.

Three Alleged Armed Robbers Pick the Wrong Victim: 1 Dead, 1 Critical, 1 Wounded. On May 29, three black males walked up to three white males moving into an apartment and allegedly demanded money at gunpoint. One of the three residents pulled a gun and opened fire, killing one on the alleged robbers, critically wounding a second, and injuring the third. The incident occurred around 11 pm in Aurora, Colorado.

Verdict in Squatter Shooting Case: Not Guilty. It took the Sparks NV jury fewer than 7 hours last night to find 74-year-old Wayne Burgarello not guilty of all charges in the shooting of two squatters, one of whom died of his injuries, reports the Reno Gazette Journal. Burgarello had been charged with murder for the death he caused and was also subject to conviction on the lesser included charge of manslaughter; he was also charged with attempted murder for the victim who survived.

Nevada jury finds man not guilty in killing of unarmed trespasser. Accused of murder for confronting two unarmed trespassers with a deadly barrage of gunfire, Wayne Burgarello walked out of a Nevada courthouse a free man after the jury found him not guilty of all charges in the latest of a series of cases nationally testing the boundaries of stand-your-ground self-defense laws.

Sheriff Appreciates Armed Homeowner. Armed citizens and local Sheriff departments make an almost unbeatable combination when they work together, resulting in low crime rates. It is only when a sizable percentage of the population do not trust the local peace officers, and refuse to cooperate with them, that crime rates skyrocket. Conversely, when local peace officers show that they respect and appreciate armed citizens, it builds mutual trust and respect.

Police: Eagle River man shot, killed bear in his yard. An Eagle River man shot and killed a "large male black bear" that he said was threatening him and his dog at his home Saturday afternoon [5/16/2015], according to Anchorage police. Anchorage area biologist Dave Battle said the incident appears to be the first reported self-defense killing of a bear in Anchorage this year.

Mass Killings Stopped by Armed Citizens, Updated. Mass Killings Stopped by Armed Citizens has been my most popular article. It was published on 16 December, 2012. I had been collecting these incidents for a few years, ever since I noticed that the old media gave them virtually no coverage. They received a little local coverage, but were ignored/spiked by the national media. In the original publication, there were eight incidents. Readers quickly brought more to my attention, swelling the list to fifteen. Over the last two years, seven more incidents have been added.

Cops shoot hammer-wielding suspect in Midtown. Dramatic video released by the department shows career criminal David Baril, 30, strike Police Officer Lauren O'Rourke three times with the weapon before her partner opened fire around 10 a.m. on Eighth Avenue and West 37th Street. Officer Geraldo Casaigne saved his partner's life, Police Commissioner Bill Bratton said. "These officers had no chance to call for assistance — they acted quickly and instinctively," Bratton said.

Winterville police identify man killed in Friday night home invasion. Police have released the name of the man killed Friday night [5/8/2015] during a home invasion in Winterville. James Daley of Farmville died after police say he was shot while forcing his way into the home on Ashley Meadows Drive around 10:40 p.m. Daley was the estranged husband of one of the residents of the home, according to officers.

Minerva area home-invasion ends in death for intruder, sheriff says. A suspect in an early morning [5/9/2015] home invasion-style incident is dead after the homeowner apparently shot him, according to a news release from the Columbiana County Sheriff's Office.

Albuquerque Police: No charges for Los Altos Skate Park shooter. Police say they've identified the person who killed a teenager at a northeast skate park in March, however, that shooter is unlikely to face any charges. Albuquerque Police released new information in the Los Altos Skate Park shooting on Friday, including more than a dozen screen shots from a cell phone video of the shooting. 17-year old Jaquise Lewis was killed in the shooting, however, police say it appears the man who killed him fired in self-defense. He likely won't be facing charges, unless witnesses can prove otherwise.

Pregnant woman, 8-year-old attacked by rabid fox. "I turned around, I just saw the dust here, the kid was on the ground," Martin said. "So I immediately ran over... I got him against the fence, I kicked him a bunch of times. I thought he was dead at that point." But after a few moments, Martin said the fox got up and began charging the family again, so he grabbed his gun and shot the fox three times.

Man Draws, but avoids Shooting. I ran across the street to get away from the woman, and then the men advanced toward me. One of the men wore a red sweatshirt, the other had no shirt on. The man with no shirt on began running toward me, so I told him "I'm not getting in a fight with you stupid, I've got a gun on my hip!" #vc

Armed Citizen Saves Officer Under Attack In Oklahoma City. A rookie Oklahoma City police officer became separated from his partner during a foot pursuit and managed to close in on the robbery suspect they were chasing. The suspect managed to get control of the officer's baton and started striking him in the head repeatedly, and the incident might have become another murder of an officer in the line of duty if it wasn't for an armed citizen stepping in to save the day.

Witness Pulled Gun On Burglary Suspect Who Was Beating OKC Officer. New information is coming out regarding the rookie Oklahoma City police officer who was beaten by a suspect with his own baton following a burglary on the northwest side of the metro. An armed witness may have been the only thing that kept that officer from a more serious beating, or worse. It happened just after 2 p.m. Tuesday [5/5/2015] in the 2800 block of W. Park Pl. Rookie Officer Adam Eller and field training officer Sgt. Michael Lambert were responding to the burglary call.

It Takes a Good Guy with a Gun to Defend Freedom of Speech. The traffic cop with a pistol took on two terrorists in body armor, armed with assault rifles and extra ammo. And when it was over, two Muslim terrorists were dead and freedom of speech was alive.

Instead of Mercedes, Carjacker gets bullet to the chest from armed citizen. In one of those feel good stories that the lamestream media assures you never happens, a carjacker was stopped dead in his tracks (literally) when he decided to jack a car in the wrong parking lot.

Detroit police: Homeowner shot, 1 killed during home invasion. A Detroit homeowner is recovering after being shot early Monday morning [5/4/2015] during a deadly shoot-out with someone who broke into his home.

Pleasant Grove man shoots and kills alleged home intruder. A Pleasant Grove man shot and killed a man who allegedly was trying to break into his home Sunday [5/3/2015].

No charges in fatal home invasion shooting. The man who fatally shot a home intruder in December [12/9/2014] will not face charges. 77-year-old Bobby Shaw told police he was inside his home in Tyler when he said 44-year-old Luke Garrison broke in. Shaw fatally shot Garrison with a shotgun.

HPD: Employee shoots, kills would-be robber in east Houston. According to HPD, an employee was carrying a bag as he arrived to work [4/30/2015]. When he got to the door of the business, a robber put a gun to his back and demanded cash. The worker had a concealed handgun license and was hiding his own gun underneath the bag. When he turned to face the robber, he shot the robber two to three times in the chest.

Armed Man Stops Crime Spree, Media notices! A small number of violent criminals commit a large number of violent crimes. These criminals only recognize naked force; sometimes the person with a gun who stops them is a victim who is armed; sometimes it is a concerned citizen; sometimes it is the police. In this case in Utah, the criminal committed multiple crimes in one morning, with multiple warrants for his arrest pending prior to that.

Sometimes Violence is Apparently the Answer. Whatever you think about how offensive it is and whether it should or should not have occurred, the only thing that people should be saying today is that no one should have been shot for attending. Yet instead of condemning the shooters, most liberals are focused on condemning the fact that the event occurred.

Shotgun, dachshund thwart Fla. thieves. A St. Petersburg woman credits her shotgun and her dachshund for fending off would-be robbers. Maryanne Benedict took protecting her safety and home into her own hands today. Thieves hopped her fence in broad daylight at the home on 33rd Avenue North Friday afternoon [4/17/2015].

Boyd County Homeowner Fatally Shoots Intruder. It happened Saturday [4/4/2015] on Oneal Drive in Rush, Ky. Police were called to an alleged burglary which resulted in Gregory W. Coddington being fatally shot by the homeowner.

Attempted robbery suspect arrested after armed Burbank resident scares him off with warning shot. A 42-year-old man was arrested Friday evening [4/3/2015] after he allegedly attempted to rob a Burbank home but was scared off when a resident armed himself and fired a warning shot, police said.

Citizen shoots suspected car thief after woman jumps on car hood. A gun-toting citizen possibly saved a woman's life Friday [4/3/2015] when he shot a thief who was trying to drive off with her car, Smyrna police said. That is because the woman climbed on the hood of her escaping Honda, apparently intent on stopping the theft from a car wash. That prompted the driver to speed up, witnesses told Channel 2 Action News.

Cedar Lake woman fires gun, scares off intruder. A Cedar Lake woman fired a shot from her handgun, scaring off an intruder who had entered her home early Friday morning [4/3/2015]. The incident occurred at 1:05 a.m. Friday in the 7700 block of 134th Place. Cedar Lake Police Chief Jerry Smith said the woman told police she was in an upstairs bedroom sleeping when her barking dogs woke her up.

Warning shot fired during attempted home invasion in Sanford. A warning shot was fired from a Sanford house during an attempted home invasion [3/31/2015], according to police.

Intruder shot by Detroit homeowner after breaking into house. Authorities say a 21-year-old man was shot Monday [3/30/2015] when he broke into a home on Detroit's east side. Police say a 29-year-old woman was upstairs when someone broke into her house in the 5500 block of University Place.

Suspect Shot, Killed During Robbery Attempt. Police have released the identity of the would-be robber who was shot and killed [3/30/2015] after barging into a store and attacking the owner with a box cutter.

Armed 84-Year-Old Saves Wife From Punk. Being 84 years old does not necessarily mean being a victim — not so long as our precious natural right to bear arms is honored: [Video clip]

Catawba County Sheriff Coy Reid Supports armed Defense of Home. A homeowner shot an intruder in North Carolina on Monday, February 23, 2015. An accomplice escaped. The pair broke in through a basement window, then broke down a door to gain access to the house. The homeowner called 911. He armed himself with a 12 gauge shotgun. When the intruders kicked open the basement door and approached him in a hallway, the homeowner shot one once in the chest. The intruder died at the scene.

Police: Justified self-defense in North Austin homicide. An Austin police sergeant said Monday [2/23/2015] that a fatal shooting in North Austin on Saturday appears to be an example of justified self-defense. Sgt. Brian Miller with Austin police's Homicide Unit said Castle Doctrine should apply in the killing of 26-year-old Ray Anthony Arredondo. A resident of a North Austin apartment shot and killed Arredondo after he broke into the tenant's home and threatened him with a gun. "He has the right to defend his homestead," Miller said.

Suspected armed robber shot dead in West Virginia pharmacy. Pharmacist Don Radcliff fatally shot 25-year-old Terry Gillenwater last Wednesday morning [2/18/2015] after he allegedly brandished a gun at workers at the busy Good Family Pharmacy in Pinch, West Virginia who had joked earlier about his masked appearance. Despite the fatal shooting occurring in the morning, the shop was open and ready for business in the afternoon with the owner saying, "we cleaned it up pretty quickly and got back to work."

The Editor says...
Excellent. Don't stop for a moment of silence, bagpipes, grief counselors, a balloon release or "closure." Mop the floor and get back to work. The message to the next armed robber will be crystal clear: You will be killed on the spot and immediately forgotten.

Tulsa Residents Are Lawfully Killing Bad Guys At A Rate Of 1 Every 10 Days. We're only 50 days into 2015, but those 50 days have been wild ones in Tulsa, Oklahoma, and a bad one for criminals. Tusla's residents have already put five bad guys in the ground in shootings that have been ruled justifiable self-defense. It's not a trend that anyone expects to continue. There were only eight legal homicides in Tulsa in all of 2014, and only two of those incidents involving average citizens. The other six justifiable homicides in Tulsa in 2014 involved police officers.

How many people are alive because one man ignored Sonic's request to leave his handgun at home? On February 8[,] 2015, a customer who ignored Sonic's request that "customers refrain from bringing guns to the restaurant" was able to pull his gun and shoot one of three alleged armed robbers, killing him and stopping the would-be robbery.

1 killed in Owens Cross Roads home invasion. One person is dead following a home invasion in Owens Cross Roads Monday night [2/9/2015]. [...] According to WHNT, the homeowner told deputies that at least two men broke into his home, at which time he opened fire in self-defense.

Woman Kills Sex Offender Breaking Into Her Home In Texas. A woman living near Canton, Texas, didn't follow the Moms Demand Action playbook when a serial felon and sex offender attempted to break into her home. She didn't cower impotently in fear. She didn't place a desperate, fruitless 911 call, screaming for a police officer or deputy that would never arrive in time to save her. Actually, that isn't entirely true. She did eventually call 911, but only after she shot sex offender Chris Foster dead.

Police: Suspected burglar shot in apparent home invasion. Police said the homeowner saw the suspected burglar in the kitchen and shot him. The suspected burglar was taken to a local hospital in unknown condition.

Police say 11-year-old girl used her own shotgun to scare off robbers in Lapeer County. An 11-year-old girl used the shotgun she normally keeps to go hunting with her father to scare off a robber in her home, police said. The girl was alone at her North Branch Township home on Five Lakes Road about 3:45 p.m. on Jan. 30 when police said she surprised burglars who had broken into the house.

Terrifying footage shows man kicking down apartment door wielding a machete. Twain Thomas, 54, from Potacello, Idaho, was threatening residents with the weapon in his building in February 2013, when he kicked down the door of James Cvengros and his girlfriend Kaila Gearhart's home.

Taco Bell Thief Demands Victim Drop Pants, Victim Kills Him. On Tuesday [1/13/2015], an armed man approached a patron in a Taco Bell parking lot, demanded he drop his pants, and was subsequently shot and killed. The attempted armed robbery took place in Pompano Beach, Florida.

Tulsa Convenience Store Reopens After Clerk Shoots Attempted Robbers. Two of the four suspects that attempted to rob a store clerk are now behind bars; the other two were shot and killed by the clerk. Police said the men went into the Ryan's convenience store near 21st and Mingo Wednesday night [1/14/2015], wearing masks and carrying guns. They said they fired one shot at the clerk but he fired back twice, killing two of the suspects.

Pasadena man holds burglary suspect at gunpoint while waiting for police. Pasadena Police Lt. Kelly Evans said a man attempted to enter a home [1/7/2015] through a back door. "When confronted by the resident, he entered the garage," Evans said. The man then got inside an unlocked vehicle in the garage. He said the resident detained the suspect at gunpoint until police showed up.

Pizza delivery driver shoots armed robber in DeKalb County. When she arrived, the unnamed driver was met in the driveway by a 24-year-old man who acted like he was picking up the delivery. The man pulled out a gun, forced the driver out of the car, and attempted to rob her. The victim was armed with a handgun she was able to retrieve from her pocket and shot the suspect. A second suspect got into the victim's Silver Honda and drove away.

Update:
Papa John's Pizza stands by employee who shot armed robber in self defense. The pizza franchise told FoxNews.com Thursday [1/15/2015] the employee, who hasn't been named, will not be fired from the company. The employee was making a delivery in Decatur, Ga., Sunday night [1/11/2015] when a man approached her vehicle, forcing her onto the ground at gunpoint, according to the DeKalb County Police Department. The woman, who had a gun in her pocket, was able to fire at the man while on the ground — striking the alleged assailant, identified as 24-year-old Donquaz Stevenson, in the face.

More commentary on the Papa John's case:
On Firearms, Liberalism Breeds Confusion. [Scroll down] But wait! This particular driver believed — evidently correctly — that she was delivering in a hazardous area, and that she would be safer if she were armed. Carrying a gun may have saved her life. Why, exactly, does Papa John's think that a company policy banning firearms makes its employees safer? On the contrary, isn't it possible that the criminals who planned this carjacking were aware of the policy and singled out Papa John's precisely because they believed the driver would be an easy target? Isn't it likely that Papa John's is endangering its drivers by publicly disarming them?

Business owner shoots, kills intruder. Police say a Jackson man was defending his business when he shot and killed an intruder on Saturday [1/10/2015]. Jamie L. Rose was declared dead on the scene at First Line Automotive on Highway 80 and Gault Street after police say he was trying to break into the store.

Pueblo Police Say Man Shot During Reported Home Invasion. Pueblo police are investigating a reported home invasion that resulted in a shooting early Saturday [1/10/2015]. Authorities say the homeowner in the 1700 block of East 3rd used a gun to defend himself. A short time later, a man was found injured in the street.

Hurst Resident Shoots & Kills Robbery Suspect. A homeowner in Hurst was shot while confronting a robbery suspect on Thursday night [1/8/2015], but was then able to return fire, killing one suspect and wounding another man.

Female Gun Store Owner Shoots 3 Robbers Who Killed Her Husband. The owner of a women's gun shop has died following a shootout during which he and his wife took down three of the four armed robbers who burst into their Kansas-based store, police have said. John Bieker, 44, and his wife, Rebecca, reportedly got into a gunfight with the men after they attempted to rob She's a Pistol in Shawnee, suburban Kansas City, at around 2.15 pm on Friday [1/9/2015].

Homeowner shoots, kills suspect during home invasion in SW Houston. One man is dead after a suspect was shot and killed during an attempted home invasion late Wednesday [12/24/2014] in southwest Houston, police said.

14-Year-Old Stops Home Invasion. [Scroll down] A few minutes later, Anna Marie Wyant told a 911 operator what had happened. "The man was breaking into the window," she told the operator. "He was halfway in the window. My grandson told him to stop and get out of here and he didn't so my grandson shot him. ... Somebody just broke in the house and we shot him."

Homeowner shoots, kills burglar. The owner shot the intruder "an unknown number of times," according to police. When the shooting ended, the man who had burst through the window lay dead on the kitchen floor. The homeowner's sister said the intruder left her brother no choice.

Retired Homeowner Shoots Two Female Intruders. A retired man, 60, was inside his home Wednesday [10/29/2014] in Atascocita, Texas when two females began banging on his door, according to Your Houston News. [...] Lt. [Walter] Stensland states what happened. "They knocked on the door several times. There was no answer and at that time they obviously didn't think anyone was there and they broke a window and gained entry." As the two intruders broke the window by the front door, and began unlocking the door, that is when the homeowner made his second call to 911 informing them he had a shotgun.

Orange County homeowner shoots, kills intruder. An early morning robbery Tuesday [11/25/2014] turned deadly when the homeowner turned the gun on the intruder.

Homeowner shoots intruder in burglary attempt. About 3:35 a.m. Saturday [10/4/2014], officers were sent to a home on Woodstone on reports of an activated burglary alarm and that the homeowner shot someone who was attempting to break in, Amarillo Police Department Sgt. Brent Barbee said Monday. When officers arrived, they found the homeowner and a man on the ground in the backyard of the home, near a rear-entry driveway. The man had a serious gunshot wound in his thigh, police said.

Man shoots would-be iPhone robber, NOPD says. A man who was robbed of his iPhone shot the would-be robber in the chest Friday night [11/21/2014] in the city's Gentilly neighborhood, New Orleans police said.

Armed Victim Thwarts Attackers. It's not often a victim sends his attackers off running, but that's exactly what happened at this motel Wednesday morning [11/19/2014]. [...] Police say two men with their faces covered forced their way into the victim's room. During the scuffle, the victim was shot in the arm.

Suspect Can't Cover it All; Customer with CCW Shoots Him. Tyerre Allan was only 25 years old, and he just got out of jail for a robbery that was done years ago. Police say he was already a suspect in other crimes. [...] There were five or six customers in the Indiana Cash America Pawn shop, as well as 3-4 employees. It appears that Tyerre, just out of jail, tried to ply his trade. [...] A customer pulled out his own gun, and it did not end well for the recently released felon.

Deputies: Homeowner scares off attempted break-in suspect with gun. Anderson County K-9s were assisting in the search for a person after a reported attempted breaking and entering. Deputies said a homeowner on the 1500 block of Big Creek Road fired a gun to scare off the person trying to break in on Thursday afternoon [11/20/2014].

Alleged intruder shot in Berry Creek home Monday night. A man was shot twice Monday night [11/17/2014] after he allegedly forced his way into a Berry Creek home, according to authorities. Deputies found Albert Sprague with at least two gunshot wounds outside a residence on Simpson Ranch Road, according to a press release from the Butte County Sheriff's Office. [...] Sprague told deputies he was shot by the home's occupant, according to the Sheriff's Office.

Garvin County Woman Cleared Of Wrong Doing In Boyfriend's Death. A Garvin County woman, arrested in connection with the shooting death of her boyfriend will not face any charges. 32-year old Jessica Hopper was arrested last week after deputies responded to reports of a shooting at a home Hopper shared with Felix Clayton Williams. [...] The sheriff's office says investigators determined that Hopper was being assaulted and acted in self defense when she shot Williams.

Man killed in North Side shooting; shooter tells police it was self-defense. Columbus police say no charges have been filed in a Friday night [11/21/2014] shooting on the North Side that left a 49-year-old man dead. The shooter said he fired in self-defense.

Rosedale man shot another when attacked. A 74-year-old man trying to help his female neighbor shot another man in self-defense Friday [11/21/2014] when he came upon the woman's apparent stalker.

KY: Armed Woman Stops Theft of her Gun. Women are the fastest growing segment of the gun culture. It has been reported that minority women benefit the most from the legal carry of guns. Stephanie Carter notes that in Texas, the fastest growing demographic of concealed handgun permit holders is black women. The ability to be legally armed brings about a profound change of attitude.

Teenager stops home burglary. "I was home sending an email to my teachers about homework when my dogs started barking and I looked out the window but I didn't see anybody there so I went to the top of the stairs with the gun to make sure there wasn't anybody downstairs and then that's when the door opened and I saw him," said Justin Kugler. Kugler says he was pretty scared because he noticed Roberts had a knife on him, but he was armed and ready for Roberts at the top of the stairs.

Man Shot and Killed by Homeowner in Home Invasion. A spike in crime has some homeowners taking matters into their own hands. This is all after a man accused of breaking into a home along Campbells Creek Road was shot and killed Wednesday morning by the homeowner. The accused robber, Robert Andrew Carter, 31, died on the scene.

District Attorney: Colorado Springs burglary shooting was justified. The Fourth Judicial District Attorney's Office said their investigation found a 59-year-old resident of a home in that area was awakened by the sound of an intruder. While investigating the noise, she heard the sound of breaking glass and saw someone pushing in the window blinds and beginning to crawl in through a broken window. Although she warned the intruder to stop and told him she had a gun, the intruder continued to enter the home, the investigation found. Even after the woman fired a warning shot, the intruder continued crawling into the home.

This gunshot may or may not have saved a victim's life, but the robber lost his.
Police say man dumped at northwest Dallas gas station was shot while committing robbery. Dallas police say a man who was fatally shot and dumped at a northwest Dallas gas station Wednesday night had just committed a robbery. Saeid Ardestani, 56, was found wounded about 6:15 p.m. at the Valero station at Webb Chapel Extension and Larga Drive. Surveillance video shows a man and woman leaving him there and speeding off after calling 911.

State attorney: Man who killed biker justified. A biker who shot and killed another biker outside a Jacksonville Beach restaurant in June was justified in doing so, State Attorney Angela Corey announced Friday [11/7/2014]. Corey said Kristopher Stone was attacked by 40-year-old Zachariah Tipton and suffered great bodily harm before he pulled his gun and shot Tipton while in the parking lot outside Nippers Beach Grille about 8 p.m. June 26.

Man shoots 400-pound bear that twice tried to get at dog food. A Florida man shot and killed a 400-pound black bear after it broke into his house two nights in a row to get to a bag of dog food, a state wildlife officer said on Friday [10/245/2014]. "I felt in danger enough that since it wouldn't leave I had to shoot it," said Victor Peters of Lady Lake of the Wednesday night [10/22/2014] incident in a video interview posted online by the Orlando Sentinel.

Intruder dead in Bellevue apartment shooting. An armed intruder is dead after a homeowner opens fire. Bellevue Police released the results of a preliminary investigation after more than 12 hours on the scene [10/25/2014].

Hero Grandpa — North Carolina Home Invasion. Grandpa was shot multiple times by three thugs yet he did not stop shooting back. He killed one thug and wounded two thugs who were arrested in the hospital. Grandpa is in an Intensive Care Unit.

New details emerge on Canada shooting suspect. The booming sounds of gunfire filled the halls of Canada's parliament as security forces spotted the suspected shooter. Streams of people fled from the building as police rushed to secure the area. The violent spree ended when 58-year-old sergeant-at-arms Kevin Vickers shot and killed the alleged gunman. Vickers has a ceremonial role but is credited for stopping the attack outside a caucus room where members of parliament were holding meetings.

Two Pennsylvania lawmakers involved in shoot-out with would-be robber near Capitol. After a day of votes and then an event for a fellow House member, two freshman representatives, Marty Flynn, D-Lackawanna, and Ryan Bizzarro, D-Erie, were a few blocks from the Capitol on their walk home a little before 11 p.m. Tuesday when a man pointed a gun and demanded a wallet, Mr. Flynn said. When the man trained his gun on Mr. Bizzarro, Mr. Flynn drew his own weapon, a Smith & Wesson Bodyguard 380 pistol, he told reporters.

Man pulls 13-inch knife during fight at Northeast Philadelphia Pathmark, gets shot. A man who brought a knife to a gunfight at a Northeast Philadelphia supermarket late Sunday afternoon learned the hard way that picking an argument with a stranger can be a pretty bad idea.

Single customer wins shootout with four armed robbers in Texas bar. A rather startling story out of Texas from early Saturday morning [10/4/2014] comes our way and it puts a bit of a twist on the old saying about a bad guy with a gun and a good guy with a gun. This tale actually involved four bad guys.

Illinois Concealed Carry Works: Attempted carjacking thwarted in Chi-town. Concealed carry saves lives and deters crime. It happens each and every day throughout America. And now that Illinois has right-to-carry, it happens a lot more often in Illinois — even Chicago, home to some of America's strictest gun laws. You didn't read about this incident in the Chicago Tribune or Sun-Times because it doesn't fit the media's template of irresponsible gun owners!

Turlock woman turns the table on robber. The female victim was sitting outside her residence [9/21/2014] when she was accosted by an unknown black male subject. The man grabbed the woman's hair and put a gun to the back of her head, said Turlock Police spokesperson Officer Mayra Lewis. The suspect searched the woman's car and when he didn't find anything in there, he told her to take him inside and hand over her money and credit cards. Inside the home the woman told the robber the items were stored in a safe. She opened the safe, but instead of pulling out money, she pulled out her own gun.

Detroit homeowner opens fire on suspected intruders, kills 1. Detroit police Sgt. Michael Woody says the two 19-year-old suspects, a male and a female, broke into the home on the 19000 block of Asbury Park just before 6 a.m. [4/9/2014.] Woody says the 47-year-old homeowner fired several shots with a rifle, striking both suspects after they broke a window and tried to get in. The male was transported to a local hospital and pronounced dead, Woody says. The female suspect was struck in the leg, transported and listed in critical condition. The homeowner wasn't injured.

Mother opens fire on armed robbery suspects at downtown Charleston home. Investigators say a downtown Charleston woman had a surprise in store for two would-be robbers when she took out a gun and opened fire on them [8/20/2014].

Orlando store owner opens fire on robbers inside business. Orange County deputies said they are looking for two men who barged into a store and fired shots Thursday night [5/15/2014] before the store owner returned fire. Deputies said they were called to the African Store on Orange Blossom Trail in Orlando after the men, who were wearing masks, ran inside to rob the business.

Store Owner Opens Fire on Robbery Suspect. An armed suspect picked the wrong store to rob, after the owner pulled out his own gun and opened fire [9/25/2012]. New Haven Police said they were looking for the suspect for months, and claimed he held up stores in the Hill section of the city all summer.

Video: Marathon Gas Clerk Shoots, Kills 2 of 3 Armed Robbers. Three armed and masked men took guns into a Marathon gas station in Canton, Ohio and attacked a clerk. The clerk was armed, though, and he fought back. In a scuffle, the clerk was reportedly shot in the leg and hip, but the injuries were not life-threatening. He proved to be a better shot than his attackers and hit at least two of them. [Video clip]

Store Clerk Shoots and Kills 2 of 3 Armed Robbers in Gunfight. All three suspects were able to flee the scene, but the two suspects who were shot were found nearby and taken to an area hospital, where they both died. The third suspect managed to escape unharmed and is being sought by police. If he is caught, it is likely he will be charged with the murder of his two deceased accomplices. [Video clip]

Religion of Peace Update. Oklahoma got a dose of peace yesterday, when Alton Nolen, apparently a Muslim convert, beheaded a co-worker at the food company where he worked. He attacked a second woman and would have killed her too, except that the company's COO has a gun and knows how to use it.

Houston convenience store owner kills robber in gunfight. A young man whose family convenience store had been a target for criminals since it opened gunned down a robber this weekend when the man threatened his sister.

Springfield convenience store owner fights off would-be robber who stuck fake gun in his mouth. Video footage from Wednesday's [9/10/2014] attempted armed robbery at a Six Corners market shows the store owner fending off an assailant who allegedly stuck a fake gun in his face. "He put it in my mouth," said the owner of Walnut Convenience Store, who pulled out a real gun after fighting 20-year-old Fernell Pelzer.

Police: Union Twp. resident shoots intruder in self-defense. A suspect was taken to the hospital in critical condition after being shot during a reported home invasion early Wednesday morning in Union Township. [...] Demetrius Robinson, 24, was found shot by a resident of the home in self-defense, officers said after conducting a preliminary investigation.

Deputies: Resident opens fire on intruders, fatally shoots one. A man who lives in a third floor apartment says he was asleep when he heard something at the front door and went to investigate. He told sheriff's deputies at least two men then forced their way inside the apartment. He then confronted the two suspects and fired his weapon several times.

Woman Uses Her Gun To Ward Off Abduction. An Ohio woman who is licensed to carry a gun but had only recently started carrying one for protection put it to good use earlier this week. Dinah Burns was out walking her dog, Gracie, on a path near an elementary school in Lancaster on Monday [8/25/2014] when two men approached her with a baseball bat and threatened to abduct her. "Two gentlemen came out of the woods, one holding a baseball bat, and said 'You're coming with us,'" Burns told WBNS, adding that Gracie was little help in deterring the men.

Gwinnett woman, 73, chases burglar suspect from home with gunshots. According to a report on the incident obtained by The Atlanta Journal-Constitution Thursday, [Hilda] Douglas said someone rang her doorbell around 9:45 p.m. on Aug. 3. She looked out her bedroom window and spotted a truck parked nearby in the middle of the intersection of Falconhurst Drive and Hewatt Road. Douglas called 911 and waited. Moments later, however, she heard glass shattering and then the pottery she placed in front of her backdoor breaking so she grabbed her gun.

Homeowner Shoots at Intruder, Thwarting Robbery. Neighbors in a quiet community in Diamond Bar were shocked. A neighbor shot at a burglar who broke into his home Friday [8/8/2014].

Homeowner shoots at burglar in Diamond Bar. A homeowner shot at a burglar during a break-in Friday afternoon [8/8/2014] in Diamond Bar, authorities said. A man was at home about 1:30 p.m. in the 400 block of N. Del Sol Lane when he heard a smashing noise, Los Angeles County sheriff's Lt. Frank Rivera said. He soon discovered the noise was created by an intruder bashing his way through the home's front door. Investigators suspect the burglar did not realize anyone was home when he forced his way into the house, Rivera said. The burglar and homeowner encountered one another in the living room.

Beaten homeowner turns tables on intruder and kills suspect, according to Jacksonville police. Bruised and bloodied by an intruder, a Jacksonville man and woman exchanged gunfire with the invader and put an end to an assault early Friday [8/15/2014] at their home. The two were hospitalized, but a child there was unharmed and the suspect is dead, police said. The dead man has been identified as Marquise Trevel Yates, 21, whose last known address was in the 6100 block of Arlington Expressway.

Jewelry Store Magnet for Gunplay. A jewelry store in Little Saigon, Orange County California, has become a magnet for robbers. In 2012, there was an attempted robbery in which one of the robbers was shot. In 2013, several shots were fired at a thief who fought with the store owner, and escaped with a $9,000 watch. Yesterday, 21 August, 2014, another robbery attempt ended in gunfire as a store employee drove off two robbers who had smashed a display case.

Police: Charleston woman shot at teens who tried to rob her at gunpoint. The woman told detectives she was getting out of her car with her child in her arms when two teens with guns approached her from the rear of the apartment building. The teens ordered her into the house. Once she was inside, she ran into her bedroom, put her child on the bed and grabbed her gun, the report says.

SAPD: Alleged intruder shot, killed in home invasion. Witnesses tell San Antonio police two men broke into an apartment unit by breaking down a door, but someone inside the apartment opened fire on them. The men attempted to run, but one was shot several times, San Antonio police said.

Police: Wife shoots suspected car burglar to defend husband. The Eureka Police Department is currently searching for two male suspects, one of whom may have a gunshot wound to the leg, after a woman shot at a man who attacked her husband when he confronted the men outside the couple's Highland Avenue home early this morning [8/18/2014], according to Detective Ron Harpham.

Florida homeowners, child survive shootout with intruder. A Jacksonville man and woman are in stable condition after a shootout with an intruder that broke into their home Friday morning [8/15/2014].

Detroit Homeowners Have Fatally Shot 7 Intruders In Past 7 Weeks. A Wednesday [4/9/2014] shooting in Detroit marks another in a high number of alleged self-defense killings in the city this year. A 47-year-old man on Detroit's west side opened fire on two teens who forcibly entered his home through a window in the early hours of Wednesday morning, according to Detroit Police. The homeowner fatally shot one of the intruders.

Alleged intruder shot by SC homeowner, charged. A Walhalla man has been charged after deputies said he was shot by a homeowner in an act of self-defense.

Woman Shoots Man Found Sleeping Inside Her Delaware Home. Police have now identified the man they say was caught sleeping in a woman's New Castle County home and then ended up shot by the homeowner. Delaware State Police say Gregory Alexander, 21, will be charged with criminal trespass once he is released from the hospital. He is recovering Tuesday [8/5/2014] after being shot in the buttocks by a homeowner in Stanton.

Long Beach resident fatally shoots alleged burglar. Authorities said a Long Beach resident fatally shot a man early Sunday who was allegedly trying to burglarize his home. Police responded to a 911 call of a burglary in progress about 3 a.m. in the 2800 block of East 3rd Street. The caller said the suspected burglar was shot inside the house, said Sgt. Megan Zabel, a spokeswoman with the Long Beach Police Department.

Man Wins Gunfight with Teen Gang Member. Gunfights at close range often result in both participants being hit. It takes time for bullet wounds to take effect. In this incident in Florida, we do not know the calibers, other than both participants were using handguns.

CMPD: Robber, store employee exchange gunfire at mini mart. Police said the men, who had their faces covered, were armed with handguns. They stormed the store demanding money. Police said one of the men fired a shot at the store's 73-year-old security guard as they ran from the store. The security guard shot back and no one was hit. [...] Police said the suspects, described as black males in their early 20s with their faces covered, ran off.

Baton Rouge homeowner shoots alleged home invader Wednesday morning. A 19-year-old man was shot early Wednesday morning [8/6/2014] after he allegedly tried to burglarize a home in Baton Rouge, according to Baton Rouge Police Capt. Ronald Norman. The suspect, whose name has not been released, is facing non-life threatening gunshot injuries.

Man Shot After [he was] Found Burglarizing Garage. According to College Station Police, the 30-year-old homeowner came outside and found 23-year-old Daniel Pinon of Navasota actively burglarizing his garage in the 3200 block of Wildrye [8/5/2014]. The homeowner and Pinon got in a short physical fight, at which point the homeowner, who had grabbed his gun, shot Pinon in his left leg. Pinon then fled on foot.

Strange KC home invasion: One suspect shot in leg, one suffers panic attack. Police were still sorting through information, but they received a report that one of the suspected home invaders was shot in the leg when they entered the home and were chased off by a resident. One of the suspects also apparently suffered a panic attack following the chase.

Teenage intruders shot by homeowner in Lithonia. A woman who lives at the home, who asked to remain anonymous, said the intruders first rang the doorbell to her home. That woke up the woman's son, who was napping at the time. The young man saw three intruders breaking in through the back of the house and saw a strange car in his driveway. He grabbed his gun and opened fire, striking two of the teens [8/5/2014].

Suspected Burglar Shot by Female Homeowner in Delaware. Police say the home was vacant and under renovation. When the homeowner and her son arrived to check on the home just before 6:00 a.m. [8/5/2014], she found someone inside. After a confrontation, police say, there was a struggle and the homeowner, who was armed with a gun, fired one shot, striking the suspect in the lower body.

Police identify man killed during break in at Garland apartment complex. Police have identified the man they believe was killed while breaking into an apartment Thursday night [8/7/2014]. Michael Paxton, 18, died moments after he was shot by the man living in the apartment. Garland detectives believe that three other men were with Paxton on Thursday, and that they were planning to steal from the apartment. They also think Paxton was carrying the handgun police found at the scene.

Intruder killed inside Garland apartment. Police said a 22-year-old man met officers outside his apartment and told them he'd shot one of the suspects after four armed men tried to kick in his door. [...] Officers found the suspect, 18-year-old Michael Paxton, wounded on the floor inside. He died before he got to the hospital. They say he was no stranger to the neighborhood; they connected him to a recent armed robbery at a convenience store directly across the street.

Private Buyers "Run Off" from Turn In "buy back" Event. Private buyers competed with ShopRite food cards for guns at a Baltimore City gun turn in "buy back" on Saturday, the 26th of July. That may be one reason that this event only collected half as many guns as last year's event did. 231 guns were turned in this year, 460 last year. The term "buy back" is a bit of propaganda, because the people buying the guns never owned them in the first place.

Autauga grand jury clears homeowner who killed intruder. The Autauga County Grand Jury has cleared a Booth homeowner in a case where she shot and killed an armed burglar who had forced his way inside her home. The panel wrapped up deliberations Friday morning [7/25/2014]. The grand jury took no action against the unidentified homeowner, said District Attorney Randall Houston.

Homeowner fires gun to scare off home invader. The resident reported she was at home when a bald man with a stocky build wearing a white tank top forced his way into the home. Authorities said after a struggle the homeowner was able to retreat to a bedroom where her firearm was located. She fired the weapon at the man and he ran out.

Homeowner shoots man who refused to leave his property. Neighbors say it all happened pretty quickly. "I heard yelling and screaming, sounded like two men and a woman," said neighbor Randy Watts. "As I went outside to see what was going on, I heard two distinct gunshots." Police say an elderly couple was arguing with a man they did not know, who was intoxicated and belligerent in front of their home. When the man refused to leave their property, police say the homeowner went and got his gun, came back out and fired at the man. Police say the man then ran and was found a few blocks away by officers.

Homeowner justified in shooting at allegedly pregnant intruder. It seems that every few months a controversial case of self-defense hits the news cycle, making us debate anew whether or not citizens, particularly homeowners, have the right to engage in certain, allegedly defensive, actions. An already complex issue is made infinitely more complicated by the addition of age, gender, and race as factors. Actions justified in the name of self-defense must pass the reasonable person standard: Would a "reasonable" person have thought it necessary to perform that action to protect himself or herself from death or serious injury?

Sheriff: Man Attacked Homeowner before Fatal Shooting. Sheriff Brian Jespersen says 34-year-old Benjamin Beaudoin, of Mendota Heights, died from the injuries after allegedly committing two separate home invasions Saturday morning [7/26/2014] in Ray, Minnesota. The sheriff says Beaudoin first broke into a couple's home around 5 a.m. about 15 miles south of International Falls. Jespersen says the husband and wife fought off the intruder.

Police identify suspect killed in Sunday's home invasion. Police have identified the suspect killed in a Sunday [7/27/2014] home invasion as a 17-year-old. The intruder, Brandon Ford, was shot and killed by the homeowner Sunday afternoon in the 3100 block of N. College Avenue around 1:00 p.m. Several men were in the house on the west side of College Avenue when three men tried to get into the house, according to police. Both sides shot at each other and Ford was killed.

Suspect's Mom Arrested in Robbery That Ended in Shooting. The mother of a man charged with murder stemming from the fatal shooting of his alleged accomplice by a homeowner during a Long Beach robbery has been arrested on suspicion of robbery in connection with the case. Ruby Adams, 49, of Long Beach, was booked into jail on Thursday night [7/24/2014], police said Friday. She is the mother of Gus Polly Adams, a suspect in a Tuesday night robbery that ended with his accomplice getting shot by the homeowner.

Teen arrested after gas station clerk pulls gun. A 16-year-old Jefferson County man whom authorities say attempted to rob a gas station was instead locked in its bathroom when a gun-wielding clerk trapped him there until police arrived.

Homeowner shoots, kills intruder. When is it okay to shoot someone in self-defense? That's what Atlanta police are looking closely at after a man in his 50's was shot and killed by a homeowner in Southwest Atlanta Monday morning [7/14/2014]. The suspect was confronted by the homeowner outside a home at 470 Connell Avenue SW at 7:30AM, according to Captain Paul Guerrucci.

Intruder Shot, Killed By Indianapolis Homeowner. The incident happened in the 3100 block of N. College Avenue around 1:00 p.m. [7/27/2014], according to police. Investigators say several men were in the house on the west side of College Avenue when three men tried to get into the house. Gunfire was exchanged and one of the suspected intruders was killed.

Home intruder shot dead despite several warnings from homeowner. Police say the middle-aged homeowner saw a young man approaching her house in Detroit's Brightmoor neighborhood with a brick Friday afternoon. She yelled for him to go away but he continued to come towards the home. She went and got her handgun and, again, told him to go away. The man with the brick then went to the side of the front door and started to break through the window. The homeowner fired two shots, killing the suspect. He was coming through a window at the time he was shot.

Police: Homeowner fatally shoots intruder in midst of crime spree. A Northland homeowner grabbed his shotgun and fatally shot a man who burst into the family's garage while in the midst of a crime spree, Kansas City police say. Police identified the man as 30-year-old Christopher Robinson, of Kansas City, KS. Robinson was a suspect in multiple car burglaries and a carjacking. He even broke into one home and stole a vehicle that he rammed through the garage door, police said.

Intruder fatally shot by South Side man in garage. For the second time in a week, the alarm at Emerson and Nancy Frazier's South Side ranch home blared. The couple -- he is 69, she is 58 -- got out of bed about 4 a.m. yesterday [5/12/2014] to investigate who was breaking into their garage this time. Gun in hand, Mr. Frazier, known as "Moley," and his wife went to the detached garage behind their house at 990 Bruckner Rd. and encountered two men. [...] Mr. Frazier shot one of the intruders in the chest, according to accounts by relatives. The other tried to wrestle the gun from Mr. Frazier before running away.

Psychiatrist uses his own gun to shoot patient who killed caseworker in front of him. A Pennsylvania doctor is being hailed a hero today after he seriously injured a patient who went on a shooting spree in his office. Dr. Lee Silverman, a psychiatrist, told police that the patient, identified as Richard Plotts, fatally shot a caseworker at their hospital complex before the doctor pulled out his own gun and exchanged fire with him and wounded him, a prosecutor said Thursday night [7/24/2014]. [...] Yeadon Police Chief Donald Molineux said that 'without a doubt, I believe the doctor saved lives.' [...] Silverman was armed, apparently against hospital policy.

The Editor says...
If Doctor Silverman had obeyed the "gun free zone" rules, he would be dead today, and many others would likely be dead, too.

Police praise 'heroic' doctor and caseworker stopped psychiatric patient. Medical staff who helped stop a gunman from killing more people at a Pennsylvania hospital on Thursday [7/24/2014] have been been hailed as heroes. Dr Lee Silverman, who police say may have been the intended target, and caseworker John D'Alonzo, were able to quickly stop Richard Plotts after he shot dead their co-worker. The 49-year-old, who has a history of mental illness, was attempting to reload his gun when Silverman fired several shots, and D'Alonzo wrestled him to the ground. [...] Hospital policy bars anyone except on-duty law enforcement officers from carrying weapons on campus, a Mercy Health System spokeswoman said.

Lions and Guns in Nebraska. Animal attacks may not be recorded as defensive gun uses in most surveys, and they are never recorded as justifiable homicides. But defensive uses of guns against animals occur frequently. I was surprised to learn of the number of mountain lions that have been shot in defensive situations in Nebraska.

Prichard woman shoots juvenile who was breaking into her home. A Prichard homeowner shot and wounded one of two juveniles who broke into her home last week, according to authorities.

Pittsburgh police say man shoots 2 home invasion suspects, killing 1 after apartment break-in. Pittsburgh police say a man shot two others who forced their way into his apartment, killing one of them.

Two shot, one killed in Carrick home invasion. Two men were shot by a Carrick resident early Tuesday morning [7/22/2014] when they allegedly attempted to rob an apartment.

Corte Madera homeowner shoots man during road rage incident. A homeowner shot another man who followed him into his garage during a road rage incident in Corte Madera Thursday morning [7/17/2014], authorities said.

Armed Pasco homeowner shoots at burglary suspect. A 21-year-old Tampa man on probation for burglarizing an occupied dwelling may have escaped with his life Sunday morning [7/13/2014] after he was found inside the home of a gun owner. Michael Jose Zamora-Norris, of 1103 East 127th St., Tampa, went into a home on Boyette Oaks Place early Sunday and woke up the homeowners as he walked through the living room, a Pasco County Sheriff's Office report said. A man inside the house loaded two rounds into his shotgun and confronted Zamora-Norris in a hallway, the report said.

Officials: Fatal shooting deemed self-defense. The New Hampshire attorney general's office says no charges will be filed against a man who shot to death his friend during an altercation in May.

Jackson PD: Homeowner opens fire, killing 1 intruder, injuring another. Assistant Police Chief Lee Vance said it appears the two men had broken into the house and were confronted by the homeowner. Jonquez Porter, 19, was killed, according to Jackson Police Department spokeswoman Officer Colendula Green. "The homeowners confronted them. He shot one individual several times. The second one was able to escape through a window," Vance said.

Police: Pit bull shot, killed after it bites woman. A Covington resident shot and killed a pit bull on Thursday morning [7/17/2014] after it bit a woman and repeatedly got away from its owner. The dog was loose in the 1900 block of Scott Boulevard when it bit a woman who was visiting in the neighborhood, said Covington Police Chief Spike Jones. "She was not seriously injured," Jones said.

Man treated for gunshot wounds is charged for home break-in. A man from Springfield is charged for a home invasion and a shooting at a house in north Springfield early last Friday [7/11/2014]. Police believe Tre Williams, 20, was shot by a man in the home during the break-in. Prosecutors charged Williams with first-degree assault, burglary and armed criminal action.

SAPD: Homeowner shoots intruder multiple times. A homeowner shot an alleged intruder multiple times early Tuesday morning [7/15/2014] on the near South Side. [...] Police said the alleged intruder, a man in his 20s, broke into the home through a back window and was confronted by the homeowner. The 70-year-old homeowner then shot the intruder three times in the leg, police said.

Veteran With Concealed Carry Permit Shoots Back At Chicago Gunman. One of the spate of shootings that took place in Chicago, Ill. over the July 4th holiday weekend involved a veteran with a concealed carry permit who was forced to a shoot a man who began firing on him and a group of friends. The incident occurred Friday night [7/4/2014], the Chicago Tribune reports.

Muhlenberg Township man dies after shooting in Reading. A Muhlenberg Township man accused of participating in the robbery and beating of a 60-year-old city man early Friday was fatally shot when one of the victim's neighbors came to the victim's aid. [...] "The shooting remains under investigation, but we let the man go home," [District Attorney John T.] Adams said. "At this point, the shooting appears to be justified."

Sheriff: Knife-wielding burglar no match for homeowner, his shotgun. According to the Sheriff's Office, the homeowner and his girlfriend were in their living room in the 2900 block of Little Hanaford Road shortly before 7:30 a.m. [6/30/2014] when Sean Ferrel, a 43-year-old homeless and likely intoxicated man armed with a knife, entered through an unlocked sliding door.

Robber shot dead after holdup at Los Angeles medical marijuana dispensary: police. The two men showed up to "Nature's Cure" around 12:15 p.m. Wednesday [6/25/2014] and tried to "engage" the guard when he opened fire on the thieves, KTLA-TV reported. One man was hit and ran from outside the pot shop to a nearby Westin Hotel, where he collapsed and died. [...] The robber's accomplice, a black man in a brown baseball cap, beige shirt and green pants, took off in a black BMW.

Would-be robber flees when woman says husband has loaded shotgun. A man wearing a plastic Batman mask was scared away when the elderly woman he was trying to rob Friday morning [6/27/2014] told him her husband was in the bedroom with a loaded shotgun, according to the Washtenaw County Sheriff's Office. [...] The male suspect was described as black, between approximately 5 foot, 7 inches and 6 foot tall, gray hoodie and sweatpants.

The Editor says...
Unfortunately, that description matches a lot of people.

Midland PD: La Bodega gunman was attempting a robbery. A manager at La Bodega Mexican Restaurant and Bar said he is grateful for the off-duty police officer who killed a gunman intending to rob the business' safe on Friday night [6/27/2014]. Operations Manager Brian Schaetz said no customers or employees were physically injured in the shooting and believes that's because of the efforts of the police officer who shot and killed 35-year-old Nyocomus Garnett. "He saved people's lives," said Schaetz, who took this as incident as a warning sign to other criminals in Midland. "We have a community that takes care of each other."

Gunfight Video has Valuable Lessons. There are several lessons to be learned from the video. As is common, numerous things could have been done better by all three participants. The first lesson is that you do not have to be a perfect gunfighter to be effective. You simply have to be more effective than the opposition. Most criminals are not well trained in either shooting or tactics. They tend to believe that everything will go according to plan.

Off duty soldier with a handgun saved 100 lives as terrorists ran amok. A former marine emerged as a hero of the Nairobi siege yesterday after he was credited with saving up to 100 lives. The ex soldier was having coffee at the Westgate mall when it was attacked by Islamists on Saturday. With a gun tucked into his waistband, he was pictured helping two women from the complex.

Man fatally shot after break-in at northern Indiana home. Miami County Sheriff Tim Miller [...] says investigators found signs of forced entry into the residence, and the unidentified homeowner claims to have shot Sturgill in self-defense.

Attempted robbery averted. WKBN received footage Tuesday of a dramatic confrontation during an attempted robbery two weeks ago at a Sami Quick Stop in Struthers. The video shows the alleged robber drawing what looks to be a gun and yelling at the store's clerk, who then pulls out a gun of his own and fires one shot at the man. Police said the shot hit and wounded the suspect.

Man won't be charged in deadly Lincoln Park shooting. The Wayne County Prosecutor's Office has declined to charge a 27-year-old Westland man who allegedly fired a fatal shot on a 33-year-old Detroit man at an apartment complex on Fort Street on Sunday. The man was released from custody after prosecutors determined that the Westland man acted in self-defense, Lincoln Park police said Thursday [6/5/2014].

Woman shoots at would-be home intruders. A woman shot an intruder when he tried to force his way into her apartment early Thursday morning [5/29/2014]. Police say at least three people approached the victim's door at the Laurel Ridge apartment complex just after midnight. According to the police report, the renter responded to a knock at the door and the suspects told her they were with the East Point Police Department.

Police: Homeowner opens fire after being stabbed. Police said that shortly after 6 a.m., a man knocked on the front door of a Coalville resident. The man cut the homeowner in the neck with a knife. The homeowner then used a handgun to fire three shots into the man's torso.

Police: Dad shoots, kills man who held gun to teen daughter. An attempted home invasion turned into a murder investigation Tuesday morning. One suspect is dead and another is in critical condition after allegedly holding a gun to a teen's head.

Cops: Son Of Abortion Doctor Kermit Gosnell Shot During West Phila. Robbery. A suspected burglar got a whole lot more than he bargained for when police say he broke into a row house in Mantua. Police have confirmed the identity of that suspect as the son of convicted abortion doctor Kermit Gosnell.

Marine With CCW Foils Robbery, Kills One Of Two Suspects. On May 29 a retired Marine eating lunch at a Houston, TX, strip mall reacted to a robbery in progress by retrieving his concealed carry (CCW) handgun, killing one of the suspected robbers, and sending the second one fleeing. According to the Houston Chronicle, the 28-year-old Marine veteran saw two suspects put bandannas over their faces before going into a Game Stop. "Minutes later, one [of the robbers] ran out carrying several video game systems in his arms." The former Marine went to his pick-up truck, "retrieved a semi-automatic pistol, and told a bystander to call 911."

Wannabe Gangsters Just 'Tryin' to Eat' When Killed During Break-In. After breaking into an elderly widow's house twice in a row, two teenagers were killed by an armed occupant, in self-defense. Steven Crider, 17, and Michael Sambrano, 14, were shot in the chest numerous times after breaking in to the widow's home. Now, the dead thieves' friends and family are publicly complaining that "it was wrong that they were shot" and that the thieves were just "tryin' to eat."

The Editor says...
Painting the perpetrator as a victim is a worn-out old strategy. If you're just trying to eat, check out the dumpster behind the homeless shelter. Or maybe you should examine the garbage cans at the nearest public school, where they serve tasteless vegetarian slop that nobody wants.

'Make My Day' Law Likely After Homeowner Shoots Burglary Suspect. According to police, a homeowner shot a juvenile burglary suspect, who suffered injuries that aren't considered life-threatening. "The homeowner was at home at the time and he heard some glass breaking and went on down," said Sgt. Patrick Theriot from the Denver Police Department. The homeowner told CBS4's Stan Bush the 17-year-old burglary suspect broke in through a back window of his him, lunged at him, and he shot him in the shoulder.

Stopped in 80 Seconds: Armed Response, Not Gun Control, Halted School Rampage. [Scroll down] A Cleveland.com story concludes that school shooters aren't interested in a fight; they're interested in soft targets that will leave them in control of the situation long enough to accomplish their evil deed. In this case, the perpetrators was met instead with a hard target — an armed, qualified security presence that was ready and willing to stop him — and did so in just 80 seconds. Gun-control laws didn't stop a possible massacre at Arapahoe High School. A good guy with a gun stopped the rampage and in doing so almost certainly prevented much greater harm. For that, we can all be thankful.

Armed School Resource Officer Confronted Arapahoe High School Shooter. When an armed school resource officer entered the room, Pierson believed he was cornered and turned his gun on himself, Robinson said. The entire attack lasted approximately 80 seconds and was captured by security cameras.

The Editor says...
Notice that the police didn't arrive in 80 seconds — the nearest guy with a gun did.

Oregon School Shooting Stopped by Armed Resource Officers! It has now been confirmed, that the the Reynolds School shooting in Troutdale, Oregon was stopped by the schools armed resource officers. Officers Nick Thompson and Kyle Harris were on duty at Reynolds High School when they heard gunshots. They arrived at the scene in less than one minute, and at least one of those officers fired their [sic] weapon.

Teen breaks into home, confronted by owner. Wayne Milner told Channel 2's Mike Petchenik he was working in his home office on Granite Ridge Place Thursday [5/8/2014] when he heard a commotion coming from his master bedroom. "I get up, walk into the hall, and I see a male sitting on the floor going through my wife's jewelry box," Milner said. Milner said he immediately grabbed his gun and confronted the strange man.

Burglar shot by 83-year-old victim, escapes. The victim told police that a man knocked on his back door and told him he needed help. The victim said he turned to call 911, and the burglar began kicking the door, broke the glass and came inside. Police said the 83-year-old man grabbed a handgun and shot the burglar in the chest once.

She Got a Gun and Concealed Carry Permit Last Year. A 50-year-old Detroit woman shot an intruder early Tuesday morning [4/29/2014] after he tried to break into her home with a crowbar. Now she's very thankful she decided to take advantage of her Second Amendment rights last year.

Sacramento homeowner shoots, kills 2 burglars, police say. A homeowner in Sacramento shot and killed two burglars in self-defense early Sunday morning, police officials said. Just after midnight, Sacramento police were called to a home in the 1000 block of Arcade Boulevard in North Sacramento after receiving a report of a burglary in progress. But by the time police arrived two minutes later, two men in their late teens or early 20s who were reportedly burglarizing the home were dead.

Family shoots and kills burglary suspect in Winter Haven. Luis A. Pena went to check on [a noise] and found somebody rattling the french doors leading off a back porch area. He pulled out a gun and fired a shot trying to scare off the intruder but the burglar didn't stop. The young man went back to the kitchen where his mother and father were, both armed. Police say Large continued to charge at the residents and the three of them all shot at the intruder when they saw him.

Gunman invades Dollar General, meets concealed carry permit holder. Another story crosses our desk, courtesy of Rationality Rebooted. I've gone through a few reports of this story and it's still not clear why Kevin Mclaughlin went into the Dollar General in Orrville, Alabama last week, but it certainly wasn't to find a good deal on tube socks. He began shouting and waving a gun around, herding customers and an employee into a back room. Things were looking bad, but that's when he ran into Marlo Ellis.

Home intruder found woman with pistol, police say. [A] 31-year-old Glenville woman was alone when she heard someone trying to force their way inside Wednesday, so she grabbed a handgun that she trains with on a regular basis, Southwestern Regional police said. She then called 911 and reported a burglary in progress, police said. When the man eventually kicked in her front door and entered the home in the 7700 block of Glenville Road, the woman leveled the gun and told the intruder not to come any closer, police said.

Homeowner shoots, kills 2 men on Detroit's west side. A 51-year-old Detroit man is being questioned regarding a shooting at his home that left two other men dead. The shooting happened Tuesday morning on Dexter Street, which is near Livernois and the Lodge Freeway. The homeowner shot the men as they tried to break into the home. Police found them dead in the driveway. Local 4 has learned that the same home was broken into last week. The homeowner has cooperated with Detroit police. It does not appear he will face charges.

Home invasion in Mercer County results in 2 shot. A 20-year-old man accused of breaking into a North Dakota home and exchanging gunfire with one of the residents was charged Tuesday [4/1/2014] with attempted murder.

Homeowner kills intruder, two others arrested. Police said three people forced their way into the home and began fighting with the homeowners. One of the suspects was shot and killed at the scene.

Lawrence County resident shoots one of three armed men during home invasion. A man shot one of three armed men who forcibly entered his Lawrence County home early Friday morning [3/28/2014], state police in New Castle said. The 25-year-old male who lives in the North Beaver home was treated at a local hospital for cuts and abrasions following the 1:15 a.m. home invasion, police said. He had been shot at by Richard Javens, 43, of New Castle, who was struck in the chest with a shotgun blast, police said.

Would-Be Robber Shot, Killed by Resident. Police say two masked men with guns attempted to rob the residents of a home in the 2600 block of Shadyside Avenue just after 7 p.m. A resident of the home got into a fight with one of the would-be robbers over his gun. A struggle ensued, and the robber, identified as 26-year-old Dexter Manigault of northeast D.C. was shot. He and a co-conspirator fled the scene in a getaway car, driven by a third suspect.

Prosecutors won't charge janitor, say he killed teens in self-defense. Milwaukee County District Attorney John Chisholm announced Wednesday that Jeremy Rossetto will not be charged in connection with the March 12 shooting death of two teens who were hitting him with a souvenir baseball bat. The district attorney's office reviewed the police investigation, interviewed witnesses and viewed witness cellphone video before concluding that Rossetto shot the teens in self-defense.

Chance encounter with CHL holder saves Frisco woman from robber. There is constant sound and motion at DART's Convention Center Station, and it's one of Kim Lanphere's regular stops. "I use DART 30-to-40 times a week," she said. "At most stations, I feel relatively safe, because there's light and people." But as of Saturday, her feeling of safety is gone. Dallas police say she passed 23-year-old Jamail Koroma on a sidewalk near the station. "I felt him change his gait, and at the time I had by bag here," she said, motioning by her side, "and I put it on my shoulder, just to hold it safe."

Free advice: Don't ever break in to a cop's house, or a former cop's house, or a wanna-be cop's house.
Off-duty HPD officer shoots, kills burglar. A Houston Police Department officer was asleep in his north Harris County townhome this morning when three men broke in. At least one was armed. The officer, who was off-duty, used his service weapon to shoot the armed suspect. The invader was pronounced dead later at a hospital nearby. The other suspects fled.

Man saves mother's life by holding intruder at gunpoint. Kenny Guffey said he was driving home from work around 6:30 p.m. on Wednesday when he called is 83-year-old mother, Christine Guffey. "We were talking probably ten minutes and then all of the sudden her voice panicked and she said, 'What are you doing in my house, oh no, he's got a knife. What are you doing with the knife?'" said Guffey. Luckily, Guffey was only two minutes away from her Balsam Road home. When he got there, he went inside with his gun drawn.

Suspect Shot by Homeowner During Burglary Attempt. According to Sheriff Jeff Lawless, the homeowner who was startled by noises, retrieved a handgun and went towards the front door where he found the intruder coming toward him. Lawless says the homeowner then fired his weapon striking the intruder twice.

Woman warns, kills man breaking into her home. Police say the man tried to break into the house through a side window. The homeowner, a 54-year-old woman, heard the man and went to another room to get a gun. The woman warned the intruder she had a gun and was going to shoot him if he came into her home, but the man continued entering through the side window and the woman shot him in the chest.

Detroit homeowner shoots, kills invader; police seek 2nd suspect. A Detroit homeowner shot at two intruders Thursday afternoon, killing one of them at the home in the 8200 block of Penrod Street on the city's west side, police say. The homeowner, who was not injured, first heard glass shatter. It was two robbers breaking in through a back window. "One burglar partially inside of his house ... he went and retrieved his weapon and fired off a couple of shots, hitting the individual coming through his window," said Detroit police Deputy Chief Rodney Johnson.

Leicester homeowner shoots at break-in suspects. Buncombe County deputies arrested two Asheville men in connection with a home invasion. [...] A Leicester homeowner who managed to grab a pistol as two men kicked in the door of his home Thursday opened fire on the intruders and may have hit one of them, Sheriff Van Duncan said.

Intruder shot by person inside a North Port home. A man who broke into a home in North Port was shot to death by someone inside the home. It happened just after midnight Saturday on Deming Avenue. Police say the intruder managed to get inside the home and that's when he was shot by one of the occupants.

Detroit homeowner kills 1 intruder, wounds another. Two men who broke into a southwest Detroit house early Saturday morning encountered an armed homeowner who opened fire, killing one of the intruders and wounding the other. The incident is the second this week involving a homeowner who used a firearm to fend off intruders.

Burglary binge in Citrus, Hernando counties leaves one suspect dead. Johnathan Braden crossed paths twice with armed residents during a string of burglaries Tuesday [1/21/2014], investigators say. The first time, at a home on Flavian Road just south of the Citrus-Hernando line, Braden fled on foot with his accomplice. Braden, 27, didn't survive the second encounter, three hours later and about a mile away.

Utah: Concealed Carry in Schools; Zero School Shootings. Coincidence? There are many likely contributors to the fact that Utah has zero school-related shootings. Utah is one of the states that has the least restrictions on second amendment rights in the nation. It is one of the few that do not forbid concealed carry permit holders from carrying their personal defensive firearms in schools. Utah has very little crime, with one of the lowest homicide rates in the country.

Police ID man killed during home invasion. Phoenix police continued their investigation into what exactly led to the shooting of a man who broke into a home near 43rd Avenue and Bethany Home on Friday morning [1/17/2014]. A 77-year-old man who was in the home shot at the suspect with a shotgun about 3:19 a.m., said Sgt. Tommy Thompson of the Phoenix Police Department. The man told police his house had been burglarized the day before, Thompson said. The intruder, William Thomas Mackey, 30, died at the scene, Thompson said.

Resident Turns on Home Invaders with AK-47. A home invasion in Florida took a strange turn after the resident went after the suspects with an AK-47. According to NBC Miami6, one home invasion suspect was fatally shot and two others are on the run from authorities after a Davie, Florida resident fired his AK-47 at his attackers last Thursday [1/2/2014].

Police: Gun-carrying passerby 'did noble thing' halting Minneapolis store robbery. Inside his neighborhood market, Mohamed S. Ahmed was screaming for help after a pair of armed robbers had left him bleeding. Outside the northeast Minneapolis store, two men pounded on the window, trying to get back into the University Market after Ahmed managed to lock them out. "They seemed really agitated, super agitated," said Matt Dosser, who was walking by about 9:30 p.m. Tuesday [12/17/2013]. At first, "nothing made sense, then I saw the gun." Dosser, who has a permit to carry a gun, reached for his own weapon.

Man shot dead during Melbourne break-in, police say. A man who allegedly broke into a Melbourne home was killed Sunday morning when the homeowner shot him, police said. Jermaine Williams, 28, was shot around 2:13 a.m. at a home in the 1100 block of Mathers Street. He was pronounced dead at Holmes Regional Medical Center.

Intruder shot and killed by homeowner. An apparent intruder is dead after a possible home invasion led a homeowner to shoot him.

Charges expected against men shot at Monroe business. According to Monroe police, a man told investigators two other men attacked him. He said he fought back and fired shots. One man was hit four times. The other was struck once.

Niles man testifies about firing shot that killed intruder. Roy Hahn, 41, told jurors Tuesday [12/10/2013] in Michael Burns' murder trial that he woke up from a "dead sleep" to hear "a loud crunching or cracking" coming from a side door being pried open. [...] He got up from his bed, walked to the kitchen and saw that "someome was prying the door open." Moments later, he "looked out the window and saw someone or two people run to the front of the house, so I went back into my bedroom, I grabbed my shotgun, and I heard the front door being pried open, so I shot through the front door."

Police: Robber killed by clerk after exchange of gunfire. A 25-year-old man who was trying to rob a store on the South Side, was shot and killed by the store's clerk.

Hampton: 76-year-old homeowner shoots suspected burglar hiding in closet. The 76-year-old man will not be charged in connection to the shooting, police said.

Police: DeKalb homeowner shoots intruder. "He called 911 from a cell phone as he observed people inside the home," Fore said. "As he was on the phone with 911, the three suspects exited the rear of his home and ran toward him." That is when the homeowner pulled out his gun and shot one of the suspects, police said. The remaining two suspects fled on foot.

1 dead after Church's manager shoots robbery suspect in NW Harris County. One suspect is dead after workers at a Church's Chicken restaurant fought off an attempted robbery Friday night [12/13/2013] in northwest Harris County, deputies said.

76-Year Old Burglary Victim Thwarts Theft. On December 10th, 76-year old Leon Winder found a burglar hiding in his closet. He opened fire and later told reporters, "I was firing on him and he couldn't say nothing."

Teen Playing 'Knockout Game' Shot Twice by Victim. A teen playing the "Knockout Game" in Lansing, Michigan unwittingly targeted a concealed carry permit holder and was shot twice. He survived and is now in jail. As Breitbart News previously reported, the "Knockout Game" thrives in areas where victims are unarmed.

Man shoots his attacker to death. When police arrived on the scene at 6702 Forest Drive they found the suspect dead. Family members identified the suspect as Harvey Lee Ray Jr. Witnesses on the scene and the intended victim told police Ray was beating on the victim's vehicle and eventually pulled him from it.

Armed intruder shot, killed by Sandstone, Minn., homeowner. Police in Sandstone, Minn. confirmed a homeowner shot and killed an armed intruder around 2:30 a.m. on Thursday [11/14/2013]. Two men in their 20s apparently tried to rob the man's Pine County home, one of them armed with a handgun, Chief Deputy Steven Blackwell said. The homeowner was asleep on the couch when he woke up to a man standing over him with a gun. After spending nearly half an hour at gunpoint, the homeowner, who is in his 70s, was able to grab his own handgun and shoot the armed suspect at the scene.

Pine Co. Sheriff: Suspects Broke into Home Looking for Pain Killers, 1 Shot Dead. 23-year-old Gypsy Watt is dead, and a 16-year-old boy was arrested, then charged with burglary and assault on Friday. A cancer patient is shaken up after the two broke into his Pine County farmhouse around 2:30 a.m. Thursday [11/14/2013]. Police say the men, who were just out of jail, when they broke into 75-year-old Charles Carlson's home, on Fox Road near Sandstone. Both men have long criminal histories, and one had a gun.

Don't Mess With an Old (Armed) Man In Minnesota, two young, fit men thought they could easily victimize an elderly man with some physical limitations. They thought wrong. The erstwhile victim, Charles Carlson, was sleeping on his porch after two A.M., when he awoke to noises and ran into Gypsy Wayne in his kitchen. Gypsy Wayne also had a teenage accomplice with him.

Gwinnett man uses gun to prevent carjacking. A Grayson man thwarts a would-be carjacker by pulling his own gun on the suspect. Tariq Bell and his 13-year-old daughter had just left a Snellville music store when a man tried to take his vehicle with Bell's daughter inside. Snellville Police say the suspect, 40-year-old Ben Kline of Atlanta, and another man had just robbed a person at a nearby extended stay hotel. Despite being detained by officers, Kline broke free and led police on a foot chase.

Husband and wife shoot intruder. The couple and their 12 year old son were awakened at approximately 4 a.m. Wednesday when a man broke into their home located in the 5200 block of Oakdale Waterford Hwy. According to the Stanislaus County Sheriff's Department, the husband heard a noise and found the suspect standing inside the residence. The husband and wife confronted the suspect after arming themselves with handguns and calling 911.

Small Georgia Town Forms Posse, Corners Armed Robbery Suspect. For 60-year-old Ken Lowery the commotion began around 2:30 Thursday afternoon as he stepped inside Aden's convenience store and encountered the store clerk in distress. [...] Lowery, a retired corrections officer, ended up tracking the suspect down roughly 200 yards away from the store. He fired a warning shot from his deer rifle and says the suspect stashed his gun and money, and hid in a nearby shed, where he was soon arrested by Dodge County sheriff's deputies.

Teen killed during robbery attempt in Catoosa County. A Catoosa County Sheriff's Office has confirmed to Channel 3 that a teenager was the suspect that died Monday [11/11/2013] after he and another boy attempted to rob a 69-year-old at his residence.

PD: Robber shot several times by Phoenix homeowner. A suspect was wounded as he tried to break into a north Phoenix home Friday afternoon [11/8/2013].

Good news for the Gonazage Seniors who defended themselves against home invader: No expulsion. As you may have read earlier here, a pair of Gonzaga seniors were facing expulsion after they used a firearm to repel a home invader who was a six-time convicted felon.

Man Uses Gun to Chase Out Burglars. A Green Bay man credits his handgun for keeping him safe in an attempted burglary overnight [10/16/2013]. [...] He said as soon as the burglars saw the gun, "they kind of hustled out".

Pastor pulls gun, stops robbery at Evansville business. Pastor Carl Sanders says he only wanted to buy a Gatorade when he stopped at the store, Friday night. When he got inside he witnessed a man trying to rob a store clerk with what appeared to be a gun wrapped in plastic. "He was coming at me saying, 'get on the ground,'" said Sanders. "But I couldn't see what he had... That's when I pulled my weapon and say, 'No, you get on the ground.'"

Suspected Armed Robber Shot and Killed by Pharmacist. The pharmacist initially retreated, but when he could retreat no longer, he pulled his own concealed weapon and shot and killed the masked gunman.

Resident Shoots At Home Invasion Suspects. Authorities in Alabama and Florida are on the lookup for two home invasion suspects that fled after the resident opened fire at them Sunday afternoon [10/20/2013].

Guns save lives, not necessarily jobs.
Gas station clerk fired for pulling gun on knife-wielding robber. A 29-year-old gas station clerk who thwarted a robbery by pulling out a handgun was fired for violating his company's 'no firearms' policy. Shannon 'Bear' Cothran was working alone at a New Hampshire Shell outlet when he was threatened by a knife-wielding man demanding money about 3am yesterday. When Cothran pulled out his Ruger LCP .380 handgun, the masked would-be thief fled the Nashua station and is on the run from police.

Gun-toting employee has no regrets. For most of us, an encounter with a knife-wielding would-be robber would leave us anything but calm. Shannon "Bear" Cothran, on the other hand, is utterly unperturbed. Unperturbed and, alas, unemployed.

Gwinnett home invasion suspect shot by homeowner. Around 11 a.m., the homeowner, whose name was not released, called 911 to report that two suspects were attempting to break into his home, according to Cpl. Jake Smith with Gwinnett police. Moments later, while the homeowner was still on the phone with 911, one of the suspects forced his way into the home through a window, Smith said. "The homeowner retrieved a handgun and fired at the suspect, striking him," Smith said in an emailed statement. "Both suspects retreated to a black passenger car and fled the scene."

Police: Gunman shot during home invasion robbery. [Scroll down] Meantime, a man who had been in the kitchen when the gunmen burst in armed himself with a gun and ran out the front door, police said. He soon returned through the front door and confronted one of the gunmen, shooting him multiple times, after which the gunman fell to the floor, police said.

Robbery suspect shot and killed by store owner, two suspects at large. A spokesperson for the Beaumont Police Department has identified a robbery suspect who was shot and killed during an armed robbery in Beaumont's north end Tuesday evening [9/17/2013].

Vacaville resident shoots intruder. Two would-be burglars got more than they bargained for Sunday morning — including a trip to the hospital for one — after the owner of the Vacaville home they allegedly broke into greeted them with a gun. Around 8:20 a.m., Vacaville police dispatchers began receiving 911 calls reporting gunshots near the 100 block of Marna Drive, including a call from Jamie Aguirre, who said he had just shot an intruder in his home. Aguirre, 38, "voluntarily disabled the weapon" and complied with officers as soon as they arrived, police said.

Man killed in shootout at burglary in Munhall. As they turned down an alley and walked past a garage, Allegheny County police said, the men decided to sneak inside through a door panel. Moments later, one of them, Andrew E. Stevens, 23, raised a handgun and shot at the garage's owner, police said, and was killed by the owner's return fire.

Retired federal agent shoots armed robber outside Harris County home. An armed robber ended up in the emergency room late Sunday after he tried to hold up a retired federal agent outside his brother-in-law's northwest Harris County home, constables said.

Drive through owner shoots robbery suspect. Two white males entered the 3rd Base Drive Thru, 3535 Linden Ave., this evening [9/15/2013] and approached the clerk attempting to rob the store. At least one of the men was thought to display a handgun, police said. The owner of the store, who was in the back of the drive through, came out with his own gun and shot at the suspects.

Homeowner shoots burglar in North Austin. Austin Police say 2 suspects attempted to break into the house in broad daylight around lunchtime [9/15/2013]. Unfortunately for them, the homeowner was home and shot one of them.

Missoula homeowner shoots early morning intruder. Defending his home from an intruder, a 77-year-old Missoula homeowner shot a man in the torso early Sunday morning [9/15/2013].

Resident shoots suspected burglar in northeast Houston. A homeowner fought back when a suspect allegedly broke into his northeast Houston home early this morning [9/13/2013], opening fire on the intruder.

Suspect Fatally Shot In Accomack Co. Home Invasion. One suspect was reportedly shot and killed by the homeowner. A female suspect was wounded Another female suspect remains in the hospital recovering from wounds sustained during the alleged attempted robbery. Two more suspects are still at-large.

Lake Mary homeowner shoots at would-be burglars. A couple of accused burglars got more than they bargained for Wednesday morning [8/28/2013], when Lake Mary police said they tried to break into a man's house on Webster Street. [...] "I heard a crash, and glass breaking, a tremendous crash," said homeowner John Davies. [...] "I'm just sorry if I missed."

Roanoke Police: Resident Shoots & Kills Intruder, No Charges Filed. Officers responded to a home on Ferncliff Avenue a little before midnight. They say it appears someone was trying to break into the home and was shot by a person inside. The suspect was found near the home and pronounced dead at the hospital.

Homeowner holds burglar at gunpoint; Additional suspects arrested in Tyler. The homeowner said he then heard something in the back of the house, and realized what was happening. He told KETK that he immediately grabbed his shotgun, and several of the burglars got into an SUV and left. "The burglars were in different vehicles," Moore said. "Four of them left the scene in a Chevrolet Tahoe, but one of them was in a different vehicle and was detained at gunpoint by the homeowner." "My shotgun wasn't loaded, but he didn't know that," the homeowner said.

Robbery suspect shot by clerk in north Charlotte. A 21-year-old man killed by a north Charlotte convenience store employee Thursday night [8/29/2013] is the second alleged robber shot to death at the store in the past six years.

Robber shot dead in home invasion. A would-be robber was fatally shot Wednesday [8/28/2013] and an accomplice was hospitalized after a homeowner returned gunfire during a home invasion on Marsh Market Road in northwestern Accomack County. It was the second time in the area this year in which the victim of a home-invasion robbery fired a shot at an armed intruder.

Man, 73, shoots and wounds burglary suspect at his Oakland Park home. A 73-year-old Oakland Park man stood his ground Wednesday and now a burglary suspect is in the hospital recovering from several gunshot wounds, the Broward Sheriff's Office said. [...] A neighbor heard the glass shatter, came outside, saw the suspect putting stolen property in the car and she called 911 to give operators a description and tag number, Jachles said. After loading up the car, the burglar attacked the woman to get her phone and that's when the 73-year-old man fired shots at the intruder, wounding him several times, he said.

Sometimes cops do their best work when they're off duty.
Off-duty Detroit cop shoots carjacking suspect in Southfield. An early morning fatal shooting apparently occurred Monday [8/26/2013] when teenagers attempted to carjack a vehicle from an off-duty Detroit police officer.

Helena Police: Liquor Store Owners Shoots Robber. Helena [Georgia] police say a liquor store owner shot a man who was trying to rob her store.

'Point 'em out, knock 'em out': Brutal game ends when assault victim fires his concealed handgun. The game was called "point 'em out, knock 'em out," and it was as random as it was brutal. The object: Target an innocent victim for no other reason than they are there, then sucker punch him or her. But on this day in Lansing, there would be no punch. The teen-age attacker had a stun gun. He did not know his would-be victim was carrying a legally concealed pistol.

Would-be robber shot, killed by Domino's pizza driver. Investigators said Byron Park, a Domino's employee, had just delivered a pizza to one of the rooms at the Days Inn off US-192 near Interstate 95. Park, 54, went back to his car, sat down and starting counting his money and tip, waiting for his next call for a delivery. That's when investigators said 32-year-old Fredrick Kelly Jr. approached him with a knife, demanding money and threatening to kill him. Park pulled out his firearm and fired once toward Kelly, who was struck and pronounced dead at the scene.

Iowa husband shoots, kills escaped inmate who held him, wife hostage. An Iowa man shot and killed an escaped inmate on Tuesday [8/20/2013] after the convict held him and his wife hostage in their home, investigators said.

Arrest made in Land O' Lakes home invasion shooting. Detectives say [18-year-old Ryan] Mills and another man busted into a Land O' Lakes home brandishing a fake gun. Turns out, someone in that home had a real gun and opened fire on the two men, shooting them both.

Citizen pulls gun, nabs suspect in Mount Pleasant [South Carolina] gas-station holdup. A citizen pulled a gun and nabbed one of two men who held up a Mount Pleasant gas station Wednesday night [6/26/2013], according to police.

Two suspects shot after possible Land O' lakes home invasion. Pasco Sheriff's deputies are currently investigating a shooting that may be the result of a foiled home invasion and robbery attempt.

The deceased perp brought a knife to a gun fight.
Rifle-toting woman shoots, kills man outside gas station. Homicide investigators with HPD said a woman who shot and killed a man in a gas station parking lot may have feared for her life.

NJ robber threatened to kill store owner's family, robber shot dead by owner. An armed man walked into a Newark, New Jersey "cash-for-gold" jewelry store Monday afternoon and demanded the store owner fill his backpack with money and gold, only after threatening to kill the man's family if he did not comply, the store owner told police. According to a local news report, the store owner filled the suspect's backpack, but also fatally shot him once during the course of the robbery.

Accused Burglar Shot by Homeowner Dies. Deputies say 20-year-old Rashawn Calvin tried to break into a house Saturday night [6/1/2013] on Jonesy in Southeast Shelby County. Once inside, the homeowner shot him several times, including once in the head.

Judge praises boy who shot mother's attacker. The State Coroner has today praised a 12-year-old boy for shooting dead a convicted criminal who was attacking his mother in their Coburg home.

Man fatally shoots 2 intruders after home invasion in North Houston. Police say three men broke into an apartment, demanded money and showed a gun, but what they didn't know is the resident also had a gun and ended up shooting two of them to death.

Home Invasion Shooting Investigation. At 1 a.m. Friday [6/28/2013], two men kicked in the side door of a home in the 3600-block of Fay Street, just north of Mastin Lake Road. They were armed with a shotgun. But the homeowner was also armed.

Cops: Man shot 2 teens who broke into house. Two teenagers were hospitalized and a third arrested after the three allegedly tried to burglarize a Lithonia-area home Monday afternoon [8/5/2013], DeKalb County police said. A resident fired multiple shots, striking two of the suspects.

Husband shoots [and kills] armed bank robber. A Texas man dramatically turned the tables on two bank robbery suspects who had abducted him and his wife on Thursday [8/1/2013], by pulling a gun on the duo and shooting them both, killing one.

Homeowner shoots alleged burglar. When deputies arrived they found one male suffering from a gun shot wound.

Some of Trayvon Martin's Tweets That Stand Out (Language Warning). Martin is not the angel he's being portrayed as in the press. Pointing this out isn't a "smear campaign;" it's journalism. Towards that end, Trayvon Martin's Twitter account, which was deleted after his death, no doubt because it made him look perfectly awful, has now surfaced.

Deputies say neighbor shot after barging into home. A man with unclear intentions spent his Saturday [8/10/2013] in the hospital after getting shot by his neighbor who believed he was an intruder. Mike, who doesn't want his last name used, is grateful he knows how to use a gun.

Teen fatally shot while trying to rob another man, Mobile police say. The 17-year-old killed in an early morning shooting on July 30 appears to have been attempting to rob another person when he was shot, said a Mobile Police Department spokeswoman.

Home invasion shooting in North Tulsa. A woman and her boyfriend are grateful to be alive after an armed man is caught red-handed invading their home and stealing their stuff.

Woman Fires at Burglary Suspect. Detectives say the woman pulled out a gun and shot toward the suspect while he was trying to get into her mobile home. Detectives say the man ended up running from the scene and remains on the loose.

Kennedy Jewelry reopens after attempted robbery and gun fight. Police said the suspects attempted to rob the business at gunpoint but were met by a worker with a gun himself.

Homeowner shoots 1 suspect in Tuskegee robbery case. A shooting and robbery investigation is underway in Tuskegee. Police say a homeowner opened fire on two men who were allegedly trying to steal items from the man's home.

Police say man who shot dogs was defending himself. A resident of the 1400 block of Sharon Street on the city's near-east side reportedly shot two of his neighbor's dogs, killing one and wounding the other, around 7:50 p.m. Saturday [7/27/2013]. Police said in a Sunday news release that the two "pit bull type" dogs were charging at the man, who felt threatened.

Indiana homeowner shoots, kills suspect during 'peculiar' home invasion . The incident occurred about 3 a.m. [7/24/2013] when the suspect, Joshua Renick, apparently kicked in the door of Chad Heugel's Indianapolis home. Police were called about the same time when neighbors heard several gunshots. [...] Court records showed that Renick had an extensive criminal history that encompassed at least four states and included criminal confinement, resisting law enforcement and armed robbery.

Police: Resident Shoots Armed Suspect in Burglary. Prince William County Police identified a suspect in the burglary after he sought treatment for a gunshot wound at a D.C. hospital.

Hamtramck jewelry store owner shoots, kills would-be robber. A jewelry store owner shot at three armed robbery suspects Thursday [8/1/2013], killing one of them.

Police say man shot and killed masked man in his driveway during attack. According to the police, the homeowner and a woman were leaving the house and were getting into the homeowner's car when they were approached by two men wearing masks. One of the men had a handgun and used it to pistol-whip the homeowner and then attempted to pull him from the vehicle. The homeowner managed to retrieve a gun from the car and shot the suspect several times.

Police: Would-be Waffle House bandit shot by customer. A would-be robber was shot early Monday [7/29/2013] when he tried to hold up a south Fulton County Waffle House, police said.

Don't Bring A Bat To A Gun Store: Man's Robbery Attempt Fails Miserably. An Oregon man learned the hard way yesterday that a bat is probably not the best tool for robbing a gun store. 22-year-old Derrick Mosley reportedly attempted to rob Discount Gun Sales in Beaverton, Ore., on Thursday [7/25/2013]. Wielding a baseball bat, Mosley strolled into the store and smashed a display case. But, according to police, upon attempting to steal a gun from the smashed case, he learned that gun beats bat.

Robber Blunders and is then shot. La'Tay McKelley [...] has been charged with attempted murder and armed robbery of Cortez Coins in Ellenton, Florida. La'Tay, according to surveillance photos and the shop owner, attempted to rob the store and shoot the owner. He pulled the trigger at least three times. When the pistol failed to fire, he pistol whipped the owner before the owner shot La'Tay. Fortunately, La'Tay has either not had instruction in proper pistolcraft or did not pay attention when instructed.

One robber shot fatally, another wounded. The fatal shooting of one robbery suspect and wounding of another at 10401 Jensen Drive about 10:15 a.m. on Thursday (July 11) will be referred to a Harris County grand jury. One male suspect was pronounced dead at the scene.

Homeowner opens fire on suspects running from police in southwest Houston. Residents fed up with crime helped police nab a suspect who ran through their neighborhood while trying to get away from police. The young man was taken into custody early Wednesday [7/10/2013] following a chase in southwest Houston. The search for his three accomplices continues.

Homeowner Holds Thieves At Gunpoint. The hot weather prompted the Davis family to cookout Sunday, July 7th. But the cookout ended when their dog Scooby started barking toward their backyard. "When I came around the corner there was a vehicle parked right out here in our alley, and I hadn't noticed at first but there was a guy completely under the hood of my husbands truck," said Jaynessa Davis, homeowner. Two men [...] were rummaging under the hood of their truck.

Doggy-door burglary suspect arrested after shots fired in Lake County. The resident, whose identity wasn't released, said at about 6:15 a.m., the occupants of the house heard what sounded like someone trying to break into the house through the doggy door. The man armed himself and went to investigate the noise, Lt. Steve Brooks said. He saw a man crawling through the dog door with what appeared to be a black handgun in his hand. When the suspect started to lift the gun toward the victim, he fired twice at him, Brooks said. The man immediately backed out of the dog door and ran away.

Four arrested, fifth suspect shot after home invasion in Wilmington. Police say the suspects broke into a home at 1901 Colwell Ave. just after midnight. Callers told dispatch they heard a gunshot go off inside the home. When officers arrived they found a shotgun and blood on the floor. Investigators say during the invasion one of the victims shot [Jamar Hakeen] Gordon. No charges are being filed against the resident.

One arrested after man shoots at intruders; police searching for suspect who may be wounded. According to police, the son entered the house and found two men inside. They apparently had entered through the window. The man told police one of the intruders confronted him with a knife, so he fired at least two shots at the suspects from inside his house.

Customer shoots, kills robber outside Atlanta shop. Police say an armed man trying to rob customers outside an Atlanta shoe store was fatally shot by one of the patrons waiting in line to buy sneakers.

Dog-provoked bear attack in NW Wisconsin. A man is recovering at a Twin Cities hospital after he was attacked by a black bear Monday night [6/17/2013] near Shell Lake in northwestern Wisconsin. According to the Wisconsin DNR, the bear attack was provoked by the man's dog. The victim's brother, who was inside the family's cabin, stepped out and shot the bear.

Police: Hudson Falls man shot dead in Vermont after stabbing pregnant ex-girlfriend. Vermont State Police said Aaron Allen, 28, of Hudson Falls, died after being shot by Michael White, 24. [...] "He came to kill her, and who knows, they all could have been dead if Mikey hadn't stopped him," Debbie White said Monday afternoon [6/17/2013].

Homeowner shoots intruder, police say. A San Bernardino homeowner alerted to an intruder by his daughter shot and wounded the burglar after he tried to attack the homeowner late Saturday, June 15, police say.

Business Owner Pulls Own Gun, Kills Robber In Newark. The suspect announced a robbery, and ordered the owner to fill the backpack with money and gold. The suspect said he would shoot the owner's family members if the owner did not comply, authorities said. But the owner fought back. He pulled his own gun, and shot the suspect.

Sheriff: Man interrupts, shoots at burglars. A man came home to find two men breaking into his home on Dole Road, and the Sheriff's office says he fired a pistol at the men.

ATF agent shoots, wounds burglary suspect while defending Spring home. A federal agent shot and wounded a burglary suspect while defending his north Harris County home on Sunday morning [6/16/2013], deputies said.

Homeowner Shoots at Suspects in Home Invasion. Investigators said the incident occurred shortly before 9:30 p.m. with the homeowner shooting multiple times at two black male suspects.

Grandmother, 72, fends off burglar with a single shot from .357 magnum handgun. A burglar came in for the shock of his life when he burglarized the house of a 72-year-old grandmother and her disabled World War II veteran husband. The elderly lady turned Dirty Harry as she defended her home in Orange County, California, and her wheel-chair-bound husband — scaring off the 31-year-old assailant by firing a single shot from her .357magnum revolver as he tried to break through the front door.

No charges filed against man who shot, killed intruder in home. Authorities will not file criminal charges against a man who shot and killed an intruder in his home last month. Orangeburg County Sheriff Leroy Ravenell says the death of 21-year-old DeShawn Randolph has been classified as self-defense under the state's 'stand your ground' law.

Medford gun firing incident highlights law enforcement double standard. "[Corey] Thompson was charged with Unlawful Use of a Weapon, Menacing and Reckless Endangering," the report states, after he allegedly fired one round from an AR-15 personal defense rifle into the ground because, he claims, wanted felon Jonathon Kinsella "was trying to break in through his back door." [Note: The Medford Police Department Media Release spells their first names "Cory" and "Jonathan."] Police say the shot was unwarranted, because "the suspect was walking away."

Homeowner and intruder exchange gunfire. According to police, a Fort Stewart soldier, living at the Colonial Park Condos, 1100 Pineland Ave., was upstairs with his wife shortly after midnight when he heard someone enter his residence. He then went downstairs and confronted the intruder with a firearm. The two men exchanged gunfire.

Home Invasion Suspect Shot. A home invasion suspect is in critical condition after getting shot in S.E. Shelby County. Shelby County Deputies were called to the scene in the 4400 block of Jonsey just before 9:00 p.m. Saturday night. When they arrived they found a male with multiple gunshot wounds.

Homeowner fires handgun to stop alleged burglars. A homeowner fired his handgun into the ground three times to stop three men from stealing his appliances, according to the Kern County Sheriff's Office.

Brooklyn Boy, 10, Grabs Gun from Armed Home Invaders, Fires Shot: Police. A 10-year-old boy fought back against two robbers who tried to break into his family's home in Brooklyn Monday, grabbing a gun dropped by one of the suspects and firing a shot that scared them off, police said.

Warner Robins Homeowner Shoots, Kills Alleged Intruder Early Sunday Morning. Ronald Lewis Burnett, 36, was found by officers unconscious and lying on the ground outside the house at 205 Thomas Boulevard. He was taken to the Houston Medical Center and pronounced dead, having sustained an apparent gunshot to the chest. Officers were told that Burnett tried to break into the house and was shot by 32-year-old homeowner, Travis Lucas.

Gun owner stops home invaders dead. When a group of black men were planning a home-invasion robbery in Fayetteville, N.C., on Friday [4/12/2013], they stuck to an M.O. that had succeeded all over the country, but made one fatal error: They chose the wrong home. The residents of the targeted house were home at the time and armed. After what local authorities report as a "gun battle," two of alleged robbers died.

LA Homeowner Says His 'Large Gun' Helped Thwart Attempted Burglary. A homeowner in the Wilshire-Crest area of Los Angeles credits his quick thinking — and his "large gun" — for helping him stave off three apparent burglars.

Washington Jewelry Store Owner Wins Gunfight With Armed Robber, Sends Him Fleeing. An armed man entered a jewelry store in Kent, Washington and attempted to rob it. At some point during a confrontation with the store owner, gunfire erupted. Once the would be robber was met with armed resistance, he fled the store.

Pipe, club and finally gun needed to stop savage pit bull attack on woman in Detroit. Numerous people attempted to stop the relentlessly violent mauling of a woman by two pit bulls on Charles in Detroit late Tuesday afternoon [4/16/2013]. They used a pipe, vehicle steering-column auto-theft device, and finally, a gun.

Robber shot dead by would-be victim outside Ft. Worth store. A would-be robber was shot dead by a person with a concealed handgun license outside a Metro PCS store in the 7400 block of Wichita St. in Ft. Worth on Tuesday afternoon. Investigators say Desmond Paige, 20, tried to rob a man using Craigslist. The would-be victim brought his gun to the sale just in case. The man with the CHL was shot in the arm and the hand by the robber, but Paige was shot multiple times in the chest.

Homeowner uses Shotgun to stop Burglars. An Omaha resident who found an intruder in his garage early Saturday offered some words of wisdom to the young man as they waited for police to arrive. Rob Wegman, who lives near 212th Street and West Maple Road, said he told the man that if he wanted nice things, he should get a job. [...] Wegman said he held a 12-gauge shotgun on the intruder in a detached garage behind his home while his wife called police.

Heath Resident Fires Shot, Chases Off Would-Be Burglar. Police say a man in Heath [Ohio] fired a weapon at a would-be burglar on Thursday morning [4/11/2013]. The break-in occurred after 4 a.m. Thursday on the 900 block of Northbrook Court. The resident said he was awoken by his dog and spotted a person with a flashlight in his home.

Police: Home intruder shot, killed at Charlotte apartment. Police said they are investigating after a home intruder was shot and killed while trying to force his way into a Charlotte apartment. [...] Charlotte-Mecklenburg homicide investigators said the intruder was shot after struggling over a weapon with the man who lived there.

Robber Shot, Victim Wounded. Two men were shot, including the suspect, during a botched robbery attempt of a Marrero [Louisiana] sandwich shop Saturday night, the Jefferson Parish Sheriff's Office said.

Report: Homeowner shoots, hits tire; burglary suspects flee, found later. After they allegedly drove toward him, a homeowner shot at a Ford Taurus carrying three burglary suspects leaving his Melton Hill Drive property Saturday, authorities said. He hit a tire. But the trio was able to escape in the black car — at least temporarily, authorities said.

Oklahoma teens killed in Texas shooting; armed homeowner praised. Authorities were investigating an attempted robbery scene in north Texas on Thursday where two Oklahoma teenagers were found fatally shot — possibly by self-inflicted gunshots — and the local sheriff praised the armed homeowner who fired on the suspected intruders.

Pennsylvania Music Store Owner Shoots, Kills Intruder . "He wanted to look at guitars. He didn't ask for any money," the 72-year-old said Saturday evening, after being treated for injuries and released from UPMC Mercy hospital. And then, seemingly unprovoked, Mr. Moore pounced, clubbing her on the head. Just as suddenly, police said, Mr. Moore was dead, shot and killed by Mrs. Armen's husband, Alfred, 73, after a brief but violent struggle inside their store late Saturday morning [4/27/2013].

Law enforcement investigates third shooting in a day. The Bernalillo County Sheriff's Department tells Action 7 News they were called to a home on Southfort around midnight Wednesday. There, they say, a man had broken into a home. The homeowner allegedly shot the intruder, taking him down.

Iraq War vet thwarts break-in at Michigan gas station. Police say an Iraq War veteran thwarted two would-be burglars at his northern Michigan gas station by kicking one of them and ordering them away with an AR-15 rifle.

Attempted robbery ends with victim shooting suspect, police say; suspects in court. Two of the three suspects arrested in connection with an attempted robbery that ended with one of the suspects getting shot, made their initial appearances in Yuma Justice Court on Tuesday afternoon [4/30/2013].

Attempted Robbery Lands Two Suspects In Jail And A Third In The Hospital. The victim of the robbery stated that two male subjects had approached him as he stood in front of his trailer and demanded his money. The victim stated that one of the subjects had been armed with a handgun. The victim had also been armed with a legally concealed handgun, and upon being threatened, the victim and the suspect exchanged gunfire.

Intruder Dials 911 Because He Fears Homeowner May Have a Gun! [T]he intruder, Timothy James Chapek, became so frightened of Mackenzie that he called 911. You can hear her in the background of his call, with her two German Shepherds barking, when Chapek exclaimed, "I just broke in to a house and the owners came home... I think they might have guns."

80 Year Old With Gun Manages To Fight Off 5 Armed Robbers. What would have happened to the man had he not had a gun?

Intruder killed while breaking into Colorado prosecutor's home. An intruder who forced his way into the mountain home of a Colorado deputy district attorney was shot dead by either the prosecutor or her police officer husband, authorities said on Tuesday [4/2/2013].

Cocky Burglar Has Gun Put To His Head By Naked Man. Clinton Keller was one cocky burglar. Not only did he break into an occupied home in the middle of the night, he made multiple trips in and out of the house. It seems he was stockpiling the items he was most interested in on the front lawn. Unfortunately for Keller, he made a little bit too much noise entering the master bedroom and woke up Eric Martin, who was in bed with his wife.

Police: Would-be burglar shot dead by homeowner. Police said the homeowner shot the suspect when he saw him attempting to break into his home.

Home invasion victim shoots, kills one. A 63-year-old Philadelphia man shot and killed one of two men who broke into his home early Sunday morning [3/31/2013] after they climbed into the residence through a second-floor window and fought him, police said.

Woman, 22, fends off attacker with handgun. An man who police said grabbed a 22-year-old woman by her hair and assaulted her Sunday night [3/31/2013] got quite a surprise when she pulled out her handgun to defend herself. Police said the suspect ran away when he saw the gun. The woman was not seriously hurt.

Exeter homeowner holds burglar at gunpoint, police say. A Pennside man broke through the front door of an Exeter Township home early Sunday [3/31/2013] only to find himself facing the barrel of a shotgun, township police said. Officers arrived at the home in the 500 block of Church Lane Road and found would-be burglar Alexander D. Diaz-Cruz on the floor being held at gunpoint by homeowner Martin Zellers, police said.

Marine with concealed carry permit stops man from beating woman. A Wisconsin Marine Corps veteran used a concealed weapon to stop a man on the street from nearly kicking his ex-girlfriend to death on Tuesday [3/12/2013].

Concealed carry permit holder saves Police Officer. Permit holder saves a police officer from what would certainly be serious injury if not worse.

Covington woman shoots at armed burglar in her home. A Covington woman who awoke to find an armed man in the doorway to her bedroom was able to frighten him by screaming and then fired several shots at him as he fled, according to the St. Tammany Parish Sheriff's Office.

No arrests planned in fatal shooting Monday, says Sumner County sheriff. Sumner County law enforcement authorities said they finished their investigation of a fatal shooting Monday night [3/4/2013] in which a 41-year-old man from Iowa was shot by a farmer.

Miami police: Would-be robber is shot by victim, dies. An attempted robbery backfired when the victim fatally shot his attacker Tuesday night [3/5/2013] in northwest Miami, police said.

Intruder Shot By Homeowner In District Heights. According to Cpl. McKinney, a preliminary investigation indicates the injured man was banging loudly on an apartment door. The homeowner, armed with a handgun, opened the door to investigate. That's when the man forced his way into the apartment. In response, the homeowner shot the intruder who then attempted to take refuge in another apartment where he was later found by police.

Robbery suspect shot and killed by Dollar General Store manager. According to the Knoxville Police Department, an armed robber went into the Dollar General Store on Asheville Highway and the robber demanded money from the store's safe. The store manager complied. The shooting occurred seconds later outside the store.

Burglary suspect shot, arrested seeking medical help. Texarkana, Texas Police say a man who forced his way into a house with an armed guest was later arrested after seeking medical attention for his gunshot wound. The incident happened about 10:30 p.m. Sunday at a residence in the 2000 block of Wood Street, where police say the homeowner told them about how two masked males had forcefully entered her home and ordered everyone to lie on the floor. Both intruders appeared to be armed with handguns.

Son, 21, 'saved mother and father's life' after shooting home invader. A 21-year-old son shot dead an intruder to protect his parents when three men stormed their suburban home on Thursday night [2/21/2013]. The residents, who are from Eastern Europe, were enjoying some family time together and baking a cake when they heard a knock on the door at around 8pm.

Family fights back when 3 gunmen storm their home; one intruder shot. A 21-year-old man sprang into action to protect his family Thursday night [2/21/2013] when three suspects barged into their northwest Harris County home.

Man Shoots and Kills Two Home Invaders: National Media Silent. In yet another example of self defence using a firearm, a man used a gun to defend himself, and his toddler son from home invaders. Yet, the national media chose to take a pass on covering it.

Would-Be Robber Shot Multiple Times at Metro PCS Store. The day after a takeover robbery at a Metro PCS store on Folsom Boulevard that left the suspect dead, the Sacramento County Sheriff's Department has no one in custody and may never. [...] The suspect's name hasn't been released at this point, but FOX40 has learned he's a 30-year-old parolee with an extensive criminal record.

Dad says he killed intruders while defending his home. The man said he and his two-year-old son were sleeping when he heard a loud crash inside his home off Route 460 early Sunday morning [2/17/2013]. The man said he grabbed a handgun and left his room to investigate. Soon he found three men inside his home.

Security guard fights back! An armed couple who stormed a business in Michigan wielding guns were forced to flee when a member of staff pulled out a semi-automatic rifle. According to police, the pair entered the tax preparation business brandishing their firearms but little did they know the security guard was carrying an AR-15. After sudden panic, the guard ran at the attackers and let off two shots resulting in the terrified duo running out of the premises before they could harm anyone.

Why do civilians need assault weapons? In Harris County, Texas, a fifteen-year-old boy was home alone with his twelve-year-old sister when two burglars broke into the house. The young boy got his father's assault rifle and shot one of the burglars. The boy and his sister were unharmed, and the burglars were apprehended. Assault rifles can take lives, but as shown in this case, they can also save lives.

Utah Resident Forced to Forfeit Gun Used to Stop Home Invasion. In late January, 64-year old Clare Niederhauser was arrested for shooting at burglars fleeing from his property. At a plea deal hearing, he apologized for firing the shots, agreed to pay a $700 fine, take a weapons class, and forfeit the weapon he used. Fellow residents of Layton, UT are coming to the aid of the elderly man, who was arrested after firing a shot at a burglar's vehicle and a fleeing accomplice after they attempted to break in to his property with a crowbar.

Related page: Please refrain from defending your own life and property.

Homeowner shoots, wounds would-be burglar. Police arrested a 39-year-old man Monday night [2/4/2013] after a homeowner shot and wounded him while he was trying to break into a house in north Houston, officials said.

Suspect shot, killed in west Vegas break-in. Police said one of three men believed to have broken into a west Las Vegas home was killed after a homeowner opened fire at the group.

Police release name of suspect shot in Garrard County burglary. They say they came home and found a burglar inside. But a central Kentucky couple turned the tables on the intruder, and police say the husband shot him.

Utah store owner pulls gun to foil knife-wielding robber. A knife-wielding, would-be bandit got an unpleasant surprise Monday when he tried to hold up a South Salt Lake convenience store and found himself facing a gun.

Serial burglar shot by homeowner. Police say a serial burglar, who has been arrested 37 times, was shot by a homeowner in northwest Albuquerque Sunday morning [3/18/2012].

Why You Never Bring a Brick to a Gun Fight. [Scroll down] Good on that Good Samaritan neighbor. Had he not intervened, who knows how badly the woman would have been hurt. And had he intervened and not had a gun, there's no telling how much more damage the bad guy would have done to him with that brick.

Burglar Rolls Snake-Eyes in Vegas. KLAS-TV in Las Vegas reports that in the early morning hours of Tuesday [2/5/2013] a man in his seventies shot and killed an armed intruder who had just broken into the man's home along with a couple of armed partners-in-crime. After dialing 9-1-1 and alerting police to the home invasion, the man shot and killed one of the intruders.

Suspect Shot and Killed in Attempted Home Invasion in Fairborn, Ohio. Well, shouldn't this be flooding the news channels, considering everything else?

Armed guard disarms shooter at Georgia middle school. An armed guard at a Georgia middle school disarmed a student who had opened fire, wounding one person. [...] The guard will be disappeared from the story because his actions don't fit the narrative. It will be forgotten how many lives he may have saved, and how his presence proved the efficacy of hiring armed security for our schools.

Armed Guard Stops Shooter. While DHS seeks 7,000 semiautomatic guns with 30-round clips for self-defense, it makes a video saying you should use scissors to overpower armed predators. Luckily, a school guard in Atlanta thought differently.

Martin Luther King Jr. High School coach shoots attackers. Police sources tell 7 Action News that a women's basketball coach from Martin Luther King, Jr. Senior High School shot two men who attacked him as he was walking two basketball players to their cars in the school parking lot. Police sources say the coach was walking the two girls to their cars when two men allegedly approached and one pulled out a gun and grabbed him by his chain necklace. The coach then pulled out his gun and shot both of them, according to sources. The man who shot the attackers was 70 years old, according to police.

The Editor says...
The streets and schools named after Martin Luther King are often the most dangerous places in town. Use your favorite search engine to find "Martin Luther King Boulevard after dark."

Urban streets named for MLK still struggle. A walk down the 6-mile city street named for the Rev. Martin Luther King Jr. yields plenty of images that would surely unsettle the civil rights leader: shuttered storefronts, open-air drug markets and a glut of pawn shops, quickie check-cashing providers and liquor stores.

Armed veteran in wheelchair thwarts home invasion. Authorities say a U.S. Army veteran who uses a wheelchair wielded a pistol to run off a man who broke into his home near Athens [Georgia].

Home Intruders Decide Not to Stick Around After Seeing Their 'Victim' Holding an AR-15.
No Shots Fired. "By the time I had it out and ready, one of the men came at my door, slowly opened it, saw that there was a barrel on the other side and from there backed out," Raymond recalled. After seeing the barrel of an AR-15 staring them in the face, the two men fled from the apartment. No shots were fired and no one was injured. In fact, the rifle wasn't even loaded at the time of the incident, Raymond said.

D.C. man who shot dogs biting boy could face charges. The incident unfolded Sunday afternoon [1/20/2013], after three pit bulls attacked an 11-year-old boy as he rode his bicycle through the Brightwood neighborhood of Northwest, according to a police report. When the man, a neighbor, saw the boy being mauled by the dogs, he went inside his home and got a gun. The man killed one of the dogs. The gunfire attracted the attention of a police officer in the area near Eighth and Sheridan streets, where the attack occurred. The officer responded and shot the other two pit bulls as they continued to attack the boy.

Georgia College Student Saves Himself, Ten Friends By Shooting At Masked Attackers, Killing One. But no, he shouldn't have had an "evil gun"...

College Student Shoots, Kills Home Invader. A group of college students said they are lucky to be alive and they're thanking the quick-thinking of one of their own. Police said a fellow student shot and killed one of two masked me who burst into an apartment. Channel 2 Action News reporter Tom Jones met with one of the students to talk about the incident. "Apparently, his intent was to rape and murder us all," said student Charles Bailey.

Grandma With Gun Halts Store Robbery. A gun-carrying grandmother in Milwaukee foiled an attempted robbery when she pulled a firearm on the suspect as he grabbed for her grocery store cash register. Ernestine Aldana, 48, was behind the counter at the San Ignacio Market when a man in a dark hat pulled a knife on her and attempted to rob the store register, police said.

CBS Actually Covers Gun Self-Defense Case Promoted By NRA; ABC, NBC Punt. On Friday's [1/11/2013] CBS This Morning, Bill Plante refreshingly spotlighted how firearms are used to protect the lives of ordinary Americans. Plante noted how the National Rifle Association "Tweeted a story... about Melinda Herman, a Georgia woman who shot an intruder in self-defense as she waited with her two children in a closet.... She fired at the man multiple times with a .38 caliber handgun." The two other Big Three morning shows failed to mention this story during their coverage of the current gun control debate.

School Shooting in Tennessee That National Media Did Not Report. I am sure that no one outside of our immediate region has ever heard the story, because the only person who was shot — and killed — was the gunman. These types of stories don't fit the narrative of those who want "gun-free zones" and so are ignored by the national media.

Never bring a cattle prod to a gun fight.
Police: Fla. clerk's gun beats thief's cattle prod. Authorities say a Florida Panhandle man has been arrested after he tried to rob a convenience store with a cattle prod but was thwarted by a clerk with a gun.

Armed businessman confronts thieves in the act, deputies say. A 64-year-old man armed with a shotgun caught two burglary suspects in the act Monday [1/7/2013] and detained the men until deputies arrived, the Volusia County Sheriff's Office reported. The owner of West Crane Services on Newport Avenue told deputies his business was burglarized last week, so he staked out the property at night anticipating the thieves would return.

Homeowner shoots at two men breaking into his Vallejo residence. At about 11:45 a.m. the man found the two men breaking into his home in the 200 block of Windsor Court, police said. The man then armed himself with a weapon and took a shot at the suspects, who fled the house in a champagne four-door late 1990s Cadillac, police said.

Concealed Carry Holder Teaches Armed Robber Why It's a Bad Idea to Pull a Gun on a Dad. A father in Columbus, Ohio was forced to defend himself and his 2-month-old son when a man pulled a gun and attempted to rob him on Monday night [1/7/2013]. Luckily, Kelby Smith, 34, owns a permit to carry a concealed handgun and was able to shoot the robber.

Armed Florida senior changes would-be robber's life with legal handgun. Here's some more news for the media gatekeepers to bury, since it runs strongly counter to their preferred gun-control narrative: a 71-year-old Florida man used his lawfully carried firearm to thwart an armed robbery at an Internet cafe in Ocala, Florida.

Girls With Guns. In October 2012, 12-year-old Kendra St. Clair was also at home alone when a home invader kicked in her back door. Her mother advised her over the phone to hide in the bathroom. Luckily, the preteen grabbed her parents' handgun first -- and shot the intruder in the shoulder. "When I had the gun, I didn't think I was actually going to have to shoot somebody," she told ABC News. "I think it's going to change me a whole lot, knowing that I can hold my head up high and nothing can hurt me anymore." Now that's girl power.

Boy Uses AR15 To Stop A Home Invasion. Bottom line, banning the AR15 and its variants is banning perhaps the single most effective weapon for home defense. That is particularly true for women and teens. Keep that in mind as the left tries to disarm America in the wake of Sandy Hook.

Mother Hiding with Kids Shoots Intruder. As I've mentioned before, while I'm a huge supporter of the Second Amendment, I'm no fan of guns and sincerely wish that owning one (or three) wasn't a necessary responsibility, especially when you have a family. Here's another reason why that's the case.

Mother Hiding with Kids Shoots Intruder. A woman hiding in her attic with children shot an intruder multiple times before fleeing to safety Friday [1/4/2013]. The incident happened at a home on Henderson Ridge Lane in Loganville around 1 p.m. The woman was working in an upstairs office when she spotted a strange man outside a window, according to Walton County Sheriff Joe Chapman. He said she took her 9-year-old twins to a crawlspace before the man broke in using a crowbar. But the man eventually found the family.

Cops: Mother of two surprises intruder with five gunshots. The Loganville mother of two assumed the knocks on her front door Friday afternoon were from a solicitor. "Don't answer," she yelled to her 9-year-old twins playing downstairs. When the visitor began repeatedly ringing the doorbell, she called her husband at work. "Get the kids and hide," he told his wife.

This didn't happen; please ignore this post. Liberal-fascists would rather this woman had been raped and murdered, and her children right along with her.

Obama's Disarm the Victim Movement. So now we're learning that Barack Obama wants to make the sale of high capacity magazines illegal. How nice. Nice — and easy to expose as completely absurd. Let's just use one occurrence to address the dream shared by Dear Ruler and liberals of eliminating these high-capacity magazines in rifles and handguns. To show the absurdity of this idea, let's just go back to Loganville, Georgia 11 days ago.

The December 16 Movie Theater Shooting You Didn't Hear About. The story was covered locally, but seeing as it happened just one day after the Sandyhook massacre in Connecticut, you would think it would have gotten more airplay in the MSM. Don't stories like this one play right into their anti-gun hands? No — not this one.

Here's Why Someone Would Need To Own An 'Assault' Rifle. The left keeps asking why anyone needs an "assault" rifle. Here's one reason — in 2010, a Texas teen used a rifle similar to the one used in Newtown to defend his younger sister and himself from home invaders.

Three in the Head. I carried a gun in New York City for more than a decade — back when there were thousands of murders a year and the Bronx led the nation in killings. On at least four occasions, that gun saved my life, and in a couple of instances, the lives of people who were with me at the time.

Intruder fatally shot after breaking into Glen Burnie business, police say. Anne Arundel County police are investigating a report that an employee in a coin shop in Glen Burnie shot and killed an intruder Tuesday morning [12/25/2012].

Police: Man defends himself, kills robbery suspect. Police in Atlanta say a man was defending himself when he shot and killed a suspected robber on Christmas Eve.

When assault weapons saved Koreatown. This year marked the 20th anniversary of the Los Angeles riots, sparked by the acquittal of four Los Angeles Police Department officers accused of beating the now-deceased Rodney King. During the five days, mobs around Los Angeles looted stores, burnt 3,767 buildings, caused more than $1 billion in property damage, and led to the deaths of more than 50 people and left another 4,000 injured. A story that has been forgotten since then is that of the brave storeowners in Koreatown who fended off mobs with handguns, rifles and assault weapons.

Ohio crime victims fire back in 2 shooting incidents. In separate incidents less than 12 hours apart, crime victims fought back by shooting robbers Sunday [12/9/2012] and early Monday, killing one suspect and injuring three. In both cases, the crime victims were not hurt.

Robbery Suspect Shot and Killed in Triple Shooting. Two robbery victims turn the tables on the man who tried to rob them. The victims, a man and woman were shot, but in the end its the robber who didn't make it out alive.

Attempted Battle Creek robber shot in head. A clerk at a Battle Creek convenience store wasn't about to be robbed. The 28-year-old man running the register at Liberty Mart Convenience store shot the attempted thief in the head when the suspect pulled a knife and demanded money.

Cafe manager fends off robbers. The manager at an Internet sweepstakes busines fired twice at robbers early this morning and chased them from the business, police reported.

Neighbor handcuffs, detains would-be-burglars at gunpoint. Many neighbors said this has brought them even closer. "You have all this stuff that happens in the neighborhoods in Houston, where people are getting shot and killed and raped and murdered. We're not having it," said neighbor Suzanne Lumus.

Big Lake men subdue serial burglar. A bail-jumping burglar may be feeling lucky at the possibility of spending the next several decades in jail after an armed confrontation that nearly left him shot. Joshua Beaty, 25, was in the process of robbing the Big Lake area home of James Conner Oct. 26 when Conner and a couple of his friends caught Beaty in the act.

Fruit vendor grateful after customer shoots gunman. A South Florida fruit vendor is speaking out with words of gratitude for a customer who stepped in after someone tried to mug him. Blood stains and crime scene tape remain on the sidewalk marking the spot of the near-fatal confrontation that occurred Tuesday afternoon [11/27/2012].

Retired Marine Shoots Home Intruder During Break-In. If you're a thief, there are a couple of warning signs that you should watch out for. A dog bowl and a leash in the front yard would tip you off that you're probably going to get bitten. A sign that reads, "Trespassers will be shot!" is pretty self-explanatory. The home of 77-year-old Lloyd McCarty is similarly filled with warning signs.

Home Invader Shot in Boardman, Ohio. Officers said one of the suspects, Keemoni Harris, 22, of Campbell, and the homeowner, James Truman Sr., exchanged gunfire, firing about five shots. Truman wasn't hit, but officials said Harris went to the hospital with three non-life threatening gun shot wounds.

Man Shoots Intruder in Santa Maria. An unidentified intruder was shot Sunday evening [12/9/2012] in Santa Maria when he knocked on a homeowner's door and brandished a gun.

Santa Maria man recovering in hospital after shooting. Police say when the homeowner answered the door, the man outside threatened the him with a gun. Police say the homeowner also had a gun and shot the man at the door several times.

Owasso homeowner shoots, kills intruder. An investigation is underway after an Owasso homeowner shoots and kills a man that Owasso Police say was breaking into his home.
[Atrocious grammar in original.]

Mass Killings Stopped by Armed Citizens. There are several documented cases where armed citizens have stopped mass attacks by gunmen. Let me list a few: The Pearl, Mississippi school shooting was stopped by the vice principal Joel Myrick with a Colt .45, The Appalachian School shooting was stopped by two students with handguns. Both of the above incidents were stopped by the armed citizens threatening the shooter without firing.

"Gun free" zone confirmed. The Sandy Hook school was a gun-free zone, meaning Mr. Lanza knew that no one could shoot back when he entered the school or the classroom where his mother taught. The shooting in July in a movie theater in Aurora, Colo. was also in a gun-free zone. Rather than engaging in yet another debate about the Second Amendment, perhaps we should be discussing whether security is enhanced or weakened by not allowing a school to be armed for self defense.

Homeowner shoots intruder near Mulvane. A 31-year-old burglary suspect is listed in serious but stable condition after he was shot in the chest by a homeowner in rural Mulvane [Kansas].

California Resident Shoots Home Invader. The resident heard someone remove a screen and break a kitchen window to gain access to his home, so the resident armed himself with a handgun, the sheriff's office said.

Store clerk, would-be robber trade gunshots. An attempted armed robbery went bad quickly for the gunman Friday night [12/7/2012] when a store clerk pulled out his own weapon and began blasting away.

Sheriff: Armed homeowner walks burglar outside to wait for deputies. A George County man found himself on the wrong end of a homeowner's gun after allegedly breaking into a home on Crenshaw Road Saturday night. Sheriff Dean Howell said just after midnight, dispatch received a call from a homeowner who said he was holding a burglar at gunpoint.

Woman Carrying Concealed Weapon At Nail Salon Stops Armed Robbery. Here in Mass[achusetts] where it's almost impossible for a law abiding citizen to carry a concealed weapon this story would have ended much differently.

Casper Police: Nail salon customer packs heat, gunman leaves. A gunman retreated from a Casper nail salon last week after realizing one of its customers was packing heat. [...] A witness said the man then reached into his coat pocket and began to take out a silver-colored pistol. At that moment, a woman who was getting her nails done reached into her purse and got her own firearm. Police say the man never fully raised the gun and left the building after seeing the customer had her weapon out.

Lesson Of Sandy Hook, Clackamas — Ban Gun-Free Zones. In the target-rich environment of the Clackamas Town Center two weeks before Christmas, the shooter managed to kill only two people before killing himself. A far worse tragedy was prevented when he was confronted by a hero named Nick Meli. As the shooter was having difficulty with his weapon, Meli pulled his and took aim, reluctant to fire lest an innocent bystander be hit. But he didn't have to pull the trigger: The shooter fled when confronted, ending his own life before it could be done for him. We will never know how many lives were saved by an armed citizen that day.

Clackamas Mall shooter killed himself after seeing gun carrier aiming at him. Nick Meli never shot his gun out of fear of hitting a bystander, but apparently seeing him with his gun was enough for the shooter at Clackamas Mall earlier this month to turn the gun on himself and commit suicide.

Clackamas mall shooter faced shopper with concealed weapon. Nick Meli is emotionally drained. The 22-year-old was at Clackamas Town Center with a friend and her baby when a masked man opened fire. [...] "I'm not beating myself up cause I didn't shoot him," said Meli. "I know after he saw me, I think the last shot he fired was the one he used on himself."

Virtually Unreported: CCW Holder Likely Prevented Larger Clackamas Mall Death Toll. If certain aspects of stories relating to an incident of gun violence don't fit the template, they usually doesn't get reported at all. But if such things somehow get some local exposure, they rarely escape into the broader national news environment.

Citizen With Concealed Carry Permit May Have Saved Lives During Oregon Mall Shooting. The shooting last week at the mall in Clackamas, Oregon has been overshadowed by the tragedy that unfolded Friday morning at an elementary school in Newtown, Connecticut. In Oregon two innocent human beings lost their lives, but perhaps the carnage would have been worse if not for Nick Meli, who has a concealed carry permit and was in the mall when the gunman opened fire.

Waffle House Robber Killed By Concealed Carry Permit Holder. I hate to see a kid throw his life away, literally, for whatever could be stolen from a Waffle House, but when you start pointing guns at people and robbing them, you forfeit your right to take in oxygen. This is especially true if there is someone with a gun pointed at you.

Retired SC Highway Patrol trooper shoots, kills home intruder in Bluffton. A retired S.C. Highway Patrol trooper shot and killed an intruder after a struggle in his Bluffton home early Wednesday [11/14/2012], according to the Beaufort County Sheriff's Office. Former trooper Lt. William "Chuck" Wise was attacked by a man attempting to break into his Palmetto Bluff Road home at 2:15 a.m. when Wise fired several shots, striking and killing him, investigators say. The body of 39-year-old Paul Edward Rowell was found in the main entryway, the Sheriff's Office said.

Homeowner fatally shot attacker, another suspect flees, police say. A Palm Beach Gardens man was found dead in front of a Holly Hill home Friday night [11/16/2012], and investigators say he is one two suspects that tried to rob the house.

Mystery: Virginia gun violence falls as gun sales soar. So, who are the people buying all these guns? That's right, ladies.

12-Year-Old Defends Herself with Gun. This past Wednesday [10/17/2012] a young 12-year old girl in Bryan County, Oklahoma was able to protect her life when an intruder kicked in her back door and entered her house. Frantically, she called her mother who advised her to grab their household gun, hide in the closet, and call 911. The intruder made his way through the house, and as he was opening the door of the closet, the young girl shot him through the closet door. The intruder left the house and the girl was found unharmed. The police arrived and took the man into custody.

'I aimed right for his heart'. A 92-year-old war veteran who shot dead an intruder at his home says he has only one regret — that he didn't shoot the alleged burglar's accomplices. Earl Jones from Boone County, Kentucky, killed Lloyd (Adam) Maxwell after the intruder broke into his home at 2am on Monday [9/2/2012] with two accomplices.

Armed bystander stops stabbing outside school. A woman is in critical condition after she was stabbed outside her child's school Tuesday morning. [...] Police say a bystander who happened to be a concealed handgun license holder pulled his weapon and ordered [Roberto] Barron to drop the knife.

Buy a gun. One thing the national news media will always ignore is the practice of lawful self-defense. For example, most people are probably not aware of the fact that American citizens use a firearm to defend themselves more than 2.4 million times every year. That is more than 6,500 times every day. This means that, each year, firearms are used 60 times more often to protect the lives of honest citizens than to take lives. Furthermore, of the 2.4 million self-defense cases, more than 192,000 are by women defending themselves against sexual assault. And in less than eight percent of those occasions is a shot actually fired. The vast majority of the time (92%), the mere presence of a firearm helps to avert a major crime from occurring.

Gun Owner Saves Cop's Life by Shooting Deranged Gunman!
Another Old [Man] Steps In To Save A Life. This time in Early, Texas. This was remarkably good shooting by the hero. He must practice a lot. If not for his interference others would have died.

65-year-old woman thwarts robbery on jewellery store. Five armed men who attempted to rob a jewellery store were left scrambling for the door when a 65-year-old woman opened fire on them. The handgun-wielding thieves, clad in hoodies, were forced to flee Continental Jewelry in Garden Grove, California, after the woman chased after them last week.

What Gun Haters Don't Want You to Know. The other side of the gun rights argument is that guns save lives. A 65 year-old female jewelry store owner singlehandedly chased off five masked thugs who were robbing her Greenwich store. She fired two shots in the air as she ran after them. They were knocking into each other trying to get out the door.

Gun carrying man ends stabbing spree at Salt Lake grocery store. A citizen with a gun stopped a knife wielding man as he began stabbing people Thursday evening [7/26/2012] at the downtown Salt Lake City Smith's store. Police say the suspect purchased a knife inside the store and then turned it into a weapon. Smith's employee Dorothy Espinoza says, "He pulled it out and stood outside the Smiths in the foyer. And just started stabbing people and yelling you killed my people. You killed my people."

Gun Carrying Man Stops Stabbing Spree in Utah. Another Second Amendment success story: A man carrying a gun in a Utah grocery store stopped a man that went on a stabbing spree after purchasing the knife in the store.

Salt Lake City Citizen Shows Why Anti-Gun Nuts are Blockheads. Notice the individuals who took the knife to the stomach and head were not carrying a form of self-defense. If you can't figure this out, then perhaps you should do the rest of us a favor and skip the voting booth in November.

Two Aurora Shootings: One Widely Known; the Other Ignored. On April 22 of this year a convicted felon, just out of jail, went to an Aurora, Colorado, church and shot and killed a member of the congregation before being killed himself by a congregant carrying a gun. [...] Because the perpetrator was able to claim only one life before being killed himself by someone carrying a gun and acting in self-defense, it garnered relatively little publicity.

Excellent — concealed-carrier stops an armed robbery. Ah, sweet justice — drink it in, it always goes down smooth. There are few things that warm my heart quite so much as watching a lawfully armed citizen give a good lesson to a couple of bad guys who seek to threaten, intimidate, and possibly cause fatal bodily harm to others while undermining the rule of law. In an Internet cafe in Florida the other night, two armed robbers likely gained a newfound respect for the Second Amendment, the hard way.

71-year-old patron fires on, scares off would-be robbers. Two men attempted an armed robbery at the Palms Internet Cafe in Florida Friday night [7/13/2012], the Marion County Sheriff's Office reports. [...] 71-year-old patron Samuel Williams drew his own handgun when the two masked men, one with a baseball bat and the other with a hand gun, barged into the Palms.

Surprise! Would-be cafe robbers run into one tough 71-year-old. Two hooded men, their faces covered, went into a Florida Internet cafe Friday, hefting a baseball bat and toting a handgun. What they couldn't have expected to encounter was Samuel Williams, a fleet-of-foot senior citizen with a gun. The two suspects, identified by authorities as DuWayne Henderson and Davis Dawkins, went spinning and running after Williams, 71, dropped to one knee and aimed his .380.

14-year-old Phoenix boy shoots armed intruder. A 14-year-old boy shot and nearly killed an intruder who broke into his Phoenix home and pulled a gun on him while he was watching his three younger siblings, police said Saturday [6/23/2012].

Teen Stands Ground, Saves Family. An Arizona 14 year boy shoots and seriously wounds an intruder to his home. The teen was watching his younger siblings when a woman first rang the door bell, then began pounding on the door. He realized something was not right and ran upstairs where a gun was stored. As he returned a male intruder kicked down the door and entered with gun in hand.

Good Girl with Gun Lives, Bad Guy with Knife Dies. [Sarah] McKinley, who had just lost her husband to lung cancer on Christmas Day, was home with her 3-month-old baby boy on New Year's Eve when two dillweeds decided they were going to break into her casa. Good Sarah was having none of it. [...] Sarah probably thought that things couldn't get any worse after losing her husband on Christmas Day. And yet things did get worse. But, thankfully, she was trained and had a gun.

Man With Concealed Carry Permit Stops Attacker. An attacker bought the knife inside a local market in Salt Lake City, UT, then stabbed one man in the side of the head and another person in the stomach. The attack took place in the market parking lot. A bystander with a concealed carry permit witnessed the attack and stepped in to keep it from escalating.

Georgia Granny Thwarts 2 Would-Be Robbers in Shootout. Authorities in Georgia say a grandmother foiled a robbery attempt by two armed men by getting into a shootout with them, injuring one man.

'I carry a gun all the time' says woman who thwarted Macon holdup attempt. Looking at Lulu Campbell's bullet-riddled silver Toyota Tundra, common sense says the 57-year-old grandmother should be dead. It's impossible to tell how many bullets were fired at 2 a.m. Saturday morning [4/21/2012] on English Avenue, but what started as an armed robbery attempt turned into a full-blown firefight.

Witness: Home invader shot dead on South Side. A man was shot to death on the front steps of an Englewood home, and a witness said it was a home invasion that was foiled by a man who lives there.

Intruder shot entering home. There was a bang at the door. Then a second bang and the door swung open. An intruder with a handgun had barely come inside the apartment when it happened, recalled the man who lives there. The intruder pointed the gun at him, he said, so he grabbed his own handgun and fired at least twice.

Homeowners With Guns Fight Back. In the wake of two home invasions in three days, some metro area homeowners, fed up with violence are willing to risk it all and fight back bad guys. Monday [4/9/2012], a Kansas City woman, scared for her life, shot and killed a 17-year-old armed intruder.

Another NYC shooting death that doesn't fit the MSM Narrative. A 48-year old retired NYC police lieutenant is being heralded as a hero for shooting down a would-be armed robber, but you won't hear much about this story from the MSM because it doesn't fit the "Trayvon Martin" narrative. The New York Post reported Friday [4/13/2012] that two men attempted to rob a drug store at gun point looking for cash and expensive prescription drugs. What they got was more than they bargained for.

Gun owners are not to blame. Last year, in Gwinnett County, Ga., a woman in her early 50s was getting out of the shower when the bathroom lights suddenly went out. As she stepped out into the dark, a man slammed her onto the tile floor. Injured but still conscious, she tried to fight him off when she felt a blade against her throat. During the attempted sexual assault that followed, the woman managed to break free and retrieve the .22-caliber pistol she kept in the bedroom. She shot her intruder several times, killing him.

Intruder stopped for snack before fatal shooting. A homeowner fatally shot a would-be robber who entered his house in Springville early Thursday morning [3/1/2012]. The intruder apparently stopped for a snack and changed clothes before going upstairs to threaten the home's residents.

Detroit: With Fewer Police and Rising Crime, "Justifiable Homicides" Soar. Living in a city with a substantially diminished police force, a growing number of the residents of Detroit, Michigan, have decided that they can take a "bite out of crime" all on their own, and are using firearms in self-defense to protect themselves from the burgeoning ranks of violent criminals.

Detroit citizens no longer rely on police as self-defense killings skyrocket.
911 is a Joke. Justifiable homicide in the city [of Detroit] shot up 79 percent in 2011 from the previous year, as citizens in the long-suffering city armed themselves and took matters into their own hands. The local rate of self-defense killings now stands 2,200 percent above the national average. Residents, unable to rely on a dwindling police force to keep them safe, are fighting back against the criminal scourge on their own. And they're offering no apologies. ... The last time [Detroit resident Julia] Brown, 73, called the Detroit police, they didn't show up until the next day.

National Guardsman thwarts Red Line robbery; 3 teens arrested. Three teens who attempted to rob a judo instructor with a replica gun at a CTA station got more than they bargained for, police say. It wasn't the judo teacher who taught them a lesson, authorities say, but an Army National Guardsman armed with a real gun.

Also posted under violent crime on mass transit.

Oklahoma Woman Shoots, Kills Intruder. A young Oklahoma mother shot and killed an intruder to protect her 3-month-old baby on New Year's Eve, less than a week after the baby's father died of cancer.

Mother With a Gun. If the National Rifle Association had an award for Mother of the Year, it might already have a winner. When two men began to break into her home on New Year's Eve, Sarah Dawn McKinley of Blanchard, Okla., popped a bottle into her crying three-month-old baby's mouth and reached for her guns.

Antioch man answered burglar's knife with gun. An alleged burglar was shot dead by the owner of a vacant Antioch home after the suspect threatened him with a knife, police said Monday [11/7/2011].

Armed pizza deliveryman shoots, wounds would-be robber. A Papa John's Pizza delivery driver told police that he drew his own handgun and shot a gunman who tried to rob him Thursday night [11/3/2011] in southeast Memphis. ... Only eight months before and about three miles west, another Papa John's driver, 56-year-old Ron Brake, was fatally wounded during a robbery after delivering pizza at an apartment complex in Hickory Hill.

Developer with shotgun scared off Oakland rioters. Oakland developer Phil Tagami is used to working behind the scenes to broker some of the biggest deals in town. Late Wednesday [11/2/2011], he was using different persuasive skills — holding a loaded shotgun to scare away rioters trying to get into a downtown building.

Clerk at Del's 24 Hour shop shoots, kills would-be robber who grabbed child. A clerk at a landmark East Naples corner store shot and killed a man Tuesday [10/18/2011] as he attempted to rob the family-run shop and flee with her 1-year-old daughter.

Victim shoots robbery suspect in Applebee's parking lot. Authorities say a would-be victim pulled a gun and shot a man who tried to rob him in a restaurant parking lot in St. Petersburg.

Johnson City homeowner shoots intruder in chest, police say. "This case involving the home invasion and home owner shooting the intruder appears to be justified; however (Johnson City Police Department) will submit this case to the district attorney and present the facts to a grand jury in Blanco County," Police Chief Randy Holland said. "I can only hope and pray that would-be criminals everywhere are deterred by this incident."

West Virginia 72-Year-Old Repels Home Invasion. At noon Saturday [7/23/2011], 72 year old Menuard Frazier's home was invaded by three men who beat him and tied him up while they robbed his residence. According to WSAZ, the three men knocked and asked the retiree to use the phone. As he led them to the kitchen, they jumped him, tied his legs up and put a sheet over his head.

Hotel clerk kills Orangeburg robber. A small woman in her 50s working as a hotel clerk at a Columbia area Days Inn shot and killed a robber "more than double her size" Monday morning [7/25/2011], Richland County Sheriff Leon Lott said. The man, Vincent Carson, 43, of Orangeburg, had held a knife to her throat, put the knife down and was apparently going to tie her up and sexually assault her, Lott said.

Congressman Boswell fights off armed intruder at Iowa farm house. A home invasion at Rep. Leonard Boswell's Iowa farm ended when his 22-year-old grandson fetched a shotgun and aimed it at the intruder, according to a statement from the congressman's office. No one was seriously injured.

Woman: 'I shot him as much as I could'. The crying woman told a 911 operator she "shot him as much as I could" and moments later police found her would-be attacker dead in the back yard of her Gwinnett County home. The woman was getting out of the shower when 34-year-old Israel Perez Puentes, armed with a knife, dragged her to the bedroom where he planned to rape her, police said.

Police ID slain home invasion suspect. The man who police say was killed by a homeowner during an attempted sexual assault was identified Thursday [5/11/2011] as Israel Perez Puentes, 34, of Alpharetta. A Gwinnett County woman shot and killed Puentes Wednesday morning after the knife-wielding man attacked her in the shower, police said.

3rd suspect turns himself in after homeowner kills intruder. Cecil Barwick was home alone inside his Stony Landing home Wednesday morning [4/13/2011] when police say he heard voices and footsteps from upstairs. The 50-year-old man grabbed his handgun and quickly came face to face with one of the men who broke into his house and had been rifling through his belongings upstairs.

NOPD: N.O. Woman Kills Armed Home Intruder. The NOPD is investigating the fatal shooting of man they describe as an "armed home intruder." ... According to investigators, 21-year-old Melvin Plummer of Marrero entered a house occupied by a 30-year-old woman and her three children and brandished a handgun. The woman, who has a concealed weapons permit, pulled a gun and shot Plummer multiple times.

Owner kills 3 robbers in jewelry store shootout. In the back room of a humble jewelry store and pawn shop in Houston's East End Thursday afternoon [12/16/2010], a gunman tied Eva Castillo's wrists tightly — too tightly. She complained of the pain, so he loosened the bindings. Then Castillo's husband was ordered at gunpoint to put his hands behind his back. But Ramon Castillo had a surprise for the gunman and two cohorts, who had announced they were robbing the business. Castillo pulled a pistol from his waistband and shot the gunman dead.

Robbery Suspect Charged With Murder After Alleged Accomplices Killed by Homeowner. Three young black men break into a white man's home in rural Northern California. The homeowner shoots two of them to death — but it's the surviving black man who is charged with murder.

Pistol-packing Ala. grandmother shoots intruder in bedroom. Police say 69-year-old Ethel Jones shot 18-year-old Michael O'Neal Bynum in the abdomen when she said she found him inside her bedroom.

Robbers pick wrong target; two shot, one killed by gun-toting victim. Two would-be robbers forgot to ask their victim a key question: Do you have a gun and know how to use it? ... The man, who works for a local gun range, declined comment Friday [7/2/2010]. He asked that his name not be published because authorities told him the attempted robbery may be gang-related.

Victim had just fixed meal when he was assaulted and stabbed.
"If I'd had a trigger lock, I'd be dead."

Check out the Civilian Gun Self-Defense Blog. Where Clayton Cramer and Pete Drum keep track of civilians using guns in self-defense.

Somewhat related:
The Gun I Didn't Have. The most street-wise punk knows it is stupid to bring a knife to a gunfight. I followed the laws, stayed legal, and left my guns at home when I came here. The gun regulations of our nation's capitol put me face to face with a criminal who ignores the laws. Law enforcement was not there to protect me and the rules I followed stole my right to protect myself. Where's the justice in that?

Robbery victim fights back, kills robber. Hazelwood police said a robbery victim, in his 50's, opened fire on and killed a would-be robber Tuesday night. The shooting happened at the intersection of Dunn and Cortena Roads around 8:40 p.m Tuesday [5/4/2010]. Chief Carl Wolf said the would-be robber walked up behind the man on the street and tried to rob him.

Wife of 80-year-old who shot intruder: 'He saved our lives'. The intruder — who police said wore stockings over his hands to keep from leaving prints — wiggled the brass doorknob of the locked door that led to the first-floor apartment, but it didn't open, the family said. He then turned to the oversized glass window of the 80-year-old's bedroom, pulled out his gun and shot, police and family said. But just as the man got off a second round, the homeowner, who had a handgun of his own, fired a single shot, killing the intruder, a police source said.

Man, 80, 'did what he had to do,' killing home invader. An 80-year-old Army veteran shot and killed an armed man who'd broken in to the two-flat where he and his wife live in East Garfield Park early this morning and fired at him. He did what his son said "he had to do" after having vowed not to be victimized again following a robbery months earlier.

A Gun For Grandpa. Chicago is deciding whether to prosecute a great-grandfather and Korean War veteran under its handgun ban. He refused to be a victim, and now there's one less armed thug roaming the streets. What's the problem?

Criminals aren't only ones ignoring city handgun ban. When police caught up to a fleeing drug suspect early Thursday [6/3/2010], they had little problem arresting him. They found him in a private home he had entered, wounded in the chest by a resident with a handgun. The shooting occurred about a week after an 80-year-old Army veteran used a handgun to shoot and kill an armed burglar who had broken into his home. In both cases, the weapons violated the city's 28-year-old handgun ban, but police so far have declined to press charges.

The Editor says...
If these Chicago residents had complied with the handgun ban, they would probably be dead.

73-year-old collars intruder at Spartanburg home. "When I jacked that round in the chamber, he sat down and was holding onto the rail," Easler said. "I know he was scared. "I told him, You do anything sudden, you're liable to end up dead.'" The man complied, and Easler held him at gunpoint in a bathroom off the kitchen until deputies from the Spartanburg County Sheriff's Office arrived about 10 minutes later.

Homeowner fatally shoots burglary suspect. A homeowner shot and killed a suspected burglar who came at him with a tire iron Tuesday [7/28/2009] after breaking into a storage shed on the man's property in east Harris County, officals said. Although the shooting will be referred to a Harris County grand jury, investigators said it appears to be self-defense.

Woman, 70, who killed intruder at motel feels sick about shooting. The 70-year-old woman who shot a would-be robber at a North Side motel last night is attending the All-American Quarter Horse Congress today and feels sick about the shooting, according to her son.

Naked Man, 91, Holds Drunken Intruder at Gunpoint. Authorities said a naked 91-year-old man was able to hold a drunken intruder at gunpoint until deputies arrived.

Texas Resident Shot and Killed 2 Teenagers During Home Invasion. Police in Texas say a group of teenagers were trying to break into a home when a resident opened fire and killed two of the youths. San Marcos Police Chief Howard Williams says the shootings happened shortly before 2 a.m. Friday [9/4/2009]. He says two 16-year-olds died and a third teenager was seriously wounded.

Pregnant woman holds intruder at gun point. The lesson here is never threaten an expecting mother, especially if she's armed with a shotgun. "I was angry," Randi Fairley says. "I was really mad that he was in my house."

Business Owner Fires on 4 Robbers, Killing 2, Police Say. A 72-year-old Harlem business owner used a shotgun to blast four men who tried to rob his restaurant-supply business Thursday afternoon, killing two and sending two others to the hospital with gunshot wounds, the New York City police said.

Detroit mugger critical after victim retaliates. A 32-year-old suffered a graze wound to the head but seriously injured a 17-year-old trying to rob him at gunpoint in Detroit early today [8/25/2009], according to police. The intended robbery victim, who has a permit to carry a weapon, pulled out his gun when he was confronted...

Concealed Carry Permits Are Life Savers. In research sponsored by the U.S. Department of Justice, in which almost 2,000 felons were interviewed, 34% of felons said they had been "scared off, shot at, wounded or captured by an armed victim" and 40% of these criminals admitted that they had been deterred from committing a crime out of fear that the potential victim was armed. Allowing law-abiding people to arm themselves offers more than piece of mind for those individuals — it pays off for everybody through lower crime rates.

Wellington teacher fatally shoots armed intruder, PBSO says. One man is dead and a couple is left shaken after a home-invasion robbery turned deadly early Monday [2/16/2009]. The intruder wound up dead after he was shot by Heath Miller, 34, a popular music teacher at Howell L. Watkins MIddle School. The dead man is identified as Robert Rishard Tomlin, 22.

Farmer's daughter disarms terrorist and shoots him dead with AK47. An Indian farmer's daughter disarmed a terrorist leader who broke into her home, attacked him with an axe and shot him dead with his own gun.

Guns Are Still Saving Lives. On June 30, 2002, two Iowa youths escaped from a school for troubled teenagers. For twelve hours, they terrorized the Woods community, stealing four automobiles and managing to evade capture by police. According to the Rapid City Journal, Pete Paul Fast Horse and Jeremy Feltman were in a stolen Ford four-wheel-drive when they "sped through an intersection and crashed into an embankment." They then fled on foot from pursuing police and approached the house of Sena Lauritzen. When the 55-year-old grandmother saw the fugitives attempting to enter her house through a patio door, she grabbed a shotgun and held them until police arrived. "This is my little bit of heaven," she said after the incident. "They had no right to invade it."

Child shoots intruder during home break-in. A ten-year-old boy left home alone with his sister used his mother's gun to shoot an intruder in the face, police said. Late Tuesday, West Baton Rouge Parish sheriff's deputies received a call to a Port Allen apartment complex after several shots rang out from inside one of the apartments.

Ambushed pizza man kills attacker. Three men charged in the attempted pizza robbery Saturday [3/7/2009] had their bond set this morning at $250,000 each by Magistrate Brian Jeffcoat. ... Each is charged with criminal conspiracy and strong armed robbery of Pizza Hut delivery man Christopher Steven Miller, 43. Miller shot and killed one of the assailants who attacked him when he attempted to deliver a pizza to a house on Avery Place Lane near Irmo High School.

Pizza man says fear he'd die led to shooting. A pizza deliveryman, who said Monday he has been held up twice before, fired shots that killed a teenager during a holdup because he feared he would die and not see his wife and 5-year-old daughter again. "I believe everyone has the right to defend themselves if their lives are threatened," Christopher Miller, 43, said in a statement issued through police.

Cops: Cape Girardeau woman kills man who returned to rape her second time. An intended rape victim shot and killed her attacker this morning [10/31/2008] in Cape Girardeau when he broke into her home to rape her a second time, police said. The 57-year-old woman shot RonnieW. Preyer, 47, a registered sex offender, in the chest with a shotgun when he broke through her locked basement door. The woman told police he was the same man who raped her several days earlier.

Crime-fighting's future merely a guy with a gun. Chris is an Ocoee [Florida] man who keeps a .40-caliber semiautomatic pistol in his glove box. Last week, while shopping at his favorite Kangaroo Express, he used it. Chris had stopped there for a pack of smokes and a slice of pizza with the clerk. While leaving, he noticed a man casing the joint.

Tables Turned on Intruder During Home Invasion. The tables turned on a burglar when a homeowner took matters into his own hands. … The pregnant woman inside the home was getting ready to give her 18-month-old child a bath when she heard noises.

Robbed twice, San Pablo shop owner was ready to shoot. Amariae Sanders was a 16-year-old boy who may have thought a San Pablo gift shop would be an easy mark. But when he vaulted the counter while armed with a sawed-off shotgun, he had no way of knowing that the store owner would fight back, police say.

Man who threatened Christians may lose eye. A man who came to the home of two women whom he had threatened to decapitate with a knife received a blow to the head that could cost him an eye, according to Colorado Springs police. Russell Bowman, who claims to be an atheist, threatened the women because they are Christian on Sept. 8. On Friday [9/12/2008], he arrived at their apartment and stood in a hallway, according to a police report.

Elderly Woman Grabs Gun, Holds Would-Be Burglar At Bay. An 85-year-old great-grandmother from Lake Lynn, Fayette County kept an alleged burglar at bay using a .22-caliber pistol. According to police, a 17-year-old suspect was attempting to burglarize Leda Smith overnight. That's when Smith grabbed her gun and told the teen that she would shoot him if he moved, police said.

Robbery ends when employee pulls out a gun. Two men tried to rob an Old Hickory Sonic restaurant, but an assistant manager pulled out a gun and fired shots, causing the suspects to flee. Police believe that one or both of the suspects was wounded. Metro police Capt. Michele Donegan said that at approximately 10:30 p.m. Thursday [7/3/2008], two men, one of whom was armed with a handgun, went inside the Sonic at 1410 Robinson Road, in Old Hickory [Tennessee].

Customer pulls gun, stops robbery. It was a busy night Monday at Buck's IGA on the 3000 block of South Meridian Street. "Charlie," who didn't want his image or name used with this story, was in line to check out. A man police later identified as Dwain Smith reportedly ran into the store wearing a ski mask and yelling.

Man Cleared for Killing Neighbor's Burglars. A Texas man who shot and killed two men he believed to be burglarizing his neighbor's home won't be going to trial. A grand jury today failed to indict Joe Horn, a 61-year-old computer technician who lives in an affluent subdivision in Pasadena, Texas.

Joe Horn cleared by grand jury in Pasadena shootings. The shooting of two burglary suspects has sparked heated debate about property rights, gun control and other issues. A Harris County grand jury decided today that Joe Horn should not be charged with a crime for shooting two suspected burglars he confronted outside his neighbor's home in Pasadena last fall. The decision to clear Horn of wrongdoing came two weeks after the grand jury began considering evidence in the case, including Horn's testimony last week.

'I wouldn't be here' if not for gun. Glen Soustek knows a handgun saved his life. "If it weren't for my gun, I wouldn't be here," he said. "The last the world would have heard about me would be a blurb on Page 8: 'Coin shop owner shot dead in backroom.'"

Right to carry v. right to know: In a St. Louis suburb this week, Riccardo Crossland was charged with robbery and assault after he and another thug held a 23-year-old Florida man at gunpoint, demanding his money. After obtaining his wallet and watch, Crossland turned and took a few steps away from the robbery victim, then turned back and raised his weapon. Unfortunately for Crossland, the man he was robbing was legally permitted to carry a concealed handgun — and was carrying one at the time.

'Gun-free' school zones? What do felons think about an armed citizenry? A survey of convicted felons by the National Institute of Justice found 74 percent of the felons agreed that, "One reason burglars avoid houses when people are home is that they fear being shot during the crime." The survey also asked these felons whether they had abandoned at least one crime because they feared the intended victim might be armed.

Homeowner Shoots Teen Suspect During Home Invasion. A 16-year-old home invasion suspect is recovering from gunshot wounds after a Union City man said the teen kicked in the back door of his townhome Saturday [6/21/2008]. The 28-year-old homeowner said the teen rang the doorbell, but when no one answered, the suspect went around to the back of the townhouse. Police said the resident got his gun and shot the teen in the shoulder after the suspect kicked in the back door and entered the home.

80-year-old puts attacker in hospital. Investigators say they were definitely going to rob him — possibly even kill him. But an 80-year-old North Texan wasn't about to let that happen, so he took action. … In short, even at 80, he is someone you just don't mess with. What the men didn't know is [James] Picket had taken a pistol and put it in his pocket before opening the door.

80-Year-Old Man Shoots, Beats Up Attackers. James Picket may be 80, but he's no pushover. The North Texas man proved that when a couple of guys up to no good knocked on his door last weekend and tried to mess with him.

Wayne Homeowner Kills Intruder. Three armed men broke into the home at 2546 Old Mount Olive Highway at about 12:30 a.m. while the family slept inside. The intruders held two adults and four children, ages 4, 5 and 8, at gunpoint and ransacked the house, authorities said. During the robbery, one of the suspects fired a shot, prompting the man who lives in the house to grab a gun and shoot back, authorities said.

Resident Shoots and Kills Home Invader. A Phoenix homeowner shot and killed a home invader who had kicked in the front door of the house and was attempting to break into the bedroom where he and his family were sleeping, Phoenix police said.

Wife produces 9mm and husband opens fire.
Couple at East Dallas cleaners work together to foil, kill robber. Customers picking up pants and shirts pulled up beside a large bloodstain Monday in the parking lot of Joe's Cleaners. Asked to describe his lethal encounter with a robber a few hours earlier, owner Joseph Baggett apologized for saying little.

Gunshots deter break-ins. There were similarities in two attempted burglaries in Jackson on Friday [9/28/2007]. The residents of both homes were watching television when the alleged suspects were caught in the act. And in both cases, the suspects were fired on.

Suspected burglar fatally shot at Harris County home. A southwest Harris County homeowner shot and killed a man he discovered climbing into a window of his house at about 2:15 a.m. today, investigators said. Steven Dunbar, who apparently lived several blocks away, died in the window of the home in the 3400 block of Cascadia, Harris County sheriff's homicide Det. Rolf Nelson said.

Fort Lauderdale jeweler shoots two gunmen. A jewelry store owner critically wounded two armed men in a shootout Wednesday [5/9/2007] after the pair tried to rob his shop, police said. … A police spokeswoman said it is unlikely that store owner Hugo Villalta, whose gun is licensed, will face any charges.

Teen shot by Houston homeowner in alleged break-in. After a sleepless night, [Bob] Manross said that the pistol-carrying teen broke into his home, called him by his first name and threatened to shoot him unless he handed over his cash. Manross said he fooled the invader, whom he recognized. "I told him I didn't have the money with me but I'd get it from the other room," said Manross, who had a loaded rifle just a room away from his kitchen.

Intruder with sledgehammer is shot and killed. Jamie Buck was asleep early Friday when a sledgehammer shattered his side door's window and a stranger burst into his rented home, demanding money or jewelry. That was the last demand would ever make. Brandenburg, 31, was shot to death inside Buck's Bishop Avenue home early Friday, seven weeks after Brandenburg's latest release from jail.

Would-be robbers outgunned at LaFollette home. Two Campbell County [Tennessee] men toting a pellet gun picked the wrong house to rob Tuesday night [1/9/2007] when the homeowner grabbed a pistol and opened fire, authorities said. "They brought a BB gun to a real gunfight," LaFollette Police Department Detective Jeff Allen said.

Chicks Carrying Guns and Kicking Tail. Over the past couple weeks, there have been a couple stories floating around that just warmed my little heart, but they didn't get a lot of attention, so I have decided to give them plenty. Do you wonder what kind of story it takes to warm my cold, conservative heart? Well, wonder no longer.

Chicks With Guns, Part II. I got more mail from last week's column than any of my others — some from grandmas, some from single gals, some from shooting instructors. I got new stories, weapon recommendations, invitations to the shooting range.

Police: Homeowner Shoots Burglary Suspect. A man accused of breaking into a Daytona Beach home was shot by the homeowner Tuesday night, according to police. Thomas Lockhart, 28, is in critical condition at Halifax Medical Center after being shot just after 10 p.m. at a house on Orange Avenue in Daytona Beach. Police said they responded to a 911 call from Walter Watson, 70, whose house had already been burglarized three times this week, and found Lockhart suffering from a gunshot wound.

Tennessee Carjacker Picks the Wrong Guy To Assault: A man who turned the tables and fatally shot a would-be carjacker in Nashville deserves a "good citizenship" award for fighting crime, according to a national gun advocacy group.

74-year-old shoots intruder. Willie Brown said he thought he was back in a foxhole in Korea on Thursday morning [6/15/2006] when a burglar stood at the door to Brown's bedroom. "He said, 'I got a knife, don't move,'" Brown recalled. "I reached behind my back and whipped my gun from under my pillow and said, 'Take this .38,' and I blasted him."

Guns Save Lives. Such a large number of defensive gun uses poses a problem for gun control activists. When guns are widely used for self-defense, legislation that makes using them more difficult, like safe storage, trigger locks, and outright bans, just condemns more people to being beaten, robbed, raped, and murdered. This happened in Britain, where rates of violent crime, gun robbery and murder skyrocketed after handguns were banned and registered owners were required to surrender their weapons.

John Stossel / ABC News Explode Gun Control Myth: Interviewing a group of prison inmates, John Stossel reports, "Some maximum security felons I spoke to in New Jersey scoffed at measures like the Brady law. They said they'll have no trouble getting guns if they want them. A Justice Department study confirmed what the prisoners said. But get this: the felons say that the thing they fear the most is not the police, not time in prison, but, you, another American who might be armed."

Surviving Home Invasions: "People who defend themselves in a home invasion fare better than those who don't. That's just how it is." A collection of news reports of home invasions, anecdotal evidence for the effective use of guns in self-defense.

11-year-old shoots, kills assailant threatening his grandmother: When Tony D. Murry held a box cutter to Sue Gay's neck Monday night, Gay's 11-year-old adopted son ran upstairs and grabbed a gun.



This is an original compilation, Copyright © 2013 by Andrew K. Dart

Florida Dad shoots intruders to save daughter and himself: Semiautomatic gun under pillow foils attempted robbery in hotel room.

104 cases of lives being saved through the lawful use of guns. You will rarely - if ever - hear stories like this on the television news.

Exercising the Right: Case after case in which the lawful use of guns saved lives.
[More cases] [More] [More] [More] [More] [More] [More] [More] [More!]

The Latest Armed Self-defense News Stories: Dozens of similar cases!

Huge collection of anecdotes: Cases in which guns saved lives.

Guns Save Lives: You would think that a man who saved three people's lives, at considerable risk to his own, would be recognized as a hero. But his story would be politically incorrect, so it has received virtually no media attention and his name remains unknown.

People don't stop killers. People with guns do. [Both] Virginia Tech [and] the University of Tennessee … think that by making their campuses "gun-free," they'll make people safer, when in fact they're only disarming the people who follow rules, law-abiding people who are no danger at all. This merely ensures that the murderers have a free hand. If there were more responsible, armed people on campuses, mass murder would be harder.

Armed citizens can defuse terrorist threat: Israeli Police Inspector General Shlomo Aharonisky has repeatedly called on all concealed-handgun-permit holders to carry firearms at all times. In March [2002], Israeli police announced they wanted to increase the number of Israelis carrying handguns by 60,000. "There's no question that weapons in the hands of the public have prevented acts of terror or stopped them while they were in progress," Aharonisky says. [Meanwhile in the U.S.,] the police seem more concerned about monitoring law-abiding citizens than in protecting them.

When It's Guns, Media Miss Big Part Of Picture: When more than one person gets killed, the crimes get not only national but international news coverage. On the other hand, when was the last time that you heard the national evening news reporting about a citizen using a gun to save lives? Few people realize that people use guns defensively to stop about 2 million crimes a year, according to national surveys.

Guns Save Lives. Some gun control advocates begrudgingly concede that the Second Amendment does protect citizens' right to own guns, but nearly all feel that 'reasonable' restrictions on this right ought to be enforced. Mandatory waiting periods, trigger locks, and handgun bans: common sense devices to control gun violence. But what do these measures really accomplish?

How guns save lives: Florida State University Professor Gary Kleck recently estimated that Americans use firearms at least 2.5 million times a year for self-defense.

Annie, Get Your Gun: Women with firearms help make America safer.

Guns in the Hands of Private Citizens Make Us All Safer: To the anti-gun lobby, the worst news of all had to be the way in which tens of thousands of Americans reacted to the atrocities of September 11: They went out and bought guns.

Professor Cites Evidence That Guns Stop Crimes: Yale University Professor John R. Lott Jr., author of "More Guns, Less Crime" says his research shows that guns used defensively stop about two million crimes a year, five times the amount of crimes in which guns are used.

Related story: The Great Gun Fight: A debate about the validity of the statements in John R. Lott Jr.'s book, "More Guns, Less Crime."

Crime Plunges in Pro-gun Town.

Good Kids With Guns: Young people have used guns responsibly to protect themselves or loved ones from death or injury.

Kids and Guns: With greater youth accessibility to guns in the past, why wasn't there the kind of violence we see with today's much more restricted access to guns?

Gun Control Science Misfires: Gun control advocates used to claim that more guns meant more crime. Research demonstrated, though, that more guns meant less crime. As the criminology argument faded, gun control advocates began arguing guns were a public health problem.

Politics Fuels Mandatory Gun Ownership Laws: Behind every door in Kennesaw, Ga., in theory, is a loaded firearm awaiting anyone who dares to unlawfully enter a home. In 1982, the Kennesaw City Council voted to put into effect an ordinance that requires the male head of the household to keep at the ready a firearm for the protection of his home and family.

Gun Buying Surge Shows Many Feel 'Responsible for Their Own Safety': Larry Pratt, president of Gun Owners of America, agrees that the increased sale of firearms reflects a new attitude among Americans that they are vulnerable and must take responsibility for protecting themselves.

Israel is Arming its Civilians — Why Aren't We? Inundated as we are with anti-gun propaganda, many well-meaning Americans cannot imagine how guns in private hands might be useful in fighting terror. The Israelis do not suffer from such confusion.

W. Wimps Out on Guns: The GOP president was silent about the untold number of gun shootings committed every year in self-defense. Just two weeks ago, a 12-year-old girl in Clarksdale, Miss., saved her mother's life when she shot and killed an abusive ex-boyfriend who had forced his way into the apartment and started choking her mom.

Gun Stops Gunman Before Serious Damage Was Done: [3/22/01] - Unlike previous school shootings where troubled teens have turned guns on their classmates, it was the gun of a campus police officer - and his willingness to use it -- that brought a quick end to Thursday's mayhem.

I Am Alive, No Thanks to Gun Control. There are times in our lives when many of our most basic assumptions come under a barrage from the heavy artillery of reality. Some of us receive such a wake-up call in the form of a life-threatening event that literally shatters our lives. It is then up to us to do our best to take inventory of the damage to body and soul, pick up the pieces, and start afresh. I would like to tell you, at the time of the anniversary of a horrible encounter that almost killed me, of such a time of reckoning.

The Benefits of Firearms by Miguel A. Faria Jr., M.D.

Firearms in America: The Facts Martin L. Fackler, MD says firearms are not the problem.

Camper Wakes Up in Midst of Bear Attack: A man out camping with his brother woke up with one heck of a headache, only to discover that a bear was biting him in the head. Thanks to his quick reactions — and to the handgun he was carrying — Rodney Black, 51, will be OK.

Woman Fatally Shoots Intruder: A man is dead after police say he tried to sexually assault a woman in her own home.

When Will We Learn? Guns in the Right Hands Save Lives!

If You Want to Stop a Killer, You Have to Speak His Language

Huge assortment of RKBA Links.



---
"Laws that forbid the carrying of arms ... disarm only those who are neither inclined nor determined to commit crimes. Such laws make things worse for the assaulted and better for the assailants; they serve rather to encourage than prevent homicides, for an unarmed man may be attacked with greater confidence than an armed one."

— Cesare Beccaria,
Essay on Crimes and Punishments, 1764
---

Back to the Gun Control Page
Jump to Media bias related to firearms
Back to the Home page