Few things are as unappealing to me as the prospect of riding across Dallas on a bus or train, accompanied by a variety of unsavory strangers. Mass transit is one of many supposedly good ideas that may not be good at all. Left-wing politicians love the idea of mass transit, because it means greater control of our everyday lives and another way to raise money.

Information about Amtrak -- all of it unfavorable -- is available here.


---

Subsections on this page:

Criminals, psychopaths, and unruly passengers
The police state on wheels
Health and safety concerns
Unreliable drivers and unexpected delays
Crowds
Car pools
High speed rail projects
Other countries' experiences with high-speed rail
Houston's Metropolitan Transit Authority
Dallas Area Rapid Transit
Bicycles
Other related information

Subsections on page two:

Great promises never come to pass
Mass transit comes with a hefty price tag
Inefficiency
Mass transit is unpopular
Cost overruns and wasted taxpayer dollars
Pork barrel politics
An atmosphere of secrecy, corruption and graft
Coercion
The Indoctrination of a Captive Audience

Also nearby:

Amtrak
California's high speed rail project



---

Criminals, psychopaths, and unruly passengers

When you climb aboard any mass-transit venue, you share the ride -- knowingly or not -- with a number of nasty smelly strangers, many of whom should be (or have been) in prison.


Overviews:


Does public transit spread crime? Evidence from temporary rail station closures. Abstract: We test whether public transit access affects crime using a novel identification strategy based on temporary, maintenance-related closures of stations in the Washington, DC rail transit system. The closures generate plausibly exogenous variation in transit access across space and time, allowing us to test the popular notion that crime can be facilitated by public transit. Closing one station reduces crime by 5% in the vicinity of stations on the same train line. Most of this effect remains after controlling for decreased ridership, indicating that a decrease in the availability of victims does not drive most of our results. We find suggestive evidence that crime falls more at stations that tend to import crime, i.e. stations where perpetrators are less likely to live.

How Public Transit Undermines Safety. [Scroll down] Of all the transit modes, light rail has the worst crime rate. Light rail's violent-crimes-against-persons rate (murder, rape, robbery, and assault) of 284 per billion passenger-miles is almost 50 percent higher than heavy rail (195) and three times higher than the rate for bus transit (97). Light rail's crimes-against-property rate (larceny, theft, burglary, and arson) of 779 per billion passenger-miles is 20 percent higher than heavy rail (641) and five times higher than the rate for bus transit (144). Consequently, it looks as though a decision to replace buses with light rail is very likely a decision that will bring more crime to an area.

Bay Area sees spike in violent crime on its transit system. Violent crimes on San Francisco Bay Area's rapid transit system — BART — have climbed 69 percent in the past decade — even as crime has dropped across California, according the state's Department of Justice. The troubling numbers, released earlier this month, detail 428 violent BART crimes in 2017, most of which were robberies. That's nearly double the 254 total violent crimes recorded in 2007. And 2018's tally of violent crimes — 222 for the first six months of the year, compared to 218 for the same period last year — is on pace to surpass 2017's numbers.


Violent crime:


Police: Subway Passenger Stabbed, Robbed On A Train In Queens. Police say a man was punched, stabbed and robbed on the subway in Queens. It happened three weeks ago on a stationary A train at the Lefferts Boulevard station. Police said a man punched the 57-year-old victim, then stabbed him in the chest with a sharp object and stole his wallet.

Asian woman stepping off Harlem subway train beaten with cane by stranger in possible hate crime. An Asian woman was beaten with a cane by a stranger as she stepped off a Harlem subway train in what is being investigated as yet another hate crime, police said Wednesday [6/2/2021]. The 23-year-old woman had just gotten off an uptown No. 1 train at the W. 116th St. station when she was confronted by the attacker about 6:45 a.m. on May 12, cops said. She was on her way to her internship at a hospital, she told the Daily News. Without saying a word, he struck her in the head and hip multiple times with the cane before jumping on the train she had just gotten off of and escaping.

Two Monsters Horribly Beat And Slash A 64 Year Old In NYC Subway During Robbery. Cops need the public's help in finding two brutes who were caught on camera violently slashing, beating and robbing a man at a Midtown subway station early Sunday morning [5/30/2021]. The NYPD released graphic footage of the attack, which occurred at 4:57 a.m. on May 30 at the turnstiles of the Lexington Avenue-59th Street station. As shown on the 42-second video, the two perpetrators accost the 64-year-old male victim just as he was about to enter the turnstile. One of the crooks grabs the man by the arm in an attempt to prevent him from entering the turnstiles while his partner throws a punch, knocking the victim against a granite pillar. The victim attempts to escape the duo, trying to climb backwards across the turnstiles — only to have the perpetrators drag him back toward them and continue their violent assault. [Video clip]

Man stabbed in back in wild NYC subway brawl: Video. A man got stabbed in the back with his own knife during a wild brawl inside of a Harlem subway station on Monday morning, according to the NYPD. The 51-year-old victim and an unidentified man exchanged words at around 6 a.m. on the mezzanine level of the 125th Street station, police said. Surveillance video released by cops shows the suspect pulling out "two metal objects" — which appear to be broken umbrella handles — and squaring up for a fight.

Brazil: Mentally Disturbed Man Tries To Drag Three Women In Front Of Speeding Train. A man tried to push three women on the tracks of the subway at Estação Sé, in downtown São Paulo — the busiest in the city. The women were waiting for the train to arrive when they were grabbed by the man as he tried to drag them toward the oncoming train. Luckily, they managed to escape. From the images from the station's security camera, you can see the train approaching. It is at that moment that the man attacks the women and tries to push them. According to the subway press office, the case took place on April 23, but only now have the images been released. [Video clip]

One of us doesn't know what "private" means.
New York to Spend $2.2 Million Per Month on 'Private Guards' for NYC Subway. The Metropolitan Transportation Authority — the agency in charge of New York's subway system — confirmed this week a new plan to spend $2.2 million each month on "private guards" at stations across the Big Apple to provide additional security for riders. "Sarah Feinberg, the MTA's interim head of subway operations, said guards were hired early in the Covid-19 pandemic, when ridership plummeted, to address crime and security issues in near-deserted stations. Their ranks swelled to 100, and by the end of this month, they are expected to have doubled to 200," reports Fox News.

Asian man pushed onto Queens subway tracks. An Asian man was pushed onto the subway tracks in front of an oncoming train in Queens Monday morning, according to cops and police sources. The 36-year-old victim was at the 21st Street-Queensbridge F train station around 7:45 a.m. when another man shoved him, according to authorities and the sources. The train went into emergency mode and didn't hit the victim, police sources said. He was taken to Mount Sinai Medical Center with a cut on his forehead. It was not immediately clear what provoked the attack.

Good Samaritan throws himself at knifeman to save woman he was stabbing in random NYC Subway attack. Video captured the horrifying moment a woman was stabbed in an unprovoked attack on the subway before a passing journalist jumped in to save her. The stabbing unfolded at Union Square station on Wednesday night when 54-year-old Kelli Daley was jumped by a man identified as 22-year-old Joshua Nazario. Police said Nazario slashed Daley across her left shoulder, collarbone, and upper chest while she was waiting on the southbound N, Q, R platform for the train around 10.10 pm.

Thug Stabs Random Woman In NYC Subway Station, Man Jumps In To Save Her Life. A woman was slashed by a stranger while standing on a subway platform in the heart of Manhattan and fortunately a good Samaritan jumped into action to help. The 54-year-old Brooklyn woman was slashed while on a platform inside the 14th Street-Union Square station just after 10 p.m. Wednesday [5/19/2021]. Sean Conaboy said he was waiting for the train when he saw the knife and saw the woman being attacked. [Video clip]

Woman, 75, punched while getting off bus in unprovoked Queens attack: cops. A man punched a 75-year-old woman in the face in an unprovoked attack as she got off a Queens bus, cops said early Thursday [5/20/2021]. The elderly victim had just stepped off a Q36 bus at Hillside Avenue and Edgerton Boulevard in Jamaica Estates around 1:30 p.m. Saturday when a stranger approached and punched her in the forehead without saying a word, cops said. The victim was taken to an area hospital, where she was treated and released. The suspect, who fled, is about 5-foot-6 with a medium build. He was last seen wearing a white surgical mask, an orange du-rag, a black hooded jacket, multi-colored pants, orange and black sneakers, and carrying an orange and gray backpack.

The Editor says...
Hmmm. Their description of the suspect omitted an important five-letter adjective that starts with a "b" — perhaps because it goes without saying.

What a lovely city.
Manhattan subway slashing spree was gang initiation — and one victim lost an eye, prosecutors say. One of the victims of a horrific subway stabbing spree lost his eye in the attack — and the teenage suspects staged the early-morning rampage as part of a gang initiation, prosecutors said Sunday [5/16/2021]. The gruesome details emerged in weekend court appearances for two of the three teens arrested in the Friday attacks, which left five victims bloodied and battered in lower Manhattan. Taquarious Soto-Burgos, 19; Joseph Foster, 18, and a 16-year-old boy were charged with robbery and weapons possession in connection with the predawn violence. A fourth suspect remained at large.

Woman Is Sucker-Punched In The Head From Behind And Robbed In NYC Subway. Disturbing new surveillance video released by the NYPD shows the moment a mugger sucker-punches a woman in an East Village subway station and rips off her backpack. The 23-year-old victim was walking out of the 1 train station at 14th Street and First Avenue — looking down at her phone — a few minutes before 6 p.m. Sunday [5/9/20221] when the stranger ran up behind her and clobbered her in the side of the head, according to police and the video clip released early Tuesday. [Video clip]

Subway spree suspect urged knife-wielding pal to keep stabbing bloody victim aboard Manhattan train. A teen attacker with a 12-inch kitchen knife turned a Manhattan straphanger's morning commute into a ride from hell. The still-shaken survivor of the early Friday stabbing spree aboard a downtown No. 4 train detailed the gory fight for his life, recounting how one of the assailant's partners-in-crime urged the knife-wielding suspect to "keep doing it" as the blood started to spill. "I started defending myself," said the 44-year-old man, who asked for anonymity Saturday as he spoke to a Daily News reporter from his Manhattan home.

Four people are Slashed at three NYC subway stations during 11 minute morning frenzy. Four people were arrested in connection with five unprovoked attacks on New York City's subway Friday morning [5/14/2021]. The suspects were spotted by NYPD Commander Kenny Gorman and Officer Jeffrey Delacruz were spotted leaving the northbound 1-train in the area of 79th Street and Broad around 11:20 am, NYPD said late Friday afternoon. The suspects' names or mugshots weren't released, and charges are pending. One man, 48, was stabbed in the eye and needed surgery while three others were slashed in the face in the early hours of Friday morning. Another described waking up to being punched in the face. In one attack, the victim's wallet was stolen, and his phone was thrown on the tracks, police said.

Times Square subway attack: Man spit on, slashed in face, police say. A man was hospitalized Wednesday morning after being slashed in the face in a seemingly random attack at the Times Square subway station, police said. Authorities said it happened on the southbound platform for the No. 1, 2 and 3 lines just after 9 a.m. as the victim was sitting on a station bench. According to officials, an unidentified man approached him and started talking to him, at which point he removed his headphones and asked, "Are you talking to me?" This apparently set the man off, who spit in the sitting man's face and then slashed him across the face with a sharp object, according to police.

MTA worker punched in the face at Times Square subway station: official. Police launched an investigation after an MTA employee was assaulted at the Times Square subway station Wednesday morning, according to the transit agency. The female employee was on the southbound platform of the No. 2 train when she was punched in the face around 7:40 a.m., according to Transport Workers Union Local 100. The victim did not require hospitalization, according to MTA Communications Director Tim Minton, who confirmed the attack.

Tourist stabbed with screwdriver on NYC subway. A tourist visiting Manhattan with his family was stabbed with a screwdriver while riding a train Sunday night [5/9/2021], police and sources said. The 43-year-old victim from Ecuador was on the southbound 2 train when he was randomly attacked by a 26-year-old man at about 7:50 p.m., according to cops and sources. Using a screwdriver, the suspect, Peterson Merant, stabbed the man in his chest and left arm as the train was approaching the Chambers Street station, police and sources said. When the train arrived at the station, the victim's wife pointed out the suspect to responding transit officers, sources said. Cops nabbed Merant on the platform and he confessed to the stabbing, sources said.

Tourist stabbed with screwdriver by stranger in unprovoked attack on Manhattan subway train. A tourist was stabbed with a screwdriver by a stranger on a lower Manhattan subway train in the city's latest unprovoked underground attack, police said Monday [5/10/2021]. The 43-year-old victim, visiting the city from Ecuador with his family, was on a downtown No. 2 train approaching the Chambers St. station when he was stabbed by a fellow straphanger without warning about 7:50 p.m. Sunday, cops said.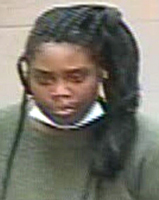 Asian woman slapped by teenage stranger on Brooklyn subway train who tells her, 'You don't belong here'. An Asian woman was slapped on a Brooklyn subway train by a teenage stranger who told her, "Get off my train, you don't belong here," cops said Wednesday [5/5/2021]. The 50-year-old victim was riding a Coney Island-bound D train through Borough Park when the hateful teen confronted her, smacking her in the back of the head.
Woman hit in face in NYC subway station by stranger yelling anti-Asian slurs. A woman was hit in the face without provocation in a subway station by a stranger who yelled anti-Asian slurs at her, cops said Sunday [5/2/2021]. The 37-year-old victim was walking through the E. 51st St. station on Lexington Ave. when the bigot attacked her about 8:45 p.m. Saturday, cops said. He hit her and used a slur against Asian people, shouting, "You [...] should go back to your country. This is all because of you." He ran out of the station after attacking her. The victim declined medical treatment.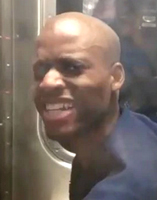 NYC subways delayed by incidents blamed on mentally ill — including 90-minute shutdown on downtown Manhattan line. A man shouting incoherently about COVID-19 vaccines caused a 90-minute delay to Financial District subway service Wednesday [5/5/2021], one of several train-halting incidents authorities attributed to mentally ill people. It was yet another day when subway havoc was blamed on people with psychiatric problems — despite months of complaints from straphangers, MTA workers and transit managers about unruly and violent behavior by the mentally ill that includes passengers being assaulted and shoved to the tracks and a March 2020 arson that took the life of a train operator. Wednesday's chaos began around 9 a.m. at the Broad St. station at the end of the J line when the crazed man broke into an empty operator cab at the front of a train, cops and MTA officials said.
NYPD investigating two new possible hate crimes against Asians. Two possible new hate crimes against Asian people are under investigation by police. A man sucker-punched a 47-year-old Asian woman so hard she was knocked to the ground on Wednesday night in an unprovoked assault at the 2nd Ave. subway station in the Bowery, said police. The victim told police that she was waiting for a Brooklyn-bound F train about 6:40 p.m. when she saw a man counting off numbers to himself on the platform. The woman walked away from the man, but he followed her and punched her in the face, cops said.
Teen with AK-47 in Times Square subway confused about NYC gun laws: lawyer. The Ohio teen allegedly caught with an AK-47 in a Times Square subway may have just been confused about New York's gun laws, his lawyer tried to argue in court on Sunday [4/18/2021]. But Manhattan judge Melissa C. Jackson rejected that argument — and the prosecutors' request that bail be set at $25,000 — as she ordered that 18-year-old Saadiq Teague stay behind bars until his next court date. "This is an extremely serious case. The case is up to 15 years in prison," Jackson said. It was the teen's first appearance in court since he was busted around 12:30 p.m. Friday on the mezzanine level of the A, C and E station, allegedly with the weapon out next to him in plain sight. The AK-47 was unloaded, but Teague had a fully loaded magazine in his backpack, along with a gas mask, sources previously told The [New York] Post.
Mexican-American woman, 70, 'is battered on LA bus by racist black woman, 23, who thought she was Asian-American'. An elderly Mexican-American woman was badly beaten by a racist bus passenger who mistook her for an Asian-American, the victim's son said. The 70-year-old victim, named only as Becky by her son Pete, suffered a concussion, a broken nose, swollen eyes and had her hair pulled out last Friday [4/9/2021]. She was attacked while on her way to go grocery shopping in Los Angeles' Eagle Rock neighborhood.
MTA survey says fear of crime keeps New Yorkers from returning to subway. Fear of crime and harassment in New York City subways is keeping many New Yorkers out of the system even as COVID-19 restrictions start to loosen, according to a survey released Monday by the MTA. Roughly 36% of straphangers who relied on the subway before the pandemic said they "are not using transit because of crime and harassment," said the survey, which drew on answers from roughly 33,000 riders between March 15 to March 28. [...] The Metropolitan Transportation Authority's new survey says 73% of riders who haven't returned are "very concerned about crime and harassment" on transit, while 76% also cited "health safety" on the subway as a major fear.
Man Waiting For The NYC Subway Gets Punched In The Face, Robbed In Broad Daylight. Police are investigating a violent robbery caught on video in the subway. It happened shortly before 3:30 p.m. Sunday [4/4/2021] inside the 7th Avenue-West 34th Street station in Midtown. Surveillance video shows the 50-year-old victim standing in front of the security booth when the suspect walks up and punches him the face. The victim falls onto the ground, and the suspect continues to punch and kick him repeatedly. [Video clip]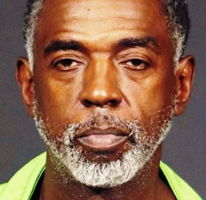 Homeless man punched out, stomped and robbed by rival inside Manhattan subway station. A homeless man giving directions inside a Manhattan subway station was punched out, stomped and robbed by a rival trying to sell illegal MetroCard swipes, police said Tuesday [4/6/2021]. Police identified the suspect as Ronald Bailey, 52, a repeat transit offender with more than 30 prior arrests. Bailey got angry because he was trying to sell swipes — discounted entries into the subway system using a doctored MetroCard — and felt the victim, also 52, was getting in the way, according to cops.
Here's the woman accused of stabbing a man over a Queens subway seat. Cops on Friday [4/2/2021] released surveillance images of a woman they say stabbed a straphanger over a Queens subway seat in the latest unprovoked attack underground. The 54-year-old man told police that he was on a Manhattan-bound A train approaching the Broad Channel station around 8 a.m. Tuesday when he saw the woman sitting across a row of seats. When he asked her to move her feet so he could sit down, the woman screamed "[...] you!" and pulled out a sharp object and jammed it into his arm and chest, cops said. She exited the train at Broad Channel and ran out of the station, police said.
Video captures horrific, possible hate-fueled NYC subway beatdown. Horrifying new video captures an out-of-control New York City subway rider mercilessly beating another straphanger unconscious in front of other passengers — in what cops are calling a possible hate crime. The NYPD's Hate Crime Unit tweeted out footage of the violent incident, and the department said the attack is being investigated for possible bias. However, sources said cops are still waiting for the victim to come forward before they can determine whether there was any.
Suspect arrested in stabbing of 14-year-old girl in Brooklyn subway station. A woman wanted for stabbing a 14-year-old girl at a Brooklyn subway stop was busted after a transit worker spotted the suspect back at the same station two weeks later, police said Monday [3/29/2021]. Bianca Lewis, 21, was arrested Sunday [3/28/2021] for assault and weapon possession. She allegedly knifed the teen inside the Sutter Ave.-Rutland Road station in Brownsville about 6 p.m. March 13, police said. The victim tried to stun her attacker with a Taser before being stabbed in the wild brawl, cops said. The mayhem began when the teen and her assailant got into an argument in a deli outside the station. The victim, who was with other people at the time, walked off but the woman followed her into the elevated No. 3 train station, where they got into a fight on the mezzanine level in front of the turnstiles, startling surveillance video shows. [Video clip]
Black Man Violently Attacks Asian On Manhattan-Bound Train — No MSM Coverage Or "Stop Asian Hate" Outrage. The NYPD's Hate Crimes Unit is investigating a video showing a man beating an Asian man relentlessly aboard a subway car before choking him until he appears to be unconscious. Originally posted on Twitter [...] early Monday [3/29/2021], the tweet of the video purports the violent incident took place aboard a Manhattan-bound J train at the Kosciuszko Street station in Bushwick. Police have not confirmed these details. The nearly minute-long video appears to begin with a scuffle between the two men already in progress. The footage shows a man dressed in all black then begins to repeatedly punch the Asian man down to the subway seat. He then wraps his arm around the other man's neck, putting him in what appears to be a chokehold.
Total Savage Brutally Assaults And Chokes Out Asian Man On The NYC Subway, Steals His Apple Bag. This was the disturbing scene on the NYC subway this weekend when a man brutally beat and choked an Asian man unconscious and finally, stealing his Apple purchase. No one stood up to help to protect the victim throughout the near-minute-long assault. [Video clip]
City Council candidate Susan Lee pushed down subway stairs in random attack. A woman shoved an Asian American City Council candidate down a Manhattan subway staircase in a random attack last week, the candidate told The [New York] Post. Candidate Susan Lee said she was in the stairwell at the Oculus subway station when she spotted the woman staring at her. "You know she has this mischievous look on her face, and I was just thinking like, 'Oh gosh, this isn't good,'" Lee, 42, recalled of the March 17 incident. "She pushed me," she said, adding that she grabbed the handrail to brace herself. The council candidate said she isn't sure if the woman, who appeared to be homeless, picked on her because of her race or simply because she was alone and an easy target.
The Editor says...
These incidents are almost always reported as random attacks, yet the perpetrators are always black and the victims are always white or Asian. That's not random.
Straphanger urinates on Asian woman inside NYC subway car. A man urinated on an Asian woman aboard a Queens-bound subway train over the weekend, cops said Monday [3/22/2021]. The disgusting act unfolded around 1:30 p.m. Saturday [3/20/2021] when the creep [was] on an F train and started to relieve himself, according to police. The horrified woman, who is in her 20s, shifted down the train, but the man then turned and started peeing on the subway seat next to her, splashing her with urine, cops said.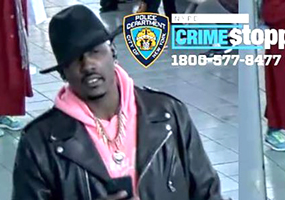 Man, 68, in critical condition after unprovoked punch on Manhattan subway was latest victim of anti-Asian hate: witness. A 68-year-old man punched in the face by a stranger on a Tribeca subway train, leaving him in critical condition, was the latest victim of anti-Asian hate, a good Samaritan who helped the victim told the Daily News. Police arrested a suspect, Marc Mathieu, 36, of the Bronx, on assault charges Sunday. He was not immediately charged with a hate crime; the investigation was continuing, cops said. The victim was minding his business riding an uptown No. 1 train when the unhinged assailant, sporting a fedora, black leather jacket, pink hoodie and an elaborate gold necklace, boarded the train about 2:40 p.m. Friday, sources said. [...] Police found Mathieu and arrested him as he rode a Manhattan-bound Staten Island Ferry, cops said.
Crime Has Gotten So Bad In The NYC Subways, The Guardian Angels Are Passing Out Survival Guides. Violence underground in NYC is on a terrifying roll. The latest incident happened at the Atlantic Avenue/Barclays Center subway station in Brooklyn on Sunday morning [2/21/2021]. Police said a 29-year-old man was shoved from behind and fell on the tracks, but, fortunately, was able to lift himself up. These attacks have prompted new patrols by members of the Guardian Angels. [Video clip]
Man Throws Hot Cup Of Coffee In Bus Driver's Face When Asked To Pay In NYC. The NYPD has been searching for a man who threw hot coffee in the face of an MTA bus driver in the Bronx earlier in February, police said Thursday [2/25/2021]. Authorities said it started when the unidentified man boarded the BX6 bus without paying the fare on the morning of Feb. 3. [Video clip]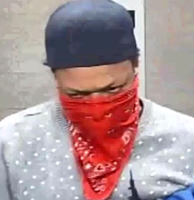 Suspect wanted for punching Asian man in unprovoked NYC subway attack caught on video jumping turnstile. A suspect wanted for battering an Asian man in an unprovoked Manhattan subway station attack was caught on surveillance video jumping a turnstile, wearing a cheery sweater depicting a snowfall while scowling behind a red bandanna. Cops released the video Thursday and asked the public's help identifying and tracking down the suspect in the possible hate crime. The Tuesday night beatdown is the latest in a string of attacks against Asian New Yorkers. Teoh Ming was entering the East Broadway subway station near Rutgers St. when his attacker stormed up and punched him, knocking him to the ground about 8:50 p.m.
Assaults on NYC subway cops tripled in January from last year. Cops on the front lines of a spike in subway crime are taking a beating, NYPD Transit Chief Kathleen O'Reilly said Thursday [2/18/2021]. The NYPD reported 42 felony assaults in the subway throughout January — and 15 of the victims were police officers. That's three times the number of subway cops who were assaulted in January 2019, O'Reilly said. The rise in cop beatings came before the NYPD deployed more than 500 extra cops into the subway over the weekend following a one-man stabbing spree on the A line that killed two people.
7 shot near busy transit hub in Philadelphia. A gunman opened fire near a busy Philadelphia transit hub on Wednesday [2/17/2021], striking and injuring seven people, including a teen girl and two elderly men — one of whom was left critically wounded, local reports said. The shooting unfolded at around 2:50 p.m. at Broad Street and Olney Avenue near the Olney Transportation Center, a SEPTA bus and subway station, NBC10 Philadelphia reported. The victims were a 22-year-old man who was shot once in the back, a 21-year-old man and a 53-year-old man who were both shot once in the right leg, a 36-year-old woman who was shot in the right thigh, a 70-year-old man who was also hit in the right thigh, a 17-year-old girl was shot in the right arm and a 71-year-old man was shot once in the stomach and several times in both legs, according to the news outlet.
'I just feel like punching someone today': Homeless man charged five times in six months for socking strangers. To hear law enforcement tell it, Jose Gonzalez likes to talk to strangers with his fists. "Don't shout!" Gonzalez is accused of screaming at his most recent victim. "I just feel like punching someone today!" Gonzalez's Jan. 5 attack on a 74-year-old straphanger at a Bronx subway station was the latest in a string of five random attacks he carried out against strangers since August, cops said. His arrest record got attention from Police Commissioner Dermot Shea on Tuesday [2/16/2021], who used Gonzalez's case as an example of the court system's inability to put violent predators behind bars.
Soaring crime is killing NYC's subway system. Two more straphangers met their gruesome end on Gotham's subways over the weekend, bringing the transit-murder total in just over a year to eight. Before 2020 and 2021, it took five years for eight murders to occur on transit — and that was with much higher ridership. "The events of the last 24 hours are horrifying," says acting New York City Transit boss Sarah Feinberg. Yes, indeed. The latest victims are a 44-year-old woman and an adult man, stabbed to death by an apparent stranger on two separate A trains. Two others were assaulted in the same 24 hours, possibly by the same attacker. It's just dumb luck that even more people haven't died. A day before the two murders, a teenage boy was the most recent near-victim, tumbling to the tracks during a violent robbery. Over the previous week, almost a dozen people fell prey to various slashings and pushings.
'A-Train Ripper' identified as Rigoberto Lopez, homeless man from Brooklyn. The "A-Train Ripper" was identified Sunday [2/14/2021] as a 21-year-old homeless man who has been previously arrested at least four times — including for allegedly assaulting a cop and his own father. Rigoberto Lopez — who has been hospitalized at least twice for mental issues — allegedly confessed to NYPD cops that he launched the violent weekend subway spree that left a man and woman dead and two men wounded, authorities said. "I'm not going to get into motive, but what I can tell you is they were all unprovoked attacks," NYPD Chief Brian McGee, commanding officer of Manhattan North Patrol, told reporters at a briefing Sunday. "The victims had nothing, didn't initiate anything." Lopez — who lives in a shelter in Boerum Hill, Brooklyn — had previously "been removed to the hospital two times for, I'll say, mental illness," McGee said.
Mentally ill homeless man confessed to all four unprovoked attacks in NYC A-train subway stabbing spree: sources. A homeless man with a history of mental illness was charged Sunday with a grisly stabbing spree on the A train line that left two people dead and two others wounded — and the city gripped with fear. Rigoberto Astwood Lopez, 21, was nabbed around 6:15 p.m. Saturday at W. 186th St. and Audubon Ave. in Washington Heights after hundreds of cops were deployed to keep the public safe from the mystery killer. He confessed to all four unprovoked attacks, sources said. Cops charged Lopez with murder and attempted murder Sunday afternoon [2/14/2021].
'A-Train Ripper' busted, still covered in blood, in knife attacks on NYC subway. The "A-train Ripper" is in custody, police confirmed Sunday [2/14/2021]. The knife-wielding madman was wanted in a gruesome subway spree that left two homeless people dead and two others slashed along the A train line, and was nabbed in Upper Manhattan on Saturday, law-enforcement sources said. His shoes were still splattered with his victims' blood when he was taken into custody — and he was still in possession of the bloody knife, one source added. The yet-named suspect was in custody at the 34th Precinct in Washington Heights on Saturday, sources said. Police said Sunday that he has since been transferred from the precinct, although they wouldn't say where.
Two stabbed dead, two wounded on separate A trains across New York City in gory 14-hour rampage by deranged spree killer. A knife-wielding homeless killer savagely executed two helpless victims and wounded two more as he carved a gory path in a 14-hour subway stabbing spree on the A train line from Manhattan to Queens, police said Saturday [2/13/2021]. Police pressed a desperate search for the suspect Saturday night in the gruesome and unprovoked attacks on a quartet of homeless victims. "There is small army of detectives and investigators working all this night throughout New York City," said NYPD Commissioner Dermot Shea.
Two people found fatally stabbed on separate NYC subway trains. Two people were fatally stabbed at opposite ends of the A train overnight, and cops are probing whether the terrifying bloodbath is the work of a single attacker. The first victim, an apparently homeless man, was discovered at 11:20 p.m. Friday [2/12/2021] at Mott Avenue and Beach 22nd Street Station in Queens, with multiple stab wounds in the neck and torso, according to cops, who said the unidentified man was declared dead at the scene. About two hours later, a woman with multiple stab wounds was found at the A train station at West 207 Street and Broadway in Inwood, cops said. The 44-year-old woman was taken to New York Presbyterian-Allen Hospital, where she was declared dead, according to authorities.
Calls for more cops on NYC subway grow louder following A train carnage. The outcry for more cops on city subways reached a fever pitch Saturday [2/13/2021] in the wake of a killer's rampage on the A line. And the NYPD appeared to be listening, announcing at least 500 more officers would be on patrol underground by Monday. Shell-shocked riders and angry officials pulled no punches in demanding safer subways, as a massive manhunt got underway for a lone madman believed to be responsible for fatally stabbing two homeless people and slashing two others in a 14-hour span Friday and Saturday. Shaken straphangers at the A train's Far Rockaway Mott Avenue station called for stepped-up security, including increased patrols and even metal detectors.
Man stabbed in Manhattan subway station in latest unprovoked attack. A Queens man's offer to escort his girlfriend home from her restaurant job almost cost him his life. Construction worker Gino Delacruz-Rodriguez, while waiting for a Bronx-bound No. 1 train at the Christopher St. station Thursday night [2/11/2021], was stabbed in the stomach by a stranger as his girlfriend watched in horror. "It just happened out of nowhere," said girlfriend Julia Calel on Friday about the West Village attack. "The guy did nothing, said nothing," before he stabbed the victim, she said. The 33-year-old Peruvian immigrant was fast asleep Friday afternoon at the couple's Corona home, hours after being discharged from the hospital.
Senior citizen knocked to ground, kicked by Manhattan bus passenger, as attacker's small child watches. A nasty New York nanny with a child in tow pushed a 73-year-old woman down in the snow and kicked her because the peeved passenger didn't have enough room to squeeze by as she was getting off a Manhattan bus, cops said Wednesday [2/10/2021]. The victim said she was trying to negotiate a narrow path in the snow at W. 57th St. near Eighth Ave. on Feb. 3 when an impatient passenger exiting the bus pushed her and kicked her several times before running off with the child. The senior citizen said the driver had stopped the bus shortly after 11 a.m. to wait for her, and was allowing her to board from the back to keep her from having to walk to the front along the slippery ice and snow with her cane.
Just Another Lovely Day On A Los Angeles City Bus... With Some Rival Gang Members. It's never a dull moment on these LA buses, especially when you have rival gang members going full battle royal on each other. Social media says these are Mexican gang members and some rival black gang. [Video clip]
Unhinged man with history of subway violence shoves stranger onto tracks in Manhattan: cops. A mentally ill man with a history of arrests in the subway, including for threatening an MTA employee with a pipe, has been grabbed by police again — this time for shoving a stranger onto the tracks, officials said Wednesday [2/3/2021]. Calvin Wilson is accused of pushing the 26-year-old victim off the A/C platform at the Fulton St. station in lower Manhattan about 3:40 p.m. Tuesday [2/2/2021]. The attack was unprovoked, officials said. The victim managed to get back onto the platform before a train arrived in the station, suffering minor injuries to his right ankle, leg and hand, officials said.
Man randomly pushes straphanger onto NYC subway tracks in latest attack. An unhinged man randomly shoved a straphanger onto the tracks in a Lower Manhattan subway station this week — the latest in a spate of similar incidents that Commissioner Dermot Shea called "too common." The 26-year-old victim was standing on the northbound platform at the Fulton Street/Broadway-Nassau station around 3:40 p.m. Tuesday when the attacker suddenly shoved him, propelling him onto the tracks, cops said. The victim suffered non-life-threatening ankle, leg and hand injuries. It was unclear if a train was pulling in at the time. The alleged attacker, Calvin Wilson, 38, was quickly arrested after he fled to the street, Shea said in a NY1 interview Wednesday morning [2/3/2021].
Guardian Angel Throws A Karate Kick At State Assembly Candidate On NYC Subway. A Guardian Angel member has resigned from the volunteer group after he was captured on video getting into a scuffle with two subway passengers, one of whom he tried to "karate kick," according to the group's founder and video posted to Twitter. The red-beret-wearing Angels member could be seen on a Q train in Midtown Thursday having some angry words with a group of passengers who had just attended a protest — including Patrick Bobilin, a candidate for the state assembly's 76th District — before approaching them and appearing to throw a kick at them. [Video clip]
NYC subway shove victim says she 'literally saw nothing' before attack. The woman who was randomly shoved into a moving train in Manhattan this week said she "literally saw nothing" before the sudden attack. Alexandra Sheehan, 31, of East Meadow, Long Island, was at the Lexington Avenue/59th Street station around 5:40 p.m. Tuesday, when Linda Chavez, 33, of Queens, suddenly pushed her as a 6 train rolled in, authorities said. "I literally saw nothing before," Sheehan told the Post in an exclusive interview as she stood near the door of her home Wednesday. "I just got pushed as the train was pulling in." Sheehan struck the first train car and fell back onto the platform, suffering an arm injury, police said.
Man slashed across the face at Manhattan subway station: cops. A man was slashed across the face inside a Manhattan subway station Wednesday morning [2/3/2021], cops said. The victim was attacked around 8:30 a.m. on the L train platform at the 14th Street and 1st Avenue station, authorities said. "It was an older man. His face was slashed," an MTA employee told the [New York] Post. "It was bad. It was very deep. The string from [his] mask was inside of [the slash wound]. He was bleeding profusely."
Cops make arrest in hammer attack of NYC subway rider. Cops have collared a suspect in the hammer attack of a straphanger in a Manhattan subway station, police said. Jose Moreno, 47, was arrested Friday afternoon [1/15/2021] and charged with two counts of assault, according to cops. Moreno allegedly hit the unsuspecting subway rider in the back of the head with a hammer while he waited for the southbound A train at the 175th Street station in Washington Heights at 11 a.m. Sunday, according to police.
Naked Man Attacks Riders at NYC Station, Dies From Electrocution Amid Brawl: NYPD. Cell phone video shows a naked man who appears to be emotionally disturbed inside the subway station. Police say that man approaches a stranger and, unprovoked, begins to attack him before pushing him onto the tracks. [...] "Just a little shaken because I have a daughter and I always tell her to be aware of her surroundings," the witness said. They say they've seen many emotionally disturbed people in the subway system and wish they were getting the help they need.
Subway assault victim 'stunned' and 'scared' after assailant's release. One of at least five victims of a string of attacks at a Brooklyn subway stop ripped the NYPD Monday for what she believes is a failure to keep women who use the station safe. "I was stunned that this had happened so many times. I didn't see any police stationed there. There were no flyers," Bianca Fortis said Monday, a week after the attack in East Williamsburg's Morgan Ave. station. The attack left the 32-year-old journalist with multiple bruises on her face, shoulder and chest. On Saturday [1/2/2021], another woman was attacked at the same location — bringing the total number of police-reported incidents there to five. "There's not enough security," Fortis told The [New York] Post. "After it happened the first time, or certainly the second, there should have been more information. Even just a flyer saying be on alert."
Man busted for series of attacks on women in NYC subway station. A [black] man suspected in a string of random assaults on [white] women at a Brooklyn subway station was arrested Tuesday [1/5/2021] and charged with a slew of hate crimes, authorities said. Khari Covington, 29, is accused of attacking nine women in separate instances in East Williamsburg since last August, according to police. Seven of the alleged assaults occurred in transit — mainly at the Morgan Avenue subway station — while two were committed nearby on street level, police said. Covington targeted light-skinned women, sources said.
The Editor says...
Hmmm... He "targeted light-skinned women." Is that a gentle way of saying he's a violent racist, and that he has committed a number of racially-motivated hate crimes?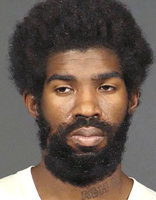 Man, 29, is charged with hate crimes for 'beating nine light-skinned women in random attacks over six weeks' in a New York City subway station. A man has been arrested after carrying out a suspected string of random assaults on 'light-skinned' women at a Brooklyn subway station. Khari Covington, 29, was arrested and charged with a slew of hate crimes on Tuesday [1/5/2021]. He is accused of attacking nine women on separate occasions in East Williamsburg since last August. Seven of the alleged assaults occurred within the Morgan Avenue subway station. Two other assaults happened on the streets above. Covington lives at a homeless shelter two blocks from the train station.
Bat-wielding man injures multiple people in NYC during crazy crime spree. A crazed man left 10 people injured and a wild trail of destruction behind him during a Manhattan rampage Saturday night that involved subway assaults, street beat-downs and two carjackings, according to cops and police sources. Suspect Bryan Thompson, 43, of Atlantic City, NJ, was wielding what his victims said was everything from a bat to tree branch to wooden clubs — or all of the above at various times — as he raged from Tribeca to Chelsea for less than an hour, police and sources said. "He was a one-man crime spree," a police source said. Thompson allegedly started his attacks in a subway platform in Tribeca at around 6:35 p.m. He was in the station at Varick and Canal streets when he battered at least three people — a 39-year-old woman, 18-year-old Manhattan man and 57-year-old guy — over the head "with a wooden weapon" in "unprovoked" attacks on the uptown No. 2 train platform, the NYPD said.
The Editor says...
How does the New York Post writer know with any certainty that the attacker was "crazed?" Maybe he's just violent. It would be informative to know if the perpetrator is black and all the victims are white, but it's too much to expect the newspapers to provide that kind of detail any more.
6 make anti-Asian statements, assault maskless woman at Manhattan subway station: police. Police are searching for six people who allegedly assaulted a maskless woman inside a subway station in Manhattan earlier this month. It happened on Dec. 17 around 1:45 p.m. inside the subway station at Avenue of the Americas and West 4 Street. A 32-year-old woman was riding the southbound A train when she was approached by six people who engaged in a verbal dispute over the fact she was not wearing a mask while on public transportation, police said. The suspects then made anti-Asian statements relative to COVID-19 toward the victim, authorities said.
Homeless man set free after slugging woman in random subway attack. A homeless man with 77 prior arrests sucker-punched a 68-year-old woman in a random attack inside a Manhattan subway station — and was only issued a desk appearance ticket before being set free, according to cops and police sources. The victim, Rosella Trombetta, was heading home from her job as a designer for a clothing company, on the northbound R train platform of the 34th Street-Herald Square station, just before 8 p.m. Tuesday when John Chappell, 64, suddenly clobbered her in the face, breaking her nose, according to police and her boyfriend Bob Edis, 77. "She was the only one on the platform, standing in the middle, and she was reading her Kindle," Edis told the Post Wednesday at the couple's Upper East Side apartment. "The guy just came up on her and punched her in the face. It threw her back, so she has whiplash now. He was going to go after her again, but she started screaming because she was hurt. He walked off."
Latest NYC subway shove victim describes terrifying attack. A woman who became the latest victim in a string of random subway attacks is recovering in the hospital with a fractured neck and says there is nothing she could have done differently to prevent the suspect from targeting her. Ruth Leon-Villegas recalled how she lay on the platform of the West 4th St.-Washington Square station in pain as suspect Matthew Montanez, 23, creepily stared at her after the attack — and no onlookers came to her aid despite her pleas. "I was saying, "help me, help me." People were taking pictures but nobody did anything," Leon-Villegas recalled.
Woman left with fractured neck after stranger jumps her, sends her flying into metal pole on Greenwich Village subway platform. A Queens woman waiting for a Manhattan train wound up with a fractured neck Monday night [12/14/2020] after a stranger pounced on top of her, then hurled her straight into a metal column — the latest in an alarming spate of attacks in city subway stations. Ruth Leon-Villegas was waiting on the F train platform at the W. Fourth St.-Washington Square station in Greenwich Village when Matthew Montanez, 23, of Queens Village, attacked her about 9:30 p.m., police said.
2 subway station shoves under investigation in New York City. The NYPD is investigating two frightening subway station shove incidents in Manhattan over the last few days. On Monday night [12/14/2020], a 55-year-old woman was shoved into the side of a train as it was pulling into the station at West 4th Street in Greenwich Village. The victim bounced off the train and fell onto the platform. Police say the suspect, 23-year-old Matthew Montanez, waited on the platform to be arrested. Authorities are also trying to identify a woman wanted for questioning in a shoving incident in Washington Heights on Sunday.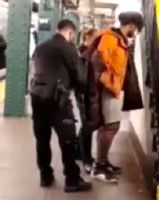 Commuter breaks neck and spine after stranger shoved her into oncoming New York Subway train. A commuter is seriously-ill with a broken neck and spine after a stranger shoved her into an oncoming New York Subway train in an unprovoked attack. The unidentified assault victim, who is 55, was pushed into the side of the F train as it pulled into West 4th Street Station in Manhattan on Monday night [12/14/2020]. She struck the side of the passenger car, before falling back onto the concrete platform. Eyewitnesses snapped photos in the aftermath of the attack showing the woman receiving medical treatment, and the man suspected of pushing her being cuffed after he was arrested. The woman was rushed to hospital with fractures to her spine and neck, where she remains in a seriously-ill but stable condition. Matthew Montanez, 23, was arrested on suspicion of felony assault over the attack. He has five previous arrests on suspicion of crimes including grand and petty larceny.
The Editor says...
Notice the difference between the U.S. coverage of this story and the British version: In the U.K., they didn't name the victim, and in the U.S., they didn't show any pictures of the perpetrator.
Parolee gang member busted for slashing NYC straphanger who refused to buy MetroCard from him. A gang member on parole for assault was charged with slashing a straphanger who refused to buy MetroCard swipes from him at an East Harlem subway stop, police said Saturday [12/12/2020]. Robert Bazemore, 34, was spotted near the 110th St.-Lexington Ave. station and taken into custody Friday night [12/11/2020]. "Already on parole for assault, a 34-year-old Queens resident & reputed gang member was arrested last night by District 4 officers & charged in connection to this violent act," NYPD Transit Chief Kathleen O'Reilly tweeted Saturday.
NYPD increasing patrol in subway stations after string of pushes, attacks. After a string of subway pushes and attacks, the NYPD is sending dozens of police officers back into New York City's transit system. According to the NYPD, 120 officers are being moved back to the transit beat after being moved in the summer to help cover protests across the city. The increase comes after three scary subway shovings in the past week alone.
Brooklyn man latest victim of subway shove attacks. A 29-year-old straphanger became the latest New Yorker shoved onto subway tracks on Sunday when he was attacked at a Brooklyn station. The victim was on a northbound 4 train shortly before 11:30 a.m. when his attacker, who had been sleeping, woke up and began screaming at him, police said. It was unclear what the suspect was screaming, the cops said. When the victim and his girlfriend got off at the Atlantic Avenue-Barclays Center stop, the screaming man also got off and followed the couple, then pushed him onto the southbound tracks before running off. The victim was able to get back on the platform and was not seriously hurt, police said.
Violent Crime Surge in New York City Hitting Subways. We all know that violent crime is surging in New York City. Now residents are becoming more concerned about how safe New York subways are. Several recent incidents on the subway platforms have people wondering how bad things can get. [...] One of the 300,000 residents of the city who have moved out since the first of the year said this kind of crime is exactly why he left.
Three knife attacks erupt in midtown Manhattan in a matter of hours. Midtown Manhattan saw at least three knife attacks in a matter of hours this weekend. A 51-year-old man was left bleeding on 34th Street and 8th Avenue early Sunday morning, in the latest knife attack in the area. "I heard a scream and then saw a guy running toward the subway," witness Seka Quina, 23, told the New York Post. "Then others started running. I turned and saw the guy on the ground bleeding — a lot. It looked bad," Quina said. The attack occurred around 8:30 a.m., and the victim was taken to Bellevue Hospital in critical condition. Blocks away, another man was stabbed to death outside of a pizza shop on Saturday night, and another man riding the subway was cut in the face as his train pulled into Grand Central Station.
Homeless Man Pushes Woman In Front Of Subway In New York. A shocking new video shows the moment an unhinged homeless man shoves an unsuspecting straphanger to the tracks just before the subway pulls into the station. Surveillance footage posted to social media shows the man pacing back and forth on the northbound 4/5/6 platform at 14th Street-Union Square just before 8:30 on Thursday morning before running at the 40-year-old woman and pushing her onto the tracks. One of the other straphangers grabs his head in shock and turns away, the video shows. The woman, though, escaped only with minor injuries from her fall. [Video clip]
3 People Shot In Broad Daylight In The Bronx By Subway Concourse. Three people, including a teenager, were shot in the Bronx in broad daylight on Monday afternoon [11/16/2020] outside a subway station. The shooting was reported on Grand Concourse and East 170th Street around 3 p.m. while terrified witnesses watched. Witnesses told police the three victims — ages 16, 22 and 23 — were walking down the street when a man approached them with his gun drawn. According to witnesses, the suspect approached the victims from behind, said "hey" and then opened fire on the street.
'I could see he was crazy' earlier victim alleges of Rick Moranis attack suspect. Nearly six months before he allegedly knocked Rick Moranis to the ground outside the actor's Upper West Side apartment, Marquis Ventura was charged with an even more violent, unprovoked attack on a Bronx subway. "I could see he was crazy," the victim in that attack, mom and restaurant manager Ashley Davis, told The [New York] Post. "I was telling the police — This guy's not right. This guy's got a mental illness." Davis, 34, was on a downtown 5 with her husband, Glenn Smith, 34, when Ventura — who'd been walking between train cars — allegedly jumped them, she said. Ventura is charged with misdemeanor assault in the April 13 attack, according to online court records. "This dude just randomly started beating [...] me and my husband," she said.
Suspect in custody for Rick Moranis assault. Police on Saturday arrested a homeless, violent ex-con and charged him with randomly slugging actor Rick Moranis last month on the Upper West Side, The [New York] Post has learned. A Transit Bureau sergeant spotted Marquis Ventura, 35, at 96th Street and Broadway and made the arrest. Images of Ventura's masked face had been widely publicized in the month since the unprovoked, caught-on-video attack steps from the actor's Central Park West apartment.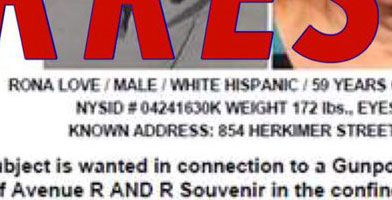 Paroled killer arrested in NYC subway shooting. A two-time murderer who'd been released on lifetime parole is back behind bars — after she [sic] was arrested on Friday [10/30/2020] for allegedly shooting a man in the neck during an argument at a Manhattan subway station earlier this month, police said. Before being released just last year, Rona Love, 59, had spent 25 years in prison for two murders she [sic] committed in the 1990s. She [sic] is now charged with attempted murder in an Oct. 18 shooting inside the 1/2/3 station at 14th Street and Seventh Avenue in Greenwich Village, NYPD Commissioner Dermot Shea said on Twitter. The victim in that attack, a 24-year-old man, managed to walk himself to the nearby Lenox Health Center and has survived.
The Editor says...
The NYPD says Rona Love is a man. Look at his "wanted" poster.
Man Gets Spit By Woman On While Riding Bus, Woman Gets Pushed Off Smashing Her Face On Concrete. A video showing an unmasked woman spitting on a fellow bus passenger was posted on TikTok, and transit police say they are now investigating the incident. In the video, the woman who spat on someone gets shoved down the steps and out the side door of the bus. Transit police say they only learned of the event after the video began making the rounds on the social media platform TikTok on Thursday morning. [Video clip]
Woman, 28, shoved onto Times Square subway tracks in unprovoked attack. A stranger shoved a 28-year-old woman onto the subway tracks at the Times Square-42nd Street station Friday morning, cops said. The victim was waiting on the northbound N/Q/R platform around 9:40 a.m. when a man who appeared to be homeless suddenly pushed her from behind onto the tracks without provocation, authorities said. The victim suffered only minor injuries to her wrist and was treated at NYU Langone Hospital, police said.
Woman, 73, pushed onto Brooklyn subway tracks during fight with stranger over marijuana smoke. A pot-smoking stranger shoved a 73-year-old woman onto the subway tracks in Brooklyn Monday after her grandson and husband demanded he stop toking weed on the platform, police said. The family confronted the man puffing on a joint on the Manhattan-bound C train platform at the Clinton/Washington Aves. station in Fort Greene about 1:45 p.m.
Renowned Japanese jazz pianist attacked by teens in NYC subway station. A renowned Japanese jazz pianist was brutally attacked after bumping into a group of teens at a Harlem subway station, authorities said. Tadataka Unno, 40, was leaving the W. 135th station near St. Nicholas Park around 7:30 p.m. on Sept. 27 and tried to get around a group of teens blocking the exit turnstile. One of the girls pushed him, claiming that the musician had bumped into her, cops said. "My girl is pregnant!" her boyfriend screamed, as he repeatedly punched Unno in the head, police said. The musician, known to friends as Tada, tried to scramble out of the station but the enraged teen knocked him on the ground and screamed "Chinese!" police sources said.
Black Woman Goes INSANE, Assaults Old White Man On Train Over Mask, Then Calls All 'Honkies' Racists With Privilege. A black woman absolutely lost her mind on the Q in New York when an elderly man asked her to wear a mask. The woman is seen pushing and shoving the elderly gentleman and cursing him. The man filming tells her to calm down and stop assaulting the elderly man. This is the point the woman goes on a racist rant claiming all 'honkies' stick together while calling everyone else racist. [Video clip]
Man pushed onto subway tracks helped to safety by good Samaritan. A man was pushed onto the subway tracks by a stranger in Columbus Circle Thursday morning [9/24/2020] — but got back onto the platform with the help of a good Samaritan, police said. Raphael Mejias, 25, told cops he was standing on the south bound D train platform at the 59th Street station around 5:40 a.m. when a man he didn't know pushed him from behind, according to police. He told cops that no words were exchanged. "He was able to get back up onto the platform with the help of a good Samaritan," a police spokesman said. [...] The man who pushed him was described as standing about 6 feet tall and wearing a gray sweat suit.
The Editor says...
I guess it goes without saying that the perpetrator was black, because the writer in the New York Post didn't say it.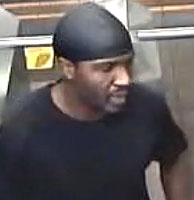 Good Samaritan subway rider stomped by madman for stopping robbery on the D train. A Good Samaritan straphanger suffered a savage beating after stepping up to save a sleeping subway rider from a would-be thief aboard a Brooklyn train, police said Wednesday [9/23/2020]. The gutsy woman, a designer on her way to an early-morning photo shoot, was knocked to the subway floor and kicked repeatedly by the crazed bandit as she rode a nearly empty Coney Island-bound D train shortly before 5 a.m. this past Saturday. She suffered facial cuts, two black eyes and a fractured finger before the man fled at the Union St. stop, police said.
Black Man Assaults Random 'White' Woman on Miami Metromover, Attacked Two Other White Men Earlier. Surveillance video shows Joshua James King recently beating up Andrea Puerta while she was alone inside Miami's Metromover, police said. She said she had never seen him before. King, 25, punched Puerta, 29, more than 20 times during the Sept. 4 attack. He kicked, pushed, and slammed her headfirst. She suffered a concussion. [Video clip]
[Black] man, 25, viciously assaults lone [White] female rider, 29, in unprovoked attack on Miami metro. A Miami metro rider has been caught on camera viciously assaulting a lone female traveler in an unprovoked, random attack. Joshua James King, 25, is accused of beating up Andrea Puerta, 29, during the incident on September 4, leaving her with a concussion, a broken rib and bruising. Surveillance footage shows King walking onto the metro before launching the sustained attack on Puerta. The clip shows him kick her, slam her head and punch her more than 20 times.
Philly Cop Gets Assaulted By Thug On Train Platform. Not much info on this video, unfortunately. As per usual, the mainstream media has not one story on this fight between a Philadelphia cop and a perp on a train platform even though it's gone viral on social media. [Video clip]
London knife crime: 12 stabbed in 24 hours of violence. Twelve people were stabbed across London in less than 24 hours. At least three of the victims assaulted on Saturday night [9/5/2020] were teenagers, and one was 79-years-old. None have died. The scenes of the bloodshed included a London bus, DLR station and Underground station.
Heinous Monster Caught Trying To Rape Woman On NYC Subway Platform. Police have charged a man who is accused of attempting to rape a woman at an Upper East Side subway platform in the middle of the day. The incident was reported Saturday inside the Lexington Avenue and East 63rd Street subway station around 11 a.m. The 25-year-old victim was on the platform when the man approached her and pushed her to the ground. The victim said she first noticed the suspect when they were on the same train and she noticed him smoking something. She told police she got off the train in an attempt to get away from him and he followed her onto the platform. [Video clip]
'Absolutely infuriating': Over 400 subway windows smashed, costing $300K. Windows were smashed on two more No. 7 trains Friday night, police said, as the MTA warns that the ongoing vandalism could impact service. Patrick Warren, the MTA's chief safety and security officer and acting COO of MTA NYC Transit, said 21 windows were busted on two trains. Damage on one train was discovered just before 10 p.m. in the Vernon Boulevard-Jackson Avenue station. The second train was found vandalized just after 10 p.m. at the 103rd Street station, according to Warren. Officials believe the vandalism is happening from inside the train using a blunt object while the train is in motion, Warren said.
Window-smashing spree on No. 7 line could force cuts to subway service. Villainous vandals have smashed so many windows on No. 7 trains over the last six months that the MTA may be forced to cut service on the line due to a glass shortage, said MTA sources with knowledge of the matter. A video shared online Wednesday night [8/19/2020] shows a train at the Vernon Blvd.-Jackson Ave. station with its windows smashed up.
Victim in Queens NYPD chokehold bust has been arrested again. A Brooklyn man whose June arrest went viral — prompting charges against a police officer accused of using an illegal chokehold on him — has been arrested for the second time since the fame-inducing incident. Ricky Bellevue, 35, was charged with robbery, menacing, possession of marijuana, and possession of a stolen credit card for allegedly snatching a 14-year-old girl's backpack on an A train near the Beach 44th Street station in Queens on Thursday. Bellevue first asked the teen for money but became incensed when she refused, the sources said. "I will stab you," he allegedly said. "Don't touch me!" He ran off, but cops caught up with Bellevue Friday [7/31/2020] on Third Avenue in the Bronx and took him into custody.
Queens woman details how she was attacked as she shot video of No. 7 subway assault. The punches came so fast, she didn't know what to do. A Queens woman says a man and a woman on the subway turned their rage on her when they discovered she was recording them after they attacked another passenger. The vicious assault left her with a black eye and a swollen face, 26-year-old Victoria told the Daily News on Saturday. She also has cuts and bruises on her arms and legs. "You get punched in the face that many times, you just don't really know what's going on around you," said the Astoria woman, who asked that her last name not be used. "I just couldn't believe it was happening."
Couple Goes Crazy On NYC Subway, Assaults 2, Terrorizes Everyone. Couple in Queens assaulted 2 people on 7/27/20 at Queensborough Plaza on the 7 train. You can see the couple threatening just about everyone sitting and at the end of the video, the woman demands the mobile phone video be deleted. There have been no news reports on the incident as of yet. [Video clip]
San Francisco bus driver beaten with baseball bat after asking passengers to wear masks: police. A San Francisco bus driver was allegedly beaten with a wooden baseball bat last week after asking three passengers to put on face masks to comply with the city's coronavirus public health order. Three men boarded the bus operated by the San Francisco Municipal Transportation Agency — or Muni — in the city's South of Market neighborhood Wednesday afternoon, San Francisco Police Department Officer Robert Rueca said in a statement Friday. The driver asked the passengers multiple times to wear a mask but they refused, so the driver pulled over to let them off.
Police searching for woman who assaulted bus driver over long layover. Police are searching for a woman who assaulted a bus driver over a long layover in Culver City, officials said Tuesday [7/14/2020]. Surveillance video of the Sunday incident shows a woman making her way through the bus, toward the driver and then pulling the driver out of her seat and striking her repeatedly as the driver tries to push her away. "The female suspect yelled, 'Drive,' to the bus driver before assaulting her," the Culver City Police Department said. [Video clip]
'Heinous and unprovoked' stabbing spree on New York subway. Passengers on board a New York subway carriage were subjected to a brutal and unprovoked knife assault in broad daylight. The shocking incident was caught on video, and comes amid a crime surge in the Big Apple. [Video clip]
Unhinged straphanger slashes two elderly men on Queens subway. An unhinged straphanger slashed two elderly men on a Queens subway in an unprovoked attack caught on camera. Patrick Chambers, 46, was arrested shortly after the July 5 attack on a No. 7 train rolling towards the 52nd St.-Lincoln Ave. station in Sunnyside, cops said.
Shocking Video Shows Deranged Man Stabbing Multiple People On NYC Subway. We have a feeling you won't see this on the evening news. In another bloody incident of violent crime caught on tape, an assailant armed with a knife slashes at least two terrified men on a subway car in NYC. The incident was filmed by one very steady-handed bystander. [...] This isn't the only stabbing incident we've seen lately. In Houston, a group of bystanders were recently filmed helping police subdue an unhinged attacker at a gas station on Fuqua Street in southeast Houston. At first, it seems the man filming had the audacity to tell the officers who were arresting the attacker "don't put your hands on his neck now".
Gang Of 8 Teenage Girls Brutally Beat Another For The Crime Of Talking To A Boy, Break Her Ribs, Face. The 15-year-old victim was alone and waiting for a train at Melbourne's Southern Cross Station when she was set upon by eight females who filmed their brazen Sunday afternoon [7/5/2020] attack. In a Facebook comment, the distraught mum said her daughter was left bleeding from the nose and mouth, suffered broken ribs, severe bruising and a suspected broken cheekbone.
ER nurse beaten with cane in unprovoked attack inside Bronx subway station. An emergency room nurse heading home from her shift over the weekend was brutally beaten with a cane inside a Bronx subway station in an unprovoked attack, police said Monday [7/6/2020]. Irina Langdon, 53, was on the mezzanine in the 149th St.-Grand Concourse No. 4 line station about 11:45 p.m. on Saturday when a man attacked her without warning, cops said. He struck her multiple times with a cane in the head, arms and ribs. Two Metropolitan Transportation Authority workers called 911, and Langdon was taken to the emergency room at Lincoln Hospital — where she had been working earlier in the night in the pediatric department. The attacker ran out of the station and is being sought by police.
Man trying to break up fight pushed into Harlem subway train and dies: cops. A man trying to break up a fight at a Harlem subway station Friday [7/3/2020] was killed when he was pushed as a train barreled in, wedging him between the platform and a subway car, police and witnesses said. Cops said the victim intervened between a man and two teenage girls who were fighting on the platform at the 125th Street and Lenox Ave. station, which serves the Nos. 2 and 3 trains. According to witnesses, the man in the fight pushed the victim as a downtown No. 2 train pulled into the station. Passengers said the pushed man lost his balance, and fell between two cars as the train was still moving. [...] There were no cameras on the downtown platform, but investigators are using video from the uptown side to search for clues about what happened.
The Editor says...
There are surveillance cameras everywhere in the country — especially in mass transit systems. Everywhere except the 125th Street and Lenox Ave. subway station in New York City, which is one of the most likely places for violent crime to take place.
Police seek man who stabbed rider on county bus. Hollywood police are searching for a man who they said stabbed another man on a Broward County bus. Surveillance video of the May 17 incident was released on Thursday [7/2/2020]. Police said the stabbing occurred around 4:30 p.m. that day while the bus was in the area of Federal Highway near Polk Street. According to authorities, the victim was walking to an empty seat when he accidentally bumped into another man. [Video clip]
New York City man wanted after woman, 73, punched in face on subway platform, police say. New York City police are searching for a man in connection to the assault on a 73-year-old woman who was punched in the face while standing on a subway platform last week. The incident happened around 7:15 p.m. on June 17 at the 174-175th Street station in the Bronx, police said. The woman was waiting on the Manhattan-bound side of the platform when a man walked up to her and punched her in the side of her face before fleeing the station, police said. He did not speak or have any interaction with the victim before the attack, according to police.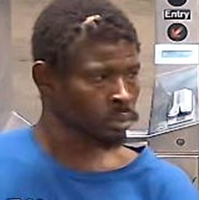 Homeless man charged with sucker-punching elderly woman on Bronx subway platform. A homeless man has been arrested for sucker-punching a 73-year-old woman on a Bronx subway platform in an unprovoked attack that sent her to the hospital, cops said Sunday. Ahmed Kromah, 23, was arrested Saturday night for allegedly walloping the unassuming elderly victim on the Manhattan-bound platform at the 174th-175th St. station in Mount Hope about 7:15 p.m. Wednesday, cops said.
Nurse, 60, Who Beat Coronavirus Attacked, Robbed by Group of 15 Teenagers Outside Hospital. A New York City health care worker who beat the Coronavirus was viciously attacked and robbed by more than a dozen teenagers outside her hospital this week, with the NYPD scrambling to locate her assailants. "Martha Toscano had just gotten out of the 6 train station on her way to work at Bellevue Hospital around 10:30 p.m. Wednesday when about 15 thugs ran her down and pummeled her to the ground," reports the New York Post.
NYC nurse who beat coronavirus pummeled, robbed by group of thugs. A New York City nurse who recently recovered from the coronavirus was attacked on her way to work by a group of vicious youths who badly beat her and ran off with her purse, police sources and the victim told The [New York] Post. Martha Toscano had just gotten out of the 6 train station on her way to work at Bellevue Hospital around 10:30 p.m. Wednesday when about 15 thugs ran her down and pummeled her to the ground. "I thought they were going to kill me," Toscano, 60, said in a phone call from her Queens studio Thursday [4/16/2020].
Father of Marine pushed in front of Red Line train and killed speaks out. The father of a Marine who was purposely pushed onto the Red Line train tracks in Chicago and died is sharing his son's story. The father of Mamadou Balde says a group of people shoved his son onto the tracks after an altercation. [...] Balde was waiting to catch a train heading southbound at the Jackson Red Line stop at around 5:13 p.m. Tuesday when a group of three men approached him and one of them pushed Balde in front of a moving train.
Bus passenger viciously attacked for coughing. A man was attacked for coughing on a bus in Lvov, Ukraine. In this violent video, passengers were filmed kicking the victim and forcefully removing him from public transportation — presumably because they feared the spread of coronavirus.
Reason #217 NEVER To Take Public Transportation. Supposedly there was a sandwich thrown by the white couple and the #black couple figured the best way to handle it is to brutally assault. [Video clip]
Mob Of Minority Teens Beat [an] Asian Couple In Philly Subway Claiming Couple Has Coronavirus. [Video clip]
Authorities: 64-Year-Old Man Shoved Onto Subway Tracks After Argument. Police are searching for a suspect who shoved a 64-year-old man onto the subway tracks at Union Square. Police say as Wednesday morning's [2/26/2020] rush hour was coming to an end around 9 a.m., a man wearing a Chicago Bulls sweater and a black hat shoved a 64-year-old man onto the tracks as he was waiting for the Q and R. He then ran away. Fortunately, the victim was not struck by a train. Power was cut to the tracks, and he was helped to safety and brought to Bellevue Hospital with a cut to his hand.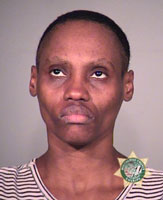 'I hate white people': Woman charged with bias crime in Portland bus stop attack. A woman faces hate crime charges after authorities say she pummeled a mother in front of her young daughter at a North Portland bus stop. Nimo Jire Kalinle, 42, had just exited a No. 4 bus at North Fremont Street and Gantenbein Avenue on Jan. 19 when she started slugging Janae Jordan in the face repeatedly, court records allege. During the attack, Jordan, who was with her husband and child, asked why the woman was targeting her. "It's because you're white and I hate white people," Kalinle, who is black, told Jordan, a probable cause affidavit alleges.
'Knife fight' breaks out on crowded NYC subway, mere feet from baby. A routine subway ride in Brooklyn turned into a duel between a man and woman who waved knives around not far from where a child sat in a stroller. The incident took place Wednesday [2/19/2020] in Crown Heights, according to WCBS. Video of the incident shows a man and a woman having an argument. As the argument escalates, each appear to be holding knives. [Video clip]
BART passenger beaten with chain in unprovoked attack aboard train in Oakland. A man was beaten with a chain in an unprovoked attack aboard a BART train during Tuesday evening [2/11/2020] commuting hours, leaving him with injuries that required hospital treatment, officials said. The unidentified victim was on a Daly City-bound train approaching Lake Merritt Station shortly after 6 p.m. when another man allegedly asked for directions and then hit him, according to BART spokesman Jim Allison. The attack was unprovoked, a witness told police. The suspect hit the victim and struck him with a chain that BART officials said was possibly a bike lock.
Chicago subway video captures man being attacked by 11 teens. The brutal beating of a 68-year-old man by 11 teens on a passenger train here Monday [2/3/2020] was captured in a disturbing, graphic video obtained by Fox News. The Chicago Police Department told Fox News the beating is under investigation, but no one is in custody because the victim "was unable to identify his attacker(s) due to his injuries." A police source told Fox that the Cook County State's Attorney's Office "wouldn't touch" the case if the victim can't identify those accused or is unable to cooperate.
Metro Transit light-rail train operators tell legislators of safety fears. [Scroll down] The discussion about transit safety comes as the Metropolitan Council awaits word on a $929 million grant from the Federal Transit Administration to expand the Twin Cities' light-rail system to the southwestern suburbs. The $2 billion Southwest light-rail line, currently under construction, would link downtown Minneapolis and Eden Prairie. The two train operators characterized the Green and Blue lines in near-dystopian terms. Operators are "constantly assaulted verbally and physically," Darling said, noting they often witness criminal behavior, including drug deals and assaults, as well as drug and alcohol use and sexual activity. While operators control trains from a self-contained cabin, they have to periodically walk through the cars and then clear them at the end of their shifts, Darling said. People sleeping or carousing on the trains don't want to leave and may grow violent, she said, noting that Metro Transit police often are unavailable to help in a timely manner.
Woman wearing face mask attacked in possible coronavirus hate crime. A woman wearing a face mask was attacked at a Chinatown subway station after allegedly being called a "diseased b****" — in what police are treating as a possible hate crime sparked by coronavirus fears. Shocking video shared by the NYPD's hate crimes unit shows a violent confrontation involving a woman with her face completely covered by a yellow face mask, glasses and the hood of a parka. An eyewitness claimed the victim had already been hit on the head when she ran to confront her attacker — who unleashed a flurry of blows after missing with a flying kick, eventually pushing her into a wall.
Woman, 51, dies and five are left injured when gunman opens fire on Greyhound bus after passengers asked him to be quiet. A 51-year-old woman from Colombia has died and five more people are injured after a Greyhound bus passenger opened fire on six people on the California Interstate 5 Monday [2/3/2020]. A total of 43 people were travelling from Los Angeles to the San Francisco Bay Area before 1.27 am and one witness said an altercation began after a passenger asked the gunman to be quiet. 'He was, massive, so tall, I remember before this happened, I noticed he had really big shoes on,' passenger Mark Grabban, 29, told NBC News. 'He was muttering things, about "wait till we get to the station".'
Maryland man held in bus shooting that killed 1, injured 5. A gunman who killed a woman and wounded five others on a Greyhound bus in Southern California was cursing and muttering incoherently before the attack, passengers and authorities said. [...] Anthony Devonte Williams, 33, of Capitol Heights, Maryland, was arrested after passengers managed to disarm him and get him off the bus, California Highway Patrol Sgt. Brian Pennings said.
Chaos Erupts As Antifa [Anti-Police] Protests Hit NYC; Vandalism Documented, Arrests Made. Chaos erupted Friday night [1/31/2020] as thousands of left-wing activists and Antifa members converged on Grand Central Station in New York City to demonstrate against the police, [...] As reported by The Millennial Post on Friday, multiple demonstrators were arrested during the chaotic and violent protests. And as documented via posted photos from NYC authorities, possibly dozens of acts of vandalism were committed. [...] The Twitter account for the Police Benevolent Association of the City of New York posted photos of potential weaponry at the protests and acts of vandalism.
Violent BlackLivesMatter, Pro-Palestinian, Antifa Dems Hit NYC Subways. New York City is 100% Democrat and these are their people. The Empire Report says "protesters" "rocked New York City." Nothing from the rest of the Dem media yet, except for the NY Post. Take a look and you tell me if they are "protesters" or "rioters." A police-hating, pro-Palestinian, Black Lives Matter-associated group tweeted with the hashtag, "DecolonizeThisPlace." [...] The Democrat-supported groups wanted to destroy property and hurt police officers until the subway fare is abolished. They are also angry that 500 new police officers were added to the subway. The communist Democrats went ahead and did what they said they would do, and were joined by Antifa, the fascist group trying to silence normal Americans.
Police nab suspect in attack on transgender woman in NYC subway. Cops have nabbed a suspect wanted for terrorizing a transgender person on a subway in Manhattan, the NYPD tweeted Monday morning [1/27/2020]. "Great job by Manhattan Warrants apprehending this suspect in NJ," the tweet posted to the account of Chief of Detectives Rodney Harrison said.
Millennial Punk Starts A Fight With An Elderly Man On Train, Another Passanger Ain't Having It. [Video clip]
Man punches bus driver in her face. Police are looking for a man who punched a SEPTA bus driver in the face on New Year's Eve in Pennsylvania. It happened at 10:34 p.m. on Dec. 31, 2019, on Route 113 at Pembroke and Oak avenues in East Lansdowne. Police say the man refused to pay the fare, argued with the bus operator, then punched her. [Video clip]
Cop Randomly Smashed in Face With Bike Chain in Manhattan Subway Station. A seemingly random attack on an off-duty police officer at a Lower Manhattan subway station left commuters uneasy as the NYPD continued to search for the suspect on Wednesday [1/15/2020]. Police say a man threw a metal bicycle chain through a subway car's open door, hitting a 37-year-old cop in her face at the Park Place 2 train station on Tuesday. The suspect then got on a train and fled at the Chamber Street subway station.
Criminals are going from Rikers Island straight to the subways.
De Blasio giving freed NYC inmates MetroCards and gift cards. So sorry we had to lock you up — please accept these parting gifts as an expression of our hope, it won't happen again! Mayor Bill de Blasio's latest soft-on-crime initiative has workers stationed on Rikers Island presenting newly released jailbirds with free transit passes and two $25 debit cards each, The [New York] Post has learned. Plans even call for the addition of prepaid, "burner"-style cellphones and drawstring bags for the ex-inmates to carry their swag, a source familiar with the program said. The "crime pays" giveaways build on another de Blasio policy — revealed by The Post last month — that showers freebies including Mets tickets on prisoners being released under the state's new bail-reform law.
A Second Woman Today Starting Fights On The NYC Subway, Uses Race Card. This woman had her phone volume cranked up and when a fellow traveler asked her to turn it down, she got in his face, threatening him and then pulling the race card from the bottom of the deck. [Video clip]
Guy Tries To Kidnap A Sleeping Girl On NYC Subway. The two-minute clip shows a man in a red jacket trying to talk to a girl sitting next to a sleeping guy, who appears to be riding with her. The man in red nudges her foot a few times, to minimal response, and when the train stops, he snatches her and runs off with her. The girl manages to get away from him and alerts the man she was with while trying to get someone to call the police. [Video clip]
Here We Go Again: Black Woman Goes Anti-Semitic On Jewish Man On A NYC Bus. What is happening in the black community in NYC? Why are there so many blacks that hate Jews? During the last two weeks, we've seen an explosion in attacks on the Jewish community in New York City. Is this a recent trend or has this been an ongoing thing? [Video clip]
Racist Girl Screams At An Asian Man And White People On The Subway, Yells About Trump, Tries To Fight Everyone! Terrible black girl is seen yelling obscenities at an Asian man on the subway in New York City. She also hits him and his phone several times, then starts yelling at other passengers telling her to pipe down. At one point the girl, who seems to lose complete control of herself, starts cursing at all the white people, screaming about Donald Trump and at times, lunging forward as if to attack. [Video clip]
Trans Hate Crime Story False — Video Shows the Dude in a Dress Was the Aggressor. A Seattle-area trans bus rider who was said to be the victim of a hate crime was actually the aggressor.
Serial subway perv busted for 63rd time — just a month after prison release. An incorrigible subway perv racked up his 36th arrest last week for allegedly groping a female straphanger — just over a month after completing an 11-year prison stint for similar crimes, authorities said Monday. Freddie Johnson, 61, allegedly ground his groin against a 27-year-old woman's rear aboard a 5 train rumbling northbound near Lower Manhattan's Fulton Street on Dec. 11, according to cops. The skeeved straphanger tried to move elsewhere in the car, but Johnson allegedly followed her, [...]
Phoenix Light Rail Riders Aid in Attack on Woman in Wheelchair. A frightening attack on a woman in a wheelchair on the light rail in Phoenix was thwarted last month by a hero rider who flew into action at the right moment. Phoenix police released light-rail surveillance video [...] of the incident in hopes of finding the vicious and cowardly criminal.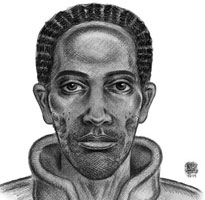 New York subway platform anti-gay attack sees hammer-wielding man throw victim onto tracks, cops say. A New York City man narrowly missed being crushed beneath a subway train after a hammer-wielding attacker making homophobic comments fought with and then tossed a 21-year-old straphanger onto the tracks before fleeing the station, officials said. The New York Police Department said the incident happened Nov. 11 at 1 a.m. at the Tremont Avenue B/D Train subway station in the Bronx. The victim told police he was waiting on the northbound platform when a man began making anti-gay statements to him and then attempted to hit him with a hammer — but missed.
TSA agent allegedly assaulted on Blue Line by group of teenagers. A TSA agent claims he was assaulted by a group of juveniles on the Blue Line while he was on his way home from work Monday night [11/25/2019]. Officers were dispatched to a northbound Blue Line train at the Fort Snelling station around 8:35 p.m. Monday on a report of a group of juveniles "jumping, playing and causing disturbance," according to a Metro Transit Police report. John Slettehaugh, 67, of Minneapolis, the alleged victim, told officers he saw "a group of kids being rowdy" as they seemed to be leaving the train. One of them went over to Slettehaugh and grabbed his hair, the report said. [...] Slettehaugh described the suspects as a group of eight black teenagers between ages 14 and 16, although he couldn't offer any further description, according to the report.
Antifa Militants Cut Turnstile Arm Off NYC Subway Platform During Anti-Police March. An Antifa militant cut the arm off of a subway turnstile in New York City during an anti-cop protest on Friday [11/22/2019]. The vandalism took place at the E. 149th Street and 3rd Avenue stop in the Bronx. Footage of the protesters hopping the turnstiles and the arm being broken off was tweeted by the Antifa group Decolonize This Place on Sunday.
Anti-cop vandals cut turnstile arm in latest protest of subway patrols. Fare-beating anti-police protesters lopped the arm off a metal subway turnstile when they stormed a Bronx subway station on Friday, according to a video posted online. The footage — tweeted by agitator group Decolonize This Place on Sunday — shows at least a dozen activists march into the E. 149th Street and 3rd Avenue stop. One portion shows a three-armed turnstile with one of its limbs shorn off just inches from the base.
15-Year-Old Boy Stabbed Repeatedly on NYC Subway Platform. A 15-year-old boy was stabbed multiple times on the shoulder by a group of teens and young adults on a Bronx subway platform Thursday, authorities say. The boy was attacked on the 6 train platform at the Westchester Avenue-East Tremont station around 11 a.m., police said. The group that attacked him then ran off.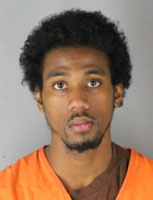 Family and strangers alike struggle to understand fatal assault that started on Metro Transit bus. The 75-year-old meant no harm when he turned to a group of young men sitting near him on a Metro Transit bus one afternoon last week and asked them to quiet down. Instead, the seemingly inconsequential encounter led to violence, costing Shirwa Hassan Jibril his life and leaving his family grieving at his grave site on a cold and gray November day. [...] [Leroy] Davis-Miles and several other men followed Jibril off the bus. Based on witness accounts, Davis-Miles punched Jibril, who fell and hit his head.
Charges: Leroy Davis-Miles Attacked Elderly Man Who Asked Him To Quiet Down On Minneapolis Bus. Leroy Davis-Miles, 23, is charged in connection to a life-threatening assault of an elderly man Wednesday afternoon in south Minneapolis. [...] Surveillance camera footage at the Chicago-Lake Transit Center appears to show Davis-Miles, whose face was off-camera, lunge at the victim as if to strike him. The man then falls back and hits his head on the pavement. The county attorney's office says the victim may not survive from the head injury he suffered.
Woman whacks elderly subway preacher with high heels: video. A crazed woman wielding a stiletto heel and shouting "f*** your God" bashed an elderly singing subway preacher in the head on a train in Manhattan, according to disturbing video released Friday [11/1/2019]. The 79-year-old victim was preaching aboard a southbound No. 2 train near the 42nd Street-Times Square station at around 10 a.m. on Friday, Oct. 25, when the woman removed her high heel and menaced him with it as if it were a weapon, according to cops and video of the incident. The 30-something woman — who was dressed in a beige fur coat, black pants and a bright red wig — is seen in the footage waving the shoe at the cowering man and shouting at him.
The Editor says...
The writer of the New York Post article above is very generous to call the perpetrator "crazed," rather than calling her "just another perpetually angry black woman on the subway who thinks she can get away with anything."
NYC Subway Arrest Video Goes Viral. Reports of a man with a gun caused chaos on a New York City subway on Friday [10/25/2019]. Video of the incident captured by subway rider Elad Nehorai and posted to Twitter shows close to a dozen NYPD officers rush inside the subway car to arrest the man. The incident happened during Friday's rush hour commute at the Franklin Avenue Station. In the video, the man is sitting on the subway with his arms raised while police point their guns at him through the window before storming the car.
Tips Wanted In Case Of Man Sucker Punched, Beaten By Teens. He was sitting at a bus stop when he was sucker punched, knocked out, and kicked while he was down. Detroit police are asking for help from the public as they work to identify three young suspects wanted in the assault of a man on the city's east side. According to investigators, at around 3:30 p.m. on Thursday, Oct. 10, the 23-year-old victim was sitting on a bench in the 17100 block of E. Warren Ave., waiting for a bus, when a group of teens walked up.
With more homeless riding San Francisco trains, crime is up and ridership is down. Not surprisingly, the numbers are highest in the winter when the number of homeless people is nearly 300 per every hundred train cars. The increase in the number of homeless riding the trains coincides with an increase in reported crimes, including violent crimes. In June, the Chronicle reported robberies were up 128 percent over five years while aggravated assaults were up 83 percent. Those figures appeared in a Grand Jury report which specifically cited homelessness as a major contributor to declining ridership. And that's the big problem for BART. The train system was never intended to be a living space for the homeless but that's what it is becoming.
NYC: Muslim shoves commuter onto subway tracks, screams "Allahu akbar" when arrested. Islamic spokesmen, as well as Leftist leaders, will quickly insist that Nathaniel Brown's screaming "Allahu akbar" after pushing a man onto the subway tracks has nothing whatsoever to do with Islam, despite its many texts and teachings calling for violence against unbelievers. Most people will take that for granted. But if a lunatic goes on a shooting spree, that is entirely the fault of President Trump and conservatives. That's Leftist and establishment media thinking today.
Boy dies after he and mother are pushed on train tracks in Germany. An eight-year-old boy has died after he and his mother were deliberately pushed on to train tracks at Frankfurt's main railway station, German police have said. The boy was hit by a high-speed ICE train and killed instantly. His mother was able to roll into a safe gap between two platforms and escaped injury. The suspect was chased through the station by passengers who tackled him to the ground. Police later confirmed a 40-year-old man had been arrested. [...] The 28-year-old suspect, who was of Kosovo Serb origin and identified only as Jackson B, according to German police protocol, was known to police. He is being held in custody and is not thought to have known the victim.
The Editor says...
If the suspect is 28, why was a 40-year-old man arrested?
Surveillance video shows woman shoving grandmother from CTrain platform. As they laid eyes for the first time on the woman accused of trying to kill their mother in a random attack on one of Calgary's C-Train platforms, emotions overwhelmed two siblings, who clung to each other as tears ran down their faces.
Subway stabber was defending herself when she killed straphanger in wild fight, lawyer claims. A woman charged with manslaughter for stabbing a straphanger to death as they brawled inside a Brooklyn subway station was acting in self-defense, her lawyer claimed Wednesday. Mia Simmons, 20, got into a fight with victim Latanya Watson on a Manhattan-bound No. 3 train about 9:45 p.m. Monday [7/15/2019]. Both women got off at the Sutter Ave. station in Brownsville, where the showdown escalated in the mezzanine after the victim pepper sprayed Simmons as they walked through the turnstile, cops said.
Woman stabbed to death in Brooklyn subway station. A woman was stabbed to death after a fight in a Brooklyn subway station Monday night [7/8/2019], law enforcement sources said. The 30-year-old woman was in the mezzanine of the Sutter Avenue-Rutland Road No. 3 train station in Brownsville when she got into a fight with another woman, authorities said. The suspect, believed to be in her 20s, then stabbed her several times in the face, neck and arm, law-enforcement sources said.
Man who pushed 91-year-old onto London tube tracks sentenced to life. [Video clip]
Violent crime on BART more than doubles in four years. Violent crime on BART more than doubled since 2014, driven in part by a fare-evasion epidemic that is three times worse than the agency's official estimates, according to a new grand jury report. The report released Monday by the Alameda County Civil Grand Jury found the number of robberies on the transit system increased by 128%, from 153 in 2014 to 349 last year. Aggravated assaults soared by 83%, from 71 to 130 over the same time period. Robberies and aggravated assaults combined jumped nearly 16% from 2017 to 2018 alone, according to the report, with robberies spiking 20% and aggravated assaults rising 7%.
Violent Crime Up Sharply In San Francisco BART Stations. The San Francisco Chronicle reports that crime has more than doubled in San Francisco's BART stations since 2014. The report highlighting the rise in violent crime also suggested that as many as 15% of people riding the trains are not paying fares. [...] That grand jury report identified four factors causing a decline in BART ridership (down 8% since 2016), first and foremost among them was homelessness. [...] If the homeless are living on the trains and sleeping on the trains, it's a good bet they are stealing to support their habits on the trains as well.
San Francisco and Los Angeles. If you insist on touring San Francisco or Los Angeles, AOL offers lists of places to be wary of in both towns. [... Including] Bay Area Rapid Transit (BART) — Avoid 16th & Mission Station, 24th & Mission Station, Civic Center Station and Lake Merritt Station. Potrero Hill is not advised for visitors after businesses have closed for the day.
Rep. Omar's (Somali) Constituency Terrorizes White Community. Last Friday [5/17/2019], a dispatch audio from the Minneapolis Police Department reveals that an incident involving "a group of 8-10 males chasing people with hammers" occurred near the University of Minnesota in the "Little Mogadishu" neighborhood. Turns out this was a group of juveniles ages 12 [to] 15. In the police reports their names are redacted due to the fact that they are minors. It is clear that the group of males were Somali minors and were targeting white people and people who they perceived to "have money," according to one eyewitness account.
Mob with Hammers Descends on Minneapolis East Bank LRT Patrons. [Scroll down] A mob of eight to 10 males wielding hammers descended upon bystanders at the East Bank Light Rail station on Friday night [5/17/2019] injuring several, according to recorded police dispatch audio. The incident was apparently reported to 911 just before 10 p.m. on Friday according to the audio and other social media police scanner reports. A 9:48 p.m. Facebook post on 2nd Precinct Minneapolis Crime Watch page said that University of Minnesota (U of M) police were requesting assistance from Minneapolis police (MPD) and Metro Transit police for "a group of 8-10 males chasing people with hammers" and that some people were injured. A Facebook post a minute later on Minneapolis Scanner page said that the three police departments were responding to "multiple [911] calls" about "10-12 Somali teen males armed with hammers chasing people," also with "several injuries reported." Both Facebook pages regularly post summaries of police scanner audio. A person who claimed on social media to have been at the station when the incident occurred said that the group of males had "hammers and bars," and that they seemed to be "attacking anyone who looked like they had money or were white."
Police: Black Man Attempted to Kill White Man 'Because He Was White'. A black man who beat and threw a white man onto subway tracks in Pittsburgh Saturday night [5/25/2019] did so explicitly because the victim was white, according to police. "Police say they have charged a man accused of beating up and shoving another man onto the tracks at the Wood Street T Station 'because he was white,'" according to CBS Pittsburgh. The suspect, 46-year-old Willie Hayes, faces charges of ethnic intimidation, attempted homicide and aggravated assault. The victim's criminal complaint says Hayes told him "he was assaulting him because he was white."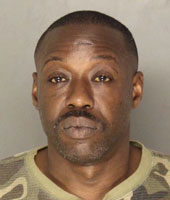 Sharpsburg man charged with racially motivated attack at Downtown T station. A Sharpsburg man is accused of beating another man into unconsciousness at the Wood Street Light Rail Transit station and throwing him onto the tracks in a racially motivated attack, according to Port Authority police. Willie J. Hayes, 46, who is black, was charged Wednesday [5/29/2019] with attempted homicide, aggravated assault and ethnic intimidation in connection with the Saturday evening attack, according to a criminal complaint.
Man shot to death on St. Louis County MetroLink train. An investigation is underway after a man was shot to death on a MetroLink train Wednesday afternoon [5/22/2019]. Police responded to the MetroLink Station at 7001 St. Charles Rock Road around 11:50 a.m. for a shooting. A man was found with a gunshot wound and he was transported to a hospital where he was pronounced dead.
Information slowly emerging about pipe-wielding mob of Somali 'youths' who attacked people waiting for light rail train in Minneapolis last Friday. My hometown of Minneapolis has been totally transformed by the arrival of tens of thousands of refugees from Somalis, one of whom now represents the city and a few suburbs in Congress. Nobody there was asked if such a makeover was desired by the residents; State Department officials decided that the generous welfare benefits available in Minnesota were reason enough to send people whose native land is tropical to the coldest major city in the United States. But now that the old 97%-plus Caucasian city has been made into a multicultural exemplar, the local establishment, including the newspapers and broadcasters, is ultra-protective of its prized diversity-endowing Somali community. That might explain why the news of a horrific attack on people waiting for a light rail train at the University of Minnesota has been so slow to emerge.
Mob with Hammers Descends on Minneapolis East Bank LRT Patrons. A mob of eight to 10 males wielding hammers descended upon bystanders at the East Bank Light Rail station on Friday night [5/17/2019]injuring several, according to recorded police dispatch audio.
Elder Asks California Woman To 'Be Nicer' So She Murdered Him. A 74-year-old man with a walker was using public transportation in Las Vegas when he noticed a loud, rude obnoxious woman cursing other people. She had her son with her, and he calmly asked her to 'be nicer' to the other people on the bus. But for standing up for common decency, he enraged the ignorant bully. So she violently attacked him, and his subsequent injuries led to his death.
Bus passenger punched and kicked in brutal random attack. Police in Montebello, California, are looking for a man who attacked a fellow bus passenger. In video released by the police department in Montebello, a hooded man is shown punching a victim after he exits a bus. The suspect then kicked the victim three times as he lay defenseless on the ground. [Video clip]
Man in critical condition after Queens subway stabbing: cops. A 23-year-old man is critical Sunday [3/31/2019] after being stabbed during an early morning dispute in a Queens train station, authorities said.
Brutal Subway Attack On Elderly Woman Reveals Something Very Wrong With America. I've never seen such violence against an elderly person. She has no recourse. No way of defending herself. Her head bounces off his large boot. Watching the video, I felt as though I was witnessing a Nazi soldier violently assaulting a helpless Jew. It stings with the ugliness of the pogroms. Additionally disturbing is the fact that no one helps her.
Man kicks elderly woman in face on NYC subway. Police are searching for a man, caught on camera, attacking an elderly woman on a number 2 subway train in the Bronx. Witnesses say the man in the video kicked the victim in the face and body, causing her to bleed. The incident happened on March 10th at 3:10 a.m. The suspect then got off the train at Nereid Avenue. The victim stayed on the train for one more northbound stop. She received medical attention when the train pulled into the 241st Street stop in the Wakefield section.
Caught-on-video subway 'granny-kicker' says she had it coming. Cops have arrested the monster who they say repeatedly kicked a cowering elderly woman in the head aboard a Bronx subway train — as callous straphangers did nothing more than pull out their phones to record the beatdown. But the suspect, restaurant worker Marc Gomez of Yonkers, is denying he kicked the woman — even as he insists she came at him with a knife.
Maniac slashed woman at Midtown subway station, called her 'white b****': cops. A crazed subway rider yelled "you white bitch" as he slashed a random Manhattan woman's cheek with a razor blade in a Midtown station — and was then held down by fellow straphangers until police arrived, authorities said Monday [3/4/2019]. The 24-year-old woman was on a southbound E train at the East 53rd Street and Fifth Avenue station around 6 p.m Saturday when Harlens Hernandez, 25, approached, yelled at her and cut her left cheek, cops said. Hernandez, who had a box cutter, was heard to say "I'm going to take your eye out" and "you white b****" to the victim, witnesses told police, according to a criminal complaint.
ICE says MS-13 member charged in Queens subway shooting is undocumented. A day after a suspected MS-13 gang member was officially charged in connection to Sunday's fatal subway platform shooting in Queens, Immigration Customs and Enforcement officials confirmed he is undocumented. ICE officials told PIX11 on Wednesday that Ramiro Gutierrez "is in the country illegally." "He had no status," the representative said. "He entered without inspection, so we don't know when he came in or where."
Man fatally shot in the head inside Queens subway station. A man was shot to death Sunday [2/3/2019] on a crowded Queens subway platform, in a chaotic confrontation that's captured on a shocking cell phone video posted on social media. Police believe the victim and other men were fighting on a Manhattan-bound No. 7 train when it pulled up to the platform at 90th St. and Elmhurst Ave. in Jackson Heights around 12:45 p.m.
MS-13 Murders Man on 7 Train in New York City In Ocasio-Cortez's District — She's Bringing Illegal to SOTU. A MS-13 murder was captured on the 7 train in New York City. The horrific footage was captured by Progressive Action.
Cops bust creep accused of trying to rape woman on subway. Police arrested a Brooklyn man who allegedly tried to rape a woman on a Brooklyn subway train early Thursday morning [1/17/2019], authorities said. Daniel Jean-Pierre, 37, was hit with attempted rape, robbery, and sexual abuse charges in connection to the attack, police said. Jean-Pierre allegedly attacked the 27-year-old woman after she got on to a Manhattan-bound No. 4 train at about 1:15 a.m. on Thursday, cops said.
Khan's London: Violent Crime on Underground Up 43 Percent. Sadiq Khan, London's Muslim mayor, has overseen a surge in violent crime on London's underground: it has risen by 43 percent in just three years, while the highest increase were weapons offenses at 125 percent. "Sexual offences have also risen from 935 crimes reported to 1,047, while there has been an overall increase in crime of 25 percent, with 10,450 crimes reported in 2015-16, rising to 13,101 in 2017-18."
Video Shows Beating at CTA Red Line Chicago Station. Chicago police are looking for a group of male teenagers wanted in connection with several attacks that happened Dec. 29 at the Chicago Avenue Red Line station. A Facebook video shows a man being beaten during one of the attacks. [Video clip]
Report: NYC Officials Ignored ICE Detainer Requests For Suspect Charged With Attacking NYPD Officer. One of the five homeless individuals who attacked an NYPD officer at a New York City train station was identified as an illegal immigrant that New York City officials ignored federal immigration detainers on him, SiriusXM Patriot David Webb revealed through a source on his program Friday morning [11/28/2018]. "One of the suspects is Eliseo Alvarez Santos, one of the homeless men," Webb said. "And just to give you a bit of his record, on Dec. 1, 2017, he was brought into Manhattan lock up [sic], and Eliseo is illegal, and an ICE detainer was issued on Dec. 25, 2017 — issued, but not honored. Again on Dec. 26, 2017 — again, not honored. In April of 2017, he was charged with forcible touching which was then knocked down to harassment."
Five homeless vagrants face no charges in attack on cop seen in viral video, says Manhattan DA. Attacking a cop has joined fare beating and public urination on the list of subway misbehavior Manhattan DA Cyrus Vance won't bother prosecuting. Officer Syed Ali — an Army combat vet who served in Iraq and Afghanistan — had no trouble fending off five homeless vagrants with his baton and his feet as they came at him one by one on Sunday night. The attack, captured on video, was viewed 4 million times on Twitter.
NYPD officer fights off aggressive drunks in the subway but none of the attackers are charged. While most of us were getting ready for Christmas, NYPD officer Syed Ali was working a transit beat in the NY subways Sunday night [12/23/2018]. This particular night, five intoxicated men were harassing a woman on the platform of the East Broadway station. [...] Officer Ali, who is a combat veteran, was praised by the Mayor and various NY authorities for dealing with the drunks without escalating the situation. [...] But some were upset that the men who harassed the subway rider and tried to fight a police officer were released and won't be charged with anything.
Update:
Two vagrants arrested for attacking cop on subway platform. Police arrested two of the vagrants who were caught on video trying to attack an NYPD cop in a wild melee in a Chinatown subway station, authorities said. Eliseo Alvarez, 36, was hit with attempted assault, riot, menacing, attempted criminal possession of a weapon and obstructing governmental administration charges, cops said. Juan Nunez, 27, was busted on obstructing governmental administration and riot charges.
Police: Drug deal likely led to rush hour shooting in Loop CTA stop. Chicago police say a drug deal may have led to a 27-year-old man getting shot in a CTA pedestrian tunnel downtown Thursday during the height of rush hour. Police say high definition cameras from inside the tunnel which connects the Red and Blue lines at Jackson captured images of a man in a surgical mask shooting another man in the hip at close range before slipping away.
El Segundo rape: Parolee accused of attacking woman he met on Metro Green Line. Police are seeking the public's help to track down a parolee who allegedly raped a woman near a parking garage in El Segundo. Sunday shortly before 11 a.m., police officers received a call to investigate a possible rape that occurred earlier that morning. The alleged victim told investigators that she had fallen asleep on the Metro Green Line train and missed her stop. Around 6 a.m., she said the suspect, identified by police as 35-year-old Kerry Frank Lathon, introduced himself to her and began conversing with her when the train was nearing the Marine Avenue Station.
Unhinged man attacks downtown MTA bus. An unhinged man was caught on video physically attacking an MTA bus on the Lower East Side on Thursday morning, police said. The man banged on the bus' windshield and nearly snapped one of the rearview mirrors off it during the attack around midnight near Houston and Allen streets, the video shows. The bus driver stopped in the middle of the street and flashed an emergency message on the message board above the windshield.
Subway shoving suspect once begged mental hospital to lock him up. A man who pushed a subway commuter onto the tracks last week had earlier begged his doctors at Montefiore Hospital to lock him up because he's a paranoid schizophrenic. Jakim Jeter, 20, was arrested on attempted-murder charges for shoving Edwin Pinez, 55, onto the subway tracks on Nov. 9 at the Brooklyn-Bridge City Hall subway station. For at least six months before the attack, Jeter had been asking his doctors to commit him because he was scared he'd hurt himself or others. His family had been asking for at least a year and a half.
Two women arrested for choking, assaulting mom on subway. Two women were arrested for beating a mom over the head with a cellphone and placing her in a chokehold during a fight aboard a subway train, authorities said Friday. Chaena Frazier, 30, and Sytobia Agbonlahor, 27, were both hit with charges of criminal obstruction of breathing and acting in manner injurious to a child for the Nov. 1 melee on the E train in Forest Hills, according to police.
Thugs stalk random man into subway, stab him repeatedly: cops. Halloween was a horror for a Bronx man after three strangers followed him into a subway station an stabbed him repeatedly, police said Saturday [11/3/2018]. The trio approached the 19-year-old victim as he walked into the Norwood-205th Street D train station near Bainbridge Avenue around 9:25 p.m., chased him and then knifed him multiple times in the stomach and upper right arm before taking off, police said. The victim was rushed to St. Barnabas Hospital, where he was listed in stable condition after the unprovoked Oct. 31 incident, cops said.
Transit bandit ordered locked up at secure psychiatric facility. A Brooklyn Supreme Court Judge has ruled that a 53-year-old man with Asperger's Syndrome and a love of transit is suffering from a "dangerous mental disorder," and ordered him locked up in a secure psychiatric facility for the foreseeable future. Darius McCollum will now be "warehoused" alongside violent criminals for what will likely be the remainder of his life, defense attorney Sally Butler said through tears after judge Ruth Shillingford determined that McCollum's penchant for swiping buses made him a danger to society. The jurist issued the ruling Friday 10/5/2018], where she briefly lamented the inability of the justice system to handle those on the autism spectrum who commit non-violent crimes.
Man sentenced to 3 years for pushing stranger off CTA platform. A Northwestern University neuroscience graduate was sentenced to three years in prison for pushing another man off a Chicago subway platform and onto train tracks. Chad Estep pleaded guilty last week [9/26/2018] to aggravated battery after a more serious charge of attempted murder was dropped.
Man found guilty of pushing people onto the train tracks. CCTV shows the terrifying moments London's serial subway pusher tried to kill two passengers, including a 91-year-old man who was heroically pulled from the tracks by fellow passengers. Paul Crossley was found guilty of two counts of attempted murder. [Video clip]
Man trying to break up argument stabbed on subway platform. A homeless man stabbed a good Samaritan in the chest in Queens Wednesday [9/26/2018], after the victim attempted to break up an argument with a woman on a subway platform. After observing the 5 p.m. altercation on the northbound F train platform at the 75th Ave. station in Forest Hills, the 49-year-old intervened, police sources said. The homeless man responded by pulling out a knife and stabbing the victim in [his] chest. He then fled the scene.
BART Investigating 3 Homicides In Less Than A Week. Violence on Bay Area Rapid Transit has resulted in three homicides over the last week with the latest being the fatal stabbing of an 18-year-old woman as she stepped off a train Sunday night. BART Police Chief Carlos Rojas called the homicides 'an anomaly' at a press conference on Monday [7/23/2108].
Transit Crime. Is there an upsurge in crime on and around transit, and if so, why? A few days ago, a Portland woman was stabbed at a light-rail stop, supposedly by a complete stranger. The very next day, a remarkably similar report came out of Tempe, Arizona, except in this case police said the victim and alleged perpetrator were acquaintances. A month ago, a gang of at least 40 teenagers boarded a BART train and, while some held the doors to prevent the train from leaving the station, robbed seven passengers and beat up two or more who refused to cooperate. A few days before that, someone shot and killed a passenger and wounded three more on board a MARTA train in Atlanta. After arresting a suspect, police called it an "isolated incident," but it doesn't sound so isolated anymore.
How frequent is violent crime on Phoenix public transit? The suspect in a stabbing on a Valley Metro bus has been charged with first-degree murder [5/2/2017]. Edgar Dominguez is accused of stabbing a man who was waiting for the bus near Central Avenue and Van Buren Street , then boarding the bus and stabbing a 49-year-old man to death. Court documents show Dominguez repeatedly stabbed the victim while he was on the ground. [...] According to Valley Metro, crimes like assaults and robberies on buses are also relatively rare. In the last nine months, Valley Metro said there have been less than 20 such incidents per quarter.
The Editor says...
That's 80 incidents per year. That's not "rare."
Cops nab MTA aerosol attacker. Police have arrested a man accused of spraying two MTA bus drivers with a noxious chemical — possibly mace — on their route through Brooklyn. Andre Chandler, 46, is facing charges of assault, menacing and reckless endangerment for the back-to-back attacks, which both took place on B15 buses on Aug. 23.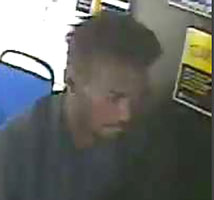 Cops release images of man who sprayed noxious substance on buses. This is the man cops believe sprayed a noxious substance on two MTA buses earlier this week. The suspect boarded the B15 bus that runs between JFK Airport and Bedford-Stuyvesant around 4 a.m. Thursday [8/23/2018], refused to pay and became enraged when the driver couldn't make a stop at Rockaway and Hegeman avenues in Brownsville because of construction, officials said. The man then whipped out a giant can and sprayed it into the partition protecting the driver, according to police who released surveillance images of the incident.
Daughter struck by subway train while trying to save mother. Horrified subway riders rushed to save a woman pushed in front of a commuter train in Atlanta, and the woman's daughter was struck by the train while trying to help, witnesses said.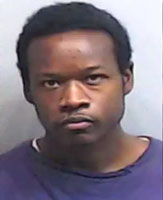 Man who pushed mother onto tracks at MARTA station identified. MARTA police have identified the man who allegedly pushed a woman onto the tracks at the Midtown MARTA Station Sunday, prompting a chaotic scene that ended with the woman's daughter critically wounded. Police identified the suspect as Christopher Patrick Brooklin, 28. He is charged with aggravated assault and battery in a public transit station.
Florida driver fired after he punched passenger who spit on him, used racial slurs. Two recent violent attacks on Palm Tran have bus drivers worried. They say barriers need to be installed on buses to separate drivers from unruly, violent passengers. When Palm Tran bus drivers get behind the wheel, they sometimes encounter violent passengers. In one incident in July, a female Palm Tran driver was hit by a passenger with a receiver from a radio. Another incident in May cost a Palm Tran bus driver his job.
3 people dead in unrelated attacks on Bay Area Rapid Transit stations in 5 days. Three people died in unrelated attacks at Bay Area Rapid Transit Stations in the span of just one week, authorities said. The BART Police Department said Monday they arrested John Cowell, 27, a paroled felon accused of attacking two sisters with a knife at the MacArthur station in downtown Oakland on Sunday night. The stabbing victims were identified as Nia Wilson, 18, who died from her injuries, and her sister, Lahtifa Wilson, 26.
Suspect Charged In Young Woman's Horrific Stabbing Death On Oakland Transit. A man with a history of violence has been charged in what police said appears to be an unprovoked fatal stabbing of a young woman traveling in Oakland on a Bay Area Rapid Transit train. John Lee Cowell, 27, quickly identified after the Sunday night attack from surveillance videos, was arrested aboard another BART train Monday evening [7/23/2018] after an anonymous tip, BART police Chief Carlos Rojas said at a news conference.
BART stabbing suspect has dark and violent past. Disturbing new details have emerged about the man arrested for fatally stabbing a woman at a BART Station in Oakland. Court records show that John Lee Cowell, 27, has a dark and violent past — with multiple arrests for battery and a laundry list of things he did to innocent people. At age 18, he was reportedly arrested for beating up a man and sucker-punching his daughter outside their home in Concord, California. Cops threw him behind bars at least five more times after that — and reportedly confronted him for fare-beating just four days before the BART stabbing.
Black Crime Gets Crazier. Whatever you thought crazy was, put it aside. Because no matter what you think is the craziest story of black violence — and the denial, deceit, and delusion surrounding it — this recent story out of Oakland is way past that. It began simply and sadly enough on a BART system in the Oakland area. Two younger black people killed two older white guys. The reaction from BART was as predictable as it was lame: BART is safe; murder and violence are isolated; and no, you cannot see the videos from any of the hundreds of cameras in the stations. Then, over the weekend, John Lee Cowell, a white guy, met two black women, Nia Wilson and her sister, on BART. He cut their throats, killing Nia.
Suspect in BART fatal stabbing deserves death penalty, past victim says. The suspect who allegedly stabbed two sisters, killing one, at a rail station in Oakland, Calif., deserves the death penalty, a past victim of the suspect says, according to a report. Nearly a decade ago, John Cowell, 27 — the BART stabbing suspect — along with three other teens, beat up Shane Glick, 51, outside his Concord, Calif., home, Glick told the San Francisco Chronicle.
Off-duty MTA worker hit on subway by stray bullet: cops. An off-duty MTA worker was shot by a stray bullet while riding the subway Tuesday evening [7/17/2018], according to police. Carlo Thorne, 47, was riding a southbound 3 train when a fight broke out between two groups inside the subway car as it pulled into the station at Rutland Road and East 98th Street in Brooklyn at approximately 6:20pm, according to cops. The shooter, identified only as a black male between 16 and 18 years old wearing a blue shirt and dark sweatpants, exited the train car and fired one shot into the crowd from the platform — striking Thorne in the right arm.
Utah train worker called female passengers 'porn stars,' asked about tampons, reports say. Hostilities abounded on a Utah commuter train Tuesday evening when a Utah Transit Authority employee allegedly confronted several female passengers for sharing the restroom, called them "porn stars," and asked if they were "putting [tampons] into each other," reports say. The employee has since been placed on paid leave, pending a review of the matter, a transit agency spokesman told the Salt Lake Tribune.
'Pipe-wielding' subway attacker arraigned on felony assault charges. A Manhattan panhandler unleashed an "unjustified, brutal attack" on a fellow subway rider, a prosecutor said early Tuesday morning [7/17/2018] in the suspect's first court appearance. Geovannie Nieves, 35, wore a blue Turner construction t-shirt, black and green basketball shorts and black sneakers as he was hauled into Manhattan Criminal Court for his 12:30 a.m. arraignment. "This is an unjustified brutal attack on a civilian who was riding the subway," prosecutor Shayna Dunning said. "The defendant was begging for money and when the complainant refused, the defendant became irate."
2 teens arrested in robberies were on parole for killing man pushed into DART train. Dallas police arrested three teens suspected in armed robberies in Old East Dallas and downtown last week. Two of the teens were on parole for the 2011 capital murder of a man they targeted for his iPod and who was then knocked into a DART train. Royneco Harris, 18, and Cortney Woods, 17, were charged with aggravated robbery in connection with an Aug. 2 incident in the 4800 block of Bryan Street, police said.
'Crazy' subway passenger sucker-punches conductor. A deranged straphanger sucker-punched a subway conductor in Brooklyn on Tuesday [6/19/2018] — the latest in a recent string of assaults on MTA workers. The unidentified man socked a Q train conductor after his Brighton Beach-bound train pulled into the Prospect Park station at 11:54 a.m., MTA officials said.
SPLC Keeps Denying. Black-on-White Violence Keeps Happening. Let's look at just a few examples of black violence, all of which happened since the SPLC's latest report a few days ago. All of the keep happening wildly out of proportion. All of them, the SPLC could not care less about. In New York City, a black woman was walking down the street, bumping into white ladies. When one of the white women suggested she stop assaulting white pedestrians, the black woman started hitting the white woman with a heavy metal box, all the while yelling and threatening, "Take that you white b----," followed by "that's what you get, white b----."
Sweden: The Chaos Spreads. The Stockholm subway was once a safe and efficient means of getting around Sweden's capital, but it has now become a dangerous place and a conduit for the spread of crime and antisocial behavior around the city. Criminal gangs are taking over the subway and using it to commute between the ghettos and the inner city, where they fuel the ever-rising tide of muggings, assaults and rapes.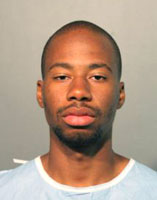 Man charged with punching woman, 67, on Red Line. Bail was denied Sunday for a man charged with an unprovoked attack on a woman on the Red Line last week. Prosecutors say 28-year-old Derrick McMath punched a 67-year-old woman in the face as she read her Kindle on the Red Line last Thursday. The attack caused a severe rupture that officials now say will require one of her eyes to be removed. Surveillance cameras captured the attack that took place near the 1500 block of West Jarvis Avenue. In a community alert, police shared photos of the suspect in the incident and described it as a "completely unprovoked" attack.
Massachusetts: Woman slashes throats of two bus passengers, then prays to Allah. After the woman charged with slashing two passengers and the driver of a Pioneer Valley Transit Authority bus was handcuffed and read her rights, she apologized. "I'm so sorry, I don't know what came over me," Brietta Brown said, according to the arrest report. "Please apologize to them for me, will they survive? I hope Allah will forgive me."
Man charged in video-recorded beating of bus driver in north Minneapolis. A Minneapolis man was charged Wednesday [4/18/2018] with the beating of a Metro Transit bus driver that was captured by a passenger on video — footage that "disgusted" the transportation agency. Sterling V. Smith, 26, was charged with third-degree assault and obstructing the operation of a transit vehicle. Smith remains jailed ahead of his first court appearance Thursday.
Chicago man slashed woman's cheek and jaw at bus station. A Chicago man accused of slashing a middle-aged woman's face with a knife last week was ordered held without bail Saturday [4/7/2018]. The suspect, identified as Deandre Cavaness, 36, approached the 54-year-old woman at a bus stop around 9 p.m. in an area about 10 miles west of Chicago.
Ignorance: The Greatest Threat to Black Americans. Turning 65, my relative is about to retire from her job as a Baltimore City transit bus driver. She said she is extremely tired of having to deal with black people with entitlement mindsets. Self-preservation has taught her not to argue with thugs boarding her bus, refusing to pay the fare. Upon asking a gentleman to pay his bus fare, he exploded in anger, ranting about how a black man can't catch a break in this [...] country.
Woman stabbed while riding bus on Chicago's Magnificent Mile. North Michigan Avenue north of the Chicago River is dominated by upscale department stores such as Nordstrom and Bloomingdale's. It's not where Chicagoans typically are assaulted, particularly on busses.
Woman Stabbed While Riding CTA Bus on Chicago's Magnificent Mile. A 30-year-old woman was sitting on a northbound bus when a woman seated behind her stabbed her in the back of the head with an unknown object inside of a glove, according to Chicago police. The stabbing resulted in a minor cut, officials said, and the victim was in good condition, refusing medical treatment on the scene. The offender may be homeless, according to police, and exited the bus walking southbound on Michigan Avenue.
Man sucker punches 5-year-old in face on New York City subway: cops. Police are hunting for a man who approached a 5-year-old boy riding the New York City subway and punched him in the face as the child's mother was standing next to him. The man, identified as Ramon Thomas, 25, was on the G train just before 4:30 p.m. Saturday [3/24/2018] when he attacked the boy who was standing next to his mother, police said. The train was approaching the Bergen Street station in Brooklyn's Cobble Hill neighborhood.
Man is slashed in the face and neck with a box-cutter at Maryland bus stop after asking 'drunk' illegal immigrant to stop urinating in public. A man was slashed in the face and neck at a Maryland bus stop after asking a 'drunk' and 'belligerent' stranger to stop urinating in public. Salvador Gomez-Lopez, 46, of Montgomery County, was arrested on two counts of assault, public intoxication and possession of a dangerous weapon with intent to injure after the incident last November. He has recently been indicted. A spokeswoman with Immigration Customs and Enforcement told Fox News that Gomez-Lopez was a wanted fugitive, in the country illegally from El Salvador. ICE have since 'lodged a detainer'.
The D.C. Metro's Falling Crime Numbers Aren't Quite As Impressive As They Seem. The big tell is that WMATA released gross numbers of crimes, rather than crime rates. And the reduction in total number of crimes has come during a time of plummeting ridership. Fewer riders, fewer crimes. [...] In total, WMATA ridership is off roughly 20 percent from its peak — even as the region has grown in population.
Passenger on Chicago train gets doused with chemicals. Chicago police reportedly arrested a man riding a Chicago Transit Authority train during rush hour Thursday [1/18/2018] after they said he doused another passenger with chemicals and sparked a small fire. The Chicago Tribune reported that a 26-year-old woman was on a southbound Red Line train when she was splashed with liquid from a water bottle. She reportedly said the liquid smelled like paint thinner. Another passenger reportedly told her that he had seen the man setting the car's seats on fire. At the next stop in the Uptown neighborhood, the train operator ordered the passengers off.
Guatemalan 'Migrant' Charged with Molesting Woman on New York Subway. A Queens deacon and married father of two is accused of the cardinal sin of lust — but his wife says her husband is innocent and the accuser is animated by greed. Police arrested 55-year-old Jaime Pinzon, an ordained deacon at the St. Joan of Arc parish in Jackson Heights, on charges that he molested a 27-year-old woman on an F Train near West 47th Street and Avenue of the Americas around 9:30 a.m. Dec. 12, court records show. [...] She was able to take cellphone photos of the man and even followed him when he got off the train at Herald Square, where she took another shot. Cops disseminated the photos, and the public helped identify Pinzon.
2 Hurt in Bloody NYC Subway Station Slashing: Police. Two people were slashed Sunday inside one of New York City's busiest subway stations, police say. Officials say the Fulton Street stop in Lower Manhattan became a crime scene around 5 p.m. after two straphangers were slashed by a man after an argument turned violent.
Blast near Times Square prompts evacuation of major Manhattan transport hub. [Scroll down] Everything around the Port Authority in the 42nd Street area was shut down — a surreal scene of still at what would ordinarily be a bustling rush hour. New Jersey Transit buses headed to the Port Authority were diverting to other locations following the explosion. NJ Transit says buses are taking passengers to Secaucus and Hoboken. From there, they can take trains or PATH into the city. Trains, PATH, light rail and ferries are honoring bus tickets into New York.
Illegal Alien Sexually Assaulted Woman at Bus Stop While She Was Having a Seizure. A disabled woman's trip to her local 7-Eleven morphed into a terrifying experience when a stranger sexually assaulted her during an unforeseen medical emergency. The victim, whom ABC7 is not identifying, told police she had just purchased a pack of cigarettes at the 7-Eleven along the 12800 block of Clopper Road in Germantown. It was around 11:30 p.m. While walking home, the woman suffered a seizure, causing her to collapse onto a bench at a Ride On bus stop. It's unclear how long the woman was unconscious, but when she came to, she realized an unknown man had one of his hands down her pants.
'Manspreader' Apprehended For Assault On Female NY Subway Rider. Sam Saia, the victim, was riding the N train to Manhattan for work on Thursday when a man — later identified as 56-year-old Derek Smith of Brooklyn — sat down next to her and started his "manspreading" which crowded her against the wall and invaded her personal space. "He proceeded to press me against the wall and man-spread me excessively," she said.
Man punches woman who told him to stop 'manspreading' before a good Samaritan steps in during subway rage attack in New York. A Good Samaritan stepped in and forced a man off a New York Subway train after he launched into a sickening rant and punched a woman in the face because she said he was 'manspreading'. Sam Saia, 37, said she had politely asked the man to move his legs while she was sitting on the N train on Thursday [11/16/2017], when he erupted into a violent rage, and began swearing at her, threatening her and punched her in the mouth.
Drunk Man Attacks Mom in Front of Her Kids on NYC Subway Platform, Straphangers Rush to Help: Police. Straphangers pounced on a drunk man who allegedly attacked a mother in front of her three children on a Bronx subway platform, an exchange caught on video posted to social media. Remel Jefferson was arrested after the attack on the 6 train platform at the Hunts Point Avenue station in the Bronx about 7:15 p.m. Thursday, according to the NYPD. Law enforcement sources told News 4 the man appeared to be intoxicated when he targeted the mother. They said he punched her in the face, dragged her by the hair and shoved her into a pole and bench. He also broke a bottle and threatened her with it.
Woman Tells Man To Stop 'Manspreading' On NYC Subway, Gets Punched In The Face. Thankfully, a fellow straphanger intervened and grabbed the attacker, forcing him off at the next stop. [Video clip]
Cops say man splashed liquid in girl's face, called her 'white b****'. A man splashed an unknown liquid in a girl's face and called her a "white b****" as she was getting off a school bus in Queens, officials said. The 13-year-old had just stepped off the bus near the corner of Lefferts Boulevard and 101st Avenue in Richmond Hill when the man accosted her around 3:30 p.m. Tuesday, police said. "This is for you, white b****," he shouted before throwing the substance in her face.
Disabled, White Man Attacked on Maryland Bus by Attacker Screaming About Slavery. A disabled, white man was attacked on a Maryland mass transit bus by an African American who seemed to be blaming the victim for putting his ancestors into slavery, according to police. The 52-year-old victim was a passenger on a Metro bus in the Washington D.C. suburb of Silver Spring, Maryland, when Marquis Evans-Royster, 27, began spitting in his face and hurling racial epithets at him, according to ABC in Washington. The harassment began almost immediately after Evans-Royster boarded the bus without paying the fare, police said. The victim, who is homeless and remains unnamed in reports, initially tried to ignore Evans-Royster's taunts but finally tried to push the attacker away when he began to go through the victim's pockets while yelling, "You owe me for making my grandmother a slave."
The Editor says...
The perpetrator's grandmother is probably no more than 75 years of age, so it's not likely she was ever a slave in this country. And even if grandma had been a slave, the city bus is not an appropriate forum in which to air one's grievances.
Woman shoves, curses out 80-year-old man on city bus. An elderly white man was shoved to the floor and derided as a "honky motherf----r" by a black woman, who also told him to sit in the back of the East Side bus they were riding, police sources said Monday [9/11/2017]. The suspect, believed to be between 30 and 40 years old, is still being sought. The incident happened about 6:30 a.m. Sept. 3 when the 80-year-old victim got on a city bus near E. 34th St. and First Ave. and sat up front, sources said. The suspect apparently took exception to where he was sitting.
Straphangers' quarrel over elbow room comes to blows. Tempers rose when a young woman boarded a northbound 6 train at 68th Street Station around 2:20 pm and took up too much space next to a 70-year-old rider, officials said. The older woman moved to a different seat after she was elbowed several times, but a confrontation erupted anyway, with nasty talk quickly escalating as the younger woman slapped the septuagenarian.
Maniac yells 'I hate white people,' punches 84-year-old man on subway. An 84-year-old man was punched in the head by a subway psycho who said he hates white people, but the plucky victim says he's taking it in stride and feels sorry for his attacker. John Stewart was riding a Brooklyn-bound J train after boarding at Sutphin Blvd. in Jamaica on Aug. 23 at about 2:30 p.m. when, he said, he dropped his cane onto another straphanger's legs.
Bronx subway rider hammers woman, 54, with cellphone and beats her face after getting bumped by victim's cart. A bump of a cart turned into a sudden beatdown, when a steamed straphanger used a cellphone to pummel a 52-year-old woman whose shopping cart went awry on a Bronx subway train, police said Friday [8/25/2017]. The drama began when Angela Frias' shopping cart rolled into her assailant on a Manhattan-bound 4 train after it left the Burnside Ave. station at about 2:40 p.m. on July 27.
'I'm Going to Push You': Man Shoves Woman onto Subway Tracks: Police. A woman was pushed onto the tracks at a subway station in the East Village Tuesday night, police say. The 49-year-old victim was standing on the northbound platform at the F train station around 9 p.m. when a man in his 20s approached her from behind and shoved her unprovoked, police said.
Wanted Chicago Felon, 21, Shoots Himself in Groin on Bus in Madison, WI. Most fatal gun accidents are caused by young males who are reckless in their life style. Many have a long history of criminality, violence, and other reckless behavior. Jelani Faulk fits the profile.
Safety second! Frisco's public transit officials shield thugs from racial stereotyping. The Bay Area Rapid Transit system (BART) has been plagued by a spike of violent crimes with assaults, robberies and rapes up a staggering 41 percent from last year. [...] Yet again, public safety is supposed to be paramount, except when the progressives eclipse safety with political correctness. To avoid being accused of racial stereotyping, they're even willing to refer to rape, robbery and assault as "minor crimes." Frisco's public transit head honchos are more concerned about the race of thugs as opposed to doing the right thing for law-abiding people being victimized.
BART robberies and assaults up, but felony arrests down. Calls seeking help from BART police shot up in the first six months of the year at all but two of 46 train stations, keeping pace with a 35 percent increase in robberies and a 27 percent jump in assaults compared with the same period in 2016, agency figures show. But while misdemeanor arrests were up through the end of June, along with citations for offenses such as fare evasion, felony arrests dropped 23 percent year to year. BART officials say crime within the Bay Area's backbone transit system remains relatively low, and there hasn't been a homicide since January 2016. But the latest numbers — released to The Chronicle in response to a public records request — underscore a recent surge in crime that has alarmed riders and prompted officials to boost patrols.
Suspect in brutal DART attack says he feels remorse for beating. A suspect arrested for his role in a mob attack on a DART light rail train and station told Fox 4 News Friday that he feels remorse. Jakobi Hendrix, 21, was arrested Thursday and faces an aggravated assault charge for hitting Kennan Jones with his skateboard. His brother, Remon Hendrix, was arrested early Friday morning and charged with misdemeanor assault. Police also are looking for a third Hendrix brother. On Sunday night [7/30/2017], police said Jones was punched and kicked until he was unconscious. Both brothers were on their way to work at Whataburger and can be seen in cell phone video wearing their distinctive orange work shirts.
DART riders concerned after train beating. [Video clip]
Second arrest made in Deep Ellum DART mob attack. Dallas police arrested a second suspect early Friday [8/4/2017 for the beating attack on a DART light rail train. Police said Remon Hendrix was arrested around 1 a.m. Friday at Target Cityplace across the street from the Whataburger where he and his brother worked. Police said Remon Hendrix was spotted as he showed up for work. He is charged with assault causing bodily injury, a misdemeanor.
Brothers arrested in DART train attack. Two arrests have been made in connection with a violent assault by a group of people on a northbound Green Line DART train over the weekend. Brothers Jakobi Darion Hendrix, 21, and Remon Hendrix, 23, were taken into custody on Thursday and Friday. An arrest warrant shows that Jakobi Hendrix will be charged with aggravated assault with a deadly weapon and his bond has been set at $25,000.
Crime on the L, CTA buses is up; 90% of serious incidents go unsolved. [Scroll down] Last January, for instance, a man was Tasered and arrested by the police in Evanston for "waving a knife around" at a Purple Line L |station. That was one of 50 "incident reports" on file with the police in the north suburb for 2015, 2016 and 2017. They cover a range of crimes, from battery to theft on CTA property. In Forest Park, more than 100 crimes on CTA property have been reported since the beginning of 2015. In one case, at a taxi stand outside a Forest Park Blue Line L station, someone stuck a "big, black revolver" up to the side of a cabbie's head, demanding money, which he got, according to a report from the police in the west suburb.
BART Officials Hide Videos of Black Mob Violence. Transit officials in the San Francisco area do not release videos of black criminality because they do not want to make the black kids angry. [...] For years, passengers and former passengers complained about black violence, harassment, threats, robberies and even murder on BART. Especially aboard the trains going to and from the east bay destinations of Oakland, Richmond, etc. In April, a large group of black people swarmed through a BART train, beating [up] — then robbing — seven passengers. Similar but smaller events have happened at least three times since then. [...] After every episode of violence, reporters and passengers wait for BART to release the videos from the cameras scattered around the stations and inside the cars. But it never happens. All because BART staff fears the videos would cast black people in a bad light, said BART honcho Kerry Hamill in a memo to a BART director: [...]
MSNBC Host Fudges Facts On Planned Parenthood. MSNBC host Stephanie Ruhle incorrectly stated Friday that Planned Parenthood has had "huge increases" in the number of essential women's health services they provide. Florida Rep. Francis Rooney was arguing for defunding Planned Parenthood on "Velshi & Ruhle," and stated that Planned Parenthood has decreased its non-abortion activities, which is consistent with Planned Parenthood's own statistics. Ruhle challenged his claim, rebutting, "I don't know where you read that but I don't believe that's true based on our reporting and what we cover."
Man harassing women on train 'viciously' killed two who confronted him. [Scroll down] Following the attack, police said one of the men died at the scene while another died at a hospital. The third man was treated for non-life threatening injuries. "These were folks just riding the train and unfortunately got caught up in this," he said.
Man spewing hate on Brooklyn subway punches white woman, mocks black woman for 'trying to look white'. A white woman was assaulted on a Brooklyn subway by a black man railing against whites and mocking a black woman for "trying to look white," police sources said. The NYPD's Hate Crime Task Force is investigating the incident, which happened at 7:15 p.m. [5/23/2017] on the No. 4 train. The 32-year-old victim got onto the train and saw a black man spewing hate, calling whites and women "dogs," sources said.
Woman: Homeless man punched me in the face 'for no reason'. A homeless man was arrested for a spree of random violent attacks in a Herald Square subway station in which he struck two women in the face and hit a guy with a metal pipe, police said Monday [5/8/2017]. Daniel Evans, 45, was arrested Sunday and charged with three counts of assault after the attacks, cops said.
Woman punched in the face inside Herald Square subway station. Cops say a woman suffered bruises to her face after a stranger punched her on a subway platform during the early morning rush. The victim, 30, was walking on the southbound F platform of the 34th Street-Herald Square subway station around 7:30 a.m. Thursday [5/4/2017] when a man struck her on the side of her head, police said.
Fights, arrests after 300 youths converge on N.J. downtown. South Orange Police Chief Kyle Kroll said Tuesday the crowd contained a mix of village teens and others from nearby communities, including Newark, East Orange and Irvington residents, who apparently arrived by public transportation. The unruly crowd formed around 8 p.m. [Saturday, 4/29/2017] and kept officers busy until around midnight, according to police. Kroll said he requested assistance from the Essex County Sheriff's Office, Maplewood and Orange police as altercations broke out among the throngs of teens and young adults.
Homeless man arrested for punching stranger's teeth out at Queens bus stop. A homeless man is accused of sucker-punching an elderly stranger at a Queens bus stop and knocking out two of the man's teeth, cops said Sunday [4/30/2017]. Police arrested Andrey Desmond, 23, on felony assault and other charges, accusing him of ambushing the 75-year-old man as he waited for a Q48 bus on Roosevelt Ave. by Prince St. in Flushing, at about 4:50 a.m. April 17. Desmond — who has 24 prior arrests on his record, including busts on robbery and grand larceny charges — was acting erratically moments earlier, according to police sources.
Teens Commandeer BART Train In Violent Takeover Robbery Of Passengers. Passengers on a Bay Area Rapid Transit train were robbed, and in some cases beaten, when dozens of juveniles stormed aboard the train and forced them to give up their property, police said. The incident happened at 9:30 p.m. Saturday at the Coliseum Station in Oakland aboard a Dublin/Pleasanton-bound train. BART Police said witnesses reported 50 to 60 juveniles jumping the fare gates and going to the platform. After boarding the train, the juveniles "committed multiple strongarm robberies of bags and cell phones," according to a police report.
Reporters Sleep as 60 Black People Rob a BART Train in Oakland. Alicia Trost, a BART spokeswoman, said Monday that seven robberies had occurred — with victims losing a purse, a duffel bag, and five phones. Six people were robbed inside the train car, with a seventh confronted on the platform, she said. Not one of the reporters for any of the dozens of news outlets in that area mentioned the central organizing feature of the "teens": they were black. Tons of Bay area law enforcement officials say so. After they rampaged through the train, this black mob retreated into their East Oakland neighborhood — you know, the one that is widely reported to be the "backbone of African American life and culture in Oakland."
40-60 Teens Storm BART Train, Rob Passengers. This didn't get much media play anywhere else, but there was a shocking robbery late Saturday night in San Francisco when a swarm of 40-60 juveniles stormed a BART train, took over a railway car, and robbed the passengers. The teens exited the train and disappeared into the surrounding East Oakland neighborhood. And yes, the story in the San Francisco Chronicle somehow fails to mention the race of the wildlings.
Teen Mob Attacks Train, Violently Robs Passengers, Here In America. Perhaps if Californians had "shall issue" concealed carry instead of "may issue" restrictions that leave residents in many counties virtually unable to obtain a carry permit then nonsense like this wouldn't happen... at least not twice. I have to think that someone skillfully using a compact semi-automatic such as a Glock 19 would have been able to take down enough of these vermin to see the others scampering back to their holes empty-handed.
BART takeover robbery: 40 to 60 teens swarm train, hold up riders. BART police are beefing up patrols at Oakland stations after dozens of juveniles terrorized riders Saturday night [4/22/2017] when they invaded the Coliseum Station and commandeered at least one train car, forcing passengers to hand over bags and cell phones and leaving at least two with head injuries. The incident occurred around 9:30 p.m. Saturday. Witnesses told police that 40 to 60 juveniles flooded the station, jumped the fare gates and rushed to the second-story train platform. Some of the robbers apparently held open the doors of a Dublin-bound train car while others streamed inside, confronting and robbing and in some cases beating riders.
Man accused of pushing actress onto tracks is held without bail. The man accused of groping a young actress and then shoving her onto the subway tracks at a Greenwich Village station last week has been ordered held without bail. Kimani Stephenson, 24, was remanded at his Manhattan arraignment Sunday night on charges of attempted murder, assault and sex abuse for the attack on Bonnie Currie, 22. He allegedly grabbed the petite starlet's breast and crotch as she waited for a train at the 14th Street-Sixth Avenue station.
Family, friends fear long recovery for actress after subway sex assault. A young stage actress suffered her "worst nightmare" when she was groped and shoved to the tracks at a Greenwich Village subway station early Friday morning [4/14/2017], her roommate told The [New York] Post. Bonnie Currie, 22, was on the northbound F/M platform at 14th Street and Sixth Avenue at 4:20 a.m. when the man in his 20s walked up to her and grabbed her crotch, cops said. She shoved his hand away, and he pushed her onto the tracks. There was no train approaching, but she broke her wrist in the fall.
Man sucker-punches 70-year-old Pennsylvania man, attacks his wife at Port Authority Bus Terminal. An elderly Pennsylvania couple was bum-rushed by a brazen ruffian as they walked through the Port Authority Bus Terminal, law enforcement sources said Tuesday [3/21/2017]. [...] No arrests have been made. A motive behind the attack was not disclosed.
The Editor says...
Yep, there's no shortage of "brazen ruffians" at the bus station. And the police haven't come up with any possible motive, other than maybe it's a black guy who hates white people just because they're white, so he instigates an unprovoked attack on an elderly white couple because there's zero chance they'll fight back. If that explanation is out of the question, then I too find myself at a loss, just as the police seem to be.
Chicago police warn CTA Red Line riders of violent robbers. Police warn CTA commuters who take the Red Line to look out for thieves. There have been three robberies this week. During the robbery, three-to-four offenders approach the victims outside of a CTA Red Line Station or on the train. One asks a question to distract the rider — then the others punch the victim in the face multiple times and goes through their pockets or purse.
Elderly woman beaten after spat with young mom. A high-strung mom was so offended when an elderly lady scolded her about her rude kid that she snatched a walking cane out of the old er lady's hand and whacked her at an Upper East Side subway station, police sources said. "She just beat me up," the aghast 71-year-old lady told the [New York] Post on Tuesday. "I'm in a lot of pain." The brawl broke out as the older woman, who has trouble climbing stairs, was about to step onto an elevator at a Q train station at East 86th Street and Second Avenue at around 2 p.m. Monday [3/6/2017], police said.
Subway rider beat up by dancers says he was protecting fiancée. The straphanger attacked by four thugs on a subway was pummeled when he told the breakdancing fools not to badmouth his fiancée, he told The [New York] Post. "They were telling people, 'Move! Give us room!'" chivalrous victim David Giaccone, 40, told The Post about the four men, all in their 20s, who boarded the southbound A train in East New York about 1:20 p.m. Wednesday [2/22/2017]. "One dancer started saying, 'If I had a gun, you would all tip me better,'" he said.
Dancers attack straphanger who wouldn't move for performance. Four subway dancers attacked a straphanger who refused to move aside so they could perform in the middle of a Brooklyn train car, police said Thursday. The four men, described as being in their 20s, walked onto the southbound A train in East New York at about 1:20 p.m. Wednesday, asking for money and shouting at people to step aside so they could do their routine, according to police. When the 40-year-old victim, who was with his 26-year-old girlfriend, refused to move, one of the dancers punched him in the face, cutting him on his left cheek, police said.
Woman reportedly says she threw girl on train tracks as a human sacrifice. The woman facing attempted murder charges for allegedly throwing a five-year-old girl in front of a train called the Courier-Post newspaper from a psychiatric hospital, saying she felt like "it was just a sacrifice." Autumn Matacchiera, 20, of Hainesport, was arrested Jan. 27 on the light rail platform on West Broad Street after police jumped onto the tracks and got the train to stop before it reached the girl. Authorities said the girl, whom Matacchiera did not know, had a scratch and bruises.
Man on Subway Alarms Riders With Bomb Threat: NYPD. Police are looking for the subway rider who yelled that he had a bomb, causing panic among fellow straphangers, authorities say. The man was on the northbound 6 train going from 86th Street and Lexington Avenue at about 6 p.m. on Thursday, Jan. 5, when he allegedly said, "I have a bomb and am not afraid to die," according to the NYPD.
Three pot smokers busted for attacking straphanger, harassing conductor at Penn Station. Cops nabbed three pot-smoking straphangers who harassed a conductor and punched a passenger after he tried to intervene, police said Monday [1/30/2017]. Latiq Deveaux, 22; Lezon Deveaux, 21; and Kinard Oliver, 19, were riding the downtown No. 3 train and smoking weed on Sunday around 5:45 a.m., sources said. When the train pulled into 34th St./Penn Station, the conductor asked them to get off. As a result, they started yelling at her and banging on her door, police sources said.
Criminal who beat elderly man in the Bronx may have also pummeled 86-year-old woman in Midtown. A 22-year-old career criminal beat up an elderly straphanger inside a Bronx subway station — and may be responsible for a similar attack less than three hours earlier on an 84-year-old woman, authorities said Wednesday. Jahaid Turner blew his top when 76-year-old Julian Sandoval tried to get past him after getting off the No. 4 train at the 167th St. station about 4:45 p.m. Tuesday [1/24/2017].
Diplomat busted for grinding against woman on subway released thanks to immunity. A diplomat from Sudan was arrested for allegedly grinding against a woman on a Manhattan subway Monday [1/9/2017] — but the charges were dropped because he has diplomatic immunity, police sources said. The 49-year-old diplomat, Mohammad Abdalla Ali, was riding an uptown 4 train at about 2 p.m. when he allegedly approached the 38-year-old woman from behind as the train was leaving Grand Central and rubbed his crotch against her, police sources said. He was taken to the Midtown South police station house, where he was charged with sexual abuse and forcible touching.
Stranger pushes man under subway train. A man was pushed by a stranger onto subway tracks in Manhattan on Sunday. It was the second subway push in less than a week. The latest incident took place at the 18th St.-Seventh Ave. station in Chelsea around 7:20 a.m. [11/14/2016] Police say the man was found under a subway car with a laceration to his foot and a contusion to his head. Paramedics took the 54-year-old victim to Bellevue Hospital but he was expected to survive.
Teen killed trying stunt at Brooklyn subway stop, police say. The New York Police Department says the victim, an unidentified 14-year-old boy, was riding in between the cars of a southbound L train when he tried to jump onto the platform at the New Lots Avenue station around 10:40 p.m. Wednesday [12/7/2016].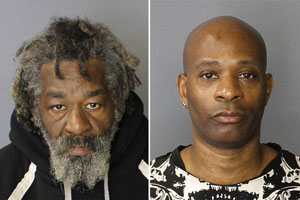 Cops arrest three high-risk sex offenders in subway incidents. Three high level sex offenders have been arrested in separate Manhattan subway stations the past two days, police sources said. Transit cops inside the Times Square subway station on Thursday [12/1/2016] cuffed the first fiend, Ralph Hargrove. While on patrol they recognized his face from a forcible touching wanted poster, sources said. The 62-year-old creep, who has 13 prior arrests, was carrying a gravity knife and drug paraphernalia when he was busted.
Man Wearing Donald Trump Hat Attacked on NYC Subway. A man says he was attacked by two men on a New York City subway simply because he was wearing a hat in support of President-elect Donald Trump. Corey Cataldo, 24, of the Bronx, said he was riding the uptown 5 train from Union Square to Morris Park Friday [11/18/2016] when a fellow rider on the subway noticed his "Make America Great Again" hat and didn't like it, WABC reported. "He asked me if I'm a Trump supporter. I said 'yeah' and thought he'd say 'me too.' People have been doing that," Cataldo said. "But no. This man was not a Trump supporter."
Woman accused in NYC subway push insists she's not guilty. A former home health aide rolled her eyes and insisted she wasn't guilty as she was charged Tuesday with shoving a woman onto the subway tracks under Times Square, killing her.
Woman shoved to her death in front of Times Square train. A woman was shoved to her death in front of a moving train at Times Square station Monday afternoon, authorities said. The 49-year-old victim was standing on the platform waiting for the 1 train when a 30-year-old woman wearing a pink shirt and scarf shoved her onto the tracks around 1:20 p.m., authorities said. She was struck by an oncoming train and died at the scene, police said. The suspect, who has a history of bipolar disorder and schizophrenia, was taken into custody, according to police.
Homeless woman arrested for pushing stranger into oncoming subway train in Manhattan. A 50-year-old woman was lucky to avoid serious injury after a vagrant shoved her into the side of an oncoming subway train in Manhattan, sources said Wednesday [10/26/2016]. The homeless assailant, Patricia Abraham, 62, was busted Tuesday less than 24 hours after the unprovoked attack at the Prince St. station, sources said. The victim was waiting on the northbound platform at about 4:50 p.m. Monday when Abraham hurled her into the train, sources said.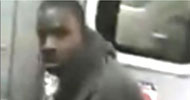 Police bust goon seen on video beating 66-year-old man on Brooklyn subway train. Police say they've arrested the heartless cretin who beat and robbed a 66-year-old man in a brutal subway attack in Brooklyn that was caught on video. Troy Sales, 26, of Crown Heights, was arrested Tuesday and charged with the Sunday robbery, which police say left the bloodied and bruised victim with a broken rib. Police said a Crimestoppers tip led to his capture.




NYPD looking for man connected to subway menacing. A woman told police she was on the Manhattan-bound E train coming from Queens on Friday morning [10/14/2016] when a man sat next to her and threatened to slap her.

Mugger brutally beats senior on subway. Cops released video of a mugger brutally beating a 66-year-old man on a Brooklyn train this weekend. The elderly man was on a Manhattan-bound M train at the Myrtle/Wyckoff Avenue station in Bushwick at about midnight on Sunday when a thug approached him, knocked him to the floor and kicked and punched him before snatching his wallet — containing a credit card and $20 — and his cellphone. The attacker made a quick getaway off the train. [Video clip]

10-times deported Mexican man accused of raping a child on a Greyhound bus. A man from Mexico who had been deported 10 times in the last six years is behind bars on charges of raping a child on a Greyhound bus. Hays Post reported Tomas Martinez-Maldonado, 41, sexually abused a 12-year-old girl while on Interstate 70, in Kansas' Geary County, late last month. "A Greyhound bus had made a stop in Kansas City and there was an alleged rape that occurred on the bus, however they had no idea where this rape took place," Geary County Sheriff Tony Wolf told Hays Post.

Surly Straphanger Sought In Subway Stiletto Shoe Slashing Of Senior. New York City police are seeking the public's help in identifying a woman who used her high-heeled shoe to bloody a 75-year-old man during an attack last month on a Manhattan subway train. According to cops, the suspect was arguing with the victim as their train pulled into the Times Square station before noon on August 19. The attacker, cops allege, removed one of her shoes and slashed the pensioner across the face. The victim suffered a laceration during the assault and was transported to a local hospital for treatment.

Man in custody after armed standoff aboard Amtrak train. An hours-long standoff with an armed man who barricaded himself aboard an Amtrak train ended early Saturday [9/17/2016] after police used tear gas.

New video shows man punching victim in face on Q66 bus. Police are asking for the public's help Saturday [8/27/2016] to identify a man in connection with an assault that occurred on a Q66 bus in July. The victim was sitting on the bus while it was idling at the corner of 21st Street and 35th Avenue around noon Friday, July 8.

Cuomo stiffens penalties for assaulting subway employees. New Yorkers will face stiffer penalties for assaulting subway station agents and cleaners. Gov. Cuomo on Friday [8/19/2016] signed legislation allowing prosecutors to seek punishment of up to seven years in prison for such crimes. The law makes the punishment the same as the one meted out to anyone who attacks subway-train operators and bus drivers. Some 117 transit workers were assaulted between June 2015 and May of this year, according to transit-union officials.

Teen caught fondling commuters tells cops he'd never seen white women. A Jamaican student who was caught in the act fondling a woman in a downtown Brooklyn subway station Monday morning [7/25/2016] — and allegedly did the same to four other women last week — told cops he committed the act because he'd never seen white women before and "they're absolutely beautiful," police sources said. Lt. John DiMeola and Officer Lauren Garcia spotted Damario Johnson, 19, a Jamaican national who is in New York on a student visa, pacing around the Hoyt Street 2 and 3 station before running up to a woman and sticking his hands up her skirt, according to Capt. Zahid Williams, the commanding officer of Transit District 30. They immediately arrested him without incident.

Police ID suspect in fatal stabbing outside Metro station. Metro Transit Police say 36-year-old Ali Anthony Jovan of Fairfax, Virginia, was taken into custody and faces first-and second-degree murder in Wednesday night's [7/20/2016] stabbing in Prince George's County.

Man Stabbed To Death At DC Metro Station After Argument Escalates. D.C. Metro Transit Police officers ran down and arrested a suspect after a fatal stabbing outside a station in Prince George's County, Maryland Wednesday night [7/20/2016]. An argument broke out between two men at the Addison Road Metro station's bus bay in Prince George's County at roughly 7:15 p.m., and quickly turned physical. The suspect allegedly pulled out a "switch blade style" knife and stabbed the victim in the chest. Metro Transit Police at the station quickly responded to the incident and chased the suspect down before he could flee the area, according NBC Washington. Authorities pronounced the victim, 35-year-old Vontrel Laarius McDaniel, dead at the scene.

Suspect pushed man, 69, down flight of stairs at Queens subway station: NYPD. Police are searching for a man who allegedly pushed another man down a flight of stairs at a Queens subway station. The incident happened Wednesday afternoon around 1:30 p.m. inside of the 36 Street M/R subway station in Long Island City. [...] The suspect is described as being 6-foot, heavy set and in his late 20s.

Subway sex crimes are increasing at an alarming rate. Reported sex crimes on the city's subways have soared more than 50 percent so far this year compared to the same period in 2015, according to newly released NYPD numbers. There were 458 incidents reported between Jan. 1 through June 19, up from 299 for the same time frame last year. "Not many men know that this happens, but far too many women do," NYPD Transit Chief Joseph Fox said Monday [6/20/2016]. But Fox said he doesn't believe that the increase means there is more groping and flashing out there — it's just that it's being reported more.

Child molester drops his pants, rubs against woman on subway. A convicted child molester dropped his pants and pushed himself against a female passenger aboard a crowded subway car during Friday's [3/4/2016] morning rush in Union Square, police said. The disturbing encounter happened a day after a convicted murderer rubbed his groin against another female passenger entering the same station, police said.

New York man, 21, slashed across the neck on Manhattan subway platform after string of similar attacks. A Subway passenger has been viciously slashed across the neck inside a New York city subway station early Monday morning [6/20/2016]. The dispute between two groups of passengers began aboard a northbound A train at around 1.30 am, according to the NYPD. But the row quickly escalated and spilled out onto the 59th Street Columbus Circle platform. A 21-year-old man had pulled out a knife and slashed his victim, also 21, across the neck as he left the train.

Teenagers beat woman on Brooklyn subway for 'sucking teeth' in disrespect. A 21-year-old woman was attacked by a group of teenage girls after she sucked her teeth at them in disgust on a Manhattan-bound A train in Brooklyn, cops said Saturday [6/11/2016]. Police have released images of the teens, who are still being sought for the May 27 attack.

Video: Bus passenger kicks elderly woman. Man kicks a woman in the face, attempts to hijack a bus.

The Editor says...
The suspect's face is blurred in the accompanying video clip, for reasons that are not readily apparent.

Two teen girls 'put elderly woman, 78, in the hospital after senselessly beating her on a New York City subway. The two teenage girls who are being accused of beating an elderly woman so severely that she had to be rushed to a New York City hospital have reportedly been turned in to police. The New York Daily News reports that police are questioning the two suspects, with the first girl being brought in Friday morning by her mother after she recognized her from surveillance photos released by authorities after the attack. The second suspect was brought in shortly after.

The Editor says...
Guess which five-letter adjective is completely absent from the article immediately above. Here's a hint: It starts with a B and rhymes with LACK.

Man beaten to death by vagrant at bus stop in Queens. A 57-year-old man was beaten to death by a homeless man as he stood at a bus stop in Queens early Thursday [5/26/2016], police said. The victim was found unconscious with head trauma laying at a bus stop on Mott Avenue near Beach Channel Drive in Far Rockaway at around 4:30 a.m., cops said. Emergency responders rushed the man, whose identity was not immediately released, to St. John's University Hospital where he died about 40 minutes later.

Crime In The DC Metro System Sees Dramatic Year-Over-Year Spike. D.C. Metro officials are responding to a troubling double-digit spike in the crime rate this year within the transit system, directing police to immediately notify the public of any incident of violence. A spokesman for the Washington Metropolitan Area Transit Authority (WMATA) said Tuesday [5/24/2016] crime is up year-over-year by 10.1 percent, and is only increasing. The alleged rape of a woman at knife point on a moving red line train in April, which broke Monday, drew renewed concern among riders about the growing crime trend. A bloody robbery Monday night aboard a green line train heading to the Suitland station is the latest crime in the system, reports WJLA.

Hijacked Metrobus fatally strikes D.C. pedestrian. Details are emerging about fatal bus hijacking in Northeast Washington on May 3. Keith James Loving, 30, attacked a D.C. Metrobus driver, hijacked the bus and then hit and killed 40-year-old Anthony Payne in a gas station parking lot.

Hijacked Metrobus kills pedestrian in DC, 1 in custody. After boarding the bus, the rider hovered near the driver. Within a few blocks, police said there was some sort of confrontation between the rider and driver, and a weapon was "displayed." Seeing the commotion, passengers escaped the bus through the rear door. The driver also fled, but not before hitting an emergency button, summoning help. The hijacker closed the doors, took the wheel and drove just a few blocks before losing control of the bus.

Metrobus hijacked in northeast DC; pedestrian struck and killed. Police said the suspect, identified as 30-year-old Keith James Loving of Northeast D.C., remained unseated and stood at the front of the bus near the driver. At the next stop, which was on Kenilworth Avenue, the man attacked the driver with an unknown weapon. D.C. Police Chief Cathy Lanier said the passengers and the driver were able to flee the vehicle.

Woman wanted for punching straphanger on 7 train: police. Police are looking for a woman who punched a straphanger, then threw her phone out of the train when she tried to call police. On Friday [4/29/2016] at 3 p.m., the suspect was arguing with a straphanger on a Queens-bound 7 train en-route to 46th Street station. The suspect accused another passenger, a 48-year-old woman, of staring at her, then approached and punched her in the face, police said.

Nursing student robbed and beaten in broad daylight on Chicago 'El' train as other passengers ignore her plight. It has taken a lot of concerted effort on the part of the grievance industry, but the bonds of civil society are finally fraying to the breaking point. In broad daylight at 10 AM Thursday [4/28/2016], 19 year old nursing student Jessica Hughes was attacked and beaten by a pair of muggers whose race the media do not care to mention, as other passengers on the train did not lift a finger to help her.

Migrants who attacked pensioners that stood up for harassed woman walk free from court. The three Afghan men were arrested after attacking an elderly man who tried to stop them groping a woman on a subway train in Munich, Germany. They also attacked an elderly woman, retired doctor Gloria R, 76, who said: "He spat on the ground between my legs, and when I wanted to stand up and go, he tried to steal my walking stick. I told him not to grab me, but he did and he kicked me in the backside." They were caught after police officers issued their images around the country, and an alert police officer had then spotted one of the men, Haroon H, aged 20, and arrested him. A short while later the 19-year-old, Fardin A, who was also wanted, was spotted by police and arrested.

Woman 'screaming racial profanities' attacks passenger at King's Highway Station. A suspect with a history of violence has been arrested for attacking a passenger, police said. According to police sources, the suspect, Monique Barbaro, 25, of Queensbridge, was lying across seats on a northbound Q train. Barbaro stood up and started yelling "Move!" at the victim, sources said. The victim got up and Barbaro followed her, then start punching her in the face and head, police sources said.

Teen girl recounts how she was pushed in front of Queens subway train; police arrest man who allegedly shoved her. When a 15-year-old girl was shoved into the path of an oncoming train in Queens, nothing seemed real — especially the massive subway car barreling down on her. "It just didn't seem realistic," the still stunned Xinyi Huang told the Daily News on Friday to describe the March 5 brush with death at the 103rd St./Corona Plaza station in Corona. "I was just standing there waiting for the train to go to Manhattan (and) he pushed me from behind. I'm still not sure what happened. I'm not brave ... I was just lucky."

Man menaces straphangers with knife on the Q train in Brooklyn. Imagine you're riding a crowded Q train in Brooklyn and all of a sudden, you see a man walking inside the subway car brandishing a knife. [...] Ysaac Paul, 31, was arrested after police say he was observed "aggressively standing with a knife in hand," around 2 p.m. Thursday [3/3/2016], alarming fellow subway riders. He's been charged with menacing and criminal possession of a weapon.

Child molester drops his pants, rubs against woman on subway. A convicted child molester dropped his pants and pushed himself against a female passenger aboard a crowded subway car during Friday's morning rush in Union Square, police said. The disturbing encounter happened a day after a convicted murderer rubbed his groin against another female passenger entering the same station, police said. [...] This is the second sex crime arrest near the Union Square subway station in as many days.

Subway rider slashed in face by attacker blocking doorway. A worker at the high-end Swiss jeweler Chopard became the city's latest slashing victim when he bumped into a man who was blocking the door of a crowded subway train in Manhattan on Friday [2/26/2016], police sources said. Arman Telfeyan, of Mahwah, NJ, was boarding a northbound train at the N/Q/R station in Times Square around 8:15 a.m. when he made contact with his attacker, the sources said. The slasher, described as an Indian man around 45 years old, stared at Telfeyan, then cursed at him, saying, "F*** you," according to law-enforcement sources. They got into an argument as the train continued moving uptown — and at 57th Street and Seventh Avenue, the attacker suddenly pulled a knife out of his pocket and sliced Telfeyan on his left cheek. The victim was also slashed on the left thumb as he tried to defend himself.

Exclusive: Long Island woman punched out by mentally ill ex-con in Times Square. A 27-year-old woman was punched out without warning by a mentally ill ex-con in the Times Square subway station. "I saw him wind back and punch me," Erin Reilly, 27, said of the unprovoked Wednesday [2/24/2016] beatdown. "I wasn't expecting it. When he leaned back I remember saying to myself that there was no way he was going to punch me — but then he did. The next thing I know I was lying on the ground." Reilly was headed to catch a No. 2 or 3 train to Penn Station, where she planned to connect to the Long Island Rail Road, when she was attacked about 12:30 a.m.

Teen suspect in DC subway shooting charged as adult. A 16-year-old suspect was charged as an adult Wednesday [2/24/2016] after a robbery and shooting on a subway train in Washington, D.C. left one passenger wounded, investigators said. A suspected accomplice, 19, was also charged with armed robbery.

Accused granny slasher says he thought 71-year-old on the subway was armed. A deranged Brooklyn man who allegedly sliced the face of a random 71-year-old granny tried to tell cops she may have been armed, court papers say. "I observed a silver object in her coat pocket and it made me lose it. I felt threatened," said accused slasher Damon Knowles who also he had been on a five-day crack bender when he encountered Carmen Rivera on Jan. 25 about 7 p.m. as the D train they were on pulled into the Broadway-Lafayette station. "I approached her and slashed her in the face with a razor," the accused menace continued. He described the imaginary object as "an illusion" that caused him to "black out."

Woman slashed across face in another terrifying NYC attack. A young woman was sliced across the face in the early morning attack Friday [2/12/2016] that left her with a six-inch wound — becoming the latest in a spate of terrifying slashings across the city. "It all happened very quickly," said Paula Delos Santos, 20, who was cut across the left cheek at 12:15 a.m. in The Bronx. "I was terrified, very frantic, hysterical. I had blood all over me. I thought it was because he kicked me in the face." The pretty brunette had just gotten off the No. 2 train and was talking to a pal on the phone on her way home when she was attacked from behind on Holland Avenue near Morris Park Avenue.

Cops investigating second anti-white attack in Brooklyn this week: 'This is for Malcolm X, cracka'. Police are investigating a second anti-white bias incident in Brooklyn where the attacker called his victim "cracka," the [New York] Daily News has learned. A 51-year-old white man told cops he was on Nostrand Ave. near Glenwood Road in East Flatbush when a black man ran up and knocked him to the ground about 5:40 p.m. Monday [2/8/2016]. "This is for Malcolm X, cracka," the brute said before storming off.

Exclusive: Brooklyn train commuter explains attack by man who called him 'cracka'. [Scroll down] Once they were on the train, [Randy] Aveille thought he saw actress Emily Bergl of the Showtime series "Shameless" on the other side of the train car. His attacker — a well-groomed black man sporting a beard and wearing a skull cap with embossed white lettering on it — was in his line of sight, he said. "He must have thought that I was staring... or challenging him in some way," Aveille said, showing the bruised right eye he suffered because of his stargaze.

The Editor says...
Notice that there was no attempt on the part of the perpetrator to settle the dispute verbally or negotiate a peaceful settlement. The assailant didn't like (what he perceived as) being stared at. So badly was he offended, or his male dominance threatened, that he met the stare with physical aggression. That's exactly the behavior one would expect in the gorilla cage at the zoo.

Woman slashed in the face on NYC subway train. Police in New York City said they were on the hunt for a man suspected of slashing a 71-year-old woman in the face on a Manhattan subway train Monday. [...] Both the man and woman got off the train when it stopped. The suspect escaped on a southbound D train.

71-year-old woman slashed in face with razor while riding on 6 train in NYC. Another slashing by a random assailant — the 10th unsolved attack since October — took place Monday morning [1/25/2016] when a 71-year-old Brooklyn grandma was cut across the face as she sat on a subway train in lower Manhattan. The victim said the latest attack took place on a Manhattan-bound D train at the Broadway-Lafayette station when a man wielding a razor slashed her as the train pulled into the station. It was also the latest incident in a disturbing citywide spike in stabbings and slashings since Jan. 1, which has seen a nearly 15% increase compared with last year, police said.

D.C. NPR Family Another Victim of Black Violence and Denial. If Lori Kaplan depended only on her employers at NPR for news, she was probably surprised at the black mob violence that almost killed her white husband. Kaplan is the Senior Director of Audience Research at NPR in downtown Washington, D.C. That is where she regularly meets her husband at the end of his evening commute on the Metro Red Line. That is what she was recently doing when she received a text message from him: An "idiot gang" was acting belligerently in his train car, so he was going to move. That was the last she heard from him until he got off the train: bloody, beaten, and dazed. With a broken jaw and missing teeth. [...] The attackers of Kaplan's husband were black — as are virtually all of the violent predators on the Washington Metro.

BART killing exposes security gap — many train cameras are decoys. BART police investigating the weekend killing of a passenger on a train in Oakland have no onboard video of the crime, even though the transit agency had what appear to be surveillance cameras just feet from where the suspect shot the victim at close range, The [San Francisco] Chronicle has learned. Although all BART cars have what look like cameras mounted to their ceilings, the vast majority of the devices are decoys incapable of capturing footage, BART officials conceded Wednesday. And some of the actual cameras are broken, two police sources said.

The Editor says...
This is what's know as security theater. They sure look like security cameras! But they are only there to make you think you're safe. In reality, even if all the cameras work and they're all well-positioned, they cannot prevent crime. They can only provide clues about the identity of the suspects — and then only if the suspects aren't completely covered up with a hoodie (in July) and sunglasses (at night).

Transit officer shot near San Francisco-area train station. Authorities say a San Francisco Bay Area transit officer was shot in the arm [12/25/2015] by a fleeing suspect who was then shot by a second officer.

New Orleans police considering drones, transit hub changes, in wake of weekend violence. An estimated 5,000 passengers pass every day through the 20 or so transit lines that stop in that Canal Street area, which has experienced its share of violence. With so many people from across the city converging in one place, [8th District Cmdr. Jeff] Walls said bus stops can become places where pre-existing disputes get settled. "The criminal element runs into each other there," he said.

Durham woman shot by teen at bus stop may lose an eye. A 43-year-old woman who attempted to counsel three wayward youths at a bus stop Tuesday [11/17/2015] may lose an eye after one of the teens pulled out a pellet gun and shot her. Investigators have charged Tyrease Anderson, 16, of Durham with malicious maiming, assault with a deadly weapon inflicting serious injury, felony conspiracy, injury to property, defrauding an innkeeper and misdemeanor conspiracy, said police spokeswoman Kammie Michael.

Suspected C train slasher Stanley Gray released from jail days before alleged attack with box cutter: court records. Suspected C-train slasher Stanley Gray had been released from jail on an assault charge just days before he allegedly attacked two subway passengers with a box cutter, according to court records. Gray was arraigned Thursday [11/5/2015], two days after he terrorized a Manhattan-bound train and randomly slashed two men in the head at a train station in Bedford-Stuyvesant. Gray, 29 of Brownsville, was charged with assault, criminal possession of a weapon, menacing and harassment.

Woman dies of injuries stemming from Muni bus altercation. A 55-year-old woman who was severely injured this month when an argument that spilled out of a San Francisco Muni bus turned physical died Friday [10/23/2015] after being taken off life support, police said Monday. The woman, who was not immediately identified, was on life support with a traumatic brain injury at San Francisco General Hospital following the Oct. 15 attack in the city's Mission District.

Bystanders spring into action; protect elderly man from attack on city bus. Buses are a terrible place to start a fight, especially for this guy who was bullying an elderly man. He had nowhere to run when a few good Samaritans decided to get involved. [Video clip]

U.S. trains are soft terror targets. An attack like the one last week on a Paris-bound train could easily happen in the U.S. given current security measures, and a security expert said Americans would likely be unwilling to commit the time and expense needed to fix the problem. Robert Taylor, founder of the consulting firm Security Services International Associates, said train stations should have similar security measures as airports, making travelers pass through metal detectors and feed their bags through x-ray machines. Absent that, there's little to stop a similar attack from taking place in the U.S.

Man kills himself, woman on bullet train. A man set himself ablaze on board a moving bullet train in Japan on Tuesday, killing himself and a woman, in an unprecedented incident on a network with an enviable safety record. [...] Reports said a blast was heard from a toilet stall, filling the front carriage with choking white smoke, and bringing the train to an emergency stop as passengers rushed through carriages to get away.

Man beaten on MetroLink train after attacker asks him about Michael Brown, police say. A video posted to Facebook appears to show the attack, and MetroLink released surveillance images of suspects. Police said the victim, who is white, was punched and kicked by three black men, one of whom had made the reference to the teen killed in Ferguson by a police officer Aug. 9. The assault took place about 8:54 p.m. as the eastbound train was nearing the Forest Park Metrolink platform, police said. The victim told police he was seated when the three men approached him from behind.

Another Mike Brown Inspired Attack In St. Louis. The media's lies about "HandsUpDonShoot" are the gift that keeps on giving. [Video clip] And just remember, this isn't the failure of the State to maintain order. This is policy. If the man had defended himself, or if he had used a gun, the suspects in this video would be the new "Gentle Giants" and Civil Rights Heroes.

Two men arrested over brutal attack on St Louis commuter who refused to answer question about Michael Brown's death. Two thugs who brutally assaulted a commuter on a St. Louis light rail car when he refused to give his opinion on the shooting of Michael Brown have been arrested. David Autry, 43, was travelling home on the MetroLink train at 10pm last Monday when he was punched and kicked in the head by the men. The two suspects, a 15-year-old juvenile and a 21-year-old man, will be formally charged tomorrow [4/1/2015], police said.

Police: Man stabs two after asking about religious beliefs. Both of the victims were standing at the bus stop outside of Detroit with the suspect on Saturday [2/14/2015], Southfield Police Chief Eric Hawkins said. Several people there "engaged in conversation" until the suspect, identified by Hawkins as 39-year-old Terrence Lavaron Thomas, "asked some of the folks there if they were Muslims." Two of them answered, the chief told The [Washington] Post on Tuesday: They were not Muslims. Thomas "was not not happy with that answer," Hawkins said. Shortly after, "without provocation," Thomas pulled out a 3-inch folding knife "and attacked one of them," Hawkins said.

Aurora teen robbed on RTD bus and shot for his cell phone tells story. An Aurora man who was robbed on an RTD bus and shot over his cell phone, said he hopes someone will come forward with information. No one would blame Jordan Hough if he didn't feel up to telling his story with his jaw wired shut, but the 19-year-old said he refuses to live in fear while the guys who shot him walk. [...] Aurora police are now releasing a more detailed description of the two suspects: Two black males in their mid-to late-teens, both between 5 feet 7 inches and 5 feet 9 inches tall, with a medium build.

No Hate Crime Charges in Stabbing of SF Transgender Woman. Two victims got off a Muni bus on Saturday [1/3/2015] at Golden Gate and Van Ness avenues to get away from a man screaming insults at them. However, once they were on the sidewalk, he was right behind them with a knife.

Seattle bus passenger stabbed during ride, suspect at-large. Police said the victim boarded Metro route No. 132 and sat down next to the suspect. The suspect began to argue with how close he sat to him, the Seattle Police Department said. [...] The suspect is said to have been a black man, about 40 years old, wearing a black coat with blue jeans and a black knit hat.

Girl robbed in Jersey City after she tells men she has $90 to buy shoes. A 15-year-old Jersey City girl was robbed yesterday after she told two male acquaintances she had $90 on her to go buy shoes, according to a police report. The girl was waiting for a bus inside the U.S. Fried Chicken at Bidwell Avenue and Martin Luther King Drive around 5:15 p.m. when she shared the information with two people she knew from the neighborhood, according to the police report. Once she told them about the money, one of the males she was speaking with struck her in the head and then held her wrists, while his accomplice, a 22-year-old later identified as Nigel Nealey of Bidwell Avenue, took the money and a cellphone from her pockets, reports said.

Teenage thugs slapped and taunted elderly passenger on train before posting footage on Facebook. Two thugs attacked an elderly passenger on a train — then boastfully uploaded the video on to social media. The Facebook video show two young males taunting and laughing at the man before spitefully slapping him round the head. The pair then grin gleefully at the camera. The footage shows the man sitting quietly on his own before one of the youth jumps out from behind a door and smacks him quite hard on head.

Police stop man on 'stabbing rampage' aboard Amtrak train. Police officers churning their way through a chaotic scene aboard an Amtrak train in Michigan are being credited with preventing even more bloodshed after a man stabbed a conductor and three fellow passengers. "It was pretty incredible that they may have saved some lives," passenger Tyler Vandermolen said. Michael Williams, 44, of Saginaw was charged Saturday with attempted murder. He's accused of stabbing four people while the train was stopped Friday night [12/5/2014] at a depot in Niles in southwestern Michigan, about 10 miles north of South Bend, Indiana. The victims were reported to be in stable condition.

Suspect arrested following stabbing in Port Huron-bound Amtrak train. More than 100 Amtrak passengers on a train headed to Port Huron have been stuck in the Niles train station since about 7 p.m. as police comb their parked train for evidence following a stabbing that sent the conductor and three passengers to area hospitals, authorities said. The Chicago-to-Port Huron Amtrak passenger train was the scene of a multiple stabbing at about 7 p.m. as the train pulled into the small town west of Battle Creek, and the 18-officer Niles Police Department took one man into custody, police said.

Police: Man held in DeKalb bus stop shooting suspected in rapes. A man arrested last week in the fatal shooting of a 19-year-old woman at a DeKalb County bus stop is suspected in three sexual assault cases in the county dating back to last year, police said Monday [12/1/2014]. Officials said during an afternoon press conference at DeKalb police headquarters that Christopher Merritt, 18, of Lithonia was arrested without incident Friday afternoon [11/28/2014] at an abandoned apartment in the 5800 block of Trent Walk Drive in Lithonia. DeKalb police said Merritt on Nov. 23 shot and killed Marcaysia Dawkins, a 2014 Lithonia High School graduate, while she waited at a bus stop near her home.

Man arrested in subway shoving that killed Bronx man is suspected in another case, has long rap sheet. Kevin Darden, a career criminal with 30 arrests in 15 years, was the target of a massive police search as a 'person of interest' in the Sunday death of Wai Keun Kwok, who was shoved by a deranged assailant into the path of a D train at the 167th St. station in the Bronx. Darden's rap sheet includes an arrest for trying to burn down his own brother's house.

Ex-Con Arrested for Fatal Subway Push, Police Say. Police have arrested an ex-con suspected of pushing a 61-year-old father to his death in front of a D train. Kevin Darden, who has an extensive criminal history and was released from jail only two days before the fatal shove, was caught walking on a street in the 48th Precinct shortly after his mugshot was released Tuesday to the public, according to the NYPD. Darden, 34, was on the Manhattan-bound platform of the 167th Street station about 8:45 a.m. Sunday [11/16/2014] when he pushed Wai Kuen Kwok, a stranger, in front of the train in full view of Kwok's horrified wife, sources said.

Suspect Charged In Deadly Subway Incident. And as CBS2's Weijia Jiang reported, detectives have also linked Darden to two other crimes at subway stations — both of them earlier this month. The first incident took place on Nov. 6 at around 5:30 p.m., police said. In that incident, a 51-year-old Asian man said he was pushed to the ground while waiting on the platform at West 4th Street in Manhattan, police said. The victim in that incident was hospitalized with serious bruising, CBS2 reported. He came forward after recognizing the suspect from the surveillance photo released following the most recent fatal incident.

Cops Arrest Suspect In Fatal Subway Shoving. After an extensive manhunt, police apprehended the suspect in Sunday's fatal subway shoving. Kevin Darden, 34, was caught yesterday near his mother's house in the Bronx. And investigators believe he had also pushed a passenger in another violent incident earlier this month.

Unprovoked machete attack by illegal aliens caught on camera in Chicago. A horrific machete attack by an illegal alien gang on two innocent young men waiting on a platform for a Chicago El train has been caught on surveillance camera, and is making big news in Chicago. Chicago is, of course, a sanctuary city for illegal aliens under the policies of Democratic Mayor Rahm Emanuel.

Caught on video: Machete attack on Brown Line platform. Seven people, including two 15-year-old boys and a 15-year-old girl, have been charged in a machete attack on the Kedzie Brown Line CTA platform in Albany Park, police said. The seven attacked a 17-year-old boy and a 26-year-old man on the platform in the 4600 block of North Kedzie Avenue at 12:35 a.m. Monday [9/8/2014] after asking them to flash gang signs, police said. The two refused, saying they were not in a gang, and Mario Elvira, 18, pulled out a machete and struck the 26-year-old in the head, cutting his head and neck, police said.

Shooting at NJ Transit station. Police were investigating a shooting at the NJ Transit train station in Elizabeth, N.J. on Friday morning [8/1/2014]. [...] The victim was shot in the leg in an apparent robbery.

Teen Punches Homeless Man on Red Line While Friends Videotape the Attack. More than 250,000 people have viewed an online video that appears to show a thug punching a homeless guy at a Chicago L stop.



Man Beaten to Death at Amtrak Station. Michael Fobbs Jr., 21, is accused of beating a stranger to death with his bare hands. Police say it happened just after eleven Thursday night [7/3/2014] at the Amtrak station east of downtown. Witnesses claim they saw Fobbs pacing back and forth in the waiting area before suddenly attacking a 56-year-old man sitting on a bench.

Man Beaten to Death at Texas Amtrak Station. An unidentified man was killed Thursday night [7/3/2014] in San Antonio while waiting to board an Amtrak train to Houston. He was allegedly beaten to death by a large man who witnesses observed stating, "I just like killing someone." The victim was a white male in his mid-fifties who weighed about 150 pounds, according to an Amtrack [sic] employee who spoke with Breitbart Texas on condition of anonymity. The alleged assailant was described as a black male weighing approximately 350 pounds.

Man, 65, Beaten On Train Platform Succumbs To His Injuries. Los Angeles County Sheriff's detectives investigating a beating last week on a train platform are now investigating a homicide. The 65-year-old victim, now identified as LA resident John Whitmore, was standing on a Metro-Blue Line Imperial/Wilmington train platform on Friday afternoon June 13, when he was accosted and assaulted by two black females.

National Guardsman thwarts Red Line robbery; 3 teens arrested. Three teens who attempted to rob a judo instructor with a replica gun at a CTA station got more than they bargained for, police say. It wasn't the judo teacher who taught them a lesson, authorities say, but an Army National Guardsman armed with a real gun.

Also posted under guns save lives.



Cops Name Suspect In Subway Hammer Attacks. Police have released the name of the man they believe has attacked at least three people with a hammer in New York City subway stations. The suspect is Anthony Coward, 28, police said. He is described as a 28-year-old black man with black hair and brown eyes, standing 6 feet, 1 inch tall and weighing about 160 pounds. On Wednesday, Coward allegedly attacked 32-year-old Richianand Brijanand, of Ozone Park, with a hammer and robbed him as the victim tried to buy a Metro Card at the Fulton Street and Rockaway Avenue station in Bedford-Stuyvesant.

Girl, 15, and teenage boys assault woman, then minutes later, rob man with tire irons in Jersey City: police. On Thursday at around 12:25 a.m. in the area of Grant and Barrow Streets, the 15-year-old girl and two of the teenage boys approached a 29-year-old Jersey City woman walking home from a PATH station, according to a police report. The 15-year-old girl growled at the woman several times and "then struck her with what appeared to be a sock with batteries or rocks in it," the report stated.

5 Newark men charged in NYC subway robbery. Five Newark men are among a group accused of robbing a passenger on a New York City subway Sunday morning, according to a report on NYPost.com. [...] Robert Rainey, 20, Tyquan Goggins, 23, Corey Barber, 18, Devonte Young, 21, and Malik Samuel, 24 are all charged with second-degree robbery. The men fled the train after taking the New York man's wallet, the [New York] Post reported.

14-year-old arrested for deadly bus shooting. A 14-year-old boy is in custody and faces a second-degree murder charge in connection with a shocking shooting on an MTA bus in New York City. A 39-year-old passenger died after he was shot in the head while on a B15 bus in the Bedford-Stuyvesant section of Brooklyn, authorities said. Police say the teen was on the bus near Lafayette Boulevard and Marcus Garvey Boulevard around 6:20 when he got into an argument with a rival. He began firing shots on the bus.

Brutal Olympia bus attack caught on camera. A simple route along the west side of Olympia became a ride from hell Tuesday afternoon [2/25/2014]. Surveillance video from the Intercity Transit bus shows a horrific attack on a driver after a confrontation and yelling turned into a beatdown. The video shows a man swearing and harassing passengers, which drew the attention of the driver. [...] The driver went to the hospital. He was treated for broken bones in his face and released Tuesday night.

Exclusive: Mob of teens attack man in downtown Cleveland. There's evidence of more violent teens running around the heart of downtown Cleveland. A disabled Army vet spoke out about the latest attack that happened Friday, Feb. 7, 2014. Matthew Robinson told our Ed Gallek he was riding RTA's Healthline when six to eight teenagers surrounded him on the bus, and then started following him. Then, he said they attacked, took his stuff, and videotaped what they were doing. The incident went down at 6th and Euclid, and the crowd scattered when cops showed up.

Flint police believe assault on MTA bus driver part of so-called 'knockout game'. Police say a Mass Transportation Authority bus driver was punched in the face as part of the so-called "knockout game" that's gained national attention. The "knockout game" has been blamed for attacks in several cities and involves suspects punching strangers for no reason.

More about violent black-on-white crime.

DDOT Drivers Refuse To Work: 'They're Scared For Their Lives'. Henry Gaffney, spokesman for the D-DOT bus drivers union AFL-CIO Local 26, [said] this was not an organized maneuver by the union. Gaffney said it's a matter of bus drivers fearing for their safety, citing an incident that happened Thursday afternoon [11/3/2011]. "Our drivers are scared, they're scared for their lives. This has been an ongoing situation about security. I think yesterday kind of just topped it off, when one of my drivers was beat up by some teenagers down in the middle of Rosa Parks and it took the police almost 30 minutes to get there, in downtown Detroit," said Gaffney.



Detroit police chief says cops will ride buses to deter violence. Police Chief James Craig promised Monday [10/21/2013] to create a transit safety unit to ride city buses to deter crime in what bus drivers called untenable conditions that prompted many to call in sick and others to rally at City Hall. Craig, whose father was a Detroit bus driver, said at least 10 uniformed officers from the Tactical Services Section will ride Detroit Department of Transportation buses in a few days. Then, in November, more than 1,000 security cameras will be installed that transportation officials say will equal "eight per vehicle." "We'll focus on the problematic routes," Craig said.

Absorbed device users oblivious to danger. A man standing on a crowded Muni train pulls out a .45-caliber pistol. He raises the gun, pointing it across the aisle, before tucking it back against his side. He draws it out several more times, once using the hand holding the gun to wipe his nose. Dozens of passengers stand and sit just feet away — but none reacts. [...]"These weren't concealed movements — the gun is very clear," said District Attorney George Gascón. "These people are in very close proximity with him, and nobody sees this. They're just so engrossed, texting and reading and whatnot. They're completely oblivious of their surroundings."

Student, 21, hit by train after homeless man pushed her on the tracks because 'she refused to give him money'. The homeless man accused of shoving a student in front of a train yesterday appeared in court this morning rambling incoherently about people trying to kill him and seeing 'colors and darkness'. Hunter College student Maya Leggat, 21, received horrific injuries after she was allegedly shoved on to the tracks at White Plains station in New York after she refused to give money to Howard J. Mickens, 39. [...] According to The Journal News, Mickens has 11 previous arrests with a criminal record dating back more than two decades.

Bus rider's face smashed in during 'hate attack'. An attacker pummeled a bus passenger so hard he smashed the bones in his face after calling the victim a "cracker" in Manhattan — marking the second time in two days that people appeared to be randomly targeted in racial tirades against white people, authorities said. In the latest incident, the suspect passed a 31-year-old rider on the M60 bus riding through Harlem, on West 127th Street, between Amsterdam Avenue and Morningside Drive, around 2:45 p.m., Friday, when he shouted the racial slur and punched the victim in the face, breaking his nose and eye socket, cops said.

Subway Stabbing Victim Can't Sue NYPD For Failing To Save Him. A man who was brutally stabbed by Brooklyn subway slasher Maksim Gelman two years ago had his negligence case against the city dismissed in court yesterday [7/25/2013], despite the fact that two transit officers had locked themselves in a motorman's car only a few feet from him at the time of the attack. Gelman stabbed Joseph Lozito in the face, neck, hands and head on an uptown 3 train in February 2011, after fatally stabbing four people and injuring three others in a 28-hour period.

Wild Brooklyn melee erupts as NYPD arrests Muslim teen for allegedly taunting Jewish subway rider. The attempted arrest of an allegedly hate-mongering teen aboard a Brooklyn subway quickly turned into a wild showdown between cops and a roiled mob, according to sources and video obtained by the Daily News. The melee began when suspect Stephan Stowe, 17, and a group of eight friends approached a Jewish man wearing a yarmulke aboard a Brooklyn-bound 3 train just before 3 p.m. Monday [4/15/2013], police sources said Wednesday.

Mother throws her baby aside so she can fight another female passenger. When this young mother felt she was being disrespected in front of her baby by another bus passenger, she only saw there was one thing to do: Throw said baby and beat up the other woman. The shocking incident was caught in a two-minute cell phone video by another passenger on the bus, which was reportedly driving through Connecticut.

Top cop defends police response to downtown disturbances. Chicago police Superintendent Garry McCarthy said today that his officers responded effectively to a number of disturbances in the downtown area involving large groups of teens on Saturday night that led to nearly 30 arrests ranging from bumping into passersby on sidewalks to attacking women aboard a CTA train. Eleven of Saturday's 28 arrests came about 6:35 p.m. when a group of teens attacked two women aboard a train at the State/Lake station in the Loop and snatched one of their purses. The women were bruised during the attack but declined medical treatment.

Attacks on Mag Mile, CTA. An outbreak of wildings on North Michigan Avenue and a separate attack on a CTA Red Line train culminated in the arrest of 25 juveniles and three adults on a sunny and warm Saturday that drew the usual crowds to the Magnificent Mile. Seventeen of the arrests were made around 6 p.m. near Chicago and Michigan after a mob of young people started fighting among themselves, bumping into bystanders and blocking sidewalks and traffic.

On First Day, Democrats Propose Eight Anti-Gun Bills. Rep. Carolyn McCarthy (D-NY) led the way with four bills introduced. Her husband was shot to death in 1993 and her son was severely injured when Colin Ferguson, a mentally unstable black militant (he spent time in his apartment chanting, "all the black people killing all the white people"), shot up a Long Island commuter train.

The Editor says...
You've heard of Colin Ferguson, right? No? His is the kind of story that the news media like to ignore and forget.

Man pushed to death in front of NYC subway train, second time this month. New York City police say a man has been shoved in front of a subway train and has been killed.

Video shows suspect fleeing the scene of fatal Queens subway shove. A madwoman last night pushed a stranger onto subway tracks in Queens, where he was killed by a train, police and witnesses said. It was the second such nightmare in less than a month.

Woman charged with murder as hate crime after shoving man in front of subway. A Muslim-hating woman was charged with murder as a hate crime for senselessly shoving a Queens man to his death in front of the 7 train, officials said today [12/29/2012].

Police detain woman who 'pushed hardworking business owner from India to his death under NY subway train'. Police have detained a woman Saturday suspected of pushing an Indian immigrant to his death onto the subway tracks in New York City.

Troubled Past for Suspect in Fatal Subway Push. Long before Erika Menendez was charged with pushing a stranger to his death under an oncoming train at a Queens elevated station, she had years of contact with New York City's mental health and law enforcement establishments. She was treated by the psychiatric staffs of at least two city hospitals, and caseworkers visited her family home in Queens to provide further help. She was also arrested at least three times, according to the police, twice after violent confrontations.

Gunman dead, 2 wounded at Texas transit station. A man suspected of wounding a police officer and two bystanders when he opened fire from the platform of a suburban Dallas transit station was found shot to death Tuesday [2/7/2012] after exchanging gunfire with other officers who pursued him, authorities said.

In New York City alone...
Beware: 11,000 psychotics on streets. The city streets are teeming with thousands of mentally ill homeless people capable of psychotic acts of random violence if left untreated, experts warned yesterday [12/29/2012]. As many as 11,000 of the city's 33,000 homeless adults have some form of mental illness, said D.J. Jaffe, executive director of the Mental Illness Policy Organization.

Black Mobs Take Over Washington Metro. Members of this mob call themselves the 44th Street Crew in Southeast Washington. For those not familiar with the different sections of Washington, that is not the lobbyist/media/functionary dinner-party part of town. Reporters at the Fox affiliate in Washington seemed surprised at the mob violence. But to people who ride the Metro, it was just another day. Metro police have seen so much of it they are ready with instructions for riders who encounter it: Resistance is futile.

Homeless crazies can't be rounded up — until they attack. Mentally ill people have been responsible for some of the year's most horrific crimes — including murders and rapes — yet authorities are nearly powerless under current law to sweep them from the streets. [...] "The state Office of Mental Health says they can't be treated until they [show they] are a danger to themselves or others," said DJ Jaffe, a mental-illness policy analyst. "Rather than prevent violence, the law requires it."

NYC subway train kills man pushed off platform. A 58-year-old man died Monday [12/3/2012] after he was pushed off a subway platform in Midtown Manhattan and hit by a train pulling into the station, according to news reports.

Fiend watched his victim die: Homeless man arrested in Times Square subway murder. A homeless drifter was arrested and charged this morning for allegedly tossing a Queens dad onto a Times Square subway track, where he was fatally crushed by a Q train, law-enforcement sources told The [New York] Post. Naeem Davis, 30, confessed yesterday while being grilled in the grisly death of Ki Suk Han, 58, who was struck in front of horrified onlookers Monday after trying desperately to scramble back to the platform. [...] He was charged with murder in the second degree and depraved indifference.

Muslim New York Subway Killer Calm After His Murder. Everybody is talking about the New York Post cover photo showing Ki Suk Han about to be killed by the subway train, but the real story here is yet again being ignored by the mainstream media. The real story here is that Naeem Davis is clearly a devout Muslim, and one who displayed behavior characteristic of jihadis after he committed murder.

Subway shove monster: I couldn't stop the voices in my head. The homeless man charged with fatally shoving a Queens father into the path of a subway train said he couldn't drown out the voices in his head.

Not even a baby can get in the way of scrap between two women. Nothing could get in the way of these two women and their beef — not even a baby. Straphangers watched in disbelief as two passengers viciously attacked each other on an L train recently, as a baby stroller belonging to one of them rolled out the door onto the platform.

Authorities Ignoring another Black-on-white 'Hate Crime'. Like the three monkeys who see, hear and speak no evil, our authorities seem intent on ignoring the true nature of yet another black-on-white racial attack. In the New York City subway this past Sunday, 29-year-old Jason Fordell was attacked by a group of black men who taunted him for being white. Yet NYC police "are unsure" if the incident is a bias crime. The problem started when Fordell transferred to a crowded 4 train at 42nd street, where he encountered four black men who began harassing him.

Delta Employees Attacked On MARTA Train. Two Delta Airlines employees were attacked on a MARTA train. MARTA police said they were investigating the incident. A witness said he watched the violent attack unfold Sunday [4/17/2011]. "We were intimidated. Everyone was terrified. People were trying to run, but there was nowhere to run," the man, who requested anonymity, told [WSB]'s Erica Byfield.

Three arrested in Atlanta subway mugging. Authorities have arrested three suspects in the assault of two Delta Air Lines employees who were mugged and beaten on Atlanta's subway earlier this month. ... The suspects include a 16-year old male whose name is not being released because of his age and two brothers, Zantavious Sanchez Scott, 20, and Jarquez Scott, 19, MARTA police said.

The Editor says...
Wow, what a coincidence. My wife and I were going to name our son Zantavious, or perhaps Jarquez, but we settled for something more traditional at the last minute.

Transit Violence: Violent acts, as well as the fear of violence, have a tremendous effect on transit systems. The most immediate, and irreversible effect is the physical, emotional and financial suffering of the victims and their families. But also detrimental to public transit are the resulting lost workdays, revenue decreases, equipment damages and negative impact on the public's decision to use mass transportation services.

Metro Has A Lesson For Unruly Students. When the last bell rings, thousands of District schoolchildren make their way to the nearest Metro train — their school bus on rails — where many let loose a day's worth of bottled-up angst, energy and emotion. All that the tens of thousands of other riders want, in most instances, is a quiet trip home.

Detroit's five most violent bus routes: Death threats, beatings and even stabbings are not uncommon on at least five of the city's bus routes, fueling a mix of fear and anger among drivers and riders who are clamoring for a police presence. Since the start of 2006, the first full year after Detroit cops stopped policing the buses, more than 50 people have been assaulted — five of them stabbed, according to drivers' reports obtained by The Detroit News.
This is an original compilation, Copyright © 2013 by Andrew K. Dart

Girl involved in bus attack ordered to juvenile jail. The 15-year-old Robert Poole Middle School student whom prosecutors accused of sparking an attack on a city bus passenger in December was sentenced Wednesday to a juvenile jail until she turns 21 or the judge releases her.

Vicious Sydney bashing horrifies family. The Canadian family of the wheelchair-bound man allegedly bashed with a metal bar in an unprovoked attack at a Sydney railway station is stunned by its brutality. Shellan Proden, the mother of the victim, was horrified to learn that two teens had allegedly hit her 35-year-old son with metal bars before running off with his wheelchair in the 11pm assault on Tuesday [3/9/2010].

The MTA must protect subway riders. In dismissing a lawsuit by a rape victim, Judge Kevin Kerrigan may have been technically correct in finding that transit workers did not violate procedures. But this does not negate that flawed procedures allowed this crime to take place.



Man beheaded on Greyhound bus. A 40-year-old man is expected to be formally charged today [8/1/2008] after allegedly repeatedly stabbing, decapitating and then trying to eat parts of a young man who was sleeping next to him as they rode in the back of a Greyhound bus together. … Witnesses said the attacker, who police believe is not from Manitoba, also waved the man's severed head around after cutting it from his body.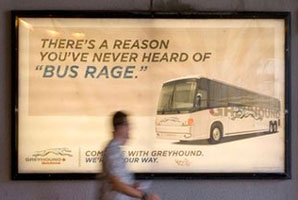 Greyhound Scraps Ads After Beheading. Greyhound has scrapped an ad campaign that extolled the relaxing upside of bus travel after one of its passengers was accused of beheading and cannibalizing another traveler.

Greyhound Kills 'Bus Rage' Campaign Following Beheading. If you're a bus company with an ad campaign that touts the fact nobody's ever heard of "bus rage" and them some freak goes and beheads a dude on the bus, you're quite likely to pull the campaign which is exactly what Greyhound did in light of last week's bus murder.


Update:
Vince Li found not criminally responsible for beheading on Greyhound bus. A man who believed he was following God's orders when he stabbed and beheaded a fellow passenger on a Greyhound bus in Manitoba has been found not criminally responsible. Justice John Scurfield said Vince Li's attack on Tim McLean last summer was "grotesque" and "barbaric" but "strongly suggestive of a mental disorder."

Years later, another update:
Infamous Greyhound Beheader to be granted escorted community strolls? [Scroll down] A subsequent diagnosis of schizophrenia only seemed to validate what any layman's reading of the account could deduce by inference: the man is completely nuts. If insanity could ever be deemed to be a sufficient excuse for murder, he has it. With that being said, there is a reason why Li was not released back into the general public, merely ordered to visit a nearby psychiatrist and to faithfully consume his medication. Aside from the obvious presumption that a man in such a state probably needs more than independent living aided by some light therapy, the committal protects members of the general public from having their heads cut off. Importantly, it also protects them from the fear of having their heads cut off, which is a level of comfort to which Canadians, by and large, should be entitled.

Man who beheaded, ate fellow passenger on Greyhound bus in Canada wins bid to leave grounds of mental hospital. The Criminal Code review board said Vince Li's treatment team may grant him short escorted trips into the central Canadian city of Selkirk, Manitoba.

Schizophrenic thought he was beheading alien. A Chinese immigrant who beheaded and cannibalized a Canadian bus passenger in front of horrified travelers four years ago spoke out for the first time Tuesday [5/22/2012], saying he believed his victim was an alien. Vince Weiguang Li, 43, after being diagnosed with paranoid schizophrenia, was found not guilty of murdering 22-year-old Tim McLean on a Canadian Greyhound bus on July 30, 2008.

Yet another update:
Canadian man who beheaded bus passenger granted total freedom. A Canadian man who was found not criminally responsible for beheading and cannibalizing a fellow passenger on a Greyhound bus has been granted his freedom. Manitoba's Criminal Code Review Board announced Friday it has given Will Baker, formerly known as Vince Li, an absolute discharge, meaning he is longer subject to monitoring.

Canada man who beheaded bus passenger granted freedom. A man with schizophrenia who beheaded a fellow bus passenger in Canada in 2008 has been granted freedom. Will Baker, formerly known as Vince Weiguang Li, killed 22-year-old Tim McLean after hearing what he thought was "the voice of God". He was deemed not criminally responsible and received mental health treatment. A review board in Manitoba ordered his discharge — without monitoring — saying he did not pose a significant threat.

ANOTHER crazy man with a knife!
Man threatens beheading on bus. A harrowing bus ride from Fort McMurray is over for two brothers who feared they were going to be victims of a knife-wielding man in a manner similar to a gruesome attack last month in Manitoba.

Threatened riders want their money back. A man who took a nerve-racking bus trip where he and his brother were threatened by a man with a knife is considering taking the bus company to court. Josh MacDougall and his brother Andrew were taken off a Greyhound bus Monday [8/18/2008] after a man allegedly threatened to cut their eyes out and behead them. The man was also harassing other passengers.

This sounds a lot like 'bus rage' ...
Woman beaten on bus. As Sarah Kreager, 26, tried to sit down on a Baltimore City bus Tuesday, police say, a middle-schooler told her she couldn't. When she attempted to take another seat, a middle-schooler wouldn't let her. Finally, according to police, Kreager just sat down. She was "immediately attacked" by nine students — three females and six males — from Robert Poole Middle School. … The suspects in the incident are black. The victim is white, according to the police report.

Update:
Hate crime charges rejected. Prosecutors in Baltimore have decided not to charge the nine middle school students accused in the beating of a 26-year-old woman on a city bus with a hate crime as a judge postponed their trial yesterday until Jan. 31.

More 'bus rage' ...
Surveillance Photos Released In Bus Attack. Maryland Transit Administration officials are investigating a second reported assault on a bus in the last week. Meanwhile, surveillance photos have been released and the bus driver has been taken off the road. Patrick Green and Robert Rothe told WBAL TV 11 News that they were antagonized and attacked after boarding the No. 64 bus late Monday night in south Baltimore.

The Editor says...
If the colors were reversed, these would be called hate crimes and Al Sharpton would be all over it. But as it is, it's just another miserable day on the stinkin' city bus.

Philadelphia:
Subway attack was to amuse, police say. The four teenagers who ambushed Sean Patrick Conroy in a subway concourse Wednesday [3/26/2008] chose their victim at random and attacked him for no other purpose than to amuse themselves, police said yesterday. … Police yesterday discounted robbery as a motive, and said the youths apparently launched the attack on a lark.

The Editor says...
If the victim had been black and the assailants had been white, the press would be having a "hate crime" field day.

Man dead after beating on Center City SEPTA platform. A 36-year-old man died after being severely beaten by a gang of youths inside the SEPTA concourse near City Hall this afternoon, police said. One youth was taken into custody and police were still looking for three juveniles, possibly four, who fled the scene.

Police: Subway attack was random. In a chilling confession in the murder of 36-year-old Sean Patrick Conroy, 16-year-old Kinta Stanton allegedly tells police that he and his friends went out randomly looking for somebody to beat up just for kicks.

Philadelphia again:
Subway Attack by Allah-shouting Assailant Caught on Tape. Police are asking the public for help in capturing a hammer-wielding attacker, who seemed to assault his prey for no apparent reason. On Monday night [9/8/2008], police released the video of the attack, in the hopes that someone can identify the man.

Subway attack caught on tape. "According to the victim, the male continued to assault him and tried to throw him into the track area," said Det. Kenneth Roach of the Philadelphia Police Dept. Taylor told Action News last week that all throughout the attack, the man kept chanting something, and he distinctly recalled the word "Allah." Police were stunned that some 20 passengers onboard the train scattered, and did nothing to stop the attack.

Police Near Arrest In SEPTA Hammer Attack. The attack caught on tape sent shivers down the spine of every SEPTA rider. Philadelphia police think they know who started hitting an unsuspecting subway passenger with a hammer last week.

Serial Subway Groper Arrested Once Again. About two weeks after he was released from prison, Freddie Johnson boarded a crowded subway train in Manhattan and illegally rubbed up against a woman, authorities said. It is a fairly common crime on subways in New York. But this was no common criminal. Johnson has been arrested a staggering 53 times — the majority for groping women on the subway, police and prosecutors said.

Women-only subway cars in 2008. The subway corporations serving South Korea's capital will introduce women-only cars next year to make rides more comfortable and free of groping male hands, a subway official said on Wednesday [10/30/2007]. "Sexual crimes happen frequently when the cars are packed and people are pressed against each other," the subway official said.

The Editor says...
When that takes effect, pity the female who -- for whatever reason -- rides the non-segregated train.

Mexico City Rolls Out Women-Only Buses. Groping and verbal harassment is an exasperating reality for women using public transportation in this sprawling capital, where 22 million passengers cram onto subways and buses each day. Some men treat women so badly that the subway system has long had ladies-only cars during rush hour, with police segregating the sexes on the platforms.

The Editor says...
Does this have any relevance to American mass transit? Unfortunately, yes. Experience has shown that Mexicans bring various aspects of their culture with them when they come to the U.S.

Seized on a bus: a baseball bat, six knives and two screwdrivers. A double-decker bus was commandeered by police to prevent a planned gang fight that would almost certainly have resulted in death, Scotland Yard said yesterday [5/19/2008]. Officers in Deptford, South London, arrested 24 teenagers aged between 14 and 18 and seized six knives, a claw hammer, a metal bar, a mallet, two wrench handles, a metal baseball bat, two screwdrivers, a corkscrew and a golf club.

Saw Maniac in Subway Horror. "I screamed for help, 'Please help, please help me,'" Steinberg said. "The Transit Authority people heard me — they just looked. They never stopped to help me, and that disturbs me more than anything else. I begged for someone to call an ambulance and get this guy off me. "He just kept on stabbing me, and stabbing me and stabbing me, and the transit employees kept on working and working and working."

Update:
Man Pleads Guilty In Power Saw Attack. A man who sliced into a postal worker's chest with a power saw inside a subway station while other people fled for their lives pleaded guilty yesterday to second-degree assault. Tareyton Williams, 34, had been charged with attempted murder and faced up to 25 years in prison for the attack on Michael Steinberg last summer. He pleaded guilty in exchange for a sentence of 18 years in prison.

Train Defecator Hunted. Police are searching for a man who has been defecating on trains across the country, causing around £60,000-worth of damage. The offender has struck on at least 30 trains since August, mainly in the South East, smearing excrement inside the carriages.

Driver to face punishment for kicking kissing girls off bus. A transit agency chief apologized Wednesday to two lesbian teenagers who were kicked off a bus when a passenger complained about them kissing. "Removing the girls from the bus was not consistent with our policy," said TriMet General Manager Fred Hansen. "I want to reiterate that we welcome all riders on our system."

Tired of being harassed on the CTA, women fight back. [Lillian] Matanmi is a member of the Rogers Park Young Women's Action Team, a group of teen and college-age women who have fought street harassment in their neighborhood, distributing thousands of posters to businesses and homes to encourage people to shoo away congregating men so girls and women can walk in peace. They successfully pushed for better street lighting in the Far North Side neighborhood. Now, the group has turned its attention to the "hey-babying" and other lewd language they hear on the CTA.

The Bernard Goetz case: From 1984-1987, [Manhattan District Attorney Robert] Morgenthau pursued a vindictive prosecution against Bernard Goetz. Goetz ... at Christmastime, 1984, had defended himself against four 18- and 19-year-old black men attempting to rob him at midday in a subway car. Goetz, who had previously been mugged three times, and been brutally beaten the last time, shot each of the would-be robbers once. While seeking to put Goetz away for 30 years for attempted murder and illegal gun possession, Morgenthau treated the would-be muggers, all hardened thugs who had criminal records and were wanted on outstanding warrants, as if they were crime victims.

Subway riders sealed in murder car. Nearly 30 petrified passengers were trapped on a Midtown hell train yesterday with a knife-wielding madman and the blood-soaked body of a straphanger he just stabbed to death in a senseless argument over a seat. The Bronx-bound D train came to a screeching halt at around 2 a.m. in the tunnel between the Rockefeller Center and Seventh Avenue stations when a rider yanked the emergency cord after watching the carnage unfold.

The Editor says...
How could that happen? Why are there so many psycho killers running around loose? Keep reading.

The Killers Within. A time bomb began ticking in the mid-1970s, when the psychiatric and mental health professions went politically correct and identified the mentally ill as "victims" who required advocates. While patients in general do need assistance, the activists turned caring into political action that changed the American cityscape and endangered our well-being. Announcing in the mid-1970s that confining mental patients violated their civil rights, a cadre set to work to release as many patients as they could, resulting in the huge homeless phenomenon of the 1980s that remains with us now. Suddenly the streets of major cities and small towns hosted a permanent population of vagrants who harassed passersby and businesses.

That's right -- many homeless people are insane and should be locked up.

Brawl on the Metro: Where was the coverage? The fracas occurred near midnight on Aug. 6, and authorities said it involved as many as 70 people. It started at the Gallery Place Station and continued to the L'Enfant Plaza Station. There were arrests, and several people landed in the hospital. On deadline, The [Washington] Post gathered enough information for a news brief in Saturday's paper, and a short story was quickly posted online. Throughout Saturday, it was among the most-viewed stories on the Web site, signaling intense reader interest. But as the day wore on, some readers grew frustrated that there was nothing more.

Police: 10-year-old gunshot victim shot himself during robbery. The 10-year-old boy who suffered a gunshot wound in the arm Tuesday night [8/17/2010] aboard a Metro Transit bus in Seattle accidentally shot himself during a robbery, police said. The boy, who is being treated at Harborview Medical Center, will likely face charges of robbery and a weapons violation when he is released from the hospital, police said.

Woman fatally knifes thug in subway attack, then flees on F train. Several thugs tried to drag a woman off a Queens subway train Thursday night, but she fought back and fatally stabbed one of her tormenters before fleeing on another train, police said. The large group of men — perhaps as many as eight — surrounded the woman outside a chicken restaurant above the 21st St.-Queensbridge station about 9 p.m., police and a witness said.

Subway slay rap for teen. The 16-year-old girl who fatally stabbed a man after he harassed her at a Queens subway station turned herself in yesterday [12/29/2009] and has been charged with manslaughter. But a lawyer for Cyan Brown said she is confident in her claim of self-defense in the knifing death of Thomas Winston, 29, last week.

The Editor says...
Here's the lesson to be learned from this incident: If you get mugged in the New York subway and you fight back, you — not your multiple attackers — will be charged with a felony.

Warning: This video is replete with expletives and offensive language,
such as you might expect to hear in the back of a city bus.
You Tube video of AC Transit bus fight in Oakland.

Man blows his nose, ends up in jail. The man arrested at the Ashby MARTA station Monday night remains in jail, waiting for a probation hearing. Alfred Murphy captured the attention of a MARTA police officer when he started blowing his nose — using paper towels from a MARTA maintenance cart. By the end of the night he was arrested on charges of hitting that police officer and another one.

Beating Caught On Tape On New York City Subway Train. It's not even summer yet things are already heating up underground. A fight between passengers on a New York City subway train was uploaded to YouTube on Sunday [6/12/2011]. It is yet another example of the bizarre world that's beneath our feet.

Mobs Attack on City Buses: Police. In two separate incidents, as many as 15 teens have stormed Chicago Transit Authority buses, attacked their victims and darted off with cell phones and other electronic devices, authorities said Tuesday [6/7/2011]. Both incidents were near the University of Illinois at Chicago campus, prompting city and campus authorities to issue community alerts.

Bullets fly on crowded Queens subway train as two gangs brawl. Shots rang out on a crowded Queens subway train Thursday [6/9/2011], forcing riders to duck and run as two gangs brawled. Riders panicked when three shots erupted from the last cars of a Manhattan-bound A train at the Howard Beach station about 6:30 p.m.

WCBS-TV seems very sympathetic with this gang of teenage armed robbers.
Brazen Teenage Gang Robbing Straphangers During Rush Hour. Police are searching for teenage thugs targeting subway riders. There have been at least three armed attacks recently. CBS 2's Dave Carlin has seen pictures of the suspects and knows what they're after. A team of baby-faced bandits, young enough to still be in high school, is making life quite stressful in Gotham's underworld.

Shooting On Q111 Bus Another Sign Congress Must Do More To End Gun Violence. This is how Christmas in New York really began on Friday [12/2/2011], less than two days after the famous tree is lit at Rockefeller Center. This was a New York that had nothing to do with the tree lights and magic and romance of December and everything to do with a guy with a Ruger P85 on the Q111 bus in Queens.

MBTA: Have you seen this spitter? The MBTA has released surveillance video of two teens who allegedly spit at and threatened a bus driver last week in hopes of bringing them to justice. The incident took place around 8:45 p.m. Wednesday [4/18/2012] after a suspect believed to be in his late teens refused to pay when he boarded a Route 28 bus at Ruggles Station, putting only a quarter in the fare machine when told by the 51-year-old driver to either pay up or get off the bus, according to the MBTA.

Drunken gang of girls in subway stab attack: cops. A wolf pack of drunken young women "acting stupid" on a downtown No. 6 train in Manhattan stabbed a 63-year-old man early today [7/30/2012] — for having had the nerve to ask them to pipe down, police said. The man was on his way to work at about 6:15 a.m. when he was attacked as the train entered the East 23rd Street station, a law-enforcement source told The [New York] Post.



NJ Transit train crew members hurt in melee following Colombian fest. Three NJ Transit crew members were sent to the hospital after they tried to break up a melee on a train filled with passengers returning from a Colombian Independence Day festival, officials said today. The fight, which broke out while the train was entering the Perth Amboy Station on Sunday night [7/21/2013], led to seven arrests and a citation, officials said. An NJ Transit engineer and two conductors were punched in the face and body.

Chicago Thugs Celebrate Obama's New Gun Laws By Shooting Woman on Bus. The report says police are looking for three men. No descriptions of the suspects, of course. We doubt they are law-abiding gun owners or members of the NRA.

Bible stops two bullets to save life of Ohio bus driver, police say. A Bible saved the life of a Ohio bus driver after the man was shot twice in the chest early Monday [2/24/2014], police said. Rickey Waggoner, a Dayton RTA bus driver, was making a mechanical fix outside his bus when three assailants approached him and shot him in what appears to have been a gang initiation, the Dayton Daily News reported.

RTA bus driver: Attack on me a 'gang initiation'. An RTA bus driver survived being shot and stabbed in a seemingly random attack Monday he told police occurred during what he believes was some kind of gang initiation. Rickey Wagoner, 49, of Trotwood, was standing outside his bus in the 1900 block of Lakeview Avenue when three males assaulted him. He described his attackers as black teenagers who were wearing dark colored hoodies. All three wore dark blue bandannas to obscure their faces.


Semi-violent:



We Are Living in the Ruins of Our Civilization. Another down staircase brings me to the subway platform. Naturally, the seats in the waiting area are occupied by more bums, one with a shopping cart full of bags and rags. Toward the far end of the platform I see the same young thug who'd jumped the turnstile now urinating against a supporting column. He is helping me illustrate the appeal of broken windows policing: the same people who are willing to break the law to sneak into the system without paying are likely to wreak havoc once they are inside. This is not anything a good, hard Singapore-style caning wouldn't fix, but we in our first-world society are apparently too evolved and high-minded for that; we are, in fact, apparently too evolved and high-minded to do anything at all to fix the problem. So the citizens of Singapore get to enjoy near-perfect, First World public order while the citizens of our cities have to endure Third World turmoil and disorder. We have to suffer the stench of urine on our subway platforms, shameless litterers leaving accumulations of trash in our public spaces and the ever-present threat of crime, both petty and violent, in our streets and our public transit.

De Blasio's NYC- Man's Ride On The L Train Was Way More Than He Bargained For. Just imagine coming home from work, catching your train, and finding this debauchery. Now imagine you and your kids coming home from a day out. [Video clip NSFW]

San Francisco To Hire Social Workers Instead Of Cops To Handle Homelessness, Drug Addiction, And Mental Illness On Public Transit. San Francisco's Bay Area Rapid Transit (BART) system has six vacancies for police officers but plans instead to fill those positions with social workers to handle issues involving the homeless and those with mental illness or drug addiction. The San Francisco Chronicle reported that the public transit system has $2 million in its budget to fill the vacancies (for an average salary and benefits package worth about $333,000) but will instead hire a supervisor and "20 crisis intervention specialists," the outlet reported. Last year, the board approved a plan that only added 10 specialists to BART's bureau of progressive policing.

Go to New York they said... Public Transit is Perfectly Fine they said. You see some crazy things on trains in New York, take a look at this guy. [Video clip]

NYC subway operator confronted by 'defecating' straphanger on 2 train. A veteran subway operator said she witnessed a homeless man openly "defecating" on a No. 2 train Monday — a sign the homeless have "taken over" the subway system during the coronavirus pandemic. Angelina Malave, 46, who missed a month of work after catching the virus, said the sight of the man — kicked back on a subway bench with his legs raised in the air over his head so his full rear end was in view — was "one of the worst things I've seen in my 18 years as a train operator." "He was definitely defecating. I was shaken and upset," she said. Malave said she snapped a photo of the distressing scene, which later circulated on Twitter and on worker Facebook groups, at the Flatbush Avenue 2 train terminal around 10 a.m.

Riding The Subway is Stressful Enough In The Age Of COVID Without People Like This. [Video clip]

Serial Manhattan subway scammer jailed after 142nd arrest. A serial subway scammer who allegedly tricks tourists into buying worthless MetroCards was sent to jail Thursday [2/27/2020] — after his 142nd career arrest. Charles Barry had enjoyed a revolving turnstile of justice for most of 2020, thanks to new bail reform laws that mandate zero bail for most non-violent offenses. He was arrested six times this year alone for allegedly stealing — or trying to steal — the cash of Manhattan straphangers, and once, on Feb. 4, actually taking cash from the hand of an elderly woman in a wheelchair.

This vagrant is why homeless-outreach workers are fleeing Penn Station. The vagrant whose alleged threats got a homeless outreach nonprofit to flee the transit hub in fear last weekend was holding court — and spewing hate at cops — there Thursday [2/20/2020]. Eugene Watts was spotted sipping a brown-bag beer in the station one day after The Post reported that embattled nonprofit Bowery Residents Committee up and abandoned its satellite office there because he allegedly threatened to shoot workers. Watts, who claims to be a former boxer, remained defiant Thursday. "Mr. Eugene Watts, you have five minutes to leave," one of two passing Amtrak cops on patrol at the busy transit hub was heard telling Watts on Thursday. "There is a warrant out for your arrest."

NYC subway thief thanks Democrats after his 139th arrest, release: 'Bail reform, it's lit!' A New York City man who's now been arrested 139 times thanked Democrats for guaranteeing his immediate release despite repeatedly swiping hundreds of dollars from unsuspecting subway commuters since the state's new bail reform law went into effect Jan. 1. Charles Barry, 56, has been arrested six times since the start of this year. He's been released each time without having to post bail under New York's new bail reform law since his alleged offenses were nonviolent, the New York Daily News reported.

NYC subway 'demonstrations' aren't protests, they're vandalism. We feel for the MTA workers who had to clean up after Friday's actions by the group "Decolonize This Place," which included gluing or otherwise breaking turnstile card-readers and spraying graffiti on buses, subway cars and station walls. This isn't protest — it's vandalism, at the public's expense. And the efforts to block subway entrances and otherwise disrupt service aren't much better.

Anti-cop demonstrators storm Grand Central Terminal during rush hour. Masked anti-cop protesters flooded Grand Central Terminal at the start of rush hour Friday in an attempt to shut down the commuter hub — but the whole thing soon fizzled out. There were at least 12 arrests by MTA police following a skirmish between cops and demonstrators, who refused to remove their masks despite repeated orders from police. Further arrests were expected as protesters headed out of Grand Central and into Bedford-Stuyvesant Brooklyn, police sources said.

Antifa plans massive anti-cop action in NY subways, push for free transit, ending police presence. Police in New York are increasing their presence in subways Friday after members of the far-left Antifa movement called for a mass protest against law enforcement and transit fares. The Police Benevolent Association of New York City issued a strong warning ahead of Friday's Antifa demonstration, urging New Yorkers to "pay close attention." "This is [the] true endgame of the anti-police movement, an end of all policing & destruction of public order," the group said in a tweet. "Our members have spent their careers — and in some cases given their lives — to bring public safety back to NYC. We can't go backwards."

Subway rider makes anti-Semitic comments to woman in Brooklyn. A hateful straphanger rattled off anti-Semitic remarks to a woman in Brooklyn as she threatened to throw her onto the subway tracks, police said this week, amid a disturbing uptick in violence against Jews. The 41-year-old victim was waiting for a Manhattan-bound 4 train at Utica Avenue in Crown Heights on Dec. 2 at around 6:30 a.m. when the racist stranger began screaming at her, cops said. "You f-king Jew with the wig ... I'm going to throw you on the track," the fiend declared before following the victim onto the train where the vile rant continued, according to a police source.

Israeli student is subjected to sickening, foul-mouthed anti-Semitic tirade on New York subway. An Israeli Jewish student has been subjected to harrowing anti-Semitic abuse on the New York subway, being called a 'f***ing stinkin' a** Jew'. Lihi Aharon was riding the train from Manhattan to Brooklyn when a fellow passenger launched the sickening anti-Semitic tirade. 'Allahu akbar,' she shouted at Aharon, 'It's in the Quran, where they curse the serpent Jew, you wouldn't believe. [...]'

Thief swipes boy's Nintendo in Bronx subway station: cops. A man swiped a 10-year-old boy's Nintendo in a Bronx subway station, police said Wednesday [11/27/2019]. The boy was walking up a staircase in the Hunts Point Avenue subway station at about 7:30 a.m. Nov. 20 when he felt someone tugging on the right side of his backpack, authorities said. When the boy turned around, an unidentified man was pocketing his Nintendo DS.

Anti-cop protesters in Brooklyn blast fare evasion crackdown. Close to a thousand anti-police protesters descended on Downtown Brooklyn Friday night, blocking traffic, vandalizing a city bus and shouting obscene insults at NYPD cops. The demonstration formed soon after 7 p.m. on the streets near the Barclays Center, with protesters unfurling large banners that read "F*** the police" and "Don't let these pigs touch us." The crowd began dispersing by 9 p.m. The demonstration was in response to a planned crackdown on fare evasion by the NYPD — and two controversial police actions in Brooklyn subway stations in recent weeks.

Man Accused Of Placing Fake Subway Rice Cooker Bombs Held On $200,000 Bail. The West Virginia man who allegedly intentionally created a bomb scare on the NYC subway - one of the busiest, and poorest functioning mass transit hubs in the country - will be held on $200,000 bond following his arrest and Sunday [8/18/2019] arraignment, the NY Post reports.

Man, 26, who placed two rice cookers in NYC subway station has a warrant out for his arrest in West Virginia. The 'person of interest' being investigated by police for causing a bomb scare in New York City on Friday by leaving two rice cookers in a Manhattan subway station — and possibly a third by a trash can — has been identified by DailyMail.com. Larry Kenton Griffin II, 26, of Bruno, West Virginia is the man captured on surveillance footage pushing a shopping cart containing a number of rice cookers inside Fulton Street Station.

San Francisco is beating farebeating with tactics NYC abandoned. Three months ago, the Bay Area Rapid Transit system that serves San Francisco and surrounding counties launched a "blitz" to deter morning rush-hour fare evasion at four stations. The results were startling: Proof-of-payment citations rose 13 percent, new ticket sales rose 10 percent, add-value transactions to existing tickets rose 29 percent and, most significantly, average weekly calls to police dropped 45 percent. This rapid turnaround came about simply, after authorities staffed stations with extra police officers, fare inspectors and BART managers wearing bright yellow vests so that anyone trying to jump a fare gate or use a bypass door had his way blocked.

Thief With Scissors Cuts Open Sleeping Victim's Pocket On Subway. Police said the incident happened on a northbound L train that the victim took from Manhattan last Wednesday [6/19/2019]. A man wearing a blue hat is seen using the shears to cut into a rider's pants and remove his cellphone and wallet. Police said it happened just after 2 a.m. The 28-year-old victim got on at a 14th Street stop, but then fell asleep on the train. The NYPD said the incident happened as the train approached Atlantic Avenue in Brooklyn.

One Bad Apple. Many New Yorkers have cut themselves loose from the ties that bind them to the customs of their parents and the people around them. Others have become trolling sociopaths whose frustrations one can see on their faces and in their body language. The latest manifestation of this malaise is men — either Hispanic or African-American — openly masturbating in crowded subway trains. Thirty-nine of these onanists have been identified, photographed, and publicly shamed but only two arrested and then immediately freed.

Brooklyn cops bust pistol-packing subway fare-beater. Eight months after authorities announced they would stop making turnstile arrests in the city's subways to free up cops for more serious crimes, two Brooklyn officers took down a fleeing fare-beater — and it turns out he was packing a pistol, police said Tuesday [2/26/2019]. The NYPD — which downgraded the quality-of-life offense in August amid heat from civil rights groups griping that blacks and Hispanics were disproportionately targeted by it — tweeted that two cops from the department's Transit Division made the good bust early Monday. The cops had pursued Tyrone Gooding, 35, because he jumped a turnstile at the Atlantic Avenue Subway Station in Brooklyn around 12:40 a.m. and fled when they tried to stop him, presumably to give him a summons under the revamped directive.

You meet the most wonderful people on the train.
Woman Refuses to Move Bag on Packed Train, Cops Called to Remove Her. Video footage of a New Jersey Transit rider has gone viral after police were called to assist in removing her from the train Wednesday [2/13/2019] for refusing to move her bag off of a seat. The woman remained steadfast even when passengers and the conductor got involved and asked her to lift the bag — which appears to be Louis-Vuitton — from the seat next to her on the packed Trenton-bound train. [...] When a transit official later tapped the woman's bag and asked her to move it so other riders could sit, she could be heard responding: "Don't put your hands on my stuff."

Thug busted in subway attack that left woman with fractured spine. Police on Thursday busted the hate-filled rider who fractured a woman's spine during an attack on a Queens subway, authorities said. Allasheed Allah, 54, was arrested Thursday morning [12/13/2018] and charged with assault as a hate crime and aggravated assault as a hate crime for the Nov. 30 attack, police and sources said. He was nabbed after someone recognized his photo and alerted authorities of his name and his whereabouts, police said.

Latest NYC Subway freakout. Just another day on the train. [Video clip]

Why is violent crime on BART on the rise? Feel safe on BART? Then you are in never-neverland. The Washington D.C. government transportation system and the Philadelphia system had massive decreases. San Fran had a 57% INCREASE. Like your cell phone? Do not take it on BART. Want to get a new phone? Either go to the Apple or Verizon store or leave your credit card at home and get your pick, for free, on BART. "According to BART Uniform Crime Reporting data, violent crime increased 57 percent between 2013 and 2017. According to data released in June, by the end of 2018, it's expected to be the highest it's been since 2013. Robberies make up the majority of the reported crimes and, in its category alone, are up nearly 40 percent since 2013. Cell phone thefts are defined as robberies.

Pay the fare or provide proof of black skin.
DC City Council Passes Bill to Decriminalize Fare Evasion, Cites 'Racism'. The Washington DC City Council voted 11-2 last week to decriminalize fare evasion on the DC Metro after councilmembers said "90 percent" of the 20,000 riders cited for fair evasion were African-American.

Muslim pervert ejaculates on a woman in a New York City subway. A vile Muslim straphanger ejaculated on a woman's backside and backpack on a rush-hour subway train in Manhattan, cops said Monday [10/29/2018].

Man befriends 11-year-old on subway before stealing his iPhone. An intimidating creep chatted up an 11-year-old boy on a Bronx-bound train — and then stole the child's cell phone right from his hands, police said Thursday [10/11/2018.] The pre-teen boarded the D-train at 59 Street-Columbus Circle on Sunday shortly after 1 p.m. and sat down. The stranger, who was already on board, then sat next to him began chatting with the child. "Be quiet," he told the boy, "I'm going to be your buddy for today," police said.

Video appears to show homeless man using drugs on BART train in San Francisco. A video of a homeless man apparently using drugs on a BART train in San Francisco last month has become another footnote in the city's struggles with quality-of-life issues. Local news anchor Reggie Aqui posted footage of the man smoking an illegal substance on the BART train right before Powell Street station. [...] The video underscores a dangerous trend occurring in the city. In April, commuter Shannon Gafford filmed dozens of drug users slumped over and others shooting up at the Civic Center BART and Muni stations.

African 'Migrant' Arrested Twice in One Day for Public Indecency. A Dayton man taken into custody early Monday for public indecency was back in the Montgomery County Jail the same night after dancing downtown naked, according to Dayton police reports. Samuel Tumaini, 25, was detained on suspicion of public indecency, read the report. Police received multiple calls around 11:30 p.m. Monday about the incident, ranging from a man standing in front of an RTA bus to a naked man urinating in the street to a naked man lying in a field, according to the report.

Guardian Angels' perv-busting crew takes aim at subway creeps. The Guardian Angels' Perv Busters crew doesn't just round up subway sickos, the fierce all-female vigilante crew follows up in court, too. Five of the Busters in their signature red jackets and berets showed up for a hearing Wednesday at Brooklyn Supreme Court for Reggie Frank, who was busted last week for allegedly masturbating in front of a woman on an R train. "We want him to know that we're watching him. You need to make these people feel nervous," said Nancy Regula, 34. The Angels also want a sex-offender registry that tracks details of subway sex crimes, including specific times and places and a perp's history of offenses.

Public defenders push more DAs to ease up on turnstile jumpers. The movement to stop prosecuting subway fare-beaters, announced recently by the Manhattan district attorney and soon to be adopted in Brooklyn, must be expanded citywide, public defenders argue. The Legal Aid Society, the Bronx Defenders, Queens Law Associates and other groups have joined efforts to pressure prosecutors in Queens and the Bronx to get onboard with the cause, which advocates say will help unclog the courts. Advocates say arresting turnstile jumpers unfairly disadvantages the city's poor population.

Turnstile Jumping Okay in New York. Good news for fare-beaters on the New York subway system. It has been discovered that enforcing the law against jumping turnstiles disadvantages the poor.

NYC subway riders fight back at groping, grinding, lewd acts. With subway ridership approaching all-time highs, averaging 5.6 million daily riders, reports of sex crimes are also rising, up nearly 57 percent.

White subway rider assaulted by black man in Brooklyn station: 'Cracka, you don't belong here'. A 44-year-old white straphanger was beaten [2/6/2016] in a Brooklyn subway station by a black man who told him, "Cracka, you don't belong here," police sources told the [New York] Daily News. The suspect also allegedly elbowed the victim's fiancée in the head, then spit in another straphangers' face.

Brooklyn man sentenced to 12 years for subway hammer attacks. A mugger who hit two New York City subway riders on the head with a hammer has been sentenced to 12 years in prison. Brooklyn District Attorney Ken Thompson says Anthony Coward, 30, was sentenced Monday [2/8/2016]. The May 2014 attacks occurred in the Rockaway Avenue station in Bedford-Stuyvesant. The victims were ambushed from behind and hit in the head with a hammer while they were buying fare cards.

Slash City. In his 1951 poem "Subway Rush Hour," the Harlem Renaissance writer Langston Hughes sketched a portrait of an underground world, where people of all colors, ethnicities, and backgrounds are packed so tightly together that there's "no room for fear." Late last week — in an effort to convince New Yorkers that the subways are safe despite a rash of recent stabbings and slashings on the transit system — NYPD commissioner Bill Bratton made a similar point. "It's amazing anybody can assault anybody because you can't really move on some of those cars," he said. Bratton's attempts at reassurance clash with the growing sense among New Yorkers that the city's celebrated public-safety gains are increasingly under threat. Ten people have been slashed or stabbed so far this year on the subways. Overall, such crimes are up nearly 20 percent. "I'll chop you up right on this f---ing train!" 37-year-old Ras Alula Nagarit allegedly yelled at two women after bumping into them on a crowded platform in Brooklyn.

Man slashed on subway platform in sixth attack this year. A man was slashed Sunday [1/31/2016] in the sixth such attack in New York's subways and on streets this year — following a spate of blade-wielding assaults in public places that started in the fall, police said.

Woman slashed on subway in another random attack. A psychopath sliced a woman with a 2-foot-long machete Tuesday night [1/26/2016] aboard a Brooklyn-bound 3 train after he threatened to "chop" her up — the third city slashing this week, police sources said. The 29-year-old woman, identified by police sources as Natalie Lewis, was hacked on the hand by a man wearing a green cap after he bumped into her as she was waiting for the train with her sister around 9:30 p.m. at the Atlantic Avenue-Barclays Center station, cops said.

Mob in S.F. stabs 2 men at Mission District bus stop. A crew of 10 young assailants viciously stabbed two men at a Mission District bus stop, sending the victims to the hospital, where one man was clinging to life Wednesday [1/13/2016], police said. The attack happened around 8:30 p.m. Tuesday when the attackers, described as between the ages of 18 and 20, approached two men sitting at a bus stop at 18th and Mission streets, San Francisco police officials said.

Longtime transit impostor arrested for 30th time says he needs help not prison. The New York transit impostor who first commandeered a train at age 15 has been arrested 30 times over the years for transit-related crimes, most recently in November when he was nabbed driving a Greyhound bus.

City subways are a pervert's paradise. Sex crimes on the city's subways have soared by nearly 20 percent this year, due to a surge in the number of gropers, flashers and voyeurs, NYPD officials said on Monday [12/14/2015]. [...] In the past five months alone, the rate of increase has more than doubled — with a total of 699 incidents reported, or 106 more than the 593 recorded for the same period last year, authorities said. The most common offenses are forcible touching, lewdness and unwanted surveillance, NYPD Deputy Chief Vincent Coogan told MTA officials at a meeting.

Muslim man yells at Christian woman on train for putting her feet on chair, then threatens to call police. Last time I checked, England wasn't under Shariah law. Apparently some Muslim man doesn't think so, as he began yelling at a woman on a London train for putting her feet on one of the chairs. She attempts to explain that she is a Christian, and so she has no restrictions on praying with her shoes on, but he doesn't care and says it's wrong in his religion.

Bus Mugger Gets Smacked Down By Bus Driver. This bus mugger was in for a surprise when he tried to steal a purse from the woman sitting in the front row. The bus driver handled this guy like a pro.

NY Subways overrun with homeless. It's an express train — to the bad old days. Cops are giving homeless people and panhandlers in the subways the kid-glove treatment, arresting subterranean scofflaws far less frequently than just two years ago, data show. The ranks of the homeless, meanwhile, have swelled to 1,841 this year — a 13 percent increase over last year's tally, the city's Department of Homeless Services says. For straphangers, it has created an atmosphere of fear.

Thefts of cell phones rise rapidly nationwide. Nearly half of all robberies in San Francisco this year are cell phone-related, police say, and most occur on bustling transit lines.

The Editor says...
"Most" of "half" means at least one-quarter of the robberies in San Francisco take place on transit lines.

MBTA: Be careful, crime is up on Boston subways. Pickpockets and other thieves coveting small, expensive carry-around electronic devices like iPods helped drive up crime on the Blue Line and other Boston area subway lines last year. Incidents in the category of larceny or theft increased from 506 to 699. ... Aggravated assaults dropped from 112 to 103, while robberies rose slightly, 183 to 207.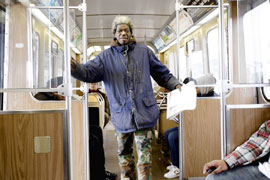 Panhandler who regularly works CTA Green Line arrested 178 times. Clarence Ervin had panhandled on CTA trains all night, and he looked like it. Cold and bleary-eyed, he said he was afraid of getting caught — a surprising sentiment for a man who has been arrested 178 times, according to police and court records. Ervin, 52, has amassed charges ranging from panhandling on trains and disorderly conduct to drug possession and assault and battery, the records show.

Wall Street Intern Flips Out At The Conductor On Metro North. A woman traveling on Metro North flipped out after a conductor scolded her for having an allegedly loud and profane conversation.

'Apple picking' phone theft increasing on CTA. Hang on to your iPods when riding on the CTA. Chicago police say there is an increase in robberies targeting the devices. In addition, thieves have been stealing other electronic devices. According to The Chicago Tribune, 581 robberies were reported on CTA property in 2010. That's an average of 48 a month.

NYPD Searching For Subway Perverts. Police in New York City are looking for men suspected in separate acts of public lewdness on trains passing through Union Square.

Registered sex offender accused of groping Jersey City woman on PATH train, his 169th arrest. A 60-year-old registered sex offender has been arrested for the 169th time, in this case on charges he groped a Jersey City woman on a PATH train, authorities said today [7/17/2012]. Giovanni Verdelli's latest arrest came Monday morning, when undercover Port Authority Police Department officers nabbed the Brooklyn man at the Grove Street Station in Jersey City as he tried to board a train bound for 33rd Street in Manhattan, said Steve Coleman, a spokesman for the Port Authority of New York and New Jersey.

Union Exemptions from Criminal Laws. In the "Miscellaneous Crimes" title of the [California] Penal Code, the state has declared that "willfully blocking the free movement of another person" in a public transit system facility or vehicle is punishable by a fine of up to $400 and 90 days imprisonment in the county jail. That is, unless the offender's actions can be said to be related to collective bargaining. In that case, the state legislature has created an exemption from the crime, and so long as the offender is pursuing union objectives, it is permissible to block the free movement of commuters in the transit system, people who are invariably just trying to get to work or an appointment on time.


Non-violent:



The Bottomless Absurdity of Ayanna Pressley's Free Public Transit Bill. Should public transit be free? Massachusetts representative Ayanna Pressley thinks so. Her Freedom to Move Act offers $5 billion in grants to entice the nation's transit systems to go fare-free. To qualify for grants, transit agencies would also have to improve safety and quality, particularly in low-income and historically underserved communities. Unfortunately, experience shows that these two goals aren't always compatible. A side effect of getting rid of fares is eliminating fare enforcement, which advocates say disproportionally targets black and other minority riders. Thus, the progressives backing Pressley's bill (and the companion bill introduced by Massachusetts Senator Edward Markey) view fare-free transit as part of a larger social-justice agenda. At least one transit manager is on board with a fare-free future. Phil Washington, CEO of the Los Angeles Metropolitan Transportation Authority, believes that his agency has a "moral obligation" to help the county and region recover from the "once-in-a-lifetime pandemic" and from the "devastating effects of the lack of affordability in the region."

The Editor says...
Pardon me while I state the obvious: Fares are the only thing keeping mass-transit buses and trains from becoming homeless camps on wheels.

Drugged Out Subway Passenger Dances On a Pole. [Video clip]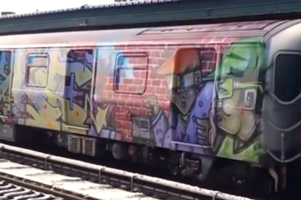 Video shows NYC subway cars totally defaced with graffiti. Graffiti artists struck multiple cars of an M train, completely defacing them from top to bottom with colorful tags and doing tens of thousands of dollars of property damage, the MTA said Wednesday [2/10/2021]. Video posted to Instagram on Monday shows the subway train — featuring cartoon-like characters and depictions of a skyline exposed through a brick wall — chugging along the tracks of an unspecified elevated Big Apple station. Officials discovered the vandalism at around 6:50 a.m. Monday, according to the MTA. The vandals apparently hit the train at a so-called layup area in Queens near the Forest Hills-71st Avenue Station, which falls under the responsibility of the NYPD to patrol, the transit agency said, noting that the incident was reported to the police department. The graffiti train has since been taken out of service.




This is an open admission that homeless people live aboard mass transit vehicles:
Subway closure 'outright disaster' for the homeless who have few safe shelter options, advocates say. Homeless New Yorkers will face an even more threatening and dangerous situation when the city shuts down the subway system from 1 a.m. to 5 a.m., according to advocates. The shutdown was announced by New York Gov. Andrew Cuomo and Mayor Bill de Blasio in a joint press conference on Thursday [4/30/2020]. Cuomo said closing the subway for those hours would allow the cars to be sanitized every 24 hours during the novel coronavirus pandemic. De Blasio said that it would also benefit any homeless people who ride the subway during that time.

Why It's Called Falling Asleep. The body maintains a sort of bubble level / proximity sensor that triggers when you get too far off enter or when barely conscious. [Video clip]

Report: Calls For Boycotting Greyhound Grow As Company Defies Working With ICE. Have you heard the latest about Greyhound bus services deciding not to comply with Immigration and Custom Enforcement checks dealing with illegal immigration? This is a strange decision since Tour Bus Operators have been telling passengers for years (decades) at both land borders when Border Patrols Officers board the busses at borders to comply with identification requirements to cross into foreign nations or returning to the USA. What are they thinking? The Department of Transportation can make it harder for every bus to continue on the roads if that's what Greyhound wants, mandatory road safety checks take way longer than immigration checks, and "all" busses are subject to them, which also means that "all" passengers will have to step off of the bus. In contrast, the safety checks are being done, "there" no warrant needed now!

Homeless people are pictured all over New York's Grand Central and Penn stations. The scenes at Grand Central Terminal and Penn Station in New York have been pictured amid an apparent homeless crisis that is reportedly making the lives of commuters and tourists a misery. Images show displaced Americans trying to sleep on floors and even trash cans as travelers and business people go about their daily lives, while other photographs captured this weekend show them tucked up discreetly on benches and at food hall dining tables. But some pictures show panhandlers begging for money as people run to catch trains or stop to grab refreshments, and it has reportedly made people dread using the stations in Midtown Manhattan.

Greyhound vows to protect illegals, will stop DHS agents from immigration checks on busses. Future Greyhound passengers beware, because going forward, rules and laws will apparently have no place on the transportation service's infamous buses. In an emailed statement to the Associated Press, the 106-year-old company announced that it would no longer allow Department of Homeland Security officials to board its buses to conduct what have always been routine immigration checks.

Giving up on getting the homeless out of Penn Station. The [New York] Post just caught the Bowery Residents' Committee once again failing to do its contracted work of "counseling" subway homeless into shelters — half a year after an audit by state Comptroller Tom DiNapoli slammed the nonprofit for persistently delivering far less than its contracts with the city and the MTA require. Post reporters found the BRC office at Penn Station closed and its workers nowhere to be found. They then learned that the nonprofit shut it down "indefinitely" on Saturday after a vagrant who's still at-large made a death threat. So much for BRC's contract with the MTA and Amtrak to do outreach in the transit hub. Workers say they put up a sign directing homeless wanting help to an office eight blocks away. If so, someone tore it down — indeed, we found several homeless sleeping on the office's doorstep.

Horrible Children Like This Make Riding The NYC Subway A Nightmare. You have to wonder how horrible the parents are to raise such horrible kids. [Video clip]

Subway graffiti is making a resurgence in NYC. Graffiti is on the express track back into New York's subway landscape, MTA data obtained by The [New York] Post shows. After holding at around 200 markings in stations and on trains per year in the first half of the decade, the number tripled to 619 in 2018, and sits at 537 as of Dec. 18 this year, the figures show. "There's a lot more going on now, I think, than five years ago," confirmed one New Jersey-based graffiti writer, who declined to be identified — or reveal whether they'd ever turned the city's subway system into their canvas.

Police cited 55 people for eating on San Francisco trains. Only nine were white. Police officers for the San Francisco Bay Area commuter train system disproportionately target black riders with citations for eating and drinking, according to new data, renewing concerns about racial profiling. The Bay Area Rapid Transit (Bart) data was released following a viral video showing police handcuffing a 31-year-old black man who was cited for eating a breakfast sandwich on his way to work. The new records show that more than 81% of people stopped for eating and drinking on Bart since 2014 were people of color, and that the vast majority of them were black. [...] Only 10% of Bart's total riders are black. Ridership data, collected last year, showed that 35% of overall riders are white, 32% are Asian/Pacific Islander and 17% are Latino.

The Editor says...
It is also possible that the white people don't get citations because they follow the rules. But an article that says so wouldn't sell newspapers, would it?

Transit cops: Homeless sweeps are 'not a solution'. The MTA's new policy of clearing messy vagrants out of stations comes just as the city is cracking down on transients camping on the street level. As the weather grows colder, the city recently directed cops to stop homeless people from erecting tents, encampments and other structures on the pavement, law-enforcement sources told The [New York] Post. City Hall acknowledged the new street sweeps. [...] The move comes just as cops underground are expected to start sending more homeless people up to the street level, where the hope is they'll go to shelters.

Homeless booted from subways so de Blasio could have 'clean' ride. Mayor Bill de Blasio ventured into the city's decrepit subway system Sunday — but didn't have to face the foul-smelling and often crazy vagrants whom ordinary New Yorkers are forced to contend with every day. That's because police were ordered to roust all the homeless people from two stations ahead of the mayor's four-stop press event as he rode from his Park Slope gym to his new re-election headquarters in downtown Brooklyn, law enforcement sources told The [New York] Post.

Drop in subway performer, panhandler arrests. In 2016, the NYPD reportedly made 203 arrests for dancing and 88 for panhandling in the subways, a dramatic drop from just two years earlier when 358 arrests were made for dancing and 680 arrests were made for pan-handling. According to Politico, the city appears to be easing its policy towards the entertainers or nuisance, depending on which straphanger you ask.

Straphangers participate in No Pants Subway Ride. The temperature was low, snow was on the ground, yet on a Sunday in January, thousands of New Yorkers were without pants. It was the 16th Annual No Pants Subway Ride where straphangers braved the freezing cold weather in their undies for the chance to shock unsuspecting subway riders.

New Yorkers lose their trousers for the 15th annual No Pants Subway Ride that took place worldwide. Scores of New Yorkers flocked to the subway on Sunday without any pants on. The 15th Annual No Pants subway Ride kicked off at 3:00 p.m. and had participants strut their stuff from seven different points all over New York City only to eventually meet in Union Square. The event began in 2002 in New York City with seven members of the improvisational group, Improv Everywhere, known for their flash mobs, boarding the subway without trousers.

The Editor says...
People who go out in public dressed immodestly and inappropriately are not funny or cute, whether they are in a group of a hundred, or by themselves.

Annual No Pants Subway Ride Gets Giggles Across the Globe. Public transit passengers in major U.S. cities and around their world left their pants at home Sunday, or at least stashed them in their bags, as they participated in the 14th annual No Pants Subway Ride. The prank, which began as a New York City stunt in 2002, has spread internationally, with more straphangers flaunting their drawers each year.

Cops crack down on subway panhandlers. Begging on subway trains increases during the holiday season with the influx of tourists and shoppers, and transit cops are cracking down on offenders, police said.

Photo of black man sleeping on a Jewish man's shoulder on the subway goes viral around the world. Oscar "Isaac" Theil, 65, was on his way home to the Kensington section of Brooklyn on the Q train when an unidentified man fell asleep on his shoulder for more than a half hour last Thursday night. Another rider was amazed at the scene — a black man sleeping on the shoulder of a white man in a yarmulke — so he gently asked if he wanted help to wake the slumbering straphanger. "He had a long day so let him sleep. We've all been there," Theil responded.

The Editor says...
The photo which is the centerpiece of the article immediately above is supposed to be a heartwarming look at the great American melting pot; however, outside of the New York subway system, it is considered blatantly anti-social to lean on a stranger and go to sleep in a public place. It's a transit system, not a homeless shelter on wheels. And this went on for half an hour. Where are the cops on this train? The notion that "we've all been there" is a canard: If I've ever been drowsy in any public transit vehicle, I have certainly never leaned upon and drooled and slept on a total stranger's shoulder. Normal, sane adults do not act like that.

Nevada buses hundreds of mentally ill patients to cities around [the] country. Over the past five years, Nevada's primary state psychiatric hospital has put hundreds of mentally ill patients on Greyhound buses and sent them to cities and towns across America. Since July 2008, Rawson-Neal Psychiatric Hospital in Las Vegas has transported more than 1,500 patients to other cities via Greyhound bus, sending at least one person to every state in the continental United States, according to a Bee review of bus receipts kept by Nevada's mental health division.

SEPTA: Mom, Grandmom Dodge Fare, Leave Baby Behind. SEPTA officials say a mother and grandmother left behind a baby girl while trying to avoid paying full subway fare. Authorities say the incident happened Monday on the Market-Frankford El at the 60th Street station. The baby's 15-year-old mother had a single one-day convenience pass that allows one person to take eight rides. [...] The two women didn't realize they had left the baby until they got to the 56th Street station around ten minutes later.

Courtesy's Sad Substitute. For all the clackety-clack of the tracks and the distorted announcements crackling out of raspy speakers, trains are getting to be awfully quiet places. A decade ago Amtrak started designating "Quiet Cars" in which there was to be no cellphone yammering, no insect-like buzzing or muted thumping bleeding from headphones, no keening conversations. Now commuter lines are finally following suit.

Silent Rage: "This is the quiet car!" The voice belonged to a woman glaring at my kids, ages 5 and 2, standing (quietly, I should add) next to the door. I ignored her and focused on snagging an empty spot on a packed Amtrak train — a miracle the day before Christmas — for our nuclear family with big luggage. (Why Amtrak can't figure out how to assign seats on its "reserved trains" like every major European rail company will have to be left for another day.) In any case, we weren't about to give ours up. The pitch went up a notch: "This is the QUIET car!!" "So be quiet." Ah, my wife to the rescue.

Woman feels 'disrespected' after being kicked off train. A woman who got pulled of an Amtrak train by police after passengers complained she was speaking too loudly on a cell phone said she felt "disrespected" by the entire incident. Lakeysha Beard of Tigard was charged with disorderly conduct after police said she got into a "verbal altercation" with train passengers on Sunday [5/15/2011]. Passengers complained she refused to put down her cell phone and conductors had to stop the train in Salem, where police got involved.

Nude Woman Bathes On NYC Subway Train. In this week's crazy NYC subway video series, a woman, nude from the waist down, sets up a wash station on the blue bench of a subway car and proceeds to take a camping-style shower.

Lotto tickets bought with bags of coins lead to bust in massive Metro theft. A long-running scam to steal thousands of Metro riders' fares unraveled this week after a man in a police uniform driving a Jaguar bought thousands of Virginia lottery tickets with bags and bags of apparently stolen coins. A tip about the odd purchases led authorities to an extensive investigation involving GPS-tracked cars, surveillance videos from Woodbridge gas stations and money drops by an Alexandria underpass.



---



The police state on wheels

You would think violent crime would be extremely rare in the world of mass transit, with all the law enforcement personnel in attendance. You would be wrong. It's the worst of both worlds.




CDC: Mask Order Will Be 'Further Enforced' by 'Federal Authorities'. The Centers for Disease Control and Prevention's (CDC) latest order, requiring individuals to wear masks when using public transportation or residing in transportation hubs, will be "further enforced by other federal authorities," the agency announced in its order, which went into effect this week. Under the order, individuals are required to wear masks while using public transportation, which includes "awaiting, boarding, disembarking, or traveling on airplanes, ships, ferries, trains, subways, buses, taxis, and ride-shares as they are traveling into, within, or out of the United States and U.S. territories," per the CDC. "People must also wear masks while at transportation hubs (e.g., airports, bus or ferry terminals, train and subway stations, seaports) and other locations where people board public transportation in the United States and U.S. territories," the agency said, encouraging the "operators of public conveyances" to enforce the requirement to the best of their abilities.

New Mass Transit Mask Refusal Fine Takes Effect in New York Monday. Gov. Andrew Cuomo says he expects substantial upticks in mass transit use as New York City and the rest of the tri-state area take more reopening steps in the coming months — and he wants people who ride subways and rails to feel safe. To that end, the governor said Thursday he was ordering the implementation of a $50 fine for MTA passengers who refuse to wear masks on public transportation. Cuomo said that part of the reason behind the measure is that New York City doesn't need an influx of vehicular traffic, which has been the case as people tenatively return to work amid the pandemic. The goal is to convince people it's safe to ride the subways, buses, LIRR and Metro-North with COVID precautions.

The Editor says...
No, the goal is to see how much the American people will tolerate before a widespread rebellion occurs. If they really thought you were spreading a deadly disease, would the fine be only $50?

NYPD Arrests Young Boy Selling Candy On Subway. This video is blowing up all over social media showing a young boy being arrested by NYPD for selling candy and chips to make money for his family. A user posted: Thousands of NYPD officers have the coronavirus and they are still going all over the city harassing and touching and grabbing and breathing all over people. People are out here hurting. This boy wasn't selling drugs, he was selling candy and chips BECAUSE HE NEEDS TO. These boys are out here doing this because they provide for their families. [Video clip]

Philadelphia cops drag man off bus for not wearing mask amid coronavirus. The coronavirus crackdown on social distancing just might be going a bit too far. This, after a group of cops physically removed a man from a public bus Friday morning [4/10/2020], all of it caught on video by a bystander with a cellphone. The man's crime: Not wearing a face mask while hopping on the bus for his morning commute. As CBSPhilly.com reports, the incident is now under investigation by Philadelphia police.

De Blasio: NYPD Will Remove Passengers from Subways if Overcrowding Occurs. New York City Mayor Bill de Blasio warned residents Monday the NYPD will begin removing passengers from crowded Subway cars should the trains violate the state's rules and regulations regarding the Coronavirus pandemic. "The PD is going to go out there, if they see any overcrowding, they're going to literally split it up, pull people off the train, move them along into different cars, whatever it takes," de Blasio said Monday in an interview with NY1.

Previous Deportee with Fake ID Arrested on Greyhound Bus in Arizona, Say Feds. Yuma Sector Border Patrol agents apprehended a Mexican national with fake U.S. identification documents on a Greyhound Bus at an interior immigration checkpoint. The previous deportee is now charged with identity theft. Welton Station Border Patrol agents assigned to the Interstate 8 immigration checkpoint on March 2 boarded a passenger bus for inspection and interviews. During one conversation, agents became suspicious of a man who presented a U.S. birth certificate and a California identification card, officials stated. The suspect did not resemble the person described in the documents and did not speak English.

Facial Recognition for a Free Travel Ticket in China? Welcome To Orwell's 1984. China wants to give its prisoners (populace) the ability to pay with their faces to ride subways; this will be combined with its social credit program — which already tracks the communist nation's citizens traveling — and if points are too low, it prevents travel. [...] In Shenzhen, China, home of OnePlus, Huawei and internet giant Tencent, the city has released a new government system for elderly Chinese. This new program will allow residents of China over the age of 60 to register for free subway rides, using just their face as their ticket. If you think this is just a one-off, you would be utterly wrong. This form of facial recognition is already being experimented in other cities including Jinan, Shanghai and Nanjing according to the South China Morning Post.

DEA Agents Ambush Amtrak Passengers With Controversial Searches and Seizures. Most people step off to stretch their legs or have a cigarette during the layover, the longest smoke break in the entire trip. That's when two plainclothes agents come aboard the train on a rainy day in March 2019. One agent walks to the back of the aisle in the first coach car and waits, quietly observing. The other is tasked with getting people to talk and open their bags. His name is Jarrell, or Jay, Perry, and he's done it hundreds of times before. Today, he seems confident that he will find someone on board carrying drugs — or at least a substantial amount of money. He flashes a smile and a badge. A young, disheveled man in a seat by the entrance to the car agrees to let Perry search his three bags. The agent flips through the man's luggage with tactical speed[.] Perry is white and looks like he's in his fifties. He's bald and slightly overweight, with a weightlifter's build to compensate, and he's dressed in a baseball cap, a gray sweatshirt, and jeans. He's not carrying a visible warrant or a train ticket and has no drug dog with him.

Bomb-seeking body scanners tested at WTC PATH station. The Port Authority is testing new security scanners at the World Trade Center PATH station Thursday and Friday in order to evaluate its latest potential resource to detect firearms, explosives and other weapons. The so-called Evolv Edge, a "high-tech body scanning unit" meant to detect detect firearms, explosives and other weapons, will be tested Thursday [5/10/2018] and Friday at the WTC PATH site from 8 to 10 a.m. and 4 to 6 p.m. Public participation in the testing is completely voluntary, according to Port Authority officials.

DHS expands police spying by adding surveillance cameras to bus stops. Not content with surveillance cameras on buses, the police state has now begun adding them to bus stops. Last month an article in WTVR 6 revealed that the Greater Richmond Transit Center (GRTC) is installing more than one hundred surveillance cameras at bus stops. What should really concern everyone is the amount of cameras being installed at each bus stop.

Suspect killed in police shootout on Chicago-area train. Authorities say a suspect in a Chicago-area slaying was killed [1/6/2017] in a police shootout on a Metra commuter train while dozens of other people were aboard.

NJ Transit keeps recordings of your conversations for a month, it says. NJ Transit officials have broken their silence over what happens to surveillance recordings it makes of passenger conversations on light rail trains. In April, the state American Civil Liberties Union and commuter groups demanded that NJ Transit disclose information about the surveillance after an NJ Advance Media article revealed that the conversations of passengers on light rail trains were being recorded. "Audio and video remain in the surveillance device for approximately 30 days, with new video and audio overwriting (recording over) previous files," said Nancy Snyder, an NJ Transit spokeswoman. "It is our practice and procedure."

Homeland Security to release harmless gas in NYC subway system for bioterrorism drill. The Department of Homeland Security will release "harmless particle materials" in the city's subway system next week. The "non-toxic, safe gas material" will be released at subway stations in Manhattan, Brooklyn, and Queens in order to understand where hazardous material would travel in the event of a biological terrorist attack.

Harmless gas to be released in subway for airflow study. Harmless gas and other materials will be released at several subway stations in Manhattan, Queens, and Brooklyn. One of the stations will be Time Square. The reason they are doing this is to prepare in the event of a terrorist attack. Don't be alarm if you see boxes at some subway stations next week. The boxes will gather real-time data of particle concentrations in the air.

The Editor says...
Does this "harmless gas" have a name? I doubt if this mystery gas comes in a big tank with a label that says HARMLESS. It is difficult to imagine that a majority of us would consider this stuff safe and inert, since we don't all agree that even carbon dioxide is harmless.

Man arrested for 'ridiculous' iPhone crime. A 45-year-old UK artist was arrested Friday [7/24/2015] on a London train for the dastardly crime of "abstracting electricity" — and according to arrestee Robin Lee, the crime is just as "ridiculous" as it sounds, the Evening Standard reports. Even though the outlets on the London Overground are clearly marked as being for cleaners only — a London Underground forum pointed out by the Guardian notes others using the outlets could cause a power surge — Lee decided to charge his iPhone while commuting and ended up getting nailed for it by an "overzealous community support officer," as Lee describes it.

The Editor says...
Does any sane person believe that one guy charging his phone is going to cause an overload? If the cleaning crew can plug in a vacuum cleaner there, it should be safe to charge a phone for a few minutes.

Planes, Trains, and Automobiles: None Are Safe from the State's Plundering Parasites. I don't know if Aaron Heuser, a mathematician from Eugene, Oregon, is familiar with "The Mortal Storm." He doesn't need to see the movie — he has lived it. As Heuser recounted to Conor Friedersdorf of The Atlantic magazine, during an Amtrak trip from Eugene to Washington, D.C. last fall, he received an unwelcome visit in his sleeper compartment by a DEA agent whose comportment was indistinguishable from that of the cinematic Nazi officials who terrorized Freya Roth.

How the DEA Harasses Amtrak Passengers. Earlier this year, Aaron Heuser of Eugene, Oregon, had to travel to Washington, D.C. The trip had two purposes: The 37-year-old mathematician was officially leaving his job at National Institutes of Health and starting a new position at a private firm. Since he is terrified of flying he booked himself a sleeper car on Amtrak. Upon reaching Reno, Nevada, there was an unexpected knock at his door. "There was a DEA badge on the window," he said. "Having a good reason to be making this trip and being a law abiding citizen, I opened the door and politely asked if there was a problem. The officer asked if I was Aaron Heuser, and then asked to see my ticket. He then told me that there were many red flags on my trip, mainly that I had a sleeper car, was traveling alone, and did not check my luggage." A sleeper car is a main Amtrak product! Plenty of people travel alone! Why would anyone with a whole sleeper-car compartment to themselves go through the hassle of checking luggage?

The Editor says...
And another thing: You're traveling 2800 miles and you don't care if it takes a week to get there. What's in that bag, anyway? My drug-sniffing dog says he got a whiff of mometasone furoate monohydrate when I opened this door, along with a hint of Old Spice. He'll be happy to testify to that effect in federal court. Better keep your hands where I can see them.

This is exactly the treatment you would expect in Mexico or Cuba or North Korea:
DEA to traveler: Thanks, I'll take that cash. A DEA agent boarded the train at the Albuquerque Amtrak station and began asking various passengers, including [Joseph] Rivers, where they were going and why. When Rivers replied that he was headed to LA to make a music video, the agent asked to search his bags. Rivers complied. Rivers was the only passenger singled out for a search by DEA agents — and the only black person on his portion of the train, [his attorney, Michael] Pancer said.

This took place on an Amtrak train.
Black aspiring businessman has $16,000 life savings seized by DEA agents. It was a lifetime ambition for 22-year-old Joseph Rivers to arrive in Los Angeles and become a big name in the music business. And he nearly made it... until a team of DEA agents put a stop to everything by snatching his life savings without even charging him with a crime. The aspiring businessman from the outskirts of Detroit had managed to scrape together $16,000 and was finally on the train to Los Angeles when the justice department stepped in, reported the Albuquerque Journal. Officers found Joseph's thousands of dollars stashed in a bank envelope and questioned him about the origins of the cash.

Your movements can and will be tracked by your use of public transportation.
Ebola doctor lied about his NYC travels: police. The city's first Ebola patient initially lied to authorities about his travels around the city following his return from treating disease victims in Africa, law-enforcement sources said. Dr. Craig Spencer at first told officials that he isolated himself in his Harlem apartment — and didn't admit he rode the subways, dined out and went bowling until cops looked at his MetroCard the sources said.

BART Defends Cell Phone Shutdown. San Francisco's Bay Area Rapid Transit is defending its order last August to shut down commuters' cell phone service. BART's actions attracted a considerable amount of negative attenion. Digital rights groups have spoken out against government agencies assuming the authority to shut down wireless coverage. "BART is a government agency, and the First Amendment prevents the government from censoring communications. Also, federal law — the Communications Act — outlaws both the government and carriers from interfering with wireless service," said Rebecca Jeschke, spokesperson for the Electronic Frontier Foundation.

NYPD, Brookhaven Releasing Harmless Gases in Subway for Chemical Weapon Study. The NYPD is releasing harmless gases into the subway system during the morning rush beginning Tuesday to study how chemical weapons could be dispersed through the air. Police, working with Long Island's Brookhaven National Laboratory, were spotted placing air-sampling devices in specific areas on the street and within the subway system across the five boroughs.

Good news: Government's recording your conversations on the bus too. A timely video from Reason TV on the surveillance state's newest venture: Cameras and microphones on city buses, just in case Al Qaeda decides to plan its next attack on municipal transportation within earshot of other passengers. Not every city does this, but the practice is spreading — early adapters include San Francisco, Baltimore, and Hartford with funding from, you guessed it, DHS.

Feds Swarm Metra Train After Detecting Nuclear Risk. Sources say the agents were members of the elite TSA VIPR team on the 5:04 pm Union Pacific West line. They were carrying hand-held nuclear-detection devices that picked up a reading.

Big Brother's Listening. The era of private conversations on city buses — and even on San Francisco's iconic streetcars — may be coming to an end. Government officials are quietly installing sophisticated audio surveillance systems on public buses across the country to eavesdrop on passengers, according to documents obtained by The Daily. Plans to implement the technology are under way in cities from San Francisco to Hartford, Conn., and Eugene, Ore., to Columbus, Ohio.

Public Buses Across Country Quietly Adding Microphones to Record Passenger Conversations. Transit authorities in cities across the country are quietly installing microphone-enabled surveillance systems on public buses that would give them the ability to record and store private conversations, according to documents obtained by a news outlet. The systems are being installed in San Francisco, Baltimore, and other cities with funding from the Department of Homeland Security in some cases, according to the Daily, which obtained copies of contracts, procurement requests, specs and other documents.

Activist Forced to Show Papers to DHS or be Detained for 72 Hrs. Alex talks with Derrick Broze, a founding member of The Houston Free Thinkers. Broze has covered TSA agents working in the Metro rail is Houston. [Video clip].

NYC subway's anti-terror steps the new normal. New York's subway system, the largest in the country, has more than 465 far-flung stations, most with multiple entrances, and 800 miles of track that would stretch to Chicago if laid end to end.

TSA Now Storming Public Places 8,000 Times a Year. Bus travelers were shocked when jackbooted TSA officers in black SWAT-style uniforms descended unannounced upon the Tampa Greyhound bus station in April with local, state and federal law enforcement agencies and federal bureaucrats in tow. ... The TSA clearly intends for these out-of-nowhere swarms by its officers at community transit centers, bus stops and public events to become a routine and accepted part of American life.

NYC Subways Adding Dogs, Armed Officers. Teams of police officers equipped with submachine guns and bomb-sniffing dogs have become a part of the landscape of post-Sept. 11 New York, patrolling around Wall Street and such landmarks as the Empire State building. Similar squads are set to begin daily patrols of the busiest sections of the city subways this month, in what officials describe as a first for a U.S. mass transit system.

Machine Gun-Toting Officers To Patrol NYC Subway. The NYPD is pulling out all the stops to beef up safety of the subways. On Thursday it launched a new anti-terror effort called "Operation Torch," but the cost of the program is raising some eyebrows. The NYPD's new firepower consists of cops with Mp5 submachine guns, rifles, body armor and bomb-sniffing dogs.

New Operation to Put Heavily Armed Officers in Subways. In the first counterterrorism strategy of its kind in the nation, roving teams of New York City police officers armed with automatic rifles and accompanied by bomb-sniffing dogs will patrol the city's subway system daily, beginning next month, officials said on Friday [2/1/2008]. Under a tactical plan called Operation Torch, the officers will board trains and patrol platforms….

The Editor says...
The subways must be really dangerous if the cops carry machine guns. What's next, fixed bayonets?

Random Pat-Downs Turn PATCO Into Police State. Commuters who ride PATCO trains between southern New Jersey and Philadelphia should expect random searches of their clothing, pockets, bags and vehicles on their morning trip to work. Twelve Transportation Security Administration screeners, armed with an explosive-sniffing K-9, checked 663 commuter bags randomly selected from the morning rush at the Lindenwold station Tuesday [9/7/2010]. ... "We can conduct any kind of search we want," said [Delaware River Port Authority Police Chief David] McClintock.

Airport-style searches are now spreading all over town.
Metro Randomly Inspects Passengers' Bags. At Braddock Metro, one man was stopped for about 8 minutes because there was some sort of chemical substance on his bag. Police X-rayed the bag, finding nothing. They also took his identification and questioned him. Another woman, who did not object to the bag screening, was stopped for 45 seconds. She missed her train as her bag of Christmas presents was searched.

All Metro stations to get surveillance cameras. Metro will install surveillance cameras outside all 86 rail stations in an effort to curtail rising crime, officials said Thursday [3/24/2011]. The project will be paid for with a $2.8 million grant from the Department of Homeland Security, Metro Transit Police Chief Michael Taborn said. The money will buy 153 color cameras.

Boston transit police begin passenger ID stops. Although officials would release few details about the initiative, the identity checks will mark the first time local rail and subway passengers will be asked to produce identification and be questioned about their activities.

San Francisco Steps Up Transit Surveillance. San Francisco's Municipal Transit Authority has announced it will deploy 288 surveillance cameras equipped with special software to monitor suspicious behavior in the city's buses, trains, and 12 transport hubs. The cameras will be outfitted with BRS Labs' AISight artificial intelligence software, which is programmed to recognize "normal" behavior. Activities not meeting these criteria are deemed suspicious and activate a text message or phone call to MTA guards. Each camera reportedly is able to monitor 150 suspects simultaneously.

It's Mayor Do-Wrong. The longest, loneliest ride ever taken by Mayor Bloomberg came Monday [11/5/2012], when Hizzoner, proving he's down with the little people, boarded a packed subway train for the journey downtown to City Hall. But the goodwill gesture erupted into farce. Bloomberg was picked up at his East 79th Street town house by a Chevy Suburban and, bypassing the local No. 6 train, he settled into the No. 5 express at 59th, reading the Financial Times while surrounded by six bodyguards.

The Editor says...
Apparently one or two bodyguards would not have been enough for the mayor. What does that tell you about the New York subways?



---
Health and safety concerns
Health:
Andrew Cuomo defies CDC guidance, orders New Yorkers to keep masks on. From the man who seeded nursing homes with COVID patients under penalty of law, we now hear from him to keep our masks on, breathing our own germs over and over, and never mind what the Centers for Disease Control says. [...] Places like Texas and Florida have long dropped their mask mandates and seen positive results, but Cuomo clings to the old mask and lockdown culture, even when the leftist CDC says 'don't.' In New York City's case, his logic is particularly absurd. New York City residents have been riding that tight-packed subway for more than a year in this pandemic, a system so packed no mask is ever going to help. The city saw a giant COVID surge at the beginning of the pandemic, quite likely as a result of this, and then suddenly, a lot less, becoming one of the first cities in the country to show evidence of herd immunity after all that riding.
Woman Claims She Took Her Mask Off Because She Doesn't Feel Well, Riders Urge Her To Jump From Moving Train. Welcome to Long Island folks. Where loud-mouths and short fuses run head-on into each other every 38 seconds or so. The woman yelling was being told by the train car to put her mask back on after removing it because she felt ill. The riders tell get to GTF off the train, even urging her to jump off as the train sped towards its next stop. The virus that is the fear of COVID is worse than the sickness. [Video clip]
Unconscious Woman Lays On Subway Floor As A Mouse Eats Out Of Her Mouth. This disturbing video is making its rounds on social media depicting a young woman who seems to have passed out from substance abuse in a Montreal subway. As she lays on the floor unconscious, not only does no one seem to help, she is visited by a lone mouse, which proceeds to start eating out of her mouth. [Video clip]
NYC subway hours extend on Monday, MTA will give riders two masks to double up face coverings. It's good news for late night straphangers — and riders who need fresh face masks. The city's overnight subway shutdown will be scaled back starting early Monday, with passengers not allowed to ride from 2 a.m. to 4 a.m. instead of the 1 a.m. to 5 a.m. closure that went into place May 6. At the same time, Metropolitan Transportation Authority officials said transit crews would help riders meet new guidelines from the Centers of Disease Control and Prevention by giving out a second mask to anyone who asks.
The Editor says...
A chicken-wire fence won't keep mosquitos out. Two back-to-back chicken-wire fences won't either.
New York City/New Jersey subway PM2.5 levels 77 times greater than EPA standards; No bodies found. A new study reports on PM2.5 (soot/dust) levels in subway stations. The New York City and New Jersey PATH system had a mean level of 779 micrograms per cubic meter — 65 times higher than the EPA's outdoor air standard of 12 micrograms per cubic meter. The highest level measured (1,499 micrograms per cubic meter) is almost 50% higher than the worst air in any Chinese city that we know about. Onboard air quality PM 2.5 measurements were lower but still on average 30 times higher than EPA standards. In 2018, PATH carried 81.7 million passengers, about 280,000 per week day. Keeping in mind that the EPA says that any exposure to PM 2.5 can kill you within hours, where are the bodies? Why aren't governments calling for an immediate shutdown of subway service?
The CDC's National Face Mask Mandate For Public Transport Starts Tuesday. Starting Monday, just before midnight, there's a new mandate taking effect and it's on the national level rather than the usual state and municipal orders we've been seeing. Anyone taking public transportation of any kind is not to be allowed to travel without wearing a face mask. The order applies to airplanes, buses, trains, subways, seaports, transportation hubs, taxis, and ride-sharing vehicles. The order is coming from the CDC, but you know that it wouldn't have gone out without running it past the White House first. Also, this goes much further than President Biden's first executive order which only covered travel on federal property. (Though he seems to have trouble obeying it himself.) This order applies everywhere in the fifty states. So it seems that the days of the federal government allowing the individual states to decide what works best for them are over. It's just another day in Big Government America.
NYC mayor: Restaurants need to close, but everyone should ride the subway. New York City Mayor Bill de Blasio said that subways are safe and encouraged New Yorkers to use mass transit on the same day he said the city should be ready for a full shutdown after restaurants were ordered to halt indoor dining amid a surge of coronavirus cases. Speaking at his daily briefing Monday, de Blasio said, "it is important to let people know the subways are safe." Prompted by a reporter, he floated the idea of setting an example by riding the subway himself to show there's nothing to fear, similar to how he plans to publicly take the COVID-19 vaccine, the New York Post reports. "I like the idea of having a period of time to really emphasize to people that they're safe, by being out there," he said.
The Editor says...
Germs in the air are inconsequential compared to the likelihood of being mugged on the subway, or pushed in front of a train.
Mayor de Blasio will ride subway to prove it's safe amid COVID-19. Mayor Bill de Blasio on Monday [12/14/2020] agreed to set an example and eschew his SUV and driver to ride the subway in a bid to encourage more New Yorkers to get back onto mass transit despite the coronavirus pandemic. "It is important to let people know the subways are safe," the mayor said during his daily briefing, in response to a reporter's suggestion that he ride mass transit for a week to show it's safe, just as he plans to take the COVID-19 vaccine.
The Editor says...
Of course the subway is always safe for the mayor, because he's surrounded by cops.
Scientists say public transport may not be a major source of coronavirus spread after all. Catching coronavirus on public transport is far less likely than once feared, fresh data suggests. Trains, buses and planes were earmarked as potential Covid-19 hotspots by experts around the world at the start of the crisis. This is because Covid-19 thrives in enclosed indoor spaces with little ventilation and densely packed crowds of people. But research suggests that, if masks are worn and social distancing is adhered to, the chance of the virus spreading on public transport is minimal. Contact tracing studies looking into hundreds of Covid-19 clusters in France, Austria and Japan linked fewer than 1 percent of 'super-spreader' events back to public transport.
The Editor says...
The trains in Japan are notorious for overcrowding, to the extent that there are "pushers" whose job is to push people into the trains before the doors close. [Video clip] Thus it is highly unlikely that anyone conducted a study and found that if "social distancing is adhered to," the virus doesn't spread on mass transit vehicles. There is no six-foot "social distancing" on overcrowded mass transit vehicles.
What Social Distancing? House Transportation Bill Would Pack Americans on Mass Transit. For months, the news media and health experts have repeatedly told Americans that the main way to stop the spread of COVID-19 is to avoid crowded and enclosed spaces. That guidance led to a nationwide shutdown of churches, schools, businesses, and other places of public gathering, causing the greatest disruption to our way of life in generations. It seems like a bad time to pack as many people as possible into crowded and enclosed spaces. Yet that's precisely the goal of the surface-transportation bill recently unveiled in the House, which would sharply increase federal spending on mass transit.
Stopping Petty Tyrannies Is How We Beat the Serious Ones. As former California state Rep. Chuck DeVore wrote for The Federalist, states with a higher amount of mass transit generally have had a higher number of COVID-19 cases than other states, even taking into consideration urban density. Perhaps we are lucky that the Green New Dealers didn't get their wish to end car and air travel and force Americans to switch to rail.
What Spread Coronavirus in New York City? The Subways. One hundred eighty-four thousand cases and counting. New York City now has one out of every eight confirmed cases of coronavirus infection in the United States. Far more cases than Chicago, Detroit, Los Angeles, Miami, Boston, Philadelphia, New Orleans, Seattle and Houston combined. More cases than the Lombardy region of Italy, the Community of Madrid and the Province of Tehran combined. [Paywall]
Historic New York City subway shutdown for cleaning deemed 'successful'. The first deliberate shutdown of the New York City subway system in 115 years was deemed "successful" by transit officials on Wednesday [5/6/2020], after a small army of cleaners disinfected trains, and police officers, social workers and nurses helped remove many of the homeless population that had been sheltering underground during the pandemic. The mission to make the normally 24-hour transit service safe for essential workers to ride commenced at 1 a.m., and by 5 a.m. the crews had deep-cleaned all the trains in the system and mobilized alternative shuttle buses during that four-hour window, officials said.
New York City, epicenter of coronavirus in US, is just now getting around to disinfecting the subway trains daily. New York Gov. Andrew Cuomo instructed the Metropolitan Transportation Authority in New York City this week to figure out a way to disinfect the subways trains every 24 hours. The news here is not so much the governor's request but the fact that New York City was not already doing daily cleanings of the trains that shuttle millions of riders back and forth every day. It is additionally newsworthy that it took a request from the governor in late April for transportation officials even to consider coming up with a 24-hour strategy for disinfecting the city's sprawling germ tubes.
Coronavirus News: NYC subway service to halt overnight so trains can be cleaned. A new subway cleaning plan was unveiled Thursday that involves a complete suspension of overnight service after Governor Andrew Cuomo ordered officials to figure out how to "disinfect every train every night." "When people get into the train in the morning, they have to know that train was disinfected the night before," Cuomo said.
Good News: After 13,000 Deaths, NYC Finally Ready To Disinfect Subway Cars Daily. So soon? I was thinking we could wait until there are 20,000 dead to begin minimally responsible sanitation efforts on a turbo-charged viral incubator like subway cars. Millions of people packed in cheek by jowl in a cramped space, day after day at the start of the epidemic, with only sporadic disinfectant procedures until now. At this point it'd probably be more cost-effective to skip the cleaning and just inject passengers with the virus as they come through the turnstiles.
NYC subway conductors report filthy and unsanitary conditions as the homeless take over during pandemic. Subway conductors in New York City say conditions have worsened as the homeless have taken over the few transportation lines still open, and are using them as toilets. "There is an astronomical amount of homeless people now in the subway," said MTA train conductor Tramell Thompson said to WLNY-CBS. "The Metropolitan Transportation Authority is now the Metropolitan Transmission Authority," he added. "They are transporting this virus." The subway has remained open in order to provide service to essential workers like doctors and nurses, but conductors say this has allowed the homeless to move in and use the trains as shelters.
Stir crazy. Democrat governors and mayors are going nuts with power. The pandemic panic has them turning into King George IIIs. He had an excuse. He was mentally ill. For some reason, parks and beaches are closed across the nation but subways aren't. I fail to see how being 60 feet away from anyone on the shore is a public health threat, but being jammed in a rapid transit car is perfectly OK.
MTA workers dying from coronavirus at triple the rate of agencies that employ NYC first responders. Coronavirus is spreading like wildfire through the MTA's workforce, killing the agency's employees at three times the combined rate of the city police and fire departments, which employ first responders like cops and EMS crews. At least 41 members of the MTA's 71,000-strong work force have died from COVID-19 over the last two weeks. That compares with 11 NYPD employees and two FDNY employees — agencies that together employ about 72,000 people, roughly as many as the MTA.
Detroit bus driver, who ranted about a coughing passenger, dies from coronavirus. A Detroit bus driver who had expressed anger on Facebook about a coughing passenger has died from COVID-19, officials said Thursday. Jason Hargrove felt ill about four days after posting a passionate video on social media on March 21. He died Wednesday, said Glenn Tolbert, the head of the drivers union. Hargrove, 50, posted a profanity-laced video complaining about a woman who he said had repeatedly coughed while on his bus. The coronavirus can spread through air droplets after people cough or sneeze. The woman was not in the video.
Boston train pulled from service after rider licks car amid coronavirus outbreak. An entire train in greater Boston's public transit system was pulled from service because a rider licked a car amid the coronavirus pandemic, transit officials said. The Massachusetts Bay Transportation Authority took a southbound Orange Line train out of service early Friday in an "abundance of caution" after a passenger spotted someone allegedly licking a train at Tufts Medical Center Station in Boston, spokeswoman Lisa Battiston said. "Transit Police were notified of the alleged incident," Battiston wrote in an email.
The crowded Metro Train in Cairo City during Coronavirus outbreak. Cairo, Egypt. [Video clip]
Chinese Man Tests Positive For Hantavirus From Rats After Dying On Bus Full of Passengers. The Year of the Rat is upon us. "A person from Yunnan Province died while on his way back to Shandong Province for work on a chartered bus on Monday," Chinese state media outlet Global Times reported Monday on Twitter. "He was tested positive for #hantavirus. Other 32 people on bus were tested."
Man who died on bus in China tests positive for 'hantavirus'. A passenger who died on a bus in China has tested positive for a completely different virus than COVID-19 — one more fatal that often produces very similar symptoms, according to state-run media. The unidentified victim from Yunnan province died while on a chartered bus heading to his workplace in Shandong province, the state-run Global Times announced in a tweet Monday [3/23/2020]. "He was tested positive for #hantavirus. Other 32 people on bus were tested," the outlet stated, offering no further details.
Life in the Time of Wuhan. For many decades big government proponents have worked and spent fortunes of tax revenues to wean Americans from their cars and onto public transportation, and it is now an "obvious fact that crowded subways and buses are the worst thing in the face of a new, extremely contagious respiratory virus." The same can be said of the misguided (indeed, in my view, idiotic) war on plastic bags by blue state and local politicians.
Mass Transit, The Pandemic Petri Dish The Left Loves. For decades and decades, politicians who propose and promote big government have done all they could to wean Americans off the convenience and freedom of cars and pack them like sardines into subways and buses, so they may travel to and from work in communal harmony. As George Will has written, "the real reason for progressives' passion for trains is their goal of diminishing Americans' individualism in order to make them more amenable to collectivism." Will added, "Automobiles encourage people to think they — unsupervised, untutored, and unscripted — are masters of their fates. The automobile encourages people in delusions of adequacy, which make them resistant to government by experts who know what choices people should make."
Let's Talk About Joe Biden's Terrible, Economy-Destroying Ideas. By all means, we should talk about this, because it's nuts. What powers the high-speed rail? Does it run on hope and change? As a contagious virus spreads across the world, shutting down whole economies in its wake, Biden wants to force us all onto trains and remove our ability to move around independently of a mass-transit system. That's nuts. Deadly stupid. Those trains would be viral hotboxes.
No 1 problem: Mexico City's subway escalators being corroded by urine. Travelers on the Mexico City subway system often blame authorities for broken-down escalators at subway stops, but Metro officials have another explanation: vast amounts of pee. Somehow, urine is penetrating and corroding the drive wheels and mechanisms of the escalators that carry riders up from underground stations. In a list published on Tuesday [1/14/2020], the Metro system listed "corrosion due to urine" as one of the top five causes of escalator breakdowns.
The left's love affair with public transit collides headlong into its homeless problem in Seattle. It's well-known that the left is all-in for forcing the public out of their cars and into public transit. [...] The virtue-signaling of public transit is no match for the sanitation and smell problems that come of the left's championing of the interests of the homeless. The causes collide. Just as there's no compatibility between open immigration and the welfare state, two other causes the left champions, there's also no compatibility between mass public transit and quality of life issues.
Seattle bus riders rail against 'gagging' human waste smell from homeless. There's a recurring complaint with King County Metro customers: The buses or bus stops smell of human waste. [...] As a frequent bus user, I've experienced some of the same observations on routes 70 and 8. The bus or bus stop can sometimes smell as if it's been used as a toilet.
MTA is paying outside contractors $9.5M to deep clean subway cars and stations. The Metropolitan Transportation Authority is paying outside contractors $9.5 million to clean 3,000 subway cars and 100 stations, the Daily News reported last week. While the transit agency currently employs thousands of station cleaners, the MTA is contracting the dirty job out because the cleaning, as an MTA spokesperson told the News, is a "level of work that our maintenance employees do not perform." The deep clean falls under the agency's emergency $836 million "Subway Action Plan" released in July 2017.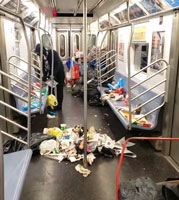 This may be New York City's most disgusting subway car. Repugnant video posted to Instagram last week shows a southbound 2 train at the Allerton Avenue stop in the Bronx that looks like it would be far more at home in the Fresh Kill's landfill. Mushrooming mounds of trash — newspapers, plastic bags, and discarded bottles, wrappers, personal belongings — carpet nearly half the car, as the handful of passengers seem oblivious to the revolting conditions.




Used syringes are littering this Upper Manhattan subway station. Junkies have turned an upper Manhattan subway station into a squalid drug den — brazenly shooting up on the platform and littering the place with their used syringes. Outraged neighborhood residents say heroin addicts have all but taken over the West 181st Street station at St. Nicholas Avenue in Washington Heights, and complain that officials are ignoring the latest symptom of the city's spiraling opioid crisis.

San Francisco: Now so bad, it'll make you cry. Twentieth-century San Francisco, Herb Caen's beloved Baghdad by the Bay, has ceased to exist. It has been replaced by a city where the sidewalks around Market Street are, in places, caked in feces, urine, and vomit. The stink as you emerge from the BART batters you like frozen sleet, shocking and overwhelming. The hordes of homeless, sprawled in doorways and sleeping on the sidewalks, are a bitterly eclectic mixture of the mentally deranged; burnt out druggies; dead-eyed hippies; con artists; pickpockets; and hundreds of simply lost, forgotten souls. [...] As I walked the three blocks back to the BART, I was panhandled four times, plus two clumsy pickpocket attempts. I didn't see a single cop in a car or on foot.

L.A. Metro May Put Showers for Homeless People near Stations. The Los Angeles Metro may put showers for homeless people near some of its stations, after the board of directors approved a resolution last Thursday to study the issue over the next four months.

Homeless may get mobile showers at Los Angeles Metro stations. As the homeless population continues to grow in Los Angeles, the agency that operates public transportation in the county is considering putting showers in or near some of its train stations in an effort to promote hygiene. Metro's Board of Directors unanimously approved a motion on Thursday following a four-month study to examine a pilot hygiene and mobile shower program, which would also examine incorporating public restrooms at all new rail stations on the system.

As waves of homeless descend onto trains, L.A. tries a new strategy: social workers on the subway. The Metro system has been a refuge for homeless people for decades. But as Los Angeles County's homeless population has surged, reaching more than 58,000 people last year, the sanitation and safety problems on trains and buses are approaching what officials and riders say are crisis levels. People looking for warm, dry places to sleep have barricaded themselves inside emergency exit stairwells in stations, leaving behind trash and human waste. Elevator doors coated in urine have stuck shut. Mentally ill and high passengers have assaulted bus drivers and other riders.

San Francisco Is Suffering From The Excesses Of Its Own Liberalism. The overwhelming smell of urine on parts of Mission Street and Market Street would make your nose bleed. I recall the first time I rode BART (Bay Area Rapid Transit, San Francisco's subway system) and was nearly knocked over by the sheer stench of the station. I was surprised to learn that exiting the station supplied little to no relief — the urine smell hangs heavy in the more populated areas of the city and is nearly inescapable.

Motion sickness? Claustrophobia? Vegetarian? Good news for you!
KFC Japan offering 'low-smell' fried chicken for commuters to eat on the train. Ever the innovators, KFC Japan has introduced an all-new item that customers probably weren't sure they even wanted in the first place. Following such inventions as chicken-flavored nail polish and "finger sleeves" to protect customers' hands, KFC Japan has debuted a "low-smell" version of its signature fried chicken, according to Sora News 24.

New Yorkers can agree on one thing: the subway stinks. When you're rushing to work in the morning and you need to catch a train, it can be infuriating to be late due to delays. However, this is a harsh reality for many commuters in New York City. From what they say, the trains are rarely on time, and they frequently break down. Another common complaint about the subways is their lack of cleanliness.

Which city has the germiest cabs, buses and trains? Whether it's hopping on a city bus or hailing a taxi, public transportation has the reputation of being a bacteria hotbed. But are all cities equally grimy? Jeff Rossen and the Rossen Reports team used a bacteria meter to test public transportation systems across New York City, Los Angeles and Chicago to see how dirty they really are. Health experts say anything over 100 is a fail. Are buses cleaner than subways? What about taxis?

Panic on NY subway train as crickets, worms let loose. A woman who said she was selling crickets and worms on a crowded New York City subway car appeared to become frazzled by some teenagers and let the critters loose on riders, then urinated on herself, according to social media posts and news reports. Riders on the subway train were locked in close quarters with the bugs for half an hour during rush hour on Wednesday evening [8/24/2016] after a passenger pulled the train's emergency brake while they were on the Manhattan Bridge. Two days later, on Friday, a woman who identified herself as Zaida Pugh came forward, saying she staged the episode as a prank to raise awareness of how people treat the homeless. She said she is an actress and was not concerned about a backlash from inconvenienced commuters.

Woman admits crickets, worms spilling on subway was a stunt. A woman who caused chaos aboard a subway train by releasing a container of crickets and worms says it was all a prank.

Metro subway smoke: union sues to reinstate fired mechanic. A union that represents the Washington Metropolitan Area Transit Authority has filed a lawsuit to reinstate a mechanic fired last year over a deadly smoke incident inside a subway car.

Rat Crawls Up Sleeping Subway Rider's Neck. Here's another reason to not sleep on the subway. Video captured aboard a 7 train in Manhattan shows a rat crawl up an apparently clueless, sleeping man. When the rodent makes his way to the man's neck, he wakes up and shrieks in horror, the video shows. [Video clip]

Audit: New York City Subway Tracks Filthy, Overrun With Rats. An audit by New York City Comptroller Scott Stringer has revealed that subway tracks are filled with rats, dirt and garbage. The audit found only 3 percent of tracks in 276 underground stations were cleaned according to the Metropolitan Transportation Authority's own standards, which include cleaning track beds at underground stations every three weeks and using special equipment to vacuum up trash from the tracks every six months.

Among New York Subway's Millions of Riders, a Study Finds Many Mystery Microbes. Researchers at Weill Cornell Medical College released a study on Thursday that mapped DNA found in New York's subway system — a crowded, largely subterranean behemoth that carries 5.5 million riders on an average weekday, and is filled with hundreds of species of bacteria (mostly harmless), the occasional spot of bubonic plague, and a universe of enigmas. Almost half of the DNA found on the system's surfaces did not match any known organism and just 0.2 percent matched the human genome.

Obama Repeats: You Can't Get Ebola on a Bus — [a] Day After [a] Bus [was] Quarantined in D.C.. On Saturday — one day after a bus that had departed from the Pentagon was quarantined on Capitol Hill in an Ebola false alarm — President Barack Obama issued a video message to Americans telling them that "you cannot get it [Ebola] from just riding on a plane or a bus." "Ebola is actually a difficult disease to catch. It's not transmitted through the air like the flu," Obama said in his weekly video message. "You cannot get it from just riding on a plane or a bus."

Ebola scare at Pentagon after woman vomits in parking lot. The Pentagon confirmed an Ebola scare on Friday in one of its parking lots when a woman vomited after getting off a bus headed to a high-level Marine Corps ceremony. The Pentagon said the woman was taken to Inova Fairfax Hospital, where she was isolated. A spokesman for the local health authority said it was still unclear, however, whether she would meet the criteria for Ebola testing.

Obama: You Can't Get Ebola 'Sitting Next to Someone on a Bus;' CDC: 'Avoid Public Transportation'. Speaking in a video message to residents of West African countries currently experiencing outbreaks of Ebola, President Barack Obama dispensed advice on how residents can avoid the disease, including: "You cannot get it through casual contact like sitting next to someone on a bus." At the same time, the Centers for Disease Control and Prevention (CDC) is advising Americans who travel to the Ebola-stricken nations to "avoid public transportation."

42 percent of subway cars clean in 'shumtz' survey. A new survey says the number of clean New York City subway cars has gone down since 2011.

Atlanta Transit Deters Public Peeing with Urine Detection Device. Metropolitan Atlanta Rapid Transit Authority (MARTA) is no longer tolerating public urination in their transit system elevators. Through the installation of a urine detection device (UDD), any splatter of urine will set off alarms and alert police to get to the elevator and catch the peeing perpetrators. Improved lighting and cameras will also be installed to record offenders.

Rats Found at 13% of NY City Subway Platforms. The Straphangers Campaign last summer surveyed every platform in the system to assess quality-of-life conditions like lighting, graffiti, exposed wiring — and the prevalence of rodents. The scavenging critters were spotted at 21% of the underground platforms in the Bronx, compared to 15% in Brooklyn, 13% in Queens and 10% in Manhattan. Bronx riders said rats sightings are common on the tracks where litterbugs throw their trash.

Greyhound bus to Manhattan from New Jersey is invaded by cockroaches. Riders on a New York City-bound bus from New Jersey are reporting an invasion of cockroaches. A passenger on a Manhattan-bound bus from Atlantic City told reporters that roaches started coming out of the vents inside the bus just 15 minutes into their Friday afternoon [3/15/2013] journey. The passenger reports roaches could be seen crawling on seats, windows, side panels and even on people.

America is Burning. Two weeks ago, I visited New York City with my wife, who was interviewing at a local medical school located in the Bronx. I dropped her at the school. Since I was lacking a car, I hopped on a public bus, intending to take it to the local subway station. I have never been so frightened for my country in my life. The bus itself was fine; all the people on it had places to be. It was the subway station that was truly scary. The station itself looked like a bomb had hit it. Debris covered the shattered tile floor. The stench of vomit and urine permeated the place. Rust layered the tracks; wooden boards between the tracks moldered into dust.

One sneeze, 150 colds for commuters. Tissues at the ready. A single sneeze in a busy area can end up infecting 150 people with a cold in just five minutes, new research suggests. An analysis of the germs unleashed from a single commuter's sneeze showed that within minutes they are being passed on via escalator handrails or seats on trains and underground carriages. At the busiest stations, one sneeze not smothered by a tissue or handkerchief will provide enough germs to infect another 150 commuters.

Woman dies mysteriously on Via train; others sick. With hundreds of passengers aboard, many believed to be foreign tourists, a VIA Rail train remained under quarantine in a small northern Ontario town Friday afternoon after a 60-year-old woman was found dead in a passenger coach and six others complained of feeling unwell with a flu-like ailment. It was unclear, however, whether the two sets of circumstances were connected.

Uneasy rider raises a stink. Tossed off a city bus for refusing to change her fragrance, a local woman believes she was unfairly singled out just for trying to smell nice. Natalie Kuhn was getting on her regular bus route yesterday, the No. 137 Dalhousie, when she said she was told by the driver he was no fan of her perfume, Very Irresistible by Givenchy, and she had to get off.

Chicago Train Riders Breathing Highly Toxic Air. A devastating investigation by the Chicago Tribune is casting serious doubt on the environmental benefits of public transportation. Day after day, the Tribune reported on November 5, "thousands of commuters are breathing high levels of toxic diesel pollution trapped in Chicago's two major rail stations and even inside the trains they ride."

Loose rat crawls up sleeping subway rider's leg. The nightmare of every subway rider was caught on video after a chubby sewer rat crawled up the leg of a sleeping straphanger on a No. 4 train in Brooklyn and came face-to-face with the man.

Subway graffiti artist, 20, struck and killed by Manhattan-bound D train. Cans of spray paint were found near the body of a 20-year-old graffiti artist who was struck and killed by a subway in Brooklyn early Monday [5/16/2011], police said. The man, whose name wasn't immediately released, was hit by a Manhattan-bound D train at the 59th St. station. Transit officials said the motorman tried to stop the train just after 5 a.m., but couldn't bring it to a halt in time.

The Editor says...
Graffiti is included here a safety issue, not only because of the risk to the "artists" but also because of the paint fumes lingering in the subway tunnels.

Woman forced to drop pants on New York subway train after giant rat runs up her trouser leg. A woman was forced to drop her trousers in the middle of a packed rush hour subway train when a rat ran up her trouser leg. Ana Vargas, 40, was sitting in the train at 7:50 am as it approached New York's Columbus Circle station when the terrifying rodent suddenly crawled up her leg.

Human waste shuts down BART escalators. When work crews pulled open a broken BART escalator at San Francisco's Civic Center Station last month, they found so much human excrement in its works they had to call a hazardous-materials team. While the sheer volume of human waste was surprising, its presence was not. Once the stations close, the bottom of BART station stairwells in downtown San Francisco are often a prime location for homeless people to camp for the night or find a private place to relieve themselves. All those biological excretions can gum up the wheels and gears of BART's escalators, shutting them down for long periods of extended repairs, increasing station cleaning costs and creating an unpleasant aroma for morning commuters.

Safety:



Electric shuttle bus smokes and deflagrates instantly. [In China.] [Video clip]

Bridge Overpass In Mexico Collapses, Sending Passenger Train Crashing, Killing At Least 23. An elevated section of the metro track in Mexico City partially collapsed on Monday night [5/3/2021], bringing down rubble and some train carriages onto the road below. At least 23 people died in the incident and 70 more were injured. Of the injured, 49 were taken to several nearby hospitals for treatment — some in serious condition. There were also children among the fatalities, the city's mayor told reporters. Authorities said that cars were trapped under the rubble. The elevated track was around 5 meters (16 feet) above the ground. [Video clip]

Metro collapses in Mexico. A rescue operation was under way after a Mexico City metro overpass partially collapsed on Monday night. At least 13 people died in the incident and about 70 were injured. [Video clip]

Mexico City metro collapse: 23 dead, dozens injured, rescue crews search through debris. Rescue teams in Mexico City late Monday responded to the collapse of a metro overpass, killing at least 23 and injuring about 70, according to authorities. [Tweet] The scene was chaotic. People posted images and videos on social media, which appeared to show the train cars inverted and resting on the road below. Authorities said cars were trapped. Dozens of rescue workers were at the scene.

Taiwan releases train crash suspect on bond, prosecutors to appeal. Friday's [4/2/2021] crash was Taiwan's worst rail accident in seven decades, when an express train hit the truck that had slid down a bank beside the track from the building site. The site's manager is suspected of having failed to properly engage the brake. The train, with almost 500 people aboard, was travelling from Taipei, the capital, to Taitung on the east coast when it derailed in a tunnel just north of the city of Hualien. Forty people are in hospital, from among the 178 reported injured. Prosecutors had applied to a court to detain the manager on charges of causing death by negligence, a justice ministry official told reporters on Saturday.

Massive Head On Train Crash In Egypt Leaves At Least 32 Dead, Over 100 Injured. Two trains collided on Friday in southern Egypt apparently after someone activated the emergency brakes, killing at least 32 people and leaving 108 injured. The collision caused three passenger cars to flip over and videos on local media from the scene showed wagons with passengers trapped inside and surrounded by debris. Some victims seemed unconscious while others could be seen bleeding. Bystanders carried bodies and laid them out on the ground near the site. [Video clip]

Trash Can Explodes In NYC Subway Sending Cops And Child Running For Cover. An explosion inside a trash can at a Midtown subway station on Monday sent several people — including two cops — scrambling for cover. The mini-blast occurred at the Times Square-42nd Street subway station and was captured on video by a passing straphanger. [...] Nobody was injured by the blast, authorities said. [Video clip]

Video Shows Truck Hit Full Speed by Train Bursting Into Flames. An Amtrak train hit a truck at full speed in Oakland just before 9 a.m. Thursday, dragging it about 100 yards and immediately sparking a huge fire. [Video clip]

'No-show' track inspectors suspended amid MTA IG probe. Seven subway track inspectors have been suspended without pay — amid allegations by the MTA inspector general that they failed to conduct inspections and lied about it on official forms, The [New York] Post has learned. Investigators from IG Carolyn Pokorny's office stationed at platforms along inspection routes said the seven workers "were nowhere to be found" during scheduled walking tours, despite affirming otherwise on official forms, according to the IG's Dec. 28 report, which was obtained by The Post. The seven workers were flagged to the IG by supervisors after news reports of debris falling from elevated tracks. Investigators also caught them using personal cell phones while on the job — in violation of authority rules. The IG's office did not identify any specific track issues as part of their probe, which began in January 2020.

Mother of 2-year-old boy killed by NYC subway says MTA to blame for his death: lawsuit. The mother of a 2-year-old boy killed by a subway train is suing the MTA, alleging the agency has done little over the years to keep riders safe on platforms. Shamari Anderson broke free from his mother, Shayla Sowell, on the northbound No. 2 line platform at Fulton Center in December 2019 and was pinned between an incoming train and the platform edge.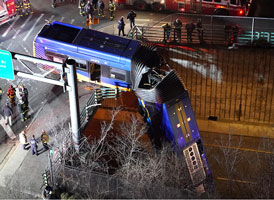 Bus dangles off NYC overpass after crash injures 8. An MTA bus driver lost control of the vehicle and careered off a Bronx overpass in a crash that left at least eight people injured on Thursday night, authorities said. The harrowing incident took place at around 11:10 p.m. as the driver of the Bx35 bus was trying to turn left off University Avenue onto a ramp to the Washington Bridge, according to MTA sources. But the male driver veered off track, causing the bus to crash off the elevated road.
Two injured in DART derailment in downtown Dallas. Two passengers were treated for minor injuries after a DART train derailed Saturday afternoon [12/19/2020] in downtown Dallas. The northbound Orange line train made contact with a southbound Green line train about 1:15 p.m. at the St. Paul Station, according to a DART spokesman.
NYC Vacuum Trains Called "Time Bombs" At Risk Of Sparking "Catastrophic Subway Fires". Trains that have been designed to literally vacuum New York's 665 miles of subway tracks could actually be doing more harm than good. [...] The "VakTraks", as the trains are called, were bought using $23 million worth of taxpayer money in 2017 as part of Governor Cuomo's "Subway Action Plan". And what did this $23 million buy the city? Trains that the MTA are literally referring to as "time bombs" due to safety and reliability concerns. One MTA worker noted that its only a matter of time before they spark a catastrophic subway fire. The French built trains have filters that can easily handle European subway tracks, but that can be "overwhelmed by New York's filth" sometimes.
Subway saboteur caused nearly $1M in damages derailing MTA train. The repair bill for damage caused by Sunday's [9/20/2020] saboteur-inflicted subway train derailment is "approaching $1 million," the MTA said. The tab includes around $100,000 for repairs to the West 14th Street station plus "several hundred thousand dollars" to reconstruct the derailed train, a transit official told The [New York] Post. Demetrius Harvard, 30, was apprehended shortly after the collision and held on $50,000 cash bail for allegedly hurling metal construction debris onto the tracks as an A train approached around 8:20 a.m. The train flew off the rails and sideswiped at least 10 steel beams in the middle of the tracks, which caused a huge chunk of metal on the train itself to peel away.
Saboteur Deliberately Derails NYC Subway Train. So this guy tried to kill everyone on the subway and did a huge amount of destruction. Strange that he was free on the streets — you'd think a lunatic like this would have been arrested for similar prior crimes. Well, of course, he was: He had just been arrested for throwing metal at the window of an MTA bus. He was released without bail, in accordance with Red Bill's "reforms." A husband of one of the victims of this sabotage raged: "It's craziness! This guy was arrested for this kind of thing weeks ago. He should have stayed inside. He is dangerous to society!" No, it's not craziness. It's leftwing governance.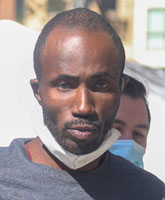 Suspected subway saboteur charged for causing train derailment: cops. The man suspected of causing a Manhattan subway derailment by tossing metal construction debris onto the tracks was hit with a number of charges for the vandalism on Sunday night, police said. Demetrius Harvard, 30, is accused of chucking the material onto the tracks at 14th Street and Eighth Avenue as an uptown A-train was pulling into the station at about 8:20 a.m, authorities said. The suspected subway saboteur was hit with reckless endangerment, criminal mischief, assault and criminal trespass charges in the incident that created delays to the transit system, officials said.




Manhattan subway train derails after 'laughing homeless man throws metal clamps onto the tracks'. Police in New York have arrested a homeless man who placed metal clamps on subway tracks and watched, laughing, as a train derailed, injuring three people. The incident occurred in the West Village, as the uptown A train was entering the 14th St - Eighth Avenue station at 8:17 am. The homeless man had found a pile of tie plates, which are normally used to secure the train tracks to the foundations, on a pile of construction materials at the 14th St. station, police sources told the New York Daily News.

Passenger train smashes into truck stuck on level crossing. Footage has emerged online of a collision between a passenger train and a truck last Thursday, September 3, in the town of Ruhrmond, in the province of Limburg in the south-east of the Netherlands. The video, made by an eyewitness, shows that the truck stopped at the railway crossing across the tracks. The truck driver jumped out of the cab and started waving his arms, trying to signal to the driver. [Video clip]

2 trams collide in Bucharest. [Video clip]

Strange Woman On A Canadian Train. [Video clip]

Witness Captures Video of CTA Red Line Police-Involved Shooting. A man who was shot by a Chicago police officer during a confrontation Friday afternoon at the CTA Grand Red Line station was initially stopped by officers for crossing between train cars, police said. One person was shot by police at the CTA Grand Red Line station. The incident happened just after 4 p.m., sparking a heavy police presence at the CTA station located at State Street and Grand Avenue.

Oblivious man with a cell phone falls on the subway rails. Buenos Aires, Argentina. [Video clip]

Twin Cities light-rail trains shouldn't be rolling homeless shelters. Beginning this week, the 11-mile Green Line light-rail train between downtown St. Paul and Minneapolis will be shut down between 2 a.m. and 4 a.m. on weekdays. Those hours had become peak times for train cars to serve as moving, overnight shelters for the homeless — many of whom were still sleeping as morning commuters came on board. Cutting all-night service was a sensible move by Metro Transit. It allows time for train maintenance without riders on board but also discourages those who would use the trains for sleep because they won't be able to ride uninterrupted through the night. So-called homeless light-rail "sleepers" often take up several seats at a time and test the patience of other riders concerned about safety and cleanliness.

9 hospitalized when subway car derails in Boston. Officials with the Massachusetts Bay Transportation Authority said the accident occurred at about 11 a.m. Saturday [6/8/2019] when a Green Line subway car derailed inside a tunnel near Kenmore Square.

Police: Mystery man pulling emergency brakes on subways. New York City police have been searching for a person who has been intentionally pulling the emergency brakes on subway cars for no legitimate purpose. [...] Police say there have been about 40 similar incidents.

Video shows woman caught in door, dragged onto train tracks in San Francisco. In the surveillance video, the woman can be seen walking down the stairs at the city's Embarcadero station on April 12 when she tries to get on the Muni train as the doors are closing. It appears as though her hand gets stuck in the door as it is closing. She can be seen talking to an employee standing on the platform just feet away, but the train starts moving and she is dragged off the platform and under the train.

NYC subway rider killed after clothing gets caught on train, report says. A New York City subway rider was killed at Grand Central Terminal in Midtown Manhattan on Tuesday after being dragged underneath a train, according to a report. The victim, identified only as being 39 years old, apparently had a piece of clothing caught on the train, law enforcement sources told New York City's WNBC-TV. The victim was later found in the East River tunnel used by the No. 7 train line, which connects Manhattan and Queens. Service on the line was interrupted for several hours, the report said.

Man dragged to death by subway after bag gets caught on train. A man was dragged to his death after a shoulder bag he was carrying got caught in a moving subway train in Midtown on Tuesday night, police sources said. The 39-year-old man from Queens was standing on the eastbound No. 7 train platform at Grand Central Terminal at about 7:20 p.m. when his bag got caught by a train that was pulling out of the station, the sources said. It's not clear if the man's bag was caught on the doors of the train or another part of the subway car.

Horrific crash of double-decker bus in Ottawa leaves 3 dead, 23 injured. Three people have been killed and 23 others injured, some of them critically, when a double-decker bus crashed into a bus shelter at Westboro station in Ottawa in the middle of a Friday evening [1/11/2019] rush hour. The most serious injuries occurred on the top right side of the bus, following its collision with the platform at around 4:00pm Friday. Emergency workers immediately rushed to the scene to rescue passengers who were trapped on the upper level.

Train Almost Runs Through Police Officer Due To 'Mechanical Issue'. Chicago commuter train organization Metra said there was a mechanical issue with the lights above the crossing, according to ABC7. The problem was fixed a few hours after the incident, according to Metra. [...] Dash cam footage shows [Officer Peter] Staglewicz veer away from the speeding train just in time to avoid what could have been a fatal accident. Warning lights above the train crossing failed to illuminate until moments before the train sped by. [...] The near-miss occurred in November but did not gain media attention until Staglewicz posted the video to Facebook.

Multiple people fall onto subway tracks across NYC. Multiple people fell onto various subway tracks across New York City on Thursday [11/1/2018], according to MTA officials. The first incident was reported in Manhattan at the 96th Street station at around 2:47 p.m., officials said. Video captured by another straphanger showed firefighters and EMTs tending to the person who fell.

Passenger's fight with bus driver sparks fatal crash. An irate passenger who missed her bus stop triggered a catastrophe in China when she attacked the driver — who lost control of the vehicle, which plunged into the Yangtze River, killing everyone on board. [...] Bus surveillance video obtained by Chongqing police, as well as other evidence, shows that a 48-year-old female passenger, identified only by her last name, Liu, missed her stop and asked the driver to stop immediately, the outlet reported. When the 43-year-old driver, also identified by his last name, Ran, refused, Liu hit him over the head with her cellphone. The video shows the pair swinging at each other, with the driver still attempting to steer the bus in between blows. [10/28/2018]

Man crushed, killed while trying to catch MARTA bus in Brookhaven. A man trying to catch a MARTA bus in Brookhaven was killed early Thursday [10/25/2018] when he became caught underneath the bus, Channel 2 Action News reported. The man, who has not been identified, ran through traffic to hail the MARTA bus after it left a bus stop on Buford Highway at North Cliff Valley Way. Officials with the Georgia State Patrol told Channel 2 he banged on the side of the bus to get the driver's attention.

MTA conductor closed doors on kid, dragged him 40 feet: suit. An MTA conductor is to blame for a mishap in Brooklyn that left a 9-year-old boy with two broken legs, his mom says in a newly filed lawsuit. Melissa Capers says her son and was boarding a Manhattan-bound "L" train at the Atlantic Avenue Station on Dec. 10, 2017, when the conductor closed the door on the child, trapping half his body as it dragged him about 40 feet, according to papers filed Wednesday [10/24/2018] in Brooklyn Supreme Court. Capers' attorney, Daniel Leav, said the boy, who was with his mom's boyfriend, suffered two bilateral fractures to both femurs, and had to undergo extensive surgery to correct the damage.

Taiwan train derails, killing 18 and injuring 160. Eighteen people were killed and at least 160 others injured on Sunday [10/21/2018] when one of Taiwan's newer, faster trains derailed on a curve along a popular weekend route, officials said.

Taiwan train derails, killing 22 and injuring 171. At least 22 people were killed and 171 others injured on Sunday [10/20/2018] when one of Taiwan's newer, faster trains derailed on a curve along a popular weekend route, officials said. [...] The Puyuma was launched in 2013 to handle the very difficult topography of Taiwan's east coast and is distinct from the high-speed rail that runs on the west coast. The Puyuma trains travel up to 150 kilometers (93 miles) per hour, faster than any other in Taiwan except for the high-speed rail.

26 Hurt After CTA Bus Crashes Into Pole on Chicago's South Side. At least 26 people were hurt — none seriously — after a CTA bus crashed into a pole just before rush hour Wednesday [10/17/2018] in the Grand Crossing neighborhood in the Far South Side.

Good Samaritans rescue pregnant woman from subway tracks. A pregnant woman was rescued by fellow commuters after she tumbled onto subway tracks Friday morning [10/12/2018] in Midtown, witnesses said. The woman was standing on the center platform of the A/C/E line at 34th Street-Penn Station when she fainted and fell onto the track bed on the downtown side about 8 a.m., officials said.

Subway elevator from hell traps commuters at worst time ever. Seventeen Brooklyn straphangers were trapped in a stifling subway-station elevator for nearly an hour during the Monday morning [10/1/2018] rush, thanks to the do-nothing MTA, one of the riders told The [New York] Post. Talia Kovacs said she was among those crammed in the hot lift at the Clark Street station when it lurched to a halt around 10 a.m. "People were feeling upset but powerless — which is the story of New Yorkers and the subway," Kovacs said.

Routine San Francisco Train Warning! Don't Sit on the Syringes! In San Francisco, plastic straws, employee free lunches, and ICE are all going to be banned, but not syringes. Those you can probably get for free. Syringes are readily available on the trains and they are a safety hazard. "Please look around you for needles before you sit down. There's at least one needle in car 1551 and there may be others. Thank you," a conductor said Thursday, according to Buzzfeed technology reporter Caroline O'Donovan. She said the warning was made over the loudspeaker at every stop. "Once again, please make sure there are no needles in or around your seat before you sit down," the Bay Area Rapid Transit conductor said, according to O'Donovan's Twitter account.

San Francisco train conductor reportedly warns riders to watch 'for needles' amid 'needle litter' epidemic. Watch where you sit on San Francisco Bay Area trains — it could be painful. Conductors there reportedly have taken to the trains' PA systems to warn riders about hypodermic needles being left on seats by transient drug users as San Francisco fights an uphill battle to clean up thousands of syringes discarded each month all over the city.

2 dead after California train, car crash that was caught on camera. Two people were killed after a train and a car collided in California on Sunday in a dramatic crash captured by the cameras of a nearby brewery. The Santa Clara Valley Transportation Authority train struck a car carrying two people in it in San Jose around 12:34 p.m., transit officials told KTVU. In security video from a nearby brewery, customers can be seen sitting outside when the train strikes the car, dragging it along as the train runs off the tracks.

3 people killed, 22 injured after multi-vehicle crash involving tour bus in New Mexico. Three people were killed and 22 others injured in a multi-vehicle crash involving a tour bus on Interstate 25 in New Mexico on Sunday [7/15/2018], a local fire chief confirmed. The Rio Rancho Fire Department said the crash, which involved a charter bus, a semi-truck and other vehicles, occurred around 2:25 a.m. on Sunday [7/15/2018], just north of Bernalillo, about 18 miles north of Albuquerque.

Woman, baby survive fall onto NYC subway tracks. A 30-year-old woman and her 2-month-old son barely survived after falling onto the subway tracks moments before a New York City train entered the station on Wednesday morning [6/27/2018]. Miraculously, the woman and her son fell into the gulley between the tracks and were small enough to avoid contact with the train altogether, according to nearby MTA workers who witnessed the incident. The woman, who has not been identified, told authorities that she and her child tripped and accidentally fell onto the tracks. However, one conductor and several witnesses say that it appeared she purposely leaped onto the tracks, ABC 7 NY reported.

At least 31 people injured after two buses collide in New York City. At least 31 people were injured Friday [5/18/2018] after two buses collided near the entrance of the Lincoln Tunnel in Manhattan, the New York City Fire Department confirmed to Fox News. The two New Jersey Transit buses struck each other at the Manhattan-side entrance of the tunnel, according to FOX 5 New York.

Pit bull bites down on NYC subway rider's foot after alleged fight over seat. A pit bull brought aboard a New York City subway train last week bit down on the shoe of a woman who had gotten into an argument with the dog's owner, prompting a carload of passengers to rush to her aid, a video shows. The video shows the animal tearing into the shoe and refusing to let go. A couple of passengers try to yank the woman's leg from the dog's jaw, while others scream at the animal's owner.

New high-speed Florida train kills 4th person since launching service. A man in Florida was hit and killed by a high-speed train on Sunday — the fourth person to die since the train's service began earlier this year, investigators said. "At 12:47 p.m. a northbound Brightline train struck a pedestrian approximately 100 feet south of the Southeast 4th Street crossing. The male was pronounced deceased at the scene," the Delray Police Department tweeted, adding that they were seeking witnesses.

Over 40 hurt after student charter bus crashes into N.Y. overpass. Authorities are investigating an accident Monday that injured more than 40 people, involving a charter bus carrying New York City high school students that crashed into a bridge overpass.

Amtrak train breaks apart at 125 mph. Tragedy-prone Amtrak suffered another terrifying setback Tuesday — when a high-speed Acela train broke apart as it raced north toward Penn Station at 125 mph, sources said. In the third wreck in just one week — and the fourth in two months — several cars of an Acela Express heading from Washington, DC, to the Big Apple decoupled at about 6:30 a.m. and were left held together only by their air hoses. Sparks flew from dragging cables and the train jerked wildly, but none of the 52 terrified passengers aboard were injured, according to reports.

The Editor says...
To me, the most recent Amtrak incidents sound like acts of sabotage. When have you ever heard of a passenger train coming apart while underway, or a switch being thrown and locked to divert a passenger train onto the wrong track?

The major issue plaguing accident-prone Amtrak. Four mishaps in four months, three fatal, would be evidence that America's national railroad is failing — except that America doesn't have a national railroad. Amtrak runs its trains across a motley collection of fragmented tracks owned by freight railroads and commuter railroads. That means it has no consistent control over keeping people safe when it comes to crossings and speed, the biggest causes of crashes. The first crash killed three Amtrak passengers right before Christmas in Washington state. There, the regional commuter railroad, Sound Transit, had built new tracks that allowed for higher speeds — but opened up the tracks before it finished installing technology that automatically governs speed when a human operator has failed to do so. In that case, the Amtrak train was going nearly three times the legal speed limit when it derailed on an overpass, falling to a highway below.

NTSB continues to investigate deadly CSX-Amtrak collision. The National Transportation Safety Board is leading an investigation on an Amtrak-CSX train collision that killed two and injured more than 100 passengers in Cayce, SC early Sunday morning. NTSB chief Robert Sumwalt said during a 4 p.m. press conference the crash site says the Amtrak train was traveling on CSX tracks owned by CSX. The lines, as shown by a hand-written diagram, were in a "lined and locked" position, meaning that instead of continuing their track south, the Amtrak train traveled to another track, where it collided with a parked CSX train.

Amtrak train appears to have been on the wrong track in crash that killed 2 and injured 116, governor says. A Miami-bound Amtrak train appeared to be on the wrong track when it collided with a freight train in South Carolina early Sunday [2/4/2018], killing two people and injuring 116, according to authorities. Robert Sumwalt, chairman of the National Transportation Safety Board, said at a news conference Sunday afternoon that the track the Amtrak train was on had been manually switched and "lined and locked." It caused it to divert from the main line and onto a side track, where the freight train was parked.

The Editor says...
Who switched the train onto the wrong track? Was it a railroad employee or an Islamic terrorist? In either case, you'll have a hard time finding the answer in the newspapers.

No way to run a railroad: Three fatal AMTRAK crashes in 49 days. If America is going to have a passenger rail system, we have to do much better than this. [...] It would appear that something is seriously wrong with the way passenger rail is operating in the United States under the federal corporation AMTRAK. This crash is the third fatal AMTRAK crash since the AMTRAK Cascades train derailed in Washington State at the cost of 3 lives and 62 passenger injuries only 49 days ago.

52 dead after bus catches fire in Kazakhstan. A bus carrying 57 people in Kazakhstan caught fire Thursday, killing all but five passengers, according to emergency officials. The country's Emergencies Ministry said the fire occured in the northern Aktobe region, leaving 52 dead.

Prosecutors can try to reinstate charges in '15 Amtrak wreck. The fight to reinstate criminal charges against the engineer in a deadly 2015 Amtrak derailment in Philadelphia will carry over into next year.

Amtrak Train Derails Over Interstate; At Least 6 Dead, 77 Injured. An Amtrak train derailed over an intestate crossing south of Tacoma, Washington on Monday morning [12/18/2017], killing at least six people and injuring at least 77. "State transportation officials say the train derailed near Mounts Road, about 40 miles south of Seattle, at about 8 a.m. Monday," Komono News reports. "Amtrak officials said the train was the No. 501, which operates between Seattle and Portland. The train had just begun using a new high-speed route Monday morning [12/18/2017]."

NTSB: Derailed Train Took Curve At Nearly Three Times the Speed Limit. The recovery of a data recorder may have identified the cause of a fatal derailment of an Amtrak train in Washington state yesterday. NTSB board member Bella Dinh-Zarr tells CBS News that the device reveals that the train took a curve at almost three times faster than its speed limit. [...] According to ABC News, a system that is supposed to slow trains traveling too fast had been installed but not activated — and the NTSB does not yet know why.

Excessive Speed May Have Caused Amtrak Train Derailment. U.S. federal investigators say a train that derailed Monday in the northwestern U.S. state of Washington was traveling at 129 kilometers per hour on a stretch of track where the speed limit was 48 kilometers per hour. The train went off the tracks on a curve south of Seattle, sending some of its cars onto a busy interstate highway below and killing at least three passengers.

Amtrak train was traveling at 80 mph in 30 mph zone, NTSB says. An Amtrak train that derailed Monday during its inaugural ride on a new line in Washington state was traveling at 80 mph in a 30 mph zone, the National Transportation Safety Board said, citing data recorder information. Bella Dinh-Zarr, an NTSB board member, said at a news conference late Monday that information from the data recorder in the rear locomotive provided information about the train's speed. At least three people were killed in the derailment, and more than 70 others were taken to a hospital for medical treatment, police said.

Object on tracks may be cause of deadly Amtrak derailment. Monday's [12/18/2017] deadly Amtrak train derailment appears to have been caused by an object on the railway, according to a government official briefed on the crash. A preliminary investigation suggests maintenance problems are unlikely to blame because the incident took place on brand-new tracks, the official told The Associated Press on condition of anonymity.

Possibly related:
FBI Warns of Train Derailment Threat. Devices that could be used by terrorists to derail trains are being stolen from rail facilities around the country, the FBI warned today. Nine derailers, a piece of railroad equipment used to derail train cars for safety purposes in railyards have been stolen recently, sources said, citing the FBI's weekly intelligence bulletin.

Anarchists Bragged in April about Sabotaging Railroad Tracks to Block Fracking. ISIS shouldn't be the only terrorist group under suspicion for the Amtrak derailment in Washington this morning. [...] The anarchist group "It's Going Down" last April bragged online about sabotaging railroad tracks in the Pacific Northwest to block fracking equipment from getting to its destination. The group has since deleted the post, possibly in reaction to today's Amtrak disaster.

Mayor Of City Near High-Speed Train Wreck Warned Of Deadly Accident To Come. Some things in life one simply never want to be proved right about. Surely, the mayor of a city near today's deadly Amtrak train wreck saw his dire prediction come true. Before Amtrak's inaugural run of Route 501 and subsequent wreck south of Seattle on Monday morning, many warned of the dangers to come by allowing old-but-updated Sound Transit tracks to be used for high-speed Amtrak trains. Among them was the City of Lakewood, Wa.'s mayor, Don Anderson. Seattle's ABC affiliate reported two weeks ago Anderson was very concerned about the rate of speed Amtrak trains would be allowed to travel at.

Sacramento Regional Transit Systems Hit By Hacker. Sacramento Regional Transit is the one being taken for a ride on this night, by a computer hacker. That hacker forced RT to halt its operating systems that take credit card payments, and assigns buses and trains to their routes. The local transit agency alerted federal agents following an attack on their computers that riders may not have noticed Monday [11/20/2017]. "We actually had the hackers get into our system, and systematically start erasing programs and data," Deputy General Manager Mark Lonergan.

How Politics and Bad Decisions Starved New York's Subways. After a drumbeat of transit disasters this year, it became impossible to ignore the failures of the New York City subway system. A rush-hour Q train careened off the rails in southern Brooklyn. A track fire on the A line in Upper Manhattan sent nine riders to the hospital. A crowded F train stalled in a downtown tunnel, leaving hundreds in the dark without air-conditioning for nearly an hour. As the heat of packed-together bodies fogged the windows, passengers beat on the walls and clawed at the doors in a scene from a real-life horror story. In June, after another derailment injured 34 people, Gov. Andrew M. Cuomo declared that the system was in a "state of emergency." But the problems plaguing the subway did not suddenly sweep over the city like a tornado or a flood. They were years in the making, and they might have been avoided if decision makers had put the interests of train riders and daily operations ahead of flashy projects and financial gimmicks.

Muslim woman dies after hijab tangled in Montreal escalator. A woman in her 30s is dead after her headscarf and hair became caught in a subway-station escalator. A bystander found the woman lying at the base of the escalator at Fabre metro station in east-end Montreal around 9:15 a.m.

Community mourns 'beloved' teacher killed in Rogers Park crossfire. Cynthia Trevillion, 64, was caught in the crossfire while walking about 6:30 p.m. in the 6900 block of North Glenwood, when someone in a dark-colored SUV opened fire on two juveniles standing on the street near the Morse Red Line CTA station, authorities said. Trevillion was struck in the neck and head, and she died after being taken to Saint Francis Hospital in Evanston, according to the Cook County medical examiner's office.

"Next 9/11" Terrorist Plot Foiled. As the Toronto Star reported, [Tala] Haroon said the subway trains made a "perfect target" and they should shoot as many passengers as possible, including women and children. "NY Needs to fall. It's a must," Haroon wrote to the undercover agent. The Star also noted that Salic told the others, "it would be a great pleasure if we can slaughter" people in New York City.

3 Dead, More Injured In N.Y. Bus Collision. Developing news out of Queens, New York where an MTA bus collided with a private tour bus. Officials said the driver of the private tour bus, a passenger, and a pedestrian were killed in the collision. Over a dozen people are reportedly injured.

Al Qaeda Publishes Blueprint for Attacks on Key U.S. Transportation Systems. The al Qaeda terror group's chief bomb maker has published a blueprint for new attacks on U.S. transportation systems, including planes, trains, and boats, which the terror group views as "prime targets," according to a copy of a lengthy manifesto that provides a guide for would-be terrorists to launch attacks. Ibrahim al-Asiri, a top al Qaeda leader known as the terror group's chief bomb maker, detailed the extremist organization's plans to target U.S. passenger and shipping transportation services, which the terror organization views as weak links ripe for attack. While al Qaeda's operations have been weakened by years of U.S. attacks on its key locations and apparatus, it has increasingly relied on promulgating its radical ideology to so-called "lone wolfs" who are not officially affiliated with the group but who are capable of carrying out terror attacks without detection by American authorities.

Al Qaeda has drawn a bullseye on a new American target: Subway trains. Al Qaeda is about to take on a new target — America's trains — in an upcoming edition of its terror magazine, Inspire. Issue No. 17 is headlined, "Train Derail Operations," and will spell out ways to create rail disasters in a transportation system that lacks the stiff security procedures of airline travel. It's competing Sunni extremists group, the Islamic State, for more than a year has advocated using vehicles to mow down innocents. Its murderous followers have weaponized vehicles in Nice, Berlin and London, creating hundred of deaths and injuries. Adding trains to the terrorist's priority list would put at risk virtually every mode of transportation and placed added pressure on the U.S. Department of Homeland Security.

Woman fatally struck by MTA bus in Brooklyn. Police say [an] unidentified woman was hit by an MTA bus as she was trying to cross Nostrand Avenue just before 3 p.m. Saturday [7/8/2017].

Subway Derails in Manhattan, Causing Power Outage and Chaos; Dozens Hurt. A subway derailment and power outage near the 125th Street station in Harlem suspended service on multiple train lines Tuesday, stranding terrified riders in darkened, smoke-filled cars for two hours in some cases. At least 34 people had injuries including smoke inhalation, though all were expected to be OK, fire officials said. About half of the victims were taken to hospitals while others were assessed at the scene.

Two killed by Amtrak train in Washington, D.C.. Two people were struck and killed by an Amtrak train near Union Station in Washington, D.C., the city's fire department reported. Amtrak Train 175 was approaching the train station late Tuesday as it traveled from Boston and New York. It struck two unidentified people at 11:20 p.m. who appeared to be trespassing on the track, Amtrak spokesman Marc Magliari said.

Man set himself on fire in NJ train station. The man was on a Hackensack train platform in the early hours of Wednesday morning [6/7/2017] when he set himself on fire.

CTA worker awarded $2.5 million in train crash caused by cop chasing cyclist. The city of Chicago must pay almost $2.5 million to a CTA train operator who was injured after a police car chasing a bicyclist crashed into a Brown Line train, a jury found. A Cook County jury last week found in favor of CTA worker Jeffery Bryant, who suffered a serious spinal injury after the August 10, 2012, crash in the Albany Park neighborhood, Bryant's attorneys said Tuesday [6/6/2017]. Chicago police Officer Charlotte Gonzalez crashed into a CTA train seconds after she drove past activated safety gates, lights and bells and onto the railroad tracks near the Kedzie Brown Line station, according to a statement from the law firm of Aleksy Belcher.

Bus out of NYC overturns on NJ Turnpike. Authorities say a tour bus has overturned in New Jersey, leaving about 30 passengers with minor injuries. The bus collided with a tractor trailer around 12:30 a.m. Friday [5/26/2017] in the southbound lanes of the New Jersey Turnpike in West Deptford.

Light rail train slams into fire truck in Jersey City. A train on the Hudson-Bergen Light Rail line collided with a fire truck in Jersey City Friday evening, officials said. The fire truck, with its lights and sirens on, was responding to an emergency call at the Newport Centre Mall when it crossed the tracks near 6th Street and Mall Drive just before 7 p.m. The train broadsided the truck, pushing it about 30 feet down the tracks, Chief of Department Steven McGill. The collision was quite violent, he said, and derailed the front car of the train.

NYC teen killed by oncoming subway after retrieving phone on tracks. A teenage girl standing on a subway platform in Queens dropped her cellphone onto the tracks and was fatally struck by a train after she jumped down to retrieve it, cops said. Dina Kadribasic, 13, died Sunday afternoon [4/2/2017] after being hit by a southbound R train at the 63rd Drive-Rego Park station on 63 Drive and Queens Boulevard, according to police. She had been trying to get back onto the platform from the track bed — where she had just collected her phone — when the train struck her around 2 p.m.

Pickup truck slams into a passenger bus in NY. Passengers were sitting inside a public bus in Syracuse, New York when a pickup truck came crashing into the bus. [Video clip]

LIRR Train Derails in Brooklyn; 103 People Hurt. The train derailed [1/4/2017] at the busy Atlantic Terminal at rush hour; all of the injuries were considered minor.

Brooklyn commuter train derails leaving dozens injured. A commuter train travelling at rush hour has derailed in Brooklyn injuring around 103 people. The Long Island Rail Road (LIRR) came off the tracks at Brooklyn's Atlantic Terminal after it jumped the tracks. Paramedics rushed to treat the injured after the locomotive derailed around 8.20am on Wednesday morning [1/4/2017] at the height of rush hour.

Metro fires six employees after derailment probe reveals inspectors falsified records. Metro fired six workers after determining that nearly half of the agency's 60-person track-inspection department created a pattern of fabrication and negligence that led to the derailment of a Silver Line train in July, the transit agency said Thursday [12/15/2016]. The fired employees falsified track-inspection records for as long as three years, officials said. A criminal investigation ended without charges, but the findings of Metro's internal review have been sent to prosecutors to decide whether to pursue other legal action. Six more terminations or suspensions are pending and a total of 28 workers received disciplinary action, Metro said.

Police say subway 'surfer' falls to [his] death in NYC. Police say the unidentified man was holding onto one of the doors of a subway car when he lost his grip and fell.

Engineer sues Metro-North over crash. A Metro-North train flew off the tracks in the Bronx on December 1, 2013. It was on its way from Poughkeepsie to Grand Central Terminal. The engineer who says he now struggles with PTSD among other things is suing Metro-North for $10 million saying the company could have prevented the crash. Engineer William Rockefeller fell asleep at the controls. He had undiagnosed sleep apnea. He filed the lawsuit in Manhattan federal court exactly three years to the day of the crash. The train barreled toward a curve at 82 mph — almost triple the speed limit. The crash killed four passengers and injured at least 60 more.

Owner of tour bus in deadly crash had faced previous negligence lawsuits. The owner and operator of the tour bus involved in the Desert Hot Springs crash that left 13 people dead had been previously sued at least twice for negligence after collisions with vehicles, one of which ended in three deaths.

Thirteen people dead and 31 injured in horror crash after tour bus collides with semi-truck on California freeway. Authorities have said that they may never know why a tour bus collided with a truck on a major highway in southern California because the driver was among 13 people killed in the crash. Officials have not released the identities of any of the crash victims but neighbors identified the bus driver as Elias Vides, 59, who also owns the tour company. The bus was traveling west on Interstate 10 when it plowed into the back of a large truck early on Sunday [10/23/2016]. The freeway was closed for hours before it finally reopened at around 7pm on Sunday.

Concerns over train safety rise amidst recent rail accidents. With millions of people using train systems on a daily basis, there have been increasing concerns about train safety especially after a recent series of rail accidents in the tristate area. In 2013, a Metro-North passenger train derailed in the Bronx and killed 4 people. In 2015, an Amtrak crash in Philly killed 8 while in September, an NJ transit crash in Hoboken killed 1. For many commuters, traveling within the northeast, their trust in rail safety has been at an all-time low.

Dozens of passengers injured after New York City commuter train derails. Several passengers on New York's Long Island Railroad were injured Saturday night [10/8/2016] after an eastbound train derailed when it struck a work train. LIRR spokesman Sal Arena told the Associated Press that the first three cars of the 12-car train went off the tracks east of New Hyde Park, N.Y. shortly after 9 p.m. local time. He says the work train caught fire after the crash. New York Gov. Andrew Cuomo tweeted early Sunday that 29 passengers were treated for injuries, with 11 transported to hospitals.

Train crash in New Jersey station turns deadly. One woman was killed and 108 people were injured when a crowded New Jersey Transit train crashed into the Hoboken terminal Thursday during morning rush hour, sending debris crashing down, officials said. Disaster struck at around 8:45 a.m. when a speeding commuter train No. 1614 on Track 5 on the Pascack Valley Line collided with the platform and slammed into structural beams, causing the roof of the terminal to collapse, officials said.

NTSB says Hoboken train crash captured on camera. [Numerous technical details of the Hoboken crash.]

One dead and more than 100 people injured after New Jersey commuter train crashes into the station. The engineer of a train that crashed at a 'high rate of speed' into the Hoboken, New Jersey train station during Thursday morning rush hour, killing one person and injuring 112 people, is cooperating with police at the hospital where he is in critical condition. The crash happened after 8:30 am, and involved the No. 1614 Pascack Valley line train. The train left Spring Valley, New York at 7:23 am and was scheduled to arrive in Hoboken at 8:38 am. Passengers said the train never slowed down as it approached the station, crashing at a 'high-rate of speed' into the terminal which tens of thousands of people use to travel into New York City every day.

At least 100 hurt in New Jersey Transit train accident at Hoboken terminal. At least one person was killed and more than 100 hurt when a commuter train carrying 250 passengers barreled into a New Jersey rail station during the Thursday morning [9/29/2016] rush hour, causing serious damage to both the train and station.

Nightmare Commute After Two Buses Headed for NYC Collide in Lincoln Tunnel, Injuring 44. An accident involving two NJ Transit buses shut down the Lincoln Tunnel's center tube into New York City Monday morning, causing delays of nearly two hours and injuring dozens. Some 44 people were hurt, though the injuries were not considered life-threatening. Port Authority spokesman Joe Pentangelo said the most serious injury was a broken jaw.

More than 40 reported hurt after 2 buses bound for NYC crash in Lincoln Tunnel. As many as 44 people were hurt after two New Jersey Transit buses headed to New York City's Port Authority Bus Terminal crashed in the Lincoln Tunnel. The crash unfolded around 8:50 a.m. in the tunnel's center tube, Port Authority Police spokesman Joe Pentangelo said. Crews had to cut open the door of one bus. Pentangelo said most of the injuries weren't considered life-threatening and the most serious was a broken jaw.

NJ Transit Bus Demolished in Horrific T-Bone Crash; 1 Dead, 18 Hurt. The driver of the number 59 bus from Dunellen to Newark broadsided the number 13 bus from Irvington to Clifton while heading west on Raymond Boulevard shortly after 6 a.m. The driver of the 59 bus, who was the only person on board, died. Seventeen passengers were on the other bus; all of them and the driver were taken to hospitals in varying conditions.

1 Killed, 7 Critically Hurt After NJ TRANSIT Buses Collide In Newark. Investigators are trying to determine if a NJ TRANSIT bus ran a red light and broadsided another NJ TRANSIT bus, killing a driver and injuring 18 people.

15 injured in Lincoln Tunnel bus crash. A New Jersey Transit bus rear-ended another New Jersey Transit bus inside the Lincoln Tunnel heading to New York, leading to delays, Monday morning [7/18/2016]. One bus driver and 14 passengers were injured, said Port Authority of New York and New Jersey spokesman Steve Coleman.

'Mass Hysteria' Causes Stampede at NYC Subway Station: NYPD. Dozens of commuters ran out of a crowded Manhattan subway station Tuesday morning after one straphanger thought someone claimed to have a gun, according to the NYPD. Straphangers stampeded out of the Central Park North - 110th Street subway station in Harlem at about 9 a.m. in what police are calling mass hysteria.

Two construction workers dead and 30 passengers injured after Amtrak train crashes into a crane near Philadelphia. Two construction workers have died after an Amtrak train collided with a backhoe on the tracks near Philadelphia. The front carriage of the train from New York to Savannah, Georgia, derailed after crashing into the crane early this morning [4/3/2016]. The Palmetto train 89 was packed with nearly 350 passengers and crew at the time of the fatal smash and up to 35 people have been injured.

At least 32 reported injured after Amtrak train derails in Kansas. An engineer noticed a significant bend in a rail ahead and hit the emergency brakes before a passenger train derailed in western Kansas, a government official told the Associated Press. Amtrak said 32 people were taken to hospitals for treatment and that 29 had been released by late morning [3/14/2016]. The U.S. official who was briefed on the investigation into the early Monday derailment of the Amtrak train said the train appeared to have been traveling at about 75 miles [per hour] when the engineer pulled the emergency break [sic].

Police Say 19 Hurt in San Francisco Bus Crash. Witnesses describe a chaotic scene after a sightseeing bus smashed into cars and construction scaffolding in the heart of San Francisco's Union Square, leaving 20 people hurt — six of them critically [11/13/2015].

More than 300 injured in passenger train crash in South Africa. A commuter train crashed into another passenger train during rush hour Friday in South Africa's largest city injuring more than 300 people, an emergency services spokeswoman said.

Woman raped, beaten at Port Authority Bus Terminal, cops say. Police on Saturday [7/11/2015] were searching for a man who they said raped and beat a 21-year-old woman at the Port Authority Bus Terminal parking garage in Midtown Manhattan. The woman was left with cuts to her face and body in the attack early Friday, reported around 1 a.m. at the 8th Avenue garage, the New York City Police Department said. Police described the attacker as a black man, 30 years old, with brown eyes, short braided hair, a mustache, about 5-foot-9 and weighing 190 pounds.

Woman killed, 8 others injured in downtown Chicago bus crash. A woman was killed and eight others were injured Tuesday [6/2/2015] when a Chicago bus jumped the curb onto a crowded sidewalk during rush hour.

DC Metro riders continue to look out for each other. Over the weekend I posted on the murder on the Red Line of the DC Metro on July 4. Long story short, a young man was stabbed about 40 times and beaten by a single assailant while 10 or so adult passengers looked on and did nothing. It received at least one interesting response from a self-avowed coward who asserted that you had to be Chuck Norris in order to intervene in an attack (in this case, the attacker was smaller than the average 14-year-old boy.[)] This particular commenter's view was that the best thing to do is to let the other guy get killed and hope and pray you aren't next [...]

D.C Metro Murder Undermines Liberal Talking Points. The brutal killing of Kevin Sutherland in the Washington, D.C., subway on July 4, does much to undermine popular leftist tropes, in this case, race, crime, guns and drugs, just as the murder of Kathryn Steinle in San Francisco challenges liberal immigration policies. [...] Sutherland's killer, 18 year old Jasper Spires, shares many characteristics with more famous and lionized Trayvon Martin and Michael Brown, except that while the latter two were shot to death by armed men in the midst of physical assaults, Spires took full advantage of his unarmed victim (and other passengers) to complete his crime and survive, and is now in custody. The mainstream media and leftist politicians have mostly downplayed the incident, since Spires cannot be caricatured as a victim of white racism. Indeed, the problem for the media is that in almost every respect, this encounter shows the utter inanity and hypocrisy of many of their favored talking points and positions.

Witnesses to fatal stabbing on D.C. Metro train didn't intervene. Kevin Sutherland died in the first-ever homicide aboard a Metro train in the subway system's nearly 40-year history, stabbed to death after resisting a robbery attempt. The attack stunned passengers who watched it unfold. In the days since, it has sparked a furious debate: Should Sutherland's fellow passengers have done anything to stop it? Could they have done anything even if they wanted?

The Horrifying Details Of The Independence Day Train Stabbing In DC. Two men among many got on a train heading for festivities in downtown D.C. on the Fourth of July, but only one of them got off alive. A police affidavit released Tuesday [7/7/2015] shows the gruesome details of a robbery attempt gone wrong.

Horrified passengers witnessed brutal July 4 slaying aboard Metro car. Police and a witness interviewed said passengers trapped in the moving train huddled at both ends of the car and watched in horror as [Jasper] Spires punched 24-year-old Kevin Joseph Sutherland until he fell to the floor, then stabbed him until he was dead. Court documents say the victim was cut or stabbed 30 or 40 times, in the chest, abdomen, back, side and arms. Police said the assailant then threw the victim's cellphone and returned to stomp on Sutherland's body.

It took them a month to come up with this information?
NTSB: Engineer not on phone when Amtrak 188 derailed. Federal investigators have determined that Amtrak engineer Brandon Bostian apparently was not using his cellphone when his eight-car train derailed May 12 in Philadelphia, the National Transportation Safety Board said Wednesday [6/10/2015]. "Analysis of the phone records does not indicate that any calls, texts, or data usage occurred during the time the engineer was operating the train," the NTSB said in preliminary report.

It took them a month to come up with this information?
NTSB: Engineer not on phone when Amtrak 188 derailed. Federal investigators have determined that Amtrak engineer Brandon Bostian apparently was not using his cellphone when his eight-car train derailed May 12 in Philadelphia, the National Transportation Safety Board said Wednesday [6/10/2015]. "Analysis of the phone records does not indicate that any calls, texts, or data usage occurred during the time the engineer was operating the train," the NTSB said in preliminary report.

Amtrak Mystery: Crash probe finds no mechanical trouble, official cites 'human factor'. The Amtrak engineer, Brandon Bostian, suffered a head injury in the accident and has told investigators he can't remember what happened. The train was equipped with a "black box" data recorder and an outward-facing camera focused on the track ahead, but neither of those devices reveals what was happening inside the cab. The NTSB report said forensic experts are now examining the phone records for the engineer, apparently to check if he was texting or making calls right before the crash.

Amtrak's Missing Technology. An "absolute, disastrous mess" is how Philadelphia Mayor Michael Nutter described Tuesday's Amtrak derailment, in which eight passengers were killed and more than 200 injured. And though it will be some time before its causes and consequences are fully assessed, one point is already clear, and one question already imperative: Technology exists to prevent speeding trains. Why wasn't Amtrak using it?

Amtrak speed control system installed but wasn't turned on. Amtrak had installed the "Positive Train Control" system on the track where a speeding train fatally crashed Tuesday [5/12/2015], but the system was not switched on. The system could have automatically slowed the Amtrak 188, but instead it jumped the rails, killing 8 people and injuring more than 200.

Liberal Media's Latest Lie: Lack of Infrastructure Spending Caused Amtrak Crash. In 2009, didn't Barack Obama market his unprecedented $787 billion "Stimulus" program under the banner of repairing America's failing infrastructure? Why, yes, yes he did. [...] Fast forward to this week's tragic Amtrak accident. Cue legacy media jumping to the "You low-life taxpayers aren't spending enough money on infrastructure!" argument.

'Reckless' Amtrak engineer, 32, who was driving doomed train at 106mph claims he has no memory of crash. It has been reported the 32-year-old, who has been an engineer with Amtrak since 2009, has been interviewed by police, had a blood sample taken and has handed in his cell phone to the authorities.

Investigators: Train that derailed was going around 106 mph when emergency brakes applied. An Amtrak train carrying 243 people derailed in Philadelphia Tuesday night [5/12/2015], claiming the lives of at least seven passengers. Train 188 was traveling from Washington D.C. to New York City when it derailed in the Port Richmond section of Philadelphia around 9:21 p.m. on the 2000 block of Wheatsheaf Lane.

Amtrak Has a Trust Problem in Congress. "The problem is you give Amtrak the money and they blow the improvements or squander it," said Republican Rep. John Mica on Wednesday [5/13/2015]. "Congress does not trust Amtrak. They've given them the money before." Democrats, for their part, have for years complained that Amtrak is underfunded.

Trump, liberal MSM blames Republicans for Amtrak crash. Some hardcore liberal ghouls came out of the woodwork shortly after the overnight crash of an Amtrak train near Philadelphia, saying Republicans are to blame for failing to fund infrastructure spending and increasing the federal train agency's budget.

Engineer in control of doomed Amtrak train refused to speak with investigators and has 'no explanation' for crash. The engineer in control of the speeding Amtrak train that derailed in Philadelphia is a Queens man who's refusing to talk to investigators about the deadly Tuesday night crash.

Amtrak Train That Derailed Was Going 106 M.P.H., Officials Say; 7 Killed. The Amtrak train that derailed in Philadelphia on Tuesday night, killing at least seven, was barreling into a sharp turn at 106 miles an hour — more than twice the speed limit on that stretch — when the engineer slammed on the emergency brakes, seconds before the train jumped the tracks, according to the National Transportation Safety Board. The maximum allowed speed was 50 m.p.h. on that curve, in the Port Richmond section of the city, but data downloaded from the "black box" recorder showed that just before it crashed, the train was speeding at 106 m.p.h., Robert Sumwalt, the National Transportation Safety Board member leading the investigation, said at a news conference late Wednesday [5/13/2015].

Six dead and 65 injured as train carrying 243 derails and rips apart in Philadelphia. An Amtrak train crashed in Philadelphia on Tuesday night [5/12/2015] prompting a mass casualty incident that claimed the lives of six people. Train 188 was traveling from Washington D.C. to New York City when it crashed around 9.20 pm as it went into a turn just a few miles outside of 30th Street Station. The train, which had been carrying 238 passengers and five crew members at the time of the crash, had seven cars derail, all of which came entirely off the tracks.

Speed, not 'crumbling infrastructure,' eyed in Amtrak derailment. As we reported last night [5/12/2015], the derailment of an Amtrak passenger train traveling from Washington, D.C. to New York City set off a fury of instant analysis that GOP cuts to infrastructure spending were probably to blame.

The Editor says...
Many on the political left immediately politicized the accident, some blaming it on "crumbling infrastructure." But infrastructure spending can't prepare for a train that's going twice the speed limit.

AP estimates train in deadly crash was traveling 107 mph. An Amtrak train that derailed Tuesday evening in Philadelphia was travelling about 107 miles per hour as it approached a curve where the speed limit less than half that, according to an analysis by The Associated Press.

Amtrak train was going 100 mph, twice the speed limit before fatal crash: report. The Amtrak train involved in a fatal crash in Philadelphia Tuesday night [5/12/2015] was going about twice the speed it should've been traveling, the Wall Street Journal is reporting. The speed limit is 70 mph just before the curve and 50 mph along the curve itself, the Federal Railroad Administration said.

26 dead as passenger train cars derail in India. Three coaches of a passenger train derailed in northern India on Friday [3/20/2015], killing 26 people, and rescuers were using gas cutters to rip apart the mangled wreckage to find trapped people.

30 Injured, 1 Possibly Dead After Metrolink Train Hits Vehicle in Ventura County. Twenty-eight people were hospitalized, four of them in critical condition, and the driver of a produce truck that was struck by a Metrolink train was being questioned following a fiery wreck that caused several train cars to derail in Oxnard early Tuesday morning [2/24/2015].

Four passengers critical among 28 injured after LA commuter train hits tractor-trailer. Four people were critically injured and several carriages overturned in the early morning [2/24/2015] derailment in Ventura County, California. A total of 28 passengers suffered injuries when four cars of a Southern California Metrolink train tumbled onto their sides after slamming into a truck which burst into flames.

Federal Transit Administration to conduct safety inspection of DC subway after fatal accident. One passenger was killed and more than 80 others were sent to hospitals when smoke filled a train inside a tunnel near a busy downtown station last month.

Metro-North Train Hits S.U.V., Killing 7 in Railroad's Deadliest Accident. A crowded Metro-North Railroad train passing through Westchester County at the height of the evening rush on Tuesday [2/3/2015] slammed into a sport-utility vehicle on the tracks at a crossing, creating a fiery crash and explosion that killed seven people, injured a dozen and forced the evacuation of hundreds. It was the deadliest crash in the railroad's history.

Giving Up On Black America. To get to any bus that will take me to Manhattan or other parts of the city, I have to keep my eyes on the ground to avoid stepping on three things: dog crap, hacked up phlegm, and spoiled fast food. This is too bad because except for the people who mostly create this problem, the neighborhood, referred to by locals as the poor man's Riviera, is actually quite wonderful. One reason that I'm not liked on my block is that I rarely make eye contact with people. Unfortunately, I've become more occupied with where my feet will land than with acknowledging and greeting my neighbors.

Stray bullet strikes St. Charles streetcar passenger in weekend shooting, NOPD says. A stray bullet struck a woman as she was stepping off a St. Charles streetcar over the weekend, New Orleans police said. The 25-year-old was hit in the hip. The shooting happened at St. Charles Avenue and Erato Street just before midnight Saturday (June 21).

Caught On Camera: Drexel Hill Man Punched In The Face At Trolley Stop. A man sitting at a trolley stop in Drexel Hill is punched in the face, and it's all caught on camera. "It's a real shame that something like this could take place," said the victim. The victim does not want to be identified, but wants his story told. He says he was just minding his own business at the Burmont and Morgan trolley stop last week when about six teens came up to him.

Watch: Riders exact street justice on bus attacker. A belligerent bus rider who was caught on camera attacking a pair of senior citizens received a taste of street justice from fellow riders, who took him down and tossed him onto a sidewalk. The nearly 2-minute video starts with a straphanger verbally assaulting a woman sitting down in the bus' priority seating. He goes on an expletive laden, sexually derogatory tirade, gradually moving closer toward the victim. Soon after, a rider with a cane stands up to defend the woman and the attacker pounces, knocking the man's cane from his hand.

Senator's close call with train in New Haven. Richard Blumenthal was standing close to the platform edge during a speech by Milford Mayor Ben Blake, when a train hurtled past, disturbing a diagram.

Dem Senator Nearly Hit by Train During Press Conference About Commuter Safety. Senator Richard Blumenthal (D-CT) has been waging a campaign demanding safety accountability for the Metro-North railway this week after it was discovered that the MTA has had 139 violations resulting in $552,000 worth of fines over the last ten years. But as he discovered this week, there is also an element of personal responsibility when it comes to commuter train safety. Blumenthal was holding a press conference Friday on the Milford Metro-North station platform when an Amtrak train came barreling into the station and almost knocked him out cold.

Chance encounter with CHL holder saves Frisco woman from robber. There is constant sound and motion at DART's Convention Center Station, and it's one of Kim Lanphere's regular stops. "I use DART 30-to-40 times a week," she said. "At most stations, I feel relatively safe, because there's light and people." But as of Saturday, her feeling of safety is gone. Dallas police say she passed 23-year-old Jamail Koroma on a sidewalk near the station. "I felt him change his gait, and at the time I had by bag here," she said, motioning by her side, "and I put it on my shoulder, just to hold it safe."

Union: Chicago train operator 'extremely tired'. An operator of a Chicago public-transit train that jumped the tracks and scaled an escalator at one of nation's busiest airports Monday [3/24/2014] may have dozed off, a union official said.

The Editor says...
You would think there would be some kind of mechanism that would bring a commuter train to a gentle stop in the event of the driver's death or drowsiness. But apparently that hasn't been invented yet.

Documents detail fire, maintenance issues with Charlotte airport buses. Charlotte's airport in 2007 started buying hybrid buses from a local company that promised better gas mileage, cleaner emissions and a quieter ride. But more than six years later, the airport's DesignLine buses have traveled a rocky road. The vehicles have been plagued by maintenance problems, including braking issues and a fire that a former executive says still causes him concern.

Metro-North Engineer Was Dozing Just Before Train Derailment, Sources Say. Veteran engineer William Rockefeller all but admitted he was falling asleep as the train came roaring to a curved section of track north of Spuyten Duyvil in statements made shortly after four people were killed and dozens were injured in the wreck, sources said. He apparently woke up just as the train, traveling at 82 mph, was heading into a precarious curve that called for the train's speed to be reduced to just 30 mph. As the train entered the curve, sources said, Rockefeller was jolted from his sleep and hit the brake, but not in time.

Amtrak train carrying 218 derails in South Carolina. Several cars of the New York City-bound Amtrak Crescent with 218 people aboard went off the tracks in South Carolina early Monday as bags flew and jolted passengers clung to each other, authorities and passengers said.

Spaghetti Dinner Leads To Full-Blown Brawl On NYC Subway Train. Who thought that eating spaghetti on a packed subway car could cause such problems? Well, it did.

Sex Offender's Kidnap Attempt Stopped By Metro Commuters. Metro commuters stopped a teenage girl from being kidnapped by a registered sex offender Thursday afternoon [3/17/2011] in South Los Angeles. According to the Los Angeles County Sheriff's Department, the attempted abduction occurred around 2 p.m. Thursday at the Avalon Green Line station. As many as 10 metro commuters stepped in to interrupt it before police arrived.

Chatsworth crash's roots lie 20 years in Metrolink's past. The commuter line's founders gambled that the line could operate without an automatic braking system, interviews with safety experts and documents show.

Metro is unsafe at any speed. With billions spent to build and expand Metro, the most important day-to-day task for the system's managers remains operating and maintaining it to ensure passenger safety. Despite huge taxpayer subsidies, 10 of the nation's 25 largest transit agencies have had to raise fares (as high as 33 percent in San Francisco and Boston) to cover looming deficits. But Metro has taken a slightly different route: It's deferred literally billions of dollars in needed maintenance while appeasing ever-escalating union wage and benefit demands.

In Washington:
Senators to Metro: Fix problem or face intervention. Four U.S. senators have told the chairman of the Washington area's subway system — the second largest in the country — that the recent string of accidents is unacceptable and direct federal intervention is possible if he fails to promptly fix the problems.

Three Metro workers disciplined for 10-car Green Line train. Three Metro employees have been disciplined for allowing a 10-car train — two cars too many — to run on the Green Line last week. ... Such trains are a concern because rail platforms are built to hold a maximum of eight cars, leaving the remainder hanging into the tunnel and potentially exposing passengers to the dangerous third rail and tracks when doors open.

MTA supervisors faked subway inspections. It's a disaster waiting to happen. NYC Transit supervisors falsified thousands of vital signal inspections across the subway system for years, leaving straphangers at risk for deadly collisions like the one that killed nine people in Washington, DC, The [New York] Post learned.

Metro engineers lacked licenses. The lack of required engineering certification didn't prevent three high-level engineering managers from getting jobs at Washington's $2.2 billion transit operation. A previously undisclosed internal review at the Washington Metropolitan Area Transit Authority (Metro) found that three of its engineers did not have engineering certifications from Maryland, Virginia or the District.

The French Fry's Revenge. I really don't understand how DC commuters continue to resist the allure of mass transit. There's the serene quiet found as you stand at the base of one of Metro's frozen escalators and gaze in wonder at the glimpse of daylight far in the distance. The tactile sense of community that exists on the Red and Orange lines during rush hours. And now, the system has announced the highest Metro crime rate in history, which takes some doing. Crime rates are down in Washington, DC and Fairfax County, VA yet Metro, which operates in both, has seen its crime rate skyrocket 12 percent in 2010.

D-train riders surprised when opossum hitches ride. Early morning commuters had a furry surprise on their trip into Manhattan last week. Riders on a Manhattan-bound D train had to evacuate the car at around 4:30 a.m. on Friday morning [1/13/2012] after someone spotted the adorable — yet possibly dangerous — opossum taking a free ride, an MTA spokesman confirmed.

49 dead, hundreds injured in Buenos Aires train crash. A packed commuter train slammed into a retaining wall at a railway terminus in Buenos Aires during rush hour Wednesday [2/22/2012], leaving at least 49 dead, 600 injured, and dozens trapped in the wreckage.



Drunk man is electrocuted [urinating] on third rail of G train. A drunken man was electrocuted and killed relieving himself on the third rail in Brooklyn this morning, sources said. [...] His 26-year-old pal tried saving him and was also shocked, police added.



---

Unreliable drivers, faulty equipment, and unexpected delays



Bus Drivers Dueling For A Highway Lane Ends Up With A Terrifying Stabbing. Little is known on where this happened or the condition of the driver but it seems the bus on the right didn't have many patients and just kept cutting the bus on the right off. Both buses eventually stop and the driver for the bus on the right attacks the other driver with a knife, stabbing him several times. No word on the attacked driver's condition. [Video clip]

Widespread violence and looting in Chicago. Media reports showing widespread looting in Chicago on Sunday night [8/10/2020]. The Chicago Tribune reported that it observed people carrying shopping bags full of merchandise in the areas where the looting was happening and at least one U-Haul van was seen pulling up. The Chicago Transit Authority also tweeted that all bus and train service going into the city's downtown areas was "temporarily suspended at the request of public safety officials."

The Editor says...
So much for your Monday morning commute!

China: Lunatic Bus Drive & Horrified Passengers. The bus driver has clearly made this trek a few times but the passengers are hysterical. [Video clip]

Antifa Extremists Blockade Major Passenger Railway Line, Force Toronto Cancellations. A blockade near Toronto along a major commuter train line by far-left Anifa extremists has forced the transit company to cancel trains from Hamilton to Toronto. The blockade, which was called for and organized by the far-left Antifa group "Wet'suwet'en Strong: Hamilton Solidarity," was set up on Monday night at the Bayview Junction with protesters bragging about burning a court injunction handed to them, the Globe and Mail reports.

Texting and Driving. [Driving a commuter train, apparently. Location unknown.] [Video clip]

Why would anyone take over after Andy Byford fled the MTA? The resignation Thursday of subways chief Andy Byford made an already-grim 2020 picture even bleaker. The state-run Metropolitan Transportation Authority tried valiantly to put a positive spin on it, but it's a sign that one of the world's foremost experts on modernizing subways and buses thinks Gov. Andrew Cuomo doesn't have the will to do it right. When Byford joined the MTA two years ago, the subways were at their lowest point in modern history. In 2017, fewer than two-thirds of trains were on time; nearly 70 "major incidents" per month delayed hundreds of thousands of passengers. Last year, as the MTA announced this week, 80 percent of trains were on time, and the number of "major incidents" each month was down to 46.

The Ghost of Y2K hits Hamburg. The city of Hamburg in Germany has 120 new DT5 trains, and 95 of them still won't work after the new decade has blown in. As soon as a train reaches the end of the line and has to reverse its direction (and the train driver must turn it off and walk to the other end to drive it back), it won't turn on again. At all. The Hamburger Abendblatt reports in that an informer told them that this is attributable to a date problem, with the year flipping from 19 to 20.

MTA Blames Subway Delays on Rogue Pencil. A misplaced pencil was to blame for longer waits on the New York subway system Christmas Eve, the MTA says. The authority tweeted the alert to its customers just after 12 p.m. Tuesday [12/24/2019], saying the pencil had "prevented a train's doors from closing."

Texting tram driver causes derailment. [Video clip]

Engineer with sleep apnea who caused fatal Hoboken train crash gets his job back. The engineer who was operating an NJ Transit train that crashed in Hoboken Terminal in September 2016, killing a woman walking through the station and injuring 108, will return to work after winning an appeal. Thomas Gallagher, who blacked out at the controls on Sept. 29, 2016, due to undiagnosed sleep apnea, won his arbitration case on Aug. 28 and will be reinstated as an engineer, as long as he meets medical conditions and continues sleep apnea treatment. He was suspended and subsequently fired after the crash, a decision that he appealed.

The Editor says...
Would you ride comfortably on a passenger train, knowing that the man in the front seat has already caused a fatal crash?

700 people rescued from trapped train in India floods. Rescuers in India on Saturday safely evacuated all 700 passengers from a train after it got stuck in monsoon floodwaters between two stations near Mumbai, the country's home minister said. A statement by India's disaster management office in Maharashtra state said the Mahalaxmi Express train got stuck due to flooding of the tracks.

New York's power is coming back after Manhattan spent hours in the dark. [Scroll down] The outage was having a widespread effect on the New York subway system, which was experiencing power outages in its stations, the agency managing the trains said. "Subway service remains significantly disrupted across the system, although there is limited service on the 1/2/3 and 4/5/6 lines," the Metropolitan Transportation Authority tweeted. The MTA advised people to stay away from underground stations. The outages were affecting "multiple lines," the MTA said, so trains were using a "local track." The MTA told people to consider taking the bus. [7/13/2019]

Rogue slug blamed for Japanese railway chaos. A power cut that disrupted rail traffic on a Japanese island last month was caused by a slug, officials say. More than 12,000 people's journeys were affected when nearly 30 trains on Kyushu shuddered to a halt because of the slimy intruder's actions. Its electrocuted remains were found lodged inside equipment next to the tracks, Japan Railways says.

MBTA retirement exodus could hamper operations, watchdog says. A jump in MBTA retirements over the past few years following buyouts and early retirement options has contributed to the T's troubles staying staffed, and one watchdog says it could have an effect on operations.

The real reasons why New Yorkers are fleeing the city. We live in Texas, where we don't have any state or local income tax or languish in rodential subterranean subway stations waiting for a train that may or may not come. For me, it was the subways that were the last straw. I had one of the easiest subway commutes in town: from City Hall to Grand Central, a nice straight shot on the express train. When it started taking me as long to get home downtown as it had when I lived in Norwalk, Conn., I decided it was time to get out. [...] What really matters is the everyday stuff: Do the subways work? Do they leave and arrive on time? Do they smell like port-a-potties?

Alexandria Ocasio-Cortez Praises the Washington, D.C. Metro. On Sunday [4/7/2019], Rep. Alexandria Ocasio-Cortez (D-N.Y.) praised the Washington, D.C. Metro, apparently oblivious to the fires and horrific management problems the Metro faces. "DC Metro is pretty good, especially when compared to the MTA lately," Ocasio-Cortez said in a Facebook "moment," contrasting the D.C. Metro to the New York subway. "It's clear they are investing in public infrastructure w/modernized train cars, etc." She responded to criticism shortly afterward. "Lots of folks begging to differ on DC metro being better," the congresswoman added.

Amtrak train stranded for more than 36 hours arrives at Oregon station. A scenic Amtrak train journey felt more like a torturous trip on the Oregon Trail for nearly 200 passengers when the locomotive hit a tree Sunday — stranding them for some 40 hours. The 1,377-mile Coast Starlight heavy-rail trip, from Los Angeles to Seattle, was meant to last about 35 hours total. But trouble struck around 6:18 p.m. Sunday [2/24/2019]. "Conditions further deteriorated with numerous track blockages from snow and fallen trees," Amtrak said in a statement.

MTA officials say New York City subway riders are partly to blame for delays. Each weekday, some 8,000 trains run in New York City. MTA officials came up with a new policy to try to decrease delays. The policy, which was launched in August, instructed conductors to try and not allow commuters to push their way on trains while the door was closing by forcing it open with their limbs or belongings.

Sorry: It still doesn't feel like the subways are getting better. "The statistics show that we are turning the corner where we need to turn it," NYC Transit chief Andy Byford said Monday ... to the collective groans of straphangers. Byford says major delays — ones involving 50 or more trains — are down nearly 12 percent, compared to the period before the emergency Subway Action Plan began ... more than a year ago. This is little consolation to the countless New Yorkers now leaving home earlier just to have a hope of making it to work on time — and too often getting home late.

The Editor says...
Interesting. A delay involving 49 trains or less is not a "major" delay.

America's largest city is facing a monumental subway crisis. Subway delays in the nation's largest city cost up to $389 million in lost productivity each year, according to the Office of the New York City Comptroller in October 2017, and city officials are increasingly sounding the alarm. The problem has gotten worse since the comptroller data was collected in 2016. Naturally, transit dysfunction has become a central component of Thursday's gubernatorial primary vote in the city. "Our subway system is the backbone of our economy," New York City Comptroller Scott Stringer said in a statement to Yahoo Finance.

Students steer school bus to safety after driver has heart attack behind the wheel. Three teenage students in Southeast Texas steered a crowded school bus to safety after the driver was stricken with a heart attack. Gerald Gardner, 73, was leaving Sealy Junior High School Thursday [9/6/2018] after picking up students when he lost consciousness, KHOU-TV reported. The two high school students and one junior high student took control of the bus as it rolled across Highway 90 and brought it to a stop.

Edge case paralyses train network around Amsterdam (ProRail). Yesterday afternoon [8/22/2018] a shop-lifter at Schiphol airport in the Netherlands was on the run from the police and tried to get away by running into the train tunnel that runs underneath the airport. As a safety measure train traffic control ordered all trains around the tunnel to stop. One of these trains apparently stopped just when it had received both an automatic and a manual platform assignment In the minutes that followed those conflicting orders triggered over 32,000 planning records to be generated in the system effectively performing a denial of service attack. ProRail, the network operator, had no other choice than to shut down the entire computer system responsible for the train network around the Amsterdam area for hours.

Goats caught roaming New York City subway tracks. It was just another baaaaad commute for a duo of New York City transit riders. Subway officials were surprised Monday [8/20/2018] when they caught a pair of goats wandering the tracks in Brooklyn. The four-legged animals were walking on the tracks for the N line for about two hours before New York City police were able to safely remove them.

Get ready for a commuter apocalypse. The dreaded April 2019 kickoff of the 15-month shutdown of L-train service between Brooklyn and Manhattan is still months off, but the line's riders are about to face a painful precursor. Starting at 11:30 p.m. Friday, much of the line will go dark until 5 a.m. Monday, with trains operating only between Broadway Junction and the southern terminal at Canarsie-Rockaway Parkway. The pattern will repeat for another 14 nonconsecutive weekends between now and next spring as the MTA performs prep work for the larger shuttering.

D.C.'s Metro Has Warned Riders Against Taking the Metro. I Did it Anyway. Against the advice of Washington D.C.'s rail transit authorities, I decided to take D.C.'s rail transit system this morning [8/6/2018]. As a wave of station closures and service reductions has hit D.C.'s Metro this summer, the agency responsible for operating it — the Washington Metropolitan Area Transportation Authority (WMATA) — has been urging riders to steer clear of its trains. In pamphlets warning of major delays on segments of the Orange, Silver, and Blue line trains, WMATA has told riders to "only take Metro if you have no other option." Similar advice to "consider alternative travel options" has been offered to riders on the city's Red line, segments of which WMATA has closed to allow for badly-needed repairs at the Rhode Island Avenue station.

Bus driver fired after agency investigation found he engaged in "sexual activities" with passenger. The bus driver greeted the young woman with a kiss on her cheek when she boarded Route 39 close to Busch Boulevard and Florida Avenue. Instead of taking her seat, she stood close to driver Efrain Perez. Over the next three hours, their show of affection grew more and more heated, an investigation by the Hillsborough Area Regional Transit authority found.

200 unqualified people drove N.J. buses. Now, the clerk they bribed is going to prison. A former New Jersey Motor Vehicle Commission clerk, who faked records and sold commercial driver's licenses to school bus drivers who never passed mandatory tests, was sentenced to prison Friday, according to New Jersey Attorney General Gurbir Grewal's office. Rodman Lora, of Ridgewood, was sentenced to seven years in state prison after investigators found he modified records at the Lodi MVC for more than 200 people from 2014 to 2016, allowing them to illegally receive commercial driver's licenses in exchange for cash payments, officials said.

Bus driver fired for watching YouTube videos while driving passengers. A bus driver was caught on camera watching more than the road — viewing clips of classics like "Mrs. Doubtfire" and browsing YouTube while barreling down a New York highway earlier this week. The unidentified driver for Tour America was spotted by passenger Barry Fisk after the bus left Manhattan around 8:30 a.m. Monday [4/16/2018]. Fisk, who was headed to Woodbury Common Premium Outlets with his wife, said the driver started watching videos on his phone immediately after shoving off.

Greyhound bus accidentally drives 114 miles in wrong direction. Passengers aboard a Greyhound bus bound for New York City from Cleveland were left fuming Thursday after mechanical problems and a surprise detour kept the bus in Ohio. The bus left Cleveland more than three hours behind schedule, passengers told News 5 Cleveland. It was supposed to leave at 2:30 a.m., but didn't get rolling until around 6 a.m. As the bus was heading through Pennsylvania, it was forced to turn around because the vehicle was experiencing some issues. "I woke up around eight and I see signs that we're heading back towards Ohio," Morgan Staley, a passenger, told News 5 Cleveland.

LIRR president to resign following scathing report. Embattled Long Island Rail Road president Patrick Nowakowski — whose service has been besieged by consumer complaints — will resign his post this week, transit sources said Wednesday [4/11/2018]. Nowakowski's upcoming departure wasn't considered a huge surprise, in the wake of an embarrassing state report last month that showed LIRR's on-time performance in 2017 was the railroad's worst in 18 years.

Police Remove Activists Blocking Way to US Bank Stadium. Police in Minneapolis have removed protesters who locked themselves across a light-rail line near U.S. Bank Stadium, temporarily halting trains carrying fans to the game. Activists protesting police brutality chained themselves along the Green Line carrying ticketholders to the Super Bowl on Sunday [2/4/2018], stopping trains in both directions. In a release Sunday afternoon, organizers said Black Lives Matter, the Movement for Black Lives and other groups shut down light rail at "several critical transit lines in Minneapolis" starting about 2:30 p.m. It was unclear how many lines were affected.

NJ Transit back on schedule following overhead wire problems in Penn Station. Train service into and out of Penn Station New York is now operating on or close to schedule following an Amtrak overhead wire problem in the station Thursday morning [1/11/2018]. A spokesperson for Amtrak said there was an power issue earlier in the day, but it was quickly resolved. Due to the overhead wire problem during the Thursday morning [1/11/2018] commute, several trains were canceled or delayed by up to 20 minutes, affecting multiple straphangers.

Armed man pulled brake on Amtrak train in Nebraska, authorities say. An alleged white supremacist who attended a deadly rally in Charlottesville, Va., last year faces federal charges after trying to wreck an Amtrak train in Nebraska, authorities said. Taylor Michael Wilson, 26, of St. Charles, Mo., entered a secure area of an Amtrak passenger train Oct. 22, toyed with the controls and applied the emergency brake — sending passengers lunging and knocking out electrical power, according to a criminal complaint filed in a U.S. District Court in Lincoln, Neb. The filing of terrorism charges was first published in the Lincoln Journal Star last week. Two Amtrak conductors detained Wilson on the train until police arrived, authorities said. One conductor said Wilson taunted them, saying, "What are you going to do, shoot me?"

Sacramento Regional Transit Systems Hit By Hacker. Sacramento Regional Transit is the one being taken for a ride on this night, by a computer hacker. That hacker forced RT to halt its operating systems that take credit card payments, and assigns buses and trains to their routes. The local transit agency alerted federal agents following an attack on their computers that riders may not have noticed Monday.

Fruitcake wrapped in suspicious package temporarily halts Seattle ferry. A fruitcake left underneath a Christmas tree in a Seattle ferry terminal temporarily halted service on Tuesday [12/26/2017], police said. The fruitcake was initially wrapped in a suspicious package that forced authorities to shut down and evacuate Seattle's Colman Dock, according to the Washington State Patrol, KCPQ-TV reported. "Troopers and State Ferry employees worked to evacuate the terminal out of an abundance of caution. All inbound ferries were held away from the terminal until the package could be deemed safe," the State Patrol said in a news release.

Illinois school bus driver was three times over legal alcohol limit, prosecutors say. A veteran Illinois school bus driver has been busted for trying to pick up special needs students while having a blood-alcohol level of nearly three times the legal limit, prosecutors say. Karen Kawa, of Chicago Ridge, was arrested Wednesday after pulling up to the Walsh Elementary School in Summit. A special needs assistant allegedly noticed her acting strange and notified the school's principal as students boarded the bus, the Chicago Tribune reported.

NJ Transit service resumes after derailment at New York Penn Station. Penn Station is the nation's busiest train station. Problems have plagued the station and the related infrastructure in an around Manhattan along the Northeast Corridor. The incidents have included power outages, signal problems, and derailments. Amtrak, which owns the tracks, has promised to begin a major overhaul of the tracks and the switches.

Heavy rain means deluge of water in subways. Earlier Friday, the heavy rain made a tropical scene at a lot of subway stations, including at Bryant Park and 42nd Street. At the same station, it looked like a storm cloud was directly over the F train. A cascading waterfall was seen at the 18th Avenue station in Brooklyn. It recently opened after a yearlong renovation. Hopefully, riders still had their umbrellas handy at the Jay Street R train platform.

G Train Subway Service Resumes After Earlier Suspension. Volume is expected to rise during unprecedented summer repair work at New York's Penn Station, and the entire system is in crisis at precisely the moment commuters need it most. The situation has become so dire extensive delays and suspensions are the norm. "Good service" status on the MTA website brews skepticism. Riders report taking alternate routes involving multiple trains because they simply don't believe theirs will run as scheduled.

3 Amtrak trains running after power system, tree fire. Amtrak officials say a tree came in contact with a power system, sparking a fire near Groton, Connecticut, delaying three trains scheduled to pass through [6/25/2017].

Here's why black-outs in 3 major US cities were almost certainly related. Yesterday, morning power black-outs hit three major US cities in two time zones. Areas of New York, San Francisco and Los Angeles were hit by the still unexplained power cuts. San Francisco's power supply is controlled by Pacific Gas and Electric, most of Los Angeles is controlled by the Los Angeles Department of Water and Power while other areas are controlled by Southern California Edison and much of New York City is controlled by ConEdison. In other words, the power systems of the three cities, all of which are either far or very far from one another are not connected in any way. This leaves only two logical possibilities and one illogical possibility, which incidentally is the one that the mainstream media is running with.

Power Outages Coincide in LA, New York, and San Francisco. The first outage occurred at around 7:20 a.m. [4/21/2017] in New York, when the power went down at the 7th Avenue and 53rd Street subway station, which sent a shockwave of significant delays out from the hub and into the rest of the subway system. By 11:30 a.m. the city's MTA confirmed that generators were running again in the station, although the New York subways were set to run delayed into the afternoon. The MTA and Con Ed are still working to determine the cause of the outage.

Massive power outage hits San Francisco, shuts down businesses, BART station, cable cars, traffic lights. A huge blackout probably caused by a fire at a PG&E substation swept through San Francisco on Friday, bringing everyday life to a virtual standstill as homes and businesses and courtrooms went dark, traffic lights stopped working, BART and Muni service slowed, and all the cable cars shut down.

Power outage causes subway problems. A Metropolitan Transportation Authority spokesman says New York City subway service is "fairly normal" following an hourslong [sic] power outage that caused major delays.

The Editor says...
I'm rather surprised when the Associated Press omits punctuation. Show me a dictionary that includes hourslong without a hyphen.

Train stuck in tunnel nearly 3 hours, then stun gun sparks stampede. A train with about 1,200 passengers became stuck in a tunnel between New York and New Jersey for nearly three hours on Friday [4/14/2017], and the chaotic scene escalated to pandemonium when Amtrak police used a stun gun to subdue a disruptive man in a station, sparking a stampede.

12 hurt in stampede at Penn Station. False reports of gunfire caused panic at Penn Station and the nearby flagship Macy's store on Friday evening. [T]he confusion apparently started when a police officer used a Taser on a man during an arrest. The sound or flash started the panic, which spread through the station. 16 people were injured in the stampede that followed. It happened during a rush hour commuter train disruption that left thousands of people stranded in the train station at the start of the holiday weekend.

1,200 passengers stuck on train in Hudson River tunnel. A New Jersey Transit train with around 1,200 passengers aboard was stuck for hours in a Hudson River tunnel between New York and New Jersey. Authorities say the Northeast Corridor train became disabled around 3:40 p.m. Friday afternoon due to a loss of power in the tunnel. The train had departed from Trenton and was scheduled to arrive at Penn Station New York at 3:15 p.m. It was after 6 p.m. before it was towed into the station.

Man's Ebola Claims Briefly Shut Down Port Authority Bus Terminal. Part of the Port Authority bus terminal was briefly closed Thursday evening as authorities investigated a man's claims that he "may have Ebola," officials say. The lower level of the North Wing, comprising gates 60 to 85, was closed during the evening rush. Police were seen stationed outside the cordoned-off gates.

Passengers stuck overnight on Amtrak train. Power was finally restored to a stranded Amtrak train in the Bronx Friday morning [2/10/2017]. Passengers aboard a Boston-bound train say they were stuck overnight for about five hours without heat. The train began moving again shortly before 8 a.m.

TriMet closes MAX platforms around Pioneer Courthouse Square because of protests. Hundreds of demonstrators took to the streets in downtown Portland and marched onto [I]nterstates 5 and 84 on Wednesday [11/9/2016] as they protested Donald Trump's election. After roaming on both sides of the Willamette River during rush hour, at times chanting "Not my president," they entered I-5 near the Moda Center and closed it down. Authorities blocked off northbound and southbound lanes on a stretch from the Fremont Bridge to the Marquam Bridge in one of multiple freeway closures during the protest.

Unauthorized vehicle on tracks struck by Long Island Railroad. A Long Island Rail Road train struck a vehicle on the tracks near Central Islip, forcing the evacuation of about 500 passengers and causing suspension of service between Farmingdale and Ronkonkoma.

Public transit workers in Philadelphia go on strike as contract expires. Public transportation workers in Philadelphia went on strike at midnight on Monday [10/31/2016] after they were unable to reach a contract agreement with the transit system that provides almost one million rides a day in and around the fifth largest U.S. city.

Muslim train driver in Paddington crash had gone without food for 15 hours for Ramadan. The accident, which occurred on June 16, was caused when the driver passed a red signal before coming off the track and hitting a mast — resulting in the station's closure and rail chaos across London. Investigators are now probing whether the accident occurred because the driver was undergoing a Ramadan fast and had not eaten in the 15 hours before the crash.

L train to shut down for 18 months starting 2019. An East River tunnel that carries one of New York City's most crowded subway lines will be closed for a year and a half starting in January 2019.

LIRR service resumes with delays. Service on the Long Island Rail Road resumed late Monday morning following an earlier suspension due to a derailed, non-passenger track maintenance car. Cancelations were reported between Jamaica Station, Queens and Penn Station, Manhattan.

Signal Problems Cause Extensive Subway Delays. Extensive delays struck half a dozen subway lines Wednesday afternoon [7/13/2016] due to power issues, threatening to make for a nightmarish commute. [...] Earlier, the MTA said all lines were delayed because of a power outage; it said it switched to a backup power system and trains were running.

Big Delays: Metro-North Trains on Modified Schedule After Inferno Under Rails. The fire that broke out underneath elevated Metro-North tracks in Manhattan and caused crippling problems on the busy rail line appears to have been sparked by an accidental fuel spill, fire marshals said Wednesday [5/18/2016].

Washington DC is shutting down the entire subway system on Wednesday with no notice for urgent safety checks. The entire Washington, DC, subway system will shut down for at least 29 hours to inspect electrical components on the tracks following a fire near one of the system's tunnels, officials said on Tuesday [3/15/2016]. The shutdown comes after a fire broke out on Monday about 4.30 am in the tunnel outside the McPherson Square station in downtown Washington. The fire led to delays on the orange, blue and silver lines, which go through the station.

Amtrak signal issues create headaches for Boston commuters. The Massachusetts Bay Transportation Authority (MBTA) warned commuters early Friday [2/19/2016] to expect further delays and be prepared to take alternate routes after a damaged Amtrak signal snarled train traffic on Thursday. Passengers on commuter trains from west and south of Boston were forced to get off of trains at outlying stops before South Station and transfer to rapid transit lines or walk the remaining distances to their destinations Thursday. The damaged signal forced Amtrak to operate track switches manually.

Greyhound driver reportedly leaves riders in bus while he naps at hotel. The bus was reportedly on its way to Denver when it stopped at the La Quinta in Salina, Kansas on Tuesday [1/5/2016]. Passengers claim the driver never said where he was going or why, and eventually called Greyhound and police to figure it out.

Head of Boston-area transit system resigns after snow delays. The general manager of the Boston-area public transit system resigned Wednesday [2/11/2015] amid commuter frustration over service disruptions during a spate of recent snowstorms that have pounded the region.

New England Digs Out From Latest Winter Whopper. Boston-area subways, trolleys and commuter rail trains ground to a halt at 7 p.m. Monday [2/9/2015] and remained idle Tuesday, with only limited bus service continuing.

How's America's Rail Security Doing? Are we ready for a nefarious terrorist attack on our train and transit lines? [...] On Tuesday, an estimated 150 New York Fire Department personnel responded to a three-alarm fire at Penn Station that started before 2:30 a.m. Two firefighters suffered injuries battling the Big Apple blaze, which was initially deemed "suspicious" and then "accidental." Worth noting: A militant ISIS sympathizer published multiple threats on Twitter a few hours before the fire, warning that "tomorrow New York will burn" and predicting a "3:00 a.m. bomb."

Driver of Times Square bus had license suspended 11 times: DMV. The double-decker tour bus driver who slammed into another bus and injured 14 people in Times Square on Tuesday [8/5/2014] while allegedly high on drugs has had his driver's license and vehicle registration suspended a combined 20 times, officials said. William Dalambert's struggles behind the wheel date back more than two decades to 1993, according to a spokeswoman at the New Jersey Department of Motor Vehicles. His license was suspended a total of 11 times; four were for unspecified violations; two were for not having insurance; two were for not filing paperwork properly, and three were over unpaid child support, according to the spokeswoman. He also had his registration suspended a total of nine times for driving uninsured.

Amtrak train leaves Penn Station for Washington, D.C., without its passengers. An Amtrak train bound for Washington pulled away from Penn Station on Saturday without some pretty important cargo: its passengers. Scores of travelers were stranded after the Acela Express 2253 took off from one platform about 3 p.m. — while they were waiting at another and unaware the train was leaving them behind. Several minutes passed before the passengers even got wind of what had happened, one told the [New York] Daily News.

Obama Intervenes in Philadelphia Rail Strike. President Barack Obama on Saturday intervened in a commuter rail strike in the nation's sixth-largest metropolitan area, granting Pennsylvania Gov. Tom Corbett's request to create a presidential emergency board to mediate the contract dispute between the Southeast Pennsylvania Transportation Authority and its engineers and electricians['] unions.

Great moments in union contracts. Following up on the sensational Blue Line crash at the Chicago Transit Authority's O'Hare Airport terminus: "The CTA's contract with the Amalgamated Transit Union authorizes the agency to fire rail operators who have had two serious safety violations in a short period of time [emphasis added], and officials said the two incidents when [Brittney] Haywood dozed off qualify her for termination." Falling asleep just once at the controls of a train wasn't enough!

Operator of Train That Derailed and Drove Up an Escalator Has Been Fired. The driver of the Chicago commuter train that crashed into O'Hare airport and climbed halfway up an escalator, injuring 32 but somehow killing no one, has been fired. According to the Chicago Tribune, Brittney Haywood, 25, was a relatively new employee but already had at least one "serious safety violation" on her record before the early morning March 24 crash. Haywood told the National Transportation Safety Board, which is investigating the accident, that she "dozed off" while driving. She'd also done this at least once before — on February 1, she fell asleep and missed a stop. Haywood had also overslept at least one shift.

Train driver in deadly New York crash had 'severe' sleep disorder, NTSB says. The driver of a New York commuter train that derailed at high speed last year, killing four people, had a serious sleep disorder that interrupted his rest dozens of times each night, federal investigators disclosed on Monday [4/7/2014].

Bus riders frozen out as fight over snow removal leaves many NJ Transit stops packed in ice. Commuters getting on and off NJ Transit buses along highways in Bergen and Passaic counties have been climbing over boulders of ice and snow for the past week because no one seemed to know who was supposed to plow the bus stops.

Super Bowl fans trapped for hours at MetLife stadium. One of the biggest blowouts in Super Bowl history was capped by one of the biggest blunders in regional transit history. Overwhelmed by a record number of riders, NJ Transit kept fans waiting after the game for hours for shuttle trains from MetLife Stadium. Jubilation over the Seattle Seahawks' 43-8 stomping of the Denver Broncos quickly deteriorated into transportation chaos.

Hundreds of Passengers Rescued After Night on Frozen Amtrak Trains. Hundreds of Amtrak passengers were rescued today [1/7/2014] after spending a bone-chilling cold night stranded on board three Amtrak trains that were crippled by snow and ice outside of Chicago. More than 500 passengers who were affected by the delay are expected to arrive in Chicago this afternoon, likely on charter buses nearly 20 hours after the got stuck, Amtrak spokesman Marc Magliari told ABC News. The trains were halted late Monday [1/6/2014] near Mendota, about 90 miles west of Chicago.

Lost NJ Transit bus arrives nearly 2 hours late to NYC. Passengers on NJ Transit's No. 113 Express bus were taken on a ride from hell during Thursday's morning rush when a lost driver took a really scenic route to New York, leaving commuters nearly two hours late for work. The express from Dunellen to the Port Authority Bus Terminal became a local — and then some. Passenger Aileen Iosso sent this text to her boss: "I don't know where I am and I don't know when I'll be in."

Cameras catch 67 Metrobus operators dozing while driving. A total of 67 Metrobus drivers were caught sleeping on camera while driving their buses on local roads in a 19-month period, according to data obtained by The Washington Examiner. And one of them was caught dozing while driving twice within six months.

Driver walks off Greyhound bus in Missouri, stranding passengers. Greyhound officials located a driver on Monday [11/21/2011] who walked away from her bus in the middle of the night in rural Missouri, leaving 45 passengers stranded for about eight hours at a gas station, the company said.

Protest closes 4 BART stations, leaving commuter crowd stranded. Market Street was choked with hundreds of pedestrians struggling to get home, stopping at each successive Bay Area Rapid Transit station entrance only to be turned away. ... The stations were closed for about two hours during a demonstration against alleged BART police brutality and a decision by agency officials last week to cut underground cellphone service in an effort to quell an earlier protest.

In England...
Muslim bus driver halts bus to pray. A Muslim bus driver told stunned passengers to get off so he could pray. The white Islamic convert rolled out his prayer mat in the aisle and knelt on the floor facing Mecca. Passengers watched in amazement as he held out his palms towards the sky, bowed his head and began to chant. … After a few minutes the driver calmly got up, opened the doors and asked everyone back on board.

We can't stop the train because our GPS is broken. Passengers on a Southern [England] service from East Croydon were stunned when they were told that their stopping train would skip six stations and go direct to the end of the line in Caterham, Surrey. When they got there the driver said the reason was that the train had lost its satellite link.

Power outages hit NYC subway. Searing heat wreaked havoc on travel plans for New Yorkers as power outages shut parts of LaGuardia International Airport and the city's subway system during the morning rush hour.

Cell Phone Ban May Follow Massachusetts Trolley Crash. The head of the Boston-area transit authority said Saturday he'll ban all train and bus operators from even carrying cell phones on board after a trolley driver told police he was texting his girlfriend before a collision Friday. About 50 people were hurt in the underground crash in downtown Boston, though none of the injuries was life-threatening.

Update; slightly off topic:
Texting Trolley Driver Is Transgendered Male. The Boston-area transit authority trolley driver who allegedly slammed into another train while text-messaging his girlfriend Friday was hired as a minority because of his transgendered "female-to-male" status and had three speeding tickets on his driving record in recent years, ABC News has learned.

Blackout Lesson: Keep the Gas Tank Full. For the 90 percent or more of commuters who use cars to get to work, this was the lesson — make sure there is always enough gasoline in the tank to get home. The blackout [of August 15, 2003] demonstrated the vulnerability of downtown areas that rely on electric urban rail.

Big freeze kills dozens in Europe. The death toll from winter storms across Europe rose to more than 50 on Monday [12/21/2009] as transport chaos grew amid mounting anger over the failure of Eurostar high-speed trains. ... The breakdown of the Eurostar service under the Channel, linking London with Paris and Brussels, has symbolised Europe's suffering. After the nightmare of more than 2,000 people stuck in the tunnel when five trains broke down, tens of thousands more people have missed trains that have been cancelled since Friday night [12/18/2009].

Amtrak strikes again:
'Train from hell' arrives almost a day late. Pulling into Chicago almost a full day behind schedule, one Amtrak passenger recounted "the train from hell," and others are vowing they will never use the rail service again. Amtrak's California Zephyr arrived 19 hours late full of "tired, hungry and stinky" passengers, according to a story posted on WMAQ's Web site.

Muslim bus driver pulls over and begins praying in the aisle. A Muslim bus driver stunned passengers by pulling over mid-route and beginning to pray in the aisle. The driver stopped the bus without warning before removing his shoes and, using a fluorescent jacket as a prayer mat, beginning to chant in Arabic.

Metro fires bus driver after road rage incident. Metro on Wednesday [4/21/2010] fired a Metrobus driver who was arrested earlier this month after allegedly displaying a knife to a motorist while operating his bus, the latest transit driver let go after reports of misconduct.

London Tube power failure forces passengers to escape through pitch black tunnels. Thousands of London Underground passengers were forced to leave trains and walk along tracks during one of the biggest power failures in the Tube network's history. More than 4,000 passengers were affected when five Tube trains broke down, leaving many claiming they were traumatised by having to walk through pitch black tunnels.

Thousands of Tokyo Commuters Stranded as Quake Shuts Down Train Services. Tokyo's subway system, the world's busiest with about 8 million riders a day, shut down, leaving commuters to wait hours for taxis or search for somewhere to spend the night. Commuter trains serving the city and suburbs were also halted.

Amtrak CEO ditches broken train to travel by car. Today's the big day for Amtrak's Wilmington train station. It is being renamed in honor of Vice President and former Delaware Senator Joe Biden following major renovations made possible with stimulus funds. One problem: the CEO of Amtrak got stuck on the train. ABC News Deputy Political Director & Political Reporter Michael Falcone tweeted at approximately 10 a.m. that the Acela train he was riding had been "delayed" in Baltimore and that he was sitting next to Amtrak CEO Joe Boardman.

Indian train travels 980km in wrong direction... without any rail staff noticing. More than a thousand furious rail passengers stormed a station office after they noticed the train they were on had gone 980km in the wrong direction. As the packed service pulled into the Indian city of Warangal people on board went berserk as they realised they were five hours away from where they should have been and no staff on board had noticed.

The Editor says...
What does that tell you about the scenery in India?

Three trains damaged, 300 riders trapped after piece falls from Metro train. About 300 Metro riders were stuck underground waiting in dark rail cars for more than two hours Tuesday morning [12/20/2011] and thousands more saw their commutes delayed after a piece of a train broke off, damaging two following trains and bringing the Blue and Orange lines to a standstill.

Expiring CharlieCards causing confusion and frustration. For frequent riders, the expiration proves largely invisible: Their cards get an automatic software upgrade, and two-year extension, when swiped. But irregular riders may find themselves suddenly unable to use their plastic CharlieCard.



---

Crowds



Subway Pushers of Japan. The Tokyo subway network is a transportation marvel. On most lines, trains come every 5 minutes apart, on average, and during peak times, they tend to run every 2-3 minutes. That's about 24 trains per hour going in one direction. Despite so many trains, the subway is extremely overcrowded, especially during rush hour. [A] page from the Ministry of Land, Infrastructure and Transport has data (from 2007) detailing the level of congestion at different stations of Tokyo's subway. As you can see, nearly all of them run at over capacity with a few running at 200% over rated capacity.

People being stuffed onto a train in Tokyo, Japan. [Video clip]

Off-Peak train travel in India. Commuters clinging to the side is a normal site. You can tell it's Off-Peak time as there's no one on the roof. [Video clip]

Revelers take Robyn concert to subway after Madison Square Garden show. Revelers from a Robyn concert at Madison Square Garden took the party to the subway Friday [3/8/2019] after the show. Video of the impromptu party showed dozens of people jumping, dancing and singing in unison.

New York is falling down. Tonight I walked onto the subway and saw the car was half-empty because a stinking bum was lying on a seat, and no one wanted to smell him. [...] Another thing that bothers me is allowing bikes on trains. If these environmentally oriented bike riders want to keep the world clean, they should ride in the streets. I am sick of their taking up an inordinate amount of space in the subway cars. There is no law against it, but there should be.

NYC's Aging Subway: Why They're Playing Catch Up To The World. If you've ever been to New York City you know all about the hot, crowded, slow-moving, and — more importantly — aging subway system there. It's nearly 112 years old. And it's more congested than ever. The Metropolitan Transportation Authority (MTA) reported 1.75 billion trips were made in 2014, with numbers expected to have grown even more in 2015.

War on Men: First Arrests for 'Manspreading' on New York Subway. Two men have been arrested in New York for 'man-spreading' — the act of taking up too much space on the underground or metro system. The arrests have come to light in a report on the efficacy of 'broken window's policing in New York. Man-spreading came to prominence through a politically correct public-shaming Tumblr campaign which described the practice as "a classic among public assertions of privilege", although it was the AM New York blog which coined the term in October last year. Breitbart London covered it as well.

A Scourge Is Spreading. M.T.A.'s Cure? Dude, Close Your Legs. It is the bane of many female subway riders. It is a scourge tracked on blogs and on Twitter. And it has a name almost as distasteful as the practice itself. It is manspreading, the lay-it-all-out sitting style that more than a few men see as their inalienable underground right.

When you ride the bus, you travel with the lowest of the lower class.
Bus Driver Organizes Black Mob Violence Against White Family. A black Baltimore bus driver organized a mob of 20 black people to assault a white family of three on her bus, which they did with gusto and pepper spray. All the while, the other black passengers hooted and hollered in encouragement. All while the bus driver waited for the beating to finish so the attackers could get back on the bus. With her thanks. The bus company didn't [care]. And it took Baltimore police two months before they even investigated it.

Top 10 Scary Things About Living in Washington, D.C.. [#4] The Metro: Don't switch subway lines at Metro Center or Gallery Place at rush hour or be prepared to be confronted with a sea of humanity on the tiny platforms. Expect to be packed in like sardines during the day and share a car with inebriated patrons when the bars let out. And when they say there will be delays on the Red Line, they mean it.

Standing room only plan for New York subway. In London seasoned Tube travellers jostle for the best place to stand on the platform to be first on to an overcrowded train. In Tokyo they employ packers — men in white gloves who stuff commuters into carriages. Now New Yorkers are to be subjected to the cleverest scheme yet designed to cram more commuters — known in the US as straphangers — on to the groaning subway system. The city's Metropolitan Transportation Authority (MTA) plans to lock the flip-down seats in almost half of the carriages during rush hour to prevent passengers from sitting down.

London's Sweaty, Squashed Underground Riders Balk at $7 Fares. Deran Garabedian is so fed up with the London Underground's erratic service that he'd rather walk 30 minutes to work. He's incensed that fares are going up as much as a third next year. … The cheapest cash fare in central London will rise to 4 pounds ($7.45) on Jan. 1, the third straight increase exceeding the inflation rate. It compares with cash fares of $2 in New York, 1 euro ($1.27) in Berlin and 160 yen ($1.36) in Tokyo.

How do they do it? In terms of punctuality, safety and price, the Tokyo subway system is arguably the world's model urban railway. But for overcrowding and groping, it must rank as one of the worst. At peak morning hours, some stations employ part-time platform staff to cram in passengers. With carriages filled on average to 183% of capacity at such times, bones are occasionally broken in the crush. Who wants to live in a society like that?

Standing room only.
Ripping out seats would ease crowding on trains, suggests public pending watchdog. Removing seating and allowing more passengers to stand would help ease congestion on packed trains, the National Audit Office suggested today [6/4/2010]. The public spending watchdog's report on rail passenger capacity recommended a 'reconfiguration' of carriages. The idea will appeal to train companies because it would be a cost effective way to transport more people but is likely to anger passengers.

Third-world trains. Walk into Grand Central Terminal on a weekday afternoon, and you'll see some of the world's wealthiest workers girding themselves for a third-world commute. For the last month on Metro North's New Haven Line, "it's been short trains and long waits," as one commuter told me. Passengers crowd onto platforms in the morning to wait for trains that come late and then squeeze into standing-room cars for a slow ride, facing the same on the way home.

Pol push to ban eating in the subway. A local lawmaker is pushing a bill to ban eating in the subway to help cut down on vermin — but the measure is already causing some straphangers to lose their lunch. "I eat most of my meals on the train!" said Nisse Greenberg, 25, between bites of a falafel sandwich yesterday on the N line.



---

Houston's Metropolitan Transit Authority

Metro chief asks DA to investigate document shredding. Metro Chairman David Wolff ... speaking in the Metropolitan Transit Authority's second news conference in as many days to respond to the open records request and subsequent court order, denied any connection between the agency's firing of its chief counsel and another lawyer this week and the discovery that Metro documents were shredded on Monday [2/22/2010].

State of Texas: Metro has been breaking the law for years. More problems for Metro: Texas officials say the troubled transit authority has failed to follow a state records and documents preservation law. That statute requires local government agencies to tell the state how long they will keep public records before destroying them. Officials with the Texas State Library and Archives Commission say Metro has failed to comply with state law since 1991.

FTA: Metro plans $2.6 billion bond issuance. In countering a claim that Metro is not in good enough financial shape to afford construction of the University light rail line, the FTA has pointed to a strangely overlooked fact — the transit authority plans the sale of $2.6 billion in bonds. And, since the debt is not secured by sales tax proceeds, voter approval is not needed.

Metro issues: from wedding to shredding. An executive of the Metropolitan Transit Authority's light-rail contractor is married to a high-ranking Metro official, a relationship that prompted the transit agency to try to isolate the official from the lucrative contract.

Metro ordered to preserve documents, e-mail. A judge on Friday [3/5/2010] ordered the Metropolitan Transit Authority to preserve every document and e-mail produced within the agency until further hearings and a criminal investigation can examine allegations that Metro has destroyed documents of interest to the public.

District Attorney investigating document destruction at Metro. District Judge Al Bennett laid down the law Friday [3/5/2010], ordering the embattled Metropolitan Transit Authority to stop shredding and start saving all of its documents.

CEO of Metro accused of 'improper' relationship with employee. The president and CEO of the Metropolitan Transit Authority was accused in open court Wednesday of having an improper relationship with a female employee who works for him. That alleged relationship may include taxpayer-funded trips to Spain, additional compensation and benefits, and other items the public paid for with tax dollars, according to the attorney for former Houston Controller Lloyd Kelley.

Critics blast Metro's $2.6 billion bond plan. The Metropolitan Transit Authority intends to issue an estimated $2.6 billion in bonds in the next four years to help pay for five new light rail lines, about four times the debt capacity voters authorized in a 2003 referendum, Metro officials confirmed Tuesday [2/9/2010].

Turbulence at Metro must not impede light rail work. With the Metropolitan Transit Authority embarking on a massive five-line light rail construction binge, the timing couldn't be worse for the eruption of an agency scandal and the ouster of its top lawyer.

Mayor doubts funding for Uptown, University rail lines. Mayor Annise Parker cast doubt Wednesday on whether the Metropolitan Transit Authority has the money to pay for two planned light-rail lines that proponents say are critical to the success of the agency's plans.

FBI helps investigate Metro's document shredding. The FBI confirmed Friday that it is helping the Harris County District Attorney's office in its ongoing investigation at Metro. This week a team of investigators from both the DA's office and the FBI descended upon Metro headquarters as a part a part of an ongoing criminal investigation looking into allegations of improperly shredded public documents.

This bus has passed by here before. Cronyism, conflicts of interest, ethical lapses. There was something familiar about the allegations Metro's fired former general counsel Pauline Higgins hurled against agency CEO Frank Wilson in a lawsuit filed this week. Oh, yes. They've been made against Wilson before, by the State of New Jersey Commission of Investigation, in an exhaustive 150-page report juicily titled "E-ZPass: The Making of a Procurement Disaster."

Metro needs to focus on its purpose. In 2003, after many years of acrimonious debate over what role Metro should play in our region's transportation policy, we supposedly settled the issue with a referendum that was passed by a narrow margin. ... Soon a decade will have passed since that referendum. During that time, taxpayers have pumped more than $3 billion into Metro. Its debt has increased fivefold, from about $250 million to $1.25 billion. Yet ridership for the past two years — about 81 million passengers annually — is the lowest since 1995 and down almost 20 percent just since 2006.



---

Dallas Area Rapid Transit

Editor's comment:
The one percent mass-transit sales tax in Dallas generates more than enough money to keep the trains and buses running, even if they're nearly empty, which they often are. I believe the primary purpose of the non-zero price of an all-day train ticket is to keep homeless people from living on the trains. The DART system has been built -- as far as I can tell, it isn't expanding. Every time there is a fare increase, it is just another tax increase to raise money for some other project.

DART operates in a political climate that necessitates awarding "contracts to disadvantaged, minority and women-owned business enterprises."
Some of the rapid transit executives have really nice offices, and there is a lot of money being spent on decorating the train stations.
DART Rail: 10 Years and Growing. DART Rail ... [is] laying the groundwork for a $2.4 billion expansion that will more than double its size to just over 90 miles.

[Do the math. That's about a thousand dollars per foot of track.]

City Hall hears accusations of DART racial hiring. Allegations of hiring discrimination at the DART transit agency have now spilled over to Dallas City Hall. Community leaders, frustrated over the lack of action by DART officials are now asking Dallas City council members to investigate. Former DART employee Rebecca Williams is among at least five people who have filed federal discrimination complaints against their old bosses. Williams says she was fired after complaining about being ordered to hire Hispanics underqualified for the job.

Runaway Train to Higher Taxes. [At the end of 2007] the Dallas Area Rapid Transit Authority announced that it would be $1 billion short of what is needed to meet existing building obligations. Assuming local taxpayers are hip to the notion of paying more on every purchase so they can cruise around — or subsidize others cruising around — in trains, it might be wise to consider how well this expanded rail network can be sustained in the future. Taxpayers should ask whether the apparently cash-strapped rail system fleecing them today will get better as it gets bigger.

US Public Transport Operating Cost per Passenger Mile: Dallas has one of the least cost-effective public transportation systems at 78.9 cents per passenger mile.

The recently opened DFW Airport Skylink train system cost $880 million to construct, making it perhaps the most costly mass transit system ever, in dollars per mile of track.

Dallas has High Downtown Vacancies Despite Light Rail. The latest available data (9/1999) shows downtown Dallas to be among only four downtown areas with vacancy rates above 20 percent, at 32.0 percent, and second worst only to Oklahoma City. This situation has not improved since light rail was opened (June 1997).

DART Gets $700 Million Federal Grant but Doesn't Go to Love Field. While discussing the exercise of the right of eminent domain regarding a DART station near Love Field, some Dallas City Council members raised an interesting question. Why is DART not going directly to the airport? It appears as though the ball was dropped in 2004 when it was learned that the $700 million grant to fund DART would be in jeopardy if the tunnel would be allowed.

The 1999 Texas Transit Opportunity Analysis: Dallas Area Rapid Transit. The 1983 campaign for the DART tax referendum made impressive claims to the voters. Voters were told that DART trains were needed to reduce traffic congestion, and that within 25 years:
• 160 miles (14 routes) of rail would be built, including a downtown subway. All of this was to be built for $17.8 million per mile.
• 500,000 daily riders would be carried on DART buses and trains.
• Over 50 percent of downtown commuters would ride DART services.
As has become typical in transit, the results fell far short of the promises. … Voters were also told that without DART, Dallas traffic congestion would soon reach Houston levels and that traffic congestion would get increasingly worse without DART. In fact, with DART, traffic congestion in Dallas now equals that of Houston. … Because of its slow operating speed, DART's light rail provides no time savings relative to automobiles. Moreover, time savings with respect to buses are limited by the fact that light rail operates at virtually the same speed as DART's buses.



---

Car pools



Some Ride Share Trips Now Cost Chicagoans Over $50 For 2.5 Miles. Across the Chicago area, viewers have reported extreme price surges during all hours of the day. Some receipts sent to NBC 5 show a more than $50 price tag for a 2.5-mile ride. A trip from Lake View East to near downtown Chicago shows rates pushing $30. Pre-pandemic, it was common for riders to pay the same amount, but for nearly 15-mile trip from downtown Chicago to O'Hare airport. With increasing prices, some downtown workers are finding other modes of transportation to get to work.

Uber sued for allegedly refusing rides to the blind and putting a dog in the trunk. An advocacy group for the blind is suing the app-based ride-sharing service Uber, alleging the company discriminates against passengers with service dogs. The federal civil rights suit filed Tuesday [9/9/2014] by the California chapter of the National Federation of the Blind cites instances in California and elsewhere when blind Uber customers summoned a car only to be refused a ride once the driver saw them with a service dog. In some cases, drivers allegedly abandoned blind travelers in extreme weather and charged cancellation fees after denying them rides, the complaint said.

Uber Slashes New York Fares, Now Cheaper Than Taxi. Uber's war against entrenched taxi companies saw its most recent move Monday when the company announced that it would slash prices 20 percent in New York City. An UberX, the cheapest ride offered by the company, is now several dollars cheaper than a traditional taxi in New York City, where yellow cabs are still a staple, Uber says.

Uber may not be worth $17 billion valuation. The tech startup has grown 6,000 percent since 2010 — making it the most valuable private tech startup. And Travis Kalanick, CEO of the 4-year-old company, has no plans to slow down. Now in 128 cities and more than 40 countries, Kalanick wants to keep the pedal to the metal. But there are some little-publicized warning signs on Uber's horizon that could slow its meteoric growth.

Ridesharing Wars: Uber, Regulators, and the "California Compromise". In the early days of ridesharing, Uber and others took a head-on approach to regulatory challenges. They called themselves a tech company and (unconvincingly) denied they were in the transportation service business per se. They called for dramatic deregulation and effectively harnessed their customer bases to engage in grassroots lobbying. But with the California compromise, ridesharing providers seem to accept that they will be regulated and must "work with the system." However, it is far from clear that this is a more effective strategy.

Lyft and Uber Get Banned from Virginia. For once, Uber and Lyft are going to need to work together for a common goal. Both car services were banned in Virginia by the Department of Motor Vehicles this week. The cease and desist ordered the California-based transportation startups to stop "operating in Virginia until it obtains proper authority." The DMV also threatened to fine the drivers if operations continue.

City halts ride-sharing company's foray into Chicago airports. The city has shooed away the first attempt by a ride-share company to make illegal inroads at Chicago's airports, which up until now have been the profitable domain of taxis and limos fiercely competing for passengers.

2,000 Area Federal Workers Get Taxpayer-Funded Commutes. The Tobyhanna Army Depot, at the crack of dawn, is when many of the depot's 4,000 employees report for work. Almost half of them arrive in vans. And their trip to work is free, paid for by the U.S. government. "It is one more benefit that is provided to federal employees, just as we are provided vacation time or health benefits," says James Antonelli, the CFO of the Army Depot.

The Editor says...
I'm not opposed to a van pool operation, especially if it is voluntary, and it carries a dozen people from a remote park-and-ride lot into a congested city or onto a military base. The fact that the employer pays for the vehicle is just a perk, and if the taxpayer is paying, he or she can at least appreciate the efficiency of this expense. I would be opposed if the program was mandatory, or if the vans ran around empty all day, like city buses do.

Mayor wants to impose regulations on ride-sharing industry. Mayor Rahm Emanuel will move Wednesday [2/5/2014] to fill a "regulatory vacuum" that has given ride-sharing companies an unfair advantage over taxicabs, with no safeguards to protect consumers. The 20-page ordinance, expected to be introduced at a City Council meeting, would license ride-sharing companies as "transportation network providers" and require them to pay an annual, $25,000 fee, plus $25 per driver.

California becomes first state in nation to regulate ride-sharing. California regulators have approved the nation's and state's first rules for fast-growing ride-sharing companies that connect passengers to drivers via smartphones.

Vanpools and Carpools can Complement Transit. Transportation officials often overlook one of the easiest ways to decrease congestion — encourage carpooling. According to 2011 data from the U.S. Census, fewer than 5.0% of commuters choose any of the typical alternatives to single-person commuting. About 5.0% choose transit; 2.8% decide to walk; and less than 0.6% actually bike. But almost 10% of commuters choose carpooling despite the reality that carpooling receives little marketing and virtually no funding from any level of government. While single occupant driving continues to dominant as the choice of 76.4% of the population, carpooling comes in second at 9.7%.

Once Popular, Car Pools Go the Way of Hitchhiking. Remember the 1970s? Watergate, disco, oil embargoes and, of course, car-pooling. Many big companies organized group rides for their employees, and roughly one in four Americans who drove to work shared a ride with others. But now far more people are driving alone, as companies have spread out, Americans are wealthier and cars have become cheaper to own. The percentage of workers who car-pool has dropped by almost half since 1980, the first time the Census Bureau started systematically tracking the numbers, according to new data from the bureau.

Impatient commuters form impromptu car pools: Traffic congestion has a growing number of commuters [in Houston] ignoring a basic rule from childhood: Never get in a car with strangers.

The Carpool Canard: Car-sharing is hardly ever practicable. Human needs are too individualized and too unpredictable. The carpool movement is entirely collectivist, in fundamental principle and in form.

Let it ride. Thanks to the government, you now can sit in a yellow car with complete strangers. This week, New York City is launching a one-year pilot program for giving people cab rides at discounted rates ($3 or $4 per passenger) from three select locations. The goal of the share-a-cab program, which is limited to weekdays (6 to 10 a.m.) is to "save money" for passengers, make more money for drivers and (of course) "help the environment." These things are to be achieved by putting New Yorkers who do not know each other in cars together.



---

High speed rail projects



Feds Restore $929 Million in Funds for California's Billion-Dollar Bullet Train Boondoggle. California's wasteful high-speed rail project is getting a predictable boost under train-loving President Joe Biden. On Thursday, the Biden administration announced it was restoring $929 million in grants that had been revoked by the U.S. Department of Transportation under President Donald Trump. Trump used the terrible state of the rail project — years behind schedule, billions over budget, and without a realistic plan for actually connecting Los Angeles and San Francisco — as a reason to shut the funding down. His feud with California political leadership certainly played a role in the decision, but the reality is that the entire train project has been an expensive disaster that has lined a bunch of contractors' and consultants' pockets. California sued the Trump administration to try to get the money back. Yesterday's [6/10/2021] announcement is the result of a settlement agreement between California and the Biden administration to restore the grant.

Feds agree to restore $1B to California for bullet train. The federal government has agreed to restore roughly $1 billion in funding for a bullet train project in California. California Gov. Gavin Newsom (D) announced Thursday night that the Transportation Department would provide nearly $929 million for the state's high-speed rail project. Newsom said the money would help workers complete the initial operating segment of the project, which would be the nation's first high-speed rail system. "Tonight's action by the federal government is further proof that California and the Biden-Harris Administration share a common vision — clean, electrified transportation that will serve generations to come. Restoring nearly $929 million in grant funding back to California's High-Speed Rail project will continue to spur job creation, advance the project and move the state one step closer to getting trains running in California as soon as possible," said Newsom.

The Editor says...
Remember, "clean, electrified transportation" is only as clean as the power plant making the electricity.

You Can't Ignore Physics, Joe. To cope with centrifugal force, train tracks tilt on curves; the problem is that the train can only tilt so much before either it or the passengers inside tip over, so the curve must get larger and more gradual to safely carry a super-fast train. "Tracks rated for fifty miles per hour need almost no banking and can have a curve radius of fifteen hundred feet, while a train traveling at a hundred and twenty miles per hour needs a track with significant banking, and a minimum curve radius of more than a mile and a half." A train track designed for a train going 550 miles per hour would have to have an absolutely gargantuan curve radius. Our current system and routes of train tracks would be completely unsafe for a train moving at that speed; it would fly off the tracks at the first curve. And there are a few other problems. Higher speeds generally mean worse consequences for impacts, accidents, and derailments. Taiwan just had a terrible crash that killed at least 50 people, hitting a truck while the train was moving about 75 miles per hour. A Spanish train traveling 100 miles per hour derailed on a bend in 2013 and 79 people died, with another 140 injured. Now picture a train experiencing a collision or derailment while moving five times faster.

Joe Biden's Riff on Trains Was Full of Complete Nonsense. [Scroll down] A Boeing 737 cruises at around 530 mph, but more importantly, it doesn't make 20 stops while crossing the country. That's really where trains will never truly be competitive. Anyone that's sat on a train for 24 hours in a place like China to go what would have taken 3 hours in an airliner understands exactly what I'm talking about. You also have to factor in that trains must slow down over certain types of terrain which are plentiful in the United States. High-speed rail can't do 200 mph through the Rockies. [...] The issue is that air travel already does it better so why fix what's not broken? It's simply better to be able to fly point to point to almost anywhere in the country on a direct flight. Why would someone want to take a 20-hour bullet train ride across the country with a dozen stops when a plane can get them there in 4 hours? Consumer costs for train travel are also prohibitive. Even the current, slow rail system produces ticket prices far above air travel. Imagine how much a ticket would cost on some cross country, high-speed rail boondoggle?

California bullet train project to seek additional $4.1B amid delays and rising costs. The California bullet train project will seek $4.1 billion in additional funding in order to finish construction in the state's Central Valley. The additional money would be sourced from a bond fund that voters approved in 2008, according to a Monday report from the Los Angeles Times, citing newly released documents from the bullet train authority. The report said an Assembly Transportation Committee hearing is expected to take place in the coming weeks. The new disclosures reveal not only an increase in the cost of the project but also a delay in its projected timeline. The Central Valley system, which will cover 171 miles and reach from Merced to Bakersfield, was supposed to be completed by 2028. Its new opening date has been pushed to 2030.

Britain's Big Dig. This month, [Boris] Johnson approved the HS2, a high-speed train line from London to the North of England. The theory holds that this infrastructure will decrease disparities in wealth between North and South — an important goal, for electoral reasons. The train line — projected to take at least ten years to build — already has a projected construction cost of over $130 billion. Given the long history of cost and construction overruns of government projects, it is reasonable to expect that it will take longer and cost much more than current estimates. After all, the projected costs have already risen by 300 percent since the scheme was first mooted. Cui bono? Clearly, the construction companies and bureaucratic hangers-on have dramatically increased the cost, compared with those of high-speed trains elsewhere. So far, with $12 billion spent, we see only scars in the landscape and building sites at stations.

California 'hi speed rail' plan now pondering old fashioned diesel trains to salvage something from the failed project. Nobody with any authority over it can admit that Jerry Brown's pet project, a high-speed rail line between San Francisco and Los Angeles, is a multi-billion dollar fiasco and pull the plug to avoid squandering additional billions of dollars from taxpayers. Governor Gavin Newsom has "temporarily" downsized the project, promising to build only the 165 mile segment from Merced to Bakersfield in the flat Central Valley, a trip that few people would ever make at the sort of fares necessary to sustain high speed rail service, a premium-priced commodity everywhere in the world with high speed rail. (The barely high-speed Acela trains between DC and Boston charge fares comparable to airlines.) Very few executives need to travel from Merced to Bakersfield quickly.

Taxpayers Can't Dodge Bullet Train. [Scroll down] Eleven years later, the critics have been mostly right. A [Los Angeles] Times news story this week, based on an internal draft of the High Speed Rail Authority's forthcoming report to the Legislature, found, "The cost of building a 119-mile section of the California bullet train in the Central Valley is projected to increase by $1.8 billion." Note that the cost overruns are in the simplest place to build, along a flat agricultural plain. And just how many people are itching to ride this downsized rail line from Bakersfield to Merced? [...] The project is not going to do anything about climate change, but is more likely to be an underused monument to government waste.

India's fastest train breaks down on its first trip. The fastest train to hit the rails in India came to an abrupt halt on Saturday [2/16/2019] during its first trip, one day after it was premiered by Prime Minister Narendra Modi. The Vande Bharat Express was on its way from Varanasi to New Delhi in the northern Utta Pradesh when it ran into trouble.

The Boondoggle Continues. Well, a few remaining Republicans in Sacramento managed to get an audit done. The price tag is up to 77 billion dollars.

Rushed construction cost high-speed rail $600 million and delays mount. California's High Speed Rail Authority is still paying for a costly decision five years ago to begin construction in the Central Valley without securing land and before it had completed key plans, according to a report published on Thursday [11/15/2018] by State Auditor Elaine Howle. Howle's office estimated that the rushed construction contributed to $600 million in cost overruns just for segments in the Central Valley. They may require as much as $1.6 billion more.

California's $77 billion bullet train will be one of the state's great embarrassments: Larry Ellison. Oracle co-founder Larry Ellison and Tesla CEO Elon Musk are on the same page when it comes to California's $77 billion high-speed rail project. "Trains leave when you don't want to leave, from a place you don't want to leave from, and take you to a place you don't want to go to, at a time you don't want to get there, and then you have to get into a car and go wherever you're going. It is a crazy system," said Ellison during an exclusive interview with Maria Bartiromo on "Mornings with Maria" on Thursday [10/25/2018]. Ellison, who said he hasn't spoken to Musk about the train, noted that their views are in-line.

Gavin Newsom's Bullet Train To Nowhere. Gavin Newsom is the Democratic candidate for Governor of California who is widely expected to win next month thanks to the state's overwhelming blue tilt. This week Newsom was asked about his plans for California's bullet train project and he said he would settle for building half of it as a way to rescue the project that is already way over budget.

Californians To Try To Kill High-Speed Rail Project By Referendum. Remember that high-speed rail project that was going to bring California's infrastructure into the 21st century? The last we really heard about it was back in April when an audit was scheduled to take stock of just how far in the hole they were and if it could ever be finished. Of course, that's been the story of this project from the beginning. One delay after another compounded by flawed budget estimates and construction schedules. Mix in a bit of political incompetence and malfeasance and you've got a recipe for disaster. This running boondoggle has been dragging on for ages, creating a black pit of despair where Californians' tax dollars go to die. But now that may be about to change. Fresh off their advances in attempting to recall the recent gas tax package, one group is now working on a referendum plan to stop the entire mess and redirect the money to fixing their roads.

Inflation and delays could add billions more to bullet train project costs. The California bullet train project has cost state taxpayers an average $3.1 million a day over the last year — a construction spending rate higher than that for the Bay Bridge, Boston's Big Dig or any U.S. transportation project in recent history. But still it's not enough, planners say. In order to hit its 2033 deadline and $77-billion budget, the California High Speed Rail Authority will have to increase daily spending by up to nine times over the next four years or risk putting the already-delayed system further behind.

A Train to Somewhere: Brightline Provides a Ray of Hope. On January 13, 2018, the Brightline high speed rail line began operation in southeast Florida. Currently operating between Miami and West Palm Beach with an intermediate stop in Fort Lauderdale, the system hopes to expand to Orlando and elsewhere by 2021. Trains make 7-8 trips a day on weekdays and 6-7 trips a day on weekends and cover the 78 miles between West Palm Beach and Miami in 1 hour and 15 minutes. Brightline is an entirely private operation. It does not rely on any government subsidy and its financing is provided through the sale of bonds. This means that in the worst case scenario for Brightline, tax payers will be off the hook for any failures. In the best case scenario, communities served by the rail line will have efficient rail transportation that could potentially spark new development and bring more prosperity to Florida's east coast.

The Editor says...
Check the numbers. The train goes 78 miles in 75 minutes. That's an average speed of 62.4 mph, not counting the time it takes to drive to the train station, get a ticket, go through TSA screening (coming soon if it's not there already), board the train, get off the train, and find a rental car or a bus, before you go your way. Obviously, that's not high speed rail service. And the trains make 7 or 8 trips per day -- but is anybody on them?

The great California train wreck. Let me just say from the outset that I still miss California. [...] Somehow, we got along fine without a bullet train from Los Angeles to San Francisco. A maniacal pipe dream of Gov. Jerry Brown, its price tag was increased last week to $77.3 billion. The train's projected opening date has been pushed back another four years, to 2033. When this thing is done, they claim, you will be able to zip between Southern California and Baghdad by the Bay in only three hours. Minus any time spent restoring track after a particularly bad earthquake.

Jerry Brown's half-fast 'bullet train' front man admits Californians deserve another vote on the project. In 2008, California voters were duped into narrowly approving (with 52.6% of the vote) a $9.95 billion bond issue for construction of a purported "bullet train" linking San Francisco and Los Angeles, based in specious cost estimates and promises that could not be (and have not been) fulfilled.

California's Bullet Train To Fiscal Oblivion. California's bullet train project, also known as Jerry Brown's Folly, has turned into a fiscal nightmare for the Golden State. Not only are the cost estimates soaring, but the time table has once more been shifted back. Based on current estimates, it may turn out to be the biggest fraud in the history of public works.

Cost for California bullet train system rises to $77.3 billion. The price of the California bullet train project jumped sharply Friday when the state rail authority announced that the cost of connecting Los Angeles to San Francisco would be $77.3 billion and could rise as high as $98.1 billion — an uptick of at least $13 billion from estimates two years ago. The rail authority also said the earliest trains could operate on a partial system between San Francisco and Bakersfield would be 2029 — four years later than the previous projection. The full system would not begin operating until 2033. The disclosures are contained in a 114-page business plan that was issued in draft form Friday [3/9/2018] by the rail authority before public hearings and formal submission to the Legislature in about 60 days.

California bullet train costs soar to $77B; opening delayed. The projected cost of California's bullet train between San Francisco and Los Angeles has jumped to $77 billion and the completion date has been pushed back four years to 2033, according to a business plan released Friday [3/9/2018]. The plan by the California High-Speed Rail Authority presents the latest setbacks for a project that's been beleaguered by delays and cost overruns since voters first gave it the green[ ]light in 2008.

Electricity Cost: CA vs U.S. — and TX. California has high income taxes. Texas has none. The workers in Texas do not have to pay bribes to work — in many places in California they have to pay extortion. California is building a high speed rail from L.A. to San Fran, for $200 billion of taxpayers money. Texas is building a high speed rail from Houston to Dallas, approximately 300 miles for NO tax dollars — all private funds. Local cities will build the stations in exchange for development around the stations.

The Editor says...
What's the point of a bullet train from Dallas to Houston if it stops in every medium-sized town in between? Especially if you can get from Dallas to Houston in 45 minutes on an airplane, and there's a flight out of Love Field every hour?

Trump pulls brakes on $13B Obama-backed rail-tunnel plan. An Obama-era plan to have the federal government finance half of a $13 billion rail tunnel project ran into a red light Friday [12/29/2017] from the Trump administration. The plan, proposed under President Barack Obama in 2015, includes revitalizing a deteriorating Amtrak tunnel connecting New Jersey to New York City, repairing damage to a dual-tunnel conduit, and reconstructing the New Jersey railroad network's aging Portal Bridge, Crain's New York Business reported.

Price for New York-New Jersey rail tunnel rises to $12.9B. The interim head of the development corporation formed to oversee the massive undertaking, John Porcari, said on Thursday the project will cost $12.9 billion, up from previous estimates of $7 billion to $10 billion.

Obama's High-Speed Rail Fantasy Led To Deadly Derailment In Washington. In accounts of Monday's crash, which killed three and injured many others, news reports noted that the derailment involved a "high-speed Amtrak train" on its first run on a new stretch of track that bypassed an existing rail line. The train was reportedly going 80 mph when it hit a curve engineered for speeds of only 30 mph. If neither speed sounds particularly "high speed," join the club. Yet this stretch of track was paid for by Obama's 2009 $787 billion stimulus plan, of which Obama directed $8 billion to nearly a dozen rail projects around the country that were supposed to transform how Americans get around. "My high-speed rail proposal will lead to innovations that change the way we travel in America," Obama boldly proclaimed at the time.

With Trump on board, Texas puts high-speed rail on the fast track. Texas is closer than ever to building the first high-speed train in the United States, thanks to President Donald Trump's fascination with these transportation projects and a well-timed pitch to his administration. Now developers nationwide are looking to the privately owned Texas Central Railway as a test case of what can get done with Trump in the White House. Former Houston Astros owner Drayton McLane Jr., a member of the company's board of directors, met recently with Transportation Secretary Elaine Chao in Washington. He wasn't seeking any of the taxpayer-funded grants sought by high-speed rail projects in California and the Northeast. What the $10 billion Texas Central Railway really needs is a green light from the agency Chao oversees.

Two construction firms seek an extra $300 million for bullet train work. Two huge construction firms that are helping to build about 54 miles of bullet train structures in the Central Valley are seeking an additional $300 million on their fixed-price contracts, the Los Angeles Times has learned. The increases, if the state ultimately agrees to cover them, would further bloat the bill for what has been touted as the easiest and most predictable section of the Los Angeles-to-San Francisco system. The potential increases lend credence to the findings of a December risk assessment by the Federal Railroad Administration that costs for building the full 118 miles of work in the Central Valley could jump by 50%, or $3.6 billion, above current estimates.

High-Speed Train Going Nowhere Fast. Six years have chugged by since the federal government awarded billions of dollars for California's high-speed passenger train but not a single track has been laid. The "bullet train" promised to make the 520 mile trip from San Francisco to the Los Angeles area in less than three hours by traveling over 200 miles per hour. [...] With a price tag of nearly $100 billion, this rail system is the single largest public works project currently underway in the U.S. Already billions of dollars over budget and years behind schedule, the only ones being taken for a ride by the train are taxpayers.

More on HSR. At dinner last night [4/27/2010], our speaker (Eric Peterson, President of the American High Speed Rail Alliance) estimated that a complete national truly High Speed Rail system for the United States (on the order of 220 MPH peak speed), not simply an improved Amtrak system, would cost about $2 Trillion Dollars, give or take. This sounds about right. This is about the cost of 2000 Vikings Stadiums, and I think I agree with the speaker that a HSR network would be a better investment than 2000 Vikings Stadiums. This would also be the cost of 2000 Central Corridor LRTs, which would serve more people on a daily basis, and probably more passenger miles as well. [...] Some individual HSR lines may cover the cost of running trains, but not the cost of infrastructure. The idea of profitability is nonsense. If this were to be private, following the history of most transportation infrastructure investments, the first generation of investors are likely to be wiped out in bankruptcy. Governments do not typically go bankrupt, they just borrow from other sources, tax, or reduce spending elsewhere.

The Editor says...
Or, in the case of the federal government, they just print more money, which causes inflation.

California's $64 Billion Bullet Train To Nowhere Gets Delayed — Again. In the late 1800s, it took railroad companies six years to lay 1,907 miles of track for what was to become the Transcontinental Railroad (or as Barack Obama calls it, the Intercontinental Railroad). Building that railroad line required tunneling through mountains — at one foot a day — building bridges — including one that spanned 700 feet — and doing all the work almost entirely by hand. As best, it will now take seven years for California to lay 119 miles of track — on relatively flat ground in the middle of nowhere. That news came from a contract revision that the Obama administration approved late last week.

The Eminent Domain Train. Trains propelled human beings into the modern world. Before trains, no human being had ever traveled faster than a horse. They have been integral to the growth of our economy, connecting societies, and providing the comforts we now enjoy. They are big and powerful, they are romantic — they represent freedom. However, when Johnny Cash sings about trains, he's reminding Folsom Prison inmates about life passing them by because of their lost freedom. A fight over trains could similarly steal freedom from some Texas residents living along the I-45 corridor.

Did Elon Musk Just Make California's $64 Billion Bullet Train Obsolete Before It's Even Built? Just three years after Elon Musk described his sci-fi-esque vision for "hyperloop" travel, one of two competing companies, Hyperloop One, successfully conducted its first proof-of-concept test in Nevada. Musk's idea with hyperloop was to send floating transportation pods through depressurized tubes at speeds of up to 760 mph. At that speed, a trip from San Diego to San Francisco would take a little more than 30 minutes. Development on Musk's idea is now moving at hyper speed. Hyperloop One's test, for example, came just 16 months after that company was founded. Company executives say they will be able to ship goods on its system in three years, and carry passengers by 2021.

HS2 at risk of derailing at top speeds, report finds. Trains on Britain's HS2 rail scheme are at risk of derailment and catastrophic track failure, according to previously secret research commissioned by HS2 itself. Engineering changes will be needed to make the project safe, the study says. The alterations will raise costs, increase journey times, or both, and will "collapse" the scheme's already shaky business case, according to opponents.

California's Bullet Train Will Take Even Longer To Go Nowhere. California's high-speed rail project will never make its current 2022 arrival time, according to the Los Angeles Times. Doesn't this strike anyone in charge of this costly boondoggle as ironic? The Los Angeles Times does a commendable job of providing a reality check to the increasingly out-of-touch project. After reviewing project documents and talking to various experts, the paper concluded, "The deadline and budget targets will almost certainly be missed," and state officials have "underestimated the challenges ahead."

$68-billion California bullet train project likely to overshoot budget and deadline targets. The monumental task of building California's bullet train will require punching 36 miles of tunnels through the geologically complex mountains north of Los Angeles. Crews will have to cross the tectonic boundary that separates the North American and Pacific plates, boring through a jumble of fractured rock formations and a maze of earthquake faults, some of which are not mapped. It will be the most ambitious tunneling project in the nation's history.

Dianne Feinstein's husband wins near-billion dollar California 'high speed rail' contract. To the surprise of absolutely no one familiar with the ways of Corruptifornia, the one-party state completely in the hands of the Democrats, a consortium whose lead firm is controlled by Richard Blum, husband of Sen. Dianne Feinstein, was awarded a nearly billion-dollar contract for the construction of the first phase of the so-called high-speed rail line to link San Francisco and Los Angeles. Those paying attention to the project call it the "half-fast" rail line because it will share trackage with conventional commuter rail trains in the sprawling Los Angeles and San Francisco areas, lowering its average speed to levels achieved by American railways a century ago.

What 50 Years of Bullet Trains Have Done for Japan. Fifty years ago this month, Japan's bullet trains completed their first trips and were welcomed by hundreds of people who had waited overnight in the terminals. The new high-speed line connected two massive economic hubs, Tokyo and Osaka, cutting the travel time between them from about seven hours to four. [...] Most of Japan's population lives in a surprisingly small number of places — only 20 percent of the country's land is habitable — and a high-speed train is an elegant solution for shuttling workers from one dense city to another.

High-speed rail gaining momentum in Texas. The number of Texas cities that could be served by high-speed rail is growing quickly and now includes Bryan-College Station, an area best known as the home of Texas A&M University that was bypassed by the interstate highway system. High-speed-rail advocates stepped up their efforts Wednesday to bring bullet trains to Texas as early as 2021. A commission set up to oversee a proposed connection between Dallas and Fort Worth unanimously agreed to seek federal funding to also study a Fort Worth-Austin connection.

A high-speed train wreck for Obama and liberalism. Few of President Obama's initiatives are more emblematic of his early ambitions to be a transformational liberal leader than his vision for connecting the nation with a vast high-speed rail network. The dream of building a system of bullet trains in the United States akin to what exists in Europe involves massive and sustained government spending, more money for unions, and promises to move the nation away from car-based transportation. Thus, it represents everything that excites American liberals. Obama's February 2009 economic stimulus package committed $8 billion to 79 projects spanning 31 states that were to lay the groundwork for "13 new, large-scale high-speed rail corridors across the country." In his 2011 State of the Union address, Obama touted high-speed rail as a central part of his plan for "winning the future."

The Editor says...
Oh, good. A plan for winning the future. That argument makes perfect sense! You wouldn't want to lose the future, would you?

California eyes plan to speed bullet train using cap-and-trade program proceeds. As envisioned, California's $68 billion bullet-train system, the nation's first, would take passengers from Los Angeles to San Francisco at speeds of more than 200 miles an hour. The project, though, has been beset by planning delays, fluctuating cost estimates and court challenges that have threatened to kill or delay it indefinitely. Gov. Jerry Brown has proposed using one-third of funds raised annually through cap-and-trade auctions to help pay for high-speed rail.

California's multi-billion dollar 'bullet train' becomes election issue for Dems. California's effort to build the country's first taxpayer-funded, high-speed rail system is facing a midterm derailment — as Republicans make it an election-year issue and lawmakers with re-election challengers appear reluctant to continue to support the most expensive project of its kind. The $68 billion project has the backing of some of the country's most powerful Democrats including President Obama and California Gov. Jerry Brown, who in announcing his reelection bid last week restated his goal of building the county's only high speed-rail system. However, other California Democrats are less supportive, including Lt. Gov. Gavin Newsom, who pulled his support amid a Republican challenge in November, and Rep. Grace Napolitano, who is seeking a ninth term.

How Insider Politics Saved California's Train to Nowhere. Environmentalism may be religion to some on the left, but its high priests aren't all pure and righteous. Consider the not-so-immaculate conception of California's bullet train. Last week, the state's legislature authorized $4.7 billion in bonds to start construction on high-speed rail, which had been stalled in Sacramento for more than a decade due to logistical and political malfunctions. This train is now out of the station — though it's almost certain to break down soon.

Bulk of high-speed rail costs could fall to state. As California prepares to commit tens of billions of dollars to an ambitious high-speed rail line from San Francisco to Southern California, Congress' political will to provide the bulk of the funding is disappearing, leaving the possibility that the state could end up stuck with a crushing financial burden. State voters have agreed to issue more than $9 billion in bonds to build the system, but that's a fraction of the $43 billion projected tab for the initial phase. And those costs could swell to $65 billion or more, by some estimates.

California should kill 'train to nowhere'. A wave of rational, common sense is sweeping the nation. Four states have rejected billions of dollars in federal money for high-speed rail construction, realizing long-term costs far outweigh wishful-thinking benefits. That's good news. The bad news is California political leaders, from Gov. Jerry Brown to Sen. Dianne Feinstein, want to spend the money wisely rejected by governors in Ohio, Wisconsin, Iowa and most recently Florida, for California's own proposed high-speed train.

A Rail Boondoggle, Moving at High Speed. The Obama administration's enthusiasm for high-speed rail is a dispiriting example of government's inability to learn from past mistakes. Since 1971, the federal government has poured almost $35 billion in subsidies into Amtrak with few public benefits. At most, we've gotten negligible reductions — invisible and statistically insignificant — in congestion, oil use or greenhouse gases. What's mainly being provided is subsidized transportation for a small sliver of the population. In a country where 140 million people go to work every day, Amtrak has 78,000 daily passengers.

All Aboard the T-Rex Express. President Obama is going to call for spending $53 billion over the next six years on high-speed railroads between major cities, with $8 billion in the 2012 budget. He touted the idea in the State of the Union and, indeed, has been pushing it since he took office.

Taking us on a high-speed ride to the poorhouse. High-speed rail seemed like a good idea to the Chinese. They announced plans to spend $300 billion on a 16,000-mile HSR network in addition to bidding on a contract to bring HSR to the United States. On July 1, China's new G5001 Shanghai-Nanjing High-Speed Railway — the longest and fastest intercity rail line in the world — opened to much fanfare after being fast-tracked with government stimulus funds. (Sound familiar?)

Debate Over High-Speed Rail Plan Intensifies. Proponents of the Obama Administration's high-speed rail initiative have been intensely busy promoting the project in recent weeks, but harsh requirements proposed by the White House are jeopardizing necessary cooperation from the railroad industry.

High-speed rail: not much in other continent-sized countries. I've long been fascinated by high-speed rail lines and I have written about them before in this space. I would like to see high-speed rail service (higher than the current Acela speed) in the Boston-New York-Washington corridor, which seems well adapted to it. But I think proposals for high-speed rail in almost every other part of the country are crazy — likely to be hugely expensive and unlikely to attract substantial ridership.

Rail Service Expansion Imperiled at State Level. Republicans running for governor in a handful of states could block, or significantly delay, one of President Obama's signature initiatives: his plan to expand the passenger rail system and to develop the nation's first bullet-train service.

High-speed rail will take taxpayers for a ride. I have ridden the Shinkansen — Japan's bullet train — and, let me tell you, it's cool. But in their techno-envy, American advocates of high-speed passenger trains lose any sense of economic rigor. Yes, fast passenger trains may be awesome — but exactly why do we need them? Cars, buses and planes are already doing a good job of moving people around. If the purpose of high-speed rail is to create jobs, other infrastructure investment can do that. If the purpose is to save energy or limit greenhouse gases, then rail, which uses massive amounts of electricity, much of it presumably generated by coal-fired plants, may be inferior to air or car travel.

New Midwest Governors Could Derail High-Speed Trains. Republicans Scott Walker of Wisconsin and John Kasich of Ohio, who won their races for governor Tuesday [11/2/2010], both have sharply criticized the high-speed passenger-rail projects championed by President Barack Obama. Their victories cast doubt on high-profile projects in their states that were awarded hundreds of billions of dollars in federal stimulus funds.

California high-speed rail gets $624 million more. California received an additional $624 million to start building the $43 billion statewide high-speed rail system in the Central Valley — money that will likely be used to take the initial stretch of rail south to Bakersfield. Transportation Secretary Ray LaHood announced Thursday [12/9/2010] that $1.2 billion in federal high-speed rail funds allocated to Wisconsin and Ohio would be rerouted to other states.

This train is bound for red ink ... really fast. Amid great fanfare, the Obama administration last week announced plans to spend $13 billion in "seed money" for 13 high-speed rail projects around the country — $8 billion in stimulus funding now with a promise to seek $5 billion more over the next five years. Among the projects being funded is the St. Louis-to-Chicago route, which will receive $1.1 billion. A relative pittance of $31 million went to Missouri to upgrade service between St. Louis and Kansas City. With apologies to futurists, people in the construction industry and rail buffs, investing $13 billion (or even $8 billion) in passenger railroads is a little like building a bridge to the 19th century.

America's high-speed rail shambles: Where has all the money gone? This time last year, President Obama promised a brave new world for America's train spotters, committing $8 billion to fund 13 high-speed rail projects around the US. But 12 months later, where has all the money gone? The comically inept projects range from Ohio's (now abandoned) plan for a $400 million "high speed" train averaging just 39 mph, to Florida's 84 mile, $2.7 billion plan to link two cities that are only 90 minutes apart by road. Not to be outdone, Iowa managed to receive $1 billion for a line to Chicago that will be slower than the current bus service. But, even in such illustrious company, California's high speed shambles stands out: a "train to nowhere" costing $4.15 billion to connect the "unincorporated community" of Borden to the tiny town of Corcoran (combined pop. ∼25,000).

The Little Engine That Could Chug Florida Straight Over the Cliff. Some of the same puffy Florida politicians who spent the runup to the midterm elections decrying federal stimulus money because it's running up the deficit ... look at them now. They're gimme-guys drooling over the extra $342 million headed to Florida for high-speed rail.

High-speed trains are not an alternative to cars. High ticket prices mean that running a car is still the cheapest travel option for most people.

The folly of high-speed rail, redux. Like so much of the [State of the Union] speech, the high-speed rail folly is recycled claptrap (he tossed it into last year's speech, too). The remarks will appease Big Labor and eco-radical social planners led by Transportation Secretary Ray LaHood, who'll have his grubby hands all over the high-speed rail slush fund faster than you can turn off your soon-to-be-banned cell phone.

High-Speed Rail, Budget Buster. If the nation is going to reduce its out-of-control spending, the first step is to stop spending money on things we do not need. Despite President Obama's call in his State of the Union speech for linking 80 percent of the nation by high-speed rail, it is hard to imagine a more unnecessary program.

The High-Speed-Rail Boondoggle. Key Republicans are rightly going after President Obama's $53 billion pie-on-the-tracks high-speed-rail schemes. House Transportation Committee chair Rep. John Mica (R., Fla.) calls it a "Soviet-style train system," while Railroads Subcommittee chair Rep. Bill Shuster (R., Pa.) says it's "insanity." These are strong comments, coming from officials who have in the past expressed support for rail projects.

A $53 Billion High-Speed Rail Program to Nowhere. [Railroads Subcommittee Chairman Bill] Shuster was also critical of the manner in which the Administration has administered the program. "Selecting routes behind closed doors runs counter to the Administration's pledges of transparency. ... High-speed rail funding could become another political grab bag for the President. ... If the Obama Administration is serious about high-speed rail, they should stop throwing money at projects in the same failed manner."

High-speed rail is a fast track to government waste. Vice President Biden, an avowed friend of good government, is giving it a bad name. With great fanfare, he went to Philadelphia last week to announce that the Obama administration proposes spending $53 billion over six years to construct a "national high-speed rail system." Translation: The administration would pay states $53 billion to build rail networks that would then lose money — lots — thereby aggravating the budget squeezes of the states or federal government, depending on which covered the deficits.

It's the Bullet Train ... to Nowhere. Hailed as a high-speed road to the future, a jobs program and a symbol of America's dedication to innovation, President Obama proposed Monday spending $8 billion on a bullet train — a down payment on a nationwide network that will cost $58 billion over the next six years. But in the one state where the federal high-speed rail project is underway, critics say money is being misspent, ridership studies are inflated, the route is politically corrupted and the system will never be self supporting.

Runaway Trains: Obama's high-speed rail plan is a fiscal pipedream. We suppose every President is entitled to a pipedream, but President Obama's vow in his State of the Union address that 80% of Americans should have access to high-speed rail in 25 years is a doozy. Vice President Joe Biden has followed up by proposing $53 billion in high-speed rail funding over the next six years. Seriously?

41% Favor High-Speed Rail Plan, 46% Oppose. Voters aren't paying much attention to the president's plan for building a high-speed rail system, but there is a huge partisan gap in perceptions of the plan. A new Rasmussen Reports national telephone survey finds that, overall, 41% of Likely Voters favor the plan and 46% are opposed.

High-Speed Rail, Budget Buster. If the nation is going to reduce its out-of-control spending, the first step is to stop spending money on things we do not need. Despite President Obama's call in his State of the Union speech for linking 80 percent of the nation by high-speed rail, it is hard to imagine a more unnecessary program.

High-Speed Pork. President Obama's high-speed-rail proposal will, over the course of six years, pour $53 million of taxpayer money into a megaproject that produces little value for the vast majority of Americans. It uses the classic pork-barrel strategy of starting a program small and then expanding it after Congress, prodded by special-interest groups, is fully committed.

What Big Government Can Do. A business entity that suckers people with ridiculous promises that can never be kept will be sued for fraud. Government, on the other hand, does this all the time, with complete impunity. Virtually every action Big Government takes produces an obligation against future generations. For example, Obama's budget continues his weird obsession with spending billions on "high-speed rail." Whatever other functions high-speed rail might serve, you must understand that it is also an obligation. If we followed Obama's plan of spending $53 billion to develop a massive high-speed rail network, future politicians would be obliged to keep spending on it forever, no matter how much money it might lose.

Florida Governor Joins Two More in Rejecting Federal High-Speed Rail Spending. Florida Gov. Rick Scott is canceling a proposed high-speed train line between Orlando and Tampa, rejecting more than $2 billion from the federal government in a move echoing decisions by Republican governors in Ohio and Wisconsin. Scott said Wednesday [2/16/2011] the proposal is too costly for Florida and could put the state's taxpayers on the hook for roughly $3 billion, while ridership is unlikely to pay for the operating cost, meaning the state would have to pump even more money into the line each year.

Florida Gov. Scott Cancels Tampa-Orlando High-Speed Train. Florida Gov. Rick Scott is canceling a proposed high-speed train line between Orlando and Tampa, rejecting more than $2 billion from the federal government.

Obama budget gives light rail $200 million. President Obama's 2012 budget proposal on Monday allocated $200 million to the Central Corridor light-rail line. The federal money is necessary to make the project go forward, Tim Busse, University of Minnesota Services spokesman, said.

A lost cause: The high-speed rail race. President Obama's fiscal 2012 budget includes $8 billion for high-speed rail next year and $53 billion over six years. In the president's view, the United States needs to spend big on high-speed rail so that we can catch up with Europe, Japan — and you-know-who. "China is building faster trains and newer airports," the president warned in his State of the Union address. But of all the reasons to build high-speed rail in the United States, keeping up with the international Joneses may be one of the worst.

Florida's Scott Defends Rejection of Rail Funds as LaHood Cries 'Baloney'. Florida Governor Rick Scott, defending his rejection of $2.4 billion from the Obama administration for a high-speed rail project, said the program would have been a bad deal for taxpayers. Transportation Secretary Ray LaHood rejected Scott's criticism as "baloney."

High Speed to Insolvency. Florida's new Republican governor, Rick Scott, has joined Ohio's (John Kasich) and Wisconsin's (Scott Walker) in rejecting federal incentives — more than $2 billion in Florida's case — to begin a high-speed rail project. ... Washington, disdaining the decisions of Ohio and Wisconsin voters, replied that it will find states that will waste the money. California will. Although prostrate from its own profligacy, it will sink tens of billions of its own taxpayers' money in the 616-mile San Francisco to San Diego line. Supposedly 39 million people will eagerly pay much more than an airfare in order to travel slower.

Money Train. [California's] proposed high-speed rail system serves as a perfect example of the gap between the promise of transformational liberalism and the reality of big government. Taxpayers everywhere should pay attention, because the project has already been granted $3.2 billion in federal funds, mostly through Obama's economic stimulus package — and its backers hope to gobble up billions more over the next decade.

President Obama Busts the Budget for Pie-in-the-Sky Amtrak and "Livability" Proposals. While the President promises high-speed rail (HSR) service (top speeds of at least 150 mph), most of his projects involve signal and track improvements on privately owned freight rail systems that would provide marginal improvements in the Amtrak service sharing those tracks. As Heritage has noted, the President's HSR plan is best characterized as an exercise to benefit Amtrak and for-profit freight railroads, which received 55 percent of the so-called HSR rail money included in the American Recovery and Reinvestment Act. Despite his State of the Union proclamation to spend $56 billion on HSR over five years, the President's transportation budget offers no such plan.

John Galt vs. Bamtrak. "U.S. Transportation Secretary Ray LaHood announced Friday that $2.4 billion in high-speed rail funding intended for Florida will be sent to other states after the state Supreme Court upheld Gov. Rick Scott's decision to reject the money," the Associated Press reports from Tallahassee. ... Why was the federal government trying to force this boondoggle on the Sunshine State? If Florida doesn't want the money, why not return it to the Treasury rather than throw it at boondoggles in other states?

High-speed derailed. Florida's Supreme Court on Friday [3/4/2011] dealt a serious blow to President Obama's $53 billion high-speed rail pet project. The seven jurists sided unanimously with Republican Gov. Rick Scott's right to forgo $2.4 billion in federal taxpayer-backed grants the Obama administration wanted to blow on an 84-mile train track linking Tampa and Orlando. More and more, Republican governors are rejecting this type of federal bribe in the name of fiscal responsibility.

Obama's Edifice Complex. What do most Americans come across every day that is the legacy of one President? One more clue: think Dwight Eisenhower. Bingo! The highway system was created and promoted by Eisenhower and has outlasted his mortal self. Does Obama want to create a monument to his own Presidency, miles wide and sprawling across the nation for all of us to behold? Could Obama leave a similar edifice behind — say a high speed rail network costing taxpayers tens of billions of dollars? He has been forcefully trying to get this past Congress and past recalcitrant Governors worried about the real-world viability of high-speed rail networks across America. These high speed rail projects would be a disaster.

The Bullet Train to Bankruptcy. [Scroll down] Just this week, a new report raised even more questions about plans to pay for the [California high speed rail] project: Compared with the plan the voters passed, the authors found, costs have doubled to $66 billion, and the scope of the project has been dramatically reduced. If built according to the original specs, the project would have the potential to almost double the state's bonded indebtedness, to $200 billion or more. This would cost each of California's 40 million residents $275 to $320 annually for 30 years.

Californians question high-speed rail. "Californians have a reputation for questioning authority. And increasingly, they appear to be questioning the High-Speed Rail Authority, which voters empowered in 2008 to issue $9.95 billion in bonds and build the nation's largest such system. Opposition hasn't reached critical mass — not yet. But it is broad, and it includes Republicans, some Democrats, community groups, local governments, fiscal conservatives, and neighborhood preservationists.

Time to sidetrack high-speed rail. An astute journalist in the 20th century once defined public relations as "organized lying." Keep that in mind as a barrage of news features and op-ed columns extolling the benefits of President Obama's high-speed-rail initiatives appear in coming days. Indeed, some of Washington's largest and most ruthless public-relations firms are spearheading the effort to revive rail, and no wonder. Billions of taxpayer dollars are on the turntable and likely to be picked up by foreign companies like Canada's Bombardier and Germany's Siemens.

Gangsta Wrap. [Q]: What's so wrong about high-speed rail? [A]: Two things: Inevitable cost overruns and long-term operating losses that require long-term government subsidies. It's no wonder that governors in three states have turned down multi-billion-dollar grants. They love free money, but they don't want to be on the hook for all the extra money later. Everything I've read so far about the project in California suggests that people will someday be building statues honoring all of the governors who refused the money. Most long trips will be both faster and cheaper by air. Most short trips will be as fast or faster, and much cheaper, by car. Just imagine a family of four shelling out over $800 for the round trip between Los Angeles and San Francisco.

High Speed Delusion. Last Tuesday, March 22nd, saw two Obama high speed rail shills, hapless Illinois Governor Quinn and the loyal, ebullient, camera centric Illinois Senator Dick Durbin, shamelessly announcing with pride, the next phase of the so called Chicago to St Louis High Speed Rail project. The new $1.2 billion phase is to run from Bloomington, IL to Dwight IL, a distance of 58.5 miles of what could only be described as the "Billion Dollar Train to Nowhere." Folks, that amounts to a mere $20,618,556 per mile, with an estimated heart stopping speed of 110 mph. Google Map estimates driving between these destinations to be 1 hour 10 minutes. This breakthrough rail line will take only 32 minutes, assuming your actual destination in either Bloomington or Dwight is the train station itself.

California high-speed rail: The next stop is bankruptcy. Like most large public infrastructure projects, the California high-speed rail project was sold to the public based on false promises, exaggerated benefits and lowball cost estimates. Before the election, the cost of the project was estimated at $33 billion for the Los Angeles/Anaheim to San Francisco portion, and an additional $7 billion for the spurs to San Diego and Sacramento. Voters narrowly passed a $9.95 billion bond in 2008, and the federal government and private investors were supposed to cover the remaining $30 billion.

Philly to New York trains to become nation's fastest. Amtrak was awarded $450 million on Monday [5/9/2011] for major improvements that will make Philadelphia-to-New-York trains the fastest in the country. The money was part of $2 billion for high-speed rail projects awarded Monday by the U.S. Department of Transportation, after the new governor of Florida rejected the money earlier this year.

The Editor says...
In other words, they're determined to spend the money somewhere, so you might as well poke your nose into the trough.

US awards $2bn for high-speed rail upgrades. The US government has awarded $2bn (£1.2bn) for high-speed rail in critical corridors, after Florida's Republican governor declined the funds. The projects will boost rail services between Washington DC to Boston, as well as in the mid-west and California.

California High-Speed Rail Still on Track to Nowhere. The nonpartisan Legislative Analyst's Office (LAO) in California has released a devastating report on the California High-Speed Rail project. The report highlights the follies of the project managers and the crippling fiscal impact the project will continue to have on state and federal-level coffers. The California High-Speed Rail Act, which is now in its 15th year since being passed in 1996, established the California High-Speed Rail Authority (HSRA) and detailed a plan to establish high-speed rail in California by 2020. The project has been bogged down by numerous delays and constant calls for additional funding.

Fast Train To Hell. If the president wants to spend public money that helps the US compete, wasting it on a massively expensive and ineffective national high speed rail system, it is almost a high crime. ... Investing in rail is like building livery stables when automobiles took over highways.

California's high-speed train wreck. California's much-vaunted high-speed rail project is, to put it bluntly, a train wreck. Intended to demonstrate the state's commitment to sustainable, cutting-edge transportation systems, and to show that the U.S. can build rail networks as sophisticated as those in Europe and Asia, it is instead a monument to the ways poor planning, mismanagement and political interference can screw up major public works.

The insane California high-speed rail project. I have been appalled by the Obama administration's obstinate insistence on spending $3.6 billion of stimulus on the high-speed rail project in California, and I become more appalled the more I learn about it. The latest report of the state Legislative Analyst's Office makes clear that this is crazy. California voters approved $9 billion in bonds to pay for the high-speed rail project ... but the 2009 estimate of the total cost of the first phase, from Anaheim to San Francisco, is $43 billion. The state's High-Speed Rail Administration, whose members are appointed by the governor and not subject to legislative confirmation or any further state oversight[,] has agreed to spend $5.5 billion on a high-speed segment from Borden to Corcoran in the Central Valley — the high-speed train to nowhere — and the feds have resisted spending it elsewhere.

Chicago-to-Detroit high-speed rail 'positioned' to receive stimulus funds. The Obama administration said Friday [3/20/2009] that a Chicago-to-Detroit high-speed rail plan is "well positioned" to receive federal stimulus funding, according to a state lawmaker. Michigan House Speaker Pro Tem Pam Byrnes said the description came from Transportation Secretary Ray LaHood during a day of meetings at the White House on the stimulus plan.

Public Transit Gets Stimulated. Greens are lining up at the stimulus trough to fund a wish list of alternative-energy boondoggles. But an old green favorite — public transit — is also looking to sneak a few million through the back door while the gettin' is good. Sen. Harry Reid's Vegas-to-L.A. train has gotten the headlines, but with a staggering $8 billion in stimulus set aside for public transit, every pol with a pet rail program is looking to bring home the bacon.

Vegas, Midwest seek the $8 billion for fast trains. The Republicans attacking President Barack Obama's economic stimulus package point to a project they dub the "Sin Express" — a high speed rail link between Anaheim, Calif., site of Disneyland, and Las Vegas.

The Boondoggle Express. The largest construction boondoggle in recorded human history continues to unfold in the Central Valley of California. The initial segment of Obama's pet project, a high-speed rail line from Merced to Bakersfield, just had its first announced cost overrun. With costs jumping from $7.1 billion to a staggering $13.9 billion, the project now has doubled in price even before a single shovelful of earth is turned. Now that is the seat-of-the-pants, lets just make up a number, government contracting that the Democrats and the unions so dearly love.

California bullet train funding slashed by House panel. The fortunes of California's high-speed rail project, which would connect Southern California to the Bay Area with a 220 mph train, took a big financial hit Thursday afternoon [9/8/2011], when a congressional panel slashed the Federal Railroad Administration budget.

Hi-speed train to financial ruin in California. Federal spending for high-speed rail is coming under close Congressional scrutiny. Both political parties have begun to recognize the enormous capital costs required for another Solyndra style payoff; in this case the billions of Federal dollars needed to fund a lucrative union-only jobs program.

A High-Speed Rail Mirage. [Scroll down] Most of Obama's plan should really be called "moderate-speed rail," as it would upgrade existing freight lines to run passenger trains at top speeds of 110 mph. At around $5 million per mile, the total cost would come close to $50 billion. Not satisfied with moderate-speed trains, California says it wants half of all federal funds so it can build brand-new 220-mph rail lines. But it's unlikely other states will settle for the slower trains if California gets the faster ones. Building fast trains nationwide would cost at least $500 billion.

This article appeared in the Detroit Free Press on August 3, 2009.
Are Proposals For High-speed Rail a Boondoggle? On June 17, the Federal Railroad Administration asked states for proposals for spending $8 billion of stimulus money that Congress allocated to high-speed rail. This raises a question: Would you pay $1,000 so that someone — probably not you — can ride high-speed trains less than 60 miles a year? That's what the FRA's high-speed rail plan is going to cost: at least $90 billion or $1,000 for every federal income taxpayer.

This article appeared in the Gainesville Sun on June 18, 2009.
High Speed Spending. As of this writing, $99 will get you from Washington to New York in two hours and fifty minutes on Amtrak's high-speed train, while $49 pays for a moderate-speed train ride that takes three hours and fifteen minutes. Meanwhile, relatively unsubsidized and energy-efficient buses cost $20 for a four-hour-and-fifteen-minute trip with leather seats and free Wi-Fi. Airfares start at $119 for a one-hour flight. Few people who pay their own way will spend an extra $79 to save an hour and twenty-five minutes of their time.

We Can't Afford the Luxury of High-speed Rail. This past Tuesday [9/28/2010], Amtrak proposed to spend more than $100 billion increasing the top speeds of trains in its Boston-to-Washington corridor from 150 to 220 miles per hour. In August, Secretary of Transportation Ray LaHood estimated that President Obama's proposal to extend high-speed rail to other parts of the country will cost at least $500 billion. No one knows where this money will come from, but President Obama argues that we need to spend it because high-speed rail will have a "transformative effect" on the American economy. In fact, all it will do is drag the economy down.

The Editor says...
Maybe that's exactly the "transformative effect" Obama seeks.

High-Speed Rail: The Wrong Road for America. [Scroll down] Planners have predicted that a proposed line in Florida would use more energy and emit more of some pollutants than all of the cars it would take off the road. California planners forecast that high-speed rail would reduce pollution and greenhouse gas emissions by a mere 0.7 to 1.5 percent -- but only if ridership reached the high end of projected levels. Lower ridership would nullify energy savings and pollution reductions.

High-Speed Rail Costly for California. California high-speed-rail proposal approved by voters in 2008 has strayed so far above original cost estimates and so far under ridership estimates that one key transportation analyst is calling it the greatest scam to hit the state — ever. "The California high-speed-rail project is on track to be the biggest boondoggle in the state's history, and for California, that is saying something," said Adam Summers, a policy analyst with the Reason Foundation. "The project's planning and viability have been dubious from the beginning."

Congress, Governors Nix Obama's High-speed Trains. Dead. Kaput. Through. ... That, I think, is a fair description of the Obama administration's attempt to build high-speed rail lines across America. It hasn't failed because of a lack of willingness to pony up money. The Obama Democrats' February 2009 stimulus package included $8 billion for high-speed rail projects. The Democratic Congress appropriated another $2.5 billion. But Congress is turning off the spigot.

Bullet train cost estimates rise to $98.5 billion. California's bullet train will cost an estimated $98.5 billion to build over the next 22 years, a price nearly double any previous projection and one likely to trigger political sticker shock, according to a business plan scheduled to be unveiled Tuesday [11/1/2011]. In a key change, the state has decided to stretch out the construction schedule by 13 years, completing the Southern California-to-Bay Area high speed rail in 2033 rather than 2020.

Bullet train's $98-billion cost could be its biggest obstacle. The ambitious plan to connect Anaheim and San Francisco with high-speed trains has encountered plenty of obstacles, including intensifying resistance from wealthy and poor communities lying in the track's path.

High Speed Rail Costs Balloon to $100 Billion. Nearly $100 billion. That's what High Speed Rail is now going to cost California taxpayers -- more than double the costs initially promised by the proponents of Prop 1A, which contained the initial taxpayer financing for the project.

Congress about to kill high-speed train program. Congress voted Thursday [11/17/2011] to kill funds for President Barack Obama's signature high-speed rail program, but the initiative may have some life in it still.

Californians would reject bullet train in revote, polls finds. The estimated price tag for the 520-mile system between San Francisco and Los Angeles is now $98 billion to $117 billion — at least triple the initial projection of $33 billion and over double a more recent estimate of $43 billion. Planners have extended the construction deadline from 2020 to 2033. "If there were a revote, its chances of passage given this poll are not very good," said Mark DiCamillo, director of the Field Poll.

Take this bullet train. Please. So, the California High-Speed Rail Authority was wrong. The bullet trains from Anaheim and Los Angeles to San Francisco will not cost $34 billion as originally estimated, or $43 billion as the authority insisted just two years ago, but closer to $100 billion. Critics say the agency's new $98.5-billion estimate is low, and the authority admits it might go as high as $117.6 billion, but for sake of argument call the cost $100 billion. The authority is offering us less for more. The original system included Sacramento and San Diego. They are not part of this estimate.

Detroit light-rail line plan scrapped for city, suburban buses. The death of the light-rail plan brings an end to about four years of intensive effort by the city, private developers and nonprofit groups to create what was widely viewed as the most promising attempt in decades for a light-rail system to Detroit. Bullet train's travel-time mandate adds to ballooning of costs. California's proposed bullet train will need to soar over small towns on towering viaducts, split rich farm fields diagonally and burrow for miles under mountains for a simple reason: It has no time to spare. In the fine print of a 2008 voter-approved measure funding the project was a little-noticed requirement that trains be able to rocket from Union Station in downtown Los Angeles to San Francisco in no more than two hours and 40 minutes.

High-Speed Railroad Job. If politicians are good for anything, it ought to be reading polls. Yet there was Transportation Secretary Ray LaHood last week telling Congress that California's high-speed railroad is "not a cheap project" but "the people in California want this." What people would that be? According to the latest Field poll, two-thirds of Californians want a new referendum on the project.

Plan to use Amtrak as fallback for high-speed rail criticized. When the Obama administration gave California $3.4 billion in startup money for a high-speed rail system, it insisted on a guarantee that the project would not become a white elephant — something critics could brand as a train to nowhere. The first section of track had to run down the spine of the Central Valley and have another use, should the rest of the bullet train project collapse. Those requirements are now at the center of an intensifying political battle...

The governor can strong-arm companies with the state's new Thermageddon Law.
California To Pay For High Speed Rail With Extortion. The governor told ABC 7's "Eyewitness Newsmakers" program that environmental impact fees paid by industries that emit large amounts of greenhouse gas will help fund the big train project.

Getting Nowhere, Very Fast. California has a huge state debt and Washington has a huge national debt. But that does not discourage either Governor Jerry Brown or President Barack Obama from wanting to launch a very costly high-speed rail system. Most of us might be a little skittish about spending money if we were teetering on the brink of bankruptcy. But the beauty of politics is that it is all other people's money, including among those other people generations yet unborn.

California Struggling to Find High-Speed Rail Funds. California's plans for high-speed rail, which envision tracks connecting Southern California to the Bay Area with riders traveling at speeds of 220 miles per hour, suffered a setback in mid-September as Congress cut billions of dollars from the Federal Railroad Administration's budget. President Barack Obama, who is pushing high-speed rail projects in select states, sought $8 billion in funding for fiscal 2012. House Appropriations subcommittee members, however, cut nearly $7 billion from that request. The bulk of the remaining $1 billion is already allocated for Amtrak operations.

High Costs of High-Speed Rail: While the Obama administration has started funding high-speed rail, it has no detailed financial plan, no cost estimates for the proposed system, no source of long-term funding, and no expectation that passenger fares will cover all of the operating costs or any of the capital costs. Only two high-speed rail routes in the world, Tokyo-Osaka and Paris-Lyon, earn enough revenues to cover capital and operating costs. The Federal Railroad Administration (FRA) plan, upon which the Obama administration is basing its high-speed rail ideas, could more accurately be titled "moderate-speed rail." For the most part, it calls for trains running no faster than 110 miles per hour, which high-speed rail aficionados do not even consider to be true high-speed rail.

Borrowing costs for bullet train revised upward. California's distressed state budget will have to allot more than $700 million each year to repay billions of dollars that officials plan to borrow to build the first phase of a proposed bullet train, a nonpartisan government research office has found. The repayment projection by the state legislative analyst's office includes principal and interest on $9.95 billion in high-speed rail bonds approved by voters in 2008.

Panel Sees 'Immense Risk' in California High-Speed Rail Plans. Transportation experts and taxpayer advocates are hailing an independent review panel's recommendation against borrowing to build a high-speed rail line in California, but the state's rail authority indicates it plans to keep rolling with its plans.

Now Obama Wants To Build A $5 Billion Bullet Train From Las Vegas To Nowhere. On a dusty, rock-strewn expanse at the edge of the Mojave Desert, a company linked to Senate Majority Leader Harry Reid wants to build a bullet train that would rocket tourists from the middle of nowhere to the gambling palaces of Las Vegas.

Derail this gravy train. The Federal Railroad Administration is considering lending $4.9 billion to a company called Desert Xpress, for the purpose of building a high-speed rail line to Las Vegas from Victorville, Calif., some 81 miles east of downtown Los Angeles. The brainchild of several wealthy Las Vegas casino moguls, Desert Xpress enjoys the backing of Senate Majority Leader Harry M. Reid (D-Nev.) and has already secured approvals from the Bureau of Land Management, the Army Corps of Engineers and the Fish and Wildlife Service, among other federal and state agencies. It is pursuing about $1.6 billion in private financing.

California High-Speed Rail Has $55-billion Budget Gap. Without a concrete plan for funding, proponents of a California high-speed rail project began pitching their plan this week to legislators and the general public. Updated from a previous proposal, the new plan narrows the scope of the project and intends to speed up construction to save money. However, despite the spending reductions, the rail still leans on shaky funding sources that might never materialize.

Jackson Lee presses for bullet train in Texas. Officials in Japan and South Korea told Houston Congresswoman Sheila Jackson Lee that they are interested in helping Texas build a high-speed rail line between Houston and Dallas. The Houston Democrat said the foreign officials described their interest to her during an official congressional visit to Japan, South Korea and China. "This is absolutely the right direction America should be moving toward," said Jackson Lee, who traveled between Osaka and Tokyo on Japan's world famous high-speed rail system.

The Editor says...
If you live in some city other than Dallas or Houston, let me tell you why there will never be a bullet train between Houston and Dallas: Southwest Airlines has a flights between those two cities about once an hour, and they're making a lot of money on that route. The flight takes less than an hour. Driving to Houston takes at least four hours. (Driving from Houston to Dallas takes longer. At least it seems longer.) Even a "bullet train" would probably take at least two hours. I'm sure lobbying has a lot to do with it, but for whatever reason, the elected officials of Texas are not inclined to tamper with something that works.

Congressional panel launches probe of California's high-speed rail project. A congressional committee has launched a wide-ranging examination of the California high-speed rail project, including possible conflicts of interest and how the agency overseeing it plans to spend billions of dollars in federal assistance.

It's 'Next Stop 1970' For California High-Speed Rail. Gov. Jerry Brown is doing all he can to save his state's ill-conceived high-speed rail project, but he's no magician. He's finding that there's no way to cut the project's cost other than to make it smaller and less speedy — in short, even less like the scheme that voters approved in 2008. He has just endorsed a new business plan that lowers the system's projected price tag from $98 billion to $68 billion. This is still well above the $40 billion estimate of 2008, and the project is scaled back.

California high-speed rail takes a new hit. The latest blow to California's plan to connect north and south with an ambitious network of high-speed rail lines came Monday [4/9/2012] in Washington. Rep. Darrell Issa (R) of California announced that the oversight committee he chairs will investigate crucial federal funding of the project. That followed two studies — one by and independent panel, one by the state auditor — that called the plan risky. Polls show faltering support among California voters because of rising costs.

Social engineers drive bullet train. Americans suffer under the delusion that transportation systems are just that — systems for transporting people from one destination to another. What most of us fail to recognize is that the politicians, activists and planners who play the greatest roles in creating those systems have far different goals.

The government can't make its projects work if it must conform to its own environmental red tape.
California bullet train chief seeks environmental exemptions. The chief of the state bullet train authority said Tuesday that he hopes to obtain some type of relief from environmental laws that would eliminate a risk that the 130-mile initial construction project could be stopped by an injunction, a potentially growing prospect as agriculture interests in the Central Valley gear up for a legal fight.

Dissecting Obama's High-Speed Rail Boondoggle and other Transportation Nightmares. It's 45 minutes long, but this video from the folks at Reason TV is filled with good information on the foolish ideas of central planners who want to control our transportation. [...] Around the 25-minute mark, you'll hear about how the Obama Administration wants to divert revenues from the gas tax to all sorts of schemes (such as mass transit) that violate the user-pays principle.

California high speed rail project going pretty much as expected. The proposed service hopes to whisk commuters from San Francisco to Los Angeles in a matter of hours without all that bother of using the existing regional air service to do the same thing faster. Earlier this year, Ed noted that some observers felt that the financing for this effort was looking "increasingly risky." This weekend the Wall Street Journal reports that our earlier estimation was in error. The financing isn't "risky" at all... it's an unmitigated disaster.

Poll: Voters turn against California bullet train. A new poll finds California voters are experiencing buyers' remorse over a proposed $68 billion bullet train project, as the number of lawsuits against the rail system grows.

Environmental objections in path of bullet train. The California bullet train is promoted as an important environmental investment for the future, but over the next decade the heavy construction project would potentially harm air quality, aquatic life and endangered species across the Central Valley. Eleven endangered species, including the San Joaquin kit fox, would be affected, according to federal biologists. Massive emissions from diesel-powered heavy equipment could foul the already filthy air.

Bias alert!
Alarmists always paint the worst possible picture to describe events that haven't happened yet: The project would potentially pollute the air. It could foul the already filthy air. Really? The air in California is filthy, after years and years of the strictest air pollution laws in the world? And if already filthy air is "fouled", who would notice? The primary obstacle to the bullet train is economics, not air quality. Bullet trains are luxury items for the benefit of the upper class, paid for by everyone.

Assembly approves high-speed rail funding. The [California] Assembly passed $8 billion in funding for high-speed rail and other projects on Thursday [7/5/2012], sending the bill back to the state Senate for final approval.

Cash-Strapped California OKs Funding for High-Speed Rail. California lawmakers approved billions of dollars Friday in construction financing for the initial segment of the nation's first dedicated high-speed rail line connecting Los Angeles and San Francisco.

Amtrak's high-speed Northeast Corridor plan at $151 billion. Amtrak's updated plan for high-speed train travel on the East Coast envisions 37-minute trips between Philadelphia and New York, after a $151 billion redevelopment of the entire Northeast Corridor. Faster service would be phased in gradually, as Amtrak improves existing tracks, signals, bridges, and power lines and then builds a separate high-speed corridor between Washington and Boston to accommodate trains traveling at 220 m.p.h.

California High-Speed Rail: Unsafe at Any Speed. Democratic California state Sen. Joe Simitian probably is best-known as the author of California's bill to ban the use of hand-held cellphones while driving. After Friday's vote, Simitian may be best-known as the Democrat who warned his colleagues not to issue $4.6 billion in bonds for big-ticket high-speed rail. "Any of us who talk to our folks know that they're asking the same questions," Simitian reasoned. "They're saying, 'Really? You made these cuts. We're threatened with more. And you want to build a high-speed train?'" The state Senate, nonetheless, passed the bill with 21 votes. Gov. Jerry Brown praised lawmakers for their "bold action." Bold or foolhardy?

California Goes Off the Rails with High Speed Train. The State of California was already facing a $19 billion budget deficit, shorted public schools $8 billion, and was set to release imprisoned rapists into "community probation" when the Legislature approved selling $4.6 billion in new state bonds to build 130 miles of railroad track through some of the most uninhabited farm country in Central California.

Bay Area faces new high-speed rail costs. Now that Gov. Jerry Brown has signed legislation to allow the state to spend billions on high-speed rail, Bay Area residents had better brace for the real ride — a push for $650 million in toll hikes and new San Francisco taxes.

How Insider Politics Saved California's Train to Nowhere. The rail authority promised voters that the train wouldn't require a subsidy and that the feds and private sector would pick up most of the $33 billion tab. Expecting a free ride, voters leapt on board and approved the initiative in November 2008. Not long afterward, the authority raised the price to $43 billion. Investors refused to plunk down money without a revenue guarantee — that is, a subsidy — from the state, which wasn't forthcoming. California's attorney general, whom we now call Gov. Jerry Brown, declined to investigate the bait-and-switch.

Monumental waste. Apparently, no expense is to be spared if it furthers the Obama administration's high-speed-rail scheme. [...] This $7.5 billion won't build a wholly new station; it merely will add a bit of additional capacity to the existing location. There will be new passenger concourses, wider platforms for stepping off the train, a few new street entrances and a shopping area that will be built over the tracks.

New York Gov. Cuomo to Sell Failed High-Speed Trains. In 1998, then-governor George Pataki (R) announced a "historic" high-speed rail partnership with Amtrak. The state poured $70 million into a plan calling for retrofitting seven sets of Amtrak gas turbine trains and making track improvements to facilitate high-speed travel from Albany to New York City. Now, 14 years later, the state will sell what's left of the unused trains, probably for scrap.

Obama's $107 billion transportation plan: Trains and roads to nowhere. [Scroll down] Then there is the $47 billion that Obama wants to spend on brand new high-speed rail projects across the country. One need only look at how his signature rail project in California is progressing to get a sense of how well this money will be spent. More than three years after Obama's stimulus funded California's high-speed rail dream, the project's first phase hasn't even broken ground. Even if the first section of track is ever completed, all it would do is it would connect the Central Valley town of Madera (population 60,000) with Charles Manson's prison home in Corcoran (population 24,000).

Amtrak to test trains at 165 mph along Northeast routes. Starting tonight and ending next week, Amtrak plans to set speed records in tests along the Northeast Corridor — 165 mph. [...] To accommodate the faster trains, Amtrak is spending $450 million in federal funds to upgrade track, electrical power, signals and overhead wires.

Obama fast-tracks high-speed rail permit. For almost the entire 11 years he seems to have been president, Barack Obama has been coveting gargantuan infrastructure projects like China's. Obama thinks the United States should have brand-new airports like China's, even though the ones Americans already use have trouble running as it is. Obama has also displayed rail envy. He especially loves the idea of China's high-speed rail projects, even though America has less than one-quarter China's 1.35 billion population and it's not concentrated in the large urban centers necessary to nourish such rail passenger volumes.

The XpressWest Train to Las Vegas: Most Traffic Congestion Won't Be Avoided. Virtually all of the traffic delays from Los Angeles to Las Vegas occur in areas the high-speed train won't serve.

Obama Is Right. Disingenuously, he portrays himself as the "Energy President," while his policy has always been none of the above, unless it is wind or solar, which he calls the energy of the future when it is truly the energy of the past. With Barack, it is always yesterday's answers to today's problems. That's why he likes high-speed rail so much.



Tax-the-Rich Obama Fairy Tale Won't Magically Restore Public Services. [Scroll down] Now California and the federal government mean to collaborate on a laughably impractical high-speed rail system that could cost $100 billion. A first-stage route will connect an underpopulated corridor between Merced and Bakersfield, with a serious environmental impact on desert toads but no impact whatever on Los Angeles's clogged freeways.

Why fast trains are a waste of money. Somehow, it has become fashionable to think that high-speed trains connecting major cities will help "save the planet." They won't. They're a perfect example of wasteful spending masquerading as a respectable social cause. They would further burden already-overburdened governments and drain dollars from worthier programs — schools, defense, research.

California still hasn't bought land for bullet train route. Construction of California's high-speed rail network is supposed to start in just six months, but the state hasn't acquired a single acre along the route and faces what officials are calling a challenging schedule to assemble hundreds of parcels needed in the Central Valley.

U.S. Taxpayers to Bailout Rail Project with $42 Billion. After getting slammed with higher taxes, Americans throughout the U.S. will be on the hook for the multi-billion-dollar infusion necessary to complete a grossly mismanaged high-speed rail system in California. Even those who have never been to the state and have no association with it will contribute because federal lawmakers have essentially agreed to fund the project, which will end up costing a monstrous $68.4 billion to finish and hundreds of millions of dollars annually to operate and maintain. The high-speed rail system will run 520 miles from San Francisco to Los Angeles and is scheduled to be completed by 2028.

Lawmakers question 'risky' $5.5B loan for high-speed Vegas train amid sequester cutbacks. While the Transportation Department warns that the sequester will lead to cutbacks causing snarled lines at airports across America, the agency is still considering a massive $5.5 billion government gamble on a high-speed train from suburban California to Vegas. The total cost of the XpressWest project is $6.9 billion, with 80 percent potentially being fronted by the federal government. It would create a train that runs from Victorville, Calif., to Las Vegas and, if green-lighted, would be the largest loan of its type issued in America.

There Are No High Speed Trains And There Won't Ever Be. Twelve billion in and we've made some very trivial speed upgrades — 10 fewer minutes for the Seattle-Portland route — to low-speed trains, and, with a single exception that started ten years ago (and also will never happen), zero high speed trains. Not even high-speed train rails. Not even high-speed rail plans.

Obama's great high-speed train robbery. The state of California, already $28 billion in debt, is supposed to begin construction of a $68 billion high-speed rail project in July. The state's High-Speed Rail Authority voted last week to issue $8.6 billion in taxpayer-approved bonds to build the first 130 miles of track between Fresno and Bakersfield. But a slew of lawsuits threatens to delay the project, and state authorities still have not purchased a single acre of land on which to build the rail line.

Calif. High-Speed Rail to Cost $97 Million More. KTTV reported that the high-speed rail in California will cost taxpayers an addition $97 million more than expected. [Video clip]

All Aboard California's high-speed train to nowhere. [Scroll down] Legally, California's high-speed rail project should be dead in its tracks, because it's en route to operating subsidies, too — another no-no. "California's Democrat supermajority are pulling all the levers and changing the rules, as a payoff to the public unions that elected them," Katy Grimes, investigator at the free-market Pacific Research Institute, tells The Daily Caller. The GAO report doubts private investment will come without such "revenue guarantees." There's no model for public-private partnerships in the U.S. They've failed before in Texas and Florida.

Diane Feinstein's husband's company lands big high-speed rail contract. The group lead by Tutor Perini bid $985,000,000 to build the initial 29-mile stretch, roughly from Fresno to Madera, which doesn't include the costs for electrification and land purchase. And, as Laer points out at Crazifornia, they started with this section because it's the cheapest. (I can't wait to see what the bids are to lay track through the mountain passes...)

Dianne Feinstein's Husband Bags High-Speed Rail Construction Contract. Sen. Diane Feinstein's husband Richard Blum won a construction contract for California's high-speed rail project, reports the California Political Review. Author Laer Pearce says Perini-Zachary-Parsons, a construction group partially owned by Blum's investment firm, Blum Capital, and their investors, bagged the nearly billion dollar contract.

The high cost of low information voters. Look at the travel time scale. First it assumes the train will move at 220 mph — quite a feat. If you ever have taken the Acela train in the Northeast Corridor you know that this is pie in the sky. Plus, even at that unobtainable speed, the trip from New York to L.A. would take almost a day of actual travel time — as opposed to a few hours on a plane. Good luck selling those tickets.

California High Speed Rail Falls Short of Expectations. Various proposals have envisioned a high speed rail system that spans the United States. In California, the California High-Speed Rail Authority has already begun implementing its decades-old plan to connect Northern California with Southern California. However, the rail system would lose more than $100 million per year, say Joseph Vranich, Wendell Cox and Adrian Moore in a new study for the Reason Foundation.

California High-Speed Rail: An Updated Due Diligence Report. Reason Foundation's 2008 report, The California High Speed Rail Proposal: A Due Diligence Report, warned that plans by the California High Speed Rail Authority (CHSRA or Authority) issued prior to and during 2008 were inaccurate, misleading and not in compliance with California statutes. As well, it found that the Authority's financing plan overstated projected revenues and private financing, and understated capital requirements and operating subsidies needed from taxpayers.

The California High-Speed Rail Proposal: A Due Diligence Report. With the high costs of building in California and the history of cost overruns on rail projects, the final price tag for the complete high-speed rail system will actually be $65 to $81 billion, according to the Reason Foundation report. And while the Rail Authority forecasts between 65 and 96 million intercity riders by 2030, the due diligence report finds these projections are dramatically inflated.

Victorville-to-Vegas bullet-train plan imperiled by U.S. loan denial. Federal transportation officials have halted their consideration of a $5.5-billion government loan to a private company that has planned for years to build a high-speed train between Victorville and Las Vegas. The decision represents a major setback for the XpressWest project, which has had difficulty obtaining financing from investors to construct the 185-mile line.

Peak rail? [Scroll down] One of its problems is its inflexible nature. Rail may be the best current answer to particular problems such as getting tens of thousands of commuters into city centres or making certain mid-distance inter-city journeys, but its inflexible nature means it cannot be changed to meet new needs.

Light-Rail to Nowhere: Honolulu, Hawaii's Train Boondoggle. In 2011, officials in Honolulu, Hawaii began construction on a controversial 20-mile rail project partly because of almost $1.8 billion in federal subsidies to President Barack Obama's home state. The project's total cost estimate stands at $5.3 billion, but if other similar projects are any indication, the final price tag will increase dramatically before anyone even gets to buy a ticket. What's playing out in the Aloha State is happening all over the country.

52% want bullet train stopped, poll finds. A majority of voters want the California bullet train project stopped and consider it a waste of money, even as state political leaders have struggled to bolster public support and make key compromises to satisfy critics, a USC Dornsife/Los Angeles Times poll found. Statewide, 52% of the respondents said the $68-billion project to link Los Angeles and San Francisco by trains traveling up to 220 mph should be halted. Just 43% said it should go forward.

California bond sale for high-speed rail project blocked by judge. A California judge ruled on Monday [11/25/2013] against the state's plan to issue more than $8 billion in bonds to help build an 800-mile high-speed train system and rescinded the project's funding plan, which estimates the system's cost at $68 billion.

A Major Setback for California's High-Speed Train. [Scroll down] At a November 8 hearing on the remedies, Deputy State Attorney General Michele Inan stated the Authority was spending only federal money pursuant to an agreement with the federal authorities to "front load" expenditure of federal funds. However, she acknowledged that by April 2014 the project will need Prop 1A bond funds to match the federal contributions. Given the court's ruling, it is questionable whether state bond funds will be available to provide that match. Without access to the bonds, the Authority would need other sources of public or private funds in order to complete construction of the initial 29-mile stretch (estimated at $2 billion) and continue building the line.

High-Speed Rail Decision Is [a] Victory for [the] Rule of Law. California Judge Michael Kenny has barred state bond funding for the California high-speed rail system, finding "the state's High-Speed Rail Authority failed to follow voter-approved requirements designed to prevent reckless spending." These protections had been important in securing voter approval of a $10 billion bond issue in 2008. Judge Kenny's decision means California government officials cannot ignore the state's laws, even when its leadership finds them politically inexpedient. The ruling forbids the state from arbitrarily casting aside legally binding promises.

High-Speed Train in California Is Caught in a Political Storm. Gov. Jerry Brown of California is riding into an election year on a wave of popularity and an upturn in the state's fortunes. But a project that has become a personal crusade for him over the past two years — a 520-mile high-speed train line from Los Angeles to San Francisco — is in trouble, reeling from a court ruling that undermined its financing, and from slipping public support and opponents' rising calls to shut it down.

U.S. and Mexico could be connected by multi-billion-dollar high speed train. A multi-billion-dollar high-speed train network linking America with Mexico moved a step closer as officials from both sides of the border thrashed out details. The proposed 300 mile route would link San Antonio, Texas, to Monterrey, Mexico — slashing the current journey time from five hours by car to under two hours. Advocates say the project, which would be the first high-speed train line in North America and is set to be completed by 2018, will provide huge economic boost to regions in both nations.

The Editor says...
If there are billions of extra dollars sitting around waiting to be spent, and there aren't, then the money should be spent on something that will promote interstate commerce, rather than making it easier to cross the already porous Mexican border? How many people commute between Monterrey and San Antonio every day? Enough to fill several trains every day? I doubt it; in fact I suspect it would cost less to give each of those passengers a plane ticket. I also suspect that 100 percent of the money from this project will come from the U.S., not Mexico. A much more profitable and sensible route for a bullet train would connect Houston and Dallas, but the airline industry lobbyists will never let that happen.



---

Other countries' experiences with high-speed rail:



Japanese train line apologizes for departing seconds too early. Commuters usually groan about delays and canceled trains, but a Japanese rail company is apologizing on Tuesday [11/14/2017] for departing early — 20 seconds to be exact. The Tsukuba Express line between Tokyo and the city of Tsukuba in Japan was scheduled to leave 9:44:40 local time, but instead left at 9:44:20, robbing riders [of] the 20 seconds to sprint to the train before the doors close.

China Opens World's Longest High-Speed Railway. The world's longest high speed rail route has opened in China, covering a distance of 1,427 miles.

High-speed rail line 'will cost every family in the country £1,000'. Every family in the country will have to shell out £1,000 to pay for a high-speed rail line that only the rich will use, campaigners claimed last night. The TaxPayers' Alliance spoke out as Transport Secretary Philip Hammond defied countryside campaigners as he launched a consultation on the hugely expensive project.

High-Speed Derail. China's technology of the future has become a boondoggle of the present, piling up debt and resulting in the arrest of the minister of railways. Maybe it's that last part we should be copying.

Derail High-Speed Spending. President Obama won't put high-speed rail on the block to ease the debt crisis. He insists we need to keep up with China. But its rail has become a $300 billion boondoggle. Yes, that's billion with a b. China's Railway Ministry continues to lose money and is now an eye-popping $267 billion in the hole.

The Editor says...
Competition with other countries is sometimes used as a means of generating support -- in our sports-saturated society -- for projects with very high price tags and little or no benefit. For example, the Superconducting Supercollider, the Space Shuttle, and now high-speed railroads.

Two high-speed bullet train coaches fall off bridge in eastern China. Thirty-two people were killed and 191 injured when two high-speed bullet trains slammed into one another in eastern China Saturday [7/23/2011], causing several cars to derail and fall off a bridge. A power outage triggered by a lightning strike caused one train to stall — only for another to ram into its rear, the state-run Xinhua news agency reported.

Signal design flaw blamed for deadly high-speed rail crash in China. A weekend train collision that killed 39 people in eastern China was caused by design flaws in railway signal equipment, the state-run Xinhua news agency reported Thursday [7/28/2011]. The signal system failed to turn a green light to red after it was struck by lightening, [sic] causing a high-speed train Saturday to plough into the back of bullet train near Wenzhou in Zheijian province, the report said, citing an investigation by the Shanghai Railway Bureau.

Chinese bullet trains pulled over 'flaws'. A state-owned Chinese train manufacturer said on Friday it is recalling 54 bullet trains being used on a new high-speed rail link between Beijing and Shanghai because of "flaws".

Are China's high-speed trains heading off the rails? China's expanding network of ultramodern high-speed trains has come under growing scrutiny here over costs and because of concerns that builders ignored safety standards in the quest to build faster trains in record time. The trains, a symbol of the country's rapid development, have drawn praise from President Obama. But what began in February with the firing and detention of the country's top railway official has spiraled into a corruption investigation that has raised questions about the project's future.

Train kills reindeer 'like meat grinder': farmer. A new high-speed railway in northern Sweden has already claimed the lives of 200 reindeer since it opened three months ago, forcing the farm owner to move to safer pastures.

China railway workers repair 'collapsed' new line. A newly built section of a high-speed rail line has collapsed in China's central Hubei province following heavy rain, state media reports. The line was set to open in May and had been in use for test runs.

New safety fears as Chinese high-speed rail line collapses. Part of a high-speed railway line that had undergone test runs has collapsed in central China after heavy rain, reviving worries over safety.

Metro gag order at odds with law. The Washington Metropolitan Area Transit Authority's policy of forbidding employees from speaking to the media is at odds with a law designed to reduce impropriety at transit agencies by protecting insiders who bring concerns to light, an expert said.



---
Bicycles
City Of Chicago 2012 Bicycle Crash Analysis. Bicycle crashes in Chicago remain a serious concern. In the six-year period between 2005 and 2010, there were nearly 9,000 injury crashes involving bicyclists, with 32 bicyclist fatalities. As a percentage of all traffic crashes, bicycle crashes are on the rise: from 6.7 percent of all crash types in 2005 to 9.8 percent of all crash types in 2010.
Carnage on China Roads Shows Dark Side of Electric Bikes. Electric bicycles are China's answer to the Prius because they're green, they're zippy and they're cheap. They're also emerging as a safety hazard in a country where road accidents are the biggest killer of young people. As Chinese cities impose car quotas to fend off record pollution, more residents are turning to rechargeable electric cycles. That's putting a spotlight on e-bikes that snake through traffic as fast as 40 kilometers an hour (25 mph), occasionally mowing down pedestrians or taking a hit themselves.
Wisconsin Democrat's bike business hasn't paid state income taxes for three decades. The family bicycle business of Wisconsin Democratic gubernatorial candidate Mary Burke has not paid state income taxes for more than three decades. [...] Trek, which claims its bicycles can "combat climate change," has sales of roughly $900 million. However, according to records from the Wisconsin Department of Revenue obtained by Fox 6 in Milwaukee, Trek Bicycle has not paid net income taxes since at least 1982.
Feds Spending $1.5 Million on 'Bicycle Trains,' 'Walking School Buses' to Get Fat Kids to Lose Weight. The federal government is spending more than $1.5 million to research how "bicycle trains" and "walking school buses" can help obese children lose weight. The National Institutes of Health (NIH) is currently funding two studies to a researcher at Seattle Children's Hospital, both of which aim to get more children to stop riding the school bus. Dr. Jason Mendoza has received $405,835 for a pilot study on "bicycle trains," or a group of kids who bike to school with adult chaperons. [sic] The project is billed as a "low-cost, practical program to reduce risk of obesity for at-risk children."
The Editor says...
(1) All children are "at risk" in some way. (2) The diesel-engine school buses will still be running all over town even if the kids are walking.
Wall Street Journal columnist launches vitriolic attack on New York City bike share program. A Wall Street Journal columnist made an impassioned attack against New York city's new bike share program, known as Citi Bike. In an online video segment entitled 'Death by Bicycle,' editorial board member Dorothy Rabinowitz criticized Major Bloomberg for allowing the 'dreadful program' to come to New York. Rabinowitz also attacked cyclists who she said were given carte blanche to ignore the rules of the road in the interest of environmentalist programs.
Bicycles to Be Taxed for Causing Global Warming. The triumph of moonbattery means that there is no longer any limit whatsoever to government greed or tyrannical absurdity.
Topeka Cracks Down On Unlicensed Bicycles. Topeka police are warning local bicycle owners they could face up to $76 in fines and court costs if they're caught pedaling unlicensed bikes. Already this year 27 cyclists have received citations that include a $10 fine plus $66 court costs for riding unlicensed bikes.
New Jersey may soon require teens and adults to register bikes. New Jersey residents older than 15 may soon be required to register their bicycles — and attach license plates to prove compliance — if a recently proposed law passes the state assembly. On Jan. 6, assemblywoman Cleopatra Tucker of Newark introduced Bill A3657, requiring registration of all bicycles ridden on public roads.
---

Other related information



Elderly Chinese man throws phone into coin box on bus after driver said he can 'pay by phone'. An elderly man threw his phone into a coin box on a bus after the driver said he can "pay by phone" in central China. The CCTV video, filmed in the city of Zhengzhou in Henan Province on October 13, shows a 67-year-old man getting on a bus but he realised that he did not have any change to pay for the ticket. The bus driver then said to him: "You can pay by phone." The elderly man then threw his phone into the coin box. [Video clip]

Seattle Renames the "Red Line" Light Rail Route Because It's Triggering. We have not yet reached peak insanity with the left. They continue to impress us with their continued lurch toward Idiocracy. Red Lining was a practice where banks denied bank loans for minorities. So, now and forever the term Red Lining, or its variants, shant be uttered because, apparently, it sends minorities into apoplexy.

Muslim petition in Toronto demands that Islamic prayer rooms be placed in every subway station. Muslim group has started a petition to the Toronto Transit Commission (TTC) demanding that it create prayer spaces just for Muslims in every subway facility in the city. (That's why another petition needs to be started by non-Muslims in Toronto demanding that the TTC NOT submit to the insane demands of this tiny segment of the population).

A few kind words about the necessity of the New York subway system:
New York's future depends on the subways. It's not tourists who are crowding our subways; it's poorer and middle-class New Yorkers who work. The same is true in Central Harlem, where only 50 percent of adult residents worked in 1990. Today, 64 percent work. In 1990, 22,100 workers commuted on public transit from the area; today, it's 44,900. These differences hold across the city. If you live in Midtown, you don't need a subway to get to a decent-paying job; in Bushwick, you do. New York can't continue this workforce miracle if subways keep falling apart. Even as late as 1998, the subways had space to absorb New York's new workers. Now, they're full, and most residents of the South Bronx don't have other options. Without the ability to afford a car, or to walk to a good job, it's take the subway — or don't work at all.

The great transit rip-off. Overall, a remarkable 40 percent of all transit commuting in the United States takes place in the New York metropolitan area — and just six municipalities make up 55 percent of all transit commuting destinations. But here's an overlooked fact: Transit now serves about the same number of riders as it did in 1907, when the urban population was barely 15 percent of what it is today. Most urban regions, such as Southern California, are nothing like New York — and they never will be.

Free rides on the subway: Another handout for people who are too lazy to work.
De Blasio: MTA shouldn't hike fares because 'people are hurting'. Mayor Bill de Blasio said Friday the MTA should seriously reconsider its plan to raise fares for subway and bus riders next year. "I am very concerned about any fare hike because I think people are hurting economically right now, and I think we have to be very, very careful about putting an additional burden on people's lives," the mayor said on his weekly radio show on WNYC. "I think the MTA should be very careful on this fare hike issue." Hizzoner also said he has yet to make a decision on a separate proposal by anti-inequality advocates calling for Metro Card discounts based on people's incomes.

Riding the Roads on Greyhound Is an Education in People. We all have interesting summer-vacation stories. This year, mine involved the colorful characters I met taking Greyhound two-thirds of the way across the country, from New York to Denver, and back. Emergency eye surgery meant I couldn't fly to attend important obligations for work, so it was either the train or the bus. Amtrak seemed a logical choice until I learned that the train would lack Wi-Fi for 75 percent of the trip. In theory, I could have bought a wireless card, but I knew Greyhound Wi-Fi was consistently better than Amtrak's. Having just finished my 40-hour return trip on the bus, I can say I look forward to being able to fly again.

Red Line rejection could show developers Baltimore is 'moving backwards'. A robust public transit system is increasingly important to developers. [...] M.J. "Jay" Brodie, the former longtime head of the Baltimore Development Corp., does consulting work for two Washington developers who he says were watching closely to see what would happen with the proposed 14.1-mile Light Rail extension.

The Editor says...
Can you read between the lines? Here's what I saw: Transit lines are built for the benefit of real estate developers, not for the general public.

The Great Emancipator vs. the Green Menace. My world would get very small if I lost my car, shrinking to the area covered by bus routes. [...] I am reminded of my college experience when I encounter attacks from environmentalists who casually dismiss the tremendous, life-serving value that cars provide. "A $10 monthly bus pass plus a bike can take you anywhere you want to go," writes an anti-car blogger, thoughtlessly. His anti-car sentiment is embodied in numerous government attacks on driving. There are burdensome state gas taxes, which are as high as 39.5¢ per gallon, and are expected to increase in the future, to compensate for mandatory increases in fuel economy, which drive up the prices of cars. HOV lanes and inadequate highways target commuters by increasing congestion to discourage driving. [...] What about a handicapped person, a pregnant woman, a family with small children, a 60-year-old with arthritis, or anyone whose aspirations extend further than his physical strength — or a filthy government transit system — can take him?

Obama: the Pen, Phone, and Failure. [President Obama's] EPA is trying to regulate the coal industry out of business. Coal provides 37% of our electricity. Do not be alarmed, he is replacing that generating capacity with... well, nothing. You see, skyrocketing the price of electricity was an objective not a side effect. If you can't afford it, you won't use it. The goal is to push Americans out of single-family homes into high-density cities, where tiny, cubicle-like apartments, clustered around mass transit will become the norm. In these progressive Shangri-Las, no one will own a car, which is a good thing since Barry has doubled the price of gasoline in his first term and will probably double it again before the end of his second.

Uber executive spoke of investigating female journalist, but this one fought back. This is a tale of corporate arrogance, of hostility toward journalists, and of one woman who stood up to one of the fastest-growing companies in America. It's also a disaster for Uber, which once enjoyed the image of a cool, innovative company that outsmarted the taxi industry and now seems like a gang of adolescent dirt-diggers.

The most common New York cab driver name is now Mohammed. Thousands of snippets of data have been gathered to provide a detailed look at one of New York City's most iconic sights — the yellow cab. An info-graphic by Vizual-statistix this week has revealed that the most common first name in 2014 among the 52,131 authorized drivers (those behind the wheel of both yellow cabs and limousines) is Mohammad — and alternate spellings MD, Mohammed, Muhammad, and Mohamed. The next most common names were Jean and Abdul.

Cabbies cry foul over body odor test, claiming ethnic discrimination. Body odor is among 52 criteria that officials at San Diego International Airport use to judge taxi drivers. Cabbies say that smacks of prejudice and discrimination. For years, inspectors with the San Diego Regional Airport Authority run down their checklist for each cabbie — proof of insurance, functioning windshield wipers, adequate tire treads, good brakes. Drivers are graded pass, fail or needs fixing. Anyone who flunks the smell test is told to change before picking up another customer. Leaders of the United Taxi Workers of San Diego union say the litmus perpetuates a stereotype that predominantly foreign-born taxi drivers smell bad.

The Editor says...
Stereotypes don't just pop up out of nowhere. All stereotypes have some basis in fact; otherwise they would not be believable or even understandable.

Third World Cabbies Say Expecting Them to Shower is Racist. Cabbies who smell badly are probably just oppressed folks who came directly from their terrorist training camp to the airport and didn't have time to change.

Riding the No. 10 Bus in Atlanta. "As affluent young professionals and older empty nesters flock back into cities across the country in search of better lifestyles," writes Rebecca Burns, "the suburbs left behind are increasingly stuck with a demographic — the working poor and struggling middle class — they were never built to accommodate." The problem is especially bad in Atlanta, where reverse migration is exacerbated by a notoriously poor transportation system — built that way on purpose — that is gradually turning a sprawling metropolitan area into a patchwork of disconnected enclaves, seized by gridlock and scrambling to absorb their new residents. [...] Here's what it's like trying to get from Cobb County to Atlanta and back, on the bus. It's a nightmare.

How fed dollars for trolleys in Miami-Dade [and] Local cities spurred [a] civil rights investigation. Miami's snazzy new trolleys, painted to look like quaint street cars and designed to draw riders with free public transportation, hit all the hot spots: Mary Brickell Village and AmericanAirlines Arena, the Adrienne Arsht Center, Midtown and downtown Coral Gables. There's even a route to Miami's sprawling health district near Jackson Memorial. But where the trolleys do not venture is the West Grove, a largely black neighborhood founded over a century ago by Bahamian laborers who helped build the city.

Endangered Crustacean Could Delay Metro Plans in Maryland. The discovery of the tiny Hay's Spring amphipod, a federally protected endangered species, in the waters of Rock Creek Park could delay plans for the Purple Line train to be added to the D.C. Metro rail system. According to the Rock Creek Conservancy, the amphipod is a ½-to-1-inch colorless, eyeless crustacean that uses hairs to move about and find food. The Conservancy's website also states that Rock Creek is the only place in the world that the amphipod is found.

Are Liberals Misanthropes? Liberals love mass transit. They think it's impossible to spend too much on it. They generally despise automobiles. Automobiles have done more for individual freedom than almost any other human achievement. Liberals think that automobiles are the chief culprit in global warming and the destruction of the planet. For conservatives, our endowment of fossil fuels and hydrocarbons is seen as a blessing. For liberals, it is seen as a curse.

Government hates competition:
Florida Beach Town's Million Dollar Bus Waste. Last year, two young college graduates had a great business idea that has become a huge success in the town of Delray Beach, Florida. Observing the ordeal of vacationers lugging beach chairs and other heavy beach equipment for the long, hot walk to the beach, they introduced a free golf cart shuttle service called "The Delray Downtowner." They are on call until 11 p.m. every night and can take anyone anywhere in the downtown area. Not surprisingly, the Delray Beach city government is apparently doing everything it can to drive The Downtowner out of business.

SEIU threatening San Francisco Bay Area Greenies. An ugly drama is playing out as the most powerful leftist union in the country is signaling its intention to paralyze the transit backbone of San Francisco Bay Area travel by striking BART, possibly for an extended period, devastating air quality and selling out the progressive coalition allies, environmentalists.

The train station is ugly — so leave it that way!
Metro rips out Phantom Planter's flowers at Dupont Circle station. The transit system regularly pleads poverty, yet employees devoted supposedly valuable time to remove more than 1,000 morning glories, cardinal flowers and cypress vines that Docter donated to the city — albeit without permission. The plants would have bloomed from August to October in a patriotic display of red, white and blue. Instead of greenery today and colors to come, the 176 flower boxes along the top stretch of the escalators at the station's north entrance now feature dirt, a few straggling stems and the occasional discarded soda can.

Washington's Blooming Bureaucrats Make 1,000 Flowers Wither. A guerrilla gardener planted 1,000 flowers at the ugliest subway stop in the capital. Instead of saying thanks, D.C. Metro authorities ripped the plants out to show him — and the public — who's boss.

San Francisco transit aims to snuff out private rival. On a typical work day in San Francisco, at least 27 private employers are picking up workers in shuttle buses — complete with cushioned seats and WiFi — at more than 200 stops across the city. The transit option is a booming private enterprise that reduces traffic congestion and air pollution. Some in the city want to snuff it out, San Francisco-style, with government regulations and fees.

USA Urbanized Areas over 500,000: A statistical comparison of population, land area and density trends using data from 1990 and 2000.

NJ Transit to end free rides for non-union workers. NJ Transit's 1,800 non-union employees could have to pay their own way on buses and trains starting Jan. 1, as the Christie administration on Monday said it intends to end a 30-year-old perk that provided free rides into retirement. The measure would also stop some 700 retirees and their spouses from enjoying free rides. As much as $1.6 million in additional revenue could be generated, officials said, if the NJ Transit board approves eliminating the perk — a standard benefit for mass transit workers nationwide.

Metro awards rail contract to Japanese firm despite union protests. In a break with Los Angeles' organized labor movement, Metro board members Monday [4/30/2012] awarded a crucial $890-million rail car contract to a giant Japanese firm that unions claim will create fewer jobs than a competitor and might violate federal requirements to use American workers. Metro officials say the contract with Kinkisharyo International to build 235 cars is critical for opening new light rail lines on time and replacing aging equipment on existing systems.

The Editor says...
Take a ride on a commuter train in Dallas and see what you can expect from Kinkisharyo rail cars.

Planes, Trains ... and Buses? It's the new face of bus travel. After years as the ugly stepchild of intercity transportation — thanks to its long-held reputation as unfriendly, uncomfortable and tawdry — bus travel is bouncing back.

Rails Won't Save America. Rising gas prices and concerns about greenhouse gases have stimulated calls to build more rail transit lines in urban areas, increase subsidies to Amtrak, and construct a large-scale intercity high-speed rail system. These megaprojects will cost hundreds of billions of dollars, but they won't save energy or significantly reduce greenhouse gas emissions.

Hudak on transit: World-Class means subways. For Toronto to retain its world-class status, Queen's Park needs to heed voters, community leaders and the lessons of other major cities when it comes to transit development, Ontario PC Leader Tim Hudak said today [3/1/2012]. "Truly world-class cities build underground — not on street-level," Hudak said. "They've learned to avoid ripping up major arteries, further snarling traffic and harming productivity, commerce and quality of life."

Why Your Highway Has Potholes. In a typical year only about 65 cents of every gas tax dollar is spent on roads and highways. The rest is intercepted by the public transit lobby and Congressional earmarkers. [...] One reason roads are shortchanged is that liberals believe too many Americans drive cars. Transportation Secretary Ray LaHood has been pushing a strange "livability" agenda, which he defines as "being able to take your kids to school, go to work, see a doctor, drop by the grocery or post office, go out to dinner and a movie, and play with your kids in a park, all without having to get in your car." This is the mind of the central planner at work, imagining that Americans all want to live in his little utopia.



PATH problems caused by Hurricane Sandy are driving some out of N.J. Superstorm Sandy crippled the Port Authority Trans-Hudson line, a 24-hour subway which last year ferried 76.6 million passengers between Manhattan and New Jersey.

Woman killed after stepping in front of Metro train. The woman was struck around 11:30 a.m. after she "intentionally placed herself in the path" of an Orange Line train.

Hillary tries to show 'real New Yorker' Sanders how to ride the subway, but takes five swipes to get through the turnstile. Democratic frontrunner Hillary Clinton rode the New York City subway today, in a swipe at Bernie Sanders who said in a recent interview that 'tokens' were still used to pay for the system. But it was the swiping of a Metrocard that tripped Clinton up, with the former senator from New York swiping her card nearly five times before entering a Bronx station. America Rising PAC — which produces opposition research against Democrats — already called out Clinton for her multiple swipes, calling it 'shocking' video of an 'out-of-touch' candidate struggling to use her Metrocard.

The Editor says...
I'm not sure it's entirely fair to pin this on Hillary. The fault probably lies with the transit system machines. I've never been on the New York subway system, but I have spoken with a co-worker who has been there recently, and he says he had the same trouble.

Hillary Clinton Struggles To Use NYC MetroCard. Hillary Clinton had some difficulty using a New York City MetroCard Thursday [4/7/2016] during a televised one-stop subway ride. Clinton reportedly swiped her card five times before successfully entering the platform and boarding the 4 train from Yankee Stadium to 170th Street. Before boarding the train, Clinton made an apparent jab at Bernie Sanders, who in an April 1 interview with the New York Daily News mistakenly said that the New York subway still uses tokens.

The Editor says...
It's hard to imagine either of these two limousine liberals riding the subway. And indeed, even if they board a subway train for a brief photo op, they are surrounded by cops.

The Real Scandal of Clinton's Subway Trip: She Violated the NYC Metro Rules. Hillary Clinton swept headlines Thursday [4/7/2016] after her struggle to get through the turnstiles at the New York subway, but social media critics missed the greater story of the former secretary of state violating the metro rules while city officials looked on. [...] Media outlets flooded the Internet with videos of Clinton swiping her MetroCard five times before she was finally given the green light to walk through the turnstile. Critics took to twitter to evaluate the situation.



---
"As urban growth and transportation expert Randal O'Toole notes in his recent book The Best Laid Plans, the New York City subway is the only rail transit line in the country that carries as many people as a single freeway lane."

[*]

---

Back to the Home page