Amtrak
First, here's an infomercial for Amtrak:
Don't Railroad Amtrak. Passenger trains offer comfortable travel the middle class can afford. On long-distance trains, most of which use Amtrak's double-decker Superliner cars, a reasonable coach fare gets you a better seat than domestic flights offer in first class. You have a big window and interesting things to see from it. You can look out, read, work, or nap, all with plenty of room. You can get up and walk around, including to a lounge car with wraparound glass and, for now, to the dining car for a meal with real food. The train can be social if you want it to be; it is easy to meet people. If your trip is overnight, for a somewhat steeper fare, though usually less than first class by air, you can get a private room with a bed at night and a comfortable chair or sofa during the day.
9 Things You Need to Know About Biden's 'Infrastructure' Spending Plan. [#8] Wasteful $165 billion handout for transit and Amtrak. The plan would spend nearly 50% more on trains and buses than on roads. This is despite the fact that transit agencies received far more money from COVID-19 legislation than they lost during the pandemic, despite transit and Amtrak already being heavily subsidized, despite telework changing the way we commute and travel, and despite transit and Amtrak being dwarfed by roads when it comes to what Americans use every day. More importantly, the latest attempt to coax people onto Amtrak and mass transit ignores fundamental facts about geography and density. America has one especially dense metro area (New York City) and one region where city-to-city rail is financially sustainable (the Boston to Washington Acela line). No amount of taxpayer dollars will make trains and subways practical nationwide the way they sometimes are in denser parts of the world. Amtrak's plan to expand service focuses on areas with low demand, which will require heavy annual subsidies to operate.
The rise and fall of Amtrak, which has been losing money since 1971. [Scroll down] Railroads' share of the travel market began to shrink drastically as the government began to incentivize road building and airport investments. And by 1970, the last year that America's rail network was privately controlled in its entirety, the total miles traveled on trains had fallen to less than 100,000. That's when the federal government stepped in to create what would become known as Amtrak. Here's the history of America's passenger railroad, which has managed to lose money in every single one of the 48 years since its inception.
Amtrak is ending daily service to hundreds of stations. Blame the coronavirus pandemic, the railroad says. Amtrak is ending daily service to hundreds of stations outside the Northeast, and you can blame the coronavirus pandemic, the railroad said this week. Starting Oct. 1, most Amtrak long-distance trains will operate three times a week instead of daily, the company said in a memo to employees Monday [6/15/2020].
Amtrak train stranded for more than 36 hours arrives at Oregon station. A scenic Amtrak train journey felt more like a torturous trip on the Oregon Trail for nearly 200 passengers when the locomotive hit a tree Sunday — stranding them for some 40 hours. The 1,377-mile Coast Starlight heavy-rail trip, from Los Angeles to Seattle, was meant to last about 35 hours total. But trouble struck around 6:18 p.m. Sunday [2/24/2019]. "Conditions further deteriorated with numerous track blockages from snow and fallen trees," Amtrak said in a statement.
In secret deal, tax-backed Amtrak pays for private railroads' screwups: report. The Amtrak passenger rail line receives more than $1 billion in annual federal subsidies, but private railroads own 97 percent of the tracks upon which Amtrak trains travel. As part of the relationship between the publicly financed passenger rail service and the private carriers, it's the tax-supported railroad that will typically foot the legal bill when accidents happen — even when a private railroad is at fault, the Associated Press reported. So as federal investigators look at how crews from privately owned CSX routed an Amtrak train into a parked freight train in Cayce, S.C., last weekend, tax-supported Amtrak will likely end up paying crash victims' legal claims with public money — even if CSX should bear sole responsibility for the accident, AP reported.
Even when not at fault, Amtrak can bear cost of accidents. Federal investigators are still looking at how CSX railway crews routed an Amtrak train into a parked freight train in Cayce, South Carolina, last weekend. But even if CSX should bear sole responsibility for the accident, Amtrak will likely end up paying crash victims' legal claims with public money. Amtrak pays for accidents it didn't cause because of secretive agreements negotiated between the passenger rail company, which receives more than $1 billion annually in federal subsidies, and the private railroads, which own 97 percent of the tracks on which Amtrak travels. Both Amtrak and freight railroads that own the tracks fight to keep those contracts secret in legal proceedings.
The major issue plaguing accident-prone Amtrak. Four mishaps in four months, three fatal, would be evidence that America's national railroad is failing — except that America doesn't have a national railroad. Amtrak runs its trains across a motley collection of fragmented tracks owned by freight railroads and commuter railroads. That means it has no consistent control over keeping people safe when it comes to crossings and speed, the biggest causes of crashes. The first crash killed three Amtrak passengers right before Christmas in Washington state. There, the regional commuter railroad, Sound Transit, had built new tracks that allowed for higher speeds — but opened up the tracks before it finished installing technology that automatically governs speed when a human operator has failed to do so. In that case, the Amtrak train was going nearly three times the legal speed limit when it derailed on an overpass, falling to a highway below.
Armed man pulled brake on Amtrak train in Nebraska, authorities say. An alleged white supremacist who attended a deadly rally in Charlottesville, Va., last year faces federal charges after trying to wreck an Amtrak train in Nebraska, authorities said. Taylor Michael Wilson, 26, of St. Charles, Mo., entered a secure area of an Amtrak passenger train Oct. 22, toyed with the controls and applied the emergency brake — sending passengers lunging and knocking out electrical power, according to a criminal complaint filed in a U.S. District Court in Lincoln, Neb. The filing of terrorism charges was first published in the Lincoln Journal Star last week. Two Amtrak conductors detained Wilson on the train until police arrived, authorities said. One conductor said Wilson taunted them, saying, "What are you going to do, shoot me?"
The more we learn about Amtrak derailment the stranger it gets. As a retired National Transportation Safety Board railroad and rapid transit accident investigator, the more I hear about the Dec. 18 derailment of Washington state Sound Transit Cascades Train 501, the stranger it gets. Confirmed "facts" seem to be very few so far. The National Transportation Safety Board is investigating the accident, which killed three people and injured more than 50 others, and is still trying to determine the probable cause and prevent such accidents in the future. People have an innate need to know, particularly with unexpected public transportation accidents as part of their own sense of security and trust. The sooner we know, the better.
Another Accident That Could Have Been Avoided on Government-subsidized Amtrak. The National Transportation Safety Board (NTSB) reports that the Amtrak train that derailed on Monday [12/18/2017] on its way to Portland from Seattle was going 80 mph on a 30 mph track. Sadly, Amtrak derailments are not particularly unusual and the transportation system has long been known for its incompetence and "weak safety culture," which brings up the question, why does the government continue to subsidize Amtrak?
Excessive Speed May Have Caused Amtrak Train Derailment. U.S. federal investigators say a train that derailed Monday in the northwestern U.S. state of Washington was traveling at 129 kilometers per hour on a stretch of track where the speed limit was 48 kilometers per hour. The train went off the tracks on a curve south of Seattle, sending some of its cars onto a busy interstate highway below and killing at least three passengers.
Amtrak train was traveling at 80 mph in 30 mph zone, NTSB says. An Amtrak train that derailed Monday during its inaugural ride on a new line in Washington state was traveling at 80 mph in a 30 mph zone, the National Transportation Safety Board said, citing data recorder information. Bella Dinh-Zarr, an NTSB board member, said at a news conference late Monday that information from the data recorder in the rear locomotive provided information about the train's speed. At least three people were killed in the derailment, and more than 70 others were taken to a hospital for medical treatment, police said.
Amtrak forced woman to remove 'Love trumps hate' button before boarding train, passenger claims. Amtrak has found itself in the middle of a political controversy after an employee allegedly told a passenger she had to remove her pin. Melissa Stone was boarding a train traveling to Seattle from Chicago on Friday afternoon [10/27/2017] with her partner, Chase McClure. The pair were making the 45-hour trip to Washington to celebrate their 10th anniversary. But when Stone tried to board, an Amtrak employee stopped her and asked her to remove her "Love trumps hate" pin before getting on the train, she claims.
The Editor says...
The real news here is that it takes two full days to ride from Chicago to Seattle.
Two killed by Amtrak train in Washington, D.C.. Two people were struck and killed by an Amtrak train near Union Station in Washington, D.C., the city's fire department reported. Amtrak Train 175 was approaching the train station late Tuesday as it traveled from Boston and New York. It struck two unidentified people at 11:20 p.m. who appeared to be trespassing on the track, Amtrak spokesman Marc Magliari said.
Brandon Bostian, Amtrak engineer, charged over fatal 2015 derailment in Philly. Pennsylvania Attorney General Josh Shapiro announced charges against engineer Brandon Bostian this week exactly two years to the day after Amtrak 188 derailed in Philly en route to New York City from Washington, D.C., killing eight people onboard and injuring over 200 others. Mr. Bostian, 33, faces one count of involuntary manslaughter for each fatality as well as causing or risking a catastrophe, a second-degree felony that carries a maximum punishment of 10 years behind bars, prosecutors said Friday [5/12/2017].
Judge orders prosecutors to charge Amtrak engineer in deadly crash. A Philadelphia judge has ordered prosecutors to charge the speeding Amtrak engineer involved in a 2015 derailment that killed eight people and injured about 200, days after they declined to do so. Municipal Court Judge Marsha Neifield on Thursday ordered the arrest of engineer Brandon Bostian on involuntary manslaughter and reckless endangerment charges. [...] Amtrak has taken responsibility for the crash and agreed to pay $265 million to settle related claims.
Video captures Amtrak train blasting waiting passengers with snow. An Amtrak train made a dramatic entrance when it pulled into a station this week. While arriving in Rhinecliff, New York, the train plowed through heavy snow on the tracks next to the platform. Dramatic video shows snow flying everywhere and hitting those waiting for the train.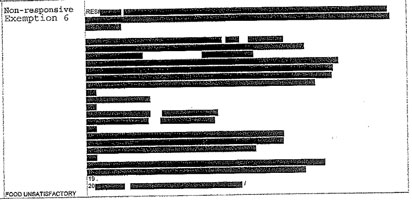 Amtrak's lounge car complaints are the ██████ of the ██████. Last June, MuckRock user Conor Skelding requested all complaints Amtrak received regarding its lounge cars over the past two years. Last week, after nine months of processing, the responsive docs finally came in, and boy, those must have been a busy nine months. [...] But the real star here is the amazing redactions — who'd a thunk it, but Amtrak's has black highlighter game that'd make the CIA jealous.




Amtrak engineer was distracted by his radio transmissions moments before train derailed, killing eight and injuring 200. An official briefed by investigators says an Amtrak engineer was distracted by radio transmissions before his train derailed in Philadelphia last year, killing eight people.

Engineer blamed for deadly Amtrak crash. [Engineer Brandon] Bostian told investigators after the wreck that he remembered radio traffic from a Philadelphia commuter train operator who said a rock had shattered his windshield. He was monitoring the radio traffic until about a minute before his Amtrak train reached 106 mph, and at one point passed the commuter train on an adjoining track, investigators said. The engineer's acceleration would have made sense for someone who thought he had already passed the curve, NTSB investigator Steve Jenner said. After the curve, the tracks open up into a straightaway with a speed limit of 110 mph.

Amtrak sues Kansas feed yard over train derailment. In the suit filed Friday [4/8/2016] by Amtrak and BNSF, the plaintiffs allege Cimarron Crossing Feeders failed to notify the railroad or law enforcement after one of the company's trucks slammed into the railroad road bed and displaced the tracks by more than a foot. The train carrying 131 passengers and 14 crew was travelling from Los Angeles to Chicago when it derailed shortly after midnight along a straight stretch of tracks in flat farmland near Cimarron, a small community about 160 miles west of Wichita. Eight cars derailed and four of them ended up on their sides.

At least 32 reported injured after Amtrak train derails in Kansas. An engineer noticed a significant bend in a rail ahead and hit the emergency brakes before a passenger train derailed in western Kansas, a government official told the Associated Press. Amtrak said 32 people were taken to hospitals for treatment and that 29 had been released by late morning [3/14/2016]. The U.S. official who was briefed on the investigation into the early Monday derailment of the Amtrak train said the train appeared to have been traveling at about 75 miles [per hour] when the engineer pulled the emergency break [sic].

Feds paid Amtrak worker to spy on passengers. The U.S. Drug Enforcement Administration inappropriately paid an Amtrak employee more than $850,000 over 20 years to provide information on passengers who may be smuggling drugs, according a report from the Justice Department's Office of Inspector General. The OIG also released a separate report saying the DEA arranged to pay a government airport screener to act as a confidential source. The screener, however, never provided information of any value to the DEA.

Federal Fumbles 2015. Amtrak has an expensive appetite. Its food and beverage services operate at major losses each year, requiring taxpayers to pick up the difference. From 2006 through 2012, Amtrak suffered $609 million in direct losses from these services alone. While Amtrak lost $105.2 million in 2006 on these services, by 2012 losses were down to only $72 million. While the trend is headed in the right direction, the Amtrak IG identified some areas Amtrak has yet to truly address. For example 99 percent of revenue losses can be attributed to long distance routes. Despite knowing this and despite a requirement that food and beverage service not be provided at a loss, the company has yet to adjust the service level on these routes to meet rider demands. Amtrak also continues to staff at regular levels during seasons when ridership is traditionally low. Moreover, food and beverage staff are required to report to work one to five hours before departure time despite staff not needing that amount of time to perform required duties prior to leaving. All of this suggests that Amtrak does not fully understand its staffing needs, which leads to taxpayers unnecessarily picking up the tab for riders' meals.

Riders livid as power problems cause more Amtrak delays. Power problems caused delays for Amtrak trains running between Washington, D.C. and Boston and for commuter lines into New York City on Friday [7/24/2015] and Saturday, leaving thousands of riders livid and transit officials apologizing for the fourth such problem in a week. The rail power issue added to a summer that has seen delays of a half-hour or more for New Jersey Transit riders about once every three working days, according to a review of the agency's messages to commuters.

Amtrak Employees Claimed to Work 40 Hours Per Day. Timesheets for employees of Amtrak are riddled with abuse, according to a recent audit report, with cases of workers claiming over 40 hours of work in a single day. The audit released by Amtrak's Office of Inspector General (OIG) Thursday [6/18/2015] found examples of abuse in the overtime system, which totaled nearly $200 million in overtime pay last year. "[Calendar Year] CY 2014 timesheet data revealed trends and patterns that indicate potential fraud, waste, and abuse in the reporting of overtime and regular time," the audit said. "Some of these trends and patterns may be justified because of the complexity of union agreement rules, the nature of jobs, and the functions employees perform."

Does Amtrak really need more money? According to the Congressional Budget Office, taxpayers have thrown $45 billion dollars into Amtrak since its inception in 1977. In 2014, Amtrak's revenues totaled $3.2 billion, against expenses of $4.2 billion, for an operating loss of $1.1 billion. Maybe thats because Amtrak loses more than 70 million dollars a year on food service alone — selling overpriced snacks to a captive audience.

It takes 12 hours to ride from Dallas to Hope, Arkansas.
An Amtrak Experience: May 22-23, 2015. Being accustomed to air travel, I expected a moderate level of service. We didn't get it. If you wanted something to eat or drink, it was up to you to go to the lounge car, wherever that was — there were no signs or directions — and get it yourself. Around midnight, I asked the steward for a blanket and pillow. He said he didn't think there were any available. I never saw him again. [...] As I said, the ride was essentially comfortable. It's just that it took a long time, and there weren't any efforts made to make it more pleasant by friendly and competent personnel.

Is Amtrak America's money pit? Lawmakers on Capitol Hill are calling for change in the wake of this week's deadly Amtrak crash in Philadelphia that claimed eight lives and injured more than 200 passengers. They argue Amtrak has been a black hole for taxpayer money for decades — and say despite receiving federal grants every year, the U.S. taxpayer-supported passenger railroad, is hemorrhaging money. Of its 44 routes, 41 lose money. Fifteen routes lost $600 million in 2013. Last year alone, Amtrak lost tens of millions of dollars on food and beverage service despite cost cutting measures.

Why Fund Amtrak? Because All Must Serve The Capitol. As the official investigation has released actual information, it seems likely that the real cause was excessive speed: the train was traveling at more than 100 miles per hour as it entered a tight curve where the safe limit was 50 miles per hour. How is more government spending supposed to prevent this kind of operator error?

Obama Failed to Appoint Railroad Chief. Government spending boosters using the Philadelphia train derailment tragedy to demand more money for Amtrak might want to ask the White House why President Obama has failed for 127 days to even nominate an administrator for the Federal Railroad Administration, instead leaving in charge as "acting" chief a 37-year-old Obama loyalist who reportedly has little substantial railroad experience.

Amtrak is a Government Failure. Far from an example of fiscal neglect, Amtrak serves as a cautionary tale for too much government. It constantly loses money and is heavily subsidized despite serving a tiny ridership, providing just 0.14 percent of total passenger traffic in 2012 compared to 87 percent for highways and 12 percent for airlines. A major reason Amtrak is not more widely used is that it's very expensive. Airfares averaged 13.8 cents per passenger mile in 2012, while Amtrak averaged 33.9 cents. And that's despite very generous subsidies that have at certain times exceeded $100 per passenger. Between 2010 and 2012, Amtrak received $4.4 billion in federal aid, and it has benefited from a whopping $45 billion over the last 44 years. Not only is it still not profitable, but its expectations are so low that Amtrak bragged about a $227 million operating loss for fiscal year 2014.

Amtrak Train Crash Victims Face $200 Million Injuries Cap. There are many questions surrounding Tuesday's Amtrak crash. The amount of money victims could receive for injuries isn't one of them as federal law caps total rail-accident damages at $200 million. Congress established the limit in 1997 on all rail accidents, not just Amtrak, as part of a compromise to bail out the ailing railroad.

What Amtrak Spends Its Money On. Almost every dime of ticket revenue is spent on personnel — salaries, benefits, bonuses, etc. Amtrak can't be bothered to finish up a safety system on time. But did Amtrak CEO Joseph Boardman ever miss a nickel of his $350,000-a-year salary? No. Did Amtrak fail to pay employee bonuses? No — in fact, it paid bonuses to people who weren't even eligible for them, and then refused to rescind them once it was pointed out that they were unauthorized. So Amtrak took care of Amtrak's priorities, just like every other government agency. But Amtrak's priorities are not its customers' priorities.

The Train-Wreck Ghouls. Mere hours after Train 188 from Washington to New York City jumped the rails and killed eight, the Democrat spin machine stood atop the wreckage and cranked up its familiar rant about Republican neglect of America's infrastructure. The Washington Post's Philip Bump opened with a piece Wednesday morning [5/13/2015] assailing Republicans for Amtrak's "funding problems" (it was chartered as a for-profit agency, directed again by Congress to turn a profit in 1997, has never seen a drop of black ink and has soaked up some $45 billion in the four decades since inception) on the basis that Republicans don't ride its trains.

The rancid drive to exploit the Amtrak tragedy. [Scroll down] Yet some rushed to exploit the disaster. Democrats immediately blamed the GOP for "endangering passengers" by failing to fund repairs of "crumbling infrastructure." In fact, infrastructure now seems to be less and less a factor: The train was going 106 mph on a curve whose speed limit is 50.

DEA paid Amtrak $854,460 for passenger lists it could have gotten for free. The Drug Enforcement Administration paid an Amtrak secretary $854,460 over nearly 20 years to obtain confidential information about train passengers, which the DEA could have lawfully obtained for free through a law enforcement network, The Associated Press has learned.

Update:
DEA payments to Amtrak employee being investigated. The announcement by Jay Lerner, a spokesman for the IG's office, follows the disclosure by Amtrak's inspector general that DEA paid an Amtrak secretary $854,460 over nearly 20 years to obtain confidential information about train passengers that the drug-fighting agency could have lawfully obtained for free through a law enforcement network.

Amtrak train leaves Penn Station for Washington, D.C., without its passengers. An Amtrak train bound for Washington pulled away from Penn Station on Saturday without some pretty important cargo: its passengers. Scores of travelers were stranded after the Acela Express 2253 took off from one platform about 3 p.m. — while they were waiting at another and unaware the train was leaving them behind. Several minutes passed before the passengers even got wind of what had happened, one told the [New York] Daily News.

Hundreds of Passengers Rescued After Night on Frozen Amtrak Trains. Hundreds of Amtrak passengers were rescued today [1/7/2014] after spending a bone-chilling cold night stranded on board three Amtrak trains that were crippled by snow and ice outside of Chicago. More than 500 passengers who were affected by the delay are expected to arrive in Chicago this afternoon, likely on charter buses nearly 20 hours after the got stuck, Amtrak spokesman Marc Magliari told ABC News. The trains were halted late Monday [1/6/2014] near Mendota, about 90 miles west of Chicago.

Amtrak Food Costs are Off the Rails, Congressman Says. Amtrak trains featuring gourmet menus in their café cars are losing more than $400 per passenger ticket, and a leading House Republican wants an investigation. "With a $72 million food service loss in 2012, it's time for Congress to stem the financial bleeding from chef-inspired gourmet meals on Amtrak's money losing routes," said Rep. John Mica, former chairman of the House Transportation Committee.

Riding that Train. In Washington there are two kinds of government expenditures. Those that are too small to sweat and those that are too large to do anything about. An example of something too large would be Medicare. In the too small category, there is Amtrak, which gets a billion or so in subsidies every year. In Washington, that is chump change. Not worth the trouble it would take to pry it from the clenched fingers of those who receive it. Still, some Republicans in Congress are making the effort. And, unsurprisingly, Democrats and Amtrak officials are resisting.

Amtrak snack bars lost $84.5 million last year; $833 million in 10 years. Federal spending over the past 20 years has surged 71 percent faster than inflation, much of it on bloated and wasteful programs and services, including Vice President Joe Biden's favorite mode of travel: Amtrak.

Amtrak to test trains at 165 mph along Northeast routes. Starting tonight and ending next week, Amtrak plans to set speed records in tests along the Northeast Corridor — 165 mph. [...] To accommodate the faster trains, Amtrak is spending $450 million in federal funds to upgrade track, electrical power, signals and overhead wires.

Fraud, abuse found rampant at Amtrak. One Amtrak employee spent much of his time in the office sending emails to women he met through a half-dozen online dating sites and claimed overtime pay for hours he spent officiating high school sporting events. Another worker may have received more than $100,000 in bogus overtime, records show. In what Amtrak's watchdog agency is calling a host of "serious abuses," an undercover surveillance operation during 2010 and last year has found multiple employees in the mid-Atlantic region's communications and signal department claiming overtime pay for hours they didn't work.

Amtrak offering gay passengers a 'ride with pride'. Amtrak is joining the recent trend of companies taking sides in the fight over gay rights with a new marketing campaign dubbed "Ride With Pride." The campaign features a website [...] and advertisements showing same-sex couples aboard trains. It includes discounts to destinations like Martha's Vineyard in Cape Cod, Mass., which Amtrak says is "extremely gay-friendly," and a section called "out and about" that lists pride events. Amtrak says the campaign is a sign of its commitment to diversity.

This article includes informative photo of the interior of an Amtrak car.
Amtrak Employees Likely Stealing $4-$7 Million in Food Each Year. [Scroll down] So how is the subsidized rail line managing to lose more than $800 million dollars in food and beverage sales in just ten years? According to the report, Amtrak's own employees are likely stealing between $4-$7 million annually, or $40-$70 million over ten years. Similarly, while the line sells soft drinks for $2, they actually cost the taxpayer $3.40. Hamburgers sell for $9.50, but cost the taxpayer a whopping $16. Therefore, even if Amtrak sold 100% of their inventory, it would still be impossible for them to turn a profit.

The Editor says...
I find it amusing that a hamburger costs $9.50 on an Amtrak train. I wonder if they accept food stamps.

Amtrak Food Service Lost $834 Million in 10 Years, Mica Says. Amtrak lost $84.5 million selling food and beverages last year and $833.8 million over 10 years, House Transportation and Infrastructure Chairman John Mica said, calling for a "better way" to run those operations. It costs taxpayers $3.40 for each can of soda the U.S. passenger railroad sells on its trains, and Amtrak charges $2.00, the Florida Republican said at a hearing today [8/2/2012]. Taxpayers subsidized $68,477 in losses in 2011 for each Amtrak food-service employee, he said, citing Government Accountability Office estimates.

Amtrak lost $800M on cheeseburgers and soda. Taxpayers lost $833 million over the last decade on the food and beverages supplied by Amtrak, which managed to spend $1.70 for every dollar that [it] received in revenue. "Over the last ten years, these losses have amounted to a staggering $833.8 million," said Rep.John Mica, R-Fla., in a statement previewing a House hearing today. "It costs passengers $9.50 to buy a cheeseburger on Amtrak, but the cost to taxpayers is $16.15. Riders pay $2.00 for a Pepsi, but each of these sodas costs the U.S. Treasury $3.40."

Amtrak Records $834 Million Loss on Food Sales Over Past Decade. Congress has required Amtrak's food and beverage services to be revenue positive since 1981. Since 1999, Amtrak has contracted out the management and logistics of the division, but sales remain within the domain of Amtrak employees. The sale of food and beverages aboard Amtrak trains has not broken even — once. The losses revealed Thursday [8/2/2012] are no surprise, according to previous reports from both Amtrak's inspector general and the U.S. Government Accountability Office.

Amtrak Shifts Strategy From Begging for Money to Thinking Big. Amtrak, the corporation created by Congress when private industry abandoned U.S. passenger rail, is trying to overcome its chronic lack of money with a new strategy — thinking far beyond its means. In the past three weeks, Amtrak proposed a renovation of Washington's Union Station that would cost at least $6.5 billion and published a $151 billion, three-decade plan for bringing 220-miles-per-hour service to its busiest route, between Washington and Boston. It's working toward a future with bullet trains, though Congress killed President Barack Obama's high-speed rail funding proposal last year and Republicans in the House of Representatives want to do it again this year.

Amtrak's high-speed Northeast Corridor plan at $151 billion. Amtrak's updated plan for high-speed train travel on the East Coast envisions 37-minute trips between Philadelphia and New York, after a $151 billion redevelopment of the entire Northeast Corridor. Faster service would be phased in gradually, as Amtrak improves existing tracks, signals, bridges, and power lines and then builds a separate high-speed corridor between Washington and Boston to accommodate trains traveling at 220 m.p.h.

Amtrak: 'Fraud, waste, and abuse are long-standing problems'. The government-subsidized transportation service Amtrak has consumed $40 billion in subsidies over the last four decades, according to Tad DeHaven of the Cato Institute. He writes: "The system has never earned a profit and most of its routes lose money. Amtrak's on-time record is very poor, and the system as a whole only accounts for 0.1 percent of America's passenger travel." Besides sucking more and more money from the U.S. government, there are many documented cases of fraud.

Privatizing Amtrak: An independent analysis found that the average operational loss per passenger on all 44 of Amtrak's routes was $32 in 2008. ... The Sunset Limited, which runs from New Orleans to Los Angeles, lost an astounding $462 per passenger. All of Amtrak's long-distance routes lose money. According to the Government Accountability Office, these routes account for 15 percent of riders but 80 percent of financial losses.

Senate infrastructure bill would fund airports, highways, Amtrak. Senate Democrats on Wednesday [11/2/2011] will begin considering a $60 billion infrastructure bill that would provide billions of dollars in new funding for airports, highways and Amtrak and other rail systems, in addition to funding a new $10 billion infrastructure bank.

The Editor says...
Amtrak is pork, not infrastructure. If Amtrak goes out of business, the regular users will make other arrangements and the rest of the country will hardly notice.

Trains In Vain. This week, Amtrak marks its 40th anniversary, which means that for decades it's wasted tens of billions of tax dollars. Naturally, Washington wants to reward this with billions more under the guise of "high-speed" rail. To say that Amtrak is a failed business is to be unkind to failure.

Top 10 Spending Cuts Thwarted by Democrats: [#3] Amtrak: When Amtrak started in 1971, officials predicted it would break even by 1974. Forty years and tens of billions of dollars in federal subsidies later, the train service is still bleeding red ink. Republicans want to cut $224 million from its budget, which could be accomplished by axing highly subsidized routes outside the Northeast Corridor.

Amtrak CEO ditches broken train to travel by car. Today's the big day for Amtrak's Wilmington train station. It is being renamed in honor of Vice President and former Delaware Senator Joe Biden following major renovations made possible with stimulus funds. One problem: the CEO of Amtrak got stuck on the train. ABC News Deputy Political Director & Political Reporter Michael Falcone tweeted at approximately 10 a.m. that the Acela train he was riding had been "delayed" in Baltimore and that he was sitting next to Amtrak CEO Joe Boardman.

High-speed rail is a fast track to government waste. Passenger rail service inspires wishful thinking. In 1970, when Congress created Amtrak to preserve intercity passenger trains, the idea was that the system would become profitable and self-sustaining after an initial infusion of federal money. This never happened. Amtrak has swallowed $35 billion in subsidies, and they're increasing by more than $1 billion annually. Despite the subsidies, Amtrak does not provide low-cost transportation.

The Quest for the Holy Rail. Amtrak carried 29.1 million passengers last year. Sounds impressive? That's only one quarter the amount of automobile commutes in a single day. ... The liberal fixation on rail transit, a 19th century technology ill-suited to 21st century mobility needs, prompts a lot of questions. The proposed high-speed rail system will be a fiscal sink-hole forever. Why is it that liberals only apply "sustainability" to how us lowly private citizens use resources, but never to government spending?

Who's Policing Amtrak Joe Biden's Rail Boondoggles? At Philadelphia's 30th Street Station on Tuesday [2/8/2011], lifelong government rail promoter Vice President Joe Biden unveiled a $53 billion high-speed train initiative and half-joked: "I'm like the ombudsman for Amtrak." As with most gaffetastic Biden-isms, the remark should prompt more heartburn than hilarity. Just who exactly is looking out for taxpayers when it comes to federal rail spending?

Rails Won't Save America. Amtrak spent more than $3 billion carrying people about 5.4 billion passenger miles in 2006. This works out to 56 cents per passenger mile, more than four times the cost of flying. Also in 2006, America's urban transit agencies spent about $42 billion on 49.5 billion passenger miles, for a cost of 85 cents per passenger mile, or more than three times the cost of driving.

Amtrak E-Mail Misuse Alleged in IG Scandal. Amtrak's independent investigative officer is asking the U.S. Postal Service to look into whether Amtrak officials misused the e-mail system by searching for communiqués between his office and Congress about the unexpected retirement of Amtrak's longtime inspector general, according to House Oversight Committee Chairman Darrell Issa, R-Calif.

Going Off The Rails With Amtrak. In June 2009, the inspector general of Amtrak, Fred Weiderhold, completed a report that concluded the "independence and effectiveness" of the inspector general's office was being "substantially impaired" by Amtrak management, as reported in the Wall Street Journal. Coincidentally, Amtrak management chose that moment to conclude Weiderhold's career. He was paid over $300,000 to sign what amounted to a non-disclosure agreement on his way out. ... Amtrak has a long history of doing things they would happily pay three hundred grand of your money to keep quiet.

Commerce Committee defends Amtrak executives. The Senate Commerce Committee is defending two top Amtrak executives whom Republicans want investigated for failing to tell Congress about the removal of longtime Amtrak Inspector General Fred Weiderhold. Committee staff in a report this week also rejected calls by three Republican leaders in the House and Senate calling for the removal of Amtrak Chairman Thomas Carper and General Counsel Eleanor Acheson.

High-speed rail will take taxpayers for a ride. My wife and I are planning a weekend in Philadelphia with our three kids. I thought it would be fun to take everybody up from D.C. to Philly on the Acela Express, Amtrak's fastest passenger train. It's only 95 minutes from downtown to downtown. Then I checked the ticket prices: $1,320.00 round-trip for the five of us. Even the slow Northeast Regional would cost hundreds of dollars. Driving takes an hour longer than the Acela but costs about $115.00 round-trip for gas, tolls and parking. We're driving.

Amtrak 'misled' Congress on finances. When Amtrak assured Congress it was on a "glide path" to free itself of federal subsidies early last decade, a handful of top executives secretly had reason to know better. In fact, the rail service was on the verge of bankruptcy. But Amtrak's public assurances were based on far more than overly rosy financial projections.

GM, Amtrak and an Increasingly Fascist America. The promise that [the nationalization of GM] is temporary and will eventually be profitable is supposed to ease the American people into accepting this arrangement, but it is of little comfort to those who remember similar promises when the American taxpayers bought Amtrak. After three years, government was supposed to be out of the passenger rail business. 40 years and billions of dollars later,the government is still operating Amtrak at a loss, despite the fact that they have created a monopoly by making it illegal to compete with Amtrak.

Excellent:
Replacing Amtrak. Amtrak is a colossal failure. I was one of the people who worked to create Amtrak in 1970-71. The railroad today bears little resemblance to what was promised. Federal subsidies to Amtrak now exceed $30.7 billion (and states have provided several billion more), yet Amtrak remains in dire straits and has yet to launch major reforms. … The more Amtrak "flourishes," the greater taxpayers suffer. That's because Amtrak is an "enterprise" where the more customers it serves, the more money it loses.

Obama administration tries railroading General Motors. The Obama administration is dropping a cool $8 billion on improving long-distance passenger rail service in the United States. President Barack Obama's goal is to get back what America had decades ago — a large, reliable passenger rail network that kept people off overburdened highways. It would be a propitious time for Obama to consider why America went from having the greatest railroad service in the world to having sorry old Amtrak creaking along, still managing to lose money despite a $1.5 billion annual subsidy.

Amtrak ticketing system outage: On Saturday morning, 25 Aug 2007, the nationwide Amtrak ticketing system failed. It wasn't restored to service until early Sunday afternoon. During that time, passengers couldn't buy tickets except (sometimes) at a ticket window, query or change reservations, or retrieve previously-purchased tickets. Some other web functions were also unavailable.

Amtrak to Reevaluate Long-Distance Routes. Amtrak's chairman on Thursday [3/16/2006] said the railroad will scrutinize all of its long-distance routes this year for efficiency and could scrap, reconfigure or add lines as it tries to prove to Congress and the Bush administration that the rail system is reforming itself. … In its 34-year history, Amtrak has never turned a profit. It has debt of more than $3.5 billion and its operating loss for 2005 topped $550 million.

Amtrak Should Go to the Movies. My favorite statistic regarding this ultimate boondoggle is that the per-passenger-mile government subsidy is so high that it would be actually cheaper for the government to give people free plane tickets from New York to California than to underwrite their train ticket.

Amtrak: On Time for Yesterday. On-time performance has long been Amtrak's principal strength … not the trains, but the financial crises. Little seems more predictable than Amtrak's periodic budget crises and calls for more money from those naïve enough to believe that nostalgia should be publicly financed, like defense or welfare. The latest chapter is a new U.S. Department of Transportation Inspector General report indicating Amtrak is experiencing unsustainably large losses and is deferring needed investment.

Springtime for Amtrak and America. Despite continued economic expansion and the recovery of the travel market from the 9/11 terrorist attacks, Amtrak's ridership increased by only 1.3 percent in 2005 compared to the 3.6 percent gain recorded by the domestic airlines. Even among the one-half of one percent of America's intercity travelers who use Amtrak, support seems to be shrinking.

Is Amtrak Cooking the Books on Food and Beverage Services? With the close scrutiny that it has received in recent months, Amtrak should be working overtime to satisfy the demands of its congressional overseers. (Well, really it should be working overtime to satisfy its customers but, in a politically-driven enterprise like Amtrak, customers come, at best, third, behind legislators and labor unions.) One wouldn't think that Congress would be satisfied by being misled by senior Amtrak management, right?

Amtrak's Acelas: Amtrak and the DOT insisted on a custom, untested design based on a design concept that was out of step with every other high speed train built in modern times. Had Amtrak simply purchased a modified form of the X-2000 tested in the early 90's, we wouldn't have this fiasco today.

Amtrak is Anti-American. The irony is that, while the United States preaches free-market economics, it runs a retrograde socialist-style rail system while the rest of the world is privatizing.

Juvenile Logic: Senators Torticelli and Schumer on Amtrak. In addition to paying for the nation's roads, highway users pay a nearly 20 percent premium on their gasoline taxes to subsidize mass transit, which carries barely one percent of the nation' travel.

Amtrak: Don't Let Colorado's Back Door Hit You In the Caboose. Amtrak, you're just too much. You've operated at taxpayer expense to the tune of $44 billion since 1971, a black hole for federal funding.

How To Run A Railroad (Or At Least Amtrak): Many wasteful government programs contribute to the growing federal deficit, but the king of them all is Amtrak. The national passenger rail service incurs two dollars in costs for every dollar of tickets sold.

Senate Scheduled to Vote for More Wasteful Transportation Spending. Following a successful vote in favor of Rep. Don Young's $320 million "Bridge to Nowhere" in Alaska, Sen. Trent Lott has shown that he too can waste taxpayers' money on underutilized transportation projects. … As rewritten for the amendment, Senator Lott's proposal would spend $12.2 billion over the next six years on Amtrak. At a time of fiscal crisis, boosting federal subsidies to money-losing and mediocre Amtrak makes no sense.

Amtrak — The Railroad to Nowhere. Nearly five years ago, as Amtrak officials were hailing their new Acela train as "a giant step forward" for America and "the kind of rail system we've all been dreaming about for decades," a former Amtrak official named Joseph Vranich offered another perspective. "I say without equivocation," he told The Hartford Courant, "that the Acela program is turning into the world's worst high-speed program." … Mr. Vranich has moved beyond all that and reached acceptance. He now sees that the dream of decent Amtrak service is dead.

Amtrak: The Federal Government's Own Corporate Financial Scandal. Amtrak has for years used creative accounting to disguise its financial problems, hiding operating expenses as capital costs, as well as misled the public about its effectiveness and performance. If honest accounting practices had been enforced with Amtrak, it would have gone bankrupt years ago.

Democrats vow fight to protect Amtrak funding. The leading House Democrat on transportation issues, Minnesota Rep. Jim Oberstar, on Tuesday [2/8/2005] predicted a "test of wills" over the Bush administration's proposal to eliminate subsidies to Amtrak.

Amtrak takes us for a ride: The scene is a staple of silent movies and TV cartoons -- a damsel tied to the railroad tracks as a train comes hurtling around the bend, while the hero races to free her in time. But this time, there's a twist: It's the people running the trains who have bound the victim.

Don't Give a Penny to Amtrak: Amtrak seized on the Sept. 11 calamities as a chance to lobby Congress for $3.2 billion in "disaster" aid -- even though it suffered no disaster.

Taxing Taxpayers on a Train Ride. Congress deserves much of the blame for Amtrak's losses. Under the Amtrak Reform and Accountability Act of 1997, the same legislation that created the Amtrak Reform Council, Amtrak was required to submit a plan for its own liquidation if it could not achieve operational self-sufficiency by Dec. 2, 2001. But, after it was clear that Amtrak could not meet this deadline, Congress got cold feet and (in an unpublicized amendment to a defense-spending bill) forbade Amtrak from preparing a liquidation plan.

New Amtrak boondoggle may outdo all others: Legislation now before Congress proposes to dedicate as much as $16 billion of future budget surpluses to prop up Amtrak, America's federally chartered and subsidized passenger rail service. Members of Congress should view this new proposal with skepticism given Amtrak's record-breaking losses, stagnant ridership, and persistent failure to implement high-speed rail service, promised for 1997 and now delayed for a third straight year.

Congress Should Link Amtrak's Generous Subsidy to Improved Performance. Amtrak has asked Congress for $1.680 billion for FY 2008 — a significant increase over the FY 2007 subsidy — but unlike the previous year's request, this year's makes no particular commitment to implement major reforms. Indeed, at a time when it should be attempting to follow the airlines' successful lead and seek reductions in the wages of Amtrak's overpaid workforce ($54,000 per year plus tips for snack car workers), Amtrak's new president announced early this year that he will "Strive to achieve labor agreements providing reasonable wage increases."

This train's not bound to break even.

Silent Rage: "This is the quiet car!" The voice belonged to a woman glaring at my kids, ages 5 and 2, standing (quietly, I should add) next to the door. I ignored her and focused on snagging an empty spot on a packed Amtrak train — a miracle the day before Christmas — for our nuclear family with big luggage. (Why Amtrak can't figure out how to assign seats on its "reserved trains" like every major European rail company will have to be left for another day.) In any case, we weren't about to give ours up. The pitch went up a notch: "This is the QUIET car!!" "So be quiet." Ah, my wife to the rescue.

The feds got away with it at the airports, and now the police state extends to the train station.
New security measures for Amtrak: Amtrak passengers will have to submit to random screening of carry-on bags in a major new security push that will include officers with automatic weapons and bomb-sniffing dogs patrolling platforms and trains, the railroad planned to announce Tuesday [2/19/2008]. The initiative is a significant shift for Amtrak. Unlike the airlines, it has had relatively little visible increase in security since the 2001 terrorist attacks, a distinction that has enabled it to attract passengers eager to avoid airport hassles.

Taxing Taxpayers on a Train Ride. Congress deserves much of the blame for Amtrak's losses. Under the Amtrak Reform and Accountability Act of 1997, the same legislation that created the Amtrak Reform Council, Amtrak was required to submit a plan for its own liquidation if it could not achieve operational self-sufficiency by Dec. 2, 2001. But, after it was clear that Amtrak could not meet this deadline, Congress got cold feet and (in an unpublicized amendment to a defense-spending bill) forbade Amtrak from preparing a liquidation plan.

The feds got away with it at the airports, and now the police state extends to the train station.
New security measures for Amtrak: Amtrak passengers will have to submit to random screening of carry-on bags in a major new security push that will include officers with automatic weapons and bomb-sniffing dogs patrolling platforms and trains, the railroad planned to announce Tuesday [2/19/2008]. The initiative is a significant shift for Amtrak. Unlike the airlines, it has had relatively little visible increase in security since the 2001 terrorist attacks, a distinction that has enabled it to attract passengers eager to avoid airport hassles.

Amtraking Automakers: The odds that the federal government will ever get its hooks out of Chrysler or General Motors are slim to none, regardless what President Obama says. Why? In one word, Amtrak. ... Amtrak may just be the future business model — if you can call it that — for Chrysler and General Motors. Amtrak is highly subsidized, underutilized and poorly performing. Since its inception thirty-nine years ago, Amtrak has been a losing proposition.

Obama's Health Care Promises Ring Hollow. Past government programs designed to be self-sustaining in the long run simply haven't lived up to lawmakers' expectations. ... It was originally believed Amtrak would be self-sustaining within 3 to 5 years. The program lost almost a billion dollars last year and almost $30 billion dollars since its creation in 1970.

Who Railroaded the Amtrak Inspector General? Amtrak bosses have effectively gagged their budgetary watchdogs from communicating with Congress without pre-approval; required that all Amtrak documents be "pre-screened" (and in some cases redacted) before being turned over to the inspector general's office; and taken control of the inspector general's $5 million portion of federal stimulus spending. Moreover, the report revealed, Amtrak regularly retained outside law firms shielded from IG reach. In another case, Amtrak's Law Department appeared to meddle in an inspector general investigation of an outside financial adviser suspected of inflating fees.

Amtrak accused of hindering stimulus oversight. Amtrak managers have improperly interfered with oversight of the railroad's $1.3 billion in economic stimulus funding, according to an independent report by a former federal prosecutor. The report commissioned by Amtrak's former inspector general says the railroad's lawyers and financial managers interfered with the internal watchdog's ability to get stimulus-related documents and the $5 million Congress appropriated for stimulus oversight.

GM, Amtrak and an Increasingly Fascist America. Public officials are now involving themselves in tactical business decisions such as where GM's headquarters should move and what kind of cars it will build. The promise that this is temporary and will eventually be profitable is supposed to ease the American people into accepting this arrangement, but it is of little comfort to those who remember similar promises when the American taxpayers bought Amtrak. After three years, government was supposed to be out of the passenger rail business. 40 years and billions of dollars later, the government is still operating Amtrak at a loss, despite the fact that they have created a monopoly by making it illegal to compete with Amtrak. Imagine what they can now do to what is left of the great American auto industry!

Amtrak conducts major East Coast security search. Amtrak, with other transit agencies and dozens of law enforcement groups, conducted a broad security crackdown Wednesday [9/9/2009] that included random bag searches at train stations along the East Coast including Union Station. Amtrak conducted the major show of force at train stations in Virginia, Maryland and as far as Vermont just two days before the anniversary of the Sept. 11 terrorist attacks.

On the other hand...
Senate votes to allow guns on Amtrak. The Senate voted today [9/16/2009] to permit passengers on the Amtrak passenger railroad to transport handguns in their checked baggage.

Pew Analysis Shows Amtrak Lost $32 Per Passenger in 2008. The average loss per passenger on Amtrak's 44 nationwide routes was more than $32 in FY2008, according to analysis released today by Pew's Subsidyscope project. This is four times higher than the loss of $8 per passenger, which was calculated using Amtrak's own figures. Further, 41 of Amtrak's 44 lines lost money, between $5 and $462 per passenger depending on the route. Amtrak received $1.3 billion in direct payments from the federal government in FY2008.

Study: Amtrak loss comes to $32 per passenger. U.S. taxpayers spent about $32 subsidizing the cost of the typical Amtrak passenger in 2008, about four times the rail operator's estimate, according to a private study.

Amtrak loses $32 per rider. This runaway train is running away with taxpayer dollars! Amtrak loses an average of $32 for every passenger who boards one of its trains, and 41 of its 44 routes lost money in 2008, according to a scathing watchdog report released yesterday [10/27/2009].

Budget Buster Express. Members of Congress must feel a bit shortchanged by the amount of playtime they received during childhood. Their ongoing fascination with one of the world's most expensive model-train sets, Amtrak, otherwise defies explanation. Politicians continue to treat the heavily subsidized operation more like a prized toy than a solid business operation. The time has come to stop shoveling money into this runaway choo-choo.

Amtrak and the Railroads. Amtrak and its lobbyists at the National Association of Railroad Passengers (NARP) recently invited us to commemorate the third annual National Train Day on May 8. Supposedly celebrating "America's love for trains," the day could not boast a more ironic host than the railroad nobody rides. Worse, Amtrak's sponsorship was as shameless as Dracula's funding a fashion show concentrating on décolletage: The government that owns Amtrak has sabotaged, subsidized, and sucked the life from American railroads since the industry's inception.

Amtrak's first-ever ad campaign targeted at LGBT demographic. For the first time, Amtrak is courting lesbian, gay, bisexual and transgendered travelers with a targeted $250,000 multimedia advertising blitz this summer. The government-owned rail company is looking to the LGBT community for business with the hopes that its propensity for travel will translate well into rail transportation.

Woman feels 'disrespected' after being kicked off train. A woman who got pulled of an Amtrak train by police after passengers complained she was speaking too loudly on a cell phone said she felt "disrespected" by the entire incident. Lakeysha Beard of Tigard was charged with disorderly conduct after police said she got into a "verbal altercation" with train passengers on Sunday [5/15/2011]. Passengers complained she refused to put down her cell phone and conductors had to stop the train in Salem, where police got involved.

More information on mass transit issues can be found here.